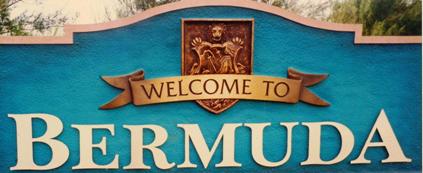 125+ web files in a constantly updated Gazetteer on Bermuda's accommodation, activities, airlines, apartments, areas, art, artists, attractions, airport, aviation pioneers, banks, banking, beaches, Bermuda Status and citizenship, British Army, businesses, calypso, Canadian military, causeway, churches, city of Hamilton, commerce, community, cruise ships, culture, cuisine, customs, Devonshire Parish, disability accessibility, districts, Dockyard, economy, education, employers, employment, entertainment, environment, executorships and estates, fauna, ferries, flora, food, forts, gardens, geography, getting around, golf, government, guest houses, history, Hamilton Parish, homes and housing, hotels, internet access, islands, laws and legal system, local groups and organizations, location, media, motor vehicle options, music, municipalities, Paget Parish, parishes, parks, Pembroke Parish, politics, postage stamps, public holidays, public transport, railway trail, religions, Royal Navy, Sandy's Parish, St. David's, St. George's Parish, shopping, Smith's Parish, Somerset, Southampton Parish, Spanish Point, Spittal Pond, sports, stores, telecommunications, traditions, time zone, town of St. George, United States armed forces, tourism, vacation planning, villages, vital statistics, water sports, weather, Warwick Parish, wildlife, work permits, etc. For tourists, business visitors, employers, employees, newcomers, researchers, retirees, scholars.

Bermuda's Accommodation options for Tourists and Business Visitors
Categories and types of guest premises for lifestyles and budgets

By Keith Archibald Forbes (see About Us) at e-mail exclusively for Bermuda Online
To refer to this file use "bermuda-online.org/accomm1.htm" as your Subject.
Categories of all accommodation properties for visitors
Excluding private, unlicensed premises, Bermuda has 47 official guest accommodation properties comprising hotels, guesthouses and cottage colonies and about 134 restaurants.
Internet, WIFI, websites, linkage, pricing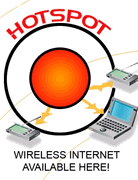 Bermuda Online

(BOL) at http://www.bermuda-online.org will gladly establish a free courtesy web link to the websites of Bermuda properties offering accommodation to our visitors, and show their property's email address in addition, when those properties reciprocate our web link. Via this exchange of links anyone from the world wide web who is interested in Bermuda and wants to stay at any place in particular will be see all the info they want to, about all aspects of accommodation such as room or suite pricing; history and other special features of the premises; location; transportation options; whether or not television and WIFI are available and if so whether the latter free or at cost; and all other services, directly from the websites of the properties at which they want to stay. But it's simply not practical to link to or give any pricing info about or show an email address, any place that won't reciprocate the link. We state all this in our Links at http://www.bermuda-online.org/links.htm.

Having Free WIFI or paid WIFI or wired ADSL (Broadband) available for their guests is more important than ever before in 2012. Many clients assume they will have this same ability during their business visits or vacations as they now do in their homes and places of employment. Their guests or prospective guests who travel to wonderful places like Bermuda want to be able to email photos, including where they stay of course, back home to their families, friends and colleagues. If they cannot, it's a significant opportunity wasted for both clients and properties in terms of publicity and more clientele. It is noted that while some guests write nice web reviews of Bermuda overall they invariably also state whether or not they've had WIFI or other Internet access and other key communications and telecommunications facilities at where they stayed. Internet-reliant guests can bring a laptop or eBook such as a Kindle or Kobo or netbook or IPad or IPhone or playbook or notepad or tablet or ultrabook. In July and August 2012 American visitors to Bermuda who were interested in the 2012 Olympic Games from London were able, from where they stayed if it had WIFI or wired Internet, to see http://www.nbcolympics.com/. Canadian visitors saw http://www.ctvolympics.ca/. British visitors viewed http://www.bbc.co.uk/sport/0/olympics/2012/.


Access for visitors with disabilities
Unlike in USA, Canada, United Kingdom, Europe, Bermuda has no laws equivalent to the ADA or UK's Disability Discrimination Act. Nor have legislators indicated any interest in bringing Bermuda up to international standards. Access is not good compared to the USA, Canada, United Kingdom, Europe, etc.

When space is available for the disabled - accompanied if in a wheelchair - this symbol indicates this. Always confirm this with the proprietor and note that properties in Bermuda do not have to conform to ADA or any locally-equivalent standards at this time.
The Bermuda Physically Handicapped Association has facts about Bermuda showing the true level of access for the disabled. It is not a Government Department but a registered charity for the disabled. Handicapped - disabled - persons should check in advance that bars, cottage colonies, efficiency units, guest houses, hotels and restaurants they favor really are wheelchair friendly, with accessible toilet facilities and ample room for wheelchairs or entrances without stairs or steps. Places that are wheelchair friendly include pedestrian crossings in the City of Hamilton which are flush with pavements or sidewalks and ATM cash machines are low enough for people in wheelchairs to reach.
All visitors
All who visit by air or cruise ship should not attempt to enter Bermuda without a confirmed reservation in writing from a recognized place to stay, or from a private home which can be verified, without a passport and valid return ticket for an onward or return journey in three weeks or less. Some travelers have had serious problems for not following this mandate. Nor should they attempt to overstay their maximum of three weeks, or attempt to look for a job while here.
Average off-season 2013 daily hotel or guest property cost per person to visitors
Sometimes in the off-season (November to March) with a free night after a qualifying minimum stay of 3+ nights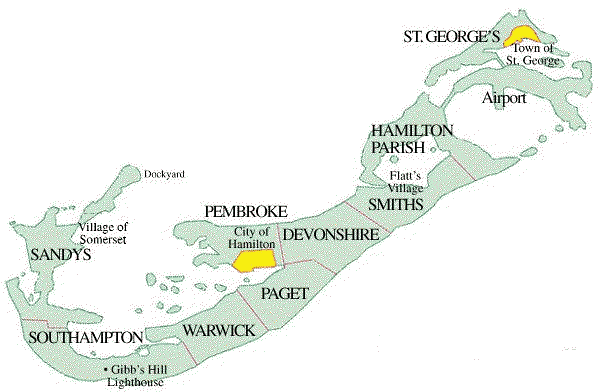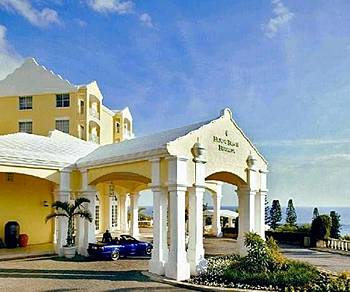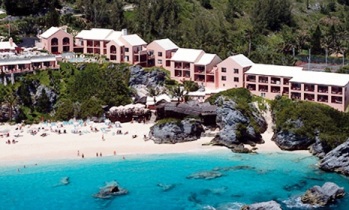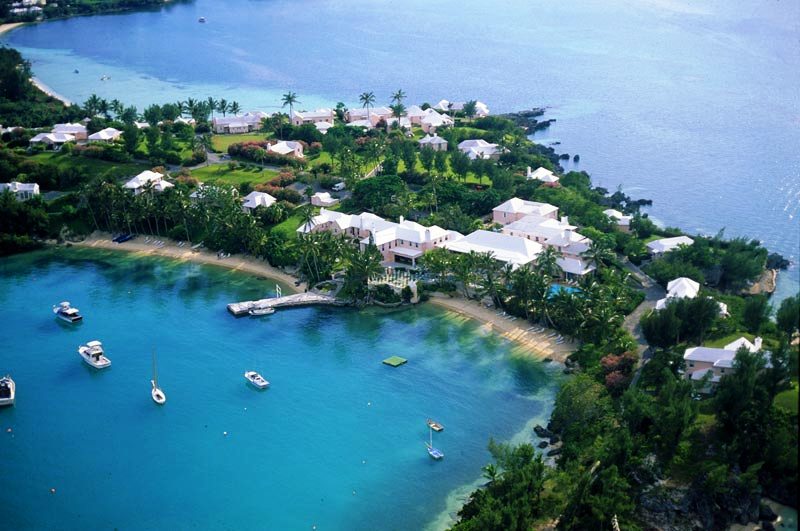 From left to right: Elbow Beach Hotel from $695; The Reefs from $615; Cambridge Beaches from $595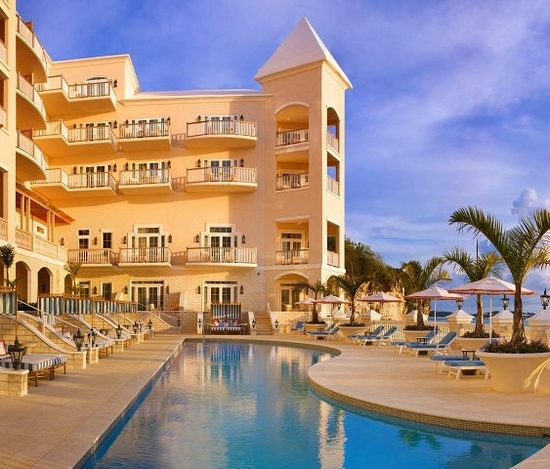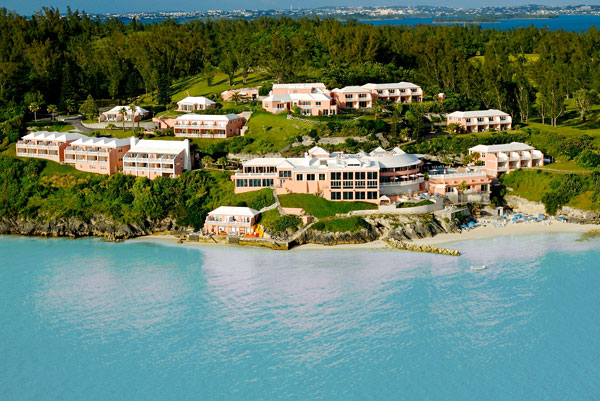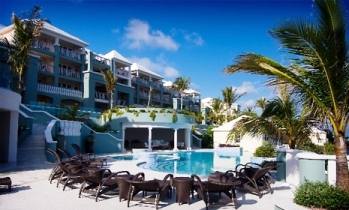 From left to right: Tucker's Point Hotel from $550; Pompano Beach from $520; Newstead Belmont from $500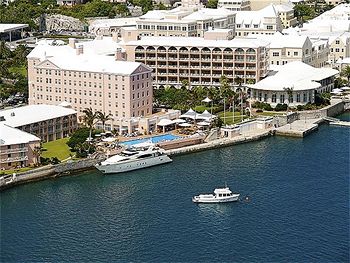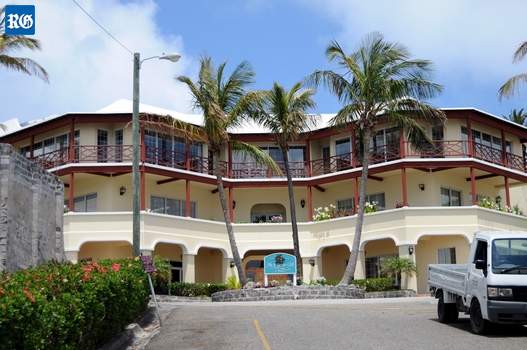 Fairmont Hamilton Princess from $399; St. George's Club from $385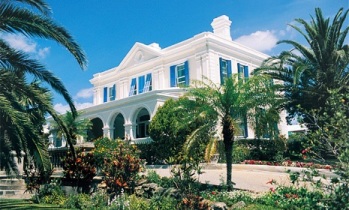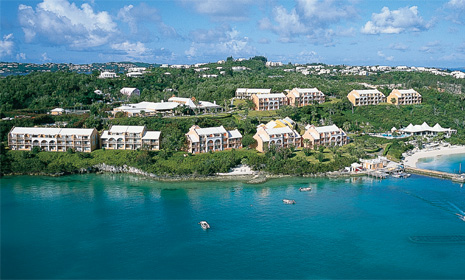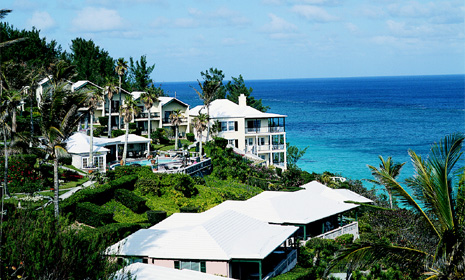 From left to right: Rosedon from $360; Grotto Bay from $346; Surfside from $319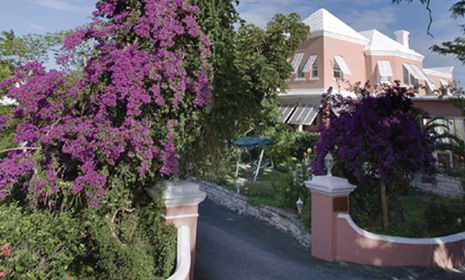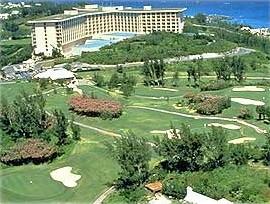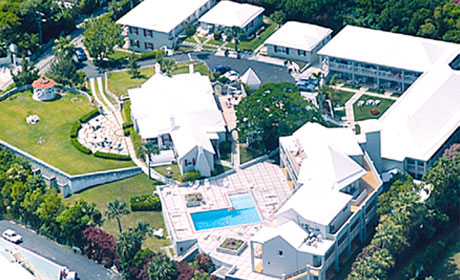 From left to right: Royal Palms from $319; Fairmont Southampton Princess from $249; Rosemont from $222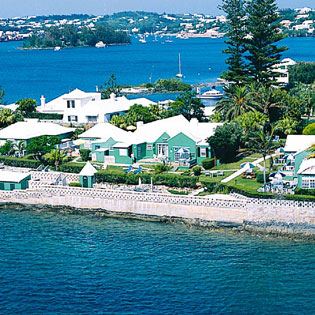 From left to right: Greenbank from $175.
Average price per night of all the above in April 2012 was $395.58
Not all premises are shown above, just those that took part in a special July - August 2010 program.
Average cost of building a single hotel room in Bermuda in 2013
On March 22, 2012 it was reported in Bermuda's daily newspaper the Royal Gazette that it costs at least $1 million to build a single hotel room or "key" in Bermuda, with construction costs in Bermuda now ranging from $850 a square foot up to $1,000 a square foot. The latter figure was then considered to be inclusive of air conditioning, wired or WIFI Internet, wiring, furnishings - everything within four walls. What's more, one of the developers stated the electricity bill for a small contained hotel runs about $70,000 a month in the summer. The figures show the sky-high construction and operating costs hoteliers and developers face when considering building in Bermuda, especially when compared to Bermuda's competitors where it is far cheaper to build and $400,000 is presently the most. Thus it is difficult to encourage investors to build hotels in Bermuda. Another major factor is that in Bermuda, most new hoteliers can only expect to lease properties or land whereas beyond Bermuda they can buy freehold.
Electricity is another one of those costs that are far higher in Bermuda than almost anywhere else. One prominent hotelier said "We are paying north of 30 cents a kWh. I know of no other competitive jurisdictions, even on small islands, where there costs are so high. It is a huge element of our cost structure. The cost per square foot for new build is a multiple of at least two over competitive areas. And that is before the cost of land is incorporated. So in construction costs alone, we are starting at twice the cost of product than most other places."
Numerous other factors include the extremely high cost of gasoline in Bermuda what have far-above-average repercussions in transportation costs; the locally- perceived need to use primarily Bermudians (never Bermudans) in construction; and the huge costs to local taxpayers and visiting tourists of maintaining a government of 36 legislators, 477 police officers and an army of civil servants in Bermuda's merely 21 square miles (56 square kilometers) in total land area.
Average length of stay and numbers of air and cruise ship visitors in 2012
Visitor air arrivals dropped to 232,063 last year, the lowest level in four years as the Island's tourism industry continued to struggle. And while three quarters of the tourists stayed at hotels, cottage colonies and resorts, nearly one quarter — some 56,489 — stayed at private homes, either with friends and family or in apartments. Nearly 4,000 fewer tourists came to Bermuda by air in 2012, a decline of 1.7 percent compared to 2011. The number of cruise passengers also fell, to 378,262 compared to 415,711 in 2011.
How visitors arrived:
Visitor spending averages in their entire stay:
By air: $2,195 in 2012

By cruise ship: $445 in 2012.

Average length of stay for air visitors: 6.06 nights, down from 6.21 nights in 2012.
The number of hotel beds available continued to fall. Bermuda had two fewer properties in 2012, and 292 fewer beds to sell.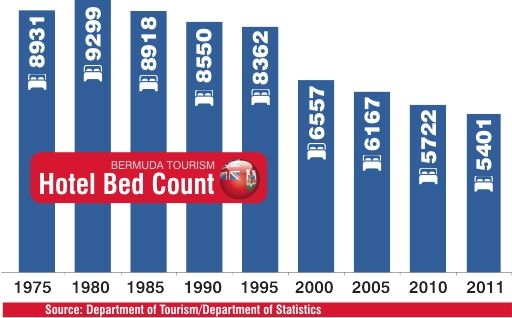 Despite that, the number of bed nights visitors spent in hotels and tourist accommodations rose by 3.6 percent. However, when friends and families are included, the total number of bed nights dropped, albeit by less than one percent.
Given the slight improvement in the US economy, tourism could improve in 2013, but it will need encouragement.
In hope they will help, the following initiatives have been planned:
January 20, 2013. Bermuda Vows to Remove Politics from Tourism Administration. Creating a tourism authority that will "remove politics" from the administration of Bermuda's tourism policies will be the primary goal of the tourism department under the country's new administration, said Shawn Crockwell, Bermuda's new minister of tourism and transport. Crockwell took over as tourism minister last month in a change of government that saw Craig Cannonier sworn in as Bermuda's new premier. He will seek to reverse a trend that has seen Bermuda's air arrivals decline steadily in the last several years, while its cruise business has been threatened by increasingly outdated facilities and local transportation issues. "The most important thing is creating a tourism authority," said Crockwell during a recent meeting with reporters in New York. "We have to take politics out of the tourism administration and put it in the hands of tourism professionals," he said. A tourism authority is viewed as essential to reversing Bermuda's declining tourist arrivals, as its members will manage the country's tourism growth absent of political influence. The authority was an election pledge from Crockwell's One Bermuda Alliance political party, which has told local media it hopes to have the authority running within six months. To that end, Crockwell last month named veteran Bermuda hotelier David Dodwell, president of The Reefs resort, chairman designate of the yet-to-be-created tourism authority. "Tourism must be driven by the professionals in the industry," said Crockwell in naming Dodwell to the new post. Crockwell attributed Bermuda's sliding tourist arrival numbers to a "lack of continuity" in the country's tourism promotion. "We had three tourism ministers within the last administration. That is not continuity," he said. "We want to set up a system that takes politics out of the process and, despite changes in the government, can remain consistent. We also want to create consistent branding for our destination like the Bahamas or Jamaica." Crockwell's office will also address the delays and confusion that overtake Bermuda's local transportation when a large contingent of tourists arrives at the island. "Transportation becomes an issue that can cause disquiet when there is a concentration of cruise ships moored in the Dockyard, and there are as many as 10,000 visitors having a problem with local transport," said Crockwell. "This is a priority issue. We have purchased new buses and we are also open to creative alternatives like utilizing water taxis. We want to make it so that transportation is not a challenge for guests." He added that Bermuda is considering the implementation of casino gaming as another means of boosting tourist traffic. "Both of our political parties have said that the issue of casino gambling should be decided by referendum. That remains the official position," said Crockwell. "The government will be taking a close look at casinos in Bermuda. The thing is that casinos are not a silver bullet, and if we do introduce casinos in Bermuda, we have to get it right, because we only have one chance. We don't want to change the overall characteristic of the country."
January 4, 2013. Following a change of Government on December 17, 2012, Former Tourism Board head Maxwell Burgess has stepped down from the job, according to a spokesman for new One Bermuda Alliance Tourism Minister Shawn Crockwell. Meanwhile, the Opposition Progressive Labour Party yesterday described Government's announcement of a Tourism Authority to replace the existing Board as "concerning." The current Board, created under the previous Progressive Labour Party government, is to continue functioning under its freshly-appointed Chairman David Dodwell, head of The Reefs hotel. The Tourism Authority, which Mr Crockwell said would restore the Island's once-booming industry under the guidance of "professionals, rather than politicians", is to be formally established by June 2013. Mr Dodwell is currently its Chairman designate. Speaking at Mr Dodwell's appointment, the Minister indicated the OBA intended to continue operating under the present Tourism Board Act, 2012, but could modify the legislation — "or repeal it and create a new Act for the Authority." However, the former governing party last night questioned how the new organization would function with impartiality. In a statement ascribed to ex-Minister of Tourism Wayne Furbert, the PLP said that its current Board was run in a manner "consistent with that of other Authorities around the world" — and expressed concern that the OBA rolled out their own group "without ensuring that the public is fully aware of what their proposed Tourism Authority will embody." A Tourism spokesman said the Authority remained to be formally set up.
January 3, 2013. David Dodwell was appointed chairman designate of a new Tourism Authority, tasked with turning around the fortunes of the sector. The authority was an election pledge made by the One Bermuda Alliance (OBA), which won the December 17, 2013 General Election and aspires to have it up and running in six months. In the run up to the 17 December 2012 General Election, which it won, the OBA said it would "move with urgency to put professionals, rather than politicians, in charge of our tourism industry by setting up a professional, results-oriented and accountable Tourism Authority to rejuvenate tourism and create jobs".A graduate of the highly acclaimed Cornell Hotel School, Bermudian David Dodwell has more than four decades of experience in the hospitality industry and his resorts have won international acclaim. In 2010 he was named Caribbean Hotelier of the Year, the highest honour bestowed upon a hotelier by the Caribbean Hotel and Tourism Association. Mr Dodwell began his career working during the summers at a number of well-known Bermuda resorts. In 1972, he was appointed as the Manager of The Reefs — at that time, a 43-room resort overlooking its own secluded beach in Southampton, Bermuda. Since 1981, he has acquired a majority interest in the resort and is currently President. In 1992, Mr Dodwell was honoured as the Bermuda Hotelier of the Year. Under his leadership, The Reefs has undergone numerous renovation and expansion projects. Today, the resort features 62 rooms, suites and cottages as well as 19 condos and has won a number of accolades from the travel industry. In October 2009, The Reefs made history when it became the first Bermuda resort to earn the top spot as the number one Atlantic resort in the Conde Nast Traveler Readers' Choice Awards — which it has held in 2010, 2011 and 2012. Recent accolades include the Travel and Leisure 500, the Conde Nast Traveler Gold List of the World's Best Hotels and the Travel and Leisure World's Best Awards where it was ewcently honored among the Top 25 hotels in the Caribbean and Atlantic for a 15th consecutive year. Mr Dodwell also owns Nisbet Plantation Beach Club, a 36-room resort on Nevis in the West Indies which has also won a number of awards. He is a current member of the Resort Committee of the American Hospitality and Lodging Association. His previous service has included President of the Bermuda Hotel Association, Member of the Board of Directors and Governors of the Bermuda Hotel Association, Member of the Labour, Marketing, Finance, Government and Community Relations Committee of the Bermuda Hotel Association, and President of the Hotel Employers of Bermuda. Mr Dodwell also served in Parliament as the United Bermuda Party MP for Southampton West for more than 14 years. During that time, he held several positions including Minister of Tourism, Shadow Minister of Tourism and Shadow Minister of Race Relations and Economic Opportunity. Minister of Tourism Shawn Crockwell said: "Mr Dodwell has been tasked with leading the formation of and creating the structure for the new authority that will fulfil one of our election promises — to move tourism out of the political realm. Mr Dodwell has been charged with establishing the new authority forthwith. We have set an aggressive timeline of six months to have the new authority up and running and working to fulfil its mandate — namely the revival of Bermuda's tourism industry. We are currently working within the existing Tourism Board Act passed in 2012 and determining if we can modify the existing Act or repeal it and create a new Act for the authority. Three committees — product development, sales and marketing and tourism appreciation — will carry out the mandate of the Act and the priorities of the existing Tourism Plan. We are going to flesh out the relationships but the Government will be providing financial support to the authority, especially in the genesis stages. The authority will have the remit to be providing marketing and sales — that will be their job and we will supply the financial support it needs. the new authority wishes to "engage and empower" existing Bermuda Department of Tourism staff and there will be"consultation with the Bermuda Public Services Union to discuss any concerns they may have in relation to their members." Mr Dodwell was behind a Cabinet-approved bill that was set to create a Tourism Authority just before the then United Bermuda Party lost the 1998 election. the authority will get Governments and Ministers out of the day-to-day responsibility for running tourism and transcend politics. Civil servants and a Minister would still be involved but a Tourism Authority could be driven from the bottom up, make quicker decisions and respond to the marketplace in a more timely manner. Speaking after the announcement Mr Dodwell said: "I'm grateful for the opportunity. It's an exciting direction and I think we have an opportunity to rebuild tourism that will involve every resident of the country." He said he did know who the other authority members will be as yet. "The idea would be to involve people who are willing and qualified and who are prepared to roll their sleeves up and work." He said he will not step down from his position at The Reefs, and will continue with his current role as well as chairing the authority.
November 3, 2012. A Tourism Development Act will broaden concessions to tourism investors, and will make provisions for training Bermudians and for the development and hiring of Bermudian entertainment while replacing the Hotels Concession Act 2000, it was announced in yesterday's Speech from the Throne. The new legislation was described as "the centerpiece of our tourism plan..." by Governor George Fergusson, who was reading the speech. The aim of the new legislation is to update the existing Act, and allow luxury items to be considered for redefinition as 'necessary development incentives'. The provision for the 'training (of) Bermudians, and development and hiring of Bermuda entertainment', Mr Fergusson read: " ... will keep Bermudians in the frame for jobs." However, Bermuda Chamber of Commerce President Ronnie Viera said the initiatives did not go far enough. He said: "The Chamber was ... concerned that no mention was made of efforts to stimulate investment in hotel properties by removing the red tape and immigration barriers currently stymieing progress." One Bermuda Alliance Shadow Minister for Tourism Shawn Crockwell noted that no new tourism act was tabled in the House of Assembly yesterday, although many new pieces of legislation were. Bermuda Hotel Association President John Harvey said he was not in a position to comment on the new legislation. Doubling Bermuda's tourist air arrivals in the next decade was a restated goal in yesterday's Throne Speech. In a bid to accomplish this, Mr Fergusson read: "Business leaders and government officials have been dispatched across the globe to spread the word about what makes Bermuda the Pearl of the Atlantic." It was one of an array of announcements and initiatives, with the attractions of the ocean surrounding Bermuda as a recurring theme. They ranged from the reopening of St George's Golf Course to medical tourism, and included the provision of a new style of residency for those visitors who purchase 'tourism zoned units'. That concept was met with a luke-warm response from the Chamber of Commerce. Mr Viera said: "While pleased with the announcement that Government will provide a form of residency for those investing in tourism zoned units, the Chamber questioned why the same consideration should not be offered to those purchasing any property at the very top end of the market." Mr Crockwell said: "We agree with anything that promotes jobs for Bermudians in the (tourism) industry. Developing sports tourism, eco tourism and medical tourism is certainly a good idea," but he called the announcement that St George's Golf Course will be reopened "somewhat suspicious ... here on the eve of an election." He also said the ten-year plan to double air arrival numbers was 'futile ... people need solutions; these issues need to be addressed now. We think this is just elementary." Premier Paula Cox's visit to the Gulf Cooperation Council (GCC) region may pay dividends with the announcement that: "Qatar wishes to find win-win opportunities to partner with Bermuda." Hotel development is one of the areas that a newly created Government GCC task force announced in the throne speech is to pursue, as is a new airport. Water tourism was included in the announcement of the development of a National Aquaculture Strategy, which will initiate the development of several additional industries. The goal of: " ... transforming Bermuda into the world's leader in the Blue Economy," described by US-based Brookings Institution as a '$500 billion-and-growing global water technology business sector', was announced. Moving toward that goal, yesterday's speech referred to the National Tourism Plan rolled out earlier this year, which includes the promotion of underwater tourism by taking advantage of the shipwrecks in Bermuda's coastal waters. Medical tourism utilizing hospital facilities currently under construction on Point Finger Road is to be promoted, while sports and culture tourism, wildlife and eco-tourism, as well as business and entertainment tourism were also restated elements of the National Tourism Plan yesterday. "Bermuda has too much to offer to be a seasonal destination only, too special to be limited to summer visitors only", stated the Throne Speech, and is one method by which Government hopes to start the process of doubling air arrivals. The new form of residency for tourists who purchase tourism zoned units is also geared to reducing seasonality, as well as aiding a tourism recovery. The ultimate goal is to have more tourists spend more money year round. That means more stable, good paying jobs in the tourism industry for Bermudians." It was also announced that some 340,000 cruise ship visitors are anticipated to pump more than an estimated $80 million into the Island's economy in 2013.
2012. Tourism Board members have recommended that gambling (otherwise known as gaming) in Bermuda should be legalized and a casino opened in Hamilton within two years. This is one of a whole raft of wide-ranging recommendations included in a newly released report, which addresses the key issues needed to make sure Bermuda "transcends seasonality and extends a 365 day visitor welcome." The report states that although gaming has always been a controversial issue, the Board cannot ignore that many hoteliers have said that it would boost tourism. The report, tabled in the House of Assembly, is said to lay the foundations for the long-awaited National Tourism Plan. It states that additional jobs and revenue had to be weighed against "the disintegration of the Island's social fabric" such as gambling addictions. As well as gaming, the Tourism Board lists transportation, marketing, new hotel developments, on-Island communications, a tourism authority, cruise ships, service standards, airlift, and Bermudian culture and heritage as "hot button" recommendations. Members of the Tourism Board took a year to produce the Strategic Imperatives Report titled 'Establishing the foundation for the National Tourism Plan.' They want Bermuda to establish a Tourism Authority within two years to "have responsibility for overseeing the development and operation of the tourism industry". In the short-term, the Tourism Board will be given statutory provisions. They add that the challenge will be the involvement of Government as the Authority will require both government support and funding. They state that transportation is the "core ingredient of the guest experience" and improvements need to be made to improve Bermuda's attractiveness as a destination. The Board agree that "transportation is so much more than a ride." They recognize that public transport needs to "improve its schedule" and "consider a better evening service" as cruise ship passengers have been left stranded in Dockyard. They will recommend the introduction of water taxis, as well as the staggered arrival and departure times of cruise ships and a direct bus route from St. George's to Dockyard. They highlight that a visitor survey shows there's a huge interest in extending rental provisions beyond scooters. Lack of ability of visitors to rent automobiles has been cited by visitors as a major complaint and gives competing jurisdictions who do offer them a distinct advantage. Marketing is seen as an immediate concern, with the report stating that Bermuda needs a "timeless and iconic" brand that targets its target traveler someone who is affluent, aged 35-55, educated and has a household income of more than $150,000. Bermudians need to feel connected to and supportive of the campaign message, which aims to give visitors the "wow factor." Sales teams and journalists visiting Bermuda need to be given such a great time that it will "blow their minds" and they will be sent home "with stars in their eyes." The report touches on Bermuda's 13 active new hotel developments saying Bermuda's 2,612 hotel rooms could increase to 3,915 rooms. But the Board makes it clear that: "the probability of any of these projects materializing is difficult to determine." The Board recommends that a New Development Office is established to try to secure new development and a Cabinet task force is set up in the next 12 months to determine what it will take to complete the current projects. The on-Island communications recommendations point the finger at Bermudians who seem "disconnected and disinterested" in helping visitors enjoy their stay. The report states: "There is widespread apathy towards tourism from the general public, particularly from those people who are not directly involved in the industry." To try to tackle this, the Board wants Bermudians and guest workers to "recognise and appreciate" the importance of the tourism industry. They recommend a Proud to be Bermudian campaign, improved signs so visitors don't get lost and "more transparent and easy communication" between the Bermuda Department of Tourism and the media. The report also recognizes that service standards need to be improved to reposition Bermuda as a premier destination, but it states: "This will take time." The Board recommends that a new training facility is set up at Bermuda College so employees know about service expectations, the Blue Flag programme is restarted and made mandatory for all taxi-drivers and a hospitality code of practice is established. With regard to cruise ships, the report states that smaller ships need to dock in Hamilton and St George's on a weekly basis but a cap of 350,000 cruise ship arrivals must be established by 2013. The Board also wants to consider using marinas to attract the long-term stay of small luxury motor yachts during the winter months. The Board recommends that Bermuda maintains air passengers at the present level and encourages local entertainers to "showcase the diversity of our people, our talents, and our history."
August 19, 2012. Government yesterday unveiled a new tourism brand aimed at rejuvenating the industry with the slogan 'Bermuda: So Much More.' With Tourism Minister Wayne Furbert declaring a new day for Bermuda tourism, his Ministry announced plans to hit cities in the United States, Canada and Europe with a slick series of adverts on television, print, online and radio. The $4.8 million campaign will tell potential visitors the Island has much more to offer than the pink sand beaches and turquoise waters for which it is already renowned. At the Fairmont Southampton unveiling late yesterday afternoon the re-branding was given an unqualified thumbs up by many of those in attendance — with some saying that it is the best campaign in recent history. Cultural, golf, leisure, nautical, eco and business tourism — previously outlined as key segments of the National Tourism Plan — will be among those highlighted throughout the campaign. There will be a focus on the role Bermudians play in making visitors' stays memorable, with the iconic 'Bermuda is Another World' song given a modern twist to feature prominently. Meanwhile people will be specifically encouraged to visit destination hubs identified in the Tourism Plan: St George's, St David's, Hamilton, South Shore, Dockyard and offshore. Mr Furbert said: "This new campaign marks the beginning of a new day for Bermuda tourism. It is a day which will bring new demand for our destination, build national pride in what we have to offer, deliver impactful results and, of course, so much more. The 'Bermuda: So Much More' campaign will communicate in a fresh and exciting way that Bermuda offers not only a breathtaking island with natural beauty, but also a nearby, culturally rich, history-infused escape with a variety of things to see, do and enjoy in all seasons, 12 months of the year." The Tourism Plan, unveiled in June, aims to help Bermuda generate $1.4 billion a year through tourism by 2022; the multimedia campaign has been developed in conjunction with North American advertising agency Fuseideas. Chairman of the Bermuda Tourism Board Maxwell Burgess said he wants to develop an iconic and lasting brand for Bermuda. "This is an extremely well thought-out campaign based on consumer profiling that helped us gain a deeper understanding of the Bermuda customer than ever before. We were able to fully define target segments for Bermuda's best customer prospects and develop a campaign that is based on research and concept testing with representative consumers in our core geographic markets." Cindy Hale, President and chief creative officer at Fuseideas, said Bermudians had been crucial in developing the campaign. "The idea behind 'So Much More' ultimately came from the citizens of Bermuda. Speaking to those involved on the front lines of the tourism industry — taxi drivers, hotel clerks, waiters and others — and conducting formal and non-formal interviews led us to understand there was a strong desire among Bermudians to tell a greater story about their home." Ms Hale said the campaign aims to describe the quintessential experience that defines Bermuda. "We think of it as the serendipitous moments that people experience here when interacting with Bermudians. It's the taxi driver who goes out of his way to show a visitor his favourite spot for great fish chowder, or the person on the street who stops to help a visitor find their way. These are the human moments and experiences that happen so frequently here and are what helps make this such an incredible destination with so much more to offer." Mr Furbert said he was excited 'Bermuda is Another World' will be used to help tell the Island's story. "This song is not only beloved here in Bermuda but does a better job than any other in describing the magic and beauty that is our Island," he said. He described the new rendition as "classic with a modern twist", using the voices of contemporary Bermudian singing stars Collie Buddz and Twanee Butterfield. Advertising executive Ben Fairn was one of the approximately 300 people at the launch. "It's new, it's fresh. And it shows a lot of the activities that go on the Island. I just hope they get enough money to spend to get it to market so that people see it. I don't think we've had that in the past." Alderman Carlton Simmons said the rebranding was "awesome." "It really captures the essence of Bermuda that has been lost — the true experience of Bermuda is its people. He commended the Minister and the creative team. "It's a well put together campaign. They represented Bermuda well." Farmer Tom Wadson said: "I was quite impressed. It's been quite well produced. If we all get behind it, we've got a shot." Catherine Greet, an events coordinator praised the photography, music and the tagline. "It represents the diversity of our culture really well — from the high end to the average guy on the street. I think Bermuda is quite unique in that respect in that we rub shoulders with all walks and I think we tend to get on reasonably well and respect each other." Former advertising executive Dusty Hind said: "It's the best campaign they've had in 20 years. Because the ads are showing Bermuda. The ads are showing people enjoying Bermuda and for some obscure reason that hasn't happened in two decades.It shows Bermuda in a wonderful light." He added that media presence, especially on the East Coast of the United States, will be critical for the campaign to drive visitors to Bermuda's shores. As well as television, print, online and radio, the brand launch will be integrated within all social media channels. It includes a refresh of Bermuda Tourism's websites, direct marketing via an e-Newsletter and e-mail blasts. Shadow Tourism Minister Shawn Crockwell was also impressed with the re-branding. "I thought the tagline was interesting. It could be interpreted in so many different positive ways," Mr Crockwell said. "I thought that the remake of the song was really good." Mr Crockwell's only concern was whether the campaign, which gives the impression that there is a lot of entertainment on the Island, oversells Bermuda. "If we can provide that aspect to dovetail with the marketing then I think we will have a very competitive product. But the truth will be in the results and I certainly hope that it will be successful. Bermuda needs for it to be successful."
June 30, 2012. Tourism Minister Wayne Furbert sang the praises of the National Tourism Plan when it was debated in the House of Assembly yesterday. A total of 22 MPs from across all three parties gave their unanimous backing to the plan after a lengthy debate about the state of the industry. According to Mr Furbert, it will "increase tourism expenditure, expand tax revenue, increase jobs and raise the GDP." Specific targets are to generate $1.4 billion a year through tourism by 2022, and create 6,157 new jobs. The luxury market will be targeted, cruise visitors converted into air arrivals who spend more money, and more tourists will be attracted out of season, if all the aims are achieved. Mr Furbert explained that it is "the most comprehensive tourism plan we have ever had". It took a year to work on and involved consultation with more than 80 stakeholder groups. "Bermuda, we think, is unique and authentic," explained Mr Furbert. He delivered a lengthy speech highlighting how the plan aims to play up Bermuda's natural gifts and resources. A new marketing approach will be taken to develop products such as cultural tourism, sport tourism, and eco tourism. Mr Furbert said five "destination hubs" will be created in St George's, the City of Hamilton, South Shore, Royal Naval Dockyard and offshore. He said planned new hotel developments at Morgan's Point and Par la Ville Park will help. He also spoke of promoting activities such as beach volleyball, soccer and tennis, and offshore rafts where people can moor their boats and party. The Minister added that the Island needs a convention centre. He said there will be a new marketing and sales approach aimed at the "luxury lifestyle segment" and niche interest groups such as sportsmen, divers, culture seekers, fishermen and sailors. He acknowledged that facilities and services will need to be improved, ranging from hotel accommodation and the leisure and entertainment options on offer to transport. He also highlighted the need to develop pride in the tourism industry and awareness of the career opportunities it provides. Mr Furbert said steps will be taken to secure international investment in Bermuda. Kicking off the Opposition's participation in the debate, Shadow Tourism Minister Shawn Crockwell pointed out that Government has been in power for 14 years, yet the plan is only now coming to fruition. He said he would like to congratulate Mr Furbert for his achievement, but noted that former Tourism Minister Renee Webb first mooted the idea eight years ago. He also pointed out that until recently, Government was not seeing the imbalance between air and cruise arrivals as a bad thing, and was in fact aiming to increase cruise visitors. He complained that many of the proposals in the tourism plan have been heard before, such as improving transport. "This is not anything new," he said. "We know what a mess the transportation system has been in. This Government has been in Government for almost 14 years and these issues did not suddenly appear in 2012. Each Bermudian needs to understand that we are all ambassadors when it comes to the tourism product. We must all sell our home when it comes to making this National Tourism Plan work. Questions needed to be asked as to whether the plan is realistic" or over-ambitious. Bermuda must be able to offer "a competitive price and experience" to visitors or it will run into trouble. Many of the targets in the plan lack an explanation of how they are going to be achieved. How are we going to increase pride and jobs? These are quite ambitious and lofty objectives that we can all support. And if, by tomorrow, by a magic wand it can happen we will all be happy."
June 29, 2012. National Tourism Plan tabled in the House of Assembly. Four destination hubs on the Island, and a fifth offshore, will be set up as part of an effort to reinvent Bermuda's tourism industry. St George's and St David's, the City of Hamilton, South Shore and Dockyard will all receive special focus under the National Tourism Plan, which aims to increase visitor spending from $422 million in 2011 to $1.4 billion by 2022, creating more than 6,000 jobs along the way. Offshore Bermuda, the fifth hub, will encourage tourists to make the most of the Island's coral reef system. The plan will also target the luxury lifestyle segment, ensuring a top-end product is available for visitors coming to Bermuda for cultural and sports events and business conferences. It was developed through the Tourism Board, the Department of Tourism and a number of international partners, following consultation with stakeholders across the tourism sector. A gaming facility, shopping tourism development and Hamilton waterfront development will all be pursued under the leisure and entertainment bracket, with a marina facility hoping to boost nautical tourism. Shop hours and days of operation will be revised to ensure they cater to visitors during leisure hours, while exclusive tours will be launched from Coopers Island Nature Reserve. Tourism Minister Wayne Furbert has previously revealed the National Tourism Plan aims to reduce the Island's dependence on the summer months for generating revenue, and move back towards air arrivals from cruise arrivals. He has said the vision is to create an "innovative, modern and sophisticated year round destination", using Bermuda's natural beauty and cultural heritage and other resources to create "authentic Bermudian experiences" for visitors.
June 9, 2012. The Tourism Board Amendment Act 2012 was passed in the House of Assembly last night, but not before a lengthy debate with questioning by the Opposition on specific clauses. Tourism Minister Wayne Furbert told his parliamentary colleagues that "every organization needs to make improvements from time to time to see what's been done wrong and how things can be improved." Noting the sharp decrease in air arrivals since 1980 to 2011 as opposed to significant increases in cruise ship passenger arrivals in addition to the loss of hotel beds he said the Bill "is just one part of the Government strategy for tourism. The five to ten year plan will be unveiled at a public meeting on Monday. And the New Tourism Brand will be released to the people of Bermuda "soon thereafter" along with the new advertising campaign. The new legislation gives the board "statutory powers" and a "defined purpose" so that the marketing activity for Bermuda "would not change with a new Government or a new Minister. It is intended that the Board set up a company for operational purposes, causing the Board to possibly acquire and dispose of property as may be necessary for the present and future development of any activities or institutions under its remit," said Mr Furbert. "It is also necessary to secure accommodations to house the Board's staff as the Board operates outside of the Ministry. All of these activities will move the Ministry's closer to its objective to increase jobs in the tourism sector from approximately 3,600 to 6,000 in ten years as well as effectively managing outcomes of the same with a view of growing GDP." The Bill also provides for a Chief Executive to be appointed by the board with the Minister's approval and "any other necessary resource." "A Memorandum of Understanding will be established for the arrangement between the Board and the Department of Tourism. It will focus on budgetary allocation from the Tourism budget for programmes approved by the Board, the process for the Board to communicate with the Department and relevant operational procedures," said Mr Furbert. "In addition to funds approved by the Legislature, the Board will also receive fees. The main medium for the Board to receive fees is from stakeholder participation in Board programmes. A 'Tourism Guest Fee' will be formally introduced, based on the 'Tourism Fund' model that was established through a Memorandum of Understanding between the Government and the Bermuda Hotel Association in October 2010," he added. Shadow Tourism Minister Shawn Crockwell however criticised the legislation, saying it falls short of giving the board autonomy, requiring the Tourism Minister to approve board decisions. "When you read the details you find out that nothing much is changing," Mr Crockwell said. "The only thing that's changing is more spending and more bureaucracy." Mr Crockwell argued that part of the reason why the tourism industry has been on the decline is the change in direction caused by a change in the Minister responsible, something that a Tourism Authority would prevent, but only if they have autonomy. "It appears to me that what we have here today is window dressing," he said. "In reality all we are doing is adding bureaucracy. The leadership is still in the hands of the Minister." He said that if elected, an OBA Government would create a tourism authority that would have the appropriate autonomy and independence to make a difference. Kim Swan, who was elected under the UBP mantle, praised Mr Furbert for his hard work promoting the Island overseas and described the new direction for tourism as a "quantum leap" for the Government, but said the legislation stopped short of the final step and giving the industry the power it needs. He said that politics have held back the industry, noting that while local musicians were historically sent overseas to promote the Island, under Premier Ewart Brown concerts were held locally under the tourism banner to please Bermudians. "You are not going to get any more tourists at National Stadium standing next to Beyonce," he said. "You find them overseas. We need to give tourism to the people. We are moving in that direction but we have got to move fast. We are looking in another direction, but we need to get there now." OBA's Patricia Gordon Pamplin called the legislation cumbersome, saying it continued to leave the future of tourism in the hands of the Minister rather than experts in the field. "If you listen to even half the ideas that area articulated and advanced by people who know the tourism industry, we would not have these problems." Health Minister Zane DeSilva fired back at the Opposition, saying in the case of any business the CEO makes the final decision, not the advisers. "If they have a problem with intervention, why don't they call for independence?" he asked. Mr DeSilva praised Mr Furbert for his efforts in promoting the Island overseas, dismissing the opposition as "the party of no." Government MP Walter Lister meanwhile said that Government must be responsible with the people's money, and that meant having control of how the Tourism Board spends. "You cannot take the people's money, put it in another dominion and have no say for it. This is a direct line of authority. The way it is now, it is very clear the line of authority and the line of responsibility and that's the way Government should act." Shadow Minister of Education Grant Gibbons agreed that there must be some degree of accountability, but said that the degree of Ministerial involvement included in the act was akin to putting training wheels on a Ferrari. "This is not a case of saying no, it's a case of saying you need to go a little farther," Dr Gibbons said. "The sad fact of the matter is this is not going to do what needs to be done. There is a tremendous amount of talent, and they are going to be incredibly frustrated because very time they need to do something, they need to go to the Minister for approval. To have to check every time they have to go to the men's room simply doesn't provide the kind of independence, not complete independence, but the necessary independence to do what they need to do." Defending the legislation, Mr Furbert said that every area that has established a Tourism Board or authority, the core responsibility has remained with the Government. "Every authority out there has a Minister, whether it's South Africa or whether it's Hawaii," Mr Furbert said. He further maintained that the legislation was giving the board power, but that giving the board too much power would be detrimental. "Do you think that the country wants a board to be investing money, dilly dallying around the world without the right authority?" he asked. He also dismissed the suggestion that the legislation is only coming now because of the coming election. "It's not about an election. We don't have to create a Tourism Board or a Tourism Authority to win an election. I don't need a board to beat Donte Hunt. The Government just decided that it's time we all move forward in this direction."
Bermuda Tourism Board changes from April 2012. On March 28, 2012 Tourism Minister Wayne Furbert announced the formation of a re-vamped Bermuda Tourism Board, a statutory body. The development is in keeping with a recommendation by the current Tourism Board which agreed to resign. For continuity, some of the members will serve under the new structure. Names of members will be forthcoming. While the legislation creating the Bermuda Tourism Board will be tabled in the next Parliamentary session, Minister Furbert said it will start working effective April 1. The Board will serve for an as yet unspecified number of years, but more than one. Its chairman and eight of the members will be appointed by the Minister. Five members will be appointed by the Bermuda Hotel Association. The other members will be the President of the Bermuda Industrial Union, the Executive Officer of the Chamber of Commerce and, in an ex-officio capacity, the Director of Tourism and Global Operations, the Airport General Manager and the CEO of the Bermuda Hotel Association. While it will be autonomous, it differs in a number of aspects from the Tourism Authority concept advanced by the One Bermuda Alliance (OBA) political group. The Minister added that the OBA wanted their Tourism Authority to be funded by the hospitality industry. But "our idea is that the business is not healthy enough for the full implementation of funding by hospitality and the Government must get involved." The Minister had promoted a Tourism Authority when he was in the Opposition.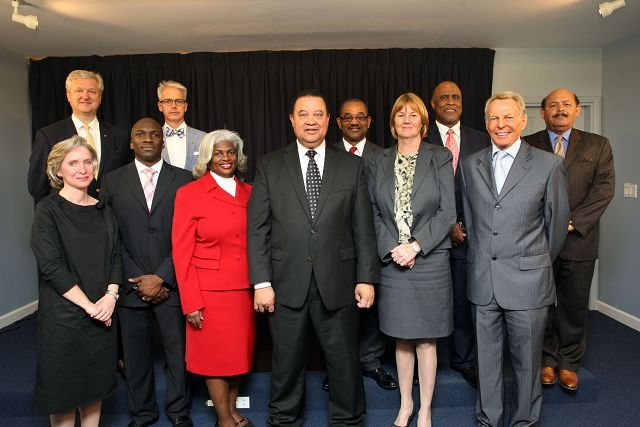 Members of the new Board with the Minister of Tourism center: Chairman, Maxwell Burgess; ruling party backbencher Randy Horton; Senator Vincent Ingham; Michelle Cox; Isabelle Ramsey; Selena Lambert; John Jefferis; Kevin Bean; Daniel Reece; Muriel Richardson; George Terpilowski, Michael Winfield; David Dodwell; and Edward Shapard.
2012. Minister Wayne Furbert announced Government will restructure the Tourism Board to allow more people directly involved the industry to sit on it. These individuals will be given more authority over how the sales, marketing and promotional dollars are spent. But he said the restructuring plans is not an admission that the board, in its present form, is not up to standard. Mr Furbert also announced the formation of two new committees the Business Development Committee (BDC) which will consist of the heads of Business Bermuda, and a new group, Bermuda Investment Managers Association (BIMA). Together they are charged with creating more synergy between the existing groups that receive government funding. According to the Minister: "They will sit down and look at how they are each operating so they can each work more effectively, and be more efficient in our spending. These committees are tasked to produce and get new business in Bermuda. We also will be putting together a group called the Business Sustainability Committee (BSC). We are on a mission, the mission is simple but challenging to increase GDP and job through increased tourism arrivals, grow jobs in existing international business and encourage new businesses to come to our shores. We will move our Island in the direction of a bigger and better future. There are those who believe in austerity, we believe in growth. There are those who believe that the glass is half empty, we believe the glass is half full. I believe the best is yet to come." Mr Furbert also disclosed that the National Tourism Plan will be completed by early spring to outlay the vision for Bermuda's Tourism Industry for the next five to ten years. "This interim report will be produced in the early part of March and I'm expecting the authors to communicate with the public in general. That way we get a buy-in from the public going forward, so when the final report is written, its not their report, its not my report, it's a report from all of us." There remains cautious optimism that ground will be broken on a luxury brand hotel this year.
2012. the Bermuda Government has made longer-stay tourists spend more money in taxes. Most visitors spend no longer than three weeks, the present maximum for the arrival or departure taxes they presently pay. Visitors wanting to stay up to three months will now pay $50 to apply instead of $14 and those seeking to stay up to six months will pay $100 rather than $29. The rise in fees would affect yachtsmen and others wanting longer-term stays on the Island. Plus, there is now a rise from $5 to $7 in the monthly cell phone licence fee; a new fee of $150 for telecommunication apparatus certificates; and an increase in the penalty for people arriving here with insufficient documentation, from $135 to $200.
August 24, 2011. Tourism Minister Patrice Minors revealed the Tourism Master Plan has been delayed until the New Year but that no stone will be unturned. The long-term master plan, which was originally due to be completed this summer then delayed until October, has now been pushed back to "the early months of next year." Ms Minors insists the extra time is needed to draw up the report, which aims to detail everything that needs to happen in tourism over the next five to ten years. She said: "We are now looking at January or February. It has taken longer than expected … We want to make sure it is a comprehensive document with no holes in it." It is understood that talks are in place to bring in an overseas consultant to write the blueprint for the future of the industry at a cost of about $1 million. But Ms Minors would only say: "That's a process we are looking at right now. Nothing has been decided yet." Ms Minors spoke about her dream for a conference centre to attract large business groups to the Island. She also said she was working to improve public transportation and better promote hotels struggling to fill their rooms. In recent years tourism has suffered from the closure of hotels and guest houses, as well as a decline in tourist numbers. Ms Minors said: "If I could I would love to snap my fingers to make a conference centre appear in Bermuda. It would be a great addition to our tourism product. All hotels would benefit from business events, not just those hotels that have the capacity to host meetings. It's definitely something that's on my wishlist but it would be ignorant of me to think this could happen in these economic times." Ms Minors insists a more realistic plan is working with and improving "the dialogue" with the Ministry of Transport. She said: "It's important to guarantee a visitor's experience is a pleasant one" when travelling by bus of ferry. Ms Minors also believes taxi and minivan drivers could "fill in the gaps" of bus and ferry timetables as they have "a wealth of knowledge" and are "perfect ambassadors." Every two weeks Ms Minors "does the rounds" by visiting a new hotel or guest houses to look around and meet staff. The Tourism Minister now hopes to reclassify guest houses and smaller properties as boutique hotels to make them "sound more appealing" to overseas visitors. The Department of Tourism will then carry out a promotional campaign to sell them. Ms Minors said Government also remained committed to matching funds of $750,000 through its marketing partnership with hotels. A total of 17 hotels are part of the Tourism Fund which sees them handing over an additional 2.25 percent of their occupancy tax for overseas promotions. Ms Minors said the scheme, run through the Bermuda Alliance for Tourism, includes free night promotions and gives smaller hotels "the chance to have a voice". She says she is inundated with letters from residents and tourists who suggest "a little something that could be improved." She said the next few months would see "lots of exciting ways to boost tourism numbers", but refused to give any more details. Ms Minors is this week showing her appreciation to Bermuda's repeat guests by inviting them to a thank-you event at Camden. She hopes to hear their stories on why they return to Bermuda. She remains a firm believer that Bermuda has a positive overseas reputation despite the rise in gun crime and murders. Ms Minors said: "I really think the crime increase in Bermuda is insignificant when you look at other tourist destinations. "Bermuda remains a gem, with the main selling points being our friendliness and welcoming spirit." Ms Minors described her first ten months as Business Development and Tourism Minister as "exciting and interesting" but admitted the new post had been a "steep learning curve." She said: "I think I have done quite well thus far. There are still areas I am learning in, but for the most part the comments I have received show that I am doing a good job." Ms Minors praised the Premier for linking Business Development and Tourism in the same Ministry, saying they remain the two pillars of our economy. There is a natural synergy between the two areas with "one benefiting the other. It is hoped those who come to Bermuda on business trips can be encouraged to return as tourists with their families. Ms Minors currently works in banking, but says she also has hospitality experience, having worked as a waitress at Sonesta and The Reefs. She believes it is important for everyone to play a part in the tourism industry by making people feel welcome. And she urged everyone to "improve our customer service", insisting that being friendly and welcoming should be instilled into children at a young age. Ms Minors would also like to see more young people entering the hospitality industry and "aiming for the top jobs." She said: "I appreciate that most people look towards international business, but if young people get to know the hospitality industry, they will hopefully get a thirst for more. We shouldn't just think of hospitality as waiters and chefs, our young people should be aiming to be hotel managers."
Bermuda is one of the most expensive countries in the world for visitors, with virtually everything imported, whether food or slate, and Customs Duty on top of that.
Bermuda is marketed as being British but no British/UK laws of any kind apply in Bermuda. Bermuda makes all its own laws and they are Bermudian laws, not British laws.
Bermuda has the highest Gross Domestic Product (GDP) per capita in the world
In 2011 the Island's total GDP – the market value of all the goods and services produced – was estimated at $4.857 billion – or a remarkable $76,403 per head. According to the Central Intelligence Agency World Factbook web-site and World Bank records, that puts Bermuda at the top of the GDP per capita global league table, with second-placed Luxembourg more than $10,000 behind. In comparison, the US had a GDP per capita over the same year of $53,600, Canada $43,900 and the UK $33,100.
British visitors
Visitors from Britain should note that tea sold in Bermuda is mixed for the American palate and is very weak compared to teas imported into the UK. Even familiar brand names such as Twining's and Typhoo seem to sell a different formula in Bermuda and USA.
Camping sites
Camping is limited to residents of Bermuda. There are NO camp sites for visitors except by special arrangement for organized school groups only if and when space permits and with the prior approval well in advance of the Bermuda Government's Department of Youth, Sport & Recreation (unless otherwise indicated) to which all enquiries should be addressed directly. Residents, and persons staying in the private - non-commercial - homes of residents - must apply in person with name, full postal address and local telephone number, not through any third party, and may qualify:
On application in advance to the Department of Parks (via the Park Ranger Office at 236-5902 or 236-4201) or Department of Youth and Sport if on an approved school visit.
For a strictly limited period only, as many others will want to use the same place afterwards.
On a first-come, first served basis
At a 2008 cost per night per sight in conjunction with a deposit, price to be determined by the Department of Parks.
Must bring their own approved tents and leave with them
Must be on a structured, designated campsite
Must adhere to Bermuda National Park Regulations
To prevent fires, must cook in an approved barbecue with charcoal, propane or coal. No open wood fires are permitted.
Under no circumstances may any trees or vegetation be damaged or destroyed.
Garbage must be disposed of in trash bags and deposited in trash barrels provided.
Generators are not permitted in the campground.
Pets are not permitted in the campground.
Structured, designated camping is offered seasonally at these locations, during the camping season of May to mid-September, as administered by either the Department of Parks or Youth and Sport:
Astwood Park
Chaplin Bay
Clearwater Beach
Darrell's Island, Great Sound. 14 individual rustic campsites with a maximum of 30 campers per site. There are washrooms and showers.
Hen Island, St. George's Harbour. 2.75 acres, north-west of Smith's, St. George's Harbour, St. George's Parish. With a campsite operated by and requiring the permission well in advance of the Bermuda Government's Department of the Environment (Parks).
Higgs and Horseshoe Islands
Ferry Point
Coney Island.
Messina House. Bermuda Government-owned and regulated. Bermuda campers take preference. Not residential for any visitors or resident or working student but a camp, only one on the mainland, between Somerset and Dockyard, in Sandys Parish. Only one group of 30 campers is accommodated at any one time. It has a number of rooms at ground level and several bedrooms with bunk beds, in a dormitory. There is a dock for campers, as well as a small gym behind the main house with washroom and showers; open area on waterfront; with restaurant, shops and ferry service within easy walking distance.
Paget Island, St. George's Harbour. Local and overseas groups camp on the campground site each year, only one group at a time with a maximum of 70 campers. Many outbuildings for different purposes.
Ports Island. Great Sound, Warwick Parish. With a 20 acre campsite. Only one group at a time.
Rabbit Island, Harrington Sound. Weekends. Only for members of Bermuda National Trust. Bookings via phone 236-6483. Supply your own boat, food, tent and respect the environment.
Shelly Bay.
Turtle Bay
White's Island. Hamilton Harbour. Now also a campsite.
Climate
January is one of the least humid months for walking but check our Climate/Weather file. Remember, Bermuda - for exact position see www.bermuda-online.org/abcbda3.htm - is 1,000 miles north of the Caribbean, so the sea will be cold compared to Florida and Caribbean. See the Beaches at www.bermuda-online.org/beaches.htm
file.
Consumer Protection Act 1999
This Bermuda Government legislation became effective on December 1, 2000 and applies to all Bermuda properties accepting visitors. A few areas covered by the Act are truth in advertising; unfair business practices; product recalls; product safety; unconscionable consumer representations and penalties for non compliance, for regular and disabled or physically handicapped visitors and locals.
Costs of hotel construction in Bermuda
In March 2012 it was announced it can cost up to $1 million to build a single hotel room in Bermuda, with construction costs in Bermuda now ranging from $850 a square-foot up to $1,000 a square foot. That's inclusive of air conditioning, wiring, furnishings - everything within four walls, say local developers. One of the latter also revealed the electricity bill alone for a small contained hotel runs about $70,000 a month in the summer. The figures show the sky-high construction and operating costs hoteliers and developers face when considering building in Bermuda, especially when compared to our competitors. Tourism Minister Wayne Furbert said he accepted construction costs in Bermuda were "too high." He declared he been working to hope to achieve lower costs for new hospitality development and was confident if his initiatives were successful, it would attract new development. Cambridge Beaches president Michael Winfield agreed electricity was another massive cost for hotels in Bermuda. "Electricity is one of those costs that are far higher in Bermuda than almost anywhere else. We are paying north of 30 cents a kWh. I know of no other competitive jurisdictions, even on small islands, where there costs are so high. It is a huge element of our cost structure. The cost per square foot for new build was "a multiple of at least two over competitive areas. And that is before the cost of land is incorporated. So in construction costs alone, we are starting at twice the cost of product than most other places."
Highest in the world. Unfortunately, neither the Hogg Robinson Group nor Mercer Consulting give any cost-of-living costs for Bermuda
Credit Cards
Most properties and restaurants accept certain cards - American Express or Visa mostly - but visitors should check this in advance with individual places.
Hiking
There are no youth hostels or YMCA or YWCA facilities. The combination of heat and humidity noted in Climate/Weather

are not good for hiking.
Hotels
Expense of hotel rooms, by jurisdiction, most expensive first, year 2011 year-round average daily rates in US$.
| | |
| --- | --- |
| Place | July 2011 high season |
| * 1. Bermuda (island-wide) | $395.58 |
| ** 2. Moscow | $297.00 |
| ** 3. Rome | $294.00 |
| ** 4. Bangalore | $267.00 |
| ** 5. Paris | $264.00 |
| ** 6. New York | $263.00 |
| ** 7. Milan | $255.00 |
| ** 8. London | $250.00 |
| ** 9. Geneva | $245.00 |
| ** 10. Athens | $242.00 |
| ** 11.Stockholm | $241.00 |
Sources

Bureau of International Economic,Development based on information collected from guests.
** Business Travel International, UK.

Neither the Hogg Robinson Group nor Mercer Consulting, both of which state they show world-wide rates, give any hotel costs figures for Bermuda.
Hotel Licensing Appeal Tribunal
See Bermuda Government Boards.
Hotel Occupancy Tax payable by visitors
See http://www.gov.bm/portal/server.pt?open=512&objID=275&&PageID=231424&mode=2&in_hi_userid=2&cached=true.
Hotels, smaller commercial properties, are inspected and licensed
This is done by the Bermuda Government's Department of Tourism. There is no grading system or star or diamond system in effect. Nor is there any table giving a summary of each property's features - and no mention anywhere of features for the disabled. Overseas, where they are in place, both operate to a high standard of uniformity by grading or star or diamond system and in being helpful to prospective visitors.
All commercial properties operating in the various types of hotels in Bermuda - resort hotels, small hotels, guest houses and efficiency units - are inspected before they qualify for licensing approval - between September and March. But a second inspection takes place in May and June for properties wishing to be considered for the Hotel Merit Awards which focus on health, fire and tourism. The period of time between their annual inspections and the May or June re-inspections is for the properties to address what was laid out in the initial report.
It should be noted that only licensed properties are inspected. Unlicensed properties are not.
Three areas are inspected, the exterior, interior and guestrooms. Hotel inspectors make an appointment with the property to ensure rooms are unoccupied and available for inspection. It can be a time-consuming process, especially with the larger hotels. One inspector may end up inspecting 30 rooms. Outside and inside, they look at everything, the state of the roof, the grounds. Outside, their inspection includes seeing if there is mildew in the concrete and if the pool is clean. If there is a restaurant or eating area, it is examined. Rooms and suites or villas can easily take up to half an hour each, depending on the size and facilities. They include a close look at bathrooms, toilets, showers, shower curtains and liners. Hotel inspectors do not shrink from withholding or pulling approval and licensing of rooms if, for example, a door or window do not lock or is missing fittings essential for the security of a guest. Hotel inspectors invite a hotel employee to join them in the inspection. They talk to the cleaners and maids who often make thoughtful comments. Most property owners have no problems at all with the reports or making the necessary changes.
Modified American Plan (MAP)
Room, breakfast and dinner, may be offered by some hotels, on application.
No youth hostels, YWCAs or YMCAs
Smoking and non-smoking
Non-smoking visitors cannot assume that the hotel is for non-smokers only. Some may have non-smoking sections. Always check directly with the hotel concerned. Effective April 1, 2006, smoking in public places was banned in Bermuda. Legislation enacted in late 2005 makes it an offence to light up in bars, restaurants hospitals, hotels, offices and schools across the Island. It also sees cigarette vending machines banned along with tobacco advertising at sporting events and it is illegal to sell cigarettes to under 18s. There is a $1,000 fine for those who break the law.
Taxes for visitors
In addition to per-day hotel charges and departure taxes, visitors should expect to pay the following Bermuda Government Taxes (a) Occupancy Tax - see http://www.gov.bm/portal/server.pt?open=512&objID=275&&PageID=231424&mode=2&in_hi_userid=2&cached=true and (b) a Resort Levy of 17%. Ask any property at which you stay about any further extras.
Thefts from visitors
Many Bermuda guest properties have thefts, due to the drug addition of many locals. Guests at licensed premises should ask in advance about safe-keeping of their valuables and if room safes are provided. At night, guests who leave a screen or door unlocked are courting trouble. In their own best interests, if they are robbed, they should inform the local police immediately.
With Bermuda's resident population of 62,400 in only 21 square miles making it the sixth highest place in the world in terms of population per square mile, with the heaviest density of motor traffic of any resort and with 550,000 visitors a year, be sure to ask if the property offers peace and quiet and is on a tranquil road with freedom from loud road traffic noise.
Travel insurance
All guests should buy travel insurance before they arrive in Bermuda. It should include medical emergencies - ,not provided for free in Bermuda, a foreign country - and theft of personal property.
Tourism's new UK public relations company
Since September 2011. Publicasity. See www.publicasity.co.uk. Has vowed to come up with innovative ways to encourage Brits to fall in love with Bermuda. Was selected to carry out a massive marketing blitz in a bid to lure more tourists to Bermuda from the UK. The company, based in Covent Garden, London, selected a 'Bermuda Team' of staff to draw up its marketing campaign. Staff are said to dedicated to reawaken Britain's love affair with Bermuda. The company aims to showcase the Island as never seen before through print, broadcast and digital mediums. They want to make sure Bermuda is read and talked about, watched, listened to and engaged with in all of the right places. The aim is to boost arrival numbers and length of stay of visitors stay by specifically targeting the urbane over-35 traveller market. Rooster Inc previously represented Bermuda for four years and it is understood they bid for the contract again. From April to June 3011 there were just 6,371 visitors from the UK compared to 61,232 visitors from the US. But Publicasity believes Bermuda offers "an unparalleled island experience" because of its secluded location, pink beaches and quaint ports. Publicasity also handles the UK publicity for Orlando and South Africa, plus Bacardi, Heinz, Kia Motors, McVitie's, Jack Daniel's With Bermuda considering whether to legalize gambling, the company also has Grosvenor Casinos as one of its clients. On February 16, 2012 and April 29, 2012 it was noted by this writer that while Orlando and South Africa were shown as Clients on its website, Bermuda is not.


Last Updated: May 16, 2013.
Multi-national © 2013 by Bermuda Online. All Rights Reserved. Contact Editor/writer and webmaster.