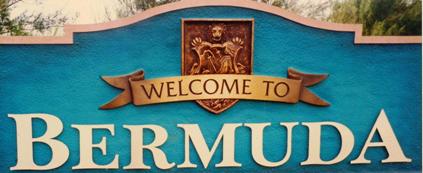 145 web files about the internally self-governing British Overseas Territory of Bermuda in a comprehensive, constantly updated Gazetteer. Accommodation, aircraft registry, airlines, airport, America's Cup 2017, apartments, art, banks, beaches, Bermuda citizenship by Status, Bermuda Dollar, Bermuda Government, Bermuda-incorporated international and local companies, Bermudians, books and publications, causeway, charities, churches, City of Hamilton, commerce, communities, credit cards, cruise ships, culture, cuisine, currency, disability accessibility, Devonshire, districts, Dockyard, economy, education, employers, employment, entertainment, environment, executorships and estates, fauna, ferries, flora, former military bases, forts, gardens, geography, getting around, golf, government, guest houses, history, homes, Hamilton, House of Assembly, housing, hotels, immigration, import duties, insurers and reinsurers, international business, internet access, islands, laws, legal system, legislation, legislators, location, main roads, magazines, marriages, media, members of parliament, motor vehicles, municipalities, music, nearest mainland, newcomers, newspapers, organizations, parishes, parks, Paget, Pembroke, permanent residents, pensions, political parties, postage stamps, public holidays, public transportation, railway trail, religions, retailers, Royal Naval Dockyard, Sandys, Smith's, Somerset, Southampton, St. David's Island, St George's, senior citizens, shipping registry, Somerset, Spanish Point, Spittal Pond, sports, taxes, telecommunications, time zone, traditions, tourism, Town of St. George, Tucker's Town, utilities, water sports, Warwick, weather, wildlife, work permits.

Bermuda's Tourism Industry and efforts to attract more visitors
Initiatives, categories and types of guest premises for lifestyles and budgets

By Keith Archibald Forbes (see About Us) exclusively for Bermuda Online
All visitors need return tickets
All who visit by air or cruise ship should not attempt to enter Bermuda without a valid passport and valid ticket for an onward or return journey.
Accommodation properties for visitors
Inspected and licensed by the new Bermuda Tourism Authority. All commercial licensed properties operating in the various types of hotels in Bermuda - resort hotels, small hotels, guest houses and efficiency units - are inspected before they qualify for licensing approval - between September and March. But a second inspection takes place in May and June for properties wishing to be considered for Awards that focus on health, fire and tourism. Three areas are inspected, the exterior, interior and guestrooms. Hotel inspectors make an appointment with the property to ensure rooms are unoccupied and available for inspection. It can be a time-consuming process, especially with the larger hotels. Outside and inside, they look at everything, the state of the roof, the grounds. Outside, their inspection includes seeing if there is mildew in the concrete and if the pool is clean. If there is a restaurant or eating area, it is examined. Rooms and suites or villas can easily take up to half an hour each, depending on the size and facilities. They include a close look at bathrooms, toilets, showers, shower curtains and liners. Hotel inspectors do not shrink from withholding or pulling approval and licensing of rooms if, for example, a door or window do not lock or is missing fittings essential for the security of a guest. Hotel inspectors invite a hotel employee to join them in the inspection. They talk to the cleaners and maids who often make thoughtful comments. Most property owners have no problems at all with the reports or making the necessary changes.
No local grading system or star or diamond system in effect. However, overseas rating agencies often show these. Unlicensed properties are not inspected.
British visitors. Visitors from Britain should note that tea sold in Bermuda is mixed for the American palate and is weak compared to teas imported into the UK. Familiar brand names of tea seem to sell a different formula in Bermuda and USA.
Camping sites.
There are NO camp sites for visitors except by special arrangement for organized school groups only if and when space permits and with the prior approval well in advance of the Bermuda Government's Department of Youth, Sport & Recreation (unless otherwise indicated) to which all enquiries should be addressed directly.
Disabled visitors or those with reduced mobility. Unlike in USA, Canada, United Kingdom, Europe, Bermuda has no laws equivalent to the USA's ADA or UK's Disability Discrimination Act. Access is not good compared to the USA, Canada, United Kingdom, Europe, etc. None of Bermuda's disabled facilities are USA's ADA-compliant. Most bars, cottage colonies, efficiency units, guest houses, hotels and restaurants are not wheelchair or wheelchair-door friendly, don't have accessible toilet facilities or ample room for wheelchairs or entrances without stairs or steps. Disabled visitors should be accompanied by an able guest. Places that are wheelchair friendly include pedestrian crossings in the City of Hamilton which are flush with pavements or sidewalks and ATM cash machines are low enough for people in wheelchairs to reach.
Modified American Plan (MAP).

Room, breakfast and dinner, may be offered by some hotels, on application. But most don't. Only one hotel, the Grotto Bay, offers all-inclusive as an optional extra
Taxes and charges payable by visitors staying at hotels and related premises. There is a Government tax of 7.25% plus a Tourism Levy or Tax of 2.50% plus where you stay will ask you to pay a Service or Gratuities Charge of 10%. In all, this will add 20% or more to your billing.
ATM Cash machines
Local banks have them inside or out, other places do not. Visitors should note they will receive Bermuda dollars, not US dollars, from the cash machines. The Bermuda dollar is not a recognized foreign currency so cannot be exchanged outside Bermuda.
Average 2016 daily hotel or guest property cost per person to visitors
In 2015 and 2014 more than 72 percent of tourists chose accommodations at one of Bermuda's larger hotels with 27.62 percent staying in other types of accommodations. Only 0.66 percent stayed at a guest house. Prices below are usually in the off-season (November to March) with a free night after a qualifying minimum stay of 3+ nights. Average price per night of all the above in July 2014 was $398.00.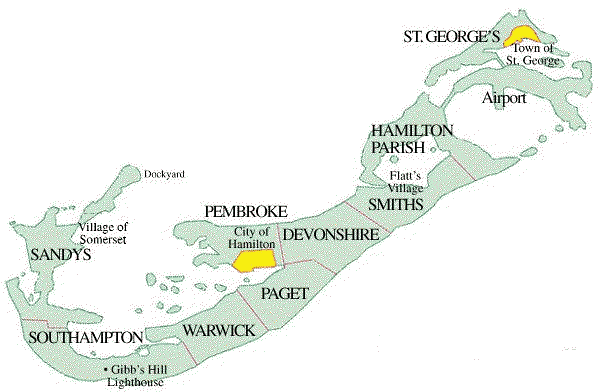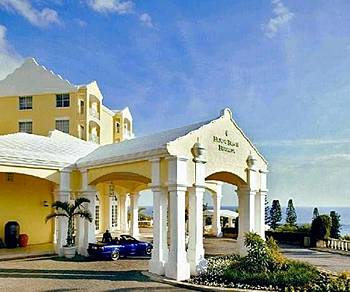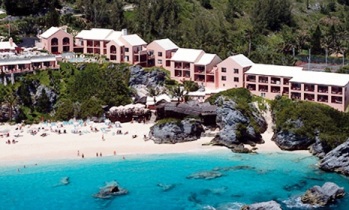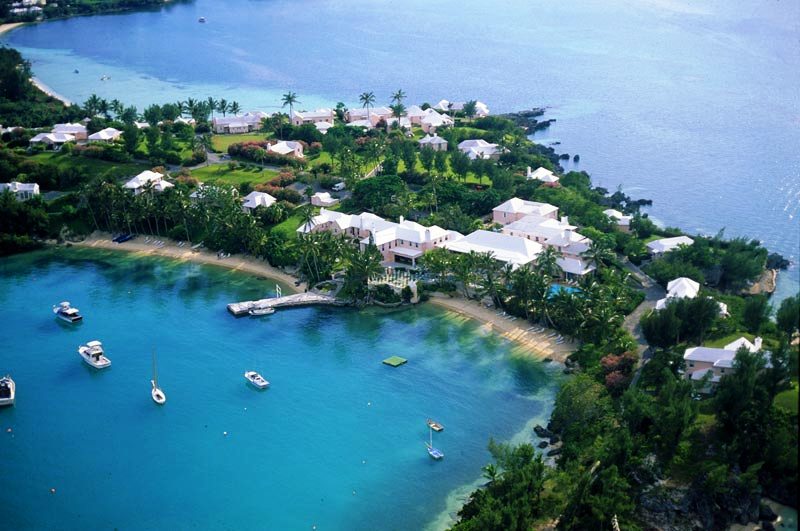 From left to right: Elbow Beach Hotel from $695; The Reefs from $615; Cambridge Beaches from $595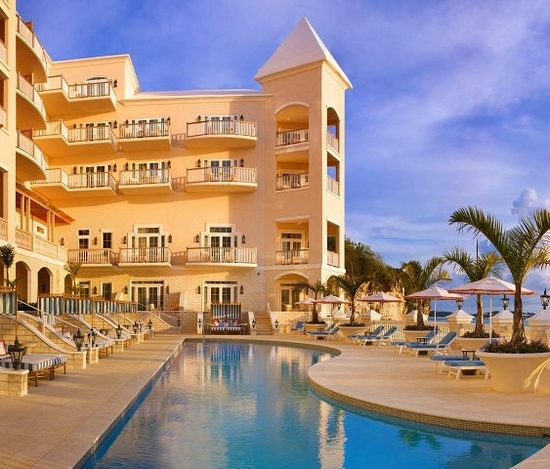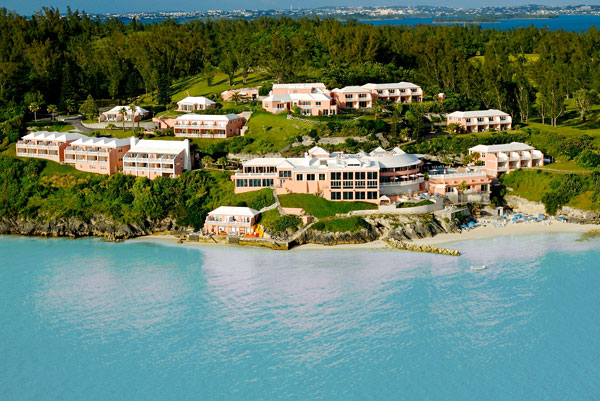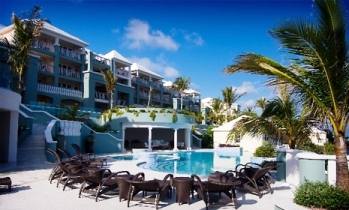 From left to right: Tucker's Point Hotel from $550; Pompano Beach from $520; Newstead Belmont from $500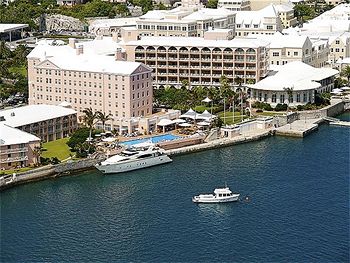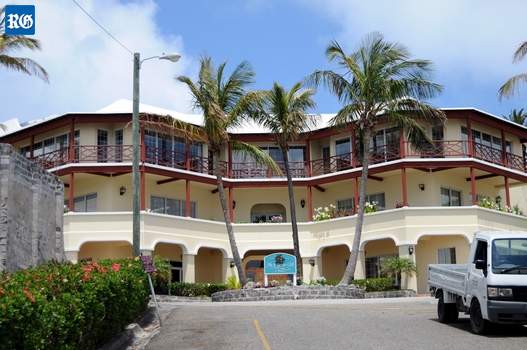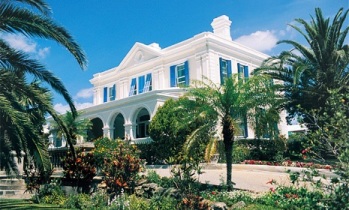 From left to right: Fairmont Hamilton Princess from $399; St. George's Club from $385, Rosedon from $360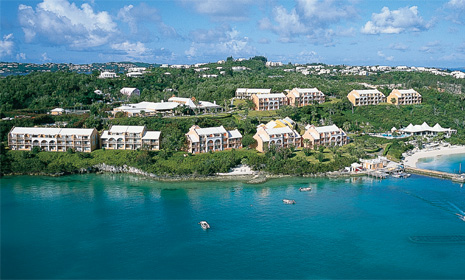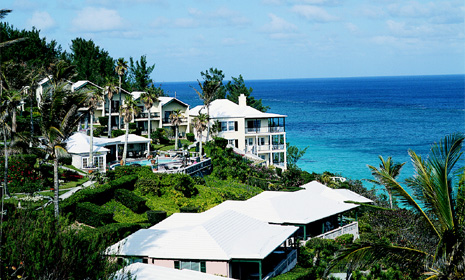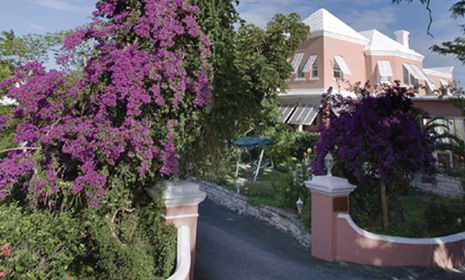 From left to right: Grotto Bay from $346; Surfside from $319, Royal Palms from $319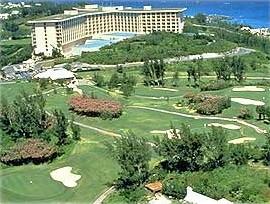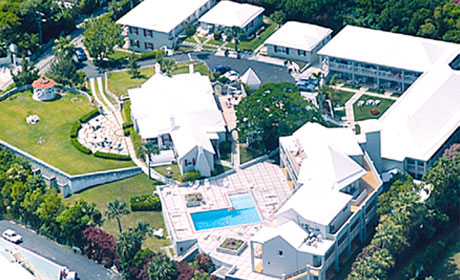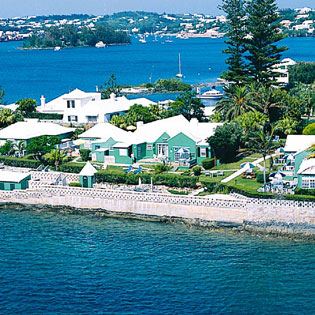 From left to right: Fairmont Southampton Princess from $249; Rosemont from $222, Greenbank from $175
| | |
| --- | --- |
| Place | July 2013 high season |
| * 1. Bermuda (island-wide) | $398.00 |
| ** 2. Moscow | $297.00 |
| ** 3. Rome | $294.00 |
| ** 4. Bangalore | $267.00 |
| ** 5. Paris | $264.00 |
| ** 6. New York | $263.00 |
| ** 7. Milan | $255.00 |
| ** 8. London | $250.00 |
| ** 9. Geneva | $245.00 |
| ** 10. Athens | $242.00 |
| ** 11.Stockholm | $241.00 |
Expense of hotel rooms, by jurisdiction, most expensive first, average daily rates in US$.
Arrival, hotel occupancy and departure taxes for tourists
A summary
Occupancy and Tourism tax. Since April 2016 11.5%, on top of which hotels and other guest properties charge further taxes of their own, making the overall tax total easily more than 28% of the billing rate for guests. Some guests can pay as much as $75 a day per room just in Bermuda Government and other hotel or guest property taxes, plus departure tax. There is a relevant Bermuda Government Hotel Occupancy tax page showing how much government charges the hotels, see http://www.gov.bm/portal/server.pt?open=512&objID=275&&PageID=231424&mode=2&in_hi_userid=2&cached=true, but it may not include what the hotels charge guests.
As an example of the above, just in hotel and directly related costs, the Hamilton Princess and other Bermuda resort hotels charge their basic published rate plus 11.75% tax, $12.29 resort levy per person per day and $10.70 gratuities per person per day.
Energy surcharge, imposed by some hotels or guest houses.
Service charge. In addition to the compulsory 17% service charge added to your food and beverage bills.
Yacht arrival tax $50 per person since April 1, 2015.
Total taxes mean Bermuda charges the highest tourism taxes in the world by a very wide margin.
Departure Tax: $75 per person, was $30 before March 31, 2015, raised again in August 2015.
Average cost of building a single hotel room in Bermuda in 2016
At least $1 million to build a single hotel room or "key" in Bermuda, with construction costs in Bermuda now ranging from $850 a square foot up to $1,000 a square foot. The latter figure includes air conditioning, wired or WIFI Internet, wiring, furnishings - everything within four walls, but not cost of utilities or maintenance. The electricity cost alone for a small contained hotel runs about $70,000 a month in the summer. The figures show the sky-high construction and operating costs hoteliers and developers face when considering building in Bermuda, especially when compared to Bermuda's competitors where it is far cheaper to build and $400,000 is presently the most. Thus it is difficult to encourage investors to build hotels in Bermuda. Another major factor is that in Bermuda, most new hoteliers can only expect to lease properties or land whereas beyond Bermuda they can buy freehold. Electricity is one of those costs are far higher in Bermuda than almost anywhere else. One prominent hotelier said "We are paying north of 30 cents a kWh. I know of no other competitive jurisdictions, even on small islands, where there costs are so high. It is a huge element of our cost structure. The cost per square foot for new build is a multiple of at least two over competitive areas. And that is before the cost of land is incorporated. So in construction costs alone, we are starting at twice the cost of product than most other places." Numerous other factors include the extremely high cost of gasoline in Bermuda what have far-above-average repercussions in transportation costs; the locally- perceived need to use primarily Bermudians (never Bermudans) in construction; and the huge costs to local taxpayers and visiting tourists of maintaining a government of 36 legislators, 477 police officers and an army of civil servants in Bermuda's merely 21 square miles (56 square kilometers) in total land area.
Average length of stay and numbers of air and cruise ship visitors in 2015
Visitor air arrivals were about 235,000. About 75% stayed at hotels, cottage colonies and resorts. About 25% stayed at private homes, either with friends and family or in apartments. Cruise ship passengers were about 385,000.
How visitors arrived:
Visitor spending averages in their entire stay:
By air: $1,196 in 2015

By cruise ship: $445 in 2015

Average length of stay for air visitors: 6.06 nights.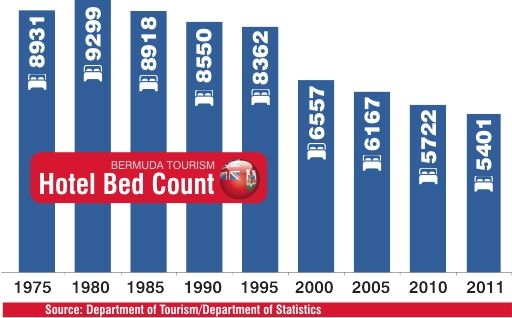 Where Bermuda's visitors come from: 80% from USA, 6% from Canada, 6% from UK, 8% from rest of the world.
Cash. Bermuda's official currency in the Bermuda Dollar which is fixed to the US Dollar. Because of the latter, the US dollar is accepted everywhere at par. British Pounds sterling, Canadian dollars, Euros and other currencies should not be brought as they cannot be used. See Money.

Credit Cards. Most properties and restaurants accept leading credit cards - American Express or MasterCard or Visa mostly.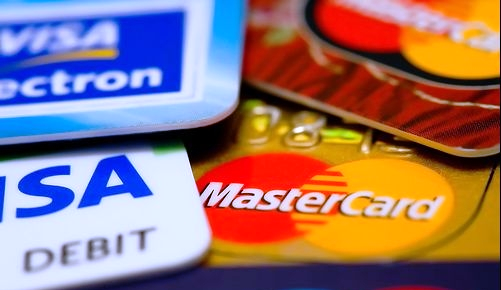 Debit Cards. Only if they are issued by a local bank to local residents. Overseas debit cards, from the USA, Canada, UK, etc. cannot be used in Bermuda

Travelers Checks. Should not be brought by newcomers, tourists or visitors. No longer accepted or issued by any Bermuda banks, hotels, guest houses or other accommodation or any restaurants or stores. On January 14, 2014, Bermuda's Butterfield Bank and other local banks said they would no longer accept US dollar traveler's cheques or money orders, which are issued by American Express and places like the US Postal Service and Money Gram, because US-imposed restrictions aimed at money launderers meant they cost too much in time and money to process. But a consumer travel service has complained. "They're making it more and more difficult for people to come down. People don't necessarily want to use credit cards, they want to use travelers' cheques and cash and money orders, and the banks are making it increasingly difficult." Butterfield Bank told its customers it had changed its policy on traveler's cheques and money orders, effective from the end of next month, because of restrictions designed to crack down on money laundering imposed by the US Patriot Act and the Bank Secrecy Act. The statement said: "As they can be purchased for cash with no identification required, there has been increasing use of these instruments in fraudulent financial transactions, with the result that enhanced screening and handling protocols are required, which adds cost and time to their processing." Butterfield, however, said that certified cheques and bank drafts issued by US financial institutions, would continue to be accepted. The advice to customers said: "Butterfield will continue to accept certified cheques and bank drafts for deposit. Drafts and certified cheques are only sold by financial institutions to their existing known customers. The customer must have an account to purchase a draft or have a cheque certified. The customer will have provided their bank with full 'know your customer' information when they opened the account." The new rules state that travelers' cheques will not be accepted by the bank after February 28, 2014.
No longer usable in Bermuda, see above story
Bermuda is marketed as being British but no British/UK laws of any kind apply in Bermuda. Bermuda makes all its own laws and they are Bermudian laws, not British laws.
Bermuda Tourism Authority Fee
Imposed by the Bermuda Government. On February 20, 2016 the Government doubled the Tourism Authority Fee, which is paid directly to the BTA by the island's hotels, from 2.5 per cent to 5 per cent. This is in addition to all the other taxes payable by visitors at the hotels.
Hiking
There are no youth hostels or YMCA or YWCA facilities. The combination of heat and humidity noted in Climate/Weather are not good for hiking.
Smoking and non-smoking
Effective April 1, 2006, smoking in public and publicly-accessible places was banned in Bermuda. Legislation enacted in late 2005 makes it an offence to light up in accommodation places where smoking is banned, bars, restaurants hospitals, hotels, offices and schools across the Island. It also sees cigarette vending machines banned along with tobacco advertising at sporting events and it is illegal to sell cigarettes to under 18s. There is a $1,000 fine for those who break the law.
Bermuda is the sixth highest place in the world in terms of population per square mile, with the heaviest density of motor traffic of any resort. Non-residents are not allowed to rent automobiles. Public transportation buses do not pickup or collect visitors at the airport and cannot carry any luggage.
Travel insurance
All guests should buy travel insurance before they arrive in Bermuda. It should include medical emergencies,not provided for free in Bermuda, a foreign country - and theft of personal property.
Youth hostels, YWCAs or YMCAs
None.
Bermuda Tourism Authority developments
Tourism initiatives and developments to-date include: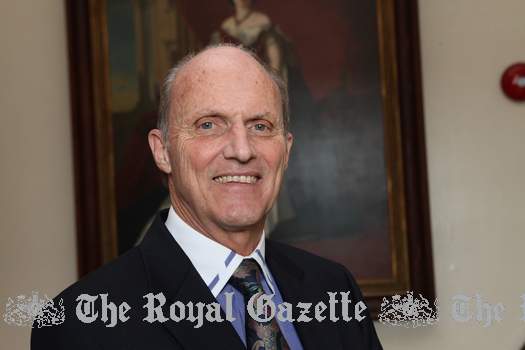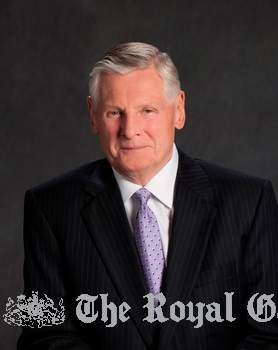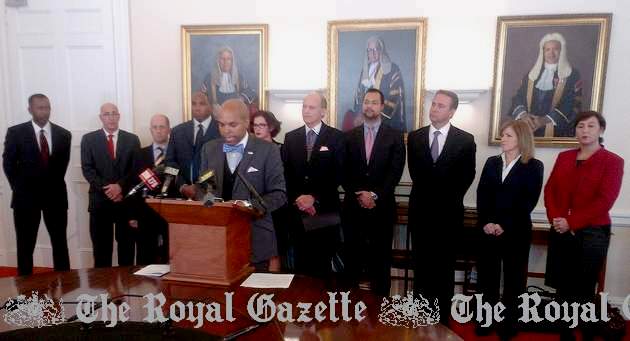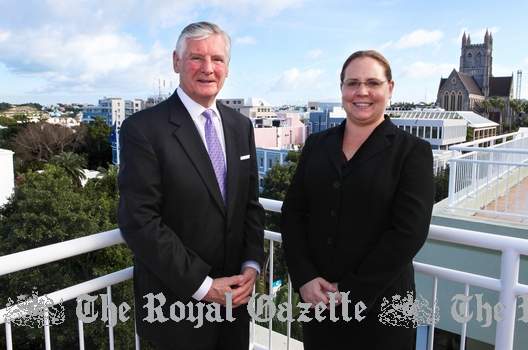 Royal Gazette photos. Top, Bermuda Tourist Authority (BTA) Chairman David Dodwell and CEO Mr Bill Hanbury. Middle, BTA Board members. Bottom line, Mr Hanbury and Mrs. Smith; Carla Lacey, Chief Financial Officer. Not shown is Glenn Jones, director of public and stakeholder relations at the Bermuda Tourism Authority.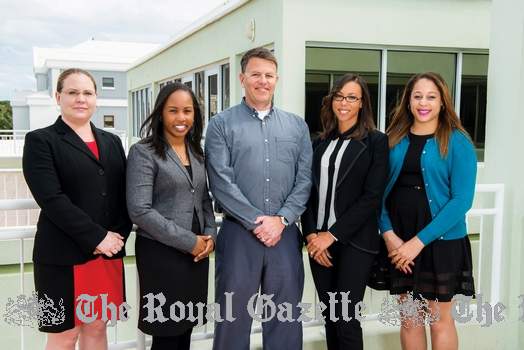 Subsequent Tourism staff appointments
2017. March 24. Six years after it closed its doors, the Willowbank Hotel is to reopen in May. The 56-year-old hotel enjoys stunning ocean views in Sandys and is expected to be busy during the America's Cup period and beyond. Glenn Jones, director of public and stakeholder relations at the Bermuda Tourism Association, said: "Our chief executive officer Kevin Dallas and our chief product and experiences development officer Pat Phillip-Fairn visited Willowbank this week and were delighted to see a property on the eve of a new beginning with a team of staff and managers motivated to welcome visitors very soon. "Our expectation is that Willowbank will reopen its doors formally on May 1. It's especially good news to have additional hotel inventory online ahead of the America's Cup." The 64-room hotel closed in November 2011 during the economic downturn. It was a family-run Christian hotel, which also had a conference centre. The closure of the hotel has continued to be lamented online at websites such as TripAdvisor, by former guests asking if it will ever reopen. During the past few years the conference centre has been used occasionally, however, the hotel remained closed. The property has undergone refurbishment and the expectation is it will reopen for business in the early part of May. A website for the hotel at Willowbank.bm currently advises visitors to check back for updates. Mr Jones said: "The Bermuda Tourism Authority is encouraging Willowbank to reposition itself as a 64-room family hotel, leveraging its secluded beaches, green space and the surrounding neighborhood which has a family-friendly feel — all while remaining true to the hotel's original mission. "The team here on-island and in New York will work with Willowbank to assist with its reintroduction to the Bermuda hospitality industry. "We're excited about what they've done so far and look forward to the opening in about six weeks." The Royal Gazette has approached Willowbank regarding the reopening and is awaiting a response.
2017. March 23. Norwegian Cruise Lines has committed to bringing 56 cruise ships to Bermuda each year in return for concessions and berthing rights, tourism minister Michael Fahy told the Senate. Mr Fahy made the announcement as he outlined spending in the Ministry of Tourism, Transport and Municipalities as senators debated the Budget. He also addressed the continuing problems with buses and said four new vehicles would arrive on island in the third quarter of 2017. The Government is also looking to buy eight more buses in the coming fiscal year. Mr Fahy urged the unions to accept the bus schedule that has been put forward, saying it would significantly reduce overtime and allow a massively improved maintenance schedule. "Currently to run a peak service we need 88 buses," Mr Fahy later told The Royal Gazette. "Under the new schedule, we would need 46 buses. This failure to agree by the union has now become a serious issue and must be resolved. We must put the public first and the new schedule will complement our other efforts to improve service and safety for passengers." Meanwhile, the NCL agreement, which expires in 2022, will see NCL-branded ships and their smaller luxury cruise lines including Oceania Cruises, Regent Seven Seas and Prestige Cruise Holdings visiting Dockyard, Hamilton and St George's. NCL also committed to acquiring tender lift at its own expense that would be leased or built to help transport NCL passengers in the West End, to and from St George's. Mr Fahy said: "Pending the signing of the lease agreement, a vessel has been identified to be chartered by NCL from May through October 2017, while NCL continue to build two smaller purpose built tenders to service Bermuda between 2018 and 2022. The tender is intended to be licensed for 400 passengers and will operate on days when NCL ships are in port." As part of the agreement, Bermuda has agreed to upgrade Penno's Wharf to as well as the provision of fresh water for each cruise ship call. Speaking about the Department of Marine and Ports, Mr Fahy said that the ferry Millennium would continue to operate until the end of the 2017 season, but the contract would not be renewed.
2017. March 14. The Bermuda Hotel Association is taking a pragmatic approach to the news that the Bermuda Tourism Authority has signed an agreement with Airbnb. Stephen Todd, president of the BHA, said the organisation had long recognized the presence of small-scale vacation rentals available on the island. And while it is an advantage for the island to have available a full spectrum of vacation accommodation options, he said it was equally important to ensure that standards are maintained to preserve and enhance Bermuda's reputation as a desirable holiday destination. Last week, the BTA and Airbnb announced they had signed an agreement to promote the island and create a framework for dialogue between the Bermuda Government and the company to discuss industry matters, including marketing and regulation. US-based Airbnb lists more than three million vacation rental lodgings worldwide through its website. There are about 270 listed in Bermuda, amounting to about 440 bedrooms, with the highest concentration to be found in the western and eastern ends of the island. Mr Todd said the BHA had been aware of the presence of Airbnb and similar small scale rentals. "It's something that has always been there, from when moms and pops offered a room to visitors. We recognise that it is a facility that visitors are looking for — an alternative. It is good from the standpoint of offering different options for visitors. But it is important to have a regulatory structure around it, so that we don't let the team down. We are going to be judged by the best and worst that guests experience." Mr Todd said setting standards for what a guest can expect is good. The need for quality control standards was highlighted in a 2015 report by the BTA on the vacation rental property market. The authority concluded the report by recommending that vacation rental properties be recognized through legislation, that they collect and remit a 2.5 per cent visitor guest fee to the BTA, and they comply with safety standards. In January, Michael Fahy, the tourism minister, noted that vacation rentals are at present not defined under Bermuda law. He said the lack of standards and direct marketing posed "both a barrier and an opportunity". Kevin Dallas, chief executive officer of the BTA, announcing the agreement last week, said it was about "levelling the playing field" and promoting the island as a destination. He said the link-up also "gives us Airbnb as an adviser to the government as it works through regulations" in that sector of the tourism marketplace. The Airbnb service is particularly popular with younger, experienced and adventure travelers, which the BTA is keen to attract. Mr Dallas wants to encourage more Bermuda residents to consider listing a short-terms or vacation rental. Airbnb is to send organizers to the island to run workshops. Mr Dallas does not believe small vacation rental properties will have a substantial impact on hotels and guesthouses. However, Mr Todd struck a cautionary note. He said: "We recognise that vacation rentals will have an impact on the smaller guest properties. We want them to continue to be viable." Smaller guest properties are regulated under the Hotel Act, but not vacation rental properties with sleeping accommodation for less than six people. Mr Todd said: "It is important to have a level playing field." He added that the BHA has been discussing the increasing popularity of small rental vacation properties not only at a local level, but with counterparts in overseas jurisdictions. "It is something that we have to recognise and compete with," he said.
2017. March 9. It is hoped that a wide cross section of Bermuda residents will consider listing a short-term or vacation rental through the Airbnb online site. This follows the signing of an agreement between the Bermuda Tourism Authority and Airbnb, designed to promote the island to a wider audience of leisure and group travelers. "This levels the playing field. It appeals to the next generation of visitor, it is complementary to the hotels and it gets homeowners involved," said Kevin Dallas, chief executive officer of the BTA. Airbnb will send community organizers to the island, possibly as soon as this month, to run workshops that will explain the Airbnb platform, how users can market themselves on the platform, and how they can become a "good", or even a "super" host. The US-based company is an online service that acts as a marketplace where homeowners can advertise vacation accommodation, such as rooms, apartments and homes. Airbnb receives a percentage service fee from the bookings, while users can leave reviews of the accommodation. The company was formed nine years ago, and has grown rapidly. It has more than three million lodgings listed globally, and an estimated 150 million users. In Bermuda, the number of listings is still relatively small, estimated to be about 250. The BTA and Airbnb started discussions in November, and one outcome they hope to achieve is an increase in the number of Bermuda properties listed. "There should be far more," said Mr Dallas. He wants to see more homeowners involved and "building on our legacy of hospitality". He said Airbnb will work with the BTA to encourage residents across the entire cross section of society to consider listing some accommodation. A typical host is said to earn $14,900 per year through Airbnb bookings. The service is particularly popular with younger, experienced and adventure travelers, a demographic the BTA is keen to attract. Mr Dallas does not believe the initiative will have a substantial impact on hotels and guesthouses. He sees growth in Airbnb in Bermuda as likely to be complementary to the island's existing vacation sector, with potential for visitors using one type of accommodation to make a repeat visit and try another type. When asked if the BTA is planning to raise funds by imposing a fee on Airbnb accommodations, Mr Dallas said: "The BTA position has long been that all visitors should pay the visitor's fee. That is paid by the visitor, not by the hotels or the homeowners." He pointed out that if the BTA was simply looking for a new revenue source, the amount raised from visitor fees from Airbnb accommodation users would only be to a tiny fraction of the authority's budget. Mr Dallas said the agreement with Airbnb was about "levelling the playing field" and promoting the island as a destination. Airbnb is soon to launch a magazine, and Mr Dallas said the BTA would look at advertising opportunities. He said the link-up also "gives us Airbnb as an adviser to the government as it works through regulations" in that sector of the tourism marketplace. In a statement, the BTA said: "The partnership will create a framework that opens a dialogue between the Bermuda Government and Airbnb to discuss topical industry matters, including marketing and regulation." It also said the strategy is likely to grow visitor spending and experience, the volume of leisure and group visitors to Bermuda, and nurture an environment for job creation. Mr Dallas said: "Out here, Bermudians have been welcoming travelers into our homes for many decades. Partnering with an innovative brand like Airbnb enables us to build on our legacy of legendary hospitality, reach a new generation of travelers and expand opportunities for Bermudian homeowners to participate in the tourism economy." Shawn Sullivan, Airbnb's representative for the Caribbean and Central America, said: "Today's agreement with Bermuda is a great example of how local authorities and the private sector can work together to achieve mutually desired goals. Bermuda is an important and growing market for Airbnb and we are very excited to be working with the Bermuda Tourism Authority and Bermuda Government to help grow sustainable tourism to the island." Airbnb has reached a series of innovative partnerships with countries in the Caribbean, including the signing of an agreement with the Caribbean Tourism Organisation.
2017. March 8. The Bermuda Tourism Authority and Airbnb have signed an agreement that will help to promote the island as a world-class destination for leisure, group travel and tourism investment. The partnership will create a framework that opens a dialogue between the Bermuda Government and Airbnb to discuss topical industry matters, including marketing and regulation. Airbnb is a community marketplace network where people can list, discover and book unique accommodations around the world, ranging from rooms and apartments, to villas and castles. As part of the agreement Airbnb will share its aggregated data to be included in analyzing and evaluating the tourism industry's performance holistically. Kevin Dallas, chief executive officer of the BTA, said: "Out here, Bermudians have been welcoming travelers into our homes for many decades. Partnering with an innovative brand like Airbnb enables us to build on our legacy of legendary hospitality, reach a new generation of travelers and expand opportunities for Bermudian homeowners to participate in the tourism economy." The BTA said that with this partnership, Airbnb will continue promoting tourism and will work to highlight Bermuda's "distinct brand and genuine island life". The strategy is seen as likely to grow visitor spending and experience, the volume of leisure and group visitors to Bermuda, and nurture an environment for job creation. Shawn Sullivan, Airbnb's representative for the Caribbean and Central America, said: "Today's agreement with Bermuda is a great example of how local authorities and the private sector can work together to achieve mutually desired goals. Bermuda is an important and growing market for Airbnb and we are very excited to be working with the Bermuda Tourism Authority and Bermuda Government to help grow sustainable tourism to the island." Airbnb has 257 listings already across the island and a typical host earns $14,900 per year. In a statement, the BTA said that the partnership "brings new opportunities to grow and strengthen the Bermuda economy overall". Airbnb has reached a series of innovative partnerships with countries in the Caribbean, including the signing of an agreement with the Caribbean Tourism Organisation.
2017. March 2. A group of ten local businesses and organisations are asking for the public to rate their quality of service as they seek National Service Standards Certification. According to the Bermuda Tourism Authority, the certification scheme is intended to help ensure a consistently high standard of service, with certified businesses gaining benefits including staff training and leverage for marketing and promotion. Karla Lacey, BTA's chief operations officer, said: "After extensive engagement with industry business owners, managers and frontline employees, five service standards relating to customer facing employees at all levels, as well as business activities and facilities, were defined. "The BTA is now assisting with the implementation of these standards via the programme." Among the ten hospitality industry organisations already going through the process are Alexandra Mosher Studios, Bermuda Transit Services, the Bermuda Restaurant Group, Boulevard Cafe, Dolphin Quest, Flanagan's Irish Pub and Outback Sports Bar, La Trattoria Sports Bar, Lindo's, the Department of Airport Operations and Snorkel Park. This evaluation process for companies already in the programme will take place this month, including a mystery shopper component. Christine Mihelcic, general manager at Dolphin Quest, said: "Having already made a commitment to focus on customer service this year, this programme allows us to maximize resources in a targeted manner The process of certification seemed like a daunting task to begin with but has been quite manageable. At the end of the day, it creates consistency in service delivery which is good for all of Bermuda. Meanwhile other organisations who are interested in earning certification are invited to apply online until March 10 or attend an information session on March 8 or March 10. For more information, contact nfo@service.bm or call the BTA on 296-9200.
2017. February 27. The Bermuda Tourism Authority has been given a boost in the budget, but the island's hotels are set to lose concessions. Finance minister Bob Richards revealed that the Tourism Authority Grant will rise from $22.7 million to $25 million. However, he also announced that payroll tax concessions for hotels, restaurants and retailers would all be lifted. "In fiscal year 2014-15 non-legislated concessions to hotels, retailers and restaurants totaled approximately $31 million," Mr Richards said. "The roll back of these concessions was started in fiscal year 2015-16 and in this fiscal year Government will fully withdraw all such concessions." The Chamber of Commerce had asked the Government to consider extending payroll tax relief for restaurants for another year. As reported in The Royal Gazette on Saturday, president John Wight expressed concern that the costs would hit the public. "Those people who will benefit initially from paying lower payroll taxes, and in fact all residents, will start paying more for goods and services," Mr Wight said. Mr Richards praised the hard work of the Bermuda Tourism Authority. "The practical impact of tourism's growth in 2016 was a 10 per cent jump in hotel occupancy and an 18 per cent jump in spending by air and cruise visitors, to $266.6 million from $225.7 million in 2015," he said. "This is money going into local businesses and pay cheques, supporting day-to-day lives of Bermudians. Another aspect of Bermuda tourism's turnaround is the increased interest in Bermuda from an investment standpoint."
2017. February 22. The Bermuda Tourism Authority took home four trophies this week for its campaign to promote the island internationally. At the Adrian Awards in New York, organised by the Hotel Sales and Marketing Association International, the BTA won prizes in several prizes including a platinum award and Best of Show in the category of public relations. Other awards included a gold award for its "Out Here, Where You Belong" brand and a silver for its "Out Here" print advertising. The awards came in the wake of Victoria Isley, the BTA's chief sales and marketing officer, being named one of HSMAI's Top 25 Extraordinary Minds in Hospitality. Kevin Dallas, the BTA CEO, said: "These awards belong to all of Bermuda. The stories our team is telling about Bermuda are resonating with travelers and with our travel industry peers because they're genuine. The stories represent the best of who we are — our heritage, our spirit, our way of life, and most importantly, they show the world what sets us apart from other destinations." Meanwhile a BTA spokesman said: "All awards received shared a common theme: they emanated from innovative marketing strategies that delivered compelling stories of adventure, exploration and the spirit of Bermuda. Judges said they were also keen to ensure award-winners showed positive results for the destinations they serve." The spokesman said the BTA's efforts to rebuild the island's tourism product helped bring Bermuda it's best tourism figures since 2007, including a 76 per cent growth in travelers under the age of 45. "The 2016 turnaround for Bermuda tourism has also resulted in a slew of travel and mainstream media outlets naming the island to its 'best lists' for 2017. The same earned media coverage of Bermuda which resulted in the island's Best of Show prize, played a key role in winning the hearts of travel writers and earning a spot on their 'best lists. Editorial coverage is a key driver for consumers when deciding where to travel. We are very fortunate to have so many captivating Bermuda stories to pitch and share with journalists. Bermuda has incredible storytellers who speak with passion and love for their country, which is resonating with consumers. We are grateful to have these ingredients and use them to set Bermuda apart and break away from the sea of sameness in the travel industry."
2017. February 22. The Bermuda Tourism Authority's efforts to claw back air arrivals for Bermuda have yet to match the high enjoyed under the Progressive Labour Party government, according to Jamahl Simmons, the Shadow Minister of Tourism. It drew a swift response from Senator Michael Fahy, the tourism minister, who said that the Opposition "particular just can't help themselves but try and find negativity in what is actually incredibly positive news on tourism from the Bermuda Tourism Authority" — hitting back that there were "major indications that Bermuda's tourism renaissance is now upon us". At a press conference this afternoon in the Progressive Labour Party headquarters at Alaska Hall, Mr Simmons pointed out that the BTA deserved congratulations for "modernising tourism" and drawing a "younger, more cosmopolitan" demographic to the island. "The latest uptick is encouraging — but all that is happening is merely a return to just average," the Sandys South MP said. Leisure air arrivals increased by 17 per cent to the highest since 2007, according to the BTA. However, Mr Simmons said: "Over the four-year period prior to 2012, the Department of Tourism under the PLP Government averaged 242,000 air arrivals a year. Over a similar period, the BTA have not been able to match the Department of Tourism highs in air arrivals or total arrivals, which were 652,000 total and 264,000 air arrivals. Additionally, the pre-recession period from 2005 to 2008 had a high of 305,000 air arrivals and 660,000 total arrivals under the PLP Government. The BTA's high of 245,000 air and 642,000 total falls short. This is not just about numbers of air arrivals being up or down — growth in the tourism sector should bring jobs." He conceded that the One Bermuda Alliance had inherited "average performing" tourism, which is now at a 48 to 49-year low. Other jurisdictions to the south are reaping "record numbers", Mr Simmons said, calling for a stronger marketing push. The Opposition has frequently criticised the marketing budget for the BTA, which is considerably lower than that of its predecessor, the Department of Tourism. "We have to get our game out there and keep pushing to stay relevant," he added, saying that while the upcoming America's Cup stood to bring in a surge of visitors, "that audience is not necessarily the audience we are looking for in the long term" — although the island was "ideally located" to capitalize on the super yacht market. If the America's Cup can stimulate that, that's a good thing." Low-spending cruise visitors comprise the bulk of visitors at present, and Mr Simmons acknowledged that "we have to break away from that — one thing the PLP did when the numbers started falling was to fill the void with that". Mr Fahy's response, meanwhile, accused the Opposition of "convenient amnesia. "His statement continues with a list of highlights, as follows:
There is increased air capacity out of key gateway cities and a massive rise in visitors under 45 years of age;
This spring will see the magnificence of 17 of the tall ships from ten different countries during the last week of May and the first week of June, spending time in port in St George's and in Hamilton;
In addition to the America's Cup we will also host some 75 to 100 super yachts this summer, bringing some of the finest watercraft in the world to the island at one time;
We have created an environment which has generated substantial interest in funding for hotel infrastructure, something we hadn't seen in three decades;
The BTA has consolidated an upsurge in air arrivals and cruise passengers in 2016 after years of declines;
This year will see a significant cruise presence back to Hamilton of 25 visits and up to 14 visits in St George's until 2022;
The East End will also benefit from the NCL Tender service that will shuttle NCL passengers between Dockyard and the old town and the Millennium ferry for non NCL service;
The Pink Beach Hotel redevelopment, which has opened under its new name "The Loren" marks the first new build for hotel development in several years;
A Ritz-Carlton Hotel development is on its way at Morgan's Point; a St. Regis in St. George's; renovations at Elbow Beach Hotel and the Surf Side Beach Club and the Rosewood at Tucker's Point, and, guest room expansion at Coco Reef Hotel;
The Government has invested substantial sums in St George's and has given the Corporation of St. George a bright future in protecting its Unesco World Heritage status as I spoke about on the Motion to Adjourn in the Senate today.
"The Ministry supports the work of the BTA wholeheartedly. There is much work going on behind the scenes by the Ministry in attracting new airlift to Bermuda as was demonstrated by Jet Blue's recent increases. The BTA has won major awards for its work internationally and will continue to flourish and the tourism sector and related jobs will expand as a result. The Opposition PLP can keep looking in the rear-view mirror and give half-baked ideas or rely on the expertise at the BTA and other tourism partners. We are proud of the work being done and will continue unreservedly along with the BTA to grow this important sector for all Bermudians." In addition, a BTA spokesman issued the following: "We appreciate the Shadow Minister's kind words about our team's hard work and for his acknowledgement of the consistently strong industry performance last year which resulted in 12 consecutive months of leisure air arrival growth. The Bermuda Tourism Authority focuses primarily on leisure air arrivals because growing vacationers to Bermuda who arrive by air is the central mission of our organisation. It's the metric by which the country, our Board and our community measures our performance. That's why we are so pleased to report 2016 was the highest volume or vacation air arrivals since 2007. While the BTA has a secondary responsibility to positively impact visitors who come here for business or to visit friends and family, it would be irresponsible, and perhaps even disingenuous, to take full credit for those visitors. When an overseas business person schedules a meeting in Bermuda or a relative comes for a family member's birthday, that has little to do with the marketing efforts of the BTA." The BTA will continue to focus on growing leisure air arrivals and group business to Bermuda because it's what the thousands of people working in our tourism industry need us to do."
2017. February 21. Victoria Isley, chief sales and marketing officer at the Bermuda Tourism Authority, has been named one of the top minds in the global destination marketing business by an international body. Ms Isley has been included in a list of the "Top 25 Extraordinary Minds" by the Hospitality Sales and Marketing Association International, who are set to be honored this evening in a ceremony in New York. In a statement, Ms Isley said: "I'm honored by the designation and proud to be part of a team bringing Bermuda's stories to life for new travelers. Importantly, I'm grateful to the on-island and off-island partners that were willing to believe in and contribute to our collective success for the Bermuda tourism industry. The island is such a natural muse in our storytelling strategy. There is such a mystique about Bermuda, its people and its stories that are set apart out there in the middle of the ocean. I find that truly inspiring. I'm looking forward to working for even greater success for Bermuda." According to a BTA spokesman, the honour came after a marketing partner submitted Ms Isley to the HSMAI's panel of judges for consideration. "Each candidate the panel reviews is an innovator who made a significant positive impact on a country's tourism efforts over the preceding 18 months," the spokesman said. "In 2016, Bermuda tourism experienced its best performance year since 2007, growing leisure air arrivals and visitor spending year-over-year 17 per cent and 18 per cent respectively. Ms Isley was instrumental in the development and implementation of a new brand strategy about a year ago, one of the components that drove positive results for Bermuda. The shift in brand identity helped attract a younger audience to the island — more than half of all vacationers arriving by air in 2016 were under 45 years old. These results over the past 18 months got the attention of the HSMAI panel." In addition to the "Top 25 Extraordinary Mind"s accolade, the HSMAI will also hand out its annual Adrian Awards tonight with BTA's efforts in public relations and marketing in contention for recognition. Kevin Dallas, BTA CEO, said everyone at the BTA was proud of Ms Isley and her contributions, saying: "With an open mind and a keen ear, she helped Bermuda find its brand voice and, as our 2016 results demonstrate, the marketplace is responding well to that voice. I think this award from HSMAI validates what we already know internally: we have a winning team at the BTA that has developed a winning sales and marketing strategy, which is producing a strong return on investment for Bermuda." Ms Isley joined the BTA in June 2014 after having worked for Destination DC, Tampa Bay Convention and Visitors Bureau and Destination Marketing Association International. According to a spokesman, since taking over the helm in the BTA's New York City office she has focused on local storytellers to shape the country's narrative and has collaborated closely with Bermudian videographers, photographers, graphic designers and stylists to tell those stories authentically.
2017. February 16. Thank an influx of younger and first-time visitors for the "strong growth" experienced by the country's tourism economy last year. Such was the message from Bermuda's Tourism Authority at a press conference to discuss the 2016 Visitor Arrival Statistics on Wednesday afternoon. "2016 was the best year for Bermuda tourism since 2007," Kevin Dallas, CEO of the BTA, announced. "One of the areas that we think is hugely significant, and we're having real results, is that we're getting a younger visitor. Last year was the first time, in a long time, that more than half of our visitors were under 45 years old." According to statistics released by the Authority on Wednesday, visitors to Bermuda spent $267 million last year — an increase of 18 per cent from 2015. Leisure air arrivals also showed double-digit increases, up 17 per cent over the previous year. According to Mr Dallas, 76 per cent of all growth in 2016 could be linked to visitors under the age of 45. We really are getting a new visitor that wants something different. Slightly more than half" of travelers to the island in 2016 were also first-time visitors. We're keeping that visitor that's come year after year, but we are attracting a new, first-time visitor to Bermuda as well — and that is a younger visitor." While occupancy was up by 10 per cent in 2016, Mr Dallas said that it was still not at a point where the hotel industry could be called "sustainable and profitable. We have a long way to go on that," he said. From a marketing point of view, the focus in attracting tourism dollars was about bringing the stories of the island to life. "It's just so lyrical here," Victoria Isley, chief sales and marketing officer at the BTA, said. "We really wanted to think about how to bottle that and bring that story to life in a different way that would really set Bermuda apart, and really shine Bermuda's distinct personality. " According to Isley, a Longwoods International study found that a specific $1.3 million marketing campaign generated 24,500 trips to the island. "Those 24,500 trips generated more than $17 million of on-island spending," Ms Isley said. "For every dollar that we invested in media, we returned $15 in spending and new taxes generated in Bermuda," she said of the specific initiative. "We're really working much better at aligning what Bermuda is offering to the groups that Bermuda is targeting," Pat Phillip-Fairn, chief product and experience officer at the BTA, said. She described sports training camps as a new focus of tourism — the island's new college week. "Sports training camps have been really successful for us in the past few years," she said. "High-end business — not just numbers — but quality business, quality visitors, first-time visitors, younger visitors, who are prime repeat visitors for Bermuda." She also pointed to the creation and success of Bermuda Hero's Weekend. "The demographic is our new target," Ms Phillip-Fairn said. "Under 45, professionals, who want to have a cultural experience but participate in that experience — not just come to watch it. We're getting a different kind of visitor that wants and expects different things," Mr Dallas said. The full report is available at gotobermuda.com/bta/visitor-statistics.
2017. February 15. It is the million-dollar question, literally. How much did Bermuda get back from the $1.3 million spent on a nine-month tourism advertising campaign last year? The answer is $17 million, or a return on investment of $15.30 for each advertising dollar spent. That is the conclusion of an independent assessment of the effectiveness of the Bermuda Tourism Authority's campaign. The study found that, by the end of November last year, visitors had made 24,500 trips to Bermuda directly as a result of one specific campaign, which focused on the markets of New York, Washington DC, Chicago, Boston, Philadelphia and Toronto. Advertising was placed online, on TV, through social networks and in print publications. Using per capita spending figures, the study estimated that an additional $17.1 million was spent by those visitors during a nine-month period. The expenditure yielded $3.9 million in new tax revenue. The study was done by Longwoods International, a marketing, advertising and public opinion research company, based in Toronto. Although intended for internal use by the BTA, which commissioned the report, the authority decided to go public with the results to illustrate the worth of such marketing strategies, and address the often-asked questions about how effective it uses its resources. Kevin Dallas, chief executive officer at the BTA, said the effectiveness of online advertising can be monitored by "following the clicks", but it is not so easy to quantify offline and out-of-home marketing efforts, hence the need to engage tourism ROI report specialists Longwoods. Beyond the bottom line numbers, the study measured the impact of the advertising on people's perceptions of Bermuda as a travel destination, and created a 10 to 15 per cent increase in the number of respondents who thought of the island as offering a sense of adventure, having interesting culture, unique local cuisine, and a mystique that set it apart as a unique location. The campaign appears to have helped attract a younger generation of visitors. Victoria Isley, chief sales and marketing officer for the BTA, said: "At the beginning of 2016 we created a new way for telling Bermuda's stories, which is the brand platform, the brand strategy." She said it was a new way to talk about Bermuda and to reach new market segments, such as adventure seekers. "It changed people's opinion about whether Bermuda was a place that they would enjoy visiting; that improved from 59 per cent to 66 per cent." Last year, 52 per cent of leisure air arrivals were aged under 45. Ms Isley said it was great that the younger visitors the BTA was "trying to connect with emotionally to get them to think about travelling here, are actually showing up". While Mr Dallas, said: "The overall strategy of the BTA is to target a different, younger visitor who is looking for something more than just a beach holiday. Last year was a breakthrough year with more than half our visitors under 45. It is coming off the back of this rebranding and repositioning of Bermuda as a place with that sense of adventure." He also recognized that some people might question the validity of the ROI report, as the BTA had paid for it. But he said: "This is a research agency that has its own ethical standard, that is accredited and would jeopardize its market position if they were to tell us what we want to hear rather than what they found." This was underscored by Michael Erdman, senior vice-president at Longwoods International, who said: "We have had numerous instances in which we reported on campaigns that had zero impact, or less-than-stellar results. "In our methodology, however, we have built in diagnostic tools that will help us guide those clients in identifying and fixing the problems, be they related to messaging, targeting, timing, creative and media choices." The BTA is likely to use such ROI studies in the future. Mr Dallas said the results validated the course the BTA has taken. He said: "The big changes of last year are resonating and working. We are seeing that in this, and in our year-end numbers. "What we are doing is working and we need to stay focused on that and doing it well." This afternoon the BTA is due to present its 2016 visitor statistics report.
2017. February 1. Kevin Dallas has branded 2017 a "critical year" for Bermuda's tourism industry as he looks to build on 11 months of consecutive growth in the sector. The new CEO of the Bermuda Tourism Authority pinpointed the successful delivery of the America's Cup event as key to ensuring the island takes advantage of the legacy opportunities stemming from the sailing spectacle in 2018 and beyond. He also called for the BTA's budget, which was $22.45 million in 2016, to be more directly linked to visitor arrivals and spending. Mr Dallas told The Royal Gazette: "We can't take our foot off the pedal now that we're growing again; continuous investment in tourism is needed to maintain our momentum. We would also like to see the BTA budget more directly linked to results — which means visitor arrivals and visitor spending. That way, as tourism numbers and receipts grows, we automatically have more to reinvest in tourism and the visitor experience. I hope the Government budget will recognise the opportunity and necessity of sustained investment in tourism and work with us to spread the cost fairly among the beneficiaries and our visitors. The challenge is to maintain that momentum and prove it is not just a one-off bounce back, but a sustained recovery. We still need more hotel rooms and we need sustainable growth to promote investor confidence. If we were to wobble now, we would lose a lot of the positive energy that has been created over the last year." Mr Dallas welcomed the upcoming opening of the new Loren at Pink Beach Hotel as well as ongoing development of the Caroline Bay Ritz Carlton Reserve at Morgan's Point, and he maintained he was "cautiously optimistic" of progress on the St Regis Hotel in St George's. "The biggest threat to our current growth would be to disappoint on our delivery of the America's Cup," Mr Dallas said. "People have put a lot of emphasis on the "in-year" benefits of the event. That is hugely important, but much more important is the exposure it can provide; it will put us in millions of living rooms and show organizers we have the venue to host these kind of events. But the America's Cup has to go well for the legacy benefits to come in the following years. I'm confident we can handle it but we need to be properly prepared." November marked the 11th month of consecutive growth in the tourism industry with an additional 3,600 air visitors, compared to November 2015. Air arrivals for the year-to-date were also up 16 per cent, or 21,800, compared to the first 11 months of 2015. Mr Dallas said: "I wanted to hit the ground running and have hopefully ticked that box. My second personal goal is to really experience as much of the Bermuda tourism product as possible; I want to visit everywhere and ask to see their best room and their worst room to get the best idea of what we are offering our visitors. The transition has been smooth, I've spent a lot of time with the team in Bermuda and the US as well as meeting with stakeholders on the island. Everyone is excited about what we have achieved and by how the indicators look for 2017."
2017. January 26. The Bermuda Government is contemplating "a ground-breaking proposal for partnership" with the online home-sharing vacation network Airbnb, according to tourism minister Senator Michael Fahy. The news was welcomed by the Progressive Labour Party, which had scheduled a town hall meeting on the subject for 7.30pm today at the Prospect Primary School auditorium. Mr Fahy said that Bermuda Tourism Authority statistics from September 2016 showed 485 homeowners active in guest rentals, with 821 bedrooms on offer. Calling it a "grey area" in terms of regulation, the minister stressed that the Government did not wish to impose excessive red tape that would "put people off from engaging in this industry", which he said was "very much self-regulated". A fee paid to the BTA would "level the playing field" with the charge paid by hotels, and would be incorporated into the overall fee paid by the guest. The home-sharing industry has been gaining ground in recent years, helped by technology and popular with younger travelers. "We can't ignore it," Mr Fahy said, noting that St George's had "almost become a hub for it" — and that the Government's intention was to "get in on this before the America's Cup". While he acknowledged that the developing market would pose "some form of competition" for hotels, the minister said home rentals would cater to "a different type of visitor". He added: "We don't see the growth in vacation rentals as a threat to Bermuda's traditional hotels, but rather as a complement to an industry that has served us well over many years." Mr Fahy also said he did not expect the growing industry to have an impact on the availability of homes to rent to locals, calling it "a different business model". He cited a study commissioned last year by Airbnb that found "no significant impact on the housing market", but provided residents with an alternative income. Noting that vacation rental was at present not defined under Bermuda law, Mr Fahy said the lack of standards and direct marketing posed "both a barrier and an opportunity. We are in discussions with home-sharing companies to understand how they have partnered with other jurisdictions to ensure these properties are regulated — including what minimum requirements, if any, there should be and to provide other resources for interested Bermudians. If adopted, these changes would begin to level the playing field for vacation properties and home sharing relative to Bermuda's regular hotel properties." He said the BTA had consulted on the matter with the Bermuda Hotel Association, as well as realtors, the vacation property rental sector and the public, via forums and surveys. "We believe this level of tourism development will also be a substantial part of refocusing Bermudians on the large variety of employment and entrepreneurial opportunities that can be realized through a highly-successful visitor-based sector." Last night's statement from Jamahl Simmons, the Shadow Minister of Tourism, supported "a proper regulatory and fair approach towards this new product offering" but cautioned against excessive regulation and taxation. "In an environment in which it is already costly to do business, and where the cost of accommodations is perceived as a disincentive among a significant portion of our target market, we must be mindful that we do not strangle this opportunity in the cradle," Mr Simmons said. "Hotels currently receive many concessions, while vacation rentals do not. Thus any new regulations or new taxes on this industry in its infancy cannot be considered as truly leveling the playing field without greater thought and examination on the best path forward." He said the Opposition looked forward to hearing more from the Government. Tonight's PLP meeting will include representatives from the BTA, as well as locals taking part in home sharing. Meanwhile the BTA's report, including an executive summary on vacation rentals, has been posted online at http://www.gotobermuda.com/bta/industry-reports.
2017. January 25. The Parliamentary Standing Committee on the Public Accounts (PAC) is set to host its next public hearing tomorrow examining spending by the Bermuda Tourism Authority. The committee has invited officers from the BTA to discuss matters arising out of the body's financial statements for 2015. "In addition, the committee has invited the chairman of Wedco to meet with members for discussion on the financing and preparation of the land reclamation project in the South Basin area for the America's Cup events," a spokesman said. "Additionally, a representative from the Ministry of Public Works will be in attendance to discuss with members, capital works and grants." The BTA released a statement yesterday saying it welcomed the opportunity to appear before the committee. The authority also pointed out that it had earned unqualified audits in 2014 and 2015. "We are grateful for the opportunity to answer questions as it relates to the Bermuda Tourism Authority's Audited Financial Statements for 2015," BTA COO Karla Lacey said. "It is pretty clear to us — and we hope to the public — that strategic planning and judicious spending in 2015 provided the foundation for success the country experienced in tourism in 2016." The BTA recently reported 11 consecutive months of tourism industry growth in 2016, while operating on a budget that is half what was invested in tourism ten years ago. Ms Lacey added: "Decisions made in tourism today directly affect the performance the country will see nine, 12 or even 24 months from now. The same was true back in 2015; decisions then have an impact on what is happening now. The BTA earns a greater return for the country — which can be redirected to other services — and has ended a troubling trend of falling visitor arrivals and visitor spending. We're pleased to share that story with the parliamentarians of the committee." The committee, made of MPs from both political parties and chaired by Wayne Furbert of the Progressive Labour Party, is tasked with examining matters relating to the accounts of the Bermuda Government and investigate findings reported by the Auditor-General. Members of the public are invited to attend and observe the hearing, which will be held in St Paul's Church Centennial Hall at 2.30pm tomorrow.
2017. January 11. Mystery shoppers will be used to check up on businesses to see if they are meeting new national service standards for hospitality and customer service. They will assess businesses on five principals of service — welcoming, engaging, delivery, promoting and accountability. A winning, welcoming approach involves customer-facing staff smiling, making eye contact and giving a courteous greeting. Likewise, using positive body language and active listening while engaging with visitors and customers, and offering to guide them so they can find what they are looking for, if done correctly and with passion and authenticity will be viewed positively by scorers for the National Service Standard Certificates. Businesses that meet or surpass the required score will be given a certification seal that can be used on all marketing and promotional materials, including advertising, signage and social media. The certificates will be dated for the relevant year, and will be renewed annually if a business continues to meet the assessment threshold as scored by trained mystery shoppers. The standards are not arbitrary. It has taken a year for the Bermuda Tourism Authority and tourism stakeholders, working together, to identify important areas that can make all the difference to a visitor seeking a sense of value and a 'feel good experience' while in Bermuda. Karla Lacey, chief operating officer with the BTA, said it was significant that the standards were not handed down to the industry, but had been identified as what they wanted for themselves. A pilot scheme, featuring ten businesses, is under way. Bermuda Restaurant Group, Lindo's, the LF Wade International Airport and Snorkel Park are among the businesses involved. "This is an incredible opportunity to receive feedback and training on how we present our brand — and the Bermuda brand — to the world," said Alexandra Mosher, of Alexandra Mosher Studio Gallery, which is also part of the pilot group. "With the help of the National Service Standards Programme we can measurably sharpen up service areas that need improvement and remain accountable to national standards in the future." The certification process involves a dual approach. There is an internal assessment of the business, with senior management and employees giving their view of what level they are at in terms of the five principals of service. From this, any gaps are identified and addressed through training and suggestions from the BTA. The BTA expects to offer some broad-based training, while pointing businesses to specific training opportunities elsewhere. Trained mystery shoppers conduct the second part of the assessment, to see what level of service a business and its employees are giving to customers. The service principals must be exhibited by employees who deal with customers, including business owners and managers tasked with creating the work environments where such service levels are possible. It is expected the pilot group will be assessed in March and those meeting the national service standards will be awarded certification in April. In March, the programme will be opened up to all businesses. Ms Lacey said: "Businesses are excited about pursuing certification because they know it will be a powerful motivation force for their staff and a valuable marketing tool for their business." She said that for a visitor, the standards certification would act to assure them that they can expect a consistently high standard of service. Companies and organisations can expect increased business because they will be able to promote themselves as meeting the national standards, and customers are likely to gravitate towards businesses where they know they can expect the best level of service. Ms Lacey said the national services standards would benefit Bermuda residents, who would also encounter consistent and elevated levels of service. Of the programme, she said: "It has been an intense and massive undertaking. Many businesses have provided their time and input unselfishly. We have tried to touch all parts of the tourism industry chain, and there has been broad participation with no push back." Russ Ford, president of Bermuda Transit Services, said: "Any opportunity to enhance my business is welcomed. This is exactly what Bermuda's hospitality industry needs so that we can fulfil the desires of locals and overseas guests alike. Thanks to the BTA and the Hospitality Institute for their leadership and vision."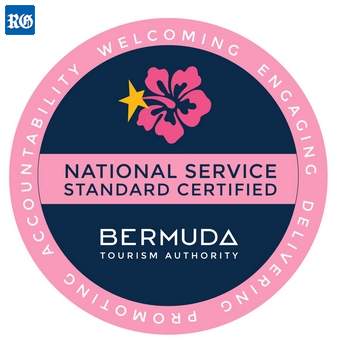 See story above
2017. January 10. If a car valued at more than $48,000 stops at a set of traffic lights in a well-heeled London neighborhood, the driver is likely to see a Bermuda Tourism Authority advertisement flash up on a billboard screen opposite. The driver will see an enticing offer to visit Bermuda, and the invite will be personalized with a message such as "Hello Bermudaful in the Range Rover", depending on the make of car they are driving. The Bermuda Tourism Authority has worked with Britain's Media Agency Group to create the travel industry's first campaign using vehicle recognition to target potential holidaymakers. John Kehoe, managing director of Media Agency Group, said the campaign highlights "the truly versatile nature of digital out of home advertising and the incredible potential that new technologies and innovations carry for the industry as a whole". He added: "Bermuda required a campaign that delivered minimum wastage and maximum relevance — by tapping into vehicle recognition tech we've been able to target an ideal audience and ensure that they are served with personalized, effective advertising messages." The technology allows the BTA to reach a targeted, affluent audience that it believes is likely to be interested in the allure of Bermuda. The technology works by having cameras trained on stationary traffic at a set of traffic lights, which detect the registration number plate of vehicles and then uses an anonymised vehicle specification database to pull out details such as the make, model and colour of the vehicle sitting at the traffic lights. If a car matches the target criteria of being less than four years old and valued at more than £40,000 ($48,600), the customized advert is triggered on the digital display opposite the traffic lights. A spokesman for the media agency told The Royal Gazette that the link up with the BTA was the first time it had run such a campaign, although the technology has been used by others, such as automaker Renault. When asked if there was any concerns about drivers being distracted by the personalized advertising, the spokesman said: "It's no more of a distraction than any other form of digital out-of-home advertisement," and added that it was only used to reach drivers stationary at a red traffic light. There are four digital billboard locations in Britain that use the vehicle recognition technology, one is in London's expensive Holland Park neighborhood, close to the Westfield shopping mall, where there is a large volume of traffic. The other locations are Hammersmith Broadway, also in London, the Bullring Shopping Centre in Birmingham, and a media wall in Manchester. In the past few years Media Agency Group, which is based in Manchester, has planned and executed a number of advertising campaigns for the BTA, including an interactive mobile phone campaign where users could "rub" an advert to reveal a travel discount offer. Mr Kehoe said: "We're proud to be continually working alongside such a prestigious brand that is open to exploring new and exciting solutions, and we look forward to pushing more boundaries with Bermuda in the near future." Victoria Isley, chief sales and marketing officer for the BTA, said: "This is one more example of how the BTA is working to reach the right audience for Bermuda. We work to make the most of every advertising dollar for Bermuda — and these innovations help us with smart marketing." She added: "We are also using dynamic digital out of home advertising in New York City. Via the Links network platform, Bermuda promotional messages are served on the streets of the city aligned with locations where island visitors live, based on zip code analysis. In addition, when there is a 30-degree weather differential between Bermuda and New York City, the weather comparison is dynamically served as part of the ad."
2017. January 6. Senator Michael Fahy has hailed a 90 per cent rise in visitors to the island last November compared to the same month the previous year. Stephen Todd, the president of the Bermuda Hotel Association, echoed the tourism minister's sentiments, saying the association was "very encouraged by the latest figures". Last November saw nearly a 52 per cent increase in vacation and leisure visitors flying into the island as well as greater cruise ship activity In a statement released this afternoon Mr Fahy said he anticipated the full year figures for 2016 will show it was as one of the brightest tourism years in nearly a decade. "I expect to see positive growth in regular visitor count from which Bermuda can rebuild a strong tourism base over the calendar year," he added. "The Bermuda Tourism Authority figures for November show a huge rise in vacation air arrivals, a 31 per cent surge in hotel occupancy and a 35 per cent surge in revenue-per-available-room. There is no doubt we are growing our tourism business in what was previously regarded as the slow season from November to March. This should generate jobs and other economic opportunity across the island. There is no doubt that the dedicated Bermudians at the BTA under Bill Hanbury have done a sterling job in re-inventing Bermuda tourism." Air seat capacity in November was increased by nearly 12 per cent on the previous year, while total air visitors for the 11 months to November rose by close to 11 per cent. Vacation air arrivals are now performing at their best level since 2007, according to Government. Mr Todd added: "Bermuda Hotel Association members are very encouraged by the latest tourism figures which reflect positive results in both hotel occupancy and revenue-per-available-room during what has traditionally been viewed as the shoulder season. The BHA views these results as a clear indication that the marketing strategy of the Bermuda Tourism Authority in promoting Bermuda as a year-round destination is resonating well with both business and leisure travelers. As an association we look forward to continued positive trends in our industry. We stand ready to support these positive initiatives which are key to our future success."
2016. December 16. The biggest threat to Bermuda's resurgent tourism industry is the island's political environment, according to Bill Hanbury. The outgoing Bermuda Tourism Authority CEO was speaking as the latest November figures showed an 11th month of consecutive growth in the industry as well as a 52 per cent increase in air arrivals compared to last year. Mr Hanbury told The Royal Gazette there was no room for politics in tourism, and lamented the growing politicizing of the airport project. "There should be no politics in tourism; and it's of great consternation to me that tourism has been so politicized in Bermuda," he said. "It causes real damage and does not help anyone. Take the airport as an example; the politicizing of the airport is really a poor move across the board. The tourism economy needs a new airport; it is embarrassing to the country to have that airport. I am not here to say how it should get done, but whether or not it is labour unions, politicians, Government, the Opposition, people need to sit down and figure out how to build a new airport. We desperately need a new airport: we have no money to build it and someone is willing to build it for us; end of conversation; just build it. If someone else has a better idea, bring it on, but I don't see anyone with a better idea. Until the politicians and the unions sit down and figure it out the only people they are hurting are their constituents by not building an airport." The BTA boss maintained that the successful execution of next year's America's Cup would also be vital to the revival of the tourism industry. "We need to take full advantage of this. The Bermuda tourism product has places it could never of got to, with the America's Cup. We need to make sure that when it is here, it's all hands on deck to make it a stellar event. It will tax the country and people will be stressed out, but everyone has to step up and people will have to deal with the inconvenience to keep moving this economy in the right direction. It's given us gravitas and it's one of the reasons we have attracted other sporting events like regattas and triathlons. November marked the 11th month of consecutive growth in the tourism industry with an additional 3,600 air visitors, compared to November 2015. Air arrivals for the year-to-date are also up 16 per cent, or 21,800, compared to the first 11 months of 2015. Mr Hanbury described the latest figures as a "magnificent result. When I first saw the numbers, I had to look at them twice," he said. "We are no longer cautiously optimistic, we are firmly optimistic about tourism prospects in Bermuda. This is the new normal, and we are not going back again. We must continue to build on this and the passing of legislation to allow rental minicars in Bermuda is a really positive development." Over the course of his three years at the helm of the BTA, Mr Hanbury as well as his salary have come in for harsh criticism from Opposition MPs. But, he insists he did not take any of the insults personally. "I am not vindictive," he said. "It's always been about getting the job done for me. I did not lose a second's sleep over the criticism, I knew we were going in the right direction." Asked if he felt it was "mission accomplished" as he prepared to leave the BTA, he replied: "Not yet. We still need to get more done; we need to focus on continuing to grow this product and improve air arrivals and hotel occupancy. We cannot be satisfied with where we are." Mr Hanbury's last day in the CEO's chair will be January 6, while his Bermudian successor Kevin Dallas, will start work officially on January 9. After helping to oversee the transition, Mr Hanbury will return home to upstate New York with his wife, Valerie. "I'm going to be doing some consulting work for a couple of destinations; none of them competitors to Bermuda," he said. "I'm not looking forward to shoveling snow, but I am looking forward to sleeping in, once in a while. I will miss the BTA and Bermuda; it's been a real honour and I have been blessed to wake up every morning and put people to work knowing it will have an effect on the island." He added: "I have no regrets at all. We have accomplished great things. There is no destination in the world that has grown faster than us recently."
2016. December 11. The Bermuda Tourism Authority has highlighted the positive coverage Bermuda has been receiving across the travel industry media. Many world famous magazines are touting the island as one of the best places to visit in 2017, according to a press release. Bermuda appears on the cover of Frommer's which included the island in its "Best Places to Go in 2017" feature. Frommer's is one of many publications praising the island in the past few weeks. Travel and Leisure included Bermuda in its "50 Best Places to Travel" in 2017, Afar put the island on its "Where to Go in 2017" list and Lonely Planet did the same on its "Best in Travel 2017" list. "We are thrilled Bermuda is being recognized for the alluring destination it is," said Bermuda Tourism Authority chief sales and marketing officer Victoria Isley. "While we lead the charge in sharing Bermuda's story with the world, it's our industry partners and the Bermudian people out here that deliver genuine hospitality and distinct experiences daily. These travel industry accolades belong to our entire tourism industry. On behalf of the team at the BTA we say, 'congratulations' to them. It's rewarding for all the hard work put in this year and a precursor to what we hope is a stellar 2017." Vacation air arrivals so far this year are at their highest level since 2008. Frommer's editorial director Pauline Frommer said: "We're huge fans of Bermuda at Frommer's, and think it's a wonderful place to visit any year. But this year, thanks to all of the recent development, and the America's Cup, we think it's going to be a particularly spectacular time to go. That's why our global team of authors and editors chose Bermuda for this honour." Meantime, Bermuda is in the running for the Travel and Leisure World's Best Awards 2017. Readers of the magazine, and travelers in general, are encouraged to vote for their favourite destinations online. Bermuda made the nomination ballot and travelers can vote for Bermuda in the Best Island category. The latest accolades for 2017 come on the heels of similar honours for the island over the past two years from Conde Nast Traveler, National Geographic Traveler, Robb Report and Outside Magazine, which named Bermuda Best Island for 2015 in acknowledgement of the island's fit for adventure travelers.
2016. November 30. The Government is celebrating ten consecutive months of tourism growth, noting figures from October. In a statement yesterday afternoon, a government spokesman said that even though there were no America's Cup World Series events, which provided a tourism boost in October 2015, the trend of increased visitor arrivals continued. "Officials from the Bermuda Tourism Authority (BTA) believe the October example shows a resiliency to the tourism resurgence currently under way and are especially upbeat about the 20 per cent growth in vacation air arrivals," the statement said. "Vacation air arrivals is the metric the BTA focuses its marketing on the most because those vacationers have the biggest impact on the local economy. Year-to-date, vacation air visitors from the United States are up 20 per cent, up 28 per cent in October 2016 alone, when compared to a year ago. With vacation air arrivals from all countries factored in, business is up 14 per cent year-to-date, equating to more than 18,000 additional tourists flying to the island." While the number of air arrivals were higher than last October, the number of cruise ship visitors declined by 2.6 per cent in October, representing 1,126 fewer passengers. Overall, the island saw an additional 988 visitors during the month — an increase of 1.8 per cent. And despite the lack of an America's Cup event, yacht arrivals were 4.3 per cent higher this October than during the same period in 2015. Senator Michael Fahy, the Minister of Tourism, Transport and Municipalities, added: "We have increased the number of airline seats by nearly 12 per cent so far this year and vacation air arrivals are up 14 per cent. That's an addition of about 51,000 seats and an additional 18,000 vacationers. And we believe that continuing efforts by the Bermuda Tourism Authority will ensure that more of the under-utilized capacity is utilised going forward. The BTA has a number of irons in the fire for 2017 and as a result of its work, coupled with the America's Cup, forward hotel bookings look very strong. With that expected growth we can fill more of the increased airline capacity that came on line this year. This is just one of the ways our air carrier and tourism strategies are effectively synchronized." While Mr Fahy said there was still work to be done, he said the government was pleased to see the level of growth that had been recorded this year. "Hotel occupancy for the year is up seven per cent after really strong performance during the summer months," he said. "Now the focus is on raising occupancy further, particularly in the shoulder months. As we look towards a strong America's Cup boost in May and June of 2017, we won't take our eye off the goal of making Bermuda a truly year-round destination. A strong October performance is a big step in that direction."
2016. November 24. A major sports event which will bring thousands of visitors to the island could be a reality within two years. In the Senate yesterday it was revealed that Bermuda was bidding to host the 2020 International Triathlon Union World Grand Final — an event which Bermuda's Flora Duffy won in Cozumel, Mexico in September to become world champion. Should Bermuda be successful in its bid, the island would also be guaranteed to host two World Series races in 2018 and 2019. As many as 1,200 competitors — 150 of them elite athletes — could take part in each of the series events, while a huge field of 3,000 could race in the Grand Final, attracting as many as 10,000 visitors, including friends, family, members of the media and officials. Bidding against two other venues — not yet officially revealed — Bermuda should know its fate before the New Year, with Ms Duffy joining a delegation which will present the island's bid before the ITU Executive Board next month. Edmonton is known to be one of the other bidders, the Canadian city having been runner-up to Lausanne for the 2019 event. Bermuda Tourism Authority said the impact of all three events would result in significant visitor spending on-island, should Bermuda be chosen. "We are aggressively pursuing this opportunity because it checks a lot of important boxes for the tourism economy," said BTA CEO Bill Hanbury. "These international triathlon events are outside of the summer months, they bring robust media exposure and this is sports — an area the BTA has made tremendous strides in over the past two years. Winning this bid would catapult us to the next level of sports tourism. These events are a terrific way to follow in the wake of the America's Cup." BTA chief product and experiences development officer Pat Phillip-Fairn said: "We're competing against prominent destinations. Three years ago Bermuda was not in such elite company — we weren't even in the conversation — but now we're serious contenders. It just goes to show the distance we have traveled in a relatively short amount of time. Being named a finalist for such a prestigious sports tourism event is an outstanding accomplishment for Bermuda." The WTS competition is an annual worldwide series of nine to ten triathlons culminating with the Grand Final. Journalists, TV broadcasters, support crew and competition officials would drive visitation numbers significantly higher, noted the BTA. The event is broadcast around the globe, including in the United States where NBC Sports is the broadcast partner. Rotterdam in the Netherlands will host next year's Grand Final followed by the Gold Coast in Australia in 2018 and Lausanne in Switzerland in 2019. Previous hosts have included Auckland, London and Chicago. Announcing the bid, Senator Michael Fahy, the Tourism Minister, said the races would be broadcast in 160 territories internationally, and that Ms Duffy's success in the series only helped Bermuda's case. It would be "all hands on deck", added Mr Fahy, as Bermuda prepares its bid package. Mr Fahy is taking the lead in the Government's support of the bid, with assistance from Grant Gibbons, Minister of Economic Development, and Sylvan Richards, Minister of Social Development and Sports. Government departments would play a pivotal role in the event's logistics including security, traffic control, health and safety, beach and railway trail access, immigration and customs. Ms Duffy, who made a short visit to the island last month and is currently enjoying a vacation, is expected to join up with Bermuda's delegation next month. Adding weight to the bid could be Bermudian Patty Petty, a long-time ITU technical official. Mr Fahy said: "It certainly doesn't hurt that Bermuda is the home of Flora Duffy, the ITU World Triathlon Champion and perennial rock star of the sport. She is a wonderful ambassador for telling Bermuda's story as a perfect destination for athletes and adventure travelers. Because of strong leadership from the Bermuda Triathlon Association, our island has a solid reputation for managing outstanding triathlon events. The proposed courses for the triathlon will highlight Bermuda's natural beauty on both land and sea." Mr Richards noted: "Landing these events would be a tribute to Flora, Tyler Butterfield, Tyler Smith and all the impressive Bermudian triathletes making a name for themselves in the sport. Government is proud to be supporting this initiative and our local Bermuda athletes." Mr Gibbons added: "Bermuda's winning bid for the America's Cup, its stellar performance during the America's Cup World Series, plus its emergence as a premier sports and adventure playground has made us a formidable player in these discussions. As always, Bermuda is punching way above its weight on the global events stage."
2016. November 23. Sports tourism will be one of the main priorities in 2017 for the Bermuda Tourism Authority following an increase in funding. The BTA has announced that 27 sport and adventure activities have had their applications approved in the annual Tourism Experiences Investment process, which financially backs home-grown ideas. Long-standing events such as Bermuda Marathon Weekend and the Marion Bermuda Race will return as will the Bermuda Fly-fishing Invitational. They will be complemented by a slew of other events which will be supported for the first time, including the Divas Half Marathon, the Bermuda International Match Series and International Women's Keelboat Regatta. "Bermuda has transitioned from an emerging sports tourism destination to a premier sports tourism destination," said Pat Phillip-Fairn, chief product and experiences development officer at the BTA. "Not only do we have these 27 sport and adventure experiences in 2017, but we continue to bolster our reputation as a sports training destination and as the sailing capital of the Atlantic. Although not part of the tourism experiences investment process, Bermuda will also host the 35th America's Cup, Tall Ships Regatta, Red Bull Youth America's Cup and other regattas in 2017, supplementing the existing nautical calendar which has grown significantly since December 2014 when Bermuda won the America's Cup bid," stated a BTA press release. A minimum of $826,500 is slated for investment in 2017, covering 40 successful applications. In total, 16 of them are new — 14 in sport and adventure and two in arts and culture.
2016. November 19. Tourists are choosing Bermuda as a holiday destination over other Caribbean and South American locations because of the island's Zika-free status. A handful of imported cases have been reported by the Department of Health on the island, but so far there has not been any local transmission of the mosquito-borne infection. Kenneth Bascome, Junior Minister for Tourism, told The Royal Gazette he had spoken with many first-time visitors who chose Bermuda because they did not need to worry about the Zika virus. "I have been involved in the visitors' industry for many years and make a point to ask first-time visitors why they have chosen Bermuda," Mr Bascome said. "It has been amazing to me over the last three months the number of people who have chosen to come here as a result of the Zika virus. Many have told me they wanted to travel to Barbados, but chose Bermuda instead because they had concerns about Zika. These first-time visitors have told me they have been overwhelmed by their experience and will be returning." Mr Bascome praised the "outstanding" work of the Bermuda Tourism Authority that has resulted in a sharp increase in arrival numbers over recent months. But he also urged the public to stop dumping household appliances and other equipment that could collect water and act as breeding grounds for mosquitoes. "This is a real problem, especially on the new hotel site, and I would beg my fellow Bermudians to think about these dangers before they go up there and dump fridges, washing machines and other appliances." The World Health Organisation declared a state of emergency over the spread of Zika in February, and since then the virus has reached almost every country in the Western Hemisphere except Canada. Thousands of babies have suffered deformities as a result of the infection. Yesterday, the WHO declared an end to its global health emergency, although this prompted criticism from global public health figures. Zika's capacity to tip Bermuda's air arrival numbers was noted during the Throne Speech debate, when Michael Scott of the Progressive Labour Party noted its potential as an outlying influence on tourism figures. Glenn Jones, the BTA's director of public and stakeholder relations, told <>i>The Royal Gazette that business development managers had fielded inquiries from groups looking to travel to the island, when initially they had looked to go to the Caribbean. However, he acknowledged that it was not possible to quantify the impact of Zika on tourism numbers. "The BTA is constantly consulting with the Department of Health as it relates to Zika and we have confidence in the officials who are taking the necessary steps to keep residents and visitors safe from the threat of Zika. As seen in a recent Boston Globe article, travelers are learning Bermuda has one of the most effective vector control programmes in the world. Even though Bermuda does not have the mosquito most capable of transmitting the Zika virus, it's clear to us that the growth in visitor arrivals we've seen this year is primarily a result of foundational changes in tourism strategy. A refreshed brand, more geographically focused advertising placements and success in sports tourism are just a few examples of the things making a positive difference for the island's tourism economy. So while it's true Bermuda is as safe a travel destination as it has always been from a health perspective, our appeal as a destination is more than that — it must be more if Bermuda is to be successful. However, anecdotally, I've heard about a New York family's decision to move its reunion from Mexico to Bermuda because they had Zika concerns. Our business development managers have also fielded enquires from groups investigating travel to Bermuda when initially they had their hearts set on the Caribbean. We're not out there actively trumpeting Bermuda as a non-Zika destination, but if and when travelers reach out with questions we provide them with the best information we have as a result of working with the Department of Health."
2016. November 17. The future of the island's tourism industry is the brightest it has been for decades. The rallying call came yesterday at the Tourism Summit where Michael Dunkley commended a tenth consecutive monthly increase in vacation air arrivals, year-on-year. "The grounds for a Bermuda renaissance in tourism are certainly solid and set," Mr Dunkley said. "October 2016 will be the tenth consecutive month of growth in tourism, which is an amazing feat." The Premier told the summit the latest October statistics were even more remarkable given the impact of Hurricane Nicole on travel and given that last October saw a huge influx of visitors for the America's Cup World Series. Hundreds attended the third annual Tourism Summit at the Hamilton Princess, including Kevin Dallas, the new Bermuda Tourism Authority CEO, who will take over from Bill Hanbury at the beginning of next year. Mr Dallas said he was delighted to be coming home, describing his appointment as "my dream job", while Mr Hanbury praised his team at the BTA for helping to turn around years of decline in the tourism industry. "I'm grateful for the people that have stuck with us through some pretty tough times when people were criticizing us, and unfairly criticizing us," Mr Hanbury said. "Numbers don't lie and the long-term outlook for Bermuda has never been brighter; that is because of the people sitting in this room. The country is finally starting to celebrate this organization's success." Yesterday's Tourism Summit came in the wake of what BTA chairman David Dodwell described as "phenomenal" statistics for the third quarter of 2017, which showed vacation air arrivals had increased by 18 per cent. Mr Dodwell joined Senator Michael Fahy in paying tribute to Mr Hanbury's tireless work as head of the BTA, and suggested that 2017 could be even better. "We are in the process of recovery, and it's not a short-term recovery, it is now a sustainable one.. This recovery will go well into 2017. "We are seeing a new kind of visitor; a much younger clientele which is exactly what we need to sustain this progress. It's been a really good year, but we are really excited about 2017. That is not just to do with America's Cup, that will help top it off, but it's the group business that is driving this change." The Minister of Tourism added: "Bermuda is back on the map and no longer the destination of grandparents. For the first time in 30 years Bermuda can look forward to real growth in tourism after decades of decline. We have new hotel developments in Bermuda for the first time in 30 years; it has been a long time since we have seen that level of confidence in Bermuda. The tourism picture looks brighter now than for many years I would like to thank Bill Hanbury; you have brought a significant amount of passion to the role. He faced a lot of local adversity when he was appointed but he pushed through that."
2016. November 4. The Bermuda Tourism Authority is encouraging entrepreneurs to come up with ideas that will bring new "amenities and experiences" at five of the island's public beaches. The five locations for the BTA's Beach Economy Vision are Horseshoe Bay, Shelly Bay, John Smith's Bay, Tobacco Bay and Clearwater Beach. A new CITV programme available on YouTube and a BTA presentation available online aims to guide entrepreneurs on the types of amenities and experiences best suited for each of the beaches while more information will be shared during Entrepreneurship Week between November 14 and 21. "For the better part of a year, our Beach Economy Working Group has been co-ordinating with government departments and collaborating with a variety of stakeholders. Thanks to the input of many, our plan has wide support," said Glenn Jones, chairman of the BTA's internal team working on beaches. "Five beaches now have a clearly defined identity, based on their natural attributes and appeal. This will lead to economic opportunities for Bermudians. Local entrepreneurs can study our research and use it to develop new, forward-thinking ideas that align with the vision." "The Ministry of the Environment is working closely with the BTA to realize a beach vision that balances economic opportunity for Bermudians with important environmental sensitivities on our shoreline," said Minister of the Environment Cole Simons. "Focusing on five public beaches — just 12 per cent of total beaches — is a smart way to achieve balance. And we agree, assigning identities as the BTA has done gives us a clear vision that will streamline the permitting process for small business owners." For example, an "identity" for John Smith's Bay is health and wellness. Next year, the BTA will ask the Parks Commission to recruit entrepreneurs for John Smith's Bay that can deliver a health and wellness experience. In turn, the BTA will use its marketing channels to drive visitors to John Smith's Bay if they're looking for a health and wellness experience. Mr Jones added: "What we're doing is matching the persona of the visitor with the identity of the beach. When we get this right it should mean more jobs for Bermudians, more visitor spending into our economy and a better experience for beach goers — visitors and locals alike." The BTA formed an internal working group to consider enhancements to Bermuda's beach economy tasked with three primary objectives: create beach economy jobs; increase visitor spending on public beaches; and improve the beach experience for visitors and locals The association's work also focuses on cleanliness, facilities maintenance and ancillary job opportunities like the ones that may emerge in the transport sector. Some beaches on the Beach Economy Vision target list already have concessionaires in place under government lease agreements. The BTA will work with existing beach entrepreneurs and new ones to encourage them to offer amenities and experiences that live up to the beach's identity and deliver on visitor expectations.
2016. November 3. The Bermuda Tourism Authority has appointed Bermudian Kevin Dallas as its chief executive officer. Mr Dallas, 38, is due to take over the post in January 2017 on the completion of Bill Hanbury's contract on December 31. BTA chairman David Dodwell said: "Kevin is a proud Bermudian who distinguished himself from a talented slate of candidates. His unique combination of global credentials and experience encompasses market development work for South African Tourism, as well as consultancy and executive roles in product and marketing within the digital domain." The board, in making its selection, was keen to "move beyond traditional marketing" in order to keep Bermuda ahead of the curve given the evolving global tourism marketplace. Mr Dodwell added: "In the new digital tourism game, the BTA needs to know how digital platforms like Airbnb, Expedia and Google really work, so we can play to win. Kevin Dallas is a proven leader in cutting edge digital marketing and strategy at an innovative global technology company where he learnt the inner workings of the online travel industry. We are thrilled that he is bringing this expertise to the BTA." Mr Dallas manages a multimillion-dollar annual budget and leads a global team of approximately 100, with ten direct reports. The recruitment process began in June 2016, the chair including extensive stakeholder consultation in the hospitality industry helping to establish "key indicators of expertise and to identify the modern skill set required for the post". Philip Barnett, the chairman of the BTA selection committee, "We were elated with the short listed candidates, all of whom were Bermudian and all of whom were exceptionally talented. We are confident that with our new appointment, the BTA will continue to grow and move forward." Mr Dallas will be introduced at the upcoming Tourism Summit on November 16. Mr Hanbury said of the appointment: "I'm delighted that Kevin has been selected to lead the BTA into its next period of growth. It has always been my wish that a Bermudian would follow me as the next CEO. I look forward to working with Kevin over the next couple of months to ensure we have a smooth transition. In this way, the BTA won't skip a beat as it continues to drive forward tourism's economic recovery." Speaking on his own appointment, Mr Dallas added: "I'm thrilled to return home to Bermuda for this opportunity. Having lived and worked not only in Bermuda's core Boston, New York and London markets, but also across Europe, Asia and Africa, I can say that Bermuda has a unique and special place in the world. I look forward to using my experience as a traveller, tourist and global executive and my passion for our island, to deliver the next chapter for Bermuda's tourism product." The BTA committee took on Bermudian human resource consulting firm Performance Solutions Limited to structure "a fair, rigorous recruitment process to attract and vet a wide slate of candidates". The BTA said that Mr Dallas will receive a similar compensation package to his predecessor, recorded publically last year as $295,000 per year along with a $75,000 annual housing allowance. Senator Michael Fahy, the Minister of Tourism, Transport and Municipalities, congratulated the BTA board for its work in recruiting Bermudian executive talent. He said: "Following an aggressive recruitment campaign for the next CEO, I am pleased to announce the selection of Bermudian Kevin Dallas to accept the baton from current CEO Bill Hanbury and lead the team through the next heat of the competition for global visitors. I would like to commend the board of the BTA, and the selection process which has been demonstrated to have been robust, effective and geared to the needs of an evolving global tourism industry. Over the past ten years, the inner workings of the global travel industry have changed completely. Travellers now dream, search and book online, and a huge portion of bookings are made through online travel agents like Expedia, rather than traditional travel agents. Successful destinations drive tourism demand using digital marketing, analytics, and partnerships with airlines and digital platforms like Google, TripAdvisor, Uber, Airbnb, Facebook and Expedia. The BTA has successfully brought Bermuda into this new era, and our recent air arrival results show that it is working. In order to stay ahead of this curve, we need leadership who are fluent in the new digital travel marketplace, and that's what we have found in Kevin, the next CEO of the BTA. Destinations that continue to market themselves in traditional ways will fall behind, but Bermuda intends to stay ahead of this curve and lead, transforming and enmeshing our traditional product for success in this modern environment. We congratulate Kevin Dallas who has proven to be a results-oriented executive, and we look forward to leveraging his substantive body of experience and industry insights to grow the market for a new generation of travelers for the benefit of Bermuda."
Bermudian Kevin Dallas was nominated as an inspirational role model at this year's British LGBT Awards. Mr Dallas featured in a shortlist of eight people in one of the corporate award categories, losing out on the top prize to flight lieutenant Ayla Holdom, a transgender military pilot. Mr Dallas describes himself on Twitter — where he posts as @KevinRecommends — as a "sociable, opinionated, tech nerd" who is "proudly from Bermuda". The former Saltus Grammar School student, who received the Sir Harry D Butterfield undergraduate scholarship in 1997 when he was pursuing his bachelor's degree in political science and economics at Brown University, was chief product and marketing officer at Worldpay, a payment processing company which was the FTSE 100 at the time of the nomination. He is the founder and executive sponsor of GLOW, Worldpay's LGBT network, with more than 200 members and straight allies. ?Before Worldpay, Mr Dallas was a partner at Bain & Company, where he led Bain's EMEA LGBT employee network, BGLAD. Mr Dallas speaks on diversity at events like EurOUT and Reaching Out MBA and was a founding board member of Out for Undergrad. Award winners were announced at a ceremony at London's Grand Connaught Rooms on May 13.
2016. November 1. A small team from the Bermuda Tourism Authority hit the cobblestone streets of St George's on Monday to get the word out about the increase in visitors expected in the old town next year. Cruise calls dedicated to the East End are expected to go from four in 2016 to 15 in 2017. "We want to make sure everyone is ready to seize this opportunity," said Chief Product and Experiences Development Officer Pat Phillip-Fairn, who led the team in St George's. "There is palpable optimism in St George's now. This is a slice of the island's tourism success carved out specifically for them. Stakeholders in the East End can decide how best to take advantage of these calls for their business." The BTA provided St George's stakeholders with the scheduled cruise calls for their area and "encouraged them to arrange staffing levels and opening hours that put them in the best possible position for success". Marine and Ports is expected to make the full 2017 Cruise Ship schedule available on its website this week. The expectation for 2017 is 15 cruise calls for St George's and 24 for Hamilton.
2016. October 28. Vacation air arrivals increased by 18 per cent in the third quarter, according to the latest Bermuda Tourism Authority statistics. As September figures leapt 31 per cent compared to the same month last year, year-to-date statistics also marked the highest number of vacation and leisure air arrivals since 2008. Describing the numbers as "nothing but phenomenal", BTA chairman David Dodwell added that nine months of consecutive growth showed that Bermuda tourism was in recovery. "This is not peaks and valleys we are going to worry about in future years, this is putting the foundation in place, getting the right people working with us — all of which takes time. When we started the Tourism Authority in 2014, really the first year was formative, setting it up, legislation, getting key people, getting the board set up." Adding that the BTA also changed every commercial relationship since it started, he said: "This is the first year that all of that could come together based on the foundation and the numbers are proving that all those changes were necessary and they paid off. We've had nine months of consecutive growth — it's not just lift in one of the months — and we're in recovery." September saw the greatest increase in visitor air arrivals with an additional 3,853 visitors — a 31 per cent rise compared to last year. Bill Hanbury, CEO of the BTA, stated: "Third quarter numbers have exceeded our expectations. In the busiest quarter of the year we generated some of the strongest growth. Ten thousand additional vacation air arrivals in the third quarter is our biggest indication yet that the Bermuda tourism economy is into a sustained recovery after decades of decline." Hotel occupancy also rose by 12 per cent in the quarter (8 per cent year-to-date) and visitor leisure spending increased by 29 per cent as visitors, on average, spent more while on the island. Visitor air arrivals from the United States rose by 23 per cent in the third quarter — enough to counteract declining visitor arrivals from Canada and Britain. Growth from the middle Atlantic region — particularly New York and New Jersey — was especially strong with a 26 per cent bump so far this year among leisure air travelers. Mr Hanbury said: "Increased airlift from the New York metropolitan area, along with strategic marketing focused on the people who live in that area, have brought success for the destination. It's a strategy we think has the potential for even more growth as we move into 2017 and beyond." The figures also showed a rise in younger visitors, with the largest increase in the 25 to 34 age bracket, which rose 44 per cent during the quarter. Mr Dodwell put this down to the BTA's hard work going after people in the right feeder markets, such as New York. He said the aim was to attract more younger visitors through marketing, but also the product and experiences, "everything from water to cliff-jumping, exploring to the cultural side of things". "Experiential travel is hugely up and we've been able to convince those marketplaces to come here. But dramatically improved air service had also played a role. The key is more available seats and then obviously competitive pricing from the airlines". Mr Dodwell also hinted that the BTA would be unveiling "some exciting news soon" regarding air travel in the next year that will offset the loss of United Airlines' autumn and winter service out of Newark.
2016. October 25. A number of cruise ships have been lined up to visit the island during next year's America's Cup. And Bermuda Tourism Authority is attempting to lure even more. During the month of June, when most of the America's Cup races will be held, the Fred Olsen Line will send their ship Boudicca to Bermuda from June 22-25. And the same company, in coordination with the America's Cup Event Authority (ACEA), is planning to offer America's Cup packages for the event. Celebrity Cruise Line's Celebrity Summit will make an extended stay from June 22-25. All told, the island will see 162 cruise ship visits next year, up from 151 in 2016. This will include 16 for St George's and 23 for Hamilton, up from four and 16 respectively, according to the Bermuda Government and the BTA. BTA CEO Bill Hanbury said in a statement: "Our stakeholders told us it was important to recruit more cruise calls to Hamilton and St George's and I'm proud to say we have delivered. Our team went out to create and cultivate important cruise industry relationships over the past two years, then worked with the tourism ministry to close the deals. We know these additional calls may be the difference between make or break for some of our tourism industry partners, particularly in the east end." According to a press release, Norwegian Cruise Line has planned to provide two tenders to transport their guests between Dockyard and St George's next year. The carrying capacity of the two tenders is a combined total of 500 passengers. They will work alongside the normal ferry service already operating between the two hubs. The Corporation of St George's and the Government have also partnered to upgrade the existing cruise and ferry infrastructure at Penno's Wharf. Senator Michael Fahy, the tourism minister, stated: "With the significant increase in calls and the improvements we've made with water transport and maritime infrastructure, 2017 has the potential to be a game changer for the East End. These luxury brands bring to Bermuda exactly the kind of premium traveller we have been pursuing. I expect 2017 to be a year of busy cobblestone streets, active shops and bustling attractions for St George's. And not far off is a new St Regis hotel which will bring increased air visitors to the old town, perfectly complementing the cruise lines we've attracted." The release says the increase in the number of cruise calls to St George's was made possible through negotiations with Norwegian Cruise Line which was encouraged to increase the number of times its smaller premium brands visited the island. Oceania Cruises and Regent Seven Seas brands will call on St George's 12 times in 2017 and on Hamilton twice. Meantime, also in Hamilton, the luxury brand Viking Ocean Cruises will come to Bermuda for the first time, making two calls with its Viking Sea and Viking Sky. Other cruise developments in 2017:
Cruise ships also making inaugural calls include Norwegian's Epic, Le Soleal and Le Boreal;
The World (Condominiums at Sea) will make one visit to the island;
Aida Cruises, a German-market cruise line, will return with five calls;
Holland America Line's MS Veendam will return to Hamilton, with an increase to six calls in 2017 from the four in 2016. MS Prisendam will also make one call to Hamilton;
A total of 408,000 cruise visitors are projected to visit Bermuda in 2017, about the same amount projected to visit in 2016. The full 2017 cruise ship schedule publishes on the Marine & Ports website November 1.
2016. October 20. Businesses involved in the hospitality sector need to be prepared for the tens of thousands of extra visitors expected on the island during next year's America's Cup. And while the event is regarded as the pinnacle moment within the coming 12 months, the island should also expect to experience some of its tourism "glory days of the past". Those were words used by Bill Hanbury, chief executive officer of the Bermuda Tourism Authority, as he opened the 17th Annual Butterfield & Vallis food service trade show at the Hamilton Princess. About 40 suppliers to food wholesale distributor Butterfield & Vallis used the event to meet with clients, such as hotels and restaurants, and showcase everything from daily necessities to the latest food trends. Spencer Butterfield, chief operating officer at Butterfield and Vallis, said: "We are proud to provide chefs with the ingredients that produce the creative dishes that you see on menus all across the island. We are encouraging the hospitality industry to be proactive in their readiness for the spectacular America's Cup racing in June." That sentiment was boosted by Mr Hanbury, who said the island's tourism economy was recovering after many years of decline. He said the latest numbers on air arrivals and hotel occupancy were the best in almost ten years. "The entire island can feel that sense of energy that is coming out of the tourism economy," he said. "This double-digit growth we are seeing is better than any other Caribbean nation or any destination on the East Coast. We are predicting that 2017 will mirror some of Bermuda tourism's glory days of the past. There will be no shoulder season. Be prepared to enjoy the ride as we go back to being one of the pre-eminent, luxury tourism destinations in the world." Referring to the America's Cup as a "once-in-a-lifetime opportunity" for the island, he said: "As the world comes to Bermuda for the America's Cup, over that five weeks we are expecting tens of thousands of air arrivals. We could have over 100,000 people arrive here by sea." Mr Hanbury said the Butterfield & Vallis team was working hard to prepare for the event, and help others to prepare. "Butterfield & Vallis is a terrific corporate citizen for our island. They don't know how to say 'no', every time you ask them to do something they always say 'yes'." The trade show was themed "Be Prepared". Alan Hughes, general manager of Butterfield & Vallis, said it was a way to elevate awareness of the America's Cup. "It's important for the island to prepare for this excellent opportunity. Hotels and restaurants are going to be full. It behooves us to show that we are ready. It's six months or so away, we have to start now. It's too big a prize to get wrong. So the first thing is about awareness, and the second is to show the products that are available from suppliers. People are excited. There is a dawning realization that it [America's Cup] is going to happen. We are hoping that a large number of the guests will want to come back and visit the island again."
2016. October 1. Another major international sporting event with a profile as large as the America's Cup could be heading to Bermuda within two years. Bill Hanbury, the CEO of the Bermuda Tourism Authority, said yesterday: "It looks like we may do a global event in April 2018 that will generate as much exposure in many regards as America's Cup." Mr Hanbury, who was speaking at a Bermuda Chamber of Commerce round table gathering, said he could not give details about the possible event yet, but he noted that it could have a three-year impact, supporting the island's tourism numbers through to 2020. He further revealed that talks are under way to bring a "major" sailing regatta to Bermuda in 2018 in the wake of the island's hosting of next year's America's Cup. "From a sailing perspective, we have been able to commandeer extra sailing events thanks to the increased attention due to the America's Cup," he said. "There is another major regatta for 2018 that will be announced in the next couple of weeks." During the round table discussion about the latest upbeat tourism figures, Mr Hanbury said he was personally bullish about the future of the industry, citing increasing arrival numbers and hotel occupancy rates so far this year along with positive forecasts. With the 11 per cent increase in tourism air arrivals so far this year and forecasts of a further 13 to 14 per cent increase in 2017, Mr Hanbury said the island could record a 25 per cent increase in just two years with the potential of further growth after that. "It's all very encouraging. It's really good, and it's no longer an anomaly. It's no longer a glitch. It's a trend. We are no longer cautiously optimistic. We are just optimistic." Specifically noting the forecast tourism number for the coming year, he said: "I have been doing this for 30 years in some dynamic destinations. I have never seen future numbers as significant as this." Mr Hanbury noted an additional 3,515 tourists flew to the island this year compared to the same period in 2015 — an increase of 17.4 per cent — while the number of cruise visitors increased by 5 per cent. "It's hard to go up 5 per cent in cruise visitors because we are pretty much at capacity, but we did it," he said. Mr Hanbury also noted that advanced numbers for the coming fall and winter were positive, saying the BTA have seen "really solid" numbers for the period between October and December, along with "astronomical" numbers for January, February and March. "We are 100 per cent up from where we were last year in some of those months," he said, explaining that a part of the boost was due to advanced preparations for the America's Cup. Numbers are very, very positive for the shoulder season this year." He told the chamber that the 7.6 per cent increase in air lift to the island had played a role in the boost in air arrivals and, while the loss of the United Airlines flight out of Newark during the winter months was disappointing, he added: "It was important, but it's not a disaster. There will be an announcement of another flight out of another destination very important to us." Mr Hanbury noted that the BTA received harsh criticism in past years, saying that while the body might have been able to get results sooner by moving faster, they wanted to focus on creating a sustainable boost rather than something short lived. And he said the efforts at bringing younger travelers and families to the island had paid off, noting a 25 per cent increase in younger visitors. "We are assuming that they will come back again and again because from what we see in the surveys, they are having positive experiences," he said.
2016. September 29. Tourism figures were up 7.9 per cent in August, according to statistics released yesterday by the Ministry of Tourism and Transport. Some 94,555 people visited Bermuda for leisure this August, compared to 87,646 last August and 80,267 in August 2014 — representing a rise of 17.8 per cent in two years. The biggest increase was for cruise ship visitors which went from 59,562 in August 2014 to 70,854 in August 2016. Air vacation and leisure visitors increased from 20,705 in August 2014 to 23,701 in August 2016. Out of the total number of air visitors to Bermuda in August 2016, the most common purpose of their trip to Bermuda was vacation and leisure which made up 77 per cent of the total, while 12 per cent of air visitors were visiting friends and relatives, and business travel made up 10 per cent. Business arrivals also increased year-on-year, with 3,042 people arriving in August compared to 2,977 during the same period last year. The figures show that one of the largest increases in total air arrivals came from the United States, with 20,926 visitors coming to Bermuda from the US in August 2014 and 24,242 coming to the island from the US in 2016. Meanwhile, there was a 46.7 per cent increase year over year in the total number of air arrivals from Asia for the month of August. Hotel occupancy was also on the rise, with 76.9 per cent occupancy in August compared to 71 and 67.3 per cent in August 2015 and 2014 respectively. Michael Fahy, the Minister of Tourism, Transport and the Municipalities, said he was impressed and encouraged by the results, adding: "It really bodes well for next year with the America's Cup getting under way and provides us with strong momentum heading into the off-season in Bermuda. "There is much still to do but these numbers are certainly an indication that Bermuda is getting traction once again with travelers. I want to congratulate the Bermuda Tourism Authority for their efforts to attract visitors to our shores — efforts which are clearly paying off."
2016. September 29. Ground was officially broken this afternoon on the Azura Boutique Hotel and Residences at the former site of the Surf Side Beach Club. Addressing the media and invited guests, John Bush, of the Clearwater Development Group, said he believed the project, which will allow local and international buyers to purchase units and rent them out in whole or in part through the Azura hotel management company, will be a sustainable success. "Our desire is to create something that is exciting to our visitors, but is also a sustainable hotel property, and we believe the business model we have here will make it very successful. I am, and my colleagues are, passionate about Bermuda. We believe in it. We love it. Tourism wants to work, tourism will work and I can tell you tourism will work on this site." The resort will initially include 18 hotel residences with up to 46 hotel rooms, some of which he said have already been purchased despite only coming onto the market days ago. The first phase of the project will also include a spa and a poolside restaurant, while planning approval has already been granted for a second phase of development, bringing the number of potential hotel keys to 69. A statement by Clearwater Development Ltd explained: "One major benefit of purchasing in this development is that the hotel concessions that have been granted allow owners participating in the hotel programme to receive the very attractive purchase pricing, have land tax waived for five years, and enjoy duty free pricing on furniture, fixtures and fittings. And for overseas buyers, the property license fee is waived. The first order of business for the development team is under way and includes landscape and common area enhancements, expansion and improvements to the pool and restaurant area, and major restoration and reinforcement of the cliffs and beach area, including renovations to the sea walls and construction of elevated and protected beach areas. This initial scope of work will be completed over the next three to four months." Many of the existing buildings on the site are set to be retained and "thoroughly renovated", but three small buildings are set to be demolished and replaced by a new three-bedroom villa. An additional two story building, containing five 3-bedroom villas, is also planned, featuring vegetated "green" roofs to increase green space for guests. Mr Bush added that the development team behind the project was entirely Bermudian, along with the lender and 80 per cent of investors. "This is a locally done project, and we are excited about it," he said. Michael Dunkley, the Premier, said he was gratified in not just the faith the developers have placed in the island, but what the project will mean for Bermudians. "What really gives me grounds to be confident here is that this is about opportunity for Bermudians," he said. "Bermudians providing the vision and Bermudians to rally around and create that opportunity to move forward. We know we have faced some tough times in the past, but we are making progress. Again today we are rising together, we are growing strong together. You can take it to the bank that this government will support Bermudians who want to rise with us together, and make our paradise home everything we want it to be." Michael Fahy, Minister of Tourism Development and Transport, noted the impressive views over the south shore, saying it was easy to understand why Mr Bush would have faith in the potential of the site. "It goes to show that with a bit of vision and a bit of confidence in the tourism market, that real tangible things can be done in Bermuda in the rebirth of tourism," he said. He praised the work of the Bermuda Tourism Authority and its investment team in building confidence in the local tourism industry, along with Mr Bush for his confidence in the project.
2016. August 30. Hotels and guest houses are filling up fast ahead of next year's America's Cup. Four guest houses told The Royal Gazette they are either already fully booked or nearly close to capacity. Hoteliers say they are "ramping up staff" in preparation for the mega sailing event that starts next May. Yesterday, Bermuda Tourism Authority urged visitors to make plans as soon as possible to avoid disappointment. Bill Hanbury, the BTA's CEO, said: "Anyone who needs hotels, restaurants and event space during the America's Cup should be bringing their plans together right now. We expect high demand during the five-week race calendar and we don't want local stakeholders to be disappointed." The Rosemont, Coral Beach & Tennis Club, Oxford House and Royal Palms all told The Royal Gazette they were preparing for the showpiece, which has long been billed as a major boost for Bermuda's tourism industry. Nik Bhola, general manager at Coral Beach, believes that the America's Cup is a "unique opportunity" for the industry and is hoping his hotel will leave an impression on visitors. "We have been maintaining a database of our members who have expressed interest in the America's Cup period," he said. "We announced our booking policy to our members this month, and have received plenty of positive feedback, and have started to make reservations. At this point we are still accepting reservation requests, but inquiries are very strong and filling up fast. "Coral Beach & Tennis Club has 57 units. We have been working on physical improvements throughout the club, including our food and beverage outlets, the beach and tennis experience and now our guest room renovations. We are ramping up our staffing and training in order to deliver a member experience commensurate with this world-class event. We will also be developing customized on-water experiences for our members, and making our venue available to members for entertainment. This is a very positive impact to tourism and the island as a whole. We are presented with a unique opportunity and I am confident that all service providers will rise to the occasion, work together and put their best foot forward. We must deliver during this event, so that visitors are encouraged to return many times over and continue to experience all Bermuda has to offer." Neal Stephens, owner and manager of the Rosemont, said: "Right now we are almost close to being sold out. We have been booked by the organisation so the TV crews and events staff will be staying here. We have around five rooms left out of a total of 48. We haven't really been doing anything out of the ordinary to prepare for guests, but I believe that the event will benefit the island as a whole as the island will be full just like the Newport to Bermuda race — but for five weeks instead of one." A spokeswoman for the Royal Palms Hotel, added: "We are currently sold out during the time of the America's Cup. As soon as the dates were confirmed bookings were made. We have quite a few people on the waitlist so we are hoping to be able to slip them in if we can, as we only have 32 rooms available in total." Oxford House has been booked out following the Louis Vuitton World Series last October, said owner Ann Smith. "We have been doing very, very well and have been sold out over the months. However, it is early yet, and we do keep rooms open for our regular businessmen as we only have 12 rooms available in total. We only just started taking bookings for the America's Cup as we didn't want to book so far ahead in case of cancellations. There is also a lot going on around that time so we are trying to be very careful." Mr Hanbury added: "If you haven't nailed down your America's Cup hospitality by the end of the year, you've waited too long. It will be a high-demand period for hotels and vacation rentals. No doubt about it. However, today there is inventory available and that's why we're encouraging people to act now because availability will become more and more scarce from this point forward. We are continuously communicating with the Ministry, the Department of Airport Operations and the airlines about capacity. As a result of those conversations the airlines certainly have America's Cup on their radar and I expect they will address any capacity challenges since it means additional revenue for their bottom lines."
2016. August 29. "Sewage balls" plaguing South Shore beaches must be tackled "completely" to protect the island's most important tourism asset, according to the Bermuda Tourism Authority. Greenrock and the Bermuda Environmental Sustainability Taskforce echoed the call after "grease balls" were found on Grape Bay Beach last Wednesday, three years after a study showed that sewage outfall on South Shore had created a public health hazard. However, BEST spokesman Stuart Hayward cautioned that Bermuda does not have the money or space for a treatment system that would fix the problem, which has been reported for more than a decade and has been a major source of concern over the past two years. [See timeline below for more details]. Glenn Jones, director of public and stakeholder relations at the BTA, said: "Grease balls are still an issue in Bermuda. As a result of what happened two or three years ago we have better dialogue and monitoring. But we have to solve this problem completely." Chief executive Bill Hanbury added: "We are very supportive of the additional provisions that Government has brought in to tackle the problem of grease balls in Bermuda. But the problem needs to be completely solved. Bermuda's most important tourism asset is its beaches and they need to be secured and maintained and protected." This newspaper first reported on the "grease balls" washing up on South Shore beaches in 2002. They hit the headlines again when a 2013 water quality study conducted by the University of Laval, Bermuda Institute of Ocean Sciences and a Government scientist showed that human bacteria levels in the waters off South Shore beaches reached up to four times the acceptable US standard during strong easterly winds, tide and swell. This led to a Bermuda Government assurance that the water quality would be monitored on a daily basis and measures taken to rid the island of potential pollution. However, the balls reappeared on Wednesday, with Grape Bay Beach area resident Debra Norman calling it one of the "worst days I have ever seen". Greenrock executive director Jonathan Starling said this was "disappointing", adding: "The fact that they are still a problem would indicate that we still have some way to go in addressing the issue. It indicates that there's no easy fix, but we need to start addressing our environmental problems sustainably. It's really a matter of whether we as a people are willing to invest in this, or if we're happy to keep dumping sewage off our coast and risking undermining our beach tourism in the process with negative news stories like this. We cannot just keep dumping our environmental problems and think they won't come back to haunt us — in this case very visually in the form of grease balls." Mr Starling also questioned if pumping sewage "off the coast of our key beaches and southern reef systems is a good idea" in this day and age, and whether there are alternatives. He drew on Singapore's sewage treatment model, which reuses sewage effluent as potable water, as an example. "I can envision a system where we're at least producing grey water that can be used for flushing at least the hospital toilets and for watering public parks, and even using the resulting sewage sludge as fertilizer, either for public parks, farms or just as part of a composting plan to convert Pembroke Dump into Pembroke Park." But he added that the measures such as mandatory grease traps for all commercial kitchens, which have been in effect in the City of Hamilton since 2014 and will be enforced island-wide in 2017, the introduction of a Hamilton sewerage tax to provide a revenue base for upgrades to the system and the water sampling testing routine, had been "the right steps within the existing sewerage system we have." However, he questioned whether they had been "executed to a satisfactory level" and stressed that more needed to be done. Mr Hayward was also optimistic that the regulations mandating grease traps to prevent fats, oils and grease entering the sewage system, would help, although he said an upgrade in monitoring would also assist. "Aesthetically they [the grease balls] are great concern. Even though, to the best of our knowledge there have been no recent ill health effects, this isn't going to benefit and could actually harm Bermuda's image as a tourist destination." But he added that "given the island's budgetary and space restraints", the measures implemented so far "have helped inhibit grease ball formation. We just don't have the money or space just now for the ideal of full tertiary treatment of the city's sewage and wastewater. It will help to remember that this kind of waste is human generated — that's us. More people means more waste; more affluence means more waste per capita. Ultimately, this is a carrying-capacity issue." Mr Starling also pointed to the new sewage treatment plant at the hospital, suggesting that the problems, which concerned the organic content of the wastewater being more variable than expected as well as levels of fats, oils and grease, reported by this newspaper in May could still be ongoing. However, a Bermuda Hospitals Board spokeswoman said last week that "good progress" had been made on our Sewage Treatment Plant operations. "An inspection this week by the Department of Environment and Natural Resources confirmed that the plant was not generating any greases, and that the effluent water quality was good." After the most recent reports of grease balls, a Government spokeswoman said last week that bypasses had been checked and an expedited outfall dive was requested. She added that the area would be subject to increased testing and that another clean-up of the beach — the last having been undertaken on August 17 — would be done in the next "24 hours". Subsequent visits by this newspaper confirmed that it had been cleared by Thursday and no evidence of grease balls was found at Grape Bay, Hungry Bay, Devonshire Bay and John Smith's Bay on Friday. Meanwhile, questions to BIOS about the monitoring of the issue went unanswered, with a spokeswoman saying they were no longer involved and claiming no knowledge of the 2013 report. And further questions to the Government about how many reports there had been, the nature of the sampling process and updates to proposed solutions have yet to yield responses.
How our grease ball problem has gathered pace
October 10, 2002: The Royal Gazette reports "unsightly and potentially disease-carrying balls of sewage" have been washing up on South Shore beaches. Environmental Health Officer George Simons says Corporation of Hamilton engineers are trying to figure out how remove grease from the outfall system.
March 18, 2003: Opposition Senator Kim Swan raises concerns about the impact sewage treatment is having on the island's waters. He also claims that sewage being pumped from Hamilton cruise ships in the summer has contributed to the appearance of "grease balls" in Tucker's Town.
July 6, 2013: Government and the Corporation of Hamilton are working to tackle the island's sewage issues after reports of "grease balls" on the island's South Shore. The Bermuda Institute of Ocean Sciences says the "grease balls" are presumed to be caused by the Seabright outfall used to dispose of municipal sewage.
December 12, 2013: The Bermuda Chamber of Commerce announces that restaurants in Hamilton must equip their kitchens with grease traps by January 1.
March 18, 2014: A 2013 water quality study raises concerns about "intermittent contamination" at South Shore beaches. The Department of Health responds that "small-scale specific microbiology studies" have been added to the regular monitoring of the Seabright outflow and adjacent beaches and that it is seeking "approval for a feasibility study for infrastructure improvements," and that "investment in a new [treatment] plant is being made" to improve the handling of waste at the Tynes Bay Septage Facility.
March 31, 2014: The US Consulate warns swimmers to take infection risks into account, prompting health concerns.
April 1, 2014: Environment minister Trevor Moniz says "grease balls" and heightened levels of bacteria in the South Shore waters are short-lived and unusual phenomena.
April 4, 2014: A high-tech sewage plant at the new hospital wing comes on line. It is expected to be fully operational and improve the quality of discharge from the controversial Seabright sewage pipe off the south shore by at least 17 per cent once the new wing is completed.
April 23, 2014: Environmental charity Greenrock calls for an end to the "phoney political finger pointing" over the "grease balls" controversy, labelling the report findings and related local and international media coverage "painful and embarrassing".
April 24, 2014: The Bermuda Government announces it would look into boosting the treatment procedures at the Tynes Bay Septage Facility, as well as "investigating" the extension of the pipe at Seabright.
April 29, 2014: The Corporation of Hamilton says the Seabright outfall on South Shore appears to be leak-free and that plans to improve the outfall are being "actively discussed with our consultants and stakeholders".
July 3, 2014: "Grease balls" are found on Grape Bay Beach, as well as the eastern section of Elbow Beach, for the second time in less than three months. An environment ministry spokeswoman says beaches are being checked daily. Shadow environment minister Glenn Blakeney calls the situation "challenging".
July 14, 2014: Government announces measures to tackle sewage on South Shore beaches including "significant improvements" to the Tynes Bay septage facility, which are being planned and implemented, and that "visiting engineers" will be weighing in on the feasibility of current proposals for a wastewater treatment facility.
October 24, 2014: The newly formed Bermuda Seawater Quality Scientific, Technical and Advisory Committee say they are co-ordinating measures to improve the wastewater quality. The Ministry of Public Works says it is "actively improving" the operations at the Tynes Bay Septage Facility with more control on the types of wastes being received.
May 7, 2016: Problems with the sewage plant at King Edward VII Memorial Hospital have not resulted in any risk to public health, according to a Department of Environment and Natural Resources spokeswoman, who confirmed there were "issues" with the plant relating to the organic content of the wastewater and levels of fats, oils and grease. The problems were expected to be "fully resolved in the coming months".
May 20, 2016: The seawater at Bermuda's top tourist beaches gets a clean bill of health.
June 28, 2016: The Ministry of Health and Seniors announces that all commercial kitchens must be fitted with approved grease traps by September 2017.
June 16, 2016: A Bill that could see "modest" taxes on the City of Hamilton's sewerage system bring in $400,000 annually passes in the senate. Economic development minister Grant Gibbons had previously told the House of Assembly that the tax would provide revenue to update the sewerage system.
July 25, 2016: The Public Health Amendment (No 2) Act 2016 passes in the Senate, requiring food establishments to fit grease traps.
August 25, 2016: "Grease balls" are again reported on Grape Bay Beach. Government says the beach will be subjected to increased testing although tests at related beaches since the last report on August 16 had confirmed "good seawater quality".
August 27, 2016: The Bermuda Tourism Authority, the Bermuda Environmental Sustainability Taskforce and Greenrock warn of the detrimental effect "grease balls" could have on the island's tourism product.
2016. August 29. The second half of 2016 is expected to be even brighter than the first six months of the year, according to Bermuda Tourism chief executive Bill Hanbury. Arrival figures for the first two quarters of the year have been well up on previous years and Mr Hanbury says he expects the turnaround to continue. Mr Hanbury, who has just four months left on his contract, told The Royal Gazette he hopes the BTA will be able to make further announcements about international sporting events coming to Bermuda before he leaves at the end of the year. "I have known since day one that we would turn it around," Mr Hanbury said. "Maybe we disappointed some people because they thought we would do it sooner. But I am not surprised one bit we have been able to make this very dramatic turnaround. Unless there is some kind of catastrophic economic event, that turnaround will continue. We are optimistic about the second half of 2016. Our predictor indicates that the second half of the year will be even better than the first half. We believe it will get better. We are feeling good about the America's Cup which will continue to be a priority in the coming months. There is also a lot more work looking beyond the America's Cup. There are some major international sporting events in sailing and triathlon that we hope to bring to Bermuda in the next three or four years. We will be able to announce more details about them shortly." The BTA has been operating in tough economic times since its inception in 2013 and has faced successive budget reductions. In 1980 there were 112 licensed hotel properties, while at the end of 2015 that number was just 43. In 1990 visitor air arrivals were 435,000, while last year the were slashed were about 220,000. The BTA's 2016 Government budget of $22.45 million was down 43 per cent from 2008. Mr Hanbury told The Royal Gazette that he remained focused on doing his job to the best of his abilities in the coming four months, and said that the search for a new CEO remained on track. "We received over 200 applications for the role of CEO," he said. "That process has now been completed and some interviews have already been conducted. The goal is to get the interviews completed by early September and announce my successor in October. It is still the plan for me to work alongside side the new CEO and facilitate the transition. I do feel slightly melancholy about leaving. We are making unbelievable progress now and I feel very honored to have worked alongside such a dedicated and bright team. It's been energizing working alongside people who care so much about Bermuda. It has not been easy and I would not describe it as fun, but I would not change a second. There has been some criticism that has been politically motivated and that has damaged our ability to be affective. We spent a lot of time responding and refuting misinformation about the BTA, but I believe we kept our composure and grace."
2016. August 25. A multimillion dollar investment in two catamarans by Norwegian Cruise Line will create up to ten jobs in Bermuda. Bill Hanbury, CEO of the Bermuda Tourism Authority said the catamarans, with a 250-passenger capacity each, would be used to transport Norwegian cruise ship passengers from Dockyard to St George. Mr Hanbury added: "As part of the negotiations with NCL and as part of their new five-year agreement, which is now in place, they will provide Bermuda with additional lift between St George's and Dockyard, which is sorely needed." He was speaking after NCL advertised for a Bermudian operator with "in-depth knowledge of the marine industry" to run the ferries on behalf of the cruise line. Mr Hanbury said: "They will augment our public ferry system, not supplant it any way whatsoever. "We have a brilliant ferry system which is a huge asset and we put a lot of value on it, but this will accommodate Norwegian's passengers specifically between two destinations which are a very big part of the Bermuda tourist product." NCL declined to comment on the move, which will see the ferries run on island until 2022, and referred all questions to the BTA. It is thought the new ferries will cost between $3 million and $4 million each. Mr Hanbury said: "This is a positive thing. This is an investment we could not make on our own. They may help us, particularly when they have very high demand periods, with some lifts which will accommodate other visitors, but this is predominantly for NCL passengers, who sometimes struggle between Dockyard and St George's. It also frees space on the public ferries, which also accommodates our visitors." Michael Fahy, the Minister for Tourism, Transport and Municipalities, said: "The ministry welcomes this exciting new partnership ... NCL have agreed to procure the tenders and bring them to Bermuda, where they will be maintained by NCL. While it is expected to provide between six and ten new jobs for Bermudians to operate the tender service, it may also breathe new life into the town of St George. Increased vibrancy for the Olde Towne should create jobs in restaurants, retail stores, at the beaches and at various east end attractions. We also expect an increased number of fares for taxis and minibuses as a result."
2016. August 24. Bermuda tourism may have had a small boost this year as a result of the outbreak of the Zika virus. Speaking yesterday, Glenn Jones of the Bermuda Tourism Authority said that there had been a "noticeable spike" in business interest this summer as travelers looked for destinations without the virus. "Over just the past few days I was introduced to Ingrid Kessler and nine members of her family who moved their family reunion from Mexico to Bermuda because of Zika fears. Our proximity and scuba and beach activities helped Bermuda come out as the top choice on their alternatives list. We don't proactively seek to capitalize on any of this, but when travelers reach out for Zika facts we provide them with the latest information we have as a result of working with the Bermuda Department of Health. The facts are very much in our favour because Bermuda doesn't have the mosquito known for transmitting Zika and the virus has not been contracted in Bermuda." He said that as long as Bermuda continues to avoid the outbreak, the island will remain in a good position in the minds of potential visitors. The BTA announced that visitor arrivals were up during the first half of the year with more tourists visiting the island by cruise ship and plane than during the same period in 2015.
2016. August 12. Britain was recently targeted in an advertising campaign aimed at promoting the island before the 2017 America's Cup. Several major cities including London, Liverpool, Leeds, Edinburgh and Birmingham were given a glimpse of Bermuda's blue waters with a series of 24 roadside digital screens as part of a campaign by the Bermuda Tourism Authority and the Media Agency Group (MAG). Meanwhile, the Mail Online featured a digital display highlighting the island last month, with billboard ads and scroll skins showing Bermuda and encouraging viewers to visit Bermuda. And advertisements were placed in several key rail stations in London and around Portsmouth. A MAG spokesman explained: "The placement of these ads was meticulously planned, and was run to tie in with the recent America's Cup World Series event in Portsmouth. Bermuda is set to host the 35th America's Cup in 2017, so these ads gave the Tourism Authority the chance to showcase the Bermuda brand in front of a relevant audience of sailing fans." John Kehoe, MAG's managing director, said the company was pleased to continue its work with the BTA, saying the effort was a "strong-performing campaign. By opting for online and digital out-of-home advertising, Bermuda has been able to reach a large and diverse audience, with ads in some of the busiest areas and key media locations that the UK has to offer." While statistics recently released by the BTA revealed increased visitor arrivals during the first six months of the year, the growth was attributed chiefly to a boost in visitors from the United States — particularly New York and New Jersey. The number of visitors flying from the UK declined slightly in the period between January and June, with air arrivals falling by 3.3 per cent compared to the same period last year — a difference of 147 visitors. However, the number of cruise ship arrivals from the UK increased by 84.4 per cent year-on-year, representing an additional 3,200 people.
2016. August 12. St George's MP Kenneth Bascome has called for a push towards "nostalgia tourism" targeting potential visitors who served on the island's former base lands. "This week alone I have encountered numerous people who were stationed on the base here with their children who were born here," he said. "I have had at least 15 or 20 people see me and recognise me from when I used to be at Tobacco Bay. The same way we used to do College Weeks, I believe we should do nostalgia weeks. We get people who used to live here like former police officers and all the people that were stationed on the base and their families. Thousands of people were born here. We need to create a marketing tool that calls on people to come back and relive their memories of when they lived in Bermuda. We are still here; the water is still pristine. I believe Bermuda has so much to offer, but we are not tapping into all of the resources that are out there for us to get us back where we were as the premier destination for tourism." He said such a proposal would be ideal for the shoulder season, suggesting that events be held in November or March when the weather is cooler. "We can put on special activities to encourage people to come here," he said. "Using the base as an example, we could do things at Clearwater Beach because that was specifically owned by the American government. We might think it's too cold for swimming, but many of them don't." Mr Bascome noted that some of the visitors he has spoken to had remained in contact through Facebook groups, and so it should be feasible to spread the message, adding that the US consulate could also play a role in helping to promote the island and events to those who have served in Bermuda. "I believe they could play a major part. I have had a conversation with one visitor who suggested I go to the Pentagon, but they might not be willing to disclose that sort of information, but I believe with the modern technology we have today, we should be able to create a programme that targets all the people that once worked here, particularly the young people who were born here." Mr Bascome added that he has already spoken to the Bermuda Tourism Authority about the potential initiative.
2016. August 11. A boost in the number of young visitors to Bermuda fuelled increased arrival rates for the first half of the year. The Bermuda Tourism Authority said the growth was the result of targeted marketing at younger demographics and families, which could bring the island long-term gains. BTA chairman David Dodwell said: "The really encouraging thing we are seeing is the younger demographics. We have more seats, and that combined with marketing is getting people out of these areas to Bermuda, and these are the adventure seekers. These are the people cliff jumping and all the things in our promotions now; they are geared towards the younger customer, but the interesting thing is the statistics show that the older customer is not going away either. The increase is mostly coming from the younger customer, who perhaps doesn't spend quite as much money and spends it differently, but they are spending on island — and the best thing is that we are building for the future. These are customers who, as they do better financially, will come back because they have good memories of Bermuda." According to figures released by the BTA, the number of visitors aged between 25 and 34 increased by 23.3 per cent year-on-year, while the number of visitors in the 18-to-24 age bracket rose by 21 per cent. Victoria Isley, sales chief and marketing officer, noted a series of promotional efforts in New York, including the #BermudaSummerFridays campaign, the sponsorship of Daybreaker Dance Parties and a promotion with Uber. "Increased air lift, a fresh, more youthful brand, targeted marketing and new experiences such as the Bermuda Carnival have all worked together to appeal to younger travelers. And the increased volume — the best since 2008 — has had a positive impact on the wider economy, especially the young demos, which are more likely to explore the entire island, far beyond their hotel." Speaking to The Royal Gazette, she explained that the BTA had focused its attention on reaching younger travelers who are looking for experiences more than sun and sand. "The adventure-seekers that we are talking about, they are looking for new experiences to tell their friends about rather than the same old same. Bermuda certainly delivers if you want your bum on the beach, but there's also this idea that the new definition of luxury is experience, and it really delivers that in a way that is real and authentic, different from other places and many other island destinations. The alternative in some places is going to a walled-in resort and not leaving until it's time to depart. Bermuda provides an open-air kind of resort destination where people can explore. It means a different way of spending, but what we are aiming for is to distribute where the visitors spend around the island so more areas are benefiting from the visitor market." She particularly noted promotions in the New York area, including a campaign in which they partnered with Uber, offering some lucky Uber passengers a free trip to Bermuda — provided they fly the following day. Ms Isley said the promotion not only targeted 50,000 Uber customers but highlighted how easy it was to take a weekend trip to the island through live updates. "We had branded cars and Uber cars with Bermuda ambassadors in them. We were able to be in the app and work through that," she said. "It was such a popular thing that Bermuda Fridays was actually trending in New York City on Twitter. We had people who won a trip on Thursday and they were on a trip to Bermuda on Friday. Part of that was to have real-time exposure to how easy it is to escape to Bermuda and what a different experience it is for those travelers." Moving forward, Ms Isley said the BTA was working on a retail promotion for Labour Day and promoting the island as more than just a beach destination to help encourage travel during the cooler months. "A lot of the imaging we have been using has not been just people on the beach. I think that people who live in Bermuda certainly know that it's more than that, but we have been working on differentiating Bermuda from other island experiences so the competitive research isn't just what the temperature is, but what the experience is. That's what we are looking at going into the fall." Meanwhile, Mr Dodwell said the BTA would continue to use analytics to take a "rifle approach" to targeting potential visitors instead of a "shotgun approach", marketing the island to those most likely to come and remaining financially efficient in the process. "People ask me why they don't see things on TV. Why they don't see full-page ads in magazines," Mr Dodwell said. "Those are too scattershot. It's too difficult to measure the kind of response you get, and now with Netflix and all those things you don't know when they are watching or what they are watching. When we are targeting, we are doing it in a very specific way. Our approach is very targeted, and when we are on TV it is in a very targeted way."
2016. August 10. Visitor air arrivals increased by more than 10 per cent in the first half of the year, according to the Bermuda Tourism Authority. Figures released yesterday show a total of 201,084 visitors came to the island between April and June this year, compared to 192,699 during the same period last year. Both air arrivals and cruise ship arrivals went up year-on-year during the quarter, with the BTA reporting an 8.8 per cent increase in air visitor arrivals and a 2.9 per cent increase in cruise visitors. Combined with positive figures in the first quarter of the year, the island has recorded a 10 per cent increase in air visitor arrivals in the period since January along with a 5 per cent increase in cruise ship visitor arrivals. In total, 68,462 visitors flew to the island in the first half of the year for vacation — the most since 2008. In addition to increased arrivals, the new statistics showed a 2.2 per cent increase in per-person visitor spending in the first half of the year and a 4.4 per cent rise in hotel occupancy rates. While hotels were charging a slightly lower-than-average rate, the BTA reported that the increase of occupancy resulted in higher overall revenue for the hotels. Vacationers put more than $90 million into the local economy between January and June — 12.4 per cent more than the same period last year. And with increased air lift to the island, total air arrivals for the quarter rose from 71,972 to 75,730, despite a decrease in business travelers. David Dodwell, the chairman of the BTA, said: "It's the first time in eight years we have seen numbers like this in the first half of the year. I think the hard work is paying off. The BTA was essentially in the formation process in 2013, so it really didn't get up and running in its current form until 2014, and even 2014 was a beginning year. Some members of the team didn't come on board until later. We are really in our second year of operation, and we have seen growth since then. We are trying to be optimistic as we can be, but we don't want to be looking over our shoulders. We want to look ahead." Meanwhile, BTA board member Jessica Mello said that there was a natural lag in tourism between when the work was done and when the results can be seen, particularly when it comes to group business. "Groups book in advance, a year or several years in advance, and they are very important in filling that base hotel inventory," she said. "It's not until now that we are seeing the results of the work that has been going on for the last couple of years." While the number of visitors from Canada and the United Kingdom have both fallen, Ms Mello said the decrease was more than made up by an increase in visitors from the United States, particularly New York and New Jersey. "The Canadian dollar is having a big impact. The UK is not doing well right now and that's having an impact but, on the other hand, we have put a huge amount of effort in the New York area, and it is really making up for those down markets. What we really get excited about is bigger picture trends, longer term. We have had six months of positive results and we are really excited, but we are not going to sit and celebrate yet. We want to make sure it continues." Bill Hanbury, BTA CEO, said: "The second quarter data shows a solid recovery under way within Bermuda's tourism industry. Every key indicator is trending in a positive direction. In no uncertain terms, these two quarters of results are a reinforcement of the BTA's marketing and management approach. When you combine excellent business intelligence, strong marketing execution and a dedicated team of Bermudians working overtime to turn the economy around, this is the result. Stellar performance."
2016. August 5. Bermuda has been earmarked as a site for a major motion film, according to the Bermuda Tourism Authority (BTA). However, the cost of filming on the island could be a stumbling block, according to a producer from Shoebox Films, the company who have expressed interest in the project. "We're obviously looking at other places, but we're hoping we can make it work on this amazing island," said Guy Heeley. During Mr Heeley's visit he scouted locations in St. George's, St. David's, Dockyard and several other places around the island. He added: "What you've got here are all the things a film needs: high quality transport, high quality hotels, high quality food and a safe, secure and comfortable, lovely place to be. That's essential. But the reason why Bermuda hasn't attracted movies is because it's expensive. There needs to be something to offset the expensive cost." As the certified film commission for Bermuda, the BTA has already met and assisted Mr Heeley with location scouting and helped facilitate discussions with local hotels. Since August of 2014 when the BTA joined the Association of Film Commissioners International, it has been working to grow Bermuda's attractiveness to filmmakers. "Increasingly we talk with film and television crews about shooting their productions in Bermuda because they know our picturesque landscape and geographic location sets us apart from other destinations," said Tiffani Cailor, the BTA's director of public relations and content management. "Film productions generate direct on-island spending in hotels, with ground transportation operators and creates work for local production companies, carpenters, caterers and others. It also generates marketing exposure for the destination. The BTA is working with the Ministry of Tourism, Transport & Municipalities and other government agencies to determine strategies that may ease the cost burden for filmmakers while at the same time bring a healthy economic return for the local economy. "Some productions can spend as much as seven figures in a jurisdiction, which can represent a major impact for Bermuda's economy as a result of a relatively modest incentive package." In other jurisdictions competing for film productions an incentive package can include waived government fees, tax concessions or rebates.
2016. July 25. Bermuda should reposition its tourism product stringently according to visitors' needs and wants, a travel expert has claimed. Gary Kent-Smith, senior travel adviser at Trip Bermuda, suggested that the island's tourism sector had an "attitude problem" when it came to meeting holidaymakers' demands. "We tend to tell visitors, 'This is what we have, and you're going to have to settle for that', rather than asking what they would like here. Has there been a survey done to find out what tourists want when they go on a vacation?" Mr Kent-Smith argued that a long-term concern for the island was giving vacationers value for money during their stay here. "At times I question whether the overall Bermuda experience is worth what the tourist is being charged. You can get a hotel in a major American or Canadian city for around the same price as you pay here, but there's more to do there, so the overall experience has more value." Mr Kent-Smith denied that the post-Brexit currency fluctuations would have any significant effect on Bermuda's visitor numbers, as suggested by statistician Cordell Riley. In a Royal Gazette opinion piece last week, Mr Riley asserted that the United Kingdom's decision to leave the European Union could have a noticeable impact on dollar-based destinations such as Bermuda. He said that the weakening of the Euro and British pound essentially put "the whole of Europe on sale" to American tourists, while also dissuading Europeans to visit Bermuda as their money would not go as far as before. "It's just one more challenge to our tourism industry. I personally think the impact will be minimal once the pound settles." However, Mr Kent-Smith said that he agreed with Mr Riley's idea that Bermuda could formulate a "Brexit package" to offset any potential decline in tourists. This package, according to Mr Riley, might include air fare, hotels, transfers and restaurant discounts. "That actually makes sense, let's make lemonade out of lemons," Mr Kent-Smith said. Regarding possible Brexit repercussions, Glenn Jones of the Bermuda Tourism Authority said that the organisation was "reviewing impact scenarios and preparing strategies to mitigate any negative effects. A devalued currency in the UK is certainly a headwind for the Bermuda tourism industry, as we move through the second half of the year," Mr Jones said, adding that US visitor numbers were nonetheless up 16 per cent from 2015
2016. July 25. The Times newspaper in London has sung Bermuda's praises in a 20-page supplement devoted to the island. Published on Thursday, the section offers a comprehensive look at the past, present and future of a "tiny nation" with a "big role on (the) global stage. Everyone, from the country's leaders, politicians, business and tourist chiefs down to fishermen and road sweepers, believes it is time for the world to sit up and take notice of Bermuda," writes Tony Dawe. Despite suggesting that it is "often forgotten" and muddled together with its Caribbean neighbors, Mr Dawe commends the island's economic muscle due to its insurance and reinsurance sectors. He also argues that the America's Cup next year will help place Bermuda back in the international spotlight, after conceding that it has not kept pace with "more proactive holiday hotspots". In a separate article, he expands on the island's attempts to modernize its tourism product — moving it definitively away from the "newly wed and nearly dead" markets. This includes everything from hotel renovations to restaurant weeks championing local cuisine to promoting Bermuda as a getaway training location for sports teams. Mr Dawe quotes Bill Hanbury, Bermuda Tourism Authority chief executive, who says: "We are no longer in a downward spiral; we are beginning to move the tourist numbers in the right direction." Elsewhere, the supplement delves into subjects such as Bermuda's history, food and drink hotspots, telecoms and the local job market. In an article entitled "Land of poetry, prose and pink sands", Robin McKelvie paints Bermuda as a popular celebrity haunt with fans including Rod Stewart, Alicia Keys, Samuel L. Jackson and John Travolta. "Author Mark Twain, a plethora of US presidents and a volley of British royals have all fallen under the archipelago's subtropical spell," he writes. Referring to Hamilton as "an engaging, bijou capital", Mr McKelvie nods to St George's Unesco World Heritage status, waxes lyrical about the island's beaches and name checks Johnny Barnes. In a piece on the America's Cup by Ron Lewis, British sailing great Sir Ben Ainslie speaks highly of Bermuda. "I've been there many times over the years and they are always very welcoming," he says. "It's a fun place. Sailing is a big part of life ... we're in for a really terrific contest." To read the supplement online, visit www.thetimes.co.uk/static/bermuda.
2016. July 21. Air arrivals, one of the coveted indicators for the Bermuda Tourism Authority, rose 11.3 per cent for the first quarter of the year according to the Department of Statistics. Bermuda hosted 32,233 air visitors during the first quarter of 2016, although the increase in visitor spending was more modest, at 2.7 per cent year on year. Air visitors are estimated to have spent $37.5 million — $2 million less on food and accommodation but $3 million more on shopping, entertainment and transport. Meanwhile, four cruise ships during Q1 brought in 3,314 passengers who spent an estimated $400,000. Just 319 cruise passengers came in the same period for 2015. There was a drop in hotel employment over the course of 2015 — 74 fewer Bermudian workers were counted for that sector, which acquired 12 additional non-Bermudians. At the end of January 2016 there were 2,292 hotel workers counted. Hotel gross receipts in Q1 rose by 7.2 per cent over the previous year's figure, to a total of $36.2 million — $1.4 million of which was attributed to increased sales of food and alcohol.
2016. July 15. The Bermuda Tourism Authority's public relations officers generated editorial content worth more than $26 million in advertising during 2015. The BTA said yesterday that much of that content came from 108 journalists who visited the island last year and worked with its sales and marketing team. "BTA worked with partners and specific media outlets to introduce a new generation of travelers to Bermuda," said chief sales and marketing officer Victoria Isley. "The success we saw last year is a direct result of our team putting Bermuda in front of editorial decision makers. We had compelling stories to share about the re-emergence of Bermuda as a youthful, adventurous, culturally rich destination and the journalists who came to the island were able to experience island life for themselves." Earlier yesterday, junior tourism minister Kenneth Bascome had revealed details on the cost of the journalists' visits in the House of Assembly, in response to questions from shadow minister Jamahl Simmons. Mr Bascome said the BTA had allocated $15,000 on air tickets, $38,000 on accommodation, $30,000 on meals, $39,000 on excursions and amenities and $56,000 on transport to host the reporters. Mr Bascome was unable to detail the terms and conditions attached, but pledged to provide the information to Parliament once he obtained it. The BTA said Bermuda was named Best Island by Outside Magazine in its Best of Travel issue last year, Wall Street Journal called Bermuda the "new destination for adrenalin junkies" and the island was on the cover of the romance issue of Condé Nast Traveller. Robb Report, Triathlete Magazine, Climbing Magazine and Scuba Diver Life were some of the other media outlets to feature Bermuda in at least one article in 2015. In North America alone, it is estimated consumers were reached more than one billion times with editorial content about Bermuda online, in print or otherwise, according to the BTA. Last year, the authority spent $180,168 hosting journalists in Bermuda. "When measured against the advertising value of $26.4 million, the BTA earned $146 of marketing exposure for every $1 it spent on journalists," noted the BTA. "Additionally, 92 per cent (or $165,149) of the money spent hosting journalists in 2015 was spent on-island at local restaurants, hotels, attractions and transport companies. In addition, some island stakeholders contributed to the efforts through complimentary hotel rooms or discounted pricing. The BTA's public relations team is working to maintain its print and online momentum in 2016, while at the same, generating greater exposure for Bermuda on television. In the first quarter of 2016, more than $2 million in advertising value was realized; ten journalists visited over that three-month period. This summer it was revealed Travel & Leisure readers rated Bermuda one of the top ten islands in its annual World's Best Awards Survey." Ms Isley added: "Public and media relations is one of the tools in BTA's integrated marketing toolbox. Telling stories through third party partners is an excellent way to build credibility. We are proud of the results of our efforts, and grateful to the many local partners that work with us in sharing Bermuda's mystique, character and hospitality with media partners and ultimately travelers. One of the most recent integrated media partnerships includes NBC's 1st Look programme which will air again in New York on July 16. Leisure air arrivals year-over-year for 2016 are on a positive track, up 9 per cent through May 31."
2016. July 14. The introduction of minicars as a rental option for tourists, due for debate tomorrow in Parliament, is "strongly" supported by the Bermuda Tourism Authority. The legislation got a poor reception earlier in the week, criticised as a surprise change that could prove detrimental to taxis. However, in a statement issued this afternoon, the BTA said that while the structure and regulation of such a product merited "very careful scrutiny", electric minicars stood to enhance the island as a destination. The statement continues: "Visitor research commissioned last year by the Ministry of Tourism and Transport showed 53 per cent of visitors were interested in renting an electric mini car in Bermuda. That's significantly more than the 31 per cent who said they would be interested in renting a scooter. Bermuda is one of the only destinations in the world not offering some sort of car rental programme. Having this new capacity will improve Bermuda's marketability and positively impact the tourism economy. More specifically, the BTA believes this new offering will make us more competitive as a destination, it will significantly enhance safety for visitors not entirely comfortable on a scooter, it will increase visitor spending and it will build entrepreneurial opportunities for our community. All of these benefits can be achieved without negatively impacting the taxi and minibus industries because the size of rental vehicle proposed means a user would be required to travel without luggage and with only up to two vehicle occupants, similar to a typical scooter. We appreciate that the public may have concerns over congestion, but with 3,500 fewer licensed vehicles on the road over the past seven to eight years perhaps we have more capacity than we think. Leisure air arrivals year-over-year continue to track on a positive trend line, up 9 per cent through May 31, 2016. If we are to continue building on this momentum of growth we must remain open to new products and experiences across our tourism industry. It's what our visitors are telling us we need to do."
2016. July 13. Michael Fahy, Minister of Tourism, Transport and Municipalities, has announced the details of a plan to introduce rental cars to the island. While the move has already come under fire, the senator said the One Bermuda Alliance were taking a "very conservative" approach with the initiative and that the vehicles will be strictly regulated. "We currently have short listed about ten makes of vehicle which we feel would be appropriate for this purpose, all of which are private car A-class in size or smaller in terms of dimensions. However, the engine sizes and horsepower of the vehicles for consideration, as outlined in the Bill, essentially mean that they will be unable to take more than two passengers and have little to no capacity for carrying luggage of any kind. Whilst we have called the vehicles livery motor cars they are more akin to quadri-cycles, although three-wheeled vehicles are not excluded from consideration. The proposed Act is very clear that the design or build of the body of a livery motor car will be regulated and controlled so as to be conducive to road safety in Bermuda; and so as to preserve as far as possible the amenities of Bermuda. They will have to go through rigorous testing in order to be deemed suitable." Mr Fahy said he has reached out to the two largest taxi operator associations this morning to discuss the matter and denied allegations that the bill was brought to benefit anyone in the OBA. He also denied that the vehicles will have a detrimental effect on the taxi industry, saying: "The types of vehicles we are talking about are small and as I have outlined the cc's of the vehicles under consideration simply would be unable to handle any more than a driver and a passenger. In fact, visitor numbers are increasing and in my view they will continue to do so. Any small number of persons that may use one of the new vehicles will be offset by the rising numbers of tourists very easily." Mr Fahy refuted the suggestion that the bill was brought by stealth, saying that there had been discussions for years about widening the variety of vehicles available for tourists, adding that the bill would provide new opportunities for Bermudian entrepreneurs. I am confident that this initiative will benefit Bermudian entrepreneurs and be an asset to our tourism product," he concluded.
2016. June 29. The Bermuda Tourism Authority has hired a local firm to manage the search for a new chief executive officer. Performance Solutions was selected after a "open and competitive Request for Proposals" process to choose a suitable successor to current CEO Bill Hanbury by the fourth quarter of this year. A statement released by the BTA said: "Performance Solutions has 16 years of distinguished experience in the Bermuda market as a boutique, full-service human resources consulting firm. "It has hiring expertise in the tourism sector and has successfully partnered with local and international companies across many sectors of the economy to support talent acquisition needs at all levels, from the C-suite to frontline staff." Mr Hanbury will finish his three-year contract at the end of 2016, but is expected to work side-by-side to transition the CEO designate into the new role.
2016. June 5. Residents looking to beautify their neighborhoods can now participate in an innovative initiative managed by the Bermuda Tourism Authority. The Neighborhood Beautification Project, launched today, invites the public to submit applications online to receive support in making their areas look better. According to a BTA press release, successful submissions will get the tools and expertise of local businesses and organisations to plan, organise and implement a series of activities resulting in the beautification of the roadway in their area. BTA chief operating officer Karla Lacey said in a statement: "Not only does this initiative serve a practical purpose, such as clearing and beautifying roadsides in Bermuda, it also serves to reconnect residents by providing an opportunity to create and maintain something special together that directly impacts where they live. "The outcome will be beneficial to their neighborhood and to Bermuda and our tourism product as a whole." Eligible neighborhoods must be near a visitor destination or in a tourism transportation corridor. The neighborhood also must designate a team leader who will be responsible for organising volunteers and ensuring beautification standards are maintained throughout each phase of the three-part initiative. A full list of criteria is available on the BTA's corporate website where applications can be submitted electronically. Resident volunteers from Horseshoe Road and Lighthouse Road participated in the Neighborhood Beautification Project as pilots earlier this year with the BTA reporting diverse resident engagement, clear aesthetic results, and positive feedback. Dave Blakeney, neighborhood leader at Lighthouse Road, said: "These efforts are done out of love for our Island," said. "We are Bermudians and residents working together to shine our light for the community and tourists who visit our island." SAL Limited, Keep Bermuda Beautiful, Bermuda Landscaping Association and Southampton Parish Council have all partnered with the BTA during the pilot process. Applications will be accepted online until June 30. Successful submissions will be notified at the beginning of August and prioritized to enter the program from September onward.
2016. May 28. Nearly 2,000 sailors will be racing for Bermuda to kick off next month's National Heroes Weekend, in the third-biggest Newport to Bermuda competition that the island has hosted. However Kenneth Bascome, still fresh to his appointment as Junior Minister of Tourism, warned that for St George to cash in on this and other developments to Bermuda's visitor economy, its corporation will need to seize the day and work closely with the Bermuda Government. His remarks came as the St George's North MP also brought before Parliament two hotel concessions orders, for developments at Elbow Beach Hotel and the former Surf Side Beach Club. Both are likely to be debated in two weeks' time. Mr Bascome told The Royal Gazette that he disliked using "tourism" for his role, adding: "The name should be changed to the Visitors Development Ministry." The ministry came under criticism from the Opposition in yesterday's House of Assembly, with Progressive Labour Party MPs questioning why Michael Fahy, recently appointed Minister for Tourism Development and Transport, still remained in his former Home Affairs premises instead of moving over to his new office in the Transport Control Department. Responding to the allegations that the Government was wasting office space, Michael Dunkley, the Premier, called it "conjuring up issues", and said he had tried to find temporary locations that worked best. Meanwhile, Mr Bascome said he looked forward to "an in-depth discussion with the minister — I believe the two of us will cause Bermuda to take its rightful place where I believe it has always been, as a premier destination". With bigger sailing looming in the form of America's Cup events, Mr Bascome said the event still faced scepticism at home. "Bermuda will be well positioned to cater to the influx of visitors, but numerous people still believe the America's Cup is not actually going to do anything for them. I beg to differ. The opportunities are there. You have to put yourself in a position to take it." Mr Bascome said the same applied for the potential benefits coming to the Olde Towne with extra cruise and ferry calls coming, courtesy of a deal between the Government and Norwegian Cruise Lines. "There is potential for St George to grasp this opportunity," he said. "The corporation, with the support of the Government, needs to take the bull by the horns in helping to get its infrastructure up to scratch. It is not my responsibility to drive the corporation's agenda. They need to approach the Government; I can then pick up the baton and help convince the Government that St George needs its support."
2016. May 27. The Nike Golf PGA Team Championship of Canada will return to Bermuda for a second year of competition in October. Mid Ocean Golf Club will again host the tournament of 104 visiting golfers, who will qualify in events across Canada this summer. The championship forms part of a packed winter of golf for Bermuda, with the Hackers Cup, Gosling's Invitational, Bermuda Open and Goodwill tournament all scheduled to take place during what that Bermuda Tourism Authority called a "growth year for golf on the island." Before the Nike Golf event in October there will be a World Pro Sports Championship, an event which has grown out of the partnership between the BTA and the organizers of the Bermuda Golf Classic, NFL Invitational. "Our sales and marketing team is advancing Bermuda as a golf tourism destination," Bill Hanbury, the BTA chief executive officer, said. "Golf visitors are important because they have a positive impact across the Island's tourism economy, far beyond just golf courses." During the early part of this year, the BTA influenced several visitor golf events that improved travel numbers during the quieter months of the year for tourism. Those events include an Executive Women's Golf Association event, Chris Langford Pairs and the Grey Goose World Par 3 at Turtle Hill Golf Club. "More and more cruise vacationers are disembarking and heading to the golf course," said Andrew Brooks, the BTA's director of golf sales and marketing. "And last week I spoke with another college golf coach about the possibility of bringing teams to Bermuda next year for a spring tournament. Cruise golfers and college springtime golfers are two areas where strong growth is happening and we think it is sustainable growth."
2016. May 26. Bermuda businesses are to be briefed about money-spinning opportunities from the upcoming America's Cup. The Bermuda Tourism Authority is to hold a special session for businesses involved in the tourism market next month. The free event will take place at the Bermuda Underwater Exploration Institute on Thursday, June 16 from 4pm to 5.30pm.
2016. May 16. Promoting the island's pristine shoreline for visitors and developing a thriving beach economy will not come at the expense of environmental considerations. This was the pledge from the Bermuda Tourism Authority's Glenn Jones, who spoke to the Hamilton Rotary Club last week about the BTA's vision for improving five beaches. Mr Jones, the BTA's director of public and stakeholder relations, later spoke to The Royal Gazette about plans for developing Bermuda's beach economy. "We have been working for a while on how to improve the island's beach economy to grow the number of jobs for Bermudians and increase what visitors spend here," Mr Jones said. "We went out and did an extensive survey with recent visitors to Bermuda and also talked to visitors who haven't been but are in our target audience. We asked them what they look for in a beach experience. We took that information and measured it against what we have currently to figure out where the gaps were that need to be filled in. Those gaps are really an economic opportunity for the country." The BTA has been working with the Bermuda Government to help develop the island's beach economy and is about to embark on a campaign of public engagement. Mr Jones said that all parties were aware of the importance of environmental concerns as they worked to promote and improve Bermuda's beach product. "We know if we ruin the environmental aspects of what visitors love about Bermuda we will also ruin the economic opportunity. That's why we propose no new structures at beaches where they don't already exist. It's also important to remember that there are 40 public beaches in Bermuda; our approach is focusing on five. Just 12 per cent. We believe that is restrained and responsible."
2016. May 14. The search for a successor to Bermuda Tourism Authority CEO Bill Hanbury will begin this summer. Mr Hanbury's three-year contract with the BTA concludes at the end of 2016, and his replacement is expected to be identified by the fourth quarter of this year. "Bill's upcoming departure was not unexpected, as his three-year contract comes to an end with the BTA," chairman David Dodwell said. "We now turn our attention to implementing our succession plan. It is time for the BTA to move into phase two of rebuilding Bermuda's tourism industry. The BTA board wants to take this opportunity to thank Bill for his leadership of the BTA staff and his dedication to Bermuda. Bill has been instrumental in creating a first class operation, staffed with an experienced and dedicated team. In his tenure he has demonstrated positive results and forward movement of our tourism product. Phase one of BTA growth and development has been fully achieved. The structure, staffing and directional focus of the BTA has clearly demonstrated important results for the country." Mr Hanbury was the BTA's first CEO and will work side by side with his successor the successful candidate transition into their new role. The changeover is expected to be completed by the end of December 2016. "When Bill leaves us in December, it will be on a high note," Mr Dodwell said. "We have seen positive results since the start of 2016 and we fully expect this trend line to continue throughout the rest of year. The future looks very bright for Bermuda tourism as we set the table for the America's Cup and beyond. We feel strongly that this is a testament to his hard work and the efforts of his team." A statement released by the BTA added: "The BTA board will be diligent in seeking out the very best CEO candidate to continue the strong leadership of the BTA The Board anticipates a robust process of selection and vetting of candidates against clearly defined criteria and objectives. To ensure a thorough process with best practices, the Board will be working with an agency, which will be named shortly to ensure pre-screening of all applicants. The board will seek a diverse slate of candidates for the position."
2016. May 12. Twelve extra cruise ships are to call on St George from 2017 to 2022 as part of a deal announced yesterday with Norwegian Cruise Line. The agreement with the Bermuda Government includes bringing two catamaran ferries to the island for a run from Dockyard to the East End, along with a yearly investment of $150,000 by NCL to sponsor tourism enhancement in co-operation with the Bermuda Tourism Authority. The deal was welcome news for the Olde Towne, which for years has been penalized by the trend for ever-larger cruise ships. Announcing the deal, Michael Dunkley described NCL as "one of our most respected and longest-serving partners", and noted that cruise passengers spent about $45 million in Bermuda last year. "Both the Government and NCL believe that if we are to continue to prosper, then maintaining a strong, lasting and mutually beneficial partnership is a must," the Premier said. At a press conference at the Cabinet Building, Mr Dunkley was joined by Frank Del Rio, CEO of Norwegian Cruise Lines, and Colin Murphy, senior vice-president of destination and strategic development. "We recognise that the global cruise industry is an ever evolving one and for many visitor markets, like Bermuda, it is a key economic contributor," Mr Dunkley said. "We understand that in the face of increasing competition from other visitor markets, as a destination we too must adapt to the current industry trends, or risk getting left behind." The boosted service to the Olde Towne "will aid greatly in the revitalization of St George's", he added. The commissioning of two new ferries, both their construction and delivery to the island, is taking place in consultation with the Department of Marine and Ports Services. The Premier said other agreements were potentially in the works. According to Bill Hanbury, the CEO of the Bermuda Tourism Authority, there are 23 calls on Hamilton set for next year. Mr Dunkley said that in discussion with NCL "we will continue to look at opportunities to bring more into Hamilton". Hailing the collective effort between the Government and the BTA, Mr Hanbury said it was "very important that we continue to focus on the cruise line industry, which provides a tremendous boost to the overall economy". St George has long been hampered as a port by the cruise industry's trend towards increasingly bigger vessels, but Mr Del Rio said NCL would be directing Oceania and Regent Seven Seas Brand luxury vessels to the East End, with roughly 700 passenger capacities. This will include a new Seven Seas Explorer, which he described as the "most luxurious cruise ship ever built", and which could call on Bermuda by the winter of 2017/18. Calling the deal a favorable one for NCL as well as Bermuda's economy, Mr Del Rio added: "They will spend two to three days on the island — and they have got deep pockets."
2016. May 11. The Bermuda Tourism Authority and the Ministry of Public Works have produced a "Beach Vision" for the island, charting the direction for development. The "vision", based on the results of surveys and focus groups carried out by the two bodies, states that the Bermuda beach experience should be "iconic, memorable for its natural beauty complemented by cleanliness and casual amenities that are culturally authentic — true to the island's attitude of unpretentious relaxation and warm hospitality." Craig Cannonier, the Minister of Public Works, said that the surveys had indicated that the cleanliness of the beaches and associated restrooms was paramount, along with a lack of overcrowding. "Our aim is simple. To deliver a beach experience that lives up to this vision, with a focus on five public beaches in particular — John Smith's Bay, Horseshoe Bay, Shelly Bay, Tobacco Bay and Clearwater. The main tenet of our plan is to improve the facilities at beaches that already have infrastructure in place, as opposed to creating new infrastructure at beaches where none currently exists." A statement by the ministry said that surveys of potential and past visitors to the island, based in the US East Coast, found the ideal Bermuda beach is clean with "abundant beauty and powdery sand". They also sought casual dining options near the beaches and moderate prices for food, beverages and services at public beaches. Focus groups in Boston and New York similarly found that participants showed a preference to beaches that were easy to access with a "relaxing energy" and many available services. They also expressed interest in basic amenities, with clean bathrooms listed as a necessity. Parks officer Craig Burt said: "When reviewing the beach vision for Bermuda, we considered aspects such as sustainability and the protection of natural assets. It's about enhancing what's already there, without changing it drastically. The National Parks Act permits only minimal development on beaches in order to ensure that they are not exploited." Mr Cannonier added: "Every good plan starts with a vision. The beach vision is by no means set in stone; it continues to be a work in progress. Ultimately, these beaches belong to the people of Bermuda so we need the public to let us know if we got this right, whether our plan for the future is one they can be proud of." Anyone who wishes to provide feedback on the beach vision can do so by e-mailing beaches@gov.bm.
2016. May 9. Bermuda got full exposure in New York during a Louis Vuitton America's Cup World Series riverside event. Visitors learnt about the island at the Bermuda Tourism Authority booth, which was decorated with a moongate entrance. Guests could have a picture taken in a photo booth with Bermuda-themed props and backgrounds and could peer through a special viewfinder featuring photos of the island. BTA staff were on hand to answer questions about Bermuda and the hotly anticipated America's Cup event in 2017. Lamar Caines, assistant research manager for the BTA, said: "This is basically an opportunity for us to expose people who came down for the races to Bermuda and what we're offering next year. Guests had an opportunity to have their picture taken with different Bermuda signs, so that's awesome exposure that people are going to take home and their friends are going to see. So the exposure extends far beyond just those that came here today." Hamilton Princess shared the Event Village space with the BTA and offered massages for visitors. Robert Marusi, director of hotel sales for the Hamilton Princess, added: "It's good because this event is putting Bermuda back on the map where it should be and it's certainly raising awareness for our iconic hotel that's been modernized and giving us the exposure that we need." Also representing Bermuda was TABS, located in the Sail Racing store, selling Bermuda shorts as well as swimwear featuring images of the America's Cup catamarans racing in Bermuda. TABS founder, Rebecca Hanson said: "It's a huge privilege to be here and to be against all of these international brands as well. We're right there with Sail Racing and Sperry and the watch brands, it's fantastic. It's a great opportunity. The pink shorts are selling well and the new kid's swim shorts are selling well." Premier Michael Dunkley joined local partners and others in spreading the "Bermuda message" to the crowds attending the World Series events. The Premier participated in an interview with Forbes.com, media engagements at the America's Cup Media Centre and paid a visit to the BTA booth for some interaction with staff and guests. During each of the media opportunities Mr Dunkley highlighted Bermuda's attractiveness as a leisure and business destination, the progress of the island's tourism product, upcoming hotel development, the transformation of Dockyard into the America's Cup Village and the overall importance of Bermuda hosting the 2017 America's Cup. In his capacity as National Security Minister and chair of the Emergency Measures Organisation (EMO) Mr Dunkley was provided an extensive assessment of the safety and security operations overseeing the LVACWS weekend of events. Mr Dunkley said: "It was exciting to see the buzz this event is creating and just how many people know about Bermuda. People who've been to the Island appreciate how good the sailing conditions are and how good a venue it is. Bermuda showcased extremely well this weekend. Everyone who represented the Island, from the BTA to our local sponsor organisations, certainly ensured that we were top of mind this weekend. As Premier, it made me very proud to see how well Bermuda was being received. Our aim was to promote our Island to the thousands of people here this weekend, and I'm encouraged that our efforts will bear fruit in enticing people to come to Bermuda in May and June 2017, which will ultimately benefit Bermuda." Mr Dunkley returns to Bermuda today.
2016. May 4. Bermuda attracted more air and cruise ship visitors in the last three months of 2015 compared with the year before, but they spent less money. There were 90,731 air and cruise ship visitors in the fourth quarter compared with 81,009 for the same period the year before, but they spent a combined $56.2 million compared to the $61.3 million of on-island spending in 2014. For the entire year visitor spending was $333.1 million, down from $347.9 in 2014, and $393.6 million in 2013. The figures are detailed in the Bermuda Government's Quarterly Bulletin of Statistics. Imports to the island fell to $225.4 million during the fourth quarter, with the collapse in the price of oil accounting for much of the 3.1 per cent drop. Fuel imports during the last three months of the year were down 46.9 per cent. The value of imports for the machinery commodity group decreased 8.4 per cent and imports of food, beverages and tobacco decreased 7.5 per cent. In contrast, imports from all other commodity groups increased. Fourth-quarter total imports have fallen from $260 million in 2013, and $232.7 million in 2014. Employment income was up 1.9 per cent, or $14.3 million, with the hotels and restaurants sector recording the largest percentage increase in remuneration of 6.3 per cent due in part to a larger workforce, and increased wages and tips. Residents declared overseas purchases totaling $17.5 million during the fourth quarter, which was down 1.3 per cent, although the full year figure was $59.3 million, just over $1 million higher.
2016. May 3. Tourism chiefs have reacted with "cautious optimism" to news that air arrivals for the first quarter of 2016 hit their highest level for seven years. Between January 1 and March 31, 18,189 leisure visitors flew to Bermuda — an increase of nearly 14 per cent compared with 2015 and the largest figure since 2008. The first-quarter statistics released by the Bermuda Tourism Authority yesterday also indicated a change in the demographic of tourist with more younger visitors travelling to the island. The welcome boost to air arrivals, which included a rise in travelers visiting family or friends in Bermuda, comes after air capacity for the first three months was increased by nearly a quarter compared with 2015. "That increased air capacity is so important," Jessica Mello, vice chairwoman of the BTA said. "We have worked very hard to get these extra flights and also fill these seats and these extra flights provide more options to visitors. Compared to the last time we had the same number of seats available, we are filling more of them now. All of the growth has come in New York and Boston, which is where we have focused our marketing and advertising and is a validation of those efforts. But it's not just the number, it's the mix of people too. We are seeing a different demographic as a result of the large investment in product and experiences." The quarterly report revealed that just over 40 per cent of the leisure air arrivals came from New York City, while 13 per cent originated in Boston. Air arrivals from the UK dropped by just a handful of passengers compared to the previous year, while the Canadian market continued to diminish and shrunk by another 15 per cent compared with last year. Meanwhile, the number of younger visitors in the 18 to 24, 25 to 34 and 35 to 44 age categories all showed significant increases for the first quarter compared with the same period of 2015. Bill Hanbury, CEO of the BTA, said: "The BTA's integrated and targeted marketing efforts are getting traction in our key markets and demographics. When you combine good data, innovative, creative, and solid execution Bermuda's tourism economy benefits." Cruise arrivals for the first quarter of 2016 also increased significantly from just over 300 passengers in 2015 to 3,341. Business air travel between January and March dropped by a little more than 2 per cent compared with 2015, but the number of air passengers visiting friends and family on the island rose by nearly 24 per cent. David Dodwell, chairman of the BTA, told The Royal Gazette: "We hope to see this trend of rising air arrivals continue through this year and remain cautiously optimistic. There are factors outside our control like the Canadian economy, but the increase in arrivals from the US has more than made up for the drop in Canadian numbers." Direct spending by air visitors into the local economy during the first quarter rose 4 per cent compared to the same period a year ago. Holidaymakers spent an estimated $20.4 million, about $768,000 more than the first quarter of 2015. Hotel occupancy also grew 7.4 per cent during the first three months of the year compared with 2015. On average hotels commanded slightly less revenue for their rooms in the first quarter and visitors' length of stay was shorter. Mr Dodwell said: "All these numbers are leaning in the right direction which is very positive from a hotelier perspective because they allow the hotels to employ for longer. What is also worth noting is that the Caribbean is down for the first quarter in hotel occupancy for the first time in the last eight to ten years, while we are up." Mr Hanbury added: "We know the first quarter is just the start of the year and in order to stay in positive territory we must maintain this trend of growth in the second and third quarters as well."
2016. April 27. The West End faces its first big test of the cruise ship season today as the Norwegian Breakaway delivers up to 6,000 people, with the Summit bringing 3,000 more tomorrow. This year's policy for Dockyard has come under fire for steering visitors away from public transport, while others say that taxis and minibuses are up for the challenge. "Let's see how it really works out, and then we can make an informed opinion," said Tafari Outerbridge of Bermuda Island Taxis. "There's a bit of trial and error because it's a new initiative." Public transport has struggled in previous years, but Mr Outerbridge said taxi operators "have felt for a long time that we should not be competing with the buses — they have decreased their amount of lift with the cruise ships, thereby increasing the lift for locals who need to get around. It's a good initiative and we're making an effort to have it work out." Bus operators held a round of meetings yesterday at the Bermuda Industrial Union, but will be back on the job with normal service running today. Accommodating the high volume of visitors coming into Dockyard proved a challenge for buses on heavy days last year. Ferries have also switched over to the summer schedule, effective this week, with the Orange route serving St George's up and running once more. The charter vessel Millennium is scheduled to head for Bermuda tomorrow out of Rhode Island, and will pick up the St George's route once it is readied for service. A spokesman for the Ministry of Tourism Development and Transport said the Millennium's crossing usually took about three days. Meanwhile, Glenn Smith of the Bermuda Tourism Authority confirmed that the BTA was aiming to have an extra complement of tourism ambassadors on hand this morning at the West End. "With the first arrival of the Breakaway we'll have more people up there to help everybody get to where they're going and answer questions." It will be the fourth year that the mega-ship calls on Dockyard. Another change to this year's tourism policy will be a charge passed on to vendors for the bus schedules, maps and brochures, which remain in high demand for visitors. The BTA announced earlier in the month that it was introducing a fee: businesses stocking up to 1,000 schedules will pay 25 cents for each, with a 20 cent charge per map. Brochure charges will vary according to type. The fees drop for larger orders. The paperwork was printed by the Department of Public Transportation until 2012, when it was passed on to the Department of Tourism, and then to the BTA. An e-mail to vendors described the cost as burdensome and something the BTA "can no longer carry alone" — although it will continue to cover part of the cost. "This method is fair because BTA resources for printing are now used more equitably for all stakeholders," the statement added.
2016. April 26. Airlift to the island has increased 22 per cent year-on-year, according to the Bermuda Tourism Authority. In a statement, the BTA said that the number of commercial airline seats available on routes to the island increased by 19,085 in the first quarter of the year compared to the same period of 2015. And while visitor arrival numbers for the period are not expected to be released until next week, Bill Hanbury, the CEO of the BTA, said the increased airlift was a positive development. "A greater number of airline seats increases our chances to put vacationers in those seats," he said. "That's why a year ago we worked so hard with our partners in the public and private sector to advance this issue. We consider a 22 per cent increase in seats, during the shoulder season, to be a very positive development. These additional seats also serve the local community in a positive way because when supply increases, cost typically decreases. This is good news for Bermuda residents and businesses since the cost of air travel becomes more affordable for all of us, not just for our visitors." The increase in airlift was directly attributed to the introduction of additional American Airline flights to New York and the return of winter service by United Airlines to Newark. Since the end of the first quarter American Airlines has resumed direct daily service from Philadelphia, and the airline will offer daily flights to Washington National Airport and weekly flights to Charlotte Douglas International Airport this summer. Meanwhile United Airlines is set to increase service between Bermuda and New York/Newark Liberty International Airport on May 5 and Jet Blue is set to increase service to both Boston and New York next month. Ross Weber, CEO of the Bermuda Business Development Agency, added: "It is encouraging to see this uplift in capacity. We are happy to work alongside the BTA to ensure routes are available, convenient and, ultimately, better priced. The BDA has worked tenaciously throughout the year encouraging more people to fly to Bermuda. We have been instrumental in attracting and sponsoring on-island events that draw business travelers to the Island from all parts of the world. Hosting conferences like the Legal Week Client Forum Americas, which drew senior executives to Bermuda in February, helps keep routes open. The additional American Airlines flight into JFK has made travel to the Big Apple and onwards on connecting flights far more conducive for business travel." The statement noted multiple steps that were taken over the last year to increase airlift, including meeting with local leaders and multiple airlines.
2016. April 14. Thousands of cruise ship passengers and crew have been invading the island this week with more due to arrive over the next few days. In the space of a week — from April 11 to April 18 — some 20,000 visitors will provide a much-needed boost to the local economy. According to the Bermuda Tourism Authority (BTA), nine ships were scheduled to arrive, carrying 12,981 passengers and 7,734 crew. All three ports — Dockyard, Hamilton and St George's — will be occupied. "We have been working on increased activity this year for stakeholders in Hamilton and St George's and now it's happening," said Pat Phillip-Fairn, the BTA's chief product and experiences development officer. "Since 2014, we have been strategically targeting the premium cruise ship brands to come to Bermuda because they often have smaller ships that are able to fit into our smaller ports. We're seeing the fruits of that labour now. And perhaps more importantly, these cruise lines often carry passengers willing to spend more when they visit a destination." This week, Hamilton has or will see three calls. Two ships will be in St George's and four in Dockyard. For the year, Hamilton cruise calls are expected to go up from 15 to 18 and St George's cruise calls will go up from two to four. Mrs Phillip-Fairn added: "The percentage increases of calls for Hamilton and St George's are up sharply and these calls are precious because there is a limited number of small ships in this part of the world. That's why we encourage our stakeholders to stay keenly aware of when these ships arrive. We want to make sure they don't miss these opportunities to welcome cruise visitors and win their business. That could mean opening early and staying open late if that's what it takes. We're happy they have the opportunity to decide how best to take advantage of these increased calls." According to the BTA "the latest projections for 2016 forecast a percentage increase in economic impact from cruise passenger and crew expenditure as a result of a greater number of cruise calls and a greater number of visitors with higher spending capacity. In 2015, there was an estimated economic impact of $71 million from cruise tourism, a combination of government taxes, cruise passenger expenditure and crew member expenditure." The full 2016 cruise ship schedule is available online via the Government's Department of Marine & Ports website.
2016. April 2. The loss of the Riddell's Bay Golf and Country Club has dealt an "understandable" blow to confidence, Bermuda Tourism Authority spokesman Glenn Jones said last night. Saying he would miss golfing and entertaining guests at the 94-year-old club in Warwick, Mr Jones nevertheless contended that the island remained strong as a golf destination. "My thoughts are with the fine people who worked at the course as they deal with this sudden closure," he added. The club's liquidation was announced on Thursday, ending several years of financial hardship at Riddell's Bay and prompting Opposition criticism of the Authority's performance. The club's loss "further diminishes our tourist and local golf product", according to Jamahl Simmons, the Shadow Minister of Tourism. However, Mr Jones maintained that despite this week's bad news, trends we see in golf tourism are positive. "Even with this unfortunate development, Bermuda has plenty of high-quality golf product and can compete with any destination in the region for golf visitors. Marketing drives for events such as the Grey Goose World Par 3, Gosling's Invitational and Goodwill tournaments had stimulated growth. Mr Jones pointed to growth in the annual Women & Golf, as well as the second Bermuda Golf Classic coming later this month, and said college golfers were "increasingly" using the island for practice during spring break. The international management firm Troon Golf works successfully with Port Royal and Ocean View, Mr Jones said. "Even professional tournaments like the Nike Golf PGA Team Championship of Canada has moved to Bermuda in the past year, and we have high confidence it will return in 2016." Meanwhile, Mr Simmons urged the Bermuda Government to help Riddell's Bay staff to get new jobs, adding that visitors with bookings at the club would need to be informed swiftly and given alternate arrangements. He called for the Department of Workforce Development to reach out to Bermudian workers immediately. "The closure of the island's oldest golf club — described on the official Bermuda tourism web site as "the elder statesman of Bermuda country clubs" — stood as "yet another example of a longstanding Bermudian institution falling victim to our economic climate. Tourism policy under the One Bermuda Alliance had yielded a 49-year low in tourism air arrivals. The Progressive Labour Party would demand greater accountability" from the BTA, which was launched in December 2013 — billed as an independent and apolitical entity when it replaced the old Department of Tourism." Charging the OBA administration with a failure to deliver, Mr Simmons said the PLP would expand the budget for tourism marketing to a competitive level, and "prioritise tourism investment to grow the industry and to in turn create jobs for Bermudians."
2016. April 1. The Bermuda Tourism Authority has disclosed $13 million in external contracts under public access to information legislation. The deals include $3.6 million on sales, marketing and advertising and $589,000 on public relations, as well as $3.5 million in rent here and abroad. One of the largest contracts is for $2 million to be paid to the America's Cup Event Authority, which is holding its international yachting races on the island next year. Sponsorship payments amount to $1.3 million, while the contract for the quango's website for a year is more than $900,000. The list of contracts was published in yesterday's edition of The Royal Gazette, in compliance with section 6 of the Public Access to Information Act, which requires public authorities to regularly publish details of every contract worth $50,000 or more. The largest single contract is for $2.4 million on rent for the BTA's Third Avenue office in New York. The six-year contract, which runs between 2013 and 2019, is with Royal Realty Corporation. A six-year contract for rent for the authority's office on Church Street in Bermuda, with Washington Properties, is worth $1.1 million. The BTA's marketing and advertising deals are with four contractors:
• MMGY Global, which has offices in the United States and Spain, for $2 million for a 25-month-contract
• British-based Global Travel Marketing for $488,720 for a two-year contract
• American-based Expedia Media Solutions for $300,000 for a ten-month contract
• AB Golf Consulting for $192,000 for a 19-month golf sales and marketing consulting contract.
The BTA also has an 18-month contract with American-based Turner PR for public relations worth $589,000.
Sponsorship deals amount to $1.3 million and comprise $406,334 to the Bermuda Sloop Foundation for the Spirit of Bermuda; $185,000 to the Bonnier Corporation for fishing events; $160,000 to the Royal Bermuda Yacht Club for the Argo Gold Cup; $160,000 to Bermuda National Athletics Association for the Marathon Weekend; $150,000 to the RBYC for Newport to Bermuda sailing; $100,000 for the World Rugby Classic; $60,000 to the RBYC for Antigua to Bermuda sailing; and $50,000 each to BHW Ltd for the Bermuda Heroes Weekend and the Bermuda Underwater Exploration Institute for the America's Cup Exhibit. Other contracts listed include $234,000 to the Associated Luxury Hotels International for three-year membership of its global alliance and a $302,000 grant to the Bermuda Hospitality Institute. The BTA was given a $1 million increase in its budget from the Bermuda Government this year, receiving $22.7 million for the fiscal year 2016-17. It said yesterday that as its fiscal year runs from January 1, only three-quarters of that grant — or $750,000 — would affect its budget. The Tourism Authority Fee, which is paid directly to the BTA by the island's hotels, was to double to 5 per cent but the authority said it had now been set at 4.5 per cent. The increase will come into effect on May 1 and will only affect bookings made after that date. Overall, the BTA said its budget would increase by $2.48 million to $27.8 million. Glenn Jones, the director of public and stakeholder relations, said the increase was about half what finance minister Bob Richards projected in the annual Budget. He added: "Rest assured, no matter the size of the BTA budget, or the headwinds we face, our goal every day is to stimulate growth and help our tourism economy reach the levels of greatness we all know it has the potential to achieve." The authority's annual report, released in August, showed that chief executive officer Bill Hanbury took in a salary of between $225,000 and $295,000 last year with a "performance incentive payout" of between $31,000 and $88,000. Salaries for directors ranged from $130,000 to $150,000 for Bermuda-based staff and $115,000 to $130,000 for out-of-island employees. Bonuses in that department ranged from $14,000 to $16,000.
2016. March 11. Tourism was hit hard by yesterday's industrial action, according to Bermuda Tourism Authority and Bermuda Hotel Association. And a continuation could cost the island dearly. Both organisations called the work stoppages "counterproductive to the fragile economic recovery". "The call for a 'withdrawal of labour' today and this coming Monday is essentially saying: 'shut down the country'," read a joint statement sent out by the BTA and BHA. The Bermuda Tourism Authority and the Bermuda Hotel Association realize that our labour force has certain legal rights to lay down tools and express their opinions on management and labour issues. However, it appears this work stoppage is not one of those occasions. We see this action as counterproductive to the fragile economic recovery that is under way among retailers, restaurants, hotels and tourism attractions. It was noted that the BIU had previously assured that business and tourism sectors would be forewarned if any work stoppage was planned by union members. However, that didn't happen, leaving hotels, restaurants and retailers caught off guard. As a courtesy, the warning would have helped businesses to better plan to accommodate our valued guests who are now on island," added the statement. "Unfortunately, we received no forewarning from labour leadership on this matter. A typical visitor to our island spends on average $201 per day and this weekend Bermuda is hosting hundreds of individual visitors, several conference groups and a major golf tournament. Many will be inconvenienced by the work stoppage as they attempt to use public transit and other public services. These activities negatively impact upon their view of Bermuda and diminishes their local spending, directly harming an already bruised economy and the workers the unions represent. Furthermore, a ruined vacation, convention or golf experience is a memory they take with them and share with their friends and family, and greatly reduces the chance of their return. More importantly, this work stoppage and the highly adversarial political environment continually covered in the local media and on social media channels is damaging our global image. Travellers looking for a vacation destination are looking online as they consider which destination to choose. The negative and divisive discourse concerning our civic disagreements is a deterrent to those audiences and prospective business, investors and leisure visitors which ultimately is the determining factor as they select another destination. We are calling on Government and union representatives to resolve their important civic issues with more sensitivity to the impact on our tourism and hospitality industry — the one sector all parties agree is vital to the overall growth and economic recovery of Bermuda." Responding last night to the BTA/BHA statement, Jamahl Simmons, Shadow Minister of Tourism and Economic Development, said the PLP shared the tourism concerns. "Like them, we are deeply concerned about the impact that any industrial action has on the second pillar of our economy," said Mr Simmons. "Where we part ways, however, is in our understanding that this current and potentially ongoing action is a direct result of the OBA's approach to immigration and a refusal to listen by Premier Dunkley. This has caused the people to take action. The OBA have no mandate to carry out this agenda. In fact, the OBA's current and former leader repeatedly denied prior to the 2012 election that would grant status to thousands of non-Bermudians. This deception, failure to listen and their refusal to engage in bipartisan comprehensive immigration reform have led Bermuda to this point. I would encourage the BTA to lobby the OBA to keep their promises and adjust their approach to immigration or return to the polls and get a mandate from the people. If they are unwilling or unable to lobby the OBA, we encourage them to focus their energies on improving our current record 49 year low in air arrivals."
2016. February 20. The Bermuda Tourism Authority has been given a $1 million boost. While the BTA was allotted a total of $21.7 million in last year's Budget, that figure has been increased to $22.7 million. The Government has also doubled the Tourism Authority Fee, which is paid directly to the BTA by the island's hotels, from 2.5 per cent to 5 per cent. Delivering the 2016-17 budget statement yesterday, Bob Richards, the Minister of Finance, said the BTA has made "significant progress" in re-settling the island's marketing image and is well positioned to achieve "aggressive growth objectives". Mr Richards said: "One of the keys to achieving those objectives is securing enough airline seat capacity to meet demand. In the first quarter of this year, as a result of the Government working closely with airlines and BTA-airline marketing partnerships, airline seat capacity to the island will increase 8 per cent. "This will provide greater access to the island for vacationers and greater opportunity to lure business and leisure groups — a performance area that lagged in 2015 as a result of poor group sales before the start of the BTA." He said the BTA reorganized and redeployed its group sales teams last year, which has helped to ensure group sales for this year and next, which in turn help maintain tourism employment levels year-round. Mr Richards also said that the number of visiting cruise ships would increase this year, including a greater number of visits to St George's and Hamilton. "The schedule projects a 10 per cent increase in visitors and 12 per cent increase in spending for an estimated $91 million in total spending," Mr Richards said. The BTA are also set to allocate $1 million to support tourism entrepreneurs in an effort to improve the on-island experience for visitors and stimulate spending.
2016. February 11. There was a 2.4 per cent increase in holidaying visitor arrivals for the Island in 2015, according to the Bermuda Tourism Authority. That increase was driven by a 4.2 per cent rise in cruise arrivals. Tourism air arrivals fell by 1.2 per cent, moderately offset by the decrease of 51,090 commercial airline seats. Canada's weak dollar and the poor economy pushed down arrivals from that country by 17 per cent over the previous year's figures, which also drove air arrivals into the negative figures. United States visitors were up by 0.5 per cent, and British visitors rose by 9 per cent, which Bill Hanbury, CEO of the BTA, said positioned the Island well for 2016. Meanwhile, cruise visitor spending rose 29 per cent over 2014, while air visitor spending fell 6 per cent. A 10 per cent cruise visitor increase is forecast for this year, which will include more small cruise calls on Hamilton and St George's. The authority also reports a positive impact on visitor numbers from the 2015 Louis Vuitton America's Cup World Series, and the upcoming America's Cup 2017.
2016. February 10. American Airlines will begin a second service to Bermuda tomorrow from New York's JFK Airport. That will push up to 18 per cent the increase in commercial airline seats flying to Bermuda in the first quarter of 2016 when compared to the first quarter of 2015. "Our ongoing dialogues with airline partners are showing results," said Shawn Crockwell, the Tourism Minister. "Not only do we have the added airlift from New York on American Airlines, we've seen other airlines fly more often this winter than they did last winter. This is good news for residents and business people who rely on air travel, but also presents an opportunity to the Bermuda Tourism Authority to attract more visitors." In the second quarter, a six per cent increase in seats is forecast, making for two consecutive quarters of additional airlift, which represents 24,222 more commercial airline seats available to Bermuda, according to a Ministry statement released this morning. In 2015, every quarter of the year experienced a decrease in airlift — down 9.2 per cent or 51,090 fewer commercial airline seats. Typically an increase in the supply of commercial airline seats brings more competitive prices for travelers, added the statement. Bermuda Tourism Authority CEO Bill Hanbury said: "Airline seats to Bermuda are down 30 per cent in the past decade. That's why we're working hard to grow demand and assist our partners in government who negotiate with airlines. The first two quarters of this year are encouraging and with promotions like the Pink Sale we are making strides to fill those seats." Through the third quarter of 2015, vacation air arrivals were the best performing type of traveller. Vacationer travel was down 0.8 per cent, business travel was off 4.5 per cent and visiting friends and family was down nine per cent. Fewer Bermuda-based employees in the international business sector and fewer visiting friends and family of expats are partly responsible for the lagging performance in the non-vacationer categories. American Airlines flight 1428, its second from New York's JFK, is scheduled to depart at noon eastern time and arrive in Bermuda at 3.05pm local time. It will return to JFK same day with a departure at 4.00pm, arriving at JFK at 5.30pm eastern time. The additional flight will operate every day of the week except on Tuesdays. The inaugural AA flight will be greeted tomorrow with the ceremonial water cannon salute on the taxiway at L.F. Wade International Airport.
2016. February 10. The Bermuda Tourism Authority has urged the Bermuda Government to boost its funding in the upcoming Budget. Bill Hanbury, the chief executive of the Bermuda Tourism Authority, told The Royal Gazette that an increased budget figure was vital and would go towards advertising and marketing the island. He said that 2016 was a "very important year" for the authority and he believed it had the makings of a "decent year. We have asked for a significant increase in our budget because we desperately need it. The vast majority would go on advertising and marketing. We think we have made a compelling case to Government for additional funding, but we will see. In 2015, the BTA's grant from Government totalled $21.7 million; the lowest in more than a decade. Despite the cut in funding the tourism industry generated more than $50 million in taxes as well as $300 million economic impact. We are the best investment that the country is making and one of the few things that Government can invest in and generate an economic impact. We have built a good machine. It does not have all the fuel it needs but it has the capacity to do very well." Mr Hanbury revealed that the America's Cup had already increased global awareness of the island as a potential for sporting events. He also maintained that convention travel in 2016 looked set to increase with an accompanying rise in cruise calls. "We are going to have a decent year," Mr Hanbury said. "I'm optimistic things will be better than 2015, but there are still a lot of headwinds out there. The Canadian economy and exchange rates are big issues and we have seen a pretty significant decline in visitors coming from Canada, which is traditionally our second-biggest market. Unfortunately, we have no control over exchange rates and with these kind of numbers it is difficult to be completely successful. There is going to be more airlift in the first quarter, which is really good news, but we still need to fill that capacity. It's a really important year for us, I'm not thinking about the America's Cup at the moment, I'm concerned about getting the numbers up for 2016. The America's Cup has obviously helped and taken us to places we could not have gone otherwise and given us strong affiliations with big names. It has also raised awareness about us as a sailing venue and as well as a sports venue and we have seen some results on that already."
2015. February 9. A rise in group bookings and the success of the Pink Sale has prompted "cautious optimism" within the tourism sector for 2016. The recent Pink Sale is expected to bring $8.8 million into the local economy in direct visitor spending this year after netting 4,428 bookings. The figures equate to 19,900 room nights for local hotels, an 189 per cent year-over-year increase. The sale is a partnership promotion between the Bermuda Tourism Authority and the Bermuda Hotel Association." Our members are very appreciative of the ongoing efforts on the part of the BTA to increase overall visitors to the island," BHA CEO Stephen Todd said. "We are starting to see the anticipated positive growth in future visitor arrivals and we applaud the ongoing efforts of the BTA in creating the overall awareness of the island in our key international markets, which will provide a much needed revenue boost to the overall economy." The Pink Sale, which offers visitors 50 per cent discount on hotel rates, was originally planned to run from January 8 to January 25, but was extended to February 1 to leverage a Northeast snowstorm and encourage further bookings. Fifteen local hotels participated in the promotion this year, the same number as in 2015. Meanwhile the latest Hotel Pace Report shows group travel up 10 per cent over the next twelve months compared to a year ago. In 2015, the BTA team's group sales effort booked 59 meetings that will take place in Bermuda, representing another $10.6 million in estimated spending on-island. "Group travel is critical to the profitability of hotels and tourism sector employment levels so having positive signs in this area is very important," said Bill Hanbury, Bermuda Tourism Authority CEO. "We are cautiously optimistic because we're climbing out of a big hole on the group travel side of the business and we have a long way to go."
2016. February 8. The Bermuda Tourism Authority will financially support new culinary, heritage and water sport activities for visitors as part of its 2016 tourism experiences investment process. Meanwhile, a spokesman said events such as the Bermuda Fly-fishing Invitational, Bermuda Yoga Festival and Bermuda Heroes' Weekend are being renewed for funding. In total, the spokesman said around $607,000 will be allocated to 38 tourism experiences, including more than a dozen new experiences. Among the additions is an intimate dinner theatre performance of Reminiscences and Other Lies, starring local actor Gavin Wilson as Mark Twain, and a new water sport experience by Kinezumi Water Sports. Entrepreneur Antwan Albouy said: "Our original idea was land based, but from the lunch and learn sessions we learnt visitors wanted more of a thrill from their water sport activities. This summer we plan to introduce the hydro-powered Jetovator, among other water-based products, which will bring plenty of excitement for thrill-seeking visitors." Meanwhile the spokesman said the Bermuda Heroes' Weekend is hoped to be bigger and better than last year with BHW Ltd representatives promoting the Bermuda Carnival to revelers in Trinidad. Jason Sudeko of BHW said: "The carnival-chaser is a new visitor market for Bermuda. We saw the potential and went after it, but we remained true to the BTA strategy of being unique and authentic. That's where the raft-up part of Bermuda Carnival came from. For June 2016 we already have tour operators and travel agents who want to package the experience which is an important new element for attracting carnival-chasers." Since April 2014, the BTA has allocated about $2.3 million to home-grown ideas that help revive the island's collection of visitor experiences. The BTA opens the application process to the public with a series of free lunch and learn sessions to share consumer research and offer advice from tourism industry entrepreneurs.
2016. February 4. An international track event will take place in Bermuda this April, according to the Bermuda Tourism Authority and the Bermuda National Athletics Association. BNNA president Donna Raynor said the event, the Bermuda Invitational Permit Meet, will "be like the America's Cup of athletics" potentially featuring Olympians and former Olympians competing. The BNAA made a submission to its international governing bodies to become eligible to host the event and approached the BTA for support through its Tourism Experiences investment process. Pat Phillip-Fairn, chief product and experiences development officer at the BTA, said: "In the same way the Danish national swim team is here in Bermuda using our national pool to train for the Olympics, we will have some of the brightest stars in athletics competing on our track in about three months. The BTA is proud to be a key sponsor of this event because it helps position Bermuda for the next level of sports tourism." Officials are reportedly in talks with agents and coaches to attract some of the top names in athletics, while the BNNA will showcase local elite athletes during the invitational including Tre Houston, Tyrone Smith and Aaron Evans. The schedule of events will consist of 100m, 400m, 400m hurdles, 800m, 1500m, men's long jump and females' high jump. The athletes will compete for prize money. The Bermuda Invitational is one of a series of permit meets held in the Caribbean region – starting in the Bahamas, then Bermuda, Cayman and Jamaica. While events are conducted separately, a BTA statement said they may become a circuit. "A series of meets in the same geographic region is particularly attractive during an Olympic year when athletes are looking for venues that are close by to compete in," the statement said. "Bermuda would be well-positioned to play an important role in that kind of circuit because geographically it is close to North America and the Caribbean." Mrs Phillip-Fairn said: "If we can make this meet an annual staple, and part of a circuit that includes stops in the Caribbean, we then have the potential to be a part of something truly ground breaking, elevating Bermuda to a level of sports tourism even higher than the one we are speaking of today." The Bermuda Invitational Permit Meet will take place at the National Sports Centre on April 22 from 6.30pm to 8.30pm. Tickets will be made available to the public starting February 29.
2016. January 30. Air visitor arrivals fell in the third quarter of 2015, however, total visitor arrivals increased year-on-year according to the Department of Statistics. While the Department reported a 2.2 per cent decline in air arrivals in the third quarter, the total number of visitors increased from 248,040 to 258,735 with cruise ship visitors taken into account. According to figures released by the Bermuda Tourism Authority last year the number of visitors arriving to vacation increased slightly during the quarter, but a decline in the number of business visitors and those visiting friends and family on the island caused an overall reduction in air arrivals. The department also stated that the estimated total expenditure by visitors fell by just over $10 million when compared with the same period in 2014, while the number of people employed by Bermuda's hotels had increased during the quarter. "At the end of July 2015, there were 2,649 workers employed within the hotel industry," the department stated. "The level of employment increased by 164 employees, representing 94 Bermudians and 70 non-Bermudians. "Hotel gross receipts totaled $97.9 million. This represented an increase of 1.9 per cent, or $1.8 million. The rise in receipts was due to increases in room, food and alcohol sales." The department also revealed that the importation of goods had declined by 12.5 per cent compared with the previous year, falling to $221.8 million. The decline was due mainly to a 64.2 per cent drop in fuel imports," the department stated. "The value of imports for the commodity group of food, beverages and tobacco decreased 5.3 per cent and imports of finished equipment decreased 0.9 per cent. In contrast, imports from all other commodity groups increased. Imports from Bermuda's largest trading partner, the United States, fell 16.8 per cent to $143.9 million during the third quarter. Imports from Canada also declined. In contrast, the value of imports increased from the United Kingdom, Caribbean and all other countries. Overseas declarations by residents increased 2.5 per cent to $15.9 million. Higher levels of overseas spending were declared for five of the nine commodity groupings with the largest percentage increase of 7.5 per cent reported for the jewellery and watches category."
2016. January 14. Tourism minister Shawn Crockwell said he was optimistic about visitor arrivals in the coming year, despite reduced guarantees for airlines. Speaking to The Royal Gazette, Mr Crockwell said that the Bermuda Government had "significantly reduced" its Minimum Revenue Guarantee (MRG) liability, through which airlines are guaranteed a minimum return for their service. "Normally when you have new flights or new gateways there has to be some form of subsidisation," he said. "I am proud to say — and some people may say this is not a good thing — that we have as a government significantly reduced our MRG liability. Most tourism destinations have a significant MRG liability because you want to preserve your flights, but quite a few of our flights have been doing well, and therefore we have not been forced to pay out those MRGs. We do have MRGs, and you will see them in the budget, but they are significantly less than what we have paid out year after year. Of course I am the tourism minister, and I would tussle with the finance minister for MRG if we need a flight that would spur additional air arrivals." Mr Crockwell said that there has been an increase in flights to the Island, saying there will be additional flights out of New York next month and work is under way to ensure direct flights from Baltimore and Washington DC year round. He said by adding additional flights and carriers, the cost of travel to the Island should fall. "The only way to get the cost of flights down is by adding competition to that route," he said. "We saw that very successfully occur with Air Canada and WestJet. That almost cut the cost of flights in half and those flights continue to be very successful. We are still looking to get an additional flight coming from the UK to put some competition to British Airways, but we are still working very closely with British Airways because they are one of our major partners. We are happy with the direction the flights are going. I know people always want more flights because that is an issue. When you come to Bermuda it's not like other destinations where you can fly in, spend two days and fly out. You kind of get trapped in Bermuda sometimes because there are only flights on certain days." Meanwhile, he said the Ministry was looking forward to a bigger cruise ship season this year, noting that the Island is expected to be visited for the first time by the new Anthem of the Seas. "They will be coming for the first time, and that's why we had to do the dredging of the North Channel. All of that got done very successfully, so they will be coming this year and bringing visitors to the Island." While Mr Crockwell said the Bermuda Tourism Authority may have had a rocky start, he believes Bermuda will start to reap the benefits of their hard work this year. "The projections that I have seen already are very encouraging," he said. "The BTA are laying the foundation for year-on-year growth rather than making knee-jerk reactions to the market to boost numbers. Sometimes you have to plan your way forward for long-term, sustainable growth. One of the things we didn't do, we didn't look at group business and prepare for group business two or three years in advance, but that is what you have to do to attract group business. There was a gap of a few years when there was no real, aggressive marketing and recruitment for group business. The BTA have stepped in, they have filled that void, and the information I have is we should see a significant uptick in air arrivals for the entire year. You don't turn 30 years of decline overnight, or even in two or three years, but the hard work they have done, we will start to see the benefits of this year."
2016. January 13. Cheaper flights to the Island and strong international branding are the keys to rebuilding Bermuda's hotel industry. Speaking to The Royal Gazette as part of a series of interviews on the status of the tourism industry, hoteliers Paul Telford, Sally Kyle and Clarence Hofheins all gave their thoughts on how the industry could be strengthened. Mr Telford, the managing director at Rosewood Tucker's Point, feels the Island is in transition and needs to develop and focus its brand to better sell itself as a destination. "Bermuda over the last few decades has kind of lost its way," he said. "We lost the definition of what is 'Brand Bermuda. If you ask 20 different people to define 'Brand Bermuda', you'll probably get 20 different answers. Ferrari makes cars. They make phenomenal sports cars. Ask anyone about Ferrari and they'll tell you they make sports cars, they're fast, they look amazing, the finest materials. They can identify it, they can define what that brand is. Bermuda needs to know what its brand is, and we need to determine who is out there looking for our product. Bermuda's so small that it has to be one brand, it has to all work together. We are starting to create 'Brand Bermuda' based on all of our strengths. We are starting to identify who our market is and we're starting to align the brand to what our market is demanding. We are now getting to the point where we can communicate it out there effectively and build the interest and build the demand to get these people here to Bermuda." Ms Kyle, of the St George's Club, said the keys to rebuilding the industry were to provide good value for money, and make it easy and affordable for visitors to get here. "Obviously, the air service is hugely important for us," she said. "We have the advantage that we are a safe Island, with everything else that's going on in the world, and we are so close to the eastern seaboard. At certain times of the year the price to get here on the airlines has a negative impact. Certainly it does for the European traveller. And with the European traveller there is an advantage because they will always come for a week, perhaps ten days, and often two or three weeks." Mr Hofheins, the general manager at Cambridge Beaches, also stressed the importance of lowering the cost to fly to the Island, along with rebuilding Bermuda's group visitor business. "The next thing is to get those airline rates to a point where once people click on it, they want to come to Bermuda," he said. "There has always been an adage that Bermuda's hotels are too expensive. Now we have such a variety of guesthouses, small properties and big hotels, there is a wide range of rates. If someone wants to come to Bermuda, based on their economic situation, they can find a property. It's getting the people here, that's the issue. We need something that is going to change the game for Bermuda and the only thing that is going to change the game is somehow being able to offer our guests coming to Bermuda an affordable flight from the eastern corridor. If you can go out and get a flight from the east for $300 round-trip, that will change the game. Whether it is offering deals like your companion flies free, whether it is offering a $200 credit. If we are able to do that, then you will see it change on the Island. It's really easy to say that. There's a lot more to it. If it was that easy, it would be done. I would love to see the hotel industry, not just the BTA [Bermuda Tourism Authority], get together and figure that out and make it happen. That will increase business, it will increase arrivals, everyone will benefit." All three hoteliers praised the BTA's work, but acknowledged that turning around the tourism industry would not be easy. Mr Hofheins said: "They are between a rock and a hard place. They have a huge challenge ahead of them. I really like the team. They are doing everything they possibly can. For the first time I feel that they have gone out and got credible data and they are now using that data to make their decisions. That was one of my big criticisms in the past, people had that data and didn't use it, and they didn't make the decisions based on that data." Ms Kyle said: "We are an amazing destination and the word is out there now, which it perhaps hasn't been in the past. The BTA had a lot of ground to cover and it won't happen overnight."
2016. January 11. The Island has been featured as one of this year's 20 must-see places by a top travel magazine. National Geographic Traveler lists Bermuda in its Best Trips 2016 among the likes of Cote d'Or in Burgundy, France; Rio Grande do Norte, Brazil; the Danube River; Eastern Bhutan; Capability Brown's Gardens, Britain; Hokkaido, Japan and the Philippines. "Whether it's Botswana's Okavango Delta or Brazil's beaches, these 20 go-now destinations will get you packing," the feature states. Introducing the Island under the title "Because Life Is Shorts", Chaney Kwak gives Johnny Barnes a mention and quotes taxi driver Larry Rogers as saying, "We may seem very proper but we are also an eccentric island." Mr Kwak writes: "Indeed, scratch the immaculately gardened surface of this British overseas territory, and you'll find a place brimming with personality. Every year, participants in the Non-Mariners' Race vie to construct the shoddiest vessels to see who sinks fastest; descendants of Native Americans proudly hold powwows; and policemen and businessmen insist on wearing knee-high socks with their shorts, no matter what the rest of the world may think. You can beat the crowd headed to Bermuda for 2017's America's Cup by going now, and don't forget to say hello to Johnny." The feature also offers travel tips about when to visit, how to get around, where to stay, eat and drink and what to buy as a keep sake. Underwater thriller The Deep, which is set in Bermuda and shows several scenes shot on the Island, is the recommended film to watch before you go. Bermuda's plentiful shipwrecks, including a Confederate blockade-runner that sank in 1864, get a special mention and the cultural tip offers advice about the dress code, stating it is a "more formal take on casual". "When in doubt, wear a pair of TABS."
2016. January 5. Two golf professionals with millions of online followers are coming to Bermuda to film a show for their YouTube channel. Piers Ward and Andy Proudman are co-founders of meandmygolf.com, a website that offers instructional tips and video blogs of their travels. The pair have been invited to the Island to film golf courses, restaurants, and hotels, with Bermuda Tourism Authority hoping it encourages more people to visit Bermuda to play golf. Ward, a British professional, has spent more than 15 years helping golfers, and, after years of learning from the best coaches around the world, has developed a simple approach to improve golfers. According to the website, his greatest skill is understanding people's needs which allows him to deliver "their best lesson". Proudman has similar experience, and has worked as a touring professional coach over the past 11 years. As well as playing the Island's courses, and filming instructional videos for their website and social media accounts, the pair, whose reach extends to both sides of the Atlantic Ocean, will also host a question and answer session for local golfers.
2015. December 9. The Bermuda Government has tabled a series of leases for the St George's hotel project. The 262-year leases, tabled on Friday, propose a varying rent for the hotel property, which would start at $1,000 per year before rising to $5,000, $80,000 and eventually $100,000 per year. Starting on the tenth anniversary of the agreement, rent payable will increase by 10 per cent every five years. Meanwhile, separate leases offer the developers the golf course for an annual peppercorn of $10. The property to be used for fractional units would also be rented for a token $1 annual fee, but the leases state the government would receive $105,000 for each of the fractional units sold. The lease also somewhat clarifies the proposed public access to Fort St Catherine's Beach, which had been an area of concern among some after earlier documents promised "reasonable" public access. A section states: "With the exception of the specific area delineated and marked 'Hotel Use Only' on the tenant covenants, the beach shall remain open to the general public for use (save for with regard to the use of any hotel facilities or amenities on the beach, which shall be reserved for guests of the hotel and the owners and occupiers from time to time of any residential accommodation on the estate only) without charge at all times, except when the tenant or manager of the hotel shall close the beach, or a portion thereof, for such durations as may be agreed from time to time with the minister (acting reasonably) for the purposes of special hotel events on the beach, the maintenance or repairs of, or improvements to the beach." Government has been moving forward with a deal with the Desarrollos Hotelco Group to erect a new St Regis Hotel on the 124-acre site that formerly hosted the Club Med hotel." The St George's Resort Act, which allows leases and concessions in connection with the development, was passed in the House of Assembly and the Senate earlier this year despite concerns voiced by the opposition, and the Government announced in October that it had finalized the master development agreement for the project.
2015. December 8. Tourism arrivals rose by 44 per cent in October according to statistics from the Bermuda Tourism Authority, with the America's Cup being credited for much of the surge. However, advanced hotel bookings appear relatively flat — just under 1 per cent below figures from the same time last year — due to low numbers this month and last month. According to the BTA's Measures and Projections for October 2015, 768 vacationers flew to the Island during the month specifically to watch the Louis Vuitton America's Cup World Series events, and another 409 for America's Cup-related business. The America's Cup visitors helped fuel higher visitor numbers during the month. In total, vacation air arrivals for the month were up 12.4 per cent from 2014, with an additional 1,141 visitors flying to the Island, while business arrivals increased by 20.6 per cent (805 people). "October's increase was the result of persons travelling from the US and UK with year-over-year increases of 15 per cent and 21 per cent respectively," the document states. "Canada expressed a decline of almost 10 per cent compared to October 2014 while arrivals from Europe were relatively flat, increasing by 19 [individuals]." The increase in air visitor arrivals comes despite a 6 per cent drop in airline capacity to the Island, a reduction of 2,530 seats. A BTA spokesman said that the America's Cup was not the only factor in the boost, saying: "Although the Louis Vuitton America's Cup World Series made a sizeable impact on the overall performance for October, the combination of the Royal Bermuda Regiment Tattoo, the Nike Golf PGA Team Championship of Canada, Argo Gold Cup, Round the Sound Swim, Commonwealth Parliamentary Association meeting and a regional conference for business leaders collectively made a positive impact." The figures also state that while cruise ship arrivals rose by 54 per cent in October year-on-year, yacht arrivals fell slightly due to the lack of a Newport to Bermuda race. Hotels also saw a surge in occupancy during the month with 657 more tourists staying in hotels during the month. The increased number of guests brought occupancy rates up 16 per cent during the month, although year-to-date occupancy remained flat. Meanwhile, the cost of staying in a hotel has risen — the average daily rate this October was $45.86 higher than the previous year — and the length of the average stay remained relatively flat, falling by 2.3 per cent. While the document found that advanced hotel bookings for the period between last month and October 2016 were down by 0.9 per cent, it attributed the fall to a decrease in group bookings this November and December. "When isolating 2016, pace is 4 per cent ahead from January to October, driven by increases in group travel," the report stated. Bookings for the coming year are particularly positive in July and October, with bookings up by 94 per cent and 37 per cent respectively. Less positive are bookings for September and April, which are down by 33 per cent and 15 per cent respectively. Asked about the advanced figures for November and December, the BTA spokesman said: "We monitor the forward-looking pace figures very closely each month and whenever we see a dip in the forecast we redouble our efforts to make a positive impact. That's true for this month and every month.
2015. November 19. The editors, writers and explorers of National Geographic Traveler have named Bermuda one of the 20 best destinations in the world for 2016. The magazine has the largest audience of any travel magazine with more than 8.5 million readers, according to a press release from Bermuda Tourism Authority. CEO Bill Hanbury stated: "This year the world's travel media have fallen head over heels in love with Bermuda. Outside Magazine named Bermuda Best Island, Conde Nast Traveler put us on its top five islands list and now we're in National Geographic Traveler's top 20 destinations worldwide. Our marketing team is telling authentic stories about Bermuda that are resonating with travelers, while, at the same time, our partners across the tourism economy are delivering memorable experiences. The accolades we've earned in 2015 are highly valuable for growing the tourism industry going forward and everyone in Bermuda should feel proud of these endorsements." In a congratulations letter to the BTA, the editors of the magazine said winning placement on the list was a competitive process. Features editor Amy Alipio stated: "The 'Best of the World' list reflects the travel expertise and global knowledge of National Geographic. The destinations represent what's superlative, timely and richly authentic in the world of travel today."
2015. November 18. Greater financial resources need to be put into the Island's tourism industry for it to be competitive, according to Bermuda Tourism Authority CEO Bill Hanbury. The latest tourism statistics indicate that the authority's 2014 budget of $23.1 million represented just 12 per cent of the $194 million in tax revenues generated by the Island's tourism industry. Meanwhile, the BTA's 2015 budget of $21.7 million was 57 per cent less than the 2000 allocation to the industry from the government at the time. "We need more financial resources to be competitive," Mr Hanbury told The Royal Gazette. "Our budget is way below what is an acceptable budget elsewhere. When we first started working there was a lot of things we needed to rebuild. All of these new partnerships, redeploying our sales staff, it has all taken money and takes resources, and we have got to have more resources. In real dollars this year we have 57 per cent less than the high water mark was in the 2000 tourism budget. Other jurisdictions are pouring money into tourism, we need to do the same." Opening this week's Tourism Summit, the BTA's chairman, David Dodwell, revealed that in 2014 the tourism industry had contributed $260 million to the gross domestic product. He told The Royal Gazette: "The 12 per cent in tax revenues reinvested into the BTA and tourism promotion each year is to sustain and grow the industry, thus ensuring an expanded contribution to Bermuda's economy in the future. Obviously, the budget process is just beginning within Government, but there has been work done within the BTA to justify a return to the levels of 2014 if not more. It is our job to justify that and show Government that a dollar invested will pay dividends, not just in terms of revenue and visitors, but the trickle-down effect on business and employment. I would very much like more but we need to show there is a good return on investment. I am optimistic that the track record shows we have done things properly and we have a credible organization ready to take us to the next level." The tourism budget for 2000 was $50.7 million (adjusted to include inflation), which dropped to $42 million in 2007. In the past five years there has been a 43 per cent reduction in the tourism budget. Mr Dodwell added: "We need to compete with the Martha's Vineyards, the Cape Cods and the Hilton Heads, but more broadly we need to be able to compete with the world."
2015. November 17. Bermuda must enter the 21st century to revitalize its tourism industry, the Bermuda Tourism Summit heard. Information sessions such as 'How to Wow Authentically', 'The Social Session', and 'What Millennials Want in Meetings and Events' indicated a need to embrace social media and marketing, with speakers all offering similar advice that suggests the Island's floundering industry may be stuck in a rut. The panel included Shiona Turini, a fashion editor, consultant and advocate for the Bermuda Tourism Authority, and Mark Hranek, of Condé Nast Traveller, who assisted attendees in the pursuit of "clicks, shares and retweets" and offered tips on how they could augment their brand image. Mr Hranek drove home the importance of "shaping stories" in today's industry and grasping new platforms such as Snapchat for "the next generation of consumer". "It just shows that you're relevant," he said. Mr Hranek dismissed former models that target senior travelers, saying: "In 2024, guess what? They're dead. You cannot ignore the relevance of the next generation as a customer. Don't assume that because you have this 'old school' it will only appeal to the old school. Millennials are starved for authenticity." He said for him, the appeal of social media is that you can communicate directly with people. "I love that engagement," he said. "That engagement creates buzz and excitement and floods of great imagery. Instagram is not that far off from 'click to buy'. The technology is there." If embraced early, the opportunity would be a game-changer, he said. JP Lespinasse, chief marketing officer of mobile streaming app CÜR Music, said: "Even if you don't see the millennial paying you out of their pocket book, they might have had more of an influence in the decision-making than you realize." Mr Lespinasse asked for an "intelligible" representation of the Island, adding: "I don't know what fish is in the fishcakes. Or what's in the rum swizzle. Teach us how to do it. You love it. Make us love it too." Mr Lespinasse also urged businesses to activate followers as marketing agents. Adopting the traditional attire of Bermuda shorts and long socks, Mr Hranek said: "This place has such rich history, amazing style, and it's so close. The heritage and storytelling here is so rich. I keep using that word, 'stories'." Clifton Webb, a marketing executive with HSBC Bermuda, called for "authenticity and emotion", saying: "It has its own look, feel, food, taste — its own people. I'm hesitant to tell people I live in paradise. Look at your business through the eyes of a visitor. Embrace that and share that." Premier Michael Dunkley said it was imperative that we become a "top-of-mind destination for those who influence today's trends and market decisions." The Premier gave the keynote speech at the summit, at the Fairmont Southampton, and addressed the challenges of an industry he described as "critical to Bermuda. It is an important economic driver and is a key employer of Bermudians in many different careers," he said. "For many years tourism and international business have been referred to as the twin pillars of Bermuda's economy. This characterization is more than just a statement of fact: it is a call to action. Leadership required innovation, flexibility and recognition to succeed, but added that the Island's tourism industry "fell short of the mark" in these regards. We ignored trends, changes in socio-economic demographics, and we did not pay attention to the advent of new competitors who improved what we invented. The lesson of a downturn or recession for business has been one of developing better business models, becoming more efficient with better customer service or you do not survive. The lesson for tourism following the decline of our fortunes is no different. We can no longer trade on what we were and hope to inspire a new generation of travelers for whom Bermuda represents 'your grandmother's holiday.' Why is it that although we are just over 700 miles from New York and Boston or 90 minutes by plane, we cannot break the cycle of low air arrivals and a tourism economy shored up by cruise visitors? Is the answer to be found in increased budgets for marketing and advertising? Is the answer to be found in a market saturation strategy so that Bermuda is on every channel, every day, everywhere? We must be a choice for travelers again. Bermuda must be relevant to them and their lifestyles. We cannot achieve the revitalization of tourism by reminding today's travelers why their parents and grandparents fell in love with Bermuda. We must make them fall in love with Bermuda for themselves." Vic Isley, the BTA's chief sales and marketing officer, also underlined the importance of "introducing Bermuda to a new generation of traveller", again centred around "sharing your Bermuda stories."
2015. November 15. A new women's golf event has been added to the Bermuda Tourism Authority's calendar. The Executive Women's Golf Association (EWGA) will bring a contingent of its membership to the Island for group golf vacations in March 2016 and 2017 — the time of year traditionally known as the "shoulder season". "Bermuda is such a wonderful golf destination," EWGA CEO Pam Swensen said. "With easy access from the East Coast of the United States, having the Bermuda Tourism Authority (BTA) join EWGA as a new partner is exciting and will provide our members with a fabulous and convenient golf destination. And with one of our international chapters located in Bermuda, this really makes for an excellent fit." The EWGA is a US-based national golf organization for business women with chapters for ladies in almost every state as well as four countries around the world, including Bermuda. Pat Phillip-Fairn, the BTA's chief product and experiences development officer, said: "We're checking the boxes on several important objectives of our golf strategy. November through March is the peak season for arts, culture and sports and now we have two strong women's golf events to bookend the shoulder season. We also find that female visitors particularly enjoy our enhanced artistic and cultural offerings in the Uncover the Arts brochure, which helps to stimulate spending more broadly across the tourism economy." The EWGA event is similar to the Women and Golf Trophy, now in its sixth year. The Women and Golf Trophy targets women from the UK and the EWGA will target women on the US East Coast. Over the next two years, more than 100 golfers are expected as a result of the partnership. They will golf at a variety of courses in Bermuda and local female golfers will be included throughout the rounds played. "I look forward to our US members gracing our shores and I know our ladies will show them the kind of hospitality for which Bermuda is famous," said Gina Bassett-Cook, the president of EWGA Bermuda. "This exciting partnership will help drive more women to our Island to experience the kind of breathtakingly beautiful golf that is possible only in Bermuda."
2015. November 12. Tourism bosses have welcomed an increase in visitor arrivals for the third quarter of 2015. Bermuda Tourism Authority (BTA) CEO Bill Hanbury described the 5.6 per cent rise in cruise, yacht and air visitors between July and September compared with the same period in 2014 as "positive news." But Mr Hanbury admitted his team was not satisfied with the pace of the progress, and insisted major investments in Bermudian entrepreneurs to improve "product and experience" as well as the millions ploughed into a state-of-the-art website and new rebranding architecture would pay dividends in the long term. He revealed that the BTA would be handing out a further $800,000 in grants next week as part of its drive to improve and increase activity options for visitors. "The numbers are tracking in the right direction, but we are not satisfied," said Mr Hanbury. "We are not happy with the pace of progress, it has been frustrating. But we believe we have done the right thing in thinking about the long term solution rather than looking for a quick fix." Between July and September vacation air arrivals saw a small increase of 0.31 per cent compared to last year, but for the first nine months of the year leisure air arrivals are down 0.80 per cent on 2014. The latest BTA statistics show that airlift capacity to Bermuda has dropped by eight per cent or 34,000 seats in the first three quarters of the year. However the first quarter of 2016 is forecast to see a 14 per cent year-over-year increase in airlift capacity. Mr Hanbury said: "In the last 18 months we have spent a great deal of money on building from the bottom up and establishing a solid foundation in the long term interests of Bermuda's economy. This has involved a gigantic investment of $1.7 million in improving our product and experience because that was what our consumers told us we had to do. That money has been used to fund Bermudian entrepreneurs in tourism to improve visitor's experiences in Bermuda and the information we are receiving is that people are feeling better about the product." Mr Hanbury also revealed that the authority's new website as well as fresh "rebranding architecture" was expected to go live at the beginning of 2016. He said: "In April the decision was taken to fund our next generation website as well as rebranding architecture. That has cost millions but we feel will make a difference in the long term. What we had before was not up to standard and was not allowing us to compete. We hope the new website, which will be at the cutting edge of digital marketing, and new brand architecture will be up and running by the beginning of 2016. Again this was a strategic decision to take funding out of sorely needed advertising efforts to rebuild the foundational assets. I believe the numbers we have got so far would have been better if we had just thrown the money at advertising, but that would not have fixed the inherent problems."
2015. November 4. Tourism minister Shawn Crockwell says he is still hopeful Bermuda can have its first casino up and running in time for the 35th America's Cup. However, Mr Crockwell conceded progress has taken longer than expected as the Bermuda Government strives to meet its "ambitious" 2017 deadline. Since the Casino Act legislation was passed in the House of Assembly in December last year, few updates have been provided, other than the appointment of the Bermuda Gaming Casino Commission, with its executive director Richard Schuetz and general counsel Arlene Brock. Giving a progress report to The Royal Gazette yesterday, Mr Crockwell said: "Obviously we would like to have it for the America's Cup when there is going to be that volume of people in Bermuda. "It would be great for whoever is operating it because they will be able to get off to a great start. That has always been the goal. The process has taken longer than I expected but there are a lot of components to this. There has to be consultation with various bodies and there are so many things you have to do to make sure that, once we are up and running, we are not falling foul of international standards. In a perfect world I would have liked us to be further along by now. We passed the act in 2014, we amended it in 2015 and we have been getting some criticism about it taking too long. People think that once we passed the act then we should be able to open a casino but it doesn't work that way — the regulations are really the most important part of the whole legislative structure. We have been working on them all along. Are we going to meet that goal? It is ambitious because once people have made their application there is a period of time where they have to get vetted and the like. We cannot take a short cut in this process. If we don't make it we will be disappointed, so I can tell you that it is still the Government's goal to achieve that goal, keeping in mind that it is the gaming commission that will be entertaining the applications so I am not in a position to direct them to do anything. I think 2017 is still very possible. Whether we do it by the summer of 2017, later in the year or early 2018." Mr Crockwell explained that the next stage will be to complete the regulations to supplement the legislation and to begin working on site designation. "The priority at this stage is to bring the affirmative resolutions that will give me the power to select sites as designated sites for casinos which is done with the advice of the commission. Then the Parliament has to approve recommendations that I make. There are a plethora of regulations that need to go through Parliament. Some deal with the process of designating the site, some deal with the application process itself to make the application for a gaming licence. It is my hope to try to have all of those regulations dealt with during the next session in Parliament. We will definitely deal with the designated sites because that is the next logical stage for us so that those individuals who are interested can make an application. We may well be in the February session to approve all the regulations." Mr Crockwell said that discussions were already under way with regards to creating casino industry training programmes for Bermudians. He said Government was currently considering different proposals and made a commitment that training will be available at least a year before the first casino opens. Mr Crockwell added: "The justification was always to ensure that Bermudians will be employed in the casinos and this will be a job creation opportunity. If you have all three operating at the same time it could create close to 900 jobs. The executive director has been in dialogue with Bermuda College to see if there can be some sort of partnership."
2015. November 2. The Bermuda Tourism Authority and the Department of Community and Cultural Affairs have announced several new visitor experiences for the winter months in a brochure titled Uncover the Arts. In total, the brochure highlights 50 activities that will be available between this month and March of 2016, with some activities continuing until the end of April. Pat Phillip-Fairn, the BTA chief product and experiences development officer, said: "We're very excited to have 18 new unique and authentic Bermuda experiences added to Bermuda's list of cultural treasures. This is the second year in our effort to re-establish Bermuda as a destination for all seasons. The robust collection of experiences in our new brochure shows just how effective we are when the entire industry rallies around a focused strategy." Among the highlighted activities are a once-weekly tour of Wadson's Farm in Southampton by Tom Wadson, a beer tasting tour at the Dockyard Brewing Company, hands-on classes in Bermudian baking at Sweet Saak Bakery in St George's and workshops on local folk medicine at the Botanical Gardens by Dr Kuni Frith. The brochure also details a new Cooper's Island tour, a hibiscus gardens tour and a Railway Trail excursion through the West End. Meanwhile, the Island's heritage will be highlighted through weekly tours of St Peters by Canon W David Raths and a tour of the Island's unofficial tenth parish, St David's. The East End is also highlighted through the popular Haunted History tours, set to continue through the winter in tandem with dinners at Tempest, and the introduction of an East End Cultural Passport. Those who purchase the $30 passport will have access to seven forts, museums and attractions in St George's and St David's for a week. The new Uncover the Arts brochure and the Cultural Passport are available in Visitor Information Centres across the island and online at the BTA's consumer website.
2015. October 29. A significant boost to the number of flights coming to the Island this winter is being welcomed by the Bermuda Tourism Authority. The 14 per cent increase in airline capacity between January and March 2016 means 14,000 more available seats than the same period last year. The move follows a major drive to boost air arrivals that has seen BTA representatives meet with all the major airlines in the United States, Canada and United Kingdom. Bill Hanbury, the BTA's chief executive, told The Royal Gazette the increase could provide new opportunities in the coming months, but required everyone to buy into making the Island a winter destination. "We have taken a lot of heat because air arrivals are not going in the right direction," he said. "In December 2014 and January, February and March of this year we lost in the region of 21,000 seats in air capacity. We have done everything we can to get that capacity back up. This issue affects everyone on the Island, not just tourists, but residents and also international business. We cannot be successful from a tourism perspective if we have reduced airlift capacity. This increase is good news but we have to ensure we are offering affordable accommodation with proper amenities in these winter months, and make sure there are entertainment options, too. If we don't do a good job the airlines will take these extra services back." This winter United Airlines will fly from Newark three times a week, after canceling its winter service last year. Additional American Airlines airlift means the airline will fly twice daily from JFK, six days per week. The airline's Philadelphia flight will fly more often than last year and on a daily basis in December. Delta has also bolstered its Boston service and will provide an extra flight per week. Since May BTA representatives have had several meetings with stakeholders in international business and airlines. They have also conducted surveys within the industry. This month they met with officials from American Airlines in Dallas, JetBlue and British Airways. Mr Hanbury added: "We have tried to reach out to all the airlines to see how we can boost capacity not just in the US and Canada, but also the UK. We have spoken with Virgin and Thomas Cook and also held meetings with British Airways about the quality and affordability of service. We have had a very positive response so far." Aaron Adderley, the manager at LF Wade International Airport, said that if the new flights did well it could prompt additional flights in the future. Airlines look to align capacity with demand by putting their planes where people want to go," he added. "They have responded to Bermuda's reduced passenger numbers over the past few winters by redeploying aircraft to more profitable, peak-season routes in the Caribbean. Though the number of flights reduced year over year, the number of passengers remained stable, which meant that load factors were stronger — there were more passengers per flight. So that improvement in overall performance has helped bring about the additional American flight from JFK while, of course, securing the return of the Newark service was critical for both business and leisure. However, even with the reduced flights last winter and the stronger overall performance, we still had over 50,000 seats that remained unfilled, so there is plenty of capacity available for our tourism partners to grow visitor traffic."
2015. October 21. The Bermuda Government and the Bermuda Tourism Authority have completed negotiations for the highly anticipated St George's resort development. Minister of tourism development Shawn Crockwell declared in a press conference today that he was "thrilled" with the partnership. Mr Crockwell signed papers with the developers, Desarrollos Hotelco Group, in the Senate before other members of the One Bermuda Alliance and the press. "All of the I's have been dotted and all of the T's have been crossed," Mr Crockwell said. "It is full speed ahead from here and I am sure the residents of St George's and indeed everyone in Bermuda is just as excited as the OBA Government to see this project reach this critical milestone." Mr Crockwell said he was pleased to announce that they had finalized the master development agreement, calling it a "very significant day for Bermuda and in particular for St George's, our World Heritage Site. The Desarrollos Hotelco Group has a proven ability to deliver world class resorts. We are very confident that they will continue that reputation as they construct and operate a world class luxury resort development on the 124-acre St George's tourism development site. As previously stated, this development has the potential to spur other developments and provide exponential employment opportunities for Bermudians. It is crucial to Bermuda and it will have a positive impact on tourism and therefore our entire Island. As a tourism destination Bermuda is up against the world. There are things we must continue to do to compete and to create an environment that encourages and incentivises developers to invest in Bermuda. This resort facility will be managed by the St Regis, Starwood Hotels & Resorts brand. This is a brand that is synonymous with elegance, sophisticated comfort and premiere destinations. This resort development will attract potential visitors who like exceptional experiences and who like to stay at resorts whose names they recognise and trust." Michael Dunkley called it "a great Tuesday in Bermuda. Certainly this past weekend has been a great weekend for Bermuda with the holding of the Louis Vuitton World Series. We had a tremendous buzz throughout the weekend. And that buzz now is carried over to this Tuesday with this historic announcement over the property in St George's. We realized that we had tremendous challenges to face. We knew that we had some real issues with government finances and with our economy and it was our number one effort to turn those around. This government is doing all we can to create opportunity, to create jobs, to create a better future for all of Bermudians tomorrow." Mr Dunkley thanked MP Kenneth Bascome for keeping him "in touch" with the East End. "Bermuda needs to appreciate just what an exciting time this is. That property has been vacant for decades and now there's a new beginning. There's a fresh start. There's a better tomorrow." Also present were four representatives from the group. Roberto Stipa, one of the principals said: "We feel that this is the island we need to be on right now. You guys have an amazing island and this project is going to take this island to the next level. We're really excited to start this as soon as possible." Chief advisor to the group Mito Martis said: "We don't have to sugarcoat what this hotel is all about. Our track record speaks for itself. Whatever we touch and say we're going to develop. we will do it. There is no project that we've started and didn't finish." Minister of Public Works Craig Cannonier said: "I share my colleague's excitement in the signing of the master development agreement and the ground leases for the St George's tourism development site. This is a crucial development for Bermuda. This is a project that will enhance our product, create jobs, and have an overall positive impact for the entire island and our visitors." Mr Bascome said he had faith in Mr Crockwell "from day one", adding: "As they say St George's is the jewel in the crown. We'll help you to create that jewel." The Premier said they would be moving forward "as soon as possible. As we work through he planning stages you'll probably see some clearing through the end of this year and you'll probably see some developments starting early next year," he said.
2015. October 21. Attracting group travel to Bermuda is being actively promoted by the Bermuda Tourism Authority (BTA) — and it's easy to see why. Three examples of recent and soon-to-happen group travel initiatives show they will pump an estimated $1 million into the economy. That represents a financial boost not only for hotels, but a multitude of other sections of the economy, such as restaurants, visitor attractions, shops and entertainment venues. Now the BTA has launched a call-to-action programme to encourage anyone with a link to Bermuda to help attract future group travel opportunities to the Island. Examples of possibilities include businesses bringing board meetings, retreat groups, or reward trips for staff to the Island. Beyond business-related groups, there is scope for group travel among speciality associations, professional groups and bodies and organisations. Destination weddings, bachelor parties, family reunions, alumni gatherings are examples of social group travel opportunities, while a fourth segment identified by the BTA is golf and sport group travel, such as golfing tournaments and trips, football camps and other sporting clinics. The BTA has set up a structure to streamline the process, providing support for groups seeking to come to the Island, and the authority is also working to develop rewards for people who bring new groups to Bermuda. "In Bermuda we are incredibly well-connected internationally so we see an opportunity to leverage those connections to positively impact the Island's economy," said Glenn Jones, director of public and stakeholder relations for the BTA. A lot of Bermuda residents who belong to a professional association, a sports club or a church group travel overseas to convene with their counterparts around the world. We want to empower those folks to walk into their next meeting and say: why not Bermuda? I know how to make it happen." Bermuda has a long history of group travel success, however, the global economic downturn of the late 2000s closed down much of that market. The BTA is now placing a renewed focus on the sector. It is estimated that this year 80 per cent of travel to Bermuda will be from individuals on vacation or doing business, with group travel accounting for the remaining 20 per cent. Mr Jones said: "We did research on group travel and it was troubling. It was a number that we could not bring back quickly because of the long lead-in time." It can take anywhere between one to three years for a group travel proposal to manifest into an actual trip. But when it happens, it has a notable impact on the economy. The BTA's campaign is named Bring It Home, and it has the associated hashtag #LoveMyBermuda. The campaign has launched with three case studies illustrating the economic impact of group travel. At the start of this month American Todd Boren, a frequent visitor to Bermuda, brought a regional conference of the Young Presidents' Organisation and World President's Organisation to the Island. It is estimated that conference impacted the local economy to the tune of $251,000. The three-day Bermuda Tattoo, which starts tomorrow, will involve more than 300 performers and is likely to attract "at least that number in additional visitors", according to organizer Stephen Caton. The value of the event to the economy is estimated at $748,059. Next spring, the Kappa Alpha Psi group is bringing the Kappa Classic youth event to the Island. The event attracted 90 visitors this year, and organizers expect that figure to be higher in 2016. The economic impact of the event is thought to be $107,000. The BTA plans to roll out further case study stories in the coming months. Mr Jones said the authority was asking the public to help identify group travel prospects, and use their influence to suggest to a group, organization or association they belong to that they consider Bermuda as a destination for a meeting, gathering or event. "Bermuda delivers an experience that almost everyone who comes here is happy with," he said, adding that someone who suggests a group travel to Bermuda will likely become "a star" within the organization as a result of the positive experience the group will have. David Thomas, who works on special projects with the BTA, said: "This campaign is galvanizing the pride that everyone has for Bermuda." The Bring It Home programme has a website, which includes an informative animated video and an explanation of four steps to follow to present a group travel proposal to the BTA. the authority will then assist the group with planning, such as finding hotel accommodation, advising on availability of flights and dealing with other logistics. That support comes from the BTA's business development managers in New York City. The four-step online programme takes about 15 minutes to complete, the authority said. It is broken down as follows:
Step 1: Watch an online video of less than five minutes which explains the impact of group travel to Bermuda's economy.
Step 2: Read a short information paper on the BTA's strategy for capturing group travel.
Step 3: Submit an online form that details the size, dates and needs of the Bring It Home business.
Step 4: Bring It Home.
"As you go through the four steps it is very clear group travel has an enormously positive impact on the local economy. So when we profile Bring It Home heroes we show everyone just how important these influencers are to our community," said Mr Jones. In a statement, the authority said: "To further incentivise new Bring It Home heroes, the BTA is working with the local tourism industry to develop special experiences and rewards for people who successfully bring new group travel to the Island. Additionally, BTA officials will provide proposals or presentations on group travel to any organization that wants to explore bringing it home with a group travel event." The Bring It Home campaign is live on the BTA's corporate website: www.gotobermuda.com/bermudatourism.
2015. October 19. Bermuda is set to be highlighted with an 11-page spread in the November issue of 'Climbing Magazine', detailing rock climbing opportunities on the Island. The article by Jeff Achey, entitled 'The Bermuda Short: How to have big fun on small crags during a short visit to a faraway island', features several full-page pictures of climbers in action over Bermuda's blue waters. The story notes several ideal climbing spots, particularly Clarence Cove and Hogfish Bay, along with detailing the writer's three-day visit to Bermuda. In the article he writes about Bermuda's history, weather and Bermuda shorts in addition to deep water soloing (DWS). Describing one climb at Clarence Cove, he wrote: "Its sandy texture is a limestone climber's dream: When you grab a fingertip edge, you feel like you can really pull. Which is a good thing. "Even when DWS isn't scary, it's committing. There's no going back. You'll either cruise the route, or, if you get in trouble, give everything you have or plunge into water. "There's no such thing as 'take'. If you fail, your shoes get wet, your chalkbag too. Yet with no crash pad to hit, no rope to catch a leg, and the warm Sargasso Sea a comfortable distance below, deep down in your heart you know that you are completely, magically safe." Mr Achey advises readers to plan their visit during the winter months when conditions in the caves are best adding that the best conditions for roped climbing in Bermuda stretch between December and April. Glenn Jones, BTA's director of public and stakeholder relations, said: "This 'Climbing Magazine' feature is consistent with our marketing team's outreach to adventure-seekers and explorers who want a thrilling vacation experience. "More importantly, this article proves some of Bermuda's most unique adventures are available to travelers between November and March — a time of year we are working to grow vacationer demand."
2015. October 17. Visitor spending on tourism showed a marked decline in 2014, while resident spending on foreign travel showed its first growth in years, according to industry statistics. The latest Tourism Satellite Account (TSA) showed that tourism contributed a gross value of $583 million to Bermuda's economy in 2014, and 22 per cent of government revenue — one third of it in customs duties. However, visitor spending dropped from $402 million for 2013 to $362 million for the year ending 2014, a drop of $40 million, and the total number of tourism related jobs fell from 3,218 to 2,796, dropping by 1 per cent to represent 8.4 per cent of jobs in the Island. Direct tourism brought in $260 million, a drop of $25 million from 2013. The gross value added dropped for all tourism products except travel agencies, tour operators and tourist guide services, which increased by $1 million. Last year there were 2,043 Bermudians working in tourism, and 753 expatriates. Overall, public administration stood as the Island's biggest employer, followed by hotels and restaurants. Resident spending on foreign travel stood at a high of $417 million in 2010 but slumped dramatically between 2011 and 2012, bottoming out at $322 million in 2013. It rose to $374 million last year.
2015. October 4. The Bermuda Tourism Authority yesterday afternoon activated its emergency management plan to prepare operationally for Hurricane Joaquin — not only on-Island but off-Island as well. "This has put us in a position for timely communications with visitors and the international media over the weekend, and more importantly, positions us well to let the world know when Bermuda is open for business following the storm," the BTA stated. "The forecast track of Hurricane Joaquin has been ever-changing. We urge all stakeholders to pay close attention to future advisories from the Bermuda Weather Service and the Emergency Measures Organization. This is the best way to prepare your tourism industry colleagues and the visitors we serve."
2015. October 2. Bermuda Tourism Authority has linked up with JetBlue to provide special offers for visitors from the East Coast of the United States. Airfare on JetBlue from New York and Boston has been bundled with hotel stays from early October to mid-December. The partnership will involve a two-week rotation of television commercials. BTA chief executive Bill Hanbury said in a statement: "We continue to increase promotions in key markets to raise awareness of Bermuda as a year-round travel destination. "In this case we worked co-operatively with JetBlue to share marketing costs and resources to ensure we get the best possible value out of our collective media buy. A combination of TV, e-mail and social media marketing are in-market now to entice travelers to book and fly to Bermuda between now and the end of the year. In the meantime, we are working with other airline partners to positively impact the winter season. We encourage our hotel and airline partners to provide valuable offers in key periods to maintain volume throughout the year to positively impact Bermuda's economy."
2015. September 24. Bermuda must sell itself as "a completely different visitor experience" in the face of intensifying competition, according to Bermuda Hotel Association chief executive officer Stephen Todd. With locals eyeing the tourism success of fellow islands such as Barbados, and a likely new rival in Cuba, Mr Todd said the Island needed to differentiate itself to win back visitors. Statistics from United States travel website TripAdvisor show the Island rates relatively favorably in terms of the cost of a vacation, ranking eighth out of 20 destinations in the region. Flights from the US to Bermuda are shown to be less expensive than to many Caribbean islands; however hotel and meal prices were higher in Bermuda than in any other country in the top ten. (See graphic on page 3) However, Mr Todd cautioned against the tendency to look south, telling The Royal Gazette: "It's like comparing apples and oranges; it's not like for like. Really what we have to keep first and foremost in our minds is that we're dealing with a completely different seasonal experience on the part of a North American visitor. Their high season is traditionally referred to as our off season, when we tend to have a lower number of visitors. American visitors tend to look to the Caribbean in the winter months, to get away from the snow." For Americans, who supply the bulk of Bermuda's visitors, the destinations of Puerto Rico and Jamaica come top of the TripAdvisor price rankings. The two American favorites enjoy cheap air links, despite being twice the distance as Bermuda from a gateway city such as New York. A single one-way fare on American Airlines out of Boston, for instance — just two hours' flying time from Bermuda — shows $234 to the Island for October 1. The same tickets cost just $237 to San Juan's Luis Muñoz Marín International Airport in Puerto Rico, and $275 to Kingston, Jamaica. Meanwhile, earlier this summer, Barbados broke a 25-year tourism record for the first quarter of 2015, even as Bermuda's arrivals slipped. With political pressure unabated on the Bermuda Tourism Authority (BTA), that performance did not escape the notice of Shadow Minister for Tourism Zane DeSilva. He has pointed out in the House of Assembly that Barbados appears to have done well since the return home of Billy Griffith, former director of the Department of Tourism, which disbanded for the BTA. Mr Griffith joined the Barbados Tourism Marketing Inc, also a new entity, as its chief executive officer. The giant of Cuba, emerging as a major tourism contender as relations thaw with the US, stands to change the Caribbean market profoundly. Mr Todd said: "It's a very interesting development — I believe it's more critical for our partners farther south, perhaps more so for the Bahamas and Jamaica." Low-cost airline JetBlue started direct flights from New York JFK to Havana this summer, and Carnival announced Cuba cruises to begin next year. The Bermuda Hotel Association perceives Bermuda's competitors in a global rather than regional context, according to Mr Todd. "We focus on the fact that we are all competing for the same visitors globally," he said. "We're out in the Atlantic on our own, and that makes our challenges that much greater to attract and retain visitors." The BTA's strategy has been to market Bermuda as "a year-round destination, not focusing on April through September, which is traditionally considered our high season". "If we market ourselves on the basis of alternative activities and a completely different visitor experience, I do believe we will have an opportunity to attract more." Twenty years of declining tourism "is not something we can turn around overnight", he added. For now, Mr Todd said, the Island could reasonably hope for an influx next month from the Louis Vuitton America's Cup World Series. Mr Todd's remarks came as Shawn Crockwell, the Minister for Transport, heads home from a major airlines conference in South Africa, where he earlier expressed hopes of securing a new route for the Island from Europe, such as from Heathrow.
2015. September 17. Zane DeSilva, the Shadow Minister of Tourism, has accused Bill Hanbury of being in line for another bonus. However, the Bermuda Tourism Authority chief executive said that an "inappropriately circulated" copy of his contract was being used for incorrect information. "The copy of the document that they have is not my contract — it's an early generation of a contract that is not valid," Mr Hanbury told The Royal Gazette. "That provision was taken out 11 months ago." Mr Hanbury expressed dismay over the continuing criticism of his pay, pointing out that he had chosen to reveal his salary in February. His remarks came after Mr DeSilva said: "If my allegation is off base, then they should prove me wrong and show us his contract. If it's not true, I will apologize." The Progressive Labour Party MP added: "I don't have any problem with bonuses or with CEOs making big bucks. In the business world, some CEOs will make $1 million or $5 million a year. But it's all based on performance. Last year we had our worst air arrivals in 48 years. This year has been worse. Sooner or later you're going to hit the bottom. These guys continue to say we're making progress, but any time you look, the numbers are worse." Mr DeSilva conceded that "there have been many ministers over the last 25 years that have had challenges", but maintained that the BTA was putting much of its efforts in the wrong direction. "They're trying to push Bermudian culture with cliff diving and fish sandwiches," he said, "but I don't know if that's going to do it, especially through social media." Mr DeSilva said that if he were in charge of tourism for the Island, "the first thing I would do is increase advertising by $10 million to $20 million — I'd go to $30 million or $40 million if I could. I would look at all the major networks. I was in New Jersey over the weekend, turned on the television, and I saw advertising from Aruba, St Kitts, St Thomas, but I never saw Bermuda — people still don't know where it is. What's disappointing is we have a Premier who says, along with his finance minister, that tourism is critical to our future, but then we cut its budget down to the lowest ever. It does not make sense." Mr Hanbury declined to comment on the authority's advertising strategy. The shadow minister spoke after a survey carried out by this newspaper showed nearly half of Bermuda residents saying they were against the spending granted to the BTA, with bonuses and "excessive salaries" topping their list of reasons. Meanwhile, 38 per cent said they supported the BTA, saying that spending was required to boost an industry that was once a mainstay of the Bermuda economy.
2015. September 16. Almost half of residents disapprove of the spending granted to the Bermuda Tourism Authority, according to a phone poll commissioned by The Royal Gazette. The Global Research survey found 49 per cent of people were against the Bermuda Government's spending on the Authority, with 38 per cent in favour and 13 per cent unsure. The backing of the BTA, an independent body set up last year to revive the Island's flagging tourism, has stood as a persistent red flag for Tourism Minister Shawn Crockwell. Details of compensation packages awarded to its top executives have been repeatedly demanded by the Opposition, while a query by broadcaster ZBM under the Public Access to Information Act was turned down. The Authority's annual report, released last month, showed that chief executive officer Bill Hanbury took in a salary of between $225,000 to $295,000 last year with a "performance incentive payout" of between $31,000 to $88,000. Salaries for directors range from $130,000 to $150,000 for Bermuda-based staff and $115,000 to $130,000 for out-of-island employees. Bonuses in that department ranged from $14,000 to $16,000. Ten per cent of survey respondents said they strongly approved of the Government's financial support for the BTA, and a further 28 per cent "somewhat" approved; 25 per cent said they somewhat disapprove, and 24 per cent said they strongly disapprove. A breakdown by race and age showed whites and elderly people were most likely to approve of the Government's financial support. The approval rating from whites was 53 per cent, compared with 29 per cent from blacks. Meanwhile, 51 per cent of people aged over 65 gave approval, compared with 27 per cent of people aged between 18 and 34. As part of our survey, voters were also asked to explain the reasoning behind their responses. Those who put their faith behind the investment emphasized the need for quality professionals, with one commenting: "You want the best, you have to pay for the best." Another added: "The money is not the problem — it's how they use it that matters." For opponents of the BTA spending, the second comment has been a sticking point: Shadow Minister Zane DeSilva and others in the Progressive Labour Party have been sharply critical of bonuses, in the face of what they called lackluster spending on advertising the Island. Respondents who were against the spending questioned the value for money, particularly in view of the Island's debt levels, saying they had yet to see any returns. Others queried why an organization intended to be entrepreneurial and independent would need government money in the first place. One remarked: "Bonuses? Really? Marketing surveys for a fish sandwich?" Meanwhile, a respondent who described themselves as "somewhat" disapproved commented: "They need to spend on the people, not take from us." The survey targeted 403 people of 18 and older, from August 31 to September 6, and has a margin of error of plus or minus 5 per cent.
2015. August 28. A newly announced golf tournament to be held at the Mid Ocean Club will provide a fourth-quarter tourism boost, according to the Bermuda Tourism Authority. The four-day Nike Golf PGA of Canada Team Championship, to be held from October 26 to October 29, is expected to bring 52 pairs of visiting golfers, along with their families, tournament officials and PGA executives. A spokesman for the BTA said the tournament could give the local economy a $220,000 to $250,000 boost while providing a gateway to the Canadian golf market. Bill Hanbury, the BTA CEO, said: "This one is right in the sweet spot for the tourism economy. We estimate 140 visitors and 400 to 500 room nights on this piece of business alone. And we expect the impact to be felt across the tourism value chain. Canada has been a sluggish market for us this year given the country's currency challenges. This fourth quarter activity will help us recover a little bit, while also educating the Canada market about the world class travel experiences we have available to Canadian visitors year-round." The event is also expected to put a spotlight on Bermuda as a golfing destination with Canadian journalists reporting on the championship. Bermuda's hosting of the event reportedly came about through the BTA's sponsorship of the Grey Goose World Par 3 Championship, where PGA executives were invited to a round at the Mid Ocean Club by head pro Chris Grantier, a PGA of Canada member. Mr Grantier said: "The Team Championship became a reality so quickly because Nike and the PGA of Canada love The Mid Ocean Club and Bermuda. We are very excited to be hosting this inaugural event, exposing many PGA of Canada Professionals to our golf course, facilities and beautiful island." The BTA sales and marketing team worked alongside on-island partners and the PGA of Canada to solidify the championship's inaugural event in Bermuda. The Fairmont Southampton, which hosts the Grey Goose tournament, will be host hotel for this event as well. Shelley Meszoly, the hotel's regional director of sales and marketing said: "Fairmont Southampton is thrilled to partner with Nike and our good friends at the PGA of Canada to be the host hotel for such a fantastic golf programme. Events like this are a critically important part of Bermuda's golf strategy and we look forward to hosting the players in October."
2015. August 27. An online campaign to highlight the Island asks potential visitors to "choose their own adventure." The initiative, by online travel agency Expedia and the Bermuda Tourism Authority, is intended to show visitors the range of experiences available in Bermuda. The focal point of the campaign is an interactive video, created using specially designed, wearable cameras, to give viewers a first-person take on a holiday here. An Expedia spokeswoman said: "Video viewers can choose from three initial ways to enjoy Bermuda — Chill, Mix it Up and Thrill — and watch as their ideal day plays out before them. The ads are filmed in first-person as if you are the one spelunking in an underwater cave to a spa oasis, cliff-jumping in the clear blue waters or taking in the local culture and flavors of the nightlife. Viewers can share the video with their friends, and download the itinerary with information on each location. The video aims to immerse travelers into this vast and beautiful island destination that is rich with culture and activities just waiting for exploration. It is designed to increase tourism interest, specifically aiming to appeal to a younger demographic, while bringing to life the Island's hidden gems and beauty." The campaign also includes landing pages on Travelocity and Expedia in the United States, along with Expedia in Canada and Britain, making it easier for interested viewers to book their trip. "This is just one way Expedia group is working to shine a spotlight on the destination of Bermuda," the spokeswoman said. "The market management team works closely with hotel partners on the ground to help them to increase demand through tools like mobile, packages and promotions. In the first half of 2015, demand to Bermuda via Expedia group sites increased nearly 20 per cent year over year." The BTA announced this year that it had joined forces with Expedia to promote the Island in Britain through a campaign "combining interactive outdoor locations around London with digital and social media channels, directing consumers to the Bermuda booking page on Expedia". The website also put the spotlight on the Royal Palms Hotel, which topped a list of exclusive properties in the Expedia 2015 Insiders' Select rankings.
2015. August 22. The Bermuda Tourism Authority has applauded news that the Morgan's Point resort has been granted planning approval. A spokeswoman for the BTA said yesterday the announcement was excellent news for the Bermuda hospitality industry. "We congratulate the development team and their diligence in getting this important project across the finish line," she said. While the spokeswoman added that the additional hotel rooms and marina facilities would be helpful in hosting the surge of visitors expected to travel to the Island for the America's Cup, there are plans in place in case the hotel is not ready in time for the 2017 event. There is a plan under way that combines the resources of local hotels, vacation rentals, cruise ships and yachts which gives us the inventory needed to assure the strong economic impact we are expecting from the event is fully realized," she said. "If for some reason the hotel project is not completed on time, Bermuda can still adequately accommodate our AC visitors." The Morgan's Point Resort project has been the subject of conversation for several years. The developers first agreed to receive the land — the former home of a US Naval Air Station — from the Government in a land-swap arrangement in 2008. The development was announced as a $2 billion luxury tourist complex including three hotels, residential units and a marina for visiting superyachts. However, before work could begin, the Government was tasked with cleaning up the brownfield site, which was reportedly heavily polluted with asbestos, metals, petroleum products and other chemicals. The handover was made official in June 2012, at which point remediation work began in earnest. Planning applications for the first phase of the project were submitted earlier this year, detailing an 84-key hotel, a 77-slip marina and a total of 149 residential condominium units on the Southampton property, along with a range of hotel amenities including a spa and three restaurants. The Development Applications Board formally approved that application on Wednesday, giving the developers a green light to move forward with the project. The first phase is set to include Craig Christensen, the CEO of Morgan's Point Resort Ltd, expressed his excitement about the decision on Thursday, stating that it is hoped to break ground on the project soon. However, he said the entirety of the first phase might not be completed in time for the 2017 America's Cup, stating that the development team is looking at how to best move forward with the project.
2015. August 21. The weakness of the Canadian dollar is a likely contributor to the drop in Canadian visitors to the Island, according to the Bermuda Tourism Authority. "We can't say that with 100 per cent certainly until we've seen more travel and economic data from Canadian officials later this year," a BTA spokesman said. "However, historically speaking, when the Canadian or UK currencies are significantly down, the impact is reflected in travel numbers from that country." Second quarter tourism statistics released this week showed an 18 per cent decrease in the Canadian market, which supplies a significant number of the Island's tourists. Canada's dollar, known fondly by Canadians as the "loonie" because of the loon icon on the $1 coin, has dropped to its lowest level in years. It has fallen to 76 cents to the American dollar, to which Bermuda's dollar is fixed. It is the first time it passed the 77 cent mark since 2009. The slump has boosted Canada's own tourist industry, as seen last month at the Pan Am Games in Toronto.
2015. August 20. The Bermuda Tourism Authority aims to target a new generation of visitors, starting with collegiate and national sporting teams. Pat Phillip-Fairn, the BTA's chief product and experiences development officer, today spoke of plans to expand and promote Bermuda's unique ability to offer a spring training ground in order to attract sports people during traditional shoulder seasons. They anticipate seeing more golf, swimming, rugby and lacrosse teams using the facilities that are available on the Island, Ms Phillip-Fairn told a press conference. "Sports tourism in general is a big area for us. We have established a partnership with the National Sports Centre," she said. "As we said before spring break for Bermuda is not Cancun — we can't deliver on that and so we have developed experiences that are targeting sports teams to come here for spring training and that is already delivering results. There is a lot of interest and already some bookings ahead of the January through March period of next year." The BTA has come in for criticism this week after new figures showed year-on-year tourism arrivals were down 1 per cent for the second quarter of 2015. Giving a presentation of some of the BTA's ongoing marketing efforts yesterday, Ms Phillip-Fairn said it has supported more than 50 different experiences through its new product and experiences application process. "Some of those experiences have been targeting the millennials, some targeting the adventure seekers and they have really been expanding a great scope of what Bermuda can offer," she said. New activities include hydro bikes at Daniel's Head and haunted history and fort tours in St George's. Ms Phillip-Fairn said that by repurposing existing experiences like Marathon Weekend and Bermuda Heroes Weekend, they can become key occasions in Bermuda, generating hundreds of visitors.
August 20. The latest tourism arrival figures may be down, but the Bermuda Tourism Authority is doggedly selling the Island for future visitors, according to its chief sales and marketing officer. Average spend per visitor in 2014: $1,121. Average spend per visitor in 2015: $ $1,196. Year-to-date air arrivals: down 2 per cent. BTA sales and marketing this year $16.4 million. BTA salaries, benefits this year: $5.4 million. "Through the first six months of the year, the BTA's sales and marketing efforts have directly influenced $18.1 million in visitor and group spending," Victoria Isley told The Royal Gazette. Bermuda has fallen off the radar for the majority of prospective visitors overseas, she said, posing a challenge for the BTA to generate new narratives to sell the Bermuda experience. Whereas the Island once prompted a wealth of mental connections for would-be visitors, nowadays many people planning their holidays think of Bermuda as "the place that their grandmother went for her honeymoon". In courting future travel, the authority has been able to track the spending through "promotions, bookings via gotobermuda.com or future group bookings", Ms Isley said. She pointed to efforts to rebrand the Island such as a partnership with Nadia Aly, founder of the magazine Scuba Diver Life, who was recently brought to the Island to create a four-minute video showcasing the Island. "In one week, that video got 100,000 views and 313 shares," Ms Isley said. "Nadia got 50 inquiries from people who want to come to Bermuda next year." The remarks came as the BTA refuted an accusation from Zane DeSilva, the Shadow Minister of Tourism, that it had spent on in-house bonuses at the expense of advertising Bermuda overseas. Karla Lacey, the BTA's chief operating officer, said that the organization's budget allocation for compensation was less than 20 per cent — well below the best-practice axiom that compensation should not exceed 33 per cent of budget. "In government, for example, salaries and benefits typically make up 50 per cent of the budget, or about one half," Ms Lacey added. Along with arresting the Island's slumping air arrivals and reversing its outdated image, the BTA has focused on "creating the Bermuda story" and getting visitors to buy into it, Ms Isley said. "We're focusing on matching Bermuda's authentic experiences with the consumer's desire — what's that authentic Bermuda connection that's different from anywhere else?" She said that one of the Island's unique selling points could be seen in the second-quarter tourism statistics showing revenue rising by seven per cent even as air arrivals marginally dropped. "At the end of the day, what we want to do is get city sophisticates, who like to spend money on 'me' time, to feel that Bermuda is a place for them right now, and show them what proper fun is," Ms Isley said, referring to a campaign launched in December 2014. The Proper Fun initiative targeted the British leisure market before moving on to video clips, golf promotion and the New York market. "Proper Fun is not just a tag line; it presents Bermuda as a proper playground, a safe and friendly place for people to go and explore," Ms Isley said. "That's a difference with Bermuda as a location. Visitors aren't just staying in the hotel. It's safe to rent mopeds and go out and have an adventure." Social media and internet campaigns have featured heavily, but Ms Isley said it had not usurped traditional advertising or retail offers such as a third or fourth night free in a hotel. "It's social at the core — I would not say it's using social media as the lead. No one can comment on a print ad, but you can have a conversation with social media." The North American "Selfie Yourself to Bermuda" campaign promoting Gosling's rum got 573 entrants and 380 opt-ins, she said, while the BTA's promotions at the America's Cup races in Portsmouth connected thousands of prospective tourists to Bermuda. Ms Isley pointed to public relations efforts such as the visit by singer and model Solange Knowles, sister of star Beyoncé, whose pictures on Instagram quickly made their way into the media. "That trip, which the BTA sponsored, was orchestrated in tandem with local fashion consultant Shiona Turini. It very naturally built some third-party credibility for Bermuda. We were in the background, and we're happy to be in the background. It's better, more authentic, to have people sharing their experiences." The BTA has continued working with Ms Turini to contribute to the magazine Condé Nast Traveler. Other campaigns aimed at getting Bermuda into the "travel dreams" of potential visitors, include linking the Island to "summer Fridays" — when American workers get an early start on a weekend holiday. Targeting gateway cities at the East Coast, the campaign pushes Bermuda's proximity by plane. Ms Isley said it was 87 days from the first selection of a destination to a visitor's actual arrival, and 56 days from the booking of a hotel — meaning the BTA was constantly looking ahead. "Just today, it was announced that the Nike Golf Team Championship in Canada is coming here in October," she said. "Another one on our sales team signed a group for October 2016 for 1,250 room nights." Building the year-round experiences to entice tourists even entails researching water and air temperatures — and marketing little-known features like the springtime whale watching.
2015. August 19. The Bermuda Tourism Authority today responded to Opposition charges that it had lavished more on in-house compensation than on promoting the Island to the world. During Monday's sitting of the House of Assembly, the BTA came under fire from the Progressive Labour Party for spending too little on advertising — and it was yesterday accused by Zane DeSilva, the Shadow Minister of Tourism, of "paying more for staff costs and bonuses than they spend annually on advertising Bermuda overseas". "At no time in the BTA's history or in its 2015 budget will compensation outspend the allocation for marketing Bermuda," the authority responded, in a statement sent out this afternoon. According to the organization's financials, the BTA spent $9.9 million, about 50 per cent of its budget, on sales and marketing for the period of April to December 2014, versus $3.9 million on salaries, benefits and incentives, at 20 per cent. For 2015, the BTA has budgeted $16.4 million, or 57 per cent of its funds, for sales and marketing — and $5.4 million, or 19 per cent, on salaries, benefits and incentives. The statement follows: "The BTA's percentage of budget allocated to compensation — less than 20 per cent — is well within business best practices, which dictate compensation should not exceed 33 per cent of total budget," said COO Karla Lacey, who has oversight of BTA's HR and finance practices. In the Government, for example, salaries and benefits typically make up 50 per cent of the budget, or about one half. For the BTA, the compensation portion, including performance incentives and benefits, is less than one fifth." Meantime, on the Opposition's call for the Tourism Authority's strategic plan, the BTA would like to remind the public of its Tourism Summit this past January where its strategic plan was shared widely. Members of the Opposition, the Government and hundreds of industry stakeholders attended the summit. The next Tourism Summit, detailing the strategic plan for 2016, will be held this November. Additionally, the sales and marketing division today shared a progress report on its 2015 strategies with local media. Tomorrow, the product and experiences division will share a similar local media update.
2015. August 19. Bermuda Tourism Authority chief executive officer Bill Hanbury has hit out at those criticizing his compensation package pointing out that after tax deductions it equates to that of most permanent secretaries working in Government. The American citizen was speaking on the day the authority released figures showing that year-on-year tourism arrivals were down 1 per cent while revenue spend per person was up for the second consecutive quarter by 7 per cent. The BTA also released its annual report this week showing Mr Hanbury received a salary of between $225,000 to $295,000 last year with a "performance incentive payout" of between $31,000 to $88,000. Mr Hanbury told The Royal Gazette after a press conference outlining the BTA's second-quarter figures: "There are certain performance criteria that are completely unrelated to these numbers. "In the past year we have built an outstanding organization from scratch — we now have 39 employees, we've built HR systems, IT systems, governance systems, accounting and finance systems, we have a clean audit for 2014 and received the designation from Destination Marketing Association International as an accredited destination marketing organization.
2015. August 19. After nearly three decades of lying fallow, the East End's vacant hotel property will get "site work" before the year's end, with groundbreaking for a new resort to commence in the first quarter of 2016. Plans include 122 hotel rooms, six estate residences and a possible 90 condos, renovations for the St George's Golf Course, and — subject to Gaming Commission approval — a casino. Concessions for the development, which the One Bermuda Alliance has called the most important hotel development in 40 years, are expected to add up to $30 million over the course of ten years. Shawn Crockwell, the Minister of Tourism Development and Transport, told the House of Assembly that once an agreement was completed in the next few weeks, town hall meetings would follow at the East End to inform residents. An epic debate on the long-anticipated development took up the bulk of a special sitting of Parliament on Monday, with Mr Crockwell questioned at length by Opposition Members of Parliament. Meetings with the people of St George's are to be held once the developers, Desarrollos Hotelco Group, come to the Island after settling their agreement. The developers will answer concerns of area residents, as well as negotiating with the Corporation of St George over shared sewerage facilities. Responding to parliamentary questions from shadow minister Zane DeSilva, Mr Crockwell told the House that the lead principals for the company are Walter Stipida Sprecase and his son Roberto Stipa Tenreiro. The firm is Venezuelan, and Mr Crockwell said the family travel with interpreters: Mr Stipida Sprecase does not speak English, while his son does. A local company, Hotelco Bermuda Holding Limited, was incorporated on July 17, and ownership figures are not yet available. While the deal comes with substantial concessions for the developers, Economic Development Minister Grant Gibbons stressed that the Island's existing concession laws, dating back to 2000, were out of date. A financial memorandum given to legislators said that the developer intended to invest "upwards of $120 million in the construction and development of the St George's resort". An estimated break on the importation of building materials and supplies over a ten-year period is expected to be between $8 and $10 million, including materials for renovations in year seven of the resort's opening date. Supplies that qualify for a full relief from customs import duty range from air freshener and toiletries to stationery, cups and other standard items stocked in hotel rooms. From its opening until its tenth anniversary, the resort is estimated to receive at least $15 million relief on the hotel occupancy tax, which is a fee paid by guests, at 7.25 per cent of the room rate, upon checking out. Similarly, over ten years, the resort will reap an estimated $5 million on concessions for the employer's share of payroll tax — although numbers will vary according to the staff. Land tax concessions have not yet been determined, and the property is to be valued upon completion of the development. That figure is not included in the overall $30 million concession estimate. Many details have yet to be settled on the development, which will cover the old Club Med site on land to the south of St Catherine's Point. A ground lease and master development agreement will be tabled before legislators when the House of Assembly resumes in November. Questioned throughout Monday night's debate, Mr Crockwell told the House that the residential component of the development may include fractional units. No firm decision has been made but the developers wish to retain the option, and Mr Crockwell said that residences alongside the St George's Golf Course would not have an impact on the course itself. The developer and operator are keen for "as much volume as possible" on the course, he said, and are "hopeful that a lot of people in the public are going to come and use the golf course." Meanwhile, there will be no restrictions placed on access to the public beach, the minister added. Directors and shareholders for Desarrollos Hotelco Group have been listed as: Maria de Stipa, Isabel Stipa Tenreiro, Elisa Stipa Tenreiro, Miguel Purroy Unanua, Pedro Vera Puente, Roberta Scivani, Maurizio Scrivani, Ms Zanoletti [sic], Mauricio Zanoletti, Giancarla Stipa, Diegio Freyre, Mauricio Zanoletti and Jose Guerrero Gil.
Tabling of lease agreement: November 2015
• Estimated groundbreaking: early 2016
• Estimated value of concessions offered: $30 million
• Time period of concession: ten years
• Lease: 262 years is "commercial acceptable term"
• Size of property: 50.51 hectares, or 124.81 acres.
2015. August 18. The Island's new tourism offerings reflect the "fresh approach" brought by the Bermuda Tourism Authority, according to the group's 2014 annual report — which remains insistent on the imperative of boosting stagnant air arrivals. The BTA's new marketing strategy for the Island has been a "seminal milestone", according to chief executive officer Bill Hanbury, who said the selling of the Island had shifted to a focus on experiential travel. "These are bold changes that we hope can get us out of the rut we were in, of not listening to what Bermuda's customers really wanted," wrote Mr Hanbury, in his CEO's letter. Bonuses awarded to BTA staff and top brass have repeatedly drawn fire from the Opposition, while Tourism and Transport Minister Shawn Crockwell has defended the salaries awarded to tourism officials as being in line with those of other countries. The annual report tabled yesterday showed that Mr Hanbury received a salary of $225,000 to $295,000 last year, with a performance incentive payout of $31,000 to $88,000. Salaries for directors range from $130,000 to $150,000 for Bermuda-based staff and $115,000 to $130,000 for out-of-island employees. Bonuses in that department ranged from $14,000 to $16,000. Mr Hanbury has stated on several occasions that the success of the investment made in the BTA would rest on this year's air arrival figures. "As we move into 2015, the entire team is focused on three primary objectives, all of them growth oriented: increasing air arrivals, increasing visitor spending into the local economy and increasing room nights in hotels and vacation rentals," Mr Hanbury wrote. "We trust our new marketing strategy will help us grow leisure air arrivals and room nights, while visitor spending will go up as we improve our arsenal of unique, authentic on-island experience and culinary offerings."
2015. August 7. The Island's hospitality and beauty will be showcased to sailing fans worldwide thanks to a partnership between the Bermuda Tourism Authority and the 35th America's Cup. The deal is expected to be a big boost to tourism efforts, the BTA said yesterday. The move comes as the authority launches partnerships and promotions designed to introduce the Island to a wider audience as part of their global effort, "Race to Bermuda", which began with the Louis Vuitton America's Cup World Series event in Portsmouth that took place from July 23 to 26. "The America's Cup Event Authority is engaging the next generation of sailing enthusiasts with its powerful foiling boats, while at the same time the BTA is reaching a generation of travelers focused on adventure and experiential travel," said Bill Hanbury, the BTA's chief executive officer. "The target audiences are perfectly aligned. We were thrilled to launch the Race to Bermuda in Portsmouth last month and look forward to building greater momentum on the way to 2017 and beyond." Harvey Schiller, commercial commissioner of the America's Cup, said: "The Bermuda Tourism Authority's strength as a sales and marketing organization was evident during the bid process, and its efforts were a significant contributing factor to Bermuda coming out on top. "We are pleased to work in partnership with the BTA over the next two years to help to reach a new generation of travelers and grow the tourism economy in Bermuda." The partnership agreement includes prominent branding and space at each America's Cup venue this year, next year and in 2017, as well as commercial airtime promoting Bermuda on US TV broadcasts of the America's Cup in 2017 on NBC Sports. Additional partnership benefits for marketing Bermuda will be realized on the AC35 website, app and on social media. The BTA is also planning to work with other ACEA brand partners to leverage exposure and increase demand. Mr Hanbury said: "The previous America's Cup was broadcast to over 200 territories worldwide, and we are already seeing better distribution this time around. We are pleased to have secured significant exposure for Bermuda on the international broadcasts for every event in 2015, 2016 and 2017 for the Race to Bermuda. We are also pursuing new opportunities over the next two years with other ACEA partners, to increase exposure and leverage our investment for Bermuda." Victoria Isley, chief sales and marketing officer for the BTA, said innovative brand partnerships would be the hallmark of the Race to Bermuda strategy. "Through existing partners like Gosling's to new ones like British clothier Henri Lloyd, the BTA will link premium lifestyle brands with the Bermuda story to get new audiences dreaming about travel to the Island," she said. "Meantime, on social media we launched #RaceToBermuda last month in Portsmouth. We will use this platform to engage with an even wider audience about Bermuda's travel story." In the run-up to Portsmouth's sailing celebration, the BTA worked with its partners to harness excitement about Bermuda by engaging with UK consumers. Cup enthusiasts were exposed to Bermuda's heritage and style, invigorating experiences, stunning locations, welcoming culture and authentic Island lifestyle. The BTA said it showcased the destination and its unique selling points by combining a variety of travel trade and fashion brand partnerships, consumer campaigns, charity support, media initiatives and social media campaigns.
2015. July 20. New legislation paving the way for a luxury hotel resort to be built in St George has been welcomed by the town's leaders. The St George's Resort Act 2015 was tabled in the early hours of Saturday morning by Shawn Crockwell, the Minister for Transport and Tourism Development. MP Kenneth Bascome told The Royal Gazette he was confident the development would now reach fruition, while Mayor Quinell Francis said the tabling of the Act was "good news" for the whole community. "We are on our way to creating something that the town but also the country can be proud of," said Mr Bascome. "At this stage on behalf of the community of St George I want to thank the Minister of Tourism and his team for bringing the project this far. What happened with this site previously was never really as concrete as this and I believe these folks will take it to fruition and the Minister has done all his due diligence. I want to thank them for showing faith in St George. We will welcome them with open arms. I believe this is the real thing, and it is very much needed because the property is dilapidated and looks like a jungle." Ms Francis added: "I'm pleased to see the Act tabled in the House and hope that this resort will now come to fruition. It's good for St George but it's also good for the country and will bring in a wide range of visitors to the Island. We are still in the early stages. When we start to see progress on the ground we will be even more excited. It's good news." The Act, which is expected to be debated later this summer, authorizes the leasing of the land to the developer and grants rights, leases, concessions, permissions and the approvals necessary to develop the resort on land lying to the south side of St Catherine's point. Work on the new hotel, which will be managed by the St Regis, Starwood Hotels & Resorts brand, is expected to start before the end of the year. "I am very excited to announce that the Bermuda Government and the Desarrollos Hotelco Group are now poised to finalise the Master Development Agreement for the St George's Tourism Development Site," said Mr Crockwell. "This is a group that is more than capable of developing a world-class, full-service resort and we are very excited to have them as our partner. Today marks a significant milestone for this development, it is indeed very good news and comes as a result of numerous meetings that the Government, the Bermuda Tourism Authority and Desarrollos have had with both internal and external stakeholders, to negotiate terms and to prepare the relevant documentation. This is a $120 million dollar development and very significant to the revitalization of our tourism industry, the St George's community and Bermuda as a whole." The proposed development includes 122 hotel rooms, a casino — subject to an application to the Gaming Commission — and the renovation of the 18-hole Robert Trent Jones designed St George's Golf Course. "There are also plans to build: 90 condominiums, six estate residences, a spa and fitness centre, meeting rooms, swimming pools, a pool bar and grill, a speciality restaurant and a beach restaurant and bar. Mr Crockwell said: "This development has the potential to spur other developments and provide exponential employment opportunities. It is crucial to Bermuda and it will have a positive impact on our Island. This Government made a promise to develop a resort in the east end and it is a promise that we are keeping. I must applaud the hard work and commitment of the Ministry of Tourism Development and Transport, the BTA and our consultant on this project, the Hemisphere Group, a Miami-based international real estate advisory firm. Reaching this point is a testament of our focus and efforts to create an inviting business environment to attract inward investment and private sector jobs for Bermudians. This is a very important piece of legislation and I encourage the Opposition to support it as it is a tremendous benefit for all of Bermuda."
2015. July 19. New legislation paving the way for a luxury St Regis hotel to be built in St George has been put before Parliament. The St George's Resort Act 2015 was tabled in House of Assembly in the early hours of Saturday morning by Shawn Crockwell, the Minister for Transport and Tourism Development. The Act, which will be debated at a later date by MPs, authorizes the leasing of the land to the developer and grants rights, leases, concessions, permissions and the approvals necessary to develop and deliver the St George's Resort on land lying to the south side of St. Catherine's point. The resort will be managed by the St Regis, Starwood Hotels & Resorts and it is anticipated that work will start before the end of this year. "I am very excited to announce that the Bermuda Government and the Desarrollos Hotelco Group are now poised to finalise the Master Development Agreement for the St. George's Tourism Development Site and as such I am able to table the St. George's Resort Act 2015," said Mr Crockwell. "This is a group that is more than capable of developing a world class, full service resort and we are very excited to have them as our partner. Today marks a significant milestone for this development, it is indeed very good news and comes as a result of numerous meetings that the Government, the Bermuda Tourism Authority and Desarrollos have had with both internal and external stakeholders, to negotiate terms and to prepare the relevant documentation. This is a $120 million dollar development and very significant to the revitalization of our tourism industry, the St. George's community and Bermuda as a whole. This development has the potential to spur other developments and provide exponential employment opportunities. It is crucial to Bermuda and it will have a positive impact on our Island. This Government made a promise to develop a resort in the east end and it is a promise that we are keeping. I must applaud the hard work and commitment of the Ministry of Tourism Development and Transport, the Bermuda Tourism Authority and our consultant on this project, the Hemisphere Group, a Miami based international real estate advisory firm. Reaching this point is a testament of our focus and efforts to create an inviting business environment to attract inward investment and private sector jobs for Bermudians. This is a very important piece of legislation and I encourage the Opposition to support it as it is a tremendous benefit for all of Bermuda." The proposed development includes 122 hotel rooms and the renovation of the 18 hole Robert Trent Jones designed St George's Golf Course. The resort will also include: up to 90 condominiums, six estate residences consisting of three and four bedrooms, a spa and fitness centre, meeting rooms, a casino — subject to an application to the Gaming Commission, swimming pools, a pool bar and grill, a speciality restaurant and a beach restaurant and bar. A Government statement released this afternoon said: "The selection of Desarrollos resulted from a thorough Request for Proposal ("RFP") process that had the stated objective "To provide a high quality tourism development that will complement the St. George's UNESCO World Heritage Site designation and accentuate the historical significance of the area while providing economic opportunities for the people of St. George's and Bermuda. At that time, interest was expressed by over a dozen international development and investment companies which resulted in five written submissions being received by the Ministry of Tourism Development & Transport by the March 31st deadline, 2014. Each proposal was thoroughly reviewed and evaluated incorporating a decision matrix that took into consideration the respondents international experience in successfully financing, building, owning and operating luxury resort developments and their relationships with renowned hotel brands. From this process two short listed finalists emerged and the finalists were invited to make oral presentations to the Economic Development Committee. It was not an easy decision as both short listed finalists' submitted impressive proposals that were augmented with very detailed oral presentations that highlighted their desire and enthusiasm for the development opportunity, but most importantly their proven ability to deliver projects was evidenced. Ultimately, Desarrollos was chosen."
2015. July 17. Visitors have been promised a warm welcome at Cup Match this year amid accusations that they face being snubbed by tourism bosses. The Bermuda Tourism Authority yesterday came under fire from the Progressive Labour Party after it was revealed the popular tourism booth would be dropped from this month's festivities. But Romeo Ruddock, vice president at St George's Cricket Club, insisted that the lack of the designated visitors' area would not affect hospitality, and pledged the club would have people of its own looking out for tourists. "It's a little unfortunate — we still think it's a missed opportunity — but Cup Match goes on," Mr Ruddock told The Royal Gazette. "There won't be a designated spot this year, but if you walk around at Cup Match you will still see that happening. We'll have people interacting with visitors and developing a relationship with them. It's not just about people coming to the game or filling beds in a hotel but connections developed that will bring people back. There's a lot going on down here." The club at Wellington Oval has "a boat yard right in our back yard", Mr Ruddock said, where catamarans and boats can dock with a short walk to the game. "Normally we get a lot of tourists at Cup Match, especially on the second day," Mr Ruddock said. Prizes will be given out by raffle thanks to a partnership with Worldview Travel and United Airlines, and visitors will qualify for numbered wrist bands, with the winning numbers read out. Souvenir cups through sponsors Aspen Insurance and prizes courtesy of Sol Petroleum are in the works, the vice president added. "One thing about St George's fans, they will be out there showing people a good time." Mr Ruddock's remarks came as Zane DeSilva, the Shadow Minister of Tourism, took the BTA to task for not funding the tent, which has traditionally offered a shady refuge for visitors to enjoy the game, get a drink and have Bermuda's national sport explained. Mr DeSilva likened the decision, in which budgetary constraints were cited, to a "boycott" of Cup Match. He further criticised the decision in light of a bonus awarded to Bill Hanbury, CEO of the BTA. However the BTA said the decision lay with the Bermuda Hotel Association (BHA), and the organization further unveiled new offerings for the national holiday. The BTA has teamed up with the company Bermuda Explorer to offer a special visitors' package for Cup Match, adding that there had been no request made by the club for additional funding. "The BTA is aware of the Bermuda Hotel Association's decision — it will not manage a visitor stand at the 2015 Cup Match, as it did in 2014," spokesman Glenn Jones said. "Our product and experiences team will reach out to the BHA in the coming days to better understand the reason for the decision and to ensure both of our organizations have confidence visitor desires are being met. Ultimately, the goal is to provide the kind of visitor experience visitors tell us they want, and at this year's Cup Match we believe we are well on our way to meeting that objective." BHA president JP Martens said the association was "obviously really sorry that we can't do it this year. The visitors' stand at the games, either in St George's or Somerset, has always been sponsored by the BHA," Mr Martens said. Unfortunately, due to these budgetary constraints, we can't do it this year. As you can imagine, there was quite a cost attached to it." Mr Martens said the association hoped to be in a position to resume the service in future years.
2015. July 17. Cruise visitors will increase by 10 per cent in 2016 with the industry expected to bring in more than $90 million to the Island's economy. An additional 15 occasional calls in 2016 compared to this year is part of the reason for the 12 per cent increase in the projected economic impact of the cruise industry. Hamilton will see cruise calls increase by 20 per cent while the number of liners visiting St George's will increase from two this year to five in 2016. "We strategically targeted the premium or luxury brands over many months and are extremely pleased all the hard work paid off with 15 additional occasional calls in 2016, a significant 43 per cent increase," said Bill Hanbury, Bermuda Tourism Authority CEO. "That's going to go a long way toward building on the tourism economy growth we have begun to realize in 2015." The preliminary 2016 cruise schedule predicts 100 regular cruise calls with an additional 50 occasional callers bringing a total of 150 cruise calls for 2016. In 2015, there are 135 scheduled cruise calls. About 407,000 cruise visitors are anticipated for 2016. This compares to 370,000 for 2015. In 2014, there were 356,000 cruise visitor arrivals. "Over the past two years we have experienced a significant increase in cruise arrivals and are pleased that this trend will continue into 2016," said Shawn Crockwell, Minister of Tourism Development & Transport. "Most importantly our strategy to find the right demographic of cruise vacationers is showing results. We are attracting the cruise lines, and therefore passengers, who will have the biggest impact on the local economy." Projections for 2016 forecast that a total of $91m will be ploughed into the Island's economy in a combined total of government taxes, cruise passenger expenditure and crew member expenditure compared to $81 million this year. "We can grow the St George's number even more if Town Cut is widened," said Mr Hanbury, "but that's a decision we leave in the hands of East End residents and their elected officials." Royal Caribbean will be introducing their newly built Anthem of the Seas to Bermuda in 2016. "Royal Caribbean's introduction of the larger and newer Anthem of the Seas and Norwegian Cruise Line's return of the Breakaway shows the major cruise lines commitment to providing Bermuda with their most modern cruise ships," said Minister Crockwell.
2015. July 16. The Bermuda Tourism Authority (BTA) has teamed up with local entrepreneurs to create a "more culturally rich" Cup Match experience for visitors. Tourists will have the chance to visit camp sites under the initiative announced this afternoon, according to a statement from the BTA today. It will include round trip transportation to St George's Cricket Club; tickets to the game; traditional Bermuda cuisine at local host camp site; traditional Bermuda drinks at local camp site; explanation of local culture, cricket and Crown and Anchor by local hosts. Pat Phillip-Fairn, chief product and experiences development officer of the BTA, said: "Visitors tell us through market research that immersion in local culture is paramount to their vacation experience. Local company Bermuda Explorer has come up with a package that not only takes visitors to Cup Match but makes them a part of the Cup Match experience. Our product and experiences team provided data-driven input and advice for developing the package. We're thrilled a local entrepreneur has come up with an easy option to provide what visitors want. We believe the new Bermuda Explorer experience has the potential to become the best visitor Cup Match experience to date. It's more authentic, it's more in tune with customer demands and it relies on the ingenuity of Bermudian entrepreneurs to be successful." Earlier today, Zane DeSilva, the Shadow Minister of Tourism, had issued a statement criticizing BTA for dropping its tourism booth at this year's event. "The decision by the Bermuda Tourism Authority to essentially boycott Cup Match by dropping their tourism booth at the St George's Cricket Club citing 'budgetary constraints' should be very disturbing to Bermudians and anyone who sees the value of this historic holiday to our tourism product," stated Mr DeSilva. "While the BTA couldn't find the money to market Bermuda effectively or to support Cup Match, there didn't seem to be any 'budgetary constraints' when it came to paying out nearly half a million dollars in bonuses to Bill Hansbury et al despite the BTA producing the worst tourism numbers in 48 years. Cup Match matters to Bermudians and matters to the countless number of visitors who have benefited from the hospitality and education provided over the years through the tourism booth at Cup Match. We encourage the BTA to reverse course and allocate some of their taxpayer funds, even at this last minute to this vital part of our social and cultural heritage." Glenn Jones, director of public and stakeholder relations at the BTA, responded: "The BTA is aware of the Bermuda Hotel Association's decision — it will not manage a visitor stand at the 2015 Cup Match, as it did in 2014. Our product and experiences team will reach out to the BHA in the coming days to better understand the reason for the decision and to ensure both of our organizations have confidence visitor desires are being met. Ultimately, the goal is to provide the kind of visitor experience visitors tell us they want, and at this year's Cup Match we believe we are well on our way to meeting that objective."
2015. July 13. Bermuda Tourism Authority head Bill Hanbury received a "guaranteed" bonus for his first year in office — but Tourism Minister Shawn Crockwell has said the amount awarded was confidential. Shadow Minister Zane DeSilva told the House of Assembly that Mr Hanbury had been paid $100,000, but Mr Crockwell said he could not confirm that figure. The specific terms of incentives paid to staff at the BTA were private and could not be revealed, the minister said in response to parliamentary questions from Mr DeSilva. However, Mr Crockwell invited the shadow minister to make a Public Access to Information request on the issue.
2015. July 10. The Bermuda Tourism Authority's board has given its 100 per cent backing to CEO Bill Hanbury and his 39-strong team to fulfill its mission of turning around the Island's tourism industry. The board also defended giving Mr Hanbury a guaranteed performance incentive for his first year as part of his pay package when he became CEO in January 2014. It comes as the authority's tourism forecast for the next five years predicts an increase in spending of about $100 million by visitors from 2014 to 2017.The report, which will be made public on July 15, highlights the need to drive up air lift and boost on-Island spending in order to hit that figure. "The CEO's performance incentive was guaranteed in year one only," said deputy chair Jessica Mello. "The rationale behind that is that it's about a six-month lag between the time potential leisure visitors see our marketing and arrive in Bermuda and several years for group visitors. So it would be illogical to base the CEO's performance in year one on the work of his predecessors. The BTA spent 2014 putting in place marketing, sales and product to drive year two results. So it's not until year two that we can actually measure the CEO's performance. It is worth noting that the CEO's salary is below the median for like-sized Destination Marketing Organizations internationally; around 42 per cent of CEOs earn less, 58 per cent earn more than he does." The board's chairman David Dodwell said he was confident that the hard work and dedication of the BTA's staff would pay off. "The first year, 2013, was all about setting up the new structure of the organization and the passage of the BTA Act and 2014 was the transitional year. We have now changed almost every single relationship that the Department of Tourism had and that has taken a long time because of existing contracts. Expectations are very high and we sometimes expect things to happen overnight. I'm extremely optimistic we will get there. There has been more hotel developers in Bermuda in the last couple of years than the last 20 and these are brand names. There is a concerted effort to get more airlift and our focus is very much on increasing spending in Bermuda." Philip Barnett, who chairs the board's compensation committee, hailed the work of the BTA for helping the Island to secure the America's Cup, which will make a large contribution to tourism figures in coming years. "As a board member I am significantly impressed by the team that has been created here and the way we are moving forward. It's very reassuring to me to see the organization running efficiently and I believe we are in a great place to use everything we have created to move the needle. There are performance incentives throughout the organization. In Bill Hanbury I believe we got the best candidate."
2015. July 8. New visitor arrival forms at LF Wade International Airport are helping to report more accurately on industry performance, according to Bermuda Tourism Authority. A press release states that data collection is improved in three key areas: Accommodation: the new arrival form now asks whether the visitor intends to stay in a vacation rental. Vacation rentals is a growing category of lodging for visitors worldwide. Bermuda is no exception. Other categories of accommodation choices remain on the form. Primary Purpose of Visit: the new arrival form provides five additional choices for purpose of visit. If the passenger is visiting family and friends he/she is asked whether it's for personal or vacation reasons. If the passenger is here for America's Cup he/she is asked whether it's for business or leisure purposes. A fifth new choice allows the passenger to choose destination wedding if he/she is here for that purpose. In all, there are now 11 choices in the primary purpose of visit category. Repeat Visitation: the arrival form now asks if the current arrival is the visitor's first trip to Bermuda. The new form went into effect in April. Lamar Caines, the BTA research assistant who led the transition to the new form, stated: "The new form allows us to better assess the impact the BTA is having on visitor air arrivals. The BTA's mandate is to grow air arrivals in two specific categories: vacation travel and group travel. This new form allows us to monitor these categories more accurately and when we report visitor numbers it will give the public a clearer view of the BTA's performance in these areas." Bill Hanbury, the BTA's CEO, said: "It's very important to the tourism industry to make these improvements in data collection. Traditionally business air arrivals as well as visiting friends and relatives are reported in the performance data when really the BTA has very limited influence on business people and friends and relatives who come to Bermuda. Now the form will give visitors here on business the option to tell us whether they're here on individual business or as part of a group participating in a conference, meeting or incentive trip. These are categories the BTA will monitor closely because our business development managers in New York are working to grow specific categories of group travel. This is just one way the new form improves measurement and accountability."
2015. May 17. A new report by the Bermuda Tourism Authority has revealed that a bookings spike for individual travelers to the Island is making up for a slump in the group travel segment. According to a monthly hotel room nights analysis, individual hotel room bookings are up by 9.8 per cent, while group travel bookings are down by 13.8 per cent over the next 12 months. "This is why you've heard us use phrases like 'on the right track'," said report author Glenn Jones, the BTA's director of public and stakeholder relations. "Individual travelers is one number the BTA can impact materially in the short term and it is clearly impacting that number in a positive way." According to a BTA statement, statistics show that its sales and marketing strategies have helped generate more individual hotel room nights for the island, but to fill the hole left on the group side of business, it must generate more growth in the second half of 2015. "If we could get group business for 2015 that would solve everything because it means thousands of air visitors and hotel room nights," Mr Jones said. "But it's too late to grow the group number materially in 2015. The main aim now is to win more individual vacationers to fill the gap. These travelers, on average, book 45 to 60 days out and are the target of new marketing efforts, which began in November." Mr Jones added that a rise of 10 per cent in individual bookings over the next year suggests that the new marketing is working. For this year, individual leisure and business air visitors are forecast to represent 82 per cent of all hotel room nights sold, while group travel is expected to represent 18 per cent, and the goal is to balance those numbers better for 2016. "As our new report explains, when group business like corporate meetings is secured, it takes 12 to 36 months before that group flies to the island. So the lackluster group performance we see in 2015 is as a result of sales contracts secured, or not secured, up to three years ago," said Mr Jones, who added that group travel is defined as a minimum of ten rooms per night. The report, titled "Group Travel: Where We Are and Where We're Going", was distributed electronically to hundreds of tourism industry stakeholders in a monthly bulletin. It provided information on the group travel sales process and explained the strategies the Tourism Authority has implemented to improve the market segment's performance. The strategies include a new sales partnership with Associated Luxury Hotels International, a realignment of business development managers in North America, and a refocus of sales strategies from travel agents in geographic regions to vertical group business categories. "The reorganized sales team is structured specifically to develop new business opportunities, uncover new leads and convert new bookings for Bermuda," chief sales and marketing officer Victoria Isley said. "By focusing on respective categories that align with Bermuda's product, the BTA will be able to truly meet the needs of group customers whether they're looking at a destination wedding, a corporate leadership summit or a sports training retreat." The BTA's report maintains that a strong performance in group business leads to a successful year for the entire industry and not just the host hotels; area attractions, transportation providers, event planners, restaurants and others in the tourism value chain benefit when there is a thriving group segment.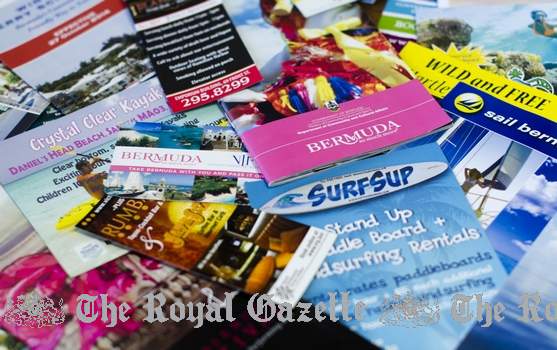 BTA brochures, see above story
2015. May 12. By Glenn Jones, Bermuda Tourism Authority. "At the latter, we listen very closely to our stakeholders, including those in the Legislature who tend to have bigger megaphones than most. We believe strongly that active listening is a pillar of collaboration. We do it every day; it's literally our policy. And even when there are differing opinions, we are respectful, reflective and non-confrontational. However, when in their public statements our stakeholders misstate, misinform or mischaracterize information, we must counter it as often as we can. In an opinion piece over the weekend Shadow Minister of Tourism Zane DeSilva mischaracterized the BTA's position on marketing Bermuda's Caribbean influences. For example, he admonished Mr Bill Hanbury, BTA CEO, for "pouring cold water over [Bermuda's] Caribbean link". In The Royal Gazette, he suggested the BTA is heart-set against denying "that Bermuda has a very strong Caribbean cultural influence." Not true! In fact, much of MP DeSilva's written objectives come from the same hymn book as Mr Hanbury, who is quoted as saying this in January: "We wouldn't dream of distancing Bermuda from its Caribbean influences. It's what makes us special and it's what visitors tell us they love about the island." We are actually encouraging entrepreneurs to create tourism business opportunities that highlight island culture," Mr Hanbury said. "This year alone, we plan a six-figure investment in tourism experiences that highlight Bermuda's Caribbean roots. Bermuda's Heroes Weekend is a celebration of Caribbean carnival. On De Rock is an open air culinary experience that will absolutely rock this Island. It is an extraordinary opportunity for us to show our heritage and our connection." Those words don't measure up to "cold water". They're more like a warm embrace. On the embrace of Bermuda Heroes Weekend, Mr DeSilva says the BTA needs to "stop talking out of both sides of their mouths when it comes to marketing Bermuda." This, too, is an unfortunate, and hopefully not intentional, mi-characterization. Bermuda's marketing distinction from the Caribbean is principally about geography. It's science. Or, as Mr Hanbury said, "it's a statement of fact that we are in the Atlantic and we emphasize those facts when selling Bermuda. Geography is an extraordinary marketing advantage for us, so we are going to take full advantage." In a super-competitive landscape, Bermuda can sure use a few marketing advantages. While MP DeSilva correctly identifies the tough pitch selling Bermuda's beautiful beaches between November and March when our climate is 30 degrees cooler than the Caribbean, he missed an opportunity to let everyone know the BTA created a marketing strategy to match this reality. The BTA positions Bermuda as a destination for sports, culture, culinary, the arts and eco-tourism in the winter and spring. To summarise: Bermuda is not geographically in the Caribbean AND Bermuda enjoys a wealth of beautiful Caribbean influences. Both can be true without talking out of both sides of the mouth. And both facts are marketing assets in our effort to grow Bermuda tourism. I'm doubly convinced of this upon reflecting on MP DeSilva's words because after reading between the lines, I can see there's broad agreement between his views and the BTA's on this subject. Even an ounce of consensus on this is a celebration for me — not just professionally, but personally as well because if the BTA was trying to deny Bermuda's rich Caribbean cultural influences, it would make things tough at my house during the holidays. My 96-year-old great-grandma Myrtle has roots in Nevis. She talks of her visits there with clarity. She is unapologetically West Indian. If her great-grandson was part of any effort to deny her contribution to Bermuda, she would have me by the scruff of my neck faster than I can say J'Ouvert." (Glenn Jones is the director of public and stakeholder relations at the Bermuda Tourism Authority).
2015. May 7. Zane DeSilva, the Shadow Minister of Tourism, has criticised the efforts of the Bermuda Tourism Authority under Bill Hanbury. "After the worst air arrivals in 48 years in 2014, tourism numbers continue to decline under the OBA in Q1 2015," Mr DeSilva said in a press statement this afternoon. "These declining numbers come as no surprise as taxi drivers have been telling us for months that business was slow and the impact it was having on their families. These plummeting tourism figures are bad news not just for the taxi industry but also for the countless Bermudians out of work and hoping that a revival in tourism will mean more jobs and opportunities. Bermuda Tourism Authority CEO Bill Hanbury has said that he and the BTA would own the 2015 numbers after previously pledging a six-month turnaround. With numbers continuing to trend downwards, clearly the BTA approach under the current leadership isn't working. The OBA sold the BTA as an entity that would "run tourism like a business". Yet in the business world, individuals are held accountable for not meeting deliverables. In this case, we see all of the people who should be held accountable and taking responsibility for these numbers, running for cover. From the BTA CEO to Tourism Minister Shawn Crockwell, no one is taking responsibility and no one is being held accountable. This is clearly not a recipe for success. In 2014, The PLP called for increased investment in tourism. That call was ignored and these dismal numbers are the result. The PLP's believes that Bermuda's position as a tourism destination has been marginalized in the global market by an underfunded tourism marketing budget. We have to invest in tourism and the current budget simply isn't competitive when we look at the millions being spent by our more successful competitors. This is evidenced by almost every single one of our competitors in the Caribbean seeing an increase in air arrivals over the past 18 months. We further believe that marketing alone will not turn tourism around. Our product must modernize, encouraging greater Bermudian entrepreneurship and inventiveness while continuing to elevate service standards and amenities available to our guests.
2015. May 6. Visitor arrivals fell in the first quarter as a result of lost air routes, according the Bermuda Tourism Authority (BTA). However BTA CEO Bill Hanbury said the quarterly figures still had positive signs, particularly noting a $6.1 million increase in visitor spending during the period. "We are moving in the right direction," he said. "We are kind of in an awkward position where we are changing strategies. PR firms, social media, advertising agencies and websites have all been changed or are being changed. Some of these technical components have not fully hit the ground yet, so we are waiting on that." He said that the average per person expenditure by visitors arriving by air increased by $278, and the length of stay for visitors had increased. However Mr Hanbury acknowledged that the visitor arrival numbers were less impressive, with total arrivals falling 5.3 per cent, which he said was driven by a 14.5 per cent drop in air lift to the Island. "Air arrivals were down 6.7 per cent," he said. "This decline can be attributed to a whole bunch of things. It can be the fact that we have been in decline for 30 years and we are still turning it around, but I believe more importantly then that was reduced service from multiple carriers — 16,000 fewer seats flew to Bermuda in the first quarter." More than 85 per cent of the eliminated airline seats were on flights that had been emanating from New Jersey, New York and Pennsylvania. The number of visitors from New Jersey fell by 20 per cent, while the number of visitors from Pennsylvania dropped 22 per cent. Mr Hanbury also noted that hotel occupancy had fallen year-on-year, attributing part of the figure to the fact that more beds are available. He said: "Two hotels were out of service in the first quarter of last year, so even if we performed at exactly the same level occupancy was going to go down." Advanced bookings meanwhile are slightly down overall, but he noted that the bookings for individual travelers as opposed to groups have increased by more than ten per cent. "That's a gigantic number in this business," he said. "Our big problem is group bookings, and I'm sorry to say we can't solve that for this year. We have got to keep chugging away at the individual side. The groups side of the business left the chamber years ago. It should have been dealt with then, it hasn't been dealt with, and we have a lot to do in that area. I'm not going to tell you that we are going to have a slam dunk season, but I think we are going to have a good year and at the end of the day I think you will be pleased with the progress being made economically." Mr Hanbury announced that the BTA will be hosting an event today to bring stakeholders together with the goal of working to improve air service to the Island. "This is not a BTA exclusive issue. This issue also relates back to residents and international business, and I firmly believe that everybody should own this issue. Everybody on the Island ought to care about air lift. We are going to aggressively deal with the air lift issue. I think we are now in a better position to do that knowing that we believe the numbers are going to go north again. We have to be aggressive with the airline and we have to be in their face with them about providing capacity and not stepping away from us. We are going to deliver that message loud and clear to the airlines. The airlines are astute business people, and they are not going to respond until we can prove to them that the numbers are going up, and we believe that we have a compelling case to show them that in the future demand is going up." Chairman of the BTA board David Dodwell also briefly spoke, stressing the amount of hard work being done by the BTA. "Our biggest problem is air lift," he said. "It's a chicken and egg situation where the plans won't come until the business comes, the new investors won't come until the airlines come. The meeting we are having I think is critical because it brings the whole community in. The BTA is blamed for air lift, but we actually don't control it. The airlines are commercial, and they will take a flight out of here if they think they can fly somewhere else and get another dollar. We have to work with them, we have to build relationships, but that takes the entire community."
2015. April 29. Tourism ambassadors, school volunteers and "heroes of hospitality" received recognition last weekend for their contributions from the Bermuda Tourism Authority, in tandem with the Bermuda Hospitality Institute. More than 150 members of the hospitality industry were commended at The Fairmont Hamilton Princess as the Island nears 400 people who have attended status as certified tourism ambassadors. The hospitality and friendliness of Bermudians stood out in visitor surveys as the most memorable aspect of their trips, with tourists relying on the recommendations of locals for where to go and what to see and do. According to a BTA statement, the data shows that "positive engagement with residents leads visitors to feel their vacation exceeded expectations". Karla Lacey, chief operating officer of the BTA, said the ambassadors' knowledge of Bermuda's history and its present-day offerings are what drive the Island's success as a destination. The Bermuda Hospitality Institute's "Hospitality Skills — Life Skills" school programme, offered to children at P4, P6 and M2 levels, was also recognized, along with the START programme — a "skills, tasks and results training" certificate programme through the American Hotel and Lodging Educational Institute, which is aimed at high school students aged 16 to 18. In addition, the community group Imagine Bermuda was commended for taking the nomination of April as hospitality month to champion local "heroes of hospitality."
2015. April 16. Air visitors to Bermuda have given the Island's public transportation system the thumbs up, according to a new survey. The Bermuda Tourism Authority survey revealed that 89 per cent of the air visitors that took the bus were satisfied with the service. Visitors were asked to rate their experience on a scale of one to 10, with the average score being 8.5 Meanwhile 97 per cent of the air visitors who used the ferry were happy with their experience giving a score of 7 or higher. The average score was 9.3 out of 10. The BTA presented the findings of the survey to unionized public transport workers today and thanked them for their efforts. "Public transportation is a very important link in the tourism value chain because it touches more than half of all air visitors," said BTA CEO Bill Hanbury. "On behalf of the Tourism Authority, and especially during Hospitality Month, we want to congratulate the men and women who work in the public transport sector for the role they're playing in creating a positive visitor experience. Friendly bus and ferry operators who are good at their jobs are true assets to the Bermuda tourism economy." BIU president Chris Furbert said union leadership is "basically pleased with the results of the survey. As president of the BIU, I personally take the time to meet and talk with all of our members, in particular our members who deal with the public, and stress to them the importance of providing optimum service to the public. I believe that all of our members are aware of the importance of tourism to our economy." This spring the BTA will use the visitor exit survey to poll cruise visitors on their satisfaction with public and private transportation options including bus, ferry, taxi and mini bus services.
2015. April 16. United Airlines has made a series of cuts to its Newark-Bermuda service that will start to bite at the beginning of September. The airline currently operates a daily service, but that will be reduced to a three days a week service from September 8 until November 17. From November 17 United's connection between Newark and Bermuda will end for the winter, but the winter schedule is still subject to further talks with the airline. The move is a blow to the Bermuda Tourism Authority and will have a detrimental effect on the airlift numbers for the end of the year. "United, like many other carriers serving Bermuda, has adjusted its winter scheduling in order to meet softening demand during the November through March period when airlines historically fill only 50-60 per cent of their seats to and from Bermuda," said Aaron Adderley, the airport's general manager. "That is not a sustainable level of performance when the industry average for load factors is in the 80 percentile range. While we can appreciate the need to reduce capacity during the winter, for United, we would have much preferred that rather than suspending service altogether for four consecutive months, perhaps a limited schedule of three to four flights per week would have been better served. Our other airline partners have adopted such an approach and this would have enabled us to at least partially meet the travelling needs of our leisure market, the business sector and residents alike." United Airlines will meet for talks with airport managers before the start of the summer to find ways of having a "more sustained presence in the market". The airline's Newark service to the Island resumed yesterday with a daily service after the winter suspension that started early last December. Mr Adderley added: "It's a tricky challenge because airlines want to see proof of increased demand before allocating additional capacity. On the other hand, it's hard to increase demand if there is no available capacity to begin with. This is proving to be a challenge for the Tourism Authority, especially as the seasonal loss of service out of Newark is thwarting efforts to secure group business, for example. However, when we look at our other air services, there are available seats during the winter especially and we need to prove that we can fill those before we can aggressively seek additional flights. We've been very successful in securing new flights in the past. And there's no question that the airlines will continue to respond and consider Bermuda for new services moving forward, especially when they see evidence of growth potential." Glenn Jones, the Bermuda Tourism Authority's director of public and stakeholder relations, said the BTA was still confident it could reduce seasonality and increase demand. But he acknowledged that was difficult to do when the number of airline seats available had been reduced. Mr Jones added: "Our CEO is looking to rally a coalition of private sector stakeholders to address the airlift issue and then partner with the government to make the strongest possible case to the airlines. "This past winter on the Newark and Philadelphia routes alone we lost 18,000 seats between December 1 and March 31. The airlines made those reductions based on a history of declining demand and those absent flights dealt a heavy blow to our efforts to increase demand in the first quarter. So we've been working urgently with government and other partners to avoid a repeat of this next winter. Meantime as the Tourism Authority increases demand in other parts of the year, it will be more difficult for visitors and residents to find airline seats at reasonable prices, especially if there's a further reduction in capacity. Supply and demand dictates that as planes fill, the scarce remaining seats become very expensive. So that alone makes the airlift issue a matter of importance for every single one of us, not just the Tourism Authority."
2015. April 15. A lesbian couple who were told they could not marry aboard a P&O Cruises luxury liner because of Bermuda's marriage laws have been left crestfallen. Jacqui Chapman and her partner were told that because the P&O ship is registered in Bermuda, the Island's laws — including the prohibition of same-sex marriages — are applicable on board their ships. A Government spokeswoman confirmed: "Ships that are registered in Bermuda must adhere to the laws of Bermuda which governs marriage ceremonies conducted aboard a ship." Ms Chapman told Diva magazine that she had been travelling with the liner since 2001 and had planned to have her dream wedding aboard one of the ships in September, but now they were having to make alternative arrangements. Ms Chapman told The Royal Gazette: "We were very disappointed when we heard. We had already booked a Caribbean cruise in November for 24 days and it would have been good to have our ceremony then. I have been on 30-plus cruises with P&O and feel irritated to say the least that while they are happy to accept our 'pink pound' they are unable to offer an equal service. I realize the difficulty is around the Bermudian law but it is unfair. They advertise 'marriage on our cruise ships', maybe at the bottom of their adverts contained in the small print it should say 'does not apply to same-sex couples.' We have already booked four cruises with P&O over the next year and I guess I will continue to use this company as there are very few cruise lines that sail from Southampton (UK) but the whole thing leaves a very nasty taste. We have decided to have a small ceremony locally with a handful of invited guests, then lunch and cocktails in our favorite restaurant and then we are having a party for all our friends and family." Members of the lesbian, bisexual, gay and transgender community reacted in anger via a thread on Diva's website, including a CH Brighton who said: "Oh dear. Another country wiped from my list of places to visit and another company whose goods or services I shall not be purchasing, Bye bye Bermuda. So long P&O." According to Diva magazine, P&O's Michele Andjel said: "We welcome all passengers on board. Unfortunately, Bermuda law prohibits us from conducting same-sex marriage ceremonies, but we can certainly offer same-sex vow renewals on board carried out by the captain." Other cruise ships that are registered in Bermuda include Princess Cruises and Cunard Cruises.
2015. March 27. Bermudian Paul Telford has been appointed managing director at the luxury Rosewood Tucker's Point resort. Mr Telford moves up from his present post as resort manager, a job he had held for two years, with a total of seven years at the St George's Parish hotel. He said: "I am beyond proud and humbled to be given the opportunity to serve as managing director of Rosewood Tucker's Point. The past seven years at this exceptional resort has been a tremendous experience and I look forward to taking on my new role. Mr Telford will replace Duncan Graham, who has decided to leave the job to take a year off to explore Italy. A company spokeswoman said: "Mr Graham has been a tremendous asset to Rosewood Hotels & Resorts over the past 11 years with the company, serving as managing director at three Rosewood properties. Mr Telford, from Somerset, previously worked in a series of senior management roles overseas, including a stint with the Four Seasons group in Washington DC and Punta Mita in Mexico. He followed his father into the industry and is a current board member of the Bermuda Tourism Authority. Rosewood President Radha Arora said: "Paul has done an outstanding job during his seven-year tenure at Rosewood Tucker's Point. We are extremely proud of his success and strongly believe that his passion for his native Bermuda will inspire our associates and delight our guests."
2015. March 27. A new four-day cultural event has been launched embracing a carnival atmosphere and celebrating Bermuda's heroes. The Bermuda Heroes Weekend has been a work in progress for many years but has finally come to fruition, thanks to the support of the Bermuda Tourism Authority and various other sponsors. The event, which will feature international soca acts, a Caribbean carnival-style parade and a boat raft up, is costing in the region $200,000 which includes performance fees and an overseas marketing campaign that hopes to attract carnival goers from the States and Caribbean. Bermuda Heroes Weekend Ltd is headed by Jason Sukdeo, aka "D'General", who has a long history as a DJ and putting on events in Bermuda. His team is comprised of avid carnival-goers with a collective 15 years' experience in producing events. The new committee, made up of Mr Sukdeo, Sandra Richards-Vance, Nalton Brangman, Jumaane Davis and Akbar Lightbourne, aims to hold a carnival in Bermuda on an annual basis. Mr Sukdeo said the company will be monitoring how many visitors the event attracts to the Island through online registration figures for parade participants, as well as through two surveys to be taken during and after the event. Pat Phillip-Fairn, chief product and experience officer of the BTA, said: "Carnivals around the world draw international visitors and Bermuda Heroes Weekend has the potential to do the same here in Bermuda. Importantly, we also recognise that Jason and his team are ensuring that Bermuda's event is sufficiently differentiated from others by highlighting local cultural elements. Bermuda Heroes Weekend will help introduce a new generation of visitors to what Bermuda has to offer, while celebrating an important national holiday." Mr Sukdeo added: "We are very excited to launch Bermuda Heroes Weekend. We feel that Bermuda will provide a phenomenal backdrop for this spectacular Signature Tourism Experience, which will rival those held overseas. As this is the event's inaugural year, we look forward to providing both locals and visitors with a unique experience never before seen in Bermuda." This year's event runs from June 12 to 15 and kicks off with a free soca show on Front Street, featuring a raft of international artists, including Kes The Band, Kerwin du Bois and Lyrikal. Local acts are the DIA Band and DJ Rusty G. The event starts at 7pm and ends at 1am. On the Saturday there will be a Parade of Bands starting at noon at the Morgan's Point property and guests are able to purchase costumes through the BHW website. Registration is required to participate in the parade and entrance to the venue for non-participants will be $10. A full list of bands is to be released in due course. The event will be followed by the J'Ouvert Celebration of Our Heroes, which runs through the night from 3am to 8am at the same venue. Organizers said: "This will be an epic standing J'Ouvert party where we will also recognise this year's hero. We look to watch the sunrise while partying to the sweet soca music." Part proceeds from this event will go towards the Chewstick Foundation. The event is for over-18s and identification will be required. On the Sunday, BHW will work with a number of promoters to provide entertainment to the public, including the Pans in the Park event at Victoria Park, in Hamilton. The concert will be made up of local and international pan players. The weekend will culminate in a Raft Up Day, which coincides with the Edward Cross Long Distance Comet Race on National Heroes Day. The race will begin in the west of the Island and end in the east with a finish in St George's Harbour. The raft-up will take place on North Shore outside of Admiralty House and Deep Bay. There will be entertainment and raft-up party boats leaving Hamilton at 11am.
2015. March 18. Developer Desarrollos Hotelco Group has signed a statement of intent with Starwood Hotels and Resorts, Tourism Minister Shawn Crockwell told the House on Monday. He made the statement while clarifying an answer he gave to the question in an earlier session of Parliament, when he stated that the Starwood Group had an operators agreement with the developer. Progressive Labour Party MP Lovetta Foggo had asked in the March 11 session what commitments the Starwood Group had made regarding the development of a new hotel at the former Club Med property, officially called the St George's tourism development site. Mr Crockwell provided clarification that the Starwood Hotels and Resort and Desarrollos Hotel group, the chosen developer for the St Georges tourism development site, have a signed term sheet and [the parties] are working towards finalizing the hotel management and related agreement over the coming weeks. It was explained that term sheet could be defined as the parties statement of intent. The Desarrollos Hotelco Group was selected from five companies to redevelop the 124-acre Club Med site. It maintains a low profile and does not appear to have a website. The proposed development includes a 238-room hotel and the renovation of the 18-hole, Robert Trent Jones-designed St Georges Golf Course. The resort will also include sixteen hotel residences, twenty-four golf villas, sixteen estate residences consisting of three and four-bedroom residences, spa and fitness centre, meeting rooms and ballroom, casino, swimming pools, pool bar and grill, a speciality restaurant. Attempts to develop the property included plans by Bazarian International Financial Associates for a Park Hyatt Resort, which was supposed to open in 2012. In October 2012, the contract was terminated and the Park Hyatt Hotel Act was repealed. Originally built as a Holiday Inn, it changed to Loews and was then taken over by Club Med. It closed in 1988 and was imploded in 2008.
2015. March 17. Billy Joe Tolliver, the former NFL quarterback, visited Bermuda for the first time this weekend, and said he was ashamed of himself for not coming sooner. Tolliver was on Island for a site visit ahead of next month's Bermuda Golf Classic at Port Royal Golf Course, and said he was "very impressed" with everything he had seen. An established member of the celebrity golf circuit in the United States, the former Atlanta Falcons player, has won the American Century Celebrity Golf Championship four times. Played at Lake Tahoe and televised, and owned, by NBC Sports the championship is now entering its 26th year. As such, Tolliver knows what it takes to succeed in putting on a tournament such as this, and believes Bermuda can establish an event of its own, something he said he was "already invested in making happen." "I like our chances on the deal because they [the organizers] are doing it right the first time," he said. "They're promoting it as a couples trip, there are going to be things for the wives and girlfriends to do. I think that's a very strategic move. Take away the golf and you still have a fantastic place for people to come and unwind." Word of mouth will play its part in the beginning, with Tolliver revealing that he got involved because Chris Mohr, the former Buffalo Bills punter, told him about the new event. According to Tolliver if Mohr, a good friend, "tells me the sun's not coming up tomorrow I'll sell my sunglasses." Tolliver added: "Originally I was just excited to come and see another part of the world that I've never been to. Now, I'm a little ashamed of myself that I'm 49-years-old and this is the first time I've come to Bermuda. I'll be coming back once or twice a year for the rest of my life now." It is exactly that reaction that Bermuda Tourism Authority, which is backing the event as a major sponsor, is hoping to get from the rest of the players who come in April. For Tolliver, who now works in the gaming industry, the main challenge will be convincing the players, and the fans that organizers hope will follow, that making the trip is worthwhile. "There are things you can do, perks, first night free, that sort of thing, that hit your bottom line where it's cost effective to do so, but where people walk away feeling good about the experience," he said. Ultimately Tolliver is confident that the Golf Classic can become a big draw, and will eventually get the National Football League on board when players, past and present, make it a permanent fixture on their off-season calendar. "The organizers are going to roll out the red carpet, and if you build it, they will come," he said.
2015. March 12. Emerging from the ocean dripping wet after a 20-foot cliff jump, Bill Hanbury explained that adventure is what the young millennials are looking for in a vacation. The Bermuda Tourism Authority chief executive officer joined a team of his employees to take the plunge at the popular cliff jumping spot Admiralty Park to highlight Bermuda winning the accolade of Best Island in Outside magazines annual Best of Travel awards. Mr Hanbury said he has done cliff jumping in Bermuda on many occasions and says it is just the sort of activity that the young, adventurous traveler is seeking and that Outside magazine has recognized in its selection. He told The Royal Gazette: It's great fun and this is typical of what people can do when they come to Bermuda. The whole island is a tremendous adventure experience and I think Outside magazine's recognition is really important to us, this is a global magazine, a global audience and to have that kind of designation is really powerful stuff. This type of experience is aimed at what we call the young millennials who are the new generation of visitors to Bermuda. What they want is an experience that is not curated, that they can just go out and do without having to take a tour because the global visitor doesn't want structure. That is why Bermuda is so great because the whole Island is a resort in itself. From a safety perspective and an adventure perspective' it just doesn't get any better than this." Bermuda picked up Outside magazines top Island accolade after travel veterans, largely made up of travel writers and editors, scoured the globe and made their final submissions. The magazine, which sells almost 700,000 copies per month, gave a glowing account of Bermuda. It said: "With a mild year-round climate located less than two hours from numerous East Coast cities, Bermuda has become a mecca for those seeking diverse adventure on land and water. Thrill-seekers cannot miss cliff jumping and cave diving; other visitors are enamored with SUP yoga and snorkeling. Bermuda has also increasingly become a training destination for both amateur and professional athletes, with a series of races and competitions attracting entrants from around the world. The Island most recently won the distinction to be home to the 35th Americas Cup in 2017. Events begin on-island this year, with the Americas Cup World Series racing event from October 16 to 18." Outside editor Chris Keyes added: "Outside has been covering the adventure-travel beat for nearly four decades. We know this terrain, and now we've narrowed your choices of hotels, destinations, outfitters, and travel gear from approximately 10.6 million to 40. The final choice is still on you, but now the task is at least manageable. The full list of winners will appear in next months issue and will appear soon. The magazine edition will be available on March 17.
2015. March 12. The construction of a resort at the former Club Med site will not commence in May but later this year, Tourism Minister Shawn Crockwell informed the House of Assembly. The timeline announced in December for the long-awaited development changed due to extended negotiations, Mr Crockwell said. Questioned at length by Opposition Members of Parliament yesterday, Mr Crockwell said: "We are still looking to have ground broken this year — hopefully toward the end of summer." His remarks followed extensive questioning about the Bermuda Tourism Authority that sparked a rebuke from Speaker of the House Randy Horton. Mr Crockwell told Zane DeSilva, the Shadow Minister for Tourism, that a switch from the original brand company to the new St Regis hotel brand had delayed the Club Med development from starting as soon as hoped. A deadline for full financing of the development has been set for "the early part of May." Starwood Hotels signed an operator's agreement with the developer, Desarrollos Hotelco Group, "within the last few weeks", Mr Crockwell told the House. He said he was informed at the time by Ronald Sutherland, the American consultant who represents the Bermuda Government. Mr Crockwell also told MPs that the Government was not privy to all details of the agreement between the developer and the hotel brand. He said the agreement was based in part on unspecified development and operating concessions for the project in St George's. Questioned by Opposition Leader Marc Bean, the minister said a government contingent had met recently with local banks to discuss the debts in connection with the development. The developer has committed more than 50 per cent equity in the property, Mr Crockwell added. "There are discussions between the brand and the developer in terms of equity, which I am not in a position to discuss," he said. It closed a lively round of questioning in which Progressive Labour Party MPs reacted with surprise when the tourism minister told them that the landlord for the Bermuda Tourism Authority had not disclosed to the Government the square footage of the space rented to the BTA. Mr Crockwell said the landlord, Washington Mall Properties, had declined to share full details with him because it was "commercially sensitive information", but he agreed to an Opposition request that he ask the BTA to measure the space themselves. Repeated questions about the BTA's $180,000 interest-free loan to the Whitfield Group to replace its Front Street venue tent, which was destroyed in last October's hurricanes, were eventually turned down by Speaker of the House Randy Horton, who said PLP members were asking the same questions repetitiously. Protests from Mr DeSilva eventually prompted Mr Horton to summon the sergeant-at-arms, whereupon Mr DeSilva took his seat. Opposition MP Derrick Burgess told him: "The reason we get so many questions is we don't get any answers. We have an obligation to the people of Bermuda." Mr Horton responded: "If the answers are not what you expect, or if there is no answer, we can move on without receiving answers. The people will be able to judge." In particular, PLP MPs queried why insurance had not been in place for the tent. Mr Crockwell said he did not know where such information had come from, but told the House that the BTA had given out many loans for tourism-related services. Whitfield Group had more than 20 events planned when the tent was destroyed, and needed assistance quickly, he said. The loan, which covered the cost of a new tent plus shipping and equipment, will be repaid by April 30. Asked about gaming commissioners, the minister said three were working without pay; a total of five will be appointed. He said he did not believe the current commissioners would be retroactively paid. An overseas commissioner has not yet been identified, but will not reside on the Island — instead travelling to Bermuda for meetings. Regulations for the gaming commission are still being drafted.
2015. March 7. Bermuda Tourism Authority staff who meet performance objectives are eligible for bonuses of five to 30 per cent of their baseline salary, Tourism Minister Shawn Crockwell told the House of Assembly yesterday. "As of this morning, I was advised that no one in the executive of the BTA, including the CEO, has received a bonus. There have been bonuses paid to staff based on their contract." Responding to questions from Progressive Labour Party Member of Parliament Derrick Burgess, the minister said the CEO, Bill Hanbury, was technically qualified for bonuses of 30 per cent. Mr Hanbury recently revealed that he earns $295,000 per year, and gets a $75,000 annual housing allowance. Stressing that the BTA was an independent body and that he did not control its accounts, Mr Crockwell was unable to give the precise number of staff who had taken bonuses under the authority's performance incentive programme.
2015. March 7. (Reuters). A bottle of wine recovered intact four years ago from the 1864 wreck of a Civil War blockade runner that sank off the coast of Bermuda was uncorked and sipped by a panel of experts yesterday during a food festival in Charleston, South Carolina. The verdict: "A heady sulfur bouquet with distinct notes of saltwater and gasoline." The wine was uncorked at a Charleston Wine + Food event titled "From Deep Below: A Wine Event 150 Years in the Making." attended by Bermuda Tourism Authority representatives. About 50 people bought tickets to watch as a panel of wine experts decanted and tasted it on Friday evening, organizers said. "I've had shipwreck wines before," master sommelier Paul Roberts said. "They can be great." This one, obviously, was not. To peals of audience laughter, the panel said the cloudy yellow-gray liquid smelled and tasted like a mixture of crab water, gasoline, salt water and vinegar, with hints of citrus and alcohol. "It could have been a Spanish fortified wine, a spirit, or medicine. But after 151 years at the bottom of the ocean, it's now mostly saltwater," they said. Wine chemist Pierre Louis Teissedre of the University of Bordeaux who had analyzed samples drawn through the cork earlier said the "nose" of the wine was a room-clearing mix of camphor, stagnant water, hydrocarbons, turpentine and sulfur. "Analysis showed it was 37 percent alcohol," he said. The wine was one of five sealed bottles recovered by marine archaeologists from the Mary-Celestia, an iron-hulled side wheel steamship that sank under mysterious circumstances during the U.S. Civil War. "The boat was leaving Bermuda with supplies for the Confederate states when it struck a reef and sank in six minutes," said Philippe Rouja, a cultural anthropologist and custodian of historic shipwrecks for the Bermuda government. Whether the sinking was deliberate or accidental has been debated. Rouja and his brother, Jean-Pierre Rouja, were diving on the shipwreck in 2011 after winter storms swept over the site when they found a bottle of wine inside a secret boatswain's locker in the bow. "Subsequent dives turned up the additional bottles, as well as sealed bottles of perfume, women's shoes, hairbrushes and pearl shell buttons," Philippe Rouja said. This year marks the 150th anniversary of the end of the Civil War, which was fought from 1861 to 1865 and began in Charleston Harbor with the Battle of Fort Sumter.
2015. March 2. A French master sommelier will reveal the results of his investigations into the origins of wine discovered on board the wrecked Mary-Celestia, at the Charleston Wine + Food Festival this week. The Bermuda Tourism Authority (BTA) said the wine will complete its 150-year journey at the Charleston event, which will take place on Friday, March 6, at 4pm. "During the height of the Civil War in 1864, a blockade runner ship, the Mary-Celestia, was on her way from Europe to South Carolina via Bermuda. She sank under mysterious circumstances off the coast of Bermuda, but a storm in 2011 revealed one of her secrets. Hidden in her bow lay a personal haul of contraband including a case of fine wine that was incredibly still intact. The rest of the story' will be revealed as the wine completes its 150-year journey and is delivered to Charleston during the Festival." Bermuda's Custodian of Wrecks, Dr Philippe Rouja, who was on the 2011 dive that recovered the wine, will also make a presentation to festival goers at the $50 per ticket event. This, the BTA stated, will promote "Bermuda's lure as a world-leading shipwreck dive destination". There will be two sold-out Bermuda-focused culinary and cultural heritage events, which the BTA describes as the result of a promotional partnership. "Wine, wreck diving, intrigue and storytelling are on tap at one wine event, while culinary talent, musical entertainment and celebration will be served up at the Sunday Gospel Brunch." BTA chief sales and marketing officer Victoria Isley was quoted stating: "As foodies from around the world converge on the historic American city, they will savor Bermuda's flavors and hear about one of the Island's modern-day treasure hunt stories. This type of experiential marketing and storytelling brings the Bermuda experience to life for potential travelers. In addition to Bermuda's underwater heritage, the Island's culinary legacy will also be on display at the popular Sunday Gospel Brunch. The BTA is the sponsor of the brunch, where Bermuda and Charleston chefs will create a family-style feast under the joyful hum of a live gospel choir along with the soulful sounds of Bermuda's own Joy T Barnum." Bermuda's side of the brunch menu are represented by Michiko Campbell, of Royal Bermuda Yacht Club; Andre Greene, formerly of Greg's Steakhouse, Karsten Krivenko, of Tribe Road Kitchen and Douglas Sisk, of The Reefs. The statement said the BTA's strategy is to strengthen arts and culture tourism in Bermuda, including the island's shipwreck heritage and culinary traditions. "The Charleston Wine + Food Festival was identified as a strategic opportunity to further these objectives based on a number of factors.
2015. February 26. Winning Restaurant Weeks chef Enworth Davis, of Muse, said he was stimulated by the Bermuda-inspired element of the event this year. The culinary event organized by the Bermuda Tourism Authority culminated in the peoples choice award ceremony held in the Bermuda Gas Showroom yesterday morning. In second place was Chad Mitchell of Red Steakhouse and in third was La Trattoria's Angelo D'Amato. The top three were each winners in their own price categories La Trattoria ($29), Muse ($39) and Red Steakhouse ($49). The Bermuda Tourism Authority's chief product and experience development officer Pat Phillip-Fairn said the 2015 event was the best Restaurant Weeks in its four-year history. It was also the largest with 44 participating restaurants, she added. It was decidedly more authentic. "We challenged the participants to have Bermuda-inspired menus and Bermuda-inspired dishes and 31 of them rose to that challenge." The award ceremony marked the official end of Restaurant Weeks 2015, which offered diners special discounts on set menus. Ms Phillip-Fairn said the event was just one of many culinary focused events being organized by the Bermuda Tourism Authority in the year ahead. "Culinary tourism is an untapped opportunity for Bermuda and our local food culture is a rich story waiting to be shared. Every restaurateur we have spoken to thus far has said that this year was an improvement on years past. Some restaurants extended the promotion to take advantage of the momentum they were feeling as word spread."
2015. February 24. The Bermuda Tourism Authority remains cautiously optimistic about prospects for the next 12 months despite seeing its budget cut by $1.4 million. At $21.7 million, the proposed budget for tourism in 2015-16 is the lowest in more than 30 years. But the authority's CEO, Bill Hanbury, said his team was upbeat and determined to improve the taxpayers return on investment by growing the industry. "The figure for 2015-16 is also half what the government allocated to tourism in 2007, during a period when visitor arrivals peaked," said Mr Hanbury. "Of course, like any other publicly funded entity in the same situation, the BTA wishes it had a larger budget to invest in the tourism economy, especially as the Finance Minister highlighted our industry as the economic engine poised for growth. Above all else though, we understand the financial restraints Government faces. Once the budget is passed in Parliament, our focus remains: improving taxpayers return on investment by growing the tourism economy. Our rally cry is investment and growth. A budget of this size will only stretch so far, but our bottom line is about improving the return on investment on our taxpayer allocation, spending less to generate smarter results and growth in the overall tourism economy. This was true before the presentation of the Budget and its true afterward as well." The 2014 tourism budget of $23.1 million generated $280 million in air visitor spending and contributed to Government tax coffers and tourism industry businesses. Mr Hanbury said the BTA would work to boost air arrivals to Bermuda, increase the amount air and cruise visitors spent on the Island, and attract new off-island investment. "One of the BTA's untold successes is the manner in which it is efficiently managing taxpayers money while simultaneously raising the level of performance. For the recent Pink Sale, an online marketing promotion, the BTA spent the exact same amount that was spent by the Department of Tourism in 2014, but got far better results. Confirmed hotel bookings were up 45 per cent and room nights up 24 per cent. The estimated economic impact for the country is an increase of $813,000. Perhaps most importantly, the return on investment was 16:1. We can and will replicate this performance throughout our marketing efforts and beyond. Meantime, the days of first-class travel, limousines and expensive hotel suites were over for Bermuda tourism officials the moment the BTA moved in. The days of paying outlandish fees to multiple PR firms and ad agencies with little results for it are also over. Now, all the investments are towards supporting and marketing what is truly Bermudian its people, its culture and its heritage."
2015. February 12. Bill Hanbury has disclosed his salary package to prevent it from continuing to detract from the positive work of the Bermuda Tourism Authority. By revealing that he earns $295,000 per year and receives a $75,000 annual housing allowance, the BTA chief executive officer said he hoped that he and his team would be left to focus on rejuvenating the tourism industry and creating jobs for Bermudians. The CEO's salary was not made public when he was appointed in January 2014, which prompted Opposition criticism and condemnation in the House of Assembly from MP Wayne Furbert, who said: "Not only salary, does he get free housing? Does he get travel? Is it first class, business or economy? Does he get a phone? Does he get a car? Speaking to The Royal Gazette, Mr Hanbury also revealed the salary range of his four-strong senior team as further evidence of a desire to provide transparency and accountability. Mr Hanbury said he had previously been prevented from releasing his salary under a confidential agreement with the BTA board, but had approached the board to ask for permission to release the figure. "I had a confidentiality agreement with the board that prevented me from releasing the figure and I did not want to breach that agreement. That was not my idea, but I honored their wishes. "I have gone to the board now to get their approval to break that agreement because my salary has become a distraction. We have to stop politicizing the tourism marketing. This one organization has the opportunity to create jobs. People should stop thinking about all the other atmospheric interference and think about the BTA and the jobs it can create." Mr Hanbury revealed that the BTA's senior executive team of Pat Phillip-Fairn, Karla Lacey, Victoria Isley and Roland Andy Burrows received annual salaries of between $175,000 and $275,000. The CEO, together with Ms Phillip-Fairn, the chief product and experiences officer, Ms Lacey, the chief operations officer, Mr Burrows, the chief investments officer and Ms Isley, the chief sales and marketing officer, all have the potential to earn a 30 per cent bonus based on "strict performance parameters." According to US tax forms posted on the website of his previous employer, the United Way of the National Capital Area, Mr Hanbury made more than $358,000 in direct compensation, in addition to another $58,000, which is listed as the "estimated amount of other compensation from the organization and related organizations."
2015. February 11. The Bermuda Tourism Authority has rolled out a new "Advocacy" section on its website designed to empower the public with more information about the Island's tourism economy. Web visitors will find historical performance data, economic impact figures, information on hospitality jobs and a retrospective on the hotel industry. There is also forward-looking information on the Tourism Ambassador Programme and a snapshot of the Tourism Appreciation Programme. "This rollout is consistent with the kind of information destination marketing organizations around the world provide to the public," Karla Lacey, the BTA's chief operations officer, said. "The objective of an advocacy section is to provide reliable data to a variety of constituencies, including tourism industry stakeholders, those considering a move to the tourism industry and the general public who we hope to meaningfully engage in public discourse about tourism." The data is not intended for the Bermuda travel consumer, but instead industry stakeholders, so the information will sit on the BTA corporate website under the "Advocacy" tab. There are eight section pages under the tab: economic impact, hotels, industry jobs, visitor arrivals, tourism budgets, tourism appreciation, tourism ambassadors and frequently asked questions (FAQ). The FAQ section is not new to the website, but has been updated given the new programmes and strategies devised by the BTA over the past ten months. "Much of the information in our 'Advocacy' section existed in the public domain in one way or another," Ms Lacy said. "Gathering it in one place allows all interested parties easier access to what they may need to make decisions or to be fully engaged. Our plan is to consistently grow and update this section with the most relevant information we have so that the public is empowered to help us grow the industry."
2015. February 10. Bermuda's tourism industry remained stagnant in 2014 with a nominal 0.8 per cent increase in total visitors to the Island. However, the Bermuda Tourism Authority (BAT) has vowed that 2015 will be the decisive year in building air arrivals, which tumbled by 5.1 per cent last year. Although the year-end visitor arrival statistics released yesterday showed visitor spending down by 11.3 per cent to $280.2 million, and individual tourist spending down 6.6 per cent, the BAT remains "upbeat" about growth this year, according to Bill Hanbury, the chief executive officer. For every dollar spent by a cruise visitor, an air visitor spends $11 on the Island — and boosting those numbers depends on "targeting the right people with the right message at the right time", said Victoria Isley, the BTA's chief sales marketing officer. Arrivals by sea increased with cruise ship passengers up 4.7 per cent and yacht arrivals up 24.6 per cent. The hike in yacht arrivals can be largely attributed to the biennial Newport to Bermuda Yacht Race. A 6.9 per cent decrease in American tourists who make up the majority of our visitor base made a dent in the air arrivals, although visitors from Canada increased by 5.5 per cent. The BTA, launched in April 2014 to help to boost the industry, predicts growth in the year ahead. A new marketing strategy focusing on "experiential travel" as well as working with media and travel partners, the BTA says, is "starting to take root". Mr Hanbury said: "Last year was a year of transition for the Tourism Authority. We worked very hard to produce positive results in 2014, but we had less control over the outcome than we would have liked. In 2015, the BTA team started executing the plan we presented to stakeholders at the Bermuda Tourism Summit. Many of those stakeholders have told us they're upbeat about the prospects of that plan and internally we're upbeat on the strategy as well." He said the organization had "totally embraced the big challenge of reversing 30 years of tourism decline — the leadership and whole team are really determined that 2015 will be the year the downturn is reversed". Mr Hanbury said the BTA was adapting to a small tourism budget, using its resources to woo specific target groups. Experiential travel focuses on combining authentic stories from Bermuda with targeted retail promotions. One such promotion is the Pink Sale featuring up to 50 per cent room rate discounts at participating hotels. In the first quarter, the sale showed a rise for this year, the organization reported: reservations were up 45 per cent while room nights rose by 24 per cent — generating a modest increase in takings of $813,000 over last year's figures. The organization plans to highlight the Island's vacation rental market, as well as cultural tourism for the East End. The BTA also mentioned it will be working with a new advertising agency partner in the United States and Canada markets, and has taken on new social media and public relations firms. Ms Isley said the BTA's Instagram campaign in tandem with Travel and Leisure had proven the most successful of its kind that the magazine had ever done with a partner. Emphasizing the Island's proximity to New York markets and its separateness from the Caribbean helped sell the Island as a unique destination, closer to the US than would-be travelers might know. With Bermuda just a 90-minute flight from New York, she said the Island competed more with a seaside resort like the Hamptons at the end of Long Island, rather than Caribbean destinations. "The real strategy is to get into the hearts and minds of the right travelers," she said — adding that the BTA was adapting its marketing messages to individual airlines. Other measures designed to enhance the product include a review of the Bermuda vacation rental market, the growth of the Island's ambassador programme and proposed improvements to the visitor experience in St George's. "With the right, properly researched experiences in 2015 we can impact the visitor spend number in a positive way," Mr Hanbury added. Although the primary focus is on air arrivals, the BTA also aims to get cruise visitors spending more on the Island by connecting them with "the kind of only-in-Bermuda experiences they can't get anywhere else". A complete performance review of the BTA's activities in 2014 will be presented to the public in the BTA's annual report due this spring. Whatever the outcome, the Island is unlikely to see a return to the spring break throngs that used to descend during College Weeks — but Bermuda's climate could potentially be a sell for college sports teams to train during the winter months. "Dartmouth College in New Hampshire right now has two feet of snow on its lacrosse field," Mr Hanbury said.
2015. February 7. The Bermuda Government has moved to quell concerns that repairs to the Dockyard wharves and their surrounding infrastructure will not be completed by the start of the cruise season. Both Heritage Wharf and King's Wharf sustained significant damage during last October's hurricanes, while parts of the cruise terminals and roads around the wharves were demolished. That the significant repair work has not been started yet, only seven weeks before the beginning of the cruise season, has prompted concern from some quarters of the Island's shipping industry. But a spokesman for the Department of Works and Engineering told The Royal Gazette that construction would start in the "coming weeks". The spokesman said: "While the cruise ships' schedules arrivals in little over seven weeks, it is not necessary to have both wharves occupied at that time," said the spokesman. "We are working closely with the Habour Master to schedule the berthing in order to accommodate the necessary repairs which will keep King's Wharf clear until the end of April. The works are scheduled to be completed prior to the arrival of the cruise ships, however this is weather-dependent. In the next few weeks, we will be in a position to evaluate how much spare time we have for completion of the works. At present we are confident that we have sufficient time to undertake the necessary repairs so as not to affect cruise ship arrivals." The 2015 cruise schedule indicates that the first liner to arrive in Dockyard will be the Riviera, which is due to berth at King's Wharf on April 4. A further six cruise calls are scheduled in the West End for April. According to the Bermuda Government, repairs are still required to the breakwater, above and below water, the North Arm pavement, utilities, fendering equipment, and the arrivals and departures buildings. The reattachment of cruise ship fenders to both wharves also needs to take place. "The fenders have been recovered and will be replaced in due course," the spokesman said. "It is more cost-effective to have a contractor working on the site for the main repair works undertake this task rather than mobilizing for the works separately at additional cost. While repairs to the terminal building are not the responsibility of Ministry of Public Works, we are aware of the need for this work to be completed. This is subject to an insurance claim and the insurers are assisting Government in ensuring that all works are completed without unnecessary delays and importantly completed before the cruise ship arrival. These buildings are not in use and hurricane repair works must be prioritized accordingly." The extensive damage to the North Arm has been caused by wave action and erosion of the breakwater, according to the Bermuda Government. "To repair this correctly, a detailed investigation and marine engineering solution has been undertaken," the spokesman added. "Construction drawings and specifications are with this ministry for approval and works will commence shortly. It has been only three months since the damage occurred, the timescale available for repairs is short, but this is no reason not to undertake them correctly and ensure that the repairs will withstand a future storm event. It is the responsibility of Government to ensure that works undertaken are both effective and cost-efficient; this is also a requirement of the insurers. Inadequately designed and uncertified repairs would potentially invalidate future claims. Far from there being no work done, the Government last year procured and completed investigation and inspection works, including bathymetric surveys and dive inspections in accordance with Financial Instructions and to the satisfaction of the insurers. To date, this essential information has been used to enable the design of the remedial works which have been translated to construction drawings and specifications."
2015. January 30. The impending opening of the largest resort in the Caribbean is not likely to be a threat to the Island's tourism product, according to the Bermuda Tourism Authority. The new mega resort, the Baha Mar, on Nassau, Bahamas, will boast art galleries, a nature reserve and more than 50 restaurants. It cost billions to build and has its own golf course along with more than 2,000 rooms. Marketed as "the new Riviera", there are four luxury hotels in the development, which includes the 1,000-room Baha Mar Casino and Hotel, the 700-room Grand Hyatt, the 300-room SLS LUX, and 200-room Rosewood hotel. The website states: "Baha Mar is the largest single-phase luxury resort project in the history of the Caribbean and the most substantial in development in the Western Hemisphere. The $3.5 billion development is slated to begin previews March 2015, culminating with its grand opening on March 27, 2015." Gambling is a key piece of the business plan. The website adds: "Baha Mar Casino & Hotel will be home to over 100,000 square feet of gaming excitement. Featuring 1,500 slots and 150 table games, the casino floor will rival the best around the world." The Bermuda Tourism Authority (BTA) said while the organization does see some Caribbean destinations as competitors, it does not view mega-build resorts in the Caribbean as competition. In fact, Bermuda could be seen as being "one big open-air resort." Glenn Jones, the director of public and stakeholder relations for the BTA, said: "We aren't really competing with them. Bermuda has a very different product and we need to focus on differentiating ourselves from these huge new developments. For example, many resorts to our south have moved to mega-build, fully integrated resorts which limit the visitor's fuller island and cultural experience. In Bermuda, we're one big open-air resort. Guests are welcome everywhere. When they leave Bermuda they talk excitedly about meeting friendly Bermudians on a bus ride or grabbing a sandwich at Art Mel's. "This is part of the reason the Authority identifies Bermuda as a unique destination in the North Atlantic and not in the Caribbean. Our geography is a significant competitive advantage, especially when it's added to our intertwined culture of Island soul and British charm. That's not to say we don't need new hotel product. We do. The BTA investment division is focused on that in tandem with the Ministry of Tourism Development and Transport. We're encouraged. We believe there are enough positive indicators in the market at the moment to get projects in the pipeline off the ground. Those projects are of the right scope and style for Bermuda."
2015. January 25. Bermuda is set to be highlighted on the cover of the February issue of international travel magazine Condé Nast Traveler. The issue — known as the Romance Issue — is expected to land on North American newsstands in the next few days and could reach a print audience of 3.5 million readers internationally. The magazine's website, meanwhile, receives 2.6 million unique visitors every month. The cover story for the magazine, "Visiting Bermuda on the Eve of Major Developments" by Lindsay Talbot, remarks on the Island's unique fashion sense and personality while noting the looming 2017 America's Cup. In the article, Ms Talbot details her experiences staying at the Coral Beach & Tennis Club, noting that she and her family are repeat visitors to the Island. "Yes, this 21-mile oasis on the same latitude as Shanghai and Charleston — discovered by Juan de Bermudez, a Spaniard, but under British rule since 1612 — is a time warp of English gentility that has long seemed impervious to change. Men, who could either be just off the links of the Mid Ocean Club or heading into the office, stroll through the narrow streets of Hamilton, the capital, wearing pastel shorts and knee-high socks. Along Front Street are rows of colorful little stores — from the Irish Linen Shop, with its bright-yellow wooden shutters, to the sky-blue headquarters of Gosling Brothers Ltd, the rum manufacturer that invented the Dark 'n' Stormy. The English Sports Shop sells kaleidoscopic stacks of madras shirts, neckties, and, of course, Bermuda shorts and knee socks in shades as bright as the island itself." However, Ms Talbot also expresses some concern that the Island could lose some of its charm with the coming hotel developments and redevelopments, saying: "There are only a few places left in this world that you can return to, again and again, and still find unchanged — Bermuda has long been one of them." Victoria Isley, the Bermuda Tourism Authority (BTA) chief sales and marketing officer, said: "Earned media like this cover story in Condé Nast Traveler is a big victory in our strategy to get consumers dreaming about Bermuda. The cover of Condé Nast is literally a priceless placement — highly coveted, can't be bought. To earn this kind of coverage documenting the next chapter in Bermuda's tourism story from a pre-eminent publication like Condé Nast is a testament to the positive direction Bermuda is heading. That the writer has such a personal history with the island and represents the next generation of travelers to Bermuda is a real bonus." The BTA noted that the Island has been featured in numerous other publications in recent months, including the New York Times, Travel+Leisure, BusinessWeek, Men's Journal, USA Today and TravelChannel.com. The Authority also recently hosted Triathlete Magazine for a multi-page spread in the magazine's annual swimsuit issue, expected to reach newsstands in July. "Ms Talbot has highlighted what our members and guests love most about Bermuda and about the property — the history, and the elegant, easy comfort," said Nik Bhola, the general manager of Coral Beach. "We are committed to staying true to that philosophy, even as we upgrade and renovate."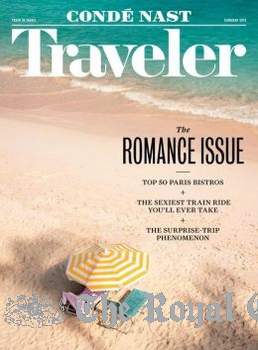 2015. January 24. Eight colleges from the United States are sending golf teams to the Island in March to compete in the Bermuda Collegiate Invitational tournament. The event, part of the Bermuda Tourism Authority's plan to increase sports tourism to the Island, is scheduled to take place at Port Royal and Rosewood Tucker's Point on March 23 and 24. However, with the Bermuda Open also scheduled to be played at Port Royal from March 23 to 26, it seems more likely the college event will be held elsewhere. The eight Division Three colleges who have accepted the invitation to play in the tournament are: Berry, LaGrange, Piedmont, Hampden Sydney, Roanoke, Randolph Macon, Shenandoah, and Greensboro. March is shaping up to be the Island's busiest golf month of the year. Along with the new college tournament and the Bermuda Open, the month begins with the Bermuda Match Play Championship on March 3, at Mid Ocean Club, and finishes with the Grey Goose World Par 3 National Championship at Turtle Hill Golf Club.
2015. January 22. Higher visitor numbers during the America's Cup, a certified tourism ambassador programme, and job prospects were some of the areas tackled during the Tourism Summit's afternoon session yesterday. Chief executive officer of the Bermuda Business Development Agency Ross Webber said that Bermuda needed more flexibility in terms of pricing for flights to the Island going forward. He said; "Airlift, as far as its concerned from a business perspective, is hugely important but also certainty is important. We need to do an awful lot more now with the airlines to ensure that we have guaranteed flights and guaranteed routes to ensure our business partners know they can come back to Bermuda. It's a very important point from a business perspective. We also need to do an awful lot more with British Airways in particular at the back of the bus to get increased airlift. The front part of the bus is fine where most of the business goes but nowadays as margins decrease you will find businesses travelers looking to use the back of the bus to fly to Bermuda. And the way the price structure is right now it is a deterrent and people are not coming to Bermuda as much as they would. From a business perspective they are going to use Skype." During a panel discussion led by BTA's communications chief Glenn Jones, there was much discussion about the benefits of a new airport which was announced in November of last year. Little was mentioned about the contentious decision by Government to choose Canadian Commercial Corporation for the project but much was mentioned about the overdue need for a facility. General manager of Airport Operations Aaron Adderley said: "I think it [the America's Cup] is going to be a game changer for us. Over the past few years it's been very difficult to have air services development type conversations with the airlines because we are dealing with results that have not been a product we need it to be. What the America's Cup is going to do is provide a stimulus effect at the airport. We are already in discussions with the airlines about what sort of capacity we are going to have to put in place to support the event and the lead up to the event. When we go out to market to try and secure the financing we are going to have to be very influential and convincing in our discussion because we are going to show numbers that support a 20 or year 30 year decline and we are going to have to convince managers that we are going to turn things around. The America's Cup is going to help us in that argument. The other thing that is going to work in our favour is the hotel developments that are about to take place. All those things coming together will all make our case a lot easier." Bermuda Tourism Authority chief operating officer Karla Lacey outlined the National Service Standards Programme where participants can achieve a Certified Tourism Ambassador designation. The CTA is a recognized DMO Certification. Some 300 have already registered to become ambassadors while there is capacity for a further 200 to sign up. The purpose of the programme is to help visitors get the most out of their destination while helping to promote local business. A prerequisite to gaining the certification is the Blue Flag 101. The Blue Flag Ambassador programme has been running for more than a decade. The course, Blue Flag 101, has been condensed into 12 hours as opposed to five weeks and involves annual refresher courses. Ms Lacey said: "Turning people into tourism ambassadors is about building pride in the destination and a deep level of knowledge about what Bermuda has to offer." As for business prospects and jobs in the run up to, and during, the America's Cup, executive director at the Bermuda Economic Development Corporation Erica Smith said it is essential that Bermuda's businesses position themselves adequately. "We are hearing excitement from small businesses and the opportunity for them to participate. I think it is about being able to get that contact or network or be positioned enough to be to take advantage of it. We have already started to collaborate with the organization to talk about how we can take advantage of the opportunities. We are positioning our team to being one of those connectors." Anyone interested in getting involved in the America's Cup through their business or individually can contact visit americascup.bm or e-mail address info@americascup.bm.
2015. January 22. Holiday rental owners have a vital role to play in the revival of Bermuda's tourism product as well as the island's economy, according to Bill Hanbury. The CEO of the Bermuda Tourism Authority (BTA) told The Royal Gazette he had been amazed by the collaboration that already takes place within the vacation rental market. But he acknowledged that more could still be done to help this very important sector become stronger. Mr Hanbury's comments came after the end of a packed seminar at yesterday's Tourism Summit in which around 100 guest house and rental property owners as well as BTA representatives shared ideas on how the system could be improved. Mr Hanbury said he hoped that a new registry of Bermuda rental properties would be online by the beginning of June, this year. "It was a very positive session and there was a really good attitude in the room. These people are really important to the Bermuda tourism product and the Bermuda economy. Everyone realizes there is an issue that needs to be addressed; there needs to be some level of oversight but it should not be heavy-handed. The key thing about this sector is that the profits stay in Bermuda and Bermudian families are the ones that benefit. With the America's Cup coming to Bermuda we can not afford to let our vacation rentals stay in the same place. We need to make sure that whatever we want to do is done to a very high standard and makes the world say they really have their act together. And it's not just hotels, it's across the board." The vacation rental seminar was one of a series of breakout sessions at yesterday's Tourism Summit, which was held at the Southampton Fairmont Resort. The summit, which was attended by hundreds of residents and stakeholders, focused on tourism plans and initiatives for the year ahead. The BTA's chairman, David Dodwell, pointed to the formation of the BTA and announcements of new hotel developments as signs of significant progress towards renewing confidence in the tourism industry. But he caution that many more steps need to be taken to put Bermuda back in its place as a premier global tourism destination. Mr Dodwell added: "Big future steps will include: re-establishing Bermuda as a year-round destination, increasing the number of air arrivals, building hotel occupancy, attracting smaller cruise ships for Hamilton and St George's, plus nurturing more tourism-related businesses. The biggest step we still need to accomplish is assuring the creation of more family sustaining, upwardly mobile jobs for the Bermuda citizens that needs those jobs the most, the underemployed and unemployed."
2015. January 22. Three-quarters of Bermuda's hotel chiefs believe that 2015 and 2016 will see a period of "meaningful growth in the industry" buoyed by the award of the 2017 America's Cup to Bermuda. And around two-thirds of the Island's hoteliers told KPMG they had expansion plans over the next 18 months, although respondents said that finding financial backing was "very difficult" compared to the Caribbean. The results came in the 2014 hotel benchmarking survey of hotels in Bermuda and the Caribbean, carried out by financial services firm KPMG. The survey covers hotel results in 2013 and finds that nearly a third of hotel chiefs believed 2014 occupancy figures would turn out to be better than the previous year. But optimism in Bermuda lags behind its Caribbean rivals, where nearly half of respondents said that 2014 would be a better year. The survey said: "When comparing Bermuda's results to the rest of the Caribbean region, Bermuda has a significantly lower average occupancy, but Bermuda's average rack rates were higher than the regional average. Revenue per available room is lower than the rest of the Caribbean as a result of the lower occupancy Bermuda experiences. Overall, the result give Bermuda hoteliers sufficient encouragement to believe that brighter days may be ahead, especially with recent positive news for the Island that Bermuda will host the 2017 America's Cup. While there has been healthy growth in occupancy, average daily rate and revenue per available room in the Caribbean in 2013, there was only slight growth in Bermuda occupancy, which increased from 57 per cent to 57.8 per cent. Bermuda did manage to increase rates more significantly, however, with average daily rate rising from $298 to $314, an increase of 5.4 per cent. The Caribbean increase in average daily rate, by contrast, was just two per cent." The survey found that major key performance indicators and good control of expenses had increased in Bermuda in 2013, leading to modest increase in departmental profits, despite a small decline in the number of tourist stopovers in Bermuda between 2008 and 2013. And the KPMG report said that hotel bosses were still concerned about the cost of operations, the high cost of travel to the Island and the fragile global economic recovery. But hoteliers backed the new Bermuda Tourism Authority's focus on the US as a key market as it provides just over half of Bermuda's vacation guests. Nearly 75 per cent of Caribbean competitors said they had plans to expand their businesses over the next year and a half, with more than half saying energy efficiency was a top priority. The survey said: "Although Caribbean hoteliers are more confident about the future than at any time since 2010, when we first started the initiative, Bermuda confidence is not as high. Our 2013 Caribbean survey struck a note of cautious optimism and we are gratified that this has proven to be the case. The long anticipated improvement in the Caribbean region's hotel sector appears to be moving closer and closer. While Bermuda's hotel sector appears to have made slightly less progress along the road to recovery, we await with optimism the impact of the America's Cup win on the confidence and profitability of the Island's hoteliers."
2015. January 13. Online travel company Orbitz Worldwide and the Bermuda Tourism Authority have teamed up for an online video series promoting the Island. The "Orbitz Originals: Bermuda " Proper Fun" series will consist of seven videos co-hosted by award-winning travel experts Richard Bangs and Lisa Ellen Niver. Together with hotel discounts of up to 20 per cent and flight/hotel package savings, the series is hoped to inspire more visitors to travel to Bermuda. Videos in the series will provide would-be visitors with an overview of the Islands various amenities, sights, resorts and dining opportunities. Victoria Isley, chief sales and marketing officer at the Bermuda Tourism Authority, said: "Short of visiting the island, there's no better way to showcase Bermuda's brilliance than video storytelling. Orbitz Originals brings the beauty and experience of Bermuda to a new generation of travelers and the videos are designed to inspire them to make their next trip to the island. As a trusted media partner and travel brand, Orbitz can also assist in the booking of those trips. From cliff jumping at Admiralty House Park and shopping the styles of the City of Hamilton to sipping a Rum Swizzle at the Swizzle Inn and enjoying a bite of the famous Art Mel's Spicy Dicy fish sandwich, the options for having "Proper Fun in Bermuda" are endless. The video series will be the eleventh installment of the Orbitz Originals series, which has previously highlighted Cancun, New York and Puerto Rico among other destinations. Past installments have been viewed more than 1.2 million times and, according to a statement, bookings to the destinations have seen double-digit growth over the duration of the campaigns. Josh Winkler, Orbitz Worldwide vice-president of partner marketing, said: "We want each new edition of the "Orbitz Originals" series to really capture the destination and use video to provide a unique perspective and inspire travelers to visit. In the case of Bermuda, Richard and Lisa combine their travel expertise to provide a fun look at this popular destination and give travelers a real sense of life on the island."
2015. January 7. Bermuda will be marketed as an Atlantic destination and not a Caribbean destination, and also as a year-round place to vacation. Chief executive officer of the Bermuda Tourism Authority (BTA) Bill Hanbury made the announcement yesterday to Hamilton Rotary Club. He said that Bermuda would capitalize on both its British heritage as well as its island soul, calling the merger of cultures proper fun. Mr Hanbury said that visitors love our British and island influences, and added that Bermuda's historic antiquities should be better promoted. "Consumers are interested in Bermuda's British traditions: tea time, cricket, focus on service," he said. "There will be no more invented events not reflecting Bermuda's true heritage, instead the Island should invest in, and nurture Bermuda arts, culture, history and cuisine. Additionally, there will be more focus on Bermuda's marine and nautical legacy, as well as its extraordinary natural and ecological resources. Global visitors desire sports and recreational experiences," he said, and pointed to a series of BTA initiatives. New plans to promote golf include an advisory board, an on-island concierge to ensure visitors can book tee times, and selective sponsorships generating room nights; scuba diving as an important niche market; providing a place for athletic teams in the shoulder season, including rugby, football, field hockey and swimming; fishing, sailing and boating go to our product core; running, cycling and triathlons play an important role. There would be no more talk of an off season and additional marketing resources would be allocated to the industry's shoulder periods. He said: "Our winter weather is delightful compared to the US, Canada and the UK. In Syracuse, New York, the January winter temperature is 24 degrees Fahrenheit, with 34 inches of snow, compared to an average Bermuda temperature of 63 degrees Fahrenheit." He said Bermuda should not be identified as a Caribbean destination because the Island has different seasons, a more moderate climate and less severe weather, although he made an exception for hurricane-hit 2014. He also pointed to shorter flight times from all key markets and a different consumer experience. Bermuda was not a destination for everyone, stated the CEO, and added the BTA would not "boil the ocean". Instead, they will position Bermuda as a quality destination for discriminating consumers. They would not waste marketing assets selling to audiences that won't buy Bermuda, and instead focus first on the north-eastern US, Canada, then the UK and finally Europe. Mr Hanbury had opened his speech painting a gloomy picture of Bermuda's hospitality industry which included a decline in air visitor arrivals of five per cent for 2014, but said the BTA had only been in business since April, and vowed to "own the 2015 arrival figures." He pointed to declining tourism related metrics from 1990 to 2013, with air arrivals down 46 per cent, spending down 53 per cent, tax revenue down 51 per cent and employment in the sector down 58 per cent. He said the right balance between cruise and air visitors is required for an equitable and thriving tourism industry. However, we receive the vast majority of our income from air arrivals, and pointed out that for every dollar spent by a cruise visitors, air visitors spent $11. Cruise visitors comprise 62 per cent of total travelers in 2012; however, they only spent $45 million of the $415 million that made up total visitor spending. In 2012, 53 per cent of people directly employed in tourism worked in hotels or similar establishments. "BTA submits it's necessary to increase cruise passenger expenditures and simultaneously increase air arrivals, the organization's top priority." He said that only the civil service and the wholesale/retail trades employ more people than the tourism industry and noted that as visitor spending has declined over time so have the number of jobs. The employment decline was dramatic, with a decrease of almost 50 per cent since 1990. Jobs declined from 6,178 at 1990 levels, to 3,748 in 2013, a loss of 2,430 jobs in the sector. Its negative effects were masked by job growth within the international business sector which more than compensated for the tourism job losses. Recent performance measures have shown a two per cent increase in hotel occupancy in 2013, and a 2.6 per cent increase in 2014, with the proviso that there is a reduced inventory which has impacted that number. However, air arrivals, which increased 1.8 per cent in 2013, declined five per cent in 2014. There was a one per cent increase in overall arrivals year-over-year, and a 4.8 per cent increase in the hotel average daily rate. Answering questions at the end of his presentation, he said that in dealing with airlines, they were either "at your throat or at your feet", depending on whether demand for seats was rising or falling. "They will do anything they need to do to make money," he said. Mr Hanbury said that tourism's contribution to the GDP was less than 10 per cent of the economy. "At one point we were at 50 per cent," he said. In the next decade, he hopes to see that number rise to 25-30 per cent. He also said that the recently passed legislation allowing for casino licences was not a deal-breaker but we think that casinos and gaming are important. He added: "It won't make the difference between success and failure of the of the BTA and the tourism economy. However; the legislation was important for hotel developers, and its another arrow in our quiver."
2014. December 15. Three Bermuda hotels have made Travel + Leisure's 2015 list of World's Best Hotels. Rosewood Tucker's Point, Cambridge Beaches Resort and The Reefs are all included in the list, the Bermuda Tourism Authority (BTA) announced. "This is a tremendous accomplishment for the entire workforces at these three fine properties," said Bill Hanbury, chief executive officer of the BTA. "To win recognition of this kind requires a hospitality product that is of the highest quality at every link of the service chain. The entire team here at the BTA congratulates the teams at Tucker's Point, Cambridge Beaches and The Reefs for this well-earned accolade." A BTA statement said that each year Travel + Leisure publishes a list of the world's 500 best hotels as determined by its magazine readers, whom they described as "well-read." The listed properties from Bermuda are categorized under the Caribbean region. BTA noted this was the first time Cambridge Beaches has been named to the list. Rosewood Tucker's Point and The Reefs have been honored previously. The print version will be published in the January, 2015 edition of Travel + Leisure.
2014. December 13. The Bermuda Tourism Authority is owed a total of $34,822 in arrears for BTA fees, Tourism Minister Shawn Crockwell told the House of Assembly. The statement came in response to parliamentary questions by Opposition MP Zane DeSilva. There are a total of 47 licensed hotel properties in Bermuda. Mr Crockwell revealed that Cambridge Beaches owes $19,072 to the Authority, Surf Side owes $10,000. Brightside Guest Apartments owe $1,750; Dawkins Manor and Granaway both owe $1,000; Clearview and Sandpiper still owe $750, and the Hamiltonian Hotel owes $500. According to the Minister, Elbow Beach paid off its arrears on Thursday, along with a small property whose name he could not recall in the House. Responding to further Opposition questions, Mr Crockwell told MPs that the other Thursday payee had not been The Reefs.
2014. December 13. Highly anticipated legislation for Bermuda's hosting of the 2017 America's Cup went before MPs yesterday, laying down the required legal amendments for the Island to deliver on its commitment. Economic Development Minister Grant Gibbons told Parliament that the proposed Act reflected the same principles as those used in hotel concessions, to stimulate further investment. Those same concessions came under unrelenting scrutiny from the Opposition, with Dr Gibbons unable to provide an exact figure for what the Island traded to seal the deal. Progressive Labour Party MP Zane DeSilva asked whether the estimated $50 to $60 million cost for the Island to host the event would have increased significantly without the concessions. However, Dr Gibbons said it was impossible to determine their total value adding that Bermuda would have stood no chance of securing the America's Cup without the concessions offered. He told Opposition Leader Marc Bean: "This is not money that we are paying out. This is money that might have come into Bermuda in the event that duties were not relaxed. Had we not relaxed those duties, I can assure the honourable Member that the Americas Cup would not be in Bermuda in the next three years." The Minister was challenged at length by Shadow Finance Minister David Burt, who protested that no estimates or models had been provided. Replying that he kept responding to the same question, Dr Gibbons said: "We will never know answers to these questions. How many teams, and when we simply don't know at this point." The Bill will prove the teams and the Cup Authority exemption from taxes and fees in areas that Dr Gibbons listed as advertising, air navigation, broadcasting, customs duties, employment, vehicle permits and licensing, marine port dues, mooring fees and pilotage. If approved, it will deliver brand protection to the 35th Americans Cup. It will also provide for various permissions to be granted during the events on an expedited basis, while ensuring appropriate accountability and oversight. The concessions offered had been discussed at Cabinet, including the Minister of Finance, but Dr Gibbons said any attempt at an exact figure would be purely speculative. Mr Burt said the Ministers replies told the Opposition that Government has not done an estimate in any way, shape or form. Dr Gibbons maintained that too many variables were involved at this early stage, and promised plenty of debate on this in the Budget session coming up.
2014. December 13. Developers Desarrollos Hotelco Group have been chosen for a five-star St Regis, Starwood hotels resort to be developed in St George's, starting next May. Phase one of the development will cost $120 million, according to Tourism Minister Shawn Crockwell, and will include 122 rooms and eight residences. Phase two will deliver four large estate villas and 22 golf villas, Mr Crockwell told MPs yesterday, with Opposition members questioning why so little could be gleaned online about the developers. Mr Crockwell called Desarrollos a family business, adding that they had completed due diligence. He said there would be an appropriate press conference on their plans at the groundbreaking stage. The Venezuelan developers, who had an exclusive negotiating period to put a resort on the old Club Med site, saw that period extended in October. It would have expired today. Construction should begin in May and take 16 months. The group supports having a casino at the site, but the final decision to licence it would lie with a Commission. The Minister hailed the news as a "significant vote of confidence, confirming efforts by Government and the Bermuda Tourism Authority to secure direct long term inward investment and permanent jobs. This luxury resort development will be a tremendous positive impact to our Island and we are moving quickly toward finalizing the customary agreements." Mr Crockwell ascribed the delay to Desarrollos assembling its "critical path items for pre-development, development and operation, as well as settling the brand agreement with a selected hotel operator." Yesterday's eleventh-hour announcement for the long vacant brownfield site in St George's was the biggest step since Mr Crockwell declared in May that a Memorandum of Understanding had been signed with the group. The Progressive Labour Party has voiced skepticism about the reputability of Desarrollos during debates in recent months. The Minister hinted that the developers were currently in the process of creating a website that might answer questions. The initial proposal was for a 238-room hotel including a casino, the renovation of the St George's Golf Course, 16 hotel residences, 24 golf villas and 16 estate residences.
2014. December 11. Hotels across the Island have come together as part of a coordinated effort to ensure accommodation demands for the 2017 America's Cup are met. With Bermuda's good reputation at stake there is a strong focus on eliminating any possibility of price gouging or bookings scalping. In the ten days since the Island was confirmed as hosts for the 2017 event, hotels have fielded scores of enquiries for room availability during the America's Cup and next October's World Series racing. While the early enquiries are welcome, hoteliers are waiting for comprehensive guidelines on how the booking process will operate. A meeting was held last week between the Bermuda Tourism Authority, the ACBDA (America's Cup Bermuda) group, the America's Cup Event Authority and hotel representatives. A source close to the discussions said work was under way to create a central booking organization, which will contact the hotels to provide details of room requirements. "This is just the beginning. We met to discuss room allocation for both the World Series and the main event in 2017," said the source, who requested anonymity. "Everyone is working well together to ensure that we can provide the type of rooms required." Another person familiar with the discussions, who also asked not to be named, said: "Everybody is being extremely cautious. The hotels will work with this new [booking] entity." As part of the event bidding process, rooms were secured for teams, sponsors and media. Victoria Isley, chief sales and marketing officer for the Bermuda Tourism Authority, explained: "As the official destination marketing organization, the BTA worked as part of the bid team to secure hotel room block commitments as part of our official bid proposal to the America's Cup Event Authority (ACEA). This is quite standard practice with any bid proposal to host major global events. As part of that process, we also secured non-gouging agreements from our hotel partners, which ensures that we will provide fair and reasonable rates (that are in line with standard seasonal rates) during the events for organizers, teams, sponsors, media and the public at large. The rooms currently reserved are for use of the ACEA and teams, sponsors and media. The BTA will continue to work with the ACEA in the weeks and months to come to fulfill these requirements. The BTA is also working in concert with the ACEA as it relates to additional cruise ship inventory that may be required to accommodate visitors around the events." Stephen Todd, CEO of the Bermuda Hotel Association, said: "We are waiting for additional guidelines from the ACBDA to comply with the America's Cup organizing committee. The guidelines will be provided to ensure there is no opportunity for gouging in terms of prices, or scalping. The meeting gave the hotels some preliminary information. Bermuda has a very good reputation in the marketplace as a place to do business and it was important to preserve that." Mr Todd praised the collaborative approach being taken by the organizations and the hotels. "I think it is important that we are seen to be operating as an association, as one group, to provide benefit to the wider community. We recognize we have a part to play and we are working in tandem with the Bermuda Tourism Authority. The Fairmont Hamilton Princess is among the hotels to have received enquiries for America's Cup-related bookings. Allan Federer, general manager, said: "We are not confirming rooms at the moment. There have been many, many dozens of enquiries from the US and from Europe. We are excepting enquiries, but not bookings until the requirements of the race teams, the sponsors and the attendees become clearer." Rehanna Palumbo, director of sales and marketing at Elbow Beach Resort, said: "Once we knew the America's Cup was coming to Bermuda, we allocated space for the two main events in October 2015 and June 2017. We are continuing to take bookings for individuals and groups on other dates."
2014. December 6. Morgan's Point Limited appears to have secured ultra high-end hotel brand Ritz Carlton Reserve as the operator for its new development. Ritz Carlton Reserve is at the top end of the luxury hotel and resort chain Ritz-Carlton Hotel Company and is known for its signature, one-of-a-kind boutique resorts. Finance Minister Bob Richards briefly mentioned the deal in the House of Assembly yesterday morning in an answer to the Opposition about Governments guarantee of $5 million to Arch Reinsurance, on behalf of MPL, for the redevelopment of the site. Minister Richards was being quizzed on the total amount government would dedicate to phase one of the project as the figure had been increased by $40m to $165m. After the session, Minister Richards told The Royal Gazette: "That's the brand that they (Morgan's Point Ltd) want to be connected with and that's the reason they gave for needing an increase in our support. The project had to be of a higher quality than they previously expected.. Asked whether Morgan's Point had officially confirmed the deal with the luxury hotel brand, the Minister said: "That's what we were told that its confirmed. That's what they told the Government. It's [the groups] highest quality brand, we have Ritz Carlton then at the top end, Ritz Carlton Reserve." Asked whether government lending on the project could increase, the Minister said: "I don't think so. Government was only interested in supporting the first phase of the project including expenses relating to architecture, design, construction engineering and professional advice and services. There is no Government commitment to phase two. We have committed to getting them off the ground and they are pretty much on their own from there." Ritz-Carlton Hotel Company states its Reserve brand is for travelers seeking to discover a singular location and peerless resort that, through its design and services, has a distinctive personality that blends together the culture, history and heritage of its setting. The Reserve brand extension will be distinguished from other award-winning resorts by offering guests exotic, hand-selected hideaway destinations globally; a relaxed, casually elegant atmosphere; and an even greater level of individualized service through a higher staff to guest ratio. The first Reserve hotel was built in Phulay Bay in Thailand in 2010 and the brand has other hotels in Mexico, Panama, Puerto Rico, Morocco, Thailand and Bali. Morgan's Point owners are racing to get the hotel development completed in time for the 2017 Americas Cup in the Great Sound. MPL CEO and President Craig Christensen plans to deliver an 84-room boutique hotel, 147 residences and marina at the site and said that plans will be ready for submission to the Department of Planning by early next year. Arch Reinsurances initial investment of $5 million represents lead financing from a group of three other Bermuda international insurance and reinsurance companies who have expressed their interest in a similar agreement.
2014. December 6. The Bermuda Government has guaranteed a $5 million loan to Arch Reinsurance for the redevelopment of Morgan's Point. The announcement was made by Finance Minister Bob Richards at the House of Assembly this morning. "It is generally not the policy of the Ministry of Finance to issue guarantees to the private sector unless the matter is of national importance," Mr. Richards said. "However, the Island has not seen a new hotel development for some time and the Government strongly supports this project and the economic benefits that it will bring to Bermuda. With the America's Cup announcement, we must do even more to attract local and foreign capital to our shores to develop our tourism product. I am confident that, if satisfactory financing is obtained, this development will turn a brown field site into a stunning new resort, leading Bermuda back into the forefront of the hospitality industry. Once constructed, the project will create numerous jobs. Additionally, the total build will generate significant revenue for the Bermuda Government." The developer, Morgan's Point Ltd (MPL), plans to build an 84-room boutique hotel, 147 residences and a marina at the Southampton peninsula. "I can now confirm that Government has provided a guarantee to Arch Reinsurance Ltd on behalf of the MPL to provide credit support for a $5 million loan," Mr. Richards added. "This loan is for the purpose of meeting reasonable expenses incurred by MPL in connection with the first phase of the Morgan's Point project, including expenses relating to architecture, design, construction engineering and professional advice and services. The Government has guaranteed the full and prompt payment of the principal of, and interest on, the loan."
2014. November 27. Entrepreneurs seeking funding to launch tourism-related ventures should hear next week whether their proposals have been successful. The Bermuda Tourism Authority's Tourism Experiences investment scheme offers grants totaling hundreds of thousands of dollars to those keen to break into the industry and attract more visitors to the Island. Applications had to be submitted by last month, with successful persons due to be notified tomorrow. But this deadline has been pushed back to next Friday after a one-week extension granted to applicants as a result of last month's twin storms. "The quality of the 2015 applicant pool is very strong and we don't want to cut the review process short," said Pat Phillip-Fairn, chief of product and experiences for the BTA. "As we interview applicants, we are consistently impressed with their entrepreneurial talents and how much attention they have put towards trying to deliver the kind of home-grown ideas that visitors tell us they want. We look forward to sharing the outcome of our review process next week. "
2014. November 13. Courting air arrivals is the top priority for the Bermuda Tourism Authority, with air visitor numbers down almost four percent for the year to date. Marketing the Bermuda experience by encouraging online pictures and videos is part of the organization's new strategy for getting the numbers up. "It's the most important definer of our success — we will be judged on air arrivals more than any other statistic," said Bill Hanbury, CEO of the authority. The BTA's marketing strategy is heavy on the use of social media, but still devotes about 40 percent of its expenditure to a print campaign. The BTA has received $25.6 million in its first fiscal year — a "significant decline from previous investments in tourism", Mr Hanbury said. The authority, launched seven months ago, also inherited "several agreements that we have to honour and that probably have not helped us", he said. Currently there is a Request for Proposal out for a new advertising agency. The organization is also looking to take over the service at Bermuda's visitor information centres, starting with Dockyard. Victoria Isley, the Authority's chief sales and marketing office, said the BTA's strategy was aimed at reaching would-be visitors with "authentic stories about Bermuda". The BTA recently collaborated with Travel and Leisure Magazine to bring two US photographers to the Island with an influential Instagram campaign that reached hundreds of thousands of their followers, she said.
2014. November 12. Michael Douglas, Ariel Sands' part-owner and Hollywood actor, is to actively promote the Island to a global audience, according to Bermuda Tourism Authority chairman Bill Hanbury. Mr Hanbury said the authority had held conversations with Mr Douglas about raising the Island's profile ahead of groundbreaking on the Ariel Sands' $85 million hotel redevelopment that began today. Speaking to The Royal Gazette, Mr Hanbury said: "Michael is interested in helping us not only to promote the BTA but also to promote Bermuda to a global audience. He has terrific reach, particularly in the social media world, and we want to take him up on that offer. We think he is a great spokesperson for Bermuda, so whatever he does to promote Bermuda is of value to us. The announcement of the redevelopment is very important and we believe that a new product like that, with two terrific Bermuda supporters like Michael Douglas and Catherine Zeta-Jones, are of high value in the market place and we are going to fully take advantage of that. He certainly is interested in this development — it made economic sense to them. I would suggest that they are not just doing this out of the goodness of their hearts by any stretch of the imagination. It is a very strong concept that works really well with Bermuda as a product, so we are fired up about it." New York-based Olympic Property Partners have been confirmed as the developers. The company has developed and owned several million square feet of commercial property. OPP principal Seth Weinstein is expected to be present today at the groundbreaking, along with Michael Dunkley. The Premier will be joined at the site by Shawn Crockwell, the Minister of Tourism, Grant Gibbons, the Minister for Economic Development, and Patricia Gordon-Pamplin, the Minister of Public Works. Mr Douglas, whose mother Diana Dill is Bermudian, announced via social media in April that he would be redeveloping the site, which has been owned by his family for 60 years. He posted: "Just returned from Bermuda, the home of my mother's family for the last 400 years. The family has had a cottage colony called Ariel Sands for the past 60 years. Now we are building a new one ... very exciting." The hotel, which Mr Douglas part-owns with the other members of the Dill family, opened in 1954 and closed in 2008. It has sat empty ever since, pending development. A number of potential deals have fallen through since then, including in 2006 when the Hilton Grand Vacation Club was to partner with Ariel Sands in a timeshare villa, spa, restaurant and hotel development.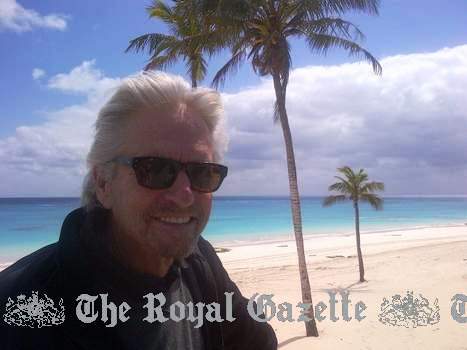 2014. November 12. Hollywood star Michael Douglas was joined by dignitaries and invited guests to celebrate the groundbreaking of a new $85 million hotel development at Ariel Sands. The planned luxury resort, of which Mr Douglas will be a part-owner, will feature 85 residences in 33 cottages, along with a fine dining restaurant, spa, salon and gym. A cottage belonging to Mr Douglas's mother, Bermudian Diana Dill, has been renovated and is being used as the showroom for the future redevelopment. Another cottage was demolished this morning as part of the ceremony. Mr Douglas told the gathering he had his first birthday on the property, spent time there during the 1950s and mid 1960s and was there more recently with wife Catherine Zeta-Jones and their two children. The actor said for him the project went beyond a business deal. "It's about immortality, continuity of generations and maintaining the spirit of the original project," he said. The project was announced on social media by Mr Douglas in April. He has partnered with Seth Weinstein of Olympic Property Partners, Somers Management, Onsite Engineering and Quarterly Architects on the redevelopment. The resort will include a beach club house with restaurant and bar and fresh water pool overlooking the beach and will be managed as an independent boutique hotel affiliated with an international reservation and marketing group. Mr Douglas thanked the Government of Bermuda and the Bermuda Tourism Authority for their help and co-operation in getting the project off the ground. Ms Zeta-Jones was unable to attend today's ceremony.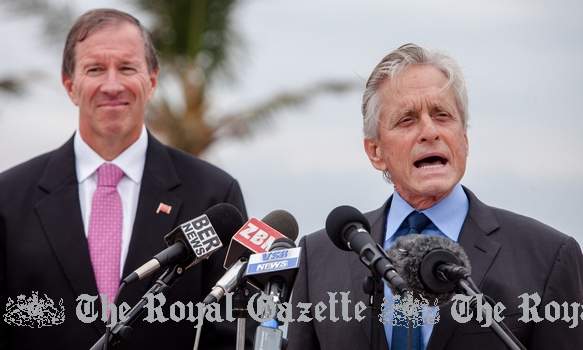 2014. November 10. Bermuda's "new airport" has been signed into being with a redevelopment agreement between Government and the Canadian Commercial Corporation, Finance Minister Bob Richards announced this morning. The Island will get a roughly new $200 million terminal building, with the expectation of "hundreds" of construction jobs generated. At a press conference in the Cabinet Office, the Finance Minister hailed the redevelopment plan as "one of the most important capital projects ever undertaken on our island shores", after signing the agreement with CCC's Luc Alari. Groundbreaking could commence as early as next year, with the project potentially taking three years to complete. The project will play "a crucial role in the renaissance of the Bermuda economy", Mr Richards said, under a public-private partnership with CCC. Pledging "value for money", Mr Alari said CCC "also brings a lot of transparency and governance — we are a Canadian Government organization; this is something we adhere to. We will make sure the project is built on time, on budget and on schedule." Tourism Minister Shawn Crockwell and new Junior Minister Vic Ball also attended the signing, which Mr Crockwell called a historic occasion for Bermuda, delivering a "new, attractive and sophisticated modern facility" that would enhance the Island's tourism product. "It will impress everyone that passes through it, visitors and locals alike, and it will make that first impression for those coming to Bermuda, a lasting positive impression that is aligned with the Bermuda brand — quality, first class and world class. The construction of a new purpose built airport terminal is long overdue and this Government was determined to make it happen — we were very cognizant of the many obstacles presented to us and especially the financial implications that could have prevented this from happening. I am most pleased with the financial creativity that has brought us here today. This public private partnership between the Bermuda Government and the Canadian Commercial Corporation does indeed represent a renaissance for Bermuda — to our economy and to our product. I know that we can all agree that the success of this project will be legendary." Construction is expected to take three years, in a new location that Mr Richards said would be "between the roundabout and Stonecrusher Corner." The project's financing model demanded "total transparency, adhering to international best practices", he said. Mr Richards added that the redevelopment would require no initial expenditure by Bermuda — and that the project would be financially self-sustaining. CCC will select a Canadian developer, as its remit is to concentrate solely on Canadian entities. Title to the airport and adjacent lands will remain with the Bermuda Government. The project did not go out to international tender.
2014. November 7. Springtime arrivals from cruise ships were up ten percent on the previous year's figures, but air arrivals in the second quarter dropped by 2.5 percent, with a total of 73,122 visitors coming through LF Wade International Airport. The figures, released from the Department of Statistics, also revealed a modest increase in retail sales, up 1.8 percent, with motor vehicles showing a sharp increase of 27 percent over 2013's sales. Last year Government allowed liquor sales on Sundays, which may have had an impact on the latest figures with liquor stores taking in 10.5 percent more during the period of April through June. The drop in air arrivals was reflected in a decline of air arrival expenditure, down $12 million to $91 million. The average spending per air visitor also fell from $1,338 to $1,210, which in turn led to a 12.2 percent drop in spending on food and accommodation, and a 9.7 percent drop in goods and services such as recreation and transport. Cruise ship passengers spent $32 million during the three-month period — a rise of $3.3 million. Hotel takings shrank 2.4 percent to $77.7 million, and hotel employment also contracted, by three percent. At the end of April, there were 2,301 people employed in the hotel industry, which was 41 fewer than 2013. Residents coming back from overseas declared purchases of $14.3 million, which was a decline of 6.6 percent on the previous year.
2014. November 4. Bermuda's food, culture and heritage are high on the agenda for tourism attractions over the winter months. The Bermuda Tourism Authority presented its Uncovering the Arts schedule at Fort Hamilton yesterday before members of the arts and tourism community. Bermuda's cuisine will be one of the main focuses of the drive including a beefed up Restaurant Week that highlights local cuisine, a new tour of Honey Bee House, Hamilton, and extra food festivals throughout the season. The line-up of events runs from November through March, typically the quietest season for tourism. Patricia Phillip-Fairn, the BTA's chief product and experience development officer, said: "Food is one of the biggest pushes this year; food culture in Bermuda is going to be a big hook in our revamped season. Restaurant Week has been revamped and we have 40 restaurants signed up, which is more than last year. "Through food, we want to demonstrate the influences from the Caribbean and also though the entertainment and culture. We are looking to make the Bermuda fish sandwich iconic and we are also looking to make the fish fry something that is featured more prominently. When we are talking about Bermuda food culture, it's not just about the cuisine itself, it's about the culture around it. For Christmas, we are talking about the cassava pie and the other traditions around food at different times of the year, throughout the season." Bermuda ambassador and well-known storyteller Ruth Thomas is on board for this year's line-up of cultural and historical events. She will be giving talks on the Island's history, folklore and traditions at the Bermuda National Gallery. She told The Royal Gazette: "It's a way of getting visitors to know more than what they see — the real Bermuda. Our culture doesn't hit you like some of the other destinations where, the minute you set foot on the ground, you can smell the culture, you can see it, you can hear it. Ours is more manicured and laid-back, but once you get into a taxi or on a bus, you see how people greet one another. Even the way we catch our water; visitors are fascinated about things like that. I am often asked about our health provisions, education system and parliamentary system. These are things they wouldn't usually see." Ms Thomas will also be giving lectures at Pier Six about the tradition of gombey dancing, which will be accompanied by gombey performances. Speaking of the lectures, which used to be presented by the late Louise Jackson MBE, Ms Thomas said: "It provides an opportunity for our visitors not only to see the performances but also to learn about the tradition. It enriches what they see and they know the meaning of the dance." Eco-tourism was also mentioned during the BTA's announcement, with a focus on the Island's natural history. Tour operators Hidden Gems will be involved again this year, as well as Lisa Greene, the natural history enthusiast. Ms Greene began her partnership with the BTA last year. "Visitors really seemed to enjoy the South Shore Eco Walking Tour," she said. "We started at Jobson's Cove parking lot and I led them on an hour-and-a-half walk, talking about Bermuda's origins and giving them a very brief coastal introduction to our natural history. It was slow in the beginning, but, at the end of the tour season, it was packed." St George's and St David's, described as "ground zero" in Bermuda's historical narrative, will be highlighted to visitors as an important part of their experience. The BTA has also "shaken up" the former Rendezvous calendar, created with the Department of Community and Cultural Affairs, to include an insiders' guide to Bermuda's cultural treasures. The calendar will now include special tours and activities at the Island's forts and includes more events related to eco-tourism. The BTA has identified special offerings for couples, including food festivals, gombey performances and the exploration of Bermuda's shipwreck heritage. The Bermuda Festival for the Performing Arts celebrates its 40th anniversary this year and the BTA intends to make it one of its signature events. Festival organizers have already announced some world-class headliners, including the legendary Ellis Marsalis and renowned cellist Yo Yo Ma. Finally, the BTA's marketing team in New York will promote a new Arts & Culture focus and an on-Island team will begin educating frontline officials on the new features.
2014. October 31. The wealthy Green family is aiming to ditch the Fairmont group as managers of the Hamilton Princess. Now the row has moved to a New York court as the Greens seek to dump the hotel chain, which also owns and operates the Fairmont Southampton. The battle broke out earlier this year after the Greens wrote to Fairmont to cancel the agreement, which was inherited when the family bought the hotel in 2012. The letter listed a catalogue of complaints including an allegation that Fairmont had favoured its Southampton property over the Princess. But lawyers for Fairmont have denied the claims. And yesterday an arbitrator was appointed by the US District Court, Southern District of New York, to rule on the row. A source familiar with the case said: "We're looking to have this claim arbitrated within the next 120 days." The owners seek to terminate the management agreement and appoint someone else. They feel there are some important conflicts in that they own the one hotel and this one they are just managing and they are very different hotels. The owners of the Hamilton property have also made a tremendous investment in capital improvements in the last year and are looking for the highest type of operation. The letter from Hamilton Properties Ltd, the Greens' company, to the Fairmont Group cites the failure to operate the hotel and all of its facilities and activities consistent with the standard with the standard of conduct required. It added the Operator has failed to maintain the physical and operational standards applicable to the full service luxury hotels comparable to the hotel. And it said the sales and marketing programmes have failed to meet the standard, spending has been above market and owner has not achieved a reasonable return on its investment. Moreover, the operator has failed to provide sufficient information and analyses to substantiate any return on the substantial spend by owner for sales and marketing activities and in particular from the corporate sales and marketing office. The April letter, which gave ten days notice of termination, alleged that Fairmont had failed for a significant period to maintain rate parity across third party websites and allowed publication of rates that were sometimes lower than those shown on the Fairmont websites, which has resulted in rates that are below market for the hotel, below market in relation to operator's other property on Bermuda and below market rates during peak season. These issues have been repeatedly raised with the operator over a an extended period and have not been remedied. In fact, such information has been utilized by operator to advantage its other property on Bermuda to the detriment of the hotel, which is also a breach of confidentiality provision ... of the hotel of the hotel management agreement. And the letter said when the topic of room rates at the hotel has been addressed, operator has utilized such discussions to similarly address rates at the Southampton Princess to the benefit of that competing hotel owned by operator and to the detriment of the Hamilton Princess. The letter added there has been an excessive turnover in the executive staff including the financial controller, sales and marketing director, revenue management, human resources director and the executive chef. These problems have been compounded by the operator's general lack of cooperation and the obstructive behaviour, which prevented correcting these well-documented deficiencies. And the letter said that a lack of staff training meant that the hotel was below the required standard, which had a detrimental impact on revenue production and guest satisfaction at the hotel. It added that given that the regional training manager for Bermuda is located at the Southampton Princess, the owner expected far more interaction by the operator to ensure improvement in service and quality. And the termination letter said there had been failure to address problems raised in JD Power surveys in which the hotel was consistently ranked in the bottom quartile among other North American Fairmont hotels. And it also cited lack of oversight regarding the property's maintenance and cleanliness. But Fairmont, in documents lodged with the New York court, denied the claims. Their lawyers said: "Pursuant to the agreements, operator and advisor have been providing owner with the considerable benefit of their expertise in connection with the day-to-day operation and management of the hotel and the use of their proprietary materials, such as trademarks, software applications, operational manuals, corporate records, surveys and business and marketing plans. Operator and advisor vigorously dispute that there has been any material default, dispute that any such defaults are not curable and dispute that the owner has the present right to terminate the agreements, let alone on ten days notice."
2014. October 22. Developers Desarrollos have been given an extra 60 days to finalize their plans to build a luxury brand hotel on the old Club Med site in St George's. The initial exclusive negotiation period between Government and the Desarrollos Hotelco Group (DHG) expired on October 8, and has now been extended to December 13. Yesterday Transport and Tourism Development Minister, Shawn Crockwell, revealed that the developer has chosen Starwood as their luxury brand partner. And he told The Royal Gazette that he remained confident that ground would be broken on the eagerly awaited project in the first half of 2015. "On May 23, 2014 I announced that the Bermuda Government entered into an exclusive negotiation period with international resort hotel developer Desarrollos Hotelco Group to construct a world class full service resort on the St George's Tourism Development site. The exclusivity period commenced on 9th June, 2014 and expired on 8th October, 2014. Over the course of the 120-day exclusivity period we have made steady progress working through our terms of reference, and DHG are currently fully engrossed in the due diligence process with Starwood, their preferred high end luxury brand partner for this project. Mr Crockwell said that the move to provide developers with an extension was "not uncommon" practice and welcomed the news that DHG had partnered with Starwood. "Starwood is a major global hotel and resort company that operates a number of luxury marquee brands including the iconic St Regis, Le Meridian, and the Luxury Collection brands. In an effort to ensure we maintain and continue progress the Government has extended the exclusivity period for a further 60 days that will expire on December 13, 2014. The primary objectives during the extension period are the finalizing of the brand agreement and the approval of pre-development, development and operation commencement critical path items."
2014. October 4. Royal Gazette editorial. There have been hopeful signs of late that Bermuda's long identity crisis as a tourism destination may finally be approaching some kind of successful resolution. After 30 years of increasingly desperate Tourism Ministry attempts to market Bermuda as anything other than what it is, the newly constituted Tourism Authority has taken a welcome back-to-basics approach with its salesmanship. Here's a small but not insignificant by-way-of-example illustration: A short promotional video was uploaded to social media this week by the Tourism Authority. Entitled What I Love About Bermuda, it distils into two eye-catching minutes the chief appeals the Island has always held for world-weary vacationers: namely, its people, its people and its people. The film, seen and shared by thousands of viewers around the globe since it was posted, summarizes the inexhaustibly welcoming nature of Bermudians in a rapid-fire series of vignettes of local faces and places. It's true Bermuda's beaches are among the genuine wonders of the natural world. And other natural and man-made amenities, along with a richly diverse cultural heritage and temperate climate, have certainly all contributed to the allure of Bermuda. They help to make the Island a destination where, as pioneering visitor Mark Twain observed more than a century ago, a "jaded man can loaf … (and feel) the deep peace and quiet of the country sink into one's body and bones." But the shrewd and observant Twain, with his journalist's eye for the telling detail and his unrivalled understanding of human nature, was also among the first to recognize it was "our friends the Bermudians" who were the real wellspring from which all of the Island's other enticements flowed. The charm and friendliness of Bermudians were among our chief assets when the Island developed an internationally celebrated resort tourism industry following the First World War. We proved ourselves to be among the most gracious natural hosts in the world as we built an industry which could not have been better suited to either our temperament or our unhurried way of life. Affluent visitors came back again and again. This was due, in no small part, to the fact Bermudians treated them as guests in their island home, not customers. One historian of the industry has noted: "For many years all our regular visitors were known by name in the hotels and restaurants — and most of them even in the shops. The taxi drivers and carriage drivers knew them. So did many of the customs officers at the airport and on the docks. They were regarded as very, very important people. And of course to us they were indeed very, very important." The reality is those who came to helm the Tourism Ministry in the post-1980s era, career civil servants for the most part with almost no individual or collective private sector experience, had very little idea of how a tourism economy worked let alone the knowledge of how to manage one. They never considered the need to make our visitors feel cherished and appreciated when they came to Bermuda because they had never been aware of the need to do so. And they certainly never recognised the value of individual Bermudians in the overall Bermuda tourism experience. Instead of concentrating on people, both in terms of our visitors and the locals who made their stays here so memorable, they focused on advertising and promotional campaigns which grew increasingly detached from reality. Instead of attempting to protect and enhance the quality of a Bermuda holiday, they began counting heads: cruise ship arrival figures were used to try and camouflage an ominous, ongoing decline in air arrivals — the very visitors who stayed longer, spent more and left the Island wanting to return. The Tourism Authority's recognition that "our friends the Bermudians" are in fact an integral part of the product they are attempting to sell in an increasingly crowded global marketplace full of almost indistinguishable destinations will not in and of itself revive an industry which very nearly died due to neglect. But it is at least a thought in the right direction.
2014. October 2. Elbow Beach is back on track to play a leading role in Bermuda's hotel industry again. This from the resort's new boss, Ed Burns, who told The Royal Gazette that his first six months at the helm had seen a major turnaround in fortune and morale at one of Bermuda's oldest institutions. Mr Burns took the reins on April 1 as Elbow shed the Mandarin brand label and launched as an independent hotel. And the veteran US hotelier says progress has been swift since the changeover, and occupancy figures have already stabilized to last year's levels. He believes Elbow Beach is now in a great position to target the corporate group market as well as reclaim its place at the top of the Island's hotel tree. "The decision to go independent was a big risk, but it was also a great opportunity. We have taken certain areas of the building that were not operational and made them operational. We inherited a subdued team of employees; it had been a very difficult transition for the employees to go through to see the hotel partially closed. We have recharged these people and tried to provide optimism and hope for the future. There has been substantial landscaping done throughout the property and we have re- established a lobby bar for our guests. We created a personal assistance programme to give our guests a more personal service and we have gone back to relying on the charm of the Bermudian people and the cultural make-up of the Island. We are committed to the Bermudian product; our employees need to be and should be Bermudian, and they are. The second phase is the old guest rooms; we will look at the possibility of opening them again or replacing them, but nothing has been finalized. To have this part of the building offline hurts us in the market place and once we get confident we can potentially reoccupy that area." Mr Burns and his team have targeted the US and Canada through a very direct sales drive to boost occupancy, and this will expand to the UK in the coming weeks. Meanwhile the hotel is set to launch a new drive to attract convention and corporate group visitors. "By August we had stabilized to last year's level of occupancy and we have maintained that," Mr Burns said. "Given what we have changed and the work that has gone on that is a good result. We are now planning to aggressively go back into the group marketplace. We have 98 rooms and we are adding 9,000 square feet of meeting facilities that we believe will make us the best venue for this kind of visitor. We want to bring in 35 percent new occupancy through group business next year. While in the leisure sector we will be making a more dedicated and powerful effort with our direct sales through travel agencies. We have had significant repeat business in just the last six months which is encouraging. We now have a very high level of service and morale is high. The new approach has really worked. We have come a long way already in terms of how we manage ourselves and this is beginning to show on TripAdvisor. We are back on track to where this great hotel used to be. I believe we will climb to the top of the market and we will dominate for a very long time to come, and this will help Bermuda." The new Elbow Beach boss said he believed casinos could also help to rejuvenate the tourism industry by providing another amenity to visitors. But he urged caution, saying that the implementation process had to be very well thought out and carefully managed. "I believe we can grow the economy substantially through simply marketing Bermuda better as an amazing destination," Mr Burns said. "Casinos can have a place in Bermuda, but it is a very difficult thing to manage."
2014. September 13. New flight connections from Europe to Gatwick are being explored by tourism bosses to increase air arrivals in Bermuda. The Bermuda Tourism Authority has been in talks with British Airways about a connection from Frankfurt to Gatwick that would allow travelers to then catch the Bermuda flight. CEO Bill Hanbury said the BTA has been in discussions with almost all of the airlines that currently service the Island to look at possible improvements. And he said there was big potential in Europe. "If we can start moving the air arrival numbers north all the other things like increased tourism GDP and hospitality investment in building will follow. We would like to have a connection out of Europe into Gatwick that could connect with the BA flight into Bermuda. There is big potential out of Europe and we have been in talks with BA about looking at a Frankfurt connection. We are still in the very formative stages but we are aware of the potential to better access Europe." The BTA also revealed that a major Bermuda editorial is due to feature in Delta airlines in-house magazine this December. It is one of a series of initiatives that the authority has launched with the airlines coming into Bermuda to boost air arrivals. "The feature in Delta Sky is likely to be a eight to ten page feature in their in-house magazine that will be seen by more than 5.5 million readers," he said. "We believe it's a really valuable partnership and a great way to get the Bermuda product to a new market of executives and travelers that routinely travel with Delta. We have been working with Air Canada and West Jet and have collectively invested $800,000 into getting the Bermuda product better recognised in the Canadian market. Earlier this year we met with Jet Blue and they would like to be a year around service provider from Boston, which would be great for us. However there's still more to accomplish in building demand for Bermuda out of the Boston market." Since its inception this year the BTA has been able to deal directly with the airlines to help revitalize the tourism industry. "We have had meetings with all the major players," Mr Hanbury said. "To the credit of the Airport Authority we have been allowed to deal directly with the airlines regarding marketing issues. Airline relationship building is critical, and our work over the last few months with BA was one of the main reasons that we were able to get the X Factor crews over here. We are speaking with the airlines all the time to see how we can boost numbers."
2014. September 11. Norwegian Cruise Line's purchase of Prestige Cruises International could provide a major boost to Hamilton and St George's in the years to come. The firm's CEO, Kevin Sheehan, told The Royal Gazette that Bermuda was the perfect market for Prestige's high end, luxury cruise liners. And he said that Norwegian would look at bringing more of the smaller liners from the Prestige fleet into Hamilton and the East End once the deal was sealed. "Once we get through the transaction Prestige's ships are already scheduled for the next 12-18 months," Mr Sheehan said. "But this acquisition could enable us to think more about Bermuda especially given that both Oceania and Regent (which fall under Prestige) deal with the high end of the market. Both of these brands, we would think, would have customers who would favour Bermuda as a destination. Many of the smaller, high end ships would be perfect for Bermuda. They could come into Hamilton for a couple of days and maybe St George's for a couple of days. But we do not own the company at this point. It is something we would look at in the future. It's certainly an option we would consider." An acquisition agreement between Norwegian and Prestige was signed on September 2, 2014. The $3 billion transaction is subject to regulatory approvals and other customary closing conditions before it is expected to close in the fourth quarter of 2014. At present two Norwegian cruise lines; the Breakaway and the Dawn, are regular callers to Bermuda, while Prestige owns upper-premium cruise operator Oceania Cruises and luxury cruise operator Regent Seven Seas Cruises. The company operates eight ships, with about 6,500 berths. At present a handful of Prestige's ships visit Bermuda, but those that do are just occasional callers. "We would be open to bringing more of the smaller ships into Bermuda. it seems like the perfect market, " Mr Sheehan said. "We continue to be excited about Bermuda as a destination."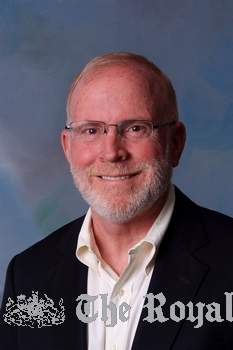 NCL's Kevin Sheehan. See above story
2014. June 13. A US developer and advisor for the Ariel Sands redevelopment project is cautiously optimistic about its progress. Lou Maroun said work to revive the Devonshire property was a project in motion and that movie star Michael Douglas, a part-owner of the site, visited regularly to discuss the plans. "He comes back and forth very frequently to discuss the development of the project," Mr Maroun said. "The thing progresses every week. It's a project in motion and we wont know how much progress we've made until the final stages, but right now we're cautiously optimistic. I can only give the broadest range on the price right now we're only just looking at designs." Mr Maroun added that the developers did not yet know when the project would be finished. Mr Douglas posted a photo of himself at the property to Facebook on Monday. The caption read: "In Bermuda, working on building my family's new hotel at Ariel Sands. It is going to be great." The actor, son of Bermudian Diana Dill, co-owns the property with members of the Dill family. He and his actress wife Catherine Zeta-Jones lived in Bermuda for several years. Ariel Sands Beach Club opened in 1954 but closed in 2008 and the land has been vacant ever since. The photo of Mr Douglas at the site this week has attracted more than 51,000 likes and been shared 1,700 times.
2014. June 13. A new chapter in tourism begins next week as the Tourism Authority lays the foundation of a new approach to hospitality investment. The Authority, an independent, non-government entity engaged to revive Bermuda tourism, is to be powered by four divisions: tourism investment, product and experience, sales and marketing and corporate support functions. Banker Roland Andy Burrows has been appointed chief investment officer, with responsibilities related to future investment in tourism infrastructure. He takes up his new responsibilities on Tuesday. A statement from the Bermuda Tourism Authority said he will be involved in redefining the future for investment in the tourism industry. "We're thrilled to have a talented and well-respected Bermudian lead this division which, while new to Bermuda, will be the cornerstone of our modern approach to hospitality investment," said BTA Chairman, David Dodwell. "Investment equates to jobs and a stronger economy, and its a crucial mandate of the BTA." After 25 years in financial services, business strategy and development, Mr Burrows moves over from HSBC Bermuda, where he was Head of Commercial Banking. At the bank he led, initiated and implemented compliance, operational and credit risk and regulatory policies for Corporate Banking, Business Banking and Real Estate Banking. In his new role, he will be responsible for identifying, developing and cultivating investment across the hospitality industry, from hotels and attractions, to infrastructure and tourism related businesses. Mr Burrows will assist in the formulation of development and investment incentives specific to Bermuda and inform global investors in key areas such as taxation, work force, immigration, customs, infrastructure, development permits, and sustainability. In addition, hell lead international capital raising efforts to attract investment to Bermuda tourism by identifying, qualifying and establishing new sources of equity and debt financing investors on an ongoing basis. "The importance of this position can't be overstated," said Bill Hanbury, BTA CEO. "Andy will continue to develop and monitor the red carpet and one-stop shop approach to attracting global hospitality and leisure investors and developers to Bermuda. And, whether its international or local development, hell move investment projects through government channels and approvals. On the local side, Mr Burrows will develop and drive financial and growth strategies for existing businesses and properties, including renovations and asset repositioning projects such as hotel room capital expenditures. This extends to strategies designed to stimulate small and medium businesses related to tourism. Mr Burrows has managed balance sheets up to $12 billion while generating revenues of up to $100 million at HSBC. He holds a Bachelors of Business Administration Degree in Accounting from Georgia State University, Atlanta, Georgia."
2014. June 6. Bermuda's tourism industry will get a huge boost later this year when hundreds of US travel agents hold a convention on the Island. Around 600 delegates from the American Society of Travel Agents (ASTA) will sail to Bermuda on board the cruise ship Norwegian Breakaway, spending three days here between September 17-19 before heading back to New York. The agents will attend a series of presentations while at sea, but once they reach dry land they will be encouraged to explore the Island. The Bermuda Hotels Association and Bermuda Tourism Authority will be hosting a Taste of Bermuda reception at Dockyard where local vendors can showcase their goods and services to the travel agents, while the Corporation of Hamilton will be holding a cocktail party for the group. The visitors will also be given concessions on some Island attractions while ten separate groups will spend one morning touring various Island properties. A scavenger hunt, a tennis tournament and golf tournament are also planned. Describing Bermuda as the jewel of the Atlantic, the ASTA website states: "Bermuda is much closer than you think, less than two hours away from most eastern US airports. With incomparable weather, pink sand beaches, breadth of historic sites and warm, friendly people, its no wonder CondeNast Traveler readers have voted Bermuda Best Island in the Caribbean/Atlantic 18 times since 1994. For the first time in its 80-plus year existence, ASTA is holding its annual meeting on board a cruise ship, the Norwegian Breakaway, which will sail from New York to Bermuda. Norwegian is bringing its entire team of sales directors from across North America to the Annual General Conference, including Andrew Stuart, EVP of global sales and passenger services and Camille Olivere, SVP of sales. ASTA will kick off its annual meeting with a black-tie gala advocacy dinner at the St Regis New York Hotel in midtown Manhattan to highlight the hard work of those who advocate for travel agents. New York Governor Andrew Cuomo is invited. As convention attendees learn how to Seas the Future while on board and in Bermuda, there also will be opportunities to network and enjoy the travel, including a private sail-away party, a Taste of Bermuda reception with the Bermuda Hotel Association and suppliers, and an exclusive evening reception hosted by Hamilton Mayor Graeme Outerbridge at Pier 6." Bermuda Tourism Authority CEO Bill Hanbury said: "The Bermuda Tourism Authority embraced this conference as a top priority for our first year in operation." It's a very prestigious group to have on-island and we've committed significant resources, both personnel wise and financial, to ensure they have a great experience." And Bermuda Hotel Association president JP Martens added: "The ASTA conference is a great opportunity for Bermuda to showcase its beauty, people and resorts to 600 agents from our North American market. The BHA is looking forward to working with the BTA in hosting these agents on-island and showing them what Bermuda has to offer for their clients." ASTA President and CEO Zane Kerby said: "I can't think of a better way to bring travel professionals, suppliers and industry experts together to devise a plan to future-proof their businesses while doing what agents do best exploring a great destination like Bermuda. You've got to work hard to play hard and that's what well be doing on the Breakaway." The prestigious organization claims it is the leading global advocate for travel agents, the travel industry and the traveling public. ASTA members represent 80 percent of all travel sold in the United States through the travel agency distribution channel. It is estimated that the reach of the ASTA group translates into millions of dollars through new leisure visitor travel to the Island.
2014. May 27. US consultant Ronald Sutherland was a key player in finding a taker for the former Club Med site in St George's, which could gain a casino resort through the Desarrollos Hotelco Group. Tourism Minister Shawn Crockwell described Mr Sutherland, founder of international real estate advisers Hemisphere Group, as an intermediary putting out the Request for Proposal (RFP) for the brownfield site. Mr Sutherland was hired through the investment division of the Bermuda Tourism Authority, to provide investment concierge services, the Minister said. There was no tendering process in taking him on, and his hiring in mid-December, 2013 was handled by the executive steering committee of the just-formed BTA. As a go-between with potential developers, Mr Sutherland did have some form of communications with US developer Nathan Landow, Mr Crockwell added. However, Mr Crockwell refused to reveal the consultant's salary despite Parliamentary questions from Opposition MPs, citing BTA policy which allows its members to keep their pay private. Shadow Tourism Minister Zane DeSilva accused the One Bermuda Alliance of keeping information from the Bermudian people, but the Minister responded that the BTA doesn't disclose its employees confidential information. When Opposition Leader Marc Bean asked if Government had no issue with the lack of transparency over taxpayer funds, Mr Crockwell responded that the Bill creating the BTA had been debated in Parliament and that we were fulsome in our explanations as to why we believe that the independent management of the Authority is efficacious to turn around tourism in this country. Mr Crockwell said the process of vetting proposals had been stewarded by Permanent Secretary Francis Richardson, along with Aideen Ratteray Pryse the director of Planning with BTA chairman David Dodwell, in consultation with Mr Sutherland. Asked by OBA MP Suzann Robert-Holshouser if financing was in place for the potential East End development, the Minister responded that Cabinet had been satisfied with the financial information provided by this finalist.
2014. May 24. Bermuda must target a range of niche tourist groups if it is to increase visitor numbers, according to industry chiefs. The Bermuda Tourism Authority made the recommendation in response to a Royal Gazette survey, which asked the question: "Is Bermuda too old fashioned to be a popular tourism destination in the 21st Century?" A total of 4,436 people answered the question, with 2,384 respondents, 54 percent, believing that the Island is too stuck in the past. A further 1,952 respondents, 44 percent, disagreed, while two percent of readers were undecided. Asked if the Bermuda Tourism Authority believed the Island needed to update its image, a spokesman for the organization said "it was important to appeal to a range of niche groups. The real issue is not about being old-fashioned, for Bermuda and any other destination, the priority has to be to deliver quality, authentic experiences and good value to the visitors we target. Bermuda is not a one-dimensional destination. It has attributes that will appeal to a variety of niche groups. Our focus should be on targeting those niche groups, that were identified in the National Tourism Plan such as culture, sport, business, meetings, incentive, conferences and events. These niches were identified as being in alignment with what the Island can realistically deliver and develop in terms of products, experiences and service. Taking this approach is both strategic and pragmatic." The spokesman said the organization had been encouraged by the high level of engagement and collaboration with stakeholders to enhance Bermuda's product. "As we reached out recently with the challenge to build on and create new ideas to enhance the visitor experience we encountered a real re-energized collective commitment to that goal, and were looking forward to partnering and supporting everyone in that process. Following short-term trends is not in the long-term best interests of Bermuda, and wouldn't result in achieving key goals of job creation, etc for the industry and the community. Currently. we have hotels running nowhere near full capacity and aircraft flying here that are not at full capacity. The golf courses and dive tours are not at capacity. The restaurants and retailers are not fully maxed-out, especially in the off-season. We actually have a big advantage over other destinations: we have a tourism infrastructure that can accommodate more visitors than we currently have as a result we don't have to build new infrastructure."
May 24. The latest tourism figures show visitors staying longer during a traditionally quiet time for arrivals and airline capacity has also grown, according to the Bermuda Tourism Authority. The BTA yesterday published its performance statistics for the Island, showing a 1.9 percent rise in room nights booked for the month of March over last year, from 22,985 to 23,416. For the year to date, room nights have risen just over one percent, from 52,147 to 52,672. Hotels average daily rates for the year to date rise three percent over last year, with revenue per available room up by 7.2 percent, according to figures published online at the BTA site. The organization called the next year promising, with 7.5 percent more room nights booked over last year. Group room nights rose 12.5 percent. Air visitor arrivals for March dropped 1.9 percent against last year: 15,015 versus 15,309 and year to date arrivals dropped from 31,300 to 30,971. Airline capacity has risen for the year to date: available seats rose from 106,144 to 110,826. Bill Hanbury, CEO, called the rise in room nights during a period of decreased arrivals an accomplishment, showing that visitors were staying longer and spending more at the Islands hotels. "It is also important to note that the increase in airline capacity shows confidence that demand for Bermuda and performance in the future will increase," Mr Hanbury said.
2014. May 24. A PLP Government would ditch the new independent Tourism Authority and take its work back in-house or make it find its own funds, said Opposition leader Marc Bean. The current arrangement with the Tourism Authority will change and change immediately, he said. He added he was not prepared to go into details of any changes that might be made. But he promised the authority would either absorbed back into Government proper or truly have it privatized. Mr Bean was speaking as MPs debated the Budget allocation for tourism which included $23.1 million to fund the new authority. Tourism Minister Shawn Crockwell told MPs that the new authority, which replaces the Government-run Department of Tourism, was a game-changing advance. Mr Crockwell said: "I believe it's historic for Bermuda and I believe it will be the watershed for how tourism is managed and I believe we will see fantastic results going forward. The traditional approach to tourism had not produced results in terms of increased visitor numbers to the Island. This is not the fault of any particular Government or any particular Minister, but the Government believes the methodology of how tourism was managed was broken."
2014. May 24. Nearly half of residents believe the newly formed Bermuda Tourism Authority will be able to rejuvenate the struggling industry. However, a proposal allowing visitors to rent cars has been overwhelmingly rejected, according to a survey commissioned by The Royal Gazette. Overall 46 percent of more than 400 residents said they believed the independent organization, which replaced the Government-run Department of Tourism last month, will be effective in bringing about an upswing in the Islands second pillar of the economy. The poll, carried out by marketing firm Global Research in the first week of this month, asked 419 residents if they believed the BTA would bolster the hospitality industry. While 192 respondents expressed faith in the new body, 105 people 25 percent believed it will not be effective in boosting visitor arrival figures. A further 29 percent of respondents were undecided. A call by BTA chairman David Dodwell for Government to investigate the possibility of allowing visitors to hire cars has been firmly rejected by survey respondents, with 293 people 70 percent saying they did not support the proposal. Twenty-eight percent of those polled gave the initiative their backing, while two percent were undecided. The concept, put forward by Mr Dodwell in February, had already come under fire from the taxi industry, with Taxi Owners and Operators Association president Derek Young claiming it would result in panic and turmoil on Bermuda's roads. Government set up the Tourism Authority last month claiming the industry needed to be run by experts in the private sector rather than politicians. Although it was given a $23.1 million grant by Government in February, it is expected to be self-funding within the next two years. At the time of its launch, the authority's chief executive officer, Bill Hanbury, said the organization would bring about improvements within months. Mr Hanbury said digital marketing and social media would be the first aspects of tourism to be addressed and, in turn, reap results. "I do think within the next three to six months you're going to see some results. I think you're going to start to see some clicks up on hotel occupancy, and on Bermuda's exposure to the world. I think that can be accomplished by doing some things that are perhaps fundamental to what the marketplace demands, particularly around digital applications and social media. I don't think were hitting on all eight cylinders there. I think we can do much better in that arena and I think doing much better in that arena early on will actually give us some early wins, and will affect the economy in the first year of my tenure here. You're going to see some improvements there.
2014. May 24. Bermuda's take from the tourism industry is set to smash through the $1 billion dollar mark over the next ten years, a major new survey has predicted. The survey said the total contribution to the Island's coffers last year was more than $858 million but that is expected to rise by 4.1 percent next year and reach $1.26 billion by 2024, a 3.5 percent increase every year over the next decade. The survey found that tourism supported 7,346 jobs nearly a fifth of the workforce either directly or indirectly last year. And it is predicted that figure will go up by 2.3 percent (169 jobs) this year and continue to rise by 1.7 percent a year and hit 9000 jobs in ten years (20.8 percent of the workforce). The predictions came in a major survey of the industry carried out by the UK-based World Travel & Tourism Council (WTTC). And WTTC president and CEO David Scowsill said that, worldwide, spending by tourists had risen by nearly four percent last year but that spending by travelers from south east Asia had gone up by ten percent. Mr Scowsill said: "It is clear that the growth in travel and tourism demand from emerging markets continues with pace, as the burgeoning middle classes, especially from Asia and Latin America, are willing and more able than ever to travel both within and beyond their borders. The outlook for the industry over the next ten years was extremely favorable but governments would need to take action to capitalise on the growth. This will require governments to implement more open visa regimes and to adopt intelligent rather than punitive taxation policies. It is also critical that public and private partnerships ensure that long term infrastructure and human resource needs are planned responsibly and sustainably to absorb the inevitable growth we are forecasting. If the right steps are taken, travel and tourism can be a true force for good." Tourism Minister Shawn Crockwell yesterday did not respond to requests for comment. The survey added that the direct financial contribution from the sector to the Island's Gross Domestic Product (GDP) last year was more than $285.4 million, 4.9 percent of the total GDP. It also predicted that the direct financial contribution from tourism would continue upwards over the next ten years rising 3.6 percent a year to $423.9 million by 2024, amounting to 5.6 percent of GDP. The number of people working in tourism is also expected to rise. A total of 3,500 jobs almost 10 percent of the working population was directly employed in the industry in 2013, but that is predicted to rise by 2.2 percent (77 jobs) this year and be at 4,000 jobs (10.4 percent of total jobs) in a decade. The survey also predicted that the total investment in the industry, which stood at $27.3 million last year (2.8 percent of total investment) would drop by 2.2 percent this year, but rise by one percent a year to $29.5 million in 2024. Bermuda was rated 140th out of 184 countries in terms of the relative importance of tourism, and 51st in terms of the relative size of the tourism contribution to GDP. The Island was predicted to be 104th for growth in the industry next year, but drops to 130th for long-term growth.
2014. May 24. Scores of sporting and cultural events have been given a cash boost of almost $1 million to help them attract more visitors to the Island. The Bermuda Tourism Authority (BTA) has awarded the grants to 33 tourism experiences that enhance Bermudas overall tourism product, raise awareness of the Island, and ultimately get more tourists to visit Bermuda. A total of $930,500 will be invested in the next 12 months, with sporting events picking up the largest proportion of funding. More than $600,000 has been earmarked for 21 major attractions in the sporting calendar, including the Newport-Bermuda sailing race which was awarded $150,000 the World Rugby Classic, and the Bermuda Invitational celebrity golf tournament. Other winners in the sports category include an annual Beach Tennis tournament at Horseshoe Bay, and a number of fishing tournaments. And 11 cultural experiences have also received funding to the tune of $290,500, including historical re-enactments in St George's, the City Fashion Festival and the Chewstick Lounge. The Little Island Big Adventure eco tour group was the one organization in the natural resources category to earn a grant, picking up $10,000 from the authority. Grants averaged just over $30,000. The BTA will provide practical assistance to a further 12 organizations by marketing their products. The authority invited applications from organizations and entrepreneurs involved in the tourism industry at the start of the year. It planned to invest in events and experiences that drive visitors to Bermuda and/or raise awareness of Bermuda, are in alignment with the Bermuda National Tourism Plan, demonstrate a significant impact on our tourism product, and promote the fundamental objectives of the Bermuda Tourism Authority. BTA Chief Product and Experiences Development Officer Pat Phillip-Fairn revealed that just ten percent of applicants received the full funding they requested, while 60 percent of proposals were rejected. As a result, the BTA will be holding a series of workshops to educate entrepreneurs and innovators on our research about current and target visitors. "We believe strongly some of the strongest Tourism Experiences ideas will be home-grown," said Mrs Phillip-Fairn. "Our focus now is to equip those entrepreneurs and innovators with the knowledge needed to turn their incredible ideas into sharply focused business plans that align with the BTA's overall objectives." According to the BTA, many proposals were rejected because they did not tie in with the objectives of the National Tourism Plan. Too many proposals for a similar event at the same time of year was another reason for rejection. Speaking of the BTAs Lunch and Learn sessions to educate entrepreneurs and innovators on research about current and target visitors, Mrs Phillip-Fairn said: "The sessions will also give further insights into what comprises visitor experiences, so that local stakeholders can come up with creative ideas to help meet our goals for Bermudas tourism development. The full series will cover subject categories: Bermuda's visitors, technology and social media and business planning. A variety of sessions are tailor-made to empower entrepreneurs and innovators. The first Lunch and Learn Session, Bermuda's Visitors Understanding Expectations and Experiences will be held on Tuesday, May 20 at the BTA office.
2014. May 24. St George's MP Kenneth Bascome has hailed the announcement that his area could get a new hotel and casino as great news. Mr Bascome said the proposed redevelopment of the former Club Med site was not just a boost for the East End, but Bermuda as a whole. And the Old Towne's former mayor last night praised Tourism Minister Shawn Crockwell for making the agreement possible. While the Government backbencher acknowledged that only a Memorandum of Understanding had been signed with developers Desarrollos Hotelco Group, he expressed hope that negotiations over the next four months would result in a development. "It will not be allowed to go on for four years before this group is finally told that they have exhausted their exclusivity," Mr Bascome said in a reference to Carl Bazarian's drawn out but ultimately futile attempt to develop the location between 2008 and 2012. "I believe this is great news not only for the community of St George but for Bermuda as a whole. I believe that we need to focus on taking this country where it needs to go by creating jobs and bringing in foreign investment. I have always said that, as an OBA MP, I would have access to Ministers and be able to do things for my community through having that access. I would like to thank Minister Shawn Crockwell and his support staff for selecting this group. Hopefully by September we will know if they are in a position to move forward with their proposal." Earlier yesterday Mr Crockwell told Parliament that St Georges could get a world class, full service resort site as a result of the plan. The 238-room hotel proposed by the Venezuelan hotel development group Desarrollos Hotelco includes a casino, Mr Crockwell said, along with the renovation of the St George's Golf Course, 16 hotel residences, 24 golf villas and 16 estate residences. Government on Tuesday signed an exclusive 120-day negotiation period with the developer, Mr Crockwell told the House, promising to keep MPs fully apprised of its progress. The Desarrollos Hotelco Group recently received conditional planning approval to build a 380 room JW Marriott Hotel and casino in the Turks and Caicos the result of a 2012 memorandum of understanding with that nation to develop a $500 million series of hotels. The company has also been responsible for developing the JW Marriott, Marriott Playa Grande and Renaissance in Venezuela, along with the 320-room Ritz Carlton Aruba. Addressing the House of Assembly, Mr Crockwell said the announcement was a testament to the Government's focus to create an inviting business environment to attract investment and create jobs. "Desarrollos is an experienced Venezuelan real estate and hotel development group. The company was founded in 1997 and over the years Desarrollos has developed many commercial, residential and hospitality real estate projects in Latin America and the Caribbean region. The exclusive negotiation period will allow the Government and Desarrollos to meet with both internal and external stakeholders, negotiate terms, prepare the relevant documentation to finalize agreements to construct and operate a world class luxury resort development on the 124-acre St. Georges Tourism Development Site. The selection of Desarrollos resulted from a thorough Request for Proposal (RFP) process that had the stated objective to provide a high quality tourism development that will complement the St. Georges UNESCO World Heritage Site designation and accentuate the historical significance of the area while providing economic opportunities for the people of St. Georges and Bermuda." He stated that more than a dozen international developers and investment companies expressed interest in the project, and five written submissions were received by the Ministry by the March 31 deadline, however he refused to name the unsuccessful applicants. "By no means was it an easy decision as both short-listed finalists submitted impressive proposals that were augmented with very detailed oral presentations that highlighted their desire and enthusiasm for the project but most importantly their proven ability to deliver projects was evidenced," Mr Crockwell said. "Ultimately, Desarrollos was chosen. This announcement is exciting news for Bermuda as the benefits of this development are significant to the revitalization of our tourism industry, the St Georges community and Bermuda as a whole. This development has the potential to spur other developments and provide exponential employment opportunities. Therefore, I strongly encourage Honourable members and all Bermudians to collectively work together and do our utmost to ensure the success of this project." Mr Crockwell denied a suggestion by Opposition Leader Marc Bean that the RFP process for the Club Med site had been compromised by the so-called Jetgate saga. "Not at all," the Tourism Minister replied. The Minister also told the PLP's Glenn Blakeney he saw no conflict of interest in Tourism Authority chairman David Dodwell's involvement in vetting the proposal. Mr Crockwell refused to name the two companies who were short-listed for the resort project but weren't ultimately successful, saying they might not wish to be revealed. And, on the potential for a casino, the Minister said it rested on the application for a licence once the Gaming Commission is established. "It's not critical to the success of the site, " he said. The St George's site previously housed the Club Med resort, which closed up shop in 1988. The building remained vacant for 20 years before being torn down. US businessman Mr Bazarian was signed up to develop a Park Hyatt resort on the site but the development agreement was later scrapped because of contract breaches. Government repealed the Act of Parliament granting the developer a 262-year lease on the site last September, opening up the way for new developers to come forward, and put out a RFP for the property in January.
2014. May 24. Bermuda has been named the eighth most affordable Caribbean destination for US travelers between the months of March and April this year by the world's largest travel website, TripAdvisor. The online travel agency has also announced its readers voted Horseshoe Beach the sixth out of the 25 best beaches in the Caribbean. A cost-comparison for a family or group for four traveling to 20 of the most popular Caribbean destinations for US residents took into account travel expenses, including the average round-trip airfare from the continental US, a seven-night hotel stay, dinner for six nights and a half-day snorkeling excursion for four. Though the cost-comparison ranked Bermuda as the eighth-cheapest destination, the average hotel cost was the highest out of the nine other destinations at $2,577.82, while the average costs of a round-trip flight for four to Bermuda was the second cheapest at $2,067.64. Dining was also the most expensive in Bermuda, costing an average of $1,158.84, while the average cost of a snorkel trip was the fifth cheapest in Bermuda at $260. The average cost for a one-week trip for a family or group of four traveling to Bermuda during the spring travel period is $6,064.30, compared to an average of $7,152 for all other Caribbean destinations. The average cost for round-trip flights throughout the Caribbean is $3,253 and $2,772 for one week in a hotel. The average nightly rate for a Caribbean hotel during March-April is $396, compared to $368.26 in Bermuda. The costliest stays are in St. Barts, where the average nightly rate of $844 is more than two times the average for the region.
2014. May 23. Government is today set to announce a developer has been signed up for the old Club Med site in St George's. Tourism Minister Shawn Crockwell is slated to make a St Georges tourism announcement in the House of Assembly this morning. And it is thought it will involve the former hotel site, which has lain unused for years since Club Med pulled out of Bermuda in the 1980s. The site could also become the home of the Island's first casino, if legislation allowing gambling in Bermuda is passed as expected next month. Premier Michael Dunkley yesterday declined to comment on the specifics of the announcement. But he said: "There will be a big announcement that has great potential for Bermuda going forward. I think people are going to see, in spite of some of the clouds of negativity we have seen over the past couple of weeks, the work of Government has still gone on and progress has been made. I'm just excited to hear the Ministerial statement in the House when he reads it out. People need to understand how we get here because a lot of people think you just go and find somebody. There was a tourism summit last summer and we had investors from all over the world who came to the table and talked to us about what they thought Bermuda needed to attract people, what type of facilities Bermuda needed. Out of that, the request for proposals was put together for the East End facility and we've worked through that process. The Minister for Tourism Mr Crockwell today must feel tremendously satisfied that he's in this position." Mr Crockwell also declined to comment on details of the deal. But he said: I'm very excited we can make this announcement despite what's been going on, we've been hard at work and I think its going to be a very exciting announcement." St Georges North MP Kenny Bascome, a former Mayor of the Old Town, said: "St George's is the jewel of Bermuda. There are a number of small entrepreneurs that have opened in St George's. they must have some kind of vision that something is going to happen. I hope things work out to allow them to be successful." The former hotel lay derelict for 20 years until the building was demolished with explosives in 2008 and the site cleared.


Last Updated: March 24, 2017.
Multi-national © 2017 by Bermuda Online. All Rights Reserved.