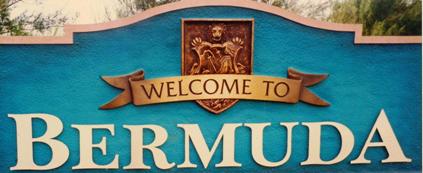 125+ web files in a constantly updated Gazetteer on Bermuda's accommodation, activities, airlines, apartments, areas, art, artists, attractions, airport, aviation pioneers, banks, banking, beaches, Bermuda Status and citizenship, British Army, businesses, calypso, Canadian military, causeway, churches, city of Hamilton, commerce, community, cruise ships, culture, cuisine, customs, Devonshire Parish, disability accessibility, districts, Dockyard, economy, education, employers, employment, entertainment, environment, executorships and estates, fauna, ferries, flora, food, forts, gardens, geography, getting around, golf, government, guest houses, history, Hamilton Parish, homes and housing, hotels, internet access, islands, laws and legal system, local groups and organizations, location, media, motor vehicle options, music, municipalities, Paget Parish, parishes, parks, Pembroke Parish, politics, postage stamps, public holidays, public transport, railway trail, religions, Royal Navy, Sandy's Parish, St. David's, St. George's Parish, shopping, Smith's Parish, Somerset, Southampton Parish, Spanish Point, Spittal Pond, sports, stores, telecommunications, traditions, time zone, town of St. George, United States armed forces, tourism, vacation planning, villages, vital statistics, water sports, weather, Warwick Parish, wildlife, work permits, etc. For tourists, business visitors, employers, employees, newcomers, researchers, retirees, scholars.

Bermuda's Large Resort Hotels
Choice accommodation for visitors on business, conference or vacation

By Keith Archibald Forbes (see About Us) at e-mail exclusively for Bermuda Online
To refer to this file use "bermuda-online.org/accomm2.htm" as your Subject.
An impartial list. No one from this website receives any commissions or rebates from any property.
Recommended hotels are shown in bold. Some have the facilities shown by the following symbols. Hotels shown with 5-2 Stars reflect the symbols shown on Expedia.com. Large (resort) hotels have business and incentive meetings all year. Usually, they have their own private beach, gardens and pools, other luxury facilities, sports, shops, beauty salon, cycle livery, bars, restaurants, nightclub. Most have lower rates from November to March, the off season. Some are on or close to Bermuda's public sector bus or ferry routes.
- 5 Star hotel
- 4 Star hotel
- 3 Star hotel
- 2 Star hotel
- business center
- business facilities
- Ship view
- dining
- disabled access
- fitness
- golf course
- meeting room
- pool
- public buses
- public ferries
- shopping
- walking area
Internet, WIFI, websites, linkage, pricing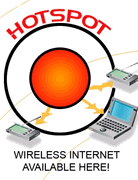 Bermuda Online

(BOL) at http://www.bermuda-online.org will gladly establish a free courtesy web link to the websites of Bermuda properties offering accommodation to our visitors, and show their property's email address in addition, when those properties reciprocate our web link. Via this exchange of links anyone from the world wide web who is interested in Bermuda and wants to stay at any place in particular will be see all the info they want to, about all aspects of accommodation such as room or suite pricing; history and other special features of the premises; location; transportation options; whether or not television and WIFI are available and if so whether the latter free or at cost; and all other services, directly from the websites of the properties at which they want to stay. But it's simply not practical to link to or give any pricing info about or show an email address, any place that won't reciprocate the link. We state all this in our Links at http://www.bermuda-online.org/links.htm.

Having Free WIFI or paid WIFI or wired ADSL (Broadband) available for their guests is more important than ever before in 2012. Many clients assume they will have this same ability during their business visits or vacations as they now do in their homes and places of employment. Their guests or prospective guests who travel to wonderful places like Bermuda want to be able to email photos, including where they stay of course, back home to their families, friends and colleagues. If they cannot, it's a significant opportunity wasted for both clients and properties in terms of publicity and more clientele. It is noted that while some guests write nice web reviews of Bermuda overall they invariably also state whether or not they've had WIFI or other Internet access and other key communications and telecommunications facilities at where they stayed. Internet-reliant guests can bring a laptop or eBook such as a Kindle or Kobo or netbook or IPad or IPhone or playbook or notepad or tablet or ultrabook. In July and August 2012 American visitors to Bermuda who were interested in the 2012 Olympic Games from London were able, from where they stayed if it had WIFI or wired Internet, to see http://www.nbcolympics.com/. Canadian visitors saw http://www.ctvolympics.ca/. British visitors viewed http://www.bbc.co.uk/sport/0/olympics/2012/.


Taxes
In addition to per-day hotel charges, visitors should expect to pay the following Bermuda Government Taxes (a) Occupancy Tax of 9.5% and (b) a Resort Levy of 17%. Ask any property at which you stay about any further extras.
Elbow Beach Resort Hotel
Royal Gazette newspaper photo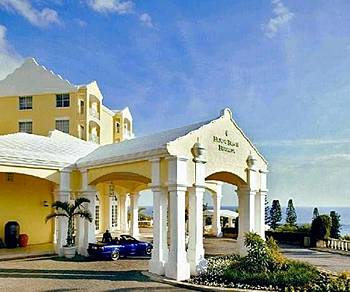 60 South Road, Paget Parish, PG 04.Or P. O. Box HM 994, Hamilton, HM DX, Bermuda. Phone (800) 223-7484 in USA or (441) 236 3535 directly. Fax (441) 236 8043. Reservations 1 (800) 223 7434 in the USA. Over 300 rooms, suites and cottages.
From early January 2013 the hotel officially shut down operations and stopped taking reservations until early March 2013 to enhance the infrastructure of the South Shore property. The initial work will include extensive plumbing and electrical enhancements to the property and refurbishments. The decision was made to close the hotel during the slow season when a large number of employees are usually on leave for extended periods. In May 2013 the hotel celebrates its 105th anniversary as the second oldest hotel in Bermuda, and the first to be built on the South Shore.
When reopened, suites are from about $685 a night in season. Owner: Prince Khaled bin Sultan bin Abdulaziz Al Saud, a prominent member of the Saudi Arabian Royal Family. The $10 million refurbishment will include a refurbished lobby and a new recreation room as well as the complete renovation of the free-standing Bermuda Room, which will be restored to its authentic 1908 design and become a luxurious meeting and banqueting venue for small groups, weddings and social functions. In 2009 the hotel was named one of the world's top 500 properties this year by Travel + Leisure Magazine.
Taxi fare from/to airport from $25 per taxi for 1-4 passengers or $35 for 5-6 passengers. The hotel first opened in 1908 as the South Shore Hotel. The resort is now part of Mandarin Oriental's portfolio of luxurious properties. Elbow Beach is managed by the Mandarin Oriental Hotel Group, which is registered in Bermuda and part of the Jardine Matheson Group - but with most of its operations in China (and its administrative territory Hong Kong), Singapore and elsewhere in Asia. It also manage hotels in Miami, New York, Hong Kong, Jakarta, Kuala Lumpur, London and Macau.
The hotel is 5 minutes by taxi from the city of Hamilton. It is a luxury four-star/diamond resort hotel and and cottage colony (Fritholme Gardens), combined. It is on 50 lush acres of its own botanical gardens. It offers both the atmosphere of a full-service hotel and selection of garden cottages, executive villas and condominiums. All hotel units have 53-channel television. For tennis, there are 5 newly resurfaced plexi-pave courts, 3 lit for night play. There is also the Deep night club. It is near the 7 bus route. Nearest beach is the hotel's private part (the western part is public) of Elbow Beach, to the south of the hotel. For other beaches, see beaches.
---
Fairmont Hamilton Princess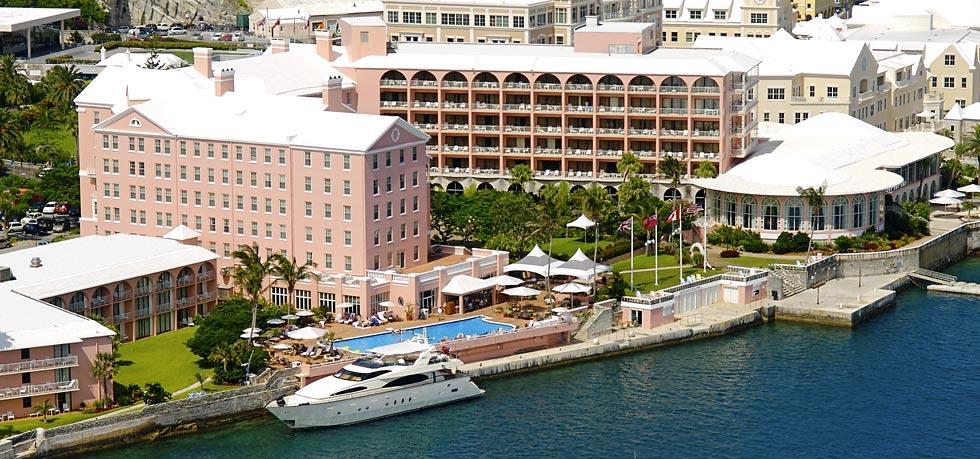 Sometimes referred to as the Pembroke Princess. 76 Pitt's Bay Road, Pembroke, Hamilton, Bermuda HM 08. Phone (441) 295-3000. Fax (441) 295-1914. Toll Free in USA (866) 540-4447. E-mail hamilton@fairmont.com. Mailing address P. O Box HM 837, Hamilton HM CX, Bermuda. Owned from September 2007 until September 2012 by Global Hospitality Investments (GHI), 9210 N Fireridge Trail, Scottsdale, Arizona 85268, USA.
See Trip Advisor Reviews at http://www.tripadvisor.co.uk/Hotel_Review-g147257-d147677-Reviews-The_Fairmont_Hamilton_Princess-Hamilton_Pembroke_Bermuda.html.
Now owned by the Green family from Bermuda - father Peter and sons Andrew and Alexander - following the purchase of the hotel from GHI.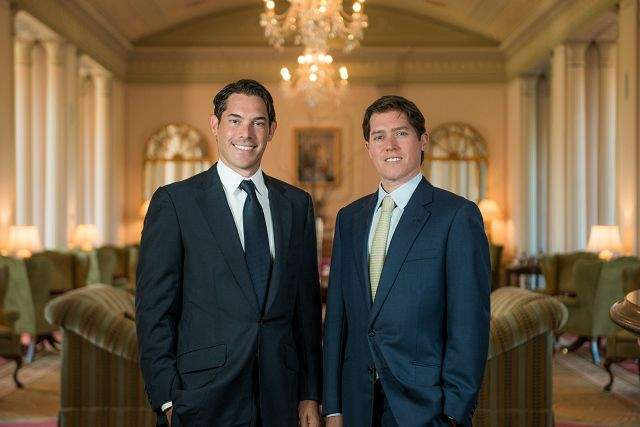 Green sons, hotel owners. Royal Gazette photo
The Green family have been in Bermuda for 65 years and pledged to invest $50 million to enhance the property in order to further strengthen its position as one of the island's greatest tourism assets. The family will continue the development plans started by GHI, which include building a marina, upgrading rooms, redeveloping the hotel's public spaces including the pools, gardens and restaurant to increase the property's leisure credentials, while maintaining its existing appeal to business travelers. Their plans include a marina that can accommodate super yachts, a waterfront restaurant, revamped swimming pools - and maybe even a casino one day if the law allows it. Allowing casinos in Bermuda may not be the absolute answer to reviving tourism but certainly a casino will create new revenue streams. It was noted that one study done had found around 30 percent of tourists said allowing gambling is something Bermuda should consider and that cannot be ignored. While the hotel has traditionally attracted business visitors, the new owners believe that there is great potential to increase the leisure side of the business through enhancements to the hotel's leisure facilities. The Green family also owns Overbay and the Waterloo House development of luxury commercial and residential accommodations on Pitt's Bay Road. The Green family has a history of owning hotels and for a seven-year period beginning in 2004 they had a 25 percent stake in the Maybourne Group, which owns The Berkeley, Claridge's and The Connaught. Mr Green, the owner of Berco Limited, an investment company is a wealthy investor, born in Manchester, England. He is a Bermuda resident and long-time contributor to the UK's Labour party. His wife, the late Mary-Jean Mitchell who died in 1990 of cancer was the only child of Sir Harold Michell, then one of the world's wealthiest men, who arrived in Bermuda in 1947 with is wife Mary Pringle. He has a multimillion dollar home on Marshall's Island and married again, as a widower. His father was an entrepreneur in textiles and grocery stores that later became Tesco. He purchased the Fairmont Hamilton Princess from GHI with his sons, Alexander and Andrew Green, who are Bermudian. The property will continue to be managed by Fairmont Hotels and there will be no changes of staff or operations as a result of the sale. More than 90 percent of the commercial space within the property has been rented out, some of it to companies that are new to Bermuda, and the residential penthouse apartments will be released onto the market.
Managed by Fairmont Hotels & Resorts (a previous owner of the hotel, before GHI). On the waterfront of Pembroke Parish. On the outskirts of the City of Hamilton. 410 rooms, licensed for 1000 guests. This historic hotel is the oldest in Bermuda, a landmark. It first opened on January 1,1885, following the success of the Hamilton Hotel. It bagan Bermuda life as the Pembroke Hotel. Harley Trott, a leading businessman of the time, saw opportunity and had the new hotel built to provide a winter haven. The hotel opened two years after Her Royal Highness Princess Louise Caroline Alberta, Duchess of Argyle, http://en.wikipedia.org/wiki/Princess_Louise,_Duchess_of_Argyll, fourth daughter of Queen Victoria, visited Bermuda and called it "a place of eternal spring." Married in 1871, her husband was the Marquis of Lorne from Scotland who later became the 9th Duke of Argyle. The hotel was-re named "The Princess" in her honour. She became a frequent visitor in the 1880s, to escape the cold of Canada where her husband was the Governor General. She was Bermuda's first official tourist of Royal blood and an accomplished artist in water colors and oils. Because of her appreciation of the military, the Guard of Honor it provided for her wedding and the artwork she did for it, one of Scotland's most famous British Army units to serve in Bermuda, The Argyllshire Regiment, was renamed to honor her. It carried her insignia for many years in its own - and served in Bermuda for two years under the name in the late 1920s - before it became The Argyllshire Highlanders.
The hotel quickly became a beacon to travellers and saw Bermuda go from a winter destination for wealthy New Yorkers who arrived by steamship to a spring break capital for east coast college students to a destination for discerning travellers looking for something different from what other Islands offer. Later, the hotel had many connections with Mark Twain, a frequent visitor there and who made a point of getting all his friends from the USA to stay there if he could not put them up himself in his Bermuda home. From the day it opened, hotel became part of the fabric of the Bermuda community. It was when Bermuda's nascent tourism season was winter, when guests arrived by steamship from New York and stayed on the island for months, when horses and buggies transported passengers along dusty roads. Over the years it had its fair share of celebrities, including Mark Twain who was known to recite poetry while smoking a cigar on the veranda. The hotel has played a leading role in both Bermuda tourism and the Bermuda economy.
It became affectionately known as "The Pink Palace" because of its architecture. The original hotel was an all wooden structure. One of the original focal points was a beautiful sweeping veranda that came right up to the harbour. Patrons loved to sun themselves on lounge chairs on this veranda, wrapped in their fur coats, as it was a winter destination. Afternoon tea was also served on the veranda and the ladies would appear in their best dresses. Over the ensuing years it had some very distinguished patrons including author Mark Twain whose bronze statue now sits in the lobby, and Frances Hodgson Burnett author of 'The Secret Garden', and much later, Robert Kennedy and singer Michael Jackson. Many guests houses also sprang up in Hamilton and elsewhere. Bermuda's winter tourism trade began to create its own special niche, the envy of many other small Atlantic and Caribbean islands. A Canadian organization owns her art in Canada and lent them to Bermuda for a 1998 exhibition.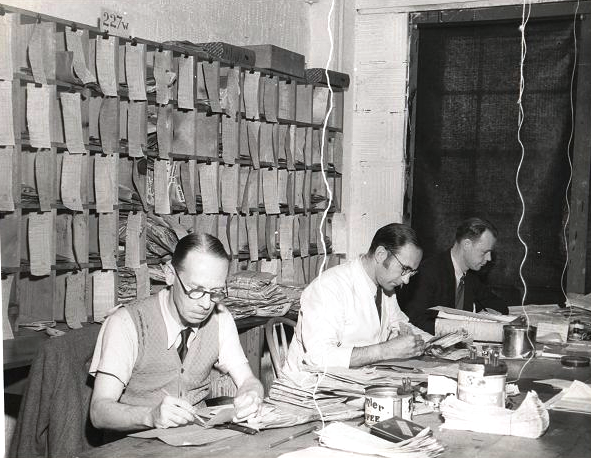 British censors at work at the hotel until 1944

While most Bermudians and residents know the hotel has a very interesting past full of intrigue and colorful characters, many do not know that the property was an important spy centre that involved the man some consider to be the inspiration for author Ian Fleming's James Bond, Agent 007.

Also known as the "Pink Palace", the hotel played an integral role in World War Two as a covert agent for the Allied Forces fighting against tyranny and oppression on the war's many fronts. It denied the Germans both knowledge and information. Charged with "defensive" censorship, 880 "examiners" - mostly British but with American personnel too - read commercial and personal mail, packages and pouches that were sent across the Atlantic to and from Europe and Nazi Germany in order to delete any potentially harmful information.

The operation was essentially the filter through which all correspondence in the Western hemisphere was inspected. To the average person during World War Two, censorship during times of war was a routine activity. It didn't generate much interest. And that's exactly how British Intelligence authorities wanted it to look because behind the walls of 13 rooms within the hotel, top secret sleuthing, a la James Bond, was taking place. Even the majority of the "examiners" didn't know what went on behind closed doors. Under the leadership of British Intelligence officer William Stephenson, a Canadian some say was one of the real-life inspirations for the literary and movie super-spy James Bond, the co-ordination of the secret "offensive" censorship took place in the 1940s. According to an article entitled The Princess Spies (it's possible, perhaps even likely, the Hamilton Princess Hotel has a copy, given its involvement. If so, it might be available there for inspection), written by CIA officer Thomas F. Troy, who died in 2008, espionage experts used technologically-advanced techniques to break into letters and packages in order to produce and plant "forgeries useful in propaganda and blackmail operations." The group of experts could obtain the contents of any package leaving no trace of their tampering. Using innovative techniques for the time they could even extract a letter from an envelope without cutting, steaming or replacing it with a forged replica. Their work proved to be so useful to the combined efforts of the war that Sir William called the censorship initiative "a political weapon of very special importance . . . credit to all concerned." The hotel has many other fascinating connections to the legacy of James Bond and to victory of the Allied Forces in World War two.

The recently renovated Bay Wing of the Fairmont Hamilton Princess has been renamed Bermudiana House. The latter reflects the hotel's heritage, to help create a truly local experience for guests.
The hotel overlooks picturesque Hamilton Harbor, has extensive uninterrupted views of it, with nice gardens. It is an eight minute walk from the City of Hamilton and the ferry terminal. It is not served by buses. Most visitors do not know that this hotel was the international headquarters during World War II for a considerable number of male and female British censors who invariably paid very considerable attention to and often impounded mail going between Germany and the United States. They acted in complete accord with the FBI and other organizations on the mainland. Sadly, their quarters at this hotel have been shuttered up. (They could be made into a unique attraction for visitors and residents).
Nearest beaches are Clarence Cove and Deep Bay, both - like this hotel - in Pembroke Parish. These beaches are on the North Shore. The nearest South Shore beach is Elbow Beach in Paget Parish. For other beaches, see beaches. Other South Shore beaches are much further away, east or west.
---
Fairmont Southampton Princess

101 South Shore Road, Southampton Parish SN 02. Or airmail at P. O. Box HM 1379, Hamilton HM FX, Bermuda. 593 rooms and suites. Toll free at (866) 540-4497 or (441) 238-8000 directly. Fax (441) 238-8968. E-mail southampton@fairmont.com. 593 rooms, 1500 guests. Taxi fare from/to airport from $35 per taxi for 1-4 passengers or $45 for 5-6 passengers. Near the 7 and 8 bus routes.
See Trip Advisor Reviews at http://www.tripadvisor.co.uk/Hotel_Review-g147261-d147867-Reviews-The_Fairmont_Southampton-Southampton_Bermuda.html.
Another Bermuda hotel in the Fairmont Hotels & Resorts Inc. stable. Bermuda's largest hotel, it is on the second highest point of Bermuda. In 1972-74, when it was built, almost 100% of the construction materials came from Canada. It is a 100-acre estate facing the South Shore ocean and Great Sound on the north side. It is a luxury resort hotel. Major improvements have included a new spa, pool and beach area. There are lovely gardens and its own challenging, executive golf course. It has sophisticated and flexible meeting facilities, a variety of restaurants and services. It was built in 1972 from scratch by its first owner, the American multi-millionaire Daniel Ludwig. Sixty percent of hotel guests are in conventions. It has received numerous Bermuda Government Tourism awards. The Princess-to-Princess (linking both the Fairmont Hamilton Princess and Fairmont Southampton Princess) ferry is very popular with guests. Nearest beach is the one belonging to this hotel, reachable by the hotel's beach shuttle. For other beaches, see beaches.
The last three-and-a-half decades have seen the hotel — originally called the Southampton Princess — play host to some of the world's best-known and wealthiest celebrities and dignitaries. It introduced Bermudian breakfasts to hotel guests more than a decade ago The traditional island fare quickly became hugely popular and hundreds of plates of codfish and potatoes are now served there to locals and hotel guests every Sunday. Guests have included the Saudi royal family's stay in the late 1970s, which saw fresh lamb's milk flown onto the Island every day for more than week; Bill Cosby and his wife; US presidents, including George Bush senior; Tony and Cherie Blair; The Queen and Prince Philip (though they always stayed at Government House); James Belushi. The four-star hotel opened with 600 rooms but now has 593 — the missing seven having been transformed into a lounge on the exclusive Fairmont Gold sixth floor, a "hotel within a hotel" for the richest clients. Millions of dollars have been spent on renovations over the years and the hotel now features a state-of-the-art spa, though the footprint of the site remains the same as in 1972, when then-Governor Lord Martonmere performed the official opening. The Southampton Princess was the brainchild of American businessman and shipping magnate Daniel K. Ludwig, who also owned its sister property, the Princess Hotel in Hamilton. Canadian Pacific Hotels bought both properties in 1998 and took over Fairmont Hotels and Resorts the following year. The hotels were then renamed the Fairmont Southampton and the Fairmont Hamilton Princess. In September 2003, the Fairmont Southampton was damaged by Hurricane Fabian and closed for renovations until April 2004.
In August 2008 Fairmont Hotels and Resorts applied for planning permission to build 130 villas on the grounds of this hotel. Some units overlook the golf course but the fairway itself remains intact. The golf course remains as a par three 18-hole golf course. The mixed-use development of fractional units, townhouses and villas only resulted in the relocation of the 14th green and tee, plus a new 18th tee and green. Since acquiring the hotel in 1998, the Fairmont group has invested $122 million in remediation work and facilities upgrades, following Hurricane Fabian. The consultants say fractional units for sale and rent are necessary to create additional product offerings for tourists.
There were eight proposed areas of development:
Golf Course: A new 18th tee, fairway and green planned, plus relocation of the 14th green and tee. But with no loss of yardage

Turtle Hill Fractional Units: 57 units housed in eight two/three storey buildings, to create a "luxury private fractional ownership club". Appealing to "upper income buyers", the units are around a private complex with arrival plaza, two tennis courts and an infinity pool.

Turtle Hill Villas: Built to the east of Turtle Hill, this accommodation consists of seven two-storey villas.

Golf Fractional Units: Located on the hillside overlooking the golf course, to the south-west of the hotel, 14 fractional units built in four two-storey buildings, with accompanying spaces for golf carts. Marketed to golfers, the units are available for home ownership.

Golf Villas: Twenty villas to the north of the golf course clubhouse, housed in seven two-storey blocks. Amenities include a swimming pool and garden, plus a new driveway providing access from Harbour View Drive.

Hilltop Villas: Ten units built in three two-storey buildings to the north-west of the hotel, with access from Lighthouse Road.

South Road Town homes: 22 townhouses in three two-storey buildings, accessed off South Road, specifically intended for sale to the local Bermudian market.

Fairmont Beach Club: The existing tennis courts near East Whale Bay replaced by additional food and drink facilities. The Beach Club has a fire pit, bar, cabanas, pool and waterslide, plus possible grotto and Jacuzzi pools.
However, in January 2009, arising from the economic downturn that has so hugely affected Americans in particular, the hotel's best clients by far, the hotel announced 35 job losses, in the first signs of recession hitting Bermuda's tourism product. Plus, it closed half of its guest rooms until April 2009. In addition, restaurants were closed on a rotating basis based on hotel-occupancy rates, until the 2009 summer season.
In 2009 it realigned its operations to meet the shift in demand from high end to mid-range visitors as the economic crisis takes further effect. Previously, it focused mainly on the luxury tourist market, but the introduction of the new cost-conscious traveler in 2009 has seen the resort transform the way it does business.
In 2011 The hotel has tried to adapt to match the change in clientele, lowered costs for guests and offered unprecedented room discounts to attract those looking for value for money in the current financial climate.
---
Grotto Bay Beach Resort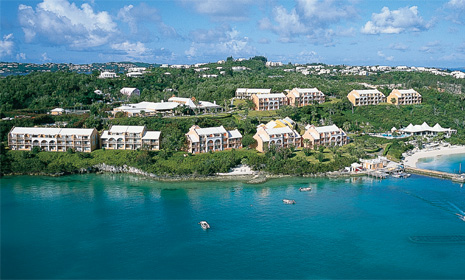 North Shore Road, Hamilton Parish.
Phone (441) 293-8333. Fax (441) 293 2306.Reservations 1 (800) 582 3190 in the USA or 1 (800) 463 0851 in Canada. 201 rooms, for 500 guests. See Trip Advisor Reviews at http://www.tripadvisor.co.uk/Hotel_Review-g562684-d147864-Reviews-Grotto_Bay_Beach_Resort-Hamilton_Parish_Bermuda.html.
Nearest hotel to the Bermuda International Airport - about one mile away. On 1, 3, 10 and 11 bus routes. On 21 acres of landscaped ocean-front grounds. They feature hibiscus, oleander and bougainvillea gardens.
With several man-made beaches, 4 plexi-paved cork-based tennis courts and exercise room.
The hotel is on Castle Harbor and the North Shore ocean.
It has two historic underground caves for exploration and swimming.
One of only two large Bermuda hotels locally owned, in this case by a group of investors.
It recently underwent a US$8 million renovation, with many guest rooms completely refurbished and with new decor throughout. With several restaurants.
Nearest beaches are the two North Shore beaches on this property.
For other beaches, see beaches.
---
Rosewood Tucker's Point Hotel & Spa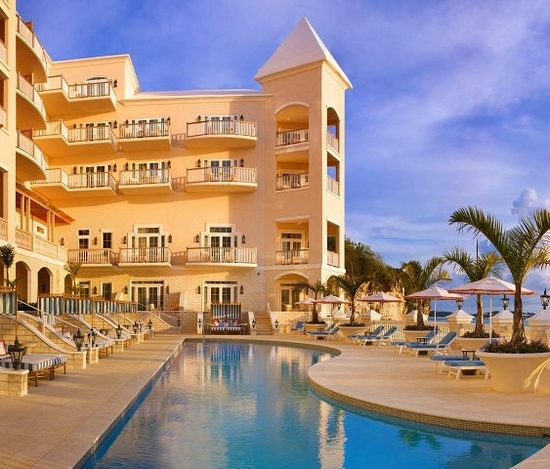 60 Tucker's Point Drive, Hamilton Parish HS 02. Phone (441) 298-4000. Email Tuckerspoint@rosewoodhotels.com. Mailing address P. O. Box HS 85, Harrington Sound, Hamilton Parish, HS BX, Bermuda. Overlooking Castle Harbour. Newest and best hotel. So-called because it is professionally managed (but not owned) by the Rosewood corporation of Texas. Opened April 17, 2009 by Bermuda residents and film stars Michael Douglas and his wife Catherine Zeta-Jones, with then-Premier Ewart Brown, as the first new hotel to be constructed in Bermuda for 37 years.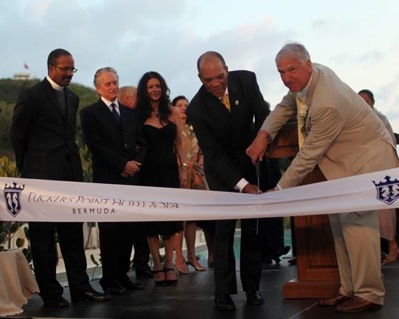 On 200 acres of waterfront. It is in the exclusive and private residential area of Bermuda known as Tucker's Town. A resurrection, reconstruction and reconstitution of the Castle Harbour Hotel, which opened in 1931 and closed in 1999, under a new name after the latter's demolition. The Castle Harbour Hotel was a landmark first planned by the British Furness Withy shipping organization in 1923 and first opened on November 1, 1932. Furness Withy built both the original Castle Harbour Hotel and the Mid Ocean Club. After World War 2 Furness Withy of the UK lost interest. The property and extensive land were bought by Bermuda-based Bermuda Properties Ltd (BPL), originally headed and owned by Juan Trippe. He was the founder of the original Pan American World Airways. It was a direct result of his interest in Bermuda after Pan American flew between Bermuda and New York from 1937. His son, Ed Trippe, now has control.
The new (since 2009) $350 million, 200-acre development seen in the photograph above includes a residence club, estate and town homes, villas. The boutique hotel, designed to five-star standards, also offers a conference venue for Bermuda's established international business community. The centre piece is the Manor House, perched above Castle Harbour. Each of its rooms is decorated in a classic British style of artwork and furnishings, while the bathrooms feature deep soaking tubs, as well as expansive balconies and terraces with water views. The suites come complete with bars with ice makers and fireplaces, while the rooms are fitted with Wi-fi, VOIP telephony and IP-TV. The Palm Court, which is lined with palm trees, leads from a croquet lawn to a horizon pool overlooking a lush grotto and Harrington Sound. The spa has 10 tranquil treatment rooms and a Silver Tag hydrotherapy suite, with the women's salon offering manicure, pedicure and styling. There is also a barber shop. The 1,900 square-foot fitness centre is fitted with aerobic and cardiovascular equipment, in addition to weights, offers private wellness and conditioning instruction, while the dive and watersports centre provides dive adventures aboard the 31-foot Tidal Pull exploring shipwrecks and underwater caves. Diners have the Point Restaurant, accessed via an English long bar facing Palm Court. Point Terrace and the wine room, with its barrel-vaulted ceiling and selection of new and old world wines, provides a more private experience, along with al-fresco dining poolside at the Mahogany Terrace. The conference facility comprises computers, translation, IT support and secretarial services, in addition to satellite conferencing and a projection screen. There are two swimming pools, a golf course, beach and tennis club and more.
Guest rooms range in size from 530 to 1,200 square feet with luxury bathrooms and terraces with views of Castle Harbour and Harrington Sound. Rooms feature luxury bathrooms and terraces with views of Castle Harbour and Harrington Sound. Each room has a spacious balcony with a view of Castle Harbour, a flat screen panel TV, Wi-fi, fireplace, wet bar and walk in closets. They also have a luxury five-fixture bathroom with a stand alone deep bathtub. The rooms also come with amenities such as portable phones and I-pod/Mp3 docks and 24-hour room service.
In February 2011 a Special Development Order (SDO) was passed by the Bermuda Government, to allow a Tucker's Point expansion of 78 homes and 70 hotel rooms, to provide more opportunity to erase losses and replace them with profits. A letter to shareholders from president Ed Trippe had revealed Tucker's Point was losing more than $1 million a month from the start of 2009 to August 31, 2010. The majority of members of parliament said the move was vital for Bermuda's tourism product, and would help ensure the success of one of the Island's most lucrative resorts. The development, granted final approval, will be done in three stages. The owners have ten years to start work on all three stages before the SDO expires. The first stage will see 19 residential homes built; these can sold to foreigners as a result of recently passed amendments to the Immigration Act. The first three single units, which are part of a subdivision, will be on Glebe Hill in Hamilton Parish. An additional seven single-family homes will be built on Paynter's Road, South Road and Harrington Sound Road. Another nine single and attached houses will be built on Paynter's Hill. The next phase will expand the number of guestrooms at the Rosewood Tucker's Point from 100 to 150 or 170. These will be built on Quarry Hill. The final stage will create a townhouse community on Whitecrest Hill. The owner currently has in principle planning approval to build 42 sites on Whitecrest Hill; the SDO adds another 15 homes to the site. The final stage will also rebuild the historic Tucker's Point Stables building, converting it into a community centre for residents and guests. As part of the SDO agreement, Rosewood Tucker's Point will deed 7.5 acres of land zoned as Woodland and Nature Reserve, as well as Mangrove Lake, to Government or a designated land preservation entity. A list of shareholders of Bermuda Properties Ltd (BPL) and its subsidiary Castle Harbour Limited (CHL) shows most of both companies' shareholders were then (and now) non-Bermudian. Major shareholders of BPL include Morgan Guaranty Trust Company, of Ohio; Charles Trippe of Massachusetts; Edward Trippe of Connecticut; and Basic, Inc of Virginia.
Possible new hotels
Ritz Carlton Hotel (planned, not yet built)
A planning application was submitted in 2010 to build a Ritz-Carlton Hotel on Par-La-Ville car park in the City of Hamilton, creating 330 new jobs and injecting $200 million into the economy. The proposed hotel would have street level boutique shops along Church Street and Par-La-Ville Road, 150 guest rooms and suites and a further 60 luxury residential apartments including roof top gardens and a swimming pool. With its prime position in the centre of Hamilton's financial district and directly across the road from the Bermuda Stock Exchange, it is anticipated the hotel will attract a high proportion of business clientele. There will be landscaped grounds to the rear and a 20,000 sq ft underground conference hall – another tilt at the corporate and business market that will be key to the success of the venture, which is being pitched as a business hotel and residence. Two major restaurants are to be included – on the top floor a lounge and grill would look out from one corner, enjoying commanding views towards City Hall and the heart of the Hamilton. Backers of the ambitious idea are headed on the Island by United Resorts Inc. The idea of building a hotel on the car park at the corner of Church Street and Par-La-Ville has been in existence for years but has suffered a number of stalled efforts despite speculative interest previously shown by the prestigious Regent Hotel group. In the latest proposal the hotel would be 135ft high with seven floors above ground level and incorporating features within the roof space. It would have three levels of underground parking for 500 cars, a central outdoor courtyard and a small amphitheatre and fountain area at the rear that links to the Par-La-Ville public park. The Corporation of Hamilton has extended the developers' exclusivity period for the site until December 29, 2006. The developers are eager to move forward and have asked for the planning process to be speeded up after lodging the proposal with the Department of Planning. The project follows guidelines prepared by former Tourism Minister and now Premier Ewart Brown and the Corporation of Hamilton's development brief. The Par-La-Ville public park would be extended slightly northwards in "overpasses" to the hotel and connect directly to the hotel's courtyard. There would be 15,000 square feet of shops and the 60 apartments, varying in size between one, two and three-bedrooms, would be for sale to Bermudians and non-Bermudians.
---
South Beaches (beaches site, awaiting development)
On its own 33-acre peninsula of picturesque landscaped grounds in Southampton Parish, with 13 acres along the South Shore bordered by three private pink sand beaches on three natural bays, via a very steep hill from the main South Road. It is near the # 7 bus.
October 10, 2012. The prime South Shore site of the former (a) Carlton Beach Hotel (b) Sonesta Beach Hotel (c) Wyndham Bermuda resort has been put up for bid in the hope of attracting a buyer. Exclusive agents for the property, Jones Lang LaSalle and Rego Sotheby's International Realty said all offers for 32-acre South Beaches should be submitted by November 9. Scout Real Estate, the US developer which bought the oceanfront spread in 2007, had planned to build a five-star resort there. But after demolishing the hotel, the plans were scrapped. Lehman Brothers, the US investment bank which filed for bankruptcy protection during the 2008 financial crisis, had been the main financier of the $200 million project. South Beaches joins several other Bermuda resort properties looking for buyers, including newly built Newstead Belmont Hills, which was put in receivership last January and is understood to have cost about $70 million to build, with sources saying one group offered in the region of less than $15 million. Pink Beach Club, a much older property, was also put in receivership. An industry source said it could be purchased for much less than $15 million. Rego and Jones Lang LaSalle did not comment by press time on the call for offers or what South Beaches was worth. They have been trying to sell the site since May last year. South Beaches is described in the call for offers as having an "exceptional location" that is "complemented by three private pink sand beaches tucked into natural attractive bays and overlooked by picturesque topography that slopes down toward the shoreline. The Property is entitled via a Special Development Order providing the right to build a hotel and 88 residential units, 47 of which may be sold to non-Bermudians, a rare and valuable allowance." The site is freehold without a requirement for a buyer to take on a long-term lease with the Government.
Other highlights are said to be: "Spectacular central island location proximate to established and well-recognized destinations such as The Fairmont Southampton, The Reefs Resort Hotel & Club, South Shore Park and Beaches, and Gibbs Hill Lighthouse; tremendous view corridors with direct access to three private beaches: Cross Bay, Sinky Bay and Boat Bay, as-of-right entitlements with the ability to sell to non-Bermudians; a strong luxury residential market on Bermuda, an ideal luxury hotel and resort setting unlike any other site in Bermuda; easy access to eight world-class golf courses, Hamilton Business District (20 minutes) and international airport (35 minutes). A copy of the call for offers says bids should be submitted in the form of a Letter of Intent and include: the offering entitiy and component entities with demonstration of financial ability to undertake the transaction; purchase price and due diligence/ earnest money schedule; purchase and sale agreement comments; closing costs allocated to buyer and seller; a closing date and buyer contacts including attorney, in Bermuda.
On May 11, 2011 it was announced this ocean-front 32-acre site is up for sale. Jones Lang LaSalle, with Rego Sotheby's International Realty in Bermuda, are exclusive agents to market the development site. It includes three South Shore beaches and is zoned for mixed tourism and residential use. Current entitlements allow for the construction of a hotel plus 88 residential units of which 47 could be sold to non-Bermudians. No asking price has been attached to the site. A compelling site, it has wonderful topography, and beautiful water views from all levels, overlooking the three beaches.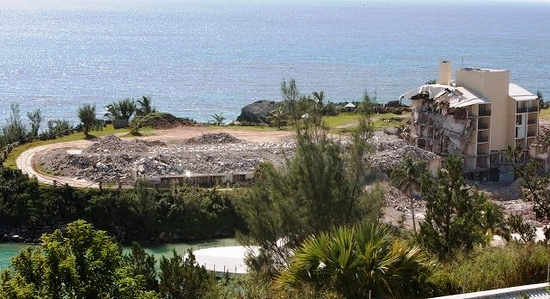 Former hotel site, Royal Gazette photo
The site is also exceptional in that it comes freehold and without a requirement for a buyer to take on a long-term lease with the Government. It had been expected to open in 2011 as a US$300 million investment, with 150-rooms, with individual beach villas around three beach coves, a luxury spa and fitness center, several pools and restaurants and shopping venues. Scout's other properties include The Harbor View Hotel & Resort and The Kelley House on Martha's Vineyard and various properties totaling 6,000 acres on the Big Island in Hawaii.
---
Categories of all accommodation properties for visitors


Last Updated: May 16, 2013.
Multi-national © 2013 by Bermuda Online. All Rights Reserved. Contact Editor/writer and webmaster.