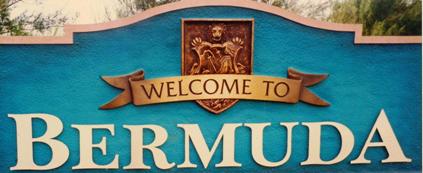 165+ web files about Bermuda, regularly updated as a Gazetteer, focusing on this internally self-governing British Overseas Territory 900 miles north of the Caribbean, 600 miles east of North Carolina, USA. Accommodation options, aircraft & shipping registers, airlines, airport, America's Cup 2017, actors/actresses/musicians/singers/ performing artists, banks, beaches, Bermuda Dollar, Bermuda Government, Bermuda-incorporated international and local businesses and companies including insurers and reinsurers, Bermudians, books and publications, bridges and causeway, charities, churches, citizenship by Status, City of Hamilton, commerce, communities, credit cards, cruise ships, cuisine, currency, disability accessibility, Devonshire Parish, districts, Dockyard, economy, education, employers, employment, environment, executorships, fauna, ferries, flora, former military bases, forts, gardens, geography, getting around, golf, government, guest houses, history, historic homes, Hamilton, House of Assembly, housing, hotels, immigration, import duties, internet access, islands, laws, legal system and legislators, location, main roads, marriages, media, members of parliament, money, motor vehicles, municipalities, music, nearest mainland, newcomers, newspaper, organizations, parks, Paget Parish, Pembroke Parish, residents, pensions, political parties, postage stamps, public holidays, public transportation, railway trail, real estate, religions, Royal Naval Dockyard, Sandys Parish, Smith's Parish, Somerset Village, Southampton Parish, St. David's Island, St George's Parish, senior citizens, Somerset, Spanish Point, Spittal Pond, sports, taxes, telecommunications, time zone, traditions, tourism, Town of St. George, Tucker's Town, utilities, water sports, Warwick Parish, weather, wildlife, work permits.

Bermuda's Large Resort Hotels
Choice accommodation for visitors on business, conference or vacation

By Keith Archibald Forbes (see About Us) exclusively for Bermuda Online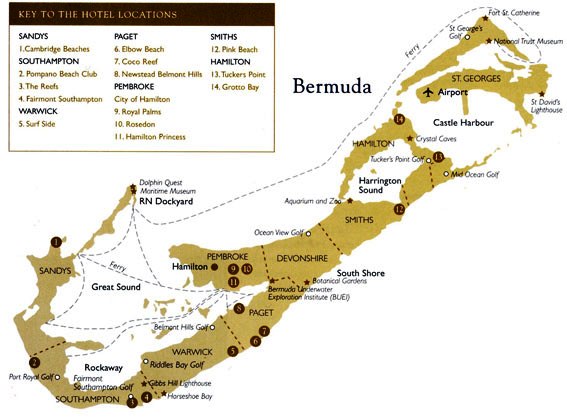 Locations of hotels
Introduction
Large (resort) hotels of the type shown below have business and incentive meetings all year. Usually, they have their own private beach, gardens and pools, other luxury facilities, sports, shops, beauty salon, cycle livery, bars, restaurants, nightclub. Most have lower rates from November to March, the off season. Some are on or close to Bermuda's public sector bus or ferry routes. Places to stay have been inspected and licensed, but not graded, by the Bermuda Tourism Authority, the new Bermuda licensing and regulatory tourism agency, for accommodation, facilities and services. Most have lower rates during November to March.
Bermuda's official currency. The Bermuda Dollar is fixed to the US Dollar. Thus the US dollar is accepted everywhere at par. British Pounds sterling, Canadian dollars, Euros and other currencies should not be brought as they cannot be used. Most major international credit cards will be accepted from visitors, but overseas debit cards, even in the USA, cannot be used in Bermuda. Most if not all Bermuda places to stay, stores and restaurants will no longer accept traveler's checks, so they should not be bought for your Bermuda visit.
Internet, WIFI, websites, linkage
Bermuda Online (BOL) at http://www.bermuda-online.org currently provides a basic free-to-the premises concerned listing to help visitors. Entirely impartial, it includes basic physical addresses and contact details. This basic list is extended, again at no charge to premises, to include websites and email addresses when link-reciprocal conditions apply. When properties create a web link to us we respond immediately with both a web link to them and show their email addresses. Internet-reliant guests at each property should confirm that WIFI or wired ADSL (Broadband) is available for guests and at what price if not free.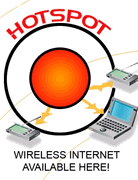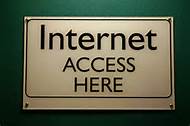 Arrival, hotel occupancy and departure taxes for tourists
A summary
Occupancy and Tourism tax. Since April 2016 11.5%, on top of which hotels and other guest properties charge further taxes of their own, making the overall tax total easily more than 28% of the billing rate for guests. Some guests can pay as much as $75 a day per room just in Bermuda Government and other hotel or guest property taxes, plus departure tax. There is a relevant Bermuda Government Hotel Occupancy tax page showing how much government charges the hotels, see http://www.gov.bm/portal/server.pt?open=512&objID=275&&PageID=231424&mode=2&in_hi_userid=2&cached=true, but it may not include what the hotels charge guests.
As an example of the above, just in hotel and directly related costs, the Hamilton Princess and other Bermuda resort hotels charge their basic published rate plus 11.75% tax, $12.29 resort levy per person per day and $10.70 gratuities per person per day.
Energy surcharge, imposed by some hotels or guest houses.
Service charge. In addition to the compulsory 17% service charge added to your food and beverage bills.
Yacht arrival tax $50 per person since April 1, 2015.
Total taxes mean Bermuda charges the highest tourism taxes in the world by a very wide margin.
Departure Tax: $75 per person, was $30 before March 31, 2015, raised again in August 2015.
visitors access

Always confirm this before you book with the property and note note carefully that USA ADA disability standards do not apply in Bermuda. Disabled visitors using wheelchairs should ask before they book for details of disabled-friendly rooms required such as door widths, ground floor or higher, if an elevator nearby is available if not on the ground floor, elevator emergency policy for disabled guests, if there is a wet-room shower, or only a shower in a bathtub, etc.
---
Caroline Bay
In course of construction. Upcoming new luxury 5 star Ritz Carlton Reserve hotel and resort being built at Morgan's Point, Southampton and expected to open by late 2018 or early 2019.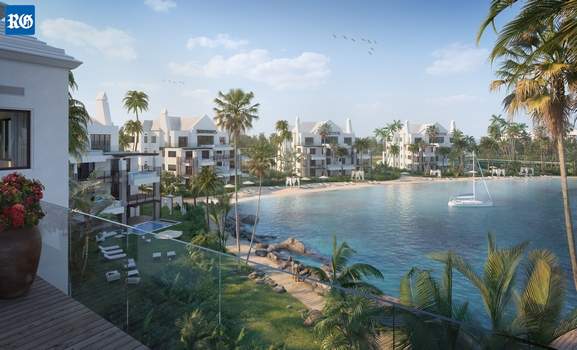 2018. March 27. The board of a stalled hotel construction project at Morgan's Point has been changed as Government said it was in discussions with the developers over their need for more finance. Craig Christensen and Nelson Hunt have quit the board of George's Bay Ltd, an arm of Morgan's Point Ltd. Andy Burrows, chief investment officer of the Bermuda Tourism Authority and Nancy Duperreault, wife of board chairman Brian Duperreault, have replaced them as directors. David Burt, the Premier and Minister of Finance, said: "This project is an important one for Bermuda and the Government's principal objective is to protect the taxpayers of this country in light of the existing Government Loan Guarantee of $165m. We now understand that George's Bay Ltd have experienced difficulties with certain requirements of the loan guarantee agreement since June 2017 and so some restructuring of the Board and the approach to this project was suggested and changes have been made to the Board of George's Bay Ltd." Mr Burt added that Mr Burrows' appointment would "ensure the Government's interests are safeguarded during this critical phase." The news came after The Royal Gazette exclusively reported on Tuesday that work on the hotel phase of the resort, due to be run by Ritz-Carlton Reserve, had been suspended for financial reasons, a move that affected about 150 workers on the site. A spokesman for George's Bay Ltd said: "First-phase construction activity at Caroline Bay has been reduced ... due to construction costs outpacing the existing financing of the project." He added: "George's Bay Limited is working to strengthen and extend the project financing so that construction can resume to prior levels as soon as feasible, and is committed to resuming the prior pace of first-phase construction once the necessary financing is in place. The resort and residential project owner looks forward to the successful completion of this unique Bermudian destination resort and residential project at Caroline Bay." The spokesman said the company appreciated the "engagement and ongoing support" shown by the Government and that hotel giant Marriott International, parent of Ritz-Carlton Reserve, that it remained committed to the development. Mr Burt added: "There is a significant human element to our discussions also and that surrounds the hardworking men and women whose hours may have been cut or employment jeopardized by this reduced work stream. As a Government, we will keep their livelihoods at the forefront of our discussions and we will do all that we can to minimize the impact of this necessary action on them and by extension their families. With a restructured board and more direct Government coordination we will maintain strict oversight of the management of this project as the new leadership team strengthens and extends the project's financing." The first phase of the development, branded as Caroline Bay, includes 35 Ritz-Carlton Reserve residential units and a 79-room Ritz-Carlton Reserve hotel. He added: "The hotel remains an important priority and will receive ongoing work within current financial resources. Most construction will now focus primarily on completion of the first residential building. Construction will include that building plus the utility infrastructure for it, the road access from Middle Road down to the residential site area, landscaping, parking, and beach." Jamahl Simmons, tourism minister, said: "This is a location of great promise and we believe that a formula can be identified quickly to resume the pace of work on the development. Ultimately, Bermuda's product offering will be enhanced by this development's completion and our discussions with the company are targeted on achieving that result."
2018. March 27. Work at a resort development at Morgan's Point ground to a halt yesterday after workers were told the hotel construction phase was on hold "until further notice". About 150 construction staff were affected by the decision. The news came after three different contractors contacted The Royal Gazette about the decision, said to be driven by the need to "strengthen and extend" financing for the development. Construction will, however, continue on residential units at the resort, which is being built on the brownfield site of the old US Naval Annex in Southampton. Charles Dunstan, president of the Construction Association of Bermuda, said: "We have been told that the hotel portion is being suspended for the time being." He added that work will continue with only "limited work to take place on the residences". One contractor, who asked not to be named, branded the sudden shutdown as "ludicrous". He said: "I thought it was a joke. We heard this morning that work needs to be suspended by the end of the day. These people have families." Another contractor claimed that the managers of the project had "not sold enough residences to continue financing the project". Mr Dunstan said that the economic bubble generated by the 35th America's Cup may have led to unrealistic expectations. He added: "It's interesting that they've gotten so far down the line. Usually if they stall, it happens in the initial phases." Mr Dunstan said: "I can't imagine they could afford to leave it sitting there for any length of time — they need to move it forward in some way." He added that the workforce were taken by surprise by the news. Mr Dunstan, who is also managing director of construction firm Kaissa, said: "Yes, I would say so. Having been in this industry for 30 years, I've seen these things happen. The news has come as a blow to construction staff — including some of his own workers. Mr Dunstan said: "These are skilled guys for the most part. There isn't going to be a lot of work for them. This is a big project, a major deal — these sort of large hospitality infrastructure projects are large scale for Bermuda and they absorb a lot of resources. For one to stop like this is not good." The hotel, with 79 suites, two of them presidential suites, is scheduled to be operated by the upmarket Ritz-Carlton Reserve brand. The directors of Morgan's Point Ltd, including chief executive Craig Christensen, could not be contacted. The Morgan's Point development was hailed as a major boost for the island's struggling construction sector.
2017. July 5. The Caroline Bay Marina has declared the America's Cup a success after a busy five weeks. According to a spokeswoman, the marina team were able to cater to a range of visitors during the international event, including Artemis Racing. The Swedish team operated out of the property for the past two years, erecting their home base on the end of the peninsula. Craig Christensen, president and CEO of Caroline Bay, Bermuda, said: "We were most disappointed that Artemis Racing didn't advance to the final races, but we are proud of the hard work and dedication that the entire organisation put forth, both on and off the water." The marina also chartered the 157ft sailing yacht Arabella during the event, with more than 700 passengers getting an overview of the property. Construction is set to continue with the first set of 14 Ritz-Carlton-branded luxury homes to be completed in December. Those interested in the housing units or a berth at the marina should visit carolinebay.com or carolinebaymarina.com.
2017. June 27. Upmarket hotel company Ritz-Carlton is to launch a luxury yacht and cruise line targeted on smaller ports and glamour destinations. But the firm, which is due to open a Ritz-Carlton Reserve property at Caroline Bay next year, yesterday declined to say whether Bermuda would figure in its cruise plans. A spokeswoman said: "The exact routes and itineraries are being developed as we speak and we are working with the best team of seasoned cruise professionals to create unique and highly curated itineraries." But she added the ships would cover "a wide variety of compelling locations" worldwide. The Ritz-Carlton Yacht Collection will feature three luxury cruising yachts, with the first going into service in the last quarter of 2019.The company said: "Calling at intimate and signature destinations alike, voyages will range from seven to ten days." Due to the intimate size of the vessel, the yacht will call at unique locations typically not accessible to large cruise ships, from Capri and Portofino to St Barths and the old town of Cartagena."The vessels, created by Ritz-Carlton and marine experts Douglas Prothero and Lars Clasen, working with funds managed by Oaktree Capital Management, will be run under a long-term operating agreement. The first ship will measure 190 metres and carry up to 248 passengers in 149 suites, each with a private balcony, as well as two 138 square metre penthouse suites. Mr Prothero, managing director of the Ritz-Carlton Yacht Collection, said: "The Ritz-Carlton is known for its legendary service and high standards."Mr Clasen, joint managing director of the yachting venture, added: "We are delighted to collaborate with the Ritz-Carlton as our hospitality operator in offering the most exclusive yachting experience to be found at sea in a venture that will give new meaning to curated luxury travel." All three yachts will have restaurants by Sven Elverfeld of Aqua, Ritz-Carlton's three Michelin-starred restaurant in Wolfsburg, Germany, a Ritz-Carlton spa and a panorama lounge and wine bar with a wide range of entertainment. The yachts will also offer "curated destination journeys" through collaborations with local chefs, musicians and artists, "allowing guests to experience the locations in unique and experiential ways, both on-board and ashore." Reservations are due to open in May next year.
2017. April 25. Bermuda's biggest superyacht marina yesterday launched. And the 110-berth marina was hailed as a key step in the development of Caroline Bay, a five-star luxury hotel, residences and marina project at the former Morgan's Point military base in the West End. Craig Christensen, president and chief executive officer of Morgan's Point Ltd, said: "The completion of the Caroline Bay Marina Docks is a significant milestone for us considering the aggressive schedule and challenges faced since November 2016. "I am delighted that we have reached this stage and am confident that we will be ready for the America's Cup." Ralph Richardson, CEO of Caroline Bay Marina Ltd, added that the first visiting yacht would arrive in the middle of next month. He added: "Structural completion of the docks today brings confidence that we will be able to provide the service that is expected of a facility of this type. We have assembled a team of professionals that is looking forward to serving our clients, some already en route to Bermuda." When complete, the site will also feature restaurants and upmarket retail. The completion of phase one of the marina development included the construction of the berths and mooring spaces. Structural completion includes installation of the all the docks, including piles, pontoons, fingers and electrical components. Completion was celebrated with a dock wetting yesterday, attended by Cabinet Minister Craig Cannonier.
2017. April 10. The first two blocks of a luxury development at the former Morgan's Point military base are rising from the ground. The Cove, a Ritz-Carlton Reserve Residence, is in the first stage of the redevelopment of what is now Caroline Bay and the first block of seven homes is expected to be completed by the end of the year. Sandra Christensen, sales and marketing manager at selling agents Coldwell Banker, said: "The residences are branded at Ritz-Carlton Reserve, only the third development with Reserve branded residences in the world, so this is very exciting for Bermuda. Owners will benefit from the services of the world-renowned Ritz-Carlton brand." A 79-room hotel on the site is also under construction nearby. When complete, the Cove will offer buyers a choice of two- and three-bedroom homes, as well as four-bedroom penthouse apartments, with a starting price tag of $2.5 million. The development was showcased overseas in November at the Art Basel Miami event, hosted by tennis star Venus Williams and supermodel Heidi Klum.
2017. January 30. The sales office has opened for luxury homes at The Cove, part of the massive redevelopment of Morgan's Point in the West End. And the first of what will be 149 Ritz-Carlton Reserve Residences at the renamed Caroline Bay resort is expected to be completed by September. Craig Christensen, of developer Morgan's Point Ltd, said: "Caroline Bay is a major milestone for Bermuda and will not only completely transform the Morgan's Point peninsula, but the island in general. I have lived on this island my entire life — we are only 22 miles long and what this development will do for Bermuda will greatly impact our history. It is what our island needs — we are providing jobs for the locals and at the same time helping with Bermuda tourism. I am incredibly excited to bring Caroline Bay, Bermuda, to life." Prices for homes on the site, which range from two-bedroom homes up to four-bedroom penthouses, run from $2.5 million to $3.9 million. The development will also feature a marina for up to 33 superyachts, as well as 80 berths for the exclusive use of Ritz-Carlton Reserve Residence owners and a yacht club. The marina is expected to be finished in time for the start of the America's Cup yacht races in June, with spaces still available for event. A 79-room Ritz-Carlton Reserve hotel will form the centerpiece of the 182-acre site, with other amenities including two pools, beaches, a spa, a children's club and water sports activities. Mr Christensen said: "The last new development that Bermuda saw was the Fairmont Southampton and that was completed in 1972. I knew that Bermuda was ready for its comeback and Caroline Bay was going to serve as the catalyst of the revival." The first phase of the development will include the marina and The Cove, a 35-home development with waterside locations. Morgan's Point, the former US Naval Annex, was left derelict for more than two decades after the US Navy ended its presence in Bermuda. The site was taken up by Morgan's Point Ltd, which includes Mr Christensen, insurance industry veteran Brian Duperreault and businessman Nelson Hunt. Groundbreaking at the site started last June and the developer, along with Coldwell Banker Caroline Bay, the exclusive sales and marketing firm for the site, recently hosted a sales gallery opening event. The Cove was designed by SB Architects, a world-renowned firm with more than 50 years of experience in creating homes and hotel resorts.
2016. November 24. Developers behind the Caroline Bay luxury hotel resort hope to attract more than 30 super yachts to their state-of-the-art marina for next year's America's Cup. Morgan's Point Ltd has already accelerated the marina phase of the multimillion dollar project so the old Morgan's Point site can accommodate the predicted influx of maritime traffic. Work on strengthening the foreshore with armour rock imported from Canada is already under way, while the 720ft wave attenuator, which will form the spine of the marina structure, is due to arrive in Bermuda next week on a specially chartered ship. Dennis Correia, marina project manager told The Royal Gazette that the Caroline Bay marina would be the largest in Bermuda and similar to structures found in Dubai. "I am very confident that we will have completed the structural work on the marina by the end of January," he said. "After that there will be further infrastructure work that will need to be completed too. The bad weather we have had recently has put us back a couple of weeks but we are working hard to make that up. When the marina attenuator arrives from Finland next week we will have all the materials on site that we need for the construction. The plan is to anchor the ship in the Little Sound or to the north of the property and use tugs and barges to bring the structure on to site. We have one expert coming in from Finland to help with the assembly and around 15 to 18 other workers, all Bermudians, who will be responsible for the marina construction project." Morgan's Point Ltd obtained the Southampton peninsula in 2008 as part of a land-swap agreement under the condition that the Bermuda Government remediate the site to residential standards. The Caroline Bay project officially broke ground earlier this year in June. The first phase, expected to be completed by the end of 2018, will include 35 branded condominium residences and a five-star, boutique, 79-room Ritz-Carlton Reserve hotel. Jodi Lewis, a spokeswoman for Morgan's Point Ltd, said that developers believed that the marina would be completely sold out for the America's Cup next year. "The Caroline Bay marina team had the pleasure of attending the Fort Lauderdale boat show and were very pleased with the positive feedback we received from the numerous vendors, super yacht owners and business professionals. There have already been several inquiries for berths and we estimate that the marina will be completely sold for the 35th America's Cup. The Caroline Bay marina is currently taking inquires and although the marina will not be complete until March 2017, we are already making plans to accommodate super yachts of any length."
2016. November 15. The Caroline Bay marina project has been tipped as the next big berthing destination for superyacht owners. The luxury development at the Morgan's Point property, scheduled to open in March ahead of the America's Cup, will bring an influx of yachts to the western side of the island. While attending the Fort Lauderdale Boat Show last week, Caroline Bay Marina principal and director Craig Christensen and Ralph Richardson, the marina's new chief executive officer, were interviewed by the online magazine Superyachts.com. The magazine said Bermuda is shaping up to become "the next big charter and berthing destination for superyacht owners". Mr Richardson told the publication: "It's been years since there's been a major marina development in Bermuda and this is the largest that's ever taken place. This will be the first time there will be a multi-facility for superyachts. We'll be able to take about 30 to 40 superyachts at our site and we're really excited." Mr Christensen said: "We are actually putting it on the map. We're really helping to reposition Bermuda working with the tourism authority with the view of becoming a real high-end destination, and that's what we're becoming now."
2016. October 31. Work on the Caroline Bay resort on the Morgan's Point property continues to progress with dozens of Bermudians on the job site. According to Harold Conyers, the developer's local representative for the project, 60 employees were on site last week constructing the luxury development, 48 of whom are Bermudian. Meanwhile, the construction of a marina on the site continues to move forward with the project receiving a second shipment of armour rock on Friday. The rock will be used to create the shoreline for the marina, dissipating the energy of storm waves and preventing the recession of backshore. Craig Christensen, president and CEO, has said that the marina is on schedule to open in March 2017, in advance of the America's Cup, and will be able to cater to yachts of unlimited length. The developers hope that Caroline Bay Marina will not only assist with the influx of boats and yachts, but also attract and service larger yachts to the western end of the island. "The launch of the marina for the superyachts programme has commenced and we are currently taking inquiries for those interested in securing a berth," Mr Christensen said. "It is with great pleasure and overwhelming gratitude that I would like to announce that we are already taking bookings and have spots for about 33 mega boats, but due to the superior design, we can expand the marina to hold roughly about 40 berths if need be." Meanwhile, Ralph Richardson has come on board to serve as CEO of the Caroline Bay Marina, and will oversee the marketing of the marina and assist in filling the berths for America's Cup. A spokesperson for the Caroline Bay project said: "With each shipment and the continued support of the Bermuda Government, coupled with the people of Bermuda's desire for this project to succeed, the Caroline Bay development will be one that the entire country can be proud of. Each stone that is put in place is one stone closer to Bermuda becoming the home of a luxury product, which will be a testament to the perseverance of the developers and the dedication of the people of Bermuda."
2016. October 22. Plans for a marina building on the Morgan's Point site have been submitted to the Department of Planning. The plans, submitted on October 11 and revised on October 18, propose a building on the south side of the "neck" of the site. An included letter by Julia Van Beelen, of architectural firm Cooper Gardner, stated: "As a premier resort and residential destination, the Morgan's Point Development includes planning and permit approvals for a marina, scheduled to open for the America's Cup in June 2017. "After considering various options for support facilities to this offering, our client is seeking approval for a marina building with an outdoor terrace." The new building would include a covered entrance, a waiting area, an office, bathrooms and storage areas, along with an upper terrace. Work on a hotel development, to be called Caroline Bay, Bermuda, has already begun on Morgan's Point just to the west of the proposed marina site. The project, which will include a branded hotel and luxury residences, is expected to open in 2018. However, the developer has expressed hope that the first batch of 35 villas would be ready with the marina in time for the America's Cup next summer. Plans for the marina building area available for public viewing at the Department of Planning office.
2016. June 18. Michael Dunkley described Caroline Bay as "a sign of greater things on the horizon" at a groundbreaking ceremony for the luxury resort yesterday. Attending the event at Morgan's Point alongside the Premier were representatives from the Ritz-Carlton Company, whose $400 million Reserve resort will be built on the property. The group included Herve Humler, co-founder and president of the company, market vice-president Katherine Monahan and area vice-president of sales and marketing Graeme Benn. During his address, Mr Dunkley noted Mr Humler's longstanding ties with the island, having started in the industry by working at the Hamilton Princess in the early 1970s. "From Government's perspective, this project is so much more than just bricks and mortar," he said. "The Ritz brand in Bermuda will provide significant opportunity for Bermudians." Recounting the history of the project, Craig Christensen, chief executive of Morgan's Point, pointed to the vision of former premier Alex Scott, who was integral to the start of the proposed development. "Then Premier Scott had the vision to suggest to swap Southlands for Morgan's Point," revealed Mr Christensen. "These talks were kept strictly confidential and today we can disclose that the Government and Southlands sought to develop Morgan's Point and preserve Southlands. Unknown to BEST we were all working for the same outcome. We have to thank Alex Scott for his support and vision. The road has been long and hard, but we have always received the support of both sides of the political divide. This is unique, and greatly appreciated. Developed by Bermudians, supported by Bermudians for the benefit of Bermudians. This is Bermuda's project." Mr Dunkley said the project would bolster our tourism product, while also helping its construction and hospitality sectors. "I am extremely encouraged by the progress we have made to date with this project [although] we still have a ways to go," he added, pointing out that the venture will be managed in phases. The first phase, expected to be completed by the end of 2018, will include 35 branded condominium residences, a new marina that includes 77 berths with capacity for an additional 21 mega-yachts, and a five-star, boutique, 79-room Ritz-Carlton Reserve hotel. "Our entire island should feel excited about the confidence that Ritz-Carlton has demonstrated in Bermuda," Mr Dunkley said. "This has truly been a journey and we look forward to a strong, lasting and successful relationship." Mr Humler added: "We are deeply honored to become members of the fibre of this great destination and to enhance the glamour of Bermuda, not only for today's most affluent travelers, but for Bermudians. I began my hospitality career in Bermuda, so this is a very special moment not only for the Ritz-Carlton, but for me personally. We come not just as global hoteliers presenting a stunning, five-star luxury property, but also aspiring to be active members of the local community."
---
Elbow Beach Resort Hotel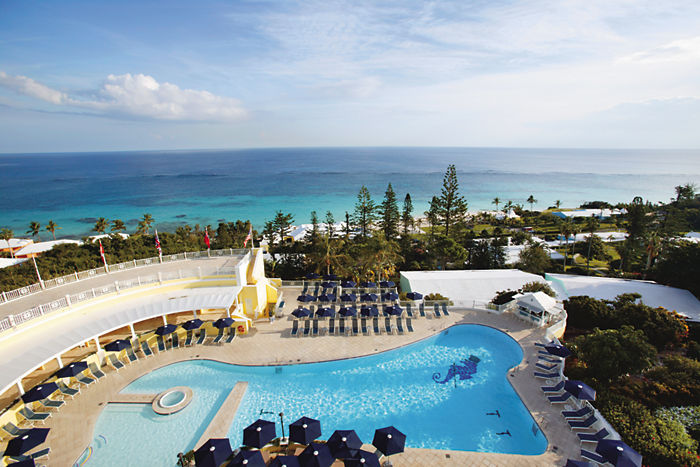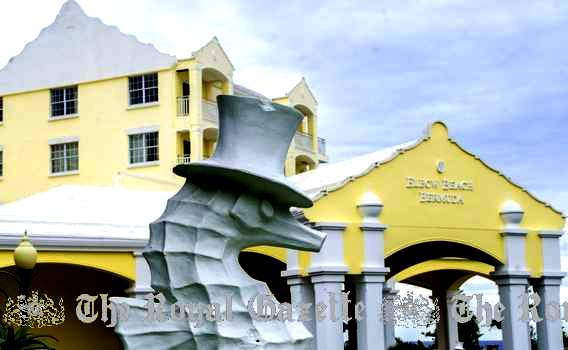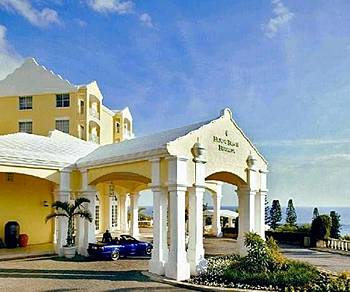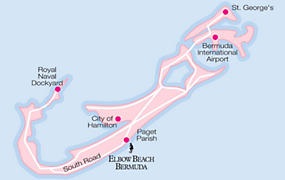 60 South Road, Paget Parish, PG 04.Or P. O. Box HM 994, Hamilton, HM DX, Bermuda. Phone (800) 223-7484 in USA or (441) 236 3535 directly. Fax (441) 236 8043. Reservations 1 (800) 223 7434 in the USA. Owner: Prince Khaled bin Sultan bin Abdulaziz Al Saud, a prominent member of the Saudi Arabian Royal Family.
2016. June 13. A total of $11.8 million in concessions for the Elbow Beach Hotel were approved to support a $38 million redevelopment, including the reopening of the main hotel building. Regarding Elbow Beach, Junior Tourism Minister Mr Kenneth Bascome said that the hotel owner had lost millions of dollars in the resort over the years and had considered closing the site. However, with the concessions, the hotel owner seeks to invest more than $38 million in the site, opening 68 luxury suites inside the main hotel building along with reopening the hotel lobby and main hotel restaurant. The project would also include refurbishing the 102 existing rooms on the property. Mr Bascome said that the suites would be created by bringing together and refurbishing guest rooms in the hotel building, which was closed in 2010. Work is hoped to be completed before next June when the America's Cup takes place on the island. In addition to construction and design jobs associated with the redevelopment project, he said the renovations would create 30 hotel jobs for Bermudians.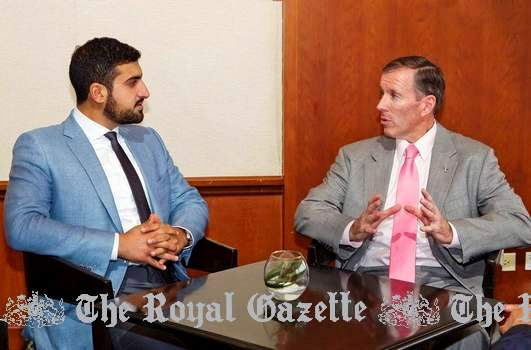 Prince and the Premier, March 1, 2015
Over 300 rooms, suites and cottages. It is a luxury four-star/diamond resort hotel and and cottage colony (Fritholme Gardens), combined. Sixty percent of hotel guests are in conventions, most of which are organized by US-based corporations, with all convention expenses paid for by US taxpayers. It is on 50 lush acres of its own botanical gardens and own private beach. For other beaches, see beaches.
It offers both a full-service hotel and selection of garden cottages, executive villas and condominiums. All hotel units have 53-channel television. For tennis, there are 5 newly resurfaced plexi-pave courts, 3 lit for night play. There is also the Deep night club. Near the 7 bus route. The hotel is 5 minutes by taxi from the City of Hamilton.
The hotel first opened in 1908 as the South Shore Hotel. In May 2013 the hotel celebrated its 105th anniversary as the second oldest hotel in Bermuda, and the first to be built on the South Shore. Until early 2014, the resort was part of Mandarin Oriental's portfolio of luxurious properties, managed by the Mandarin Oriental Hotel Group, which is registered in Bermuda and part of the Jardine Matheson Group - but with most of its operations in China (and its administrative territory Hong Kong), Singapore and elsewhere in Asia. From spring 2014, the management contract with the Mandarin Oriental Hotel Group ceased. From spring 2014 the hotel reopened as an independently managed property under the direction of the Burns Group, led by veteran hotelier Edmund Burns, who has more than 30 years' experience in the industry.
---
Fairmont Southampton Princess Resort

101 South Shore Road, Southampton Parish SN 02. Or airmail at P. O. Box HM 1379, Hamilton HM FX, Bermuda. Owned until December 2015 by Fairmont Hotels and Resorts, thereafter by French-owned Accor Hotels, largest hotel group in Europe. Bermuda's biggest hotel, also a major convention center. 593 rooms and suites. Toll free at (866) 540-4497 or (441) 238-8000 directly. Fax (441) 238-8968. 593 rooms, 1500 guests. On the second highest point of Bermuda. On a 100-acre estate facing the South Shore ocean and Great Sound on the north side, with spa, pool and beach area, lush gardens, its own golf course, convention and meeting facilities, a variety of restaurants. Sixty percent of hotel guests are in conventions, most of which are organized by US-based corporations, with all convention expenses paid for by US taxpayers. The hotel was the brainchild of American businessman and shipping magnate Daniel K. Ludwig, the first owner, who also owned its sister property, the Princess Hotel in Hamilton. Canadian Pacific Hotels bought both properties in 1998 and took over Fairmont Hotels and Resorts the following year. The hotels were then renamed the Fairmont Southampton and the Fairmont Hamilton Princess (since sold to a Bermudian family). In 1972-74, when this hotel was built, almost 100% of the construction materials came from Canada. Nearest beach is the one belonging to this hotel, reachable by the hotel's beach shuttle. For other beaches, see beaches. Past guests have included the Saudi royal family's stay in the late 1970s; Bill Cosby and his wife; US presidents, including George Bush senior; Tony and Cherie Blair; The Queen and Prince Philip attended functions here (though they always stayed at Government House).
2018. April 21. The Fairmont Southampton will ban plastic straws from this weekend in a bid to help protect the ocean from pollution. Guests at the resort who still prefer to drink with a straw will be given eco-friendly, 100 per cent compostable straws instead from World Earth Day tomorrow. The Last Straw campaign was started by the Fairmont Southampton team in the wake of a new global sustainability movement. Wouter Aarts, director of food and beverage at the hotel, said: "With a growing awareness for global socio-environmental issues, come bigger responsibilities to do our part in keeping Bermuda beautiful and environmentally friendly. "Our commitment to eliminating conventional plastic straws is an important step in the right direction." Plastic waste, including straws, make up most of the marine debris found in the seas and on shorelines in Bermuda and around the world. About half-a-billion plastic straws are thrown away in the US and Britain every day, with many ending up in the sea. The plastic trash is a potential killer of marine life. It is estimated that a plastic straw takes about 200 years to break down, and can pose a serious threat to animals such as turtles, fish and sea birds if eaten. The Fairmont Southampton's Turtle Hill Golf Club is a long-term backer of the Sea Turtle Project, and the resort has raised more than $40,000 in funds for charity and community projects on the island this year. AccorHotels, a global hotel giant and parent company of Fairmont, is active around the world in communities and is committed to sustainable development and solidarity through Planet 21, a programme that brings together employees, guests and partners to work for sustainable growth. The new Planet 21 committee of employees from the island resort covers all key departments and meets on a regular basis to discuss its efforts and potential projects.
2016. October 20. Guests eating three three-course meals at the Fairmont Southampton will be rewarded with a free night's stay at the hotel. The "3-3-1 Challenge" runs from now until December 15. Diners can choose between steakhouse Waterlot Inn, the Newport gastro pub, Italian eatery Bacci and the casual Jasmine Lounge. A minimum of two adults is required per restaurant visit, and the free night's stay is redeemable from January 2 to March 31 next year. For further details and bookings, visit the Fairmont Southampton website or call 238-8000.
---
Grotto Bay Beach Resort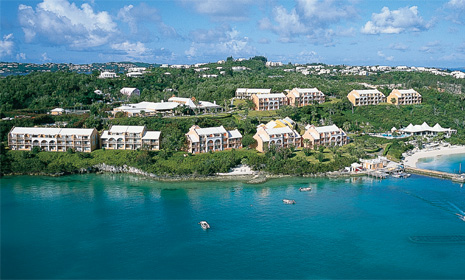 North Shore Road, Hamilton Parish. Phone (441) 293-8333. Fax (441) 293 2306.Reservations 1 (800) 582 3190 in the USA or 1 (800) 463 0851 in Canada. 201 rooms, for 500 guests. The hotel is on Castle Harbor and the North Shore ocean. Nearest hotel to the Bermuda International Airport - about one mile away. On 1, 3, 10 and 11 bus routes. On 21 acres of landscaped ocean-front grounds. They feature hibiscus, oleander and bougainvillea gardens. With several man-made beaches (for other beaches, see beaches), 4 plexi-paved cork-based tennis courts and exercise room, two historic underground caves for exploration and swimming. With several restaurants.
---
Hamilton Princess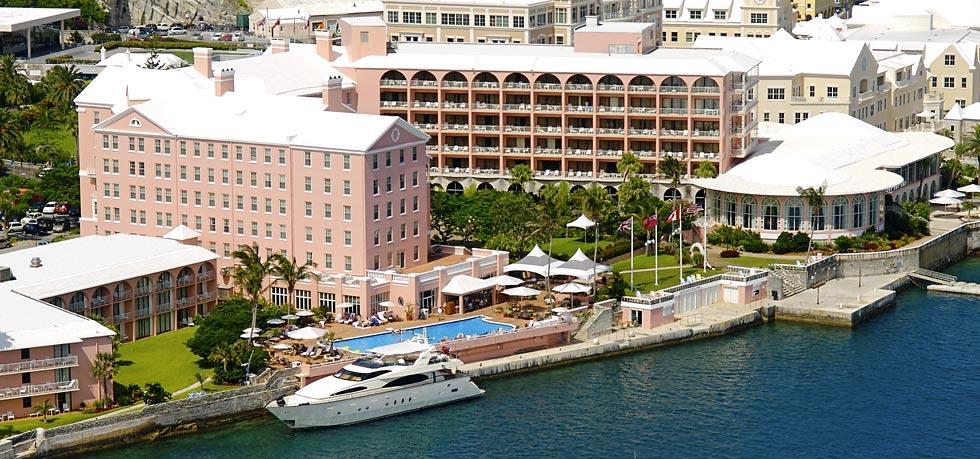 76 Pitt's Bay Road, Pembroke, Hamilton, Bermuda HM 08. Phone (441) 295-3000. Fax (441) 295-1914. Toll Free in USA (866) 540-4447. Mailing address P. O Box HM 837, Hamilton HM CX, Bermuda. Sometimes referred to as the Pembroke Princess. Owned by the Green family of Bermuda (see below). Managed by Fairmont Hotels & Resorts (a previous owner of the hotel). On the waterfront of Pembroke Parish. On the outskirts of the City of Hamilton. 410 rooms, licensed for 1000 guests. It is also the most important convention center near Bermuda's capital city. Sixty percent of hotel guests are in conventions, most of which are organized by US-based corporations, with all convention expenses paid for by US taxpayers. This historic hotel is the oldest in Bermuda, a landmark.
2017. December 19. Tim Morrison is the new general manager of the Hamilton Princess and Beach Club. Mr Morrison will lead the resort team and oversee operation of the 400-room hotel, three restaurants, meeting rooms, marina and the Beach Club at Sinky Bay, according to a press release. He has more than 27 years of experience in the hospitality industry and was general manager of luxury hotel Fairmont Royal Pavilion, in Barbados, since 2015. Before his move to the Caribbean, Mr Morrison was based in Canada, where he joined Fairmont in 2012 as the hotel manager of Fairmont Royal York, in Toronto. He was also general manager of the Pinnacle Hotel at the Pier, in North Vancouver, and at Pan Pacific Whistler, Mountainside Resort — Village Centre Resort, and Dubh Linn Gate Old Irish Pub, and as the Food and Beverage Director of the Pan Pacific Hotel Vancouver — AAA 5 Diamond Hotel. From 2006 until 2010, Mr Morrison was the managing director of the Athlete Villages in Vancouver for the 2010 Winter Olympic and Paralympic Games. He led a team of up to 2,000 employees, during Games time, and managed the accommodation and servicing for 6,000 athletes and officials. Heather McCrory, executive vice-president of AccorHotels North and Central America, said: "We are thrilled to welcome Tim to Bermuda and to have him taking the reins of Hamilton Princess & Beach Club. We are confident that his leadership will guide the hotel through its next chapter." Mr Morrison said: "I am delighted to have been appointed the General Manager of Hamilton Princess and Beach Club and to have moved to Bermuda. As a result of the recent $100 million renovation, the hotel has been positioned as one of the most exciting hotel destinations on the island and I look forward to building on this."
2017. September 29. The Bermuda Casino Gaming Commission has announced the awarding of a provisional casino gaming licence to Hamilton Princess Casino Limited. The integrated resort casino was proposed for the Hamilton Princess & Beach Club on Pitts Bay Road in Hamilton. A statement follows: "On September 22, 2017, the Hamilton Princess Casino Limited presented its plans at a public presentation held at the Bermuda Underwater Exploration Institute for a 9,500 square foot casino, including 14 gaming tables, nearly 200 slot machines and one automated roulette table to be housed in the space now occupied by the Harbourview ballroom. Bermuda's legislation provides that within 30 days of the hearing, or such extended period, the Commission must notify the Hamilton Princess Casino Limited, in writing, of its decision. The Order granting the provisional licence was made on Thursday, September 28, 2017. The next stage of the licensing process is the Suitability Phase, where all relevant entities and individuals are subjected to rigorous background investigations to addressSeptember 29. The Bermuda Casino Gaming Commission has announced the awarding of a provisional casino gaming licence to Hamilton Princess Casino Limited. The integrated resort casino was proposed for the Hamilton Princess & Beach Club on Pitts Bay Road in Hamilton. A statement follows: "On September 22, 2017, the Hamilton Princess Casino Limited presented its plans at a public presentation held at the Bermuda Underwater Exploration Institute for a 9,500 square foot casino, including 14 gaming tables, nearly 200 slot machines and one automated roulette table to be housed in the space now occupied by the Harbourview ballroom. Bermuda's legislation provides that within 30 days of the hearing, or such extended period, the Commission must notify the Hamilton Princess Casino Limited, in writing, of its decision. The Order granting the provisional licence was made on Thursday, September 28, 2017. The next stage of the licensing process is the Suitability Phase, where all relevant entities and individuals are subjected to rigorous background investigations to address criminal, civil, and financial matters. This effort is designed to ensure that the operation involves people and entities that possess high levels of character, honesty and integrity. The provisional licence was conditioned, and these conditions address a variety of issues including Bermudian employment and training, financial assistance to the Bermuda Police Service to mitigate issues including possible congestion around the casino, commitments regarding the topic of responsible gaming, and a multitude of additional topics. Richard Schuetz, executive director of the BCGC stated: 'The Commission considered the application along a number of different dimensions, with the most important test being that the proposed resort would increase employment and investment in Bermuda, and enhance the tourism product. The Commission indicated that the application did pass this test and met the prevailing industry standards. The order was drafted accordingly.' criminal, civil, and financial matters. This effort is designed to ensure that the operation involves people and entities that possess high levels of character, honesty and integrity. The provisional licence was conditioned, and these conditions address a variety of issues including Bermudian employment and training, financial assistance to the Bermuda Police Service to mitigate issues including possible congestion around the casino, commitments regarding the topic of responsible gaming, and a multitude of additional topics. Richard Schuetz, executive director of the BCGC stated: 'The Commission considered the application along a number of different dimensions, with the most important test being that the proposed resort would increase employment and investment in Bermuda, and enhance the tourism product. The Commission indicated that the application did pass this test and met the prevailing industry standards. The order was drafted accordingly.'
2017. September 23. Up to 100 new jobs and a boon for the economy were promised yesterday if a casino at the Hamilton Princess & Beach Club gets the go-ahead. The backers of the project said that they had no plans to use a controversial cashless gaming system in the operation. The application, by Hamilton Princess Hotel Casino Limited, said the casino would be based in the hotel, with the potential to host its first customers in November 2018. The presentation at the Bermuda Underwater Exploration Institute was made by Andrew Green, president of the casino company and a member of the family that own the landmark hotel. Mr Green said: "It will be a big driver of jobs and it will be a big driver of tax revenue, as well as additional spend from tourists which is important for Bermuda." Mr Green was backed up by Andreas Terler, vice-president of operations for Century Casinos, and Jason Mackertich, architect at Botelho Wood Architects. The group said the casino would be owned by the Green family and managed by Century Casinos, which owns and operates gambling operations in the United States and Canada, as well as in Britain and Poland. They added that 80 to 100 people would be employed in the casino, dependent on the season. Mr Terler said: "We definitely want to hire preferentially Bermudians." He added Bermudian suppliers in areas like payroll, IT, and security would also be used. Mr Terler said: "We feel it's best practice not to do this in the casino but to rely on local resources." The plans include a casino floor of 9,500 square feet with fourteen gaming tables, nearly 200 slot machines and one automated roulette table, to be housed in what is now the Harbourview ballroom. Mr Mackertich said the ballroom had one of the best harbour views in the world. He added: "I can't think of many other hotels or any kind of casinos that would have that kind of vista or backdrop." Mr Green said: "We didn't want to create a casino that's in the basement somewhere." Mr Mackertich said the plan would put table games in the center of the floor, surrounded by slot machines on the edges of the room. He added plans included a special area for high rollers. Table games would include blackjack, three-card poker, American roulette and Crown and Anchor. The room, with a single entrance, would be fitted with its own bathrooms and a bar area. Mr Mackertich said special lighting would create a "starry night effect". A separate private salon of 1,200 square feet would include three table games and three slot machines. The presentation estimated that the casino could be open within 12-15 months. Mr Green said the granting of a provisional licence could make an opening date of November 2018 "realistic". Mr Terler added the casino would attract incremental tourists. He said: "We foresee that a lot of tourists will visit, not only from the Hamilton Princess but also from a lot of other hotels." The group fielded questions from members of the Bermuda Casino Gaming Commission after the presentation. Alan Dunch, chairman of the Commission, raised cashless gaming. The system, in which players are given a card to play with rather than use cash, was proposed at a Progressive Labour Party forum on safe and responsible gambling held at Elbow Beach in May. But Mr Green said: "As of right now we have no plans for cashless gaming." Legislation passed in 2014 allows for a maximum of four casinos on the island. Only one application to operate a casino has so far been submitted.
2017. August 11. The proposed casino at the Hamilton Princess & Beach Club will feature 17 gaming tables and 200 slot machines, according to international casino entertainment company Century Casinos. An automated roulette machine will be on the main floor of the development, with a total of about 12,000 square feet of gaming space also including a "high limit area" and private room. The details were outlined in a press release announcing that Century Casinos had submitted a licence application for the casino jointly with hotel owner Hamilton Properties Limited. "The casino with approximately 12,000 square feet of gaming space will feature 17 gaming tables, 200 slot machines and an automated roulette machine on its main casino floor, high limit area and salon privé," it said. The Bermuda Casino Gaming Commission announced last month that the Hamilton Princess made an application to become the island's first integrated casino resort and that the hotel will make its presentation to the commission in a public meeting in September. The release from Century Casinos added that it had entered a long-term management agreement with Hamilton Properties Limited through its Austrian subsidiary Century Casinos Europe GmBH. "Pursuant to the management agreement, CCE assisted with the licence application and would manage the operations of the casino, should a licence be awarded. In addition, CCE would also provide loan funding in the amount of $5 million for casino equipment." The Hamilton Princess was named a "designated site" last year, making it eligible to apply for a casino licence. And earlier this year, legislators approved the casino licensing application process, with the first window for applications opening in April. "The next step will be a hearing of the application on September 22. This second stage may end with the award of a provisional casino licence by the commission," the press release added. "The third stage of the application process will be the suitability stage. Only at the conclusion of this final stage will a casino licence be granted, permitting the offering of gaming to the public, subject to the final approval of the commission to open and operate the casino."
2017. July 24. The Hamilton Princess Hotel & Beach Club has made a play to become Bermuda's first integrated casino resort. And the Bermuda Casino Gaming Commission has announced that the hotel will make it's presentation to the commission in a public meeting in September. Alan Dunch, chairman of the Bermuda Casino Gaming Commission, confirmed yesterday that the hotel had submitted a "substantially completed" application for a casino facility. "The application provides the detailed plans to develop a casino within the Hamilton Princess and Beach Club," a release issued from the BCGC said. Mr Dunch called the application a "landmark event. We feel that this is an important step towards realizing the public policy goals of the Casino Act, by increasing employment and investment in Bermuda, as well as enhancing the tourism product. I also want to thank the staff of the BCGC and the Princess for working the many long hours necessary to get us to this point." The statement described the application as "fully funded", noting that the project will be presented to the BCGC for approval at 2pm on September 22 at the Bermuda Underwater Exploration Institute, with the public able to attend. Further details about the casino presentation are expected to be released at a later date. The casino licencing application process was approved by legislators earlier this year, despite concerns that the price tag for a licence was too high, with the first "window" for applications opening in April. Under the Bermuda Casino Gaming Act 2014, the commission can approve up to three provisional casino licences, in addition to the provisional licence granted to the developer of the St Regis hotel project in St George's. According to the application process, a $600,000 application fee must accompany all applications, while a $1.4 million provisional licence issue fee is payable by applicants awarded a provisional licence. Those making it through to the final stage will then be subjected to a further $1 million casino licence issue fee. The Hamilton Princess last year became one of the first resort properties to be named a "designated site", making it eligible to apply for a casino licence. It was revealed earlier that this year both the Fairmont Southampton and the Morgan's Point hotel had applied for site designation.
2017. June 9. The Hamilton Princess & Beach Club has recorded the best May occupancy figures in the hotel's history. And the huge success has led to $200,000 in overtime pay for the Princess staff. Allan Federer, the hotel's general manager, said: "In response to mounting speculation regarding hotel occupancy during the America's Cup, we would like to clarify that the Hamilton Princess & Beach Club has just completed its most successful May in the history of the hotel. Furthermore, June will be the best month ever. As a result, we paid $200,000 in overtime to our employees. Hamilton Princess & Beach Club is a multidimensional business with 600 employees across various departments. We have not laid off any employees. In fact, we have increased employment for the America's Cup. Employees are given more or less hours depending on the demand in their area of work." The Hamilton Princess first opened its doors on January 1, 1885, making it the island's oldest operating hotel.
2017. June 6. Comparatively safe, quiet and easy to drive — they're the "unique" new way for visitors to get about Bermuda. Renault Twizy, the all-electric minicars, were officially on the road as of yesterday, and available for rent at Current Vehicles, a new company stationed at the Hamilton Princess. The business hopes to expand and offer Twizys at the Fairmont Southampton and an East End hotel, CEO of Current Vehicles, Piers Carr, said at a press conference. Mr Carr described the micro cars as "fully electric" and able to hold two passengers at a time. The Twizy is easy to drive and nearly soundless, he said, providing tourists with a "unique driving experience" on the island. He said that he was inspired to start the project while working during summer renting scooters to tourists and spotted a need for an alternative. "Tourism is increasing and there's a great outlook; we need a transportation option to match," he said. Designed by the Renault Sport Formula One Team, a division of Renault that designs and builds optimized engines, the micro cars are billed as a safe, independent driving option for visiting tourists. They bring "the stability of four wheels and operate like a car", Mr Carr continued. Prices for renting are varied, however Mr Carr stated that it is $85 to rent one for a day, adding: "Weekdays are less than weekends; winter is less than summer." For bookings and more information, go to currentvehicles.com
2017. May 3. All electric minicars could be available for rent at the Hamilton Princess from as early as the weekend. The news came as Current Vehicles handed over the first of 25 two-seater Renault Twizys to the hotel. "It's about giving our visitors what they want — the chance to explore Bermuda on their own, meet locals and experience our way of life," said Piers Carr, chief executive officer of Current Vehicles. He quit a job as a broker in the reinsurance industry to launch Current Vehicles. "I saw a great opportunity to help our visitors get around the island and we're very much behind pushing any electric vehicle we can because it's a necessity for Bermuda going forward." Now the vehicles will be introduced at the Hamilton Princess before going to smaller hotels, guesthouses and Airbnb properties across the island. The Hamilton Princess will have 25 of the vehicles, expected to rent at around $79 per day, compared to about $66 for a livery cycle, and Mr Carr said another 25 were en route to Bermuda. Mr Carr said: "Having spent enough time here, you see the demand for something a little safer — scooters are not for everyone. The Twizy keeps you dry, it's electric and it's just safer. It's about improving safety. We can brand them and it will be beneficial to Bermuda — people will take pictures of them and upload them to social media and that's a great way of getting our name out there as well as Bermuda's." Mr Carr said the booking process can be carried out online, with confirmation including safety information, Bermuda rules of the road, parking regulations and how to charge the vehicles and operate them safely. "Before tourists even land here they are initiated in the best ways of using our roads. We have had a great response from the public looking to rent these vehicles, but this is strictly a tourism initiative." He added the Twizy, launched in 2012 and a bestseller in Europe, had "a great track record. It's used by the police service in some countries — it's reliable. The fire department have a few in Dubai." One is now on display in the lobby at the Hamilton Princess. Allan Federer, general manager of the hotel, said: "Many of us in the hospitality industry, as well as many tourists to the island, have been waiting for this moment for a long time. The launch of this new service marks a new era in transportation for tourists. I would even go as far as to say that the launch of Twizy will be a game changer for tourism. It is incredibly important that we introduce these to meet the demands of our guests. Having these four wheel vehicles available will increase interest not only in the hotel, but across Bermuda as a whole. This new service coincides with continued efforts to offer a world class tourist experience in Bermuda. As one of the last tourist destinations to introduce a rental car option, this positions Bermuda well to continue to answer the needs of today's travelers." Chargers and special parking places will be available in the parking area at the Princess, with recharges included in the rental price. Twizys recharge in three hours and have a range of more than 80km, making all parts of the island accessible on a single charge. The car, designed by Renault's Formula 1 team, has seatbelts, a driver airbag, side impact protection bars and a special tubular chassis for rigidity. The vehicles are expected to be cleared for road use within the next few days.
2017. May 2. Bermuda's first electric microcars were yesterday unveiled at the Hamilton Princess. The hotel will be the first on the island to offer its guests the French two-seater Renault Twizy as an alternative to the traditional scooter. A total of 25 cars will be available at the Princess, supplied by new company Current Vehicles, which has also supplied Twizys to the Groupama Team France America's Cup team. Allan Federer, general manager of the Hamilton Princess and Beach Club, said: "We are thrilled to be able to offer this new amenity. "Our aim is to provide our guests with the best amenities possible during their stay on the island. However, transportation has been a challenge for those who are not comfortable riding a scooter. Twizy allows all of our guests to explore the island on their own. We think it is a superb addition to the hotel and to Bermuda." John-Paul Doughty, director of operations at Current Vehicles, added: "We are excited to offer visitors the safest, greenest, and most enjoyable way to travel around Bermuda. These vehicles are safe and accessible and a good choice for those who are not comfortable on a scooter, but still want the freedom to explore the island on their own itinerary. And they are a lot of fun to drive." The cars, which boast seatbelts, an airbag and side impact protection, can be booked online and Current Vehicles have installed charging stations at the Princess and Beach Club.
2016. June 30. The Hamilton Princess has completed its $100 million renovation project, including a new spa set to open on July 5. Allan Federer, general manager at the hotel, said: "It looks like a completely new hotel compared to three years ago. The vision always has been to take full advantage of where we are located, next to the beautiful harbour, and to create a luxury destination that will compete with many leading resorts around the globe. To that end, the renovations have been a great success. We are proud of our new modern look and outstanding facilities. As the official hotel sponsor of the America's Cup, we know that the coming year will be an important time for Bermuda tourism and we look forward to welcoming business and leisure travelers as well as the community to enjoy their time here." The final stage of the renovations includes the new Exhale spa, which will feature nine treatment rooms and offer massages, facials, manicures and pedicures when it opens next month. The project also shows a new, brighter retail corridor with upscale shopping options including FH Boutique and RESORT Boutique, Astwood Dickinson, the official America's Cup store and the Sunglass Shop. Meanwhile, a new balcony has been installed for the Trudeau Ballroom, offering those who rent the space a 2,000 square foot outdoor terrace, and 11 suites in the Fairmont Gold wing have been renovated to include balconies overlooking the harbour. Previous stages of the three-year project have included renovated rooms, a new marina, two additional restaurants, new pool facilities and a collection of art, including works by Andy Warhol, Banksy and Damien Hurst. Mr Federer said that the guests had been excited by the new facilities, saying that the new guest rooms were long overdue. "We are getting happy feedback," he said, adding that the hotel is hoping to attract a new generation of return visitors. Michael Fahy, the Minister of Tourism, Transport and Municipalities, praised the Green family, who own the hotel, for their commitment to the project and the island, noting that the work was announced before Bermuda secured the America's Cup. "All you need to do is look around the fantastic facilities to see that their vision has become a success," he said. Asked about the recent announcement that the hotel had been named a "designated site" for potential casino development, Mr Federer said he looked forward to working with the Bermuda Casino Gaming Commission on the next steps. Sen Fahy, meanwhile, added that new legislation would be introduced to create a "prospective licence" system to assist hoteliers with integrated casino projects. "That is coming and no doubt that will assist the Hamilton Princess and others as they proceed," he said.
2016. June 28. The Hamilton Princess will be eligible to apply for a casino licences after being named a designated site. .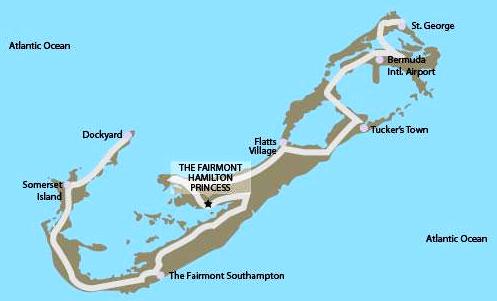 The hotel overlooks picturesque Hamilton Harbor, has extensive uninterrupted views of it, with nice gardens. It is about a $45 dollar each way 30 minute drive from Bermuda's airport. It is an eight minute walk from the City of Hamilton and the ferry terminal. It is not served by buses. Nearest beaches are Clarence Cove and Deep Bay, both - like this hotel - in Pembroke Parish. These beaches are on the North Shore. From 2016 this resort hotel has its own private beach, the Princess Beach Club. Completed in 2016 for the Hamilton Princess Hotel and its guests on site of the old Sonesta Beach Hotel and served by a shuttle bus. The private beach belonging to the club recently saw coconut palm trees planted there.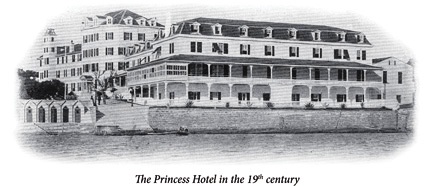 It first opened on January 1,1885, following the success of the Hamilton Hotel (destroyed by fire in the 1950s), Bermuda's first big hotel. It began Bermuda life as the Pembroke Hotel. Harley Trott, a leading businessman of the time, saw opportunity and had the new hotel built to provide a winter haven. The hotel opened two years after Her Royal Highness Princess Louise Caroline Alberta, Duchess of Argyle, http://en.wikipedia.org/wiki/Princess_Louise,_Duchess_of_Argyll, fourth daughter of Queen Victoria, visited Bermuda and called it "a place of eternal spring." Married in 1871, her husband was the Marquis of Lorne from Scotland who later became the 9th Duke of Argyle. The hotel was-re named "The Princess" in her honour. She became a frequent visitor in the 1880s, to escape the cold of Canada where her husband was the Governor General. She was Bermuda's first official tourist of Royal blood and an accomplished artist in water colors and oils. Because of her appreciation of the military, the Guard of Honor it provided for her wedding and the artwork she did for it, one of Scotland's most famous British Army units to serve in Bermuda, The Argyllshire Regiment, was renamed to honor her. It carried her insignia for many years in its own - and served in Bermuda for two years under the name in the late 1920s - before it became The Argyllshire Highlanders.
The hotel quickly became a beacon to travelers and saw Bermuda go from a winter destination for wealthy New Yorkers who arrived by steamship to a spring break capital for east coast college students to a destination for discerning travelers looking for something different from what other Islands offer. Later, the hotel had many connections with Mark Twain, a frequent visitor there and who made a point of getting all his friends from the USA to stay there if he could not put them up himself in his Bermuda home. From the day it opened, hotel became part of the fabric of the Bermuda community. It was when Bermuda's nascent tourism season was winter, when guests arrived by steamship from New York and stayed on the island for months, when horses and buggies transported passengers along dusty roads. Over the years it had its fair share of celebrities, including Mark Twain who was known to recite poetry while smoking a cigar on the veranda. The hotel has played a leading role in both Bermuda tourism and the Bermuda economy.
It became affectionately known as "The Pink Palace" because of its architecture. The original hotel was an all wooden structure. One of the original focal points was a beautiful sweeping veranda that came right up to the harbour. Patrons loved to sun themselves on lounge chairs on this veranda, wrapped in their fur coats, as it was a winter destination. Afternoon tea was also served on the veranda and the ladies would appear in their best dresses. Over the ensuing years it had some very distinguished patrons including author Mark Twain whose bronze statue now sits in the lobby, and Frances Hodgson Burnett author of 'The Secret Garden', and much later, Robert Kennedy and singer Michael Jackson. Many guests houses also sprang up in Hamilton and elsewhere. Bermuda's winter tourism trade began to create its own special niche, the envy of many other small Atlantic and Caribbean islands. A Canadian organization owns her art in Canada and lent them to Bermuda for a 1998 exhibition.
Most visitors do not know that this hotel was the international headquarters during World War II for a considerable number of male and female British censors who invariably paid very considerable attention to and often impounded mail going between Germany and the United States. They acted in complete accord with the FBI and other organizations on the mainland. Sadly, their quarters at this hotel have been shuttered up. (They could be made into a unique attraction for visitors and residents). The hotel played an integral role in World War Two as a covert agent for the Allied Forces fighting against tyranny and oppression on the war's many fronts. It denied the Germans both knowledge and information. Charged with "defensive" censorship, 880 "examiners" - mostly British but with American personnel too - read commercial and personal mail, packages and pouches that were sent across the Atlantic to and from Europe and Nazi Germany in order to delete any potentially harmful information.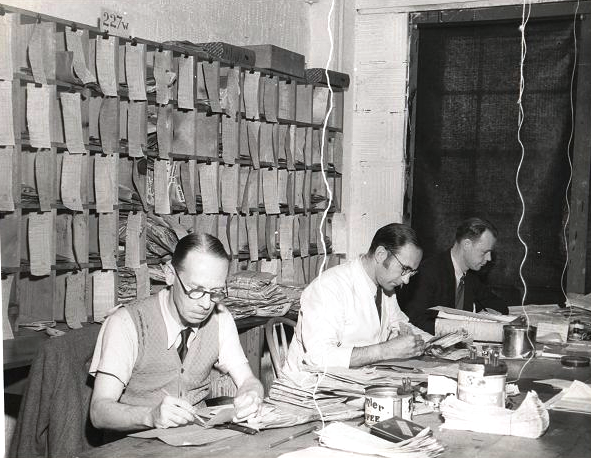 British censors at work at the hotel until 1944
The operation was essentially the filter through which all correspondence in the Western hemisphere was inspected. To the average person during World War Two, censorship during times of war was a routine activity. It didn't generate much interest. And that's exactly how British Intelligence authorities wanted it to look because behind the walls of 13 rooms within the hotel, top secret sleuthing, a la James Bond, was taking place. Even the majority of the "examiners" didn't know what went on behind closed doors. Under the leadership of British Intelligence officer William Stephenson, a Canadian some say was one of the real-life inspirations for the literary and movie super-spy James Bond, the co-ordination of the secret "offensive" censorship took place in the 1940s. According to an article entitled The Princess Spies (it's possible, perhaps even likely, the Hamilton Princess Hotel has a copy, given its involvement. If so, it might be available there for inspection), written by CIA officer Thomas F. Troy, who died in 2008, espionage experts used technologically-advanced techniques to break into letters and packages in order to produce and plant "forgeries useful in propaganda and blackmail operations." The group of experts could obtain the contents of any package leaving no trace of their tampering. Using innovative techniques for the time they could even extract a letter from an envelope without cutting, steaming or replacing it with a forged replica. Their work proved to be so useful to the combined efforts of the war that Sir William called the censorship initiative "a political weapon of very special importance . . . credit to all concerned." The hotel has many other fascinating connections to the legacy of James Bond and to victory of the Allied Forces in World War two
Now owned by the Green family from Bermuda - father Peter and sons Andrew and Alexander - following their purchase of the hotel in 2012.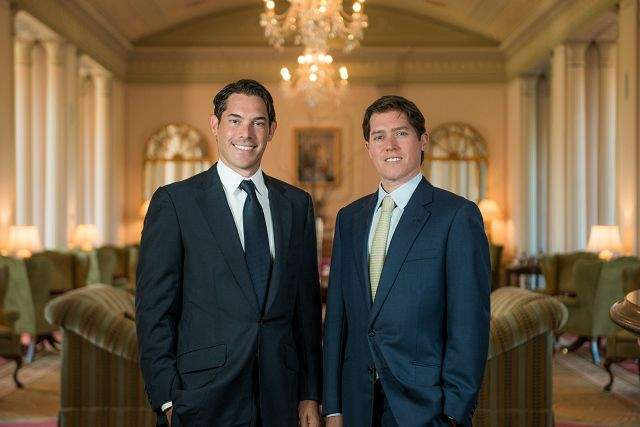 Green sons, hotel owners. Royal Gazette photo
The Green family have been in Bermuda for over 65 years, since Peter Green's late wife arrived in 1947 as the daughter of http://en.wikipedia.org/wiki/Sir_Harold_Paton_Mitchell,_1st_Baronet. The Green's have pledged to invest $50 million to enhance the property in order to further strengthen its position as one of the island's greatest tourism assets. The renovation plans include building a marina, upgrading rooms, redeveloping the hotel's public spaces including the pools, gardens and restaurant to increase the property's leisure credentials, while maintaining its existing appeal to business travelers. The marina will accommodate super yachts, a waterfront restaurant, revamped swimming pools - and maybe even a casino one day. The Bermuda Government has granted the Greens $14.2 million in tax breaks related to the facelift. Most is spent on marketing the redeveloped hotel, while the remainder is slated for training Bermudians and local entertainment. Besides building a state-of-the-art marina and restaurant, the developers plan a new pool area and landscaping, and the refurbishment of 69 rooms and suites in the Poinciana wing. Work was completed by summer 2014. In July 2013 the Bermuda Government also approved the building of the new Fairmont Hamilton Princess Marina in Hamilton Harbour. The deal allows the foreshore to be leased for 120 years in 40-year increments. Government got an upfront payment of $500,000, followed by a rent of five percent of the marina's annual income for the first five years — and 7.5 percent for the remainder of the lease. It covers 7.8 acres of the foreshore.

The Green family, via the company Hamilton Properties Ltd, also own Overbay and the Waterloo House development of luxury commercial and residential accommodations on Pitt's Bay Road. The Green family has a history of owning hotels and for a seven-year period beginning in 2004 they had a 25 percent stake in the Maybourne Group, which owns The Berkeley, Claridge's and The Connaught. Mr Green, the owner of Berco Limited, an investment company is a wealthy investor, born in Manchester, England. He is a Bermuda resident and long-time contributor to the UK's Labour party. His wife, the late Mary-Jean Mitchell who died in 1990 of cancer was the only child of Sir Harold Michell, then one of the world's wealthiest men, who arrived in Bermuda in 1947 with is wife Mary Pringle. He has a multimillion dollar home on Marshall's Island and married again, as a widower. His father was an entrepreneur in textiles and grocery stores that later became Tesco. He purchased the Fairmont Hamilton Princess from GHI with his sons, Alexander and Andrew Green, who are Bermudian. The property will continue to be managed by Fairmont Hotels and there will be no changes of staff or operations as a result of the sale. More than 90 percent of the commercial space within the property has been rented out, some of it to companies that are new to Bermuda, and the residential penthouse apartments will be released onto the market.
The Green family now also own a further property, on its own 33-acre peninsula of picturesque landscaped grounds in Southampton Parish, with 13 acres along the South Shore. This prime South Shore property was the site of the former (a) Carlton Beach Hotel, then (b) Sonesta Beach Hotel, then (c) Wyndham Bermuda resort which had long been listed for sale. Their acquisition was announced on March 19, 2013. The family is now conducting a review of the property to determine the way forward. Buildings include two former hotel dormitories at 6 Sonesta Drive and 18 Sinky Bay Road. The Green family intend to consult with Government, Planning and relevant stakeholders as part of that process. Scout Real Estate, the US developer which bought the oceanfront spread in 2007, had planned to build a five-star resort there. But after demolishing the hotel, the plans were scrapped. Lehman Brothers, the US investment bank which filed for bankruptcy protection during the 2008 financial crisis, had been the main financier of the $200 million project. The property, now the Hamilton Princess Beach Club, has three private pink sand beaches tucked into natural attractive bays, Boat Bay, Cross Bay and Sinky Bay, and is overlooked by picturesque topography that slopes down toward the shoreline. The hotel site is unique in Bermuda, freehold without a requirement for a buyer to take on a long-term lease with the Government.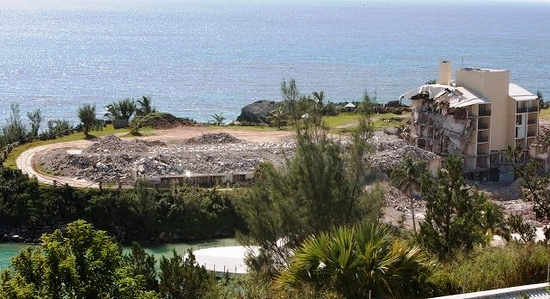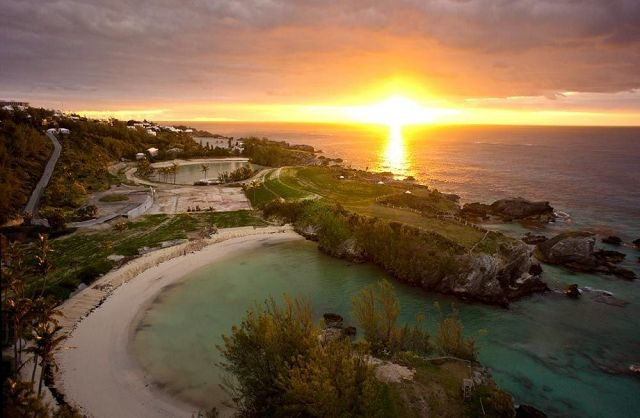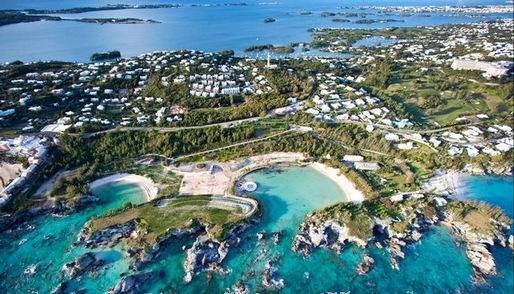 Former hotel site, Royal Gazette photos
---
Rosewood Bermuda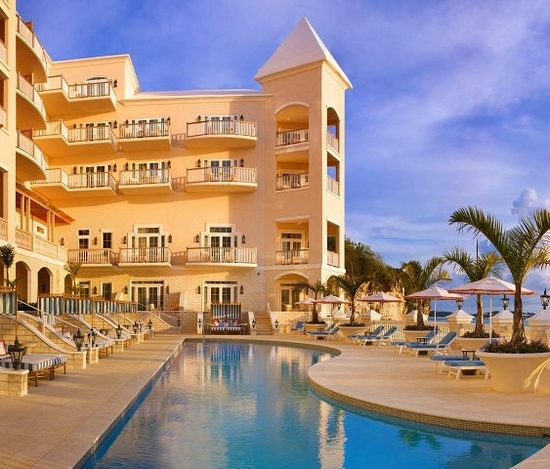 60 Tucker's Point Drive, Hamilton Parish HS 02. Phone (441) 298-4000. Email Tuckerspoint@rosewoodhotels.com. Mailing address P. O. Box HS 85, Harrington Sound, Hamilton Parish, HS BX, Bermuda. 88 rooms. So-called because it is professionally managed (but not owned) by the Rosewood corporation of Texas. Overlooking Castle Harbour. Newest hotel in Bermuda. In March 2015 Bermudian Paul Telford was appointed managing director. Rosewood President Radha Arora said: "Paul has done an outstanding job during his seven-year tenure at Rosewood Tucker's Point. We are extremely proud of his success and strongly believe that his passion for his native Bermuda will inspire our associates and delight our guests." Sixty percent of hotel guests are in conventions, most of which are organized by US-based corporations, with all convention expenses paid for by US taxpayers. Opened April 17, 2009 by Bermuda residents and film stars Michael Douglas and his wife Catherine Zeta-Jones, with then-Premier Ewart Brown, as the first new hotel to be constructed in Bermuda for 37 years.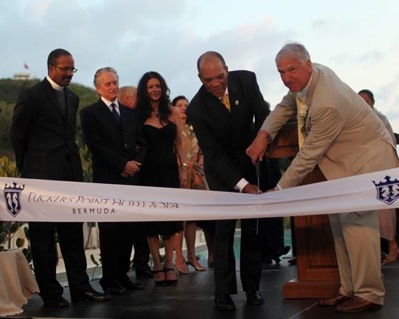 On 200 acres of waterfront. It is in the exclusive and private residential area of Bermuda known as Tucker's Town. Interestingly, while the hotel itself and its units are solely in Hamilton Parish, the Rosewood Tucker's Point Beach Club - see in Beaches - is in the St. George's Parish part of Tucker's Town, about a mile away. A resurrection, reconstruction and reconstitution of the Castle Harbour Hotel, which opened in 1931 and closed in 1999, under a new name after the latter's demolition. The Castle Harbour Hotel was a landmark first planned by the British Furness Withy shipping organization in 1923 and first opened on November 1, 1932. Furness Withy built both the original Castle Harbour Hotel and the Mid Ocean Club. After World War 2 Furness Withy of the UK lost interest. The property and extensive land were bought by Bermuda-based Bermuda Properties Ltd (BPL), originally headed and owned by Juan Trippe. He was the founder of the original Pan American World Airways. It was a direct result of his interest in Bermuda after Pan American flew between Bermuda and New York from 1937. His son, Ed Trippe, now has control.
The new (since 2009) $350 million, 200-acre development seen in the photograph above includes a residence club, estate and town homes, villas. The boutique hotel, designed to five-star standards, also offers a conference venue for Bermuda's established international business community. The centre piece is the Manor House, perched above Castle Harbour. Each of its rooms is decorated in a classic British style of artwork and furnishings, while the bathrooms feature deep soaking tubs, as well as expansive balconies and terraces with water views. The suites come complete with bars with ice makers and fireplaces, while the rooms are fitted with Wi-fi, VOIP telephony and IP-TV. The Palm Court, which is lined with palm trees, leads from a croquet lawn to a horizon pool overlooking a lush grotto and Harrington Sound. The spa has 10 tranquil treatment rooms and a Silver Tag hydrotherapy suite, with the women's salon offering manicure, pedicure and styling. There is also a barber shop. The 1,900 square-foot fitness centre is fitted with aerobic and cardiovascular equipment, in addition to weights, offers private wellness and conditioning instruction, while the dive and watersports centre provides dive adventures aboard the 31-foot Tidal Pull exploring shipwrecks and underwater caves. Diners have the Point Restaurant, accessed via an English long bar facing Palm Court. Point Terrace and the wine room, with its barrel-vaulted ceiling and selection of new and old world wines, provides a more private experience, along with al-fresco dining poolside at the Mahogany Terrace. The conference facility comprises computers, translation, IT support and secretarial services, in addition to satellite conferencing and a projection screen. There are two swimming pools, a golf course, beach and tennis club and more.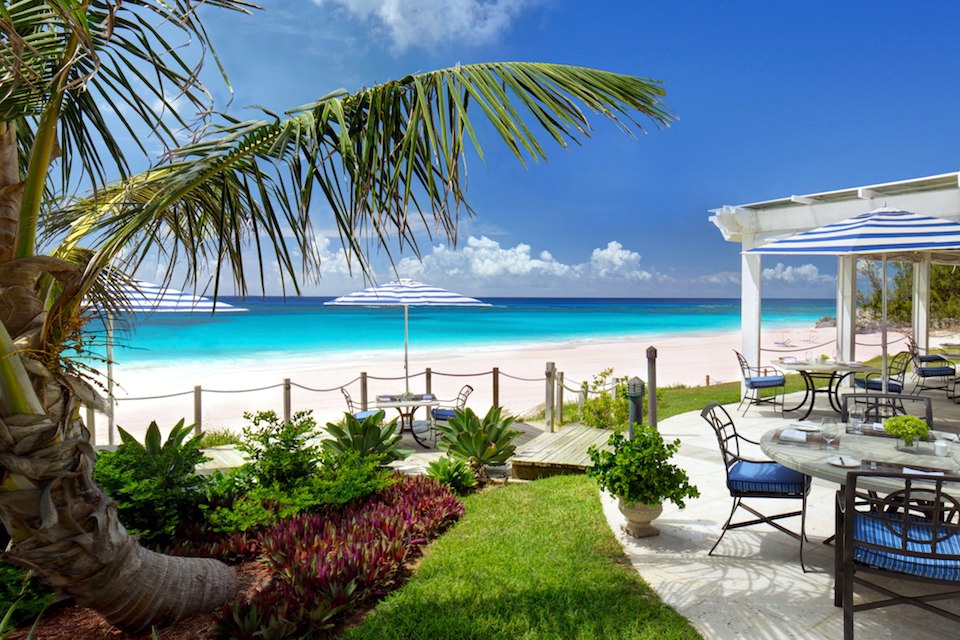 Rosewood Bermuda's Tucker's Point Beach Club
Guest rooms range in size from 530 to 1,200 square feet with luxury bathrooms and terraces with views of Castle Harbour and Harrington Sound. Rooms feature luxury bathrooms and terraces with views of Castle Harbour and Harrington Sound. Each room has a spacious balcony with a view of Castle Harbour, a flat screen panel TV, Wi-fi, fireplace, wet bar and walk in closets. They also have a luxury five-fixture bathroom with a stand alone deep bathtub. The rooms also come with amenities such as portable phones and I-pod/Mp3 docks and 24-hour room service.
A list of shareholders of Bermuda Properties Ltd (BPL) and its subsidiary Castle Harbour Limited (CHL) shows most of both companies' shareholders were then (and now) non-Bermudian. Major shareholders of BPL include Morgan Guaranty Trust Company, of Ohio; Charles Trippe of Massachusetts; Edward Trippe of Connecticut; and Basic, Inc of Virginia.
2018. June 29. Rosewood Bermuda is partnering with Cliff Drysdale Tennis to launch a comprehensive programme at their facility after a $25 million renovation. Cliff Drysdale Tennis is one of the world's most esteemed tennis management companies and through the partnership will elevate the hotel's tennis programme to an internationally recognized level, with local player Ashley Brooks serving as the club professional. "The resort's comprehensive renovation was an opportunity for us to enhance every aspect of the resort experience, and we are excited to be partnering with an internationally renowned management company at the forefront of tennis to transform the tennis experience at Rosewood Bermuda," said Paul Telford, the managing director of Rosewood Bermuda in Tucker's Point. As the first partnership of its kind on Bermuda, this will not only enhance the tennis experience at Rosewood Bermuda but will also elevate Bermuda as a larger tennis destination." Cliff Drysdale Tennis will manage Rosewood Bermuda's tennis facilities and oversee the resort's programme. Experienced members and tennis-loving guests will be able to enjoy the adult and junior programmes, which include private and semi-private lessons, day camps, social events and tennis leagues. "Our partnership with Rosewood Bermuda is exciting on many fronts," said Scott Colebourne, the vice-president of operations for Cliff Drysdale Tennis. "The great facilities and incredible location will allow for the ultimate tennis experience for both local players and resort guests. We're ready to make Bermuda a premier tennis destination. In addition to the playing benefits, we see great opportunities for Bermudian junior players to travel to Cliff Drysdale programmes in the US on scholarships, as well as increased tennis professional training and employment opportunities." The resort's new programme will be headed by Yana Orlova, the newly appointed director of tennis. An accomplished player who has competed professionally on the ITF Pro Circuit, Orlova brings a wealth of playing, coaching and management experience to the resort. In her role as tennis professional, Brooks will facilitate lessons, day camps and clinics. She previously worked at Rosewood Bermuda as a guest professional before joining the team in a full-time capacity. The partnership will be the first of its kind in Bermuda. Drysdale is a former top-ranked professional player who was elected into the International Tennis Hall of Fame in 2013.
2018. March 25. Caribbean Journal. Luxury hotel brand Rosewood is set to unveil the results of a dramatic re-imagination of the former Rosewood Tucker's Point. The re-launched property, now known as Rosewood Bermuda, is in the final stages of a $25 million renovation project that includes a complete redesign of the hotel's guest rooms. The renovation is also upgrading Rosewood Bermuda's beach club, golf clubhouse and Sense spa, along with an enhanced meeting space and new food and beverage concepts. The property is slated to reopen in April, according to the Bermuda Tourism Authority. Rosewood Bermuda has long been one of the top Bermuda hotels.
2018. February 22. Amendments to relax restrictions on development at upmarket resort Tucker's Point were approved in the Senate yesterday. The Tucker's Point Resort Residential Development Special Development Amendment Order 2018 is intended to provide flexibility for those who purchase lots on the property. Crystal Caesar, who started the debate in the Senate, said the amendment would remove blanket conditions that were "rigid and prescriptive". Instead, the government hydrogeologist would be given the ability to determine the restrictions on a lot-by-lot basis. In one example, she said: "If there is not a cave found on a specific lot, there isn't the limitation of having the water tank be a certain size." Changes include a clause to ensure native plants are used in landscaping rather than invasive species. Other clauses require conservation management plans for some lots, which must be included with planning applications. Ms Caesar said the Government had consulted the Bermuda Environmental Sustainability Taskforce, the Bermuda National Trust and the Bermuda Audubon Society about the changes. Opposition senator Justin Mathias and independent senator James Jardine both questioned what affect the changes would have on the endemic plants already located on the site. Mr Jardine added that it might help to have a representative for the Department of the Environment involved to ensure that natural resources are protected. Ms Caesar explained that the government hydrogeologist is employed by the Department of the Environment and is often used to give the Department of Planning an expert opinion on developments. She also said that endemic plants on the property remain protected under the original 2011 Special Development Order. The amendments were approved without objection.
2017. December 16. The new chairman of the Bermuda Tourism Authority has been named Hotelier of the Year by the Bermuda Hotel Association. Paul Telford, managing director of Rosewood Bermuda, said the award was "a huge honour". He added: "I'm blessed with an incredible team and I accepted the award on their behalf and it's a reflection of them." The Rosewood resort was again the only local hotel to win the Forbes Travel Guide Four-Star Award this year. Mr Telford said that Rosewood would be "aggressively" pursuing five stars. He added: "I'd like to think I helped bring some guidance and direction towards getting there." In the 25 or so years since he started in the industry by taking a summer job clearing tables at Elbow Beach Hotel in Paget, Mr Telford said he had seen a sea change in the product sought by visitors. He added: "When I came back to Bermuda nine years ago, it was a complete change. It was less about the crystal and silverware and more about the personable service, the experience, the connections visitors could make with Bermudians. What's really different now is that it's about having a special, unique experience, and it's a lot of fun." Mr Telford said Bermudian staff brought an "authenticity" to the job. He added: "Being Bermudian, I was warm by nature." Mr Telford said that "nothing would make me happier than to see one of the young Bermudians on my team become the next managing director of this, or another, resort". He said he had predicted two years ago that a current member of staff was "definitely going to get there, and that gives me great joy". Mr Telford added: "I hope this example shows every young Bermudian considering this career that they can actually achieve whatever heights they want to rise to." Rosewood Bermuda is to close for three months in the new year for a $25 million revamp after it was sold earlier this year to Miami-based hotel investment firm Gencom.
2017. December 5. Bermuda's new airport was a "game changer" in a decision to buy the luxury Rosewood Tucker's Point hotel, the new owner said. Karim Alibhai, head of Miami-based international hotel company Gencom, said the airport was a major factor in the decision to buy the resort, which went into receivership in 2013 and was put on the market two years ago. Mr Alibhai said: "Once the new airport opens that should definitely be a big game changer." He added: "It was quite important — airlift is a very important part of our business. We've seen businesses conceived very, very well but they have not taken account of good airlift. We also see Bermuda as a market that can be expanded — what we are doing is expanding the market to other parts of the US as they get to know Bermuda is a great destination." Mr Alibhai said: "Until two years ago, it was our perception that Bermuda had seen its best years." But he added that a combination of factors, including the work of government and the Bermuda Tourism Authority, which had "a positive impact" on the tourism business, had changed Gencom's view. Mr Alibhai said the firm planned to invest $25 million in a major revamp of Tucker's Point — with further development in the future. The hotel will be closed for three months from the start of next year for renovations and will reopen in April with the new name of Rosewood Bermuda. Mr Alibhai added: "When we looked at the different things that were being planned, we could come in, make the investment and get what we and our investors need to make a return." The 53-year-old businessman started his hotel empire with just one property — a two star Best Western hotel in Houston, Texas bought when he was aged just 19. He founded Gencom 30 years ago and the group now has a total of 75 properties in its portfolio, some managed by Gencom's affiliate Benchmark Global Hospitality and which includes hotels in North America, Latin America, Europe and the Caribbean. The group includes four-star resorts and conference centres. Mr Alibhai said: "We were looking for situations with opportunities. What drew us into Bermuda? It's a combination of things that got us attracted. A lot of our business plan is acquiring businesses that are depressed, investing in them and making them successful. We saw here a project with all the elements to be successful but one that got caught up in a combination of the financial crisis and an overspend when it was constructed. But, at the same time, under the right ownership, it's a hotel with the potential to be very successful." Mr Alibhai added that the America's Cup, although "it did not drive as much business to the hotels as expected" it was a marketing triumph. He said: "As far as the publicity goes, I think that's huge. It reminded people this is a great destination — I'm pleased with the marketing impact. It's a sizeable investment to make in Bermuda, but that's because we really feel the potential is there. Short term, we see the demand begin to grow as the BTA does its marketing and we do our marketing." Mr Alibhai said he welcomed plans to bring other major hotel brands to the island, like Ritz Carton at the new Caroline Bay resort at Morgan's Point in Southampton. He explained: "We don't look at that as competition — that's a positive aspect. It will expand the airlift and have passengers coming in. We're very excited about being in Bermuda and our future."
2017. November 17. Rosewood Bermuda — the hotel formerly known as Rosewood Tucker's Point — will close for three months from the start of next year to undergo a $25 million overhaul. The renovation will include the redesign of the resort's guestrooms, Beach Club, golf clubhouse and spa. On reopening in April 2018, the property will debut as Rosewood Bermuda. Rosewood wants its hotels to reflect their location's history, culture and sensibilities. In keeping with this philosophy, the new hotel design will showcase furnishings and artwork from local Bermudian artists and artisans. The design of the guestrooms and suites, lobby and new Conservatory Bar and Lounge will be led by Dawson Design Associates. London-based designer Alexander Waterworth Interior Ltd, has been selected to overhaul The Point restaurant, Tucker's Bar, Beach Club and the golf clubhouse. The hotel said the designers would seek to combine the elegance of Bermuda's colonial English heritage with the vibrancy of its indigenous culture to create a truly unique and authentic Bermudian experience. On arrival, guests will be welcomed via an elegant lobby more akin to a private manor house than a resort. Enhanced and expanded meeting space will also be available on the second floor. Rosewood Bermuda's 92 guestrooms and suites will be transformed into intimate, residential style retreats designed to capture Bermuda's indigenous culture and stunning natural surroundings. The property's four culinary venues will be re-conceptualized to provide modern and elevated dining experiences that celebrate locally sourced ingredients and Bermudian-inspired cuisine. The resort's signature restaurant will reopen as the Island Brasserie, which will be a vibrant and informal space offering Bermudian cuisine and new world flavors. Tucker's Bar will transform into a rum bar dedicated to teaching guests about the history of the island's beloved spirit. The all-new Conservatory Bar and Lounge will become "the beating heart of the resort" where guests and locals alike will enjoy handcrafted cocktails, coffee and afternoon tea. The Beach Club restaurant will be reimagined, providing island-inspired cocktails and a menu of fresh seafood dishes. The golf clubhouse restaurant, Sul Verde, will invite guests to enjoy traditional southern Italian cuisine in a rustic setting. The hotel will also modernize its spa and create a new fitness centre. New amenities will include 44 new golf carts and an upgraded golf course featuring enhanced course aesthetics.
2017. June 3. The new owners of Rosewood Tucker's Point are confident in the future of tourism in Bermuda beyond the America's Cup. Alessandro Colantonio, who led the purchase of the property for Miami-based investment firm Gencom, said that the company had been looking at investments on the island for several years, but now felt the tourism industry was moving in the right direction. "I would like to say we have always presented ourselves as being a very opportunistic investment shop. As we spend a lot of time in this space, over time, we have learnt to really identify assents in the market where we see long-term potential, be it in the form of investment in tourism or airlift. Bermuda is a location we have looked at several times over the years, and this was the third time we looked at Tucker's Point. We first looked at it in 2012 and at that time we were not comfortable with the direction of tourism. When we looked again in 2015, we started to see the start of the tide turning when it comes to the future of the destination." In addition to the steady increase in visitor arrivals, he said Gencom noted the rise in airlift to the island and investments in the island by Ritz Carlton and St Regis, saying the island was showing renewed brand interest. "The America's Cup is great, but we look at that as a launching point for a long-term boost for the market. Across the board, all things are pointed in the right direction for us." Mr Colantonio credited the Bermuda Tourism Authority and the Bermuda Government with putting the island's tourism industry on the right track, saying: "I would say the future has never been brighter, based on the last 15 months of data." Asked about plans to develop further luxury real estate properties on the site, Mr Colantonio said the details were still somewhat of a work in progress, but stated that the company understands that there are concerns about construction density on the site. And he added that the company was focused on "quality over quantity" when considering any further development on the side, saying: "We don't want to do so much on one side of the business plan that it affects the other side. The phase one plan that we have in mind contemplates 16 waterfront condos in a very low-density development. Other than that, it is about selling the existing unsold fractional ownership units." He said the company was also looking at potentially selling a handful of SDO lots on the site, but added: "None of the lots are being looked at as multiple developments. It's really single family homes. The only area that we really put a number on was the 16 waterfront condominiums. Phase two has a few different options that we are looking at." Mr Colantonio also said that the company was not presently looking at changing the staffing levels at the resort, but he added: "If anything, we are going to need to add some staff."
2017. May 19. Government has hailed the sale of Rosewood Tucker's Point Resort to an American company. It was announced this week that the Miami-based investment group Gencom had bought the 88-room hotel and will invest some $25 million into the property. Junior Minister of Tourism Kenneth Bascome told the House of Assembly this morning that the sale was "another milestone for Bermuda in the East End." "Gencom was founded in 1987 by Mr Karim Alibhai and is one of North America's leading hospitality and luxury hospitality related residential real estate investment and development firms and consists of a group of companies involved in all aspects of the hospitality industry," Mr Bascome told MPs. "The Gencom group of companies offers expertise in many distinct areas including finance and capital markets, asset management, design, development and equity management and residential sales and marketing. In addition, the Gencom management team has a wealth of experience and members of senior management have an average of 25 years of industry experience and an average of 12 years with Gencom's associated companies. Gencom companies' successful track record has led to significant ventures with prominent institutional investors, prominent family groups and other strategic partners both in the Unites States and internationally. During its foundation years, Gencom's focus was on executing turnaround and repositioning strategies that involved portfolio and single asset transactions within a variety of hospitality segments including luxury, limited-service and full-service assets. Since 1997, Gencom has expanded its focus and involvement to also include the acquisition and development of luxury mixed-use hotels and resorts with ancillary residential components. In addition to being one of the largest owners of Ritz-Carlton properties in the brands system, Gencom has had great success in working with and owning assets under multiple brands including Marriott, Hyatt, Wyndham, Hilton, Sheraton, Radisson, Renaissance, Summerfield Suites, Holiday Inn and Intercontinental and has recently expanded this brand presence to exploring opportunities with luxury brands such as Four Seasons, Rosewood, Montage Mandarin Oriental and Aman Resorts. Honourable members will be reminded that the Government of Bermuda passed a Hotels Concession Order last year for the Tucker's Point Resort, which was a condition of the sale, and the estimated concession relief is $13.3 million dollars over five years, which is subject to conditions including training Bermudian staff, hiring Bermudian entertainment and marketing the resort. This Honourable House is advised that the developer has outlined a renovation timeline which will maximize the hotel's operational ability in the short term, prepare the asset for long term success and, also, take into account the upcoming America's Cup event in 2017. TP Holdco Limited is committed to repositioning the hotel to become one of the world's most luxurious resorts offering the best in customer service. The developer will commence with an immediate investment of $5.8 million dollars being spent in the first year on key renovations, deferred maintenance and capital projects, and is on target to bring a total foreign investment into Bermuda's economy between $92 million to $95 million dollars. The anticipated scope of work and cost breakdown by project includes approximately $6 million dollars on guestrooms; approximately $6 million dollars on the Point Restaurant relocation, pool enhancement and new lobby bar/lounge; approximately $2 million dollars on Spa enhancements and repositioning; approximately $2 million dollars on meeting space and boardroom renovations; approximately $2 million dollars on the Beach Club and Golf Club; approximately $2 million dollars on marina enhancements and an additional $2 million dollars on the general hotel contingency for fees, upgrades, master planning, pre-marketing and third parties. TP Holdco Limited will embark on a series of real estate development projects over the term of the investment, including an immediate programme to develop the existing Harbour Drive land sites into 16 new, for-sale condo-hotel units, which once entered into the hotel rental inventory, will increase hotel key count by 20-30 new additional hotel suites. An additional development, which is targeted as part of the Phase I business plan, is the development and sale of the existing Paynter's Hill Site 9, which will be developed and sold as a branded Estate Home (it will also be contributed to hotel inventory as a premiere estate home during peak and holiday seasons). The capital expenditure related to these two projects would be above and beyond the scope outlined above and will be further refined and estimated post-closing. The hotel presently has a total of 88 rooms of which 28 are superior rooms, 40 deluxe, 12 one bedroom and 8 suites. The hotel property also includes two private residence clubs comprising of 340 fractional luxury residence units. During the period of renovation of the hotel and development of the real estate sites, the hotel will remain open for business, with only occasional partial/temporary closures where this is otherwise unavoidable. The commitment made by TP Holdco Limited this week is critical and in line with this Government's strategy to develop the much needed tourism product to help sustain Bermuda's tourism now, and for future generations. On behalf of the Ministry of Tourism, we take great pride in recognizing not only this great news today regarding the Rosewood Tucker's Point Resort, but all of our partnerships in tourism that we have been cultivating over the last few years. Bermuda will experience the most exciting event ever to happen in Bermuda's history with the 35th America's Cup starting next week; we are seeing tremendous growth in tourism statistics in the first quarter of 2017, including, increased air arrivals, additional flights, increased number of cruise ship passengers and cruise calls. We now have smaller ships visiting the Town of St. George after a remarkable upgrade to the Old Town to include Penno's Wharf and the new Hunter's Wharf ferry dock. We have additional ships visiting the City of Hamilton and shovels in the ground at the L. F. Wade International Airport and the St. Regis Development in the Town of St George. The St George's Bridge works are complete as well as the newly renovated Horseshoe Bay Beach entrance, with its spectacular new wooden foot path and parking area for our visitors to enjoy one of the world's most famous beaches and Bermuda's most renowned attraction. These are all great reasons to celebrate today."
2017. May 19. Rosewood Tucker's Point Hotel and Resort has been sold to the Miami-based firm Gencom and is out of receivership. According to an official announcement yesterday, the hospitality development company will invest $25 million into the property, with additional follow-on commitments for future development. However, other financial details of the purchase were not disclosed. Karim Alibhai, the principal of Gencom, said: "Gencom's decision to acquire Tucker's Point reflects our firm's longstanding strategy of unlocking value by targeting one-of-a-kind assets in markets that we consider undervalued and poised for long-term growth. "Bermuda benefits from direct flight access from Europe and the eastern coast of the US, making it a natural destination for international travellers and residents in search of an island destination offering luxury accommodations." Alessandro Colantonio, senior vice-president of acquisitions for the company, said: "Benefiting from a picture-perfect location, the strength of the Rosewood brand, and amenities capable of impressing the most discerning travellers, Tucker's Point is already a sought-after international destination. Our repositioning and renovation plans will further enhance the resort's appeal, while creating new opportunities for residents looking for a place to call home in Bermuda." Gencom seeks to "elevate" every aspect of the resort, renovating guest rooms and adding new food and beverage venues, in addition to new meeting spaces. The new owner also intends to develop, market and sell "branded and unbranded luxury real estate properties, including townhouses, single-family homes, villas and condo-hotel units oriented towards the waterfront and golf course". A spokeswoman for Rosewood Hotel and Resorts meanwhile confirmed that the purchase went through on Wednesday, adding that staff at the hotel will not be affected. "The resort will remain under the management of Rosewood Hotels and Resorts, and the transition to new ownership will not have an impact on the staff, operations or overall guest experience," she said. "Rosewood Tucker's Point will continue to offer the same timeless luxury that guests have always known and loved." Senator Michael Fahy, the tourism minister, said the government was thrilled to welcome Gencom to the island. "Gencom's proven expertise and long history with leading hotel brands makes for perfect participation in the bright future of Bermuda tourism. This investment is another indication of confidence in Bermuda, further demonstrating that a tourism renaissance is alive and well. With major new investment being made in the existing facility, this hotel will continue to create exciting products and services for our visitors and locals alike. Gencom has amazing plans in terms of upgrades, and we have worked closely with their team, through the Economic Development Committee, to assist." The Bermuda Tourism Authority also hailed the sale as a success, with Roland Andy Burrows Jr, chief investment officer for the BTA, saying: "Gencom's investment will bring direct and indirect impact to Bermuda's economy and tourism sector as we strengthen the island's brand as a premier destination." Kevin Dallas, BTA CEO, added: "Like Gencom, the BTA believes Bermuda's tourism market is poised for long-term growth. The island is on a pathway to produce an additional 1,500 rooms over the next ten years. "Today's news that Rosewood Tucker's Point is under new ownership and due to receive a $25 million makeover investment will light a fire under other investors considering Bermuda for their portfolios. It's also helpful to talk about this development as the 35th America's Cup approaches. We can add the Tucker's Point news to our talking points as the team pitches tourism-related investment opportunities to potential investors while they're here enjoying the racing and enjoying Bermuda. The Bermuda Tourism Authority looks forward to working closely with Gencom and the other new investors we will meet over the next six weeks." Jones Lang LaSalle represented the seller in the transaction while Rego Sotheby's International Realty acted as a local agent. The financial and operational restructuring of the various Tucker's Point seller companies in receivership was led by Roy Bailey and Keiran Hutchison of EY Bermuda Ltd, and financing was provided by HSBC Bermuda. The Hamilton Parish resort property went into receivership in 2013 and was put up for sale in 2015, with no specific price listed. At the time, receivers EY Bermuda say they were "seeking suitable investors to ensure the long-term success and sustainability" of the property. Despite the challenges, the resort has won the Forbes Travel Guide Four-Star Award for the past two years. Last year, the House of Assembly approved draft concessions for the resort to support a number of construction and renovation projects including a $6 million renovation at The Point restaurant and enhancements to the pool, beach club and marina.
2016. November 17. Alessandro Colantonio, vice-president of acquisitions for GenCom, revealed the asset management firm was just "days or weeks" away from a formal announcement on closing the acquisition of Tucker's Point. He also outlined plans to upgrade the hotel for the America's Cup as well as an extensive renovation project for the end of 2017 and 2018. "We will be revisiting all aspects of the resort; rooms, public spaces, food and beverages, new concepts and adding one of two new venues," Mr Colantonio said. "We will also be looking at low-density development."
2016. May 26. Draft hotel concessions for the Tucker's Point Hotel and Resort were approved in the Senate yesterday. The Bill aims to improve the tourism product at the hotel while providing opportunities for Bermudian workers. Michael Fahy, the new Minister of Tourism, Transport and Municipalities, outlined a number of construction and renovation projects lined up for the resort. These include a $6 million renovation at The Point restaurant and enhancements to the pool, beach club and marina. He said the $15.8 million concessions over five years were necessary to sustain Bermuda's tourism product while "preparing the asset for long-term success". Independent senator Joan Dillas Wright said she welcomed the move but hoped that the Bermuda Government would follow through with its commitment to train and hire Bermudians. One Bermuda Alliance senator Georgia Marshall replied: "The OBA has been committed since day dot to improving work for Bermudians. "It is up to Bermudians who are qualified to make the applications. Be proactive. There are jobs available.
2016. January 7. The search for a new owner for Rosewood Tucker's Point is continuing, but managing director Paul Telford remains upbeat about business at the resort. While what happens next will be up to the eventual owners, Mr Telford said there is still room for growth at the Hamilton Parish site. "We have been open for almost seven years, and what we have noticed is that there's a lot of business with families," he said. "We're seeing the grandparents coming in with the kids and the grandkids, and we have tried to build on that. We have a number of suites — we have 20 suites in total — and we can make up one-bedroom suites and two-bedroom suites. Certainly in July and August we sell a lot of that. Really, what we're doing here at Rosewood Tucker's Point is trying to build the group base — group business is the base that most of the hotels on the Island need to build on — and then fill in with transient visitors on top of that. We are trying to build the social aspect as well with birthday parties, families, destination weddings, that sort of stuff, but we are seeing growth in that business, that family business." Asked about recent planning applications, which proposed the addition of further convention facilities, he said: "The plans that were put in were more about the things that a new owner could potentially do. I don't know that it will necessarily happen. It is certainly a possibility, but the resort hasn't sold. If we had a little bit more function space or meeting space that we could use to cater to groups, we could cater to multiple groups at one time in the hotel. In the long-term, once you are able to have that ability to cater to groups, then you can increase the room inventory and you are able to take more group business. We have a pretty good infrastructure here. Our kitchens are big and we have our own laundry which can support the whole resort and then some. We have the beach club and the golf club, so we have a good base, core infrastructure on which to build. That's why we want to start off by building that shoulder period and groups and maybe looking at getting more function space. Then might come the moment when we think we might need to add more rooms. That's the long-term, but we have to get through receivership and the sale first. Hopefully a new owner will subscribe to that long-term strategy and put some funds towards it." Mr Telford also said that the subject of seeking a casino on the property would be up to the eventual purchaser of the resort. While he emphasized that casinos would not be a cure-all for the tourism industry, he said it could be a positive element, providing visitors with something else to do on the Island. He said the America's Cup in 2017 should also give the industry a needed boost, saying that the World Series event last October had helped visitor numbers. "We did get a boost from it, so it did contribute," he said. "We were advised by the America's Cup Event Authority that typically with the series races that we would not see as much of a blip on occupancy as we will see for the finals. Obviously they are not as big a draw, but we did see a boost. That bodes well for America's Cup. If we can expect to see some busy days with the America's Cup, that's great. We are looking forward to it." Asked if he was concerned by the distance between the resort and Dockyard, where the bulk of America's Cup activities will take place, he replied that the issue could be rectified. "It's a long distance by land, it's not by water," he said. "You could get someone from here or Flatts Village to there in 15, 20 minutes. It's a challenge that I think Bermudians can resolve. I think it would be huge to make that kind of connection, and if we can it would be great."
2015. February 13. The Tucker's Point Hotel and Resort is up for sale. After being in receivership for some 16 months, the East End property is being marketed to potential buyers by international agency Jones Lang LaSalle and by Rego Sotheby's International Realty in Bermuda. The resort employs between 200 and 300 people — depending on the season — and receivers Ernst & Young (EY) Bermuda say they are "seeking suitable investors to ensure the long-term success and sustainability" of the property. EY partner Roy Bailey, who is overseeing the receivership, said the decision to actively market the property was due to the business being in better shape and prevailing market conditions. He told The Royal Gazette that the claims against resort owners Bermuda Properties Ltd (BPL) by the secured creditors — HSBC, Argus and BF&M — totaled around $150 million, plus interest on the loans for the receivership period. Only sale proceeds over and above their claims will be available for unsecured creditors. The property comprises the 88-room hotel with golf course, 50 unsold fractional ownership units — seven of those units are contracted but sales not completed — and undeveloped land, which has potential for building more units, planners permitting. The receivers have not attached an asking price to the property but expect "a competitive, open-market process". Mr Bailey said it was in the interest of all interested parties — creditors, employees, Government and the people of Bermuda — that the hotel was "sustainable and successful in future years". This partly depended on the buyer understanding Bermuda and its tourism being more seasonal than that of Caribbean islands, Mr Bailey said. "We wanted this to be a resort that pays its own way," Mr Bailey said. "It's been a 16-month period of receivership and we believe we have improved the resort. The membership numbers have increased 15 per cent in that time." Without providing figures, he said the performance of the resort had been flat last year compared to the year before. But he added that this was viewed as positive, given the unusually wet August and two hurricanes in October, which had caused bookings to be cancelled and stays to be cut short. Mr Bailey added that the decision to sell now was also driven by improving market conditions for resort investment, particularly with last December's announcement that Bermuda will host the 2017 America's Cup. "We do recognize that an investor coming in will want the resort to leverage the opportunity of this major event," Mr Bailey said. Delaying the sale until 2016 would have cut across the period of opportunity with America's Cup-related activities starting this year in the run-up to the big event. "Decisions are being taken now and requests for block bookings for two years' time are already being made," he added. The resort, managed by Rosewood, opened in 2009, just as the Island and its main tourist market, the US, lurched into an economic slump. This newspaper revealed that BPL lost more than $1 million per month from the start of 2009 through the end of August 2010. In 2011, the company fought a heated public battle for a special development order (SDO) to expand and build dozens more luxury homes on the property that it said would be sold to help repay its debts. Mr Bailey said the actual number of units that a new owner could build on the undeveloped area of the property depended partly on the result of environmental impact surveys and then the plans would have to go through the normal planning process. Jones Lang LaSalle is marketing Tucker's Point globally and the receivers expect no shortage of bidders. Mr Bailey said the buyer was likely to fit one of four descriptions: financial, private equity, brand hotel name or wealthy individual. "Because it's Bermuda and it's a unique resort and a unique opportunity, I think there's a fair chance that it could be a high net worth individual buyer," Mr Bailey said. Mr Bailey expected the sale would take about nine months to realize, unless an appropriate buyer emerges quickly with an attractive offer and a shorter timeline.
---
St. Regis Bermuda Resort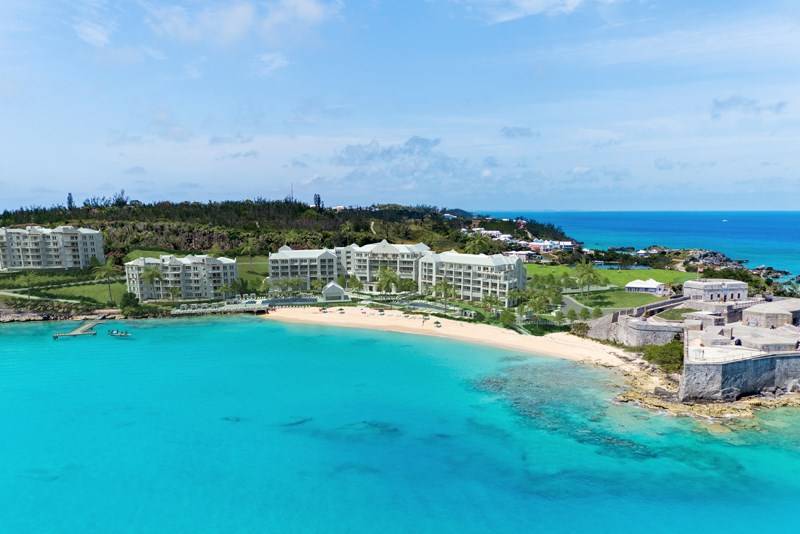 Located near the historic Town of St. George, a UNESCO World Heritage site and set beside the majestic Fort St. Catherine, this world-class 30-unit development of two bedroom units are now open. With luxurious contemporary design, spanning over 680 linear feet of beachfront with breathtaking views. Explore Bermudas legendary pink-sand beaches. Play a round on the nearby private resort golf course or experience every type of water adventure imaginable from paddle boarding to scuba diving and yachting. Owners of these two bedroom residences will enjoy oceanfront views and enviable amenities including walk-on beachfront, pool, wellness center, state-of-the-art fitness center, two restaurants, casino and 24/7 concierge service.
Welcomes Bermudian, Permanent Resident Certified and International Purchasers. Amenities include gym, pool, dock and parking
For a fuller history of this development, see www.bermuda-online.org/seestgeo.htm under "St. Regis Hotel."
2018. July 18. Construction at the St Regis hotel project in St George's has continued to progress. Developer Hotelco Bermuda Holding Ltd said yesterday that 55 workers are employed at the site and 70 per cent are Bermudians.
Crisson Construction completed piling work at the site last week with foundation work now under way. Project manager Juan Cordova said: "This is a stage of every development where progress is hard to see because it is mostly under the ground and out of sight. However, this completion was critical. Real, hard and professional work has been done here." Miguel Purroy, principal of Hotelco, added the company was committed to the project. Mr Purroy said: "We have decided not to build staff housing on the site. Instead, we will rent idle properties and we will buy in the local stores and we will celebrate all that St George's does for this community. "Day-to-day life in the Olde Towne will certainly be championed in what we say and do." Mr Purroy added: "We have enjoyed great support from the community and from the Government. It makes us very confident when we realize everyone on the island is enthusiastic about this development. They want us to succeed." Laura Purroy, general manager of Hotelco, said the developer had focused their first efforts on the construction of the hotel, with work on residences to follow. Ms Purroy added: "It is the policy of St Regis and of Marriott International that no branded residences can be occupied and lived in until the hotel is fully operational. Also, from a commercial and marketing point of view, this sequencing of hotel first and then residences makes complete sense." The first phase of the project will include the 120-room hotel and amenities including two infinity pools, a spa, a children's club and two restaurants. Two condominiums are also included in the first phase of the project, with 15 residences apiece. Ms Purroy said: "We are proud to bring one of the most renowned high-end luxury hotel brands in the world here to Bermuda. The St Regis brand will contribute greatly to enhancing Bermuda's well-deserved reputation as a high-end, celebrated tourist destination." She added: "We are developing in one of the most beautiful sites in Bermuda, situated in a World Heritage setting. This is a winning combination."
---
Categories of all accommodation properties for visitors

Last Updated: October 14, 2018
Multi-national © 2018 by Bermuda Online. All Rights Reserved