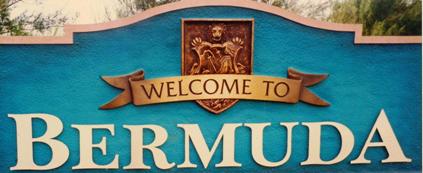 125+ web files in a constantly updated Gazetteer on Bermuda's accommodation, activities, airlines, apartments, areas, art, artists, attractions, airport, aviation pioneers, banks, banking, beaches, Bermuda Status and citizenship, British Army, businesses, calypso, Canadian military, causeway, churches, city of Hamilton, commerce, community, cruise ships, culture, cuisine, customs, Devonshire Parish, disability accessibility, districts, Dockyard, economy, education, employers, employment, entertainment, environment, executorships and estates, fauna, ferries, flora, food, forts, gardens, geography, getting around, golf, government, guest houses, history, Hamilton Parish, homes and housing, hotels, internet access, islands, laws and legal system, local groups and organizations, location, media, motor vehicle options, music, municipalities, Paget Parish, parishes, parks, Pembroke Parish, politics, postage stamps, public holidays, public transport, railway trail, religions, Royal Navy, Sandy's Parish, St. David's, St. George's Parish, shopping, Smith's Parish, Somerset, Southampton Parish, Spanish Point, Spittal Pond, sports, stores, telecommunications, traditions, time zone, town of St. George, United States armed forces, tourism, vacation planning, villages, vital statistics, water sports, weather, Warwick Parish, wildlife, work permits, etc. For tourists, business visitors, employers, employees, newcomers, researchers, retirees, scholars.

Bermuda's Cottage Colonies & Private Clubs
Smaller and more intimate accommodation for visitors, some with their own private beaches

By Keith Archibald Forbes (see About Us) at e-mail exclusively for Bermuda Online
To refer to this file use "bermuda-online.org/accomm3.htm" as your Subject.
An impartial list. No one from this website receives any commissions or rebates from any property.
Recommended cottage colonies and private clubs are shown in bold. Some have the facilities shown by the following symbols. Properties shown with 5-2 Stars reflect the symbols shown on Expedia.com.
- business center
- business facilities
- Ship view
- dining
- disabled access
- fitness
- golf course
- meeting room
- pool
- public buses
- public ferries
- shopping
- walking area
A Cottage colony is uniquely Bermudian
Upmarket places at which anyone can stay, most have their own beaches or access, a pool and gardens. They feature a main clubhouse with a central building for Front Desk operations, one or more restaurants, reception area, sitting room, lounge and bar. Apartments or cottages are on landscaped grounds, some with ocean views. Most have kitchenettes or kitchens. Some have lower rates from November 2 to March 31, if they remain open. Take the Dine Around plan if offered.
Taxes
In addition to per-day hotel charges, visitors should expect to pay the following Bermuda Government Taxes (a) Occupancy Tax of 9.5% and (b) a Resort Levy of 17%. Ask any property at which you stay about any further extras.
Internet, WIFI, websites, linkage, pricing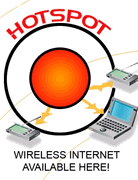 Bermuda Online

(BOL) at http://www.bermuda-online.org will gladly establish a free courtesy web link to the websites of Bermuda properties offering accommodation to our visitors, and show their property's email address in addition, when those properties reciprocate our web link. Via this exchange of links anyone from the world wide web who is interested in Bermuda and wants to stay at any place in particular will be see all the info they want to, about all aspects of accommodation such as room or suite pricing; history and other special features of the premises; location; transportation options; whether or not television and WIFI are available and if so whether the latter free or at cost; and all other services, directly from the websites of the properties at which they want to stay. But it's simply not practical to link to or give any pricing info about or show an email address, any place that won't reciprocate the link. We state all this in our Links at http://www.bermuda-online.org/links.htm.

Having Free WIFI or paid WIFI or wired ADSL (Broadband) available for their guests is more important than ever before in 2012. Many clients assume they will have this same ability during their business visits or vacations as they now do in their homes and places of employment. Their guests or prospective guests who travel to wonderful places like Bermuda want to be able to email photos, including where they stay of course, back home to their families, friends and colleagues. If they cannot, it's a significant opportunity wasted for both clients and properties in terms of publicity and more clientele. It is noted that while some guests write nice web reviews of Bermuda overall they invariably also state whether or not they've had WIFI or other Internet access and other key communications and telecommunications facilities at where they stayed. Internet-reliant guests can bring a laptop or eBook such as a Kindle or Kobo or netbook or IPad or IPhone or playbook or notepad or tablet or ultrabook. In July and August 2012 American visitors to Bermuda who were interested in the 2012 Olympic Games from London were able, from where they stayed if it had WIFI or wired Internet, to see http://www.nbcolympics.com/. Canadian visitors saw http://www.ctvolympics.ca/. British visitors viewed http://www.bbc.co.uk/sport/0/olympics/2012/.


Disabled access

When space is available for the disabled - accompanied if in a wheelchair - this symbol indicates this. Always confirm this with the proprietor and note that properties in Bermuda do not conform to first class USA ADA or third class UK DDA standards at this time.
Cottage Colonies
For further details or bookings, please deal with the premises directly or via an airline or travel agent.
9 Beaches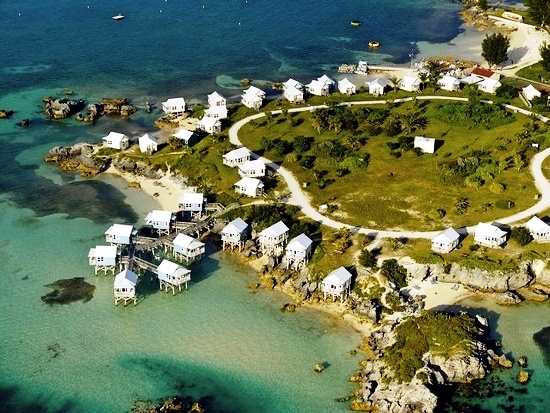 Closed since May 2010.


Daniel's Head Road, Sandys Parish MA 03, Bermuda. 18 beachfront acres in a national park and reserve area, which until the 1990s served as a Canadian Naval Base. The land is owned by the Bermuda Government and was leased by its agency the Bermuda Land Development Company (BLDC) to IRC - Sandys Limited. Present tenants who have a 240-year lease have obtained a Special Development Order on a new Master Plan that will include hotel rooms, condominiums and iconic over-the-water cabanas. Endemic flora and fauna thrived in the grounds, while solar panels cut down on the need for traditional fossil-fuel energy.
October 2012. The owners of 9 Beaches are now advertising internationally for investor partners to carry out the planned $80 million redevelopment of the resort. The 18-acre West End resort, which closed in 2010, is among at least half a dozen Bermuda tourism properties that are struggling to find investment funding or buyers in the tough global economy. It's being marketed by Rego Sotheby's International Realty and Jones Lang LaSalle, who are also agents for the South Shore site of the former Sonesta resort, which has now been put up for bid. "This is to close an equity gap," said David Dodwell, one of the 9 Beaches owners. "It is a capital call to raise additional funds to allow us to do the redevelopment, it is not a sale." The 9 Beaches resort is owned by IRC Sandys, which also includes Russ Urban, Mike Mellor, and Tom Childers. Nordica of Canada is a development partner. Mr Dodwell said they decided at this stage to look beyond the group to find additional capital given the tough economic climate. The offering includes the assets and development rights of the 9 Beaches property, including assumption of a 240-year lease from Government, already constructed improvements, a Special Development Order (SDO) and substantial concessions, including tax abatement, duty relief for construction and other materials and additional incentives subject to formal request. Payments for the 240-year lease are $1 million a year for the first seven years and a final payment of BD$8M in year eight, and one nominal "peppercorn" each year thereafter. The current SDO and master plan envisions 69 hotel units and 114 condos available to overseas and local buyers. "The property is currently improved with 84 cottages including 26 that are entirely over water," the listing says. "Other improvements and infrastructure including water systems are in place and available for reuse or redevelopment. Originally characterised as an eco-resort, it focused on the peninsula's natural beauty by offering efficient cottages either with direct ocean views or located directly on the water. The current leaseholders have completed significant work to plan, entitle and master plan a new project on the site aimed at providing a high quality resort for tourists and more affordable purchase options for Bermudian and international buyers, a market segment with high demand and little supply. In 2010, Government approved an SDO for 9 Beaches including density of hotel and hotel/residential units, permission for basic amenities and a baseline understanding between the current leaseholders and the Government regarding infrastructure and quality. The Government, in line with Bermuda's need and desire for new hotel product, approves of the completion of 69 hotel units, most of which are refurbished cottages per the current plan, prior to delivery of for-sale residential product. The SDO enables the subdivision of the property into six parcels allowing the future sale of developed product and phases." The listing says the current leaseholders are in "advanced stages of planning and have assembled the necessary government approvals short of applying for building permits. And using the existing cottages and other structures at 9 Beaches, the new developer would have additional construction savings. Construction cost savings and the structured lease payment schedule lower upfront investment costs and increase the potential for favourable return on investment, especially when time-value-of-money is taken into consideration. Given the advantages 9 Beaches creates, the developer of the property will be able to build new product at a discount to competing projects. In turn, the developer may offer product at a more favourable price point, deepening the pool of buyers to push into the larger middle-class income buyer pool including a substantial supply of local buyers."
The plan presented to Government includes four phases and just the first phase needs to occur in specific order and produce a minimum of 69 hotel units. New construction during phase one may be minimized by refurbishing existing cottage structures. The other phases may occur as the developer and market conditions dictate. The listing adds: "The current leaseholders are amenable to partnering with investors to continue the existing or a modified master plan for the property. 9 Beaches presents an extraordinary opportunity to bring an established or new boutique concept and hotel flag to Bermuda." Cost assumptions outlined in the Rego Jones Lang LaSalle brochure include: Cottage upgrades — $195,000 per unit, amenities $2 million, hotel bar and restaurant — $1.9 million, club bar and restaurant $2.9 million, marina — $700,000, hotel reception and office — $700,000, and condo/villa construction costs of $300 to $350 a square foot.
The property began in August 2000 as Daniel's Head Village eco-tourism resort. Nine Beaches opened its doors in 2003. Re-opened April 2005 and re-vamped after being closed and in receivership. It is so-called because there are nine small but choice beaches, in various sizes, there. There are presently 84 soft-sided cabanas - huts - on stilts, all with views of the Atlantic. It is of the two most far off places to stay from Bermuda International Airport about an hour's drive away. The property was used exclusively by Canadian Forces from July 1963 to December 1993. In World War 2, the land was a Royal Navy wireless station.
---
Ariel Sands Beach Club Resort and Spa

Closed since January 1st, 2008.
Until it closed it was a complex of 40 pale salmon-painted cottages with swimming pools, tennis courts and a high-class spa. 34 South Road, Devonshire Parish. Telephone (441) 236-1010. On day time day bus route # 1. With pool, private beach, two restaurants, tennis courts and spa. The property got its name from Shakespeare's Ariel, a spirit, in his drama "The Tempest." It was first opened on December 18, 1954. Before that, it was a farm.
Officials with Ariel Sands hotel now say they are close to a redevelopment deal with a Canadian developer and high-end hotel operator, which could see ground broken in 2010. Feasibility studies are currently underway and are expected be completed by the end of March 2010. It is said Canadian developers view the site as "absolutely unique" and were very serious about proceeding once the studies are done, if there are no major red flags.
The re-development of Ariel Sands was at one point in limbo after a second group of investors fell by the wayside. The collapse of talks with the 'Eyde' group follows the withdrawal of the Hilton Group in 2007, and left owners of the Devonshire hotel forced to look for a new partner in an uncertain economic climate. Ariel Sands has been owned and operated by the Dill family for more than 50 years. One of the shareholders, whose mother is a Dill, is film star, actor and producer Michael Douglas, son of Kirk Douglas, owner of Longford House in Warwick Parish and a full-time Bermuda resident from 2002 to 2009. He won his brace of Oscars for performing in Wall Street and producing 1975's One Flew Over The Cuckoo's Nest. His wife is film star, Welsh-born Catherine Zeta Jones. Michael Douglas has a son, Cameron, by a previous marriage. After his mother and father divorced, Michael Douglas lived for a time on the US East Coast and received an allowance from his mother and step father, William Darrid. Diana Dill Webster's family has lived in Bermuda since the 17th century but her primary home is in California. When in Bermuda, she uses a cottage here at Ariel Sands. The family also owns the Brighton Hill Nursery across the street and up the hill to the right.
Up to 75 percent of shares in the property were recently sold to a group of US shareholders, who include Florida-based developer Bruce Sonneborn and Samuel Eyde, a property developer from Michigan. A breakdown in negotiations between Mr. Sonneborn and the Hilton Group was reportedly behind the brand pulling out of the new five-star resort in late 2007. Plans for the Hilton Grand Vacation Club were first announced in spring 2006, with Hollywood star Mr. Douglas said to have played a role in securing the partnership with the global hotel chain. The exclusive cottage colony was to be turned into luxury fractional villas, a spa, restaurant and conference centre plus a ten-room hotel. Planning permission for the $170 million development was approved in March 2007.
---
Bermuda Institute of Ocean Sciences Inc. Road Scholar (previously Elderhostel) Program
Private Club. 62 rooms. 17 Biological Lane, Ferry Reach, St. George's Parish GE 01. Telephone: (441) 297-1880 extension 102. Fax: (441) 297-8143. Since 1982. For visiting faculty or researchers or scientists or school groups or Elder hostel members, not the general public. In 2011 there are various week-long courses, February 28-March 6; February 14-20th; October 17-23; October 31-November 6. Participants stay at BIOS, hear lectures by BIOS staff and speakers from around the island, and go on field trips to sites often inaccessible to the holiday visitor. Courses include History, Natural History, Marine Science and Oceanography. This program can be physically demanding. You should be able to walk at least 2-3 miles per day, including some hills. Questions about the Road Scholar in Bermuda courses can be e-mailed to the Coordinator in Bermuda. For more on information Road Scholar and to register, contact:www.roadscholar.org. Tel: (617) 426-8056.
---
Cambridge Beaches Resort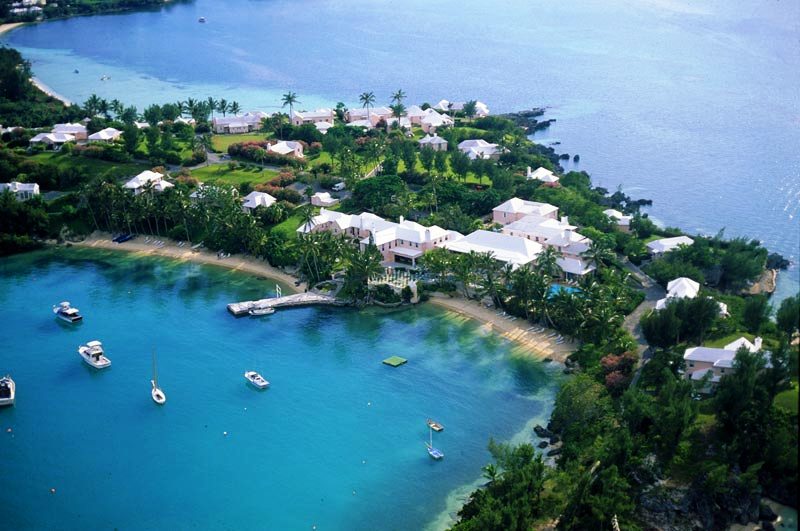 30 King's Point Road, Somerset, Sandys Parish, MA 02. Phone 1- 800-468-7300 in USA or 1-800-463-5990 in Canada or directly at (441) 234-0331. Fax (441) 234-2252.
For TripAdvisor Reviews see http://www.tripadvisor.co.uk/Hotel_Review-g562685-d147674-Reviews-Cambridge_Beaches-Sandys_Bermuda.html.
Stunning location on it's own 25-acre peninsula on the westernmost end of Bermuda, furthest away from the airport. Overlooks Mangrove Bay and Long Bay, in a magnificent, exclusive, private site. From $595 a night including breakfast but periodically with a free night with a qualifying stay. For the affluent, up-market visitor on business or vacation, who are demanding and have high expectations.
Accepts American Express cards. President and Chief Operating Officer is Michael Winfield. Bermuda's first cottage colony with one cottage about 300 years old. For tennis, there are 3 all-weather courts, 1 lit (for a fee). It has five small private beaches at King's Point, Mangrove Bay Terrace and Long Beach Cafe for informal meals, Tamarisk Room for formal dining restaurant. Buses do not serve this property. Nor does the regular Bermuda Government Department of Marine and Ports ferry service catamaran vessels. But there is a frequent complimentary ferry service for guests only directly, non-stop, to and from the City of Hamilton.
---
Coral Beach Tennis Club & Cottages




66 rooms. South Road, Paget Parish. Air-mail postal address is Horizons Ltd, P. O. Box PG 200, Paget, PG BX, Bermuda. Telephone: (441) 236-2233. Fax: (441) 236-1876. Just west of the Elbow Beach Hotel, it is less than 3 miles from the City of Hamilton. A Private Club. If not a member, you need an introduction from one. Garden and estate cottages are spread over a large, groomed estate with its own gorgeous private beach. International tennis is often played here. There are 8 clay courses, 3 lit. With Horizons & Cottages - because it has the same owner - it shares a 9-hole mashie golf course. On bus route # 7.
Guests at the property who stay here should see the Alfred Blackburn Smith Nature Reserve. 8.7 acres, it is not public but open to guests and members of the Coral Beach Club and Bermuda Audubon Society. It was donated in 2003 by then owner Elfrida Chappell, daughter of the late Mr. Smith, to the Bermuda Audubon Society and named as such after him. He gave it to his daughter as a 21st birthday present in 1935. It is one of the last undeveloped tracts of undeveloped Bermuda upland forest. It offers spectacular views of the South Shore.
In February 2012 Club Members were presented with an extraordinary plan to sell them the club facilities for some $28 million. As part of the "equity conversion" plan members would have to make an investment of $35,000 (resident) or $20,000 (non-resident) and take on at least $5.5 million in debt owed by the club's US operator, Brickman in return would set aside in escrow $11 million for a capital improvement programme to make badly needed upgrades to the club facilities - and also $3 million to redo its guest rooms, which Brickman would retain. Brickman came up with the idea to sell the club facilities to the membership after scrapping a plan to redevelop the property as a five-star Four Seasons 150-room resort and residences. Brickman, which had gotten as far as winning in-principle approval on appeal for the project - which it had worked on since 2007, blamed the global economic slowdown for backing off it. Brickman's existing mortgage on the club amounts to $5.5 million, which it wants members to assume as part of the deal. Furthermore, members will not have any expectation of profiting from their equity investments of $20,000 to $40,000. New clubhouse windows, bathrooms, furnishings and chairs, improving the beach hut and rooms, adding air conditioning and a pool, a new television and replacing the squash court floors, has been estimated to cost $11 million. Developers Brickman Holdings of New York effectively bought the property in January 2008. (More precisely, Brickman Associates, part of the group, holds a 200-year lease on the prime 26-acre beachfront property. In March 2010, Four Seasons Resort and Hotel gave its name publicly to the redevelopment of Coral Beach Club for the first time. A joint statement from Brickman and Four Seasons said construction on the initial phase was expected to have begun in 2010. It was never built, in April 2009 Plans for a Four Seasons Hotel 150-room five-star hotel and fractional resort here were scuttled by planning officials after objections galore. The 150-room hotel was to be accompanied by a spa, fitness centre, tennis courts, pools and a conference centre. The Horizons nine-hole golf course was to disappear and the resort would also have brought major changes to South Road, with new access points and a pedestrian underpass tunnel near the entrance to Coral Beach. If approved, South Road would also have undergone a reconfiguration, to straighten a bend at "two well-known traffic accident spots". An access road would have also linked the resort to Tribe Road Five. On appeal, a modified plan was approved in June 2009 to develop a 150-room hotel and 80 fractional units. Instead of closing in 2009 as hoped to make way for redevelopment the property remained open for business.
---
Fourways Inn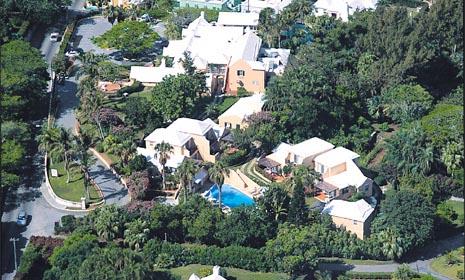 1 Middle Road, Paget Parish. Or P. O. Box PG 294, Paget PG BX. Phone in USA (800)-962-7654 or directly at (441) 236-6517. Fax (441) 236-5528. 5 luxury cottages, 5 suites and 6 deluxe rooms in traditional Bermudian architecture. Landscaped grounds with swimming pool adjacent to Fourways Inn restaurant.
Very upmarket and luxurious, with cable television, in a fairly central location to see all over Bermuda. Inland.
Not on a beach but not far (not within easy walking distance in the combined heat and humidity of summer) from a public beach and with access privileges at the adjacent private beach. With one of the best and most expensive restaurants in Bermuda. On bus route 8.
In 1727 Fourways was built of native coral stone and cedar. It was commissioned by John Harvey of Harvey's Bristol Cream fame, who made it his home. It was aptly named Fourways because it spread modestly in all four directions and was enclosed within two and a half acres of walled gardens at Amen Corner, a vital crossroads in Bermuda for over 250 years. Fourways' reputation for gracious hospitality was established from the very beginning. Guests attending Mr. Harvey's elegant dinner parties enjoyed lavishly cooked meals, an excellent wine cellar and - because they were forced to travel many miles by horse & carriage - they were offered overnight lodging as well. For more than two centuries this lovely Georgian home was retained as the private residence of the Harvey family and several other owners, and remained a fixture on the Island's social scene. Extensive renovations and additions were made, but the uniquely Bermudian character of the house was carefully preserved.
---
Horizons & Cottages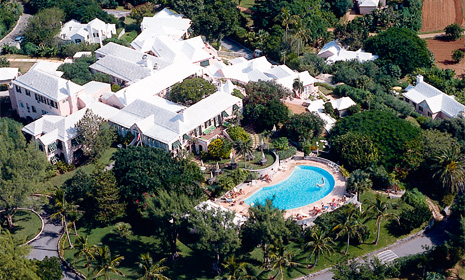 50 rooms and suites.
33 South Road & Southcote Roads, Paget Parish PG BX, Bermuda. P. O. Box PG 200, Paget, PG BX, Bermuda. Telephone (441) 236-0048. In USA & Canada 1-(800)-468-0022. Fax (441) 236-6651.
Prominent local hotelier George A. Wardman is the owner.
On an 18th-century hillside plantation on 25 acres of wooded grounds, It first opened as a property for paying guests in the latter part of the 1930s.
It has its own 9-hole mashie golf course it shares with its sister Coral Beach Club. (Nine 18-hole courses are island-wide).
The Main House has 9 guest rooms, all with private baths, seating areas, balconies or patios.
The 14 cottages contain from one to 5 bedrooms each with private bath and breakfast terrace. The Banana Tree cottage is a favorite for honeymooners. Luxurious in service, price and comforts. With access to the private Coral Beach for guests, its own smart-casual restaurants at Ocean or Barbeque Terrace or coat-and-tie Middleton Room, tennis on 3 all-weather courts, freshwater pool, beach facilities within easy walking distance at the superb private beach of the Coral Beach Club sister property owned by the same family. On bus routes 2 and 7.
Chelsea Clinton, who was married in August 2010, only daughter of former US President and Senator Clinton, is reputed to have been conceived here in the late 1970s.
The golf course closed to the public on July 1, 2010 but Splendido Bar & Restaurant will remain open.
---
Lantana redevelopment possible by 2012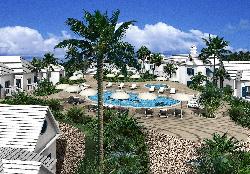 Not open at this time. October 2010-submitted Plans to redevelop the Lantana resort were approved by the Development Application Board (DAB) after changes were made to protect agricultural reserve.
While the plans were praised for protecting the nearby Railway Trail, it also included a croquet lawn and a hotel residence built on what was labelled agricultural reserve in the 2008 Bermuda Plan.
At the October 27, 2010 meeting of the Board, the DAB expressed concern about the intrusion onto the agricultural reserve and deferred making a final decision at that time.
However modified plans were resubmitted on November 2, and approved on November 3. According to the minutes of the November 3 meeting, the developers removed the offending hotel residence.
The minutes read: "They are also prepared to include the reserve land within the proposed Conservation Management Plan to ensure long term protection of the soils within that area, and that this would be included within a recommended condition."
Lantana closed its doors in 1998, but in March developer Kevin Petty said he was confident a new $100 million resort would be built on the 9.4 acre site in the next three years.
Plans for the refurbished resort, featuring 13 hotel residences and 28 fractional units, were submitted in October but drew criticism from the Department of Conservation Services over use of both coastal and agricultural reserve property.
Earlier:
June 27, 2007. Plans were submitted to transform a derelict hotel site into a new resort and marina. The Eden Group aims to create a mixed development resort at the former Lantana site in Southampton. Covering 9.70 acres, it will feature both hotel accommodation and residential leasehold properties. The land is already zoned as tourism but will also cover 0.48 acres of agricultural land and 0.40 acres of 'green space' along its north-east edge. The Eden Group is an international company based in London. Situated between the Railway Trail and the coastline north-west of Somerset Bridge, the resort will include 18 hotel suites in a main 'Manor House' complex, plus 20 residential units with driveways and 33 shared-ownership villas. Amenities include a spa, restaurants and bars, plus beachside and poolside facilities. In a letter to the Department of Planning, agents Conyers and Associates state: "Until 1998, Lantana was a successful tourism resort which has since been disused and over the subsequent years, fallen into a state of disrepair. "The proposal includes the provision of various shoreline amenities arranged around and adjacent to the existing beach which would be enhanced and protected through the addition of one new breakwater and the refurbishment of the existing breakwater. The primary purpose of this breakwater is to protect this vital beach amenity." The resort — covering a total 95,703 sq ft — will also operate a water taxi service. The supporting letter to the application says: "The new dock is seen by the developer as a fundamental part of the resort's strategy for transportation, with links to Hamilton and other areas of the island, and is intended to become a major gateway into the resort. "The provision of such marine facilities will take pressure off the roads and is viewed as a highly desirable transport solution for the resort as well as being consistent with the Government's stated goal of providing inter-modal transport services. "Our client's reputation as an international developer will ensure that the scenic quality and visual amenity of this part of Bermuda will be greatly enhanced."
The Lantana land was put up for sale for $18.5 million last August after plans to develop it into a luxury spa resort failed to materialize. A 'breaking ground' ceremony took place in February 2005 with the resort planned for 2007. It was described as a 40-suite hotel complex with 17 beachfront villas and marina, spa and conference centre. However, when backers Tanner and Haley pulled out and then applied for bankruptcy in the US, the remaining investors decided not to pursue the project. The original Lantana Resort was developed by the late John Young and was one of the first 'cottage colony' resorts in Bermuda. Opened in the 1950s, it built up a reputation for friendliness and excellent service, but closed in 1998. Premier Dr. Ewart Brown, Minister of Tourism, last night said: "Tourism has reached such an incredible surge that anyone looking for a hotel room this summer is going to find it very difficult. Hotels are full. "While that's a nice problem to have, we must act. So whenever I hear of plans for new hotel development I am thrilled because it means our tourism product will have the space it needs to grow." Shadow Tourism Minister David Dodwell also welcomed the application by The Eden Group. "I think it's a positive move and will be good for Bermuda," said Mr. Dodwell. "It's been closed since 1998, nearly ten years, so it's good to see plans for an existing hotel to be upgraded and reopened. I also think it fits the type of hotel that will be successful. It's medium-sized and a mixed-use development, and that's the way the hotel business is going these days. I think this resort has real chances of getting up and running, and a marina is perfect for that location as it's a protected bay."
---
Mid Ocean Club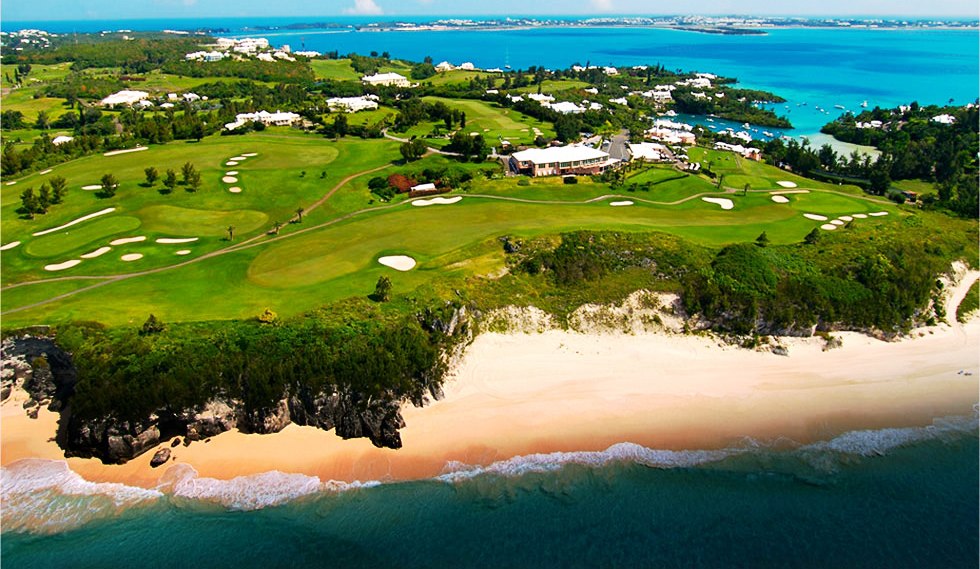 Mid Ocean Club, Golf Course and beach



21 rooms and suites. 1 Mid Ocean Drive, Tucker's Town, Hamilton Parish. Or by airmail at P. O. Box HM 1728, Hamilton HM GX. Telephone: (441) 293-0330. Fax: (441) 293-8837. Cottage colony and Private club with two beaches, one in the small harbour shown in the photo, the other south of the golf course. Must be a member or referred by one to stay. For the affluent. 2011 room rates April through November per night are, for a member, single from $310, double from $320; non-member single from $360, double from $370. This property was one of those begun by the British shipping organization Furness Withy in the 1920s that really began Bermuda's climb in tourism. On a 640-acre estate in the most exclusive area of Bermuda, with numerous beautiful residences and 3 large private beach areas, unique features of which are natural arches, plus coves on the estate, accessible by a private road to the Tucker's Town peninsula usable only by Club members. The world-famous Mid Ocean 18-hole golf course was first laid out by Charles Blair MacDonald, who created what became the National Golf Course in the USA. It was once ranked as one of the 10 best golf curses in the world. There are also 2 tennis courts and a tennis pro. With fine dining in its own restaurant, plus a Beach Cafe. It has received the Bermuda Government's Tourism Longtail Merit Award. On bus route # 1.
---
Pink Beach Club & Cottages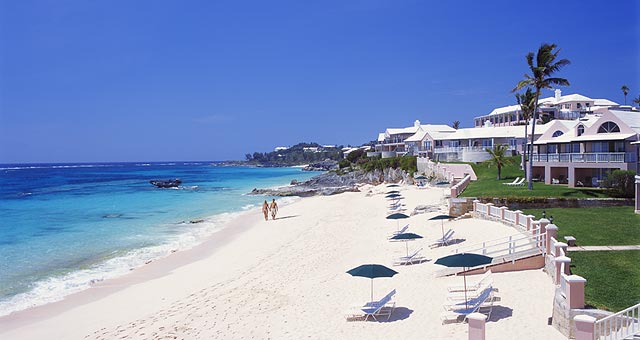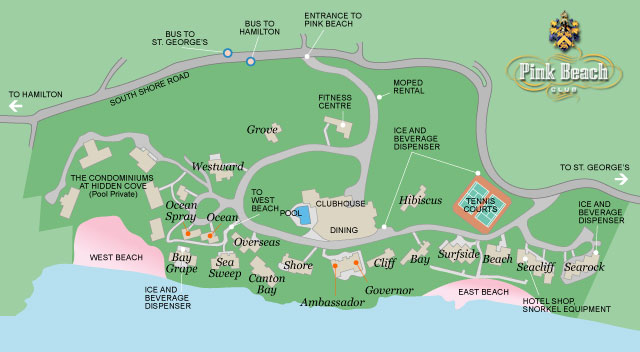 91 rooms. 116 South Shore Road, Tucker's Town, Smith's Parish HS01, Bermuda. See Trip Advisor Reviews at http://www.tripadvisor.co.uk/Hotel_Review-g319819-d318925-Reviews-Pink_Beach_Club_Cottages-Tucker_s_Town_Bermuda.html. Re-opened spring 2012 after renovation/updating that began in November 2011. Telephone 1 441 293 1666. Fax 1 441 293 8935. Upmarket, offering privacy and discretion. 2011 room rates are from $445 per night. On 17 landscaped acres. With its own two gorgeous small private pink sand beaches and two tennis courts for guests only. Secluded cottages offer Junior Suites and Ocean View Suites. All have separate living rooms and bedrooms. Bus route 1 by day passes below, on South Road. With its own indoor Bermudiana Dining Room and seasonal (April to October) The Breakers Ocean Terrace Cafe restaurants. Now has a new combined tourism and condominium center. Also see separate beachfront houses, priced between US$1.9 million and US$2.3 million and built around a pool. Owners or their guests of the above can use all the facilities of Pink Beach.
---
Royal Bermuda Yacht Club
Private club. Albuoy's Point, city of Hamilton. Telephone 1 441 295 2214. Fax 1 441 295 6361. 3 comfortable guestrooms rooms, each with harbor views. Room prices are not mentioned on the club website but are believed to be over $150 per person per day plus service charge. Contact the front desk for reservations or for more information by phone. Features include king size bed, tub/shower units, phone, coffee machine, Cable TV, DVD, stereo, and radio alarm clock. With its own marina, restaurant and nearby access - within easy walking distance - to buses, ferries and shopping.
---





71 units (43 2-bedroom and 28 1-bedroom cottages).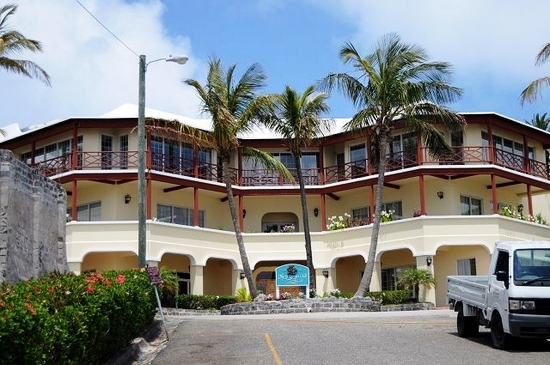 Recommended. 6 Rose Hill Street, a short interesting walk from the charming and historic Town of St. George. Phone (441) 297-1200. Some cottages (all 1 bedroom and above), have terra-cotta tiled kitchens, cedar bars and living rooms. The club, built in 1985, sits in 18 acres on the top of a hill overlooking the town an easy short walk away. Guests can also walk on the St. George's Golf Club course behind the club. A time-share property as well. Listed by RCI as a choice Bermuda time share property. Weeks can be exchanged for vacations in over 5,000 other RCI resorts around the world. Membership prices are based on the size of the cottage, the time of the year, and the location. Club facilities are open to members local and overseas each and every day of the year. Built on the site of the once-famous former St. George's Hotel (see below) which in a previous era had an illustrious career. It was once the choice place to stay for many artists who came to Bermuda to paint the Old Town in the early 20th century. (See Artists who Painted Bermuda).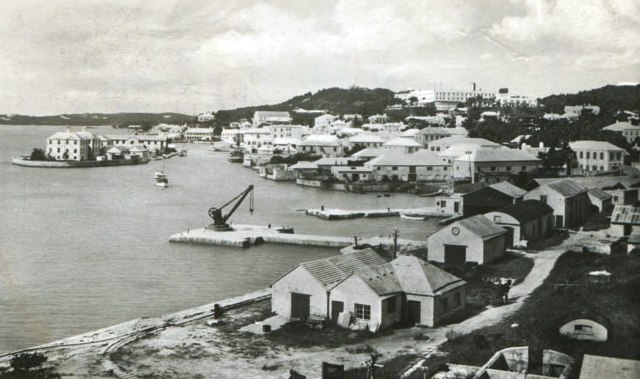 St. George's in the 1940s, showing the former St. George's Hotel at top middle right. The present St. George's Club now occupies the splendid site.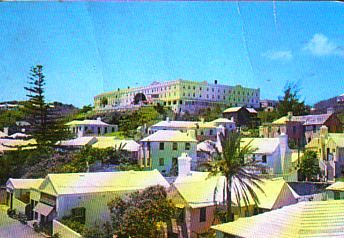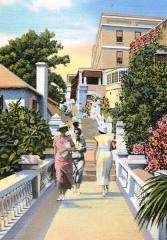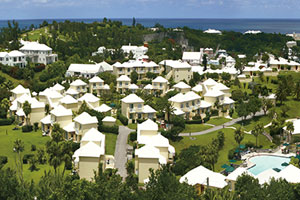 Photos of old St. George's Hotel. It was there until the 1960s, now replaced by this nice complex (see right)
---
Private Clubs with limited accommodation
Bermuda Sailors' Home
Adanac Cottage, 22 Richmond Road, Pembroke Parish, Hamilton HM 08, on outskirts of City of Hamilton. Telephone: (441) 295-5598. Fax: (441) 292-1519. Not for regular visitors, only for those presently serving as crew members of cargo or other ships or yachts. 2 bedrooms, both with 2 beds, no private bathroom. Opened in the city of Hamilton in 1937 as Dickie Tucker's Sailors Home for Seamen. Dickie Tucker at one time also cared for and recorded all the numerous graves of merchant seamen of all nations who died at sea but were buried in Bermuda. Also, he founded the Guild for Holy Compassion. The present house, now considerably updated from the old picture shown below, was purchased in 1963 from the Vallis estate.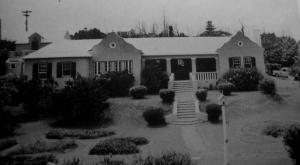 ---
Categories of all accommodation properties for visitors


Last Updated: May 23, 2013.
Multi-national © 2013 by Bermuda Online. All Rights Reserved. Contact Editor/writer and webmaster.