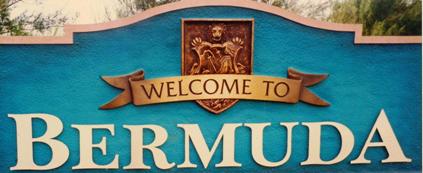 165+ web files, a regularly updated Gazetteer, overall an in-depth description of our island's internally self-governing British Overseas Territory 900 miles north of the Caribbean, 600 miles east of North Carolina, USA. With accommodation options, airlines, airport, actors, actresses, aviation, banks, beaches, Bermuda Dollar, Bermuda Government, Bermuda-incorporated businesses and companies including insurers and reinsurers, Bermudians, books and publications, bridges and causeway, charities, churches, citizenship by Status, City of Hamilton, commerce, communities, credit cards, cruise ships, cuisine, currency, disability accessibility, Devonshire Parish, districts, Dockyard, economy, education, employers, employment, environment, executorships, fauna, ferries, flora, former military bases, forts, gardens, geography, getting around, golf, guest houses, highways, history, historic properties, Hamilton, House of Assembly, housing, hotels, immigration, import duties, internet access, islands, laws, legal system and legislators, main roads, marriages, media, members of parliament, money, motor vehicles, municipalities, music and musicians, newcomers, newspaper, media, organizations, parks, parishes, Paget, Pembroke, performing artists, residents, pensions, political parties, postage stamps, public holidays, public transportation, railway trail, real estate, registries of aircraft and ships, religions, Royal Naval Dockyard, Sandys, senior citizens, Smith's, Somerset Village, Southampton, St. David's Island, St George's, Spanish Point, Spittal Pond, sports, taxes, telecommunications, time zone, traditions, tourism, Town of St. George, Tucker's Town, utilities, water sports, Warwick, weather, wildlife, work permits.

Bermuda's Guest Houses
Mid-priced island-wide accommodation, usually with breakfast, sometimes continental

By Keith Archibald Forbes (see About Us) exclusively for Bermuda Online
Introduction
Guest houses are the British way of describing them. Most Europeans are familiar with this term but many North Americans are not and assume, wrongly, they are private homes and inexpensive. In Bermuda, they are all commercial establishments and some are quite up-market in price. Some are similar in style and price to up-market American-style B&Bs. They are not usually licensed to serve beer or other alcoholic beverages and don't serve dinner. Guests should check to see if breakfast is available, if so, whether included or extra, Continental or full American, British or Canadian cooked breakfast. Places to stay in this category have been inspected and licensed, but not graded, by the Bermuda Tourism Authority, the new Bermuda licensing and regulatory tourism agency, for accommodation, facilities and services. Some have attractive gardens or a pool. Most have lower rates during November to March.
Bermuda's official currency. The Bermuda Dollar is fixed to the US Dollar. Because of the latter, the US dollar is accepted everywhere at par. British Pounds sterling, Canadian dollars, Euros and other currencies should not be brought as they cannot be used. Most major international credit cards will be accepted from visitors, but overseas debit cards, even in the USA, cannot be used in Bermuda. Most if not all Bermuda places to stay, stores and restaurants will no longer accept traveler's checks, so they should not be bought for your Bermuda visit.
Arrival, hotel occupancy and departure taxes for tourists
A summary
Occupancy and Tourism tax. Since April 2016 11.5%, on top of which hotels and other guest properties charge further taxes of their own, making the overall tax total easily more than 28% of the billing rate for guests. Some guests can pay as much as $75 a day per room just in Bermuda Government and other hotel or guest property taxes, plus departure tax. There is a relevant Bermuda Government Hotel Occupancy tax page showing how much government charges the hotels, see http://www.gov.bm/portal/server.pt?open=512&objID=275&&PageID=231424&mode=2&in_hi_userid=2&cached=true, but it may not include what the hotels charge guests.
As an example of the above, just in hotel and directly related costs, the Hamilton Princess and other Bermuda resort hotels charge their basic published rate plus 11.75% tax, $12.29 resort levy per person per day and $10.70 gratuities per person per day.
Energy surcharge, imposed by some hotels or guest houses.
Service charge. In addition to the compulsory 17% service charge added to your food and beverage bills.
Yacht arrival tax $50 per person since April 1, 2015.
Total taxes mean Bermuda charges the highest tourism taxes in the world by a very wide margin.
Departure Tax: $75 per person, was $30 before March 31, 2015, raised again in August 2015.
Internet, WIFI, websites, linkage
Bermuda Online (BOL) at http://www.bermuda-online.org currently provides a basic free-to-the premises concerned listing to help visitors. Entirely impartial, it includes basic physical addresses and contact details. This basic list is extended, again at no charge to premises, to include websites and email addresses when link-reciprocal conditions apply. When properties create a web link to us we respond immediately with both a web link to them and show their email addresses. Internet-reliant guests at each property should confirm that WIFI or wired ADSL (Broadband) is available for guests and at what price if not free.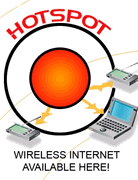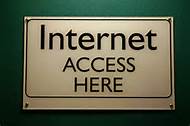 Always confirm this before you book with the property and note note carefully that USA ADA disability standards do not apply in Bermuda. Disabled visitors using wheelchairs should ask before they book for details of disabled-friendly rooms required such as door widths, ground floor or higher, if an elevator nearby is available if not on the ground floor, elevator emergency policy for disabled guests, if there is a wet-room shower, or only a shower in a bathtub, etc.
---
Aunt Nea's Inn at Hillcrest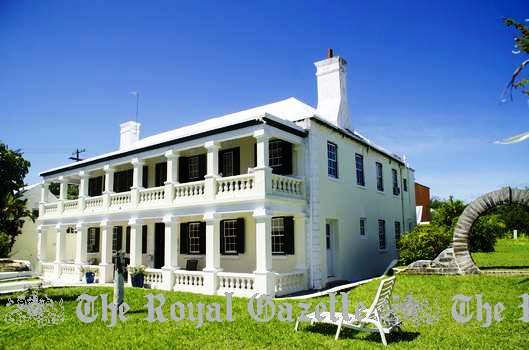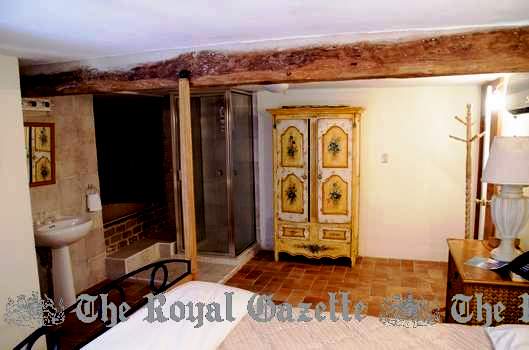 1 Nea's Alley, Town of St. George. Phone: (441) 296-2838. Fax (441) 297-1908. Email: frontdesk@auntneas.com.
Was once with 15 rooms. Now with five big rooms all en suite facilities, as well as a self-contained apartment to the rear of the 18th century building and a small room on the outside. Also offers a garden. Provides breakfast every morning. Bermuda's L.F. Wade International Airport is a 10-15-minute drive from the inn. The City of Hamilton is 14 miles away, easily accessible by public transport bus or ferry.
2019. March 7. Historic St George property Aunt Nea's Inn is on the market and will stage an open house on Saturday. "Built in 1791, Aunt Nea's Inn represents a unique opportunity to invest in Bermuda's growing tourism industry," realtor Belcario Thomas said. "Lovingly restored by former owners Faith Bridges and Neil Moncrieff in 2015, this iconic property is located on a half-acre lot in the town of St George's, a Unesco designated historic site. "Investors will enjoy a fully turnkey operation, providing 11 revenue generating units, all in quality condition." Steeped in history, the property was once the American Consul's residence. The 19th century poet Tom Moore is said to have stayed at the Inn and penned his poem Odes to Nea there. "Guests to Aunt Nea's enjoy an oasis of tranquility, manicured gardens and stunning St George's Harbour views from wraparound upper-floor balconies," Mr Thomas said. He said the property's prime location offers appreciable area values with nearby infrastructure investments from the St Regis Hotel development project such as public roadworks, an upcoming marina and the ongoing development at LF Wade International Airport. The property is listed for $2,995,000.
2015. December 2. This historic guesthouse, built in the 1700s, has a new lease of life. It has been given a major makeover under new owners Neil Moncrieff and Faith Bridges. The inn, which went on the market in 2014 with a price tag of $1.6 million, underwent extensive upgrades since January 2015. Mr Moncrieff said: "We did a full renovation — all the electrics, the plumbing, we just revamped everything. "Every single bathroom was replaced, we've got new floors and new furniture in the bedrooms." Also prized for its early Bermuda architecture and its link to a volume of romantic verse penned by Thomas Moore, the noted Irish poet once in Bermuda for some months, in his Odes to Nea. The poet stayed at the inn for a short while in 1804 and fell in love with Hester Louisa Tucker, a young woman who lived next door. The love was unrequited. Miss Tucker married a cousin, William Tucker and Mr. Moore put his lusty feelings for her on paper. The property was later the home of the US Consul General during and after US Civil War years when the Town of St. George was still original capital of Bermuda, and still has its original Bermuda cedar features.. The property first opened as a bed and breakfast in 1961 under the name Hillcrest Guest House, later became Aunt Nea's Inn, an up-market B&B. In 2003, the property was one of a handful on the island considered for restoration as part of the PBS series This Old House.
---
Edgehill Manor

Rosemont Avenue, Pembroke Parish. P. O. Box HM 1048, Hamilton HM EX. Phone (441) 295-7124. Fax (441) 295-3850. 9 units. Continental breakfast. Also for business visitors and as their first place to stay for professional newcomers recruited from overseas for employment in Bermuda.
---
Greene's Guest House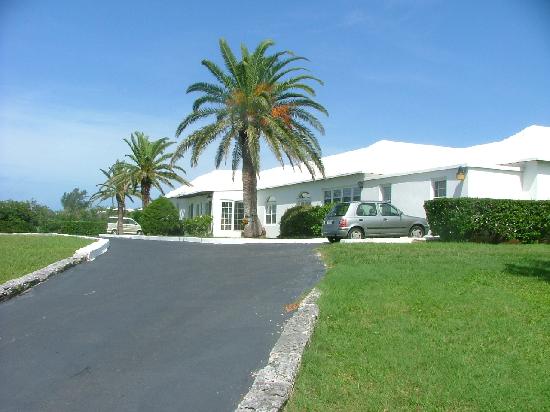 71 Middle Rd, Southampton Parish SB 04. Phone (441) 238-0834 or 238-2113. Fax (441) 238-8980. 6 units. Residential area. Sunken garden, lounge and games room. On bus route # 8. Rooms have air conditioning and fans. American or British or Continental breakfast.
---
Little Pomander Guest House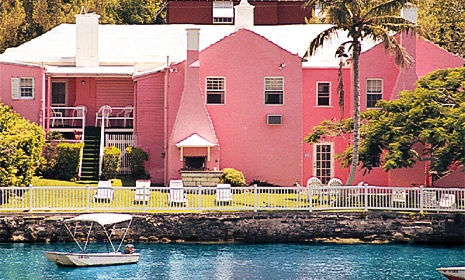 16 Pomander Road, Paget Parish PG 05. By mail at PO Box HM 384, Pembroke Parish HM BX. Phone (441) 236-7635. Fax (441) 236-8332. 5 units. Near bus routes 1, 2, 7, 8. Continental breakfast. Wireless Internet, cable TV, radio, air-conditioning, microwave oven and fridge. Patio and barbeque.
---
Oxford House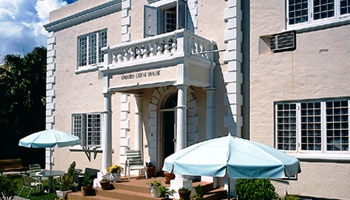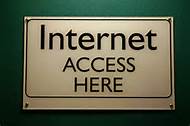 20 Woodbourne Avenue, Pembroke Parish HM 08. Postal address P.O. Box HM 374, Pembroke Parish, HM BX, Bermuda. Phone (441) 295 0503.Or in USA 800 548 7758. Fax (441) 295-0250. 12 spacious guest rooms, all with private bath, air-conditioned with cable television, telephone and coffee/tea maker. Internet service is available throughout the property, wired in the rooms, WIFI in public areas. Substantial, complimentary continental breakfast. Owned and operated by Mrs. Ann Smith since 1983. Room rates per night through March 31, 2015 are single $222, double $246, plus taxes and service charges.
---
Royal Heights Guest House

Lighthouse Hill, Southampton Parish. Telephone (441) 238-0043. Fax (441) 238-8445. PO Box SN 144, Southampton, SN BX, Bermuda. 7 units. Owner: Jean Richardson. Accessible to public South Shore beaches. Near bus routes 7 and 8. Overlooking Great Sound. Views, bedrooms with air conditioning, television and patios. Continental breakfast.
Categories of all accommodation properties for visitors


Last Updated: September 6, 2019
Multi-national © 2019 by Bermuda Online. All Rights Reserved