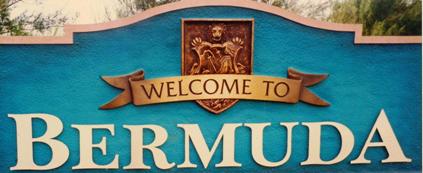 145 web files in a constantly updated Gazetteer about Bermuda's accommodation, activities, airlines, airport, apartments, art, artists, aviation, banks, beaches, Bermuda-incorporated international and local companies, Bermudians, British Overseas Territory, books and publications, citizenship by Status, currency, dollar, government, causeway, charities, churches, City of Hamilton, commerce, communities, corporate entities, credit cards, cruise ships, culture, cuisine, currency, customs, disability accessibility, districts, Dockyard, economy, education, employers, employment, entertainment, environment, executorships and estates, fauna, ferries, flora, food, former military bases, forts, gardens, geography, getting around, guest houses, golf, government, guest houses, history, homes, House of Assembly, housing, hotels, immigration, import duties, insurers and reinsurers, international business, internet, islands, laws, legal system, legislation, legislators, location, main roads, magazines, media, members of parliament, money, motor vehicles, municipalities, music, newspapers, open spaces, organizations, parishes (Devonshire, Hamilton, Paget, Pembroke, Sandys, Smith's, Southampton, St George's, Southampton, Warwick), parks, politics, political parties, postage stamps, public holidays, public records, public transportation, railway trail, religions, Royal Naval Dockyard, St. David's Island, Somerset, Spanish Point, Spittal Pond, sports, stores, taxes, telecommunications, time zone, transportation, traditions, tourism, Town of St. George, Tucker's Town, utilities, villages, water sports, weather, WIFI, wildlife, work permits. For tourists, business visitors, employers, employees, newcomers, researchers, retirees, scholars.

Bermuda's Musicians, Performing Arts groups, Singers and Artistes
Some have made this Island internationally famous. Hear "Bermuda is Another World"
Composed and performed in Bermuda by the late Bermudian Hubert Smith of Bermuda (he died on December 3, 2001).
By Keith Archibald Forbes (see About Us) exclusively for Bermuda Online
Bermuda Bands, local, present and past
Led by talented musicians, all volunteers, they include the:
Apex 4 (1970, comprising Bethel AME Church members Robert Symonds, Eric Witter, brothers Harry Bean; Gary Bean).
Arpeggios.
Band of the Bermuda Regiment (telephone 238 2470). Military. Formed from the Bermuda Militia Artillery Band and Bermuda Rifles Band.
Bermuda Boot Scooters.
Bermuda Fire Service Band. 22 pieces. From paraded on Remembrance Day 1965 and lasted until the early 1970s. Mostly from former Bermuda Rifles musicians.
Bermuda Islands Pipe Band (see below).
Bermuda Sounds.
Bermuda Strollers. Prominent in the 1970s. Made frequent appearances in Boston and further, for Bermuda Tourism.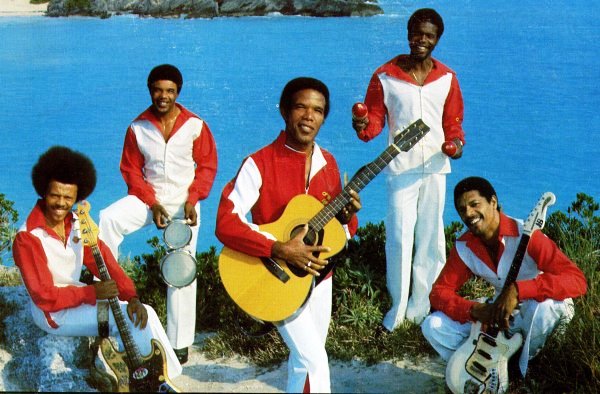 Bermuda Strollers, see above
Bermuda Trombone Quartet.
Blues Beat Band.
Brassworks Brass Trio
Church Lads Brigade Band which at one time had several branches.
Concerted Effort (a cappella singing group, formed in 1992 to raise funds for charity).
Coral Islanders.
Ensemble Singers (originally Word).
Esso Steel Band.
Exotique.
First Salvation Army Young People's Band, mid 1930s.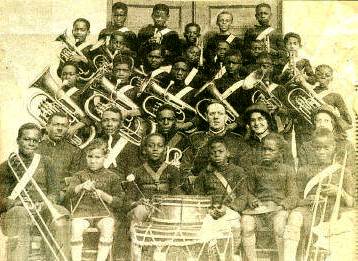 First Salvation Army Young People's Band, mid 1930s
Four Deuces.
Happening BDA.
H&H Gombeys
Jack Whitney and the Bermuda Plowboys, from 1947 through the 1950s.
Kingsley Swan's Band
Lance Hayward Quartet.
Mark Williams Band.
Mu-En Chorale founded in 1965 by Lance Hayward.
North Village Band (telephone 295 3333). Began June 29, 1863, initially with members from the Grand United Order of Oddfellows Alexandrina 1026, who came together because they wanted to cultivate the musical talents of their members. Initially, the band was the Alexandrina Band. They played and marched at Masonic Lodges, church services, fairs, street parades and dinner parties.
Olympia Band.
Mighty Skipper
St. George's Band.
Salvation Army Band (see below).
Shaky Ground Band.
Somers Isles Jazz Band.
Somerset Brigade Band (telephone 234 0015). Founded 1930, still going strong.
The Arpeggios.
The Bermudians.
The Travellers. Began as a trio, patterned after the 1960s guitar-studded Kingston Trio at the height of their success in 1961. Original members were John H. White (founder), Joe Pimental and Robin Spencer-Arscott. They performed at the island's hotels on a regular basis and were hugely popular with both tourists and locals, with much of their music recorded locally by Edmar on LPs. Folks galore came from the USA, Canada and beyond to hear and see them. They mainly played the well-known folk music of the time, in the manner of the Kingston Trio but more island-like. They sometimes changed the words to reflect the current goings-on of the island to provide a humorous tone to their performance. Only Robin Spencer-Arscott remains in Bermuda. At some point before or during The Travellers he was also a member of the Band of the Bermuda Regiment, later became President of a major offshore insurance company domiciled in Bermuda. Later, the band changed hands, but continued the name, with different members including Glen Cuoco. John, who headed a prominent advertising agency in Bermuda and wrote many of the Bermuda songs for the group - such as this lively one - see http://www.youtube.com/watch?v=erK4ELpTnzI, resided in Florida until he died on November 7, 2013 after having been unwell for some time. His death came as a great shock to many Bermudians and their friends. Joe died years earlier, prematurely.
The Warren Experience.
Talbot Brothers.
Ultra-Sonics
U-fonics, 1960s/1970s soul vocal band.
Warwick Gombeys.
Bermuda African Dance Company
Bermuda Ballet Association (BBA)
Non-profit. Dedicated to raising the standard of excellence in dance through world-class training. Bermuda's oldest dance organization. It was formed in 1962 by Madame Patricia Gray, MBE with the support of Madame Ana Roje, and since that time hundreds, if not thousands, of students have reaped the benefit of their vision, and the Association's unwavering dedication to dance. Amalgamated in 2005 with the National Dance Foundation of Bermuda (NDFB).
Bermuda Chamber Choir
Brings the choral arts to life in our community. Through performances of great composers such as Bach, Handel, Mozart, Brahms and many more the ensemble strives for a high standard of communicating the masterworks of choral orchestral repertory. It meets weekly at the Bermuda School of Music. New members are welcome, contact Artistic Director Ryan Ellis at 296-5100 Ext. 230. In 2011 the choir featured the choral music of British composer William Lloyd Webber. He was the father of the celebrated Andrew Lloyd Webber, and his brother, the cellist Julian, and composed a wide variety of very beautiful works.
Bermuda Civic Ballet
Formed 1972. Founded by Patricia Deane-Gray to foster interest in ballet and to provide a medium through which all persons so interested may participate by dancing or otherwise in the production of shows. Members have mounted a series of ambitious and well-received performances.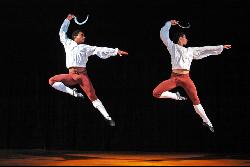 Bermuda Civic Ballet 2007
Bermuda Federation of Musicians and Variety Artists
Voice Mail: (441) 291-0138. The trade group in Bermuda to which all those shown above belong. All enquiries about individual musicians should be referred to this group.
Bermuda Festival
Seasonal, annually, January and February.
Bermuda Festival Chamber Orchestra (BFCO)
Founded in 2008 as part of the annual arts festival's 2009 gala celebration of Bermuda's 400th anniversary, BFCO members are drawn from a cross-section of resident musicians, many of them teachers, who welcome the opportunity to interact with fellow musicians at a non-teaching level, hone their performance skills, and master a challenging new repertoire. Members have included Kerri-Lynne Dietz, Mezzo soprano,Bermudian; Kent Hayward, French Horn, Bermudian; Ryan Ellis, Conductor; Oliver Grant, Piano, British. Students are also invited to play.
Bermudian present or past musicians and or groups

For contact details of all those below, please refer to the Bermuda Federation of Musicians and Variety Artists.
Local legends then and now include Larritta Adderley; Jon Armstrong; Toni Bari; Bobby Barton; Clarence (Tootsie) Bean; Gary Bean; Graham Bean and the Latinaires; Moira Bean; Harry Bean; JudyAnn Bean; Sydney Bean; Sydney Bean (died March 2000); Joe (Conchshell) Benjamin (who left Bermuda to live in the United Kingdom and became a well-known activist, preacher and singer); Rob Berry; Gita Blakeney; Carl Borde (who spent many years in Bermuda with the Esso Steel Band and died in Massachusetts in 2002); Kieran Bradshaw; Alvin (Hambone) Brangman; Charles Ambrose Brangman; Tony Brannon; Duane Bulford; Tina Burgess; Dr. Gary Burgess; Ghandi Burgess; Quinton (Tiny) Burgess; Bryan Butterfield; Sandy Butterfield; Dale Butler; Violetta Carmichael; Bishop Caines; Bill Caisey; multi-percussionist Keith Caisey and his Brazilian wife Clara; Bishop Caines; Earlston (Duke) Callabras; the late Violetta Carmichael; Victor Chambray; Mia Page Chambray; the late Michael Clarke; Country Steppers; Rudolph Commissiong, Sr; Doris Corbin; Glen Cuoco; Earl Robinson Darrell; Veronica Darrell; Marcus Dagan; Francis Llewellyn Spencer Darrell, Wayne Davis; Neilson Degraff; Kerri-Lynne Dietz, mezzo soprano; Barrett Dill; Dexter Dillas; Andrew Dobson; Steve Dupres; Suzanne Dunkerley; Winston DeGraff (he died in 2003 at the age of only 41); soprano Vivian Deyone Douglas; Hiram Edwards; Dennis Eldridge; late Mrs. Maude Fox (died 1983 at the age of 89, the only female musician in a 13-piece band); Robert 'Duke' Joell; Gaynor Gallant; Al Harris; Agatha Catherine Henderson (taught classical piano for 60 years and whose students include many others named here); Rhona James; Robert Edwards; Robert (Sai) Emery; Kenneth Sonny Flood; Danny Fox; Dennis Fox; Jay Fox; the late Wilbur Furbert; Celeste Harris; Kenneth 'Joe' Hayward; Kent Hayward - French Horn, pianist the late Lance Hayward and his quartet; Robert Hayward; Wendell (Shine) Hayward; the late Kenny Iris; Kingsley Swan Band; Robert (Duke) Joell; Robert Lambe; Randy Lambert; Ronald and Dennis Laws; the late Alan Lottimore (died in June 2002); Bandmaster Major Leslie Lowe; Michael King; Cromwell Manders; Aidan McNally; Roddy Marshall; Melvin Martin; Kevin Maybury; Paul Matthews; Stephanie Matthews; Reuben McCoy; Michael McDonough; Glenn Mello; Patrick McDonald (Mac) Mills; Speedy Ming; Ted Ming; Jade Minors; Gary "Lazy Boy" Morris; David Moniz; Dennis Moniz; Andy Newmark; Charles Ebenezer Norford; Heather Nova; Jimmy O'Connor; Gene Perry; Erskine Phillips; Joe Pimental, Alan Pitman; Ryan Prevost; Peter Profit; Tom Ray (jazz pianist); Howard Rego; Dr. Karol Sue Reddington; Joseph Richards (music teacher); Louise Risby; Celeste Roberts; Vince Roberts; Celeste Spencer Robinson; Milton Robinson; Carl Rodney; Gonsalo Rubalcaba; Frankie Rubain; David Sanchez; Keith Seymour; Stan (Lord Necktie) Seymour (see photo and story below); James Seymour; Busta Simmons; Cleveland (Outta Sight) Simmons; Derek Simmons; Cal Simons; Henry Smith; the late Hubert Smith (see story below); his son George Smith; Kenneth Smith; Maxwell Smith; Gene (Eugene) Steede; Pinky (Frances) Steede (both were discovered by Don Gibson in 1959, when Gene delivered mail in Pembroke Parish); Robin Spencer-Arscott; Giles (Dudley) Spurling ('Bermudian Gal'); Robert Symonds; Robert Symons; Kingsley Swan; Gerald Swan; Archie Talbot; Austin Talbot; "Blackie" Talbot; Roy Talbot; dancer Ricky Tatem; Judy Tavares (she is a singer and wrote the song "Bermuda, Beautiful Bermuda"); Terry-Lynn Thompson; James VanLowe; Val Wallace; Val Wallace; John White; Pam White; Jack Whitney; Wanda Ray Willis; Eric Witter; Cal Wilkinson; John White; Ginea Wolf; Mandy Wong; John Woolridge; Wence Woolridge; Joe Wylie; Erskine Zuill.
Their music is available on old cassettes, LPs or newer CDs.
Some groups are Gombey dancers, gospel singers, drum majorette bands, live jazz ensembles, modern reggae bands and more.
Graham and Moira Bean. Mr. Bean, before becoming popular in the original Coral Islanders and the Jack Hammer Quintette, studied music with Les Paul. Mrs. Bean started her career working with the Bethel AME Quartet, singing every Sunday morning on the radio, before working with Mr. Bean on her debut album, 'Moria.'
Clarence "Tootsie" Bean. Veteran jazz drummer. Honored in April 2015 as part of Jazz Appreciation Month. Bermuda's last living jazz legend. Tootsie Bean is the last of Bermuda's jazz legends and there was a "Tootsie" Bean, supper and performances by four local jazz bands, including the Stephan Furbert Quartet.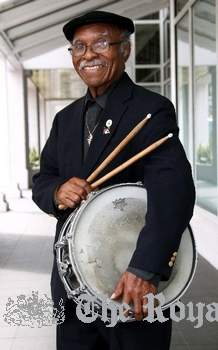 Tootsie Bean
Sydney Bean, who died in March 2000 at the age of 92, was the "Daddy of Calypso in Bermuda", a prolific songwriter and probably Bermuda's most recognized entertainer and musician. He received his musical training in church. He taught himself guitar and bass and sang with the Mark Williams Band. Always dressed in colorful outfits and rarely photographed without an instrument in his arms, he was a pioneer in creating a distinct Bermudian calypso soundand the first Bermudian to regularly play abroad. Mr. Bean wrote hundreds of songs, including Bermuda's Still Paradise, Where Did You Stay Last Night Caroline?, and Spend Your Money on Me, which was co-authored by Ted Ming of the Bermuda Strollers. He played in hotels across the island and was the entertainer for Bermuda Island Cruises before becoming its cruise director -- a position he held until the early 1990's. He was still working on the boats when he was in his eighties. He was known as the first local entertainer who could do impersonations of jazz legends such as Louis Armstrong. He was older than Hubert Smith or the Talbot Brothers. Mr. Bean, was married three times, lived for many years in Greene's Guest House in Middle Road Southampton until he moved to a nearby rest home.
Alvin (Hambone) Brangman. April 10, 2014. Iconic entertainer, pianist and poet, a luminary of the Islands hotel circuit from the heyday of local music died aged 90. Mr Brangman, who performed throughout the calypso era and remained devoted to music up until his passing on March 25, was laid to rest at a service in Hamilton's Wesley Methodist Church. "It's a tremendous loss, said music historian Dale Butler. "He gave so much to the tourism industry and to Bermuda and you couldn't have asked for a nicer guy. Mr Brangman loved Bermuda and loved music. An outstanding arranger, pianist and entertainer, very well-known and gifted. He was well groomed, well spoken, with a charming personality. He goes with people like Earl Darrell, Lance Hayward and Reggie Goater. We were producing a whole host of great pianists in this country. Such was his stature that in 2011 Mr Brangman was inducted into the Bermuda Music Hall of Fame. Any time you dined at any of our great hotels, you would have seen him playing. Hailing from the Rocklands neighborhood of Warwick, Mr Brangman started out playing at the age of seven and showed instant promise as a performer, his daughter Alvina Brangman recalled. Mr Brangman was father also to Sherlene G. D. Trott and Valerie Arorash. His father, Charles Ambrose Brangman, used to play music as well. He remained active playing up until his death. By Mr Brangman's own account, his career started around 1941. He was the first one to originate the Four Spots and the Five Stars, according to Mr Butlers book Music on the Rock. He toured the US with local musicians in 1952, living overseas for a spell and then bringing his experience with the American entertainment scene back home to promote shows, playing the accordion and organ as well as piano. Mr Brangman also had an abiding fondness for the Motown great Marvin Gaye, and the jazz pianist and singer Nat King Cole. A cricket lover, Mr Brangman made a point of rising early for Cup Match and attending both days of the games. He also enjoyed photography and making kites, as well as writing his own songs and composing poems. His distinctive nickname came courtesy of his mother, Editha Gertrude Simons-Brangman.
"Ghandi" Pendlebury Burgess. Died September 2009 at the age of 84. Trumpeter. First Bermudian to be musical director of an American cruise ship, according to a book written about him by former Minister of Culture Dale Butler. He was also offered record deals with Columbia Records, Decca and Blue note, though he turned them down. The book 'My Blue Heaven' states he studied at the New York School of Music and played with jazz greats such as Dexter Gordon and Lionel Hampton, as well as backing the Temptations and Frankie Avalon. Locally he was musical director at the Forty Thieves Night Club and Southampton Princess Hotel. Twice ran for the Progressive Labour Party, also received the Queen's Certificate and Badge of Honour as well as the international Performing Arts Humanitarian Award. Jazz bible 'Downbeat' magazine named him in the 'outstanding jazz trumpet" section.
Bryan Robert Dickinson Butterfield. Mr. Butterfield made a name for himself in the shows "Boat in a Bottle," and "Gombey," becoming the drum major for the North Shore Majorettes. After their marriage in 1963, Mrs Sandy Butterfield joined the show "Bermuda is Another World" with Mr. Butterfield as a dancer and the Islands first female steel pan player. A star of Bermuda's entertainment industry for several decades, he died in June, 2015. He was born on March 6, 1930. From the 1940s onwards, Mr Butterfield enjoyed an extensive career as a leading performer in the Island's nightspots. He also acted as an ambassador up and down the east coast of the United States in annual Tourism Briefings. Mr Butterfield led one of Bermuda's first majorette groups, was a key performer in the Easter Parade and entertained visitors with limbo shows in hotels. He won a Founder's award from Bermuda Arts Council in 2006 in recognition of his life's work. In addition, he was inducted into the Bermuda Music and Entertainers Hall of Fame. Paying tribute last night, Dale Butler, the historian and author, described Mr Butterfield as "Bermuda's most progressive, energetic, artistic, stylish and creative entertainer. Bryan was a workhorse during Bermuda's most progressive period in entertainment, and a first-class showman on the stage. He performed in an era where all of his colleagues could easily have held jobs in top hotels and clubs overseas as he, Hubert Smith, Gene Steede, Talbot Brothers, Michael Clarke and Lance Hayward, to name a few, demonstrated from their performances in Jamaica, New York, Toronto and on the cruise ships. Bryan should have been a national entertainer coach because he had the background, skills and experience. Long may his contributions live. I extend my deepest condolences to his family. I am pleased to say that the book Music on the Rock captures the spirit of this great man." He was a founder of the Bermuda Foundation of Musicians and Variety Artists which evolved into the existing Bermuda Entertainers Union. He became famous for his distinctive fire-blowing act and dancing on broken glass and formed and led the Bermuda Limbo Dancers. He was a recipient of the Founder's Award of the Bermuda Arts Council, Adlev Annual Award and awards from the Ministries of Community Affairs, Education and Sports. He was inducted in the Bermuda Hall of Fame In what once was annual Floral Pageant, he was the drum major. He and his first wife Erma were leaders of the North Village Majorettes which were backed by the North Village Band. He was also drum major in many latter-day Easter Parades and Bermuda Day Parades. The distinctive white headpiece Bryan wore with his lily white uniform along with his five-foot baton that he swung, were atop his coffin as it was borne into and out of the church through a guard of honour provided by the Ex-Artillery Majorettes. His last performance was with those majorettes, Heather Lightbourne and Valerie Byron in 2003.
Erma Butterfield. A brilliant dancer and an icon of Bermuda in her heyday. The mother of two, who was described as "a ray of sunshine", died in April 2016 at the age of 87. She and her then-husband, Bryan Butterfield, danced in both Bermuda and Jamaica during the Fifties and early Sixties. They would make the most of the tourist season on the island and work in Jamaica during Bermuda's off-season, Erma, along with Bryan, Kenny Bean and King Trott performed every winter in Montego Bay, Jamaica in all the major hotels. Ms Butterfield's first dance partner was Vince Godfrey, with whom she danced at the St George Hotel. She also had a lead role in the Boat In the Bottle show that was produced by Gregory Gordon and performed at the Castle Harbour Hotel.
Doris Corbin. Died September 6. 2015 at 103 years old. Longstanding organist and choir director for St Paul African Methodist Episcopal Church. A former teacher at Central Primary School, now Victor Scott Primary School, Mrs Corbin was awarded the Certificate and Badge of Honour by the Queen in 1983 for her service in the Girl Guide movement. Her funeral was held at St Paul AME Church in Hamilton.
Earl Robinson Darrell. Died February 2013 at age 89. Pianist and war veteran. Played the piano at the Waterlot Inn for more than four decades, performing for many visiting celebrities including British Prime Minister Edward Heath and Canadian jazz pianist Oscar Peterson. He was perhaps most proud of having performed with movie star Elizabeth Taylor when she visited Bermuda, and he kept a photograph of her in his living room. The song he was most frequently asked to perform was 'Yellow Bird' in the 1950s and 1960s. He could play many other pieces including Italian and German music. He was born to Melvina and John Darrell and grew up in Warwick in the Spring Hill area. His family was musical and he learned to play the piano by ear at an early age. He started performing professionally as a teenager, playing the piano with the Al Davis Band. He was hired after a musician scheduled to play didn't show up for work; Mr Darrell was taken on because he knew how to play 'Blue Moon.' When the Second World War broke out he joined the Caribbean Regiment, and was stationed in Italy and Egypt. At a military hospital in Port Said, Egypt he was taught how to read music by an English Corporal who played the organ in a church attended by the troops. When he returned to Bermuda in January 1946 he formed a musical group called The Aldarnos. For decades he played the piano all over Bermuda, with much of the time spent at the Waterlot Inn through its various reincarnations the Number One Club, the Rib Room and then the Waterlot Inn. In 2012 he received the Bermuda Arts Council Lifetime Achievement Award for long service to music in Bermuda. He also received a PLP Drum Major Award in 2008. His experiences in the Second World War have been recorded by the Bermuda National Museum, and he was interviewed for their film 'Bermuda's Defence Heritage.' While Mr Darrell was deeply proud of his war record, he was also highly critical of the way that Bermuda war veterans were treated and compensated after the war. He has also been outspoken about the way that Bermuda's veteran musicians were virtually abandoned in the 1980s when hoteliers decided they no longer wanted local music. He was predeceased by his wife of many years, Winfred. He leaves behind a daughter, Cheryl Phillips, plus numerous grandchildren and great grandchildren, other relatives and friends.
Francis Llewellyn Spencer Darrell. Known as "Merry Mice" — said to be the oldest Gombey captain — died August 22, 2015 the age of 83. Friends, family and fellow dancers paid tribute to a "real giant in the Gombey movement." The former Pembroke resident had moved and resided in Stanford, Connecticut, in the United States, but remained well-loved in Bermuda. Mr Darrell was a protégée of the founding father of Bermuda Gombeys — Charles Ebenezer Norford — and he was honored at the 2008 Gombey Festival. H & H Gombeys, Places New Generation Gombeys, Warner Gombeys, Richardson's Gombeys and the Warwick Gombeys all performed after his funeral and the programme concluded with the formal recognition and honoring of Mr Darrell. He was the oldest Bermuda Gombey captain alive, even though he was living in Connecticut.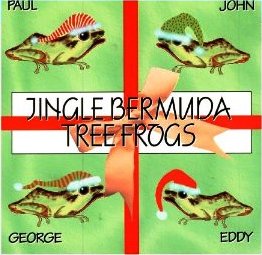 Eddy DeMello. Died March 6, 2013 at the age of 75. Music promoter and businessman, owner of Music Box on Reid Street. He recorded many Bermuda musicians and organized many music concerts and musical events on the Island. He also worked tirelessly on behalf of the Island's Portuguese community and was president of the Vasco da Gama Club for 17 years. He received numerous Bermuda honors for his work and was also recognised by the Queen and Portuguese government. Mr DeMello's wife, Elsie, said he was diagnosed with liver cancer in 2008 and died peacefully at home. "He put up a brave fight and had a real will to live which he never gave up until the end. He was a man who wore many hats and always wanted to keep busy. But he was also incredibly kind. He would give you the shirt off his back." Mrs DeMello recalled how staff at the Music Box would always try and prevent Mr DeMello from serving customers because he was always giving discounts to clients who couldn't quite afford their purchases. "He was generous to a fault but never talked about that side of things," Mrs DeMello said. Mr DeMello was born in the Azores in 1937, but came to Bermuda in 1949 at the age of 11. He attended Dellwood School for a few years but, as the oldest of four children, had to go out to work while still a teenager to support the family. A love of music soon landed him a job at the Music Box, which was then located on Queen Street. He bought the business in the 1970s, turning it into one of the most popular music retailers on the Island. Mr DeMello was also highly successful as a promoter, bringing many top-of-the-bill recording stars to Bermuda, including Charlie Pride, Mahalia Jackson, Ray Charles, Stevie Wonder, Amalia Rodrigues and the Merrymen of Barbados. For more than a decade DeMello Productions organized an annual concert by soca legend Byron Lee. His recording of Jungle Bermuda Tree Frogs chirping Christmas Carols - see http://www.amazon.com/Jingle-Bermuda-Tree-Frogs-Daune/dp/B0000523LP - was a classic. Former Culture Minister Dale Butler said that Mr DeMello did more than anyone to promote culture of all kinds on the Island. Pointing out that Mr DeMello had already been inducted into the Cultural Hall of Fame, Mr Butler added: "That man needs a monument in his honour because he is a national hero. His emphasis was on what it means to be a decent human being. He wasn't interested in black or white or where you were from or anything. He just wanted to work with anyone, as long as it was for the betterment of Bermuda. Obviously he was very interested in Portuguese culture but he also had a love for Bermudian culture I don't think I ever saw him wearing long pants. He was an outstanding promoter and a truly outstanding citizen. His passing is a big, big loss for Bermuda." Never one to forget his roots, Mr DeMello worked tirelessly to keep alive Portuguese traditions and promote Azorian culture here. His interpreting skills were often called upon to assist Portuguese nationals struggling to deal with officialdom. He served on the Portuguese Cultural Centre Committee and was also a member of the Committee for Long Term Residents. Vasco da Gama Club and all of its members were deeply saddened. His passing will be a large loss in the Portuguese-Bermudian community of Bermuda. In 1979, Mr DeMello's work was recognised by Portugal when he was made Knight Commander of the Order of Prince Henry for his contribution to the Portuguese community. He received the Queen's Certificate and Badge of Honour twice the first time in 1988 for his work with the Portuguese community and the second time in 2006 for service to the Bermuda Independence Commission. He was presented with a Bermuda Arts Council Lifetime Achievement Award in 2004 for his contribution to the arts and last year he received a Senior Citizen Community Service Award from the Bermuda Government. As well as his wife, Mr DeMello leaves his son, Duane, sister Mary, brothers William and Joseph and a granddaughter.
Alphonso Harris, Big Al, was a Bermuda music legend, a phenomenal pianist and made a significant contribution to the development of live music in Bermuda. By 1945, Big Al formed his own 12-piece orchestra and later his Calypso Band. In addition to being an accomplished pianist, he also coached many aspiring vocalists such as Pam White and Violetta Carmichael.
Lance Hayward. Born in Spanish Point, Pembroke, in 1916 he was blind but as a pianist he and his quartet created their own unique claim to fame in Bermuda and the USA. At 13, he was sent to the Perkins School for the Blind in Massachusetts. It was here, his son Stuart Hayward says, that the musician refined his craft. When he returned to the island after three years abroad, he began a career in music that would last almost 60 years. It began modestly enough in local churches, but soon Hayward was a fixture in the island's nightclub circuit and was the accompanist of choice for artists like Carmen McRae and Marvin Gaye when they performed in Bermuda. Then, in the Golden Age of Bermudian tourism, he arranged and directed the Hayward & Hayward Ensemble, a mixed-voice chorus that toured the island's packed hotels. In the '50s and '60s it was hard for musicians when the hotels closed in the winter, soHayward took his act to Jamaica where he found employment at a hotel on the island's north-west coast. The membership of his quartet changed over the years, but it then included the likes of Milton Robinson, Frankie Roban, Ernest Ranglin, Clarence (Tootsie) Bean and Max Smith. In 1963 he moved to New York City where a long career in the city's jazz clubs awaited him. He got his start at clubs like West Boondock and Jacques-in-the-Village until he moved to the Village Corner, where he appeared regularly for 16 years. While in Manhattan he formed the Lance Hayward Singers which continue to perform his choral arrangements. Though Hayward spent the rest of his life in the United States, he never lost touch with his island roots. His son says: "He would come back to Bermuda every year for Cup Match and Christmas or else my mother would go to visit him. That allowed them to spend time together and apart, which I think was good for their relationship. When he would come here he would play in the Bermuda Festival. I think he was one of the first Bermudians to have a spot in it." He died in November 1991, after a long fight with cancer. His obituary was published in The New York Times.
Roderick Anthony "Roddy" Marshall. Died December 2015. Song-writer, musician and fisherman. Roddy is survived by his brothers, Eddie (Jan), Jeffrey (Frances) and Allan (Kietny), and by his sisters, Norma (Mike deceased) and Joanne (Eugene). Roddy's parents, William and Blanche Marshall pre-deceased him.
David Moniz. Died March 2015. Celebrated local musician and original member of popular band The Bermuda Strollers. They reached international fame in the 1970s and 1980s, playing iconic songs such as Bermuda Buggy Ride, Bermuda is Another World and Yellow Bird. The group, led by Ted Ming, also performed regularly on the annual Jerry Lewis Telethon, giving them exposure across the east coast. Mr Moniz was inducted into the Bermuda Music Hall of Fame in 2014.
Charles Ebenezer Norford. Founding father of Bermuda Gombeys.
Joe Pimentel. One of the three original members of the Travellers of Bermuda.
Celeste Spencer Robinson, Bermuda's Queen of Calypso, reluctantly entered the calypso scene when Lancelot and Robert Hayward heard her unique raspy voice and wrote her into their stage show at the Opera House. Her popularity was at its peak when she sang with Kingsley Swan's band at Angel's Grotto and then later at Harmony Hall with Al Harris. In 1958 she toured the military bases in the US with Preston's Love Band and two years later to every American state with Dinah Washington, her highlight was a weeklong appearance at the famous Apollo Theatre in Harlem, New York.
Milton Robinson. One of the Island's greatest jazz musicians, acclaimed as the "father of every musician here" died in May 2010 at the age of 77 after collapsing at the Bermuda School of Music. He was trained in classical guitar and up to his last days was still improving his skills in cello and composing new songs. He leaves behind a wife of 52 years Renee, and three children Dawn, 50, Michelle, 48, and Dean, 42; as well as grandchildren Bradley Mitchell, Joshua Wood and Isaiah Sousa. Mr. Robinson was the only child of Bermudian Fred (String) Robinson and Canadian Eileen Gibson. He was brought up around music and taught himself to play guitar while in high school in Montreal. He never put the guitar down and after studying for some time in Canada, returned to the Island to perform with the Lance Hayward quartet, performing at hotels around Bermuda and Jamaica. He played the flute, the steel pans, the trombone, electric base, the classical guitar and more.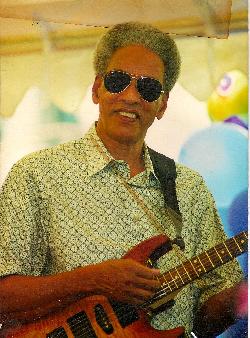 Milton Robinson
Edwin "Doc" Simons. Died on November 23, 2015 at the age of 75. Celebrated Bermudian saxophonist and mechanic. His younger sister, Maxine Dillas, described Mr Simons as a consummate hard worker, dedicated to his family, engines and entertaining the public. "That was his life," she said. "He would work on cars and boats all day and then play music at night. He never liked to sit down. He was always a very loving brother to me, and a caring father to his two boys who did everything he could to make sure they were on the right path." Mr Simons first became involved in the local music scene at the age of 18 under the influence of guitarist Jimmy Landy and later Ghandi Burgess. He, along with Mr Landy and Calvin Carmichael, formed a band called The Arpeggios, who became a local fixture, sharing the stage with artists including the Blues Brothers, Jimi Hendrix and even a 14-year-old Stevie Wonder. The band were a staple of the Island's nightlife, performing for thousands of visiting college students at Elbow Beach. The saxophonist later formed a second band, The Warren Experience, joined by Harold Pimental on bass, Howard Rego and later Peter Profit on drums and Darrell Fubler on keyboards. The band regularly performed at the Guinea Discotheque on Burnaby Street and were a fixture at The Reefs. Off the stage, Mrs Dillas said Mr Simons was fascinated by engines and developed a reputation at a young age as a skilled mechanic. "He was so well known people would just call him all the time, so he set up a business out of his home and people would find him there all day, even in the wee hours," she said. "He always wanted to help everybody. He was such a people person. People kept on asking him to look at their boats, so he bought a little boat so he could go out and repair boat engines. He was just so well known and well liked." While a stroke kept Mr Simons from the stage for several years, Mrs Dillas said he worked hard to recover and was later able to return to the music scene, performing with the Doc Simons Trio. Fellow saxophonist Wendell "Shine" Hayward expressed his condolences to Mr Simons's friends and family yesterday. "Doc will always be remembered for the energy that he brought on and off the stage," he said. "Although he was not a very technical player, he surely made up for that with his soulfulness and ability to read an audience to know exactly what was needed to either have them singing, dancing or simply giving up that applause. He has been a miss for a while, long before his passing." Author and historian Dale Butler described Mr Simons as a "giant of a saxophone player", recalling his days performing at The Hog Penny and Hubie's.
George Smith, died October 17, 2008 at the age of 67. A well-known entertainer who sang with his father, the late calypsonian Hubert Smith, in the Coral Islanders band. He also had his own group, Xanadu, and played the maracas, congo drums and guitar besides singing. He had four children, Stacey, Sonya, Scott and Sean Smith, 12 grandchildren and one great grandchild. In addition to being an entertainer, he also worked as a self-employed painter and enjoyed deep sea fishing. A Justice of the Peace and former president of the Diabetes Association, Mr. Smith suffered a stroke in 1999. His death was due to a combination of diabetes, stroke and kidney failure. As well as playing local hotels and guest houses, Mr. Smith had also entertained Princess Margaret and Prince Charles during royal visits to Bermuda and travelled with his music overseas. He was given Government awards for his contribution to tourism and in the 1970s was also handed a bravery award for saving a child's life.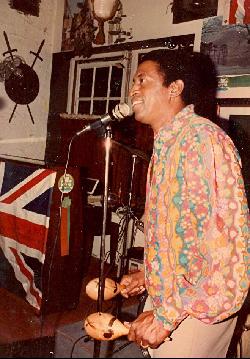 George Smith
Hubert Smith, who died on December 3, 2001 at the age of 83 after a massive heart attack started to play around with the ukulele when 6 years old; at nine he began writing jingles about his friends; by 13, he was singing to tourists on Front Street; at 15 he was spotted by local bandleader Mark Williams, 'grandfather of local jazz', who took Hubert under his wing to play and sing at the Colonial Opera House. In 1951 he formed his own band, the Coral Islanders, known nearly as much for their colorful attire as for the quality of their music. He was such a hit at Clay House Inn that Hamilton Princess invited him to play there. He eventually became the hotel's music director. Hubert wrote more than fifty songs, the most famous being Bermuda is Another World. He performed for US President John F Kennedy and the Queen at Government House. Hubert was founder and first president of the Bermuda Musicians Union. He was asked to compose a song initially entitled 'Bermuda is Different World' in 1969 for a briefing tour. On his year-round ritual morning swim at Spanish Point, he composed the entire song - lyrics and music composition - but made the change from 'different' to 'another' to create his signature piece and the island's unofficial national anthem. He became a legend in the local music scene, spent 70 years in the business, was a major influence in shaping the traditional sound of Bermudian music, such as calypso and jazz. But his dedication to the local music scene went far beyond his singing and song writing talents. His son George spent about thirty years with him working with his band The Coral Islanders. He traveled extensively for the Department of Tourism spreading the culture of Bermuda to the US, England and Canada. He was a true ambassador for Bermuda. Also he was a music ambassador for the Department of Tourism when ever it went to the USA to drum up business. He was a keen golfer and a founding member of the Ocean View Golf Club. In 2002, the late Hubert Smith was singled out for a Lifetime Achievement Award by the Bermuda Arts Council.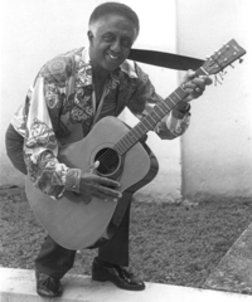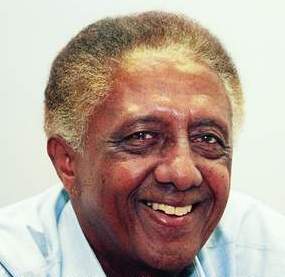 Hubert Smith
Kenneth 'Sonny' Flood, Kenneth 'Joe' Hayward, Robert 'Duke' Joell and Cecil Emery started playing together in the 1940s. The Four Deuces were renowned for their aptitude for rhythm. The ukulele and an upbeat tempo that made you move your feet created their distinct sound. Besides calypso, they also performed rumba, samba and the waltz.
Stan Seymour, Lord Necktie. Calypsonian, one of a long line of superb local entertainers whose names became household words, among them his friends and mentors, the Talbot Brothers. He once sang with Hubert Smith and the Coral Islanders. Like his grandfather, James Seymour, before him, `Lord Necktie' not only sings, but is also a one-man band who plays harmonica, guitar and drums. Some of his songs have become legends, including `Diddly Bops and Gooseneck Handlebars', which The Merrymen of Barbados also recorded. Hesang for Lord Mountbatten just before he died, and for Princess Margaret he composed and sang a calypso "Streakin' Rosie." Thrice-crowned `King of Calypso' in competitions, he is also an author and artist. He published `Bermuda Folklore and Calypso Poems', and together with his wife and fellow artist Margaret recently painted the mural of Horseshoe Bay on a pre-admissions ward at the King Edward VII Memorial Hospital.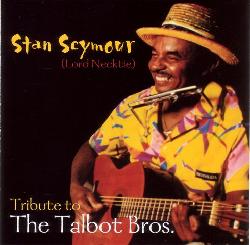 Stan Seymour

Gene Steede. Became known for his recording of the song 'Moongate,' and locally for his performance of the song 'Phantom of the Opera,' along with his writing and performing music for local commercials. He lives in Bermuda.

Pinky Steede. In 1959, she and her first husband, Gene Steede, became the stars of The Holiday Island Revue, organized by Don and Elspeth Gibson. The couple performed in all the local hotels throughout the 1960s. Among their albums: Step Through A Moongate with Gene and Pinky and You're Gonna Hear from Us.

The Steedes divorced and Ms Steede left Bermuda to take her career further. In 1978 she performed in London's West End in the hit musical Bubbling Brown Sugar. While performing she met her current husband, Mike Wall, who was in the audience. At this time, she entertained Prince Charles in a Royal command performance. Throughout the 1980s she toured the world as a cabaret singer. She has appeared in such television programmes as The Pearl K-100 Show on TVB Hong Kong, Duets for Piano and Voice on Ireland's RT Eire and a BBC adaptation of Bubbling Brown Sugar. In 1980 she took the lead role in the touring production of Guys and Dolls in Hong Kong. She was based there for 16 years. In 1994 she sang in Bermuda at a banquet featuring American comedian Bill Cosby. In 2000 she was a headline artist in the Millennium Celebration Show in Dockyard. In 2009, she was inducted into the Bermuda Musical Hall of Fame. Today, she sings in nightspots and casinos in the Algarve region of Portugal. Her latest album, Love Is, was made in 2014 in Portugal. She has two children, two stepchildren and 13 grandchildren.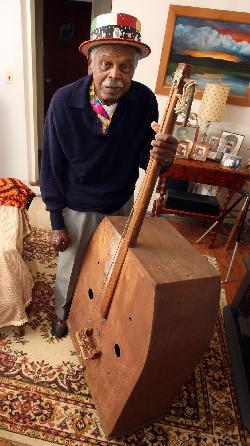 The Talbot Brothers started as a "Barber shop" four-part harmony in the 1930s. The original members were Archie, Austin, Roy and their cousin Stovell. In the '30s, as part of a Government effort to promote Bermuda's tourism industry, the Talbot's and other families were relocated so that Tucker's Town could be developed as an enclave for the rich. (Today H. Ross Perot, the Texas businessman, and Mayor Michael R. Bloomberg of New York own vacation homes there). Roy Talbot was born in Tucker's Town, Bermuda, one of ten siblings. His father cut coral stone in a quarry, and his mother played organ in the local Methodist church. When Roy, his brothers Archie and Austin and their cousin Ernest Stovell decided to form a singing group, Roy's mother instructed them in the intricacies of four-part vocal harmony while playing piano accompaniment. The group gained local fame performing at weddings and clubs. They first began their musical endeavors singing in church and then performing for their aunties and at private parties. They were prolific songwriters on the topics of love and current local and world issues. The Talbot Brothers were renowned for their spontaneity and ad-libbing and incorporating members of the audience into their songs. In the early '40s, as the new sounds of calypso drifted over from Trinidad, Roy, Archie and Austin joined with their brothers Bryan and Ross and their cousin Cromwell Manders to form the Talbot Brothers of Bermuda, a calypso group with a difference. Unlike Trinidadian calypso groups, the Talbot Brothers did not use percussion, except for an occasional conga drum, and their instrumentation was unusual: a blend of acoustic and electric guitars, harmonicas, a ten-string ukulele called a tiple, an accordion and Roy's booming bass. The group performed in floral shirts and straw hats. Bermuda Buggy Ride, a swing ballad recorded in the United States, made the Talbot Brothers the musical act that tourists to Bermuda wanted to see. In addition to original songs like Razor Razor and the nuclear-bomb ballad Atomic Nightmare ("I'm going to run, run, run like a son of a gun"), the group recorded popular cover versions of the calypso classic Yellow Bird and the infectious Is She Is, or Is She Ain't? which was originally recorded by Louis Eugene Walcott, professionally known as the Charmer, who later achieved fame as Louis Farrakhan, the Nation of Islam leader. Roy Talbot and his band of singing brothers were one of the major draws of the emerging nightclub scene back in the 1950s. In fact the band was so accomplished that their uniquely Bermuda-flavored sound travelled brilliantly. The band cut a number of discs in the US and also made numerous television appearances overseas The New York Times wrote this in May 2009. "Roy Talbot, the last surviving member of the original Talbot Brothers of Bermuda, one of the top calypso groups of the 1950s, died on May 15 in Paget, Bermuda. He was 94 and lived in Harris Bay. Mr. Talbot is survived by his wife, Mary; a sister, Etta Talbot; three sons, Delmont, Vance and Brent; seven grandchildren; and several great-grandchildren."
Mr. Talbot lent his voice to the Talbot's' distinctive blended harmonies and cut a striking figure onstage with his homemade bass - see photo above. Called the doghouse or the Bermudavarius, it was fashioned from a Swift meatpacking crate and had a single string made from fishing line. As the Talbot Brothers toured the world, fans would sign the instrument, among them Babe Ruth, Bing Crosby and Tommy Dorsey. In their heyday, the late 1940s and '50s, the Talbot Brothers were a major attraction at Bermuda's hotels and clubs and at the private homes of wealthy Americans who were discovering the island. Their popularity is often credited with playing an important role in putting Bermuda on the tourist map. Songs like Bermuda Buggy Ride and Bermuda's Still Paradise, with their smooth harmonies and easy, swinging beat, helped establish the islands' image as a carefree, no-worries leisure destination.
American enthusiasm for the group led to two appearances on The Ed Sullivan Show and two albums on ABC Paramount Records, Calypsos and Talbot Brothers of Bermuda. Roy Talbot's nephew recently published a history of the group with two CDs, Bermuda's Famous Talbot Brothers: A Celebration in Pictures and Song. Although the Talbot Brothers stopped recording in 1962, they continued to perform until the 1980s.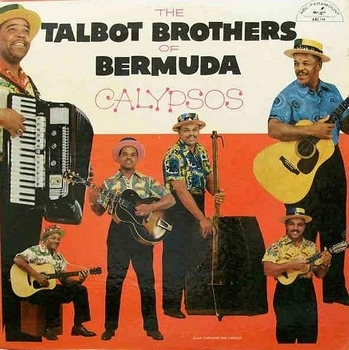 John White. He headed a prominent advertising agency in Bermuda and wrote many of the Bermuda songs for the Travellers of Bermuda - such as this lively one - see http://www.youtube.com/watch?v=erK4ELpTnzI, resided in Florida until he died on November 7, 2013 after having been unwell for some time. His death came as a great shock to many Bermudians and their friends.
Jack Whitney, died August 2015, at the age of 90. Mandolin-playing Mr Whitney was raised in the Riddell's Bay area of Bermuda and attended Warwick Academy. At 17 he ran a small A1 grocery store in Riddell's Bay and went on to form Jack Whitney and the Bermuda Plowboys in 1947. The group regularly performed at Rowley's Guesthouse in Southampton as well as other venues on the Island. Mr Whitney also worked as an actor double for US star Sandy Kenyon in the US television series Crunch and Des that was filmed on Darrell's Island in Bermuda. He married his first wife Verna Legge in 1956 and the couple had one daughter, Beth. After his first wife passed away, he later married his second wife Loraine in 2002. Up until a few years ago Mr Whitney and his musical friends including Jean Howes would entertain residents at care homes across the Island and patients at the hospital.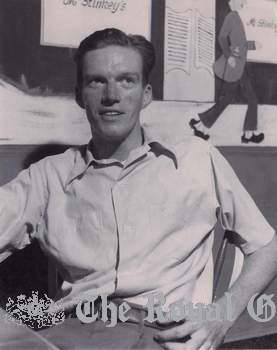 The late Jack Whitney, when younger
Erskine Zuill taught himself to play the ukulele, causing passing tourists to stop along the roadside to listen to him. He was Bermuda's first entertainer on board the cruise boat Pricilla and was renowned for singing for two hours straight and never repeating a song. Throughout his time as a musician, he contributed songs to many local records and released a solo album, 'Calypso at the Carlton Beach' with local producer Eddie DeMello.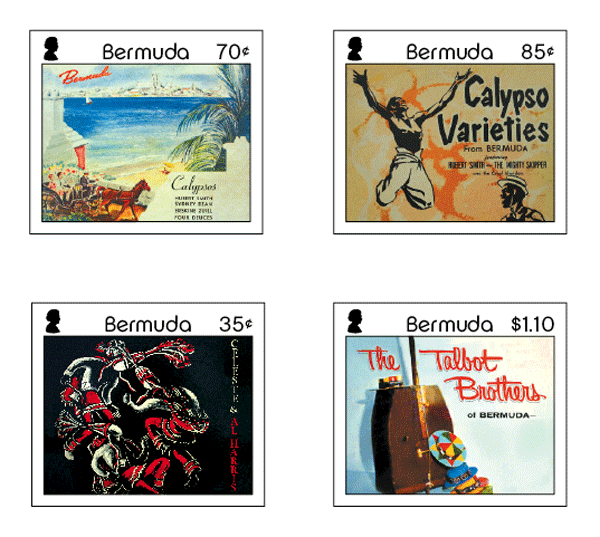 Bermuda postage stamps issue to honor Bermudian musicians
For any performers not shown above, consult the:
Bermuda Federation of Musicians and Variety Artists (BVMBA)
Bermuda Folk Club
Website folkclub.bm.
Bermuda Guitar Academy
Bermuda Islands Pipe Band

Partly in honor of The Bermuda Islands Pipe Band and also because of the many Scots and Irish who are resident in Bermuda and Bermudians with Scots and Irish forebears, there are many recordings available in Bermuda of Scots and Irish bagpipe bands and bagpipers, both civilian and military. In the 18th and 19th centuries, an Irish unit of the British Army was here. Scottish regiments were several times in the British Army garrison here until 1953. A Canadian Scottish regiment was based in Bermuda for a while during World War 2. Their bagpipes and drums accompanied the soldiers on Church Parades from Prospect Garrison in Devonshire to the city of Hamilton, waterfront on Pitts Bay Road and back. The idea became a Bermuda civilian tradition.
Once there were two bagpipe bands here. One was the Bermuda Police Pipe Band which began in 1959. It proudly wore the Prince Charles Edward Stuart ("Bonnie Prince Charlie") tartan. Composed at first largely of members of the Bermuda Police and Prison Services, and other local enthusiasts, including some formerly in the Cadets Pipe Band, they were soon performing at the Police Passing Out and ceremonial parades, a tradition maintained by the BIPB to this day.
There was also the older Bermuda Cadets Pipe Band, so-called because it originated in 1955 as "A" Company of the Bermuda Cadet Corps when Captain Henry Hallett was the Company Commander. (Paddy Coyle of the Gordon Highlanders, whose idea it was to start the Bermuda Cadets Pipe Band, was in the detachment of the Highland Brigade stationed in Bermuda at the time. In his honor, the band wore the Gordon tartan). Bagpipe celebrities or those who contributed mightily since then include Denis Stuart; Captain Arthur G. Card, Commandant of the Bermuda Cadet Corps; Lillian Hallett; Mary Card Gibbons and Joan Tite. On the disbanding of the Corps in the early 1960's, the Band continued as a body of civilian volunteers under the name of the Bermuda Cadets Pipe Band. Wearing the Regimental Gordon tartan, the Band's first public performance was in the Remembrance Day Parade in 1956 when they began a tradition of leading the war veterans on and off parade.
Both were disbanded in 1992 when the Bermuda Islands Pipe Band was established. The Bermuda Islands Pipe Band is a spectacular sight on ceremonial occasions, often included in Beating Retreat, musical displays and other events. Individual bagpipers go to hotels and weddings. The 17-member contingent still wear the Gordon Highlanders tartan kilt with a white jacket. Experiences include playing at local and international tattoos
Another still active tradition of the BIPB began in 1963 with the weekly performance by the Cadets Pipe Band of the "Skirling Ceremony" at Fort Hamilton. Yet another long-established relationship began in 1965 with both predecessor Bands and now the BIPB appearing with the Band and Corp of Drums of the Bermuda Regiment in the Beating Retreat in Hamilton, St. George's and the Royal Naval Dockyard.

The BIPB has an equally strong tradition of representing and promoting Bermuda internationally having performed overseas on 18 occasions in the United States, Canada, Scotland and Germany. In 2003, the Band proudly promoted Bermuda at the Nova Scotia International Tattoo. The Band, bearing the Bermuda standard before it, has twice appeared in New York City leading other pipe bands. The Band's more recent international performance came in January, 2005, at the Musikschau der Nationen in Bremen, Germany, Norfolk VA, Birmingham UK and Hamburg, Germany.
See under "Bermuda Islands Pipe Band" in Bermuda Books.
Bermuda Music & Dramatic Society (BMDS)
Daylesford, Park Street, Hamilton. Telephone 295-5584. An active local group offering a menu of plays and productions, usually at its own small theatre. There is also an annual Christmas pantomime.
Bermuda National Youth Jazz Ensemble (BNYJE)
A 12--strong group of young jazz musicians. It had a very successful opening concert on June 16, 2001.
Bermuda Philharmonic Society
Private sector part-time orchestra and choir. Registered charity 323. The chorus generally consists of between 40 and 60 members while the orchestra has about 30.
Bermuda School of Music
Phone 296-5100. With 1000 students and approximately 25 faculty teaching strings to percussion, voice, brass, woodwind, guitar and piano. Incorporates the former Bermuda Conservatory of Music. Also mounts several public annual events.
Bermuda School of Music Steel Orchestra
Established in July 2008 and aims to introduce, and provide continuity for students who wish to play the steel pan. Students from nine different public and private schools meet after school on Wednesdays and Fridays to learn to play the iconic Caribbean instrument, which originated in Trinidad and Tobago in the 1930s. The steel pan has a long history of association with Bermuda, having arrived here within a decade of its invention. The pans unique sound was originally the result of carefully shaping and stressing sections of the base of standard 55-gallon oil drums, and though now methods of production have been refined, the design and tuning of each instrument are done by hand. For more information about the Steel Orchestra, contact the Bermuda School of Music 296-5100.
Bermuda School of Russian Ballet
P. O. Box HM 661, telephone 293-4147 or 295-8621 or fax 293-8789 or e-mail cwaddell@northrock.bm. Studio at 292-2192.
Bermuda songs include
The following are especially noteworthy:
Beautiful Bermuda and Last Thing on My Mind. See http://www.youtube.com/watch?v=X2H4aOQ9fOE. Merrymen of Barbados.They were frequent visitors to Bermuda.
Bermuda. Recorded 1951-52 by the Bell Sisters of the USA. See http://www.youtube.com/watch?v=7VV5UQ3hotg. Sold a million copies in 1952 and was #7 in the USA hit parade. The Bell Sisters were Cynthia and Kay Strother, who recorded on RCA 1951-58. In the 1996 Gramercy film "Grace of My Heart" their song "Bermuda" pops into the musical foreground during one of the scenes from the movie. Cynthia Strother wrote the song when she was 15, after seeing a picture in a brochure. She told her nephew Rex, who ran a website honoring the Bell Sisters, that Bermuda seemed "distant and romantic." The song was also on a British CD by Peggy Lee as "Bermudian Waters."
Bermuda Blue. Not sure of the composer, but it was first sung at KVOO radio station in Tulsa, Oklahoma, performed by American composer Ralph Blane. (One of his best known compositions was "Have Yourself a Merry Little Christmas" and other songs of the movie "Meet Me In St. Louis").
Bermuda Farewell.
Bermuda is Another World. See http://www.youtube.com/watch?v=sscml-amGC4. Bermuda's unofficial national anthem. (Bermuda's National anthem is "God Save the Queen"). Composed and performed in Bermuda by the late Bermudian Hubert Smith of Bermuda (he died on December 3, 2001).
Bermuda Triangle. Barry Manilow. See http://www.youtube.com/watch?v=WAHvajXxyRU&feature=youtube_gdata_player. (Note, skip ad to hear song).
Bermuda Woman.
Bermudian Gal, composed and sung by Giles (Dudley) Spurling.
In Bermuda. Composed and performed in Bermuda by the Bermudian Duane DeMello, available on the CD "Duane D in Bermuda and other Bermudaful memories."
Happiness. Composed and performed in Bermuda by Bermudian Duane DeMello, available on the CD "Duane D in Bermuda and other Bermudaful memories."
Mind & Body. Composed and performed in Bermuda by Bermudian Duane DeMello, available on the CD "Duane D in Bermuda and other Bermudaful memories."
Step Through a Moongate. By American composer Ralph Blane, as above. A local recording of this, on an LP album, was done as well, sung by Gene (Eugene) Steede and Pinky (Frances) Steede, under the musical direction of James Gregory. He was a collaborator with Ralph Blane on many songs.
This is Bermuda.
Three songs — 'I Need All The Sunshine', 'All My Dreams Are Gathered Safely In', and 'Child of the Ocean' - all by Marcus Dagan - reflect his connections with, and deep love of, Bermuda.
Virtually all other songs heard or played in Bermuda - like Yellow Bird - while nice, are not Bermuda songs at all. Beautiful Bermuda by the Merrymen of Barbados is actually Beautiful Barbados by the same group. Bermuda Farewell is actually Jamaica Farewell with Bermuda substituted for Jamaica. Bermuda Woman by the Merrymen of Barbados is actually Barbados Woman by the same group. Most of the calypsos played in Bermuda by local musicians are not Bermudian or written in Bermuda. Always contact the authors directly for more information on songs.
For all songs about Bermuda, if authors or agents both in Bermuda and abroad will reciprocate the free courtesy website link, a free courtesy active link will be established to their website or song or both.
Blues Beat Band
Made up of current and retired members of the Bermuda Regiment Band. The five-member group got together over a shared love of music. These days their goal is to get people grooving at corporate, church or community events Island-wide. Comprises Tuba player Gerald Swan, Major Barrett Dill and Neilson Degraff on cornet, Henry Smith on trombone and James VanLowe on the clarinet. They had all retired from the Bermuda Regiment Band and didn't want to stop playing, so would get together on Thursday nights and have a little rehearsal. Then word started to get out and they started performing at functions like birthdays and anniversaries. Their first performances were actually at Christmas time, when they would do caroling at some of their friends' houses. They really enjoyed bringing Christmas cheer to people during the holidays. "After that we got together for a birthday performance at one of the Princess hotels and it just went from there." Major Dill, was a Director Of Music in the Bermuda Regiment Band, while the others were Sergeant, Color Sergeant and two were Sergeant Majors. They play everything, but consider themselves to be more of the New Orleans blues style. Most times when they go out and do a performance, Major Dill does most of the talking and he says they are the blues band flown in from the New Orleans via North Village — that's where a few of them are from. We just try to give everything we do a Bermuda style. To contact the band, call 537-0224.
Calypso & steel pan music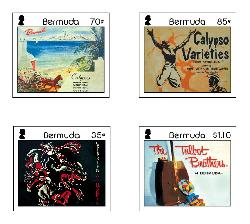 In March 2008 the Bermuda Government issued a set of stamps in honor of some of the most famous local calypso singers and troubadours (see graphic).
Calypso originated in Trinidad & Tobago in the 19th century, as rhythms brought there by African slaves. At the time, the rule was that slaves were not permitted to talk while working, but were allowed to sing. Their songs were a mixture of their tribal languages and Spanish, English and French that their colonizers insisted they learn. When colonial domination of their region ended, they continued their custom of singing, but added new elements to their traditional songs or mixtures of songs. They argued, discussed, lampooned, got political, became sexually explicit and injected a lot of macho rubbish into their songs as well (like "When women say no they mean yes"). In Europe, Nina and Frederick, from Holland and Denmark respectively (Frederick had studied at an agricultural college in Trinidad), introduced a sanitized version of calypso to their fans. In the USA, Canada and Bermuda, Harry Belafonte did so, followed by Norman Luboff (whose version of "Yellow Bird" became the standard by which all other versions are copied).
Like Nina and Frederick and Belafonte, Luboff accentuated the more exotic and less ribald or licentious side of calypso for mass consumption. His idea was to make it authentic again, as the choral music it once was. What these pioneers in American-composed, Americanized and Europeanized versions of calypso came up with had a mass appeal to the audiences of their day. Their music was gorgeous. It is the kind of music many visitors still hope for when they visit Bermuda and Caribbean destinations further south, instead of the modern rubbish - not calypso or steel pan music - they too often find today.
Bermudian musicians copied liberally from the mass appeal calypso music of Nina and Frederick, Belafonte and Luboff. Not known at all is other beautiful original music - also superb - of more Caribbean islands, like ballads unique to their lands sung in patois or English from Martinique, Guadeloupe, St. Lucia, Dominica, Grenada, St. Vincent, Montserrat, Saba, Aruba, etc. Such music of before and during the 1950s and 1960s is no longer in vogue. Sadly, only reggae, from Jamaica - and now soca - seem to be popular among the youth of Bermuda. Bermuda has virtually no equivalent at all to Caribbean music, yet it does not lack in poets who could write good, unique local words, which good local musicians could put to music if they were given some incentives to write music truly from Bermuda in every way.
Frequently, Bermuda was visited by great calypsonians and steel band greats like Byron Lee & The Dragonaires from Jamaica (their 1970's and 1980's recordings of calypsos and the much more tuneful reggae then than now were superb),The Mighty Sparrow from Trinidad & Tobago, The Merrymen from Barbados. Steel bands were imported to Bermuda, stayed, became Bermudianized and are still here.
Steel pan music is more recent than calypso. It also began in Trinidad and Tobago in the late 1930s, long after slavery ended. It too was seen as reactionary, from young rebels of society. When the Bishop of San Fernando in south Trinidad recognized its worth and praised it as positive not negative, people noticed. Then the Esso Steel Band came along, among the pioneers. They moved to Bermuda in the 1950s but played worldwide as well. Carl Borde was their leader. Rolf Commissiong Sr was another prominent member. They thrilled audiences with their steel pan calypso music and selected classical pieces beautifully arranged for steel pan. It blended exquisitely the culture of the Caribbean, Africa and Europe. In the 1960s, a Trinidadian convent pioneered yet another form of calypso and steel pan music, with a choir that sang in a hauntingly melodic way a selection of Negro Spirituals and local spiritual melodies to a lilting steel pan accompaniment.
Choir singing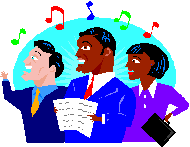 In many local churches, this is a long established tradition. Sundays are alive with the sound of religious music.

The custom traces back to England.

A lay member of the church acts in a volunteer post as choir master or choir mistress.

Mr. David Nisbett recently celebrated 51 years as choirmaster, longer than anyone else in Bermuda.

The Roman Catholic Diocesan Choir is outstanding. The Bermuda Philharmonic Choir and Post Office Choir are two examples of non-church choirs.

There are several seasonal choirs and a number of school choirs.
Classical music


Leading local artistes include Dr. Gary Burgess - once an opera singer overseas and more recently a Bermuda Government official and conductor of the part-time Bermuda Philharmonic Orchestra; opera singer Marcelle Clamens who used to spend much of her time abroad but has returned to Bermuda; concert pianist (and gardener) Peter Carpenter; Joyce Mary Helen DeShield; Suzanne Dunkerley; mezzo-soprano Jane Farge; and teacher of music at Whitney Institute Middle School (and gardener) Lloyd Matthew.
Organizations involved in classical music include the Bermuda Philharmonic Society; Kindermusik with Suzanne and Menuhin Foundation of Bermuda. (The late Lord Menuhin visited Bermuda to set up this organization himself).
Also hear the Mozart Players Trust; Bermuda Middle Schools Orchestra; Mandy Wong, a Bermudian artist, a student at New England Conservatory of Music, but available for classical concerts; and Dr. Karol Sue Reddington, pianist.
Dance
Individual Bermudians who have distinguished themselves in this genre include Sophia Cannonier, Barbara Frith, Patricia Gray, Suzette Harvey, Mrs Sal Hodgson (Somerset School of Dancing), Louise Jackson, Conchita Ming, Nikia Manders, Liz Pimental, the late Robert Simmons and Ray Tanver. Dance organizations and schools are shown separately above and below.
Gombeys
Dancers similar to those in Africa and certain parts of the Caribbean, from black families. They dance at certain times of the year and on special days. They appeared in the 2003 Edinburgh Tattoo. The word Gombey comes from the African Bantu language and means both rhythm and drum. Noteworthy and quoteworthy are the books "The Bermuda Gombey; Bermuda's Unique Dance Heritage" by Louise A. Jackson and "Bermuda: Traditions and Tastes" by Judith Watson. The Gombeys are unlike any other folkloric dance in the region. Bermuda Gombeys have always been completely covered so that you are unable to identify the persons involved. They are a serious and disciplined art form, not something that parents just simply send their children to. It's not ballet, the involvement of the entire family in the whole ritual is extremely important to the preservation of the culture. Most captains of troupes monitor very closely the performance of their students in relationship to their school work, for example, and if they are not doing well in school they may not get to dance. It's a totally integrated social enterprise, a way of life. Bermuda's only female Gombey troupe are Alisa Kani Girl Gombeys, a collective of fifteen women whose families are traditionally involved in the male-dominated performing art.
Jazz Clubs and Groups
There are several. Bermudian James Richardson is a professional jazz pianist. Jazz groups include the Stephan Furbert Quartet.
Madame Patricia Deane-Gray, MBE
She studied with various dance teachers on the Island before traveling to England to train as a professional classical dancer. She attended both the Legat School of Ballet in London and the Guildhall School of Music and Drama, before going to the International Ballet School in Split, Yugoslavia (now Croatia). Later she became a soloist with the National Theatre of Yugoslavia, and traveled to New York with Ballet Russe, where she performed at the Yugoslav Embassy for the United Nations. Returning to London, she obtained her teacher's degree from the Federation of Russian Ballet. Upon her return to Bermuda she taught for the Department of Education before opening and directing her Bermuda School of Russian Ballet. Since 1958, Mme Deane-Gray has been indirectly responsible for most of the ballet performances given in Bermuda, including the Bermuda Ballet Weeks from 1959-1965, which became the forerunners of the Bermuda Festival. She is the founder and was the director of the Bermuda Civic Ballet from 1972-2002, and danced in its first production, 'Devil in the Village.' She is a two-time past president of the Bermuda Ballet Association, which she co founded with Yugoslav dancer/teacher Madame Ana Roje in 1962. From 1977 she has been a representative of the Society of Russian Ballet London, and is a past president of the American Society of Russian Ballet. In 1982, she lectured and demonstrated the syllabus to students and teachers for the American Society of Russian Ballet in New England at Harvard University. Mme Deane-Gray's work as a dancer/teacher/choreographer has been formally recognised with several awards. In 1984 she was made a Member of the British Empire (MBE) by the Queen. She has been honored twice by the Bermuda Arts Council, first with its Performing Arts Founders Award, and then its Lifetime Achievement Award. In 2003 she was honored by the Ministry of Education for her contributions to education of the arts. Overseas, she has been recognised by the Society of Russian Ballet as a teacher, examiner and consultant. In 2011 she was a judge at Zagreb Theatre's International Dance Competition in Croatia. Mme Deane-Gray is the director of the Ana Roje International Ballet summer school, which this year has been held in Bermuda to coincide with the Civic Ballet's 40th anniversary, in which some of the students will participate. She is a teacher, examiner and consultant with the Legat Foundation in Croatia, and the international coordinator of the Legat summer school in Croatia. Mme Deane-Gray has taken the Legat traveling exhibition, 'One Hundred Years of Croatian Ballet', to 27 different venues in Canada, the US, Russia and Austria.
Marriage Music
See our Marriages in Bermuda.
Menuhin Foundation
P. O. Box HM 1179. Hamilton HM EX. John Campbell, Chairman. Bermuda Registered charity # 118. Founded after Lord Menuhin first visited. Qualified musicians are teachers.
Middle School String Orchestra
With students from 10 to 13 years old from five middle schools, Clearwater, Dellwood, Spice Valley, Whitney Institute and Sandys Secondary Middle School. They are taught by Menuhin Foundation teachers.
Mohawk Radio
A UK-based band of four with Bermudian Mia Page Chambray as the lead singer. In April 2015 they went up against thousands of bands from across the UK in the music competition Rock the House — and won. They were invited to perform at the US Ambassador's residence in London a week later and at the BBC.
National Dance Foundation of Bermuda (NDFB)
West Hall 250, Bermuda College, South Road, Paget, telephone (441) 239-4091. Amalgamated in 2005 with the Bermuda Ballet Association (BBA). Founded in 1980 and a registered charity, Dedicated to the development of exceptional local dancers and choreographers.
National Dance Theatre of Bermuda (NDTB)
Established in 1980, it existed until 2003. It was born out of the Bermuda Dance Theatre founded in 1977 by Louise Jackson, Barbara Frith and Conchita Ming. It offered development and performance opportunities for Bermuda's dance community by providing access to training opportunities with world-class teachers, performers and choreographers, professional level productions and the opportunity to earn international scholarships. NDTB gave performances where the work of local choreographers was featured along with choreographers from abroad. The company performed in the U.S. Quincentennial Celebrations in New York in July 1992 and at Carifesta in Trinidad in August 1992. In 1994 the company performed for Queen Elizabeth II and Duke of Edinburgh, on their visit to Bermuda. In January 1995 the NDTB was the opening performance at the Gala Showcase of the IABD Dance Conference in Philadelphia, USA, a second invitation to perform at this event. NDTB performed at The Bermuda Festival in 1979, 1993 and 1996. In September 2001 NDTB, at the invitation of the Department of Tourism opened the 46th Annual Society of Travel Writers Convention here in Bermuda.
Somerset School of Dancing
Studio Location: Old Berkeley School extension. Berkeley Road, Pembroke, Bermuda. Mailing Address: Sal Hodgson (Director). PO Box 76, Mangrove Bay, Somerset, MA BX Bermuda. Studio Phone:441 292 0446. Office Phone: 441 234 2164. Office Fax: 441 234 3830.
Sweet Girls Dance Team
Talent Explosion
Since 2003. Registered charity.


Last Updated: April 27, 2016.
Multi-national © 2016 by Bermuda Online. All Rights Reserved.