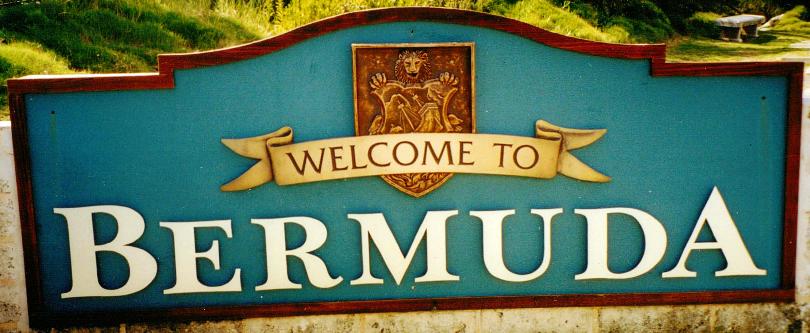 Click on graphic above to navigate the 165+ web files on this website, a regularly updated Gazetteer, an in-depth description of our island's internally self-governing British Overseas Territory 900 miles north of the Caribbean, 600 miles east of North Carolina, USA. With accommodation options, airlines, airport, actors, actresses, aviation, banks, beaches, Bermuda Dollar, Bermuda Government, Bermuda-incorporated businesses and companies including insurers and reinsurers, Bermudians, books and publications, bridges and causeway, charities, churches, citizenship by Status, City of Hamilton, commerce, communities, credit cards, cruise ships, cuisine, currency, disability accessibility, Devonshire Parish, districts, Dockyard, economy, education, employers, employment, environment, executorships, fauna, ferries, flora, former military bases, forts, gardens, geography, getting around, golf, guest houses, highways, history, historic properties, Hamilton, House of Assembly, housing, hotels, immigration, import duties, internet access, islands, laws, legal system and legislators, main roads, marriages, media, members of parliament, money, motor vehicles, municipalities, music and musicians, newcomers, newspaper, media, organizations, parks, parishes, Paget, Pembroke, performing artists, residents, pensions, political parties, postage stamps, public holidays, public transportation, railway trail, real estate, registries of aircraft and ships, religions, Royal Naval Dockyard, Sandys, senior citizens, Smith's, Somerset Village, Southampton, St. David's Island, St George's, Spanish Point, Spittal Pond, sports, taxes, telecommunications, time zone, traditions, tourism, Town of St. George, Tucker's Town, utilities, water sports, Warwick, weather, wildlife, work permits.
British Army units posted to Bermuda from 1701 to 1977
A summary of the many regiments, battalions and units once stationed here by Great Britain

By Keith Archibald Forbes (see About Us) exclusively for Bermuda Online.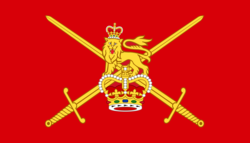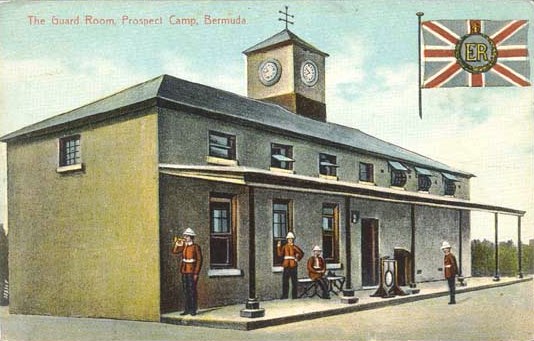 His other files on Bermuda relating to military matters and civil aviation include Airlines serving Bermuda - American Military Personnel based in Bermuda from 1941-1964 - American Military Personnel based in Bermuda from 1965-1995 - Bermuda Aviation History Pioneers Civilian and Military - Bermuda International Airport and Canadian Forces Station in Bermuda.

British Army's proud past in Bermuda
Also see British Military Graveyards in Bermuda.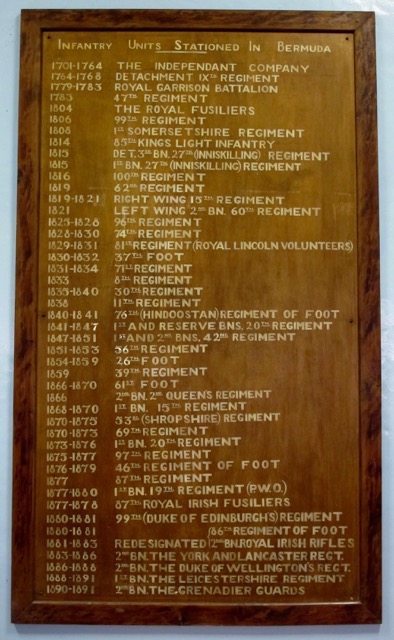 Introductory note: For general regimental or unit enquiries such as tracing or researching relatives who may have served with one of the following units in Bermuda, please write directly to the regiment or unit concerned in the UK or to the British Army in the UK.
All military records - including service, discharge and death - of British Army units once based in Bermuda (please note that Bermuda is not in the Caribbean islands or West Indies but 900 miles further north of them) were taken back to the UK in 1953 or earlier. None at all exist in Bermuda.
Why not? Because at no time did any of these units fall under (colonial) Bermuda Government jurisdiction, they reported directly to their military services headquarters in London or elsewhere in the UK. For any and all further information about these units check with the regimental museums concerned if the units are still operating or, in the case of British Army units, with the UK's Ministry of Defence. Plus, try Regimental birth indices and various censuses and maybe also the National Archives at Kew in London, which holds all sorts of information on soldiers (including biographical) as far back as those times.
The British Army built and manned more than 80 Bermuda Forts. They included military artists for detailed records. Their landscapes and seascapes showed how Bermuda developed as a naval base and land fortress bristling with heavy guns that could heave first cannonballs then shells many miles out to sea.
From the American Civil War, British troops occupied a huge area in Devonshire Parish alone.
Huge Fort Prospect - seen in part in the top photograph but no longer around - was their headquarters.
They also made good use of every other Parish.
Some places they built are now used by the Bermuda Police Service. For example, the latter uses both premises once occupied by British Army barracks buildings and the present-day Police Club was earlier the British Army's Officers Mess.
In the 1840s, the British Army built roads (long before the American military did in the 1950s).
British troops paved and repaired the original military (now a civilian) road from Fort Prospect in Pembroke Parish to the Royal Naval Dockyard in the west and the garrison town of St. George's in the east - and erected the rifle range at what used to be the British Army training camp on the Old Military South Road - now the South Road - in Warwick Parish.
There was even a British Army Garrison school in Bermuda until 1953.
It is believed that at a number of former members of the units above remained and died in Bermuda and were buried at what was then the Prospect Military Garrison, now the Police, graveyard.
This listing is more accurate than the one posted in the former Officer's Mess, Prospect, Bermuda, now the Police Club.

The Royal Artillery, although not shown specifically as such, was present in Bermuda on a continuous basis from about 1775 to about 1896.

St. George's Garrison
Once a large base, the first of the British Army's Bermuda bases, which included barracks and a hospital to the East and North of St. George's town. Used primarily by the Royal Garrison Artillery (Royal Artillery), this base served the surrounding forts and batteries. From the beginning, the Royal Engineers were also an important part of the Garrison, improving pre-existing fortifications and batteries, building new ones, surveying the island, building a causeway to link St. George's Island to the Main Island, a lighthouse at Gibb's Hill, and various other facilities. the main supply of munitions was at Ordnance Island. The Royal Army Ordnance Corps operated two depots to supply munitions to the defensive artillery, one at Ordnance Island, the other on a wharf on East Broadway, at the outskirts of the City of Hamilton. In the 1970s, the Bermuda Government destroyed most of this garrison's long-deserted military barracks and and related buildings and on their sites created a new low-cost housing estate.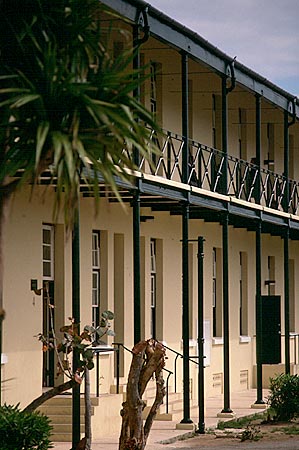 Former St. George's Garrison barracks, now a school

Dockyard Garrison
So-called because the prime purpose of the British Army in Bermuda after 1812 was to defend the Dockyard. With its build-up, there was a corresponding increase in the size of the Army and Royal Marine garrison that was to protect it. This included the construction of numerous fortifications and coastal artillery batteries, manned by the Royal Artillery (Royal Garrison Artillery, or RGA), and camps where infantry troops were stationed. Later, the main barracks building became a Bermuda Government main prison.

Prospect Garrison
Since 1855. Located in Devonshire, on the outskirts of Hamilton, it was called Prospect Camp. It housed other units, as well, including Royal Garrison Artillery detachments at a fort built within the camp, Prospect Fort. Although Prospect Camp had extensive areas for training, it was surrounded by public roads and residential areas, and had no safe area for a rifle range. Consequently, a second camp, Warwick Camp, was added primarily to provide rifle ranges to the soldiers of the Garrison, and the Dockyard's own Royal Marine detachment (and those of the ships stationed there).

From 1864, a huge section - most - of Devonshire Parish, on the outskirts of the City of Hamilton, was acquired by compulsory purchase by the British War Office for the British Army, for the construction of a new large base, for the infantry.

When the British Army finally left, the many buildings were used to house the Bermuda Police, schools and sports facilities.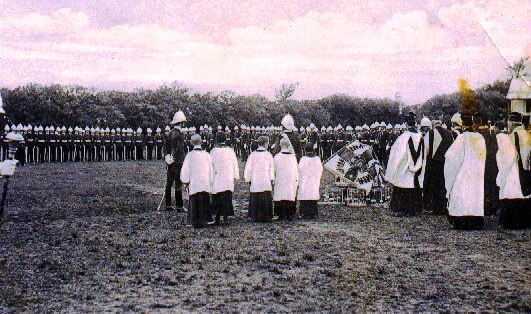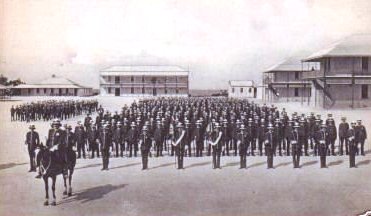 Warwick Camp
Added in the 1860s primarily to provide rifle ranges to the soldiers of the Garrison, and the Dockyard's own Royal Marine detachment (and those of the ships stationed there). Now being used solely by the Bermuda Regiment.

1701 to 1764. His Majesty's Independent Company
They were detached from the 2nd Foot over protests of General William Selwyn who had clothed them in England.
With war between Britain and France imminent, the British Government decided that Bermuda should be protected by regular soldiers. The small military force, the Independent Company of Foot, was sent. The first 50 full time soldiers arrived with Governor Benjamin Bennett, who had commanded a company in Ireland. They were aboard HMS Lincoln, in May 1701.
They were headed by Captain Lancelot Sandys, with Lieutenant Robert Henly and had 2 sergeants, 2 corporals, 1 drummer and 50 privates. There were no barracks available for them and their quarters consisted of a warehouse. They lived in temporary barracks around the town of St. George - mostly private dwellings or storehouses rented by the Government. Some were later quartered at the Castle and Paget forts.
Lt. John Foote was another officer of this unit. His date of birth or place of birth is unknown. He had one son, Lt. William Foote and a daughter Mary Foot or Foote. Wife is unknown. He died 28 May 1754 in Bermuda.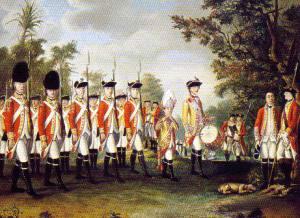 One early soldier turned out to be a thief and counterfeiter. Only the pleas of his wife saved him from the gallows. When war was declared between Britain and France in 1702, the unit was strengthened with all able-bodied men and 600 slaves were equipped with lances and drilled. Peace with France came in 1713 but in 1715 Britain was at war with Spain for a time.
When Colonel John Bruce Hope became Governor in 1722, major work was done on Paget Fort (or Queen's Fort as it was sometimes called). It seems likely that the rocks on which the lower battery stood were undermined by the constant pounding of the waves, particularly in the winter. It took several years to complete the repairs on both Paget and nearby Smith's Forts, at great cost.
The company was transferred to the Bahamas in 1727 - some accounts say 1729 to 1732) ostensibly to prevent that colony from being sacked by pirates, as it had been thirty times earlier. But members returned to Bermuda in 1730 after a potential slave rising was discovered. It prompted London merchants dealing with Bermuda to petition the Crown. There were over 1,000 members in 1723 but by then most had become part-time militiamen, mostly because of the very low salaries they were paid - about seven pounds sterling a year in those days.
Yet they provided the backbone of the defence of Bermuda. Their mere presence probably prevented the French and Spanish from landing and seizing Bermuda. In 1746, so many prisoners-of-war were brought in by Bermudian privateers that the only place available to accommodate them was Paget Fort. They were guarded by these troops and had a food allowance of one shilling a day. The troops were rarely replaced but it is known that around 1749/50 several new young officers arrived, with possibly James Craik (later to achieve fame not in the British Army but as the medical friend of Colonel George Washington from Virginia and his Virginia Regimental doctor who was in the ill-fated 1756 campaign of General Braddock and successful campaign in late 1758 of General John Forbes. It is recorded that several young doctors, after graduating as such from the University of Edinburgh from 1748 at the age of 18, briefly joined the British Army proper or one of its Independent Companies but after a year or so left their units to pursue independent medical careers. In those days it was much easier for such an aspiring medical doctor to reach Virginia from Bermuda than from the West Indies 900 miles to the south.
When the Somers Island Company ended its reign over Bermuda in 1762 and the islands came directly under the British Crown, the new governor. appointed by the latter lamented on the poor quality of the soldiers, forts, cannon, tools and gunpowder. This may be one of the reasons why ambitious people such as Dr James Craik did not tarry for long in Bermuda. The end of the war with France in 1763 and reforms in the British Army, spelt the end of the Independent Company.

1764 to 1768. Detachment of IXth Foot Regiment
Following the conclusion of the Seven Years' War in 1763, the Independent Company was removed. A company of the 9th Foot was detached from St. Augustine in Florida and arrived in Bermuda but were insufficient. Attempts were made to draft more from the Independent Company but only four were recruited The unit was reinforced with a detachment of 12 men from the Bahamas Independent Company, but this force was withdrawn in 1768, sent to St. Augustine in Florida, with no British Army local garrison left, leaving only the locally-recruited militia. During this period, the 9th had a red uniform faced with yellow, with white lace having a red central stripe with a blue stripe to each side.

1775-1778
The theft of gunpowder in August 1775 by Bermudians sympathetic to the American Revolutionary cause so alarmed and outraged Governor Bruere, a former senior British Army officer, that he asked urgently for British troops. Bermuda assumed strategic value as a way to help police the rebellious mainland colonies. Several detachments of British troops were sent at various times to Bermuda to repel any attempt by the Americans to invade, as threatened by General George Washington and Marquis de Lafayette.

1778. 55th Regiment
Two companies arrived and lived in private houses, the State House and jail in St. George's. Suspicions of loyalty caused strife between many Bermudians and soldiers. Major Andrew Durnford of this regiment was one of the officers who arrived from England. On Paget Island he re-built a part of the sea battery at Paget Fort, or Queen's Fort as it was sometimes called. However, in January 1791, a violent gale which lasted for several days destroyed the new work. In 1793, with the threat of war with France, the Governor of Bermuda directed Durnford to build a new Barbette Battery on the height of the land above Paget Fort on Paget Island. It was called Upper Paget to distinguish it from the original stronghold. (in time, from 1875, the remains of Upper Paget Fort became Fort Cunningham).

1778 to 1784. Royal Garrison Battalion of Veterans
Bermuda was then becoming too valuable to the Crown to be protected by only a small force. Two companies arrived from New York in 1778, with reinforcements on December 1, 1779, by HMS Delaware, also from New York, under Lieutenant Colonel Robert Donkin, 3 other officers and 100 men. Regular soldiers invalided from battlefields in the USA became part of the Royal Garrison Battalion stationed in Bermuda in this period. They were joined by another 81 shipwrecked members of the Royal Artillery. By 1781, 600 soldiers expected an American or French attack that never came. However, British troops were able to hunt and capture several small expeditions of Americans and were liked by the majority of locals. However, British soldiers were withdrawn from Bermuda after the Treaty of Paris signed by the new USA and Britain.

1783. Royal Engineers began preparing for further trouble with the USA
With peace concluded between the British and Americans, Britain's Royal Engineers began a comprehensive survey of the defenses of Bermuda. They anticipated future hostilities with the new USA. The fear of an American threat to British dominion on the western front of North Atlantic was to lead in 1809 to a large dockyard and a successive rearmaments and works for the defense of Bermuda The defense continued through the 1820s and even still to the 1870s. The final round of armament began in the final days of Queen Victoria's reign in the late years of the nineteenth century. The forts built in Bermuda from then on by the British Army were intended to protect the islands against a hostile takeover from the United States, and they performed their job admirably, even if a shot was never fired in anger. Captain Andrew Durnford, Royal Engineers, wrote his "Bermuda Defence Report" of that year. Later, he became Mayor of St. George's and died there in 1798.

1792
After the Royal Navy hydrographer Lieutenant Thomas Hurd identified two large anchorages suitable for battleships and the decision was made to create a new permanent Royal Navy Dockyard in Bermuda to be defended by British Army regulars, Britain resolved to send units of its army to Bermuda.

1793-1802. 47th Regiment (Foot)
Problems during the French Revolution that could have affected Bermuda brought a detachment of this unit in 1793. Reinforcements followed. After the war with the USA, Bermuda became an important bridge between the British possessions in Canada and the West Indies (Caribbean). It was a vital stepping stone in the Atlantic. One officer was Captain John Lewis. He lived at Rendell House in St. George's (later the Redan Hotel, now Clyde's Cafe). He died in Bermuda in 1809 and left a widow and three children. Soldiers were quartered in the barracks at George's and in the "Black Hole" of Castle Island. Forty four men of the unit died from yellow fever and were buried in Bermuda by Parson Richardson of St. Peter's Church. Nine privates mutinied, with the help of two sentries. The soldiers who had been on duty were shot and the others received one thousand lashes each. It remained until ordered back to England with other members in the Turks Islands and Nassau, Bahamas. It was the first regular British regiment to establish in Bermuda and began from that day on a series of postings of regiments or units that lasted until 1953.

1794-1807. Invalid Battalion, Royal Artillery
Soldiers were invalided to Bermuda after active service in Europe. One Company arrived in June, 1794, the first regular artillery unit in Bermuda. It was posted in St. George's and new town of Hamilton. It received little attention from England and by September, 1807, there were only 1 2nd Lieutenant, 2 corporals, 2 bombardiers, 1 gunner and 1 drummer, no further recruits. The unit returned to England in late 1807.

1796. 24th Regiment of Foot
On 2nd December 1796 the death in Bermuda at the age of 46 of His Excellency, Governor William Campbell, Lieutenant Colonel of the 24th Regiment of Foot, who died of fever only a few days after his arrival. He occupied his office for only 8 days.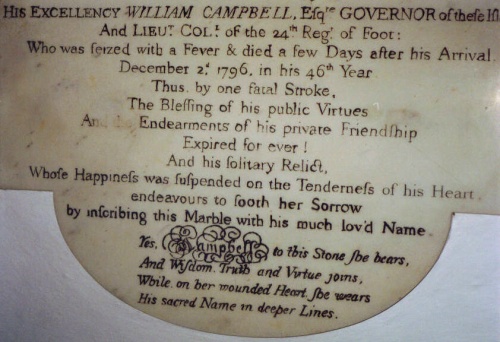 A plaque on the right wall of St. Peter's Church in Bermuda. Photo by the author exclusively for Bermuda Online

1802-1806. Wing, 7th Foot (The Royal Fusiliers)
After departure of the 47th Regiment in 1802, five companies arrived in October.

1807. 99th Foot
Transferred from Bahamas in summer 1807, to provide the garrison. It must have been in Bermuda until at least 1815 because it had a Captain Bazalgette, later a Lieutenant Colonel, according to Bermuda records, in the 49th Regiment. (His wife Mrs. Sarah Crawford Bazalgette. She was the daughter of then Mayor of St. George's John Van Norden. The couple bought the property, then called Rendell House, in 1815. Later, it became known at the Redan Hotel and is today Clyde's Cafe). The Regiment was transferred to Nova Scotia.

1808. Detachment, Royal Artillery
To replace the Invalids who had left in late 1807, the British Government sent 10 gunners from the Royal Artillery. They arrived from Halifax on HMS Leopard in 1808 (and were present at the famous incident with the USS Chesapeake, later). From then on, to about the 1890s, the Royal Artillery was based continuously in Bermuda.

1808. 13th Foot
They arrived from England in March, 1808, but left in November to help attack Martinique in the French West Indies.

1808. 1st Somersetshire Regiment

From 1808 to 1950s the main purpose of British Army units in Bermuda
It was to defend the strategically important and rapidly emerging Royal Naval Dockyard in Bermuda.

1811-1813. Detachment, 6th Battalion, Royal Artillery
In 1811, another detachment, from G. Crawford's Company, arrived. (During 1813, they took part in small raids on the American coast on board HMS St. Domingo).

1812. 98th Regiment of Foot
300 officers and men arrived to garrison.

1812. 10th Regiment of Foot
Part arrived in 1812 to reinforce the 98th Foot.

1813-1814. 102nd Regiment of Foot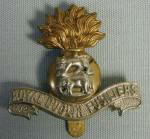 They arrived in Bermuda earlier in 1813. On April 21 of that year, they were involved in an escape of American prisoners of war. The schooner Bermuda, earlier an American-built a pilot boat under a different name on the Delaware River until her British captors there presented her to the Royal Navy in 1813, which registered her in and brought her to Bermuda where she became a Royal Navy vessel, was seized in St. George's, Bermuda by escaped American prisoners of war who had earlier been on a prison hulk. They sailed her to the United States. The 11 prisoners had been held on HMS Goree at Bermuda. They had been transported under guard to gather water from the tanks. On a signal they overpowered Goree's bosun and their two guards from the British Army's 102nd Regiment of Foot, and rowed to the vessel Bermuda. There they chased the five men aboard – her captain, a pilot, and three seamen, below deck – put the bosun and guards in her boat, and set sail. They reached Cape May, New Jersey on 28 April. There they were pursued by a number of British warships. As the pilot boat Pennsylvania approached, laden with British personnel, the escapees ran Bermuda on shore and escaped. (The vessel was salvaged and repaired and found its way to Jamaica where Royal Navy Commander John Sykes commissioned her in November 1814 on the Jamaica station. She was broken up in February 1817). This regiment has a particularly interesting history. One of several with the same numbered name, this particular one was originally raised as the New South Wales Corps in 1789 for service in the Colony of New South Wales (now New South Wales, Australia). In 1808, following news of its illegal coup arriving in Britain, the New South Wales Corps was renamed the 102nd Regiment of Foot in preparation for its recall. The regiment embarked for England in May 1810, whereupon it was reconstituted with new recruits after it arrived at Horsham in October that year. The Regiment was sent, initially, to Guernsey in July 1811, then to Bermuda in 1812 and after its capture of Castine in Maine transferred to Nova Scotia in 1814. Detachments of the regiment remained on both sides of the border between the British Colony of New Brunswick and the US State of Maine after the war's end in December 1814 at Moose Island, modern day Eastport, Maine, USA. The regiment was renumbered as the 100th Regiment of Foot in 1816; becoming the last British unit to occupy the United States; the last detachments returned to Chatham in England, where the regiment was disbanded on 24 March 1818.

1814. July. British Troops arrived in Bermuda to attack the USA
They did so to revenge the brief invasion by Americans of Canada and their torching of York, later Toronto. They arrived in Bermuda by sea from the UK in a convoy of Royal Navy ships. They spent two weeks in Bermuda camped near Devonshire Dock before they left for the USA on August 3, 2014. Regiments involved were
3rd Battalion, Royal Marines
4th Regiment of Foot, King's Own
7th Fusiliers
21st Regiment of Foot
44th Regiment of Foot
85th Regiment of Foot

1815 - 1st Battalion (and a detachment of the 3rd battalion) 27th (Inniskilling) Regiment

1816 - 100th Foot (sent from what was then still-British Ireland)
Later, in the British Army until 1922, it became known by different names, first as The Prince of Wales's Leinster Regiment (Royal Canadians), then the Royal Munster Fusiliers Regiment - and 109th Foot). See the web site for Irish soldiers & Royal Munster Fusilier Regiment, disbanded in 1922.

1816-18. Colonel James Robertson Arnold and other Royal Engineers
Colonel James Robertson Arnold, the son of Benedict Arnold by his second marriage, was stationed in Bermuda, in his 35th to 37th year, as the second recorded Royal Engineer to be based here. (The first came in the 1790s and devised the construction, or reconstruction, of the forts on the islands in St. George's and Castle harbors). Colonel Arnold devised the early massive building and engineering program for HM Dockyard, that led to Bermuda being referred to later as the "Gibraltar of the West." It was under his direction and command that Cockburn's Cut was designed and built in 1817 by Royal Engineers (and refilled by them in 1823). His accomplishments, skills and obvious leadership qualities in Bermuda were such that he was marked for prompt promotion and increased military responsibilities. Subsequent Royal Engineers rebuilt all of Bermuda's forts. They also undertook many other military works.

1819 - 62nd Regiment

1819 to 1821 - Right Wing, 15th Regiment
Much earlier in his career and long before his move to Bermuda, Governor Henry Hamilton who gave his name to the City of Hamilton in Bermuda was commissioned into this regiment and fought with distinction in Canada in 1758. The Regiment was in Bermuda in battalion strength from 1868 to 1870.

1821 - Left Wing, 2nd Battalion, 60th Regiment

1823 to 1828. Royal Engineers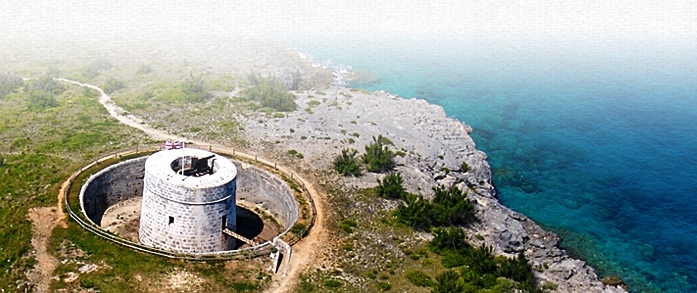 Bermuda Tourism photo
They built the Martello Tower - see above photo - at Ferry Reach, with some help from the 96th Regiment from 1825. It is the Island's only egg-shaped fort and with walls as thick as nine to 11-feet, the fort remained largely resistant to cannon fire. Restored in 2008, including bringing in an "18-pounder" cannon from Fort St. Catherine and creating a cannon mound on top of the building so it would look as it did in the 19th Century. The fort is open from 10 a.m. to 2 p.m. Monday to Friday in the summer and in the winter by appointment only, by calling the Parks Department. This is the only one in Bermuda ever built as part of the unique system of British military fortifications that once was so prominent along the English coast from Kent to Sussex and spawned their own name in British history. Two others were planned but never built as British Army fortifications protecting the old Royal Naval Dockyard from possible French or American attacks. This one was built after the one on the island of Barbuda in the Caribbean, after those in England.
Martello towers – also known simply as Martellos – are generally around 40 feet in height and have an unusual rounded shape with thick walls of solid stonework. The round, curved appearance of the Martellos was implemented to enable the garrison of soldiers and officers that inhabited them to have complete 360 degree views.

The wide roofs made an ideal stage to hold a cannon, which was placed on a pivot and so also to rotate 360 degrees. The thick, stone walls made the Martello a sturdy platform, and also highly resistant to enemy cannon fire. Some of the Martellos also had a moat around them as a further protection from attack. Often, a single doorway is found 5m off the ground that could only be accessed by a removable ladder.

British Martellos were typically 2 or 3 floors high, and a base of 24 men plus 1 officer occupied them. The men lived on the first floor which was divided into separate rooms for cooking and sleeping. There was a cistern within the fort to provide the men with water, which was refilled with rain via an internal drainage system that linked to the roof. A fireplace was built into a wall on the first floor for heating, bathing and cooking. The ground floor was used as a stock room, where supplies of ammunition plus food & drinking water were kept.

1825 to about 1951, Royal Army Ordnance Corps (RAOC)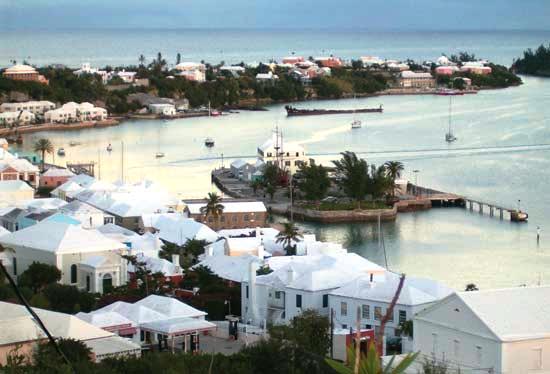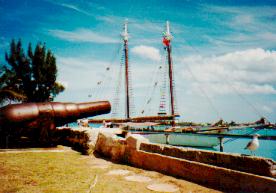 Named Ordnance Island, St. George's, Bermuda, 1.75 acres (7,100m2) and man-made. There were once several islands here. The present island, the only one in the town, is lies close to the shore opposite the town square (King's Square) and incorporates via reclaimed land what once were Ducking Stool, Frazer's and Gallows islands, all once used for executions by hanging after being convicted of witchcraft or capital crimes. One also stored munitions for the British Army and Royal Navy.
They were joined together in stages by the mid 19th century on the order of the British Army, which then had a very considerable presence in Bermuda including in this town and nearby and was very concerned about a potential threat, mostly from the USA.
The combined new island took the name "Ordnance" from the fact that it became the British Army's Royal Army Ordnance Corps (RAOC) main Bermuda depot and British Army receiving port for packet ships mostly from Britain, serving the garrison in this town, the large new Prospect garrison in Devonshire Parish then under construction and the eventual sweeping acquisition by the army of large chunks of that parish for military fortifications including forts and batteries, logistical, supply and related purposes. (The RAOC also operated from another, smaller, depot from a wharf on East Broadway on the outskirts of the city of Hamilton 12 miles west of this town). By the Second World War, because the RAOC depot was no longer being used and United States military forces had been stationed in Bermuda and were building two big military bases in Bermuda, one across the harbor on St. David's Island and the other in Southampton Parish, it became a United States Navy anti-submarine base (1942 to 1945). The channel between Ordnance Island and the King's Square was not bridged until after the Second World War, by the US Navy. Before that, it was a wooden bridge.

1824 to 1828 - 96th Regiment
One of Irish poet Thomas Moore's friends was a Dudley Costello, later a senior officer (also a journalist and artist/illustrator) in the British Army's 96th Regiment of Foot, later stationed in Bermuda. His sister Louisa was one of the local belles admired by Moore. When stationed in Bermuda, Costello created a goblet formed of one of the fruit-shells of a calabash from that tree and presented it to Moore. The sterling silver and gilt memento of Bermuda was hallmarked 1834 and made by Charles Rawlings and William Summers of London. The "Moore Cup" is now in the collections of the Bermuda National Museum.

1828 to 1830 - 74th Regiment

1829. April to May 1833. Royal Engineers
Lieutenant Nelsen, Royal Engineers (RE), was in Bermuda and wrote an extensive Paper XI in Vol. 4 of the RE series entitled "Engineer Details" on the comparative values of convict and other labor. He referred to Ireland Island and St Georges. There is some narrative, details of rations, pay, convict shops, comparison of "task work" and "piece work." The purpose of the paper was to compare production rates between various types of labor, civilian and convict directed by officers of the RE and under day-to-day superintendence of the NCOs - the Royal Sappers and Miners. Experiments on strength of mortar mixes etc. are also described as well as quarrying and trimming of dimension stone for quoins of fort walls etc.

1829 - Royal Artillery
It had a continuous presence in Bermuda right up until 1896.

1829 to 1831 - 81st Regiment (Royal Lincoln Volunteers)
The 81st Regiment, raised late in the 18th Century amid the hurried expansion of the British infantry to face the armies of revolutionary France, was the only one with the title "Loyal." (It was a distinction unique in the regular British infantry, borne proudly by the 81st and its successor regiments for almost 200 years, until The Loyal (North Lancashire) Regiment became part of The Queen's Lancashire Regiment in 1970). In February 1793, three weeks after France declared war on Britain, Major General Albermarle Bertie, late of the Foot Guards, was authorized by the War Office to recruit a new regiment in Lincoln. Soldiers from the Lincolnshire militia, already called up to defend against invasion, volunteered en masse for Bertie's regiment which took the title of The Loyal Lincoln Volunteers to mark the militia's ready patriotism. In January 1794, the regiment was numbered 81st by the War Office. It was the fifth of some 70 new infantry regiments to be added to the regular army during 1793-94 although many were short-lived training units. Before and after its Bermuda assignment it served with distinction in all British theatres of war and peace.

1830 to 1832 - 37th Regiment of Foot
One of its members was John Tavernier Bartrum, a grandson of the famous English naturalist John Tavernier. Born in Lincolnshire in 1811, Bartrum came here as a member of this unit in 1832, purchased his discharge in 1837 and resided at Ferry Reach in Bermuda until his death in 1889. He became famous locally and abroad for the book he wrote in 1879 called "The Cage Birds of Bermuda." Banjo Island, formerly Bartrum's or Mullet Island in Bermuda, in Mullet Bay, 1.25 acres, off St. George's Island, was named Bartrum's in honor of this Bartrum.
Roman Catholic priest Father Boland, the first Catholic priest to do so, arrived in Bermuda by accident, when the sailing vessel on which he was traveling arrived in Bermuda in distress. He remained in Bermuda for two months, principally supported by Catholic members of this Regiment then stationed in Bermuda.

1831 to 1834 - 71st Regiment
Originally Lord Macleod's Highlanders (73rd Regiment) raised in 1777, later The 71st Regiment of Foot (Highland Light Infantry), later The 1st Battalion, The Highland Light Infantry and now part of The Royal Highland Fusiliers. In March 1809, the 71st was transformed into a light infantry regiment more suited to campaigning in the Iberian Peninsula, when it was directed that the clothing, arming and discipline had to be the same as those of other light infantry regiments. In 1820, the 71st was renamed the 71st Highland Regiment of Foot. It served in Canada from 1824 to 1832. It was based at Quebec from 1824 to 1825 and in 1827, at Three Rivers and at Sorel in 1825, at Isle-aux-Noix in 1827, St John's in 1827, at Kingston and Couteau de Lac in 1828, at Grand River, at Amherstburg, at Fort Henry, Kingston and at Niagara in 1829, then Toronto in 1830-31 and Quebec again in 1831. In 1831, the regiment went to Bermuda from Canada. In 1833, one of its officers was Lieutenant J. Lawson, whose infant daughter Mary Ann Lawson, died in Bermuda on 19 October. Although denied its Highland and Glasgow connections and the kilt by War Office directives, the regiment continued to recruit principally from Scotland. In 1872, according to a return furnished to the Horse Guards (the War Office), the 71st was then a representative national regiment, with 710 Scotsmen, 25 Englishmen, and 18 Irish.

1833 - Royal Artillery
In 1833 Dr. Johnson Savage MD disembarked from a sailing ship in the port of St George to take up a three-year posting as surgeon for the Royal Artillery. Over the ensuing months Dr Savage, a talented artist, went on to paint a series of spectacular watercolours that would provide a unique glimpse of a bygone era of Bermuda's history. From 1833, while stationed in Bermuda, Savage painted a number scenes and buildings relating to his medical career in Bermuda, including the Royal Hospital at Ireland Island below and the Royal Artillery Officers' Quarters at St. George's. One of his sons was a midshipman in the Royal Navy based in Bermuda in the early 1860s. One of his grandsons was 23 when he did the 1901 Ordnance Survey map of the Island, known as the Savage Survey. That grandson was Lieutenant Arthur Johnson Savage RE, a surveyor for the Royal Engineers who was stationed at Bermuda to carry out the first Ordnance Survey of the island in 1897, a task that was completed a few years later and published in 1901 in six sheets. The detailed large-scale survey is still in use and can be seen in the Bermuda's Architectural Heritage series by the Bermuda National Trust.

1833. King's (8th) Regiment of Foot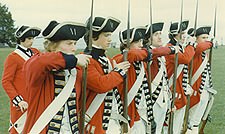 Long before he arrived in Bermuda, Irish-born Scot Colonial Bermuda Governor Henry Hamilton whose name, for his illustrious service, was given to Bermuda's City of Hamilton, was Detroit's Lieutenant Governor prior to Bermuda.
From Detroit, he led the King's 8th Regiment of Foot at Vincennes in 1779, where he was captured by the Americans and eventually released.
From June 12 to July 31, The 1st Battalion King's 8th Regiment of Foot (Liverpool) were in Bermuda, not posted there but in transit from Halifax, NS to Kingston and elsewhere in, Jamaica, waiting for an appropriate troopship to arrive either from England or the nearest available station. They would have been officially encamped at St. George's, Bermuda, but it is known that some members were assigned from there to help defend or protect the rapidly increasing dockyard 20 miles away to the west.

1834. 71st Regiment
An act of heroism from one soldier of the regiment.
1834. February 10. Three men were returning to St. George's from the Dockyard, namely Lieut. Orlebar, Royal Engineers, Mr. Scott of the Ordnance Department and Mr. Sands, Clerk of Works. Just as the party left the open sea at Murray's Anchorage and gained access to the waters of Ferry Reach, their boat was upended by a squall and only Mr. Sands survived. The shouts of distress were heard by Mr. John Harford Pearman, who put to sea in his boat without regard to his own safety and rescued Mr. Sands and recovered the bodies of the others, one of who was let a lot of blood, but to no avail in his return to life. A soldier, William Lyall, 71st Regiment, swam out to the capsized boat to assist in the rescue, for which he was ultimately given an engraved Patent Silver Lever Watch. Mr. Pearman declined to receive an award for his heroism. For this extraordinary bravery, Mr. Pearman was presented by his Excellency the Governor Sir S. R. Chapman, CB, KCH and the Officers of the British Army Garrison in Bermuda with a ceremonial tea pot, sugar basin and milk jug.

1835 to 1840 - 30th Regiment
One of its officers at the time was Captain L. Stafford Northcote (father of a son, born in England, in 1870). Many of its members died in Bermuda from yellow fever and were buried here in the British Military Graveyards.

1835 and later, Royal Artillery
In about 1835, when stationed in Bermuda as a young surgeon with the British Army's Royal Artillery, Savage painted a number scenes and buildings relating to his medical career in Bermuda, including the Royal Hospital at Ireland Island below and the Royal Artillery Officers' Quarters at St. George's.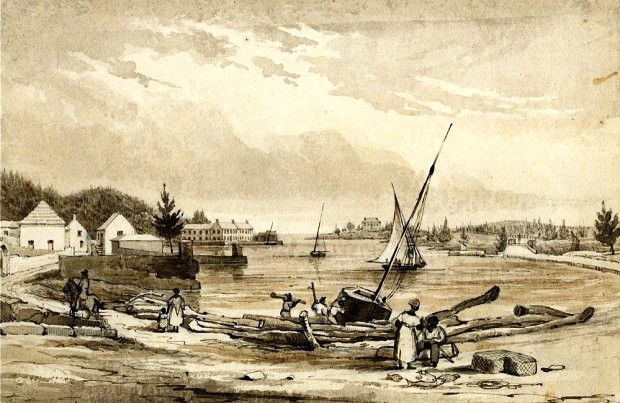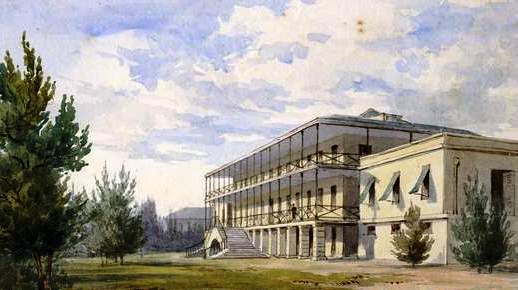 Johnson Savage's grandson was also connected with Bermuda. He was Lieutenant Arthur Johnson Savage RE, a surveyor for the Royal Engineers who was stationed at Bermuda to carry out the first Ordnance Survey of the island in 1897, a task that was completed a few years later and published in 1901 in six sheets. The detailed large-scale survey is still in use and can be seen in the Bermuda's Architectural Heritage series by the Bermuda National Trust.

1838 - 11th Regiment

1840 to 1841 - 76th (Hindoostan) Regiment of Foot

1841 to 1847 - 1st and Reserve Battalions, 20th Regiment
All sent to Bermuda partly because the American spy Albert Fitz wrote home about the impressive fortifications by then built in Bermuda. In 1844, Lord Mark Kerr was a captain in the regiment. He was one of the pioneers of sailing in Bermuda. He and his colleagues and friends who were mostly British Army officers but with some Royal Navy officers too, formed on 1st November 1844 what became the Royal Bermuda Yacht Club. He became its first Commodore. In 1843, John Lambert, a native of London, a musician in the 20th, Captain Sharpe's Company, died at the military hospital in Hamilton, Bermuda.

1844. Royal Engineers
One of the many notable contributions included their assistance in building Gibbs Hill Lighthouse, Bermuda The plates were shipped to Bermuda, unloaded at Port Royal, hauled overland and up the hill with considerable difficulty. The first was laid on December 12, 1844, with Mr. Gordon Groves superintending a team of British engineers. They were led by Lieutenant Colonel Philip Barry who was sent out from England in 1844 as Commanding Officer of the Royal Engineers based in Bermuda.

27th February 1847 to June 1851 - 1st and 2nd Battalions, 42nd Regiment (Royal Highlanders), then Black Watch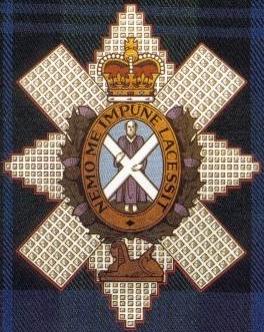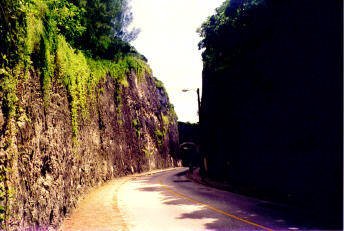 Black Watch in Bermuda 1847 to 1851. Photos exclusively for Bermuda Online by this author
They were sent to Bermuda after serving in Malta. The first battalion sailed on 27th February 1847, and landed three companies at Hamilton, and three companies at Ireland Island on the 16th April. The reserve battalion embarked in March, and landed at St. George's Island on the 24th of April. The mean strength of the regiment in the Islands was 1090 and the deaths, including accidents, etc., were only 31, being much less than the usual mortality at home. The regiment that the 42d had relieved (1st and reserve battalions of the 20th) sustained a heavy loss—several hundreds—from cholera; and the 56th, which replaced it, lost 6 officers and 224 men, in the autumn of 1853. The Commanding Officer was Lieutenant-Colonel D. A. Cameron. The men wore dark tartan to distinguish them from Guardsmen or Red Soldiers - hence the name Black Watch. At one time (1848) Casemates at Ireland Island in Bermuda was their barracks. They were then guarding the convicts building the Dockyard. One of the officers was Captain G. W. MacQuarie, who lived in St. George's at what was then Rendell House, later the Redan Hotel, now Clyde's Cafe. Another officer, subsequently famous, was Lieutenant (later Colonel) Henry Maurice Drummond-Hay (1814-1896), son of Sir Adam Drummond, K. C. H., Admiral, R. N., and
Lady Charlotte Murray. He was born at Bath, England. His family seat was at Megginch Castle, Perthshire, Scotland. When he married Charlotte Elizabeth, only daughter of James Hay of Segginch, in October 1859, he changed his name to Drummond- Hay. He later became famous in Bermuda and elsewhere for his portraits of Bermuda fish. He also became the Commodore of the Royal Bermuda Yacht Club. One of the soldiers was Richard Brackey, married, whose son was born in Bermuda. Several of this unit's soldiers died in Bermuda from yellow fever and are buried at St. Peter's Church in St. George's. They include Ensign Maitland, Ensign Abercromby and beside them the grave of bandmaster Philip Goldbergh. Many members died and were buried elsewhere in Bermuda from yellow fever. In Aberfeldy, Perthshire, Scotland, a monument - still there - was erected in 1887 to mark the enrolment in 1740 of the Black Watch as the 42nd Regiment of the line. The "Watch" as it was known originally was first raised in 1667 by various Whig clan chiefs in Scotland "to be a constant guard for securing the peace in the Highlands and to watch upon the braes."
1849. July 3. Irish convict James Cronin, on the hulk Medway at Ireland Island, had earlier been placed in solitary confinement for fighting. On release, and being returned to work, he refused to be cross-ironed. He ran onto the breakwater, brandishing a poker threateningly. For this, he was ordered to be flogged on this day with the other convicts aboard the hulk assembled behind a rail to witness. When ordered to strip, he hesitated. Thomas Cronin, his older brother, addressed him and, while brandishing a knife, rushed forward to the separating rail. He called out to the other prisoners in Gaelic and many joined him in attempting to free the prisoner and attack the officers. The officers opened fire. Two men were killed and twelve wounded. Punishment of James Cronin was then carried out. Three-hundred men of the 42nd Regiment of Foot (Black Watch), in barracks at Casemates on Ireland Island, responded to the scene under arms.
Bermuda's Black Watch Pass (see photo below by author) of 1849 and Black Watch Well (bottom photo) at the junction with the North Shore Road are named in tribute. Black Watch Pass was dug in the 1930s, not by the Black Watch soldiers nearly a century earlier. It was called Black Watch Pass because Black Watch Well had long been located there. Local civilian workmen in depression-era Bermuda cut through a massive limestone hill between Pembroke March and North Shore Road, to provide Hamilton-bound or exiting local traffic with a level access to and from the town, now city of Hamilton. Popular with the island's visitors, the sheer drama of the towering walls gives the pass an appearance of a deep, razor-thin gauge piercing through sold limestone rock to the sea beyond. History of Black Watch Well: When the Governor of 1849 ordered British soldiers to seek a fresh water supply for the poor of Pembroke Parish and their cattle during a prolonged drought, the Black Watch then based in Bermuda (but unfortunately none of the many histories of the Black Watch records this fact) was the first to volunteer and dug so thoroughly Black Watch Well still exists today, albeit no longer maintained to the standard it deserves. At the site, a sign says: "This is the well of the Black Watch - so-called in memory of some soldiers from the First Battalion, 42nd Regiment, Royal Highlanders, by whom it was sunk for the relief of the poor and their cattle. "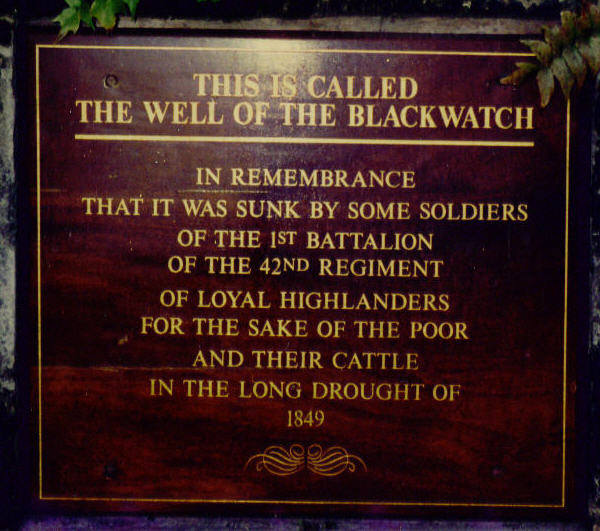 Black Watch Well in Bermuda. Photo by the author
Before leaving, a letter, complimenting the regiment highly on its commendable conduct while in Bermuda, was forwarded to Colonel Cameron by his Excellency the governor. Here is the address from the Corporation and other inhabitants of the town and parish of St. George, the area in which the regiment mostly resided during their Bermuda tour, which was presented to Colonel Cameron on June 3d, 1851.
"Sir,—As Her Majesty's 42d regiment under your command is about to leave these Islands, we cannot allow its departure without expressing our esteem for the kindly feelings which have existed between the inhabitants and the 42d, during the four years' residence in this garrison. The urbanity and affability of the officers, the steady and upright conduct of the non-commissioned officers and men, have been eminently conspicuous. To our knowledge, not a man of your gallant and distinguished corps has been convicted of any crime before the civil authorities of this colony; a very gratifying circumstance, and bespeaking the high state of discipline of the regiment. To yourself, Sir, officers, and men, we sincerely tender our best wishes for your future welfare; and assured are we, that should the time arrive for the 'Forty-second' to be called into active service, they will display that loyalty and valour for which they are so justly renowned. Wishing you a safe and pleasant passage, We have time honour to be, Sir, your obedient, humble servants." It was signed by the Mayor, Corporation, and other Inhabitants of the town and parish of St George. Colonel Cameron replied in kind. Bermuda had the highest esteem for the regiment and it was well-deserved. Uniquely in the entire history of the British Army in Bermuda, not a man had been convicted before the civil authorities; it was something new to the Bermudians, and a subject which they often dwelt upon.
When the men left Bermuda they sailed to Halifax, Nova Scotia.
In April 2009 this author, accompanied by his wife visited the spectacular Black Watch Museum in Perth, Scotland. Officials there had no details at all of the information the author had researched and written when researching facts about the regiment in November 2008 in Bermuda. Interestingly, a Scottish ancestor of this author, Archibald Forbes, buried at St. Paul's Cathedral in London, was the author of an authoritative history of the Back Watch, as the illustration below shows. But this was news to staff at the Black Watch Museum in Perth.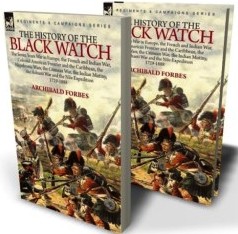 1851 to 1853 - Second Battalion, 56th Regiment (West Essex)
This is the regiment the First Battalion of which was virtually annihilated in 1841 at the Khyber Pass in Afghanistan after a disastrous retreat from Kabul. The lone survivor was the surgeon, Doctor Brydon, who was half dead when he reached Jallabalad with the news. So when the recomposed regiment reached Bermuda, its first overseas posting afterwards, its military reputation ensured that areas of Warwick Parish - Khyber Pass itself plus Khyber Heights Lane, Khyber Heights Road and Khyber Pass Road - and a street in the old town of St. George, near Fort George - got named after Khyber Pass. At Ferry Reach Park in St. George's Parish, Bermuda and elsewhere are graveyards for members of this battalion. In 1853 alone, nearly 230 of its officers and men died in Bermuda from yellow fever. One was Lieutenant Alexander George Woodford, who died on September 12, 1853 when his unit was stationed in St. George's, Bermuda - then a garrison town. He was buried at St. Peter's Church in St. George's. The Woodford Memorial Tablet is still there. His father was Field Marshal Sir Alexander George Woodford. Men of the 3rd Company of the 56th bivouacked at the Oxford home in Pembroke Parish belonging to Mr. John Bluck, in hope of escaping the disease, at the order of Bermudian physician Dr. Harvey. They were lucky enough to escape the disease-carrying mosquito. To record their genuine thanks, as so many of their comrades had been felled by the epidemic, the men erected at the very top of Bluck's Point a stout monument surmounted by a cannon ball. The landmark still exists. Others - included in a separate mention at the same church at the same time to the 56th Regiment - included Captain E. F. Hare, Captain G. S. Hanson, Lieutenant F. H. Sykes, Joseph Lawson, assistant Surgeon, and many more officers, men and their wives and children.
On 19 July 1853 in Bermuda at St. James' Church, Somerset, Sergeant William Lang of the 56th married Catherine Dempsey, daughter of Peter Dempsey of the R. N. Yard, Ireland Island (Bermuda).

1854 to October 1859 - 26th Regiment of Foot (Cameronians, or Scottish Rifles)
Col. A. J. Hemphill was the Commanding Officer. He wrote the "Bermuda Defence Report 1857". It was particularly interesting in that it focused in part on HM Dockyard in Bermuda. The 26th Regiment dates back to when Richard Cameron the field preacher declared war on King Charles II and with his followers was cut to pieces by dragoons at Airdmoss outside Auchinleck on July 22, 1680. But in the reign of King William III the organization came into its own and Camerons and men from Skye formed the left wing at Killiecrankie where "Bonnie Dundee" was killed and the Stuart cause lost. The 1st Battalion of the Cameronians is directly descended from the Cameronian Guard embodied in 1689. In Bermuda, the regiment had a special instructor shipped out from England to give the men courses on the use of the Enfield Rifle. Many men died and were buried in Bermuda of yellow fever. From Bermuda the regiment sailed to Portsmouth.

1856 to 1858 - Royal Horse Artillery
The Times newspaper of London, England published this report on November 8th, 1856 : "The convict ship Norman Morrison, 529 tons' burden, W. Orchard, master, arrived at Woolwich yesterday, and embarked the following troops and passengers for Bermuda, namely Major Gaspard Le Merchant Tupper, in command of the 4th Company 13th Battalion Royal Artillery, for Bermuda ; Captain J. Sinclair, Lieutenant S. Nicholson, Lieutenant C. S. V. Wilson, Lieutenant E.A.Sterm, Assistant-surgeon Chappell, 91 non-commissioned officers and gunners of the Royal Artillery.

1859 - August 1864. 39th Foot
The 39th Regimental Band gave a concert in January 1864 for amateur dramatics night of children of garrison officers. Members of the regiment are buried in the military graveyard at St. Georges. The regiment sailed from Bermuda to Aldershot.

1859 - Royal Engineers
1859. In his report titled " Defence of Bermuda" Colonel A. J. Hemphill, Royal Engineers, included this comment about the defence of the Dockyard: "There are mounted altogether on the Land Front and its outworks four 32-pdrs, fourteen 24-pdr guns and eleven 24-pdr carronades, and in rear of it, covered by its ramparts is a Bombproof Barrack, constructed for 13 officers and 307 men, with tanks underneath for 120,000 gallons of water; and on the flanks of the barrack, but at a lower level, bombproof magazines for 2500 barrels of gunpowder, (but now unused owing to the dangerous proximity of the Dockyard new blacksmiths), and a range of bombproof buildings, containing Commissariat offices, storehouses, bakery, etc., and barrack stores."

1863. Royal Engineers and their military telegraph
Bermuda-based Royal Engineers created from scratch what was then the longest circuit in the world for the British Army's military telegraph system. They connected all Bermuda's strategic Army forts that stretched from Paget Island to Castle Harbour and all the parishes and the Royal Navy Dockyard. No 5 Company, Royal Engineers constructed a single overhead, roadside iron wire from the Central Signal Station at Fort George above St George's, the mercantile port and principal military garrison in the eastern part of the colony, eleven miles west to the Governor's Residence at Mount Langton. In 1864 the Bermudian civil government contributed for its extension with a branch from Mount Langton to the Post Office in the capital of Hamilton. By 1866 the line had been extended by the Royal Engineers two miles westwards to Spanish Point and Admiralty House opposite the Royal Navy yard and fort on Ireland Island. It was completed in 1868 by a 2¼ mile submarine cable to the yard. There were eleven military telegraph offices on the Bermudas in 1868, reduced subsequently to nine, most of which were also open for public use. This system gradually replaced the flag signals that had worked across the islands since the 1820s, which by 1847 had four hill-top posts - at Fort George, with the Central Signal Station for shipping and for meteorological reporting, Mount Langton, Gibbs' Hill, with the colony's lighthouse, and Ireland Island. The flags indicated the arrival and passing-by of shipping and other events, including a midday time signal; the numerical flag code was easily read by the civil residents, who were also allowed to send private messages.

1864 - 2nd Battalion, 2nd Queen's Regiment (Queen's Royals)
The hawks of the North, no friends of the UK, wanted to attack Bermuda for the help Bermudians gave to the South despite a strict British Government order to stay neutral. The Trent Affair and how the British dealt with it and threatened to do even more about it meant the British actively and openly prepared for war with the victorious North of the USA after its Civil War ended. The British Government rapidly reinforced their army and navy. Bermuda was again seen as an advanced staging point and also likely, because of its strategic importance, to be invaded by the US Navy and army. Consequently. Britain not only doubled but tripled the number of Army personnel sent to Bermuda, and also commandeered a very large section of Devonshire Parish and turned it into a formidable military base, with additional units of artillery and infantry units. At at the same time, the British Army in Canada reorganized what had been Canadian militias into a new and more powerful force.
Unfortunately, many British Army personnel died in Bermuda from yellow fever and were buried in the military graveyard at St. Georges.

1864. 30th Regiment
Its second posting to Bermuda. It came from Montreal to Bermuda for two reasons, one strategic as mentioned above, the other to relieve other units of the British Army in Bermuda losing men from the effects of yellow fever. One of its members, Dr. David Milroy, MD, FRCS, died and was buried in Bermuda on 3 September 1864, at the age of 38, from yellow fever, after treating men for it. There is a handsome grave to him in the St. George's military graveyard.

1864. Royal Artillery
Several units arrived in Bermuda with their cannon and took up defensive positions. Old forts were modernized and new ones were built.

1865. Enactment by the Bermuda Government of the Defence Act 1865
This followed alarming news from the British Government of the threat posed by the war-like United States of America looking for revenge for Bermuda's involvement in the US civil War. After it, there were more than 6,000 British troops in Bermuda, from a number of regiments, many from the Royal Engineers. One repercussion of the Act was the disappearance of White's Hill in Devonshire Parish. It commanded a high central position over Hamilton and the harbour and therefore an invading force could not take the capital by surprise. Furthermore its comparative isolation was thought to minimize the camp from the threat of yellow fever, the scourge of the military in Bermuda during the 19th century. The Defence Act meant that generations of Bermudians were uprooted from ancestral homes, causing much consternation and anger. Such was the upheaval that thought was given to abandoning Devonshire Parish and incorporating the remaining areas into Pembroke and Smith's. This never happened but as a direct consequence the British Army built Forts Langton, Prospect, and Hamilton to ward off attack from land and sea. Prospect became a garrison town complete with barracks, school, church, gymnasium and married quarters plus the Garrison Cemetery.

1866. 2nd Battalion Queen's Regiment (Queen's Royals)

1866-1869. 15th Regiment
Two companies of the 15th Foot worked on the Military Road (later, South Shore Road, west of Warwick Camp, and also built a new battery for the coastal artillery at Whale Bay.

1866 - 2nd Battalion, 16th Foot
Only for five days. The ship on which it went from Nova Scotia to Barbados ran aground on a reef while entering harbor for coaling.

1866 to 1870 - 61st Regiment (South Gloucestershire Regiment of Foot)
The 61st left Ireland in September 1866, briefly stopping over in Newfoundland and Quebec before leaving for Bermuda on 13th October. 717 members strong, they included Captain Richard Henry Berry, who married Louisa Wilkes at Christ Church in Devonshire and died in that same parish thirteen years later. Quite a few of them were Irish from their posting immediately before, and some were suspected Fenians, closely watched. They had sworn to liberate Ireland from the British after a February 1866 Fenian Council of War had called for an immediate uprising. Fenian leaders had stated that they had infiltrated the British Army and had drawn up plans, which were never carried out for Irish patriot solders in the British Army's 61st Regiment most likely to lead the others in an uprising. They had planned for one of the most intelligent and best educated of the Fenian soldiers, Corporal Thomas Chambers of the 21st, to be the Centre [a secret Fenian agent] to help lead the uprising with other agents who were Irish in other British Army units to follow. Whatever the facts about the political allegiances of the soldiers of the 61st, they did not mutiny, carried out their Bermuda duties impeccably, although some, including Chambers, were indeed arrested, tried and sentenced to long prison terms. From 1866 on, partly as the result of the Fenian threat, all the military facilities in Bermuda were linked by a chain of forts stretching the entire area from east to west and north to south - and a military telegraph system. They were posted again to Canada in 1870, arriving at Halifax, Nova Scotia on Christmas Eve, remaining there until 1872. For one officer of the 61st, Ensign Allan Gilmore, the time spent in North America was a period of great artistic expression.
---
Until 1868, British Army units stationed in Bermuda were part of the Nova Scotia Command
---

1868 - 1870. 1st Battalion, 15th Regiment (Yorkshire, East Riding). 61st Foot
Under the command of Brevet Colonel Henry Grierson, all members of the 1st Battalion of the 15th were at St. John's, New Brunswick, Canada, in 1868. They had been protecting the Canadian border from a threat posed by The Fenians at the end of the US Civil War. On March 14, 1868 the Battalion received a letter from Horse Guards in London, ordering the unit to be held in readiness for embarkation for Bermuda on HMS Himalaya. The ship came from Chatham, Kent, England with a draft from the 15th's Depot Companies at Chatham, the 61st Foot, 2 batteries of Royal Artillery and 3 companies of Royal Engineers. The Battalion embarked in Canada on April 21 in freezing conditions and arrived in Bermuda on April 25 in great heat. On landing, headquarters was established in the Royal Barracks near the town of St. George's. D, E, H and L Companies battalion occupied quarters in the Royal Barracks, St. George's. A Company was detached to Ireland Island, B Company went to Paynter's Vale. C, F. G and I Companies (under Major Wilkinson) went to Port Royal where they were placed under canvas on the south side of the island to make the South Coast Military Road (later, the South Road) under the supervision of the Royal Engineers. Major Wilkinson's force was removed in July 1868 to Boaz Island because of typhoid and yellow fevers).
1868. An outbreak of fever and diarrhoea struck the Bermuda garrison of the British Army, particularly members of this regiment. Out of 3,519 men then stationed in Bermuda, 1,665 were admitted to hospital. The official report at the time noted that his outbreak of fever was attributed by the Principal Medical Officer to the "effects of a sudden change from the cold bracing climate of New Brunswick in Canada to the hot relaxing climate of Bermuda." The exemption of the Royal Artillery from fever was attributed to their having previously served at Gibraltar, and thus being more inured to the heat, and to their duties being lighter than those of the other troops.
Ensign William Gaskin died at Boaz Island in 1868 and was buried at the Naval Cemetery at Ireland Island. Two Sergeants, one drummer, and 13 Privates also lost died and were buried in one of the Bermuda military graveyards. Additionally, Assistant Surgeon John Dennis Healy died at St. George's on June 19th and was buried there. To make up for these losses a draft of 102 men (Chris's ancestor included) under Captain Moffatt arrived from the Depot at Chatham on October 24, 1868 on HMS Simoom with their supplies. 1869 began with a similar deployment as before. On March 14, 1869 command transferred to Major Wilson. A command from Horse Guards, on April 27, 1869 reduced battalion strength by 2 ensigns and 100 privates.
The establishment was then fixed on May 14 as 10 Service Companies and 2 Depot Companies of Service Companies, 3 Field Officers, 10 Captains, 12 Lieutenants, 8 Ensigns, 5 Staff Officers, 9 Staff Sergeants, 40 Sergeants, 21 Drummers, and 600 Privates. In the Depot Companies were 2 Captains, 2 Lieutenants, 10 Sergeants, 4 Drummers, and 100 Privates.
In January, 1869 F Company went from Boaz to Camp at Warwick where it was employed on the new Military road and later in the construction of a rifle range. In May, A, C, and G Companies on Boaz Island and Ireland Island were relieved by the 61st Regiment and proceeded to headquarters. K company relieved B Company at Paynter's Vale. D, E, and H Companies from HQ and I Company from Boaz Island relieved the 61st at Knapton Hill and were employed on the South Military Road.
Major Wilkinson took command on return from leave on October 14,1869. C and D Companies were broken up on May 1, 1870. A company went to Paynter's Vale on May 7 to fill in for the broken up C Company. Colonel Grierson retook command on May 24, 1870. The Battalion left Bermuda on HMS Orontes on June 12, 1870. It disembarked at Kingstown, Ireland, on December 28 December 1870 and went to Birr.

1870. 2 batteries of Royal Artillery, Royal Army Ordnance Corps (RAOC) and 3-4 companies of Royal Engineers
They arrived to create and/or enlarge a depot at Ordnance Island for the RAOC in St. George's, to supply munitions to the coastal artillery. A secret gunpowder store was also built underground at Agar's Island in 1870. Munitions were also held at the Royal Army Service Corps (RASC) wharf on East Broadway, at the outskirts of the City of Hamilton. The RASC had another wharf in the town of St. George's near to Ordnance Island. Fort Hamilton was also built by the troops who had arrived that year. It was constructed to protect Hamilton Harbour against possible invasion by the USA for Bermuda being a British Army bastion. Fort Hamilton and Agars Island were part of a line of defence for the western Royal Naval Dockyard. (Fort Hamilton is now a scenic park, offering vista views of Hamilton, with lush gardens growing within its' deserted moats and tunnels that go deep into the limestone bedrock of the fort. Agar's Island is now privately owned.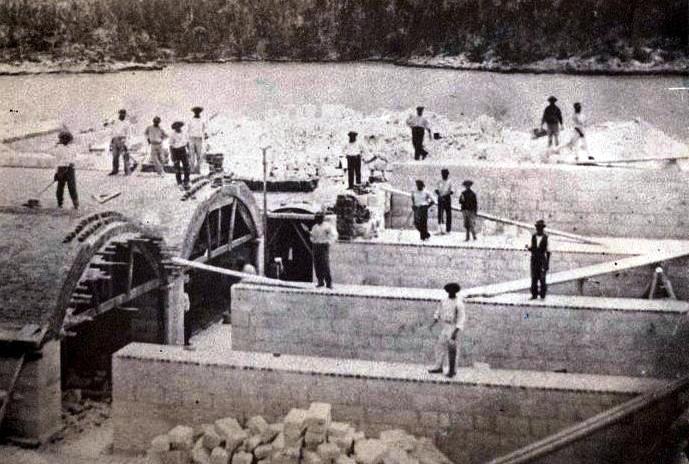 Agar's Island Ammunition dump built

1870 to 1873. 69th Foot (The South Lincolnshire Regiment)
It arrived from Canada and after the Bermuda posting, which included a period from November 1871 on Boaz Island to help protect HM Dockyard Bermuda, went to Gibraltar. Hardly mentioned at all in Bermuda records, but from reliable Scottish resources, one of its officers in Canada, Bermuda and Gibraltar was Harry Aubrey de Vere Maclean, born in Chatham, Kent in 1848 (whose father was Inspector General of Army Medical Services). Later, Maclean became commander of the Sultan of Morocco's Army, adopted Moorish costume, was one of the heads of the Moroccan delegation to attend the coronation of King Edward VII.

1870 to 1875. 53rd (Shropshire) Regiment
(Later, King's Shropshire Light Infantry). Lieutenant Charles H. Bonney, adjutant, was a known artist who painted in Bermuda.

1873 to 1876. 1st Battalion, 20th (East Devonshire) Regiment
Formerly in Cyprus, then based at Bury, from there went to Bermuda. A fox hunt was held in St. George's by officers of the this Regiment. They brought several foxes and packs of hounds to Bermuda. But the short supply of imported foxes as there are none locally and the expense of keeping hounds prevented hunts from becoming regular events.

1875 to 1877. 97th Regiment and Royal Engineers
Captain Thomas Cunningham, Royal Engineers, after proposing its creation earlier, supervised the building by Royal Engineers of massive Fort Cunningham on Paget Island, with the fort named after him.

1876, for years. Royal Artillery
In February, off St. George's, one member of its unit, George Dew, saved a local, William Richardson, from drowning.

1876 to 1879. 46th Regiment
(The 32nd and 46th Regiments became associated, via the Linked Battalion System). In 1877, the "Linked Battalion" System was enacted. It provided for a regiment at home exchanging drafts with a regiment abroad and thus the 32nd and 46th Regiments became associated. On October 29, a draft of two corporals, one bugler and 78 private soldiers was sent out to the 46th Regiment in Bermuda by the 32nd Regiment then at Fort Tregantle.

1877-1888. 87th Regiment (Royal Irish Fusiliers), 32nd Company of Royal Engineers, Royal Artillery
In 1877, at Fort Albert (expanded in 1860) in St. George's, a huge fire ocurred. With much gunpowder stored there, all St. George's was threatened. Heroic efforts by men of the Royal Artillery and 87th Royal Irish Fusiliers stemmed the fire. The regiment had an illustrious military history, having served in the capture of Mauritius in 1810, then India, Nepal and Burma, plating a major role in the Indian Mutiny of 1857-59, then garrison duty in England, Gibraltar, Malta before Bermuda.
On Sunday, 24 March 1878 at 4:30 pm, as reported in the British domestic and Bermuda newspapers, the British warship, HMS Eurydice, bound from Bermuda to the United Kingdom, sank en route, from particularly heavy adverse weather. The sinking was near the Isle of Wight off the south coast of England. There were only two survivors among the more than 300 passengers and 57 crew. One fatality was 38-year old Captain Louis John George Ferrier, originally from Scotland. Since 1877 he had commanded the 32nd Company of the Royal Engineers, then stationed in Bermuda. He was en route for home leave after going aboard on March 6 at Bermuda. When it was recovered, his corpse was recognized by his brother Captain George Henry Ferrier, 105th Foot of the British Army, then at Colchester, Essex, England.

1877 to 1880
1st Battalion, 19th Princess Own

1877 to 1880
1st York North Riding Regiment. In 1879, because of this posting, the Manchester, England-based Independent Order of Oddfellows was established in Bermuda. It stemmed from the fraternization of British military personnel from this unit with black Bermudians, leading to formation of the Loyal Flower of Day Lodge, and more thereafter.

1880 to 1881
99th (Duke of Edinburgh's) Regiment. With more than 1,000 men, it arrived via troopship in early February, 1880, fresh from South Africa, where they fought the Zulus. It replaced the 19th Princess Own at Prospect, which went to St. George's, with the 46th Regiment ordered back to England on the same troopship.
86th (Royal County Down) Regiment of Foot (see note immediately below)

1881-1883
As above, later redesignated from the above as the 2nd Battalion, Royal Irish Rifles. (NB: British Army Irish infantry regiments whose affiliations lay in the new Irish Free State were disbanded in 1922. These were The Royal Irish Regiment (formerly 18th Regiment of Foot); The Connaught Rangers (formerly 88th Regiment of Foot and 94th Regiment of Foot); The Prince of Wales's Leinster Regiment (Royal Canadians) (formerly 100th Regiment of Foot and 109th Regiment of Foot); The Royal Munster Fusiliers (formerly 101st and 104th Regiments of Foot); and The Royal Dublin Fusiliers (formerly 102nd and 103rd Regiments of Foot). Officers from this unit in Bermuda, then referred to as the Irish Garrison, appealed to the Archbishop of Halifax, Nova Scotia, in 1889 to open a school for the children of Irish soldiers. It took seven years but on March 3, 1890. Mount Saint Agnes Academy (MSA) convent began in Bermuda at Woodlands (where Saltus Grammar School now stands). It began as the school for children of Irish Catholic solders.

1882-1887
Royal Army Medical Corps. An Account of Bermuda, Past and Present. 1883. By John Ogilvy, born Aberdeen, Scotland 1831, died Frimley, Sussex, England 1899. Entered the British Army in 1853 as assistant surgeon, retired before 1885 with the honorary rank of Surgeon General. Listed in the Army List as Principal Medical Officer to Bermuda, 1882. It is believed he spent about five years in Bermuda in that position. One of his direct descendants is Scottish political satirist and comedian Rory Bremner, who discovered a connection to Bermuda in early 2009 through his great-grandfather, the island's deputy surgeon general in Victorian times, via the BBC genealogy program "Who Do You Think You Are?." During his years serving as the British Army's Principal Medical Officer to Bermuda, Bremner's great-grandfather married into one of the island's oldest families and wrote a book chronicling both Bermuda's history and the state of affairs in the late 19th century. Aberdeen-born Ogilvy had qualified at the Royal College of Surgeons in Edinburgh in the 1850s, going on to serve as a medical officer in the British Army during the Crimean War. Ogilvy went on to serve in India, then accepted the post of deputy surgeon general in Bermuda in 1881. Ogilvy was by this time a widower, and left his three children behind in England. While in Bermuda, he married a young woman called Emma Gilbert, a descendent of the original Trimingham family who arrived on the island in the mid-1600s. Ogilvy immersed himself in island life and researched its history, eventually completing this book. He had at least four children with his new Bermudian wife, who was well over 20 years his junior. He moved back to England with his young family after retiring from the British Army, reuniting with his other children and dying in Surrey in 1899.

1883- 1886
2nd Battalion, 84th York and Lancashire Regiment. One of its privates in 1883 was George C. Wailes. He married Anne and purchased his discharge by 1858. He came a warden in the military prison, a victualler in the 1890s, and in 1914 gave the property the Mitchell House in St. George's where he lived to his son George, Jr.

1886-1888
2nd Battalion, Duke of Wellington's Regiment.

1888- 1891
1st Battalion, Leicestershire Regiment. Their time in Bermuda was made memorable and often comparatively miserable because they had to surrender their regular barracks for inferior quarters at Bermuda's forts Albert, Victoria and St. Catherine's, to make way for the more elite Grenadier Guards (see below).
Royal Engineers 27th Company (Submarine Mining) was permanently reassigned from Halifax, Nova Scotia to Bermuda in 1888 (part of the company had been split off to create the new 40th Company, which remained in Halifax), and maintain the mine defences unaided. (In 1900 the Royal Engineers Submarine Mining Companies also assumed responsibility for operating electric searchlights defending Bermuda and overseas harbours).
July 1890 to July 1891. 2nd Battalion, Grenadier Guards. After refusing to serve at Wellington Barracks in London in July 1890, this unit was sent - exiled - to Bermuda as a punishment, after their conduct in the strikes in London of 1889 and 1890. In this volatile situation the final step towards revolution was predicted by many. First reported in the evening papers of 7th July, 1890, the news broke nationally in The Times the following day, that the 2nd Grenadier Guards had 'refused duty' at Wellington Barracks, London, in consequence of excessive guard duties and inspections, in addition to their normal duties. The dissatisfaction of the men started with the appointment in 1889 to the command of the battalion of Col. Mackgill-Crichton-Maitland, who had little idea of handling men. The flashpoint of the Guard's dissatisfaction seems to have been the detailing of the battalion to move to Pirbright to be used in the drill training of Militia and Volunteer officers. This always entailed a considerable amount of preparation of their uniforms by the men. However, owing to a breakdown in command (the adjutant resigned over this failure) the men were not informed of the journey until late, some as they came off guard duty and others on their return from week-end leave. This brought to the boil the men's simmering discontent. Col. Maitland went to the barrack rooms, and is said to have been "disrespectfully received. The company officers then spoke to the men, urging them to parade, even if they dressed as they pleased, a suggestion which was quietly obeyed, thus reducing a possible charge of 'failing to obey a lawful command' (i.e. mutiny) to that of 'failing to appear on parade properly dressed'. It is reported than when Col. Maitland addressed the men, threatening to send in the Scots Guards, "murmurs were heard that those men would be found to be with the Grenadiers". On being confined to barracks indefinitely, some of the men threatened to break out, but this confinement order was repealed the next day, the 9th, possibly to help to defuse the situation. but it did not and courts-martial ensued. Grenadiers were found guilty and the question of punishment for the battalion as a whole was considered. The worst disgrace for a Guards regiment was to be sent abroad in peacetime, as opposed to going to a seat of war, and several stations were mooted, including South Africa, Aden or Ireland. In the London Gazette of 22nd July 1890 Col. Maitland is shown as "retiring on half pay", his place in command of the 2nd Grenadier Guards being taken Col the Hon. H. Eaton (later to succeed his brother as 3rd Lord Cheylesmore). The former Adjutant, Lt. the Hon. W.D. Murray also resigned, his place being taken by Lt A. H. O. Lloyd. Another casualty of the affair was a sergeant who was in the process of receiving a (Q/M's?) commission, and who had reached the stage of being ordered to hand in his NCO's uniform. When it was found that he had been his company's orderly sergeant at the time of the disturbance his commission was instantly cancelled. On the 21st the Duke of Cambridge reviewed the whole battalion, and delivered a violent tongue-lashing to the officer, the NCOs and men, before dismissing the parade, for it to prepare for embarkation the following day, to Bermuda. The journey started at 5.30 am on the 22nd, when the battalion marched to Victoria Station, and travelled to Chatham, where it embarked on the trooper Tamar, which cast off at 2.30 pm. As a further act of spite the porter ration for the men was stopped during the voyage to Bermuda, a deprivation worsened by the fact that the crew and the Royal Marines on board naturally continued to receive their rum ration. The arrival in Bermuda of the battalion deliberately overlapped the stay of the Leicestershire Regiment and King's Regiment (Liverpool). The battalion was also deliberately stationed in St. George's, despite the fact that Prospect Garrison had been established decades earlier. The whole matter continued to rumble on in the correspondence columns of The Times, where an assortment of retired officers (mostly titled) while admitting that the men had been hard done by, blamed the short service system, which failed to inculcate regimental loyalty into the young soldiers. One of these writers, General Baron de Ros, also regretted the abolition of flogging. He obviously felt that a touch of the cat would have sorted things out smartly. By the 6th of August several MP's presented the Secretary of War a petition praying that favourable consideration might be given to the case of the imprisoned Guardsmen, this petition having been signed by about 50,000 inhabitants of London. It demonstrated the strength of popular feeling, and may have been why the jailed men, although sentenced to between 18 months and two years' imprisonment, were, in fact, released on the 23rd November 1890, after only four months' servitude. Of the six men, only one was discharged with ignominy, the others returning to the battalion and finishing their periods of engagement. Col. Maitland was promoted to command of an army district, but a distant one, the No. 101 District, in south-west Ireland, at Tralee. Thus he received promotion, but was denied the opportunity of causing any further trouble. As for the battalion, it returned quietly to England on the 28th July 1891, although its sentence of banishment had been for two years. The Times' report of 22nd July concluded that whole of this unfortunate military scandal had been caused by one man, who, notwithstanding his zeal and capacity, apparently did not know how to deal with men. Their many exploits in Bermuda included enlarging and leveling a playing field by the little lane running by it (now called Grenadier Lane). Brass tablets in memory of the six men who died in Bermuda were affixed in the Garrison Church (gone now), then Prospect Chapel (gone now), then St. Peter's Church in St. George's. The Bermuda Historical Society has an extensive and fascinating collection of photographic glass slides in pristine condition showing officers and senior NCOs in family and social situations. Oddly, they seem to have been completely ignored to date by Bermuda or UK-based military historians interested in this battalion's Bermuda experience. Because of the stature of the Grenadier Guards and in ignorance of the real reason they arrived in Bermuda, their presence in Bermuda for locals marked more parties, more social events, more military involvement in sports and pastimes like sailing than any other period in Bermuda's British military history.

1891 to 1893
1st Battalion, King's Regiment (Liverpool).

1893 to 1895
1st Battalion, Royal Berkshire Regiment.

1897
2nd Battalion, Leicestershire Regiment
Royal Engineers. They included Lieutenant Arthur Johnson Savage RE, a surveyor stationed at Bermuda to carry out the first Ordnance Survey of the island in 1897. He was a grandson of Dr Johnson Savage, Royal Artillery and military artist, posted to Bermuda in 1835.

1897 to 1899
2nd Battalion, Worcestershire Regiment

1901
1st battalion, West India Regiment

1901-03
4th Battalion Worcestershire Regiment. When Boer War POWs first arrived in Bermuda en masse in 1901 from South Africa, it was initially proposed that they be guarded by black members of the West India Regiment. But the-then Governor of Bermuda, Sir Digby Barker, felt that the South Africans would regard such an arrangement as a deadly and unforgivable insult to them, which would not be in the best interests of later subjugating their people in South Africa under British rule. As a result, he ensured that they were guarded instead by all-British - and then all-white - troops of the Worcester Regiment.
The Boer War lasted from 11th October 1899 to 31st May 1902. During that period over 20,000 British soldiers lost their lives (killed in action, died of wounds or died from disease - two thirds of all deaths was due to disease). At the outbreak of the Boer War both the 1st and 2nd Battalions were mobilized and sailed to South Africa. The 2nd Battalion (including a company of men from the Worcestershire Volunteer Battalions) was the first to arrive and landed at Cape Town on the 10th January 1900, and as a result saw more action and had more casualties. The 1st Battalion arrived in South Africa at the end of March 1900 and during April they concentrated at Edenburg. The 6th (Militia) Battalion also served in South Africa but from the end of December 1901 and were mainly involved in blockhouse duty in Cape Colony. Although the 4th Battalion were sent to South Africa in February 1901, they were not involved in any fighting. Their duty was to guard prisoners. It was this 4th Battalion that came to Bermuda with the Bermuda-bound POWs and stayed until 1903. Unfortunately, their Bermuda stay is not recorded in the regimental history. All that is stated is that service was in the West Indies.

1902 to 1904
3rd Battalion, Royal Warwickshire Regiment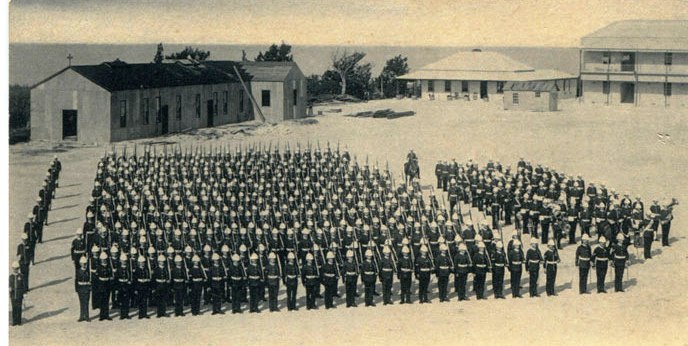 3rd Battalion Royal Warwickshire Regiment at Prospect Camp, Bermuda 1903

1903 to 1905
Royal Fusiliers. 3rd Battalion. The voyage from Alexandria took three weeks and then the white buildings and dark green juniper groves of Bermuda came in sight. The troopship Dunera arrived on 2nd December, 1903. The Battalion disembarked on the 3rd and 5th and were at once split up into three detachments at Prospect Barracks, Boaz Island and St. George's, with Headquarters at Boaz. It would be difficult to imagine a greater contrast in military stations than was afforded by the change from Khartoum to Bermuda. From the tropical heat of the Sudan, the limitless desert with its mirages and haboubs (sandstorms), and the smell of Nile mud, the Battalion came to what amounted to a seaside resort in picturesque surroundings, with a mild and equable climate not unlike that of England in summer. The duties at each station were also equal in contrast. At Khartoum the Battalion had to maintain the British prestige in the Sudan after its conquest, and to be ready to assist the Egyptian Army in subduing any possible future rising by the turbulent Arab tribes. In Bermuda, whose populations have always been loyal, the Battalion had merely to act as a guard for the Naval Base and HM Dockyard in conjunction with another battalion already there. CO was Lt. Col. E.C. Packe, DSO, OBE. He reported: "Most of the land in Bermuda, being under close cultivation, was out of bounds to Troops, and what little ground there was available was so rocky that it was impossible to dig trenches in it. For this reason, most of the training exercises had to take place along the roads of which the most usual were the Devonshire road, North Shore, Middle and South Shore roads, the Serpentine road and the Outpost road. Two golf courses were also available for training but not, of course, for trench digging. One of the features of Bermuda was the beauty of the scenery and this was enhanced with the approach of summer by the hedges of oleander coming into flower. The effect of the white houses built of coral rock, groves of dark green juniper trees, white roads with hedges of pink and white oleander, surrounded by a deep blue sea and generally in brilliant sunshine was very beautiful." Soldiers included Sergeant William Sydney Harris, a bandmaster of the Royal Fusiliers. He married Bermudian Agnes Matilda Whitecross and they then travelled the Empire with the Army, returning to Bermuda after the First World War.

1904 to 1905
King's Royal Rifle Corps, 60th Regiment of Foot, 3rd Battalion.
Royal Garrison Artillery, Garrison Company 2nd Company & 3rd Company.
Royal Engineers 3rd Company (Fortress), 27th Company (Submarine), 36th Company (Fortress)

1905 to 1907
Hampshire Regiment, 2nd Battalion.

1906
Royal Engineers. 27th Regiment, . A plaque on the Eastern slope of Fort Scaur in Bermuda recognizes this and on its other side says London is 3076 miles away.

1907 to 1910
Duke of Cornwall's Light Infantry, 2nd Battalion.

1910 to 1912
2nd Battalion, Bedfordshire Regiment. In attendance when, on February 15, 1911 the Memorial Monument to Sir George Somers was unveiled in St. George's

1911
Royal Army Medical Corps (RAMC). One of its personnel was Captain Percy H. Falkner, who knew Governor Kitchener from Africa days. Falkner was in the Boer Wars, including in 1899-1902, which resulted in the accommodation of some 5,000 Boer prisoners at Bermuda. He was involved in the relief of Ladysmith, including actions at Colenso and Spion Kop, and thereafter in operations at Vaal Kranz, Tugela Heights and Pieter's Hill, followed by work in Natal and in the Transvaal, ending in the summer of 1901.In Bermuda and later elsewhere, he was an expert on the raising, rearing and welfare of chickens, so much so he was mentioned at length in Lewis Wright's major written tome the "Illustrated Book of Poultry". That weighty tome of upwards of 800 pages and running through many editions with lavish pictures of strutting roosters and following hens is said to be one of the most famous books on the subject of the lowly chicken. His presentation of a Bermuda plaque in 1911 on chickens came from his lifelong passion for the chicken in its many forms and breeds. Later, as an army surgeon, he travelled the British Empire. As Lieut-Colonel Hope-Falkner, he retired from the Indian Medical Service, RAMC, and died in Malta in 1950.

1912 to 1914
2nd Battalion, Queen's Regiment. Shortly after arriving that year it paraded for the death in Bermuda while still in office and burial of Governor Lieutenant General Sir Frederick Walter Kitchener. He had served since 1908. He was interred in the military cemetery, Prospect Garrison, with full military honours. He was the brother of British Army hero General Sir Herbert Kitchener, who as Commander in Chief of the Anglo Egyptian army, smashed the Mahdi Rebellion in the Anglo Egyptian Sudan at the Battle of Omdurman and was later created Lord Kitchener of Khartoum by Queen Victoria.

1914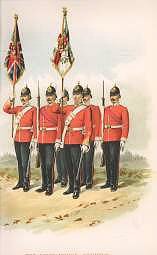 2nd Battalion, Lincolnshire Regiment, 10th Foot. 900 infantrymen were commanded by Lieutenant Colonel George Bunbury McAndrew. Photo at right shows their earlier ceremonial uniform when on peace-time parade. The 2 Lincolns were stationed at Prospect Camp, in Devonshire Parish, on the outskirts of the City of Hamilton (the colonial capital). When war was declared on the 4th of August, the battalion was under orders to return to Britain, with a Canadian battalion to replace it. The Governor of Bermuda, Lieutenant-General Sir George Bullock, was temporarily abroad and Lieutenant-Colonel McAndrew filled his place, overseeing the placement of the colony onto a war footing.
2 Lincolns returned to England, via Nova Scotia, in September, and arrived in France on the 6th of November (1 Lincolns having arrived there on the 14th of August). When it deployed to the Western Front, C Company, 2 Lincolns included a former Bermudian policeman, Corporal George C. Wailes (who had originally enlisted in the Royal Fusiliers. His father, also named George C. Wailes, had been a Private soldier, posted to Bermuda in 1883 with the 2nd Battalion, 84th Foot (York and Lancashire Regiment), who had purchased his discharge in 1885 and married and raised a family in Bermuda). Wailes was wounded at Ypres on the 17th of November, 1914, and sent to a hospital in England to convalesce. He returned to the Western Front the following year, but was medically discharged after receiving another seven wounds in March, 1915. He returned to Bermuda in April.
2 Lincolns appears to have gained at least two other soldiers from Bermuda: Lance-Corporal Louis William Morris (another former Bermuda Police constable), killed on the 7th of December, 1914, and a Private Farrier. An English soldier of 2 Lincoln, Lance Corporal W. Clifford (who had been assigned to Government House while in Bermuda), wrote frequent letters from the Front to friends in the colony, extracts of which were printed in Bermuda's daily newspaper, the Royal Gazette.
1914
Embodiment of the Bermuda Volunteer Rifle Corps (BVRC) and Bermuda Militia Artillery (BMA), for eventual dispatch to Europe.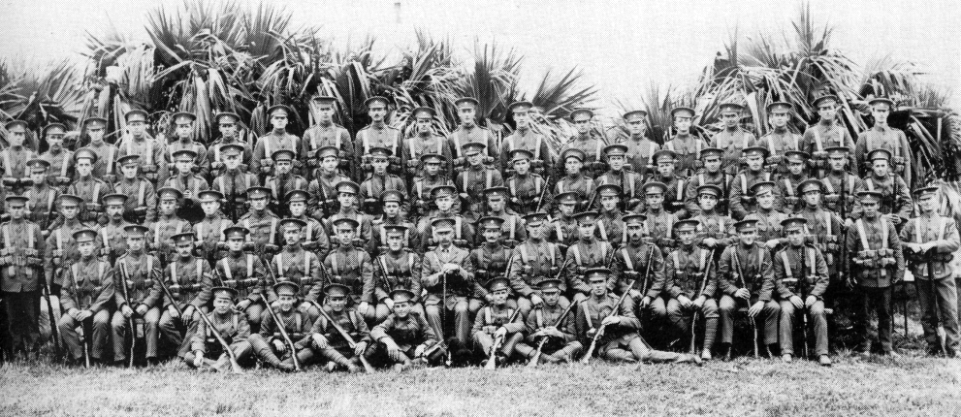 1914. Left Canada August 14, arrived Bermuda September 13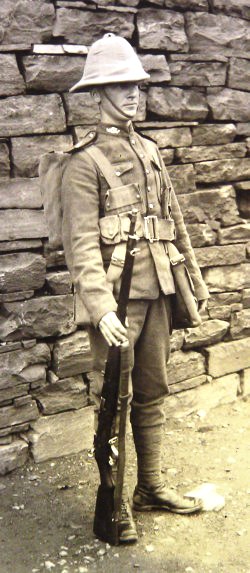 1914. August 14. After Great Britain declared war on Germany on August 4, British Army troops were maintaining a garrison in Bermuda made up of an infantry battalion and detachments of the Royal Engineers and the Royal Garrison Artillery. The outbreak of hostilities in Europe required Britain to repatriate its infantry. It could not leave Bermuda, a base of such strategic importance, without a garrison. On this day Britain, by telegraph, formally asked Canada to provide replacement troops.
A day later, the Adjutant General, Canadian Militia, directly contacted the Officer Commanding the Royal Canadian Regiment to ask if his unit would agree to volunteer for service in Bermuda. Two days later, on 22 August, the Officer Commanding the Regiment, Lieutenant-Colonel Alfred Octave Fages, agreed but stated he hoped it would lead the force to to further advancement towards the battle field, the desire of aIl ranks.
The Royal Canadian Regiment's 38th Ottawa Battalion ( formerly Cameron Highlanders, now again the Cameron Highlanders of Ottawa, Duke of Edinburgh's Own, Canadian Expeditionary Force (CEF). The Battalion proceeded to Halifax by train. It was posted temporarily to Bermuda to replace the Lincolnshire Regiment when it sailed from Bermuda to Europe. Photo right shows one of their soldiers in Bermuda. It was an offspring from the English speaking Governor General's Foot Guards of Ottawa, an English-speaking regiment.
They were originally scheduled to sail on the Caledonian from Montreal but instead they embarked on the requisitioned passenger vessel S.S. Canada for Bermuda. They sailed the following day at noon escorted by the Royal Canadian Navy's HMCS Niobe. The transport proceeded down the Gulf of St. Lawrence but was ordered back to Quebec owing to the supposed presence of submarines off the Atlantic coast.
About 5 p.m. on Sunday 13 September, the Islands of Bermuda were sighted, and the same evening the ship entered the passage of St. George.
The battalion disembarked on Monday 14th, relieving 2nd Battalion Lincolnshire Regiment (which embarked that night on the SS Canada and sailed for Halifax the next morning). The incoming battalion was welcomed by the Governor of Bermuda, Lieut. General Sir George Bullock. A, B, & C Cos went to Boaz Island near the Dockyard. D, E, & F Cos. to St. George's, while G, H & K and Nos 1, 2, 3, & 4 Provisional Companies, with Headquarters and M.G. Section sent to Prospect.
It was reported in one officer's diary that: "The Regiment was the highest paid Corps which had ever been stationed in the Island and the shopkeepers promptly took advantage of it as "soldier prices" quite equaled those for the American tourist." Active training and garrison duties were at once commenced and with the assistance of Imperial Army Instructors, the Battalion reached an exceedingly high state of efficiency.
On February 8th, 1916, the 38th was inspected by the Governor of Bermuda, who forwarded official reports to the British War Office, as well as to Militia headquarters at Ottawa, declaring the Unit fit in every respect to take its place in the field along side the finest Regiments in the British Army.
Members included Sergeant Charles H Pinhey. Later, the unit left Bermuda and were assigned to Europe.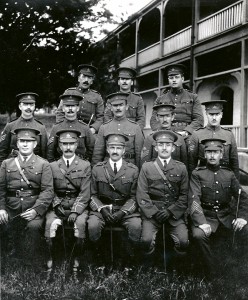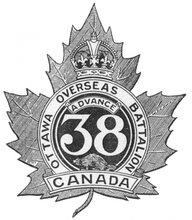 Photos above show respectively the crest of the unit, officers and NCOs newly arrived in Bermuda (this photo kindly sent by a relative of one of the officers) and one of the soldiers

1915. August to 1916
77th Battalion, Canadian Expeditionary Force (CEF). Draft (10 officers, 98 OR). An offspring from the English speaking Governor General's Foot Guards of Ottawa, an English-speaking regiment. The officer commanding the combined 38th/77th forces was Lieutenant Colonel Douglas Richmond Street.

1916
163rd Battalion, CEF. A French speaking unit, originally Les Fusiliers de Sherbrooke, Montreal.. A French speaking unit, originally Les Fusiliers de Sherbrooke, Montreal.. A French speaking unit, originally Les Fusiliers de Sherbrooke, Montreal. A French speaking unit, originally Les Fusiliers de Sherbrooke, Montreal.

1916. March to May
3rd Battalion Jamaica War Contingent

1916-1919
2nd and 4th Battalions,
East Yorkshire Regiment, formerly 6649 Yorkshire Regiment
(a) Private George Wellington Linford, who served with the East Yorkshire Regiment, died in a bid to rescue seven-year-old Thomas Stone from the sea off North Shore. Both were drowned. Private Linford's grave is at Prospect
((b) .Private Milton Crowther 203889, same unit. .Died May 22. 1918, aged 41. Son of James and Susannah Crowther, husband of Helena Crowther of 104 Molesworth Street, Rochdale, Lancs, England.. His grave is at the Somerset Military Cemetery.

1919 to 1921
Wing, 2nd Battalion, Royal Sussex Regiment

1921 to 1923
Wing, 1st Battalion, East Lancashire Regiment

1923 to 1925
Wing, 1st Battalion, Royal Norfolk Regiment

1925 to 1927
2nd Battalion, Green Howards (Alexandria Princess of Wales Own Yorkshire Regiment). The first British Army regiment in Bermuda to have officially induced Bermudian clothing stores to copy the long-in-use summer warm-weather standard dress of British Army shorts and long socks of officers. Thus were "Bermuda shorts" introduced to the world.

1927 to 1929
2nd Battalion, Argyll & Sutherland Highlanders

1929 to 1931
Wing, 1st Battalion, West Yorkshire Regiment (Prince of Wales's Own)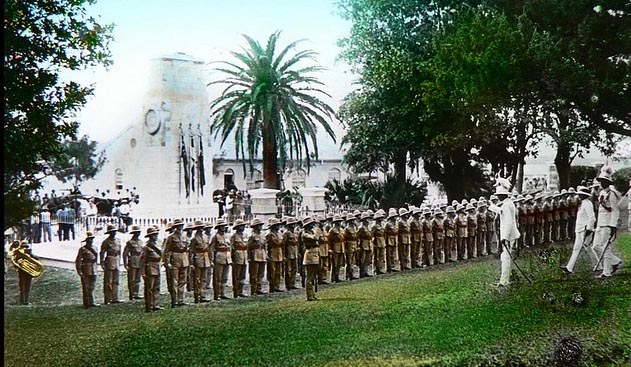 1931 to 1934
Wing, 1st Battalion, Northumberland Fusiliers

1934 to 1935
Wing, 1st Battalion, Manchester Regiment

1935 to 1939

Initially
Wing, then much of 1st Battalion, Sherwood Foresters (Nottinghamshire and Derbyshire Regiment).
Initially, Bermuda had only a wing in 1935 when the 1st Battalion started an overseas tour with a posting to the West Indies, mostly Jamaica, where amongst other duties it assisted the police in containing the Jamaica civil disturbances in 1938. Members of the init included Claude Piper and the late Joseph Smallwood (whose son Trevor Smallman kindly sent the pictures shown below of the unit's time in Bermuda). But after 1935 many more soldiers from this regiment arrived. They came for a special reason, to have an effective military and security presence for significant geopolitical and socio-economic civil aviation initiatives that were then taking place in Bermuda. As can be seen in the History of Bermuda from 1900 to 1939 prewar, but specifically for the beginning of trans Atlantic aviation. It was because of those early Imperial Airways and Pan American flights to and from Bermuda from 1935-1939 see http://www.bermuda-online.org/history1900-1939prewar.htm, the very times the Sherwood Foresters were in Bermuda, that Imperial Airways, later BOAC then BA, and other airlines later began flying from the UK to Bermuda, USA, Canada and Caribbean. The Bermuda 1 and 2 Agreements testify to this.
The Sherwood Foresters were present in Bermuda when the death occurred at sea of former British Prime Minister Ramsay MacDonald . His removal to Bermuda from his cruise ship was handled with full British Army honours provided mostly by these Sherwood Foresters) and Royal Navy,
1937. November. Death at sea of former British Prime Minister Ramsay MacDonald, born in Scotland (12 October 1866 – 9 November 1937). He had been a distinguished passenger on board the popular liner Reina del Pacifico which called at Bermuda often. He had been hoping to enjoy a cruise to South America, but never got there. He died aboard the vessel. As Bermuda was a route stop, the ship brought his body to Bermuda. Given his stature in life, Bermuda gave him a singular salute in death, an official funeral procession befitting a former British Prime Minister. His remains were received with full military and civilian honours and a ceremonial guard of honor from the Sherwood Foresters of the British Army then stationed in Bermuda, plus hundreds of other British and local military forces. His body lay in state at the Anglican Cathedral overnight in Hamilton. The next day, during a solemn procession first on Front Street then on Church Street which attracted more than 20,000 spectators - the largest crowd ever to converge in the city, British Army, Royal Navy and Royal Marine bearers, some brought to Bermuda especially for the occasion, carried MacDonald's flag-draped coffin to the Royal Naval Dockyard Bermuda paddle steamer tug Sandboy which loaded it onto HMS Apollo, waiting in the Great Sound to receive it for transport to England. The naval vessel then steamed off to England. In 1933 and 1934 MacDonald's health declined, and he became an increasingly ineffective leader as the international situation grew more threatening. His pacifism, which had been widely admired in the 1920s, led Winston Churchill and others to accuse him of failure to stand up to the threat of Adolf Hitler. In May 1935 he was forced to resign as Prime Minister, taking the largely honorary post of Lord President vacated by Baldwin, who returned to power. At the election later in the year MacDonald was defeated at Seaham by Emanuel Shinwell. Shortly after he was elected at a by-election in January 1936 for the Combined Scottish Universities seat, but his physical and mental health collapsed in 1936. A sea voyage was recommended to restore his health, but it was in vain.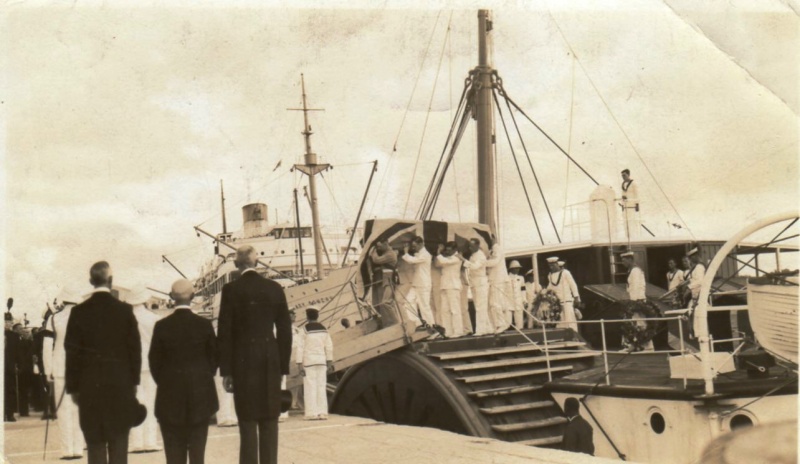 Ramsay MacDonald's coffin coming ashore from the Royal Navy's paddle steamer tug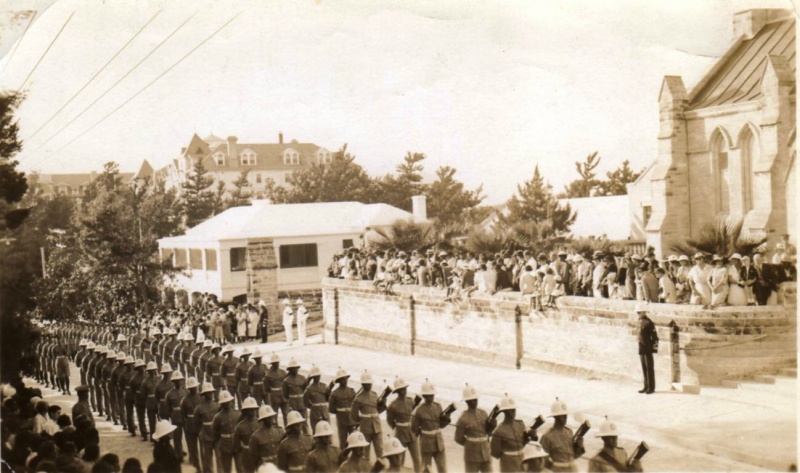 Royal Marines outside the Cathedral for the funeral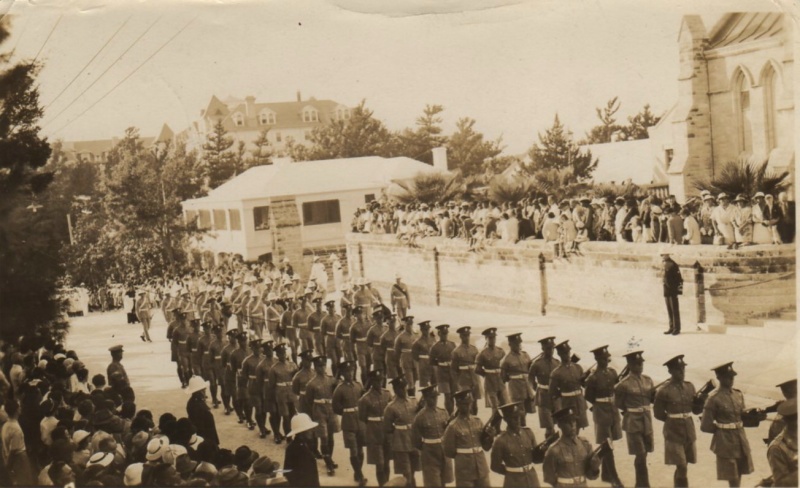 Sherwood Foresters and others at the funeral procession, in their Army Bermuda Shorts and long socks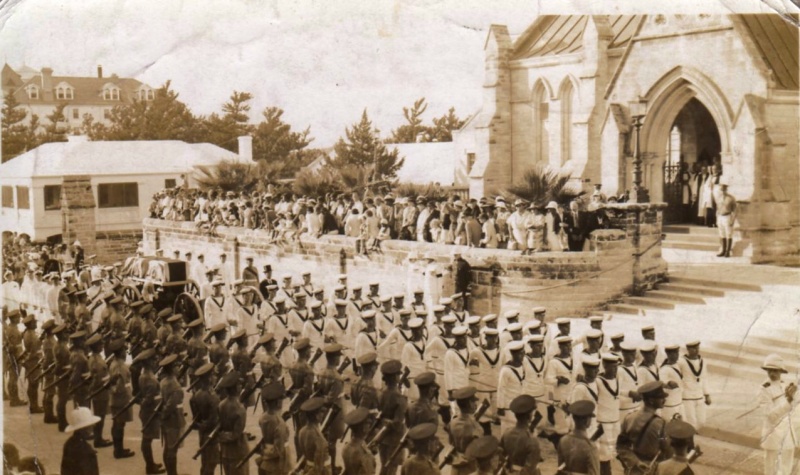 Royal Navy march-past with coffin at Ramsay MacDonald's Bermuda funeral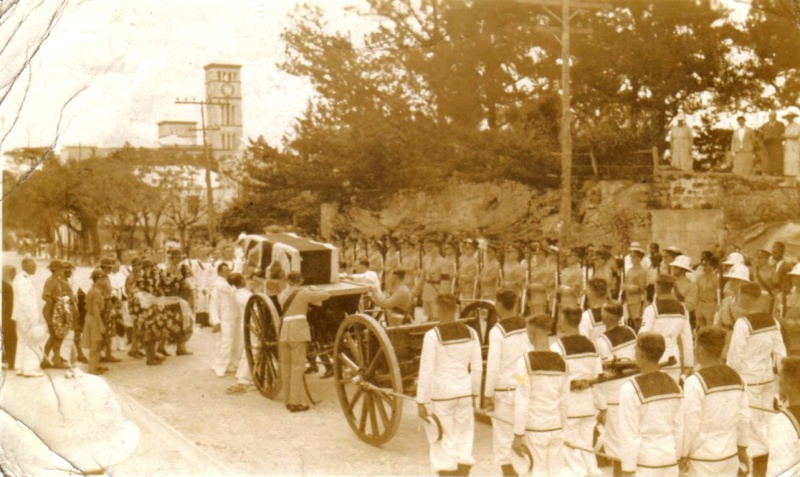 Soldiers and sailors salute the coffin at Ramsay MacDonald's Bermuda funeral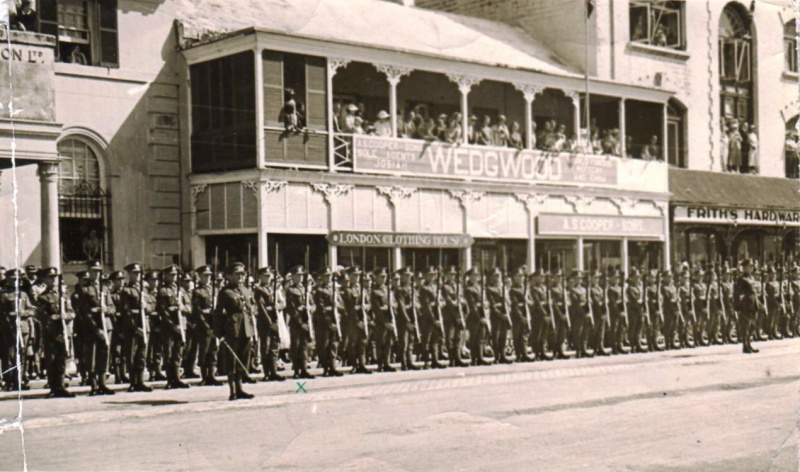 Sherwood Foresters on parade on Front Street, Hamilton
Sherwood Foresters in their Army Bermuda Shorts parading in Bermuda with the Governor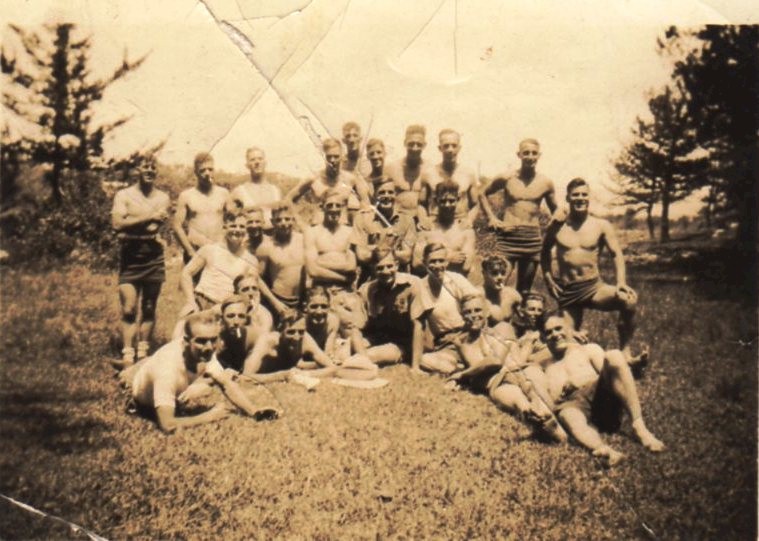 Sherwood Foresters in Bermuda relaxing with their CO on Paget Island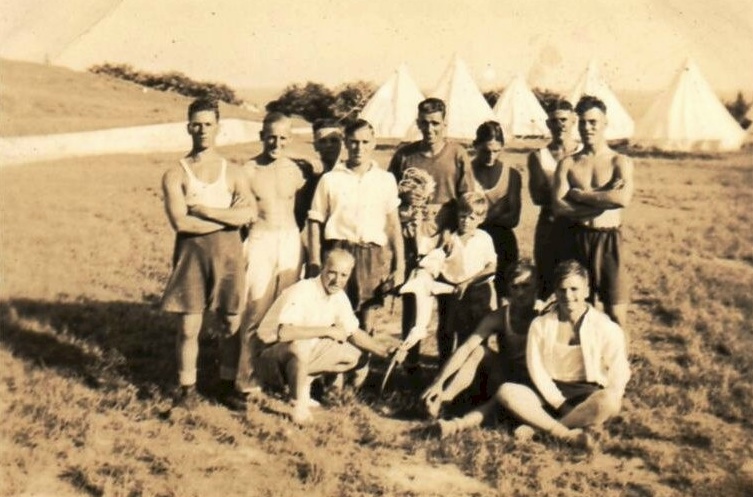 Sherwood Foresters in Bermuda relaxing on Paget Island with their tents behind them
Pictures above kindly supplied for this website's use by Trevor Smallman, son of one of the British Army in Bermuda Sherwood Foresters. His father, the late Joseph Smallman, was present in most of the photos above.
From 1939 the regiment went to Palestine.

1939 to 1953 (briefly in 1977)
Many Bermudians served in the Canadian Army (or were attached to Canadian Army units) during WW2.
1939 to 1940
Wing, 2nd Battalion, King's Shropshire Light Infantry (KSLI), under the command of Major Hughes-Hallett. With them was a unit from the Royal Artillery (RA) and Royal Army Service Corps (RASC). (Much later, this unit of the KCLI was posted to Kenya to deal with with the Mau Mau).
1940
Winnipeg Grenadiers. They garrisoned Bermuda at that time. Major Trist was their CO. He is recorded in Bermuda archival documents as having overheard and thereby caused the arrest and imprisonment in Bermuda of a Canadian seaman who infringed wartime Emergency Regulations.
1942
Detachment, 4th Battalion, Queen's Own Cameron Highlanders
1942
Pictou Highlanders of Canada
1946 to 1947
Detachment, 8th Battalion, Suffolk Regiment
1947 to 1948
Detachment, 2nd Battalion, later 1st Battalion, 61st Regiment, Gloucestershire Regiment (Glorious Glosters), part of the regiment that also served in Jamaica and British Honduras.

Glorious Glosters at Devonshire Rectory with local girl Cindy Farnsworth (now Olden) and her dog "Mac" at the Devonshire Rectory with some of her soldier "uncles" who were always so nice to her. Rev. Keith Harman (her step-father) was the Rector of Devonshire and Chaplain to the Prospect Garrison. Photo kindly loaned by Cindy Olden.

1949 to 1953
Detachment, The Highland Brigade, stationed at Prospect. (Included Paddy Coyle of the Gordon Highlanders, whose idea it was to start the Bermuda Cadets Pipe Band).
1953 - for Summit Conference
Detachment, Royal Welch Fusiliers
1953 to April 25
GARRISON WITHDRAWN
1954 to 1955
'A' Company, 1st Battalion, 32nd Duke of Cornwall's Light Infantry (1 DCLI). The unit, 4 Rifle Platoons, HQ Platoon & Garrison Admin, landed from Troopship Empire Clyde in 1954 and were based at Prospect Garrison in Devonshire. It was a county regiment, with the majority from Cornwall. It was under the command of Major JA Marsh DSO, SAS. Major Marsh remained in Bermuda, had a family there and was later a member of the Bermuda Regiment, after which he was appointed to the Bermuda Tourist Bureau. The unit performed in a consistently superior military fashion with Parades, Honour Guards, Special Guards etc. Personnel sent to Bermuda included John Tenniswood (Pay Sergeant, Bermuda) and Derek Lovemore, then a Corporal, who later lived in Australia. His claims to fame included operating the signals room at the Royal Bermuda Yacht Club during and after the Newport Bermuda Race in 1954). See his wonderful and comprehensive collection of unique photographs and accounts he has collected and published on the 'A' Company, 1st Battalion, 32nd Duke of Cornwall's Light Infantry (1 DCLI) posting in Bermuda. It is

an outstanding description of a unit that served Bermuda superbly and deserves the respect, pride and admiration of all Bermudians. All members of I DCLI have warm and happy thoughts of their time in Bermuda.

Others present included Phillip "Tiffy" Pearce-Smith - who last visited Bermuda in October 2011 and as a direct result of his 1 DCLI Bermuda sojourn later created the League of Venturers Search and Rescue (LVSR), Gerry Hunkin and Terry Dyer, both from St. Austell, Cornwall. The latter two revisited Bermuda in early May 2005.

HRH Princess Margaret inspecting an Honour Guard at Prospect Garrison, Devonshire, during her 1955 visit to Bermuda. It was formed by "A" Company, 1 Duke of Cornwall's Light Infantry (DCLI). She was escorted by Commanding Officer, Major J. A. Marsh, DSO and Garrison Commander Brigadier J. A. M Rice-Evans.

Some also helped considerably in setting the scene for some of the British and American movies filmed in Bermuda at that time. Perhaps more than any other group or organization they toiled to establish the film studio in Bermuda that emerged from the old seaplane base built in the 1930s to accommodate flying boats and in operation until 1948 when flying boats on that run became obsolete. Also, they built a motor cruiser using an old Bermuda dinghy, a discarded engine and the wood from an abandoned church.

1955
Tragic death on 18th July 1955 of Lieut. Col Cuthbert ("Tupper") Brooke-Smith, King's Shropshire Light Infantry (KSLI), while on active duty in Kenya, during a British Army campaign against the Kenyan Mau Mau. He was born on 10th August 1915 in Larne, County Antrim, Northern Ireland.

. In 1950 he was posted to Bermuda as GSO II to the Governor and Commander-in-Chief of Bermuda. He previously served at Buckingham Palace, London. He was in Bermuda as a staff officer (not in any way attached to the Duke of Cornwall's Light Infantry posted there later). With service number 67179 he was commissioned into the KSLI on 30th January 1936 and served his country with distinction during World War 2. In Bermuda, he married a Bermudian, Joyce Arnell, the daughter of Bermudian Mrs. Helen Arnell. His brother-in-law was the late author, historian and philatelist Jack Arnell. On leaving Bermuda in 1952, Cuthbert and his wife Joyce, their three toddler children - daughter Philippa and sons Robin and Bruce - returned to the family home in Church Stretton, Shropshire. His Army postings from there included with the KSLI, Durham Light Infantry, Wuppertal in Germany with the DCLI - where he was 2nd in Command of that regiment, then Commanding Officer of his battalion of the KSLI in Kenya. See http://billgriffiths838.googlepages.com/kslimemorabilia that include a mention of the trooper HMT Halladale that sailed from Liverpool in May 1955 with the KSLI - bound for Kenya with Lt. Col C. Brooke-Smith on board, while his wife and very young children remained at the family home in Church Stretton, Shropshire. On 18th July 1955 he walked into an ambush in the Aberdere forests previously declared a KSLI ambush zone that had been set to lure the Mau Mau. He was 39 years old. He was shot in error by a Bren gunner member of his own unit, was mortally wounded and died instantly, despite the best efforts of Captain George Pollock, RAMC) and an RAMC sergeant, both of whom attended the deceased moments after the event. It was recorded as a tragic accident. A Ministry of Defence official description of the circumstances of the death later stated:

"Lt Col (Brooke) Smith met his death accidentally as a result of shooting by his own troops whilst commanding 1KSLI in East Africa. The battalion had arrived the previous month. Lt Col (Brooke) Smith had expressed a wish to visit one of his company ambush positions, and a message was sent requesting guides from the ambush position to escort the visiting party on the morning of 18 July 1955. Unfortunately owing to bad wireless operating conditions, the message was incorrectly received by the ambush patrol and as a result no guides arrived. Nevertheless Lt. Col. (Brooke) Smith decided to go part of the journey to the ambush position from a direction other than that usually taken and the patrol commander, hearing movement from an unexpected direction, mistook the two African trackers with Lt. Col.(Brooke) Smith's party for terrorists and the ambush patrol opened fire in the belief that a terrorist attack was being made. As soon as firing started an officer in the visiting party called out to identify himself, whereupon firing ceased. Unfortunately Lt. Col. (Brooke) Smith had been wounded and he died of his injuries before he could be evacuated."

He was buried in a civilian cemetery in a church graveyard in Nairobi, Kenya. Repatriation back to the UK of his remains from City Park Cemetery, Nairobi, grave section 16, grave row 16, grave number 32, was believed to have been offered to but declined by his family. However, his is one of the names commemorated both on the Church Stretton, Shropshire, war memorial and at the more recent National War Memorial in Staffordshire, England, in the latter case not under the name of Brooke-Smith but Smith.

He had an elder brother, Lt Commander Francis Haffey Brooke-Smith GC, the grave of whom is at Hasketon St Andrews Churchyard, Suffolk. Francis was born in Hasketon in 1912. During WW2 as a Royal Naval Reserve Sub Lieutenant he served as a Bomb Disposal Officer and in December 1940 he was awarded the George Cross for defusing his 17th enemy aircraft naval mine which had lodged itself aboard Firefly, a fire float ship on the Manchester Ship Canal. Later in the War he served aboard HMS Broadwater on Atlantic Convoy Duties He was tragically killed aged just 34 in a Road Traffic Accident whilst driving his car near Woodbridge. The grave at Hasketon also shows an inscription for Lt. Col Cuthbert Brooke-Smith, indicating - wrongly - he too was buried there. In fact, he is also commemorated there.

1968. From April 24
After riots ensued The Governor declared a state of emergency and a Royal Navy frigate was sent to the Island to maintain the peace. A British Amy unit was also summoned and the Inniskilling Fusiliers, about to undergo a name-change, answered the call. See http://www.royal-irish.com/stories/bermuda-island-sun.
1973, March
Elements of the British Army's airborne forces, which were training at Warwick Camp with the Bermuda Regiment at the time of the murders, assassinations, of the Governor Sir Richard Sharples and his ADC, Captain Hugh Sayers, Welsh Guards. They were called in to assist the civil authorities. The 23 Parachute Field Ambulance, 1 Parachute Logistic Regiment and the band of the 1st Battalion, The Parachute Regiment subsequently provided protection for Government buildings, officials and dignitaries as well as assisting the Bermuda Police.
1977

1st Battalion Royal Regiment of Fusiliers and a battalion of the Royal Regiment of Wales (emergency duty after several days of riots, strikes and malicious damage caused by local political protesters, the worst to-date by far in Bermuda's history, following the death by hanging of local criminals convicted of the death of Bermuda's Governor, Police Commissioner and others). The presence of these British troops helped to restore order.

None since then
Special links

Last Updated: May 25, 2020
Multi-national © 2020 by Bermuda Online. All Rights Reserved