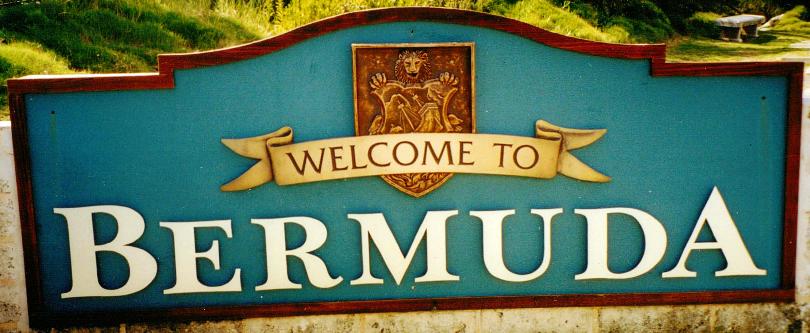 Click on graphic above to navigate the 165+ web files on this website, a regularly updated Gazetteer, an in-depth description of our island's internally self-governing British Overseas Territory 900 miles north of the Caribbean, 600 miles east of North Carolina, USA. With accommodation options, airlines, airport, actors, actresses, aviation, banks, beaches, Bermuda Dollar, Bermuda Government, Bermuda-incorporated businesses and companies including insurers and reinsurers, Bermudians, books and publications, bridges and causeway, charities, churches, citizenship by Status, City of Hamilton, commerce, communities, credit cards, cruise ships, cuisine, currency, disability accessibility, Devonshire Parish, districts, Dockyard, economy, education, employers, employment, environment, executorships, fauna, ferries, flora, former military bases, forts, gardens, geography, getting around, golf, guest houses, highways, history, historic properties, Hamilton, House of Assembly, housing, hotels, immigration, import duties, internet access, islands, laws, legal system and legislators, main roads, marriages, media, members of parliament, money, motor vehicles, municipalities, music and musicians, newcomers, newspaper, media, organizations, parks, parishes, Paget, Pembroke, performing artists, residents, pensions, political parties, postage stamps, public holidays, public transportation, railway trail, real estate, registries of aircraft and ships, religions, Royal Naval Dockyard, Sandys, senior citizens, Smith's, Somerset Village, Southampton, St. David's Island, St George's, Spanish Point, Spittal Pond, sports, taxes, telecommunications, time zone, traditions, tourism, Town of St. George, Tucker's Town, utilities, water sports, Warwick, weather, wildlife, work permits.
Bermuda's connections with and ties to Canada
Business, commerce, culture, education, history, military and more
By Keith Archibald Forbes (see About Us)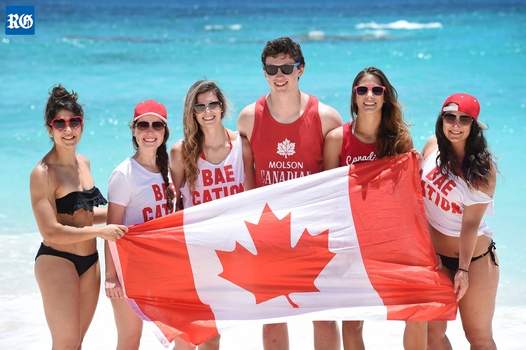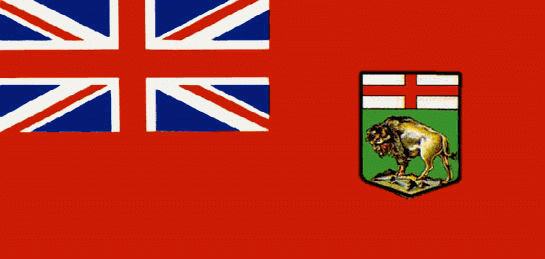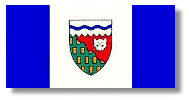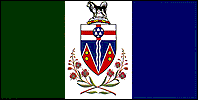 See end of this file for all of our many History files
2019. February 1. Isabelle Ramsay-Brackstone, owner of an island perfumery is the new Honorary Consul of Canada. c/o Stewart Hall, 5 Queen Street, St. George, GE 05. Phone 1 844 880 6519. Fax 212 596-1666 or 212-596-1790. Email ccs.scc@international.gc.ca. See https://www.canada.ca/Canada-In-New-York. All other inquiries to The Canadian Consulate General, 1251 Avenue of the America, New York NY 10020-1175, USA. Office (212) 596-1628. Fax (212) 596-1790. NB: All traveling from Bermuda to Canada need an Electronic Travel Authorization to enter the country. The Canadian-born operator of Lili Bermuda, Ms Ramsay-Brackstone, originally from Montreal, Quebec, came to Bermuda 15 years ago with her late husband, Bermudian businessman Kirby Brackstone. They raised their family here in Bermuda and during that time they also acquired the Lili Bermuda Perfumery. They are located in St George's. Ms Ramsay-Brackstone worked in the banking industry before coming to Bermuda and has since held positions with the tourism board and the National Museum of Bermuda board. Her presence day to day will be offering assistance in consular services, such as if Canadians are stranded. Phyllis Yaffe, Consul-General of Canada for New York, which includes Bermuda in its remit, was delighted to make the appointment. She said: "There are about 3,000 Canadians living on the island and, of course, they need access to consular services. It is for things like lost passports or papers, but also about bringing Canadians to Bermuda for business and bringing Bermuda to Canada for business."
Bermuda and Canada have been partners in history, commerce, culture, education, tourism and trade since Bermuda was settled by accident in 1609 and by design in 1612. See Bermuda History with the Old and New Worlds 1505-1799. There are more than 3,000 Canadian residents in Bermuda while 800 Bermudians a year are educated in Canada. A former Bermuda Premier (until December 17, 2012) and at that time also Minister of Finance, the Hon. Paula Cox), was born in Canada.
Canada now supplies about 10% of all Bermuda's tourists. Canadian visitors to Bermuda on vacation go from a hundreds or thousands of times bigger province but with a hugely smaller population density per square mile to a tiny (21 square miles) island with hundreds or thousands more people per square mile. Two Canadian airlines go to and from Bermuda. Canada currently supplies less than 20% of all Bermuda's imports. Many Bermudians have benefited from being sent to school, college and university in Canada. Most Canadian visitors to Bermuda do not experience problems. But there have been problems, including on July 3, 1996 a 17 year old Canadian visitor, Rebecca Middleton - see separate heading below - was kidnapped, raped, sodomized, tortured and murdered. A Canadian Senator was robbed and beaten. In 2005, four Canadian women were robbed and beaten. Canadian women visitors are advised not to accept food or drink from strangers or casual acquaintances, as these may be drugged. Once, the Canadian connection once was hugely impactive in Bermuda. Then, Canadian exports to Bermuda once exceeded US exports to Bermuda, largely the result of the Commonwealth Preferential Tariff. This stopped in the early 1970s when the UK joined the European Union. Between them, until then Saguenay Shipping and Air Canada dominated the trade then between Canada and Bermuda.
2020. January 29. Attracting interest and support from another country's Consulate General and some of its most innovative businesses is significant for Bermuda's status in the fintech and technology space. That's the view of Steven Rees Davies, joint global head of technology and innovation at Appleby, who was a speaker at the Canadian Technology Summit in Bermuda this week. He made the observation shortly after Emily Cook, head of the innovation programme at the Consulate General of Canada in New York, spoke at the summit. She said that through visits to Bermuda, the consulate develops ties with the island at all levels, and helps expose Canadian companies to what Bermuda has to offer. "Bermuda has made strides in opening up and creating a regulatory environment for business that is so unique in the world that it wasn't so difficult to find Canadian companies that were interested in exploring opportunities here," she said. The five blockchain companies attending the summit were WorkWolf, KnOx, Mantle Technology, Global Digital Assets, and Bidali. They were brought together by Penrose Partners, a Canada-based emerging technology consulting firm. The summit was jointly hosted by Penrose Partners and the Canadian Consulate. Ms King said: "It's good to see the growth of this business programme year on year and it becoming more specific and create true business opportunities." Mr Rees Davies, of Appleby, said: "It's very important to have other foreign government's consulars interested in coming to Bermuda to continue to develop relations with Bermuda, with businesses from their countries in the technology space. This is an example of where you have got private enterprise partners and you have got the Canadian Consulate working together to bring Canadian technology companies or entrepreneurs to Bermuda to see what it is we are doing here." He said it was one thing for Bermuda to develop new laws and regulations, but then there is the challenge of selling that to the rest of the world. "There are multiple channels of doing that; diplomatic, relations with consulates and foreign governments — and Premier Burt is doing a fantastic job in showcasing us everywhere he goes. There is private enterprise, which is companies and businesses in Bermuda who are adopting technology and looking to integrate what we are doing here with business elsewhere. Then there are the likes of myself, and other advisers in the industry, lawyers, accountants, fiduciary service companies who are looking to grow and develop this space, so that we have continued business, continue to grow and develop the economy, employ more people and deliver what we are trying to do here in Bermuda. So this is critical as to how we should be moving forward. It is a good testament to what we have done so far as a country [that] we are able to attract a foreign government with private business to see what we are doing. Usually we have to go elsewhere to showcase it." Mr Rees Davies was part of a panel that discussed regulation and governance. Also on the panel was Aqsa Zubair, fintech specialist at the Bermuda Monetary Authority. She spoke about how the BMA has been working with other regulators around the world, including being part of the Global Digital Finance Regulatory round table, and the Global Financial Innovation Network, which is a group of about six regulators from around the world. Another participant in the discussion was Eric Kryski, co-founder of Bidali, which among other things allows online merchants to accept cryptocurrencies as payment. He said: "Being regulatory compliant is the only way to gain trust." Mr Kryski said banking in the space has been a challenge. Bidali is with a bank in Calgary that he believes is the only openly crypto-friendly bank in Canada. He had just returned from the World Economic Forum, in Davos, Switzerland, where he learnt about what was happening in the crypto space there and elsewhere in the world. He said it was also "really interesting to see what has been happening here in Bermuda". Among things that make Bermuda attractive as a jurisdiction to him are its proximity to the US and Canada, its parity with the dollar, close ties to Canada, and its fairly central location. He said: "Also of interest to us as a payments business is putting forward more efficient payment rules. This is a really interesting testing ground because with today's technology we can actually roll that stuff out this year. We are seeing real evolution in fintech." He said a lack of regulatory clarity is inhibiting growth in Canada, and this was creating an opportunity for other countries, like Bermuda, to have companies come and set up "because they are able to be more aggressive and move things along quicker". When panel moderator Oren Bouzaglo, co-founder of Penrose Partners, asked for thoughts on where the digital technology is heading, Ms Zubair said last year had been a big one for the BMA, which saw it issue its first Class F and Class M digital asset business licenses. "We have a lot more insight on how the market works and how it is working across borders. We are finding our approach to regulatory supervision and licencing. We are one of the jurisdiction in the world that has regulations in this space," she said, adding that the BMA would look at how it can influence global benchmarks and take on more of a leadership position globally. While Mr Kryski said regulators have moved quite quickly and he expects "we will start to see stable coin payments and settlement become a real thing outside the crypto space this year". Speaking to The Royal Gazette after the panel discussion, Mr Rees Davies noted how the BMA is a member of a variety of associations around the world where regulators convene to talk about issues in the fintech space. "They [the BMA] are able to showcase the reputation of Bermuda's regulatory environment — which gives other regulators confidence in businesses that are coming from Bermuda. For me, it is us pushing it to the next level." Opening the summit, Kerem Kolcuoglu, co-founder of Penrose Partners, said: "Bermuda is a great place that is inviting innovation and setting a better example for all the jurisdictions looking to adopt this new technology. He said Penrose wants to facilitate "true partnerships and relationships." Among sponsors of the summit was the Bermuda Business Development Agency, Appleby, CCS Group, Goslings, Continental Management Limited, Hitch, and the Hamilton Princess and Beach Club, where the summit was staged.
2020. January 10. Biometric collection sessions are to be held later this month for Bermudians who want to gain a Canadian visa. Wayne Caines, the national security minister, said that special ID criteria was now mandatory for some people applying for Canadian visitor visa, work or study permit or permanent residency. Mr Caines added: "This is mandatory for all foreign students, inclusive of Bermudian students. Previously, biometric collection needed to be done overseas." The collection service was set up through a deal between the Bermuda Government and the Consulate General of Canada and will be the second of its type to be held. Mr Caines said: "On behalf of the people of Bermuda, we offer our sincere thanks to the Consulate General of Canada. We encourage all applicants who have the necessary documents in hand to take advantage of this opportunity." The sessions will be held on January 29 and 30 at the Department of Immigration, Government Administration Building, on Hamilton's Parliament Street. People can attend between 9am to noon & 1pm to 5pm. Anyone can use the service if they live in, or can legally enter Bermuda, applied for a visitor visa, study or work permit, or for permanent residence. Applicants must also have paid the biometrics fee of CAD$85 per individual applicant or the CAD$170 maximum charge for families applying at the same time and have received a biometrics instruction letter from Immigration, Refugees and Citizenship Canada. Those who apply online for a visitor visa, study or work permit and pay the biometrics fee when they submit your application, they can get the biometrics instruction letter within 24 hours of. Applicants have 30 days after receipt of the letter to give their biometrics.
2019. July 4. People going to live, work or study in Canada will be able to have their biometric information collected in Bermuda for the first time, it was revealed yesterday. The Ministry of National Security has launched a trial programme to allow residents to get their permits finalised in Bermuda rather than having to travel to the US for biometric information to be collected. The Consulate General of Canada will have a team in Bermuda from July 9 to 11 to collected the needed information. Applicants who have completed the online process must bring the biometrics instruction letter from Immigration, Refugees and Citizenship Canada with them as well as a valid passport to submit their biometrics. Wayne Caines, the Minister of National Security, explained: "Bermuda residents who have applied online or by mail for a work or students permit of permanent residence can have their biometrics collected in Bermuda and avoid the expense of travelling overseas." Mr Caines said that those who are still to apply for Canadian visas would be unlikely to be able to complete their applications before the Canadian team arrived. But he added they should complete the process as soon as possible. The Canadian team will operate from the Department of Immigration, Government Administration Building, Parliament Street, Hamilton, from 9am to noon and from 1pm to 5pm.
2009. Bermuda and Canada signed a tax information exchange agreement (TIEA) which affects Canadians living and working in Bermuda. Thus Bermuda-based banks may be asked by the Canadian tax authority to supply certain relevant information on Canadians living and/or working in Bermuda and/or with Bermuda-based or Bermuda-incorporated entities. Bermuda gained recognition as a Designated Stock Exchange under Canada's Income Tax Act, in late October, 2011. Because Canada does not have a tax on salaries of Canadians domiciled in Bermuda like the USA has a tax on its citizens in Bermuda, or charge a tax on investment income for non-residents like the USA does, good investments of all kinds in Canada are attractive for expatriates and Bermudians. Mutual funds based in Canada are also attractive when compared to Bermuda and elsewhere. Insurance rates of Canadian companies may be attractive to those working in Bermuda.

Bermuda Vital Statistics
| | |
| --- | --- |
| Bermuda size & population | 20.75 (Twenty point seven five) square miles in total. 63.908 residents in 2019. Women then outnumbered men by 2,398. |
| Resident population density per square mile | 3,097 (Three thousand, zero nine seven). Third highest in the world |
| Government Code of Conduct for legislators | None. There is a voluntary code, with no legislative teeth. It is ignored by some. No equivalent of the UK's Ethical Standards in Public Life Act. |
| Number in Cabinet | 13. Same number as USA, equivalent in Bermuda to 0.63 (Point six three) per square mile. They have "The Honorable" before their name. |
| Number of elected legislators in House of Assembly and their salaries | 36. Equivalent to 1.93 (One point nine three) per square mile. They have "MP" for Member of Parliament after their name. If they are also Cabinet Ministers, they earn well in excess of $100,000 a year, plus unlimited expenses. |
| Number of appointed politicians in Senate | 11. Also salaried. Equivalent to 0.53 (Point five three) per square mile. They have "Senator" before their name. If they are also Cabinet Ministers, they earn this plus what is shown above under "Number of elected legislators." |
| Number of registered voters per Member of Parliament | 1,297. On date of last General Election. Contrast this with no fewer than 72,810 and no more than 80,433 per member of parliament in the UK in 2018 and approximately the same in the USA per congressperson and Canada. |
| Number of Government Boards | About 122. All require the approval of the Premier who controls all Public Information. See Bermuda Government Boards separate website shown at the end of this file. |
| Number of Police | About 465, over 20 per square mile. Plus, there are Reserve officers. Bermuda has more police per square mile and per population than anywhere else in the world |
| Number in Bermuda Regiment and its Coastguard | 600 members, mostly Bermudian men, also some women, mostly part time, all now volunteers. Conscription of Bermuda-born males ended a few years ago. |
| Registered voters who can participate in a General Election | About 46,750. Total number of registered voters in the last General Election, about 60% of the entire resident population. Varies from year to year. |
| The Bermuda Society | |

Canadians employed in Bermuda
Quite a few do so. Canadian men and women in other occupations are more numerous in Bermuda's Civil Service and private sector than any other nationality and have the highest professional profile of any non-Bermudian group. They are very welcome but do not have the same freedoms here in residing and working without restrictions as they have elsewhere. Canadians visiting Bermuda on business or vacation or as professional newcomers cannot get Bermuda citizenship or vote or buy real estate at the same price as Bermudians - unless they marry Bermudians. Any children born here are not legally Bermudian unless one parent is Bermudian.

Air Canada in Bermuda since 1948
1946.

September. Canadian carrier Trans Canada Air Lines (the forerunner of Air Canada) sent a 5 hour survey flight aloft from Montreal to Bermuda, to determine the practicality of such a service. On board an early, not pressurized and noisy version of the Canadair North Star passenger air liner was a party of Trans Canada senior executives including the airline's President, Mr. Gordon R. McGregor. It had been decided by the Board of TCA that the time was not yet ripe to begin scheduled services to Bermuda, at least not without permission to carry passengers to Bermuda from the United States, which could only be obtained by inter government negotiation. But in 1948, it formally began its Montreal Toronto Bermuda route. At the same time, it established for itself and other airlines then serving Bermuda the air to ground communications systems in Bermuda, Goose Bay in Labrador and Gander in Newfoundland then so essential for transatlantic safety of air passengers. Today, Air Canada plays a major role in Canada Bermuda business and tourism. It is the British Commonwealth's most frequent 'flag carrier' and serves Bermuda on a year round daily basis.

Bermudian Canadian Association (BCA) in Toronto
Its first meeting was held in Scarborough, Ontario, initially as the Bermuda Social Club, with their first activity a Guy Fawkes party in November 1981. Its success helped them decide to change the name to the Bermudian Canadian Association. Its logo is a Bermuda Moongate encircled by the name of the association set against a background of palm trees with long tails flying over what looks like a lush green and white depiction of Horseshoe Beach. The Bermuda and Canadian flags fly on each side of the Moongate.

Bermuda Canada connection began in the late 16th century
| | |
| --- | --- |
| | Englishman Henry May was a passenger on a French vessel commanded by a Monsieur de la Barbotiere. It left Laguna, on Spanish held Hispaneola, on November 30, 1593. Seventeen days later, the crew thought they were well beyond the dreaded "Isle of Devils" of Bermuda and got their "wine of height." At midnight on December 16, the ship struck a reef off Bermuda and only twenty six, including May and Barbotiere, reached shore. With carpenters' tools and tackle for cedar trees, they built a seaworthy craft of 18 tons and caulked her seams with lime and turtle oil. They caught birds, turtles and wild hogs as food as castaways. |
On May 11, 1594 they sailed their Bermuda made craft to Cape Breton, Nova Scotia, in 9 days. May got to England two months later, to recount his experiences in Bermuda. But Bermuda was left uninhabited while the Marquis de la Roche established a short lived French colony on Sable Island off Nova Scotia in 1598

17th and 18th century Canada, New England and Bermuda links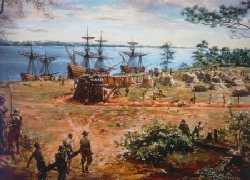 French explorer le Sieur de Champlain (Samuel Champlain de Brouage) sighted Bermuda in 1600. He coasted near the South Shore and carried away impressions of high land (the hills were then crowned by forests). He wrote of a "mountainous Island difficult to approach from the dangers that surround it. It almost always rains there and thunders so often it seems as if heaven and earth were about to meet. The sea is tempestuous and the waves as high as mountains." In 1603 French explorer Pierre Du Gua de Monts was the first European to establish a municipality in Canada. He obtained a monopoly on Acadian commerce when he established Port Royal, now Annapolis Royal, in Nova Scotia in 1605.

| | | |
| --- | --- | --- |
| | | In 1608, Champlain founded Quebec, courted Indian traders and imported French missionaries. In 1748, British regular troops, with Canadian and New England militia, seized the French fortress of Louisbourg in Nova Scotia. |
Bermuda and Canada in the "Star Spangled Banner"
In 1814 a British Fleet sailed from Bermuda, to attack and burn Washington; then attacked Fort McHenry in Baltimore. During that engagement, Francis Scott Key wrote the words of the Star Spangled Banner, as a temporary detainee on one of the British warships. The fleet's voyage ended in Halifax, where slaves rescued from the Chesapeake area were promptly set free.

Bermuda Trolley Company Limited
As early as 1910, a Canadian corporation attempted to bring regularly scheduled, motorized public transportation to Bermuda and went so far as to form the Bermuda Trolley Company Limited. Unfortunately, nothing came from it as there was a bitter altercation between some of its principals and various people in Bermuda that reached its climax in 1924 when an entirely separate entity, the Bermuda Railway Company, was formed. Had the Canadian owned Bermuda Trolley Company not been interfered with, it would have brought public motorized transportation to Bermuda far earlier than when such train services finally began in Bermuda in the 1930s.

Boer War 1901 to 1902
There were Canadian sympathizers and followers among the 4,400 or so Boer War prisoners shipped by Britain from South Africa to Bermuda and confined here, on several islands in the Great Sound, from 1901-1902, until repatriated. Also, many of the children of the Boers once held in Bermuda emigrated to Canada. Family members continue to visit Bermuda in the 1990's, researching exhibits and records on their forebears during their Bermuda confinement.

Byllee Lang (1908 -1966) and her contributions to Bermuda as a Canadian
Born and raised near Didsbury, Alberta, a rancher's daughter, she attended the Winnipeg School of Art, then the Ontario College of Art, then further art studies in Berlin and Munich. In Germany she met and married a Spaniard, who was supposed to join her in Canada but disappeared and was assumed to have been killed during the Spanish Civil War. For a while she was employed by the National Film Board in Ottawa. Her work was twice selected for special mention. After her bas-relief Coal Miners, she worked for Canadian National Railways in Montreal. Before arriving in Bermuda from New York she sculptured busts of prominent personalities in Canada and USA. She first came to Bermuda in 1945 as a typical visitor, then in 1946 as a resident artist and sculptor. In 1948, she taught sculpture and clay modeling to youngsters at the Bermuda Art Association's art school then at the Hamilton Hotel (later demolished by fire). She taught art, created window displays for her employer A.S. Cooper's, prizewinning flora-based floats for the Bermuda Floral Pageant (Easter Parade) and was a costumes and set designer for local theatrical productions. Then as a non-Bermudian, she got special permission from the Bermuda Government to accept commissions. Her most important Bermuda one were the Anglican Cathedral reredos, altar screen and statues of Christ and 14 saints she created in early 1958. She taught and inspired a generation of Bermuda artists of all complexions, races and backgrounds. She eventually opened her own studio, where she taught adults and children, and was free to work full-time on her sculptures. She was given Bermuda Status (a naturalized Bermudian). She died before she could complete five statues for the Cathedral. In the late Two Canadian sculptors finished off the figures of Christ, His mother and the Saints, for the Cathedral's reredos, left unfinished by artist Byllie Lang.

Canada and USA
It is not well-known in Bermuda that during the US Revolutionary War with Britain plans were also put into effect to make Canada the so-called "14th Colony" of the American revolt. The revolutionaries never had any intention of being content with merely their own colonies, but expected from the outset that their new nation would include the 13 colonies, Florida, Bermuda, the islands of the West Indies, all of the western territories up to the Mississippi River and Canada. The invasion of Canada was led by Colonel Benedict Arnold and Brigadier General Richard Montgomery. Opposing them was Lieutenant General Sir Guy Carleton with a small but disciplined and determined army of British troops, some Indians, Canadians and American loyalists. On November 13, Montgomery occupied Montreal, while Arnold advanced on Quebec. The rebels had expected the Canadians to flock to their colors and join their war against the mother country, but due to the pillaging of the Canadian countryside by American troops, Canada remained loyal. Carleton, after escaping Montreal disguised as a fisherman, now faced Arnold at Quebec. However, Arnold's biggest problem was not Carleton, the city walls, or the King's soldiers, but the fierce Canadian winter and a lack of supplies. Montgomery joined Arnold, and the two decided they would have to attack, lest their entire army freeze or starve to death. During a violent snowstorm in the early hours of December 30/31, Arnold and Montgomery tried to storm Quebec. British forces repulsed both attacks, inflicting heavy losses on the rebels. General Montgomery was killed and Arnold was wounded. At a cost of only 18 men, the British had inflicted 500 casualties on the rebels. Arnold, however, stubbornly refused to abandon the siege. It was not until May, 1776 when a 10,000-strong British relief force landed that Arnold took the skeletal remains of his army and retreated south to Ft. Ticonderoga with Carleton close at his heels.

Canada began Bermuda's insurance industry
Canadian life insurance companies were the first to send representatives to Bermuda in the 1880s - and the first to sign agency agreements in Bermuda. Thus they take some credit for what became 70 years later Bermuda's second most important industry after tourism - Bermuda's insurance dominated International Business Administration operations.

Canada Mortgage & Housing Corporation
In 1973, it was the model for the birth of the Bermuda Housing Corporation, a Bermuda Government quango, now under the Bermuda Housing Act 1980. In 1973, it was charged with the responsibility of ensuring Bermudians have adequate and affordable places to live.

Canadian Commercial Corporation, building Bermuda's new airport 2017-2020
2017. April. Construction of Bermuda's new LF Wade International Airport began. See in chronological detail the long, controversial, drawn-out saga.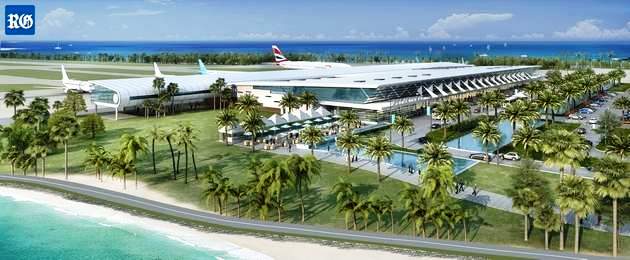 2015. August 24. Bob Richards, then Minister of Finance, yesterday signed interim agreements with the Canadian Commercial Corporation for the redevelopment of LF Wade International Airport. While the minister said the contracts did not guarantee the controversial project will move forward, he described them as another step in the incremental contract development process. "The Letters of Agreement contemplates that a further agreement, called the Airport Development Agreement (ADA), must be entered into in order to set out and describe the ambit, principles and subject matter of the project's final and definitive agreements," Mr Richards said at a press conference at the airport. "Phase one of this incremental contract process, which consists of exploration, scoping and data completion, has now been completed. This ADA marks the beginning of phase two, which will complete negotiation of definitive, detailed terms to oversee the project's implementation and move it to financial close. "This will include the framework definition, design and detail costing, finance and detail finalization of the contracts, commitments and liabilities, the independent fairness assessment, local tendering and the addressing of legal issues. This means moving the project forward with Aecon and CCC to finalise the design and financing of the airport's redevelopment, including construction, operation and maintenance." He added that phase two is expected to take about a year, after which there will be a final contract which must be signed before construction can commence. The minister also defended the Bermuda Government's handling of the project, which has come under fire repeatedly due to a lack of tendering and concerns that the deal would amount to privatization of the facility. "The alternative to what we have done so far is no airport," he said. "The only alternative is no airport at all. We are committed to developing Bermuda, to providing jobs, to constructing a new strategic asset which is needed, and the only way we could go forward with this is this way. "The traditional tender process which everyone keeps talking about would result in the Government increasing the debt by over a quarter of a billion dollars, which is not something this Government will allow. The alternative being what it is, this is the way to go." Minister of Tourism Development and Transport Shawn Crockwell, meanwhile, said the existing terminal was not meeting the first-class standard that visitors and residents expect. "This Government, your Government, has put together a plan that provides so many benefits for Bermudians. Importantly, it will take a hodgepodge of buildings which we have been using since the 1940s, together with additions and Band-Aids here and there, and replace it with Bermuda's first purpose-built terminal for civilian air traffic. We have been fortunate in finding such high-end partners to help us achieve this objective." Martin Zablocki, president and CEO of CCC, said the corporation was excited to be working with Bermuda on a project which will create jobs for Bermudians, both through subcontractors and add-on business, while Aecon Group executive chairman John Beck said it would take great care to deliver infrastructure which supports Bermuda's economy and society. "We are confident that we can do this for Bermuda through a collaborative and affordable process using Aecon's award-winning airport development expertise," he said. "Using a whole-of-country approach, we will work alongside other companies to maximize employment opportunities for Bermudians and bring best-in-class safety, construction and environmental standards to the project." The Progressive Labour Party has repeatedly criticised the One Bermuda Alliance's approach over the airport redevelopment, and last week suggested the creation of an airport authority that would allow Bermudians to take advantage of projected revenues. Mr Richards, however, dismissed the claim that the deal would cost Bermuda $620 million in revenue over the course of the next 30 years, dismissing the figures as speculation. "These are coming from people I like to call number bombers," he said. "They can speculate, they can pontificate, they can prevaricate. They can do that because they don't have to deliver anything. As ministers of this government we have to deliver, so we can't throw numbers around willy-nilly. The people who know these numbers are the people who are in this room. The people have to ask themselves do the people in this room, Aecon, CCC and the Minister of Finance, know more about this than people who have never built anything? Aecon built the CN Tower. And the new terminal at the Toronto Airport. We are dealing with experts here. I really think the number bombers need to let us do the deep dive into the data to prove the economics of this project, and that's what phase two is. A commitment to do a deep dive into the details of this project, to come up with the economics of this projects. The number bombers are going to continue to speculate, pontificate and prevaricate, but we are getting on with the people's business here."

Canadian exports to Bermuda
Bermuda is Canada's biggest exports customer on a per capita consumption basis. Less than three decades ago, when Saguenay Shipping and other services supplied Bermuda directly from Canadian ports, Canada's share of Bermuda's total imports was much greater than it is now. The (British) Preferential Tariff was then in effect.

Canadian professional and public education in Bermuda
The Canadian Institute of Chartered Accountants is the only governing, regulatory and examining body for all Bermuda's chartered accountants. Many of the following Canadian organizations of chartered accountants have personnel working for public or private sector employers in Bermuda.

Canadian private schools and universities
Many Bermudians have graduated from them - see Education in Bermuda. Much of the Department of Education's policy planning owes its origin to Canadian initiatives.

Canada stone in Bermuda's Cathedral
From Nova Scotia in the 1880's and 1890's came stone for Bermuda's Anglican Cathedral in Hamilton and several other prominent buildings.

Canadian Army in Bermuda in the Great War and World War 2
1914 to 1915. Royal Canadian Regiment, 38th Ottawa Battalion, Canadian Expeditionary Force (CEF). They arrived in Bermuda somewhat to their disgust as they wanted to fight in Europe. They left for the European theater in 1915. Photo right shows one of their soldiers in Bermuda.
1915 to 1916. Draft (10 officers, 98 OR), 77th Battalion, CEF. An offspring from the English speaking Governor General's Foot Guards of Ottawa, an English-speaking regiment.
The officer commanding the combined 38th/77th forces was Lieutenant Colonel Douglas Richmond Street.
1916. 163rd Battalion, CEF. A French speaking unit, originally Les Fusiliers de Sherbrooke, Montreal.. A French speaking unit, originally Les Fusiliers de Sherbrooke, Montreal.
1940. Winnipeg Grenadiers. Arrived to garrison Bermuda.
1942. Pictou Highlanders of Canada. Arrived to garrison Bermuda.
Many Bermudians served in the Canadian Army (or were attached to Canadian Army units), Royal Canadian Navy and Royal Canadian Air Force during the Second World war.


Canadian Government Merchant Marine Service to Bermuda
In June 1922, the Canadian Government Merchant Marine, a government financed operation, inaugurated a Montreal to Bermuda to West Indies service, with Halifax replacing Montreal in the winter months. The vessels Canadian Fisher and Canadian Forester were employed on the run. In 1925, following a trade agreement between the Canadian Government and a number of British Atlantic and Caribbean colonies, the Canadian Government undertook to provide the necessary shipping links to enhance Canadian exports and took over the Royal Mail Steam Packet Company route (referred to earlier) in 1926.

Canadian Navy in Bermuda, World War 2
From the very beginning of World War II in 1939 for Britain and Canada, the Royal Canadian Navy established an Anti-Submarine warfare training base in Bermuda, under Royal Navy auspices. (At that time, part of it was at Casemates Barracks, the building which later served as Bermuda's main prison in the Bermuda Royal Navy Dockyard). It spread eastwards to Convict Bay in St. George's Parish, with the establishment in 1944 for one year of HMCS Somers Isle. Royal Canadian Navy ships played a major role in the War of the Atlantic. And when Britain signed its "50 Destroyers for Bases" deal with the United States, once again HM Dockyard in Bermuda and the equivalent in Halifax were "twinned" historically and strategically, as in the first 50 years of the 19th century. Thousands of Royal Navy officers and men were conveyed from Bermuda to Halifax to take over 50 previously mothballed American naval ships.

Canadian National Steamships "Ladyboats" serviced Bermuda
Following the Canadian Government's participation in Bermuda's shipping services from 1925-1926, the Canadian National Steamships Company was established by Act of Parliament in Ottawa in 1927, to consolidate shipping services from Halifax and Montreal to Bermuda and the West Indies. On Saturday, December 15, 1928, the first of five newly built gracious "Ladies" steamed into Bermuda. She was the Lady Nelson. Her sisters Lady Hawkins and Lady Drake followed on December 21 and January 14, 1929, to establish a fortnightly service. The trio were designed for a combined human and commodity service to the eastern Caribbean, with 218 passengers apiece in three classes and their holds designed to bring sugar from the Caribbean to Canada. Although they were known as the "Lady boats," they were "sugar ships," named after wives of famous British admirals. In April, 1929, they were joined by two "banana boats." The Lady Somers (after the wife of Admiral Sir George Somers who colonized Bermuda) and Lady Rodney served the western Caribbean and Bermuda with 130 passengers and special refrigerated holds for bananas from Jamaica to Canada. Their introduction increased the frequency of the Bermuda schedule of the Lady boats from fortnightly to weekly. On their southbound voyages from Montreal or Halifax and Boston, depending on the season, the Lady boats would often bring more than just cargo and passengers for Bermuda. Sometimes they brought water too, for King Edward VII Memorial Hospital. They served Bermuda well until World War II. During World War 2, all these vessels were requisitioned for war service and three were torpedoed and sunk. Two of the original five Canadian "Lady" boats - the Lady Nelson and Lady Rodney - resumed their services from Halifax and Montreal in 1947 to Bermuda and the West Indies and continued until the end of 1952, when the service was discontinued and the ships sold.

Book: The Ladyboats.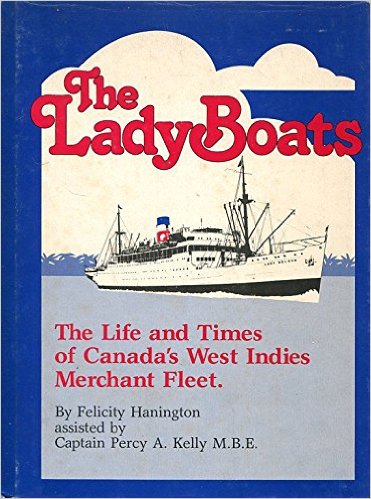 Once important to Bermuda's economy in passengers and freight. This book goes into considerable detail.
Canadian National Steamships 'Ladyboat' carried Duke and Duchess of Windsor from Bermuda to Bahamas in 1940. It was on one of the Canadian National Steamships' 'Ladyboats' much loved in Bermuda that the Duke of Windsor and his wife, the former Wallis Warfield Simpson, sailed in 1940 from Bermuda to Nassau, Bahamas, where the Duke became the wartime Governor of the Bahamas. Much has been made of the effective wartime exile of the Duke and Duchess from Britain in television documentaries in recent years, but nothing has been said correctly of how exactly they got to Nassau.

Canadian newspapers and business and information resources with links to Bermuda
They include:
Calgary Herald Online.
Daily News, The. Halifax.
Edmonton Journal Extra
Halifax Herald
Montreal Gazette.
Ottawa Citizen
Toronto Star
Toronto Sun

Canadian products in Bermuda
Many are available, especially in the food stores. The MarketPlace carries many President's Choice products, all made in Canada.

Canadian street lamps first lit up the town of Hamilton in Bermuda
In 1874, the Corporation of Hamilton acquired its first street lamps for Hamilton. Two were ordered from Halifax, Nova Scotia, at a cost of $17.25 each. Erected on ten foot posts, they burned kerosene and gave off a light equal to fourteen candles. They proved so satisfactory that the Corporation later increased the order, to illuminate Front Street and the intersections of other streets.

Canadian Trade Exhibitions in Bermuda
Canadian Trade Exhibitions have been held in Hamilton, in the 1980s, not recently. Then, local importers and consumers saw samples of Canadian products. On several occasions, the University of Toronto Press - which has published many books by Bermudians and local organizations - has donated new editions to the Bermuda Library.

Canton, Samuel
A prominent Bermuda based silversmith, born circa 1794. His much prized extant silver work was from two periods of his life in Bermuda, before and after he joined the British Canadian military forces of the Earl of Durham during the Papineau Rebellion in Quebec. He returned to Bermuda at the same time as the French Canadians were exiled there.

Castine Fund 1814
From the British Canadian attack on New England during the War of 1812-14 came the lucrative Halifax based Castine Fund of 1814, based on income from British possession of the US Customs port of Castine (now Maine, then in Massachusetts), a major beneficiary of which was Dalhousie College. Now Dalhousie University, it has educated many Bermudians. Sadly, most Bermudians, Canadians and Americans these days are completely unaware of the Castine Fund.

City of Hamilton's General Post Office
For this building, built in 1966-67, Canadian steel was employed. At one time in 1966, a dock strike in Montreal caused delays of shipments to Bermuda, necessitating a month's delay in completion of the structure in 1967.

Colonel (later Brigadier General) James Robertson Arnold
One of the two sons of Revolutionary War American traitor and British patriot Benedict Arnold. American born, he was exiled to Canada with his father and family when very young and educated at King's College School. He wanted to avenge his father's humiliation in America, so he joined the British Army. He sailed from Halifax and was the first Royal Engineer to fortify, in 1816, the new HM Dockyard in Bermuda against any invasion threat from USA. His success was such that he was posted to Halifax in 1818 to do the same thing for the Citadel.

Earl of Durham, Governor General of Canada
He is best known in Bermuda for his action in 1838 in deporting, in chains, nine prominent French Canadians, lieutenants of the Papineau Rebellion, to Bermuda as political prisoners. They became Bermuda's famous French Canadian Exiles. Their history began in 1830, when a successful revolution in Belgium and its counterpart in France fueled the passions of the French Canadian rebel Louis-Joseph Papineau for a French Canadian enclave, La Nation Canadienne, with the province of Quebec as La Patrie, under British protection but separate and distinct from all other British subjects. In 1838, these French Canadians, whose love for their original mother country, her language and traditions was such that they fought for French rights in the ill fated Papineau rebellion, were captured and initially imprisoned in Quebec. Then, in a dispatch to London of June 29, the Earl of Durham advised he was deporting them from Canada, under sentence of death if they ever returned there. They were officially exiled to Bermuda, in much the same way the British Government had exiled the deposed French Emperor Napoleon Bonaparte to St. Helena.

Durham qualified his report with his rationale for choosing Bermuda as the place of exile. His view was that Bermuda, unlike other penal colonies, would not affix a character of moral infamy on them to make them - as they might become in Australia - centers of trouble as political martyrs. Thus they arrived in Bermuda, as the island's first 'political prisoners.' One June 29, 1838, they were herded in chains on board the warship HMS Vestal commanded by Captain Carter, whom Vice Admiral Sir Charles Paget, based in Halifax, Nova Scotia, had appointed to escort the condemned men to Bermuda with a letter to Bermuda's Governor, Sir Stephen Chapman, to explain the circumstances. When they were freed later the same year, several went first to Louisiana, the most French of all American states. The full story of these 'Exiles' may be of considerable interest to French nationals, French speaking Canadians and Americans with French family connections.

Francis Gore
He was Lieutenant Governor of Bermuda in about 1804. Then he was appointed Lieutenant Governor of Upper Canada from 1806 to 1817. He had a niece called Elizabeth Gore.

French Canadian Exiles in Bermuda
They were Wolfred Nelson, Rodolphe des Rivieres, Bonaventure Viger, Robert Shore Milnes-Bouchette, Henri Alphonse Gavin, Toussaint Goddu, Simeon Marchessault and Luc Hyacinthe Masson, all of the province of Quebec. As political prisoners in Bermuda, not convicts, they were not put on the notorious Bermuda based Prison hulks. They rented a cottage in Hamilton, on what is now Church Street, a property then referred to as "Exiles' Cottage." They charmed Bermudians during their 14 week stay, as physicians, musicians and human beings. Their release from Bermuda was ordered by the House of Parliament in London, in defiance of the Earl of Durham. They then went to the USA. Their technically illegal period in Bermuda triggered major reforms in British political administration, in Canada, Bermuda and the rest of the British Empire. Much later, when finally allowed to return home, their leader, Dr. Wolfred Nelson, was elected as a two term Mayor of Montreal.

General Sir George Arthur (1784-1854)
A Napoleonic Wars veteran, he was Lieutenant Governor of Tasmania, the Empire's principal penal settlement, for 12 years. He instituted humane reforms in the convict transportation system. Then he became Lieutenant Governor of Upper Canada. His was made a baronet in 1841, served as Governor of Bombay, India, and was appointed as the first ever Governor General of India, but died in 1854 before he assumed the office. He was the great grandfather of Bermuda's 1951 Colonial Secretary, the Hon. O. R. Arthur.

Governance Professionals of Canada (GPC) help the Bermuda Government
Created in 1994, GPC's mandate is to be the voice of governance professionals in Canada, according to the organisation's website. Its members deal with all matters affecting corporate governance, from board and committee processes, management and structure, disclosure, stakeholder engagement, legal and corporate compliance, as well as issues crucial to boards, their accountability and oversight.
2019. March 21. Bermuda's ties with a Canadian governance organisation were strengthened this week with a workshop at Fairmont Southampton hotel. Governance Professionals of Canada (GPC) hosted the workshop for their members, as well as Bermuda-based governance and compliance professionals, on Monday and Tuesday. Among the topics covered in the workshop were principles of organizational governance and key trends emerging in the global community of governance. Lovitta Foggo, the Minister of Labour, Community Affairs and Sport, presented opening remarks, wherein she expressed the Bermuda Government's support for continuing the partnership with GPC. Ms Foggo said: "This conference will provide a platform for the development of a constructive partnership for Bermuda with GPC, not only in the private but also the public sector and this will afford Bermuda the opportunity to be at the forefront of emerging trends and new technologies in this space. "As such, the Government of Bermuda is committed to maintaining a robust compliance regime and governance framework that is closely aligned with best practices and subject to international scrutiny. As a leading international financial and business centre, Bermuda attaches great importance to corporate governance. We believe that for companies to be successful, competitive and sustainable in the long term, a high standard of governance is crucial. As compliance professionals and government regulators know, good governance protects the public purse, protects the interests of citizens, raises the standard of not just public governance, but corporate governance, enhances investor confidence and improves international relations."

Governor Henry Hamilton
Bermuda's capital city of Hamilton is named after Bermuda's Lieutenant Governor, then Governor, Henry Hamilton who had many links with Canada. Earlier, he was a senior British Army officer and served with distinction at Louisbourg and Quebec during the Seven Years War (French and Indian War). Following the passage in Britain of the Quebec Act, 1774, he was Lieutenant Governor of Detroit (where he became infamous in American historical records as the "Hair-Buyer of Detroit" for his support of British led Indians slaughtering and scalping American rebels during the Revolutionary War). Then he was Lieutenant Governor of Quebec (1782-1785), before his Bermuda posting.

Halifax and Bermuda
From 1781, it supplied virtually all Bermuda's food and lumber. With the Treaty of Paris of 1783, which ended the American Revolution, the British were left with only Halifax as a North American Royal Navy base. As Sir Guy Carleton (later Lord Dorchester) evacuated British and Loyalist forces from New York, he realized the value of a new naval base, less prone than Halifax to American reprisal.
Halifax-based Royal Navy started British mail service to Bermuda. Not until 1807 did vessels make regular calls to Bermuda. The Royal Navy's Commander in Chief, Atlantic, based in Halifax during the spring and summer, demanded and got a mail service to carry his dispatches while he was wintering at Bermuda. British Post Office packets were ordered to call at Bermuda from Falmouth, England, en route to New York during the four winter months. This service was discontinued during the War of 1812-14. It was long before the Royal Canadian Navy was established (1910).
Halifax was the inspiration for HM Dockyard, Bermuda. From Halifax in 1809, the British Admiralty branched out to Bermuda to construct the Gibraltar of the West, the Dockyard on Ireland Island.
Halifax- Bermuda 1812-14 war-time mail service. During this war, there was such a need for regular communication between the Royal Navy bases at Halifax and Bermuda that a monthly mail service began between the two ports, using the Royal Navy's brigs or sloops. These also carried passengers and supplies on occasions. They replaced the pre-war British postal packets that carried the mails from Falmouth, England, to Bermuda and then New York.
Halifax-Bermuda links improved the mail service. In 1827, the mail service linking England with Bermuda, New York and Halifax underwent a further improvement. British Post Office packet vessels from Falmouth, England, included Bermuda as the turn-around point, with calls at Halifax both outbound and inbound.
Halifax sent Bermuda's first bank and currency notes in 1863. The Merchants' Bank of Halifax (later, the Royal Bank of Canada), established in Halifax in 1864, opened an agency in Bermuda in 1882 via the local Butterfield's Bank. On October 6, 1883, it issued its own money for use in Bermuda. It began circulating a $5 Canadian note printed by the American Bank Note Company in Ottawa for its bank in Halifax and converted to a one pound, one shilling (guinea) note for use in Bermuda. This Canadian/Bermudian note has considerable historical value as the first "Bermudian" paper money to arrive in Bermuda; some 31 years before Bermuda got its own official currency notes. Later, the Merchants' Bank of Halifax divorced itself from Butterfield's Bank in Bermuda and ran its own branch bank in Bermuda for four years. Thus it also became the first (and only) non-Bermudian bank in Bermuda. Later yet, the Merchants' Bank of Halifax's Bermuda operation was bought out by banking newcomers in Bermuda who established from it the present day Bank of Bermuda Ltd.
Halifax-based Pickford & Black assumed the Halifax-Bermuda shipping run. In 1888, two years after Cunard's Halifax Bermuda service was canceled, the Cunard vessels Alpha and Beta, which had been operating on the Halifax Bermuda West Indies run, were sold to Halifax's Pickford & Black. The Alpha was used to provide a monthly Halifax Bermuda Turks Island service, until she was replaced by a refitted Beta in 1897.
Halifax- Bermuda Cable Link of 1890. The Halifax Bermuda Submarine Cable Link of 1890 made a decisive impact on Bermuda's tourism and commerce. For the first time in its history, via this feeder line, Bermuda was no longer dependent on slow ships to carry messages. The island could communicate almost instantaneously by cable and telegraph with the rest of the world's major cities hooked up to Trans-Atlantic and over-land cable systems. More than any other event, this launched Bermuda's Golden Century in economic development and paved the way for Bermuda's unique image in tourism, banking development, legal services, International Business and the latter's support services today.
In 1889, Pickford & Black of Halifax introduced a second Bermuda service, from St. John's in New Brunswick and Halifax, via Bermuda and the Windward Islands, to Demerara, British Guiana, using the vessels Tayworth Castle and Duart Castle. This continued until 1913.
Today, this university town probably hosts more Bermudians annually for scholastic purposes than any other place in North America, but direct scheduled flights between Halifax and Bermuda are only once a week, via Air Canada. See Airlines Serving Bermuda.

Hon. Sir Francis Forbes
He was Bermuda's most distinguished native son jurist, son of the well known Doctor Forbes whose family had emigrated from Scotland in the early 1700s. Dr. Forbes received his training in Edinburgh and was a distant cousin of Lord John Forbes. He became wealthy enough to acquire land in north east USA which was confiscated during the American Revolution and never returned. Francis Forbes was born on Smith's Island in St. George's Harbour, Bermuda and raised in the historic Town of St. George. After serving as Bermuda's Attorney General, he was appointed Chief Justice of Newfoundland. He served there from 1816-1821, before he became the first ever Chief Justice of the huge Colony of New South Wales, Australia. He died there and many Forbeses in Australia can be traced directly to him.

Hugh Allan and Allan Line
Competing with Samuel Cunard was another Canadian, Hugh Allan, founder of the Allan Line, who, from 1852 until the Allan Line's absorption by the Canadian Pacific Company did more than any other man, except for Cunard, to promote the growth of sea borne commerce to and from Canada, including to Bermuda and the West Indies.

JD Irving
The famous Canadian dynasty, the Irving family, has a major offshore corporate base here in Bermuda. A $6 billion empire, it controls huge business concerns in New Brunswick. The 125-year-old dynasty has a number of JD Irving Limited Bermuda-registered entities, and the Island became the final home for company patriarch Kenneth Colin Irving before he passed away in 1992. Since then it has been Mr. Irving's three sons JK, Arthur and Jack, all in their 70s, who have overseen the various elements of the business, which includes media, oil and energy, and forestry. The Irving family is the third richest in Canada.

John Dunscombe
In 1816, with the dockyard in Bermuda taking shape, the Bermuda Government invested in a permanent residence for the resident Royal Navy Admiral. It purchased the Dunscombe estate at St. John's Hill (renamed Clarence Hill in 1822 in honor of His Royal Highness the Duke of Clarence - and, later yet, known as Admiralty House) for three thousand pounds sterling and made it a gift to the Crown. John Dunscombe, the owner of the property before then, emigrated with his funds to Newfoundland and eventually became Lieutenant Governor. During his administration, the brick and stone foundations that replaced the old timbered structures were laid of Newfoundland's capital city, St. John's, named after his former Bermuda home.

John Henry Lefroy
Lieutenant General Sir J. H. Lefroy, two term Governor of Bermuda from 1871, deserves a special place in joint Bermudian and Canadian history. After a scientific stint on the island of St. Helena, during which he was an eyewitness to the disinterment of French Emperor Napoleon Bonaparte's body for removal to France, his "On the Meteorology of St. Helena" was published in London in 1841 and undoubtedly contributed to his posting to Canada almost immediately thereafter. From 1841 to 1853 he was a British Army captain on an extended special assignment in Canada, the first Director of the Toronto Magnetic Observatory, an institution which in time led to the establishment of the Meteorological Service of Canada, later the Atmospheric Environment Service, now part of Canada's Department of the Environment. During that 12 year period, Lefroy studied and wrote on magnetic disturbances, explored 6,000 square miles of country from Toronto to Hudson's Bay on snowshoes and by canoe - and established his reputation as a geographer and eminent meteorologist. Later, a peak in the Canadian Rocky Mountains, Mount Lefroy, was named after him. Some of his Canadian inspired published works include books on Magnetism, Barometric Pressure, the Aurora Borealis, Lunar Influences and Magnetic Surveys. Some years later, he was appointed Governor of Bermuda and distinguished himself, particularly in encouraging more trade and commercial links between Bermuda and Canada - and in writing the most detailed history of Bermuda's earliest colonial years ever written. A son emigrated to Toronto.

Lester Pearson in Bermuda
During Word War II, this distinguished Canadian was a diplomat turned "Intrepid" controller and intelligence expert. In that capacity, he was in and out of Bermuda on several occasions. Later, he became Prime Minister of Canada.

Louis St. Laurent in Bermuda for 1957 "Summit Conference"
As Prime Minister of Canada, he was a participant in the "Big Three" 3 Power Summit Conference held in Bermuda in March, 1957. It was the first of what later became a succession of full Summit Conferences held locally. This first conference was after the 1956 Suez Crisis. Other attendees were British Prime Minister Harold Macmillan and American President Dwight Eisenhower.

Modern office buildings in Hamilton constructed in Canada
In 1987-1990, for the building of Bermuda's most modern major office blocks in the vicinity of City Hall Square in Hamilton, almost 100% of the construction materials came from Canada.

Newfoundland and Bermuda
Bermudians did not confine their fishing, hunting for turtles and whaling to home waters, they went for cod off the Newfoundland Banks with 34 sloops of 30-60 tons, manned by 8-10 men and a Newfoundlander pilot. In 1787-1788, Newfoundland complained to London. Bermudians were forbidden to further violate the terms of the Treaty of Paris, 1763. Bermuda's Governor Henry Hamilton had to ensure this was obeyed. Despite these spats, Bermuda later once had strong ties with Newfoundland. In 1839, Newfoundland and Bermuda were formed into a separate Anglican Diocese, and the Rev. Aubrey S. Spencer, who came out as a missionary to Newfoundland in 1819, but who was Archdeacon of Bermuda at the time of the foundation of the new see, was consecrated its first bishop. "At my consecration," says Bishop Spencer, "to the see of Newfoundland, I found only eight clergymen of the Church of England in the whole colony; the Church itself in a most disorganized and dispirited condition; the schools languishing, many of them broken up. The clergy of Newfoundland are maintained mainly by the noble Society for the Propagation of the Gospel in Foreign Lands; but the people are called on by the Bishop to provide a house and a small stipend, according to their respective means, for their several missionaries." The Bishop set himself at once to establish a Theological Institution for training young men for [85/86] the ministry. He also divided his Diocese into three Rural Deaneries Avelon, Trinity, and Bermuda. In his letter to the S. P. G., 1841, he says--"In the course of my visitation during the present year, I have travelled by land and by water 1188 miles, visited thirty-five stations, confirmed 1136 persons, consecrated six churches, organized or assisted in the building of twenty-one new churches, ordained two priests and eight deacons, and founded or restored more than twenty day schools or Sunday schools."

Among the graves of St. John's Church, Pembroke is that of Bishop Edward Feild (1801-1876), second Bishop of Newfoundland and Bermuda, who died in 1878. In fact, Anglican Bishops of both Newfoundland and Bermuda began in 1839 and lasted for 80 years until 1919. Several Newfoundland families with the surname of Gosling, Harvey and Outerbridge once carried on business and had branches of their families in both places. Plus, the story of the Atlantic fishery involved both places. And J. B. Hand and Sir Francis Forbes were both involved in Bermuda and Newfoundland.

In January 1941, Newfoundland on the northern flank, Trinidad on the southern, and Bermuda in the center were the first of the new Atlantic bases to be garrisoned by the US Military. The first contingent arrived in Newfoundland in January 1941, ahead of the construction forces, and in April the first garrison troops arrived in Trinidad and Bermuda, only a few weeks after the advance party of construction people. Both Newfoundland and Bermuda were intimately tied in with the defense of the northeastern seaboard, the responsibility for which rested with the Commanding General, First Army. Both garrisons, except troops engaged in construction work under the immediate supervision of the Chief of Engineers, were therefore attached to the First Army. Each was responsible for its own supply, which was to be provided by the Second Corps area to the same extent as for units of the field forces within the corps area. After some discussion by one of General Marshall's deputies with the heads of the several staff divisions, it had been decided that the only designation that would not be a source of confusion with the Navy was the rather unwieldy one, U.S. Troops in Newfoundland (or Bermuda, as the case might be). But the official orders, a week later, designated the Newfoundland force as the Newfoundland Base Command, U.S. Army, and the same terminology was used later for the Bermuda and Trinidad garrisons.

In the 1950s, many Bermudians who were schooled in the United Kingdom went there via British Overseas Airways Corporation (BOAC, later British Airways or BA) and a route or overnight stop at Gander Airport, Newfoundland. Some, including this author, developed their interest in aviation through this Gander connection.

Nova Scotia and Bermuda
2008. September 18. Then-Premier Ewart Brown of Bermuda signed a Letter of Intent with his counterpart in Nova Scotia, Canada, Premier Rodney MacDonald paving the way for more formalized business and cultural ties.

The Letter was signed at Province House, in Halifax, where the Nova Scotia House of Assembly meets. Before the signing ceremony, the Premiers met over a working lunch to discuss steps that can be taken as the two jurisdictions strengthen ties. The Letter of Intent will result in an official Memorandum of Understanding. Dr. Brown also met with Nova Scotia Minister of Tourism, Culture and Heritage, Bill Dooks, and his Deputy Minister Kelliann Dean, plus other tourism officials an Bermudian students studying in Halifax. He noted there are almost 2,000 people from Canada working and living in Bermuda and as many as 300 Bermudian university students in Nova Scotia at any given time. He believes there is clearly room to grow the Bermuda-Canada relationship in areas like financial services, entrepreneurship and tourism. A Memorandum of Understanding will help all involved focus their attention on the potential. This was the first step in that process. Mr. MacDonald said: "We will sign a Memorandum of Understanding that will cement the many partnerships that exist between our two communities and pave the way to future opportunities. We are strengthening a partnership and building on an important relationship."

1868. Nova Scotia Command lost Bermuda. Until that year, British Army units stationed in Bermuda were part of the Nova Scotia Command. On March 14 of that year, the 15th Regiment, then at Saint John, New Brunswick - was ordered to Bermuda and arrived on April 25.

1860-65. US Civil War. Much has been written and televised about Bermuda's role during the American Civil War, but not about the Canadian contribution as it affected Bermuda. It depended greatly on Canadian shipping support and supplies, principally from Nova Scotia. Bluenose windjammers sailed from Halifax and were never subjected to blockade by the Union Navy en route to Bermuda or the Bahamas. One reason was that other Nova Scotians were on the Northern side - and very helpful in supplying goods for the Northerners and volunteers for Northern armies, in complete contrast to the strongly pro South attitudes in Bermuda. Most of what Nova Scotia ships brought to Bermuda and the Bahamas was supercargo, trans-shipped in Bermuda by the blockade runners for the run to Southern ports.

Princess Louise put Bermuda on the tourism map, from Canada
I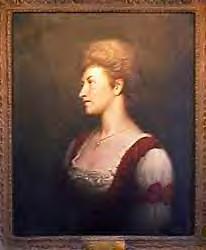 n 1998, Bermuda held the first ever exhibition of water colors by Her Royal Highness the Princess Louise Caroline Alberta (1848 to 1939), the fourth daughter and sixth child of the nine born to Queen Victoria (1819 to 1901) and Francis Albert Augustus Charles Emmanuel, Duke of Saxony. Prince of Saxe-Coburg and Gotha (1819 to 1861). She was Bermuda's first official tourist in 1883. The two big local Princess Hotels are named after her.
The first was the Hamilton (or Pembroke) Princess built originally in the late 1880's but modernized since and then known as purely The Princess. The real Princess consented to the name. She was present for the grand opening and named the hotel. She put Bermuda on the map of tourism with her fame and stature. Before she became a prolific and talented artist, she was a trained sculptor. Her husband from 1871 was the Marquis of Lorne from Scotland who later became the 9th Duke of Argyle.
It was because of his Royal Appointment as Governor General of Canada that she was able to visit Bermuda, not just once in 1883 but several times later. She much preferred the much warmer winter climate of Bermuda to that of Canada. With her appreciation of the military, home she loved in Scotland, the Guard of Honor it provided for her wedding and the artwork she did for it, one of Scotland's most famous British Army units, The Argyllshire Regiment, was renamed to honor her. It carried her insignia for many years in its own - and served in Bermuda for two years under the old name in the late 1920s before it became The Argyllshire Highlanders, later the Argyll and Sutherland Highlanders. (Sadly, the battalion that went to Bermuda has been credited in the official regimental records in Stirling Castle as having served in Jamaica instead, 1,000 miles further south.
The leading Canadian organization which owns a number of the watercolors she painted while she was in Bermuda (and lent them to Bermuda for a 1999 exhibition) is the National Gallery of Canada. With its cooperation, the paintings were shown at the Bermuda National Gallery.

Quebec & Gulf Ports Steamship Company service to Bermuda
This began in January, 1874 as a New York -Bermuda run, with the S.S. Canima. The company retained its contract until World War I, providing larger and improved ships. Its last steamer, the S.S Bermudian, was withdrawn as a troopship following the outbreak of the war. After the war, the Bermudian was sold to the Furness Withy Line which took over the service and was renamed the Fort Hamilton. Interestingly, two of the Bermuda Government's fleet of inshore vessels, operated by the Department of Marine & Ports, continue to be named the Canima and Bermudian, in tribute to those two great old Canadian ships.

Rear Admiral George Murray
In May 1794, after war was again declared in 1793 between Britain and France, more British naval vessels were needed in the western Atlantic to deter French privateers. Rear Admiral George Murray sailed from Plymouth, England, with a Royal Navy squadron. It reinforced the few frigates based at Halifax under Commodore Rupert George. Cruising that summer off the Chesapeake Bay and the Carolinas in search of French vessels, Murray needed a base for his patrols during the winter.

Lieutenant Thomas Hurd RN, A marine surveyor, had charted the waters of Canada's Atlantic and Gulf of St. Lawrence. He was sent to Bermuda, to sound existing channels through the reefs and find new ones prior to the building of a British naval base in Bermuda. He began his surveys in the late 1780s and completed them in 1792.

In early October that year, on his flagship HMS Resolution off the American coast, Murray was told of Lieutenant Hurd's surveys and findings in Bermuda and dispatched the 32 gun frigate Cleopatra, under Captain Penrose, to Bermuda to bring back a report and charts from Hurd. What they revealed impressed Murray so much that he called at Bermuda himself before his return to Halifax in the spring. Murray sent Penrose and the Cleopatra back to Bermuda in February, 1795, to pick up French prize crews, during which time Penrose made his own glowing report of the facilities Bermuda could offer. Murray ordered Penrose to rendezvous with him at Bermuda in May, 1795 and was so further impressed with what he saw personally, as well as in the reports of Captains Penrose and Pender (of HMS Resolution) and Lieutenant Hurd, that he enclosed them with his own report to the Admiralty dated May 27, 1795.

Reginald A. Fessenden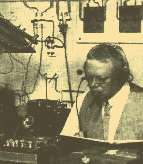 1906. Christmas Eve. Canadian Reginald Fessenden (1866-1932). He later became famous for his Bermuda connections, made the first radio broadcast in history. Radio operators on ships in the Atlantic were shocked to hear a human voice emitting from the equipment they used to receive Morse code.
Many operators called their Captains to the radio room, where they heard Fessenden make a short speech, play a record, and give a rendition of "O Holy Night" on his violin. Fessenden, right, making his historic 1906 broadcast
Later, he married a Bermudian, Helen Trott, made the island his home and became headmaster of Whitney Institute School. He was the "Father of Radio Broadcasting" from 1900 and was inducted into the USA's National Inventors Hall of Fame in Akron, Ohio, in September, 2000. Bermuda historian William S. Zuill is a nephew of Helen Trott. The link continues today with the award of annual Fessenden-Trott Scholarships.

Rebecca Middleton. R.I. P
On July 3, 1996 this 17-year old Canadian visitor from Belleville, Ontario, was abducted, kidnapped, brutally stabbed, cut 35 times, beaten, tortured, gang raped repeatedly and viciously, sodomized, brutalized and murdered in Bermuda by Bermudians. It was the worst, most brutal, most animal sexually-depraved, most violent and inhuman racial murder of any woman anywhere in the world.
Read more about the details of the case and what the Canadian, UK and Bermuda Governments have not done, in Bermuda Laws.

Royal Mail Canadian Government shipping service to Bermuda
In 1913, the Royal Mail Steam Packet Company signed a contract with the Canadian Government to operate the service formerly run by Pickford & Black of Halifax with its Tayworth Castle and Duart Castle. Vessels employed in the new Royal Mail service were the Canadian ships Cobequid, Caraquet, Chignecto and Chaleur. The Cobequid was wrecked on her first voyage and the Caraquet came to grief on a Bermuda reef in 1923.

Samuel Cunard began monthly Halifax Bermuda mail boat service
In 1833, the mail carrying packet vessels terminated at Halifax, instead of Bermuda and Samuel Cunard of Halifax, Nova Scotia was awarded a contract by the British Admiralty to provide a monthly mail boat service between Halifax and Bermuda. This was his first trans-Atlantic service before his shipping line expanded hugely and later became world famous. It continued to Bermuda until July, 1886.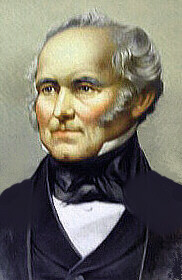 Samuel Cunard

Samuel Cunard and his New York - St. Thomas - Bermuda service
In November 1850, Samuel Cunard of Halifax, Nova Scotia, introduced his steam packet service from New York to St. Thomas, with a call at Bermuda in both directions. It was an extension of his successful 1840-incorporated British and North American Royal Mail Steam-Packet Company on the Liverpool, Halifax, Boston route. Annoyed that his passengers had only sparse hotel accommodations in Bermuda, he threatened to withdraw his ships. It was why Bermuda's first luxury hotel, the Hamilton Hotel, was built by the Corporation of Hamilton. But the New York portion of the service was not a commercial success compared to his earlier Halifax Bermuda direct service and was canceled in May of 1854. In May 1854, Cunard extended his direct Halifax Bermuda service. This route remained in place until January, 1880, when a number of West Indian islands replaced St. Thomas as ports of call. In 1865, knighted for his services to British shipping and pioneering the Halifax Bermuda direct route earlier, he died in London. His son assumed the helm of the Cunard shipping empire. In May 1854, Cunard extended his direct Halifax Bermuda service. This route remained in place until January, 1880, when a number of West Indian islands replaced St. Thomas as ports of call.

Sir William Stevenson
Canadian born, he headed the "Intrepid" organization which included 1500 British censors and censorettes stationed in Bermuda during World War II.

Southampton Princess Hotel
In 1972-74, when the Southampton Princess was built as Bermuda's biggest hotel, almost 100% of the construction materials came from Canada.

Tax haven countries for Canadians
Bermuda (CA$11.3 billion in 2019) is a main country of choice. Others are Barbados, Cayman Islands, Panama.

Toronto, Town of York and Bermuda
It is not well-known throughout Bermuda or Canada that Jarvis was the family name of persons who founded in about 1792 what was originally the little town of York, in Ontario. It was a consolation prize for being Loyalists during the American Revolution when Jarvis family members were Chief Justices of the Commonwealth of Connecticut in USA. Banned from the USA or facing imprisonment and forfeiture of their property as Loyalists, they went initially to the United Kingdom. After the lengthy British process of adjudicating compensation for British subjects who lost property in the USA, the Jarvis family went to then semi-empty Upper Canada, to found and become prominent in York. Britain's plan was to occupy and populate the area to help counter what was seen in Britain as a potential future geopolitical centre of importance. It was a prophecy destined to come true with a vengeance during the second Brutish-American War, the War of 1812-14 when the town of York, later known as Toronto, was invaded and burnt after a daring surprise raid across Lake Erie by American forces.
Fortunately for the United States, Britain, from 1812, was heavily involved in fighting Napoleon. But, on October 19, 1812, Napoleon's armies began its retreat from Moscow and then began to fall apart on the plains of Russia and in the fields of Germany, Spain and Austria. By the beginning of 1813, it became possible for Britain to shift whole brigades of army veterans from the European war-zones to Canada, to join in the fight against the Americans. From that year onwards, the British naval base at Halifax, Nova Scotia was the scene of feverish activity, with men-o'-war, transports and soldiers, American shipping prizes, French prisoners of war and American soldiers in their thousands, captured during British mopping-up operations against those who had failed miserably in their attempt to seize Canada.
The American military action against the town of York and area prompted General Sir George Prevost, Governor of Canada and Commander-in-Chief of British Forces, Canada, to correspond with Vice Admiral Sir Alexander Cochrane, other Admirals and their Royal Navy ships in the Atlantic, requesting that the latter's ships undertake appropriate retaliatory action to deter the enemy from any repetition of such outrages. The request was taken seriously. In fact, it dovetailed with plans already in effect. In retaliation, in July 1814, a British Royal Navy fleet also packed with Marines and soldiers sailed from England, assembled in and sailed from Bermuda to successfully attack and burn Washington DC. The fleet took many days to make the 700-mile journey, encountered no opposition en route, and slipped into the Chesapeake Bay under cover of darkness. Smaller transports went up the reaches of the tributary Pawtuxent River to land Royal Marines and supporting troops at the river-port village of Benedict, in southern Maryland, a few miles down river from the Prince George's County line and its sleepy little county-seat of Upper Marlboro. In the subsequent overland sortie, the British marched, unopposed, from Benedict to Upper Marlboro, then swung due east for a direct attack on Washington, District of Columbia, only twelve miles away. They routed a hastily convened American army sent to oppose them, stormed into the city on August 25, sent President Madison and his Cabinet fleeing ignominiously for their lives, and burned the White House, the Capitol and other public buildings and stores. Then it attempted the same thing on Fort McHenry in Baltimore. During that engagement, Francis Scott Key wrote the words of what became the Star Spangled Banner, as a temporary detainee on one of the British warships. The melody is from a bawdy British drinking song by a London based composer. The fleet's voyage ended in Halifax, where hundreds of slaves who had lined the shores of the Pawtuxent River in Maryland and elsewhere nearby to implore British troops to help them escape from bondage had been rescued and were also on the British warships cheering on and actively assisting the sailors who had set them free. In Halifax, the slaves were promptly and officially given their freedom by the British.

WestJet Airlines

Began services to Bermuda in May 2010. A Canadian low-cost carrier based in Calgary, Alberta. It flies within Canada, to the USA, Mexico, Bahamas and Caribbean. The second largest Canadian carrier behind Air Canada.

Postscript
Prominent Canadian companies hold conventions and seminars in Bermuda.
A number of Canadians, including some of the wealthiest, own real estate in Bermuda.
Many Canadians visit Bermuda from November to March because Bermuda is then much warmer than most of North America, although appreciably colder than the Caribbean, and hotel rates are cheaper.
There are many Canadian companies both incorporated and domiciled in Bermuda
A Canadian company has build the new airport buildings in Bermuda.

History & daily newspaper reports

Authored, researched, compiled and website-managed by Keith A. Forbes.
Multi-national © 2020. All Rights Reserved