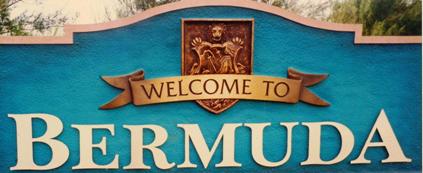 165+ web files, a regularly updated Gazetteer, overall an in-depth description of our island's internally self-governing British Overseas Territory 900 miles north of the Caribbean, 600 miles east of North Carolina, USA. With accommodation options, airlines, airport, actors, actresses, aviation, banks, beaches, Bermuda Dollar, Bermuda Government, Bermuda-incorporated businesses and companies including insurers and reinsurers, Bermudians, books and publications, bridges and causeway, charities, churches, citizenship by Status, City of Hamilton, commerce, communities, credit cards, cruise ships, cuisine, currency, disability accessibility, Devonshire Parish, districts, Dockyard, economy, education, employers, employment, environment, executorships, fauna, ferries, flora, former military bases, forts, gardens, geography, getting around, golf, guest houses, highways, history, historic properties, Hamilton, House of Assembly, housing, hotels, immigration, import duties, internet access, islands, laws, legal system and legislators, main roads, marriages, media, members of parliament, money, motor vehicles, municipalities, music and musicians, newcomers, newspaper, media, organizations, parks, parishes, Paget, Pembroke, performing artists, residents, pensions, political parties, postage stamps, public holidays, public transportation, railway trail, real estate, registries of aircraft and ships, religions, Royal Naval Dockyard, Sandys, senior citizens, Smith's, Somerset Village, Southampton, St. David's Island, St George's, Spanish Point, Spittal Pond, sports, taxes, telecommunications, time zone, traditions, tourism, Town of St. George, Tucker's Town, utilities, water sports, Warwick, weather, wildlife, work permits.

Canadian Forces Station (CFS) in Bermuda 1963 to 1993
Specialized in radio-direction-finding for anti-submarine warfare and radar surveillance
By Keith Archibald Forbes (see About Us) exclusively for Bermuda Online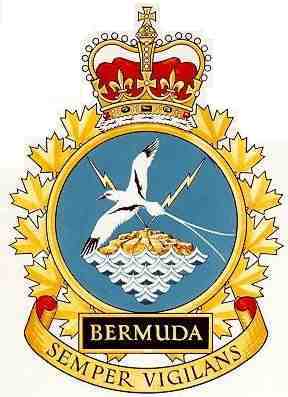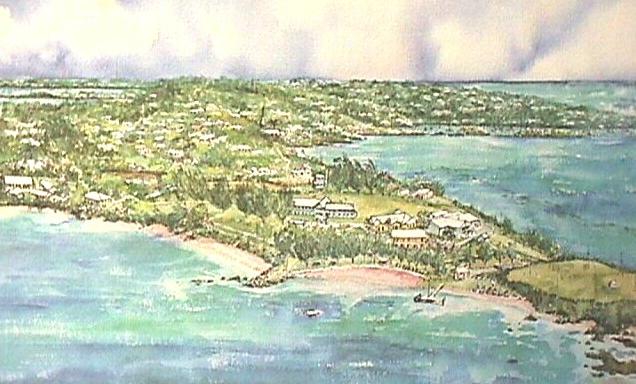 Artist's impression of CFS Bermuda. It had 17 acres including beaches.
| | |
| --- | --- |
| Commanding Officers in Bermuda | Station Warrant Officers in Bermuda |
| Lt. (N) M. A. Ruymar, 1963-65 | CPO1 W. R. Harkness, 1963-1963 |
| Lt. (N) J. A. MacDonald, 1965-67 | CPO1 J. A. Dunbar, 1963-1966 |
| Lt. Cdr L. Laurie, 1967-69 | CPO1 C. Tupper, 1966-1968 |
| Lt. Cdr A. Brockley, 1969-1971 | CPO1 B. Cummings, 1968-1970 |
| Maj. D. W. Walker, 1971-1973 | CPO1 E. Grimshaw, 1970-1971 |
| Maj. S. Zolmer, 1973-1975 | CPO1 R. Gilson, 1971-1973 |
| Maj. R. K. Ismond, 1975-1977 | MWO J. A. Lawther, 1973-1975 |
| Maj. G. M. Ewen, 1977-1980 | CWO L. Chase, 1975-1977 |
| Maj. T. E. Kay, 1980-1983 | CWO F. N. Martin, 1977-1979 |
| Maj. E. J. G. Blackwood, 1983-1985 | CWO G. A. Stewart, 1979-1981 |
| Maj. W. T. C. Wood,1985-1987 | CWO F. N. Martin, 1981-1983 |
| Maj. A. G. Wiegel, 1987-1990 | CWO R. J. Israel, 1983-1985 |
| Maj. S. A. Gillespie, 1990-1993 | CWO E. Brydon, 1985-1987 |
| | CWO J. C. Guitard, 1987-1989 |
| | CPO1 G. Kotyluk, 1989-1991 |
| | CPO1 M. Olson, 1991-1993 |

Canadian Forces Station Bermuda, at Daniel's Head in Somerset, Sandys Parish, Bermuda.. Photos cc Keith A. Forbes
Once an important site in the Atlantic HF/DF net. Under the operational control of CSE Ottawa and fully integrated in the UK/USA Sigint network. Major tasks included Russian and bloc shipping, general naval tasks, BULLSEYE automated DF system, Project Wideband to copy JUMBO (Soviet naval and sub burst traffic) and other spread spectrum methods. There was also a CDAA (Circularly Disposed Antenna Array) on the base.
Call sign was CZB for this HMCS/CFS Bermuda, Supplementary Radio Station, from 1963 until closed 1993.
Also see
http://jproc.ca/rrp/bermuda.html
Chronology

1944. August 1. The Royal Canadian Navy (RCN), needing a base that was not prone to ice or fog, established a small training base at Convict Bay, St George's. It was commissioned as the "stone frigate" HMCS Somers Isles, at facilities earlier used by the Royal Navy. It was decommissioned in October 1945, after 125 RCN and 12 RN escorts passed through en route to the war. The RCN had earlier (1942) established an Anti Submarine School under Royal Navy auspices at the latter's Casemates Barracks at the Royal Naval Dockyard, Bermuda. From 1944 until 1968, the Bermuda installations would be the only RCN facility outside Canada. From 1968 to 1992 it was one of three CF locations outside Canada.

1950. The Royal Canadian Navy (RCN) and the United States Navy (USN) formally agreed to coordinate and standardize HF/DF activities ashore. Jointly, it was called the Atlantic HF/DF Network. It was to have an impact in Bermuda, later. This initiative resulted in the integration of all Canadian and US stations into two networks which would provide mutual support for the common objective of maritime warfare. The two networks were comprised of five RCN stations: Coverdale, NB; Chimo (1949-52), Frobisher Bay, N.W.T (1952-1966).; Gander, Nfld; Bermuda (1963-1993), Gloucester, Ont. and nine USN stations. On the west coast, that arm of the Net was called the Eastern Pacific Network and consisted of one RCN station at Masset, British Columbia and eight USN stations. Coverdale was also designated as the Alternate Net Control station for the Atlantic Network. The primary Atlantic Net Control station was located at Cheltenham, Maryland. In actual practice, Coverdale performed this function about 25% of the time just to keep the operation up and ready.

1951. The Royal Navy Dockyard closed, after being in operation since 1809. Britain handed it over to Bermuda. The dismantling was virtually completed when the large floating dock left Bermuda on July 11, bound for England. It was towed by the Royal Navy tugs Wanden and Reward, with the tug Prosperous in reserve. All reached Falmouth, England, on August 11. But Bermuda continued to play a major role in the training of the post-war Royal Canadian Navy. From that moment on, the RN Dockyard was virtually a Canadian Base, and on occasion more than 30 ships and 5000 men were training in Bermuda.

1951. The Canadian Forces Liaison Office (CFLO) was set up in Bermuda as a new approach to the difficulties associated with training for both ships and aircraft.

1961. January. In Ottawa, the Canadian Government's Cabinet Defence Committee approved the establishment of an HFDF installation in Bermuda. It was a direct result of the continued Canadian presence in Bermuda. This decision was noted by the Canadian Cabinet at a meeting in February 1961. It was as the result of a recommendation by Rear Admiral HG DeWolf, RCN.

1961. March. A trial period of one year was approved by the Canadian Government to enable site evaluation in a temporary operational mode.

1961. The Royal Canadian Navy resolved to establish a HFDF receiver facility at Daniel's Head, Sandys Parish on Somerset Island with the facility going operational in 1963. The RCN also announced its intention to build a transmitter facility on North Ireland Island, using a former Royal Navy wireless station that operated between 1939-49. Both the receiver and transmitter facilities were operated during the 1960s as Naval Radio Station Bermuda or NRS Bermuda.

1963. January 1. the Royal Canadian Navy signed a lease to obtain 11 acres of land and buildings once used by the Royal Navy at Daniel's Head, Sandy's Parish to build a complex intercontinental Canadian Naval Radio Station for communications and anti-submarine purposes and communicate with its headquarters in Canada and surface units spread around the North American and Atlantic areas. It lasted until 1993. It was the beginning of what became CFS Bermuda and initially operated as the Canadian Naval Radio Station Bermuda. It was the only Canadian military base established on non-Canadian soil in the Western Hemisphere. The original lease was for 21 years at a cost of £6000 per annum. It was the beginning of the Canadian Forces Station (CFS) Bermuda. Negotiations had been ongoing for a considerable length of time for a Memo of Understanding on the formal Visiting Forces Agreement between the Bermudian and Canadian governments to finalize the Resolution of Property Acquisition and Provision of Services and Utilities to support the proposed station. It too was finally signed on this date. Delays had been encountered because of Bermudian demands of right of way and defining the status of the Canadian Forces residing on the Island. Canadian demands for Duty Free privileges were reinforced by the US and British Forces status but still had to be ratified by the Home Government in London. There were specific clauses included to make the beach included in the lease holding available for recreational purposes to those serving at HMS Malabar. Under the terms of the lease signed between Canada and Bermuda's Crown Lands Corporation, the Corporation was responsible for the maintenance and repair of building exteriors, major structural repairs, maintaining roadways, sewage disposal facilities, water supply systems and plumbing systems except sanitary fixtures.
1963. April 24. The advance party, with no dependants (not allowed at that time), arrived on site, commanded by Lt (N) Michael A. Ruymar, comprising CPO W.R. Harkness, LS C.A. MacDonald and Leading Storesman Tom Key. They began the task of finding, accounting for and storing the first-fitting material which was pre-shipped and stored in the Bermuda Crown Lands warehouse at Ireland Island. A Communications Technician was later sent to augment the station for the duration of the cryptographic installation phase. All station personnel were initially rationed and quartered at the US Naval Operations Base, by then known as the US Naval Annex, approximately 3 miles away, in Southampton Parish. Canadian personnel were still not receiving Foreign Service Pay nor duty-free privileges because the Memo of Understanding still had not been approved by the Government in London. The personnel were also not allowed to have their dependants with them. (The ratification of the Visiting Forces Agreement in March 1964 made living in Bermuda a whole lot easier). For Daniel's Head, the new arrangement meant a reversion to naval use of the area after 37 years of Royal Navy-approved use by a pig farmer and a Youth Service facility and then a period of general neglect. The same site had been abandoned by the Royal Navy in 1926 following the dismantling of radio masts formerly used as part of an important Wireless Telegraphy station before and during World War I. Before they could arrange with a local contractor to level the 100 foot coral pad upon which the permanent DF antenna would eventually sit, they set up the temporary mobile HFDF trailer and mobile auxiliary power unit (APU) as quickly as possible on the frequently tidal grass flat between what was their Operations Building and the permanent pad. Finally, after hundreds of trees were bent or broken, a standard North American-sized low-boy trailer from NOB managed to deposit the HFDF trailer and APU on the grassy site with just a few minor scratches and dents to the units. The low-boy truck was damaged. Then they had to find Polaris in the daylight in order to align the four-element DF array with True North.

1963. May 22. Eleven more sailors arrived from Canada, in a special airlift, accompanying classified equipment for installation. Present and new personnel moved all the first-fitting stores from the Hamilton Dock sheds into temporary storage in the Bermuda Container Line (BCL) warehouse in HM Dockyard to avoid exorbitant demurrage charges. As the station waited for the arrival of its two AN/FRT39D 10 Kilowatt Single Sideband high frequency transmitters, it managed to obtain a factory fresh AN/FRT17 from the US Navy. It was installed as a tertiary backup in case of catastrophic failure of the other two transmitters.
At about this time, building work began in earnest on both renovating old structures left behind by the UK's Royal Navy (such as its Operations Building, later the Canadian Administration building) and adding others specifically for the Canadian forces. They included:
Operations/Stores Building
Administration Building
Technical Workshop
Stores Building
Office-in-Charge Residence - c. 1940s
Barracks Block
Mess and Recreation Building
Dormitory
Tool Shed
Transmitter Building
Generator Building - Diesel
Inflammable Store
Transmitter

2 AN/FRT39D 10kW Single Sideband high frequency on Ireland Island

Canex building
Commanding Officer's official residence at "Mara Leah"
CE workshop
Longtail Barracks
Cycle Shelter
Beach Canteen and the Sailing Club boat house
Senior Ranks Mess
Junior Ranks Mess
VIP Suite
Community Centre.
1963. July 3. The (Canadian) Naval Radio Station Bermuda, CZB was activated, initally on a trial basis as a HFDF intercept station of the Supplementary Radio System (SRS) and also became a member of the Atlantic HFDF Network. RCN records noted that the initial complement comprised of one officer, and fourteen men, unaccompanied; with the United States Navy providing accommodation at its nearby Southampton Naval Operating Base. Over the course of less than a year, the site proved to be a success, thus becoming a permanent station on 1 April 1964.

1963. July 4. The station became operational. It was ready on July 1 but it was not invited to join the American-led Atlantic HFDF Network until this date to coincide with US Independence Day ceremonies. The Atlantic Net Control at Cheltenham, Maryland, or Alternate Net Control at HMC NRS Coverdale, New Brunswick, originated flash directives which were picked up on broadcast frequencies by the net's outstations. The received flashes were decoded, targets searched and target bearings observed, then encoded and reported to Net Control, either by HF radio or landline. This station's response unit consisted of a loaned AN/TRD4 HFDF trailer sited about 450 feet northwest of the Operations Building at Daniel's Head. It was operated for a few weeks on auxiliary power while awaiting shore power installation. It involved a great deal of trenching and burying power cables and upgrading power distribution panels throughout the station.

1963. August. The effectiveness of this station's operations was such that it soon became obvious it was in Bermuda to stay. It had passed its probationary period with flying colours. But the opposite was experienced at HMC NRS Frobisher Bay. It subsequently closed down as a direct result of this station's proficiency. It had delivered its mission - "to effectively provide cut-off bearing for accurate fixes on transmitting targets."

1963. November 11. The station marked observance of Remembrance Day in the City of Hamilton with a wreath was reverently committed to the sea and appropriate prayers.

1964. March. Ratification of the Visiting Forces Agreement made living in Bermuda a whole lot easier. For some winter-weary Canadians, it was the nearest they had come to living in paradise.

1964. An unforeseen budget surplus created by the closure of the Frobisher Bay Naval Radio Station permitted this station to receive an additional $1.5 million for more equipment, better accommodations and increased personnel costs. Renovations continued on the Accommodation Building to house 20 of the 30 members permitted under the latest updated Visiting Forces Agreement.

1964. November 11. For the second time, station marked observance of Remembrance Day in the City of Hamilton with a wreath was reverently committed to the sea and appropriate prayers. Battle of Atlantic Sunday was also observed.

1964. November 12. The Galley/Recreation Building was ready to victual those on ration strength thanks to the acquisition of two navy cooks from the West Coast.

1965. February 15. Royal Canadian Navy officers and other ranks said goodbye to the white ensign and introduced the new Canadian Flag. The station's Commanding Officer read the CANAVGEN Proclamation before the assembled Ship's Company and invited dignitaries. Chief Petty Officer "Boots" Dunbar presented the new decommissioned white ensign to the trusting hands of Rear Admiral HG DeWolf (Ret'd) who was the principal proponent of establishing the station in Bermuda while he was Chief of Naval Staff. He was touched by the ceremony, probably by the accompanying nostalgia of seeing his beloved ensign flown for the last time. After the laying-up of the ensign, Mrs. Mabel Ruymar presented the new Canadian flag to the duty signalman for hoisting during the salute and the cheers which accompanied it.

1968. February 1. In Canada and beyond, the Royal Canadian Navy, Royal Canadian Air Force and the Canadian Army were merged to form the unified Canadian Forces.

1969. Following the 1968 merger, NRS Bermuda was renamed as Canadian Forces Station Bermuda or CFS Bermuda and the facility came under the control of Communication Command. It was one of the first Canadian stations to be manned by unified Canadian Forces personnel.
1973. October. In the inaugural or first Bermuda Lobster Race of its type, held not at this station but at the US Naval Air Station, was a lobster from this Canadian Armed Forces Bermuda station by the name of Daniel Canuck. Expected to be a male it turned out to be a female. Captain Tom Graham from this station, Daniel's "jockey" announced to much laughter that Daniel should be pronounced "Danyelle" in keeping with both the lobster's sex and Canada's bi-lingual policies. Daniel had once been a massive lobster six feet four inches in length and weighing 247 pounds but had been put on a strict diet by Captain Graham and his wife Barbara Graham. A pre-race favorite, she failed to finish the race. She seemed to have developed an amorous attraction to the lobster entered by the US Naval Research Laboratory.

1974. January. The new Canex building became operational.

1976. January. The Commanding Officer's official residence at "Mara Leah" was rewired.

1976. February. The communications link between the station and USNAS VP Squadron based at the US Navy base (now civilian Morgan's Point) in Southampton was completed.

1977. March. The CE workshop was built.

1977. August. The FCC circuit changed from DC landline to microwave system at the US Naval Station Annex. It affected this station too.

1978. March. The cycle shelter for personnel below Longtail Barracks was built. Also completed was the kitchen extension, housing the new hot water system.

1979. June. A new switchboard was installed.

1979. September. The operational system was shut down for the removal of the old antennae.

1979. November. The new Pusher was installed and CFS Bermuda returned to the net.

1980. May. Self-help projects were completed on the beach. These included the Beach Canteen and the Sailing Club boat house.

1980. November. The Senior Ranks Mess (SRM) was handed over to the CO.

1982. February. An addition to Canex was built.

1982. March. Renovations were completed for the Junior Ranks Mess (JRC).

1982. May. New VIP suite was completed.

1989. "Once the initial shock of acclimatization wore off and we became accustomed to drinking the cement-flavored rainwater upon which the Islands depend and by ingesting lots of salt tablets to diminish our listlessness and aching joints, we were able to concentrate on the primary mission - get on the air and get on with the one-year trial period so we would know whether we were staying or leaving." - Lieut. Michael A. Ruymar.

1992. February. Canada's Budget announced the decision to close the station. It was a shock to everyone of the base.

1992. May. As a result of the decision above, the communications Link between USNAS VP Squadron and this station was deactivated.

1992. May. The last major project completed was the new Community Center. It was originally planned as a station gym.

1992. September. Official notice was given to the Bermuda Government to terminate the lease effective 31 December 1993. From its small beginnings, Canadian Forces Station Bermuda had grown to nearly 220 military and family members over time, before the wind down began. Canadians stationed in Bermuda had developed excellent relationships with the community, participating in local ceremonial and cultural occasions and daily life. Many close friendships resulted. Since leaving, the Canadians cleaned up the pollution they once had. No buildings at all remain of the former Canadian Forces station.

4th December 1995. The Bermuda Government issued a series of postage stamps on Military Bases formerly in Bermuda. The one relating to the former Canadian Forces Station has the following description for this BD$1 stamp on the liner details of the First Day Cover issued with this issue. "The Royal Canadian Navy leased some fourteen acres of former British Admiralty lands at Daniel's Head towards the western end of Bermuda in 1963. The installation was established as a signals intelligence unit to support the Canadian Forces and to aid in search and rescue operations. Due to changes in international relations and with increased fiscal constraints, the Canadian Government closed the site in December 1993."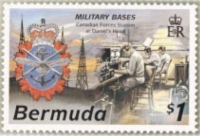 2000. August. Since then, a new and unusual hotel, Daniel's Head Village, opened (but since closed as uneconomic, it was replaced with the 9 Beaches Hotel, also closed, may re-open in 2016).
Author's other military files include:

Last Updated: March 15, 2020
Multi-national © 2020 by Bermuda Online. All Rights Reserved