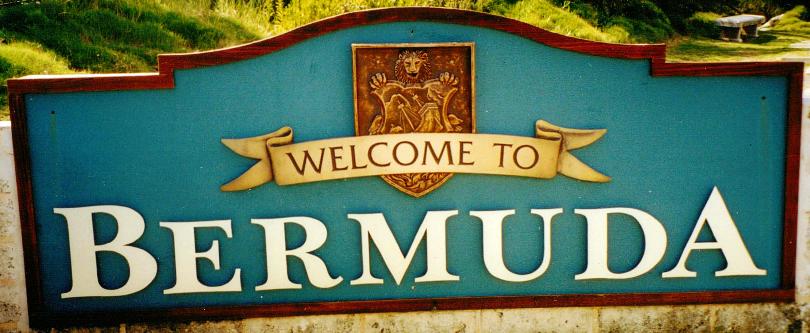 Click on graphic above to navigate the 165+ web files on this website, a regularly updated Gazetteer, an in-depth description of our island's internally self-governing British Overseas Territory 900 miles north of the Caribbean, 600 miles east of North Carolina, USA. With accommodation options, airlines, airport, actors, actresses, aviation, banks, beaches, Bermuda Dollar, Bermuda Government, Bermuda-incorporated businesses and companies including insurers and reinsurers, Bermudians, books and publications, bridges and causeway, charities, churches, citizenship by Status, City of Hamilton, commerce, communities, credit cards, cruise ships, cuisine, currency, disability accessibility, Devonshire Parish, districts, Dockyard, economy, education, employers, employment, environment, executorships, fauna, ferries, flora, former military bases, forts, gardens, geography, getting around, golf, guest houses, highways, history, historic properties, Hamilton, House of Assembly, housing, hotels, immigration, import duties, internet access, islands, laws, legal system and legislators, main roads, marriages, media, members of parliament, money, motor vehicles, municipalities, music and musicians, newcomers, newspaper, media, organizations, parks, parishes, Paget, Pembroke, performing artists, residents, pensions, political parties, postage stamps, public holidays, public transportation, railway trail, real estate, registries of aircraft and ships, religions, Royal Naval Dockyard, Sandys, senior citizens, Smith's, Somerset Village, Southampton, St. David's Island, St George's, Spanish Point, Spittal Pond, sports, taxes, telecommunications, time zone, traditions, tourism, Town of St. George, Tucker's Town, utilities, water sports, Warwick, weather, wildlife, work permits.
Music france.mid
Bermuda's ties with France
French men and women have made significant contributions to our culture and economy

By Keith Archibald Forbes (see About Us).
See end of this file for all of our many History files
Introduction
France and Bermuda both have well in excess of 20% of their adult population working for their respective Governments. Bermuda has some unique links with France, as shown below. Bermuda has a Tax Information Exchange Agreement (TIEA) with France. The French generally refer to Bermuda as Les Isles Bermudes. French citizens living in Bermuda can now get their French passport requests taken locally instead of having to go to the French Consulate in New York.
2018. August 1. Nicole Haziza, the honorary French Consul, has received France's prestigious National Order of Merit for her service to the country.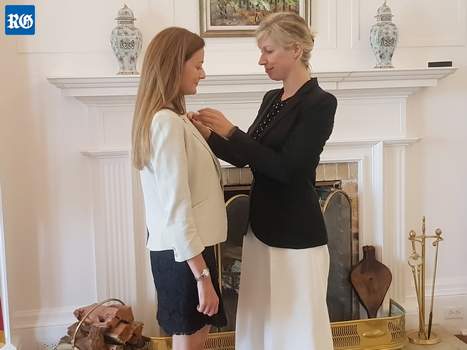 Anne-Claire Legendre, the Consul General of France in New York, presented Ms Haziza with the honour in a ceremony at Government House. Ms Legendre said: "It is a great privilege to honour our honorary consul Nicole Haziza with the National Order of Merit. France is very grateful for her dedication in service to the nation and its citizens in Bermuda." David Burt, the Premier, and John Rankin, the Governor, congratulated Ms Haziza for the honour. Mr Rankin added Ms Haziza had made a valuable contribution to the community and represented France with "grace and distinction". The National Order of Merit is one of France's most prestigious distinctions. Awarded by the president of the French Republic, the order was founded in 1963 by president Charles de Gaulle to reward "distinguished merit" and to honour individuals for distinguished military or civil achievements. The National Order of Merit is a universal order honoring individuals from all fields of activity and is bestowed upon French citizens and foreign nationals alike.
2012. December 4. New Honorary French Consul in Bermuda. Mrs. Nicole Haziza, of Mintflower Place, Ground Floor, 8 Par-la-Ville Hamilton HM08. Tel: (441) 777-5557. Email: france@logic.bm. Consulate General website: http://consulfrance- newyork.org/. She was appointed in December 2012. She took over from Riquette Bonne-Smith who had earlier taken over from M. Edgar Humann who had served for more than ten years.
Mrs Haziza moved to Bermuda in 2001. She spent three of those years in Switzerland, but came back to the Island in early 2012. She is a trained legal information services manager with a wealth of knowledge about the French capital and France. There are currently 140 French citizens living in Bermuda - see below - but at one point there was over 300 people — including those working in banking, reinsurance, hotels or restaurants. Some have been here for over 30 years and some have been here for only months. In the last decade, many changes have certainly occurred, but the French Community has always remained a dynamic and culturally vibrant community. Mrs Haziza's role involves helping French citizens obtain proper travel documents, registration of birth and marriage, as well as certification of documents. Less typical, but as important a part of the role, is to assist the local authorities if there is a dispute on a boat involving French citizens. She acts as a local point of contact and reports to the Consulate of France in New York. Each intervention is unique and some require a bit of research and work to find the best possible solution. She encourages French citizens to register with the consulate so they can receive information, e-mails and renew their travel documents more easily if they are registered. In April, 2012, for the first time, French citizens living in Bermuda had the opportunity to vote in their country's elections. Then-French President Nicholas Sarkozy was up against Francois Hollande of the Socialist party who was victorious. Eighty French nationals resident in Bermuda had registered to vote before the December 31 cut-off date and made history for Bermuda as they had not had this opportunity before. The French Foreign Office had been working to make this process possible for months. In addition to inviting all French citizens to register to vote, they also had to inform the British and Bermuda Governments of the move and get permission to do it.
La Maison Francaise des Bermudes. Holds French social conversation sessions weekdays at 1 pm. For further information call (441) 296-5676. Members celebrate Bastille Day and many other interesting cultural events.
French products available locally. Many, but most don't come directly from France, instead, from USA. The most prominent are Peugeot and Renault automobiles, available from Bermuda-owned dealerships (and with far lower guarantee or warranty periods than in France).

Bermuda Vital Statistics
| | |
| --- | --- |
| Bermuda size & population | 20.75 (Twenty point seven five) square miles in total. 63.908 residents in 2019. Women then outnumbered men by 2,398. |
| Resident population density per square mile | 3,097 (Three thousand, zero nine seven). Third highest in the world |
| Government Code of Conduct for legislators | None. There is a voluntary code, with no legislative teeth. It is ignored by some. No equivalent of the UK's Ethical Standards in Public Life Act. |
| Number in Cabinet | 13. Same number as USA, equivalent in Bermuda to 0.63 (Point six three) per square mile. They have "The Honorable" before their name. |
| Number of elected legislators in House of Assembly and their salaries | 36. Equivalent to 1.93 (One point nine three) per square mile. They have "MP" for Member of Parliament after their name. If they are also Cabinet Ministers, they earn well in excess of $100,000 a year, plus unlimited expenses. |
| Number of appointed politicians in Senate | 11. Also salaried. Equivalent to 0.53 (Point five three) per square mile. They have "Senator" before their name. If they are also Cabinet Ministers, they earn this plus what is shown above under "Number of elected legislators." |
| Number of registered voters per Member of Parliament | 1,297. On date of last General Election. Contrast this with no fewer than 72,810 and no more than 80,433 per member of parliament in the UK in 2018 and approximately the same in the USA per congressperson and Canada. |
| Number of Government Boards | About 122. All require the approval of the Premier who controls all Public Information. See Bermuda Government Boards separate website shown at the end of this file. |
| Number of Police | About 465, over 20 per square mile. Plus, there are Reserve officers. Bermuda has more police per square mile and per population than anywhere else in the world |
| Number in Bermuda Regiment and its Coastguard | 600 members, mostly Bermudian men, also some women, mostly part time, all now volunteers. Conscription of Bermuda-born males ended a few years ago. |
| Registered voters who can participate in a General Election | About 46,750. Total number of registered voters in the last General Election, about 60% of the entire resident population. Varies from year to year. |
| The Bermuda Society | |

Employment, residence and work permits for French nationals
Although Bermuda is a British Overseas Territory and France and Britain, both as members of the European Community, have no immigration barriers for their citizens, this does not apply to Bermuda. French (and British UK) nationals visiting or working in Bermuda are foreigners under Bermuda law. About 120 French nationals live and work in Bermuda. They are very welcome but do not have the same freedoms here in residing and working without restrictions as they have in Great Britain, Ireland and rest of the European Economic Community. French nationals visiting Bermuda on business or vacation or as professional newcomers cannot get Bermuda citizenship or vote or buy real estate at the same price as Bermudians - unless they marry Bermudians. Any children born here are not legally Bermudians unless one parent is Bermudian.

How Bermuda and French connections began
See Bermuda History with the Old and New Worlds since 1500. There was a reference to "La Bermude" ("La Bermuda") in Peter Martyr's "Legatio Babylonica." Only three copies of the two editions of the year 1511 are extant in the Western Hemisphere. It was the first publication to confirm, albeit in French, the name of our Western Atlantic island group as we know it today, based on its earlier discovery by the Spaniard Juan de Bermudez.

Captain Russel's shipwreck 1560-1570
The first confirmed visit to Bermuda by a Frenchman was by Captain Russel or Roussel. He was shipwrecked here sometime between 1560 and 1570. His ship struck a reef and was so badly holed that a few lives were lost. Russel and the remainder of his crew made a smaller boat out of materials from his perished ship and sailed to Newfoundland where they found relief and eventually passage back to France.

M. de la Barbotiere's stay in 1593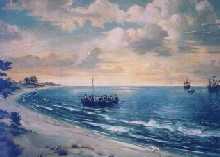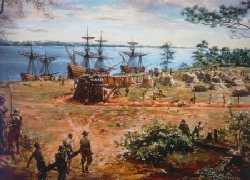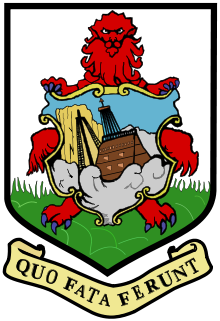 On April 10, 1591, three ships sailed from Plymouth, England, to the area then still referred to as the East Indies after the geographical error made by Christopher Columbus. They were the "Penelope," "Merchant Royal" and "Edward Bonaventura." In the latter was English seaman Henry May, transferred by his captain, James Lancaster, to a French vessel bound for Europe, to report on British ships and British prospects for the region. The French ship was under the command of M. de la Barbotiere. He sailed from Laguna, Hispaneola, on November 30, 1593. Seventeen days later, his pilots congratulated themselves on being out of danger of the much feared "Isle of Devils" or Bermuda. They and the crew demanded and got what was then called their "wine of height," given when a safe latitude was reached. They drank long and deep, with a minimal deck watch. But the pilots had erred severely in their navigation. At midnight on December 17, the ship struck the north-west reefs of Bermuda and was so badly damaged that out of a company of fifty five men, only twenty six reached the shore alive, by small boat and raft. Henry May and Captain de la Barbotiere were among the survivors. It is the wreck of this French ship, not that of the British Sea Venture nearly three decades later. The vessel's French crew retrieved carpenter's tools and tackle from their wreck, cut down Bermuda cedar trees and built a seaworthy craft of eighteen tons. They caulked her seams with an ingenious mixture of lime and oil extracted from local turtles they caught for food. This mixture hardened like cement. They supplemented their diet of turtle meat with fish, birds - and wild hogs. As our graphic above shows, this is on Bermuda's coat of arms today.
It was then that Henry May penned his remarkable narrative of what he saw and discovered about Bermuda, re-published in Lefroy's Memorials of the Bermudas on pages 7-9 of volume 1 (of 2). The Bermuda-repaired ship set sail on May 11, 1594, but not for Europe. It arrived off Cape Breton, Nova Scotia, nine days later, on May 20. It was where the Englishman, M. de la Barbotiere and crew observed the settlement before continuing to Newfoundland, where May boarded another French ship directly for Europe. He reached Falmouth, Cornwall, two months later in 1594. Unfortunately, there are no records in Bermuda to shed more light on M. de la Barbotiere; the name of his vessel; and if he claimed Bermuda for France.

Le Sieur de Champlain and Bermuda, 1600

From at least 1546, Bermuda was shown on French maps and publications, for example Pierre Descelier's famous 1546 World Map. The great French explorer, le Sieur de Champlain (Samuel Champlain de Brouage), founder of Quebec in Canada, observed the Bermudas personally this way. He arrived in 1600. He coasted very near the South Shore, as he carried away impressions of high land then crowned by forests.
His narrative mentions how he and his companions "came near to Bermuda, a mountainous Island which is difficult to approach on account of the dangers that surround it. It almost always rains there, and thunders so often that it seems as if heaven and earth were about to come together. The sea is very tempestuous round the said Island and the waves as high as mountains." (From Brief Narrative of the Most Remarkable Things that Samuel Champlain of Brouage observed in the Western Indies during the Voyage which he made to same in the years 1599-1602. Hakluyt Society, London, 1859, page 46).

Sea Venture saga and effect of "The Tempest" on French composers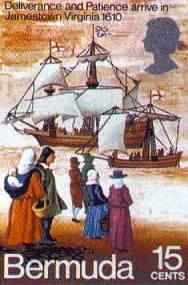 A Bermuda postage stamp showing the events of 1610
As mentioned in Bermuda's Links with the USA, Shakespeare based his great work "The Tempest" on accounts that reached England from Virginia of the story of the English ship Sea Venture under the command of Admiral Sir George Somers. But in the process he did Bermuda an injustice. Because Italian music and theatricals were in vogue in London at the time, he recast his work on a mythical Italian island, peopled by imaginary characters. This icon of English literature has remained in the theatrical and musical repertory for more than 380 years, in its imaginary, not real life, version. Since November 1, 1611, when "The Tempest" was first performed in London, an international coterie of celebrated classical music composers of many different nationalities have perpetuated time after time Shakespeare's preference for fantasy over fact. They include the famous French composers Louis Hector Berlioz and Jacques-Francois Fromental Halevy. Berlioz's musical version, composed in 1831, was later absorbed into his Lelio. Halevy's version premiered in Paris on June 8, 1850, as the Italian style opera La Tempesta.

Other early 17th century Bermuda France connections

A French knight, the Sieur de la Motte, was in Virginia in 1614 and attended the wedding in April that year of John Rolfe, one of the survivors in Bermuda in 1609-10 of the "Sea Venture", to Princess Pocahontas. Motte was a temporary prisoner (as was a Spanish grandee, also present) of the Virginian colonists, with his rank entitling him to an invitation to the wedding. But we have no further details on Motte. Historical records state that Governor Daniel Tucker, employed in Virginia before his secondment to Bermuda in 1616, hanged a Frenchman that year for merely insubordination. In the Sloane Manuscripts, No. 750, of the British Museum in London, is a History of Bermuda which may have been written by Captain John Smith. It describes in part how Captain Nathanial Butler, as Governor of Bermuda in 1620, introduced some liturgical changes in Bermuda based on English translations he made himself from a French Bible, printed at La Rochelle in 1616, which he brought to Bermuda. It was published by French Protestants. In his "Memorials of the Bermudas", Volume II, pages 590-591, Lefroy quotes the French text from that original bible, as translated and adopted by Butler. In short, France contributed significantly to some of the first Anglican religious services ever held in Bermuda, at the original St. Peter's Church in St. George's, where today's late 17th century edifice stands as a reminder of that palmetto thatched, Bermuda cedar sided first English church in the entire Western Hemisphere.

French and Basque mariners initiatives had Bermuda repercussions

Their sturdy vessels from the time of Columbus were crossing the Atlantic to develop and refine the whaling and fishing industries in and around coastal areas of Newfoundland and Labrador. To compete with them, the British ship "Neptune," specifically equipped for whaling, was ordered out from England to Bermuda in 1616 (and arrived in 1617), when migrating whales were sighted very close to Bermuda. Whaling became a profitable local industry. Bermuda was the first overseas British colony to introduce whaling. Until then, the French had enjoyed almost a complete monopoly in whaling. Their whaling industry, famous throughout Europe, had a strong emphasis on lighting, edibles, pharmaceuticals, soaps and cosmetics. When Bermudian whale oil reached London, it reduced British dependency on French imports.

French mulberries were introduced to Bermuda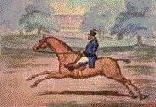 France supplied one of Bermuda's very earliest fruit trees from Europe - the mulberry. It is still in Bermuda today, but for its berries only. In the book History of the Virginia Company of London, with Letters to and from the First Colony, by Edward D. Neill, is a truly fascinating reference to Mr. Bonneille's Book of October 21, 1621. Mr. Bonneille was a Frenchman employed by England's King James I (James VI of Scotland) as Master of Silkworms at the King's Oakland Estate. Bonneille penned a treatise in French on the ordering of silkworms and making of silk, with a special chapter on how the industry and its attendant mulberry trees would be of interest to the Planters of Virginia and Bermuda. The King was so impressed with Bonneille's efforts that he ordered an English translation - and directed that a good supply of the books be sent out to Virginia and Bermuda. The 1621 letter in which these facts appear were supposed to have been addressed to Bermuda's Governor Daniel Tucker in 1616, but instead were sent to his successor Captain Nathanial Butler in 1622. Probably the Frenchman mentioned by Captain John Smith (Volume 1, page 75) as having arrived in Bermuda by the Martha in 1613, with specimens of mulberry trees, was connected with Bonneille.

Edmund Waller's famous Bermuda poem has a French connection
The Battle of the Summer Islands (named after Bermuda's alternate name, the Somers or Summer Islands), was by the renowned English poet Edmund Waller. It was published in the first edition of his Poems in 1645. He was banished from England after being committed briefly to the Tower of London for treason in July, 1643. He went to France, where he resided in Rouen until his sentence was revoked by Oliver Cromwell in November, 1651.

Colonists destroyed French ships stranded on Bermuda reefs
La Benediction with J. Toque as her master was wrecked on local reefs in January, 1681. Acquisitive Bermuda sailors of the day salvaged her. In a letter sent to London, written in Bermuda on June 4, 1685, Colonel Richard Coney, Governor of Bermuda 1683-1687, complained to the Privy Council - their Lordships of the Committee of Trade and Plantations - how his colonists seized another small French vessel. He described how it had been stranded on the reefs, was taken and brought into harbor with her goods pilfered, and that his rebellious colonists would not permit the ship to come under his command. They allowed the French seamen to range the Channels, disarmed the soldiers he sent to bring the vessel under his control - and piloted her out to sea to steer what course her master wished. But one of the French seamen remained behind, whom Coney wished to send to England to be interrogated by their Lordships. In another letter of January 3, 1686, Coney complained again to the Privy Council of yet another French vessel stranded on the reefs, regarded as prey by the colonists - and set on fire for her iron.

When Sir Robert Robertson arrived as Bermuda's Governor in 1687, there was reason to believe that Bermuda might be attacked by the French. He was told to spend some of the colony's funds to dig trenches, build battlements at the forts, erect breastworks with batteries at the western end of the main island and at the ferry, to mount every available gun. When Samuel Day was appointed Governor in 1698, the fortifications were again in need of repair. Day was instructed by London to have the Bermuda Assembly vote the necessary funds, but little was done until Britain's war with France was resumed in 1702, when troops were mobilized, guns mounted and the forts repaired. And in 1727, work of a French silversmith, Paris Guerin, some silver pieces bearing his mark, appeared in Bermuda, including several now at the Bermuda Historical Society. It is assumed they were captured from a French ship by a preying Bermuda based privateer, during a ship to ship engagement at sea.

18th century Bermuda France historical links including aspects of the American and French Revolutions

One of the most valuable 18th century maps of Bermuda is the 1740 version by the French cartographer Desbruslins. It shows Bermuda as the Isle de la Bermude, or Isles d'Ete' (Summer Island), with place names shown in French, such as l'isle Daniel, Irland, isle de Somerset, le grande Fonds (the Great Sound), isle de Tucker, les Freres Isle, Tribu de Warwick, Tribu de Pagets, Fonds d'Harrington (Harrington Sound), Havre de Southampton (Southampton Harbor, now Castle Harbor), Pointe du Chateau (Castle Point), etc. In 1774, the British Parliament promulgated the Quebec Act, with enormous implications for Canada, France, French Canadians, the Thirteen British American Colonies and Bermuda. It granted religious toleration to the French Catholics in Canada. It was a cunning British political and strategic legal device to detach Canada from the rebellious Protestant Thirteen Colonies of America further south, to preserve largely French Catholic Canada as a nearby important British military base in the event of further trouble in the British American colonies. Moreover, it extended the boundaries of Quebec south to the Ohio River, arbitrarily stripping Massachusetts, Connecticut, Pennsylvania and Virginia of their western lands. A specific rare map of Bermuda by French cartographer and surveyor C. Lempriere was first printed in an English edition for Map and Print seller Robert Sayer, of 53 Fleet Street, London, on February 20, 1775. During the American Revolution, the Marquis de Lafayette proposed to General George Washington that Bermuda be seized from the British.
A copy of the Treaty of 1778 between the United States of America and France gave (in Article 5) the USA the 'right' from France to seize Canada (once under French domination) and Bermuda. In Article 6, France renounced any future claims to either territory. Lafayette urged his friend Washington to implement this plan militarily, a suggestion declined by the American leader only because he had more pressing priorities against British interests. But other contributions by France enabled the new American republic to win that war. One was by the great French dramatist and playwright Caron de Beaumarchais, whose works induced a series of classical music compositions by some of the world's most revered composers. Beaumarchais supported actively the cause of the rebels early in the American Revolutionary War - to the degree that he supplied them, secretly, with vast amounts of small arms and ammunition. Still in Bermuda today is a framed, original silk screened engraving of George Washington, with a distinctive French history. Most tourists admire it as a splendid likeness of Washington, but only few ask for details. It was brought from France and presented personally by the Marquis de Lafayette, during his celebrated visit to the United States late in his life, to Washington, at the latter's now historic home at Mount Vernon, Alexandria, Virginia. How it ultimately arrived and stayed in Bermuda, first in possession of the American Consulate and then in the Bermuda Historical Society, is obscure. It is exhibited next to Washington's famous Letter to the people of Bermuda, of 1775, in his own fine penmanship, asking for Gunpowder. Not until France later officially entered the war on the American side did Washington's military forces have easy access to regular shipments of gunpowder for cannon. The theft of the St. George's based gunpowder coincided with the disappearance from Bermuda of a French military officer, a prisoner on parole. At the time, it was thought that he had been in league with the Americans sent to carry the powder away - and had made his escape on one of their ships. Not until 100 years later, when the foundation for the Unfinished Church in St. George's was being excavated, was a skeleton found of a man, in the remnants of a French military uniform. The earlier disappearance of the officer was recalled and it was assumed that in 1775 he came upon the scene, while honoring his parole, as the gunpowder robbery was in progress; was mistaken for a British officer in the dark and murdered; then buried hastily on the Governor's doorstep. There were many more French prisoners of war on Prison and Convict Hulks, mostly in St. George's Harbor, when British soldiers were stationed in Bermuda during the American War of Independence. And also during that conflict, Silas Deane, a secret American agent in France, was spirited into Bermuda for a spying mission.
On his arrival back in Paris, he recommended that the United States seize and fortify Bermuda, with French help. His activities in France led the British Ambassador there to complain that Mr. Deane was passing himself off to French officials as a native of Bermuda endeavoring to cause an insurrection. Also significant is Frenchman Peter Pallais, one of Bermuda's best known silversmiths. The Bermuda Historical Society's collection of antique silver includes a number of his best pieces. He arrived about 1787, via the United States. From then onwards, he was one of the very early 19th century victims of religious persecution in Bermuda, one of the island's earliest converts to Methodism and shared the sufferings of the Rev. John Stephenson, Bermuda's first Methodist minister in 1800. He and Stephenson were arrested and thrown into the St. George's gaol. Pallais was released after nine days, in bad health. The book History of Methodism in British Eastern America by Dr. T. Watson Smith says of Pallais at the time: "His bodily indisposition, or the satisfaction of having imprisoned Stephenson, plus public opinion, led to the indefinite deferring of his trial, but he was punished by holding him under bail and keeping him in a state of alarm by suspended threats." When restored to respectability, Pallais acquired in 1792 the business in St. George's, Bermuda, of the London born and trained goldsmith and silversmith and clock maker Thomas Blatchley, on the latter's death. His Royal Gazette notices of May 26 and June 2, 1792, and September 9, 1809, noted that his business inventory included coffeepots, tankards, silver dishes, milk pots, soups and punch ladles, spoons, gold and silver. He relocated his business to Second Street, Hamilton, near the Customs House, in 1809.
The French Revolution and its aftermath gave Bermuda many problems. The planning of the enormous edifice that later became known as the Bermuda Royal Naval Dockyard began when Revolutionary France declared war against Britain in February, 1793. Then the first formal moves to fortify Bermuda started in earnest. Bermuda was not directly affected when, from 1795 onwards, the French won a series of land based victories and threatened British sea power in European area waters. But the threat loomed closer when the French commissioned a fleet of privateers, whose ships swarmed into the Atlantic. Bermudian ships were criss-crossing that ocean, in a triangular sweep from New England and most US east coast ports, all the way south to the Turks & Caicos Islands and other Caribbean ports. Many were captured by the French privateers. In revenge, Bermudians also took out letters of marque, after the proclamation issued from London that French and American ships carrying cargoes to France, America or anywhere in French held territories, were fair game. They preyed on French shipping and property. Many American ships were also halted and stripped with relish, even when no real grounds existed for escorting them into port. In retaliation, a mob in Boston, Massachusetts, seized one Bermudian vessel suspected of being a privateer, set it afire, cut it loose - and watched it burn on Charlestown Point.
Of particular interest were the vessels carrying Frenchmen, their families and property, fleeing to Bermuda from Haiti where the slave revolt led by Touissant L'Overture, Jean-Jacques Dessalines and Henri Christophe began in 1794; and the French ship La Terpsichore, a war prize seized in the Atlantic by the Royal Navy and brought to Bermuda under escort.
Some of the French prisoners of war held in Bermuda at that time were involved in one very brave but futile attempt to secure their freedom. They drilled holes in the hull of their prison hulk Somerset, then at anchor in St. George's Harbor. The action caused the worm infested vessel to sink. Its commanding officer, a Royal Navy lieutenant, was summoned to Halifax, Nova Scotia, to attend his court martial for alleged negligence.

19th century Bermuda and France historical links

The great British Irish poet and composer Thomas Moore who spent some time in Bermuda greatly affected and influenced French and other composers. He lived and worked in Bermuda in 1804 as a British Admiralty Court clerk, before he left out of boredom for London to achieve his claim to fame, later life tragedy and immortality.
His LALLA ROOKH alone inspired operatic and musical settings by Felicien David, Spontini, Robert Schumann, Jakob Ludwig Felix Mendelssohn-Bartholdy, Karl Maria von Weber, Adolf Jensen, Sir Arthur Sullivan (who based his overture ROSENFEST, now lost, on the work) and many others. Louis Hector Berlioz wrote his CHANT GUERRIER; CHANSON A BOIRE; CHANT SACRE; the ballads HELENE; LA BELLE VOYAGEUSE; LA BELLE VOYAGEUSE, LEGENDE IRLANDAISE; ELEGIE EN PROSE; l'ORIGINE DE LA HARPE; and the romance anglais et francaise ADIEU BESSY, all based on texts either written by Thomas Moore or inspired by Berlioz's appreciation of Moore's poetry.
During the War of 1812-14 between Britain and the United States, France concocted yet another plan with its North American ally to seize Bermuda. Like its predecessors of the earlier war, it never came to anything. More French prisoners of war were held in Bermuda during that war. One of them became notorious for both his valor and sheer audacity in writing what was then the most critical letter ever written and published by any Frenchman about the British! His name was Captain Jean Baptiste Le Coeur (or Le Cour), an old Post Captain in the pre French Revolution navy and, because of his talents, a survivor of later conflicts too. He commanded the French ship "L'Uni" when it was captured by His Majesty's ship "Lacedemonian" and brought to Bermuda in March, 1815.
1830 was the year of a successful revolution in Belgium and its counterpart in France that fueled the passions of the French Canadian rebel Louis-Joseph Papineau for a French Canadian enclave, La Nation Canadienne, with the province of Quebec as La Patrie, under British protection but separate and distinct from all other British subjects. It led directly to what happened in Bermuda in 1838, when a group of eight French Canadians, whose love for their original mother country, her language and traditions was such that they fought for French rights in the ill fated Papineau rebellion in Canada, were captured and imprisoned in Quebec. In a dispatch to London of June 29, the Earl of Durham, Canada's Crown appointed Governor General, advised that he was deporting them from Canada, under sentence of death if they ever returned to Canada. They were sentenced to exile to Bermuda, in much the same way that the British Government earlier in the century exiled the deposed French Emperor Napoleon Bonaparte to St. Helena.
Durham qualified his report with his rationale for choosing Bermuda as the place of exile. His view was that exile for them here, compared with the other penal colonies, would not affix a character of moral infamy on them to make them - as they might become in Australia - centers of trouble as political martyrs. Thus they arrived in Bermuda, as the island's first 'political prisoners.' They were Wolfred Nelson, Rodolphe des Rivieres, Bonaventure Viger, Robert Shore Milnes-Bouchette, Henri Alphonse Gavin, Toussaint Goddu, Simeon Marchessault and Luc Hyacinthe Masson.
One June 29, 1838, they were herded in chains on board the warship HMS Vestal commanded by Captain Carter, whom Vice Admiral Sir Charles Paget, based in Halifax, Nova Scotia, had appointed to escort the condemned men to Bermuda with a letter to Bermuda's Governor, Sir Stephen Chapman, to explain the circumstances. When they were freed later the same year, several went first to Louisiana, the most French of all American states. The full story of these 'Exiles', available from us in Bermuda, may be of considerable interest to French nationals, French speaking Canadians and Americans with a French family connection.
1838. January 8. Sinking off Bermuda of the French warship L'Herminie, launched in 1824 but not completed until some four years later. For a naval warship of her day, she was huge, 300 feet long and carrying 60 cannons. She was one of eight frigates designed by Martin Boucher in 1823 and designated as a warship of the La Surveillante class, built to carry 30 French 30-pounder cannon and 30 other guns, including carronades. Earlier, in 1837 she was ordered to Mexican waters to enforce France's claims during the revolution. But, upon arrival in Havana, Cuba, on August 3, 1837, 133 members of her crew came down with yellow fever. Figuring her crew would be useless in battle, France's high command recalled her back to France. Under the command of Commodore Bazoche, L'Herminie left Havana for home on December 3, 1837. During her Atlantic crossing she encountered increasingly heavy seas. The captain decided to take shelter in Bermuda. By the time land was visible, however, the big ship had inadvertently wandered well inside a treacherous stretch of the Bermuda's northwestern facing barrier reef. Shortly after, L'Herminie got grounded on the reef. Before the ship started to break up, a group of local boats from Ely's Harbour came to her assistance. Given the sea conditions, it is amazing that all 495 members of L'Herminie's crew were safely evacuated from the doomed ship. The following day, several of the ship's stores were successfully salvaged. An advertisement appeared in the newspaper demanding that such material be handed to the ship's agent at Ely's Harbour, Thomas Tucker. Goods from the ship later offered for sale copper hinges, hemp hawser, blocks, sails, hooks, thimbles, a wheel, mast hoops, iron belaying pins, a stove mounted with brass, a set of fire utensils, iron rails, iron stanchions, mess tubs, leather buckets, brass wire conductor, copper stove funnels, harness casks, lead, lead pipes, copper pumps, jack screws, leather hoses, cabin doors, tables, crockery, ladders, and a marble slab. Today L'Herminie rests in 35 feet of water four miles west of Ireland Island. Since her wooden hull has been down for 160 years, little remains of her other than 58 of her original 60 cannons. The wreckage is scattered across white sand in the middle of the reef. Two cannons lay atop one another forming a cross. Surrounding the wreckage are the very coral heads that ripped the hull to pieces. Other than the cannons, divers can also see one of L'Herminie's two massive anchors propped up against a large coral head, as well as several of her square shaped, iron holding tanks, now half eaten by the sea. They once held the ship's supply of drinking water. Buried in the sand are some of the ship's timbers and cannon balls, as well as a collection of small artifacts such as broken glass, bottles and pottery. (A team from the Smithsonian Institution examined the site in the 1960s and some archaeological work was undertaken by East Carolina University in 1995).
Before he became one of Bermuda's most beloved Governors and an internationally recognized historian, British Major General John Henry Lefroy, then a young Captain posted to St. Helena on a scientific mission, was a special eye-witness to the dramatic scene when the body of Emperor Napoleon Bonaparte was disinterred with military honors, for return to France. What Lefroy wrote in detail to his sister in England about this event and its sensational discovery on how unusually well the body of Napoleon had remained in an almost perfect state of preservation, is a very unusual and important document. There has long been speculation that on St. Helena, Napoleon was given repeated doses of arsenic to hasten his death. Arsenic is, of course, a preservative and was used in the 19th century by embalmers. Interestingly, Lefroy, undoubtedly aware of those rumors, does not speculate in his letter on why the body of Napoleon was so well preserved. Visitors and Bermudians may access this account today in full, in a Foreword to a 1981 reprint of Lefroy's famous book on the early history of Bermuda, the most definitive ever written.
On November 13, 1851, Brett's private Submarine Telegraph service between England and France was opened to the public as the first commercial submarine telegraph service in the world. It was followed by more successful links between Dover, England and Ostend, Belgium and four links between England and The Netherlands. Then more British telegraph lines, anchored in Britain, snaked out under and across the English Channel and penetrated deeply overland into Europe. Details of these technological advances were brought to Bermuda by ship. The potential of the British French cable connection was seen by those in Whitehall planning geo-political strategies in the expansion of the British Empire. But far off Bermuda, so isolated geographically despite its militarily strategic mid Atlantic location, had to wait nearly 40 years before it got its own submarine cable to North America.
Much Caen stone was imported into Bermuda from France in the late 1880s, specifically for the new Anglican Cathedral in Hamilton, after the original edifice was destroyed by fire in 1884. The building remains today as a unique architectural city landmark and the Caen stone is acknowledged in the Cathedral's brochure.
In 1893, the Cable Ship Westmeath - the ship that in 1890 linked Bermuda to Halifax, Nova Scotia, by submarine cable - and provided the island with almost instantaneous connections via that feeder line to the rest of the world linked to the Great Atlantic Cable system and overland telegraph routes, to rid the island of its isolation forever - was sold to the French firm Societe Industrielle des Telephones. She was promptly renamed the "Francois Arago". Three years after she became one of the most celebrated vessels in Bermudian maritime history, her change from a British to French flag was duly noted in the Bermudian, British and French newspapers of the day.

La Petite Bermude
The name given by early French map-makers to North Rock, the northernmost land in the Bermuda archipelago, at least some of it is during the hours of low tide. It remains one of the few places of "silence and solitude" in the "Isles of Rest", free as it is from any taint of traffic (except the occasional motor fishing boat)

20th century Bermuda France historical links
A very famous French artist spent several months in Bermuda in 1916-17. He was Albert Gleizes. He stayed at the St. George Hotel, but it is not yet known under what circumstances he arrived here, when tourism had virtually shut down because of the Great War. He became very friendly with two distinguished American artists, Marsden Hartley and Charles Demuth, both active in painting Bermudian nature and still life scenes. One of the oils painted by Gleizes during his Bermuda sojourn has found its way back to Bermuda - and is in the Masterworks Collection.

The Bermuda France "perfume" connection
In 1929, Mademoiselle Jeanne Henriette de Vallieres established the first retail premises in Bermuda of the French House of Guerlain perfume business, today still known in Hamilton as the Guerlain shop. Two years later, she married Mr. William Frith. During World War II, she was heavily involved with the United Services Organization (USO) at the Hamilton Hotel, the unit responsible for providing services to the US military in Bermuda. From her Bermuda marriage in 1931 came children Mr. William de Vallieres Frith, the French Consul in Bermuda for 38 years until 1997; and his wife Mrs. Sarah Frith, daughter Annette and her husband Dr. Gerard P. Cloney; and a tribe of grandchildren. Madame Jeanne Henriette Frith died in Bermuda on January 9, 1994, when 91. Also in 1929, Bermudian entrepreneur William Blackburn Smith developed the Bermuda Perfumery & Gardens with his daughter Madeline. Bermuda was then was a major exporter of Bermuda Lily bulbs but the flowers were thrown into the sea. W. B. Smith and Madeline saw how to use those flowers for Easter Lily perfume. A French perfumer from Grasse was consulted.

World War Two connections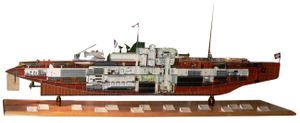 The most famous vessel of the Free French fleet to visit the island was the mega-submarine Surcouf, which had its own ensign with the initials "C G", in honour of the Free French leader. She was ordered by the French Government in December 1927, launched on 18 October 1929 and commissioned in May 1934. Captured by the Royal Navy on July 3, 1940, instead of being sunk at Mers El Kebir, Surcouf was sent to Bermuda in June 1941. In the 1990s it was noted the Bermuda Historical Society had some quite extensive 1941-era correspondence about her, written in French by her crew. From late July to late November, the boat was refitted in New England. In 1942, on February 18, she was accidentally sunk by collision with the American freighter Thompson Lykes, on the Atlantic side of the Panama Canal. Lost with all hands, it was the world's greatest submarine disaster to that date. Her range was 18,500 kilometers (about 10,000 nautical miles) at 10 knots, 12,600 kilometers (6,800 nautical miles) at 13.5 knots and 110 kilometers (60 nautical miles) at 5 knots, submerged. Her test depth was 80 meters or 250 feet. Her capacity was 280 tons. Her complement was 8 officers and 110 men. Her armament was two 203 mm (eight inch) guns in a twin turret, two 37 mm anti-aircraft cannon, four 13.2 mm anti-aircraft machine guns, eight 550 mm torpedo tubes, with fourteen torpedoes carried and four 400mm torpedo tubes, with eight torpedoes carried. She also carried one aircraft, a Besson MB 411 float plane. On February 12, she had left Bermuda for the war in the Pacific. An official joint U.S. and Free French report stated that she left Bermuda on 12 February and was accidentally rammed and sunk, with the accident due to both vessels running at night with no lights because of the menace of German U-boats. A later French investigation commission corrected the initial report and stated that the Surcouf had been sunk by US planes in the morning of the 18th in a "friendly fire" accident. There has been much other speculation.
One fatality from that tragedy at sea was the death of the 21 year old Surcouf submariner Marcel Alexandre Le Dantec. On 4th March 1942 he was buried at the Royal Navy Cemetery, Island Ireland, Grave No 396, Plot A.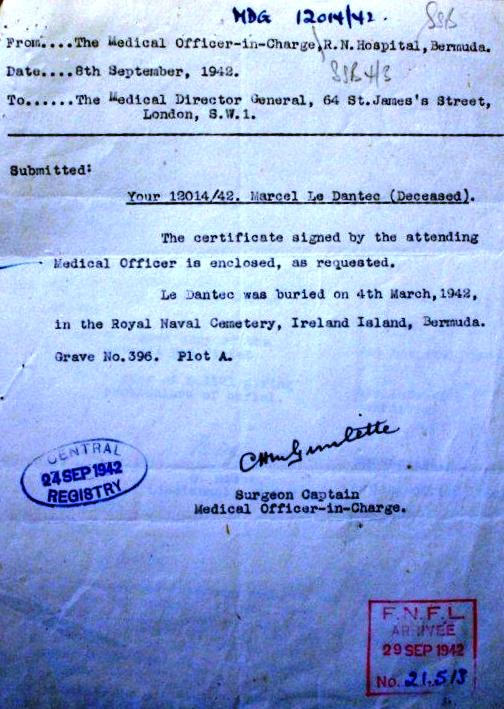 In 1943, Rear Admiral Adolphe Auguste Lepotier, Forces Françaises Libres (Free French Navy), born in Nantes in 1898, visited Bermuda on a number of occasions, then as a Capitaine (Captain, a senior naval officer). A sailor during the First World War, he entered the French school for naval officers in 1919, eventually serving at sea in the Second World War. He was at the battle of Mers El Kebir on July 3, 1940, when the British sank several French warships to prevent their possession by the Germans, who had recently occupied France. He served in the western Atlantic and Bermuda in 1943 with the Free French Navy which had 50 ships and nearly 4,000 men serving with the Royal Navy, as Captain of the Tempete, accompanied by the Simoux, both Bourrasque Class destroyers. Other ships in the group included Elan Class minesweepers Gazelle, Commandant Bory and Commandant Delage. The officers and crew had a very pleasant stay on the island, as attested by letters of thanks written to the Bermuda Ladies League. In spring 1943, his ships were renovated at the Ireland Island Arsenal and Base.
Many of the crew of Commandant Bory signed their names and addresses, including many showing Casablanca, Morocco, as their home port, in one of the visitors' books extant today in the Bermuda Historical Society, surviving from the Bermuda-based Naval Recreation Rooms, based at the Bermudiana Hotel, run by the Bermuda Ladies League, sometimes also known as the Ladies Hospitality Organization.
Also in the files are various original letters from other Free French ships' captains and sailors. On his personal calling card, Phillipe Frederic-Moreau, an "Ensigne de Vaisseau," expressed his personal thanks, in elegant handwriting and English, for the hospitality extended to himself and his shipmates on board the warship Simoux. Typewritten, but equally carefully preserved, is another from le Capitaine de Corvette Rochette, Commandant l'aviso Commandant Delage, with similar sentiments.
On July 11, 1943, a Sunday, Dr. Phillippe Playo, Medical Officer of French Ships, wrote a beautiful letter in English, on board his vessel, l'aviso Gazelle. Two days later, on July 13, on the official letterhead of the Sixieme Division de Torpilleurs, on board the torpilleur Tempete, le Capitaine de Frigate Lepotier, Commandant la Sixieme Division de Torpilleurs, also handwrote, in English, a superb letter of thanks on behalf of all his crew who enjoyed the facilities
In 1944, Lepotier was sent back to Europe where, in 1944, he took part in the relief of Corsica. He was appointed rear admiral in 1952 and retired two years later to devote his life to research and writing of naval history. He died in his 80th year in 1978. Also during World War 2, a Bermudian soldier and author, John Hartley Watlington, was based in France. His experiences were revealed in "Under Cover in France," published in the 4th quarter, 1949, of the Bermuda Historical Quarterly.

Cold War and later connections
For the Forster Summit Conference ever held in Bermuda from December 4, 1953, all Bermudians welcomed the Prime Minister of France, M. Joseph Laniel; United States President Dwight D. Eisenhower; and British Prime Minister Winston Churchill. Eisenhower and Churchill had visited Bermuda during World War II, but Bermuda had not yet seen any elected leader of France.. Churchill wanted the meeting because he felt French interest in the proposal hampered the cause of the post-war Western Alliance. He sought a united British, American and French accord against the idea. On the day of his arrival, Premier Laniel visited some leading tourist attractions including the Aquarium and Natural Zoo, Crystal Caves and St. Peter's Church. He incurred a slight mishap when he slipped on the coconut matting leading into the caves, but was caught and righted before he fell. But during the same excursion he contracted a chill which turned into a bad cold, as the result of which his Foreign Minister, M. Georges Bidault, substituted for him for the rest of the conference. For a formal dinner at Bermuda's Government house involving the three prominent participants, Churchill introduced a goat into the room, a military mascot; and smoked cigars. Several days later at least one prominent French newspaper, published in Paris, reported Monsieur Laniel as being frigidly not amused with Churchill's preoccupation with the goat, to the extent of inviting it to dinner with world leaders - and sick to his stomach from what he described as the "stench of the British Bulldog's cigars polluting the atmosphere in the after dinner conference."

President Eisenhower, Churchill and Laniel spent four days in Bermuda. Their geopolitical discussions centered mostly on relations with the USSR as the post-war Cold War began to intensify. Within hours of the commencement of the conference came an official note from Moscow which requested, in somewhat brusque terms, a 4 Power meeting involving the Russian leader. Also on the agenda agreed by Churchill and Laniel was a speech President Eisenhower delivered to the full Assembly of the United Nations in New York a few days later.

Because of the Cold War, Bermuda received frequent visits from French warships, on NATO business and exercises. They and their crews are always warmly welcomed.

In 1992, Bermuda ordered a special type of material from France to upholster the interior of the historic 1771 Sedan Chair belonging to the Bermuda Historical Society, the only surviving one of its genre in the entire Western Hemisphere.

History & daily newspaper reports


Authored, researched, compiled and website-managed by Keith A. Forbes.
Multi-national © 2020. All Rights Reserved