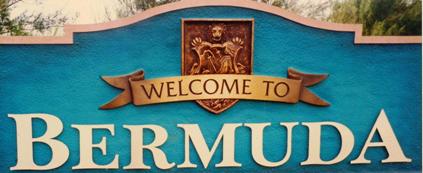 165+ web files, a regularly updated Gazetteer, overall an in-depth description of our island's internally self-governing British Overseas Territory 900 miles north of the Caribbean, 600 miles east of North Carolina, USA. With accommodation options, airlines, airport, actors, actresses, aviation, banks, beaches, Bermuda Dollar, Bermuda Government, Bermuda-incorporated businesses and companies including insurers and reinsurers, Bermudians, books and publications, bridges and causeway, charities, churches, citizenship by Status, City of Hamilton, commerce, communities, credit cards, cruise ships, cuisine, currency, disability accessibility, Devonshire Parish, districts, Dockyard, economy, education, employers, employment, environment, executorships, fauna, ferries, flora, former military bases, forts, gardens, geography, getting around, golf, guest houses, highways, history, historic properties, Hamilton, House of Assembly, housing, hotels, immigration, import duties, internet access, islands, laws, legal system and legislators, main roads, marriages, media, members of parliament, money, motor vehicles, municipalities, music and musicians, newcomers, newspaper, media, organizations, parks, parishes, Paget, Pembroke, performing artists, residents, pensions, political parties, postage stamps, public holidays, public transportation, railway trail, real estate, registries of aircraft and ships, religions, Royal Naval Dockyard, Sandys, senior citizens, Smith's, Somerset Village, Southampton, St. David's Island, St George's, Spanish Point, Spittal Pond, sports, taxes, telecommunications, time zone, traditions, tourism, Town of St. George, Tucker's Town, utilities, water sports, Warwick, weather, wildlife, work permits.

Bermuda's History from 1700 to 1799
Eighteenth century events with role in American Revolutionary War and afterwards

By Keith Archibald Forbes (see About Us) exclusively for Bermuda Online
See end of this file for all of our many History files
1700-1702
1700. In St. George's, Bermuda, the Globe Hotel was built as a residence for Governor Day.

1700. Beginning of the end of the era of English indentured servants as cheap field and house labor in Bermuda. They were replaced by slaves acquired mostly from Africa via the West Indies, a few from Central America.

1700. In Bermuda, in addition to a fleet of 60 sloops, 6 brigantines, 4 ships, 300 to 400 two-masted boats for coastal waters, Bermudians built large boats for foreign clients as well. It was one of the best years ever for Bermuda ship-building. Bermuda cedar was crafted into superior boats that were light, fast and resistant to rot. The industry lasted for about 150 years. Only with the age of steam and beyond did the industry decline. Today, no vessels are made commercially in Bermuda.

1701. With war between Britain and France imminent, the British Government decided that Bermuda should be protected by regular soldiers. The small military force, the Independent Company of Foot, was sent from England.

1701. May. On HMS Lincoln, the first 50 full time soldiers arrived in Bermuda with Governor Benjamin Bennett, who had commanded a company in Ireland. They were detached from the 2nd Foot over protests of General William Selwyn who had clothed them in England. They were headed by Captain Lancelot Sandys, with Lieutenant Robert Henly and had 2 sergeants, 2 corporals, 1 drummer and 50 privates. They became known as the "Independent Company."

1701. Governor Benjamin Bennett arrived in Bermuda. He brought with him a Silver Oar, emblem of Admiralty Court jurisdiction and initiated the practice of placing it before himself at meetings of the Governor's Council. Instead of handing it over to the Admiralty Court in Bermuda, he kept it as a personal symbol of his authority after experiencing for himself the irreverent attitude Bermudians displayed towards the Crown.

1701. In St. George's, Bermuda, Fanny Fox's Cottage was built on Duke of Clarence Street.
1702-1714
1702. Queen Anne ascended the British throne.

1702. Britain entered the War of The Spanish Succession, against France. This war also included a French campaign, with Allied Native Nations (Indians) against British possessions in North America. The previous year, with this war looming, a Company of Regular infantry had been sent to Bermuda and made an 'Independent Company (the first Regular Army deployment to the colony). With the onset of the war, the militia in Bermuda was strengthened. Six hundred men were armed and trained with lances. A troop of Horse Grenadiers was raised amongst those wealthy enough to afford a horse. The war continued until 1713.

1704. In Bermuda, another Act to punish the "insolence of Negroes" was passed, this time with castration. (The act was repealed in 1705 at the insistence of the British Government in London as it containing "some inhumane penalties," although "whipping and imprisoning" were considered acceptable).

1705. In St. George's, Bermuda, the Old Rectory was built.

1705. In St. George's, Bermuda, Reeve Court was built by Dr. Thomas Holland, minister of the parish church. For centuries, it was the tallest building in the town.

1706. Spanish and French forces seized the Turks, until then controlled by Bermudians who were unable at that time to defend them successfully.

1709. Longford House is believed to have been home to the very first resident physician in St George's. It was built for Doctor Roger Thomas and was worth the princely sum of one pound. It was a prestigious and distinguished 'mansion' that lay at the very heart of the old St George's and boasted a long hall, brick-lined fireplaces and a deep chasm of a cellar. Dr Thomas had emigrated to Bermuda 1709 and his house was one of the most expensive in the capital. (When he died of pleurisy in 1715 the property passed on to his wife Sarah. But it is unclear who occupied the premises after she died three years later as it was probably rented out to visiting merchants and businessmen. The Foote family occupied Longford House in the late 18th century and expanded it to its current size. Lt John Foote had been posted to Bermuda from England with the Independent Company at the tail end of King George's War. And although he lived in the premises until he died in 1754 he never actually owned the property. His family continued to live there after his death and his son, William, was appointed Clerk of the Assembly. William was also a successful merchant as well as churchwarden and scribe and he purchased Longford in 1781 for £1,000. In the early 19th century it was home to Jehoaddan Lagourgue — the widow of a French St Domingue sugar planter who had lost everything during the Haitian slave revolt and revolution. But this marked the beginning of a long decline and by 1950 the house had become a ruin of no value. Today the shell of the building remains clearly visible, as do the large fireplaces and the cellar rooms. But the site has become overgrown with trees and plants. The roof has long disintegrated and the interior walls of this once majestic old house have crumbled away).

1710. A Bermudian crew under Captain Lewis Middleton sailed south in the Bermuda privateer Rose and succeeded in recapturing the Turks Islands, expelling the French and Spanish who earlier invaded and taken over the Bermudian salt industry interests. It was probably Bermuda's only independent military action. This time, unlike earlier, there was no interference from the Bahamas, with the French and Spanish having almost completely wiped out the earlier Bahamas interference.

1710. "Verdmont," now a Bermuda National Trust museum, in Smith's Parish, was first built, partly by slaves.

1710. A Bermuda silver tankard was made by Thomas Savage Sr, (1664-1749) a silversmith who worked in both Boston and Bermuda. He was born in Boston and trained as a silversmith from 1678 to about 1685. Savage and his family moved to Bermuda in the early 18th century and he is known to have lived and worked in Bermuda between 1706 and 1714. Only 14 pieces made by Savage are recorded in the standard reference book on Boston silversmiths. Seven of these pieces are tankards and almost all of these have Boston rather than Bermudian associations.

1711. In St. George's, Bermuda, the Tucker House was built.

1711. In Bermuda, an Order in Council was issued to authorize the master of any ship greater than 44 feet to use as many Blacks and or slaves as crew as he thought necessary. But it limited the number of whites to six.

1711. So many slaves wore fine clothing and fancy dresses to their own balls and gatherings that the Bermuda Assembly passed a law that forbade masters from allowing their slaves to "wear any silk, lace, ribbon, rings, bracelets, buckles, . . . nor other ornaments." These "merry meetings and midnight festivals" reflected a synthesis of European fashion and African and Native American traditions perhaps best exemplified by the costume, dance, and music of gombey dancers. Despite the reforming efforts of the Assembly, numerous clandestine public houses served rum and bibby (a liquor made from fermented palmetto sap) to black clientele, sites where slave sailors could relax after months at sea. Goods and specie flowing in Bermuda's internal slave economy testify to the success of Bermudian slave sailors in obtaining creature comforts for themselves and for the slave community as a whole, while their celebrations and rituals reveal their ability to create and maintain cultural traditions independently expressed from that of the white families with whom they lived.

1712. Earliest documented evidence of knowledge of Argus and Challenger Banks for fishing and salvaging wrecks.

1712. When the original owner of Verdmont in Smith's Parish, John Dickinson, died this year, only two years after Verdmont was built, he had 14 slaves, many of them associated with his maritime travels. It is possible slaves may have lived in the lower level of one of the cottages of what was then the Verdmont Estate.

1712. On September 8 the first of two very severe hurricanes that damaged many Bermuda buildings including St. Peter's Church in St. George's. Bermuda's first settlers had built almost everything out of cedar wood, including commercial buildings and churches. It was as a direct result of these hurricanes that the decision was taken to quit building structures of wood and instead make them out of limestone, to better withstand hurricanes. New construction methods were developed to cut stone from hillsides to create solid limestone buildings. (Many still survive).

1713. Pirates seized much of the Bahamas chain of islands and threatened Bermudian salt interests in the Turks islands. Fortunately for them, a former privateer, Woodes Rogers, assumed control of the Bahamas and flushed out the pirates.
1714-1727
1714. George I ascended the throne of England.

1715. Britain went to war with Spain and Bermuda's Independent Company of troops was alerted.

1716. Another very severe hurricane damaged many Bermuda buildings.

1716. All ninety-two Bermuda-registered vessels, a huge increase from when last counted, were sloops.

1716. Christ Church, or Old Devonshire Church, was first built, from an earlier religious edifice that had first commenced in the 1660s. It replaced a place of worship that blew down in a hurricane. (It was reconstructed after fire from arson in the 1970s).

1717. A fast, shallow draft cedar-built 8-10 gun sloop made in and known initially as "Bermuda" (later, Adventure) was a gift from former pirate Benjamin Hornigold to the pirate known as Blackbeard, Edward Teach.

1718. Blackbeard the Pirate, real name Edward Teach, successfully blockaded Charleston, North Carolina. By taking hostages, he forced the town's people to hand over a large quantity of money and a medicine chest. Reports reached England that he was threatening to take over Bermuda. In June that year Blackbeard set sail and steered towards Bermuda but became distracted by plunder on the high seas and did not carry out his plan. One of his ships, was the sloop Bermuda, gifted to him by another pirate, Benjamin Hornigold. Blackbeard renamed it Adventure.

1718. In Bermuda, another slave conspiracy was feared. It was reported that Negro men had grown very impudent and insulting of late. In fact, some slave conspiracies began, known as the "poisoning plots" until 1730.

1718. May 10. Nathaniel Catling came ashore in Bermuda and went to see Governor Bennett. He told the Governor that he was one of the crew of the Bermuda sloop "Diamond". On April 14 they were sailing off Rum Key in the Bahamas when they were intercepted by the pirate ship "Ranger" commanded by Captain Vane. The pirates beat up the captain and all the crew of the "Diamond", and looted the vessel of a black man and 300 pieces of eight. Nathaniel Catling was singled and hanged by the neck until they thought he was dead. When they let him down on the deck, he was seen to revive, whereupon one of the pirates hacked him across the collarbone with his cutlass and would have continued until he had murdered him had not one of the other pirates persuaded him it "was too great a cruelty". The pirates' final act was to set fire to the "Diamond".

1718. May 15. 5 days after Catling made his report, Edward North, the commander of the Bermuda sloop "William and Martha" came to see Governor Bennett with a similar story. He said that his ship had been attacked by Vane off Rum Key within 3 hours of the attack on the "Diamond". The pirates had boarded his vessel, violently beaten him and his crew, then dragged one of the seamen to the bows, bound him hand and foot, and tied him to the bowsprit. As he lay there helpless on his back, the pirates put burning matches to his eyes and the muzzle of a loaded pistol in his mouth, thereby to oblige him to confess what money was on board. In this instance they did not set fire to the ship, but Captain North reported that while they were on board, the pirates were continually cursing the King and the higher powers, and swearing damnation on the Governor."

1718. November 22. Death in a naval battle against Britain's Royal Navy of Edward Teach (also Edward Thatch), better known as Blackbeard. He was a notorious English pirate who operated around the West Indies and the eastern coast of the American colonies. Earlier that year, he had threatened to attack Bermuda. He incurred a number of sword slashes and musket fire wounds. His head was chopped off and displayed from the bowsprit of the vessel that captured him, as proof of his capture to earn the reward.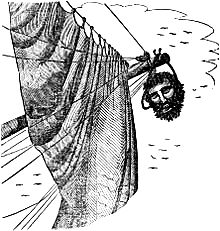 Blackbeard's gruesome end
1719. July. It is believed that in Bermuda black involvement in the maritime trading economy began, arising from a meeting between Bermuda Governor Benjamin Bennett and his Council, arising from reports of a number of white Bermudian sailors colluding with pirates. The concern was that these white sailors, acting as pilots, would lead pirates through the treacherous shoals of Bermuda to the Islands. But of even more concern was the fact that the number of local whites available to defend the island was being depleted by overseas trading. Bennett was particularly worried about the salt rakers in Turks Island. He declared at that meeting that pirates were taking these men and that it was "...very detrimental to the Inhabitants of these Islands". (Minutes of the Governor's Council, Bermuda Archives, 1706-21, p. 120). The low white male population and its military implications were likely reasons for Bennett's plan to arm and muster slaves. By an Order-in-Council it was declared that the number of white men employed in the local merchant marine be circumscribed. It was hoped this would deprive the pirates of potential pilots and at the same time expand the number of men available for the muster. Thereafter, no vessel of 40 feet or more keel and belonging to and departing from the Islands was to have "...any more white Sailors than Twelve..."; and no vessel of 39 feet keel or less was to take out any more than nine 'white' sailors. All captains of vessels of any dimension whatsoever could take out "...as many Negroes or other Slaves as he or they shall think proper". All sailors taken out by vessels were to be brought back to the Islands by the same vessels on which they left. Hence began the expansion of the international reach of local 'black's trading', as 'Negroes', 'Mulattos', and 'Indians', in bond or free, would begin to slowly expand their presence in the Bermudian merchant marine. Between 1708 and 1720, about 28 percent of the men constituting a sloop's crew were 'black' according to 18th Century documents. This rose to 34 percent in 1720. Those who were employed as mariners within the 'black' community were not all Bermuda-born and raised; and among the community of sailors were men with at least a foreign and plausibly Spanish Caribbean heritage. Slave labour shifted from performing diverse agricultural tasks to skilled artisan crafts. A few male slaves had fished, hunted whales, and salvaged wrecks in local waters during the company period, and these early maritime slaves were among the first recruited by Bermudian masters embarking on inter-colonial trade. Other male slaves, particularly boys, learned seamanship when their owners eschewed planting and took to the sea. A third group became sawyers, joiners, caulkers, blacksmiths, and shipwrights and formed the backbone of the colony's shipbuilding labor force. As more and more slaves were integrated into the maritime economy, the shipping fleet swelled and the island prospered from its increased trade. From a white perspective, the shift enabled white masters who went to sea to use their previously underemployed male slaves more productively.
1719. November 17, the Cobbs Hill Methodist Chapel in Warwick Parish, Bermuda, was built by slaves at night
1720. Of the 17 boats in Antigua, 9 were from Bermuda.
1721. Robert Dinwiddie commenced his role as a colonial administrator with his appointment in Bermuda (see 1751). A graduate of the University of Glasgow and with his parents successful merchants in Glasgow he became the Collector of Customs, a post he held for 16 years. Later, he was the Governor of Virginia.
1721. The third Government House was started, yet again in St. George's, on the site largely occupied now by the Unfinished Church.
1721. The Silver Oar, brought to Bermuda in 1701 by Governor Bennett as the emblem of Admiralty jurisdiction, and initiated by him as the custom of placing it before himself at meetings of the Governor's Council, was purchased by the Bermuda Government.
1722. When Colonel John Bruce Hope became Governor, major work was done on Paget Fort (or Queen's Fort as it was sometimes called). It seems likely that the rocks on which the lower battery stood were undermined by the constant pounding of the waves, particularly in the winter. It took several years to complete the repairs on both Paget and nearby Smith's Forts, at great cost.
1724. Henry Rost, a German national, applied unsuccessfully to the Bermuda legislature for financial help in establishing a vineyard in Bermuda.
1725. June 1. Bishop George Berkeley, after having proposed a scheme for the erection of a college in Bermuda for "the converting of the savage Americans to Christianity" obtained a charter from King George I to build a college in Bermuda to be known as St. Paul's, for the university education of Americans, Indians and black Bermudians. But funds never came.
1725. The "William" vessel was seized by Robert Dinwiddie, Bermuda Collector of Customs, for smuggling and for having a substantially black crew (3 of 4 crew members). Master of the William was Solomon Frith. He successfully smuggled a hogshead of Virginia tobacco by discharging his white crew at Turks Islands and taking a slave crew on to Virginia. By law, slaves could not testify and therefore he could not be found guilty of smuggling for lack of witnesses. She was acquitted from seizure.
1726. Governor John Hope Bruce buried his wife, Charlotte, in what by then had become the Governor's Garden in St. George's (later, Somer's Garden) erecting a stone tomb along the garden's southern wall.
1727-1760
1727. King George II was enthroned.

1727. Fourways, in Paget, was built of native coral stone and cedar. It was commissioned by John Harvey of Harvey's Bristol Cream fame, who made it his home. It was aptly named Fourways because it spread modestly in all four directions and was enclosed within two and a half acres of walled gardens at Amen Corner, a vital crossroads in Bermuda for over 250 years. Fourways' reputation for gracious hospitality was established from the very beginning. Guests attending Mr. Harvey's elegant dinner parties enjoyed lavishly cooked meals, an excellent wine cellar and - because they were forced to travel many miles by horse & carriage - they were offered overnight lodging as well. For more than two centuries this lovely Georgian home was retained as the private residence of the Harvey family and several other owners, and remained a fixture on the Island's social scene. Extensive renovations and additions were made, but the uniquely Bermudian character of the house was carefully preserved.

1728. Bermuda received a shipment of military supplies from Britain.

1728. Militia Act 1728 created 'The King's Independent Company' of 50 men in Bermuda, taking part of the name of the earlier Independent Company.

1730. June 6. After being tried on June 1, Slave Sally Bassett, owned by the estate of Francis Dickinson, of Southampton, was sentenced to death and then burned at the stake on a scorching hot day for poisoning several persons including her master Thomas Forster who owned Sally's grand-daughter Beck, his wife Sarah Forster and Nancey, a household bondswoman. Sally was charged with giving Beck the poison that Nancey discovered in the wall of the kitchen outlet. She always maintained her innocence and said God would send a sign to prove it. People then found the Bermudiana flowering out of her ashes and Sally became a focus of the anti-slavery movement. Bermudians refer to a really hot day as a Sally Basset Day.

1730. An Act affecting Negroes and other slaves imported into Bermuda was approved. It levied a tax of £5 on all imported slaves, except those arriving directly from Africa. The Population was then 8,774 - 5,086 white and 3,688 black.

1731. In St. Georges, Bermuda, the Mitchell House (now the St. George's Historical Society) was built.

1731. More than half the black population of Bermuda were urged by militant slaves to rise up and attack the slave owners while they slept. But the planned attack was foiled.

1732. Establishment of Georgia as a British Colony, by James Oglethorpe.

1736. In an inventory made for Colonel John Trimingham, there were 18 Bermuda-made carved chairs in his living room, made partly or wholly with cedar - and mahogany imported from the West Indies, much prized. It was a good time for Bermuda-made furniture.

1737. Alured Popple was appointed lieutenant-governor of Bermuda. Upon his arrival, Popple wrote back to London "Notwithstanding the information I had in the Plantation Office, Bermuda never appeared to me to be of such consequence as I now find it to be." A year later, he was appointed Governor.

1737. Between 3 September and 31 December, 38 sloops entered or cleared Norfolk, and of this total, 25 were registered in Bermuda, the famous cedar-built Bermuda sloops. Their hulls, with significant dead rise, combined with low freeboard, less superstructure and lighter spars to enable them to increase speed and stability. Strong, light cedar found in abundance in Bermuda, and used for framing as well as planking, reduced vessel weight, and the common sail plan, with raked mast and square topsails, made Bermuda sloops good sailors with speed under fair conditions.

1738. Alured Popple (1699 - 17 November 1744), who had been appointed lieutenant-governor of Bermuda less than a year earlier, was appointed Governor.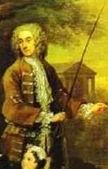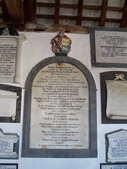 He had earlier been an English civil servant, with a well-connected family. Popple's great-grandmother, Mary Marvell, was a sister of the poet Andrew Marvell. Mary married Edmund Popple, Sheriff of Hull. Their son William was a correspondent of Marvell's and developed a friendship with John Locke, whose Letter on Toleration he translated into English. Popple's brother William (1700/1-1764) published verses, plays, satires, and translations (including one of Horace's Ars Poetica published in 1753). He was also the co-author (with Aaron Hill) of The Prompter, a dramatic periodical published 1734-1736. Unpublished translations and stage adaptations by William Popple are at the British Library and the Bodleian. Alured Popple held a clerkship at the Board of Trade during his early years, and in 1722 was appointed secretary to the Board, a post held by his grandfather and father before him (William from 1696-1707, William Jr. from 1707-1722). Alured held the post until 1737, when he relinquished it to his brother William. During his tenure he implemented a system of fees for the services carried out by the office, replacing the system of informal graft that had developed. He was known for his "great knowledge and capacity of governining." In 1737 Popple was appointed lieutenant-governor of Bermuda, and a year later he acceded to the governorship. Upon his arrival in Bermuda, Popple wrote back to London "Notwithstanding the information I had in the Plantation Office, Bermuda never appeared to me to be of such consequence as I now find it to be." During his governorship, Popple worked to increase Bermuda's fortifications, supported various agricultural experiments, tried to unknot certain difficulties with the island's currency system, and generally attempted to bring order to Bermuda's political climate. Popple was housed in the third "government house" in St. George (which stood on what is now the site of the Unfinished Church). At some point during his tenure the house leaked; as Henry Wilkinson put it, "when the roof leaked over Alured Popple so that he had to rent a dwelling in the town to save his books and portraits, St. Georgians felt the humiliation so keenly and expressed it so tenderly that His Excellency in turn was touched by their solicitude and spurred to hasten his return to 'government house,' as it was then called." In the meantime Popple stayed at Bridge House (today owned by the Bermuda National Trust). Popple introduced Freemasonry to Bermuda, being appointed Provincial Grand Master of the Bermudas or Somer's Islands under a patent granted by Lord Strathmore. Popple's brother William (who replaced him as governor at his death) was granted the same position. Popple died of a "bilious fever" on 17 November 1744, after an illness of nine days. His elegant grave marker is mounted inside St. Peter's Church, in St. George's, Bermuda. Popple's extensive library of more than a thousand volumes, starting with the Latin classics and then the Greek in translation, traversed all the standard poetry, prose, and drama not only of England but of France, with an ample supply of biography, history, law both civil and ecclesiastical, theology, medicine, commerce, fortifications, natural science, pure science, and pseudo-science including the veterinarians' and farriers'. There was nearly everything from rhetoric, through six volumes of Pills to Purge Melancholy, to shorthand, and the collection included Captain John Smith's History of Virginia, Oldmixon's History of the British Empire, several volumes on the buccaneers, Dampier's Voyages, Gulliver's Travels and Robinson Crusoe. Popple's library includes some very significant works, including titles by Galileo and Newton. Among the other scientific items in Popple's study were "A Pair of Globes," "A Camera Obscura," "A Microscope," "An Universal perpetual Mathem[atical] Instrum[ent]" and various navigational tools. In the inventory of Popple's estate taken after his death, the library is appraised at £175/1/3, a sizeable percentage of the entire estate (valued at £761/5/5). The list of books consumes seven of the ten pages of the inventory (Bermuda Book of Wills, Vol. 8, pp. 19-28). Just what happened to his books is a mystery.
1741. In Bermuda, the Spanish privateer Francisco Lopez landed a raiding party at Boat Bay in Southampton Parish. The Spaniards seized local fishing boats and towed them behind their ship. The local militia and two armed Bermudian sloops arrived too late to retrieve them. The boats and the retreating Spanish were never heard of again.
1744. November 17.Death in St. George's, Bermuda, of Governor Alured Popple. He introduced Freemasonry to Bermuda, being appointed Provincial Grand Master of the Bermudas or Somer's Islands under a patent granted by Lord Strathmore. Popple's brother William (who replaced him as governor at his death) was granted the same position. Popple died of a "bilious fever" on 17 November 1744, after an illness of nine days. His elegant grave marker is mounted inside St. Peter's Church, in St. George's, Bermuda. Popple's extensive library of more than a thousand volumes, starting with the Latin classics and then the Greek in translation, traversed all the standard poetry, prose, and drama not only of England but of France, with an ample supply of biography, history, law both civil and ecclesiastical, theology, medicine, commerce, fortifications, natural science, pure science, and pseudo-science including the veterinarians' and farriers'. There was nearly everything from rhetoric, through six volumes of Pills to Purge Melancholy, to shorthand, and the collection included Captain John Smith's History of Virginia, Oldmixon's History of the British Empire, several volumes on the buccaneers, Dampier's Voyages, Gulliver's Travels and Robinson Crusoe. Popple's library includes some very significant works, including titles by Galileo and Newton. Among the other scientific items in Popple's study were "A Pair of Globes," "A Camera Obscura," "A Microscope," "An Universal perpetual Mathem[atical] Instrum[ent]" and various navigational tools. In the inventory of Popple's estate taken after his death, the library is appraised at £175/1/3, a sizeable percentage of the entire estate (valued at £761/5/5). The list of books consumes seven of the ten pages of the inventory (Bermuda Book of Wills, Vol. 8, pp. 19-28). Just what happened to his books is a mystery.
1745. Establishment of the Royal Navy's North America & West Indies Station. The squadron was formed to counter French forces in North America, with the headquarters at the Halifax Naval Yard in Nova Scotia (now CFB Halifax). Operationally, it began with the area of command first been designated as the North American Station in 1767, under the command of Commodore Samuel Hood, with the headquarters in Halifax from 1758 to 1794, and thereafter in both Halifax and Bermuda until later run solely from Bermuda.
1745. June 25. Birth in the Town of St. George, Bermuda of Thomas Tudor Tucker. The family had been prominent in the colony since his ancestors immigrated from England in 1662. His parents were Henry (1713–1785) and Ann Tucker. As a youth, Thomas studied medicine at the University of Edinburgh in Scotland, UK. After graduating in 1770, he moved first to Virginia in the 1760s, then settled in Charleston, South Carolina (which had been settled from Barbados in 1670, under the leadership of William Sayle, and which had a large community of expatriate Barbadians) and opened a practice. His younger brother St. George Tucker followed him to Virginia, studying law and eventually being appointed as Chief Justice of the Virginia Supreme Court. He served as a surgeon in the Revolutionary War. Elected as a Delegate from South Carolina to the Continental Congress, he served from 1787 to 1788. Elected as a Representative from South Carolina to the United States House of Representatives, he served from 1789 to 1793. Appointed as (third) United States Treasurer by President Thomas Jefferson and served in that capacity from 1801 to 1828, when he died in office.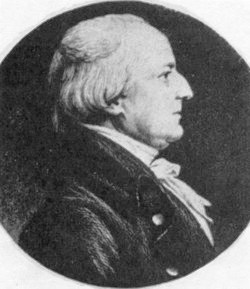 1746. So many prisoners-of-war were brought in by Bermudian privateers that the only place available to accommodate them was Paget Fort. They were guarded by locally-quartered troops and had a food allowance of one shilling a day.

1747. As a result of the Militia Act 1747, with the War of the Austrian Succession looming and providing a potential threat to both Britain and Bermuda, the Troop of Horse Grenadiers earlier established was split into Eastern and Western Sections.

1747. The death, in Bermuda, at more than 100 years old, of Sarah Durham (nee Hunt). Her husband - who pre-deceased her - was several times Commander-on-Chief, Bermuda. She was the child of Richard Hunt and his wife Sarah, of Bromley, Kent, England, who arrived in the Bermuda Islands in 1647, with their child, also named Sarah.

1749. Death of Thomas Savage Sr, (born 1664) a silversmith who worked in both Boston and Bermuda.

1749. Bermuda's Speaker of the House of Assembly, Cornelius Hinson, told several people at a parade in St. George's that he would give 10 pounds to any soldier who would shoot Governor William Popple in the head. The Speaker was never prosecuted for this treasonous talk.

1750. The size of the Bermuda fleet of ships had grown and diversified to 115 vessels: eighty-one sloops, fourteen schooners, eighteen brigantines, and two others.

The speed of the Bermuda sloop made it a highly sought-after carrier whose masters found ready customers in ports abroad, especially during wartime. The flexibility of the rig allowed it to sail in wind conditions that kept square-riggers at anchor, and the shallow draft of the typical Bermudian hull could navigate over sandbars that stopped larger vessels and up rivers to reach markets deep in the North American interior. The durable, native Bermuda cedar from which the sloops were built was highly resistant to rot and marine borers, giving Bermudian vessels a lifespan of twenty years and more even in the worm-infested waters of the Chesapeake and the Caribbean. The Bermuda sloop was wonderfully adapted to overcoming many of the physical and geographic obstacles in America's inter-colonial trade, a factor that played no small part in the island's success.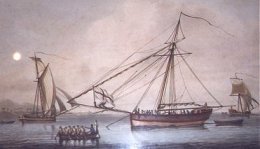 Bermuda-built vessel circa 1750
1751. December 29. The ship Hunter Galley, built in Bermuda and launched in 1847, was wrecked on a Bermuda reef at Hogfish Cut at the western end of Bermuda. It is known she was commanded by Clement Conyers on her passage to South Carolina from the island of St. Eustatius some days earlier. During the early part of the voyage, gale force winds damaged the rigging, sails and 'top timbers' forcing the ship to head to Bermuda for repair. Bermuda was visible and the ship headed for port. Because of the treacherous weather conditions, the Captain and crew could not get the ship into the harbour, and moored her in Hogfish Cut. Captain Conyers sent members of the crew to get an anchor and some rope to secure the vessel but they were unsuccessful and, during the night, the force of the winds battered the ship to such an extent that the next day the Captain was forced to cut away the mast, leaving the ship to sink. At the time of loss, the ship was engaged in the trades with the American Colonies and those of the Bahamas and West Indies. Manufactured goods from Europe and America, rum and sugar from the West Indies and stone from Bermuda would have been some of the cargo carried by this vessel.
1751. November 20. Lieutenant Governor Robert Dinwiddie (born 1693) of Virginia and his family, after setting sail a few days earlier from Bermuda, arrived in Williamsburg to take up his new post in Britain's largest overseas colony, retroactive to July 4, first under Governor Willem Anne van Keppel, 2nd Earl of Albemarle, and then, from July 1756 to January 1758, as deputy for John Campbell, 4th Earl of Loudoun. Since the governors at that time were largely absentee, he was the de-facto head of the colony for much of the time. When the Dinwiddie family arrived the Governor's Palace was under repair. Arrangements were made for their temporary residence at the house next door, today the Robert Carter House. It would be a year before they could relocate to the Palace, and no sooner had they settled in than construction of the ballroom wing began. Dinwiddie came from a line of Scottish merchants, but moved into colonial administration as a young man. His first assignment took him to Bermuda, where he met his wife to be, Rebecca. She was the only child of Andrew Auchinleck, the colony's principal Anglican minister and once, briefly, acting governor. Dinwiddie was much older than she. They were married in Bermuda, and in 1738 their first daughter, Elizabeth, was born. The younger child, Rebecca, arrived three years later. Life in Williamsburg with two young ladies—the girls were ten and thirteen when they came—must have been a busy round of household management, lessons, and social activities. As lieutenant governor, Dinwiddie saw the beginnings of the conflict on Virginia's frontiers that led to the French and Indian War. He was a firm advocate of British expansion into the west. He sought the help of the Indians and the other British colonies in the struggle against the French, pressed the legislature for defense funds, and favored the use of regular armed forces in place of the less reliable militia. Dinwiddie made George Washington a lieutenant colonel in 1754. Generally, Dinwiddie was able to work in harmony with the Virginia Legislature. He did, however, prompt a serious conflict with the House of Burgess shortly after he took office. In hope of increasing the British King's revenues, Dinwiddie tried to levy a fee for land patents, which would also require landholders to pay quitrents to the Crown. This precipitated the famous "Pistole Fee" controversy, in which the lower house charged that the governor had imposed an unlawful tax that endangered colonial liberty - a precursor of the arguments of the American Revolution. The pressures of office and the war badly taxed Dinwiddie's health. At his own request he was relieved of office in 1758, and with his wife and two daughters returned to Britain. He died in London on July 27, 1770 leaving his widow and daughters comfortably established. Daughter Elizabeth died at thirty-five, unmarried. Rebecca Dinwiddie died in London in 1793, 101 years after her husband's birth.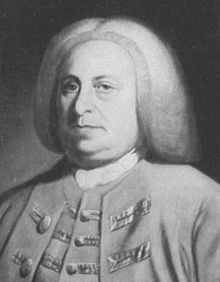 Robert Dinwiddie
1752. Like the rest of the British Empire, Bermuda changed from the Julian to the Gregorian calendar. Eleven days were lost when September 3 under the old system became September 14 under the new one.
1752. Arrival in St. George's, Bermuda of British-born artist Joseph Blackburn. The sheer quality of his artwork led him to paint leaders galore of elite local society and their wives and/or families, including members of the Harvey, Jones and Tucker families. He is known to have completed more than thirty portraits in Bermuda. Noteworthy paintings from Bermuda include Mary Lee Harvey (Mrs. John Harvey), a seated half-length portrait of a fifty-three-year-old woman holding an open book and a fan in her lap. Mrs. Harvey, adorned with a lacy cap, a strand of pearls, and lavish lace and ribbons at her neck, bodice, and sleeves, conveys a stately air.
1752. Birth in Bermuda, near Port Royal, of St. George Tucker, who became famous in Williamsburg, Virginia (see 1827).

1753. A Dutch ship, the Manilla, was wrecked on the north eastern reefs of Bermuda. She also became known both as the Ginger Beer Bottle wreck. Artefacts recovered from her include tiny glass trade beads, stone ginger beer bottles, pottery and glassware and a quantity of manillas, bronze bangles produced in Europe and used as currency to purchase slaves from African chieftains. Many large iron guns embedded in the reef around the ship and these, along with other items found, led many to claim that the Manilla was involved in the slave trade, an armed escort rather than a carrier of slave cargo, and was returning to Holland from the West Indies before proceeding to West Africa.​

1753. British artist Joseph Blackburn, ambitious to find a much bigger market for his work than tiny Bermuda, relocated from Bermuda to Newport, Rhode Island, then an important US shipping base covering trade in the Atlantic Ocean. The accomplished portraits Blackburn had earlier produced in Bermuda reflected many of the characteristics for which he would become known in Boston and other New England port cities. His elegant works in pastel colors depicted the sitters as wealthy, graceful, and refined.

1754. May 28. Death in Bermuda of British Army Lieutenant John Foote, officer of His Majesty's Independent Company of Foot, Bermuda's first British Army unit.. His date of birth or place of birth is unknown. He had one son, Lt. William Foote and a daughter Mary Foot or Foote. Wife is unknown.

1755. The death, in Bermuda where he had close family ties, of the South Carolina planter and historian Edward Wigg. He was believed to have been buried at St. Peter's Church.

1758. After the Seven Years' War began, a Troop of horse and a Regiment of Foot of nine Companies was formed in Bermuda arising from the Militia Act 1758. Each of the nine Parishes was to provide a Company under the command of a Captain, a Lieutenant and an Ensign. The Troop of Horse would have, in addition to these officers, a Cornet and two Brigadiers (not the high UK Army rank).

1759. The Honorable George Forbes, originally from Strathdon, Aberdeenshire and an emigrant to Bermuda, by then a Councilor and member of the Executive Council of the Bermuda Government - purchased Paget Island - then called Paget Ford Island and 36.35 acres - in St. George's Parish for sixty pounds sterling.
1760-1820
1760. King George III was enthroned in Britain and acknowledged in Bermuda by the Colonial Government..

1760. The Bermudian anti-Jews bill in effect since 1674 was repealed. This was written into the repeal bill: "For as much as these islands are supported by trade only it must be very prejudicial to prevent any person from trading in the said islands. And for as much as our neighboring islands who have permitted Jews to trade there have reaped great advantage therefrom, the said act so laying an imposition on all Jews trading here must have been very prejudicial to the inhabitants of these islands...."

1761. A slave or servile conspiracy was uncovered in Bermuda. Over half of the black population laid plans in a bid for freedom. A slave uprising was deemed imminent. The militia were embodied. Six slaves were executed, including one female. The Legislature reacted by banning all black festivities including Gombey dancing,because the Bermuda Gombey tradition started with slaves, who were allowed to gather on holidays, especially Christmas. However. the ban was later lifted.

1762. A Watch Law was enacted in Bermuda. Any slave not found by night where they belonged would receive 100 lashes.

1762. By year-end, Bermuda had exported 30,000 turkeys and as many ducks, mostly to New York, a major cash boost for local farmers.

1763. The French ship "L'Union" struck a reef in good weather and sank off Bermuda. It yielded good wooden artifacts.

1763. Bermuda's House of Assembly in a significant majority (by five to one) vote that St. George's should remain as the centre of Bermuda trade, despite murmurings from a number of influential people that there should be a new town built on the Pembroke side of Crow Lane, about midway in Bermuda,

1763. The end of the Seven Years war led to the withdrawal from Bermuda of the Independent Company of Militia. It was replaced by a detached Company of the 9th. Regiment of Foot, from Florida. Although it was attempted to bring this unit up to strength with men taken from the Bahamas Independent Company, it never had more than 20 Privates ( a Company of that day being comparable to a modern platoon, with 45 to 50 men).

1763. Isaac Chauvet, a French national, applied unsuccessfully to the Bermuda legislature for financial help in establishing a vineyard in Bermuda.

1764. August. Appointment of George James Bruere as Governor of Bermuda, formerly a Lieutenant Colonel in the British Army. He arrived in Bermuda with his wife and nine children on the Prince of Wales, and remained in office for the next sixteen years.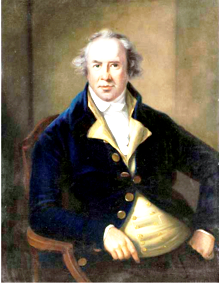 1764. A French flotilla from Santo Domingo attached Bermudian salt-rakers in the Turks Islands, destroyed their houses and effects and carried them off as prisoners. Bermudians had been salt-rakers there since 1678 but the capture made the British Government in London look into the real ownership of the Turks Islands. They were deemed part of the British Crown but part of the colony of the Bahamas. Bermudians living there were given advance notice to quit.

1765. Bermuda families living in the Somerset Bridge area formed themselves into a social group called the Somerset Bridge Club and began their own private library, for members only.

1765. On September 4, in Ayr, Scotland, Claude William McCallan was born, the son of William and Jean McCallan. He was shipwrecked on Bermuda's north reefs in 1786. He was rescued with his shipbuilding tools by a local fisherman, Daniel Seon. McCallan never left Bermuda. Instead he selected a local bride, Lucy Burrows Mercer, and erected his lovely home in 1799 to 1800 near where he first arrived, at Callan Glen in Hamilton Parish. At one point, Callan Glen it owned all the property east, south and west of it.

1766. Governor George Bruere, earlier concerned about the casual and almost paternal way some slaves were treated in Bermuda and two years after his appointment, made a speech to the House of Assembly in which he proposed the need for stricter controls, including "...haveing the Doors lock'd where they are, under the inspection of a white Person." Familiar with the control of slaves in other colonies, he advised the Bermudians to Bring your Negroes to a better regularity and due obedience... prevent their unlawfull Assemblys, Thefts, and pernicious practices of leaving their Masters Houses and going to meetings... by night."

1767. 21 March. Bermuda's House of Assembly resolved to appoint a Committee consisting of its Speaker and eleven other members to address His Majesty the King (George III) on "the tyranny and oppression of the Governor" if they deemed it necessary during the House's adjournment.

1767. Following the establishment of the Royal Navy's North America & West Indies Station in 1745, formed to counter French forces in North America, with the headquarters at the Halifax Naval Yard in Nova Scotia (now CFB Halifax), operationally, it began with the area of command under the command of Commodore Samuel Hood, with the headquarters in Halifax from 1758 to 1794, and thereafter in both Halifax and Bermuda until later run solely from Bermuda.

1768. The detached Company of the 9th. Regiment of Foot, having arrived in Bermuda from Florida in 1763, was returned to Florida, leaving Bermuda without a regular garrison. Except for a period during the American War of Independence, the colony's military defence was left, thenceforth, to its own militias until 1793.

1772. November. Customs officers seized the sloop "Molly", suspecting a cargo of foreign rum. The Captain Perient Trott, owner Alex. Stockdale and others boarded the vessel, forced off the officers, and made for sea. (Bermuda and the American Revolution; Kerr, W; pg 37).

1774, early. The ship "Industry" of Limerick was stranded on the north rocks. The ship was stripped by Bermudians. (Bermuda and the American Revolution; Kerr, W; pg 37).

1774. 20 August. Governor George Bruere of Bermuda wrote to the Colonial Secretary, the Earl of Dartmouth, to report that some Bermudians were showing sympathy for the rebellion on the North American mainland. "As the People here have thought themselves of Sufficient Consequence, to Choose Delegates and Address the Congress at Philadelphia, I hope the Government will think they have Sufficient Reason to put some Check upon them and Support the few Officers of Government."

1775. April 19. Britain and the USA went to war, with the Battle of Lexington, outside Boston, the "shot heard round the world."

1775. June. Governor George Bruere of Bermuda lost his eldest son John, who was killed fighting as a Lieutenant in the British Army at the Battle of Bunker Hill.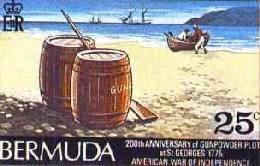 1775. August 14. To the great outrage of Bermuda Governor George James Bruere, himself a former British Army Lieutenant Colonel, a party of armed Bermudians led by Colonel Henry Tucker, having previously plotted to do so illegally, furtively approached under cover of darkness, overpowered a single militia guard at the fort then known as Warwick Castle and scaled the high walls of the Powder Magazine in St. George's. The air vent that capped the magazine was quietly pried away and a man lowered by rope into the magazine where he was able to unseat the door from its hinges being careful not to cause a spark and set off the dry gunpowder stored within.
They then proceeded to steal nearly all the island's British Army-supplied of 80-100 barrels and half-barrels of gunpowder from Powder Magazine. Local residents were "persuaded" if loyalists or eagerly volunteered to carefully - because of its unpredictable explosive nature -cart the gunpowder to the shores of Tobacco Bay where a pre-arranged group of locally-made cedar dinghies were present to carry the precious cargo out beyond the reef to the waiting American sloops. The Charleston, SC committee of safety had sent the schooners "Lady Catherine", "Charlestown" and "Savannah Packet". They had arrived secretly by night and had stayed clear of the reefs, also out of reach of British boats based in Bermuda then in Castle Harbour. The American ships, led by the "Lady Catherine" with 40 crew and Captain George Ord as its master, reached Charleston safely and deposited the powder with Captain John Cowper of North Carolina, Colonel Henry Tucker's agent in Charleston. The powder was later used to good effect at Fort Moultrie. The daring robbery later became known as Bermuda's 1775 Gunpowder Plot. As a result, the Continental Congress embargo was then (briefly) lifted. The need for gunpowder by revolutionary forces in America was acute. The majority of soldiers there had barely enough for one firing, Most had arrived from France but it was not nearly enough. There were no facilities on the mainland to produce it. General George Washington and his advisors had hatched plots galore to steal it from British colonies in and beyond Bermuda.
1775. August 15. By dawn an alarm was raised that the magazine had been raided and a Bermuda Pilot boat was dispatched to chase down the American sloop, the ships of the British Navy being too slow on the water to catch her. The Pilot boat eventually caught up to the sloop but being vastly outgunned by the American it turned around and headed back to Bermuda. However, the pilot boat skipper and crew identified the sloop as the Lady Catherine of Virginia. On shore, the British militia scoured the island looking for the gunpowder thieves. The Governor posted a reward of 100 pounds sterling for any one who would testify against the gunpowder thieves. Despite the size then of this reward, there is no record of anyone willing to give evidence against Colonel Henry Tucker, who had arranged the theft of the gunpowder with his men. It was probably due to the huge influence of that family at that time, both in Bermuda and America. (Two of the Colonel's forefathers had been Governors of Bermuda). The Governor was furious and reported his anger to the King back in England. Later that day, a British Army Captain of militia found and burnt a Bermuda sloop being fitted out for an overseas journey by one of the US sympathizers. It transpired that Colonel Tucker was in the process of having built at a shipyard at Mangrove Bay in Somerset for that purpose. Tempers flared among other local residents also sympathetic to the cause. A Royal Navy sloop boarding party also sent to investigate was armed with fixed bayonets. The increasing number of rebellious Bermudians initially kept the militia and naval party at bay. The next day, this infamous "Gunpowder Plot" created a sensation in Bermuda where those loyal to the Crown were outraged at the treason of certain Bermudians. However, the friendliness shown by the USA towards Bermudians did not last forever. British Regular Army troops were brought in to prevent another such plot.
1775. August 20. Britain's Royal Navy dispatched HMS Scorpion to the island on the instructions of Gage and Admiral Howe, its primary purpose being to remove a number of artillery pieces to prevent the rebels from America returning to seize them.
1775. In Philadelphia, the American Continental Congress announced a trade embargo against all colonies remaining loyal to the Crown. When Bermuda tried to bargain with salt, the American colonies refused and requested gunpowder instead. George Washington himself wrote to Bermuda, saying the cause was just for him to obtain the supply. A copy of his letter is still available in Bermuda for interested locals and visitors. A group of Bermudians became sympathetic to the Revolution.
1775. American invasion of Canada, ultimately unsuccessful. It was the first major military initiative by the newly formed Continental Army during the American Revolutionary War. The objective of the campaign was to gain military control of the British Province of Quebec, and convince the French-speaking "Canadiens" to join the revolution on the side of the Thirteen Colonies. One expedition left Fort Ticonderoga under Richard Montgomery, besieged and captured Fort St. Johns, and very nearly captured British General Guy Carleton when taking Montreal. The other expedition left Cambridge, Massachusetts under Benedict Arnold, and traveled with great difficulty through the wilderness of Maine to Quebec City. The two forces joined there, but were defeated at the Battle of Quebec in December 1775. Montgomery's expedition set out from Fort Ticonderoga in late August, and began besieging Fort St. Johns, the main defensive point south of Montreal, in mid-September. After the fort was captured in November, Carleton abandoned Montreal, fleeing to Quebec City, and Montgomery took control of the city before heading for Quebec with an army much reduced in size by expiring enlistments. There he joined Arnold, who had left Cambridge in early September on an arduous trek through the wilderness that left his surviving troops starving and lacking in many supplies and equipment. These forces joined before Quebec City in December, where they assaulted the city in a snowstorm on the last day of the year. The battle was a disastrous defeat for the Americans; Montgomery was killed and Arnold wounded, and the city's defenders suffered few casualties. Arnold then conducted an ineffectual siege on the city, during which Loyalist sentiments were boosted by successful propaganda campaigns, and General David Wooster's blunt administration of Montreal served to annoy both supporters and detractors of the Americans.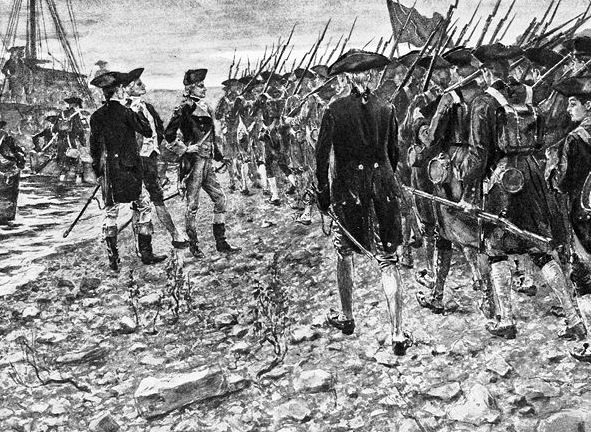 Americans invaded Canada 1775

1775. September 6. General George Washington, Commander in Chief, 13 Colonies of what later became the USA, not knowing that British gunpowder had already been stolen in Bermuda and shipped to America, wrote this letter (see below) to the Inhabitants of Bermuda: "Gentlemen, In the great conflict which agitates the continent, I cannot doubt but the asserters of freedom and the right of the constitution are possessed of your most favorable regards, and wishes for success. As descendants of freedom and heirs with us of the same glorious inheritance- We flatter ourselves, that, though divided by situation, we are firmly united in sentiment. The cause of virtue and liberty is confined to no continent or climate- It comprehends, within its capacious limits, the wise and good, however dispersed and separated in space and distance. You will not be uninformed, that the violence and rapacity of a tyrannic ministry have forced the citizens of America , your brother colonists, into arms. We equally detest and lament the prevalence of those counsels, no alternative but a civil war- or a base submission. The wiser Disposer of all events has hitherto smiled upon our virtuous efforts. These mercenary troops, a few of whom lately boasted of subjugating this vast continent have been checked on their earlier ravages, are now actually encircled in a small space, their arms disgraced, and suffering all the calamities of a siege. The virtue, spirit, and unison of the provinces leave them nothing to fear, but the want of ammunition. The application of our enemies to foreign states, and their vigilance upon our coasts, are only the efforts they have made against us with success. Under the circumstances, and with these sentiments, we have turned our eyes to you, gentlemen for relief. We are informed there is a very large magazine on your Island under a very feeble guard. We would not wish to involve an opposition, in which from your situation, we would be unable to support you; we know not therefore to what extent to solicit your assistance in availing ourselves of this supply; but if your favour and friendship to North America and its liberties have not been misrepresented, I persuade myself- you may, consistently with your own safety, promote and further the scheme, so as to give it the fairest prospect of success. Be assured that in this case the whole power and exertion of my influence will be made with the honorable Continental Congress, that your Island may not only be supplied with provisions, but experience every mark of affection and friendship, which the grateful citizens of a free country can bestow on its brethren and benefactors." (The original is in the safekeeping of the Bermuda Historical Society).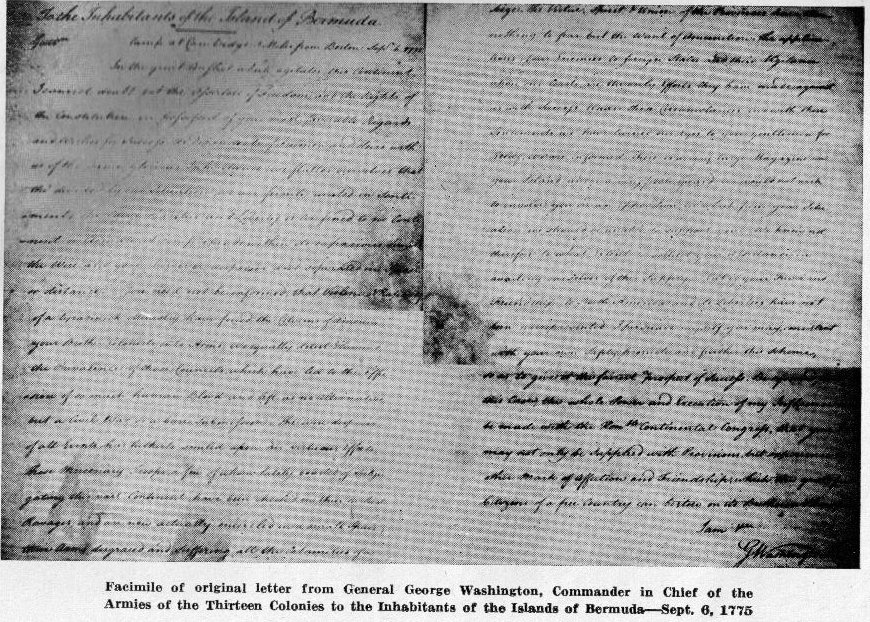 1775. US Congress authorized Mr Edward Stiles, of Pennsylvania and a former Bermudian, to send the brig "Sea Nymph" Sam Stobel master, to Bermuda with cargo (such as lumber, soap, and candles).

1776. May. The sloop "Betsy & Ann", Ben Tucker master, was given permission to exchange 1700 bushels of salt and two puncheons of rum for provisions at Greenwich, Cumberland, NJ.
1776. Summer. St George Tucker, his father and one other purchased the sloop "Dispatch" to smuggle rice, loaded with salt at Turk's Islands in Nov 1776, and proceeded to Virginia and sold the cargo.

1776. Summer. Admiral Lord Howe sent two Royal Navy sloops of war to interrupt Bermuda trade with the rebellious colonists of America, the "Nautilus", Capt John Collins (arrived Jun 19, departed Oct 20 1776), and the "Galatea", Capt Thomas Jordan, (arrived Sep 7 1776).

1776. St George Tucker purchased the sloop "Adelphi" for trade as he had the "Dispatch" above. He apparently chartered the sloop to Norton and Beale, master George Gibbs.

1776. December 25. General George Washington led his troops on a surprise attack of British-backed forces by crossing the Delaware River in adverse weather conditions. Stationed in Pennsylvania, Washington devised a plan to take his troops across the river in New Jersey to surprise opponents in Trenton. Between the holiday and poor weather, the attack was unexpected by the enemy forces. The element of surprise was the only way that he and his army stood a chance of defeating the highly trained Hessian mercenaries. The night of the crossing, high winds, sleet, rain and snow made for rough waters on the river, where chunks of floating ice added to the dangers. Combined with the dark of night, the conditions also contributed to low visibility for the Continental troops as they tried to make their way across the treacherous river. Three other forces had previously attempted to cross the river that night but were unsuccessful, leaving them a few thousand people short for their battle plan. Washington's forces attacked a stronghold of Hessian soldiers the following morning, catching them largely off guard. The result was a decisive victory for the Patriot troops, taking on very few wounded in the battle. The casualties they did endure were a result of exposure to the harsh winter elements during the march rather than the battle itself. The victory helped to boost the morale of American fighters who had previously suffered significant losses against British forces. The event inspired soldiers to keep fighting for their cause and has ensured a spot in American history as one of the most iconic moments of the Revolutionary War.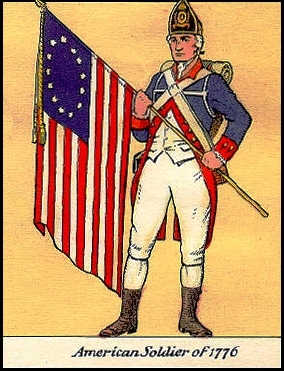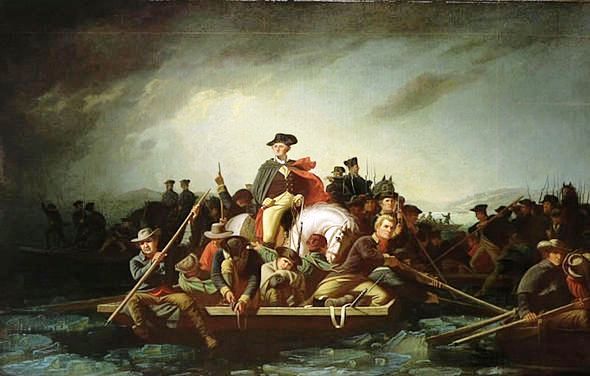 Artist's depiction of Washington's forces as they cross the Delaware River. (George Caleb Bingham/Chrysler Museum of Art)

1777 Bridger Goodrich bought a fine Bermuda sloop, a prize of the "Galatea" and refitted her as a privateer. On his initial commission he took 5 prizes of which two were Bermudians which he brought back to Bermuda. His seizure of Bermudian vessels raised a storm of indignation particularly at the Western end of the Island and Henry Tucker of Somerset formed an association to boycott Bridger. The latter took this opposition in his stride and engaged himself to marry Elizabeth Tucker, a kinswoman of Henry; the association's threat took little effect.

1777. Bermuda was invaded briefly by the USA. During the American Revolution, British militia soldiers manned the isolated 17th century battery near Wreck Hill on Somerset Island in Bermuda. The old fort had a strategic position protecting the West End Channel, one of the few passages between the reefs. It was one of the few passages through the dangerous ring of reefs for sailing ships. The soldiers at the fort had the presence of mind to exchange gunfire with two armed brigs that advanced in a threatening manner although they then flew British colors. The brigs, thought to include Bermudian expatriates familiar with local waters, answered with broadsides from their cannon, lowered their Union Jack flags, hoisted the red, white and blue striped ensign of the United States of America and proceeded to invade Bermuda with landing parties. To avoid meeting this much bigger force, the Bermuda based militia men retreated from the battery. The Americans spiked their guns and destroyed the walls of the fort but were forced to retreat themselves when more local soldiers and a Royal Navy detachment responded to the alarm. The Americans escaped on their ships in what became only the second time in the history of Bermuda that it was invaded. It was regarded by military experts in Britain that until something substantial could be done to strengthen Bermuda's defenses, the islands, as a geographically remote British territory in the mid-Atlantic, remained vulnerable to further American and possibly other invasion attempts.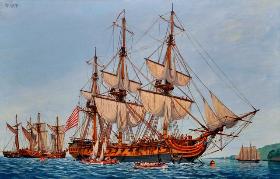 1778-1779. British troops were sent to Bermuda, as the result of the local militia failing to deal with the pro-American sentiment. Some took charge of a condemned vessel "Southampton" apparently against the wishes of the customs officers. The first permanent British Army garrison was established. Tensions between locals and the troops often ran high. When the soldiers arrived, they often took Bermudian livestock and firewood for themselves, and as reprisals for the Bermudians aiding the Americans, would seize or burn Bermudian ships, as happened to a Mr Hinson whose £600 ship was burned in 1778. That year, the garrison had claimed an American ship carrying food that had been stranded on a reef in the West End. But the British did not bargain for the piloting skill of a group of slave fishermen. A chase ensued with the fishermen easily winning. They reached the ship first and off-loaded it. The soldiers found the slaves' empty boat, traced it and discovered it was owned by local resident Hinson. His boat was destroyed,

1778. St George Tucker sent the "Adonis", Capt Trimingham to Curacao, the ship falling to the French on return.

1778. The British sailing vessel Lord Amberst struck a reef and sank. Much of its glassware was later recovered and is at the Bermuda Underwater Exploration Institute.

1779. The Bridger Goodrich fleet of Bermuda privateers maintained such a blockade in Chesapeake Bay that Governor Thomas Jefferson wrote John Jay, President of the Congress "Our trade has never been so distressed since the time of Lord Dunmore."

1779. December 1. "HMS Delaware" and attendant convoy supply ships arrived in Bermuda from America, carrying British Army reinforcements, officers and men of the Royal Garrison Battalion.

1779. December 1. Four warships sent by the US Continental Congress to capture Bermuda arrived, but seeing HMS Delaware and British Army troops patrolling, left quickly, without putting their plan into action.

1780. An American named Zephaniah Pinkham arrived in Bermuda from New England where the whaling industry was strong and created much interest in a big revival in the business of whaling. Bermudians had tried whaling in the past but in a small and localized way. He taught Bermudians how to cut blubber with spades, thus avoiding waste. For more than 50 years, it was one of the colony's most important industries.

1780. July 27. In the annals of the Massachusetts Historical Society there is a record of a treasonous, co-operative accord between Bermudian men of high status and the American military. An invasion of Bermuda was discussed with the Honourable Timothy Pickering, Jr, of the American Board of War by a Captain B. Joel of Bermuda. He gave the names of those from Bermuda, including a judge and secretary of Government, a doctor and comptroller. He drew up a map showing which buildings in the Bermuda capital housed "Friends of America." Colonel Timothy Pickering, Jr. had headed up the Salem/Essex Militia, with whom he had been associated before the revolution against tea and other taxes began. Pickering's irregulars stopped short of a strategic spot from which they could have annihilated the Redcoats streaming back to Boston from their drubbing at Lexington and Concord, and guerilla losses on that retreat. Capt. B. Joel wrote to Pickering, who by then was Adjutant General and a member of the US government's Board of War: "I trouble you once more to mention a circumstance I did not until now think proper to make public, & which I intended to communicate only to you. In the attempt on Berd. I have likewise a design of seizing between two & three thousand pounds in specie, which the governor always keeps by him. Money arising from the Custom of the Island for which he gives the Collector Bills, on England from the Admiralty, and from his own revenues. With this he pays the Garrison, and furnishes the Barracks, Commissary, & other departments. With the approbation of the (War) Board I could induce a merchant of this City (?Boston), from view of private interest & emolument to furnish a vessel for the attempt." The phrase "in the attempt on Berd." is taken to suggest a possible invasion, either for total control, or only as a singular attack of Bermuda. Capt. Joel also transmits with his letter a list of those sympathetic to whatever he was cooking up with Pickering and augments that roll call with the map showing some of their homes in St. George's. Had Joel's papers been discovered by Bruere or British officials, it would perhaps have resulted the removal of his head, along with those of the treasonous worthies, a number of whom sat on the Governor's Council. The Joel map of St. George's of 1780 with adjacent islands and forts was known to Bermudians and was published by Dr. Henry Wilkinson in his four-volume Bermuda books much later.

1780. September 10. Death of His Excellency, Governor George James Bruere, Lieutenant Colonel in His Majesty's Service, at the age of 59 years. He was put under the floor of St. Peter's Church, in a manner coldly contemptuous of his person and his office, probably resulting from the Anglo-American War of 1775-1783. Bruere did not make it through the end of that conflict, which was resolved with the Treaty of Paris in 1783. He had arrived in Bermuda with his wife and nine children on the Prince of Wales in August 1764, and remained in office for the next sixteen years, until his untimely demise, probably from the scourge of yellow fever. One daughter, Frances, married into the Tucker family, descendants of the former Governor Daniel Tucker (1616-19). Among his good works, Bruere spoke against the evil of slavery, years before it came to the fore in the London Parliament. He took a keen interest in agriculture, which he thought was a neglected economic arena, and it that regard he and his wife bought 60 acres to the north of the Town of St. George to grow grapes with the intention of producing a very fine Madeira." He became ill in July 1780, probably due to stress after the locals stole his gunpowder and gave it to the Americans, and died two months later, said by the great Bermuda historian, Dr. Henry Wilkinson, to be "the victim in the eyes of his family of five years of incessant strain and foul play", a situation brought on by the machinations of the locals in their dealings with the rebels in what became the United States of America three years after his death. Because he died of fever he was buried under St. Peter's Church, St. George's. Bruere, a former British Army Lieutenant Colonel who lost a son also in the army fighting the Americans, was outraged when he discovered what had happened and put up a reward for the capture of the Bermudians responsible but to no avail. Bruere was Governor from 1764 until his death. Of all Bermuda's governors since 1612, his term of office was the longest. He had a difficult time during the American Revolutionary War and is thought to have died of stress caused by the interplay of Bermudians and Continental rebels, as well as the yellow fever. His portrait hangs in the Bermuda National Trust's Tucker House museum in the heart of St. George's.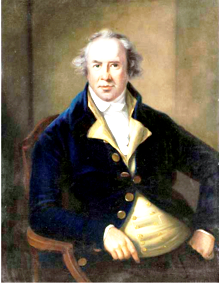 1780. September. During the USA's War of Independence, American prisoners-of-war confined in the prison (much later, the Post Office) in St. George's, were the first to suffer from what became a terrible Bermuda epidemic. It spread quickly throughout Bermuda. Because of a shortage of food, resistance to the disease was low.

1780. Late Governor George Bruere was succeeded as Governor of Bermuda by his son, also George Bruere (1744–1786), who as a lieutenant in the 18th Regiment of Dragoons, Royal Hussars, (with his brother John who died there) had been wounded at Bunker Hill, and who in 1777 had married Martha Louisa Fatio, then aged fourteen. The younger Bruere was Lieutenant Governor of the Bermudas from 1780 to 1781.

1781. 40 acres of cotton were found growing in Tucker's Town, which led directly to the British government encouraging the planting of cotton as a commercial crop in 1788.

1781. December 16. An American loyalist, William Browne born in Massachusetts 27th Feb 1737 but who had fallen foul of rebel bigotry and fled to England, where he was called on by Lord North from his (he said) 'profoundest retreat' , took over as Bermuda's Governor. He had been a friend of John Adams who thought him a solid judicious character, which turned out to be correct as on arriving to take up office, a lesser man would have thought his task insurmountable. The Islands had a serious lack of food, especially bread and prices were exorbitantly high. The towns were crowded with Loyalists and rents had risen to unprecedented levels. Both smallpox and typhus were present and unchecked in their course. His official residence was in such a state of disrepair it struck him with horror. Enemy prisoners where everywhere taking notes on everything and the danger of attack was greater than ever before. Browne set about organizing island affairs appointing other Loyalists to key positions, one from Virginia as attorney general another from Massachusetts as chief justice, he reinstated the local militia officers and made whaling license free. He took numerous measures and initiatives that went down well with the islanders. He in fact turned out to be a model governor and the islanders had quickly taken to someone who had suffered so much for his loyalty to the Crown. He was able to see that the likelihood of America becoming independent meant this enchanting, tranquil, beautiful isle of pink sand would make it the 'Gibraltar of the west' and imperative for British commerce, so he built up the island's small garrison. Independence was also pretty obvious to the Loyalists and more and more of them arrived and collected at the east end of the island, but were dispersing to other colonies almost as soon as they had arrived. At the end of the war when Loyalists were being evacuated from New York he had them re-provisioned before continuing their journeys. With peace declared, Bermuda was quick to restart trade with the USA and he pressed for it to become a free port, for such he appointed another Loyalist from Connecticut as comptroller. Browne's summing up at the end of his governorship in 1788 was "Bermuda is divided on domestic business but is united in it's loyalty to His Majesty."

1780s. The Bermuda fitted dinghy started racing. Teams of black sailors who were slaves competed against each other for their master's honor, prize money and often a turtle dinner.

1782. May 9. At sea, late in the US War of Independence, the masthead lookout of the Continental frigate Deane saw a strange sail on the horizon. The vessel with the raked-back masts to leeward was a Bermudian privateer, Regulator. Only fast runners, privateers, and warships cruised the waters off the Carolinas. She was caught on a lee shore with nowhere to run and her sixteen six-pound cannon no match for the frigate's twenty-eight twelve-pounders. Trapped and out-gunned, Captain George Kidd struck his colours and Regulator fell prize to the United States navy. The men of the Deane were amazed to find that 70 of the 75-man crew on the Regulator were black slaves. Kidd and his four officers were the only white men on board. A further surprise occurred at the vice admiralty court trial of the Regulator when, breaking with precedent, the Massachusetts justices offered the slaves among the crew their freedom rather than condemn them, as forfeited chattel, to be sold at auction. To a man, the black Bermudians declined the offer and asked instead to be sent to their island home as prisoners of war on the next flag-of-truce. Rather than embrace the freedom offered to them by this new republic, they chose to return to Bermuda and slavery.

1783. Captain Andrew Durnford, Royal Engineers, wrote his "Bermuda Defence Report" of that year: "To the unequal distribution of that carbonate of lime in solution . . . I attribute, not only the caverns and sandflaws, but the pinnacle . . . The most remarkable groups are at Tobacco Bay, St. George's Island, and at the North Rock."

1783. HMS Cerberus, 5th Rate 32 gun ship, apparently launched in 1779, struck rocks in Castle Harbour and sank. (Note, on January 10, 1777 an American shore battery drove away HMS Cerberus, it is not known if it was the same one). Her commander was Sir Jacob Wheate — a Royal Navy captain. Where she went down is now a dive site also known as the Musket Ball Wreck. It is not known whether Wheate was aboard when she sank and survived, or was not aboard at the time. He is believed to have died later that year, from yellow fever and was buried underneath St. Peter's Church (a corpse believed to be his, from a coffin plate found by it, was discovered in August 2008 during excavations).

1783. September 3. Treaty of Paris signed at Versailles ended the War between Britain and the USA which had been raging for almost nine years, during which time Bermuda was threatened with possible starvation, due to a potential blockade of British ports. The defeat at Yorktown caused a change in the British government. Prime Minister Lord North and the Tory party were ousted, and the Whigs, under Rockingham, assumed power. This new government opened negotiations with the American commissioners in Paris. The American had eight main goals, four of which were considered to be essential to any peace settlement, and the other four to be favorable additions. The four essential terms included 1) Independence from Great Britain and removal of all British troops from United States territory; 2) Settlement of all boundaries; 3) Canadian territory to revert to those boundaries before the Quebec Act; and 4) American rights to fish in the Grand Banks and use of Canadian shores to dry and cure the catch. (The optional terms included Britain ceding all of Canada to the United States, British payment for damage caused by British military action, a formal apology by Parliament admitting that Britain was wrong to have caused the war, and allowing American ships and merchants to have the same rights and privileges of commerce as their British counterparts within the British Empire.) By November 1782, the British and American commissioners had reached agreement and signed preliminary terms of peace. However, under the terms of the Franco-American alliance, this peace treaty could not go into effect until Britain and France reach agreement. In turn, France had an additional alliance with Spain, so no Anglo-French treaty could go into effect until Britain and Spain also reach agreement. Unfortunately, Spain's nominal contribution to the war was counterbalanced by the most ambitious territorial demand - the return of Gibraltar by Great Britain. The French proposed that Gibraltar be returned to Spain, that Great Britain be compensated by awarding her several French islands in the Caribbean, and that Spain cede control of Santa Domingo to France. The war-weary British expressed interest in this plan. In September 1782, Spain had mounted an expedition, attempting to retake Gibraltar. Negotiations were frozen as all eyes turned expectantly to view the result. It was a humiliating failure, which, together with the French naval defeat in the Caribbean, reinvigorated the British and hardened their negotiating position. Spain and France were now forced to be more accommodating at the negotiating table. The British put forth a proposal in which they would retain Gibraltar, but Spain would be bought off by awarding her East and West Florida. The Spanish were also reluctant to accept the Mississippi River as the western border of the United States, having their own claims to the territory between the Mississippi and the Appalachian Mountains. (Spain had gained control of Louisiana after the Seven Years War.) France, on the verge of bankruptcy, pressured Spain to accept this settlement and thus end the war. Finally, on January 20, 1783, all parties reached agreement and an armistice was declared. A change of British government and minor modifications to the French and Spanish treaties, as well as Anglo-Dutch negotiations, delayed the final ratification of the Treaty of Paris until September 3, but on that day the War for American Independence officially concluded. Treaties were duly signed between Britain and the French, Spanish and Dutch allies of the Americans and some swapping of countries took place, with the Bahamas, Grenada and Montserrat, all islands, being returned to the English: as it had not been captured during the War, Bermuda remained a British territory, as it had not thrown in its lot with the rebels on the continent. The treaty terms also meant Britain lost forever all its American east coast ports.

1783. After the Treaty of Paris ended the American War of Independence with Great Britain the national geography of North America was re-written in British eyes. From the Royal Navy came the new order. Operations off and in Bermuda came under the "River St. Lawrence and Coast of North America and West Indies" station. The loss of most of the American colonies in the American Revolution left Bermuda as the only British port between Halifax and the West Indies: an ideal location for a Royal Navy dockyard.

1783. Lieutenant Thomas Hurd, Royal Navy, was told he was going to lead what became 11-year survey of Bermuda as a potential Royal Navy base, to replace the reliance on Halifax which was vulnerable to attack from America.

1783. Following the Treaty of Paris, there was a resurgence of shipping in Bermuda.

1783. The forts built in Bermuda by the British Army were intended to protect the islands against a hostile takeover from the United States, and they performed their job admirably, even if a shot was never fired in anger.

1784. In Bermuda, a slave named Quashi was convicted of murdering his master John McNeill and was hanged on Gibbet Island.

1784. Construction, in the then-emerging town of Hamilton, of the Customs House, oldest surviving building in the city and now referred to as the Old Town Hall. From 1815 to 1817 it was used for meetings of the Legislature and from 1875 to 1968 it housed the city's fire engines.

1784. January 17. The beginning of a Bermuda newspaper. In the town of St. George, Joseph Stockdale arrived from England to edit, print and publish The Bermuda Gazette. He was the King's Printer in Bermuda. He also delivered mail along with the newspaper as a public service. This successful mail system continued intermittently until an official postal system was established on March 6, 1812.

1784. On March 1, in one of its first editions, the Bermuda Gazette reported snow fell in Bermuda on the night before.

1784. Postal service in Bermuda was started by Stockdale in the town of St. George. He placed a letter box outside his office on Printer's Alley.

1784. Nathaniel Butterfield was first involved in a general merchandise business in goods ranging from cedar slabs to port wine.

1784. The Bermuda Marine Assurance Company issued its first policy to cover a shipment of cargo from Bermuda to Philadelphia (but went out of business by 1811). As the trade between Bermuda and North America expanded, British insurance companies were encouraged to appoint and support general agents in Bermuda.

1785. Nathaniel Butterfield of Bermuda sold the hull of the 118 ton Bermuda-built brig Adventure to Daniel Astwood, Senior for £890. Both men were members of a syndicate that owned a number of smaller sloops.

1785. Nathaniel Butterfield was elected a Member of the Bermuda General Assembly.

1785. October 29. Twenty one gentlemen of Bermuda including four members of the House of Assembly signed a document the purpose of which was to create Pembroke Town as the new capital and trading centre of Bermuda.

1787-88. Because Bermudians did not confine their fishing, hunting for turtles and whaling to home waters, they went for cod off the Newfoundland Banks with 34 sloops of 30-60 tons, manned by 8-10 men and a Newfoundlander pilot, Newfoundland complained to London. Bermudians were forbidden to further violate the terms of the Treaty of Paris, 1763. Bermuda's Governor Henry Hamilton had to ensure this was obeyed.

1787. Some eighteen months after a group of concerned private citizens had taken unofficial steps to create a new town on the Pembroke side of Crow Lane, the House of Assembly heard about steps to build what was then referred to as Pembroke Town, partly as the result of an agreement with Mrs. Elizabeth Smith, then one of the largest land owners in Pembroke with her 48 acres,

1788. Birth of Bermudian slave Mary Prince at Brackish Pond, on a farm owned by Charles Myners. Her mother was a household slave and her father was a slave in the shipbuilder's yard at Crow Lane. Her story is both the first-hand account of slavery in Bermuda and the first ever compiled by a woman. She was sent to the Caribbean to work in the Turks Islands, then taken to London by new master John Wood, tried to escape, came under the protection of the London-based Anti Slavery Society and her story became famous.

1788. June 24. Birth of Nathaniel T. Butterfield, son of prominent Bermudian merchant Nathaniel Butterfield. The younger Nathaniel later became the founder of the Bank of N. T. Butterfield.

1788. The Royal Engineers arrived in Bermuda from Britain to begin the refortification of the islands.

1788. Major Andrew Durnford was one of the Royal Engineer officers who arrived from England. He re-built Paget Fort.

1788. Lieutenant Thomas Hurd RN, team leader and Lieutenant Evans began their vitally important work of charting the whole of Bermuda, a process not completed until 1797. Their priority was to survey the islands and to determine Bermuda's suitability for a naval port or dockyard. They measured the sea depths at thousands of locations using a plumb line to map the seabed. They also meticulously recorded the position of the edges of the reefs. Among unique records is the earliest detailed record of North Rock, the northernmost point of Bermuda, and the chart contained a proposal for the building of a lighthouse and gun battery on the platform of reefs. It also had a vignette of the six main pinnacles, of which only one is now extant. During the project Lieutenant Hurd lived in the Stiles building off St George's Town Square with his wife. The couple's son, Samuel Proudfoot Hurd, was born in Bermuda and later served at the Battle of Waterloo. Hurd

and Evans were the first persons to establish the correct position of Bermuda with great accuracy using the stars and the planets and worked with pilots Jemmy Darrell and Jacob Pitcarn to complete the survey. They also discovered during this process that the longitude for St George's previously been measured was wrong. Lt. Hurd spent almost a decade in Bermuda waters charting the extensive reefs and plotting the channels through them, including the only major one for large ships, off the east end of St. George's Island. Hurd and Evans also identified the site of a naval facility at Grassy Bay. Their work set new standards for such charts. After leaving Bermuda in 1797, Lieutenant Hurd, who had already been promoted to commander, was made Hydrographer for the Royal Navy in 1808 and served in this top role until he died in England in 1823. Francis Beaufort, who invented the wind force scale for indicating wind velocity for shipping, succeeded him in that office.

1789. Beginning of the French Revolution, which was felt in Bermuda.

1788. October 27. William Browne (a British Loyalist born in Massachusetts, USA), left Bermuda never to return, although he was technically still Governor of Bermuda more than a year later.

1788. October 29. Henry Hamilton, after arrival in Bermuda two days earlier, became acting or Lieutenant Governor, later as Governor. He had been appointed on February 26, 1787 by King George III of Britain as Lieutenant Governor of Bermuda (or Somers Isles) in America, and Commander in Chief of Forts King's Castle, Fort Hamilton, Fort Popple and Fort Paget He was then 53 years old. His commission had authorized him to act as full Governor in case of death or absence of Governor in Chief and Captain General William Browne (a British Loyalist born in Massachusetts, USA), who left Bermuda on October 27, 1788, never to return, although he was technically still Governor of Bermuda more than a year later. Hamilton was born in Dublin, Ireland, in 1734, as the fourth of seven children. His great grandfather was Sir Frederick Hamilton, Baron Paisley and Governor of Ulster, a position which necessitated a change of residence from Scotland to Ireland for the family and resulted in Henry's birth a century later. Henry's grandfather, Gustavus Hamilton, had a distinguished military career, was raised to the King's Privy Council and became Viscount Boyne in the Irish peerage. Henry's father was the third son of Viscount Boyle, a member of the Irish Parliament and Collector of the port of Queenstown (now Cork). Hamilton spent his youth in Cork. He was commissioned into the 15th Regiment of Foot in the British Army. He earned distinction in British victories at the battles of Louisburg and Quebec in the Seven Years War (French and Indian War in the USA). Following the passage of the Quebec Act in 1774, he was appointed Lieutenant Governor of Detroit, where he led the King's 8th Regiment. From Detroit, he directed the Indians during the American Revolutionary War. He soon acquired a notorious reputation from American historians of the time as the "Hair Buyer of Detroit") for helping British financed Indians scalp rebel Americans on the frontiers. In February 1779, he was one of the many of the King's 8th Regiment captured by the Americans at Vincennes in the famous expedition led by George Rogers Clark and was sent in chains to Williamsburg, Virginia. His eventual parole, release to the British for a huge ransom, exchange in 1781 and repatriation to London were difficult and complex because of the American complaints. From there, he was Lieutenant Governor of Quebec, then Governor, from 1782 to 1785. He was dismissed from office for reasons not his own and returned to England. But his reputation and the intercession of his influential family and friends returned him to favor. In every way, he was a very good, capable, honest, efficient and trustworthy bachelor Governor.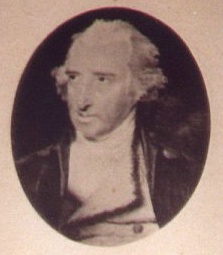 Governor Henry Hamilton
1788. Two weeks after his arrival, acting Governor Henry Hamilton gave his first address to the House of Assembly, during which he mentioned that an able and experienced Royal Engineer military officer had volunteered to supply a plan for a new town in Pembroke for the consideration of the legislature. It is not well known, even by locals, that the city motto "Hamilton Sparsa Collegit" is not directly about the city but about how Governor "Hamilton had brought together the scattered."
1789. In Bermuda, with more than 186 vessels registered at Customs House belonging to the island amounting in aggregate to nearly 18,000 tons, there was a resurgence in shipping. Forty new craft were built locally from cedar and launched that year. One person with a substantial interest in them was Nathaniel T. Butterfield.
1789. The Bermuda Ship Registry was established.
1789. Under the Militia Act 1789 a Volunteer Artillery Company was raised to augment the Troop of Horse and the nine Companies of the Regiment of foot. This consisted of 20 Privates, 2 Sergeants and a Lieutenant.
1789. Legislation was passed in Bermuda to give statutory recognition to the property-based criteria for the franchise and for candidates in general elections. This Act, which closely paralleled relevant British law at the time, established minimum property values of forty and two hundred pounds for voters and election candidates respectively.
1790. January 1. Henry Hamilton officially became full Governor of Bermuda.
1790. April 21. The House of Assembly agreed unanimously to introduce a bill to allow for the "Collection of Trade" at the west end of Bermuda. Before this, all such trade, in other words collection of customs duties, had been limited to St. George's in the east end. The measure was of material assistance in the establishment of the town of Hamilton.
1790. Major Andrew Durnford, Royal Engineer, re-built a part of the sea battery at Paget Fort, but it was destroyed in January 1791 by a violent gale.
1790. Following a petition from a number of merchants in the Central and Western Parishes, the Bermuda Government appointed a Commission to acquire 145 acres for what became later the town, then city, of Hamilton. Regulations governing the incorporation required the streets to be 50 feet wide, with the land on the harbour side reserved for wharf development (now Hamilton Docks). Average price of town property was then £20 per acre (about $1.60). Similar property today would fetch in excess of $4 million.
1790. May. The House of Assembly decided to name the proposed new town in Pembroke as Hamilton, "in order to perpetuate for posterity the name of the Governor under whose auspicious administration so salutary a measure has been drawn into effect."
1791. The merger of the formerly separate British colony of Maine, with Massachusetts, before it again became a separate state later.
1792. In Bermuda, Freemasons established Prince Alfred No 233 (EC), originally chartered under the Moderns as No 507.
1792. Nathaniel Butterfield was elected Speaker of the Bermuda General Assembly.
1793. With the threat of war with France, the Governor of Bermuda directed Major Andrew Durnford to build a new Barbette Battery on the height of the land above Paget Fort on Paget Island.
1793. Arising from the French Revolution, a detachment of the 47th Foot of the British Army was posted to Bermuda as part of the garrison and from that time for nearly two centuries it was decided by the British Army that units of it would be posted to Bermuda to augment the colony's defences.
1793. Bermuda finally got another coin of its own to replace the original hog money of 1615. The 1793 copper penny was produced in Birmingham. England at Boulton's Soho Mint and sent to Bermuda.
1793. Hundreds of people arrived by boat in Bermuda, refugees from the slave revolts in Haiti and Santo Domingo.
1793. June 29. the Town of St. George, first established in 1612, was officially incorporated by Act of Parliament and received its first Mayor, Major Andrew Durnford.
1793. June 29. The then-infant town (now City) of Hamilton, named after Sir Henry Hamilton, Governor 1778-1794, was incorporated by Act of Parliament, with the motto "Hamilton Sparsa Collegit" meaning "Hamilton had brought together the scattered." The Freeholders were granted authority to elect from among them 1 Mayor, 3 Aldermen and 5 Common Councilors. The new town replaced St. George's as Bermuda's capital.
1793. With the threat of war between the UK and France, which would have affected Bermuda and the Caribbean as well, the Governor directed Major Andrew Durnford, a Royal Engineer, to build a new Barbette Battery on the height of land above Fort Paget on Paget Island. It was called Upper Paget to distinguish it from the original fortification. What became Upper Paget Fort was later built on and enlarged as Fort Cunningham. Those who visit Fort Cunningham have been able to see the remnants of Upper Paget Fort.
1794. First Customs Warehouse, later, Town Hall, now offices, was built in Hamilton.
1794. Then-Captain Thomas Hurd completed his 11-year planned survey of Bermuda. HMS Cleopatra (Captain Penrose) transited the Narrows to Murray's Anchorage. Naval Watering tanks were constructed at Tobacco Bay, St. George's. They were first used by HMS Hermione. The establishment of a Royal Navy base in Bermuda had been delayed for a dozen years due to the need to survey the encircling barrier reef to locate channels suitable for large warships. With this completed, a base was established at St. George's, with the fleet anchoring at Murray's Anchorage in the northern lagoon, named for Vice Admiral Sir George Murray, who became the Commander-in-Chief of the new River St. Lawrence and Coast of America and North America and West Indies Station. The Admiralty also began purchasing land at Bermuda's West End, including Ireland Island, Spanish Point, and smaller islands in the Great Sound with the intent of building the Royal Naval Dockyard, Bermuda, and a permanent naval base there, with its anchorage on Grassy Bay. The construction of this base was to drag on through much of the nineteenth Century.
1794. With the Militia Act 1794 and the end of the American War of Independence, Bermuda began to assume an importance to the Admiralty that would see it become the base of the North America and West Indies Squadron, and the site of the only full Naval dockyard West of Portsmouth, England except for Halifax in Nova Scotia and of possibly more strategic importance in the event of invasion of Canada by the USA. With the above-named Act of the Colonial Assembly it replaced the single Volunteer Artillery Company with three Companies, each of eight Privates. At this time, the Commanding Officer of the Militia decided what uniform was worn, which each man provided at his own expense. the Captain of each company of foot had to provide for a Colour, a drum and a fife. Horse Troopers had to provide their own mounts. Bermuda also assumed great importance to the Admiralty, which determined to develop Bermuda it throughout the Nineteenth Century as a naval base, dockyard, and admiralty headquarters. The concurrent build-up of the regular military garrison to protect the naval base meant that Bermuda's militia later came to be seen as superfluous.
1794. October. Admiral Murray, Royal Navy, learned of Captain (promoted from Lieutenant) Thomas Hurd's finding at Bermuda and sent the frigate Cleopatra there "to bring information of a Harbour, which I learned was lately discovered there, fit, it was said, to admit Ships of any Class." The resulting report described the new anchorage as having "capacity enough for all the Navies in the World to ride in from 7 to 9 or 10" fathoms.'
1795. January. First elections of officials in Hamilton. Daniel Tucker, Mayor; Richard Peniston, Joseph Stowe, William Hall, Aldermen; Benjamin Cox, George Harvey, Richard Darrell, William Morris and one other as Councilors.
1795. August 11. Captain Francis Pender, Royal Navy, earlier dispatched to Bermuda by Vice-Admiral the Hon George Murray, RN, arrived as a passenger on HMS Oiseau (formerly a French frigate, captured). His orders included the stipulation he acquire some of the fast sloops of the island for service in the Royal Navy. He ordered the building of such Bermudian vessels, renowned for their speed and agility, especially being able to sail sail close to the wind.
1795. Approval was given by the relevant authorities in London, England, for the purchase of Ireland Island, Bermuda, as a Royal Navy base. The site was chosen by Captain Pender.
1795. Admiralty House was then in St. George's.
1795-1809. Cottages were built on Hen Island, St. George's and a wharf there was adapted for careening.
1795. September 30. Vice Admiral the Hon. George Murray, RN, arrived in Bermuda on the 74- gun HMS Resolution. It was accompanied by HMS Cleopatra and HMS Thesly. The warships were piloted safely through the reefs by James ("Jemmy") Darrell (born 1749, died 1815, then a slave) and into what later became known as "Murray's Anchorage" in St. George's, near Tobacco Bay. For his skill as a pilot, Admiral Murray later (see 1796) ordered the Royal Navy to purchase Darrell's freedom and appoint him one of the first of the Island's "King's Pilots. Admiral Murray was so impressed with Darrell's piloting skills that he recommended he be freed. He became one of the first to be made King's Pilot and was the first free man of colour to own his own house in Bermuda. Once freed, Mr Darrell challenged laws that imposed restrictions on free blacks and slaves. He also petitioned against plans that would see a drop in income for King's Pilots. He died aged 66 in 1815 and his property, located on Aunt Peggy's Lane, still remains in family hands.
1795. October. After Admiral Murray, Royal Navy, having made his quick visit to Bermuda, named his Flag Captain the "Superintendent of the Port" at St George's, directing him to establish a depot there and to purchase several fast Bermuda-built cedar vessels for use as advice boats. So began the two-century association in Bermuda of the Royal Navy.
1795. Following the visit of and survey ordered by Admiral Murray, Ireland Island in Bermuda was selected for the establishment of a Royal Naval Dockyard. Other islands in the Great Sound were also purchased.
1795. Captain Francis Pender, Royal Navy, on behalf of the latter, purchased a Bermuda-built cedar sloop, which he called HMS Bermuda, and put it under the command of Lieutenant Thomas Hurd, RN, then engaged on a survey of the Bermuda reefs. Hurd was also searching for a channel to allow Royal Navy warships to enter the inner anchorages of the island.
1795. December. Thomas Forbes Winslow was born in Bermuda. His parents were Thomas Winslow of the 47th Foot Regiment and his wife Mary ( Mary Forbes b Feb 1774 St Georges, Bermuda). Hers were believed to be Dr Robert Forbes b 1741 Bermuda and Mary (Mary Rush) b 1749.
1795. One of the first acquisitions of the Royal Navy in Bermuda in an area removed from Castle Harbour was the purchase of a then-small house on the North Shore of Bermuda, with some uniquely valuable land. What made it attractive for the Navy to purchase Seven Wells was the fact that (a) it had seven wells of fresh water immediately available for Royal Navy purposes and (b) was located adjacent to Devonshire Dock, from where the fresh water could be taken in barrels to ships-of-war.
1795. A channel, afterwards named the North Shore Channel, was established for British shipping and a major anchorage was found at Castle Harbour at the east end of the island. Thus a Royal Naval depot was first established in Bermuda, initially at St. George's.
1795. The first three vessels commissioned by the Royal Navy from Bermudian shipyards were Bermuda cedar-built 200 ton, 12-gun sloops-of-war, commissioned as HMS Dasher, HMS Driver and HMS Bermuda. There were to be many more.
1795. Wreck Hill, Somerset, was bought by the Royal Navy which then considered the site an ideal one for a lighthouse. (However, this was never implemented)
1795. A slave conspiracy in Bermuda was alleged to have been instigated by Haitian Mulattoes who had arrived from Haiti in 1793.
1796. Preliminary work commenced on the design and layout of the Bermuda Royal Naval Dockyard.
1796. February. Royal Navy contracts for two cedar Bermuda-built sloops were given to Claude McCallan and John Outerbridge who built vessels at Bailey's Bay, Hamilton Parish, and Nathaniel Tynes the Elder, whose shipyard was on the North Shore in Devonshire Parish. Those two yards produced HMS Rover and HMS Hunter, classed as 16-gun Royal Navy sloops and later referred to as two of the fastest ships ever built in Bermuda.
1796. March 1. "I do hereby declare the said Jemmy Darrell to be exonerated and released from all and all manner of Slavery or Servitude whatsoever, and I do earnestly request all Persons to treat him, as a Man actually and bona fide Free." With these powerful words, Governor James Craufurd released him from his enslavement. (He was also made a Kings Pilot on May 23, 1796.) Pilot Darrell's life, however, as a free man was not much different than during enslavement because of legislation consistently introduced to limit rights of the freed slave. He, however, fought these regulations which sought to limit his hard-earned rights. Pilot Darrell earned his freedom through his abilities and steadiness in navigating the British Rear Admiral George Murray's flagship through the Island's reefs to Murray's Anchorage safely in 1795. he Admiral recommended that he be freed and commissioned as a Kings Pilot. Pilot Darrell's freedom, however, brought little relief as Bermudian legislators fearing free people of colour to be the primary instigators of slave conspiracies, continued to curtail their rights.
1796. Bermudian slave abolitionist St George's Tucker wrote and published "A Dissertation on Slavery: With a Proposal for the Gradual Abolition of it," in the State of Virginia.
1796. November 12. The Bermuda Gazette and Weekly Advertiser published a special report.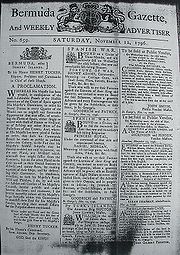 Bermuda Gazette November 12, 1796

1796. 2nd December. The death in Bermuda at the age of 46 of His Excellency, Governor William Campbell, Lieutenant Colonel of the 24th Regiment of Foot, who died of fever then raging in the colony only a few days after his arrival. He occupied his office for only 8 days.

1797. Paget Island was bought by Captain Francis Forbes Hinson, nephew of Dr. George Forbes. Hinson was a complex, eccentric and wealthy man, a mariner, shipbuilder, whaler and farmer. On Paget Island he added orchards, created pastures and cultivated planting land. He was also said to have planned to catch whales in an unusual way. He ordered and received a huge whale net from England made out of stout cordage. One evening he planted it in the sea across the Narrows Channel leading to Murray's Anchorage. Instead of catching a whale he caught a French brig-of-war trying to sneak a look at Bermuda. He made a good profit from that transaction. But when his mother and eldest son died on Paget Island he lost interest in Paget Island, bought property in Salt Kettle, Paget on the main island and lived there until his death in 1832, after which his estate that then still included Paget Island was offered for sale. By 1912 Paget Island had become derelict.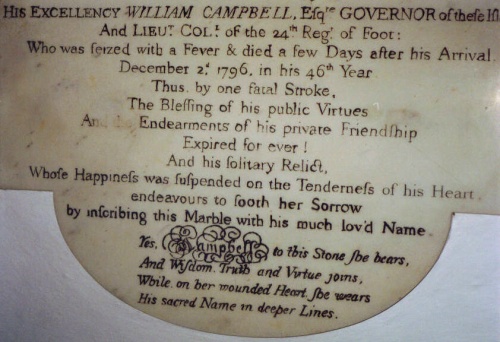 A plaque on the right wall of St. Peter's Church in Bermuda. Photo by the author exclusively for Bermuda Online

1797-1798. Captain Francis Pender, RN, then still based in Bermuda, order two more Bermuda-built cedar vessels, which were launched this year and in 1798 as HMS Driver and HMS Dasher, out of the same Bailey's Bay and North Shore shipyards as the previous orders. The latter sloop later earned the reputation pf being able to outsail every other Royal Navy sloop of war. Later, Bermudian shipyards built about 50 more vessels for service in the Royal Navy in the next three decades or so. Those were the days, long gone now, when small local north coast shipyards and Bermuda's economy generally benefited hugely from the sound of hammer, saw and adze, as they sawed into local cedar that produced some of the fastest vessels afloat at that time for what was then the largest navy in the world.

1797. August 7. Lodge St. George No 200 (SC) was given its Charter.

1797. August 9. Atlantic Phoenix No 224 (EC) was given its Charter.

1797. This Bermuda map was published in Laurie & Whittle's "West-India Atlas," reprinted from a plate used by Thomas Jefferys in 1775. It is 20.5 inches by 15.25 inches.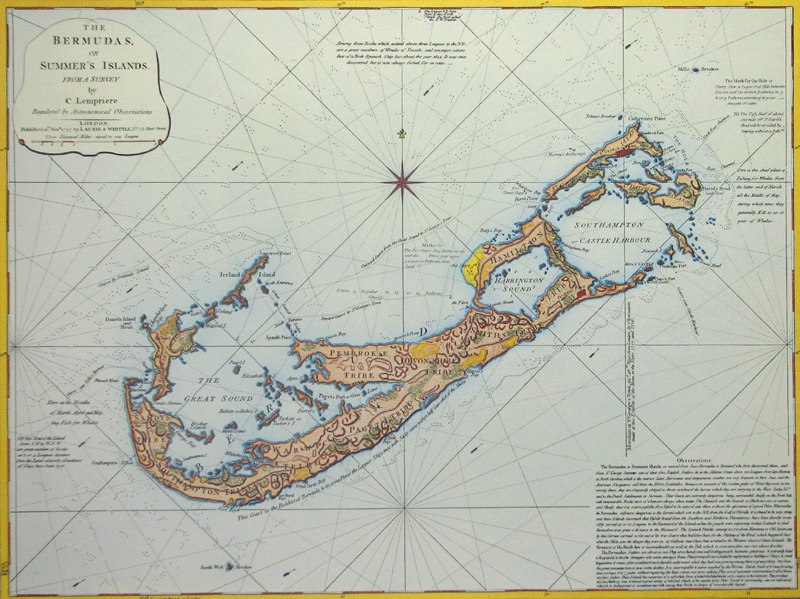 Bermuda Map 1797

1798. Maria Hill Fort on the high Hill of Ireland Island, commanded by Captain John V. Seymour, is of a square form, sunk in the rock, some part of the platform, which is stone, is found to be soft and therefore will require to be laid with wood; here are nine twelve-pounder cannon, as good as new, unmounted, and new carriages. This Hill is well situated to annoy an enemy passing round Ireland and should be capable of defending the passage into the Great Sound. A report by a British officer that same year to 'The Most Noble Marquis Cornwallis, Master General of His Majesty's Ordnance' suggests some disparity in the number and size of its guns. "A considerable enclosed Battery mounting eight eighteen pounders has been built upon the summit of a Hill in the Island of Ireland. This Redoubt is in good Repair & commands well the Entrance into the sound and anchorage called Grassy Bay, where large Ships may ride out the severe Gales with safety."

1798. September 1. Recording of Last Will and Testament re his Bermuda Property of Major Andrew Durnford, British Army and Bermuda fortifications engineer. See http://durnfordfamily.com/wills.html.

1798. September 10. Death in St. George's, from Yellow Fever, of Major Andrew Durnford, Royal Engineers, and former Mayor of St. George's. He was born in 1744 in Ringwood, UK. He was the first British Army royal engineer to begin work on the refortification of Bermuda after the American War of Independence. Durnford was assigned to Bermuda from the UK with one of his specific assignments to oversee, maintain and improve as needed or ordered the construction work of the British Army's forts in St. George's, including Fort Cunningham on Paget Island. He built several new forts and modernized others. He stayed in Bermuda. It has since been claimed, but never proved, by some of his fellow officers, that part of the funds allocated for forts were diverted to build his house. later became the first mayor of the historic Town of St George. He died at his home he built in 1795, Durnford House, now historically important and is buried there. His memorial is still there.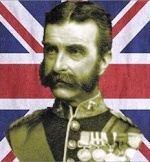 Major Andrew Durnford

1799. May 10. Rev. John Stephenson, the first Methodist minister appointed to Bermuda, arrived and served with dedication and diligence as he developed a church in the Methodist tradition until his departure on April 11, 1802. A man of warm sympathies and graciousness, with a distinctive preaching ability, Rev Stephenson quickly made friends with all who gathered to hear his gospel presentations, including slaves and free persons, regardless of colour, first in the then-capital of St George's, where he was headquartered, and then throughout the Island. His refusal to accept Bermuda's racial divisions soon brought him into conflict with the powerful of the day, many of whom were slave owners. As a result he was arrested on June 15, 1800 for violating a law designed to stop him from preaching to slaves and free persons, regardless of colour, and ultimately spent six months in prison. Undeterred, the Methodist minister continued preaching to anyone to whom he could speak through the bars of his cell on Featherbed Alley.

1799. The British government towed the hulk "Somerset " - formerly a Royal Navy warship - to St. George's.

1799. Nine soldiers, including two of the guardsmen on duty at the time, stole a small boat and set sail for the coast of America. When the deserters were missed a sloop was dispatched in chase. The fugitives were discovered in a half-starved condition with adequate provisioning for the voyage. They were brought back for trial, and the two guardsmen were sentenced to death, while the others were to be flogged a thousand lashes each. At dawn, before an assemblage consisting of the entire garrison, the two deserting sentries were shot. The soldiers were then ordered to march slowly about the bodies, as a reminder of the terrible consequences of the worst of military crimes, desertion. After part of the floggings had been executed upon the other seven, the Governor relented and pardoned them while they still lived.

1799. Convict Bay in St. George's Parish was so named, from a concept borrowed by the British government of using obsolete warships as floating prisons, prison hulks, at New York City during the American Revolution.

1799. Turks Island, so long a dependency of Bermuda and the centre of Bermuda's salt trade, from where Bermuda acquired all its salt that was sold to many places overseas, sent by ship, was formally annexed by the Government of the Bahamas. This seizure, which was not protested by the British Government in London despite the angry protests of Bermudians, was to have a traumatic effect on Bermuda's entire economy.

1799. The Sting was built of cedar in a Bermuda shipyard. Originally, she was a civilian ship, a merchantman and privateer. She was one of the vessels that plied between Bermuda, the Caribbean and beyond. In 1803 while in Jamaica, because of her speed, she was purchased by the Royal Navy, armed with cannon and became HMS Pickle. Later, she achieved her claim to fame as the fast little ship that sailed from Trafalgar to bring the UK public the news of Nelson's victory at the Battle of Trafalgar.


Last Updated: January 26, 2020
Multi-national © 2020 by Bermuda Online. All Rights Reserved