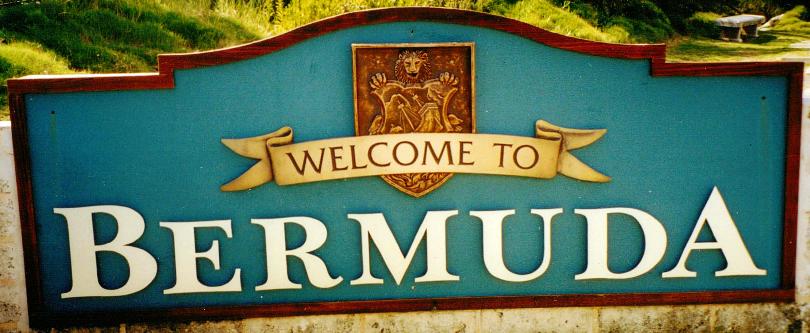 Click on graphic above to navigate the 165+ web files on this website, a regularly updated Gazetteer, an in-depth description of our island's internally self-governing British Overseas Territory 900 miles north of the Caribbean, 600 miles east of North Carolina, USA. With accommodation options, airlines, airport, actors, actresses, aviation, banks, beaches, Bermuda Dollar, Bermuda Government, Bermuda-incorporated businesses and companies including insurers and reinsurers, Bermudians, books and publications, bridges and causeway, charities, churches, citizenship by Status, City of Hamilton, commerce, communities, credit cards, cruise ships, cuisine, currency, disability accessibility, Devonshire Parish, districts, Dockyard, economy, education, employers, employment, environment, executorships, fauna, ferries, flora, former military bases, forts, gardens, geography, getting around, golf, guest houses, highways, history, historic properties, Hamilton, House of Assembly, housing, hotels, immigration, import duties, internet access, islands, laws, legal system and legislators, main roads, marriages, media, members of parliament, money, motor vehicles, municipalities, music and musicians, newcomers, newspaper, media, organizations, parks, parishes, Paget, Pembroke, performing artists, residents, pensions, political parties, postage stamps, public holidays, public transportation, railway trail, real estate, registries of aircraft and ships, religions, Royal Naval Dockyard, Sandys, senior citizens, Smith's, Somerset Village, Southampton, St. David's Island, St George's, Spanish Point, Spittal Pond, sports, taxes, telecommunications, time zone, traditions, tourism, Town of St. George, Tucker's Town, utilities, water sports, Warwick, weather, wildlife, work permits.

Bermuda's History from 2000 to 2005
Significant events and social consequences covering this five-year period

By Keith Archibald Forbes (see About Us) exclusively for Bermuda Online
When referring to this web file, use "bermuda-online.org/history2000to2005.htm" as your Subject
See end of this file for all of our many History files
2000
The German color mini TV series "Inselfeiber" - see http://www.imdb.com/title/tt0486532/ was filmed partly in Bermuda. It was written and produced by Jens Fintelmann and Thomas Seekamp.

The Bermuda insurance marketplace began to build a reputation for being innovative. Therefore, whenever companies or clients were in search of solutions to their problems, they came to Bermuda. The increasing number of global insurance and reinsurance companies with a head office in Bermuda continued to cement the Island as a major insurance hub.

Bear Stearns was ordered pay out $125 million to investors who were left high-and-dry by the collapse of Bermuda-administered Manhattan Investment Fund in 2000.

The New York broker continued to accept $125 million in margin payments from the fund's Bank of Bermuda account during the final year leading up to the collapse of the fund in March 2000, which left investors with more than $400 million of losses. It has been argued in court that Bear Stearns continued to extend margin to the boss of the fund Michael Berger, up to a year or more after it should have known he was acting in a fraudulent manner. Austrian-born Berger pleaded guilty to fraud in November 2000, some eight months after the fund collapsed. Investors lost more than $400 million when the fund collapsed seven years ago after being exposed as a "Ponzi" scheme that cheated around 300 investors. Companies involved in administering and auditing for the fund were ordered to pay out tens of millions of dollars in liabilities. Deloitte & Touche, the fund's Bermuda auditors agreed to pay $32 million in a settlement relating to its part in the collapse, while Fund Administration Services (Bermuda) Limited, an affiliate of Ernst & Young who administered the fund, paid out $40.8 million. The Manhattan Investment Fund fraud came to light when Deloitte & Touche withdrew approval for the fund's financial statements for 1996, 1997 and 1998.

March 6. Tributes poured in for the "daddy'' of entertainment in Bermuda, Sydney Bean, who died this week at the age of 92. Fellow performers said Mr. Bean was a pioneer of Island music and the first Bermudian to regularly play abroad. Mr. Bean wrote hundreds of songs, including Bermuda's Still Paradise, Where Did You Stay Last Night Caroline?, and Spend Your Money on Me, which was co-authored by Ted Ming of the Bermuda Strollers. He used to entertain in the US before local entertainers even thought about it. One job he had in Philadelphia, he was the entertainer and (TV superstar) Bill Cosby was the barman. He sang, he played guitar, played bass, he did everything. He was an all-round great entertainer, and well-liked. He was easy-going, always smiling and saying hello, and he loved to be out where things were happening.' Mr. Bean, a leading calypsonian, had his own band, the Sydney Bean Trio, but also played jazz at weekends with Rex Richardson. He played in hotels across the island and was the entertainer for Bermuda Island Cruises before becoming its cruise director -- a position he held until the early 1990's. He was still working on the boats when he was in his eighties. He was known as the first local entertainer who could do impersonations of jazz legends such as Louis Armstrong. Sydney was the pioneer of island music in Bermuda because he was older than Hubert Smith or the Talbot Brothers. Mr. Bean, who was married three times, lived for many years in Greene's Guest House in Middle Road Southampton, but last year he moved to a nearby rest home.

May. The restored Commissioner's House was opened by the then Premier, now Dame Jennifer Smith, DBE, JP, DHUML. Bermuda's first permanent exhibit on the slave trade and slavery in these islands was also opened there as a dedicatory history of Bermudians of recent African descent, in the two main reception rooms in the House. In addition to the fundamental role of collecting and preserving material related to Bermuda's history and heritage, the Museum is also dedicated to make materials and subject matters accessible to the Public, naturally by way of exhibitions, but also through publications.

June 17. Several of the Island's distinguished citizens were honored in the Queen's Birthday Honours List this week. Dr. Barbara B. Ball was named an Officer of the Most Excellent Order of the British Empire. For almost four decades, Dr. Ball has been amongst Bermuda's most influential women as a medical practitioner, trade unionist and Member of Parliament. Carol Dowding Hill and Alexander J. (Sandy) Mitchell were also named Members of the Order of the British Empire. Mr. Mitchell was instrumental in the establishment of the WindReach Recreational Village. Miss Hill is a pioneer, teacher, director and community worker. Awarded the Queen's Certificate and Badge of Honour were soccer player Clyde Best; chartered public accountant and Youth Net founder Cornell Fubler; Rev. Betty L. Furbert-Woolridge; Wendy Lambert; Anthoni Lightbourne; Cecile Musson Smith; baker Jean Smith; and June M.B. Tuzo. Awarded the Colonial Police Medal were Commandant Eugene Vickers; Chief Inspector Roger Kendall; and Chief Inspector Derek Smith.

June. Tall Ships arrived in Bermuda for the Tall Shops 2000 Race, second leg, Cadiz to Bermuda, June 9 to 12. The Bermuda Monetary Authority issued three commemorative coins, the Gold 0.5 oz for $300; the Silver Proof 1 oz for $40;; and the Cupro-Nickel 1 oz for $15.Vessels that arrived in Bermuda were splendid.

July 1. Saul Froomkin, Queen's Council, a former Attorney General of Bermuda, was appointed Canada's Honorary Consul to Bermuda. This was requested by Canada in 1999.

September. The Coalition on Long Term Residents was formed as a result of meetings between the West Indian and Portuguese communities in Bermuda. The object at the outset was to assist Government with respect to proposing solutions as to how to address the rights of these individuals. The following were founding members of the Coalition on Long Term Residents. They also represent the Steering Committee and each are Bermudians of either West Indian or Portuguese heritage. Manuel Edward (Eddy) De Mello; Foster A. Burke; Judith A. Swan; Shurnett Yvonne Caines; Trevor G. Moniz JP, FCIArb, MP: and Robert R. Pires CFA.

October. The Department of Consumer Affairs, formerly known as the Consumer Affairs Bureau, was given legislative powers, when the Consumer Protection Act 1999 came into effect this month. The primary purpose of the Department is " Promoting Confident Consumers and Responsible Traders." This is achieved by ensuring the rights of consumers to fair trade practices and product safety, by educating consumers and businesses on their rights and responsibilities, enforcing the Act and allowing for redress. The Consumer Protection Act 1999 is divided into six parts: Preliminary; Administration; Unfair Business Practices; Consumer Safety; Enforcement and Miscellaneous. Typically but not exclusively, consumers call the Department of Consumer Affairs with complaints about Defective or poor quality products; Problems with warranties; Issues concerning sales and return policies; Automotive sales and repair; Home improvement contract disputes; Landlord/tenant issues; Financial contracts and Deceptive advertising. Businesses also contact the Department when they require advice and guidance about customer complaints as it relates to the Consumer Protection Act 1999.

Implementation of Bermuda National Pension Scheme Act 1998.

The Ministry of Tourism & Transport began the ferry modernization project. It was divided into three phases all of which are now completed and include the following:
Acquisition of 6 catamaran ferries – Serenity, Resolute, Venturilla, Tempest, Warbaby Fox and J. L. Cecil Smith.
Construction of new docks with fuelling facilities at the Hamilton Depot to berth and maintain the ferry fleet.
Construction of new docks in Hamilton, Dockyard, Cavello Bay, Watford Bridge, Rockaway, St. Georges and St. David's.
Improvements to market and promote the ferry service including a public information campaign, new signage and schedules.
Mini-bus feeder service to and from the Rockaway and Watford Bridge ferry stop.
Commuter service from St. Georges (Market Wharf)/St. David's (Ships Wharf)
Servicing the mega cruise ships berthing at Dockyard and carrying passengers.
2000. November 30. Thanks to Historic Scotland and the British Government's involvement in classifying it as a British overseas territory and therefore as one of Britain's such sites, Bermuda's Town of St. George and related fortifications became a World Heritage Site and was inscribed as such on the World Heritage List by UNESCO. It was described as "The Town of St George's, founded in 1612, an outstanding example of the earliest English urban settlement in the New World. Its associated fortifications graphically illustrate the development of English military engineering from the 17th to the 20th century, being adapted to take account of the development of artillery over this period."
2000. Tourism Minister Mr. David Allen sparked some optimism by announcing that Malaysian development company Aman Capital wanted to redevelop the site vacated earlier by Club Med in which the Camberley Hotel company of Atlanta was no longer interested.
Sorry, but other 2000 information is not available here.

2001
January 17. Bermuda can look forward to millions of dollars of free publicity which could run for years as a result of a travel writers' conference being held this year. Around 500 of North America's leading tourism journalists, photographers and cameramen will come to the Island in September for the annual Society of American Travel Writers (SATW) conference.

NASA's Cooper's Island base was closed. It was first established in 1961 and used as a tracking and communications facility for various space programmes, including the Mercury and Apollo missions and space shuttle flights because of its key geographical position in relation to launch trajectories for space vehicles blasting off from Cape Canaveral in Florida. After shut down, it became a collection of abandoned buildings and related structures. Part of the area was earmarked by Government as a future nature reserve and visitor centre.

May. The African Diaspora Heritage Trail was launched as a project of the Bermuda Ministry of Tourism, to identify, conserve and promote historic sites linked with the development and progress of people of African descent in Bermuda. They, whether in Bermuda, the Caribbean or the USA are descendants of the African Diaspora propelled by the advent of transatlantic slavery. Research into historical archives has indicated that the discoverer of Bermuda, Spanish navigator Juan de Bermudez, had more than a dozen African slaves on board his ship. No earlier record of African slaves being transported across the Atlantic to the Western Hemisphere has to date been found.

May 25. A skeleton more than 200 year-old has been unearthed on Governor's Island in St. George's during an archaeological dig. The skeleton is the second to be found buried in Smith's Fort on the island. For the past four years, under the auspices of the National Parks Commission, director of the Bermuda Maritime Museum, Dr. Edward Harris and Professor Norman Barka of the College of William and Mary in Williamsburg, Virginia have, with the help of students and volunteers, been excavating Paget Fort and Smith's Fort. The archeological research is part of a long-term study of the first forts built in Bermuda after settlement of the island in 1612. The latest skeleton, a male estimated to be in his early 20s, was discovered in one of the fort's "Merlons'' which is a large rampart part of the wall, between which cannons would be fired. The fort was originally built in 1613, and the foundations of two towers built in Bermuda stone were discovered two years ago. In June 1999, another skeleton was found on the same site, only yards from the current skeleton and both appear to have been laborers working on rebuilding Smith's Fort in the 1790s. The fort was modified at that time by St. George's first mayor, Major Andrew Durnford who was also a Royal Engineer. The Royal Engineers were an army corps responsible for constructing forts and bridges. Maj. Durnford was responsible for modernizing Bermuda's forts following the American revolution, and destroyed all but the footings of the original fort before rebuilding it. Modifications to the fort were deemed necessary at the time to fortify Bermuda as one of the British strongholds in the New World. The individual just discovered was buried in a nightshirt and possibly a shroud, as pins for the sheet and buttons for the shirt have been found with the skeleton. In addition, a coin or medallion was found in the area of the heart and was perhaps in a pocket as it had fragments of cloth adhering to it. The coin was a major find for the team and will help them to date when the man was buried, but the cloth that has corroded to it prevented them from reading the date. It is difficult to age or sex a skeleton without full examination in a laboratory, but the archaeologists believe that the two skeletons were those of young men. The latest skeleton was remarkably well-preserved and the man had an almost perfect set of teeth and no visible signs of trauma or injury. The two men had been buried in coffins and although many nails were found the wood had completely rotted away. They may have been victims of yellow fever which claimed many lives in Bermuda over several centuries. The skeletons will eventually be sent overseas for analysis, but there were no obvious signs on either of any injury. They will then be kept in the care of the Bermuda Maritime Museum. Smith's Fort is one of the fortifications at the east end that are now on the UNESCO World Heritage list and the work by Professor Barka and Harris was instrumental in having the forts added to the list along with the town of St. George.

June 8. The cost of parking in Hamilton is to go up by as much as 50 percent in a bid to raise more money to provide additional parking. The move is also aimed at encouraging residents to use public transport to travel into the city to work and shop. The Corporation of Hamilton, however, sweetened the pill of price hikes by announcing that it is to put up an extra floor of parking at Bulls Head Car Park (subject to planning approval) and is actively looking into providing more spaces within the City. The cost of the extra floor at Bulls Head is believed to be about $3 million and will be met by the hike in the cost, which will hit all forms of parking as of June 25. Parking vouchers and the cost of parking at Cavendish, King Street and Number Seven car park will go up from 50 cents to 75 cents. City Hall, Par-la-Ville, Number One and Number Five car parks will all go up from 75 cents to $1 and all day parking at Bulls Head, Bulls Head North, Laffan Street and Elliott Street car parks will rise from $3 a day to $4 per day. The issue of parking has been a heated topic of debate in the city since the City of Hamilton 2001 Plan was published. In this, a form of pedestrianisation of Reid Street is proposed. But there has been opposition to the plan because some retailers state that it would reduce the already small number of parking spaces available in the City. The Corporation and the Ministry of Transport have been meeting with retailers and the Chamber of Commerce to find a solution to the problem.

July. Tucker's Point Club Hotel & Spa, St. George's was approved via a Special Development Order.

July 13. This month's big game fishing tournament will help net the island's economy around $5 million. The Billfish Triple Crown attracts the best crews from across the world and sees around 40 teams do battle in the waters around Bermuda over 15 days of intense competition. Series producer, Dan Jacobs, has seen the fishing championship grow significantly since it first started in 2001. And it has become one of the biggest and most exciting fixtures on the game fishing calendar.

September 9. Legendary Travel Journalist Arthur Frommer was in Bermuda at the Society of American Travel Writers Bermuda conference and advised people to stop "trivial" travel writing. He abhors the kind of "trivial" travel writing that does not make waves; is not relevant; does not believe in travel criticisms when due; and encourages journalist and travel writers to write uncritical pieces after enjoying "junkets" - free trips - from hotels or airlines but at local or overseas taxpayers' expense.

Effective in 2001 the term limits policy enacted restricts work permit holders to six years on the Island, under normal circumstances. But a three-year extension is available if an employer makes a successful case, depending entirely on circumstances relevant to that matter as circumstances may be different in other cases that the employee is key and all other conditions or expectations have been met. Employers deemed to be good corporate citizens are also exempt from the policy which is intended to encourage employers to make genuine efforts to recruit and train Bermudians. Normal procedures, such as advertising requirements, apply for work permit renewal applications. There was little overt opposition from the business community when it was announced.

The movie "Life as a House" - see http://www.imdb.com/title/tt0264796/ - was filmed partly in Bermuda.

September 11. The world's worst terrorist attack occurred at the World Trade Center, New York. More than 2,752 innocent civilians were killed when 19 al Qaeda terrorists hijacked four passenger jets. Two aircraft flew into the World Trade Center in New York while another hit the Pentagon and a fourth crashed into a field in Pennsylvania. Among the dead were 38 year old Bermudian operations manager Boyd Gatton, Rhondelle Cherie Tankard and Robert Higley. Mr. Gatton, 38, was working on the 97th floor of the World Trade Center with the Fiduciary Trust Company when the attacks took place. Mr. Higley was on the 92nd floor of the South Tower. Ms Tankard, an employee with Bermuda-based insurance company AON, had started work there just two days earlier. Both Mr. Gatton and Mr. Higley were former students of Saltus Grammar School. North America's airspace was quickly closed to all commercial air traffic. Many international flights all ready flying across the North Atlantic en route to the US were diverted to Bermuda. There, hotels across the Island found themselves dealing with hundreds of displaced air passengers when flights destined for the US were diverted as the 9/11 emergency took hold. The Island's airport soon resembled a parking lot of jet airliners as flights from Europe and the Caribbean were instructed to head to Bermuda when the US closed its airspace in the wake of the terrorist attacks. The airliners had been en route to the US when the 911 attacks occurred. Among the displaced flights were planes from Spain, England, Germany, Italy and Puerto Rico. European airlines were persuaded to refuel and go back to Europe. The airlines serving Bermuda from the USA and Canada organized their passengers into local hotels. Within hours the Bermuda Hotel Association had mobilized, and it identified 600 rooms available across the Island to accommodate the hundreds of people who were stranded. The hardest thing for the hoteliers was providing guests with definitive information on what was happening and when they might be able to reach the US. Some of the guests had relatives and friends in the twin towers. For all awaiting entry to the US there was a delay of four or five days before North America's airspace was reopened to commercial flights.

October. Harbour Court Tucker's Point Club, St. George's was approved via a Special Development Order.
November 9. Public Health Act 1949 was amended to ensure the regulation of businesses that practice tattooing, electrolysis and body-piercing.
December 4. Bermuda mourned the passing of Hubert Smith Sr, one of Bermuda's pioneers and legends of the local music scene. And last night tributes and well-wishes poured in to his family for the legendary musician, who was considered a ''true ambassador of Bermuda.'' Mr. Smith died suddenly yesterday of a massive heart attack, according to family members. He was 83 years old. And although Mr. Smith's family said they are struggling with the tragic loss, they are also celebrating his many contributions to shaping Bermuda's music scene and culture. Mr. Smith 's daughter Velda Ming said she last spoke to her father the night before his passing and said she is coping with the shock. He enjoyed good health in his 83 years. He spent close to 70 years in the business, was a hero in his own right throughout Bermuda's music scene, a major influence in shaping the traditional sound of Bermudian music, such as calypso and jazz, and is probably most remembered for crooning 'Bermuda Is Another World', which he wrote in 1969. But his dedication to the local music scene went far beyond his singing and song writing talents.
December 11. Three months after the shock and horror of September 11, 2001 the deadliest terrorist attack in history, with financial markets in a state of paralysis, Bermuda profited hugely. The hijacked airliner attacks on the twin towers of Manhattan's World Trade Center and the Pentagon in Washington led to more than $11 billion in fresh insurance capital flowing into the Island, as a dozen or so new companies were established to fill the hole in insurance capacity. Some of the companies born during that period became serious international players. Axis Capital, Arch Capital, Allied World, Endurance Specialty and Montpelier Re subsequently celebrated growth, both in terms of shareholder wealth and global expansion. Their founders recognized a once-in-a-generation business opportunity, to start up in a hard market across a broad range of business lines in a world that viewed their risks in a whole different way after the unthinkable had become reality. Almost every major line of business was impacted: property, aviation, terrorism, workers' compensation, personal accident, life and business interruption all experienced substantial claims. After 9/11, there was an across the board hard market, around the world. It was a one-two punch, the capital loss from the World Trade Center claims coupled with the shock to the stock markets which caused European insurers assets to decline. The result was an incredible opportunity to enter the business with a clean balance sheet and attract new business at attractive prices. Those elevated rates, coupled with a couple of quiet loss years after 2001, helped the Class of 2001 lay firm foundations. Axis achieved in two years what it took Ace and XL 15 years to do. That was the nature of the opportunity. The influx of insurance talent that came with the new companies and the demand they stimulated for everything from real estate to restaurant meals sparked a boom in the local economy. The significance to Bermuda of the Class of 2001 was not limited to the industry itself. This was the largest of the 'Bermuda waves' in terms of both capital dollars and number of new starts and catapulted Bermuda into the group of top three reinsurance jurisdictions and the cat risk capital of the world. This significant boost in both reputation and scale has been a key contributor to international business in Bermuda and the related economic growth of our country over the last ten years. Other "waves" experienced by the Bermuda market have occurred in response to natural disasters, such as those after Hurricane Andrew in 1993 and Hurricane Katrina in 2005. The nature of the 9/11 attacks meant the Class of 2001 was different. While hurricanes and earthquakes can never be predicted with certainty on either timing or magnitude, they are known events that will happen at some point and can therefore be priced and underwritten. 9/11 caused perceptions of risk to fundamentally alter. This led to widespread premium rate increases across many lines at the same time as demand increased in the heightened consciousness of terrorism risk. Before 9/11, the Bermuda insurance and reinsurance markets were significant, but the Class of 2001 made the Island a major-league industry centre. Their impact was rapid. Nearly instantaneously, brokers and clients were introduced to a new group of companies focused on providing meaningful capital to capacity-strained product lines and they could all be accessed within the confines of a few city blocks. The Class of post September 11. 2001 launched multi-line insurance and reinsurance platforms and quickly diversified their operations both geographically and by product discipline, bringing balance and additional scale to the Bermuda market. The question of why so much capital came to Bermuda after 9/11 was not, they say, so much an issue of tax, as many other jurisdictions can offer similar advantages on that score, but rather the short time in which investors could get their new companies up and running. The Bermuda advantage of speed to market, for an entity with the right pedigree of capital source and management team, meant they could be up and running well before the 2002 renewal season. Secondly, capital came to Bermuda post 9/11 to support the large reinsurers who were bearing a significant part of the loss from the event. 9/11 was unprecedented; the Bermuda companies who bore the loss had strong ratings, management teams and track records and were therefore able to attract additional capital to replenish and strengthen their balance sheets. Investors had faith that these companies would capitalize on the opportunity afforded by the post 9/11 environment. On of the many new Bermuda insurer post September 2001 success stories was the formation of Axis Capital by Mr John Charman, after raising around $1.7 billion in capital from investors. He was later CEO of the company for nearly 11 years. His personal holding in the company, according to Yahoo Finance, was around 2.36 million shares, worth more than $78.8 million in 2012 after he left the company.
Enactment of Bermuda's Historic Wrecks Act 2001. That law for shipwreck heritage mandates that all work carried out on the remaining sites be done by the scientific methods of archaeology and that artifacts and material found belong to the Government, which is also entitled to copies of all records made during the work. Those collections of artifacts and records are ultimately to form the 'National Collection' of shipwreck heritage, to be preserved, studied and shared on behalf of the people of Bermuda and the wider world. It was based in part on the 2001 UNESCO "Convention on Underwater Heritage."
The Bermuda Island Games Association (BIGA) was founded. The NatWest Island Games, so-called because they are funded principally by Britain's National Westminster Bank (owned by Britain's Royal Bank of Scotland) provide an opportunity for athletes from island communities with a population of less than 125,000 to compete at international level. They are now an established biennial international multi-sport event. Bermuda is the host July 13-19, 2013. They occur once every four years in different island jurisdictions. They include Athletics, Badminton, Basketball, Beach Volleyball, Boardsailing, Cycling, Football, Golf, Gymnastics, Sailing, Shooting - Clay and Skeet, Shooting - Pistol and Rifle, Squash, Swimming, Tennis, Traithlon, Volleyball.

2002
January 21. After decades of service, Sir John Plowman, Kt., CBE, OBE, MLC, died at home yesterday morning. He was 93. The long-time community activist, who was born here but moved to the UK as a child, was refused entry when he returned to the Island 16 years later. However after a careful look at Bermuda's immigration laws he convinced officials to allow him to take up residency in his rightful birthplace and went on to serve the Island for more than 65 years. Born on September 18,1908 to a non-commissioned officer stationed at the British Army camp at Prospect, Bermuda. Sir John was one of seven children. During his early years in Bermuda, Sir John lived on Frog Lane with his family and attended the Garrison School. After the First World War, his family moved back to England where Sir John attended the Highfield School, Clark's Modern School for Boys and later the London School of Economics. After a brief stint in British politics where he was branch chairman and vice chairman of the Junior Imperial League, a speaker at Conservative Party rallies, a 1912 Club member and the youngest Borough Chancellor, he returned to the Island. It was 1935, he was 27 and he believed there were opportunities here. Shortly after arriving in Bermuda Sir John went to work at distributing company W. S. Purvis and Company Limited and married Marjorie Harwick. Sir John quickly joined the debating group Forty Club and later joined the Bermuda Volunteer Engineers. A Food and Supplies Control Board had been formed in 1940 to monitor the distribution of food on the Island which had become a problem as supplies being shipped to Bermuda from the United States were limited. Sir John acquired the newly created position of Rationing Officer and later served as the Assistant Director of Supplies from 1942 to 1945, Director from 1945 to 1947 and Chairman of the Supplies Commission from 1947-1949. Sir John was awarded the Queen's honour of Officer of the Order of the British Empire (OBE) in recognition of his services with the Bermuda Wartime Supplies Commission. In 1945 at the end of Second World War, Sir John was approached by the partners of Holmes Williams and Purvey (HWP) to become the fourth partner of the company in the position of Managing Director. He went to work at HWP in 1947 and stayed until 1998, serving either as Managing Director or Chairman. While there he was instrumental in bringing the first cars to Bermuda and in bringing the GE dealership to Bermuda for the distribution of large electrical appliances. In 1948 Sir John became a member of the Chamber of Commerce for which he served as vice-president until 1950 and president from 1950-1952 and 1960-1962. He also served as a member of the Census Committee from 1949 to 1950 and 1959 to 1960. Sir John was appointed to the Transport Control Board in 1951. He served as Lions Club Bermuda branch president in 1952. A keen sportsman, Sir John joined the Bermuda Athletic Association in 1947 and was also instrumental in combining the two segregated football leagues into the Bermuda Football Association in 1955. He was elected Vice-Chairman of the BFA in 1955. With Sir John Plowman as the Chairman of the board of governors from 1968 to 1977, Warwick Academy became the first school in Bermuda to integrate. Sir John's political career in Bermuda began in the early sixties when Employers Council Chairman Henry Tucker asked him to take a position on the committee. He was appointed president in 1963. While he would shortly thereafter run for a seat in Paget East and lose, this did not stop Sir John from being active in what was to become the United Bermuda Party. Instrumental in forming the UBP, Sir John went on to serve as the chairman for many years. In total he gave 40 years of service to Government. He was Minister of Organisation from 1973 to 1976, Minister of Marine and Air Services from 1976 and Minister of Government and Commercial Services. He was appointed a member of the Legislative Council in June 1966 and served for over 11 years. He was also a member of numerous government and public boards including the Bermuda Hospitals Board on which he served as chairman from 1966 to 1968. He was given the Queen's Honour of Commander of the order of the British Empire in June 1970 and was knighted in 1979. Even after he retired from Government in 1982, Sir John did not cease to be involved in public affairs. Some of his activities in recent years included serving as Chairman of the International Year of the Older Persons Committee, being very involved with Project Action and serving as the director of the Senior Learning Centre. Sir John was also committed to education and youth and gave many of his employees at HWP opportunities for advancement. Widowed in 1986, Sir John is survived by two sons, Michael and Piers.

February 12. An Olympic-sized cheer abounded across the Island yesterday on the news from the Ministry of Telecommunications, CableVision and Bermuda Broadcasting Company (BBC) that coverage of the Winter Games would be expanded.

Three local channels will now be broadcasting the 2002 Olympics from Salt Lake City for the duration of the Games - ZFB channel 7 (which holds local broadcast rights for the Games) and cable TV channels 6 (WDIV) and 25 (CNBC). Local coverage of the Salt Lake City games first fell under heavy criticism when technical problems resulted in complete blackout of coverage for a couple of hours Friday evening. While that problem was rectified, hockey fans continued to fume over the CNBC blackout because ZFB 7 was not airing any Olympic coverage at all while the popular winter sport was being shown on channel 25 - which CableVision subscribers pay for but were unable to watch. Yesterday, however the Ministry of Telecommunications brokered a deal to satisfy all fans of winter sports. Although BBC hold exclusive rights to the Olympic feed in Bermuda and originally intended to air coverage only on ZFB 7, company CEO Rick Richardson instructed local cable TV provider CableVision to end the blackout of CNBC last night.

February 19. Yesterday's front page story in the New York Times — "US companies file in Bermuda to slash tax bills" made headlines. Some weeks ago, in the wake of a series of negative press reports about Bermuda relating to the collapse of Enron and Global Crossing Ltd. and the difficulties facing Tyco and Elan International, the daily newspaper warned that Bermuda needed to mount a media counter-attack. The need for a full response became more pronounced yesterday when the New York Times described how one Bermuda-based company had moved from its New Jersey headquarters to Bermuda and as a result paid $27,000 per year to Government instead of $40 million in corporate income taxes to the United States. Last week, another manufacturing company, the hardware company Stanley Works, announced it was moving to Bermuda as well. The primary reason was to reduce its tax bill. And it said its profits would be $30 million higher in the next quarter as a result. Bermuda has spent decades trying to shed the tax-haven label. The New York Times also added a new twist to the question, by quoting an expert who said the issue for companies was, quite simply, patriotism or profit. Investors and stock analysts may prefer reducing taxes and raising profits, but many Americans, and almost all American politicians, will prefer patriotism in the wake of September 11. The truth is that companies like Stanley Works, which will have no corporate presence in Bermuda, do very little to boost the Bermuda economy. It is the companies with a physical presence — some three percent of the total — that contribute 70 to 80 percent of the money international companies bring to Bermuda. Then too, as Bermuda was at pains to explain to the Organisation for Economic Cooperation and Development last year, Bermuda does not have a preferential tax system. No companies pay corporate income taxes in Bermuda. When the OECD was tackling tax havens, the Bush Administration was reluctant to give it much support , regarding Bermuda and other reputable offshore financial centres as places that increased the efficiency of the global economy. And companies like Stanley Works move because they are at a disadvantage with their overseas competitors. Reducing their tax rate helps them to compete in foreign markets, and that is good news for the US economy. It is also worth noting that companies that move offshore only reduce their tax bills — they do not eliminate them. Even companies like ACE and XL, which were founded in Bermuda and do business all over the world, pay hundreds of millions of dollars in US taxes, they have to do in order to do business there. But that does not mean they should pay taxes to the US on business they do in the UK or Germany. That message must be made to policy makers in Washington and elsewhere. It should be recalled that one prime time TV programme effectively killed the US bases in Bermuda. It is up to Government and the leaders of international companies to ensure that one front page New York Times story does not do the same for international business.

March 20. The American Consulate submitted plans for multi-million dollar security upgrade and is seeking a special development order from Government to carry it out. Among the changes in store for the Middle Road, Devonshire property will be a steel picket fence around the perimeter of the property, a vehicle barrier at the gate and new controlled access centre (CAC) building at set slightly back from the road. The United States Government chose to revisit security provisions at its overseas embassies and consulates following bombings at two African embassies four years ago. After the horrific bombings in the American embassy in Nairobi, Kenya, and Dar Es Salaam, Tanzania in August 1998, the Department of State - by mandate of the US Congress - undertook an ambitious project to upgrade the security at all American diplomatic facilities around the world. The major upgrades needed to bring the Consulate General up to congressionally-mandated worldwide security standards include; construction of a nine foot perimeter wall/fence; a vehicle barrier and access control centre at the entrance gate; `hardening' of the interior walls on the ground floor of the building; and, installation of blast-proof windows." Consulate staff also took measures to inform area neighbours of the upcoming security changes. US Consul Jennifer Schools said every effort had been made to keep the appearance of the Consulate in line with Bermuda architecture, with the CAC building to resemble a small, Bermuda cottage. Ms Schools also said many of the routine forms people seek at the consulate, such as visa applications, will now be held in the CAC building.

April 5. Surf Side Beach Club last night opened three new luxury three bedroom apartments, which are part of a $5 million facelift at the Warwick resort. Owner Naval Mehra also revealed he is hoping for final planning approval for an additional identical three storey development, which will take the resort to 49 units. The three bedroom seafront units, which cover an entire floor, include sitting room, full kitchen and laundry facilities, are available from April 13 at $850 a night. Alternatively, a one bedroom unit on the floor can be let separately for $350 a night. Mr. Mehra's company, Bermuda Resort Hotels - which also owns the Harmony Club and new Wharf executive suite hotel in Paget that is due to open next month - has spent a total of $5 building the new units and upgrading ten executive suites. At the opening last night, he paid tribute to Tourism Minister David Allen's Hotel Concessions Act for making the new projects possible.

June. The Queen's Golden Jubilee was celebrated in Bermuda. at Government House. Thousands of Bermudians were invited

June 18. In its "Exchange of Notes" when everything was formally handed back following the end of the US Bases in Bermuda in May 1995, Item 5 reads:....."The Government of the USA will pay the Government of the UK for the benefit of the Government of Bermuda, the sum of Eleven Million Dollars in consideration of the termination of all obligations relating to the maintenance and repair of the Longbird Bridge......"

June. The Bermuda Government's National Office for Seniors and the Physically Challenged was formed to provide a central point of access to government services.

June. Tourism Minister David Allen was airlifted to the United States for medical treatment after undergoing tests in King Edward VII Memorial Hospital. The nature of his illness was not disclosed. Mr. Allen was advised by doctors to get further tests in the United States after he underwent treatment at KEMH. Premier Jennifer Smith, who is due back on the Island this week, will decide who will take up his post in the meantime. Mr. Allen was taken out on an air ambulance on Friday to the Lahey Clinic in Massachusetts, which is regarded as one of the top hospitals in the US.

June Tourism Minister David Allen died, of cancer. Minister of Tourism, he was the only white Cabinet member of the PLP Government and had supported it for decades. He had a full state funeral.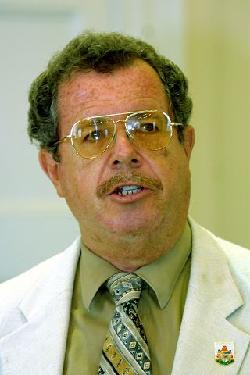 Late Tourism Minister David Allen

August 19. Patients facing the daunting prospect of having to pay up front to have their babies delivered and for other surgical procedures can rest easy again after Government announced on Friday that a settlement had been reached between insurers and physicians. But this "settlement" does not constitute a final agreement, merely a ceasefire while a new fee schedule is worked out. That means that doctors and insurance companies may again disagree on what constitutes fair payment for their services. But the row is a chilling sign of how fragile the Island's health insurance system can be and how easily it can be turned on its head. And it is worrying that the dispute could have led to a person being denied an essential medical service because they could not pay up front. It did not come to that, and it is difficult to imagine a physician actually taking this dispute that far; but the possibility nonetheless remained. Health Minister Nelson Bascome said on Friday that the health system has worked well, and for the most part he is correct. No one in Bermuda is denied health care. The young and the elderly receive high quality basic care at little or no cost, while Government's Health Insurance Plan (HIP) does the same for people of working age. The private insurance companies provide higher levels of service to people who are employed. The hospital and Government's other health clinics provide a high standard of care, especially given the Island's size. This mixture of public and privately funded health care has served Bermuda well, as Mr. Bascome said. It has avoided the worst problems of 100 percent publicly funded health care, like the years-long waits for "non-emergency" surgery that have come to epitomize Britain's National Health Service. It has avoided the inequities of private health care, as epitomized by the refusal of some US hospitals to treat uninsured patients. Nonetheless, Bermuda's system does face a number of challenges. Clearly, the question of how much insurance companies are prepared to pay physicians is one issue that has to be resolved. More seriously, the issue of elderly patients whose access to major medical health insurance is cut off then they retire has to be addressed, either in conjunction with pension schemes or via some other from of group health insurance. But the notion that a person can pay health insurance premiums for upwards of 40 years, only to be cut off when they most need insurance is invidious. The problem of skyrocketing medical costs is next. Generally speaking, medical costs have risen at three or four times the general rate of inflation in the last five of six years. That's why physicians are arguing with insurers and it is why the insurers are arguing with the hospital, it is also why the hospital runs at a deficit every year and, finally, it is why the consumer keeps having to pay more for health insurance and health treatments.

September 9. Death, in Canada, at the age of 82, of Edward DeJean, one of the founding fathers of the Progressive Labour Party in Bermuda. Although a Canadian, in Bermuda he was a teacher, school principal, football (soccer) coach, political activist, role model and mentor to many.

October 23. The Bermudian Business magazine, once a quarterly publication, will now be publishing six issues a year.

The issues will be produced every other month starting with the February/March issue, and the first issue will highlight the top ten businesses in Bermuda.

The Government was given $11 million as part of the Baselands deal signed in Washington D.C. In the deal, the US refused to pay to clean up the pollution of its two former bases, but did give the Island $11 million for Longbird Bridge, which US troops built and which has been plagued with mechanical problems.

November 8. The first Bermuda Culinary Arts Festival (BCAF) came to a close on Monday after a weekend-long series of seminars, cooking demonstrations and tastings hosted by celebrity chef and Food Network star Sara Moulton, and Gourmet magazine's wine consultant Michael Green. The three-day event, which was held at the Fairmont Southampton Princess Hotel and was developed to encourage visitors to travel to Bermuda, was hailed as a fabulous success and is set to be even bigger next year. Presented by the Department of Tourism, the Bermuda Electric Light Company, the Fairmont Southampton Princess and Gourmet magazine, Bermuda's new culinary event was planned to be similar in nature, but sufficiently different from other food festivals around the world so as to differentiate Bermuda as a unique place to visit, according to Mr. Redford. To that end, the organizers partnered with global food and beverage publication Gourmet magazine to garner international media exposure and reach an attractive target market. While the gourmet event was initially planned for November 2001, it was postponed due to the tragedy of September 11 and eventually rescheduled for November 2002. With a star-studded roster of world-renowned chefs from the United States and England, festival visitors were able to see, hear, smell and taste the makings of culinary masterpieces. As well, they were treated to authentic Bermudian delicacies prepared by local chefs in addition to wine tastings, celebrity chef hosted dinners and book signings with Sara Moulton. The Bermuda Culinary Arts Festival also featured the People's Choice Awards, a culinary competition between various Bermuda restaurants sponsored by Butterfield & Vallis and Conagra Foods. The competition, which ran from October 14 to November 2, enabled the participating restaurants to feature a four-course fixed menu with wine pairings. Diners were able to judge and score the People's Choice menu based on specific criteria such as creativity, presentation and visual appeal, culinary techniques, taste, texture, temperature and flavor, service and wine pairing. The epicurean weekend wrapped up with a charity golf tournament benefiting the Windows of Hope relief fund and a local culinary scholarship.

December. Three more bids to redevelop the Club Med abandoned hotel site were considered by the Bermuda Government, but one of the competing groups got fed up with waiting for a decision and the other two withdrew..

2003
February 9. Death of Dr. the Hon E. S. DD. Ratteray, former UBP Minister (Education, Planning), dentist and activist, only 68.

March. Kurron Shares of America first made headlines in Bermuda when it was hired to conduct a study of King Edward VII Memorial Hospital and what was St Brendan's Hospital, now the Mid-Atlantic Wellness Institute. Nelson Bascome, then health minister, announced the appointment of the health management and consultancy firm, whose headquarters were in Manhattan, which sparked opposition criticism that it had come "out of the blue". The firm was paid $450,000 for a report on the two hospitals.

April 27. Shaundae Jones, 20, was shot in a car pulling away from the Club Malabar nightclub in Dockyard around 3 a.m. The gunman jumped on the back of a motorcycle ridden by an accomplice. Police believe the Bermuda College student may have been the victim of an "east vs west" revenge attack over a relatively minor incident.

June 13. Opera singer Jose Carerras - one of the Three Tenors - was at the Maritime Museum to lead an early salute to Bermuda's discovery in 2005. Tickets were over $100 per person.

July. For the upcoming General Election, what had earlier been a 40-seat House of Assembly became 36, as a direct result of electoral boundary changes and the introduction of single-seat constituencies.

July 24. The Progressive Labour Party (PLP) again defeated the United Bermuda Party (UBP), this time by 22 seats to 14. Jennifer Smith was deposed as Premier, replaced by the Hon. W. Alexander Scott JP, MP with Dr. the Hon. Ewart Brown JP, MP as Deputy Premier. Mr. Scott remained Premier for three years.

July. Despite its location well north of the Caribbean, Bermuda became an associate member of the Caribbean Community (CARICOM). The latter is a socio-economic bloc of nations in or near the Caribbean, such as the Co-operative Republic of Guyana, the Republic of Suriname, and Belize in Central America as full members. The Turks and Caicos Islands, an Associate member of CARICOM, and the Commonwealth of The Bahamas, a full member of CARICOM, are in the Atlantic, but near to the Caribbean. Other nearby nations or territories, such as the USA, are not members (although the US Commonwealth of Puerto Rico has Observer status, and the US Virgin Islands announced in 2007 they would seek ties with CARICOM). Bermuda, at roughly a thousand miles from the Caribbean Sea, has little trade with, and little economically in common with, the region, and joined primarily to strengthen cultural links. Opinion polls conducted by Bermudian newspapers The Royal Gazette and The Bermuda Sun showed clear majorities of Bermudians as opposed to joining CARICOM. The UBP, which had been in Government from 1968 to 1998, objected on the basis that joining CARICOM was detrimental to Bermuda's interests. Other than large-scale West Indian immigration to Bermuda throughout the 20th century, Bermuda's trade with the West Indies had been negligible, its primary economic partners being the USA, Canada, and UK (there were and are still not even direct air or shipping links). Further, CARICOM was moving towards a single economy, which Bermuda would not be able to form part of without disastrous effects on its own economy. Additionally. the Caribbean islands are generally competitors to Bermuda's already ailing tourism industry; participation in CARICOM would involve considerable investment of money and the time of government officials that could more profitably be spent elsewhere. But despite these logical protects, the majority PLP government enacted the enabling legislation.

August. Bermuda Immigration Officers denied seven Chinese nationals, who were seeking to use Bermuda as a backdoor to the States by using false Japanese passports, entry to Bermuda from the United Kingdom and sent them back on the plane to London. Earlier in the year they had entered Bermuda from the UK using false Japanese passports but were arrested after being apprehended by US Immigration officials as they attempted to depart Bermuda for the USA using the Bermuda-USA airport pre-clearance system.

August 22. Twentieth century world history is set to come alive for Bermudian school students in November when the youngest daughter of Britain's war-time Prime Minister Sir Winston Churchill comes into their classrooms for a series of talks. Lady Mary Soames will be in Bermuda with leading international scholars and politicians to celebrate the 50th anniversary of the historic summit held here between Sir Winston, US president Dwight D. Eisenhower, and French Premier Joseph Laniel. And the winner of a school essay competition will be given a scholarship to attend a programme in London and Oxford next year. As well as speaking to school students, Lady Soames will donate books on her father's life to schools. The four day conference held in Bermuda in December 1953 set a trend for international summits to address international crises. This year's conference at the Fairmont Hamilton Hotel will focus on previous summits at Teheran, Yalta, Potsdam and Bermuda which have helped shape world history and the theme will be "Summitry and the Special Relationship." It is being organized by the International Churchill Society and guests will include Sir Michael Heseltine, the former British Defence Secretary in Margaret Thatcher's Conservative government of the 1980's. The 1953 conference was the first post-war summit held by Churchill and it came against a backdrop of the early days of the Cold War, the death of Soviet leader Joseph Stalin just as the Communist regime had successfully tested an atomic bomb, and an uneasy truce in Korea. Churchill, who arrived with Foreign Secretary Sir Anthony Eden on December 1, spent four days at the conference in the Mid-Ocean Club, and a further six days on the Island. The threat of nuclear war - and Eisenhower's suggestion that atomic weapons be used if Communist China broke the Korean ceasefire - dominated the talks as grave uncertainty hung over the planet. The other main point was to persuade the French to allow the German military to play a role to defend western Europe against the threat of Russian satellite states to east. And Churchill tried unsuccessfully to persuade Eisenhower to join Britain in defence of the Suez Canal in Egypt. The keynote address at November's conference will be given by Churchill's official biographer Sir Martin Gilbert. Sir Martin wrote: "At Bermuda, Churchill tried to build a path to the summit which, as he had envisaged it, would also have been a path to world peace." Bermuda Post Office will be producing special commemorative stamps to mark the conference. The International Churchill Society was established in 1968 to inspire leadership and statesmanship among democratic and freedom-loving people based on the thoughts, words and deeds of Sir Winston.

September 5. Hurricane Fabian ravaged Bermuda. It was the strongest storm to hit Bermuda's coast in four decades. It began mildly when Bermuda woke to winds gusting between 25 mph and 37 mph as Hurricane Fabian had it sights set on Bermuda. The hurricane approached the Island from the south, south-west and moved north. The eye of the storm, which was 50 miles from north to south and 30 miles from east to west, then travelled across the Island bringing the highest winds. The wall of the eye skirted to the West sitting on the Island for about three hours in the north-east quadrant, traditionally the strongest part of the storm. By 5.55 p.m. when the strongest winds of 150 mph were recorded, the Island had already lost four lives on the Causeway. They all died when they were swept from the Causeway during the hurricane. P.C. Stephen Antoine Symons, 37, P.C. Nicole O'Connor, 29, Station Duty Officer, Gladys Saunders, 48, were trapped on the bridge in one car. Stephen Antoine Symons 'Chicken', 37, was one of two officers escorting Station Duty Officer Gladys Saunders, back to her home in Duck's Puddle, Hamilton Parish. A civilian, Manuel Pacheco, 23, an employee of the Corporation of Hamilton, was stuck in a second care behind them at about 2.30 p.m. He was returning home after securing his boat in St. David's. Although attempts were made to save them, fire fighters, police officers and a constructions worker had to abort the mission when the storm became too bad. The body of P.C. Symons was found two days later and the other victims were never seen again. During the day of Fabian there were reported gusts closer to 160 mph, however, around 4.55 p.m. the Bermuda Weather Service's monitoring equipment had shorted as water surged eight feet above sea level and recording stopped for two hours. The Weather Service crew were lucky to still have equipment to monitor after their meteorologist Brian Kolts said that five more knots would have blown the roof off their bombproof US military-made shelter. At about 6.55 p.m., the eye was north of Bermuda and the winds switched direction to come from a westerly direction on the comparatively weaker side of the storm. And by 11.55 p.m the next day, the hurricane winds had officially passed over the Island, with sustained speeds of 40 knots (46 mph) gusting to 52 knots (60 mph) hitting the Island. From then on, there was a steady decline in wind speed as Fabian blew out into the Atlantic northwards, and by 4.55 a.m. on Saturday the Weather Centre was barely registering tropical storm conditions, with sustained winds at 36 knots (41 mph). But what it left in it's wake was anything but calm. Estimated costs for damage from the storm ran in the area of $300 million. Around 25,000 out of 32,000 homes and businesses were left without power, though by mid-afternoon on Sunday, BELCO reported that 11,000 homes had their power restored. A 20-strong team from the Caribbean Electric Association, in Cayman, arrived on the Tuesday to offer help where they could. The East End of the Island, however, was cut-off for days after the Causeway was impassable. Days later it was open to one-way traffic, but still closed at night and finally in October the main artery of the Island was running as normal. Bermuda's hotels suffered, with the majority of the Sonesta Beach Hotel's roof flying off and the Fairmont Southampton also struggled to replace its roof. Fabian conveniently hit at the beginning of the school year and meant the opening of Government schools was delayed a week and they did not open until September 15. St. George's prep spent months recovering after the storm which wreaked havoc on the building and two years after Hurricane Fabian ravaged the Island The Department of Parks and the Ministry of Works and Engineering started repairing the entrance to Church Bay, which was badly damaged. Later, the September 5th Foundation, a registered charity, erected a memorial bench in Kindley Field Park, near to the scene of the tragedy. The foundation since created a scholarship fund for the Fabian victims' children.

September 26. Death of Bermudian Major General Glyn Gilbert, Bermuda's highest ranking officer in the British Army. See full details of his life and military exploits in http://en.wikipedia.org/wiki/Glyn_Gilbert.

October 28. The Bank of Bermuda has accepted an offer from HSBC Holdings Plc, the world's second- largest bank by market value, to be bought for $1.3 billion in cash.

Bank of Bermuda shareholders will receive $45 per share, 16 percent more than the average closing price for the past three months on NASDAQ, London-based HSBC and the Bank of Bermuda said. "The acquisition will significantly enhance our capabilities in some important lines of business," HSBC Chairman Sir John Bond said in a statement. Founded in 1889, Bank of Bermuda has assets of $11.8 billion and 3,000 employees in 13 countries. The lender earned $83.9 million before taxes, or $2.53 a share in 2002, HSBC said, pricing the transaction at about 18 times earnings. Bank of Bermuda's board of directors will recommend that shareholders accept the deal at a special general meeting. The deal has received the support of the Ministry of Finance. The bank's private client business has about 5,000 clients controlling $21.7 billion in assets. It also helps administer about $113 billion in assets for institutional investors. The board of Bank of Bermuda has approved the sale and will recommend it to shareholders, HSBC said. Bank of Bermuda shareholders will receive $40 per share in cash from HSBC and $5 per share from Bank of Bermuda as a special dividend, according to the statement. Bank of Bermuda will pay the dividend before the acquisition is completed. HSBC shares gained 2.5 percent to 865.5 pence in London. Bank of Bermuda shares jumped to $44.88 in afternoon trading. Bank of Bermuda was advised by Merrill Lynch.

November 13. Bank of Bermuda president and CEO Henry Smith yesterday confirmed that he will be leaving his post within a year of the bank being bought out by HSBC.

Although still subject to shareholder and regulatory approval, multinational banking giant HSBC is set to close on its purchase of Bermuda's largest bank, in a deal worth $1.3 billion announced at the end of last month, during the first quarter of next year. Mr. Smith, who will be leaving the bank after 30 years and having worked his way from teller to the post of CEO for the last seven years, said yesterday in an interview with that he hopes that he will be asked to stay involved as a director of the board, and perhaps also continue to be involved with the Bank of Bermuda Foundation. Mr. Smith said: "It is going to get out so I might as well address it. The intent of HSBC is indeed in the spirit of Bermuda law, we are actually obliged by law to have Bermudian minded management, and we are actually obliged to have a predominately Bermudian board. In the spirit of that law, HSBC intends to keep the senior management in place." Mr. Smith added, however, that he and CFO Ed Gomez were not part of that deal. Mr. Gomez is to be replaced by an HSBC appointed chief financial officer and Mr. Smith has been asked to stay on for up to a year, but not more. A Bank of Bermuda spokesperson yesterday said it was too early to determine whether the post of CEO would go to a local management person or an HSBC executive, once Mr. Smith quit that post.

2003. Death in Bermuda of Wing Commander E. M. Ware, then leasing from the Bermuda National Trust the property known as Palmetto House, Devonshire.

2003. Bermuda's Bank of Butterfield established its wholly-owned Barbados subsidiary, Butterfield Bank (Barbados) Ltd. The Barbados subsidiary was established upon the acquisition by Butterfield of the Barbados assets of the Mutual Bank of the Caribbean, Inc, at the time a subsidiary of The Barbados Mutual Life Assurance Society.

2003. The St. George's Renaissance Consortium, backed by Canada-based Quorum, led by Wanda Dorosz, got the nod from the Bermuda Government for a limited-term exclusivity agreement to redevelop the old Club Med hotel.. Costs were estimated at around $80 million and the group wanted to be in business by 2005. They claimed to have spent more than $2 million on the project that would have brought a Four Seasons hotel to Bermuda. The consortium's $220 million plan, unveiled in November 2003, included demolishing the old building and replacing it with a hotel of at least 90 bedrooms and a cottage complex of 90 condominiums, designed in a European style with public squares and fountains. An underground theatre, seating between 400 and 500 people, would be used for cultural events and the consortium had gathered support from several overseas cultural institutions which would have resulted in world-class theatre coming to the island.

2004
January. Bermuda International Airport received high marks in passenger satisfaction surveys, placing first among North American airports in the "Under 15 million passengers" category in 2003 and fourth world-wide in its size category, according to the global airport monitor report that year. Cited were courtesy of staff, security, and check-in facilities.

February 27. Independence? No. Retired lawyer and former United Bermuda Party MP and Cabinet Minister William Cox published 2,000 copies of this epistolatory booklet in which he makes plain that his sympathies lie with maintaining Bermuda's current constitutional position. In a foreword to a collection of seven letters mostly relating to Bermuda's constitutional relationship to the UK, Mr. Cox makes the case that "Bermuda has always benefited from this UK connection and the peace and prosperity we have enjoyed throughout our history and still enjoy is in no small measure due to this connection". He advises that "as with all relationships, if it is to work it must be a two-way street, which means it is necessary for there to be good relations between the Governor and the local Government." Mr. Cox takes successive Governments to task, arguing that while "the UK Government has always gone more than half way to meet the aspirations of the Bermuda Government . . . the Bermuda Government has not displayed the same goodwill in return, especially in the last 30 or so years". He lists a dozen events or factors that have made things difficult for the UK Government to work in harmony with the Bermuda Government over these years, including the 1972 murder of Police Commissioner George Duckett, the 1973 murders of Governor Sir Richard Sharples and his aide-de-camp Captain Hugh Sayers, and the decision of "the Gibbons Government" to hang the perpetrators. He alleges that "the 1983 Swan Government, spearheaded by the Finance Minister David Gibbons, publicly hounded Governor Richard Posnett out of office on trumped-up, spurious charges" and that the Pamela Gordon Government did likewise to Police Commissioner Colin Coxall in 1997. The Progressive Labour Party is not spared: Jennifer Smith is castigated for announcing the holding of a general election in 2002 without telling the Governor, and Premier Alex Scott for using the need for the appointment of a Chief Justice as an excuse to make irresponsible political and personal attacks on the Governor in the media. Mr. Cox warns: "If the Bermuda Government wishes to sever all links with the UK, it must hold a referendum and get a significant majority of Bermudians to support such a move." He suggests that "for members of the Bermuda Government not to observe at least the basic minimum of the courtesies which should be observed in ordinary human relations when dealing with the Governor indicates nothing other than bad breeding and ill manners".

March 9. Campaigning for a referendum as the best means for deciding how Bermuda should decide on whether it should move to Independence is premature, Premier Alex Scott said yesterday.

The Premier pointed out that the focus should be on making sure the populace is fully informed on Independence, and related issues, not on swaying public opinion. He added that Opposition Leader Grant Gibbons should be looking into "the merits of going to Independence, if we should choose to do so, by a General Election". Mr. Scott's call for an open, national discussion on Independence at his party's Founder's Day luncheon on February 29, was initially met with an overall positive reaction. But Dr. Gibbons later called for the Country to first agree on how Bermuda should go about the process of constitutional change and the transition to Independence before embarking on an open discussion. And the Opposition Leader said he was concerned that the Progressive Labour Party still held that the General Election is the best way to gauge the will of the people, and has been pushing his party's position for a referendum. Mr. Scott has already said that his party is willing to be guided by the people on the issue and that based on public feedback, the PLP may well decide to abandon its long held position, a stance not adopted by the United Bermuda Party. He said the discussion has not differed much from that in 1995 when the Country held a referendum on Independence. He agreed that the issue was hugely politicized in 1995. The PLP, in Opposition, urged supporters to boycott the 1995 referendum.

April 1. Bermuda became a 'designated territory' under the Financial Services Act of the United Kingdom. See http://www.fsa.gov.uk/pubs/mou/mou_bermuda.pdf.

April 30. Premier Alex Scott wants a review of Government departments' financial management systems to clamp down on instances of public money going missing.

Last week Government clerk Clayton Albert Busby was jailed for three months after admitting to stealing $159,493.37 from the Government Employee Heath Insurance scheme. Another employee of the Accountant General's department has been charged in the disappearance of $1.9 million. And an Immigration officer is currently on suspension following allegations that money had gone missing.

June. The Washington DC-based World Bank released its World Development Indicators report for 2004, ranking Bermuda #1 in terms of Gross National Income.

June 5. Death of former US President Reagan. See http://en.wikipedia.org/wiki/Ronald_Reagan. Under his Administration Bermuda benefited hugely from US tax and other matters.

July. At the 2004 Summer Olympics, Bermuda competed in sailing, athletics, swimming, diving, triathlon and equestrian events. In those Olympics, Bermuda's Katura Horton-Perinchief made history by becoming the first black female diver to compete in the Olympic Games.

August. An extensive survey was funded by Bermuda-based Atlantic Philanthropies Limited, and resulted in the report "Ageing in Bermuda: Meeting the Needs of Seniors" by Dr. Irene A. Gutheil and Dr. Roslyn H. Chernesky of Fordham University.

October. An America-made car arrived on Bermuda's roads, via Rayclan Limited. The first Chevrolets arrived in Bermuda, with three-quarters of the shipment sold before they hit the docks. Why? Because of the name GM; Chevrolet has a history of being a good car. While the Class D Aveo ($16,500) is by far the most popular model sold by Rayclan, the G Class Optra ($25,500) and Class H Vivant ($26,500) are quickly becoming hot sellers.

November. The Imperial Hotel which stood at the corner of Church and Burnaby Streets in Hamilton for more than a century was demolished. Built in the late 1890s, the hotel – one of the few black establishments on the Island – played a central role in the movement for desegregation. Many famous black people visited the hotel, some from the islands, but most from the United States. One was a young actor named James Edwards who starred in a movie called "Home of the Brave" in 1949, a war movie starring a black protagonist and dealing with racial prejudice. Because of the subject matter, Bermuda's theatres would not show the movie but Mr. Edwards, who came to Bermuda of his own volition – bringing with him his own copy of "Home the Brave". The movie was shown at the Imperial Hotel, and Mr. Edwards traveled throughout Bermuda talking to Bermudians. The Leopards Club also met at the hotel for their famous luncheons, which they broadcast over the radio. At one time, black Bermudians were boycotting the Bermudiana Theatre, which did not allow black people on the basis of being a private club for those of unmixed European descent. A Harvard anthropologist visiting the Island had been invited to speak at a Leopard's Club luncheon at the time and he explained over the radio the science behind the races – and that there was no such thing as an "unmixed" race. At one point, Frederick Yearwood, an immigrant from the Caribbean, owned it. Jardine Gibbons Properties, who bought it and demolished it, will build a five-storey office block in the hotel's place, to be used by the Gibbons Group of Companies as well as a local law firm and others. Pending planning approval the development should start early next year and take around 15 months to complete.

Then-Transport and Tourism Minister Ewart Brown sparked a diplomatic incident when he was accused by the USA of failing to comply with routine security screening at Bermuda International Airport. The US Consulate in Bermuda said Dr. Brown had committed a gross violation of security procedure. US Consul General Dennis Coleman also criticised the Bermuda Government, saying its efforts to foster economic relations with Cuba was sticking a finger in the eye of the USA, which has conducted a long-standing economic embargo of the Communist island.

The Bermuda International Film Festival (BIFF), became an Academy Award qualifying festival. It was launched in 1997 to advance the love of independent film from around the world in Bermuda and to encourage and inspire young Bermudians to capture their very special narrative through a camera lens. It has welcomed numerous celebrities and stars of the film world over the years, including Michael Douglas, Earl Cameron, Willem Defoe and Richard Dreyfuss. While there are more than 1,000 film festivals worldwide, only 62 are Academy Award qualifying festivals and BIFF is one for the Short Film (Live Action) Oscar. Since becoming a qualifying festival in 2004, two of BIFF's Shorts Award winners have gone on to win: Wasp (2005) and Toyland (2009).

The Bermuda Health Council Act 2004 - see http://www.bermudalaws.bm/Laws/Annual%20Laws/2004/Acts/Bermuda%20Health%20Council%20Act%202004.pdf came into effect, introduced by the Minister of Health, the Honourable Nelson B.A. Bascome, JP, MP. It was a development of the initiative shown in 1993 when the Government of Bermuda, in response to community-wide concerns over the escalating cost of healthcare in Bermuda, and a growing public concern over the quality of healthcare services available on the Island at the time, appointed a committee chaired by Senator Oughton, to review the healthcare system. The committee's review, generally known as the "The Oughton Report – 1996″ concluded that while Bermuda generally had a good healthcare system, the system could benefit immensely from improved coordination of its disparate parts and cost containment measures to mitigate the impact of inflation on the system's sustainability. The Oughton Report, and a later report – The Bermuda Healthcare System Redesign Initiative – advanced the idea that a Bermuda Health Council was needed to manage the quality, cost efficiency, and sustainability of Bermuda's healthcare system. From its inception, the Health Council was designed to be a unique entity. It began with a multidisciplinary working committee and three sub-committees (focused on governance and structure, information technology, and legislation) that commenced operations later, in March 2005. The working committee was responsible for establishing the Council's governance structure and guidelines for operation. This was facilitated in partnership with IBM Global Services. Membership selection guidelines and criteria for Council membership were created.

The Elbow Beach Hotel and Development Company was given planning permission to build more than 60 housing units on land adjacent to the hotel property.

Bermuda's air ambulance service, Bermuda Air Medivac, was established, to make trips to take sick people for specialist medical help overseas, to mostly Baltimore, MD and Boston, MA. Patients ranged from head injury and stroke victims to cardiac cases.

December 25. A Christmas Day fire occured at the Devonshire Tynes Bay incinerator area. The Tynes Bay Waste Facility itself was not damaged in the weekend fire and the plant was back in operation following shutdowns for maintenance. The pile of garbage that ignited was generated when one of the existing streams of the plant was taken down for routine maintenance in mid-November. A second stream was taken down to accommodate system upgrades and repair work on the boilers and furnace. This caused 50 to 60 tons of garbage to accumulate daily. Contractors cleared the site and removed debris to the Marsh Folly waste facility. The plant was again fully operational and normal garbage collection and disposal resumed although the Works and Engineering Ministry said no more bulk wood waste will be accepted at the plant until further notice although residents can still take domestic waste. The blaze was being investigated by the Fire Department and arson had not been ruled out.

2005
January 1. The Bermuda Government decreed that Bermuda's seniors who own homes in their own names became exempt from paying land tax from this date. Prior to this change, homes owned by pensioners with an ARV of less than $40,000 were exempt from land tax.

February. Lt. Col. David Burch of the Bermuda Government told foreigners trying to get involve in the Island's debate on Independence to "butt out – this has nothing to do with you" when he addressed the Kiwanis Club of Hamilton.

40th anniversary of riots between Police and workers outside the BELCO gates. Former BIU organizer Ottiwell Simmons was one of those involved. It proved to be a turning point in labour relations in Bermuda in terms of addressing the inequalities between black and white workers.

St. George's residents and Mayor E. Michael Jones expressed concern about raw sewage being pumped into the sea near Tobacco Bay through a broken sewage pipe.

Bermuda is to feature in two documentary films about coral reefs. The films are part of "The Reef Series" being made by award-winning filmmakers Guy and Anita Chaumette.

New regulations were put in place to prevent foreigners buying property on the Island unless they were buying from non-Bermudians. The policy was criticised as working against Bermudians by limiting their options to sell property.

Celebration of the 400th anniversary of the discovery of uninhabited Bermuda by Juan de Bermudez, Captain of La Garza, a Spanish vessel. Bermuda is named after him.

75th anniversary of birth of radio broadcasting in Bermuda (1930) by Thomas Wadson.

March. Plans by the Renaissance Group to redevelop the old Club Med remained on track, with a much-increased cost estimate of $210 million and the Four Seasons hotel chain set to manage the resort.

April 13. The Bank of Bermuda's controversial sale to multinational banking giant HSBC more than a year ago made it part of a vast global network that spans 79 countries.

But what does that mean for bank customers here? On top of upgrades underway at all of the bank's Island branches, bank management say Bank of Bermuda clients, through HSBC, have access to many services which it wasn't possible for the bank to offer when it was a much smaller, albeit global outfit. And in the next year or so, the day will come when bank customers can be universally recognized throughout the multitude of countries HSBC operates in. That means bank customers will be able to get cash and account details from ATMs around the world - at 16,658 HSBC cash points, to be exact. The bank says its integration into the HSBC network is well ahead of schedule - and once the Bank of Bermuda completes its multi-million dollar migration on to HSBC's technological (HUB) system, it will be possible for bank clients to be recognized across the HSBC network. The system is also designed to be more intuitive about customers' buying habits. For example, there are certain dollar amount limits on how much money you can, say, spend or withdraw with a Bank of Bermuda credit card. This will all snap into place with the HSBC HUB system, which is designed to take into consideration a client's individual buying habits. With that information, the bank has the capacity to automatically authorize increases on credit card limits reflective of spending patterns and overall financial stability. But for some of the bank's preferred customers, there is already greater access to the HSBC network through a service designed to give "individual attention to you and your money". The service isn't something you can sign up for, but it's yours if you have $250,000 and up on deposit or invested with the bank. The service - HSBC Premier - was officially launched from a plush and dedicated fifth floor space at the bank's Front Street headquarters on Monday. But the Bank of Bermuda already knows customers like the service, having been operating in a "soft" mode for several months.

May 5. BELCO completed the 20-year development of the East Power Station, officially bringing the last of eight new engines online. At the same time, the Company began working on a new integrated resources plan for the next 20 years, taking into account the Island's development and emerging issues, including renewable energy and sustainable development

Tourism Minister Ewart Brown came under fire from one of his predecessors for an apparent "about-face" over mega-ships. Former UBP Minister Jim Woolridge condemned Dr. Brown's decision to invite mega-ships to the island and extend the cruise ship season until November, pointing to a statement made by the doctor five years earlier in which he said mega-ships would never be welcomed in Bermuda. Dr. Brown was also attacked after the Mid-Ocean News revealed that he attended a banquet hosted by the Reverend Al Sharpton in the USA – at the expense of taxpayers.

July was a particularly hot month for Government which was even blamed for the weather. A lack of rain had water dealers working around the clock – and chastising the Ministry of Works & Engineering for failing to maintain leaky water tanks.

An extensive fire at the Belco plant caused an island-wide blackout. The flames took 29 hours to extinguish with up to 75 firefighters battling the blaze at any one time. Fire inspectors had examined the power plant just weeks before the fire, a precaution that helped them contain the damage.

Bermudians without family ties to the UK are unlikely retain a British passport if Bermuda goes independent, according to a letter from Governor Sir John Vereker to the Bermuda Independence Commission.

June. The 30th Regional Conference of the Caribbean, Americas and the Atlantic Region of the Commonwealth Parliamentary Association was held in Bermuda,

Originally built by Shell Oil, the refitted Niobe Corinthian first came to Bermuda waters in 2005 as a floating casino but it was dogged by controversy from the beginning. Its operators sidestepped the island's anti-gaming laws and the 175ft ship operated 12 miles offshore in international waters, where gambling became legal. (But the ship still had to use Bermuda as its home port, and police raided it in August 2006, seizing 100 gaming machines. Then captain, Fermin Reyes, was arrested along with manager George Kezas, and later convicted of illegally importing the machines into Bermuda).

20th July. The body of young, wealthy accountant and businessman Peter Dimitri Pappas, 37, was discovered hanging in a clothes closet in Bermuda. The official legal inquiry to unearth the facts relating to his death - the Coroner's Inquest - has been repeatedly postponed. He was a US citizen, a long-time resident, certified public accountant and businessman in the Cayman Islands who was visiting Bermuda for personal and business reasons. He is survived by his parents, Sue Kongsli and Jack Pappas of Knoxville, Tennessee.

July 20. Envirotalk, the publication of the Bermuda Government's Department of Environmental Protection, ceased publication. Before that, it had been published monthly and was highly regarded.

July 20. Closure of the Admiralty House Community Centre, with the demolition of the Admiralty House office, restaurant, library and kitchen. The ballroom was placed under special government preservation but nothing has been done to-date to restore its rich Royal Navy heritage.

July 22. The Bermudian Publishing Company announced yesterday it will cut publication of its namesake 'The Bermudian' magazine from 12 issues a year to four in 2006 and will be making two of the company's four jobs redundant.

The company will also print its publications overseas and relocate to an office outside of Hamilton, all in a bid to cut costs.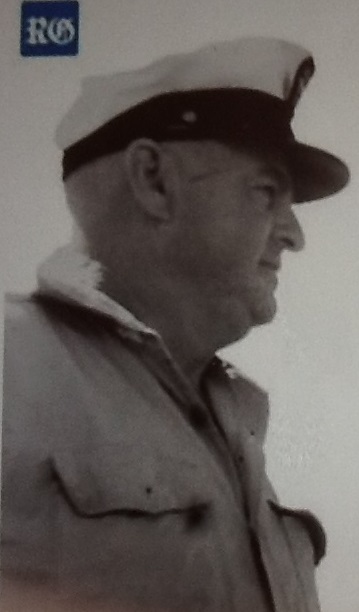 August 30. In the old days Bermudian children who misbehaved were threatened with being "put in canvas". It was a reference to the canvas uniform worn by boys at the Nonsuch Island Training School that operated in Bermuda in the 1940s and 1950s. The grandson of Arthur St. George Tucker, the first superintendent of the training school, was on the Island last month to carry out research for a book about the school. "Really, the purpose to being here in Bermuda is to see if there is anyone on the Island who has recollections of this or has anything they would like to say,? said Dr. Arthur Tudor Tucker II. "A lot of the children who would have been in the programme are rather elderly now. We did put an advertisement in and we have had a few people come back to us." Dr. Tucker is not a writer by trade and is looking for someone to ghost write the book. He is currently a state registered clinical scientist and honorary senior lecturer at the Ernest Cooke Clinical Micro vascular Unit at St. Bartholomew's Hospital in London, England. During the First World War, his grandfather, Arthur St. George Tucker, was in the Royal Navy as a gunner. He was wounded in the Battle of Jutland and was invalided out towards the end of the war. After the war ended he married Elsie Green, and the couple were put in charge of the quarantine station at Nonsuch Island. During this period two boys who were considered too young to be sent to prison were sent to help Mr. Tucker. This inspired Mr. Tucker and his wife to open the training school. It opened in January 1934. "Until my grandfather retired in 1958 some 276 boys passed through the school with over 80 percent not re-offending " - a record that clearly has lessons to teach us in the current day" said Dr. Tucker. The school ran along military lines, and the boys were taught the principles of naval routine and discipline. They received a formal education as well as training in practical things such as cooking, bakery, seamanship, knots, sail making and repair and engine repair."The situation in Bermuda at the time was that your petty crime was out of control" Dr. Tucker said. "This is potentially based on people's feelings about themselves, the despair of the younger generation on the Island. I think after the First World War there was a lack of direction in Bermuda. There was very little work. I have heard tales of rum running and all sorts of strange behaviors just to make ends meet." Dr. Tucker said that with all the problems that today's youth are experiencing in Bermuda, he has often heard that something similar to the training school should be tried again. "My grandparents gave these kids the discipline which was necessary, but also a degree of self worth and self belief which is critical to training children," said Dr. Tucker. The training school was not without excitement. Shortly before the training school opened Nonsuch Island was the headquarters of marine scientist Dr William Beebe and his bathysphere team. Mr Tucker was skipper of the deep-sea tugboat that transported and lowered Dr. Beebe and the bathysphere into the ocean. Later, the training school boys would sometimes help Dr. Beebe with his projects. Today Dr. Tucker, still has some of the original Beebe dive footage. The training school also had some unusual residents. In 1941, during the Second War World, a Nazi spy called Ruth Belcher, was transferred to the training camp at Nonsuch Island from St. George's. Dr. Tucker was inspired to write a book about the training school when he recently came into possession of documents relating to the school. "I have the original ledgers from the training school including things like the accounts, how much was spent per boy, a list of all the boy's names, when they were taken to the school and when they were eventually discharged. I have only just come into receipt of the ledgers, but it has some very interesting details. For example, the ledgers show that the boys were well fed. Malnourishment on the Island was quite common, and today malnourishment is an issue, which is worrying considering this is one of the most affluent places on the planet." At the training school boys slept in hammocks. According to Mr. Tucker's notes, this was to prevent lounging and to a great extent other practices. When the boys were punished they were made to walk around the Island carrying their hammocks on their shoulders. As a reward, well behaved boys were allowed to go with Mr. Tucker to town to get supplies and go to the cinema. Among Dr. Tucker's documents are notes and memories written by his grandfather. Mr. Tucker wrote: "If a crime is committed, let's say stealing, wilful damage to property, or anything likely to upset the ordinary tranquility of the ship (the school), we have an enquiry on the quarter-deck, and if found out, which is generally the case the guilty party lands in the Captain's report." Mr. Tucker's wife Elsie acted as matron and nurse to the boys, and the couple treated the boys like their own children, even though they had three sons and a daughter of their own. "My father, Arthur Tudor Tucker I, use to tell me that at Christmas he didn't get his meal or his presents until the boys had been looked after" said Dr. Tucker. "The boys got priority. It wasn't a regime of brutality. These were disaffected young men. As you do in the military you take all the negative and you rebuild it the way you want it to be. You can't judge what was done 50 years ago by current standards. It's always tempting to do so, and say we couldn't possibly do it this way. You have to also think about the self reliance they were taught, the life skills." However, Mr. Tucker's own thoughts on the causes of delinquency were surprisingly progressive and insightful. He wrote: "It should be borne in minds that every single boy needs individual attention. He has his own problems, sometimes bordering on the tragic. If you get to know him, then you may help him over a difficult period. There is a tendency to get rid of a very difficult boy by transferring him to the Senior Training School for the convenience of the staff. This is wrong; it would be hard but rewarding work if he can be retained. Some of the most resistant boys have turned out the best. The officer who is not really fond of children and cannot find pleasure in their company is not a suitable person to train and teach them. If a boy is misjudged or blamed unjustly, no time should be lost in putting right, even by humble apology on the part of the officer. Thereby he gains the boys? respect. A boy should never be misinformed, if the officer does not know the answer to a question, he should tell him so, and then find out for him. The boy will appreciate it." Mr. Tucker believed that many boys misbehaved either out of desperation or because they had never had a better example to follow. He listed unsatisfactory homes, overcrowding, parental neglect and discontent, and the bad influence of comic books and movies as some of the reasons boys went wrong. "Not many years ago families went out together, on picnics, often rowing miles in a small boat," Mr. Tucker wrote. "One, these days, seldom sees the older minor with his parents. Why? Because the latter are too busy having a good time themselves, leaving the former to their own devices, probably some mad cycle ride through the parishes, there meeting others. And then what? The smaller children being left with, grandmother." He believed that some cures included schools equipped with properly supervised playgrounds, not necessarily the norm in the 1930s. "There are too many advisors, and not enough hard workers who are willing to make the necessary sacrifices, to effectively help these youngsters. We seldom have any real trouble, and then mostly by a boy who has been sent down late ? say about 14 to 16 years, but they knuckle down after awhile." Mr. Tucker and his brothers, Dickey and Edmund, all received MBEs for service to the Queen during their lifetimes. Mr. Tucker died in 1958 not long after handing the reins of the school over to someone else. "I would be interested in hearing from anyone who knew my grandfather or father" said Dr. Tucker. "I am particularly interested in those who passed through the school or who were associated with it and their memories and recollections of their time there. The experiences gained, good and bad to help maintain the balance of this record. It is the heartfelt wish of the Tucker family to commit these experiences to print for the benefit of posterity and for the common interest of all Onions. Furthermore, we are seeking a local researcher to assist in the compilation of this text."

September 12. Two years after Hurricane Fabian ravaged the Island The Department of Parks and the Ministry of Works and Engineering are teaming up to repair the entrance to Church Bay, which was badly damaged by the hurricane.

Workers will be building a new boardwalk and stairs to replace the damaged access, pictured right. The beach will remain closed until the end of 2005 so that construction can start.

Auditor General Larry Dennis expressed alarm at another proposed change if Bermuda became Independent – that future holders of the post will be hired by the Public Services Commission on limited terms. Mr. Dennis told the BIC that an auditor appointed by a Government body would be compromised while the idea of a limited term would deter the most capable applicants. In the same week, business executives told the BIC that Independence would not necessarily trigger an exodus of international businesses. Former Attorney General Lois Browne Evans kept the issue bubbling with a further proposal – that an Independent Bermuda should drop the UK Privy Council in favour of the trouble-hit Caribbean Court of Justice. The UK Privy Council is the island's highest court of appeal. International business representative David Ezekiel said such a move had the potential to cause widespread instability in the off-shore sector. When the BIC finally submitted its completed report to the public, it was condemned for containing a glaring inaccuracy on the issue of Independence. The report read: "The Commission learned that, in many cases, the decision on Independence was determined by means of a general election and, in no instance, did the Commission discover the use of a referendum." Pressure group Bermudians For Referendum said the claim was totally inaccurate and illustrated the Commission's bias towards Independence being decided by election rather than referendum.

Following talks with the UK's Parliamentary Under-Secretary of State in London, Premier Scott revealed details of the meeting to the island's media. He said that his proposal for Independence to be decided by way of a joint referendum and General Election was met with some interest by the British delegation who ruled that "such a unique solution of election and referendum would not necessarily be out of the equation". A Whitehall source later revealed that the UK Government was embarrassed by the leak, adding that protocol forbade either party speaking out on the behind-closed doors talks.

Kofi Annan, Secretary-General of the United Nations, visited Bermuda briefly with his wife. Nane. Mr Annan was a Ghanaian diplomat and Nobel Prize laureate. The couple attended a tree-planting ceremony at Government House with Governor Sir John Vereker. Mr Annan and Sir John frequently worked together when Sir John was Permanent Secretary for International Aid and Development in the UK, the post he held before becoming Governor. Sheilagh Head, a local painter, said she was shocked to have Mr Annan come to her studio. She said: "I got a call from the UN in New York and they asked if I was available for a visit from the Secretary-General. I took it as some artist friend having a joke. They said they were serious, but I still didn't really believe it. I said I'm still not going to clean up my studio. About an hour later two guys show up with Bermuda policemen and said they were here for the visit from Kofi Annan." Ms Head described Mr Annan as a true gentleman and a statesman. She said: "I was honored to meet him, and honored to chat with him for an hour. I followed his career like everyone else. I think he was one of the last true statesmen." Ms Head added: "I remember he had the most incredible eyes. I suppose as a painter I look for peoples eyes." Mr Annan was appointed the seventh Secretary-General in 1997, and his achievements in the post won him a Nobel Peace Prize in 2001. He was re-elected to the post in 2006 and served until the end of his second term in 2007. He later served as a special UN envoy for Syria, working to end the conflict there.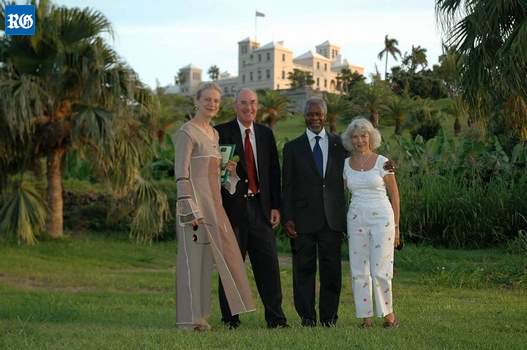 Kofi Annan and party in Bermuda
The Isle of Man and Bermuda became locked in a contest over satellite slot rights. The Isle of Man had intentions to use the satellite slot to earn potentially hundred of millions of extra dollars. But Bermuda counter-claimed to safeguard its slice of outer space.
The issue of Independence came to the boil, with Premier Alex Scott blasting Governor John Vereker over public remarks made at the Speaker's Dinner. Sir John reiterated to his audience that the UK would withdraw citizenship from an Independent Bermuda – a claim Mr. Scott described as "premature and inappropriate. Responding to questions put to him by the Bermuda Independence Commission, the Premier said he gave the Governor a dressing-down, accusing him of allowing an octogenarian anti-Independence activist "right of Attila the Hun" to write his speeches. "I thought it was premature, inappropriate at the time, and it may have, in my opinion, misled the public because some of what he said will be discussed with the British before it becomes engraved in granite," Mr. Scott told BIC commissioners.
New Works & Engineering and Housing Minister David Burch was accused of breaching Cabinet rules by continuing to host his Sunday night radio show after being appointed to the Ministry. The Premier eventually rejected Opposition calls for the show to be plugged, saying the code did not prohibit Ministers from practicing journalism. But the Opposition was further outraged when UBP Senator Gina Spence Farmer was told that she could not help produce a radio show presented by Bermuda College students – because of a supposed conflict of interest. The College, whose chairman is a Government Senator, told students that the programme might become political with Sen. Spence Farmer at the helm. Minister Burch kept his radio show in the spotlight by referring to programme callers critical of Government as "house niggers." Another caller took the Minister to the Human Rights Commission after alleging that the host cut her off after she confirmed she was white. Minister Burch also came under attack after defending the cost of the Berkeley school project. At a Press conference, he claimed that the final cost of the building would be $121.7 million – just $23 million over the original estimate. But Shadow Minister Patricia Gordon-Pamplin then accused Col. Burch of trying to mislead the country. She pointed out that Government figures released by Finance Minister Eugene Cox in 2000 put the total cost of the project at $71.2 million – and that the final cost of the school would be more than $50 million over budget. "How gullible does Sen. Burch believe the people of Bermuda to be when he attempts to mislead them with a statement that the project is only $23 million over budget?" she asked.
Opposition Health spokeswoman Louise Jackson defended the rights of seniors by exposing supposed neglect at a Government nursing home. Mrs. Jackson revealed to the Mid-Ocean News that seniors were living in sub-standard conditions at the Pembroke Nursing Home while disgruntled and non-accountable staff failed to provide adequate care.
When in this year 2005 the US Congress passed a bill to extend daylight savings time by a month the Bermuda House of Assembly passed the Time Zone Bill, which keeps Bermuda in line with the US change. Bermuda follows the USA, on the same day, a week later than in the UK and Europe.
Architect Ian Gordon questioned a Government proposal to place prefabricated homes at Morgan's Point, adding that a requirement for an environmental impact study to be carried out before any development got under way appeared to have been waived. And he said contaminants already recorded at the location could be spread through water run-off from the temporary homes.
The Bank of Bermuda's plans to build a new head office on the site of the former Trimingham's store were thrown into further controversy when the Mid-Ocean News revealed that Government – which has the final say on whether the plan can go ahead – was looking at buying up the bank's former properties if the project gets Planning approval. The bank was also condemned for "consigning Bermuda's history to the trash can" after it removed a series of parish crests that had been decorating the facade of its current head office for more than 30 years. The Bermuda Historical Society accused the bank and its parent company, HSBC, of trying to re-write history.
Government passed legislation requiring all taxi operators to have GPS units installed in their vehicles, despite the objections of many drivers. While the operators were initially given a deadline of February 2006 to install the devices, that deadline was pushed back for more than five years due to slow adoption rates and a batch of faulty systems.
The new organization Friends of St Peter's was formed under the patronage of the Duke of York. The first major undertaking of this organization was the refurbishing of the St Peter's tower clock. Apparently it ceased working about 50 years ago and was subsequently dismantled and its inner parts stored somewhere within the church. The clock's face was taken and stored in an outbuilding at St Peter's rectory. The clock face was replaced with a replica, made of fibreglass. The remarkable thing is that most of the clock's parts, when found, were still largely intact, with only a few minor parts missing. The clock was originally purchased by John Till in 1815, but sometime in the mid-20th century it was damaged in a storm and then replaced by an electric clock with an electric bell. It is believed that the original clock was repaired by the same firm that actually made it in 1815, namely Thwaites and Reed, of Brighton, England. The tower itself, was built in 1814. St Peter's has evolved over the centuries. The original church, a wood and thatch structure, lasted only a short while before being destroyed in a storm. This was replaced by a more substantial building and this is the one depicted in Captain Smith's illustration of 1624. Eventually the church was replaced by a stone structure, but with substantial amount of timber from the original building. Over the years since, various wings have also been added. The Victorian Gothic entrance that we see today, dates from 1841. Although we all refer to the parish church in St George's as St Peter's, it has only been known by that name since 1826, when the church was consecrated by Bishop Inglis. Before that it was known as the St George's town church or more simply, the town church.
Health Minister Patrice Minors hit the headlines after she lashed at out the Salvation Army. The charity cried foul – and called for more funding – after Government confirmed it was spending nearly $1.5 million refurbishing the Premier's official residence, Clifton. When the organization said the money could have been spent on a new homeless shelter – something which has been continually promised by Government in recent years but always shelved at the last minute – Mrs. Minors said she was "fed up" with the charity's request for more cash.
The construction industry had concerns after the West End Development Corporation failed to secure a deal with cement giant Cemex to take over the Bermuda Cement Company.
National Dance Foundation of Bermuda (NDFB) amalgamated with the Bermuda Ballet Association (BBA).
November 18. 50th Anniversary of Bermuda Orchid Society was celebrated with the issue of four orchid stamps.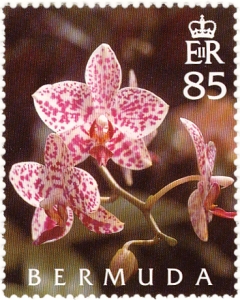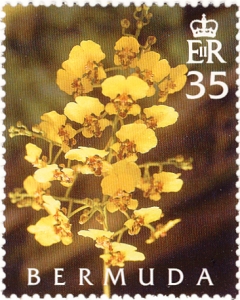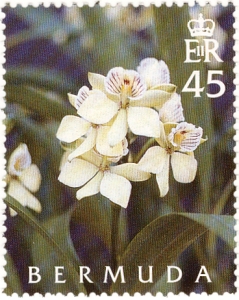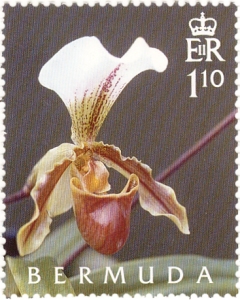 Bermuda stamps 2005 for orchids

December 2. Should MPs and Ministers get another pay rise? That is the question being addressed by an independent board that has been meeting to establish whether our Parliamentarians receive sufficient remuneration. The Board must report on its recommendations this month. The Ministers and Parliamentarians Salary Review Board was set up by legislation enacted this summer in an effort to end the recurring controversy that flares up every time MPs vote for a pay rise for themselves. The Board comprises an eight-person committee including an accountant, a lawyer or judge, a retired MP, two members nominated by the Opposition and three people appointed by the Premier. Under the Ministers and members of the Legislature (Salaries and Pensions) Amendment Act 2005, the Board must make recommendations in the form of a report to be presented to the House no later than December 31 this year. MPs awarded themselves a 4.5 per cent pay rise in March this year, which was above the rate of inflation, but in line with the pay increase given to civil servants. MPs are currently paid $39,428 while Senators receive $26,287. Premier Alex Scott is paid $111,714 while Deputy Premier Ewart Brown receives an annual parliamentary salary of $88,713, and Attorney General Larry Mussenden gets $110,254. Cabinet Ministers earn $37,730 in addition to their salaries as MPs or Senators.

December 5. The Renaissance group, with its $220 million worth of financing in place and apparently primed to press ahead with its redevelopment of the old Club Med hotel site, was dealt a major blow when it appeared Government stopped talking to it.

December 7. From Ord Road to Court Street and from Royal Naval Field, Somerset to North Shore Road, Crawl, drug pushers are now an ever-present of Bermudian life. Whole neighbourhoods have ceded control or live in an uneasy truce, trying to keep their children out of the pusher's clutches. And the tentacles keep spreading, blighting the island's recreational spaces. Daylight drug dealing has been seen in Shelly Bay field car park while addicts have been spotted desperately hunting for a drugs drop off in secluded Devonshire Bay. Where are the Police, comes the constant cry? Well, eight years ago the Police took on the drug dealers head on when Commissioner Colin Coxall unleashed Operation Cleansweep. The strategy, months in the planning, was to round up the street level dealers and then work upwards to the big men. But then the politics came into it. Already the whipping boy of the Progressive Labour Party before he had even set foot on the Island, Mr. Coxall then earned the wrath of the ruling United Bermuda Party when cabinet member John Irving Pearman's name came up during investigations. Despite slashing crime and having the dealers on the run Mr. Coxall was forced out even before completing his three-year tenure. Unpopular among the powerful during his time here Mr. Coxall has since experienced an upsurge in popularity. Two year's after his departure PLP backbencher Derrick Burgess said Mr. Coxall was "the best thing since Jesus" while new anti-drug supremo Wayne Perinchief, ironically forced out of the Police by Mr. Coxall, recently also hailed Cleansweep as much needed. This week Mr. Coxall spoke about his aborted mission, halted just before it got to the rotten heart of the Island's drugs network. He was in no doubt about the importance of that mission. Keen to understand Bermuda's criminal population after being "parachuted in" he set up surveys of Bermuda's criminal population. It showed more than 90 percent of those arrested had a drug dependency. With crime rising at about 20 percent per annum Mr. Coxall, backed by Governor Lord Waddington, saw breaking the back of the drugs problem as vital to cracking crime which was hurting tourism through street muggings and burglaries at guest apartments. Detective Superintendent Paul Hoare was seconded from Scotland Yard, the nerve centre of the British constabulary, to head up a purge on street dealers. Sometimes dismissed as the small fry of the drug world, Mr. Coxall points out that in Bermuda the front line pushers were very rich men by anybody's standards. Intelligence gathered by Police and undercover officers borrowed from the DEA (Drug Enforcement Administration) found that individual drug sites were making $20,000 per day or more than $3 million a year. A half gram or bag of cannabis that would sell for $2.50 in the US was costing ten times that on Bermuda streets. Other drugs yielded similar exorbitant profits. By making the streets a no-go area for the pushers Police hoped to force the criminals to start dealing from premises which would leave them vulnerable to having the premises confiscated. Next on the hit list were the big men behind the operations. An offshore boat was loaned from the DEA to catch drug drop-offs beyond the reef. But key to the plan was to trace the drugs back to the American sources by analyzing how they had been mixed. By studying the tell-tale chemical breakdowns it would be possible to work out which crime gangs in America were selling to Bermuda. Although he believes there were perhaps six or so major importers he estimates they could have been dealing with just two suppliers in America. Further intelligence gathering in the States, perhaps via moles planted into the drug barons operations, would then reveal the names of the bulk buyers in Bermuda. He was confident the plan would have worked, given the excellent working relationship with the American authorities. Then the Pearman affair ratcheted up the pressure on the Commissioner, eventually forcing Mr. Coxall's resignation. No action was taken against Mr. Pearman through lack of evidence. Now the dealers are back out in the open and Bermuda's drug problem seems worse than ever. It is not likely to change under the present approach argued Mr. Coxall. Although frustrated by the failure to get political backing, Mr. Coxall – a high-flyer before his doomed Bermuda adventure – has hardly had problems finding work since returning to the UK. He is now employed as a strategic security advisor to Capita Symonds.

December 15. Describing it as one of their most productive annual meetings, Government and hotel owners met at the Fairmont Southampton Hotel yesterday.

The meetings are an opportunity for both sides to discuss strategies to improve tourism arrival figures and hotel occupancy, key issues facing the Island's hoteliers and the importance of partnership and co-operation between Government and hoteliers. Premier Alex Scott told delegates that while there is no magic answer to how Bermuda can remain competitive in a fiercely competitive market, he was grateful that both groups were committed to combining their time, energy and resources to revitalizing the Bermuda tourism product. It was important for hotels to try and attract young Bermudians into the industry. A financial update and report on the hotel industry as one of the country's largest employers was given by the president-elect of the BHA and general manager of Elbow Beach Hotel. The presentation pointed out clearly what the challenges are facing hotels in the current economic environment in Bermuda. Discussions also focused on the issues of the high costs of airfares to Bermuda, enhancing the destination experience for visitors, the branding of Bermuda's image, revitalizing the entertainment offered to visitors and mixed-use development of hotel properties. Tourism Minister Ewart Brown told the meeting of several positive initiatives already being worked on by his Ministry that he believed would improve the Bermuda tourism product. He said he was looking forward to working with the hoteliers to achieve a resolution of outstanding issues including changes to the Hotel Concessions Act which will be debated in the House of Assembly tomorrow. At the close of the meeting, the delegates resolved to meet early in the new year to report on a number of resolutions that had been put forward. The Premier underscored the need for a collective team approach regarding tourism.

December 16. The Bermuda Police Service is headed by George Jackson. He became Police Commissioner when Jonathan Smith stepped down. His 2005/2006 salary is $137,000. He is Bermudian, born in St. Vincent. He joined the service in 1975. Roseanda Young is the new Deputy Commissioner.

December 16. One of the biggest political rows of 2005 erupted when Government backbencher Renée Webb sought to introduce legislation protecting gays from discrimination. The former Minister planned to force MPs to vote on the issue after tabling an additional amendment to a bill on the Human Rights Act brought by Community Affairs Minister Dale Butler. But MPs dodged the issue after Mr. Butler's original bill was dropped from the House of Assembly's order paper at the last minute.

December 20. The House of Assembly voted to open Bermuda's books to the world in order to put an end to negative opinions in the world press that the Island was a tax haven. Finance Minister Paula Cox introduced the International Cooperation (Tax Information Exchange Agreements) Act 2005 in the House of Assembly on Friday by saying it was to effect information exchange with other countries through Tax Information Exchange Agreements (TIEA). Bermuda began negotiations with Australia in May 2004, Ms Cox said, but on November 10, 2005 Bermuda signed a TIEA with Australia. This bill is umbrella legislation to allow TIEAs to take place with other countries, in order to adhere to fair tax competition principles outlined by the Organisation for Economic Cooperation and Development (OECD) which Bermuda signed up to in June 2000. There had been some negative press in Australia about Bermuda, she said, which had been turned around by meetings with the OECD. "I understand that both Australia and Bermuda are committed to ensure that their financial sectors are not used for money laundering or the financing of terrorism," Ms Cox quoted OECD Chairman on Fiscal Affairs Bill McCloskey. "Bermuda has already has a strong track-record in this respect. As a result Bermuda was not included in the OECD list of Tax Havens," Ms Cox said. "Bermuda's strategic position of constructive engagement with the OECD has been vindicated as almost every jurisdiction that did not make the commitment in 2000 and found themselves on the 2000 OECD list of Tax Havens has now given the commitment and has been removed from the list." She said Bermuda was negotiating with the UK for a TIEA and was in diplomatic communications with Mexico. A TIEA would benefit Bermuda's economy, as it would enhance trade in financial services and improve commercial relations. "As such it is important to our national economic interest that Bermuda directly negotiates with such countries. A TIEA can only be embarked upon with express consent by the Governor acting on behalf of the UK Government. However, Bermuda's letter of entrustment from the UK only grants permission to have a TIEA with OECD or European Union countries, which could have ramifications as Bermuda industry was interested in business opportunities in South America. The OECD has active relationships with some 70 other countries, NGO's and civil society. The OECD encourages non-OECD countries with large economies to support OECD standard of transparency and mechanisms for effective exchange of information." Heads of the G-8 in Gleneagles this summer endorsed transparency. Bermuda's first TIEA was with the US in 1988. However, Opposition Leader Grant Gibbons said it was a disgrace and disrespectful that the Opposition had not seen the TIEA connected to the bill. Since the US TIEA in 1988 there had been a shift away from placing the burden of proof on foreign investigators, to Bermuda giving them the information asked for barring exceptional circumstances. However, Ms Cox countered that anyone who asked for a copy of the agreement had been given one, however, but it would not be tabled in the House of Assembly until after Australia signed it. The Minister said she had the discretion to decline a request for assistance if it was not in Bermuda or if it was from a period over six years prior to the tax period subject to investigation. "The information to be requested must only relate to a taxpayer being investigated and the person served need not deliver more information than that which relates to a taxpayer," she said. "This ground is intended to limit fishing expeditions." Countries who wanted to engage in a TIEA would make a request at the Attorney General's Chambers and the Ministry of Finance. The bill was passed in committee and was sent to the Senate.

December 23. Stanley Gibbons Group Ltd, noted rare stamp dealers, launched the Bermuda domiciled and incorporated Rare Stamp Investment Fund, with legal advisor Cox Hallett and Wilkinson.

2005. The Bermuda Captive Owners Association (BCOA) was created, with the general intent of establishing a forum for the exchange of ideas and to promote the interest of their captives.

2005. The Bermuda Government abolished estate or death duties. Until then, estate or death duties were levied on all residents who own real estate or other property others inherited.

2005. Bermuda's Lost at Sea Memorial in St David's was created by Bermudian artist Bill Mussy Ming.


Authored, researched, compiled and website-managed by Keith A. Forbes. Last Updated: July 8, 2020
Multi-national © 2020. All Rights Reserved