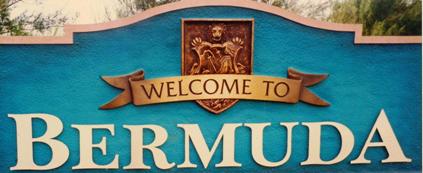 165+ web files, a regularly updated Gazetteer, overall an in-depth description of our island's internally self-governing British Overseas Territory 900 miles north of the Caribbean, 600 miles east of North Carolina, USA. With accommodation options, airlines, airport, actors, actresses, aviation, banks, beaches, Bermuda Dollar, Bermuda Government, Bermuda-incorporated businesses and companies including insurers and reinsurers, Bermudians, books and publications, bridges and causeway, charities, churches, citizenship by Status, City of Hamilton, commerce, communities, credit cards, cruise ships, cuisine, currency, disability accessibility, Devonshire Parish, districts, Dockyard, economy, education, employers, employment, environment, executorships, fauna, ferries, flora, former military bases, forts, gardens, geography, getting around, golf, guest houses, highways, history, historic properties, Hamilton, House of Assembly, housing, hotels, immigration, import duties, internet access, islands, laws, legal system and legislators, main roads, marriages, media, members of parliament, money, motor vehicles, municipalities, music and musicians, newcomers, newspaper, media, organizations, parks, parishes, Paget, Pembroke, performing artists, residents, pensions, political parties, postage stamps, public holidays, public transportation, railway trail, real estate, registries of aircraft and ships, religions, Royal Naval Dockyard, Sandys, senior citizens, Smith's, Somerset Village, Southampton, St. David's Island, St George's, Spanish Point, Spittal Pond, sports, taxes, telecommunications, time zone, traditions, tourism, Town of St. George, Tucker's Town, utilities, water sports, Warwick, weather, wildlife, work permits.

Bermuda's 2007 May History
News and significant events in the fifth month of this year

By Keith Archibald Forbes (see About Us) exclusively for Bermuda Online

See end of this file for all of our many History files

2007. May 1. A Bermuda-registered company has received approval in the US to conduct a large, randomized study to track the effectiveness of a vaccine being developed to help smokers break their addiction to nicotine.

Celtic Pharma has been given clearance for a Investigational New Drug application (IND) for its vaccine TA-NIC. The vaccine is said to work by causing nicotine that enters a patient's bloodstream to encounter and then be bound by the TA-NIC vaccine, which creates an antibody too large to cross the blood-brain barrier and therefore reduces or eliminates any pleasure-giving stimulation from the nicotine. The treatment is designed to curb the craving for nicotine and lead to smokers giving up the habit. Previously the vaccine has been tested in 120 smokers in the UK, where it showed a level of effectiveness without any unexpected adverse events. The new US study, under the IND, is designed to assess the efficacy and safety of TA-NIC in managing smoking cessation when given in conjunction with standard support treatments. It is a double-blind, multi-centre dose-ranging trial, enrolling up to 200 patients in each of three treatment arms. The primary endpoint of the study is the abstinence rate at six months. Michael Earl, commercial director at Celtic Pharma Development Services, said: "There is an urgent need for a more effective treatment for nicotine addiction with nearly 5 million people dying each year from tobacco use, according to the World Health Organisation. "With more than 1.2 billion people globally still smoking, the WHO predicts half of those will eventually be killed by tobacco. TA-NIC has the potential to be a key driver in the treatment of nicotine addiction. Given the potential of this product, we are already seeing considerable interest from pharmaceutical companies who may want to acquire this product when the results of this study are available." Stephen Evans-Freke and John Mayo, managing general partners of Celtic Pharma, which is based in Bermuda with offices in New York and London, said: "This is a significant milestone in the development of an effective treatment for all smokers wanting to quit. There are several nicotine addiction vaccines in development, but TA-NIC is the first to enter a robust randomized study to evaluate the effectiveness of TA-NIC as a treatment for nicotine addiction."

May 2. A free late-night minibus service is being launched to help cut the number of drunk drivers on Bermuda's roads.

Two vehicles will pick drinkers up from opposite the Emporium Building in Front Street in the early hours of Saturday mornings, under the scheme launched by the Centre for Alcohol and Drug Abuse Prevention (CADA). However, taxi drivers last night reacted angrily to the news and accused organizers of "taking bread and butter from our mouths". They say they have relied on the custom of late-night revelers for years and claim they were not consulted properly over the move. Announcing the "Let Us Drive" initiative yesterday, CADA said one minibus would head to the west end and the other to the east, dropping passengers at their homes or as near as possible. The vehicles will make two trips from Front Street each, at 1.15 a.m. and 3.15 a.m. Each minibus — supplied by the St. George's and West End Minibus Company — seats 15 people, meaning a total of 60 will be taken home throughout the course of the evening. CADA said it was reacting to research showing that more than half of fatalities on Bermuda's roads in 2005 involved alcohol or drugs. Speaking at a press conference, CADA chairman Anthony Santucci said: "CADA remains committed to reducing the number of alcohol related deaths and accidents on Bermuda's roads." Reacting last night, Gilbert Trott, president of Bermuda Taxi Association, said: "We are totally opposed to it. I don't see the relevance. Offering transportation to people is not going to curb drinking and driving. If you have got a problem with drinking and driving, you have got to stop alcohol. The taxi industry has been driving drunk people since taxis have been introduced, not only on Fridays but every night of the week. What does this do for our livelihood? We were only consulted at the last minute, and I told them what I thought. CADA can cancel their minibus and leave it to the taxi drivers here who have been doing this the whole time." Michael Ray, president of BTA Dispatching, said: "What about the guys who are working the shifts? You are just taking bread and butter right out of the taxi drivers' mouths. It would have been manners to approach the three dispatching companies about this. We could have made an offer to help. I was not approached. I support the concept of having drunk people off the roads, but they should not be taking our bread and butter away." Mr. Santucci said: "I want to be very clear, it is not CADA's intention to in any way usurp the ability of taxi drivers to continue to provide services at these times. We are simply providing an alternative to drinking and driving and possibly saving a life in the process." The scheme is being sponsored by Bacardi and will initially operate on an eight-week trial basis, beginning this Saturday. It comes after CADA's successful "Don't Drink and Drive" public awareness campaign. Bacardi Limited's human resources director Alana Rogers said: "Bacardi Limited is proud to sponsor this important initiative. We believe our products should be enjoyed responsibly and this service should be used by those who enjoy a night out without getting behind the wheel. Drinking and driving should not be an option." Figures show 128 crashes in 2005 were as a result of alcohol or drugs — 4.4 percent of the total. Officers arrested 120 motorists on suspicion of impaired driving. Last year, Police recorded 111 accidents where drink or drugs were suspected, 3.9 percent of the total 2,839. There were 113 arrests for impaired driving. A huge proportion of people suspected of drunk driving when stopped by Police fail breath tests. In 2006, 78 percent of the 262 people tested failed; in 2005 the figure was 80 percent and in 2004 it was 82 percent. Mr. Santucci said the service had been arranged to fill the gap when public transport is no longer available in the early hours of Saturday — also the time when most people are arrested on suspicion of impaired driving. He said the scheme could be extended if the trial period proves a success. A Bermuda Police Service spokesman said: "The Bermuda Police Service supports this latest initiative by CADA as we work together to make Bermuda's roads safer for all road users. The risk of injury, serious injury or death due to impaired driving is real and we urge the public not to drink and drive, but to use the available alternatives instead."

May 2. Court witnesses could be given more protection and help in a bid to ensure they give evidence.

The introduction of a witness protection programme will be planned during a conference next week when the two-day meeting of experts on May 10 and 11 will focus on a 'No Witness, No Justice' programme already implemented in England and Wales. Fewer trials are collapsing there, and more witnesses giving evidence thanks to the scheme. Introduced in 2003, it focuses on everything from identity protection for those fearing reprisals to help with childcare and transport. News that similar moves are being considered in Bermuda has been welcomed by the mother of murdered teenager Shaundae Jones. The 20-year-old was gunned down in Dockyard four years ago, three months after giving evidence in relation to the stabbing death Tekle Mallory at Paget Ice Queen in 2001. No-one has been convicted of either murder. A man was extradited to Bermuda from Jamaica in connection with the killing of Mr. Jones, but had firearms charges against him dropped two years ago after a key witness failed to testify. Shaundae's mother Marsha believes her son's Ice Queen murder testimony may be linked to his death. He had not wanted to be a witness, she said, but she told him it was his duty. She speculated yesterday that a witness programme could have protected him, and that if one is implemented, it could yet bring his killer to justice. "The Police have spoken more than once in the paper pertaining to Shaundae's case that we have got problems with witnesses not willing to speak, as well as because Shaundae was a witness in Tekle's case," she said. "Witnesses need to be protected. When the Ice Queen case finished the Police called me and asked me to put Shaundae in a secure place because of concern about his life. It is very important; we need to get a witness protection policy in place. I think they will get more success in bringing these high profile cases to justice," she said. The two-day conference at the Elbow Beach hotel will see presentations by experts from the UK's Victim and Witness Care Delivery Unit. The cross-Ministry initiative will involve up to 75 people including staff from the Attorney General's Department, the Departments of Public Prosecution and Justice, and Police officers. Invitations have also been extended to Attorney's General of other overseas territories. Among the topics to be discussed at the conference, which will not be open to the public, are:
Disempowerment Through Intimidation
The Need for Cultural Change
Why Cases Fail
A Victim's Perspective
Under the UK witness programme, dedicated care units have been set up to help those who fear reprisals, do not understand the court system, or simply have no transport to get to court. The public gallery at court rooms can be cleared for witnesses who need reassurance, or they can appear behind a special screen.

Ms Jones, 53, from Warwick, welcomed news that such measures are being explored in Bermuda, but believes greater steps would be necessary due to the Island's small community. "Everyone knows each other. Disguising voices, disguising the person, silhouetting them or even being cross examined by satellite link or something. We'll have to go even further," she said. There's a big problem in Bermuda in terms of young people not speaking out because it doesn't look cool if you 'squeal' on someone...but it takes a man or woman to come forward and say 'this is not right - you protect me so I feel comfortable and I will give evidence'. The people who knew what happened to Shaundae still know what happened. These people have to have a conscience and think 'if you look after me and I'm sure I'm OK, I will speak up'." Attorney General Philip Perinchief said: "While the ultimate aim of the conference is to establish a No Witness, No Justice Programme and a Victim and Witness Care Unit in Bermuda, the conference is just the first step in helping Bermuda to become better equipped to identify and to understand the needs of victims and witnesses and to be more responsive to their individual requirements." A similar initiative in February saw social workers, Police, prosecutors and magistrates trained in preparing and protecting child witnesses and victims in abuse cases.

May 3. Seventy-five years ago, Lady Cubitt, wife of then-Governor Lieut-Gen. Sir T.A. Cubitt, was so distressed by the number of destitute, elderly people living in our community who, despite having worked hard all their lives, were unable to maintain themselves in old age that she was moved to found the Lady Cubitt Compassionate Association (LCCA). Its purpose was the relief of poverty, suffering and distress of local families.

Incorporated by Act of Parliament in 1945, its focus also included the protection and care of neglected and needy children. As a result of this in particular, the Association became the only "approved society" under the Protection of Children's Act, 1943 and received Government grants for use in this regard. By 1956 the LCCA had 82 children under its care, five of whom were placed for adoption until, in 1970, Government assumed all responsibility in this regard. Rev. Alton Thompson, who served as chairman of the now-defunct Cases committee for over 20 years, remembers those earlier years well. "We had a lot of work to do with children — finding homes for them, and sometimes the decisions were very, very difficult, but the LCCA was fulfilling a great need, particularly with the children. I found it rewarding, so much so that when I scaled down some of my work with various organizations, I decided to stay with the LCCA because it was dearest to my heart, and still means a lot to me," he said. Today, the Association's stated mission is to improve the quality of life, health and well being of those who are in medical, financial or emotional need, with particular care and compassion for children and the elderly, and it goes about its business in a very low-key way — a quality which not only Rev. Thompson, but also past chairman and board member Mrs. Denise Astwood found appealing. "I had always known about the LCCA and often sold tags for it," she said. "In 1992 I was invited to join, and I liked it, as well as the fact that it was low-key, and not absolutely specific to one cause. What we could do for each case was decided on its own merits. If we could help we would, but if we felt another charity could help better referred it on. Our guidelines are not rigid." Nevertheless, Mrs. Astwood points out that the registered charity has limitations on the amount of financial assistance it can provide, and it keeps pace with change by constantly updating its strategic planning. As the wife of the present Governor, Sir John Vereker, Lady Vereker happily continues the tradition begun by Lady Cubitt of serving as the LCCA's patron, as well as being an active supporter. Recalling that when she first arrived here she was inundated with requests to become involved with a host of organizations and charities, Lady Vereker said the LCCA was one of the first she finally selected to help. "I thought it was right and proper that I should continue the tradition of previous Governors' wives, and I also believed in the Association's mission statement, which seemed to fit with my own feeling of what people should do in the community, especially being in the position which John and I are. The LCCA is a wonderful Bermudian organisation that is home grown in the sense that it has been here a very long time, and deals with local assistance," she said. "There are many aspects to the LCCA. Its reach is wide, its dedication is strong, and Bermudians identify with it as a charity which helps the neediest." While many have no idea what the LCCA actually does, others commonly associate it solely with financially assisting patients going abroad for specialist treatment which they could not otherwise afford. In fact, the LCCA provides two distinct programmes. One is the General Assistance programme and the other is the Patient Overseas Financial Aid programme, the latter of which it administers on behalf of the Government, Ministry of Health and Family Services. Funding for the first programme comes from various sources including dues paid to the LCCA in lieu of union dues, bequests, its annual tag day and appeal to the corporate sector, as well as donations in lieu of funeral flowers. Funding for the second programme is via a Government grant, an interest-free repayment plan, and insurance claims made on behalf of the patient. In all cases, applications for assistance are carefully and thoroughly screened. In medical cases, the original application must originate with the patient's doctor, and other requirements include approval of the application by Government's chief medical officer, and an advance payment of 50 percent of the patient's costs. A case manager works closely with each patient, the overseas hospitals, and others to provide a level of support too detailed to include here. In general assistance programme cases, the LCCA also cross-checks with other helping agencies, including all Government services, before proceeding with any assistance. Its newest initiatives are an initial funding of $250,000 towards the King Edward VII Memorial Hospital's home care programme, which aims to move recovering patients to their homes rather than remaining in hospital beds — thus continuing a focus mainly on the elderly which Lady Cubitt started in 1932. Envisaged is a programme providing funding towards a health service aimed at lowering health care costs, the objective of which would be reducing the high volume of emergency and low-level admissions at KEMH, and focusing on the uninsured, the indigent, and those with standard HIP insurance. Meanwhile, sound fiscal prudence has allowed the LCCA to keep pace with the ever-growing demands placed upon it. Today, it has approximately 400 clients on its books, and disbursements from 2002-2006 were in excess of $350,000. As cases and overheads have grown, so too has the charity's office space and staff. Today, it occupies a small suite of offices in the International Centre on Par-la-Ville Road, with executive director Mrs. Betty Peterson at the helm of an office staff of two. A former personal banking officer at the Bank of Bermuda who also worked in an overseas bank for many years, the born Bermudian has converted her original "trial basis" approach into a 13-year stay, during which she has worked prodigiously to incept a series of office procedures and systems which now makes the charity an efficient and professionally-run organisation. "The significance of what the LCCA stood for appealed to me, and I saw that I could utilize my skills to enhance its operation," she said. "I have enjoyed the experience and support I have received from the board members which has allowed me to carry on the ideas of the founder, Lady Cubitt." In addition to a new logo, a series of events is planned to mark the 75th anniversary which will be in keeping with its standard, low-key approach. The first will be morning worship at the Anglican Cathedral on Sunday conducted by its honorary patron, Bishop Ewan Ratteray. A special luncheon for invited guests, donors and interested members of the public is anticipated with, it is hoped, a keynote speaker; as well as a reception at Government House. As always, the annual tag day will take place.

May 4. The Education Review team made ten published recommendations to fix the public school system, with the first six of them needing to be implemented as soon as possible in order to improve the current system. They are:
Dramatically improve the quality of teaching. With one in four lessons deemed inadequate the review team said it was vital principals ensured their teachers delivered challenging and informative lessons.
Progress of each and every student should be monitored and reviewed regularly. An internal audit on the effectiveness of teaching, with external corroboration of the findings, was needed. Teachers should also be subjected to performance reviews throughout the upcoming school year and teachers deemed "excellent" should be used to help others improve.
Better leadership from principals required. The quality of this leadership was deemed "pivotal" by the team who stressed the need for improved leadership immediately.
This would require in depth appraisals from a school improvement adviser or another principal. Each principal should be paired with a consultant from abroad to help them and be able to avail of advanced training.
Overhaul the Ministry of Education. Senior personal need to be removed right away and the entire Ministry needs to be restructured.
The Ministry is a "poorly led and mismatched organisation" which is "secretive", "paternalistic" and "stifles" progress in education. It needs to view schools as "clients" and educational officers should only be appointed based on merit. No one should receive a contract longer than five years and an interim Executive Board should evaluate the Ministry.
An Executive Board should be created to implement the review.
The board would act on behalf of the Ministry and produce a three-year strategic plan which would include these recommendations as well as the Bermuda Education Strategic Team's recommendations. The Board of Education could be restored and given more powers to fulfill this role, or a new group could be made.
More delegation, accountability and transparency.
Schools should not have to depend on the Ministry for guidance and should be able to implement initiatives themselves. They should have more freedom and take on more responsibilities. Rigorous standards for key grades, such as Primary 3 and Senior 2, should be established and "authentic testing" should be implemented in these grades. An annual school review should also be implemented.
Raise school leaving age and create a senior school federation.
Students be required to stay in school until they 18 and more vocational education was needed. A senior school federation would see the Board delegate a lot of responsibility to an executive principal. The curriculum would also have to be stream lined so that all schools taught the same topics which led directly into what was being taught at the Bermuda College.
Create a federation for each primary and middle school partnership.
This aims to deal with the problems brought on by the education restructure which took place in 1997. It includes creating a Board which would oversee a primary school and the middle school it feeds into. They would have some power in hiring and firing as well as the allocation of resources. The curriculum would also be streamlined to ensure the transition was seamless.
Tweak the curriculum.
To ensure students could move from one grade to another, and progress through the system, having learnt the same curriculum no matter what school they attended. The curriculum of key grades also needed to be sharpened and standards and assessments improved.
Address behavioral and learning difficulties. Students with learning disabilities should be catered to within the class instead of being sent to special classes.
More attention needs to be paid to getting assistance for primary school students exhibiting behavioral problems.
Make it a community effort.
The boards which would run the federations and schools should be filled by elections so that there is more direct involvement from the community.

May 4. Bermuda remains the world's number one captive domicile — but it faced plenty of competition from rival jurisdictions attracting the attention of risk managers at RIMS this week.

Barely 30 yards away from the impressive Bermuda booth, was the station of the number two offshore captive domicile, the Cayman Islands. And a couple of strides farther down the aisle was the Vermont booth. Elsewhere in the hall, the British Virgin Islands, Barbados, Hawaii and Guernsey all had a presence, all fighting for the same captive business that Bermuda wants. Captives offer corporations a means of self-insurance and hosting them has been the bread and butter of Bermuda's insurance market for decades. With the evolution of more sophisticated risk management by companies, many more captives are likely to be established in the coming years. The Vermont booth attracted plenty of visitors — even if most were more interested in sampling its delicious free ice cream than in talking about captives. "Vermont and Bermuda are both leaders in the industry — arguably the leading onshore and offshore captive domiciles," said Daniel Towle, director of financial services for the state of Vermont. "We have a lot of the same clients and we have a lot of respect for Bermuda, as they do for us. But for some clients, it's very important to remain onshore, because of perception, although I think most people set up their captives based on business decisions." He said a sound financial services infrastructure and a 26-year history in the business had helped to cement Vermont's reputation and attract 802 licensed captives. The British Virgin Islands has become a major player in the captive industry and is progressively increasing its market share. Dwayne Thomas, of the BVI International Finance Centre, on duty at the British Caribbean territory's booth, said: "Over the last few years we have grown faster than Bermuda or Guernsey and we are here to push ourselves as a business-friendly captive domicile. We now have 388 and we are gaining all the time. By the end of the year, we hope to have reached 400 captives." In its literature, the BVI boasts of a strong regulatory framework and seeks to distance itself from the negative image of tiny offshore centres, while not detracting from the appeal of light regulation. "The BVI has demonstrated a clear commitment to fighting financial crime without necessarily enacting measures that will damage its future competitiveness," one brochure stated. The Barbados booth was pushing its network of double taxation agreements with a large number of countries, including Cuba — an advantage it claimed many other offshore jurisdictions did not share. And it boasted of the island's thriving international business sector that employed 3,000 people and produced around 7.5 percent of the Gross Domestic Product. While competition among rival jurisdictions is certainly heating up, it remains civilized. "I don't like the word rival," Mr. Thomas said. "But in business you have to be competitive."

May 4. The Bermuda Chamber of Commerce has plunged into an insolvent position after suffering a $292,7927 loss in 2006, mostly as a result of Government ending the chamber's contract to run the Island's five visitor service bureaux. The losses swallowed up all the chamber's previous cash reserves and, as of the end of last year, left the business group with a deficit of $192,456. Discussions are being held with the Department of Tourism seeking assistance to shoulder some of the financial burden caused by the loss of the visitor bureaux, which have resulted in staff redundancy payments alone estimated at $80,000. The chamber had previously been receiving an annual subsidy of $540,000 from Government to run the bureaux. Outgoing Chamber of Commerce president Peter Everson referred to the financial statement as a "bleak picture" when he addressed the chamber's annual meeting at the Fairmont Princess Hotel, which was attended by around 250 members and guests, including Premier Ewart Brown and numerous Government ministers and officials. The audience heard that the chamber's Destination Dockyard project, which made a $6,029 loss in 2005, had moved into a profitable position with a $5,461 return, but that piece of good news was cancelled out by a $10,531 loss made by the Harbour Nights promotion last year. A stony silence greeted the presentation of the figures by treasurer Sarah Farrington, who rounded off by asking members to step forward with cash assistance, echoing an earlier plea by Mr. Everson. She revealed the chamber's total assets had decreased from $526,661 to $400,828 year-on-year and the Buy Bermuda campaign operated at a $23,479 loss in 2006 because of a reluctance by some members to offer financial support. She said the Harbour Nights loss was due to increased entertainment costs and said sponsors were being asked to provide more money to put it back on track. "It is critical the chamber focuses this year on coming up with additional sources of revenue, in terms of one-off donations from people as well as ongoing sources of revenue that will allow the chamber to be self-sufficient in years to come," she said. "In addition to our request to the Department of Tourism for additional funds the chamber is also undertaking the following activities; we have initiated a targeted fund-raising campaign, we are in discussions with event organizers with a view to raising sponsorship levels generally and we are constituting a committee to look at fundraising events and new ongoing sources of revenue. Finally, if these fail we will go out to the general membership." President Mr. Everson said: "It's not a situation in which any of us are happy. At the end of the calendar year the Chamber was insolvent." He and new president Philip Barnett, who officially takes over today, told the Royal Gazette they were confident the chamber would return to a surplus position during the year. Mr. Everson said a further financial challenge the Chamber had faced revolved around the sales of ferry and bus tokens to visitors that made a surplus in 2005 but that had not been the case in 2006. He expects Chamber members to rally around, as they have in difficult years in the past, to bring the Chamber out of its financial woes. "Typically, if we have an undershoot, our small buffer (of capital) disappears. So we are now going to say 'look, we are doing more work and it is costing more money'," he said. Mr. Barnett said it was important to remember the chamber is a not-for-profit organisation and had never been flush with cash. "The money that we get goes right back out for events to make businesses succeed," he added. Kristi Grayston, co-chair of the chamber's retail division, said the $23,479 shortfall in the Buy Bermuda Campaign would be made up in 2007.

May 4. Hamilton Condominium Complexes: What they cost in 2007.
Atlantis - $600,000 to $950,000
Dundonald House - $635,000 to $1,100,000
Park Place - $625,000 to $1,600,000
Prosperity Heights - $650,000
Victoria Place - $850,000 to $1,200,000
May 7. An estimated 10,155 passengers and crew are expected in Bermuda with the arrival of four cruise ships, including two post-Panamax vessels, the Norwegian Spirit *p(0,10,0,10, and Costa Magica.
Celebration of the 400th anniversary of the founding of Jamestown, Virginia as the first British colonial settlement ( two years before Bermuda) in the New World.
October 16-17, 2007 Grand Slam of Golf in Bermuda. The PGA of America has agreed to play the prestigious 36-hole, $1.25 million event at the Mid Ocean Club instead of in Hawaii. Bermuda taxpayers will foot the entire bill, expected to be considerably more than $1.5 million.
May 5. News this week that Government will seek to amend the environmental restrictions governing the importation of foreign soil was "music to the ears" of Bermuda Cricket Board, chief executive Neil Speight admitted last night.

Since the national team qualified for the World Cup in the summer of 2005, local cricket's governing body have made it clear their vision for the future of the game in Bermuda was being undermined by the absence of a viable ground on which to play home One-Day Internationals. But with Sports Minister Randy Horton revealing that he would be tabling amendments to the laws some time in the current parliamentary session, it's now possible that Bermuda will be able to host international teams by the start of next summer. Asked for his thoughts on the matter yesterday, Speight insisted the Board would stay well away from the brewing political row begun by Opposition MP John Barritt on Thursday over whether importing soil from overseas to re-lay the National Sports Centre's square would be environmentally safe. A Government spokesman confirmed last night that the proposal to amend the law had the full backing of the Environment Minister Neletha Butterfield and Premier Ewart Brown. "We're not going to get involved in that at all," said Speight. "This issue has been going on for a long time now (almost three years) and as far as I'm aware there have been lots of different people working on it at different times. So I'm certainly hopeful that after all this time a decision can be reached that is in the best interests of both cricket and the environment. As I've said many times, I think most people recognize how important it is that we have a quality national stadium for cricket. Without one we're at a major disadvantage when it comes to preparing our national side for the task of re-qualifying for the World Cup in 2009. I had an opportunity during the World Cup to speak briefly with the Premier about this and it was heartening because he pledged his support and said he would ensure that progress was made." Barritt said earlier this week that both he and his party "disagreed in the strongest possible terms" with Government's plans to change the law. "Soil is a particularly dangerous media. Nothing else in the world contains more bacteria per unit volume than soil. It is why we have permanent embargoes on various foreign fresh food crops because of the pests that could accompany them. There is no telling what imported soil contains, unless it is properly sterilized . . .There is no need to change the regulations. Soil can be made here at home quite easily. We have the expertise and we have the materials to do it. It just takes a little effort and a little faith in ourselves to do it. The Minister's out-of-the-blue proposal is reckless in its intent, and quite frightening considering the potential consequences for the country." In his initial statement, the Sports Minister said any soil that was brought in "would be properly treated at both ends" while a pitch expert from the International Cricket Council has already disagreed with Barritt's assertion that the square could be re-laid using local soil. Meanwhile, Speight said yesterday the Board "had a number of irons in the fire" with regards to the national team's fixture list for 2007 — adding he was confident they would be back in action before the scheduled tour of Ireland in August. "We have a fixture list mapped out for us under the ICC's high performance programme but we are always looking for ways to supplement that," he said. "One of the big advantages of both Reggie (Pearman, the BCB president) and myself going to the World Cup was that we had the opportunity to speak with representatives from other nations and negotiate with them in terms of organizing additional fixtures. We're in discussions with countries like Scotland, Uganda and Denmark and though we're disappointed that Lloyds will now not be coming in July, we're actively looking for alternative games. There's no doubt the national side will be back in action before August, though where and when has yet to be finalized." Asked for his view on the arguments of India captain Rahul Dravid and others that Bermuda would only improve if they played more regularly against Test nations, Speight said: "I've had long discussions with the national coach about the quality of the opposition he'd like to play against and he is of the view that we'd be better off playing the likes of Zimbabwe and Bangladesh rather than Australia and South Africa. We've got to be realistic. When you train for a marathon you've got to build up the miles slowly and methodically — you just don't go out there and try to run 26 miles at six-minute-mile pace. We will work hard to make sure the team gets regular exposure to quality opposition and when we have a home venue it may also be possible to bring in a big Test team from time to time which would be a fantastic boost for the game in this country. We've got Richard Done (the ICC's high performance manager) flying to the Island on Tuesday and Gus and I will sit down with him to design a programme which will hopefully put us in the best possible position to re-qualify in 2009. There's a lot to be said for making sure you take your time and get things right in the planning stage, rather than just rushing out there and playing games for the sake of it — particularly with the national team now in a re-building phase."

May 7. The 330,000-plus readers of the Globe and Mail newspaper in Canada have been told of a "dark day for Bermudian justice" by the newspaper's editorial pages. The daily publication closely followed the Rebecca Middleton case and the recent judicial review in which new charges could have been filed against the Canadian girl's alleged killers. However, in a decision revealed last week, Chief Justice Richard Ground decided he could not violate the letter of the law, even though the law gave him the discretion to do so if the case was exceptional. In the end, Mr. Justice Ground rejected the claim made by the Middleton legal team which included British Prime Minister Tony Blair's wife Cherie Booth, QC. There will be no new investigation, no new criminal case. The editorial writer said of the Chief Justice: "The door was open. Chief Justice Ground chose not to walk through it. And so a family is left at a dead end on a long, agonizing road to find justice for their murdered child. And a judicial system is left so tied in knots by legal technicalities that it can't reverse what it clearly recognizes as its own grave errors, even in the face of public outcry both within and without its borders. It's a dark day for Bermudian justice."

May 7. Immigration Minister Derrick Burgess has detailed the passport requirements for Bermudians travelling to the United States.

In a statement to the House of Assembly on Friday he said he wished "to address the confusion in some sections of the community regarding United States authorities' recently-announced requirements for passports held by Bermudians travelling to the US and the decision to deny new Bermuda passports to British citizens who formerly held Bermuda passports." He said that since the British Overseas Territories Act 2002, Bermudians can travel to the US visa-free using their British Overseas Territories Citizenship (BOTC) passport, with the Bermudian status stamp. The 2002 UK Act allowed Bermudians to hold both a BOTC and British Citizenship (BC) passport. It means Bermudians can also travel visa-free to the European Union on their BC (British Citizenship) passports. Mr. Burgess said that in order to travel to the US without needing a visa, the passport must be issued in Bermuda; it must show the holder is a BOTC or a British Dependent Territories Citizen; and it must have an official stamp showing the holder is Bermudian. Those who are both British Overseas Territories Citizens and British Citizens are free to carry two passports. However, a BC passport must have only been issued at the British Embassy in Washington, DC. Mr. Burgess said it was important to clarify the situation because for decades Bermudians had been allowed to travel to the US with Bermuda birth certificates and passports issued by the Bermuda Government. He said: "However, the relatively recent need for increased security has made the US authorities insist on the stamp being placed in the passport to show that the holder is Bermudian. "A BDTC or BOTC passport issued in Bermuda and bearing the stamp showing that the holder is Bermudian is a true passport proving the holder's territorial right of abode."

May 8. The handling of the Rebecca Middleton murder case was criticised in a documentary beamed out across Canada on Sunday.

A CBC video journalist followed Dave Middleton, the father of the slain Canadian teen, as he went through a recent judicial review aiming to get fresh charges against two suspects. Entitled 'Seeking Justice in Bermuda', the broadcast, which reached an estimated 500,000 to 800,000 viewers, depicted Mr. Middleton's heartache when the bid failed. No one has ever been convicted of the rape and murder of 17-year-old Rebecca, from Belleville, Ontario, who was on holiday in Bermuda when she was killed in 1996. On Friday, Chief Justice Richard Ground rejected an application from British human rights lawyer Cherie Booth — acting for Mr. Middleton — that Kirk Mundy, 31, and Justis Smith, 28, should face fresh charges of serious sexual assault, torture, and kidnap because murder proceedings against them were botched. Mundy and Smith were arrested days after the killing, with Mundy claiming to have had consensual sex with Rebecca. He said he found Smith killing her when he returned from washing himself in the sea. Before Police completed forensic tests, prosecutors accepted Mundy's guilty plea of accessory after the fact — meaning he knew a crime had been committed and assisted or sheltered the offender — while Smith was charged with premeditated murder. However, Smith's murder trial was thrown out by a judge. The current Director of Public Prosecutions, Vinette Graham-Allen, acknowledged during the judicial review that Mundy should never have been allowed to plead to the lesser accessory charge, and Smith's trial should not have been halted. However, she argued that the law does not allow the case to be re-opened at this stage, and Mr. Justice Ground upheld this in his ruling on Friday. CBC documentary-maker Peter Wall showed Mr. Middleton's frustration that no one has ever been brought to justice for his daughter's murder. "When the whole thing fell apart, they basically washed their hands of it and said there was nothing more than we can do," he said of those working in Bermuda's judicial system at the time. "It's like a lot of things in life — it's not the problems you have but how you handle them, and I don't think this problem has been handled very well at all in Bermuda." Mr. Middleton plans to appeal against the decision of the Chief Justice in the Court of Appeal. CBC news host Carole MacNeil revealed that this could cost Mr. Middleton an additional $150,000 on top of the $100,000 legal bill he already faces for the judicial review. The programme was available for viewing online at cbc.ca/sunday.

May 8. Governor Sir John Vereker announced today he is stepping down in October.

He will be replaced by career diplomat Sir Richard Gozney, who is British High Commissioner in Nigeria. Sir John, who arrived in Bermuda in 2002, said five years was the longest stint of any Bermuda Governor since Lord Martonmere in the 1960s. He said: "I am delighted at Sir Richard's appointment. He is a distinguished diplomat. I know him and have worked with him and from my discussion with him I also know how keen both he and his wife are to come to Bermuda." It's expected Sir Richard, who is in his mid-50s, will arrive in the beginning of December with Deputy Governor Mark Capes filling in during the interim. At a press conference at Government House Sir John, flanked by his wife Lady Vereker, said he had enjoyed his time in Bermuda and will have plenty to do in his remaining five months in the post.

May 8. The Opposition is calling for greater accountability from Government Ministers when it comes to late financial reporting.

The statement comes in the wake of the Auditor General's annual report which revealed $523m in Government money is unaccounted for. It's a problem brought on by tardy filings from a slew of Government QUANGOs and public funds. Deputy Opposition Leader Patricia Gordon-Pamplin said: "As the Auditor says, the Government's Code of Conduct places responsibility for late reporting squarely on the shoulders of the Ministers responsible. Were they to crack down in a wholehearted way, the problem would be well on its way to a complete resolution." Mrs. Gordon-Pamplin is also the Shadow Minister for Finance. In one section, her statement reveals what may be a discrepancy, or perhaps an out-of-date list. She outlined four Government funds and branded them as the "worst offenders". They are: Contributory Pension Fund, Government Employees Health Insurance Fund, Hospital Insurance Fund and Mutual Insurance Fund. However Minister of Finance Paula Cox explained that two of those funds — Contributory Pension Fund and Government Employees Health Insurance Fund — have been submitted for audit. She further explained that the other two 'offenders' have been under the control of the Bermuda Health Council since 2005, where the new Chief Executive has made it a priority to bring all financial reports up to date. Minister Cox said: "Included in the Auditor General's report is status information on the outstanding accounts/audits of some entities and I would encourage Honorable Members and members of the public to read this section of the report." No matter how the data is interpreted, both women seem to agree that the issue of late financial reporting needs immediate attention, but perhaps disagree on how the attention should be paid. Mrs. Gordon-Pamplin said: "The habitual offenders, those who have been in arrears for more than three or four financial years, should be brought before the Minister of Finance without delay, to explain their delinquency." The Finance Minster, perhaps as an example to her Cabinet colleagues, has brought all public funds under her purview up to date — however some of the financial statements still need to be audited because they were received after the Auditor General's January deadline. The combined total of the Finance Ministry's public accounts is $330m, according to the Minister. She added: "Progress has also been made on the financial statements of other Government entities." To that end, Mrs. Gordon-Pamplin highlighted in her statement a detailed list of public funds that are performing well by reporting on time. She also took great effort to ensure that the public understood the $523m was not missing, but rather unaccounted for because the Auditor General has not been able to verify the money's whereabouts in time to print it in his annual report.

May 9. Canceling a gay family cruise earlier this year was a missed opportunity for the churches, but there is still a chance for them to act in a Christian way, according to an AME Pastor. Reverend Wilbur Lowe, pastor of the Mount Zion AME church, felt the controversy over the Rosie O'Donnell gay family cruise was handled poorly by United by Faith, an organisation representing 80 churches in Bermuda. Last month, chairman of United by Faith Andre Curtis issued a statement on the cancellation of the cruise, calling it a "victory for God". Yesterday, however, Rev. Lowe said while he does not support the homosexual lifestyle, he will not discriminate against a group of people, which is what the comments about the cruise did. "I personally felt that the church missed out on a great and good opportunity to show Bermuda and the world what good Christians they are or could be," he said. "I want it to be known in my Christian convictions, I don't support the homosexual lifestyle, but that does not give anyone cause to hate someone or treat someone differently. I don't think they (United by Faith) have represented the religious community well. I think there is an awful lot of support for the cruise even within the church." Now, Rev. Lowe is concerned the wider Bermudian public blames the churches for the cruise failing to come to the Island and that Rosie O'Donnell's people see the church as "a bunch of Christians that hate them". The responsibility, however, he believes falls on the churches to right the wrongs because "we are the people who claim to be on a higher spiritual vein". There needs to be created a better relationship because of what has happened. We need to open up the communication lines," he added. "Why can't we meet and get together? There's still a chance for the Church to act in a Christian way." Gregg Kaminsky, chief executive of O'Donnell's company, R Family Cruises, welcomed the comments, however, said it was too late because their cruise is now only seven or eight weeks away. Mr. Kaminsky said: "I would have loved to do that (meet with Rev. Lowe and the churches). I'm always available to talk to anyone. Especially if it's a Church group I would like to speak to them." However, when Mr. Curtis was contacted yesterday for comments on the story, after refusing to listen to the statements or offer a comment, he hung up on the reporter. In April this year, R Family Vacations announced they would cancel the Bermuda-leg of a cruise for 2,200 families because there was "a measure of concern about what might occur if the cruise stopped in Bermuda". Provoking their fears were comments made in March when Mr. Curtis said they might bus the cruise passengers to churches to "have the pastors pray for them". United by Faith represents 80 churches, which the cruise organizers feared would mean the cruise would be overwhelmed by protestors when arriving in Bermuda. And after the Island was dropped from the cruise itinerary, the group then claimed it was "a victory for God". Members of the gay community were relieved to hear Rev. Lowe's comments and Mark Anderson — a.k.a. drag queen Sybil Barrington — said he thought this is the way it should have been from the beginning. He said: "I think it's wonderful. It's a step in the right direction and it should have been this way from the beginning. This is a new millennium and people should be open minded and not so judgmental." PLP MP Renée Webb also welcomed Rev. Lowe's comments and hoped there was a chance for an outreach programme from the churches. "I think that it would be excellent if they had an outreach programme for the people they have discriminated against," she said. "It would be interesting to see what they do as a consequence."

May 9. The site of the former NASA station at Cooper's Island could once more become Bermuda's link to outer space. The out-of-bounds area of buildings and infrastructure abandoned by the US space agency when it left the Island in 2001 is being viewed as one of two likely spots for a commercial satellite operation. The other site possibility is also a former US establishment, the one-time US Navy listening post and research base at Tudor Hill in Southampton. Both are being considered as the best spots for an earth station to track and communicate with orbiting space satellites. At the end of last week TerreStar Global revealed it had signed a letter of intent with Government to build a satellite operations facility in Bermuda after the Island became part of the UK Outer Space Act last November. Bermuda's geographical position will allow TerreStar to carry out satellite operations for North American satellites and for a planned European satellite network. Mobile communications provider TerreStar is a subsidiary of Motient Corporation and plans to own and operate the first next-generation mobile satellite integrated with terrestrial communications networks and to offer a 4G IP network. The company said it was working with Government to "re-develop existing, but currently unutilized, building sites in Bermuda" for the location of a new satellite station. A spokesman for the Ministry of the Environment, Telecommunications and E-Commerce this week confirmed the two sites under consideration were the former NASA base at Cooper's Island and the site of the old US Navy base at Tudor Hill. NASA opened its Cooper's Island base in 1961 and it was used as a tracking and communications facility for various space programmes, including the Mercury and Apollo missions and space shuttle flights because of its key geographical position in relation to launch trajectories for space vehicles blasting off from Cape Canaveral in Florida. The base was shut down in 2001 and is now a collection of abandoned buildings and related structures. Part of the area has already been earmarked by Government as a future nature reserve and visitor centre. Tudor Hill was an important listening base for the US Navy during the Cold War and played a role tracking Soviet submarines heading for Cuba. It opened in 1955 and was decommissioned in 1995. When the TerreStar announcement was made Telecommunications Minister Neletha Butterfield said it was another step in the Ministry's strategic plans to develop a satellite services industry on the Island that would assist international business but also bring the latest communications technologies to the Island. TerreStar intends to offer other benefits to Bermuda to benefit its culture and economy, such as offering training and an education component to its development project and a new communications system for the Island allowing faster mobile data transmission rates of up to 20 megabits per second.

May 9. Government efforts to crack down on tax delinquents are having a beneficial impact, according to the Auditor General, but his findings reveal there is still a lot of work to be done.

Government is owed $42 million in taxes and pension contributions. The latest Auditor General annual report publicly outs the employers and land owners who are the most delinquent. They are singled out in the back pages of the AG's report if they owe more than $40,000. Arrears in the area of payroll taxes totaled $10.8m spread among 67 employers, past due pension contributions totaled $2m among 24 employers, and there are 13 land tax payers who meet the $40,000 threshold, leaving the Government short an additional $1.3m. Some names appear on more than one of the aforementioned lists. For example the Hamiltonian Hotel & Island Club is at the very top of all three dubious lists. According to figures as of March 2006, the Hamiltonian owed $561,854 in payroll taxes, $346,408 in land taxes and $232,357 in pension contributions. To square its debt to Government, the Hamiltonian would have to write a cheque for $1.14m. It's an unlikely occurrence because the hotel has been closed for years and has been on the AG's delinquent list for a long time. Below are top ten delinquents in each area.

Payroll Arrears:
Hamiltonian Hotel & Island Club — $561,854
Fine Touch Construction & Maintenance Ltd. — $460,474
Island E TV Ltd. — $305,175
The Traxel Group Ltd. — $302,953
Pro-Active Management Systems Ltd. — $272,408
Creative Accents Ltd. — $255,860
Blumber Crane & Steel Ltd. — $250,523
Bermuda Asphalt Ltd. — $250,002
Premier Homes — $246,093
Sea-Land Construction Co. Ltd. — $243,344
Pension Arrears:
Hamiltonian Hotel & Island Club — $232,357
Pro-Active Management Systems Ltd. — $186,804
Beeline Transport Ltd. — $109,327
Village Carpentry Ltd. — $99,668
Eve's Group of Bermuda — $72,493
Carlton R.N. Ltd. — $70,029
Palmetto Palms Seniors Home — $57,401
Paget Dry Cleaners (old) #3 — $57,022
Steven Smith Construction — $50,502
Shabazz Bakery — $50,023
Land Tax Arrears:
Hamiltonian Hotel & Island Club — $346,408
David and Donna Dunkley — $251,943
Paul Derrick Smith — $141,982
Tony DaCosta — $117,198
Lorenzo and Sonya Caletti — $88,462
Philip Abercromby Jones* — $60,531
Robert McGlywn — $57,878
Longtail Aviation Ltd. — $56,793
Conrad Henry — $54,929
The Galleria — $48,018
Closer scrutiny of the numbers reveal interesting truths. For example, the explosion of the construction industry in Bermuda does not seem to negate the number of construction firms skipping on their payroll taxes. Of the list of 67 employers owing more than $40,000 To Government at least ten are on the Auditor General's arrears list.
Payroll Arrears - Construction Firms
Fine Touch Construction — $460,474
Pro-Active Management Systems Ltd. — $272,408
Sea-Land Construction Co. Ltd. — $243,344
C & N Construction — $241,754
Link Contracting Ltd. — $240,470
Salisbury Construction Co. Ltd. — $136,143
Branches Mini Construction — $130,315
Better Homes Construction — $108,436
Symonds Construction Company — $76,606
Concorde Construction Company — $59,015
David and Donna Dunkley are consistently climbing rungs on the list of people in arrears on land tax.

As of last year they owed $251,943 to Government coffers. David Dunkley is a widely known name because he resigned from the United Bermuda Party not long ago in what many consider the beginning of a three-person high profile political exodus. In 2005 the couple owed $190,523. In 2004 is was $137,798. At this point the land owner furthest behind in tax payments is the Hamiltonian Hotel. The Somerset Bridge Recreation Club has trouble paying its payroll taxes. The arrears total $91,006. The amount is noteworthy because the Sports Minister recently promised $200,000 of Government money to the White Hill sports facility. If about half of that grant was given back, the club's debt would be cleared. It's an unlikely proposition however. At the time the grant was announced, Minister Randolph Horton said the money would be used to "upgrade their facilities for such things as the addition of changing rooms, improved bathrooms and additional lighting and other structural refurbishment". He said nothing of payroll taxes.

May 9/10. Construction work on the five-star St. Regis hotel at the former Club Med site is to begin this year, Premier Ewart Brown pledged at a public meeting last night.

Dr. Brown said he wanted to reassure "pessimists" that ambitious plans to transform the derelict building would not go the same way as a string of similar proposals which have collapsed in the past few years. Speaking at the Progressive Labour Party meeting in Clearwater School, St. David's, Dr. Brown told a crowd of about 50 people that the luxury resort could help rejuvenate St. George's. "The pessimists among you will say: 'So what, there have been others who said they were going to build.' I appreciate and understand your pessimism, but let me tell you I made a commitment: in 2007, construction will begin on the new hotel in St. George's. I can promise you it will be delivered. "Bermuda now has some buzz. Bermuda is popular again with the Wall Street companies, who invest hundreds of millions of dollars. That's why that site is going to be developed." He said work would begin as soon as Carl Bazarian, of Bazarian International, the investment banking firm behind the scheme, completes negotiations over a lease with the Ministry of Works and Engineering. "Carl Bazarian is a very serious and committed developer. I'm very confident that he will keep his word. We need to see that building leveled. We need to see it gone. That will the very first phase of the work done. I wanted to come here tonight and reassure you that nothing has got in the way. The brand that's been mentioned is St. Regis. You don't get a much more luxurious brand that St. Regis. Club Med is to St. Regis as a dwarf is to a giant. We are bringing something that can make a difference in the town. I have challenged the mayor and alderman to help make St. George's alive again. It's been too sleepy. Business doesn't thrive in a town that sleeps." In recent years, a succession of developers have been lined up for schemes at Club Med, which closed in 1988. Proposals for a $210 million five-star hotel with piazza-style colony housing fell through two years ago, while plans for a five to seven star hotel with a Nick Faldo signature 18-hole golf-course were scrapped last November. A storm of controversy has surrounded the derelict site in recent weeks, after a dozens of homeless people moved in as squatters. The new St. Regis resort is expected to be completed in three years. It is likely to have up to 150 units, comprising one- two- or three-bedroom apartments and villas, and will be a maximum three storeys high. St. George's North MP Dame Jennifer Smith also spoke at the meeting. She described St. George's as a "unique and historical area" but said it had been "overlooked and underrated". Dame Jennifer acknowledged a general election had not yet been called, but said she was looking forward to "an exciting time in politics" and hinted that she would be representing St. George's North again. She said her party needed another term in power to achieve everything it wanted to achieve. "As we approach our third expedition, we need all of you to help us succeed," she said.

May 11. Government is to overhaul the registration of land rights through Land Title Registration.

Ministers want to modernize Bermuda's registration of deeds and documents in order to speed up property transactions and make ownership records more accurate. They claim it will make buying and selling houses easier and reduce fraud. The new system will harness information technology to change the way in which deeds and documents are stored. Ministers say it will lead to a more efficient use of the Island's limited land resources and assist in the renovation of derelict properties. Under proposed legislation, there will be a statutory requirement to present documents at the Land Title Registration Office following property completion dates — ending private custody arrangements and the lodging of paperwork at the Registry General office. Government says the new electronic system will end costly investigations of title and provide up-to-date records of land rights. However, it could take 15 years to implement. The Public Consultation Document states: "Initial projections indicate that it will take approximately 10-15 years to arrive at a point whereby as a result of Land Title Registration a comprehensive register exists for the Island." According to the Government, Land Title Registration will result in improved security of tenure, increased market value and less boundary and ownership disputes. At a press conference yesterday, Minister of Works and Engineering Dennis Lister said: "Given the finite nature of this resource (land) here in Bermuda it is the responsibility of Government to ensure that it is managed, traded and utilized in an efficient and effective manner in order for it to be of benefit to both current and future generations. "For citizens it will provide security of tenure through the creation of a guaranteed register of legal rights and interests in land. It will improve the efficiency of property transactions, and ultimately reduce the likelihood of property disputes. For society as a whole it will help promote the peaceful, orderly and wise utilization of the national land resource. For Government it will provide the basis for improved planning and land management." Mr. Lister added: "This is a significant Government initiative that is likely to affect anyone with an interest in land. I encourage all stakeholders to study our proposals and provide us with your views." He said Land Title Registration would also help to identify absent owners of derelict properties, some of which are being used as drugs dens. Last month The Royal Gazette unveiled a Government scheme to renovate dilapidated houses and turn them into affordable housing. Ministers have identified more than 100 such properties but cannot track down the owners. Mr. Lister said: "As the registration programme moves forward, Land Title Registration will assist with the identification of owners of derelict property with a view to bringing these back into beneficial use for the community." He added: "For once and for all, there will be clear ownership — of who each property belongs to. It will remove any grey area. The whole process will be made a lot easier. Under the current system, when you're looking for a property you are looking for ownership. Under this system it's a parcel of land. All history related to that will be listed." The Land Title Registration legislation is being drawn up under advice from lawyers, surveyors and land registration professionals. The electronic information system is to be named NORWOOD, after Richard Norwood who surveyed Bermuda in 1616. Its basis is the 'landfolio (R)' system developed by US real estate company Stewart International, and which is already in use in Antigua. The Bermuda Land Title Register will consist of four parts: a property description; details of registered owners; encumbrances (including mortgages); and an Index Map showing location and extent of the parcel of land. Individuals will be allocated a unique reference number to be held in electronic, as opposed to paper, format. The Government will next week hold consultation meetings with members of the public. Three meetings will take place, from 6.30 p.m. to 8 p.m., at Cathedral Hall on Monday, Town Hall, St. George's on Wednesday, and St. James, Sandys, on Thursday. Those interested can view the Public Consultation Document on Land Title Registration by logging onto: www.gov.bm. Select Works and Engineering, followed by Land Title Registry Office. Copies are also available from: Land Title Registry Office, Victoria Hall, 11 Victoria Street, Hamilton. The closing date for responses is June 15. Email your comments to: landtitleregistryoffice@gov.bm or write to: Public Consultation Land Title Registry Office, Ministry of Works and Engineering, PO Box HM5287, Hamilton, HM CX.

May 11. Immigration Minister Derrick Burgess has detailed the passport requirements for Bermudians traveling to the United States. In a statement to the House of Assembly last Friday he said he wished "to address the confusion in some sections of the community regarding United States authorities' recently-announced requirements for passports held by Bermudians traveling to the US and the decision to deny new Bermuda passports to British citizens who formerly held Bermuda passports". He said that since the British Overseas Territories Act 2002, Bermudians can travel to the US visa-free using their British Overseas Territories Citizenship (BOTC) passport, with the Bermudian status stamp. The 2002 UK Act allowed Bermudians to hold both a BOTC and British Citizenship (BC) passport. It means Bermudians can also travel visa-free to the European Union on their BC (British Citizenship) passports. Mr. Burgess said that in order to travel to the US without needing a visa, the passport must be issued in Bermuda; it must show the holder is a BOTC or a British Dependent Territories Citizen; and it must have an official stamp showing the holder is Bermudian. Those who are both British Overseas Territories Citizens and British Citizens are free to carry two passports. However, a BC passport only has to have been issued at the British Embassy in Washington, DC. Mr. Burgess said it was important to clarify the situation because for decades Bermudians had been allowed to travel to the US with Bermuda birth certificates and passports issued by the Bermuda Government. He said: "However, the relatively recent need for increased security has made the US authorities insist on the stamp being placed in the passport to show that the holder is Bermudian. A BDTC or BOTC passport issued in Bermuda and bearing the stamp showing that the holder is Bermudian is a true passport proving the holder's territorial right of abode."

May 11. The Attorney General yesterday promised a raft of measures to modernize Bermuda's criminal justice system including legislation to protect vulnerable victims and witnesses. Senator Philip Perinchief told a conference that a change in the law was needed to eradicate what he described as an "unfortunate culture" in Bermuda of protecting the accused, as opposed to those affected by crime. He was backed by Chief Justice Richard Ground — the Island's top judge — who told the audience of criminal justice professionals at Elbow Beach Hotel that the Island had already made progress in better recognizing and respecting the needs of victims. "But we still need to be continually thinking about how we can further modernize the law of evidence and procedure so as to achieve fairness for all," added Mr. Justice Ground. "Achieving fairness means achieving the right balance between the rights of the accused and the rights of the victim. This calls for a critical examination of the way we do business." The two-day conference is named No Witness, No Justice after a witness protection programme implemented in the UK four years ago which has dramatically reduced the number of trials collapsing there. Mr. Justice Ground said: "I am sure that we have a lot to learn from their experience — and, I suspect, from their mistakes." He said careful thought was needed as to whether the current system in Bermuda of requiring witnesses to give oral evidence at preliminary inquiries and then again at trial needed to change. Requiring children and victims of sexual or violent crime to give their evidence twice often amounted, he claimed, to "little more than institutionalized intimidation". The Chief Justice also called for money to be pumped into improving equipment and facilities. "A witness care unit needs an office and personnel," he said. "Vulnerable witnesses can't give evidence by video link if there is no video link. Intimidated witnesses are not going to be reassured by shabby courtrooms with little or no security." Several high profile murders on the Island have led to calls for better protection for witnesses and victims. Detectives recently had to offer a $50,000 reward for information on the unsolved slaying of 18-year-old Jason Lightbourne — shot dead on Ord Road in Paget last July — due to witnesses' reluctance to talk. Marsha Jones, whose 20-year-old son Shaundae was gunned down in Dockyard three months after he gave evidence in relation to a fatal stabbing in 2003 has made repeated calls for a witness protection programme. Police have also been criticised for asking victims of violent crime to pick out their assailants from line-ups in full view of those taking part. Sen. Perinchief said yesterday that the unwillingness of victims and witnesses to participate in criminal trials had "emerged as the focus and deciding factor in respect of whether justice is achievable; for if there is no witness, then of course there is no justice". He told the audience: "A trial can only be truly characterized as fair where the rights of both the accused and the victim and/or the witnesses are clearly embodied in a legislative and administrative framework which has been carefully and thoughtfully created to address the human and cultural factors that have contributed to successful and even unsuccessful criminal prosecutions." Conference-goers, including local Police, judges and prosecutors, watched a specially-filmed video of Lord Goldsmith, the Attorney General for England and Wales, talking about the success of the UK scheme. He explained that it included offering witnesses help with childcare or transport to court, as well as protection from intimidation, to ensure they could give their evidence. "We do all that we can to support them and take further action if intimidation occurs," he said. Sen. Perinchief said the legislation to afford better protection to vulnerable witnesses would have a particular emphasis on child abuse cases. He listed four other planned initiatives aimed at improving the Island's criminal justice system: a public defender system to reduce the backlog of criminal cases; a possible restoring of the Crown's right to appeal acquittals based on a "no case to answer" ruling; setting up legal aid clinics in the eastern and western parishes; and establishing a mental health court. "These and other modern initiatives are afoot in this Ministry, I can assure you," said Sen. Perinchief. The conference will hear from him again today plus Director of Public Prosecutions Vinette Graham-Allen.

May 12. Up to 150 workers building the $100 million Tucker's Point Hotel and Spa downed tools yesterday for six hours. One of their key demands is a ballot on the right to unionize the construction workers of the Somer's Construction Company. There are also concerns over contractors and sub-contractors taking illegal deductions from employees' pay checks, threatening foreign workers with deportation if they unionized and lack of health insurance. The work stoppage by 100 to 150 workers from Somer's Construction started at 6 a.m. yesterday. The picketing ended just before 12 p.m. Last night union leaders called on Government to change employer legislation to crack down on companies failing to comply. Bermuda Industrial Union president Chris Furbert said last June the company was served with the letter of recognition. Although the company does not want employees to unionize, it has not put the issue to a ballot. Under Bermuda's labour laws, a company is required to hold the ballot after 14 days or face arbitration. Despite repeated attempts, The Royal Gazette was unable to obtain a comment from vice-president of Somer's Construction, Mark Butt. Ross White, vice-president of the BIU Construction Division, hoped the work stoppage would highlight the concerns. Mr. White said: "Once the complaints go in front of Labour Relations the length of time for the complaint to be heard is too long. They are not dealt with in a timely manner. "We were pointing out with the work shut-down we were trying to bring to light these employers are violating the law without recourse." Mr. Furbert added: "Labour legislation is there to protect the employer and the employee. The challenge now is to have the employers follow the law of the land. Penalties need to be added because right now it is just a slap on the wrist for violations of the law. I would hope this would encourage other companies to sit down with employees to address any concerns they have. Yesterday was about 'enough is enough'. It is time to give employees what is rightful and just. They can take the high road or the low road. I hope they take the high road." Minister of Labour and Immigration, Derrick Burgess issued a statement saying: "The Labour Relations Office has been apprised of the dispute and is assisting with mediation."

May 12. Vulnerable witnesses and victims of serious crime could be moved abroad prior to court trials to prevent intimidation.

Attorney General Philip Perinchief said the measure was likely to be included in new legislation aimed at improving the Island's criminal justice system. "We are looking at witnesses being sent abroad before trial," he said. "They would be temporarily located somewhere else, out of the jurisdiction, for example in the UK." He said that continued protection for witnesses after they have given evidence in court could also be on the cards plus stiffer sentences for those convicted of witness intimidation. "It's a question of us being able to make these witnesses feel as comfortable as possible. In the long-term we need legislation that would assist that." Senator Perinchief said though witness intimidation was not unique to Bermuda, the size of the Island exacerbated the problem. In a small country such as Bermuda there arises, I suppose, a culture of protectionism for the accused who very often is somebody's ace boy," he said. It's certainly a culture that is counterproductive to bringing about justice in this country and it's one we are going to tackle head on." The Minister was speaking after a two-day conference at Elbow Beach Hotel which focused on whether Bermuda should launch a witness and victim care programme based on a successful UK initiative called No Witness, No Justice. Sen. Perinchief said the answer was a resounding yes. "We have to step up to the plate and provide both the human resources and the financial resources to make this criminal justice system the envy of the world," he said. "Bermuda is touted as one of the richest countries in the world. "It ought to, in my view, put justice first. That for me is a clear demarcation of our democracy." He said a taskforce would now be set up to consider how best to reform the system, with legislation likely to be drafted in the first quarter of 2008. Finance Minister Paula Cox, he added, had shown willingness to budget for the improvements. Vinette Graham-Allen, Director of Public Prosecutions (DPP), said it was her idea to hold the conference and bring those behind the UK scheme to Bermuda, including project managers Superintendent Simon Deacy and Pauline Spencer. "We need to put victims at the heart of the criminal justice system if we are to maintain public confidence in the system," she said. Conference delegate Joanne Odoli, of Bermuda Anger Management, Mediation and Professional Services, which prepares witnesses and victims for trial, applauded the Attorney General and DPP for recognizing the need for better protection and care of those required to give evidence. "We are working on a case now involving a serious sexual assault in which the person involved is reluctant to testify," she said. "This can be a very close and closed community. We hear a lot about the rights of the defendant. With this new programme we are addressing the needs of the victim and the witness. In the long-term, it's going to benefit Bermuda and regain the public's confidence in the system." Supt. Deacy said: "What we have seen is a tremendous will and determination from every one of these delegates to take some key messages away. If the structures are put in place...then I think Bermudians will see a witness care unit set up." Puisne Judge Carlisle Greaves said the conference was extremely useful. "I'm sure that this community is going to benefit to a substantial degree," he said.

May 12. The head of development at the International Cricket Council has hinted Bermuda's One-Day International status could be in jeopardy if the Island is not in a position to host international matches by next summer.

Australian Richard Done said yesterday he was "surprised" there had still been no progress on the square at the National Sports Centre since his last visit a year ago — pointing out that Bermuda are the only country out of the 16 ODI nations not in possession of an accredited ground. The ICC's high performance manager was on the Island this week meeting with Bermuda Cricket Board to map out the national team's programme in the lead-up to the World Cup qualifying tournament (formerly the ICC Trophy) to be held in Malaysia in 2009. "It's been 12 months since my last visit to the Island and we're still in exactly the same position with regards to the square at the National Sports Centre," he said. "That's a little disappointing to be honest but I'm encouraged by the news that the Government appears to be looking seriously at the possibility of importing soil. Canada, Ireland, Scotland, Kenya and Canada have all had grounds accredited in the past 12 months — that's in recognition of the fact that ODI status carries with at an obligation to have grounds on which ODIs can be played. From my perspective it's probably become more important now than it was 12 months ago for Bermuda to have an accredited ground because without one, attempting to re-qualify for the World Cup in 2009 is going to be much harder. As far as I'm concerned this has to be top of the priority list because from June next year, Bermuda are scheduled to host three Intercontinental Cup matches as well as a whole host of ODIs as well." Asked what the ICC's response might be if the Island was still not in a position to host those matches Done said: "It hasn't been discussed at this point, the games will probably have to be played elsewhere — though what I would say is there is a presumption that those with ODI status should be able to host ODIs, and so it's crucial for Bermuda's future status that they have the necessary facility available." Meanwhile, Done insisted he is doing all he can to ensure the national side have a busy and competitive fixture list in the lead up to 2009. The Australian said he agreed with the argument that Bermuda needed to be playing more regularly against quality opposition — believing the best way to do this would be to forge closer cricketing links with the Caribbean islands. "I've spent a lot of time since I arrived talking to Gus (Logie), Neil (Speight) and Irving (Romaine) identifying the type of opposition Bermuda should be playing against and one of the areas under discussion is the possibility of organizing fixtures against the best teams in the West Indies," he said. "This is something we're looking at for both Bermuda and Canada and in the programme we're putting together we're looking at fitting in games against the likes of Trinidad and Barbados in around February, March and April of next year. That I think would work very well in terms of getting Bermuda exposed to quality cricket. What I would say though is that the programme of ODIs is still very important from an ICC perspective and any games in the Caribbean would only supplement what we have already laid on through the high performance programme. Between the end of the last World Cup and the beginning of 2006 the Associate nations were involved in only seven ODIs. From the beginning of 2006 until the start of the last World Cup there were 61 ODIs played involving Associate nations, of which Bermuda played in 22. Four of those (Zimbabwe three times and Bangladesh once) were against Full Member nations, which is a number we will definitely look to increase. Again though it comes down to having a facility . . . if Bermuda had a first-class ground, a good wicket and good practice facilities it would be fairly easy to convince some of the bigger countries to come here to train and play games against the national side. It's starting to happen in other Associate countries already. On the back of Ireland's success at the World Cup, they're now hosting both South Africa and India this summer while the West Indies are scheduled to tour there as well. Scotland are also 95 percent certain of playing against Pakistan at home in early July. So it's starting to get there and Bermuda could well have the same opportunities if they get the pitch sorted out." From a grassroots perspective, Done said because of the retirement of several big-name players from the national set-up, "talent development" would become even more of a priority for Bermuda — particularly given the Island's relatively small player pool. Done revealed the ICC intended to host a three-week development camp in Bermuda this year for a dozen or so of the best young players — adding he had also been encouraged by the rapid growth of junior cricket on the Island. Backed by an array of corporate sponsors, the BCB have now established junior leagues at the Under-10, Under-13 and Under-16 levels. "To see Bermuda now has an Under-10 league with as many as ten teams in it is fantastic and very important for future development of cricket here," Done said. "Talent development has got to be a very big priority given the limited number of players you've got to pick from and with players like Clay Smith and Dean Minors — two linchpins of the national side — having recently retired, identifying those that can fill their shoes both now and in the future is going to be critical."

May 16. Norwegian Cruise Lines will join Royal Caribbean in offering cruises next year that leave from East Coast port of Baltimore, the Maryland Port Administration announced. NCL's Norwegian Majesty will offer ten seven-day cruises from Baltimore to Bermuda from June 2008 through August 2008. Its first cruise will set sail on June 21, 2008.

"We are delighted to welcome Norwegian Cruise Lines for what we hope is the beginning of a long, successful relationship," Gov. Martin O'Malley said in a statement. About 125,000 passengers embarked or disembarked from Baltimore last year, according to the port administration.

May 16. A final verdict on horse and carriages during Hamilton's Harbour Nights will have wait until the Bermuda Police Service releases the findings of its investigation, according to a statement from the city's Mayor.

Safety concerns over horse and carriage rides reached a boiling point after two spooked horses stampeded into a crowd of people at the first Harbour Nights celebration of the year on April 25, three weeks ago. Nineteen people were injured, including one woman who was seriously hurt and required an extended hospital stay. Since then horse and carriage operators have been temporarily banned from Harbour Nights. Last night, the Corporation of Hamilton announced it will keep the temporary ban in place at least until Police release their investigative report. A Police spokesman confirmed the investigation is ongoing. Hamilton Mayor Sutherland Madeiros said: "It is important that we balance the safety of the public with the desires of tourists and business owners within the city of Hamilton. "We have considered the tragic incident that took place at Harbour Nights three weeks ago and have decided to temporarily suspend horses and carriages at the weekly event until we receive and are able to take into consideration the official police account of what happened. At that time, the Corporation will make another announcement in regard to future policy on the issue." Members of the public, and even horse and carriage operators, have been split over what the Corporation of Hamilton should do next. Some believe the horse and carriage rides are essential to the old city flavor that tourists enjoy, others say a permanent ban on horse and carriage rides in the city is the only way to properly protect the public.

May 17. World Cup spinner Dwayne Leverock has vowed to continue playing international cricket.

The Southampton Rangers and Somerset Cup Match veteran remains committed to the national cause and is determined more than ever to play his part in helping the Island qualify for the 2011 World Cup. "I haven't retired. I'm looking to go right along through to 2009 to help the team re-qualify and then after that I will make a decision (about retirement)," Leverock said. With senior national team members Saleem Mukuddem, Dean Minors and former skipper Clay Smith having retired, Leverock believes there is other talent out there capable of filling the void. "We just have to push on with the players that are left and try and help the youngsters come through. The senior players must now establish a foundation to help the younger ones coming through to be successful in the future. And I think we do have the talent. It's just a matter now of showing them what the processes are to get them to understand from a young age," the charismatic cricketer added. Leverock is also among those who would like to see the national team playing more frequently on the international stage. "I think the more active we are the better it will be for the country. The more games we play the better we will become at perfecting the processes in becoming the top Associate," he said. Only last week ICC high performance manager Richard Done agreed that it's important for the Island to gain as much exposure as possible playing at the international level. "I've spent a lot of time since I arrived talking to Gus (Logie), Neil (Speight) and Irving (Romaine) identifying the type of opposition Bermuda should be playing against and one of the areas under discussion is the possibility of organizing fixtures against the best teams in the West Indies," Done said. "This is something we're looking at for both Bermuda and Canada and in the programme we're putting together we're looking at fitting in games against the likes of Trinidad and Barbados in around February, March and April of next year. That I think would work very well in terms of getting Bermuda exposed to quality cricket." Leverock, who rose to fame overnight after dismissing England batsmen Kevin Pietersen and Paul Collingwood in the lead up to the World Cup, has not played domestically since returning from cricket's premier showpiece in the Caribbean earlier this spring. The veteran left-arm spinner has been experiencing pain in his tonsils lately and is now scheduled to have them removed later this month. "I should be back playing early next month," he added. "But I guess you can say that I could use a little break. Sometimes your body needs a bit of rest."

May 17. Six stamps commemorating Bermuda's signature training vessel, the Spirit of Bermuda, will be released today.

This is the second of four stamp issues by the Bermuda Post Office this year in its efforts to portray all areas of Bermuda's heritage, culture and history. The stamps, which depict six different views of the sloop, from the laying of the keel, sea trials to its arrival in Bermuda will be available at post offices today. The Spirit of Bermuda was built in 26 months by Rockport Marine in Rockport, Maine, USA, but the original inspiration for the sloop comes from an 1834 oil painting by John Lynn. The ten cent stamp is a view of the hull construction, which was made upside-down over a wooden mould and the 35 and 70 cent stamps depict the sea trials of the sloop. After the sloop was launched on Saturday, August 13 last year, it went through extensive sea trials in Maine before 32 crew sailed it to Bermuda. On September 30, last year the Spirit of Bermuda approached Bermuda from the Southwest side, which is depicted on the 85 cent stamp and then proceeded to Hamilton Harbour, which is on the $1.10 stamp. The $1.25 stamp depicts the sloop powering upwind in Bermuda's Great Sound. On June 21 this year the Bermuda Philatelic Bureau will issue the next six stamps, which will commemorate the 400th Anniversary of Jamestown.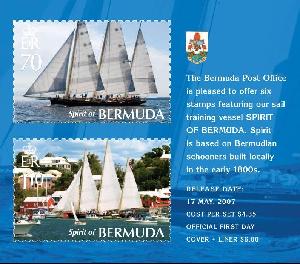 May 18. An addiction specialist believes hallucinogenic drugs and amphetamines are on the rise in Bermuda. And he says drug activity should rise in the summer months because students will return from overseas with newly-formed habits.

Speaking at a Parents Resource Institute for Drug Education (PRIDE) meeting Kenneth Matthew said the level of drug use and drugs on the Island tend to spike during summer months. Mr. Matthew, who is the founder of Trust Recovery a 12-step based recovery programme said people need to start addressing the drug and alcohol problem instead of sweeping it under the carpet. He said: "Those of us in the addiction business know that when summer comes students come back with some of the things they have learned, and not all of them were in the classroom. "And we've got to be equipped with up to date information because barbiturates and hallucinogens are becoming a big thing here just like in the US." While marijuana, heroin and cocaine have always been drugs of choice on the Island he said he believed that and hallucinogenic drugs were on the rise. He said that the drugs were growing in popularity in the US and being smuggled to Bermuda more frequently. And a Government study into drug use completed in January and due to be released in coming months should point to the growing popularity of drugs like ecstasy and amphetamines, also known as speed, in Bermuda he said. His company's motto is "teaching recovery using straight talk" and yesterday he said parents need to bring back tough love. He said: "We need to stop worrying about what our kids think of us and give them tough love. If they live under your house they have to follow your rules. And grandparents need to stop bailing them out. That's a major problem here, too many parents are not getting involved in their kids lives." Mr. Matthews explained that without tough love parents are enabling their children in addiction.

May 18. Bermudian schoolchildren will get the chance to meet a former commodities trader described as having one of the quickest mathematical brains on the planet next week.

Students at Berkeley Institute, CedarBridge Academy, Clearwater Middle School, Harrington Sound Primary School and Saltus Grammar School will benefit from workshops with American Mike Byster, who uses tricks and games to make learning maths fun. A former trader at the Chicago Mercantile Exchange, Mr. Byster now travels the US as a volunteer teacher dubbed the Human Calculator. He is being brought to the Island by the Investment Bermuda charity and the Berkeley Institute board of governors. Investment Bermuda director Anthony Witherspoon, a consultant to the Ministry of Education, said: "I saw Mike on 20/20 (an ABC news show in America) and it talked about his extraordinary maths talent. I was just blown away. He can do computations in his head in a matter of seconds. I contacted him and he indicated that there were thousands of schools trying to get him to come. After a little persuasion, I persuaded him to come and give workshops. Mike is said to have the fastest mathematical mind in the world. He will be providing maths workshops at several schools on the Island next week and will be meeting with the Premier on Monday."

May 18. The parade will begin at 1 p.m. and will start at Bermudiana Road.

Travelling south on Bermudiana Road, the parade will take a left onto Front street and continue East until it reaches Court Street. The Parade will then take a left onto Court Street going North until Dundonald Street. It will take a left on Dundonald Street and will go West until Cedar Avenue where it will take a Right. The Parade will continue on its regular route around the Tennis Stadium and will end in Bernard Park.

May 19. Opposition MP John Barritt has re-launched his bid to change the law to allow prosecutors to launch an appeal on any grounds if a defendant has been acquitted.

Currently the Crown can only appeal on matters of law but Mr. Barritt's bill would allow appeals to be launched on other grounds. Mr. Barritt said the absence of this law had stopped the Crown from reopening the notorious botched Rebecca Middleton murder case. In late 2004, Mr. Barritt tabled a bill to allow prosecutors to appeal for a new trial if a judge had thrown out a case by ruling there was no case to answer — as happened in the Justis Smith murder trial. That bill would have allowed the Director of Public Prosecutions to appeal on fact or mixed law and fact but Mr. Barritt dropped the bill after getting indications that the Government might table the bill itself. But nothing has happened and now Mr. Barritt said he sensed a changing mood on the Government benches. He said Attorney General Phil Perinchief had indicated he wanted a look at the double jeopardy law which stops defendants being tried on the same facts twice. "I wrote to him but I have not heard from him since." But he said Senator Perinchief had since expressed interest in modernizing the justice system while Government MPs had also expressed an interest in change but Mr. Barritt declined to say how much support he believed he had. He said his amendment act, tabled in the House yesterday, would allow the prosecutors to appeal matters on question of fact alone, or a question of mixed law and fact or any ground that appears to the court to be sufficient ground of appeal. "The absence of such provisions has been remarked upon often, including in the Rebecca Middleton case and in other cases in Bermuda where the prosecution has not been able to appeal a decision that the crown thought was wrong. "It is time to make the right decision which is to put the prosecution and the defence on an equal footing." Mr. Barritt said the UBP wanted to send a message to criminals that the justice system was effective in detecting, convicting and properly punishing them. "Meanwhile those who obey the law, the majority of this island, want to live their lives free from fear in security and safety knowing the justice system works in their interests."

May 19. For the first time since the United States Naval Air Station closed in 1995, a US Fleet Forces Band is returning to the Island to fulfill a variety of engagements, including participation in the Bermuda Day parade.

The 35-member Band was invited here by US Consul General Gregory Slayton following an initial request from Minister of Social Rehabilitation Dale Butler, although it has been Minister of Community and Cultural Affairs Wayne Perinchief who has been responsible for much of the follow-through. The largest of the Navy's twelve Fleet Bands, directed by Lt. Cdr. Ralph G. Barrett, USN, will arrive in Bermuda on Monday, May 21 and commence live performances on May 22 with visits to CedarBridge Academy and the Berkeley Institute. That afternoon, smaller ensembles will visit the 'Westmeath' and 'Matilda Smith' rest homes. For their final performance of the day, the full complement of musicians will perform in tandem with the Bermuda Regiment Band during the regular Tuesday night 'Destination Dockyard' festivities. On Wednesday, May 23 the Band will first perform at Saltus Grammar School before giving a public concert on the steps of City Hall at noon. In the afternoon the woodwind ensemble will play at an official invitation-only reception at 'Camden', hosted jointly by Mr. Slayton and Mr. Perinchief. On its last full day in Bermuda, the Fleet Forces Band will march in the May 24 parade along Front Street, with a final spectacular performance at 5.15 p.m. at Bernard Park. "I am deeply honored to re-introduce the United States Fleet Forces Band to Bermuda after an absence of more than a decade. This joint endeavor is just one more example of the ties that bind our countries together, and I thank both Minister Butler and Minister Perinchief for their strong partnership in making this historic event a reality," Mr. Slayton said.

May 21. Bermuda's prison population dropped by almost a quarter in three years, Government has revealed. The decrease means the Island plummeted from having the joint second highest prison population in the world in 2003, to being at least 181st last year.

Minister of Social Rehabilitation Dale Butler attributed the success to the Alternatives to Incarceration (ATI) initiative, which provides community programmes and supervision to ensure incarceration is a last resort for non-violent offenders. "We're delighted that we've seen this change. One of the key recommendations of the Tumim Report was to stop imprisoning people for misdemeanors (less serious offences) and we have done that," he said, referring to a damning report in 1992 calling for a radical overhaul of the criminal justice system. At the time ATI was launched in 1999, said the Minister, "we were more punitive than rehabilitative and persons were being incarcerated at an alarming rate, averaging approximately 300 each year, for seemingly minor offences such as driving while disqualified". In 2003, the Department of Court Services evolved under the umbrella of ATI to administer supervision in the community and expand rehabilitation programmes. The Department developed an integrated management system bringing the courts, treatment service providers, Corrections and the Police together to work in tandem. Statistics revealed by Mr. Butler on Friday show the Island's prison population dropped from around 350 incarcerated in 2002/03 to 266 in 2006 — a decrease of 24 percent — as a result. Over the same period, the number of people under community supervision rose from 165 to 326. The re-offending rates for those on community supervision was 7.26 percent in 2005/06, which Mr. Butler hailed as a demonstration of ATI's effectiveness. He also praised the fact that there was no re-offending in the drug court treatment programme and parole during that period as "remarkable". Noting how a reduced prison population has a positive effect on the families of those who would otherwise be jailed, the Minister also revealed that Government is searching for "creative means" to avoid imprisoning fathers who commit crimes. This will come alongside other initiatives in the pipeline such as electronic tagging of criminals in the community, a mental health treatment court programme and efforts to stop youngsters offending in the first place. Mr. Butler listed challenges the ATI initiative faces as including new legislation which has recently increased terms of imprisonment for offences such as sex assaults and bladed weapon possession, and what he termed "the lack of adequate treatment provision in the areas of mental health and substance abuse". He pledged that these were being looked at on a wider front, to address the anomalies. According to November 2003 figures from the London-based International Centre for Prison Studies, Bermuda tied with Belarus and Russia in having the second-highest number of people behind bars globally, with America leading the rankings. At that time, there were 532 people behind bars per 100,000 population in Bermuda. By December 2006, the Island had 464 prisoners per 100,000 population, ranking 181st in the world. Although there is not a more recent global ranking available, the current figure of 403 prisoners per 100,000 population means the Island is likely to have plunged even further down the world rankings.

May 21. An ill-tempered debate at the close of business in the House of Assembly saw more than the usual amount of highly-charged rhetoric bounce off the walls of the chamber.

Shadow Health Minister Louise Jackson started off by re-igniting her long-running series of clashes with Premier Ewart Brown over the closing of the Medical Clinic. Dr. Brown announced the impending closure of the facility in last November's Throne Speech, saying its patients, primarily indigents, were suffering from a lack of dignity. In future, the former patients will have access to private doctors. Those opposed to the plan have rallied to keep the clinic open, gathering thousands of signatures and organizing two protest marches. During the Motion to Adjourn, Mrs. Jackson, who opposes the closure, claimed "the majority" of former patients were not getting places with private physicians and are being told "they do not have space (and) they do not have a place for them." Dr. Brown jumped to his feet on several occasions on points of order, claiming Mrs. Jackson was misleading the public and telling her in an angry tone: "Prove it. Prove it. I'm not going to let it continue unchecked, the constant flow of you-know-what." When Mrs. Jackson repeated her claims, Dr. Brown said the clinic would close at the end of June, and acknowledged that some doctors not participating within the scheme had turned away patients who approached them. However, he pledged that all patients would be placed with new physicians. Later in the debate, the Premier took to his feet and accused Mrs. Jackson of behaving "irresponsibly" by organizing a protest over the issue outside the House of Assembly earlier this year — a charge the Shadow Health Minister denies. "There's been a lot of alarm bells that have been ringing without necessity," said Dr. Brown. "The only thing that's disorderly would be the irresponsible actions of that honorable member Mrs. Jackson." Mrs. Jackson argued that she was not irresponsible and said the clinic's patients had been treated disrespectfully. Dr. Brown continued by saying of Mrs. Jackson's actions: "It's not just scoring political points, but it's beginning to sound strange." He said that during the Medical Clinic protest a placard-wielding woman had screamed abuse at him. However, he said he had since learned from "an unimpeachable source" that the woman was already insured by a commercial insurance company, and that her husband will now be getting coverage under her insurance. On her own part in the demonstration, Mrs. Jackson said: "I have said it before, I will say it again. I did not organize that demonstration. I was certainly a part of it. I did not organize it. I don't believe that anybody here believes otherwise." Dr. Brown responded: "If she says she did not organize it, I will accept that. But that she was part and parcel of it is undeniable." The Premier also hit out at allegations that the closure of the clinic was an "abrupt" process, which he said had been made by Mrs. Jackson and former Opposition leader Grant Gibbons — although both called out that they had never made such claims. "It's been seven months since this issue was introduced through the Throne Speech in November, with a closure planned on or before June 30," he said. "In no sense of the word can that be considered abrupt." He said Acting Health Minister Philip Perinchief and civil servants were currently working on an orderly plan to shut the facility. "There may be people who are more knowledgeable about how it's going to be closed than others, but that's the nature of the environment we live in," he said. Arguments over race formed another key part of the debate. Deputy United Bermuda Party Leader Patricia Gordon-Pamplin rose to her feet to criticize "absolutely disgusting" words that she claimed were called across from the PLP front bench earlier in the day's proceedings. Mrs. Gordon-Pamplin claimed that a Minister sitting next to Dale Butler had said to her: "Go ahead, take your master's licks," in a racial reference that she found offensive. She suggested that if the Premier was genuinely concerned about the current 'Big Conversation' race relations initiative, "he might want to start by looking at every member of his front bench and every member of his back bench". Minister for Cultural Affairs Wayne Perinchief, who sits next to Mr. Butler, said he did not believe Mrs. Gordon-Pamplin's comments were true, protesting: "I never spoke to her. I never directed anything to her," and adding that if he was speaking directly to Mr. Butler then Mrs. Gordon-Pamplin should not have heard him. Speaker Stanley Lowe told Mrs. Gordon-Pamplin that the exchange was lowering the standards of the House. She took to her seat after vowing to defend all the members of her party, and after Education Minister Randy Horton loudly shouted at her several times to sit down. UBP MP Maxwell Burgess spoke of the need for blacks to be better educated to keep them from being "in the back of a Hustle Truck". He said adults had an important role to play by offering support. Government backbencher Terry Lister praised Social Rehabilitation Minister Dale Butler's efforts to help prepare prisoners as productive members for society on their release from prison. Education Minister Randy Horton said he conceded Bermuda's male graduation rates needed to improve, but insisted progress had been made recently. Mr. Horton spoke of the need for adults to lead by example and highlighted a mentoring system at Somerset Primary School in which children are assigned individual role models such as parents, teachers or other members of school staff. Opposition education spokesman Dr. Gibbons agreed there was a need to address the number of failing male students. Dr. Gibbons said education standards in the Caymans had enjoyed a turnaround in fortunes since a new system was implemented bringing together a number of elements from the community. He said: "(The Caymans) Government said: 'We have got issues — let's all sit down together and sort it out.' That's the difference between us and where the Caymans is." Next to speak was Opposition leader Michael Dunkley, who raised a number of issues, including the need to tackle the prevalence of drugs in society. MPs should lead the way by introducing random drugs testing in the House of Assembly, he said. Mr. Dunkley criticised Government for the delayed opening of the Sylvia Richardson care home. He stated that the St. George's facility had cost $30 million to build, but only took residents in an emergency measure when the Pembroke Rest Home closed due to the nearby fire at Pembroke Dump. He called for Government to announce when it is going to operate on a fuller basis. He also called for action to clean up mould at Hamilton Police Station, and to crackdown on road rage and reckless motorists. Wrapping up the debate, Dr. Brown turned the topic back to Mrs. Gordon-Pamplin's earlier allegations. "The honorable member must know that as the leader of my party I do not condone racial name-calling. I don't think it's positive," said the Premier. "I have never called anyone in this House a name. I have come extremely close, but I have observed the rules of the House." He said any remark Mrs. Gordon-Pamplin may have heard could have been made because she was a black woman speaking up unprompted on behalf of a white colleague, Dr. Gibbons, who was facing criticism over a declared interest in an earlier debate. "This is the phenomenon," said Dr. Brown. "When I used to sit on the opposite side of the House, many times we would attack a member of the House who happened to be white. What we started to notice was before those white members could respond on their own, we saw black members many times jumping up and speaking as though other people couldn't talk." Dr. Gibbons responded: "There were a number of members all around me who jumped to my defence — Mr. Dodwell back here, Louise Jackson. I think it's not fair for that man to make a racial comment about who answered. We are a diverse party and a diverse party answered." Dr. Brown drew reference to the Big Conversation — a series of dialogues involving blacks and whites at the Hamilton Princess which he said was going well under the organisation of Government consultant Rolfe Commissiong. The Premier said: "I really believe that this country has denied itself that conversation for too long. It doesn't mean that having that conversation is going to be a picture of comfort."

May 21. Premier Ewart Brown's "lavish" lifestyle last night came under fire after he and his entourage spent more than $280,000 of taxpayers' money on overseas trips in a ten-month period. Dr. Brown racked up a $23,000 hotel bill during a one-week stay in London — an average of nearly $4,000 a night — sparking accusations from the Opposition that he is "living the life of an Indian princeling at the height of the British Raj". The Premier, who is also Tourism Minister, splashed out nearly $8,000 on one return flight to the UK, and $19,000 on gifts during a tour of American colleges, according to figures released in Parliament on Friday. Dr. Brown's companions on his 16 trips from last July to the end of last month — including security staff, former Press Secretary Scott Simmons, Chief of Staff Wayne Caines and Cabinet Secretary Marc Telemaque — cost a total of $130,000, while the Premier himself spent $155,000. The total amount spent by Ministers during the period was more than $560,000, although this does not include those for Acting Health Minister Philip Perinchief and Public Safety and Housing Minister David Burch, who do not sit in the House of Assembly. The figure spent by all Ministers for the 12 months leading up to July 2006 was $630,000. Dr. Brown's most expensive outing was a seven-day Overseas Territories Consultative Council (OTCC) in London, which cost $36,000 for himself and $21,000 for his companions Mr. Simmons, Mr. Caines and Civil Service head Kenneth Dill. The Premier's OTCC bill included $6,400 on airfares, $23,000 on his hotel and $5,700 on transport. His most costly airfare during the ten months was a $7,900 return ticket to London for a series of tourism meetings last August, while the bulk of $25,500 spent on gifts went on college tours in Huntsville and Alabama in March. On average, each of Dr. Brown's 79 days away cost the public nearly $2,000. Shadow Finance Minister Patricia Gordon-Pamplin last night described the statistics as "hair-raising". "The information given shows that Dr. Brown, particularly, lives a life of luxurious travel that would put an Indian princeling at the height of the British Raj to shame," she said. "Imagine what kind of hotel room in London would cost nearly $4,000 a night, or how comfortable a seat on an airplane would have to be to cost you $7,900, or what kind of gift you would give on a three-day trip to meet some college students that could cost Bermuda taxpayers $19,000. This is travel of the most lavish kind of scale. The Premier travels more in a year, it's obvious, than most people in Bermuda do in a lifetime. The amount he spend on his trips can never be more than a dream for the rest of us. I understand how reluctant (Finance Minister Paula Cox) must feel to point out to him that it could all be done much more cheaply." Attacking the number of companions on the Premier's trips, Mrs. Gordon-Pamplin added: "He took five people with him to watch the cricket in Trinidad and five people to meet college kids in Alabama and Georgia. What they were supposed to be doing, apart from being impressed, the Lord alone knows." Opposition leader Michael Dunkley said: "We are concerned about the blatant disregard for the public purse. How you spend your money privately is one thing, but when it's taxpayers' money you have to be accountable." The statistics were released following a series of Parliamentary questions by Shadow Ministers. Ms Cox won praise from the Opposition for keeping her own expenses to a minimum by often travelling alone to meetings in the UK or the US.

Other findings included:
Environment Minister Neletha Butterfield spent more than $35,000 attending agricultural shows in Jamaica and the Cayman Islands with a number of Ministry officials and assistants in August and February.
During the Cricket World Cup in the Caribbean in March, Dr. Brown totted up $10,000, with a further $20,000 going on two security officers as well as Mr. Simmons, Mr. Caines and Mr. Telemaque. Sports and Education Minister Randy Horton clocked up $13,000 attending the cricket and a number of education meetings in Trinidad.
Mr. Caines spent $9,700 on a gift while attending the Caribbean Catastrophe Risk Insurance Facility in Washington, DC, in February.
Mr. Horton spent $7,200 on a five-day trip to the Carifta Games in Turks and Caicos last month.
The Premier could not be reached for comment over the weekend.

May 21. The independent review into Bermuda's failing public education system cost almost a quarter of a million dollars, it has emerged. Education Minister Randy Horton, in answer to parliamentary questions from former Opposition leader Grant Gibbons, revealed that the final bill for the inquiry — which resulted in a damning report being delivered earlier this month on the Island's public schools — was $241,411. Mr. Horton said the Bank of Bermuda would pay half the amount with the rest coming from public funds. Professor Hopkins and his team of five education experts — including two Bermudians — were paid $144,925. Mr. Horton added that Professor Hopkins had not been asked to undertake any other work by Government but that he and his team had offered to assist with "progressing" the recommendations from the review. In a television and radio broadcast on May 3, Premier Ewart Brown said the review — launched after more than half the Island's senior school students failed to graduate last year — confirmed "what we know as a community to be true". Shadow Education Minister Dr. Gibbons told The Royal Gazette that the Hopkins report came to many of the same conclusions as a document delivered to Government last November by the Association of School Principals. "How could the Minister not pay attention then?" he said. "He is even a member of this association. I think it's very disrespectful." He added: "It's very easy to come along with a consultant and tell everybody what most people know and basically point fingers. It's another thing entirely to actually implement change and make it work. I have no problem with Mr. Hopkins. I have a problem with the way this whole thing has been handled up to this point."

May 21. Opposition leader Michael Dunkley Friday night defended his family's dairy in the wake of Premier Ewart Brown's allegations of unfair monopolization.

Mr. Dunkley dismissed the Premier's claims that the Dunkley family's control of the Island's milk supply was protected by United Bermuda Party-inspired legislation. He said Dr. Brown was attempting to distract the public from a row over the Island's $1 million vehicles emissions testing contract, which was awarded to Bermuda Emissions Control (BEC) — a company run by the Premier's cousin Donal Smith. Dr. Brown had suggested the UBP had shown racial double standards by accusing Government of cronyism over the emissions testing contract while ignoring its alleged part in protecting the dairy monopoly. "As for the Premier's attack on my family's business, I am not surprised," said Mr. Dunkley. "It is his style to attack individuals, to deflect attention and to push the race button when questioned about questionable deals. I will not be deterred by this approach. "The Premier is under-informed about the dairy industry. I am proud of my family's business; proud that we have served Bermuda well for more than 100 years. We operate in a free-market environment, where competition can emerge from any quarter." The embargo on imported milk was introduced through the 1997 Importation of Milk (Prohibition) Act while the UBP was in power. However, Mr. Dunkley said it was intended to protect local diary farmers, and was passed with full support of both sides of the House of Assembly including, he claimed, Dr. Brown. He added that at the time he declared his interest as CEO of the production plant that buys milk from local dairy farmers to pasteurize and distribute. Mr. Dunkley backed UBP Senator E.T. (Bob) Richards, whose attack over the emissions testing contract sparked anger in the Senate last week. "The fact that the action was taken by breaking the Government's own rules, requiring a transparent and open bidding process, flies in the face of fairness and equity," said Mr. Dunkley. "The granting of a monopoly to the Premier's cousin kills any hope of entrepreneurship in the field of emissions testing. Garages across the Island would like to have been given the opportunity to offer that service to the public. There is no need for a monopoly in the business of vehicle emissions testing. Dr. Brown should have followed the example of the UK, where thousands of automobile garages are licensed to provide vehicle inspections and emissions testing. Instead, cronyism has triumphed once again over entrepreneurship." Dr. Brown had claimed BEC had first been sought for the contract by the UBP. Last night, Mr. Dunkley argued such an assertion "insults the intelligence of Bermudians". The emissions testing contract was never put out to tender, but Government says BEC was the only company with the specialist equipment and facilities. It says the contract was scrutinized at length by the Ministry of Transport, the Attorney General Chambers, TCD and Cabinet. Saturday's Royal Gazette reported Dr. Brown as saying: "This week's drumbeat of unsubstantiated attacks from the Opposition are irresponsible. If Sen. Richards wants to probe untoward financial gain he should perhaps take a look in his own backyard. His Opposition leader has a virtual monopolization in his dairy business, a competitive edge protected by UBP-inspired legislation."

May 22. The Premier yesterday unveiled two measures to alleviate the financial burden on senior citizens.

Speaking at a meeting with the Bermuda Senior Islanders group, Dr. Ewart Brown pledged to make healthcare more comprehensive and affordable for the older generation. He also announced that seniors will no longer have to pay the annual TCD driver's licence renewal fee. The Premier said that Government is drawing up a scheme to give seniors assistance to help them attain higher quality healthcare. Currently there is a gap in coverage for those over the age of 65. Thirty days after retirees turn 65 they are no longer well insured. This forces most to dip into their own limited resources in order to buy coverage above the basic level provided by the Government's Hospital Insurance Plan (HIP). The Premier's initiative — being developed with Acting Health Minister Phil Perinchief — would do away with basic healthcare coverage and provide retirees with a more comprehensive insurance coverage. Dr. Brown said: "This programme will treat you with the same services that you get when you are working." To pay for the programme, Dr. Brown and Mr. Perinchief are to explore a scheme whereby the 20-64-year-old workforce pays slightly more so they can have better healthcare when they retire. The Premier said: "All that is required of the workforce is a nominal surcharge. It would be barely noticeable. And the math is simple: you work now and get covered later. The future is paid for by the present. We're working out the numbers, but it looks very possible, very do-able." He told the meeting: "We will have people pay into the system when they are young. For every month, every year that you are in the workforce, you will be covered a certain amount of months or years after you are 65." Mr. Perinchief said: This program will put a stop to seniors receiving just basic care. Healthcare should not reduce in quality during the years it is needed most. This new plan ensures the health of retirees is covered just as comprehensively as the rest of us. It's clear to me that this is something our seniors are worthy of, they have already paid their share and done their part for our community." Dr. Brown also said that as from 2008, Bermudians over-65 will no longer have to pay the annual driver's licence renewal fee at the TCD. "This new policy is one way this Government is seeking to give seniors the financial relief they need and deserve." The measures were announced at a meeting at Admiralty House, Spanish Point, to highlight the annual Senior Citizens Tea this Sunday. The Premier's Tea, held at the Botanical Gardens, marks the start of Senior Citizens' Week, and will be hosted by Dr. Brown and his wife Wanda. More than 1,000 seniors are expected to attend the event, in the Main Show Ring from 3 p.m. This year's Senior Citizens Week has the theme 'Elders Moving Upward Talented and Excellent'. Other events include a Seniors' Talent Show, concert, craft exhibition and fashion show, annual picnic and church services.

May 22. A passenger on a cruise ship and another on a private jet have both died after being suddenly taken ill.

Mexican Manuel Diaz, 63, collapsed yesterday afternoon on a plane Police believe was bound for the US from Bermuda. Mr. Diaz was given CPR on board the jet while it returned to the Island so he could be rushed to King Edward VII Memorial Hospital by an ambulance waiting at L.F. Wade International Airport. However, he was pronounced dead by a physician at the hospital at 5.30 p.m. American Larry Lynn Hamilton, 64, collapsed while watching a show with his family on board the Empress of the Seas, docked at Number One Shed, in Front Street, yesterday. He was pronounced dead by the ship's doctor at 8.30 p.m. No foul play is suspected in either of the deaths, although Police have said an autopsy is likely for each.

May 22. A new nine-storey hotel due to be built on the Par-la-Ville car park site in Hamilton is not certain to be a Ritz-Carlton, the world famous chain said last night. Planning documents for the multi-million dollar scheme — which was granted a special development order (SDO) last December—- include the luxury hotel chain's name and developer Unified Resorts has said publicly it welcomed the opportunity to bring Ritz-Carlton to Bermuda. But Vivian Deuschl, Ritz-Carlton's corporate vice president for public relations, told The Royal Gazette that no contract had been signed committing the chain to the project. "Speculation is really all that I can tell you that it is at this point," she said. "Discussions are always going on with developers and there could very well be discussions going on. Bermuda has been on and off the table for many years because it's such a wonderful destination. Even if there are discussions going on there is nothing confirmed." The proposed hotel — opposite Bermuda Stock Exchange on the corner of Par-la-Ville Road and Church Street — would be the first development in Hamilton to break the city's seven-storey limit for buildings. Environment Minister Neletha Butterfield granted the SDO last December to fast-track the project and construction is expected to start this year. This newspaper contacted Ritz-Carlton yesterday after a local news website reported that the hotel plan could be in jeopardy because of a row about underground car parking. The report suggested that Unified Resorts would have to build the car park at a cost of $25 million but the Corporation of Hamilton would benefit from any revenue. When asked about the story, Ms Deuschl said: "There are no current plans for a hotel in Bermuda — (it's) still a rumor." Unified Resorts director Donal Smith would not comment and Ted Adams, the company's president and chief executive officer, said: "I don't know about any problems. From our standpoint everything is fine. I have no idea what this is about." Corporation of Hamilton secretary Kelly Miller said: "No issues have been raised by the developer with the Corporation." She said the Corporation would only benefit financially from car parking spaces which replaced the ones it would lose because of the development.

May 23. Police say an autopsy is likely following the death of American Larry Lynn Hamilton, 64, who collapsed on Monday evening while watching a show with his family on board cruise ship the Empress of the Seas.

The vessel was docked at Number One Shed, in Front Street, at the time. Mr. Hamilton was pronounced dead by the ship's doctor at 8.30 p.m. No foul play is suspected. A host of cruise ships have brought thousands of passengers to Bermuda over the past few days. The Azamara arrived in St. George's with 530 people aboard on Monday, and has been docked in Hamilton throughout the week before leaving tomorrow. On Monday, the Empress of the Seas arrived in Hamilton carrying 1,600 passengers. It leaves for St. George's today before departing the Island tomorrow. The Norwegian Spirit arrived on Monday with 2,200 people before leaving later in the day, while the Explorer of the Seas arrived yesterday and leaves today. The Norwegian Majesty and the Norwegian Crown both arrived on Tuesday and leave on Friday. The Norwegian Dawn arrived last Thursday and left on the same day.

May 23. Opposition MP Michael Dunkley called for a shake up on how Cabinet ministers are paid after parliamentary questions revealed there are no strict guidelines on who is deemed part-time and who is deemed full-time. There is a difference of $50,000 per year with full-time ministers pulling in $150,000 and part-time ministers getting $100,000. But Mr. Dunkley noted that two of the most important Cabinet ministers — Finance Minister Paula Cox and Education Minister Randy Horton are part-time. Other than Social Rehabilitation Minister Dale Butler, all other Ministers are full-time. Asked how ministers were assessed Premier Ewart Brown said there were no statutory definitions or guidance on determining whether or not a Ministerial position is full-time. But he said the Premier bore in mind criteria such as the size and budget of the Ministry, its workload, the number of full-time Ministers required to enable good governance and economic factors. Mr. Dunkley said: "His answer seems to me to reveal a Government which is either so disorganized or more likely, couldn't care less which Ministers are full- and which are part-time. What seemed to be important for the Government was being able to jack up the salary, and make a little bonanza of an extra $50,000 a year (that's all some working men and women earn in a year) available to whoever wants it." And he added: "Guess who tops the list of part-time Ministers? The Honorable Paula Cox, Minister of Finance — the Minister who carries more responsibility on her shoulders than any of the rest of them and the Minister of Education, Hon. Randy Horton. These questions and subsequent answers show that the method used by the PLP Government to arrive at the latest remuneration levels is severely flawed. The next United Bermuda Party Government will ensure that this policy is reviewed and that Members of Parliament do not directly set their own compensation package."

May 23. Some of the Commonwealth's most distinguished judges and magistrates will come to Bermuda this summer for a conference. The regional meeting of the Commonwealth Magistrates and Judges Association (CMJA) is entitled 'Equality and the Courts — Exploring the Commonwealth Experience'. Among the topics to be discussed will be family and gender-based violence, human rights and economic development, and perspectives on equality and the courts. Although the event has traditionally been addressed only to magistrates and judges, the latest conference has been extended to include all lawyers in Bermuda at the instigation of the Regional Vice-President of the CMJA, Puisne Judge Norma Wade-Miller. Members of the Bermuda Bar Association who attend the conference will be able to meet and network with CMJA members from the UK, Channel Islands, Cayman Islands, the Caribbean and Africa. The event will be hosted by Chief Justice Richard Ground at the Fairmont Southampton resort between August 19 and 23.

May 23. The United Bermuda Party accused the Premier of lack of substance and of electioneering yesterday, after he unveiled two measures to alleviate financial pressures on the elderly. Shadow Health Minister Louise Jackson said that plans to give seniors better healthcare plus an exemption from the annual driving licence fee was an attempt to "dupe" voters ahead of a general election. She said the renewal fee saving amounted to just $4.60 a year and that Dr. Brown's healthcare plans lacked "flesh on the bone". Mrs. Jackson was speaking at a press conference in response to an announcement made by the Premier on Monday. Addressing the Bermuda Senior Islanders group, the Premier said he was drawing up a scheme with Acting Health Minister Phil Perinchief to provide better healthcare for those over-65. Instead of seniors having to buy coverage above the basic level of the Government's Hospital Insurance Plan (HIP), Dr. Brown said it would instead provide more comprehensive coverage. The scheme would work by asking the 20-64-year-old workforce to pay a nominal surcharge and their contributions would then accumulate towards retirement. Dr. Brown said that as from 2008, Bermudians over-65 will also no longer have to pay the annual TCD driver's licence renewal fee. However, Mrs. Jackson dismissed this as "the worst kind of electioneering". We are being set up to be duped and hoodwinked again by the Brown regime," she said. "You know, Mr. Premier, we seniors are old but we're not dumb. To tell old folks on the eve of an election that seniors who drive cars will get a $4.60-a-year exemption and seniors who don't drive will get nothing. What a con. It's not just not enough, it's nothing. The Brown regime is saving well-off seniors who drive, $4.60 a year, while making the people who use the Medical Clinic pay $5 for an office visit to a doctor, if they can find one to take them. This is political trickery on the eve of an election to win votes. The Government's interest is in votes, not people." Addressing Dr. Brown's healthcare scheme, Mrs. Jackson said: "Most of us who are seniors will probably not see this idea come true. It is only another bone thrown at seniors to get a vote. This is not a concrete plan. It's an idea thrown out on the eve of an election, and so the question must be asked, given this Government's record on follow-through, whether we will actually see any result. This is too complex an issue for a hasty, last-minute driven proposal. Seniors deserve more respect. We have been waiting almost nine years for the PLP to properly address the healthcare needs of seniors. We question whether the Premier has done his due diligence on the issue — or is it going to be like his cart-before-the-horse decision on the medical clinic." Mrs. Jackson said: "The idea may have merit, but the reality is that the Premier in his prepared announcement offered virtually no details — no flesh on the bone — by which we could take comfort that they actually know what they are doing or what they have in mind. We all understand that healthcare coverage needs to be dramatically improved, and made accessible and more affordable. I can promise you that the United Bermuda Party will move properly to deal with this healthcare issue when we are elected." It is understood the Premier is to announce further steps in his initiative at the annual Seniors Tea this Sunday at the Botanical Gardens. The Seniors Tea, from 3p.m., serves as the official launch of Seniors Week. A spokesman for Dr. Brown said: "The Premier and Health Minster will release more information on this bold new healthcare policy as it is further explored."

May 25. With thousands of people having either walked the entire length of Bermuda or run from Somerset to Hamilton — or both — in the past month, there is one group of business professionals who have been kept particularly busy.

The past month has given sports massage and body wellness experts packed appointment schedules as athletes and walkers seek out treatment to ease away the pains and strains of their exertions, or, in the case of the May 24 runners, look for a competitive edge with a relaxing massage before the big day. The closeness of the End-to-End walk and the May 24 Marathon Half Marathon Derby makes May a particularly busy month. Richard Johnson, vice-president of the Bermuda Massage Therapy Association, said: "We do get a rush of people at this time of year. On race day we work closely with the St. John Ambulance and have people queuing up for a massage after the race." Normally the association has a number of its members offering after-race massages to competitors seeking relief from stiff legs and lactic acid that accumulates in the muscles after the race. "We will give out quick massages to those people who come in with a problem," said Mr. Johnson. In the lead-up to the Island's biggest running participation event the massage therapists find themselves with full appointment books as athletes taper down. Many of the association's 15 members have their "own athletes" who have a regular appointment programme to ensure they are at their optimal state of muscle conditioning before the event. And it is just as important for them to see their massage therapist afterwards to help relax the muscles and break down the accumulated toxins within the muscles, said Mr. Johnson. "Friday (today) will be a busy day. We all have our own athletes who stay with us. The really keen athletes will come and get worked on before the race and come in on a regular basis, especially if they have done a lot of training," said Mr. Johnson. "It makes the athlete feel good. And we find that after the race, when people come for a massage at the tent, we often pick up a few new clients." The association has members with their own treatment rooms and also offer treatment at people's homes. There is an increasing level of awareness of the benefits of proper massage and muscle manipulation by sports people and those who stay active through walking and other pursuits. "More and more in the last 10 years we have seen this increase in awareness. Massage therapy has been felt to be a good thing in the US and it has spread," said Mr. Johnson. The association is currently headed by Glenn Robinson. Members are geared up for a busy few days as runners seek treatment for muscle soreness that has resulted from their May 24 exertions, with today and Monday likely to be the busiest days. The boon in business caused by the close proximity of the End-to-End and May 24 is not restricted to the massage therapy sector. On-Island sports shops have been doing a good trade in running shoes and apparel for the past month or two. Allana Bean, at Sportseller in Washington Mall, said: "April and May is a good time for us, as is Christmas. These months are busy with running apparel, swimsuits and other items selling well."

May 25. Questions have been raised about why Government's new Electronic Vehicle Registration (EVR) initiative, which calls for the installation of Radio Frequency Identification (RFID) tags in cars and trucks as of next month, does not include motorcycles and mopeds. It is hoped the RFID tags will reduce the number of vehicles operating without a licence — estimated to be in the region of just under 6,000 — and translates into a loss of $11 million a year because Government is unable to enforce licensing requirements.

While the new system is being welcomed by many, Government's decision not to tag the more than 22,000 motorcycles on Bermuda's roads is being questioned by the Opposition, especially as the majority of traffic offenders are believed to be motorbike owners. Opposition MP John Barritt said it made a "mockery" of the system and is calling on Government to review the system which goes into effect in a week. Mr. Barritt added that while the new system would be used to identify uninsured and unlicensed vehicles, it was important to see what other capabilities existed, and how the Government planned to ensure fines were paid. This concern was also raised by another Opposition MP, Trevor Moniz, who welcomed the new technology, but felt that unless the Government was able to enforce these new rules, it would all be "pointless". He said for years no one paid parking fines because there was no enforcement of this law, and questioned how Government planned to ensure offenders paid under the new system. At present, traffic police manually enforce all vehicle inspections and issue fines, but under the new system, the RFID tags, embedded inside supposed tamper-resistant labels, will be placed inside the windscreen in all cars and trucks. When a vehicle arrives at an intersection where a vehicle-detection system is placed, and no RFID tag is detected, the system will automatically take a picture of the car's licence plate. These numbers are run through a database and a court summons is automatically issued. The Transport Control Department estimates it will take about a year to get the system operational and expects to utilize about 25,000 tags, since 22,000 of the island's 47,000 vehicles are motorcycles, which will not be tagged. At this point, it is still unclear as to whether motorcycles will be tagged in the future. The company manufacturing both the tags and the detection system, Transcore, recommended these interrogators be placed at 20 separate intersections around the island, but Bermuda's legislature only approved four reading points. An independent IT expert working for TCD, David Burt, told the press: "We decided to start small and increase. Additional readers meant an additional deployment risk." However, TCD does plan to deploy tripod-mounted and hand-held interrogators to screen vehicles at random locations. There is also the question of the electronic tags infringing on civil liberties, but Mr. Moniz said he did not buy the "Big Brother" argument and was not bothered by the fact that anyone would know where his car was parked, or where he was driving at any given time. The "Big Brother" idea has also been discredited by TCD, which states on its web site that the system is "designed to verify information about the vehicle itself, not the driver", and "is neither an efficient nor effective means for real-time tracking". It added: "In order to continuously track a motor vehicle would require readers every 15-20 feet along a roadway — a system that is simply not economically feasible." Online, certain flaws pointed out by cryptographers raise serious questions about the suitability of the current RFIDs. This Mid-Ocean News reporter was able to find 482,000 online links on ways to disable the device, sometimes using technology no more sophisticated than a common cell phone or a piece of aluminum foil.

May 25. Police officers, firefighters and prison staff will be allowed to work until they are 60, under a new law approved by the Senate.

MPs in the House of Assembly passed the Public Service Superannuation Amendment Act 2007 two weeks ago, and on Wednesday, it gained cross-party support in the Senate. The bill will allow those in the public sector to work later into their years, past the current retirement age of 55 for Police, fire and prison staff, and of 60 for other employees, such as teachers. Civil servants will now be able to carry on until they are 70, with the prior approval of the head of the civil service. The Public Service Superannuation Amendment Act was introduced by Finance Minister Paula Cox to address the falling birth rate and a growing older population. The Island's 20-64-year-old workforce is set to fall by 21 percent by 2045, from 40,428 to 31,950. However, the number of seniors is projected to increase by 140 percent, from 7,728 to 18,506. This will result in a decline in the ratio of workers to retired people of 5-1 to 2-1. To ease the ageing crisis — which is a global problem — the law will be amended to allow people who have retired from the civil service to rejoin without losing their monthly pensions claims. In introducing the bill, the Government also pointed to recruitment problems in the Police and Prison Service, saying that losing experienced staff to retirement at 55 is only exacerbating this problem. Officers will now be able to carry on working, subject to a review of health, conduct and performance. The public service pension scheme will also be amended to allow temporary, part-time and casual Government employees to participate, through regular contributions. Senator Kim Wilson said on Wednesday: "The Act seeks to make better pension provision for employees and to improve the administration of the fund. "It will address what is clearly one of the most important demographic issues of the 21st century, and will allow those employees who want to continue in employment to remain in employment to the age of 70. "She said that the unions were willing to raise the level of contributions and that this would "place the fund on a more stable funding". The Bermuda Police Service and Prison Service were also "very supportive of the proposals". Ms Wilson added: "The assets of the Superannuation Fund continue to perform relatively well, at $416 million — nine times more than the estimated annual projected pay-out." Independent Senator Walwyn Hughes said the extended retirement age would allow public sector employees to pass on their knowledge and experience. "I think it is a great step by this Government to try and address the issue of people living longer these days. It's an excellent plan," he said. "It's also a good thing we are doing here by taking advantage of the wisdom and skills of more senior employees." Senator David Burch added: "This certainly assists us tremendously, from a uniformed services point of view. This will go a long way in being able to provide us with some experience, knowledge and wisdom. We will look forward to encouraging numbers within the uniformed services and in helping us to get up to strength." Senate President Alfred Oughton said: "This has been called for some time now and the Government should be congratulated. It will be interesting to see the impact this has on the private sector because I'm certain there will be a trickle down from this."

May 25. Yesterday was a classic Bermuda Day moment: a tiny majorette, decked out in turquoise and sparkling silver, stepped back from her fellow baton twirlers on Front Street and proceeded to perform her own un-choreographed moves. The little girl, who looked to be less than four, spun around and strutted her stuff for the crowd to roars of approval and laughter, not far from where Premier Ewart Brown and other VIPs sat watching the proceedings. As she waved to onlookers and trotted cheekily after her troupe, the Dynamic City Rockettes, grinning parade-goers loudly applauded. The child's impromptu display was just one of thousands of smile-inducing moments which made up this year's May 24 parade.

From wildly energetic Gombeys and awe-inspiring floats to BMX bikers and gospel singers, there was something to please everyone as the parade slowly snaked its way from Bermudiana Road to Bernard Park, taking in Court Street and North Hamilton for the first time. Tens of thousands of people lined the sunny streets of the capital to watch the long and vibrantly colored train of floats and performers, many embracing the 2007 theme of Bermuda's Maritime Connections. And for such a tiny island, there was an enormous number of people taking part. Community and Cultural Affairs Minister Wayne Perinchief, who enjoyed the festivities with his 11-year-old son Ryan from a platform set up at the Flag Pole, said: "I couldn't guess the numbers. One float alone had 100 performers. That's an example of the scale of things. I'd say at least a third of our population comes out to this to watch. I think everybody is having fun today." Dr. Brown, sitting with wife Wanda and Governor Sir John Vereker and his wife Lady Vereker, rose from his seat on numerous occasions to congratulate and joke with the community groups and organizations who had clearly spent endless hours perfecting their floats. "I think it's been a wonderful day," he said. "I like the energy in the place and I see an unusually high number of young people. This guarantees the future of the event. Today shows Bermudians at their best and also shows Bermudians what they are capable of doing on every other day. I don't think I have ever seen a Bermuda Day crowd that has been more attentive and appreciative of what they have had to see." Sir John, who steps down as Governor in October, said: "There is a lot we'll miss about Bermuda and this is certainly one of those things. I think today has been great." The weather played its part in ensuring a hugely successful parade. Sunny skies and relatively low humidity provided the perfect conditions for locals and visitors alike whose enthusiasm never seemed to diminish from the start of the parade at 1 p.m. to its closing moments hours later. As usual, local families staked out their territories with eye-catching tents and umbrellas long before the party got started. Guest worker Karl Shaharudin, 33, from London, likened the spectacle to the Rio Carnival in Brazil. "This is like a mini version of that," he said. "For me, it's not a tourist thing, it's a Bermudian thing. This is for Bermudians; they love it. I'm quite amazed at how many people are out here." Bermudian Monique Ming, 30, from Devonshire, said: "I'm having a great time. It's the time that everybody can enjoy themselves and come as one and have a nice day. You can tell a lot of time and thought has gone into this. All I can say is: 'excellent'." Overseas visitors declared themselves amazed at the variety of performers and the atmosphere in the city. Cruise ship passenger Richard Sloan, 71, from New Jersey, said: "It is spectacular. I have never seen anything like this, with so much hard work and talent having got into it. Bring them to America! Everyone has been so nice and outgoing and friendly." Orlando Shannon, 31, from Atlanta, said: "This is my first time watching the parade and I love it. You don't have to just sit and watch, you can actually participate and dance. This is like nothing I have ever been to." Nadir Mogharedban, from Illinois, was celebrating his 51st birthday. He said: "I thought it was wonderful. I have learnt quite a bit with regards to the Island's heritage. The people have been lovely; I have loved almost every Bermudian I have met."

May 25. The first phase of a controversial 96-unit affordable housing scheme is well underway.

Premier Ewart Brown and Housing Minister Sen. David Burch said that 38 workers have been toiling away on the Loughlands site in Paget to ensure the housing development is on schedule. Already 21 units are near completion. When plans for the development were announced last year residents complained it would bring more congestion to the area and felt their needs were overlooked when the Special Development Order was granted. But this week Dr. Brown said the congestion issue was a misconception and Sen. Burch said studies into the traffic flow of the area had been done. Dr. Brown said: "This building does not mean 96 new cars because the people who move in here are already living in Bermuda, so many of them already have cars." Sen. Burch explained that Works and Engineering completed a traffic study and made suggestions about where the entrance would be placed. And he added: "We have made amazing progress anyone living in this neighbourhood knows how much activity there has been on this site. These buildings are the first phase of the project and they contain six three-bedroom units and 15 two-bedroom units." Dr. Brown said the Minister and his team should be commended for their hard work and determination in bringing affordable housing to the Island. He said: "Nearly a year ago the Minister approached me and asked me if I would be interested in rezoning the property from tourism to residence because it was of national importance to have more affordable housing. This site is an example of this Government's commitment to housing." Along with the 96 homes the site will also have a nursery which will be housed in the original building on the Paget property. The site is also an example of public-private partnerships the politicians pointed out. The Government struck a deal with developed Gilbert Lopes in March 2006 to purchase the condos from him and then sell them at below market price, for approximately $450,000. With over 500 people on the list for the Loughlands units Sen. Burch said they would be allocated to people on a first-come first-served basis, but that they would only go to first-time buyers. The second phase is scheduled to begin in January 2008. May 25. Government's Health Insurance Plan (HIP) has come under attack by doctors who claim they are receiving lump payments months in arrears and without the necessary documentation for verification. And they are questioning a new initiative placing Medical Clinic patients on the HIP scheme, saying it is unlikely they will be able to afford the associated costs. At present, the clinic's patients are not charged for treatment — however, once the facility closes, such persons will incur 20 per cent of medical costs in accordance with the Government scheme's regulations. "They had 100 per cent coverage at the clinic. HIP only pays 80 per cent, there's still 20 per cent remaining. Who's going to pay for it?" one local practitioner demanded. "The programme doesn't work now. Doctors aren't being paid on time as it is. How is this extra paperwork going to affect the payment process? Will it just add further strain to the system?" The doctor said the problems had been going on for a decade or more. He added he was slightly sympathetic towards HIP staff as it was his understanding the department doesn't have a computer system, but those feelings were balanced by the vast displays of incompetence. "Government is no longer reconciling HIP payments," he said. "It's public knowledge — or it should be. It's something (the Auditor General) Larry Dennis has pointed out in his report over the years. Doctors submit an application for payment and every now and then Government sends a lump sum — which isn't itemized. There's no account number or patient listed. It's gotten to the point that some doctors are proposing to do what the dentists do, to tell their clients they have to pay up front and collect the money back from HIP." Questions to Health Minister Philip Perinchief were not answered by press time. In his Annual Report for 2004, the Auditor General highlighted several concerns with the financial reporting of the Hospital Insurance Fund which manages HIP, stating it was three years in arrears and that he could not offer a qualified audit opinion because he had "insufficient documentary evidence" to investigate claims. "Antiquated and manual accounting systems, inaccurate and incomplete accounting records, and missing supporting documentation all contributed to audit difficulties," the report stated. "Another major factor was management's consistent inability or unwillingness to provide requested information and documentation promptly. If the affairs of the Fund were managed properly, this information would be used to verify the Fund receives all the premium revenues to which it is entitled, and that claims are paid only for eligible patients and for medical services covered by the policies. In practice this cannot be happening to any great extent. The Fund's records of group policies are maintained manually and listings of people covered are not updated regularly." The Auditor General continued to express such concerns in subsequent reports, stating that the weakness in financial reporting left the Fund vulnerable to fraud. "The breakdown in the Fund's accounting systems has now begun to affect the operations of local businesses, and people insured by the Fund," he stated in the 2006 Annual Report. Medical service providers are not having their claims paid promptly and are not receiving itemized breakdowns when their claims are paid. The Bermuda Hospitals Board, for example, cannot allocate the claim payments it receives to the accounts of the patients on whose behalf the claims were submitted. I have anecdotal evidence that some medical service providers have begun billing patients directly, rather than having to wait for their claims to be paid, and even then being unsure which claims the payments cover. This is an unnecessary inconvenience to both medical service providers and to people insured by the Fund. And all because management of the Fund has accounting systems that cannot process claims promptly, that cannot provide details of claims paid, and also cannot produce timely financial statements for audit. Considerably greater effort and commitment by management will be needed to bring the financial accountability of the Hospitals Insurance Fund up-to-date. I have stated in previous annual reports that although financial statement audits are not designed to detect fraud, they can deter fraud. When financial statement audits are as far in arrears as those of the Fund, this deterrence is lost. Weak internal and accounting controls and delayed audits create opportunities for misappropriation and fraud to occur and remain undetected." Yesterday, a doctor said massive outcry over the situation had been slowed by ongoing negotiations and a promise that it would improve once computers were installed. "For a Government health plan to be in this sort of state . . .," he sighed. "We've actually been in negotiations — probably primarily with HIP and the way they're dealing with the claims — for a while. We've been promised the situation is being addressed. Everything had been done manually but they're now putting in a computer. We've had payments that go back as far as 18 months. What happens then, is that you get paid in a lump sum — and without knowing what you're being paid for. How are we supposed to properly reconcile our accounts?" It made it difficult for doctors to determine whether they were in fact receiving the full payment for the work done, he added. "Especially because (HIP is) limited in what they pay for certain procedures. And if the payment is two years behind, we can't go to a client and ask them to pay the shortfall. But the biggest problem is more often than not, we don't know what we're being paid for. Last year we wrote a letter to HIP saying we needed to get to the root of the problem. Basically, if an independent physician calls and complains enough, they will get an itemized cheque but most of us are forced to wait. So of course we're upset but we've been reassured it's being addressed. It's one of those things which is an upstream swim unfortunately. Government needs to get things shaken up and do what is right. Something needs to be done about it. They've got to get their act together."

May 25. "Wow!" was the reaction of soprano Marcelle Clamens' voice coach in Germany when he saw the programme she has prepared for her solo recital at City Hall theatre on June 3.

The event, 'An Evening of Opera Arias and Classics', will feature 13 arias from 11 operas, most of which are very well known and much loved by the public at large. For opera aficionados in particular it promises to be a feast of their favorite genre, but even those who claim not to like opera will quickly realize that they have been listening to many of the arias for years thanks to their use in advertising and elsewhere. It has been two years since Mrs. Clamens last gave a recital — and that long since she first had the idea of holding another one — so she is understandably excited about sharing her art on stage. Apart from the joy of performing, however, the Bermudian voice teacher's goal is to raise funds for bursaries so that those of her own talented and dedicated students who need financial assistance can continue their studies. "That is very important to me, and that is why I want to encourage young people especially to come out and support their fellow Bermudians who love the art as much as I do," she says. In terms of her students, all but one of whom are over 16 because the required technique "does not really lend itself to the younger singer", Mrs. Clamens says her aim is to develop them in such a way that they can aspire to a local career. "In Bermuda, you can't make any kind of career unless you are a cross-over. I teach them opera, which also teaches them to be a rhythm and blues or jazz singer because, to a point, it is all the same, so that is why I am hoping that people learn to appreciate not only opera but also realize that there is a distinct way of classical singing and rhythm and blues singing." For her City Hall programme, Mrs. Clamens has chosen arias from the operas 'Carmen', 'Giulio Cesare' (Julius Caesar), 'Le Nozze de Figaro' (Marriage of Figaro), 'La Boheme', 'Die Zauberflote' (The Magic Flute), 'Turandot', 'La Rondine' and 'Madama Butterfly', each of which she will sing in their original language. Accompanying her on piano will be Ms Olga Zeidel. Further enriching the programme will be special guest and fellow Bermuda School of Music faculty member David France, who will perform a violin solo, and the Bermuda School of Music Consort — Chas Arnold, Jennifer Sheridan and Lisa Hollis (violins); Laura Appert (viola), Caroline Eaton and Carol Everson (clarinets), and Nancy Smith (flute) — who will play a work by Bach, with Ryan Ellis conducting. Mrs. Clamens who, in addition to her private students, teaches voice at the Bermuda School of Music, is a graduate of the prestigious University of Cincinnati College-Conservatory of Music with a Bachelor of Music degree with honours. She has competed in international voice competitions and concerts, and was a major prize winner in the Bellini International Voice Competition, and Artists International Recital Management. She has performed in several Bermuda Festival productions and gave a debut performance at Carnegie Hall, New York City. Prior to joining the BSM faculty, guest soloist Mr. France had extensive teaching experience in his native US, as well as performing with many symphony orchestras. He also appeared as a soloist in many major European cities as well as in the Caribbean. His most recent claim to fame was playing the violin on hip hop artist Golden's recently-released CD, 'Peddling Medicine'. Tickets (adults $40, seniors and children $25) for 'An Evening of Opera Arias and Classics' are available at the Music Box and the Bermuda School of Music.

May 26. The closure of one of the lanes of Longbird Bridge caused "chaos" at the Airport on Thursday. A portion of the Causeway, Longbird Bridge, has been closed to marine traffic since early May and closed to two lane traffic and heavy trucks since Wednesday. And the Ministry of Works and Engineering and HSBC Bank of Bermuda have been in talks to fund a feasibility report on repairing the causeway — though the Government received $11 million in 2002 from the US to replace Longbird Bridge as part of the Baselands deal. An employee at L.F. Wade International Airport said the surprise announcement on Wednesday evening that the bridge would only be open to one lane of traffic caused headaches for many. The man, who did not wish to be named, has worked at the Airport for years and said: "There were people lining up out on to the road side. Trying to get into the US customs area was impossible. I have never seen it this bad in all my time here. I believe flights were delayed because so many people were stuck on the wrong side of the bridge. It really caused a problem at first. When I got to work midmorning there were people everywhere but it seemed that we had it under control after lunch." New manager of the L.F. Wade International Airport, Aaron Adderley, was not available for comment yesterday. Ministry of Works and Engineering Permanent Secretary Derrick Binns confirmed that Ministry had "discussions with the Bank regarding funds for a feasibility study for the crossing across Castle Harbour". Bank of Bermuda press officers were contacted but did not respond by press time. The bridge was built by US troops more than 50 years ago and was maintained by the US troops till the late 1990s. In August 2005 The Royal Gazette reported that the bridge would have been past its original predicated life but for a compressive rebuild done by the Ministry of Engineering in 2000 and 2001. The construction prolonged the bridge's life by an estimated five or six years. However the bridge was hit hard by Hurricane Fabian on September 5, 2003 and its hydraulics and computers were damaged. In 2002 the Government was given $11 million as part of the Baselands deal signed in Washington D.C. In the deal, the US refused to pay to clean up the pollution of its two former bases, but did give the Island $11 million for the bridge, which has been plagued with mechanical problems. In 2003 then Works and Engineering Minister Alex Scott estimated it would cost from $15m to $30 million to replace the bridge. Dr. Binns added that he was not able to say when people would be able to use both lanes at the moment.

May 28. The UBP has defended its right to scrutinize the Premier's travel expenses as the row over how he spent $287,000 in ten months deepens.

Last night a breakdown in costs was still unavailable but the Premier has not disputed that he and his entourage totted up $287,000 in overseas expenses between July and April. Dr. Ewart Brown told the House of Assembly on Friday that figures suggesting he spent $4,000 a night on hotels in the UK in November and $19,000 on gifts during a two-day tour of US colleges were incorrect. He blamed civil servants for the errors. Figures released last week stated the Premier spent $23,448 on a hotel bill during a one-week trip to an Overseas Territories Consultative Council meeting in the UK — an average $3,908 a night. They also claimed he spent $19,087 on gifts during a two-day trip to colleges in Huntsville and Atlanta. The amounts were stated in written answers to Parliamentary questions tabled by Opposition MPs in the United Bermuda Party. On Friday, Dr. Brown said the figures were incorrect and his Press Secretary later pointed out that the $23,000 was a shared hotel bill between the Premier, his former Press Secretary, Chief of Staff, the head of the Civil Service and Senator Philip Perinchief. Dr. Brown told the House: "We did not provide gifts to students. That $19,000 figure was placed in the wrong category of a spreadsheet created by a civil service financial reporter before it was delivered to the House." However, he did not say what the $19,087 was spent on. Accusing the UBP of transforming the figures into "political footballs", Dr. Brown said: "I will furiously defend the reputation of this Government when it comes to the public purse." Last night, however, Shadow Minister of Finance Patricia Gordon-Pamplin said it was the Opposition's duty to hold the Government to account. "Many members of the public may not realize that the ability to oblige the Government to provide truthful answers to formal questions in the House of Assembly and the Senate is a vital element of Bermuda's democratic system, and in parliamentary systems everywhere.. For the Premier to say last Friday that written questions are having a negative impact on the Civil Service is absurd. The system provides ample time to answer questions. Three questions a week for each minister is not too much work. It's democracy. The Government has spent a lot of time since the 1998 election talking about operating 'in the sunshine of public scrutiny'. If that is the case, they should welcome questions, instead of trying to shut them down. It was a shock to hear Dr. Brown describe our questions about the travel habits of Cabinet Ministers in his Government as an 'abuse of the legitimate Parliamentary Question process'. Quite correctly, the Speaker ruled that the Premier's comments were out of line. Answering our questions might have been annoying, and a little tedious for the civil servants in the Cabinet Office, but the only abuse of the process involved was Dr. Brown's, since it was he who carelessly put his signature to answers which, he now tells us, were incorrect. Let's get it straight — the Opposition used the information the Government formally provided to us, in writing, to make the comments we did last week. We used that information accurately and fairly. We suggested the Premier spent $19,087 on gifts during his college tour in May because that figure was given by the Premier, in his formal answer to our questions, in a column headed 'Gifts'. We suggested he spent $23,448 on accommodation for six nights in London in November because that figure was given to us by the Premier, in his formal answer to our questions, as being the amount he spent on his hotel accommodation. We in the Opposition understand perfectly that travel is necessary. We quite understand that Premiers and Cabinet Ministers ought not to behave like paupers when they are representing Bermuda abroad. Notwithstanding the injury to the Premier's pride that our comments seem to have inflicted, and the mistakes that his civil servants made that he failed to catch and correct, the facts about which we feel a sense of outrage remain the same. The Premier and some of the members of his Cabinet are spending very large sums of money on travel, and it is quite obvious from their answers to our questions that taxpayers' money is being wasted in unnecessary travel, and in unnecessarily lavish travel." She said: "The total amount spent on travel by the Premier and the six ministers who answered our questions about their travel was, in round figures, $500,000. The Premier, the Minister of the Environment and the Minister of Education accounted for $400,000 of that total. The Minister of Finance (who has more reason for travel than perhaps any other minister except the Premier in his role as Tourism Minister), spent $60,000. The Minister of Social Rehabilitation, the Minister of Works and Engineering and the Minister of Community and Cultural Affairs accounted for the remaining $40,000. We don't think those figures add up to sound fiscal management at all, and we believe we would not be doing our job as the Opposition Party if we did not ask the tough questions that need to be asked. Those who paid close attention will have noticed that Dr. Brown could only explain away a couple of questions as mistakes by civil servants. Others remain unanswered. Why, for example, did the Premier take five people with him to watch cricket in Trinidad? Dr. Brown makes much of travelling to get results for Bermuda. We understand why the Premier should have been in Trinidad. But what was his entourage of five there to do? What results did they manage to achieve? Why was it necessary to take five senior civil servants with him to visit Bermuda college students in Alabama and Georgia? What were those civil servants doing there? What results did they achieve for Bermuda? It is perhaps worth noting that Dr. Brown says it is important to make these students feel a part of the political process. And no doubt If he calls an election during the summer vacation, those he spoke to will feel sufficiently part of the political process to exercise their right to vote. We think it would be fairer if he took someone from the Opposition with him to these events, so that the students hear more than one political view — on which, after all, our democratic political system relies. But Dr. Brown has rejected that idea, no doubt because he feels it would be an unnecessary expense. We in the Opposition are not fooled by Dr Brown's impassioned defence of what we continue to say is his lavish spending on travel. We're not impressed by his attacks on us. We are alarmed by his attack on the Parliamentary Questions process, on civil servants who work to provide the answers and his own carelessness in failing to vet these answers."

May 28. Buying real estate in Bermuda remains one of the best investments to be made on the Island despite the steep increase in property prices during the past seven years. That is the assessment of Coldwell Banker Bermuda Realty, which the company backs up with an analysis of the property market since 1995. In the years from 1995 to 1999 the local property market remained fairly stable in terms of units sold, this was due to high interest rates that touched 9.5 percent and mortgage lenders requiring deposits of between 25 and 30 percent. "These two factors alone prevented many hopeful homeowners from removing themselves from the rental pool," said Susan Thompson, of Coldwell Banker. Things changed in 2000 when the North America housing boom, a growth in international business in Bermuda and falling interest rates all combined to boost demand within the Island's property market. The increase in house prices during the past decade is reflected in the movement of the "mean price" — lining up all property prices from cheapest to dearest in a line and then locating the median (middle) price. In 1998 the mean price was $345,000, in 2006 it had risen to $875,000. Over the same period the average property price rose from $590,000 to $1,147,000. Mrs Thompson said: "Real estate in Bermuda is still one of the best investment deals that you can make. It is consistent year after year and that is what these figures show. This is good news for property owners and new purchasers alike. Other good news is that more and more people in Bermuda are able to own their own property, contrary to what we may be bombarded with in the media. From 1999 to 2001 the number of units sold increased by 59 percent in Bermuda, which translates to a higher ownership rate. Following an initial dip in 2002, these rates have continued to climb incrementally year over year and are higher than historically recorded if you look at the entire period." Analysis by Coldwell Banker shows the luxury property market spiked in 1998 and 2005 with total sales topping $80 million in both years. The most recent figures from 2006 show that market fell back to $60 million last year. There is also evidence to the continuing strength of the condo market, which saw a boom starting in 2003 after a busy spell of land transactions heralded a spell of condo-building and a subsequent increase in the quantity of condos available. In her market analysis Mrs Thompson said: "Buyers often question whether the purchase of a leasehold property is a wise choice given the number of condominiums now available on the market. The number speak for themselves. There has been a steady increase in pricing of condos throughout our 10-year study with noted increase since 2000."

May 28. New regulations limiting the number of Bermudians selling condominiums to non-Bermudians have been discussed in the House of Assembly. Only a series of specified units will be eligible to be held or bought by non-Bermudians, according to the Bermuda Immigration and Protection (Designation of Eligible Condominium Units) Regulations 2007. Labour and Immigration Minister Derrick Burgess told the House the move was necessary because 37 percent of the Island's residential properties were owned by non-Bermudians. "That's a lot. I don't think anywhere in the world you would find that," said Mr. Burgess. Shadow Labour and Immigration Minister Trevor Moniz warned the move would lead to a devaluing of properties owned by Bermudians, and a rise in the value of condominiums owned by non-Bermudians. Regulations on the issuing of licenses over letting properties were also discussed under the Bermuda Immigration and Protection (Rental and Use) Regulations 2007. The new law states the Minister may not issue a permit to a non-Bermudian to rent out a unit unless the person who is to rent the land is Bermudian or is ordinarily resident on the Island. Non-Bermudians who own the unit jointly with their Bermudian spouse will be exempt from this rule — prompting an accusation from Opposition United Bermuda Party MP John Barritt that the legislation is discriminatory. Another regulation discussed was the Bermuda Immigration and Protection (Land Holding Charges) Regulations 2007, which states that non-Bermudian land-owners will have to pay fees of up to 22 percent the value of their land. Mr. Moniz said he did not object to the legislation because he understood such a policy already existed. Draft regulations on all three pieces of legislation were moved on Friday without any objection.

May 29. Doctors have attacked Government for snubbing world-renowned Johns Hopkins Medicine International's bid to serve as management consultants to Bermuda Hospitals Board.

Last night, Premier Ewart Brown again faced accusations of cronyism following the awarding of the $13.5 million five-year contract to Kurron Shares — a lesser known firm allegedly run by one of his friends. One prominent physician yesterday criticised Kurron's 2004 report into Bermuda's hospitals and suggested the group should not have been chosen for another key role in shaping the future of healthcare on the Island. On the overlooking of Baltimore-based Johns Hopkins — widely considered to be one of the leading medical institutes in the US — the medic told The Royal Gazette yesterday: "It doesn't make any sense. They had the perfect opportunity to get one of the most renowned hospitals in the world on board. It's a shame. If you have the opportunity to raise everything up for the benefit of the patients, it seems stupid to me to not do that. Johns Hopkins is universally recognized and you should want to work with them. It's good common sense. It's like having Oxford or Cambridge University being turned down in favour of a group from Wales or somewhere." Three years ago, Kurron's report highlighted a string of failings at BHB, including millions of wasted dollars, poor leadership and lapses threatening the safety of patients and staff. However, the doctor yesterday said the report suffered from a "lack of definable scientific methodology and principles, lack of clear evidenced-based conclusions and alarmist language with dubious conclusions". Kurron's alleged links with the Premier were questioned last year by former Opposition United Bermuda Party leader Grant Gibbons, who claimed the firm donated at least $10,000 to the Tourism Helps Everybody Foundation, set up by Dr. Brown's wife Wanda. On Friday, Junior Health Minister Patrice Minors revealed Johns Hopkins and American-based Navigant Consulting had both unsuccessfully submitted tenders for the contract, which will include the overseeing of the rebuilding of King Edward VII Memorial Hospital and the training of Bermudians to take over key health positions. Asked in Parliamentary questions whether BHB had recommended Kurron for the job, Mrs. Minors replied: "The Bermuda Hospitals Board informed the Cabinet that the only organisation that met the full technical appraisal, financial appraisal and strict evaluation and scoring criteria was Kurron Shares of America." Shadow Health Minister Louise Jackson, who posed the Parliamentary questions to Mrs. Minors, yesterday said she had been contacted by a number of doctors who were disappointed with the appointment of Kurron. Mrs. Jackson said it was "impossible to believe" BHB had recommended Kurron. "The selection of Kurron to act as consultants to the hospital for a period of five years to the tune of $13.5 million is one of the worst cases of cronyism I have known. From the outset this procedure was flawed and there are many questions unanswered. It's impossible to believe that BHB did not unanimously vote for the number one hospital in the world, Johns Hopkins, and I want to hear from the hospitals board that this was not their first choice. Doctors have said, and I support their view, that the Kurron report was not satisfactory in 2003. So why are we getting them back now?" On Johns Hopkins' reputation, Mrs. Jackson said: "They are considered a global centre of excellence. Hundreds of Bermudians have traveled to Johns Hopkins for the most serious kinds of surgeries and medical care. My question is, who is Kurron? They are very minor league." Regarding Dr. Brown's connections with Kurron, she added: "I know the man who runs it is a very good friend of the Premier." Dr. Brown faced accusations of cronyism from the Opposition earlier this month after Bermuda Emissions Control — run by the Premier's cousin — won the sole contract for vehicles testing on the Island, worth an annual $1 million. Government argues BEC was the only company with the specialist equipment and facilities. This newspaper contacted the Premier, the Ministry of Health, BHB and Kurron for a response at around 5 p.m. yesterday, but did not receive a comment by press time. Earlier this month, Acting Health Minister Philip Perinchief defended the appointment of Kurron. In a statement in the Senate, Mr. Perinchief said six groups were initially approached, of which three submitted written proposals. Formal presentations were then made to a selection panel comprising representatives from the Ministry of Health and BHB, he said. Reports then went to BHB and to Mr. Perinchief, before Cabinet selected Kurron at a meeting on Tuesday, May 8.

May 29. Dame Lois Browne-Evans, the leader of the Progressive Labour Party for much of the 1970s and 1980s and Bermuda's first female Attorney General died early this morning of a suspected stroke. She was 79. A statement from the Cabinet Office said Dame Lois, who would have celebrated her 80th birthday on June 1, was rushed to King Edward VII Memorial Hospital last night. She passed away a short time later at 12:55 a.m. Dame Lois was Bermuda's first female barrister, Bermuda's first female Attorney General, and the first woman to become Opposition Leader in a British Commonwealth country when she became leader of the PLP in 1968. She served as leader until 1972 and again from 1976 to 1985. At a press conference at Cabinet Office this morning Premier Ewart Brown said: "Last night our nation lost a piece of its soul. Dame Lois taught so many of us what it means to fight and win. She was a sister of the struggle and at times the struggle was violent. But like Martin Luther King, Dame Lois did not wage the struggle with her fists, she did it with words. She always honored democracy and she always bowed to the law, even when Lady Justice seemed to betray her. She was champion for justice not just for blacks, but for all people." The Premier has requested all flags be lowered to half staff. Flags at all Government buildings have already been lowered in honour of Dame Lois. A condolence book was set to be available for signing at the Cabinet Office from lunchtime today. It will be available during normal business hours for members of the public to pay their respects. At the wishes of the family, Dame Lois' 80th planned birthday celebration on Friday has been cancelled and a state funeral is being planned.

May 30. Bermuda was united in mourning yesterday as word spread of the passing of legendary political leader and lawyer Dame Lois Browne Evans.

Dame Lois, who would have turned 80 on Friday, was rushed to hospital late Monday by ambulance. She died at 12.55 a.m. yesterday of a suspected stroke. Flags across the island stood at half mast as the trailblazing dynamo was lauded by politicians from all sides. She was Bermuda's first female barrister, Bermuda's first female Attorney General, and the first woman to become Opposition Leader in a British Commonwealth. Dame Lois was also the first black woman to be elected an MP when she won the Devonshire North seat in 1963, a seat she held for 30 years during which time she led the Progressive Labour Party twice from 1968-1972 and then from 1976-1985. She stood down from office at the 2003 general election after helping mastermind the switch to single-MP seats — something which she had long championed. Fiery but fun-loving, Dame Lois commanded tremendous respect and yesterday tributes poured in from all sides of the political arena. Premier Ewart Brown said: "Last night our nation lost a piece of its soul. Dame Lois taught so many of us what it means to fight and win. "She was a sister of the struggle and at times the struggle was violent. But like Martin Luther King, Dame Lois did not wage the struggle with her fists, she did it with words. "She always honored democracy and she always bowed to the law — even when Lady Justice seemed to betray her." He added: "She was a champion for justice — not just for blacks, but for all people." Opposition United Bermuda Party leader Michael Dunkley said: "Dame Lois is one of the giants of Bermuda history, a woman on the frontline of change throughout her life. Always approachable, always friendly and never afraid of controversy, Dame Lois was one of the major personalities of her time. She fought the good fight and lived to see real change improve the lives of many. As long-time leader of the Progressive Labour Party in opposition, she saw the party through some tough times." Governor Sir John Vereker said: "Dame Lois was a great Bermudian who made an immensely important contribution. She will be greatly missed by all of us, and by me personally." Deputy Premier Paula Cox said: "She was special. She had a warmth and irreverence that we loved. She was certainly the Grande Dame of politics. "I saw her a role model par excellence. She was a trailblazer, she was a politician and yet she had a warmth. She didn't let politics harden her. She had the soul of Bermuda at her fingertips and that's why we loved her." Ms Cox said she was moved to tears by the passing. "She had that way of getting into your heart." Former UBP Premier Sir John Swan, described Dame Lois as a mentor when he returned from college. "She helped mould my development even though I wasn't in her party. She was always a very generous person with information, ideas and good will. She had Bermuda at heart always. She helped Bermuda become the modern Bermuda we know today by her constant pursuance of justice, particularly as a legal advocate. Even though we had an adversarial position we were never adversarial in spirit of our relationship. She was truly a Dame. I am hoping we will remember her and honour her in the way we treat each other and try to capture that spirit of togetherness." Former Environment Minister Arthur Hodgson, a long-time family friend and PLP colleague, said Dame Lois helped change Bermuda through her courage in speaking out when many others would not. Former Premier Alex Scott said Dame Lois acted as a mentor and that her contribution to Bermuda would continue for many years to come. A state funeral, at a date yet to be announced, is being planned and Cabinet has declared that day will be a public holiday. A condolence book will be available during normal business hours at Cabinet Office for members of the public to pay their respects. At the wishes of the family, Dame Lois' 80th planned birthday celebration on Friday has been cancelled.

May 30. More than half of those who died on Bermuda's roads last year tested positive for drink, drugs or both, Police revealed yesterday. Assistant Commissioner Carlton Adams said toxicology reports showed four of the 14 victims had drugs in their systems with four more having both alcohol and drugs present. According to the Center for Alcohol and Drug Abuse Prevention, the figures were similar in 2004 and 2005. The organisation has recently launched a free minibus service from Front Street in the early hours of each Saturday in a bid to cut the death toll. News of the fatal crash statistics came during a press briefing yesterday in which Mr. Adams outlined how crime, including violent crime, rose in the first three months of this year compared to the same period in 2006. Figures showed 673 offences in total recorded in the period January to March 2007, compared to 589 at the start of last year — an increase of 12 percent. The beginning-of-the-year figure for violent crime was also significantly up on the same period last year, with 55 recorded at that point in time compared to 72 this year. However, the violent crime figure did decrease in the first quarter of this year compared to the last three months of 2006, with the figures standing at 93 crimes and 72 crimes respectively. Mr. Adams attributed the drop in recent months to reductions in assaults causing grievous bodily harm and wounding. However, he also noted that robberies were up 16 percent at the start of this year compared to the end of last year, listing a number of knifepoint incidents in Pembroke and Southampton in early January, for which people have since been brought before the courts. Overall, Police have secured convictions in 40 percent of robbery cases this year, said Mr. Adams. Burglaries were up 12 percent at the start of this year - with 304 recorded so far in 2007 - compared with the end of last year. Mr. Adams blamed the increase on an upswing in residential burglaries, and explained that Police community action teams have been deployed to affected neighbourhoods to work on both prevention and detection. He stressed that serial offenders were a major issue with this type of crime, stating that of 16 people arrested for burglary so far this year, half had previous convictions for this or other offences of dishonesty. He warned that the offence of handling stolen goods attracts a maximum 14-year sentence at Supreme Court — and also revealed how one hapless pair of criminals approached two off-duty cops recently, offering to sell them stolen goods. The culprits were apprehended when the officers realized what was going on.

May 30. The decision to revoke listed protection for an 18th century merchant house due to "no on-site parking" has come into question after it emerged the property was given planning permission for a driveway.

Environment Minister Neletha Butterfield de-listed the 'Queen of the East' after the owner's agent said the property could no longer attract tenants due to lack of parking space. However, the Planning Department approved a planning application for a driveway in January last year. The proposal, by the Shipside Trust, was for a sloping area on the east side of the house to provide enough space for two vehicles. The decision to de-list the 'Queen of the East', at 26 Crow Lane, comes during Heritage Month and has led some conservationists to call for Ms Butterfield's resignation. Yesterday The Royal Gazette discovered that a neighboring building — 'East Broadway Marine' at 22 Crow Lane, was also de-listed by the Government, in July, 2003. The Grade Three 18th century house is the sister building to 'Queen of the East' — both were built by George Darrell, son of a Chief Justice of Bermuda. It was demolished to make way for 'Windward Place' — a five-storey office complex, following a planning application by the Paragon Trust in January, 2004. Another property in the same lane, the old Island Coffee building, was also razed to make way for the Renaissance Re offices. Situated in an area of prime real estate, conservationists fear the 'Queen of the East' will now face the bulldozer. The 'Queen of the East', which features a waterfront warehouse, was built in the 1740s and was given Grade One listed status five years ago. The Government has cited "state of decay" as one of the reasons to remove its protected status. However, Dorcas Roberts, National Trust environmental conservation officer, said the Trust had "repeatedly offered help and advice to the owners of this building to prevent its ongoing deterioration". A Government spokesman said Ms Butterfield acted on a request by the owner's agent and had consulted the Historic Buildings Advisory Committee, which was split between those wanting to retain the listing and those who had no objection to its removal. The building had functioned as rental accommodations, but with no vehicular access to the site, no on-site parking, and potential tenants having to cross East Broadway from the only available parking, the property became impossible to rent. As a result, the condition of the property deteriorated to its present state of decay. The owner's agent argued that the property had become an eyesore at the entrance to our Capital city. There was also concern that the property could be subject to greater levels of vandalism which would only make the problem worse." However, the Planning Department's file of listed buildings describes the 'Queen of the East' as "outstanding example of an 18th century merchant's house" and "a very important landmark on the main road into Hamilton and on Hamilton Harbour". Yesterday, the owner's agents, architects Conyers and Associates, refused to comment. The deterioration of the 'Queen of the East' is particularly tragic in light of its former standing as "one of the showplaces of Bermuda". The house served as a bakery in the 19th century and as a laundry and brothel at the turn of the 20th century. It was later a Soldiers and Sailors Club before being purchased by architect Bayfield Clark and his wife, an interior designer, in 1938. The couple renovated the building to such "great skill and taste" that it featured in several US magazines. One journalist, Margot Hill, described it as "one of the most attractive and habitable homes in Bermuda".

May 30. A company that has played a significant part in arranging tourism events, conference events and excursions in Bermuda for the past 40 years has suspended all operations and issued a statement suggesting it will not return.

With the peak tourist season just beginning, the company behind the Hawkins Island 'Don't Stop The Carnival' theme parties, tours and events and glass-bottom boat excursions on the 68ft Reef Explorer from Hamilton has pulled the plug on its operations. The BIC Group of Companies has even de-activated its web-site, which now exists only as a one-page site featuring the four-paragraph statement that the company had suspended all activities as of noon on Monday. The group comprises of Bermuda Island Cruises and Bermuda Incentives and Conventions and is headed by CEO Kyle Messick. The company was started by brothers Derek and Donald Morris. Derek Morris declined to comment yesterday. Premier and Tourism Minister Dr. Ewart Brown's press secretary Glenn Jones, said: "The Premier is aware of the BIC developments. We regret this group has departed from the tourism scene. However, we believe there are young Bermudians who will come to the stage and more than compensate for this absence."

May 31. ZBM TV news anchorman Gary Moreno has been linked with a possible move to the soon-to-air Government Information TV channel, and several of his colleagues are in the process of leaving Bermuda Broadcasting Company for higher paid jobs at the Government station. Bermuda Broadcasting Company chief Rick Richardson warned the arrival of the new Government channel is proving a drain on the Island's limited pool of broadcasting professionals and he was aware of a number of his staff being lured to the proposed Government channel. He was aware that Mr. Moreno, one of the Island's most instantly recognizable TV presenters, had spoken informally of taking a position with the soon-to-launch cable and satellite Government station, but as of yesterday was unaware of any resignation letter from the channel's leading news anchorman. Higher salaries on offer at the Government station, which is expected to go live in June, have been cited as the reason for a mini-exodus of staff at ZBM. Discounting the question mark over Mr. Moreno, Mr. Richardson said he was aware of three definite departures that appear directly linked to the new Government venture. The Bermuda Broadcasting Company managing director said his company would look to recruit talented youngsters returning to Bermuda from colleges and universities, as it has done in the past when faced with such recruiting challenges. Kenneth DeFontes, president of DeFontes Broadcasting Company which airs rival VSB TV news, said he was not aware of any of his staff leaving to join the Government station. He is waiting to see what impact the Government channel will have commercially on DeFontes Broadcasting. Asked when Government's open information TV channel will be go public, a Department of Communication spokeswoman replied: "We'll let you know when it is ready."

May 31. An equality group is urging people to write to Tucker's Point Club officials urging them to take extra measures to protect historically significant graves located within the club's property.

Last week people taking part in the third Government-backed race summit visited Tucker's Point and claimed the graves of former black residents were not being respected — claiming golf balls were landing on the site. Now the Citizens Uprooting Racism in Bermuda (CURB) group has written to the general manager of the Tucker's Point Club, which owns the golf course the cemetery is located on. Lynne Winfield, President of CURB, is also urging its members and supporters to do the same. Last week Tucker's Point Club executive, Peter Parker, denied suggestions the graveyard was being desecrated and said care was taken to make sure it was treated with sensitivity and respect. CURB has submitted measures to the company that it claims would "restore honour" to the site — which still invokes racial resentment — some 80 years after Tucker's Town's black inhabitants were uprooted. Identifying and suitably marking the graves that exist outside the walled cemetery, plus some form of covering to prevent balls from landing there, a new entrance gate and public access, are among the suggestions.


Last Updated: March 19, 2020
Multi-national © 2020 by Bermuda Online. All Rights Reserved