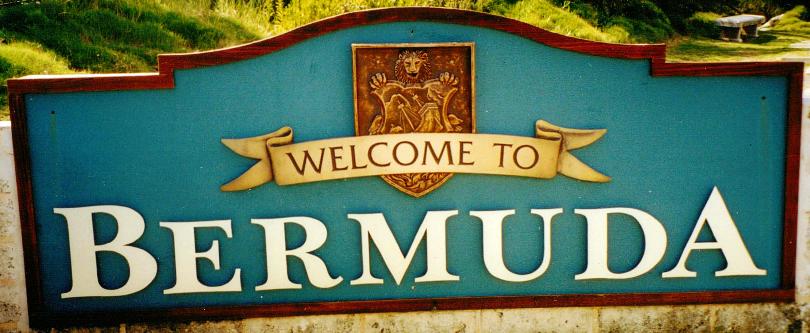 Click on graphic above to navigate the 165+ web files on this website, a regularly updated Gazetteer, an in-depth description of our island's internally self-governing British Overseas Territory 900 miles north of the Caribbean, 600 miles east of North Carolina, USA. With accommodation options, airlines, airport, actors, actresses, aviation, banks, beaches, Bermuda Dollar, Bermuda Government, Bermuda-incorporated businesses and companies including insurers and reinsurers, Bermudians, books and publications, bridges and causeway, charities, churches, citizenship by Status, City of Hamilton, commerce, communities, credit cards, cruise ships, cuisine, currency, disability accessibility, Devonshire Parish, districts, Dockyard, economy, education, employers, employment, environment, executorships, fauna, ferries, flora, former military bases, forts, gardens, geography, getting around, golf, guest houses, highways, history, historic properties, Hamilton, House of Assembly, housing, hotels, immigration, import duties, internet access, islands, laws, legal system and legislators, main roads, marriages, media, members of parliament, money, motor vehicles, municipalities, music and musicians, newcomers, newspaper, media, organizations, parks, parishes, Paget, Pembroke, performing artists, residents, pensions, political parties, postage stamps, public holidays, public transportation, railway trail, real estate, registries of aircraft and ships, religions, Royal Naval Dockyard, Sandys, senior citizens, Smith's, Somerset Village, Southampton, St. David's Island, St George's, Spanish Point, Spittal Pond, sports, taxes, telecommunications, time zone, traditions, tourism, Town of St. George, Tucker's Town, utilities, water sports, Warwick, weather, wildlife, work permits.

Bermuda's History 2014 January through June
News and significant events for the first six months of this year

By Keith Archibald Forbes (see About Us) exclusively for Bermuda Online
See end of this file for all of our many History files
2014
January 2. Two dentists have had their "extraordinary" and lengthy legal battles with the Bermuda Dental Board highlighted in an international report — and it doesn't cast the Island in a favorable light, according to one of them. James Fay, of Paget Dental Group, said the fact that his story and another matter involving David Thompson were used as case studies in the Dental Protection Annual Review 2013 wasn't a positive thing, but did show the need for urgent review of the legislation governing Bermuda's dental industry. The Review, in an article entitled 'One country — two journeys', claims there was a "disproportionate level of activity" in relation to actions taken by the Bermuda Dental Board in this "relatively small jurisdiction" between 2000 and 2010. "Two cases in particular involved complex legal challenges — in the one case by way of judicial review...and in the other case by a long and convoluted route all the way to the Privy Council," the article says. Dental Protection Ltd (DPL) is a malpractice insurer with 50 members in Bermuda, including Dr Fay, and it funded his legal case. It has 62,000 members around the world who each receive a copy of its Annual Review. The article says the same legal firm represented Dr Fay and Dr Thompson, sharing "these extraordinary journeys" with them and with DPL. "The two cases serve to illustrate the tenacity and endurance of the members involved, as well as DPL's willingness to fight important points of principle that involved fair treatment of our members and the determination of our legal representatives to help us achieve this," the article continues. The case involving Dr Fay saw him and his former hygienist Keri Payne found guilty of serious misconduct, and inefficiency, by the Dental Board following a complaint made in 2003 about Ms Payne carrying out tooth filling work she was not licensed to do. Dr Fay obtained special leave to have the decision reviewed in the Supreme Court and Puisne Judge Ian Kawaley quashed the convictions in 2006, after ruling that they had not been given a fair hearing. Mr Justice Kawaley, who is now the Chief Justice, said changes were needed to the law to ensure a fairer process for dental professionals, and a right of appeal in court for Dental Board decisions, rather than an appeal to the Governor. Dr Fay told The Royal Gazette this week that the laws governing dentists were still outdated and in need of amendment. In particular, he said, members of the Dental Board ought to be voted for by members of the dental profession, rather than appointed by the Governor on the recommendation of the Government. He said of the article in the Dental Protection Annual Review 2013: "It isn't a positive thing. We had a huge amount of litigation per capita because of our Dental Board," Dr Fay said. "Dental Protection Ltd had to support us in lots of litigation, which was way and above what's normal. DPL would pay local lawyers to take our side and the Government of the day would have to pay lawyers. I would estimate it cost the taxpayer of Bermuda hundreds of thousands of dollars in lawyers' fees in actions that they lost." The article describes Dr Thompson's "extraordinary" case as running for the best part of ten years. "The Dental Board had sought through a succession of ill-motivated and unreasonable actions to block the registration of a dentist taking the registration exam and, in doing so, acted with bias and violated his human rights and natural justice in the fair and proper conduct of the functions of a statutory regulatory body," the article says. The Privy Council, in a landmark June 2008 ruling, found that Dr Thompson was unlawfully discriminated against by the Dental Board, which had refused to let him re-sit his practical registration exam because he wasn't Bermudian. It wasn't possible to reach Bermuda Dental Board president Ronda James for comment on Tuesday, and the Ministry of Health did not respond to a request for information about whether there were plans to amend the laws governing the dental industry.
January 2. Police officers had a relatively quiet start to the new year as a result of multiple reports of violence across the Island which left two people needing medical care. According to a police spokesman, at 12.49am officers responded to a report of an assault at an event at Pier 6, which left a Smith's woman requiring facial surgery. "The victim, a 30-year-old woman states that she was at Pier 6 at a New Year's celebration when an unknown female walked up to her asking her: 'Why are you talking to him?' The suspect then assaulted the Smith's woman, who was taken to the hospital where she required facial surgery," the spokesman said. "Neither security, the victim, or the victim's friends were able to get the identity of this women. This was a very brutal and unprovoked attack and police are appealing for this woman to turn herself in to the police. We are also appealing to anyone who may have seen this incident or who may know the identity of this woman to please make contact with the police on 2950011." Minutes later, at around 1am, officers on duty in St George's received reports of a group of young people fighting in the area of York Street. When the officers arrived in the area they did see a large number of young people, but none were seen by police to be involved in antisocial behaviour. "Police maintained a highly visible presence in the vicinity with and all the youth leaving without further incident," the spokesman added. At around 4pm, officers on mobile patrol in Hamilton saw a car traveling on Victoria Street driving erratically, forcing the officers to take evasive action to avoid a collision. "The police officers then pursued the vehicle with the driver stopping outside of Hamilton Police Station," the spokesman said. "As the officers talked to the female driver they noticed that her breath smelled of alcohol, and her eyes were glazed. She was arrested for suspicion of driving under the influence." And at around 4.40am, officers in Hamilton responded to a report of a disturbance on Pitts Bay Road and Woodbourne Avenue. When they arrived, they saw a 22-year-old man with an injury to the back of his head. The man was taken to King Edward VII Memorial Hospital for treatment, but said he did not wish to press charges.
January 2. Bermuda has won approval from UK travel blogger Will Hide, who's vowed to return after experiencing the Island's charms. A correspondent for the Daily Express, The Guardian and The Times, Mr Hide visited in November — reporting on his site 'been there, done it' that "the Bermudians were utterly charming, the beaches fantastic, and all in all it just has a seductive air that I totally fell in love with." The review pulls no punches either, opening with the observation that the "main thing I had heard about Bermuda before I went earlier this year was that it's dull" — before adding "I loved it". And Mr Hide remarks "Ouch!" of Bermuda's prices. However the Island gets recommended for Londoners in combination with a trip to New York for a "detox-retox break." "There are places that I leave and say 'nice but I won't be back' and then there are spots that, as I'm taxiing down the runway, I'll think 'yes, not sure when, but I will return here' — and Bermuda is very definitely in the latter category," he wrote. The blog features scenes from Dockyard, St George's and Hamilton, with an idyllic beach scene captioned: "Now THIS is why people come to Bermuda."
January 2. Marsh Folly workers are faced with health and safety risks due to members of the public illegally dumping items at the facility, including dead animals. While the March Folly facility is intended to collect residential horticultural waste- such as Christmas trees — and commercial waste for composting, for years the facility has been left dealing with household waste left by the public. Vincent Tuzo, who works at Marsh Folly, said he is disgusted by some of the items dumped there by members of the public. Ripping open one bag filled with household waste on Tuesday, he said: "Sometimes people put dead animals in these bags. Dogs, cats, rotten meat. All sorts of things, and we have to put up with all of this. Sometimes the bags stay down here for two or three days and when you open it, the scent is terrible. Some people put garbage and grass in the same bag, and when we open up the bag we have to separate it. It's not easy. The improper disposal of the waste not only poses a health risk for staff at the facility, but it can cause serious damage to equipment if it's not spotted in time. People bring rubble, metal, bottles. All of these things are supposed to go to Tynes Bay. People come up here with metal in their bags and if that goes in the machines and it breaks, who pays for that? We do, the public. I think some people don't realize that we pay for it. They think it's Government, but we pay the Government, so that's our money. People have offered to help sort through the garbage to find out who is responsible for the dumping, but it wouldn't make a difference unless Government decided to get serious about the problem. They say they will prosecute them, but Government don't do anything about it. I used to take down the numbers from the trucks and cars that were doing the dumping and give it to Government, but nothing ever came of it. They don't care what happens down here. All they care about is that the work gets done. It's been going on for years. UBP, PLP and now the OBA are on and still nothing's going on. They have talked about how they are going to put cameras up they, that they are going to watch, but nobody's doing nothing." He called on Government to take action by catching and punishing those responsible with steep fines to send a message. "I'm not talking about fining then $200," he said. "Fine then $1,000. Then we might see them stop."
January 2. A recently-formed fundraising organization for the Island's non-profit sector is to receive $6 million in donations over the next five years. Bermuda Community Foundation (BCF) CEO and managing director Myra Virgil described the donations as "a founding investment" for the organization. An investment manager has not yet been put in place, but is expected to be chosen by March, Ms Virgil said. The $6 million grant to BCF comes from the charity giant Atlantic Philanthropies, plus $2 million from RenaissanceRe Limited, Bloomberg Philanthropies and the XL Foundation. The money will go toward "building a permanent charitable endowment that generates and supports strategic philanthropy in Bermuda", Ms Virgil told The Royal Gazette. BCF, which was incorporated on January 31, 2013, is aimed at "helping to facilitate giving in Bermuda", she said, as well as "providing a vehicle for donations and growing philanthropy". The money will be invested by the Foundation, which will then offer its returns to the local non-profit sector across five "strategic funding areas": critical community needs, memorial funds, scholarships, an emergency assistance programme, and medical assistance support programmes. "Some might say it's ambitious, but our aim is to have between a six and seven percent return," Ms Virgil said. "Other foundations have achieved that type of return." Ninety percent of donated funds are directed as advised by donors, she said, but as investments take off the BCF will have unrestricted funds to pitch to registered non-profits as grants become available. The organization will also be able to monitor where grants are coming from, and where money is being used. The move also introduces the BCF as a go-between for donors and non-profit — particularly for Atlantic Philanthropies, which has donated roughly $22 million to Bermudian charities and non-profit since 1982. Domiciled in Bermuda, Atlantic Philanthropies is a private foundation created in 1982 by US billionaire Chuck Feeney. Going forward, the group will no longer make direct grants in Bermuda, but will operate through BCF.
January 2. Governor George Fergusson signed four pieces of legislation into law on Christmas Eve, including the Liquor Licence Amendment Act 2013. Confirmation of the Governor's assent was published in the Official Gazette on Tuesday, essentially clearing the way for liquor stores and grocery outlets to sell alcohol on Sundays. And all indications point to next weekend being the first time retailers will test the public's appetite for buying alcohol on a Sunday. While some liquor store owners said they're ready to make sales as of this Sunday, others plan to get permission first from Bermuda's Liquor Licensing Authority. Either way, most liquor store owners plan to test the waters first before making a final decision to change work schedules to sell alcohol on Sundays. Court Street Liquors is on such business planning on taking the plunge, a move that would see them open on a Sunday for the first time in 20 years operating as a business. "In today's economy businesses have to do what they have to stay in business, " a spokesman for the retailer said. "We'll test the waters for a month or so before making a final decision on opening regularly on Sundays." Alfonso Harris who owns and manages Churchill's on York Street in St George's plans to open as early as 9am on Sundays. And, if he could open this Sunday, he said he would. "They could have had it passed before the end of the year and we could have used it during the holidays. Personally, I think its about time, and, yes, we will take advantage of it, thank you. Asked whether he felt sales would be brisk on Sundays he said: "Its a matter of preference for most people, for me I think there's a need and it will help out business wise. We're suffering in St George's so any opportunity to boost business I will gladly embrace because things have been tough." Meanwhile, a spokesman at Henrys Liquor Pantry said he was under the impression that all licensed premises will have to secure permission from the Licensing Authority first. "We were told we would have to get the necessary forms cleared before opening on Sundays. As far as I know its the same for any licensed establishment." Efforts to secure an official statement on when liquor stores will actually open on Sundays was not available at press time. However, in the lead up to the change, a number of clergymen, and charities, sounded clear warnings on the social implications for Bermuda. Major Shawn Critch, Divisional Commander of the Salvation Army, while concerned by the increased availability of alcohol through Sunday shopping said Sunday sales is not the primary issue. "We need to be careful that a focus on Sunday drinking does not become a distraction to the more important conversation about the use, and misuse, of alcohol. The availability of alcohol on any day of the week presents the need to work at ensuring responsible decisions. Research has shown that increased availability of alcohol leads to increased alcohol consumption, which in turn leads to increased negative alcohol-related social and economic impacts. We all know that there are members of our families and our community who have devastated their own lives and damaged their families through alcohol abuse. As a community we have a responsibility to inform and educate and live by example, and so promote good decision-making. We need to have more intentional conversations about harm minimization strategies. And we need a public awareness approach that addresses alcohol addiction already within our community and that safeguards against it becoming worse. While The Salvation Army actively supports legislation and policy that encourages healthy lifestyles, and while Salvationists pledge to live alcohol-free lives themselves, we are also deeply committed to working with excellence with individuals, families and communities whose health, relationships and social well-being have been damaged by the misuse of and addiction to any harmful substances." Martha Dismont, Executive Director of the Family Centre concurred with Major Critch. "I could not have said it any better than Major Critch. I believe his comments hit the nail directly on its head. The point is not so much about alcohol sales as it is about informed and thoughtful decision-making. The decision appears to be lacking thoughtful consideration and consultation with a broader group of stakeholders. There is very little for me to add to his comments." Meanwhile Rev Nicholas Dill, the Anglican Bishop of Bermuda, cautioned against the pitfalls of making escapist and addictive pursuits more readily available. "We appear to be on an interesting trajectory relaxing laws on the availability of alcohol, potentially legalizing the use of cannabis, the gambling issue. All of these things can be argued to be escapist and potentially harmful and addictive pursuits with huge social and familial consequences for both users and the community at large. I am concerned about this. When we go through hard times, the temptation is to numb ourselves or step out of the loop, to find distractions that may ease the pain, but can cause greater problems and dislocation. I know people want the ability to choose and it is not the place of Governments to nanny their people, but sometimes we do need laws that protect and safeguard the vulnerable, even if the majority are safe."
January 2. The Bermuda Sloop Foundation is moving closer to it's goal of sustainability, despite the challenges of fundraising in the current economic climate. "As I am sure it was for most charities, 2013 was a very challenging fundraising year as we all strived to endure current economic conditions," Denise Riviere, CEO of the Bermuda Sloop Foundation, said. "Nevertheless, I was pleased to see just how much the Bermudian Community as a whole continues to believe in the power of experiential learning and character development as interventions in the fight against the social and academic ills of today's youth. In our last fiscal year, fundraising efforts, events, and cost cutting where possible helped raise $1.5 million towards our annual operational expenses." She said the Foundation have been able to make their Middle School Youth Programme a "rite of passage" for M3 students in the public school system, and aligned their experiential programme with the school curriculum. This year, Ms Riviere said the Foundation plans to continue it's fundraising efforts to pay off the last $1 million of the Spirit of Bermuda's ship construction mortgage. "Achieving that will greatly help us reach our goal of sustainability," she said. "I know that 2014 will require us to be creative and very cost conscious, but we are up for the challenge. It still takes a village to raise a child, and we will do our best to play our part. We thank our community for its continued support and look forward to continuing changing lives one voyage at a time together."
January 3. Most children of today won't remember black and white television, or the countless black and white photographs in the homes of thousands of once young Bermudians who passed through the Jackson School of Performing Arts. Long before cultural arts were popular among the masses, there was once a schoolteacher who hailed from Philadelphia, who was recruited to teach physical education and dance at the Berkeley Institute. It was the beginning of a career that would span decades and impact the lives of thousands of young artistic enthusiasts since 1953. To this day, the school still stands in its original location on Burnaby Street. As the school's founder, Ms Jackson will be fondly remembers as a trail blazer way before her time in Bermuda's cultural arts community. A record of firsts will be her legacy. The school changed hands after 46 years of operation as the largest and longest established dance school in Bermuda's history. Jeanne Legere and her husband Robert became principal shareholders with Ms Jackson and her husband, the late Senate President Albert Jackson. Over the years, the Jackson School of Performing Arts introduced thousands of young Bermudians from all walks of life to the arts. The school was established by Ms Jackson to "enable children of all races and backgrounds the opportunity to dance." When the school changed hands in the year 2000, Mrs Jackson said: "We had an 'outreach programme' where we visited all the schools providing lessons for $1.50 and if they didn't have the money we let them dance anyway." She noted then that the teachers at the school were trained in countries all over the world including the UK, the US, Canada and France. Those teachers included Barbara Frith, Renee Lambert, Stephanie Luke-Decosta, Conchita Ming, Heather Shrubb, Jennifer Soares, Julie Downy, Kim Siese and Ruth Thomas. The school was expanded by Ms Jackson in 1978 to include instrumental and vocal music, gymnastics and theatre. In a tearful account on hearing of her passing Ms Frith said: "It's very disturbing to hear of her death. Ms Jackson was 83 but she was still too young to go. I don't think we ever expected this. She was a trailblazer, she loved Bermuda, she loved the arts, she loved history, and she was a wonderful person to talk to, she had a sense of humor. She was a very, very special person and I know I'm not the only one who will say this. I'm in deep shock and I will miss her very dearly." Ms Frith, like so many others, participated in preparing students for annual recitals held in June. The school also participated in a number of other events, including the Premier's Concert, the National Dance Theatre of Bermuda's performances, and the Bermuda Festival. Students have also participated in events held in Trinidad for Carifesta, charity organized events and a performance for the Queen during the 1004 royal visit. As a business partner, Mr Legere said Mrs Jackson was "one of the most honest and generous people" he has ever known. "Each and every year Ms Jackson provided thousands of dollars in scholarships for young Bermudians to attend and have an opportunity to experience dance and the performing arts," he said. Both he and his wife were in an emotional state after hearing of her death. "We thought she would recover from what we thought was a severe concussion, but obviously it was more extensive than that," he said. "All I know is that she definitely hit her head very hard, she was very tired and fatigued but we really thought she would recover. My wife's pretty emotional right now, and so am I, we've lost a dear partner, and friend. I think Louise and her husband Albert, who passed a few years ago, are two of Bermuda's best and they'll both be very sadly missed." Ms Jackson will also go down in history as one of the first to research Bermuda's Gombey heritage from a cultural point of view. Asked to comment, Gary Phillips, Chairman of the Bermuda National Gallery lamented her passing. "The magnitude of the loss of Louise Jackson to this community is simply overwhelming. Ms Jackson will always be the indisputable champion of the revival of the Bermuda Gombeys from a repressed art form to a position of universal respectability. Through Ms Jackson's research and documentation, UNESCO came to accept the Bermuda Gombey, and in particular its rhythmic musicality, as a unique folkloric dance. She was an inspiration to both me and my wife Patricia as we continued her work. Today, the Bermuda National Gallery also mourns the loss of Ms Jackson not only as a champion of the arts but also as a former Chairman, who along with her late husband Senator President Albert Jackson, were honoured a few years ago for their founding influence on the BNG. Our sincerest wishes for comfort and peaceful thoughts are sent to her daughters Debbie and Susan." Longtime colleague John Barritt echoed his remarks. "I was totally and utterly devastated to learn of Louise's passing today. I still am. Ms Jackson and I became great buddies as we sat next to one another on the Opposition backbench over the years we served together in the Legislature. She used to love to say that I taught her all that she knew. Nonsense. She knew all that you needed to know about service long before she even met me." He described her as a "vibrant lady who was passionate about the things in which she believed, and the cause of seniors was the top of the list. She taught me, and the rest of our colleagues along the way, that you need no lessons to speak your mind and say what needs to be said, frankly, openly and, yes, loudly, to the best of your abilities. We surely can ask nor expect any more than that of anyone. While a strong, clear voice for seniors may have been stilled, Louise Jackson leaves behind a legacy which will ensure their cause is never forgotten. You just mention the name of Louise Jackson and most people in Bermuda will know that you must be talking about seniors as well. The other thing she taught us all is that age truly is no barrier. Louise served others, and seniors in particular, right to the end and I believe, no, I know, that she enjoyed doing so. I was so pleased when I asked and she agreed to serve with me this past year on the board of trustees for the Bermuda Housing Trust for seniors. On behalf of the Trustees, and staff, and residents, I offer sincere and heartfelt condolences to Louise's family. She will be missed by many but not forgotten. Finally, notwithstanding our differences in years, we became great friends and it is a tribute to her rather than me that she permitted me to treat her as my equal, although I have to also say, and she knew this too, that I loved her like a mother." And Leo Mills, Chairman of the National Security and Defence Review Committee appointed in May last year was also saddened by the loss. "Ms Jackson from the outset of her appointment proved to be a very supportive and enthusiastic member of the committee and was able to bring to the committee's deliberations. Her very wide experience as an entrepreneur, a former teacher, as someone who had a very keen interest in the welfare of seniors and more recently as a parliamentarian. She was able to bring to the our deliberations breadth of experience which was very helpful to the committee in addressing the various security issues which came before us for consideration. She also had a tremendous sense of humor something which we all appreciated and she was also able to provide some very helpful and useful insights into a number of the security institutions and organisations which we were having a look at. She was a very warm and generous person and certainly her very untimely loss is something which is felt very deeply, not only by myself, but also by the other members of the committee. And we wish to extend to her family our very sincere condolences." Kim Swan, former leader of the United Bermuda Party also noted that she had the distinction of serving in the House of Assembly with more than 24 former students. Those MPs include former Premiers Dame Jennifer Smith, Alex Scott, Dr Ewart Brown and Paula Cox. Others include Patricia Gordon Pamplin, Bob Richards, Lovitta Foggo, Michael Weeks, Dale Butler, Glenn Blakeney, Terry Lister, Dennis Lister, former House Speaker Stanley Lowe, and current Speaker of the House Randolph Horton, Wayne Perinchief, Michael Scott and Patrice Minors. But the list doesn't stop there, Ms Jackson also taught Shernette Wolffe, Clerk to the Legislature, and Albert Fox, the Sergeant At Arms. "I started attending the Berkeley Institute in 1965," said Mr Lister. "She was a stalwart teacher and educator at a time when there were many great teachers and school leaders. As an adult I became closer to Ms Jackson through a friendship that I developed with her husband, the late Senate President Albert Jackson during the 1993 to 1998 period. I greatly admired and appreciated Senator Jackson but it was clear that she was his support and counsel as he addressed many challenges in his role in the Senate. After Sen Jackson retired I was surprised to see Ms Jackson come to the House as a new Parliamentarian. However, her contribution in the House was significant. She was fearless in defending the causes that she took on. There were many occasions when Members scorned her comments but this did not deter her from speaking out and seeking solutions for the benefit of those who had sought her help. She leaves a political legacy that her daughter, Susan, will find hard to match simply due to the level of hard work, determination and pure love for country that Ms Louise Jackson, OBE, brought to the job every single day." Former Premier Alex Scott recalled how Ms Jackson made him read a poem in front of an all-girl audience at the young age of 12. "To my embarrassment and everlasting chagrin she and Merle Brock Swan Williams had me read a poem while all the girls were on the school field with one skinny-legged boy. I was wearing a pair of long pants for the first time. I forgave her for having me stand in front of so many young women to read. But I later realized that she gave me the opportunity of a lifetime to meet so many young women at the same time." It was her love of dance and classes at the Berkeley Institute that led to the establishment of her school. And he will never forget debates with Louise Jackson on Parliament Hill. "She was tenacious and formidable. She came prepared, researched and she took no prisoners. And I can tell you from being both an MP and a former Premier she was a real handful. I had debates with my uncle Albert Jackson in the Senate but I would take him any day over having to debate the Honourable Aunt Louise. Our entire family is devastated and my heart goes out Deborah and Susan who are wonderful examples of a mother who could multitask. She was excellent parent even as she was a career person. She was a loving, faithful wife."
January 4. Harsh winter weather in the US forced the cancellations of some flights to and from Bermuda yesterday. As much as two feet of snow was dumped in the Northeast since Wednesday as part of a storm system known as Winter Storm Hercules, causing the cancellation of more than 4,000 flights to and from the region. American Airlines cancelled flights 1443 and 1416 between Bermuda and New York's JFK airport, while Jet Blue flights 1731 and 1732 between Bermuda and the same airport were cancelled. US Airways meanwhile cancelled flights 824 and 825 between Bermuda and Philadelphia. Other flights to the region, including flights servicing Boston, Newark, Toronto and New York's LaGuardia airport, were also affected by the weather. Newark and Boston recorded 8.5in and 14.6in of snow respectively, while Philadelphia recorded around nine inches. A total of 6.4in were recorded in New York's Central Park, while other areas in the Northeast experienced as much as two feet of snow.
January 5. Capital G Bank Ltd will be making a formal announcement about the outcome of potential partnership discussions in the very near future, a spokesman said yesterday. At the beginning of December the privately held bank confirmed it was in discussions regarding its future, calling the move part of its overall strategic growth plans, and stating in a release that the aim of the talks were a broadening of its product offerings, growing the size of its customer base and competing more aggressively for business locally and internationally. Yesterday the Capital G spokesman would not confirm rumors that the Bank is exploring links in the Islamic finance sector. He said: "We have nothing new to report at this time. We will be in touch with all media in the very near future with a formal announcement." Capital G is one of the Gibbons Group of Companies, which has extensive operations in Bermuda and internationally.
January 14. A bank ban on US travelers' cheques and money orders was yesterday blasted by the boss of an tourist booking service. And Fiona Campbell, owner of Bermuda Accommodations, said the move could damage the Island's already struggling visitor industry. Ms Campbell added: "We've just gotten a note from Butterfield telling people they can't spend travelers' cheques in Bermuda and that there's all sorts of restrictions on money orders." Ms Campbell was speaking after Butterfield Bank said it would no longer accept US dollar traveler's cheques or money orders, which are issued by places like the US Postal Service and Money Gram, because US-imposed restrictions aimed at money launderers meant they cost too much in time and money to process. But Ms Campbell said: "They're making it more and more difficult for people to come down. "People don't necessarily want to use credit cards, they want to use travelers' cheques and cash and money orders, and the banks are making it increasingly difficult. I stay in touch with people from the local perspective, but what really interests me is that if you're going to be cultivating tourism you got to make it easier for tourists to come down, not more difficult. This banking nonsense is really becoming a hassle." Butterfield Bank told its customers it had changed its policy on traveler's cheques and money orders, effective from the end of next month, because of restrictions designed to crack down on money laundering imposed by the US Patriot Act and the Bank Secrecy Act. The statement said: "As they can be purchased for cash with no identification required, there has been increasing use of these instruments in fraudulent financial transactions, with the result that enhanced screening and handling protocols are required, which adds cost and time to their processing." Butterfield, however, said that certified cheques and bank drafts issued by US financial institutions, would continue to be accepted. The advice to customers said: "Butterfield will continue to accept certified cheques and bank drafts for deposit. Drafts and certified cheques are only sold by financial institutions to their existing known customers. The customer must have an account to purchase a draft or have a cheque certified. The customer will have provided their bank with full 'know your customer' information when they opened the account." The new rules state that travelers' cheques will not be accepted by the bank after February 28.
No longer usable, see above story
January 16. Elbow Beach will be under new management this Spring when the current management contract with the Mandarin Oriental Hotel Group ends. According to a spokeswoman, the Elbow Beach Hotel and Development Company Limited will assume management control of the Paget resort on April 1. Ayed Al Jeaid, Board Chairman of The Elbow Beach Hotel and Development Company Limited said: "The ownership and board of Elbow Beach Hotel would like to express their appreciation for the exceptional management services that Mandarin Oriental Hotel Group has provided over the years. We are confident that the resort will remain well positioned for success." The spokeswoman said that despite the management change, the resort will continue to operate as usual, and will remain focused on providing exceptional service to its guests. Meanwhile, the Lido Complex at Elbow Beach is about to launch a winter promotion which will include the reopening of the Deep Lounge and nightclub. Cafe Lido will be offering 20 percent discounts on food and drinks 25 percent for parties of 10 and more.
January 27. Local physicians are "overwhelmingly" opposed to a health plan imposed by Government to rein in unnecessary and expensive diagnostic testing. The initiative, known as pre-certification, will force doctors to consult with insurance companies or other third party to obtain permission for tests on their patients. It has been criticized as time-wasting, expensive and liable to cause "death by delay." The Ministry of Health did not respond to repeated questions on the proposal — but pre-certification was yesterday blasted by the Bermuda Medical Doctors' Association (BMDA) as putting patients' safety at risk. In a statement sent to this newspaper by BMDA head Joanna Sherratt-Wyer, the group called on Government to rethink the scheme. "It is with huge disappointment that we note the current plan to implement pre-certification as a method of cost containment. This decision was taken in the complete absence of consultation with physicians, and as such puts the safety and care of our patients at risk. We have been shown no definitive evidence to determine that this will cut costs as it is being stated — indeed, we have significant concerns that costs will instead be passed onto our patients either in the form of higher insurance premiums, or the costs of doctors' visits will increase in order to reflect the increased administrative burden placed upon the doctors." The BMDA functions as the representative body for the Island's physicians. "Pre-certification forces doctors to ask permission to order tests that they feel are clinically necessary," Dr Sherratt-Wyer explained. "We have canvassed opinions from physicians working with pre-certification in other jurisdictions, such as the Cayman and the US. Time and again, we hear stories of the hours spent trying to obtain tests that are necessary — something which can put patient safety at huge risk whilst they await permission to have necessary diagnostic testing. We also hear that costs have risen, as physicians have had to employ more staff just to deal with the necessary paperwork, make endless phone calls, deal with complicated appeals processes, etc. These costs will, of course, be passed onto the individual patients, but may appear on the surface as if overall spending on healthcare has decreased." Calling for "open, frank and honest dialogue", the BMDA statement also suggested the implementation of the National Electronic Health Record to cut down on unnecessary duplications of tests. "In addition, we are keen to ensure that we provide more guideline driven care, with standards of care agreed and adopted among physicians. This would allow for physicians to be guided in best practice, whilst still allowing for the 'art' of medicine to be practised — something that is utterly lost in the type of care that pre-certification demands." Dr Sherratt-Wyer called on Health and Environment Minister Trevor Moniz to "carefully re-examine the process by which they decided to implement pre-certification. By not involving physicians in the decision to implement pre-certification, we believe patient safety has been put at risk." Doctors who spoke with The Royal Gazette over pre-certification for procedures such as X-rays and CT scans were reluctant to be named — but physician Ewart Brown confirmed that opposition to the idea was widespread. "Since I returned to Bermuda to practice medicine in 1990, I have never seen local doctors so universally united on any issue. Doctors are united against any policy which allows anyone to intervene in the care of their patients. Forcing us to call an 800 number to ask a nurse to approve a diagnostic study is a dangerous policy which could result in death by delay." One physician who contacted the newspaper said doctors were "overwhelmingly against" pre-certification, and another who attended recent meeting with the Ministry accused one insurance company in particular of seeking to implement a scheme already used in the Cayman Islands. "Our patients have told us they don't want this," the doctor said. "They have not been consulted. Why is the Government forcing this on us, instead of working with us? The real issue is this: who will be liable if the nurse we speak with at the 800 number makes an error and the patient dies because of a denial?" Aside from the alleged lack of consultation, the top complaint cited was that Government hadn't shown conclusively that over-utilization was a serious problem. A Bermuda Health Council spokesperson confirmed that the organization had been directed last year by Cabinet to implement pre-certification. According to the BHeC, a public document will be released "shortly" giving more detail on the proposal. "The focus is on diagnostic testing, which includes medical imaging and clinical laboratory tests. These currently represent 40 percent of all standard benefit claims and 8.5 percent of total health costs in Bermuda. The mechanism would be similar to what happens with overseas care at present: the provider identifies the care needed and submits for pre-approval, a utilization review specialist confirms that a procedure is medically necessary and meets clinical standards and criteria, and approval is granted before the procedure takes place. This process has been in place for overseas care for many years in Bermuda, so providers and the public are familiar with it. The requirement would apply to all eligible procedures regardless of who orders them or where. The emphasis is on protecting medically necessary care to improve overall outcomes for patients. Bermuda residents spent more than $58 million on diagnostic tests in the fiscal year ending 2012. We are confident that pre-certification will reduce these costs by more than 10 percent." Asked about the level of opposition in the medical community, the BHeC spokesperson said the council was "aware of the position of some physicians on the Island. However, there are a number of physicians, particularly those who have worked in systems that used pre-certification, who appreciate the need and its value. There is broad agreement that we need to manage utilization better in Bermuda, though we recognize that opinions vary on the best way to do this. The Health Council has been charged with implementing pre-certification to manage utilization of these costly procedures, as Bermuda has to take an assertive approach to reducing costs." Both the Council and the Ministry "continue to listen to the concerns voiced by the medical community", the spokesperson added. "We look forward to working with them to ensure the programme we will put forth protects quality of care and builds confidence in the medical community. It is imperative that we all work together to improve healthcare in Bermuda as the current system is simply not sustainable. Diagnostic testing increased 25 percent last year and health costs have increased over nine percent annually for nearly a decade. We have to focus on improving quality of care and investing our healthcare dollars in medically appropriate care."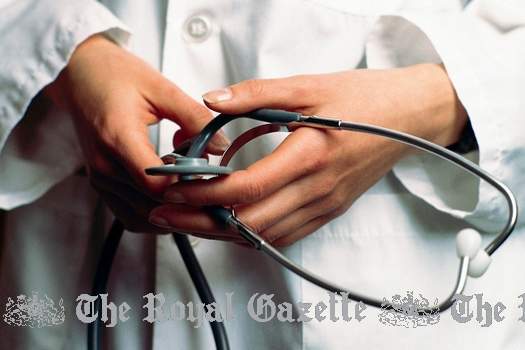 See story above
February 1. The contents of one of Bermuda's most historic houses have been put up for sale. And a rare Bermuda cedar chest and furniture, as well as 18th century silverware, are among the items for sale from the Devondale estate in Devonshire. The sale organized by specialists Stock X Change and which starts today and runs until Saturday will see the contents of the historic listed house, which was built in 1773, sold before it is turned over as a bequest to the Bermuda National Trust. Stock X Change co-owner Barbara Brown said: "There are a lot of interesting items in there and a lot of old cedar lumber as well which should attract a lot of interest because you can't cut Bermuda cedar any more. There's also antique silver and paintings a lot of historic, unusual and collectable things are for sale." Ms Brown, who runs Stock X Change with business partner Dorothy Billings, added: "The standout items are an antique Bermuda cedar chest and Bermuda cedar chairs. An antique silver tea pot and coffee pot dating from the 1800s are also stunning." Devondale was owned by Ms Jean Spence, a member of the Watlington family, who died in 2012 aged 86. She and her husband had no children and her will stipulated that house, together with a bequest to help with its upkeep, go to the National Trust. Ms Brown said: "The whole place is interesting because the property has been in the family for so long. The land attached to the house was once farmed and its a really great property." Executor of the estate James Watlington of Alexander's barristers and attorneys, a distant relative of Ms Spence, added: "The furniture is separate in legal terms to the immovable property, so the furniture, paintings and whatever are up for sale. But the ships bell of SS Pollockshields, a First World War munitions ship which sank off Elbow Beach in 1915 after hitting the reef, would remain with the house. There are some very interesting pieces and artefacts there, which people will no doubt have a strong interest in." Devondale was built around 1733 on the site of an older house and most of the architecture is thought to date from around 1800 and has one of the longest unbroken family occupation on the Island. Ms Spence was is the granddaughter of John Cox Watlington, who inherited the house in 1857 and direct descendant of John Cox, who inherited Devondale 352 earlier. The sale at Devondale, 33, South Road, Devonshire, runs today and Saturday from 10am to 4pm.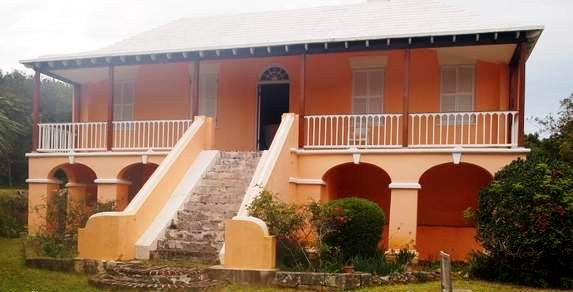 Devondale, Devonshire

February 4, 2014. The first six months of this year show an eight percent rise in group bookings, according to the Bermuda Tourism Authority (BTA). The increase shows growth in the travel sector known by the acronym MICE: meetings, incentive, conferencing and exhibitions business. The BTA reported a seven percent rise in business travel, with a 41 percent rise in convention business characterized as a rebound from 2012s drastic loss. Other figures released yesterday by the authority showed a modest rise overall in last year's air arrivals last year. A total of 236,343 visitors flew to Bermuda in 2013, up from 232,063 in 2012. Cruise arrivals continued to decline in 2013, down ten percent over 2012, with 340,030 people cruising to Bermuda for the year. A drop in yacht arrivals was attributed to the biennial Newport to Bermuda yacht race not being held in 2013. It will be held this year.

The BTA has pledged to publicize a broad range of data on the Island's tourism performance. Information will include hotel revenues, according to the organisations new chief executive officer Bill Hanbury, who said the group was committed to sharing details on a timely basis. At a press conference yesterday, Mr Hanbury voiced cautious optimism at some improvements shown by the latest figures for last year. These include a six percent increase in air arrivals for the fourth quarter of 2013, compared with the fourth quarter of 2012. Total hotel room bookings are also up five percent for the next six months compared with last year and the number of room nights booked during December increased 10 percent on December, 2012. However, cruise arrivals were down ten percent in 2013 compared with 2012, and total hotel bookings for 2013 were relatively flat up one percent overall. Mr Hanbury said the BTA was committed to providing up-to-date and extensive information, while using the data to better market the Island. He described the authority as a marketing and sales operation, not a bureaucracy. Erin Smith, director of research and business intelligence, said the BTA was building a comparative data bank that will allow us to understand the industry in detail and to respond accordingly. "This will allow us to realize the objectives of the National Tourism Plan in building a unique and competitive positioning, improving quality throughout the tourism value chain, and attracting business development and investment. The information we will be releasing will thus be broader than historic data released and were very excited about it." Asked what she found most encouraging in the data, Ms Smith said: "For me, its the dollar value. Instead of just volume, we can see how much is actually being put into the economy." The figures released include statistics on hotel earnings, as measured by the US company Smith's Travel Research (STR). Average daily rate, or ADR, represents the average rental income per occupied room. Bermudas ADR for the year 2013 was five percent higher than 2012. Ms Smith explained: "ADR is basically what you're paying for a room. If you look up a hotel on Expedia and its $299 a night, that's essentially it. With the ADR, hotels are looking at the average they're getting per room for that month." Also measured is revenue per available room, or RevPAR the figure obtained by dividing the room revenue by the number of rooms available which STRs website defined as the total guest room revenue divided by the total number of available rooms. The STR site added: "RevPAR differs from average daily rate (ADR) because RevPAR is affected by the amount of unoccupied available rooms, while ADR shows only the average rate of rooms actually sold. In Bermuda's case, RevPAR for 2013 rose by 6.5 percent over 2012. "This figure gives you a better gauge, because it combines ADR with occupancy," said Ms Smith. "You could raise your rate but hurt your occupancy, so really the one to look at is the RevPAR. It tells the whole story. A RevPAR of 6.5 percent was good. But it's not back to where it needs to be. If we look back to 2008, our most successful year in recent history, were still not back to that. But a rise is encouraging." Mr Hanbury stressed that while some figures showed improvements in tourism, the Island's industry was still not where we need to be, by any stretch of the imagination. He said: "The announcement of the figures really manifests our commitment to provide more up-to-date data. However, with global tourism estimated to grow by 5.5 percent in 2014, we as a destination need to keep up with that." Asked if the authority had any plans to replace the So Much More slogan, Mr Hanbury said: "I don't think the challenge for us is in the brand; the challenge is how we execute our marketing strategy. The BTA would not change Bermudas current brand without a lot of thought and contemplation. Our effort will be around delivering it better to the marketplace. My remarks were not in any way criticizing past regimes. But there has to be a more aggressive and sophisticated effort than in the past. There are fundamental things were going to do from a marketing perspective that will help to improve the situation immediately. The BTA was placing a particular emphasis on digital and social media." Shadow Minister Wayne Furbert yesterday responded: We did have a social media campaign and it has grown significantly over the years. Can more be done? Yes. The Opposition would support the BTA but maintained the improvement shown for 2013 represented work done by the Ministry over the years that is now bearing fruit. Mr Hanbury has my full support to get Bermuda back in the right place. But I still believe I would have put a Bermudian in his place and used him as a consultant. I had no particular candidate in mind for the job. I still believe there is a Bermudian out there who could do the job. "

February 5. Shawn Crockwell believes a single integrated casino resort could employ around a thousand Bermudians and generate millions of dollars for the local economy. And while the Tourism Minister stressed that the details are not set in stone, he described measures Government is considering introducing to prevent casinos causing social problems. Speaking at Penno's Wharf during the first of a series of town hall meetings on the subject of gaming in Bermuda, Mr Crockwell told the more than 100 people in attendance that, based on the current air arrivals, and the belief that around ten to 15 percent of residents would take part, the Island can support around three casinos. He said most Bermudians over the age of 21 will be allowed to gamble in the casinos, but added that Government is considering a Singapore-esque strategy which would prohibit some residents from taking part. Among those prevented from gaming in Singapore are those on financial assistance, living in government housing, or in arrears with the courts. Legislation there also allows members of the public to voluntarily add themselves to the excluded list and more controversially apply for immediate family members to be put on the excluded list. "I think we could have something similar here," Mr Crockwell said. "Someone can be reported and an investigation takes place. Other safeguards could be put in place to prevent the most vulnerable from being negatively impacted, such as not allowing ATM machines on the casino floor, no extension of credit to locals without premium accounts, and installing an entry fee for residents. In Singapore it's $100 to get in. Now some people react and say, that's not a lot of money, and Singapore is a very affluent country, but most if not all of the residents that I met, I asked them if they go to the casinos. They said no. I asked why not? And they said because of that levee. Even if you are inclined to pay the $100, you're not inclined to want to pay two or three times a month. That's $300, $400 out of your pocket just to attend. The casual gamer may go on special occasions. It is Government's belief that introducing integrated hotel casinos to the Island is vital for encouraging investment in the tourism industry and creating jobs. Around 98,000 tourists travel to the Bahamas specifically to enjoy casino gaming, including more than 36,000 from New York alone, pumping millions into that nation's economy. If we have a decent integrated resort, if the integrated resort does what it's supposed to do, if the Tourism Authority does what it's supposed to do and markets the Island, and if we do all the right things, we believe that we can attract 5,522 [visitors] from the Miami area, we can attract 15,698 from the New York market. We expect casino gaming to spur hotel development, investment, job creation, visitor arrivals and tax revenue. As far as we are concerned, looking at the data, it all looks very positive for Bermuda. When we first start off, we are thinking we will make $50 million off of casino gaming in an integrated resort. By year three, we are looking at around $60 million. The proposed government tax rate on that is ten percent. We have had other consultants suggest that we tax up to 20 percent, and that's a decision that Government will have to make. The lower the tax rate, the more incentive to get a casino operator in Bermuda. In addition to the revenue directly from gaming, Government would be able to raise even more funds through hotel occupancy tax, and payroll tax. Construction of a single integrated casino resort would create 1,113 direct, and indirect jobs, while the casino itself could employ up to 913 Bermudians. Just one integrated resort can create significant job opportunities for Bermudians. So far, seven parties have expressed interest in a request for proposal for the former Club Med site, and it is hoped that even more parties will come forward before the April deadline." Questioned as to why the Government chose to focus their attention on the Singapore model, rather than Las Vegas, Attorney General Mark Pettingill said the Singapore government had spent years looking at the various models and, because of the British history of the jurisdiction, the legislation can more easily be adapted to suit Bermuda.

February 10. Government has kept quiet on plans to curtail high-cost diagnostic imaging but the hospital has defended itself against claims by local physicians that it has been the main culprit for spiraling healthcare costs. Pre-certification, which requires doctors to get a second opinion, is aimed at cutting down on the frivolous use of procedures such as MRIs and CT scans. The imaging tests cost thousands of dollars and come with their own health risks: CT scans deliver significant doses of radiation. A Health Ministry spokeswoman said Government was working in tandem with the Bermuda Health Council to realize a public information paper on the rationale and workings of pre-certification. The focus will be on diagnostic testing, which includes medical imaging and clinical labs, and the intent is that before such procedures can be carried out, they would have to be pre-approved by an authorized entity, based on standardized medical guidelines, she said, adding that more information would be released in due course. Details on how the scheme would be implemented in Bermuda, such as whether pre-certification would take place by phone or online, have yet to be revealed. Pre-certification is common in the US managed healthcare system and similar procedures are employed under the UK's National Health Service as the soaring cost of healthcare leads to rising insurance premiums. Bermudas healthcare system is second only to the US for year-on-year increases that were branded unsustainable by Government three years ago. Physicians have attacked Governments rationale for introducing the system to the Island. Pre-certification has been denounced as an onerous extra expense that will put patients at risk and doctors who spoke anonymously with The Royal Gazette maintained that unnecessary testing was more the fault of the hospital than the local medical community. However, according to the Bermuda Hospitals Board (BHB), close to 60 percent of the MRIs and CT scans carried out on the Island come from the community itself. Bermuda residents receive more of the tests than fellow Organization for Economic Cooperation and Development (OECD) states, MRI exams in particular and conservative estimates show overuse costing our healthcare system well over $4 million annually. A BHB spokeswoman said the hospital was mandated under law to offer essential equipment, which hospital-based doctors used in the community's best interests. BHB does not receive additional revenue for tests performed on in-patients or emergency patients who are ultimately admitted to hospital, as all hospital services are covered under a fixed diagnostic related group charge for their inpatient care, she added. BHB also provides services to outpatients who are referred to the hospital for tests by community physicians. These referrals often include diagnostic imaging or laboratory tests. BHB performs these tests and bills the patients insurers accordingly. She acknowledged that the hospital has come under fire in the debate over the Islands increasingly precarious healthcare system. Blame is frequently assigned to BHB for running up health costs when the reality is that a substantial portion of BHB's annual revenues arise from community physicians referring patients for outpatient diagnostic imaging and laboratory work, she said. According to a December 2012 survey of MRI and CT tests performed at BHB, 56 percent of the tests were on behalf of community physicians. A further 28 percent were ordered by BHB emergency physicians, and 16 percent by other BHB physicians. If we assume all tests ordered by community physicians are medically necessary and appropriate, they would be a cost to the health system regardless of whether they are performed at the hospital or another diagnostic centre, the spokeswoman added. And Bermudas high usage of both tests was established by the same survey. Collectively, local doctors order 138 CT exams per 1,000 residents to be performed at BHB compared to the OECD average of 131. Seventy-nine MRI exams per 1,000 residents are performed at BHB compared to the OECD average of 46. Using this data and the price per test, the cost of Bermudas excess utilization can be extrapolated as $4.2 million per annum, she said. It is key to note that these figures exclude MRI and CT tests performed at other local diagnostic facilities and tests performed overseas, so the potential overspend is likely understated. Any initiative to manage healthcare would have to consider both BHB and community physicians in order to rein in medically unnecessary testing and costs, she said.

February 12. Thirteen staff, all Bermudians, were made redundant by the Coral Beach and Tennis Club, even as the labour dispute over the Fairmont Hamilton Princess captured headlines. The positions were cut on January 31, according to managing director Tim Thuell. None were unionized, a spokeswoman said. Eight housekeeping jobs were chopped from the South Shore resort, leaving five still on the job and all five security staff were made redundant. Coral Beach Club outsourced the security positions to a highly respected local security company, Mr Thuell said. The hotel was acquired in December, along with Horizons and Cottages, by a subsidiary of the New York firm Three Wall Capital, called CBC 2013 LLC. Another US firm, ROC Group, is partnered in the deal. In a statement, Mr Thuell described the cutbacks to operational changes and efficiencies that are "in accordance with luxury hotel standards, and that are in-line with our current business model. We are focused on making the kinds of changes that will improve the service provided to our membership and that will also demonstrate fiscal responsibility."

February 18. Michelle Wolfe has been elected president of the Bermuda Association of Licensed Trustees (BALT). The organization that represents the trust and related industry also announced the election of vice-president Kim White, treasurer Deanna Didyk and secretary Michael McAuley. Founded in 1994, BALT is a forum for the interests of its stakeholders and acts as a representative body for all 30 companies licensed by the Bermuda Monetary Authority to carry on trust and related business in Bermuda. BALT makes representations to Government and is often invited to deliver submissions and reports on trust legislation, fiduciary ethics, good practice and regulation of the industry. The Association is a key contributor to the Bermuda Business Development Agency's strategic plan to promote existing international business and actively develop new business in Bermuda. Celebrating 20 years of commitment to the absolute integrity and high international standing of Bermudas trust industry, BALT is organizing a general symposium for its members to discuss the international position of Bermudas trust industry and to hear the views of both local and international speakers on current topics of interest such as new trust law reform proposals, compliance and enforcement, tax information exchange agreements and know-your-client initiatives. The 2014 Conversation of Bermuda Licensed Trustees will take place on May 1, 2014 at the Royal Bermuda Yacht Club. "

February 18. A Bermuda court has ruled that an $18.5 million Singapore arbitration hearing decision is binding on a Bermuda-based conglomerate. Chief Justice Ian Kawaley ruled in Supreme Court that Sampoerna Strategic Holdings had to comply with the order from an arbitration hearing in Singapore. And the ruling is being seen as a commitment by the Bermuda courts to support arbitration in disputes over court proceedings in international commercial cases. Now the Bermuda firm has to pay the cash to Hong Kong firm Huawei Tech Investment and Huawei International, of Singapore said to be owed for the supply of goods as well as costs, or face winding-up proceedings. In a written judgement released at the weekend, Mr Kawaley said that it was clear that the respondent had not raised any seriously arguable foundation for declining to enforce the award on public policy grounds. And it was again perhaps unsurprising that the respondent did not have the temerity to seek to pursue this ground of challenge to the decision of the Singaporean tribunal before the Singaporean courts. Mr Kawaley issued his judgement as he dismissed the Sampoerna Holdings claim that it had ben denied its natural justice rights the chance to plead its case at the Singapore arbitration hearing. His decision upheld an earlier Bermuda court ruling that the two firms could enter judgement in terms of the award. Lawyers David Kessaram, of Cox Hallett Wilkinson, who appeared for the two applicants with Lilla Zuill, said the ruling backed arbitration as an alternative means of settling cases and that the Bermuda debtor company sought to set aside the order on the basis that there was a denial of natural justice rights in the arbitration proceedings in Singapore. It claimed that the arbitration tribunals decision dealt with an issue that was outside the scope of the questions the tribunal was asked to decide and that the arbitration tribunal based its decision on a matter that was not pleaded in the statement of claim. But Mr Kessaram said: "However, the Chief Justice held that, although the issue had not been expressly pleaded, it was dealt with in the evidence and in the oral and written submissions of the parties in the arbitration hearing. The Chief Justice treated the debtor company's point as a purely technical one. He held that there was no denial of the Bermuda company's natural justice rights, namely the opportunity to present its case in the arbitration. The Chief Justice therefore dismissed the Bermuda company's application leaving it open for the award creditors to enforce their rights to payment in Bermuda.

February 18. A total of five new companies' registrations were confirmed by the Bermuda Monetary Authority in January, it was announced yesterday. They included Rubik Reinsurance, Ltd., a Class 3A entity under the BMA insurance-type structure, Broadhead Risk Management Ltd., a Class 2, Hyaline Re Ltd., a Class 3A, Swan Re Ltd. a class 3A and Beechwood Bermuda International Ltd. which is a Class C. Year to date, the five confirmed registrations make up the register for 2014. The BMA reported that the Monthly Assessment & Licensing Committee (ALC) reviewed five insurance applications in January. Two of the applications were declined and three applications were approved. They also state that registration and licensing of approved insurance entities is subsequent to the ALC application process, and may be confirmed in future periods.

February 18. Bermuda registered 1,200 new companies last year, the most in five years. Education and Economic Development Minister Grant Gibbons said it was one more sign that Bermuda is moving in the right direction after years of decline. Dr Gibbons said the tally of new companies was the highest since 2008 the year in which the global financial crisis struck and was up 16 percent from the 1,035 recorded in 2012. "In this case, the strong increase in registrations is an indicator of renewed confidence in Bermuda," Dr Gibbons said. We can expect that these new companies will make a very positive contribution to job creation and economic growth. We saw a strong upward trend of local and international company formation in 2013, in contrast to the decline from 2011 to 2012." Of the new companies, 180 were local registrations, a 22 percent increase over the 147 in 2012; and 1,020 were new international companies and partnerships, a 15 percent increase over the 888 in 2012. At the end of 2013, there were a total of 18,827 local and exempt entities on the Islands company register a two percent increase over a year earlier. "Over the next few months we will continue to build upon this positive momentum through the combined efforts of the government ministries, the BMA and our partnership with the Bermuda Business Development Agency (BDA)," Dr Gibbons said. "Overall, this is encouraging news for Bermudians and Bermuda business, it demonstrates quantitative evidence of growth and that Bermuda is back in business."

February 19. More than $100 million could be slashed from Government expenditure in Friday's Budget, an economics expert said yesterday. Consultant Peter Everson predicts that Finance Minister Bob Richards will aim for larger cuts than those proposed by the SAGE Commission, which was set up to look at cutting Government expenditure. Government borrowed $330 million last year to cover Budget shortfalls and Mr Everson said the country would have to dig itself out of debt as fast as possible. Bob Richards gave a strong indication in his speech to the Chamber of Commerce on the SAGE Commission he said he would be more aggressive than SAGE, which called for a cut of $65 million in the first year. "My guess would be $100 million or $110 million because that's a third of $330 million," said Mr Everson, who sat on the SAGE Commission. "The SAGE Commission was very clear that the bulk of Government spending goes on people. So people costs have to be right at the centre of it. The previous Government had cut back on services in its Budget of two years ago. There is nothing much left to cut, so we are looking at people. That would be the Civil Service and also the quangos because they are funded by grants to the tune of $200 million. 500 jobs cuts in the Civil Service could be achieved by abolishing vacant posts which run at about 500 every month and by offering early retirement, which would also help deal with the pensions funding time bomb. The average remaining working life of for a Civil Servant is 12 years, that's a lot of people who will be retiring in the next few years." Mr Everson pointed to the Bank of Butterfield, which offered employees aged 55 or more an early retirement package. "That made an enormous difference to their costs, which have come down hugely due to that," he said. Both Mr Everson and Bermuda College economics lecturer Craig Simmons backed longer-term economic plans over an annual budget. Mr Simmons also called for no across-the-board tax increases which might help balance the books, but push the country back into recession. But he predicted a hike in taxes on technology. Mr Simmons said: "We need a plan and I don't think an annual Budget is really a plan, especially for those people who loaned us several million dollars in the Government senior notes issue back in June. We were promised a plan then and it's only right we have that from an economic perspective tax payers are owed a medium term framework on how Government is going to reduce its spending. I am expecting the first multiyear Budget on Friday. That's what is needed and its arguably the most needed part of the Budget. I would expect tax increases on telecommunications specifically cell phones and internet usage. These are two of the few growth areas in the economy and tend to be insensitive to price." And Mr Simmons backed an extension to tax breaks for struggling sectors like retail and restaurants although they should have strict time limits. "The Social Assistance budget will have to go up. The Government has to be sensitive to the needs of those at the bottom of the socio-economic ladder and also sensitive about layoffs in the public sector. There is no doubt that the Civil Service will need to be trimmed from where it is now, from 5.500 jobs or so to 5000. Cuts could be made gradually from five days a week to four or three as a way of gradually easing people out the door. We are in a delicate stage of recovery serious cuts in spending could have a deleterious effect. I would argue that the cuts should be minimal and that, as recovery takes hold, that's when you begin the bigger cuts because people will have somewhere to go because there will be more opportunities in the private sector." Mr Simmons who sat on the privatization and outsourcing committee of the SAGE Commission added that privatization of public services could be used to cut costs. "Even that has to be done with care there are what some would call unanticipated consequences of privatization if its not done carefully and in a transparent way." Veteran reinsurance chief Brian Duperreault, who chaired the SAGE Commission, said its recommendations needed to be implemented as a package not on a piecemeal basis. "The SAGE Commission made recommendations to the Finance Minister in three main categories: reducing the deficit, addressing the pension under funding and changing how the Civil Service is governed. I would like to see progress in all three categories, not just one."

February 25. Digital TV provider WOW is to muscle in on the telecoms market with a package including phone, internet and television services that could help drive prices down. WOW president and CEO Stanley Wright said the firm is to offer a range of packages — with a single bill — for the first time in Bermuda. And he said the extra competition in the market could help customers get a better deal. Wright added: "How far down it will drive prices, I don't know, because there are still the overheads which have to supported in the Bermuda context. But it will bring prices down because people can look at their margins across all products. Providers faced an increase in license fees later this year, which would have to be factored in. Having said that, the consumer should benefit from what we're doing. It also means they now reduce who they have to talk to one — they can now talk to one person and get their queries or issues resolved. It is with great pleasure and excitement that WOW can be the first to announce the introduction of a suite of telecommunication services including, voice for local and long distance calling, high speed internet, television and high definition (HD) programming at economical pricing with one bill, one stop and one great customer care contact." Mr Wright added that the firm start a new online customer account service, which will allow people to access their information, pay bills, change their programme packages and refresh their set-top boxes. Mr Wright said WOW took the decision to expand after Government relaxed licence rules more than a year ago. He explained: "That basically allows the smaller players like ourselves to introduce a suite of services. It took some time for us to set it all up, but we're now in a position to do this and we feel it's a good move." The new service comes in three packages, all under the Lifestyle label, ranging from $184.99 a month to $233.99 a month. Lifestyle Seniors offers 4MB of internet and local loop speeds, and fixed periods of phone time, both local and long distance to the UK, US and Canada, as well as the Classic Pak TV service and complimentary HD TV. Lifestyle Casual, priced at $214.99 a month, and the top-of-the-range Lifestyle Family offer the same package as Lifestyle Seniors, but with enhanced internet services and other extra features for the top package.

February 25. Senior members of the Civil Service will be accountable for the 2014 budgets constraints, said Minister of Finance Bob Richards, speaking to a large audience at the Fairmont Hamilton Princess at the Chamber of Commerce's annual post-budget breakfast yesterday. In his speech to Chamber members, Mr Richards had pointed to a two-track strategy to move the country forward, saying: "Encourage growth and control and cut Government expenses. We have to do both at the same time." Economist Peter Everson, a former CEO of an international investment manager, who was sitting on the panel with the Finance Minister, had stated Government and the private sectors were chalk and cheese. He pointed to poor policy decisions and ineffective implementation within Government and said the result is: "A woeful outcome. It's quite simple the private sector stands on its own two feet." Mr Richards told the audience there is nothing intrinsically superior between decision makers in the public and private sectors, and said his own experience was 40 years of working in the private sector. "It has to do with carrot and stick in the private sector, there are rewards for good performance and the stick, if you don't perform, there are consequences. The carrot and stick really does not exist in Government. The whole effect of it relates to accountability, particularly for senior people." Mr Richards returned to the subject of senior civil service accountability at the end of the morning's event. "The whole question of accountability in Government appears to be something new. I have concluded that the culture in Government with senior people in particular is that they don't feel accountable for the budget numbers. In other countries, accounting officers will suffer some sort of consequences. It has never happened in Bermuda, so this is a change of culture we are trying to institute where senior managers have to be held accountable for these numbers. I've tried to focus Government on the budget and budget restrictions, [but] we have not been able to change the corporate culture in Government overnight. We are working hard so that each individual Ministry respects those budgetary restrictions. I recognize it is a problem, but we are working through the Civil Service and the Ministry of Finance is being pig-headed. The status quo is not an option we have to change. We don't expect things to get better on their own we have to make it change. The Government cannot do it alone, we have to do it together. We have to work together to make the Bermuda economy grow to make jobs. We have to have oars pulling in the same direction."

February 26. Specialty re/insurer Canopius Group Ltd held a reception to mark a successful partnership with Bermuda in the wake of the company's takeover by Japanese giant NKSJ Holdings. The event, which took place at the Masterworks Museum of Bermuda Art, was attended by Dr. Grant Gibbons, Minister of Economic Development and Education, Bob Richards, Minister of Finance, Gerald Simons, Bermuda Monetary Authority Chairman, key industry and business leaders as well as members of the Canopius Group senior executive, including chairman and chief executive Michael Watson. Canopius Bermuda, which was launched in 2007, employs a team of ten, most of whom are Bermudian. It has achieved consistent growth in its business and underwriting capacity. In addition to ongoing business expansion, Canopius Bermuda is a committed participant in a number of community programmes including the Sunshine League, with Canopius Bermuda senior insurance executive Annemarie Tobin serving as the organization's chair. Speaking at the reception, Canopius Bermuda CEO Stephen Hartwig said: "We are delighted to host this reception to celebrate our partnership with Bermuda. Since we established our office here seven years ago, our business in Bermuda has gone from strength to strength, due, in no small part, to its highly positive business climate. We are looking forward to further growth, continued success and an active role in the Bermuda community. Mr Watson said: "Over the past ten years, Canopius Group has grown into one of the largest Managing Agents in Lloyds and our Bermuda office has played a key role in our success. With the announcement of our acquisition by leading Japanese insurer NKSJ Holdings and becoming its specialty insurance platform, Canopius is well placed to continue our strategy of profitable growth, and our presence in Bermuda is a central part of our growth plan in mature specialty markets." Minister Gibbons said: "Companies like Canopius are very much in our hearts as a government ... you have boots on the ground here." He cited the company's high percentage of Bermudian staff, commitment to training and community involvement. "We really appreciate that level of support to the community and Bermudians as well."

February 26. Senior members of the Civil Service will be accountable for the 2014 budget's constraints, said Minister of Finance Bob Richards, speaking to a large audience at the Fairmont Hamilton Princess at the Chamber of Commerce's annual post-budget breakfast yesterday. In his speech to Chamber members, Mr Richards had pointed to a two-track strategy to move the country forward: encourage growth and control and cut Government expenses. "We have to do both at the same time," he said. Economist Peter Everson, a former CEO of an international investment manager, who was sitting on the panel with the Finance Minister, had stated Government and the private sectors were chalk and cheese. He pointed to poor policy decisions and ineffective implementation within Government. The result is: "A woeful outcome. It's quite simple the private sector stands on its own two feet." Mr Richards told the audience there is nothing intrinsically superior between decision makers in the public and private sectors, and said his own experience was 40 years of working in the private sector. "It has to do with carrot and stick in the private sector there are rewards for good performance and the stick, if you don't perform, there are consequences. The carrot and stick really doesn't exist in Government. The whole effect of it relates to accountability, particularly for senior people." Mr Richards returned to the subject of senior civil service accountability at the end of the mornings event. He said: "The whole question of accountability in Government appears to be something new. I have concluded that the culture in Government with senior people in particular is that they don't feel accountable for the budget numbers. In other countries, accounting officers will suffer some sort of consequences. It has never happened in Bermuda, so this is a change of culture we are trying to institute where senior managers have to be held accountable for these numbers. I've tried to focus Government on the budget and budget restrictions, [but] we have not been able to change the corporate culture in Government overnight. We are working hard so that each individual Ministry respects those budgetary restrictions. I recognize it is problem, but we are working through the Civil Service and the Ministry of Finance is being pig-headed. The status quo is not an option we have to change. We don't expect things to get better on their own we have to make it change. The Government cannot do it alone, we have to do it together. We have to work together to make the Bermuda economy grow to make jobs. We have to have oars pulling in the same direction."

February 26. The extension of the Terrorism Risk Insurance Act of 2002 (TRIA) — set to expire at the end of this year — is at the top of the re/insurance industry's federal legislation priorities list, according to industry publication Business Insurance. It states: "For many insurance trade groups, extending the federal terrorism insurance backstop again tops the list of federal legislative priorities this year, but with a sense of urgency greater than last year. That is because the programme established by the Terrorism Risk Insurance Act of 2002, passed in response to the September 11, 2001, terrorist attacks, is slated to expire at the end of 2014." The Terrorism Risk Insurance Act (TRIA) is a United States federal law creating a federal 'backstop' for insurance claims related to acts of terrorism, and was drafted with input from the Bermuda-based industry. Risk & Insurance Management Society Ltd (RIMS), one of those trade groups, reported yesterday that their president Carolyn Snow testified before the Senate Committee on Banking, Housing and Urban Affairs during the 'Reauthorising TRIA: The State of the Terrorism Risk Insurance Market, Part II' hearing in Washington, DC. RIMS is a global not-for-profit organization representing more than 3,500 industrial, service, non-profit, charitable and government entities throughout the world, with 11,000 practicing members. According to the RIMS release, Ms Snow's testimony described the current state of the terrorism risk insurance market; the role TRIA currently plays in the market; and the programme's features that are designed to protect workers, communities and taxpayers. In her testimony, which RIMS said outlined the advantages of reauthorizing TRIA prior to its expiration, she stated: "Since its inception, TRIA has allowed our member organisations to obtain such coverage at affordable rates. Prior to that, after 9/11 our members were unable to obtain such coverage, which jeopardized many contracts that contained covenants to carry terrorism insurance. For this reason it is vital that the programme be extended. "We believe that the availability and affordability of adequate insurance coverage for acts of terrorism is not only an insurance issue, but an economic one. By providing a backstop and assuming some of the market terrorism risk as a reinsurer, the federal government has freed up capacity in the private market that would not otherwise exist. This capacity can then be made available to the consumer at affordable prices, which we have seen in the current marketplace." Business Insurance also quoted Ms Snow in their article on the topic, for whom she stated: "Our number one priority remains TRIA. We really want to see a long-term solution to TRIA. We were hopeful to get something done by the end of last year, so we're hoping something will be done early in 2014." Business Insurance quoted other industry figures as well. Jimi Grande, senior vice-president in the Washington office of the Indianapolis-based National Association of Mutual Insurance Cos said: "TRIA extension would be number one on the list." He added that NAMIC would prefer a long-term reauthorization "with as few material changes as possible." And Nat Wienecke, senior vice president in the Property Casualty Insurers Association of America's Washington office, said: "Clearly, our most important legislative priority next year is reauthorization of the terrorism response plan." Reauthorizing the TRIA is part of the terrorism "resilience strategy." And Leigh Ann Pusey, president and CEO of the American Insurance Association in Washington, said: "We view TRIA — particularly given its expiration date — as a priority for this year." And the RIMS release stated that without a TRIA-type programme, many entities will simply be self-insured due to lack of availability or affordability of coverage or both — leaving their companies and their workers exposed to an event that could bankrupt the company. Business Insurance said that other legislative issues for the industry include streamlining producer licensing procedures, and proposed changes in reinsurance taxes and insurance regulation.

February 26. Big business has backed a relaxation of the rule ensuring majority Bermuda ownership of local companies. The Association of Bermuda International Companies (ABIC) said that the Budget pledges to review of the 60/40 rule, support for the Bermuda Business Development Agency (BDA) and the creation of the new Bermuda Tourism Authority signaled a commitment to getting the Island back on track. Each of those initiatives is focused on the objectives to retain existing business and attract new businesses and revenue sources to the Island, ABIC said. "We believe there is an urgent need to formulate and execute strategies which maintain and grow international business, tourism and additional revenue sources." ABIC chief George Hutchings said that the two-track strategy proposed by Finance Minister Bob Richards growth in the economy and a cut in Government expenditure would assist recovery. "ABIC supports the actions already taken and those promised to further develop a business-friendly environment and to promote investment and job creation. We encourage the implementation of targets and accountability in the management of our Islands finances and to close the Budget deficit at a pace that the Bermuda community can withstand." Mr Hutchings was speaking after Mr Richards last Friday announced a total of $70 million in spending cuts but with no job losses, at least in the current financial year. He added that the Islands debt burden could only be reduced if existing businesses and jobs were retained. And he said that international business and support services provided more than 80 percent of Bermudas foreign exchange and a third of air visitors, while most of the jobs in the sector were held by Bermudians. The ABIC statement added: "Our members have identified cost, immigration reform and a business-friendly environment as key issues and progress has been made on each of these areas. Changes to the Incentives for Job Makers Act which made it easier for non-Bermudian senior executives to be exempt from work permit requirements and to be granted permanent residency and changes to work permit policy, as well as no new taxes, would help job creation. Public policy should create certainty and encourage investment while allowing us to improve the Islands competitiveness and to grow jobs and Government revenues. ABIC continues to have an open and transparent dialogue with the Government with regard to the consultation on key international business policies as well as the sharing of information and data that will help to further develop Bermuda as the domicile of choice. And more importantly, ABIC wants to grow those jobs necessary to accelerate our economic recovery and provide the Bermudian people with employment opportunities to support their families."

March 4. Premier Craig Cannonier is to sign over stewardship of Bermuda's 175,000 square miles of ocean waters that make up the island's Economic Exclusion Zone, as well as its territorial waters, to an international commission without the Legislature approving the move, in just one week's time. The Hamilton Declaration on Collaboration for the Conservation of the Sargasso Sea will be subject to: ... "an executive action concerning issues beyond Bermuda. The Government may enter into such voluntary arrangements without the need for legislative approval," stated a Government spokesperson. The Premier, along with the signatories from as many as 10 additional countries, is preparing for the multilateral event which is set for March 11. However, Government will not release that list of signatories until after the Declaration is signed. The Declaration covers the exclusive economic zone (EEZ) and territorial sea around Bermuda, (excluding the shallow water habitats associated with the Bermuda platform at the base of the Bermuda Rise) and agrees to set up The Sargasso Sea Commission which is to exercise a stewardship role for the Sargasso Sea and keep its health, productivity and resilience under continual review. A concerned group called The Exclusive Economic Zone Stakeholder Caucus, who describe themselves as a group of motivated Bermudians and residents, including scientists, commercial and recreational fishermen, trans-ocean cable operators, mineral prospectors and conservationists, are objecting to the multinational agreement. Caucus member Michael Batista, who is vice president of the Bermuda Anglers Club, said: "We are considering the inclusion of our entire EEZ in what effectively amounts to an international memorandum of understanding on marine stewardship, without having defined our own EEZ management and conservation plan first. The influence of the Commissions persons of international repute could potentially affect access to and national benefit from our sovereign maritime territory and resources." A Government spokesman pointed to the Sargasso Sea Alliance (SSA)-Government website that states that the Sargasso Sea Commission has no management authority. The management authority over the EEZ around Bermuda remains exclusively under the control of Bermuda, while management of activities in areas beyond national jurisdiction remains with the existing international and regional sectoral organisations such as the International Maritime Organization (IMO) for shipping activities, and the International Convention for the Conservation of Atlantic Tunas (ICCAT) and the Northwest Atlantic Fisheries Organization (NAFO) for fishing activities. The Declaration states there will be a legislative framework to establish the Commission. The Government description of the process is that the Commission will be established as a private legal entity under Bermudian law. There is no legislative framework no legislation is required in Bermuda. It has no legal effect in Bermuda. This is an international non-binding instrument under which foreign governments voluntarily agree to consult with each other on ways that they could support action to develop protection measures for the high seas through existing international organisations. Responding to questions about the Commissions authority to manage the Sargasso Sea, and the process by which their recommendations are moved forward, the Government spokesperson responded: "This is a novel/voluntary approach to try to develop protection measures for areas beyond national jurisdiction. The Commission researches and develops proposals which are discussed by the Meeting of the Signatory governments for presentation to international organisations like IMO, ICCAT, NAFO and others for measures in areas beyond nation jurisdiction (i.e., outside EEZs)." Answering questions about the development of the Declaration document, the spokesperson explained it was drafted by representatives of some 10 governments at a series of meetings over the last two years. The Governments who helped draft it are expected to attend and sign it together with a number of other interested governments. The list will be released at the meeting on the 11th. The process was reported to and discussed by Cabinet over the last two years, under the previous as well as the current administration. The Government spokesperson also said the UK has taken the view that this is within the terms of the Entrustment Agreement with the UK. Given that the UK is satisfied that this work is within the terms of the Entrustment Agreement between Bermuda and the UK, the Premier will sign on behalf of Bermuda. The text and data in the Declaration were also negotiated and agreed by some 10 government representatives as well as representatives from some six specialized international expert organisations. It refers to the SSA Science Report that was produced by a large number of authors from some of the leading marine research organisations in the world. Before it was published, it was reviewed by the Bermuda Cabinet and by the UK Foreign and Commonwealth Office and relevant Ministries. The Government spokesman also explained that regional and international organisations with relevant competences is the legal phrase to cover those organisations with authority over areas beyond national jurisdiction. They are set out in paragraph eight (of the) International Maritime Organization for shipping issues; the Regional Fisheries Management Bodies like ICCAT and NAFO, the Convention on Migratory Species. None of these bodies have power to impose measures on countries or their territories without their consent. The geographical area of the Sargasso Sea was determined by an ecosystem definition proposed by the Government of Bermuda to a meeting of scientific experts convened by the Secretariat of the Convention on Biological Diversity (CBD) in Recife, Brazil in March 2012, the spokesperson explained. After careful consideration by the experts it was agreed that the Sargasso Sea as so defined could be described as an Ecologically or Biologically Significant Area (EBSA). It was subsequently added to the repository of such areas held by the CBD Secretariat after consideration by all the CBD Parties at the Conference of the Parties (COP) in Hyderabad in autumn 2012. The Declaration will be signed by the Premier. Government has asked the Ministry for Environment and Health to be the Bermudian representative going forward and it will be the focal point for Bermuda. The meeting will be chaired by the Minister of Health and Environment. The spokesperson also explained the focal point in each country provides a single point of contact on this issue in each Signatory. It can be an office or a person. The Commission has the power to research and develop proposals in relation to activities such as shipping and fishing. These would ONLY relate to areas beyond the EEZs of Signatory countries including beyond Bermudas EEZ unless those countries specifically agreed otherwise, the spokesperson explained. Then those proposals would be discussed by the signatories and they would decide individually whether they could propose or support them before the relevant regional or international bodies. If they agreed, they would speak in support of such proposals before the IMO or ICCAT, et cetera. No proposal before such a body can have legal effect in any national waters (EEZ or territorial sea) without the express consent of that country.

March 4. The price of gas has gone up by 5.3 cents a litre. The change means that the maximum cost at the pumps will now be 212.30 cents a litre. Diesel fuel has also gone up by 1.2 cents a litre with the new maximum price set at 188.80 cents a litre. Kerosene has also risen in price, going up 1.3 cents a litre and will now cost a maximum of 161.30 cents. The changes, announced by the Ministry of Finance, took effect last month.

March 4. Cuts in health spending totaling $17.6 million will cause some to "suffer distress," Health Minister Trevor Moniz told MPs. Mr Moniz was speaking as he announced that subsidies for Standard Hospital Benefit (SHB) — the minimum cover in any health insurance policy sold in Bermuda — would be reduced. Now the SHB portability — overseas coverage — will be abolished, which includes portability of subsidy, in order to save around $9.6 million. And special age subsidies for seniors will also be cut. For those aged 65-74, the subsidy will be cut by ten percent to 70 percent and for those aged 75 and over by ten percent to 80 percent. Mr Moniz told MPs yesterday after being questioned by PLP MPs on the changes: "The whole community is going to suffer distress as a result of the situation we found when we came into office ... that's situation we are stuck with. No one wants to see public benefits reduced and I, in particular, would prefer to see no reductions in health benefits as I'm too aware of the potential impact on patients and the public." But Mr Moniz added that the Ministry had to reduce its budget by seven percent — which meant a choice between cuts in public health services or reduced spending on subsidies and grants. Mr Moniz added that SHB covers most local hospital services and some diagnostic imaging procedures outside the hospital, as well as some overseas hospital treatment. "Through a separate fund, the Mutual Reinsurance Fund (MRF), the coverage also includes kidney-related claims and long-stay costs," he said. Mr Moniz explained the premium for the SHB and MRF package was priced annually by actuaries — but as Government paid for the subsidized population, including a 100 percent subsidy for children, part of the cost of SHB came out of the Consolidated Fund. And he said that bill had amounted to around $115 million in recent years for local and overseas claims. "However, if the overseas subsidy is removed, but SHB remained portable, the Standard Premium Rate would increase significantly as the cost of this coverage would be transferred from the Government to the insured population. This was not deemed affordable for employers or employees at this time so to abolish the portability of subsidy, we also had to abolish the portability of SHB. All health insurance policies sold in Bermuda have benefits which included overseas costs, while SHB-only policies are sold only as an exception when supplemental benefits are covered elsewhere. HIP and FutureCare certainly have overseas coverage and this will be maintained regardless of the changes to SHB portability. So, while SHB will cease to be portable overseas, the majority of the population will continue to have overseas coverage and this will be managed as it is now by individual insurers.. The impact of reductions in subsidies to seniors was "two fold." The move would transfer more of SHB costs from the Consolidated Fund to the insured population. Insurance plans with a high concentration of seniors such as GEHI and FutureCare will be impacted more by this change as they will no longer benefit from the subsidy. However, the impact on seniors is minimized because the premium continues to be community rated, so the cost of claims is spread across the population. Second, the reduction in subsidy levels result in significant budget savings for the Government amounting to $8 million. Given the current financial space, this has been a necessary measure. Transferring MRF coverage of dialysis, anti-rejection drugs, kidney transplants and long-stay hospital treatment from the MRF to the SHB would mean insurers would retain the premium to cover these claims. Insurers would also play the claims directly, as with any other SHB claim, rather than the Health Insurance Department adjudicating the claims and paying them from the Mutual Reinsurance Fund. The MRF transfer to the FutureCare and HIP plans would increase from $28 a month from $7 to offset the reduction in subsidy and the other changes taking place." And Mr Moniz said the MRF would also transfer 67c a month for every insured pension to the health service watchdog the Bermuda Health Council to help offset its $1.3 million budget.

March 5. A bid to include public transport and cruise ship tug and line boats as essential services was last night defended by Home Affairs Minister Michael Fahy. He spoke in advance of a debate on the controversial measure in the House of Assembly and said: "Over the course of last year and this year we have seen far too many instances where members of the public and our visitors have been massively inconvenienced due to transportation services being pulled because of irregular industrial action. In each case, these irregular industrial actions occurred with little or no notice to the public. Transport shutdowns hit the Islands economic health, with lost Government revenue and disruption to the private sector because employees were unable to travel to and from work. Such irregular industrial actions also have a seriously negative effect on our reputation as a premier tourist destination. Hoteliers and cruise lines have raised such matters with this Government. Irregular industrial action in this area has knock-on effects that cause irreparable harm to Bermuda's economy. Government was not attempting to take away workers right to strike in the event of a dispute but to add public transport to a list of essential services where a 21-day notice period is needed before strike action can be taken. This 21-day notice period represents a cooling off period which provides management and the union an opportunity to resolve their grievances prior to escalating the matter. This is a sensible and modern practice. The issue had been raised with the Bermuda Industrial Union numerous times in the last year as part of our regular discussions. Two weeks ago I raised the issue again at the Labour Advisory Council. At that meeting a fruitful discussion was held, with the BIU confirming its view that public transport could be added to the Act as an essential industry. There is currently only one essential industry in the Act and that is hotels. It is the Government's view that public transport is not an essential industry it is a service and should be treated as such. I advised the BIU of the Government's view. We also advised the BIU of the tabling of the Bill in advance. At the end of the day, our primary focus is on ensuring that the people who use these services the public and our visitors are not left stranded each time the buses and ferries have a work stoppage. The public pays for these services and its grossly unfair to them when they have no means of getting to work or to school or home when our public transportation services are inoperable due to industrial action without proper notice. It also incredibly important to give businesses certainty that their employees will be able to get to work and to ensure that our visitors, who spend money in our Island and create economic opportunity for Bermudians, have the best experience in Bermuda. This is all the more important when Bermuda is in a delicate stage of recovery." Only some transport operations are at present regarded as essential, including port and dock services, including pilots, tug and line boat operations not connected to cruise ships. But the Labour Relations Amendment Act 2014 aims to reclassify public transport including the bus and ferry service as essential, which means workers in these sectors would not be able to down tools at short notice and escape penalties.

March 6. Parliament and the Senate should be put together under the same roof as soon as possible, according to a report on Bermuda's governance tabled in the House of Assembly. The Joint Select Committee also recommended that a new, independent body known as the Management Commission be established with oversight for the administration of the Island's legislature. Committee chairman Cole Simons told the House that our legislature doesn't measure up in the areas of organizational effectiveness and accountability, and said the Committee called for a commission from across the political spectrum to manage it. Such a Commission would be chaired by the Speaker of the House and would consist of both the Premier and Opposition Leader, the Senate President, four MPs appointed by the House none of whom would be either Ministers or Junior Ministers plus a member of the Senate, and the Clerk of the House of Assembly. According to the report, this body would then handle the staffing, budgeting and support services for Parliament delegating day to day management to the Clerk of the House. The Management Council would also have the authority to constitute other committees as required. The report calls for a comprehensive code of conduct, enforced by an ethics committee. On situating Parliament and the Senate under one roof, the report calls the present situation inefficient and costly, and calls for putting the two together as a matter of urgency. The lower house of Bermuda's Parliament, The House of Assembly sits in the Sessions House on Parliament Hill while the upper chamber, The Senate, sits in the Cabinet Building, a short distance away on Front Street.

March 6. Government spent $40,000 on a UK legal advisor for drafting gaming regulations and paid $45,000 to local law firm MJM for the drawing up legislation for the new Tourism Authority. But Attorney General Mark Pettingill defended the contracts as well worth it, telling the House of Assembly hed saved $1 million across Government last year on outsourcing and hiring of counsel. "Sometimes you have to go out and get it," Mr Pettingill told Opposition MPs questioning the budget for Legal Affairs. "Sometimes you've got to get things done in the window of time as it relates to legislation." Shadow AG Kim Wilson questioned why the Ministry had paid UK barrister Christopher Gillespie, a criminal lawyer at the London firm 2 Hare Court, $40,000 for his help when his website didn't mention gaming. Mr Pettingill defended Mr Gillespie as experienced in gaming regulations, telling the House that the Bermuda legal team had needed assistance in that area and said the payout to MJM for professional services was not a startling number. Mr Pettingill claimed he'd implemented a 50 percent reduction in Government's legal fees by putting brakes on the ability of Ministries or Departments to go off and hire any lawyer. The AG also defended going overseas to fill a position in the Legal Aid Department, saying that the post had been advertised locally but candidates hadnt had the necessary qualification of five years court experience. "We had to go outside and outsource it. It's as simple as that."

March 7. American International Group (AIG) has launched a new Bermuda-domiciled subsidiary in response to strong demand for alternative risk financing programmes, particularly from small and medium-sized companies. Grand Isle SAC Ltd will offer customers the option of establishing segregated accounts in an AIG-sponsored captive. Customers gain access to the captives established capital, insurance licence, and underwriting capabilities to retain and manage their risk, without the costs of starting and operating their own stand-alone captives. Segregated account companies have been used across all industry segments for a range of coverages, from general and professional liability to employee benefits and cyber risk. A segregated accounts company is considered an option for a company looking to share risk in order to achieve cost savings and flexibility in its insurance programme. AIG Captive Management Services in Bermuda manages the regulatory requirements, financial reporting, and administrative functions for all customers participating in Grand Isle. "Grand Isle furthers AIG's active participation and involvement in Bermudas captive insurance market," said Bob Gagliardi, head of AIG's worldwide captive management operations. "We see Grand Isle strengthening AIG's commitment to our captive clients and to one of the most important captive markets in the world."

March 7. The former Pink Beach Club on South Shore Road has been sold to Sardis Developments Ltd, it was confirmed today. Wakefield Quin Ltd, acting on behalf of the company, said Sardis intends to redevelop the site in conjunction with the projects financiers, The Bank of N.T. Butterfield & Son Ltd, by constructing a new boutique hotel on the property. Back in December, Tourism Minister Shawn Crockwell said the Bank was in the advanced stages of negotiation. The beach-front cottage colony had been placed in receivership in 2010. Last July, Government passed $5.6 million in tax concessions to support the sale of the property to PBC Holding Ltd for $12.5 million. The company had said it planned to convert the Smiths property into a five-star resort with more than 200 employees by the end of 2015. A statement released today read: "The owners of Sardis, would like to thank both the Bank and the receivers of the property for their professionalism and unwavering assistance in bringing the project to fruition. They would also like to give credit to the Bermuda Government, in particular the members of Economic Development Committee and the staff at the Registrar of Companies for their efficiency and support of the project under pressing time constraints; service which has served to underline their faith in the Island's potential. Michael Collins, Butterfields Senior Executive Vice-President said: "In Sardis, we are pleased to have found a buyer for Pink Beach who is committed to redeveloping the property into a world class boutique hotel, which will attract new interest among vacationers and help reinvigorate the Island's tourism product. We look forward to continuing to work with Sardis to support the redevelopment of the property in our capacity as lender. Today's announcement underscores Butterfield's commitment to financing viable tourism development projects in Bermuda that will have a positive impact on employment within our community. We anticipate that demolition and construction work at the Pink Beach property will generate a large number of construction jobs in the near term, as well as permanent tourism positions at the hotel when it reopens."

March 7. A rift between Government and the Bermuda Industrial Union has been healed following crisis talks between the two parties. At a joint press conference this afternoon, Labour and Home Affairs Minister Michael Fahy and BIU President Chris Furbert said the two groups were now working in the spirit of collaboration to address concerns after a meeting between the Cabinet and BIU officials yesterday. Senator Fahy revealed that Government has agreed to postpone pushing through controversial legislation that would outlaw wildcat strike action by public transport staff, although he said the Labour Relations Amendment Act would remain on the Order Paper for debate at a future date. On Wednesday, about 200 public transport workers marched to the House of Assembly in protest at the proposal. while Mr Furbert said the relationship between the two sides was broken. "Today's press conference is to show the public that, despite differences that exist between the BIU and Government, we can continue to dialogue and that's an important message to show the members of the public," Sen Fahy said. Yesterday, president Furbert and his members reached out to the Premier to facilitate a meeting between members of the Cabinet and members of the Bermuda Industrial Union, to hear and discuss concerns related to the Labour Relations Amendment Act. "At that meeting there was some very fruitful, frank and collaborative discussions. A number of concerns were raised that we've taken onboard in respect of outstanding issues with the Department of Transportation and the Department of Marine and Ports. I as Minister of Labour will look at those issues and we will address them as best we can in as short a time as possible. We have agreed today the Labour Relations Amendment Act will not be debated. However, it will stay on the order paper to be debated at a future time. During that period of time the BIU and the Government will continue to discuss that and other issues." Mr Furbert said he recognised that dialogue had to continue if ongoing concerns were going to be solved. "We are looking for continued collaboration with the Government, looking for dialogue. We reached out to the Premier of the country yesterday to try to make sure we can find resolutions before things get out of hand."

March 7. Belco has put forward a change to its facilities charge that would cut electricity bills for nearly half of its residential customers but more than one in four households would end up paying more. Those who consume the least electricity will benefit through a reduction in the facilities charge currently fixed at $33 per month for all customers while the largest consumers will see the charge rise to as much as $75 per month. Meanwhile, Walter Higgins, CEO of Ascendant Group, parent company of Belco, told The Royal Gazette a massive infrastructure project that would convert Bermuda's electricity generation system from using diesel fuel to natural gas would be presented to his company's board within a month. The work, which would cost in the region of $200 million, would enable Belco a subsidiary of Ascendant to use a fuel that is cheaper and cleaner than the diesel oil it currently burns and to lower electricity rates by an estimated 15 percent. Mr Higgins said investors were interested and the project to build a new terminal and pipeline, and to convert generators to burn natural gas would involve two to three years work from the point of gaining all necessary approvals. Belco said yesterday its proposal for a Graduated Facilities Charge based on electricity usage had been sent to the Energy Commission for consideration. The company stated: "The proposal is in response to the call to assist lower-income customers who struggle to meet monthly bills, during these difficult economic times. Those who use between zero and 15 kilowatt hours (kWh) per day around 44 percent of Belco's residential customers could expect to save between five and 21 percent from their overall bill, according to the company. However, the 28 percent of customers who use 25 kWh per day or more can expect to see their bills increase by nearly four percent, while the remaining 28 percent of customers will see no change to the charge. The facilities charge will be calculated according to the customers electricity consumption over the previous 12 months. This will be reassessed monthly, giving consumers the opportunity to fall into a lower bracket for the charge if they use less electricity. Mr Higgins said the proposal meant those who made greatest use of the system would pay more. He added that the burden added to larger, wealthier consumers, would be outweighed by the burden removed from the shoulders of low or fixed-income customers who tended to use the least electricity. Belco received sharp criticism from Finance Minister Bob Richards in his Budget statement last month, when he said claimed the company's inefficiency is eroding Bermudas competitive position and the high cost of electricity was a great burden for the Bermudian people whose buying power is reduced due to the high cost of just keeping the lights on. But yesterday, Belco's move was welcomed by Education and Economic Development Minister Grant Gibbons whose department has been in talks with Belco on pricing issues. "We believe that if approved, this proposal will provide some helpful cost relief for those residential customers who are low users of electricity and who tend to be seniors, as well as families and individuals in the lower income brackets. It would be premature to comment further because it is the Energy Commission who must consider and rule on the submission by Belco. The goal is to lower the cost of energy for all individuals, businesses and organisations while maintaining the reliability that we have come to expect in our energy supply."

How Belco's proposed Graduated Facilities Charge would impact customers divided by electricity usage levels:

Tier 1: 0-10 kWh per day facilities charge goes from $33 to $15 21.1 percent reduction in overall bill (26% of customers)

Tier 2: 10-15 kWh per day $33 to $25 5 percent reduction (18 percent)

Tier 3: 15-25 kWh per day $33 Unchanged NO CHANGE (28 percent)

Tier 4: 25-50 kWh per day $33 to $49.50 3.8 percent increase (22 percent)

Tier 5: 50+ kWh per day $33 to $75 3.9 percent increase (six percent).

March 8. Bermuda's Exclusive Economic Zone (EEZ) will now remain entirely in Bermuda's hands. The EEZ will be removed from an international declaration that would have placed its stewardship in the hands of a multi-nation Sargasso Sea Commission. Premier Craig Cannonier made the decision yesterday, when he made it very clear that the best interests of Bermuda and her people must be paramount at all times, and no risk of impediment to complete control of our EEZ would be accepted. The Premier along with Environment Minister Trevor Moniz met with members of the Bermuda Exclusive Economic Zone Stakeholders Caucus yesterday, who objected to the Hamilton Declaration provision for the handover of stewardship, and had presented an alternative plan for the 175,000 square miles of open ocean to the Sustainable Development Department in January. The group said they were spurred to action and comment on several aspects of the Declaration after the text of the Hamilton Declaration was released just last week, with signatories due to execute the document in less than two weeks on March 11. The Declaration covered: the exclusive economic zone (EEZ) and territorial sea around Bermuda, (excluding the shallow water habitats associated with the Bermuda platform at the base of the Bermuda Rise) ... and agreed to set up The Sargasso Sea Commission which is to exercise a stewardship role for the Sargasso Sea and keep its health, productivity and resilience under continual review. The objecting Caucus group, after meeting with the Premier, along with Environment Minister Trevor Moniz and senior civil servants, released a press statement which stated: "The Premier made it very clear that the best interests of Bermuda and her people must be paramount at all times, and no risk of impediment to complete control of our EEZ would be accepted. The result was Government's commitment to Bermudas entire EEZ being removed from the Geographical Area of Collaboration as defined in the Hamilton Declaration and likewise making the relevant distinction on the map in Annex 1 (of the Hamilton Declaration document) prior to signing. They said their concerns and those of the other stakeholder groups were well received by The Premier and Minister Moniz. The Caucus thanked the Premier and Minister Moniz for their input and looks forward to fostering further synergies with the Environment Ministry with regard to the conservation, management and development of Bermuda's Exclusive Economic Zone. The Caucus members representing conservationists, marine scientists, commercial fishing, recreational fishing, mining, and telecommunication submarine systems are Gil Nolan, Richard Winchell, Danny Fox, Alan Card, Nick Hutchings, Jack Ward, Brenton Slade, Russ Frith, James Robinson, Fiona Beck and Michael Batista." A Government spokesman, answering questions last week about the development of the Declaration document, explained it was drafted by representatives of some 10 governments at a series of meetings over the last two years, and said: The Governments who helped draft it are expected to attend and sign it together with a number of other interested governments. The Caucus members while meeting with the Premier and the Environment Minister expressed their concern about the legal and political consequences of signing the Declaration, ... and the potential impact on Bermudians future opportunities for resource use in the EEZ. "The Caucus believes that decisions taken by the Bermuda Government that affect our EEZ must consider economic and social impacts as well as environmental and conservation issues," their press release stated. Marine Resources Board and The Bermuda Alliance for the Sargasso Sea (BASS) representatives were also at the meeting, along with Cabinet Secretary Dr. Derrick Binns and Permanent Secretary Kevin Monkman. The Bermuda EEZ Stakeholders Caucus was formed in the fall of 2013 to give their input in respect to the Exclusive Economic Zone. The group formulated an alternative plan for an adaptive marine resource management approach for the EEZ, building on ideas presented at the public forum in October 2013. The plan was submitted to the Sustainable Development Department in January 2014.

March 8. "Bermuda's healthcare system needs to change its focus and cut its costs," Health Minister Trevor Moniz has told healthcare professionals. Mr Moniz said: "Despite Bermuda's small size, our health system is incredibly complex, fragmented and, at times, difficult for patients and healthcare providers to navigate. But we are too small to afford or justify the fragmentation in our system. This year's Budget has been an extraordinarily difficult one. Given the state of Government finances and the fiscal space were constrained by, we had to make some very tough decisions. Cuts had had a knock on effect on the standard hospital benefit, its coverage and premium. But in my view this must be seen as a temporary fix while we find longer-term solutions to our systemic challenges." Mr Moniz was speaking to an audience of more that 100 healthcare professionals at a recent summit on healthcare for doctors, held at the Southampton Princess. He told delegates that Bermuda had to change its approach to chronic non-communicable disease and concentrate on management and prevention outside the hospital system. He added: "We're stuck in a 1970s model built around acute care but 21st century population health needs and medical knowledge demand that we place much more focus on primary care, health maintenance and primary and secondary prevention. This requires reforming our basic health package. 2012 spending figures showed the Island spent $678 million on health $10,562 per person, which made Bermudas health system the second most expensive in the world. The Island had to right-size the new hospital, due to open later this year, and that the smaller emergency department would need to be used appropriately. The health system would need to change to ensure those in need of continuing care and alternative levels of care had options outside the hospital. We have to ensure that the healthcare dollars we do spend on hospitalization are spent locally wherever possible and that healthcare providers and the public have confidence in local services so that overseas transfers are focused on cases that need care which is genuinely not available here."

March 8. A Bermudian exhibit detailing the connection between Bermuda and famed author Mark Twain has been highlighted by London's The Times newspaper. In an article published on March 1, journalist Simon de Bruxelles wrote about Mr Twains relationship with the Island in light of the recent discovery of a previously unpublished poem and other writings. Mr de Bruxelles also noted the current Masterworks Museum exhibit Ever the Twain Shall Meet, which was organized in collaboration with the Mark Twain House and Museum in Hartford, Connecticut. The exhibit, open now, hosts a raft of items connected to Mr Twain's time on the Island including photographs of the writer in Bermuda, first edition copies of The Innocents Abroad and Mark Twain and The Happy Island, several letters written by the author and some of Mr Twain's personal items, including a pen and a white shirt that was part of Mr Twains iconic white suit ensemble. Exhibit curator Anne-Marie Walsh said she was pleased but not surprised that the exhibit has received international attention. "I would be surprised if we didn't get international attention owing to Twains continued popularity. He was Americas first celebrity and is still widely read today. This show aims to rekindle Bermudas interest in Mark Twain as one of the Island's most beloved ambassadors." Samuel Clemens, who adopted Mark Twain as a pen name, was a frequent visitor to the Island, traveling to the Island seven times between 1967 and his death in 1910. Mr Twain died shortly after returning home from a long vacation on the Island, where he stayed with the family of US vice-consul William Allen. The Allen family recently released a wealth of photographs, letters, manuscripts and a previously unpublished poem. Also included in the collection was an account of a cricket game he watched on the Island, discussing the "Etiquetical Requirements" of watching a game. A section reads: "It is not good form for the ignorant spectator to be constantly questioning his intelligent neighbor about the game. There should be intervals of one to two minutes between the questions otherwise the intelligent neighbour will eventually get tired." The intelligent neighbor later explains to Mr Twain that the wicket is for the umpire to sit down on when he is tired. The previously unpublished poem meanwhile was written in a volume of Roughing It dedicated to Helen Allen, the 14-year-old daughter of Mr Allen. Written to biographer Albert Bigelow Paine, who joined Mr Twain on his 1909 visit to Bermuda, the poem reads: "Ah, Paine will come with me just once again; only once again; and after a time and two times and half a time he will go down the stairway that looks upon the sea and lo, thenceforth the places that knew him once will know him no more for ever."

March 10. The dead bodies of a married couple were found at a home next to St George's Cricket Club today. The man and woman were aged 49 and 48, respectively, according to Acting Superintendent Nicholas Pedro, who said the couple were found at 2.25pm. He added that they appeared to be suffering from injuries that caused their deaths but gave no further details. A police source told The Royal Gazette that officers were investigating the possibility of a murder followed by a suicide. But a police spokesman told reporters at the scene that it was "too early" in the inquiry to give many details. The spokesman said: "Police received a report of the lifeless bodies of a man and a woman found in a dwelling off of Wellington Slip Road — that's right behind St George's Cricket Club. As you can imagine, we have officers from the Forensic Support Unit and Serious Crime on the scene. It's an active scene. We are asking for people, obviously, not to come to the area at this time as it's an active police environment. It's too early to give out any more details. We are processing the environment as we speak. We are asking for people who live in the area to expect delays." Traffic is currently being diverted from the scene. Premier Craig Cannonier said last night: "I am shocked and deeply saddened to hear of the tragedy that took place in St. George's today. This hits close to home as this tragic event occurred in my neighborhood. I know that the Bermuda Police Service is working diligently to establish the facts of what transpired. I know all of Bermuda will join me in offering our support and prayers to the family members and friends of the deceased at this extremely difficult time." St. George's West MP Nandi Outerbridge added: "I was stunned and saddened to learn of this tragedy this afternoon. I would like to extend my sincere condolences to the families and my thoughts and prayers go out to them during this extremely difficult time." Minister of National Security Michael Dunkley said: "A terrible tragedy. St. George's is a close-knit community and so I know that this loss will be felt by the residents of the area in particular. At this stage in the investigation I wish to assure the community that I am confident that the Police will do their jobs sensitively and professionally. Let us keep the family of this couple in our thoughts and prayers as they come to terms with these tragic events." Acting Governor Ginny Ferson said: "I am saddened to hear of the tragic events which took place in St George's today. It would not be right for me to speculate on the causes or go into the details of the deaths but experts from the Bermuda Police Service are working to establish the circumstances. Our thoughts are with relatives and friends and all those affected by this incident."

March 11. Government is working to improve efficiency in public transportation but was warned in the House of Assembly that they may have an uphill battle. Delivering the budget brief for the Ministry of Tourism Development and Transport, Minister Shawn Crockwell said the Government hoped to introduce a new bus schedule in the coming year — the first new schedule since 1998 — which would significantly reduce the amount spent by the department annually on overtime. Several previous ministers have attempted to replace the schedule over the last decade but so far no proposal put forward has earned the approval of the Bermuda Industrial Union. Regarding the ferry service, he said Government hoped to "optimise" the ferry schedule between the west end and Hamilton while incrementally increasing service to and from St George's. He said that efforts are being made to reduce costs in the service by improving fuel efficiency and reducing overtime but in order to remain within budget a compromise of ferry service may be needed if ridership levels do not improve. And he said a reduction of the number of crew on the Warwick and Paget routes is needed to reduce spending, adding: "Without such smaller cost savings initiatives occurring, more aggressive changes in other areas may be required." He also said that the Ministry had been working aggressively to bring premium cruise lines to the Island, including smaller ships that are capable of servicing Hamilton and St George's. "We continue to meet with all cruise lines in an attempt to secure ships for Hamilton and St George's, recognizing that there are increasingly fewer ships capable of docking in these ports," he said. "We are very pleased that [Holland America Line's] Veendam will be returning to Bermuda in 2015, making six calls into the Hamilton port." Independent MP Terry Lister said the budget was unrealistic, noting that while Mr Crockwell had spoken optimistically about the introduction of a new bus schedule such efforts have been unsuccessful for the past several years. Mr Crockwell acknowledged the past issues, predicting that the new schedule would be poorly received by workers who have grown accustomed to receiving overtime. Telling the House he could see three former Transport Ministers sitting across from him, Mr Crockwell drew laughter from MPs as he called on them to link arms with him in the event of a demonstration coming to the House. Mr Lister also noted the Ministry had not announced new small cruise ships to serve St George's and Hamilton, calling on Government to come clean that it won't happen. "It can be done if you blow up a couple of Islands down there," Mr Lister said. "If no one's got the gumption to do that then end the conversation and move on." Opposition MP Lawrence Scott, meanwhile, said he was pleased that the Ministry did appear to be looking into several areas of concern, including the safety of bus drivers, but said that there are still areas for improvement. He suggested that Government look into investing in hybrid, or fully electric buses, and limiting the hours that students are allowed to ride the bus for free to plausible school hours in order to increase revenue. And he called for the Ministry to take a look at the concerns of struggling taxi operators, saying that Government should offer drivers concessions for fuel and payroll tax exemptions during the off-season. Mr Scott praised elements of the budget brief but said that the Government must still do more than the status quo given the current economic situation. He suggested that, rather than privatizing the airport in order to create a new facility, that Government should create a new quango — an airport authority — which he argued would protect jobs while keeping money in the local economy. He argued that while Airport Operations runs at a $10 million annual loss, the quango could be successful if it could tap into the departure tax — around $14.4 million — and include the profitable Civil Aviation Department.

March 18. Hazardous waste from the Hamilton Seabright sewage pipeline has been contaminating the waters off South Shore beaches, according to a 2013 water-quality study but only during rare, sustained weather patterns. The final report of the study, a copy of which was obtained by The Royal Gazette, measured human bacteria counts climbing as high as double, triple, and quadruple the American standard for contamination levels during strong easterly winds, tide and swell. Conducted in collaboration with researchers from Universite Laval, Quebec, the Bermuda Institute of Ocean Sciences (BIOS) and Government scientists, the study lists five central South shore beaches as unfit for recreational use based on the water samples. While a source close to the study admitted the levels of contamination measured should not be mitigated, they said the dynamic environment of the South shore waters means contamination lasts no more than ten hours at a maximum, during which time residents are unlikely to be swimming. But, windsurfers and kite surfers could be at risk. At its peak, the Seabright outfall dumps between half a million to a million gallons of untreated municipal sewage from the City of Hamilton including waste from King Edward VII Memorial Hospital into waters less than half a mile away from a string of South shore beaches. While extensive water-quality research shows the environmental impact of the Seabright outfall is negligible during normal conditions, evidence of sewage washing up on nearby beaches in 2013 prompted further analysis of the outfalls effects during rare weather conditions. According to the study: Water quality on the beaches close to the sewage outfall can rapidly degrade, most likely due to rapidly changing climatic conditions including wind, swell, tides, and rain, posing implications in health, environmental, and tourism sectors. The report claims the grease balls which one source described bluntly as human waste in a raincoat are visual evidence of impaired water quality due to rapidly changing climactic conditions including wind, swell, tides and rain. In normal conditions, the prevailing winds and currents distribute the bulk of outfall contents into deeper waters. However, recent conditions have contributed to an increased occurrence of byproducts on local beaches, causing concern among locals, explained a press release from BIOS after news first broke of the grease balls being washed ashore last summer. The dose response relationship to such levels of faecal contaminants that is, how the body would react could result in human health problems such as gastroenteritis, ear infections, respiratory illnesses, [and] staph infections, the report claims. The report also indicated that, due to inadequate management, the Seabright sewage outfall is also a source of heavy metals, pharmaceutically active compounds and nutrients. Faecal contaminants E. coli and Enterococci are measured in Colony Forming Units (CFU) per 100mL. The United States Environmental Protection Agency caps the acceptable geometric mean a measure of an overall average of faecal contaminants at 35 CFU per 100mL. If a single sample exceeds 104 enterococci per 100ml in salt water, the US EPA recommends that the beach be closed, or posted, for swimming until levels are lower. Water samples from the study show contaminations levels ranging from 40 CFU/100mL along Southlands Beach, to 104 CFU at Elbow Beach centre. Contamination levels along John Smith's beach, Grape Bay beach and Warwick beach were also found to be above the US EPA GeoMean standard. Recommendations from the findings include a plan for treating Hamilton's sewage before disposal, extending the outfall, increased water-quality monitoring, the establishment of action levels and protocols, beach clean-ups, warnings and closure when sewage appears on shore. The report also recommended public access to the information. Responding to queries by the daily newspaper regarding the study, the Department of Health said despite some uncertainty over the level of the initial results at the time, the conclusion drawn was that in easterly winds and swell, bathing water in the vicinity of the sewage outfall near Hungry Bay and Grape Bay could be degraded. Small-scale specific microbiology studies with research partners at the time of the events last April were added to the regular monitoring of the Seabright outflow and adjacent beaches by the Department of Health, said a Department spokesman. These studies have particularly enhanced our understanding of the movements and character of sewage from the discharge and the very specific conditions that lead to these rare events, which resolved themselves very quickly. This more detailed understanding is greatly assisting the various Departments, Ministries, the Corporation of Hamilton and research partners involved, in developing tailored effective solution options for sewage treatment which will be taken forward. Such solutions are said to be in the works, with Government confirming that a treatment facility for the new hospital should come online in 2014, and that efforts were being made to improve grease collection from City restaurants. The Department of Health has also said it is seeking approval for a feasibility study for infrastructure improvements, and that investment in a new treatment plant is being made in order to improve the handling of waste at the Tyne's Bay Septage Facility. Scientists at BIOS Oceanic Microbial Observatory (OMO) have been studying the impact of sewage outfalls in Bermuda since 2007. "Looking for sewage contamination within the marine environment around Seabright is not easy," said Rachel Parsons, the OMO Lab Manager, in 2013. "The South Shore is a dynamic environment and dilution does lower the impact; however, because human bacteria strains have been detected within the region it would be premature to conclude that there is no threat to the environment or to human health." While Government has said the so-called grease balls first appeared in May 2013, Nancy Prado, who regularly walks her dogs along Grape Bay Beach and first reported their appearance to BIOS, said she had been seeing the grease balls for years now. "I think its very concerning. It's raw sewage washing ashore. The oceans look so beautiful, the sands are so pink, but you can't see hidden dangers like this. The biggest irony is how we market Bermuda. We say were all blue water and pink beaches, but we could be one degree away from disaster. What would happen if a tourists child got sick from one of these grease balls?" The problem is said to be under control, with no more evidence of the sewage washing ashore since last year. According to the Department of Health, Environmental Health and the Corporation of Hamilton have met with restaurants and been engaged in a survey of grease traps at source. They have implemented an initiative which has both mechanical upgrades of grease traps and behaviour change components for the kitchens. Long term options for extending the outfall and for improved sewage treatment are being discussed. The Department of Health will have grease balls safely removed from the shoreline as soon as they are reported. If members of the public spot grease balls they should contact Environmental Health at 278-5333.

March 18. Businesses owned by non-Bermudians will be able to buy up residential and commercial properties under new Government proposals. But Economic Development Minister Grant Gibbons cautioned that, because land is a scarce commodity, restrictions limiting the capacity of companies to acquire land will be in place. At a press conference earlier, Dr Gibbons explained that the laws relating to land purchase had become confused and inconsistent in recent years and that the amendments which are expected to be debated in the House of Assembly on Friday will for the first time, a clear and transparent written policy on corporate landholding in an otherwise cloudy area of law and practice. The Companies Amendment Act 2014 was tabled earlier this month while the Corporate Landholding Policy was tabled yesterday. The policy states: "The holding of land by corporate entities became a restricted business practice under the Companies Act. This policy is to provide guidance for the Minister in making the decision as to whether to provide consent for a business entity to acquire and/or hold land." Dr Gibbons said that the changes will also stimulate turnover in the real estate market and create jobs in the construction sector, and make the Island a more attractive and competitive jurisdiction. According to Dr Gibbons some companies had been unable to sell on their properties because of irregularities with the current laws. "The Ministry is aware of at least ten such cases that have been brought to its attention over the last couple of years. There may be many more, as some companies will not realize there is a problem until they attempt to sell their property." The Bill addresses this title issue. If adopted, the Minister will be able to provide rectification to situations where, if a company can prove that they should have had proper ministerial consent, they will be able to receive it. This consent will then put them in a position to pass on clean title to prospective buyers. Dr Gibbons said the most significant change under the new proposal would allow local and exempt companies to purchase residential property. He added: "The residential properties they will be allowed to purchase are very specific and are the properties that are already available to restricted persons. This restricted person category is a designation that the Department of Immigration uses for foreign nationals or persons who do not possess Bermudian status." Residential properties with an Annual Rental Value of $177,000 and above are the properties available to restricted persons. There are about 250 high end residential properties in this category, as well as a number of condos that are similarly designated. The new law will prevent companies from renting these properties in the market, and the changes will also allow exempt companies to hold commercial property if it is used for the specific purposes of their business. Similar provisions will apply to local businesses. Dr Gibbons pointed out that the revisions did not affect the Bermuda Immigration and Protection Act. "The decision making of the Minister of Home Affairs with regard to Immigration consent still applies on landholding. Without getting too deeply into the legislative complexities I will simply advise that the previous situation was unnecessarily complex and contradictory. That's why we are seeking to clarify it by modifying the law, and producing a clear policy. Consultation with the Bermuda Bar Association and the Chamber of Commerce on the proposed amendments has taken place over the past year. We believe that with passage of this Bill, several properties that are currently on the market will be acquired. This will produce revenue for the government via stamp duty. And, most importantly, this will produce jobs in the construction sector. Many of the properties, once acquired, will undergo renovation and redevelopment. This is a forward-thinking Bill and policy and one which we believe will move the real estate, construction and conveyancing sectors in a positive direction."

Independent MP Terry Lister, responding to the proposals, said: "The Minister has outlined a policy that should, on the whole, be welcomed by Bermudians. The fear that these companies will buy up all the land in Bermuda should be reduced when it is realized that the properties that will be available for purchase are those same 250 or so properties that are available for non-Bermudians to purchase now. What this does is that it creates another group that can buy from this selection of 250 homes. What is even more important is that the exempted companies that buy properties will be further cemented to Bermuda. At a time such as this when Bermuda is at risk of flight of IB, this move is a plus. The most important change is allowing companies to buy raw land. This has never been allowed and this MUST be controlled. I believe that the companies must be given a time frame by which they must have completed the house to be built on the purchased land. Having these plots of land being sat on will do nothing to stimulate construction and jobs. "Overall I think this is a wise policy that is aimed at securing Bermudas relationship with IB. Of course, this must be monitored to see what results. If it is not successful then Government must act to ensure that the desired goals are achieved."

March 24. Bermuda-based Wilton Re said on Friday it had agreed to be sold to Canada Pension Plan Investment Board in a deal worth $1.8 billion. The life reinsurance company focuses principally on the US life reinsurance market, specializing in the acquisition of in-force life insurance and annuities. As of September 30 2013, Wilton Re has $8.5 billion in total assets, $1.5 billion of equity and $120 billion of insurance in force. The reinsurer is being acquired from investors including Stone Point Capital, Kelso & Co and Vestar Capital Partners Inc, the Toronto-based fund manager said. The purchase is Canada Pension's first direct investment in the insurance sector. In a statement, Canada Pension said it is committed to the management, employees and organization of Wilton Re, and will support management in the future growth of the company. The company's Bermuda office is on Par-La-Ville Road, Hamilton, and the Wilton Re Bermuda CEO is Sylvia Oliveira, formerly the chief actuary of Ace Tempest Life Reinsurance. The transaction involves the 100 percent stock acquisition of Wilton Re Holding Ltd, a Bermuda insurance holding company and all subsidiaries within the Wilton Re Group, including Wilton Reinsurance Bermuda Ltd, Wilton Reassurance Company, Wilton Reassurance Life Company of New York, and Texas Life Insurance Company. This is Canada Pension's largest public acquisition since it led a consortium to purchase Neiman Marcus Group Ltd last year. Canada Pension describes itself as a professional investment management organization that invests the funds not needed by the Canada Pension Plan to pay current benefits on behalf of 18 million Canadian contributors and beneficiaries, manages a C$201.5 billion ($179 billion) as of the end of last year. The transaction is expected to close prior to August 2014 and is subject to customary closing conditions and regulatory approvals. "CPPIB is an ideal owner for Wilton Re that positions the company for growth and enhances our service offerings to clients and policyholders," said Chris Stroup, Wilton Re's chairman and CEO. "CPPIB represents the next phase for Wilton Re a strategic owner, committed to our business model, with a very long term investment horizon and unparalleled capital resources. Under CPPIB ownership, we anticipate the capital resources necessary to accelerate growth and expand our core In Force Solutions offerings as well as enhance our competitiveness overall. We remain committed to our middle market customers and will continue to emphasize and expand our worksite and private labeling solutions." As reported in The Royal Gazette, Wilton Re struck deals this year to assume liabilities from CNO Financial Group and CNA Financial Corp, the insurer controlled by Loews Corp. Since its creation in 2005, Wilton Re has invested at least $1.7 billion in acquisitions and risk-transfer deals, according to the company's statement. "In making a long-term investment in Wilton Re, CPPIB views the company as an ideal platform through which CPPIB can deploy significant follow-on capital at scale in the US life insurance sector, said the senior vice-president, Private Investments at Canada Pension. "Closed-block life insurance is an asset class with attractive risk-adjusted returns, well-suited to our long-term horizon." Stone Point has backed Bermuda insurers before, including run-off specialists Enstar Group Ltd and reinsurer Harbor Point Ltd. Kelso also invests in the industry and is one of the backers of 2012 Bermuda start-up Third Point Reinsurance Ltd.

March 28. Brand-new Bermuda reinsurer Watford Re is all set to open for business. The multi-line reinsurer's parent company Watford Holdings said in a statement released yesterday that the company had "raised capital and expects to commence reinsurance operations shortly." Rating agency AM Best announced that it had assigned an A- (excellent) financial strength rating to the start-up. Watford Re is led by chief executive officer John Rathgeber, a 30-year reinsurance industry veteran, who was most recently the vice-chairman of Arch Worldwide Reinsurance Group. Watford Re is licensed as a Class 4 reinsurer by the Bermuda Monetary Authority. The company is the product of a joint venture between Bermuda Class of 2001 re/insurer Arch Capital and hedge fund firm Highpoint. It reflects the trend in the Bermuda reinsurance market of increasing convergence between the capital markets and the reinsurance industry. A subsidiary of Arch will do the underwriting, while HPS — a subsidiary of Highbridge Capital Management, which has around $19 billion of assets under management — will manage the investments. Media reports suggest that Watford Re has initial capital of some $500 million. In its commentary, AM Best notes the "elevated risk profile" of Watford Re's business model, but the agency indicates that it believes those managing the risks are good at what they do. "AM Best believes that underwriting risk coupled with the leveraged investment strategy creates an elevated risk profile that could expose Watford on both the asset and liability sides of the balance sheet. However, the skilled underwriting of Arch Capital Group Ltd and the experienced investment acumen of Highbridge Principal Strategies, LLC (HPS), along with cash flows produced by Watford's credit investment strategy, will help manages these risks." Money has poured into the reinsurance space as instruments such as catastrophe bonds and other insurance-linked securities have attracted third-party capital, at the same time as a relative lack of catastrophic events last year, have added to the downward pressure on reinsurance pricing. AM Best said it "anticipates that Watford's management will be challenged by competition from established reinsurers as well as other start-up entities and alternative capital. The addition of more capacity to an already overcapitalized reinsurance marketplace could pressure underwriting margins."

March 29. British Airways will resume its daily service from Bermuda to London's Gatwick Airport on Sunday, the airline said yesterday. BA's Bermuda manager Marianne Wilcox said: "We are delighted to once again commence a daily service to and from London every day of the week until the end of October." She said BA 2233 would leave London Gatwick at the slightly later time of 3.10pm arriving in Bermuda at 6.30pm. BA 2232 leaves Bermuda each evening at 8.15pm arriving in London at 6.55am the next day. Travellers flying from Bermuda will be able to connect via London to some different European locations this summer, Ms Wilcox added. "From Gatwick there will be a daily flight to Malta. From Heathrow the routes to be added are Porto, Malaga, Faro, Mykonos and Santorini."

March 29. Hotels are reporting increased bookings, compared to those last year, according to the Bermuda Tourism Authority (BTA). But air arrivals have seen a slight decline. BTA CEO Bill Hanbury said several figures being measured by the authority, including the hotel revenue metrics and visitor satisfaction, are encouraging, but he warned that much more work must be done to turn the industry around. "While these figures show movement in the right direction, we still have a long way to go regarding meaningful growth in the industry," Mr Hanbury said. "Visitor expenditure, for example, has dropped and, as the BTA moves into full gear, we will be looking at strategies to improve our product and the visitor experience in order to improve on these numbers." According to figures released today by the BTA, total hotel room bookings are up 6.8 percent for the next six months compared with last year and up 12.2 percent for the next year. Group booking are up 8.2 percent for the next six months and 19.8 percent for the year, while individual room bookings are up 5.9 percent for next six months and 7.5 percent for the year. Hotel occupancy was up 7.7 percent in January and 1.1 percent in February, while year-to-date occupancy has increased by 4.3 percent. But despite the increases in hotel bookings and occupancy, year-to-date air arrivals have fallen slightly. A total of 7,046 visitors flew to the Island in January and 8,910 in February, marking a 0.2 percent decrease. And while air capacity increased by 2.1 percent through February compared to last year, the percentage of seats filled dropped. The figures also revealed that visitor expenditure and the average length of stay for visitors dropped between 2012 and 2013. Visitors who arrived by air stayed for an average of 5.4 nights in 2012, spending between $1,079 and $1,342 each, but last year the average duration of stay dropped slightly to 5.3 nights and spending fell to between $977 and $1,337. Cruise ship visitor spending also fell from between $119 and $203 per person in 2012 to between $112 and $124 in 2013. However, visitor satisfaction increased between 2012 and 2013, rising from 86.8 percent to 87.9 percent for air visitors and from 86.6 percent to 87 percent for cruise ship passengers. A BTA spokeswoman said the authority was reviewing a broad cross-section of data, stating that no single metric fully represents the condition of the Islands tourism sector. Only after viewing the full set of data, can we know the true status of the industry and understand how to achieve the stated goals of the BTA which includes increasing tourisms contribution to the Bermuda economy, increasing jobs and job duration in the industry and helping our hotels towards a sustainable and profitable model, the spokeswoman said.

March 29. Plans to raze the Pink Beach Club and erect a new boutique hotel and condominiums have been submitted for in principle planning approval. The $51.5 million development is set to include a 34-room hotel with two restaurants, six guest condominiums, two guest suites gym and spa facilities, a new beach club, two swimming pools and a residential building. The Pink Beach Club on South Shore Road, Smiths, was first opened in 1947 but harsh economic conditions and a declining number of visitors forced the club into receivership in 2010. But earlier this year, it was announced that Canada-based Sardis Development Ltd had purchased the property and were committed to redevelop the site into a world class tourism destination. The developer recently submitted applications to the Planning Department, one seeking final planning approval for civil works on the site and a second seeking in principle approval for the project. An environmental impact assessment and statement (EIS) included in the application stated that almost all of the buildings currently on the site are to be demolished with new buildings being erected largely in their footprints. A section of the EIS reads: "Following the demolition of almost all existing buildings on the entire site, the western lot will be dedicated to a 34-suite five star boutique hotel with a high quality gourmet restaurant and beach grill, fresh and salt water pools and access to the western beach and tennis courts. In addition, six luxury condominiums will be built, which will offer a form of low-density residential living that provides access to all hotel services and amenities. The development of the eastern 5.5 acres will include the construction of a detached residential building with groundskeepers cottage at the extreme eastern end of the proposed lot. Two existing buildings on this part of the site will also be renovated to create two luxury guest units. The construction of the hotel and beach club is listed as being in the second phase of development, following civil works, with the construction of the spa building and residential units listed as being in the third and fourth phases of development. According to the application, the hotel will be divided into two three-story buildings located on the south west of the property. The beach club will sit to the south of the hotel buildings, while a separate spa building and facilities building will be erected to the north. The condominium buildings to be built on the site are two story in height, and will reportedly be comparable in size to the existing cottages on the property. The project also includes a rehabilitation of the existing reverse osmosis plant, a new sewage treatment facility, parking for 54 cars and 52 bikes and new accesses to South Road. While the proposed hotel has significantly fewer rooms than the existing club, which had 94 rooms, the smaller scale is hoped to create an intimate and exclusive feeling while reclaiming a significant quantity of open space. The first stage of the project, consisting of the hotel and condominiums, is estimated to cost $44 million, while the residential and guest accommodations will cost a further $7.5 million. The EIS stated that the design details for the building have not been finalized, but the architecture of the buildings is intended to be Bermudian in character. The report also estimated that between 80 and 100 jobs will be created during the construction phase of the project, while around 56 people will be employed on the property once the hotel opens its doors. Tourism Minister Shawn Crockwell said the progress of the project was good news for Bermuda, adding that there are several other projects also in the works to reinvent and reinvigorate the tourism industry. "This Government was elected to revive our economy and create jobs, Mr Crockwell said. The planned renovation of the Pink Beach property will bring foreign investment to the island and create local jobs in both the construction sector as the property is upgraded and in the running of the hotel once renovations are complete." Bermuda Environmental Sustainability Taskforce (BEST) chairman Stuart Hayward said that the group is pleased to see the resurrection of the tourism site. "Our preliminary comments are mostly favorable. We particularly appreciate the inclusion of an EIS as part of the application. This process augurs well for the future as our Island becomes more densely built-up. We also applaud revisions to the original plans that indicate the new owners intent to protect and reactivate the agricultural land at the site. The development will likely be welcomed by the construction and hospitality sectors, but in some other hybrid hotel and residential projects the residential units were built but not the hotel. We trust there will be an irrevocable agreement to build the hotel and have it operating before any private residences are built."

March 31. The US Consulate has warned Americans that the Islands beaches could be a health hazard due to sewage contamination. And it said that any US tourists planning to swim off the south shore should consider immunizations for Hepatitis A and typhoid. The advisory, published on the Consulate website, said that sewage contamination along the south shore could reach four times the acceptable US standard at times. The shock warning published today said a scientific study carried out last year showed pumping untreated sewage out to sea causes intermittent contamination of the waters off the south shore, creating a public health hazard. The Consulate advisory added: "Changing weather conditions winds, swells, tides and rain can bring rapid degradation of water quality along the beaches, resulting in human bacteria levels from fecal contamination up to four times the acceptable US standard. In 2013, as many as five of the beaches were described as unfit for recreational use on different occasions based on water samples. Swimmers could be hit by gastroenteritis, ear infections, respiratory illnesses and other infections. In addition, as a general medical matter, persons exposed to sewage-contaminated water face increased risk of Hepatitis A, eye infections and typhoid. The Government of Bermuda has announced that it plans to take measures to reduce or treat the outfall, but as of March 2014, the dumping continues unabated." The advisory was based on a study carried out by experts from the University of Laval in Canada and the Bermuda Institute of Ocean Sciences (BIOS). Government Departments of Health, Environment and the Bermuda Central Government Laboratory were also involved in the study. See earlier March 24 story, above.

March 31. The art and antiques collection of David White, former Editor of The Royal Gazette, is to go under the hammer this week. And Andrea Casling, of auctioneers Hammers, which is handling the sale of Mr Whites estate, said: "This is a major event, it's what we term in the antiques business an important sale. It is hugely important and his collection is exquisite. This is one of the most significant estates I have ever handled." Mr White, who died last year, had already turned over nearly 50 paintings from his massive art collection to the Bermuda National Gallery. But Ms Casling said he had kept several works, many of Bermuda scenes, often by significant artists who painted in the American Impressionist style. The collection includes a painting by Prosper Senat of what is now Harbour Road, Paget, and one by Frank Waller of the Natural Arch, known as the Natural Arches in Bermuda, near the Mid Ocean Club. The landmark was destroyed by Hurricane Fabian in 2003. Another painting, by William Chadwick, shows Hamilton Harbour from the Paget shore, featuring the old Hamilton Hotel and an early cruise ship docked in the harbour. The collection, which will be auctioned off over three days, also includes bronze statues, silver, Bermuda cedar and other furniture, antique carpets, antique maps, crystal and china. Cedar items include a dining table and chairs, tea tables, a chest and a corner chair. Ms Casling added: "His collection is exquisite, there are a number of wonderful bronzes by Desmond Fountain and others, and the cedar furniture is especially good as well. The artwork is extraordinary and I believe it will command a great deal of interest at the auction. Hallmarked silver is another category of the auction and there are four exquisite candlesticks, Georgian flat silver, a large silver service and many other decorative pieces. David also collected bronzes and there are five works by local sculptor Desmond Fountain as well as other artists works. I've already held private previews for interested parties and the response has been excellent. David was head of the Bermuda National Gallery for 11 years until he stepped down as chairman in 2008, gifted 48 paintings to the country several years ago. He did it for a number of reasons not the least of which was to encourage others to do the same. He loved Bermuda and loved Bermuda art and that shines through in the collection we are offering for sale." Mr White's collection will be on sale over three days at the Elbow Beach Hotel in Paget. Previews for session one, to start at 8pm on Thursday, will be held on Wednesday between 3pm and 8pm and on Thursday between 10am and 3pm. The first part of the sale will feature furniture, bronzes and collectibles, as well as hand-knotted carpets, silverware and crystal. The second session will be held on Saturday, April 12, starting at 10am. The third starts at 12 noon on Sunday, April 13. Previews for sessions two and three of the auction will be held on Thursday, April 10 between 10am and 6.30pm and Friday, April 11 from 10am to 4pm. The catalogue for the last two sessions is still being prepared.

March 31. Bermuda's tax system will tomorrow come under the spotlight again when US construction equipment giant Caterpillar faces a US Senate hearing. The world's biggest earthmoving and mining equipment maker is to be probed over its offshore tax arrangements which saw $1.5 billion moved to subsidiaries in Bermuda, and Luxembourg. A total of three current and former Caterpillar executives are expected to testify at the Permanent Sub-committee on investigations, headed by Senator Carl Levein. The hearing is expected to look at Caterpillar's tax arrangements and corporate restructuring from the late 1990s and early 2000s. Three staff from global financial services firm PwC, which advised Caterpillar on its tax strategies, are also expected to appear as witnesses. Richard Harvey, a former Internal Revenue Service official who reviewed court records of a lawsuit involving the restructurings that was settled in 2012, said the court case may point to the focus of the committees questions. Mr Harvey, now a tax professor at the Villanova University, said: "One would hope the IRS took a very close look at these transactions. " Caterpillar moved a replacement parts division to Switzerland in 1999 and the firms records showed one reason was to reduce tax payments. And in 2005, other company units were set up in Bermuda and Luxembourg. Caterpillar chief tax officer Robin Beran, one of the firms officials called before the Senate subcommittee, said in a memo dated in November 2006: "Two internal reorganizations were completed, leveraging the Bermuda/Lux structure, allowing repatriation of nearly $1.5 billion cash to the US without incremental US tax." Caterpillar refused to comment on the firm's tax arrangements and PwC also declined to comment. Former Caterpillar tax official Daniel Schlicksup sued the company in 2009, claiming he had suffered retaliation from executives after he raised concerns within the firm about its tax dealings. Mr Schlicksup said Caterpillars offshore tax arrangements helped it avoid more than $2 billion in US taxes.

April 2. The former Pink Beach Club on South Shore Road has been sold to Sardis Developments Ltd, it was confirmed today. Wakefield Quin Ltd, acting on behalf of the company, said Sardis intends to redevelop the site in conjunction with the projects financiers, The Bank of N.T. Butterfield & Son Ltd, by constructing a new boutique hotel on the property. Back in December, Tourism Minister Shawn Crockwell said the Bank was in the advanced stages of negotiation. The beach-front cottage colony had been placed in receivership in 2010. Last July, Government passed $5.6 million in tax concessions to support the sale of the property to PBC Holding Ltd for $12.5 million. The company had said it planned to convert the Smiths property into a five-star resort with more than 200 employees by the end of 2015. A statement released today read: "The owners of Sardis, would like to thank both the Bank and the receivers of the property for their professionalism and unwavering assistance in bringing the project to fruition. They would also like to give credit to the Bermuda Government, in particular the members of Economic Development Committee and the staff at the Registrar of Companies for their efficiency and support of the project under pressing time constraints; service which has served to underline their faith in the Islands potential." Michael Collins, Butterfield's Senior Executive Vice-President said: "In Sardis, we are pleased to have found a buyer for Pink Beach who is committed to redeveloping the property into a world class boutique hotel, which will attract new interest among vacationers and help reinvigorate the Island's tourism product. We look forward to continuing to work with Sardis to support the redevelopment of the property in our capacity as lender. Today's announcement underscores Butterfield's commitment to financing viable tourism development projects in Bermuda that will have a positive impact on employment within our community. We anticipate that demolition and construction work at the Pink Beach property will generate a large number of construction jobs in the near term, as well as permanent tourism positions at the hotel when it reopens."

April 3. Cell phone users will see a few extra cents added to their bills because of an increase in the Government licence fee for a mobile line. Wireless services provider Digicel alerted its customers to the increase, which will see the fee rise from $7 to $7.35, effective April 1, 2014. This official five percent increase from Government was gazetted on Friday, March 28, 2014. The company said its post-paid customers would see the licence fee increase to $7.35 on their April bills. Prepaid customers will see a $0.24 deduction from their daily balances, increasing from the current $0.23 daily deduction. Digicel Bermuda CEO Wayne Caines said: "It's very important to us that our customers know exactly what is happening and where these fees are going, which is back into our Government."

April 3. Tourist arrivals and hotel bookings were both boosted in the fourth quarter of last year, according to the Department of Statistics. The Quarterly Bulletin of Statistics, released yesterday by the Department, reported a 6.3 percent increase in air arrivals and 35.4 percent increase in cruise ship arrivals year-on-year in the fourth quarter. Between October and December a total of 94,708 visitors arrived on the Island, 47,211 by air and 47,497 by cruise ship. Only 79,474 visitors travelled to Bermuda during the same period in 2012. As a result of the increase of arrivals, it was estimated that the Island recorded an additional $3.5 million in visitor spending during the quarter from air arrivals and an additional $2.7 million from cruise ship visitors. More than two thirds of the air arrivals 32,197 came from the United States, an increase of around seven percent from the same period in 2012. Hotels, cottage colonies and other tourist accommodations all saw increased bookings during the period, with hotel gross receipts for the period totalled $51.2 million. In total, air arrivals for 2013 were 1.8 percent higher than the previous year and, while resort hotel occupancy fell by 0.4 percent, occupancy rates on all other types of tourist properties increased year-on-year. The figures come less than a week after the Bermuda Tourism Authority (BTA) reported improved year-on-year hotel bookings and hotel occupancy during the first two months of 2014 although it also noted that air arrivals had slipped during the period by 0.2 percent. Premier Craig Cannonier said yesterday he was optimistic about the fourth quarter tourism statistics, noting the increase in air arrivals and hotel bookings. "I'm very encouraged to see these signs of optimism from our visitors. I applaud the hard work of the Minister of Tourism Shawn Crockwell and the Department of Tourism, especially during that time frame. We've still got a long road ahead of us, but I believe the country should also see these figures as positive indicators of our efforts to move the in the right direction." The Quarterly Statistics also noted a $1.6 million increase in retail spending during the quarter, and a 7.5 percent decrease in overseas declarations. Overall, residents spent a total of $60.5 million on overseas purchases in 2013, which represented a 6.8 percent dip in expenditure when compared to the $64.9 million spent in 2012.

April 3. Ocean Wilsons, a Bermuda-based holding company listed on the Bermuda Stock Exchange (BSX) which runs shipping and port services in Brazil saw its 2013 operating profit soar by 40 percent to $119 million. That number is a tenth higher than forecasts, and broker Cantor Fitzgerald is penciling in double-digit earnings growth for both this year and next, according to Investors Chronicle in an April 1 article. And the company's preliminary results announcement filed with the BSX stated that sales were up eight percent to $660.1 million, compared to $610.4 million in 2012. Investors Chronicle also reported that cuts in payroll tax slashed Oceans social security bill by $11 million, and the sale of commercial property in Rio de Janeiro and Sao Paulo chipped in $10 million in 2013. It stated: "Yet, even after a $19 million foreign exchange hit and a doubling of finance costs driven by overseas currency loans, pre-tax profit still edged up two percent to $101 million." Wilson Sons, Oceans maritime unit (the shipyard, terminals and towage operation), generated much of that more than $86 million. "Extra capacity drove shipyard revenue up 61 percent to over $100 million, and demand for new vessels from the offshore oil and gas industry remains robust," says management. It made the rest of its money playing the global bond and equity markets, initially funded by the $205 million received when Ocean floated 42 percent of the business in Brazil seven years ago. Oceans investment portfolio returned almost eight percent year-on-year. In their BSX filing, the company states as their objective that it is run on a long-term basis. This applies to both the investment portfolio and our investment in Wilson Sons. The long-term view taken by the board allows Wilson Sons to grow and develop its businesses without being pressured to produce short-term results at the expense of long-term value creation. The same long-term view allows our investment managers to make investment decisions that create long-term capital growth. The success of this strategy is reflected in the growth in the Ocean Wilsons share price and total returns to shareholders. In the ten years to 31 December 2013 the share price has risen 585 percent from 152p to 1,042p and total returns to shareholders in the period (assuming dividends are reinvested in Ocean Wilsons shares) of 806 percent.

April 14. Agar's Island, which was the home of one of the world's leaders in computer science Dr James Martin, is on the market, according to Private Islands Online. It is called Gunpowder Island in the publication, and in a related article in the online The Daily Telegraph, it is described as a "lovely Caribbean island." The British newspaper article states, under the headline "10 unusual islands for sale" - "This lovely Caribbean island owes its slightly alarming name to the fact it was used as a secret storehouse for military explosives in the 19th century. Today, it's a rather more tranquil place offering a vast array of accommodation (including a former military barracks)." British-born Dr Martin, who died while in Bermuda last June, established several IT consultancy firms and co-founded Database Design Inc. (DDI), which developed the information engineering software that became the market leader in the sector. Computerworld's 25th anniversary issue ranked him fourth among the 25 individuals who have most influenced the world of computer science. Dr Martin lived on Gunpowder Island, also known as Agar's Island from the 1990s. Private Island Online, a Canadian website, described the island, in "the azure waters of Great Sound, Bermuda ... (as a) 7.5-acre property that once served as secret chambers for military explosives in the late 19th century. "Rich with history, the Bermudan (sic) island now features an 8427-sq. ft. main residence, a 3-bedroom deckhouse, a 2060-sq. ft. cottage, a boathouse, and a former military barracks that can double as a conference centre. There is also a three-bedroom dock house, a 2,060-square-foot one-bedroom cottage, a boathouse, and a former military barracks that can double as a conference centre. The historic semi-underground vaults are fitted with a kitchenette, bathroom, billiards/ table-tennis room, gym, cinema, and dining for up to 40 people. "A Japanese garden, Chinese garden, Italian garden, rose garden, an orchard, a cliff walk, a quarry, a waterfall, seven ponds (some fresh water), and a pool dot the island. There are two beaches and three docks, and the island has full electricity, water supply, and services. It is easy to reach from the mainland." It states that price is available on request. The publication also lists Perot's Island in Riddell's Bay for sale at $15 million.

April 10. Iconic entertainer, pianist and poet Alvin (Hambone) Brangman a luminary of the Islands hotel circuit from the heyday of local music has died aged 90. Mr Brangman, who performed throughout the calypso era and remained devoted to music up until his passing on March 25, will be laid to rest at a service today in Hamilton's Wesley Methodist Church. "It's a tremendous loss, said music historian Dale Butler. "He gave so much to the tourism industry and to Bermuda and you couldn't have asked for a nicer guy. Mr Brangman loved Bermuda and loved music. An outstanding arranger, pianist and entertainer, very well-known and gifted. He was well groomed, well spoken, with a charming personality. He goes with people like Earl Darrell, Lance Hayward and Reggie Goater. We were producing a whole host of great pianists in this country. Such was his stature that in 2011 Mr Brangman was inducted into the Bermuda Music Hall of Fame. Any time you dined at any of our great hotels, you would have seen him playing. Hailing from the Rocklands neighborhood of Warwick, Mr Brangman started out playing at the age of seven and showed instant promise as a performer, his daughter Alvina Brangman recalled. Mr Brangman was father also to Sherlene G. D. Trott and Valerie Arorash. He used to play for the family one song he loved to play at parties was Boogie Woogie Woogie, Ms Brangman said. His father, Charles Ambrose Brangman, used to play music as well. He remained active playing up until his death. By Mr Brangman's own account, his career started around 1941. He was the first one to originate the Four Spots and the Five Stars, according to Mr Butlers book Music on the Rock. He toured the US with local musicians in 1952, living overseas for a spell and then bringing his experience with the American entertainment scene back home to promote shows, playing the accordion and organ as well as piano. Mr Brangman also had an abiding fondness for the Motown great Marvin Gaye, and the jazz pianist and singer Nat King Cole. He had a lot of charisma, he was always smiling, just a very joyful person, Ms Brangman said, adding that her father was particularly attached to The Reefs, Elbow Beach Hotel and Cambridge Beaches as venues. A cricket lover, Mr Brangman made a point of rising early for Cup Match and attending both days of the games. He also enjoyed photography and making kites, as well as writing his own songs and composing poems. His distinctive nickname came courtesy of his mother, Editha Gertrude Simons-Brangman. "He'd always make a pot of soup and put a ham bone in it he and his sisters used to fight over who got the bone, and he'd always win," Ms Brangman said. Mr Brangman was also a retired clerk from Belco's transport department and had an interest in electronics. He attended North Shores Grace Methodist Church. A viewing will be held today from 12pm to 12.45pm at Wesley Methodist Church, with the service following at 1pm.

April 10. Bermudian culture is the key to resurrecting the Islands tourism industry, according to Bermuda Tourism Authority CEO Bill Hanbury. Addressing an audience at the Bermuda College last night, Mr Hanbury said that work is being done to improve the marketing and branding of the Island, noting that a new PR firm has recently been selected and will be announced shortly. However, he stressed that work must be done to improve Bermuda as a tourism product, saying that a focus needs to be placed on providing visitors with the unique Bermudian cultural experience. "The modern tourism consumer today across the globe wants true experiences," he said. "It's great to have wonderful golf courses and these other wonderful amenities that we have, but if you can't give the consumer an experience where they can touch, they can feel, they can see, they can sense what this destination is all about, they are going somewhere else. Bermuda has all the right elements, including its own art, culture, cuisine and famous hospitality, but the Island can do a better job in connecting the dots for visitors, making sure they know where to go to get the experience they are looking for and how to get there. Those assets are out there, but they're not easy to get to. I'm convinced that it's one of the keys to success for the Island is to connect these dots. We have to have great public transportation systems. It's something that we just have to work on. I know there has been a lot of controversy, a lot of conversation around transportation and whether it's an essential service. For me, all I'm doing is listening to the market, and the market has already spoken on that subject. You must have a predictable, a reliable and an efficient public transit system or we're not coming." Mr Hanbury noted the recent decision of the US Consulate to issue a warning about Bermudas water quality, saying it had provided an unfortunate challenge for the BTA. We absolutely were not happy about that. We think there was a better way that could have been handled by the American Consulate, but it is what it is, so we had to respond to that. It required us to be aggressive about how we manage our public relations to the world because this can be a global story. I will tell you there has not been a lot of dissemination of information about our water quality to consumers and the mass media. It certainly has been in trade publications and trade media, but I think we've done a really good job working with our overseas agencies. I'm not promising you that story has ended, it probably has not ended, but we do have to manage that, and it has been a challenge for us." Asked about the potential of building a dedicated convention centre on the Island, Mr Hanbury said that in his view such a project would not be appropriate for Bermuda at this time, saying the focus right now should be on bringing in single travelers, families and small groups. BTA chairman David Dodwell said that while Bermuda tourism boomed in the 50s, 60s and 70s, the Island fell into a false sense of security. "I hate to say it, but we were fat, dumb and happy. We thought we had it. We used to look back over our shoulders at the competition. Now we are trying to catch back up. Other destinations have taken a red carpet approach to encourage foreign investment in hotels to draw developers, and the Tourism Authority is working to make the Island more attractive for such developers." Noting the recent Request for Proposal issued for the former Club Med site in St Georges, he said: "For the first time not only did we present the opportunity, we created a marketing document and we hired someone to go out and present that to investors, and the investors came. We had quite a few come, and a number made applications. I can't share much more than that but stay tuned because in a couple of weeks there will be some really, really good news." BTA chief operating officer Karla Lacey meanwhile stressed the importance of celebrating the hospitality industry on the Island and making sure young Bermudians are eager and ready to enter the industry.

April 14. A cruise ship due to visit Bermuda in two weeks' time has twice been hit by stomach bug outbreaks. Nearly 100 passengers on the Royal Caribbean Grandeur of the Seas suffered from gastrointestinal sickness on a seven-day cruise to the Bahamas that left the ship's home port of Baltimore on Saturday, April 5. Symptoms included vomiting and diarrhea, according to the US Centers for Disease Control (CBC). A spokesman for Royal Caribbean said the disease was thought to be caused by norovirus and that passengers "affected by the short-lived illness responded well to over-the-counter medication administered on board the ship." An earlier cruise to the Bahamas, which left Baltimore on March 28, also saw an outbreak of illness, which hit more than 100 passengers and fewer than a dozen crew members. The CDC said the earlier outbreak had been caused by norovirus. Neither cruise was cut short due to the illnesses. Royal Caribbean said it had "high health standards" on board its ships and had taken steps to increase sanitation after the outbreaks of illness. The company said: "During the sailing, we took a number of steps to prevent the transmission of the illness, including implementing enhanced cleaning procedures and protocols, and using special cleaning products and disinfectants that are proven to kill norovirus to clean throughout the ship." It is expected that the ship and its terminal will undergo a deep clean before the ship, which is due to makes its first visit to Bermuda on April 26, sets sail again. In addition two CDC environmental health officers and an epidemiologist will visit the ship as part of an ongoing investigation. The CDC is also collecting specimens from the second outbreak to help determine the cause. Norovirus is highly contagious and one of the most common causes of food-borne illnesses. It can be transmitted through food or water or by touching contaminated surfaces. The cruise ships carries around 2000 passengers and 800 crew. The ship returned to Baltimore last year after undergoing a $48 million refit. It suffered a major fire last May, which put it in dry dock for six weeks while repairs were made.

April 15. The parents of a baby girl who doctors believe was made seriously ill by contaminated water are urging Government to rigorously enforce regulations that require all household tanks to be cleaned every six years. The American couple, whose two-year-old daughter is still recovering after contracting a rare lymph node infection in 2012, claim the Public Health (Water Storage) Regulations 1951 are not enforced in any way by the Department of Health, despite the risk to human health from dirty tank water. They told The Royal Gazette they fear most landlords are not t aware of the legal requirement to regularly clean tanks and that unsuspecting tenants could be exposing themselves, their children and their pets to dangerous drinking and bathing water. The couple's daughter had to have an MRI scan and a three-hour operation under general anesthetic to have an infected lymph node the size of a golf ball removed from her neck a month before her first birthday. The infant also had to take medication which could damage her eyesight in the long-term. The couple, who asked not to be named, say their child never drank tap water at the three-bed roomed property they rented for $4,400 a month in Smith's, but they believe she was exposed to the disease-causing bacterium kansasii in her bath water and from having her teeth brushed. "We had pure water delivered [for drinking]" said the father. But the doctors determined that it could have been just that little bit of an amount, just from bath water and brushing teeth." Pediatrician Douglas Savino, from New York State, initially diagnosed the child with atypical mycobacterial cervical lymphadenitis and said in a statement shared with this newspaper that contaminated tank water "was the probable and likely cause." Another doctor, infectious diseases specialist Patricia DeLaMora, from the Weill Cornell Medical Center in New York, confirmed that diagnosis and said in a statement that it was proven when "cultures of the affected node taken during an open operative procedure grew mycobacterium kansasii. Contaminated drinking water is considered to be the main vector for transmission of this organism to humans." In a second statement, Dr DeLaMora wrote that the girl's infection was "typically associated with ingestion and/or exposure to contaminated water. The water tank located in the [family's Bermuda-rented] home did not meet hygiene standards, making it the logical source of [the child's] infection." The couple say a third doctor, Jay Dolitzky, from ENT & Allergy Associates in Manhattan, told them that the likely cause of their daughter's infection was contaminated water or milk. The child drank only formula milk at the time and it was never made with tap water. According to the couple, their Bermudian landlady admitted to them after their daughter's diagnosis that she could not remember having the tank cleaned at the house and that it could have been 30 years since it was done. A Department of Health report shows that an analysis of the tap water at the house conducted by the Central Government Laboratory on February 19 last year found it was not fit for drinking and contained 16 different types of bacteria, including e-coli. A local water supply company called in by the couple to clean the tank found a "significant build-up of organic and inorganic sediment." The company boss sent an e-mail describing the clean-up to the child's father, in which he wrote: "Heaviest dosing of chlorine we've ever used ended up spraying a solution on the walls and letting sit a while. While not clean in terms of volume of sediment, this is not uncommon to find in tanks that have not been cleaned in many years, nor the worst we've ever seen. While we have not seen the test results, sounds like the worst bacteriological issue we've seen yet." The couple lived in Bermuda as guest workers from 2009 to 2013 but have since returned to the US. They say the ordeal they have gone through has caused immense emotional distress, as well as loss of income and loss of friends on the Island, who have objected to their criticism of Bermuda's system of collecting rain water for drinking and bathing. The mother said: "We firmly and wholeheartedly believe that [our child] contracted this bacteria from swallowing a small amount of bath water. something that cannot be prevented, as anyone that has children would know. We wrongly assumed this water was safe. She described having to hold her daughter down while she was anaesthetized for the MRI and the surgery, adding: "To say this was traumatic would be a gross understatement." One infected node was successfully removed from the little girl, but other smaller ones were too close to facial nerves and had to remain. The child was immediately put on a daily regimen of four antibiotics, which were not kid-friendly in any way, according to her mother. One medication could damage the infant's eye nerves and she has had to have a series of regular eye tests, which are not available in Bermuda. The woman said: "We really do want to make this public so it doesn't happen to anyone else. [Our daughter] is still seeing the eye doctor to make sure there is no long-term damage to her eyes from the medications. Furthermore, we won't know if any or all of the medication and/or the bacterial contamination will affect [our daughter] in the long run. We can only pray that it does not." The father said: "The day we found out it was the water, my wife was hysterically crying. She ended up having to quit her job to move home [to the US] to take care of our daughter. My wife ended up moving back [to the US] because the medication our daughter needed wasn't available in the right potency in Bermuda." He said he eventually had to quit his job here to be with his family and that the stress of his daughter's illness put an enormous strain on his marriage. We don't have anything against Bermuda but it was about our daughter. We don't want anyone else to suffer like we have." Through their lawyer here, the couple have asked their former landlady to pay them $35,000 in damages or face legal action but she has denied any liability and her lawyer has said she will vigorously defend any lawsuit. The landlady's property insurers, BF&M, have also rejected the claim that the tank water at the house was responsible for the child's illness. Asked to respond to the allegations made by the couple, the landlady told this newspaper: "At this point, there is no comment. This has been a matter that has been already taken care of with lawyers." The Department of Health did not respond to a request for comment for this story. It recommends that tanks are cleaned every five years while the law requires it to be done every six years and says water should be regularly disinfected to make it safe to drink.

April 16. TBi (TeleBermuda International) is offering unlimited local calls to mobile and fixed numbers via a phone that works through the internet as part of an internet and phone bundle. Today's announcement marks the latest salvo in the battle for market share since deregulation of the telecommunications industry lifted restrictions and allowed companies to bundle various services. "Unlimited local calling is an exciting new offering from TBi that helps people stay connected without the inconvenience of watching minutes," said Gregory Swan, TBi's president and chief operating officer. "Customers who sign up for the service will receive a local number and a free VOIP (Voice over internet Protocol) phone, available for a limited time. Customers simply plug the phone into their modem and can start to make and receive unlimited local calls. More people than ever are looking for alternative ways to stay connected while minimizing their overall cost for telephony services. We have carefully studied the market and listened to our customers. The mindset that keeps ringing in our ears is "quality services competitively priced". Our new service is in response to that premise," stated Mr Swan. As an initial rollout, TBi is introducing unlimited local calling as part of a new residential bundled package designed to provide a more affordable voice and data services solution. TBi's new bundle combines 10 megabit internet, unlimited local calling, unlimited calling to the USA and Canada and Wi-Fi ZONE hot spot access for $89.95 per month and the first month free.

April 16. US investment advisory company FRMO Corporation has bought a 37.5 percent stake in the Bermuda Stock Exchange. The Elmsford, New York-based company becomes the biggest shareholder in the BSX and its chairman Murray Stahl will be joining the BSX board of directors, the BSX said in a statement released today. Mr Stahl is also chairman of Horizon Asset Management LLC, a registered investment adviser. A private-equity fund managed by Horizon Asset Management invested in the BSX in 2008 and currently holds 2.21 percent of the BSX?s shares. This investment brings FRMO and affiliates commitment to the BSX to nearly 40 percent. The terms of the deal were not disclosed. FRMO Corp had shareholders? equity of $83.4 million as of May 31, 2013, according to its most recently published financial statements. In its profile on the Yahoo Finance website, the company is described as an investment advisory and independent research company, which provides in-depth analysis of information-poor, under-researched companies, and strategies to identify the complex situations primarily for institutional investors. Among other major BSX shareholders is the TMX Group, operator of the Toronto Stock Exchange, which bought a 16 percent stake in late 2011. Capital G Bank and LOM Group are among the numerous other shareholders. "We are very pleased to increase our ownership in the Bermuda Stock Exchange," Mr Stahl said. "The BSX has invested heavily in its technology and global clearing alliances over the past few years making it a very attractive exchange for listing companies. Bermuda's honoured legal and regulatory environment is time-tested, making it a very attractive country for offshore investors. We are committed to the long-term development of the BSX and the Bermuda Capital Markets." The investment comes at a time when the BSX is leading the world in the field of insurance-linked securities (ILS), such as catastrophe bonds, listing more than $4.6 billion of ILS in 2013, bringing the current market capitalization of BSX-listed ILS structures to more than $10 billion. BSX chief executive officer Greg Wojciechowski said: "The nature of stock exchanges has changed dramatically since the creation of the BSX more than 40 years ago. Exchanges are important fixtures of the global economy ensuring the free-flow of capital around the world while providing stable operating platforms at home at all times. The BSX has aggressively positioned itself as a leading global exchange by investing in technology, establishing regulatory excellence, achieving world recognition and focusing on innovation. Each step we have taken along the way has laid a solid foundation that has directly accelerated the growth and maturity of Bermuda's domestic capital market. This investment by FRMO is a reflection of that value creation and the confidence of international investors in Bermuda and its economy. The Government of Bermuda has made positive changes to better enable foreign-direct investment in Bermuda businesses to accelerate growth in our economy and create jobs. This transaction is evidence that international interest in Bermuda exists, which could lead to new business opportunities. This development positions the BSX well for growth and catapults us even further onto the global capital markets stage at a time of incredible opportunity." Conyers, Dill & Pearman Ltd provided legal services for FRMO Corp.

April 17. Landlords and other property owners who break the law by failing to regularly clean water tanks are escaping prosecution, despite concerns about the risk to public health posed by Bermudas rainwater catchments system. Government admitted yesterday that no one has ever been prosecuted for not cleaning a tank under the Public Health (Water Storage) Regulations 1951, even though the law requires tanks to be cleaned every six years and allows for suspected offenders to be taken to court and fined if convicted. Public health officers have the power to order a tank to be cleaned but the Department of Health said when water is tested and found to be unsuitable for drinking, it gives only verbal or written advice to the property owner to clean then chlorinate, if the tank hasn't been cleaned for more than six years or looks dirty. A spokeswoman said: "When cleaning and chlorination is completed, then a sample may be resubmitted for retesting. In the past, we have not had to use a formal notice to achieve this result." Bermuda Environmental and Sustainability Taskforce (BEST) insisted last night that better enforcement of the law was needed if the Island was to continue relying on its traditional roof catchments system for the majority of its freshwater supply. BEST founder Stuart Hayward said: "While the regulations do require that tanks be cleaned and sludge removed at least every six years, the mechanisms for tracking and enforcing the regulations are less than efficient. It is difficult to imagine an efficient bureaucracy that could track and enforce this regulation effectively. The he public needed to understand that excessive sediment and the failure to regularly clean tanks could promote the breeding of unhealthy bacteria and cause an accumulation of contaminants such as metals and petroleum hydrocarbons that can pose health risks. It can cost several hundred dollars to get a medium-sized tank professionally cleaned. We would not be surprised to find that people will be put off cleaning their tank for years or decades because of the cost of the cleaning and replacing the water. The only way to ensure tanks get cleaned, particularly with landlords, is to have greater enforcement of the law. A public education campaign would be useful on the reasons to have tank water tested and to clean tanks, and the best ways to disinfect tanks between cleanings. People need to be mindful of testing their water regularly and using some form of disinfection if there is any indication of unhealthy bacteria. However, they need to know that adding chlorine when there is a lot of accumulated sediment can cause the creation of cancer-causing chemicals. They cannot rely on just disinfecting the tank the sediment needs to be removed regularly as well. The Island's system of collecting and conserving water in individual catchments had several advantages, including that it encouraged people to moderate their water use and lessened the chances of a water-borne infection affecting many due to a piped-in system. But he added that a disadvantage was the exposure of the collective water supply to air-borne pollutants, such as acid rain from a distance, road dirt, vehicle exhausts and emissions from plants like Belco and the Tynes Bay Incinerator. It wouldn't hurt for the Government to perform a water supply audit to examine our current system and look at alternatives." The issue of tank water safety hit the headlines this week after the parents of a baby girl who doctors believe was made sick due to contaminated water urged Government to rigorously enforce the six-year rule so other families don't suffer. Asked if anyone had ever been prosecuted under the regulations, a Department of Health spokeswoman told The Royal Gazette yesterday: " No. But compliance activities, advice and education are applied with stakeholders daily to collaboratively achieve improvements. Members of the public could get their water tested by Environmental Health for all of the standard bacterial indicators coliforms, faecal coliforms and E. coli, which are proxy indicators for the risk of pathogenic [disease-causing] organisms. When water was found to be unsuitable for drinking at a property, follow-up samples were taken after advice was given to the occupants about water safety. But there has been at least once instance last year when an unacceptable result did not result in any request for follow-up samples. One of the first questions asked when poor results are received would be whether the tank has been cleaned within the past six years. Dependent on where the property in question is located, more frequent tank cleaning may be required. It is important to remember that water test results indicate the water quality for a particular sample, taken on a particular day, and that microbiological flora can fluctuate with every rainfall. " A study of 140 household tanks was conducted last year by government and overseas scientists, the results of which are expected to be published later this year. A similar study done ten years ago by the same team found that while rainwater collection from rooftops is a simple, efficient and cost effective procedure for the provision of freshwater supplies to individual households, it may represent a risk to human health if used for drinking.

April 17. The Grand Atlantic housing complex is to be transformed into a condominium hotel complex. Announcing the move at a press conference, Public Works Minister Patricia Gordon-Pamplin said Government had signed a Memorandum of Understanding with a tourism and leisure firm to upgrade and reposition the residential development. The proposed redevelopment of the Grand Atlantic site will create a condo hotel which will make use of existing construction and bring a new all-suite tourism product to Bermuda that is very popular in other jurisdictions, Ms Gordon-Pamplin said. This will be a welcome addition to Bermudas current hotel inventory and a completely unique product for our market. The complex, on South Shore, Warwick, was conceived by the former Government as an affordable housing project. But it was branded a white elephant after just two of 78 units were sold. One of those families has now moved to alternative accommodation, while the second owner is in negotiations with Government to find alternative accommodation. According to Ms Gordon-Pamplin, a condo hotel is defined as a development which is legally a condominium but which is operated as a resort, offering short-term rentals of hotel suites with a front desk and resort leisure facilities. It is anticipated that the units at Grand Atlantic will be sold as a combination of investment and vacation homes, with condo owners being restricted to 90 days annual occupancy per year. When owners are not in residence, they can leverage the marketing and management provided by the hotel operator to rent and manage the condo unit as it would any other hotel room. The 120-day MOU with Caribbean-based MacLellan & Associates has an exclusivity clause which will enable MacLellan & Associates, along with local industry partner Bermudiana Beach Resort, to finance the acquisition and associated development costs of the project. It is anticipated that the site could be prepared for sale of condo hotel units within the year. Currently MacLellan & Associates are working to finalize the financing arrangements for significant design changes, incorporating resort amenities and identifying a hotel operator that is willing to partner with investors in the opportunity presented by this development for a new tourism product in Bermuda. Details of how much Government will be paid for the deal were not revealed yesterday. Ms Gordon-Pamplin said that all financial arrangement will be determined during the 120-day exclusive MOU period. However, the Minister said she was confident that this project will prove to be financially beneficial to Bermuda, adding that, with redevelopment expected to start soon, the deal would provide a welcome boost to the construction sector and also have a positive social impact. Ms Gordon-Pamplin also confirmed that the consultant had been advised of environmental concerns over the complex, which is located close to a cliff face, said by some to be rapidly eroding. Last week Opposition MP Michael Weeks questioned if the OBA was telling potential investors that the property was safe. But yesterday Ms Gordon-Pamplin insisted that the issue was not going to go away. "Once an issue has been addressed and looked at it is there in the public domain. The developer is aware of the publics concerns surrounding the cliff and its structural integrity. They've reviewed the existing engineering documentation, they have physically inspected the site and they will take additional counsel from the structural engineer during this due diligence period."

April 17. The healing power of natural light played a major role in the architectural design of King Edward VII Hospitals new Acute Care Wing. Offering an update on the construction of the Wing yesterday, a hospital spokesperson said large windows were featured throughout the building. And while that allows light into areas facing outdoors it doesn't address areas in the middle of the new facility. Yet natural light pours as readily into these areas as those on the perimeter of the building. "This is because a central atrium with skylights has been created in the middle of the facility," said the spokesperson. Bermuda Hospitals Board president and CEO Venetta Symonds added: "The design in this section of the building uplifts your spirit. I'm sure members of the public will especially appreciate having this feeling in a hospital setting." The functionality of making it a waiting area speaks to the expertise of the architectural and design team of Paget Health Services. The atrium is 2,738 square feet on the second floor. It houses a waiting area, check-in desk and discharge lounge for surgical patients. The waiting area seats 18 people while the discharge lounge seats eight. According to the spokesperson, scientific studies have proven the importance of lighting levels on mood and emotion and more recently on the body's circadian rhythms and in turn, its physiology. The Bermuda Hospitals Board is proud that the new Acute Care Wing provides both its staff and the public with healthy amounts of natural light. The Acute Care Wing will open to the public in September. Those willing to support new Wing with a donation to the Why It Matters campaign can visit www.bhct.bm for more information.

April 24. The newly-formed Bermuda Tourism Authority (BTA) have appointed a Chief Sales and Marketing Officer. Victoria Isley, a 20-year veteran of the tourism and hospitality industry, will work from the BTA office in New York, starting her new position in June 2. BTA CEO Bill Hanbury, a former colleague of Ms Isley during his tenure as CEO of Destination DC, said: "Vicki Isley brings an extraordinary level of marketing and sales expertise to the effort of repositioning Bermuda as one of the worlds pre-eminent tourism destinations. Her decision to join our team is another indication of Bermuda's serious intention to compete with other top-level tourism destinations in the US and across the globe." Ms Isley added: "At this point in my career, it's really exciting to be joining the newly formed Bermuda Tourism Authority. The industry leaders did their homework when establishing the new organization and have fashioned it as the next generation DMO charged with destination marketing as well as management. There is so much opportunity. There is such beauty on the Island such a genuine sense of place. I look forward to helping tell the many stories of Bermuda, connecting travelers with the island, and creating jobs an economic development for the residents." Ms Isley previously served as the Chief Operating Officer for Destination Marketing Association International (DMAI). In that role she oversaw the associations integrated executive team, which included marketing and communications efforts, membership and business development, professional development and meetings departments, as well as its convention sales products. A BTA statement noted: "Through her work, she was part of a team that managed the world's largest destination marketing trade association, representing 600 organisations worldwide. Additionally, she also served as the Executive Director of the DMAI Foundation since October, 2012. Prior to her work with DMAI, Ms Isley served as the Senior Vice-President of Marketing and Communications for Destination DC from October, 2001 to April, 2011. Responsible for all marketing, research, crisis communications, media relations promotions, tourism sales and visitor service functions during her tenure, she was the organizational marketing lead for high profile initiatives including tourism recovery efforts following 9/11, the dedication of the National World War II Memorial and the inauguration celebration for President Barack Obama. Ms Isley also brings previous experience as the Vice-President of Marketing and Communications for the Tampa Bay Convention and Visitors Bureau (July,1997-October, 2001) and Director of Communications for the Durham Convention and Visitors Bureau (October, 1994-July, 1997) to her new role. A 1991 graduate of the University of North Carolina with a bachelors degree in business administration and marketing, Ms Isley has served as a past chair of the US Travel Associations research committee as well as a member of the board of directors for Public Relations Society of America's Travel and Tourism sector.

April 24. The anti-gang charity CARTEL has suffered a defeat in the Supreme Court after its lease of White's Island was declared void. Chief Justice Ian Kawaley ruled that the lease, which had been intended to cover a period of 21 years less one day, hadn't received Cabinet and legislative approval. CARTEL was granted the lease, effective October 1, 2010 to September 29, 20131, by former Public Works Minister Derrick Burgess. The organization, headed by Pastor Leroy Bean, took charge of the Hamilton Harbour Island for a ?peppercorn? lease of $1 rent. But the inclusion of an automatic renewal clause effectively took the lease over 21 years, meaning that it wasn't valid without approval. Although Mr Burgess argued via affidavit that the inclusion of the renewal option had been an oversight/misunderstanding, Mr Justice Kawaley in his ruling yesterday didn't accept it as a mere clerical error. In an apparent further slip, the lease named the lessee as CARTEL Charitable Purpose Trust, naming Pastor Bean as trustee along with Leyroyce Bean and Shelly Steede whereas Pastor Bean had been intended as the lessee, with the Trust managing the projects on the premises. The error meant that the purported lessee was not in fact a legal entity, and Mr Justice Kawaley accordingly ruled that CARTEL yield up vacant possession forthwith. Defence lawyer Charles Richardson asked the court to consider exercising discretion in awarding costs to the winning side, since the first defendant represents a charity. "He's in possession of a lease drafted by a Government Department which he is entitled to assume was validly granted," Mr Richardson added. The Chief Justice noted that while the defendants were required to do their own due diligence in ensuring that the contract was valid, as a practical matter, a charity negotiating with Government is most likely to rely on Government to do the right thing. "It is an extremely unfortunate situation that the defendants find themselves in," he added. The court encouraged the Minister to take public interest into account in requiring the losing side to cover legal costs. "Hopefully, these proceedings will have clarified the law, and will possibly be of assistance to those who draft Government leases in the future, to avoid such matters recurring," he said. Pastor Bean wasn't available last night, and a Public Works spokeswoman told this newspaper it was too early to comment on costs, or possible future uses for White's Island.

April 27. Gasoline prices rose in April, up 1.6 cents a litre, the Finance Ministry announced. As a result, the maximum gasoline retail price displayed on the pumps is 213.90 cents a litre, or $2.13.90. Diesel declined 0.2 cents a litre. Its maximum price at the pump is now 187.80 cents a litre, or $1.87.80. Kerosene also declined, down 1.6 cents a litre. The maximum cost is now 158.60 cents a litre, or $1.58.60.

April 29. The Bermuda life of world-famous writer Mark Twain is to be explored this weekend. One of the world's top experts on the US author whose real name was Samuel Clemens and who penned classics like The Adventures of Huckleberry Finn is to visit the Island to speak about his Aquarium Club of surrogate granddaughters in Bermuda. Masterworks Anne-Marie Walsh said that the company of the young women, some of them Bermudian, who he called his Angelfish filled a gap in the life of an elderly man who had lost both his wife and one of his daughters in the space of a few years. Ms Walsh added: "For a man to whom childhood was perhaps the pinnacle of life's accomplishments and who returned time and time again to that theme in his writing, it makes sense that he longed for the golden days of his daughters youth and perhaps his own." The talk by Dr Cindy Lovell, executive director of the Mark Twain House and Museum in Hartford, Connecticut, will also feature a reception and premiere of the updated exhibition on Twain's long breaks in Bermuda, Ever The Twain Shall Meet, at the Masterworks gallery in the Botanical Gardens. Ms Walsh said Twain began his Aquarium Club who were all given Angelfish pins in 1905, the year after his wife Olivia died. She added: "Members aged 10 to 16 were called Angelfish after the brilliant species found in Bermudas waters. Clemens was an avid correspondent with his Angelfish, who he called pretty and sweet and innocent dear young creatures to whom life is a perfect joy and to whom it has brought no wounds, no bitterness and few tears. They traveled around the Island with him and they went to visit him at his home in Hartford. The death of his wife and daughter left him feeling very alone. In coming to Bermuda and befriending the Angelfish, he was fulfilling his aspirations of being a grandfather. He spent most of the last six months of his life in Bermuda it was his personal paradise, really. Twain wrote in 1908: "I had reached the grandpapa stage of life; and what I lacked and what needed, was grandchildren, but I didn't know it. I am the richest man that lives today, for I select my grandchildren, whereas all other grandfathers have to take them as they come, good, bad or indifferent." In 1909 and 1910, shortly after the sudden death of his daughter Jane, Twain stayed with the Allen family at Bay House, on Old Slip Lane, Pembroke, which still stands today. He befriended a daughter of the family, Helen, The Twain exhibition features pens used by Twain and one of the shirts that formed part of his trademark white suit. It also features material on loan from the Hartford museum, where Twain lived with his family between 1874 and 1891, and other items from the Bermuda National Trust, including photographs. Twain visited Bermuda eight times between 1867 and 1910. The lecture runs from 3.30pm to 5pm this Saturday, followed by the reception and preview of the Twain exhibit. Tickets cost $10 for Masterworks members and $15 for non-members. Space is limited. To book tickets, call 299-4000.

April 29. An application to redevelop the Pink Beach property in Smiths has been criticized over plans to limit access to the property's eastern beach. Guests of the proposed resort and residents of the neighbouring Hidden Cove property would be able to use a beach on the western side of the property, but a larger beach to the east would be reserved for a private residence to be built on the property. In a letter of objection, Dolores Beraldo-Vasquez of DBU Consulting, writing on behalf of Hidden Cove Ltd, expressed serious concerns about the proposal. She wrote that Hidden Cove does not object to the redevelopment of the property, but is worried about the future of the eastern beach. According to the application, the beach would be accessible only by residents of a large residential property to be erected on that side of the site. That residence will be part of the hotels inventory six-months of the year for the first five years of the hotels operation, after which it will become purely a private residence. Ms Beraldo-Vasquez argued that the move would not only limit access to the eastern beach, but place additional pressure on the smaller western beach which would be servicing both hotel guests and the residents of Hidden Cove. She also expressed concerns about the negative impact on Hidden Cove, noting that the plan as submitted has the hotel, the beach club and several other elements close to the western border. A revised plan was received by the Planning Department earlier this month, but Ms Beraldo-Vasquez said it introduced nothing to mitigate the concerns. She wrote: "The applicant wishes, and secures by design, to protect the privacy and setback from the more bothersome hotel aspects for the private residential compounds, while locating nuisance items near the wester lot line only 15 feet away from the homes of Hidden Cove residents. This now includes the vent stack for the sewage treatment plant, which will be placed on the hotel managers dwelling unit." The Bermuda Environmental Sustainability Taskforce did not object to the application, stating in a letter to the Planning Department it was encouraged that Bermuda may soon have a new tourism site. However, it asked the Development Applications Board to consider concerns about both the use of tourism-zoned property to house residential units and the blocking of guests from using the eastern beach. "We continue to be surprised that the high end tourists that will be targeted will be denied access to the high end beach," the group wrote. Vicki Steele, of C12 Global Investments Ltd, representing property owner Sardis Development Ltd, said the eastern beach is already private, and the sale of the residential unit is vital for making the redevelopment project economically viable. "Absolving $6.75 million of the initial land acquisition cost will ease the debt servicing burden of the hotel operations, allowing a viable operating model necessary for any hotel redevelopment project. The creation of a private residence generates enough additional value to make the overall project viable. In a market such as Bermuda, the high-end nature of the property means that the beach must be for the sole use of that residence." She also offered assurances that the residence will be built either after the hotel or simultaneously with it, writing: It would be impactful to defer heavy construction until the hotel is actually built as having construction site on the doorstep would be highly detrimental to efforts to establish the hotel at the very top end of the destination resort market. The $51.5 million development is set to include a 34-room hotel with two restaurants, six guest condominiums, two guest suites, gym and spa facilities, a new beach club, two swimming pools and the large residential unit.

May 2. Bermuda-based property and casualty insurer Lancashire Holdings Ltd posted a 47 percent rise in first-quarter premiums written, helped by its purchase last year of rival Cathedral Capital Ltd (also Bermuda-incorporated). Lancashire chief executive Alex Maloney, who took the helm last week after the retirement of Richard Brindle, said the company was likely to return a substantial portion of earnings to shareholders later in the year. But shares in Lancashire, which insures oil rigs, ships and aircraft, fell as much as 3.6 percent yesterday morning amid uncertainty about how much of the company's profits would be returned to shareholders after the purchase of Cathedral. "There is a shift in the business model so it makes sense that they may not pay out a 100 percent of earnings, but I still think there are a lot of investors who bought into Lancashire expecting that kind of return," Berenberg analyst Tom Carstairs told Reuters. A spokesman for Lancashire said the insurer returned about 88.4 percent of earnings to shareholders last year. Lancashire acquired Cathedral, which insures property, satellites and marine cargo, in August 2013 for 266 million ($449 million), a deal that took it into the Lloyds of London market. The Bermuda Class of 2005 start-up said gross premiums written rose to $316.7 million in the three months ended March 31 from $214.9 million a year earlier. Net premiums written rose 72 percent to $204.4 million, while pretax profit fell to $57.4 million. Lancashire shares fell as low as 675 pence on the London Stock Exchange before recovering to 684 by 3.35pm GMT.

May 2. The largest catastrophe bond transaction in history completed today and was admitted for listing on the Bermuda Stock Exchange (BSX). The $1.5 billion issuance through Bermuda special purpose insurer Everglades Re Ltd, will provide reinsurance coverage for Florida's state-created property insurer Citizens. The 2014 transaction is the third transaction with Everglades Re in the past three years, including an outstanding $250 million catastrophe bond issued in 2013. The historic deal marks another milestone for the Island's insurance industry and cements Bermuda's place as the world leader in the insurance-linked securities (ILS) market. By the end of this years first quarter, the BSX passed the $10 billion mark in total volume of insurance-linked listings of catastrophe bonds, ILS and insurance linked investment funds. Two weeks ago, BSX CEO Greg Wojciechowski said new catastrophe bond securities listed on the BSX up to that point this year had added $1.123 billion to the total listed volume. The Island is at the centre of an influx of the alternative risk transfer market, the growth of which has resulted in an ever-greater share of the property-catastrophe reinsurance market being claimed by third-party capital from traditional reinsurers. Citizens has said the 2014 transaction provides coverage on an annual aggregate basis over the next three years, protecting the Sunshine states insurer of last resort from multiple smaller storms, unlike its previous capital market risk transfers that provided single-event coverage only. Citizens also expects to purchase of approximately $1.3 billion in coverage for the 2014 hurricane season. Steve Evans, founder of the Artemis.bm website, which publishes news, commentary and statistics on the alternative risk transfer market, said the completion of the massive Everglades Re transaction was a ground-breaking moment for the cat bond market. It's not just the size of the transaction that matters, although a $1.5 billion boost to first half issuance could see 2014 on its way to a record for the year, it is the fact that this transaction has received so much mainstream press and will have significantly raised the cat bond market profile among other potential new sponsors and investors. Having sponsors like Citizens in the catastrophe bond market raised the profile of the cat bond markets profile. As sponsors like Florida Citizens become increasingly committed to using the capital markets within their reinsurance arrangements we can expect others to take note and seek to follow suit. One day we might see multiple cat bonds of $1 billion-plus issued each year, there are enough large reinsurance programmes out there which could tap the ILS market if they wanted to.

May 3. The path to Bermuda status for holders of Permanent Resident Certificates just got easier, under a ruling delivered yesterday at the Supreme Court. The judgment by Chief Justice Ian Kawaley undoes a legal precondition so confusing that Mr Justice Kawaley likened it to Lewis Carroll's fantasy of Alice in Wonderland. PRC holders Rebecca Carne and Antonio Correia initially had their applications for Bermuda status refused by Government, but the Immigration Appeals Tribunal later found they were entitled to status. That decision was subsequently challenged by Home Affairs Minister Michael Fahy. However, in an almost 50-page judgment, Mr Justice Kawaley has dismissed that appeal, noting that the legal test had also served to clarify an obscure area of immigration law. Lawyer Peter Sanderson welcomed the ruling, telling The Royal Gazette: "This means that permanent residents who were here since July 31, 1989 will, as long as they are of good character, be able to apply for status. It helps people who've lived most of their lives in Bermuda to apply. This whole case is about clarifying what the law means and how people are supposed to go about applying. Permanent residency, introduced in 2002 by the Progressive Labour Party, creates a whole class of people who can use this section of the Immigration and Protection Act 1956 to apply for Bermuda status." The Act was amended in 2011 to create the Immigration Appeals Tribunal, thus providing applicants with an independent body to appeal decisions by the Minister. The Act also contains, in Section 20(B), a basis for PRC holders to bid for status. The two respondents in the case, who received their PRCs in 2009 and 2007 respectively, contacted Immigration in 2012 to query the procedure, but were told that no standard application forms existed through 20(B) because "it has not been used in quite some time now." In his judgment, Mr Justice Kawaley called the Act "a classic instance of uniquely local legislation. Navigating through it often gives even the experienced judge or practitioner an unnerving sense of what it must be like to fly blind." Although some areas of the law have been brought repeatedly before the courts, Mr Justice Kawaley said: "Section 20B (2)(b) is not one of those familiar provisions. Mr Sanderson appears to be the first lawyer for many years to have discerned the beauty in these sleeping provisions, and to have been inspired to seek to bring them back to life." In considering the law as cited, the Immigration Appeals Tribunal found that Ms Carne and Mr Correia faced a catch-22: they were allowed to apply for status, but only under the stipulation that they were "already approved for the grant of Bermudian status." The Tribunal struggled to give any sensible meaning to the phrase and deemed that it has no demonstrable relevance, opting to disregard it. However, as of 2013, Home Affairs refused the two applications on the grounds that they hadn't been approved before their naturalization was granted. In his judgment, Mr Justice Kawaley quoted a 1994 Explanatory Memorandum for section 20B (2)(b) that showed it had been added to the Act 20 years ago with the aim of remedying a confusion of the law between naturalization and applying for status, since many applicants assumed they had already obtained status through as a result of naturalization. Mr Justice Kawaley called it "a classic illustration of a case where what Parliament has enacted achieves a contrary result to what Government apparently intended. For the Minister to turn down the applications for status on the sole grounds that the two hadn't been approved for status before getting naturalized had an Alice in Wonderland air to it." Mr Justice Kawaley thus affirmed the Immigration Appeals Tribunal's decision. Accepting the decision on Government's behalf, lawyer Phil Perinchief said the finding would act as a benchmark and a compass for future litigants appearing before the Tribunal.

May 3. Bermuda's children suffer from higher rates of asthma and urinary infections, a top US doctor said yesterday. Dr Stuart Bauer, of Boston Children's Hospital, added that urinary tract infections including reflux, where urine backs up into the kidneys and can cause kidney failure and asthma are more common on the Island than in the US. He was speaking as a team of pediatric specialists from the hospital prepared to hold a two-day seminar for Island doctors and nurses to promote better links and childcare. Dr Bauer, a 37-year-veteran of the Harvard University teaching hospital, said: "The pulmonary specialist said that asthma is much more common in Bermuda than what he generally sees. From my point of view as a urologist, given the size of the population and the number of patients I see with urological problems, urinary tract infections and reflux are probably more common than in an across-the-board area with 60-odd thousand people elsewhere. Perhaps its more prevalent because they are much better clinical observers. Urinary reflux was seen in about one percent of the population in the US. It seems to be a bit higher in Bermuda,. If you detect it and manage it carefully the children don't get repeated infections or damage to the kidneys damage to the point where they need transplantation. It's generally due to an anatomical problem they're born that way. They often present with urinary infections or show swelling of the kidneys on a prenatal ultrasound scan. And Dr Bauer said that the standard of child healthcare on the Island was high. "It's a very stable population, all the pediatricians are very good and I know a number of them come to Boston's Children's Hospital to learn some new things when we have postgraduate courses so they remain up-to-date in their abilities. If we can train more people to do various kinds of testing that are relatively easy to do on the Island, it would help reduce the need to send children up for relatively simple things. I think the care of the pediatricians here is great in general, they are very good. The quality of care in Bermuda could be judged by the timing of referrals. I have always been impressed they send the patients for further investigation at the right time, Dr Bauer said. The pediatricians here are all exceptional. I can't say the same for other places we also see people from." Dr Bauer is in Bermuda with seven other specialists covering various specialties and paediatric nurses for the seminar, to be held today and Saturday at the Hamilton Princess. "The purpose of the visit is to help improve our relationship with our doctors and primary care practitioners in Bermuda. With Children's Hospital, we have a great resource in Boston with all the specialists and everything and were trying to improve efficiency in patient care and help the doctors here who see children. At the same time, we want to help them manage children in a better way so they don't have to go off Island until we have exhausted all the resources there are in Bermuda. If this is successful, we have other specialists, so we can have somebody with diabetes experience talk about it if that's what the pediatricians want.

May 6. The contract on Bermuda's new hospital wing has resulted in substantial losses for a major UK construction firm, according to The (Daily & Sunday) Telegraph, one of the UK's most prestigious newspapers. However, the Bermuda Hospitals Board (BHB) last night responded to that the project remained squarely on budget. The British newspaper yesterday reported that Sir Robert McAlpine Holdings has reported a pre-tax loss of 37.7m for the financial year ending October 31, 2013 versus a 19.2m profit reported for the previous year. The company, which was behind the London 2012 Olympic Stadium, has been left deep in the red on the £ sterling 176 million contract for the acute care wing at King Edward VII Memorial Hospital (KEMH). McAlpine Holdings is described as the umbrella company for the family's construction portfolio. Operating profits declined from 17.4m in 2012 to a loss of 40.2m. Company directors ascribed the fall in takings to the company's support for the Bermuda-registered BCM McAlpine Limited, which is the main contractor for the project. Severe problems with design and performance caused losses that were covered by a 50m stipend fronted by Sir Robert McAlpine Holdings. The Telegraph quotes company director Ian McAlpine as saying business was severely impacted by the difficulties encountered on the King Edward VII redevelopment. The construction of the new acute care wing is the Islands first public-private partnership, between BHB and Paget Health Services. Paget Health is a consortium of local and international companies, charged with building, financing and maintaining the new hospital wing over the next 30 years. Under the arrangement, cost overruns are to be carried by the contractor, and not by BHB. According to the UK newspaper, BCM McAlpine has significant claims outstanding from the project and owed the holding company 18.8m as of October 31 last year. The new acute care wing, originally slated for completion in March, is currently projected to be completed by mid-September of this year. A BHB spokeswoman said the organization had no comment on The Telegraph's story, adding: "The new wing is on track to be completed on budget and to the contracted quality standards and specifications. We look forward to opening our doors to the public this September."

May 7. Malika Musson has been named the new executive director of the Bermuda Hospitality Institute (BHI). Ms Musson, who has been involved with the tourism industry for nearly two decades, will start her new position on May 27. BHI board chairwoman Muriel Richardson said yesterday: "Malika's passion for, and commitment to, the hospitality industry made her the ideal candidate for this position. Her wide reaching experience will help ensure a seamless transition as the organization continues its vital work on behalf of the industry." Ms Musson has been working as the Country Sales Manager for United Airways, where she has been tasked with expanding the airlines customer base. She has also worked in sales and marketing for the Fairmont Hotels both in Bermuda and New York, had front desk and heart of the house responsibilities at Grotto Bay Beach Resort, worked as marketing officer for the LF Wade International Airport and as public affairs officer for the Ministry of Tourism and Transport.

May 15. A catastrophe insurance pool to insure a group of African countries against drought has been set up in Bermuda. Willis Group Holdings plc, a global broker and risk adviser, said today it had secured $55 million of index-based reinsurance capacity to set up the pool, which takes the form of a new Bermuda mutual insurance company, Africa Risk Capacity Insurance Company Ltd (ARC Ltd). The capital was raised from the international weather risk markets and the pool the first of its kind will issue insurance policies against drought to an initial group of five African countries: Kenya, Mauritania, Mozambique, Niger and Senegal. It will allow member countries to respond quickly to a developing crisis, and rely less on uncertain international aid in times of drought, Willis stated. Teams from both Willis Re and Willis's Global Weather Risks Practice were involved in shaping the structure of ARC Ltd's reinsurance programme. David Simmons, managing director of analytics at Willis Re, said: "The underlying insurance policies issued by ARC Ltd are cutting-edge index-based coverages, with parametric triggers tailored to reflect each country's specific rainfall requirements for growing staple crops. The calculation of claims to the programme is based upon satellite rainfall data which is used to objectively determine whether a drought has occurred. This then allows claims to be calculated quickly, and as a result, funds can be deployed in a timely and efficient manner. This is one of the first times in Africa that the reinsurance process has become such a key instrument in achieving humanitarian and development goals." Julian Roberts, executive director of Willis's Global Weather Risks Practice, said: "A mechanism such as ARC Ltd demonstrates the very best of what can be achieved when governments and the re/insurance sector work together, and has the potential to increase the resilience of African countries to the climatic challenges which they face." Claire Wilkinson, partner of Willis's Global Weather Risks Practice, added: "We noted significant appetite for this risk from both the reinsurance and index-based weather market, which were very keen to support something so innovative and ground-breaking. Despite keen pricing, the core layers of the programmes were around three times over-subscribed. It is heartening to see so much support from the re/insurance industry for a project that has the potential to do so much good."

May 15. The Bermuda Post Office released this new First Day Cover and stamps featuring Bermuda's Bluebirds.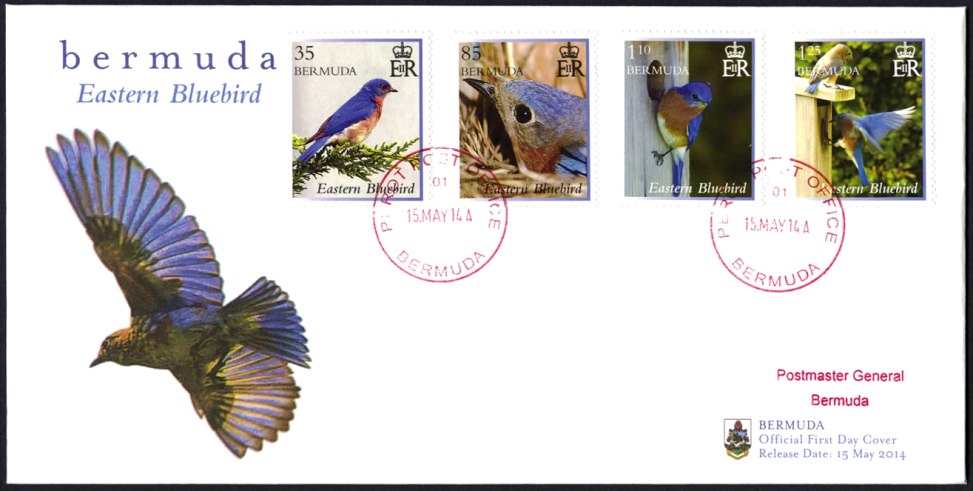 May 15. London-based investment manager Securis Investment Partners LLP has opened a new office in Bermuda. The insurance-linked securities (ILS) specialists saw five entities registered during April, according to the Bermuda Monetary Authority's (BMA) monthly insurance incorporation statistics, as they established their presence on the Island. Rob Procter, chief executive officer of Securis based in London's city insurance district was in Bermuda last week, and met with The Royal Gazette along with Paul Larrett of the investment company's non-life arm, and who is setting up the Bermuda office. Mr Procter, who said they were happy and excited to be in Bermuda, explained Securis representatives had already been regular visitors to the Island, but had found that they needed a presence here. "Bermuda is very important to the world reinsurance industry, particularly to access US business. The ILS community is well established in Bermuda, and we are one of the largest of the ILS firms, the fifth or sixth in the world, and the largest in London. Now in Bermuda, Securis have registered special purpose insurers (SPIs) Securis Re I Ltd, Securis Re III Ltd and Securis Re IV Ltd, as well as intermediary entities Securis ILS Management Ltd, an agent, and Securis ILS Management Ltd, a manager. The size of the office will remain small for now. In Bermuda, we have one person, Paul Larrett. " Mr Larrett knows the Island well, having lived here between 2003 and 2012. A colleague will be joining him in August, but otherwise, he explained: "We want to put some business on our books before staffing out. We want to get the business, then build the platform to support it. If we employ anyone in the near future it will be a catastrophe modeler, and depending on how things go, in the future we may add other staff members to the team, such as an office manager or a quantitative analyst." However, the executives say Securis, which is setting up its presence in O'Hara House on Bermudiana Road, will contribute to the economy as they spend on local IT, telecommunications and entertaining clients and brokers who come to the Island to meet with them. Mr Procter said their dealings with the Government and agencies were positive. "The regulator welcomed us with open arms We are pleased with the BMA in particular, and various service providers for helping us. The ILS sector has definitely become more competitive, as investments, they've become more mainstream. However, we are entering a more competitive period. There's still plenty of room for growth. 70 percent of catastrophe losses are uninsured. That's why I'm excited. We have a great business in London, but you ultimately have to be in Bermuda as well."

May 17. The Opposition Progressive Labour Party is seeking to strike down a loophole in immigration law allowing for the grant of Bermuda status to applicants with the least connection with Bermuda. A clause recently used to confer status on two permanent residents certificate (PRC) holders could be deleted from the Act under the proposed change to the law. The Bermuda Immigration and Protection Amendment Act 2014 seeks to delete the Act's entire provision for the Minister to grant Bermuda status to people who resided on the Island before July 31, 1989, and who had at least one Bermudian parent, and were born locally or first arrived in Bermuda before their sixth birthday; or are British Dependent Territories citizens by virtue of a grant by the Governor. For PRCs, applicants must also have lived in Bermuda for ten years at the time of application and, among other stipulations, show that they are of good character. However, the implications of the section specifically, 20B (2)(b) took many by surprise when Chief Justice Ian Kawaley earlier this month upheld a decision by the Immigration Appeals Tribunal for PRC applicants Rebecca Carne and Antonio Correia to get full status. Shadow Immigration Minister Walton Brown announced yesterday that the Progressive Labour Party would seek to remove all of section 20B. Moving for leave to introduce and read the Bill at the next sitting of Parliament, Mr Brown told MPs it was aimed at bringing legislation in line with Government policy since 1989. According to its explanatory memo, the Bill would strike down the catch-all criteria granting status to applicants with the least connection with Bermuda, and the greatest potential for harming Bermuda aspirant and real economic and social well being as well as closing a loophole in the law.

May 19. Four Bermuda Hogge pennies sold for a combined total of $658,000 over the weekend. The coins were auctioned off by 102-year-old US numismatist Eric P Newman, a world-renowned collector whose previous collections have sold for upwards of $24 million. Proceeds from the sale will benefit the Eric P Newman Numismatic Education Society that was founded in 1958. Mr Newman sold a Sommer Islands Twopence for $64,625; Threepence for $205,625; Sixpence for $129,250; and Shilling for $258,500. The coins were all struck between 1615 and 1616.

May 19. Bermuda beat out competition from Switzerland to become the domicile of the first-ever African catastrophe insurance pool, Economic Development Minister Grant Gibbons told MPs today.

The ARC Insurance Company Ltd is a mutual insurance company established on the Island to provide drought coverage for five African countries: Kenya, Mauritania, Mozambique, Niger and Senegal.

The company was set up by African Risk Capacity (ARC), a specialized agency set up by the African Union to help member states become more financially resilient to extreme weather events and to protect insecure food populations. The capital was provided by the governments of the UK and Germany.

"I am pleased to say that Bermuda was selected over Switzerland as the best jurisdiction to locate this mutual insurance company after careful due diligence by a number of international agencies," Dr Gibbons said in the House of Assembly. "It is possible that at some point in the future, the company may consider re-domiciling to Africa, depending on the wishes of the members and directors."

Dr Gibbons revealed that ARC officials had visited Bermuda several times during the past 18 months, for talks with himself and financial regulator the Bermuda Monetary Authority. Marsh IAS, the insurance manager in Bermuda, Willis Group as reinsurance broker, and Appleby Bermuda, who assisted with ARC Ltd's incorporation, are among others involved with the new company. "Bermuda's participation in this co-operative approach to assisting African countries is a strong vote of confidence for our country," Dr Gibbons said. "Not only will ARC Insurance Company be domiciled here, but our involvement in the development of mutual insurance to assist African countries will provide targeted responses to disasters in a more timely, cost-effective and transparent manner. We are at the forefront in the formation of a fund that facilitates financial stability in instances where other insurance options are not available.

In addition to the reputational benefit for Bermuda as the host jurisdiction, we believe there may be future opportunities for commercial business and jobs. Africa represents one of the fastest growing economies and there is clearly a potential for other insurance business being located in Bermuda."

The insurance policies issued this month by ARC Ltd will provide a total of approximately $135 million in drought insurance coverage tailored to the specific requirements of the insured countries. In addition to its own capital, ARC Ltd has secured US $55 million of capacity from the international reinsurance and weather risk markets in order to cover the risks it is taking on from the participating countries.

The ARC Agency said the new insurance pool would make disaster-stricken African countries less reliant on international aid and also avoid the scenario of having to divert funds from important development projects to deal with an immediate crisis.

Henry Rotich, Kenya's Cabinet Secretary for the National Treasury, said: "Droughts undermine our hard-won development gains, just as Africa is beginning to realize its vast potential.

ARC will help us build resilience among vulnerable populations, protect our agriculture investments, thereby increasing productivity, as well as promoting fiscal stability by preventing budget dislocation in a crisis."

Nigeria's Finance Minister Okojo Iweala, chairman of the ARC Agency Board, described the formation of the Bermuda-based catastrophe insurance pool as a "transformative moment in our efforts to take ownership and use aid more effectively.

It is an unprecedented way of organizing ourselves with our partners, with Africa taking the lead taking our collective destiny into our own hands, rather than relying on the international community for bailouts."

Dr Gibbons told MPs: "I believe all Honourable Members can be proud that Bermuda and our on-island expertise have played such a key role in this important international initiative."

May 21. The Elbow Beach Resort has reopened as an independently managed property under the direction of the Burns Group. The news comes two months after the management contract with the Mandarin Oriental Hotel Group expired and was not renewed. Burns Group is led by veteran hotelier Edmund Burns, who has more than 30 years' experience in the industry. "This resort has all the assets needed to be successful," Mr Burns said in a press statement. "Not the least of which is the best private beach in Bermuda, as well as a world-class spa, outstanding dining options and a strong staff of dedicated professionals." Mr Burns noted that business is set to be brisk at the resort during the coming months. Elbow Beach has 98 guestrooms and suites spread among 50 acres of gardens. Mr Burns has a track record of hotel revitalization. He has participated in the development, construction and opening of more than $2 billion of hotel real estate, more than $1 billion in acquisitions, asset management of a $1 billion hotel portfolio, and the repositioning and renovation of numerous high-profile hotel properties, according to the press statement. Mr Burns said: "We are dedicated to being the hotel of choice in Bermuda for the business traveler whether hosting board meetings, conferences or leisure functions or coming to stay for whilst on business. We are also dedicated to making Elbow Beach Bermuda the resort of choice whenever the leisure traveler selects their travel destination and we are committed to invest our resources to make this happen. "We have an incredible location on one of the world's most beautiful islands, which also happens to be less than a two-hour flight from a potential customer base in some of the most affluent cities in North America."

May 22. A garden honoring the "Double Fantasy" flower that inspired John Lennon's final album has been awarded a bronze medal at the Chelsea Flower Show in London. The Bermuda Double Fantasy Garden was created by floral artist and architect Nicky Gurret, incorporating a palette of local flowers and also paying homage to the Fairmont Hamilton Princess Hotel, which celebrates its 130th anniversary next year. Appearing at the show on Monday, Ms Gurret dressed up as Queen Victoria's daughter Princess Louise, after whom the iconic Bermuda hotel was named. The Chelsea Flower Show is the most famous event of its kind in the UK, and visitors to the Bermuda Double Fantasy Garden have been treated to many aspects of the Island, such as its verdant landscapes and pink sand beaches. The garden also honours Mr Lennon, the former Beatle, who stayed in Bermuda for two months during the summer of 1980 and wrote and worked on songs that were released on his final album later that year. The album was called Double Fantasy after the name of a freesia he came across while visiting the Bermuda Botanical Gardens. Ms Gurret draws inspiration from Bermuda's flora and fauna. Plants typically found in Bermuda, such as the hibiscus, the Bermuda Easter lily and palms feature in the garden display. Her career as an architect has helped Ms Gurret to create structural gardens and floral arrangements. She obtained a licence to exhibit a copy of a watercolour that Princess Louise painted while in Bermuda in 1883. The replica of the watercolour was placed on the easel in garden. Ms Gurret has exhibited at the Chelsea Flower Show four times in the past: three times in floral arranging and once in creating a garden for The Grand Pavilion. On each occasion her displays have won medals. In 2005 she was awarded a bronze for 'A Glimpse of Paradise' display. In 2007, her second exhibit, 'Floral Profusion' achieved a silver medal. The 2009 entry won a silver gilt with a structural floral design titled, 'Thoroughly Modern.' Her most recent exhibit received a silver medal in 2011, which was a garden design called, 'The Bermuda Honeymoon Garden,' created in collaboration with the Department of Parks. Ms Gurret has won several other floral design awards, such as first place at the NAFAS National Show in Bournemouth for her flower arrangement titled, 'On a Wing,' as well as winning the Bermuda NAFAS cup on several occasions at the annual Bermuda exhibition. She has exhibited numerous times in The World Association of Flower Arrangers, which takes place every four years and this June takes place in Dublin, Ireland where she will exhibit again. The Chelsea Flower Show continues at London's Royal Hospital until tomorrow.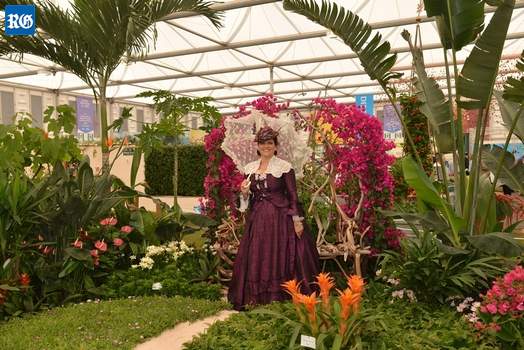 Nicky Gurret and her Chelsea Flower Show prize-winning garden
May 23. Bermuda's House of Assembly formally approved Wedco's grant of a 99-year lease, on a peppercorn (cannonball) rent, to the National Museum for the surviving 15.78 acres of the Dockyard fortifications, from Commissioner's House in the east to Casemate Barracks in the west, and the very significant hard Bermuda limestone buildings within. This was a follow-up to the December 2013 assent by Governor of Bermuda George Fergusson of The Bermuda Maritime Museum Association Amendment Act 2013 that officially changed the name of the museum to the National Museum of Bermuda.
May 23. Government is today set to announce a developer has been signed up for the old Club Med site in St George's. Tourism Minister Shawn Crockwell is slated to make a St George's tourism announcement in the House of Assembly this morning. And it is thought it will involve the former hotel site, which has lain unused for years since Club Med pulled out of Bermuda in the 1980s. The site could also become the home of the Island's first casino, if legislation allowing gambling in Bermuda is passed as expected next month. Premier Michael Dunkley yesterday declined to comment on the specifics of the announcement. But he said: "There will be a big announcement that has great potential for Bermuda going forward. I think people are going to see, in spite of some of the clouds of negativity we have seen over the past couple of weeks, the work of Government has still gone on and progress has been made. I'm just excited to hear the Ministerial statement in the House when he reads it out. People need to understand how we get here because a lot of people think you just go and find somebody. There was a tourism summit last summer and we had investors from all over the world who came to the table and talked to us about what they thought Bermuda needed to attract people, what type of facilities Bermuda needed. Out of that, the request for proposals was put together for the East End facility and we've worked through that process. The Minister for Tourism Mr Crockwell today must feel tremendously satisfied that he's in this position." Mr Crockwell also declined to comment on details of the deal. But he said: I'm very excited we can make this announcement despite what's been going on, we've been hard at work and I think its going to be a very exciting announcement." St Georges North MP Kenny Bascome, a former Mayor of the Old Town, said: "St George's is the jewel of Bermuda. There are a number of small entrepreneurs that have opened in St George's. they must have some kind of vision that something is going to happen. I hope things work out to allow them to be successful." The former hotel lay derelict for 20 years until the building was demolished with explosives in 2008 and the site cleared.
May 23. A Bermuda investment-holding entity is at the centre of a US criminal legal case that has resulted in hedge fund managers pleading guilty to a federal conspiracy charge on Wednesday. Three former executives of a Ridgefield-based hedge fund have admitted to charges stemming from a scheme to defraud investors. The now face a maximum term of imprisonment of five years. According to the Connecticut Post in an online posting yesterday, David Bryson, 45, and Richard Pereira, 42 of Ridgefield and Bart Gutekunst, 62, of Weston, entered their pleas on Wednesday in US District Court in New Haven. The men were executives of New Stream Capital LLC. Bryson and Gutkunst were managing partners and Pereira was the chief financial officer, according to the Connecticut newspaper. The Connecticut Post reported that the investigation was conducted by the FBI along with the US. Department of Labor and the Securities and Exchange Commission. According to the indictment and statements made in court, New Stream launched new feeder funds, one based in the United States and a series of funds based in the Cayman Islands. New Stream announced that its existing Bermuda Fund would be closing, and all foreign investors would have to move their investments into the Cayman Fund. Rather than transfer into the new structure, New Stream's largest investor placed a redemption on its whole investment in the Bermuda Fund. At risk of losing their largest investor, it is alleged the three men set in motion a scheme to secretly keep the Bermuda Fund open and give priority to Bermuda Fund investors in an effort to reverse the redemption. As part of the scheme, New Stream staff secretly re-organized the fund structure so as to effectuate the priority change. The Connecticut Post stated the indictment further alleged that New Stream failed to inform investors who had transferred from the Bermuda Fund into the Cayman Fund that the Bermuda Fund was remaining open or that it was being given priority over the Cayman Fund. Moreover, New Stream continued to market New Stream to investors by concealing from them the magnitude of the actual pending redemptions and by using deceptive marketing materials that failed to disclose the existence of New Streams Bermuda Fund. According to the newspaper, they were charged with cutting a secret deal with its biggest client and grabbing millions in fees as their $750 million hedge fund sank in 2008. It reported that according to the governments case, as the 2008 financial crisis deepened, New Stream faced $545 million in redemptions and suspended redemption requests and ceased raising new funds. New Stream filed for bankruptcy protection in 2011 and left investors with virtually nothing, according to SEC claims. A federal grand jury sitting in New Haven had originally returned a 19-count indictment charging three executives with conspiracy, securities fraud and wire fraud offences. The SEC had also filed a civil complaint against the men. Each of the defendants was charged with one count of conspiracy, 10 counts of securities fraud and eight counts of wire fraud. The defendants had pleaded not guilty to the charges of lying to investors about the status of its offshore funds at that time. When the three men were first arrested, according to the same newspaper, a lawyer from the US Attorneys Office had stated: "As alleged, fearing the loss of their funds largest investor, these defendants orchestrated a scheme to deceive investors in order to obtain and maintain investments." An FBI special agent was quoted as saying: "It goes without saying that investing carries certain risks. Those risks, however, should not include any chance that hedge fund managers or other investment professionals are lying to or deceiving their investors about the current state of investments. Investors have a right to full disclosure. Today's arrests underscore the FBI's continuing commitment to investigate those who provide material misrepresentations to investors."
May 24. The latest tourism figures show visitors staying longer during a traditionally quiet time for arrivals and airline capacity has also grown, according to the Bermuda Tourism Authority. The BTA yesterday published its performance statistics for the Island, showing a 1.9 percent rise in room nights booked for the month of March over last year, from 22,985 to 23,416. For the year to date, room nights have risen just over one percent, from 52,147 to 52,672. Hotels average daily rates for the year to date rise three percent over last year, with revenue per available room up by 7.2 percent, according to figures published online at the BTA site. The organization called the next year promising, with 7.5 percent more room nights booked over last year. Group room nights rose 12.5 percent. Air visitor arrivals for March dropped 1.9 percent against last year: 15,015 versus 15,309 and year to date arrivals dropped from 31,300 to 30,971. Airline capacity has risen for the year to date: available seats rose from 106,144 to 110,826. Bill Hanbury, CEO, called the rise in room nights during a period of decreased arrivals an accomplishment, showing that visitors were staying longer and spending more at the Islands hotels. "It is also important to note that the increase in airline capacity shows confidence that demand for Bermuda and performance in the future will increase," Mr Hanbury said.
May 24. A PLP Government would ditch the new independent Tourism Authority and take its work back in-house or make it find its own funds, said Opposition leader Marc Bean. The current arrangement with the Tourism Authority will change and change immediately, he said. He added he was not prepared to go into details of any changes that might be made. But he promised the authority would either absorbed back into Government proper or truly have it privatized. Mr Bean was speaking as MPs debated the Budget allocation for tourism which included $23.1 million to fund the new authority. Tourism Minister Shawn Crockwell told MPs that the new authority, which replaces the Government-run Department of Tourism, was a game-changing advance. Mr Crockwell said: "I believe it's historic for Bermuda and I believe it will be the watershed for how tourism is managed and I believe we will see fantastic results going forward. The traditional approach to tourism had not produced results in terms of increased visitor numbers to the Island. This is not the fault of any particular Government or any particular Minister, but the Government believes the methodology of how tourism was managed was broken."
May 24. Bermuda has been named the eighth most affordable Caribbean destination for US travelers between the months of March and April this year by the world's largest travel website, TripAdvisor. The online travel agency has also announced its readers voted Horseshoe Beach the sixth out of the 25 best beaches in the Caribbean. A cost-comparison for a family or group for four traveling to 20 of the most popular Caribbean destinations for US residents took into account travel expenses, including the average round-trip airfare from the continental US, a seven-night hotel stay, dinner for six nights and a half-day snorkeling excursion for four. Though the cost-comparison ranked Bermuda as the eighth-cheapest destination, the average hotel cost was the highest out of the nine other destinations at $2,577.82, while the average costs of a round-trip flight for four to Bermuda was the second cheapest at $2,067.64. Dining was also the most expensive in Bermuda, costing an average of $1,158.84, while the average cost of a snorkel trip was the fifth cheapest in Bermuda at $260. The average cost for a one-week trip for a family or group of four traveling to Bermuda during the spring travel period is $6,064.30, compared to an average of $7,152 for all other Caribbean destinations. The average cost for round-trip flights throughout the Caribbean is $3,253 and $2,772 for one week in a hotel. The average nightly rate for a Caribbean hotel during March-April is $396, compared to $368.26 in Bermuda. The costliest stays are in St. Barts, where the average nightly rate of $844 is more than two times the average for the region.
May 24. The building of a resort at Morgan's Point, starting with a boutique 84-room hotel, has won bipartisan support with the approval of a fresh land agreement for the West End property. Developer Craig Christensen called the passage of the Morgan's Point Resort Act 2014 extremely significant in getting the project moving. "We couldn't get financing until the Act was finished, because the land was going to be moved around. We needed this to be passed for us to have certainty that was the critical piece." Mr Christensen said the new land agreement helps Government on the remediation side and makes a better plan for us, adding: "This makes it more nimble for us to finance." Originally broken into seven packages of land, the brownfield site overlapping Southampton and Sandys parishes is now subdivided into 37 pieces. Mr Christensen, along with developers Nelson Hunt and Brian Duperreault, now has just over 183 acres of land on the former US Naval Annex. The group will be able to proceed with a small hotel in the Georges Bay area, which Mr Christensen likened to Tuckers Point in terms of size. The resort will no longer proceed with a golf course, and gives up 31.5 acres from its leasehold, but Mr Christensen said there was little issue given the proximity of Port Royal Golf Course, to which Morgan's Point clients will have access under the new agreement. "It's right across the street from us and it would have been pointless to go into competition with Port Royal. Otherwise, the development plans have not really changed." The new plan leaves out a modest-sized third hotel catering to yacht owners. After completing the boutique hotel, however, developers are committed to putting a 416-room luxury hotel out on the peninsula. Public Works Minister Patricia Gordon-Pamplin told MPs on Friday that the Act mean withholding 31.5 acres from leasehold and relinquishing 6.2 acres in the freehold section, such that the developers will now have a total of 183.1 acres, as against a total of 208.4 acres in the original Act. "This adjustment allows the Government to remediate the property that is not part of the revised boundaries," Ms Gordon-Pamplin said. The site's former occupant left underground pollution in the form of jet fuel plumes, and significant environmental damage to Basset's Cave, with the top culprit being steel fuel tanks that were buried in the ground where salt water corroded them and caused leaks. Government has agreed to cover the cleanup, but is no longer required to execute it to residential standard, which would have been prohibitively expensive. Environment and Education Minister Grant Gibbons, familiar with the site from his role under the United Bermuda Part administration in the 1995 handover, said Government would now be committed to the New Jersey residential standards of cleanup. "That's a very credible standard that works for the Morgan's Point developers," Dr Gibbons said. It also allows Government to address other areas, like Bassett's Cave, where the expenses are frankly still unknown. The new agreement carves out these polluted pockets of the site, and exempts Government from cleaning them to a residential standard making it recreational standard instead. "That represents a very large saving for the taxpayer," Dr Gibbons said. The new agreement got a warm reception from the Progressive Labour Party, with Shadow Works Minister Derrick Burgess telling the House: "That area up there will have to be a showpiece for our hotel industry in Bermuda, just like Atlantis is in the Bahamas." Mr Burgess praised Mr Hunt in particular for keeping the project alive, saying developers planned to have shovels in the ground by later this year. The only point of contention were estimates for the original cleanup costs: Mr Burgess said one consultant had told Government it could have potentially cost $700 million to clean up the property. "You have to watch these people, they rob us," the Hamilton East MP said. Dr Gibbons told MPs that the 2011 agreement signed by the PLP had caused delays to the project, because the former administrations commitment to clean the entire site to a residential standard would have cost not tens of millions, but hundreds of millions of dollars, it would have broken the back of Government. This drew a furious rebuttal from the PLP's Zane DeSilva, who said his own company had bid on the cleanup. "I can assure you it wasn't in the hundreds of millions," said Mr DeSilva, who challenged Dr Gibbons to table his information. "We're going to have to agree to disagree," Dr Gibbons responded. "The former agreement was unworkable and unaffordable based on what was signed at the time." Mr Burgess called on Dr Gibbons to retract the statement, saying he had no figures to back up the assertion. "Why is this honourable Minister going down this street?" Mr Burgess added. Dr Gibbons maintained that signing to a residential standard cleanup for the worst-polluted areas would have proven impossible to meet. "Government still intends to clean up Bassett's Cave, but not within five years," he said. "These very difficult areas have been taken out of the freehold and leasehold that Morgan's Point are going to do." Asked by The Royal Gazette if he could produce evidence to back up the high figure cited, Dr Gibbons pointed out that Mr Burgess himself had referenced a multimillion figure. "This new agreement allows Government the time and thoroughness and ability to do a careful analysis. We have to do this sensibly. We have to find a reasonable standard for it. I simply don't know any more than that."
May 24. Scores of sporting and cultural events have been given a cash boost of almost $1 million to help them attract more visitors to the Island. The Bermuda Tourism Authority (BTA) has awarded the grants to 33 tourism experiences that enhance Bermudas overall tourism product, raise awareness of the Island, and ultimately get more tourists to visit Bermuda. A total of $930,500 will be invested in the next 12 months, with sporting events picking up the largest proportion of funding. More than $600,000 has been earmarked for 21 major attractions in the sporting calendar, including the Newport-Bermuda sailing race which was awarded $150,000 the World Rugby Classic, and the Bermuda Invitational celebrity golf tournament. Other winners in the sports category include an annual Beach Tennis tournament at Horseshoe Bay, and a number of fishing tournaments. And 11 cultural experiences have also received funding to the tune of $290,500, including historical re-enactments in St George's, the City Fashion Festival and the Chewstick Lounge. The Little Island Big Adventure eco tour group was the one organization in the natural resources category to earn a grant, picking up $10,000 from the authority. Grants averaged just over $30,000. The BTA will provide practical assistance to a further 12 organisations by marketing their products. The authority invited applications from organisations and entrepreneurs involved in the tourism industry at the start of the year. It planned to invest in events and experiences that drive visitors to Bermuda and/or raise awareness of Bermuda, are in alignment with the Bermuda National Tourism Plan, demonstrate a significant impact on our tourism product, and promote the fundamental objectives of the Bermuda Tourism Authority. BTA Chief Product and Experiences Development Officer Pat Phillip-Fairn revealed that just ten percent of applicants received the full funding they requested, while 60 percent of proposals were rejected. As a result, the BTA will be holding a series of workshops to educate entrepreneurs and innovators on our research about current and target visitors. "We believe strongly some of the strongest Tourism Experiences ideas will be home-grown," said Mrs Phillip-Fairn. "Our focus now is to equip those entrepreneurs and innovators with the knowledge needed to turn their incredible ideas into sharply focused business plans that align with the BTAs overall objectives." According to the BTA, many proposals were rejected because they did not tie in with the objectives of the National Tourism Plan. Too many proposals for a similar event at the same time of year was another reason for rejection. Speaking of the BTAs Lunch and Learn sessions to educate entrepreneurs and innovators on research about current and target visitors, Mrs Phillip-Fairn said: "The sessions will also give further insights into what comprises visitor experiences, so that local stakeholders can come up with creative ideas to help meet our goals for Bermudas tourism development. The full series will cover subject categories: Bermuda's visitors, technology and social media and business planning. A variety of sessions are tailor-made to empower entrepreneurs and innovators. The first Lunch and Learn Session, Bermuda's Visitors Understanding Expectations and Experiences will be held on Tuesday, May 20 at the BTA office.
May 24. Bermuda's take from the tourism industry is set to smash through the $1 billion dollar mark over the next ten years, a major new survey has predicted. The survey said the total contribution to the Island's coffers last year was more than $858 million but that is expected to rise by 4.1 percent next year and reach $1.26 billion by 2024, a 3.5 percent increase every year over the next decade. The survey found that tourism supported 7,346 jobs nearly a fifth of the workforce either directly or indirectly last year. And it is predicted that figure will go up by 2.3 percent (169 jobs) this year and continue to rise by 1.7 percent a year and hit 9000 jobs in ten years (20.8 percent of the workforce). The predictions came in a major survey of the industry carried out by the UK-based World Travel & Tourism Council (WTTC). And WTTC president and CEO David Scowsill said that, worldwide, spending by tourists had risen by nearly four percent last year but that spending by travelers from south east Asia had gone up by ten percent. Mr Scowsill said: "It is clear that the growth in travel and tourism demand from emerging markets continues with pace, as the burgeoning middle classes, especially from Asia and Latin America, are willing and more able than ever to travel both within and beyond their borders. The outlook for the industry over the next ten years was extremely favorable but governments would need to take action to capitalise on the growth. This will require governments to implement more open visa regimes and to adopt intelligent rather than punitive taxation policies. It is also critical that public and private partnerships ensure that long term infrastructure and human resource needs are planned responsibly and sustainably to absorb the inevitable growth we are forecasting. If the right steps are taken, travel and tourism can be a true force for good." Tourism Minister Shawn Crockwell yesterday did not respond to requests for comment. The survey added that the direct financial contribution from the sector to the Island's Gross Domestic Product (GDP) last year was more than $285.4 million, 4.9 percent of the total GDP. It also predicted that the direct financial contribution from tourism would continue upwards over the next ten years rising 3.6 percent a year to $423.9 million by 2024, amounting to 5.6 percent of GDP. The number of people working in tourism is also expected to rise. A total of 3,500 jobs almost 10 percent of the working population was directly employed in the industry in 2013, but that is predicted to rise by 2.2 percent (77 jobs) this year and be at 4,000 jobs (10.4 percent of total jobs) in a decade. The survey also predicted that the total investment in the industry, which stood at $27.3 million last year (2.8 percent of total investment) would drop by 2.2 percent this year, but rise by one percent a year to $29.5 million in 2024. Bermuda was rated 140th out of 184 countries in terms of the relative importance of tourism, and 51st in terms of the relative size of the tourism contribution to GDP. The Island was predicted to be 104th for growth in the industry next year, but drops to 130th for long-term growth.
May 24. Bermuda must target a range of niche tourist groups if it is to increase visitor numbers, according to industry chiefs. The Bermuda Tourism Authority made the recommendation in response to a Royal Gazette survey, which asked the question: "Is Bermuda too old fashioned to be a popular tourism destination in the 21st Century?" A total of 4,436 people answered the question, with 2,384 respondents, 54 percent, believing that the Island is too stuck in the past. A further 1,952 respondents, 44 percent, disagreed, while two percent of readers were undecided. Asked if the Bermuda Tourism Authority believed the Island needed to update its image, a spokesman for the organization said "it was important to appeal to a range of niche groups. The real issue is not about being old-fashioned, for Bermuda and any other destination, the priority has to be to deliver quality, authentic experiences and good value to the visitors we target. Bermuda is not a one-dimensional destination. It has attributes that will appeal to a variety of niche groups. Our focus should be on targeting those niche groups, that were identified in the National Tourism Plan such as culture, sport, business, meetings, incentive, conferences and events. These niches were identified as being in alignment with what the Island can realistically deliver and develop in terms of products, experiences and service. Taking this approach is both strategic and pragmatic." The spokesman said the organization had been encouraged by the high level of engagement and collaboration with stakeholders to enhance Bermuda's product. "As we reached out recently with the challenge to build on and create new ideas to enhance the visitor experience we encountered a real re-energized collective commitment to that goal, and were looking forward to partnering and supporting everyone in that process. Following short-term trends is not in the long-term best interests of Bermuda, and wouldn't result in achieving key goals of job creation, etc for the industry and the community. Currently. we have hotels running nowhere near full capacity and aircraft flying here that are not at full capacity. The golf courses and dive tours are not at capacity. The restaurants and retailers are not fully maxed-out, especially in the off-season. We actually have a big advantage over other destinations: we have a tourism infrastructure that can accommodate more visitors than we currently have as a result we don't have to build new infrastructure."
May 24. St George's MP Kenneth Bascome has hailed the announcement that his area could get a new hotel and casino as great news. Mr Bascome said the proposed redevelopment of the former Club Med site was not just a boost for the East End, but Bermuda as a whole. And the Old Towne's former mayor last night praised Tourism Minister Shawn Crockwell for making the agreement possible. While the Government backbencher acknowledged that only a Memorandum of Understanding had been signed with developers Desarrollos Hotelco Group, he expressed hope that negotiations over the next four months would result in a development. "It will not be allowed to go on for four years before this group is finally told that they have exhausted their exclusivity," Mr Bascome said in a reference to Carl Bazarian's drawn out but ultimately futile attempt to develop the location between 2008 and 2012. "I believe this is great news not only for the community of St George but for Bermuda as a whole. I believe that we need to focus on taking this country where it needs to go by creating jobs and bringing in foreign investment. I have always said that, as an OBA MP, I would have access to Ministers and be able to do things for my community through having that access. I would like to thank Minister Shawn Crockwell and his support staff for selecting this group. Hopefully by September we will know if they are in a position to move forward with their proposal." Earlier yesterday Mr Crockwell told Parliament that St Georges could get a world class, full service resort site as a result of the plan. The 238-room hotel proposed by the Venezuelan hotel development group Desarrollos Hotelco includes a casino, Mr Crockwell said, along with the renovation of the St George's Golf Course, 16 hotel residences, 24 golf villas and 16 estate residences. Government on Tuesday signed an exclusive 120-day negotiation period with the developer, Mr Crockwell told the House, promising to keep MPs fully apprised of its progress. The Desarrollos Hotelco Group recently received conditional planning approval to build a 380 room JW Marriott Hotel and casino in the Turks and Caicos the result of a 2012 memorandum of understanding with that nation to develop a $500 million series of hotels. The company has also been responsible for developing the JW Marriott, Marriott Playa Grande and Renaissance in Venezuela, along with the 320-room Ritz Carlton Aruba. Addressing the House of Assembly, Mr Crockwell said the announcement was a testament to the Government's focus to create an inviting business environment to attract investment and create jobs. "Desarrollos is an experienced Venezuelan real estate and hotel development group. The company was founded in 1997 and over the years Desarrollos has developed many commercial, residential and hospitality real estate projects in Latin America and the Caribbean region. The exclusive negotiation period will allow the Government and Desarrollos to meet with both internal and external stakeholders, negotiate terms, prepare the relevant documentation to finalize agreements to construct and operate a world class luxury resort development on the 124-acre St. Georges Tourism Development Site. The selection of Desarrollos resulted from a thorough Request for Proposal (RFP) process that had the stated objective to provide a high quality tourism development that will complement the St. Georges UNESCO World Heritage Site designation and accentuate the historical significance of the area while providing economic opportunities for the people of St. Georges and Bermuda." He stated that more than a dozen international developers and investment companies expressed interest in the project, and five written submissions were received by the Ministry by the March 31 deadline, however he refused to name the unsuccessful applicants. "By no means was it an easy decision as both short-listed finalists submitted impressive proposals that were augmented with very detailed oral presentations that highlighted their desire and enthusiasm for the project but most importantly their proven ability to deliver projects was evidenced," Mr Crockwell said. "Ultimately, Desarrollos was chosen. This announcement is exciting news for Bermuda as the benefits of this development are significant to the revitalization of our tourism industry, the St Georges community and Bermuda as a whole. This development has the potential to spur other developments and provide exponential employment opportunities. Therefore, I strongly encourage Honourable members and all Bermudians to collectively work together and do our utmost to ensure the success of this project." Mr Crockwell denied a suggestion by Opposition Leader Marc Bean that the RFP process for the Club Med site had been compromised by the so-called Jetgate saga. "Not at all," the Tourism Minister replied. The Minister also told the PLP's Glenn Blakeney he saw no conflict of interest in Tourism Authority chairman David Dodwell's involvement in vetting the proposal. Mr Crockwell refused to name the two companies who were short-listed for the resort project but weren't ultimately successful, saying they might not wish to be revealed. And, on the potential for a casino, the Minister said it rested on the application for a licence once the Gaming Commission is established. "It's not critical to the success of the site, " he said. The St George's site previously housed the Club Med resort, which closed up shop in 1988. The building remained vacant for 20 years before being torn down. US businessman Mr Bazarian was signed up to develop a Park Hyatt resort on the site but the development agreement was later scrapped because of contract breaches. Government repealed the Act of Parliament granting the developer a 262-year lease on the site last September, opening up the way for new developers to come forward, and put out a RFP for the property in January.
May 24. Nearly half of residents believe the newly formed Bermuda Tourism Authority will be able to rejuvenate the struggling industry. However, a proposal allowing visitors to rent cars has been overwhelmingly rejected, according to a survey commissioned by The Royal Gazette. Overall 46 percent of more than 400 residents said they believed the independent organization, which replaced the Government-run Department of Tourism last month, will be effective in bringing about an upswing in the Islands second pillar of the economy. The poll, carried out by marketing firm Global Research in the first week of this month, asked 419 residents if they believed the BTA would bolster the hospitality industry. While 192 respondents expressed faith in the new body, 105 people 25 percent believed it will not be effective in boosting visitor arrival figures. A further 29 percent of respondents were undecided. A call by BTA chairman David Dodwell for Government to investigate the possibility of allowing visitors to hire cars has been firmly rejected by survey respondents, with 293 people 70 percent saying they did not support the proposal. Twenty-eight percent of those polled gave the initiative their backing, while two percent were undecided. The concept, put forward by Mr Dodwell in February, had already come under fire from the taxi industry, with Taxi Owners and Operators Association president Derek Young claiming it would result in panic and turmoil on Bermuda's roads. Government set up the Tourism Authority last month claiming the industry needed to be run by experts in the private sector rather than politicians. Although it was given a $23.1 million grant by Government in February, it is expected to be self-funding within the next two years. At the time of its launch, the authority's chief executive officer, Bill Hanbury, said the organization would bring about improvements within months. Mr Hanbury said digital marketing and social media would be the first aspects of tourism to be addressed and, in turn, reap results. "I do think within the next three to six months you're going to see some results. I think you're going to start to see some clicks up on hotel occupancy, and on Bermuda's exposure to the world. I think that can be accomplished by doing some things that are perhaps fundamental to what the marketplace demands, particularly around digital applications and social media. I don't think were hitting on all eight cylinders there. I think we can do much better in that arena and I think doing much better in that arena early on will actually give us some early wins, and will affect the economy in the first year of my tenure here. You're going to see some improvements there.
May 27. Oslo (Bloomberg) North Atlantic Drilling Ltd., the rig-owner controlled by billionaire John Fredriksen, signed a cooperation deal with OAO Rosneft that will make Russia's biggest oil company one of its largest shareholders. The accord, signed as the US and the European Union threaten further sanctions against Russia over Ukraine, will see Rosneft employ as many as nine offshore rigs for the equivalent of 35 rig years, the Hamilton, Bermuda-based driller said. Rosneft will buy a significant stake and Seadrill Ltd. will remain the biggest owner. Seadrill, 24.5 percent owned by Fredriksen, holds 69.7 percent of North Atlantic. It was one of several deals between Rosneft and international companies signed at the St. Petersburg International Economic Forum this weekend, less than a month after the US adopted sanctions against the Russian oil firms CEO Igor Sechin, a close ally of President Vladimir Putin. Seadrill and North Atlantic Drilling see huge possibilities in the Russian market and aren't concerned about the current tensions, Seadrill chief financial officer Rune Magnus Lundetrae said from London. "We operate in many parts of the world where there is or can be unrest, so it's just business as usual for us. Right now, there are no challenges related to Rosneft and sanctions. North Atlantic is already set to drill two wells in 2014 and 2015 in the Arctic Kara Sea for Rosneft's joint venture with Exxon Mobil Corp. The Russian state-controlled oil producer extended that deal with the biggest US crude producer at the same venue in St. Petersburg, in addition to signing deals with BP Plc and companies from India to Venezuela." Under the deal with Rosneft, due to last until at least 2022, North Atlantic will also venture into onshore drilling in Russia. The agreement, which is expected to be completed during the second half of the year, may involve asset swaps between the two companies, Sechin said in St. Petersburg May 24. Rosneft could over time increase its stake in North Atlantic to as much as 50 percent, two people familiar with the agreement said. They declined to be identified because the details of the deal hadn't been made public yet. Seadrill will remain the largest shareholder in North Atlantic in the short and medium term," Lundetrae said. He declined to comment on the rates that will be charged under the agreement while Sechin said they would be at market levels. "This is a good deal," Lundetrae said. "We've seen that you don't make the best deal through traditional tendering processes, where you're usually measured only on price, but by offering a package.
May 27. US consultant Ronald Sutherland was a key player in finding a taker for the former Club Med site in St George's, which could gain a casino resort through the Desarrollos Hotelco Group. Tourism Minister Shawn Crockwell described Mr Sutherland, founder of international real estate advisers Hemisphere Group, as an intermediary putting out the Request for Proposal (RFP) for the brownfield site. Mr Sutherland was hired through the investment division of the Bermuda Tourism Authority, to provide investment concierge services, the Minister said. There was no tendering process in taking him on, and his hiring in mid-December, 2013 was handled by the executive steering committee of the just-formed BTA. As a go-between with potential developers, Mr Sutherland did have some form of communications with US developer Nathan Landow, Mr Crockwell added. However, Mr Crockwell refused to reveal the consultant's salary despite Parliamentary questions from Opposition MPs, citing BTA policy which allows its members to keep their pay private. Shadow Tourism Minister Zane DeSilva accused the One Bermuda Alliance of keeping information from the Bermudian people, but the Minister responded that the BTA doesn't disclose its employees confidential information. When Opposition Leader Marc Bean asked if Government had no issue with the lack of transparency over taxpayer funds, Mr Crockwell responded that the Bill creating the BTA had been debated in Parliament and that we were fulsome in our explanations as to why we believe that the independent management of the Authority is efficacious to turn around tourism in this country. Mr Crockwell said the process of vetting proposals had been stewarded by Permanent Secretary Francis Richardson, along with Aideen Ratteray Pryse the director of Planning with BTA chairman David Dodwell, in consultation with Mr Sutherland. Asked by OBA MP Suzann Robert-Holshouser if financing was in place for the potential East End development, the Minister responded that Cabinet had been satisfied with the financial information provided by this finalist.
May 28. WASHINGTON (AP) The highest paid chief executive officer in the US heads Bermuda-domiciled oil drilling company Nabors Industries. Anthony Petrello's total compensation totalled a staggering $68.2 million last year. Pay for globe-trotting CEOs has soared to new heights, even as most workers remain grounded by pay checks that are barely budging. While pay for the typical CEO of a company in the Standard & Poor's 500 stock index surged nine percent last year to $10.46 million, it rose a scant 1.3 percent for US workers as a whole. That CEO now earns 257 times the US national average, up from a multiple of 181 in 2009, according to an analysis by The Associated Press and Equilar. Those figures help reveal a widening gap between the ultra-wealthy and ordinary workers around the world. That gap has fed concerns about economic security everywhere from large cities where rents are high to small towns where jobs are scarce. Here are five reasons why CEOs are enjoying lavish pay increases and five reasons many people are stuck with stagnant incomes.
Why CEOs are getting huge increases.
They're paid heavily in stock.

Unlike most workers, chief executives receive much of their compensation in the form of company stock a lot of it. The theory behind compensating CEOs this way is that it aligns the interests of senior management with those of shareholders, which would seem beneficial for a company. Yet accounting scandals of the early 2000s showed that some executives

gamed

the system, ultimately at shareholder expense. Executives at firms such as Tyco and Enron tinkered with the books to boost corporate incomes, share prices and the fortunes of insiders and senior managers. Still, the bonanza continues. The average value of stock awarded to CEOs surged 17 percent last year to $4.5 million, the largest increase ever recorded by the AP. Remember, too: Long-term gains on stocks are taxed at lower rates than ordinary pay is. The S&P 500 jumped 30 percent last year, compounding the size of the CEOs paydays. Consider Leslie Moonves of CBS, whose stock climbed at twice the rate of the overall stock market. Moonves collected $65.6 million. The stock rally has been fuelled in part by historically low interest rates engineered by the Federal Reserve. Those rates led many investors to shift money out of low-yielding bonds and into stocks.

Peer pressure.

Robert Solow, a Nobel Prize-winning economist, recently observed that CEOs live in Lake Wobegon, that fabled town created by radio show host Garrison Keillor where, it is said, all the children are above average. Solow didn't mean it as a compliment. Corporate boards often set CEO pay based on what the leaders of other companies make. No board wants an average CEO. So boards tend to want to pay their own CEO more than rival CEOs who are chosen for benchmarking compensation packages. This will naturally create an upward bias in pay, Charles Elson and Craig Ferrere of the University of Delaware concluded in a 2012 paper. The compounded effect has been to create a significant disparity between the pay of executives and what is appropriate to the companies they run.

The superstar effect.

Companies often portray their CEOs as the business equivalents of LeBron James or Peyton Manning athletes who command (and deserve) enormous pay for their performance and ability to draw crowds. The era of digital communication and private jets has given leading athletes, entertainers and business people the global reach to generate outsize profits. The late University of Chicago economist Sherwin Rosen theorized that this phenomenon would concentrate more income with the top players. As corporate giants compete around the world, the drive to procure corporate superstars has helped inflate CEO pay.

Friendly boards of directors.

Some board members defer to a CEOs judgment on what his or

her own

compensation should be. There's a good reason: Many boards are composed of current and former CEOs at other companies. And in some cases, board members are essentially handpicked or at least vetted by the CEO. Not surprisingly, the

boards

compensation committees offer generous bonuses.

Stricter scrutiny

. Even companies with vigilant boards and an emphasis on objectively assessing CEO performance might shower their chief executives with money. When a CEO faces more scrutiny and a greater chance of dismissal, the companies often raise pay to compensate for the risk of job loss, according to a 2005 article by Benjamin Hermalin, a professor at the University of California, Berkeley.
Why many of us aren't getting a rise
Blame the robots.

Millions of factory workers have lost their spots on assembly lines to machines. Offices need fewer secretaries and book-keepers in the digital era. Robots and computers are displacing jobs that involve routine tasks, according to research by David Autor, an economist at Massachusetts Institute of Technology. As these middle-income positions vanish, workers are struggling to find new occupations that pay as much. Some must settle for low-paying retail and food service jobs. College tends to substantially improve peoples earnings power compared with workers who have completed only high school. But even workers who have attended college have been hurt by the loss of middle-income jobs. Nearly 45 percent of US workers who earned less than $10.10 an hour last year had either attended college or had graduated, according to an analysis by John Schmitt, a senior economist at the liberal Center for Economic and Policy Research.

High unemployment.

The aftermath of the Great Recession left a glut of available workers. Businesses face less pressure to give meaningful raises when a ready supply of job seekers is available. They're less fearful that their best employees will defect to another employer. The current 6.3 percent unemployment rate, down from 10 percent in October 2009, isn't so low that employers will spend more to hire and keep workers. Wages grew in the late 1990s when unemployment dipped to 4 percent, a level that made high-quality workers scarce and compelled businesses to raise pay.

Globalization

. Companies can cap wages by off shoring jobs to poorer countries, where workers on average earn less than the poorest Americans. Consider China. A typical Chinese factory employee made $1.74 an hour in 2009, according to the Bureau of Labor Statistics roughly a tenth of what their US counterpart made. Some analysts say this decades-long trend may have peaked. But many economists say the need for the United States to compete with a vast supply of cheap labour worldwide continues to exert a depressive effect on US workers pay.

Weaker unions.

Organized labour no longer commands the heft it once did. More than 20 percent of US workers were unionized in 1983, compared with 11.3 percent last year, according to the Bureau of Labor Statistics. That has drastically reduced the

unions

sphere of influence. Result: Fewer workers can collectively negotiate for raises.

Low inflation

. For the past five years, the governments standard inflation gauge, the consumer price index, has averaged an ultra-low 1.6 percent. When inflation is high, employees tend to factor it into requested pay raises. But when inflation is as low as it has been, it almost disappears as a factor in pay negotiations. Workers typically settle for less than if inflation were higher.
May 28. After witnessing a jet ski apparently run over a turtle and leave it for dead, a Somerset area resident is joining a call for increased protection for the local sea turtle population.

Grace Markham's plea for greater protection for the sea animals has been supported by the beach manager of Cambridge Beaches Resort, in Sandys, who has seen a number of dead turtles washed ashore in the area.

From the porch of her cabana at 9 Beaches, in Sandys, Ms Markham spent Monday evening enjoying the sunset as she drank a cup of tea.

But the idyllic scene was spoiled by the sound of a roaring jet ski, followed by the sight of a lifeless turtle floating in its wake.

"I'm still furious. I'm angry at the moron and upset for the turtle. That's such a disgusting way to die," said Ms Markham, who rents one of the cabanas.

She said she was sure the turtle was dead after watching it float lifelessly on the surface for more than an hour.

"I wanted to go get it, but there was too much activity with jet skis and boats and it was getting dark, so it wasn't safe to retrieve."

With a mixture of anger and sadness Ms Markham watched the turtle drift out to sea in the fading light of the evening.

Luke Fountain, beach manager at the nearby Cambridge Beaches Resort, said: "I find dead turtles on that beach all the time.

In the past three years I have found eight dead turtles washed up. Some show signs of having been struck by jet skis, others appear to have starved after ingesting plastic.

And those are just the ones that wash up on this beach, most of them float out to sea or wash up somewhere else."

Fed up with boats speeding along and anchoring in the waters around Cambridge Beaches, Mr Fountain is calling for the area to be turned into a turtle sanctuary, with an enforced five knot no-wake zone and ban on dropping anchors in areas where there is abundant sea grass, which green turtles thrive off.

"There are at least 50 turtles in the area at one time. I watch them popping their heads up, and then a jet ski comes through at 80 miles an hour.

It happens all the time. And although we've got a nice population of green turtles, in the rest of the world they're endangered. They come and survive in our waters because we protect them and don't eat them." Ms Markham said she agreed 100 percent with the idea of a turtle sanctuary area.

"Before, I wouldn't have been too concerned.

But I am after yesterday when I watched some guy kill an animal while showing off for two girls on his jet ski. There are too many turtles around to carry on like that."

May 28. Tyrone Smith believes that he will face equally stiff competition in the long jump at the Commonwealth Games in Glasgow as he did at the London Olympics two years ago. The 29-year-old expects to be up against at least nine of the 12 Olympic finalists when he stares down the runway towards the sand pit at Hampden Park, which has been completely transformed into an athletics stadium for the Games. Smith, who finished twelfth in his first Olympic final with a leap of 7.70 meters, is confident of reaching the medal round in Glasgow, where he will renew acquaintances with some of the worlds best jumpers including Greg Rutherford, of Great Britain, who won gold in London. "The Commonwealth Games long jump field will be as stiff competition as a World Championship final or an Olympic final," Smith said. Rutherford set a British record with a jump of 8.51 a few weeks ago while his team-mate Chris Tomlinson [who finished sixth in London] and South Africa's Godfrey Khotso Mokoena [who came eighth] will also be there. "I think it will be one of the best long jump fields at the Commonwealths for a very long time." Smith, who won gold at the 2010 CAC Games in Puerto Rico, said that knowing he will have to be at his very best to be in medal contention will motivate him to leave no stone unturned in his preparations. "It's exciting to have all those guys in Glasgow but I don't think it will take a huge jump to make the final," said the Houston-based athlete. "You can relax a little bit knowing that a jump of 7.90 will probably be enough. It's nice to know that you probably won't have to be at your full limit to get a shot at the final. Its going to take a big jump to win the gold medal, though, but that's certainly my aim." No athletics crowd is quite as passionate and knowledgeable than the British, according to Smith, who believes that the atmosphere at Hampden Park, which has been turned from the home of Scottish football into a world-class athletics arena, will be almost as electrifying as it was at the Olympic Stadium. "I anticipate that its going to be an awesome event and a packed house," said Smith, whose impromptu jig during the Olympics opening ceremony caused a storm on Twitter, which exploded with thousands of Tweets about his dancing. "I've always loved competing in the UK, even before the Olympics. It's a true athletics crowd. I've had people in the UK who have been talking to me on Twitter for a year already about the Commonwealth Games. They're asking me whether I'm going to be there because they have their tickets." Smith, who finished fifth at the previous Commonwealth Games in Delhi with a jump of 7.76, has competed in two tune-up events so far this season, the Mt SAC Relays in Walnut, California, and the Rice University track and field meet in Houston, Texas, an event he won with a leap of 7.85. Hampered by a hamstring problem during the first month of the season, Smith, who also received a knee injection last November, said that he was confident his injury concerns were firmly behind him. "I strained my hamstring a month before the Mt SAC Relays and then again a week before," said Smith, who is scheduled to compete at meets in Poland and Germany before heading to Glasgow. "The Rice University meet was the first I'd competed at this season without my hamstring bothering me. I jumped 7.85, which was pretty good considering I hadn't done any sprint work. It should be a good season for me and I'm pretty happy with the way things are going. I just want to be competition fit in Glasgow in July, which is usually the month when I'm at my peak." The Games run from July 23 to August 3.

May 28. Holiday weekend lightning storms interrupted service for some wireless users of the Island's largest internet service provider, but the company said they expected service to be restored by yesterday. Private healthcare provider Madeleine Outerbridge said her North Rock (Logic) internet connection had gone down on Friday — but complained yesterday the company had failed to tell her what was wrong or when the connection would be restored. "It's ridiculous," she said. "There are a lot of people without internet — we can't send e-mails and they just don't return our calls. There is no contact. We call and call and nothing happens." Ms Outerbridge added that she used her Northrock service for both business and personal use — and said the loss of connection was bound to be affecting business users. She said: "I've got business friends who use it for their work. We're all in the same boat. It has to be affecting people's business if they can't get into their internet." But Logic CEO Vicki Coelho stated that outages affected a small number of customers and work was in hand to affect the necessary repairs. Ms Coelho said. "Due to the extreme thunder and lightning storm early Sunday morning Logic is experiencing Wireless Access issues in the Paget and Devonshire parishes. Fortunately the number of customers impacted is small. The engineering team is addressing the service interruption. We anticipate resolution shortly. Logic cares about our customers and are taking measures to ensure interruptions of this nature are minimized." Customers contacting the company by telephone yesterday were greeted with a recorded message stating: "Logic is aware of some customers having difficulties connecting to the internet. There is no outage within Logic's network at the moment, but there may be an issue with one of the local access providers. "Our engineers are working with them and we expect the issue will be resolved shortly. If you would like to be notified when service will be restored, press one now." Late in the day, Ms Coelho stated, "The percentage of customers affected was minimal. Logic provides internet over BTC DSL, Cablevision data access, and our own Wireless Access. The customers that were affected were on the Wireless infrastructure. We anticipate resolution today." ISPs Logic Communications and North Rock Communications announced a plan to merge a year ago in April, with the Logic name remaining and the North Rock products rebranded.

May 29. The Bermuda Legion has linked forces with overseas services after being formally invited to join the Royal Commonwealth Ex-Services League. The Island's charity for war veterans and their widows has also become affiliated with the Royal Canadian Legion's Caribbean branch in an effort to boost its advocacy for the veteran community. Bermuda Legion caseworker Carol Everson said that while the move was unlikely to bring in more funds for local veterans, it would bring benefits "much more valuable than money". "They now stand shoulder to shoulder with us in advocacy, and we get the chance to join in fellowship with other Caribbean legions," Ms Everson said. "Some of the nations are poor, but others like Australia, New Zealand, Canada and Britain have very strong backgrounds of providing resources for veterans." In an effort spanning years, the Bermuda Legion had to provide evidence of good governance, plus financial statements of its welfare work. "We've asked for help and support in maintaining our benefits for Bermuda's war veterans, as most of our veterans are around 90 years old and many are in frail health. We've asked for help in protecting benefits and pensions which at this moment barely meet the most basic of their needs. We've still got about 230 veterans in Bermuda, plus some who don't receive Government benefits, and we're striving to protect the benefits that they only received a few years ago, having gone the better part of their lifetimes with no recognition." Ms Everson added: "One important thing to note is they don't ask us to send any monies back to them. We send nothing out of Bermuda, and all our donated funds are spent on welfare and advocacy." Among the Legion's hopes is to open "a nursing rest home specifically for veterans and widows", she said. "There's a great need for good nursing homes, and a dearth of good care within them." Ms Everson said she'd also been invited by the Royal Scottish Legion to attend a summer training course on "well-being and befriending" — which consists of "going to people's homes to check on them, making sure that they have medical and family support and that they're not in want". And the group hopes to introduce a course to the Island, purchased from the US Alzheimer's Association, that will train families in understanding the needs of elderly Alzheimer's sufferers. Additional courses would be aimed at "the more professional level", Ms Everson said. "All levels carry a certification that would be renewable every two years. Organising it will be a challenge, but we hope to be able to offer these courses, sponsored by the Bermuda Legion, toward the end of 2014 or early 2015."

June 1 to 4. Bermuda Captives (Insurers) Conference. Fairmont Southampton Resort. Attendees from Bermuda and world-wide included http://www.bermudacaptive.bm/2013-archive/BCC2013Attendeelist.pdf.

June 3. A health watchdog is backing calls for improved standards in nursing homes, claiming that the Island is failing to care for its weakest members. The Bermuda Healthcare Advocacy Group (BHAG) said it supports claims by Shadow Seniors Minister Derrick Burgess that some nursing homes do not provide adequate standards of care for the elderly. Last week Mr Burgess said he had heard numerous reports of maltreatment at a number of nursing homes, with patients left unattended for long periods, and some homes having below-standard facilities. He also questioned why Government was failing to build more rest homes, which are needed to cater to an ageing population. Government responded by saying the private sector was better equipped to provide more nursing home beds. Yesterday a BHAG spokesman said it welcomed Mr Burgess's comments, adding: "BHAG has been a long-time advocate of improving residential care for the elderly as a means of decreasing dependence on the continuing care wards at King Edward VII Memorial Hospital. As a result, BHAG has become aware that while some senior care residences provide an excellent service, others do not meet the standard of care that families and the wider public would expect, or that is required under the 2001 legislation. However, BHAG also notes that no Government in the last 20 years has met this challenge adequately and while the Sylvia Richardson facility was built in 2007, it is our understanding that the former government did not proceed with its plans for other facilities for budgetary reasons. It is obvious that the current Government faces the same or worse financial constraints and it is highly unlikely that the taxpayer will be able to fund the three additional facilities called for by Mr Burgess. Instead, BHAG believes that the private sector can fill the gap through residential care, assisted living and in home care giving. BHAG is aware of at least one extensive proposal for graduated senior care that is awaiting Government approval and it also believes that home-based care giving is often preferable to taking individuals out of their homes and placing them in a more institutional setting. However, BHAG fully supports Mr Burgess's call to ensure that residential care facilities must meet the standards called for under the 2001 regulations and should be subject to regular inspections. In return, Government can and should help with financial support for senior citizens who need care but are unable to afford it. Mahatma Gandhi said that a nation's greatness is measured by how it treats its weakest members. By that measure, we are failing."

June 5. Health insurance premiums continue to rise well above the rate of inflation, according to the latest figures. The Consumer Price Index for April shows that, while prices across all sectors rose by just 1.9 percent since April 2013, the cost of health insurance surged by a massive 8.2 percent. The vast majority of insurance policies are renewed each April, and The Royal Gazette understands that insurance firms were looking to increase contracts by around ten percent this year. Last year some companies were asked to up their payments by as much as 20 percent. According to a statement provided by Government's Department of Statistics, the Health and Personal Care sector remained the largest contributor to the 12-month rate of price increase. The annual increase in April 2014 measured 6.6 percent year over year, led by increased costs for health insurance premiums, the statement said. The Health and personal Care sector had the largest impact on the CPI increase in April. The average cost of health insurance premiums surged 8.2 percent, leading to a 5.3 percent increase in the Health and Personal Care sector. The index also shows that, since 2006 the average price of goods and services has risen by 23.8 percent but health costs including insurance have shot up by almost 75 percent. Bermuda Hospitals Board maintains that it has always strived to keep healthcare bills down, with the cost of medical procedures rising just one percent in the past year. A BHB spokesman pointed out that, while the cost of a single procedure may remain fairly constant, increased usage could lead to an increase in insurance claims. Nevertheless, Island insurance companies have reported strong profits recently. BF&M Ltd recorded a net income of $25.2 million for 2013 and noted that life and health policy benefits cash paid out by the firm to cover claims decreased by 21.7 percent to $83.8 million. BF&M president and CEO John Wight last night defended the increases, saying that rates were adjusted in the first quarter of each financial year following BHB increases in addition to new services offered, and changes in the frequency and severity of services provided locally and overseas. Mr Wight suggested that health services were not always delivered in the most cost-efficient way, while Government subsidies or certain treatments had been cut back, forcing premiums to rise. And he also pointed out that hundreds of healthy, younger guest workers had let the Island in recent years whose contributions had helped offset the higher healthcare costs of Bermuda's ageing population. While most of the trending for healthcare has been upwards, there are many employer groups in Bermuda who do receive minimal, no increase, or even a drop in rates annually if claims in a particular year or years are lower than the insurance company priced them to be, Mr Wight said. Many employer groups are taking wellness programmes very seriously as premiums are generally lower for groups that are healthy and whose claims experience is good. "The picture is not as doom and gloom as it might appear though. Local health insurers are working collaboratively together and with important stakeholders such as the Ministry of Health and the Environment, The Bermuda Health Council, and the Bermuda Hospitals Board, to make progress on what are very complicated issues with no easy answers. There are goals that we believe the Island can work towards. The broader conversation needs to be around how to reduce the cost of delivering care while improving the health outcomes of our community. Additionally, defining at the outset our goals for Bermuda's healthcare sector and the measurable metrics indicating failure or success is critical. Bermuda is not unique to the rising cost of healthcare. Virtually every country in the world, albeit to differing levels, is grappling with the issue of medical costs being a major driver in the cost of living. In addition to the cost of healthcare, the larger question is one of value for money. What is the proper balance between accessibility and affordability?"

June 6. Gibraltar's Minister of Finance, Albert Isola, met briefly with Premier and National Security Minister Michael Dunkley yesterday in a courtesy call at the Cabinet Office. The visiting Minister is pressing the case for bilateral agreements to work together in future commercial, regulatory and jurisdictional endeavors. A government spokesman said a short discussion centred around Overseas Territories, jurisdictional commonalities and potential opportunities to develop a closer relationship between the two jurisdictions. He told The Royal Gazette this week that he wished "to engage the Premier to talk through some of the initiatives that we would like to develop." Mr Isola said there was no intention to steal Bermuda's business away. But he felt that a spirit of communication and cooperation would be mutually beneficial. He said: "It's been a very good trip, very interesting. We have a lot to learn from you and we are hoping in the process we can also pass on some of our lessons." Prior to yesterday's meeting, the Premier and Minister Isola exchanged gifts.

June 6. Bermuda's tourism industry will get a huge boost later this year when hundreds of US travel agents hold a convention on the Island. Around 600 delegates from the American Society of Travel Agents (ASTA) will sail to Bermuda on board the cruise ship Norwegian Breakaway, spending three days here between September 17-19 before heading back to New York. The agents will attend a series of presentations while at sea, but once they reach dry land they will be encouraged to explore the Island. The Bermuda Hotels Association and Bermuda Tourism Authority will be hosting a Taste of Bermuda reception at Dockyard where local vendors can showcase their goods and services to the travel agents, while the Corporation of Hamilton will be holding a cocktail party for the group. The visitors will also be given concessions on some Island attractions while ten separate groups will spend one morning touring various Island properties. A scavenger hunt, a tennis tournament and golf tournament are also planned. Describing Bermuda as the jewel of the Atlantic, the ASTA website states: "Bermuda is much closer than you think, less than two hours away from most eastern US airports. With incomparable weather, pink sand beaches, breadth of historic sites and warm, friendly people, its no wonder CondeNast Traveler readers have voted Bermuda Best Island in the Caribbean/Atlantic 18 times since 1994. For the first time in its 80-plus year existence, ASTA is holding its annual meeting on board a cruise ship, the Norwegian Breakaway, which will sail from New York to Bermuda. Norwegian is bringing its entire team of sales directors from across North America to the Annual General Conference, including Andrew Stuart, EVP of global sales and passenger services and Camille Olivere, SVP of sales. ASTA will kick off its annual meeting with a black-tie gala advocacy dinner at the St Regis New York Hotel in midtown Manhattan to highlight the hard work of those who advocate for travel agents. New York Governor Andrew Cuomo is invited. As convention attendees learn how to Seas the Future while on board and in Bermuda, there also will be opportunities to network and enjoy the travel, including a private sail-away party, a Taste of Bermuda reception with the Bermuda Hotel Association and suppliers, and an exclusive evening reception hosted by Hamilton Mayor Graeme Outerbridge at Pier 6." Bermuda Tourism Authority CEO Bill Hanbury said: "The Bermuda Tourism Authority embraced this conference as a top priority for our first year in operation." It's a very prestigious group to have on-island and we've committed significant resources, both personnel wise and financial, to ensure they have a great experience." And Bermuda Hotel Association president JP Martens added: "The ASTA conference is a great opportunity for Bermuda to showcase its beauty, people and resorts to 600 agents from our North American market. The BHA is looking forward to working with the BTA in hosting these agents on-island and showing them what Bermuda has to offer for their clients." ASTA President and CEO Zane Kerby said: "I can't think of a better way to bring travel professionals, suppliers and industry experts together to devise a plan to future-proof their businesses while doing what agents do best exploring a great destination like Bermuda. You've got to work hard to play hard and that's what well be doing on the Breakaway." The prestigious organization claims it is the leading global advocate for travel agents, the travel industry and the traveling public. ASTA members represent 80 percent of all travel sold in the United States through the travel agency distribution channel. It is estimated that the reach of the ASTA group translates into millions of dollars through new leisure visitor travel to the Island.

June 7. National heroes were never meant to be named every year, according to Minister of Community, Culture and Sports Wayne Scott. His comments came in the House of Assembly this morning following confirmation this week that no new heroes would be named when Bermuda celebrates National Heroes Day later this month. However, Mr Scott said the Ministry would work to reinstate a Naming and Recognition Committee, responsible for overseeing public nominations and naming future honorees. "In undertaking this process the Ministry will encourage the public's input regarding who should be our next National Hero," Mr Scott said. "It is intended that the selection process will culminate in a new National Hero being announced during a naming ceremony planned for June, 2015." A total of five heroes have been honoured since the National Heroes Day was established but no new names have been added to the list since Mary Prince in 2012. Mr Scott said: "It was never intended to name a new National Hero each year. As I mentioned in the House during the 2014 Budget Debate we will not recognize a new National Hero in 2014. However, I encourage all of Bermuda to pause on Monday, June 16, to reflect on our five current National Heroes and celebrate their significant contributions to our society. Take time to engage children in meaningful dialogue about what our National Heroes mean to them. History will record these five individuals as among those who have had an influential outcome on our progress as a people here in Bermuda." National Heroes Day was first celebrated on October 13, 2008, but the holiday was moved to the Queen's Birthday Holiday on 2009 after Government amended the Public Holidays Act. At that time, then-Minister of Culture Neletha Butterfield said a panel of five people, comprised of MPs and Senators, would decide who deserves the title of National Hero based on pre-selected criteria. According to the criteria, the candidates must have made a significant and lasting contribution to Bermuda; enriched the lives of others; contributed to the quality of life and destiny of Bermuda; been considered outstanding in their area of activity; have name recognition among the general population; been recognised by his or her profession or organization; been reflective of Bermudas cultural heritage or diversity; and must possess a legacy which will stand the test of time and have continued relevance in the future. Dame Lois Browne-Evans was named the first National Hero in 2008. She was followed by Dr Pauulu Kamarakafego, Dr Edgar Fitzgerald Gordon and Sir Henry Tucker in 2011. Mary Prince was honoured the following year but no new National Heroes have been named since.

June 7. Around 1,500 residents stand to obtain Bermuda status thanks to a recently discovered immigration loophole, affirmed in a ruling by Chief Justice Ian Kawaley. And it was claimed in the House of Assembly, as MPs clashed over the rulings implications, that a slew of Permanent Residents Certificate (PRC) holders have already applied to Immigration to get Bermuda Status. However, Government has declared that all current applications have been put on hold until the matter is clarified. Attorney General Trevor Moniz told MPs yesterday that Government had reached no decision yet over the surprise ruling, which could still be appealed further. However, he said the One Bermuda Alliance refused to back a premature amendment proposed by the Opposition to strike down the culprit section of the law. In the meantime, Junior Immigration Minister Sylvan Richards told the House that Government had enlisted a Queens Counsel with a speciality in human rights law to review the case. The debate touched also on long-held sensitivities over the history of discretionary status grants, which were discarded in 1989. Introducing the amendment for its second reading was Shadow Minister of Immigration and Home Affairs Walton Brown, who called it a stopgap measure that allows us to step back and fully consider the most appropriate immigration policy for this country. Otherwise, he said, Mr Justice Kawaley's ruling has created a situation in which legislation was decided by a judge instead of by Parliament. The occasionally stormy debate saw Progressive Labour Party MP Walter Robain tell Government to tread carefully, adding: "There are a whole lot of hypotheses about the purpose of this." Shadow Health Minister Kim Wilson warned the OBA that "Bermudians were listening, and listening very intently" while PLP MP Glenn Blakeney, accusing the OBA of already having its mind made up, told Government: "I warn you, it will be at your peril." However, Mr Blakeney got a reprimand from Speaker of the House Randolph Horton when he said: "This situation, for political expediency, to increase the voting registry, is exactly what's intended by the OBA." The Devonshire North Central MP subsequently withdrew his remark. The five-hour debate emanated from a ruling in May, in which Mr Justice Kawaley upheld a decision by the Immigration Appeals Tribunal for PRC holders Rebecca Carne and Antonio Correia to win full status. In so doing, the Chief Justice ruled against Governments repeated appeal of the Tribunals decision, and many PLP MPs questioned why the OBA didn't support the Opposition legislation after Government had contested the status move in court. However, the Attorney General said "Government's motive for the appeal had been to obtain clarification from the Chief Justice's ruling. The position of this side is that its premature to decide exactly what the ramifications of this decision are." According to the Department of Immigration, there are 1,340 PRC holders who potentially qualify, plus 150 children under the age of 22 at the most, he said. The loophole technically became active in 2002, when the PLP government introduced PRC legislation but the significance of the obscure clause 20B (2) (B) of the Act was only recently spotted. Ms Wilson urged Government to support Mr Brown's amendment, calling the status ruling a clear case of what is known as judge-made law. "It's an application or interpretation of the law that is contrary to the intent of Parliament," she said, accusing the OBA of opposing the amendment solely because it was raised by the Opposition. We're talking about 2,000 people that, at the discretion of the Minister, can get Status tomorrow with the flick of a pen." But Tourism Minister Shawn Crockwell responded that "status in this case rested on eligible PRC holders meeting the criteria of immigration law. It's not a matter of one individual making arbitrary decisions, saying I want this person to get status," Mr Crockwell said, characterising it as primarily a human rights issue. We're not talking about people who just showed up here, these are people who have been in this country for at least 25 years. These are our neighbours, these are our friends." The Attorney General told MPs he agreed with Opposition concerns over the numbers of people who could become full status Bermudians. Pointing out that even 1,000 people was a very large percentage on Bermudas scale, Mr Moniz said people were entitled to be emotional about it, particularly in light of the difficult financial circumstances the country finds itself in. While Government didn't support Mr Brown's proposed amendment, the AG promised: "This will be before the House in the not too distant future." Opposition leader Marc Bean who compared the OBA to prostitutes said that the loophole had been created under a PLP Government, and it was the party's intent to close it. "It's a loophole that the One Bermuda Alliance is looking to exploit, it's clear." Public Works Minister Patricia Gordon-Pamplin hit back: "To be told we are nothing more than ladies of the night willing to be sold for 30 shekels is disgusting." And she dismissed as ridiculous that the OBA intended to exploit the legal loophole for political ends. Ms Gordon-Pamplin said Government would not support the bill "because of the fact we would like the Opposition to recognise we can put in abeyance any applications which have been made until the implications of the ruling had been discussed, and grounds of appeal to the Privy Council were considered."

June 7. The water off Bermuda's beaches remain clean, Government said last night. A spokeswoman for the Department of Health said that regular monitoring at beaches so far this year had found no pollution problems. Beaches checked include tourist magnets like Horseshoe Bay, Warwick Long Bay, Elbow Beach, John Smith's Bay, Clearwater Beach, Snorkel Park and Tobacco Bay. The spokeswoman said samples are collected twice a week by Environmental Health officers, who also carry out a visual inspection of the beaches. The results of the tests are published on the Government website at http://tinyurl.com/ljl2pxa - a move taken after the US Consulate in Bermuda in March issued a warning over mixed sewage and grease pollution off the south shore of the Island. The US acted after earlier tests by experts revealed sewage contamination of water following specific weather conditions. Testing is carried out for the enterococci group of bacteria as an indicator of faecal pollution in line with US Environmental Protection Agency rules for water quality monitoring.

June 7. Around 1,500 residents stand to obtain Bermuda status — thanks to a recently discovered immigration "loophole", affirmed in a ruling by Chief Justice Ian Kawaley. And it was claimed in the House of Assembly, as MPs clashed over the ruling's implications, that a "slew" of Permanent Residents' Certificate (PRC) holders have already applied to Immigration to get Bermuda Status. However, Government has declared that all current applications have been put on hold until the matter is clarified. Attorney General Trevor Moniz told MPs yesterday that Government had reached no decision yet over the surprise ruling, which could still be appealed further. However, he said the One Bermuda Alliance refused to back a "premature" amendment proposed by the Opposition to strike down the culprit section of the law. In the meantime, Junior Immigration Minister Sylvan Richards told the House that Government had enlisted a Queen's Counsel with a specialty in human rights law to review the case. The debate touched also on long-held sensitivities over the history of discretionary status grants, which were discarded in 1989. Introducing the amendment for its second reading was Shadow Minister of Immigration and Home Affairs Walton Brown, who called it "a stopgap measure that allows us to step back and fully consider the most appropriate immigration policy for this country". Otherwise, he said, Mr Justice Kawaley's ruling has created a situation in which legislation was decided by a judge instead of by Parliament. The occasionally stormy debate saw Progressive Labour Party MP Walter Robain tell Government to tread carefully, adding: "There are a whole lot of hypotheses about the purpose of this." Shadow Health Minister Kim Wilson warned the OBA that Bermudians were "listening, and listening very intently" — while PLP MP Glenn Blakeney, accusing the OBA of already having its mind made up, told Government: "I warn you, it will be at your peril." However, Mr Blakeney got a reprimand from Speaker of the House Randolph Horton when he said: "This situation, for political expediency, to increase the voting registry, is exactly what's intended by the OBA". The Devonshire North Central MP subsequently withdrew his remark. The five-hour debate emanated from a ruling in May, in which Mr Justice Kawaley upheld a decision by the Immigration Appeals Tribunal for PRC holders Rebecca Carne and Antonio Correia to win full status. In so doing, the Chief Justice ruled against Government's repeated appeal of the Tribunal's decision, and many PLP MPs questioned why the OBA didn't support the Opposition legislation after Government had contested the status move in court. However, the Attorney General said Government's motive for the appeal had been to obtain clarification from the Chief Justice's ruling. "The position of this side is that it's premature to decide exactly what the ramifications of this decision are," Mr Moniz added. According to the Department of Immigration, there are 1,340 PRC holders who potentially qualify, plus 150 children under the age of 22 "at the most", he said. The "loophole" technically became active in 2002, when the PLP government introduced PRC legislation — but the significance of the obscure clause 20B (2) (B) of the Act was only recently spotted. Ms Wilson urged Government to support Mr Brown's amendment, calling the status ruling a clear case of what is known as "judge-made law". "It's an application or interpretation of the law that is contrary to the intent of Parliament," she said, accusing the OBA of opposing the amendment solely "because it was raised by the Opposition". She added: "We're talking about 2,000 people that, at the discretion of the Minister, can get Status tomorrow with the flick of a pen." But Tourism Minister Shawn Crockwell responded that status in this case rested on eligible PRC holders meeting the criteria of immigration law. "It's not a matter of one individual making arbitrary decisions, saying 'I want this person to get status'," Mr Crockwell said, characterizing it as "primarily a human rights issue". "We're not talking about people who just showed up here — these are people who have been in this country for at least 25 years," he said. "These are our neighbours — these are our friends." The Attorney General told MPs he agreed with Opposition concerns over the numbers of people who could become full status Bermudians. Pointing out that even 1,000 people was a very large percentage on Bermuda's scale, Mr Moniz said people were "entitled to be emotional about it, particularly in light of the difficult financial circumstances the country finds itself in". While Government didn't support Mr Brown's proposed amendment, the AG promised: "This will be before the House in the not too distant future." Opposition leader Marc Bean — who compared the OBA to prostitutes — said that the loophole had been created under a PLP Government, and it was the party's intent to close it. He added: "It's a loophole that the One Bermuda Alliance is looking to exploit — it's clear." Public Works Minister Patricia Gordon-Pamplin hit back: "To be told we are nothing more than 'ladies of the night' willing to be sold for 30 shekels is disgusting." And she dismissed as "ridiculous" that the OBA intended to exploit the legal loophole for political ends. Ms Gordon-Pamplin said Government would not support the bill "because of the fact we would like the Opposition to recognize we can put in abeyance any applications which have been made" until the implications of the ruling had been discussed, and grounds of appeal to the Privy Council were considered.

June 9. Bermuda will have to look for outside funding to pay for a new airport, MPs were told on Friday. Tourism and Transport Minister Shawn Crockwell said that a modernized airport would cost hundreds of millions of dollars — money Government did not have. "What the Government wants to do and what Government is committed to doing is create a better airport, a new airport, so it can be modern and complement the product we want for our guests when they come here," he said. But Mr Crockwell added: "This is an issue of affordability. that is what is primarily driving the decisions of the Government and the options we are looking at." He was speaking after Opposition MP Lawrence Scott, the shadow Minister for Tourism and Transport, introduced a motion to debate the advantages of establishing an Airport Authority to run the Island's air terminal. The Shadow Transport Minister said the 43 jobs in the Department of Airport Operations would be put at risk if a public-private partnership assumed stewardship of Bermuda's airport, telling the House such an investor would "get rid of them because they wouldn't know them". He added that privatization meant a profit-driven administration — and there was nothing to stop management giving themselves enormous salaries, while shedding workers. On the subject of an Airport Authority, Mr Scott said that "almost all" of the jurisdictions competing with Bermuda handled their visitors through an Airport Authority. Mr Crockwell said a number of methods could be used to get funding for the airport — including a public-private partnership, which would involve a private operator being given a 30-40 year lease to modernize and run the airport. And he said negotiations with any private investor could include negotiating protection for the existing Government-employed staff. Finance Minister Bob Richards added the airport was being "held together by Band-Aids. We need to have an airport that is consistent with the global brand which is Bermuda — a brand we hope denotes high quality and high services. If the Government can't afford to build it ourselves, we going to have to get outside investors and that will require some kind of creativity — probably a public-private partnership of some sort." But he ruled out and outright sell-off of the airport to a private body. Shadow Finance Minister said Government should not lose control of "a prized Government asset". And Opposition leader Marc Bean added that any airport redevelopment should be done in tandem with improving access and replacing the ageing Causeway — although he said that the cost of that should be borne by the entire country, rather than the people of the east end of the Island.

June 9. A Government MP should not be sitting in the House, Opposition MP Walton Brown has said. Mr Brown said that according to legal opinion One Bermuda Alliance backbencher Jeff Sousa should be disqualified due to a failure to disclose Government contracts he held in the run-up to the 2012 general election. The Progressive Labour Party MP added that Mr Sousa had declined to appear in front of a select committee set up to investigate election rules. Mr Brown said that Mr Sousa was in contravention of the Bermuda Constitution and that matter needs to be addressed. "I am looking for something because there is an obligation under the Constitution, a commitment to openness and transparency. There is an obligation to have something." Mr Brown was speaking before MPs backed a majority report from the select committee on elections. He told MPs during Friday's sitting of the House that he was not aware of specifics in the case of Finance Minister Bob Richards, who was also accused of failing to make a declaration of Government contracts. But he added he was aware, through his position with Bermuda College in 2012, that Mr Sousa, who owns a landscaping firm, had a contract with the college. Mr Brown said: That's a clear case of a Member as a candidate having an interest in a Government contract and not disclosing it." Mr Brown and former PLP Attorney General Kim Wilson, with OBA MPs Glen Smith, Susan Jackson and Jeanne Atherden, all sat on the committee. The two PLP members prepared a minority report, which claimed Finance Minister Bob Richards and Mr Sousa had breached the rules on disclosure of contracts prior to the last general election and may not have the right to sit in Parliament as a result. And their report asked Parliament to bring clarity on the eligibility of both OBA MPs to retain their seats. The majority report, backed by all the members of the committee, concluded that candidates should disclose any interest in Government contracts in the interests of full disclosure, transparency and accountability. The committee, through the Centre for Justice, also obtained an opinion from English Queens Counsel James Goudie, who said that candidates should publish an interest if they were a director, officer, manager and the beneficial owners of ten percent of a company's issued capital. Other positions which would require disclosure were those who were a beneficial owner of more than 50 percent of the company's issued capital or can exercise more than 50 percent of the voting rights or can directly or indirectly control the company. Mr Goudie added legislation should be tightened up to remove any ambiguities and to ensure the requirement is policed and enforced. Mr Brown said neither MP had agreed to appear in front of the committee. Two other MPs, Government MP Sylvan Richards and the PLP's Zane DeSilva also declined to attend. He added: "I hope that going forward we never again have a situation where we have Members who have interests in Government contracts who do not disclose it without consequence." Mr Brown said that he had signed affidavits from members of the public who confirmed that they had been offered inducements for their votes although he declined to identify the constituencies. "We cannot have elections that are determined by how much money people put into people's pockets. That takes us back to a time and a place I'm sure we do not want to revisit." Ms Atherden, now Minister of Health, said that some who appeared before the committee said that they had made declarations in an abundance of caution, not because they were sure it was the letter of the law. But she added: "We don't want that type of grayness we want to try to have things more clearly defined." Attorney General Trevor Moniz said that it was open to anyone to bring an action in the courts to challenge the election of an MP. "These Members shouldn't be coming to this House to try to exercise through the back door what they are unwilling to do through the front door," said Mr Moniz.

June 9. Former Premier Ewart Brown and former Public Works Minister Derrick Burgess should not have used public funds to pursue their lawsuit, the Public Accounts Committee (PAC) has found. However, acknowledging the unusual circumstances of the case, the PAC has agreed that the two men's' actions were in line with financial instructions because their suit was for a governmental purpose. The PAC document tabled in the House of Assembly by chairman David Burt of the Progressive Labour Party reviewed the Auditor Generals special report on the misuse of public funds, presented to Parliament two years ago. From September, 2013 to May of 2014, the Committee held nine meetings with the Auditor General and staff, as well as current and former public officers. The report did noted that a contract with the Canadian law firm hired by Dr Brown and Mr Burgess had been ratified by Cabinet. Government's retainer agreement with Lax O'Sullivan Partners was terminated in September, 2011. The main contention, the report continued, was how an action approved by Cabinet for the Bermuda Government ended as a lawsuit in their names. The two men launched legal action against architects Sam Spagnuolo and former Government Chief architect Lawrence Brady in a Canadian court, on allegations of defamation. They accused the two of trying to besmirch them by fabricating a plot to embroil them in a kickback scheme over the Dame Lois Browne Evans police and court building but the $2 million suit was dismissed last year by an Ontario judge. Auditor General Heather Jacob Matthews branded the use of public funds for a private legal action a direct violation of Financial Instructions. The PAC wasn't able to learn precisely by whom or when authorization was given for the legal action. Its report stated that the Justice Ministry told the Committee that the personal action had been the only means by which the Government could take action against those responsible for essentially attacking the Government via its Ministers. Government by itself couldn't be a plaintiff in a legal action. However, the PAC wasn't provided with legal or contractual evidence to support the assertion, which the report said allowed for the possibility for someone to personally benefit from the lawsuit. It added that the PAC wasn't accusing either man of seeking to profit, but maintained that no documentation had been provided to satisfy the dilemma. The PAC was also wholly dismayed by the unwillingness of the Attorney Generals Chambers to share information with the Auditor General and said the claim of privilege wasn't acceptable. Information should have been provided to Ms Matthews, the report added. Former AG Michael Scott was also taken to task for declining to provide additional details to the PAC. However, the PAC report didn't support the recommendation by Ms Matthews that the surcharged funds be paid back since the Committee accepted the explanation that Cabinet approved the funds under the view that it was spent for a government purpose. The group concluded that Government should look into reforming its financial instructions procedures to support a civil action taken on behalf of a Minister defamed while carrying out their duties. PAC recommends that the Government ensure that the Auditor General receives access to all Government files without delay, the report added.

June 9. A plan to refurbish or sell off Government-owned properties that are empty will provide value for money for taxpayers, it has been claimed. Speaking in the House of Assembly on Friday, Public Works Minister Patricia Gordon-Pamplin revealed that Government had spent $11 million renting real estate to house administration offices 33 Government-owned properties are currently vacant. Responding to questions from Independent MP Terry Lister, Ms Gordon said that all empty properties were being assessed and prioritized as part of a property asset management plan. Most of these vacant buildings are in a poor state of repair and require refurbishment and capital expenditure before they can be occupied, Ms Gordon-Pamplin said. The property asset management plan will ensure that the Government's real estate is providing value for money for the Bermuda taxpayer. Currently, Government spends some $11 million to rent space from the private sector. The strategy is to identify those vacant properties that can be brought back into a habitable condition to provide quality accommodation for public service departments and to reduce the rental expenditure. In addition, where they can, vacant properties can be used to create innovative opportunities to stimulate wider economic growth for the Island. The Minister added: "if buildings were deemed no longer suitable as Government offices, they could either be rented out to the private sector or sold if the market is favorable. This action plan on vacant properties will be ready by the end of July this year and will set priorities for larger vacant buildings including the old Hamilton Police Station. Government architects are now working on options for this building and the Estates Department are identifying potential occupiers. Invitations to tender on some Government properties is underway, with the vacant Shelley Bay Beach House going out to tender today. Soon to follow next week will be see similar tender invitations being issued for Traditions restaurant in Southampton and others will follow.

June 9. Bermuda has been branded a notorious tax haven by a new report on the use of offshore financial centres by US corporations aiming to cut their US tax bill. The report, prepared by Richard Phillips and Steve Wamhoff of Citizens for Tax Justice and Dan Smith of the US Public Interest Research Group (PIRG) Education Fund, is entitled Offshore Shell Games 2014: The Use of Offshore Tax Havens by Fortune 500 Companies. One graphic cites Bermuda at the top of a list, declaring that profits reported collectively by American multinational corporations to Bermuda in 2010 were about $94 billion money that if it had been reported as US income, would become taxable by the US Government.

From Apple and American Express to Nike and Citigroup to Google and Microsoft, the report singles out companies for not paying as much in US taxes as they could, if they declared all of their worldwide income to the Internal Revenue Service.

In a name and shame exercise over Americas largest companies, the reports executive summary claims: Many large US-based multinational corporations avoid paying US taxes by using accounting tricks to make profits made in America appear to be generated in offshore tax havens countries with minimal or no taxes.

By booking profits to subsidiaries registered in tax havens, multinational corporations are able to avoid an estimated $90 billion in federal income taxes each year. These subsidiaries are often shell companies with few, if any employees, and which engage in little to no real business activity.

Congress has left loopholes in our tax code that allow this tax avoidance, which forces ordinary Americans to make up the difference. Every dollar in taxes that corporations avoid by using tax havens must be balanced by higher taxes on individuals, cuts to public investments and public services, or increased federal debt.

The report states that some 72 percent of the Fortune 500 companies maintain subsidiaries outside of the US.

Most of the companies the report names as having subsidiaries in Bermuda, such as Illinois Tool Works, Stanley Black & Decker and Marriott International, have no working presence on the Island. However, some, like insurance and reinsurance broker Marsh & McLennan, which has 23 subsidiaries in Bermuda, generates genuine profits and employs people through its Island operations.

While the reports authors describe Bermuda as a notorious tax haven, their view is not shared by the US government. Last December, US Consul General to Bermuda Robert Settje confirmed the US did not regard Bermuda as a tax haven. That statement was made as he and Finance Minister Bob Richards were signing the intergovernmental agreement to implement the Foreign Account Tax Compliance Act (FATCA) to promote transparency on tax matters.

Also US Attorney General Eric Holder stated in 2010, while visiting the Island and meeting with the Government on matters of mutual concern, that he would not characterize Bermuda as a tax haven.

Also the OECD white-listed Bermuda and declared it was not a tax haven nearly five years ago.

Meanwhile, as previously reported in The Royal Gazette, research by a professor in Australia found that the worst examples of bank secrecy, money laundering and tax fraud can be found in the worlds biggest economies.

Jason Sharman, a political scientist at Australia's Griffith University, started out with a budget of $10,000, as he sought to find out where and how he could open secret bank accounts and form anonymous shell companies.

His work was highlighted by leading financial magazine The Economist. Prof Sharman found it more difficult to open a secret bank account in Bermuda than in Delaware. And he was able to form a company in the UK, without providing identification, in less than an hour over the internet.

Useful website: The report can be found at http://uspirgedfund.org/sites/pirg/files/reports/USPIRG-CTJ%20OffshoreShellGames.pdf

June 10. The cost of healthcare insurance dropped this year, new Health Minister Jeanne Atherden said yesterday. "This year, for the first time I can remember, the standard premium rate, which is the basic premium included in every insurance policy to cover in-patient and out-patient services at the hospital, went down." She added that the premium fell from more than $325 to $301.85 a drop of $23.99 or 7.4 percent. But the premiums for FutureCare the health plan for seniors went up by $10 a month (2.3 percent) to $450 a month, although the HIP scheme, the Government health insurance plan, remained the same at $390 a month. Ms Atherden added: This was achieved despite the Ministry having to reduce its budget by $17 million for the current fiscal year and cuts in subsidies to all insurance plans, including HIP and FutureCare. The Government recognizes that rising healthcare costs are a major concern for Bermuda as well as other countries. But last year Bermuda saw a leveling off of total health spending for the first time in over a decade. Despite this, the actual cost of services has continued to rise, so the Ministry remains focused on solutions that will contain costs and improve Bermudas health system by encouraging healthier lifestyles and reducing the utilization of, and the need for, expensive medical services. She added: "The HIP and FutureCare insurance plans continue to provide affordable and accessible healthcare coverage to Bermuda residents and include not only in-patient and outpatient hospitals benefits, but also doctor visits specialists and physicians as well as basic dental benefits." HIP coverage is available to all Bermuda residents above school-leaving age, while FutureCare covers people aged 65 or over.

June 10. Bermuda-born Dr. Duane Pitt and Lahey's Dr. Robert Dolan will be the speakers on Thursday June 19 evening for "Docs for Dinner," at Cafe Lido. Sponsored by Bermuda HealthCare Services and Brown-Darrell Clinic, "Docs for Dinner," is a quarterly event. Thirty or more doctors are expected to attend the presentation and receive Continuing Medical Education credits. Dr. Pitt is President of the Desert Institute for Spine Disorder and the International Surgical Foundation in Arizona. A fellowship-trained orthopedic spine surgeon, he specializes in disorders of the cervical, thoracic and lumbar spine in adolescents and adults. His focus is on both non-operative and operative treatments of spinal disorders, including degenerative, scoliosis, infections, stenosis and tumor. He is trained in Minimally Invasive Spinal Surgery for all types of spine disorders and utilizes traditional and state of the art surgical techniques such as artificial disc replacement, microdiscectomy, minimally invasive spinal fusions, thoroscopic scoliosis fusions, as well as many others. Dr. Dolan is the Vice Chairman, Division of Surgery, Chairman, Otolaryngology, Head & Neck Surgery, Director, Disease Oriented Work Group for Head and Neck Cancer Sophia Gordon Cancer Center at Lahey Hospital and Medical Center. Lahey Clinic Hospital, Inc. designates this live activity for a maximum of 1 AMA PRA Category 1 creditsTM. Physicians should claim only the credit commensurate with the extent of their participation in the activity. For further information on "Docs for Dinner," please contact the Brown-Darrell Clinic on 297-3332.

June 10. Filipinos in Bermuda are treated like indentured servants, taken advantage of, and discriminated against because of their nationality. This according to sources who spoke with The Royal Gazette following a recent case in which a Bermudian man was charged with racially harassing and assaulting a Filipino. Although the case has yet to go to trial, xenophobia, said one Filipina woman, "is alive and well in Bermuda." Despite living on the Island for 14 years with her Bermudian husband, the woman, who asked to remain anonymous, said she has faced abuse from the day she arrived. They say things like, "You're in Bermuda just to earn dollars. In other words, they're trying to tell me that I am just using my husband so I can work. Honestly, when my husband came to my country to marry me, I had no idea what my life would be like in Bermuda." Life on the Island, she came to find out, would be more difficult than she anticipated. "When I first came to Bermuda people had been telling me directly in my face that because I am a foreigner in Bermuda, they don't like me. The only thing I could do was go home and cry to my husband, the Bermudian man that I married, because it hurts, right? It really hurts." She pointed out that she is targeted not because she is a foreigner, but because she is Filipina. Working in a restaurant and dealing with customers every day, she said, puts her directly in the line of xenophobic fire. She said she was last harassed on Monday morning, just hours before speaking with The Royal Gazette. "Even until today, even here at my workplace. Americans who marry a Bermudian don't have the same problems we have. Those who have not been to my country think we are very poor, that we are like beggars back home. We don't experience this and that, and they look down on us. That is the reason why, I think." But after so much abuse, she said she had learned how to deal with the xenophobic attitudes she faces. "The biggest problem we have is black women. I really don't have problems with the guys, but the women in particular, I do. For what reason? I don't know. What happens now is that I've learned to fight back. Sometimes I just look at them, don't say anything. But then its like I can't handle it no more, so I have to say something and let them know that I married a Bermudian, so whatever rights they have, I have the same, only I don't get to vote." Even then, said one concerned Bermudian man close to the Filipino community, those rights are not often extended to foreign workers. While Filipinos face cultural xenophobia, he pointed out, they also face xenophobia in the workplace, with landlords, and by staff at Workforce Development, whom he said will often take the Bermudians version of events at face value. "In Some work contracts Filipinos are hired under, they are treated as indentured servants," said the man, who also wished to remain anonymous due to threats he has received in the past for helping Filipinos in Bermuda." In most cases you have mothers that have come here to do a job, come half way around the world, leaving their own children that a Bermudian won't do, under conditions a Bermudian won't work under, for a wage a Bermudian won't work for. And somebody has to step in and help them. Filipinos are not likely to seek help from the Government, and Bermudian employers and landlords know this. Coming from the Philippines, where corruption is rife, they are naive of the rights they have in Bermuda, and that there are resources available to them to deal with such matters. When they do go to the Department of Immigration, they don't know how to deal with it because of the corruption in the Philippines. They ask, How much is it going to cost us? How much do we have to pay the official? Over there, corruption is very real, it's done in a way where everybody needs to be greased." The man pointed to two restaurants in Bermuda where Filipino workers are taken advantage of, squeezed for every dime, denied wages and denied tips the restaurant is legally obliged to share with them." "They [the restaurant owners] comment, like lots of others: "If you don't do what I tell you, pack up your bags and go home. When you consider that most of them are here supporting their families, working menial jobs, it's wrong.] I know of nannies that are here that have college degrees. They can earn more money here as a nanny and they're paying for three of their siblings going to college. Although the first Filipinos came to Bermuda in the late 1600s, the man said ignorance along with intolerance remains a primary factor in driving xenophobia against a very generous, very docile people. The last time the Filipinos were in the Bermuda Day Parade, they did a dance to Manila Girl. And there was a family of people, and a number of women there were shouting: "Go home, vanilla girl. They weren't even hearing what was being sung.

June 10. An Electoral Commission could settle arguments over whether election candidates are eligible to take their seats in Parliament, a civil liberties group said last night. And the Centre for Justice pledged to draw up a list of proposals to restructure the election process by the end of the year. The group was drafted in by a Parliamentary select committee, drawn from members of both main parties, to help decide whether MPs, who had not declared an interest in Government contracts after being nominated as candidates, were eligible to sit in the House of Assembly. The Centre said that, under current rules, the only way to sanction a candidate for breach of an obligation, like the requirement for disclosure of business links with Government, is to file a petition under a 1968 law with Supreme Court within 28 days of the return of the writ of election. "Unfortunately, such proceedings are cumbersome and costly. They are also not proactive as they can only be issued after a candidate is elected a Member of Parliament. In addition, this Act also requires the petition to be served on the Attorney General. This could raise questions of fairness where the Attorney General is a political appointment under the Constitution. Enforcement of requirements pertaining to electoral candidates, including the obligation to disclose an interest in a Government contract, could be by way of an independent non-partisan Electoral Commission. We would expect the Commission to be given a wide range of powers to receive complaints, inquire as appropriate and sanction offending parties." The Centre for Justice said that the requirement to disclose business links with Government should also be prominently placed on the nomination papers candidates must submit to take part in an electoral campaign. The statement came after the Centre got an opinion from English QC James Goudie, which said that under the Constitution, disclosure should be made, subject to the exemptions and limitations contained in legislation which should be interpreted narrowly so as to detract to the minimum extent possibly from the dominant requirement. "Justification for any lack of transparency must be clearly demonstrated. The 1968 legislation should be amended to remove any ambiguity. The amendments should include enforcement provisions, in particular, by whom and how the requirements are to be policed and enforced."

June 11. Acclaimed diver and explorer Teddy Tucker, born in Bermuda in 1925, whose treasure-hunting exploits inspired books and a Hollywood film and brought him worldwide fame, has died at the age of 89. Premier Michael Dunkley last night hailed him as "one of the great Bermudians of our time." Mr Tucker discovered more than 100 shipwrecks in Bermuda waters, and was a founding member of the Bermuda Underwater Exploration Institute (BUEI). His friend and author, the late Peter Benchley, once described Mr Tucker as the man who "brought the world to Bermuda, and Bermuda to the world." His adventures inspired the Jaws author to write his second novel The Deep, which in 1977 was filmed in Bermuda and included Mr Tucker in the cast. Sources close to the family told The Royal Gazette that Mr Tucker passed away on Monday afternoon in Somerset. His maritime career, which began with his first job at the Bermuda Aquarium, made international headlines in 1955 when he discovered one of the most precious treasures ever recovered from the sea.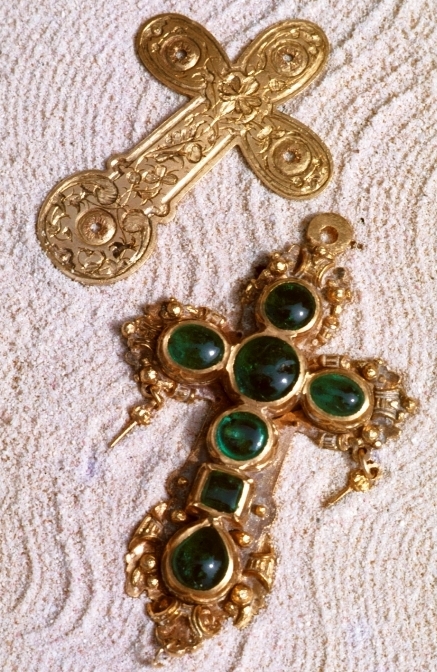 Dubbed the Tucker Cross, the gold and emerald crucifix, taken from the Spanish wreck San Pedro, was featured on the cover of Life magazine. "I picked it up, and the sun hit the emeralds," Mr Tucker later recalled of his discovery. "It was just like they had lights in them." The Tucker Cross was an international attraction until 1975, when it was noticed that it had been stolen and switched with a replica. It has remained an unsolved mystery but it is felt the expertise of the theft and substitution by a replica may have been the work of a professional. Mr Tucker found the San Pedro wreck in tandem with Smithsonian Institution curator Mendel Peterson, with whom he collaborated on the grid method of underwater archaeology. He also discovered the six-gilled shark in local waters and, in 1983, helped found the Beebe Project, dedicated to the study of deep-sea life. His friend and fellow diver, former Premier David Saul, said the Island had lost "a true national treasure" with his passing. "Teddy Tucker was recognized as one of the fathers of modern marine archaeology, and was revered by scientists, academics and divers on every continent," Dr Saul said. "If it had not been for the Second World War, in which he served in the navy and was an underwater demolition expert, he would have made a phenomenal university professor: his knowledge of ships, history, dates and numbers was incredible — one could literally spend all day and night, as I have done on all-night fishing trips, just listening to his stories. His marine knowledge, including fish big and small, from invertebrates to whales, was encyclopedic." Dr Saul added: "It is a little-known fact that Teddy earned, over a five-year period after the war, more foreign exchange for the Government of Bermuda than all international business and tourism combined. He had been contracted by the Treasury to collect as much scrap metal from ships that had been wrecked around Bermuda over the previous decades. The amount of copper, brass and other metals that he raised earned millions for Bermuda — a critical contribution to the local economy at a very difficult time. "What was in that man's head was astonishing. He is a great loss to the Island. My heart goes out to his wife Edna, and his daughter Wendy at this sad time." Born on May 8, 1925, Edward Bolton Tucker grew up by the waterside at Hamilton Harbour and Mangrove Bay, and began diving on shipwrecks locally and internationally in the late 1940s. "His father, mother and uncles had a keen interest in the ocean, which led him to working at the Aquarium," said Wendy Tucker. "He was a very special father, because he included me in his marine world for as long as I can remember — which made me very lucky. I traveled with him on many of his overseas projects." In the early days, she said, she and her mother were often "the only females on the boat. It was a very different era than today, and my father made sure that we were included He had an excellent memory and a wonderful sense of humor that all ages could appreciate. He never lost his vitality or enthusiasm for what he did and it became infectious. His experience from years of research and traveling around the world as a young man, gave him an insight into both the sea and land environment that most people do not experience or appreciate." As Mr Tucker's reputation flourished, his West End home became a gathering spot for visiting scientists. He appeared frequently in the pages of National Geographic magazine, which covered the Beebe Project's discoveries. According to his daughter, Mr Tucker most recent work with National Geographic was last year. "They are expected to come down in a couple of weeks to complete the project and I will assist in any way I can," Ms Tucker added. "He was also working with the Geological Survey of Canada on the Bermuda Sea Level Rise and we hope to continue that with a meeting in October." Premier Mr Dunkley said: "Teddy, as he was known to everyone, was a Bermudian original whose adventurous life and profound knowledge of the waters around Bermuda brought worldwide attention to the Island for more than six decades. "Mr Tucker's accomplishments were almost incredible in their breadth. He was a sailor, diver, explorer, treasure hunter, lecturer, archaeologist, historian and author. He was also an extraordinarily successful promoter of Bermuda's history, culture and character, inspiring Hollywood films, best-selling novels and articles in major magazines from National Geographic to Life. Mr Tucker's amazing knowledge of Bermuda's waters began with his first jobs as a boy aboard local fishing boats and never stopped. He inspired writers and scientists, schoolchildren and students. He was always approachable and ready to work with the curious, imparting his first-hand knowledge with simplicity, precision and enthusiasm. Teddy Tucker enriched the life of Bermuda and brought the most positive worldwide attention to the Island. He made us proud to be Bermudian." Mr Tucker was a member of the Explorers Club, as well as a Charter Member of the Hellenic Institute of Marine Archaeology. In 1991 he was presented with the Distinguished Service Award by the Underwater Society of America, and he was awarded the Member of the Most Excellent Order of the British Empire medal in 1994 by the Queen. In 2000, the New York Explorers' Club awarded Mr Tucker with the Lowell Thomas Award. A BUEI spokeswoman said the organization wouldn't exist without Mr Tucker, adding: "We'll miss him and our hearts go out to his family." And Bermuda Institute of Ocean Sciences president Bill Curry said: "It is with a sad heart that we acknowledge the passing of Teddy Tucker, Bermuda's most renowned explorer and globally recognized historian, artist, and lecturer." Ms Tucker said her father had requested "no funeral or memorial — and my mother and I are respecting his wishes. He lived his life to the fullest and made each day count." Teddy Tucker's swaggering air and boisterous manner could not help but summon up storybook images of sea rovers and swashbucklers. And certainly the treasure trove of drowned Spanish gold and silver that he recovered from Bermuda's waters in the 1950s was the very stuff pirates' dreams were made of. His natural exuberance and high spirits charmed all who knew him. A huge part of the pleasure for all those who shared a boat ride or dived with Teddy Tucker, A master raconteur, he would finish a story with bell-like laughter that lit up the face of everyone within earshot". However, his seemingly carefree demeanor could sometimes distract from his complexity of mind and seriousness of purpose. American novelist Peter Benchley, his close friend and protégé, famously described Tucker as "a walking encyclopedia and one of the great autodidacts in the history of science — a self-taught expert on ships, coins, nautical history, underwater archaeology, painting and glassware". Benchley had met Tucker by chance while in Bermuda for a 1971 National Geographic story assignment. He quickly fell under his spell, becoming a close friend, ardent disciple and, ultimately, best-selling populariser of the Tucker legend. The Bermudian adventurer served as both model and muse for Benchley's 1976 novel The Deep, a tale of sunken treasures and latter-day freebooting set in local waters — the grizzled shark fisherman Quint in Benchley's breakthrough 1974 book Jaws also bore a more than passing resemblance to Tucker. The success of that novel, along with the blockbuster film adaptation of The Deep released the next year, brought Tucker and his pioneering undersea work to the attention of an international audience and made his name synonymous with treasure hunting. Possessed of a fiercely probing intellect, boundless curiosity and seemingly inexhaustible reserves of energy, after serving in the Royal Navy in the Second World War, he returned to Bermuda and embarked on a career in marine salvage with brother-in-law Robert Canton. The partners were so hard-pressed and lacking in cash to begin with that they used chains for diving weights and produced compressed air using an old aircraft de-icing pump. "We ate salt fish and turnips in the early days," Tucker once recalled. "We didn't make a lot of money in a hurry." But they persevered and salvaging scrap metal soon segued into marine archaeology and treasure hunting. After then came some of Tucker's fabulous early treasure finds, which generated enough income to fund his seafaring activities for the next five decades. Along the way, his interest in treasure hunting was subsumed by a passion for marine science and oceanography. His areas of expertise eventually extended from the various shipbuilding methods used for 16th-century Spanish galleons to the life cycle of the mysterious and elusive giant squid. His accomplishments included discovering more than 100 shipwrecks on the reefs encircling Bermuda; helping the Smithsonian Institution's Mendel Peterson to develop the modern field of marine archaeology, including contributing to the now-standard grid system used for surveying and conserving shipwrecks; collaborating with the late Dr Eugenie Clark, the internationally celebrated "Shark Lady", whose pioneering research did much to improve our understanding of those much feared but often unfairly maligned sea creatures; and a multiyear association with National Geographic ocean explorer Emory Kristof on the Beebe science project, an expedition of marine biologists and underwater photography experts who came to Bermuda in the late 1980s and early 1990s in a quest to observe and record rare examples of deep-sea life using manned submersibles. Tucker will always be identified with the fabled emerald-studded gold cross, which came to bear his name. He discovered it in 1955 in just 25 feet of water while exploring the skeleton of the Spanish vessel San Pedro, which had come to grief on Bermuda's reefs in 1596. It was the signature piece in the priceless treasure haul that Tucker had retrieved from Bermuda's seas in the 1950s. Clare Boothe Luce, the playwright and former US congresswoman and diplomat, recounted how during a visit to Tucker's Sandys Parish home, he spread the golden pieces he had found in Bermuda's vast underwater graveyard of ships before her as "a champion displays his trophies, a soldier shows his medals to good friends, [including] a 16th-century bishop's pectoral cross of purest gold, studded with seven sea-green, sea-smooth emeralds ..." The collection was, she said , "the greatest underwater bonanza found in Western waters" up until that time. The emerald-swollen Tucker Cross was valued at $250,000 by the Smithsonian Institution, making it singularly the most valuable piece of treasure ever salvaged from the sea at that point. Adding to the mystique of the cross is the continuing mystery surrounding its whereabouts. The cross was discovered to have been stolen in 1975 and replaced with a plaster substitute when it was moved from the Bermuda Aquarium, Museum & Zoo to be displayed at the newly opened Bermuda Maritime Museum, now the National Museum of Bermuda. Tucker liked to say that Bermuda was a permanently anchored research vessel in the North Atlantic, a location that had allowed him to make the study of the sea and its mysteries his life's work. And what impressive, and impressively wide-ranging, work it was. By the time he died at the age of 89, his unparalleled knowledge of the world's largest but least-explored ecosystem, along with his willingness to share what he learnt, was attracting some of the best and brightest minds in a dizzying array of disciplines to his 300-year-old house overlooking Mangrove Bay. Former Premier of Bermuda David Saul, a longtime friend and diving companion, did not overstate the case at all when, upon learning of his death, he called Tucker a Bermudian original who was "revered by scientists, academics and divers on every continent". And Dr Saul also got it exactly right when he described this marine archaeologist and historian, naturalist, conservationist and explorer as "the authentic Tucker treasure — a Bermudian national treasure".
June 11. AXIS Capital has donated $1 million to the Bermuda Hospitals Charitable Trust (BHCT), bringing the group's funds to $31 million. The new acute care wing at King Edward VII Memorial Hospital will require a $40 million payout to contractors Paget Health Services upon its completion. The "Why it Matters" campaign by the BHCT has been raising money since April 2011, and is now in what executive director Ralph Richardson called "the home stretch". AXIS chief executive officer Albert Benchimol said the company was committed to helping deliver "deliver enhanced and affordable healthcare" to the community. Thanking the company, BHCT chairman Philip Butterfield said the donation put the campaign "one step closer to achieving our goal of providing a world class standard of excellent healthcare through modernized facilities".
June 12. An American oncologist hired two years ago to lead Bermuda Hospitals Board's cancer services is to exit the Island in September and is currently on sick leave, leaving only part-time doctors to cover his absence. The departure of Paul Coty from King Edward VII Memorial Hospital raises concerns for Bermuda's cancer sufferers, according to a source, who yesterday questioned how quickly a replacement would be found and how appointments would be covered in the meantime. Dr Coty, originally from New York, came to Bermuda in February 2012 as KEMH's only full-time oncologist, after spending eight years in Hawaii. A BHB spokeswoman confirmed to The Royal Gazette yesterday that he was due to leave the hospital in September and said his position was advertised many months ago. "We will hopefully have good news about his replacement in the near future, but until details are finalized we cannot provide further details. We can assure the Bermuda community, however, that we remain committed to ensuring our oncology patients are cared for and will do all that is necessary to ensure that consultations and treatments are not interrupted during this time of transition." The spokeswoman said Dr Coty was currently on unplanned sick leave, which was expected to be over by the end of June, and she apologized to KEMH's cancer patients for ?this unexpected disruption and for the rearrangement of their consultations. The source, who asked not to be named, told this newspaper there were concerns about how quickly Dr Coty's patients would be seen in his absence and how long it would take to replace him. "This is the same situation they were in about three years ago and it took them a year-and-half to find someone," said the source. "The problem today is that a lot of oncologists are specialists and it's very hard to find a general one, which is really what Bermuda needs." Those comments echo remarks made in 2012 by BHB's chief of medicine, Keith Chiappa, when Dr Coty was appointed. Dr Chiappa said the hospital required a full-time oncologist. "As cancer patients and their families in Bermuda are aware, over the last few years we have been working hard to appoint a full-time, high quality oncologist. The global shortage of specialists in this area has made it especially challenging." The source added yesterday that Dr Coty's current absence and his imminent departure raised two main concerns. "Patients who are already diagnosed, you have a trusting relationship with your oncologist and that's now been pulled away. For anybody newly diagnosed, the next person you see is the oncologist. They are the one who will look at your case and meet with the tumor registry if necessary. They are the one who recommends what happens next, be it surgery, chemotherapy or radiation. That's your lifeline as a cancer patient." The BHB spokeswoman said oncologists Tutu Aung-Hillman and Jean Walters, who have both worked at BHB before, were assisting with part-time temporary coverage. She said Dr Walters would arrive by the end of the month, as she had other commitments until then. "Dr Walters is working one week a month and has agreed to cover Dr Coty's vacation before he leaves. Dr Tutu Aung-Hillman will be working three extended days [a month] while Dr Coty is away. We are also working closely with our clinical associate to ensure appropriate coverage. We are very grateful for the assistance of Partners Healthcare System in ensuring oncology services in Bermuda. Although not directly employed by BHB, there is also a visiting genito-urinary oncologist, Dr Mary Ellen Taplin, from the Dana Farber Cancer Center (part of Partners), who regularly visits Bermuda to see patients with prostate and other related cancers. Dr Taplin will continue to visit, as will the four Lahey physicians who see patients requiring radiation therapy for breast, prostate, gynecological, head and neck cancers. At the moment, new oncology patients are individually assessed and, between our locums and the ability to refer overseas in urgent cases, oncology needs are being met, meaning that patients continue to receive effective consults and treatments." There were more than 200 registered cases of cancer in Bermuda in 2012, according to the most recent National Tumor Registry annual report. Bermuda Health Council says cancer is the second leading cause of death in Bermuda, accounting for more than 30 percent of all deaths in 2009.
June 13. Prostate cancer patients could face delays in getting diagnosed and treated when one of only two urologists leaves Bermuda at the end of this month. Dr Suren de Zylva joined Dr Charles Dyer's urology practice last September, but will return to the UK after less than ten months on the Island. And a source at the practice said the departure will create a backlog of patients getting screened and treated for prostate cancer and a host of urological conditions. Dr Dyer, who is believed to be in his mid-70s, is said to have gone into semi-retirement after recruiting Dr de Zylva and now works just three days a week. Yesterday The Royal Gazette revealed that oncologist Dr Paul Coty, brought in by the Bermuda Hospitals Board two years ago to lead its cancer services, was currently on sick leave and is also preparing to quit the Island, leaving only part-time doctors to cover his absence. Last night the source at Dr Dyer's practice said the office was swamped with patients, and that Dr de Zylva had managed to reduce waiting lists during his short stint. "My concern is that there's such a high demand for urologists here. It's not just prostate patients that are seen, there are people with bladder and kidney and renal issues. For example, so many Bermudians seem to suffer from kidney stones." The source, who asked not to be named, said that patients had had to wait for up to six weeks before Dr de Zylva was appointed, but that figure had since been reduced. "Dr Dyer is now semi-retired. he's slowed down a lot since Dr de Zylva arrived. When Dr de Zylva leaves it's going to be a case of waiting list-plus. We're going to go right back to how it was before." Dr Dyer and Dr de Zylva could not be contacted for comment last night.
June 13. Islanders are being urged to be tested for HIV with free screenings being offered at the end of this month. The initiative is to mark HIV Awareness Month, Health Minister Jeanne Atherden told the House of Assembly this morning. The free, confidential and quick tests will be on offer at Hamilton Health Centre on Friday, June 27. Minister Atherden said: "In many countries, HIV/AIDS awareness is the focus of an entire month and in Bermuda, June has been designated as HIV Awareness Month. The month presented an opportunity to promote the vision of the United Nations AIDS campaign, Getting down to Zero: Zero New Infections, Zero Discrimination, Zero Aids-related Deaths." Given the preventable nature of HIV and advances in HIV/AIDS care, the Ministry believes that this vision is possible and encourages all persons to get tested, know their status and have the conversation talk about HIV/AIDS and other sexual health matters. Minister Atherden told the House that more than 300 people live with or are affected by HIV in Bermuda. "Since the emergence of HIV infection in Bermuda in the early 1980s, it is only in the last three years that there have been less than ten cases diagnosed annually. The last three years have also seen declines in the overall number of reported sexually transmitted infections. These trends need to continue. Last year, the Epidemiology and Surveillance Unit recorded seven new HIV diagnoses, three AIDS diagnoses and ten deaths among persons with HIV/AIDS. While the number of deaths may seem high, over half of these persons had been living with HIV for more than 20 years, which is a testament to improvements in treatment and the high standard of care available in Bermuda." But the Minister insisted that the Island could not risk becoming complacent about sexual health and highlighted that there was no cure for HIV but it was preventable. The Centres for Disease Control and Prevention and the World Health Organization have recommended that screening for HIV infection should be performed routinely for all persons engaging in sexual behaviors. Over 90 percent of those diagnosed with HIV in Bermuda over the past five years were infected through sexual contact. On HIV Testing Day, the public is encouraged to get tested and to discuss the importance of HIV testing with their friends, family members, colleagues, healthcare providers. The Ministry is encouraging residents to show their support for the Getting to Zero vision by wearing red clothing and posting photos to social media using the hash tag RockRedBDA throughout this month. Minister Atherden also revealed that funds for the STAR AIDS charity, which supports families affected by HIV and AIDS, were being raised by Bermudas bakeries and cafes. Crow Lane Bakery, Tribe Road Kitchen and Dockyard Pastry Shop are among the venues selling red-themed treats this month with part of the proceeds going to the non-profit. A public forum on HIV and AIDS will be held on June 24 from 5.30pm to 7.30pm at the Bermuda Society of Arts at City Hall. Panelists will include experts in patient care and a representative from STAR. The guest speaker will be inspirational Marvelyn Brown, who will share her experiences of living with HIV. Ms Brown, 30, author of memoir The Naked Truth: Young, Beautiful and HIV Positive, contracted HIV from her boyfriend at the age of 19. Minister Atherden said the young American will discuss how she manages to stay upbeat, inspired and more positive about life than ever. Ms Brown will also be present for the second hour of Not Just Another Book Club at the Bermuda National Library on Thursday, June 26, from 6pm to 8pm to discuss her memoir. Minister Atherden said: "As we press toward the vision of Getting to Zero, we encourage the community to support the awareness activities and to have conversations with their healthcare providers about sexual health so that we continue the progress made in HIV prevention."
June 13. The Bermuda Hospitals Board (BHB) officially received the key to the new Acute Care Wing yesterday in a ceremony at King Edward VII Memorial Hospital. Final building work at the site is still ongoing but BHB CEO Venetta Symonds said the event marked a key point in preparing the facility for its grand opening in September. "Having the key allows our engineers to now come in and do connecting work and it allows contractors to fine tune everything in the building," she said. "Staff also need to get oriented and training so that we have a smooth move over in September when we open to the public. The 90 beds in the new building will replace beds in the old building and will be used for everyone in need of medical or surgical care." In addition to the new acute care beds, the new wing will house emergency, diagnostic imaging — specifically the x-ray, ultrasound, MRI and CT scanning equipment — day surgery, dialysis and oncology. Around $300 million have been spent on the project to date, between the construction and design costs paid by Paget Health Services and the sum BHB has paid for equipment. BHB Chairman Jonathan Brewin said the project has remained on budget, as the payments and costs were set out when the contract was signed. The Bermuda Hospitals Charitable Trust, who set out in April 2011 to raise $40 million through the Why It Matters campaign, has so far raised around $31 million of its goal. Alan Burland of BCM McAlpine said he was very proud of the project, calling it both a key pillar for Bermuda and a demonstration of the potential of public-private partnerships on the Island. "This has been a huge achievement," he said. "This is the largest project ever done in Bermuda. This has truly been a massive and effective team effort, and I have to stress team. It's a rich blend of locals and expatriates that brought this to fruition. We couldn't have done it without the combined team, and you should all be justly proud. It demonstrates world class infrastructure, and is really unrivalled on any other Island." Premier Michael Dunkley described the handover as a milestone for Bermuda, saying: "It's a day which marks a pivotal moment in the history of healthcare on the Island." He thanked all of those who have worked to make the new facility a reality, saying that the project took a lot of planning, preparation and skilled labour to bring to fruition. And newly named Minister of Health, Seniors and the Environment Jeanne Atherden said: "It was just a few weeks ago that I was a member of the board and so I'm well informed of the need for this facility and it's importance for the healthcare of Bermuda. This is an important milestone but I must remind you that this is not the end of the journey. There is still serious work to be done and in the next three months we have to ensure that there's a safe and seamless transition of patients and services and we have to prepare the staff for the new standards of care that the BHB will be able to give to patients at this new facility."
June 13. Nearly 200 yachts are set to sail in the 49th Newport Bermuda Race - see http://bermudarace.com/2014-race/ among them three that will be from the Island. Among the trio of local entries are Crossfire, Nasty Medicine and Spirit of Bermuda. Crossfire, a J-125, is helmed by Brian Hillier, and is competing in the Gibbs Hill Lighthouse Division. Nasty Medicine, a Corby 41.5, is competing in the St David's Lighthouse Division and is helmed by Dr Stephen Sherwin. Spirit of Bermuda, a triple-masted sloop, is competing in the Spirit of Tradition Division with Karen McDonald, the ship's first female captain, at the helm. The sail training ship took part in the previous 635-mile race and was awarded a citation by the Bermuda Race Organizing Committee for exemplary seamanship for assisting in a medical emergency aboard another yacht. In total, there are 165 yachts competing, the same amount that registered for the 2012 race from Castle Hill, Newport, Rhode Island to St David's, Bermuda. The race starts on June 20. The Newport Bermuda Race is organized by the Cruising Club of America and the Royal Bermuda Yacht Club and sailed almost entirely out of sight of land and across the Gulf Stream. The race consists of five divisions: St David's Lighthouse Division, Gibbs Hill Lighthouse Division, Cruiser Division, Double Handed Division and Spirit of Tradition Division. No boats have entered the Open Division for racing boats with canting keels. The St David's Lighthouse Division, for multi-purpose cruising/racing yachts, is the largest division with one hundred entries and is one of the races three divisions that have seen an increase in entries this year. Returning are the top five boats in the division standings from the last race, including the 2010 and 2012 St David's Lighthouse Trophy winner, Carina, helmed by Rives Potts. No boat has been involved in or has more Newport Bermuda Race titles than Carina. Two-times St David's Lighthouse Division winner, Sinn Fein, which was nearly destroyed by Hurricane Sandy, is among this year's fleet. There had been concern that the Cal 40 would never sail again after being ravaged by the hurricane. But the boat has since been rebuilt and is raring to add to its impressive legacy in the race. More than 100 prizes will be awarded at the traditional ceremony at Bermudas Government House on June 28. Among the new awards this year are Regional Prizes presented to the top boats hailing from five regions of North America. Twenty-one states from Maine to California are represented in the fleet, with especially strong turnouts from New England and the Chesapeake Bay area. The 16 entries from outside the United States include one boat each from Austria, Germany, Russia, and Spain; three from Bermuda; four boats from the UK; and five boats from Canada.
June 13. Clarien Bank Limited named former US Consul General to Bermuda, Gregory Slayton, to its board as an independent director. The bank said in a statement that his appointment is consistent with Clarien's strategy for achieving international growth and a position of financial services leadership while maintaining a strong Bermuda market presence. Since 2009, Mr. Slayton has served as Managing Director of Slayton Capital, a private venture capital firm active in China, Hong Kong, Singapore, and Taiwan. He is a Distinguished Visiting Professor at the University of International Business and Economics in Beijing, and a visiting lecturer at the Dartmouth, Harvard and Stanford business schools. "With his many relationships and experience in the Far East as well as proven track record in the investment arena, Gregory is an excellent addition to the Clarien Board," said bank chairman Keith Stock. "His familiarity with and international advocacy for Bermuda are distinguishing characteristics that will benefit Clarien immensely." Mr. Slayton served as the United States Chief of Mission to Bermuda from 2005 to 2009. Prior to serving as American Consul General, Mr. Slayton was active as a principal investor in emerging growth, Silicon Valley, US companies such as Google, Oakley Networks and Salesforce.com. He also served as president and CEO of ClickAction Inc. and MySoftware, as well as president of Paragraph International and senior vice president, CFO and co-founder of Worlds, Inc. Earlier in his career, Mr. Slayton served as CFO of Paramount Technology Group and as a consultant with McKinsey & Company in its Buenos Aires, Paris and New York offices. Mr. Slayton is Chairman of the Slayton Family Foundation, the Fellowship of Fathers Foundations, and a director of numerous other organisations. He earned a BA in economics as well as a Masters in Asian studies from Dartmouth College and an Honors MBA from the Harvard Business School. Mr. Slayton joins current presiding Board Directors Buford Alexander, Michael Quinn, James Gibbons, James Macdonald, Andrew Parsons and C.H. (Hal) Masters and Chairman Stock.
June 13. A new chapter in tourism begins next week as the Tourism Authority lays the foundation of a new approach to hospitality investment. The Authority, an independent, non-government entity engaged to revive Bermuda tourism, is to be powered by four divisions: tourism investment, product and experience, sales and marketing and corporate support functions. Banker Roland Andy Burrows has been appointed chief investment officer, with responsibilities related to future investment in tourism infrastructure. He takes up his new responsibilities on Tuesday. A statement from the Bermuda Tourism Authority said he will be involved in redefining the future for investment in the tourism industry. "We're thrilled to have a talented and well-respected Bermudian lead this division which, while new to Bermuda, will be the cornerstone of our modern approach to hospitality investment," said BTA Chairman, David Dodwell. "Investment equates to jobs and a stronger economy, and its a crucial mandate of the BTA." After 25 years in financial services, business strategy and development, Mr Burrows moves over from HSBC Bermuda, where he was Head of Commercial Banking. At the bank he led, initiated and implemented compliance, operational and credit risk and regulatory policies for Corporate Banking, Business Banking and Real Estate Banking. In his new role, he will be responsible for identifying, developing and cultivating investment across the hospitality industry, from hotels and attractions, to infrastructure and tourism related businesses. Mr Burrows will assist in the formulation of development and investment incentives specific to Bermuda and inform global investors in key areas such as taxation, work force, immigration, customs, infrastructure, development permits, and sustainability. In addition, hell lead international capital raising efforts to attract investment to Bermuda tourism by identifying, qualifying and establishing new sources of equity and debt financing investors on an ongoing basis. "The importance of this position can't be overstated," said Bill Hanbury, BTA CEO. "Andy will continue to develop and monitor the red carpet and one-stop shop approach to attracting global hospitality and leisure investors and developers to Bermuda. And, whether its international or local development, hell move investment projects through government channels and approvals. On the local side, Mr Burrows will develop and drive financial and growth strategies for existing businesses and properties, including renovations and asset repositioning projects such as hotel room capital expenditures. This extends to strategies designed to stimulate small and medium businesses related to tourism. Mr Burrows has managed balance sheets up to $12 billion while generating revenues of up to $100 million at HSBC. He holds a Bachelors of Business Administration Degree in Accounting from Georgia State University, Atlanta, Georgia."
June 13. A proposal to drag Belco power generation into the 21st century could eventually cost half a billion dollars, the company said in an interview yesterday. It would include, in one of the first stages, an ambitious multiyear plan to begin mounting solar panels on Bermuda homes for hot water heaters — targeting 1000 a year. It would eventually, perhaps in the fifth year, also include the use of liquefied natural gas (LNG) fuel, removing the need for importing expensive oil. Belco uses a million barrels of oil a year, at an annual cost of $150 million — 55 percent of the total cost of running the utility — including $15 million in government duty. Belco's parent company, Ascendant Group Limited, has an Integrated Resource Plan (IRP) that they say would generate a host of skilled and unskilled jobs, improve Bermuda's balance of payments, reduce our carbon footprint, conserve energy, reduce pollution and contain household electricity costs. At present, there is no regulatory framework in Bermuda that would allow Ascendant's plan to proceed. The current regulatory regime, suitable in the past, will have to be discarded for a far more sophisticated administration. And legislative changes are required before the appropriate framework will be put in place. Ascendant's President and CEO Walter M Higgins, told The Royal Gazette, "The government is committed to putting the right regulatory regime in place. They indicated that commitment in the Throne Speech last year. They want a 21st century regime in place that is in line with world standards to regulate the electric utility. Standard regulation today, allowing for our substantial costs to be recovered and accumulated in certain ways, is exactly what lenders will look for when they consider lending money to us to do this work." While the scheme to replace the current technology is pending, officials concede that they are not just faced with dated technology, but a facility that includes engines that are coming to the end of their useful life — and at least one which should have already been retired. While in an ideal world, the company should have begun upgrading years ago, they know there is no time like the present. Mr Higgins said, "The challenge Bermuda faces today is an ageing generating infrastructure with the engines near the end of their life, on average. Some of them are past the end of life. We have an oil burning infrastructure with all of the things that you can imagine are good and bad about that — highly transportable, highly dense, energy dense fuel. But it's dirty. There is an issue if it is spilled. There's sulphur in it, so there is a certain amount of pollution that comes out of those stacks. Soot can be a problem. We have to deal with it very carefully. And carbon dioxide, which is a world problem according to a lot of people, is also emitted in large quantities when you burn diesel or heavy oil like we do. And the third part of this is that every gallon of oil coming into this Island has to be paid for with money which is hard-earned by sending some product or service of value off the island. That must be one of the things that make (Finance Minister) Bob Richard's life hard. We are about cash-outflow when the Minister is trying to get product outflow and cash inflow."
June 13. Government has launched a last-minute appeal to a landmark ruling which enabled two Permanent Residents Certificate (PRC) holders to obtain Bermuda status. And according to Attorney General Trevor Moniz, the Department of Immigration has been inundated with applications from residents seeking status since last months decision by Chief Justice Ian Kawaley. Mr Justice Kawaley upheld an earlier ruling by the independent Immigration Appeal Tribunal, which directed the Ministry of Home Affairs to grant applications for Bermuda status by long-standing PRCs Rebecca Carne and Antonio Correia. Status was granted under section 20B of the Bermuda Immigration and Protection Act 1956. Outlining Government's reasons for the appeal, Mr Moniz said that the two applicants had been advised correctly in 2012 that there was no procedure to submit a request for status under the 20B section of the Act but that amendments to the law had created this unique circumstance. In spite of this advice, applications were subsequently submitted to the Minister in 2013 at which time the Minister rejected the applications on the basis that there had been no pre-approval for Bermudian status under the Act, Mr Moniz said. Notwithstanding, the Ministers decision was overturned by the Immigration Appeal Tribunal (the IAT) with the matter eventually being appealed in the Supreme Court in January of 2014 with the Chief Justice ruling in favour of the applicants and stating in his summation, the decision of the IAT directing the Minister to grant the Respondents applications for Bermudian status is accordingly affirmed. This judgment now meant under the current legislation, a pathway to status for PRC holders was now possible. In essence, the Supreme Court ruling says that if a PRC holder submits an application for naturalization to become a British Overseas Territories Citizen (BOTC) (Bermuda) to the Department of Immigration at the same time he/she submits an application for Bermudian status under Section 20B (2)(b) of the Act, and the Minister supports the naturalization application which is subsequently approved by the Governor, the Minister must, save for various circumstances as set out in the Act, grant the applicant Bermudian status under the said section. And while this provision has existed for many years, it only came to light as a result of the original PRC legislation which would appear the previous Administration did not grasp the fact that provisions in the Act that were amended in 1994 would have this effect upon the introduction of PRC legislation in 2001. In essence, the PRC legislation has seemingly created this unique circumstance. Mr Moniz said that a flood of status applications had been made in the last month, with 115 residents becoming naturalized. Mr Moniz added that a further 1,340 residents were eligible to make an application for naturalization. Notwithstanding the anomaly in the legislation, the Ministry has sought the advice from a the Attorney-Generals Chambers as well as a Queens Counsel in the United Kingdom on the merits of appealing the Supreme Court judgment, Mr Moniz said. Whilst the advice received following an exhaustive review of this judgment by the aforementioned Counsel was not entirely favorable as far as the judgment being successfully overturned, the Ministry has nonetheless filed an appeal in this matter to the Court of Appeal which will allow the opportunity for further Government review of the matter.
June 13. Public bodies will be forced to provide full details of financial transactions under proposed new laws. Speaking in the House of Assembly this morning, Premier Michael Dunkley said Government was "committed to keeping its financial affairs and those of public bodies and authorities, open and transparent", but that current legislation meant some public bodies did not have to be fully accountable. While expenditure data for Government Departments is readily disclosed and information inclusive of salaries, grants, and contributions is available to the public, the same level of disclosure does not apply to all public bodies and authorities," Mr Dunkley told MPs. "A preliminary review of the legislation that governs the operation of different public bodies and authorities highlights significant inconsistencies as it relates to the requirement for disclosure. While most public bodies and authorities are required to provide annual reports, the level of detail is not always as useful as the public requires in order to be fully informed." Mr Dunkley said that, in certain cases, Government Ministers did not have the authority to demand specific details relating to the financial accounts of some groups. As a result, some bodies are only required to submit annual accounts "which does not itemize the specifics of the expenditure. The Government will amend the Public Treasury (Administration and Payments) Act 1969 to require all Government Departments and public authorities to provide very specific aspects of information relating to the accounts of these bodies. Under these provisions, information such as the salaries for senior executive officers of the public authorities will be made available as a part of the consolidated financial statements. In other instances, the Government will implement policies that mandate, via contractual agreement, the public disclosure of similar financial information as a requirement for grant funding. Such policies will ensure that where public funds are being used to underwrite the cost of operations, information regarding salaries, sponsorships, and other contributions is publicly available. This Administration will take appropriate action, consistent with law and policy to disclose information so that the public is informed. The same principle will apply to public bodies and authorities."
June 13. A US developer and advisor for the Ariel Sands redevelopment project is cautiously optimistic about its progress. Lou Maroun said work to revive the Devonshire property was a project in motion and that movie star Michael Douglas, a part-owner of the site, visited regularly to discuss the plans. "He comes back and forth very frequently to discuss the development of the project," Mr Maroun said. "The thing progresses every week. It's a project in motion and we wont know how much progress we've made until the final stages, but right now we're cautiously optimistic. I can only give the broadest range on the price right now we're only just looking at designs." Mr Maroun added that the developers did not yet know when the project would be finished. Mr Douglas posted a photo of himself at the property to Facebook on Monday. The caption read: "In Bermuda, working on building my family's new hotel at Ariel Sands. It is going to be great." The actor, son of Bermudian Diana Dill, co-owns the property with members of the Dill family. He and his actress wife Catherine Zeta-Jones lived in Bermuda for several years. Ariel Sands Beach Club opened in 1954 but closed in 2008 and the land has been vacant ever since. The photo of Mr Douglas at the site this week has attracted more than 51,000 likes and been shared 1,700 times.
June 13. Work has started on restoring the abandoned Admiralty House ballroom in Pembroke. The Department of Parks and Digicel have teamed up on the project. The clearing of overgrown vegetation and garbage by Parks workers and Digicel staff is underway. "Admiralty House is one of Bermuda's treasures," said Digicel Bermuda CEO, Wayne Caines. "I remember coming to weddings here in my youth. Unfortunately, the ballroom has fallen into disrepair and needs much work to be restored; today is only the beginning. Digicel is honoured to help the Parks Department with making this area cleaner and safer." The project will go through several processes. "Right now, we are clearing the area around the building. Next we will clean out the building itself, remove the graffiti and then board up the windows and door entrances to prevent further trespassing." Admiralty House was originally set up as a signal centre by the British Royal Navy during the Second World War, intercepting coded messages from ships sailing between the US and UK and passing the messages on to the Royal Naval Dockyard. Once the British left the Island in 1951 and the property was given back to the Bermuda Government, the primary Admiralty House building was abandoned and later demolished, leaving only the ballroom behind.
June 17. Bus drivers walked out this morning after what a Government spokesman said were plumbing issues. There has been no word when the service would resume. The spokesman said: "The Department of Public Transportation (DPT) bus operators have stopped work this morning due to plumbing issues at the St. Georges depot and DPT headquarters in Devonshire. DPT management is working with Works and Engineering to fix the problem as quickly as possible and an update on progress, and an advisory on when bus service will resume, will be sent as soon as more information is available.
June 17. Bermuda has again been singled out and labeled a tax haven by US legislators as they last week attached an amendment to US federal funding measures, seeking to block federal contracts to former American companies involved in corporate inversions. A leading publisher of financial information, Bankrate Inc, reported at Bankrate.com the effort to make it harder for certain tax haven companies to do business with Uncle Sam was sponsored by two House Democrats, Rep Rosa DeLauro of Connecticut and Rep Lloyd Doggett of Texas. In a statement announcing the full House approval of the amendment, Rep Doggett said, "Some companies send their tax dollars to support our infrastructure and military, while others just send a post card that says, You can find me in Bermuda or the Caymans. Glad you are not here." Co-sponsor Rep DeLauro also decried the US services that these offshore companies get while he said they avoided paying for them with taxes. He said in a joint statement with Rep Doggett, "The profits Fortune 500 companies claim were earned in Bermuda and the Cayman Islands in 2010 totaled over 1,600 percent of these countries entire yearly economic output. It defies logic to believe these companies conducted such a large amount of business there. They take advantage of our education system, our research and development incentives, our skilled workforce, and our infrastructure, all supported by US taxpayers, to build their businesses, and then turn around and abuse tax havens. These companies should not be allowed to pretend they are an American company when it is time to get federal contracts, then claim to be an offshore company when the tax bill comes." The restriction on federal contracts would apply only to the 2015 fiscal year, which runs from this October 1 to September 30, 2015. It also must make it through the Senate. That chambers Transportation, et al, funding measure, S 2438, is awaiting consideration by the full Senate. If any differences with the House bill aren't worked out then, the two bills must go through a conference committee. The good news is that Congress appears to be committed to finishing funding bills before the 2015 fiscal year begins. However, its less clear as to whether companies that are taking advantage of legal tax haven opportunities will suffer at least a little in the legislative process. The amendment was added to the Transportation, Housing and Urban Development, and Related Agencies Appropriations Act of 2015 (THUD) also known as HR 4745. Amendments are often pushed through the US legislature, sometimes without debate, by attaching them to a piece of less controversial House legislation.
June 17. A total of five firms tendered for the redevelopment of the Club Med site in St Georges, MPs have heard. But Tourism Minister Shawn Crockwell declined to name the losing finalist in a contest which saw the field whittled down to two before the Venezuelan Desarrollos Hotelco Group won. "As we have entered into a 120-day exclusivity period with a chosen developer, it would be inappropriate to disclose the name of the other short listed developer during this period," he said. And he explained that if there were problems with the Desarrallos deal the second developer could be called on to take over. Mr Crockwell said: "To disclose the name of the finalist at this stage may unduly prejudice the Government's position." He was speaking after St David's PLP MP Lovitta Foggo asked a series of questions relating to the deal, announced last month. Ms Foggo also asked why Desarrollos had been given a four-month exclusivity period for negotiations and when that time slot would expire. Mr Crockwell said: "The Desarrollos Hotelco Group is a reputable company with a proven track record of success with hotel developments in the Caribbean. They have strong relationships with high end hotel brands and their proposal was well-aligned with the objectives that were set out in the request for proposals (RFP) augmented by a very good oral presentation. The 120-day period was a specific requirement set out by us in the RFP and is a reasonable period of time to allow the chosen developer and the Government to reach a conclusion in the process." The other companies that submitted unsuccessful bids were the Ellipse Consortium, Dolphin Capital Partners, Jambo/Chef and Sutton Park Partners. Shadow Finance Minister David Burt questioned why Desarallos did not appear to have an online presence although an internet search does throw up references to a number of deals the firm has been involved in, including the development of a five star resort in Aruba. Mr Crockwell said the lack of online information in this day and age is unusual but that it was not a cause for concern.
June 20. Thousands were stranded in Dockyard yesterday as the mornings sudden suspension of ferries upset the plans of visitors. Carrying 6,000 passengers between them, and a further 3,000 crew, the Norwegian Breakaway and Celebrity Summit were taken by surprise. "Bermuda will take a hit for this," one Summit passenger from Virginia said, identifying himself simply as an Exxon Mobil executive. "If my company did something like this they'd be out of business. There are plenty of corporate people here on vacation. You don't think they'll go back and tell their friends that Bermuda's great so long as the ferry's running?" Tourism ambassadors and public transport staff moved swiftly to organize alternative transport, but queues of hundreds piled up outside Heritage Wharf as buses immediately filled. "This puts a bad taste in everyone's mouth," a Wedco employee told The Royal Gazette as he directed irate visitors to minibuses. "Guests who had purchased passes for transportation were universally irritated at having to pay for the minibuses. This is a crisis situation. What we need is for Government to allow people to use their passes to ride the minibuses, or allow them to be refunded." Carolyn, visiting from West Virginia, said: "I hadn't planned to spend the day in a line. This is our fifth time here, and we've never had an experience like this." Asked if she planned to return, she replied: "I'd have to think about it." New Jersey resident Tom, from the Breakaway, said: "The line hasn't been bad so far, but the bus yesterday was an extremely long wait. It was discouraging to spend an hour of vacation time just standing in line to get back from the beach. This is going to stop us going to St George's today. We would never have bought three-day passes if we'd known." Chris, also from Virginia, said: "We bought passes and then they told us the ferry wasn't coming. They didn't know why. That's what's frustrating to a lot of us in the line." Queuing with her for the Hamilton and Horseshoe Beach buses was her companion Ron, who added: "We'll think twice about coming back." Visitor John Williams, from New York, said he was glad he'd been able to catch the previous days ferry to St Georges: "If we'd made plans to go there today, that would be out, he said. Its inconvenient to be stuck in line because of this. In the US, we have laws against that, in 2005 the subway workers walked out and the leadership were arrested." Some tourists laughed it off: "So the Democrats have come to Bermuda!" said Warner Enos, who came on the Breakaway from Virginia. "Its no good waiting in line when we could have been on the bus or the ferry to St Georges", his wife Donna said, seeking shade against the nearby National Museum walls. "One good thing about it is the ship's not leaving tonight, so we don't have to rush back, but if they do this tomorrow there'll be a real problem. The ship leaves at 5pm." A tourism ambassador, asking not to be named, said visitors had been surprisingly accommodating, but that a new policy was needed for the non-refundable passes as the $7 fare for a mini bus to the beach added insult to injury. A nearby woman said she had a two-day pass but would still have to pay $21 to get to Horseshoe Beach. "We bought three-day passes," said another. "We're not happy." "It's the impression they'll take back that hits us in the eye," the ambassador said. This is the busiest period of the week, and we've got nearly 7,000 passengers here. Many visitors were older, and would be discomforted by standing in the sun and then standing on a packed bus." The Traugott family, from Reading, Pennsylvania, said the stoppage had been big news aboard the ship, causing dismay when it was announced. Both vessels arrived on Wednesday and are scheduled to depart today. Tour boat operator Mike Gladwin said he had given lifts for free aboard his vessel Reef Explorer after finding a large group of children stranded at the Hamilton terminal. "Apparently online I'm being made out to be the bad guy, but I don't think the public realize I didn't charge a penny," he said. "We were at the ferry terminal at 10am, and there were three summer camps and a few visitors waiting there, so we took them up to Dockyard. Much to my surprise, there was a line all the way down the waterfront. We offered to take our capacity and picked up 120 people. I tried to get extra boats but unfortunately they weren't available. I just told people to please forgive us, be sure to come back and visit again, and don't let this be a blemish on your time here. I just don't get it. To have this happen on a day when there are 7,000 people in Dockyard. It's gut wrenching. "
June 20. See see http://en.wikipedia.org/wiki/2014_Commonwealth_Games. The 2014 Games will be held from July 23 to August 3. Bermuda has a strong 18-member team in this 2014 event from July 23 to August 3 held every four years, this time in Glasgow, Scotland. The team, selected by the Bermuda Olympic Association, has hopes of winning a medal or two. The athletes will represent six sports, with top triathletes Tyler Butterfield and Flora Duffy leading the Island's hopes of a first medal at the Games since Clarence Saunders, the high jumper, claimed a gold medal in 1990 in Auckland, New Zealand. The team will be made up of four triathletes, with Tucker Murphy and Jonathan Herring joining Butterfield and Duffy, while there is also a six-member track and field team led by Arantxa King, Shianne Smith, Aaron Evans, Tre Houston, Tyrone Smith and Shaquille Dill. Nicole Mitchell and Dominique Mayho will represent Bermuda in cycling, Gemma Lightbourne the lone gymnast, Micah Franklin, Robert Maycock and Nicholas Kyme make up the squash contingent along with swimmers Julian Fletcher and Dominique Mayho. Judy Simons, the BOA president, expressed confidence that the team will represent Bermuda well in Glasgow from July 23 to August 3. Bermuda first competed in the Commonwealth Games in 1930 in Hamilton, Canada, and have only missed four editions. Bermuda's first medal came in Kingston, Jamaica, in 1966 with a silver medal for John Morbey in the men's long jump final. The 1990 Games in Auckland produced the first gold for Bermuda when Saunders jumped a Commonwealth record 2.36 metres, a record that still stands. The 2014 team is supported by ten officials and a medical team of three under Stan Douglas, the chef de mission. The officials include Robert Oliver, Troy Douglas, head coach, and physio Sandro Fubler for track and field, Peter Dunne and Philip Trussell for cycling, Amanda Baughman for gymnastics, Runa Reta for squash, Ben Smith for swimming and Steven Petty and one yet to be named official for triathlon. The medical staff include physio Maureen Ryan and massage therapists Richard Johnson and Seth Pearman. Earl Basden will travel as the press attaché.
2014 Bermuda squad:
Athletics: Arantxa King, Shianne Smith, Aaron Evans, Tre Houston, Tyrone Smith, Shaquille Dill

Cycling: Nicole Mitchell, Dominique Mayho

Gymnastics: Gemma Lightbourne

Squash: Micah Franklin, Robert Maycock, Nick Kyme

Swimming: Julian Fletcher, Roy-Allan Burch

Triathlon: Flora Duffy, Tucker Murphy, Tyler Butterfield, Jonathan Herring
For the 2010 Games, held in India, competitors were Kiera Aitken, Roy-Allan Burch, Tyrone Smith, Nick Thomson, Tre Houston, Gavin Manders, David Thomas, Tara Lambert, Jacklyn Lambert, Nick Kyme, Ross Roberts, Sinclair Raynor, Carl Reid and Nelson Simons.



Authored, researched, compiled and website-managed by Keith A. Forbes. Last Updated: July 8, 2020
Multi-national © 2020. All Rights Reserved