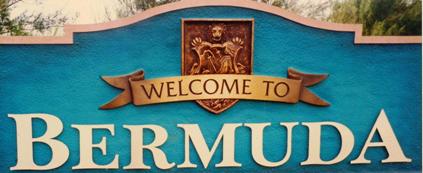 11125+ web files in a constantly updated Gazetteer on Bermuda's accommodation, activities, airlines, apartments, areas, art, artists, attractions, airport, aviation pioneers, banks, banking, beaches, Bermuda Status and citizenship, books and publications, British Army, businesses, calypso, Canadian military, causeway, churches, city of Hamilton, commerce, community, cruise ships, culture, cuisine, customs, Devonshire Parish, disability accessibility, districts, Dockyard, economy, education and universities abroad, employers, employment, entertainment, environment, executorships and estates, fauna, ferries, flora, food, forts, gardens, geography, getting around, golf, government, guest houses, history, Hamilton Parish, homes and housing, hotels, internet access, islands, laws and legal system, local groups and organizations, location, media, motor vehicle options, music, municipalities, Paget Parish, parishes, parks, Pembroke Parish, politics, postage stamps, public holidays, public transport, railway trail, religions, Royal Navy, Sandy's Parish, St. David's, St. George's Parish, shopping, Smith's Parish, Somerset, Southampton Parish, Spanish Point, Spittal Pond, sports, stores, telecommunications, traditions, time zone, town of St. George, United States armed forces, tourism, vacation planning, villages, vital statistics, water sports, weather, Warwick Parish, wildlife, work permits, etc. For tourists, business visitors, employers, employees, newcomers, researchers, retirees, scholars.

American Military Bases in Bermuda from 1941 to 1995
There were once five, at St. George's, St. David's, Southampton, Tudor Hill and Devonshire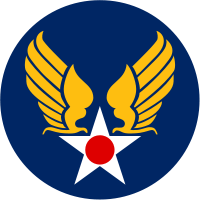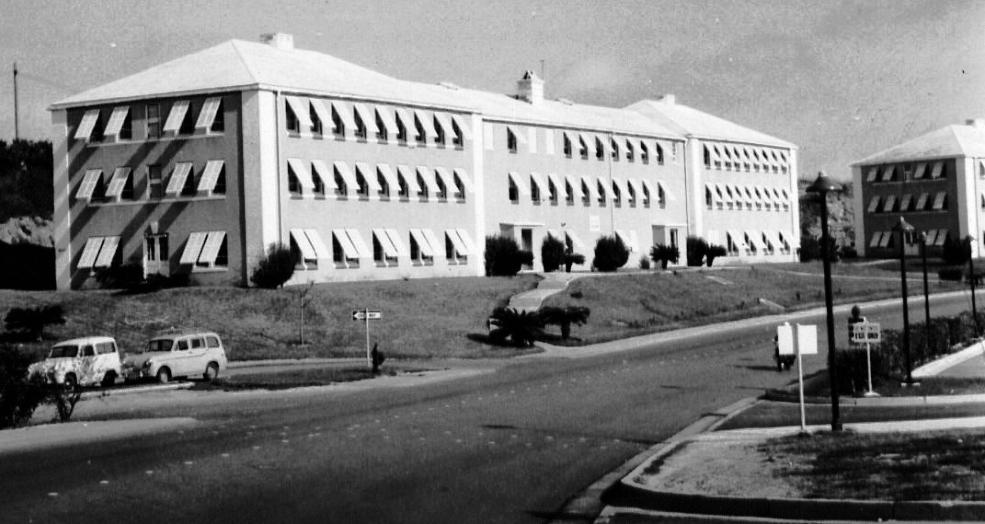 By Keith Archibald Forbes (see About Us) at e-mail exclusively for Bermuda Online
To refer by e-mail to this file use "bermuda-online.org/milquit" as your Subject
His other files on Bermuda relating to military matters and civil aviation include Airlines serving Bermuda - American Military Personnel based in Bermuda from 1941-1964 - American Military Personnel based in Bermuda from 1965-1995 - Bermuda Aviation History Pioneers Civilian and Military - Bermuda International Airport and Canadian Forces Station in Bermuda.
1941. March. While Anglo-American staff conferences were going on in Washington on how to best combat the Germans, the Battle of the Atlantic had taken an extremely critical turn. In Admiral Stark's opinion it had become, in fact, "hopeless except as we take strong measures to save it." Four of the most powerful surface vessels of the German Navy--the pocket battleship Scheer, the heavy battle cruisers Scharnhorst and Gneisenau, and the 8-inch cruiser Admiral Hipper - were on the loose, prowling the Atlantic sea lanes and adding serious destruction to the mounting toll of the U-boat packs.8 Submarine attacks could be countered by light escort vessels; but the German surface raiders, whether in refuge or at sea, presented a different threat, one that only capital ships or strong cruiser and carrier forces could meet. Admiral Stark had not at all exaggerated the seriousness of the situation. By March it seemed to him only a matter of at most two months before the United States would be at war, "possibly undeclared," with Germany and Italy; although the Army at this time was counting on at least five months' grace. Admiral Stark discussed his analysis with the President on 2 April and again the next day, thrashed out the steps to be taken, and was told to adopt the strong measures he thought were required: to draw up plans for escort of convoy west of longitude 30° west and issue orders for the transfer into the Atlantic of a heavy striking force, including three battleships, from the Pacific. The destructive forays of the Scharnhorst and Gneisenau had given President Roosevelt an understandable concern for the safety of the American bases, particularly those which were most exposed or of most value to the Navy--Bermuda, Trinidad and Newfoundland.
1941. April 7. The President of the USA directed the Secretary of War to have Newfoundland reinforced and to send garrisons to Bermuda and Trinidad immediately.
1941. April 20. USA sent garrison troops to Bermuda. Newfoundland on the northern flank, Trinidad on the southern, and Bermuda in the center were the first of the new Atlantic bases to be garrisoned. The first contingent had arrived in Newfoundland in January 1941, ahead of the construction forces, and in April the first garrison troops arrived in Trinidad and Bermuda, only a few weeks after the advance party of construction people. The timing was not exactly what the War Department had at first envisaged. In spite of the pessimism over the chances of Britain's winning the war which in September 1940 still colored the War Department's estimate of the situation, General Marshall laid down the dictum that garrisons would not be sent to the Atlantic bases until construction was well advanced. Some definite threat to the base sites might require the dispatch of a garrison prematurely, but this was a possibility that could apparently be waited for. The Bermuda force of some 860 men, comprising Company G, 11th Infantry, Battery F, 52d Coast Artillery, and Battery B, 57th Coast Artillery, and commanded by Col. Alden G. Strong, landed in Bermuda on this Sunday. It had been preceded, a week before, by Brig. Gen. Francis B. Wilby, chief of staff of the First Army, and Lt. Col. Harold F. Loomis of the War Plans Division, who had been surveying the general situation and choosing sites for the coast defense guns and who now were among those on hand to welcome Colonel Strong and his men. Within a few hours after he arrived, Colonel Strong had drawn up in collaboration with Capt. Jules James, USN, commandant of the naval base, a joint plan for the defense of the islands, for which he disposed his troops as follows: one 2-gun battery of the 8-inch coast defense guns was to be placed at Fort Victoria, on St. George's Island, and another on Somerset Island, not far from the U.S. naval base; a like-sized battery of 155-mm. guns was to be placed on Cooper's Island, near the Army base, and another on Hamilton Island, in the vicinity of Riddle's Bay; and the infantry company, quartered in the Castle Harbour Hotel, was to be the mobile reserve. Meanwhile the two US military bases were being built. They completely changed Castle Harbour in the east and the Great Sound in the west.
1941. June 27. The remission of customs duties and local taxes under Articles XIV and XVII of the base agreement was not enacted by the Bermuda legislature until this date, exactly three months after the agreement came into effect. Even then there was only a partial conformity. Bermuda continued to levy duties on bulk petroleum products not consigned direct to the Army and Navy and on household effects and personal belongings. Various wharfage charges were assessed on goods destined for the bases, and a stamp tax was levied on bank checks and steamship tickets. Even at the end of 1941 the State Department was still pressing for determination of a few of the matters.
1941. Concurrently with the building of the US Military bases in Bermuda, the oyster-shell scale (insulaspis pallida) and the Juniper Scale were imported accidentally. Both arrived in separate shipments of conifers. The Juniper Scale began to decimate virtually all Bermuda's endemic Cedar trees.
1941. April 7. Captain Jules James, USN, read his orders as Commandant, USNOB Bermuda and hoisted his pennant over the former residence of Mrs. Margaret V.B.T. Wooley-Hart on Tuckers Island. (This building later became the Religious Center).
Overview and history of US bases in Bermuda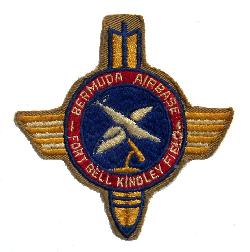 Bermuda, about 600 miles off Cape Hatteras, occupied a strategically important position, commanding sea and air approaches to the Middle Atlantic coastline. Both the Army and the Navy recognized its value as a base for air and surface craft and undertook an extensive construction program. The Bureau of Yards and Docks awarded a fixed fee contract on February 15, 1941, initially to accomplish the construction of an air station for seaplanes, and subsequently expanded to include a fuel oil depot, a supply depot, and operating base, a submarine base and anti-aircraft training school. Adjacent water, ideal for seaplane operation, and proximity to existing ship channels resulted in the choice of Morgan and Tucker Islands, situated in Great Sound, within the hook of the western end of Hamilton Island, together with an adjacent area on Hamilton Island at Kings Point, as sites for the air station and the operating base. Darrell's Island, also in Great Sound and about a mile and a half to the east, then in use as an air station by commercial airlines, was developed as an auxiliary seaplane base. Submarine facilities were constructed on Ordnance Island, at the eastern end of the Bermuda group, in St. Georges Harbor, adjacent to the town of St. George. This location, while remote from the operating base, was chosen because of the availability of the site, the existing facilities, and its proximity to the sea lanes serving the islands. The general topography of the leased areas was gently rolling, varying in elevation from sea level to a maximum of 40 feet. The base development plan issued by the Chief of Naval Operations to support the 15,000-plane program, indicated Bermuda as a major naval air station, with facilities for the operation of two patrol squadrons of seaplanes on a permanent basis and one additional squadron with tender support. In addition, facilities were to be provided to support the emergency operation of one carrier group from an airfield to be developed by the Army. The initial construction effort began March 29, 1941. Dredge-filling the narrow funnel-shaped channel between Morgan and Tucker islands more than doubled their original combined area of 40 acres. The one island thus formed was then connected by causeway to King's Point, on Hamilton Island. The principal structures built at the air station comprised a tender pier, three seaplane ramps and parking area, a large seaplane hangar, barracks for 1,100 men, quarters for 140 officers, a bombproof power plant, and the usual industrial, administration, and storage buildings. Underground storage was provided for fuel oil, diesel oil, and gasoline, as well as barracks for fuel depot and air station personnel, a 50-bed dispensary, a large magazine area, a radio station, and a 10-acre water-catchment area with storage for 5,000,000 gallons of rain water. All these installations were of a semi-permanent character.
Soon after construction began, it became essential that naval air patrols be placed in operation as quickly as possible. This was accomplished by using the established facilities owned by British Imperial Airways on Darrell Island. By an informal agreement with the British and local governments, permission to use this island on a temporary basis was granted. Here, existing facilities were augmented by barracks, water supply, paved parking areas, landing floats, and other temporary essentials. This work was undertaken in May and the island put to immediate use, continuing so until March 1942, at which time the permanent naval air station was usably complete and in operation.
In June 1941 the contract was supplemented to undertake the development of submarine facilities on Ordnance Island. Under this program, and its subsequent additions, a number of existing buildings were rehabilitated to provide housing and messing facilities for crews while ashore, improvements and additions were made to the existing water and sewer systems, waterfront structures were repaired, and offshore moorings installed. The use of Ordnance Island was obtained under a lease extending to December 1955, under the terms of which the United States could regain all removable improvements placed by or on its behalf at any time before the termination of the lease. The island was returned to its owners in July 1945.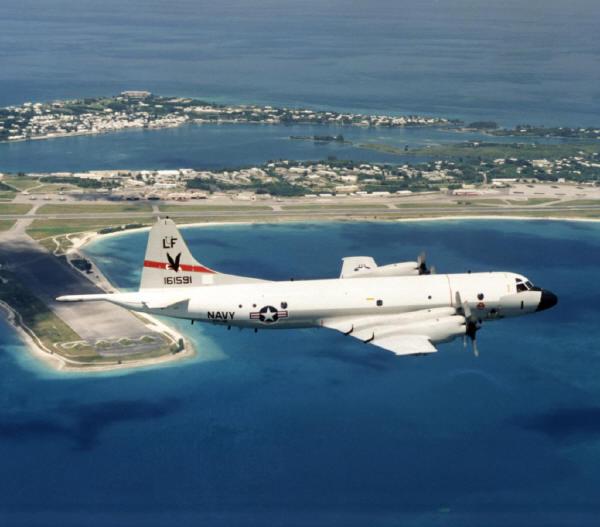 During the late summer of 1942 the Riddle's Bay area, which had formerly been used as a golf course and resort area, was rehabilitated and equipped as a recreational area for naval personnel. Concurrent with the construction program underway at the several areas leased by the Navy, the Army was developing Kindley Field, named after famous American air ace Captain Field E. Kindley, US Army Air Force, on Long Bird Island, at the eastern end of Bermuda.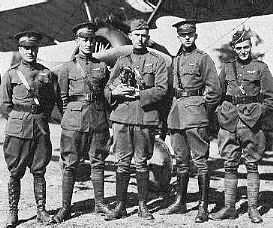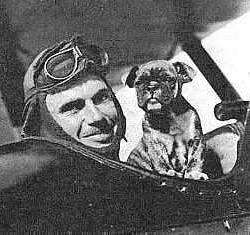 Two photos of Captain Field E, Kindley (center, left), at right with dog Fokker
At this airfield the Army, pursuant to Joint Board directives, provided all landplane facilities constructed at Bermuda, including those used specifically by naval aircraft. Here, within the base area, the Army contractor, on a reimbursable basis, built facilities for the temporary support of one carrier air group of 90 planes. These included barracks for 550 men and 125 officers, messing facilities, storage buildings, nose hangars, and radio aids. Inasmuch as Bermuda had no fresh water from ground sources, it was obtained for the air station and the operating base by use of seven evaporating units with a daily capacity of 50,000 gallons, and a system of rain-water catchment areas, which, including roof areas, totaled 20 acres. The water thus collected was stored in reservoirs and chlorinated before entering the distribution system.
Southlands, located along the south shore line of the Main Island, was secured under a short term lease for the development of an anti-aircraft training school. Construction included a night-vision training building, repair shops, magazine loading sheds, magazines, instruction buildings, and barracks, gun platforms and control tower, roads, walks, and services. This activity was transferred to Guantanamo Bay in January 1945.
On April 8, 1943, construction under the contract was terminated and a new contract negotiated with the original contractors to complete several major items of dredging still unfinished. This second contract remained active until June 28, 1944.
The 31st Construction Battalion arrived in Bermuda on December 4, 1942, and 27 officers and 1,027 men. Completed activities at the operating base, air station, and submarine base were then in full use.
On February 27, 1943, the 49th Battalion, with 27 officers and 1,080 men, arrived a month before the contract's termination, to augment the 31st Battalion. Together the battalions completed such unfinished projects as roads, utilities, grading, accessory buildings, and general clean-up. In addition, they undertook the operation, maintenance, and repair of the entire naval establishment under the cognizance of Public Works Department.
During mid-October 1943, the 31st Battalion, which had served continuously on Bermuda for nearly two years, was returned to the mainland after being replaced by CBMU 540, which was followed by the CBMU 551 on December 11, 1943, to replace the 41st Battalion; the two maintenance units were then merged into one unit and designated CBMU 540.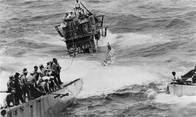 Probably the most famous exploit of the US Bases in Bermuda was what happened from June 4, 1944 at 1110 hours, initially off the coast of West Africa, then Bermuda. On that date, the USS Chatelain reported a sonar contact, the submerged German U-boat U-505. The accompanying US Navy Task Group jumped into action. The USS Guadalcanal could not attack without damaging itself so Captain Gallery moved the ship quickly out of harm's way. Supported by the Destroyer Escorts USS Pillsbury and USS Jenks, the USS Chatelain swiftly attacked. As the sonar crew maintained contact with the submerged U-505, the USS Chatelain attacked with a salvo of 24 hedgehogs that missed. While the USS Chatelain opened the range to turn and make another attack, two fighter planes from the USS Guadalcanal fired their guns into the water to help mark the location of the submerged U-505. The USS Chatelain then fired a pattern of 14 depth charges forcing U-505 to the surface. It was the opening saga in a major event that was soon to impact on Bermuda. U-505 was a Type IXC/40 submarine, one of 54 of this type that got put into operation, a long-range warhorse of the German Navy that could operate in the Caribbean or Atlantic or Indian oceans without refueling. She went into service in 1941, with a range of 13,000 nautical miles. She was captured off western Africa, towed to Bermuda and hidden, with no news of its capture until the end of the war in Europe on May 7, 1945. She was one of the U-boats which had departed from a massive concrete submarine pen at an occupied French port. Her target was the southeast Caribbean, where most of the fuel supplies for the Allies was shipped from Venezuela, Trinidad and Curaçao. She was built at the yards of Deutche Werft AG in Hamburg. Commanded by Oberleutnant Harald Lange, she was commissioned in August 1941. She was on her 12th patrol, having sunk eight vessels over those voyages. In February 1944, Lange took the boat south to the sea lanes off southwest Africa to prey on supply vessels bound for Europe with supplies such as iron ore. On June 4, she was intercepted by TF 22.3 under the command of Captain Daniel Gallery, USN and was depth-charged. Lange brought the damaged boat to the surface to save his men and thus surrendered, actions for which he was for a time after the war ostracized at Hamburg, although they had taken all standard procedures to scuttle the boat. Captain Gallery, USN, of Task Force 22.3 managed to get a boarding crew (see third photo below) onto the U-505 before it could sink and they saved the boat intact. Once the Germans had abandoned the U-505, Task Group 22.3 dropped whaleboats into the water with crews trained in boarding and salvage procedures. Some of the crews rescued the surviving German sailors from the sea. One whaleboat from the USS Pillsbury pulled up alongside the damaged sub. The crew's mission was to board the U-boat, overpower any remaining German sailors and take control of the submarine. It was an incredibly dangerous operation. The U-boat was going in circles, she was flooding with seawater and was most likely rigged with explosive charges intended to prevent her capture. It was the first time since 1815 that the US Navy had captured an enemy vessel at sea. The men of TF 22.3 were sworn in writing to secrecy and the boat was towed across the Atlantic by USS Abnaki to the US Naval Operating Base at Bermuda, accompanied by the ships of TF 22.3, USS Guadalcanal, Chatelain, Pillsbury and Pope.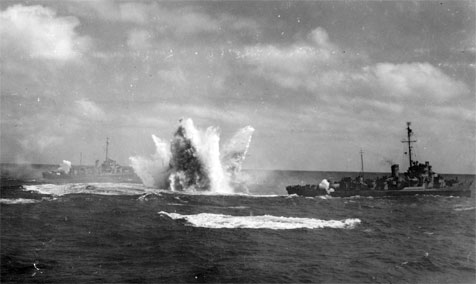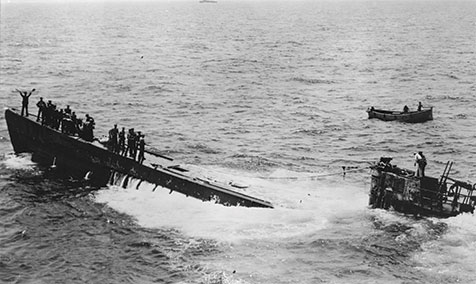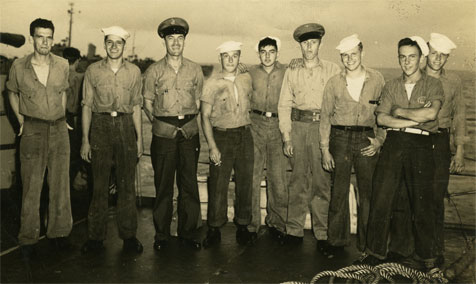 In bottom photo the Nine-Member US Navy Boarding Party who towed U505 to Bermuda were Albert L. David, Lieutenant, Junior Grade; Chester A. Mocarski, Gunner's Mate, First Class; Wayne M. Pickels, Boatswain's Mate, Second Class; Arthur W. Knispel, Torpedoman, Third Class; George W. Jacobson, Chief Motor Machinist's Mate; Zenon B. Lukosius, Motor Machinist's Mate, First Class; William R. Riendeau, Electrician's Mate, Third Class; Stanley E. Wdowiak, Radioman, Third Class; Gordon F. Hohne, Signalman, Third Class.

Capture of U-505. US Navy photos

1944. June 19. Arrival in Bermuda (until May 20, 1945) of the captured German submarine (unterseeboot) U-505 (see above) and crew, held incommunicado until the end of the 1939-45 world war. The U-505 was destined to become one of the most famous submarines of the war, not only for its capture with secret code books and machines intact. The U-505 stayed in Bermuda from that day until it left for the Philadelphia Navy Yard on May 20, 1945 after 11 months undetected in the Great Sound, the crew having left for POW camps in the United States in the autumn of 1944. Some of the crew who arrived in Bermuda on June 19, 1944 and stayed until the autumn of 1944 are shown in the US Navy photo below.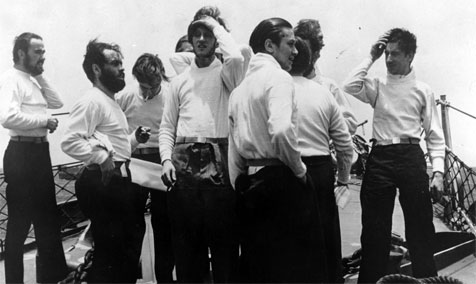 Some of the captured U-505 German Navy crew. US Navy photo

Only one German sailor died. The 58 who survived and were transported to Bermuda as US prisoners-of-war included Oberleutnant Lange who had been taken from the water unconscious and severely injured. At the US military hospital then recently erected in Bermuda, one of his legs had to be amputated, so he remained here longer. While in Bermuda, Lange was cared for by a young nurse of the Jones family of 'Inwood', Shirley, the late wife of Lt. James Humphreys, USNR, of Paget. She related that Lange's major worry was that his wife would remarry in his absence, since it would have been assumed in Germany that the U-505 had been lost with all hands. Lange himself did not believe that his boat had survived the scuttling attempt until Captain Gallery showed him family articles from his cabin. The U-505 was taken to Chicago in 1954 and forms a major exhibit and war memorial at the Museum of Science and Industry. In the company of Rear Admiral Gallery, Harald Lange toured his last command in a meeting of friends in 1964. One member of the crew of the U-505 moved to Chicago and for several decades until his death was an intimate tour guide for the submarine. An outside display for many years, the U-505 has since been moved into a purpose-built building to ensure its survival into the future as the only Unterseeboot to survive the war above water.

Activities at Bermuda gradually diminished in importance during the fall of 1944, as the progress of the war in Europe became more and more favorable to the Allies. Consequently, the submarine base on Ordnance Island was reduced to caretaker status by January 1945, and all training activities were moved to Guantanamo. The antiaircraft training center was decommissioned on April 1, 1945.

Shortly after V-E- Day further reductions were effected. Ordnance Island was returned to its owners, and the naval facilities at Kindly Field transferred to the Army for future custody. One July 31, 1945, the air station and operating base were reduced in status to an air facility and a repair unit.

The Bermuda US military bases built from scratch in 1941-2 and financed solely by taxpayers in the USA - not by Bermuda - flourished until 1995. At one point, there were four US bases in Bermuda. When the USNAS and US Naval Annex left in 1995, The Bermuda Government immediately took over, relocated many civilian organizations there and destroyed some buildings deemed unsafe. In March 2002, Bermuda's legislators enacted the United States Bases (Termination of Agreement) Act 2002. It formally terminated the US leases. The US Government has made a one-off payment of US$ 11 million to replace Longbird Bridge which was included in the lease. but will not pay financial compensation for what the Bermuda Government claims is environmental damage including heavy metals, asbestos, 500,000 gallons of jet fuel and raw sewage in Bassett's Cave at the old US Naval Annex.

Update: Virtually nothing is left of the USA military occupation now at what used to be Fort Bell of the US Army, then USAAF, then Kindley Air Force Base of the USAF from 1948 to 1970 and a US Naval Air Station from 1970 to 1995. Photos in this website are of the facilities there on May 1, 1995. All have since been removed for civilian re-development, not unexpectedly given that over 3,200 people per square mile live in the mere 21 miles of total land area in Bermuda.
Base Commanders of the first 22 years
They were in Bermuda from and to the dates shown. They all lived at Long Bird House, on the base, once the property of American millionaire William Marcus Greve, who in 1941, before construction of the base, owned 39 of original Long Bird Island's 62 acres. Having made his fortune in real estate and finance, he renounced his American birthright and became a citizen of tax-free Liechtenstein. He was well on the way to building himself a palatial mansion on Long Bird Island when the US Army decided to requisition it. At that time, the house was not finished. The US Army gave him $300,000 for the land, unfinished house, guest cottage and outbuildings in which he had planned to establish a model dairy farm. The house was completed to US Army specifications in 1942 as a headquarters and operations building. Later, it became the base commander's house, with the stables used as bachelor, then married officers, quarters. After the US Navy quit the base in 1995, Longbird House and all its outbuildings were demolished by the Bermuda Government to make way for its further use of the airport.
April 1941-July 4, 1944. Brigadier General Alden G. Strong.

From July 5, 1944 to January 13, 1946, Brigadier General Thomas H. Jones.

From January 1946 to October 1946, Colonel Cecil E. Henry.

From March 7-July 25, 1946, Major General Howard M. Turner.

July 26-28th 1946 and October 3, 1946 to March 13, 1947, Brigadier General Dale V. Gaffney.

March 14, 1947-July 13, 1949, Colonel Thomas D. Ferguson.

July 14, 1949-August 30, 1951, Lieutenant General Jack G. Merrell. (His daughter Suzanne Merrell Wright wrote to say he retired as a 4-star general in September 1972).

August 31, 1949 to July 14, 1953, Colonel (later, General) Richard F. Bromiley.

July 15, 1953-July 2, 1956, Colonel George W. Peterson.

July 23, 1956-October 15, 1958, Colonel Philip H. Best.

December 19, 1958-August 12, 1959, Colonel George L. Robinson.

September 3, 1959-June 21, 1962, Colonel Lester C. Messenger, USAF

1961. At US Naval Station, Bermuda, Captain David Burns, USN

June 21, 1962-May 27, 1964, Colonel Edward L. Jones.

July 13, 1964-July 18, 1966, Colonel Oren J. Poage.
Daniel's Head
During the Second World War, the American Army erected a Base-End Station at the site, one of thirteen around Bermuda for the control of coastal gunnery. After the conflict, Daniel's Head was let out for farming.
Devonshire
During World War 2:
The US Signal Corps operated a signal station from a field below the artillery unit which are now part of the Ocean View Golf Course.

From 1941 to 1945, Captain F. W. Clipper, US Army, commanded the US Army artillery unit at Fort Langton. He married a Bermudian girl, Rosemary, never went back home to the USA to live but remained in Bermuda. He had two daughters, lived in Bailey's Bay, became a Cub master in the 1950s at the Lyceum, Bailey's Bay and later became a prominent volunteer with the Bermuda Red Cross. His wife died in the late 1980s.
Fort Bell, later Kindley AFB, later US NAS, to 1995, now Southside (civilian)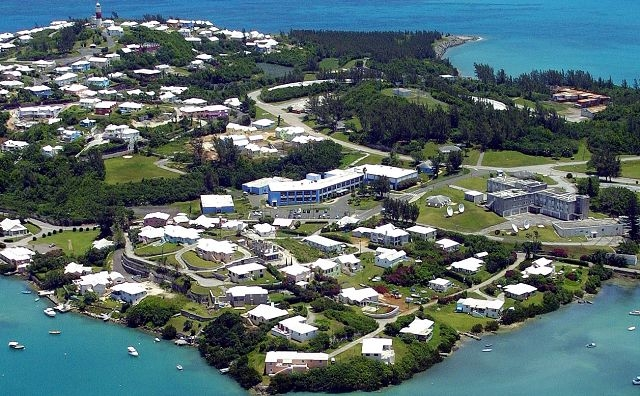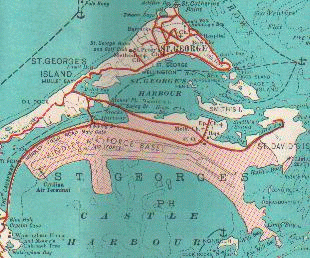 St. David's Island, in St. George's Parish. One mile by water and 3-5 miles from the Town of St. George, via the Swing Bridge at Ferry Reach. Then along St. David's Road. The City of Hamilton is 8.3 miles to the west. First US Army and USAAF, then Kindley AFB from 1946 in various roles including for Strategic Air Command and as a refueling station for nuclear bombers. Civilianized now but some buildings have not yet been re-occupied and, like the former military hospital, are closed to the public.Routes 10 and 11 and 6 buses go part of the way. By moped or taxi, access to right at former # 2 Gate or at former military school (Kindley AFB High, then Roger Chaffee, now Clearwater Middle School).
Clearwater Beach was built after 1941as a man-made beach from landfill left over from creating the runways and named Clearwater from the place in Florida by the USAF after it took over the base in 1948 from the US Army. US Military personnel once stationed in Bermuda should note that there have been so many changes in this former base that some places are no longer recognizable or accessible, or were demolished after 1995.
Street names
Main street names of the base, most in honor of US military heroes, were originally as shown below. After May 1, 1995, many were renamed. (To see which ones have been renamed please contact the Bermuda Government's Bermuda Land Development Corporation).
Andrews Drive
Bataan Street
Bundy Street
Castle Harbor Road
Cliff Street
Corregidor Avenue
Emery Road
Exchange Street
Federal Street
Hall Street
Hibiscus Drive
Holly Street
Hospital Street
Kelly Street
Luzon Street
McCloskey Road
Mercury Road
Murphy Street
Nininger Road
Oleander Drive
Pleasant Street
Ramey Street
Ricker Street
Ricketts Street
Stevens Circle
Swalwell Drive
Tommy Fox Road
Waldron Street
Walker Street. Named in 1943 after Brig. Gen. Kenneth N. Walker (father of

Douglas P. Walker of PO. Box 1655, New Canaan, CT 06840, USA.).
Fort Langton
This former British Army facility and part of its structure were used as the foundations for the clubhouse after the war and more of the former fort became the bus garage in the 1970s. On the field below the bus garage, now the golf course, were two US Army posts during World War 11. One was a unit of the US Army Signal Corps and the other was the US Army's Artillery, at APO 856. It was a unit (including 1st Platoon Battery A) of the 423rd Field Artillery Group, under the command of Captain F. W. Clipper, US Army.
RAF ATC
Not many people realize the Royal Air Force (RAF) also had an ATC facility here.
US Coast Guard radio station at NOB Bermuda
It was under the operational authority of the U.S. Coast Guard Air Detachment and the ears of the Coast Guard search and rescue mission on Bermuda. In addition to ground-to-air radio communications, the radio station (radio call sign NOC) it maintained a 24-hour-a-day, 7-day-a-week shore to ship radiotelegraph and radiotelephone operation as an important part of the U.S. Coast Guard AMVER, Atlantic search and rescue, and USCGAD/NOB Bermuda operations.
US Naval Annex, once NOB, 1941-1950, US Naval Station 1950-1970, USNAS 1970-1995, now Morgan's Point (civilian)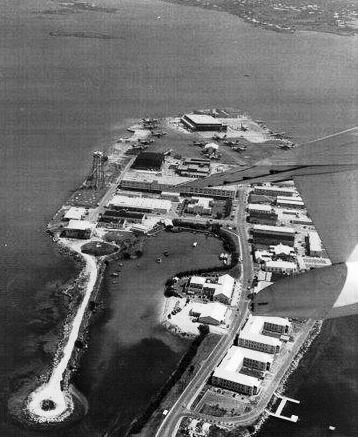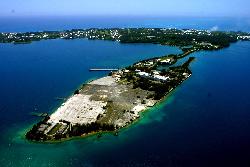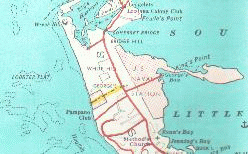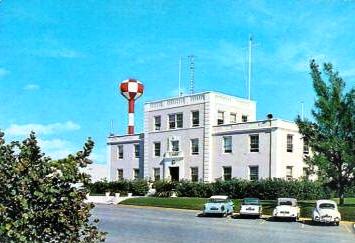 Base was on the commingled Tucker's Island and Morgan's Island in Southampton Parish, as the small photo top centre indicates. Both islands were separate until construction began on this base in April 1941. Like the base at St. David's, this too was created it from scratch at enormous cost. It was designed and constructed primarily to help defend the Eastern Seaboard of the USA against attack by Germany and possibly Japan during World War 2. After WW2 it played a key role in US Navy Atlantic strategic plans during the Cold War including monitoring Soviet submarines. The entire cost was borne entirely by US taxpayers, estimated to be well over US$55 million in 1941.
1941. April 7. Captain Jules James, USN, read his orders as Commandant, USNOB Bermuda and hoisted his pennant over the former residence of Mrs. Margaret V.B.T. Wooley-Hart on Tuckers Island. (This building later became the Religious Center).
NAS/NOB Bermuda Established: 01JUL41
NAF Bermuda Redesignated: 01JUL45
NAS Bermuda Redesignated: 27FEB47
NS Bermuda Redesignated: 01JUL50
NAS Bermuda Redesignated: 01JUL70 | Disestablished: 02JUN95
Its roads were
Boxer Road, named after a late WW2 aircraft carrier which bore the names of earlier earlier USN vessels.

Constitution Road, named after the 44-gun frigate USS Constitution built at Boston in 1797.

Enterprise Road, after the USS Enterprise.

Essex Road, after the USS Essex.

Hancock Road, after the USS Hancock.

Intrepid Road, after the USS Intrepid.

Lexington Road. After Lexington, MA and ships by that name.

Monterey Road, after Monterey, CA and ships by that name.

Pier Road. At the main pier.

Point Cruz Road, after the USS Point Cruz.

Randolph Road, after the USS Randolph ships.

Ranger Road, after the USS Ranger.

Saratoga Road, after USS Saratoga.

Shangri-La Road, after the USS Shangri-La.

Wasp Road, after the USS Wasp.

Yorktown Road, after the ship by that name and where Lord Cornwallis surrendered British forces in 1781.
Unfortunately, access to it is strictly prohibited to all locals and visitors including former US NOB personnel.
There are extensive re-development plans but nothing to date has been done as the Bermuda Government claims it was dangerously polluted by the US Navy.
US Navy Submarine Base (1941- 1945), Ordnance Island, St. George's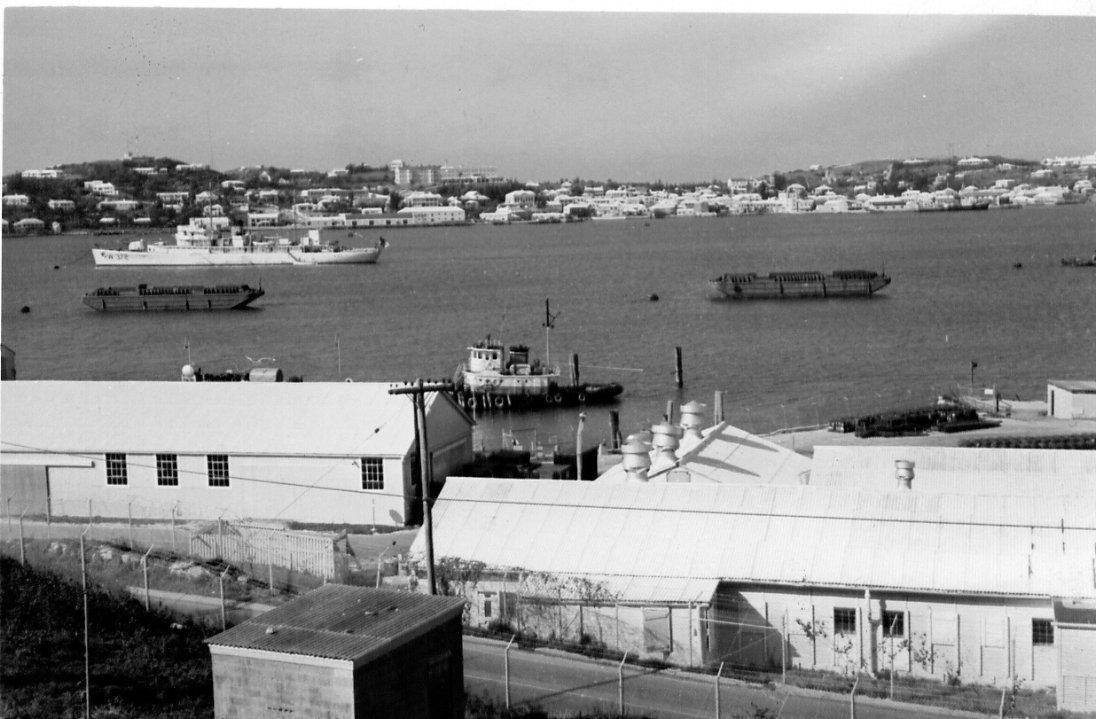 US Navy Submarine Base, Ordnance Island, Town of St. George, from 1942-45. No traces remain.
Tudor Hill US Navy (NAVFAC) listening post/research base (1954-1995)
It was a top secret anti-submarine warfare and radar surveillance station.
Southampton Parish, left on Pompano Beach Road after Port Royal Golf Course, then left again to facility. Closed to the public. It had 25 acres going down to the South Shore ocean.
It dated from it's official operational beginning on June 1, 1955, making it the oldest continuously operating U.S. command at the time of its decommissioning. NAVFAC was located on the west end of Bermuda in Southampton Parish, adjacent to the island's very scenic south shore. NAVFAC experienced numerous composition and equipment upgrades during its long operational tenure. In September, 1987, NAVFAC Bermuda weathered Hurricane Emily, with no loss of operational capability. NAVFAC Bermuda had fifteen officers, 155 enlisted personnel, 2 foreign national civilians and one resident contractor.
1954. Ground was broken for this Cold War listening post at the U.S. Naval Facility, Bermuda, atop Tudor Fill, Southampton Parish.
1955. June 1. Officially opened, after a year of work by Navy Seabees and Western Electric Company of USA. Circling USN aircraft dropped sonar buoys to locate Soviet submarines heading for Cuba or the east coast of the USA. The buoys were a communications hub in the readiness to launch a nuclear response.
1992. September 30. The US Navy's Naval Facility (NAVFAC) Bermuda was decommissioned.
Turtle Hill
Where the Southampton Princess Hotel was built. Before that, it was once owned by Sir Nathaniel Rich, one of the original directors and shareholders of the Bermuda Company, from 1615 until his death in 1636. On 7th April 1941, the American Army took it over and it was there sometime before they left in 1945, that a bundle of Bermudian-American mongrels were born. Maybe the lucky seven were "Bermuda spashalls", or "Heinz 57s" depending on the parish dialect, being born in Bermuda but having adoptive American parents, both males. The American leader, Captain (later Admiral) Jules James USN received commendations for his careful and diplomatic handling of the Bermuda Government and the people of the island, unlike the-then Governor of Bermuda.. In another connection with Bermuda, Capt. James was a cousin of Nancy Astor, the first woman elected to the Parliament in London; she was married to a relative of one of the richest men in the world, Vincent Astor, who built a great home on Ferry Reach. (Astor erected the house with his first wife, Helen Huntington, but both likely lost interest in it when the pristine Castle Harbour, their main vista, was destroyed to make Kindley Field). One of the Americans who came to Bermuda at that time was a Captain Charles Beaudry USA, who spent most of the war in Bermuda. He made friends with many Bermudians, and made many pictures of the island, the new military works and Bermuda scenes of the time. Colonel Beaudry donated his photographic collection to the Bermuda Maritime Museum. Along with that of the late Edward Tomasiewicz (acquired by the Museum through the help of Bermudian Spanton Ashdown), it forms a major archive of American activity on the island during the war. By 1939, the several hundred British guns at Bermuda had been reduced to two 6-inch Breech Loaders manned by the Bermuda Militia Artillery at St. David's Battery. Two more such guns were installed that year at Warwick Camp, but with only four weapons island-wide, it was necessary for the Americans to assume the coastal defence of Bermuda and bring in some big guns. Captain Beaudry was in charge of installing some of these pieces, two of which were at Turtle Hill, where a camp, minus any known followers excepting the lucky seven, was soon installed amidst the rolling cedar strewn landscape. On the highest part of the hill, two circular Panama Mounts were built in concrete to take 155mm GPF guns, one appearing inset in a photograph here presented. Similar guns were placed at Cooper's Island, while massive railway guns, mounted on a set of tracks to nowhere, were installed at Scaur Hill and between Forts Victoria and Albert on St. George's Island. A year later, fixed installations replaced the latter and two others were built at Tudor Hill near the Naval Operating Base, where Captain Jules James set up camp at the first American station at Bermuda. At the American Army encampment at Turtle Hill, the facilities included an open-air mess hall. See the surviving Panama Mount gun emplacement which once had a 155mm GPF gun.
United States prime land parcel on Paynter's Hill to 1995
In Tucker's Town, St. George's Parish. It was formerly used as a telecommunications center for the US Navy. It once provided a telecommunications link between the US Naval Air Station and US Naval Annex. It is now owned by the Bermuda Government.
United States prime land parcel on Zuill's Park Road to 1995
In Smith's Parish, formerly used as a telecommunications center for the US Navy. It once provided a telecommunications link, via the Paynter's Hill site, between the US Naval Air Station and the US Naval Annex. It too is now owned by the Bermuda Government.
Bases History Part 1
They began with Fort Bell as a US Army Base
Some of the buildings shown, once very familiar to all men and women at the base, have been demolished since the bases were closed.
In October 1940, an American Naval mission under Rear Admiral John W. Greenslade arrived in Bermuda on the US Navy cruiser St. Louis. Its purpose was to survey of possible sites for the building from scratch of US military bases and report to the President's Base Lease Commission. On November 10, the SS Santa Paula reached Hamilton Harbor. She brought the second contingent of US War Department personnel, to begin operations with the proposed new Bermuda Air Base, the site of which had still not yet been decided. They went to the first US Engineers' office, then opposite the St. George's Police Station.
Then the Americans announced their initial idea to create the base between Gibbs Hill Lighthouse and the Inverurie Hotel - the whole of Riddell's Bay. They wanted to level the whole area and push the rubble into the Great Sound and Hamilton Harbour and clear to the ocean on the South Shore, to create a runway for aircraft. Bermudians were aghast at the prospect, those with property in Southampton, Warwick and Paget especially so.
A raging furor ensued. Governor Sir Denis Bernard appointed a small committee to advise him. A Bermuda delegation was dispatched to Washington, DC with counter-proposals discussed with the British Ambassador and American Secretary of State. The concession was finally made, to avoid wholesale slaughter of Southampton and Warwick from north to south. No base would be built with an American enclave in the middle of rural Bermuda.
Then, in late November, came the official announcement that first gave most Bermudians the news that much of St. David's Island was to be given up, as part of the land for the construction of American military bases in Bermuda. St. David's Islanders, most affected, would lose their homes, land and farms. So deep was the feeling that Governor Sir Denis Bernard arranged a meeting on St. David's, in order to personally meet, talk and listen to them.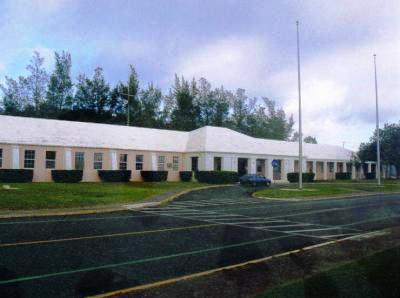 US Post Office on the base and Kindley AFB HQ building 1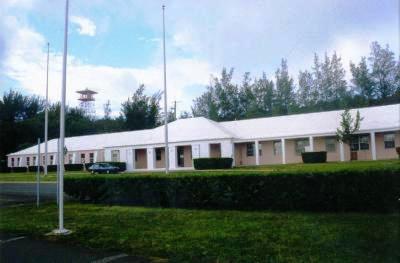 Kindley AFB HQ Building 2. Buildings above were demolished when base was de-activated.
Photos above taken when they were still up, exclusively for Bermuda Online by author Keith A. Forbes
Bases History Part 2
It was the most significant meeting ever held on St. David's. No St. David's Islanders dissented. They played their part, as loyal subjects of King George VI, in the struggle and shouldered their share of Britain's burden. True - they did get compensated for what they lost. But that was their finest hour. All they had left was hope - that the war would not last long enough to see the fruition of the master-plan to turn their homes and farms into a military base. US movie house built by July 4, 1942. Bermuda cedar was used then for internal finishing.
Their hope withered as the war got worse, as British losses mounted; as the Molotov-Hitler discussions in Berlin indicated further doom and gloom; as Hungary and Romania joined the Berlin-Rome (and later, Tokyo) pact; and as the Germans reinforced the Italians in Greece. By December 3, President Roosevelt had allocated $75 million in emergency defense funds for construction work at the eight newly-acquired American bases in various British possessions including Bermuda. Former US recreational building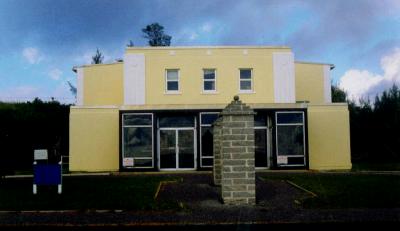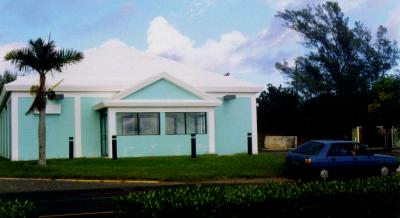 US Movie house and Recreational buildings at Fort Bell then Kindley AFB
On January 6, 1941 the Naval Board which visited Bermuda a few months earlier, with Rear Admiral Greenslade, made its report to the President's Base Lease Commission in Washington, DC. Under the terms of the 99 year Anglo-American Lend-Lease Agreement, which had been ratified, the two U.S. defense bases were established, on paper. On January 15, the House of Assembly was informed by Governor Sir Denis Bernard that he would welcome the appointment of a joint select committee.

Carter House. Saved from destruction in 1942, now the St. David's Historical Society.

Its purpose was to advise him on the financial, social and economic problems arising from the decision taken by the British and American authorities to establish military bases, with particular regard to the St. David's Islanders most affected. The first site for an Army base had already been decided for most of St. David's Island, which was confirmed. It was announced officially that second site would also be necessary. Once a military Macdonald's, now a local restaurant.

All four pix above by author Keith A. Forbes, photographed exclusively for and world copyright Bermuda Online.
Bases History Part 3
In fact, that decision had been made over two years earlier, but it had not been made public. Of course, the British Government had kept the Bermuda Government fully informed on the arrangements made to site the American bases in Bermuda. But senior members of the Bermuda Government were dispatched to London anyway, to try to have Bermuda exempted as much as possible from the plan.

More former American military buildings, all now civilian

Then the opportunity was taken to announce the site of the other base - the Navy base in Southampton Parish (where it too remained until 1995). Only then did the secret held for nearly two years by prominent Bermuda lawyer Bayard Dill officially emerge into the public domain. One of the Great Sound islands affected was Morgan's Island, which had been owned by his sister Ruth.

Former Commissary, a White & Sons supermarket in 2003

Morgan's Island was an integral part of where the original base was to be sited. That island had played a similar role, without any physical change, in the First World War when the United States Navy had made use of it. As noted in Bermuda's Many Islands present and past, small islands were swallowed up or merged or blended, or land built from scratch or from landfill to create the two United States bases in St. George's Parish and Southampton Parish.

Kindley AFB, facing the Town of St. George

Many small islands were sanctuaries for wild birds and other native flora and fauna. Construction began in 1941 and took several years. Bermuda got bigger by 6,300 acres. The environmental damage was immense. But the changes were necessary. They were initially to help defend a forward position of the USA in the Atlantic and friendly British territory in World War 2. The facility on St. David's Island began in 1941 as a US Army base. On completion in 1943 it was known as Fort Bell. Then it was a US Army Air Force base and after that, Kindley USAF base. It converted to a US Naval Air Station in 1970. (The former Officer's Mess on Whaler's Hill, shown here, is named from the fact that the hill was a look-out point for sighting whales or for seeing returning whaleboats).
It brought to Bermuda for the first time, land aircraft of the Royal Air Force. (Earlier, only British flying ships could land, elsewhere). The facility in Southampton Parish - in the west - was the US Naval Station Annex. The facility on St. David's Island includes the original Civil Air Terminal, now the Bermuda International Airport. Kindley Field was an American-built, American-equipped and American-run run airport until 1995). During World War 2, it had military and civilian intelligence gathering personnel from many other Allied countries, at Canadian and British military facilities also. Kindley AFB/USNAS hospital. Abandoned since base closed in 1995
In 1942, a US Navy oil tanker was diverted from a convoy to deliver water to Bermuda. Also then, the US Navy deepened Dundonald Channel and later added a branch to one side - still on current charts - to allow US ships access to the Naval Operating Base in Southampton. It also maintained (until 1980) five of the many channel marker buoys - those going to the NOB. Throughout the war, the US Navy was one of the services that shipped in food and supplies for locals and feed for animals. Bermudians were introduced to trade unionism and civil, human and political rights (for Bermudians). Employment the bases generated and exchanges with builders and military personnel of all races led to a lifting of the local color bar and end of discrimination against Jews, Catholics and other minorities.

Final role from 1972-1995 was as a USNAS

All six pix above by author Keith A. Forbes, photographed exclusively for and world copyright Bermuda Online.
All the above photographs are by author Keith A. Forbes.
It also inspired good roads, American sports and automobiles, and a building boom. After World War Two, the US bases provided steady employment for many Bermudians and tenants for their houses. In 1946, two US Navy Construction Battalions (Seabees) replaced, repaired or resurfaced 18.5 miles of main roads from Southampton Parish to St. David's. It was mostly to link the two US bases, but for civilian traffic also. Then the eastern facility became Kindley USAF base for the Strategic Air Command of the USA and concurrently a small US Coast Guard Station. It switched roles and became a naval air station in the early 1970's, until the closure of both military bases in 1995.
| | | |
| --- | --- | --- |
| The Bermuda Beacon | Military monthly, published for the US Army's Fort Bell and Kindley Field by the US Army Engineers | 1942-5 |
Kindley Field, built for US Army Air Force
Named in 1942 after Captain Field E. Kindley, a famous American military aviator who never went to Bermuda. (Kindley Field is now Bermuda International Airport).
Ordnance Island Submarine Base 1942-5
| | |
| --- | --- |
| This occupied all of Ordnance Island in the Town of St. George, directly across St. George's Harbour from Fort Bell. It was a submarine base for the United States Navy, the third US military base in Bermuda until 1945. As the postage stamp shows, the submarines were moored on the south side of Ordnance Island. It was not part of the original agreement between America and Britain. It was established a few months after the USA was attacked by Japan in December 1941 because German submarines were taking a grim toll of Allied shipping and penetrating the US East Coast. When first occupied by the USN, it had a wooden bridge. US military engineers built the concrete and steel bridge still used today. This base was one of several featuring military bases in Bermuda. | |
1943. December 30. 7 officers and 17 enlisted men arrived at Kindley to form the nucleus of Air Transport Command activities in Bermuda. Their organization was activated in January 1944 and designated Station 17, NAW, ATC. It is the genealogical ancestor of what became the 1389th Army Air Force Base Unit, later renamed the 1604th Air Base Group.
In 1944, Kindley began what became a long tradition of saving lives from accidents at sea from ships in distress and downed aircraft. A crash boat unit began. What was the 791st Quartermaster Boat Company, Aviation, was redesignated as a detachment of the 1st Air Force Emergency Rescue Squadron. Several crash boat men from the Kindley unit were decorated for their heroism during the war. One was Bronson Hartley. He rescued crewmen from a downed US Army Air Force aircraft that crashed into the water off the end of the Castle Harbor runway. Later, he became an esteemed marine biologist and inventor of the Hartley Diving Helmet. (Today, one of his sons, Gregory Hartley, runs a shallow-water helmet diving business in Bermuda, using the current version of the same helmet, taking locals and visitors on tours of the ocean bed from his headquarters at Watford Bridge in Sandys Parish. Another son does the same thing in the Bahamas).
In mid 1944, an Armed Forces Radio Station, which used the call sign WXLQ, transmitting on the 1240 kcs medium wave band frequency, went on the air from Kindley, for a two-year stint.
In January, 1945 an American Army Hospital ship was stuck in the reefs off Bermuda.
In 1945, to supplement the activities of the crash unit, several rescue C-47 and B-17 aircraft with airborne lifeboats were seen at Kindley, assigned to the base rather than a specific air rescue unit.
Kindley Air Force Base 1946-1970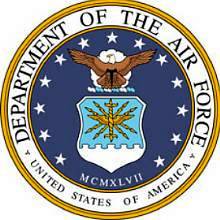 Named after Captain Field E. Kindley, US Army Air Force.

On January 1, 1946 the Bermuda Base Command and the 1389th AAFBU consolidated. General Thomas H. Jones, base commander, became the commanding officer of the combined command. His deputy was Colonel Cecil E. Henry, who previously commanded Kindley Field.

From late January 1946, when General Jones was air evacuated back to the USA gravely ill, Colonel Cecil E. Henry assumed overall command of Kindley Air Force Base. He remained in that role until March 1946 and again from July to October 3, 1946, as the official base commander # 3.

1946. August 22. President Harry Truman of the USA arrived in Bermuda on the presidential yacht Williamsburg for a week-long informal stay. He swam, fished and toured the island by automobile.

1949. Kindley welcomed Flight D, 2152nd Rescue Unit of the USAF, which later became Flight D, 6th Rescue Unit then Flight D, First Rescue Squadron. The unit flew converted SB-17 bombers which carried, slung under their bellies, lifeboats dripped to the ocean by parachute.

After World War 2, the base guarded the Eastern seaboard of the USA and Atlantic against a Soviet threat during the Cold War.

1950. March. The Legend of the Bermuda Triangle assumed even greater importance, with the loss, in the Atlantic, on the northern edge of the Triangle, of a United States Air Force Globemaster aircraft, in inexplicable circumstances.

1950. July 1. The US Naval Operating Base in Bermuda was decommissioned, with the US Naval Station instead.

1950. April. A Bermudian, his two sons and eight US Marines were rescued after two days adrift 60 miles off Bermuda in a disabled motor launch. The party was sighted by an SB-17 aircraft from the Kindley United States Air Force Base in Bermuda and eventually picked up by the Royal Naval vessel HMS Bigbury Bay.

In 1951, the crash boat unit was again redesignated, this time as the 6th Crash Rescue Boat Flight. (It remained in operation until December 1956).
| | |
| --- | --- |
| In the early 50's MATS (Military Air Transport) took over control of Kindley for as long as it remained a USAF base. The Base Commander was a MATS officer. Initially, Kindley was a refueling stop for aircraft flying the "Southern Route" via the Azores to/from Europe, Middle East and Africa. | |
In December, 1952 a dramatic rescue operation was mounted from Bermuda to save the passengers of a stricken Cubana Airlines aircraft which had taken off from the Civil Air Terminal but crashed into the waters of Castle Harbor at the end of the runway at about 4.30 pm, as dusk approached. Bermuda had been well prepared for such a rescue operation, due to the previous establishment at Kindley Air Force Base of crash boats imported and operated especially for such an emergency. On that particular night, two US servicemen on board the 35-foot crash boat that went out to rescue the aircraft's passengers heard faint screams coming from the dark, oil-slicked water. They leapt overboard without lifelines or preservers, in an attempt to rescue the passengers. But despite their heroic efforts, and those of others, in rescuing four people, the balance of the passengers and crew of the stricken aircraft - some thirty seven people in all - perished from wounds incurred in the crash.
In late September 1953, two Kindley Air Force Base crash firefighters earned the US Soldier's Medal when they entered a burning US Navy R6D aircraft which had crash landed on the base. The men entered the blazing wreck without protective clothing to make sure that all passengers had been evacuated - which they had. But the aircraft was a total loss.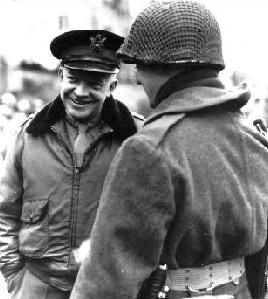 In December 1953, for the first of four important Summit Conferences that took place in Bermuda between American Presidents and British Prime Ministers after they arrived at the USA's Kindley Air Force Base, the arrival of President Eisenhower with pomp and circumstance created a major stir.
He had been to Bermuda before, but not as President, instead as Supreme Commander of Allied Forces in 1945 as the war with Germany and Japan was ending.
He had flown in directly from Europe, was re-tailored at the US Army Air Force base of Fort Bell in Bermuda (which was replaced by Kindley).
He went from there to accept the thanks of and further military instructions from the US Congress in Washington, DC.
On this particular occasion in Bermuda, the President was joined by British Prime Minister Winston Churchill and French Premier Laniel, both of whom had arrived at Kindley a day or so earlier.
President Eisenhower in Bermuda in 1945, 8 years earlier
All three spent a total of four days together in Bermuda. Their geopolitical discussions centered mostly on relations with the USSR as the post war Cold War began to intensify. Within hours of the commencement of the conference came an official note from Moscow which requested, in somewhat brusque terms, a 4 Power meeting involving the Russian leader.
On June 21, 1956, KAFB celebrated a major event, with Bermudian help. The occasion was the official dedication of the brand-new base hospital (shown here in photo by author Keith A. Forbes) up to latest US hospital standards, on the site of the old building which had been demolished because it had incurred some major building errors and its foundations and walls were doomed. It was designated as the 1604th Hospital (and stayed that way until 1967 when it was downgraded to a dispensary).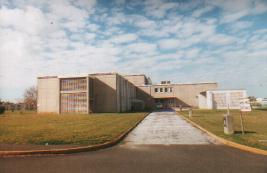 1992 photograph by the author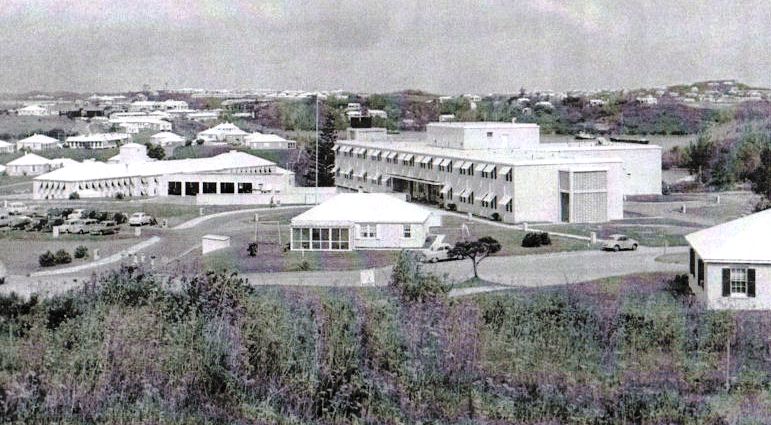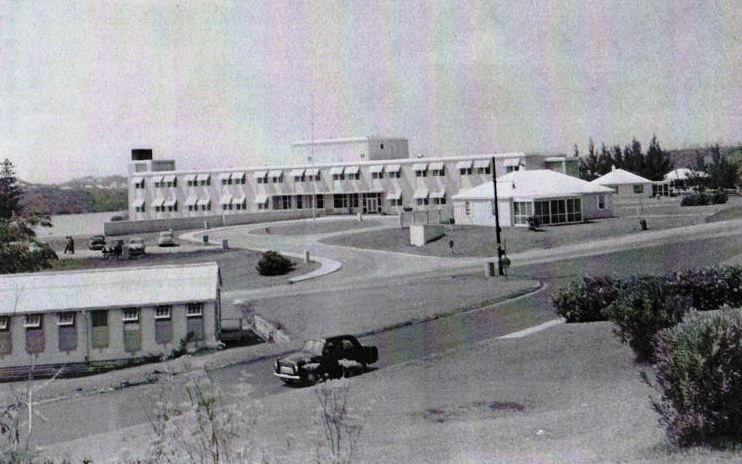 New Kindley Air Force Base Hospital 1956. The black and white USAF photographs and color photograph above and below are from US National Archives and sent in February 2012 courtesy of the family of Captain Christian M. Cotham, Jr, USAF, stationed at Kindley AFB Bermuda 1952-55.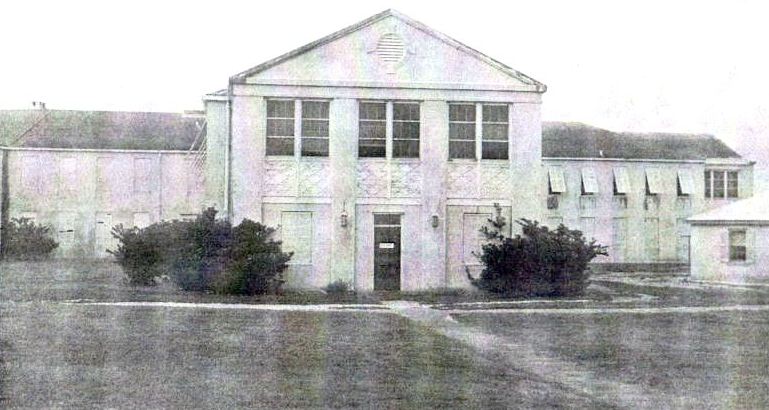 The New KAFB hospital replaced the one shown below condemned earlier and destroyed after being declared unfit for use. It was located on the same site.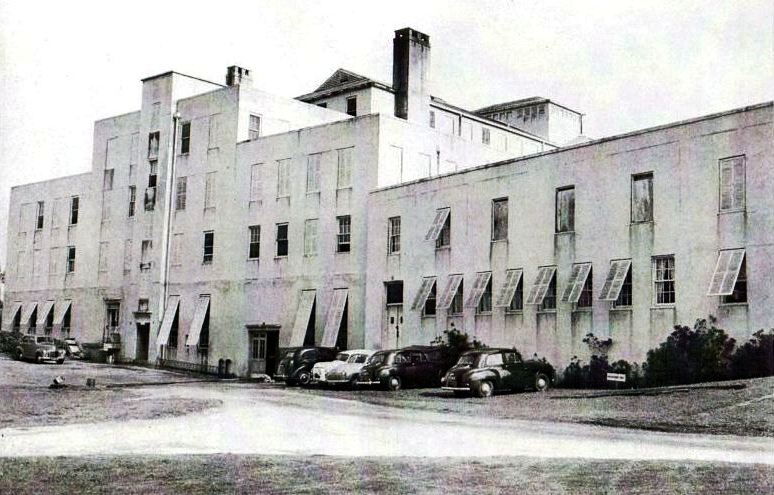 Old Kindley AFB hospital before demolition.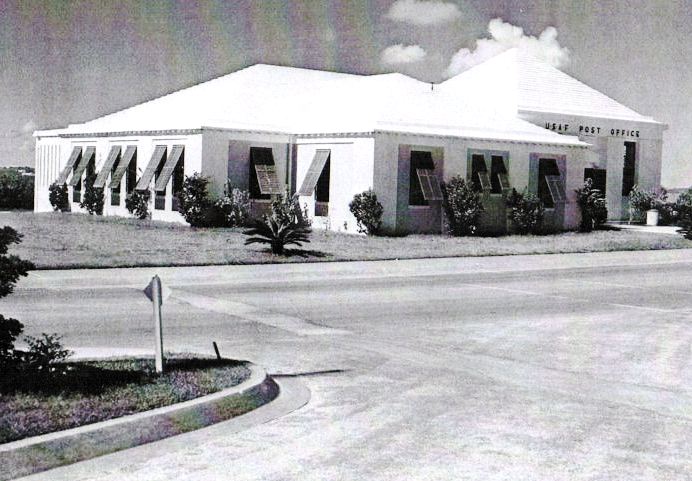 Kindley AFB Post Office 1952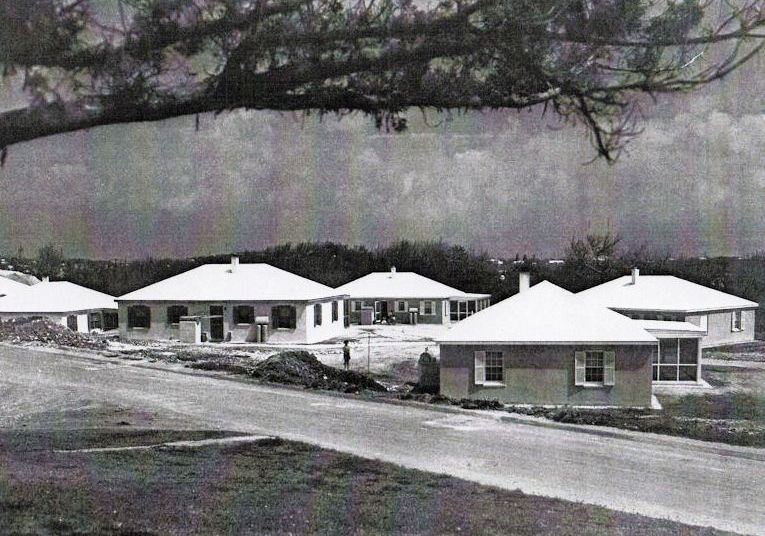 Kindley AFB 1952 base housing project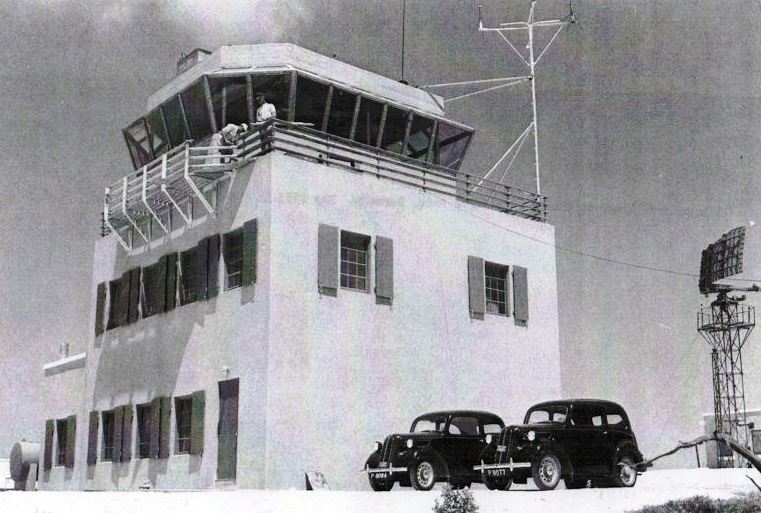 Kindley AFB New control tower 1953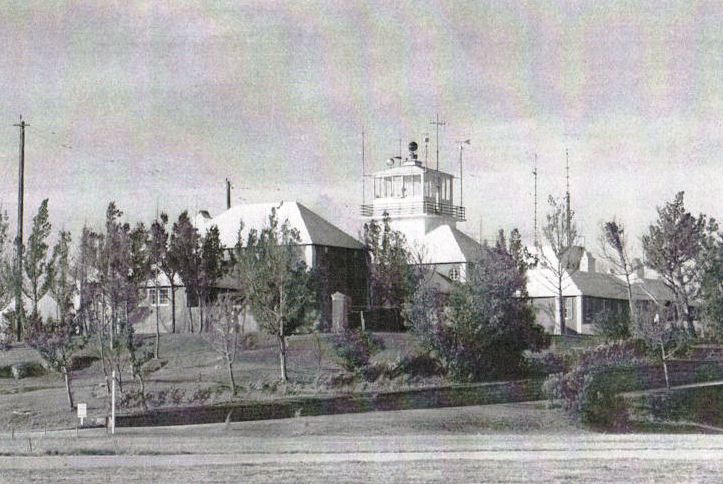 Kindley AFB 1951 Control Tower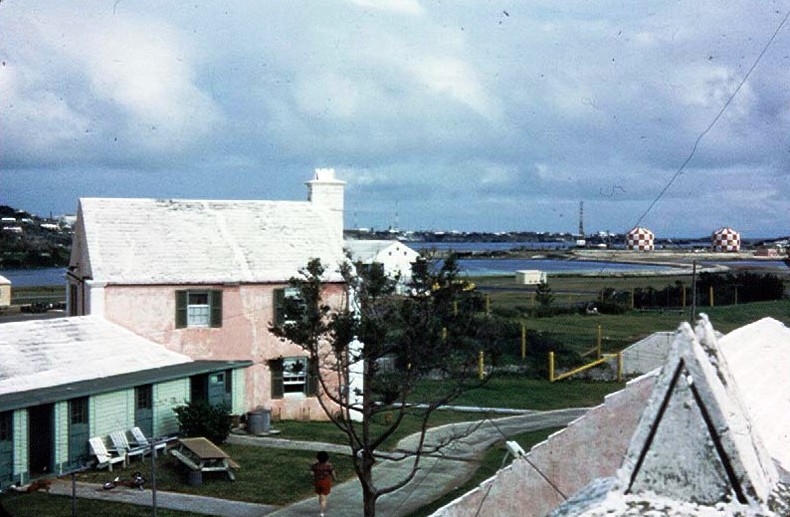 Kindley AFB family officer's quarters 1953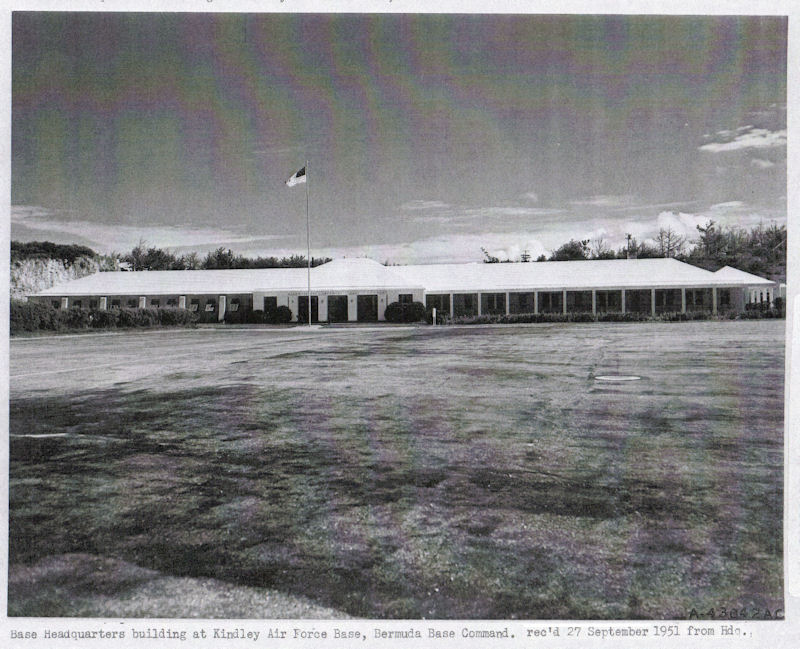 Kindley AFB Headquarters 1951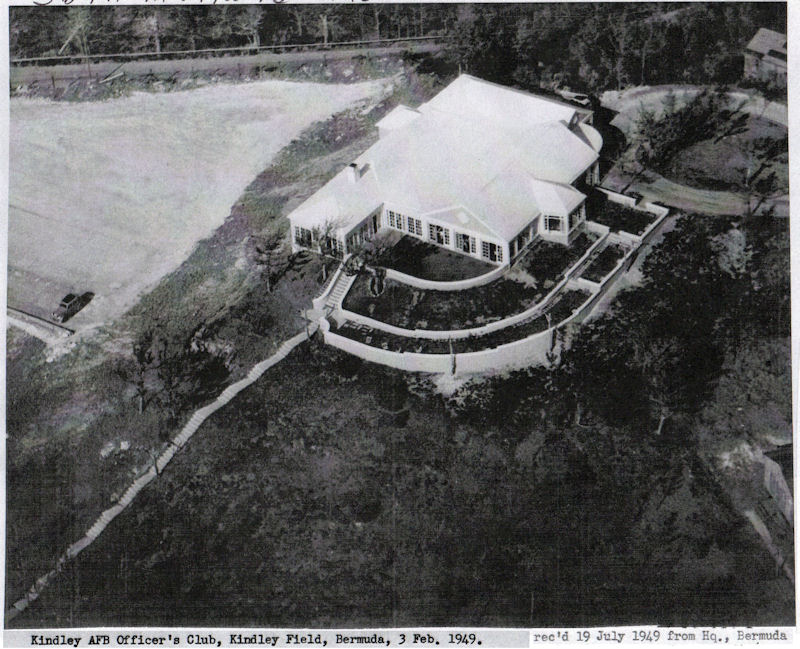 Kindley AFB Officers Club 1949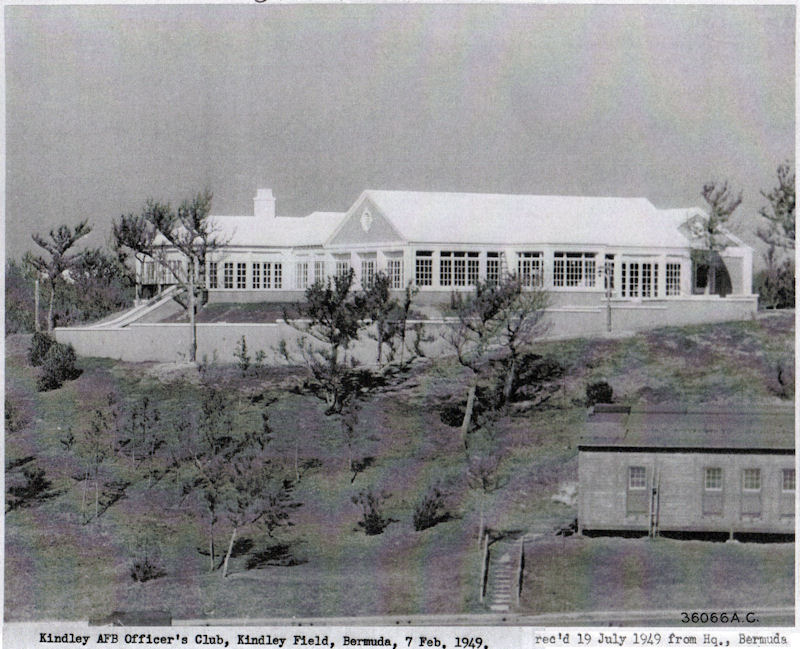 Kindley AFB Officers Club 2 1949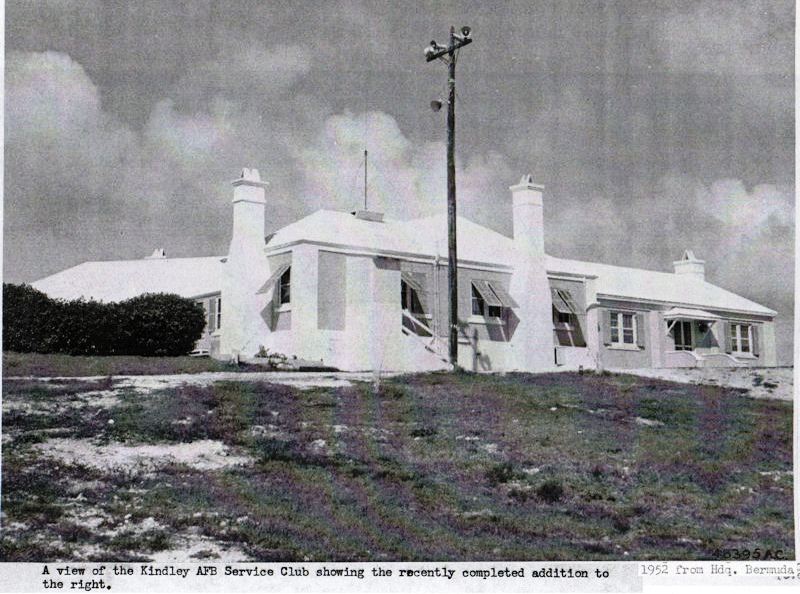 Kindley AFB Service Club 1952 with addition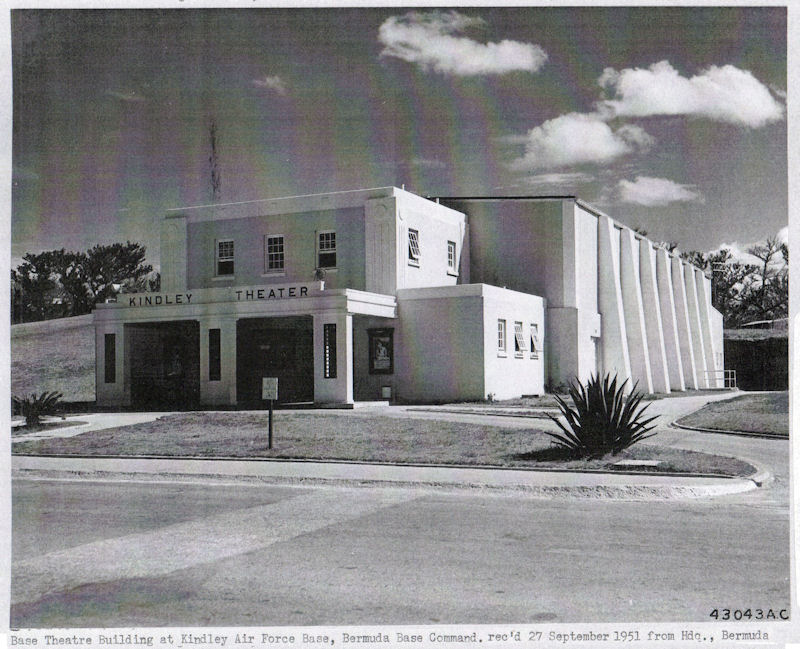 Kindley AFB Movie Theater 1951

On Sunday, November 11, 1956, The New York Times reported that a missing US Navy patrol plane with ten men aboard was hunted the previous day by Navy and Coast Guard units in waters north of Bermuda. The plane was believed to be the one that a Liberian freighter had spotted in flames on the Friday night before then. An SOS message from the freighter - the Captain Lyras - at 8:51pm Friday reported "a plane overhead in flames" at a point about 400 miles east southeast of New York.

The New York Times intercepted another message from the freighter reporting that an explosion had been heard and felt strongly aboard the vessel. Still another message from the freighter reported the sighting about four miles away of what appeared to be a life raft with a light on it. The freighter's report that the raft had become obscured by rain, heavy seas and darkness. According to the Navy, weather conditions at the time of the SOS were scattered clouds at 1,500 feet, showers with good visibility and moderate seas.

The joint sea-air search was coordinated by the Navy's Eastern Sear Frontier command in New York State. The Commandant, Vice Admiral Frederick W. McMahon, was quoted as declaring the Navy plane "may or may not" be the sighted craft. Other Naval authorities in Norfolk, Va., and Bermuda, home base of the plane, presumed it was. There were no other reports at the time of a missing civilian or military aircraft.

The missing plane was a Martin "Marlin" P5M 127705, a twin-engine flying boat carrying seven enlisted men and three officers. The Navy said the craft radioed its last position report at 8:30 pm Friday when "roughly" in the area of the freighter's report. The United States Naval Station in Bermuda, where the plane was assigned to Navy Squadron VP 49, reported the craft's last position report as 350 miles north of Bermuda.

An Associated Press report said the plane had left Bermuda on a patrol flight with enough fuel to keep it aloft until 6:30 am next day. The search was begun by three Coast Guard aircraft and a cutter, the Chincoteague, then about 180 miles from the Captain Lyras at the time of the freighter's SOS. Also joining the search were two Navy destroyers and six Navy planes. These were four other P5M's stationed in Bermuda and two P2V Neptune patrol bombers - like the type shown in the photograph below - from Maryland.

The Navy in Washington announced that missing from the aircraft were Petty Officer 3/C Wendell Frederick Beverly, son of Francis Louis Beverly, Ballou Lane, Williamaton, MA; Petty Officer 3/c Billy Gene Comer, son of James Vester Comer, Blossburg, AL; Petty Officer 3/C Jesse William Grable, son of Byford Otto Grable, 1305 Dover, Centralia, IL; Petty Officer 3/C Richard Woods Montgomery, son of Thaddeus Lemart Montgomery, 118 Colwyn Lane, Cynwyd, PA; Lieut. (jg) Charles William Patterson, husband of Billie Lawson Patterson, Naval Station, Bermuda; Petty Officer 2/C Lyle Freeman Quimby, husband of Karin Mae Quimby, Beachcrest Cottage, Rural Hill Paget, Bermuda, and son of Mrs. Earl Quimby, 3036 Colfax, North Minneapolis, MN; Leut.(jg) Cyrus Eugene Reid Jr., son of Mary Marshall Reid, Edgewater Drive, Dallas 5, TX; Airman Bobbie Lee Sanders, son of Mary Frye, 312 West 9th Street, Houston, TX; Comdr. John Milton Sweeney, husband of Mary Mathewson Sweeney, Mimosa Cottage, Warwick, Bermuda; Petty Officer 1/C Robert Wayne Taylor, husband of Shirley Marea Taylor, Elys Harbor Apartments, Somerset, Bermuda, and son of Mrs. Phillip Yedlik, Route 2, West Liberty, OH.

In the late 50's SAC deployed KC-97's to Kindley for air refueling of B-47's (USA based) over the Atlantic.

In January, 1957, the McDonough Construction Company of Florida was awarded by the US military authorities a $2 million contract for additional construction at Kindley Air Force Base. The Bermudian workers hired to supplement the American civilians imported for the purpose got an specially nice deal. For the first time in the history of the US bases in Bermuda, they were paid the same rate as their counterparts in the USA.

On January 18, 1958, Bermuda got its own TV station for the first time, when ZBM-TV went on the air. It began life as a cooperative arrangement. The Kindley TV station, ZBK-TV changed its broadcasting times to 12.00 noon to 5.30 pm, with ZBM taking over Channel 10 at 5.40 p.m. The agreement had been worked out with the United States Department of Defense. It was then normal policy that an Armed Forces station could not be operated in any jurisdiction where commercial English language facilities already existed. Permission was given by the US Department of Defense and Bermuda Government for the Kindley Station to remain on the air until ZBM's station and coverage were well-established and could provide the same number of broadcasting hours Kindley had been offering.

In January 1955 the 303rd Air Refueling Squadron went to full operational status with KC-97's and crews on alert status at all times. In the 50's and 60's along with MATS, SAC and Air Sea Rescue there was a B-29 hurricane hunter squadron and a B-29 TAC air refueling squadron for refueling jet fighters, plus a few other temporary groups. The above all used prop driven aircraft and as they were phased out and replaced by jet aircraft the need for a refueling stop in Bermuda was eliminated. Royal Air Force Vulcan and Comet jet aircraft would come in quite frequently and the standard joke was "They just stopped into the PX and commissary." For the USAF Kindley became more of an "Emergency" base in case an aircraft needed to make an emergency landing or Air Sea Rescue was needed. (When the cold war submarine threat became more of an issue it made more sense for the Navy to take over operations).

Construction of the NASA tracking station was completed in late 1960, after work began on it in 1959. The NASA station, now deserted but still with its signs, is at the end of Mercury Road on Cooper's Island, on the southeast tip of the former base, (adjacent to what is now Clearwater Park). Many airmen and locals were employed to help complete the construction on time. Bermuda became part of the NASA worldwide tracking network and initially it's primary responsibility was computer monitoring and along with Cape Canaveral could abort a mission on the downrange before going into orbit. The Atlantic Ocean abort landing area was between Bermuda and the Canary Islands.

The seven Mercury astronauts, Shepherd, Grisssom, Glenn, Carpenter, Cooper, Slayton and Schirra were frequent visitors to NASA Bermuda in 1960 & 1961. Another species of astronaut - Ham the chimpanzee - also visited Bermuda after a space flight, January 31, 1961. Ham landed south of Bermuda. With his capsule which almost sank on landing, he got a return flight to Cape Canaveral (later, Kennedy) via Kindley. As a show of thanks to Bermuda, NASA started the world tour of John Glenn's (from February 20 1962) Friendship 7 capsule in Hamilton on April 20, 1962. (Bermuda's role within NASA changed many times over the years. Basically due to technology advancements NASA no longer requires the Bermuda site as a primary control or tracking station).

About the same time SAC began its operations on Kindley, the Russians started to listen in on Kindley from electronic surveillance vessels. The Russians said the vessels were for ocean research and would invariably request permission to dock in St. George using medical or some other humanitarian reason. 3 or 4 times a year, the Russians came snooping and as they were docked at Wharf Street, St. George, they could not get much closer to Kindley. But the base was opposite the civilian port. At this same time US nuclear subs were cruising around Bermuda so the Russians were busy in the area.

1961. On September 22, a Marlin P5M S-2 of Patrol Squadron VP 45, US Navy crash-landed in the ocean 178 miles north of Bermuda. Crewmembers Robert Carroll, Cameron Cooper, Charles Dunaway, Lieutenant Commander Albert J. Tait, Erwin Thompson, Charles Turner and David Wood, all Bermuda-based, perished. There were 3 survivors.

1962. January. From the NASA Space Tracking station in Bermuda established a year earlier at part of Kindley Air Force Base, began the first of a multi-year series of firing weather reconnaissance rockets into the air over the island and beyond. See http://www.astronautix.com/sites/kindley.htm.

On March 24, 1962, in a solemn ceremony at the non-denominational chapel of the US Naval Operating Base in Bermuda, a US Navy Memorial Tablet was laid to honor the memory of those who died in the September 21, 1961 crash off Bermuda.

In November 1963, the US Coast Guard detachment transferred from the U.S. Naval Station to Kindley because greater range could be gotten from its HU-16 Albatross aircraft by land takeoffs rather than water takeoffs.

In 1963, modern, high-speed, land-based P-3 Orion aircraft replaced the seaplanes at the US Naval Operating Station, Bermuda.

1963. November. The US Coast Guard detachment in Bermuda transferred from the U.S. Naval Operating Station to Kindley, Bermuda, because greater range could be gotten from its HU-16 Albatross aircraft by land takeoffs rather than water takeoffs.

On July 4, 1955, Independence Day, American servicemen and their families and friends in Bermuda had a special reason to celebrate. ZBK-TV from Kindley, Bermuda's first, signaled a new era of communications. The audience was officially limited to television receivers in on-base quarters and barracks. But a number of Bermudian families who had equipped themselves with TV sets in hopes of 'catching' the programming were not disappointed in their investment. The signal could be picked up easily in St. George's, Tucker's Town and a few isolated spots even as far away as Harrington Sound, in the vicinity of Flatts. Locals acquired a TV set and could easily receive from their hill-top vantage point the TV signal from Kindley - and periodically invited their neighbors and friends around to watch the American shows, then only in black-and-white, of course. Originally, it had been intended to provide Island-wide TV service and the Bermuda Government had given its permission. But it was discovered that it would not be possible, because the TV footage was then provided by the American TV networks, agencies and unions for transmitting to military forces and their dependents only, not for civilian audiences. TV for the US Navy at Southampton and for all of civilian Bermuda took longer to materialize. American TV engineers who arrived at Kindley were faced with the highly technical problem of trying to restrict transmission to the base area. One of the reasons behind the decision to allow TV to the American military was the fact that the 1,500-plus American service families felt they should not be 'deprived' of TV simply because they were residing in Bermuda, when US bases elsewhere in the world all had TV.

In 1968, as riots, strikes and malicious damage rocked Bermuda and the British Army sent a warship HMS Leopard and Royal Iniskilling Fusiliers, precautions were taken at Kindley AFB and the US Naval Station Annex as well. Major General Carl A. Youngdale, Inspector General of the US Marine Corps, arrived in Bermuda to beef up and review the US Marines.

In October, 1969 for a United Press International Conference in Bermuda, delegates included US Attorney General John Mitchell, Governor of New York Nelson Rockefeller and Walter Cronkite. They arrived at Kindley and were met by USAF personnel.
US Naval Air Station July 1, 1970 to 1995
US Marines guarded the bases, ammunition supplies, gates of entry and weapons depot.
On the US Navy takeover of the USAF base on July 1, 1970, the former Kindley AFB High School became Roger B. Chaffee school after astronaut Lieutenant Commander Roger B. Chaffee, from Grand Rapids, Michigan. He lived from 1935 to 1967 when he died in an Apollo tragedy. It provided K-12 education for thousands of children whose parents lived on or off the base as American military or civilian officials; and local children one parent of whom was American. Most graduates now live in the USA but some are in Bermuda.
1974. February. A US Navy tug feed the grain ship "Mount Julie" from a reef in Bermuda's main shipping channel.
1974. The Legislative Council of Bermuda approved regulations allowing American civilians employed at the US bases in Bermuda to have the same on-base customs privileges as members of US Armed Forces.
1993. The photo below was taken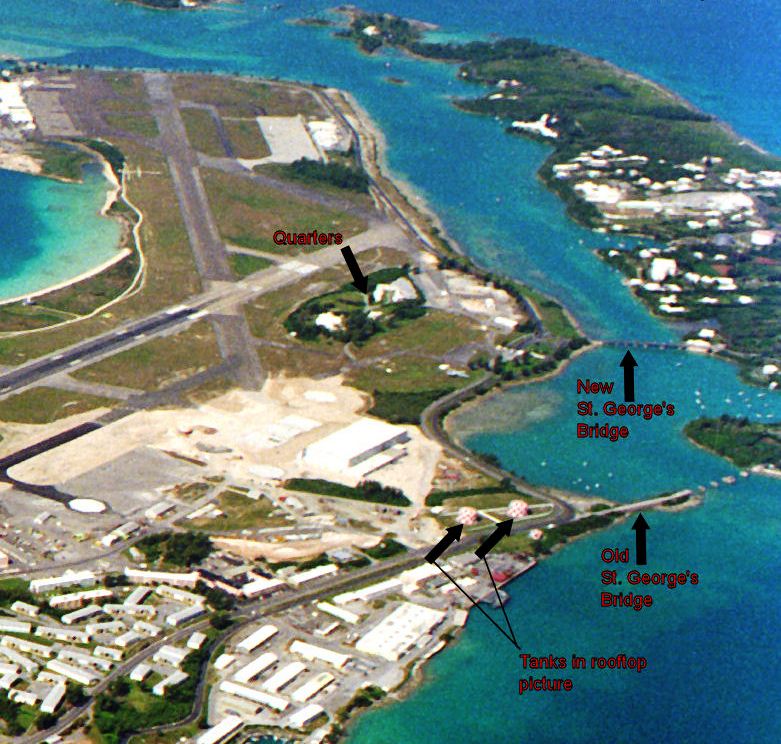 End of the bases 1995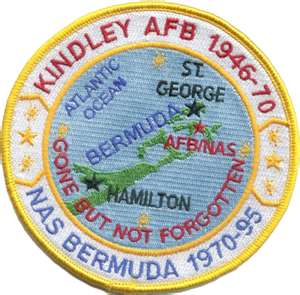 Before leaving in 1995, the United States military had occupied more than 10 percent of Bermuda. At that time and for years, the Bermuda Government got more than US $ 60 million a year from the bases, even though their real estate had been rent free. With the Soviet Union gone and NATO restructured, Bermuda's importance as a military base ended. So did the income from it. Now Bermuda's taxpayers and visitors pay the shortfall.
Then-existing facilities on both sites include more than 300 buildings in various sizes and capable of a multiplicity of uses; hurricane moorings; aircraft hangers, ship docking facilities, tender piers and wharves; six major water catchments; a 15.5 million gallon water reservoir; two 40,000 gallon reverse osmosis desalinization plants; and much more.
The former Commissary building was a real boon to all ranks - not only Americans but also the Royal Navy and Canadian Forces when they were in Bermuda. It was far less expensive than in Bermuda shops.
The Stars and Stripes were officially lowered on June 2, 1995, as a lone trumpeter played "Taps." The flag was handed to the last base Commanding Officer, Captain Timothy Bryan, before an assembled gathering of base personnel and local dignitaries who included the USA's Consul General in Bermuda, Mr. Robert Farmer. With that, 54 years of the USA's military presence in Bermuda officially ended in 1995. It finished the withdrawal on September 1. Now the beaches are open to all.
Like the former Fort Bell/USAAF/Kindley AFB/USNAS complex, this base too is now owned by the Bermuda Land Development Corporation, a Bermuda Government-owned entity under the portfolio of the Bermuda Government's Minister of Works and Engineering Alex Scott. Now renamed Morgan's Point, when re-developed, it will be Bermuda's biggest development. The US$ 300 million project was supposed to create in 1997 over 220 jobs in the first two years of development and 350 more thereafter. But there have been major delays because of Bermuda Government claims of massive pollution above and below ground by the US Navy. Eventually, it is hoped it will include a PGA championship 18 hole golf course; a community village; cottage colony (a cottage community health spa, with 200 rooms); private housing, to involve a range of medium and high-priced homes; and a marina. The work will include coastal protection works; an environmental cleanup; installation of electricity, water, telecommunications and sewage treatment facilities and public parks.
Longbird House, once the residence of the US Air Force's and then the US Navy's Commanding Officer in Bermuda, was demolished. At one time, a host of wartime and postwar dignitaries stayed there, including General (later, President) Eisenhower in the last stages of World War II. The building was identified by local and international authorities as a potential hazard to incoming aircraft, a navigational hazard in their flight path. Other facilities no longer exist, also demolished by the Bermuda Government. The whole area has reverted to its original pre World War 2 name of Southside and is owned by the Bermuda Government's Bermuda Land Development Company (BLDC).
Overseas, closures of former military bases have seen the creation of Foreign Trade Zones or Enterprise Zones which get special privileges or tax benefits and can also have import duties waived or deferred until goods are finished and shipped out of the zone. There, any qualified corporation from any country qualifies for freehold or leasehold offices as preferred. But in Bermuda, the entire former military facility is owned by the Bermuda Government, with no possibility of any private sector company getting freehold. There is a 45-acre Southside Business Enterprise Zone but no US-style No Foreign Trade Zone or Enterprise Zone concessions or privileges or benefits apply. Companies will not be able to bring in unfinished goods Customs duty-free as they can in the USA at a Foreign Trade Zone and then pay Customs duties on finished goods once they are shipped out of the zone.
The entrance to Kindley is now an ice-cream parlor and deli, the Double Dip Express.
The former military bowl is now the BLDC-owned and privately leased and operated civilian Southside Family Bowl, at what is now 1565 Southside Road, St. David's. Telephone 293-5906 or fax 293-5907.
The former movie house is still one, the Southside Cinema, biggest in Bermuda, on Southside Road, which south of and parallels St. David's Road. Its telephone number is (441) 297-2821. It shows movies nightly. A new nightclub, Club Azure, is in the same building.
The BLDC has refurbished 26 former officer's homes at Southside on long-term leases to locals, in an area now known as Ferguson Park. A further 12 dwelling units will become available. Some have been demolished.
Channel House, a three-floor former military barracks building, is rented as offices for companies.
White's Supermarket will be leasing from 2002 the enormous former US Commissary store.
Still to be leased out are buildings that include Triton House, a striking yellow building once a USAF avionics office, with stunning views overlooking Castle Harbor; and the former KAFB/USNAS hospital just west of the KAFB High School, later Chaffee, now Clearwater Middle School.
Many former Kindley Air Force Base and US Naval Air Station employees have attended receptions in Bermuda at various times, including in 1999, 2000 and another in July 2002 from the cruise ship "Zenith" which leaves on June 29 from New York. Included are Don and Wendy Moss and Donald and Betty Mroz at local telephone number (441) 238-3720. The events have attracted full-page articles in the daily Royal Gazette newspaper of Bermuda - which owns this website.
One parent wrote saying that because her children were born off base, in the local hospital while she and her husband were stationed in Bermuda, they are entitled to "dual nationality." (Sorry, no, only if one of the parents was Bermudian). (For more information on this, communicate with the US State Department or the US Consulate General in Bermuda at telephone (441) 295-1342 or fax (441) 295-1592 or the Bermuda Government's Ministry of Home Affairs at telephone (441) 295-5151).
Like the former Fort Bell/USAAF/Kindley AFB/USNAS complex, the former USN base in Southampton Parish - now called Morgan's Point - is now owned by - and the responsibility of - the Bermuda Land Development Company, a Bermuda Government-owned entity.
There have been three failed bids to redevelop the area on a leasehold basis. The first was from British based Renaissance Resorts International Ltd. It won the bid but failed to act. The second was from Morgan's Harbour Investment Ltd. It too won the bid but also failed to act in 1999. The third was from BEAM Ltd. The $250-$300 million project was expected to create 220 jobs in the first two years of development and 350 more thereafter. It was to have included a PGA championship 18 hole golf course - for which two plans were drawn up by famous golfers; a community village; cottage colony; housing, with a range of medium and high priced homes; and marina in two phases, to include coastal protection works; an environmental cleanup; installation of electricity, water, telecommunications and sewage treatment facilities and public parks. But nothing happened.
Announced on October 24, 2003 was the news that the Bermuda Government now intends, instead of all previous projects, to turn Morgan's Point into Bermuda's fourth residential hub, after Hamilton, St. George's and Southside in St. David's.
Legacy of the US military bases
American base personnel held an annual Open House day each year with a thrilling air show, for Bermudians and residents. They preserved for the general public to view, various historic buildings on the bases, such as Carter House. They allowed Bermudians and others to use their "chain restaurant." They were the pressure instruments for the final introduction for civilian use of motor vehicles. They lent Bermudians their facilities for baseball, basketball, cycling, football, go carting, model airplane clubs, sail boat anchorage's and triathlon events. Via their military school and college admission facilities, they educated many locals with undergraduate and post-graduate degree programs. They were never "unapproachable," behind concrete walls. They were always good neighbors and often close friends.
In the 54 years of the USA's military presence in Bermuda, American base personnel married Bermudians and doused fires with their fire fighting facilities supplementing the local services. They also provided the island's only Air Sea Rescue operations with helicopters and surface craft. The base hospital and its staff always responded whenever emergencies stretched the resources of local civilian facilities.
The American military provided and maintained Longbird Bridge, for people from the central and western Parishes to access the airport.
The US Army Air Force Base and its successors in the United States Air Force and United States Navy supplied the building, meteorological services, incoming and outgoing flight direction. Without this long, land based, airport and runways, Bermuda might never have had its tourism and international business. Until then, the only aircraft that could land in Bermuda - but some way away - were flying boats or those fitted with pontoons.
The former Civil Air Terminal is now the Bermuda International Airport. Former bases were featured on 1996 postage stamps. All were highlighted early in 1996 on a set of postage stamps issued by the Bermuda' General Post Office. These stamps were in values of $1, 90 cents, 75 cents, 60 cents, 25 cents and 20 cents. They showed the bases as they were during World War II. Included were the wartime Ordnance Island (Town of St. George) Submarine Base, the Royal Naval Dockyard, Fort Bell and Kindley Field base of the United States Army Air Force, the Darrell's Island flying boat base converted to military use, the US Navy Operating Base in Southampton Parish and the Canadian Forces Station at Daniel's Head in Sandys Parish.
The Americans left behind major additions to Bermuda's real estate in buildings. They included four ambulances, sports equipment, hurricane moorings, aircraft facilities, six major water catchments, a 15.5 million gallon water reservoir, two 40,000 gallon reverse osmosis desalinization plants, a tender pier, wharfs - and much more equipment.
The US Navy's library was donated. More than 1,000 volumes and reference works and shelving went to the Bermuda National Library. In sports equipment, baseball crazy Bermuda youngsters got 100 helmets, 54 bats, 24 sets of shin guards and 17 masks, thanks to the US Navy. In sports facilities, the Navy's one-time recreational area became the Bermuda Youth Athletic Association's new premises for baseball, soccer and golf.
Former buildings have new civilian tenants. Part of Kindley Field Road, named after World War 1 flying ace Captain Field Kindley, is now Cahow Way, for the Bermudian bird nearly made extinct when the base was built. Departments of the Bermuda Government - Education, Police and more - are here. Certain land areas are now public recreation. Some beaches on the former St. David's Island base, once available only to the military, are now prime attractions. They were opened on May 24, 1996.
Since then, there have been repeated allegations that the USA left behind massive oil pollution. They are simply not true. Look at the bigger, overall picture. When the US bases in Bermuda were completed from scratch in 1941-42, to raise Bermuda's size by over 2 square miles from under 18 to 21, US taxpayers footed the entire bill. Not a cent was paid by Bermuda. Bermuda made not just millions but billions from the presence of the US forces from 1941 through 1995. That bases land included Bermuda's airport, Bermuda's principal gateway to the world. Not a penny of that was paid for by Bermuda. US engineers also rebuilt entirely at US expense many of Bermuda's roads which until the US came had never taken motor vehicular traffic. Previous base commanders all made a point of asking for Bermuda Government advice and assistance in getting rid of that wasted oil - which was not uniquely a US base problem but one of which many civilian Bermuda contractors plus Shell and Esso, both of which had and still have Bermuda Government contracts and pay millions each year in customs duties to the Bermuda Government, took full advantage. But all were told that the caves in which the used oil was dumped was not Bermuda's problem. Bermuda hoped from 1995 to make hundreds of $ millions in compensation from the USA, but all it got was $12 million in final payment, not for any oil pollution but for Longbird Bridge the USA had been legally accountable for even though 99% of its traffic was civilian.
In October 2009 the following book was published:
USS Bermuda - The Rise and Fall of an American Base. Don Grearson. 2009. Written between 2001 and 2006. 450 pages. $49.99. Self-published, 1,500 copies. The Canadian-Bermudian author states how the two bases at St. David's and Southampton closed in 1995 also refers to the $11 million settlement the Bermuda Government collected in 2002, since referred by Premier Ewart Brown to US Attorney General Eric Holder in hope of a better settlement after, according to the government, the bases left behind vast amounts of oil, as well as mercury, paint and batteries. US Navy contractor JA Jones gave a $65 million estimate for cleaning up the mess at what are now Southside and Morgan's Point. Research for the book included interviews with US Department of State officials involved in negotiating that deal, as well as local players who handled the shutdown of the base lands, such as former Premier Sir John Swan and former Cabinet Minister Grant Gibbons. Grearson, employed by the then-government to administer the newly-acquired base lands, claims the USA has closed the file.
Associated sites links
Sites presently with active cross-links to this site.
British and Canadian Forces
Only a small fraction - less than 5 percent - of the size and one time military population of the American bases, they left in 1993, having been in Bermuda since World War Two. During the Cold War, they re-established their own presence, mostly in anti-submarine warfare and radar surveillance, at Daniel's Head, in Sandys Parish. The former Canadian Forces Station at Daniel's Head had 17 acres, including beach front. Since leaving, the Canadians have cleaned up the pollution they once had.

In comparison, the Royal Navy Dockyard in Bermuda was built from 1815 for United Kingdom strategic purposes and the Royal Canadian Navy station which existed from 1941 to 1945 and then on its own from 1963 to 1993 was for Canadian and American defense.


Last Updated: September 23, 2014.
Multi-national © 2014 by Bermuda Online. All Rights Reserved. Contact Editor/writer and webmaster.