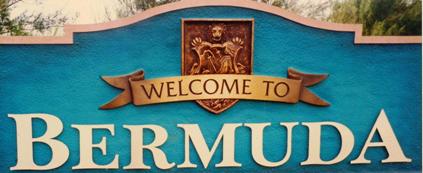 111165+ web files, a regularly updated Gazetteer, overall an in-depth description of our island's internally self-governing British Overseas Territory 900 miles north of the Caribbean, 600 miles east of North Carolina, USA. With accommodation options, airlines, airport, actors, actresses, aviation, banks, beaches, Bermuda Dollar, Bermuda Government, Bermuda-incorporated businesses and companies including insurers and reinsurers, Bermudians, books and publications, bridges and causeway, charities, churches, citizenship by Status, City of Hamilton, commerce, communities, credit cards, cruise ships, cuisine, currency, disability accessibility, Devonshire Parish, districts, Dockyard, economy, education, employers, employment, environment, executorships, fauna, ferries, flora, former military bases, forts, gardens, geography, getting around, golf, guest houses, highways, history, historic properties, Hamilton, House of Assembly, housing, hotels, immigration, import duties, internet access, islands, laws, legal system and legislators, main roads, marriages, media, members of parliament, money, motor vehicles, municipalities, music and musicians, newcomers, newspaper, media, organizations, parks, parishes, Paget, Pembroke, performing artists, residents, pensions, political parties, postage stamps, public holidays, public transportation, railway trail, real estate, registries of aircraft and ships, religions, Royal Naval Dockyard, Sandys, senior citizens, Smith's, Somerset Village, Southampton, St. David's Island, St George's, Spanish Point, Spittal Pond, sports, taxes, telecommunications, time zone, traditions, tourism, Town of St. George, Tucker's Town, utilities, water sports, Warwick, weather, wildlife, work permits.

American Military Personnel based in Bermuda from 1940 to 1995
Their dates of postings and how they enjoyed local life
By Editor/Author Keith Archibald Forbes (see About Us) exclusively for Bermuda Online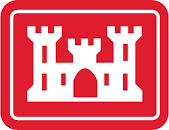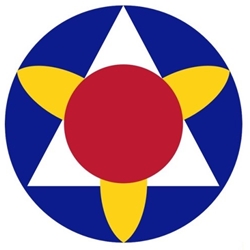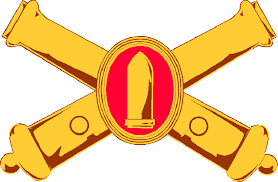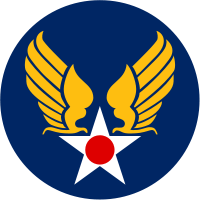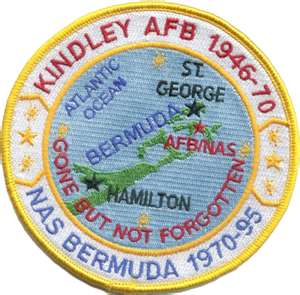 Note: This is a unique Bermuda Online tribute to US military personnel - officers, NCOs and others - once based in Bermuda who were assigned to Bermuda bases by the US Army, USAAF, USAF, USMC or USCG. If you or a spouse or child wish to be shown please contact this Editor/author by email (showing Bermuda Online as your subject) with the name of the-then military personnel concerned posted to Bermuda; rank and name and number if applicable of their military unit when they were based in Bermuda; dates - in months if possible and the year or years when posted to Bermuda - and current postal mail contact address. All this information must be included to qualify for an entry. Please do not use a PDF, instead embody your details in your email program. No more than 8 lines of text. Comments should be about Bermuda on-base and off-base recollections, not any posting before or after Bermuda. Do not send photographs without asking first. Please note that to comply with international data regulations we do not hold or show or retain or pass on your email address. When any other website showing former US military members or civilian personnel once assigned to US military bases then in Bermuda links to us, or if any individual who ever served in a military capacity in Bermuda or as a civilian on a military base creates their own website does likewise, we will gladly reciprocate with a link to that website. It has been disappointing that none have yet done so and this will affect the longevity of this website. Please note all official US military records in Bermuda were taken back to the USA. None exist in Bermuda, because at no time did any of these units fall under civilian Bermuda Government jurisdiction.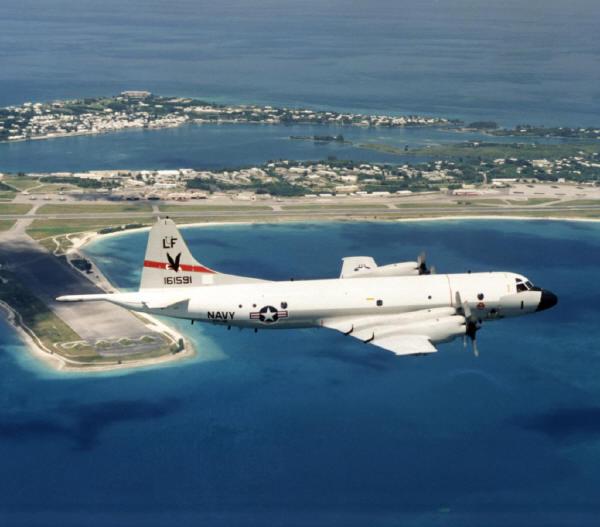 1940. Otis R. Henry arrived in Bermuda as one of the original US Army Engineers and Architect-Engineers before construction of Fort Bell began. Their work was to make field surveys, site layouts and design construction sites. Mr. Henry was born on January 14, 1919 in Hugo, Oklahoma. He moved to Bermuda with the US Corps of Engineers and eventually - at Kindley, later - became the Civilian Personnel Director for the US Department of Defense in Bermuda. He then continued to reside in Bermuda and died on December 19, 2001 after an extended illness. His widow is Barbara Henry and sons are Thornton (Tim) and Gordon).

April 1941-July 4, 1944. Brigadier General Alden G. Strong was in command.

1941. August. The Bermuda Beacon. Military monthly, published for the US Army's Fort Bell and Kindley Field by the US Army Engineers. Initially a safety magazine, later on other topics too, it was created for the-then US Army Air Force (predecessor of the USAF) air base personnel in Bermuda, the idea of Benjamin Schwartz (Bermuda Base Contractors) and Loring Cox (Mail and Records section, USED.). It had some nice stories and original graphics during that period. It continued publication until April 1943, concluding with the end of major work on the Air Base, and the termination of the original construction contract. The publication was limited to a 700 copy print run.

1941. Lieutenant L. M Dobson, US Army, was among those posted to Bermuda, based at Fort Bell.

1941-1945. Lieutenant (later Commander) A. H. Cherry was American but became an officer in the Royal Navy and was largely based in Bermuda during World War 2. Before the USA entered the war in 1941 he was a Wall Street banker. He served in the North Atlantic on escort duty, including Capt Walker's Group. In 1951 he wrote a book about his experiences, "Yankee RN, 544 pages, published by Jarrolds, London. Hardcover.

1941

. Mid December. Dennis E. Lord (age 83 in 2003 and residing with son Dennis C. Lord) was then a Technical Sergeant in the US Army's Projection Service, earlier based in California. He was placed on a train to Charleston, SC where he boarded a ship bound for Bermuda. His specialty was running the movie theater. His "movie house" consisted of a hut with a corrugated roof. When it rained, he had to stop the show because of the noise on the roof. On the job, he loaded armament on the planes destined for training missions. He was also one of those who dragged P-40's down to the beach for gun tests. A colleague was "George" who was frequently "on the sauce" and Lord would be called at the barracks to "come down and finish the show, first at the temporary movie theater, then the purpose-build one shown in one of the photographs above, as George couldn't."

1941. From Mid December. Albert R. Cepull was stationed in Bermuda with the US Navy's VJ-15 squadron for the balance of WW2. "He was my father and took a lot of photos while there. He had a separate book in which he kept the captions for the photos. He passed away in 1968 when I was 4 years old so I never got the chance to hear about them from him. .

1942

. Russell Dell Spickler of 524 Ingleside, Flint, MI 48507, was at Fort Bell.

1942. Chief Johnson and his crewmates were stationed with VJ15 at the newly-constructed US NOB Bermuda.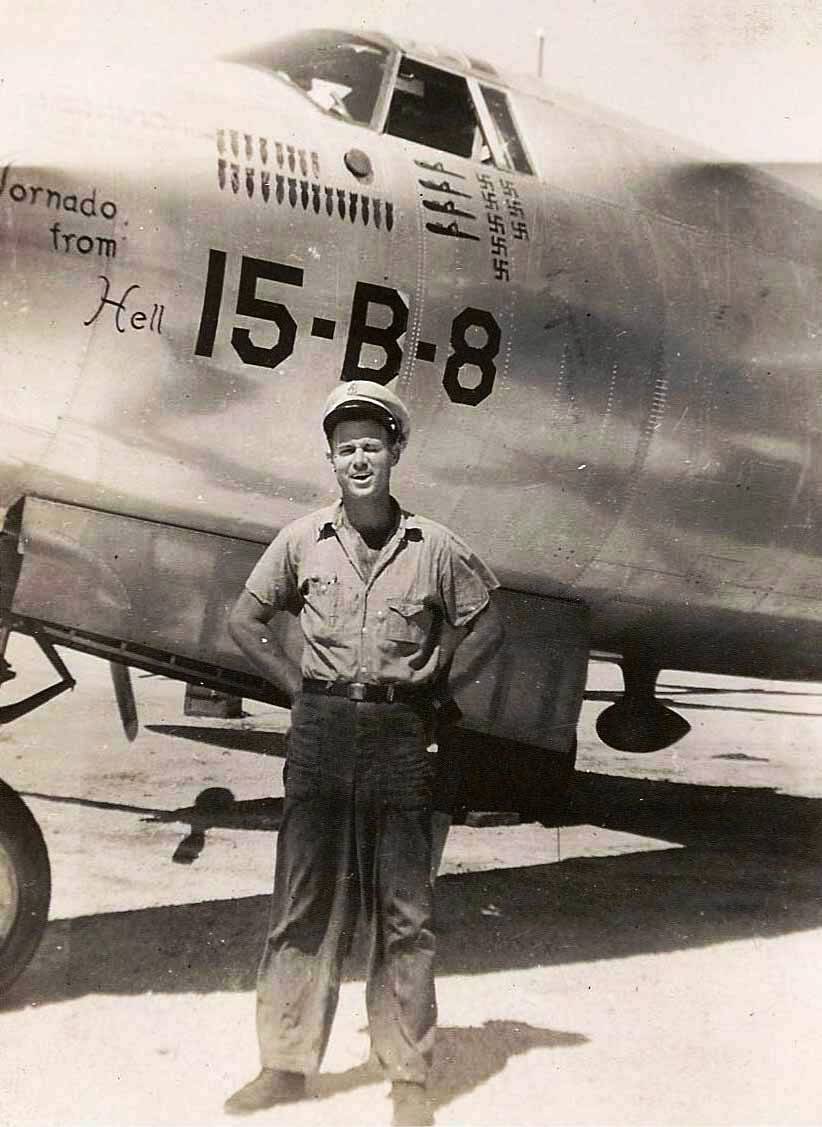 1942 to 1945. the late Donald H. Larson, Sr. served with the US Army in Bermuda at Fort Bell. His son and daughter-in-law, Don and Sue Larson, live at 13840 North 23rd Street, Stillwater, MN 55082 at phone (651) 439-3864. They cruised to Bermuda in July 04.

1942, May 7, Captain F. W. Clipper, US Army, arrived in Bermuda with his unit and commanded the US Army artillery and US Signal Corps unit at Fort Langton, Devonshire. He was posted to the Island to protect the country as well as the shipping supply convoys from enemy submarines lurking in the Atlantic. Mr Clipper was born in Baltimore, Maryland and was 32 when he arrived. He married a Bermudian girl, Rosemary (nee Champness), never went back home to the USA to live but remained in Bermuda. He had two daughters and a son, lived in Bailey's Bay, later worked for Air Canada and BOAC, became a Cub master in the 1950s at the Lyceum, Bailey's Bay and later a prominent volunteer with the Bermuda Red Cross. His wife died in the late 1980s. A son, daughter and granddaughter live in Bermuda. He died in October 2015 at the age of 104.

1942. Dominick P. Consolo arrived in Bermuda as a member of the Army Air Corps. He was born in Ridgway, Pennsylvania to Nicolas and Marietta Vigilone Consolo. After 3 years in Bermuda he returned to the USA as a trumpet player and music major. He would later earn his Ph.D. in English from The University of Iowa. He became Professor Emeritus and professional jazz trumpeter. He died on August 28. 2015 at the age of 93, at Kendal at Granville.

1942. May. to 1943. Walter J. Floss Jr. then 19 years old, who had enlisted in the US Naval Reserve on his 17th birthday, February 13, 1940 — more than 18 months before America entered World War Two [1939-1945] following the Japanese surprise attack on Pearl Harbour in Hawaii, was based in Bermuda at the US Naval Operating Base (NOB) in Southampton. He had followed the military traditions of this father and grandfather. His father had served in the Army's 106th Field Artillery in France during World War I, and before that, one of Floss' grandfathers had fought for the North in the Civil War. He was trained to be a crew member on a PBY Catalina, an American flying boat of the 1930s and 1940s produced by Consolidated Aircraft that proved to be one of the most widely used multi-role aircraft of World War II. During the war, PBYs were used in anti-submarine warfare, patrol bombing, convoy escorts, search and rescue missions and cargo transport. At the NOB, the PBYs patrolled the Atlantic in search of German submarines seeking to sink US troop ships headed to England. "We got a few of the subs until the Germans realised our depth charges hung on racks under our wings. Our depth charges were set to detonate at 100 feet underwater, but we couldn't change the setting of the charge while in flight. The Germans then stayed on the surface, and we were horribly outgunned by the subs. Three of our planes were shot down. We switched to a Navy version of the B-24 bomber, and the ordnance men could set the depth charges to whatever was required inside the plane's bomb bay." Shortly after Mr. Floss flew from Bermuda during an early morning gunnery exercise on January 10, 1943, a PBY Catalina belonging to his old unit attempted a pass over the target area on the Great Sound and unexpectedly dove into the water at a high rate of speed near Grace Island. The entire eight-man crew was killed in the first ever deadly air crash in Bermuda. Following the war he returned to the Buffalo area and worked as an insurance salesman and at Bell Aerospace before embarking on a career in local politics which culminated in his election to the New York State Senate.

1943. Charles Field served as Captain's Talker on the USS Thomas, A Hunter-Killer in World War 2. It visited and trained in Bermuda during this period. He wrote a book about it by that title.

1943 to 1944 Casper C. Prestia was a Sergeant of the United States Army Air Force (USAAF) military police during World War 2 stationed at Fort Bell, St. George's. He was a member of The United States Army Air Force. He flew into Kindley Field and lived in Bermuda until 1944. "My mother and he lived right across the street from the police station. He worked hand in hand with the police force from Bermuda and he also patrolled Hamilton. His many stories have always captivated us including the story of his part in capturing the German submarine that had pretended to be an American submarine and which we were fueling. They had all the correct papers. He also told us the story of the German submarine that continually bombed the U.S. ships that had supplies before the ships could reach Bermuda, so the soldiers were running out of supplies, until they took down the German submarine. My father's stories are wonderful memories of the Bermudian people, their hospitality, and my parents' tough decision to stay in Bermuda or return to the United States after the war. He told us they lived in an apartment on the second floor and the first floor was a pharmacy. He was so close to the police station that they would shout his name when they needed him or if a call came in for him, and he would run across to their building.. My mother died two years ago. It has always been our desire to have him go back to Bermuda to visit. I wonder if you could do something for us? Again, he was a military police officer during World War 2 and lived in St. George. I know he was actively involved in securing peace in Bermuda during 1943-44. Anything you can do for us would be greatly appreciated. Sincerely, Marie Prestia Pletcher.

1943-5. David Anderson was a member of the USN Seabees, stationed at the Naval Operating Base (NOB), later the US Naval Annex, in Southampton, and worked in the Public Works Department located in the old Crane House, then a historic local residence. For a short time he lived at Bloomfield Cottage, Paget West, not far from the Inverurie Hotel. He had a brief friendship with Barney Marriott, M.D., then a staff physician at King Edward VII Memorial Hospital, and other friends.

1943-46

. Don Auster spent three years in Bermuda as a member of the U.S. Army. After less than eight weeks of military training, he was on a troopship bound for the North Africa war zone. He wrote: "The ship mainly carried a thousand or so combat troops trained in desert warfare. Three days later, on a dark, cold, rainy night, the ship made its first port, Bermuda, and only our small group were told to disembark. We climbed into trucks and eventually arrived at our destination, a large rain soaked tent, where we spent the night That morning, we found ourselves in the courtyard of a large elegant hotel! It was the (now-closed) Castle Harbour! I lived and worked there for a year after which I was transferred to the newly completed U.S. Army hospital on St. David's Island. I spent the next two years there as a laboratory technician."

July 5, 1944 to January 13, 1946, Brigadier General Thomas H. Jones was in command.

1944. Will Mitchell Haire was at the US Naval Operating Base. His plane, a USN Martin PNB Mariner 6717, one of the nine aircraft of Squadron VP 207 (VP meant for a long range regular Patrol squadron, compared to VS for a Scouting squadron), crashed 25 miles north of Bermuda on 20 August 1944. All eight crew members were missing, presumed killed. The squadron had been in Bermuda for only three months, since June. It had replaced VP 201 which had served in Bermuda from September 1943 to June 1944. The rest of Haire's squadron remained in Bermuda until June 1945.

1944. Bronson Hartley of the 791st Quartermaster Boat Company, Aviation (redesignated as a detachment of the 1st Air Force Emergency Rescue Squadron, with its own crash boat) was decorated for heroism. He rescued crewmen from a downed US Army Air Force aircraft that crashed into the water off the end of the Castle Harbor runway. Later, he became an esteemed marine biologist and inventor of the Hartley Diving Helmet.

1944. Geoff Hanson was stationed in Bermuda, at the-then US Submarine Base in the Town of St. George.

September 1944, Colonel Cecil E. Henry arrived, as commander of Kindley Field (not Fort Bell, which General Jones commanded).

July 1944. Lt. James Humphreys, USNR, then stationed at the Naval Operating Base in Southampton and living at Inwood, Paget, had a unique if indirect claim to fame. His wife Shirley, originally Bermudian, of the Jones family of 'Inwood" was then a young nurse at the newly-built US military hospital in Bermuda. As such, one of her patients included a German Navy U-boat U-505 commander, Lange, captured and brought to Bermuda where he'd had his leg amputated. Because of the latter, he was unable to leave Bermuda in the fall of 1944 for their POW camp in North Carolina with the party of captured German prisoners-of-war who had been brought to Bermuda from the captured U-505.

1945, Samuel Ristich was a navigator with the US Army Air Corps based in Bermuda. One of his claims to fame is that he was the second person in Bermuda (after Louis Mowbray in 1906, but not identified until much later) to discover a freshly killed bird, the cahow, that was supposed to have been extinct since 1650. He and a friend stuffed and ate it. Later, he sent bones of another to the Smithsonian Museum in Washington DC where it was identified as a cahow.

1945 to 1946, David Anderson, now living at 903 Brandenburg Street, Cedar Hill, TX 75104 - was stationed at the Naval Operating Base, Bermuda. "I was attached to the USN Public Works Department then located in the original Crane House - a historic residence believed to be named after the Crane family, well known makers of plumbing fixtures. Because of its pre WW2 historic background, I wonder if it is still intact? Is a digital image available? "

1945-1946, Jim Humphrey (100 years old in May 2017, died in February 2018) served in the US Navy at USNOB Southampton, as a supplies and security officer. It was while stationed there he met his wife, Shirley, who at the time worked as a volunteer nurse's aide. The couple were wed in 1945. Their relationship made him one of just a few people in the world who knew that the US Navy had captured a German U-boat, complete with an Enigma machine used to send coded messages. Mrs Humphreys was tasked with caring for the U-boat's commander, Captain Harald Lange, for nine months while he was held in Bermuda. While she was given strict instructions not to reveal the capture of Capt Lange, she confided in Mr Humphreys, who kept their secret for decades. Mrs Humphreys passed away in 1999.. He was one of the few people who knew a German U-boat captain was being held in Bermuda to hide that his submarine and top-secret Enigma code machine had been captured. His daughter, Paget Humphreys-Jackman, said her father was a kind, funny and devoted man. She added: "He always wanted to help other people. He loved Bermuda and always felt it was his home, even though he only arrived here as a young naval officer." Mr Humphreys served at Morgan's Point Naval Base in Southampton from 1945 to 1946 as a supply and security officer. He met his Bermudian wife, Shirley, who at the time worked as a volunteer nurse's aide while stationed at the base. The couple married in 1945. It was as a result of this relationship that Mr Humphreys discovered the Allies' secret, as his future wife was tasked with caring for the U-boat's commander, Captain Harald Lange, for nine months while he was held in Bermuda. She was given strict instructions not to reveal the capture of Captain Lange, but she confided in Mr Humphreys, who kept their secret for decades. Mr Humphreys said in 2014: "At that time we were not married and Shirley had been told that she could not tell anyone because the Germans did not know the submarine had been captured and did not realize the Allies knew their code. She told me what was going on and gave me clear instructions that I could not repeat it to anybody." Mr Humphreys and his wife later moved to the United States, but the couple returned to the island in 1980 when they retired. Mrs Humphreys-Jackman said her father was a deeply devoted husband who always supported his wife. She said: "When my mother had breast cancer, she was very disappointed to find the island didn't have a support group. She helped to start Just Between Us, and every time that they met, he would be there to set the chairs up under her directions." Mrs Humphreys-Jackman said her father also helped raise funds for organisations such as St Paul's Church in Paget. She said Mr Humphreys loved the island, and enjoyed hosting his eight grandchildren and 13 great-grandchildren in Bermuda. She added: "He would have them down here, get them up first thing in the morning and take them out to the golf course or a museum." Andrew Bermingham, an island historian, said: "Mr Humphreys was a standard-bearer for the US Navy and was always very proud of his work." Mr Bermingham said the capture of the U-boat, and the secrecy surrounding it, played a crucial role in the war effort as it allowed Allied forces to know the rendezvous points of all German U-boats operating in the Atlantic. He said: "Even today, Harald Lange was never officially in Bermuda. There is no record of him ever being here." He added that Mr Humphreys was crucial in revealing the untold story of the captured U-boat after he and his wife kept the secret for more than 50 years. Mr Bermingham said: "It really is thanks to him that this story was told, and it is now still being told as even more information is being unraveled. The story has become folklore and the best-kept secret of the Second World War."

January 1946 to October 1946, Colonel Cecil E. Henry was in command.

March 7-July 25, 1946, Major General Howard M. Turner was in command.

March 1946 to March 1948, Al Henderson was stationed at NOB Bermuda. He was assigned to the APC 92 which was used to carry civil service workers from Hamilton to the base each morning and back to Hamilton each evening. "I was there when President Harry Truman visited the base in July 1946. I have a picture of him on the "Williamsburg" which was taken without anyone knowing. With some other sailors, I went to Kindley Air Force bas in a Navy 2 ton truck and tried to find the Army mule. It was just before the Army-Navy football game. The Army got wise to what we were doing and escorted us off the base. I was published in the newspapers there about our failure to get the Army mule. I believe Admiral Henderson was commander at that time. No kin to me though. Bob Hope also visited the base while I was there. I now reside at 109 Poplar Loop, Petal, Ms 39465 if anyone would like to contact me."

April 16, 1946. Lt. Stong was then based in Bermuda. He and Mrs. Stong had a baby there, the first baby to be delivered in the new obstetrical department of the base hospital, a 7 lb 2 oz son. It is believed this was the first baby born to a mother authorized to join her husband at an overseas Air Force station.

July 26-28th 1946 and October 3, 1946 to March 13, 1947, Brigadier General Dale V. Gaffney was in command.

1947. Lt. Col Kenneth E. Swalwell, US Army was stationed at Kindley as Air Installation Officer. After the Berlin Airlift started he became Chief of the Air Installation Section of the Airlift Task Force. After it ended he returned to Kindley to complete his tour of overseas duty. On October 29, 1949 he was presented with the Legion of Merit for his service during the Berlin Airlift. The presentation was made at a formal parade ceremony. As the troops were passing in review he collapsed with a heart attack and died before reaching the hospital. Colonel Swalwell's army experience reached back to 1914 when he was assigned to the 8th Cavalry. Swalwell Drive at Kindley was named in his honor

1947 to 1949, Emil J. Torres was stationed at what soon became Kindley Air Force Base, Bermuda with the Army Air Corps crash boats. "I live at 5724 N. 78 Street. Omaha, Nebraska 68134--2214. I would like to hear from anyone."
Kindley Air Force Base 1946-1970 and US Navy Operating Base, Annex and Naval Air Station 1941 to 1995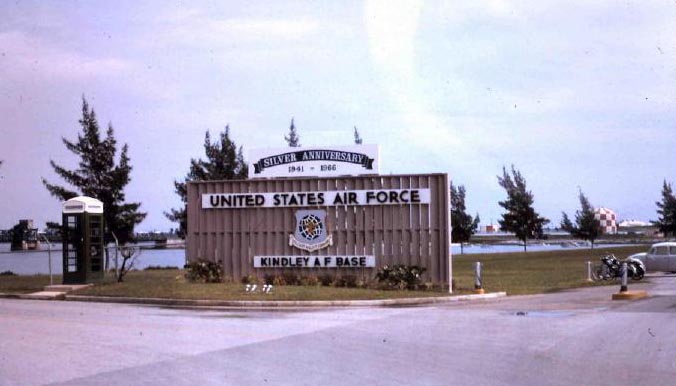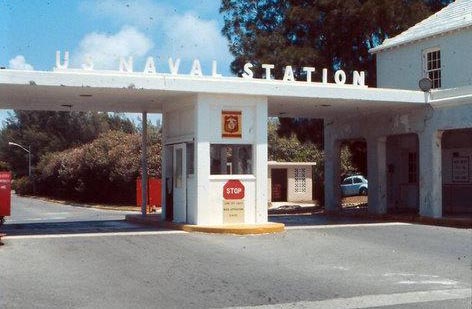 Colonel Lawrence E. Brooks, US Army Air Corps, was stationed at Kindley from September, 1947 until February, 1950. His wife, sister and son (Tom Brooks, who supplied the photograph below) accompanied him to Bermuda and lived at Kindley Field. Tom attended St. George's Grammar School and his sister was at Bermuda High School for Girls just outside Hamilton. Tom currently lives at Avondale Estates, Georgia, near Atlanta. He and his wife and children - 25, 29 and 31- enjoyed a visit to Bermuda May 3-9, 2001. They were taken around by this author to many of the places they remembered.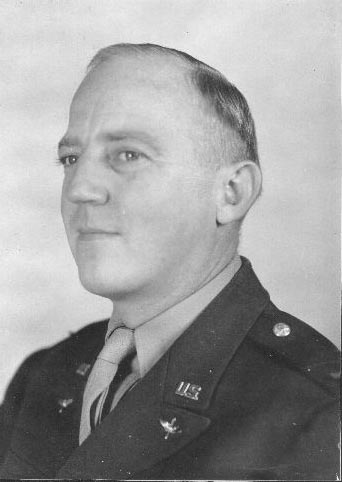 March 14, 1947- July 13, 1949, Colonel Thomas D. Ferguson was in command.

In 1948 Rear Admiral Austin K. Doyle commanded the US Naval Operating Base (NOB) Bermuda. On October 18, the manager of Bermuda's Belmont Manor Hotel stiffly requested the U.S. Navy to make the hotel "off bounds" for enlisted men. Admiral Doyle even more stiffly replied that he would put it off bounds for officers too. Said he: "The customs of my country do not permit discrimination between officers and men in public places."

1948 to 1950, Bob Garton, Sr. was attached to Patrol Squadron 45 based at the Naval Operating Base (NOB), Bermuda for 2 years,1949 and 1950. It was one of the greatest experiences of his Navy career. He and his crew flew search and rescue missions as well as anti-submarine patrols with PBM Martin Mariner aircraft. He does not have any contact with former shipmates from this duty station. He lives at 7080 Versailles, Pinellas Park, FLA 33781. He expects to be visiting Bermuda in April or May, 2004.

November 1948 to 1950 Joseph Olen Cooper, DOB 6/24/30, was based at MCB Detachment US NAS, Bermuda, later at Bermuda NOB MCB4 3-1950/6-1950 . "I was looking for my old Seabee detachment number and found your site. I am 85 next month and turned 21 in the Bermuda islands. I had two tours there, one as permanent body and the second arrival was when Mobile Construction Battalion 4 was being formed up. Bermuda was chosen because the base was on caretaker status and had minimum manning of permanent personnel with lots of vacant barracks to handle the influx of Seabees. Ten of us arrived in latter part of 1948 fresh out of Seabee schools and our first assignment. our job was rehabilitation of officers and married personnel quarters and supplement existing Seabee personnel and maintenance on catchment basin. The base went on caretaker status, as best as I can recall, in mid 1949 and changed from NAS when all of the PBY aircraft departed and became NOB. The fleet consisted of one small yard tanker that brought fuel from the British base to NOB or from Kindley field and a couple of crash boats used primarily for personnel fishing trips after PBY's left. Our transportation was taxi, liberty boat, or an excelsior or whizzer motorbike as horsepower was limited to 2.5 HP for those of us who had bikes. College week was looked forward to as the influx of young ladies was a sailor's dream and they all had money to get rid of as quickly as possible. The Princess even turned their heads when the influx of sailors showed up to provide entertainment to the multitude of young ladies. Of course, the welcome sign disappeared again after college weeks were over and it was back to the old familiar haunts in Hamilton who were always happy to see us, rich or poor. A couple of bars even either loaned us money or let us run a tab. It was a good tour and Bermuda will always hold a soft spot for me. I can still remember the names of the ten of us and some of those same ten who have passed on. Dittmer, Emmons, Blackburn, Eudaley, Fuggit, Hennessy, George, Cook, Adams, and me. Already there: Pritchett, Trahan, Garcia, "The Deacon", "Hollywood", "Pappy", and more whom I can't remember. The base had an admiral as commanding officer because the Brits had one. I can't remember if Smoot was a captain or the admiral but everyone knew him as "Deck Court" because that was his favorite level of legal proceedings if you happened to run afoul of navy regs, very seldom would he hand out the minimum proceedings of Captain's Mast and its limited punishments available to him. We had the pleasure of making the acquaintance of two of Hamilton's finest on my 21st birthday and a personal introduction to "Deck Court" as a result of that brief introduction but that is another story. We loved hurricane season because we got to run around like hero's in our heavy trucks and equipment while base was on lock down. Stupidity of youth I can see now in hindsight. I live at 23821 Coyote Ct, Tehachapi, Ca 93561. Hope to hear from any of you who remember me."

9 December 1948 - 1950, Dann Murr, YN3, was at the Naval Operating Base (NOB), attached to VP-45. "Spent 1st Christmas away from home, and Christmas Eve, until after midnight, Dan Lynch and I played one-on-one basketball in the base gym. We threw our first liberty together in Hamilton. Loved it in Bermuda. Remained with the squadron until April 1951. Left the service in 1952 and became a sportswriter for 40 years in the southeast and mid west. Retired to Florida in 1992. "Bermuda was my most favorite place. I was back there a few years ago. Very disappointing to see that the Navy base has been dismantled and is no longer there. For those interested, I'm an author and historian."

May 1949 as Deputy Commander, then from July 14, 1949 to August 30, 1951, Colonel (later, Lieutenant General) Jack G. Merrell as Commander. He married the former Martha Bassett of Dallas and they had a son and daughter. His family were in Bermuda also. He became USAF comptroller in November 1964. (His daughter Suzanne Merrell Wright wrote to say he retired as a 4-star general in September 1972. She planned a visit to Bermuda by cruise ship in October 2008).

August 31, 1949 to July 14, 1953, Colonel (later, General) Richard F. Bromiley was in command.

1949 to 1950, Staff Sgt John Russell was based at KAFB, Bermuda, accompanied by his wife Dorothy, transferred to the 1934th AACS Squadron. "I was a Staff Sgt and had 10 airmen to maintain 36 3 KW Transmitters plus a Pan American (owned) 12GLX homing beacon for US commercial aircraft to find Bermuda. Once it was off the air for a week and people had to be flown in from the US with parts we did not have. One Sunday morning we were visited by the St George Police Chief wanting to know if I could communicate to Ottawa Canada for the Assistant Manager of the St George Hotel. We could and provided the connections for many months and the manager took us out for dinner and dancing almost every Saturday night. He had to visit these places as part of his employment duties! We enjoyed them as he had a car and my wife and I, without one, could never have visited all those places. I obtained my Bermuda amateur radio license VP 911, from Governor Sir Alexander Hood. I treasured and held it for many years until it got lost and that number was eventually re-issued to another person. My wife and I then lived in an apartment at historic Banana Manor, St. George's, then rented to us by F. C. Outerbridge. I can be found at 3940 khz between 2 am and 3 am on the Trans Con Net on amateur radio. My call and biography can be found under K4FNU at QRZ.COM. I communicate with Bermuda Amateurs via the Bermuda 2 meter repeater via Echolink. We are both in our mid 80's, married 65 years last September. We live at 7 Oak Hollow Dr, Beverly Hills, FL.. Phone (352) 746 9684. John (and Dottie Russell, ex W1QDM, WA2DIL,W3ZZK, WA4VWU (now K4FNU), VO2JR and VP9II. (Email info received July 24, 2011).

1949-January to 1952-November, Samuel Finley Phillips was stationed at KAFB, St. David's, Bermuda, for 3 years and 10 months, as a First class UT-E6. Accompanying him from October 1949 were his spouse, Ann (nee Hurlbut) Phillips; a son Jeffrey T. Phillips, born 16 August 1950 at the base hospital; and a daughter, Janice M. Phillips (married name Willis), born at the base hospital 17 December 1951. (Sent November 6, 2015 by Janice Willis.

September 1949 to April 1952, Thomas Austin Morgan (who retired as a Master Sergeant in the US Air Force) was stationed in Bermuda at Kindley AFB, in the communications department. He was married to Helene Marie Morgan (maiden name Mueller), a German war bride. They met when her husband was stationed in Germany during the occupation of Germany after WWII. Their daughter Shirley (Kelley) was born July, 1950 at Kindley AFB. She writes: "I recall how my mother said the islands were known as "The Isles of Rest", "The Isles of Beauty", "The Isles of Dreams". We first lived on Pond Hill, Pembroke East, highest house on the hill. Our neighbors, the Matthews, had kids and grandkids. We saw the "Gombeys" at New Year's, Guy Fawkes night on November 5. In February 1950 we moved to Cox's Hill, Pembroke West, to a house owned by Mr. Dunkley, a dairyman. Captain Calvert, Capt. Kenna, Lt. Lebherz and 2 nurses took care of my Mom at the time I was born. She mentioned the beautiful beaches, pink houses, wonderful people, etc. I am trying to get the family slides taken during our time in Bermuda from my sister".

1950 to 1953 Stanley A. Cohan (then 2nd lieutenant, now major, USAF, Ret) was a pilot with the 29th Air Rescue Squadron USAF based at Kindley AFB. He and his colleagues initially flew SB-17's and then advanced to SB-29's. He wrote this author to say he was an unsophisticated youngster right out of Air Force flying school headed for his first posting. "What a wonderful three years it was! The work was exciting, the island most beautiful and the Bermudians were ever so gracious! I loved the island to the point that I returned with my wife for ten Christmases in a row. I have lost contact with almost all my colleagues - except for Ken Wilbur (later Colonel, USAF, Retired) - who resides with his wife Lucy in Greenville, S.C."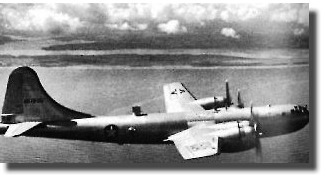 USAF WB-29 flying over Bermuda, 1952

1951 to 1954 Hal Susskind was a USAF Major based at KAFB Bermuda with the Air Rescue flight. "My wife Rae and my six month old son, Michael were at Kindley with me. Two months later we added a boxer pup to the family. The tour was exciting, the people and scenery were beautiful and friendly and I was promoted to Major as I was leaving. Highlight of my tour in Bermuda was escorting President Eisenhower's aircraft to and from a conference. My wife's highlights were sitting through several hurricanes with son, Michael., while we evacuated the aircraft to a safe place. I participated in a life saving mission flown out of Bermuda on July 21, 1952. I was the navigator on an SB-29 which flew 1000 miles out of Bermuda and acted as the Bombardier to make a night drop of Blood Plasma on the deck of a Swedish freighter to save a seaman's life. Also aboard were Tom McGrain (navigator) and George Welch (commander). Now I live with Rae, my wife of more than 60 years, at 2602 Deerfoot Trail, Austin, Texas."

1951 to 1953, Captain Russell A. VerNooy USAF was stationed at Kindley AFB with the 53rd Weather Squadron (see graphic below), flying the WB-29s. With him was his wife and young son Russ. They lived on a rented cottage at the bottom of Knapton Hill, near the junction with Harrington Sound Road close to Devil's Hole. Their Bermuda friends included the Forbes family - this author's family - at Flatt's. Young Russ attended both Cavendish School (he still has photos of the Maypole events and students) and Lyceum in Bailey's Bay. Contact details are: Russ VerNooy, 19 Millers Joist, Plymouth, MA 02360-7751, 508-209-0347 home, 617-529-4514 cell (when not home).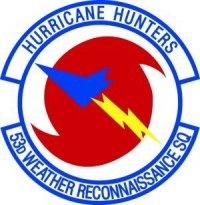 1951 to 1953, Jerry Boling, now of 1117 Paul Ave, Oak Harbor, WA 98377, was at Kindley AFB Bermuda as an A/2c.

November 16, 1951 to November 24, 1954, Johnny L. Nolen was a S/SGT in Det. #10, 9th Weather Group at Kindley AFB under Col. Beatty. He writes: " I had the privilege of seeing a newly crowned Queen Elizabeth and her husband as they made their first visit to Bermuda. While I was NCO in charge of the Rawinsonde Section of the weather group, Col. Beatty and I made the first weather balloon observation in the eye of a hurricane done by an Air Force station, I think in 1953. This website mentions the crash of a Cubana plane in 1952. I was there. On that particular MORNING I was waiting for the plane to take off so I could release a weather balloon. The control tower always gave us a "GREEN LIGHT" after take-off so I was waiting for that. The plane took off almost directly over my head and I saw an engine on fire. I watched as the plane banked left around the point and then saw the bright light from the explosion. I immediately called the tower to report what I had seen. They were aware of the crash because they had lost contact with the plane. My address is 904 Garden St, Rossville, GA 30741."

1952 to 1955, Captain Christian Malford Cotham, Jr, USAF was stationed at Kindley AFB Bermuda. With him were wife Jeanne E, sons Christian Malford III, age 9-12, who attended Saltus Grammar, and Jeffrey Clarke, born Friday 8/13/1953 at the base hospital in Bermuda. "My father's hobbies in Bermuda included fishing, photography, and boating. He bought a boat while in Bermuda and took a lot of ribbing for putting two motors on the boat, but had no trouble selling it when he was transferred to Wichita Falls, Texas in 1955. Mom loved the beaches, flora and fauna, but missed family in central Texas. They both later told many stories at family gatherings of their island adventures, how beautiful it was, their unusual converted horse stable quarters (after Kerri House), and quirky little Morris Minor. My brother Chris recalls quite a bit about Saltus Grammar, the blazer worn, and some of his best friends made there. I was named after one of his school chums - a native of Bermuda. I haven't seen the islands yet. Some day, I keep telling myself."

1952-1954. Donald Higginbotham was stationed in Bermuda as a Lieutenant in the 1604 Installation Squadron, USAF. "It was a great experience for me. I was under the immediate command of Lt/Colonel James F. Carney. He was a very demanding man but was very considerate of me. I worked most closely with a Capt. Max Harder. The civilian I most remember in our Squadron was a Roger Farge. He always said "If I see a man with a newspaper on him I will fire him." But, he became a great friend to me. We let many construction contracts while I was there and instituted and oversaw many of them. I remember wonderful trips to Washington to present our yearly budget. Many projects were approved but we could never get approval for a swimming pool even though we characterized it as a training facility. The base commander while I was there was Colonel George W. Peterson, a very fine man and Officer - most dignified. I was very fortunate to have played tennis. "

February to May 1952, Eugene Napier (now of 1461 Cloverdale Ct, Sunnyvale, CA 94087) was in the 1st Air Rescue Sqdn (CO Major Welch). He writes: "We had two B-17's with plywood boats slung under the bomb bay and dropped with three 50 ft rayon parachutes. Sometime in 1951 we traded our B-17s for two B-29's with aluminum boats with 1 100ft nylon parachute. I met my wife at Elbow Beach, we were married in 1953 and 30 years later returned for our anniversary and stayed at the Elbow Beach. I purchased my white formal wear from HA&E Smiths on Front Street. Of all the places I've been in the world since then, I enjoyed Bermuda the most."

1952 to June 1954 Milton M. Rothholz, Jr. was stationed at Kindley Air Force Base, Bermuda, as a Corporal in Top Security on the Air Force switch board. In September 2011 His widow Toby Greenburg, now on Nantucket Island, wrote: "He died 12 years ago and was buried in a military cemetery in Maryland. We were young, I was 18 years old, and newly married. I was one of the only Americans working at Trimingham's in Hamilton. We watched the Queen and Prince arrive. We also were there for the Big Three Conference. We lived on the Middle Road with the Madeiros family and then in Paget. I got my first driver's license in Bermuda in 1952. We rode the island on a Triumph motor bike while I was pregnant (we never told our parents). Not long after we left our daughter was born at Walter Reed Hospital in Washington DC. What wonderful carefree days."

1952 until his retirement in 1965, the late Truman J. Romee was the chief planner and estimator of the Public Works Department of the US Naval Operating Base (NOB) Bermuda. He had previously served as a master electrician PO 1st class with the USN during WW2 & The Korean War and was first assigned to NOB in 1942. His son Jammie A. Romee writes: "I first arrived in Bermuda when I was just ten days old, on September 23rd 1952. We lived on what was then Bermuda's highest point (Rose Hill cottage) in Southampton Parish, WHAT A VIEW ! In 1963 we moved into "Sea-o-rama" a nice house owned by the French family on "Sea-swept-farms" (also in Southampton). Randy French and I were both born on the same day in 1952 and were close friends as kids. I attended the Port Royal school, and later The Whitney Institute, and then KAFB HS. My childhood memories are wonderful ones filled with magic and joy. Someday I hope to return and find a few of those nostalgic memories again. Keep up the good work and many thanks for the website!"

1952-1954. John Schultz was stationed with the USAF in Bermuda. He married a few months after he arrived and brought his wife, Grace, to Bermuda. "We had our first child, John, on the island. It was a beautiful place." They lived at Sunnyside in Hamilton Parish He was assigned to the Air Sea Rescue Squadron. The operation used re-purposed B29 bombers to search the ocean around Bermuda for vessels that were missing or in difficulty. It was his job to keep watch from the back of the plane, in a place once used by gunners.He helped in several high-profile rescues of that time. Ruby Zuill and Wilfred "Indian" Outerbridge went missing in their fishing boat Sea Venture after a series of heavy gales on February 8, 1954. "They searched for them for quite a while to no avail," Mr Schultz recalled. "Then one day we were on a training mission and we flew right over the top of them. We turned around and dropped some supplies that they never got." The US Coast Guard was notified and eventually picked the men up. Mr Schultz still has a copy of The Mid-Ocean News detailing the rescue with the headline: 'They Never Lost Hope'. "They'd been lost about five days," he said. "They weren't in too bad a condition. They were self-sufficient. They could fish and they had enough water." Mr Schultz met the pair and shook hands. On another occasion he helped rescue six Air Force search and rescue men after their plane crashed into the ocean. "We had a hurricane alert, and we used to evacuate our rescue aeroplanes to Florida or Georgia," he said. "We had four planes. After the alert passed we all came back to Bermuda. Halfway back to Bermuda, a piece of the prop went into the fuel tank and started a fire. Six people got out of the back. They got burnt because the fire was on the same side as the exit door. The other six guys went down with the aircraft. I knew those men." The men who made it out, were rescued by a passing cruise ship. Mr Schultz and his family left Bermuda soon after, when his tour of duty ended. "We were expecting our second child and my wife wanted to go home." She died in 2014.

1952 to 1955 Lt. Col. Henry Offerman USAF was assigned to Kindley AFB, Bermuda, flying hurricane missions and air sampling. He died August 11, 2006 in TX.

1952-1970, Nurse Olander was at the Kindley base hospital. In addition to her military duties, she raised three children, the eldest of whom, Timmy (Tom), was about 13 in 1954 and was at the civilian Whitney Institute in Smith's Parish in 1954. Then he went to Saltus and Mount St. Agnes, also local civilian schools. He spent 27 years in the US Army, retired as a lieutenant colonel and is now involved in teaching paramedics in the Washington DC area. He is also a firefighter/paramedic volunteer with a local fire department. Another brother was Peter, a year younger, still a resident of Bermuda and living in St. David's. The youngest was Bob, who also went to Whitney for a couple of years before going to Kindley in 1957 and graduated from there in 1966. The family lived in St. George's.

August 1952 to May 1956, Billy Samples was stationed with the US Navy in Bermuda, as an air crewman, AT-3, in VP-49. He writes: "We originally flew PBM aircraft and transitioned into P5Ms in about 1953. I married a Canadian and had a daughter born in the hospital at Kindley AFB. We resided in Hamilton for about two years. We took the "Ocean Monarch" to New York and I was discharged at the Brooklyn Navy Yards."

December 24, 1952 to September 1954, Tom and Ellie Ryan were stationed in Bermuda with the US Navy in Southampton Parish. Tom was an ENCM, in charge of the Boat House, under Captain Leeper. In February 1953, their daughter Susan Harrod was born in Bermuda at Kindley AFB. (In July 2002, she finally got to return to Bermuda. It was wonderful and more beautiful than the home movies and the stories told by her parents and sisters. She found the AFB was no longer in use, and more upsetting, was the fact she could not get into the former Naval Base. She really wanted to take a photo of their house on base for her parents, who have many fond memories of their time in Bermuda and I know would love to hear from anyone who is still around. They can e-mail her or her parents. Bermuda is truly a beautiful place (VERY expensive), with nice people, and she can't wait to return).

1953-1954, S/Sgt Bailey Skelton USAF, step-father of Tom Taylor who contributed this, was stationed at Kindley AFB. "We lived off base in Seaview Cottage on North shore road at the bottom of Crawl Hill. I went to school at Whitney Institute. I still have my report card. I was 11-12 at the time. Of all the places I've lived in this world Bermuda is my fondest memories. I will never forget my first sight of Bermuda from my aircraft window. I also remember seeing Queen Elizabeth and her husband, school was let out early so all of the children could line her path at the Airport. Great stuff ! I also remember a character known as" Captain Blood" or as he is known to his friends " Blood." I probably knew Nurse Olander's boys who went to Whitney. Will never forget the singing frogs. I've been back to Bermuda several times and I would love to see some old acquaintances the next time I go. My address is 449 Payne Dr. Miami Springs, FL 33166."

January 1953-54, T/Sgt John Widener was stationed at KAFB, with the 53rd Weather Recon (Hurricane Hunters). He, his wife Mary (who joined him in February 1953, with their 2-year old daughter and son - born in Bermuda - left in June 1954 for White Sands, New Mexico). Mary Widener writes: " We resided off-base, on Water Street in St. George's, the property during the Civil War was a warehouse, and was converted to apartments at that time. The owner was the Mayor of St. George. The apartments were at the foot of the hill that went steeply up to another street, but Water Street curved to the right down to the offices of the Mayor and his business. Next door to the left was a beauty shop, then further to the left was a Chinese cafe, and on down was a grocery store. Then on down to the left was the town square and a hotel. We have often wondered what happened to that area. I recall a Mr. and Mrs. Cousland (spelling not certain) who lived in the upstairs apartment and had lived there many years. We now live at 505 E Moses, Cushing, Ok 74023, 918-225-3723, but have fond memories of our time in your Bermuda."

July 15, 1953 to July 2, 1956, Colonel George W. Peterson was in command at Kindley AFB, Bermuda.

1953 to 1956, John W. Pope was stationed at NOB Bermuda, initially as an Aviation Ordnance man third class and made second class during that tour. "I was then transferred to VP-49 as air crewman aboard 8 boat, a P5M.,where I stayed making many sub patrols, one of which was the discovery of the then brand new Nautilus sub, which was on its way around the world under water. I, my wife and family, enjoyed our tours there very much. I was then transferred. I am now retired living at 9016 Trellis Pointe, Charlotte, NC 28227. "

November 19, 1953 to May 26, 1956, Staff Sergeant Anthony J. Grabarits was stationed with the USAF at Kindley Air Force Base, Bermuda. He is believed to have driven the base's CO around the island. After the military, he married and died in the USA in May 2011.

December 9, 1953, Herbert Buswell, 23, serving at the time in Bermuda with the US Navy in Southampton with VP-49 as an aircrewman very nearly lost his life. It was during the "First Summit Conference" in Bermuda. Prime Minister Winston Churchill of Britain was reviewing, in Hamilton, the "Big 3" Armed Forces security guard. As he did so, two Bermuda Air Tours Luscome 8a aircraft, registration numbers VR-BAE and VR-BAS collided in Hamilton Harbour and crashed into the sea. VR-BAE was flown by Buswell. He was seriously injured. VR-BAS was piloted by 18 year-old Bermudian Philip Masters. It was badly damaged, but Masters managed a safe landing before the aircraft sank and managed to get ashore. Buswell's life was saved by a Bermudian, Mr. Stanley Ross Doe, who for his bravery was awarded the (British) George Medal.

December 1953 to June 1956, Arthur Gately, now at 2 Libby Lane, P.O. Box 91, Moody Maine, 04054, was stationed at Kindley AFB in the 1934th AACS squadron and worked as a radio operator in the air/ground station. He knows that Hurricane Hunter planes were both B29's and B50's. He, as one of the radio operators in the AACS squadron, primarily "ground" operators, were given the opportunity to cross-train as flight operators by going along on the 13 and 14 hour flights of the 59th Air Weather Squadron known as the Hurricane Hunters. Before mid 55 all planes were B29's, at which time they started updating the equipment to B50s. He personally flew in several 29's, and once in a B50. As his duties required him to send the call sign of the aircraft many times over the air, he remember some of the numbers: 1734, 2089, 5281, 4040 and 9769. When you were airborne in one of these planes you were known as being up on "The Gull." Several different weather routes were flown depending on the time of the year. There was the Lima route, the Juliet route etc., and when you were flying this route the call of the aircraft would be Gull Juliet 9769 or Gull Lima 4040 and so forth. He and his wife visited the former base in 1999 and the Bermuda Land Development Corporation was at that time converting all of the buildings to housing units. They were not allowed to roam. But a security guard escorted Arthur to his old barracks so he could take a look, after 45 years.

1954-1955 Michael Artale was stationed at KAFB Bermuda, with his wife Flora. " Our daughter Betty Jean was born in Bermuda in March of that year. Her address and married name are Betty Jean (Artale) Kessler, 97 Roosevelt Pl, Mineola, NY 11501."

1954 to about 1963, Lt. Cdr. Joseph Pinning was the Office of Naval Research Resident Representative at the SOFAR Tudor Hill Lab in Southampton, Bermuda. He ran a very effective Project Artemis from his office. Artemis was a major effort by the US Navy to find and fix Russian subs with underwater acoustic equipment. He is survived by a daughter Elizabeth Pinning in Panama City, Florida.

1954 to 1958 Art Holmes - now of Augusta, Georgia - was stationed in Bermuda with the Hurricane Hunters and again from 1962 until 1564 when the unit was replaced by satellites and returned to the US. He writes: "It is now a reserve unit and they are called to active duty only when we are threatened by the brewing of a hurricane. During that time the unit was designated at different times as the 53rd or the 59th Weather Recon. Squadron. There were a number of TV news reports emanating from Kindley, including a major news event when famed newscaster Edward R. Murrow flew an actual hurricane mission with us. We also went to Ascension Island off the coast of Africa to scout the weather for the testing of the intercontinental ballistic missiles in 1958. I thoroughly enjoyed my off duty time during my six years in Bermuda, but recently returned on a cruise and was astonished by the changes."

1954 to June 1955, Tom Wood was stationed at Kindley AFB, in the 1934th AACS as a radio operator. He writes: "I have been reading some of the postings about people who served with me there. Several mentioned events that I remember. Such as the B47 that exploded immediately after making a low pass down the main runway at Kindley. I also recall the Princess, Elbow Beach and Bermudiana hotels with fond memories. I I occasionally played in a small, local civilian dance band. We played at the officers club, NCO club and I think a civilian club. I think there was a night club called the Angels Grotto also. I have many fond memories of Bermuda. After all I was only 20! I could write more but just wanted to pass this along and say I appreciate your web site. Tom Wood, 709 W. Morris Circle, Dunn, NC 28334.

January 1954 to January 1956, Robert Dillard served in the 1934 AACS Squadron at Kindley AFB. "I arrived as an A/1C and left as a S/Sgt, working while there in the Teletype Center for about one year and the Air/Ground Station for about one year. Tom Wood mentions the explosion of the B47 in 1955. I was working at the Air Ground Station that morning and almost all of the staff was outside the building watching the flight and saw the explosion. I returned to Bermuda in Aug. 2005 to visit and was amazed at the traffic increase. St. George was much the same even after 50 years and Kindley could not really be recognized. I found this site simply by searching for 1934 AACS Squadron and was surprised to find information. Thanks for what is provided. Bermuda is a very beautiful place to visit."

1954 to 1956, Richard Dearing - then Airman First Class - was stationed at Kindley Air Force Base, Bermuda. He was in the 1934th AACS as a ground radio operator, also worked at the direction finding station. "I remember the crash of the B47 on the fly of the base. I was at the chow hall and they asked for anyone with A positive blood to go to the hospital. I enjoyed my time in Bermuda, the Gibbs Hill Lighthouse, Elbow Beach Hotel, and many other places too many to mention. I also remember the Swizzle Inn and the rum swizzles. I knew a family, I don't remember their name but they lived up the hill on the closed end of Hamilton harbor, the name of the cottage was Edina. They would have me over for dinners and special occasions. My wife Rosemary and I have been back to Bermuda twice. We flew over and took a cruise on the Nordic Prince on our twenty fifth anniversary in 1989. The ship docked On Front Street. We had a great time. Thank you for your Bermuda Online website, we really enjoy going through it. My home address is 9910 Royal Lane, Unit 702, Glen Oaks Townhomes, Dallas, TX 75231-1821. Phone 214 348-2207. "

1954 to 1957 Raoul E. Chapman was stationed at KAFB Bermuda. "I was with 1604 Supply Sq. Absolutely wonderful - great memories ! Ma and Pa Hawkins of the Harrington House were just fabulous. I remember B-47 crash while buzzing the base. While originally from California, have been in Texas many years. Would like to contact others that were in Bermuda 1954-1957."

1954 to 1956, Edward Bonnafon was Airman First Class at Kindley AFB. "Worked in the base post office and part-time in the theater. Address is 10454 Abington Way Rancho Cordova Ca 9567. Would like to hear from anyone who know me at that time."

1954-55 Roger Hicks was stationed at Kindley as an Air Traffic Controller. He writes: "One action not written about that I hope to see more of was the B47 that we handled in 1954 that blew up after performing a low pass over our main runway. I have always wondered what happened to the barracks that housed the Air Police and AACS squadron upstairs? Are all the rest of Air Force buildings intact?"

1954 to 1957 Phillip Walling, now of Fitzwilliam, New Hampshire, was stationed at KAFB, Bermuda. He and his wife, then newly-married, arrived on the cruise ship Queen of Bermuda and lived in the rented house "Harringcliff" overlooking Harrington Sound. They loved Bermuda. They left on the cruise ship Ocean Monarch. They have many happy memories.

1954-55, Harlan Hooks was at Kindley AFB Bermuda, a mechanic with the 35th MAT Air Transport Squadron. He recalled the crash of the B47, its recovery operation, and an emergency landing of a Super Constellation G. His daughter is Dr. Kim Hooks of Fayette County Public Schools, Lexington, KY.

May through September 1954, Brigadier General Fred A. Heimstra, US Air Force Medical Service, was the commander and aviation medical officer for the 1604th Medical Squadron at Kindley Air Force Base, Bermuda. He died on November 1, 1996.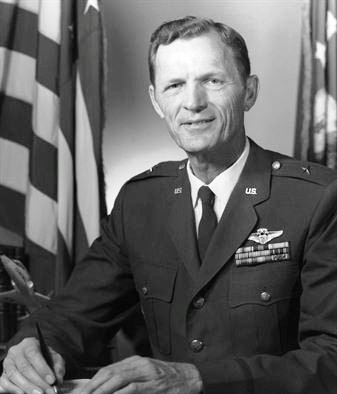 General Heimstra

June 1955 through August 1958, Major Dick F. Tedford, his wife Mary Jane Tedford and sons were in Bermuda. Lee L. (Grantham) Tedford, worked at ZBK-TV shortly after it went on the air and wrote: "My mother and I produced and I hosted a weekly live local show, "Time Out For Teenagers" from August 1956 until August 1957. I began a radio program on ZBM-2 daily, playing top forty music and went on to have daily and weekly music programs on ZBM-1 as well. They were historic years in the history of Broadcasting in Bermuda and those of us fortunate to be a part of that page in Broadcast history were also among the pioneers in Radio and Television worldwide. At ZBM-TV, which went on the air in January 1958, I worked with former members of the BBC, CIBC (Canadian Broadcasting), ABC and the Bermudian Broadcasting company's Radio Centre staff. I also wrote a column about TV for the Kindley "Skyliner" for a while. I attended Whitney Institute, where I met Tim Olander. We played basketball together on the Kindley Hawks."

1955 - 1957, Fred L. Browne, now at 113 Clemwood Parkway, Hampton, Virginia 23669, served at Kindley Air Force Base with 1934th AACS/AFCS. He writes: "I was a Teletype operator at the Base Communications Center and 1934th Air to Ground Radio Station. Teletype operations of the day required around 30 personnel to operate Air Force Communications around the clock. I hope to contact Herbert Schlecht and his wife Hazel. Herb was from Pennsylvania and Hazel was from Cheltenham, England. I enjoyed reading the exploits of others. I have many memories of pleasant times I experienced while on the island. Thanks to TSgt Howard NCOIC base communications center and SSgt Bean, Shift supervisor at the comm center for helping with my development in early Air Force training. I also remember ZBM1 and 2 Radio stations which always played Wake-E-Wakey every morning. Some day I hope to return for a holiday."

June 1955 to June 1958, James Mathews, stationed in Bermuda, was one of the five technicians who set up and operated the Kindley AFB TV station, ZBK-TV, Bermuda's first. They loaded it at the factory in Michigan City, Indiana, trucked it and then flew it to Bermuda via Dover AFB.

June 1955 to August 1957, Alexander J. "Scotty" Stewart, of 329 Hilltop Dr. Gulf Shores, AL 36542 - was stationed in Bermuda with the 59th WRS. "Some of the happiest days of my life were spent in Bermuda. We had the Porgies SCUBA Club on the base and spent many weekends exploring the reefs and wrecks around the Island. Members of the Porgies included A/1c. LaPlant, Geiger, Major Harwood, Harry White (civilian), George (Bermudian), the boat's Captain, Airman Hughes and Sgt. Mears. A/1c LaPlant (59th) was the person who won the competition to design the 59th Hurricane Hunter logo. "Pro bono publico." Years later I went back on business and was again diving with the late Harry Cox aboard the Shearwater. It has now been 50 years almost to the day since I first set foot on the Island and hope to return yet again. Most happy to come across your web site."

1955 to 1957, Roy Nall was stationed in Bermuda at KAFB with the 1934th AACS sq.1955-1957.in ground radio maintenance. " I formed a band, The Country Drifters and played on the base tv station and Base clubs, also entered and won the Tops in Blue AF talent contest. Returned in 1988 for vacation. Great place! Came across your website by accident. " Roy Nall, 225 Cimmaron Circle, Folsom, CA 95630.

1955, Michael Morris at 9216 Monhegan, Baker, Louisiana, USA, was born in Bermuda (but is not a citizen, see Bermuda Citizenship at www.bermuda-online.org/citizenship.htm) at Kindley Air Force Base. "My birth certificate is still a conversation piece. My dad was transferred back to the States shortly thereafter. About 1997, I returned with my family to visit Bermuda. It is the most beautiful place that I've seen. Our stay at the Princess Hotel was very enjoyable. One highlight of our visit was a return to our church - the Portuguese Evangelical Church. They provided me with a history book of the church. I don't know if we'll ever return because of the high costs, but thanks for this website that allowed me to re-visit."

January 1955 through December 1956, David Patrykus, ET2, now living in Wisconsin Rapids, WI, was stationed at the USNOB, in Southampton Parish, Bermuda, as an Electronics Technician. He and three others lived in the transmitter building up the hill from the main base on the peninsula. "We maintained all radio equipment on the base and on the crash boats which were deployed when launching or landing the Martin P5M Marlin's of VP-49, the aircraft of FASRON (Fleet Aircraft Service Squadron) 101 or Coast Guard aircraft. I have fond memories of my time in Bermuda. Also, I recall the fun we had during College Weeks at spring break time. My wife and I visited there on a cruise in 1997 and I found Bermuda to be just as I had remembered, if a bit more congested. The people were just as friendly as I had remembered. Unfortunately, one of our old haunts, the Longtail Club on Front Street, was no longer in business. We were able to enter the old base but it was sadly neglected with many of the buildings dilapidated and the aircraft hangars demolished. My old transmitter building was in a sad state of repair, peeling paint, rusty, etc. and when I left the brass doorknob came off in my hand. I took that as a sign and still have it for a souvenir. We hope to return to Bermuda again."

1955 and 1956, Larry J. Myers - now of 2539 Millers Woods Road, Boonville NY 13309-5020 - was stationed with Det. 10, 9th Weather Group at Kindley AFB. "To me, Bermuda was like an enchanting young woman one could only dream about. I visited Bermuda several years ago. Kindley AFB was gone. The enchantment was gone. But the memories linger on. We had a baseball team."

1955 to 1956, Don Brown was stationed at Kindley AFB. "During that time, he and my mother, Ellen, lived off base in a pink home named Cartref's Cottage. I was born at Kindley AFB June 2, 1956 (but am not a Bermuda citizen by law) and since then I have been known as my mother's "Bermuda Baby." I'm Don and Ellen Brown's daughter, Donna (Brown) Slaten, of Rio Rancho, New Mexico.. My parents were sent back to New York by helicopter shortly after my birth due to some post birth trauma that my mother experienced. In 1979, I married, and my husband and I were fortunate enough to honeymoon in Bermuda. We found Cartref's Cottage, which looked identical to the old picture taken in 1956. We even looked up Rodney Brown and his wife Winnie (?) who looked after my young parents back in the 50's. Rodney was still playing and singing in the hotels. During our stay, we had a moped accident, and I was bandaged up at the hospital. We would love to go back for a vacation. My father died tragically in a plane crash in 1982. My mother is remarried and lives a couple of miles away."

September 1955 to March 1956 A1C Jack L. Caldwell (now at 195 College Street, Macon, Georgia 31201) was stationed at Kindley with the 1934th AACS Sq. from September 1955 to March 1956 - not the usual tour of duty of 30 months. A teletype operator, he was transferred from Albrook AFB in the Panama Canal Zone. Many KC97 tankers were involved at Kindley. Hurricane hunters were WB29's. After the delights of Panama, where the only times the bars closed was on Good Friday, Bermuda was too quiet, too British, in the opinion of many hell-raising airman. This type of control did not sit well with him and he was happy to leave what everyone in his unit called "the Rock." Plus, he thought the weather was dreadful. But there were compensations. In March 1956 he helped defend Elbow Beach Surf Club from those on spring breaks from Penn State. He could have extended his stay but elected not to.

24 December 1955 through 15 December 1958, Julio Miranda was an A&E Mechanic with The 59th Weather Reconnaissance Squadron, a member of WB-29 crew 44-94040. He writes: "It was the only B-29 in our Squadron to see action in W.W.II. I read E. J. Slemmons's (see below) son is looking for pictures, I have a few plus the Hurricane Hunter Logo. My address is 2 McKenna Court Wallingford, CT 06492-3564."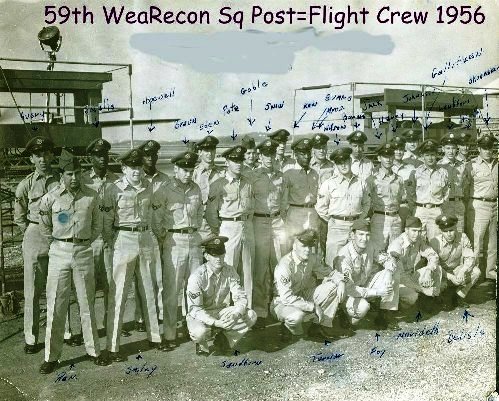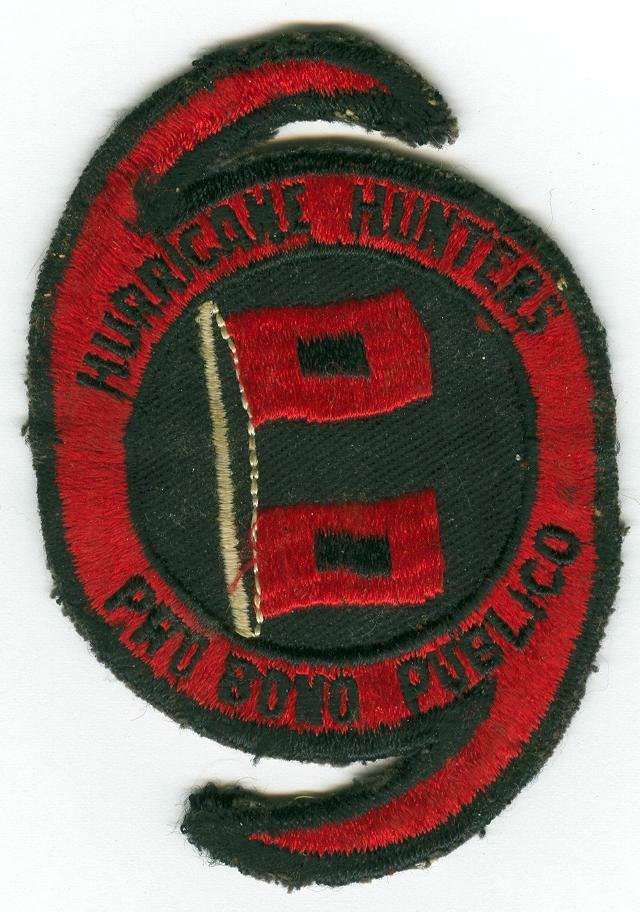 Kindly sent by the late Julio Miranda, above. He wrote, not long before his death in 2005: "This was the nose art on the WB-50's. I believe none of the B-29's had it."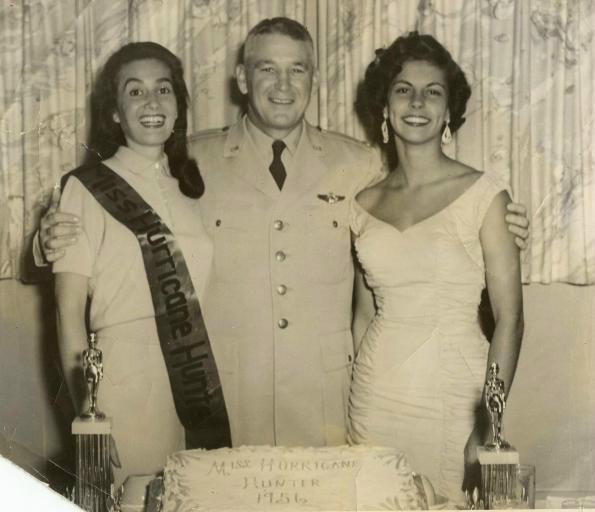 Miss Hurricane Hunter 1956, with Lt. Col. Earl F. Dunphy, CO of The 59th Weather Reconnaissance Squadron (Hurricane Hunters) stationed in Bermuda.
All three photos above sent by the late Julio Miranda.

August 1955 to August 1958, M/Sgt. Solomon W. Johnson USAF was stationed at Kindley AFB. His daughter is Ann Johnson. He passed away 9/11/02.

1955 to 1958, Billy Lawrence Hairston (who passed away in 1995) was with The 59th Weather Reconnaissance Squadron (Hurricane Hunters) based at KAFB. He was married to Montez Moore Harlston. Their daughter and son were born at the Kindley Air Force Base hospital, she in 1957 and Jeff in 1958.

December 1955 to December 1957, William Foster, Master Sergeant USAF retired, was based in Bermuda as an aircraft mechanic with the 59th Weather Reconnaissance Squadron (Hurricane Hunters). He writes: "I arrived there on Christmas Eve and spent Christmas Day in the transient barracks. We left McGuire AFB, NJ, on a C-54 in sub-freezing temperatures and landed in sunny Bermuda wearing winter blues. It was quite uncomfortable. I remember the radio operator, Billy Hairston, mentioned in your site. It is remarkable that one of your posters recalled the tail numbers of the B-29s.I was a ground crew member on 2089. I have fond memories of Bermuda and its people. I have not returned but hoped to go there by cruise ship in 2005. Thanks for your efforts. My address is 46 Waynel Circle, Fort Walton Beach, FL 32548."

1955 to 1959

, Ralph Butler was stationed at Kindley. His daughter Margaret Neubauer,

4 months to 4 years old at the time, who works in Panama City, Florida, wrote on 26 July 2002 and sent this: "The photo below is from our time at Kindley Field.

In the first, my father is the second from the right, front row.

We lived in the "Virginia Cottage" for one year when we first arrived in Bermuda, then moved on base to Bldg. 540. My husband and I will be visiting Bermuda 27 July to 31 July, and hope to be able to locate these two homes.

My sister was able to when she visited in 1993.

I enjoyed the information on the military presence in Bermuda from your website. My father was retired from the Air Force in 1972 after 30 years of service.

I was four months to four years old when we were stationed at Kindley Field, so I am looking forward to visiting the beautiful island of which I have a few memories.

Thanks again for keeping the military history of Bermuda alive. "
Ralph Butler (second from the right, front row) and friends at Bermuda 1955-59

1956, EJ Slemmons was a pilot with the 59th Weather Reconnaissance Squadron (Hurricane Hunters) stationed in Bermuda. His son, Ted, was born at Kindley AFB. He is seeking pictures of a B29 Hurricane Hunter or design of its logo, believed to be a red hurricane shape hurricane warning flags in the middle. (See below).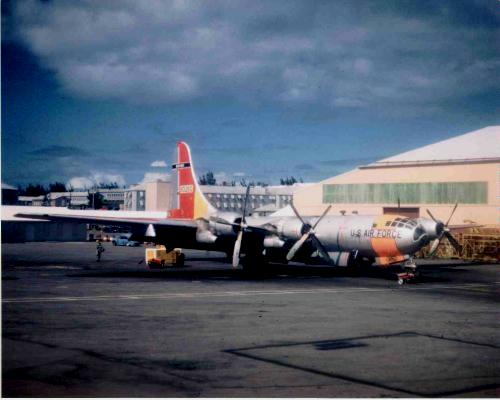 1956-1957, Donald Hull - now of Smithfield, VA, was stationed at Kindley AFB in the 303rd Air Refueling Squadron.

01-04 1956- to 06-15-1957, A/2c Donald K Shurtliff was assigned to KAFB, the 303 Rd Air Refueling Squadron "Worked as an A&E mechanic on flight line with the KC-97 S. The best duty of my 5 1/2 year career. Departed Bermuda for Mountain Home AFB ID. Where I was Discharged 07-25-1958. 72375 Upper Way West, Palm Desert CA 92260."

July 23, 1956-October 15, 1958, Colonel Philip H. Best was in command.

1956. Charles Caldwell was a Navy LT (Junior Grade) Patrol Plane Commander (EE then LN-9) with VP-45 when the squadron moved from N.S. Coco Solo, Panama, to Bermuda in 1956. " I was married shortly after the move and the only living accommodation I could find was a new one room duplex almost at Kindley ABB main gate. My wife used our Zundapp motorbike to get groceries from the commissary at first, then we bought a used Morris Minor. We made many flights to Norfolk (Bread and Butter runs) for all sorts of appliances while still searching for subs and surface ships. Bermuda life was really enjoyable - if the fresh water supply didn't dry up. VP-45 alumni hold well attended bi-annual reunions - google "VP-45 Association". The squadron is still active, stationed in Jacksonville, FL. I retired as CDR.

1956 to 1959 M/Sgt William J. Bloom, Sr, USAF was transferred to KAFB in Bermuda. He and family (including son Dr. Stephen Bloom later at University of Florida, Gainesville, lived on-base.

1956-1959. A/1C Stan Brady, Detachment 10, 9th Weather Group. "I was one several weather observers who worked in the control tower (shown in my photo below). These observers provided immediate weather information for arriving and departing aircraft. Other observers in our unit assisted the forecasters in the weather station located in the base terminal. Still others manned the Rawinsonde facility out by the causeway. The "R-Section", as it was referred to, was where they launched balloon instrument packages which measured weather conditions at high altitudes. Lt. Col. Loren A. Weaver was CO of Det. 10 during this time frame. I and a few other young single airmen were very fortunate to become surrogate members of NCO families in our unit. In my case I was one of those "adopted" by T/Sgt. Tom DeSanto, his wife Beverly, and toddler daughter Reena. I was also taken in by M/Sgt. Julian "Matt" Dillon (our 1st Sergeant), his wife Peg, and daughter Geri. Thanks to these generous families I always had homes where I could spend off-time and holidays. These connections allowed me to avoid the "rock fever" that plagued so many who found tiny Bermuda rather constricting after the initial attraction wore off. One of the months in 1957 I was selected as Base Airman of the Month. This was an honor that I was very proud of, and which enhanced my overall memorable experience at Kindley. In subsequent years my family and I have visited Bermuda many times. Every time I step onto this beautiful place it brings me back to those Air Force days which played such an important role in the formative years of my life. Some other names from Det. 10: Ken Barnes, Bill Buckles, Lou Feltz, Glen Frey Larry Horde, Larry Jackson, Gerald Kehrli, Gunther Kremer, Bruce Kruger, Ed Malinick, Ed Meyers, Bernie Olejnick, Ray Palazzo, John Pugh, Bill Sargent, Stan Williams. Favorite haunts: Swizzle Inn; Gunpowder Cavern; Castle Harbor; Elbow Beach; Little Venice; Kindley NCO Club. I now live in MA."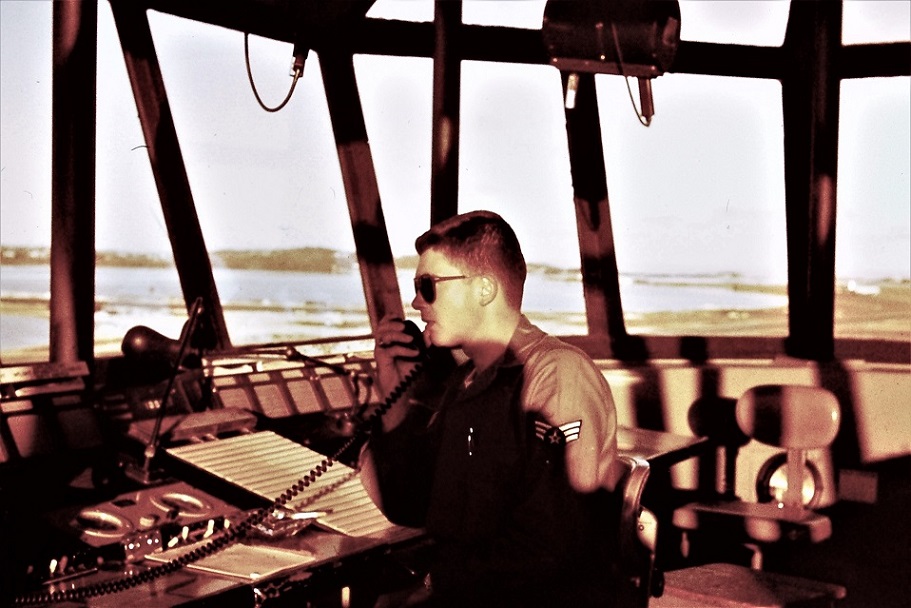 Stan Brady, above, giving weather conditions at the flight control tower of Kindley Air Force Base, Bermuda, 1956-1959

1956 to 1958, Paul Tilton Jr, now at 118 Dogwood Drive, Henrico N.C. 27842, was stationed at KAFB as a Ground Radio operator with the 1934th AACS Sq. "I had the chance to fly with a buddy of mine with the 59th weather Sq. every time I could on my time off. I remember on 1 flight going thru a storm in the south Atlantic. losing 2 engines, having to abort to Barbados and blowing tires on landing, then waiting 3 days for repairs from Bermuda. I also went TDY to an island off the coast of South America to work radio for the recovery of space capsules during the space race. The best thing was I was in MATS and not SAC....I really enjoyed Bermuda as a 19 year old."

1956 to 1959, Troy L. Hanson, Lt. Col USAF Retired, now of Colorado Springs, CO, was stationed at Kindley AFB with the 303rd Air Refueling Squadron from 1956 into 1959 . "Our family was started with our two children being born in the new Kindly AFB Hospital Steven March 22 1957 and Sandra March 8 1959. We had a wonderful time living on your island and enjoying the Bermudians. We lived in Normar Cottage next to Captain Stan Burns the Harbor Master. The 303rd ARS is planning its final reunion in Colorado Springs September 22, 2007. I would like to post your article for all to read. Again congratulations on a very interesting piece of research. I look forward to our future communications."

1956 to 1960, Major William ('Wild Bill') A. Swanson (now deceased as well as his wife Marian R.) was stationed at Kindley AFB Bermuda as a Hurricane Hunter pilot. "I am his daughter (Karen R.) and I have a brother (Kris A.). We spent 4 wonderful years in Bermuda which included living at Somers Hill and Neston's Cottage. At Neston's Cottage we had a back yard as large as a football field that lead down to the bay that was encircled by the island except for the smallest draw bridge in the world. This draw bridge would be raised to allow the masts of sail boats pass through but, we also used it when we held onto a rope and jumped into the rushing waters under the bridge. The perfume factory was one of my favorites, especially during Easter (the lilies were everywhere). I can't forget Devil's Hole and St. George either. I feel very blessed to have had the opportunity to have lived and go to school in Bermuda from the age of 7 to 12. I look forward to hearing from anyone that remembers my dad and mom. " Karen R. Swanson.

1956 to 1959 T/Sgt James E. Garner, USAF/SAC was stationed at Kindley AFB and served as a refueling operator on KC-97's. "He was the recipient of the Distinguished Flying Cross, Air Medals and other distinctions for his career service. He served on Tinian in the 40th Bomb Wing during World War II. He was also featured in the Air Force Times along with his Dachshund Fritzi who had his own parachute and accompanied Dad and the crew on missions. Dad loved fishing on the Service Club boat that went out every Saturday and helping clean all the fish that the wives would prepare at the Service Club. I can assure you it was some of the best tasting fish ever. They caught rockfish, yellowtail, bonita (occasionally), flounder and more made a special effort to avoid the sharks. Dad loved to snorkel and it was a treat to swim with him. Bermuda brought us many happy memories. He was laid to rest on December 17, 2010 at Arlington National Cemetery at the age of 89. His wife of 45 years, Roberta Jean, who had preceded him in 1989, was buried with him." Info supplied by their daughter Pat Garner.

15 March 1956 to 13 March 1960, A2C John W. Cook was stationed with the 1604th Air Police Squadron at Kindley AFB. "Living in Bermuda was a significant event in my life. I was 18 years old when I arrived, my first time away from my home in Indiana. By the time I left four years later I was married and had a young son. I married Florence H. Cook, daughter of E.T. Sayer, OBE, editor of the Royal Gazette, in March 1958. We resided at "Hawk's Nest," South Shore Devonshire. My son was born at the Base Hospital in February 1960, shortly before we left Bermuda for Germany. We made many return trips to the islands, our last in 2000. My wife and I are retired, now living in Rose Hill, Kansas."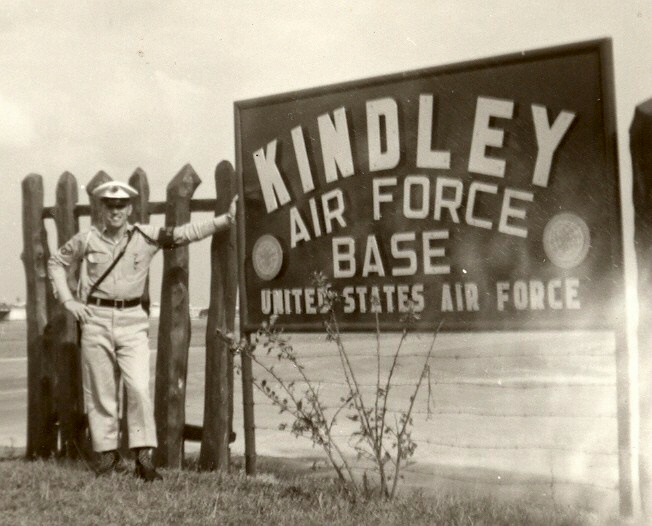 John W. Cook at Main Gate.
John also kindly sent the remarkable photograph below of a unique piece of KAFB memorabilia he has collected. As it has not been seen on this website before, can any other former KAFB personnel throw any light on it and let both John and this author know? In the meantime, it's just a guess it might have been issued for staff cars from the motor transport pool at Kindley that traveled frequently from Kindley AFB to the US Naval Operating Base at Southampton Parish. Or it might have been issued to the CO and/or other senior officers then at KAFB. Or it might have instead been a plate issued to all at KAFB who owned private automobiles either purely at KAFB or who also ventured into civilian areas of Bermuda and might have needed vehicle ID at the base gate when returning to KAFB. The Military Air Transport Service (MATS) - see http://en.wikipedia.org/wiki/Military_Air_Transport_Service - was replaced in 1966 by the Military Airlift Command (MAC) - see http://en.wikipedia.org/wiki/Military_Airlift_Command.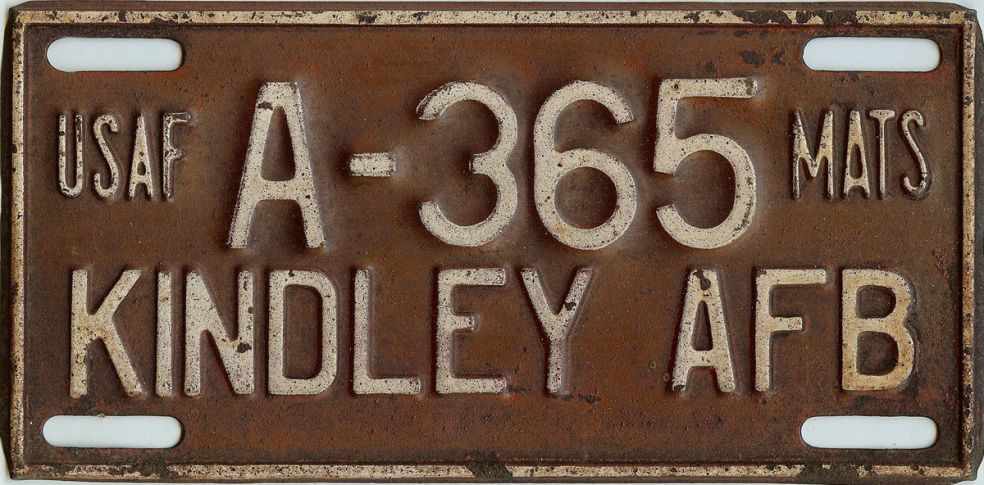 1956 to 1959, S/SGT Ralph Poole was stationed at Kindley AFB, at the 1604 MATS Hospital. "I thought Bermuda was the most beautiful place I had ever seen. The flowers, water, and snorkeling around the coral reefs kept me in Bermuda for nearly four years. I recently visited Bermuda with my wife Carolyn after nearly a 50 years absence. We stayed at the Grotto Bay Hotel and had a room overlooking a small part of what used to be Kindley AFB. An old taxi cab driver gave us a tour of the old base. Great memories! The old Veterinary Building where I had an office still existed but is now part of the Bermudian economy. A retired Lockheed Martin Engineer, I live in Auburn WA."

1956-1959, Boyd R. Lemon, SSgt, a teletype operator, was stationed at Kindley AFB. His son, John Lemon, started first grade at Kindley Elementary School. He'd like to hear by e-mail from any other school attendees there at the time or after.

November 1956 until November 1959 Patrick J Calnan was stationed at Kindley AFB. "My rank was A/2c. I was with the 59th WRS Hurricane Hunters as a flight line mechanic for 2 years, and later with the 1604 Field Maintenance as a Driver of one of those yellow follow-me trucks. I have a very clear memory of losing a WB-50 on one of our GULL flights. I was asked to join the search in a rescue C-54 as an observer. I recall flying for hours with my thumb on the button to release a dye marker. But nothing! A VERY BIG empty ocean. I was 17 years old when I arrived in Bermuda. It was a wonderful place to grow up in. My contact address is Patrick Calnan, 16 Lantern Lane, Chelmsford, MA 01824.

1956-1959. Tech Sgt Robert Emmett Barber was stationed at Kindley AFB, with the refueling squadron, also as a flight mechanic. He was accompanied by his wife and three children. They lived in the DeGink area near base commander's house. Entry sent September 2, 2011 by his daughter Bonnie Barber Carter. "My brothers played baseball and my dad often umpired. I played with Col Best's daughter. I'll welcome comments by any of my dad's contemporaries and/or children or playmates. Contact me at 1314 W. 3rd St, Roswell, NM 88201. "

1957-59, Cliff Morris was in the Navy in Bermuda, based at the Annex in Southampton, pulling duty at the secret Tudor Hill submarine and surface ship detection facility. He also hosted a radio program on ZBM-2 that was sponsored by the Navy.

1957-mid - May 1960. James E. Hendricks was at Kindley AFB Bermuda. "I arrived as an A/2c. I was assigned to the 1604 Civil Engineering Squadron as a Power Plant Operator. I was the only military operator assigned there, the remainder were civilian employees. Current address is 2453 River Chase Drive, Monroe, North Carolina 28110. While at Kindley I operated the photo hobby shop during off hours and had the distinction of being the first person not in the program to photograph the U2 spy plane when one was forced to land because of a broken oil line. The Air Police confiscated my photos and negatives. Though promised, they were never returned."

October 1957 to October 1959, Ralph B. Coleman - known as Breeze -was a medic working at the Kindley AFB hospital. "Would love to do it all over again. I do not know why but I was given the nick name "Breeze" while I was there. Ralph B. Coleman, 243 Washington Ave, Scotia, NY 12302.

March 26, 1957, the late Larry Muller (he died in January 2004) was a young man stationed at Kindley. His daughter Traci Muller Rylands - the Editor/Writer of High Schools That Work, (Southern Regional Education Board) wrote us. " He was the air traffic controller in the tower when President Eisenhower visited Kindley AFB and Bermuda specifically for a Summit Conference with British Prime Minister Harold Macmillan. Larry remembered his days in Bermuda with much pride and joy."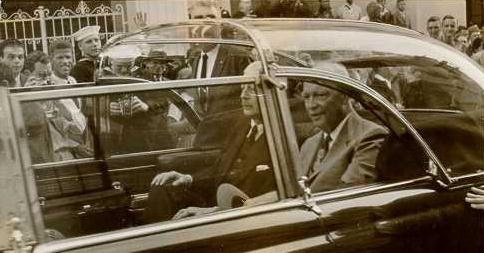 President Eisenhower arriving at Kindley AFB on March 26 1957 and being met by British Prime Mister Harold Macmillan

March 1957 to March 1959, Bill Satterwhite was at USNAS, Southampton, Bermuda and had many great times including at the Elbow Beach, Princess and Bermudiana (until it burnt down) hotels. After not having been in Bermuda since then, he and his wife Carol wanted to visit Bermuda on the cruise ship RCCL's Voyager of the Seas in November 2005. During his tour of duty in Bermuda, he was assigned to the Special Services division. A local gentleman was the Captain on his fishing boat, with the last name of Cartright or Cartwright. Anybody know where he is now?

1957-58 Cdr. George T Trudell was the Executive Officer of the US Navy Base in Bermuda. "He was my father. We lived in the house next to the CO, Capt. Badger. I was 11yrs old and my brother Edward was 15. Some of my fondest memories were of living on that base, going to school at Mt. Saint Agnes Academy, swimming at the beach cove and pier, eating French fries at the beach shack, watching movies at the outdoor theater, and spending hours at the Hobby Shop. I had so many good friends, Dennis Hansen, Carole Haas, Keith Barton (who is now an author), Jan Witczak, David King, William Stapp, (my boyfriend), Judy, Michael & Alexis Halloran, Philip Canal. I read online that the base is in a sad state of disrepair and much of it has been demolished...very sad. It was such a beautiful place. We were stationed there for 2 1/2 yrs and I loved every minute of it". Betty Trudell at 578 Andorra Circle NE, St. Petersburg, FL 33703.

June 1957 to June 1960, Cdr. Sylvester A (Tommy) Thomas, VP 45, was at the USNAS, Southampton. His two children were Marilyn Thomas (now Hansen) and Marshall (Bud). They graduated from Mount St. Agnes Academy in Bermuda in 1958. They now live at 117 Bellingham Dr. Madison, Mississippi 39110.Marilyn writes: "I have lots of fond memories of Bermuda. My family arrived on the Queen of Bermuda into Hamilton from New York and my brother, boyfriend (future husband) and I left on a MATS plane after graduation from Mount St. Agnes Academy. The three of us spent many fun days, riding our bikes to little coves off base, swimming and enjoying peanut butter sandwiches. We rode to school on a Navy bus and if we missed it in the afternoon, got home via Navy Launch. The main sport that I remember from school was track and field. I know that the private school (Saltus) also in town was our biggest competitor, maybe our only one. Our uniform was a navy blue jumper with white blouse and a blue blazer. Most of our social activities were spent on base with movies, swimming, beach parties and our teen club dances with the kids from Kindley. We alternated sites and the Navy bus transported us back and forth. Fishing and golfing were popular with the guys also. At the beach parties, the girls made box lunches and these were auctioned off to the boy with the highest bid. My dad was executive officer of VP45 when we went to Bermuda and made commanding officer of VP 45 before I returned to the states in 1958. My future father in law was in administration on the base. We had lots of musicals at school and ballroom dancing was part of the curricula. Our senior Prom was held at the Princess Hotel and we took a boat ride afterwards -- all of us singing the popular "Yellow Bird". Life was good. Great memories."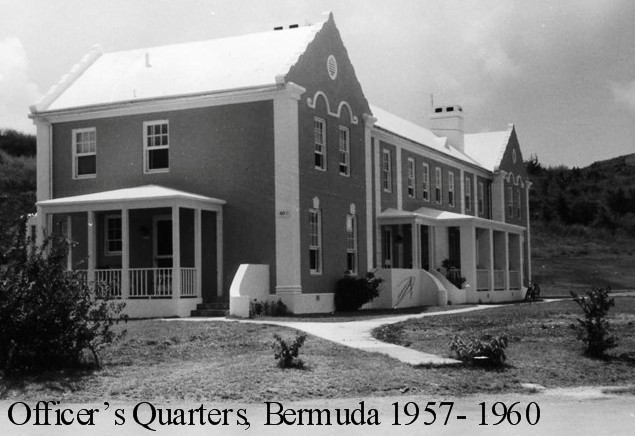 Kindly sent by Marilyn Thomas Hansen, above

June 1957 to June 1960, L/Commander Ray L. Hansen was at the USNAS, Southampton. Sons were Ray (see above), Dennis and Nancy, also at Mount St. Agnes Academy.

1957 to 1959 SMSt Gordon A. Young Sr was stationed at KAFB Bermuda in communications/telephone, with his wife Lena D. Young and family. One of the two daughters, Susan E. Young (a Maj (retired ) USAF was born at the Base hospital on 9 Jan 1958.She took her parents back to Bermuda in 1999. "I hope to be able to return to Bermuda either this year of the next with my sister as she has not been back since our original time there and we want to go back in remembrance of our mother and the happy times spent there. Sadly, due to frail health our father will not be able to come with us."

January 1958-November 1969 Frank Morrison was based in Bermuda with the US Navy at Southampton, then Tudor Hill. His three children, including Sandra Morrison (who wrote this e-mail) were born in Bermuda. " "Tourists would see us on the dock at Mangrove Bay when the tourist boat pulled in, would encourage us to dive for coins saying "look at the cute native children." I attended Sandys Grammar School then Kindley High School. All but one semester of my schooling was there. It was lonely as we lived a long way from the high school, I must have read every book in the small library on the base, and watched every black and white movie ever made on ZFB and ZBM. When we first got there, TV was only on from 5-9 pm. Kids in the states got cars, I got a boat. Liked to go to movies at the base in the boat. Have a lifelong love of fishing and become very "homesick" if I don't live by the water (now on TX gulf coast)."

1958, William and Lula Mae Housel were at Kindley. Housel Sr. married in 1957 when Lula Mae was 14 years old. Their son Tracy Lee Housel was born at Bermuda's King Edward VII Memorial Hospital on May 7, 1958. They returned to the USA in 1959. The boy joined the US Navy as a young adult and was a submariner. He was given a death sentence for the murder of Jeanne Drew in Georgia on February 7, 1986 and executed by Georgia on March 12, 2002.

May 1958 to May 1960, David Haynes served with VP-45 at the USNOB BDA as YN-3. "Lived in Somerset at By-The-Way Apartments on Mangrove Bay Road. First child was born in Bermuda. Wife and I did not return until May 2006. Visiting Somerset was like stepping back in time. Very little changed, different owner of drug store, more vehicles. Had a wonderful 8 day visit, and plan to return each year for as long as possible. Current mailing address is 1011 Loch Lomond Dr, Arlington, TX 76012."

May 1958, Richard I. Van Dusen, then an E-3 Yeoman

, now at 15370 Finley Drive, Gulfport, MS 39503 - arrived in Bermuda for duty with VP-49, until October 1961. He lived in the barracks on the Southampton Navy base. He wrote: "I fell in love with Bermuda and the people. I made many trips to Hamilton and the drinking establishment on Front street. I used to go to the dances on Saturday at the Police Club, don't remember place, but it had a football (soccer) field. I lost many pool games at the Club on Front street for British, Canadian and American sailors. When I was assigned toVP-49, I had the privilege to work with some great Navy aviators who flew the P5M. I went on some missions and enjoyed them immensely. I remember the night VP-45 lost the commander out in the Triangle; the UFO's the pilots spotted; the beaches and the crazy bike riders, me included, but I can't remember the names of some of my friends. A couple I remember, Vanderhoff, Picklesimer, both crew members of the P5M. I would like to hear from them, I had a best friend, Bob, can't remember his last name, he was a storekeeper on the NOB. Can anyone help? Please contact me at address shown."

July 1958 to May 1961, Lt. Col. Thomas J. Connair, Jr., was stationed at HQ 1604th Air Base Wing at Kindley Air Force Base, Bermuda. Initially, he was the Base Executive Officer, and later the Base Inspector General. He and his partner, Sgt. Leamon Keel, were Kindley doubles badminton champions 3 consecutive years (1959-61), and he was the runner-up to Sgt. Keel in singles competition during the same period. He also competed in tournaments on the Island . He couldn't resist taking up golf while in Bermuda and it became his favorite pastime. He was very involved in Kindley activities. He was on the Board of Governors for the Officer's Club, President of the Holy Name Society, Secretary of the Kindley Little League, President of the Kindley Boy's Club, and organized the youth basketball program. He and his wife Wilma enjoyed attending various functions at the Governor's residence, Government House to celebrate English & American holidays, etc. He retired from the Air Force in 1962 after 22+ years, including service in New Guinea & the Philippines during World War II. As a civilian, he was an editor for McGraw-Hill, Inc., and later worked as a volunteer teacher. He died on July 2, 1989, and was buried in the Dayton, OH National Cemetery. (Information supplied by Tom Connair (III) at 116 Sotir Street, Ft. Walton Beach, FL 32548-4320.

July 1958 to June 1960, A2C Jerry Treloar & wife Delores - were based at KAFB Bda, R4360 Eng. Mech. - WB50s - PE Dock - 59th WRS - Hurricane Hunters - supervisor, Msgt William Machen. "Currently - Ret/Msgt/USAF/C-141 Flight Engineer ( 30 years C-141 aircrew training). Lived in Claytown on the north shore, just around the curve from the Bermuda Perfume Factory. Rode a 125cc Norton motorcycle. First duty assignment and were newlyweds. There has never been a better time in our entire lives than those 2 years in Bermuda. Deloris worked in Hamilton for a CPA, Mr. E. Brownlow Gray. We were there for the following events: (1) Bermuda's 350th Anniversary graced by Queen Elizabeth and Prince Phillips personal appearances. (2) The U2 which lost all power and glided over 300 miles landing on our alternate runway. I almost got hit by it, because I was short cutting across the runway as it was landing. (3) Several Navy blimps tied up for a couple of days on our overflow parking. (4) One of our WB50s went down without a trace just north of the island. All crew members were lost, including a friend of ours, a young radio operator named Scott. (5) Four F100s took off in formation, passed through a cloud off the end of the runway and only 3 came out. No trace of the 4th one. (6) Deloris and I were charter members of the first motorcycle club on KAFB sanctioned by the AMA. We still have our jackets. We took both our mothers to Bermuda in Jul 98, to celebrate our 40th wedding anniversary. We will be in Bermuda Jul 2008 to celebrate our 50th anniversary. It was just as clean and beautiful as it was 40 years earlier. Everyone in Bermuda are just wonderful. WE LOVE BERMUDA ! Address: PO Box 742, Altus, OK. 73522 Ph. (580) 482-2826"

July 1958 to July 1961, Lieutenant (jg initially, full lieutenant at departure) Paul A. Lamb (now Commander, USCG, Retired) - at 4300 Beach Drive SE, St. Petersburg , Fl. 33705 - served at the Coast Guard Air Detachment, Naval Air Station, Southampton, Bermuda . "Flew Martin Marlin (P5M) seaplanes and Grumman Albatross (HU16) amphibians. Lived at "Sunnyside" and later "Sunset Cottage" in Somerset. Drove a Ford "Prefect" which I brought to my next duty station when I was transferred. Enjoyed boating, fishing and skin diving. Also enjoyed the "bike path" that was at one time the railroad route. Children attended Sandys grammar school. A favorite teacher was Miss Lilywhite, who was from England. Was active in PTA at the children's school. Thoroughly enjoyed the Bermuda life style. I have not returned to Bermuda since my tour of duty there."

August 1958 to August 1960, Wes Pleasant was stationed at Kindley AFB, Bermuda with The 59th Weather Reconnaissance Squadron (Hurricane Hunters). He writes: "While there I met and married my wife (a Canadian, there on vacation) and our first child was born there. Al Rae, who was there too, spoke of an incident involving an AP who went berserk and started shooting up the place. I was right next door, just down the hill from the AP HQ at the commissary when it happened. I was putting some groceries in the saddlebags on my bike when all hell broke loose just up the hill from me. Last I heard they shipped the guy back to Walter Reed in a straight jacket. The worst Xmas I ever spent in my life was at Kindley. On Xmas day everything on that island was closed except the civilian air terminal, which was across the runway from us. We were using the WB-50 and I just found out that the aircraft had a reputation for killing people and I guess we contributed to that - we lost an aircraft with no survivors somewhere out over the Atlantic. Just disappeared. Makes you wonder about that Bermuda Triangle stuff."

1958, Herb Miller was stationed at Kindley with the US Coast Guard. He now lives in Georgetown, Florida.

1958-59. Airman 2nd Class Joseph Patrick Hoffman spent eighteen months at Kindley Air force Bass Bermuda. Assigned to the 1934 AACS air to ground radio squadron. "My AFC; Outside Plant Communications on the Antenna field at the end of the flight line and Rap/con Tower antennas. I was left tackle for the Kindley Flyers football team. We were coached by, Capt. Sweat. We won the 1958 Caribbean Bowl Championship. We flew to San Juan Puerto Rico. The game was played in the Escobar Stadium. We played the Navy, the Marines, the Coast Guard, Washington DC State Teachers College and others in all, 10 games. I did an actor's voice on ZBM -1 radio show. I was a member of a quintet singing group named The Nomads. We won the United States Air Force Tops In Blues contest held on base in early 1958. I lived off base across from the Pink Beach Colony Resort. My rent was only $65.00 per month. I met a local islander, Rodney Tucker. My wife Grace and I became good friends of the Tucker family. Rodney and I would go to Pink Beach in early AM and body surf later ride together to the base. Rodney cut hair on base and played piano around the Island. While I was there between 1958,1959 the US Navy Blue Angels Jets performed their show for us and the Islanders. I can be reached by telephone at area code 717-471-4878, address: 47 E. Main St., Apt. 3, Mountville, PA 17554 -1639."

1958, Robert George was apparently stationed in Bermuda, but his dates of arrival and departure and with which unit is not yet known. A person named Linda (no last name) e-mailed on 28 December 2004 to say she is his daughter, born in Bermuda in 1959, with his name attached to her Bermuda birth certificate records. She asked if anyone could help her with further information.

1958-1960 Al Rae was stationed at Kindley AFB in the 1604 Air Police Squadron. He wrote on 19 March 2002: " I have some old photos of planes landing there during that time, including a U2, that had an emergency landing. Also, a friend, Bill Cook, from the same unit was somehow involved in a shooting that led to two deaths at Air Police Headquarters in Bermuda early in 1960. I never heard what happened afterwards. Perhaps someone from Kindley at the time has some information, or suggestion on from where in the USA - as it was a military matter not a Bermuda one - to get it?"

1958 to 1962 David Gruneisen, now of 3964 Hastings-Newville Rd., Lucas, OH 44843I, was in the USAF. Permanently stationed at Langley AFB, VA, he was an in-flight refueling operator on KB-50 tankers with the 429th Air Refueling Squadron. "I spent many weekends in Bermuda between 1959 and 1962 because my aircraft commanders liked to play golf, and flew 10 hour navigation training flights that ended at Kindley late Friday evenings. We would spend the weekend enjoying Bermuda (Swizzle Inn, Gunpowder Caverns, golf at lots of different places, Elbow Beach, Horseshoe Bay etc.) before flying back to Langley late Sunday night. I also spent considerable time serving TDY at Kindley as we assisted the 427th ARS in refueling TAC aircraft going to and from Europe. I remember one mission where we assisted in a search and rescue operation looking for a downed WB-50 that was stationed at Kindley. Never found a trace. I used to rent a "ring-ding" (scooter) from Coral Island Scooters upon arrival each trip. My wife and I are visiting Bermuda in 2006, I for the first time since 1962, and my wife Diana has never had the pleasure of visiting the island. We're staying in St. George at a small B&B and I sincerely trust that the town is as quiet and beautiful as it was over 40 years ago."

1958 to 1961 Staff Sgt Alma Len Peterson was stationed at Kindley AFB in Bermuda from 1958-1961 as a Radio Operator with the 1934th AACS, along with wife Trudy and daughter Marion. "It was a dream assignment. I used to take my little daughter around the island. We would visit all the old forts, and the naval base on the far end of the Island. Marion and I would explore the island on our Triumph motorcycle. I can be contacted at A. Lenny Peterson at P. O. Box 128, Ash Fork, AZ 86320."

September 1958 to September 20, 1959 Warren Lustwig was posted to the US Naval Operating Base, Bermuda.

December 19, 1958 to August 12, 1959 Colonel George L. Robinson was in command.

January 1959 to December 1962 M/Sgt Wayne W. Woodruff (Woody) served as a Flight Engineer on WB-50D aircraft assigned to the 59th Weather Reconnaissance Squadron (Hurricane Hunters) at Kindley AFB. In addition to military duties he dedicated his off duty time to the Kindley Youth programs serving as a Little League Baseball Coach, Manager and as equipment manager for all the Little League Baseball and Football teams maintaining and ordering new equipment as needed. He served as President of The Kindley Little League Association in 1962. Woody, wife Jeanne and their 4 children, Michael (Mike), Yvonne (Corky), Mark and Mitchell (Allen) resided at Fubler Villa, Cedar Ave. Hamilton the first 2 years then at the Rabbit Hutch, Turkey Hill Road, St. George. He retired from the USAF June 30, 1967 as a SMsgt. Jeanne and Woody live at 13611 14th Ave. South, Tacoma, WA 98444-2124.

1959-1961, Don Deming was assigned to KAFB with the 1604th Air Police Squadron. "Was there part on the time Al Rae was there, but honestly do not remember him. Bill Cook was a friend of mine too, and I was told he did go off and shoot several people, killing a couple. He was brought back to Bermuda and had trail, was sentenced to 33 years at Leavenworth, Ks. and that was the last I heard of him. I dated a Majors' daughter by the name of Showers while I was there, and remember Bermuda as a great place. My wife (not the major's daughter) and I have visited the island a couple of times and love it."

1959-1961, A/1c Doug Selander was assigned to Kindley AFB, in the 55th Air Rescue Squadron as an aircraft Instrument technician. "I got there when the rescue squadrons from Thule, Greenland and Reykjavik, Iceland were just relocating to Kindley. When I arrived I was assigned to a Norwegian carpenter named Thor for a month or two to help re-build the orderly room that wasn't yet ready for occupation. Our flight line buildings were the worst by far of any on the base. The "Hanger" was of wood construction that allowed only the nose of two planes to be under the roof but the rest of the plane was out-in-the-open to rain and wind. The rest of the base had permanent hangers and buildings. Two of my close flight-line friends were A/2c George Rapone, a hydraulic specialist, and A/2c Roger Terni who was a crew chief on one of our 4, SC-54's (tail numbers: 524,609, 665 and 667). I remember one Sunday afternoon in 1960 when an air policeman named Cook shot up the AP Headquarters. I heard the automatic weapon being fired from down the hill from our Rescue dorms above. I went out on the lawn and a guy came running up from below and screamed "somebody's shooting up the place down there." AP Cook was being disciplined when it all started - he had to clean his weapon in the armory located in basement of the HQ). That's when he went berserk and starting shooting up AP's and everything else. He fired at one sergeant at the front desk but the sarge ducked under the desk. Cook reached over and raked the floor next to him with bullets but missed him by inches. Cook went outside on the lawn firing till he ran out of ammo. He went back inside and down into the armory to reload - that's when another AP grabbed him. Someone said the AP guard on the front gate was told what was happening but he would not leave his post under any circumstances. I saw Cook afterwards - they had him down on the back of an open, wood stake, ton-and a-half truck with AP's all over him shortly after they got him. They drove him away to someplace. I think Cook killed 1 or 2 people. I understand he was not executed but was sent to Leavenworth, MO, sentenced to 33 years."

May 1959 to May 1961. Robert A. Mazzone was stationed at Kindley AFB. "I was an airmen 2c in the 1604th air police sqaudron. Spent a lot of time at the base beach and movies. Helped out at the church on base and st. George. Sang in church choir and helped out at base theater group. I like the Gunpowder Tavern and Elbow Beach. Especially rum swizzle night on Mondays. The Hamilton Princess hotel was fun during Easter break. We had motor bikes and used to ride all over the island. That's where I learned not to drink shelf whiskey. Remember the Jungle Room in Hamilton. We didn't go to these places a lot, because of military pay. But when we did we had fun. Went back 40 years later, sure was different. Thanks for the site, enjoyed looking at it."

June 1959 to August 1961 Charlie Witteman was stationed at the Naval Operating Base Bermuda. " I was an Electronics Technician with the Ground Electronics Division responsible for maintaining radios in the Control Tower and Crash Boats. I also worked at the Receiver Site and had two 5000 watt transmitters at the Transmitter Bldg to communicate NAVFAC and base data to Norfolk thru a 4 channel multiplexor. I got married while stationed there and lived in "Uppity", Middle Road, near Gibbs Hill Lighthouse. My new wife worked as a Clerk-Typist at the base in the Supply Dept. We had more company and visitors than we could afford as I was only a ET2 when I left Bermuda. Enjoyed working with shipmates Ralph Otts and Chief William Williams. "

July 1959 to July 1961 Bob Lawrence, of 2951 Avenida Valera, Carlsbad, CA 92009, was stationed at Kindley with the 1934 AACS Squadron. He has several hundred colored slides from Kindley and rest of Bermuda from that time frame. He met his wife on a blind date at the Elbow Beach Hotel and they were married on Staten Island, New York on November 19, 1960. They have always talked about going back for a visit, but never made it.

1959 to 1961, the late Lieutenant Colonel Fellie F. Robinson was based at KAFB Bermuda as the commanding officer of the 59th Weather Reconnaissance Squadron (The Hurricane Hunters). The squadron flew daily on weather reconnaissance missions from Kindley on WB-50's, into all hurricanes and potential hurricanes in the Atlantic and Caribbean. He, his wife and family lived on Kindley AFB next to what was then the base hospital (now - with the rest of the former US military base - civilianized. While they were there, the Air Force built the high school (later, the Roger Chaffee High School for the US Navy and since then after the base was decommissioned a Bermuda Government middle school) directly across the street from the house where they lived. One of their sons Richard F. Robinson (who died in 2007) attended that high school, an early teenager at the time. There was also a sister, Judy, who died in August 2017, and a second son, Mark, who provided these updated details in April 2018, Colonel and Mrs Robinson later lived at 642 S. Eureka Street, Redlands, CA 92373 until his death in 2009 (Mrs Robinson died in 2003).

June 1959 to June 1961, Ronald L. Snyder, Airman 3rd class, was stationed at Kindley AFB as a KC97 mechanic. He was assigned to the 303 Air Refueling Sqd. His wife Marcellious Jewell Snyder joined him there. A child was born in Bermuda.

June 1959 to 1962, SSgt Bernard Ulmer USAF was based at Kindley, with his family. He was a crew chief on the KC97. After reassignment to Alaska, he was reported as having drowned in 1969.

1959-62, Harry T. Randle lll was stationed at Kindley AFB. His daughter Renee Baranek, nee Randle, wrote on 5 May 2002: "I was blessed enough to have been born on beautiful Bermuda. My father was in The 59th Weather Reconnaissance Squadron (Hurricane Hunters), and navigator. He flew C-124 propeller airplanes then, and later moved onto C-141's. Unfortunately, we had to move in 1962, after my brother was born, to of all places, Utah. I have one clear vision of Bermuda, and one is not nearly enough. Thanks to you, I have been able to see the military hospital where I was born, and the Officer's Mess where my father most certainly spent much of his time exaggerating his escapades with his buddies. Sadly my parents both died quite young. My father at 44 and my mother at 43. I cherish any remnant of memory or information about our lives together. Thank you for your photos on this Bermuda website. "

1959-62, the father of Donna Sakanich Benham, at Decatur, Texas, was stationed at Kindley AFB with the Hurricane Hunters. She was in the 3rd, 4th & 5th grade but has vivid memories of those days. They lived in three different houses near the Harrington Hundreds area. She knew she was in a special place at a special time. President Kennedy came to the island and they got to see him and he waved at her.... she never forgot it. (She had a school friend, Harriet Larslier, whom she would like try to find. She went to school on base but was a local or English. Her father must have been civil service or worked on base. They lived on St. George's Island).

September 3, 1959 to June 21, 1962, Colonel Lester C. Messenger was in command.

November 1959 – July 1963, Senior Master Sgt Andrew (Andy) Joseph Ujhazi, served as NCO IC for the Civil Engineering squadron. Andy married Erika (Ricky) and had 2 daughters Dorothy (Dottie) and Jane (Janie). Andy died in 2003 but Ricky survives. Dorothy is married, living in Pullman, WA.

January 1960 to January 1962, Tom Zimmerman was with the SAC 303 ARS Security Defense Force, at KAFB The 303 ARS flew KC-97's refueling B-47's over the Atlantic. He writes: "Witnessing a night air-fueling along side a Boom Operator was an experience I will never forget. Working all shift hours, I had time off to also work as a Lifeguard at Clearwater Beach. The money I earned as a Lifeguard allowed me to buy a 1956 Ford Anglia which was licensed for off-base use. Being an Airman with a little extra money from life-guarding, a car and a US Dollar that bought much more in Bermuda funds than it does today I was fortunate to experience the best Bermuda had to offer. Who could forget College Weeks, Gun Powder Cavern, Swizzle Inn when it was a neat quiet place with maybe a dozen patrons, Christmas in Bermuda, the Princess, Elbow Beach, Talbot Brother & Nephews, Hubert Smith, Front Street, Horseshoe, John Smith's, St. George, opening day at Carlton Beach and the beautiful smell of burning cedar wood. Bermudians adopted US Servicemen as members of the Bermuda Family and there was a mutual respect that many today would have trouble understanding."

January 1960 to January 1962, William Cummins (now of 720 Vera, Arnold, Missouri 63010, email william9103@sbcglobal.net) was at KAFB Bermuda with the 1934th AACS, as a Channel and Tech controller. He writes: "Initial duty was at the comm center located between the base theater and Base Headquarters. I also lived in the Pink Palace across from the PX. I was later transferred to and lived at the Fort Victoria Receiver site. Great duty as we got separate rations and had our own little house. I really like your picture of Fort Victoria today - see www.bermuda-online.org/seestgeo.htm. Such a shame that the hotel was later built there, as Fort Victoria could have been a great tourist site. Only about a hundred yards - as the crow flies - from the Gunpowder Cavern - now, sadly, shut for decades - where I spent many happy hours. Also spent time at the circle bar in the Elbow Beach and the Princess Hotel downtown. I refer to my time there as two years in paradise. I plan to return in March 2005. Editor's note: he wrote on 10 August 2005 to say he finally returned in June 2005, via a 7 day cruise out of New York and was able to visit some of his old haunts. He returned to a shuttered Fort Victoria and found his old office all boarded up. "Things and buildings had certainly changed in 40 years but the people were as friendly as ever. Brought back some old memories and the guys I worked with. I wish I knew what happened to S/Sgt Dick Southworth and William P. Wood. If anyone knew anything about them I would sure appreciate it. Thanks again for a great web site."

29 Feb 1960 to 2 Dec 1962, Phil Spurlin was stationed at Kindley AFB with the 303rd Air Refueling Squadron "We lived on Spanish Point." He now lives in Biloxi, MS. He was a Staff Sergeant in charge of Aircraft Towing Operations for the 303rd Air Refueling Squadron. In July 2007 he spoke to and it was reported in The Royal Gazette Bermuda newspaper about the apparent disposal of waste oil at Kindley. "They had a wash rack where they washed the tankers. The engines on these planes must have slung quite a bit of oil on the cowling and wings which would be washed off whenever they washed the plane. Because of the high corrosion caused by the salt spray from the ocean, these planes were washed much more often than those in the States. I'm just guessing, but all the grease, oil and hydraulic fluid washed off the plane probably went down a drain into the ocean."

March 1960. In change of command ceremonies at the US Naval Station, Lt. Comdr. Thomas R. McClellan relieved Cmdr. H.J. Woodward as commanding officer of Patrol Squadron 49, and Cmdr. Edgar P. Palm relieved Cmdr H.M Durham as commanding officer of Patrol Squadron 41.

March 1960 to March 1963 Jean Robert Menard was at Kindley AFB, with the 1934th AACS (Communications Squadron). Married to Riba, and with both in their 20s, they lived in Paget and St. George's Their son is Michael J. Menard. Contact him at 2924 Thistledown Drive, League City, TX 77573 if you served in Bermuda about the same time as his father.

April 1960. Gerald C. Adams, AT2, arrived in Bermuda, reported to VP-49. Wife, Carole S. Adams, and 2 year old daughter, Karen R. Adams arrived August 1960. Son, Geffrey A. Adams born at base dispensary December 21, 1960. Service in Bermuda completed April 1963.

April 1960 to June 1962 Joseph J. Narciso was at Kindley AFB in the 55th Air Rescue Squadron. "He was my father. We lived on St. George, across the harbor from Kindley, where for years there was a large rusty old shipwreck right off the dock behind our home on Cut Road. I am the oldest of his six children, then aged 10-12, yet my memories are still quite vivid - a visit by President Kennedy; walking to Stella Maris Catholic Church to serve Mass under Fr. Vallimont; receiving the New York Daily News - but always a day late - to follow baseball and the Roger Maris & Mickey Mantle pursuits of Babe Ruth's home run record in 1961; seeing the Ocean Monarch and Queen of Bermuda spill tourists onto St. George; watching construction of the Sonesta Beach Hotel in Southampton; taking visiting relatives from the US on a one-day taxi tour of the islands (Gibbs Hill Lighthouse, Somerset Bridge, Devil's Hole, Fort St. Catherine, etc. Joseph J. Narciso Jr, Atlanta, Georgia, USA."

May 1960 to May 1962, Peter Balk - now at 1270 Lavender Street, Monroe, Michigan 48162 - was stationed with the 1934th AACS Squadron at Kindley AFB. "I Lived in the barracks across from the commissary. I was a radio operator on the base, providing support for military and commercial aircraft inbound and outbound. Had many good times there, on the beaches, at the hotels, etc. Lots of great memories. My wife and I went back to Bermuda for vacation in 1978 and stayed in St. George at the Holiday Inn there. I understand it was damaged badly later in a hurricane. We had a wonderful time. An employee of the hotel made arrangements for us to have a riding tour of the base with another couple. It was a U.S. Navy base by that time. Have been looking for people that were there at the same time, without much success though. It's been too many years I guess."

May 1960 to May 1963, Lloyd Robert Anair was stationed in Bermuda, at the USNOB Southampton, as a 1st Class Quarter Master, Search & Rescue, for the United States Coast Guard. "Our family resided on Woodlawn Road. Three of his four children attended Port Royal School and we enjoyed many days at Horseshoe Bay." He died on June 30, 2003 and is survived by his wife Hazel, his two daughters Brenda & Donna, and his two sons Len & Bruce. Contributed by daughter Donna King.

1960-1962, Airman second class Jerry L. Reed was in aircraft maintenance with the 55th Air Rescue Sq and the 48th Det#1. "We escorted President Kennedy on his 34 day goodwill tour of South America. We had the SC54D aircraft and the SA16 helicopter. I remember the U-2 flying into the base when we didn't know of such an aircraft. I would love to hear from any of the gang from that time. My home address is Jerry L. Reed, 508 Lovers Lane, Alamogordo. New Mexico 88310. I loved Bermuda and after my discharge I went back and worked at the base exchange."

August 1960 to June 1963, AIC Robert Cress was stationed at KAFB Bermuda with the 1934th Communications Squadron as an air traffic controller. "I was a single airman and lived in the pink barracks across from the commissary. This was the greatest place I have ever lived and I will never forget the time I spent in Bermuda. Included are a picture of the Tower /Rapcon/Center that I worked in and a picture of me in the tower (great view). I recognize several of the people who have written to you. You have a great site and I visit it often. I am retired and my current mailing address is PO BOX 246, Solomon, AZ 85551.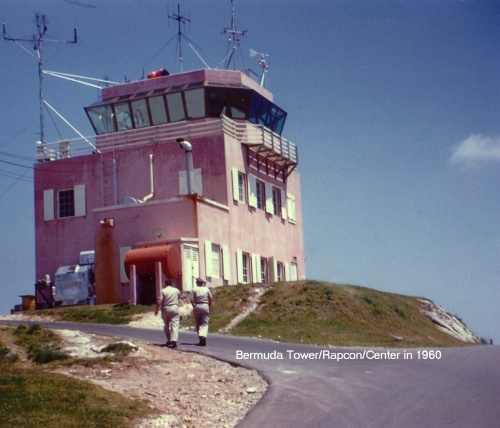 October 1960 to October 1962, Glenn M. Kidd, Jr was a Dental Technician assigned to the USAF Hospital at Kindley AFB. "I accompanied a Navy patient with a broken jaw back to the states in July 61 and married my high school sweetheart while there. She joined me a couple months later and we lived in a cottage across the road from Pink Beach on the South Shore. My address is CMSgt (Retired) Glenn M. Kidd Jr, 3127 S. St. Rd. 29, Logansport, IN 46947."

1960-65 Sgt J. W. Harper, USAF (he died in 1986 when still quite young) was stationed at KAFB, Bermuda. He, his wife and daughter Denise (now Breidenbach, now residing in Cornville, AZ ) lived in Blue Hole Hill in Hamilton Parish and loved it there. His daughter attended 1st to 5th Grade at the KAFB school Bermuda. She would love to return one day.

1960 to 1963, late US Air Force Lieutenant Colonel William Edison Blagg, born in Maryville, Missouri, on September 17, 1918, a decorated veteran of two wars, was Provost Marshal and commander of 1604th Air Police Squadron at Kindley Air Force Base. As such, he was also the liaison officer between the USAF and the Bermuda Police. He headed the Kindley security arrangements for the visit to Bermuda by US Vice President Lyndon B. Johnson and later for the 1961 summit conference between President John F. Kennedy and Prime Minister Harold MacMillan. Several of the three children of Colonel Blagg and his wife Claire Elizabeth Cassell Blagg attended school in Bermuda - son Timothy A. Blagg (Whitney Institute); daughter Barbara Blagg Mosley (Kindley Air Force Base High School which later became Roger B. Chaffee School when under the USNAS and later yet the Bermuda Government's Clearwater Middle School). Colonel Blagg died in Dover, Delaware, in December, 2000. His youngest son, G. Daniel Blagg, is the author of Bermuda Atlas & Gazetteer - one of the best books written in and about Bermuda - and was development director for Saltus Grammar School in Bermuda until he relocated to Italy in late 2004).

1960-1962 Willie B. Fears, Sr was stationed at Kindley Force Base, Bermuda, as an Airman 33d class. "He was my father. He was on duty during President Kennedy's visit to the island on December 21-22, 1961. I would like to know if you know where any additional photos of that visit might be. My father, who worked in the Motor Pool, was assigned to chauffeur a lieutenant back and forth from the Bermudiana Hotel in Hamilton and Government House in Pembroke where JFK and Prime Minister MacMillan met. At age 23, he was then the only Airman 3rd class old enough to drive around the island. The other airmen third class were not old enough, according to Bermuda laws prevailing at that time, to drive outside of the base. So because of his age, he was allowed to work with the Airman First class and the Airmen Second class. He also transported a bus load of people back to Air Force II when they were ready to depart from the island. My father is 75 years old on April 2, 2013. "Lillie M. Fears, PhD, Professor of Journalism, Arkansas State University."

July 1960 to July 1963 Senior M/Sgt Orville L. Willits, Jr. was based at KAFB, Bermuda, with 303rd Air Refueling. (He passed away 10 Oct 1985 of lung cancer). His son Kim P. Willits was in the first graduating class of Kindley AFB High School in 1962. He served in the US Army in Vietnam and Germany and has since retired from federal civil service. Kim's sister, Cheryl Ann, was born in the base hospital in Nov 1961. She is now married to an Air Force officer. The Willits family first lived in Hamilton at Fenchurch North, then spent a few months in DeGink before moving to Bundy Street, also on-base. They lived across the street from the McIllrath's.

1960 to 1963 Ronald Slater, now at I53I Masterson Road, Cleelum, Washington, 98922 was stationed on NAS Bermuda, Public Works, with the US Navy Seabees. "As a enlisted sailor, all of us caught all the stuff the officers could dream up. The one thing they could not control was the women. For over forty four years, my wife Edna and I have been married. She was born and raised in Bermuda and has been my greatest fortune. The island was my honeymoon for over seven years. God, I loved it. I'm now a retired Helicopter Flight Instructor. My wife became the Seabee queen in I961 and still has her crown, and Bermuda figure. Rejoice Bermuda, she was one of your finest works. Her last name was Simons."

1961 to 1962 Gerald L. Howell, Airman 2nd Class, was stationed at KAFB with the 1934th Comm Squadron, ((formerly Air Force and Airways Communications or AACS Squadron). "I worked in the Flight Facility Center, Rapcon, and GCA (Ground Controlled Approach or Precision Radar). Spent time at the Rec hall playing ping pong, and shooting pool. Saw many black & white movies, and cheap bowling. The MATS Terminal was the best place to eat. Remember standing at the fence by the terminal and having my hand brushed by President Kennedy, and Alan B. Shepard, Jr. I sang tenor in a coral group known as the Bermuda Highlanders, formed and directed by a Captain (pilot), whose name escapes me, but at least once we were featured on the local TV station in Hamilton. Wonder if there is a tape or keniscope of it? Best buddy was A2C William Meyers, Radio & Radar Maintenance. Air Traffic controllers had official handles, mine was "Hotel Lima" and best controller there was called "Peter Rabbit." He had a beat up old boat which he put a Ford Anglia motor in. We went snorkeling for lobster (I think it was illegal). I now am a general contractor (Home Improvement), 6402 Nathan Hale, San Antonio, TX. 78247.

January 1961 to December 1962 Bill McDonald was stationed at Kindley. He retired from the US Air Force and lives in South Carolina with his wife Peggy. He was assigned to the 1934th Communications Squadron (AACS) as a radio operator providing air to ground radio communications to all aircraft - military and civilian - in and out of Bermuda and many more transiting through the area. He and his direct colleagues were unique in the Air Force in that they provided services for civilian airlines in accordance with an agreement with the Bermuda government. They worked at the Communications Building. He lived directly across from the commissary in a barracks known as the "pink palace". He was promoted to E-3 and E-4 and turned 21 in Bermuda. He and friends had Cyrus motorbikes with high rise handlebars and low cut motorcycle seats. They experienced Beach parties, water skiing, fishing, New Year's Eve at the Princess Hotel, entertaining the ladies during "College Week" at the ducking stool and Black Watch Pass, drinking beer at the White Horse Tavern, doing the twist, seeing Chubby Checker at a Hamilton night spot, and eating lobster dinners. Bill also remembers the open houses at the base, hanger dances, happy hour at the Airman's Club, steak night at the dining hall and parties at Clearwater Beach.

1961 to 1963 David Siegel (and wife, Janelle) were stationed at KAFB Bermuda with the 1934th Communications Squadron as an air traffic controller in the Tower. "My rank was A1C. My current mailing address is 2480 Ballantrae Circle Cumming, GA 30041. "

September 1961-May 1962, James Chapman was stationed at KAFB, Bermuda.

1961 to 1963, Albert Fizer was stationed at KAFB, Bermuda. He writes: I was in crash rescue in the fire department when the B-47 went into the estate of Errol Flynn off the end of the runway in October 1963. I knew most of the high school kids there as we hung out in the base cafe together. I really enjoyed my days there If any one wants to e-mail me, feel free to do so. I was friends with a girl named Linda Lee if any one knew her."

1961 to 1963, Jerry Zucchero, airman first class, was stationed at Kindley AFB, Bermuda, as a medical corpsman as the USAF hospital. "The pictures of the hospital bring back so many memories. My barracks were about 200 feet from the hospital. I do remember "Nurse Olander" and Msgt. Dorris Barcroft whose names are mentioned on the website. I had so much fun there and I hope to go back someday."

1961-1963, Major Willoughby N. Offley and his family, wife Charlotte, daughter Harrison, and sons Will, Ed and John, lived on Kindley Air Force Base.

1961 to 1965, MSgt Leo E. Burke (deceased) was based in Bermuda with the 1934th Communications Squadron USAF. His wife was Agnes (deceased) and their children were Carl, Robert, Laura, Maureen, Christopher, Annmarie and William (born at Kindley Hospital). Carl writes: "Base housing for large families was in short supply and we were lucky to live on the "Economy" from '61 through '62 at Blue Horizons on South Shore Road near Dunscomb Road in Warwick Parish owned by the Augustus family. In 1963 we moved into the DeGink area on base. We lived in a four bedroom house at 1023-C DeGink (neither house nor unit are there now) near the Kindley AFB Main Gate. After transferring to Travis AFB, in California, MSgt Burke retired after 27 years of service. Those wishing to contact members of the Burke family are invited to contact me at 2725 11th Ave. Sacramento CA 95818 or call (916)747-8781." Robert V. Burke was a KAFB HS graduate, one of the original few who began when the High School started in 1961. He attended all 4 years of HS there.

May 1961 to May 1964 Gary Prowant served in the Air Force at Kindley AFB, assigned to the 1934th Communications Squadron. "My wife, Charlotte and I lived in Wooden Cottage number 3 at Buildings Bay at the time. We have three children (all grown now), Debra, Ronald and Ramona (Ramona was born in Bermuda in December 1962). He was assigned to the Base Communications Center as a Teletype Operator but was also responsible for operating the Base Switchboard Operations periodically. While working the latter one night I had the honor of meeting one of the seven original astronauts (Virgil "Gus" Grissom). Captain Kay was my OIC and Lt. Col. William C. Wilson was the Squadron Commander. In February 1962, I was a volunteer in efforts to search for a missing KB-50 from Langley AFB, VA which had disappeared in the Bermuda Triangle area, something I will never forget. Our final home is here in Pflugerville and we purchased a motor home to travel the United States at our leisure."

March 1961 to July 1964, Richard Crisci was an EM3, Bermuda Naval Air Station, Navy Operations Boathouse. "In between supporting VP-45 & 45, the hurricanes and the early space launches it was one great party. I have a lot of wonderful memories of some of the nicest people to have passed through my life. Sailors can always find a way to fun and I could not have asked for a better assignment to share a beautiful island with them. The picture below is one of those days when we really earned our money. A P5M Marlin came in with a fire on board and we were all waiting in the sea lane for her to touch down. Glad to say all ended well and we had a lot to talk about over the cold beers in the Club Bermadoo afterwards. In the photo from L-R. Billy Hugh Glidewell, Rich Crisci, Ted Ursek, Lucian Dupree, Rudy Diaz."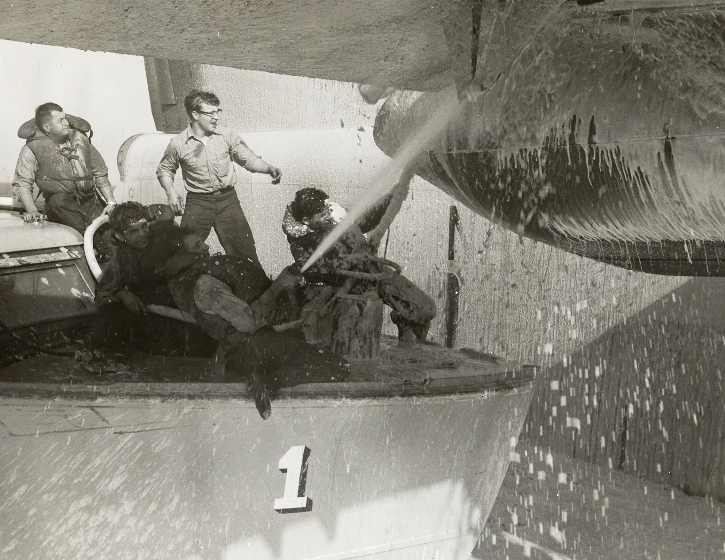 August 1961 to July 1963, Robert Schaaf was at Kindley AFB, Bermuda, with 1934 Comm. SQD, heavy equipment radio repair, with his duty station at the end of the runway. " I lived in the Pink Palace, a room right above the barber shop. I loved Bermuda, the beaches, rum swizzles, escorting all the lovely ladies around the island, motor cycles, all night beach parties. Thinking about it brings back the fragrances of the tropical flowers. It was wonderful. I now live at 1955 Arthur Street, Eugene, Oregon 97405."

1961 to 1964, SSgt Ellsworth L. "Pappy" Burks was based at Kindley AFB, as a KC-97 "Boomer." He was accompanied by his wife Vera who was the manager of the small BX at the MATS terminal. The Burks were both survivors of the attack on Pearl Harbor. Their son, Wally, lived with his parents and worked at the on base service station. The Burks retired to Great Falls, MT where they both died and and where Wally and his family still live today.

1961 to 1964, John Scaggs was assigned to Kindley Air Force Base Bermuda with the 1604th Air police squadron. "I worked in the base's police headquarters, also worked the gates and the bank run base. I left Bermuda 1964 to go to Cheyenne Wyoming to Warren Air Force Base. The three years I spent in Bermuda was the most beautiful part of my life. I was discharged at 1965 at that time I returned to Marshall University and became a high school teacher and head football coach. I missed my friends, especially James Phillips and Adrian Donaldson of Saraneck, New York. If anyone knows anything about the 1604th Air Police squadron please notify me by email, mail ,or call. Phone 843-450-3007. Address: 730 Frontage Road East, Myrtle Beach, SC.29577. "

April 1961 to May 63 Steve Kelly was stationed at Kindley, assigned as a photographer with the 1604th AB Wing, Kindley AFB, Bermuda (1968-71 #22648). On 08 July 2002 he wrote: "I remember clearly being in the middle of the Cuban missile crisis and flying over the shipping lanes in a SC54 trying to figure out how to work a camera I had never ever used previously. I spent numerous hours documenting in photos the crash of a RB47 during the missile crisis. It crashed into a hill just short of a large house, fully loaded with fuel."

1961-64, M/Sgt Dorris Barcroft (who died 2/5/83) was stationed at Kindley AFB, as a corpsman at the Kindley hospital. He was the father of Jane Barcroft. On 22 Jan 2002 she e-mailed from Memphis, Tennessee to say " I love your web site - a wealth of information. We have a picture of him and Enis (the monkey who was in space and splashed down close to Bermuda!) taken at the hospital. There are five children in my family and my youngest brother, Timothy, was born in Bermuda in 1963. All of my memories of Bermuda are very special and wonderful Some of the best years of my life were in 8th, 9th & 10th grade at Kindley High School. We lived in Smith's Parish - our house was called "Cotton Patch." We returned to the United States in June, 1964 on The Queen of Bermuda. In July, my sister & I planned a trip to Bermuda and stayed at Harmony Hall in Paget. There was a "Reunion Cruise" planned for the week of 7/4 and many former students from Kindley High School returned to Bermuda. More than 38 years have passed since I lived there." Since 2002, still living in TN, she's been back to Bermuda often and has written two books of poems about Bermuda, Pink Sand Poems (2005) and Bermuda On My Mind (2007).

From 1961-1964, Thomas J. Harris (now at 12243 Raintree Drive, Panama City, FL 32404 was at KAFB Bermuda, with the 53rd Weather Recon SQ Hurricane Hunters. He was the Crew Chief on WB-50 aircraft 337, the last WB 50 to leave Kindley. "It was a wonderful tour and I went on to stay in the USAF for 30 years. I retired in 1984 as a CMST."

1961-64, MSgt Charles R. "Dick" Knerr was assigned to the 1934th AFCS squadron at KAFB. His son Charles Knerr, of 2707 Kidd Drive. Pantego, Tx 76013, writes: "After leaving the Air Force, he worked for a contractor at NASA. We lived off base on Bermuda, high on the hill near the Clay House Inn, Devonshire Parish. Two siblings: Jerry David and Bonnie Lee. My mother: Anna Knerr. I attended Kindley High School and commuted back and forth by bus or using my motor bike, which I had "fixed" with an illegal gear. I supported this motorbike and other expenditures with a bag boy job at the Supermart on Front Street in Hamilton. My fondest memories of the north shore include listening to various American stars perform at the Clay House Inn, including Redd Foxx and Aretha Franklin. I enjoyed fishing off the rocks nearby. The wonderful smell of cedar burning in our fireplace is still warm in my mind, as well as the sights of cruise ships and whales offshore. I recall very vividly shaking the hand of John F. Kennedy in August 1963 when he visited Bermuda for a summit with the Prime Minister of England. I also recall learning of JFK's death, while riding a bus home from school that fateful day in November 1963. And I remember attending a "cricket" match on the first day, shocked to learn the game might last five days . . . which it did!! I have often thought of returning. Island fever is in my blood . . . perhaps it all started on the various islands of the Bermudas. Bermuda is etched in my memories."

1961 to 1964, Herman Tassoni (who retired from the USAF in 1972 and died on March 3, 1994) was stationed at KAFB Bermuda as an aircraft mechanic, with his wife and daughter Theresa. She was four years old when they first moved there. She attended the first and second grade of the KAFB school on base. After Bermuda, they were sent to Dover, Delaware. She writes: "Even though I was young while I was there I do remember some things, such as when President Kennedy drove past our apartment in December 1961. I remember all the people who lived near us made signs to greet him and all us kids got to wave at him. He actually slowed down and rolled the window down to wave back at us. I remember how clear the water was and also the hurricane that hit the island while we where there. If there is anyone who remembers my father or was there at the same time as we were, I would love to hear from you. He always liked Bermuda but never had the chance to go back to visit. You could write me at 215 Orchard Drive, N. Cape May, NJ 08204"

1961 to 1963, R. E. Greene, now of 1208 Allendale Road, Mechanicsburg, PA 17055, (717) 691 0248, served at KAFB Bermuda, in the Bermuda Air Route Traffic Control Center with the 1934th AFCS. His colleagues included Gaible, Sundeen, McKenzie, Bowersox, Gatewood and Jolly. Memorable moments including meeting many entertainers at once-famous now gone local nightclubs and seeing the plane taking Mercury astronauts crash in Castle Harbour when learning to keep the capsule from sinking. He saw sharks in Castle Harbour at the time. He watched as two Canadian civil aircraft taking missionaries to Africa with a stop in Bermuda got confused, turned north in error and one crashed into the sea.

1961 to 1963, John Grey, now Rev John, now of 3360 Brinkman Drive, Grove City, OH 43133 and a retired TSgt USAF, was stationed at Kindley AFB from 1961-1963 with the 1934th AACS Squadron. "I worked at both the weather station and the communications center. I also worked at the motion picture theater during my time off from work as projectionist, cashier, usher, etc. My good buddy stationed there with me was Jim Von Hagel and he just died in 2010 in Washington State. He and his wife Joan, who is also deceased, and their two children lived off-base and I was at their house quite often. I went with Jim to meet their plane when they flew in. It was unusual for a low ranking airman to bring his family to Bermuda. I remember in December 1961 when President Kennedy came to visit Prime Minister McMillan. I went down to the flight line to take pictures but his plane was late coming in and by the time he arrived there was too much shadow for the pictures to come out. I have the pix packed away because you can't make the President out too well. I remember the base pool tournaments - Jim and I usually came in 2nd or 3rd base-wide. An MP named Bill Sears and his partner Zeke usually won all the tournaments. Bill Sears was a big fellow and when the coast guard got too rowdy at the Airman's Club, they would call for the AP's and when Bill came in things quieted down pretty quick."

October 1961 to May 1963, Brigadier General William M. Constantine was stationed at Kindley AFB as a KC-97 aircraft commander.

November 1961 to June 1963, Marvin D. Crawford was assigned to 1934th Communications Squadron (AFCS). "I came to Kindley fresh out of Radio Relay Repair school at Keesler AFB, MS. I was a very young nineteen years. I lived in the pink barracks across from the Base Commissary. I worked in Mux Maintenance in P110. My bosses were TSgt. Wesley H. Litten, TSgt. Roland Hughes and SSgt. James H. Oliver. Donald W. Foster, with whom I had gone to tech school, arrived the same time I did and we worked together while at Kindley. I remember a local man, Rodney Tucker, ran the barber shop on base, which was located in the same building as my barracks."

Early 1962-63, Robert E. Jacob, now Captain USN, Retired, now residing at 613 Willow Valley Lakes Drive, Willow Street, PA 17584-9647, was assigned to the Naval Operating Base, Bermuda, with VP-49, one of the two seaplane squadrons based at what is now Morgan's Point. He writes: "At the time, I was a Lieutenant Commander. My flying assignment was as Patrol Plane Commander of a P5M-2 aircraft known as Woodpecker 8. A photograph of my plane taken in February 1962 along with WP-9 is included on page 190 in the Colin A. Pomeroy book "The Flying Boats of Bermuda". I gave a copy of it to Neal Stephens of The Reefs while visiting there in October 2004. The Reefs can be seen just below the hull break on WP-9. During my tour with VP-49, we experienced the Cuban Crises and I was the initial O-in-C of the detachment sent to Guantanamo Bay to operate surveillance flights around Cuba. My family thoroughly enjoyed our stay on your beautiful island. We lived at the Lantana Colony Club for several months upon arrival - regrettably, during our October 2004 visit we could not get into the area to see it."

Spring 1962 to fall 1964, Gary P. Brown was stationed at the US NOB (later the US Naval Air Station) Southampton. "My rank was ETN3 and I worked at the Tudor Hill Underwater Sound Lab. Commanding officer was Com Pinning. Frank Morrison was a Master Chief with whom I first worked. This past week (June 2008) I returned to Bermuda on a cruise and revisited the base locations I remembered only to find them closed and barricaded, which was sad but things change. I have so many good memories and experiences of Bermuda that will always be with me.."

June 21, 1962 to May 27, 1964, Colonel Edward L. Jones was in command.

July 1962 to winter 1963 A2C Dominick Caruso was stationed at Kindley Air Force Base Bermuda with the 53rd WRS as an avionics technician with the WB 50s. Later, he continued with the 53rd at Hunter AFB, Savannah, GA. He now lives in Montrose, Colorado 81403.

1962. October 27. A USAF Boeing RB-47H Stratojet reconnaissance aircraft operated by the 55th SRW, USAF from Forbes AFB, registration 53-6248, 4501389, crashed on the Astor Estate property at Ferry Reach in St. George's Parish during takeoff from Kindley AFB, Bermuda. All four crew were killed. They were Maj. William A. Britton (Aircraft Commander), 1st Lt. Holt J. Rasmussen (Co-Pilot), Capt. Robert A. Constable (Navigator) and Capt. Robert C. Dennis (observer). It was later determined the cause of the crash was an improper water/alcohol mixture that had been prepared by a civilian contractor in the RATOG (Rocket Assisted Take Off Gear) equipment.

1962 to 1963 Capt. William K. I. Manning, USAF, was the military obstetrician (OB-GYN), at the Kindley AFB Bermuda hospital. Children: William Jr; Michael; Leslie and Timothy. Wife Elizabeth. Michael wrote this. "We lived in St. George's, then moved to a home across from the Swizzle Inn. Children attended school on base. One of life's most enjoyable experiences."

January 1, 1963 to December 1964, David Burgess was based at KAFB Bermuda. He now resides at 109 Rainwood Drive, Simpsonville, SC 29681. "I was stationed in the Headquarters Squadron of 1604th Air Base Wing. I was only 17 when I arrived. I reported for a while to Sergeant Agee Morgan and remember him fondly. Captain Mary Helen Pike was in charge of our office; her husband Captain Eugene Pike was Squadron Commander."

April 1963-April 1965, James K. Hamilton was stationed at Kindley Air Force Base with the 1604th CES, crash rescue. His oldest daughter Joanna was born June 24, 1964 at KAFB hospital. He left the base with the rank of A2C. He is currently living at 103 Dagnall Circle, Laurens, SC. He wrote: "Bermuda was a beautiful place but very easy for an airman to get homesick."

April 1963 until his death in December 1965, S Msgt Ralph W. Ferguson was stationed in Bermuda at Kindley AFB as a member of the 55th Air Sea Rescue Squadron. He is survived by his wife, Doris, sons Ralph and Randy and daughters, Karen (Ferguson) Olander-Wells, Debbie and Vicki.

June 1963 to June 1966 Jerry L. Tanner, then A2C - A1C, was stationed with the 1604th FMS, Hydraulic Shop, Kindley AFB, Bermuda. Now retired (1 Sept 1978), he lives at 3358 Timbersedge Dr., Marietta, Georgia. His family are wife Marylon, son Scott, daughter Phyllis. "My daughter was born on 12 July in the base hospital. We lived off base (1) Davis Cottage, Vesey St. Devonshire, (2) Jerry Simons House, Harrington Hundreds, Smiths, and (3) Locust Cottage, Harrington Hundreds, Smiths. We loved the entire 3 years, our daughter is planning (reservations made) to go see her birth place and take pictures of the ex-homes."

July 1963 to March 1966 CDR Joe Davis, USN (Ret)- now living in Jamestown, NC, was stationed at NS Bermuda as the ASW Opcon Officer. "I found your website by chance. Our workspace was a window-less room on the south side of the main seaplane hangar. VP45 was on the north side and VP49 on the south side (along with the USCG air detachment). The NavSta aircraft was an HU16D which I and the other station pilots flew, except for the 2 UH34 helo pilots. Later, our CO had operational control of a rotating detachment of P3s based at Kindley AFB supported by the Naval Air Support Detachment. We were the Bermuda ASW Group (TG 81.5) under ComASWForLant (TF 81). My family lived on base in MOQ 401D right across from the O Club. It was great duty, but somewhat confining for our families who were stuck on the island. We pilots flew to the States about once a month or as we called it "the big Exchange." I have fond memories of NavSta Bermuda".

July 1963 through July 1965, James Dowling was stationed at Kindley AFB. On November 2, 2000 he wrote: "One of the most beautiful places on Earth. I met my future wife on Elbow Beach. Have been back three times, last was in 1995. Going back to Kindley (then a Naval Air Station) I found it to be in the process of closing, took a ride around the base on my moped and felt like I was going back in time. Hope to visit again in the near future, the "Great Place & Great People."

July 1963 through July 1965 Bob Clevenhagen AO3 was at USNAS, Bermuda. On August 31, 2009 he wrote: "I just discovered your great site and 2 friends from over 40 years ago. Thank you so much. I think often of Bermuda and it was probably the best years of my life. if anyone has pictures of the base they would share I would love to see them, after all I painted or mowed it all many times. Write to me at 200 Westlink Dr, Washington MO 63090."

1963 to 1964, Douglas Belleavoine was in the US Navy and stationed at Kindley Air Force Base, Bermuda as an AOAN in Naval Aircraft Support, the station armory. "Myself, AOAN Tom Rust and AOAN Joe Bonsey were transferred to Kindley AFB in 1964 to work at the newly established ordnance shop supporting the P3 squadron. I married Pauline Fox, from Spanish Point, on July 7, 1964. Our first son, Theodore, was born November 9, 1966 at KAFB hospital. Members of the ordnance shop were AO1 Tim Flannagan, AO1 Sam Harris, AO1 Carl Bates, AO2 Mike Munfort, AOAN Jerry Moore and AOAN LB Rogers. Red Tuttle was then and still is to this day my best friend. I left Bermuda in 1967 but have returned several times to visit my wife's family. We always stay with her cousin Pinky (Miss Pinks) and Baby Crane in St. George. My mailing address is 19687 Three Notch Rd, Lexington Park, MD 20653. I would like to hear from anyone stationed at KAFB from 1964 to 1967. Thank you for an exceptionally fine web site."

1963-1964 Jim Nunn was a CET3 Seabee Public Works Naval Air Station Annex. Worked in the telephone exchange and on lots of water breaks!

1963 to 1964, Andrew More, now living in Texas, was an air passenger specialist at Kindley Air Force Base. In July 2008 he told Bermuda's The Royal Gazette his job was to dump tons of human waste in a deep pit. He claims it has caused his ill health and stated he was asking for compensation. It is not yet known whether he received it.

September 1963 to September 1965, Edward Thompsett was stationed at KAFB, with the Navy Seabees. "I remember all the good times I had there. I also played with two bands, one was the Lively Ones (bottom photo below) and the other was The Country Rhythm Boys (top photo below). We played at all the service clubs on base, Airman's Club- NCO club and The Officers Club. We also did a big show at the base Movie house as some of the members of the group were being transferred to other duty stations as their tour was done in Bermuda, I attach some pictures of the bands. My email is and my mailing address is 43 Heritage Rd. Clinton Corners, N.Y. 12514.

September 1963 to May 1966 then-ATN3 -ATN2 Marvin G. (Yogi) Bair now residing in Madisonburg PA, was stationed at US NOB Bermuda and later moved to NASD at Kindley AFB. "In addition to electronic maintenance duties I was assigned maintenance and crew duties on the station aircraft (HU-16D and UH34G). Bermuda was my first assignment, I was young, single, and worked with some great peers and excellent mentors. What can I say except fantastic memories and great foundation for a continued career. Thanks to all and I would be happy to hear from any of you."

1963 to 1966, Jon Martino, from San Diego, California, was based in Bermuda, at the USCG Air Detachment and Station at Kindley AFB. At one point he was engaged to a Bermuda girl.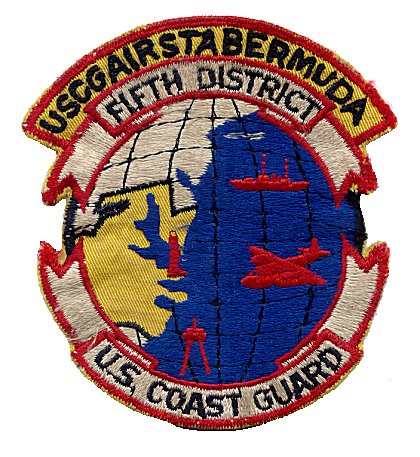 1963 to 1966, C. J. Berry was stationed at the USCG Air Detachment at Kindley AFB until it was closed in 1966. "My rank was Chief Aviation Machinist's Mate. I now reside in Mobile, Alabama. My family and myself enjoyed our tour of duty in your beautiful island very much. We lived in "Dover Court" in Hamilton. Our children attended Mt. St. Agnes Catholic School. We have been back on a visit to Bermuda once since leaving Bermuda and it was great seeing the Island and some of our Bermudian friends."

1963 to 1967, Billy Lightfoot was based at Kindley Air Force Base, Bermuda, as an airman (E1-E3) working in the Aerial Port. He retires in September 2005 from the Georgia Air National Guard as a Chief Master Sergeant. (This information, previously unknown, was given to the author on 4th April 2005 by MSgt Michael E. Creo, First Sergeant 165 Aerial Port Squadron, Georgia Air National Guard, who will be grateful for any information by email or post from anyone who served with Lightfoot at the time in Bermuda).

1963 to 1965, Pat Branigan - now living at 3418 Frontier Street, Cheyenne Wyoming 82001, phone 307-633-4718 - was stationed at Kindley AFB, as an Air Policeman. He writes: "I worked with Jim Dowling who I have not heard from in all these years. I would like to get his address (not known here in Bermuda) or have him given my address. I also have a picture of myself and Colonel Jones in 1963. I had wonderful friends in the local community that made my tour a memorable experience."

November 1963, the US Coast Guard detachment transferred from the U.S. Naval Station to Kindley because greater range could be gotten from its HU-16 Albatross aircraft by land takeoffs rather than water takeoffs.

December 1963 to December 1966 or January 1 1967, Thomas L. Brogan was based at KAFB Bermuda, as First Sgt of the medical group. He was there when the base hospital was closed and converted to a clinic. His American wife, Caroline, and children Michael 17, Beatrice 16, Carollynn 12, and Pat 11 were all happy dependants. The family's introduction to Bermuda was Norwood House in Bailey's Bay, where they enjoyed sunken gardens, grass tennis courts, a small island that broke the water between them and the ocean proper. They then moved on base late in 1964 and enjoyed the many amenities the base and St. David's Island had to offer. They left Bermuda in summer 1966.

Around January 1964, Technical Sergeant (E-6) Lowell (Micky) W. Belter, was in the 55th Air Rescue Squadron at Kindley Air Force Base. "He was my father. Our family (my mom & dad, my two brothers, and one sister) lived at "Blowwinds" on North Shore Road, Pembroke. Six months later, my father was on the HC-97 aircraft at Kindley AFB. His aircraft was assigned to NASA to train for the recovery of Gemini spacecraft as the last few Mercury flights had overshot the aircraft carriers by about 90 miles, and NASA was considering reassigning that mission to the US Air Force from the US Navy. On June 29, 1964, my brothers and I were swimming around 11 am when my dad's HC-97 and the C-54 from the Azores flew over us, wagging their wings. The aircraft flew in formation over Castle Harbour and then moved about two miles south of Castle Island. One plane had parachutists to practice jumping into the sea, while the other aircraft was taking pictures. They were flying about 1,000 feet above sea level. The first jumpers left the plane, and the C-54 banked to offset the lost weight. The HC-97, with more powerful engines, did not bank, and the two aircraft collided. This created a huge fireball seen on beaches miles away along Tucker's Town and John Smith's Bay. There were 12 men aboard each plane, for a total of 24. 19 personnel were killed, and the five who survived where parachutists who had either just jumped or were about to. Rescue craft were only able to recover nine bodies (not my father's). Astronaut Scott Carpenter, who was over at the Navy base working on SeaLab, attempted to recover remains, but the two mile depth prevented this. About two weeks later, my family and I left Bermuda on USAF transport back to the USA." Mike Belter,, 4275 Big Sky Court, Gahanna, Ohio 43230, USA. Editor's note: On June 29, 1964, two United States Air Force aircraft stationed at Kindley Air Force Base (KAFB), Bermuda, collided at sea of Bermuda during a NASA mission from Kindley AFB. 17 US servicemen died. They took off between 11:05 and 11:10 am local time. The first aircraft in the air was a HC-97G (serial number 522773), assigned to the 55th Air Rescue Squadron (55 ARS) at Kindley with 12 crewmen. The other aircraft was a HC-54D (serial number 4272590) assigned to the 57th Air Rescue Squadron (57 ARS) at Lajes Air Force Base in the Azores with 12 crewmen. The mission was for the aircraft to conduct an aerial photography mission to support the NASA Gemini program. It was necessary for the specially-trained para-rescue personnel (jumpers) to exit the aircraft, jump into the waters and install a flotation collar on the Gemini capsule. The planned mission was to have one aircraft with jumpers, while the other photographed the activities. The designated drop zone was about two to four miles south of Bermuda and about four to six miles from Kindley. Both aircraft arrived at the drop zone and because of the clouds, decided to fly the mission at 1,700 feet (below the clouds). Aboard each aircraft were photographers and para-rescue men. On the sea below, there were about three boats, one of which included a photographer, who filmed the aircraft's operations. During the first run, the HC-97G took photos and the HC-54D was slightly forward and above, began deploying para-rescuemen. Right-hand patterns were flown, and photos were shot with the sun behind the cameras and at an angle that would not reveal any land surfaces. After a few passes over the drop area with all four para-rescuemen being deployed from the HC-54D, the aircraft changed positions. This placed the HC-54D slightly ahead and above and to the left of the HC-97G. After flying one dry run, and again in a right-hand pattern, two para-rescuemen deployed (jumped) from the HC-97G. Seconds later, the two aircraft collided. The HC-54D suddenly banked to the right, colliding with the HC-97G, hitting the wing or midsection of the HC-97G and sheering both its wing and the tail section, and both aircraft immediately plunged towards the water. A total of 17 Air Force personnel were killed. There were 7 survivors, all who jumped prior to the collision. Only five of the 17 killed had remains recovered.

April 1964 to January 1966 Kenneth Noto, was stationed at the US Naval Operating Base (later, the USNAS), Southampton. "I often visit your Bermuda Online site to refresh my memory about details of my stay that have been lost to me. I have been back to Bermuda quite few times since the late 80's with my wife and we love to visit. Recently a number of US Military Veterans, including myself, have joined together for a group visit to the island we fell in love with so many years ago. We will be arriving in Hamilton Harbor August 28th 2012 on the Veendam. I've been trying to put together any photos, documents, stories, etc for the trip. A rather severe hurricane passed over the island when we were there. It did a good bit of damage. The emergency duty station for us was the motor pool, which at that time was located in the old seaplane hanger. We were safe enough, but were basically trapped without food. Several of us attempted to reach the galley for supplies but were driven back by the storm. At one point the eye passed directly over the base. We jumped into several vehicles and raced to the mess hall to stock up of food and ran back to the hanger as the eye passed by and the storm resumed. Other than our US Navy base which had it's own power house and underground utilities the only light visible from the base was Gibbs Hill Lighthouse."

July 1964 to July 1965, 1 Leut. Kevin A Zebrowski USAF was based at Kindley AFB Bermuda with MATS.

July 13, 1964 to July 18, 1966, Colonel Oren J. Poage was in command.

May 1964 to May 1966, Pete Cesere served in the USAF at KAFB with 55th Air Rescue. "It was my first assignment after Tech School. I'm looking for any others who served at the same time. "

1964-65, Al Harvey SN was based at US Naval Annex in Bermuda. "Worked in boathouse and on crash boat. Spent 6 weeks at Kindley Hospital." Al would like to hear from anyone who served with him.

1964 -1966, Larry Timmons was stationed at Kindley as an air policeman. "I first worked patrol and the gates and later was moved to the AP offices because I was the only one they could find who could type! I also worked at the Class VI (liquor) store on base. I lived in base barracks until I married in Aug. 1965. My wife, Sue, and I then lived in St. Georges, Frith's Apt #8. We had a great time with a lot of friends - including Keith Garrison, Richard (Jean) Reese, Marino (Bonnie) Rotondo, Larry (Linda) Watkins. Am now living at 1013 Chestnut St., Ashland, OH 44805 (419-289-2512).

1964 to 1967 Bill "Red" Tuttle was stationed in Bermuda, at both NOB and Kindley. "At NOB I mess-cooked and at Kindley I was in the Naval Aircraft Support Detachment NASD (see badge below I sent you on July 30, 2008). I have been in contact with Jim Bayersdorfer, Doug Belleavoine and Freddie Platt. It would be great to hear from any other shipmates who were stationed there during our tenure. Please ID yourself as a Bermuda shipmate in the "subject" block. "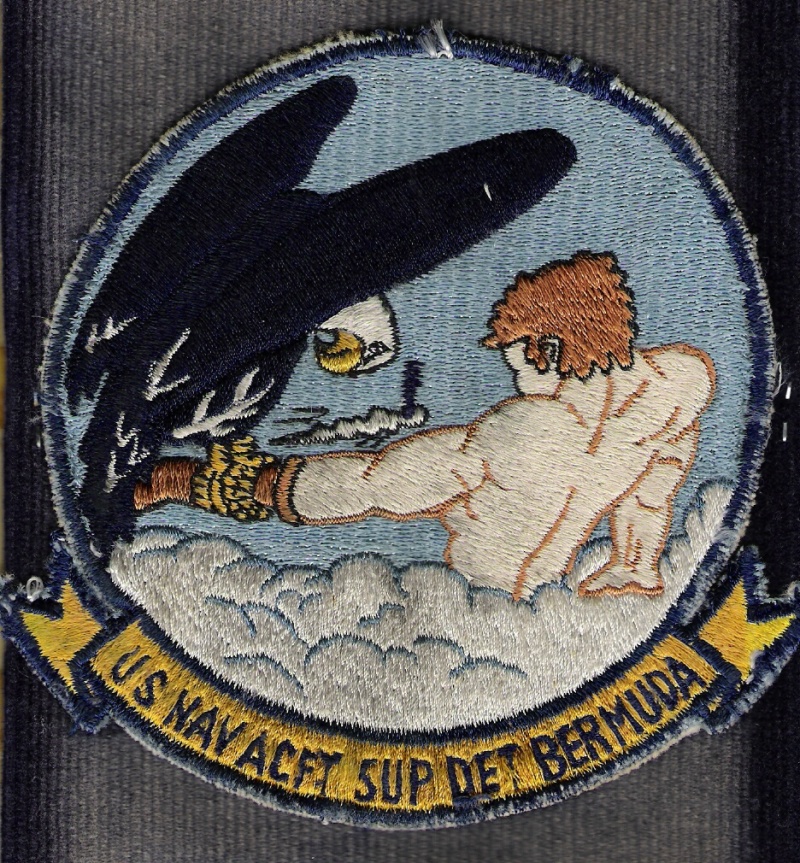 USN's NASD

1964 to 1967 Max F. Foster and his wife were at NOB Bermuda. "I was a Navy CPO and did a lot of work moving our operational control to KAFB. We lived on Long Bay Lane in Sandys and loved it. I understand the area (Dorol Cottage) is to be rplaced. Miss the island and the people." Max F. Foster, 119 Paul Lane Crawford GA 30630 706-743-5650.

1964 to 1965, Phill Bee was a U.S. Navy Hospital Corpsman & surgical Tech at the US NOB at Kings Point, Southampton. "I supervised and ran the Operating Room Theatre at the dispensary." He married a Bermudian and now lives in Seminole, Florida 33772.

1964 to 1966, Jeff Linna of Cloquet MN, USA 55720, was based at the US Naval Annex in Bermuda. He wrote on September 25, 2001: "I enjoyed seeing some familiar scenes on your website. A total of 29 months of the best duty a sailor could dream of! My wife and I intend to come back to Bermuda in the not too distant future. The old Bermuda song tells you to come to Bermuda very soon with the one you love. We will be there. You have a wonderful website. I'm so glad I found it!"

July 1964 to July 1966, Dr. Barton Spitz, now of San Diego, California, was at Kindley, with his wife. He was Chief of Surgery at the Base Hospital. Sometimes, he assisted local surgeons at the King Edward VII Memorial Hospital. His youngest son, Scot, was born at Kindley. Dr. Spitz understands he does not have dual citizenship even though Dr. and Mrs. Spitz wife think of him as their most valuable Bermudian gift. Dr. Spitz later retired from the practice of surgery.

1964 to 1967, Cdr. Roger W Becker, USN, was the Executive Officer (2nd in command) of NAS BDA in Southampton Parish from 1964-67. "He was my father. I was born at Kindley AFB in 1958. We originally lived in the wee cottage on the hill above the captain's home. That too was an old cottage called Windswept, Quarters 'G'. My parents and I lived in Sound View and recall vividly my mother describing the historical significance of our home, Quarters 'B'. Particularly the Bermuda 'tub' ceiling. The captains home below, known today perhaps by it being next door to the Rockaway ferry dock, was called Far Rockaway. My Dad joined the USN after the attacks on Pearl Harbour. My folks were married in Washington DC in 1957 and honeymooned at Cambridge Beaches in Bermuda. Dad was assigned to USN NOS Bermuda in early 1958. I was born in Nov at Kindley. In 1962 we were stationed for 18 months at NAS Brunswick, GA. Then back to BDA in 1964 to live in Sound View until April 1967. Dad retired from the Navy in 1967 and bought a home below Gibb's Hill Lighthouse where he lived until 1972 when he moved to Virginia Beach, VA. My dad was a big deep sea fisherman in Bermuda and elsewhere and was involved in many fishing clubs including his own IFGA club which he founded, Bums, Inc. and had many famous members including Lee Marvin and Jonathan Winters." Sent by Anthony C. Becker.

From 1965, graduates at Kindley Air Force Base (KAFB) High School included, in alphabetical and date order, Robert V. Burke (65); Jon Dorrough (65); Ken Glanister (65); Nora Glover (65); Bill Smales (65); Bebe Steelman (65); Paul Collom (67); and Rick Eastman (69). In 1970, the school in Bermuda was renamed Roger Chaffee HS when the-then Kindley Air Force Base became a US Navy base). Kindley HS became a USAF USA-based school. By 1995, when all US military bases in Bermuda were withdrawn, the US Navy's Bermuda-based Roger Chaffee HS school returned to the USA while its buildings became the civilianized Bermudian Clearwater School.

September 10, 1965 to August 19, 1968, Jerry D. Cooper was based at KAFB Bermuda, as a 55th Air Rescue airborne navigation equipment technician with the rank of Staff Sergeant. " I was NCOIC of the Nav. shop for the 55 ARRS maintaining the HC-97 aircraft and later the HC-130 when we received them. My wife Wilma and my twin sons Robert and Mike and I lived on the north shore near Shelly Bay . We were active in the First Baptist Church and had a part in the construction of the new building for the church. I am now at 549 Heathmoor Drive , McDonough GA 30252 ."

December 1965 to August 1967, Thomas V. Siver, now of Voorheesville, NY, was at USNAS, Bermuda. He writes: I was made aware of your website and was interested to see what has become of Kindley Air Force Base and the Naval Station in Southampton. I was assigned public works department where I was in charge of maintenance of heavy equipment. I was CMH3 in the Seabees. I was back to Bermuda in 1999 and was disappointed at the condition of the former USNAS at St. David's base and could not get onto the former USN base at Southampton The time that I spent in Bermuda was a very special and happy time for me, interested in hearing from anyone who served during this time period."

June 1965 to October 67, Millard J. Driscoll USN was stationed at the Station Hospital, NOB Bermuda.

1965 to 1968, Raymond W. Noe was a radioman stationed at the Naval Station (Annex) Bermuda and now lives in Virginia Beach, VA. His family includes Raymond A. Noe, Brittney Noe, Lea Ann Noe and Paul and Bobbie Noe. He can still picture many of the places mentioned in the experiences. He wrote a wonderful long E-mail of memories of people, places and treasures aspects of Bermuda. See it in full in the Bermuda Online Guestbook for 4 September 2002..

1965 to 1971, Louis W. Reilly (Bill), was stationed at Kindley Air Force Base, at the NASA Bermuda Tracking Station, from AS-203 thru Apollo 15 (and was transferred from Bermuda to Wallops Island in Maryland). He was accompanied to Bermuda by his wife Sheila and son Mike who writes: "My father worked for Bendix as a field engineer, Bendix was subcontracted by NASA. My Dad was a fighter pilot in Korea and retired as a captain so we had Base privileges. He worked with the computers that tracked the Apollo Missions at the time. He died 2 days after the 9-11 bombing of the World Trade Center. In Bermuda, we lived at Glen Haven off Ferrar's Lane in Pembroke and at Sunswept in Warwick Parish. I went to Whitney Institute then graduated to Warwick Academy. When I see pictures or hear stories of Bermuda makes me reminisce. Guy Fawkes Day, cricket, soccer, St. Theresa's Church, Rosebank and Island Theatres, loquats, Mobylette and of course Horseshoe Beach are just some of the things I loved about Bermuda and will never forget as long as I live."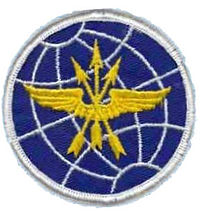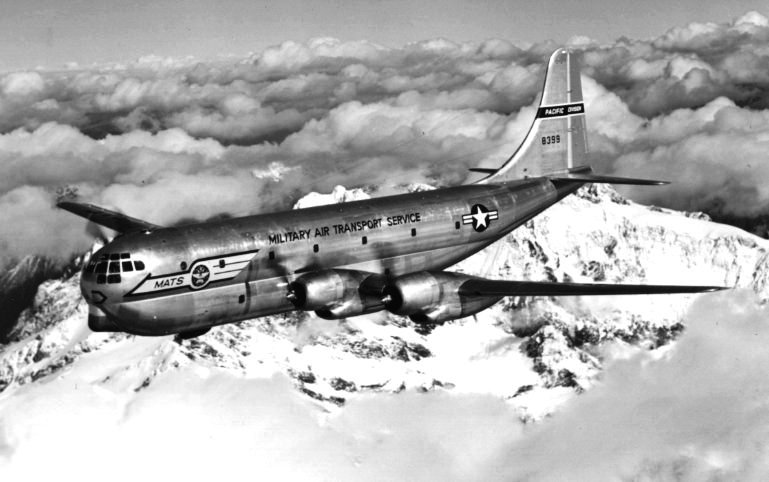 At Kindley AFB Bermuda and elsewhere, MATS (Military Air Transport Service) ended on January 1, 1966.

January 1966 - January 1968 Don M (Mike) Dell, MR1 (E6), was stationed at Naval Aircraft Support Detachment, Kindley AFB, Bermuda. His present address in 103 Rockwell Ave. Apt C-30, Port Orchard, WA 98366, "I enjoyed life in Bermuda, I lived in the duplex, with my first wife Rita and daughter Kimberly, behind the Swizzle Inn, just across the causeway to St David's."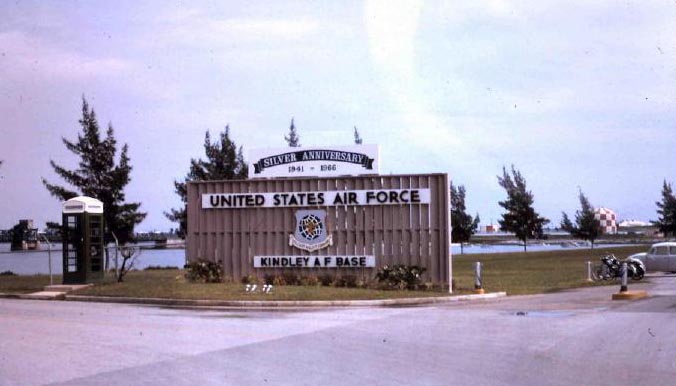 1966 photo of entrance to Kindley Air Force Base, Bermuda.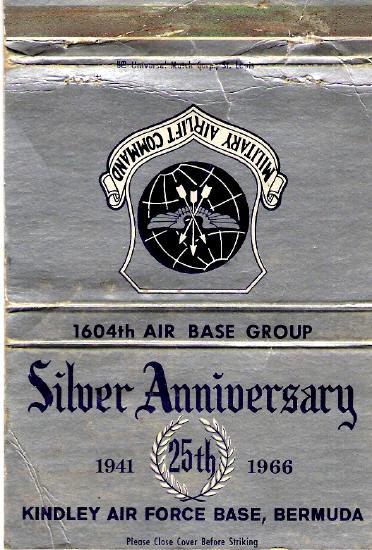 March 1966 - March 68, Kenneth W. Westcott was stationed at Kindley AFB at the 1604th Hospital (downgraded to a dispensary during his tour). Rank was A2C, promoted to SGT prior to DEROS. Currently residing at 2495 CR 302, Durango, CO 81303. He retired from USPHS as a Commander. He had a great time during his two years there.

1966-68, Arthur Meconi was stationed at Naval Station Bermuda. He writes: "I'm planning on visiting Bermuda in July 2004. I would like to donate some items that I've saved from my military tour to the US Naval Museum at the Bermuda Dockyard."

1966-1968, Ken B. Klotz, E1-E4, was at Kindley AFB, Bermuda. "This duty had to be the best 2 years of my life, the island was amazing, the base was like a resort, golf, fishing, scuba, snorkeling. Pink Beach, Elbow Beach, Gunpowder Tavern, St George, Hamilton. I could go on on on. I rented a 2 story house Im Hamilton with 4 others. (Lanreath House), You could see the cruise ships and the Royal Bermuda Yacht Club from the Balcony on the top floor. I pray that some day I can go back and re-live my experience."

July 1966 through August 1967. David Borman, Lt, MC, USN served as Medical Officer at the Naval Station, Bermuda. " I and another physician held a morning clinic each day for the 1,000 naval folk on and off base, about half active duty sailors and Marines, and half their families and civil servants. I've not returned to the island, but its lure remains. My tour in Bermuda was sandwiched between Vietnam tours and was a most remarkable respite. I bought a Triumph Spitfire at Pearman Watlington and rented a home ("Gale Force") on the Southampton south shore. As a single naval officer, I enjoyed many invitations to be the eighth or the twelfth at a dinner party given by some matron in honor of her visiting Canadian or English niece. My best memory was the drive from the airfield to the Naval Station on the night I arrived: 15 miles per hour across a darkened land with the sensual splendor of mixed floral scents. The highlight of the year was being among the island notables at the Queen's Birthday celebration during Spring 1967. My time away from the base was spent in the water between "Gale Force" and a reef a couple hundred meters offshore, and with BOAC stewardesses or the nubile nieces -some respite from the war, as nearly perfect a military life as can be imagined. I am now at home in southern California and would be delighted to meet again some of the fellows who served with me."

September 1966 to March 1970, SSgt Patton Valentour was attached to the 1604th Civil Engineering Squadron, working in the Power Production shop and the Base Power Plant. "My wife came over in November of 1966. We lived in in By-Way lower on Stokes Point, St Georges, Angles Grotto on Harrington Sound and in an apartment directly behind St Peters Church, St Georges. My oldest son, Vic, was born in the Base Hospital, KAFB in October 1967. My second son, Jeff, was born 6 weeks after returning stateside. Sue and I returned to Bermuda on a cruse in September 1996 to celebrate our 25th anniversary. December 2016 we returned again, rented an apartment in St. George's to celebrate where we spent our first Christmas together, 50 years ago. Enjoyed our stay, visiting old sites and thinking of old friends. Retired from the Air Force after 20 years in September 1984 as a SMSgt. Currently live in Alabaster, Al.

October 1966 to October 1969, SSgt. John H. (Moon) Mullins was stationed at Kindley AFB with Det. 18, 15th Weather Squadron. "I went back to Bermuda on a cruise in 2001, and was amazed at how little the island had changed in 32 years. I was able to take a tour of the old base and recognized several buildings that were still standing, but a lot had been torn down. It was still one of the most beautiful places that I have ever seen." Received 26 March 2012.

1967. Fred Pearson, then at Kindley AFB, started the Mid-Ocean Promenaders at the on-base Service Club every weekend. His daughter Nancy L. Pearson wrote in October 2003: "My father was provided calling tapes from a Mr. Jim Mayo from Manchester, NH (from where we moved). Mr. Mayo was then working with the Mill Yard in Manchester, NH starting an archive room on square dancing in Manchester. Unfortunately, my Dad passed away back in 1988 and I am not able to get information on the Mid Ocean Promenaders. When we left Bermuda I was only 10 years old. Most who attended the square dances back then were American but I know some Bermudians came as well."

July 1967 to the 7/1970 change of command and hand off to the US Navy, Captain L C Davis USAF was at Kindley AFB Bermuda. "I was in the accounting and finance office where I made friends from the USAF, US base employees, and Bermudians working on base. We lived in St. George's on a narrow road between Fort St. Catherine and Gate' Fort. Both of my children were born there: one in Kindley AFB hospital and one at King Edward VII Memorial Hospital. Dr. Manderson was the doctor. I would like to hear from anyone from this time.."

June 29, 1967 to June 29, 1969, Fred Beyersdorfer was stationed at Kindley AFB. He was assigned to the 55th ARRS as an airborne nav aids repairman. "I worked on the C-130H's and the "base pig" the old WWII C-54 which was always broken and in need of repair. I was an E-4, married, and lived just outside # 2 gate across the Severn Bridge on Stokes Point Road at Byway Lower. I visited Bermuda June 1-4, 2007 for a nostalgic trip. Much has changed but my old Nav Aids shop building is still there at the base of the cliff upon which the Air traffic Control tower sits. The island is still very beautiful. My former buddies can contact me @ 16202 Kinrush Court, Houston Texas 77095.".

1967-1970, MSgt Maurice J. Thibeault was stationed at Kindley AFB with the 1604th Hospital Unit. He was accompanied by his British-born wife Shirley and their three children. Their son Greg wrote this on March 1, 2019: "My parents loved being stationed in Bermuda. They have said it was their favorite assignment together. We lived on a hill next door to the NCO club. My father retired from the USAF in 1982 after serving for 30 years. Unfortunately, he passed away in 2001. My mother resides in Fitchburg, MA. She and I plan to visit Bermuda in a few weeks. The highlight of the trip will be going to see the former base area and reminisce. "

1967 to 1969 Michael Frawley was stationed at Kindley AFB with the 55th ARRS. " I loved Bermuda but have never been back. I was an instrument repairman and worked on the C-130 and other USAF planes that stopped in Bermuda, a memory I will never forget."

September 30, 1968 to September 30, 1970, Joe Volpi was stationed in Bermuda at the NAVFAC at Tudor Hill, Southampton, at an OT2. "I lived with my wife on Overplus Lane in Sandys Parish. My daughter was born at King Edward VII Memorial Hospital in March 1970. I really enjoyed the posting and never realized how many family members I had until I moved there. People came out of the closet to visit us! I went from the USA to the Pacific."

1968-70, David Brandau was stationed at USNOB, Bermuda. "I want to thank you for such a wonderful web site. I was not aware of this until a friend recently sent along a link to the Military Bases history. My wife, children, and I have returned several times, most recently in late March, 2006. Each time we go my wife and I learn something new."

1968-70, Gregory M. Bremus was at US NavFac, Bermuda. " I lived in the married Officer quarters, was married on base, at the civilian center & chapel. E-mail me, maxbdad at aol.com, now at 57 Sleepy Hollow Dr, Brick, NJ, 08724."

May, 1969 to August 1970, Emil Kackos was stationed in Bermuda at the NAVFAC at Tudor Hill, Southampton, as an OT3. "I remember the parties at Bob Smith's house and the fun we had at the Horse and Buggy pub (no more) in the city of Hamilton! We lived off base in Somerset, Sandy's Parish, near the World's Smallest Drawbridge with the chickens next door! Now I live at 710 Limecrest Road, Newton, NJ 07860."

1969 to 1970, SSgt Roy C. Lewis Jr and his wife Joanna Lewis - now living in Garland, TX - were stationed at Kindley Air Force Base and had a son born in the King Edward VII hospital on September 21, 1969 named Robert Christopher. Roy was a Ground Support Equipment Repairman for the 55th Rescue and Recovery Squadron (AARS) - which moved relocated to Orlando, Florida in 1970.

1969-1971, Kerry Welch was stationed at Kindley Air Force Base, Bermuda, with the 55 AARS, in the MA shop as an E-5. He got to return to Bermuda on vacation during the September 11 attack on NYC

February 1969 to May 30, 1970, Dennis Jonas - now living in Boise, Idaho - served with the Security Police Sq. at Kindley. He has some great memories from Bermuda. He hopes to return to Bermuda some day.

April 1969 to June 1970, Cornelius Brown was with the security police unit at Kindley AFB. He writes: "I lived off-base, on Lighthouse Road, St. David's, approximately 200 yards from and under the lighthouse. My neighbor was a family whose last name was Minors. There were many families named Fox or Lambe, etc. I loved Bermuda. it was a very wonderful place. As a black family with 3 sons, my wife and I enjoyed it very much. As a military policeman, I got to know many Bermuda policemen who were from other places. I hope to visit Bermuda in the near future. I am now retired from the Air Force and live at 3034 Carson St, Aurora CO 80011, USA".

May 69 to June 70, William C. Covington was stationed at KAFB as a MSGT with the Communications Squadron and served as the Chief of Maintenance just prior to turning over the facilities to the USN. His fondest memory was running in the 1970 Bermuda Marathon and finishing eighth overall. He was written up in the Base Naval newspaper Bermuda Skyliner, June 5, 1970. On 23 July 2002 he e-mailed to say he has many fond memories of Bermuda and has been there several times visiting some of his friends. He now lives in Scottsdale, AZ.

1969 to 1970, Sgt Roy C. Lewis Jr - now of Garland, Texas - and his wife Joanna Lewis were stationed at Kindley Air Force Base from 1969 to1970 and had a son born in the King Edward VII Memorial hospital in September 21, 1969 named Robert Christopher. Roy was a Ground Support Equipment Repairman for the 55th Rescue and Recovery Squadron. (The 55th ARRS moved out to Orlando, Florida in 1970).

1970. July 1. Major R. H. (Richard Harry) Nordquist was also one of the last at Kindley Air Force Base before it closed as a USAF base on this day and became a US Naval Air Station. He was reported in the Bermudian magazine of April 1970 as a hone-in-one winner at the Belmont Golf Club. He received an Omega watch and trophy from Thomas Dickinson of Astwood-Dickinson Ltd. He kept the golf ball for years in the trophy he received from that day. His son is Kenneth Nordquist who remembers the event well.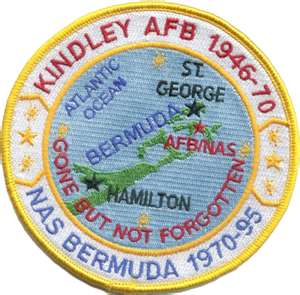 US Naval Air Station July 1, 1970 to 1995

1970 to 1972, James Kreider was Operations Officer at the Annex - US Naval Operating Base. He recalled that the Marine Captain in charge of the Marine detachment at that time was Captain Robert Waller.

February 1970 to March 1972, Rick Cary was at USNAS, Bermuda. He writes: "I arrived as an E-3 airman AC (air controller) and departed AC2 petty officer. I was 19 We played basketball at the gym that was roughly across the street from the old commissary and near the bowling lanes. I lived on base for the first year, then a few of us rented a house in Flatts, overlooking the Aquarium and Harrington Sound. Many good times at the beaches on the South Shore and night clubs in Hamilton. The best known then was the '40 Thieves'. ZBM and ZFB were only radio AND television stations. We played golf about three times a week at military rates. Bermudians seemed to really like country music. A group of guys on base organized a band and played to large crowd both on and off base."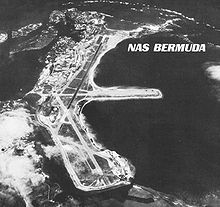 USNAS Bermuda 1970

1970 to 1972, Terry L. Bartman was at USNAS.

May 1970 to May 1972, Ben Kruzinski was stationed at the US Naval Annex in Southampton, Bermuda as a US Marine, "one of the last of the Marines that did a two year stay, after us I believe it was lowered to one year or 13 months."

January 1970 to April 1972, Bob Lippian was stationed at USNAS Bermuda. ""I worked with the AMD section flying around in the Hueys and planes. When I first arrived there I worked with the Air Force staff on the flight line, it was a bit unusual coming from a carrier. The Air Force life was much better than ship board living, those guys spoiled me. I found this web address and it is great! I have so many found memories of the island, and friends I made there. Still recall loading up the Honda 90 at the beverage store and heading to the beach for the weekend. Currently living in Florida."

May 1970 to October 1974, Ed Falato was stationed at the USNAS. On 25 November 2001, he e-mailed: "Some of my best memories are of my time in Bermuda. My job was to drive the Commanding Office of the base around. So needless to say I have seen and been all over the great island of Bermuda. It is by far the most beautiful place in the world. I was sad to see the base was closed in 1995. I wish I had known that as I would have taken my wife there before that to see where I was stationed. The island of Bermuda is in my heart and will always be. You can say it is maybe my second country. The only bad time I had in Bermuda was the day the Governor and his aide were shot and killed. In fact the commanding officer and myself had been there that night and left a few hours before. It is very early in the AM for me now but I hope you get this and maybe one day want to hear about some of my times in Bermuda."

1970 to July 1972 Chuck Ringling was stationed at USNAS Bermuda. "We were the first Navy guys assigned to work with the AF Crash Crew / Fire Dept on the base. I had just finished training at Lakehurst NAS after spending 1 year in the Crash Crew on Midway Island."

February 1970 to May 1974, AC1 Clem "Kip" Willett was an Air Traffic Controller. His son e-mailed on 20 January 2002 to say" My family was lucky enough to be stationed at St. David's. We could see the tower from our house on the hill. I attended Kindley elementary and was there when they renamed and dedicated the high school to Roger Chaffee. Before we lived on the base, we were in a great big house just west of Bailey's Bay, and there was a small island about 250 yards offshore. My parents had lots of parties with their friends from the base. My Dad really loved his job there and he must have been pretty good - he got a couple of awards. It must have seemed like heaven after having been to sea on those carriers! The pictures you show of the buildings just killed me! The theater, the old post office, I walked past those a million times. My one goal in life is to make it back to Bermuda and live there for the rest of my life if possible."

April 1970 to February 1975 Edward Sanderson served at Kindley AFB as an AMHAA, initially in barracks then in Smith's Parish and St. David's, at Piccadilly on Cocoa Bay, right behind the dental building. He extended his tour there. He was deeply involved in music.

June 1970 to January 1973, Bob Roberts was stationed there. He said that one of the photographs, with the caption "More former American buildings" appears familiar. He asks if the building furthest back is the former CPO barracks? If so, the building in the middle is where he was quartered. The Enlisted Dining Facility is just out of sight at that angle. There were no street dividers and lamp posts when he was there. Could someone help him confirm his recollection?

June 1970 to October 1971, Ronald Moore EM3, was stationed at USNAVFACBDA, Southampton and lived on Base in Barracks 966. He worked at the Naval Facility on Tudor Hill in the Generator Shop. His first return visit was in June 1999. He has been back four times since then. His mailing address is 184 Wheeler Road, Monroe, CT 06468.

Early 1971 to late 1972, Jackie Penner joined NAS Bermuda in the Crash Crew and Fire dept. "I came to Bermuda from the U.S.S. John F. Kennedy. I came and left at the same rank, E-4. I had the time of my young life during my time on Bermuda."

September 1970 to November 1971. Bob Schlappi served at NAS Bermuda with the Seebees as builder 3rd class in Public Works Dept. Maintained base housing, base barracks, and most of the buildings on the base. "Wife and I have been back twice. Still awesome place. Did a lot of snorkeling and scuba diving. We lived on the Biological Station for 10 months. .And then down on Tobacco Bay for 6months. Many fond memories."

April 1971 to May 1972, Dale Kauffman SN was stationed at USNAVFACBDA, Southampton and lived on Base in Barracks 966. He worked at the Naval Facility on Tudor Hill in the Builder Shop, with Seabees maintaining compound and driving vehicles making chow hall/barracks runs and supply runs NAS BDA for supplies. Also helped build the command plaque hung along the road just before you reached the compound gate. His mailing address is 609 Robinold Ct. Chesapeake, VA. 23322.

1971 to 1975, James I Wilhelm, a communications specialist, was stationed at USNAS Bermuda, St. David's, accompanied by his wife and family. They lived initially at Building Bay in St. George's, then Crawl Hill in Hamilton Parish, then on-base on the hill overlooking the airport next door to the EM/Officers Club. Daughter Michelle (Wilhelm) Dorbert, now at Odenton, MD, says Bermuda was her real home, at least in her heart....

September 1971 to January 1973, Dennis R. Conrad - who later relocated to 280 Sweatt Road Suffolk, VA 23438, phone 757-986-2306 - was stationed at the U. S. Naval Facility (NAVFAC Bermuda) on Tudor Hill in Southampton Parish. He writes: "As a first class Ocean Systems Technician (OT1), I was responsible for maintenance and operation of the equipment used for ocean surveillance during the cold war. I lived in a room in one of the wings of the old Navy Dispensary on top of the hill on the Naval Annex (former NOB) until I rented a house owned by Dr. Roderick Pearman named "Pano Vista" on Sound View Road near Somerset. I met my wife, a British subject. We returned to Bermuda for a vacation aboard MV Meridian in 1993 and were booked to return again on May 1, 2004 aboard the MV Horizon. We eagerly awaited the passage of the next six months to once again spend time enjoying the fabulous island and terrific people of Bermuda. Thank you for a wonderful web site."

Fall 1971 to summer 1976, T. Dean Brown - father of Deena (Brown) Barrett - was the elementary school principal at Roger B. Chaffee. This site brought back many warm memories of his daughter's childhood and adolescence. (When the US Military quit Bermuda in 1995, the school was handed over to the Bermuda Government, complete with 65 computers. It is now Clearwater Middle School, St. David's Road, St. David's Island DD 01).

January 1971 through January 1974, Joseph Mazur, YNCS (SS), USN (RET) at Buffalo State College, 878-4811 - was stationed at USNAS Bermuda. He writes: "Many fond memories especially being on the dart leagues throughout the islands. Was neighbor to T. Dean Brown (principal of Roger B. Chaffee school). Got married and my wife enjoyed a two year honeymoon on the islands! Would love to visit them again."

March 4 to September 25, 1972. Ronald Nesler was one of the US Marines stationed in Bermuda with the Marine detachment. He added: "Major R. L. Johnson was the C.O. of both detachments at the US Naval Air Station and US Naval Operating Base Annex. Captain R. W. Waller was the C.O. at the Annex. We were all moved from the Annex to the USNAS on 25 Sept. Then were driven back and forth. We stood post at the main gate, NAVFAC, and Tudor Hill. I married a local girl, Margaret Lines, and have been back many times. The last time was to see the tall ships (June 2000).2

May 1972 to May 1973, Ben Kruzinski was stationed at NOB Bermuda as a US Marine. " Was one of the best places I have had the opportunity to go to while in the Marines. Reading some of the posts reminded me of a few names that were also there at the same time as myself, Dewy McCarthy, Steven Alyhouse, Ed Leahy and a guy named Frenchy, can't remember his name, was something like Lavoy. I remember the lady outside the gate that would sew on the stripes, Mrs. White, story was she was as fast taking them off as putting them on. I recall the barracks that we were in, was right across from the Marine club, then we moved down across the causeway and shared a barracks with the Navy across from the Bermadoo club and the PX. Also recall doing a military shoot with the Bermudian military that were stationed on South Shore Road. Most of my free time was spent at Horseshoe beach. Was wondering if they still have the posts that were up on the hill, Tudor hill and believe it was NASVFAC, posts 6 & 8. thanks for the memories on this great website."

May 1972 to November 1973, Gordon Rusk, now at 2082 Swift Ave, Clovis, Ca 93611, served as a Corporal in the US Marines in Bermuda. (He was with Ron Nesler, mentioned above). He wrote: "I dated a local girl during the last year I was there. Her sister was Miss Portuguese Bermuda in 1973. Hope to re-visit Bermuda in the next few years. "

1972-73, Michael Butler served in the US Marine Barracks at US NAS, Bermuda. "I actually married a lady who lived on the island. There were many pictures kept at the barracks, I don't know what happened to them. I served under a Colonel Johnson. He and his wife stood in for my parents at my wedding."

1972-74, Tim Shea was with the US Navy as an AC2 air traffic controller at NAS Bermuda. He writes: "I served with ACI Kip Willett and was delighted to see his name on the site. One of Kip's hobbies was digging for old glass bottles. He had several that were very old and valuable. I even went with him on a couple of occasions to dig in and around old homesteads and refuse piles for those bottles. Several of us single controllers rented a house during our tour of duty. It was "Scottland House" on Harrington Sound Road, Smith's. A beautiful place. I believe it was owned by Mr. Hilton Burgess who lived a few doors away down the road. I haven't been back to the island since leaving in 1974, but it is one of my dreams to visit for a vacation and see some of my old "haunts". I now live in Orlando, Florida, where I am an airport administrator with the Greater Orlando Aviation Authority."

1973 to 1974. Debby (Warnhoff) Enterline taught fifth grade during the school year at Roger B. Chaffee Elementary School. She still keeps in touch with two other teachers who remained at USNAS longer than she did - Wanda Raper and Jan Barsness (married name). Debby's only regret in life is that she only stayed one year on the most beautiful island in the world. She lived in the Gulfstream BOQ. " I remember my Honda 150, that was my only means of transportation come rain or shine. The children I taught were such a pleasure. I often wonder what they have done with their lives. I remember dances at the officer's club I believe was called the Electric Dolphin. Pizza night was especially a treat. They actually had slot machines in the foyer. The photo of the old movie theater (in this website) brings back the memory of "Lady Sings the Blues." At some point, I and my colleagues woke up one morning and the base was deserted. We discovered the patrol squadron had left to assist with a special overseas airlift, and the base was on alert. I have visited Bermuda twice since 1974, but am still anxious to introduce my husband to the beauties of Bermuda and a good lobster at Tom Moore's tavern. After returning to Dallas, Texas, I got an M.Ed.; taught a couple of more years; then became a social worker with the Texas Dept. of Human Services. I retired in March 2002. I am so glad there is a website for me to share our memories-swizzles, pink sands, P-3's, good friends."

May 5, 1973 to November 4, 1974, Dwight Hall served as a Marine stationed in Bermuda. "At the time I was one of 6 guys from Cleveland, it was like being home. I recall an incident in which our guard officer Lt John Smyth could not drive a geared motorized vehicle for 9 months, he could only drive only a moped. Lt. Smyth stopped me one day and asked if I would take his bike out along 19 the runway straight-away and blow it out because it was just sitting in the shed behind the barracks. I jumped on it and proceeded to get around the straight away and ran it around at 60 – 70 mph (speed limit on base is 15 mph). The ATC told Navy patrol who were timing me from the other side of the runway between the plane markers. They drove around the runway and confiscated the bike right there. When I told them who it belonged to they were really happy to hear that, they had no love for Lt. Smyth. Of course, they gave me up to Lt Smyth who proceeded to chew a hole in me and made my last 9 months a living hell. I came away with Marine of the month and Marine of the Quarter during that time."

1973 to 1977, Jean Parsons - (now Pimental) - attended Roger B. Chaffee High School when she left due to her fathers' military orders (USN). She loved Bermuda and definitely missed it once she returned stateside. She only understood the special atmosphere at Roger B. Chaffee once she attended a stateside high school. They were afforded a very low teacher student ratio which made learning much different. Chaffee teachers cared about the students individually rather than as numbers in a class room.

September 1974 to January 1978, Joseph H. DeCosta, USN, CPO was stationed at USNAS Bermuda. "He was my father. We lived in St. David's, Devonshire and then on the Navy Base. My name is Theresa DeCosta Keener. I attended Roger B. Chaffee from 2nd grade to the 5th grade. I now live in Millington, TN. My father passed away in Jun of 92. Bermuda was the BEST placed we were ever stationed and consider myself very lucky to have lived there. I miss the wonderful people, beautiful beaches and many places to visit."

1974 to 1975, Gary Tate was stationed at USNAS Bermuda as an AC1. "My sponsor upon arrival was AC1 Kip Willet. Joe Palmer was my first section leader. Great tour, too much partying. St George's white horse was great. Never have had fish sandwiches that good."

Mid-70's, AWCS Donald Driggers, USN Retired, was at NAS Bermuda. He and his family have many fond memories. The youngest member of the family - of six children - was born there. "Our family attended church services, off base. My parents are still friends with Father Charles, who remains on the island to this day. One child, Krys Smith, attended both kindergarten and first grade, at the base school and wrote: "I am trying to put together a family reunion for next year, in Bermuda. I hope while we are there we will be able to see some of the old base."

1974 to 1977 Jerry L. Fortenberry AWCS/CWO-2 - now of 1508 Rush Creek Ct, Keller, Texas 76248 served with the Tactical Support Center NAS Bermuda. Daughter, Terri and son, Jerry Jr attended Roger B. Chaffee School. Transferred from Iceland to Bermuda. "What a nice reward for a hardship tour in Iceland."

January 1975 to December 1977 Staff Sergeant Llewellyn (Lew) Thomas IV was stationed at the Marine Barracks, USNAS Bermuda. Phone 941-907-4174, home address 7006 Vilamoura Pl, Lakewood Ranch FL 34202

From January 1975 to December 1978, Ken Sheehan, OT-1, was stationed at Nav Fac Bermuda, with his wife Sherry and daughter Andria. They lived at the Naval Annex. "We made many local friends, some of which sadly have passed to the great fishing grounds in the sky. I had a new 1975 Toyota SR-5 which we had to paint our last year due to rust. I retired in 1987. Now we live in Colorado Springs, Colorado."

January 1975 to October 1978 F. B. Rebman, ABH2 and ABH1, was at USNAS, Bermuda. His stepson Ronnie Sabol graduated in 1977 from Roger B. Chaffee. He writes: "I currently live in Va. Beach, VA with my wife and 2 daughters (8, and 4). I would love to hear from anyone who was present there between 1975 and 1978. With my stepfather, mother, brother, and sisters, I lived on St. David's."

December 1975 to June 1977 James Campbell was a L/Cpl stationed at Marine Barracks, USNAS Bermuda. "I spent a lot of my free time there snorkeling and diving in some of the most beautiful waters in the world. There was a small island off the NASA tracking station that had a lagoon in the middle of it. You could only get there via an underwater cave! The colors of the Island's homes, beaches, waters and sky remain a vivid and powerful memory. I explored areas that were far from the tourist track and shared some great times with fellow Marines. I now live in Florida with my wife and 2 children."

1975 to 1977 Steven Ledbetter served at USNAS Bermuda. "I maintained the Captains Gig. I have very fond memories while stationed at both Bermuda Navy bases. If any of my fellow comrades would like to contact me, I live in Tampa, Florida. "

From 1975 to 1977 Curt Stiles, 9000 Macsvega Court,
Lorton, VA 22079 - was an Electronic Technician at NAS Bermuda. "I remember Bermuda as my first duty station my stay there represented some of the best experiences and few of the worst of my life, of course the later fade with time and I'm left with only the good. I remember my little apartment under "Sons" house, snorkeling off of the NASA station, riding my motorcycle in a hurricane and to this day whenever I smell tropical flowers and jet or diesel exhaust, I remember bermuda. I would like to hear from anyone via email or snail mail who was stationed there about the same time."

1975 to 1978 James (Bill) Byrd - now at 19007 Tupelo Lane, Dallas Texas, 75287 - was at USNAS, Bermuda, as an ABH-3 / ABH-2. Divisions: Security and Transit Line. "I remember the beautiful water and wonderful Bermudian people. Places like the Swizzle Inn, Black Horse, Grotto Bay disco in the caves and the St George Dingy Club all made my tour there the best. I'm still in search of local friends there such as Jimmy Furbert who worked at the EM Club, Jimmy O'Connor and Dennis Fox who played with the Happening BDA Band, Seal Lindo who tended bar at the Swizzle, and numerous others. I listen to the islands "internet" radio station each day."

1975 to 1980, Master Chief Petty Officer James R. Peavyhouse, E-9 was based in Bermuda. He and his wife lived on the other side of the air field, in the same little housing area as the guest houses (which was at one time were carriage houses). A huge water tank was at the back of their house and at the end of the drive was a wall with a huge water tank about fifty feet below a wall. Two sons were born in Bermuda. James M. Peavyhouse hoped to re-visit in 2004, was unable too, now planned to do so in 2010. Much has changed.

May 1976 to May 1979 George Caddy, now at 236 Fayette Street, Johnstown, PA 15905 - was stationed at NAS Bermuda. I am now retired (1993), Navy Senior Chief Petty Office (ATCS). "I worked in the OMD as the electronics technical and Flight Attendant/Loadmaster/Part Time Flight Engineer on the Station's C-131 (Buno 141006). We would bring everything from radar equipment to kayaks to motorcycles to Big Mac's and an occasional Christmas Tree back to Bermuda. On April 14, 1979 our son Jacob was born at King Edward Hospital. We have wonderful memories of Bermuda and the friends we made."

1976-1977. LCPL Alvaro S Jackson. Stationed at Marine Barracks, USNAS, Bermuda. Awarded: Marine of the Month, and Marine of the Quarter. Now retired and living in California. Phone (951) 319 – 8434

May 1976 to October 1978 Mark Steven Brantley, Airman 2nd Class (E-2), was stationed at US Naval Air Station Bermuda, and worked with the Naval Weather Service Environmental Detachment group (NWSED), releasing and tracking weather balloons from the balloon shack. I rode my 100cc Kawasaki motorcycle over 8,000 miles on an island no longer than 22 miles in length. I ate fresh fish sandwiches from the White Horse restaurant, and drank St. Pauli Girl European beer on the pink beaches, eating fresh conch at the Black Horse restaurant. I snorkeled every day at Tobacco Bay and the NASA tracking site beaches, camped with NAS Bermuda's Boy Scout troop at Castle Island - and met a crew member of the Calypso, then visiting and studying whirlpools in the area. I saw the "Alvin" mini-submersible on the Woods Hole Oceanographic ship the Knorr. I met David Wingate from Nonsuch Island, taunted the Russians when they started visiting St. Georges on their spy ship with the listening devices pointed toward the base. I routinely trespassed on private Elbow Beach, trying to meet college girls at that cave disco during the spring break. I enjoyed beers with the crew of the British anti-submarine warfare ship "Juneau", launching weather balloons during hurricanes, watching the British troops from Belize who landed to restore order during the riots. And much more. I now reside at 121 Cobblestone Drive, Chapel Hill, NC 27516.

1976-1978 Steve DeCeuster was at NAS Bermuda as an AC 2. "Real close to the best two years of my life. Had a ball. Hung out at the Swizzle Inn and Pub on the Square. Wine, Women, Woppie. Still friends with shipmates from BDA. Many friends were chefs on the island. After Bermuda, two years on the USS Saratoga CV-60. After Navy, worked 4 yrs on Trading desk of Kidder, Peabody, Wall St, NYC. For the last 28 yrs I've been a professional Firefighter and am now a Battalion Chief for the Newark, NJ Fire Dept."

1977 to 1979 Jerry Fallin ET3, was stationed at the ET shop at Kindley Air Force Base, Bermuda. "I had visited my brother while he was stationed there and exactly one year later, I was stepping off of the plane for my duty there. Had a lot of friends, brother duty and my brother Steve was on the Capt's Gig, so I have been diving and fishing all over the island and seen many things others never got the chance to see. I also was fortunate to get TAD (temp additional duty) to spend 3 days on Castle Island in Castle Harbour to attend and conduct Boy Scout training with my Chief. That was the luckiest time of my life! I also had a run-about boat and went everywhere by motorcycle or boat. I still have a friend who lives there and my wife and I returned several years back for her to see where I spent my Navy days.Rough life! I now live in Baytown, Texas and retired from the insurance business back in 1998.."

April 1978 to April 1980 Tim Moloney, RM1(SS), now of PO Box 400, Carbondale, IL 62903, ran the radio transmitter site at the US Naval Annex, Southampton. "The Annex was unreal. Just thinking about it makes me smile. It was my favorite tour of duty; never was anything more like McHale's Navy. Years later I'd would occasionally run into sailors who had been on ships that visited Bermuda. They would talk about walking up to the transmitter site "in the dark of night" to buy beer after the "Bermadoo" closed. It was a great little money maker! My daughter Jill was born at King Edward and I had my commissioning ceremony at Rockaway when I made LDO. They threw me off the pier. My wife April and I still go back to Bermuda. The Annex is sealed off. Rockaway is now a ferry landing. But Bermuda still makes us smile."

1979-1980. Lieutenant (later, Capt and Commanding Officer of the US Naval Station Bermuda). Joseph F. Phelan, a 1966 graduate of the US Naval Academy. He was a pilot with one of the PC-3 Orion squadrons.

1979 to 1980 Joseph LaBrake was stationed at USNAS Bermuda at the Marine Barracks.

May 1979 to November 1981 James Rodriguez (now of Redlands, California was a photographer's mate stationed at the Naval Air Station Bermuda from May, 1979 to November, 1981. "I look upon the time I spent in Bermuda as some of the happiest years of my life. I am married now, live in California, and have finally decided to make a return visit to Bermuda in September, 2006. I am really looking forward to the trip as is my wife. I like to keep in touch with people and there are three with whom I was stationed in Bermuda who hear from me. As a matter of fact, my wife and I had dinner with one of them a few months ago."

1979 to 1982 Robert Brian Tinsen, originally from Minneapolis, Minnesota USA - now living at 1 Upper Green Hill, Breach Lane, Wootton Bassett, Wilts, SN4 7QR, England - was an Aviation Electronics Technician, 2nd Class Petty Officer, stationed at the US Naval Annex, Bermuda, for 6 months, then assigned to the Advanced Intermediated Maintenance Dept. at NAS Bermuda until August 1982. "I and colleagues were based in portable lab vans positioned at the eastern end of the row of hangers. I lived on the base for a short time, and then moved into a house in St. George's and later to a house in St. David's. I met my English wife in Hamilton and we are still married after 22 years. We wanted to visit Bermuda in 2005."

1979 to 1982 Tim Murry was stationed at US Marine Barracks Bermuda. "It was a great place to be a U.S. Marine. I thoroughly enjoyed the tour which included spending Christmas 1981 with a local family."

In the early 1980s In the early 1980s, Commander Louis Sherfesee, USN, Retired was commanding Officer of the U.S. Naval Oceanography Command Facility at NAS Bermuda. In October 2001, he visited Bermuda for the first time since then. He once met Sir William Stephenson, "A Man Called Intrepid," at a Canada Day celebration at the Canadian base in Bermuda. He had read the book and was interested in the World War II activities at the Hamilton Princess Hotel and the intelligence staff that worked there.

1980 -1982 Terry Smith served at USNAS Bda as a Sup Tech. He now resides at 76 Quail Ridge Road Winnipeg Manitoba R2Y 2E9.

Feb 1980 – July 1982. Mark R DeFrees. Electronics' Tech second class. "I worked Ground Electronics in the radar and Nav-Aids dept. Now living in Oregon. PO Box 223 Oakland, OR. NAS Bermuda was BY FAR the best duty. For about two years there I lived off base in St. David's Island. I lived in the House called "Cliff View" located south of St. David's Battery and just North East of St David's Light house. It was good to see Clearwater beach is now public. Thank you to all I knew there for a great time!"

1980-1983 Matthew T. Stemmer was stationed at the US Naval Facility in Southampton and lived at the US Naval Annex on base. He was a Radioman 2nd class assisting the OT's with message traffic. His contact details are 419 Main Street 247, Huntington Beach, Ca 92648 Ph: 714-536-0487. Fax: 714-536-1083.

March 1981 to December 1983 and again from July 1986 to July 1994, Dennis Lewin was a civilian engineer with the U.S. Navy in Bermuda. "My last visit to Bermuda was in 1995 to represent his command (Atlantic Division, Naval Facilities Engineering Command) at the De-commissioning ceremonies held in the new NATO-funded hangar for which I was the resident engineer in charge of construction. I was the President of the Youth Athletic Organization (YAO) from 1989 until his departure in 1994. They were times I will cherish forever working with all of the kids and volunteers. Another reason for writing in July 2002 was to hope that baseball in Bermuda is alive and well."

1981 to 1984 Charles Lowther served as the Guard Officer and later Executive Officer of Marine Barracks Bermuda from 1981 - 1984. To his knowledge, there were never any US Marines stationed at the Naval Station in western Bermuda - they were all at the Naval Air Station on St. David's Island. Also, he believes the aircraft which Mr. Zimmerman refers to when he says an aircraft was parked on the north-south aircraft parking area that juts into Castle Harbor could have been the TACAMO aircraft configured for long distance communications, but never carried weapons. This was parked at the eastern end of the runway.

October 1981 to October 1984 William (Bill) Pitard served at NAS Bermuda in the Security Department as an MA2, USN, but retired a LT, USN. "I met, fell in love with, and married MS2 Louise Gaizick (Pitard) 21 years ago. I am a physical security professional; Louise is a certified pre-school teacher. We have four children. I lived off-base on St. Georges island at "The Glenville House, Upper East" located next to a church and across the street from a beverage store. My landlord was Mr. Howard Dowling. His brother owned the local moped cycle livery shop on the main road into town. Bermuda was a wonderful experience. The highlights of my tour of duty were the clear blue skies, the pastel colored housing with the whitest roof tops, and challenges of training on the local roadways. Kite flying, cruise ships, college week, the beaches, and the fishing were all very memorable experiences. I kindled some very fond relationships with special people. Especially noteworthy were the up-beat and happiness of the island residents."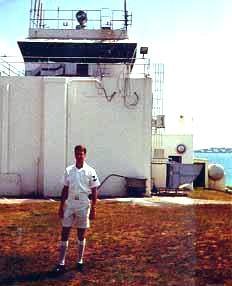 January 1982-1984 Dr. Kyle Langley, now of Hollywood, Florida, was stationed in Bermuda as a Navy Air Traffic Controller, a control tower supervisor and radar controller. On 08 June 2002 he wrote: "Besides great memories of Bermuda (I was an escort in the Miss Bermuda Pageant!), I do have some clear military memories. One was when we began to receive a lot of secret messages about gathering ships and coordination around the island including the arrival of new aircraft. We knew it was big, but at the time had no clue. It was the invasion of Granada. Another memory was one my longest days. A C-130, I believe Colombian (of which I have a picture somewhere on a previous visit to the island), lost its navigation equipment while heading east toward Bermuda. Once the navigational equipment was gone the plane just headed what they thought was east hoping to run into the mainland of the US. We had Navy P-3s in the air trying to get a fix on the plane but to no avail. It crashed off the east coast in heavy seas and everyone perished. From the time we learned of the emergency, it must have been 12 hours until we had word they had crashed. Other memories were the US/Canadian air exercises that were a blast for Air Traffic Controllers (ATCs) because there could be up to 25 planes incoming at once. And having civilian and military traffic all at once was a thrill. I also flew some mock missions with the Canadians in old S-2s. Vice President George Bush also visited the island in Air Force Two. On the way in we told an Air Force Reserve F4 Phantom pilot he needed to change course because he was too close to AF2. He told us to "tell the other guy to move!" Air Force 2 politely told him otherwise. I have a million stories and some great photos of the island bases including one incredible air show in 1983. Thanks for the trip down memory lane. I attach a photo of a 19-year-old kid in front of the control tower. Now 20 years later, he is a research doctor."

September 1982 to September 1984 Ed Henderson was stationed at NAS Bermuda. "I had an accompanied tour there, and my first son was born on the Island. I was attached to the Ground Electronics division, and supervised the Navigational Aids work center. We maintained the Tacan, ILS, and VOR systems. It was an awesome job. The Tacan and VOR were located on the far side of the runway, feet from the beach on Castle Harbor. Since this was part of the runway, access was restricted, so we basically had a private beach on the island to wander, pick up shells, or just enjoy the sunshine. I had 2 motorcycles and I am pretty sure I drove every single road on that island, because I toured a lot. Two members of the GE division bought sailboats. One was a trimaran, and we had some serous fun with that, sailing and diving. The other was a catamaran made for racing, and we did a lot of that in the harbor too. Some friends rented a part of the old mansion on St. Georges Island. They rented the old "bar", and there were some pretty great parties there, especially the pig roast we had one year. We golfed, we scuba dived, and we just enjoyed the scenery. I fell in love with that island, and the people. I sure hope to go back someday."

1982-1985 Gary Wommack (ENC retired) was stationed at the Naval Facility Bermuda. He was in the generator shop LPO. His two oldest sons were born in Bermuda (but see under "citizenship" in Bermuda Laws) . He wonders if anyone remembers old Mr. Zuill who was the groundskeeper then, in his 90's at the time.

22 November 1982 through 5 December 1985 Bernie Beaulieu was stationed at NAS Bermuda's AIMD, Avionics Division, as an Aviation Anti-Submarine Warfare Technician 2nd Class, initially on a 2-year hitch but extended by an extra year. "There were times that I loved being stationed in Bermuda, and other times that I didn't like it so much. I was young and missed the conveniences (Rock Fever they called it) of living stateside, however the island was beautiful and the diving was spectacular. I've been yearning to go back for a visit for the past couple of years. I would love to take my wife Nancy, and my son Bryan for a week long tour of island and relive some of my past. I currently live in Orange Park, a suburb of Jacksonville, FL. I've been living in this area ever since I left Bermuda back in 1985. After I left Bermuda I was stationed at NAF Mayport, FL, and then NAS Cecil Field, and finally I retired from the Navy out of NAS Jacksonville in November 1997. I currently work as a Database Administrator for Fidelity National Financial in downtown Jacksonville. "

1982 to 1985 Linda Tibensky was at the U.S. Naval Facility, Bermuda. "My husband Rick and I lived on the Annex in 400 Housing. I worked as an OT, first in Duty Section 1, then as a 'day-worker' in Current Operations, then in Duty Section 2. What a blast to live in Bermuda. We played softball in the summer on the bases, then in the winter in the Co-Ed league with our games at Bernard Park behind Hamilton. We are going back to Bermuda for vacation in three weeks (May 2005) and will be staying at the Harmony Club. Home address is 118 Ritter Lane, Leechburg, PA 15656"

1982 to 1986, AK2 Elizabeth Knapp and DP2 Kevin R. Knapp (1984-1986 in Bermuda), both now of 1005 Wemberton Place, Nashville TN 37214, were both stationed at NAS Bermuda. Elizabeth Knapp writes: "I arrived from the state of Oregon , US when I was 19. My husband and I were married at Palm Grove Gardens, Devonshire and had a child there. We lived on the base for 2 years and off base for 2 years – on Texas Road in St. David's, renting from a John DeSilva.

The pictures on your website bring back such memories of a time when I was so young. So long ago! Seeing that the buildings are no more, that the base is no more, makes me very sad. But life goes on.

I salute you for your site and the nostalgia it brings!" They planned to vacation in Bermuda later in 2009, ideally at Salt Kettle House.

March 1983 to September 1984, Vance Moore of Meridian, Mississippi, was stationed at NAS Bermuda. He wrote on March 3, 2001 to say this website dredged up some long forgotten and pleasant memories. He fell in love with Bermuda.

September 1983 to October 1985, Christian L. Wilson, now of 38620 Pleasant Ave #B, Sandy OR 97055, was stationed at NAS Bermuda as the leading electronics chief for Ground Electronics Maintenance Division, GEMD.

1983-86 SK3 Theresa (Terry) Flanagan, now SKC(SW) Reineke, USN (Ret), - now at 5079 Holbrook Dr. Columbus, Ohio 43232 - was at USNAS, Bermuda, where she worked for the most part at the Supply Building, P-19, next to the Marina. "Bermuda was my first life experience away from home, and I will always cherish the beautiful memories I came away with. I met people from all over the world there, drove on the left side of the road, was directed off the road so Princess Ann's motorcade could drive by, and watched God flick his paint brush across the sky each night. I love Bermuda."

1983-1986. Renee Nunn, last heard of as living in Miami, Florida, then 20 years old, was posted at NAS Bermuda, helping to service Lockheed P-3 Orion aircraft. The four-engine turboprop anti-submarine and maritime surveillance aircraft were developed for the United States Navy and introduced in the 1960s. Ms Nunn was 20 years old when she first came to Bermuda. "I worked in the avionics shops. It was in the pink air craft hangar that sat on the runway. It was across from what later became McDonald's. It had a series of white trailers attached and that is where we had the repair shop set up. When an avionics system malfunctioned, the aircrew and ground crew isolated the component. That component of the system came to me and I repaired damaged circuits in the component. My friends and I frequently visited NAS Bermuda Annex for picnics and parades. We liked it up there because it was closer to the beaches. We were younger then and liked the beaches with the waves, like Horseshoe Bay Beach."

February 1983 to February 1986, Thomas Stone was at USNAS Bermuda, As an ET in Ground Electronics on the aircraft navigation equipment (TACAN, VOR, ILS). "I made many friends in communications and air traffic control. The beaches were beautiful, the golf was great, and the base was fun. Our great commander in GE was Lieutenant Tom Sears. It was the best time of my short (6 year) Navy career. I followed up Bermuda with 1-1/2 years in NMCB 62 out of Gulfport, MS doing duty there and in Rota, Spain and Guam."

March 1983 through March 1986 Rick Geoffrion was stationed in Bermuda with the USNAS. "There I met and married my lovely bride of 31 years, Kay Geoffrion and had our two children. I was an Aviation Ordnanceman Second Class, and my wife a Personelman third class. We lived above Dubb City Market on Abbots Crescent in Hamilton Parish. We were planning our first return trip in June of 2016. The photo below was taken at our wedding reception on Clearwater beach, April 1984"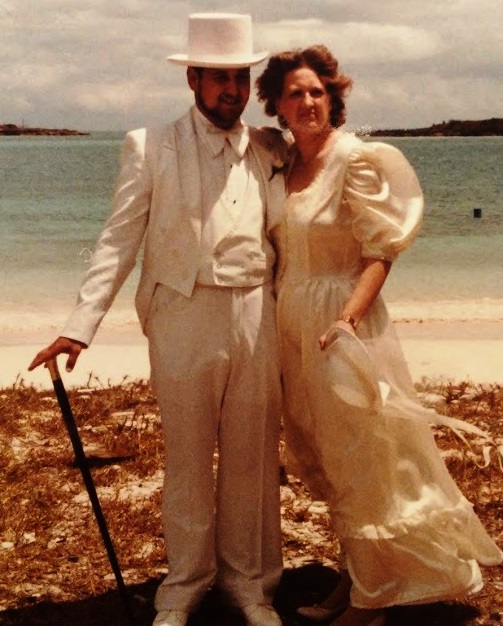 1983 to 1987, David Endress was at USNAS, Bermuda, as an Lt attached to AIMD, with his wife Barbara and twin daughters Lynette and Angelina who went to Chaffee. Their address is now 517 leatherwood, Greenville Texas, phone 903-450-4960. "We are interested in hearing from and meeting other navy personnel who were there during that time. We lived on base, Barbara worked as a I. D. checker at the exchange, then worked at the commissary.. We liked it there, the base had every thing we needed. Our daughters now live in Brunswick, Maine. We live in Greenville Texas, where David works at L-3. He retired as a Lt. Commander. Sure would be nice to hear from people that were there during that time.

1983 to 1988, Joseph Magiera (UT2) was stationed in Bermuda, as a Seabee. He met his ex-wife Heather Magiera (MS3) there, when she too was stationed there, as a cook in the galley, from 1984 to 1988. Their daughter, Jessica, was born in Hamilton in January 1988. They fell in love in Bermuda and have many fond memories of the island, especially the friends they made. They would love to revisit Bermuda one day with their daughter. Today, Joseph Magiera is at 11620 Fury Court, Sterling Heights, MI 48312, and Heather Magiera is at 310 State Highway 305, Ten Mile, TN 37880.

4/1/1984 to 4/1/1988, ET1 Nancy Gwinn (Hoobing) was the ET Calibration Technician at the Naval Facility Bermuda. "It was the best time of my life. I took up jogging while I was there and of course I loved the beaches. I sat through Hurricane Emily in an apartment overlooking the Great Sound. I hope to visit soon and see how it has changed.
1035 Montour Dr,
Houston, TX 77062-2722.

1984 to 1987, Michael J. Dunphy was assigned to NAS Bermuda - right out of AD "A" School when he was 20 years old. "I can honestly say that those 3 years of a 21 year Navy career were my most enjoyable and the ones that I reflect upon most! I was first attached to AIMD as a Jet Mechanic and then in the fall of 1985 I transferred to the Security Department. I lived on base for my first year and then during the next 2 years I lived off base in three locations with the last being on a cliff at St. Georges Cut. One of my fondest memories is when the Bermuda Chief Police Inspector Mr. James would take myself and two friends (Marty & Ken) to Bermuda Boxing events throughout the year...that was truly an honor for all of us as this guy was just as popular to the Bermudians as any celebrity today! USN CPO (Retired) EOD/SW, 4610 South Whooping Crane Lane, Bloomington, IN 47403."

1984 to early 1986, Maribeth (Bell) Sakulich was stationed at USNAS Bda. She is currently at 18 Maricrest Drive, Rochester, NY 14616. "I arrived on the island in October...not the best weather-wise. The following summer was beautiful but for me, it was just too small. I had a bad case of island fever and couldn't wait to get back to the US. I don't hold too many fond memories of Bermuda...I think it was the giant flying roaches - YUCK! I do have fond memories of the Robin Hood restaurant, there was some good pizza there! Best on the island. Rum Runners also holds some fun memories. I guess it wasn't ALL bad. However, I've never been back...and doubt I ever will go back. I did make some good friends and wonder where they are now. If any of you happen to see this, or remember me, drop me a line."

January 1984 to July 1987 CPO J. D. Goodwin USN (RET) was stationed at NAS Bermuda, with his family. His son Jonathan Goodwin is currently living at 403 Richneck Rd, Newport News, VA 23608, email jonlg55@yahoo.com. He wrote: "When I left Bermuda in 1987 I didn't realize what a unique opportunity I had by living there, of course I was only eight at the time but wish I could have cherished the time more. Fortunately I was able to return to Bermuda on my honeymoon in 2005 and saw how much it had changed. My wife was amazed though, how much I could remember about living there and where things used to be on the base and throughout the rest of the island. I hope my parents and sister can have the chance to get back there someday."

April 1984 thru October 1985 Scott R. Hartzler was stationed at the United States Marine Barracks (Green Section) at the US NAS Bermuda. "I was a private when I arrived and I left as a Lance Corporal. My assigned duties were perimeter and physical security for the base. I served with a lot of wonderful young Marines and Sailors and looking back, it was one of the best times of my life. My addresses is 19 Moniz Way

, Teaticket, Massachusetts

02536 "

1985 to 1995, Patrick Brew taught at R. B. Chaffee High School. He writes: "In 1987 I married an English girl, Susan Farnworth, who was working at Works and Engineering (then Publics Works Department, I think). Our three children were all born in Bermuda - Christopher (1989), Kathryn (1990), and Michael (1993). We lived at "Cedar Grove" on Manse Road in Paget from 1987 until 1990. We then moved to "Almurjan" on Loquat Lane, Smith's Parish, just behind Harrington Sound School. We currently live in North Yorkshire, England where I teach at an American base near Harrogate. We have been back to Bermuda three times to visit - in 1997, 2000, and 2002. We miss Bermuda very much and often dream that the base has reopened and they want me to teach there again!"

1985-1989, Bob Jenkins, now of Nashville, TN, was stationed at Naval Air Station Bermuda from 1985 to 1989. He writes thus: "I was the original station manager and later the Officer-in-Charge of the U.S. Navy Broadcasting Service Detachment on the island. This was a closed-circuit radio and television station that operated aboard the air station in St. George's Parish and was micro-waved from there across the island to the Naval Annex in Southampton Parish, where it was again sent to US military homes and offices via cable. At the air station we had a satellite downlink from the Armed Forces Radio & Television Service in Los Angeles, CA. We operated three different channels: one that we programmed locally with video tape shipments from AFRTS, satellite downloads and locally produced news and information programs; one that was character generated messages about base news and activities with audio provided by taped AFRTS radio programs; and a satellite feed of all the AFRTS satellite fed programs broadcast around the world to other similar U.S. military facilities. The station came to exist at a time when the Bermuda Broadcasting Company was out on strike. The Naval Chief of Information was visiting the island and asked the base commanding officer if there was anything he could do for the base. The CO reportedly said, "Yes, build me a TV station here...my doctors at the base clinic are being overworked with too many pregnancies." Apparently with no television as a nightly diversion, attention was placed elsewhere. I don't know how much of that is accurate, but I do believe there is some truth to the story. My stay in Bermuda was wonderful and I hope to someday return. When I first moved there I lived just down the road from Crystal Caves across from an AME Church in a downstairs apartment of a home owned by the De Silva family. He was a commercial fisherman and she worked at the Perfume Factory. They were wonderful people and very gracious. During my time there, I saw the might of Hurricane Emily and my detachment provided the video footage of the Soviet Yankee Class Submarine that sank in the Atlantic Ocean north (I believe) of the island. That footage was seen worldwide on U.S. television networks. I was part of the press entourage that covered the meeting of U.S. Secretary of State George Shultz and Premier Swan and was fortunate to have met and interviewed Premier Swan on several occasions. I was also there when the U.S. Space Shuttle Challenger exploded on take-off. In fact, our news team was covering the launch at the NASA Tracking Station at the time of the unfortunate disaster. Bermuda is a beautiful island with a beautiful people. I hope to return again soon and visit some of my favorite places and rediscover the wonderful flavor of a "Dark and Stormy" at the "Swizzle Inn" if it's still there. Due to driving on the "other side of the road," my time there prepared me for my following Navy tour -- in London, England as the assistant public affairs officer for U.S. Naval Forces Europe. I supposed Bermuda is also where I developed the taste for fish 'n chips as well. I'd love to hear from anyone who was there during the time I was. I retired from the Navy in 1995. I now work for CBL & Associates Management as the Marketing Director for RiverGate Mall."

25 July 1986 to 26 July 1989, William R Bohnow, FCC (SW), USN (RET), was at NAS Bermuda, and wrote: "As a surface sailor and First Class Petty Officer, I began my service there as a Navy Policeman, and then shortly was transferred to the Weapons Department where I was placed in charge of maintaining a complete inventory of the complete stockpile of ordnance. I also served a short stint as the main Small Arms Range Master where I had the privilege of overseeing the training of over 200 military and civilian police officers. It was with a sad and heavy heart that I left some of the best of friends, civilian and military. Many hours was spent by my wife and I making friends with many of the Bermudian civilians that worked on base."

July 1986 to July 1989, Art Galpin was stationed at NAS Bermuda. He was assigned as one of the station's UH-1N Search and Rescue (SAR) pilots. Reported in from flight school as a Lieutenant Junior Grade and was assigned as the station Public Affairs Officer as well as Library Officer, Print Shop Officer and Command Security Manager. Ended his assignment as the Billeting Officer. Still on active duty, now assigned to Headquarters' Pacific Command in Hawaii. His current address is 99-721 Hoio St, Aiea, HI 96701.

December 1986 to December 1989 AD3 Angel(a) S. Shaw was at AIMD NAS Bermuda. "Prior to my daughters' birth at King Edwards, I lived off base (St. Luke's Lane) St. Davids. My landlords Cora & Harry were so wonderful! Everyone looked out after me & just couldn't wait till I had the baby. I miss Cora telling me it's time to wake up (quite often I'd fall asleep watching tv after having eaten dinner upstairs) & the Flatts Village cheeseburger runs :) Hi EVERYONE! I MISS YOU! I'm at 1769 S. Riverview Rd, Peru, IN 46970."

1987 to 1989, Jerry Scruggs was a military brat at USNAS Bermuda. "My Mother was SKCS Scruggs, OIC Commissary. She and Lauren O'Dea were good friends. Lauren has since retired."

July 1987 to July 1989, Captain Thomas Hall was Commander of the USNAS Bermuda . Then he was posted to the Naval War College in Newport, RI. He retired from the USN as a 2-star admiral. He has been the Executive Director and Chief Operating Officer of the Naval Reserve Association since 1996. In March, 2002, President George W. Bush nominated him as the Assistant Secretary of Defence for Reserve Affairs.

1987-1990 Timmy J. Pierson and his wife were stationed at USNAS Bermuda. It was definitely a favorite duty station. They are hoping to return for a visit with their two eldest children born in Bermuda. In the meantime, they are having difficulty getting birth certificates and have appealed - in vain so far - to the Bermuda Government's Registry General, the US Consulate in Bermuda, US Department of State and their Representative in the US Congress. (Under Bermuda law, despite having been born in Bermuda, their children are not Bermudian).

April 1987 to October 1991, Paul King - now of 2808 Stone Drive, Modesto, CA 95355 - was at USNAS Bermuda, as an electronics Technician. With other technicians, he maintained all of the Air traffic Control communications equipment. His wife, whom he met there, was also an Electronics technician in the USN. Their youngest daughter Mattie was born at King Edward VII Memorial Hospital. The Island was a great place to live. While the King's were there, they lived in Flatts, then outside St Georges, then St David's next to the mayor of St Georges in a beautiful house right on the water, finally on the base in the closest apartment to the radar tower overlooking the runway. "We would like to visit Bermuda again and I am sure one of these days we will."

September 1988 to June 1990 David Bansavage was stationed at NAS Bermuda in the Security Detachment. On July 15, 2010 he wrote: " I went there an E3 and left an E5. I remained in the reserves for several years. My wife and I still reminisce about all the good times there. I loved being on patrol overnight and watching the sun rise over that clear, blue water. That's a view I never grew tired of. If you look closely you may still see my wife's claw marks on the tarmac from when I had to drag her to the plane. We plan to cruise there for our 25tth in 2013. I'm now at 554 Valley View Rd , Eighty Four, PA 15330.

1988-92, Joey Ineichen was stationed in Bermuda, on both bases NAS and the Annex as a Radioman third class. He writes: "Was one of the greatest times in my life. Memories that I will never forget. A Bermudian landlord named Mr. Harvey in Sandy Plains who was one of the nicest people I have ever came across. His wife took singing lessons and ever now and then you could hear her beautiful voice sing, welcoming in another beautiful day. I was a young man just learning what life was really about. We had a bar on base there called the Bermadoo that we would often meet at a have a good time. Though the Annex base was small, my friends there were great. Ronnie Falcone, Pat Maonie, Michael Bennett, Johnny Drake, Doug, Mark Shumate, Lori Marshal, Rolland Menendez, and Mike Cobble were just a few Americans who served and made my life more comfortable. I believe that Bermuda is the most beautiful place on Earth. And as I have traveled I have never came across people that are as nice as the Bermudian locals are. They as well as my friends made my stay in Bermuda a great moment in my life. I also met my wife of 15 years while I lived in Bermuda who moved there with me in 1990. Her name is Amy Ineichen and attended Chaffee High School there in Bermuda and graduated with a great bunch of people. If anyone who reads this may remember me or some of my great friends feel free to write me at 16 Charleston Dr. Rome Ga. 30165. Would love to hear from anyone who loved it as I did."

May 1989-May 1991, Mike Peters, now of 201 N. Hanover St Apt 3, Carlisle, PA 17013, served at the Naval Air Station, Bermuda This website brings back positive memories for him.

1989 to 1990, Mike Murdoch was stationed at NAS Bermuda as a Navy Journalist at the base radio & television station (it was located directly behind the hospital and the two buildings were actually connected by a breeze way).

"I retired from the Navy in 2006 and have to say Bermuda was one of the best places I was ever stationed. The people of Bermuda were wonderful while I was there. It was a great place to live and work. I hope someday to return for a visit and show my wife the places where I used to live and work. Thank you for the information and photos about NAS Bermuda on your website. They brought back wonderful memories. " At the time of writing on 26 January 2009

Mike is the Marketing and Events Coordinator

, Central Washington Homebuilders Assoc.

3301 W. Nob Hill Blvd.

Yakima, WA 98902.

(509) 454-4006. (509) 454-4008 fax.

1989. Commander Steve Hilley, USN, was on assignment in Bermuda. During it he reported that surveillance teams had another assignment, a new ballgame out here, thanks to President Bush's stepped-up war against drugs. "Planes from his squadron are flying patrols throughout the Caribbean looking for and photographing evidence of transportation of drugs at sea. We are providing any and all intelligence of this activity to the Drug Enforcement Agency."

1989-1993, William Kluss was a chief at the weather office. He and his wife Joy loved every minute of it. Their son was three when they moved there. Their daughter was born at King Edward VII Memorial Hospital. Joy worked in the club on base with many locals. She misses them and thinks of them often. It's a beautiful Island, a great place for family, and will always be their favorite "duty" station. It was great! They would have stayed longer if possible.

1990 to 1992, Roland Menendez was stationed at NAS Bermuda Annex, as a U.S. Navy Radioman. He wrote: "This site reminded me of all the good times I had in Bermuda. The people I worked with as well as the people of Bermuda that I met during my time have remained in my heart and on my mind during the past 10 years. I was really sad to hear they closed the bases in Bermuda but I know I will come back to visit so I can enjoy your beautiful island once again. The only question I have is what became of the NAS Bermuda Annex Base? What is there now?" (Editor's note; nothing yet, see the entry for Morgan's Point in Southampton Parish).

September 1991 to August 31 1995, AK1 Sheila Lewis - now Sheila Dodge - at 106 Madlyn Drive, Florence MS 39073, was stationed at USNAS Bermuda. "A single parent, I lived in St David's within walking distance of the lighthouse. Had a brand new beautiful home. Bermuda was definitely by far, my most favorite duty station. I still cannot believe I got paid for living there. I was also stationed in Hawaii and people always want to know which is better and of course I always say Bermuda!! I want to return desperately to have precious memories wash over me. Thanks for the website. "

1991-1992, Mack Williams, now of Melbourne, Florida, was stationed at the Anti-Submarine Warfare Center (ASWOC) in Bermuda from 1991 until 1992 "as part of my continuing career path. I was then transferred to the ASWOC at NAS Roosevelt Roads, Puerto Rico when the focus of our unit shifted to drug interdiction duties as a result of the end of the Cold War with the Soviet Union. As I recall, a U.S. news broadcast "Dateline", by Peter Jennings labeled NAS Bermuda as a playground resort for Admirals to bring their wives on government paid vacations. The reality of the matter is, while that may have been true, your base provided essential coverage of Soviet "hunting grounds" conducting ICBM patrols within the range of the United States. I flew into NAS Bermuda many times on P-3 Orion's, and was also deployed to the ASWOC twice during my tenure as a U.S. Navy Air crewman during the period of 1980 to 1994."

November 1991 to November 1993, Jesse Medford served at NAS Bermuda, at the Annex PSD, as a PSNR. He writes: I was there almost a year until they closed my office and moved me to NAS PSD until I left as a PN3. Does anyone have a picture of PSD? It was that odd shaped building near the runway with a loft. I would like to add it to the Bermuda memories pages of my website. Bermuda is the source of a lot of great memories. I wish I was still in contact with old friends. I can be reached at 37 Cane St. Fitchburg, MA 01420."

December 1991 to the end of August 1995, Patrick McKenna was posted at NAS Bermuda. "During this tour of duty, I was also affiliated with the local music scene as the bassist for the Back Alley Band. We performed on base and off-base as well, usually at the Wharf Tavern. It (now the Waterside) held some great Jam nights. Among the fantastic musicians with whom it was my privilege to be associated were Mr.& Mrs. Rick Hawke (an outstanding guitarist and his lovely vocalist wife); Fitzy (I don't know his last name); Ed Fox, and others. A prominent star of the local scene was a New Yorker name Mike Barry. I'd sure like to know how they're doing and wish them success in their endeavors. I would love to know what has become of the Naval Air Station and the Annex. I left a few days before the entire base closed down entirely. I did, however manage to claim the distinction of being the last occupant of the old BEQ (enlisted barracks by the Chow Hall). God bless Bermuda and the wonderful folks who were our good friends and neighbors."

1992 to 1995 John R Link (CDR at the time) was posted to NAS Bermuda. His daughter Emily Link writes: "I was 11 the day I arrived, and 14 the day I left. I remember stepping off the plane when we first arrived, what I was wearing, and how HOT it was! (Moved there from Maine.) We were fortunate enough to live in one of the 3 houses which were located right on the beach, very close to Clearwater Beach. I have such fond memories of my time there - the island, the people I met, the things I did...It was just amazing. I talk about it often. Living on a small island certainly creates a bond between those who shared time there with you. I do keep in touch with many of my peers from my time there. I remember the Wharf Tavern, St. George's, Hamilton (shopping along the road by the ocean where the cruise ships docked), taking the bus around the island, the moped, snorkeling, the crystal clear ocean water, how warm it always was, etc. What a wonderful time!" Emily Link, 21014 Hunting Quarter Drive, Callaway, MD 20620.

July 1992 until Base closure in 1995, Gary Cole was a PN1 Stationed at PSD NAS Bermuda. "I was one of the last military personnel to leave the Island. My wife and I spent many wonderful hours walking and exploring Bermuda from St George & St David's to the Royal Naval Dockyard. When we didn't have time to walk (using the railway trail) we used the bus. We spent more time in Bermuda proper then we did on station. We found everything about Bermuda to be exceptional, from the people we met to the places we visited. It is and will always be the most beautiful place we have ever been."

December 1992 to 1995, K. Reid Barbee and his wife, Darlene were stationed at NAS Bermuda, with their two children, Sarah and Kelly. I was the civil service locksmith and Darlene, fresh out of college with her education degree, taught at Roger B. Chaffee School. "We knew the base was closing and wouldn't get to spend a full tour but decided to take the job anyway because we had been told the island was so beautiful. People of Bermuda were actually nicer to me than my fellow Americans when I first arrived. My dream is to somehow live in Bermuda when I finally get ready to fully retire. We met so many nice and memorable people that I cannot begin to name them all; the Dumont Family, Sidney and Gloria Fox and Charlie Fox and the Burgesses and of course Henry Adams (53 years civil service); I could go on and on. We now live in Richlands, NC."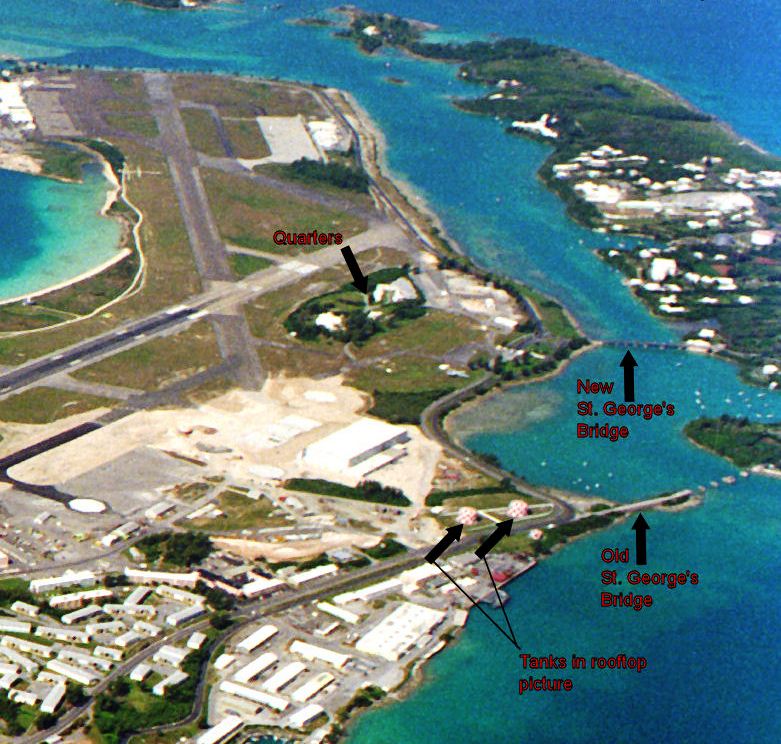 1993-1995, Frank Bryan (no email or mailing address given) was at USNAS Bermuda. He was shocked to hear Long Bird House had been torn down, as a danger to post-base civilian air traffic. He hopes someone took photos of the house prior to it demolition. He had a great childhood there and is deeply saddened to learn he will never see it again.

1993-1995, Timothy Fishkin was at USNAS Bermuda. He writes: "I greatly miss the place. It was one of my most memorable duty stations."

1993 to 1995, Kevin M. Matzke was at NAS Bermuda. "Patrick McKenna was there with me and I remember how he played at the club every once in a while. He was great on the base. I was supposed to be the Lab Tech assigned to the Annex clinic but it was closed down just as I arrived so my orders were modified for the main Naval Clinic (at the former US hospital at USNAS St. David's Bermuda) where I served many diverse roles. As there were two lab techs, myself and a fellow second class I took on other assignments. I was the boat corpsman, special forces corpsman, Pathology Tech, field corpsman, Financial Counselor, EMT, marine Corps Corpsman and clinic safety officer. I tried to occupy myself as much as possible with outside activities because being outside in Bermuda was great. I remember the Naval Clinic being located on the hill, just above the enlisted barracks and chow-hall. I was assigned to the laboratory on the first floor next to immunizations and the ER. The view from the clinic was awesome, especially in the morning just as the sun rose. I used to jog nightly from the barracks, I was on the second floor of the barracks closest to the clinic, at the end. My neighbors were pretty cool too. I had an RP2 across from me and a BM3 next to me. We hung in each other's rooms and drank and played cards on the weekends. During the week I had a part time job at the base club. The CPO and Officers clubs had been closed down and all three combined into one, the enlisted club. I worked as a pizza delivery guy and waiter while the club was in operation. The beaches were great and we had a lot of fun on them. But best of all was going out into town. I loved eating at the restaurants. The hotel beaches were great and the night clubs even better. I will always have a special place in my heart for Bermuda and if I ever have the chance to return I will."

November 1993 to May 1995, Joseph Rodriguez was stationed at USNAS Bermuda. " I was attached to OMD (Organizational Maintenance Dept) and worked on our P-3 and three H-1's. I was 19 when I arrived there and it was the best time of my life. I truly miss the island and look forward to returning one day with my wife, who visited me quite frequently. Anyway, it was very interesting to see how the area around our old barracks has changed, and my favorite McDonalds is no longer there. Thanks for the trip down memory lane, I truly appreciate it. I now reside on Long Island, New York."

From December 1993 - August 1995, Dan Hible, ABHC (AW) ret, currently living in Thief River Falls, Minnesota, was at NAS Bermuda. "When I departed on August 31, 1995 I believe the were about 30 personnel remaining. I was assigned to the transient line and ADP. This assignment was very memorable and fun. My kids still talk about the island to this day. For about the last six months of the base existence I drove the MWR bus for grocery runs off base and did island tours on the weekends for the base personnel. The favorite tour was of the forts. "
Last Updated: March 31, 2020
Multi-national © 2020 by Bermuda Online. All Rights Reserved