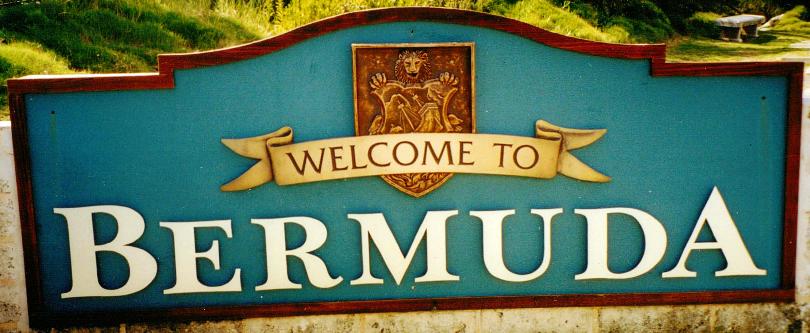 Click on graphic above to navigate the 165+ web files on this website, a regularly updated Gazetteer, an in-depth description of our island's internally self-governing British Overseas Territory 900 miles north of the Caribbean, 600 miles east of North Carolina, USA. With accommodation options, airlines, airport, actors, actresses, aviation, banks, beaches, Bermuda Dollar, Bermuda Government, Bermuda-incorporated businesses and companies including insurers and reinsurers, Bermudians, books and publications, bridges and causeway, charities, churches, citizenship by Status, City of Hamilton, commerce, communities, credit cards, cruise ships, cuisine, currency, disability accessibility, Devonshire Parish, districts, Dockyard, economy, education, employers, employment, environment, executorships, fauna, ferries, flora, former military bases, forts, gardens, geography, getting around, golf, guest houses, highways, history, historic properties, Hamilton, House of Assembly, housing, hotels, immigration, import duties, internet access, islands, laws, legal system and legislators, main roads, marriages, media, members of parliament, money, motor vehicles, municipalities, music and musicians, newcomers, newspaper, media, organizations, parks, parishes, Paget, Pembroke, performing artists, residents, pensions, political parties, postage stamps, public holidays, public transportation, railway trail, real estate, registries of aircraft and ships, religions, Royal Naval Dockyard, Sandys, senior citizens, Smith's, Somerset Village, Southampton, St. David's Island, St George's, Spanish Point, Spittal Pond, sports, taxes, telecommunications, time zone, traditions, tourism, Town of St. George, Tucker's Town, utilities, water sports, Warwick, weather, wildlife, work permits.

Bermuda's Performing Artists
Actors, Actresses, Singers, Movie Makers, Musicians
By Keith Archibald Forbes (see About Us).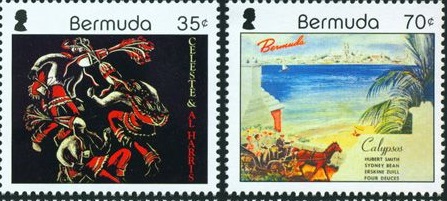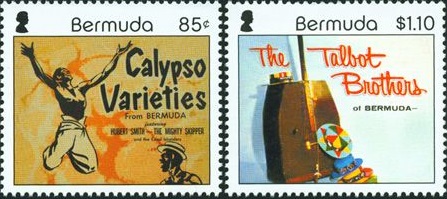 In March 2008 the Bermuda Government issued this set of stamps to honor famous local calypso singers
ABC's of Artists by surname or group name or profession
This file is being re-constructed. If those concerned wish to have further details shown and will establish a link to us from their websites or social media sites we will gladly reciprocate the link. See our Links policy at www.bermuda-online.org/links.htm

Laurita Adderley.

Choy Aming. He was born in 1926 to a Chinese father and a mother of African descent. That cultural diversity helped shape him as he grew up in the middle of Port-of-Spain, Trinidad. One of his first musical talents was drumming and in his 20s he started the Choy Aming Orchestra. When he moved to Bermuda in 1968, he helped infuse this island with the culture of birthplace. He added a distinctive Caribbean flavour to the Bermuda Day Parade with his spectacular carnival costumes. Mr. Aming was awarded the Humming Bird Silver Medal Silver for his contribution to the development of Trinidad Culture. He also brought some of the world's most famous entertainers to the Clayhouse Inn, the club he operated on North Shore. They included Stevie Wonder, Ray Charles, The Manhattans, George Benson, Ziggy Marley, and Musical Youth. His "ultimate dream" was to bring Michael Jackson to Bermuda - something which turned out to be too costly when he approached Jackson's agents in the early 1990s. His favourite shows in Bermuda were those by Luther Vandross and Sunsplash, which he brought to Bermuda in 1991.
Fellow musician Gene Steede knew Mr. Aming for more than 30 years and says his friend was "highly influential" on Bermuda's entertainment scene. "He was a really nice, loveable guy," Mr. Steede said. "For many years I would work at various shows he had organized at the hotels. Usually they would be a three-tier show - with a limbo dance, steel band and then at the end I would come on and do some comedy and calypso. Mr. Aming also knew exactly how to make money for the Clayhouse Inn. He had a 12-piece steel band at the club, which was very popular and he used to make the club available to young people who he allowed to hold their own rap and reggae shows there. But years before that he brought a lot of tourists down to Clayhouse for calypso and limbo dancing which, at that time, was very popular." Mr. Aming was also generous with charities-and he served as the first chairperson of the Bermuda Physical Abuse Centre, which he helped found. His son is famed shark enthusiast Choy Aming Jr. Mr. Aming Sr. and his sister Kim Sabeney held the franchise for Miss World and Miss Universe for many years in Trinidad. Author and former Culture Minister Dale Butler said: "Choy Aming played a significant role in the development of local entertainment by highlighting local and international talent at the Clayhouse Inn. He endeavored to share his much loved Trinidadian Carnival with Bermudians by developing costumes and entering the Bermuda Day Parade. He was a cultural icon who will be sorely missed." When asked in an interview with the Bermuda Sun in 1993 what he would like his epitaph to read, he replied: "He was an entrepreneur who helped young entertainers in Bermuda." Mr. Ming's funeral was at the Assumption Church in Maraval, Trinidad.

Clarence "Tootsie" Bean. Veteran jazz drummer. Honored in April 2015 as part of Jazz Appreciation Month. Bermuda's last living jazz legend. Tootsie Bean is the last of Bermuda's jazz legends and there was a "Tootsie" Bean, supper and performances by four local jazz bands, including the Stephan Furbert Quartet.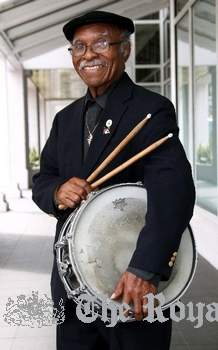 Tootsie Bean

Graham and Moira Bean. Mr. Bean, before becoming popular in the original Coral Islanders and the Jack Hammer Quintette, studied music with Les Paul. Mrs. Bean started her career working with the Bethel AME Quartet, singing every Sunday morning on the radio, before working with Mr. Bean on her debut album, 'Moria.' Graham Bean also played in the Latinaires.

Harry Bean.

JudyAnn Bean.

Sydney Bean. Died March 2000 at 92. "Daddy of Calypso in Bermuda", a prolific songwriter and probably Bermuda's most recognized entertainer and musician. He received his musical training in church. He taught himself guitar and bass and sang with the Mark Williams Band. Always dressed in colorful outfits and rarely photographed without an instrument in his arms, he was a pioneer in creating a distinct Bermudian calypso soundand the first Bermudian to regularly play abroad. Mr. Bean wrote hundreds of songs, including Bermuda's Still Paradise, Where Did You Stay Last Night Caroline?, and Spend Your Money on Me, which was co-authored by Ted Ming of the Bermuda Strollers. He played in hotels across the island and was the entertainer for Bermuda Island Cruises before becoming its cruise director -- a position he held until the early 1990's. He was still working on the boats when he was in his eighties. He was known as the first local entertainer who could do impersonations of jazz legends such as Louis Armstrong. He was older than Hubert Smith or the Talbot Brothers. Mr. Bean, was married three times, lived for many years in Greene's Guest House in Middle Road Southampton until he moved to a nearby rest home.

Joe (Conchshell) Benjamin. Once, in the mid-1960s, a powerfully-voiced calypso singer at the 40 Thieves night club. He later left Bermuda to live in the United Kingdom and became a well-known activist, preacher and singer.

Rob Berry.

Gita Blakeney.

Carl Borde. Spent many years in Bermuda with the Esso Steel Band and died in Massachusetts in 2002.

Kieran Bradshaw.

Alvin (Hambone) Brangman. Iconic entertainer, pianist and poet, a luminary of the Islands hotel circuit from the heyday of local music died aged 90 on April 10, 2014. Mr Brangman, who performed throughout the calypso era and remained devoted to music up until his passing on March 25, was laid to rest at a service in Hamilton's Wesley Methodist Church. "It's a tremendous loss, said music historian Dale Butler. "He gave so much to the tourism industry and to Bermuda and you couldn't have asked for a nicer guy. Mr Brangman loved Bermuda and loved music. An outstanding arranger, pianist and entertainer, very well-known and gifted. He was well groomed, well spoken, with a charming personality. He goes with people like Earl Darrell, Lance Hayward and Reggie Goater. We were producing a whole host of great pianists in this country. Such was his stature that in 2011 Mr Brangman was inducted into the Bermuda Music Hall of Fame. Any time you dined at any of our great hotels, you would have seen him playing. Hailing from the Rocklands neighborhood of Warwick, Mr Brangman started out playing at the age of seven and showed instant promise as a performer, his daughter Alvina Brangman recalled. Mr Brangman was father also to Sherlene G. D. Trott and Valerie Arorash. His father, Charles Ambrose Brangman, used to play music as well. He remained active playing up until his death. By Mr Brangman's own account, his career started around 1941. He was the first one to originate the Four Spots and the Five Stars, according to Mr Butlers book Music on the Rock. He toured the US with local musicians in 1952, living overseas for a spell and then bringing his experience with the American entertainment scene back home to promote shows, playing the accordion and organ as well as piano. Mr Brangman also had an abiding fondness for the Motown great Marvin Gaye, and the jazz pianist and singer Nat King Cole. A cricket lover, Mr Brangman made a point of rising early for Cup Match and attending both days of the games. He also enjoyed photography and making kites, as well as writing his own songs and composing poems. His distinctive nickname came courtesy of his mother, Editha Gertrude Simons-Brangman.

Charles Ambrose Brangman.

Cher-ann Brangman. Saxophonist. "Playing gospel music has given me a bold confidence that I've never experienced with secular music. When I pick up a horn I transcend. I just give in to God and allow the gifting to take over."

Tony Brannon.

Collie Buddz. One of Bermuda's most successful musicians. His real name is Colin Harper. He was born in New Orleans, but moved to Bermuda as a child after his father passed away. He was soon influenced by reggae music and when he was 19 attended Full Sail Academy in Orlando to pursue an audio engineering degree. Since then he has toured the world with his music supporting artists including Cyprus Hill, Rebelution and Matisyahu and has played at major music festivals, including Lollapalooza and Summer Jam. He continues to record new music, which he releases on his own record label Harper Digital and owns Bermudian radio station Vibe 103 on top of being a father.

Duane Bulford.

"Ghandi" Pendlebury Burgess. Died September 2009 at the age of 84. Trumpeter. First Bermudian to be musical director of an American cruise ship, according to a book written about him by former Minister of Culture Dale Butler. He was also offered record deals with Columbia Records, Decca and Blue note, though he turned them down. The book 'My Blue Heaven' states he studied at the New York School of Music and played with jazz greats such as Dexter Gordon and Lionel Hampton, as well as backing the Temptations and Frankie Avalon. Locally he was musical director at the Forty Thieves Night Club and Southampton Princess Hotel. Twice ran for the Progressive Labour Party, also received the Queen's Certificate and Badge of Honour as well as the international Performing Arts Humanitarian Award. Jazz bible 'Downbeat' magazine named him in the 'outstanding jazz trumpet" section.

Dr. Gary Burgess. Classical Music. Once an opera singer overseas and more recently a Bermuda Government official and conductor of the part-time Bermuda Philharmonic Orchestra.

Tina Burgess.

Quinton (Tiny) Burgess.

Bryan Robert Dickinson Butterfield. Died June 2015. Born on March 6, 1930. Mr. Butterfield made a name for himself in the shows "Boat in a Bottle," and "Gombey," becoming the drum major for the North Shore Majorettes. After their marriage in 1963, Mrs Sandy Butterfield joined the show "Bermuda is Another World" with Mr. Butterfield as a dancer and the Islands first female steel pan player. A star of Bermuda's entertainment industry for several decades. From the 1940s onwards, Mr Butterfield enjoyed an extensive career as a leading performer in the Island's nightspots. He also acted as an ambassador up and down the east coast of the United States in annual Tourism Briefings. He led one of Bermuda's first majorette groups, was a key performer in the Easter Parade and entertained visitors with limbo shows in hotels. He won a Founder's award from Bermuda Arts Council in 2006 in recognition of his life's work. In addition, he was inducted into the Bermuda Music and Entertainers Hall of Fame. Dale Butler, the historian and author, described Mr Butterfield as "Bermuda's most progressive, energetic, artistic, stylish and creative entertainer. Bryan was a workhorse during Bermuda's most progressive period in entertainment, and a first-class showman on the stage. He performed in an era where all of his colleagues could easily have held jobs in top hotels and clubs overseas as he, Hubert Smith, Gene Steede, Talbot Brothers, Michael Clarke and Lance Hayward, to name a few, demonstrated from their performances in Jamaica, New York, Toronto and on the cruise ships. Bryan should have been a national entertainer coach because he had the background, skills and experience. I am pleased to say that the book Music on the Rock captures the spirit of this great man." He was a founder of the Bermuda Foundation of Musicians and Variety Artists which evolved into the existing Bermuda Entertainers Union. He became famous for his distinctive fire-blowing act and dancing on broken glass and formed and led the Bermuda Limbo Dancers. He was a recipient of the Founder's Award of the Bermuda Arts Council, Adlev Annual Award and awards from the Ministries of Community Affairs, Education and Sports. He was inducted in the Bermuda Hall of Fame In what once was annual Floral Pageant, he was the drum major. He and his first wife Erma were leaders of the North Village Majorettes which were backed by the North Village Band. He was also drum major in many latter-day Easter Parades and Bermuda Day Parades. The distinctive white headpiece Bryan wore with his lily white uniform along with his five-foot baton that he swung, were atop his coffin as it was borne into and out of the church through a guard of honour provided by the Ex-Artillery Majorettes. His last performance was with those majorettes, Heather Lightbourne and Valerie Byron in 2003.

Erma Butterfield. Died April 2016 at the age of 87. A brilliant dancer and an icon of Bermuda in her heyday. The mother of two was described as "a ray of sunshine.". She and her then-husband, Bryan Butterfield, danced in both Bermuda and Jamaica during the Fifties and early Sixties. They would make the most of the tourist season on the island and work in Jamaica during Bermuda's off-season, Erma, along with Bryan, Kenny Bean and King Trott performed every winter in Montego Bay, Jamaica in all the major hotels. Ms Butterfield's first dance partner was Vince Godfrey, with whom she danced at the St George Hotel. She also had a lead role in the Boat In the Bottle show that was produced by Gregory Gordon and performed at the Castle Harbour Hotel.

Sandy Butterfield.

Dale Butler.

Bishop Caines.

Bill Caisey.

Keith Caisey. Multi-percussionist and his Brazilian wife Clara.

Earlston (Duke) Callabras.

Earl Cameron. Bermudian acting legend. The Earl Cameron Theatre at City Hall is named in his honor. Mr Cameron returned to Bermuda after the Second World War, but just five months later he was back on a ship, heading to New York and then to London, where he won a role as an understudy in Deep are the Roots. Mr Cameron later made the move to the silver screen with a starring role in Pool of London, which made him one of the first black stars in the UK. He went on to earn roles in Simba, Sapphire, the James Bond movie Thunderball, The Queen and The Interpreter. Mr Cameron was appointed Commander of the Order of the British Empire for his contributions to drama in 2009. The University of Warwick awarded Mr Cameron an honorary doctorate in 2013.

Violetta Carmichael. Now dead.

Geoffrey Cauley. Died March 2017 in Italy at age 74. Born in Somerset, Bermuda in 1942. A world-renowned ballet dancer and choreographer. He lived in Bermuda until he was 10 when his family moved to live in Plymouth, England where he attended ballet classes with Geraldine Lambe. She sent him to audition for the Royal Ballet School, which he entered in 1954. From there, he joined the Covent Garden Opera Ballet in 1960 and moved to the Royal Ballet itself two years later. Great figures of dance such as Marga Nativo and Luciana Savignano praised him. During a professional career that spanned several decades, Mr Cauley worked with the giants of international ballet including Nureyev, Anthony Dowell, Frederick Ashton, Margot Fontaine, Savignano and Fracci. He travelled the world living and working in Italy, Switzerland, Argentina, Germany, England and the United States. He worked with the BBC London and elsewhere in productions of The Tempest and The Nutcracker. Mr Cauley, with other acclaimed ballet dancers, made a return visit to Bermuda with the Royal Ballet.

Mia Page Chambray

Victor Chambray.

Nick Christopher. Actor. Cast in the award-winning musical Hamilton. Hamilton tells the story of US statesman and America's founding father Alexander Hamilton, who became George Washington's right-hand man during the Revolutionary War. He was killed in an 1804 duel with vice-president Aaron Burr. The show has won numerous Tony Awards, a Grammy Award and the Pulitzer Prize for Drama. Mr Christopher previously appeared in Hamilton in 2017, when he stepped in to replace Tony nominee Christopher Jackson as George Washington. Son of Hamilton town crier Ed Christopher.

Marcelle Clamens. This Bermudian opera singer and teacher with an international reputation who nurtured the island's singing talent, died in November 2019 after an illness. She was 65. The mother of three who founded the Talent Explosion with her husband, Michael, was a lifelong singer who launched her career in 1990. A soprano trained at the University of Cincinnati Conservatory of Music where she earned a Bachelor of Music degree with honors in 1996, Ms Clamens performed in top venues such as New York City's Carnegie Hall. Her family said she was a part-time vocal teacher at Saltus and also taught at Simons Music School and Bermuda School of Music. Michaela Antoinette, Ms Clamens's daughter, said: "She gave her all to her students — all her energy and love. All her students have to know she loved them individually for their talents and who they were." Michaela added: "We want to thank everybody who has reached out to us. She was a beautiful soul who was loved and cherished by everyone." Ms Clamens also used her talent to raise money for scholarships for Bermudian students. The family said it had set a provisional date of December 14, two days before what would have been Ms Clamens's birthday, for a musical celebration of her life. A pupil of music teacher Daniel Hill, her first taste of fame came in 1990 with a performance of Verdi's Requiem with the Bermuda Philharmonic and she became a regular on Bermudian and overseas stages. Ms Clamens, a former secretary at the Bank of Bermuda, made a strong impression when she began studies at Cincinnati. Barbara Honn, a professor at the school, said: "She has a quality that only about ten per cent of singers possess — and that is her exciting communicative quality. You can't teach people that. The moment the curtain goes up, people are captivated by her." Ms Clamens also studied languages, including German and French, to help with her opera repertoire. She earned a Bachelor of Music degree in 1996 and made her Carnegie Hall debut in 1998. She and her husband launched Talent Explosion in 2003 and the show endured as an annual fixture for eight years. She told The Royal Gazette in 2009, just before she performed at the Bermuda Festival in celebration of Bermuda's 400th anniversary: "My voice is still young and vibrant — I keep it that way through personal training and also the occasional help of my coach, David Brewer, via long-distance phone calls." Ms Clamens began to focus on teaching as well as family in her later years, and on the gardens at her home in Mount Hill. She is survived by another daughter, Michelle Clamens, a son, Michael, as well as by her husband. Opera Ebony, longest-surviving African-American opera company in the USA described her as an unqualified success with her soaring, gleaming tones and artistic excellence. She performed in numerous recital halls in Bermuda, Europe and the United States including the world famous Carnegie Hall in New York.
Appearances included
• 1990: Verdi Requiem, Soprano soloist, Bermuda Festival
• 1991: Haydn's Creation, Soprano soloist, Bermuda Festival
• 1997: A top winner in Bellini Vocal competition, Italy
• 1997: Queens Opera Association Cruise concert on QE2
• 1997: Winner of Artist International competition in New York
• 1998: Recital Halls in Little Rock, Arkansas
• 1998: Recital Halls in New York
• 1999: Solo Debut, Carnegie Hall, New York
• 2001: Role of Micaela in 'Carmen', Bermuda Festival
• 2002: Guest Artist of singing group 'Word', Bermuda Festival
• 2003: Guest Artist of Opera York, Canada
• 2003: Guest Artist of Kid Fest, Bermuda
• 2004: Walk Together Children, Bermuda Festival
• 2007: Solo recital at The City Hall Theatre, Bermuda

John Theophilus Clarke. A ground-breaking dancer on the local and international stage, he died on September 5, 2017 at the age of 85. Mr Clarke challenged racial barriers during a time of open discrimination and his performances included touring with Les Ballets Negres, Europe's first all-black dance troupe. He founded his own company in Europe, The Montgomery Dancers, later establishing a dance school back in Bermuda — as well as working in the family business, Wrights Candy Shop, a popular St George's store. Fellow performer Sandra Butterfield, a contemporary of Mr Clarke's along with her husband Bryan, recalled him as "creative, brilliant, charming, funny, stubborn, generous, gentle". Calling him "an icon for sure", Ms Butterfield said there could be "no duplication" of her longtime friend. Mr Clarke was born in Britain to Ellen Trew Wright from Bermuda and John Theophilus Clarke Sr from Georgetown, Guyana. He grew up in the Wright family homestead of Hillcrest in Old Maid's Lane, St George's. His introduction to dance came early, though Gregory Gordon, an American dance instructor who coached many local performers. Mr Gordon's production of The Boat in the Bottle afforded Mr Clarke his first taste of the stage.

Michael Clarke. Died.

John Theophilus Clarke.

Rudolph Commissiong, Sr. A pioneer of steel band music in Bermuda. In Trinidad & Tobago he learnt how to play the steel pan at the age of 17, influenced to do so by the famous Casablanca band and tenor pan player Ormond "Patsy" Haynes. With about eight friends, they started a band called the Hit Paraders. Well-known and talented musician Art De Coteau taught and arranged the music for them. Later, they played in Barbados. In March 1955, someone passing through Trinidad from Brazil to his home in Bermuda saw them playing. They were recommended to the manager of a nightclub called the Alibi Room in the New Windsor Hotel in Hamilton. Don Gibson saw them, a contract was signed. They arrived in Bermuda in April 1955 and were met at the airport by a couple of reporters from The Royal Gazette and Mid-Ocean News, officials from Esso and representatives from the Department of Tourism. They were serenaded by Hubert Smith and the Coral Islanders, who were playing on the tarmac as they disembarked the aircraft. About one week later, they started doing one show a night at the Alibi Room in the New Windsor Hotel on Queen Street in Hamilton. They returned to Trinidad after their contract ended but by March 1956, they were contracted by Don Gibson and the owner of the Coral Island Hotel in Flatts, Bermuda. Mr Barber had just opened a new nightclub in the hotel, which was called The Pirates Den. Later, they became known throughout Bermuda, USA and Canada as the Esso Steel Band of Bermuda, playing at all the island's top hotels and venues.
Esso Steel Band roll call (1955-1987)
PAN MEN
Rudolph Commissiong
Carl Borde (former leader of Tripoli Steel Band)
Mervyn Oliver
Kirby Rambert
Maxie Perez
Ivan Nelson
Steve Dupres
Herman "Rock" Johnston (founder and leader of the West Side Symphony)
Kelvin Dove (former member and founder of Invaders)
Georgie Ng-Wai (former member of Dixieland)
Carl Rodney (brother of Earl Rodney)
Junior Martinez
Neville Paynter (vocalist/drummer)
Hubert Smith Jr (vocalist)
David Cannonier (percussionist/vocalist)
Tony Antoine (drummer)
Maurice Nearon (vocalist)
Rudolph Benjamin (vocalist)
They made eight albums:
The Esso Steel Band (Bermuda Master Tone label)
Esso Steel Band (Live at the Elbow Beach Hotel)
Esso Steel Band "On Top" (O.U.R. label)
Sunshine (O.U.R. label)
Bermuda Gold (O.U.R. Label
Front Street (O.U.R. Label)
In Bermuda (Edmar Label)
Still a Beautiful World (O.U.R. Label)
Awards and citations:
Medal and Certificate of Honour from Queen Elizabeth II (in recognition of valuable services as an advocate and active campaigner for racial equality as a member of the Progressive Group) December 31, 1999
Founders Award (presented to the Esso Steel Band for music) 2005
The Trail Blazers Award from the Bermuda Government (for the 1959 Theatre Boycott in Bermuda as a member of the Progressive Group) 2009
Drum Major Award (from the Progressive Labour Party for bravery in helping to secure social and racial justice as a member of the Progressive Group, which was the architect of the 1959 Theatre Boycott) 2009

Doris Corbin. Died September 6. 2015 at 103 years old. Longstanding organist and choir director for St Paul African Methodist Episcopal Church. A former teacher at Central Primary School, now Victor Scott Primary School, Mrs Corbin was awarded the Certificate and Badge of Honour by the Queen in 1983 for her service in the Girl Guide movement. Her funeral was held at St Paul AME Church in Hamilton.

Glen Cuoco. Drummer.

Earl Robinson Darrell. Died February 2013 at age 89. Pianist and war veteran. Played the piano at the Waterlot Inn for more than four decades, performing for many visiting celebrities including British Prime Minister Edward Heath and Canadian jazz pianist Oscar Peterson. He was perhaps most proud of having performed with movie star Elizabeth Taylor when she visited Bermuda, and he kept a photograph of her in his living room. The song he was most frequently asked to perform was 'Yellow Bird' in the 1950s and 1960s. He could play many other pieces including Italian and German music. He was born to Melvina and John Darrell and grew up in Warwick in the Spring Hill area. His family was musical and he learned to play the piano by ear at an early age. He started performing professionally as a teenager, playing the piano with the Al Davis Band. He was hired after a musician scheduled to play didn't show up for work; Mr Darrell was taken on because he knew how to play 'Blue Moon.' When the Second World War broke out he joined the Caribbean Regiment, and was stationed in Italy and Egypt. At a military hospital in Port Said, Egypt he was taught how to read music by an English Corporal who played the organ in a church attended by the troops. When he returned to Bermuda in January 1946 he formed a musical group called The Aldarnos. For decades he played the piano all over Bermuda, with much of the time spent at the Waterlot Inn through its various reincarnations the Number One Club, the Rib Room and then the Waterlot Inn. In 2012 he received the Bermuda Arts Council Lifetime Achievement Award for long service to music in Bermuda. He also received a PLP Drum Major Award in 2008. His experiences in the Second World War have been recorded by the Bermuda National Museum, and he was interviewed for their film 'Bermuda's Defence Heritage.' While Mr Darrell was deeply proud of his war record, he was also highly critical of the way that Bermuda war veterans were treated and compensated after the war. He has also been outspoken about the way that Bermuda's veteran musicians were virtually abandoned in the 1980s when hoteliers decided they no longer wanted local music. He was predeceased by his wife of many years, Winfred. He leaves behind a daughter, Cheryl Phillips, plus numerous grandchildren and great grandchildren, other relatives and friends.

Francis Llewellyn Spencer Darrell. Known as "Merry Mice" — said to be the oldest Gombey captain — died August 22, 2015 the age of 83. Friends, family and fellow dancers paid tribute to a "real giant in the Gombey movement." The former Pembroke resident had moved and resided in Stanford, Connecticut, in the United States, but remained well-loved in Bermuda. Mr Darrell was a protégée of the founding father of Bermuda Gombeys — Charles Ebenezer Norford — and he was honored at the 2008 Gombey Festival. H & H Gombeys, Places New Generation Gombeys, Warner Gombeys, Richardson's Gombeys and the Warwick Gombeys all performed after his funeral and the programme concluded with the formal recognition and honoring of Mr Darrell. He was the oldest Bermuda Gombey captain alive, even though he was living in Connecticut.

Kristen Darrell. Actor. Based in London.

Patricia Deane-Gray, MBE. She studied with various dance teachers on the Island before traveling to England to train as a professional classical dancer. She attended both the Legat School of Ballet in London and the Guildhall School of Music and Drama, before going to the International Ballet School in Split, Yugoslavia (now Croatia). Later she became a soloist with the National Theatre of Yugoslavia, and traveled to New York with Ballet Russe, where she performed at the Yugoslav Embassy for the United Nations. Returning to London, she obtained her teacher's degree from the Federation of Russian Ballet. Upon her return to Bermuda she taught for the Department of Education before opening and directing her Bermuda School of Russian Ballet. Since 1958, Mme Deane-Gray has been indirectly responsible for most of the ballet performances given in Bermuda, including the Bermuda Ballet Weeks from 1959-1965, which became the forerunners of the Bermuda Festival. She is the founder and was the director of the Bermuda Civic Ballet from 1972-2002, and danced in its first production, 'Devil in the Village.' She is a two-time past president of the Bermuda Ballet Association, which she co founded with Yugoslav dancer/teacher Madame Ana Roje in 1962. From 1977 she has been a representative of the Society of Russian Ballet London, and is a past president of the American Society of Russian Ballet. In 1982, she lectured and demonstrated the syllabus to students and teachers for the American Society of Russian Ballet in New England at Harvard University. Mme Deane-Gray's work as a dancer/teacher/choreographer has been formally recognized with several awards. In 1984 she was made a Member of the British Empire (MBE) by the Queen. She has been honored twice by the Bermuda Arts Council, first with its Performing Arts Founders Award, and then its Lifetime Achievement Award. In 2003 she was honored by the Ministry of Education for her contributions to education of the arts. Overseas, she has been recognized by the Society of Russian Ballet as a teacher, examiner and consultant. In 2011 she was a judge at Zagreb Theatre's International Dance Competition in Croatia. Mme Deane-Gray is the director of the Ana Roje International Ballet summer school, which this year has been held in Bermuda to coincide with the Civic Ballet's 40th anniversary, in which some of the students will participate. She is a teacher, examiner and consultant with the Legat Foundation in Croatia, and the international coordinator of the Legat summer school in Croatia. Mme Deane-Gray has taken the Legat traveling exhibition, 'One Hundred Years of Croatian Ballet', to 27 different venues in Canada, the US, Russia and Austria.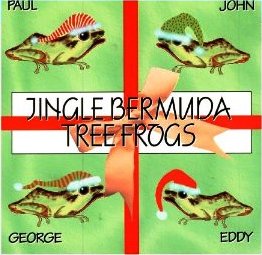 Eddy DeMello. Died March 6, 2013 at the age of 75. Music promoter and businessman, owner of Music Box on Reid Street. He recorded many Bermuda musicians and organized many music concerts and musical events on the Island. He also worked tirelessly on behalf of the Island's Portuguese community and was president of the Vasco da Gama Club for 17 years. He received numerous Bermuda honors for his work and was also recognised by the Queen and Portuguese government. Mr DeMello's wife, Elsie, said he was diagnosed with liver cancer in 2008 and died peacefully at home. "He put up a brave fight and had a real will to live which he never gave up until the end. He was a man who wore many hats and always wanted to keep busy. But he was also incredibly kind. He would give you the shirt off his back." Mrs DeMello recalled how staff at the Music Box would always try and prevent Mr DeMello from serving customers because he was always giving discounts to clients who couldn't quite afford their purchases. "He was generous to a fault but never talked about that side of things," Mrs DeMello said. Mr DeMello was born in the Azores in 1937, but came to Bermuda in 1949 at the age of 11. He attended Dellwood School for a few years but, as the oldest of four children, had to go out to work while still a teenager to support the family. A love of music soon landed him a job at the Music Box, which was then located on Queen Street. He bought the business in the 1970s, turning it into one of the most popular music retailers on the Island. Mr DeMello was also highly successful as a promoter, bringing many top-of-the-bill recording stars to Bermuda, including Charlie Pride, Mahalia Jackson, Ray Charles, Stevie Wonder, Amalia Rodrigues and the Merrymen of Barbados. For more than a decade DeMello Productions organized an annual concert by soca legend Byron Lee. His recording of Jungle Bermuda Tree Frogs chirping Christmas Carols - see http://www.amazon.com/Jingle-Bermuda-Tree-Frogs-Daune/dp/B0000523LP - was a classic. Former Culture Minister Dale Butler said that Mr DeMello did more than anyone to promote culture of all kinds on the Island. Pointing out that Mr DeMello had already been inducted into the Cultural Hall of Fame, Mr Butler added: "That man needs a monument in his honour because he is a national hero. His emphasis was on what it means to be a decent human being. He wasn't interested in black or white or where you were from or anything. He just wanted to work with anyone, as long as it was for the betterment of Bermuda. Obviously he was very interested in Portuguese culture but he also had a love for Bermudian culture I don't think I ever saw him wearing long pants. He was an outstanding promoter and a truly outstanding citizen. His passing is a big, big loss for Bermuda." Never one to forget his roots, Mr DeMello worked tirelessly to keep alive Portuguese traditions and promote Azorian culture here. His interpreting skills were often called upon to assist Portuguese nationals struggling to deal with officialdom. He served on the Portuguese Cultural Centre Committee and was also a member of the Committee for Long Term Residents. Vasco da Gama Club and all of its members were deeply saddened. His passing will be a large loss in the Portuguese-Bermudian community of Bermuda. In 1979, Mr DeMello's work was recognised by Portugal when he was made Knight Commander of the Order of Prince Henry for his contribution to the Portuguese community. He received the Queen's Certificate and Badge of Honour twice the first time in 1988 for his work with the Portuguese community and the second time in 2006 for service to the Bermuda Independence Commission. He was presented with a Bermuda Arts Council Lifetime Achievement Award in 2004 for his contribution to the arts and last year he received a Senior Citizen Community Service Award from the Bermuda Government. As well as his wife, Mr DeMello leaves his son, Duane, sister Mary, brothers William and Joseph and a granddaughter.

Quinceé Kaya Dill. Actress. So far she has appeared in short films and web series.

Diana Douglas (Diana Love Webster (née Dill; formerly Douglas and Darrid). Born January 22, 1923, died July 3, 2015. A Bermuda-born and bred from a prominent local family American actress. She was known for her marriage to actor Kirk Douglas, from 1943 until their divorce in 1951. She was the mother of Michael and Joel Douglas. In 1942, Douglas began her career as an actress and appeared in more than 50 films. Some of her well-known roles were as Susan Rogers in The Indian Fighter (co-starring Kirk Douglas) and as Peg in Planes, Trains and Automobiles. She was also known for her recurring role as Martha Evans in Days of Our Lives (1977–79, 1982). In 2003, she appeared in It Runs in the Family with her ex-husband Kirk, her son Michael and her grandson Cameron. She retired from acting in 2008.

Charles "Jiggs" Douglas. Died November 5, 2018 at age 89. Dale Butler, a former Progressive Labour Party MP and music historian, said Mr Douglas's death was "a great loss to Bermuda's music heritage". He added: "He was an absolutely outstanding conga player who established a reputation all over the island." Atlantic Publishing, owned by Mr Butler, gave an award to Mr Douglas last year to mark his contribution to the island music scene. Mr Butler said "Jiggs" made a trio of conga-drumming greats with musicians Freeman "King" Trott and Gene Steede. He added: "It's a sad occasion. He was a very quiet, humble man who often freelanced, showing up to perform at venues like Hubie's." The Angle Street bar, a popular spot for jazz, closed in 2010. Mr Butler said he was lucky to have seen the performer in action at the legendary Queen Street bar the Jungle Room, where top local talent was showcased. He added: "I saw him in action there with the Fiery Limbo Dancers group. I also saw great performances at the Southampton Princess. He was part of that hotel circuit." Mr Butler's book, Music on the Rock, said Mr Douglas started performing at age 19. He played with notable acts such as Graham Bean and the Tropicanos, as well as Hubert Smith. Lance Furbert, a drummer during the heyday of Bermuda's live music scene, said Mr Douglas was a mentor to younger musicians at the Jungle Room. Mr Furbert added Mr Douglas was "an incredible drummer". He said: "I worked with him with Bryan Butterfield's Fiery Limbo Dancers. He used to do a great solo with all kinds of action as he played, talking to the audience — he could crack people up." Mr Furbert added Mr Douglas's music was "like thunder — it was incredible how much rhythm he had. It was a deep booming sound that took over everything. As a person, he could be really comical. What I liked about him was that he was always helpful. To those of us who were younger than him, he was really a teacher. In the early days, the Jungle Room drummers were teachers to the younger guys coming up." Mr Douglas's death came about a week after Ernest "Tojo" Philpott, a guitarist and singer, died aged 81.

Michael Douglas and his wife Catherine Zeta-Edwards. Actor and actress. Michael's mother was Bermudian Diana Douglas, once married to Kirk Douglas, Michael's father. He and family no longer reside in Bermuda but when they did so they made quite a splash.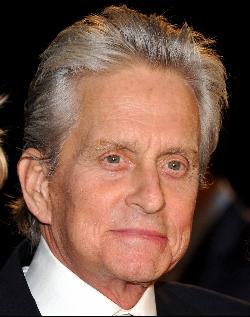 Michael Douglas

Michael Ebbin. Actor.

Steve Easton. Singer, songwriter and music producer. Died at the age of 54 after suffering from complications related to diabetes. The father of three recorded Beyoncé when she took part in the Bermuda Music Festival in 2008, collaborated with David Bowie on a number of songs while the British star lived on the island and recorded voice-over actors for the 2005 Star Wars movie Revenge of the Sith. Described as a humble man, the owner and producer of Just Platinum studio never forgot his roots and was always on hand to help aspiring locals make their way in music, production and recording. Aside from his love for music, Mr Easton was a family man. His brother, Mikko Ingham, said: "My greatest memories of Steve would be outside the music. I enjoyed my brother for the family man he was and he really enjoyed family gatherings and talking about old times. I will really miss that. I used to make it a point that every Friday I would go to the studio and would be there for two or three hours just talking because that's what he loved to do." Mr Easton's other brother Shondell described him as "a big brother I looked up to". Mr Easton came from a musical family. His mother, Gloria, was a choir director for the Southampton Seventh-day Adventist Church, his father Raymond sang as does his sister Lisa Smith. He attended Atlantic Union College in Boston in the 1980s before studying accounting at York University in Canada. After graduating, he went on to study recording engineering at the Trebas Institute in Toronto. He then joined what was to become Canada's most popular gospel band, Selection, which toured Canada and the US. Mr Easton's first recording studio was StudioVII, which he set up in Toronto with Tim Fray in 1992. He moved to Bermuda in 1998 and opened Just Platinum studio, where he worked with many musical legends including David Bowie, with whom he made regular recordings in the early 2000s. He also recorded Catherine Zeta Jones's voice-overs for her T-Mobile adverts and wrote advertisements for corporations on the island. Glenn Blakeney, the founder of Bermuda Soul Records and chairman of Inter-Island Communications, worked closely with Mr Easton and said the news of his passing was "devastating" for the island. "He was one of the most selfless people that I know," Mr Blakeney said. "He was always willing to assist particularly those who were aspiring to be in the music industry. We go back many years and started our writing and producing jingles together. He was a consummate professional and very knowledgeable about the music industry. He has worked with so many different people. He did a master class seminar along with Orville Malcolm and Bruce Swedien, who is renowned for being the engineer on all Michael Jackson produced by Quincy Jones. Bruce had offered the chance to do an audio engineering class with him in Florida. They were selected among seven or eight people around the world to attend and were graded highest among those who attended the class. He was an unsung hero, he was humble, he just went very quietly about doing what he did best to help other people in their musical aspirations." Mr Easton leaves behind his wife Shevy, his daughters Loren "Bunni" Ramey, Tia Easton and Stephanie Easton, his brothers Shondell Easton and Mikko Ingham, and his sister Lisa Smith.

Rebecca Faulkenberry. Actress. She was in Broadway's 'Groundhog Day,' which opened in March 2017 in New York City. She was also in Rock of Ages and more.

Geoff Faiella. Actor. He appeared in fall 2019 Bermuda at the BMDS Daylesford Theatre in Killing Carlisle by local journalist' Owain Johnston. Billed as "a dark comedy with light weaponry", Killing Carlisle is about "a trained hit man and a jilted lover who breaks into the luxurious Bermuda home of Carlisle Mooney on the same night with murder on their minds — completely independent of one another". His father's mother, Isabelle 'Puss' Faiella, encouraged him to get out there. She used to perform in clubs in Bermuda in the 1950s and 1960s. On returning to the island in 2010, Mr Faiella rejoined the local theatre scene, getting involved in shows with both BMDS and the Gilbert & Sullivan Society.

Marvin Ford. In 2018 joined the touring cast of a musical written by rock star Sting. Mr Ford said he was surprised to have landed his first professional role in The Last Ship. He said: "My first thought was that they were joking. I was shocked." Mr Ford, a regular on the Bermuda stage, left the island several years ago to pursue a career as a horse trainer. He was lured back on stage by his wife, who signed him up to appear as an "unexpected star" on Michael McIntyre's Big Show in December, but it was his work in Bermuda that landed him an audition for The Last Ship. Mr Ford said: "The musical director for the show, Richard John, was actually the musical director for The Full Monty when we performed it in Bermuda. They were looking for someone to do the part. Richard suggested that they look for a singer and go from there. I got a call at 8am on a Wednesday and I had my audition on Thursday." He said having Mr John there made the audition more comfortable, but he didn't feel he had sung his best. Mr Ford added: "I don't know what they saw, but I got the call the next day saying I had the part." The Last Ship tells the story of the return of Gideon Fletcher to the Tyneside shipbuilding town of Wallsend after 15 years to find the community facing an uncertain future. The story is based on the life of Sting, who is from the town, and features some of his popular songs including Island of Souls, All This Time and When We Dance. The show enjoyed a brief run on Broadway and won two Tony Award nominations. The touring production will be the first performances in Britain. Mr Ford said rehearsals for the show begin in London on Monday and the actors will move to Newcastle before the show's opening on March 12. The production will spend four weeks in Newcastle before embarking on a tour of the British Isles, with performances in Liverpool, Cardiff, Dublin, Edinburgh and York. The show is directed by Lorne Campbell and features set design by the Tony Award-winning 59 Productions, the team behind the video design for the 2012 Olympic Games in London.

Jay Fox. Once a wonderful Bermuda calypso artist and singer, now lives in Tennessee and wrote a moving book Triumph Over Tragedy.

Jeremy Frith. Celebrated poet and musician who died in 2009. Mr Frith received acclaim for his 1996 collection Oh Gawd, I Vish Dis Ig'rance Vud Stop!, which featured a range of poetry and verse about life on the island, largely written in Bermudian vernacular.

Julia Frith. Actress. Joined the main cast of The Comedy About a Bank Robbery next Tuesday after months of work with the touring production. Her family includes international music star Heather Nova and famous puppeteer Michael Frith — performed in several shows in Bermuda before going to Rose Bruford College in London. She landed the part of con artist Caprice Freeboys in the touring cast of The Comedy About a Bank Robbery earlier this year and has spent the last four months performing across Britain and Ireland. But she said the move to the critically acclaimed West End production was a dream come true. She said: "Being in the West End is almost every actor's dream. It's a milestone for many that represents a certain level of success, skill, and reputation. The West End is an area of London where a lot of the best of theatre in the world can be found. The quality of the productions are internationally renowned and, like Broadway, for an actor, that's the dream. That being said, you can be a brilliant actor and never work on the West End. At the end of the day, acting is a job and you can do your job brilliantly anywhere, in any space." Ms Frith added she was excited to make her West End debut. She said: "This is the best show to debut in, my role as a strong female lead is so full and fun to play, the story and writing is smart, quick and challenging. I can't wait." Ms Frith added: "It's such a humbling and exciting feeling, performing on a stage that has hosted so many incredible actors and productions long before I was even alive." Ms Frith thanked Bermuda for its constant support. She said: "My success is your success." She also thanked the Bermuda Arts Council and the BMDS Charitable Trust, who helped her and other Bermudian artists fulfil their creative dreams. The Comedy About a Bank Robbery ran at the Criterion Theatre in Piccadilly Circus.

Michael Frith. Celebrated puppeteer.

Candace Furbert. Actress, singer, dancer. At the age of 22 she began her employment in the West End, London.

"Big Daddy Gates." Died July 21, 2017. A legend from the heydays of musical local entertainment, he died in Florida at the age of 77. Known universally by his stage name, Donald Galloway performed alongside world-famed bands and Motown luminaries as well as the island's top musicians. Lucky enough to know Stevie Wonder as "a tremendous guy", Mr Galloway could list a pantheon of names he had worked alongside: the Marvelettes, the Shangri-Las, the Temptations, Solomon Burke, Jackie Wilson, Joe Tex, Marvin Gaye, Jerry Butler, Curtis Mayfield, the Supremes, Lou Rawls, and Martha and the Vandellas. He recalled taking the stage in Bermuda with Little Anthony and the Imperials, Frankie Lymon and the Teenagers, Sister Sledge, and the Isley Brothers — then featuring Jimi Hendrix on guitar and Buddy Miles on drums. Married for 53 years, Mr Galloway credited his wife Ursula for keeping him grounded. Mr Galloway's first stage act was a duo called the Stepsters with his brother Kenneth, known as "Little Gates" — but his career as an MC was his instant, definitive success. "I started working with one of my mentors, Olive Trott, when I got started in the business," he told the Mid-Ocean News in 1996. I MCd my first show when I was 17 years old, at the Clay House Inn. I wasn't old enough to be in the club, but I was the MC anyway. If I'm not mistaken, it was the Supremes, on their first visit to Bermuda."

Alphonso Harris, Big Al, was a Bermuda music legend, a phenomenal pianist and made a significant contribution to the development of live music in Bermuda. By 1945, Big Al formed his own 12-piece orchestra and later his Calypso Band. In addition to being an accomplished pianist, he also coached many aspiring vocalists such as Pam White and Violetta Carmichael.

Lance Hayward. Died November 1991 after a long fight with cancer. Born in Spanish Point, Pembroke, in 1916 he was blinded but as a pianist he and his quartet created their own unique claim to fame in Bermuda and the USA. At 13, he was sent to the Perkins School for the Blind in Massachusetts. It was here said his son Stuart Hayward that his father refined his craft. When he returned to the island after three years abroad, he began a career in music that would last almost 60 years. It began modestly enough in local churches, but soon Hayward was a fixture in the island's nightclub circuit and was the accompanist of choice for artists like Carmen McRae and Marvin Gaye when they performed in Bermuda. Then, in the Golden Age of Bermudian tourism, he arranged and directed the Hayward & Hayward Ensemble, a mixed-voice chorus that toured the island's packed hotels. In the '50s and '60s it was hard for musicians when the hotels closed in the winter, so Hayward took his act to Jamaica where he found employment at a hotel on the island's north-west coast. The membership of his quartet changed over the years, but it then included the likes of Milton Robinson, Frankie Roban, Ernest Ranglin, Clarence (Tootsie) Bean and Max Smith. In 1963 he moved to New York City where a long career in the city's jazz clubs awaited him. He got his start at clubs like West Boondock and Jacques-in-the-Village until he moved to the Village Corner, where he appeared regularly for 16 years. While in Manhattan he formed the Lance Hayward Singers which continue to perform his choral arrangements. Though Hayward spent the rest of his life in the United States, he never lost touch with his island roots. His obituary was published in The New York Times.

Wendell "Shine" Hayward. Saxophonist, music educator, recording artist and music businessman, a graduate of Berklee College of Music. 64 years old in 2020. On Sunday, February 14, 2016 a Valentine's Day celebration was held in honour of his 60th birthday at the Fairmont Southampton Amphitheatre. The show, dubbed 'My Tribute,' featured 'Shine Hayward & Friends,' with special performances by Nadanja & Nishanthi, Laurita Adderley, Charo Hollis, John Woolridge, Live Wires, Lloyd Holder, Aaron Spencer, and Aisha Trott. Shine grew up playing music in the church before studying at Berklee College of Music in Boston. He played with the Ghandi Burgess orchestra, and then later formed his own band, Shine Hayward and Friends.

Lena Headey. Actress.

Daren A Herbert. Actor.

Mairéad Hickey. Bermuda-born musician, award-winning violinist.

Lloyd Holder.

Charo Hollis.

Jean Howes. Television personality and musician remembered as a dedicated, charitable, loving woman who lived her life to the fullest, despite being blind for most of her life. Mrs Howes, who celebrated her 90th birthday earlier that year, passed away on August 15, 2016. Renowned for her entertainment and educational shows, she was determined not to be hindered by her blindness caused when she was struck in the eye with a stone at the age of just 9. She championed local musical talent and co-hosted the popular TV Christmas show with legendary Bermuda musician Gene Steede for some 20 years following her retirement. She was also a founding member of the Beacon Club in 1954 which was later to become the Bermuda Society for the Blind and traveled the island educating children about the danger of throwing stones. Her only son Terry Southern said his mother, who died just a few hours before the birth of her fifth great-grandchild Kenji, was a strong yet giving person. "She was a lovely mother — strict but patient. "She wrote a book of poems. I had a son named Aaron — he died about 40 years ago from cystic fibrosis. One of the poems is called A Letter To Aaron because they loved each other so much. She made about $8,000 from the sales but gave every single dollar away to charity. She was a very giving person. She would go to the hospital to sing until she was getting so old I had to tell her to slow down. She had to be independent being blind. She would learn things by the hard knocks and would always have to know how to do something herself." Michael Dunkley, the Premier, also paid tribute yesterday, saying: "She dedicated a great deal of her time to charitable work and despite being blind she had an independent spirit, led a full life and was an inspiration to us all." The Progressive Labour Party added: "We thank Ms Howes for her dedication to our community, and we extend our deepest condolences to her family and friends during this most difficult time." Mrs Howes moved from Nova Scotia to Bermuda at the age of two with her parents and four siblings but temporarily studied in Canada at a special school for children with sight loss. Returning to Bermuda, she took up a full-time job in the pricing department at Medical Hall where she remained for 35 years. She went on to become a talented musician, playing the piano, the accordion, the mouth organ and guitar. Along with her band she played at venues across Bermuda and also played at residential care homes and the hospital. In December 1993, she was awarded the Queen's Certificate in the New Year's honours list for her contribution to the island's charities and the community. She later worked for Fernance Perry, former owner of the Bermuda Broadcasting Corporation, answering the phones at Mayfair Limited until her retirement when she took up his offer to start a music show. It was there that Ms Howes's iconic holiday television show Jean and Gene's Christmas was born. Her co-star Gene Steede described her as one of his best friends. Mrs Howes was the first blind resident to have a guide dog and taught Braille to people with visual impairments. She was a great advocate for the blind in Bermuda. She was the most famous blind person in Bermuda and was an advocate, mentor and supporter of blind people.

Will Kempe. Actor.

Aliana King. Model. Has appeared as the cover girl in the Mexican edition of the world's biggest fashion magazine. Aliana King features on the front of Elle's April edition for the Latin American country — but she almost missed the job because of other work commitments. Ms King, 19, was in Sweden on a fashion shoot when she got the call about the job for Elle, scheduled to be shot in New York. She said: "I was doing a job in Sweden right before the photo shoot so I wasn't even sure if I was going to be able to be back for it. As soon as I left my job in Sweden I got to the airport, flew all night, got to New York in the morning and went straight to my job from there. It took a lot to make it happen." Ms King, who lives in New York, said that her appearance in a prestige magazine such as Elle was a great career booster, but it is the latest in an impressive list of achievements. She added she had already featured in fashion giants Vogue and Marie Claire, and now had the last of the big four magazines, Harper's Bazaar, in her sights. But Ms King said she might never have made it in an industry dominated by taller women because she is only 5ft 4in.

Ronald Lightbourne. Artist, musician, activist and teacher. Died June 25, 2018. Was hailed as Bermuda's "renaissance man". An accomplished piano and trumpet player, Mr Lightbourne, who was 71, performed with top island artists in the heyday of Bermuda's music scene. Gene Steede, a veteran musician who played with Mr Lightbourne at hotel venues for years, said Mr Lightbourne was a "brilliant" teacher. He added: "He was an excellent player and a writer and what made us friends is that I love comedy — he was a very funny man who loved to joke. He was a great guy who loved to travel — he spent time in Egypt, South Africa, you name it. He'd been there. Whenever I worked with him I had no worries. He was one of the best. "bourne as a musician, a teacher and friend. Jeanne Atherden, the Opposition leader, told MPs that Mr Lightbourne had been an asset to the island's West Indian Association, but was a special help to residents who wanted to visit Cuba at a time when travel to the Caribbean island was restricted. Michael Weeks, the sports and social development minister, said he was taught saxophone at Berkeley by Mr Lightbourne, who later became a friend. Mr Lightbourne is survived by his son, Jonathan, daughter, Jessica, and stepdaughter, Shirley.

Roderick Anthony "Roddy" Marshall. Died December 2015. Song-writer, musician and fisherman. Roddy is survived by his brothers, Eddie (Jan), Jeffrey (Frances) and Allan (Kietny), and by his sisters, Norma (Mike deceased) and Joanne (Eugene). Roddy's parents, William and Blanche Marshall pre-deceased him.

Rueben McCoy. Calypso singer, made a number of recordings with both Bermuda (Hamiltonians) and Caribbean bands.

Lawrence Minors. Died July 19, 2016. A popular member of Bermuda's shrinking fraternity of veteran calypso artists, at the age of 73. The bassist played with the Bermuda Strollers, one of the island's internationally known acts that grew out of the heyday of performers on the local hotel circuit. "Lawrence was my buddy; he had the finest personality in the world, really comical," recalled Ridgley Darrell, a drummer for the group. The Bermuda Strollers went on to travel extensively through college towns and clubs in New England and Canada. Mr Darrell recalled early days at Elbow Beach, where the group performed for college crowds, and used material from the hotel's "prettiest curtains in the world" for their first sets of trousers. "We went from there to the Forty Thieves for years, and places like Casey's. We had a ball." Led by Ted Ming with John Ming, the group featured Stan "Lord Necktie" Seymour and Rudy Ford; musicians such as Lance Furbert also played with the Strollers, whose sound was billed as rock calypso. Mr Minors had come from an earlier group, the Sprites. Mr Furbert, taken on as a drummer with the Bermuda Strollers, recalled him as a highly accomplished player.

David Moniz. Died March 2015. Celebrated local musician and original member of popular band The Bermuda Strollers. They reached international fame in the 1970s and 1980s, playing iconic songs such as Bermuda Buggy Ride, Bermuda is Another World and Yellow Bird. The group, led by Ted Ming, also performed regularly on the annual Jerry Lewis Telethon, giving them exposure across the east coast. Mr Moniz was inducted into the Bermuda Music Hall of Fame in 2014.

William Moniz. Died June 2018. Better known as Dennis, he was remembered as a passionate and prolific performer who lived for music. Andrew Chamberlain, a veteran musician, said he was introduced to Mr Moniz's music as a teenager. Mr Moniz's band Life Sentence played at Mr Chamberlain's Mount Saint Agnes school dance. Mr Chamberlain said: "Here was this revolutionary funk band, mostly all black guys, not playing rock and roll but blasting out this amazing funk sound very loudly in an all-white school chaperoned by all these nuns. They left an impression, believe me." Mr Chamberlain was speaking after Mr Moniz, who was 66, died last week, days after his bicycle was in collision with a motorbike on Middle Road, Devonshire. Mr Chamberlain said he later recorded some tracks with Life Sentence and also performed with Mr Moniz in a band called Better Half. He added the two had played together since 1978. Mr Chamberlain said his good friend was a "typical artist". He added: "To say we always got along would be a lie. You couldn't argue with him, but he was one of the most influential people in my music career." Mr Chamberlain said Mr Moniz was fearless and an old-school Bermudian performer.Mr Moniz was father to one son, also named Dennis.

Nadanja & Nishanthi.

Charles Ebenezer Norford. Founding father of Bermuda Gombeys.

Heather Nova. (born Heather Allison Frith. )2018. January 11. Bermudian International recording artist Heather Nova will perform in tribute to her uncle Jeremy Frith as part of the Bermuda Festival. Ms Nova, along with Christina Frith, will join Kim Dismont Robinson, Patrika Ferguson, Nick Hutchings, Debbie Lombardo and others for The Uniquely Bermudian Musings of Jeremy Frith and Friends. The show will highlight the work of Mr Frith, a celebrated Bermudian poet and musician who died in 2009. Mr Frith received acclaim for his 1996 collection Oh Gawd, I Vish Dis Ig'rance Vud Stop!, which featured a range of poetry and verse about life on the island, largely written in Bermudian vernacular.

Ada Nyabongo. This Bermudian piano teacher who married Ugandan royalty died on March 25, 2020. She was just three days short of her 94th birthday when she died on March 26. Born in Bermuda to Harold and Naomi Paynter, but brought up in Brooklyn, New York, Dr Nyabongo earned a doctorate in musicology at New York University. Dr Nyabongo met her future husband, Akiiki Nyabongo, a Ugandan prince, when he gave a speech in Brooklyn when she was 29 and the couple married in 1955. Her late husband, a university professor, was the brother of the King of Toro, one of Uganda's five traditional kingdoms. The East African country was still under British colonial rule, and the couple, based in New York, lived apart for years while her husband helped in his nation's struggle for independence. They had one son, Amoti, also a prince, who has been profiled on American network TV. Dr Nyabongo's father founded the Greater St Paul African Methodist Episcopal Church on Essex Street in Brooklyn. She learnt piano as a child and was giving lessons by the time she attended high school. She told The Royal Gazette in 2018: "When I practised, parents would come to the door, because they wanted me to teach their children how to play." Uganda became an independent nation in 1965, but Idi Amin seized in 1971 and installed himself as dictator. Dr Nyabongo and her son first visited Uganda in 1972. Her husband died three years later. Dr Nyabongo moved back to Bermuda in 1990 and settled in Hamilton Parish next door to her son and his family. Her son said yesterday: "She lived life to the fullest — a traveller, accomplished musician and educator, and a great mother. At the end of the day, there are no regrets. I did my best to honour her." Dr Nyabongo will be buried today at Ebenezer Methodist Cemetery in St George's.

Seán O'Connell. Guitarist and composer. 2018. October 30. Were it not for a long-lost relative, his folk songs might never have been heard. His guitar was in a closet gathering dust, the melodies and lyrics he'd carefully composed forgotten. Then he met his Irish cousin Morgan. With his prodding, he picked up the instrument, having left it alone for 25 years, and "started from scratch". Roughly a year and a half ago he headed into Just Platinum Recording Studios and recorded his first CD, Father of One. "People were wondering, 'You're so old, why are you doing this? Why not go to a rest home and put your feet up?'" the 76-year-old laughed. "I like to stay active, to keep my mind sharp." Aware that fellow Bermuda Folk Club musician Valerie Sherwood had recorded two CDs, Dr O'Connell followed her lead: "I thought, 'I've composed songs, I could do it too'." And so began a 20-month process — of selecting eight covers and eight original songs, and recording them. "John Woolridge did a wonderful job of helping me put together a professional package of songs," he said. "He was meticulous. His passion for excellence was infectious. It was wonderful to work with him and bring out the beauty of those pieces." Ironically, he didn't find his first music lessons that appealing. Despite that, he stuck with the piano classes he'd signed up for at 13, for four years. The drudgery came to an end soon after he entered St Andrew-on-Hudson seminary, in Poughkeepsie, New York, in 1959. "I was raised to be very religious by Roman Catholic parents," Dr O'Connell said. "I saw it as the highest ideal and thought it would be the best thing to do with my life and so I entered a Jesuit order. In the seminary, I was only able to practise [piano] one hour a week, which prevented any real progress." In 1966 "an instructional TV series" got him interested in the guitar. He borrowed one from a friend, and was soon hooked. "I enjoyed it for several reasons," he said. "It was less demanding than the piano — all you need to know are a few chords and you can play an awful lot of songs. With the piano, you had to be so much more advanced before you could even dream of performing." On a break from the seminary, he travelled to California and met Laura Weber, the woman he had followed on TV. "She asked if I would appear on her programme. At this stage I had composed some songs and she had me play a few. It was great for her, she was showing her audience that they could learn too — look at what my pupil has done." He quit the seminary in 1968, two years into his doctorate in mathematics at City University of New York. In 1976, he made Bermuda history as the first person to swim the entire way around the island, completing the feat in 43 hours and 27 minutes. He also fell into the rhythm of the Folk Club, where he took his wife Celia on their first date. The couple met at Horseshoe Bay, on April Fool's Day 1979, and married in 1986. Dr O'Connell left Bermuda College after 29 years as professor of mathematics, in 2003.

Joe Pimentel. One of the three original members of the Travellers of Bermuda.

Ernest "Tojo" Philpott. A guitarist and singer, died November 2018 aged 81.

Helena Pipe. She has pursued a career in British theatre. Finding work was tough in the beginning; she had to rely on her family for financial support. Finally, her agent got the audition for Oklahoma!. Although she felt confident, she wasn't sure if she would get the job after she missed a chorus in her audition song. She was shocked when her agent called and said she had a role in the month-long production. It was her first official casting since leaving Bermuda. The experience has taught her a lot. For starters, God is in control. Every situation she's been through has served as a lesson, test, or opportunity to grow her faith. "Even the darkest days have aligned me to His glory and for that He will always receive all of my praise," she said. "When I first moved, after all the excitement of moving had worn off, I was very closed-off. I didn't really want to go anywhere and being alone was my safety. Now I'm learning to be more open to saying yes to things, making connections with people of different backgrounds, challenging myself to share more of who I am with strangers, and experiencing life overall. Life is about experiences and there's so much to learn from people who aren't like you." She's also more self-aware than she's ever been and has found that no matter how weak or down she feels, God's strength can always carry her through. "Listen to God. If He tells you to stop, then stop, and when He tells you to go, go," she advised. "Trust the process, if it doesn't happen the way you intended that's okay. God's plans are greater than we can imagine. Stand strong in your faith, remember who you are in Him and never forget that He has the final say. Don't compare yourself with anyone else, be good to people, and trust your journey."

Gene Ray. A photographer and musician whose twin passions earned him the Queen's Certificate and Badge of Honour in 1996 died in January 2020, aged 85. Mr Ray captured island life in his lenses as well as visitors for more than 47 years as chief photographer for the Bermuda News Bureau, a predecessor of the Department of Communications. But Mr Ray also had a life-long sideline as a musician and played guitar on the radio at age 14 and later was a popular performer at hotels and nightclubs around Bermuda. Mr Ray, the ninth of 11 children, came from a modest background on Hermitage Road in Devonshire. He left school at 13 to work as a messenger for the Transport Control Board before he spotted an opening at the news bureau, where he was first a messenger and later in the darkroom. He told The Royal Gazette in 2019: "I hadn't had the slightest interest in photography before that." His widow, Candy Ray, said: "They were impressed with him. After maybe four years in the darkroom, a photography job came up and the head photographer, John Weatherill, took him under his wing. Obviously he had an eye to begin with, but he learnt by doing. A lot of Bermudians started that way in those days — many people with big businesses started from nothing. Gene didn't have the education he wanted, so he paid a lot of attention to people in their element, and he learnt from them." Mr Ray visited hotels to photograph tourists for their home town newspapers, but went on to capture global news shots, such as President Dwight Eisenhower meeting British Prime Minister Harold Macmillan on the island in 1957. Mr Ray took a one-year break from the bureau in 1959 and joined The Royal Gazette as the paper's only news photographer on a salary of £30 a week. The hours were long, and he had to pay for his own supplies. He returned to the bureau in 1961 to cover Mr Macmillan's talks with Mr Eisenhower's successor, John F. Kennedy, and remained there until he retired in 1994. The news bureau and its photography department was absorbed into Government Information Services. Mr Ray's musical career began as a country and western specialist and he performed with Tommy Horseman before he formed his own quartet at the Bermudiana Hotel. But his style changed with the times, and in 1975, his future wife, on holiday alone for Christmas from New York, saw his act with his nephew Butch Ray at the Elbow Beach Hotel. Ms Ray said: "I was dancing, and he came over and introduced himself. I liked that type of music — it was popular, but more the big band era and calypso." The couple started a long distance relationship that spanned New York to Bermuda and married in 1978. Mrs Ray said they were both stubborn, and argued about music on the night they met. She added: "I think he saw me as a challenge." Mr Ray later performed with guitarist and singer Ernest "Tojo" Philpott, and sometimes sat in with the Elbow Beach house band. An eye problem ended his photographic career, but he continued to play guitar. Ms Ray said: "He was very empathetic, the most generous person you would want to know. He would do whatever he could to help someone.

Howard "Howie" Rego. Died May 2019. One of Bermuda's star musicians who performed in what was dubbed "Bermuda's answer to the Beatles". A gifted drummer, he was 69. Rego's music career took him from being a teen heart-throb to working with Sly and the Family Stone and Peter Frampton at the height of their 1970s fame. As drummer for The Savages, he helped build an enthusiastic following among island rock fans and thousands of "college kids" from East Coast universities and he co-wrote with bassist and singer Bobby Zuill what some musicologists consider a classic example of "garage rock" and proto-punk, >The World Ain't Round, It's Square. Rego died last Saturday and a private funeral was held yesterday. The graduate of the prestigious Berklee College of Music in Boston worked abroad as a session musician for more than 20 years. He returned to his homeland and formed several bands on the island and turned his hand to teaching music. The long-haired, svelte rocker, who had a flamboyant stage presence, provided a foundation for all his bands, with a throbbing pulse and great crashes of cymbals. After the break-up of The Savages at the end of 1966, Rego eventually made his way to Boston, Massachusetts, and New York City, where he was introduced to many famous musicians and served a stint with albino rock guitarist Edgar Winter. Bermudian drummer Andy Newmark, who was making his name on both sides of the Atlantic at the same time, got Mr Rego a slot on Broadway for The Rocky Horror Picture Show, behind Meatloaf. Tours followed with jazz and rhythm and blues icon Michael Brecker, a neighbour and friend, and Englishman Frampton, who had shot to stardom in the wake of the success of his seminal album, Frampton Comes Alive. The Frampton band performed before arena audiences as big as Bermuda's population until the disco revolution took the air out of his sales. Rego told the Mid-Ocean News years ago: "Every time my career needed a boost, Andy would pop up out of nowhere and set me with up something interesting." It was a call from Newmark that got Mr Rego a one-year gig with the mercurial funk genius Sylvester Stewart, aka Sly Stone. Mr Rego said their first meeting was nerve-racking. He added: "The audition consisted of Sly asking me to sit down behind the drums and play to some of his recorded music. He liked what he heard, and said, 'prepare yourself, we are going on tour in the next couple of days'." But Mr Rego had to turn down an offer from Swiss pianist Joe Zawinul of the jazz fusion supergroup The Weather Report to take the job. He said: "I often wonder where I would be today if that call had come in first." The Savages formed in 1962, with the amalgamation of The Fugitives, guitarists Paul Muggleton and Jimmy O'Connor, and The Gents, Rego and bassist and singer Zuill. Mr Rego was just 12 years old, three years younger than the others. The Mount Saint Agnes Academy pupil had been encouraged from age 8, by his father, a grocer and amateur musician. With his friend, Roddy Marshall, credited as an influence on the band, Mr Rego saw the Vanilla Fudge, with its wild man drummer Carmine Appice, live in Newport, Rhode Island. Mr Rego said: "Our music immediately departed to a funkier, R&B sound." With businessman and producer Eddie DeMello at the helm, The Savages recorded the local hits No, No. No, No, No and She's Gone over the space of two years. Fans lined the streets to see standing-room-only performances at what is now the Hog Penny on Burnaby Street in Hamilton, Elbow Beach and other venues around Bermuda. The band met or played with The Young Rascals, Tiny Tim, The Doors, and at The Scene Club in New York with Jimi Hendrix. They also allowed Desi Arnaz Jr, an actor and musician, to sit in at Mr Rego's drum kit at the Hog Penny, watched by his superstar mother, actor Lucille Ball. By this time they were also known in the Caribbean, where they performed for large crowds in Barbados and Antigua, where they shared a stage with The Wailers, Bob Marley, Peter Tosh and Bunny Livingston.

Cyril Richardson. Died in late August 2016 at the age 78. Mr Richardson, one of the greats of Bermuda's music scene, was well on his way to being inducted into the Bermuda Music Hall of Fame for his long career dedicated to entertaining as a pianist and organist. Family and friends say there wasn't a major Bermuda venue he hadn't played at and he had performed with all of the best musicians the island had produced. Aside from his music he was a loving family man — father of nine children, one of whom, Ralph — passed away last year. His son Cyril Jr said: "He was a devoted father. He raised and took care of nine children and managed to keep us all fed, clothed and schooled and he was a real strict disciplinarian. He was loving and supportive of whatever endeavors we pursued. He would always help if someone wanted to take up music and would send us to music lessons. He has always had his own band and if you can name all the greats that played on the island he definitely played with them. He had the Richardson Quartet — he always had his own thing going. He toured Europe and did some stints in the US and all around playing his music. Music was his life but he didn't start up with music, he started in construction and in the stone quarry. He was an outstanding person and a role model. He is going to be one of those greats of Bermuda who will be missed greatly." Throughout the years Mr Richardson played at countless venues including the Jungle Room, the Musicians Club, Sea View, Clayhouse Inn and Swizzle Inn. He was known in recent years for performing in the Doc Simons Trio with Edwin 'Doc' Simons on saxophone and Clarence 'Tootsie' Bean on drums. Mr Richardson left behind Marlene Scraders, Cyril Jr, Dianne, Michelle Lewis, Neville, Jean Ann Edwards, Rachael Robinson, Leon, Leo and the mother of his children Phyllis Gayle.

James Richardson. Professional jazz pianist.

Jordan Claire Robbins. Actor. She booked a spot in a Netflix series a week after she submitted a video audition. The tape landed her a major role in the first season of Netflix series The Umbrella Academy, which premiered in February. Ms Robbins landed the role as Grace after a friend suggested she audition for it. Ms Robbins guest-stared on Netflix's iZombie. She also produced and co-starred in a short film she wrote called Driver Is Arriving Now, a dark comedy about a woman forced to relive a past relationship, which will screen at festivals this year.

Celeste Spencer Robinson. Bermuda's Queen of Calypso, reluctantly entered the calypso scene when Lancelot and Robert Hayward heard her unique raspy voice and wrote her into their stage show at the Opera House. Her popularity was at its peak when she sang with Kingsley Swan's band at Angel's Grotto and then later at Harmony Hall with Al Harris. In 1958 she toured the military bases in the US with Preston's Love Band and two years later to every American state with Dinah Washington, her highlight was a weeklong appearance at the famous Apollo Theatre in Harlem, New York.

Milton Robinson. One of the Island's greatest jazz musicians, acclaimed as the "father of every musician here" died in May 2010 at the age of 77 after collapsing at the Bermuda School of Music. He was trained in classical guitar and up to his last days was still improving his skills in cello and composing new songs. He leaves behind a wife of 52 years Renee, and three children Dawn, 50, Michelle, 48, and Dean, 42; as well as grandchildren Bradley Mitchell, Joshua Wood and Isaiah Sousa. Mr. Robinson was the only child of Bermudian Fred (String) Robinson and Canadian Eileen Gibson. He was brought up around music and taught himself to play guitar while in high school in Montreal. He never put the guitar down and after studying for some time in Canada, returned to the Island to perform with the Lance Hayward quartet, performing at hotels around Bermuda and Jamaica. He played the flute, the steel pans, the trombone, electric base, the classical guitar and more.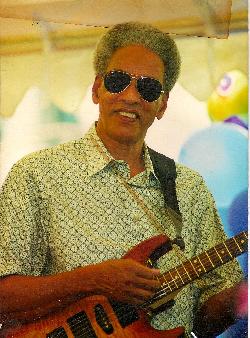 Milton Robinson

Alex Scrymgeour. Filmmaker. His new sitcom Eddie's, about a bar owner Eddie who fends off real estate developers while keeping his customers happy. "The show contains several Bermuda Easter eggs," Mr Scrymgeour said. "As a Bermudian, it was important for me to have some nods to my island home such as the Bermuda flag as part of the bar's decor." He received permission from Goslings to use the iconic Bermuda cocktail. Bermuda is never directly mentioned in the pilot, but Mr Scrymgeour said it might be if the show is developed further. He's currently looking for a broadcaster to pick up the show and has his eye on Amazon Prime. "They have a great distribution model," he said. Mr Scrymgeour wrote the part of Eddie specifically for his friend, actor Eddie McGee, one of the first winners of the reality show Big Brother in 2000. The two acted in the Spanish film Renko in 2013. "In 2014, I visited him at a beach bar in Santa Monica, California called Big Dean's," Mr Scrymgeour said. "He was working the door there as a bouncer, and was the first point of contact for anyone coming in, and for dealing with any unruly customers. His general disposition and how he handled clientele was very friendly and the customers reacted very positively. Everyone knew who he was and everyone had a story and a smile to share with Eddie. I said to him, hey Eddie, what if Big Dean's was yours in a situation comedy?" Mr McGee liked the idea. Mr Scrymgeour went as far as fleshing out the characters in his imagined television show, but got distracted by other projects. Then last October his wife Julie, gently reminded him of Eddie's. "She said it was one of her favourite projects of mine," he said. "I talked to Eddie about it. He is a great actor, and I started developing the story." For the project, Mr Scrymgeour enlisted Tony Prado, of ABC's show Greek, as producer. He connected Mr Scrymgeour with director Michael Lange, also from Greek. "Michael really loved the story, script and characters and signed on," Mr Scrymgeour said. "Michael has over 30 years television directing experience and was the perfect person to direct Eddie's. The level of professionalism and experience he brought to Eddie's can't be understated. Working with him was an honour. Afterward, he said: this is a funny show. Your heart is in the right place with this show. " Mr Scrymgeour was also thrilled to have George Wendt, who played Norm in the old hit show Cheers, in the cast as a sea captain. He grew up watching Cheers. "I was there in Boston the final night of the show," he said. "I was a big fan. I would say that Eddie's is a modern version of Cheers. It has a nice undertone. The tag line is: Every hour is happy hour and everyone is welcome." Mr Scrymgeour's aim was to produce something with a positive message. "It's a wholesome family funny show," he said. "There's no foul language. I was so sick of seeing these shows on TV celebrating mean people doing mean things." Mr Scrymgeour grew up in Bermuda and attended Saltus Grammar School before going on to boarding school in the United States. I am proud to be Bermudian as Bermudians are respectful, well mannered, cultured, helpful and care about one another," he said. "Wherever I go around the world I am always cognizant of the fact that I represent my island home and do my best to impart the spirit of Bermuda. A nice smile and a polite 'good afternoon' goes a long way." Even as a kid he knew he wanted to work in television. He got his start in 1995, working for Fresh Creations in Bermuda as an intern and production assistant for Peter Backeberg and Elmore Warren. "Working on numerous professional projects with various budget sizes was a great learning experience," he said. "The experience gained with Fresh Creations was invaluable as I got to work as an intern or production assistant on many different projects such as the music video for Hootie & the Blowfish's Billboard Top 40 hit Tucker's Town along with other music and corporate videos, cooking and entertainment shows, and television commercials." He has worked steadily in entertainment since 1995 both in front of and behind the camera. In 2002, he produced and starred in the short film Whoa: The Influence of Art.

Valerie Sherwood. Singer and songwriter. In November 2016 she released two videos to correspond with her "Be Fabulous" album, including visuals for tracks 'The Railway Song' and 'The Aquarium Song.' To date, Ms. Sherwood's works include two musical albums, along with three visual products and a selection of poetry, most of it "whimsical for kids, but also some serious poems for adults." When asked about her history with music and art, Ms. Sherwood told Bernews, "My sister Wendy took me to the Bermuda Folk Club, where I was exposed to a range of international folk songs including English, Irish, Scottish, Canadian and American. In the 70s, I listened to Joan Baez and Judy Collins; I hugely admire our own Heather Nova. I had guitar lessons and have written over 60 songs, performed at most local pubs, as well as Chewstick, facilitating a songwriting workshop for them last year on Paget Island. I probably do one of my songs to every two cover songs, with some adaptations of cover songs for humour. I write about what matters to me; love songs, social commentary, and environmental issues. I recorded first in the United Kingdom. My first CD of original songs, "Never Tell Them Why," came out in 2004, produced by Bermudian Michael Spencer-Arscott. John Woolridge was producer and arranger of my most recent album, "Be Fabulous," in 2013.I was honored to be one of nine local artists in the Bermuda Entertainer's Showcase put on by Gina Spence Productions in partnership with Communications Plus in May of this year." The Railway Song. When asked what drives her to celebrate Bermuda in particular, Ms. Sherwood said, "Growing up in a small family-run hotel meant helping visitors enjoy my island home. I was inspired by the beauty and particularly the bright colors which lent to my most popular song, "Colours of Bermuda," on my Be Fabulous CD. I was involved in developing the Railway Trail in the 1980s, and that put me in a perfect place to write about it authentically twenty years later. A recent focus has been on the marine side with the Aquarium Song, promoting the island to our overseas visitors and locals. Finally, we have such amazing characters, from Johnny Barnes to Neil Burnie – I call them local legends. I am also passionate about conservation, having worked for the Bermuda National Trust, and appreciate our culture. My next performance will be at the Bermuda Folk Club on Saturday, November 19, followed by Thursday, December 1 at the Neil Burnie Foundation Night at Mariner's Club, and Friday, December 2 at the Bermuda National Trust St. George's Walkabout, where I have sung at the Perfumery for the last seven or eight years." The Aquarium Song. Also from her experiences after visiting the Aquarium.

Leroy Simmons. 2019. Gospel artist, broadcaster and staunch advocate for local musicians, died at 58 in April 2019. David Burt, the Premier, commended him as "an inspired, consummate star musician". Mr Burt added: "He will be remembered also as a champion of rights of Bermudian entertainers, as the president of the Bermuda Entertainers Union." Mr Simmons was also known across the island for his Sunday inspirational radio show Get Your Praise On, which aired on HOTT 107.5 since inception. Mr Burt extended condolences on behalf of the Bermuda Government and people of Bermuda to Mr Simmons's wife Yvonne and his entire family. Mr Burt said: "His musical touch and heart for music education will always be remembered." Glenn Blakeney of Inter Island Communications told The Royal Gazette: "Today marks a very sad day for many in the community on the passing of Leroy Simmons. Leroy has left an indelible mark on his legacy given the incredible contributions he selflessly made as a proficient music teacher, concert promoter, consummate broadcaster and more recently as president of the Bermuda Entertainment Union, where he became a fierce advocate for performing artists and local entertainers. Moreover, Leroy was an invaluable member of the Inter-Island Communications, Ltd family, and was the longest serving employee of the company until his passing." The BEU also issued a statement: "It is with heavy hearts that the executive of the Bermuda Entertainment Union acknowledge the passing this morning, Tuesday April 9, 2019 of our president, Bro Leroy Simmons. We take this opportunity to express our condolences to his beloved and most supportive wife, Yvonne, his mother, brother and the rest of his family. Bro Leroy had unfinished business, but with the help of the Bermuda public we hope to bring his vision to fruition. Our Tribute of Song and Word will take place on Sunday April 14th 2019 as planned in Bro Leroy's honour." The Progressive Labour Party said: "He is remembered for his heroism as he fought for the rights of Bermudian entertainers as president of the Bermuda Entertainment Union. In addition to his activism, Brother Leroy travelled all over the world touching lives as a minister of music, recording artist and music educator including Florida, Georgia and New Jersey. For many years he was an active member of the Stellar Awards Gospel Music Academy, Bermuda Education Council, St George's Cricket Club, the Bermuda Government Labour Advisory Council and the Bermuda Trade Union Congress where he invested countless hours and was known for his passion and commitment. The public will fondly recall his Sunday inspirational radio show Get Your Praise On which aired on Hott 107.5 since inception. Brother Simmons has left an indelible imprint on the hearts of so many. Our community remembers him as a passionate musician and one who insisted on inspiring others to find their purpose in life and to meet everyday challenges through biblical principles and personal testimonies. The PLP I extends heartfelt condolences to his wife Yvonne Simmons and his entire family on the loss of their husband, father, and friend."

Terry "Termite" Simmons. Died in January 2017, aged 62. He personified Bermuda's unique Gombey art form — not only dancing, but creating the elaborate Gombey regalia. His handiwork still proudly adorns the St Monica's Road residence of daughters Dawnae and Terrieka, and their mother, Dawnette Simmons. Mr Simmons grew up near by at the family homestead in Government Gate, where he first heard the distinctive drumming of the Gombeys and joined at an early age. He joined his godfather Charles Norford's troupe as a child and performed with other groups, devoting himself to the Gombeys for the rest of his life. "Termite" was also a footballer and played for Centaurs, North Village and Young Men's Social Club in his early days — and worked for more than 30 years at the Bermuda Telephone Company. Mr Simmons was also a sous chef at the Fairmont Southampton, additionally working for MarketPlace's produce section, and Redeem Construction as a mason. Former MP Dale Butler, a Gombey scholar and cousin of Mr Simmons, recalled him as "a personable, well-known, extremely friendly young man. He had passion for Gombey dancing, its history, and for remembering the older performers. It ran in his veins. He was talented, gifted, and had the greatest respect for the tradition." Deeply committed to the culture, Mr Simmons passed on Gombey traditions to his family — most recently to his grandson, Ricaija.

Edwin "Doc" Simons. Died on November 23, 2015 at the age of 75. Celebrated saxophonist and mechanic. His younger sister, Maxine Dillas, described Mr Simons as a consummate hard worker, dedicated to his family, engines and entertaining the public. "That was his life," she said. "He would work on cars and boats all day and then play music at night. He never liked to sit down. He was always a very loving brother to me, and a caring father to his two boys who did everything he could to make sure they were on the right path." Mr Simons first became involved in the local music scene at the age of 18 under the influence of guitarist Jimmy Landy and later Ghandi Burgess. He, along with Mr Landy and Calvin Carmichael, formed a band called The Arpeggios, who became a local fixture, sharing the stage with artists including the Blues Brothers, Jimi Hendrix and even a 14-year-old Stevie Wonder. The band were a staple of the Island's nightlife, performing for thousands of visiting college students at Elbow Beach. The saxophonist later formed a second band, The Warren Experience, joined by Harold Pimental on bass, Howard Rego and later Peter Profit on drums and Darrell Fubler on keyboards. The band regularly performed at the Guinea Discotheque on Burnaby Street and were a fixture at The Reefs. Off the stage, Mrs Dillas said Mr Simons was fascinated by engines and developed a reputation at a young age as a skilled mechanic. "He was so well known people would just call him all the time, so he set up a business out of his home and people would find him there all day, even in the wee hours," she said. "He always wanted to help everybody. He was such a people person. People kept on asking him to look at their boats, so he bought a little boat so he could go out and repair boat engines. He was just so well known and well liked." While a stroke kept Mr Simons from the stage for several years, Mrs Dillas said he worked hard to recover and was later able to return to the music scene, performing with the Doc Simons Trio. Fellow saxophonist Wendell "Shine" Hayward expressed his condolences to Mr Simons's friends and family yesterday. "Doc will always be remembered for the energy that he brought on and off the stage," he said. "Although he was not a very technical player, he surely made up for that with his soulfulness and ability to read an audience to know exactly what was needed to either have them singing, dancing or simply giving up that applause. He has been a miss for a while, long before his passing." Author and historian Dale Butler described Mr Simons as a "giant of a saxophone player", recalling his days performing at The Hog Penny and Hubie's.

George Smith. Died October 17, 2008 at the age of 67. A well-known entertainer who sang with his father, the late calypsonian Hubert Smith, in the Coral Islanders band. He also had his own group, Xanadu, and played the maracas, congo drums and guitar besides singing. He had four children, Stacey, Sonya, Scott and Sean Smith, 12 grandchildren and one great grandchild. In addition to being an entertainer, he also worked as a self-employed painter and enjoyed deep sea fishing. A Justice of the Peace and former president of the Diabetes Association, Mr. Smith suffered a stroke in 1999. His death was due to a combination of diabetes, stroke and kidney failure. As well as playing local hotels and guest houses, Mr. Smith had also entertained Princess Margaret and Prince Charles during royal visits to Bermuda and travelled with his music overseas. He was given Government awards for his contribution to tourism and in the 1970s was also handed a bravery award for saving a child's life.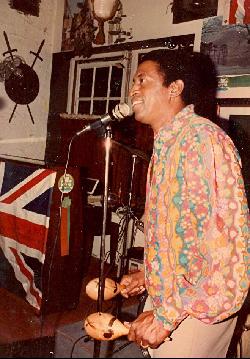 George Smith

Hubert Smith. Died on December 3, 2001 at the age of 83 after a massive heart attack. He started to play around with the ukulele when 6 years old; at nine he began writing jingles about his friends; by 13, he was singing to tourists on Front Street; at 15 he was spotted by local bandleader Mark Williams, 'grandfather of local jazz', who took Hubert under his wing to play and sing at the Colonial Opera House. In 1951 he formed his own band, the Coral Islanders, known nearly as much for their colorful attire as for the quality of their music. He was such a hit at Clay House Inn that Hamilton Princess invited him to play there. He eventually became the hotel's music director. Hubert wrote more than fifty songs, the most famous being Bermuda is Another World. He performed for US President John F Kennedy and the Queen at Government House. Hubert was founder and first president of the Bermuda Musicians Union. He was asked to compose a song initially entitled 'Bermuda is Different World' in 1969 for a briefing tour. On his year-round ritual morning swim at Spanish Point, he composed the entire song - lyrics and music composition - but made the change from 'different' to 'another' to create his signature piece and the island's unofficial national anthem. He became a legend in the local music scene, spent 70 years in the business, was a major influence in shaping the traditional sound of Bermudian music, such as calypso and jazz. But his dedication to the local music scene went far beyond his singing and song writing talents. His son George spent about thirty years with him working with his band The Coral Islanders. He traveled extensively for the Department of Tourism spreading the culture of Bermuda to the US, England and Canada. He was a true ambassador for Bermuda. Also he was a music ambassador for the Department of Tourism when ever it went to the USA to drum up business. He was a keen golfer and a founding member of the Ocean View Golf Club. In 2002, the late Hubert Smith was singled out for a Lifetime Achievement Award by the Bermuda Arts Council. Hear his internationally fammous song. "Bermuda is Another World"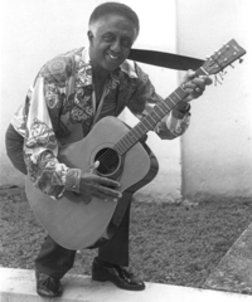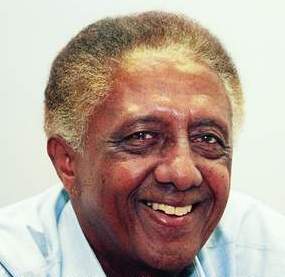 Hubert Smith

Kenneth Smith. 94 in 2016. (His father, Arthur Smith, was the band leader for the Warwick Amateur Marching Band). Before and during World War he worked until 9pm as a ship machinist on submarines, battle cruisers and other vessels. But he was determined to continue with music in some way, so he taught himself to play the drums. In 1945 Ernie Leader, one of the top band leaders in Bermuda at the time, invited him to play with his orchestra. He left after six months, playing with well-known band leader Al Davi at Belmont and later, the Freddie Matthews Band at Castle Harbour. He was then approached by piano player Earl Darrell to help form a new group, the Aldarnos, later the Aldano Sextette. Other members came and went, but he stayed from 1955 until 2004. He was awarded the Queen's Badge of Honour in 2002 for musical contributions.

Stan Seymour, Lord Necktie. Calypsonian, one of a long line of superb local entertainers whose names became household words, among them his friends and mentors, the Talbot Brothers. He once sang with Hubert Smith and the Coral Islanders. Like his grandfather, James Seymour, before him, `Lord Necktie' not only sings, but is also a one-man band who plays harmonica, guitar and drums. Some of his songs have become legends, including `Diddly Bops and Gooseneck Handlebars', which The Merrymen of Barbados also recorded. Hesang for Lord Mountbatten just before he died, and for Princess Margaret he composed and sang a calypso "Streakin' Rosie." Thrice-crowned `King of Calypso' in competitions, he is also an author and artist. He published `Bermuda Folklore and Calypso Poems', and together with his wife and fellow artist Margaret recently painted the mural of Horseshoe Bay on a pre-admissions ward at the King Edward VII Memorial Hospital.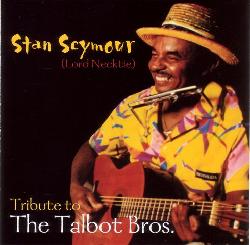 Stan Seymour

Aaron Spencer

Lucinda Spurling. Award-winning Bermudian Filmmaker, best known for directing Rare Bird and The Lion and the Mouse.

She has a Bachelors degree in Communications from Tulane University, and a Masters in Film and Television from Bristol University. She worked as a journalist and editor in Britain, prior to starting her own independent film production company 'Afflare Films' in 2002. Her company's productions range from commercials, dramas to documentaries for local museums. In 2009 she was awarded the Doreen Lightbourn/Lionel Pearman Award by the Bermuda Ministry of Culture and Social Rehabilitation and Department of Community and Cultural Affairs. The award honours people or projects which focus on Bermuda's history and culture. Her films have won numerous awards including Indie Fest 2009- Award of Excellence, The Lion and the Mouse; Nevada Film Festival- Golden Reel Award-2009; National Trust Award 2009- The Lion and the Mouse; Audience Award, Bermuda International Film Festival 2009, for The Lion and the Mouse; Special Jury Award, Bermuda International Film Festival, 2006, Rare Bird; Special Jury Remi Award, Worldfest Houston Film Festival 2007, Rare Bird; Honourable Mention, International Wildlife Film Festival in Missoula Montana, Rare Bird; Documentary Award, The York Film Festival, 2001, The Light That Followed. Her first feature documentary "Rare Bird" is about a boy who discovered a cahow; a species thought to be extinct for over 300 years. Produced in 2006, the documentary has been shown on the PBS Channel, and at film festivals locally, in North America and as far away as India and New Zealand. Lucinda's most recent film is Maternal Secrets, shot in 2017 and released in 2018, distributed by Marvista.

Gene Steede. Became known for his recording of the song 'Moongate,' and locally for his performance of the song 'Phantom of the Opera,' along with his writing and performing music for local commercials. He lives in Bermuda.

Pinky Steede. In 1959, she and her first husband, Gene Steede, became the stars of The Holiday Island Revue, organized by Don and Elspeth Gibson. The couple performed in all the local hotels throughout the 1960s. Among their albums: Step Through A Moongate with Gene and Pinky and You're Gonna Hear from Us.

The Steedes divorced and Ms Steede left Bermuda to take her career further. In 1978 she performed in London's West End in the hit musical Bubbling Brown Sugar. While performing she met her current husband, Mike Wall, who was in the audience. At this time, she entertained Prince Charles in a Royal command performance. Throughout the 1980s she toured the world as a cabaret singer. She has appeared in such television programmes as The Pearl K-100 Show on TVB Hong Kong, Duets for Piano and Voice on Ireland's RT Eire and a BBC adaptation of Bubbling Brown Sugar. In 1980 she took the lead role in the touring production of Guys and Dolls in Hong Kong. She was based there for 16 years. In 1994 she sang in Bermuda at a banquet featuring American comedian Bill Cosby. In 2000 she was a headline artist in the Millennium Celebration Show in Dockyard. In 2009, she was inducted into the Bermuda Musical Hall of Fame. Today, she sings in nightspots and casinos in the Algarve region of Portugal. Her latest album, Love Is, was made in 2014 in Portugal. She has two children, two stepchildren and 13 grandchildren.

Alison Swan. Bermudian female filmmaker, writer, actor, campaign manager and real estate developer, best known for her films Mixing Nia (1998)[3 and Nothing like the Holidays (2008). She co-wrote Nothing like the Holiday with her husband and American film producer Robert Teitel. She is a mother of two boys and was pregnant with her second son while writing the screen play for Nothing like the Holidays, which she eventually sold to Overture Films. Her work gives insight into the lives of African and Latin American families and the social and ideological differences that distinguish them from traditional American norms. She attend an off-island boarding school on the east coast in her teens. She graduated from Bates College in 1988 with a BA in European Art and Politics, in 1994 she attended New York University where she received an MFA in Filmmaking, and then in 2015 she received a masters in real estate development from the University of Southern California. While attending NYU Swan was awarded the Spike Lee fellowship for her work in four narrative shorts. Following her graduation she attempted to obtain funding for what would have been her first feature-length film, but after the financing fell through she began working for producer Robert Stigwood. Following her failed attempt to receive funding for her first feature-length film she returned to Bermuda to make a documentary short. As the daughter of Sir John Swan the former Premier of Bermuda, She had a background in politics and while living in Bermuda she assisted in managing media for several political campaigns. Alison Swan's film career began with a short film entitled Compeñera (1993) which she directed. She then wrote and directed her first feature-length film Mixing Nia (1998).She then made her first and last acting debut in the television series Always And Everyone (1999. After this she was featured in a documentary titled Sisters In Cinema (2003) and more recently she wrote the screenplay for her holiday film Nothing like the Holidays (2008). She left in the film industry to focus on her career as a real estate developer for a family run real estate company Challenger Bank Ltd.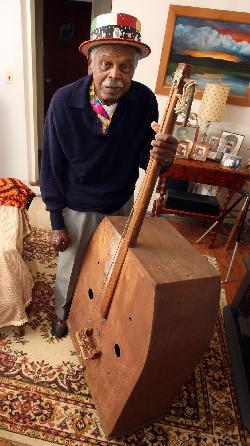 The Talbot Brothers started as a "Barber shop" four-part harmony in the 1930s. The original members were Archie, Austin, Roy and their cousin Stovell. In the '30s, as part of a Government effort to promote Bermuda's tourism industry, the Talbot's and other families were relocated so that Tucker's Town could be developed as an enclave for the rich. (Today H. Ross Perot, the Texas businessman, and Mayor Michael R. Bloomberg of New York own vacation homes there). Roy Talbot was born in Tucker's Town, Bermuda, one of ten siblings. His father cut coral stone in a quarry, and his mother played organ in the local Methodist church. When Roy, his brothers Archie and Austin and their cousin Ernest Stovell decided to form a singing group, Roy's mother instructed them in the intricacies of four-part vocal harmony while playing piano accompaniment. The group gained local fame performing at weddings and clubs. They first began their musical endeavors singing in church and then performing for their aunties and at private parties. They were prolific songwriters on the topics of love and current local and world issues. The Talbot Brothers were renowned for their spontaneity and ad-libbing and incorporating members of the audience into their songs. In the early '40s, as the new sounds of calypso drifted over from Trinidad, Roy, Archie and Austin joined with their brothers Bryan and Ross and their cousin Cromwell Manders to form the Talbot Brothers of Bermuda, a calypso group with a difference. Unlike Trinidadian calypso groups, the Talbot Brothers did not use percussion, except for an occasional conga drum, and their instrumentation was unusual: a blend of acoustic and electric guitars, harmonicas, a ten-string ukulele called a tiple, an accordion and Roy's booming bass. The group performed in floral shirts and straw hats. Bermuda Buggy Ride, a swing ballad recorded in the United States, made the Talbot Brothers the musical act that tourists to Bermuda wanted to see. In addition to original songs like Razor Razor and the nuclear-bomb ballad Atomic Nightmare ("I'm going to run, run, run like a son of a gun"), the group recorded popular cover versions of the calypso classic Yellow Bird and the infectious Is She Is, or Is She Ain't? which was originally recorded by Louis Eugene Walcott, professionally known as the Charmer, who later achieved fame as Louis Farrakhan, the Nation of Islam leader. Roy Talbot and his band of singing brothers were one of the major draws of the emerging nightclub scene back in the 1950s. In fact the band was so accomplished that their uniquely Bermuda-flavored sound travelled brilliantly. The band cut a number of discs in the US and also made numerous television appearances overseas The New York Times wrote this in May 2009. "Roy Talbot, the last surviving member of the original Talbot Brothers of Bermuda, one of the top calypso groups of the 1950s, died on May 15 in Paget, Bermuda. He was 94 and lived in Harris Bay. Mr. Talbot is survived by his wife, Mary; a sister, Etta Talbot; three sons, Delmont, Vance and Brent; seven grandchildren; and several great-grandchildren."
Mr. Talbot lent his voice to the Talbot's' distinctive blended harmonies and cut a striking figure onstage with his homemade bass - see photo above. Called the doghouse or the Bermudavarius, it was fashioned from a Swift meatpacking crate and had a single string made from fishing line. As the Talbot Brothers toured the world, fans would sign the instrument, among them Babe Ruth, Bing Crosby and Tommy Dorsey. In their heyday, the late 1940s and '50s, the Talbot Brothers were a major attraction at Bermuda's hotels and clubs and at the private homes of wealthy Americans who were discovering the island. Their popularity is often credited with playing an important role in putting Bermuda on the tourist map. Songs like Bermuda Buggy Ride and Bermuda's Still Paradise, with their smooth harmonies and easy, swinging beat, helped establish the islands' image as a carefree, no-worries leisure destination.
American enthusiasm for the group led to two appearances on The Ed Sullivan Show and two albums on ABC Paramount Records, Calypsos and Talbot Brothers of Bermuda. Roy Talbot's nephew recently published a history of the group with two CDs, Bermuda's Famous Talbot Brothers: A Celebration in Pictures and Song. Although the Talbot Brothers stopped recording in 1962, they continued to perform until the 1980s.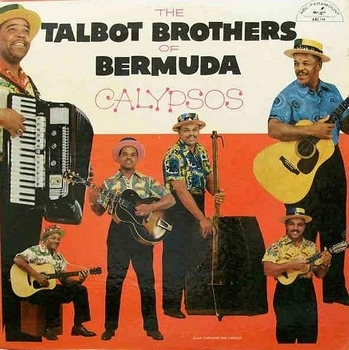 Charles "Tao" Taylor. Drummer and singer, died at the age of 71 in June in Toronto, Canada. He was a prolific musician who set the tempo for one of the island's hottest acts from the 1970s and 1980s, Burning Ice. A memorial jam session for him was held at the Leopards Club, on Saturday. Mr Taylor played with a host of bands in the prime of Bermuda's entertainment scene, but was best known locally for Burning Ice. He also backed several famous visiting artists including Diana Ross and the Supremes, the Temptations and Marvin Gaye. Pat O'Connor, his sister, recalled growing up as one of six siblings in a vibrant musical household on Parsons Road in Pembroke. Their parents, Robert and Gwendolyn Taylor, were both artists. "Everybody used to come, and rehearse at our house. We grew up around music," she said. "Music was passed through the family. Charlie had his drum set and I grew up singing. Most drummers are not singing people, but my brother could do both." She described her brother, who called her "Earth Angel", as "outgoing, outspoken, sometimes hardheaded". Ms O'Connor added: "The way he played was awesome." She said she had been "blown away" to hear strangers recognize her brother's style in the drumming of her son, Tajai O'Connor, who plays in the Royal Bermuda Regiment Band. Mr Taylor's niece, Patrina O'Connor-Paynter, known professionally as Powergirl Trina, said her uncle's career took flight with the musician and band leader Michael "Curtis" Clarke. She said: "He was a drummer for many years with Gene Steede. I remember growing up, going to all the different hotels where people performed, and being so proud. That was his life, his bread and butter. He would sleep during the day and at nights, he would perform. It was a time when the entertainment industry was booming." A consummate joker who could improvise songs for fun, Mr Taylor "loved to pull pranks on people, especially his wife, Stephanie", Ms O'Connor-Paynter added. His obituary at the memorial celebration listed local bands including the Cortinas, Six Love and Three Plus Three Explosion. John Burch, a guitarist with Mr Taylor in the 1960s group Green Forest, said the band's name came from a picture hanging on Mr Taylor's bedroom wall. Mr Burch said: "He was a Motown type of guy and sang nice. Charlie was funny, always speaking with folks. We'd play weddings at places like Castle Harbour and Elbow Beach." With the 1970s, Burning Ice grew into a top act. Along with Mr Taylor, it comprised Colin Lee, Jeffrey Marshall, Basil Burns, Danny Rowling, Gregory Seymour, Wendell Darrell and Antonio Dill. Mr Marshall said: "It wasn't very often you would see Charlie in a down mood. He kept a positive attitude about everything." He added: "Charlie was a phenomenal singer and an amazing drummer. Nothing flashy. He didn't aspire to a lot of chops. What he played was massive, massive grooves. You could not sit still." June Caisey, a singer and contemporary, traced Mr Taylor's career back to "Curtis" Clarke in the late 1950s. She said: "He was part of my life more than 60 years. Charlie was philosophical and loved everyone unconditionally. Burning Ice saw the future — they were visionaries." Cleveland "Outta Sight" Simmons said he helped promote the band for its Canada tour in the late 1970s. Mr Simmons said: "Those guys stayed out there for ten years. To start with, they didn't have permits. They used to work non-union places. They used to go to this club on Yonge Street for jam sessions every Saturday afternoon when Prince was the main feature. That was the same year Prince recorded the song Purple Rain." Dale Butler, the music historian and former MP, wrote in his book, Music on the Rock: "The 'Ice' placed profound emphasis on originality — and an all-out effort to overcome their audience." Mr Butler added: "Charles was an exceptionally talented drummer, who I first got to see when I was a teenager, when he rehearsed with Charles Michael Clarke, in Curtis Clarke and the Cortinas on Angle Street. He was a much sought-after drummer, who could play anything. He was a major icon in Bermuda music, when we transitioned from mainly calypso and began to explore a variety of music."

Alyson Thompson. Film producer. She backed the use of blockchain technology to fund film projects. She spoke on the panel "Fintech & Blockchain in Entertainment" at the Liquidity Summit on New Finance, presented by Hub Culture, on the second day of Bermuda Tech Week 2019. The 31-year-old Warwick Academy graduate explained to an audience of business people, film-makers and conference delegates, including Dr Dre's producer, stu-b-doo (Stuart Bell), that she and her colleagues funded the nine-minute short film, Detained, with the assistance of the firm Singular DTV, now renamed Breaker. The company helped the film-makers to raise an amount in cryptocurrency that, when converted to US currency, totaled $50,000, enough to fund the film.

Ernest Trimingham. Actor.

Aisha Trott.

Ross Tuzo. Master carpenter and saxophonist from the heyday of local music, died on November 20, 2018. Mr Tuzo was 90. He was also a prolific letter writer to The Royal Gazette in correspondence that spanned decades. Topics ranged from politics, particularly the Progressive Labour Party, to racial problems to tributes on the deaths of prominent figures. Dale Butler, a former PLP minister and music historian, said that Mr Tuzo and his late wife, Gloria, were known as "the lovebirds who loved jazz, and were spotlight dancers known for their grace and poise". Mr Tuzo and his wife, who died last year, met as pupils at the Berkeley Institute and married in 1949. Mr Tuzo's music career in the 1950s established him as an accomplished saxophone player with the Gilbert Rowling Orchestra, where he played with artists who included his brother, Alan "Hot" Tuzo. Mr Butler said Mr Tuzo played "during the era of Alexandria Hall and the Colonial Opera House". Mr Tuzo looked back on "playing ballads, rumbas, waltzes, congas and the jitterbug, which had everybody on the floor for dance after dance from age 16 to 62" in a letter to The Royal Gazette in October 2017. His letters often highlighted the era of dance bands and ballroom dancing and he was among the Warwick musicians featured in Mr Butler's 2007 documentary Profiles in Harmony. His building and carpentry career began with the art of traditional box-frame windows, which became one of his specialties. Mr Tuzo told the Mid-Ocean News in 1994: "In my family, my father always recommended that all six children get a trade or a profession, so my eldest brother became a blacksmith, the second a plumber, my older sister a seamstress and the other a teacher. Both my younger brother and I took up carpentry." Mr Tuzo opened his own carpentry business at his home on Cedar Hill, Warwick, in 1962, which he ran for more than 40 years. His building handiwork has endured in houses all over the island, including his own home.

June Ventzos. Born April 30, 1959. Died September 26, 2020, at age 61, in Arizona, USA. One of Bermuda's top singers, recording artist band leader who scored a hit on the United States Billboard charts.

She shot to fame locally as the leader of the band Paradise. She then forged the group Voyeur with Grant Williams; together they signed with CBS records and climbed to 18 on Billboard in 1988 with the album Boulevard. Ms Ventzos started singing professionally as a teenager, taking early influence from the American jazz great Billie Holiday. Although she also studied international business and marketing, music defined her life.Ms Ventzos sold thousands of copies of her Bermudian-made album Sizzlin' Hot in 1981. Paradise had been a fixture of the island's hotel circuit in the 1970s, with Ronnie Lopes on drums, Mr Williams on piano and bassist Wincy Woolridge. Later, as she and Mr Williams bounced between the island and New York to get Voyeur off the ground, they were signed to CBS Records' pop department. Her voice ultimately caught the attention of a Saudi Arabian prince who, as part-owner of the Elbow Beach Hotel, made her a regular at the resort. Wendell "Shine" Hayward recalled her talent from her high school days at the Whitney Institute. The veteran musician described her sound as "like a young Chaka Khan. The band played at Elbow Beach, where she got heard by that prince who loved June, and they performed late. Some of us, after our gigs, would go there to listen to them. It was the place to be on a Friday night. June was one of Bermuda's finest female vocalists. She was the real deal." Later Ms Ventzos moved to Arizona, but Mr Hayward said a standout memory was her return to the island for his 50th birthday in 2006. She delivered a "fantastic" performance while fronting the band, Shine Hayward and Friends. The night at what was then the Southampton Princess Hotel, was close to Valentine's Day. As a result, Ms Ventzos, along with singer Gita Blakeney Saltus, settled on an impromptu encore, My Funny Valentine. Mr Hayward said: "It was unrehearsed. It was a moment to be remembered." Ms Ventzos followed through in later life on her desire to return to the business world and qualified as an insurance broker shortly before her death. Her daughter is Jade Rosado.

Rowan Vickers. Left Bermuda to carve his path as an actor almost a decade ago. In mid January 2020 he was back home for The Glass Menagerie, the American classic that launched Tennessee Williams's career as a playwright in the 1940s. Put on under the banner of Mr Vickers's Venture Theatre Ensemble, it is part of the Bermuda Festival of the Performing Arts line-up. "I wanted to present something recognizable, that people may have studied in school; something that they might want to rush out to see. I also wanted to do something that would have a big impact and this play really, really does." The Glass Menagerie tells the story of a poor family in St Louis, Missouri as recalled by the son, Tom Wingfield, years later. "Having been abandoned by her husband, Amanda is desperate to provide a good future for her children," reads the festival synopsis. "Tom, though he truly longs for a life of adventure as a writer, is working in a shoe store warehouse to provide for the family. Daughter Laura, who has been left disabled as the result of a childhood illness, lives a secluded home life in a fantasy world of glass toy animals and old phonograph records. Amanda is on the prowl for a husband for Laura. When she convinces Tom to bring a colleague from the warehouse home as a suitor, a spark of hope is ignited and the eventual arrival of this mysterious gentleman caller pushes the already tenuous familial relationships to the breaking point." Mr Vickers is the play's director — his first time in the role. He cast fellow Juilliard alumna Leigha Sinnott as Amanda and New York actor Adam Schroder in the role of Jim. Alexandra Cockrell is the assistant director and stage manager; Amanda and Tom are played by his aunt and uncle, Karen Wood and William Vickers.

Allan Warner. A Gombey captain deeply rooted in the traditions and culture of a quintessentially Bermudian art form, died on October 27, 2016 at the age of 59. "For him, it was all about keeping the heritage and the culture alive," Mr Warner's wife, Tracey, told The Royal Gazette. "He didn't want the younger generation to lose it." Beginning his career in 1959 at the age of 3, courtesy of his uncle Llewellyn "Termite" Warner, Mr Warner set about mastering every aspect of the Gombey: he emerged as a gifted dancer, created most of his first costume at the age of 9, and at 16 began drumming for Warner's Gombeys, the troupe that he ultimately captained. Mr Warner championed the Gombey legacy, which blends African culture with American Indian, Caribbean and British elements. "The spirit of the Gombey is the core of one's soul," he said in an interview for the Smithsonian Folklife Festival, adding that "every costume in my group depicts some African in its greatness". In 1995, he became the first Gombey captain to receive the Queen's Certificate of Honour, and his stature was acknowledged at last year's Gombey Festival with special recognition from the Department of Community and Cultural Affairs. Under his leadership, Warner's Gombeys represented the island worldwide, as well as touring establishments across Bermuda. The troupe was dedicated to performing at charity events every year, entertaining crowds at seniors' homes and government school fairs. A stickler for the different rhythm patterns that connected with various dances, Mr Warner's drumming was influenced by greats that included "Shorty" Maynard, Henry "Gropher" Wilson, Reginald "Way Way" Wainwright, Eugene "Pond Dog" Parsons, John "Pickles" Spence, Roy "Rocky" Hassell, Gerald "Beesie" Greene and Roy Young. His influence was picked up by other drummers such as David "Tootsie" Darrell, Gary "Sully" Wellman, Jimmy "Furb" Furbert, Ken "Ting" Douglas, Ricky "Rick" Smith, and Granville "Sticks" Hughes. Sylvan Richards, the Minister of Social Development and Sport, said yesterday that a giant had fallen whose "spirit, impact and legacy" would live on in hearts and minds. A keen follower of Gombey culture who had worked with Mr Warner at a local exempt company, Mr Richards recalled a running joke of being asked when he planned to join the troupe, where a costume was said to be waiting for him. He hailed Mr Warner as "a standard-bearer of preserving traditional Gombey culture", and gave condolences on behalf of the Bermuda Government to his wife, his daughter, Algina, stepchildren Trakia and Rayshun, his special aunt, Janice Warner, and all other family and friends. A legend in his field, Mr Warner gladly contributed to research on Gombey culture. "Gombeys don't stop," he once said. "They just step aside and let somebody else come in."

John White. He headed a prominent advertising agency in Bermuda and wrote many of the Bermuda songs for the Travellers of Bermuda - such as this lively one - see http://www.youtube.com/watch?v=erK4ELpTnzI, resided in Florida until he died on November 7, 2013 after having been unwell for some time. His death came as a great shock to many Bermudians and their friends.

Jack Whitney, died August 2015, at the age of 90. Mandolin-playing Mr Whitney was raised in the Riddell's Bay area of Bermuda and attended Warwick Academy. At 17 he ran a small A1 grocery store in Riddell's Bay and went on to form Jack Whitney and the Bermuda Plowboys in 1947. The group regularly performed at Rowley's Guesthouse in Southampton as well as other venues on the Island. Mr Whitney also worked as an actor double for US star Sandy Kenyon in the US television series Crunch and Des that was filmed on Darrell's Island in Bermuda. He married his first wife Verna Legge in 1956 and the couple had one daughter, Beth. After his first wife passed away, he later married his second wife Loraine in 2002. Up until a few years ago Mr Whitney and his musical friends including Jean Howes would entertain residents at care homes across the Island and patients at the hospital.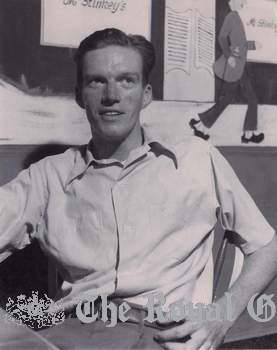 The late Jack Whitney, when younger

Reuben "Chico" Williams. Started his career making music in Bermuda but his "passion for music" led him to Canada where he ended up living for 45 years. At 77 years old, the popular Sixties musician died on August 5, 2016 after a long battle with cancer. He was born in Bermuda in 1939 and as a teenager he formed a group called the Bermuda Merrymakers, a calypso steel band that wrote an album titled At Horseshoe Bay under the Bermuda-based label Edmar Records, founded by well-known promoter Eddy DeMello. In 1969, a 30-year-old Mr Williams traveled to Newfoundland on a two-week booking with his band — and he didn't return. There he formed a new band called Chico and Bermuda Life, playing the piano, guitar and singing island music to hundreds around the country. He also met his wife and best friend of 35 years, Betty, and became a blended family with five stepchildren and six of his own. Once Chico and Bermuda Life split up, Mr Williams continued to play his piano as a solo act, performing shows in several hotels before he retired in the late 1980s. He then went on to gospel music and played the organ for his local church choir, Cowan Heights United Church in St John's for more than 20 years. In 2003, Mr and Mrs Williams moved home from St John's to Bellevue. There he joined three different choirs — the Faith United Church, where he was a soloist, Norman's Cove Pastoral Charge Choir and the community choir which performed and hosted benefits in the Trinity Bay area. Mrs Williams said: "Chico was extremely well known and well loved. He had a beautiful voice and his talents will be missed by many people." Mr Williams is the brother of singer, body builder and martial artist Sensei Burnell Williams. "Chico was always a very passionate, talented and humorous person. He could make you laugh in two minutes. When he went to Canada with Lloyd Simmons and his band and did not come back, everyone told him, you must be crazy. But he loved it there."

Wanda Ray Willis. Bermudian actress and performer. In 2019 nominated for Best Female Tribute Artist, Best Theatre or Stage Performance and Best Live Performer at the Los Angeles Black Music & Film Awards. The awards ceremony occured on September 29, 2019 at Los Angeles' Globe Theatre. Earlier, she was nominated by the National Association for the Advancement of Colored People [NAACP] Theatre Awards in June. In recent years Los Angeles-based Ms Willis has come close to making the role of iconic 1940s and '50s Hollywood and theatre actress, singer and dancer Ms Dorothy Dandridge her own.

Rory Wilson. Actor and film maker, 23 in 2018. Mr Wilson, originally from Paget, spent a year at the London School of Dramatic Art after graduating from Warwick Academy. After landing roles in a series of short films, Mr Wilson wrote, directed and starred in his own film, Keep Me, Run, which was supported by the Bermuda Arts Council. Since then, Mr Wilson has kept himself busy both in front of and behind the camera in Liverpool. In the past two years he has produced, directed and acted in the short films Prince Jodie and cicatrix, the second of which he also wrote.

Adi Wolf. Actress and singer, landed a plum role as Tina Turner's grandmother in a German production of a musical based on the superstar's life, despite a struggle with the language. Adi Wolf won the role in Tina — The Tina Turner Musical after two auditions. The 53-year-old mother of three, who has lived in the port city of Hamburg with German husband Jorg for six years, said: "I have really worked on my German for a bit, but I thought there was no way. My German wasn't good enough. "I got a call back, and so I started working more on my German. I went back in thinking I still had no chance, but they seemed to be OK. As soon as I got home, they called me and asked if I could come in the next day." She added: "I found out later that apparently they already knew they wanted me for the part from the first call, but they wanted to know if I could learn the German." Ms Wolf admitted she almost decided against going for an audition. Ms Wolf said: "I saw it and I thought it would be cool, but I thought I wouldn't bother. Then I thought about it more and I decided I would just audition. I thought I was too old to play Tina, but maybe I could be her mother or her sister. Then I got there and they said they would like to see me for the grandmother, GG." Ms Wolf said she was stunned after she won the role and excited to be a part of the show, which focuses on Tina Turner's humble beginnings in Nutbush, Tennessee, and her rise to world fame. Ms Wolf said: "I'm really excited about this because it deals with a part of Tina Turner's life that people don't know a lot about. People know What's Love Got to Do with It, but this is something completely different. This follows a younger, earlier part of her life and the people in her life. That's what excited me about it. I think it's going to be epic." She added: "It's also important that this is an official show. Tina Turner has been involved in every part of it. I think that's really exciting." Ms Wolf was an experienced performer before she moved to Germany and has since had roles in several major musicals. She has appeared in productions of Showboat, Jesus Christ Superstar and Leonard Bernstein's Mass, as well as singing in several bands. The Tina Turner musical premiered in London's West End last year with another Bermudian, Candace Furbert, in the cast.

John Woolridge.

Lana Young. 2018. Actress. She won a role as a series regular on the latest show on the Oprah Winfrey Network.

Erskine Zuill. Taught himself to play the ukulele, causing passing tourists to stop along the roadside to listen to him. He was Bermuda's first entertainer on board the cruise boat Pricilla and was renowned for singing for two hours straight and never repeating a song. Throughout his time as a musician, he contributed songs to many local records and released a solo album, 'Calypso at the Carlton Beach' with local producer Eddie DeMello

Bands, local, present and past
They include:
4-Forty-1, an eight-piece band of local musicians, formed through a public vote and performed during the America's Cup in Bermuda 2017 events. Guitarist and saxophonist Dave Pitman, singer Jesse Seymour, bassist Torrey Tacklyn, drummer Troy Washington Sr, singer and guitarist Raven Baksh, keyboardist Leroy Francis, guitarist Tony Hay and musical director Robert Edwards.
Apex 4 (1970, comprising Bethel AME Church members Robert Symonds, Eric Witter, brothers Harry Bean; Gary Bean).
Arpeggios.
Band of the Bermuda Regiment (telephone 238 2470). Military. Formed from the Bermuda Militia Artillery Band and Bermuda Rifles Band.
Bermuda Boot Scooters.
Bermuda Fire Service Band. 22 pieces. From paraded on Remembrance Day 1965 and lasted until the early 1970s. Mostly from former Bermuda Rifles musicians.
Bermuda Islands Pipe Band (see below).
Bermuda Merrymakers.
Bermuda Sounds.
Bermuda Strollers. Prominent in the 1970s. Made frequent appearances in Boston and further, for Bermuda Tourism.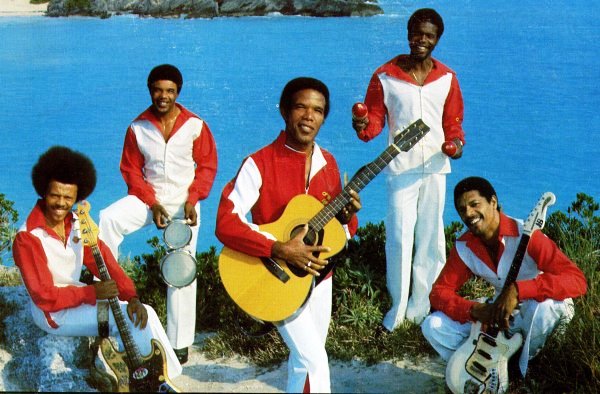 Bermuda Strollers, see above
Bermuda Trombone Quartet.
Blues Beat Band.
Brassworks Brass Trio
Church Lads Brigade Band which at one time had several branches.
Concerted Effort (a cappella singing group, formed in 1992 to raise funds for charity).
Coral Beats, Bermuda's own all female Brazilian percussion band.
Coral Islanders.
Country Steppers
Ensemble Singers (originally Word).
Esso Steel Band
Exotique.
Fiery Limbo Dancers, formed by Bryan Butterfield.
First Salvation Army Young People's Band, mid 1930s.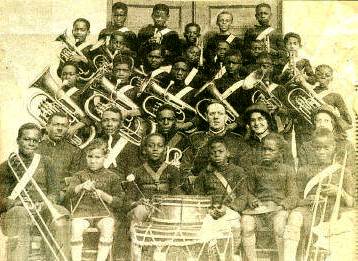 First Salvation Army Young People's Band, mid 1930s
Four Deuces. Kenneth 'Sonny' Flood, Kenneth 'Joe' Hayward, Robert 'Duke' Joell and Cecil Emery started playing together in the 1940s. The Four Deuces were renowned for their aptitude for rhythm. The ukulele and an upbeat tempo that made you move your feet created their distinct sound. Besides calypso, they also performed rumba, samba and the waltz.
Hamiltonians, including Reuben McCoy.
Hayward & Hayward Ensemble.
Happening BDA.
H&H Gombeys
Jack Whitney and the Bermuda Plowboys, from 1947 through the 1950s.
Kingsley Swan's Band
Gilbert Rowling Orchestra.
Lance Hayward Quartet.
Live Wires
Mark Williams Band.
Mu-En Chorale founded in 1965 by Lance Hayward.
North Village Band (telephone 295 3333). Began June 29, 1863, initially with members from the Grand United Order of Oddfellows Alexandrina 1026, who came together because they wanted to cultivate the musical talents of their members. Initially, the band was the Alexandrina Band. They played and marched at Masonic Lodges, church services, fairs, street parades and dinner parties.
Olympia Band.
Mighty Skipper
Paradise Band
St. George's Band.
Salvation Army Band (see below).
Shaky Ground Band.
Shine Hayward & Friends.
Somers Isles Jazz Band.
Somerset Brigade Band (telephone 234 0015). Founded 1930, still going strong.
The Arpeggios.
The Bermudians.
The Big Chill
The Travellers. Began as a trio, patterned after the 1960s guitar-studded Kingston Trio at the height of their success in 1961. Original members were John H. White (founder), Joe Pimental and Robin Spencer-Arscott. They performed at the island's hotels on a regular basis and were hugely popular with both tourists and locals, with much of their music recorded locally by Edmar on LPs. Folks galore came from the USA, Canada and beyond to hear and see them. They mainly played the well-known folk music of the time, in the manner of the Kingston Trio but more island-like. They sometimes changed the words to reflect the current goings-on of the island to provide a humorous tone to their performance. Only Robin Spencer-Arscott remains in Bermuda. At some point before or during The Travellers he was also a member of the Band of the Bermuda Regiment, later became President of a major offshore insurance company domiciled in Bermuda. Later, the band changed hands, but continued the name, with different members including Glen Cuoco. John, who headed a prominent advertising agency in Bermuda and wrote many of the Bermuda songs for the group - such as this lively one - see http://www.youtube.com/watch?v=erK4ELpTnzI, resided in Florida until he died on November 7, 2013 after having been unwell for some time. His death came as a great shock to many Bermudians and their friends. Joe died years earlier, prematurely.
The Unit. Once was deemed best jazz band in Bermuda.
The Warren Experience.
Talbot Brothers.
Ultra-Sonics
U-fonics, 1960s/1970s soul vocal band.
Wall Street Band.
Warwick Amateur Marching Band.
Warwick Gombeys.

Bermuda African Dance Company

Bermuda Ballet Association (BBA)
Non-profit. Dedicated to raising the standard of excellence in dance through world-class training. Bermuda's oldest dance organization. It was formed in 1962 by Madame Patricia Gray, MBE with the support of Madame Ana Roje, and since that time hundreds, if not thousands, of students have reaped the benefit of their vision, and the Association's unwavering dedication to dance. Amalgamated in 2005 with the National Dance Foundation of Bermuda (NDFB).

Bermuda Chamber Choir
Brings the choral arts to life in our community. Through performances of great composers such as Bach, Handel, Mozart, Brahms and many more the ensemble strives for a high standard of communicating the masterworks of choral orchestral repertory. It meets weekly at the Bermuda School of Music. New members are welcome.

Bermuda Civic Ballet
Formed 1972. Founded by Patricia Deane-Gray to foster interest in ballet and to provide a medium through which all persons so interested may participate by dancing or otherwise in the production of shows. Members have mounted a series of ambitious and well-received performances.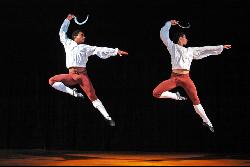 Bermuda Civic Ballet 2007

Bermuda Dance Academy
Since 2015. In February 2020 Bermuda Dance Academy members travelled to a convention in New Jersey. The convention was a chance to show off their skills to a wider audience. The students who attended welcomed the challenge head-on: two received scholarships and all 12 earned scores of "high gold" for their performances at the Adrenaline Dance showcase in New Jersey. Members have thanked The Bermuda Arts Council and the National Dance Foundation of Bermuda for their generous donations to the school and its travel expenses.

Bermuda Entertainment Union
Voice Mail: (441) 291-0138. The trade group in Bermuda to which all those shown above belong. All enquiries about individual musicians should be referred to this group.

Bermuda Festival
Seasonal, annually, January and February.

Bermuda Festival Chamber Orchestra (BFCO)
Founded in 2008 as part of the annual arts festival's 2009 gala celebration of Bermuda's 400th anniversary, BFCO members are drawn from a cross-section of resident musicians, many of them teachers, who welcome the opportunity to interact with fellow musicians at a non-teaching level, hone their performance skills, and master a challenging new repertoire. Members have included Kerri-Lynne Dietz; Kent Hayward, French Horn, Bermudian; Ryan Ellis, Conductor; Oliver Grant, Piano, British. Students are also invited to play.

For any performers not shown above, consult the:
Bermuda Federation of Musicians and Variety Artists (BVMBA)

Bermuda Folk Club
Website folkclub.bm.

Bermuda Guitar Academy

Bermuda Islands Pipe Band

In the 18th and 19th centuries, an Irish unit of the British Army was here. Scottish regiments were several times in the British Army garrison here until 1953. A Canadian Scottish regiment was based in Bermuda for a while during World War 2. Their bagpipes and drums accompanied the soldiers on Church Parades from Prospect Garrison in Devonshire to the city of Hamilton, waterfront on Pitts Bay Road and back. The idea became a Bermuda civilian tradition. Partly in honor of The Bermuda Islands Pipe Band and also because of the many Scots and Irish who are resident in Bermuda and Bermudians with Scots and Irish forebears, there are many recordings available in Bermuda of Scots and Irish bagpipe bands and bagpipers, both civilian and military.
Once there were two bagpipe bands here. One was the Bermuda Police Pipe Band which began in 1959. It proudly wore the Prince Charles Edward Stuart ("Bonnie Prince Charlie") tartan. Composed at first largely of members of the Bermuda Police and Prison Services, and other local enthusiasts, including some formerly in the Cadets Pipe Band, they were soon performing at the Police Passing Out and ceremonial parades, a tradition maintained by the BIPB to this day.
There was also the older Bermuda Cadets Pipe Band, so-called because it originated in 1955 as "A" Company of the Bermuda Cadet Corps when Captain Henry Hallett was the Company Commander. (Paddy Coyle of the Gordon Highlanders, whose idea it was to start the Bermuda Cadets Pipe Band, was in the detachment of the Highland Brigade stationed in Bermuda at the time. In his honor, the band wore the Gordon tartan). Bagpipe celebrities or those who contributed mightily since then include Denis Stuart; Captain Arthur G. Card, Commandant of the Bermuda Cadet Corps; Lillian Hallett; Mary Card Gibbons and Joan Tite. On the disbanding of the Corps in the early 1960's, the Band continued as a body of civilian volunteers under the name of the Bermuda Cadets Pipe Band. Wearing the Regimental Gordon tartan, the Band's first public performance was in the Remembrance Day Parade in 1956 when they began a tradition of leading the war veterans on and off parade.
Both were disbanded in 1992 when the Bermuda Islands Pipe Band was established. The Bermuda Islands Pipe Band is a spectacular sight on ceremonial occasions, often included in Beating Retreat, musical displays and other events. Individual bagpipers go to hotels and weddings. The 17-member contingent still wear the Gordon Highlanders tartan kilt with a white jacket. Experiences include playing at local and international tattoos
Another still active tradition of the BIPB began in 1963 with the weekly performance by the Cadets Pipe Band of the "Skirling Ceremony" at Fort Hamilton. Yet another long-established relationship began in 1965 with both predecessor Bands and now the BIPB appearing with the Band and Corp of Drums of the Bermuda Regiment in the Beating Retreat in Hamilton, St. George's and the Royal Naval Dockyard.

The BIPB has an equally strong tradition of representing and promoting Bermuda internationally having performed overseas on 18 occasions in the United States, Canada, Scotland and Germany. In 2003, the Band proudly promoted Bermuda at the Nova Scotia International Tattoo. The Band, bearing the Bermuda standard before it, has twice appeared in New York City leading other pipe bands. The Band's more recent international performance came in January, 2005, at the Musikschau der Nationen in Bremen, Germany, Norfolk VA, Birmingham UK and Hamburg, Germany.
See under "Bermuda Islands Pipe Band" in Bermuda Books.

Bermuda Music & Dramatic Society (BMDS)
Daylesford, Park Street, Hamilton. Telephone 295-5584. An active local group offering a menu of plays and productions, usually at its own small theatre. There is also an annual Christmas pantomime.

Bermuda National Youth Jazz Ensemble (BNYJE)
A 12--strong group of young jazz musicians. It had a very successful opening concert on June 16, 2001.

Bermuda Philharmonic Society
Private sector part-time orchestra and choir. Registered charity 323. The chorus generally consists of between 40 and 60 members while the orchestra has about 30.

Bermuda School of Music
Phone 296-5100. With 1000 students and approximately 25 faculty teaching strings to percussion, voice, brass, woodwind, guitar and piano. Incorporates the former Bermuda Conservatory of Music. Also mounts several public annual events.

Bermuda School of Music Steel Orchestra
Established in July 2008 and aims to introduce, and provide continuity for students who wish to play the steel pan. Students from nine different public and private schools meet after school on Wednesdays and Fridays to learn to play the iconic Caribbean instrument, which originated in Trinidad and Tobago in the 1930s. The steel pan has a long history of association with Bermuda, having arrived here within a decade of its invention. The pans unique sound was originally the result of carefully shaping and stressing sections of the base of standard 55-gallon oil drums, and though now methods of production have been refined, the design and tuning of each instrument are done by hand. For more information about the Steel Orchestra, contact the Bermuda School of Music 296-5100.

Bermuda School of Russian Ballet
P. O. Box HM 661, telephone 293-4147 or 295-8621 or fax 293-8789 or e-mail cwaddell@northrock.bm. Studio at 292-2192.

Bermuda songs include
The following are especially noteworthy:
Beautiful Bermuda and Last Thing on My Mind. See http://www.youtube.com/watch?v=X2H4aOQ9fOE. Merrymen of Barbados. They were frequent visitors to Bermuda.
Bermuda. Recorded 1951-52 by the Bell Sisters of the USA. See http://www.youtube.com/watch?v=7VV5UQ3hotg. Sold a million copies in 1952 and was #7 in the USA hit parade. The Bell Sisters were Cynthia and Kay Strother, who recorded on RCA 1951-58. In the 1996 Gramercy film "Grace of My Heart" their song "Bermuda" pops into the musical foreground during one of the scenes from the movie. Cynthia Strother wrote the song when she was 15, after seeing a picture in a brochure. She told her nephew Rex, who ran a website honoring the Bell Sisters, that Bermuda seemed "distant and romantic." The song was also on a British CD by Peggy Lee as "Bermudian Waters."
Bermuda Blue. Not sure of the composer, but it was first sung at KVOO radio station in Tulsa, Oklahoma, performed by American composer Ralph Blane. (One of his best known compositions was "Have Yourself a Merry Little Christmas" and other songs of the movie "Meet Me In St. Louis").
Bermuda Buggy Ride. Talbot Brothers.
Bermuda Farewell.
Bermuda is Another World. See http://www.youtube.com/watch?v=sscml-amGC4. Bermuda's unofficial national anthem. (Bermuda's National anthem is "God Save the Queen"). Composed and performed in Bermuda by the late Bermudian Hubert Smith of Bermuda (he died on December 3, 2001).
Bermuda Triangle. Barry Manilow. See http://www.youtube.com/watch?v=WAHvajXxyRU&feature=youtube_gdata_player. (Note, skip ad to hear song).
Bermuda Woman.
Bermudian Gal, composed and sung by Giles (Dudley) Spurling.
In Bermuda. Composed and performed in Bermuda by the Bermudian Duane DeMello, available on the CD "Duane D in Bermuda and other Bermudaful memories."
Happiness. Composed and performed in Bermuda by Bermudian Duane DeMello, available on the CD "Duane D in Bermuda and other Bermudaful memories."
Mind & Body. Composed and performed in Bermuda by Bermudian Duane DeMello, available on the CD "Duane D in Bermuda and other Bermudaful memories."
Step Through a Moongate. By American composer Ralph Blane, as above. A local recording of this, on an LP album, was done as well, sung by Gene (Eugene) Steede and Pinky (Frances) Steede, under the musical direction of James Gregory. He was a collaborator with Ralph Blane on many songs.
This is Bermuda.
Three songs — 'I Need All The Sunshine', 'All My Dreams Are Gathered Safely In', and 'Child of the Ocean' - all by Marcus Dagan - reflect his connections with, and deep love of, Bermuda.
Virtually all other songs heard or played in Bermuda - like Yellow Bird - while nice, are not Bermuda songs at all. Beautiful Bermuda by the Merrymen of Barbados is actually Beautiful Barbados by the same group. Bermuda Farewell is actually Jamaica Farewell with Bermuda substituted for Jamaica. Bermuda Woman by the Merrymen of Barbados is actually Barbados Woman by the same group. Most of the calypsos played in Bermuda by local musicians are not Bermudian or written in Bermuda. Always contact the authors directly for more information on songs.
For all songs about Bermuda, if authors or agents both in Bermuda and abroad will reciprocate the free courtesy website link, a free courtesy active link will be established to their website or song or both.

Blues Beat Band
Made up of current and retired members of the Bermuda Regiment Band. The five-member group got together over a shared love of music. These days their goal is to get people grooving at corporate, church or community events Island-wide. Comprises Tuba player Gerald Swan, Major Barrett Dill and Neilson Degraff on cornet, Henry Smith on trombone and James VanLowe on the clarinet. They had all retired from the Bermuda Regiment Band and didn't want to stop playing, so would get together on Thursday nights and have a little rehearsal. Then word started to get out and they started performing at functions like birthdays and anniversaries. Their first performances were actually at Christmas time, when they would do caroling at some of their friends' houses. They really enjoyed bringing Christmas cheer to people during the holidays. "After that we got together for a birthday performance at one of the Princess hotels and it just went from there." Major Dill, was a Director Of Music in the Bermuda Regiment Band, while the others were Sergeant, Color Sergeant and two were Sergeant Majors. They play everything, but consider themselves to be more of the New Orleans blues style. Most times when they go out and do a performance, Major Dill does most of the talking and he says they are the blues band flown in from the New Orleans via North Village — that's where a few of them are from. We just try to give everything we do a Bermuda style. To contact the band, call 537-0224.

Calypso & steel pan music
Calypso originated in Trinidad & Tobago in the 19th century, as rhythms brought there by African slaves. At the time, the rule was that slaves were not permitted to talk while working, but were allowed to sing. Their songs were a mixture of their tribal languages and Spanish, English and French that their colonizers insisted they learn. When colonial domination of their region ended, they continued their custom of singing, but added new elements to their traditional songs or mixtures of songs. They argued, discussed, lampooned, got political, became sexually explicit and injected a lot of macho rubbish into their songs as well (like "When women say no they mean yes"). In Europe, Nina and Frederick, from Holland and Denmark respectively (Frederick had studied at an agricultural college in Trinidad), introduced a sanitized version of calypso to their fans. In the USA, Canada and Bermuda, Harry Belafonte did so, followed by Norman Luboff (whose version of "Yellow Bird" became the standard by which all other versions are copied). Like Nina and Frederick and Belafonte, Luboff accentuated the more exotic and less ribald or licentious side of calypso for mass consumption. His idea was to make it authentic again, as the choral music it once was. What these pioneers in American-composed, Americanized and Europeanized versions of calypso came up with had a mass appeal to the audiences of their day. Their music was gorgeous. It is the kind of music many visitors still hope for when they visit Bermuda and Caribbean destinations further south, instead of the modern rubbish - not calypso or steel pan music - they too often find today.
Bermudian musicians copied liberally from the mass appeal calypso music of Nina and Frederick, Belafonte and Luboff. Not known locally is other beautiful original music of more Caribbean islands, like ballads sung in patois or English from Martinique, Guadeloupe, St. Lucia, Dominica, Grenada, St. Vincent, Montserrat, Saba, Aruba, etc. Such music of before and during the 1950s and 1960s is no longer in vogue. Frequently, Bermuda was visited by great calypsonians and steel band greats like Byron Lee & The Dragonaires from Jamaica (their 1970's and 1980's recordings of calypsos and the much more tuneful reggae then than now were superb), The Mighty Sparrow from Trinidad & Tobago, The Merrymen from Barbados. Steel bands were imported to Bermuda, stayed, became Bermudianized and are still here. Bermudian artists in calypso include Sidney Bean, The Talbot Brothers, Reuben McCoy, Hubert Smith, The Four Deuces, Al Harris, Erskine Zuill and jazzman Lance Hayward, the first musician ever produced by Englishman the late Chris Blackwell, who founded Island Records.
Steel pan music is more recent than calypso. It also began in Trinidad and Tobago in the late 1930s, long after slavery ended. It too was seen as reactionary, from young rebels of society. When the Bishop of San Fernando in south Trinidad recognized its worth and praised it as positive not negative, people noticed. Then the Esso Steel Band came along, among the pioneers. They moved to Bermuda in the 1950s but played worldwide as well. Carl Borde was their leader. Rolf Commissiong Sr was another prominent member. They thrilled audiences with their steel pan calypso music and selected classical pieces beautifully arranged for steel pan. It blended exquisitely the culture of the Caribbean, Africa and Europe. In the 1960s, a Trinidadian convent pioneered yet another form of calypso and steel pan music, with a choir that sang in a hauntingly melodic way a selection of Negro Spirituals and local spiritual melodies to a lilting steel pan accompaniment.

Choir singing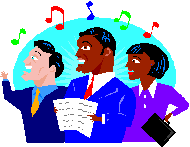 In many local churches, this is a long established tradition. Sundays are alive with the sound of religious music. The custom traces back to England. A lay member of the church acts in a volunteer post as choir master or choir mistress.

Coral Beats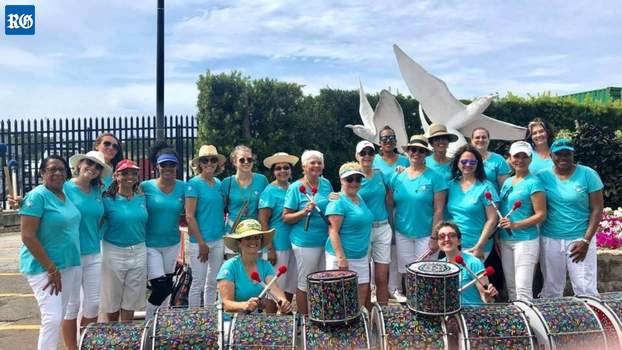 Founded by Sue Riihiluoma, who has always loved Bermuda's Gombeys and marching bands. A female troupe. The group of mainly untrained drummers made its debut on May 24, 2017, performing for runners and race spectators near LF Wade International Airport. "We only knew one song and we stood at Stone Crusher Corner and drummed," Mrs Riihiluoma said. "The runners loved it. They didn't know we only played the one piece, because they only heard it for 30 seconds or so. The spectators, well that was a different story." It was an auspicious start for 20 people with little musical experience. Mrs Riihiluoma pulled together the group, ranging in age from 25 to 70, from all parts of the island: friends, friends of friends and people who just happened upon them as they practiced at Warwick Academy each week. The jump-start came after a trip with her husband, Jay, to Salvador de Bahia, Brazil for the 2016 carnival.

Classical music


Leading local artistes have included Dr. Gary Burgess - once an opera singer overseas and more recently a Bermuda Government official and conductor of the part-time Bermuda Philharmonic Orchestra; opera singer Marcelle Clamens who used to spend much of her time abroad but returned to Bermuda; concert pianist (and gardener) Peter Carpenter; Joyce Mary Helen DeShield; Suzanne Dunkerley; mezzo-soprano Jane Farge; and teacher of music at Whitney Institute Middle School (and gardener) Lloyd Matthew. Organizations involved include the Bermuda Philharmonic Society and Menuhin Foundation of Bermuda. (The late Lord Menuhin visited Bermuda to set up this organization himself). Also hear the Mozart Players Trust; Bermuda Middle Schools Orchestra; Mandy Wong and Dr. Karol Sue Reddington, pianist.

Dance
Individual Bermudians who have distinguished themselves in this genre include Sophia Cannonier, Barbara Frith, Patricia Gray, Suzette Harvey, Mrs Sal Hodgson (Somerset School of Dancing), Louise Jackson, Conchita Ming, Nikia Manders, Liz Pimental, the late Robert Simmons and Ray Tanver. Dance organizations and schools are shown separately above and below.

Gombeys
Dancers similar to those in Africa and certain parts of the Caribbean, from black families. They dance at certain times of the year and on special days. They appeared in the 2003 Edinburgh Tattoo. The word Gombey comes from the African Bantu language and means both rhythm and drum. Noteworthy and quoteworthy are the books "The Bermuda Gombey; Bermuda's Unique Dance Heritage" by Louise A. Jackson and "Bermuda: Traditions and Tastes" by Judith Watson. The Gombeys are unlike any other folkloric dance in the region. Bermuda Gombeys have always been completely covered so that you are unable to identify the persons involved. They are a serious and disciplined art form, not something that parents just simply send their children to. It's not ballet, the involvement of the entire family in the whole ritual is extremely important to the preservation of the culture. Most captains of troupes monitor very closely the performance of their students in relationship to their school work, for example, and if they are not doing well in school they may not get to dance. It's a totally integrated social enterprise, a way of life. Bermuda's only female Gombey troupe are Alisa Kani Girl Gombeys, a collective of fifteen women whose families are traditionally involved in the male-dominated performing art.

In Motion School of Dance
2020. April 23. After a half a century in operation, the Somerset School of Dancing has merged with In Motion School of Dance.

Jazz Clubs and Groups
There are several. include the Stephan Furbert Quartet.

Marriage Music
See our Marriages in Bermuda.

Menuhin Foundation
P. O. Box HM 1179. Hamilton HM EX. Bermuda Registered charity # 118. Founded after Lord Menuhin first visited. Qualified musicians are teachers.

Middle School String Orchestra
With students from 10 to 13 years old from five middle schools, Clearwater, Dellwood, Spice Valley, Whitney Institute and Sandys Secondary Middle School. They are taught by Menuhin Foundation teachers.

National Dance Foundation of Bermuda (NDFB)
West Hall 250, Bermuda College, South Road, Paget, telephone (441) 239-4091. Amalgamated in 2005 with the Bermuda Ballet Association (BBA). Founded in 1980 and a registered charity, Dedicated to the development of exceptional local dancers and choreographers.

Somerset Brigade Band
Founded in 1930. In February 2020 it commemorated the milestone at its annual Festival of Music, at St James Church Hall, Church Hill, Sandys. The band won fame over the past nine decades for its performances at parish and national events, including church bazaars, tea parties, birthday celebrations, commemorations, funerals, state and municipal parades. The event was conducted by the band's director of music, Cher-Ann Brangman and Major Leslie Lowe. The event was compèred by Glenn Bascome. Performers included Conrad Roach, Max Maybury, Graham Maule and Malinda Jennings.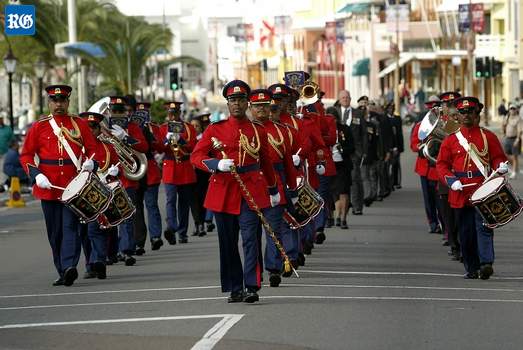 Vision
A dance company. Comes under the umbrella of the Jackson School of Dance and is located on the same premises on Burnaby Street. Combines a variety of dance genres including ballet, jazz, contemporary, tap and hip hop. When last contacted there were 42 dancers ranging in age from 2 years old to 25.



Authored, researched, compiled and website-managed by Keith A. Forbes. Last Updated: October 30, 2020
Multi-national © 2020. All Rights Reserved