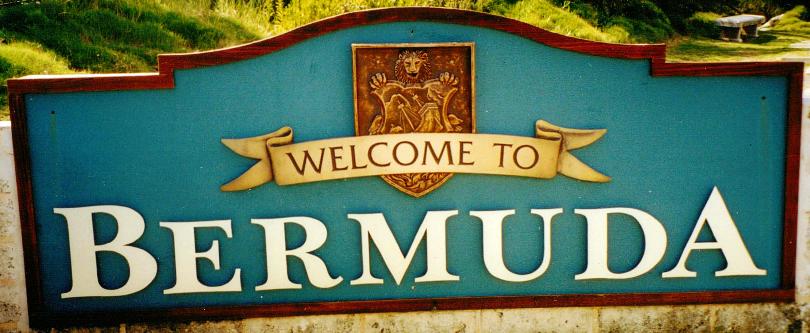 Click on graphic above to navigate the 165+ web files on this website, a regularly updated Gazetteer, an in-depth description of our island's internally self-governing British Overseas Territory 900 miles north of the Caribbean, 600 miles east of North Carolina, USA. With accommodation options, airlines, airport, actors, actresses, aviation, banks, beaches, Bermuda Dollar, Bermuda Government, Bermuda-incorporated businesses and companies including insurers and reinsurers, Bermudians, books and publications, bridges and causeway, charities, churches, citizenship by Status, City of Hamilton, commerce, communities, credit cards, cruise ships, cuisine, currency, disability accessibility, Devonshire Parish, districts, Dockyard, economy, education, employers, employment, environment, executorships, fauna, ferries, flora, former military bases, forts, gardens, geography, getting around, golf, guest houses, highways, history, historic properties, Hamilton, House of Assembly, housing, hotels, immigration, import duties, internet access, islands, laws, legal system and legislators, main roads, marriages, media, members of parliament, money, motor vehicles, municipalities, music and musicians, newcomers, newspaper, media, organizations, parks, parishes, Paget, Pembroke, performing artists, residents, pensions, political parties, postage stamps, public holidays, public transportation, railway trail, real estate, registries of aircraft and ships, religions, Royal Naval Dockyard, Sandys, senior citizens, Smith's, Somerset Village, Southampton, St. David's Island, St George's, Spanish Point, Spittal Pond, sports, taxes, telecommunications, time zone, traditions, tourism, Town of St. George, Tucker's Town, utilities, water sports, Warwick, weather, wildlife, work permits.

Bermuda's ties with USA
76% of all tourists and business visitors and more than 75% of all imports come from America

By Keith Archibald Forbes (see About Us).

See end of this file for all of our many History files
"Crown Hill," 16 Middle Road, Devonshire DV 03. P. O. Box HM 325, Hamilton HM BX. Telephone (441) 295-1342 or 278-7504. Fax (441) 295-1592. E-mail hamiltonconsulate@state.gov.. It is the largest foreign mission in Bermuda, a fully-staffed diplomatic facility.
Leandro (Lee) Rizzuto Jr, business tycoon, became the latest United States Consul General to Bermuda in late July, 2020. He succeeded Constance Dierman, a professional diplomat, who left the island in June. Mr Rizzuto will lead a team whose mission is to protect US citizens in Bermuda and deepen the strong economic and cultural ties between the US and Bermuda. More than 93,000 people - far more than the entire 66,000 or so population of Bermuda - signed a petition last month in protest at the appointment of Mr Rizzuto, a controversial contributor to Donald Trump's presidential campaign. John Rankin, the Governor, who received the petition, said: "Under the Vienna Convention on Consular Relations, the appointment of a Consul General is for the sending state to make. So the decision to appoint Mr Rizzuto as US Consul General is one that is made by the United States Government. The US is, of course, our nearest geographical neighbour and whatever views may be on this matter, I think it is important that we have an effective relationship with whomever represents the United States in this country and my job as Governor will be to achieve that effective relationship."
Mr Leandro's father, Leandro Rizzuto Sr. was the founder of the Conair Corporation, an American company based in Stamford, Connecticut which sells small appliances, personal care products, and health and beauty products for both professionals and consumers. It was founded in 1959 and has since expanded to include ten product divisions. They include Cuisinart, Waring, Rusk, Jheri Redding, Babyliss, Scunci, Allegro, Interplak, TravelSmart, Conair Hospitality, Conair Pet, Pollenex.
On January 5, 2018, President Donald Trump appointed his son Leandro Rizzuto Jr., to the position of Ambassador Extraordinary and Plenipotentiary of the United States to Barbados, as well as St. Kitts and Nevis and Saint Lucia. But when this ambassadorial appointment was not approved by the US Congress on spurious political grounds President Trump exercised his presidential authority to have him appointed to Bermuda, over the shameful protests of some Bermudians who were pictured in the international media by name for demonstrating against his appointment.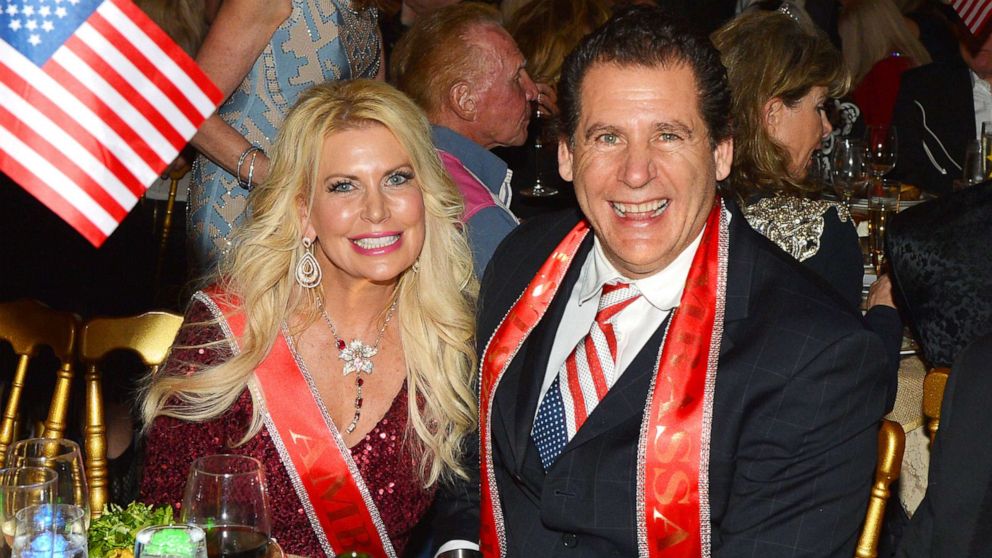 Bermuda's new US Consul General and wife from July 2020

In the Interest and Dividend Compliance Act of 1983, Congress expanded the definition of "North American area" to include Bermuda and select Caribbean countries as specified in the Caribbean Basin Economic Recovery Act. As a result, a US resident taxpayer attending a legitimate business convention in Bermuda can deduct from his or her USA Internal Revenue Service taxes all costs incurred in Bermuda. It has been held to be as reasonable for the convention to be held in Bermuda as it is for the convention to be held within the North American area. The list of select qualified "Caribbean" countries are Antigua and Barbuda; Aruba; Bahamas, Bermuda; Costa Rica; Dominica; Dominican Republic; Grenada; Guyana; Honduras; Jamaica; Netherlands Antilles; Panama; Trinidad and Tobago. It is believed that President Trump, in his avowed policy of "America First" will seek at the earliest possible date in 2017 to have this benefit for Antigua and Barbuda; Aruba; Bahamas, Bermuda; Costa Rica; Dominica; Dominican Republic; Grenada; Guyana; Honduras; Jamaica; Netherlands Antilles; Panama; Trinidad and Tobago removed.

As Bermuda's nearest geographical neighbor, source of nearly 90% of all Bermuda's tourists and visitors, the great majority of all business clients and 100% of all conventioneers who can come to Bermuda at US taxpayers' expense and place where 70% of all Bermudians go to complete their college/university undergraduate, graduate and postgraduate education, the USA has the largest foreign mission in Bermuda, a fully-staffed diplomatic facility with public hours four days a week. There is no parking for cars or bikes except for employees. Non immigrant visa applications and other services are on specified days. At the Consulate, special security precautions are in place. The Bermuda facility has a nine-foot high perimeter wall/fence; a vehicle barrier and access control center at the entrance gate; hardened interior walls around the building; and installation of blast-proof windows. Additionally, there is a secure Controlled Access Center (CAC) building for most routine work, but in the shape of a Bermuda cottage.

Americans who live and work or are unemployed in Bermuda, Bermudians and other Bermuda residents with any financial interests in the USA such as owning any US stocks or shares, real estate or other relevant interests are all required by US laws to complete the USA's Internal Revenue Service tax returns and reports. The USA has the world's most complex web of national, state and local taxes and some staggering Federal corporation taxes, highest in the world in Federal taxes and consequent reduction of profits, anti-trust bureaucracy and more. Thus thousands of US-based corporations (companies), including all the Fortune 500 and individuals have made a point of deliberately avoiding such taxes by incorporating in Bermuda, legally accumulating their profits in their Bermuda entities and ensuring these profits are not repatriated back to the USA to be taxed. In 2015 it was noted abroad, by London's Daily Telegraph and Sunday Times and the UK's Guardian newspapers, that the US Consulate in Bermuda in particular seems to take an exceptionally tolerant view of US-tax avoiding or evading Bermuda-incorporated and Bermuda-resident US corporations, but in startling contrast individual Bermuda-based and foreign (UK and elsewhere) payers of US taxes are not given the same tolerance by the IRS, instead have to go through horrendous bureaucratic hoops to file their returns despite not being either US citizens or US residents. The USA is the only country in the world that has such overseas tax requirements. Also, it is the only country in the world that requires its own individual US citizens and residents to pay US taxes not just on their US income but on their world-wide income, another major concern to US corporations. US corporations that use Bermuda as a tax shelter include many dozens in the AIG group, GE, hundreds in the Chevron group and thousands more.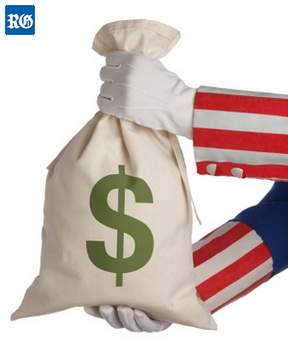 The USA requires all Bermudians, US citizens working in Bermuda or elsewhere abroad and others who have any stocks and shares or real estate or any financial interest in the USA to file US Tax returns, the only country in the world to to so.

American citizens resident in Bermuda who possess US passports can have them renewed in Bermuda when they expire. They can also have more pages added, if they wish, by this office, at a cost of $82 plus a form to complete. Renewals cost $110 for an adult passport. For more information visit the Consulate.

Book: Four Centuries of Friendship. Written in part to celebrate Bermuda's 400th anniversary in 2009. It commemorates the work of the US Consulate in Bermuda since its establishment in 1812. US-Bermuda history from an American perspective. Edited by Marina Slayton, wife of former US Consul General Gregory Slayton. 150 pp full color hardback, with many articles, historical color and black and white images, maps, 2008-2009. Plus chapters written by the US State Department and Mr. Slayton. Bermuda Maritime Museum Press. During the compilation of the book it was discovered that there were over 290 boxes of consular diplomatic dispatches between Bermuda and the USA, including many from the first American consul in Bermuda, William R. Higginbotham, in and from 1812 to John Quincy Adams who, after he left the Presidency, became US Secretary of State. The US Consulate in Bermuda received a 2009 facelift with its interior walls now adorned with an exhibit showcasing the 400-year friendship between Bermuda and the United States, the oldest partnership in the New World. The Friendship Wall displays images from early 1600, when Bermuda played a pivotal role in the US development. Former US Consul General Gregory Slayton stated: "over the centuries, ties between the United States and Bermuda have grown deeper and broader on all fronts. Today, Bermuda and the US are strong partners and the closest of allies." The display, which can be seen on the walls of the newly renovated visitors' waiting room, was conceived by Mr. Slayton's wife Mrs. Marina Slayton, who published the book, 'Four Centuries of Friendship: America-Bermuda Relations 1609-2009' which coincides with the 400th anniversary of the permanent settlement of the Island. There is also a US-Bermuda Friendship Wall at the L. F. Wade International Airport in Bermuda, from where more than 350,000 passengers bound for the USA pass through US Customs and Border Protection every year. There too, Bermuda residents and visitors can lean more about the long US-Bermuda alliance. The permanent exhibit was unveiled in 2009 in celebration of Bermuda's 400th anniversary, with officials there including the airport general manager, then-US Consul General Gregory Slayton and Stephen Greenburg, Port Director for US Customs and Border Protection (CBP). Now, thanks to a new agreement between Bermuda and the US signed in April 2008, passengers and crew aboard private aircraft will also be pre-cleared in Bermuda. This supplements the establishment of the first Bermuda-USA pre-clearance agreement in 1974. Bermuda is only the third country in the world to sign such an agreement with the United States.

The US-Bermuda alliance has large benefits for both Americans and Bermudians. The United States provides over 75 percent of all of Bermuda's imports, tourist and financial capital each year.

Consulate professionals offer a range of services for the hundreds of thousands of Americans who visit Bermuda and the thousands of Bermudians who visit the US. Consulate staff also help other US Government agencies working in Bermuda, such as US Custom and Border Protection that provides customs pre-clearance for many US bound flights at the Airport. They work closely with the Bermuda Government and the British Governor in Bermuda to promote partnership, trade, international law enforcement and easier travel between the Island and America. Their mission is to ensure the US-Bermuda alliance remains strong for the benefit for both Americans and the people of Bermuda.

A hand-carved American Eagle was given back to the US consulate 200 years after it was believed to have be taken by British forces in the siege of Washington during the War of 1812. This intricately carved American Eagle was presented to United States Consul General Gregory Slayton and his wife Marina Slayton by the Bermuda Historical Society in 2008. It hangs in the visitor's waiting room along with the newly constructed Friendship Wall, which depicts the longstanding friendship between Bermuda and the United States. The donation was on behalf of the Bermuda Historical Society by way of Mrs. Clay Merrell in honour of her husband Mr. Edwin Clay Merrell, who served as US Vice Consul and Consul to Bermuda from July 1920 until January 1947. Mr. Slayton said: "It is unclear how the Merrell's came into possession of the Eagle, but it is thought to have hung in the old-American Consulate during the early and mid-20th Century."
US Consul General's residence in Bermuda
His present official residence is at Cedarhurst, 33 Wilkinson Avenue, Hamilton Parish. The previous official US Consul General in Bermuda residence was at the affluent US$ multi-million, 4-bedroom property overlooking the ocean known as "The Residence" in exclusive Tucker's Town, with pool, a large two-storey 1920s Bermudian family home. There are pieces inherited from the former Consul General's home at Chelston.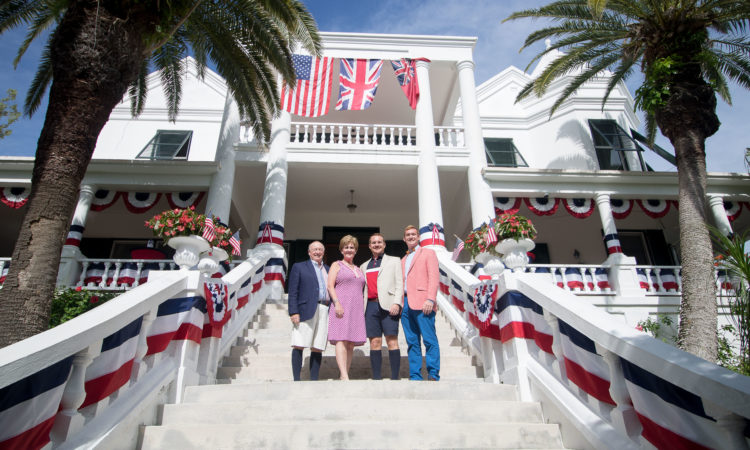 Cedarhurst, showing an earlier US Consul General (second left) and family
Until after World War 2 (1939-1945 in the world, 1941-45 in the USA) there was no official consular residence. Mr. William H. Beck (who served in Bermuda from 1939-1945) and his family rented Durham on Pitts Bay Road from a Mr. Butterfield. Next door - in the back - was Bay House, on the same little bay, where Mark Twain visited the Allens. (Mr. Allen was then U.S. Consul). Twain often sat in the garden at Durham and swam in the bay. From about 1951 and for decades after that, the US Consul General's official home in Bermuda purchased by the US State Department was "Chelston," 12,000 square feet, on a 14 acre estate off Grape Bay Drive in Paget Parish. It was later sold for about US$ 15 million as part of a US Government drive in US Democratic Administration years to cut costs. A new, more modest house was then rented, Mangrove View, on Mangrove Drive, off the South Road. The property called The Residence was next, until the latest, Cedarhurst, shown above.
Earlier Consuls-General
Some appointments were political, with the political party in power at the time selecting all the Ambassadors and Consuls. Others were career diplomats
1st USA Consular Representative in Bermuda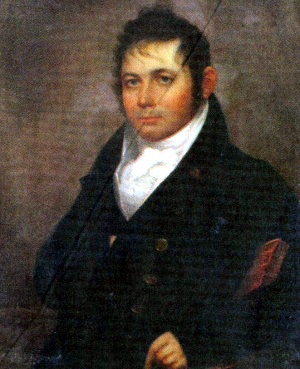 William R. Higginbottam, see top of list below
| | | | |
| --- | --- | --- | --- |
| Name | Title | Dates | Comments |
| William R. Higginbottam - sometimes spelt Higinbottam | Frst American consul in Bermuda in 1812, initially as Consular Agent | Consul from 1818 to 1832 | He opened an office in St. George's in August 1818. Appointed US Agent for Commerce and Seaman by President James Monroe, Higginbotham dealt with American shipping and trade issues. But he faced many diplomatic hurdles because Bermuda's English Governor did not officially recognize him. Higginbotham died at his post in St. George's on July 25, 1832 |
| William Tudor Tucker | Consular Agent | 1832 to 1846 | Retired |
| Frederick B. Wells | Consul | 1846 to 1850 | Left Post |
| William Tudor Tucker | Consul | 1850 to 1853 | Retired again |
| John W. Howden | Consul | 1853 to 1853 | Died at Post (19 days in office) |
| Frederick B. Wells | Consul | 1853 to 1856 | Left Post Again (resigned in USA) |
| Henry B. Brown | Consul | 1856 to 1859 | Retired |
| Frederick B. Wells | Consul | 1859 to 1861 | Retired |
| Charles Maxwell Allen | Consul | 1861 to 1888 | Welcomed Mark Twain to Bermuda, hosted him often, died at post and was buried at St. Mark's Church in Smith's Parish |
| Norman Walker | Agent | 1861 to 1864 | Confederate States of America |
| William K. Sullivan | Consul | 1893 to 1894 | Left Post, died one month later in USA |
| John H. Grout, Jr | Consul | 1893 to 1894 | Retired |
| Marshall Hanger | Consul | 1894 to 1898 | Retired |
| M. Maxwell Greene | Consul | 1898 to 1915 | Resigned |
| Earl Loop | Consul | 1915 to 1917 | |
| Ethelbert Watts | Consul | 1918 to 1918 | |
| Colonel Alfred Swolm | Consul | 1919 to 1922 | Died |
| William P. Kent | Consul | 1923 to 1924 | Retired |
| Robertson Honey | Consul | 1924 to 1929 | Retired |
| Graham H. Kemper | Consul | 1930 to 1934 | Retired |
| Charles Heisler | Consul | 1934 to 1936 | Retired |
| Harold L. Williamson | Consul | 1937 to 1940 | Retired |
| William H. Beck | 1st Consul General in Bermuda | 1939 to 1945 | Bermuda acquired new American military bases in WW2. Afterwards posted to Southampton, England as Consul General, then retired. |
| Clay Merrill | Vice Consul | 1945 to 1949 | |
| John C. Pool | Consul | 1949 to 1950 | To Southampton |
| Clay Merrill | Consul | 1950 to 1951 | Died |
| E. Paul Tenny | Consul General | 1951 to 1953 | To Milan |
| Robert B. Streeper | Consul General | 1953 to 1955 | To Recife |
| Thomas Maleady | Consul General | 1955 to 1957 | To State Dept. |
| Sydney K. Laffoon | Consul General | 1957 to 1960 | Retired |
| George W. Renchard | Consul General | 1960 to 1967 | To Africa |
| Charles N. Manning | Consul General | 1967 to 1971 | Retired |
| Donald B. McCue | Consul General | 1972 to 1976 | Retired |
| S. Richard Rand | Consul General | 1976 to 1980 | Retired |
| John P. Owens | Consul General | 1980 to 1982 | To State Dept |
| Max Friedersdorf | Consul General | 1982 to 1983 | |
| Melville Blake | Consul General | 1984 to 1985 | |
| Max Friedersdorf | Consul General | 1985 to 1987 | To Geneva |
| James L. Medas | Consul General | 1987 to 1989 | To State Dept |
| L. Ebersole Gaines | Consul General | 1989 to 1994 | |
| Robert Farmer | Consul General | 1994 to 1999 | |
| Lawrence D. Owen | Consul General | 1999 to 2001 | |
| Denis P. Coleman | Consul General | 2002 to 2004 | |
| Gregory W. Slayton | Consul General | 2005 to 2009 | |
| Grace W. Shelton | Consul General | August 2009 to August 2012 | To State Dept |
| Bob Settje | Consul General | September 2012 to June 2015 | To Consular Section Chief in Hong Kong. |
| Mary Elling Koenig | Consul General | June 2015 to June 2018 | She took office from June 11, 2015. She was the third career diplomat in succession to head up the Bermuda Consulate, a role that had previously been a political appointment. |
| Constance Dierman | Consul General | June 2018 to 2020 | |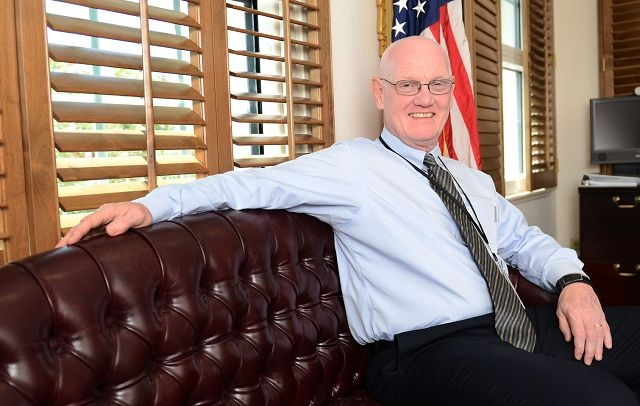 Robert W Settje, September 2012 to June 2015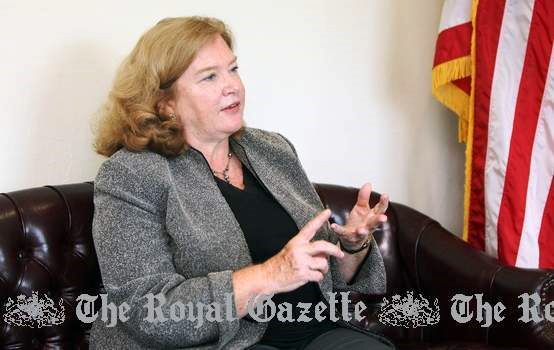 Constance Dierman, June 2018 to 2020
Key facts in the USA - Bermuda relationship
An estimated 8,000 registered U.S. citizens live in Bermuda, many of them employed in the international business community. There also are a large number of American businesses incorporated in Bermuda, although no actual figures are available. Despite the trend of American businesses moving to Bermuda, Bermuda maintains that the island is not a "tax haven" since it taxes both local and foreign businesses equally.

Many resident Americans are married to Bermudians and many American businesses deal directly with Bermudians. It also serves American businesses which incorporate in Bermuda to avoid US taxes but still have their principal offices in the USA.

U.S. visitors are critical to the island's tourism industry, but overall the number of U.S. visitors to Bermuda has been declining. In 2010, 483,264 Americans visited. Another 3,046 Americans sailed to the island via private yacht in 2010, an increase from 2,222 in 2009. Air arrivals in particular dropped, down to 166,016 in 2010, compared to 172,648 in 2009. To some extent that shortfall has been made up by an increase in American cruise ship visitors--314,202 in 2010 compared to 286,819 in 2009.

Areas of opportunity for U.S. investment are principally in the reinsurance and financial services industries.

Bermuda has little in the way of exports or manufacturing; almost all manufactured goods and foodstuffs must be imported. The value of imports rose from $551 million in 1994 to $1.051 billion in 2009. The U.S. is Bermuda's primary trading partner, with $663 million in U.S. imports in 2009. Duty on imports is a major source of revenue for the Government of Bermuda. In 2009-2010, the government obtained $225.4 million, or 24% of its revenue base, from import duties. Heavy importation duties are reflected in retail prices.

Bermuda derives enormous economic benefits from the proximity, commerce, guest workers, tourists, investments and support of the USA. So much so that if the USA was willing, it would be far more logical for Bermuda to become a dependency of the USA similar to Puerto Rico and the US Virgin Islands, etc. than to ever consider becoming politically independent or remaining nominally British.

Bermuda's role in early American colonial chronology was significant. They began in 1609 when the islands were colonized by English Admiral Sir George Somers. Bermuda was part of Britain's American empire, referred to in London as "His Majesty's Islands of the Bermudas or Somer's Isles in America" - thus Bermuda is NOT part of the Caribbean (as far to the south as Dallas, Texas is from New York). With ties dating back to 1609, the USA is by far and away the Island's largest trading partner, with more than 85% of all Bermuda's imports being shipped or air freighted in from the USA; the single major market by a huge percentage for the Island's financial services industry (more than 75%); the major source - nearly 90% - of the Island's 450,000+ annual visitors; and the most significant cultural influence by an enormous margin. Virtually all the food available in Bermuda comes via the USA by air or sea, with 85% of it American.

Bermuda's principal and most principled news agencies, beyond The Royal Gazette and other local media, are the American Television and radio stations ABC, CBS, CNN, Fox News and NBC.

Many American products sold in Bermuda, at supermarkets particularly, especially USDA-certified meats, get special "export" subsidies from the US Federal government, paid for solely by American taxpayers.

85% of all cruise ships come from US ports during the March to November cruise ship season.

Bermudians enjoy close relations with the US for education, business and families. Many thousands of Bermudians and permanent residents and parents on employment contracts have graduated from US colleges, far more than from Canadian or British equivalents.

Virtually all do most of their shopping in the USA, to escape vastly higher prices in Bermuda at retail level even though they cannot escape Bermuda Government import duties of about 30 percent of the value of their purchases when they return home as Bermuda allows its residents only $100 worth of duty free goods acquired abroad per person.

In healthcare, Bermudians go the USA when they need specialist treatment, not the USA or UK.

Of all the airline flights arriving in Bermuda, 85% are from and to the USA. Americans can fly to Bermuda non-stop from a number of US cities, compared to only 1 city for Britons (London) and Canadians (Toronto) and none from anywhere else in the world.

Bermudians and other Bermuda residents flying to the USA, because they are processed in Bermuda, before they leave by Bermuda-based US Immigration and Customs officials and with no lines or queues at all and no bureaucracy. They are treated as domestic arrivals when they arrive at US airports after a short (usually less than two hours) flight so can go immediately to cars, taxes, buses, trains, etc. In huge contrast, passengers flying from United Kingdom, European and other airports, tired after 7-8 hour flights, if they are not US citizens have to line up for often over 2 hours in excessive American bureaucracy.

What does Bermuda offer in return? The international business sector, and especially reinsurers, are critically important to the US, especially when catastrophes strike. The Bermuda-based international insurance, reinsurance and special risks industry up to 2008 to date has paid out about US$23 billion in claims to the USA over the previous five or six years. Also, Bermuda-based insurers and reinsurers employ thousands of Americans, some in Bermuda, mostly in the USA.
Bermuda's unique importance to the USA
Bermuda supplies 50% of Florida's homeowner catastrophic insurance market, and offers Florida homeowners premiums that are less expensive than competitors in the United States and Europe.
Twenty-three Bermuda reinsurance companies supply 40% of the catastrophic event property and casualty coverage for the entire U.S. market.
Bermuda insurance companies have helped stabilize the U.S. economy in the wake of numerous catastrophic events. In the 15 years between Hurricane Andrew (Florida, 1992) and Hurricane Ike (Texas, 2007) the United States sustained $500 billion in property and casualty losses, inclusive of earthquakes, terror attacks, etc. Of this total amount, Bermuda covered $84 billion or 16.8% of these losses.
After Hurricane Katrina in 2005, businesses in eight Gulf Coast states, from Texas to Florida, needed $65 billion in private and public assistance to rebuild (in addition to assistance needed by homeowners). The federal government supplied $34 billion, while the rest came from insurance. It is estimated that Bermuda insurance payments to U.S. businesses supplied more than 10% of that assistance. Bermuda insurance restored or created more than 20,000 jobs in 2006 in those regional economies.
Bermuda is also a major insurer of American agricultural cropland. Thirty-five percent of U.S. crop insurance is underwritten by six Bermuda-owned insurance affiliates, and 55% of the gross premiums ceded by insurers to reinsurers come from Bermuda.
In 2009, more than 250,000 U.S. farms in 40 states depended on Bermuda insurance and reinsurance firms to hedge annual crop-related risks.
Bermuda's captive commercial liability insurance and reinsurance sector fills an important capacity shortage for U.S. companies. Approximately 75% of the 500 leading companies in the U.S. have captive insurance subsidiaries in Bermuda, which help provide worker's compensation and other lines of liability coverage."
Timeline of American-Bermudian events and decisions
2020. June 4. Protesters returned to the United States Consulate to campaign against the appointment of a controversial contributor to Donald Trump's presidential campaign. About 50 people took part in the demonstration yesterday against Lee Rizzuto Jr as US Consul to the island. Participants displayed placards and chanted slogans against the appointment, as well as institutional racism and police violence against ethnic minorities in the US. The turnout was smaller than a protest on Monday, but activist Kirstin White said a petition against the appointment had received more than 35,000 signatures in the past three days. Ms White said: "We want to send a message to the Governor, because in this case the UK is the receiving state and we want them to turn down the appointment." She added that some had claimed the role of US Consul meant little, but that the office could have a major impact on the lives of Bermudians. Ms White said: "This man controls the visas that our students have. He controls the stop list. Some of us have friends and family who cannot travel internationally. Last year I had a situation where one of my best friends was not able to travel overseas for an emergency treatment, and she died. I ran around the island for days trying to get someone to sign her stop list waiver, trying to get someone to pay attention, and I was told in no uncertain terms by a friend at the US Consulate that it's different now because of Trump and there would be no sympathy, there would be no compassion." She added that Bermudians had a moral right to have a say in who held the job, even if there was no legal right. Ms White highlighted the work of Bermudian activists such as Mary Prince, a prominent anti-slavery campaigner, and the Progressive Group, which organised the successful theatre boycotts in 1959. She said: "It's a right we have to cry for and argue for and yell for, and I'm going to do it today and tomorrow and every day until we are heard." Mr Rizzuto was announced as the replacement for Constance Dierman, a veteran State Department diplomat, after the US Senate refused to confirm him in the post of Ambassador to Barbados. The beauty products tycoon gave $449,000 to Mr Trump's 2016 presidential campaign political action committee and made headlines in America after he shared "conspiracy theories and unfounded attacks" about the President's political opponents on Twitter in the run-up to the election. Ms White said the demonstration also supported the Black Lives Matter protests that have sprung up around the world in the wake of the death of George Floyd at the hands of police officers in Minnesota last week. She got a round of applause when she broke the news to demonstrators that all four officers involved in the arrest of Mr Floyd had now been charged, one with second-degree murder and three with aiding and abetting murder. Charges against Derek Chauvin, who held Mr Floyd down with a knee on his neck for more than eight minutes, had been increased from third-degree murder to second-degree murder. Ms White said the appointment of Mr Rizzuto and the antiracism protests were linked because Mr Trump's right-wing, divisive politics had emboldened racists. Ms White added: "For those of us who have seen people walking around the island in Make America Great Again hats and shirts, it's not a great feeling." Police blocked off a section of Middle Road, Devonshire, outside the consulate until about 6pm to allow the demonstration to take place.
2020. June 2. Dozens took part in a protest outside the United States Consulate yesterday to jointly decry a new appointment and the unlawful killing of blacks in America. "It's about stopping the global spread of fascism, racism, white supremacy, and stamping it out wherever we see it," said protest organiser Kristin White. Her comments came as local outrage grows against the appointment of Lee Rizzuto Jr, a controversial Donald Trump campaign contributor, as replacement for US Consul General Constance Dierman this summer. She added that the furore over Mr Rizzuto's appointment and the racial justice issues that have flared in the US after the death of black American George Floyd in police custody in Minnesota are "sides of the same coin". Mr Rizzuto, who gave $449,000 to Mr Trump's presidential campaign political action committee, made headlines in America after he shared "conspiracy theories and unfounded attacks" about the President's political opponents on Twitter in the run-in to the 2016 election. The fallout resulted in Mr Trump not gaining Senate confirmation when he nominated Mr Rizzuto for a diplomatic post in Barbados similar to the one he is due to take up in Bermuda. Ms White, a well-known entrepreneur and social activist, added: "Any support for Donald Trump is support for fascism. Bermuda Day was specifically created in the aftermath of racial tension and rebellion as a way to unify the country. How is sending this person here unifying this country? Wherever Donald Trump's people go, racism and fascism follow." Ms White said that she hoped the Bermuda Government would pressure John Rankin, the Governor, to refuse the appointment of Mr Rizzuto. She added: "That is the bottom line. We do not want him here." Such an appointment, she said, embodied "anti-Muslim, anti-black and anti-woman" sentiments. She added: "We don't want him here; we have no space for racism." However, David Burt, the Premier, all but admitted that the Government's hands are tied when he addressed the issue during the Covid-19 pandemic press conference. Mr Burt said: "I can recognise that there may be persons who have strong feelings one way or another. The post to Bermuda is not often used as a political post; this is a political appointment as opposed to a career foreign service officer." He added that while the US Senate had not confirmed Mr Rizzuto to a post in Barbados, he did not require similar approval for the Bermuda post because the island was not independent. "I hope the persons who are calling for that type of change also recognise that it's what happens when you live in a colony," the Premier said. The protest, headlined "We Take Action" carried the hashtags #blacklivesmatterbda, #rejectrizzuto and #icantbreathe bda, a slogan related to protests against the killing of black people by American police officers. Makai Dickerson, another protest organiser, said the movement was about "justice for everyone". He added: "This is about standing up as Bermudians in making it known that we stand with our brothers and sisters worldwide." Mr Dickerson said that Bermudians had "every right" to challenge appointments to positions of power on the island. "To have him in a position of power at any level in this island, we have every right to be against it," said Mr Dickerson, who described Mr Rizzuto as a "toxic man". The protesters held a nine-minute moment of silence to reflect the amount of time that Mr Floyd spent pinned under the knee of a Minnesota police officer before dying of asphyxia. They also stood, knelt and chanted slogans "Silence Is Compliance", "Reject Rizzuto" and "Twenty-one Square Miles, No Space for Racism" outside the consulate building for about two hours. Tonya Trott, 38, from Hamilton Parish, said that she joined the protest in memory of George Floyd and other black men and women who had been victims of police brutality. She added that this protest, like those taking place around the world, was the best way to have your voice heard by people in power. Ms Trott added: "I don't think you can expect anything to change by just being a keyboard warrior [on social media]. People don't listen just because you're speaking; I think you have to go and be seen and be willing to put yourself out there." Wayne Caines, the Minister of National Security, said freedom of expression and demonstrations "are time-honoured and effective practices guaranteed under our constitution". He added: "Such forms of assembly are part of healthy democracy and we respect an individual's right to peacefully protest." Ms Dierman, who took up her post as US Consul General in June 2018 on an initial three-year assignment, thanked the protesters for observing the rule of law. "Freedom of speech and assembly are cornerstones of a healthy democracy," she said. "I thank those peacefully making their views heard outside the US Consulate and thank the Bermuda Police Service for ensuring everyone's safety."
2020. June 1. A controversial beauty products tycoon scheduled to take up the US Consul General's post this summer made headlines in America after he shared "conspiracy theories and unfounded attacks" about President Donald Trump's political opponents on Twitter. Now a protest, publicised by Makai Dickerson, a former Progressive Labour Party candidate for the House of Assembly, has been planned over the appointment. A flyer headlined We Take Action said a protest would be organised today with "exact time and location to be announced at 1pm". The poster carried the hashtags #rejectrizzuto and #icantbreathebda, a slogan related to protests against the killing of black people by American police officers. CNN said that Lee Rizzuto Jr "amplified false allegations" in 2016 about Mr Trump's rivals before he was elected to the White House. The US State Department said on Wednesday that Mr Rizzuto would become the Principal Officer at the US Consulate General in Bermuda. Mr Rizzuto, who has no diplomatic service experience, will replace Constance Dierman, a veteran State Department official. Ms Dierman took up her post as US Consul General — also known as the Principal Officer of the US Consulate in Bermuda — in June 2018 on a three-year assignment. However, a spokeswoman for the US Consulate in Bermuda said yesterday she would leave the job before Mr Rizzuto arrives this summer. The UK's MailOnline reported that Mr Rizzuto contributed $449,000 to Mr Trump's presidential campaign political action committee in 2016. Mr Trump nominated Mr Rizzuto, who helped to develop Conair, his family's personal care products business, as ambassador to Barbados in 2018. The appointment would also have made him the US representative to St Kitts&Nevis, St Lucia, Antigua&Barbuda, Dominica, Grenada, and St Vincent&the Grenadines. The nomination required Senate confirmation. CNN said in an article published online in 2018: "President Donald Trump's nominee to be the ambassador to Barbados and several other Caribbean countries spread fringe conspiracy theories and unfounded attacks about Trump's political opponents on Twitter, including ones about senator Ted Cruz and his wife, Heidi, during the 2016 presidential election." It added: "During the height of the Republican presidential primary, Rizzuto spread smears about Trump's opponents, including Cruz, Wisconsin governor Scott Walker, and Ohio governor John Kasich, a CNN KFile review of Rizzuto's Twitter account shows." The report said: "A representative for the White House declined to comment. Reached by phone, Rizzuto told CNN that he could not comment based on guidelines from the State Department. All of Rizzuto's tweets on his personal account have been deleted, but retweets dating back to February 2016 are still visible." CNN reported on Wednesday that Mr Rizzuto's "nomination for the ambassador post in Barbados was returned in January of this year and he was not renominated by the White House". The Consul General to Bermuda does not require Senate confirmation. The Royal Gazette was unable to contact Mr Rizzuto and the US State Department did not respond to requests for comment. Mr Rizzuto is not the first US Consul to Bermuda selected from outside the diplomatic service by a president. Gregory Slayton, US Consul between 2005 and 2009, was a businessman, appointed by president George W. Bush. Robert Farmer, a major fundraiser in four Democratic presidential battles, including the successful 1992 Bill Clinton campaign, also filled the post. Eb Gaines, a businessman was appointed to the job from 1989 to 1992 by Republican president George H.W. Bush.
2020. January 30. The US Consulate General in Bermuda has invited all US citizens to register to vote for the upcoming 2020 primary and general elections. On Friday, January 31, 2020, the US Consulate will host another Voter Registration Drive at the Washington Mall, Reid Street entrance from 10am to 3pm. Those who stop by to register to vote can request an absentee ballot where consulate staff will be available to assist. Americans in Bermuda, throughout the United States and around the world are encouraged to exercise their most basic right — the right to vote. Note that some states require your full Social Security number to complete the application. Before the event, check your state's identification requirements in the Voting Assistance Guide on FVAP.gov. No identification is required at the time of the event. The FPCA is the primary method of communication between you and your state election officials. It allows you to apply to register to vote, request an absentee ballot, and/or update your contact information with your local election office. Whether you are a first-time voter or have voted absentee in past elections, you must complete the FPCA to receive your 2020 ballot.
2020. January 11. A voter-registration drive will be held by the US Consulate for the United States' primary and general elections this year. US citizens in Bermuda have been invited to a session at the consulate offices on January 17. They will be able to register to vote and request an absentee ballot through a Federal Post Card Application, "the primary method of communication between you and your state election officials". A statement from the US Consulate General added: "It allows you to apply to register to vote, request an absentee ballot, and/or update your contact information with your local election office. Whether you are a first-time voter or have voted absentee in past elections, you must complete the FPCA to receive your 2020 ballot." US citizens will need to take government-issued photo identification, like a US passport or a state driver's licence, to complete the FPCA. Some states beyond Bermuda also demand a voter's full social security number to complete the application. US citizens were asked to check, before the registration drive, their state's identification requirements in the Voting Assistance Guide on FVAP.gov.
2020. January 8. A reminder was issued by the US Consulate in Bermuda that on November 23, the U.S. Customs and Border Protection (CBP) introduced new features to the Electronic Travel System for Travel Authorization (ESTA) website, the portal through which prospective Visa Waiver Program travelers can apply to travel to the United States. ESTA enables eligible travelers to apply for authorization to travel to the United States for temporary business or tourism without a visa. To qualify for ESTA, a traveler must be a citizen or national of one of the 39 countries designated in the U.S. Visa Waiver Program and meet other requirements. It is important to note that Bermuda passports are not eligible for ESTA, and individuals should not apply for an ESTA using a Bermuda passport. Individuals can, however, apply for ESTA using a United Kingdom passport. The enhanced ESTA website includes a new tutorial video and provides conveniences such as:
The ability to save incomplete applications and return to them later;
Real-time validation for all data fields, which enables users to quickly identify errors and incomplete information; and
A new e-mail verification process that enables the 'save and exit' function and provides additional security for users.
Travelers who wish to remain in the United States for more than 90 days or who wish to work, study or engage in other activities requiring a visa must apply for a visa to travel to the United States. CBP recommends that first-time ESTA applicants apply at least 72 hours in advance of travel to allow sufficient time for processing. Travel authorizations are generally valid for two years or until the traveler's passport expires, whichever comes first. CBP reminds travelers that there is only one ESTA website (https://esta.cbp.dhs.gov/esta/). Third-party companies that charge fees to assist travelers in submitting ESTA applications are not operating on behalf of the U.S. Government.
2020. January 8. People were warned yesterday to be on their guard against dishonest visa expediter service companies. The United States Consulate said fraudsters had falsely claimed fees from uninformed customers. A spokeswoman said: "Individuals who use third parties to complete US non-immigrant visa applications should be aware that the US Government does not collect any visa fees online for applicants in Bermuda. While a third-party company may legitimately charge a service fee, the non-refundable visa application fee of $160 is to be paid directly by the applicant to the US Consulate on the day of the scheduled visa interview," the spokeswoman explained.
2019. December 10. On December 5, U.S. Consul General Constance Dierman met with a group of representatives from the Women's Resource Centre (WRC) and Habitat for Humanity who were selected to participate in an exchange program designed by the U.S. Department of State. Before their departure to Washington D.C. on December 8, the group discussed how the International Volunteer Leadership Program (IVLP) will support the development of Bermuda's first Transitional Living Centre. The U.S. Consulate nominated Elaine Butterfield, Director, WRC; Sheelagh Cooper, Executive Director, Habitat for Humanity; Cheryl Minors, Executive Assistant, WRC; Judy Lowe Teart, Career Development Manager, WRC; and Tina Laws, Volunteer, WRC; to participate in the 10 day program, where they will visit three U.S. cities, explore organizations that provide sustainable housing and services for women and their families as well as mental-health wellness programs. They will have the opportunity to engage with leading representatives from federal agencies, non-profit organizations, and outreach programs to identify best practices that may be sustainable in Bermuda and gain first-hand knowledge of successful service models. The group plans to explore issues related to financial sustainability, data analysis, and collaborations between government institutions and civil society to address matters related to homelessness. "I am pleased that this dynamic group of women were selected to participate in this specialized IVLP program. It will provide a number of resources to help address challenges and create a system that will benefit women and their families here in Bermuda," says U.S. Consul General Dierman. The International Visitor Leadership Program is the U.S. Department of State's premier professional exchange program. Through short-term visits to the United States, current and emerging foreign leaders in a variety of fields visit organizations and meet with representatives that reflect the participants' professional interests and support common bilateral policy goals. Since 1940, the IVLP, with the help of a dedicated network of community-based non-profit organizations, has introduced over 225,000 participants to communities throughout the United States.
2019. August 12. A coding problem with Bermudian passports is to blame for "distress and disruption" experienced by some travelers, the national security minister said yesterday. Wayne Caines said that he was aware that some Bermudian BOTC passport-holders had experienced "additional questioning or delays" at some borders. He added that the problem was not as a result of changes with the United States Customs and Border Protection procedures or US immigration law. Mr Caines explained: "The problem has arisen from the electronic coding of Bermuda BOTC passports, which for security reasons are now issued from the UK. Despite guidance issued by the International Air Transport Association confirming that Bermudian BOTC passport holders remain eligible for visa-free travel to the US, difficulties continue to be encountered with some airlines and airline agents." He said that a joint working group with the Passport Office in Britain had been created to try to fix the problem. Mr Caines said: "It is clear that the current situation has caused distress and disruption in a number of cases and Government House is in close touch with the Foreign and Commonwealth Office on this matter." He added that his ministry "has given resolving this matter urgent priority". A document which explains the US visa exemptions for Bermuda can be found on the US Consulate website. Mr Caines advised all Bermudian passport holders to visit the website to print a copy of the exemption to carry with their passport "until a solution is found". He warned: "Please be mindful that presenting the card does not guarantee action by an airline representative or immigration official. Travelers have still experienced difficulties, including being denied boarding and/or missing flights, even after presenting this document." Mr Caines said that another option for Bermudian passport holders was to consider applying for a US visa. Instructions on how to obtain the visa can be found on the US Consulate's website.
2019. July 26. The U.S. Consulate General Hamilton hosted a donation ceremony at the L.F. Wade International Airport on July 25. The Consulate, through the U.S. Customs and Border Protection (CBP), presented the Bermuda Police Service, Royal Bermuda Regiment, and the Customs Department with portable gasoline generators to assist with Bermuda's emergency preparedness operations. U.S. Consul General Constance Dierman and CBP Port Director Cletus William addressed the significance of the donation, especially during this year's hurricane season. Port Director William commends the partnership between CBP and the Bermuda Government, "U.S. Customs and Border Protection enjoys a great deal of success in our mission here in Bermuda due to the support of our local Government partners," he says. Generators were received by Assistant Commissioner of Police James Howard, Royal Bermuda Regiment Adjutant Captain Paolo Odoli, and the Customs Department Assistant Collector Tracey Kelly. "Bermuda takes its emergency preparedness seriously, and we are pleased to support the Bermuda Government with its emergency preparedness efforts. We commend the Bermuda Police Service, Royal Bermuda Regiment, and Customs Department for their commitment to service and ensuring safety for all" says U.S. Consul General Dierman.
2019. July 25. American multinational companies repatriated a staggering $231 billion in corporate profits from Bermuda-based affiliates to the United States last year. Changes in US tax law brought in last year slashed the rate of tax on profits brought back to the US from overseas. A report by the US Commerce Department's Bureau of Economic Analysis, released yesterday, showed that Bermuda was by far the largest source of repatriated profits. The island had a near 30 per cent share of the $776.5 billion brought back to the US from around the world. In 2004, when the US introduced a temporary tax holiday to encourage the return of offshore earnings, Bermuda's share was 10.4 per cent, according to a report published in 2011 by the Greenling Institute. The second-placed Netherlands contributed $138.8 billion more than $90 billion behind Bermuda's tally. Many US multinationals had kept their profits offshore, deterred from bringing them home by a 35 per cent tax rate. The 2017 Tax Cuts and Jobs Act, which took effect at the start of 2018, set a one-time 15.5 per cent tax rate on cash and 8 per cent on illiquid assets repatriated to the US. Clearly, many took the bait as the Commerce Department report showed that last year's repatriated profits were five times the 2017 total. Chemical manufacturing companies brought home the largest amount, $209.1 billion, followed by firms in computers and electronic products manufacturing, $195.9 billion. Several US multinationals have hit the headlines through their usage of Bermudian-based entities to cut their tax bills. In 2017, Google's parent company Alphabet moved $22.7 billion through its Bermudian subsidiary, which employs no one on the island. Nike was also shown, through revelations in the Paradise Papers, to have used a Bermudian subsidiary to hold intellectual property that enabled the sports gear-maker to book billions in profits on the island. The scale of the Bermuda "dividend" in the US report speaks to the popularity of the island as a domicile for subsidiaries that have little or nothing in the way of operations. A quick search through the Bermuda Registrar of Companies list of incorporated companies finds subsidiaries of many more US household names. Notably, about 280 Bermudian entities on the register bear the name of energy giant Chevron. US banks including JP Morgan, Goldman Sachs, Wells Fargo and Citigroup also appear, as well as telecoms companies like Verizon, technology hardware manufacturers including Cisco Systems and Hewlett-Packard, beverage and packaged food-makers like Pepsico and General Mills and pharmaceutical companies including Pfizer and Bristol Myers Squibb. Major economies want to see a global tax system that taxes more corporate profits in places where products and services are actually sold and where economic activity takes place, under the Organisation for Economic Co-operation and Development's Beps (Base Erosion and Profit Shifting) initiative. Country-by-country reporting and economic substance rules, which have been introduced in Bermuda and other offshore financial centres, are two examples of how the net is closing on tax avoidance by multinational companies.
2019. July 10. Bermuda and its people punch well above their weight, a top American diplomat visiting Bermuda said yesterday. Robert Wood Johnson, the United States Ambassador to the United Kingdom, added: "One of the things that I think really surprises an outsider coming into Bermuda ... is the unbelievable capability of this small island. You can't think of anything that's quite like this. Everything that I see is excellent." Mr Johnson was speaking on his first visit to Bermuda as an ambassador, although he has visited in a private capacity. He said that the trip was to "see what's happening ... both on a prosperity and economic side, and also some of what's happening socially". Mr Johnson met David Burt, the Premier, Craig Cannonier, the Opposition leader, and John Rankin, the Governor. He said he had discussed Bermuda's plans for the island. Mr Johnson added that the relationship between Bermuda and the US was "very solid". He said: "I think you would even call it a special relationship." Mr Johnson added that he did not think the UK's decision to quit the European Union would damage links between the US and Bermuda. He said: "Brexit is something that will not affect the long-term relationship, because of the strength, because of the 400-year history." Mr Johnson also met representatives of the island's insurance industry. He said: "I was once again extremely impressed by the talent that you have — both the industry itself, and the governance and the regulators of that industry, I think are world class. You've really got something to be proud of." He added that Bermuda's insurance industry leaders were "looking into the future". Mr Johnson said that the relationship between the UK and the US is "as solid as it has ever been". He added: "I see that up close and personal." Donald Trump, the President of the United States, yesterday said on Twitter that the US "will no longer deal with" Sir Kim Darroch, the UK Ambassador to the US. Mr Trump later said Sir Kim was "wacky" and a "very stupid guy". He added: "I don't know the ambassador but have been told he is a pompous fool." Mr Johnson declined to comment on Mr Trump's views. He said: "That's something that's playing out, and we'll see how that progresses." E-mails leaked at the weekend showed that Sir Kim had called Trump "inept," "insecure" and "incompetent". But Mr Johnson claimed that Mr Trump was viewed "very favorably" in the UK "despite what one might read". He added: "One of my jobs is going around the country — all around the UK — and talking with the people and getting their views. And I hear nothing but positives about the President and what he's accomplished in the US — the growth, the optimism, the jobs." Mr Johnson claimed the favourable opinion was shared by British politicians. He said: "I talk to the leadership quite often, and I hear positive things. They look to what he's accomplished in just a little over two years, and I think they would have liked to have accomplished the same thing." Mr Johnson was nominated by Mr Trump for the job on June 22, 2017. He has served for more than 30 years as the chairman and chief executive of The Johnson Company, and the chairman and chief executive of the New York Jets since 2000. Mr Johnson donated $1 million to Mr Trump's inaugural fund. He said that his close friendship with the President helped him to perform in his post as ambassador. Mr Johnson added: "I've known him for so long — I know who he is and what is he. I can interpret what he is saying. He's misinterpreted quite frequently. Part of what I do is interpret his policy and what he's doing and try to have people understand where he's going, and what he's doing, and why he's doing it."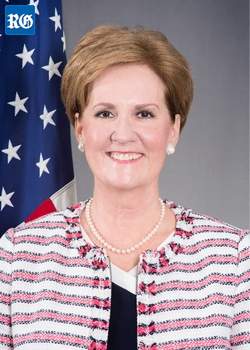 2019. May 16. A representative from the United States Social Security Administration (SSA) will visit Bermuda on June 4 and 5 to assist with social security and federal benefits matters. The representative will be available to answer questions from the public about matters including, but not limited to, social security number applications, applying for social security benefits, veterans benefits and any issues concerning monthly benefits.
2018. August 14. The US Consulate is now offering a walk-in adult passport renewal service for United States citizens on Mondays and Tuesdays from 8:30am — 10:30am. Qualified applicants can deliver their completed passport renewal application, photograph, current US passport and a payment of $110 to the US Consulate without an appointment on the days and times listed above. A Press release states: "If all requirements have been met and the application is approved, the passport will be available for collection within two weeks. For more details and links to the application form, please visit our website."
2018. July 14. The warmth of Bermuda's people is "extraordinarily special", the new United States Consul General said at the weekend. Constance Dierman said her work as a senior diplomat for the last 30 years had taken her to "wonderful" locations around the world. But she added: "The degree that almost every single person I have met has been so outgoing, so welcoming, it stands out. I think it says a lot about Bermuda as a country and its values. And certainly the reputation has been earned." Ms Dierman arrived on island last month to take over as Consul General from Mary Elling Koenig — her first visit to the island. Ms Dierman said: "I had only heard about it and read about it. I never had the opportunity to come." She said her experience so far "totally exceeds any expectations, and my expectations were high". Ms Dierman served as the Deputy Assistant Secretary in the Bureau of Human Resources at the Department of State before she was appointed to the Bermuda post. She has served in a variety of diplomatic roles in several US outposts, including Afghanistan, Iraq, Australia and Switzerland. Ms Dierman said her approach to the job had always been the same. She explained: "Diplomacy is all about people, and how do we relate with people, how do we collaborate, how do we promote? That basic element stays the same regardless of the position." Ms Dierman said the job of Consul General was to "foster and nourish" the relationship between Bermuda and the US. She added: "We have a unique and special relationship that has been in existence for 400 years. Throughout the centuries, Bermuda and the United States have had common interests that have really defined who we are as countries." Ms Dierman said that she and David Burt, the Premier, had already had "introductory" talks. She added: "You always want to have that opportunity to get to know someone a little bit before sometimes you have the harder discussions." Ms Dierman said that she and Mr Burt had discussed economic opportunities and youth development. She added: "I would very much like to be able to partner with the Government, non-governmental organisations, business leaders and others to look for ways to promote the next generation of Bermuda with opportunities that the US may be able to contribute to or partner in, such as our educational and cultural activities." Ms Dierman said that, despite popular belief, there was no US "stop list". She explained that like other jurisdictions, the United States has restrictions on visitors who have criminal convictions. Ms Dierman said: "What we advise individuals is to seek a waiver." She said that a "large number" of waivers are recommended and approved. Ms Dierman added: "Obviously if there are convictions involving serious crimes or repetitive convictions, that can be different. The waiver process can take one to three months. That's something we would really like people to be aware of. There is that opportunity to make the process work, but they do have to plan and be prepared." The Hamilton Parish resident said that she would attend events connected to the Cup Match long weekend. She added: "It's been described to me with such passion that I have got to experience a bit of that." Ms Dierman said she would use her diplomatic skills in any decision to support either St George's or Somerset. She explained: "Maybe I could have one team one day and one team the other day."
2018. July 14. Constance Dierman said her work as a senior diplomat for the last 30 years had taken her to "wonderful" locations around the world. But she added: "The degree that almost every single person I have met has been so outgoing, so welcoming, it stands out. I think it says a lot about Bermuda as a country and its values. And certainly the reputation has been earned." Ms Dierman arrived on island last month to take over as Consul General from Mary Elling Koenig — her first visit to the island.
2018. March 15. Constance Dierman will serve as the next United States Consul General to Bermuda. Mrs Dierman, a senior career diplomat, is currently Deputy Assistant Secretary in the Bureau of Human Resources at the Department of State. She will arrive in Bermuda in mid-June to replace Mary Ellen Koenig, who leaves on April 30. Mrs Dierman has served in Kabul, Baghdad, Bridgetown, Canberra and Geneva. Her Washington, DC assignments have included tours in the Bureaus of Human Resources, Near Eastern Affairs, South and Central Asian Affairs, European and Eurasian Affairs, Overseas Buildings Operations, Protocol and the Office of the Secretary. In her current position, she manages global human resource services, the administration of the Foreign Service retirement system, and employment policies for more than 56,000 locally employed staff at US missions overseas. According to a press release from the US Consulate, she "cares deeply about public service, promoting American interests, and building security, economic, educational, and cultural ties abroad". Mrs. Dierman was born raised in Cleveland, Ohio, and lives in Delaware with her husband, Roger Dierman. They have five adult children. She said: "I am honored to have been selected to serve as the next US Consul General to Bermuda, as the United States and Bermuda share an important common history and deep ties. I look forward to getting to know the people of Bermuda, exploring the country's rich and vibrant culture, and building on the great efforts of Consul General Mary Ellen Koenig to strengthen and expand our special relationship."
2018. March 15. Tourists have been warned against drinking tap water in Bermuda by the United States Centres for Disease Control and Prevention. The information was highlighted by Esme Benjamin, wellness editor for online blog the Culture Trip, in her article "Don't Drink the Tap Water When You Visit These Countries". She wrote: "Growing up in the West, with its strict sanitation standards and streamlined infrastructure, leaves you extra vulnerable once you step into an environment that's less meticulous about cleanliness. This is because your microbiome — the bacteria, viruses and yeast that inhabit your body and lay the foundation for your immunity — simply isn't as diverse as that of the local people. In other words, you are much more likely to get sick, even brushing your teeth or eating salad rinsed in water that isn't 100 per cent free from contaminates. Your tummy might even take issue with water that is technically clean, but has a high mineral content it isn't used to." Bermuda was included in the list of countries in the Americas, which included Mexico, Belize, Guatemala, Honduras, Costa Rica, El Salvador, Nicaragua and all the Caribbean islands. The information was based on advice from the CDC. The CDC said under the "eat and drink safely" section for Bermuda: "Unclean food and water can cause travelers' diarrhea and other diseases. Reduce your risk by sticking to safe food and water habits." It urged visitors not to drink tap or well water, ice made with tap or well water, drinks made with tap or well water and unpasteurised milk. Elaine Watkinson, a senior public health analyst, said warnings had been issued before. She told The Royal Gazette in 2016 that householders should treat untreated or "raw" water like raw meat. The Department of Health's Guidance on safe tank water, revised last year, recommended disinfecting tank water used for drinking and food preparation.
2017. December 12. The Bermuda Government has signed a major tax agreement with the United States. The Country by Country Competent Authority Agreement means that the Government has satisfied the Internal Revenue Service's data safeguards review and complies with the Organisation for Economic Co-operation and Development's Base Erosion and Profit Shifting tax transparency standards. Under the new agreement, Bermuda now automatically provides corporate income of Bermudian-based multinational enterprises that have any US income-generating activities. David Burt, the Premier, said: "The agreement we have put in place with the United States demonstrates Bermuda's continued commitment to being transparent, co-operative and compliant with international tax authorities. As a leading jurisdiction in global tax transparency we will continue, without reservation, to show that Bermuda is no place to hide money. We stand by our call for other countries to meet the Bermuda Standard." The agreement was said to complement Bermuda's other automatic exchange of information agreement with the USA, signed in 2013 and designed to give access to income information on US taxpayers under the Foreign Account Tax Compliance Act. The country by country treaty is also in line with an agreement signed earlier this month between Bermuda and the United Kingdom. The UK agreement, like the US agreement, enables the automatic reporting of corporate income on a country-by-country basis for UK tax enforcement purposes. Bermuda is the first UK Overseas Territory to sign a CbC Competent Authority Agreement with the UK and now also the USA.
2017. July 25. Robert A. Farmer, a former United States Consul General to Bermuda famed as a top fundraiser for the Democratic Party, has died at the age of 78. Described by President Bill Clinton as a man who could "talk an owl out of a tree", Mr Farmer — known to locals as Bob — was hailed by US Consul General Mary Ellen Koenig as "enormously popular" in his post from 1994 to 1999. "I have met many Bermudians and others who speak of him with affection and admiration," Ms Koenig said. "He clearly loved his tenure here and worked effectively to promote and protect the strong ties between the United States and Bermuda." Mr Farmer earned a place in American political history, starting with his service as treasurer for four presidential campaigns: John Glenn in 1984, Michael Dukakis in 1988, Clinton in 1992 and John Kerry in 2004. Elected treasurer of the Democratic National Committee in 1989, he stepped down to mastermind the financing of the successful Clinton campaign, and was posted to the island — one of the few political diplomatic appointments in the US system —­ for three years in 1994. It ended up substantially longer than the usual term: "I love it here and I'm happy to stay as long as they need me," Mr Farmer told The Royal Gazette in 1998. "No other Consul General — and certainly no other Bermudian public figure in recent times — has managed to make so many friends and such a wide range of contacts throughout Bermuda," this newspaper wrote upon his departure from the island. Mr Farmer won friends here during the return of US Base lands, and his term was also marked by the sale of the 14-acre "Chelston" estate in Paget, previously the official residence of the US Consul General, as the State Department cut its costs. Mr Farmer was tipped as an early supporter of Mr Kerry's presidential ambitions when he stepped down from the Bermuda post in 1999. He declined a prominent fundraising role in the presidential campaign of Al Gore. He was famed for tapping into little-regulated political donations from wealthy patrons, or "soft money" as it was known in the US press. In 2000, he came out as gay for The Advocate, and in 2013 Mr Farmer married Thomas Winston, his partner of 13 years. Mr Farmer died on Saturday in Miami, from pancreatic cancer.
2017. February 3. The US military will hand over three refurbished vans and a truck to the Royal Bermuda Regiment next week. The vehicles, three Toyota vans and an Isuzu truck, were formerly used at a US Navy base in Japan and gifted to the Regiment by the US Northern Command (Northcom). They were transferred to Georgia for a makeover before being shipped to Bermuda for use by the island's soldiers. US Consul General Mary Ellen Koenig said: "We are pleased to see the continuation of the long, strong tradition of close ties between the US military and Bermuda. These vehicles will be used by the Regiment to provide support to relief efforts for events and emergencies across the island." Northcom Chief of Security Operation, Colonel Andrew MacLean, and Ms Koenig will hand the trucks over to RBR Commanding Officer Lieutenant-Colonel David Curley and Minister for National Security Jeff Baron at the RBR's Warwick Camp next Tuesday.
2017. February 2. Young Bermudians can learn about exchange opportunities to work and travel in the United States at an information session being hosted by Consul General Mary Ellen Koenig. The programme allows students pursuing certificates or degrees at an academic institution and recent graduates to work as camp counselors, au pairs, interns, or in fields such as the hospitality industry or at theme parks. It also provides exposure to American culture and travel opportunities, according to a press release from the US Consulate. Overseen by the US Department of State, the programme is operated by numerous organisations in the US that promote educational travel. These organisations are responsible for job placements and provide advice on visas, housing, and other programme issues; fees for these services are charged and vary. Each organisation is vetted by and overseen by the Department of State to ensure participants' health, welfare and safety through government-mandated regulations. The event is open to young people from any school in Bermuda and their parents, although the US Consulate stresses the initiative is only open to young people over the age of 18. The information session will be at 1pm on Monday, at the Bermuda College in Blue Room H115. US advisor Janea Mallory will assist those who are interested. Call 239-4018 to confirm attendance.
2017. February 1. Two movie screenings in honour of Black History Month will take place at the National Library on Queen Street this month. Jointly hosted by the library and the United States Consulate, the programme will feature Freedom Riders on Tuesday next week at 6pm, and Red Tails on Tuesday, February 21, at 6pm. According to a press release, Freedom Riders tells the story of how more than 400 American activists who challenged racial segregation during the Civil Rights Movement in 1961. Americans, both black and white, travelled together in groups on interstate buses throughout the South, challenging local laws that enforced segregated seating. This movement provoked negative reactions in many communities causing the activists to be violently attacked and often times arrested. Red Tails is a heroic movie about the first African American military aviators in the US Armed Forces, stationed in Italy during the Second World War in 1944. Often struggling against discrimination, the pilots were finally given the opportunity to prove their skills in the sky during battle. Directed by Anthony Hemingway, Red Tails features stars including Terrence Howard, Cuba Gooding Jr, David Oyelowo, Tristan Mack Wilds, Bryan Cranston and Michael B Jordan. Admission is free. Due to limited seating, guests will be accommodated on a first-serve basis.
2016. October 20. American tourists in Bermuda will be able to buy cigars and other Cuban merchandise under new amendments announced in the United States. US Consul General Mary Ellen Koenig welcomed the move which she said would benefit vendors and clear up confusion. Under previous regulations, travelers were not allowed to take Cuban products into the United States from any location except Cuba. On Friday last week, the US Treasury announced changes to the Cuban Assets Control Regulations, permitting travelers to the US to import Cuban-origin merchandise from third countries, such as Bermuda, for personal use. According to a press release from the US Consulate, the regulatory changes mean visitors to Bermuda may purchase Cuban-origin merchandise such as alcohol or tobacco products from local vendors and take the products to the United States as accompanied baggage without value limitations. In all cases, the Cuban-origin goods must be imported for personal use, and normal limits on duty and tax exemptions will apply. Ms Koenig said in a statement: "I am pleased that US policy has caught up with the wish of travelers to Bermuda to buy Cuban cigars and other popular products to take home for their enjoyment. "These changes will benefit local vendors here in Bermuda and clear up some confusion stemming from earlier limitations on importation of Cuban goods to the United States." The Treasury announcement outlined a wide range of updates and changes in US regulations on Cuba beyond the change on importation of Cuban goods. In making the announcement, US Treasury Secretary Jacob L. Lew pointed to President Barack Obama's historic announcement in December 2014 to restore diplomatic relations with Cuba and said that these additional "steps have the potential to accelerate constructive change and unlock greater economic opportunity for Cubans and Americans".
2016. March 28. The US Consulate General has reminded those who are able to travel to the United States via the Visa Waiver Program that they must have a valid electronic passport as of April 1, 2016. The rule also applies to those who possess a valid Electronic System for Travel Authorization (ESTA). The Consulate General has strongly recommended that all travelers check to ensure their passports are valid electronic passports before they make arrangements to travel to the United States on the Visa Waiver Program.
2015. October 22. Matthew Barzun, the American ambassador to Britain, visited Bermuda. His latest trip to Bermuda, his sixth, was Mr Barzun's first on official business. His area of responsibility has been reconfigured to cover US consulates in London, Edinburgh, Belfast and Bermuda. "I wanted to meet the team," he said. "There's no face-to-face meeting; everything is virtual these days. Face-to-face counts." Aside from meeting the Bermuda staff, now in their sixth week under the leadership of Mary Ellen Koenig, the new US Consul General, Mr Barzun spoke with Michael Dunkley, the Premier, and government ministers, and held a workshop with CedarBridge Academy and Berkeley Institute students. His visit coincided with the Swedish win in October 2015 of the America's Cup Bermuda World Series. He is a former US ambassador to Sweden.
2015 June -2012 August. US Consul General was career diplomat and former SWAT team member Robert W Settje, 58 at the time of his appointment, father-of-three. Mr Settje, who has a long history of service with the US Foreign Service in posts including Afghanistan, the Caribbean and Europe, replaced Grace Shelton whose three-year spell ended on August 30. Before joining the Foreign Service in 1994, he held careers as a police officer, criminal prosecutor, associate attorney and law clerk. In the late 1970s, Mr Settje was a police officer in Madison, Wisconsin, where, in addition to his patrol duties, he was a training officer and member of the SWAT team. He switched careers in 1979, attending law school before becoming a clerk in Colorado Supreme Court, then an associate in Denver and finally Deputy District Attorney in Golden, Colorado, from 1988 to 1994. His Foreign Service work began as vice-consul and political/economic officer in Santo Domingo, Dominican Republic, from 1994 to 1996. That was followed by spells as consular co-chief in Munich, Germany; deputy consular chief in Naples, Italy; and senior civilian at provincial reconstruction in Zabul, Afghanistan. Mr Settje also served in Washington, DC, as a regional consular officer for embassies and consulates in the Caribbean, Latin America, Africa, and Europe, and as career development officer and legal advisor to the State Department Visa Office. He has a JD from Harvard and a Bachelor of Arts degree from Carleton College, and did independent study at the Italian University for Foreigners in Perugia, Italy. Mr Settje is married to Melanie Haroldson Settje and has three adult children, Tasha, Jack, and Nick. He was born and raised in Corona, South Dakota.
2014. August 19. Bermuda, like many other areas in the world, became a signatory to the USA's Foreign Account Tax Compliant Act (FATCA). It was enacted in 2010 by Congress to target non-compliance by U.S. taxpayers using foreign accounts. FATCA requires foreign financial institutions (FFIs) to report to the IRS information about financial accounts held by U.S. taxpayers, or by foreign entities in which U.S. taxpayers hold a substantial ownership interest. FFIs are encouraged to either directly register with the IRS to comply with the FATCA regulations (and FFI agreement, if applicable) or comply with the FATCA Intergovernmental Agreements (IGA) treated as in effect in their jurisdictions.
2013. December 19. Bermuda signed an agreement to report to the US on American citizens bank accounts on the Island. The intergovernmental agreement brings Bermuda in line with the US Foreign Account Compliance Act (FATCA), passed by the US government in a bid to crack down on domestic tax dodgers. Finance Minister Bob Richards, who signed the treaty on behalf of Government, said: "It is every country's sovereign right to design or adjust their tax collection system. Bermuda's responsibility, as a responsible and respected international financial centre in the global financial system, is to respect that right just as we expect others to respect our tax system, a system that is over 100 years old." US Consul Robert Settje, who signed for the US, thanked Bermuda for its cooperation and for its long-standing commitment to tax transparency. He added: "Together we can improve international tax transparency and compliance by further building on that relationship." The treaty requires financial institutions in Bermuda to report on the financial affairs of US taxpayers who hold accounts with them direct to the Internal Revenue Service every year. Failure to comply means that the US will hit offending institutions with a 30 percent tax on some US source payments like interest payments.
2013. August 13. Bermuda's role as a member of the Steering Group of the OECD Global; Forum on Transparency and Exchange of Information for Tax Purposes led the US Treasury to describe the island as a leader in global tax transparency, according to as story in the online siteTax-News.com. US Treasury official Robert Stack made the comments as the US Treasury completed FATCA negotiations. He said: We welcome the conclusion of negotiations with Bermuda on a Model 2 Intergovernmental Agreement to implement FATCA and join our efforts to curtail tax evasion. We are particularly pleased to build upon our decades-old Tax Information Exchange Agreement relationship with Bermuda and the recent Mutual Legal Assistance Treaty. We appreciate Bermudas role as a leader in global tax transparency as well as their role serving alongside the US on the Steering Group of the OECD Global Forum on Transparency and Exchange of Information for Tax Purposes. The text of the initialed agreement will be made public after it is signed. Earlier, Minister of Finance, Bob Richards, announced that negotiations between Bermuda and the United States Treasury over the US FATCA Intergovernmental Agreement (IGA) Model 2 have been completed. The agreement, initialled by Bermuda and the US, must be endorsed by the UK's Foreign and Commonwealth Office.
2012. August 18. USA handed over a cheque ("check" in American English) for more than $672,225 to Bermuda for its help in stopping an illegal internet pharmacy operation arising from a 2009 seizure and arrest.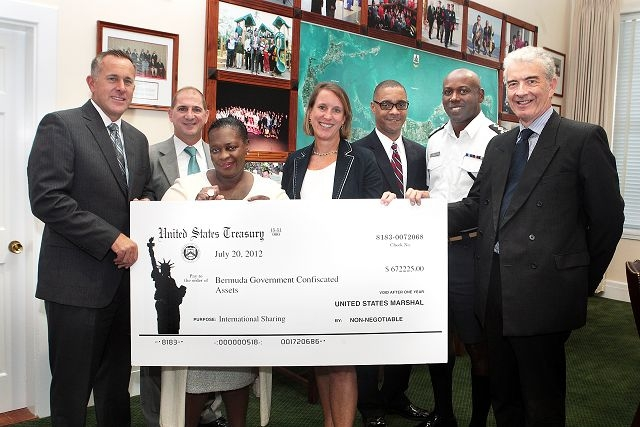 Then-US Consul General Grace Shelton presented Premier Paula Cox with a cheque for $672,225 in a Cabinet Office ceremony attended by local and American law enforcement officials. The money represents half of the amount laundered through a Bermuda bank by an illegal internet pharmacy operation based in the United States. And, said Premier Cox, it will be handed out to local law enforcement and social agencies. The illegal operation laundered a total of $110 million in various jurisdictions, according to an FBI official who attended this afternoon's ceremony. Jude LaCour, the operation's leader, is serving a 97 months prison sentence in the USA for drug trafficking and money laundering. A US District Judge also ordered the forfeiture of assets, including those in Bermuda, in the 2009 case. Then-US Consul Grace Shelton said that Bermudian authorities provided important law enforcement assistance in recovering the money by restraining funds in a bank account in Bermuda under the control of LaCour and working with the US Government to recover and forfeit those funds. Ms Shelton said: "I am so pleased to share the forfeited assets with our ally and friend, Bermuda. The Bermuda Police Service and Bermuda's justice system played an important role in this case, which is an excellent illustration of the outstanding cooperation among Bermuda and US law enforcement agencies. When a country provides assistance that is important to the successful forfeiture of assets, the United States wants to show its appreciation. That is what we have done here today." Ms Cox said: "This represents collaboration. We have legislation, we have treaties which speak to sharing of information. We certainly have a robust regime. This evidences that it works." The money was deposited in the Bermuda Government's Confiscated Assets Fund.

2012. March. The US Consulate planned a series of events to celebrate Bermuda's special relationship with the United States. Premier Paula Cox and Consul General Grace Shelton co-hosted a panel discussion on March 1 at Camden to examine the ties that bind the two countries together. Other panelists include Donald Kramer and Walton Brown. Panelists discussed subjects ranging from Bermuda's place within US foreign policy, Bermuda as the US's leading reinsure, and the role of art in the bilateral relationship. Guests were in attendance by invitation only. On March 2, Masterworks Museum of Bermuda Art hosted a special Consulate exhibit, "Between Friends: 65 Years of Bermudian-American Diplomatic Relations." The exhibit began with President Harry Truman's vacation cruise to the Island in 1946. Among the 26 photographs were formal pictures of US presidents in Bermuda while participating in international summits. It includes never-before-seen informal photos of presidents enjoying the Island. Most of the photographs were provided by the presidential libraries. Consul General Shelton said: "These photographs reflect the deep and abiding bonds of our friendship, and that is something to celebrate." Masterworks celebrated its 25th anniversary this year, making it an ideal venue to display the exhibit. US artists like Winslow Homer and Georgia O'Keeffe contributed to the launch of Bermuda's tourism industry in the 20th century. Over 80 percent of Masterworks' paintings are by US artists who found their muse in Bermuda.

2011. October 8. Bermuda became a more prominent trading partner with the US as other offshore financial centres suffered from the fallout from the financial crisis. That is according to the 'US-Bermuda Economic Relations: Economic Impact Study 2011' conducted by Dr Charles Ludolph, senior vice-president of the Washington DC-based Albright Stonebridge Group. The report, which was obtained by The Royal Gazette, revealed that the two-way trade in services between the two countries had grown to more than $80 billion by the end of last year. Bermuda also became the leading supplier of reinsurance to America averaging $20 billion in payments or as much as $35 billion in recovered losses annually and the leading export market for the US primary insurance sector in 2010, while US exports of research and development and testing services to companies here rose by $2 billion during the recession. The study found that over 2010 the Island was the fourth largest investor in US government bonds, the eighth largest investor in the US, the fifth largest export market for banking and investment funds, the eighth largest for shipping services and the 11th largest for business services. In addition, Bermuda represented the 14th largest market for all US services exports, excluding royalties and service fees and was the 10th largest portfolio capital investor. "The overall economic relationship between Bermuda and the United States continued to expand through the 2000s," wrote Dr Ludolph. "The relationship even strengthened during the most recent global economic crisis as Bermuda continues to offer economic advantages that met US business needs and expanded employment opportunities." Furthermore the report concluded that the Island's prominent position in the US marketplace, particularly in insurance, was due to a number of factors including its proximity to the US financial and capital markets, UK and US compatible law and regulation and extensive financial regulatory co-operation and quality. And it surmised that Bermuda's economic independence from larger global financial centres and concentration in niche risk insurance sectors which were not correlated with the world's financial meltdown gave it a more competitive capacity. The Island's trade and investment relationship with the US helped to sustain 300,00 jobs during 2010, with 101,000 US jobs created by annual exports to Bermuda and 200,000 were derived from US majority-owned affiliates of Bermuda companies. From a re/insurance perspective, approximately 75 percent of the 500 top American companies have captives in Bermuda, while Bermuda-domiciled shipping companies provided $1.1 billion in energy-related shipping services designed to work with existing US refineries, ports and pipelines. The report said that US operating companies continued to domicile in Bermuda, with Freescale, Marvell, Contel, AOSL and Chipmos moving base to the Island since 2006. Since 2008, these chip companies provided more than $3 billion of service-based export business to Bermuda in testing and research and development services thus creating more US jobs.

2010. June 18. Trade relations between Bermuda and the US were worth $64 billion during the global economic crisis of 2008/09, according to an economic impact study commissioned by Business Bermuda. The 2010 survey, which was carried out by the Washington-based Albright Stonebridge Group and presented by senior vice-president Charles Ludolph at the Fairmont Hamilton Princess Hotel to delegates at the Business Bermuda meeting, looked at US-Bermuda relations, revealing that since 2007 two-way trade and investment between the two countries averaged at least $60 billion annually. During that time the Island has become more prominent relative to other economies trade with the US and American exports of business and professional services to bermuda increased significantly over the downturn, it found. "In spite of the global economic crisis and difficulties in US financial markets, Bermuda-US economic ties remained surprisingly strong," said Mr. Ludolph. "Bilateral trade and investment flows remained at more than $60 billion for the three years of the crisis from 2007 to 2009. Bermuda supports at least 130,000 jobs in the United States after all the relocations from 2008 and 2009." In 2008 and 2009, Bermuda was the most important offshore supplier of reinsurance and payer of property and casualty losses to the US and was second only to Canada as the most important export market for US primary insurance, the figures showed. It was also the sixth most important export market for US financial services and the eighth most important supplier of energy shipping services to the US, as well as the 14th most important export market for US business and professional services and in the top 20 most important export markets for total US private sector services. During 2009, Bermuda and US company affiliates invested in each others respective markets supplied about $40 billion in two-way sales in addition to $24 billion worth of US exports and imports with Bermuda. The Island's trade and investment relationship with the US sustained 162,000 jobs in 2009, with 94,500 US jobs created by annual US exports to Bermuda and 66,000 jobs derived from US substantially majority-owned subsidiaries of Bermuda companies. In terms of re/insurance, the study disclosed that Bermuda supplies 50 percent of Florida's homeowner catastrophic insurance market and offers Florida homeowners premiums at a lower price than its competitors in the US and Europe, while a total of 23 Bermuda reinsurance companies supply 40 percent of the catastrophic event property and casualty coverage for the entire US market. Furthermore, 35 percent of US crop insurance is underwritten by six Bermuda-owned insurance affiliates and 55 percent of the gross premiums ceded by insurers to reinsurers come from the Island, with more than 250,000 US farms in 40 states dependant on Bermuda re/insurance firms to hedge annual crop-related risk during 2009. In 2008, Bermuda had more than 1,100 domiciled and regulated investment funds with almost $200 billion in assets, the report found, while US-owned corporate and tax exempt funds accounted for as much as $70 billion of such assets and US individuals' made up for another $30 billion. Bermuda also tied for 10th place as the largest foreign portfolio investor in US securities as its portfolio doubled to $200 billion between 2000 and 2008, while Bermudian investors were the 15th largest holders of US government agency asset-backed bonds.

2009. February. The Bermuda Government set up an office in Washington DC to help communicate efficiently with the Obama administration.

2009. January. A treaty between Bermuda and the United States will allow authorities in both countries to collect criminal evidence for one another was signed. Then-Premier Ewart Brown, Deputy Premier Paula Cox and then-US Consul General Gregory Slayton signed the Treaty on the Mutual Legal Assistance in Criminal Matters, otherwise known as the Mutual Legal Assistance Treaty (MLAT). The US and Bermuda already have an excellent working relationship on law enforcement matters and this treaty will help formalize and solidify that relationship by creating a direct channel of contact between prosecutors in each country. The MLAT allows US and Bermuda authorities to request and obtain assistance from each other in criminal investigations and prosecutions and related proceedings. It improves the co-operation of the two governments in combating a wide variety of crimes, including economic crimes, money laundering, drug trafficking and sex offences. It does this by facilitating the collection of evidence needed by authorities in one country but located within the other country. Types of assistance under the treaty include taking testimony; obtaining and providing documents, records or other items; conducting searches and seizures; locating persons and items and assisting in forfeiture proceedings. MLAT is designed to improve the effectiveness of the law enforcement authorities of both the United States and Bermuda in the investigation, prosecution, and prevention of crime through co-operation and mutual legal assistance in criminal matters. It is an effective tool to assist in the prosecution of a wide variety of crimes, including drug trafficking, money laundering and terrorism offences.

2009. June 11. Four Uighurs who had been held in extra-judicial detention in the United States Guantánamo Bay detention camp, in Cuba were deported to Bermuda under a secret deal reached solely between the-then Premier of Bermuda, Dr. Ewart Brown, the-then United States Consul General in Bermuda and the-then Secretary of State, Hillary Clinton, of the United States government, but not with the British Government or its British Governor - and in violation of Bermuda's Constitution. The four men were among 22 Uighurs who claimed to be refugees, who were captured in 2001 in Pakistan after fleeing the American aerial bombardment of Afghanistan. They were suspected of training to assist the Taliban's military. They were cleared as safe for release from Guantánamo in 2005 or 2006. But U.S. domestic law prohibited deporting them back to China, their country of citizenship, because the U.S. government determined that China was likely to abuse their human rights. In September 2008 the men were cleared of all suspicion, and Judge Ricardo Urbina in Washington ordered their release. However domestic opposition to their admittance to the United States was very strong and until Bermuda and Palau agreed to accept them, the U.S. had failed to find a home for them. The Uighurs concerned were banned from ever going back to the USA for having accepted training from al Qaeda and taken part in terrorism. The secret, sneaky and illegal bilateral discussions that led to prisoner transfers between the U.S. and the devolved Bermuda government sparked diplomatic ire from the United Kingdom, which was not consulted on the move despite Bermuda being a British territory and with Britain, not Bermuda, responsible for Bermuda's external affairs. British officials on London stated bluntly that this was very well known by both the US Secretary of State in Washington DC and her US Consul General in Bermuda, as well as Bermuda's Premier Dr. Ewart Brown, and it was done by both the USA and the Premier in deliberate and contemptuous violation of Britain's interests. Tensions between Bermuda and Whitehall reached fever pitch with then-Governor Richard Gozney calling the move 'invalid' and 'unacceptable.' The British Foreign Office issued the following statement: "We've underlined to the Bermuda Government that they should have consulted with the United Kingdom as to whether this falls within their competence or is a security issue, for which the Bermuda Government do not have delegated responsibility. We have made clear to the Bermuda Government the need for a security assessment, which we are now helping them to carry out, and we will decide on further steps as appropriate."

2009. Internal Revenue Service (IRS) targeted Bermuda. A senior international agent of the Internal Revenue Service spent time in Bermuda assessing the amount of non-compliance with US income tax and reporting requirements. Why Bermuda? The President and many USA legislators believe Bermuda is a tax haven. The USA-Bermuda Tax Act of 1986 gave the USA access to a lot of information on American residents of Bermuda. The more recent Tax Information Exchange Treaty/Mutual League Assistance Treaty (MLAT) referred to earlier provided even more scope for the Internal Revenue Service (IRS). While European and other Western countries have income tax treaties with the United States that do not subject the residents of said countries to US income tax if they spend less than 183 days in the United States., there is no such clause in the US/Bermuda treaty. Also, US citizens residing in said countries usually pay a higher rate of tax than they would pay in the US. Subsequently, if they are caught for not having filed a US tax return, the foreign tax that they paid usually will totally offset the US income tax. Bermuda probably has many people who are ether Americans or do business with the USA who owe money to the IRS. US citizens and resident aliens who reside in Bermuda can elect a $91,400 foreign earned income exclusion and a foreign housing exclusion. These exclusions are elective and must be made with a timely filed return. US citizens earning $100,000 in Bermuda may not have to pay any US income tax if the exclusions are elected. However, if they receive a letter from the Internal Revenue Service asking why they have not filed, they can no longer elect the exclusions and will likely owe income tax in the amount of $20,000 plus penalties and interest of about $10,000. They may be able to avoid the tax, penalties and interest by immediately filing all past year's returns and providing the Internal Revenue Service with a good reason for not filing. They can be located easily by the IRS in Bermuda in several ways. Have they registered their name and address at the US Consulate? When they fly to the US do they use their Bermuda address when they go through immigration? Both these lists are readily available to the Internal Revenue Service, and it is likely easy for them to cross reference their name and address with returns filed by US citizens living in Bermuda. The IRS can also ask the Bermuda government for a list of US citizens who have work permits and residency status in Bermuda. If Bermuda nationals periodically work in the United States and earn more than $3,000 they are subject to US income tax. They do not have to be employed by a US company to realize US source income. If they work for a Bermuda company, earn $100,000, and work 200 days a year with 10 of those days worked in the US they have $5,000 of US source income and are subject to US income tax. Failure to file a US tax return will subject them to the same tax, penalties and interest a US citizen would pay. Bermuda Companies, especially the international companies including insurers, regularly send employees to Work in the United States. They include Bermudians, US citizens, British and other foreign nationals. This category will likely yield the largest amount of tax and penalty for the Internal Revenue Service. The employer is required to withhold US Federal income tax, State income tax, Social Security and Medicare tax, and Federal Unemployment tax from the employee and to remit theses taxes to the United States. Failure to do so will result in not only a request for the taxes due, but also a 100% penalty for failure to pay the tax due. And, the corporate officer responsible for failing to pay the tax can be subject to criminal penalties. The number of IRS agents who specialize in dealing with taxpayers outside the United States will probably double in the foreseeable future.

2007. December. Bermuda Exchange for Mutual Understanding. Announced as a new educational and cultural partnership between Bermuda and the USA. It was approved by the US State Department following talks between then- Premier Ewart Brown and US Secretary of State Condoleezza Rice earlier in 2007. It's aim was to bring together leaders from both countries to discuss ideas relating to areas such as public safety and education. Also, Members of Congress and other Congressional staff come periodically to Bermuda and participate in speeches, round table discussions and other brainstorming activities. The program is administered by the Cabinet Office of the Bermuda Government and includes exchanges between Bermuda's Government Ministries and members of the United States Senate, the House of Representatives and their Congressional staffs.

1988. Bermuda and USA sign the US-Bermuda tax treaty in Washington DC, shortly after Premier Sir John Swan met with President Ronald Reagan. It began the international business boom for Bermuda that continues to this day. It was signed because of the presence of the 1968 entrustment deal between Bermuda and the United Kingdom. It was an arrangement hugely favorable to Bermuda. Provisions included that in return for very small concessions, all US corporations that wanted to hold their conventions in Bermuda had their expenses born by American taxpayers and all US Corporations with a Bermuda presence were granted insurance premium exemptions from US franchise taxes.

Since then, Bermuda also has a Tax Information Exchange (TIEA) in force with the US and, as shown below, a Mutual Legal Assistance Treaty (MLAT) with the US.

1986. The USA-Bermuda Tax Convention Act 1986
American Naval Base in Bermuda in Great War 1914-1918
On April 6, 1917, three years after the Great War for Britain and her European allies, the United States finally declared war on Germany. American naval vessels sailed from US East Coast ports bound for Bermuda, to use Bermuda as a base. And just over two weeks later, on April 24, one-time Bermuda visitor President Woodrow Wilson signed into American law the Liberty Loan Act, a war finance measure which authorized the issue of bonds to be sold by public subscription and provided loans to Allied Powers to enable them to purchase food and war supplies from the USA.
American Society of Bermuda
P. O. Box HM 3339, Hamilton HM PX. Telephone 291 3543. Registered Charity 443

2018. May 4. Long-term care residents at the hospital will be able to enjoy more outdoor activities this summer thanks to the American Society of Bermuda. The society — a group of US citizens who live in Bermuda — donated a tent and crafting supplies to the residents at the King Edward VII Memorial Hospital. Club president Ellie Najac said: "We asked what was needed and then went shopping. We've donated a 12ft by 12ft tent, a glue gun with accessories, construction paper, crayons and games. I also added a large box of chocolates." Activities coordinator Capri Smith said the tent would allow her to move some activities outdoors and would provide much needed shade for the senior participants. The society makes donations to various groups on the island every quarter. Ms Najac said: "Our focus is on seniors and children. This is our second donation this year, earlier we gave to Age Concern." Louise Franks, the oldest resident, was on hand for the presentation on April 20. The 105-year-old regularly enjoys participating in arranged activities. Granville Russell, clinical director of long-term care at BHB, said: "We truly appreciate the donation by the American Society of Bermuda. It's the thoughtfulness of groups and individuals like Ms Najac, Ms Smith and Ms Stovell, that allow us to continue to provide engaging activities for our residents helping to improve their quality of life even in their twilight years."
Bermuda is not part of the USA but a foreign country with its own laws and requires valid passports from:
All Americans (who number about 85% of all visitors, See Bermuda's Links with USA) traveling to Bermuda from USA.
Before they arrive, American visitors should note that all traveling to Bermuda and from here to the USA by air - meaning on commercial flights, charter flights, private planes and corporate planes, or by sea - must travel on a valid passport. The USA's Intelligence Reform and Terrorism Prevention Act of 2004 requires this. Further details can be obtained from the US Consulate in Bermuda. Machine-readable passports are required. Non-citizens of the USA, Britain and Canada must also carry a Green Card or equivalent, showing them to be legal registered aliens there and have a valid US or UK or Canadian re-entry permit if entering Bermuda from the USA or UK or Canada and not a citizen of that country.
Traveling from USA to Bermuda as non-Bermudians
From January 8, 2007, all travelers of all nationalities, including American citizens, going to and from the Caribbean, Bermuda, Panama, Mexico and Canada must have a valid official passport to enter or re-enter the United States. Other regulations will require that visa applications to Bermuda via the USA or from Bermuda to the USA for those thinking of going from Bermuda to live and/or work in the USA be completed online. Bermudians and others who did not previously require U.S. visas (e.g. Canadians, UK citizens) will NOT be required to obtain visas. British citizens traveling on British passports do not require a visa for most short trips, but must have a machine-readable passport. Further details, including if any traveler is in doubt as to whether a visa is required, can be obtained from the US Consulate in Bermuda. Travelers who do need visas and wish to apply at the latter are required to complete an application on-line. On October 15, 2006, the Consulate stopped accepting handwritten or typed application forms. Visa applicants may also access the forms at http://evisaforms.state.gov from their personal internet accounts or from public terminals, such as libraries or internet cafes. A link to this site will be available on the Consulate's website as well. Forms should be completed on-line, then printed out and brought to the Consulate. Applicants will still be required to appear in person to pay the necessary fees and have fingerscans taken.
Traveling from Bermuda to USA as Bermudians living in Bermuda and with a British Bermudian issued in Bermuda (not UK citizen issued in UK) passport
New US visa rules for visiting passengers not American, British, Canadian or designated other nationalities when entering Bermuda from USA or leaving via USA.
Bermuda Vital Statistics
| | |
| --- | --- |
| Bermuda size & population | 20.75 (Twenty point seven five) square miles in total. 64,268 residents |
| Resident population density per square mile | 3,097 (Three thousand, zero nine seven). Third highest in the world |
| Government Code of Conduct for legislators | None. There is a voluntary code, with no legislative teeth. It is ignored by some. No equivalent of the UK's Ethical Standards in Public Life Act. |
| Number in Cabinet | 13. Same number as USA, equivalent in Bermuda to 0.63 (Point six three) per square mile. They have "The Honorable" before their name. |
| Number of elected legislators in House of Assembly and their salaries | 36. Equivalent to 1.93 (One point nine three) per square mile. They have "MP" for Member of Parliament after their name. If they are also Cabinet Ministers, they earn well in excess of $100,000 a year, plus unlimited expenses. |
| Number of appointed politicians in Senate | 11. Also salaried. Equivalent to 0.53 (Point five three) per square mile. They have "Senator" before their name. If they are also Cabinet Ministers, they earn this plus what is shown above under "Number of elected legislators." |
| Number of registered voters per Member of Parliament | 1,297. On date of last General Election. Contrast this with no fewer than 72,810 and no more than 80,433 per member of parliament in the UK in 2018 and approximately the same in the USA per congressperson and Canada. |
| Number of Government Boards | About 117. All require the approval of the Premier who controls all Public Information. |
| Number of Police | About 465, over 20 per square mile. Plus, there are Reserve officers. Bermuda has more police per square mile and per population than anywhere else in the world |
| Number in Bermuda Regiment | 600 members, mostly Bermudian men, mostly part time. Some non-Bermudian men and women from British Commonwealth countries and female Bermudians are serving but on a volunteer basis as conscription regulations do not require enrolment by Bermudian females and non-Bermudian males. Only male Bermudians under a certain age resident in Bermuda are liable to be conscripted, on a selective basis. |
| Registered voters who can participate in a General Election | About 46,750. Total number of registered voters in the last General Election, about 60% of the entire resident population. Varies from year to year. |
| The Bermuda Society | |
Foreign Account Tax Compliance Act (FATCA) of the USA and how it affects Americans, Bermudians and those with US connections
Those likely to be affected by FATCA include US citizens and green card holders resident in the US and living abroad such as Bermuda who have foreign financial bank accounts, financial interests and other holdings; US residents for income tax purposes (those who do not have a US passport or citizenship but have resided in the US long enough to meet the substantial presence test), and others with US connections such US owned foreign entities. Also liable are US-classified foreign financial institutions and non-financial foreign entities including all those with US proprietary investments, US account holders, or other US financial dealings. FATCA cooperation is both encouraged and enforceable in Bermuda because Bermuda has signed Tax Information Exchange Agreements (TIEAs) in the last few years with the United States and other countries. TIEAs, tax treaties, and Intergovernmental Agreements all aid in mutual information exchange cooperation. In cases where tax evasion, etc, is suspected or determined, the US Internal Revenue Service has profound regulatory powers (agreed on by the TIEAs and tax treaties) to request detailed significant confidential information on specified US individuals and related parties.
Washington Irving and his "The Three Kings of Bermuda"
This famous American author, biographer, essayist, diplomat, historian and novelist (1783-1859), who died at the age of 76 at his home in Tarrytown, New York, on November 28, 1859, was best known in Bermuda for his "Rip Van Winkle" and the "Legend of Sleepy Hollow" tales. (He also inspired the naming of Sleepy Hollow Road in Hamilton Parish, Bermuda). He delved into Bermuda's early history in 1840 after his Bermuda visit and came up with his essay "The Three Kings of Bermuda & Their Treasure of Ambergris," based on the three colonists who arrived on the Sea Venture with Sir George Somers in 1609, defied the others, refused to accompany them to Virginia and remained behind as deserters when the rest of their colleagues sailed off to Jamestown in 1610 in their two smaller craft built from the flagship's salvaged parts. The story of Edward Chard, Robert Waters and Christopher Carter inspired him to speculate on a possible connection between these three fugitive vagabonds and their stay on Smith's Island, Bermuda and William Shakespeare's Bermuda-influenced play "The Tempest."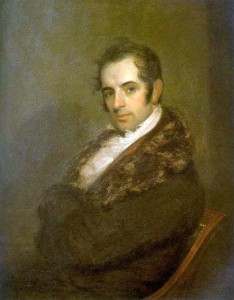 Washington Irving
USA statistics
States in alphabetical order by name and motto
| | | | |
| --- | --- | --- | --- |
| US State | Population | Population density per square mile | Total area, square miles |
| Alabama. Heart of Dixie, Camellia State | 4.47 million | 88 | 52,419 |
| Alaska. Last Frontier | 626,932 | 1 | 633,267 |
| Arizona. Grand Canyon State | 5.13 million | 45 | 113,998 |
| Arkansas. Natural State, Razorback State | 2.673 million | 51 | 53,179 |
| California. Golden State | 33.871 million | 217 | 163,696 |
| Colorado. Centennial State | 4.302 million | 42 | 104,094 |
| Connecticut. Constitution State, Nutmeg State | 3.405 million | 703 | 5,543 |
| Delaware. First State, Diamond State | 783,000 | 401 | 2,489 |
| Florida. Sunshine State | 15.98 million | 296 | 65,755 |
| Georgia. Empire State of the South, Peach State | 8.186 million | 141 | 59,425 |
| Hawaii. Aloha State | 1.212 million | 187 | 10,931 |
| Idaho. Gem State | 1.294 million | 16 | 83,570 |
| Illinois. Prairie State | 12.419 million | 223 | 57,914 |
| Indiana. Hoosier State | 6.08 million | 170 | 36,418 |
| Iowa. Hawkeye State | 2.926 million | 52 | 56,272 |
| Kansas. Sunflower State | 2.688 million | 33 | 82,277 |
| Kentucky. Bluegrass State | 4.042 million | 102 | 40,409 |
| Louisiana. Pelican State | 4.469 million | 103 | 51,840 |
| Maine. Pine Tree State | 1.275 million | 41 | 35,385 |
| Maryland. Old Line State, Free State | 5.3 million | 542 | 12,407 |
| Massachusetts. Bay State, Old Colony | 6.35 million | 810 | 10,555 |
| Michigan. Great Lakes State, Wolverine State | 9.94 million | 175 | 96,716 |
| Minnesota. North Star State, Gopher State | 4.92 million | 62 | 86,939 |
| Mississippi. Magnolia State | 2.85 million | 61 | 48,430 |
| Missouri. Show Me State | 5.60 million | 81 | 69,704 |
States in alphabetical order, by name and motto
| | | | |
| --- | --- | --- | --- |
| Montana. Treasure State | 902,195 | 6 | 147,042 |
| Nebraska. Cornhusker State | 1.71 million | 22 | 77,354 |
| Nevada. Sagebrush State, Battle Born State, Silver State | 2 million | 18 | 110,561 |
| New Hampshire. Granite State | 1.236 million | 138 | 9,350 |
| New Jersey. Garden State. | 8.414 million | 1,135 | 8,271 |
| New Mexico. Land of Enchantment | 1.819 million | 15 | 121,589 |
| New York. Empire State | 18,986 million | 402 | 54,556 |
| North Carolina. Tar Heel State, Old North State | 8.05 million | 165 | 53,819 |
| North Dakota. Peace Garden State | 642,200 | 9 | 70,700 |
| Ohio. Buckeye State | 11.35 million | 277 | 44,825 |
| Oklahoma. Sooner State | 3.45 million | 50 | 69,898 |
| Oregon. Beaver State | 3.42 million | 36 | 98,381 |
| Pennsylvania. Keystone State | 12.28 million | 274 | 46,055 |
| Rhode Island. Little Rhody, Ocean State | 1.05 million | 1,033 | 1,045 |
| South Carolina. Palmetto State | 4.012 million | 133 | 32,020 |
| South Dakota. Coyote State, Mount Rushmore State. | 754,844 | 10 | 77,116 |
| Tennessee. Volunteer State | 5.689 million | 138 | 41,217 |
| Texas. Lone Star State | 20.851 million | 80 | 268,581 |
| Utah. Beehive State | 2.233 million | 27 | 84,899 |
| Vermont. Green Mountain State | 608,827 | 66 | 9,614 |
| Virginia. Old Dominion | 7.078 million | 179 | 42,774 |
| Washington. Evergreen State | 5.894 million | 89 | 71,300 |
| West Virginia. Mountain State | 1.808 million | 75 | 32,230 |
| Wisconsin. Badger State | 5.363 million | 99 | 65,498 |
| Wyoming. Equality State, Cowboy State | 493,762 | 5 | 97,814 |
Other US areas over 68 square miles each
| | | | |
| --- | --- | --- | --- |
| American Samoa | 65,446 | 850 | 90 |
| District of Columbia | 572,059 | 9,378 | 68 |
| Guam | 154,623 | 736 | 217 |
| Northern Mariana Islands | 71,912 | 402 | 189 |
| Puerto Rico | 3.808 million | 1,112 | 5,324 |
| Virgin Islands. St. John, St. Croix, St. Thomas | 121,500 | 902 | 171 |
Employment in Bermuda
Quite a few Americans live and work in Bermuda. They are very welcome but do not have the same freedoms in residing and working without restrictions as they have elsewhere. Americans visiting Bermuda on business or vacation or as professional newcomers cannot get Bermuda citizenship or vote or buy real estate at the same price as Bermudians - unless they marry Bermudians. Any children born here are not legally Bermudians unless one parent is Bermudian.
Bermuda's first links with the USA in 1609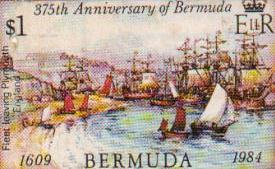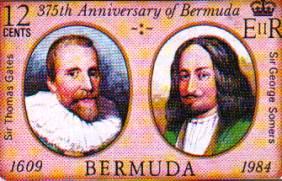 See the web file on Admiral Sir George Somers. Earliest Bermuda colonists were mourned as perished by those in Virginia.
An account of the tempest, its effect on the Relief fleet, colonists and supplies and appalling conditions of all colonists in Virginia was conveyed to England by Captain John Smith (top right). He was the leader of the original 1607 Virginia settlement, repatriated after a serious injury. He arrived in England in early March, 1610. His news was regarded as a major catastrophe and it soon spread like wildfire all over England. But the colonists were safe. Aboard two small vessels, "Deliverance and Patience", both built on Bermuda from timbers and rigging from the wrecked "Sea Venture" and native red cedar, the Admiral, Captain, Governor and almost all the colonists reached Jamestown on May 24, 1610. They - and the prime foodstuffs they brought from Bermuda - received a rapturous welcome from the sixty starving, miserable Virginians who survived the original settlement of 1607 or had not perished in the 1609 tempest en route to Virginia. Letters describing the adventures and safe arrival of "The Lost Flocke Triumphant" were sent and arrived in London in late 1610. They created a major sensation. Captain John Smith became a hero. Sir Thomas Gates became Virginia's Governor. Had it not been for Bermuda, Pocahontas would never have wed Rolfe. He would have died at sea in 1609, instead of surviving on Bermuda until he left for Jamestown in 1610. Admiral Sir George Somers recommended to London that Bermuda be colonized permanently as the role model for all new American mainland British colonies. But the contributions Somers, Bermuda and Rolfe made to American history as early Bermudians have not been mentioned in American history books except in Captain Smith's famous 1624 history.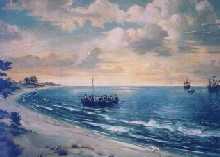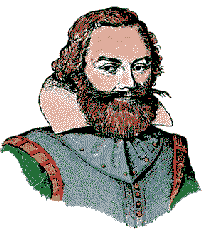 Bermuda's and Virginia's roles in Shakespeare's "The Tempest"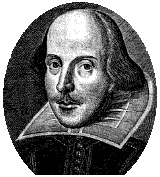 On November 1, 1611, in London, England, at Whitehall, for King James VI of Scotland and I of England and his courtiers, the very first performance was held of the original version of the subsequently world famous work THE TEMPEST, one of his last unassisted major dramatic works, by the illustrious 16th to 17th century British dramatist and playwright William Shakespeare, with the music for this first presentation by the British composer Robert Johnson. This work is very important in classical music history for several reasons, chiefly for its exceptional durability on the world musical stage - albeit in different ways over the years; its value as an inspiration to composers in its 380 years of history; because Shakespeare was exceptionally conscious of the value of music to give his works even more of a dramatic, stirring and lasting presentation; and because whole sections of the original text were lifted virtually word for word from the dramatic accounts of contemporary English writers who survived a shipwreck and then described their first-hand experiences of a particularly interesting and true drama at sea. Given these facts, the real but sadly obscured history of this work is noteworthy indeed, as it shows from precisely where and how Shakespeare received his inspiration.

Shakespeare was among those who read the most detailed and dramatic of "The Lost Flocke Triumphant" letters. They may have been shown to him by his patron Henry Wriothesly, Earl of Southampton (after whom a Bermuda parish is named), an investor in the organization that financed the Third Supply fleet, The Company of Adventurers and Planters of the City of London for the First Colony of Virginia.

Shakespeare was also acquainted with Admiral Sir George Somers and the author of one of the letters, William Strachey, Secretary (and scribe) of the Virginia Company, one of the original "Island of Devils" castaways, who had been a part time playwright in London. However he got the letter, Shakespeare was so inspired by the story and the tempest account that he employed them in his THE TEMPEST. But with Italian style theater and music then the fashion, he set the work on a vague Italian island with a cast of characters entirely unconnected with the stirring Sea Venture drama.

After the first run of THE TEMPEST, a particularly memorable performance was held early in 1613 for Lady Elizabeth, sister of King James I and the Elector Prince Palatine, Prince Charles. For that performance Shakespeare added a unique epilogue entitled An Episode, or Funeral Song on the most disastrous Death of the high born Prince of Men, Henry, Prince of Wales. It contained a direct allusion to the tempest scene, Bermuda and Virginia in "this kingdom's plight applied in the Prince's death." Since then, there have been countless dramatic and musical productions of THE TEMPEST, all based on Shakespeare's fanciful locale. The text of the work was revised in the 1660s by Sir William Davenant, Shakespeare's reputed godson and produced posthumously in 1674. Later versions were composed by John Bannister, G. B. Draghi, Pelham Humfrey, Pietro Reggio and Matthew Locke for the 1674 revival. A new version, probably by John Weldon (once attributed erroneously to Purcell) was composed about 1710 and published in the 18th century. Then came even more British versions by Dr. Thomas Augustine Arne (as an English opera on November 28, 1740; as first revived on January 31,1746, and then on December 27, 1776); John Christopher Smith (also as an opera, on February 11,1756); and Sir Henry Bishop (as incidental music for the play on May 15, 1821). These were followed by an array of European and more British versions, first by the French composer Hector Berlioz (of 1831, which he later absorbed into his LELIO); Jacques-Francois Fromental Halevy (as the Italian style opera LA TEMPESTA, Paris, on June 8, 1850); then the British composer Sir Arthur Sullivan (as incidental music in Leipzig, Germany, on April 6, 1861 - and revived in London on April 5, 1862).

These were followed by the Russian composer Pyotr Il'yich Tchaikovsky (as the symphonic fantasia BURYA, Moscow, December 19, 1873); the American composer John Knowles Paine (with his symphonic poem of circa 1876); the German composer Engelbert Humperdinck (as the incidental music DER STURM, Berlin, on October 26, 1906); the Finnish composer Jean Sibelius (as PRELUDE TO THE TEMPEST, New York, 1927); the French-born Swiss composer Arthur Honeggar (with his PRELUDE POUR LA TEMPETE); the Swedish composer Kurt Atterberg (as an opera in Stockholm on September 19, 1949); and the Swiss composer Frank Martin (as the opera DER STURM, Vienna, on June 18, 1956).

But none of these or other older versions of THE TEMPEST have portrayed the real story. Indeed, the saga of the Sea Venture and destinies of those who sailed on her, whose names should be engraved so indelibly in the histories of Great Britain, Bermuda and the United States of America, have been buried in the dusty pages of obscure books, available only to those with a passion for painstaking research. Even entries in various authoritative encyclopedia for Shakespeare's THE TEMPEST and much respected chronologies of early American colonial history, pay scant attention to the historical and geographical facts of such importance.

The saga of the Sea Venture did much more than merely inspire Shakespeare. It impacted dramatically on Britain's New World colonization policies. Virginia was revitalized as a colony. The Somer's Isles, alias Bermuda, were settled in 1612 and this paved the way for Britain to send British emigrants in the USA. Thus Britain began her great American empire, which lasted until 1776.
Bermuda's advantages led to focused British settlement of the USA
In 1612 the Bermuda islands, then known as the Somers Islands as well, were included in the Third Charter of the Virginia Company. A second group of English colonists arrived, this time destined specifically for Bermuda. The Virginia Company charter was revoked in 1684 as far as Bermuda was concerned, which meant that Bermuda became completely independent of Virginia. Until then, Bermuda was also referred to as Virgineola.

Unlike in Jamestown, with a potentially hostile native people, bitter winter weather, chronic shortage of available foodstuffs and other hardships for the colonists to endure, the Bermuda islands offered no such problems. Because they had been previously uninhabited, there were no native people with any resentments or hostilities towards newcomers to deal with and add complications. They were rich in wildlife including herds of wild pigs and edible birds. Their waters were stuffed with fish that could be caught with simple hand lines. Crustaceans and sea turtles nested on the shores in abundance. There was so much food that was easy to harvest with very little effort. Each island was densely forested with a native wood - cedar - that proved easy to cut yet perfect for everything from cooking to home and ship building.

Compared to the shortcomings of Jamestown, these were assets indeed, to lure those who wanted to finance colonial ventures and others to volunteer as colonists. Bermuda's advantages - not those of then unexplored and uncharted mainland places - were what finally persuaded English financiers to invest more funding in colonial American adventures in and beyond Jamestown, despite substantial earlier losses in colonial adventures - and the colonists to participate. It was a flagrantly inaccurate portrayal of what colonial life was like on the vast American mainland 600 miles west of Bermuda, although accurate as far as Bermuda was concerned. But it worked from 1612 to 1620 to spread the word and fire the colonial drive, as the result of which colonization of the east coast of the American continent began in earnest. They led directly to establishment of the Plymouth Colony; Massachusetts Bay Colony; Maryland; Rhode Island; Connecticut; Portsmouth, RI; New Haven, CT; Delaware; Maine; North Carolina; South Carolina; New York; New Jersey; Pennsylvania; and Georgia. Thus the successful colonization of the islands of Bermuda, known as the Bermuda Experience became the example and catalyst that provided the impetus for the funding of the Plymouth Colony expedition (in actuality, originally bound for Virginia) by the Mayflower Pilgrim Separatists in 1620 (until Plymouth's amalgamation with Massachusetts in 1692).

The Bermuda Experience also led to the establishment of the Massachusetts Bay Colony by the Puritans in 1629; Maryland by Lord Baltimore as a proprietary colony in 1634; Rhode Island by Roger Williams as a self governing colony in 1636; Connecticut, by Thomas Hooker in 1636; Portsmouth, RI, by Mrs. Anne Hutchinson in 1638 (until its merger with Rhode Island proper in 1644); New Haven, CT, by emigrants from Massachusetts in 1638 (until its merger with Connecticut in 1662); and Delaware, by Swedes under British rule in 1638.

Finally, the Bermuda Experience was cited in the creation of Maine, by Sir Ferdinando Gorges in 1639 (until its merger with Massachusetts in 1791, before it again became a separate state later); North Carolina by eight noblemen in 1663; South Carolina, again by eight noblemen, also in 1663; New York, by the Duke of York in 1664; New Jersey, by Berkeley and Cartaret in 1664; Pennsylvania, by William Penn in 1681; and Georgia, by James Oglethorpe in 1732.
Bermuda was important to the American colonies
For an appreciable period, Bermuda sent settlers to the mainland American colonies. It was employed for many years as a transit station in colonial traffic. This was a deliberate policy, for several reasons. One was to treat the colonists gently in terms of continuation of British customs, culture and placidity of environment, before they were sent to the mainland. Another was to weed them out somewhat, to see how they developed as colonists in terms of individual strengths and weaknesses before they were dispatched to places that might suit them best as rewards for good conduct or as further hardships if they were disobedient or troublesome to authorities. Also, because Bermuda was a Royalist colony, not a religious one, it was less strict in religious discipline than the Pilgrim, Puritan and Catholic colonies, as they went through their growing pains and internal political or religious strife on the road to maturity.

Additionally, Bermuda was a place where young men and women fresh out from England could be taught a trade that would be useful to them in the vaster wilderness of the mainland colonies. It was where, because of its untroubled development as a colony since 1612 and relative isolation, some heathen native women of the mainland colonies were exiled, to be converted then married off to single local immigrants, to produce Christian children who would be shipped back to the mainland to help the conversion process among the native peoples.
Religion was exported from them to Bermuda on Cromwell's orders
In Massachusetts, people who were earlier in Bermuda contributed to the gradual demise of the Pilgrim religious influence. But there were some counter prevailing influences as well. For example, during the period of office of Oliver Cromwell and his ilk, the Plymouth, Massachusetts Bay and other New England colonies were not interfered with much from London. But Bermuda was. As a still Royalist leaning colony, it was put under rigid religious discipline by Cromwellian ministers from the two principal New England colonies, on specific orders from London. Thus began an appreciable period for Bermuda first in active religious links, then, more serenely, in commerce and education, with the New England colonies.
Bermuda's Gunpowder Plot provided ammunition for Bunker Hill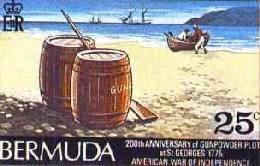 Nowhere in America is this mentioned as a local contribution to the American Revolution. Hundreds of barrels of gunpowder, stolen by sympathetic Bermudians from a local British fort, were used by Americans at the Battle of Bunker Hill. They lost the battle but won the will to keep fighting. The Continental Congress was so grateful that it lifted the embargo on food and grain shipments to Bermuda it had applied to all other British held possessions. Today, in Bermuda, American visitors can see the original letter from George Washington asking Bermudians to steal the gunpowder. British soldiers were brought in to stop Bermudian treachery. The Royal Navy used Bermuda as an American and French prisoner of war detention center. The United States and France plotted to capture Bermuda but - except for what happened below - never followed through.
Bermuda and The War of Independence
See Bermuda's History 1505 to 1799.
Bermuda was invaded briefly by the USA in 1777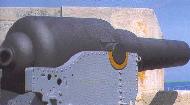 In 1777, during the American Revolution, British militia soldiers manned the isolated 17th century battery of Gun Point at what is now near Wreck Hill on Somerset Island of the Colony of Bermuda. The old fort had a strategic position protecting the West End Channel. It was one of the few passages through the dangerous ring of reefs for sailing ships. The soldiers at the fort had the presence of mind to exchange gunfire with two armed brigs that advanced in a threatening manner although they then flew British colors. The brigs answered with broadsides from their cannon, lowered their Union Jack flags, hoisted the red, white and blue striped ensign of the United States of America and proceeded to invade Bermuda with landing parties. To avoid meeting this much bigger force, the Bermuda based militia men retreated from the battery. The Americans spiked their guns and destroyed the walls of the fort but were forced to retreat themselves when more local soldiers and a Royal Navy detachment responded to the alarm. The Americans escaped on their ships in what became only the second time in the history of Bermuda that it was invaded.
Bermuda and The 1812-14 War
See Bermuda's History 1800-1899.htm.
Bermuda and its role in the "Star Spangled Banner"
In July 1814, during the second British American war, a British Royal Navy fleet assembled in and sailed from Bermuda to successfully attack and burn Washington DC, in retaliation for the American attack on and burning of Yorktown, now Toronto, in Canada. Then it attempted the same thing on Fort McHenry in Baltimore. During that engagement, Francis Scott Key wrote the words of what became the Star Spangled Banner, as a temporary detainee on one of the British warships. The melody is from a bawdy British drinking song by a London based composer. The fleet's voyage ended in Halifax, where hundreds of slaves who had lined the shores of the Pawtuxent River and elsewhere nearby to implore British troops to help them escape from bondage had been rescued and were also on the British warships cheering on and actively assisting the sailors who had set them free, were promptly and officially given their freedom.
Bermuda and military spies sent from the USA
Bermuda has dozens of forts still standing. They are in the western, central and eastern counties (parishes). They are superb cultural, historical and scenic attractions in every way. (Most people are completely unaware how remarkable they are). They were the first substantial buildings erected in Bermuda, all built by Britain. See a basic listing of the British forces that built and occupied them at various times in British Army Units in Bermuda 1776-1953.

On a number of occasions they were of particular interest to American military spies. One was visiting American Secret Agent, Albert Fitz, appointed to spying duties by the Hon. Daniel Webster, Secretary of State.

Fitz submitted his report in 1842, after having been instructed to proceed to certain of the British West India Islands, for the purpose of ascertaining the strength of the Naval and Military forces there; to examine the fortifications, take plans of them, ascertain the numbers of guns, describe the disposition of the inhabitants and more.

Fitz was the first of three known American spies in Bermuda in 1841-52, the second being Capt. Minor Knowlton and the last Lieut. Frederick Prime, later sent to Alcatraz when it was but a fort. They left behind an unusual record of the Bermuda forts for a time for which little survives in local and United Kingdom archives. They recorded what the British military then in Bermuda tried to keep secret. With their espionage documents and reports, it was possible to unlock the layouts of the forts for the 1840s and 1850s. According to Fitz, the Bermudians thought his country desired the possession of the island, so they were "particularly jealous and distrustful of American visitors, and also of Frenchmen, whom they consider as our possible allies." Despite this, he was able to visit all of the new fortifications, particularly Dockyard, which "promises be one of the most impregnable fortresses in the Western hemisphere."

Captain Minor Knowlton was no stranger to Bermuda when he was sent to look at its defences by General J.G.Totten, Chief Engineer, US Army. In 1842, he had come here for his health, as he suffered from epilepsy. This did not deter him from a spying mission to Canada, where he examined Fort York at Toronto two years prior. His policy in Bermuda was "to form few acquaintances and to avoid entertainments altogether." He gave the impression that his walkabouts, even up to the fortifications, were to improve his health. Customs officers, however, must have wondered why his luggage on departure contained "two blocks of shell limestone, each a little more than one foot cube, which I brought from Bermuda as specimens of the type of stone used in the fortifications of those islands. It is a soft kind of shell sandstone which may be advantageously shattered by hollow shot." Upon his return in June 1849 to New York after three months in Bermuda, Knowlton wrote to Totten promising a full report, of which there is no trace. What has survived is an original plan of the Dockyard by George Taylor, Survey of Buildings to the Navy Board in London, which Knowlton must have obtained by paying someone from the dockyard.

The last officer, gentleman and spy was Lieut. Frederick Prime, who also reported to General Totten at Washington, DC. Having graduated first in his class at West Point in 1849, he found himself at Bermuda three years later. Prime was clearly taken by Bermuda, so much so that he returned to the subject of its invasion while on duty at Fort Alcatraz some years later. In his "Notes on an expedition against the Bermudas", he examines all of the channels, the strength of the garrison and the nature of the fortifications. Prime defines the weakest point as Castle Harbour, which could be entered easily without coming under fire from the major forts on St. George's Island, those on Castle Island being in disrepair. Having reduced the Martello Tower at Ferry Reach, the American invaders could effectively cut off St. George's and its forts from the rest of Bermuda. By taking St. George's from the rear, the subjugation of the rest of the island would soon follow, as the enemy would control the Narrows Channel, the only sea access to the dockyard and Hamilton, a blockade from the land as it were. The most remarkable piece of this espionage is Prime's sketch of the major Bermuda forts in 1852, reproduced here from the National Archives in Washington, DC. These little fort maps are remarkable for their detail, considering that the forts were "visited but once and sometimes under such circumstances that nothing would be committed to paper for many hours after". This detail is important as all of the major forts of the 1820s-1860s were heavily altered in the 1870s and some again in the 1890s.

The principal forts at Dockyard, St. Catherine, Victoria, Albert, George and Cunningham were all built as a response to the Independence of the United States. If that country had remained within the British Empire, it is likely that no forts would have been built in Bermuda after the 1760s and Bermuda would have remained "in obscurity."
Bermuda supplied materials to the South during American Civil War
Much has been written and televised about Bermuda's prominent role during the American Civil War. But to date, very little attention has been directed to the fact that much depended on Canadian shipping support and supplies, principally from Nova Scotia, as the result of which Bermuda prospered mightily during this tragic conflict. Actually, Bermuda was more dependent on Nova Scotia than anywhere else during the Civil War for supplies. Bluenose windjammers sailed under the British flag from Halifax and were never subjected to blockade by the Union Navy en route to Bermuda. One reason for this was the fact that Nova Scotians were very active in participating on the Northern side during the war - and very helpful, both in supplying goods for the Northerners and volunteers for Northern armies, in complete contrast to the strongly pro South attitudes manifested in Bermuda by mercantile Bermudians. A great deal of what those Nova Scotia ships brought to Bermuda was supercargo, trans-shipped in Bermuda by the blockade runners for the run to Southern ports. Thus were Halifax and the province of Nova Scotia linked closely with the convoluted economic and related developments in Bermuda during the American Civil War.

Yet, in complete contrast, Joseph Rainey and his wife, both black Americans, found freedom from slavery and happiness in Bermuda at this time. After the war, it was safe for them to return to the USA, where Rainey became in the South's Reconstruction the first appointed black American legislator.
William Browne, American Loyalist Governor of Bermuda
Born in Massachusetts 27th Feb 1737, a grandson of Governor Burnet, graduated at Harvard in 1755. Prior to the revolution he enjoyed great popularity in his native land, was many years a representative of Salem and a colonel of the Essex County militia, he was one of the seventeen rescinders of 1768, and was a judge of the superior court in 1773-'4. But especially after 1774 when a committee of the Essex County convention waited on him to express the grief of the county at his exertions to carry out acts of parliament calculated to ruin and enslave his native land, fell foul of bebel bigotry and fled to England in May 1776, where he was called on by Lord North from his (he said) 'profoundest retreat.' He was included in the USA's banishment act of 1778, and his extensive landed estates were confiscated. He had been a friend of John Adams who thought him a solid judicious character, which turned out to be correct as on arriving in Bermuda on December 16, 1781 to take up office, a lesser man would have thought his task insurmountable. The Islands had a serious lack of food, especially bread and prices were exorbitantly high. The townships were crowded with Loyalists and rents had risen to unprecedented levels. Both smallpox and typhus were present and unchecked in their course. His official residence was in such a state of disrepair it struck him with horror. Enemy prisoners where everywhere taking notes on everything and the danger of attack was greater than ever before. Browne set about organizing island affairs, appointing other Loyalists to key positions, one from Virginia as attorney general another from Massachusetts as chief justice, he reinstated the local militia officers and made whaling license free. He took numerous measures and initiatives that went down well with the islanders. He in fact turned out to be a model governor and the islanders had quickly taken to someone who had suffered so much for his loyalty to the Crown. He was able to see that the likelihood of America becoming independent meant this enchanting, tranquil, beautiful isle of pink sand would make it the 'Gibraltar of the west' and imperative for British commerce, so he built up the island's small garrison. Independence was also pretty obvious to the Loyalists and more and more of them arrived and collected at the east end of the island, but were dispersing to other colonies almost as soon as they had arrived. At the end of the war when Loyalists were being evacuated from New York he had them re-provisioned before continuing their journeys. With peace declared, Bermuda was quick to restart trade with the USA and he pressed for it to become a free port, for such he appointed another Loyalist from Connecticut as comptroller. Browne's summing up at the end of his governorship in 1788 was "Bermuda is divided on domestic business but is united in it's loyalty to His Majesty." Died in England, 13 February, 1802.
Colonel (later Brigadier General) James Robertson Arnold
He was one of the sons of Revolutionary War American traitor and British patriot Benedict Arnold, by his second marriage to the Philadelphia-based Loyalist. American born, he was exiled to Canada with his father and family when very young and educated at King's College School. As a naturalized British Canadian, he wanted to avenge his father's humiliation in America. As a British Army officer, he participated in the War of 1812-1814 in Canada and Maine. He sailed from Halifax for Bermuda in 1816 and was the first Royal Engineer to fortify, from 1816-1818, the new Royal Naval Dockyard in Bermuda against any invasion threat from USA. Colonel Arnold devised the early massive building and engineering program for HM Dockyard, that led to Bermuda being referred to later as the "Gibraltar of the West." His success was such that he was posted back to Halifax in 1818 to do the same thing for the Citadel. Later, he was appointed a British Army Brigadier General.
Frances Hodgson Burnett loved Bermuda
The English born, American naturalized author won international renown in 1886 for her book "Little Lord Fauntleroy" before she emigrated to the USA. In 1911, her "The Secret Garden" was published and also became an instant global best seller. It has often been claimed, wrongly, that she wrote this book based on a garden she kept in Bailey's Bay, Hamilton Parish, Bermuda. In fact, it wasn't until after it was published that she visited Bermuda for the first time - and stayed. After a brief sojourn at the Princess Hotel, she rented a house called "Clifton," then owned by the Outerbridge family, in Bailey's Bay, on the North Shore Road. Like other famous writers before her, Burnett settled in Bermuda to get away from the chronic claustrophobia of an adoring public in the USA and the winter weather of her Long Island New York home. At Clifton she was able to indulge in her passion for growing roses. She once wrote to her friends about her 762 roses: "They will bloom when New York is 70 degrees below zero and London is black with fog and slopped with mud and rain." She loved Bermuda so much she continued to reside here until her death in 1924 at the age of 75. This world-famous American novelist and essayist enjoyed, lived in and loved Bermuda.
Samuel Cunard's New York, St. Thomas, Bermuda service
In November, 1850, Samuel Cunard of Halifax introduced his steam packet service from New York to St. Thomas, with a call at Bermuda in both directions. But the New York portion of the service was not a commercial success compared to his earlier Halifax-Bermuda direct service and was canceled in May of 1854.
Thomas Tudor Tucker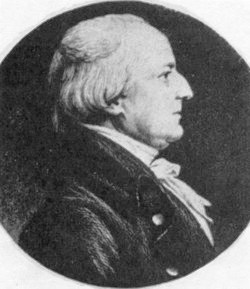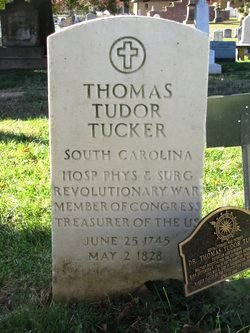 Bermuda-born on June 25, 1745. Continental Congressman, US Congressman. He studied medicine at the University of Edinburgh in Scotland, UK and emigrated to South Carolina, where he practiced medicine. He served as a surgeon in the Revolutionary War. Elected as a Delegate from South Carolina to the Continental Congress, he served from 1787 to 1788. Elected as a Representative from South Carolina to the United States House of Representatives, he served from 1789 to 1793. Appointed as (third) United States Treasurer by President Thomas Jefferson and served in that capacity from 1801 to 1828, when he died in office.
USA-Bermuda Tax Convention Act 1986

History & daily newspaper reports


Authored, researched, compiled and website-managed by Keith A. Forbes. Last Updated: October 31, 2020
Multi-national © 2020. All Rights Reserved