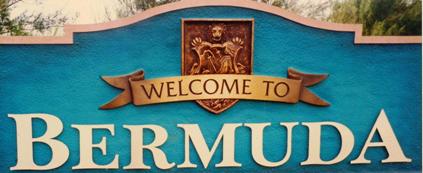 125+ web files in a constantly updated Gazetteer on Bermuda's accommodation, activities, airlines, apartments, areas, art, artists, attractions, airport, aviation pioneers, banks, banking, beaches, Bermuda as an international business centre, Bermuda citizenship by Status, Bermuda-incorporated international businesses, books and publications, Bermuda Customs Duties and taxes, British Army, calypso, Canadian military, causeway, charities, churches, City and Corporation of Hamilton, commerce, community, cruise ships, culture, cuisine, customs, Devonshire Parish, disability accessibility, districts, Dockyard, economy, education and universities abroad, employers, employment, entertainment, environment, executorships and estates, fauna, ferries, flora, food, forts, gardens, geography, getting around, golf, government, guest houses, Hamilton Parish, history, homes, housing, hotels, internet access, islands, laws, legal system, legislators, local businesses and organizations, location, media, motor vehicles, music, municipalities, open spaces, organizations, Paget Parish, parishes, parks, Pembroke Parish, politics and political administration, postage stamps, public holidays, public transport, railway trail, religions, Royal Navy, Sandy's Parish, St. David's, St. George's Parish, shopping, Smith's Parish, Somerset village, Southampton Parish, Spanish Point, Spittal Pond, sports, stores, telecommunications, time zone, transportation, Town and Corporation of St. George, traditions, tourism, United States armed forces, vacation planning, villages, vital statistics, water sports, weather, Warwick Parish, wildlife, work permits, etc. For tourists, business visitors, employers, employees, newcomers, researchers, retirees, scholars.

Bermuda's ties with USA
76% of all tourists and business visitors and more than 75% of all imports come from America


By Keith Archibald Forbes (see About Us) at e-mail exclusively for Bermuda Online

To refer to this web file, please use "bermuda-online.org/usa.htm" as your Subject.

The US Consulate in Bermuda is at "Crown Hill," 16 Middle Road, Devonshire DV 03. P. O. Box HM 325, Hamilton HM BX. Telephone (441) 295-1342. Fax (441) 295-1592. E-mail hmlamcongen@state.gov or blackac@state.gov. This

is the largest foreign mission in Bermuda, a fully-staffed diplomatic facility with public hours four days a week.

There is no parking for cars or bikes except for employees. Non immigrant visa applications and other services are on specified days. At the Consulate, special security precautions are in place. The Bermuda facility has a nine-foot high perimeter wall/fence; a vehicle barrier and access control center at the entrance gate; hardened interior walls around the building; and installation of blast-proof windows. Additionally, there is a secure Controlled Access Center (CAC) building for most routine work, but in the shape of a Bermuda cottage.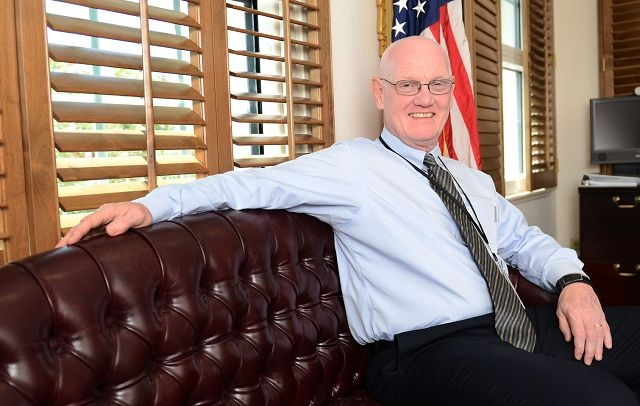 Effective September 2012 career diplomat and former SWAT team member Robert Settje (see Royal Gazette photo above), 58 at the time of his appointment, father-of-three, is the new United States Consul General to Bermuda. Mr Settje, who has a long history of service with the US Foreign Service in posts including Afghanistan, the Caribbean and Europe, replaced Grace Shelton whose three-year spell ended on August 30. Before joining the Foreign Service in 1994, he held careers as a police officer, criminal prosecutor, associate attorney and law clerk. In the late 1970s, Mr Settje was a police officer in Madison, Wisconsin, where, in addition to his patrol duties, he was a training officer and member of the SWAT team. He switched careers in 1979, attending law school before becoming a clerk in Colorado Supreme Court, then an associate in Denver and finally Deputy District Attorney in Golden, Colorado, from 1988 to 1994. His Foreign Service work began as vice-consul and political/economic officer in Santo Domingo, Dominican Republic, from 1994 to 1996. That was followed by spells as consular co-chief in Munich, Germany; deputy consular chief in Naples, Italy; and senior civilian at provincial reconstruction in Zabul, Afghanistan. Mr Settje has also served in Washington, DC, as a regional consular officer for embassies and consulates in the Caribbean, Latin America, Africa, and Europe, and as career development officer and legal advisor to the State Department Visa Office. He has a JD from Harvard and a Bachelor of Arts degree from Carleton College, and did independent study at the Italian University for Foreigners in Perugia, Italy. Mr Settje is married to Melanie Haroldson Settje and has three adult children, Tasha, Jack, and Nick. He was born and raised in Corona, South Dakota.
Other principal US officials are presently Deputy Principal Officer/Consul - Adam Vogelzang and Management Officer -Douglas Boudreau.
Bermuda 2012 Investment Climate Statement by US Department of State
See http://www.state.gov/e/eb/rls/othr/ics/2012/191111.htm

American citizens resident in Bermuda who possess US passports can have them renewed in Bermuda when they expire. They can also have more pages added, if they wish, by this office, at a cost of $82 plus a form to complete. Renewals cost $110 for an adult passport. For more information visit: http://hamilton.usconsulate.gov/.

Four Centuries of Friendship. Book. Written in part to celebrate Bermuda's 400th anniversary in 2009. It commemorates the work of the US Consulate in Bermuda since its establishment in 1812. US-Bermuda history from an American perspective. Edited by Marina Slayton, wife of former US Consul General Gregory Slayton. 150 pp full color hardback, with many articles, historical color and black and white images, maps, 2008-2009. Plus chapters written by the US State Department and Mr. Slayton. Bermuda Maritime Museum Press. During the compilation of the book it was discovered that there were over 290 boxes of consular diplomatic dispatches between Bermuda and the USA, including many from the first American consul in Bermuda, William R. Higginbotham, in and from 1812 to John Quincy Adams who, after he left the Presidency, became US Secretary of State.

The American Consulate received a 2009 facelift with its interior walls now adorned with an exhibit showcasing the 400-year friendship between Bermuda and the United States, the oldest partnership in the New World.

The Friendship Wall displays images from early 1600, when Bermuda played a pivotal role in the US development. Former US Consul General Gregory Slayton stated: "over the centuries, ties between the United States and Bermuda have grown deeper and broader on all fronts. Today, Bermuda and the US are strong partners and the closest of allies." The display, which can be seen on the walls of the newly renovated visitors' waiting room, was conceived by Mr. Slayton's wife Mrs. Marina Slayton, who published the book, 'Four Centuries of Friendship: America-Bermuda Relations 1609-2009' which coincides with the 400th anniversary of the permanent settlement of the Island.

There is also a new US-Bermuda Friendship Wall at the L. F. Wade International Airport in Bermuda, from where more than 350,000 passengers bound for the USA pass through US Customs and Border Protection every year. There too, Bermuda residents and visitors can lean more about the long US-Bermuda alliance. The permanent exhibit was unveiled in 2009 in celebration of Bermuda's 400th anniversary, with officials there including the airport general manager, then-US Consul General Gregory Slayton and Stephen Greenburg, Port Director for US Customs and Border Protection (CBP). Now, thanks to a new agreement between Bermuda and the US signed in April 2008, passengers and crew aboard private aircraft will also be pre-cleared in Bermuda. This supplements the establishment of the first Bermuda-USA pre-clearance agreement in 1974. Bermuda is only the third country in the world to sign such an agreement with the United States.

The US-Bermuda alliance has large benefits for both Americans and Bermudians. The United States provides over 75 percent of all of Bermuda's imports, tourist and financial capital each year.

Consulate professionals offer a range of services for the hundreds of thousands of Americans who visit Bermuda and the thousands of Bermudians who visit the US. Consulate staff also help other US Government agencies working in Bermuda, such as US Custom and Border Protection that provides customs pre-clearance for many US bound flights at the Airport.

They work closely with the Bermuda Government and the British Governor in Bermuda to promote partnership, trade, international law enforcement and easier travel between the Island and America. Their mission is to ensure the US-Bermuda alliance remains strong for the benefit for both Americans and the people of Bermuda.

A hand-carved American Eagle was given back to the US consulate 200 years after it was believed to have be taken by British forces in the siege of Washington during the War of 1812. This intricately carved American Eagle was presented to United States Consul General Gregory Slayton and his wife Marina Slayton by the Bermuda Historical Society in 2008. It hangs in the visitor's waiting room along with the newly constructed Friendship Wall, which depicts the longstanding friendship between Bermuda and the United States. The donation was on behalf of the Bermuda Historical Society by way of Mrs. Clay Merrell in honour of her husband Mr. Edwin Clay Merrell, who served as US Vice Consul and Consul to Bermuda from July 1920 until January 1947. Mr. Slayton said: "It is unclear how the Merrell's came into possession of the Eagle, but it is thought to have hung in the old-American Consulate during the early and mid-20th Century."

In June 2009, without the knowledge of Bermuda's Governor, or Foreign and Commonwealth Office in London, four Uighur men were released from US custody at Guantanamo Bay and were flown secretly to Bermuda. Tensions between Bermuda and Whitehall reached fever pitch with Governor Richard Gozney calling the move 'invalid' and 'unacceptable.' As a British Overseas Territory, Bermuda is obligated to consult Britain on matters of foreign affairs and security. Both the Bermuda Government and the United States Consul General in Bermuda and its Government failed to do this. Taking in the Uighur detainees, who were conditionally cleared of wrongdoing by the USA, thrust the tension between the two countries into the international media spotlight. The Uighurs are rightly banned from ever going back to the USA for having accepted training from al Qaeda and taken part in terrorism.
US Consul General's residence in Bermuda
The official US Consul General in Bermuda residence is at the affluent US$ multi-million, 4-bedroom property overlooking the ocean known as "The Residence" in exclusive Tucker's Town, with pool, a large two-storey 1920s Bermudian family home. Situated on about 1.5 acres it includes a guest cottage, substantial pool house and staff quarters. "The Residence" is furnished with antique items and contemporary reproductions. There are pieces inherited from the former Consul General's home at Chelston.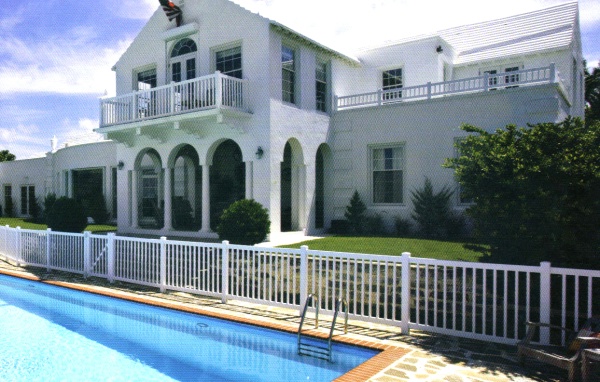 The Residence, Bermuda, home of US Consul General
Prior US Consul Residences
Until after World War 2 (1939-1945 in the world, 1941-45 in the USA) there was no official consular residence. Mr. William H. Beck (who served in Bermuda from 1939-1945) and his family rented Durham on Pitts Bay Road from a Mr. Butterfield. Next door - in the back - was Bay House, on the same little bay, where Mark Twain visited the Allens. (Mr. Allen was then U.S. Consul). Twain often sat in the garden at Durham and swam in the bay. From about 1951 and for decades after that, the US Consul General's official home in Bermuda purchased by the US State Department was "Chelston," 12,000 square feet, on a 14 acre estate off Grape Bay Drive in Paget Parish. It was later sold for about US$ 15 million as part of a US Government drive in US Democratic Administration years to cut costs.
A new, more modest house was then rented, Mangrove View, on Mangrove Drive, off the South Road.
Earlier Consuls-General
This list was kindly sent by the American Consulate General in Bermuda on October 9, 2009.
1st USA Consular Representative in Bermuda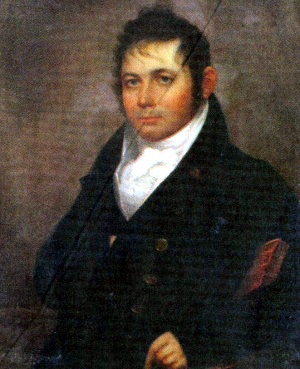 William R. Higginbottam - sometimes spelt Higinbottam - was the first American consul in Bermuda in 1812, initially as Consular Agent, then officially as Consul from 1818 to 1832. He opened an office in St. George's in August 1818. Appointed US Agent for Commerce and Seaman by President James Monroe, Higginbotham dealt with American shipping and trade issues. But he faced many diplomatic hurdles because Bermuda's English Governor did not officially recognize him. Higginbotham died at his post in St. George's on July 25, 1832.
Others since then
| | | | |
| --- | --- | --- | --- |
| Name | Title | Dates | Comments |
| William Tudor Tucker | Consular Agent | 1832 to 1846 | Retired |
| Frederick B. Wells | Consul | 1846 to 1850 | Left Post |
| William Tudor Tucker | Consul | 1850 to 1853 | Retired again |
| John W. Howden | Consul | 1853 to 1853 | Died at Post (19 days in office) |
| Frederick B. Wells | Consul | 1853 to 1856 | Left Post Again (resigned in USA) |
| Henry B. Brown | Consul | 1856 to 1859 | Retired |
| Frederick B. Wells | Consul | 1859 to 1861 | Retired |
| Charles Maxwell Allen | Consul | 1861 to 1888 | Welcomed Mark Twain to Bermuda, hosted him often, died at post and was buried at St. Mark's Church in Smith's Parish |
| Norman Walker | Agent | 1861 to 1864 | Confederate States of America |
| William K. Sullivan | Consul | 1893 to 1894 | Left Post, died one month later in USA |
| John H. Grout, Jr | Consul | 1893 to 1894 | Retired |
| Marshall Hanger | Consul | 1894 to 1898 | Retired |
| M. Maxwell Greene | Consul | 1898 to 1915 | Resigned |
| Earl Loop | Consul | 1915 to 1917 | |
| Ethelbert Watts | Consul | 1918 to 1918 | |
| Colonel Alfred Swolm | Consul | 1919 to 1922 | Died |
| William P. Kent | Consul | 1923 to 1924 | Retired |
| Robertson Honey | Consul | 1924 to 1929 | Retired |
| Graham H. Kemper | Consul | 1930 to 1934 | Retired |
| Charles Heisler | Consul | 1934 to 1936 | Retired |
| Harold L. Williamson | Consul | 1937 to 1940 | Retired |
| William H. Beck | 1st Consul General in Bermuda | 1939 to 1945 | Bermuda acquired new American military bases in WW2. Afterwards posted to Southampton, England as Consul General, then retired. |
| Clay Merrill | Vice Consul | 1945 to 1949 | |
| John C. Pool | Consul | 1949 to 1950 | To Southampton |
| Clay Merrill | Consul | 1950 to 1951 | Died |
| E. Paul Tenny | Consul General | 1951 to 1953 | To Milan |
| Robert B. Streeper | Consul General | 1953 to 1955 | To Recife |
| Thomas Maleady | Consul General | 1955 to 1957 | To State Dept. |
| Sydney K. Laffoon | Consul General | 1957 to 1960 | Retired |
| George W. Renchard | Consul General | 1960 to 1967 | To Africa |
| Charles N. Manning | Consul General | 1967 to 1971 | Retired |
| Donald B. McCue | Consul General | 1972 to 1976 | Retired |
| S. Richard Rand | Consul General | 1976 to 1980 | Retired |
| John P. Owen | Consul General | 1980 to 1982 | To State Dept |
| Max Friedersdorf | Consul General | 1982 to 1983 | |
| Melville Blake | Consul General | 1984 to 1985 | |
| Max Friedersdorf | Consul General | 1985 to 1987 | To Geneva |
| James L. Medas | Consul General | 1987 to 1989 | To State Dept |
| L. Ebersole Gaines | Consul General | 1989 to 1994 | |
| Robert Farmer | Consul General | 1994 to 1999 | |
| Lawrence D. Owen | Consul General | 1999 to 2001 | |
| Denis P. Coleman | Consul General | 2002 to 2004 | |
| Gregory W. Slayton | Consul General | 2005 to 2009 | |
| Grace W. Shelton | Consul General | August 2009 to August 2012 | To State Dept |
Key facts in the USA - Bermuda relationship
An estimated 8,000 registered U.S. citizens live in Bermuda, many of them employed in the international business community. There also are a large number of American businesses incorporated in Bermuda, although no actual figures are available. Despite the trend of American businesses moving to Bermuda, Bermuda maintains that the island is not a "tax haven" since it taxes both local and foreign businesses equally.

U.S. visitors are critical to the island's tourism industry, but overall the number of U.S. visitors to Bermuda has been declining. In 2010, 483,264 Americans visited. Another 3,046 Americans sailed to the island via private yacht in 2010, an increase from 2,222 in 2009. Air arrivals in particular dropped, down to 166,016 in 2010, compared to 172,648 in 2009. To some extent that shortfall has been made up by an increase in American cruise ship visitors--314,202 in 2010 compared to 286,819 in 2009.

Areas of opportunity for U.S. investment are principally in the reinsurance and financial services industries.

Bermuda has little in the way of exports or manufacturing; almost all manufactured goods and foodstuffs must be imported. The value of imports rose from $551 million in 1994 to $1.051 billion in 2009. The U.S. is Bermuda's primary trading partner, with $663 million in U.S. imports in 2009. Duty on imports is a major source of revenue for the Government of Bermuda. In 2009-2010, the government obtained $225.4 million, or 24% of its revenue base, from import duties. Heavy importation duties are reflected in retail prices.

Bermuda derives enormous economic benefits from the proximity, commerce, guest workers, tourists, investments and support of the USA. So much so that if the USA was willing, it would be far more logical for Bermuda to become a dependency of the USA similar to Puerto Rico and the US Virgin Islands, etc. than to ever consider becoming politically independent or remaining nominally British.

Bermuda's role in early American colonial chronology was significant. They began in 1609 when the islands were colonized by English Admiral Sir George Somers. Bermuda was part of Britain's American empire, referred to in London as "His Majesty's Islands of the Bermudas or Somer's Isles in America" - thus Bermuda is NOT part of the Caribbean (as far to the south as Dallas, Texas is from New York). With ties dating back to 1609, the USA is by far and away the Island's largest trading partner, with more than 85% of all Bermuda's imports being shipped or air freighted in from the USA; the single major market by a huge percentage for the Island's financial services industry (more than 75%); the major source - nearly 90% - of the Island's 450,000+ annual visitors; and the most significant cultural influence by an enormous margin. Virtually all the food available in Bermuda comes via the USA by air or sea, with 85% of it American.

Bermuda's principal and most principled news agencies, beyond The Royal Gazette and other local media, are the American Television and radio stations ABC, CBS, CNN, Fox News and NBC.

Many American products sold in Bermuda, at supermarkets particularly, especially USDA-certified meats, get special "export" subsidies from the US Federal government, paid for solely by American taxpayers.

85% of all cruise ships come from US ports during the March to November cruise ship season.

Bermudians enjoy close relations with the US for education, business and families. Many thousands of Bermudians and permanent residents and parents on employment contracts have graduated from US colleges, far more than from Canadian or British equivalents.

Virtually all do most of their shopping in the USA, to escape vastly higher prices in Bermuda at retail level even though they cannot escape Bermuda Government import duties of about 30 percent of the value of their purchases when they return home as Bermuda allows its residents only $100 worth of duty free goods acquired abroad per person.

In healthcare, Bermudians go the USA when they need specialist treatment, not the USA or UK.

In 1988 Bermuda and USA signed the US-Bermuda tax treaty in Washington DC, shortly after Premier Sir John Swan met with President Ronald Reagan. It began the international business boom for Bermuda that continues to this day. It is so favorable to Bermuda that all conferences and conventions involving American businesses meeting in Bermuda end up being borne entirely by American taxpayers.

Since then, Bermuda also has a Tax Information Exchange (TIEA) in force with the US and, as shown below, a Mutual Legal Assistance Treaty (MLAT) with the US.

Of all the airline flights arriving in Bermuda, 85% are from and to the USA. Americans can fly to Bermuda non-stop from a number of US cities, compared to only 1 city for Britons (London) and Canadians (Toronto) and none from anywhere else in the world.

Bermudians and other Bermuda residents flying to the USA, because they are processed in Bermuda, before they leave by Bermuda-based US Immigration and Customs officials and with no lines or queues at all and no bureaucracy. They are treated as domestic arrivals when they arrive at US airports after a short (usually less than two hours) flight so can go immediately to cars, taxes, buses, trains, etc. In huge contrast, passengers flying from United Kingdom, European and other airports, tired after 7-8 hour flights, if they are not US citizens have to line up for often over 2 hours in excessive American bureaucracy.

What does Bermuda offer in return? The international business sector, and especially reinsurers, are critically important to the US, especially when catastrophes strike. The Bermuda-based international insurance, reinsurance and special risks industry up to 2008 to date has paid out about US$23 billion in claims to the USA over the previous five or six years. Also, Bermuda-based insurers and reinsurers employ thousands of Americans, some in Bermuda, mostly in the USA.

In January 2009 a treaty between Bermuda and the United States will allow authorities in both countries to collect criminal evidence for one another was signed. Then-Premier Ewart Brown, Deputy Premier Paula Cox and then-US Consul General Gregory Slayton signed the Treaty on the Mutual Legal Assistance in Criminal Matters, otherwise known as the Mutual Legal Assistance Treaty (MLAT). The US and Bermuda already have an excellent working relationship on law enforcement matters and this treaty will help formalize and solidify that relationship by creating a direct channel of contact between prosecutors in each country. The MLAT allows US and Bermuda authorities to request and obtain assistance from each other in criminal investigations and prosecutions and related proceedings. It improves the co-operation of the two governments in combating a wide variety of crimes, including economic crimes, money laundering, drug trafficking and sex offences. It does this by facilitating the collection of evidence needed by authorities in one country but located within the other country. Types of assistance under the treaty include taking testimony; obtaining and providing documents, records or other items; conducting searches and seizures; locating persons and items and assisting in forfeiture proceedings. MLAT is designed to improve the effectiveness of the law enforcement authorities of both the United States and Bermuda in the investigation, prosecution, and prevention of crime through co-operation and mutual legal assistance in criminal matters. It is an effective tool to assist in the prosecution of a wide variety of crimes, including drug trafficking, money laundering and terrorism offences.

In February 2009 the Bermuda Government set up an office in Washington DC to help communicate efficiently with the Obama administration.

Many resident Americans are married to Bermudians and many American businesses deal directly with Bermudians. It also serves American businesses which incorporate in Bermuda to avoid US taxes but still have their principal offices in the USA.

Bermuda Exchange for Mutual Understanding. Announced in December 2007 as a new educational and cultural partnership between Bermuda and the USA. It was approved by the US State Department following talks between then- Premier Ewart Brown and US Secretary of State Condoleezza Rice earlier in 2007.

It's aim was to bring together leaders from both countries to discuss ideas relating to areas such as public safety and education. Also, Members of Congress and other Congressional staff come periodically to Bermuda and participate in speeches, round table discussions and other brainstorming activities. The program is administered by the Cabinet Office of the Bermuda Government and includes exchanges between Bermuda's Government Ministries and members of the United States Senate, the House of Representatives and their Congressional staffs.

Internal Revenue Service Targets Bermuda. In 2009 a senior international agent of the Internal Revenue Service spent time in Bermuda assessing the amount of non-compliance with US income tax and reporting requirements. Why Bermuda? The President and many USA legislators believe Bermuda is a tax haven. The USA-Bermuda Tax Act of 1986 gave the USA access to a lot of information on American residents of Bermuda. The more recent Tax Information Exchange Treaty/Mutual League Assistance Treaty (MLAT) referred to earlier provided even more scope for the Internal Revenue Service (IRS). While European and other Western countries have income tax treaties with the United States that do not subject the residents of said countries to US income tax if they spend less than 183 days in the United States., there is no such clause in the US/Bermuda treaty. Also, US citizens residing in said countries usually pay a higher rate of tax than they would pay in the US. Subsequently, if they are caught for not having filed a US tax return, the foreign tax that they paid usually will totally offset the US income tax. Bermuda probably has many people who are ether Americans or do business with the USA who owe money to the IRS. US citizens and resident aliens who reside in Bermuda can elect a $91,400 foreign earned income exclusion and a foreign housing exclusion. These exclusions are elective and must be made with a timely filed return. US citizens earning $100,000 in Bermuda may not have to pay any US income tax if the exclusions are elected. However, if they receive a letter from the Internal Revenue Service asking why they have not filed, they can no longer elect the exclusions and will likely owe income tax in the amount of $20,000 plus penalties and interest of about $10,000. They may be able to avoid the tax, penalties and interest by immediately filing all past year's returns and providing the Internal Revenue Service with a good reason for not filing. They can be located easily by the IRS in Bermuda in several ways. Have they registered their name and address at the US Consulate? When they fly to the US do they use their Bermuda address when they go through immigration? Both these lists are readily available to the Internal Revenue Service, and it is likely easy for them to cross reference their name and address with returns filed by US citizens living in Bermuda. The IRS can also ask the Bermuda government for a list of US citizens who have work permits and residency status in Bermuda. If Bermuda nationals periodically work in the United States and earn more than $3,000 they are subject to US income tax. They do not have to be employed by a US company to realize US source income. If they work for a Bermuda company, earn $100,000, and work 200 days a year with 10 of those days worked in the US they have $5,000 of US source income and are subject to US income tax. Failure to file a US tax return will subject them to the same tax, penalties and interest a US citizen would pay. Bermuda Companies, especially the international companies including insurers, regularly send employees to Work in the United States. They include Bermudians, US citizens, British and other foreign nationals. This category will likely yield the largest amount of tax and penalty for the Internal Revenue Service. The employer is required to withhold US Federal income tax, State income tax, Social Security and Medicare tax, and Federal Unemployment tax from the employee and to remit theses taxes to the United States. Failure to do so will result in not only a request for the taxes due, but also a 100% penalty for failure to pay the tax due. And, the corporate officer responsible for failing to pay the tax can be subject to criminal penalties. The number of IRS agents who specialize in dealing with taxpayers outside the United States will probably double in the foreseeable future.

June 18, 2010. It was reported that Trade relations between Bermuda and the US were worth $64 billion during the global economic crisis of 2008/09, according to an economic impact study commissioned by Business Bermuda. The 2010 survey, which was carried out by the Washington-based Albright Stonebridge Group and presented by senior vice-president Charles Ludolph at the Fairmont Hamilton Princess Hotel to delegates at the Business Bermuda meeting, looked at US-Bermuda relations, revealing that since 2007 two-way trade and investment between the two countries averaged at least $60 billion annually. During that time the Island has become more prominent relative to other economies trade with the US and American exports of business and professional services to bermuda increased significantly over the downturn, it found. "In spite of the global economic crisis and difficulties in US financial markets, Bermuda-US economic ties remained surprisingly strong," said Mr. Ludolph. "Bilateral trade and investment flows remained at more than $60 billion for the three years of the crisis from 2007 to 2009. Bermuda supports at least 130,000 jobs in the United States after all the relocations from 2008 and 2009." In 2008 and 2009, Bermuda was the most important offshore supplier of reinsurance and payer of property and casualty losses to the US and was second only to Canada as the most important export market for US primary insurance, the figures showed. It was also the sixth most important export market for US financial services and the eighth most important supplier of energy shipping services to the US, as well as the 14th most important export market for US business and professional services and in the top 20 most important export markets for total US private sector services. During 2009, Bermuda and US company affiliates invested in each others respective markets supplied about $40 billion in two-way sales in addition to $24 billion worth of US exports and imports with Bermuda. The Island's trade and investment relationship with the US sustained 162,000 jobs in 2009, with 94,500 US jobs created by annual US exports to Bermuda and 66,000 jobs derived from US substantially majority-owned subsidiaries of Bermuda companies. In terms of re/insurance, the study disclosed that Bermuda supplies 50 percent of Florida's homeowner catastrophic insurance market and offers Florida homeowners premiums at a lower price than its competitors in the US and Europe, while a total of 23 Bermuda reinsurance companies supply 40 percent of the catastrophic event property and casualty coverage for the entire US market. Furthermore, 35 percent of US crop insurance is underwritten by six Bermuda-owned insurance affiliates and 55 percent of the gross premiums ceded by insurers to reinsurers come from the Island, with more than 250,000 US farms in 40 states dependant on Bermuda re/insurance firms to hedge annual crop-related risk during 2009. In 2008, Bermuda had more than 1,100 domiciled and regulated investment funds with almost $200 billion in assets, the report found, while US-owned corporate and tax exempt funds accounted for as much as $70 billion of such assets and US individuals' made up for another $30 billion. Bermuda also tied for 10th place as the largest foreign portfolio investor in US securities as its portfolio doubled to $200 billion between 2000 and 2008, while Bermudian investors were the 15th largest holders of US government agency asset-backed bonds.

March 2012. The US Consulate planned a series of events to celebrate Bermuda's special relationship with the United States. Premier Paula Cox and Consul General Grace Shelton co-hosted a panel discussion on March 1 at Camden to examine the ties that bind the two countries together. Other panelists include Donald Kramer and Walton Brown. Panelists discussed subjects ranging from Bermuda's place within US foreign policy, Bermuda as the US's leading reinsure, and the role of art in the bilateral relationship. Guests were in attendance by invitation only. On March 2, Masterworks Museum of Bermuda Art hosted a special Consulate exhibit, "Between Friends: 65 Years of Bermudian-American Diplomatic Relations." The exhibit began with President Harry Truman's vacation cruise to the Island in 1946. Among the 26 photographs were formal pictures of US presidents in Bermuda while participating in international summits. It includes never-before-seen informal photos of presidents enjoying the Island. Most of the photographs were provided by the presidential libraries. Consul General Shelton said: "These photographs reflect the deep and abiding bonds of our friendship, and that is something to celebrate." Masterworks celebrated its 25th anniversary this year, making it an ideal venue to display the exhibit. US artists like Winslow Homer and Georgia O'Keeffe contributed to the launch of Bermuda's tourism industry in the 20th century. Over 80 percent of Masterworks' paintings are by US artists who found their muse in Bermuda.

On August 18, 2012 the USA handed over a cheque ("check" in American English) for more than $672,225 to Bermuda for its help in stopping an illegal internet pharmacy operation arising from a 2009 seizure and arrest. Then-US Consul General Grace Shelton presented Premier Paula Cox with a cheque for $672,225 in a Cabinet Office ceremony attended by local and American law enforcement officials. The money represents half of the amount laundered through a Bermuda bank by an illegal internet pharmacy operation based in the United States. And, said Premier Cox, it will be handed out to local law enforcement and social agencies. The illegal operation laundered a total of $110 million in various jurisdictions, according to an FBI official who attended this afternoon's ceremony. Jude LaCour, the operation's leader, is serving a 97 months prison sentence in the USA for drug trafficking and money laundering. A US District Judge also ordered the forfeiture of assets, including those in Bermuda, in the 2009 case. Then-US Consul Grace Shelton said that Bermudian authorities provided important law enforcement assistance in recovering the money by restraining funds in a bank account in Bermuda under the control of LaCour and working with the US Government to recover and forfeit those funds. Ms Shelton said: "I am so pleased to share the forfeited assets with our ally and friend, Bermuda. The Bermuda Police Service and Bermuda's justice system played an important role in this case, which is an excellent illustration of the outstanding cooperation among Bermuda and US law enforcement agencies. When a country provides assistance that is important to the successful forfeiture of assets, the United States wants to show its appreciation. That is what we have done here today." Ms Cox said: "This represents collaboration. We have legislation, we have treaties which speak to sharing of information. We certainly have a robust regime. This evidences that it works." The money was deposited in the Bermuda Government's Confiscated Assets Fund.
American Naval Base in Bermuda in Great War 1914-1918
On April 6, 1917, three years after the Great War for Britain and her European allies, the United States finally declared war on Germany. American naval vessels sailed from US East Coast ports bound for Bermuda, to use Bermuda as a base. And just over two weeks later, on April 24, one-time Bermuda visitor President Woodrow Wilson signed into American law the Liberty Loan Act, a war finance measure which authorized the issue of bonds to be sold by public subscription and provided loans to Allied Powers to enable them to purchase food and war supplies from the USA.
Bermuda is not part of the USA but a foreign country with its own laws and requires valid passports from:
All Americans (who number about 85% of all visitors, See Bermuda's Links with USA) traveling to Bermuda from USA.

Before they arrive, American visitors should note that all traveling to Bermuda and from here to the USA by air - meaning on commercial flights, charter flights, private planes and corporate planes, or by sea - must travel on a valid passport. The USA's Intelligence Reform and Terrorism Prevention Act of 2004 requires this. Further details can be obtained from the US Consulate in Bermuda. Machine-readable passports are required. Non-citizens of the USA, Britain and Canada must also carry a Green Card or equivalent, showing them to be legal registered aliens there and have a valid US or UK or Canadian re-entry permit if entering Bermuda from the USA or UK or Canada and not a citizen of that country.
Traveling from Bermuda to USA as non-Bermudians
From January 8, 2007, all travelers of all nationalities, including American citizens, going to and from the Caribbean, Bermuda, Panama, Mexico and Canada must have a valid official passport to enter or re-enter the United States. Other regulations will require that visa applications to Bermuda via the USA or from Bermuda to the USA for those thinking of going from Bermuda to live and/or work in the USA be completed online. Bermudians and others who did not previously require U.S. visas (e.g. Canadians, UK citizens) will NOT be required to obtain visas. British citizens traveling on British passports do not require a visa for most short trips, but must have a machine-readable passport. Further details, including if any traveler is in doubt as to whether a visa is required, can be obtained from the US Consulate in Bermuda. Travelers who do need visas and wish to apply at the latter are required to complete an application on-line. On October 15, 2006, the Consulate stopped accepting handwritten or typed application forms. Visa applicants may also access the forms at http://evisaforms.state.gov from their personal internet accounts or from public terminals, such as libraries or internet cafes. A link to this site will be available on the Consulate's website as well. Forms should be completed on-line, then printed out and brought to the Consulate. Applicants will still be required to appear in person to pay the necessary fees and have fingerscans taken.
Traveling from Bermuda to USA as Bermudians living in Bermuda and with a British Bermudian issued in Bermuda (not UK citizen issued in UK) passport
See http://hamilton.usconsulate.gov/bermuda_visa_exemption.html
New US visa rules for visiting passengers not American, British, Canadian or designated other nationalities when entering Bermuda from USA or leaving via USA.
A part list of countries whose citizens were not previously required to have a visa or passport for travel to the USA from Bermuda or via the USA to any other country, but who are now required to hold both valid modern machine-readable passports after October 26, 2004 and visa for travel to/from the USA and Bermuda. Please note that while they may go to the USA for 90 days or less once they have both a passport and US Visa, they may go to Bermuda for only 21 days or less, if not an approved resident. Citizens of countries not mentioned below should consult their local US Embassy or Consulate.
Afghanistan
Antigua and Barbuda
Bahamas
Bangladesh
Barbados
Belize
Botswana
Cameroon
China
Cyprus
Dominica
Dominican Republic
Fiji
Gambia
Ghana
Grenada
Guyana
India

Jamaica
Kenya
Kiribati
Lesotho
Malawi
Malaysia
Maldives
Malta
Mauritius
Namibia
Nauru
Nigeria
Pakistan
Papua New Guinea
Philippines
Russia
St. Kitts and Nevis
St. Lucia

St. Vincent and Grenadines
Samoa
Saudi Arabia
Seychelles
Sierra Leone
Solomon Islands
South Africa
Sri Lanka
Swaziland
Tanzania
Tonga
Trinidad & Tobago
Turkey
Tuvalu
Uganda
Zambia
Zimbabwe
Countries participating in the Visa Waiver program
Their citizens need only a modern machine-readable passport after October 26, 2004, not a visa, to go via USA to Bermuda or Bermuda via USA back home or wherever, for 90 days or less.
Andorra
Australia
Austria
Belgium
Brunei
Denmark
Finland
France
Germany
New Zealand

Iceland
Ireland
Italy
Japan
Liechtenstein
Luxembourg
Monaco
Netherlands
Norway

Portugal
San Marino
Singapore
Slovenia
Spain
Sweden
Switzerland
United Kingdom
Uruguay
Basics
| | |
| --- | --- |
| Bermuda size & population | 20.75 (Twenty point seven five) square miles in total. 64,268 residents |
| Resident population density per square mile | 3,097 (Three thousand, zero nine seven). Third highest in the world |
| Government Code of Conduct for legislators | None. There is a voluntary code, with no legislative teeth. It is ignored by some. No equivalent at all of the UK's Ethical Standards in Public Life Act. |
| Number in Cabinet | 13. Same number as USA, equivalent in Bermuda to 0.63 (Point six three) per square mile. They have "The Honorable" before their name. |
| Number of elected legislators in House of Assembly and their salaries | 36. Equivalent to 1.93 (One point nine three) per square mile. They have "MP" for Member of Parliament after their name. If they are also Cabinet Ministers, they earn well in excess of $100,000 a year, plus unlimited expenses. |
| Number of registered voters per Member of Parliament | On December 17, 2012, date of last General Election - the average was one thousand two hundred and ninety seven). Contrast this with no fewer than 72,810 and no more than 80,433 per member of parliament in the UK in 2011 and approximately the same in the USA per congressperson and Canada. |
| Number of appointed politicians in Senate | 11. Equivalent to 0.53 (Point five three) per square mile. They have "Senator" before their name. If they are also Cabinet Ministers, they earn this plus what is shown above under "Number of elected legislators." |
| Number of Government Boards | About 108. All require the approval of the Premier who controls all Public Information. See Bermuda Government Boards separate website shown at the end of this file. |
| Number of Police | About 460, over 20 per square mile. Plus, there are Reserve officers. |
| Number in Bermuda Regiment | 600 members, mostly Bermudian men, mostly part time. Some non-Bermudian men and women from British Commonwealth countries and female Bermudians are serving but on a volunteer basis as conscription regulations do not require enrolment by Bermudian females and non-Bermudian males. Only male Bermudians under a certain age resident in Bermuda are liable to be conscripted, on a selective basis. |
| Registered voters who can participate in a General Election | Total number of registered voters in late November 2012 - date of last registration period before the December 17, 2012 General Election - was 46,678 - about 60% of the entire resident population. |
| The Bermuda Society | |
Update after General Election held 17 December 2012
In the Bermuda General Election held Monday, December 2012, the Progressive Labour Party, in power since 1998, were defeated 17-19 seats by the relatively new political party the One Bermuda Alliance (OBA) which was contesting its first General Election. Less than 18 months after it was formed in 2012 the OBA is now the Government. The new party brought together members of the United Bermuda Party, the Bermuda Democratic Alliance, former Progressive Labour Party supporters and people with no previous political involvement at all. In the end, the OBA is a beneficiary of the dismal state of the economy, although its members may soon wonder what they have gotten themselves into as they delve into the Government's books.
Earlier Bermuda General Election held 18 December 2007
Between The Progressive Labour Party (PLP) - in Government since 1998 - and United Bermuda Party (UBP) - in Opposition. The PLP remained as the Government by winning 22 seats to the UBP's 14. The UBP lost several key seats.
USA statistics
1. States in alphabetical order by name and motto
| | | | |
| --- | --- | --- | --- |
| US State | Population | Population density per square mile | Total area, square miles |
| Alabama. Heart of Dixie, Camellia State | 4.47 million | 88 | 52,419 |
| Alaska. Last Frontier | 626,932 | 1 | 633,267 |
| Arizona. Grand Canyon State | 5.13 million | 45 | 113,998 |
| Arkansas. Natural State, Razorback State | 2.673 million | 51 | 53,179 |
| California. Golden State | 33.871 million | 217 | 163,696 |
| Colorado. Centennial State | 4.302 million | 42 | 104,094 |
| Connecticut. Constitution State, Nutmeg State | 3.405 million | 703 | 5,543 |
| Delaware. First State, Diamond State | 783,000 | 401 | 2,489 |
| Florida. Sunshine State | 15.98 million | 296 | 65,755 |
| Georgia. Empire State of the South, Peach State | 8.186 million | 141 | 59,425 |
| Hawaii. Aloha State | 1.212 million | 187 | 10,931 |
| Idaho. Gem State | 1.294 million | 16 | 83,570 |
| Illinois. Prairie State | 12.419 million | 223 | 57,914 |
| Indiana. Hoosier State | 6.08 million | 170 | 36,418 |
| Iowa. Hawkeye State | 2.926 million | 52 | 56,272 |
| Kansas. Sunflower State | 2.688 million | 33 | 82,277 |
| Kentucky. Bluegrass State | 4.042 million | 102 | 40,409 |
| Louisiana. Pelican State | 4.469 million | 103 | 51,840 |
| Maine. Pine Tree State | 1.275 million | 41 | 35,385 |
| Maryland. Old Line State, Free State | 5.3 million | 542 | 12,407 |
| Massachusetts. Bay State, Old Colony | 6.35 million | 810 | 10,555 |
| Michigan. Great Lakes State, Wolverine State | 9.94 million | 175 | 96,716 |
| Minnesota. North Star State, Gopher State | 4.92 million | 62 | 86,939 |
| Mississippi. Magnolia State | 2.85 million | 61 | 48,430 |
| Missouri. Show Me State | 5.60 million | 81 | 69,704 |
2. States in alphabetical order, by name and motto
| | | | |
| --- | --- | --- | --- |
| Montana. Treasure State | 902,195 | 6 | 147,042 |
| Nebraska. Cornhusker State | 1.71 million | 22 | 77,354 |
| Nevada. Sagebrush State, Battle Born State, Silver State | 2 million | 18 | 110,561 |
| New Hampshire. Granite State | 1.236 million | 138 | 9,350 |
| New Jersey. Garden State. | 8.414 million | 1,135 | 8,271 |
| New Mexico. Land of Enchantment | 1.819 million | 15 | 121,589 |
| New York. Empire State | 18,986 million | 402 | 54,556 |
| North Carolina. Tar Heel State, Old North State | 8.05 million | 165 | 53,819 |
| North Dakota. Peace Garden State | 642,200 | 9 | 70,700 |
| Ohio. Buckeye State | 11.35 million | 277 | 44,825 |
| Oklahoma. Sooner State | 3.45 million | 50 | 69,898 |
| Oregon. Beaver State | 3.42 million | 36 | 98,381 |
| Pennsylvania. Keystone State | 12.28 million | 274 | 46,055 |
| Rhode Island. Little Rhody, Ocean State | 1.05 million | 1,033 | 1,045 |
| South Carolina. Palmetto State | 4.012 million | 133 | 32,020 |
| South Dakota. Coyote State, Mount Rushmore State. | 754,844 | 10 | 77,116 |
| Tennessee. Volunteer State | 5.689 million | 138 | 41,217 |
| Texas. Lone Star State | 20.851 million | 80 | 268,581 |
| Utah. Beehive State | 2.233 million | 27 | 84,899 |
| Vermont. Green Mountain State | 608,827 | 66 | 9,614 |
| Virginia. Old Dominion | 7.078 million | 179 | 42,774 |
| Washington. Evergreen State | 5.894 million | 89 | 71,300 |
| West Virginia. Mountain State | 1.808 million | 75 | 32,230 |
| Wisconsin. Badger State | 5.363 million | 99 | 65,498 |
| Wyoming. Equality State, Cowboy State | 493,762 | 5 | 97,814 |
Other US areas over 68 square miles each
| | | | |
| --- | --- | --- | --- |
| American Samoa | 65,446 | 850 | 90 |
| District of Columbia | 572,059 | 9,378 | 68 |
| Guam | 154,623 | 736 | 217 |
| Northern Mariana Islands | 71,912 | 402 | 189 |
| Puerto Rico | 3.808 million | 1,112 | 5,324 |
| Virgin Islands. St. John, St. Croix, St. Thomas | 121,500 | 902 | 171 |
Employment in Bermuda
Quite a few Americans live and work in Bermuda. They are very welcome but do not have the same freedoms in residing and working without restrictions as they have elsewhere. Americans visiting Bermuda on business or vacation or as professional newcomers cannot get Bermuda citizenship or vote or buy real estate at the same price as Bermudians - unless they marry Bermudians. Any children born here are not legally Bermudians unless one parent is Bermudian.

See these files:
Why Bermuda is nominally British
See American, British, Bermudian, Canadian & European History from 1500.
Bermuda's first links with the USA in 1609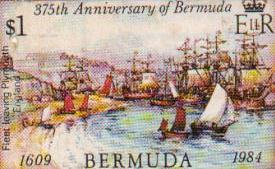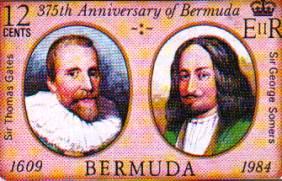 See the web file on Admiral Sir George Somers. Earliest Bermuda colonists were mourned as perished by those in Virginia.
| | |
| --- | --- |
| | An account of the tempest, its effect on the Relief fleet, colonists and supplies and appalling conditions of all colonists in Virginia was conveyed to England by Captain John Smith (top right). He was the leader of the original 1607 Virginia settlement, repatriated after a serious injury. He arrived in England in early March, 1610. His news was regarded as a major catastrophe and it soon spread like wildfire all over England. But the colonists were safe. Aboard two small vessels, "Deliverance and Patience", both built on Bermuda from timbers and rigging from the wrecked "Sea Venture" and native red cedar, the Admiral, Captain, Governor and almost all the colonists reached Jamestown on May 24, 1610. |
| | They - and the prime foodstuffs they brought from Bermuda - received a rapturous welcome from the sixty starving, miserable Virginians who survived the original settlement of 1607 or had not perished in the 1609 tempest en route to Virginia. Letters describing the adventures and safe arrival of "The Lost Flocke Triumphant" were sent and arrived in London in late 1610. They created a major sensation. Captain John Smith became a hero. Sir Thomas Gates became Virginia's Governor. Had it not been for Bermuda, Pocahontas would never have wed Rolfe. He would have died at sea in 1609, instead of surviving on Bermuda until he left for Jamestown in 1610. Admiral Sir George Somers recommended to London that Bermuda be colonized permanently as the role model for all new American mainland British colonies. But the contributions Somers, Bermuda and Rolfe made to American history as early Bermudians have not been mentioned in American history books except in Captain Smith's famous 1624 history. |
Bermuda's Early History portrayed in its cultural postage stamps helps compensate for this.
Bermuda's and Virginia's roles in Shakespeare's "The Tempest"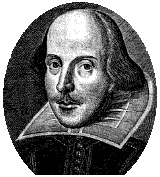 On November 1, 1611, in London, England, at Whitehall, for King James VI of Scotland and I of England and his courtiers, the very first performance was held of the original version of the subsequently world famous work THE TEMPEST, one of his last unassisted major dramatic works, by the illustrious 16th to 17th century British dramatist and playwright William Shakespeare, with the music for this first presentation by the British composer Robert Johnson. This work is very important in classical music history for several reasons, chiefly for its exceptional durability on the world musical stage - albeit in different ways over the years; its value as an inspiration to composers in its 380 years of history; because Shakespeare was exceptionally conscious of the value of music to give his works even more of a dramatic, stirring and lasting presentation; and because whole sections of the original text were lifted virtually word for word from the dramatic accounts of contemporary English writers who survived a shipwreck and then described their first-hand experiences of a particularly interesting and true drama at sea. Given these facts, the real but sadly obscured history of this work is noteworthy indeed, as it shows from precisely where and how Shakespeare received his inspiration.

Shakespeare was among those who read the most detailed and dramatic of "The Lost Flocke Triumphant" letters. They may have been shown to him by his patron Henry Wriothesly, Earl of Southampton (after whom a Bermuda parish is named), an investor in the organization that financed the Third Supply fleet, The Company of Adventurers and Planters of the City of London for the First Colony of Virginia.

Shakespeare was also acquainted with Admiral Sir George Somers and the author of one of the letters, William Strachey, Secretary (and scribe) of the Virginia Company, one of the original "Island of Devils" castaways, who had been a part time playwright in London. However he got the letter, Shakespeare was so inspired by the story and the tempest account that he employed them in his THE TEMPEST. But with Italian style theater and music then the fashion, he set the work on a vague Italian island with a cast of characters entirely unconnected with the stirring Sea Venture drama.

After the first run of THE TEMPEST, a particularly memorable performance was held early in 1613 for Lady Elizabeth, sister of King James I and the Elector Prince Palatine, Prince Charles. For that performance Shakespeare added a unique epilogue entitled An Episode, or Funeral Song on the most disastrous Death of the high born Prince of Men, Henry, Prince of Wales. It contained a direct allusion to the tempest scene, Bermuda and Virginia in "this kingdom's plight applied in the Prince's death." Since then, there have been countless dramatic and musical productions of THE TEMPEST, all based on Shakespeare's fanciful locale. The text of the work was revised in the 1660s by Sir William Davenant, Shakespeare's reputed godson and produced posthumously in 1674. Later versions were composed by John Bannister, G. B. Draghi, Pelham Humfrey, Pietro Reggio and Matthew Locke for the 1674 revival. A new version, probably by John Weldon (once attributed erroneously to Purcell) was composed about 1710 and published in the 18th century. Then came even more British versions by Dr. Thomas Augustine Arne (as an English opera on November 28, 1740; as first revived on January 31,1746, and then on December 27, 1776); John Christopher Smith (also as an opera, on February 11,1756); and Sir Henry Bishop (as incidental music for the play on May 15, 1821). These were followed by an array of European and more British versions, first by the French composer Hector Berlioz (of 1831, which he later absorbed into his LELIO); Jacques-Francois Fromental Halevy (as the Italian style opera LA TEMPESTA, Paris, on June 8, 1850); then the British composer Sir Arthur Sullivan (as incidental music in Leipzig, Germany, on April 6, 1861 - and revived in London on April 5, 1862).

These were followed by the Russian composer Pyotr Il'yich Tchaikovsky (as the symphonic fantasia BURYA, Moscow, December 19, 1873); the American composer John Knowles Paine (with his symphonic poem of circa 1876); the German composer Engelbert Humperdinck (as the incidental music DER STURM, Berlin, on October 26, 1906); the Finnish composer Jean Sibelius (as PRELUDE TO THE TEMPEST, New York, 1927); the French-born Swiss composer Arthur Honeggar (with his PRELUDE POUR LA TEMPETE); the Swedish composer Kurt Atterberg (as an opera in Stockholm on September 19, 1949); and the Swiss composer Frank Martin (as the opera DER STURM, Vienna, on June 18, 1956).

But none of these or other older versions of THE TEMPEST have portrayed the real story. Indeed, the saga of the Sea Venture and destinies of those who sailed on her, whose names should be engraved so indelibly in the histories of Great Britain, Bermuda and the United States of America, have been buried in the dusty pages of obscure books, available only to those with a passion for painstaking research. Even entries in various authoritative encyclopedia for Shakespeare's THE TEMPEST and much respected chronologies of early American colonial history, pay scant attention to the historical and geographical facts of such importance.

The saga of the Sea Venture did much more than merely inspire Shakespeare. It impacted dramatically on Britain's New World colonization policies. Virginia was revitalized as a colony. The Somer's Isles, alias Bermuda, were settled in 1612 and this paved the way for Britain to send British emigrants in the USA. Thus Britain began her great American empire, which lasted until 1776.
Bermuda's advantages led to focused British settlement of the USA
In 1612 the Bermuda islands, then known as the Somers Islands as well, were included in the Third Charter of the Virginia Company. A second group of English colonists arrived, this time destined specifically for Bermuda. The Virginia Company charter was revoked in 1684 as far as Bermuda was concerned, which meant that Bermuda became completely independent of Virginia. Until then, Bermuda was also referred to as Virgineola.

Unlike in Jamestown, with a potentially hostile native people, bitter winter weather, chronic shortage of available foodstuffs and other hardships for the colonists to endure, the Bermuda islands offered no such problems. Because they had been previously uninhabited, there were no native people with any resentments or hostilities towards newcomers to deal with and add complications. They were rich in wildlife including herds of wild pigs and edible birds. Their waters were stuffed with fish that could be caught with simple hand lines. Crustaceans and sea turtles nested on the shores in abundance. There was so much food that was easy to harvest with very little effort. Each island was densely forested with a native wood - cedar - that proved easy to cut yet perfect for everything from cooking to home and ship building.

Compared to the shortcomings of Jamestown, these were assets indeed, to lure those who wanted to finance colonial ventures and others to volunteer as colonists. Bermuda's advantages - not those of then unexplored and uncharted mainland places - were what finally persuaded English financiers to invest more funding in colonial American adventures in and beyond Jamestown, despite substantial earlier losses in colonial adventures - and the colonists to participate. It was a flagrantly inaccurate portrayal of what colonial life was like on the vast American mainland 600 miles west of Bermuda, although accurate as far as Bermuda was concerned. But it worked from 1612 to 1620 to spread the word and fire the colonial drive, as the result of which colonization of the east coast of the American continent began in earnest. They led directly to establishment of the Plymouth Colony; Massachusetts Bay Colony; Maryland; Rhode Island; Connecticut; Portsmouth, RI; New Haven, CT; Delaware; Maine; North Carolina; South Carolina; New York; New Jersey; Pennsylvania; and Georgia. Thus the successful colonization of the islands of Bermuda, known as the Bermuda Experience became the example and catalyst that provided the impetus for the funding of the Plymouth Colony expedition (in actuality, originally bound for Virginia) by the Mayflower Pilgrim Separatists in 1620 (until Plymouth's amalgamation with Massachusetts in 1692).

The Bermuda Experience also led to the establishment of the Massachusetts Bay Colony by the Puritans in 1629; Maryland by Lord Baltimore as a proprietary colony in 1634; Rhode Island by Roger Williams as a self governing colony in 1636; Connecticut, by Thomas Hooker in 1636; Portsmouth, RI, by Mrs. Anne Hutchinson in 1638 (until its merger with Rhode Island proper in 1644); New Haven, CT, by emigrants from Massachusetts in 1638 (until its merger with Connecticut in 1662); and Delaware, by Swedes under British rule in 1638.

Finally, the Bermuda Experience was cited in the creation of Maine, by Sir Ferdinando Gorges in 1639 (until its merger with Massachusetts in 1791, before it again became a separate state later); North Carolina by eight noblemen in 1663; South Carolina, again by eight noblemen, also in 1663; New York, by the Duke of York in 1664; New Jersey, by Berkeley and Cartaret in 1664; Pennsylvania, by William Penn in 1681; and Georgia, by James Oglethorpe in 1732.
Bermuda was important to the American colonies
For an appreciable period, Bermuda sent settlers to the mainland American colonies. It was employed for many years as a transit station in colonial traffic. This was a deliberate policy, for several reasons. One was to treat the colonists gently in terms of continuation of British customs, culture and placidity of environment, before they were sent to the mainland. Another was to weed them out somewhat, to see how they developed as colonists in terms of individual strengths and weaknesses before they were dispatched to places that might suit them best as rewards for good conduct or as further hardships if they were disobedient or troublesome to authorities. Also, because Bermuda was a Royalist colony, not a religious one, it was less strict in religious discipline than the Pilgrim, Puritan and Catholic colonies, as they went through their growing pains and internal political or religious strife on the road to maturity.

Additionally, Bermuda was a place where young men and women fresh out from England could be taught a trade that would be useful to them in the vaster wilderness of the mainland colonies. It was where, because of its untroubled development as a colony since 1612 and relative isolation, some heathen native women of the mainland colonies were exiled, to be converted then married off to single local immigrants, to produce Christian children who would be shipped back to the mainland to help the conversion process among the native peoples.
Religion was exported from them to Bermuda on Cromwell's orders
In Massachusetts, people who were earlier in Bermuda contributed to the gradual demise of the Pilgrim religious influence. But there were some counter prevailing influences as well. For example, during the period of office of Oliver Cromwell and his ilk, the Plymouth, Massachusetts Bay and other New England colonies were not interfered with much from London. But Bermuda was. As a still Royalist leaning colony, it was put under rigid religious discipline by Cromwellian ministers from the two principal New England colonies, on specific orders from London. Thus began an appreciable period for Bermuda first in active religious links, then, more serenely, in commerce and education, with the New England colonies.
Bermuda's Gunpowder Plot provided ammunition for Bunker Hill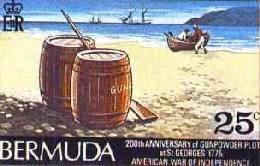 Nowhere in America is this mentioned as a local contribution to the American Revolution. Hundreds of barrels of gunpowder, stolen by sympathetic Bermudians from a local British fort, were used by Americans at the Battle of Bunker Hill.
They lost the battle but won the will to keep fighting.
The Continental Congress was so grateful that it lifted the embargo on food and grain shipments to Bermuda it had applied to all other British held possessions.
Today, in Bermuda, American visitors can see the original letter from George Washington asking Bermudians to steal the gunpowder. British soldiers were brought in to stop Bermudian treachery.
The Royal Navy used Bermuda as an American and French prisoner of war detention center. The United States and France plotted to capture Bermuda but - except for what happened below - never followed through.
Bermuda and The War of Independence
More details are forthcoming. In the meantime, see Bermuda's History 1700-1799.
Bermuda was invaded briefly by the USA in 1777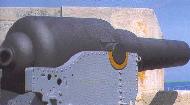 In 1777, during the American Revolution, British militia soldiers manned the isolated 17th century battery of Gun Point at what is now near Wreck Hill on Somerset Island of the Colony of Bermuda. The old fort had a strategic position protecting the West End Channel. It was one of the few passages through the dangerous ring of reefs for sailing ships. The soldiers at the fort had the presence of mind to exchange gunfire with two armed brigs that advanced in a threatening manner although they then flew British colors.
The brigs answered with broadsides from their cannon, lowered their Union Jack flags, hoisted the red, white and blue striped ensign of the United States of America and proceeded to invade Bermuda with landing parties. To avoid meeting this much bigger force, the Bermuda based militia men retreated from the battery. The Americans spiked their guns and destroyed the walls of the fort but were forced to retreat themselves when more local soldiers and a Royal Navy detachment responded to the alarm. The Americans escaped on their ships in what became only the second time in the history of Bermuda that it was invaded.
Bermuda and The 1812-14 War
More details are forthcoming. In the meantime, see Bermuda's History 1800-1899.htm.
Bermuda and its role in the "Star Spangled Banner"
In July 1814, during the second British American war, a British Royal Navy fleet assembled in and sailed from Bermuda to successfully attack and burn Washington DC, in retaliation for the American attack on and burning of Yorktown, now Toronto, in Canada. Then it attempted the same thing on Fort McHenry in Baltimore. During that engagement, Francis Scott Key wrote the words of what became the Star Spangled Banner, as a temporary detainee on one of the British warships. The melody is from a bawdy British drinking song by a London based composer. The fleet's voyage ended in Halifax, where hundreds of slaves who had lined the shores of the Pawtuxent River and elsewhere nearby to implore British troops to help them escape from bondage had been rescued and were also on the British warships cheering on and actively assisting the sailors who had set them free, were promptly and officially given their freedom.
Bermuda and its American military spies
Bermuda has dozens of forts still standing. They are in the western, central and eastern counties (parishes). They are superb cultural, historical and scenic attractions in every way. (Most people are completely unaware how remarkable they are). They were the first substantial buildings erected in Bermuda, all built by Britain. See a basic listing of the British forces that built and occupied them at various times in British Army Units in Bermuda, 1776-1953.

On a number of occasions they were of particular interest to American military spies. One was visiting American Secret Agent, Albert Fitz, appointed to spying duties by the Hon. Daniel Webster, Secretary of State.

Fitz submitted his report in 1842, after having been instructed to proceed to certain of the British West India Islands, for the purpose of ascertaining the strength of the Naval and Military forces there; to examine the fortifications, take plans of them, ascertain the numbers of guns, describe the disposition of the inhabitants and more.

Fitz was the first of three known American spies in Bermuda in 1841-52, the second being Capt. Minor Knowlton and the last Lieut. Frederick Prime, later sent to Alcatraz when it was but a fort. They left behind an unusual record of the Bermuda forts for a time for which little survives in local and United Kingdom archives. They recorded what the British military then in Bermuda tried to keep secret. With their espionage documents and reports, it was possible to unlock the layouts of the forts for the 1840s and 1850s. According to Fitz, the Bermudians thought his country desired the possession of the island, so they were "particularly jealous and distrustful of American visitors, and also of Frenchmen, whom they consider as our possible allies." Despite this, he was able to visit all of the new fortifications, particularly Dockyard, which "promises be one of the most impregnable fortresses in the Western hemisphere."

Captain Minor Knowlton was no stranger to Bermuda when he was sent to look at its defences by General J.G.Totten, Chief Engineer, US Army. In 1842, he had come here for his health, as he suffered from epilepsy. This did not deter him from a spying mission to Canada, where he examined Fort York at Toronto two years prior. His policy in Bermuda was "to form few acquaintances and to avoid entertainments altogether." He gave the impression that his walkabouts, even up to the fortifications, were to improve his health. Customs officers, however, must have wondered why his luggage on departure contained "two blocks of shell limestone, each a little more than one foot cube, which I brought from Bermuda as specimens of the type of stone used in the fortifications of those islands. It is a soft kind of shell sandstone which may be advantageously shattered by hollow shot." Upon his return in June 1849 to New York after three months in Bermuda, Knowlton wrote to Totten promising a full report, of which there is no trace. What has survived is an original plan of the Dockyard by George Taylor, Survey of Buildings to the Navy Board in London, which Knowlton must have obtained by paying someone from the dockyard.

The last officer, gentleman and spy was Lieut. Frederick Prime, who also reported to General Totten at Washington, DC. Having graduated first in his class at West Point in 1849, he found himself at Bermuda three years later. Prime was clearly taken by Bermuda, so much so that he returned to the subject of its invasion while on duty at Fort Alcatraz some years later. In his "Notes on an expedition against the Bermudas", he examines all of the channels, the strength of the garrison and the nature of the fortifications. Prime defines the weakest point as Castle Harbour, which could be entered easily without coming under fire from the major forts on St. George's Island, those on Castle Island being in disrepair. Having reduced the Martello Tower at Ferry Reach, the American invaders could effectively cut off St. George's and its forts from the rest of Bermuda. By taking St. George's from the rear, the subjugation of the rest of the island would soon follow, as the enemy would control the Narrows Channel, the only sea access to the dockyard and Hamilton, a blockade from the land as it were. The most remarkable piece of this espionage is Prime's sketch of the major Bermuda forts in 1852, reproduced here from the National Archives in Washington, DC. These little fort maps are remarkable for their detail, considering that the forts were "visited but once and sometimes under such circumstances that nothing would be committed to paper for many hours after". This detail is important as all of the major forts of the 1820s-1860s were heavily altered in the 1870s and some again in the 1890s.

The principal forts at Dockyard, St. Catherine, Victoria, Albert, George and Cunningham were all built as a response to the Independence of the United States. If that country had remained within the British Empire, it is likely that no forts would have been built in Bermuda after the 1760s and Bermuda would have remained "in obscurity."
Bermuda supplied materials to the South during American Civil War
Much has been written and televised about Bermuda's prominent role during the American Civil War. But to date, very little attention has been directed to the fact that much depended on Canadian shipping support and supplies, principally from Nova Scotia, as the result of which Bermuda prospered mightily during this tragic conflict. Actually, Bermuda was more dependent on Nova Scotia than anywhere else during the Civil War for supplies. Bluenose windjammers sailed under the British flag from Halifax and were never subjected to blockade by the Union Navy en route to Bermuda. One reason for this was the fact that Nova Scotians were very active in participating on the Northern side during the war - and very helpful, both in supplying goods for the Northerners and volunteers for Northern armies, in complete contrast to the strongly pro South attitudes manifested in Bermuda by mercantile Bermudians. A great deal of what those Nova Scotia ships brought to Bermuda was supercargo, trans-shipped in Bermuda by the blockade runners for the run to Southern ports. Thus were Halifax and the province of Nova Scotia linked closely with the convoluted economic and related developments in Bermuda during the American Civil War.

Yet, in complete contrast, Joseph Rainey and his wife, both black Americans, found freedom from slavery and happiness in Bermuda at this time. After the war, it was safe for them to return to the USA, where Rainey became in the South's Reconstruction the first appointed black American legislator.
Colonel (later Brigadier General) James Robertson Arnold
He was one of the sons of Revolutionary War American traitor and British patriot Benedict Arnold, by his second marriage to the Philadelphia-based Loyalist. American born, he was exiled to Canada with his father and family when very young and educated at King's College School. As a naturalized British Canadian, he wanted to avenge his father's humiliation in America. As a British Army officer, he participated in the War of 1812-1814 in Canada and Maine. He sailed from Halifax for Bermuda in 1816 and was the first Royal Engineer to fortify, from 1816-1818, the new Royal Naval Dockyard in Bermuda against any invasion threat from USA. Colonel Arnold devised the early massive building and engineering program for HM Dockyard, that led to Bermuda being referred to later as the "Gibraltar of the West." His success was such that he was posted back to Halifax in 1818 to do the same thing for the Citadel. Later, he was appointed a British Army Brigadier General.
Frances Hodgson Burnett loved Bermuda
The English born, American naturalized author won international renown in 1886 for her book "Little Lord Fauntleroy" before she emigrated to the USA. In 1911, her "The Secret Garden" was published and also became an instant global best seller. It has often been claimed, wrongly, that she wrote this book based on a garden she kept in Bailey's Bay, Hamilton Parish, Bermuda. In fact, it wasn't until after it was published that she visited Bermuda for the first time - and stayed. After a brief sojourn at the Princess Hotel, she rented a house called "Clifton," then owned by the Outerbridge family, in Bailey's Bay, on the North Shore Road. Like other famous writers before her, Burnett settled in Bermuda to get away from the chronic claustrophobia of an adoring public in the USA and the winter weather of her Long Island New York home. At Clifton she was able to indulge in her passion for growing roses. She once wrote to her friends about her 762 roses: "They will bloom when New York is 70 degrees below zero and London is black with fog and slopped with mud and rain." She loved Bermuda so much she continued to reside here until her death in 1924 at the age of 75. This world-famous American novelist and essayist enjoyed, lived in and loved Bermuda.
Samuel Cunard's New York, St. Thomas, Bermuda service
In November, 1850, Samuel Cunard of Halifax introduced his steam packet service from New York to St. Thomas, with a call at Bermuda in both directions. But the New York portion of the service was not a commercial success compared to his earlier Halifax-Bermuda direct service and was canceled in May of 1854.
Washington Irving and his "The Three Kings of Bermuda"
This famous American novelist, who died at the age of 76 at his home in Tarrytown, New York, on November 28, 1859, was best known in Bermuda for his "Rip Van Winkle" and the "Legend of Sleepy Hollow" tales. He also delved into Bermuda's early history and came up with his "The Three Kings of Bermuda," based on the three colonists who arrived on the Sea Venture with Sir George Somers in 1609, defied the others, refused to accompany them to Virginia and remained behind as deserters when the rest of their colleagues sailed off to Jamestown in 1610 in their two smaller craft built from the flagship's salvaged parts.
William Browne, American Loyalist Governor of Bermuda
Born in Massachusetts 27th Feb 1737, a grandson of Governor Burnet, graduated at Harvard in 1755. Prior to the revolution he enjoyed great popularity in his native land, was many years a representative of Salem and a colonel of the Essex County militia, he was one of the seventeen rescinders of 1768, and was a judge of the superior court in 1773-'4. But especially after 1774 when a committee of the Essex County convention waited on him to express the grief of the county at his exertions to carry out acts of parliament calculated to ruin and enslave his native land, fell foul of bebel bigotry and fled to England in May 1776, where he was called on by Lord North from his (he said) 'profoundest retreat.' He was included in the USA's banishment act of 1778, and his extensive landed estates were confiscated. He had been a friend of John Adams who thought him a solid judicious character, which turned out to be correct as on arriving in Bermuda on December 16, 1781 to take up office, a lesser man would have thought his task insurmountable. The Islands had a serious lack of food, especially bread and prices were exorbitantly high. The townships were crowded with Loyalists and rents had risen to unprecedented levels. Both smallpox and typhus were present and unchecked in their course. His official residence was in such a state of disrepair it struck him with horror. Enemy prisoners where everywhere taking notes on everything and the danger of attack was greater than ever before. Browne set about organizing island affairs, appointing other Loyalists to key positions, one from Virginia as attorney general another from Massachusetts as chief justice, he reinstated the local militia officers and made whaling license free. He took numerous measures and initiatives that went down well with the islanders. He in fact turned out to be a model governor and the islanders had quickly taken to someone who had suffered so much for his loyalty to the Crown. He was able to see that the likelihood of America becoming independent meant this enchanting, tranquil, beautiful isle of pink sand would make it the 'Gibraltar of the west' and imperative for British commerce, so he built up the island's small garrison. Independence was also pretty obvious to the Loyalists and more and more of them arrived and collected at the east end of the island, but were dispersing to other colonies almost as soon as they had arrived. At the end of the war when Loyalists were being evacuated from New York he had them re-provisioned before continuing their journeys. With peace declared, Bermuda was quick to restart trade with the USA and he pressed for it to become a free port, for such he appointed another Loyalist from Connecticut as comptroller. Browne's summing up at the end of his governorship in 1788 was "Bermuda is divided on domestic business but is united in it's loyalty to His Majesty." Died in England, 13 February, 1802.


Last Updated: May 20, 2013.
Multi-national © 2013 by Bermuda Online. All Rights Reserved. Contact Editor/writer and webmaster.