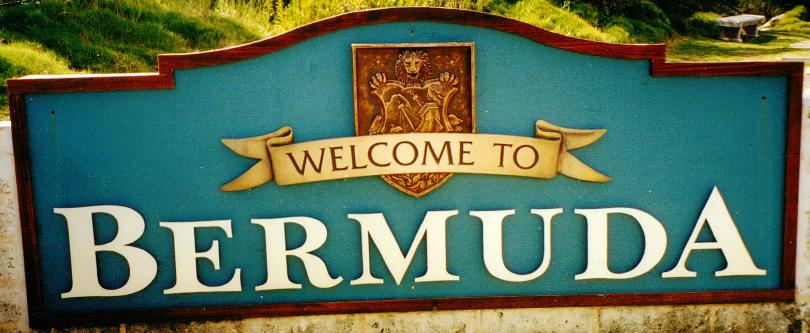 Click on graphic above to navigate the 165+ web files on this website, a regularly updated Gazetteer, an in-depth description of our island's internally self-governing British Overseas Territory 900 miles north of the Caribbean, 600 miles east of North Carolina, USA. With accommodation options, airlines, airport, actors, actresses, aviation, banks, beaches, Bermuda Dollar, Bermuda Government, Bermuda-incorporated businesses and companies including insurers and reinsurers, Bermudians, books and publications, bridges and causeway, charities, churches, citizenship by Status, City of Hamilton, commerce, communities, credit cards, cruise ships, cuisine, currency, disability accessibility, Devonshire Parish, districts, Dockyard, economy, education, employers, employment, environment, executorships, fauna, ferries, flora, former military bases, forts, gardens, geography, getting around, golf, guest houses, highways, history, historic properties, Hamilton, House of Assembly, housing, hotels, immigration, import duties, internet access, islands, laws, legal system and legislators, main roads, marriages, media, members of parliament, money, motor vehicles, municipalities, music and musicians, newcomers, newspaper, media, organizations, parks, parishes, Paget, Pembroke, performing artists, residents, pensions, political parties, postage stamps, public holidays, public transportation, railway trail, real estate, registries of aircraft and ships, religions, Royal Naval Dockyard, Sandys, senior citizens, Smith's, Somerset Village, Southampton, St. David's Island, St George's, Spanish Point, Spittal Pond, sports, taxes, telecommunications, time zone, traditions, tourism, Town of St. George, Tucker's Town, utilities, water sports, Warwick, weather, wildlife, work permits.

Bermuda's Hotels Island-wide
In alphabetical order with parish locations shown

By Keith Archibald Forbes (see About Us).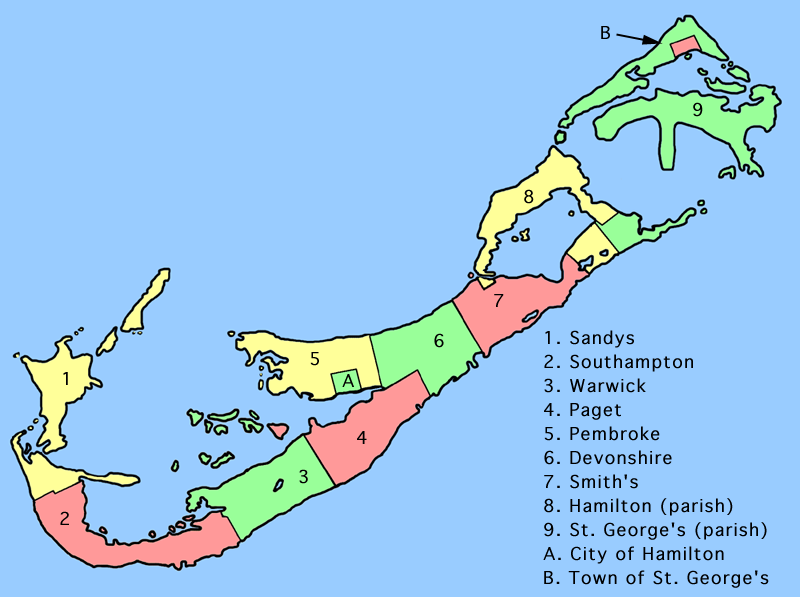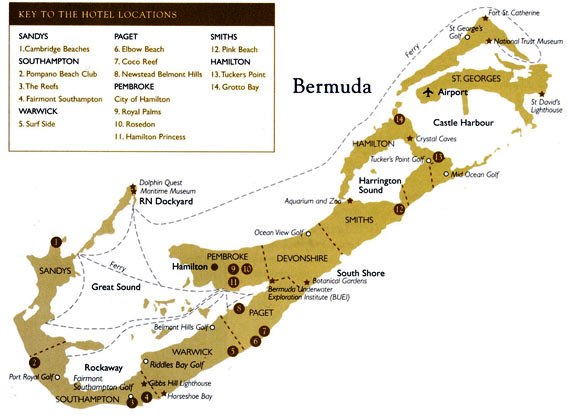 Locations of hotels
Introduction
Hotels - in alphabetical order - are shown below. Some have their own private beach (unlike in the Caribbean 900 miles south where all beaches are public) or private part of a beach, gardens and pools, other luxury facilities, sports, shops, beauty salon, etc.. Most have off-season lower rates from November to March. Some are on or close to Bermuda's public sector bus or ferry routes. They have been licensed but not graded by the Bermuda Government's Ministry of Tourism and Bermuda Tourism Authority. Some also offer residential condominiums on their properties. Many resort hotels operate the American Plan (AP), in which the cost of breakfast and dinner are included in the cost of a room but not drinks. Others have the European Plan for only the room, with guests making their own arrangements for meals. Presently, only one resort, Grotto Bay, offers All-Inclusive. It includes, costing from $114 a day per person as an optional extra, three meals, alcoholic drinks, on-site water sports sports, entertainment, public transportation. No hotels are adults-only. None include Butler Service.
Bermuda's official currency. The Bermuda Dollar is fixed to the US Dollar. Thus the US dollar is accepted everywhere at par. British Pounds sterling, Canadian dollars, Euros and other currencies should not be brought as they cannot be used. Most major international credit cards will be accepted from visitors, but overseas debit cards, even in the USA, cannot be used in Bermuda. Most if not all Bermuda places to stay, stores and restaurants will no longer accept traveler's checks, so they should not be bought for your Bermuda visit.

Internet, WIFI and Links to and from this website. Most hotels and other guest properties in Bermuda have Internet/WIFI, free to registered guests during their stay. Why don't we link to most of them? We will gladly create la non-exclusive link to them as a Bermuda resource when they create a similar link to us.

Guest hotel or similar occupancy and departure taxes and gratuities (tips) payable by tourists. Paid to the Bermuda Government unless otherwise noted.

Bermuda Government Hotel (etc.) Occupancy Tax. 7.25% of room rate. Since April 2016. Some properties may charge 9.75% which may include the Tourism Guest Fee shown below.
Some high-end hotels, etc will also charge a Resort Fee which can be $15 per night or higher.
An Energy surcharge may imposed by some hotels or guest houses. Not paid to the Bermuda Government
Service/Tipping charge/gratuities. Before guests give voluntary gratuities after staying at hotels etc or eating at hotel or other restaurants they should know that in Bermuda most hotels restaurants, bars, etc charge an automatic (involuntary) 17% service charge on top of billings. Guests should be aware of this to avoid also paying it voluntarily. Mandatory gratuities in most Bermuda hotels, etc. are governed by the Collective Agreement between the Hotel Employers of Bermuda and the Hotel Division of the Bermuda Industrial Union. Some hotels charge a fixed daily dollar amount and others charge a percentage of the guest bill, often about 17%. The gratuities are shared between hotel etc. members of staff including housekeeping, dining room, kitchen and conventions. Not knowing this, many guests pay gratuities not once but more often.
Aircraft/Airport Passenger Departure Tax: Included in most airline tickets. $75 per person, was $30 before March 31, 2015, raised again in August 2015. No longer under the authority of the Bermuda Tax Commissioner but payable to Bermuda Skyport Corporation Ltd, a government quango.
Cruise ships Passenger Departure Tax. Included in most cruise ship tickets. For ships that dock in Hamilton or St. George's, from $20 per passenger to a maximum of $60 for each 24 hour period the ship is in Bermuda in high season April 1-October 31. For ships that dock in Dockyard April 1-October 31 $25 per passenger for each 24 hour period subject to a maximum of $75. No charge for ships visiting at other times. Applicable to passengers only, not payable by or on behalf of officers and crew of the ship. Administered by the Bermuda Tourism Authority under the Bermuda Tourism Authority Act 2013.
Cruise ship Passenger Cabin Tax. Included in most cruise ship tickets. From $14 per passenger May 1-August 31.
Cruise ship operators gratuity. Varies from ship to ship. Once, this was voluntary, passengers could give what they thought was fair, based on service. Now an increasing number of passengers are being automatically billed 15-18% on top of their ticket prices before they leave the ship. Not paid to the Bermuda Government.

Fractionally owned units. Some hotels have them. Usually a condominium or similar in a separate building or buildings on the hotel grounds. Fractionally owned means buyers share ownership in a private residence club (PRC). When a unit is purchased the owners can select the dates they will be residing there, but can also use the unit whenever it is free. Ownership at a luxury fractional development such as this is the only feasible way in Bermuda for foreigners to acquire local real estate, due to a government policy that severely restricts, to only the most expensive, the amount and type of local real estate that can be sold to non-Bermudians. Because of their affiliations with hotel properties, PRCs are not affected by these regulations.

Gas station attendants. Bermuda has no self-serve gas stations, all have attendants who will expect a minimum $2 gratuity or tip to full up a scooter or moped. Not paid to the Bermuda Government.
Large Ship Infrastructure Tax. Charged to the owner, operator or agent of visiting ship over a certain size. $22 per passenger, April 1-October 31, not at other times.
Taxi operators. They will expect a gratuity or tip of 15% in addition to their basic cost, especially when they lift heavy luggage. They will also expect lunch if on an all-day tour. Not paid to the Bermuda Government.
Timesharing tax. Two types. Timesharing Services Tax and Occupancy Tax. Timesharing Services Tax, Charged on the managing agent of a timesharing property as a percentage of the membership and maintenance fees charged to clients for operational and maintenance costs of the timesharing unit. 5%, payable on a monthly basis. Timesharing Occupancy Tax. Charged to the developing owner of a timesharing property as a percentage of the purchase price of each timesharing interval. The tax is chargeable on the initial purchase and the resale of each interval. 10%, payable within a specified period of the sale/resale of each timesharing interval.
Tourism Guest Fee. Hotels, guest houses, etc. 2.5% of guests' billing.
Yacht Arrival Tax. $35 per arriving person.
Total tourism taxes. Bermuda charges the highest tourism taxes in the world.
Disabled visitors access. Note that USA ADA disability standards do not apply in Bermuda. Here, because there are no such legally required disability protections or minimum standards required by Bermuda's Ministry of Tourism or the public/private sector Bermuda Tourism Authority what constitutes a disabled-friendly room can be interpreted differently. Disabled visitors using wheelchairs and the mobility-impaired should ask before they book for details of disabled-friendly rooms such as overall room size (many disabled or mobility-impaired guests need somewhat bigger rooms); room door and bathroom door width, does the bathroom have a wet-room shower or only a shower in a bathtub over which guests have to step, is the room on the ground (first) floor or higher in which case is there an elevator nearby and what is the elevator emergency policy for disabled guests.
---
Azura Boutique Hotel and Residences
90 South Road, Warwick Parish, PG04, Bermuda. Tel: 441-232-9000. Category. Small ocean-side hotel. On 5 acres of landscaped oceanfront. Enlargement and renovation of former Surf Side Beach Club. 22 guest rooms, 20 one bedroom suites, and 24 one to three bedroom villas. On a bluff overlooking the Western Atlantic Ocean. With its own small private beach. On No. 7 public transportation bus route, about 25 minutes by bus from Hamilton and 35 to 40 minutes from the airport. On 5 acres of landscaped oceanfront. Five minutes walk to Bermuda Railway Trail. Owner: Clearwater Development Ltd, a Bermuda-incorporated company.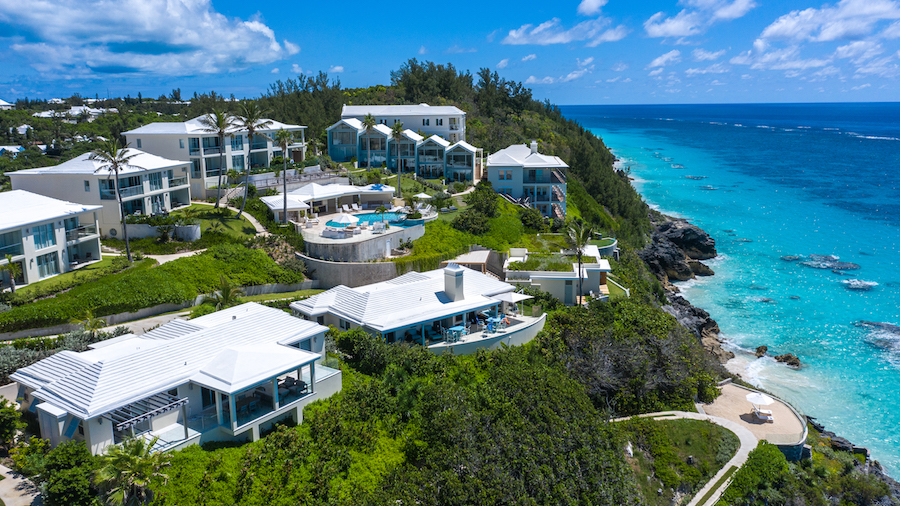 Above: Azura
---
Bermudiana Beach Resort
Tapestry Collection by Hilton
. 111 rooms, was scheduled to open in June 2020 but Covid-19 pandemic has postponed this

2 South Shore Crescent, Warwick, WK 08, Bermuda. Phone: 1-441-232-6000. Leased to Hilton Worldwide. On a 13.1 acre plot of land south of South Road bordered on its eastern side by Astwood Walk. Owned by Bermudiana Development Company Limited, a subsidiary of the Bermuda Government's Bermuda Housing Corporation. Hilton's introduction to Bermuda. It takes its name from the once-famous landmark Bermudiana hotel in Hamilton that was burnt down and reconstructed in the 1950s/60s and owned the hugely popular Bermudiana Beach Club facility here until it was demolished to make way for the failed housing development hugely expensive to Bermudian taxpayers that later became much of this new hotel. The name Bermudiana derives from the word Bermudian (not "Bermudan"), meaning a native of Bermuda. The property sits on a cliff overlooking a pristine pink-sand beach and turquoise waters. Amenities include a family-friendly swimming pool and infinity pool, spa, fitness center and beach accessible via a two-car funicular elevator, restaurant, bar, flexible space for meetings, events, weddings, etc.
---
Cambridge Beaches Resort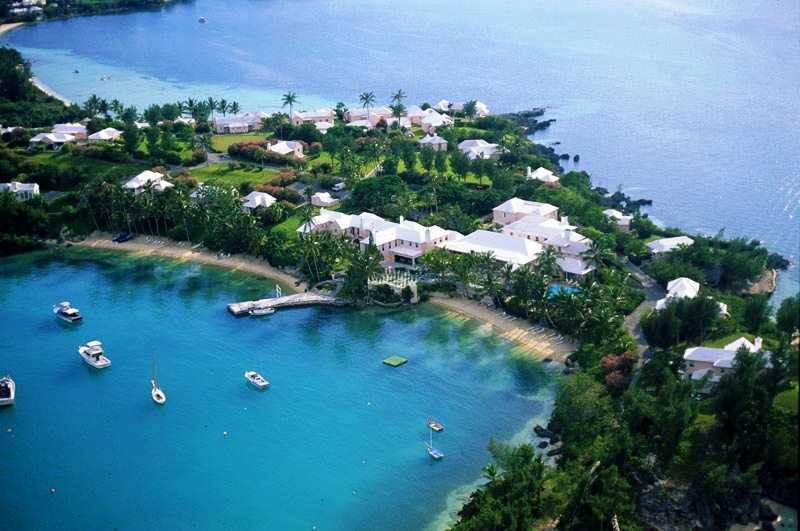 30 King's Point Road, Somerset, Sandys Parish, MA 02. Phone 1- 800-468-7300 in USA or 1-800-463-5990 in Canada or directly at (441) 234-0331. Fax (441) 234-2252. Stunning location on it's own 25-acre peninsula on the westernmost end of Bermuda, furthest away from the airport. Overlooks Mangrove Bay and Long Bay. From $595 a night including breakfast. For the affluent, up-market visitor on business or vacation. Bermuda's first cottage colony with one cottage about 300 years old. For tennis, there are 3 all-weather courts, 1 lit (for a fee). It has five small private beaches at King's Point, Mangrove Bay Terrace and Long Beach Cafe for informal meals, Tamarisk Room for formal dining restaurant. Buses do not serve this property. Nor does the regular Bermuda Government Department of Marine and Ports ferry service catamaran vessels. But there is a frequent complimentary ferry service for guests only directly, non-stop, to and from the City of Hamilton.
---
Caroline Bay: The Cove
Ritz Carlton Reserve Hotel & Residences. Constitution, Southampton, Bermuda.
Was expected to open by late 2019 but see below, far from complete, delayed by default in ownership and financing, Bermuda Government-rescued.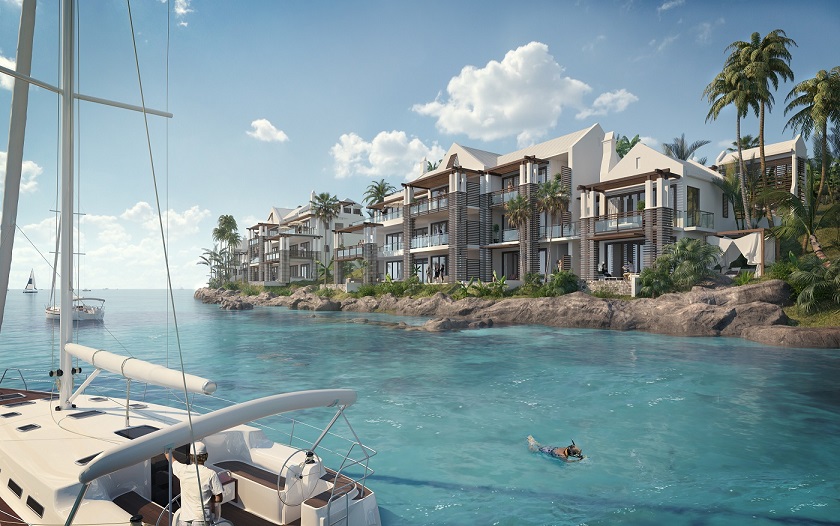 When completed it will be an ultra-luxury waterfront hotel and residences on 182 acres of prime Bermuda property that was once - from 1942 to 1995 - a US Navy base, then known as Morgan's Point.

Th

is new Ritz-Carlton Reserve Hotel, when completed and operating, will offer 77 guest rooms and two presidential villas, plus at the Ritz Carlton Reserve Residences five buildings representing 35 residences. The property was begun by Caroline Bay Ltd, which has since defaulted. This area is home to Caroline Bay Marina, which offers space for up to 33 transient superyachts; 80 berths exclusively for Ritz-Carlton Reserve Residence owners; the Caroline Bay Marina Yacht Club; power; water; concierge services; MarineTech docking system and environmentally secure sewage waste systems. Owners of the Ritz-Carlton Residences will enjoy:
Two restaurants and a bar
Two pools and beaches with water sports and activities
A world-class spa
Conference space
The Ritz-Carlton Reserve Residences are not owned, developed or sold by The Ritz-Carlton Hotel Company L.L.C or its affiliates ("Ritz-Carlton"). George's Bay Residences Limited uses the Ritz-Carlton marks under a license from Ritz-Carlton

. Caroline Bay Marina is not managed by the Ritz-Carlton Hotel Company, L.L.C. or its affiliates.

2020. March 28. The stalled Caroline Bay resort development is to go back to the drawing board with "expert restructuring advisers", the finance minister said yesterday. Curtis Dickinson added the project would be assessed by Alvarez and Marsal, a New York firm with "significant experience" in reviving large projects. Mr Dickinson said the company's staff were "experts in the real estate space and restructuring space". He was speaking after the Government's announcement on Thursday that it would take legal action in a bid to have provisional liquidators appointed for the troubled development. Mr Dickinson said the provisional liquidators, from professional services firm EY, were also experienced in hospitality properties, including the Newstead and Tucker's Point resorts. Mr Dickinson added the next step was to shore up the partly completed buildings at the West End development to protect them from deterioration. He said he was "disappointed that the developers failed, in what was the largest Bermuda Government-backed hospitality project". He added: "This could have been and should have been avoided."

Mr Dickinson said the future of the project could include "design construction plans" to allow the Government to "complete the buildings and have them in working order". He declined to speculate on whether the development would remain a resort or get changed to housing. The original developers included Brian Duperreault, the chief executive of insurance giant AIG and one of the island's most prominent business figures. Mr Dickinson also declined to comment on whether the developers had tried to bail Caroline Bay out with their own funds. He said: "How much money they've put in, and why they are unable to fund additional amounts personally, is a question they are in the best position to answer." Mr Duperreault did not respond to a request for comment yesterday. The hotel and luxury home complex would have transformed the brownfield site left at the old US Naval Annex at Morgan's Point. The deal was sweetened with a $165 million government guarantee agreed under the previous One Bermuda Alliance administration. The guarantee had to be paid to lenders last year after the development hit finance problems. Mr Dickinson said extra funding was being drawn from the Government's $200 million credit line with Butterfield Bank and HSBC Bermuda, set up last year to pay off lenders. He added further borrowing would have to be done through "a new special purpose vehicle, backed by the assets of the project itself" — leaving the option of seeking further investors — "if deemed appropriate".

Mr Dickinson said Caroline Bay's backers had made several proposals in an attempt to salvage the project over the two years since they said they were unable to meet their debts. He added: "Without exception, each proposal would have put the Bermuda Government in a far worse position than it is in today." Mr Dickinson said new borrowing based on "speculative plans" would have likely led to further default, with the new lender having first call on the assets at present claimed by the Government. Mr Dickinson said that would "leave the people of Bermuda with nothing". He added that all the proposals were also based on Government continuation of its $165 million guarantee — or increasing it to $185 million. Mr Dickinson said: "They are also based on the payment of transaction fees to the developers, or parties related to them, in the range of $12.5 to $17.5 million, and repayment of loans, or interest payments on loans, to other lenders who were not part of the Bermuda government guarantee." He added one proposal would have transferred the debt held by the Government to a new investor, who would have retained a priority claim on the project's assets. Mr Dickinson said the Government's actions on Thursday were "an effort to mitigate the worst-case outcome" of the Government losing its money. About $11 million was paid in December and January to subcontractors at the site who had now "by and large been paid". Mr Dickinson added: "The buildings that have been partially constructed, we need to finish them first. Our chances of recovery of all of our money are reduced, inasmuch as there is incomplete construction."

2020. March 27. A legal bid to put the assets of the stalled Caroline Bay resort project into the hands of provisional liquidators was launched yesterday, the Government revealed last night. A spokeswoman for the Ministry of Finance said: "The developers acknowledged in February 2018 that they were unable to pay their debts and while the Government has done everything prudently possible to support efforts to refinance the project, to date the developers have failed to provide an acceptable way forward." She added that senior members of professional services firm EY Bermuda had been appointed as joint provisional liquidators and it was planned that they would "take control of various project companies, representing the collateral behind the original project loans and Bermuda Government guarantees". The spokeswoman said: "As the Government has expressed previously, the intention is to protect the interests of the people of Bermuda to the fullest extent permissible under the law." Curtis Dickinson, the finance minister, will hold a press conference today to reveal more details. The project, at the former US Naval Annex at Morgan's Point in the West End, was backed with a $165 million government guarantee arranged under the previous One Bermuda Alliance administration, which had to be paid to lenders last year after finance for the development collapsed. The payout required Parliament to approve a $200 million line of credit for the Ministry of Finance and the island's debt ceiling was raised by $250 million as a result. Work started on the 250-acre peninsula about four years after a land swap between the developers, which included Bermudian insurance industry legend Brian Duperreault, the CEO of AIG, and the Government.

The Southlands estate in Warwick was exchanged for Morgan's Point, on condition remediation work at the brownfield site was carried out before construction started. The company behind the resort said that the site would include a Ritz-Carlton Reserve hotel, luxury homes and a marina capable of accommodating mega yachts, as well as a spa, restaurants and upmarket retail stores. The marina was opened in time for the 2017 America's Cup, but construction work stalled in February 2018. The developers, George's Bay Ltd, said that "first phase construction activity at Caroline Bay has been reduced ... due to construction costs outpacing the existing financing of the project". The firm said it planned to extend financing so work could get back to normal as soon as possible. The Government, however, was later forced to pay back the project's lenders after it received notices of default in June and August of last year. Mr Dickinson said in this year's Budget statement that the Government maintained a "legitimate expectation" that it would recover the cash paid out to the resort's creditors. He added that Bermudian construction firms left unpaid for their work were also compensated after the Government "purchased the claims from project contractors".

2020. February 24. The Government's multimillion payout on the stalled Caroline Bay development at Morgan's Point was highlighted in last Friday's Budget speech. Finance Minister Curtis Dickinson said that $182.4 million had been borrowed to date. However, Mr Dickinson insisted that the Government maintained a "legitimate expectation" that it would recover the cash. A $165 million government guarantee in 2016 with the developers of the villa and hotel development on Morgan's Point was set up by the previous One Bermuda Alliance Administration. Mr Dickinson said work on the project stopped in February 2018 and was still "fully suspended", which meant the Government was forced to pay back the project's lenders after it received notices of default in June and August of last year. He added that Bermudian construction firms left unpaid for their work were also compensated after the Government "purchased the claims from project contractors". Mr Dickinson said that further payouts over the project would mean that debt service costs for 2019-20 were expected be $2.7 million above the estimated figure of $116.5 million. Mr Dickinson explained that this would push the revised estimate of Bermuda's overall deficit to $14.6 million — $22.0 million more than the $7.4 million surplus projected. The Government may cover the $14.6 million through borrowing or through the Consolidated Fund. The island's debt service costs for the coming fiscal year are projected to be $121.4 million — about $7.9 million of which is related to the troubled resort. Mr Dickinson said that interest rates were "relatively low" and that it was planned to refinance the Government's loan agreement on Caroline Bay.

For more details see under Morgan's Point in www.bermuda-online.org/seesouth.htm
---
Coco Reef Bermuda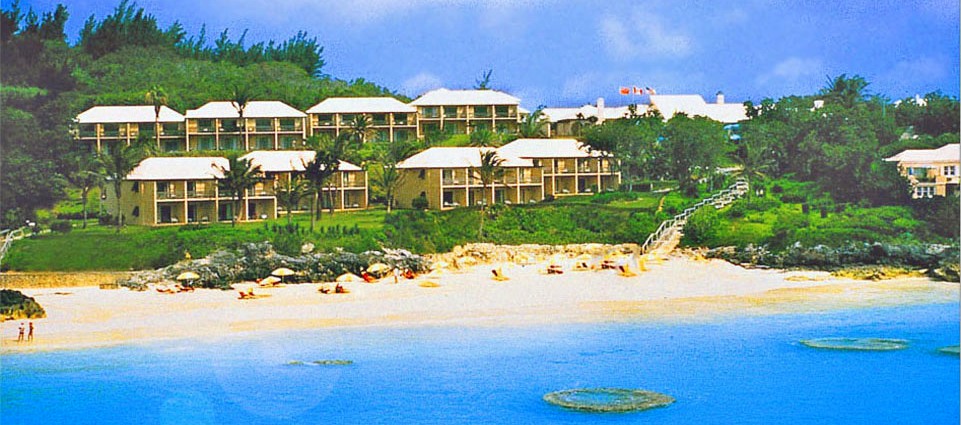 3 Stonington Circle, South Road, Paget Parish, Bermuda PG 04. Phone (441) 236-5416. Fax (441) 236-9766. Formerly Stonington Beach Hotel. 32 ocean view rooms and 2 one-bedroom ocean-front suites and vacation apartments. The real estate is owned by the Bermuda Government and is leased to the current operator. It first opened in 1980 as a training ground for students at the Bermuda College (a junior college, awarding associate degrees). Name changed June 2003 to reflect the Coco Beach name of its Tobago-based Bermudian property owner and land leaseholder John Jefferis who once managed the nearby Elbow Beach Hotel. Overlooking the ocean and with a shared - by Elbow Beach - gorgeous private beach (it used to be public Elba Beach (named after the island where Napoleon was first exiled and escaped from until the original Stonington Beach hotel was built), complete with superb boiler reefs, one of the very best of all Bermuda beaches. Less than a ten minute drive from the City of Hamilton and on the # 2 and # 7 bus routes. With tennis courts, bar, two restaurants and a fresh water pool.
---
Elbow Beach Resort Hotel
Closed until 2021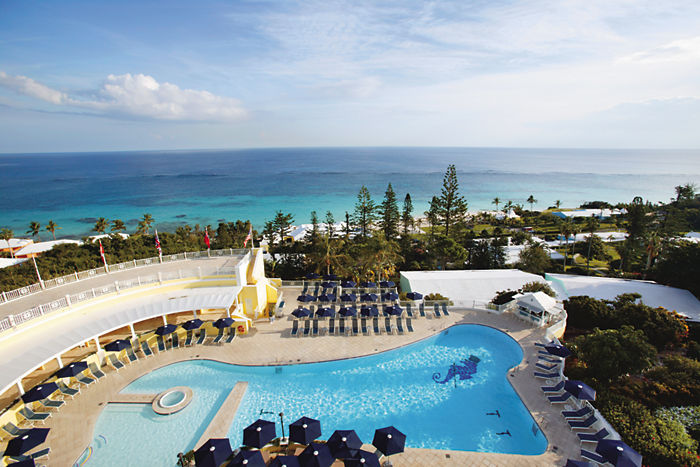 60 South Road, Paget Parish, PG 04. Or by post P. O. Box HM 994, Hamilton, HM DX, Bermuda. Phone 1-441-236-3535 or in USA 1-855-Go-Elbow. Category: Large ocean-side Resort Hotel. Near the 7 bus public transportation route. The hotel is 10 minutes by taxi from the City of Hamilton. Ocean-side, overlooking the gorgeous South Shore of Bermuda Western Atlantic ocean with its own superb quarter-mile long private beach, one of Bermuda's best. Over 300 rooms, suites and cottages. Luxury four-star/diamond resort hotel and cottage colony combined. On 50 lush acres of botanical gardens Both a full-service hotel and with a selection of garden cottages, executive villas and condominiums. All hotel units have 53-channel television. For tennis, there are 5 newly resurfaced plexi-pave courts, 3 lit for night play. There is also the Deep night club. Owner: Prince Khaled bin Sultan bin Abdulaziz Al Saud, a prominent member of the Saudi Arabian Royal Family. The hotel first opened in 1908 as the South Shore Hotel, later as the Elbow Beach Surf Club. In the 1950s, 1960s and early 1970s it was the favorite place for American college students to stay. They came in droves, got up to all sorts of mischief. In those heady days it was also the place where in Easter Week, the Easter Queen stayed, crowned as such just before the fabled-but-no-more Bermuda Easter Parade. In May 2013 the hotel celebrated its 105th anniversary as the second oldest hotel in Bermuda, and the first to be built on the South Shore. From spring 2014, the management contract with the Mandarin Oriental Hotel Group ceased and the hotel re-opened as an independently managed property.
---
Fairmont Southampton Resort
Bermuda's biggest hotel. Closed until 2022 for renovations.

101 South Shore Road, Southampton Parish SN 02. Toll free at (866) 540-4497 or (441) 238-8000 directly. Fax (441) 238-8968. Postal airmail P. O. Box HM 1379, Hamilton HM FX, Bermuda. 590 rooms and suites on 6 floors, 1500 guests. Owned until December 2015 by Fairmont Hotels and Resorts, later acquired by Accor Hotels of France, largest hotel group in Europe. In December 2019 it was sold again, the seller was Europe's AccorInvest, to a partnership led by Miami-based investment and hospitality firm Gencom, the same entity that owns the smaller (90 rooms) but newer Rosewood Tucker's Point Resort Hotel in Bermuda. Gencom has pledged significant funds for redoing the hotel. It remains under the brand and management of Fairmont Hotels and Resorts.
On the second highest point of Bermuda, the hotel - also Bermuda's largest convention centre - is on a 100-acre estate facing the South Shore ocean and Great Sound on the north side, with spa, pool and beach area, lush gardens, its own golf course, convention and meeting facilities, a variety of restaurants including the Waterlot Inn, one of Bermuda's oldest and most expensive. The hotel was the brainchild of American businessman and shipping magnate Daniel K. Ludwig, the first owner, who also owned its sister property, the Hamilton Princess Hotel (now owned privately). Canadian Pacific Hotels bought both properties in 1998 and took over Fairmont Hotels and Resorts the following year. The hotels were then renamed the Fairmont Southampton and the Fairmont Hamilton Princess. In 1972-74, when this hotel was built, almost 100% of the construction materials came from Canada. Nearest beach is the one belonging to this hotel, reachable by the hotel's beach shuttle. Past guests have included the Saudi royal family's stay in the late 1970s; Bill Cosby and his wife; US presidents including George Bush senior; former British Prime Minister Tony Blair and his wife Cherie Blair. The Queen and Prince Philip have attended functions here (though they always stayed at Government House).
---
Grotto Bay Beach Resort Hotel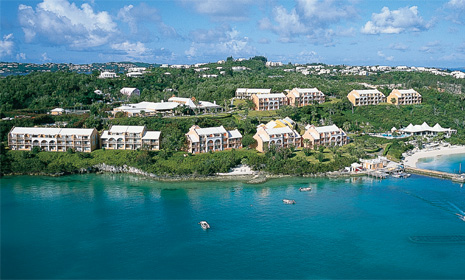 11 Blue Hole Hill, North Shore Road, Bailey's Bay, Hamilton Parish. Phone (441) 293-8333. Fax (441) 293 2306. Reservations 1 (800) 582 3190 in the USA or 1 (800) 463 0851 in Canada. 201 rooms, for 500 guests. The hotel is on Castle Harbour part of the North Shore ocean. Nearest hotel to the Bermuda International Airport 1 mile or 5 minutes away. On 1, 3, 10 and 11 bus routes. Situated on 21 acres of landscaped ocean-front grounds. The 11 cottages in which the rooms are located feature hibiscus, oleander and bougainvillea gardens. Superior rooms are the first-floor rooms, while the deluxe rooms are second or third floor. All 'Ocean Front' rooms are located along the water front; 'Ocean View' rooms are on the top of a ridge that features fantastic views. In-room amenities consist of a coffeemaker, iron and ironing board, mini-refrigerator, hair dryer, reading lights and a safe. With several man-made beaches, 4 plexi-paved cork-based tennis courts and exercise room, two historic underground caves for exploration and swimming, several restaurants. Offers all-inclusive as an optional extra, only hotel in Bermuda to do so, or various meal plan packages such as breakfast and dinner or just breakfast.
---
Hamilton Princess Hotel, Beach Club and Marina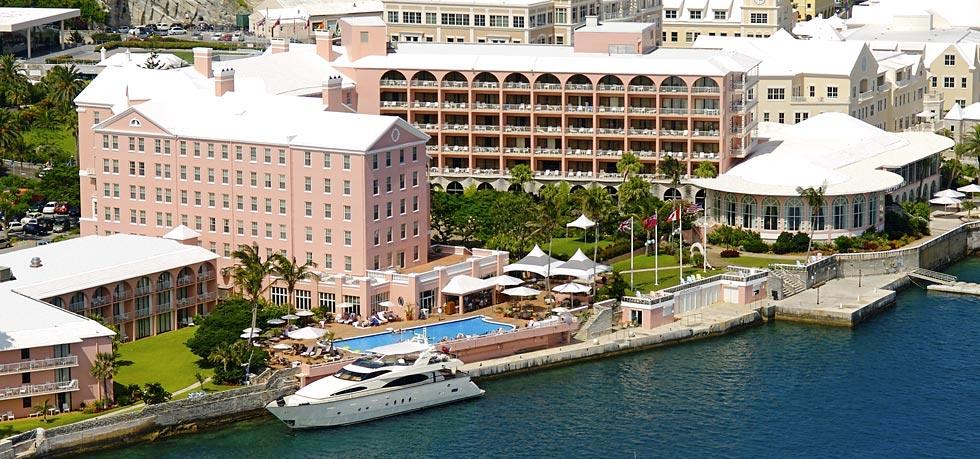 Bermuda's oldest hotel, bigger and more glamorous now than in its late19th century days
76 Pitt's Bay Road, Pembroke, Hamilton, Bermuda HM 08. Phone (441) 295-3000. Fax (441) 295-1914. Toll Free in USA (866) 540-4447. Mailing address P. O Box HM 837, Hamilton HM CX, Bermuda. Sometimes referred to as the Pembroke Princess. Owned by the billionaire Bermudian and resident Green family On the waterfront of Pembroke Parish. On the outskirts of the City of Hamilton. 410 rooms, licensed for 1000 guests. It is also the most important convention center near Bermuda's capital city. Since 2016 this resort hotel has its own private beach, the Princess Beach Club. It was completed in 2016 on the site of the old Sonesta Beach Hotel and is served by a shuttle bus. This historic hotel is the oldest in Bermuda, a landmark. It first opened on January 1,1885, shortly after the successful opening of the Hamilton Hotel (destroyed by fire in the 1950s), Bermuda's first big hotel. It began life as the Pembroke Hotel. Harley Trott, a leading businessman of the time, saw opportunity and had the new hotel built to provide a winter haven. The hotel opened two years after Her Royal Highness Princess Louise Caroline Alberta, Duchess of Argyle, fourth daughter of Queen Victoria, visited Bermuda and called it "a place of eternal spring." Married in 1871, her husband was the Marquis of Lorne from Scotland (later the 9th Duke of Argyle) and Governor General of Canada. The hotel was-re named "The Princess" in her honour. She became a frequent visitor in the 1880s, to escape the cold of Canada. She was Bermuda's first official tourist of Royal blood and an accomplished artist in water colors and oils. Because of her appreciation of the military, the Guard of Honor it provided for her wedding and the artwork she did for it, one of Scotland's most famous British Army units to serve in Bermuda, The Argyllshire Regiment, was renamed to honor her. It carried her insignia for many years in its own - and served in Bermuda for two years under the name in the late 1920s - before it became The Argyllshire Highlanders.
---
Inverurie Executive Suites Hotel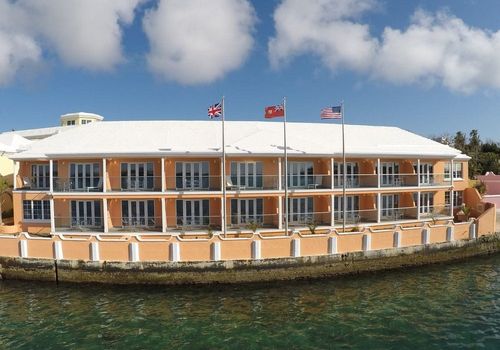 1 Harbour Road, PG 01, or P.O. Box PG 176, Darrell's Wharf, Paget PG 01, Bermuda. Reservations 1-441 232-5700. Hamilton Harbour waterside rooms and suites with kitchens, walk-in closets, separate eat-in kitchen and dining rooms and private balcony suitable and priced for executive business stays. Rooms and suites come with a fully-stocked refrigerator/bar, laptop safe, Smart TV and a work station with a G-link for electronic devices. The City of Hamilton is 2 miles away, accessible by car, public transportation bus not far away or ferry nearby. Once the site of and constructed partly from the famous and original full-service including nightclub Inverurie Hotel, a huge Bermuda favorite in the 1950s and 60s, so-named by its original owner, a Scotsman, after his home town. It later became the Palm Reef Hotel, then the Wharf Executive Hotel (opened July 10, 2002 as a 15-suite boutique hotel) and now Inverurie Executive Suites.
---
Newstead Belmont Hills Golf Resort and Spa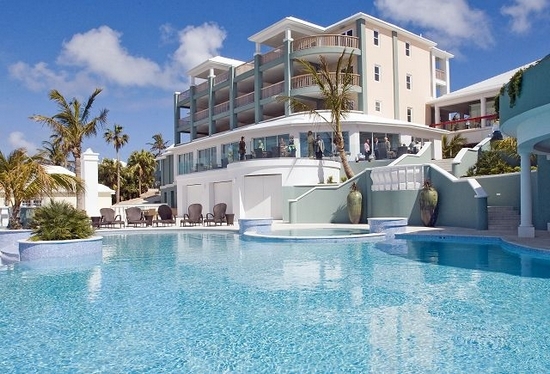 27 Harbour Road, Paget PG 02. Phone (441) 236-6060. Fax (441) 236-2296. On the harbor's edge overlooking the city of Hamilton. Built from the remnants of two once-elegant Bermuda hotels called Newstead, once a 19th century colonial manor, then a hotel, and the former Belmont Manor - a less luxurious but also spectacular-in-water-views 20th century hotel circa 1920 - plus the rebuilt 18 hole Belmont Golf Course owned by the company nearby. The full service resort destination has numerous hotel rooms and residential units. It offers many amenities in addition to golf, a world class spa, two tennis courts, infinity pool overlooking Hamilton Harbour, two fine restaurants and a private ferry service to the City of Hamilton. It combines traditional Bermuda architecture with new Bermuda design. Also offers part ownership of luxury suites to non-residents. Some Newstead guests qualify to use the Elbow Beach Hotel's private beach facilities via a shuttle service.
---
Pompano Beach Club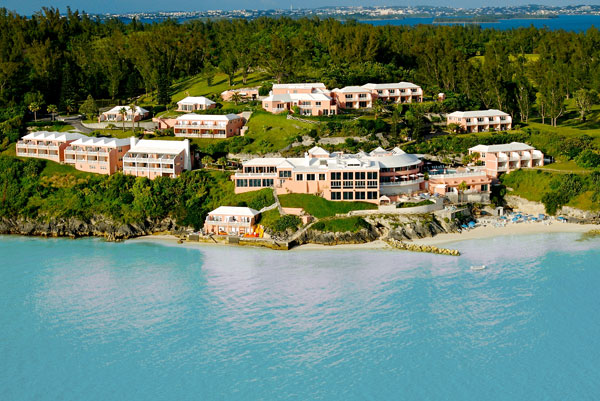 Pompano Beach Road, Southampton. Phone (800) 343-4155 in the USA or Canada or (441) 234 0222 directly. 75 rooms. Ocean view and beach-side location, turquoise waters. Tom Lamb III, his brother Larry and family, owners since 1956 . 75 staff. Bermuda's first fishing club, named after the pompano game fish then prolific. Offers dramatic ocean views from the main clubhouse and all guest rooms. Two restaurants, pool, private South Shore beach, fitness center, bar, two clay tennis courts. On its own private road away from traffic noises. The 8 bus route is on the main Middle Road a mile away.
---
Rosedon Hotel
Closed until April 2021.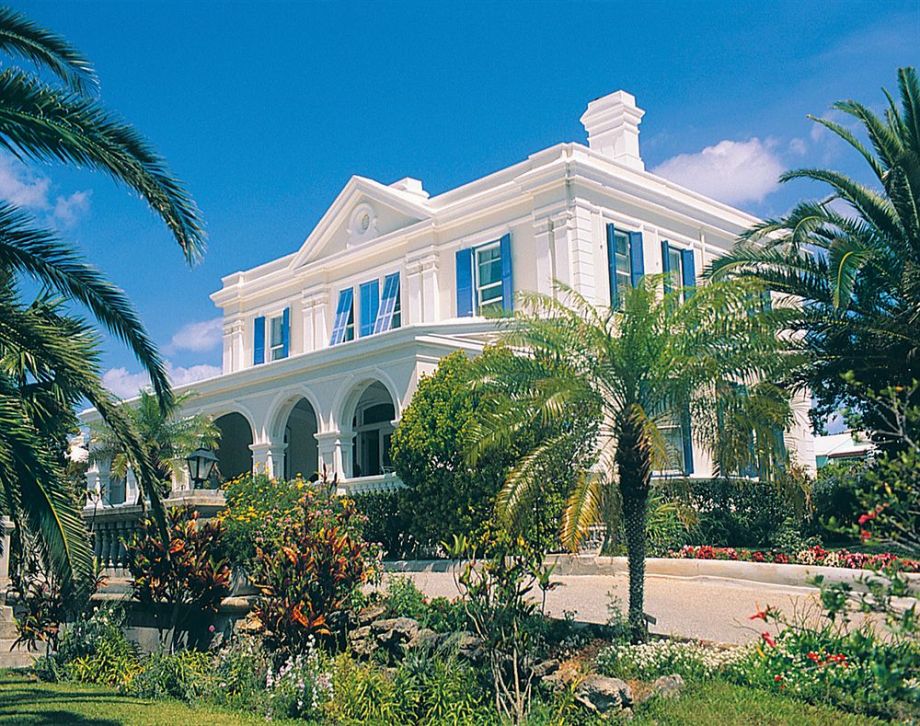 61 Pitts Bay Road, Pembroke Parish. P. O. Box HM 290, Hamilton HM AX, Bermuda. Phone Bermuda 441-295-1640 or toll-free in USA (800) 742-5008. Email reservations@rosedon.com. 44 rooms, standard, superior, de luxe and luxury, some in a historic manor house-style property begin in 1904 and finished in 1906 for a wealthy Mr. E. J Thompson and named after his son Robert Rosedon Thompson, others nearby behind. European fabrics, four poster beds. Nice gardens with Bermuda flora, Huckleberry restaurant, heated outdoor swimming pool, free beach shuttle service, fitness center. Long owned by the local Kitson family, now by artist Lee K. Perry. Equipped to charge Renault Twizzy 2 seater electric cars. A leisurely 15 minute walk to the City of Hamilton and its public transportation ferry terminal and/or buses.
---
Rosewood Bermuda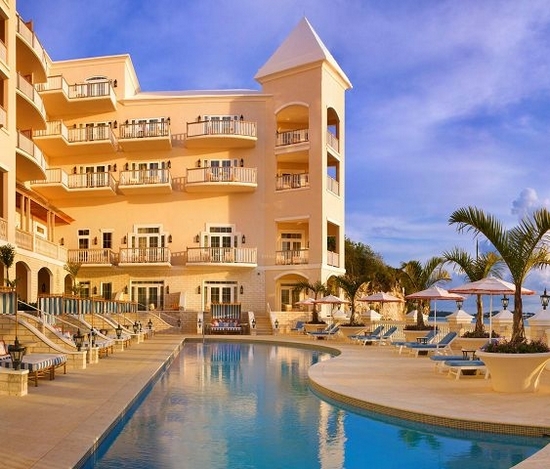 60 Tucker's Point Drive, Hamilton Parish HS 02. Phone (441) 298-4000.. Mailing address P. O. Box HS 85, Harrington Sound, Hamilton Parish, HS BX, Bermuda. 88 guest rooms. They range in size from 530 to 1,200 square feet with luxury bathrooms and terraces with views of Castle Harbour and Harrington Sound. On 200 acres of waterfront overlooking Bermuda's magnificent Castle Harbour. All rooms have a flat screen panel TV, Wi-fi, fireplace, wet bar and walk in closets, a five-fixture bathroom with a stand alone deep bathtub and amenities such as portable phones and I-pod/Mp3 docks and 24-hour room service. While the hotel itself and its units are solely in Hamilton Parish, its Rosewood Tucker's Point Beach Club is in the St. George's Parish part of Tucker's Town, about a mile away. So-called because it is professionally managed (but not owned, see below)) by the Rosewood corporation of Texas.
The property is a resurrection, reconstruction and reconstitution of the famous Castle Harbour Hotel, which opened in 1931 and closed in 1999. It was a landmark, planned by the (British) Furness Withy of the UK shipping organization in 1923 and first opened on November 1, 1932. Furness Withy then operated the Queen of Bermuda and Ocean Monarch cruise ships to Bermuda from the USA until the 1970s. It built both the original Castle Harbour Hotel and the Mid Ocean Club, on land controversially compulsorily acquired. After World War 2 Furness Withy lost interest in this real estate. The property and extensive land were then bought by Bermuda-based Bermuda Properties Ltd (BPL), originally headed and owned by Juan Trippe, founder of Pan American World Airways. It was a direct result of his interest in Bermuda after Pan American flew between Bermuda and New York from 1937. His son, Ed Trippe, later assumed control. The property later became the Marriott-operated Castle Harbour Hotel. After Marriott left, the original premises and their later Marriott-inspired improvements and modifications were demolished and a brand-new hotel was built on the site. It was opened in April 17, 2009 by Bermuda residents and film stars Michael Douglas (his mother was Bermudian, from a prominent local family, his father was Kirk Douglas) and his wife Catherine Zeta-Jones, with then-Premier Ewart Brown, as the first new hotel to be constructed in Bermuda for 37 years. In May 2017 it was purchased by an affiliate of Gencom, a Miami, Florida firm that owns and develops prized hospitality and residential real estate around the world. The resort remains under the management of Rosewood Hotels & Resorts, which has done so since 2011.
---
Royal Palms Hotel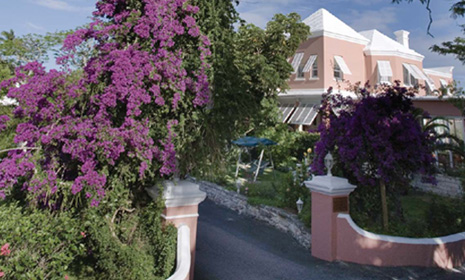 24 Rosemont Avenue, Pembroke Parish, HM 05. Inland. 32 room boutique hotel including some small suites with kitchenettes. Telephone 1 441 292 1854. Within 15 minutes walk to the City of Hamilton. Two pink-painted former manor houses set in lush gardens with access to a private pool and lounge area. A guest property since the early 1960s, although the buildings date back more than a century and were formerly private homes. The boutique hotel also caters to both business visitors looking for accommodation near the Island's numerous Bermuda-incorporated international businesses. Quality furnishings, mini fridges, flat-screen TVs. Buffet continental breakfast available as an option. With its "Ascots" restaurant for guests and the general public.
---
St. Regis Bermuda Resort

Targeting a 2021 debut.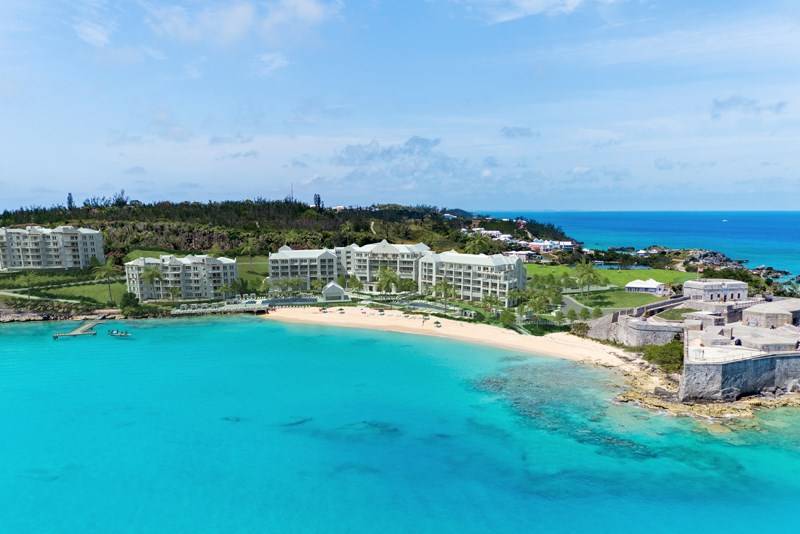 St. Catherine's Bay and Beach, St. George's, Bermuda. Expected to be an April 2021 launch. This long-leased Marriott project is on Bermuda Government-owned real estate located on a mostly-public beach (on which the hotel and its private residences will have a private portion). It is near the historic Town of St. George, a UNESCO World Heritage site and set beside the majestic Fort St. Catherine. Building began in May 2017, on the site of a former failed Holiday Inn then Loew's Inn then Club Med. The latter was exploded to create the space for the latest hotel. The lovely new hotel, first new one in Bermuda in many years, is now planned for an April 2021 launch. The new hotel will include 122 rooms and suites, along with the hotel long-leased Bermuda Government-owned 18-hole golf course originally designed by Robert Trent Jones, Jr, later Nick Faldo and significantly for both Bermuda and St. George's a casino, two infinity pools, spa, fitness centre, gym, two restaurants,, over 680 linear feet of private hotel beachfront (part of the longer public beach area), for every type of water adventure and yachting, gorgeous ocean views, marina dock. 24/12 concierge service and parking. It will also feature a real estate component (see below). It would be the second St Regis in the wider region, joining the existing St Regis Bahia Beach in Puerto Rico.
Owned and to be operated by Bermuda-incorporated Marriott-owned Hotelco SRB Hotel Ltd and Hotelco SRB Hotel Residences 2 Ltd. They use the St. Regis trademarks under a license from Marriott International, Inc. or its affiliates.
St. Regis Residences. This gorgeous world-class 30-unit development of two bedroom units has opened in advance of the hotel completion. When the hotel is completed those who have acquired the real estate option will be able to enjoy all the facilities of the hotel. Units can be purchased by Bermudian, Permanent Resident Certified and International guests.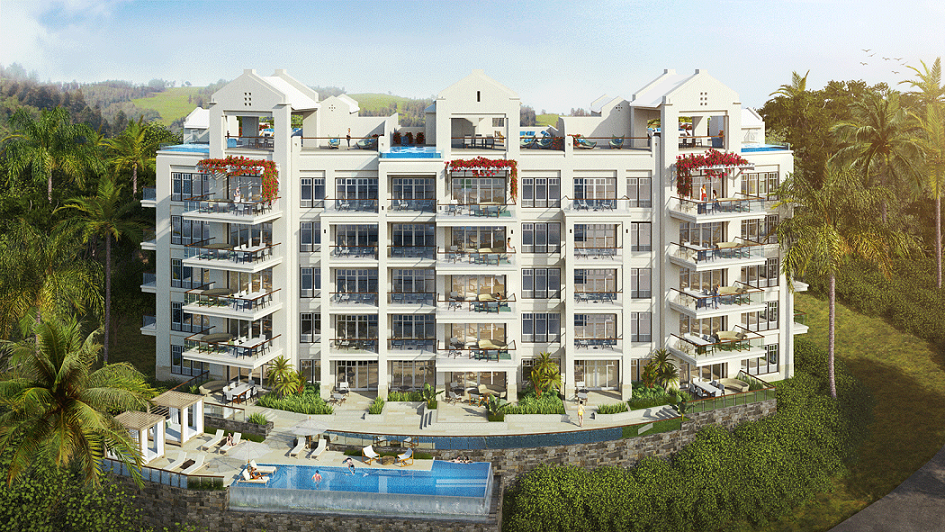 ---
The Reefs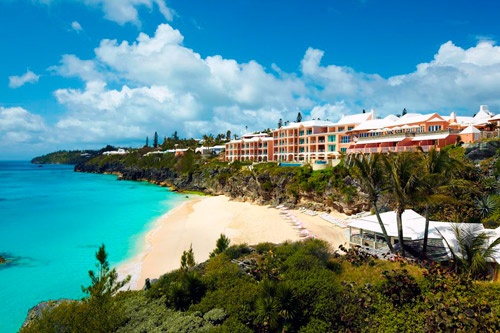 South Road, Southampton Parish. Phone (800) 742-2008 in the USA or Canada or directly at (441) 238-0222. Fax (441) 238 8372. A beach resort nestled into coral cliffs above a private pink beach. With three gourmet restaurants, bar and fitness center. The 2 tennis courts are plexi-pave. On the 7 bus route. Owned by Bermudian David Dodwell, a former Bermuda Minister of Tourism. Also has The Reefs Club, a Private Residence Club (PRC) with 19 two-and-three bedroom residences. With infinity pool, whirlpool, club lounge and fitness centre.
---
Willowbank Hotel and Conference Facility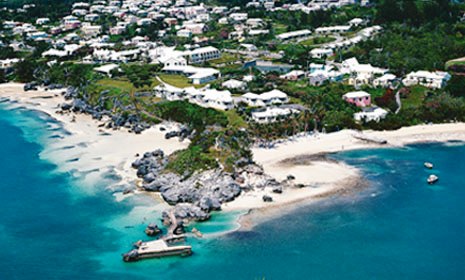 126 Somerset Road, Sandys Parish MA 06, Bermuda. 800.752.8493 (USA), 800.463.8444 (Canada), 441.234.1616 in Bermuda. Established in 1960. 67 rooms, all with balconies and non-smoking. On six acres of manicured grounds. Owned and operated by the Willowbank Foundation. Registered Bermuda Charity. Christian spiritual retreat. There is no bar. A place for spiritual and physical rest, and fellowship. On bus routes 7 (Dockyard) and 8. With 2 private beaches, water views, water sports, tennis courts, heated (in winter) outdoor pool. Room rate includes breakfast. Also served on an optional basis are afternoon tea, and dinner at its informal restaurant or in a more formal facility.
---
Categories of all accommodation properties for visitors

Authored, researched, compiled and website-managed by Keith A. Forbes.
Multi-national © 2020. All Rights Reserved