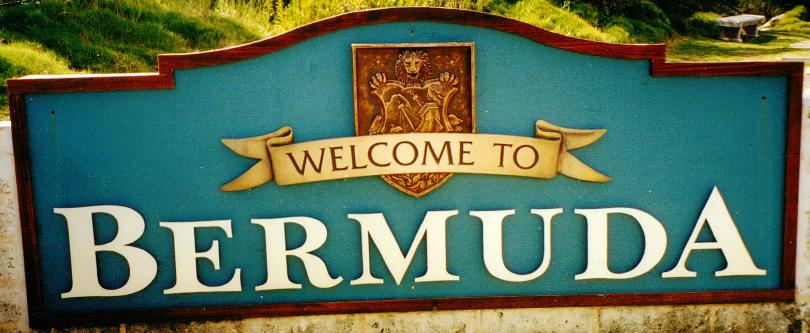 Click on graphic above to navigate the 165+ web files on this website, a regularly updated Gazetteer, an in-depth description of our island's internally self-governing British Overseas Territory 900 miles north of the Caribbean, 600 miles east of North Carolina, USA. With accommodation options, airlines, airport, actors, actresses, aviation, banks, beaches, Bermuda Dollar, Bermuda Government, Bermuda-incorporated businesses and companies including insurers and reinsurers, Bermudians, books and publications, bridges and causeway, charities, churches, citizenship by Status, City of Hamilton, commerce, communities, credit cards, cruise ships, cuisine, currency, disability accessibility, Devonshire Parish, districts, Dockyard, economy, education, employers, employment, environment, executorships, fauna, ferries, flora, former military bases, forts, gardens, geography, getting around, golf, guest houses, highways, history, historic properties, Hamilton, House of Assembly, housing, hotels, immigration, import duties, internet access, islands, laws, legal system and legislators, main roads, marriages, media, members of parliament, money, motor vehicles, municipalities, music and musicians, newcomers, newspaper, media, organizations, parks, parishes, Paget, Pembroke, performing artists, residents, pensions, political parties, postage stamps, public holidays, public transportation, railway trail, real estate, registries of aircraft and ships, religions, Royal Naval Dockyard, Sandys, senior citizens, Smith's, Somerset Village, Southampton, St. David's Island, St George's, Spanish Point, Spittal Pond, sports, taxes, telecommunications, time zone, traditions, tourism, Town of St. George, Tucker's Town, utilities, water sports, Warwick, weather, wildlife, work permits.

Bermuda's Island-wide Cottage Colonies, Guest Houses, Inns
Alphabetically with locations shown by parish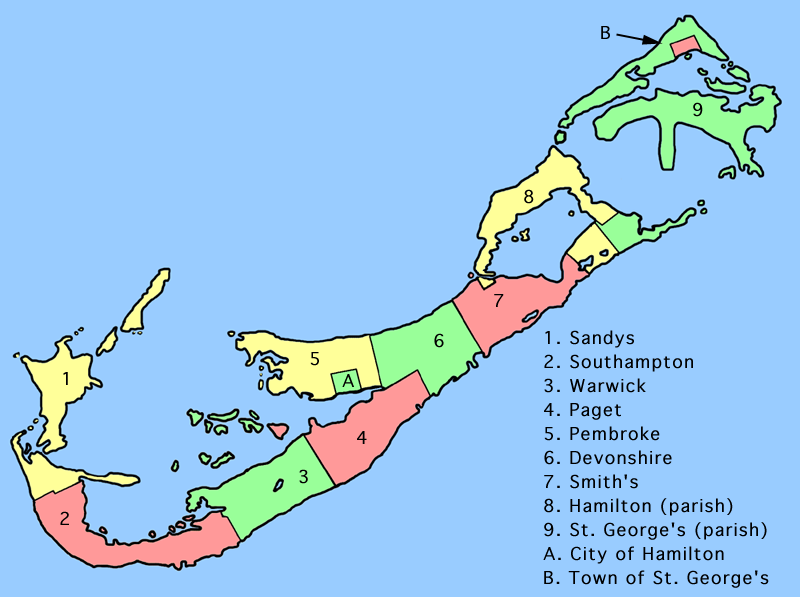 By Keith Archibald Forbes (see About Us).
---
---
Aunt Nea's Inn at Hillcrest
1 Nea's Alley, Town of St. George. Phone: (441) 296-2838. Fax (441) 297-1908. Was once with 15 rooms. Now with five big rooms all en suite facilities, as well as a self-contained apartment to the rear of the 18th century building and a small room on the outside. Also offers a garden. Breakfast. Bermuda's L.F. Wade International Airport is a 10-15-minute drive. The City of Hamilton is 14 miles away by public transport bus or ferry.
---
Coral Beach Tennis Club & Cottages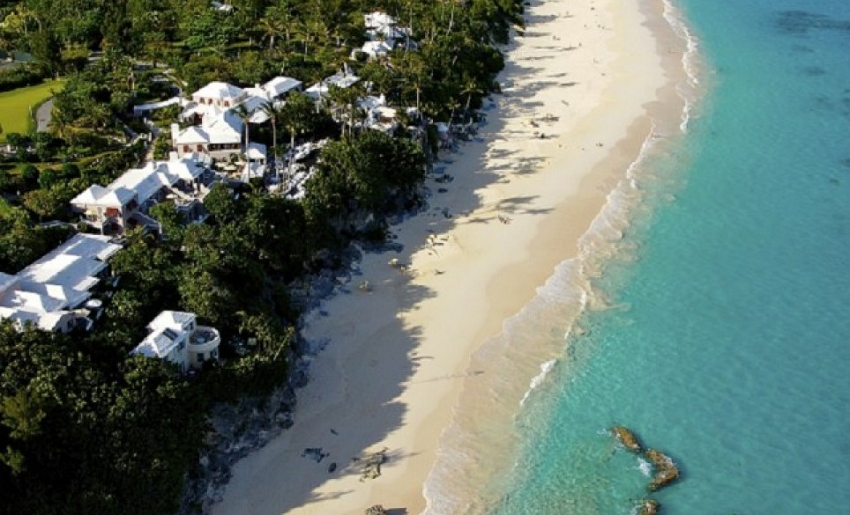 South Road, Paget Parish. Telephone: (441) 236-2233. Fax: (441) 236-1876. Just west of the Elbow Beach Hotel, less than 3 miles from the City of Hamilton. A fully functioning members' beach and tennis club, currently with many local and international members. A Private Club, open to new members and appropriate guests not members. On a 29.64-acre parcel of land with main clubhouse with eight cottages, 31 suites, plus pool and tennis facilities, squash courts, wedding, croquet and more. Has almost 2,000 feet of spectacular private beach. International tennis has often been played here. There are 8 clay courses, 3 lit.
---
Edgehill Manor Guest House

36 Rosemont Avenue, Pembroke Parish HM 06, Bermuda. P. O. Box HM 1048, Hamilton HM EX. Phone (441) 295-7124. Fax (441) 295-3850. 9 units. Light continental breakfast. Located on a hill only minutes away from the City of Hamilton, its shops (stores, restaurants, etc) bus and ferry terminals. Once a colonial-style mansion, converted to a guest house over 50 years ago. All rooms have a private balcony or terrace, air conditioning, cable TV, refrigerator, microwave oven, small safe, private telephone line and WIFI. Rooms with kitchens are available on request. Secluded swimming pool for guests in a lush subtropical garden.
---
Fourways Inn and Cottages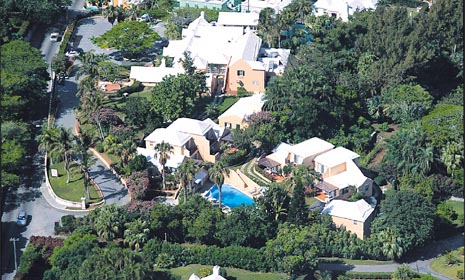 1 Middle Road, Paget Parish. P. O. Box PG 294, Paget PG BX. Phone in USA (800)-962-7654 or directly at (441) 236-6517. Fax (441) 236-5528. This upmarket restaurant, one of Bermuda's finest, has 5 luxury cottages, 5 suites and 6 deluxe rooms in a tranquil and verdant garden with swimming pool adjacent to restaurant. Inland. Flat screen digital television. Not on a beach but with access privileges at the nearest private beach. On bus route 8.
---
Greene's Guest House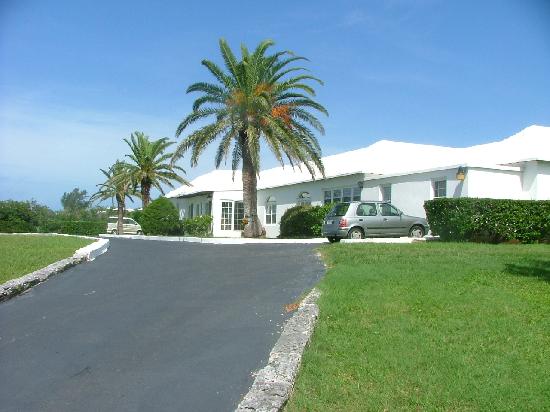 71 Middle Rd, Jenning's Bay, Southampton Parish SB 04. Phone (441) 238-0834 or 238-2113. Fax (441) 238-8980. 3 individual rooms with ocean views, from $160 a night. Rooms share a kitchen and living room space. Residential area. Pool, Sunken garden, lounge and games room. On bus route # 8. Rooms have air conditioning and fans.
---
Little Pomander Guest House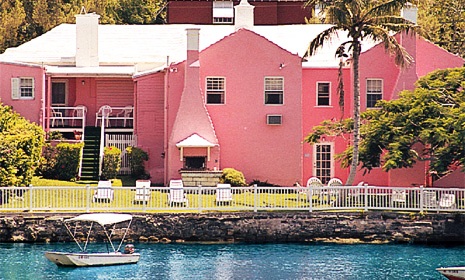 16 Pomander Road, Paget Parish PG 05. By mail at PO Box HM 384, Pembroke Parish HM BX. Phone (441) 236-7635. Fax (441) 236-8332. 5 units. Near bus routes 1, 2, 7, 8. Continental breakfast. WIFI cable TV, radio, air-conditioning, microwave oven and fridge. Patio and barbeque.
---
Mid Ocean Club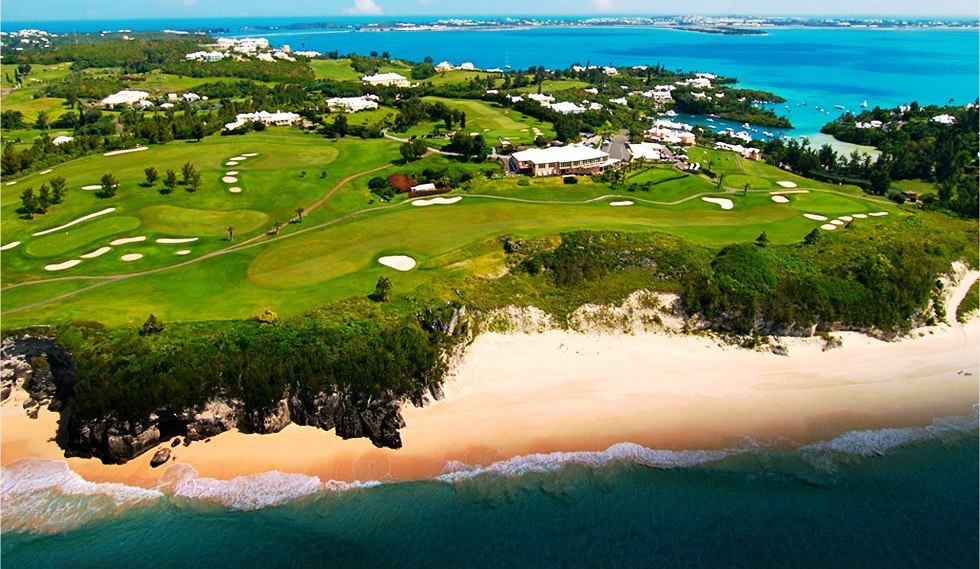 Mid Ocean Club, Golf Course and beach
1 Mid Ocean Drive, Tucker's Town, Hamilton Parish. Or by airmail at P. O. Box HM 1728, Hamilton HM GX. Telephone: (441) 293-0330. Fax: (441) 293-8837. 21 rooms and suites, with two beaches, one in the small harbour shown in the photo, the other south of the golf course. Must be a member or referred by one to stay. This property was one of those begun by the British shipping organization Furness Withy in the 1920s that really began Bermuda's climb in tourism. On a 640-acre estate in the most exclusive area of Bermuda, with numerous beautiful residences and 3 large private beach areas plus coves on the estate, accessible by a private road to the Tucker's Town peninsula usable only by Club members. The world-famous Mid Ocean 18-hole golf course was first laid out by Charles Blair MacDonald, who created what became the National Golf Course in the USA. It was once ranked as one of the 10 best golf curses in the world. There are also 2 tennis courts and a tennis pro. With fine dining in its own restaurant, plus a Beach Cafe. It has received the Bermuda Government's Tourism Longtail Merit Award. On bus route # 1.
---
Oxford House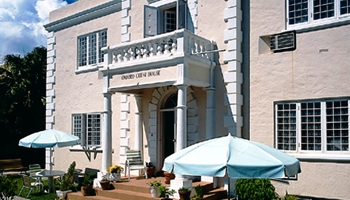 20 Woodbourne Avenue, Pembroke Parish HM 08. Postal address P.O. Box HM 374, Pembroke Parish, HM BX, Bermuda. Phone (441) 295 0503.Or in USA 800 548 7758. Fax (441) 295-0250. Guest house. 12 spacious guest rooms, all with private bath, air-conditioned with cable television, telephone and coffee/tea maker. Internet and WIFI in public areas. Continental breakfast.
---
Royal Bermuda Yacht Club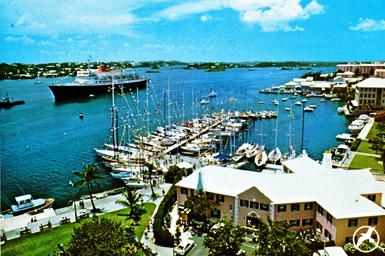 Private club. Albuoy's Point, city of Hamilton. Telephone 1 441 295 2214. Fax 1 441 295 6361. 3 comfortable guest rooms, only available to RBYC members, their guests and others who qualify by yacht club reciprocal membership. Rooms have harbour views. Contact the front desk for reservations and more info. Features include king size bed, tub/shower units, phone, coffee machine, Cable TV, DVD, stereo, and radio alarm clock. With its own marina, members' restaurant and nearby access to buses, ferries and shopping.
---
Royal Heights Guest House

Lighthouse Hill, Southampton Parish. Telephone (441) 238-0043. Fax (441) 238-8445. PO Box SN 144, Southampton, SN BX, Bermuda. 7 units. Owner: Jean Richardson. Accessible to public South Shore beaches. Near bus routes 7 and 8. Overlooking Great Sound. Views, bedrooms with air conditioning, television and patios. Continental breakfast.
---
St. George's Club
Closed. It is planned to reopen again under the management and ownership of the pending new St. Regis hotel in St. George's.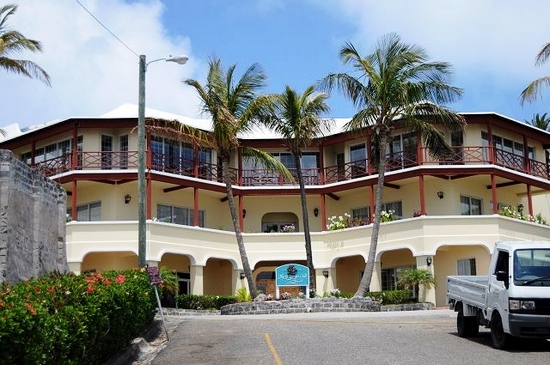 6 Rose Hill Street, Town of St. George. Phone (441) 297-1200. 71 units (43 2-bedroom and 28 1-bedroom cottages). Timeshare. Built in 1985 over what was once the St. George's Hotel, on 18 acres on the top of a hill overlooking the town. Weeks

were exchanged for vacations in over 5,000 other RCI resorts. Membership prices were based on the size of the cottage, the time of the year, and the location. Club facilities were open to members local and overseas. Premises are leased from the Bermuda Government.

2020. February 1. The St George's Club shut its doors yesterday after a quarter of a century in business. staff at the hotel were made redundant and the company expected to hand back its lease to the Bermuda Government. Hotelco Bermuda SGC Ltd, part of the group developing the nearby property to open as a St Regis Hotel, will take over the St George's Club. They will reopen the club after a period of much needed refurbishment and update.
---
The Ledgelets Cottage Colony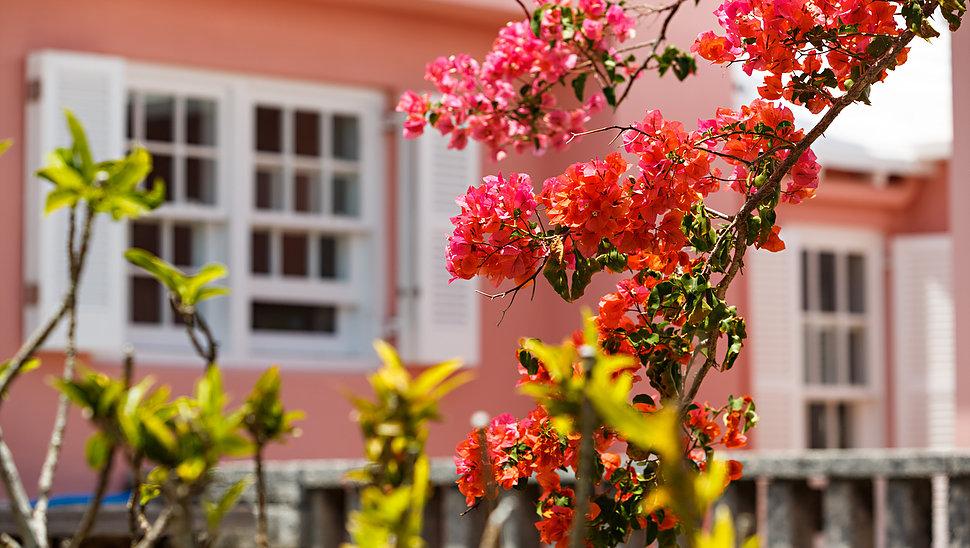 6 The Ledgelets Drive, Somerset, Sandys Parish MA 06. Phone (441) 504-6962. Cottages, some large, capable of hosting entire families, pool. Tranquil surroundings. Next to former gorgeous Lantana and owned by young descendants of the same family that founded Lantana. Lovely place for a magical garden wedding. Sunset cocktails and moonlight dancing. Whimsical tea parties and black tie dinners. A unique venue for a special occasion.
---
The Loren at Pink Beach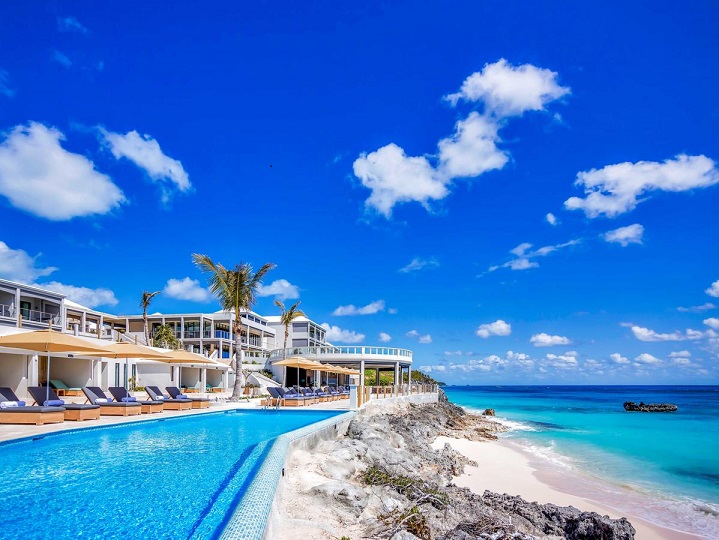 116 South Shore Road, Tucker's Town, Smith's Parish HS01, Bermuda. Website thelorenhotel.com On 17 landscaped acres and with two of Bermuda's spectacular private pink sand beaches. A new $51.5 million 34 room boutique hotel with two restaurants and six guest condominiums, two guest suites, two swimming pools and a residential building. Bermuda's newest hotel and condominium complex, in a private beachfront area, built on land that until 2014 housed the once-iconic Pink Beach Club and Cottages until their receivership in 2010 and subsequent demolition. Bus route 1 by day passes below.
---
Categories of all accommodation properties for visitors


Authored, researched, compiled and website-managed by Keith A. Forbes.
Multi-national © 2020. All Rights Reserved