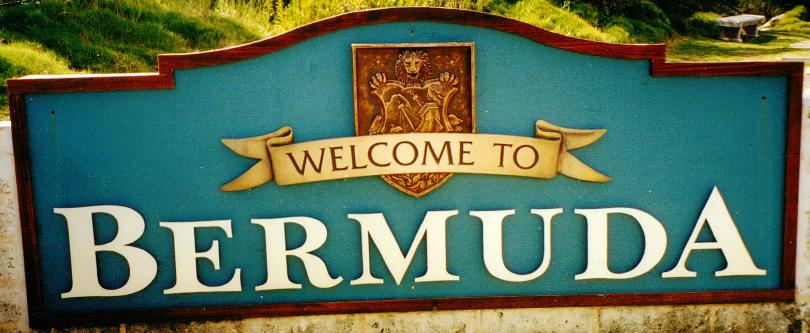 Click on graphic above to navigate the 165+ web files on this website, a regularly updated Gazetteer, an in-depth description of our island's internally self-governing British Overseas Territory 900 miles north of the Caribbean, 600 miles east of North Carolina, USA. With accommodation options, airlines, airport, actors, actresses, aviation, banks, beaches, Bermuda Dollar, Bermuda Government, Bermuda-incorporated businesses and companies including insurers and reinsurers, Bermudians, books and publications, bridges and causeway, charities, churches, citizenship by Status, City of Hamilton, commerce, communities, credit cards, cruise ships, cuisine, currency, disability accessibility, Devonshire Parish, districts, Dockyard, economy, education, employers, employment, environment, executorships, fauna, ferries, flora, former military bases, forts, gardens, geography, getting around, golf, guest houses, highways, history, historic properties, Hamilton, House of Assembly, housing, hotels, immigration, import duties, internet access, islands, laws, legal system and legislators, main roads, marriages, media, members of parliament, money, motor vehicles, municipalities, music and musicians, newcomers, newspaper, media, organizations, parks, parishes, Paget, Pembroke, performing artists, residents, pensions, political parties, postage stamps, public holidays, public transportation, railway trail, real estate, registries of aircraft and ships, religions, Royal Naval Dockyard, Sandys, senior citizens, Smith's, Somerset Village, Southampton, St. David's Island, St George's, Spanish Point, Spittal Pond, sports, taxes, telecommunications, time zone, traditions, tourism, Town of St. George, Tucker's Town, utilities, water sports, Warwick, weather, wildlife, work permits.

Bermuda Government after General Election of October 1 2020
The Progressive Labour Party took 30 of the 36 parliamentary seats

By Keith Archibald Forbes (see About Us).


Introduction
A General Election was held on October 1, 2020, between the Progressive Labour Party (PLP), then the Government with 24 of the 36 parliamentary seats, One Bermuda Alliance (OBA), with 12 of the 36 seats and the 2020 September 1 newly-formed Free Democratic Movement (FDM). The PLP increased its majority to 30 seats from 24. The OBA decreased its minority by 50%. The FDM got 5% of the vote island-wide but got no MPs.
Number of registered voters: about 46,669
Total vote count: about 34,060
PLP: 20,059 votes (65% of the popular vote)
OBA: 13,832 votes (30%)
Political Parties
Progressive Labour Party (PLP). See http://www.plp.bm for its Members of Parliament and their PLP email addresses. It formed the Bermuda Government from 1998 to December 17, 2012, then from July 19, 2017 and again now.
One Bermuda Alliance (OBA). See http://www.oba.bm for its Members of Parliament and their OBA email addresses. The ruling Government party from December 18, 2012 to July 18, 2017. Now in opposition.
Free Democratic Movement. Since September 1, 2020.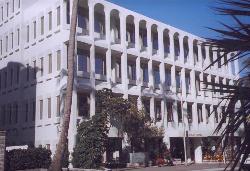 Bermuda is externally a self-governing overseas territory of the United Kingdom. It makes all its own laws. UK and European Community laws do not apply in Bermuda. Newcomers from other countries can come here to work despite the island's small size and exceptionally high population per square mile but, unlike in Britain, are not allowed to gain citizenship or vote or acquire lower-priced real estate unless they they qualify for citizenship in ways no other Western country require. In the UK, USA, Canada and elsewhere, citizenship comes after 3 (if married to a national) or 5 years, tops. But not in Bermuda, not even if you stay longer than 5 years.
In Bermuda, only with marriage to a Bermudian and living with a spouse for over 10 years can someone not Bermudian apply for citizenship. Even children born in Bermuda are not Bermudian under Bermuda law unless one parent is.
More information about the role of Britain in Bermuda. Her Majesty the Queen is Bermuda's official Head of State. In London, the Foreign, Commonwealth & Development Office, London, England, at https://www.gov.uk/government/organisations/foreign-commonwealth-development-office is responsible for Bermuda, other territories and agencies including UK visas, British Council and BBC World Service. The Governor and Commander-in-Chief of Bermuda is appointed by The Queen (on the advice of the British Government in London) after consultation with the Premier of Bermuda.
His Excellency the Governor has his own Flag of Office. It is a Union Jack but in its center it has the Bermuda arms on a white disc encircled by a green garland. Uniforms for the Governor are made in London by Davies & Sons. They include a full dress blue and tropical cotton drill. It is based on old British military Field Marshals, with a white pith helmet with dyed scarlet swan's feathers plumage and Mameluke sword by Wilkinson Sword. The price of about $10,000 is met by the British Government. The official car used by the Governor features a crown instead of a license plate, with extra large width, length and horsepower by Bermuda standards and the Governor's Flag.
The main challenge for a Bermuda Governor is to balance two sometimes contradictory functions. First, he is the primary source of information from Bermuda to the Foreign and Commonwealth Office on the state of affairs in Bermuda. Second, he is the voice of the United Kingdom and the Foreign and Commonwealth Office for advising Bermudians what they can and cannot do under British/United Kingdom laws. The salaries of the Governor, Deputy Governor and their staff are paid by Bermuda's taxpayers, NOT the British Government. Bermuda, despite its tiny size, is wealthy enough not to need the support from the United Kingdom some other overseas territories get.
The governorship of Bermuda was traditionally a prestigious post for a small but important British territory granted by the British Government in London. For much of the last century it was given to a senior military officer on retirement, or a politician who had held senior office. The last of the latter type was David Waddington, Baroness Thatcher's last home secretary who as Lord Waddington was governor from 1992 until 1997. Since then the post has been held by career diplomats and sometimes comes with a knighthood for the holder when retiring and not being re-assigned elsewhere.
Bermuda is a parliamentary representative democratic dependency. The UK's Foreign and Commonwealth Office ( FCO) administers Bermuda internationally but in all other matters Bermuda is a self-governing British Overseas Territory (BOT), one of the 14 BOTS worldwide and the oldest.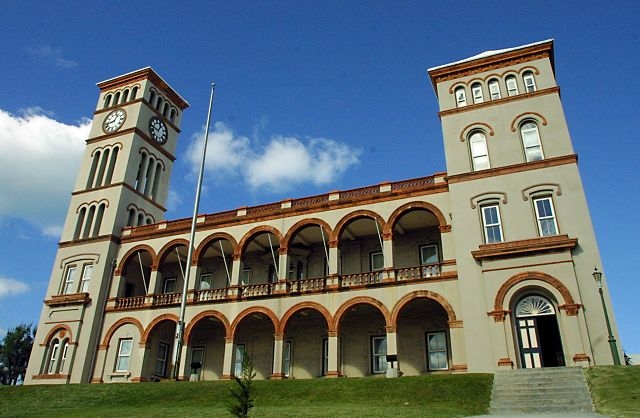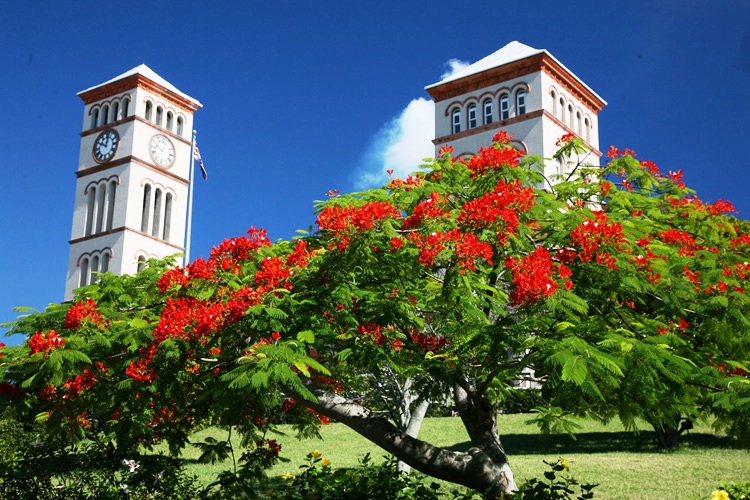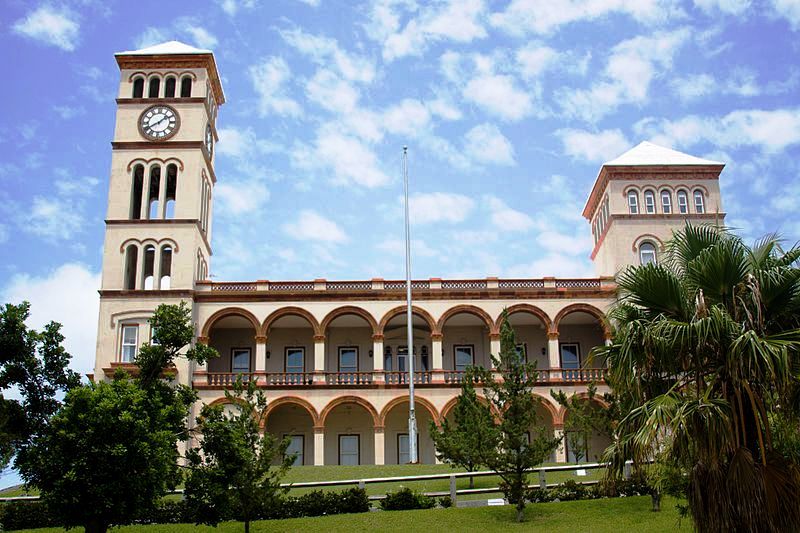 Bermuda House of Assembly or Sessions House.

Bermuda Government Cabinet members with their Ministry Portfolios
Premier from July 19, 2017: Hon. David Burt, JP, MP, 41 in 2020. The Premier decides all Cabinet appointments.
The Premier of Bermuda is the political leader and head of government. The post of Premier in Bermuda is the equivalent to Chief Minister in other British Overseas Territories or Prime Minister in politically independent British Commonwealth of Nations. It is the highest political level that can be attained within the British colonial system. The Premier and Cabinet (consisting of all the most senior ministers) are collectively accountable for their policies and actions to Her Majesty Queen Elizabeth II, to the Legislative Assembly, to their political party and ultimately to the electorate. Phone (441) 295-4623. Highest paid Cabinet member, on an annual salary of $224,092 in 2011/2012. Has use of a Bermuda Government car, GP1, a BMW 750Li. Also gets health insurance, a pension, a parking space at Sessions House and a credit card. Appoints other Cabinet Ministers each of whom earns in excess of $171,000 a year plus expenses, gets use of a Bermuda Government car, a Toyota Camry, health insurance, a pension, a parking space at Sessions House and a credit card.
Premier the Hon. David Burt, MP, JP, and his family. Married to Kristin. They have two children. He attended Saltus Academy but left at a young age to seek a fresh challenge, heading to Florida Air Academy and qualifying as a pilot. Later, he attended and graduated from George Washington University, where he obtained a bachelor of business administration in finance and information and a master of science in information systems technology. He was awarded the university's presidential administrative fellowship. The Progressive Labour Party's leader had been the Shadow Minister of Finance since 2012 and is a former party chairman. He is a lifelong Pembroke resident and runs an IT and small business consulting firm called GMD Consulting Limited. He has served on the Tourism Board and the National Training Board, and also filled the position of director at the Bermuda Chamber of Commerce and Bermuda Economic Development Corporation.
All Cabinet Ministers are appointed by and answer to the Premier. He can extend or reduce their Cabinet responsibilities, at her/his discretion. They must be either elected Members of Parliament or members of the Senate. They are referred to as Ministers in the British way because they control and administer and set the policy for their portfolios. They are paid a regular and pensionable salary - far more generous than in the private sector - as Members of Parliament or Senators with an additional sum if they are also a Cabinet Minister. The benefits enjoyed by Cabinet Ministers on top of their six-figure salaries include use of a car, health insurance, a pension, a parking space at Sessions House and a credit card. All Cabinet Ministers and members of the Legislature are entitled to participate in the Government employment health insurance scheme, as well as the Ministers and Members of the Legislature pensions fund. Ministers are afforded cars. Ministers are issued credit cards that are governed according to Government's Financial Instructions. They are subject to the standard audit process of the Government.
2020. October 11. Under fire new senator and Cabinet member Rolfe Commissiong was sacked by the Premier today after just two days in the posts. Rolfe Commissiong was appointed the Senate leader and community affairs and sports minister by David Burt on Thursday, despite being forced to stand down as a Progressive Labour Party election candidate after he admitted an "inappropriate" remark two years ago. News of the appointment of Mr Commissiong, the former MP for Pembroke South East, who stood down from the contest for the seat in August to avoid a "distraction" from the PLP campaign, sparked fury from campaign group Social Justice Bermuda and the Opposition One Bermuda Alliance. Mr Burt added: "Whilst it is not for me to judge any conduct or to determine the outcome of any further action which may be taken, I am compelled to act now." He said: "The appointment of the Government Leader in the Senate and of the senator who must, under the Constitution be a member of the Cabinet, will be made in due course."
2020. October 9. The Premier announced his new Cabinet and Senate teams. He dropped the community affairs and sport minister and the recently appointed transport minister from the front bench. Lovitta Foggo, who held community affairs and sport, and Neville Tyrrell, who took over transport after Zane DeSilva left the tourism and transport portfolio, will return to the back benches in the House of Assembly.
Rolfe Commissiong, who stood down as a candidate before the General Election, was appointed Government leader in the Senate and will take over the community affairs and sport ministry. Lawrence Scott will be the new transport minister. Tinée Furbert has been appointed Minister of Social Development and Seniors.

Owen Darrell, the Chief of Staff to David Burt, the Premier, has also joined the Senate and will become the junior Cabinet Office minister.

Curtis Richardson, a repeat electoral challenger in Paget East, was appointed junior minister for the transport, health and national security portfolios in the Senate. Arianna Hodgson will handle community affairs and sport in the Upper House and Lindsay Simmons will speak as junior minister for social development and seniors.

Both ran in the General Election on October 1 for the first time. Mr Commissiong stepped down as an election candidate in August after what he admitted was an inappropriate comment from two years ago resurfaced. Cabinet has increased by one minister to 13 and Mr Burt said he had appointed the maximum number of people from the House of Assembly.

Ms Foggo will become chairwoman of the Bermuda Land Development Company and the Bermuda Airport Authority and Mr Tyrrell was appointed as the new chairman of the West End Development Corporation.
Premier's Senate appointments
The Premier appoints five in the Progressive Labour Party of the eleven Senators. The Governor appoints 3 who are independent, not in the PLP or OBA and the OBA picks three.

Bermuda's Members of Parliament in House of Assembly
The House of Assembly, Bermuda's Parliament, first convened on August 1, 1620, in the town of St. George, Bermuda's first capital. Only the legislative assemblies of the United Kingdom and Iceland pre date it. The dress code for all Bermuda legislators was relaxed in July 2000. Now men may wear Bermuda Shorts or safari or Nehru suits and women trouser suits. The Bermuda Government has 9 appointed (not elected) Parish Councils, 2 elected municipal Corporations each with their full slate of aldermen and councilors like much larger cities and towns abroad and 108 Government Boards in which there are 800 part time members (none of them full time civil servants, all reporting to a Member of Parliament).
All elected Cabinet Ministers and Members of Parliament are required by law to be both Bermudian and British men and women who are Government or Opposition backbenchers. Their salaries are more than in many places far bigger than Bermuda. They are popularly elected to terms of up to five years by the registered voters of Bermuda - mostly Bermudian. (Some non-Bermudians who were Commonwealth citizens in 1979 were given the vote but are not Bermudian. Since 1979 there have not been any further voting concessions to non-Bermudians, nor have any non-Bermudians been allowed to become Bermudians unless they have qualified to do so by (a) marriage, (b) a wait of 10 years after marriage and (c) have remained both married and living/cohabiting with the same spouse at the time of their marriage at least 10 years earlier).
Cabinet Ministers and Members of Parliament pay at least 12.5 per cent of their gross salaries into The Legislature Pension Fund. Government matches contributions, to make a total of 25%. Pensions are paid out based on a formula pertaining to the number of years in which contributions were made.
The Bermuda Government is Bermuda's biggest employer by far. It employs more than 14% of Bermuda's entire adult working population and is also easily Bermuda's biggest real estate property owner. Many buildings house the legislators and civil service. The Government controls things which in many other countries are privatized. Typical examples are in airports, tourism, transport. All first world countries have privatized them wholly or partly, but not in Bermuda. Government has 38 quangos and public funds.
Bermuda has more politicians per voter than anywhere else in the world. A Constituency Boundaries Commission, appointed in late 2001 recommended reduction of members from 40 to 36. It was approved and was in place for the July 2003 General Election Bermuda now has 36 Members of Parliament in 21 square miles for a total of 43,000 voters, or 1 legislator for every 1,194 voters. In comparison, in the European Union overall, there are 736 Members of the European Parliament (MEPs) for 350 million voters throughout the EU, equivalent to 1 MEP for every 470,000 voters. In the United Kingdom, there is massive over-representation (but not nearly as pronounced as Bermuda) with 646 MPs for a population of 60 million, or 1 MP for every 64,000 voters, with 18 MPs in the whole of Northern Ireland. Germany, with a population of 82 million, has 600 members of parliament; Japan, with a population of 127 million, has 470 legislators; Russia, with a population of 144 million, has 450 legislators; and USA, with 293 million, has 430 congressmen and women' Other examples include St. Lucia, with 14 parliamentarians in its 240 square miles; Barbados, also in the Caribbean, with 28 elected members in its parliament and 12 senators, in its 166 square miles and with a population of 266,000.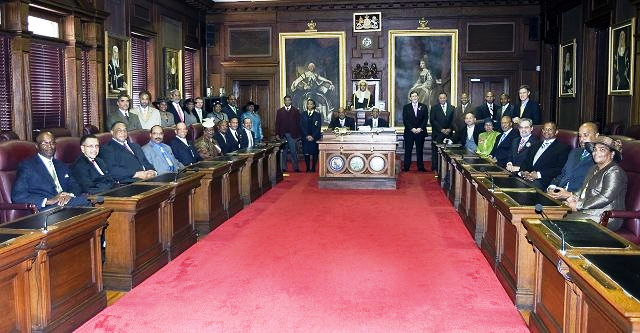 House of Assembly recently

Bermuda social rank definitions and explanations, UK-style
| | |
| --- | --- |
| Short form | meaning |
| Dame | Dame of the Order of the British Empire, female equivalent of Knight (Sir). In the UK, there are various ranks of Dames |
| Hon | Honorable, solely for current and former Cabinet Ministers |
| Sir | Knight of the British Empire. In the UK, there are various ranks of Knights |
| JP | Justice of the Peace, not a magisterial post. In Bermuda, they do not dispense summary justice but they can deal with local administrative applications. They can be called by the Bermuda Police to execute warrants. JPs are appointed solely by the Bermuda Government; are not required to have a formal legal education in order to qualify for the office (the vast majority of them do not); and are usually Cabinet officials |
| MP | Member of Parliament (elected) |
| OBE | Officer (higher than Member) of the British Empire |
| MBE | Member of the British Empire, after nomination by Premier |
| Senator | Member of the Bermuda Senate, appointed by Party Leader |
| Wor | Worshipful, title of Mayors of City of Hamilton and Town of St. George's |
On recommendation of the Bermuda Government (Premier's Office) to the UK. For government service. Unlike in the UK, in Bermuda there have never been any Bermuda Government-nominated recommendations for a Dame or Knight who is not in government but is instead in international or local private-sector business.
* Also on recommendation of the Bermuda Government ( Premier's Office) to the UK. For government or other service.

Bermuda Vital Statistics
| | |
| --- | --- |
| Bermuda size & population | 20.75 (Twenty point seven five) square miles in total. 63.908 residents in 2019. Women then outnumbered men by 2,398. |
| Resident population density per square mile | 3,097 (Three thousand, zero nine seven). Third highest in the world |
| | |
| Government Code of Conduct for legislators | None. There is a voluntary code, with no legislative teeth. It is ignored by some. No equivalent of the UK's Ethical Standards in Public Life Act. |
| Number in Cabinet | 13. Same number as USA, equivalent in Bermuda to 0.63 (Point six three) per square mile. They have "The Honorable" before their name. |
| Number of elected legislators in House of Assembly and their salaries | 36. Equivalent to 1.93 (One point nine three) per square mile. They have "MP" for Member of Parliament after their name. If they are also Cabinet Ministers, they earn well in excess of $100,000 a year, plus unlimited expenses. |
| Number of appointed politicians in Senate | 11. Also salaried. Equivalent to 0.53 (Point five three) per square mile. They have "Senator" before their name. If they are also Cabinet Ministers, they earn this plus what is shown above under "Number of elected legislators." |
| Number of registered voters per Member of Parliament | 1,297. On date of last General Election. Contrast this with no fewer than 72,810 and no more than 80,433 per member of parliament in the UK in 2018 and approximately the same in the USA per congressperson and Canada. |
| Number of Government Boards | About 122. All require the approval of the Premier who controls all Public Information. See Bermuda Government Boards separate website shown at the end of this file. |
| Number of Police | About 465, over 20 per square mile. Plus, there are Reserve officers. Bermuda has more police per square mile and per population than anywhere else in the world |
| Number in Bermuda Regiment and its Coastguard | 600 members, mostly Bermudian men, also some women, mostly part time, all now volunteers. Conscription of Bermuda-born males ended a few years ago. |
| Registered voters who can participate in a General Election | About 46,750. Total number of registered voters in the last General Election, about 60% of the entire resident population. Varies from year to year. |
| The Bermuda Society | |

Bermuda Constitution
A written document 96 pages long, it went into effect on June 8, 1968.
The Bermuda Constitution is not like other constitutions which cover all nationals and non-nationals. The Bermuda one covers Bermudians and their spouses only, not the 25 percent who are not and probably will never be unless they marry a Bermudian, or are born to parents one of whom must be a Bermudian.
Non-Bermudians married to Bermudians are not protected by the Constitution against work permit cessation or conviction of a serious crime and also under the latter have no human right to a family life in Bermuda, unlike under European law where the European Court of Human Rights (ECHR) may offer protection.
In Bermuda, the Auditor General and Ombudsman are the only two wholly independent institutions under the Constitution with oversight of the Government.
The Bermuda Government has three main branches - Executive, Legislative and Judicial - in the British "Westminster" system. They are described below.
Non-Bermudians should be aware that Bermuda is the only place in the developed Western world where Bermuda's constitution and Human Rights laws, provisions and rights apply to Bermudians only. Both of which effectively mean that any attempt by a non-Bermudian to legally challenge a termination of employment and/or residence in Bermuda will be very expensive to pursue and unlikely to succeed.


Bermuda Casino Gaming Commission
Bermuda has enacted legislation for government, not the private sector or an independent entity, to introduce, control and financially benefit from casino gambling, at government-approved hotels.

Bermuda Civil Aviation Authority (BCCA)
Responsible for the regulation and safety oversight of aviation in Bermuda and all aircraft on the Bermuda Aircraft Registry. Previously known as the Bermuda Department of Civil Aviation, which was established in 1931, the new BCAA became a newly formed Authority on October 1st, 2016. Bermuda is a United Kingdom Overseas Territory and though it is regulated by the UK Department for Transport, the safety oversight system is separate from that of the UK. The regulatory requirements are established as the Overseas Territories Aviation Requirements (OTARs), which are in full compliance with the standards and recommended practices of the International Civil Aviation Organization (ICAO). Bermuda's Aircraft Registry is extensive and ranks 10th in size when compared to the 191 signatory States to the Convention on International Civil Aviation. The current Registry includes a mix of both private aircraft and commercial aircraft operated under Article 83 bis Agreements.

Bermuda Financial Policy Council
Created to advise on the development of Bermuda's financial stability framework. Members of the council include Mr Burt, Sir Andrew Large, the former deputy governor of the Bank of England and the CEO of the Bermuda Monetary Authority. Other members are government-approved. The council is supported by the Ministry of Finance and the BMA.

The over 108 boards of political appointments acceptable to the Premier include, at the top, a reference to the relevant Act of Parliament and all members of that Board. They advise their respective Ministers - who may use his or her discretion instead of accepting their recommendations.

Bermuda Government Debt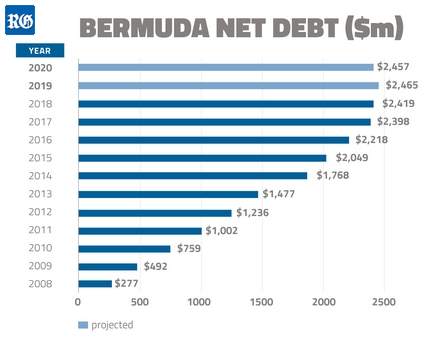 2019. February 23. The Bermuda Government is to suspend payments into the sinking fund, a home for money set aside to pay down long-term debt. In his maiden Budget Statement yesterday, Curtis Dickinson, the Minister of Finance, said it did not make financial sense to borrow money in order to set it aside for future debt payments. Not paying the contribution allows the Government to project a surplus of $7.38 million, rather than a deficit of about $57 million if the payment had been made. Mr Dickinson said yesterday that the sinking fund has a balance of $214 million. In the coming fiscal year, $180 million of it will be used to repay maturing debt. "The Government will suspend making mandatory contributions to the sinking fund," Mr Dickinson said. "This decision has been made in light of the following factors: (i) apart from the private placement notes referenced above, the next maturity of government debt will occur in 2022; (ii) the interest expense associated with borrowing to fund the mandatory sinking fund contributions will be greater than the investment return generated on those funds; and (iii) the Government is forecasting continued operating surpluses which it intends to contribute to the sinking fund or use to make open market purchases of its existing indebtedness." The medium-term projection accompanying the Budget Statement shows no plans to make a contribution to the sinking fund in any of the next three fiscal years. The Government Loans Act 1978 requires that an amount equal to 2.5 per cent of public debt outstanding is paid into the sinking fund each year.
The law gives the finance minister discretion to suspend payments for 12 months or to draw on the fund to make interest payments. As the debt has burgeoned over the years, from $277 million in 2008 to about $2.46 billion today, mandatory sinking-fund contributions have grown with it to a high point of $64.2 million in 2018-19. The last time the Government made no contribution to the fund was in 2009-2010, when Paula Cox, the finance minister of the time also drew on the fund to pay interest on long-term debt. Since then, contributions to the fund have totaled more than $345 million. The repaying of the $180 million in maturing debt in 2019-20 will reduce annual interest costs to the Government by $12.1 million, Mr Dickinson said. The net debt will rise close to the $2.5 billion debt ceiling, but will not break through it, Mr Dickinson said. By the end of March 2020, net debt is forecast to be $2.457 billion. Future surpluses will be committed to paying down debt, the finance minister added. Interest payments on the debt will amount to $116.5 million in 2019-20, down from $124 million in the previous year, but still costing the public purse the equivalent of $319,000 per day. Interest will also eat up 10.4 cents of every dollar the Government takes in the next fiscal year. Revised estimates for the current fiscal year, which ends on March 30, show that the Government took in $1.08 billion, which was $10.6 million, or 1.1 per cent less than it projected in last year's Budget. Current account expenditure, which excludes debt servicing costs, was nearly $932 million, which was $2.85 million, or 0.3 per cent more than projected. The result was a deficit of $102.58 million for 2018-19, revised upwards from the last year's projection for a deficit of $89.7 million. For 2019-20, revenue is forecast to rise by $39 million from the revised estimate for this year to $1.12 billion, while expenditure will be down by $2.1 million from this year's revised total to $929.86 million.
The biggest contributor to government coffers will be payroll tax, which is projected to bring in $466.1 million next year, up $5.5 million from this year's revised estimate, followed by customs duty, expected to generate $235 million, compared to $224.5 million this year. Mr Dickinson announced a freeze in expenditure at 2018-19 levels and added that spending cuts would be difficult to achieve. "While there has been some success in reducing costs, it has become increasingly difficult to implement further reductions under the current government structure and the across-the-board expenditure cuts in previous budgets," Mr Dickinson said. "With 51.5 per cent of the current account expenditure, excluding debt service, representing employee costs and 34.1 per cent relating to grants and contributions, there are very few other expenditure types that can be reduced and have a material impact on the level of spending." However, the Government has set up an Efficiency Committee, to seek further opportunities for savings, "either by way of increased efficiencies or by making structural reforms in the way in which services are delivered and institutions are structured", Mr Dickinson added. The finance minister said: "The EC has highlighted how savings and greater effectiveness can be obtained by the Government in the areas of financial assistance, purchasing of materials, inventory management, and handling of staff vacancies. The EC has also emphasized the critical importance of developing a detailed overall strategic plan to guide the spending priorities of the Government over the medium to long term." The most expensive ministry by far is health, whose projected expenditure for next year is $241.55 million, more than $100 million ahead of the next most costly ministry, education, which will cost nearly $137 million, just ahead of national security, with $135 million.

Bermuda Government Fees and Taxes, main sources
Alphabetically:
Bermuda Monetary Authority Fees
Bermuda Register of Aircraft.
Bermuda Ship Registry Fees.
Betting (Gambling) Taxes
Corporate Services Taxes.
Customs Duty Taxes. Bermuda Government's second-biggest source of revenue, after Payroll Tax. Virtually everything in Bermuda is imported.
Foreign Currency Purchases Taxes. Payable by all in Bermuda, not at a flat rate but at over 1% of face value of US$, Canadian £, British Pounds Sterling or any other foreign currency being purchased.
Hotel Occupancy Taxes. Payable by all airline visitors at all categories of guest premises.
Insurance Companies taxes.
International Companies Taxes.
Land taxes. Payable by home owners and indirectly by those who lease or rent apartments or homes.
Motor Vehicle Licenses, payable annually by owners.
Motor vehicles taxes. Payable by all who buy them new.
Oil and gasoline taxes. Payable by all who own and drive motor vehicles and who own homes with electricity powered by oil-burning BELCO turbines.
Passenger Cabin Tax. On cruise ships.
Passenger Departure (Cruiseships) Taxes. Payable by airline and cruise ship residents and visitors.
Passenger Departure (Aircraft) Taxes.
Payroll Tax. Now Bermuda's biggest single source of Government revenue. Payable in equal proportions by all Bermuda-based employers and their employees, whether international (exempted) or local companies.
Stamp Duty Taxes. Payable by consumers on real estate, mortgage and death duties
Telecommunications Taxes. Payable by ISPs, cellphone (mobile) users, etc.
Timesharing Services Taxes. For those with Bermuda-based timesharing units.
Yacht Arrival Taxes. For all who arrive by yacht.

Bermuda Land Development Corporation (BLDC)

Set up by the The Base Lands Development Act 1996 following the end of the US and Canadian Military Bases. One of a number of government quangos.

Summarized in this Bermuda Government website.

Bermuda Parliamentary Boundaries Commission

Bermuda Parliamentary Constituencies amended

Each constituency is about 0.58 of a square mile on average, with between 1,031 and 1,143 voters; and has one paid legislator.

Bond Issue

A $ multi- million bond issue has launched by the Bermuda Government.

Cabinet Building, Cenotaph and War Memorial

Cabinet Office, showing a long line of official Bermuda Government Ministerial cars parked outside. Royal Gazette photo.

Government has more than 111 GP cars in its fleet, at significant cost to taxpayers in fuel, repairs, maintenance. Only the Premier and Governor can have over-size cars. GP 1-3 registered cars shown above are for Cabinet Ministers with the Premier having GP 1. All the cars shown above have since been replaced.

105 Front Street. Telephone 292-5501. Designed in 1837 by an officer of the Royal Engineers then serving in Bermuda. When it was first opened in 1884, it was known as "The Public Building", part of Bermuda's civil colonial government during the reign of Queen Victoria. It then housed the Customs and Treasury Departments and the Bermuda Library on the ground floor with the Council Room and the Secretariat on the upper. It has remained the home of the Council and the Secretariat ever since, with the exception of a period of nine years (1969 1977) when the Executive Council was based in offices on the second floor of the General Post Office at Church and Parliament Streets. Entering the Entrance Hall, the doors are of Bermuda cedar. Some of the cedar was given to the Cabinet Building by the Consul General of the United States and some of the cedar was from the O1d (ended in the late 1950s) Bus Garage, earlier a Bermuda Railway train depot, on East Broadway. These doors were installed in 1989, completing the renovations to the ground floor of the Cabinet Building. There is a large portrait above the stairs, facing down into the Entrance Hall, which is that of Queen Victoria, a copy an original portrait which hangs in St James' Palace, London and is on loan from the St. George's Foundation of New York. It shows the young Queen at the beginning of her reign, shortly after her marriage to Prince Albert of Saxe Coburg-Gotha. In the Upper Hall, over the stairs, there is a portrait of Sir Thomas Gates who was with Admiral Sir George Somers in the Sea Venture in 1609. In the Upper-Hall, facing the stairs is a portrait of William Herbert, 3rd Earl of Pembroke; the original, painted in 1627 for King Charles I, hangs in the National Portrait Gallery in London. To the right is a portrait of Sir Edwin Sandys, a member of the Bermuda Company during the early years of colonization. Lord Sandys, a descendant of Sir Edwin, had two copies made of the original portrait and in 1959 kindly presented one to Bermuda and the other to the House of Burgesses in Richmond, Virginia, to mark the 350th anniversary of the settling of both Bermuda and the Virginia Colony. From the large casement window in the Upper Hall a pleasant view of Hamilton Harbour can be seen which, from April to November each year, includes cruise ships alongside Front Street. Either side of the casement window are portraits of King George III (1760 1820) and Queen Charlotte these are believed to be the works of Allan Ramsay, Court Painter (1713 1784). These portraits were retrieved by the British Army when it burnt the White House in Washington DC in the 1812-14 War. At the latter, the portraits had been removed from display and put in storage. It was the taxation policy of the British Government that had so exasperated the North American colonists that on 4th July, 1776, they proclaimed their independence from Great Britain. To the left of the door leading into the Senate Chamber is a portrait of Sir Francis Forbes who enjoyed a successful career in the legal profession and, moving to the Southern Hemisphere, served as a Chief Justice in New South Wales.

Senate Chamber

When Parliament is in session, the Senate meets at 10.00 a.m. each Wednesday to discuss matters sent forward by the House of Assembly. The gallery to the left of the main entrance is for the use of the public. To the right, there is a small glass topped table. The book inside bears the signature of Her Royal Highness The Princess Margaret, Countess of Snowdon, who was present for the convening of Parliament on November 2, 1990. Beyond, on top of the bookshelves, is a long glass case, which contains The Black Rod. This is the emblem of office carried by a senior Police Officer who, when the Governor is about to open Parliament following a General Election or a seasonal Recess, summons the elected representatives from the House of Assembly and leads them in procession to the Senate Chamber. The Black Rod in the case was fashioned by the Crown Jewelers and is topped with a silver Coat of Arms and tipped with an inset Bermuda crown piece. It was presented to the Government in 1964 by Mr. B.C.C. Outerbridge who gave many years of service to Bermuda, in the House of Assembly both as a member and as Deputy Speaker, and subsequently in the Senate then known as the Legislative Council. The portraits above the Black Rod are of former Senate Presidents. They were Senator the Hon. Albert Jackson, CBE, JP 1987-1998; The Hon. Sir George Ratteray, CBE 1969-1980; and Senator the Hon. H.E. Richardson, CBE, JP 1980-1987; The portraits on the northern wall of the Chamber are of King George V and Queen Mary, the grandparents of Her Majesty Queen Elizabeth II, and are from originals at Windsor Castle. The two velvet covered beneath the portraits were used by Sir J. Tronnsell Gilbert, President of the Legislative Council, and Lady Gilbert when they attended the Coronation of Queen Elizabeth II at Westminster Abbey in 1953. Between the two portraits is the Royal Coat of Arms and beneath this is the dais from which the Governor, when opening Parliament, delivers the Throne Speech setting out the Government's programme for the next Session of the Legislature. The chair on the dais, now used as the Throne, has an interesting history: it was made of Bermuda cedar for one of Bermuda's early Governors and bears on its back a carved inscription which reads – "Cap. Iosias Forstor Esv. Governor of the Sumer Islands Ano do 1642". In 1897, Josias Foster's chair was discovered in the Island of St Croix in the West Indies, having been taken there by his descendants in 1800. The chair was duly purchased from the family and on return to Bermuda was installed in its current place of distinction. The original circular table around which Bermuda's Senators deliberate, has also served many and varied international gatherings. The "Three Power Conference" took place in Bermuda in December 1953, when President Eisenhower of the United States met with Sir Winston Churchill of Great Britain and Monsieur Joseph Laniel of France. Again in 1957, President Eisenhower was in Bermuda, this time to meet Primer Minister Harold Macmillan of Great Britain; and in 1961 Mr. Macmillan met with President Kennedy of the United States. On each of these occasions the table has been dismantled and removed to another, larger location. The twelve armchairs in use with the table were obtained by the Hon. Robert Kennedy, the Colonial Secretary of the day (not to be confused with the much later American by that name) who, in 1841, wrote from abroad to his deputy Charles Fozard: "I have selected and ordered a dozen very handsome chairs for the Council Room. They are elbow chairs of a very suitable pattern .... I will pay the cost out of the balance of the Powder Fund money in my hands, which is, I believe, about one hundred pounds." The chair at the northern side of the table with the slightly higher back, was bought in 1982 for the use of the President of the Senate. Two signed lithographs on the southern wall 0f the Chamber show Queen Victoria and Prince Albert, and were presented by their son Prince Alfred, when he visited Bermuda in 1861. The lithographs were restored at the British Museum in 1982.

Cabinet Building Grounds.

Immediately beyond the flagpole located at the front of the Cabinet Building is the Cenotaph -Bermuda's memorial to those who died in the world wars of 1914 1918 and 1939 1945. Remembrance Day is observed each November 11th, with a simple and moving ceremony, in which wreaths are laid by the Governor, the Premier, the Opposition Leader, the Commander of The Bermuda Regiment and Resident Services and Service Associations. The monument is a replica of the Cenotaph, which stands in Whitehall, London and except for the engraved slabs, which came from England is built entirely of Bermuda Limestone. On the Cabinet Grounds just east of the Cenotaph sits the War Memorial which was completed in November 2010 by the Ministry of Public Works and contains the names of almost 3,000 Bermudian men and women who served in the two World Wars. Names are inscribed on seven highly polished black granite slabs and a diamond emblem in gold leaf beside a name indicates that the serviceman or servicewoman is on the roll of honour and lost their lives in wartime service. A fountain in front of the memorial is made of a granite base and a highly-polished pink granite ball which is the same stone used in the Anglican Cathedral in Hamilton. Seating is provided at the memorial and it is a serene place where surviving War Veterans, their children or grandchildren, other relatives, members of an appreciative public and visitors may gather to reflect upon and pay respect to those who served our Island so heroically during the Great Wars. To the east of the Cabinet Building is a granite obelisk which was erected by the people of Bermuda to the memory of Major General Sir William Reid, KCB, Governor of Bermuda from 1838 to 1846.

Senate Chamber with portraits of King George IV and Queen Charlotte. This father of this King, George III, had Ministers who caused the War of Independence.

Also see (not in photo above) a large oil painting of William Herbert, 3rd Earl of Pembroke (after whom the parish of Pembroke is named), painted in about 1625 by Daniel Mytens, a Court painter in England, appointed by King Charles I. In the chamber, center, is the 17th century Bermuda cedar chair made for Governor Josias Forster in 1642, when Parliament was in the Town of St. George. In the glass case (not seen in photo) is the Black Rod, an instrument of office fashioned by the Crown Jewelers in London, carried by the senior police officer summoning the 36 elected politicians and the 11 appointed senators to the Opening or Convening of Parliament every autumn (fall). The Black Rod is a symbol of authority of the Head of State – the monarch's representative when not in Bermuda, and is carried by a senior Police Officer. On this occasion the Governor reads a lengthy, locally written annual Throne Speech, covering intended future local events from the perspective of the political party in power.

Bermuda Government Cabinet session, being addressed by then-Premier Paula Cox. 2011 Royal Gazette photo

In this photo right - by author Keith A. Forbes we also see the flags of the British Armed Forces - in which many Bermudians served during World Wars 1 and 2 - flying, with the war memorial close by.

The Cenotaph war memorial is outside the Cabinet Building. It is a replica of the famous Cenotaph at Whitehall, London. Its flags are those of the Royal Navy, Royal Air Force and British Army, memorializing Bermudians in those British military services who died in World Wars 1 and 2 and whose names are on the Cenotaph. There is also a more recent war memorial. It was built in 2010 on the grounds of the Cabinet Office, near the corner of Front and Court Streets, just east of the Cenotaph. It honours almost 2,000 Bermudians who served here and abroad, in either the First or Second World Wars. It includes recognition of Bermudian individuals who did not travel overseas, but who protected Bermuda's shores locally, remained unrecognized and seemingly unappreciated. Plaques are displayed on five individual walls that form a semi-circle around a rolling ball water fountain resting on a granite base. Seating is provided at the memorial as a serene place where war veterans, visitors and other members of an appreciative public may gather to reflect upon and to pay respect to those who served this Island so heroically. Every November 11, or public holiday commemorating it, during the Remembrance Day parade wreaths are laid at the two War Memorials.

Sally Bassett statue.

To the west of the Cabinet Building is a bronze sculpture of Sally Bassett, a black Bermudian slave who was burned at the stake in Bermuda in 1730. Her "crime" was alleged witchcraft (then practiced as much in Bermuda as it was in Salem and elsewhere) against an allegedly cruel white owner. Some people believe the burning happened at Crow Lane, others say it happened near Albuoy's Point. In 2009, in commemoration of Bermuda's four hundred year anniversary, the sculpture of Bassett was erected to memorialize the struggle of Bermuda's blacks, the majority of Bermudians, against slavery. Commissioned by the-then Bermuda Government from black Bermudian sculptor Carlos W. Dowling, this work depicts a pregnant Bassett being burned at the stake for allegedly poisoning the masters of her enslaved granddaughter. The sculptor portrayed her as "pregnant with the spirit of freedom."

Caribbean Community

Bermuda formally joined the Caribbean Community in July 2003, as an Associate Member (non-voting member), in certain areas, despite Bermuda not being part of the Caribbean but 900 miles north of it. This specifically excludes the free movement of Caribbean nationals to Bermuda and any prospect of Bermuda joining CARIFTA or its newest free trade organization - the Free Trade Area of the Americas (FTAA) - and its hopes. Membership of the Caribbean Community costs Bermuda over US$100,000 a year. Direct trade between Bermuda and Caribbean countries, presently very limited except for imported rum distillate is also welcomed and encouraged, especially given the close or extended family links many Bermudians have with Caribbean islands or territories. Presently, most imports to Bermuda from the Caribbean come via the USA or Canada.

There are no scheduled air or sea services at all between Bermuda and the Caribbean, as there were in the 1930s, 1940s, 1950s and 1960s. Many visitors to Bermuda from the USA and Canada assume - wrongly - that there are air services connecting Bermuda with the Caribbean nearly 1,000 miles to the south. All visitors to Bermuda who are nationals of and resident in Caribbean islands must come via the USA or Canada or United Kingdom and must have appropriate visas to come via those countries.

Civil Service

Bermuda has more civil servants per capita than anywhere else in the world. The number of Bermuda Government employees, well over 5,600, in a total population of under 66,000, make the Bermuda Government the largest single employer in Bermuda by a huge margin.

Code of Conduct for Civil Servants

There is one for Civil Servants. It is not nearly as emphatic as in the UK or USA or Canada. The code warns Civil Servants that Ministers should not ask members of the public service to behave in "illegal, improper, immoral or unethical" ways." Ministers should not expect Civil Servants to follow instructions that breaches the Constitution or professional codes or rules and legislation on good government. Civil Servants should not "misuse their official position, for example by using information acquired in the course of official duties to further private interests or those of others, especially family friends and associates. Civil Servants should not accept gifts which could be seen to compromise their integrity or disclose official information without permission.

Consolidated Fund

Annual accounts of the Consolidated Fund of the Bermuda Government are available. The Consolidated Fund is the general operating fund of the Government, through which it conducts most of its transactions. Financial highlights presented by the minister include:

Total revenue raised by the Consolidated Fund
Revenue from payroll tax
Revenue from Customs Duty
Total revenue on a modified cash basis
Total current expenditure on a modified cash basis
Total capital account cash expenditure
Total capital and current account cash expenditure
Modified cash all-inclusive results from government operations
Net public debt, excluding guarantees

Constituency Boundaries Commission

The commission is tasked with setting the layout of the island's 36 political districts.

Credit Rating

Bermuda's sovereign credit rating is affirmed by Standard & Poor's Rating Services. The rating is important, as it influences the interest rate the Bermuda Government has to pay on new borrowings.

Debt Ceiling

2019. September 14. Bermuda's debt ceiling will be raised by $250 million after Curtis Dickinson, the Minister of Finance, tabled legislation allowing the Government to pay lenders over the failing Caroline Bay development. The Government Loans Amendment Act increases Bermuda's debt limit to $2.75 billion. MPs met in an improvised chamber on the third floor of the Veritas Place office block on Court Street, while Sessions House undergoes renovations. Mr Dickinson condemned the former One Bermuda Alliance government for putting the island "on the hook" for a guarantee of $165 million backing the project at Morgan's Point three years ago. He said a credit facility of up to $200 million had been negotiated with local banks, with the $165 million to be paid next week. This will end the Progressive Labour Party administration's plans to avoid raising debt this fiscal year. Construction ground to a halt at the former United States military base late last year due to financial problems. Two Bermudian contractors on the project confirmed yesterday that their companies remained unpaid for their extensive work. Mr Dickinson said the Ministry of Finance had been in discussion with ratings agencies over concerns that the island could suffer a downgrade. Mr Dickinson told a press conference: "These extraordinary circumstances and the liabilities triggered by these defaults, have resulted in the Government having no choice but to raise the debt ceiling, in order to borrow monies to fund the payments, as set out in the guarantees." Former finance minister Bob Richards had provided credit facilities on behalf of Morgan's Point Limited for use in the construction of the hotel and condominium project in March 2016.

Employment Income

2019. November 5. Employment income rose by 1.2 per cent in Bermuda in the second quarter of this year, according to data from the Office of the Tax Commissioner. The island's working population earned a total of $873.28 million during the April-through-June period, up by $10.58 million from the corresponding quarter in 2018. The majority of the gains were achieved by the international business sector, in which the combined pay packet grew by more than $8 million to $284.49 million. The biggest percentage gain came in the public administration and defence sector, which includes government workers. The sector recorded an increase of $4.57 million in employment income, representing a 4.3 per cent year-over-year gain, as workers earned a total of $111.78 million. The largest percentage fall came in the transport and communication segment, in which employment compensation totaled $17.05 million, down 9.4 per cent year over year. The data was published in the Quarterly Bulletin of Statistics, issued by the Department of Statistics on Friday. The report also highlighted the continuing trend of rising government revenues. Data from the Office of the Accountant-General showed that the Government took in $270.3 million in the three-month period, up 6.8 per cent year over year. Payroll tax, which amounted to $131.6 million for the three-month period, up 3.7 per cent, was by far the largest contributor to government coffers in the second quarter. There was a notable decline of 9 per cent in Customs duty, the second-largest contributor to revenues, which fell to $53.7 million in the quarter, down from $59 million a year earlier. On the island's company register, there was little sign of an exodus prompted by EU-inspired economic substance rules, as the second quarter ended with 16,447 companies registered, up by 18 from a year earlier. However, new registrations fell by 26.6 per cent to 212, a third successive quarter of year-over-year decline.

Energy Commission

2009. November. A regulatory body, it was empowered by the Energy Act 2009. It does not release its annual reports to the public — nor does it have to. The Energy Act requires only that it provides the relevant Minister with a report on its activities, not taxpayers. Visit website for more information on the Commission and the Department of Energy.

Financial Policy Council (FPC)

Established in 2015. Its main purpose is to assess possible threats to Bermuda's financial stability, and to identify policies and actions to address them. Members of the FPC include chairman Premier David Burt, Minister of Finance, the Bermuda Monetary Authority chief executive officer and appointed others.

Financial Stability Committee (FSC)

A committee comprising senior officials from the Ministry of Finance and BMA, was established to provide a supporting role to the FPC including in relation to implementing its recommendations.

Fiscal Responsibility Panel (FRP)

The Fiscal Responsibility Panel's annual assessment includes estimates what Government is provisionally planning for a deficit in the next fiscal year.

Freedom of Information

See under Public Access to Information (PATI)

Government Authorities Fees Order

Government Boards & Committees

2019. November 21. The Minister for the Cabinet Office tonight appealed for people prepared to serve on Government boards and committees. Wayne Furbert said that expression of interest forms were available on the Government's website and could be completed and submitted online. Interested individuals are encouraged to take advantage of this opportunity to serve their community. Government boards and committees play an important role in the community by ensuring good governance and by providing independent and expert governance or advice.

Government Fees Amendment Act

Allows the waiving of fees under "exceptional circumstances", such as in the wake of a hurricane. The waiver process would be transparent, going through the negative resolution procedure.

Government guarantees

Given to initiatives that earn it and show particular economic development potential. An example is what the government at that time - in August 2013 - gave to the private developers of the proposed $2 billion resort at Morgan's Point. The guarantee was then limited to $125 million. Government had an earlier previous portfolio of about $500 million worth of guarantees on its books. Of the latter, the largest was for repaying the construction financing for the new hospital, estimated at $260 million over a term of 30 years. Government also guaranteed $200 million in aggregate liquidation preference of preference shares issued on June 12, 2009 by Butterfield Bank for a period of ten years from the date of the issuance of the preference shares. The West End Development Corporation benefited from two sovereign guarantees — $25 million for construction financing for affordable housing and a $5.9 million loan to complete a new sewage treatment plant at Royal Naval Dockyard. Another $36 million in construction financing was guaranteed by the Government for the Grand Atlantic housing scheme.

Human Rights

Bermuda laws apply, not UK laws.. Unlike in the UK, Canada, USA, etc. the local Human Rights Act and Amendment Act relate only to Bermudians, not non-Bermudian retirees or guest workers. For example, where the Constitution says no discrimination by way of race or country of origin, etc, in practice non-Bermudians are regulated heavily in Work Permits regulations, exclusions, number of jobs they can have; property they may and may not buy; becoming Bermudian only by marriage and living together with a spouse - and eligible only after 10 years of such marriage.

Immigration Appeal Tribunal

Established in July 2011 by the House of Assembly as an independent but Government-appointed tribunal on immigration matters. In July 2012 it began to schedule its first appeals, more than a year after it was established. It will make the final decisions on grievances relating to issues such as Bermudian status, permanent residency and work permits. It replaces a Cabinet committee that previously heard appeals of Ministerial decisions. This committee ran the risk of being seen as biased, so the independent tribunal was established instead. There are 12 members of the panel. The tribunal has sought guidance from Government lawyers in drafting rules for the tribunal's use and the guidance of appellants and lawyers.

Joint Select Committee

Judicial branch

Members are appointed, not elected, and paid for by the Bermuda Government. Courts are the Supreme Court and Magistrates Courts. These are headed by the Chief Justice, appointed by the Governor. The Judiciary administers the Bermuda legal system which passes its own laws. British-UK law but are modified - sometimes hugely - by Bermuda laws endorsed and approved by the Legislative branch. See the Bermuda Government's Bermuda Laws. Judicial and Legal Services Committee: Recommends judicial and legal appointees. Also a Justice System Review Committee.

Jurors Act Amendment 2010

Members of Parliament passed amendments widening the jury pool.

Junior Minister of Justice Michael Scott said increasing the number of people eligible to serve on the jury would strengthen the judicial process. The amendments to the Jurors Act see the age of eligibility rise from 65 to 70. Justices of the Peace will also be eligible for jury. Bermuda currently has 523 JPs. Vets and dentists are no longer be exempt from jury service, nor are spouses of MPs, barristers and prison officers. Religious ministers and attorneys who do not actively engage in criminal law are now be eligible to be jurors. Former Police, reserve Police and prison officers are also eligible five years after they have completed their service.

Justices of the Peace (JPs)

Cabinet Ministers are automatically JPs. Bermuda has, in its 21 square miles, 523 JPs.

Litigation Guardian Council

Established since 2018 by the Bermuda Government. The body provides regulatory oversight of the recruitment, management and administration of litigation guardians on the island. It comes after a Supreme Court ruling that magistrates must consider appointing legal representatives to protect the rights of children who appear in court, if money is available.

National Anti-Money Laundering Committee

Office of Project Management and Procurement (OPMP).

Government's watchdog of fairness over public contracts.

Opposition

Leader of the Opposition has a Shadow Cabinet and a Senate team.

Parliament and Parliamentary Business

Parliamentary Standing Committee on Public Accounts(PAC)

Made up of Members of Parliament. It is authorized by the House of Assembly to look at public expenditure. The committee also investigates findings reported by the Auditor General in the annual and other special reports. Often meets in the Senate Chamber, Cabinet Building on Front Street.

Policing

Government House has direct responsibility for the operational side of Policing with the Police Commissioner reporting directly to the Governor, while costs, budgeting and manpower are Government's responsibility. There have been a number of disputes, with some members of parliament stating that as the Bermuda Government foots the entire bill, it - not the Governor, representing the UK but not Bermuda directly - should have final jurisdiction.

Price Control Commission

Public Accounts Committee

Authorized by the House of Assembly to look at public expenditure. The committee also investigates findings reported by the Auditor-General in the annual and other special reports.

Public Access to Information (PATI) Act 2010

Enacted in 2010. Similar to the UK's Freedom of Information (FOI), which legally requires most public bodies to release information when requested except for a series of exemptions such as the request being outside the public interest. In late 2015, the UK's FOI Independent Commission proposed dropping rules that allow asking the government to release information for free. A fee of up to £20 for each request may be likely in the future. In Bermuda, requests for information are free but at this time only Bermudians or local residents may request information, not overseas-based individuals whether Bermudian or not.

The Act represents a monumental change in how information held by the Bermuda public authorities can be accessed and obtained. The purposes of the Act are to place more information in the public domain, to increase the transparency and accountability of public authorities, to keep the public informed of activities of public authorities, and to give a right of access to information held by public authorities. However, extensive carve outs and procedural requirements may make it difficult for the Act to effect its bold promise. The benefits of having this type of legislation in Bermuda outweigh the arguments against having it. The Act allows both Bermudian citizens and residents alike to ask prudent questions of their Government with the expectation that forthright and equally prudent answers will be given. In this vein I would encourage everyone to read the Act, to become familiar with it and to form an opinion of it. Although it is law the Act will not come into operation until a future date appointed by the Minister. The appointed date is not yet known, although recent press reports indicate that it might be up to three years before the law is in force. Under the Act a Bermudian or a resident of Bermuda, upon paying a fee, may request and be given access to any record held by a public authority. No reason is required for a request and the public authority should assist with any request completely, accurately and in a timely manner. In addition the identity of the person making the request should be kept confidential unless the requester agrees otherwise. A request must be in writing and addressed to the public authority most likely to be holding the relevant record. Accordingly, the request should clearly identify the record so as to enable the public authority to find it. Upon receiving a request, the public authority should decide within 28 days whether to grant or refuse the request in whole or in part and if granted, specify the manner in which the right of access to the record concerned is to be given. A public authority may decide to refuse a request if the record does not exist or cannot be found after reasonable steps have been taken to find it; the request does not enable the public authority to identify the record; the request would, due to the size and nature of the records involved, require an examination of such number of records as to cause substantial disruption to the other work of that authority; the law requires publication of the record within three months of the request; the request is frivolous or vexatious (as determined by the head of the public authority); the information is already in the public domain or is reasonably available to the public; or the fee has not been paid.

Every record held by a public authority is to be available unless it is an "exempt record". Exempt records are those which would adversely affect the health and safety of an individual; with personal information relating to someone other than the requester where that person has not given consent for the information to be disclosed; containing sensitive commercial information unrelated to the requester where the original information provider has not consented to disclosure; received in confidence; containing Cabinet documents; that undermine Ministerial responsibility; that undermine deliberations of public authorities; that undermine or affect operations of public authorities; are reasonably expected to have a serious adverse effect on the financial interest of Bermuda or of Government to manage the national economy; prejudice or undermine national security, defence and international relations; contain information relating to the Governor's responsibilities and communications with the United Kingdom; are reasonably expected to prejudice law enforcement; are subject to legal professional privilege; or are prohibited from being disclosed by any other legislation

Although these are wide ranging carve outs there are two ways by which an exempt record can be accessed. First, with the exception of (b) and (n) above, a record will not be exempt after 30 years from the date of its creation. Second, the Act provides that certain records are subject to a "public interest test" which determines if on balance the public would be better served by the disclosure rather than the non-disclosure of that record. If a request for access to a record is refused there is a right of appeal, in writing, to the Information Commissioner. The Commissioner may attempt to have the matter resolved through mediation or, alternatively, may make a decision to affirm or vary the decision of the public authority or make such an order as he deems appropriate. The decision of the Commissioner is binding on all persons affected by it. Any person aggrieved by the Commissioner's decision may apply to the Supreme Court for a final review of that decision. Despite the wide ranging and extensive carve outs and exemptions within the Act, it is hoped that officials and the Information Commissioner will embrace the bold aspirations of the Act and carefully consider in each case if the public would be better served by disclosure rather than the non-disclosure of the information requested in each instance.

Public Service Superannuation Fund

Bermuda's pension plan for civil servants. Government employees pay 8 percent of their gross salaries into their pension fund called by this name. Government matches contributions of employees. Pensions are paid out based on a formula pertaining to the number of years in which contributions were made.

Quangos

Latest are the creation of a Civil Aviation Authority and a Bermuda Shipping and Maritime Authority. There are more than 100 in Bermuda, including the Bermuda Land Development Corporation (BLDC). None of these taxpayer-funded entities hold their meetings in public and publish regular minutes, despite the passing of public access to information and good governance legislation in Parliament and a commitment from former Premier Paula Cox to ensure transparency and accountability in Government.

Referendum Act 2012

Enacted June 2012 by Bermuda's House of Assembly. Established procedures for national referendums, including the promised one on gaming. Two previous referenda held in Bermuda required separate legislation to be passed for them. The first was on capital punishment in 1990, when 78.4 percent favored retention of the death penalty. The second was on Independence in 1995, and saw a 73 percent vote against breaking ties with Britain. The new law means legislators will no longer have to pass a separate law each time a referendum is decided upon. It sets out the general parameters for them to be held in each case and is based on tried and true electoral processes. Only registered voters can participate in a referendum. A 'yes' vote will have happened if 50 percent or more of Bermuda's registered voters vote in the referendum, and more than 50 percent of them mark their ballot 'yes.' A 'no' vote will have happened if 50 percent or more of Bermuda's registered voters take part and more than 50 percent of them mark their ballot 'no.' A referendum question will be taken to be unanswered if less than 50 percent of registered voters vote, or if the voting patterns are such that the requirements for a 'yes' or 'no' result are not met. The principle behind the new legislation is "informed choice" and Government is committed to fairness, transparency and propriety in the conduct of referendums. The bill allows the Premier to set up an "ad hoc committee" if he or she wishes to advise on any matter relating to a particular referendum.

Salaries Review Board

The independent board, required by law to review the parliamentarians' pay every two years.

Senators - 11 in the Upper House

Cabinet Office, home of the Senate. Photograph by the author

Bermuda has a bicameral legislative body, an appointed Upper House (Senate) and an elected Lower House. All 11 Senators are paid, but less than Members of Parliament. Despite its name as the Senate, and its description as the Upper House, it is a junior legislative forum. The Upper House, named the Senate since 1980, is appointed by the Governor. He also appoints three independent Senators. They represent neither the One Bermuda Alliance (OBA) once in government, which now has three members, nor the Progressive Labour Party (PLP) now in government which has five members. Like all Members of Parliament, all Senators are required by law to be Bermudian.

Sinking Fund

2019. June 23. The House of Assembly on Friday passed a Bill to suspend mandatory annual payments into the sinking fund, a reserve for money set aside to pay down long-term debt. Curtis Dickinson, the Minister of Finance, called the fund, which was established in 1993, "a concept rooted in history". Mr Dickinson told MPs that as minister with capital markets expertise, he was taking a new approach to tackling the island's national debt. Opposition MPs queried the Government's stance on fiscal prudence during the debate, which saw the Government Loans Amendment Bill 2019 ultimately approved. The legislation was a prominent feature in Mr Dickinson's first Budget Statement in February.

Solvency II third-country equivalency

Effective March 24, 2016. This means the European Union considers the standard of the island's insurance regulation to be equivalent to its own. In November last year, the European Commission recommended that Bermuda should be considered as in line with the tough new insurance rules being adopted across the 28-country bloc. A 90-day consultation period that gave member countries and the European Parliament the chance to have their say has now passed. On March 4, the EC's delegated decision on Bermuda's equivalence with Solvency II was laid out in detail in the Official Journal of the European Union. Now that 20 days have passed since the date of publication in the Journal, confirmation of Bermuda's new status is complete. Solvency II equivalence means that commercial insurers and reinsurers based in Bermuda will not be competitively disadvantaged when they do business in the European Union. The news represents a significant achievement for Bermuda's financial-services regulator, the Bermuda Monetary Authority, which has worked and lobbied for more than six years to achieve the goal. In an interview today, Jeremy Cox, chief executive officer of the BMA, paid tribute to his "tenacious team", as well as the industry leaders and politicians who had helped to make it happen. A full story on the interview will appear in Monday's Business section of The Royal Gazette. The BMA also released its 2016 Business Plan today. In his introduction, Mr Cox stressed that equivalence confirmation did not mean the BMA would suddenly have a lot of spare time on its hands. "Securing equivalence was clearly a major achievement, a powerful example of what can be accomplished with a strong, tenacious team that embarked on the road to equivalence in 2010," Mr Cox said. But equivalence is an interim objective, rather than an end in itself, and should be viewed in the wider context of our vision and strategic goals."

Tax Reform Commission

2018. February 15. The Tax Reform Commission is facing a difficult but achievable challenge, according to new chairman Ronald Simmons. Mr Simmons, a former director of the Bermuda Monetary Authority, said he was honored by the opportunity to serve as chairman. He said: "The Premier has selected a great team of distinguished individuals. Given the numerous risks, uncertainties and challenges facing our economy, we have a lot of work to accomplish. However, I am confident we will be able to provide the Premier and the Government recommendations for comprehensive tax reform that is equitable, efficient, effective, transparent and fair, while enhancing Bermuda's global competitiveness." David Burt, the Premier and Minister of Finance, unveiled the members of the bipartisan commission yesterday. The commission, designed to make Bermuda's tax system fairer, stimulate economic activity and create jobs for Bermudians, was one of the Progressive Labour Party's General Election pledges. Mr Burt said: "I think the work of the Tax Reform Commission will go a long way in dealing with some of the biggest challenges which we have. Our system of taxation creates inequality by its very nature and structure and our over reliance on payroll tax at the same time discourages job creation in Bermuda. We have to balance those aspects and I'm quite certain that this diverse team will be able to look at the issues that we have and will be able to arrive at recommendations that will help Bermuda." In addition to Mr Simmons, the commission will include Jeanne Atherden, the Opposition leader, and Wayne Furbert, the Junior Minister of Finance. Other commissioners include Donald Scott, a former Cabinet Secretary, Mitch Blaser, chief operating officer of Ironshore Inc, Craig Simmons, Bermuda College economics lecturer, and Brian Holdipp, senior corporate lawyer at MJM Ltd. Mr Burt said: "These commissioners have a mammoth task ahead of them, but I am confident they are up to the challenge. As promised, this commission has representation from both political parties and a cross-section of expertise in Bermuda's economy." He said he believed the commission would be fair, and that he looked forward to receiving its report in six months.

Throne Speeches

Occur every year, in November or when appropriate. They set out the Government's planned legislative or regulatory agenda for the following year. Delivered (spoken) by the Governor.

Voters of Bermuda and non-citizens who can never vote

Bermuda has strict laws barring votes from non-Bermudians, even after generations of full-time local and unblemished residence and significant contributions to the local economy, unless they were qualified tp vote in 1979. Eligible Bermudians normally entitled to vote when physically present on the island cannot cast absentee ballots if they are off the Island at the time of an election or the day of the advance poll, a democratic right common in other countries.

In most British Commonwealth countries, to be eligible to vote there are only three conditions, namely you must be: a citizen; at least 18 years old, and ordinarily resident at a particular address or deemed to be sometime or full-time ordinarily resident at and/or an owner or co-owner of a property in a specific constituency.

Also see under Bermuda Citizenship.

Bermuda voters must be at least 18 years old and Bermudian by birth or having officially been awarded status..

Most - about 78% - residents were born in Bermuda of Bermudian parents (or a Bermudian parent) and are Bermudian. Elsewhere, automatic citizenship applies to all children born there. But children born in Bermuda, without either parent being Bermudian by birth or status at the time, are not Bermudian. They are NOT allowed to register to vote in any election after they become 18 years old. All British Commonwealth of Nations nationals including Australians, Britons, Canadians, New Zealanders and West Indians and all other non Bermudians of good character and reputation who have been long term residents of Bermuda for 20 or more years but were refused Bermuda status if they applied for it and were not registered to vote in 1979, are NOT allowed to register to vote. There is no longer any mechanism providing for any other individuals who may be also be long term residents of Bermuda, but who do not have close family ties with Bermudians, to become local citizens. Without this designation, they can never vote. And because they cannot, nor can they ever own mid priced real estate by Bermuda's standards. They are limited to the top 5% in price and Annual Rentable Value (ARV).

Citizenship is not given to any non-national unless he or she marries a Bermudian, is blemish-free in conduct and reputation, stays married to and lives with that Bermudian for at least 10 years and then applies successfully for citizenship by status.

Without citizenship, persons also cannot buy any real estate as Bermudians can if they can afford it; are limited to the top 5 percent of property in assessed value and must pay a substantial purchase tax on top of other taxes; cannot obtain any local scholarships from any organization; and if of employable age are not allowed to take any employment but are limited to the kind of employment on a Work Permit approved by the Immigration authority of the Bermuda Government.

Minor concessions were granted in 2002 to some non-Bermudians with over 20 years of continuous residence and demonstrated good character and conduct. They were given Permanent Residents Certificates (PRCs). They took effect on October 31, 2002 with the enactment of the Bermuda Immigration and Protection Act 2002. However, PRC holders (i.e. Bermuda residents of more than 20 years) still have to pay Land Tax as seniors, unlike most Bermudians who don't; cannot purchase properties with the same lower ARVs (see below) as Bermudians and have to pay the 25 percent foreign ownership tax; cannot vote and do not have access to HIP and FutureCare. Having a PRC will provide security of employment and residence to long term residents. But having either a PRC or WRC (see below) does not entitle any non-Bermudian to buy lower or mid-priced real estate. They continue to be limited to the top 5% in price and Annual Rentable Value (ARV).

Having a qualifying Bermudian connection, such as marriage to a Bermudian of the opposite sex, is key to getting Bermuda Status (citizenship) after 10 years. Otherwise, there is no chance at all of getting it. All others can apply for Permanent Resident Certificate (PRC) if they qualify. So far, some 800 persons have done the latter. Application criteria include being ordinarily resident in Bermuda before 31 July 1989 and for a period of 20 years immediately before application; are at least 40 years of age; and are of good character and conduct. Their full names, addresses, parishes and postal codes are published in the Official Gazette. Those with a Working Resident Certificate (WRC) - introduced in 1998 - must still apply for a PLC as some years have passed since they proved their eligibility.

All other applicants for the PRC must also demonstrate good character and conduct and must prove that he or she was ordinarily resident in Bermuda before August 1, 1989 and be at least 40 years old on the date of application.

In most other countries, persons of good character born elsewhere who wish to become citizens can do so after 3-5 years, do not need a qualifying local connection; and can buy any real estate they wish, at any price.

Voter statistics

2017. July 18. Immediately prior to the General Election, there were 46,678 registered voters, about 60 percent of Bermuda's total current population. As soon as local citizens become at least 18 years old they can register to vote.
Authored, researched, compiled and website-managed by Keith A. Forbes.
Multi-national © 2020. All Rights Reserved