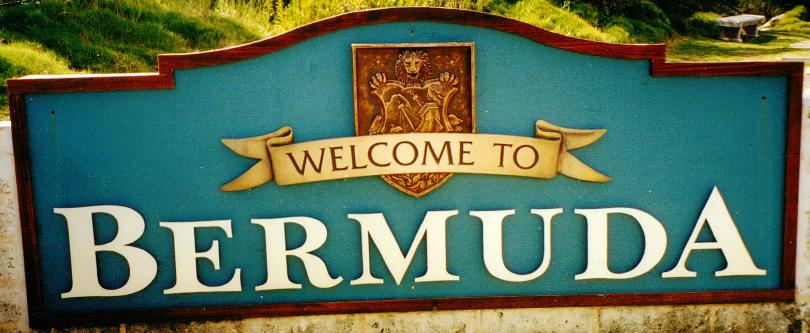 Click on graphic above to navigate the 165+ web files on this website, a regularly updated Gazetteer, an in-depth description of our island's internally self-governing British Overseas Territory 900 miles north of the Caribbean, 600 miles east of North Carolina, USA. With accommodation options, airlines, airport, actors, actresses, aviation, banks, beaches, Bermuda Dollar, Bermuda Government, Bermuda-incorporated businesses and companies including insurers and reinsurers, Bermudians, books and publications, bridges and causeway, charities, churches, citizenship by Status, City of Hamilton, commerce, communities, credit cards, cruise ships, cuisine, currency, disability accessibility, Devonshire Parish, districts, Dockyard, economy, education, employers, employment, environment, executorships, fauna, ferries, flora, former military bases, forts, gardens, geography, getting around, golf, guest houses, highways, history, historic properties, Hamilton, House of Assembly, housing, hotels, immigration, import duties, internet access, islands, laws, legal system and legislators, main roads, marriages, media, members of parliament, money, motor vehicles, municipalities, music and musicians, newcomers, newspaper, media, organizations, parks, parishes, Paget, Pembroke, performing artists, residents, pensions, political parties, postage stamps, public holidays, public transportation, railway trail, real estate, registries of aircraft and ships, religions, Royal Naval Dockyard, Sandys, senior citizens, Smith's, Somerset Village, Southampton, St. David's Island, St George's, Spanish Point, Spittal Pond, sports, taxes, telecommunications, time zone, traditions, tourism, Town of St. George, Tucker's Town, utilities, water sports, Warwick, weather, wildlife, work permits.
Bermuda's noted Foreign Artists and Illustrators
From North America and Europe, they once came for the unique local light and pastel colors

By Keith Archibald Forbes (see About Us)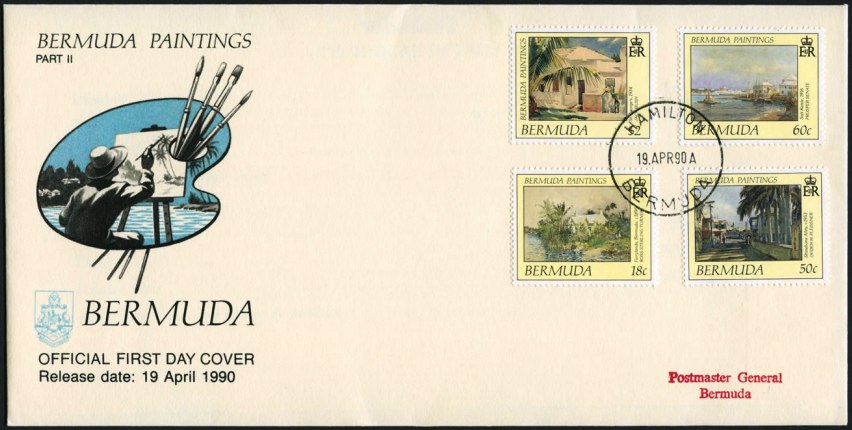 19th April 1990 and 16th May 1991 Bermuda Post Office Commemorative First Day Covers and Postage Stamps that featured some of the famous artists mentioned below who painted in Bermuda in the early 1900s.
See end of this file for all of our many History files
Introduction to Bermuda's art
Bermuda has a rich art history. A major reason is because when the USA and Great Britain were not the firm allies they are now, Bermuda underwent some profound changes, with many areas denuded of foliage and developed into British military - army and navy - fortifications mostly designed to defend against any attempted invasion from the USA, as was twice attempted by the USA against Canada. Military artists were sent from Britain to militarily sensitive Bermuda during the 1800's, especially in the aftermath of the US War of Independence and particularly War of 1812 to 1814 when Bermuda had been a principal British base for British Army and Royal Navy land and sea forces that attacked Washington DC and burnt the White House. There was also the US Civil War, during which Bermuda, for openly siding with the Southern States, feared post-war retribution or invasion. The British artists were sent to paint and thereby record vivid scenes of Bermuda as it underwent these changes. They included Joseph Blackburn, Thomas Driver, E. G. Hallewell, Flag Captain Sir Michael Seymour and Lieutenant General Gaspard Le Merchant Tupper (one of whose many Bermuda works is "The Admiral Going to Sea").

Later, civilian artists, some later very prominent, came to paint in Bermuda's unique light and helped promote Bermuda. It was a special period in Bermuda's tourism from the 1860s, when a number of visitors, being artists, used their time in mostly the winter months in the very pleasant winter months compared to the snow and ice of much of the USA, Canada, the UK and Europe. They came here by sea to paint Bermuda landscapes. A relatively large number of artists from the New York area liked the idea of leaving behind the stress of city life to spend their winters painting in the sub-tropical climate of Bermuda. Most were of the school of American impressionism, especially the Old Lyme School. Old Lyme is a small community in Connecticut, where, during the first quarter of the 20th century, it became one of the most influential art colonies in American art history.

Many of the artists, who flocked there from around the United States, stayed initially in the boarding house of Miss Florence Griswold, but during the winter months when painting outdoors was impractical, some travelled on to Bermuda, so as to continue their artworks. They included Frank Allison, Thomas Anschutz, Jennifer Bartlett, Gifford and Reynolds Beal, Louis Bouche, Jack Bush, Noel Bush, William Chadwick, Frank Carson, Charles Demuth, William Howe Foote, Edmund W. Greacen, Albert Gleizes, Marsden Hartley, Charles Hawthorne, Harry Hoffman, Winslow Homer, Edward K. James, Georgia O'Keeffe, John Lyman, Ogden Pleissner, Prosper Senat, Niles Spencer, Ben Shepardorn, Frank Stella, E. Ambrose Webster, M. P. West and Andrew Wyeth. It is known that several later stayed at Gooseneck Cottage, near Somerset Bridge.

Thanks primarily to the efforts of former New Yorkers Fay and Geoffrey Elliott who moved to Bermuda in 1989 and spent lavishly abroad to acquire an extensive collection of their works in particular - and bring them back to Bermuda - we know a lot now of the military artists shown below. Their detailed landscapes and seascapes show how Bermuda developed as a naval base and land fortress bristling with guns that could heave cannonballs or shells miles out to sea to fend off invaders. The process continued through the 19th century, until the huge Royal Naval Dockyard in Bermuda and its protective ring of British Army manned coastal forts, were completed. You'll find some of their works in the Bermuda Archives, Bermuda Historical Society Museum, Bermuda Maritime Museum, Bermuda National Trust properties, St. George's Historical Society Museum and other galleries throughout Bermuda. Their watercolors provide remarkable views of Bermuda, before photographs and other paintings existed. They are included by name in the list shown below, which also has others.

A wife of a former Governor (Lady Laffan) and wife (Lady Lefroy) and daughter of another (Emily Lefroy) contributed their own unique talents in recording scenes of Bermuda in watercolors and oils. These too are on display in various galleries in Bermuda. Britain's famous Princess Louise (see below) also did so.Benefactors have allowed the Bermuda National Gallery, Bermuda National Trust and Masterworks Foundation to get many of their paintings.

A definitive book on Bermuda paintings. Bermuda in Painted Representation: A Survey of How (And By Whom) Bermuda has been Depicted in Art. Bermudian author Jonathan Land Evans, Bermudian art historian. First published in 2012 in three volumes. A follow-up to his 2009/2010 book Encyclopedia of Bermuda Artists. The first two volumes are The Garrison Era and The Cosmopolitan Era. They cover over 1000 artists and go up to about 1953. A third volume, The Bermudian Era, going up to about the year 2000, was published later. In 2020 there is also now the 660 page Author's Text-Only 2020 Preview Edition of this book, the author's hefty art history of Bermuda. This new version, which is available for sale through Lulu.com, is an updated/revised consolidation of the original three separate privately-printed volumes (The Garrison Era, The Cosmopolitan Era and The Bermudian Era). NB: Author's Text-Only is the version of a particular work that the author prefers, with no editing by his publishers. Restored are any passages that had been cut in an earlier editing process.

Fulltime and part-time artists coming to Bermuda today who are not Bermudian will need a Work Permit if they sell and display their works locally.

Aleen Aked
British-born 1907, later became a Canadian, died 2003. Known to have wintered in Bermuda.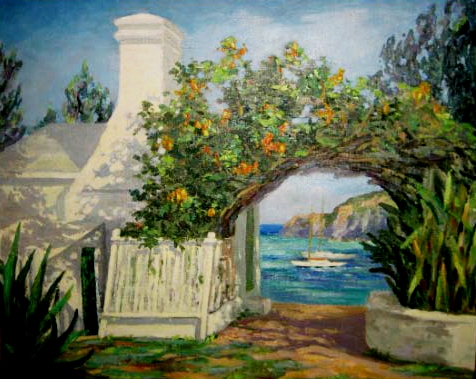 John Winthrop Andrews
American, born August 31, 1879 in Newtownville, Mass. Died 1964. Lived in Chicopee, Mass. and later in Yonkers, N Y. Impressionist. He studied at the Massachusetts School of Art with Frank Vincent DuMond, Edward Hamilton, and Joseph DeCamp. Known to have lived and worked in Bermuda from about 1910 to at least 1915. His known Bermuda paintings include "Oleander on a Sunlit Path" of 1910 shown below and the oil "Cottage Garden with Flowers" circa 1915.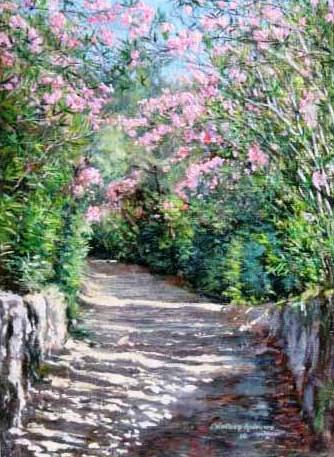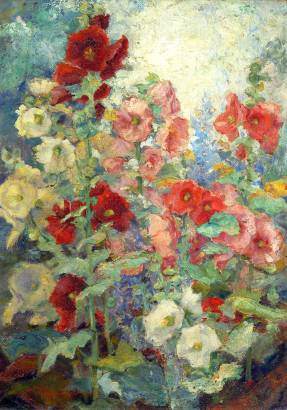 Thomas Anshutz
One of his paintings is "South Shore, Bermuda."

George Ault
American. October 11, 1891-December 30,1948. Arrived in Bermuda in 1922 and painted in monotype, watercolor and pencil. Achieved some major publicity in 1923 from a US arts magazine. Left Bermuda sometime after 1940. There is no record of his Bermuda days in American reference works. In 1948, Ault was discovered dead five days after drowning in New Hampshire's Sawkill Brook on December 30, when he had taken a solitary walk in stormy and dark weather. The death was deemed a suicide by the coroner. In his lifetime, his works were displayed at the Whitney Museum of American Art and the Addison Gallery of American Art (in Andover, Massachusetts), among others

.
M. Axelrod
American, known to have entered Bermuda in 1944 where he painted in St. George's. He was one of the artists earlier employed during the Great Depression to paint American and American-interest scenes. With the USA's new military bases in Bermuda from 1941 and access denied during WW2 to most civilians, this is presently just speculation but it may have been the main reason the artist was allowed in Bermuda in 1944 as a civilian (if he was that) and painted the watercolor "The Pond" (likely coastal Coot Pond) St. George's scene shown below.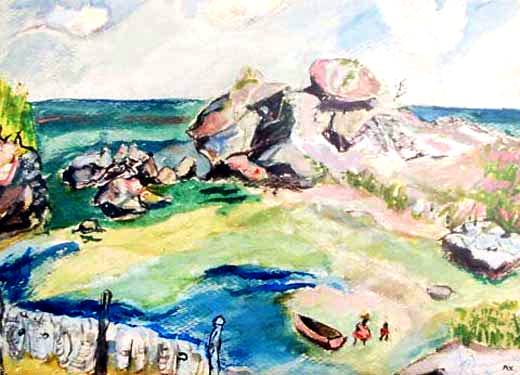 Royce Woolloton Baxter
British, arrived in Bermuda in the 1950s after having served in the Royal Air Force. Artist, architect, film designer, illustrator, interior designer and in later life author of a children's book. Once, his pen and ink sketches of Bermuda forts and other places for Bermuda Tourism were much in use in tourist-oriented publications. Later, he had a studio in Hamilton Parish. Left Bermuda in about 2001 to return to the UK where he had family. He died in October 2007 in Poole, Dorset, England. One of his works that received critical acclaim was his Bermuda Map as shown below: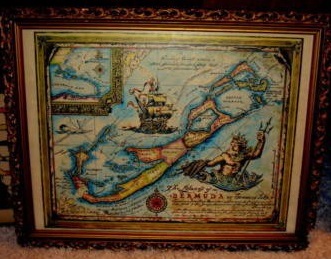 Reynolds Beal
American, 1866-1951. Well-known for his impressionist landscapes and seascapes. A frequent 19th and 20th century visitor to Bermuda. Paintings include the City of Hamilton in 1917; "The Bar at the 21 Club" and "A View of Front Street" of 1940; and "St. George's, Bermuda" 1940. He studied in New York at the Art Students League with John Twachtman and later at the Shinnecock School with William Merritt Chase.

John Prentiss Benson
American. He painted in Bermuda 1924-25, judging from several of his artworks.

Evelyn Montague Bicknell
American, 1857-1931, one source says 1936. A prolific watercolorist who worked in Bermuda from about 1900 onward. Most are circa 1910. Most of his paintings depicted the South Shore of Bermuda but the one below shows a Bermuda cottage. Exhibited works extensively at the New York Watercolor Club, the Salmagundi Club and the American Watercolor Society.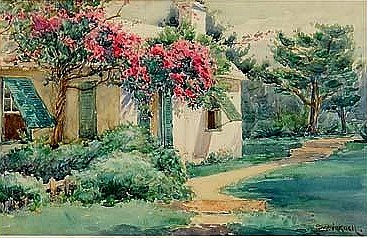 Frank Bicknell
American. One of the Bermuda-visiting members of the American Water Color Society, formed in 1866.

Andre-Charles Bieler
Swiss-born, 1896-1989. Born in Lausanne. Arrived in Montreal in 1908, studied in Paris with Maurice Denis and Paul Serusier; in Switzerland with his uncle, Ernest Bieler (fresco painting); and at the Art Students League, New York, with Eugene Speicher and George Bellows. His 1922 painting of 'Front Street' in Bermuda when he spent some time there is well-known locally. It shows a tall building in the background, the home to current day Calypso, that was once Miles Market. Also seen in the painting is the oarsman somewhere between what is now number 5 and 6 shed waiting to take a passenger across to the Paget shore. He lived for a time on the lle d'Orleans near Quebec. Also he was resident artist and head of the department of art, Queen's University, Kingston, Ontario, since 1936. He became an A. R. C. A. in 1942, an R. C. A. in 1955 and carried out a number of mural commissions.

Joseph Pierre Birren
American, born 1865 - died 1933. A Chicago artist who worked extensively in Bermuda and lived there for a time. His paintings are Impressionist.

Arnold C. Black
American, 20th century. His "Lady Cyclist" resting at La Garza, Paget, is a 1946 water color.

Norman Irving Black
American, 1883 to 1953, born in Chelsea, MA. He was known for both his paintings and etchings, and was active mainly in Massachusetts, Maine, and Bermuda. His artistic education included stints at the Academie Julian and the Ecole des Beaux Arts in Paris, as well as being a student of the noted artist Eric Pape. He was a yearly winter visitor to Bermuda, beginning in 1910. He participated in many local art exhibitions, up until the 1940s. His paintings reveal a soft Impressionism, depicting Bermuda in a gentle atmospheric light. Several of his early Bermuda paintings were used to illustrate an article titled 'A Bermudian Sojourn', by W. Dean Howells, in December, 1911. His oil painting of chimneys at Taylor House on Pilot Darrell Square in St. George's, c. 1910 is lovely. He is considered to be one of America's most important contributors to the history of art of his time.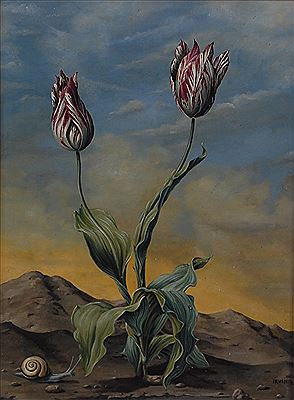 Joseph Blackburn
British. He was the first portraitist to come to Bermuda.. From 1752 to 1753 he painted quite a few local politicians and wives. Some portraits are on display in the Bermuda Historical Society Museum. One of his Bermuda portraits, of Mrs Harvey, is shown below. In 1753 he relocated from Bermuda to Newport, Rhode Island and became famous for his many fine paintings of prominent Americans.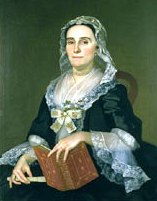 A Bermuda portrait by Joseph Blackburn

F. L. Blanchard
Btitish watercolor peaceful landscape listed artist. Also a naval painter and illustrator. Painted watercolors of ships near Dockyard, circa 1913.

Carle J. Blenner
American. 1862-1952. Born in Richmond, VA. Was active in Bermuda, particularly St. George's, circa 1899-1900. Here is his oil of St. George's with Red Roof.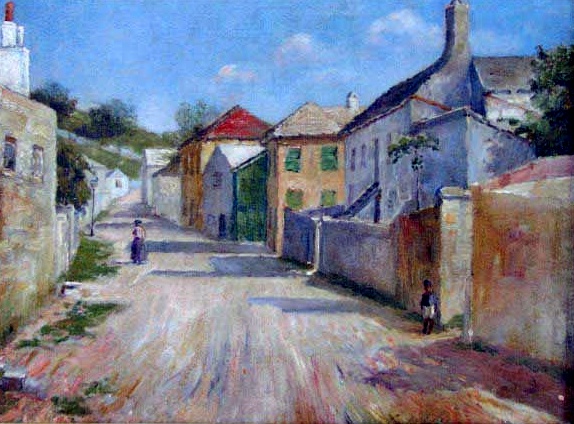 Lieutenant Charles H. Bonney
British. Military artist. Stationed in Bermuda from 1870 to 1875 with the British Army's 53rd (Shropshire) Regiment.

Louis Bouche
American. Not mentioned in Wikipedia is the artistic time he spent in Bermuda in the 1920s.

Daniel Putnam Brinley
American. 1879-1963. A painter whose landscape and genre paintings reflected his childhood near Cos Cob, Connecticut, Daniel Brinley remained active in his native state where he was one of the key figures of the Silvermine Guild of Artists. His childhood home was at Riverside, just across the Mianus River from Cos Cob. For much of his life, he was closely associated with modernists, but his style was a combination of Realism and Modernism. He was much influenced by the Armory Show of 1912. His works during his visits to Bermuda included an oil painting "St. George's" painted around 1920.

Clinton Brown
American. Visited Bermuda in 1939. Known for his landscapes, seascapes and portraits.

Jack Bush
Canadian,1909-1997. In 1934, he and his wife arrived in Bermuda on their honeymoon and stayed at what was then the St. George Hotel. St. George's was a very popular spot for artists to paint, whether from the harbour, street scenes, or aerial views looking down on the old town; it was rich in colour, form, texture, history and is well represented. He painted as much of Bermuda as he did his bride. During his 40-year career, Jack Bush became celebrated as one of Canada's most original colour-field painters, and the first Canadian to take part in a major world art movement. Less well known and understood is Bush's development to the point of this international success. He started his career painting during nights and weekends. During the day he worked full-time as an advertising illustrator. The demands of work and his struggles with the parochial attitudes of the art establishment led to pressures that affected his life and his art. The inner turmoil he suffered is well documented in the paintings themselves, but the underlying causes of his distress have been less understood. These causes have been revealed for the first time in recently unsealed diaries from the AGO Archival Collection and letters from Bush to the influential New York critic Clement Greenberg, which are held by the Smithsonian Institution.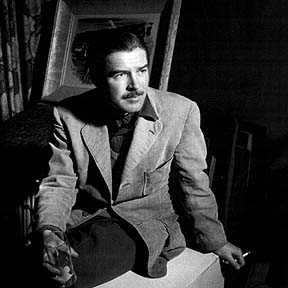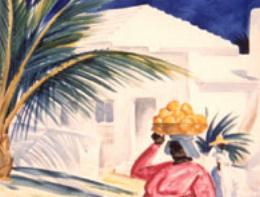 Frank Carson
American. 1881-1968. From Massachusetts, he featured prominently in the Masterworks Bermudiana book (pages 178-181) edited by the late Patricia Calnan. He was most active locally in the 1930s. His small post impressionist paintings "Catching Bait off St. George's" and "Ships Rounding Spanish Point" both of about 1932, were on the market in Bermuda in 2000 for $4,500 each.

A. William Chadwick
British by birth, 1879-1962. Born in Dewsbury, he emigrated to New York City where friends from the Art Students League encouraged him, age 23, to paint at Old Lyme, Connecticut. This experience redirected him from portrait and figure subjects to landscapes. An Impressionist, he focused on portrait and landscape subjects and spent much time at the artists colony at Old Lyme. He had a strong reputation among his colleagues but was not greatly known beyond his own circle. However, he want to Bermuda where he painted several scenes including the following of Hamilton Harbour: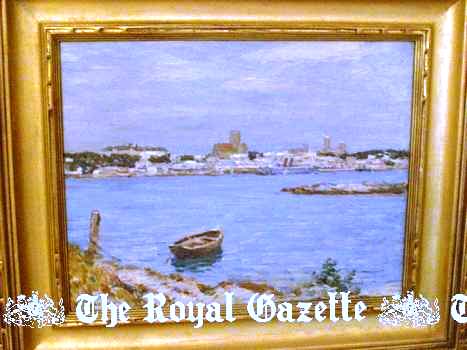 Dudley Costello
A British Army journalist and artist/illustrator, stationed in Bermuda with the 96th Regiment of Foot, later a senior officer. One of Irish poet Thomas Moore's friends. His sister Louisa was one of the local belles admired by Moore. When stationed in Bermuda, Costello created a goblet formed of one of the fruit-shells of a calabash from that tree and presented it to Moore. The sterling silver and gilt memento of Bermuda was hallmarked 1834 and made by Charles Rawlings and William Summers of London. The "Moore Cup" is now in the collections of the Bermuda National Museum.

Floyd MacMillan Davis
American, painter and illustrator sent to Bermuda in 1942 as a war correspondent for Life Magazine. During that time he painted both US military base construction and, on a lighter social note, civilian-related scenes. He is known to have completed at least nine paintings, one of which, his 1942 painting of Front Street, Hamilton, is shown below. As a war-time painting, it shows how Bermuda was then militarily "occupied" by British, American and Canadian military personnel. In 1943, Life Magazine referred to Davis "the best illustrator in America."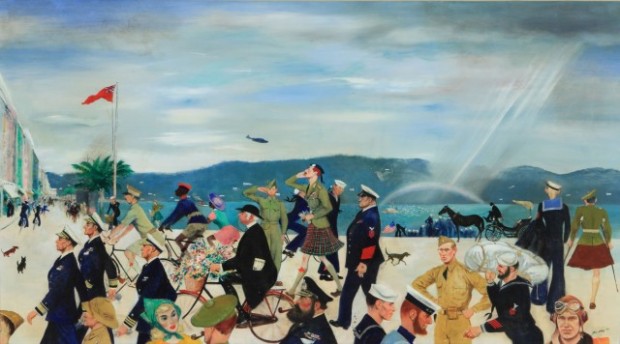 Charles Demuth
1883-1935. He first visited Bermuda with Marsden Hartley during the first world war.

Thomas O'Brien Mills Driver
British. Born in 1789 (another source states he was born in 1791 and died in 1852). His brother Hal was a published poet in London in the early 19th century and the family donated many family letters and art to the Cambridge University Library. Driver's father was a perfumer in Cambridge. Thomas Driver first went to Spain, then Bermuda from England on HMS Romulus in June 1814. He never had art training but established a reputation as an artist. It is likely, although not proven, he may have painted the fine artwork below of HMS Romulus.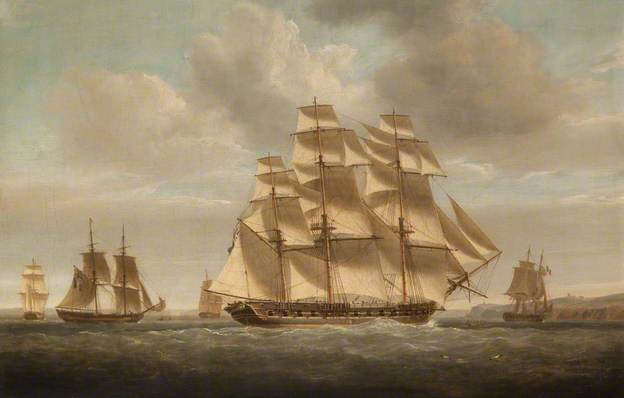 He spent nearly 22 years in Bermuda in total, not consecutive. He went from Bermuda to the Caribbean 800+ miles way to the south in 1818, In 1819 he painted the Hamilton waterfront. He painted a scene of the town of St. George in 1821. His view of St George's is one of the Island's earliest known oil paintings and shows life in a very busy St George's Harbour. In 1822 where he is said to have created paintings of British, French and Dutch colonies. He returned to Bermuda and in 1833 painted a unique rendition of the Town of St. George. He returned to England on May 12, 1836. He left behind a family of fascinating genealogical heritage passed on to the present generation. His paintings have much significance in Bermuda as the Thomas Driver collection of local watercolors. They are now owned privately by the Fay and Geoffrey Elliott Collection in Bermuda and housed at the Bermuda Government Archives.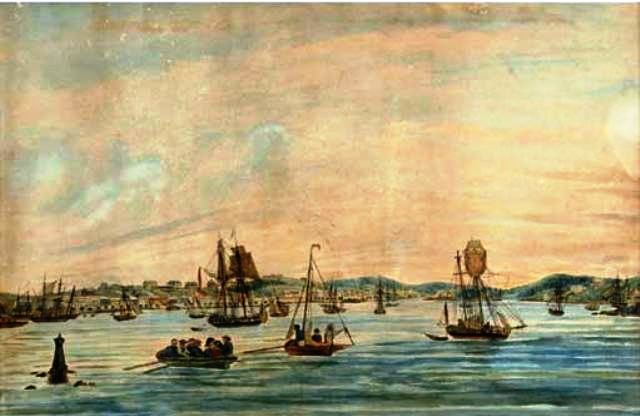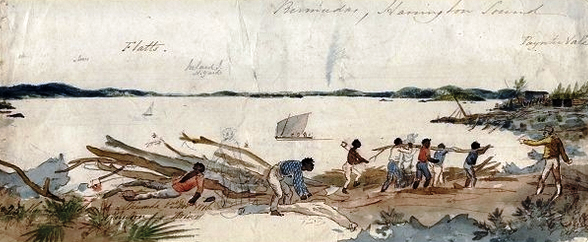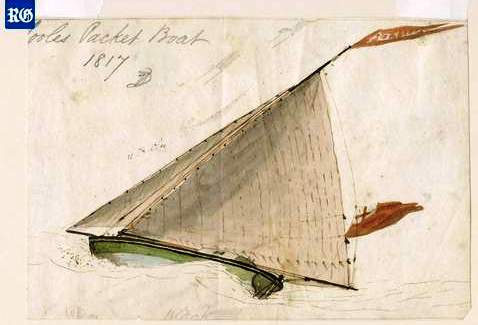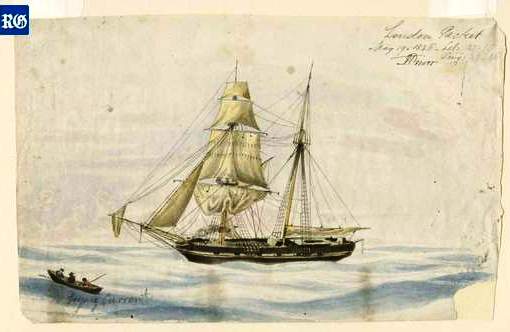 Some of the many Bermuda paintings by Thomas Driver
There is no published record of his wife but he had two Bermudian daughters. One of them, Althea Frances Driver, married Horatio Musson of Bermuda in 1841 when she was 21. Their children were Thomas Driver Musson, born in 1842 and Susan Jane Musson, born in 1844. Thomas Driver Musson married 26 year old Eliza Wilson Robinson, the daughter of David Robinson, on October 26, 1871. Eliza Musson died in 1883 when giving birth to their seventh child. Another child died earlier in childbirth. Modern descendants come from the remaining five. They include Grace Musson Butterfield, Joanne Edwards, Dr. Ian Kawaley, Cecile Musson Smith, Elizabeth Musson Kawaley, Marlene Rogers, Joan Rogers and Victoria Pearman.

Henry Maurice Drummond-Hay (1814-1896)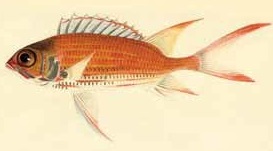 A British Army officer and accomplished artist when based in Bermuda from 1847 to 1851 with the 42nd Royal Highlanders (the Black Watch). During his 20-year military career, Drummond-Hay, from Scotland, UK was promoted to Lieutenant in 1837 and to Captain in 1842; he retired from active service in June 1852 and became a Lieutenant Colonel (1855-1870) of the volunteer Royal Perthshire Rifles, Scotland. He commanded that regiment during the Crimean war, retiring as a full colonel in 1872. His army postings included Corfu in 1835; Glasgow and Dumbarton 1837-8; Ireland 1838-9; Corfu 1841-3; Malta 1843-7; Bermuda 1847-51 (where he, as a keen competitive sailor, was Commodore of the Royal Bermuda Yacht Club from 1849-1851 after Lord Mark Kerr); and Halifax, Nova Scotia 1851-2. In addition to his artistic abilities, he was a keen naturalist and combined his enthusiasm for fishing and hunting with describing natural history. Drummond-Hay reportedly continued his drawings and notes on Bermuda after he was transferred. The Bermuda Archives reportedly has either some of his watercolors or notes about them. Among his little-known accomplishments, he apparently first pioneered the sport of fishing for needle fish with a fly rod. With his unpublished hand-written manuscripts were detailed notes on exquisite watercolors of Bermuda fish, such as the Tylosurus acus needlefish, otherwise known then as hound fish. He fished for many of them in the cut between Harrington Sound and he Flatts, with a good strong salmon rod and tackle using a white fly. Shown here are merely seven of the over fifty-five artworks on Bermuda fish he painted.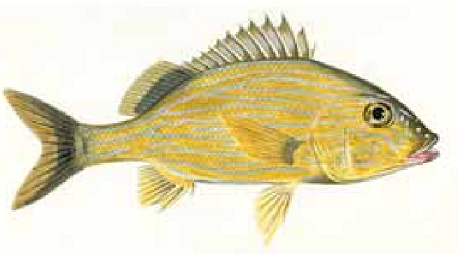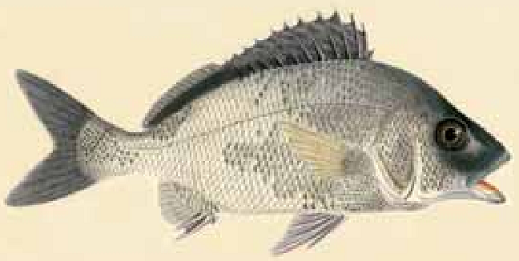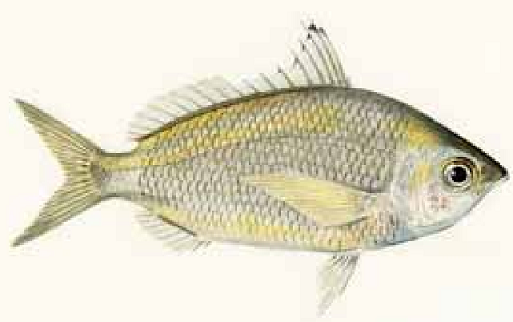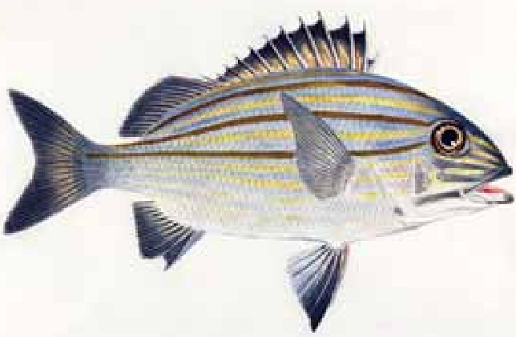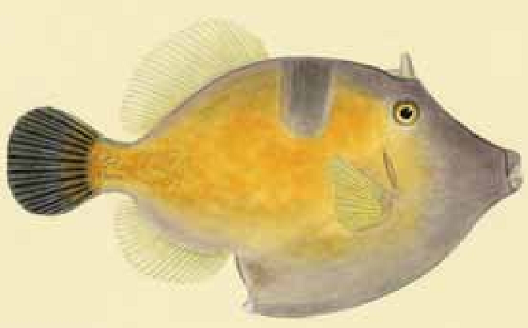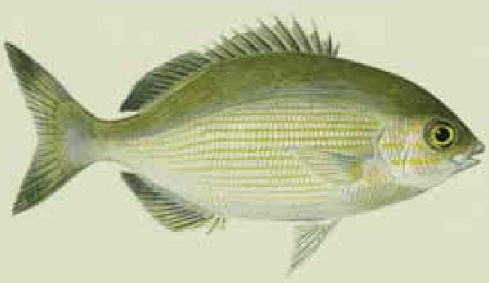 Paterson Ewen
Canadian. Born in 1925, a celebrated artist. While on holiday in 1994 and 1995, at the Coral Beach and Tennis Club, he produced a series of Bermuda works. They included Bermuda Moon, Whale Sitting, Coral Beach and Ocean Scene. He has made at least 10 visits.

Alice Fanshawe
Watercolorist who painted on the island from 1870-1873 while her father Sir Edward Fanshawe, CB, was the Admiral of the North America and West Indies Station. She is known to have painted at least eight scenes of Bermuda. Ms Fanshawe lived in Admiralty House, or Clarence Hill, in western Pembroke with her family and painted many watercolours of that property, especially the gardens. She also traveled further afield to capture the striking view over Sinky Bay and Hunt's Bay in Southampton, which is now part of The Hamilton Princess & Beach Club. The painting depicting Boss's Cove in Pembroke shows a couple of buildings standing, as well as the structure at the mouth of Mill Creek that may be the mill house itself. The grinding wheels of the mill were powered by the ebb and flow of the tide into that bay. Admiral Fanshawe and his family would also visit Jamaica and other Caribbean islands during the mild Bermuda winter. In the summers, the Royal Navy fleet would head north for cooler climates and Ms Fanshawe painted on the Hudson and at Quebec and Halifax, the latter being the north base for the North America and West Indies Station. An historic album of spectacular watercolour paintings of Bermuda dating back nearly 150 years has been donated to the Bermuda National Museum.

John Finch
British. A retired engineer who most recently lived on the Isle of Wight in the United Kingdom but used to come to Bermuda regularly to see his daughter Carolyn, also an artist, when she lived here. She too now lives on the Isle of Wight.

Janet Fish
American, she grew up in Bermuda, visited for the first time since then in 1993.

William Howe Foote
American. 1874-1965. During his Bermuda visits, he painted "Old Buildings, Bermuda" and "Old Bermuda House" with it's glow of late afternoon sun bathing the upper walls of this white, two-storey dwelling.

Deryck Foster
British. Born 1924. Died October 19, 2011. A skilled painter of sea and sail. His exposure to sailing began at seven years of age. From dinghies he progressed to cruising and off-shore racing. This informal experience was supplemented by turns as a watch officer aboard Britain's sail training schooners the "Sir Winston Churchill" and the "Malcolm Miller" and several years as bowman of the Yarmouth lifeboat. Mr. Foster's artistic training began at the Southern School of Art, Bournemouth, England and after war service, continued at the Central School of Art, London. He exhibited at the Royal Society of Marine Artists for over thirty years, was elected a member in 1964. He is in the permanent collection of Russell Coates Art Gallery, Bournemouth and the National Maritime Museum, Greenwich, England. His patrons include Prince Philip and England's former Prime Minister Mr. Edward Heath. Mr. Foster had a studio in Yarmouth, Isle of Wight, for many years as well as his adopted second home of Bermuda. His talents were discovered in 1968 by Bermudians Dorothy K. Trimingham and her husband deForest (Shorty) Trimingham when they were participating in yacht races at Cowes, Isle of Wight. They had found a painting of the yacht Mr. Trimingham was sailing. Impressed, they located the artist, nearby. In 1972 Foster put his paintings on exhibit in the Front Street display windows of Trimingham Bros, during the Newport-Bermuda Race that year. The success of that showing led to Deryck and DeniseFoster, married in 1949, going to Bermuda to live for more than eight years. Later, their daughter Karin married Col Sumner H. Waters, USA, of the Bluck family in Bermuda. John RH (Jack) Lightbourn, then manager of the Bank of Bermuda, commissioned a major collection of paintings of the maritime history of Bermuda of the 1700 and 1800s. Deryck and Denise Foster researched the ships in libraries and archives. Mr. Foster painted them. His paintings of famous Bermuda ships, including those built in Bermuda of cedar for the Royal Navy, include the Elizabeth and Mary; Hezekiah Frith's privateer vessel, Experiment; Harvest Queen; and Queen of Bermuda.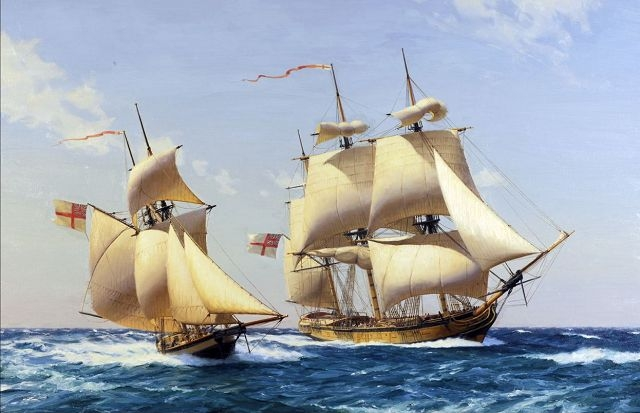 Dereyk Foster. One of his many unique Bermuda ship paintings

F. Kenwood Giles
British. 1899/1900-1972. Originally from London, he received the Royal Drawing Society's Gold Star at age 14. Resident in Bermuda from 1950 for a few years, he exhibited with the Bermuda Society of Artists, later, Bermuda Society of Arts 1952-1956; and by 1954 was on their exhibition Selection Committee. A commercial artist and cartoonist he produced Howdy Doody cartoons for Sunday editions of the Royal Gazette newspaper in the early and mid 1950s; also advertising artworks for the Bank of Bermuda in the late 1950s, maps of Hamilton and St. George's, brochure and magazine covers, scenes from Bermuda's history, humorous postcards, etc.

Albert Gleizes
French. 1881-1953. Cubist painter. Not mentioned in the reference above is his time in Bermuda. He spent the winter of 1917 at the former (later, destroyed by fire) St. George's Hotel in the Town of St. George, Bermuda. There he completed a number of Bermuda paintings including his "Portrait of Juliette" shown here. It is an oil on masonite and has quite a history. It was painted of Juliette when she and her husband visited Bermuda in 1917. It was exhibited only once, at the Salle Boissae in France. It had remained in the family collection until sold in November 2000 for US$170,000 at Sotheby's in New York, on behalf of the Masterworks Foundation of Bermuda. The lead donor of the cost was the Humann Foundation and an anonymous donor. This artist's "Paysage des Bermudes" is also famous in Bermuda. A friend and colleague of Picasso, he co-authored with Jean Metzinger the first book on the principles of cubism - called "Du Cubisme" - still in print today. Also, his view of Government House, La Maison du Gouveneur; in Pembroke Parish and his cubist rendition of "Pitt's Bay" are most interesting.

Patricia Grant
Known to have been in Bermuda in 1932 when she painted A View of Hamilton from Salt Kettle, Paget and View of the Islands of the Great Sound.

A. M. Graves
British, he was in Bermuda in the 1920s. He may have been a Royal Navy officer or rating based at HM Dockyard. One of his works is the painting "The Water Carrier" - the scene of a donkey cart hauling barrels of water from Lagoon Park, Ireland Island.

Abbott Fuller Graves
Not mentioned in Wikipedia is his time in Bermuda. His Impressionist "Old Slave House, Bermuda" is an oil painting from around 1900. The white bungalow appears to be aglow in full sunlight. The dark background of a cedar grove, helps create a sense of luminescence.

Edmund W. Greacen
American. Not mentioned in the Wikipedia article is his time spent painting in Bermuda in the 1920s.

Arthur Green
British. Not a painter but a gifted. photographer. He is known to have been active in Bermuda in 1869. Some of his more than 50 striking photographs of Bermuda are in the Royal Collection in London. One is shown below: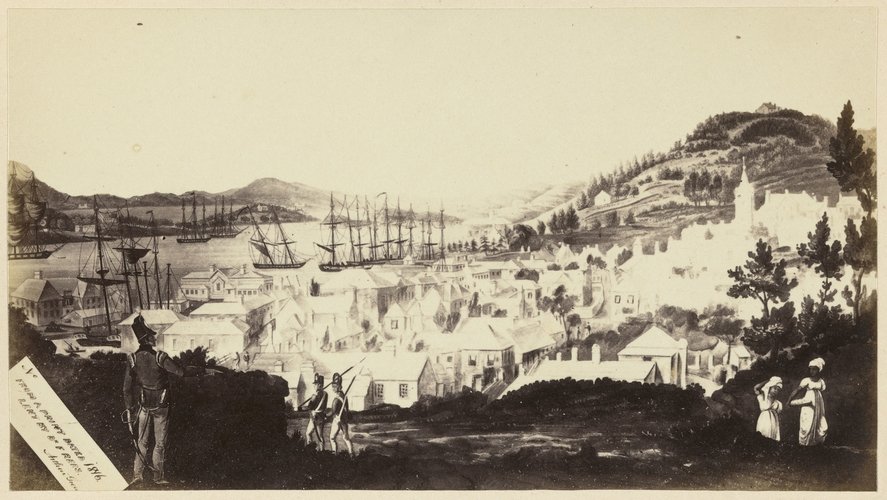 John Green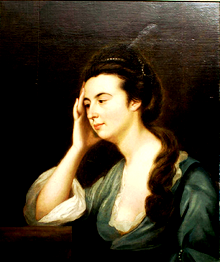 Born about 1780 (died September 3, 1802), he was a portrait painter who later became a judge. Born in what was then the Thirteen Colonies, later part of the USA, he later migrated to Bermuda, where he died. Nothing is known of Green's origins; he is first documented in Philadelphia in the late 1750s, when he sat for a portrait drawing by Benjamin West. The source of his early training is unknown, though it is possible that he learned to paint miniatures in Philadelphia, as did West.
In September 1774 he traveled to London for further study, and renewed his acquaintance with West at that time. He does not appear to have remained in England long, and was likely back in Bermuda within the year. Green seems to have given up painting when his Bermudian wife inherited a house from her stepmother. The couple called it Verdmont, as a play of words on his own name.
He also turned to civic life; in 1785 he was appointed collector of customs, a position formerly occupied by his father-in-law, and in 1786 he was named a judge on the Court of Vice-Admiralty, serving in that position until his death. In the latter position he was responsible for the disposition of prizes of war seized by privateers, a frequent occurrence as Great Britain was at the time at war with France, and many American shipowners lost vessels through his decisions. Consequently, his tenure in this position was widely reviled in the United States, and he was frequently insulted in the mainland press. Some of his decisions were overturned in London as well, though he was respected for his fairness by colonial governor George Beckwith. During the last decade of his life he was also a member of the governor's council under American-born Loyalist William Browne. Green was also a gentleman farmer at Verdmont, producing eighty bales of cotton one year there.
At his death, Green left an estate valued at £286, half of which consisted of three slaves, a cow, and a horse. He and his wife left no descendents, but are honored in the parish church of Smith's Parish with a memorial erected by their nephew, Joseph Packwood. Verdmont passed into the hands of another nephew, Samuel Trott. Fewer than a dozen paintings by Green survive, and most that are known are dated to between about 1775 and 1785. Two are portrait miniatures, including a self-portrait, and most are of members of his family.
The portraits passed through the hands of descendents of Samuel Trott before being purchased by Hereward Trott Watlington, who donated them back to the Bermudian government. All are currently kept at Verdmont, which is owned by the Bermuda National Trust and is open to the public. Green is also said to have painted a depiction of Venus Instructing Cupid while in London, but the whereabouts of this painting have been unknown since the 19th century. The West drawing of Green is currently owned by the Historical Society of Pennsylvania.

Herbert Gurschner
Austrian-British artist, born August 27, 1901 in Innsbruck, Austria. Died January 10, 1975 in London.

Edmund Gilling Hallewell
British. 1820-1869. First appeared in British military records when he was commissioned in 1839 as an ensign with 20th Regiment of Foot and he died at Sandhurst, England. He rose through the ranks retiring on half-pay as a colonel in 1860 when he was appointed the commandant of the Royal Military College at Sandhurst in 1864. His tours of duty took him to Bermuda (1848) as a major, the Canada, England, the Crimea and Malta. During the Crimean War, he served with distinction at Alma, Inkerman and Sebastopol, was created a Knight of the Legion of Honour and rose to the rank of Deputy Quartermaster General. Hallewell's Canadian service began at Halifax then at Quebec in 1847, he was next posted in Kingston, London and Montreal before leaving the Canadas in 1850. His residence in London, Upper Canada was from May to September 1849.
As a painter, Hallewell is known for his landscapes and marines in oil and watercolour and it is probable that he trained in landscape topography as part of his early military training.. Little information is available on his early life outside his British army service. Colonel Edmund Gilling Hallewell's fine set of panoramic lithographs of Bermuda are much admired. A fine photograph of him, taken during the Crimean War by well-known Victorian photographer Roger Fenton, is now in Bermuda. When Hallewell was in Bermuda, he was a Lieutenant in the British Army, Adjutant of the XXth Regiment of Royal Engineers stationed at Bermuda with the British garrison. Later - in the 1850s - he was a Colonel in the 20th or East Devons garrisoning Bermuda. Prior to his arrival in Bermuda, he was trained as a topographical artist, which ensured that his views of Bermuda were a very accurate record of the placement of land masses.
Yet he also managed to arrange his foreground elements in a manner that was picturesque and much in fashion at the time. He sketched in charcoal the Island's many scenes of extraordinary beauty with an incredibly detailed and disciplined hand, including views of the Great Sound from the Gibbs Hill Lighthouse area, four more views of the Sound from Spanish Point and three of St. George's from St. David's Lighthouse. He called the 13-scene set "Views of the Bermudas." Otherwise known as his "Panoramic Sketches of Bermuda," they were reproduced in a series of lithographs in 1848 that have been treasured in Bermuda ever since. They are notable for their detail which so highlighted how, only a few years later, so many areas of Bermuda were so denuded of trees and foliage.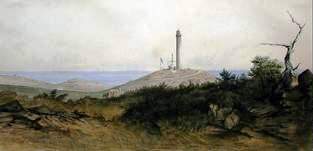 Gibb's Hill Lighthouse 1848
Eight of Hallewell's sketches are in the possession of the Bermuda Historical Society Museum. They show, respectively, (i) HM Dockyard, With Maria Hill, Spar Yard, Cockburn Cut, Cobbler's Island, Magazine Island, Hogfish Beacon, Cobbler's Cut, Signal Post and Casemated Barracks, Dockyard and Commissioner's House; (ii) Entrance to St. George's Harbour, with the Royal Barracks, Fort Victoria, Fort Albert and Royal Hospital, Fort Cunningham situate on Pagets Island and Fort Catherine; (iii) Road to Hamilton, featuring a Bermuda stone wall and two trees, one without foliage; (iv) Looking North West, of part of St. David's Island, Smith's Sound, Sugar Loaf Hill, St. George's Harbour, Smith's Island, Fort George and Hen Island Magazine and St. George's Town and Harbour; (v) Looking West, Somerset Narrows, Boaz Island, Ireland Island, Maria Hill, HM Dockyard and Pearl Island; (vi) Looking West (again) showing Somerset, the Royal Hospital and Ireland Island; (vii) Looking North East, showing Wreck Hill, Somerset Island, Tucker's Island and the Great Sound; and (viii) Overlooking Hamilton Harbour. This is the only one of the series signed by the artist. It shows Timlin's Narrows, Boss Cove, The Rock Passage, One Rock Passage, Oxford and Ship Passage. Little did Hallewell know at the time that his sketches would end up a century later as prized lithographs (and that 144 years later, a rare set of 13 plates of his lithographs, one of only 50 sets in existence, would be sold at the famous auction house of Sotheby's in London for 30,800 pounds (then over US$60,000). It is estimated that there are eight to ten sets of Hallewell's art in private hands in Bermuda today).
In December 2008 British auction house Holloways of Banbury sold a Hallewell complete set of 13 lithograph plates, circa 1848, entitled Views of the Bermudas or Somers Islands for £10,500 (around $15,000). The lithographs show 13 panoramic views of three different areas of Bermuda, the Spanish Point area, Port Royal area and St. George's. The prints sold in Oxfordshire were in black and white and were "considerably foxed" with spotting covering much of the artwork. Lithography, developed in 1796, is a method for printing using a plate or stone with a completely smooth surface. While the original paintings by Mr. Hallewell have probably been lost to the test of time, the plates can live on providing us a glimpse into the past. Mr. Hallewell is believed to have done all of the original artwork himself as part of his surveying duties for the military and "exercised his surveying skills" to imagine what the land would look like without any buildings or structures on them. The complete 13-piece set includes six views that form a panorama of the islands in the Great Sound seen from a hill west of Gibbs Hill lighthouse. Four views form a panorama from a hill on Spanish Point looking to the Great Sound with the shores of Warwick, Southampton and Sandys parishes beyond; and three views from near St. David's lighthouse form a panorama looking over Smith's Island to the town and parish of St. George's.

Herbert Gurschner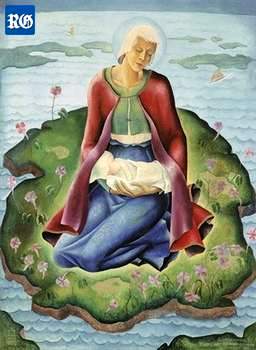 Austrian. Gurschner painted the work shown during a visit he is believed to have made to Bermuda in 1936 and was first exhibited at the Ferargil Galleries in New York in April 1937. Madonna of the Island, relevant to Tucker's Island, depicts one of art's most prolific muses, the Madonna and Child, with the island also having served as a muse to the artist.
At the time he painted in Bermuda, Gurschner was a successful internationally renowned artist and this period marks the height of his career. According to a press release from Masterworks, Gurschner's work from this time period is very rare to find, but the oil painting on canvas, which will now be part of Masterwork's collection, is in perfect condition. The "Neue Sachlichkeit" or New Objectivity movement in German art that arose during the 1920s inspired Gurschner's style.
The works were executed in a realistic style in contrast to the prevailing styles of Expressionism. The clouds of war were closing in and Gurschner found himself in Bermuda and out of the shadows of a crumbling world he depicts this vision of nurturing.
The Madonna of the Island will join another of Gurschner's paintings that is currently part of the gallery's collection that features a portrait of well-known Bermudian character Claudia Darrell, who owned the Waterlot Inn. Katarina Hoskins, then Honorary Consul of Austria, stated: "The particular style of Austrian art that Gurschner was known for was very dark as he was working during the war and much of his inspiration was taken from the time he was living in. However, in his later years he was also well-known for the tourism advertising in Austria and also painted a lot of landscapes due to his country upbringing."

William H. Harrington

British, Bermuda resident, artist, muralist at the Elbow Beach Hotel, designer. He claimed he was once a court painter, of which there were many, to King George VI but a search has not to date yielded anything there for this artist. (Nor is he listed as a British artist in any well-known British art publications). He was an interior designer for the City Hall, Hamilton and his work there included his "Still Life", 1958. The painting depicts the artist's breakfast table on the morning after the burning of the original Bermudians Hotel by an arsonist. In the painting, paint brushes and paints are strewn about. Bermuda's daily newspaper The Royal Gazette is propped up, and, the clearly painted headline from Friday September 5th 1958 reads "Fire Guts Bermudiana Hotel Guests Evacuate Quietly". The morning mail poking from the table reveals an Airmail letter addressed to the artist and an envelope, perhaps a letter of condolence, addressed to the hotel's general manager Carroll Dooley. There are also "A Bermudian Cottage" (inset, right) and a somewhat unflattering portrait of Queen Elizabeth, later exhibited in the City Hall, Hamilton. In 1959, to coincide with Bermuda's 350th anniversary, he painted for the Bermuda Maritime Museum the "Sea Venture" that brought the first colonists to Bermuda in 1609. He also designed a set of commemorative stamps printed in London. He also produced under his name versions of all the heraldic crests of Bermuda's nine parishes that were published by the Bermuda Press Ltd and sold as loose leaf individual prints. Apparently, there was some controversy in certain quarters in England, where prominent landowners told this author who visited them (and obtained their exclusive written personal permission to use them for educational and cultural purposes only in works he authors such as this Bermuda Online) that they should have been consulted and an agreement reached beforehand because their early 17th century family's coats of arms of that period, some still used in whole or in part and duly internationally copyrighted or replaced, were used without their permission. Anyway, it is an undisputed fact that Bermuda's nine parishes are all named after titled 17th century aristocrats from those families who founded and/or financed them, allowed their coats of arms to be used as parish crests to signify their interests and may also have visited in person or sent their estate representatives as early settlers. If agreement was later subsequently reached later between their family descendants and the Bermuda Government re use of their coats of arms as parish crests, it may explain why images of the parishes coats of arms or crests have been featured for educational and cultural purposes including on Bermuda Government postage stamps but never ever for commercial purposes.

Marsden Hartley
American. First visited Bermuda with artist Charles Demuth during World War 1, about 1917. He stay on the North Shore of Bermuda with fisherman Elmo Petty. He went fishing regularly with Petty. He was fascinated by Bermuda fish and the color of the water. He paid US$ 15 a month for his lodging and was said to have spent as much time writing - he was also a poet - as painting. A rare financial windfall enabled him to make his second visit to Bermuda in 1935 to keep periodic bouts of depression at bay, because of constant poverty. His "Movement, Bermuda" may well be an abstraction of a sailing ship. Among his many works, this famous American expressionist painted "Sunken Treasure" - now in the Bermuda Masterworks Collection thanks to a substantial donation from the Bermuda-based Christian Humann Foundation. It is an excellent example of Hartley's art, especially as his Bermuda-period works are relatively rare. It was when he turned away from cubism toward a rugged expressionism based on forms of nature. His works are now all over the USA. They were first displayed in New York at the famous gallery of Alfred Stieglitz, who was also credited with introducing such modernists as Matisse, Picasso and Cézanne to the American public.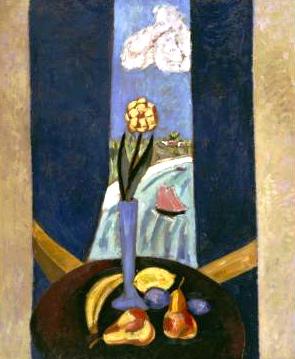 Hartley's "A Bermuda window" of 1917

Charles Webster Hawthorne
American. Not mentioned in Wikipedia is the time he spent in Bermuda painting.

Charlton Heston
American. 1923 to 2008. It is not generally known that this famous actor was also an accomplished artist who painted a unique picture of Bermuda when he first acted here in 1953. His celebrated 1953 open-air Bermuda production of William Shakespeare's tragedy Macbeth staged at Fort St Catherine was full of sound and fury — and, at one point, real fires which raced across the battlements of the East End bastion. Future Academy Award winner Charlton Heston played the title role in the epic Bermuda staging of Macbeth. A talented amateur painter, the actor immortalized the fiery closing scene of the local production in a vivid canvas acquired in 2016by the Masterworks Museum of Bermuda Art and now hanging at its Botanical Gardens gallery. The Tempest was inspired, in part, by the 1609 wreck of the Sea Venture on the Island. But then by sheer coincidence, or perhaps because of a touch of the predestination which informs the plot of Macbeth, Masterworks founder and creative director Tom Butterfield was going through a catalogue of an upcoming sale by auctioneers Bonham's. And he came across Charlton Heston's painting of the famous Bermuda Macbeth production being offered for sale. So Masterworks successfully bid on it. The 11½in by 15½in oil painting, signed "C. Heston", depicts the fiery climax of the Bermuda production. A note Mr Heston attached to the back of the painting explains how the play was staged on the battlements of the centuries-old seaside fort, with wind fanning actual flames behind sword-wielding combatants as Scottish warlord Macbeth is toppled from the throne he has usurped by an army of opponents in the final scene. Mr Heston's note concludes, "It was arguably the most effective Macbeth combat ever staged." On the cusp of international stardom when he worked in Bermuda in the early 1950s, Illinois-born Mr Heston (1923-2008) soon went on to establish himself as one of Hollywood's most popular and enduring leading men. He specialized in larger-than-life characters and starred in such blockbusters as Ben Hur, for which he won his Academy Award, The Ten Commandments, El Cid, 55 Days At Peking, The Agony and the Ecstasy, Khartoum, Planet of The Apes and The Three Musketeers.
A classically trained actor, Mr Heston once said "the great roles are always Shakespearean" and he made his Broadway debut in the playwright's Antony and Cleopatra. In addition to his stage performance as Marc Antony in 1947, Mr Heston portrayed the Roman politician again in film adaptations of Shakespeare's Julius Caesar in 1950 and 1970 and again, in different form, in a movie version of Antony and Cleopatra in 1972 which he also directed. He also took the part of the Player King in Kenneth Branagh's 1996 film version of Hamlet. But Macbeth was a favourite role for Mr Heston. He played the part numerous times on stage both before and after his Bermuda appearance, including a well-received 1975 California production in which he appeared alongside Vanessa Redgrave. The March 22, 2016 Los Angeles auction of items from his estate included, aside from the Bermuda Macbeth painting, a valuable collection of early published editions of Shakespeare's plays and other rare Shakespearean items. The Bermuda production of Macbeth was staged under what Mr Heston called "the highly imaginative direction" of Burgess Meredith. An accomplished and versatile stage and Hollywood stalwart probably best remembered today for his Oscar-nominated turn playing boxing trainer Mickey Goldmill in actor-writer Sylvester Stallone's 1976 Rocky and its first two sequels, Mr Meredith selected Fort St Catherine as the appropriately ominous and haunting setting for the play. Believed to have been written between 1599 and 1606, Macbeth tells the supernaturally-tinged tale of an ambitious Scottish nobleman who seizes the throne with the aid of his scheming wife and a trio of witches. The "Scottish Curse" — blamed for various injuries and mishaps which have occurred during productions of the play for almost 400 years — even struck down Mr Heston. At one point during the play's run he had to rush offstage with burns to his groin area and change costumes between scenes. Someone had laundered his tights with kerosene and this apparently interacted with the hot sweat of a horse he rode across the battlements of Fort St Catherine during one scene, causing him intense pain. And in his diaries Mr Heston also recalled being "run over by a motorcycle" on the opening day of the Bermuda production. To make matters worse, when a wooden facade was set on fire for the play's climactic battle scene, the wind shifted blowing smoke and flames towards the audience. Fortunately, no one was injured.
These accidents notwithstanding, Mr Heston happily returned to Bermuda in 1954 to appear in a local production of the comedy Born Yesterday alongside its original Broadway stars, Jan Sterling and Paul Douglas. He said that the worst thing to happen to him on his return visit was getting sunburned on a South Shore beach when he was posing for publicity photographs with his co-stars. Mr Heston also maintained a once-removed link with the island for many years through his close friendship with Bermudian actress, Diana Douglas and her second husband, American producer and writer William Darrid, who he had once shared an apartment with in New York when they were both embarking on theatrical careers. Ms Douglas, the one-time wife of granite-jawed Hollywood icon Kirk Douglas and mother of two-time Oscar winner and sometime Bermuda resident Michael Douglas, died in 2015 at the age of 92. Mr Heston said of the Bermudian actress' best-selling 1999 memoir In The Wings: "Diana Douglas Darrid has had a rich, full life as actress, wife and mother of Hollywood superstars, which she's recorded with wit and wry insight into the intimacies and challenges of show business. She's an excellent writer." And he read Robert Frost's poem Stopping by Wood on a Snowy Evening at the memorial service for Mr Darrid held at the Writers Guild Theatre in Beverly Hills following that part-time Bermuda resident's death in 1992. Following the service he fondly reminisced with Bermudian family members and friends in attendance about his visits to the island.

Harold Leslie Hoffman
American, 1871-1964. A man with strong academic art training, Harry Hoffman was judged by his peers to have done best with his landscapes when he painted what he saw and set aside the theories. He studied in Paris, worked at Yale University with John Ferguson Weir, and was a student at the Art Students League with Frank DuMond. But Willard Metcalf had the strongest influence, encouraging Hoffman to paint in the style of impressionism. In 1902, Hoffman went to Old Lyme, Connecticut. He also went to and painted in the Bahamas and Bermuda where he completed a number of works including a Bermuda Seascape , a View of Castle Island and the following: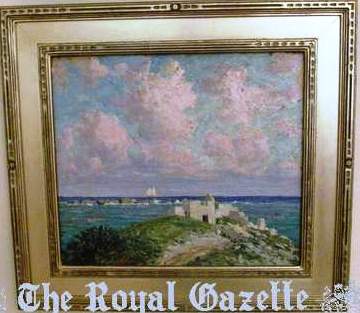 Winslow Homer
American. Not mentioned in Wikipedia are any of his many Bermuda paintings, of which there are some very significant ones. In December 1899, Bermuda welcomed him for the first time from Maine, on the SS Trinidad which he painted, the first ship built specifically to service Bermuda's tourism industry. In 1901, it brought him back for an extensive visit. He captured the ship on canvas as she sailed the North Channel. On March 31, 1901, he wrote to his New York dealers to advise them that he was sending them three Bermuda drawings as at that time they should attract attention due to the close for the season of Bermuda's hotels (at that time, Bermuda's high season for tourists was November to March).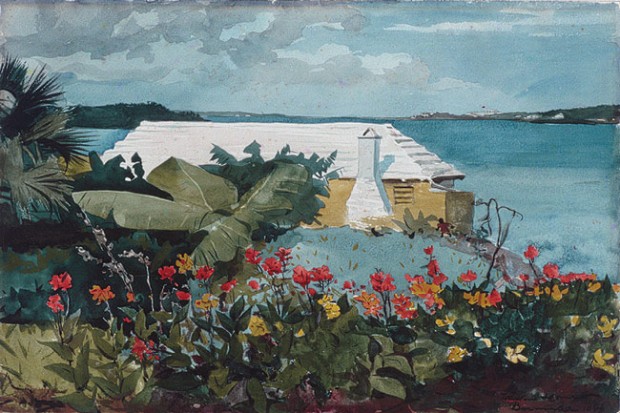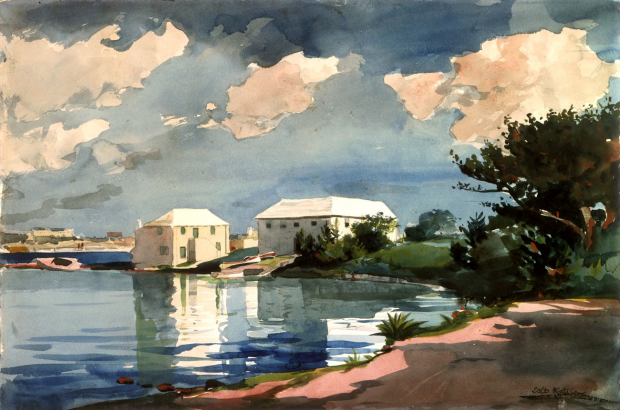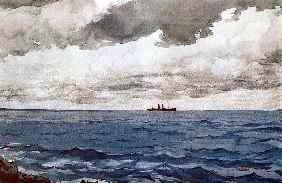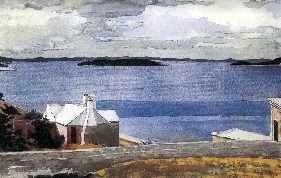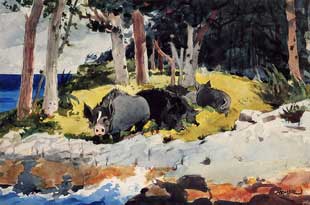 1987. April 30. To commemorate the artistry of Winslow Homer in Bermuda from 1901, the Bermuda Post Office issued these commemorative postage stamps:

"Bermuda (1901)" pictured above is back in Bermuda, thanks to the Christian Humann Foundation. It donated $30,000 to the acquisition by Bermuda's Masterworks Foundation which pioneered the repatriation of Bermuda's artworks by famous artists. Homer painted at least 21 Bermuda watercolors. In 1901, they were exhibited at the Pan American Exposition in Buffalo, New York. Homer was awarded a gold medal. Also in 1901, he selected a quiet spot in Southampton near the Great Sound for a splendid scene on a 21 by 14.5 inches canvas. It was "Inland Waterway" pictured here. It shows Granaway Deep, with Marshall's and Darrell's Islands in the background. The historic home is Spithead, later the home of American dramatist Eugene O'Neill, Charles Chaplin and British playwright Sir Noel Coward. After many years in the USA, the painting finally returned to Bermuda in 1992, with a price tag of $700,000, paid by Bermuda's Masterworks Foundation, with some help from friends of Bermuda. Homer was hugely intrigued by Bermuda's early history and how the first involuntary settlers off the wrecked Sea Venture in 1609 found wild hogs as food. He painted them in " Bermuda Settlers -1901" pictured here (and on a Bermuda postage stamp years later). The hogs were dropped in the water by 15th century Spanish and Portuguese sailors who used Bermuda as a navigational landmark to Mexico and beyond. They knew the hogs would swim to shore and breed. They were food for shipwrecks on Bermuda's dangerous reefs.

Charles Hopkinson
American. Charles Sydney Hopkinson (July 27, 1869 – October 16, 1962) was an American portrait painter and landscape watercolorist. He maintained a studio in the Fenway Studios building in Boston, MA, from 1906 to 1962. He painted over 800 portraits in a direct style with a palette gradually lightening through his career. Many of his paintings were commissioned by U. S. East Coast institutions, especially Harvard University, where he acted as house portraitist. Among his sitters were Oliver Wendell Holmes, Calvin Coolidge, and John Masefield. His "Windy Day, Wreck Hill", 1947, not mentioned in Wikipedia, is of interest. It depicts an historic place in Bermuda once invaded briefly by American marines during the Revolutionary War.

Edward K. James
British. James - allegedly not his real name but one he used - was born sometime in 1820. He arrived in Bermuda by accident on November 22, 1861, when his ship the "Devonshire" limped into Bermuda in some distress when en route from Liverpool to New York. It was claimed he was the brother of Shirley Brooks, editor of the British satirical magazine "Punch" (which finally wound down in April, 1992 after 150 years of publication). He made no known attempt to continue his journey to New York. Instead, he remained in Bermuda and died here of apoplexy in 1877 at the age of 57. His abode was where the St. George's branch of the Bank of Bermuda now stands. He began his life in Bermuda as a part-time artist, almost as soon as he arrived. In December, 1861 he ran an advertisement in the Royal Gazette of Bermuda for paintings and sketches he had completed while aboard the ill-fated "Devonshire." He claimed to be a naval architect by training and on the strength of this he applied for and was granted the commission by the Governor of Bermuda of Surveyor General of Lands in 1862 (a post from which he was fired in 1865). But he received no salary or housing for this position. In 1863, he ran other notices in the same newspaper. The unfortunate American Consul Charles Maxwell Allen, who represented the North during the bitter American Civil War and was much-despised during that time in Bermuda, did have one friend. He was this mysterious British artist, with whom Allen shared an office in the mid 1860s. It was not known at the time but was revealed later that in fact they were not only personal friends and co-tenants of an office but that Allen made a special point of secretly engaging James to paint detailed pictures of the many Confederate vessels that openly then used Bermuda as a base and/or a trans-shipment port and some of them are shown here. For a while in 1965, as well as a free-lance artist and Surveyor General of Lands, he was briefly the editor of the newly-formed "Bermuda Chronicle" after the "Bermuda Advocate" went out of business. But he incurred the displeasure of Lieutenant-Governor W. G. Hamley for allegedly having public and private sector conflicts of interest despite the fact he was not paid or housed by the Bermuda Government. His writings were construed as political statements often attacking the Governor, forbidden by the position held by James. Nor was he given the commission he wanted to survey and plan the Causeway. James was annoyed when the position was instead given to a British Army officer in the Royal Engineers. He retreated into his private world of art on a full-time basis in 1865. It was said publicly that he was an alcoholic. Certainly, he was known to use most of his earnings from the sale of his works to fund his heavy drinking. His American Consul friend and office-sharer commented on this during the American Civil War. Appearing much older than his actual years, James was often seen sketching with a green veil hanging from the back of his hat. His paintings survived and are now acclaimed in Bermuda. They are now owned mostly by the Bermuda National Trust, Bermuda Historical Society and St. George's Historical Society. Those in their hands have been preserved in environmentally-suitable conditions by and shown by the Bermuda Archives. Some were damaged and had to be restored before showing. His scenes of Southern blockade-runners and other ships are splendid graphics of the late 1800s. He did not focus only on the Town of St. George and its harbor. He also went to and painted near Hamilton Harbour, Gibb's Hill Lighthouse, Spittal Pond - the Causeway completed in 1879 - and the Royal Naval Dockyard, then at the height of its construction by convicts living in prison hulks. Altogether, since September 21, 2001 and until January 15, 2002, 32 of his paintings large and small, from the two main owners and others too, have been exhibited at the Bermuda National Gallery at City Hall. They are together for the first time since they were painted.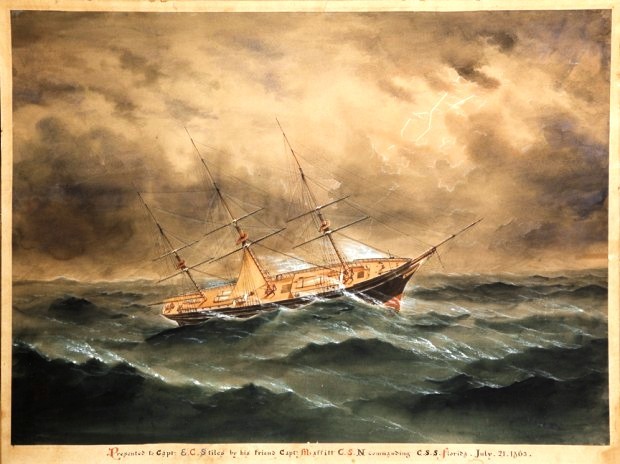 One of his works, the Confederate ship Florida.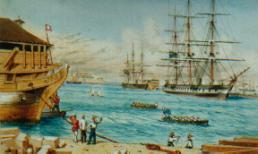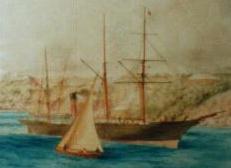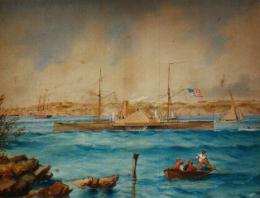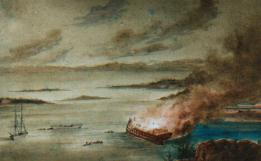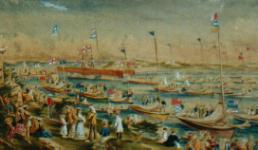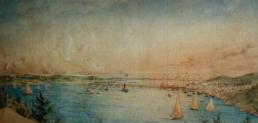 Frederic James
American. Known to have visited Bermuda in 1938 and painted Heyl's Corner in Hamilton.

Joe Jones
American. his Bermuda works included an oil painting of Flatts Village. He was from the American West. In World War 2 he was an official war artist. In the 1950s he wintered here and met and mentored Bermudian artist Alfred Birdsey.

Donald Morris Kirkpatrick
American. 1887-1964. Artist, architect, etcher and teacher, another of the mentors of Alfred Birdsey and friend of Joe Jones. Born in Easton, Pennsylvania in 1887, the son of Pennsylvania's Attorney General William S. Kirkpatrick and Elizabeth H. Jones, he earned the degree of Bachelor of Arts form Lafayette College in 1908. He then studied architecture at the University of Pennsylvania, during Paul Philippe Cret's influence there, receiving the Arthur Spayd Brooke Medal and graduating in 1911 with a bachelor of science degree in architecture. Kirkpatrick then served a brief apprenticeship with Thomas, Churchman & Monitor. In 1912, he had just formed a partnership within with Sydney Martin, B.S. in Architecture 1908, when he won the Paris Prize enabling him to travel to France and study architecture for two years. When he returned to Philadelphia in 1914, he and Martin resumed their architectural partnership. Kirkpatrick was awarded a Silver Star for his heroic efforts during World War I. In 1919 Kirkpatrick and Martin joined with older architect and fellow Penn alumnus Walter Thomas to form the firm of Thomas, Martin, and Kirkpatrick. As a member of this firm, Kirkpatrick was involved in the design and construction of the Christian Association (built 1927-1929) on the Penn campus. In 1931 Kirkpatrick left the firm to study etching and watercolors in France. Later that same year, he again returned to Philadelphia where he became an assistant professor of design at Penn. He technically held this position until 1934. In 1932 Kirkpatrick and his wife resided in Bermuda. He was employed by the Bermuda architectural firm of Onions and Bouchard. In 1934 he designed and built bought the house, Landmark, in Bermuda, on the North Shore Road, Crawl, Hamilton Parish, which later became a restaurant. Homes in Bermuda designed by Kirkpatrick included the following: "Troon", the home of Mrs. M.A. Dunne, in Tucker's Town; "Commonland Point", the home of Mrs. G.B. Hollister, in Shelly Bay. He also designed homes for Terry Mowbray, Lady Williams, and Dr. Harry Curtis. Plus, in collaboration with others, he helped design the Pink Beach Cottage Colony and the Bank of Butterfield building. However, Kirkpatrick continued his interests in etching and watercolors.

Jim Kuhlman
American, came to Bermuda for the first time with his wife, Julie, while she was going through chemotherapy treatments for breast cancer in 1997. In August 2013 his 31 Bermuda paintings were exhibited at Masterworks. They stayed at Cambridge Beaches five of the six times they visited. The Island inspired him to venture into painting with watercolours, to capture the blues hues of the water, and vibrant whites of the roofs, after years of working mainly with pencil. A widower since March 2013, with an art degree from college, he has been an art teacher for the past 40 years.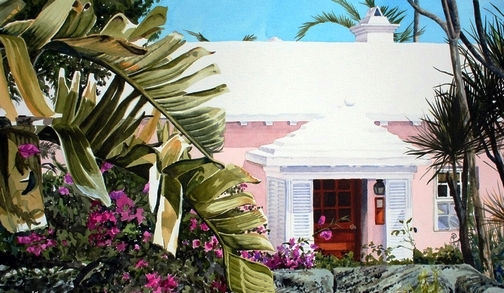 Admiral Sir Willoughby Lake
Painted in Bermuda in the 19th century.

Charlotte Ana Lefroy and her daughter Emily Lefroy
British, wife and daughter respectively of popular and energetic Major General Sir John Henry Lefroy who was Governor of Bermuda from 1871 to 1877. In 1999, there was a lovely Bermuda National Trust (BNT) Christmas card, of two hibiscus flowers as water colors, painted in the 1870s by Charlotte Ana, Lady Lefroy. She painted 84 exquisite Bermuda botanicals between 1871 and 1877.. They were presented in 1955 in a bound volume to the Bermuda Historical Monuments which later (1970) became the Bermuda National Trust (BNT). They were first seen by the Bermuda public during a BNT exhibition in May 2013. Emily Lefroy also painted beautifully. She was the eldest daughter of the Lefroy couple. Her Study of Flatts Bridge watercolor shows a scene that no longer exists, a then-substantial Bridge-keeper's house, a profusion of cedar trees and the unfinished state of the Flatts Bridge construction following the disuse of Flatts as a port and the fact that sailing ships no longer used Flatts as a means to gain access to Harrington Sound.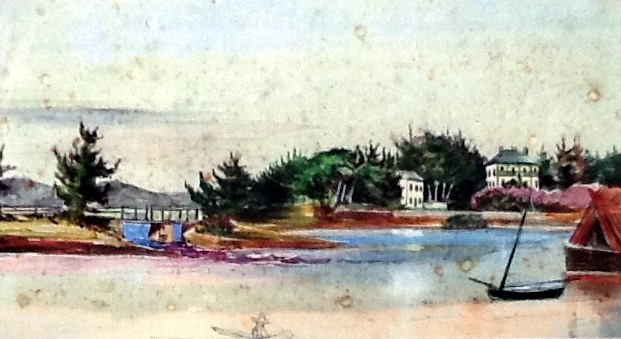 Norman Lewis
American, born in Harlem, New York. His parents has emigrated there from Bermuda. Has several Bermuda-inspired paintings, not mentioned in the Wikipedia reference. Considered an important African-American abstract expressionist.

Princess Louise
British. A daughter of Queen Victoria. Not mentioned in Wikipedia is her huge importance to Bermuda as the first royal visitor to vacation here and her unique impact in affluent Bermuda tourism.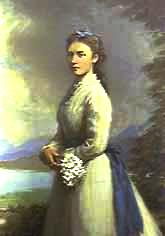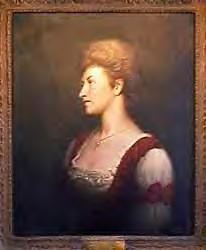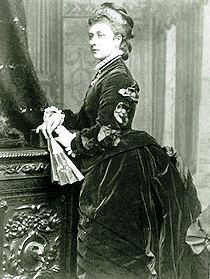 In 1998, Bermuda held the first ever exhibition of water colors by Her Royal Highness. It is not generally known that before she became a prolific and talented artist in paints, she was trained as a sculptor. She could also draw well. She was a beauty who abandoned life at court in favor of a Bohemian existence among artists and sculptors. She defied precedent by marrying, for the first time in many generations, outwith the cozy circles of European royalty. In 1871 she married the Marquis of Lorne from Scotland, heir to and who later became the 9th Duke of Argyle, the premier Highland noble. She was the Marchioness of Lorne, later the Duchess of Argyle. It was because of his Royal Appointment as Governor General of Canada that she was able to visit Bermuda, not just once in 1883 but several times later. She made no secret of the fact that she much preferred the much warmer winter climate of Bermuda to that of Canada. She was Bermuda's first official tourist in 1883. The two big local Princess Hotels are named after her. The first was the Hamilton (or Pembroke) Princess built originally in the late 1880's but modernized since. The real Princess consented to the name because it was built from the publicity she brought Bermuda. In fact, she was present for the grand opening and formally named the hotel. Bermuda also owed her a great debt because more than anyone else she put Bermuda on the map of tourism with her fame and stature. She referred to Bermuda as the "Shangri La" of holiday destinations. With her appreciation of the military, Guard of Honor it provided for her wedding and the artwork she did for it, one of Scotland's most famous British Army units, The Argyllshire Regiment, was renamed to honor her. It carried her insignia for many years in its own - and served in Bermuda for two years under the old name in the late 1920s before it became The Argyllshire Highlanders and later, the Argyle and Sutherland Highlanders. She designed all the badges for her regiment, incorporating the boar of her husband's Clan Campbell and the cat of Sutherland, both regarded in the Scottish Highlands as symbols of superhuman power since pagan times. She linked the two badges with a label of three points from her own armorial bearings, the mark of her cadency as a junior member of the royal family. Sadly, the battalion that went to Bermuda was credited in the official regimental records in Stirling Castle as having served in Jamaica instead. (Despite our efforts since September 1998 and evidence from other resources as well that the unit was in Bermuda but never in Jamaica, we have not been successful in getting the unit to correct its records). The leading Canadian organization which owns a number of the watercolors she painted while she was in Bermuda (and lent them to Bermuda for a recent exhibition) is the National Gallery of Canada.

Paul Jean Martel
Belgian/American. Believed to have painted two small but vibrant Bermuda-painted oils dated 1938.

Dodge MacKnight
American, 1860 to 1950. Latter does not mention is Bermuda visit but he was ranked with contemporaries John Singer Sargent and Winslow Homer as one of the top American watercolorists at the turn of the twentieth century. Critically acclaimed for his vibrant Fauve-inspired color palette and lively brushwork. His work, most notably flag-bedecked city street scenes and landscapes derived from his travels, readily sold out during annual one-man exhibitions at Boston's Doll & Richards Gallery from 1888 to 1896. His popularity continued into the 1920s, only waning when he stopped painting altogether after the deaths of his wife and child in 1931. Boston art patrons of the era such as Isabella Stewart Gardner and Desmond Fitzgerald collected MacKnight's watercolors.

Isabel McLaughlin
Canadian. Born in 1903, she died in 2002 at the age of 99. She kept a studio and was very active in charitable works, too. Her father, Sam McLaughlin, was one of the founders of General Motors; his background was in Oshawa, Ontario and the start up business was McLaughlin-Buick. Before WW1 it was folded into General Motors (GM) of Canada. (Oshawa remains the major manufacturing center for GM in Canada). Isobel never married but holidayed at the family home in Bermuda with her four married sisters and brought many Canadian artists to the island to enjoy the visual panoply. Her 1960 painting 'Sun Fish' of brightly patterned sunfish floating across Hamilton Harbour is well-known in and owned by Masterworks, Bermuda. In the painting one can see colorful sails dotting Bermuda's harbour. In those days, a sunfish regatta was a must for all sailors. Isobel donated C$4,000,000 plus to a well-known art gallery in Oshawa, Ontario, the McLaughlin Gallery. It was founded by a relative of Isabel's and was named after her grandfather, Robert McLaughlin. She was a friend of all the major Canadian painters of the 20th century. Her family mansion and estate there, "Parkwood," is a popular tourist site. The name Parkwood has often been used as a type of a GM luxury car.

John Alan Maxwell
American. March 7, 1904 – April 13, 1984). An artist known primarily for his book and magazine illustrations, as well as historical paintings. He also was an illustrator for many commercial publications, including Collier's Weekly, The Saturday Evening Post, The Golden Book Magazine, The American Magazine, and Woman's Home Companion. Bermuda works not recorded overseas included The Old Slave Quarters. Also designed the dust jackets for books including those for F. Van Wyck Mason and his 1961 book The Sea Venture.

Owen Heathcote Grierson Merton, RBA
New Zealand-born British.1897-1931. Known primarily for his watercolours including a number painted in Bermuda. Known from several paintings to have been in Bermuda in the 1920s, from 1922. (After the 1921 death of his wife, Merton lived in Cape Cod, Massachusetts, then in Bermuda, before returning to the UK and beyond). One of his Bermuda paintings was of Somerset Bridge. His son Thomas, an American, had lasting links to Bermuda from his childhood years here.

Sam Morse-Brown
British, Bermuda resident from the 1970s to his death there. ARWA, PS. 1903-2001. Graduated from Slade School of Art. Arrived in Bermuda quite late in life from Gibraltar where he lived previously and was a resident of Bermuda's Hinson's Island. A prominent World War 2 artist when in his mid-40s (he wrote the book Artist in Battledress) he was then in the British 8th Army with the rank of major. His sitters, painted from life, then included General Bernard Montgomery, King Umberto of Italy, the Italian commander who surrendered to Montgomery, Lord Mayor of London Sir John Laurie, Italian surrealist artist Georgio Chirico. He was also one of the first artists to paint Prince Philip, Duke of Edinburgh, husband of Queen Elizabeth. The British Broadcasting Corporation ran a feature of his best-known UK-based paintings. In Bermuda, as a well-known society artist he painted many notable local figures and/or their children in Bermuda. Also wrote several local books. A long-time member of the Bermuda Society of Arts and former president of that group.

Lucius Munson
American. 1796-1823. From New Haven, Connecticut. Born on December 16, 1796, he studied in New York City in about 1818, returned to New Haven for about a year, then went to Bermuda for his health in 1822 and died in 1823 while on a visit from Bermuda to Turk's Island in the Caribbean. In Bermuda, he painted many persons of note, especially in St. George's. His works were shown in the 1935 Loan Exhibition of Portraits at the Bermuda Historical Society. Shown in the New York Historical Society: Dictionary of American Painters 1564-1860.

Georgia O'Keeffe

American. Not much is written in Wikipedia about her Bermuda life. She completed 12 known works in Bermuda in 1934, including the much cherished pencil and ink sketch which she titled "The Banyan Tree Trunk." This is now valued at more than $75,000. It is now back home in Bermuda where it belongs, as one of the masterworks paid for and owned by the Bermuda based Masterworks Foundation. Of the other eleven pieces she rendered in Bermuda, four became the properties of the O'Keeffe Foundation in New Mexico, one remains in New York's Museum of Modern Art, and the others are in private collections and various museums in the USA. However, all - except the one owned by the Museum of Modern Art - were exhibited in Bermuda together for the first time in 1994. Georgia O'Keefe's 1934 Bermuda sojourn also inspired her to re-commit herself to the study of plants, the foundation upon which she had matured her style. For example, she sketched how a banana flower emerges to later form fruit. It is this 1934 Bermuda painting of hers that hangs so prominently today in New York's Museum of Modern Art. The curators there say it cannot be exported for Bermudians and visitors to see because such travel would expose to damage the thick charcoal and the pristine and smooth finish of the paper she used. She drew some of her inspiration from the other tenants of her The Parapet, Somerset, Sandys Parish, household, who had invited her to join them there, in her capacity as a fellow artist. They were three young American men, all very successful. One was Noel Bush, then the editor of Life Magazine. The other two were George Bradshaw, a frequent contributor of short stories to the Saturday Evening Post and David Burnham, then completing a novel. To give her a measure of privacy, they graciously offered her the cottage at the back of The Parapet, which O'Keefe accepted eagerly. She rarely strayed far from that Somerset refuge, as she was so absorbed by the flowers and fruits that she found in the immediate vicinity. But she strayed into other peoples' properties, not deliberately, simply because she had no sense of boundaries. Whenever and wherever she trespassed, her fellow tenants promptly picked up the telephone and made polite apologies. She was something of an eccentric in other ways. At her bidding, her friends - and their visitors - referred to her as Aunt Georgia. She did not wish to be called Miss O'Keeffe, or her married name, Mrs. Stieglitz, partly because she was conscious she was so much older than her friends. She wore very simple clothes, either black or white, loose fitting, not then in style. Her thick black hair with its signs of gray was drawn back and fastened in a big chignon behind her neck. It set off her strong profile, made all the more prominent as she refused to wear make-up. But much of her time in Bermuda remains shrouded in mystery, with her other Bermuda inspired works poorly documented. When she left Bermuda in late 1934, she defied her husband and returned to New Mexico every summer. She bought a house there in 1945 and moved there permanently after his death in 1946. As an icon in the American Modernist Movement of art, she died in 1986 at the age of 99. Her art dealer in the USA for more than 30 years was Doris Bray.

Herbert Vincent Olsen
American, known to have been in Bermuda in 1948 when he painted several fine works in St. George's including this one: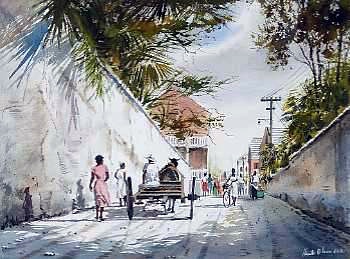 Gabriel Humbert Parker
A noted German philosopher and writer, she was interned in Bermuda during World War 2. To relieve her boredom, she learnt to paint. An example of her work is in the Bermuda Masterworks collection. Her small framed "Cottage Scene" of the 1950s was on the market in Bermuda in 2003 for $450.

Harold Pestana
Not an acknowledged artist himself, he is important to the art world of Bermuda for the collection of Bermuda art he contributed to Bermuda as an American visitor. Emeritus Professor at Colby College, Waterville, Maine, he donated his entire Bermuda Art Collection to the Masterworks Foundation, some 31 pieces, plus archival photographs - and even paid the shipping. An art collector, teacher and researcher, he made about 30 visits to Bermuda to the Bermuda Biological Station for Research Inc. over the past 27 years. Among his gifts are paintings by Bermudians Alfred Birdsey, Mary Zuill, Ethel Tucker, early works by Otto Trott, Bruce Stewart and Lisa Quinn.

Ogden Minton Pleissner
American, 1905-1983. Frequented St. George's in 1953. He expressed his admiration of the architecture of Bermuda's original settlement, the Town of St. George. He stayed at "The Jungle" in Tucker's Town, St. George's Parish. Most likely he drew rough pencil sketches and finished them on his return to the United States. He stayed only for a brief period during several visits to Bermuda, none of which are mentioned in the Wikipedia article and there are about eight known Bermuda works. All of them are the most majestic and magnificent watercolours. Pleissner is renowned for his hunting scenes which are highly sought after. Influenced by Winslow Homer, Pleissner was able to make good use of the Bermuda light environment. He left at least 13 Bermuda images, most of them water colors of the town. See them at Bermuda Masterworks. Today, his fame in the USA rates with those of Winslow Homer and John Singer Sargent.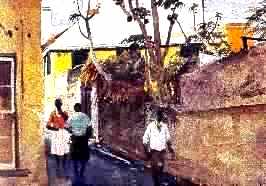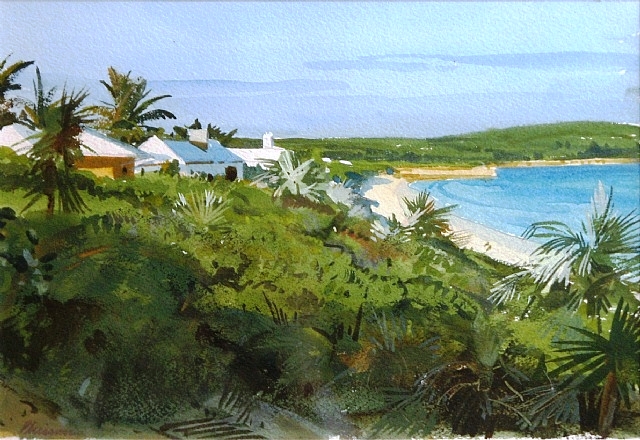 He also painted in water color this lovely scene of Windsor Beach, Tucker's Town.

Margaret Evans Price
American. (1888-1973) was a Western New York artist, painter, illustrator, writer, muralist and toy designer primarily known for the many children's books that she wrote and illustrated or collaborated on, murals, frescoes, still lifes, animal, historical, figures and portraiture. She worked in oils, watercolor, gouache and pen & ink. She was once a member of the Bermuda Arts Society and spent some time here. She was a member of the wealthy Evans family of New York who for a time had an effective monopoly on the building material industry in the New York. Margaret's Brother Heathcliff expanded his Father's business operations to include a book binding business which at its peak encompassed a complex of buildings on East 12th Street in Manhattan. Margaret's Cousin Charles Evans Hughes Sr. (American, 1862-1948) was a lawyer and Republican Politician from the State of New York. He served as 36th Governor of New York (1907-1910), U.S. Secretary of State (1921-1925) and was Chief Justice of the US Supreme Court (1930-1941) among other political affiliations. Margaret Evans began her art career at an early age, and sold her first illustrated story to the Boston Journal in 1900. She attended high school in Charleston, Massachusetts, and went on to study at the Massachusetts Normal Art School. From there, she went on to study for six months in Paris and also sketched throughout Ireland, Wales and Holland. Upon retuning to the United States, she studied at the Boston Academy of Fine Arts under the tutelage of Joseph Rodefer DeCamp (American, 1858-1923) and Vesper George (American, 1865-1934). Before she married Irving Price, Evans worked as a freelance artist in New York City, publishing with Rand McNally, Harper & Brothers and Strecher Lithography. After the formation of the Fisher-Price Toy Company, Margaret went on to exhibit her work in many galleries nationally including; the Albright Art Gallery (now the Albright-Knox Art Gallery) in Buffalo, NY, and the New York Historical Society in NYC, which houses a permanent collection of her works. She was also published in Nature Magazine, the Women's Home Companion, and the Pictorial Review. Margaret (née Evans) and her husband Irving Lanouette Price (American, 1884-1976) who co-founded the Fisher-Price Toy Company in East Aurora, NY, and was the former Mayor of the town in 1930, also maintained a residence in Bermuda, called "Fernwall" in Southampton Parish Margaret studied the nature and history of Bermuda during the months they spent there annually. In addition to many oil still lifes of tropical flora, an illustrated article on ocean flotsam was published in Nature Magazine, July 1942. They maintained their residence at 269 Main Street in East Aurora, NY, and her studio was located in the Van Keuren building located at Main & Pine Streets.

Edward Potthast
American. One of the Bermuda-visiting members of the American Water Color Society, formed in 1866.

Bernard Poulin
Canadian. He has painted princes and prime ministers and in July 2019 donated some of his work to Bermuda's Masterworks Museum of Bermuda Art. His subjects have included the Royal Family's Prince William and Jean Chrétien, a former Canadian prime minister. From 1967 he has painted approximately 118 portraits and about 250 paintings of Bermuda. His Bermuda commissions include Dame Jennifer Smith, a former premier, Stanley Lowe, a former Speaker of the House of Assembly, the late Dame Lois Browne- Evans, a politician, lawyer and the country's first woman attorney-general, William Boyle, Sutherland Madeiros, and Jay Bluck, all former Mayors of Hamilton. His clients have included the governments of Bermuda, Canada, and Ontario as well as institutions such as the Royal College of Physicians and Surgeons of Canada and the Royal Collections at St James Palace in London, where his portrait of Prince William is housed, and Windsor Castle. See his biography Bernard Aimé Poulin — A Portrait. By Canadian Benoit Cazabon. 2019.

Frank Rehn
American. One of the Bermuda-visiting members of the American Water Color Society, formed in 1866. It is believed he spent part of his Bermuda sojourn at Gooseneck Cottage, Somerset Bridge.

Richard Reminger
American, a frequent visitor to Bermuda. His local paintings included "View of St. George's."

Joseph F. Reynolds
American (1861–1925). Known to have painted in Bermuda via several voyages, in and prior to 1903. One work was an oil painting of road scene and its houses. Another, one of those at the Bermuda National Trust, is of a little waterside cottage on East Broadway, where a boatyard was later located.

Augusta Russell
In about 1810 she painted many exquisite watercolors of old Bermuda, some of which can be seen at Camden, Paget.

Dr Johnson Savage, MD
British. In 1833 he disembarked from a sailing ship in the port of St George to take up a three-year posting as surgeon for the Royal Artillery. Over the ensuing months Dr Savage, a talented artist, went on to paint a series of spectacular watercolors that would provide a unique glimpse of a bygone era of Bermuda's history. From 1833, while stationed in Bermuda, Savage painted a number scenes and buildings relating to his medical career in Bermuda, including the Royal Hospital at Ireland Island below and the Royal Artillery Officers' Quarters at St. George's. One of his sons was a midshipman in the Royal Navy based in Bermuda in the early 1860s. One of his grandsons was 23 when he did the 1901 Ordnance Survey map of the Island, known as the Savage Survey. That grandson was Lieutenant Arthur Johnson Savage RE, a surveyor for the Royal Engineers who was stationed at Bermuda to carry out the first Ordnance Survey of the island in 1897, a task that was completed a few years later and published in 1901 in six sheets. The detailed large-scale survey is still in use and can be seen in the Bermuda's Architectural Heritage series by the Bermuda National Trust.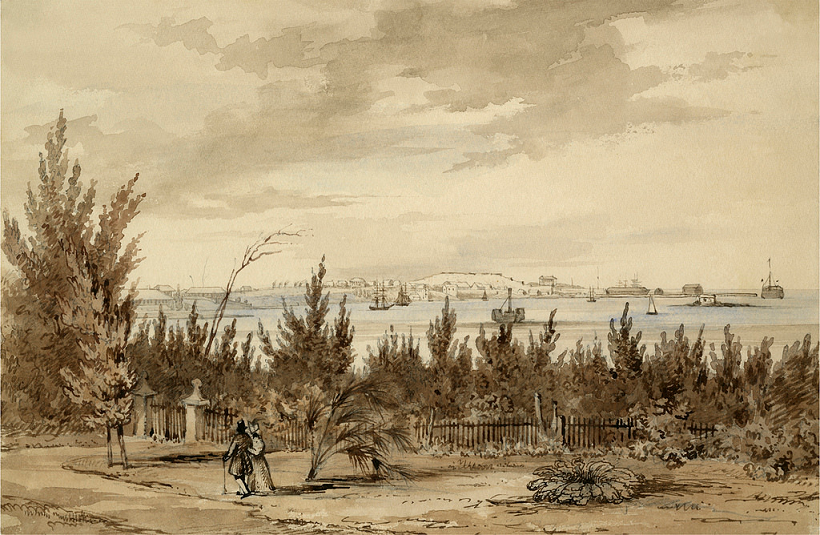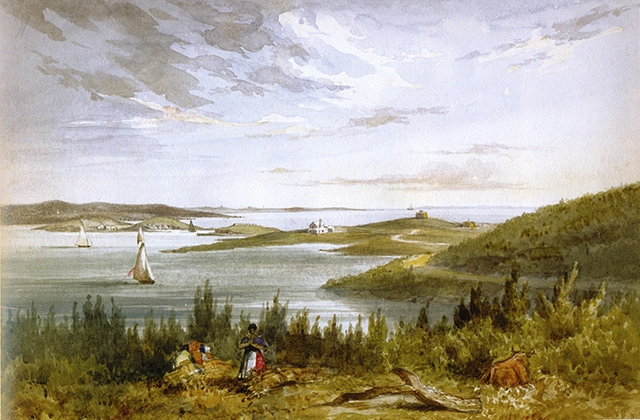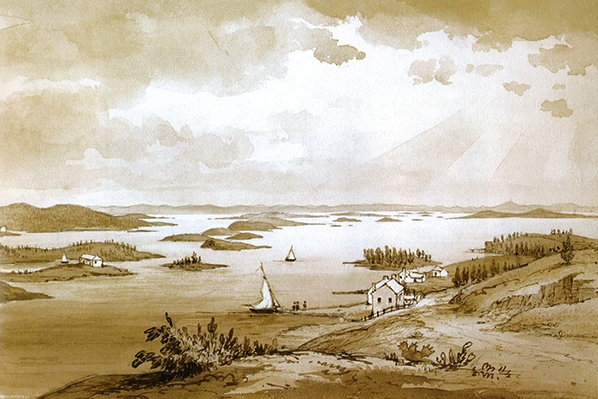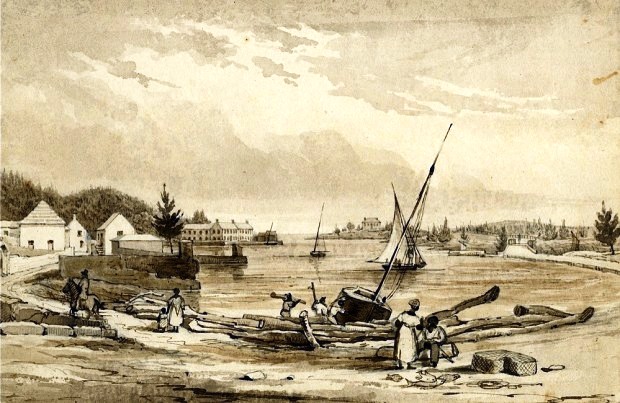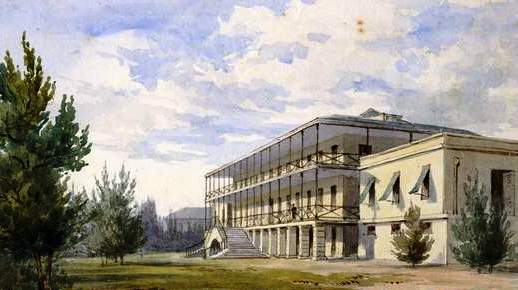 Roger Savage
Canadian. Has painted many Bermuda scenes in watercolors. They include Jobson's Cove and Burchall's Cove.

Prosper Louis Senat
American. Born March 13,1852 in Philadelphia, Pennsylvania. Died September 12, 1925. Studied in Philadelphia, New York, Ecole des Beaux Arts in Paris and South Kensington School. Worked out of Germantown, PA. Also had a studio and house at Cape Arundel, Kennebunkport, Maine. Watercolor painter, also did etchings, specialized in landscapes and marine subjects. Painted in the USA, Europe (Cornwall, Brittany, Italy), Egypt, Mexico, Jamaica and Bermuda (three visits in the early 1900s). During their visits to the island he and his wife stayed at the Princess Hotel where Senat exhibited his work on numerous occasions including in 1908. It is believed he also spent part of his Bermuda sojourn at Gooseneck Cottage, Somerset Bridge. He exhibited nationally and internationally including at The Brussels Exposition of 1880, The Naples National Exposition of 1889, The Vienna National Exhibition of 1893, The Colombian Exhibition in Chicago 1893 and Atlanta in 1895. He eventually settled in England where he died. One of his many local works was a watercolor simply called, "Bermuda" showing a Bermuda road, with mature cedar trees flanking and the road mottled from sunlight and shade. The location is not known for sure. Another is shown below. A third is his A View of Coney Island watercolor, of 1903.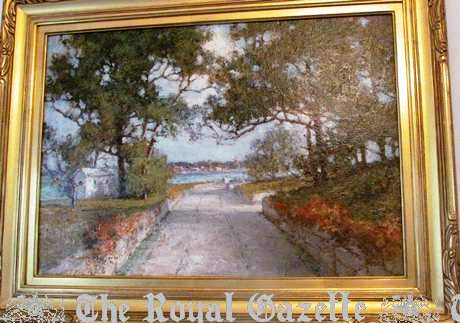 Flag Captain (later Sir) Michael Seymour
British. Royal Navy flag officer. Of HMS Vindictive, whose distinctive watercolors included those done in Bermuda when his vessel toured ports of the North America and West Indies Station 1845-1848. They have been on display at the Bermuda Maritime Museum and its Commissioner's House.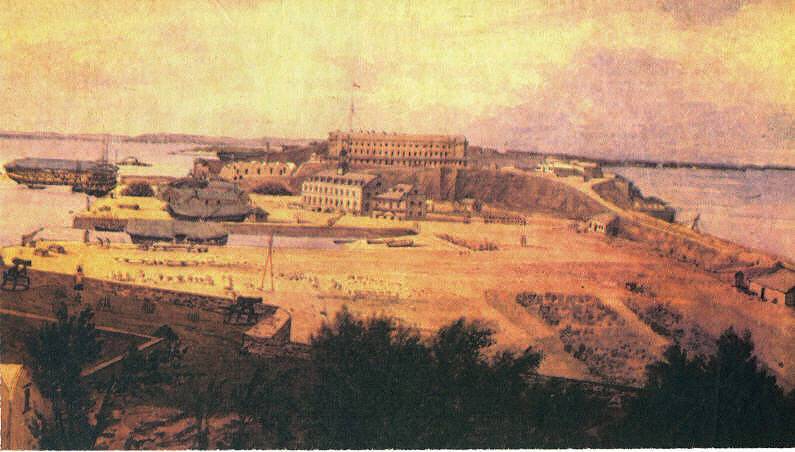 Royal Navy Dockyard, Bermuda, May 1847. Painting by Captain Sir Michael Seymour, RN. This one shows the Dockyard from Commissioner's House, including prison hulks on the left.

Earl N. Sherm
American, born in Buffalo, New York. 1899-1959. He favored landscapes and waterfront scenes. His paintings were not only in Bermuda, also Maine, Florida, Canada, etc. One Bermuda painting was of Gibbet's Island in 1955.

Grant Simon
American. He painted in Bermuda during the latter 1930s. One of his paintings is "Gathering Seaweed, Shelly Bay." It depicts a wagon being loaded with seaweed.

Frank Small
In 1999, there was a lovely Bermuda National Trust Christmas card, "Welcoming Smile", from a lovely painting by him.

W. F. Snow
American, born November 4, 1869 in Brewster, Barnstable County, MA. Died in about the 1950s. Sometimes known as W. Francis Snow. Believed to have been a son of Zoeth Snow and his wife Rebecca (nee Mayo). A well-respected artist and teacher in the late 1930s, 1940s (when he was able to travel to and from Bermuda in the difficult war years when travel was often difficult or restricted) and early 1950s. First arrived in Bermuda in 1937, not as a permanent resident but as a visitor whose visits became frequent and often for quite long spells. His favorite medium was oil on canvas. He operated a part-time studio at the base of Lighthouse Hill, Southampton, overlooking Waterlot Inn. He is believed to have also painted extensively on the US mainland and in US islands (for example, in St. Croix, USVI). One of his noted local works was an oil of Horseshoe Bay which was owned by a late Bermudian art collector until sold from his estate for $3,000 in April 2014.

Niles Spencer
American. In Bermuda in the late 1920's. His "Bermuda 1929" painting was one of the works mentioned by the Philadelphia Enquirer in a review of art in Bermuda by overseas artists. It is believed he spent part of his Bermuda sojourn at Gooseneck Cottage, Somerset Bridge.

Robert Steinmetz
American. He once maintained a residence in Bermuda. Son-in-law of Taber Sears, a well-known New York artist. Recently, four of his works - including one of the Heydon Chapel painted in 1991 - were gifted to the Masterworks Foundation by William and Carol Bailey.

Dorothy Austen Stevens
One of her unique Bermuda paintings was Street Scene, Bermuda (Elliott Street).

Frank Stella
American. Modernist, he painted a number of nautical aspects of Bermuda including a hand-colored screen print entitled "Bermuda Petrel."

James Toogood
American, Born in Philadelphia, PA, he first visited Bermuda in 1982 on honeymoon with his wife Eileen. He is a graduate of the Pennsylvania Academy of Fine Arts. Over the past 20 years, the couple have visited many times, as artist-in-residence at the Masterworks Foundation at Dockyard.

Adolph Treidler
American. 1886-1981. Most famous for his posters for both World Wars (about 20). He also did a famous long tenure painting for Pierce Arrow. He wrote in Automobile Quarterly, 1976, "My days with Pierce-Arrow spoiled me. Never once during my long association with the company did Pierce-Arrow return one of my paintings for changes or corrections. They were always pleased -- and I of course was delighted." A risky trip to Paris during the Depression led to the French Line account which, in turn, helped him get hired by the Bermuda Board of Trade in the 30s for campaigns and posters that put Bermuda on the tourist map (posters reprinted in the 1990s). He painted covers for most major magazines of the day (Collier's, Century, Scribner's, Woman's Home Companion, Saturday Evening Post, Harper's Weekly).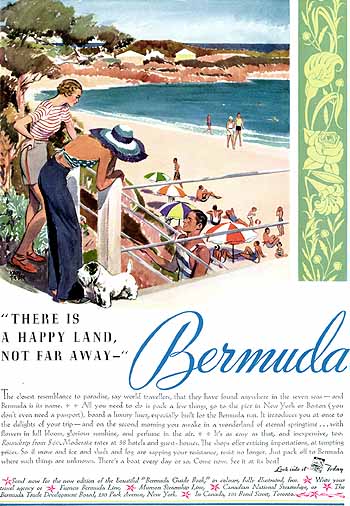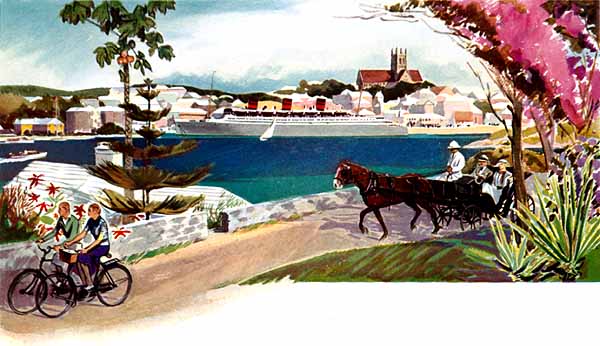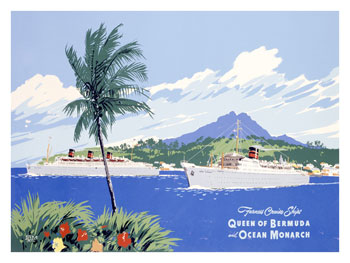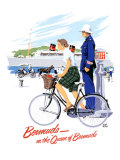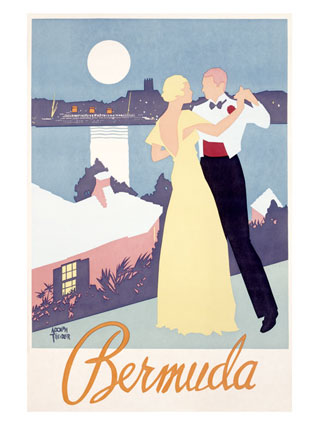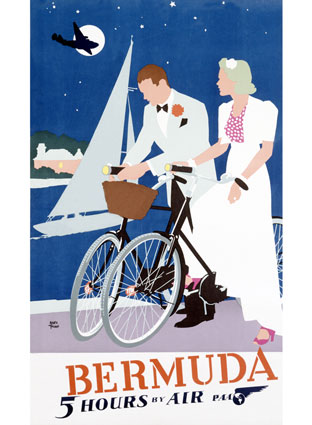 Some of Treidler's Bermuda works

Vern Tremewen
Australian-born in 1915 and a graduate of the Melbourne National Gallery of Art, he emigrated to Canada where his work in Montreal, Toronto, and Vancouver earned him an enviable reputation in the late 1940's as a watercolorist. Lengthy sojourns in Mexico and Bermuda brought him international recognition and in 1972 he was elected a member of the Canadian Society of Painters in Watercolor. Tremewen works hang in the Guinness family collection in London, England and in many other private collections throughout Europe, North America, Hawaii, and Japan. Two of his Bermuda watercolor paintings in frames were offered for sale recently for $150 each.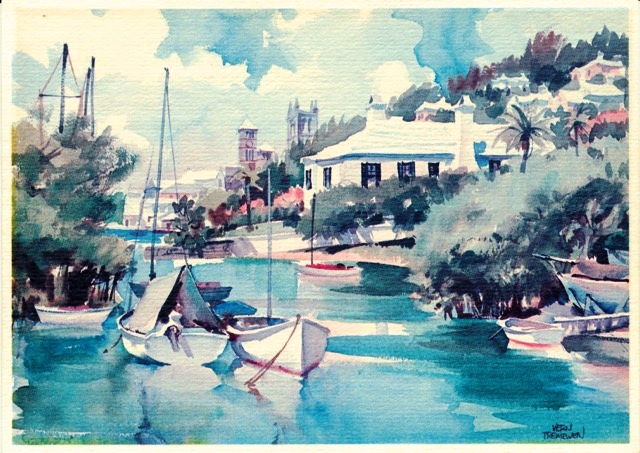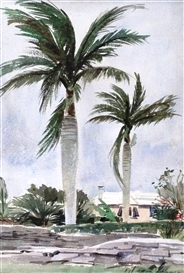 Two of the Bermuda paintings in the 1960s by the artist above

Don Trousdell
American, a long-time Bermuda resident, he is a nature-loving artist of the 20th and 21st centuries. His series of "Rock Boys" at City Hall on August 17, 2001 is a wonderful depiction of the lives of certain convicts sent to Bermuda from the 1830s to build the Dockyard. His other works include "Aviary." He has had several solo exhibitions in Bermuda.

Rosamund Tudor
American. Portrait painter. Her husband was the naval architect W. Starling Burgess but she painted under her maiden name. Bermuda public records show that 1932, she, her husband and daughter visited Bermuda and stayed at a property well-known among the visiting artistic community in a western Bermuda parish. It is believed she painted several portraits of prominent Bermudians. Their child later became famous in the USA as author of books for children and illustrator Tasha Tudor, born August 28, 1915, who later had a museum in Brattleboro, Vermont named after her. Presently, there is no mention in the Tasha Tudor family website of her visit to Bermuda as a child.

Tasha Tudor
American illustrator and author, who illustrated over 100 books for children. Not mentioned in the Wikipedia reference is her visit to Bermuda as a child.

Lieutenant General Gaspard Le Marchant Tupper
British. Born 1826 in Guernsey, Channel Islands, he was the son of Anna Maria, the daughter of Major General Sir Gaspard Le Merchant. (His last name of Tupper was from his mother's married name). This particular grandson became one of the most accomplished military artists of the 19th century. His long military career included serving heroically in the Crimean War between Britain and Russia. He was then posted to Bermuda twice, initially as a battery commander with the Royal Horse Artillery from 1845 to April 1848. He served again in Bermuda, from 1858. He first arrived from England then on the convict-transporting ship (not a hulk) Norman Morrison and during his stay - initially as a Major - he was given permission, as a field officer, in Her Majesty's Armed Forces to paint a series of military or military-related scenes of Bermuda. They are remarkable for their elegant detail, stunning color and excellent preservation. One includes a view from Mount Wyndham towards the town of St. George, from 1845. Others include landscapes and seascapes of Hamilton, St. George's and the Great Sound. One is called "My Daily Walk" and has a view of St. George's where he was stationed. Tupper later became a Lieutenant General in the British Army. His brother was Sir John Gaspard Le Marchant Tupper who became the Lieutenant Governor of Newfoundland and then Nova Scotia.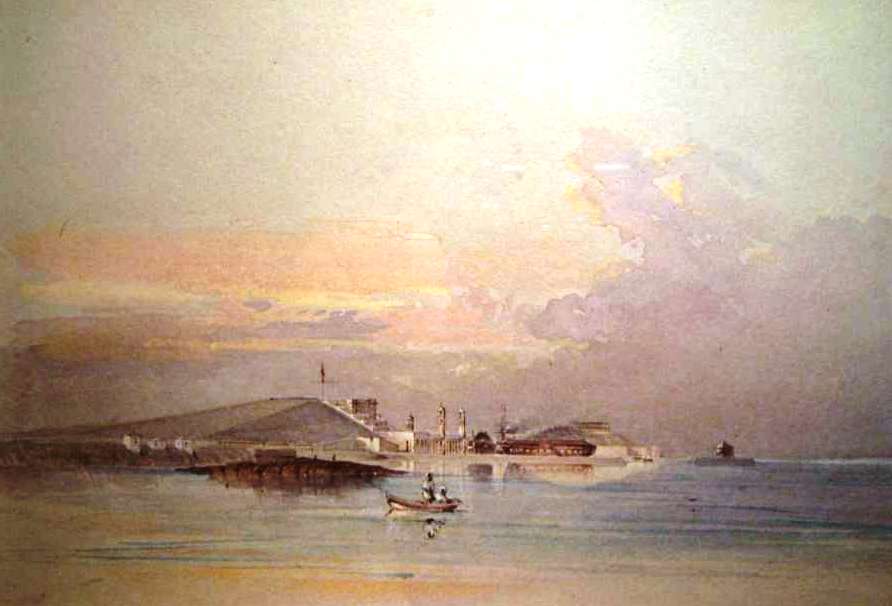 Paintings by Gaspard Le Marchant Tupper include these of Royal Naval Dockyard, Bermuda, mostly during his second posting.

Ross Sterling Turner
American, 1847-1915. A repeat visitor who began his Bermuda visits in 1890, he was an impressionist who regarded Bermuda as a pastel paradise. One of his Bermuda works, dated 1908, is a view of Church Street, looking east with the cathedral dominating. Although it is a watercolour, the street appears to have been painted with white gouache. His painting reflects how the streets and roads of Bermuda where then made, with Bermuda limestone, giving them a white appearance.

Emil Antoine Verpilleux
British, born London on March 3, 1888. His parents were Belgian, his artistic studies took place in France and at the Académie des Beaux Arts in Antwerp. From very early in his artistic career, Verpilleux made a name for himself as a printmaker, especially with coloured woodcuts. Indeed, he was the first artist to have a coloured woodcut hang in the Royal Academy. Verpilleux served in the First World War and until 1922 as an army officer, attaining the rank of captain. His military service lasted from 1914 to 1922, but during his war experience, he also managed to paint numerous war subjects, especially that of the Royal Flying Corps. Today, many of these paintings are in the collection of the Royal Air Force Museum. Verpilleux moved to Bermuda sometime, either in 1927 or early 1930s as an artist, portrait and landscape painter and woodcut printmaker. In 1949/50 he collaborated with ceramicist Andre Bohemelec to produce a series of dioramas, depicting scenes of early Bermuda history. These were, for many years, on exhibit in a special gallery in Fort St Catherine. During the early 1950s Verpilleux was active in establishing the Bermuda Society of Arts and served as president of the society from 1952 to 1956. He died in Bermuda in September 1964.


Clark Greenwood Voorhees
American. 1871-1933. One of his many Bermuda artworks is the "Donkey and Cart", depicting both and, more prominently a Bermuda cottage. He was a prominent member of the Old Lyme school of Impressionism, but like Norman Black, by 1919, he was wintering in Bermuda. He liked the island so much he eventually bought the house "Tranquility" in Somerset, which then became his Bermuda home. In the 1950s, 60s and 70s his daughter, Florence Fish was a well known local artist and her daughter, Janet Fish, now a renowned New York painter, grew up in Bermuda and attended the Bermuda High School.

Frank Waller
American. 1842 - 1923. Born in New York City, he was a painter and architect. He studied at the New York Free Academy and at the Art Students League with William Merritt Chase. He was a founder and president of the Art Students League and exhibited there from 1870 to 1887 as well as the Pennsylvania Academy and the Boston Art Club. He traveled extensively including to Egypt where he made many studies for future work. He also painted in Venice, other parts of Italy, upper New York state, New Hampshire, and Bermuda, where he painted this picture of the Natural Aches feature on a Tucker's Town beach.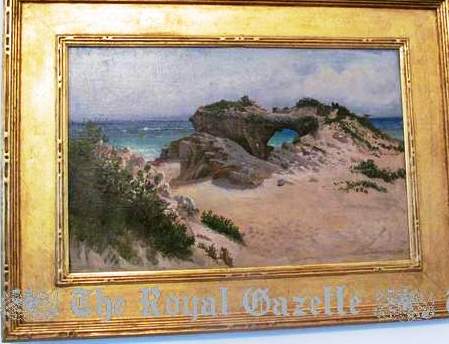 Margaret Wilson Walker
British, known to have visited Bermuda in 1887 and painted the watercolor below.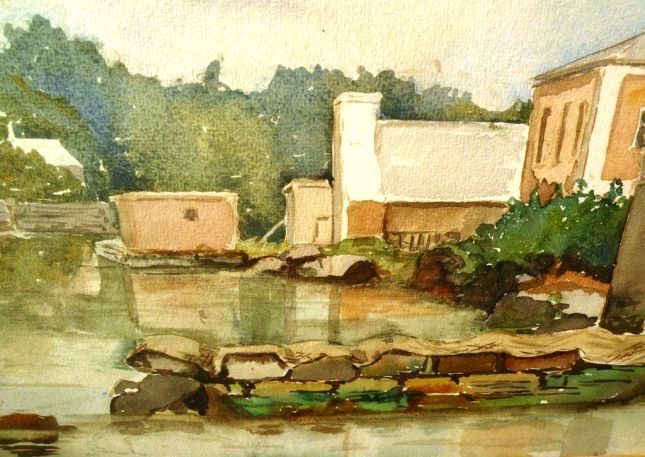 E. Ambrose Webster
American. A pioneer in the American Modernist movement, he first came to Bermuda in 1913. What induced him to paint here were the tropical colors. He was intrigued by Bermuda's landscapes and quiet dignity of the local black people. Three of his portrait paintings of these, completed in the early 1920's, are now part of the Masterworks Foundation of Bermuda collection. One is his "Two Sisters" which was exhibited in New York recently. He studied under Gleizes (see above) from 1918 to 1919.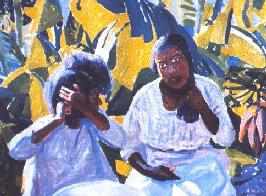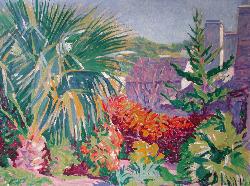 M. P. West
British. As an exhibitor at London's Royal Academy of Arts, she painted two rare portraits of a boy and girl in Bermuda in the 1870's, a period when only relatively few works relating to Bermuda remain in existence. She also painted landscapes of Bermuda. Her work has been collected by London's Victoria and Albert Museum.

Frank W. Wood
British. 1860-1954. A Royal Navy officer earlier and internationally regarded watercolorist. He was in Bermuda in 1929 and 1931 and painted scenes of Admiralty House (since demolished) and Admiralty Cove, in those days the Headquarters of the America & West Indies Squadron. He painted from Royal Navy warships based in Bermuda with permission from Vice Admiral Sir Cyril T. M. Fuller, KCB, CMG, DSO.

Peter Woolcock
British. Specialist in satirical artwork targeting Hitler to treasured children's cartoons humanizing the animal world. Many people in Bermuda knew this late artist for his weekly political cartoons in The Royal Gazette but he was very much known to the world as an "animal artist", with a technique that gave life and depth to his characters "in that Woolcock way". Mr Woolcock died in December 2014 after falling from the pavement on to a passing car. He was on his way to deliver what turned out to be his final cartoon to the offices of The Royal Gazette. He had been planning to open an exhibition at the Bermuda National Gallery but died before the wish was realized. However, the gallery decided to go ahead with an exhibition — which opened in January of this year — that focused on Mr Woolcock as "an artist and a man". His daughter, Diana Andrew, shared "boxes and boxes of sketchbooks, jottings and photographs" which honour the legacy of her father. She told The Royal Gazette: "When my father passed away, the outpouring of love and affection from the island as a whole was incredible. Dad seemed to have touched everyone reaching across racial, social and economic lines. His passing impacted so many people and it has been remarkable that the exhibition at the Bermuda National Gallery has stirred up emotions in so many people. Humour was an everyday part of dad's life. He saw humour in everything. Not only in his political cartoons printed every Friday in The Royal Gazette, but also in his life's work. Dad held a special place in the hearts of the people of Bermuda and this auction will afford them the opportunity to own a piece of artwork by someone many saw as a national treasure. The purpose was to honour dad and it has achieved that. If he were here he would be thrilled. Humbled, but thrilled."
The auction included some of Mr Woolcock's earliest surviving works including cartoons of Hitler, as well as a sketchbook with "sensitive and personal anecdotes" documenting his time during the war, and original works from his compilation of three books recently published in Woolcock's Wonders. There will also be a collection of his children's illustrations, comic strips and selections of original weekly cartoons printed in The Royal Gazette and his Woppened book series through the years. Gary Phillips, chairman of the gallery, said: "It has been a tremendous and awesome privilege for the Bermuda National Gallery to have had this opportunity to shine a light on the totality and genius of Peter Woolcock's work. Bermuda has come to appreciate Peter Woolcock, not only for his talent as an artist but also for his insightful talent and his 'unbuttoned voice' as a political cartoonist. He understood, like no other, that, in the words of Oscar Wilde, politicians don't mind being 'insulted as long as they are not ignored'. As we applaud this gentle giant of a man and artist, we also salute and thank Peter's family for entrusting his work to the Bermuda National Gallery and for allowing, through this auction, a greater number of people to own these precious, collectible pieces." One donor came forward to buy and give Mr Woolcock's Beastiary series to the collection, which BNG executive director Lisa Howie described as "a boon for the museum and for the potential growth of a children specific art collection. Peter would be thrilled that his beasts are being kept together and that the BNG is expressing a commitment to child-centred art. Certainly, in terms of value, the series is more valuable kept together. And to this point, the family will be offering artwork to be sold in series, giving collectors that same value-added opportunity.

Andrew Wyeth
American, born July 12, 1917 in Chadds Ford, Pennsylvania. His Wikipedia entry does not mention Bermuda. His father was Newell Convers Wyeth, a well known illustrator whose art was featured in many magazines, calendars, posters, murals and maps for the National Geographic Society. Later, his son lived in Maine. Known to have painted one work in Bermuda as shown below in about 1938, possibly after graduating from Bowdoin College in Maine. Some prints were made of this work. While in Bermuda, Wyeth and his wife stayed at the West End estate, the home of their friends Mr and Mrs Crawford Greenewalt, in the early 1950s, along with the painter John McCoy and his wife Ann Wyeth McCoy, Wyeth's sister. There is a Wyeth Foundation. The second picture shown below, to the right, is now owned by the Delaware Art Museum, with its original gifted by the previous owners. It had gone largely unnoticed by the art world until recently. "It's been very exciting for us — we're here in Wyeth country and have quite a bit of his work in our collection, but we didn't have a Bermuda one," said Heather Campbell Coyle, curator of American Art at the Delaware Art Museum. Located in Wilmington, the museum is close to Chadds Ford, Wyeth's hometown where he died in 2009.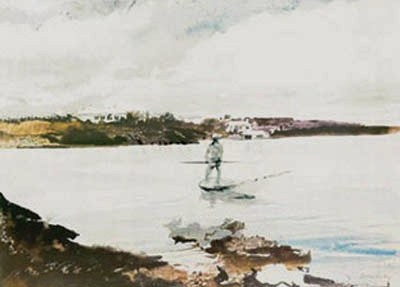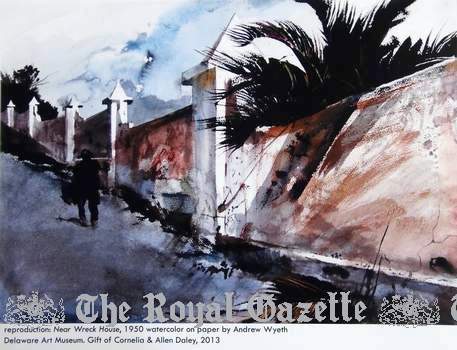 Note
An invitation is extended to all art galleries and art collections in Bermuda with any paintings by or information on any of the artists mentioned above or who are not yet mentioned but who deserve a place because of their Bermuda painting history, to exchange free courtesy hyperlinks with us, so we can refer to and show them as additional and relevant Bermuda artistic resources when requested by readers. Until then, this website is unable to provide more information on the artists shown, is not able to identify artists not shown, is unable to let our readers know where to search for new or additional material on a painting's origins and asks that readers do not send us photos of paintings at home in which they have an interest. This is why we ask if Bermuda-based entities wish to exchange links with us, so we can direct such enquiries to them. Those that wish to do so will be mentioned by name, email address and website.
History & daily newspaper reports


Authored, researched, compiled and website-managed by Keith A. Forbes.
Multi-national © 2020. All Rights Reserved