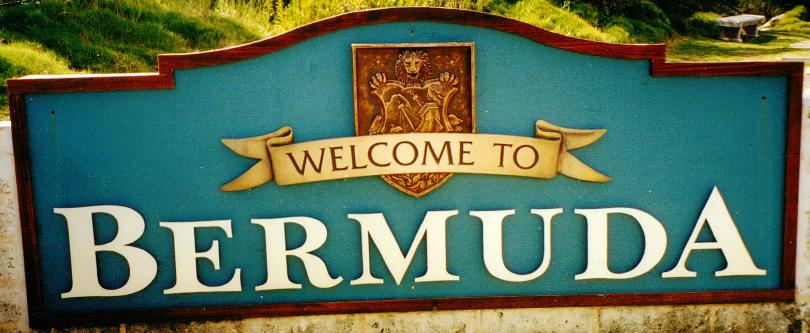 Click on graphic above to navigate the 165+ web files on this website, a regularly updated Gazetteer, an in-depth description of our island's internally self-governing British Overseas Territory 900 miles north of the Caribbean, 600 miles east of North Carolina, USA. With accommodation options, airlines, airport, actors, actresses, aviation, banks, beaches, Bermuda Dollar, Bermuda Government, Bermuda-incorporated businesses and companies including insurers and reinsurers, Bermudians, books and publications, bridges and causeway, charities, churches, citizenship by Status, City of Hamilton, commerce, communities, credit cards, cruise ships, cuisine, currency, disability accessibility, Devonshire Parish, districts, Dockyard, economy, education, employers, employment, environment, executorships, fauna, ferries, flora, former military bases, forts, gardens, geography, getting around, golf, guest houses, highways, history, historic properties, Hamilton, House of Assembly, housing, hotels, immigration, import duties, internet access, islands, laws, legal system and legislators, main roads, marriages, media, members of parliament, money, motor vehicles, municipalities, music and musicians, newcomers, newspaper, media, organizations, parks, parishes, Paget, Pembroke, performing artists, residents, pensions, political parties, postage stamps, public holidays, public transportation, railway trail, real estate, registries of aircraft and ships, religions, Royal Naval Dockyard, Sandys, senior citizens, Smith's, Somerset Village, Southampton, St. David's Island, St George's, Spanish Point, Spittal Pond, sports, taxes, telecommunications, time zone, traditions, tourism, Town of St. George, Tucker's Town, utilities, water sports, Warwick, weather, wildlife, work permits.

Bermuda's History from 1800 to 1899
British naval base for July 1814 attack on Washington DC with White House burning and Southern supporter in US Civil War

By Keith Archibald Forbes (see About Us).
See end of this file for all of our many History files
1800-1899
1800. To counter the method of Methodist preacher George Stephenson who technically was not committing an offence but by his own words preached to African Blacks and Captive Negroes, Parliament passed a law permitting only Church of England ministers to preach in Bermuda. But because he persisted, Stephenson was arrested when preaching a service at the home in St. George's of silversmith Peter Pallais. So was Pallais but only Stephenson remained behind bars. He continued to conduct services from his cell, during his six months of imprisonment in active defiance of the authorities until he was released by order of the Privy Council in London who thought his sentence was too severe. As a direct result, Methodism in Bermuda became legal and the first of what became a number of Methodist churches in Bermuda soon followed.

1800. A Government report on the real estate of the inhabitants of Bermuda 1788-1800 revealed important information concerning former slaves. Thirteen former slaves were listed as possessors; however, only one was listed as a freeholder. He was Brown Marshall of Warwick

1801. The ship "Firefly" - formerly the "John Gordon" and likely a privateer, earlier built in Bermuda of cedar, was purchased by the Royal Navy.

1801. May 11. Burial in Bermuda, at St. Peter's Church, St. George's, of Anne Bingham, in her 37th year, born in 1764, daughter of Thomas Willing of Philadelphia. At the age of 16, she married Senator William Bingham, possibly the wealthiest man in America, owning at one time more than a million acres of the state of Maine. She was said to be the most beautiful woman in the USA. They spent some years in Europe and it was there that Anne contracted an illness, for which Bermuda was prescribed as a place of cure. Unfortunately for her, a cure was not to be had and she died in Bermuda. Her headstone was restored in 1883 by her relative Edward Willing. Anne Willing Bingham's reputation and fame yet survives, for she is supposed to have been the model for the famous Draped Bust portrait on the obverse of the American silver dollars and other United States coinage between 1796 and 1804. The famous artist Gilbert Stuart is said to have made a portrait of Anne in 1785, when she was 21 years old. From that sketch, the "Miss Liberty" of the Draped Bust coins was probably created. Her grave is visited periodically by the the Somers Isles chapter and other visiting members of the Daughters of the American Revolution.

1801. The Cox family of Bermuda built a house which they named Orange Valley from the fruit trees that then grew there, at the corner of Happy Valley and Parsons Roads, later reputed to be haunted. When completed in 1802 it was sent in 15 acres of glorious woodland gardens and citrus orchards. It was first owned by Bermudian sea captain William Cox, in an estate he had owned since 1796.

1802. HMS Leander, a Royal Navy warship, 50 tons, flying the flag of Sir Andrew Mitchell, passed the winter of 1802/3 in Bermuda. "During the long winter of our slothful discontent at Bermuda, caused by the Peace of Amiens, the officers and young gentlemen of the flagship... were constantly flitting away among the cedar groves and orange plantations of these fairy isles."

1802-1804. St. George's was abandoned as a Royal Navy Base, then reopened with Mr. Dunsier in charge.

1802. September 3. Death in Bermuda of John Green, born about 1780, a portrait painter who later became a judge. Born in what was then the Thirteen Colonies, later part of the USA, he later migrated to Bermuda, where he died. Nothing is known of Green's origins; he is first documented in Philadelphia in the late 1750s, when he sat for a portrait drawing by Benjamin West. The source of his early training is unknown, though it is possible that he learned to paint miniatures in Philadelphia, as did West. In September 1774 he traveled to London for further study, and renewed his acquaintance with West at that time. He does not appear to have remained in England long, and was likely back in Bermuda within the year. Green seems to have given up painting when his Bermudian wife inherited a house from her stepmother. The couple called it Verdmont, as a play of words on his own name. He also turned to civic life; in 1785 he was appointed collector of customs, a position formerly occupied by his father-in-law, and in 1786 he was named a judge on the Court of Vice-Admiralty, serving in that position until his death. In the latter position he was responsible for the disposition of prizes of war seized by privateers, a frequent occurrence as Great Britain was at the time at war with France, and many American shipowners lost vessels through his decisions. Consequently, his tenure in this position was widely reviled in the United States, and he was frequently insulted in the mainland press. Some of his decisions were overturned in London as well, though he was respected for his fairness by colonial governor George Beckwith. During the last decade of his life he was also a member of the governor's council under American-born Loyalist William Browne. Green was also a gentleman farmer at Verdmont, producing eighty bales of cotton one year there. At his death, Green left an estate valued at £286, half of which consisted of three slaves, a cow, and a horse. He and his wife left no descendents, but are honored in the parish church of Smith's Parish with a memorial erected by their nephew, Joseph Packwood. Verdmont passed into the hands of another nephew, Samuel Trott. Fewer than a dozen paintings by Green survive, and most that are known are dated to between about 1775 and 1785. Two are portrait miniatures, including a self-portrait, and most are of members of his family. The portraits passed through the hands of descendents of Samuel Trott before being purchased by Hereward Trott Watlington, who donated them back to the Bermudian government. All are currently kept at Verdmont, which is owned by the Bermuda National Trust and is open to the public. Green is also said to have painted a depiction of Venus Instructing Cupid while in London, but the whereabouts of this painting have been unknown since the 19th century. The West drawing of Green is currently owned by the Historical Society of Pennsylvania.

1802. Militia Act 1802 disbanded the Volunteer Artillery (The Royal Artillery of the British Army was stationed on the island).

1803. A General Order was issued by the then-President of the appointed Governor's Council (it filled the role today served by the Cabinet, drawn from the MPs of the ruling party). This gave the Commander-in-Chief (normally, the Governor who also held that title) and Field Officers of the Militia the power to raise an alarm, whenever either deemed it necessary for the safety of the Colony. It also stated that 'as often as any vessels shall be seen coming to, or hovering about, any part of the coast which in the joint opinion of any Captain of a Company and any Captain of a Fort, shall afford just ground to apprehend and suspect that they are the vessels of an enemy, and actuated by any hostile intention, such Captain of a Company and such Captain of a Fort, shall co-jointly have power to cause a general alarm to be raised, sending immediate notice of their apprehensions or suspicions to the nearest Field Officer. When such an alarm was raised, all males obliged to bear arms were to muster at their Parish rendezvous.

1803. Before the Dockyard was built, The Royal Navy invested heavily in a Bermuda-based program of building small, fast vessels out of Bermuda cedar, discovered by Captain Hurd, RN, to be ideal for this purpose. Such vessels had been used in Bermuda since 1609 but the Royal Navy discovered them only after 1795. Their choice of wood was more resistant to rot than any other small vessel and their passage on the sea was faster than British oak. In rapid succession in that year, the British Admiralty issued draught no. 3275, issued by the Navy Office in July for building two sloops of war in Bermuda; draught no. 3276, for building the two sloops Bermuda and Indian (the brother of famous British writer Jane Austen, later an Admiral, commanded the latter from her commissioning in Bermuda); draught No. 3278, as an addition to No. 3276, for fitting out the Bermuda and Indian; draught No. 4540, for work on the navy schooners Dispatch and Advice; and draught no. 4541, for supplementing the building of the Dispatch and Advice.

1803. 29th August. The Bermuda cedar-built (in 1801) brig, 105 tons, then called "Morne Fortunee," named after a place in Castries, St. Lucia, was purchased by the Royal Navy for £3000 sterling. She was originally the brig "Glory."

1803. British Legislation "An Act for the Regulation of the Payment of Prize Money in regard to Captured Vessels in the Courts of Bermuda, Bahamas and Malta" was published in London and the territories concerned. 35 pages. Printed by Eyre and Strahan, London by authority of the House of Commons, London.

1803. The ship "Ant", 75 tons, was built in Bermuda from cedar and sold to the Royal Navy.

1804. An inoculation against smallpox, perfected by Madame Curie in France and called the cowpox vaccination, arrived in Bermuda from South Carolina, much to the rejoicing of Bermudians. Until then, they and British Army regulars based in Bermuda had incurred many fatalities from smallpox.

1804. Irish Poet Tom Moore arrived in Bermuda. During his four month stay and work as an official with the Admiralty he met and had a love affair with Hester Tucker, whom he called "Nea" in his love poems. Otherwise, he was quite bored. Unfortunately for him, his Bermuda stay led to many financial problems for him, through no fault of his own but for which he was blamed for the cheating of another. Tom Moore's Tavern was later named after him. In Ireland, he is never referred to as "Tom Moore, always as Thomas Moore.

1805. The Bermuda-built in 1799 sloop of war by then known as HMS Pickle of the Royal Navy played a unique role in the Battle of Trafalgar in which the Royal Navy, with 448 dead and 1,241 wounded, soundly defeated the French. Their navy had 4,408 dead, 1,545 wounded and lost 23 of their 33 ships in the battle. HMS Pickle, built of Bermuda cedar wood, was the fastest and one of the hardiest ships in the Royal Navy. Thus it was chosen to cover the 1,000 mile journey from Cape Trafalgar to England with exclusive news of the battle. It was a 9-day journey, during which the ship ran into a gale. On arrival at Falmouth, the officer with the dispatch raced to Whitehall in London by horse and carriage. He arrived at 3 am. Prime Minister William Pitt, the King and Royal Family and newspapers, were awoken to hear the news of the victory and the death of Admiral Lord Nelson. The Bermuda Sloop, developed on the island, was the fastest boat afloat in the 1700s and became highly desirably to seaman, particularly those in illegal trades such as piracy, and for privateering and as advice vessels for the Royal Navy. Bermudians used their ships for commerce and travel between the island, the Caribbean, the continental Americas and wider afield and they were manned by men from all sectors of the community, free and slave, the latter until Emancipation in 1834.

1806. HMS Tourterelle, formerly a French warship until captured, anchored at St. George's as a Receiving Ship.

1806. A detailed census of the whole Island was taken. It was revealed that in the overall population of 10,038 number of slaves outnumbered the white populations by fifty-nine. There were then 383 freed former slaves with the majority (147) residing in St. George's.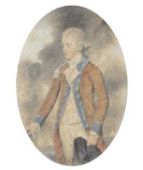 1806. July. Arrival in Bermuda as the new Governor of General John Hodgson (born 1757). Born 1757 – died 14 January 1846. A British Army General who served as colonel of the 4th (King's Own) Regiment of Foot. He was the son of Field Marshal Studholme Hodgson and Catherine Howard (daughter of Lieutenant General Thomas Howard) and educated at Harrow School. He was commissioned as an ensign in the 4th (King's Own) Regiment of Foot on 20 May 1779. He was captured and held prisoner by the French ship La Vengeance in 1797 during the French Revolutionary Wars. He went on to be Governor of Bermuda from 1806 to 1810.] He also served as colonel of the 3rd Garrison Battalion of the 83rd Regiment of Foot and then as colonel of the 4th (King's Own) Regiment of Foot from 1835–1846). He was father of General Studholme John Hodgson. A stickler for military discipline and accustomed from his rank and high office to being obeyed instantly, he had labored for fruitless years to instill proper procedural correctness in Bermuda's unruly colonials. One of his particular concerns was his perceived belief that what were then Bermuda's leading families were controlling Parliament and therefore the entire Bermuda Government. He worked to get rid of that domination. In trying to do so, he incurred the permanent wrath of the white Bermudians who had voting rights. He attempted to wrest financial control away from those Bermudian merchant families, by then mostly living in Hamilton or with business interests there. To try to change things he appointed his own favorite, William Smith, to the post of Treasurer. But the House of Assembly, led by Speaker James Tucker, refused to ratify that appointment. Governor Hodgson promptly dissolved Parliament but the ensuing election resulted in the same members being returned to Parliament. So the Governor dissolved Parliament again. In an effort to appease the Governor, Mr. Tucker resigned as Speaker and with others in agreement had his son-in-law John Harvey, also a Member of Parliament, appointed as Speaker. Mr. Harvey, however, refused to approve the appointment of Mr. Smith as Treasurer, also ignored a summons from the Governor to attend Smith's swearing-in which would not be legal unless the Speaker was present. So the Governor had the Speaker arrested and jailed and dissolved Parliament again. In all, the Governor dissolved Parliament four times before the dispute was laid before the King of England.
1806. Writing to his London headquarters, Simon Frazer, Royal Artillery, Commissioner for the UK military in St. Georges, noted the potential value of Bermuda if held by enemies of Britain or, if armed by the British, against the United States. As a direct result. three years later,,the Dockyard was built and Bermuda was fortified.
1806. James Gosling, the son of a wine and spirit merchant from England set out for America by chartered ship with a quantity of merchandise, ready to start a new life. After 91 days his charter ran out and he was forced to dock in the nearest port, which was Bermuda. Deciding to set up shop in Bermuda instead, Gosling's Rum was born several years later as a result of his experimentations in barrel-ageing rum distillate. Gosling's Black Seal (named after the black was used to seal the bottle) is still produced using a blend of pot and column still rums imported into Bermuda and aged 3 years in ex-bourbon barrels.
1806/1807. First Bermuda-rigged sloop or schooner was built in Bermuda. She was the Laura, a Ballyhoo schooner, based on the Royal Navy's "Lady Hammond" class, but designed for fast transport of perishable cargo and as a dispatch vessel. She was designed to be way over-canvassed, on a very low freeboard and with a huge mainsail on a 60 feet boom. She was a fast and maneuverable boat, much envied by foreign sailors.
1807. Construction of shore fortifications commenced at Ireland Island for the new Royal Navy dockyard.
1807. After sometimes acrimonious slavery debates in the British Parliament that forced the British Government to compile detailed information on slaves, it passed an Act, the Abolition of the Slave Trade Act, 1807, prohibiting all manner of dealing and trading slaves. Any English ship suspected of carrying slaves would be stopped and searched at sea. This proved an inconvenience to Bermudian ship owners who constantly had to show proof that their slave seamen were employed or owned and not slaves being transported to a new auction block.
1807. Slave registers, including those in Bermuda, were made compulsory by the British Government after the Abolition of the Slave Trade Act, 1807. They were intended to monitor plantation owners and other masters to ensure they did not buy new slaves.
1807. March. The ship Merchant, bound for Bermuda from New London, Connecticut, was carrying beef and pork in barrels and half-barrels, hams, lard, cheese, superfine flour, bread, corn, peas, potatoes, nuts, candles, soap, tea, brandy, cider, and some dry goods, ended up on the Bermuda reefs.
1808. Vice Admiral Sir John Warren submitted a report that led to the creation of a dockyard at Ireland Island and the acquisition of other land and islands for what was eventually considered "the Gibraltar of the West". In Richard Norwood's 1616 survey of Bermuda, the dockyard island was already named apparently after a Mr. Ireland, but the land appears to be general or common. By 1663, Ireland Island had been subdivided by a "Mr. Perinchief" and Norwood's survey of that year records some 18 plots. Captain Florentius Seymour owned the easternmost area at Ireland Point. 25 families in all then owned Ireland Island. Others included Joseph Seymour, Hinson Gilbert, Darrell and Henry Harvey, families of Fowles and Burrows, Dickinson, Young, Morris, Outerbridge, Talbot, Burch, Young, Taylor, Roach, Williams, Evans, Leaycroft, Bedlow, Gibbs, Woods, Jauncey and Righton. Ten of the properties seem to have been owned outright by women.
1808. Methodist minister Joshua Marsden arrived in Bermuda and preached to slaves and encouraged them to learn to read and write, contrary to the opinions then existing. He spent four years in Bermuda before going to New York.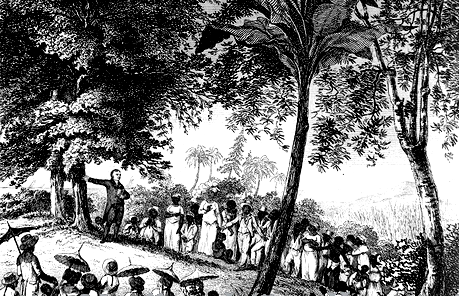 1808. Marsden preaching to Bermuda slaves

1808. Three years after she achieved her claim to fame at the Battle of Trafalgar, the Bermuda-built cedar schooner HMS Pickle struck a shoal when entering the Spanish port of Cadiz and was lost.

1808. December. Death in Bermuda at the age of only 48 of Nathaniel Butterfield .He left a wife and six children, one of whom later founded a prominent Bermudian bank.

1808. December 28. Death in his family's Vaucluse Estate, Fairfax County, Virginia, of George Washington Craik, born on June 22, 1774. He was the son of Dr. James Craik and his wife Marianne Ewell Craik. Craik Senior was originally from Scotland, North Britain and later of Virginia. George Washington Craik was named after his father Dr Craik's friend President George Washington. and later became General Washington's private secretary. Craik Senior had once been a British Army surgeon in the West Indies but had relocated to Virginia where he became a surgeon in then-Colonel Washington's Virginia British Colonial forces. Prior to 1758, under British General Craddock's British Army forces and Virginia forces in Western Pennsylvania they were defeated by the French at Fort Duquesne but had managed to avoid capture. They were also part of the British Army's and Virginia forces revenge for that defeat in 1758 when, under General John Forbes, also from Scotland, the French were defeated and the township was renamed Pittsburgh in honour of General Forbes's hero and patron William Pitt the Elder. General Forbes was related by clan to the earlier Dr. George Forbes from Scotland who had settled in Bermuda, and his son who became Sir Francis Forbes. General Forbes and Colonel Washington themselves formally declared the township renamed. Not long after that victory, General Forbes became gravely ill and died in Philadelphia. Dr Craik was the surgeon who did his best for the general but could not save him. However, he and George Washington prospered and became friends for life/ Later, Dr. Craik's son, when born, was named in honour of his friend and benefactor George Washington Dr. Craik tendered to Washington for the rest of his life. Craik's son, George Washington Craik, later married a Bermudian girl, on October 5, 1805. She was Maria Dorcas Tucker, elder of two daughters of Capt. John Tucker, formerly of Bermuda, but by then a merchant and large shipowner, of Alexandria, Virginia. She was seventeen years of age at her marriage, and lived to be ninety-five years old. After the death of his grandfather and father, Rev. James Craik, then a youth, became the heir to Vaucluse and a number of slaves.

1809. June 12. The Royal Navy started moving in after Ireland Island was acquired. It has a separate history from the rest of Bermuda. It is named after an individual, not a country. Because there was a fear of leprosy, all on the island had to leave their jungle of cedar and swine and wooden houses thatched with palmetto. Until it became a major Royal Navy base there were no roads and only a few inhabitants. Then it was completely separate from Main and Somerset Islands. (It became connected to other islands via several bridges first built in the late 1800s). When work began here in 1809, main weapons were light. Several wooden wharves were erected, also storehouses and more for supplies for two 74s,six frigates and two sloops.

1809. Great Britain's Royal Navy Commander-in-Chief in the West Atlantic, Vice Admiral Sir John Borlase Warren, Bt, KB, was in operational command when Bermuda's Ireland Island (75 acres), Boaz and Watford Islands were sold to the British Government by way of compulsory purchase for the establishment of a naval base, following US Independence. The Royal Navy had operated from the Town of St. George in Bermuda for a dozen years while an adequate channel was sought by which large naval vessels could reach the West End of Bermuda. Thus Bermuda became, first the winter location, and then the permanent location of the Admiralty for North America and the West Indies, as well as the base for a naval squadron. Its purpose was to serve as a replacement for all the ports on the eastern seaboard of the new United States that were, until 1783, British possessions. From the reaches of Maine, with all its great ship timbers, to Boston, New York, the Chesapeake and Charleston, His Majesty's Fleet had nowhere to retire for rest and repair, in between various spats with the French and now the new "Americans." Having retained the Canadian Maritimes to the north and some of the Caribbean islands to the south, Bermuda, halfway between, was both the logical and only sound geographical position for the creation of a new naval base. From there, the new United States could be controlled, as long as the Royal Navy ruled the sea-lanes of the Western North Atlantic. As a British officer would later declare, it was a nation "hitherto unable, if not unwilling, to control among its people a wild spirit of aggression dangerous to the maintenance of peace." Ireland Island was chosen for the new Dockyard base, after considering cutting a channel into Harrington Sound because of its protected harbour. Such a major engineering work would have been simple and inexpensive, when compared to the final cost of the western site, for all of it was composed of some of the hardest, "bastard", rock of the Walsingham formations. Undeterred by geological intransigence, the Royal Engineers, "purveyors of technology to the empire", began blasting soon after the erection of a few buildings on flat ground, facing the original cove of Grassy Bay.

1809. December. a main guardhouse was built near the Spa Yard of the emerging Royal Naval Dockyard..

1810. Departure from Bermuda, for the United Kingdom, of Governor John Hodgson, after a 4 year posting. Born in 1757, he had arrived in July, 1806. He was a very senior British Army officer who served as colonel (commanding officer) of the 4th (King's Own) Regiment of Foot. He was the son of Field Marshal Studholme Hodgson and Catherine Howard (daughter of Lieutenant General Thomas Howard) and educated at Harrow School. He was commissioned as an ensign in the 4th (King's Own) Regiment of Foot on 20 May 1779. He was captured and held prisoner by the French ship La Vengeance in 1797 during the French Revolutionary Wars. He went on to be Governor of Bermuda from 1806 to 1810. He also served as colonel of the 3rd Garrison Battalion of the 83rd Regiment of Foot and then as colonel of the 4th (King's Own) Regiment of Foot from 1835–1846). He was father of General Studholme John Hodgson. A stickler for military discipline and accustomed from his rank and high office to being obeyed instantly, he had labored for fruitless years to instill proper procedural correctness in Bermuda's unruly colonials. One of his particular concerns was his perceived belief that what were then Bermuda's leading families were controlling Parliament and therefore the entire Bermuda Government. He worked to get rid of that domination. In trying to do so, he incurred the permanent wrath of the white Bermudians who had voting rights. He attempted to wrest financial control away from those Bermudian merchant families, by then mostly living in Hamilton or with business interests there. To try to change things he appointed his own favorite, William Smith, to the post of Treasurer. But the House of Assembly, led by Speaker James Tucker, refused to ratify that appointment. Governor Hodgson promptly dissolved Parliament but the ensuing election resulted in the same members being returned to Parliament. So the Governor dissolved Parliament again. In an effort to appease the Governor, Mr. Tucker resigned as Speaker and with others in agreement had his son-in-law John Harvey, also a Member of Parliament, appointed as Speaker. Mr. Harvey, however, refused to approve the appointment of Mr. Smith as Treasurer, also ignored a summons from the Governor to attend Smith's swearing-in which would not be legal unless the Speaker was present. So the Governor had the Speaker arrested and jailed and dissolved Parliament again. In all, the Governor dissolved Parliament four times before the dispute was laid before the King of England.

1810. Ireland Island in Bermuda formally began construction as a Royal Navy Base, to replace Castle Harbour, four years after the Hon. Thomas Grenville, First Lord of the Admiralty, spoke in the House of Commons on the strategic value of Bermuda as a base between British Canada and the West Indies following Britain's defeat in the USA's War of Independence. The Superintendent of New Works, Commodore A. J. Evans, was given instructions to procure as many artificers as possible to work on the site, including black laborers. Enslaved black men from Bermuda appeared in the Dockyard account books. These men were hired by the Government from the colonists who owned them and received their wages, around £2 Sterling a month. These men were lodged in the yards or on board receiving ships.

1810. The Zion Chapel, at the corner of Church and Wesley Streets, was the first church where blacks and whites worshipped together as equals. Built under the direction of Reverend Joshua Marsden, it was the first Methodist church in Bermuda.

1810. May 4. A Royal Navy Captain of H.M.S. Swiftsure fell overboard and was drowned, off the Bermudas. He was Captain John Conn R.N. (August 1764 - 4 May 1810), a senior captain, whose shining career included service at the battles of the Saintes, the Glorious First of June, Copenhagen and Trafalgar ended tragically in a shipboard accident before he could reap the rewards of his long service. Conn could also claim membership of Nelson's "Band of Brothers", a clique of dashing naval officers who participated in Nelson's campaigns during the French Revolutionary and Napoleonic Wars, as well as a close friendship with the admiral himself, who once said: A better or more zealous officer than Captain Conn is not in His Majesty's service. Born to a Royal Navy warrant officer of Irish extraction in Devon, England, on 1764, Conn gained first hand experience of the sea at twelve on his father's ship HMS Weasel, before securing a place on HMS Arrogant as a midshipman on board which he saw action at the battle of the Saintes in 1782. In 1788 he was made a lieutenant but had to wait five years before being given a good position, during which married Margaret, a vicar's daughter. Serving aboard the flagship HMS Royal Sovereign at the Glorious First of June, he came to the attention of Admiral Lord Howe and further distinguished himself in 1798 in HMS Foudroyant at the battle of Donegal which resulted in the destruction of a French invasion fleet headed for Ireland. In 1801 As a commander at the first battle of Copenhagen, his expertise with bomb vessels caused terrible damage to the Danish fleet, and he participated in Nelson's disastrous attack on the French invasion force in Boulogne shortly afterwards, gaining his commanding officers attention and respect. Promoted to Post Captain in 1802, Conn commanded the veteran ship HMS Culloden accompanied by his nine year old son Henry, before transferring to the French prize ship HMS Canopus and being specially requested by Nelson in the Mediterranean. In 1805 he was given temporary command of the first rate flagship HMS Victory and his old ship HMS Royal Sovereign whilst their commanders were on leave and further contributed to his reputation as a reliable and steady officer. On 10 October he returned the Royal Sovereign to Admiral Collingwood and was given the fast new second rate HMS Dreadnought to command. Eleven days later Conn and his crew where thrown into battle as the Franco-Spanish fleet attempted to break out of Cadiz. Situated halfway down Collongwood's division, Conn struggled to reach the action, only getting there around the time Nelson was mortally wounded in the northern division. Making up for the delay, Dreadnought tangled with the San Juan Nepomuceno, rescuing the battered HMS Bellerophon, killing the Spanish captain Cosmé Damián Churruca and forcing his ship to surrender. Charging on from this victory, the Dreadnought engaged the Spanish flagship Principe de Asturias, mortally wounding the Spanish admiral, but being unable to defeat the enemy, which succeeded in escaping back to Cadiz. Conn even managed to rescue his prize, the San Juan Nepomuceno being one of only four captured enemy ships to survive the storm. Following the battle, in which Dreadnought suffered 33 casualties, Conn continued in service taking over the massive 112 gun HMS San Josef and then the 120 gun HMS Hibernia as flag captain before moving as a commodore to the West Indies in HMS Swiftsure in 1810. Admirals' rank was not far away when tragedy struck on the 4 May when during the chase of a small French ship near Bermuda, Conn became overeager, slipped and fell overboard. Swiftsure was halted and a search was conducted but Conn had drowned before help arrived. His passing was mourned in Britain and especially in the Navy where he was a popular and much-respected figure. Sir John Borlase Warren, an old commander and friend, expressed regret at the death of so deserving an officer as Captain Conn.

1811. January. A map of the proposed new Dockyard on Ireland Island was produced.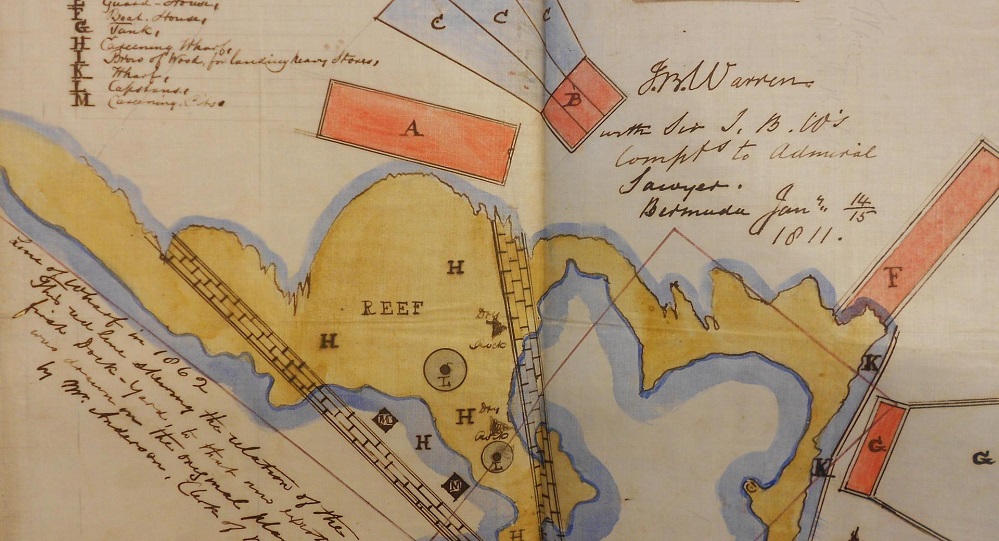 1811. An Anglican day school for black children began in the Town of St. George.
1811. With the formal abolition of the slave trade throughout the British Empire including Bermuda, the authorities in London asked the colonies to keep a census of their slave populations as a way of trying to control that trade.
1811. March. With Britain's relationship with the United States of America deteriorating fast, the US government enacted a new Non-Importation Act that prohibited the entry of all British goods into the USA. It was to have repercussions in Bermuda.
1812. March 6. an official postal system was established.
1812. By May 20, the St. George's and Hamilton post offices had opened. Soon after, a twice-weekly service to various points on the island via horseback began. Overseas mail, however, remained a problem, so the General Post Office in London appointed a Postmaster for Bermuda with special responsibility for receiving and dispatching letters to and from the United Kingdom.
1812. June 15. By this date, of the 82 ships owned and based in Bermuda by Bermudians, 74 were in the upcoming new town of Hamilton and only 8 in St. George's.
1812. July. Britain responded to the USA's 1811 Non-Importation Act prohibiting British goods with a UK Act permitting the re-export to the USA in foreign (non-American and non-British) ships imported into Bermuda in British ships and the importation into British West Indian colonies in British ships of provisions and lumber imported into Bermuda from the USA in foreign ships in return. It was a measure designed to enable trade between the USA, Bermuda and British West Indies to continue, using Bermuda as a staging post. But Britain did not stop searching American vessels at sea for goods Britain had declared to be contraband and British warships blockaded US ports, while American privateers operating around Halifax, Nova Scotia, continued to disrupt the trade in British colonial fish sent from Canada to Bermuda and the West Indies. One result of this was the then-secret two-way trade established using Canadian ports to break the US embargoes in particular.
1812. Bermuda, as a colonial outpost of Britain strategically close to the USA, was strategically involved on the second war that began with the USA because of its invasion of Canada and was not to cease until 1814. Largely overshadowed by the Napoleonic Wars of Europe, it not only guaranteed Canada's independence but helped define the Anglo-American relationship for the next century and a half. The American invasion of Canada this year was repulsed. Later, British historians and the British Government viewed the war as an ill-fated attempt by the brash young American republic to annex Canada. For British Canada, populated by many Loyalists who had fled the American Revolution and had paid a huge price in having their homes and lands confiscated forever, it was a war for survival. Without any doubt at all, the single major reason for the war was to capture Canada by force of arms, to assert the nationhood of the Americans on the global stage and simultaneously expand their territory both northward and southward. Bermuda became heavily involved, as shown below. One way was in use by the Royal Navy the coastal area of Devonshire, Bermuda, known as Devonshire Dock, at the junction with Dock Hill. Thousands of seaman and soldiers arrived here, or departed from nearby camps. From nearby, at the Seven Wells property acquired by the Royal Navy in 1795, new and improved potable fresh-water wells were dug by a combination of British Army sappers and miners, locally-recruited labor and the Royal Navy personnel especially for the 1812-14 War against the USA, and carried in wooden barrels to the ships either alongside or moored offshore by pinnaces to serve crew and marines. Nowadays, the dock is used for fishing and pleasure purposes by local fishing craft, and other small craft owners.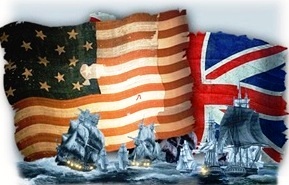 1812. One of the first Naval actions of the 1812-14 War between the USA and UK, which involved Bermuda too as a British colony, was the capture of the Bermuda sloop, HMS Whiting, in a US port. Having sailed from Plymouth, she entered Hampton Roads on 8 July 1812 with dispatches for the American government, and lowered her anchor. Unfortunately war had been declared about two weeks earlier. As her captain was being rowed ashore, the American privateer Dash, under Captain Garroway, was leaving port and captured her. Dash had one large gun on a pivot, and a crew of 80. Not only were a third of Whiting's crew in her boat, the rest were not at the guns as they were unaware that Britain and the United States were now at war. Some regard this as the first naval capture of the war. However, Whiting was carrying official dispatches for the American government, which ordered her release. (The first capture by either side was the British capture of USS Nautilus on 16 July).

1812. British Rear Admiral Sir Alexander Cochrane formed the Corps of Colonial Marines. Although they were of African descent and many were formerly enslaved in America, these troops received the same training, uniforms, pay and pensions as their Royal Marine counterparts. The Corps of Colonial Marines saw extensive military action from Canada to Georgia in the years 1814 to 1816. These former slaves, who became known from where they were from originally as America Negroes or Florida Negroes or King's Negroes, or French slaves, had all sought refuge under the British flag, Many had extensive local knowledge of tidal creeks and riverine routes of the US South during that period. Because of that knowledge, they participated in numerous battles, skirmishes, and raids during the War of 1812. In 1814 they were sent to Bermuda.

1812. The British 18 gun brig "Frolic" was consort to 14 merchantmen homeward from Honduras and was separated from her convoy on Oct 16 in a heavy gale. She was repairing damage on the 17th when she sighted sail which proved to be the American brig "Wasp." The following day, after 43 minutes of fighting, Frolic lost both her masts, 2 officers, and 15 seamen, 43 wounded out of the total ship's company of 110. The Wasp lost 8 men and about 8 wounded. A few hours later, the British 74 gun ship "Poictiers", Capt Sir John Poo Beresford, hove in sight, captured the "Wasp" and recaptured the "Frolic" and brought them both to Bermuda. Capt Beresford's wife died in Bermuda and was buried in St George's. He was the brother of Marshal Beresford who organized the Portuguese Division in Wellington's Army in the Peninsula. Both were bastard sons of Earl of Tyrone, afterwards 1st marquess of Waterford. Jacob Jones commanded the Wasp at the capture of the Frolic on Oct 18, 1812. The next day the Wasp and her prize were taken by the Poictiers to Bermuda.

1812. William R. Higginbottam became US Consular Agent in Bermuda.

1812. Marryat arrived in Bermuda aboard the HMS "Africa."

1812. 27 August. The "Lydia", master and owner Captain Comfort S Rena, sailed from New London, Conn. bound for St Bartholomew in the West Indies with a full cargo. She was a combination brig/schooner (brigantine), 113 tons. A week out she was captured by the British ship-of-war "HMS Orpheus", Capt Hugh Pigot & master's mate John Hooper, and set for Bermuda where she made port 8 Sep. There she was brought before the Admiralty Court as a prize. From about this time and for months time there were more than 175 captured vessels held in Bermuda.

1813. With the start of the American War of 1812 Bermuda's Militia Act, 1813 was passed as a wartime expediency. Once again, Bermuda was empowered to have its own Militia after its importance had been substantially reduced after the end of the American War of Independence and declaration of peace in the 1790s. The Act reorganized Bermuda's nine-company regiment of foot into two battalions. The total strength of the local militia was, by then, nominally 450 men, but, as always, this was, at any moment, effectively reduced by half due to the seafaring occupations of the better part of the colony's men. Evidently, the militia no longer included any of the colony's black population, whether free or enslaved, as Lt. Colonel Francis Gore, on assuming the Governorship of Bermuda, felt it advisable to boost the militia's strength by raising a colored corps, though this was not, in fact, done. Despite the state of the Militia at the War's start, on the occasion of an emergency being declared (when strange vessels were spotted lurking offshore), the colonists responded admirably in full strength, standing watch through the night. The War Office in London had begun the War considering the Bermudians to be of dubious loyalty. This was largely due to the theft of a large quantity of gunpowder from a St. George's magazine during the American War of Independence, in 1775. That powder had been sent to the rebel army of the American colonies, under the Virginian General George Washington, and at his personal request. The close blood-lines and common history of Bermuda and Virginia, particularly, just as many in 1813 as there were in 1775 were also worrying. The Governor was prompted to try to get the Colonial Assembly to en-act a permanent Militia. Throughout the Militia's history, its strength and efficiency had waxed and waned, more with the response to declarations of wars, and to the scarcity of manpower due to the maritime industry, than with any dictum of the Colonial Assembly. The British Army in Britain wanted something a little more reliable. The Colonial Assembly, lacking any strong self-interest, and perhaps wary of obliging itself to the maintenance of a force that, with the growth of the Regular Garrison, must become ever less under its control, would only agree to provide funds on a temporary basis.

1813. April 18. A midshipman's grave was dug at Clarence Cove, originally Abbott's Bay. He was a 16-year Royal Navy midshipman, Charles Francillon, of the Royal Navy ship HMS Spartan. He died from phthisis, a form of tuberculosis, a highly contagious disease of the time, on April 18, 1813 - during the 1812 to 1814 War. Francillon was born in Harwich (then in Essex, England), the fourth son of Francis Francillon of Harwich, a Purser in the Royal Navy. He was 15 years old when he joined the ship as a First Class Volunteer, a rank created in 1794. It was a first step for boys, who later became Midshipmen for three or more years, then Lieutenants. He was a patient of what was then the recently opened first Bermuda shore-based Royal Naval Hospital - much later, Admiralty House - when he died. The letters D. D. appear beside his name, which mean he was "Discharged Dead". He probably received the posthumous rank of Midshipman while still technically a First Class Volunteer.

1813. April 21. The schooner Bermuda, earlier an American-built a pilot boat under a different name on the Delaware River until her British captors there presented her to the Royal Navy in 1813, which registered her in and brought her to Bermuda where she became a Royal Navy vessel, was seized in St. George's, Bermuda by escaped American prisoners of war who had earlier been on a prison hulk. They sailed her to the United States. The 11 prisoners had been held on HMS Goree at Bermuda. They had been transported under guard to gather water from the tanks. On a signal they overpowered Goree's bosun and their two guards from the British Army's 102nd Regiment of Foot, and rowed to the vessel Bermuda. There they chased the five men aboard – her captain, a pilot, and three seamen, below deck – put the bosun and guards in her boat, and set sail. They reached Cape May, New Jersey on 28 April. There they were pursued by a number of British warships. As the pilot boat Pennsylvania approached, laden with British personnel, the escapees ran Bermuda on shore and escaped. The vessel was salvaged and repaired and found its way to Jamaica where Royal Navy Commander John Sykes commissioned her in November 1814 on the Jamaica station. She was broken up in February 1817.

1813. April 27. American forces raided York (Toronto) looting and burning buildings, including the governor's house and the provincial legislative building. This was the second American invasion since 1812. Later, they were repulsed by British Army forces. Until that happened the Americans destroyed property throughout Canada, turned citizens out into the cold in the depths of winter and burnt their homes.

1813. June 1. HMS Shannon (38 guns) captured the "Chesapeake" (44 guns) off Boston Light after a sharp and decisive engagement that lasted only fifteen minutes. The commander of the "Chesapeake", James Lawrence, who was mortally wounded in the fray, was related to the Cox family of Bermuda, and his senior officer was William Cox, son of a Bermudian who had emigrated to America. The Chesapeake (pictured below) was initially sent to Halifax, Nova Scotia but was shortly afterwards brought to St. George's, Bermuda by HMS Shannon and the ship, her officers and men became prisoners-of-war. The Shannon's lopsided triumph brought to an end a string of U.S. frigate victories in the War of 1812.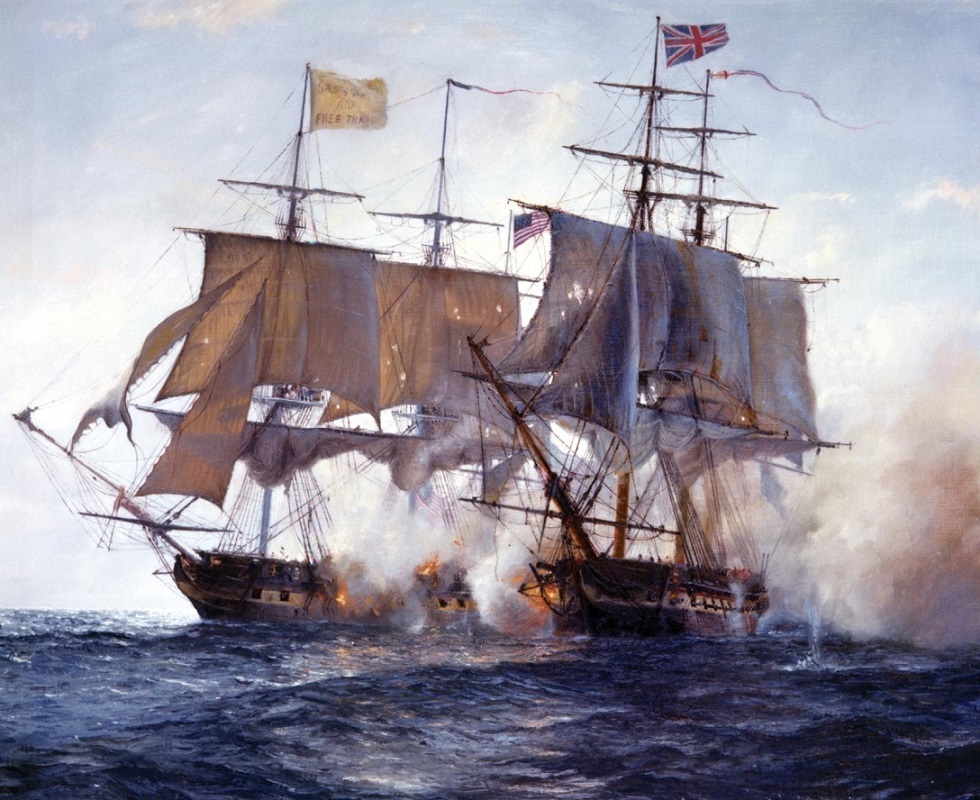 Capture of the Chesapeake by HMS Shannon

1813. The Bermuda Post Office was established, initially in the Town of St. George.

1813. July 24. HMS Romulus, after being re-classed as a 22 gun unrated hospital ship, was based in Bermuda.

1813. December. HMS Romulus, deemed to be no longer part of the Royal Navy and with her crew dispersed elsewhere, was paid off in Bermuda, prior to being broken up in Bermuda.

1813. December 10. The small Canadian town Niagara on the Lake, situated at the mouth of the Niagara River, and directly across from Fort Niagara, originally named Newark, had already seen much activity during the War of 1812 when nearby Fort George was earlier captured by American forces under General George McClure. On this date, McClure's men set fire to the town before abandoning the fort to advancing British forces, destroying eighty homes and "about 400 women and children were rendered homeless." As Newark had been the early capital of Upper Canada and to every loyal Canadian it symbolized the early struggles of the province and the names of Simcoe and Brock---its destruction (and the burning of York's (Toronto) public buildings earlier) infuriated the British and led directly to the retaliation burning of Washington, DC in August 1814.

1814. January. Vice Admiral Sir Alexander Cochrane, then resident in Bermuda at Admiralty House, Bermuda, then located at Mount Wyndham, Bailey's Bay, was appointed Commander-in-Chief of the Royal Navy's North America and West Indies Station. He already had plans for carrying the war to the United States by launching attacks in Virginia and at New Orleans.

1814. HMS Goree arrived in Bermuda, stationed mostly at St. George's but also at the emerging Dockyard. She was earlier the 16-gun sloop of war HMS Favourite launched in 1794. The French captured her in 1806 and renamed her Favorite; the British recaptured her in 1807 and renamed her HMS Goree. She became a prison hulk in Bermuda in 1814, mostly to house captured American sailors and was broken up in 1817.

1814. June 2. Sir George Prévost, Governor of Canada, wrote to the Royal Navy's Vice Admiral Sir Alexander Cochrane in Bermuda, calling for a retaliation against American depredations against non-combatant civilians and private property, as such acts at the time were considered to be against the laws of war. He wanted the American invasion of Yorktown (later, Toronto) avenged.

1814. July. HMS Dictator, and HMS Diamond, both 64s, and HMS Royal Oak, 74, joined by six frigates and 30-40 other sail of trannsport arrived at Bermuda between July and August from England with the 4th, 7th Fusiliers, 21st, 44th, 85th Foot regiments aboard, some recently arrived from southern France. Their intention was to attack the American coast. The Admiral in overall command, Admiral Sir Pulteney Malcolm, was able to view the entire fleet from his strategic hill-top home at Mount Wyndham in Hamilton Parish, his official residence rented from Stephen Outerbridge. Altogether a brigade of 3,500 troops disembarked on the North Shore, near Devonshire Dock, at a place still called "Forces Point", under the command of Major-Gen Robert Ross of an Ulster family. The troops camped out near Devonshire Dock for two weeks on the island. In Murray's Anchorage, some 18 ships of the line, including the flagship, HMS Tonnant (86 guns, originally the French Le Tonnant, captured by Nelson in 1798 at the Battle of the Nile) and HMS Royal Oak (74) lay at anchor, awaiting a signal for departure for the continent. One of the officers concerned was Major (later Lt-Gen) Sir Harry Smith (1787-1860) age 27 who wrote an account of the arrival at and departure from Bermuda. She left Bermuda under Rear Admiral Malcolm to rendezvous in Chesapeake Bay with HMS Tonnant and HMS Surprise. The wind blowing from the east made it difficult for the "Royal Oak" to leave the anchorage. The Admiral resolved on the boldest thing ever attempted, to take the fleet out through the North East Passage, never done before save by one frigate. There was but one man capable of piloting the "Royal Oak" (Joseph Hayward, "Uncle Joe") and he feared her bows would touch when the rudder was clear. Sir Harry Smith wrote: "To my honour there appeared not a foot to spare, it was a most extraordinary thing ever seen, the rocks visible all around the ship." At one moment the wind was very light, it almost died away; the only expression of Admiral Malcolm was "Well, if the breeze fails us it will be a good turn I have done the Yankees". The undertaking was successful, the expedition went up the Pawtuxent and carried out the attack on the city of Washington.

1814. August 1. HMS Tonnant, with Vice Admiral Sir Alexander Cochrane K.B. and the frigate "Surprise" with Sir Thomas Cochrane, prepared to sail from Bermuda, destined for Chesapeake Bay. The British Royal Navy fleet was piloted by James Darrell of St. George's aboard HMS Resolution through a difficult passage to Murray's Anchorage until it reached the open sea. It had been ordered to assemble in and sail from Bermuda to successfully attack and burn Washington DC, in retaliation for the American attack on and burning of Yorktown, now Toronto, in Canada. Pilot Darrell — known as Jemmy — is often cited as the first black man to buy a house in Bermuda and it is certain that he was one of the first to own land. He was a slave until then. His nautical prowess led to him becoming one of the Island's first King's Pilots and eventually his release from slavery, aged 47. The father-of-one later campaigned for better pay for pilots and for a change in the law to allow black people to leave their property to their family. After it burnt Washington, it attempted the same thing on Fort McHenry in Baltimore. During that engagement, Francis Scott Key wrote the words of what became the Star Spangled Banner, as a temporary detainee on one of the British warships. The melody is from a bawdy British drinking song by a London based composer. The fleet's voyage ended in Halifax, where hundreds of slaves who had lined the shores of the Pawtuxent River and elsewhere nearby to implore British troops to help them escape from bondage had been rescued and were also on the British warships cheering on and actively assisting the sailors who had set them free, were promptly and officially given their freedom.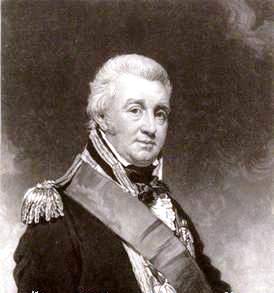 1814. August 4. A then-massive Royal Navy fleet of 16 ships under the command of Vice-Admiral Alexander Cochrane and with British troops also aboard, led by HMS Royal Oak, left the island and headed for Chesapeake Bay to crack down on US ambitions to annex Canada by attacking the capital Washington DC and Baltimore. It spawned the only time the US capital has been invaded by hostile forces — who burned most of the public buildings, including the White House, in retaliation for the burning of York, which was later renamed Toronto. It had its origins in tensions between Britain and the US over UK domination of the seas and the British territory of Canada. The US had raided York twice and set fire to government buildings in the city — and Britain wanted to teach the new nation a lesson. Admiral Cochrane planned the attack from his then HQ at Mount Wyndham in Bailey's Bay, amassing a fleet of 18 ships and 5,000 soldiers before sailing from Murray's Anchorage for the US Atlantic coast. The earlier loss of its American colonies in the American War of Independence led to a new focus on Bermuda as Britain's naval bastion in the west and the start of a military build-up that would eventually see the massive Royal Naval Dockyard built in the West End, which helped support the Island's often-struggling economy. But the planned attack got off to a bad start. In the days of sail, strong easterly winds had trapped the fleet in Murray's Anchorage for three days until Bermuda pilots Joseph Nicholas Hayward and Pilot Outerbridge volunteered to try and navigate the entire fleet, which included the 86-gun HMS Tonnant, out through a narrow gap in the reefs, the North Channel, just east of North Rock. The feat had never been attempted before with warships under sail, but the entire fleet scraped through with inches to spare and headed for the coast of the US. The attack took the US by surprise, and land commander Major General Robert Ross defeated a poorly-trained and hastily-assembled American Militia force at Bladenburg, Maryland, before marching into Washington. Tangible reminders of the attack still exist in Bermuda today — the two massive portraits of King George III and Queen Charlotte which hang in the Island's House of Assembly were looted from a warehouse in Washington before British troops set it on fire. But things started to go wrong again for the British after they rejoined the fleet and headed for Baltimore — described as "a nest of pirates" by Admiral Cochrane — and landed near the strategic port city. British troops were turned back by American forces after General Ross was shot and killed by an American sniper. The British later bombarded Fort McHenry, built to defend Baltimore's harbour and among a handful of Americans interned on British ships in case they passed intelligence to the US forces was Francis Scott Keys, a lawyer and ancestor of famous US novelist F Scott Fitzgerald. Keys wrote the poem that became the Star Spangled Banner after US forces showed their defiance by raising a massive American flag after the British fleet had attempted to blast the fort to pieces and, more than 100 years later, it was finally adopted as the official anthem of the US. And what is believed to be the last casualty of the war — US Navy Midshipman Edward Dale, badly wounded when the USS President was captured by a Royal Navy squadron off New York and brought to Bermuda — died in St George's of his wounds. The naval engagement in January 1815 came three weeks after Britain and the US signed the Treaty of Ghent to end the war — but it took months for the news to travel across the Atlantic. Later, a brooch of silver and paste jewels was found stating "Rear Admiral Cockburn to Mrs Outerbridge, commemorating her husband's daring feat of piloting through North Rock Passage the British Fleet responsible for the sacking and burning of Washington. Bermuda 1814." One was also given by the Admiral to the wife of pilot Hayward.
1814. August 24. British Army and Royal Navy forces entered the Chesapeake Bay and attacked Washington DC from Bladensburg, Maryland. Washington had little strategic value - the thriving port of Baltimore was much more important. However, as capital of the nation, the British hoped that its burning would have a psychological impact on the will of the Americans to continue the conflict. As the British army of approximately 4,000 approached, the majority of Washington residents fled the city. American defenders, with President James Madison in attendance, were quickly routed by the invaders in a battle at Bladensburg a few miles from the city. A messenger was dispatched to the White House to warn First Lady Dolley Madison of the impeding arrival of the British. She and her staff fled by carriage across the Potomac - taking with her the full-length portrait of George Washington that had been torn from a White House wall. That evening, the vanguard of the British army reached Capitol Hill. Their original intention was to halt and send, under a flag of truce, a small party to offer terms, for officials to surrender without bloodshed. But when they were fired on from the windows of a house, with the horse of General Ross killed by the gunshots, they retaliated. Realizing they were too few in number to effectively occupy the city they began its systematic destruction of all public buildings in the city. Included in their number were contingents of black British Colonial Marines. Their intent was to cause as much damage as they could, at least as much as the Americans had caused in Yorktown. In fact, they had brought with them meticulous accounts of the latter. The troops advanced into the town, and first attacked and killed all who were found in the house from which the shots were fired, then burnt the house. Then they proceeded, without any further delay, to burn and destroy everything in the most distant degree connected with government. In this general devastation were included the Senate House, the President's White House, an extensive dockyard and arsenal, barracks for two or three thousand men, several large storehouses filled with naval and military stores, some hundreds of cannon of different descriptions, and nearly twenty thousand stand of small arms. There were also two or three public rope works which shared the same fate, a fine frigate pierced for sixty guns and just ready to be launched, several gun brigs and armed schooners, with a variety of gunboats and small craft.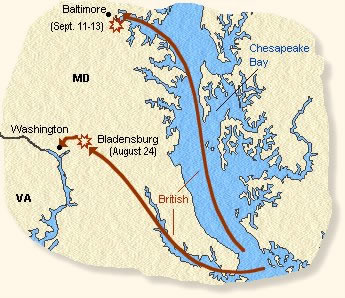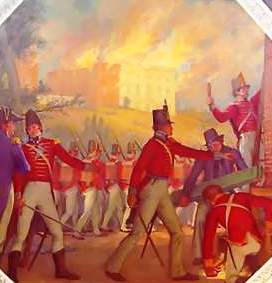 The powder magazines were set on fire, and exploded with a tremendous crash, throwing down many houses in their vicinity, partly by pieces of the wall striking them, and partly by the concussion of the air whilst quantities of shot, shell, and hand grenades, which could not otherwise be rendered useless, were thrown into the river. When the detachment sent out to destroy Mr. Madison's house entered his dining parlor, they found a dinner table spread and covers laid for forty guests. Several kinds of wine, in handsome cut glass decanters, were cooling on the sideboard; plate holders stood by the fireplace, filled with dishes and plates; knives, forks, and spoons were arranged for immediate use; in short, everything was ready for the entertainment of a ceremonious party. Such were the arrangements in the dining room, whilst in the kitchen were others answerable to them in every respect. Spits, loaded with joints of various sorts, turned before the fire; pots, saucepans, and other culinary utensils stood upon the grate; and all the other requisites for an elegant and substantial repast were exactly in a state which indicated that they had been lately and precipitately abandoned. The soldiers hungrily ate the dinner, drank the wines then set fire to the White House and neighboring places. Of the Senate house, the President's palace, the barracks, the dockyard, etc., nothing could be seen except heaps of smoking ruins.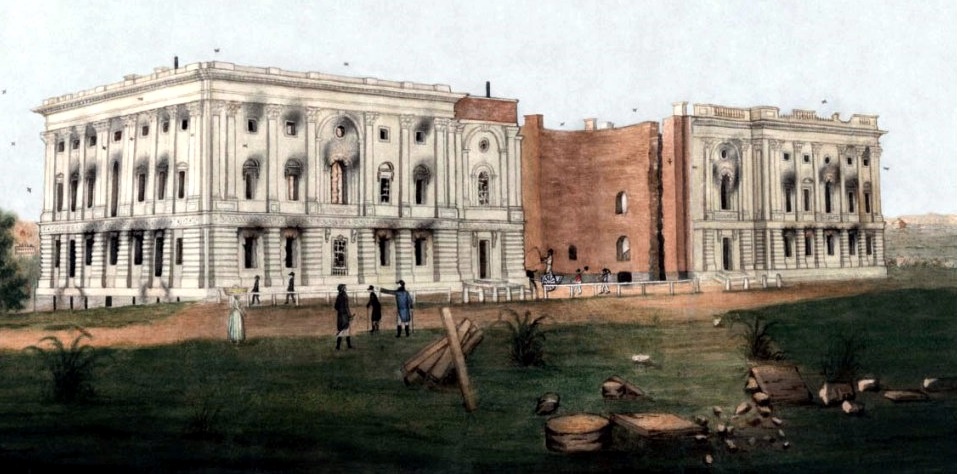 White House after 1814 burning by British troops
British troops also commandeered four paintings of George III and Queen Charlotte found in a warehouse in Washington. Admiral Sir George Cockburn had the portraits put on board his flagship HMS Euryalus, and on her arrival in Bermuda presented portraits of the Royal Couple to each of the newly created Corporations of St. George's and Hamilton. Those paintings, war booty from the sack of Washington were later put on display in Bermuda's House of Assembly, and at the Colonial Secretariat, later the Cabinet Office.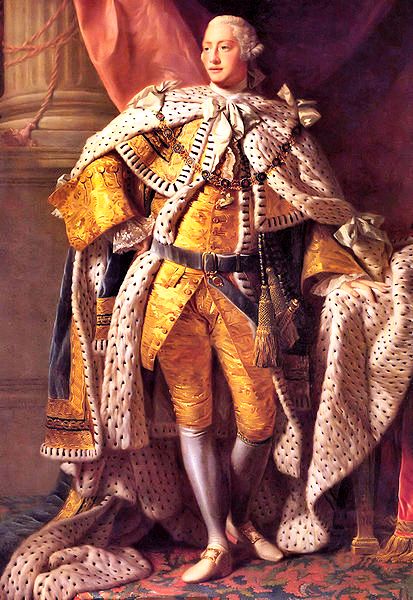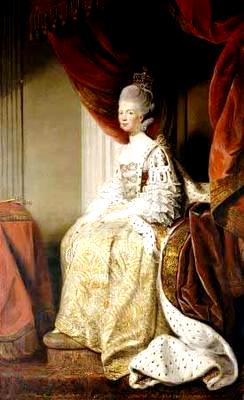 Paintings of King George and Queen Charlotte taken from Washington DC to Bermuda
1814. August. While still in the Chesapeake Bay, Royal Navy ships in the harbor attracted the attention of a large number of destitute American Negroes, some slaves who had taken advantage of the confusion on land to escape from their bondage. They pleaded for liberty, were taken on board, later transported to Bermuda and offered work, which all the men accepted, to help build the Dockyard.
1814. September. The captain of HMS Menelaus, Sir Peter Parker, BT, died in battle against the USA and his body conveyed on the "Hebrus" to be buried in the Islands of Bermuda.
1814. October. Sir Peter Parker, BT, who had died in battle against the USA and his body conveyed on the "Hebrus" to be buried in the Islands of Bermuda, was buried 14 Oct 1814 at St George's Church burial grounds by the Rev George Rennell, Chaplain of the HMS Albion.
1814. October. Under archaic traditional Royal Navy system then prevailing of hiring contracted laborers to build dockyards, building work progressed slowly and unsatisfactorily. Even with the high rate of wages offered, free labour migration could not meet demand. It required officials based in Bermuda to write to the UK authorities asking for artificers to shipwrights to be sent from England. As a result, ten carpenters based at Portsmouth Dockyard were dispatched to Bermuda. (After three years, they were given the choice to return home, or remain in Bermuda with an increase of pay and a promotion).
1814. Late October. American Negroes, some slaves who had taken advantage of the confusion on land to escape from their bondage. arrived in Bermuda from the Chesapeake Bay via the Royal Navy to help build the Dockyard. Most rejected an offer to join one of the British West Indian regiments which had lost many men while fighting in the USA but volunteered to join the 3rd Colonial Battalion of Royal Marines earlier locally raised, which had earlier fought with distinction in Washington DC and assault on Baltimore and area and was commanded by Major Kinsman seconded to the unit from a Canadian base.
1814. The present Fort St. Catherine was built, from an earlier fort.
1814. Thomas Tudor Tucker, born at Tucker House, St George's, Bermuda and named for his uncle, the Treasurer of the USA, commanded HMS Cherub in an engagement off Valparaiso in the company with HMS Phoebe, when the USS Essex was captured.
1814. When it was announced that the seat of the Bermuda Government was to be transferred to Hamilton from St. George's, N. T. Butterfield (later, the Bank) moved to Front Street.
1814. October 8. HMS Albion, Rear Admiral Sir George Cockburn, A Scot, and the HMS Hebrus, frigate, arrived in Bermuda from the Chesapeake.
1814. At Ghent, British and American negotiators resolved to end the War of 1812 between Britain and the USA, in which Bermuda had been involved. But peace was not easily and instantly achieved in the days before the telegraph. Since on three previous occasions America had insisted on modifications after her envoys had signed treaties, this time Britain insisted that the treaty could and would not become effective until both parties had ratified it and why it continued into 1815.
1814. July. By mid-year privateers from Bermuda had captured 298 American ships, with Bermuda having become a staging post for amphibious operations such as the capture of Washington.
1814. December 14. The Georgian style house at Par-la-Ville (then not in Hamilton) in Bermuda was completed by Hamilton merchant William Perot whose son William Bennet Perot, first postmaster of the town (later a city), lived here all his life. The house fringes a beautiful park, originally laid out as a private garden of the Perot family.
1814. December 14. The Battle of New Orleans began. Units the British Army used in the Battle of New Orleans included the 93rd (Sutherland) Highlanders, who charged the Americans led on by their pipers. Lieutenant C. H. Gordon later described how, within 150 yards of the American lines " a most destructive and murderous was opened on our column of round, grape, musketry, rifle and buckshot, with officers and men mowed down by ranks." The Corps of Colonial Marines, black Marines trained and equipped by the British and freed slaves, assisted Britain's Southern Coastal Campaign by guarding the British Army's right flank during the battle. Although the battle was a decisive defeat for the British, with over 1,000 men killed compared to only relatively few Americans, the war itself achieved an important British military objective. It guaranteed Canada's independence from the USA. It also gave a further impetus for the British, by then free of having to fight a war on two fronts, namely in the USA and in Europe, to defeat Napoleon for the second and last time in Europe.
1815. January 15. "HMS Endymion" (Capt. Hope), the "Pomona", and the "Tenedos" both at sea off the city of New York engaged the US Navy warship USS "President" - one of the US Navy's six great frigates - forcing the latter's surrender. The "President", Capt Stephen Decatur, was brought to Murray's Anchorage, Bermuda. During the action, Midshipman Richard Sutherland Dale, Jr, of the President, oldest son of Commodore Richard Dale (1756-1826) from Philadelphia, was shot by a British marksman and had to have his leg amputated. As a severely wounded prisoner-of-war he was brought by litter with his colleagues to St. George's but five weeks later he died (see below).
1815. February 22. Midshipman Richard Sutherland Dale, died in Bermuda from his wounds and was buried at St. Peter's Church, At. George's. He was 20 years old when he lost his leg after his ship President engaged the British warships above in the 1815 war between Britain and the US. He was brought to St. George's for treatment and cared for in Stennet's Hotel where the Bank of Butterfield now sits in the Town Square. However, he succumbed to his injuries. But he was never forgotten. After the conflict ended, his father, Commodore Richard Dale, who had once served as First Lieutenant to John Paul Jones, came in thanks rather than revenge, to show his gratitude to the people of St Georges, for the respect shown his son in life and in death. Commodore Dale arranged for a horizontal tombstone, which reads: To Commemorate the Gallant Deeds of the People of St Georges whose Generosity and tender sympathy prompted the kindest attention to him while living and honored him when dead." From 1932, Bermuda-born Captain Scarritt Adams, US Navy, initially funded an almost yearly remembrance service involving relatives of Midshipman Dale.
1815. January 23. The town of Hamilton became the capital of Bermuda. It replaced the historic Town of St. George in the east end of Bermuda, over the huge objection of its townsfolk and those of the Eastern Parishes. The first gathering of the House of Assembly in the new capital took place in the Town Hall on Front Street. Richard Darrell was then Mayor. He remained as such from 1807 to 1848 (41 years). With the change of capital, Bermuda's Parliament moved to Hamilton and its first locale there was the Town Hall on Front Street. The Town Hall was on the upper floor of a long waterfront building that housed the Customs warehouse on its bottom floor.
1815. With the British-American War of 1812-14 over, Bermuda became a free port and as a result a large trade converged in mostly St. George's and Hamilton. All American goods bound for the British West Indies islands were transshipped in Bermuda because they were required to be sent in British ships. The newly opened Royal Navy base at Dockyard provided employment for shipwrights and sailors and a prize court adjudicated on captured ships of many flags.
1815. After the end of the British-American War of 1812-15 the British Government made repeated pleas for a Militia in Bermuda to be maintained, but, other than short-lived militias raised by the Governor, or the Royal Navy, without an Act or the funding of the Colonial Parliament and no interest from Bermudians, no part-time Bermudian units would be raised, despite the continuing pleas and threats coming from London, until the formation of Volunteer Army units in 1895. Partly as the result of this impasse, the Corps of Colonial Marines was transferred to British Royal Naval Dockyard in Bermuda.
1815-1816. More than 700 freed black Americans, refugees from the War of 1812-14, were bought initially to Bermuda, for trans-shipment to Trinidad where they found temporary sanctuary. Many of the men were enlisted into the 3rd Colonial Battalion of Royal Marines and on their arrival in Trinidad were organized into military-style Company Villages.
1815. April 12. Death, in St. George's, of Pilot James Darrell, who piloted his name to fame in 1795. On September 30 of that year, Vice Admiral the Hon. George Murray, RN, arrived in Bermuda on the 74- gun HMS Resolution. It was accompanied by HMS Cleopatra and HMS Thesly. The warships were piloted safely through the reefs by James ("Jemmy") Darrell (born 1749, died 1815, then a slave) and into what later became known as "Murray's Anchorage" in St. George's, near Tobacco Bay. For his skill as a pilot, Admiral Murray later (see 1796) ordered the Royal Navy to purchase Darrell's freedom and appoint him one of the first of the Island's "King's Pilots. Admiral Murray was so impressed with Darrell's piloting skills that he recommended he be freed. He became one of the first to be made King's Pilot and was the first free man of colour to own his own house in Bermuda. Once freed, Mr Darrell challenged laws that imposed restrictions on free blacks and slaves. He also petitioned against plans that would see a drop in income for King's Pilots. He died aged 66 in 1815 and his property, located on Aunt Peggy's Lane, still remains in family hands.
1815. April 2. HMS Hebrus, frigate, sailed from Bermuda and took the body of Sir Peter Parker, commander of HMS Menelaus to England.
1815. St. Peter's Church, the parish church of St. George's, was considerably further expanded when Major John Till purchased a clock for the tower. The clock counted the hours over the graveyard and the town.
1815. July 3. A family-owned Bermuda insurance firm was founded. CNA Butterfield was founded in 1815 in the year the Duke of Wellington defeated Napoleon at the Battle of Waterloo — and is still going strong. Nathaniel T Butterfield went on to establish himself as a banker and later founded the Bank of NT Butterfield. (The two companies split in the 1920s, when the bank went public and the insurance arm stayed in family hands).
1816. A Bill was passed through the legislature that forbade the construction of any wooden buildings within the prescribed limits of Hamilton and St. George's.
1816. July 15. Two years after the USA-Britain war ended in 1814. the dark-skinned men of the Corps of Colonial Marines which had earlier during that war been brought to Bermuda to man the Dockyard garrison and to continue the construction of the Dockyard, were told by the Admiralty they were no longer needed. With the reduction in naval budgets that came with peace, the Admiralty declined further responsibility for them. The men rejected a British government order for them to be transferred to the West India Regiment, but accepted in the end the government's alternative offer of settlement in Trinidad as free independent farmers. Their last day of pay at Bermuda was on this day, when they were taken, together with their families, by ship to Trinidad where they were formally disbanded on 20 August and taken to their new settlements to occupy grants of land.
1816. November. HMS Romulus, deemed to be no longer part of the Royal Navy and with her crew dispersed elsewhere, after having been paid off in Bermuda three years earlier but had remained there, was broken up in Bermuda.
1816. November 16. The first tenant of Admiralty House in Pembroke Parish, Sir David Milne, refused to stay at Admiralty House, preferring to reside at Mount Wyndham. But the Royal Gazette newspaper of that day said, in a very positive way: "The improvements and repairs of the elegant Mansion at the salubrious and delightful situation of St. John's Hill, which was purchased by the Colony for the residence of the Naval Commander, are nearly completed for the Admiral's reception."
1816. December 2. British artist Thomas Driver, then in Bermuda, painted this watercolor of Bermuda slaves gathering wood to prepare a ship-building site at Paynter's Vale, on the coast of Harrington Sound, Hamilton Parish.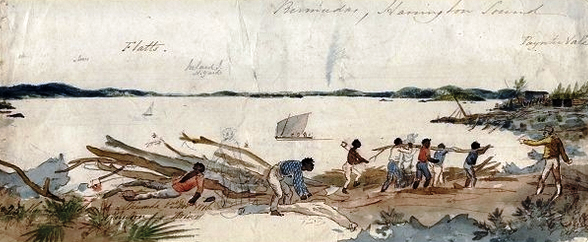 1816. With the Royal Navy station in Bermuda in course of construction at Ireland Island, the Bermuda Government deemed it appropriate for the colony to offer a permanent residence for the senior Royal Navy officer based in Bermuda and purchased the Dunscombe estate at St. John's Hill in Pembroke Parish, overlooking the sea. It cost the government £3,000 and was made over as a gift to the Crown. (John Dunscombe, who sold the property, became a prominent citizen of Newfoundland and eventually lieutenant governor of that colony. When the foundation was laid of Newfoundland's capital city, St. John's, it was named after his old Bermuda home).

1816-18. Colonel James Robertson Arnold of the British Army, the son of Benedict Arnold by his second marriage to the Philadelphia-based Loyalist, was stationed in Bermuda, in his 35th to 37th year, as the second recorded Royal Engineer to come here. (The first came in the 1790s and devised the construction, or reconstruction, of the forts on the islands in St. George's and Castle harbors). Colonel Arnold devised the early massive building and engineering program for HM Dockyard, that led to Bermuda being referred to later as the "Gibraltar of the West." His obvious accomplishments, skills and obvious leadership qualities in Bermuda were such that he was marked for prompt promotion and increased military responsibilities.

1817. Sessions House in Bermuda was constructed. On Church, Court and Parliament Streets. It was initially a a four-square Georgian structure, two years after Hamilton, instead of St. George's, became the capital. It was deliberately placed then atop the highest ground in the city, not far from the Anglican Cathedral. To coincide with the Golden Jubilee of Queen Victoria in 1887, it was embellished substantially on its southern ceremonial front, complete with terracotta decorated clock tower and towering arches, very likely by the Scottish architect William Hay who designed the Anglican Cathedral not far away on Church Street. Bermuda's Westminster style Parliament, referred to locally as the House of Assembly, meets here, upstairs, while the Supreme Court meets on the ground floor.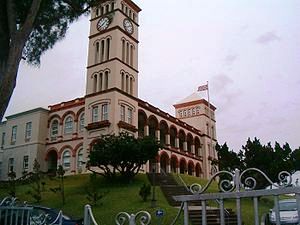 Bermuda's House of Assembly, Sessions House, built 1817

1818. The Royal Navy Dockyard in Halifax, Nova Scotia, was moved to Bermuda. Halifax suffered a further economic malaise for a few years, that had started when peace was declared in 1815 between the USA and Britain.

1818. Construction began of the original building on the site, the once-grand Royal Navy Hospital near the Dockyard, with the unusual cast and wrought iron building designed by Edward Holl, Chief Architect for the Royal Navy and Scottish engineer, John Rennie (1761—1821). It was built in the same British colonial overseas-pioneering pre-fabricated manner as the later Commissioner's House, initially as a Quarantine unit, later as an infirmary. In addition to Bermuda-based Royal Navy personnel and their injuries incurred during sea duties or on land, British convicts transported to Bermuda to build HM Dockyard, were treated here, usually for injuries inflicted during their hard prison labor while digging or shaping rock to build the dockyard. When added to substantially later, in addition to more cast iron structural features, such as veranda columns, floor joists, and possibly cast and wrought iron roof trusses, some of the stonework for the building was the hard local limestone. A surgeon, doctors and medical staff were appointed and sent by the Royal Navy. During World War 2, the Royal Naval Hospital, Bermuda, treated and often saved the lives of many brought in from torpedoed ships. The Royal Navy left in the mid 1950s. That hospital itself was formally decommissioned as a Royal Navy Hospital in 1957. The building, not well maintained, deteriorated, became temporarily the children's hospital mentioned earlier, then an egg battery farm, then finally was deliberately burnt to the ground by the Fire Department in November 1972. Later, the site and what was left reusable of the building became Lefroy House, for senior citizens, so-named after the surname of a former Governor.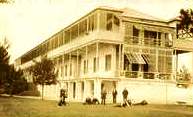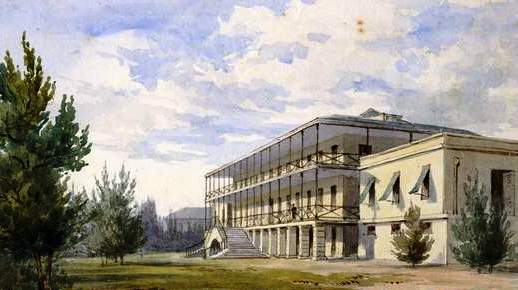 Bermuda's Royal Naval Hospital, Ireland Island. From a later (1835) painting by Johnson Savage MD, Royal Artillery. It is possible his medical services were also called on here.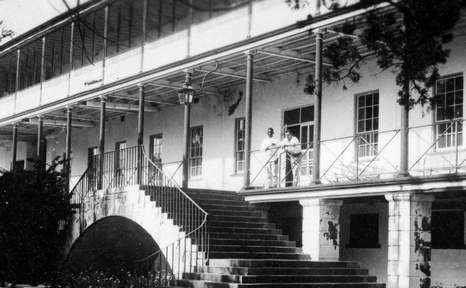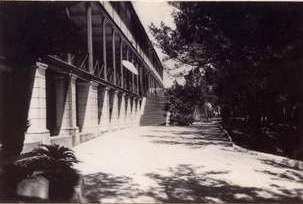 Photo taken much later.

1818. After serving in Bermuda since 1812, William R. Higginbottam,initially as US Consular Agent, was appointed Consul from 1818 to 1832. He opened an office in St. George's in August 1818. Earlier as US Agent for Commerce and Seaman appointed by President James Monroe, Higginbotham dealt with American shipping and trade issues. But he faced many diplomatic hurdles because Bermuda's English Governor did not officially recognize him.

1818. May. The ship Caesar ended up on the reefs of Bermuda, when bound for Baltimore, Maryland from Newcastle, with the marble cornice for a Baltimore church, also with bricks and grindstones for flour mills, bottles and glassware, including medicine vials and decorative flasks, and white, red and black lead oxides.

1819. April. In a Proclamation, Governor George Cockburn extended the waterfront of the Port of Hamilton to include the areas west from Heyl's Corner to include all of Albouy's Point and the northern shore of White's Island.

1819. British artist Thomas Driver painted the Hamilton waterfront. It was to become a significant painting.

1819. The British Government in London formally asked all territories of the British Empire including Bermuda to prepare slave registers and submit them to London. This was because although the slave trade had been abolished in 1811 throughout the British Empire,

there had not been much compliance.
1820-1830
1820. George IV ascended the throne in London.

1820. The fourth Government House was built, not in St. George's as before but at Mount Langton in Pembroke (Fay and Geoffrey Elliott Collection, Bermuda Archives).

1821. The first slave register from Bermuda was prepared and sent to London, in compliance with the British Government in London order of 1819. It was quite detailed. It showed numbers, ages, colors, family relationships, occupations and places of birth of all slaves in Bermuda. By then, the vast majority of living slaves listed were born in Bermuda. Many of the Bermuda-born slaves were in their sixties and seventies. There were slaves listed who were born in Africa, the Bahamas, Madeira, Turks Island and from most of the West Indian islands. This first register listed 5,242 slaves – 2,620 males and 2,622 females.

1821. Admiral Fahie, Royal Navy, based in Bermuda at Admiralty House, ordered a wine cellar to be constructed "for the preservation of his health and of his suite." (A kitchen was added in 1824, a new dining room in 1828 and new stables in 1834).

1821. Construction in the city of Hamilton of one of Front Street's first three-storey edifices covering a 50ft lot, at 77-81 Front Street. It was built as a residence on the upper floors with stores and shops on the ground floor. It was then quite different to all the other buildings on the street, as it did not have a veranda and also due to its plain architectural features, typical of the Georgian style, was argely wooden. It was the home to Thomas J. Tucker, a merchant; in the late 19th century, its upper storeys were leased to the Royal Bermuda Yacht Club, which moved to Albuoy's Point in 1933. Later businesses included the J.B. Astwood cycle store and J. Howard Cooper's provision store. Its reliance on wood ultimately fuelled its undoing in late July 2016 when a fierce fire tore through the structure for hours until firefighters quelled the blaze.

1821. Shipwreck in Bermuda of Duncan Dunbar, later the pastor of the McDougal Street Baptist Church, New York.. (It led to books by Jeremiah Chaplin in 1865, 312 pages. published by Sheldon & Co. New York and his Duncan Dunbar: The Record of an Earnest Ministry, in 3 editions. (Chapter VI is titled "Wrecked on the Coast of Bermuda - Kind Reception" 1866)

1822. Following its purchase in 1816, the St. John's Hill in Pembroke Parish property, bought by the government for £3,000 and made over as a gift to the Crown, was renamed Admiralty House and its location was changed from St. John's Hill to Clarence Hill, in honor of His Royal Highness the Duke of Clarence who was posted to Bermuda aboard HMS Pegasus in that year. (It is now St. John's Hill again). A side street was named Clarence Avenue.

1822. A system of flag signals created by the Royal Navy for use in Bermuda began to work across the islands. Four hill-top posts were created, one at Fort George, with the Dockyard-based Central Signal Station for shipping and for meteorological reporting. Others were Mount Langton, Gibbs' Hill with the colony's lighthouse, and Admiralty House at Spanish Point. The flags indicated the arrival and passing-by of shipping and other events, including a midday time signal; the numerical flag code was easily read by the civil residents, who were also allowed to send private messages.

1822. On the northern side of Bermuda's Fort Victoria, the Ravelin Tower gun emplacement was constructed.

1822. When West Indian ports were finally reopened to American shipping years after the War of 1812-14 had ended , Bermuda's trade suffered, the population dropped to 10,000, considerably less than it had been in the more profitable years during that war. Ship-building as well as shipping suffered from no longer being the sole British provider goods to the British Caribbean islands with goods from the USA transshipped in Bermuda. But the colony continued to maintain its lucrative trade in salt.

1823. Nathaniel T. Butterfield, later the founder of Butterfield's Bank, got married.

1823. British convicts were approved by the British Government and Act of Parliament in London and its Navy Board for transportation to Bermuda and any other British Colony selected by the King.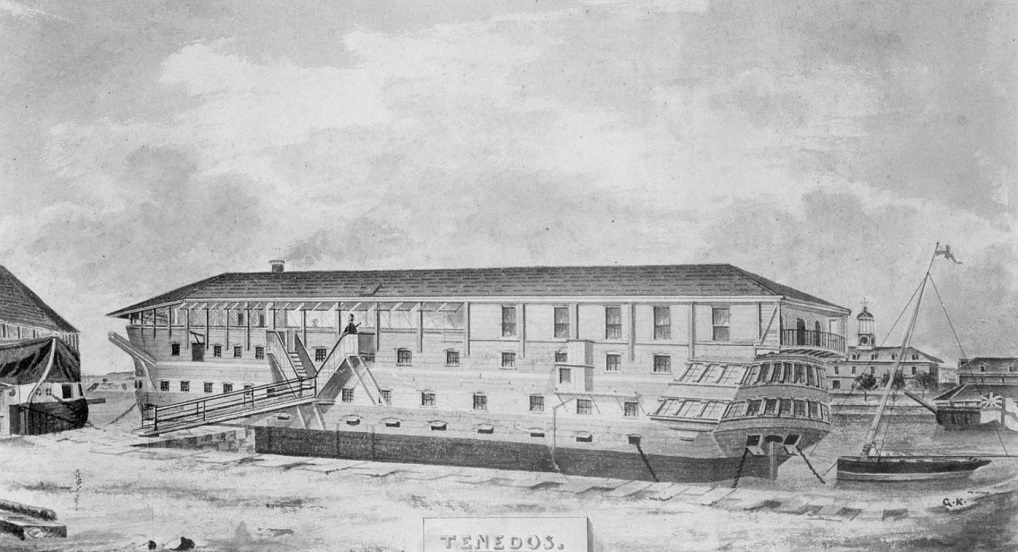 Tenedos. In 1812 one of the Royal Navy's ships involved in the War of 1812. From 1823, de-commissioned, she became a prison hulk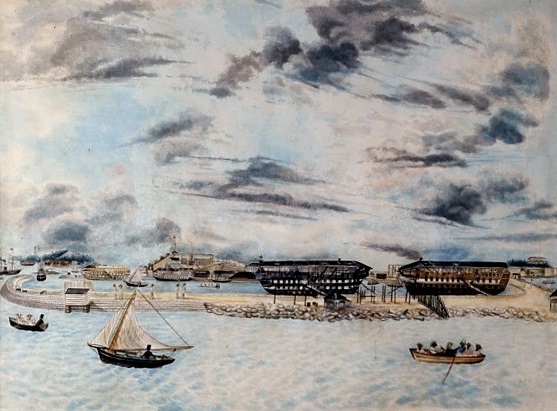 Between 1823 and 1863 over 9,000 British and Irish transportees were sent to Bermuda, and employed principally in building the Royal Naval Dockyard on Ireland Island. Thus began, for those men many of whom were convicted of offences that would be deemed trivial by the standards of today, a time of living hell, in many respects worse than those sent to Australia for similar offences. There were special reasons for selecting tiny, remote but then potentially strategically important Bermuda. The prisoners were selected on the basis that they were young and fit. Most of the British convicts had been convicted of larceny, and were sentenced for the relatively short term of seven years. A few military convicts were sent also, for offences such as desertion. They came mainly from Canada. The work was formidable, for the convicts were tasked with quarrying hard, marine limestone and using it to build an extensive breakwater. The available Bermudian or imported British labor was insufficient, the slave trade had been abolished in 1806, and the project could not have been completed without convicts. Bermuda was crucial for British strategic purposes, for a naval station in the Atlantic was much needed in the aftermath of the loss of the American colonies. The convicts were to live on seven hulks, decommissioned naval ships, which were moored off the Dockyard (Antelope, Dromedary, Coromandel, Weymouth, Tenedos, Thames and Medway). For a brief period during the 1840s and 1850s, two of them (the Thames and Antelope) were sent to the settlement on the other end of the island, St George's, while convicts completed work in the Ordnance Department there. A further significant convict labor project was the construction of Grey's Bridge, which linked Ireland Island to Boaz Island, and opened in 1849. The convicts also built a water tank, drains, wash houses, landing jetties, houses for the chaplain and deputy superintendent, blacksmiths, tailors and shoemakers shops, and a lime kiln and storehouse. Theirs was labor of the hardest and most severe kind. Convict officers lived on board the hulks with the men, although they had their own quarters and mess rooms. It was an exceptionally challenging posting, especially as it was not unknown for officers to live on the hulks for over 20 years. Indeed, in just three years in the mid-1850s, 101 officers were dismissed for drunkenness, gambling or neglect of duty. Chaplains also lived on the Bermuda hulks, representing both the Church of England and, after the Irish began to arrive in the mid-1840s, the Roman Catholic Church. They performed Sunday services, held morning prayers, taught bible classes, oversaw convict letter writing, and visited and ministered to individual convicts. They also ran the convict library. Convicts attended classes for half a day per week; by 1860 there were three schools in Bermuda, one at Boaz and one on each of the Medway and Tenedos hulks. Those hulks were cold and damp in the winter and boiling hot in summer. There were numerous experiments in ventilation – as well as lighting, which was seen as a means of both surveying the prisoners (and checking so-called "unnatural crime") and keeping the wards cool. The convicts slept together in associated wards, and were marched off the hulks to work every morning. As the dockyard site developed, one hulk (Tenedos) was converted into a hospital ship, and used until a convict hospital was constructed on Ireland Island. Previously, convicts had been sent to the royal naval hospital at the Dockyard, for treatment for diseases such as ophthalmia, dysentery, consumption bronchitis, and fever. Certainly, 1,260 of the 9,000 convicts died while under sentence, from illness or accidents (and two committed suicide). Some perished during dreadful yellow fever epidemics in 1843, 1853 and 1856 (though the convict death rate was lower than that of local inhabitants or soldiers). Each represented a loss to the system; and medical record keeping about the health, physical ability and labor performed by the convicts was meticulous. Conditions on the hulks were much criticized, and in 1847 the prospect of the construction of an onshore prison was first discussed. Boaz Island was chosen for this purpose, and convicts were put to work leveling the ground and building the prison. From 1852, the hulks were closed one by one, and the convicts were gradually transferred to this new onshore site. Just a few refractory men, who required solitary confinement or segregation, were kept back. The continued nighttime association of convicts in the hulks had gone against the grain of metropolitan penal innovation, which urged cellular separation. In Boaz prison, prisoners were divided; not by walls but by iron bars, which kept them apart but allowed for the free circulation of air. The convicts were given rations, the quantity and range changing during the transportation period, and comprising at various times bread, fresh beef or salt pork, fish, vegetables (including potatoes, carrots, onions and pumpkin), soup, rice, tea, sugar and rum. They were also paid a small sum of money each day, as an incentive to good work. This was kept back until convicts were released – minus the cost of their return passage. The families of deceased convicts – often a convict's distressed wife, on behalf of herself and their children – made frequent claims on this money. It was usually returned to her, together with the convicts' clothing and personal possessions. It was perhaps because of the terrible conditions on the hulks, and in particular their close confinement and association, that there were numerous riots and mutinies during the transportation era. There seems to have been particular friction between Irish and English prisoners. The Irish started to arrive in Bermuda in the 1840s, in a poor state of health. Over half had scurvy, and a significant minority were under the age of sixteen. Though the boys were kept apart from the men, the Irish soon clashed with the English. During one 1859 uprising on the Medway, one convict was killed and 24 were badly injured. Less dramatic forms of convict resistance included drunkenness, insolence, refusal to work and theft. There were also several escape attempts. Convicts could be punished through flogging, solitary confinement, short rations, stoppage of liquor, or delayed release. A few were returned to the English hulks, or sent on to Norfolk Island, the Australian colonies' much dreaded penal station. Most convicts were pardoned after serving a proportion of their sentence, or for exceptionally good conduct, for instance saving an officer from convict assault or showing bravery in working in the diving bells (for channel excavations). Others were released on the grounds of ill health or serious injury. Several convicts were also pardoned for their role during the yellow fever epidemics, when they worked in the hospital. Lists of recommendations were submitted bi-annually and closely scrutinized. While waiting for their passage home to Britain or Ireland, ex-convicts could be employed as deputy guards, or take paid employment. One distinctive feature of convict transportation to Bermuda, compared to other sites in the British Empire, is that ex-convicts were not allowed to settle on the islands. Though some tried to gain entry to America (and were often turned away), the overwhelming majority returned home, or went on to Western Australia. Some ended up back in prison; from interviews with them we learn that returned convicts were known as "old 'mudians" or "rock boys." A few convict officers did, however, marry into Bermudian families, and their descendants still live in the islands today. During the 1850s, there were significant changes in the British penal system. A three stage system was favored, through which prisoners would undergo an initial period of severe discipline, including separation by night and associated labor by day; a second stage, where discipline was slightly relaxed; and a final period under the relative freedom of a ticket-of-leave. There were no prison hulks in Britain after 1857. It was in this context that Bermuda was seen as an ideal site of intermediate punishment. Convicts arrived having served the first, disciplinary stage in a British or Irish prison, and if they were well conducted, had the opportunity to take a ticket-of-leave in the Australian colonies of Van Diemen's Land or Western Australia. An attempt to land another group of convicts in the Cape, including the famous Irish political convict John Mitchell, failed, after the colonists refused to allow them to land. As long as they did not commit further offences, ticket-of-leave convicts could take paid employment and live where they chose.
1823. May. Samuel Wade Smith was sent out to Bermuda by Edward Holl, the Surveyor of Buildings for the UK's Navy Board. He brought with him the plans for the Commissioner's House at HM Dockyard which Holl had designed. The former was responsible not only for the building of Commissioner's House, but also all of the quarrying and leveling of the dockyard site, the construction of the breakwater and the great wharf walls, and all the other buildings which constituted what became known as 'The Works.
1823-1828. The Martello Tower at Ferry Reach was built by the British Army in Bermuda. It is the Island's only egg-shaped fort and with walls as thick as nine to 11-feet, the fort remained largely resistant to cannon fire. Restored in 2008, including bringing in an "18-pounder" cannon from Fort St. Catherine and creating a cannon mound on top of the building so it would look as it did in the 19th Century. The fort is open from 10 a.m. to 2 p.m. Monday to Friday in the summer and in the winter by appointment only, by calling the Parks Department. This is the only one in Bermuda ever built as part of the unique system of British military fortifications that once was so prominent along the English coast from Kent to Sussex and spawned their own name in British history. Two others were planned but never built as British Army fortifications protecting the old Royal Naval Dockyard. This one was built after the one on the island of Barbuda in the Caribbean, after those in England.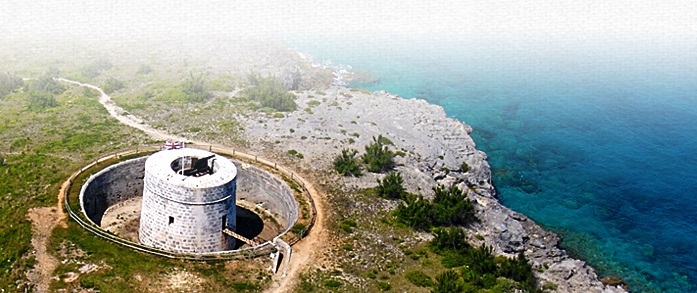 Martello Tower, Bermuda

1823. Commissioner's House began at the Royal Dockyard, Bermuda (and took 5 years to build). Finished in 1828, it epitomized British imperial style, power and engineering might in the 19th century. An experimental building, it was the first British domestic project to use cast iron to support its floors and roof. Taxpayers in Britain were irate at its cost.

1824. February 8. Arrival in Bermuda from England of the first ship, the Antelope, a de-activated Royal Navy frigate with 300 white convicts with guards, as a new labor force. She had sailed under the command of Lieutenant Henry Hire, RN from Spithead on 5th January. By an Act enacted in the UK dated 4th July 1823, offenders convicted in the UK and sentenced to transportation could now be sent to other parts of His Majesty's dominions and colonies outside the UK. They could be confined on land or sea, including aboard any ship and kept on labour at HM Dockyards and Public Works projects overseas. The convicts were first used in the initial construction of the Royal Naval Dockyard. They were sent in part because the previous work force of Bermudians, mostly slaves and free men of color who were skilled tradesmen and laborers, worked so slowly yet expensively. They were housed on the Antelope in very poor conditions. Items they carved were used to barter for fresh fruit, tobacco and rum. Many items were thrown or swept overboard when the carver died. (Convict labor continued to be used until 1863, after all slaves were freed). Also on the ship, as guards during the voyage but to be deployed as Dockyard Guards on their arrival in Bermuda, were 200 Royal Marines. Antelope was a 50-gun Fourth-rate launched in 1802. She was used as a troopship from 1818, was placed on harbour service in Bermuda from 1824 and was broken up in 1845. The prison hulk remained in Bermuda until 1848. There were also 20 Royal Marine officers and 393 other ranks, plus the first Naval Chaplain. All convicts had to wear the Broad Arrow - used to identify property of the government and probably best known on convicts' uniforms. It has its origins from when Henry Sidney, Earl of Romney, Master of Ordnance to William and Mary, was asked to mark all government property to reduce theft. He chose to use his family emblem which is a broad arrow, or Pheon, still in use today by the UK government nearly 300 years later.

1824. 25th February. The "Antelope" - referred to above - lying off Dockyard, Ireland Island, was paid off and handed over to Commissioner Briggs who alone held legal authority over all the British convicts sent on prison hulks to and working in Bermuda.

1824. A second prison hulk arrived at Convict Bay in St. George's at the instigation of the British Government, to accompany the "Somerset" while others were at the Royal Navy Dockyard in Sandys Parish. Today, it is a residential area for non-felons but the name has stuck.

1825. Blacks of Bermuda were put on a regular education roster, which some alleged had a religious bias because it was the Society for the Conversion of the Negroes.

1825. Chief Justice John Christie Esten, who was liberal in his opinions, decided to donate land at Cobbs Hill, Warwick, to provide for a chapel where slaves could worship. The construction was undertaken by Edward Frazer, a slave from Barbados bought by his owner Francis Lightbourne. Construction took 2 years. Frazer was able to exhort black residents of Warwick to work on the chapel. Enthusiastic men and women alike carried stone to the building site from nearby quarries

1825. Construction began at Dockyard (and lasted until 1843) of the immense Casemates Barracks for the Royal Marine Light Infantry who manned the guns and units defending the Dockyard, The barracks remained in use as a soldiers and officers sleeping and working quarters for over a century.

1825. September 3. Gunner Thomas Squires, then based with a field battery on Hen Island, was injured during a storm on the island and subsequently died from those injuries. It is believed he was buried on the island.

1826. The Bermuda House of Assembly - Parliament - formally moved from the Town Hall on Front Street (where it had been since 1815 when Hamilton replaced St. George's as Bermuda's capital) to Sessions House, Parliament Hill, Hamilton, its current location.

1826. Arrival in Bermuda, after sailing from England in late 1825 of the "Dromedary" with 100 convicts, all put to hard labor to help build the Dockyard. 300 more newly arrived convicts joined them. Until 1819 she had been a Royal Navy warship. First named Howe and then renamed Dromedary in 1806. Dromedary was an East Indiaman that the Navy purchased in 1805. She was converted to a prison hulk in 1826, at Bermuda (and broken up there in 1864) .She was then decommissioned as such and converted to a convict hulk. She had been around the world, having originally sailed on 12 September 1819 under Captain Richard Skinner for Australia with 370 convicts. After delivering the convicts she proceeded to New Zealand and Norfolk Island to procure timber for the home Dockyards. She arrived in Van Diemen's Land (Tasmania) on 10 January 1820, after a voyage of 121 days. She landed 347 convicts at Hobart, and another 22 at Sydney. She also carried a detachment of the 84th Regiment of Foot, and some passengers. From 20 February to 25 November Dromedary was in New Zealand collecting wood for the Navy to see if it would be useful for spars. At the same time Coromandel was also in New Zealand waters gathering timber. Dromedary loaded her spars at Whangaroa and Coromandel loaded at the river Thames. It would take almost a year to complete loading. Dromedary unloaded her timber at Chatham in June 1821. She was then refitted at Woolwich 1822-23 and then in 1825 again with Richard Skinner as Master she sailed for Bermuda. She then spent some 37 years at one spot close to the quarries and construction sites where the convicts labored. In 1851, after the convicts had built a bridge to Boaz Island and a new barracks there, 600 convicts moved from the hulks Coromandel and Dromedary to the island. For the next 12 years Dromedary served as a kitchen for the working prisoners and those who guarded them.

Convict hulks based at Dockyard, Bermuda
1826. When Col. Edward Fanshawe, Royal Engineers, British Army, wrote his Report on the Defences of Bermuda, it included the comment: "I also think that the occupation of the Eastern Hill by a work under the command of Retreat Hill with a heavy Sea Battery would materially strengthen that side of St. George's, and cooperate in the defence of the Narrows."
1826. St. Peter's Church in St. George's was consecrated by Bishop Inglis. Before that it was known as the St George's town church or more simply, the town church, not St. Peter's.
1827. Two years after Chief Justice John Christie Esten, who was liberal in his opinions, decided to donate land at Cobbs Hill, Warwick, to provide for a chapel where slaves could worship, with construction undertaken by Edward Frazer, a slave from Barbados bought by his owner Francis Lightbourne, Cobbs Hill Chapel opened. Construction had taken 2 years. Frazer had been able to exhort black residents of Warwick to work on the chapel. Enthusiastic men and women alike had carried stone to the building site from nearby quarries.
1827. Convict hulk Corondel (formerly Malabar II) arrived in Bermuda. Coromandel was a 20-gun store ship, formerly an East Indiaman that the Admiralty purchased in 1804, commissioned as a 56-gun Fourth-rate, and named HMS Malabar in 1804. She was refitted as a store ship in 1805 and renamed Coromandel in 1815. She became a prison hulk in 1827 and was broken up in 1853.
1827. Constructed were The Cottage, Parsonage, Fortifications, Keep and Great Wharf. Primarily for the convicts but also for other Royal Navy personnel, a Church of England parson was sent from the UK to attend to the spiritual needs of the convicted and free. From that time on the Royal Navy property was known as the Parsonage and the bay in which it was located was referred to as Parson's Bay.
1827. An Act was passed by the Legislature "to Ameliorate the Condition of Slaves and Free Persons of Colour", this being the first time in the history of Bermuda that a comprehensive law had been enacted to define the rights of the black population. Although slaves were now allowed to own property under the new legislation, they, along with free Blacks, could not vote in general elections or run as candidates for public office.
1827. A second Bermuda slave register was prepared and sent to London in compliance with the 1819 directive of the British Government in London.

Bermuda Archives, slavery in Bermuda 1825 at Flatts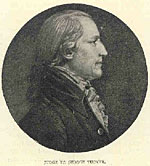 1827. November 10. Death in Warminster, USA of Bermuda-born-and-reared lawyer, trader, inventor, scholar, professor, judge, essayist, poet, gardener, stargazer St. George Tucker, born near Port Royal, Bermuda, in 1752, the son of Colonel Henry Tucker, a trader and owner of the Grove plantation. His christening name, St. George, had been in the family since about 1600, when Frances St. George married George Tucker of Kent, England. Tucker sailed for Virginia at age 19 to pursue an education in the law. He enrolled at the College of William and Mary in 1772 and read under George Wythe, who had instructed Thomas Jefferson. Wythe examined and approved Tucker for the bar on April 4, 1774. Virginia's courts closed as the Revolution began, and Tucker could not pursue his practice. He returned to Bermuda in June 1775, two months after the raid on Williamsburg's Magazine. Before he departed, he told Peyton Randolph and Jefferson of the existence of a similar magazine in Bermuda that might be a target for rebel retaliation. The Continental Congress had banned trade with colonies that remained loyal to Britain, and Tucker's father, the colonel, traveled to Philadelphia in July to argue for Bermuda's exemption. He received it by negotiating with Benjamin Franklin the capture of the powder his son had mentioned earlier. Two American vessels carried away 100 barrels from the Royal Powder Magazine in Bermuda the night of August 14, 1775. St. George Tucker hinted that he helped roll some of the barrels to the ships. Tucker returned to Virginia on January 3, 1777, landing at Yorktown aboard the Dispatch (a ship purchased for him and his associates by his father, the colonel) with a cargo of smuggled salt. Tucker became his father's Williamsburg agent and made himself financially comfortable in a deal that dispatched indigo valued at £10,000 in four ships from Charleston, South Carolina, to the West Indies to trade for arms. He also fell in love with a woman he met at Bruton Parish Church. The object of his heart was Frances "Fanny" Bland Randolph, 25, the widow of John Randolph and the mother of three. They married on September 23, 1778, and moved to the Randolph plantation Matoax near Petersburg. When the British entered Hampton Roads in 1779, Tucker joined the militia as a major. He later fought at Guilford Courthouse, where he sustained a minor wound; chasing a runaway soldier, he ran into the man's bayonet. Fluent in French, he served as Governor Thomas Nelson's liaison with the French army at the Battle of Yorktown. His letters and diary from those days are rich in historical detail, and his description of General George Washington's arrival in Williamsburg before the battle is widely quoted. After the war, Tucker practiced law in the Petersburg area until 1788 when Fanny died shortly after bearing their sixth child. That year he accepted appointments as the professor of law and police at the College of William and Mary, and as judge of the Virginia General Court at Richmond. He succeeded George Wythe at the school and, as was true of Wythe before him, Tucker's tenure was marred by disputes with the administration over instructional methods. Tucker favored lectures, and he preferred to teach in his home (the St. George Tucker House on Market Square, Williamsburg), where his law library was handy. He usually had about a dozen pupils. One of them, William Taylor Barry, wrote: "He is a Man of genuine Cleverness and of the most exalted talents." Tucker married again in 1791, this time to Mrs. Lelia Skipwith Carter, 24, a widow with two children. She bore him three more, all of whom died early. In 1796, Tucker wrote and published the pamphlet "A Dissertation on Slavery: With A Proposal for the Gradual Abolition of It in the State of Virginia." Cogently argued, it nevertheless had little effect. During these years he also edited Blackstone's "Commentaries on the Laws of England" to put them in an American context and make them more useful to students. It was published in Philadelphia in 1803 and earned Tucker the title the "American Blackstone." Twentieth-century legal historian Lawrence Friedman said Tucker was "one of the most eminent of Virginia lawyers." But he was best remembered in Williamsburg for writing a spirited defense of the city and its inhabitants. It was a reply to a critical passage in a geography and tour book published by the straight laced Reverend Jedediah Morse. Morse was a progenitor of Samuel F. B. Morse, inventor of the telegraphic code – a subject that would have excited Tucker. In 1794, he was enthusiastic over the new French "Telegraphe," a semi mechanical semaphore signaling system. He had a colleague set up part of the apparatus at the Capitol to signal him at the college on the other end of Duke of Gloucester Street. Tucker is credited with the construction of Williamsburg's first bathroom; he converted his backyard dairy house and installed in it a copper bathtub into which heated water was piped. The tub had a drain. He also invented an "earth closet" for his home that removed "night soil" through the wall and designed a water pump driven by a steam engine. An amateur astronomer, and an avid gardener, he was a charter member and officer of "a Society for the Promotion of Useful Knowledge" in Williamsburg. Continuing disputes over his teaching methods led to Tucker's departure from the college of William and Mary in 1804, when he was appointed to the Virginia Court of Appeals in Richmond. He had built a law office modeled after a Grecian temple there in 1803, but the change of locale and his appointment were delayed by scandal. Gambler Robert Bailey of Staunton accused Tucker of soliciting a 100-guinea bribe for the acquittal of a current gaming charge. Tucker vigorously defended himself against the accusation, even traveling to Staunton to gather depositions about Bailey's character, thereby convincing the public of his innocence. At the new capital he lodged in the Swan Tavern, a legendary inn. Though he wrote memorable poetry, he was also given to humorous doggerel, and he wrote these lines:
"There was a sorry judge who lived at the Swan by himself.
He got but little honor, and he got but little pelf [i.e. wealth],
He drudged and judged from morn to night, no ass drudged more than he,
And the more he drudged, and the more he judged, the sorrier judge was he."
In 1813, St. George Tucker became United States District Court judge at Richmond, serving until 1825. By then two of his sons were on the way to becoming prominent judges themselves. Tucker died at the home of his stepdaughter Mary Cabell in Warminster. He was 75 years old.
1827. November. Initial arrival in Bermuda of Canadian Donald McPhee Lee, who had been appointed first editor of The Royal Gazette newspaper of Bermuda. Lee was born on Prince Edward Island, and later moved with his family to St John's, Newfoundland, where he learnt the printing trade. Lee's father, Robert Lee, had served with the British military in Bermuda. After learning of a vacancy for a King's printer in Bermuda, he submitted his son's name for consideration. A King's printer was needed to print official government documents. In those days of the late 18th and early 19th centuries, the surest way to get a newspaper started in the 'remote Bermudas' was to import a printer who could be depended on to bring along his type and press, and who was expected to shoulder the incidental responsibilities of editor and publisher. The younger Lee arrived in Bermuda in late 1827 with his whole family — his parents, brothers and sisters, and his printing press. He then returned to St John's, where he picked up his type.
1828. January 8 and 15. The first edition of the Royal Gazette newspaper of Bermuda was published, by David Ross Lee, brother of the intended Editor Donald McPhee Lee, who had not yet arrived. David Ross Lee put out the first two editions of The Royal Gazette, Bermuda Commercial and General Advertiser and Recorder — which was the newspaper's original name — on January 8 and 15, 1828.
1828. January 10. Arrival at St. George's, Bermuda, finally, from Halifax, Nova Scotia, which he had left on October 29 three months earlier, via the storm-tossed Bermuda-built schooner Sally Ann, months late, of the first Editor of the Royal Gazette. He was Canadian-born Donald McPhee Lee, who was to serve in the post for 55 years. He was lucky to arrive at all, as a harrowing voyage on the high seas on his way to Bermuda nearly ended his career before it began. Setting sail from Halifax, he ran into stormy waters three days into the journey and was lost at sea for 11 weeks. His parents had given him up for dead and his brother David Ross Lee put out the first two editions of the newspaper. His family were overjoyed by his miraculous survival. Lee had a riveting story to tell, one that was published after his death. Its characters included a captain who went blind, a navigator who was illiterate, and two crewmen who were washed overboard by a wave and back on to the boat. The ship, which had a crew of six, including an elderly Bermudian slave and two boys, encountered the first of three storms on the third day, and things went from bad to worse. They ran out of food and water, and Lee had to become skipper and navigator when the captain reached the depths of despair and then went blind. Lee was certain he would die at one point. Eventually, a Spanish ship came to their rescue. The ordeal ended when a Bermuda pilot gig led the Sally Ann into St George's. In his narrative about the voyage, which was published several months after his death in 1883, Lee said that when he made it to his parents' house, he found his mother, Mary, "still on her knees, returning thanks for my preservation". Lee recovered sufficiently from his ordeal to publish his first edition the next week, on January 22. From then until his death, The Royal Gazette came off the presses every Tuesday without fail. The Gazette was first published from a building on Front Street, near the "Yacht Club House", where he lived with his brother, David, and sisters, Emily and Sarah. In 1831, he moved to Queen Street, and in 1853, to the corner of Reid Street and Burnaby Street. Lee's move to Bermuda was paid for out of the public purse — the Governor authorized £500 in funds. He was printer to two kings and one queen (Victoria). As King's printer, a post that was abolished during the early 20th century, he had the right to use "Royal" in the newspaper's title. Besides serving as King's printer, and editor, Lee also ran a stationery story and published an annual almanac. Overseas news from England, the United States, Canada and the Caribbean figured prominently in the Gazette, weeks after the event, as the main source was foreign newspapers on arriving ships and first-hand accounts provided by ships' passengers and crews. On the local front, Lee published reports of parliamentary proceedings, court cases and news from Dockyard and St George's, much of it filed by correspondents. As editor for more than half a century, Lee bore witness to epochal events: wars, coronations and the abolition of slavery. He wrote an editorial about emancipation in 1834."The rubicon is passed, the step from slavery to freedom has been taken, a step which for confidence and honest boldness stands unequalled in the annals of the world — and we sincerely trust that the movement has been effected with the same ease and security in the other British colonies that it has been in this." In 1848, he called for the construction of a causeway to connect St George's to the mainland. He was in the editor's chair when the Causeway opened 23 years later in 1871. Lee was a hands-on editor, who wrote and edited articles, set type and trained apprentices. The work was long and laborious. The four-page paper was printed on a manual press by candlelight — and press nights were all-nighters. Lee, his parents and several siblings settled in Bermuda permanently. He and his brothers, George and David, married local women. George's wife was a daughter of Paget privateer Hezekiah Frith. Lee married Anne Lightbourn in May 1836. They had nine children — three sons and six daughters — four of whom died in childhood. Lee's youngest daughter, Alice, married George Simpson, Bermuda's first inspector of schools.
1828. May 2. Death, in Washington DC, USA, of Bermudian Thomas Tudor Tucker, born in 1745. The family had been prominent in the colony since his ancestors immigrated from England in 1662. His parents were Henry (1713–1785) and Ann Tucker. As a youth, Thomas studied medicine at the University of Edinburgh in Scotland, UK. After graduating in 1770, he moved first to Virginia in the 1760s, then settled in Charleston, South Carolina (which had been settled from Barbados in 1670, under the leadership of William Sayle, and which had a large community of expatriate Barbadians) and opened a practice. His younger brother St. George Tucker followed him to Virginia, studying law and eventually being appointed as Chief Justice of the Virginia Supreme Court. He served as a surgeon in the Revolutionary War. Elected as a Delegate from South Carolina to the Continental Congress, he served from 1787 to 1788. Elected as a Representative from South Carolina to the United States House of Representatives, he served from 1789 to 1793. Appointed as (third) United States Treasurer by President Thomas Jefferson and served in that capacity from 1801 to 1828, when he died in office. Tucker is buried in the Congressional Cemetery. A nephew, Henry St. George Tucker, Sr., was a U.S. Congressman from Virginia. Another nephew Thomas Tudor Tucker stayed with the Bermuda branch of the family and served as an admiral in the British Navy.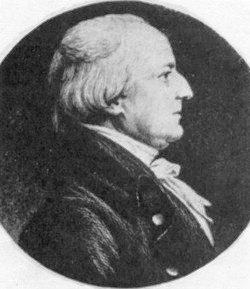 1828. A survey showed the sugar-loaf hill of Maria Hill Fort as the first fort of the Ireland Island, 19 years after the founding of the Dockyard on the shores of Grassy Bay in 1809. This small redoubt predates the establishment of the Dockyard and thus lays claim to being its first, if utterly obsolete, fort. Maria Hill Fort was not among the great works of the Royal Engineers, who left such an enormous legacy of their trades at Bermuda, but was constructed by the citizens of the west end of Bermuda. It enjoyed one of the best panoramic views in the western parishes. It was a small redoubt in the shape of a diamond, with a commanding position in the middle of Ireland Island South.
1828. November. Arrival in Bermuda of the prison hulk Weymouth, formerly HMS Weymouth. She was an East Indiaman ship, built at Calcutta in 1797, and named Wellesley. In May 1804 she was purchased by the Royal Navy and fitted out at the yards of Perry & Co, at Rotherhithe and renamed HMS Weymouth. She was further fitted out at Woolwich Dockyard in November that same year. In September 1806 she was fitted out as a store ship at Woolwich and re-commissioned in September 1807 under Commander Martin White. In January 1820, under her master, Richard Turner, the Weymouth left Portsmouth carrying eleven parties of British Settlers, arriving at Table Bay (Capetown) on 25 April 1820 and in Algoa Bay (now Port Elizabeth) on 15 May 1820. In November 1821 she was laid up at Deptford. Between February and October 1828 Weymouth was fitted out as a convict ship and sailed for Bermuda.
1828. Richard Cotter visited Bermuda as a purser on a Royal Navy warship and after it wrote "Sketches of Bermuda", considered the first significant book (69 pages) on Bermuda since the 17th century.
1828-1830. The diary of Surgeon Brown, Royal Navy, on board HMS Tyne at the Royal Navy Dockyard Bermuda, then being built by convicts sent from the UK and housed on prison hulks, read: "The Convicts in cutting through a portion of the rock near the fortifications discovered a very large cave, which I visited this forenoon. It was in the shallowest part 16 feet deep of water and had an evident ebb & flow communicating with the sea by some subterraneous passage. Into this they had lowered a boat & were in search of curiosities. One large piece while they were hammering separated, and felt into the boat, which sent them all floundering into the water. The roof of the cave is covered with stalactites some nearly a yard in length. It will require to be filled up ere they proceed with the works."
1829. Archdeacon Spencer opened a free day school in Paget, Bermuda, for the education of blacks. It was followed by the opening of three other day schools for blacks, as well as several Sunday schools.
1829. Devonshire College opened for white students, with accommodations for 100 students drawn from Warwick, Pembroke and Devonshire Parishes, and was run on a £600 trust fund. (The site is now part of St. Brendan's Hospital).
1829. When, in Britain The Roman Catholic Relief Act 1829 allowed British and Irish Catholics to sit in the Parliament it also applied in Bermuda. The law permitted any church that legally operated in the United Kingdom to do so in the colony, and Presbyterian and Methodist churches were finally allowed to operate freely alongside the Church of England
1829. June 24. In London, England, Bermudian-born black slave Mary Prince, through her trusted English intermediary and Member of Parliament, presented a petition to the British Parliament. It read as follows: "A Petition of Mary Prince or James, commonly called Molly Wood, was presented, and read; setting forth, That the Petitioner was born a Slave in the colony of Bermuda, and is now about forty years of age; That the Petitioner was sold some years go for the sum of 300 dollars to Mr John Wood, by whom the Petitioner was carried to Antigua, where she has since, until lately resided as a domestic slave on his establishment; that in December 1826, the Petitioner who is connected with the Moravian Congregation, was married in a Moravian Chapel at Spring Gardens, in the parish of Saint John's, by the Moravian minister, Mr Ellesen, to a free Black of the name of Daniel James, who is a carpenter at Saint John's, in Antigua, and also a member of the same congregation; that the Petitioner and the said Daniel James have lived together ever since as man and wife; that about ten months ago the Petitioner arrived in London, with her master and mistress, in the capacity of nurse to their child; that the Petitioner's master has offered to send her back in his brig to the West Indies, to work in the yard; that the Petitioner expressed her desire to return to the West Indies, but not as a slave, and has entreated her master to sell her, her freedom on account of her services as a nurse to his child, but he has refused, and still does refuse; further stating the particulars of her case; and praying the House to take the same into their consideration, and to grant such relief as to them may, under the circumstances, appear right. Ordered, That the said Petition do lie upon the Table."
1829. A distinctly eccentric man arrived in Bermuda. His name was William Nisbett, an Anglican Church official who had been based in Nova Scotia, as a member of The Society for the Propagation of the Gospel. He had been one of those involved in the Society's Madras System schools for Africans in the Canadian Maritime Provinces. He had become disillusioned with his Negro charges in Nova Scotia and had claimed that they were universally superstitious, mad, ridiculous and given to monstrous absurdities in the place of religion. He dammed the Negro Refugees in Canada - those who had fled to Canada from slavery in the USA - for being indolent to an extreme, insensible to kindness, dishonest and untrue and in a deplorable state of moral degradation. In total exasperation, Nisbett quit his work with them, and arrived in Bermuda for what he considered a less fruitless task in a warmer climate where Negroes were considered to be closer to God. He began work in Bermuda with the Society for the Conversion of the Negroes. He began the Nisbett family still in Bermuda today, none of whom are his complexion.
1829. The 118-ton Bermuda-built cedar privateer, completed in 1825, also with the name Pickle in honor of the vessel of 1803, took part in a severe Royal Navy action of the northeast coast of Cuba that resulted in the capture of a Spanish slave-trading ship, the Boladora and the release of 330 slaves aboard.
1829. April (until May 1833) Lieutenant Nelsen, Royal Engineers (RE), was in Bermuda and wrote an extensive Paper XI in Vol. 4 of the RE series entitled "Engineer Details" on the comparative values of convict and other labor. He referred to Ireland Island and St Georges. There is some narrative, details of rations, pay, convict shops, comparison of "task work" and "piece work." The purpose of the paper was to compare production rates between various types of labor, civilian and convict directed by officers of the RE and under day-to-day superintendence of the NCOs - the Royal Sappers and Miners. Experiments on strength of mortar mixes etc. are also described as well as quarrying and trimming of dimension
stone for quoins of fort walls etc.
1830-1837
1830. On the death of George IV, King William IV ascended the throne. Earlier the Duke of Clarence and posted to Bermuda aboard HMS Pegasus in 1822, in his honour Abbott's Cove became Clarence Cove, the name by which we know it today. Also that year, a ball was held at Admiralty House in Bermuda for the new king's birthday. Dancing started from 9:30 p.m. and continued until 1:00 a.m., followed by a "magnificent supper" for 200 people.

1830. A second Bermuda slave register was sent to London, in compliance with the British Government directive of 1819. This second register showed: 2,107 males and 2,264 females, making a total of 4,371.

1830. Roman Catholic priest Father Boland, the first Catholic priest to do so, arrived in Bermuda by accident, when the sailing vessel on which he was traveling arrived in Bermuda in distress. He remained in Bermuda for two months, principally supported by Catholic members of the British Army's 37th Regiment then stationed in Bermuda.

1830. April. Irish convict James Ryan was shot and killed during rioting of convicts on Ireland Island. Another five convicts were given death sentences for their parts in the riots, with those of the youngest three being commuted to transportation for life.

1830. Another hurricane damaged St. Peter's Church in St. George's.

1830. HMS Hussar, a Royal Navy 5th rate, 38 guns, built in 1805, was refitted at the Royal Navy Dockyard, Bermuda.

1831. The History of Mary Prince. The first narrative of Mary Prince, a black woman to be published in Britain. It describes Prince's sufferings as a slave in Bermuda where she was born, Turks Island and Antigua, and her eventual arrival in London with her brutal owner Mr Wood in 1828. Prince escaped from him and sought assistance from the Anti-Slavery Society, where she dictated her remarkable story to Susanna Strickland (later Moodie). A moving and graphic document, The History drew attention to the continuation of slavery in the Caribbean, despite an 1807 Act of Parliament officially ending the slave trade. It inspired two libel actions and ran into three editions in the year of its publication. This powerful rallying cry for emancipation remains an extraordinary testament to Prince's ill-treatment, suffering and survival. Slavery was abolished throughout the British Empire in 1834. Published again on February 1, 2001 by Penguin Classics, London.

1831. Death in Bermuda of Oxford-educated St. Vincent-born (in 1797) Anglican clergyman, natural historian and artist Lansdown Guilding, from Kingstown, who was appointed colonial chaplain of Saint Vincent. His scientific interests were mainly zoological and he is perhaps best known for his discovery and description of Peripatus (1826). But he also collected the local plants and published on the botany of the Caribbean. He wrote an account of the botanic garden in St Vincent, claimed to be the oldest botanic garden in the western hemisphere (founded 1765) and containing a breadfruit tree grown from the original stock brought to the island by Captain Bligh (1793). Guilding died a few years after his book was published while on vacation in Bermuda. Many species including beetles, centipedes, moss, starfish and a St Vincentian parrot were named in his honor. While in Bermuda he wrote the paper The Natural History of Bermuda.

1831. Two careening capstans installed on Camber at emerging Royal Naval Dockyard.

1831. The Old Cooperage building was built for Royal Navy storage (now the Bermuda Arts Center, the creative workshop of local artisans and artists, open 7 days a week).

1830s. Construction of HM Dockyard in Bermuda was expedited. It included of the most important historic buildings of the Dockyard, the oldest standing building. Casemate Barracks was so named for it was a hostel for the men of the Royal Marine Light Infantry, who were responsible for the defence of the Dockyard, and because its roof, being vaulted in brick and concrete some eight feet thick, was built to make it bomb-proof against the incoming cannon balls and mortar shot of the day. Casemate Barracks had two floors with accommodation for 120 officers and men, along with canteens, messes and offices. The well that forms the roof has unparalleled views of the Dockyard to the northeast and the building, given its construction, could have been converted into a fort. The walls are several feet thick and being made of the local limestone needed no plastering to make them waterproof. A veranda was to be had on three sides of the building at the level of the ground floor. On either side of the Barracks was an ordnance yard and there are still found the gunpowder storage buildings, or magazines. The one to the southeast later became the bakery of the Dockyard and saw its last use as the visitors' entry block into Casemates, the prison of late decades (now replaced by the Westgate Correctional Facility).

1832. In June, a hurricane struck Bermuda and did great damage.

1832. July 25. US Consul William R. Higginbotham died at his post in St. George's.

1832. October 25. Death and burial in Bermuda early November of one-time Mount Wyndham resident Rear Admiral Sir Edward Griffiths (later Griffiths-Colpoys), on a voyage to England. The Royal Navy monument to him was the largest in the Royal Naval Cemetery at Ireland Island. (His sister, Martha Griffiths, married one Thomas Abbott in 1798 and her great great grandson, Admiral Sir Peter Abbot, GBE, KCB, served in Bermuda in the mid-1970s).

1833. A third Bermuda slave register was sent to London, in compliance with the British Government directive of 1819. This third and last register listed 1,858 males and 2,319 females, totaling 4,277 slaves. Why the decrease in the number of male slaves by 149 since the last register? It has been assumed by some later Bermudian writers that some slave owners, fearing the low price they might receive for their slaves as emancipation approached, sold their males to highest bidders and/or friends or family living in the southern United States.

1833. The mail carrying packet vessels terminated at Halifax, instead of Bermuda and Samuel Cunard of Halifax, Nova Scotia was awarded a contract by the British Admiralty to provide a monthly mail boat service between Halifax and Bermuda. This was his first trans-Atlantic service before his shipping line expanded hugely and later became world famous as the Cunard Line. It continued to Bermuda until July, 1886.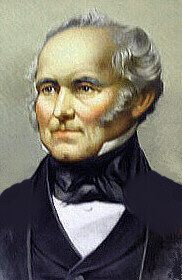 Samuel Cunard

1833. Population of Bermuda was 9,125 (62,400 in 2001). Of the 1833 population, 4297 were white, 3612 were slaves and 1,286 were free blacks.

1833. British military artist Thomas Driver painted a unique rendition of the Town of St. George.

1833. First steamship-of-war, HMS Rhadamanthus, coaled at the Royal Navy Dockyard, Bermuda, whole en route from Jamaica to London.

1833. May. Daniel R. Prudden prepared a "Map of Clarence Hill, alias St. John's Hill. Pembroke."

1834. February 10. Three men were returning to St. George's from the Dockyard, namely Lieut. Orlebar, Royal Engineers, Mr. Scott of the Ordnance Department and Mr. Sands, Clerk of Works. Just as the party left the open sea at Murray's Anchorage and gained access to the waters of Ferry Reach, their boat was upended by a squall and only Mr. Sands survived. The shouts of distress were heard by Mr. John Harford Pearman, who put to sea in his boat without regard to his own safety and rescued Mr. Sands and recovered the bodies of the others, one of who was let a lot of blood, but to no avail in his return to life. A soldier, William Lyall, 71st Regiment, swam out to the capsized boat to assist in the rescue, for which he was ultimately given an engraved Patent Silver Lever Watch. Mr. Pearman declined to receive an award for his heroism. For this extraordinary bravery, Mr. Pearman was presented by his Excellency the Governor Sir S. R. Chapman, CB, KCH and the Officers of the British Army Garrison in Bermuda with a ceremonial tea pot, sugar basin and milk jug.

1834. A traditional Bermuda-rigged sloop was built of Bermuda cedar partially by slaves freed or about to be freed. She was a Ballyhoo schooner, believed to have been a significant local evolution of the Royal Navy's "Shamrock" class of boats.

1834. January. The ship Caroline struck a Bermuda reef and sank. It was her first and only voyage. She was carrying 60 boxes of sauces, pickles and preserves, 400 chairs, ten wash stands, eight tables and a box of fancy goods.

1834. Prior to the Emancipation of the slaves throughout the British colonies on August 1 this year, legislation was passed locally which virtually doubled the property value qualifications for voting, for running as candidates for House of Assembly seats and for municipal and parochial offices. This across the board increase in property value voting requirements made it quite clear that the Legislature of the day wanted to protect the status quo by restricting the opportunities for the newly-emancipated slaves (and those Blacks who had been free citizens prior to Emancipation) to become directly involved in the management of Bermuda's affairs. This was borne out by an official dispatch from Governor Chapman, which highlighted the injustice of the new law by observing that, with the new legislation in place, there would be only thirty-four eligible black voters and only three Blacks who would be qualified to run as candidates in general elections. Those Whites who did not own real estate of the required value also suffered from a political impotence induced by the restricted property-based franchise, the number of qualified electors at that time (and well into the twentieth century) amounting to a very small percentage of the total adult population.

1834. Ports Island was made into a quarantine area for cholera.

1834. St. George's was finally abandoned as a Royal Navy base.

1834. August 1. Slavery, technically over since 1807 in Britain but in fact continued there until 1833, was formally abolished in Bermuda and the rest of the British Empire, with the enactment of the Emancipation of Slavery Act amid great rejoicing from the black population. It was abolished years earlier in the United Kingdom but many overseas landowners and slave owners were so slow and hugely reluctant in complying with the Act that this British legislation from London applying to all Britain's colonies and dominions was deemed to be both necessary and enforceable by law. In Bermuda, many Bermudian slave owners freed their slaves immediately without the interposition of the stipulated years of apprenticeship. Bermudian slave-owners who followed the law received compensation from the British government in London, often via the good offices of Nathaniel T Butterfield who had set up such transaction services in London and between B. C. T Gray London and N. T Butterfield in Bermuda. All former slaves and "freed black" men and women, finally emancipated, were given most rights and privileges enjoyed by the other inhabitants of the colony. All Bermuda slave registers had been mandated by the British Government in London and were required from that date on to be stored appropriately in British Government-approved places and referred to when necessary. But the new-found freedoms did then not apply to voting. An Act to fix the qualifications for jurors, voters, and the electors and candidates for certain offices and positions of trust was introduced. The voting qualification was raised from a property value of £40 to £100, and to run as a member of the House, from £200 to £400. The population was given as 8,818 - 4259 white and 4559 black. There were fewer people in Bermuda than a year earlier. Slaves working at the Dockyard who expressed the wish to do so, were promptly rehired on a freeman's wages.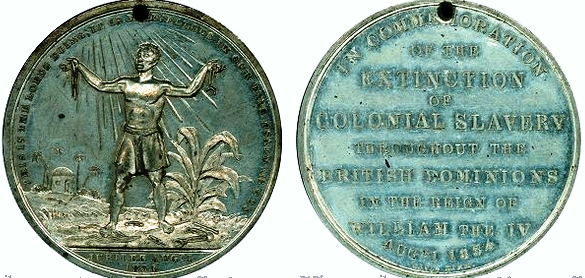 Emancipation medallion issued.

1835. Fort Victoria in St. George's Parish was completed. It had a water well 124 feet deep, in use until World War 2.

1835. A law was passed in Bermuda to encourage the education of poor white children.

1835. February 11. Slave ship the brigantine Enterprise, traveling from Jamestown and Alexandria, VA to Charleston, SC, got blown off course by a hurricane and landed at Bermuda for provisions after 21 days at sea. Only when local customs officials inspected the particularly smelly ship did they discover that she was a slave-ship, with a cargo of 78 enslaved people chained in appalling unsanitary and inhumane conditions, including children not yet six years old. The ship's master was Elliot Smith. He carried with him a manifest that made no mention of slaves but instead listed the ship's cargo as tobacco, bricks and feed. But 78 slaves were discovered on board, some men but mostly women, children and babies. Captain Smith was informed by customs officials that because Emancipation had occurred a year earlier, the ship's cargo was illegal under Bermuda law and the slaves were entitled to their freedom. All foreign nations having been warned by British authorities that any slavers found in Bermuda waters would be subject to arrest and seizure. Their cargoes were liable to forfeiture. The local authorities promptly ordered the captain to discharge his human cargo ashore and a gunboat was summoned from HM Dockyard to back up the order. Enterprise crew members were put under a Royal Navy armed guard. The slaves would be granted their freedom, with absolutely no compensation payable to ships' owners and cargo investors. When Smith tried to flee in defiance, the island's Friendly Societies, in particular the Young Men's Friendly Lodge, intervened. They were organizations that provided support to and looked after the welfare of the black community in the period after Emancipation. They appealed to the court and obtained a writ of habeas corpus from the Chief Justice to have the slaves freed. They were brought ashore and taken to court. It was then discovered that many of them had been kidnapped by raiders from plantation houses in the free state of Washington-Maryland. The court asked them if they wanted to remain as slaves or stay in Bermuda as free men and women and children. As reported by The Royal Gazette newspaper, the slaves landed at Barr's Bay Park in Pembroke near Hamilton and were welcomed by an immense crowd. They appeared before the Chief Justice in a courtroom overcrowded by concerned locals, to declare whether they wanted to continue to Charleston to be sold, or to take up residence in Bermuda. Bermuda became the new home to all but one women and her five children of the freed slaves of the Enterprise. Their descendants live in Bermuda today. Shelter for them was provided by the Worshipful William M. Cox in one of his storerooms in Hamilton, while the Friendly Society helped them to integrate into the Bermuda community. A spontaneous collection was arranged by the watching Bermudians, doled out to each proportionately, to assist them in their first taste of freedom.

1836. The Lane School, on East Broadway, near Hamilton, was built as the first educational facility for black children after emancipation. The hopes, dreams, prayers and aspirations of generations of slaves for over 200 years went into the building of its walls. Once built, it continued to offer not only an education for ex-slaves, but also spiritual guidance in its role as a chapel at weekends, a place of socialization and community, and a meeting place for the Young Men's Friendly Society (famous for their role in saving the slaves on the brigantine Enterprise). It was a place where black Bermudians could finally have the freedom to meet, talk, socialize and discuss their future, to make a better life for themselves, in conjunction with the friendly societies in sharing, educating, supporting and offering comfort to the black community. The role of the latter was extraordinary. Most importantly they provided socio-economic direction to the black community. Until then, Bermuda's history was written only by whites and naturally reflected their interests, concerns and philosophy. Historically black society and achievements were considered irrelevant and of no importance. Very little attention was paid to their lives and experiences, nor the many contributions made by enslaved and free blacks.

1836. In the new town of Hamilton, town officials recorded in their minutes an open central square deemed to be a public square for accommodation of the public and with right of access with, in the area surrounding it, considerable areas left for potential public buildings or civic uses.

1836. A hurricane breached the Dockyard's North East Breakwater and stopped work on Timlin's Narrows.
1837-1899
1837. At the Dockyard, the Great Wharf and North East Elbow were finished.
1837. At the Dockyard, the Post of Commissioner was abolished. Mr Ballingall, Naval Storekeeper, assumed charge. He lived at the Dockyard's Cottage.
1837. At the Dockyard, Commissioner's House became the residence for the Superintendent of Convicts.
1837. At the Dockyard, the first buildings were erected in the Keep Yard.
1837. On the death of King William IV, Queen Victoria ascended the throne.
1837. In Bermuda's first post-Abolition of Slavery General Election, James Athill, a successful ship builder from St. George's, born in Antigua in 1788 and who came to Bermuda when he was about 19 years old, cast his vote and was also elected a Church Warden of St. Peter's Church.
1837. Fort Albert, on Retreat Hill, was begun and completed in 1840.
1837. Governor John Henry Lefroy persuaded the Bermuda Legislature to vote a sum of money for the drainage and improvement of the constantly flooding Pembroke Marsh. From this came the Pembroke Canal.
1837. Lieut. Richard Nelson, Royal Engineers, wrote his paper "On the geology of the Bermudas", Trans. Geological Society, V.1.
1838. January 8. Sinking off Bermuda of the French warship L'Herminie, launched in 1824 but not completed until some four years later. For a naval warship of her day, she was huge, 300 feet long and carrying 60 cannons. She was one of eight frigates designed by Martin Boucher in 1823 and designated as a warship of the La Surveillante class, built to carry 30 French 30-pounder cannon and 30 other guns, including carronades. Earlier, in 1837 she was ordered to Mexican waters to enforce France's claims during the revolution. But, upon arrival in Havana, Cuba, on August 3, 1837, 133 members of her crew came down with yellow fever. Figuring her crew would be useless in battle, France's high command recalled her back to France. Under the command of Commodore Bazoche, L'Herminie left Havana for home on December 3, 1837. During her Atlantic crossing she encountered increasingly heavy seas. The captain decided to take shelter in Bermuda. By the time land was visible, however, the big ship had inadvertently wandered well inside a treacherous stretch of the Bermuda's northwestern facing barrier reef. Shortly after, L'Herminie got grounded on the reef. Before the ship started to break up, a group of local boats from Ely's Harbour came to her assistance. Given the sea conditions, it is amazing that all 495 members of L'Herminie's crew were safely evacuated from the doomed ship. The following day, several of the ship's stores were successfully salvaged. An advertisement appeared in the newspaper demanding that such material be handed to the ship's agent at Ely's Harbour, Thomas Tucker. Goods from the ship later offered for sale copper hinges, hemp hawser, blocks, sails, hooks, thimbles, a wheel, mast hoops, iron belaying pins, a stove mounted with brass, a set of fire utensils, iron rails, iron stanchions, mess tubs, leather buckets, brass wire conductor, copper stove funnels, harness casks, lead, lead pipes, copper pumps, jack screws, leather hoses, cabin doors, tables, crockery, ladders, and a marble slab. Today L'Herminie rests in 35 feet of water four miles west of Ireland Island. Since her wooden hull has been down for 160 years, little remains of her other than 58 of her original 60 cannons. The wreckage is scattered across white sand in the middle of the reef. Two cannons lay atop one another forming a cross. Surrounding the wreckage are the very coral heads that ripped the hull to pieces. Other than the cannons, divers can also see one of L'Herminie's two massive anchors propped up against a large coral head, as well as several of her square shaped, iron holding tanks, now half eaten by the sea. They once held the ship's supply of drinking water. Buried in the sand are some of the ship's timbers and cannon balls, as well as a collection of small artifacts such as broken glass, bottles and pottery. (A team from the Smithsonian Institution examined the site in the 1960s and some archaeological work was undertaken by East Carolina University in 1995).
1838. 11th September. The Royal Gazette carried this advertisement: "For Rent, for such term of years as may be agreed on, the delightfully situated dwelling house known as Mount Wyndham in Hamilton Parish, and some time since occupied by Admiral Sir David Milne, Royal Navy. The beautiful situation of this dwelling, commanding as it does a view of the whole of the Island, sis too well known to require a description here." It was a reference to the fact it was the first residence from about 1808 of the Admiral and was when this location overlooking then militarily important Castle Harbour, not the much later Dockyard not then built, was the first base of the Royal Navy in Bermuda. (Not until after 1812 did the Admiral move from Mount Wyndham to Admiralty House at Clarence Cove, Pembroke).
1838. Government education grants of approximately £300 were given to all elementary schools, one of which at least existed in each parish.
1839. Newfoundland and Bermuda were formed into a separate Diocese, and the Rev. Aubrey S. Spencer, who came out as a missionary to Newfoundland in 1819, but who was Archdeacon of Bermuda at the time of the foundation of the new see, was consecrated its first bishop. "At my consecration," says Bishop Spencer, "to the see of Newfoundland, I found only eight clergymen of the Church of England in the whole colony; the Church itself in a most disorganized and dispirited condition; the schools languishing, many of them broken up. The clergy of Newfoundland are maintained mainly by the noble Society for the Propagation of the Gospel in Foreign Lands; but the people are called on by the Bishop to provide a house and a small stipend, according to their respective means, for their several missionaries." The Bishop set himself at once to establish a Theological Institution for training young men for [85/86] the ministry. He also divided his Diocese into three Rural Deaneries Avelon, Trinity, and Bermuda. In his letter to the S. P. G., 1841, he says--"In the course of my visitation during the present year, I have travelled by land and by water 1188 miles, visited thirty-five stations, confirmed 1136 persons, consecrated six churches, organized or assisted in the building of twenty-one new churches, ordained two priests and eight deacons, and founded or restored more than twenty day schools or Sunday schools."
1839. Governor Sir William Reid arrived in Bermuda (and stayed until 1846). He was the author of "The Law of Storms, based on his study of the aftermath of the Barbados hurricane of 1831 which killed 1,477 people there. For that first scientific study of hurricanes, Reid was elected a Fellow of the Royal Society of London for the Improvement of Natural Knowledge, the oldest learned society still in existence. One of his first duties, which he took very personally, was to begin the Public Library as we know it today, now the Bermuda National Library. Also, Governor Reid caused the revitalization of agriculture, as a direct result of which the first agricultural exhibition (now an annual tradition) was held that year. He had reckoned, correctly, that the island should be able to feed its people in case of war with the USA which might mean that the Royal Navy would be far away at sea and unable to defend Bermuda, with starvation possible and surrender the only option. With this strategic option in his plans, he also recommended successfully to London that British Army units in Bermuda be beefed up; military authorities begin to acquire land, mostly in Devonshire Parish, to create a formidable presence in Bermuda; and that forts be improved, re-armed, re-stocked. As a further tribute to him, Reid Street in Hamilton became the new name of the through way.
1839. September 17. A hurricane (Reid's hurricane, after the Governor and author of that name) struck Bermuda and did great damage. Governor Sir William Reid was able to see his recently published book on storms come alive.
1840. Lieut. Richard Nelson, Royal Engineers, reported that "the Bermuda Rock is a stratified and calcareous sandstone, of all degrees of hardness and density, ranging from a loose sandstone to a compact limestone; the sorts used in building varying between the softest Bath stone, and a second-rate Portland. The distribution of these varieties is most irregular: at St. George's, and generally throughout the islands, the former abound; but at Ireland Island, the eastern half is one quarry of the latter and harder description."
1840. American author, biographer, essayist, diplomat and historian Washington Irving (1783-1859), who had visited Bermuda earlier, wrote his essay "The Three Kings of Bermuda & Their Treasure Of Ambergris." The story of Edward Chard, Robert Waters and Christopher Carter inspired him to speculate on a possible connection between these three fugitive vagabonds of 1611 and their stay on Smith's Island, Bermuda and William Shakespeare's Bermuda-influenced play "The Tempest."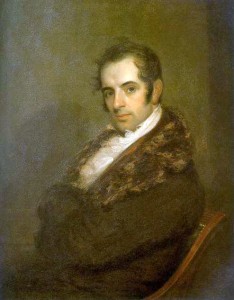 Washington Irving
1841. The Bermuda Legislature enacted the Currency Act, under which the local pound, previously at 40% discount to the London pound, was raised to parity. Bermuda formally adopted the United Kingdom pound sterling as the official legal tender. As a result, the previous property values legislated in 1834 for voting in general elections and vying for representation in the House of Assembly were now expressed in pounds sterling – sixty pounds sterling for the right to vote (previously one hundred pounds in Bermuda currency) and two hundred and forty pounds sterling to qualify as a candidate (previously four hundred pounds in Bermuda currency). The conversion to pounds sterling also impacted on the property qualifications in elections for the offices of Mayor, Aldermen and Common Councillors in the municipalities of Hamilton and St George's and for positions on the parish vestries.
1841. The elegant and important building then known as the Public Building, later known as the Colonial Secretariat, in Hamilton was completed. It housed Customs and Treasury offices on the ground floor and Governor's Council and Secretariat on the upper floor. It 1849 it also housed Bermuda's first public library. It was remodeled in 1938 as the Colonial Secretariat, and after 1968 became the office of the Premier of Bermuda, heading the Bermuda Government. It also houses the Senate of Bermuda - which meets here every Wednesday in the 8 months or so the House of Assembly is in session at Sessions House).
1841. 28 April. The Bermuda Legislature passed an "Act for the Safe Custody of Insane Persons charged with Offences. " It was the first local legislation to deal specifically with persons with mental problems. Persons charged, if found to be insane, were kept in custody until they could be sent to an asylum.
1841. May 28. Vice Admiral Sir Thomas Harvey, KCB, Royal Navy, stationed in Bermuda and Commander in Chief of the North American and West Indies Naval Forces, died at Clarence House (later, Admiralty House) and was later buried in the Royal Naval Cemetery, Bermuda. He was 66 years old.
1841. Renovation was completed on St. Peter's Church in St. George's, damaged by hurricane for the third time in 1830. It became the last stylistic alteration to the church which has not changed much since then.
1841. After being moored at the wharf behind the Custom House in New London, Connecticut, for a year and a half, La Amistad was auctioned off by the U.S. Marshall in October 1840. Captain George Howland, of Newport, Rhode Island, purchased the vessel and then had to get an Act of Congress passed so that he could register her. He renamed her Ion and, in late 1841, sailed her to Bermuda and Saint Thomas with a typical New England cargo of onions, apples, live poultry, and cheese.
1841. Such was the American concern of the new British military works at Bermuda and the British West Indies islands that Daniel Webster, the Secretary of State, sent a secret agent to assess the situation. His name was Albert Fitz, who immediately was made aware that Bermudians were "particularly jealous and distrustful of American visitors, and also of Frenchmen, whom they consider our probable allies." Nonetheless, Albert, playing the tourist, was able to get about and look at the fortifications then erecting, with the possible exception of the dockyard at Ireland Island, which was out of bounds to anyone "disconnected" with that naval establishment. Once back at his hotel, he made sketches of the forts and these have survived in the National Archives at Washington. Agent Fitz noted that there were no fortifications between the dockyard and the Martello Tower at Ferry Reach and thus the Americans could land their forces on the South Shore beaches and march east to attack St. George's and west to assault the dockyard. He notes the presence of signal stations at Ireland Island, Gibbs Hill, Government House and Fort George and comments on the access to Bermuda's harbors by channels through the reefs. Plus, Timlin's Narrows by Hinson's Island had recently been blasted to allow ships with a draught of 14 feet to enter Hamilton Harbour. None of the great forts of St. George's Parish were completed by Fitz's visit in January 1842, with the exception perhaps of Fort St. Catherine. From gossip, he surmised that the British Government was thinking of buying Prospect Hill in Devonshire Parish for a great military camp, as it had "an uninterrupted view of the sea upon every side". From Bermuda, Secret Agent Fitz extended his "holiday" to the Bahamas, Jamaica and Barbados, the last he ranked as first in strength in the British West Indies. The locals made him aware that the climate in the Caribbean was deadly to the European soldier, so that it was intended "to raise two more Regiments at Sierra Leone", that is, African soldiers to man the West Indies stations for the British. Such regiments were already deployed at St. Helena, the west coast of Africa, British Guiana, the West Indies and British Honduras. However, all the forts in the West Indies were fast going to ruin and only at Bermuda were new works being constructed. The strategy in the Caribbean would be to reply on the guns of the ships of the Royal Navy, rather than the shore batteries. Fitz painted the contrast, for while he was at Bermuda, the Fleet, comprising seven ships-of-the-line, was at anchor at Grassy Bay off the dockyard. These vessels of war mounted almost 300 cannons, three times the number in the Bermuda forts of the day. Throughout his visits Fitz stated that "great caution and assiduity have been requisite. I have confidence in asserting, that in no instance, has a suspicion been excited of the real purpose of my tour, and that the whole transaction remains a profound secret." And so it did until Professor Anthony Brescia published Fitz's report in 1994 in the Journal of the Bermuda Maritime Museum. Fitz sent his Bermuda report in 1842.
1841. November 8. Death in New South Wales, Australia, of Bermuda-born Sir Francis William Forbes, the first and perhaps most famous of Bermuda's legal fraternity, who became first a Chief Justice of Canada then Chief Justice of Australia.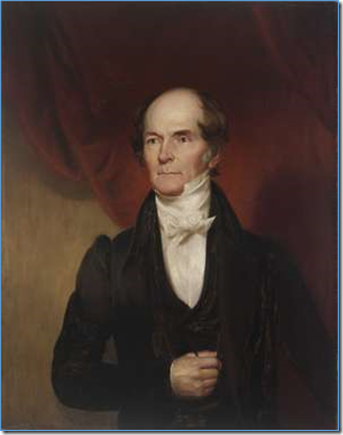 1842. Another American spy was sent to Bermuda by US Secretary of State Daniel Webster. Captain Minor Knowlton was no stranger to Bermuda when he was sent to look at its defences by General J.G.Totten, Chief Engineer, US Army. He came originally for his health, as he suffered from epilepsy. This did not deter him from a spying mission to Canada, where he examined Fort York at Toronto two years prior. His policy in Bermuda was "to form few acquaintances and to avoid entertainments altogether." He gave the impression that his walkabouts, even up to the fortifications, were to improve his health. Customs officers, however, must have wondered why his luggage on departure contained "two blocks of shell limestone, each a little more than one foot cube, which I brought from Bermuda as specimens of the type of stone used in the fortifications of those islands. It is a soft kind of shell sandstone which may be advantageously shattered by hollow shot." Upon his return in June 1849 to New York after three months in Bermuda, Knowlton wrote to Totten promising a full report, of which there is no trace. What has survived is an original plan of the Dockyard by George Taylor, Survey of Buildings to the Navy Board in London, which Knowlton must have obtained by paying someone from the dockyard.
1842. March 1. The first steamship to enter Bermudian waters anchored at Five Fathom Hole. She was the Royal Mail Steam Packet Thames, inaugurating what would become a regular call on her trips between the West Indies and England. Her route originated at Nassau in The Bahamas and the stop at Bermuda afforded an opportunity to both pick up and deliver mail in transit to and from the English port of Southampton.
1842. At Queen Street, at the junction with Reid Street, William B. Perot, nineteenth century first Postmaster of the city and Assemblyman of French Huguenot extraction, established his little post office. Perot built his home adjacent, in the building now housing the Bermuda Historical Society, next to the Bermuda National Library. (He ran this little post office on the edge of his estate until 1862 when he retired. It was restored by the Bermuda Government as a branch post office of the General Post Office in 1959, the year of the 350th anniversary of the settlement of Bermuda by the British).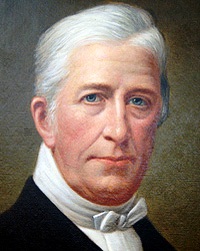 William B. Perot

1842. A local savings bank was established under the auspices of the Bermuda Government (later the Post Office, until it was sold to the Bank of Butterfield in the 1970s). Under the law applicable at that time, the bank was empowered to receive deposits of £50 per person but offered only custody of funds and no interest. Thus it was not popular.

1842. An Act to encourage emigrants to Bermuda from the United Kingdom was passed. It was an effort to increase the white population.

1842. The American military spy who arrived in Bermuda in 1841, American Secret Agent, Albert Fitz, appointed to spying duties by the Hon. Daniel Webster, Secretary of State, submitted his report. He had been instructed to proceed to certain of the British West India Islands, for the purpose of ascertaining the strength of the Naval and Military forces there; to examine the fortifications, take plans of them, ascertain the numbers of guns, describe the disposition of the inhabitants and more.

1843. What is now the Cabinet Building in Bermuda was constructed.

1843. Halifax, Nova Scotia, began to play a key role in the trade of Bermuda and the world. Entrepreneurs built their Bluenose schooners to ship forests of timber, coal, fish, even ice. Halifax was also the principal supplier to Bermuda of hardware, riggings, canvas, financer, insurance and more.

1843. The Royal Navy's survey ship, HMS Thunder, began an intensive two-year survey of Bermuda's Ireland Island, site of the soon-to-be massive Dockyard.

1843. Bermuda had a bad year from Yellow Fever deaths. In the civilian population, 82 were white, 102 were colored. The British Army military fared even worse, with 192 deaths. Convicts and their officers had 109 deaths. Total deaths were 496 out of a total population then of 9,930.

1844. July 1. The foundation stone was laid and building began of Bermuda's original Anglican cathedral. The Right Reverend Edward Field, consecrated Bishop of the Newfoundland diocese which included Bermuda, had approached a Scottish architect working in Newfoundland at that time with designs for a Bermuda cathedral. William Hay, who also later designed the "Unfinished Church" in St. George's, executed James Cranston's original designs - with a few modifications. (The church, known as the First Trinity, was completed in 1883).

1844. John Bluck, who had arrived in Bermuda from Bewdley, Shropshire, England in 1816, established Bluck and Company in Hamilton. The Bluck's became well known as outstanding public figures. A. W. Bluck who died in 1945, became the Speaker of Bermuda's Parliament, Mayor of Hamilton and President of the Bank of Bermuda, all at the same time. (Mr. Leslie Darling joined the company in 1935 and became the owner on the death of Mr. John Bluck in 1942. Mr. Darling spent 38 years of his life devoted to building the reputation for quality and excellence that Bluck's later enjoyed. In 2016 the company is run by his son Lt. Col. Michael Darling and grandson Peter David Darling who ensure that the company's reputation is well maintained and that its traditions continue).

1844. November 1. A private yacht club, the Bermuda Yacht Club, was established by a party of thirty gentlemen, mostly officers in the British Army, in the 20th Regiment then stationed in Bermuda. It became the Royal Bermuda Yacht Club.

1844. The Royal Dockyard School opened in Bermuda to provide technical education to apprentices and the general education of Admiralty employees. Attendance was compulsory and no distinction was made in race or color.

1844. March 28. Citizens of Hamilton resolved at a public meeting that the Parish Church of Pembroke, dedicated to St. John the Evangelist, was considered not up to par by them or for the wants of the Church. A bigger and better church, a Cathedral, was called for. It was agreed to erect a major new edifice on Third (later Church) Street. A cornerstone was laid "opposite the Presbyterian Kirk, now occupied by Vallis's Saw Mill on July 1 that year. But that site proved unsuitable and so a new one was obtained where the Cathedral presides over the town today. Work began shortly thereafter and in due course the tower was roofed with a "dwarf finish", under a design by James Cranston, architect at Oxford. Difficulties ensued, despite obtaining the services of George Grove who had been engaged on the building of Gibbs Hill Lighthouse, and the famous architect William Hay of Edinburgh was brought in to assist. In his report Hay noted: "It is difficult in a Colony like this to form an estimate that can be regarded as anything beyond a mere approximation to the actual cost, where the labour is the chief expense and the habits of the workmen so variable and unsettled."

1844. November 1. Formation of the Royal Bermuda Yacht Club. Thirty gentlemen, consisting of Royal Navy and British Army officers then posted to Bermuda and before that were active yachtsmen and local Bermudian gentlemen sailors expressed the wish for such a club. During a picnic, it is said under a calabash tree in Tom Moore's Jungle in Hamilton Parish, these gentlemen made plans for a club and via one of them, a noble lord, volunteered to use his influence get it royally approved. The plan worked, in 1845 Prince Albert was approached on behalf of the group and agreed to become a patron of the club and in 1846, the Royal Charter was acquired making the Royal Bermuda Yacht Club the 20th royal yacht club in the world and the third-oldest outside the UK. Lord Mark Kerr, then stationed in Bermuda as a captain in the 20th Regiment and one of the group, was instrumental in acquiring the royal charter and subsequently became the first Commodore of the Royal Bermuda Yacht Club (RBYC). The club first met in the Town of St. George and moved later to this town - before it became a city.

1845. In London, England, Prince Albert was approached on behalf of the group that had formed a yacht club in Bermuda and agreed to become a patron of what was to become the Royal Bermuda Yacht Club.

1845. The Bermuda Cricket Club was founded in St. George's as an all-white club and played its first game against the British Army garrison.

1845. To help turn Bermuda into an agricultural economy, Governor Reid recommended the importation of a limited number of agricultural workers from Europe. Within a short time, a grant of money was made available by the Bermuda Legislature to finance the importation of agricultural workers to Bermuda.

1845. Construction began, on what is now Church Street, Hamilton, of the first Trinity Church. It was a compact, stubby building, compared to its successor. It commenced at the east, or chancel end, and progressed very slowly to the west.

1845. Gibb's Hill Lighthouse in Southampton Parish completed with the aid of newly-arrived convicts sent from Dockyard with Royal Navy officers overlooking by sea. The Royal Navy had played a key role from the sea in determining the best place for the lighthouse to be noted by mariners.

1845. At the invitation of the Bermuda Yacht Club's Commodore, Lord Mark Kerr, His Royal Highness Prince Albert, the first Duke of Edinburgh, consented to become Patron of the Club and a year later gave permission for the Bermuda Yacht Club to become the Royal Bermuda Yacht Club. (There are now approximately 850 resident and non-resident members).

1845. William David Jeans, CB, RN, arrived in Bermuda on board the flagship for the Station, HMS Vindictive. He was Secretary to Admirals on the North America and West Indies Station in the mid-1800s.

After the Admiral, the Secretary was one of the more important persons on the Station, for he not only chronicled the events of the Station, he also controlled access to the Admiral, the highest ranking official in the great North America and West Indies Station.

Jeans had several tours of duty on the Station and was the son of a naval officer and progenitor to others. He served first as Secretary to the Flag Officer and then to the Admirals on the Station. Later, in 1848 he was aboard HMS Wellesley as Secretary, first to Admiral Sir Francis Austen and then to his successor, the famous Lord Cochrane, the 10th Earl of Dundonald. His next tour of duty in 1853 was aboard HMS Cumberland, as Secretary to Admiral Sir George Seymour. During the periods of service, Jeans spent time in Bermuda and at Halifax; at the latter, he met and married the Nova Scotian, Elizabeth (Bess) Hartshorne.

Jeans went on to serve in the Crimea under Admiral Boxer, followed by duty in the China War under his close friend from Bermuda days, Admiral Michael Seymour. It was in the Crimea that the fourth of seven children, a boy, was born to William and Elizabeth. He was named Francis Austen Jeans, indicative of the warm association his parents had with Sir Francis, who was also the boy's godfather. The Jane Austen Society also visited Bermuda for the occasion of the opening of the Exhibition on Jeans.

During the China War, Jeans was present at the taking of the Taku Forts and took charge of the treasure later captured at Canton and shipped to England, for the safe and trustworthy custodianship of which the English Treasury paid him £600 a few years later. Appointed CB in 1859, William David Jeans retired from the Royal Navy in 1871, but enjoyed only a short respite from a working life, mostly spent away from home and hearth in the way of service in the Royal Navy, and died of a stroke at his home in Pinner, Middlesex, seven years later at the age of 63.

Letters between Jeans and his wife portray life in Bermuda in the mid-1800s, as well as illustrating the sacrifices that naval men made through a service that included much separation from family and friends. A booklet on the life of William David Jeans was much later produced for the National Museum of Bermuda. Also on board that ship in 1845 was Flag Captain Michael Seymour, who painted a wonderful set of watercolours of Bermuda. Jeans and Seymour established a friendship on the Vindictive that would last until Jeans' death in 1878.

Also on the Vindictive was the new commander of the Station, Vice Admiral Sir Francis Austen, brother of the famous English novelist, Jane Austen. He was one of the last to be allowed to bring his family on board.

1846. Prince Albert, Consort of Queen Victoria, formally gave his consent to the new title of the Bermuda Yacht Club as the Royal Bermuda Yacht Club. He was its first patron,

1846-1851. Irish criminals were transported to Bermuda during the potato famine of 1846-51, mainly for the theft of food, though a few gentleman radicals were also sent.

1846. The first purposefully resident Roman Catholic priest arrived in Bermuda. Dev Dr Michael Hannan arrived from Halifax and stayed for 6 months.

1846. Building completed of Gibb's Hill Lighthouse, a major Bermuda landmark high on a hill in Southampton Parish. Alexander Gordon was a British (Scottish) engineer who became famous for the use of prefabricated cast-iron for buildings, including this one. His father had invented a system for compressing gas and making it usable in a portable form and Alexander followed him in the gasworks business in London, but also patented apparatus to do with the actual lights of lighthouses. At the age of 67, he died at Sandown, Isle of Wight, UK, having designed and constructed at least seven cast iron lighthouses for British possessions in the Americas. The first was in 1841, at Morant Point in Jamaica. His second was in 1846 at Gibbs Hill, while the third was placed at Cap Pine in Newfoundland in 1850. In 1852 there were two, one at South Point, Barbados and the other at Grand Turk, in what is now part of the Turks and Caicos Islands. Later ones were at Great Isaac Cay, north of Bimini in the Bahamas archipelago, while another is on Lobos Cay, Bahamas. George Grove, later knighted, was the engineer constructor of the lighthouses at Jamaica and Bermuda and became very famous for his "Grove's Dictionary of Music and Musicians", published 1878—1880. The most prominent local landmark, it was the second British cast iron lighthouse. After years of debate on whether this site or one on Wreck Hill in Sandys Parish was more suitable, this site won. Testing included flaming barrels of tar. A proposal to have it built went to London in the 1840's. The location of 39 wrecks was cited as what a structure like this might have prevented. Approval was granted. Plates for the building were constructed in London at a cost of 5,500 pounds sterling, designed by engineer Mr. George Groves, working for the firm of Alexander S. Gordon which was awarded the contract. The plates were shipped to Bermuda, unloaded at Jew's Bay and hauled by British convicts transported to Bermuda and working in chain gangs overland and up the hill with considerable difficulty. The first was laid on December 12, 1844, with Mr. Groves superintending a team of British engineers. They were led by Lieutenant Colonel Philip Barry who was sent out from England in 1844 as Commanding Officer of the Royal Engineers based in Bermuda. The building was completed in 1845. The structure was officially opened on May 1, 1846 with Groves in attendance. (In later life, he achieved a knighthood and immortality as the editor of the "bible" of classical musicians, the Grove Dictionary, still published today). Legend has it that when the lighthouse first went into operation, residents of the area tossed aside their whale oil lanterns and candles in the belief the big lighthouse would light up their nights forever! Some folks still refer to it the way their mid 19th century forebears did, as the "Parish Lantern." It was visited in May 1861 by Prince Alfred, Duke of Edinburgh, second son of Queen Victoria, during his six-day Bermuda visit; and in 1880 by (another) Prince Albert, 16, and Prince George, 15, sons of the-then Prince of Wales, later, Edward VII), who arrived as midshipmen on HMS Bacchante.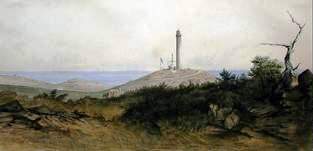 Gibb's Hill Lighthouse 1848, two years after it was constructed, painted by Major Edmund Hallewell
1846. May 1. Gibbs Hill Lighthouse was put into service for the first time, to reduce the number of shipwrecks near the island. Its flashing beacon was lit for the first time and was visible up to 40 miles away.
1846. A key point began in the timeline of Bermuda's postal history with the passage of the Post Office Act of 1846, which provided for the prepayment of all inland postage. The-then Postmaster of Hamilton, William Bennet Perot, created his own stamps to meet the mandate of the Act.
1846. A further Act was passed to establish a hospital for the reception of "insane paupers." It enabled the retiring Governor, Lieutenant Colonel William Reid, to buy land in a central parish for an asylum. Seven acres of land on the North Shore were acquired for 400 pounds sterling and two cottages were built for 600 pounds sterling. The Governor had to approve admissions and discharges to the asylum and in which categories incoming people were, as a lunatic or insane person or idiot or pauper or person of unsound mind.
1846. December. Captain Charles Elliott, Royal Navy, became Governor of Bermuda until August 1852.
1847. The immense Indian rubber tree (still there) was planted in the grounds of the Georgian style house at Par-la-Ville by Hamilton merchant William Perot.
1847. January 22. In Ireland, after two sheep were stolen from the farm of George Birch Esq who owned several hundred acres of land at Monahinch near Roscrea, Co Tipperary five members of the Whelan family - four brothers and their sister Nancy - had been arrested for the robbery. On this day they were hauled before the courts. While Nancy and one brother was acquitted, three siblings – William, Denis and John Whelan – were found guilty. Despite the fact the country was in the grip of Great Famine and one of the Whelans had six children, the judge showed no mercy. Their punishment was cruel. Each of the three brothers was sentenced to ten years transportation. They were to be shipped to the British penal colony of Bermuda, far from Ireland ,where they would serve out their sentences in brutal conditions. Transportation to Australia had been suspended because Bermuda had a more urgent claim, it needed prison labor to build the dockyard.
1847 to 1851 - 1st and 2nd Battalions, 42nd Regiment (Royal Highlanders), then the Black Watch. The men wore dark tartan to distinguish them from Guardsmen or Red Soldiers - hence the name Black Watch. At one time (1848) Casemates at Ireland Island in Bermuda was their barracks. They were then guarding the convicts building the Dockyard. One of the officers was Captain G. W. MacQuarie, who lived in St. George's at what was then Rendell House, later the Redan Hotel, now Clyde's Cafe. It is believed one of the soldiers was Richard Brackey, married, whose son was born in Bermuda. Several of this unit's soldiers died in Bermuda from yellow fever and are buried at St. Peter's Church in St. George's. They include Ensign Maitland, Ensign Abercromby and beside them the grave of bandmaster Philip Goldbergh. Many members died and were buried elsewhere in Bermuda from yellow fever. In Aberfeldy, Perthshire, Scotland, a monument - still there - was erected in 1887 to mark the enrolment in 1740 of the Black Watch as the 42nd Regiment of the line. The "Watch" as it was known originally was first raised in 1667 by various Whig clan chiefs in Scotland "to be a constant guard for securing the peace in the Highlands and to watch upon the braes."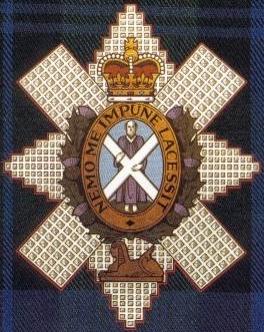 Black Watch in Bermuda 1847 to 1851

1847. May. Captain Sir Michael Seymour, RN, painted HM Dockyard, Bermuda, from Commissioners' House.

1847. The Legislature voted £400 as an encouragement bounty for the owner of the first vessel that brought in Portuguese settlers.

1848. Admiral the Right Honourable Earl of Dundonald—dubbed "Dauntless Cochrane" after his exploits at sea both in the Royal Navy and in the navies of Chile, Brazil and Greece—took over as commander-in-chief of the Bermuda-headquartered Royal Navy fleet then servicing Bermuda, the Caribbean and North America and promptly quashed plans to rebuild Admiralty House in Pembroke where he was then residing, saying, "It has been proposed to spend £11,000 on building a new Admiralty House. Don't sanction it! Look at the Commissioner's House [newly built at Dockyard]. It is scarcely credible that there is an 11-stalled stable and two coaches attached to this mansion." Though he stayed in Bermuda for just three years, Cochrane made his mark on the property, earning the nickname "Earth Mover." He made caves and tunnels. That is why a tunnel exists to this day from nearby the tennis court on the eastern end of the property to the now Government nursery on the other side of Spanish Point Road. And also why a large cave exists by the cove. Dundonald may have been chary of colonial expenditure, but that did not prevent him from offering magnificent entertainment. (In May 1850, he gave a full-dress grand ball at Admiralty House for 350 guests. After the dancing concluded and the supper was enjoyed, according to the Gazette, guests were allowed a novel experience. "We descended a flight of stone steps into the tunnel, thence into a room hewn out of the solid rock, about 14 ft in height and 40 ft circumference, lighted by day through an aperture in one side...." In the centre of the cave was a table "furnished with small brown jugs from which each visitor might quaff a beverage.".

1848. March 1. Bermuda's first postage stamps were produced locally in 1848 by Hamilton postmaster William B. Perot, consisting of the words "HAMILTON BERMUDA" in a circle, with the year and Perot's signature in the middle. Known as the Perot provisionals and only eleven are still known to exist. These first Bermuda stamps, issued 8 years after Britain's famous Penny Black by UK postmaster general William Hill, the word's first postage stamp, but which had not yet appeared in Bermuda, was a provisional issued because the postmaster was being cheated by letter-writers. Perot, set a fee of 1 penny per ounce for letters both local and abroad. Perot also delivered the mail. Perot's Post Office, established in 1842, was located in his home. Contemporary accounts depict Perot spending a lot of his time working in his garden, treating interruptions from postal customers as an annoyance. Due to the fact that stamps for prepayment of postage were not available, Perot placed a box at the door of his house for deposit of letters and the 1 penny fee. Perot regularly noticed that the postal box contained more letters than coins, but he was unable to determine which customers were not paying. The story goes that he mentioned his plight to a neighbor, an American who told him about the postmasters' provisionals that Virginia postmasters issued in the absence of government-authorized postage stamps. Perot decided to issue his own by striking his circular hand stamp on a sheet of bluish paper; the resulting black inscription read 'Hamilton' across the top and 'Bermuda' across the bottom. In the centre, he removed two plugs used to denote the day and month and substituted "One penny" and his name 'W.B. Perot'; he left the year plug intact. Perot then cut up the sheets and, commencing on March 1, 1848, sold the stamps as prepayment of postage until 1856. It's not known how many sheets were produced, but only 11 of the Perot 1 penny stamps in used condition are known to exist.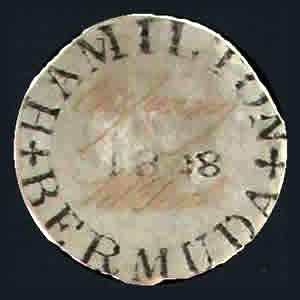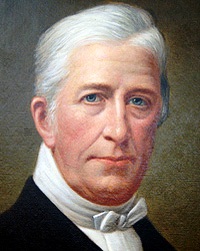 William Perot and his first Bermuda stamp
1848. March. About two acres of land in Devonshire, Bermuda was purchased by John Williams and William Robinson for £80 from three granddaughters of William Watlington. Mr. Robinson subsequently bought the property in its entirety and set aside a small portion of it, 35 feet by 25 feet, for a school for the black children of Devonshire. It was the very beginning of what became Elliott School, Elliott # 1, Elliott # 2, and Howard Academy.
1848. April. Elliott School opened, with Henry Robinson as its first teacher. It was called Elliott because it was financed by the Governor, Captain Charles Elliott. Education of both black and white children was one of his main concerns.
1848. Death in Bermuda of Hezekiah Frith. Born in Bermuda in 1763 he had a reputation for being the most feared privateersman on the high seas. Through plundering ship's cargo with the full consent of the British Admiralty he became the wealthiest man in Bermuda. He captured at least 40 ships during his career, won an election to the House of Assembly and lived at Spithead, on Harbour Road, Warwick.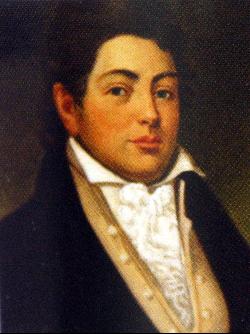 Hezekiah Frith, from a painting originally at Spithead
1848. Boaz Island was bought by the Royal Navy to serve as Convict Barracks.
1848. June 20. Arrival in Bermuda via the "Scourge" of British/Irish prisoner/convict/patriot John Mitchel, an Irish nationalist who had earlier established a newspaper in Dublin, through which he advocated a "holy war to sweep this island clear of the English name and nation. Mitchel was tried for treason-felony and was sentenced to transportation overseas for 14 years. At the Dockyard, Mitchel was to find his "appointed home", as a solitary on the hulk Dromedary for the next ten months. Convicts brought in to Bermuda this year from the United Kingdom to serve as manual laborers included many Irishmen, including participants in the ill-fated Young Irelander Rebellion of 1848. Conditions for the convicts were harsh, and discipline was draconian.
1848. Arrival in Bermuda of the Roman Catholic Bishop of Halifax, the Right Rev. William Walsh. His visit marked the establishment of first permanent resident Roman Catholic priest, to serve the colony's small resident Catholic population, with their numbers swelled by Catholic members of British Army troops then stationed in Bermuda and in particular the large number of Catholics among the Irish prisoners sent to build the Dockyard.
1848. The Chapel of Ease church was established at St. David's, governed by St. Peter's in St. George's. It was built to replace Mission House, a private house originally Mount Airy bought by Bishop Spencer and used as a place of worship, dwelling house and Sunday School.
1848. Somers Pride of India Lodge was formed under a Pride of India tree in St. George's. It was established after a group of Bermudian black men were inspired by a Peter Ogden who established the Grand United Order of Oddfellows in America (GUO of in 1843, in New York. With his own slavery background and grit as a self-educated man, Odgen did not take lightly the rebuff he got when he sought to join an Oddfellows lodge in New York, which proved to be a "white only" lodge. His hope and expectation in seeking to join was to receive some of the benefits such lodges promised men of character seeking to protect themselves and families in times of sickness and adversity. when the Peter Odgen story reached Bermuda, it so fired the imagination of a group of black men they decided to go to the USA and became members of the New York lodge there. Upon their return home they made known their highly favored impressions about Oddfellowship which resulted in the first of that Order established in Bermuda.
1849. Consecration by Bishop Feild of The Chapel of Ease church established at St. David's, governed by St. Peter's in St. George's, built to replace Mission House, a private house originally Mount Airy bought by Bishop Spencer and used as a place of worship, dwelling house and Sunday School. The bishop and other clergy were rowed from St. George's across the harbour to Church Wharf by the rector's four sons. The annual Blessing of Boats dates from this locale and consecration.
1849. July 3. Irish convict James Cronin, on the hulk Medway at Ireland Island, had earlier been placed in solitary confinement for fighting. On release, and being returned to work, he refused to be cross-ironed. He ran onto the breakwater, brandishing a poker threateningly. For this, he was ordered to be flogged on this day with the other convicts aboard the hulk assembled behind a rail to witness. When ordered to strip, he hesitated. Thomas Cronin, his older brother, addressed him and, while brandishing a knife, rushed forward to the separating rail. He called out to the other prisoners in Gaelic and many joined him in attempting to free the prisoner and attack the officers. The officers opened fire. Two men were killed and twelve wounded. Punishment of James Cronin was then carried out. Three-hundred men of the 42nd Regiment of Foot (Black Watch), in barracks at Casemates on Ireland Island, responded to the scene under arms.
1849. Black Watch Well was dug. When the Governor of the period ordered British soldiers to seek a fresh water supply for the poor of Pembroke Parish and their cattle during a prolonged drought, the Black Watch Regiment (see under 1847) of the British Army then in Bermuda was the first to volunteer. It dug so thoroughly the facility still exists today. At the site, a sign says: "This is the well of the Black Watch - so-called in memory of soldiers from the First Battalion, 42nd Regiment, Royal Highlanders, by whom it was sunk for the relief of the poor and their cattle. "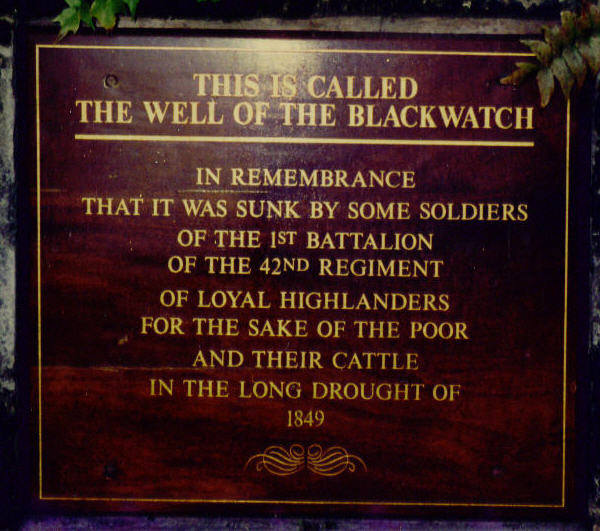 Black Watch Well in Bermuda

1849. Bermuda extended an invitation to Portuguese workers from and in Madeira to come and work in Bermuda. There was a quick response. Those from that green and fertile Canary island, the only Portuguese island, already accustomed to island farming, regarded the proposed two-year contract as an economic opportunity. Fifty eight men, women and their children were the first to answer the call.

1849. Watford Cemetery on Watford Island was allowed to become a burial place for convicts.

1849. Grey's Bridge, connecting Ireland Island and Boaz Island for Royal Navy strategic reasons, was constructed by British convicts serving hard labor. The bridge was built to accommodate the expansion-in-Bermuda aims of the Royal Navy. It was named in honor of the Rt. Hon. Henry, Earl Grey, one of Her Majesty's Principal Secretaries of State.

1849. November 4. The first 58 Portuguese immigrants imported to Bermuda from the Portuguese island of Madeira arrived. They came The "Golden Rule" owned by the Watlington family, under the command of Captain B. W. Watlington. She was purchased from Captain John Thomas Watlington's uncle Joseph Dill of the Bermuda firm Dill, Wood & Co. (She was later sold to purchase the "Koh-I-Noor"). More followed throughout the 1850s.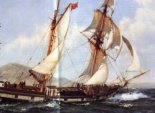 Ship Golden Rule

1850. Temperance Hall, in Hamilton Parish, was built.

1850. A British convict, William Wheeler, arrived in Van Diemens Land (original name for Tasmania) on the ship Neptune from Bermuda via the Cape of Good Hope.

1850. Ireland Island, Bermuda, was formally physically connected by the Royal Navy to its nearest neighbor, Boaz Island. The Admiral on the North America and West Indies Station (headquartered at Bermuda), Lord Cochrane, the Rt. Hon. the Earl of Dundonald, opened The Grey Bridge between those two military islands at the extreme northerly tip of Sandys Parish.

1850. At the Dockyard, a magazine was built for the Royal Navy on Cross Island.

1850. The Earl of Dundonald, the Bermuda-based Admiral Cochrane of the Royal Navy, nicknamed Cochrane the Dauntless, was aghast at British Government proposals to spend £11,000 on rebuilding Admiralty House in Pembroke Parish. In pithy terms, he warned against it, citing the horrendous expenditure on Commissioner's House at the Bermuda Royal Navy Dockyard as example of wasting money. At Admiralty House, he organized a grand ball, and also displayed for the first time the unique changes he had made there, including a tunnel to the fruit and vegetable gardens and the excavated caves, accessed via a flight of stone steps into a room 14 feet by 40 feet over the sea with places for small boats to tie up.

1850. Cockburn's Cut - named after a former Admiral - was re-excavated, originally built in 1817. It is between Ireland Island north and south.

1850. June 5. The brigantine "James", about 287 tons burden, Captain Richardson, left England for Bermuda with children from St Pancras parish workhouse in London.

1850. October 10. The brigantine "James", about 287 tons burden, Captain T W Burrowes, left England for her second voyage to Bermuda with children, again from St Pancras parish workhouse in London

1850. November. Samuel Cunard of Halifax, Nova Scotia, introduced his steam packet service from New York to St. Thomas, with a call at Bermuda in both directions. It was an extension of his successful 1840-incorporated British and North American Royal Mail Steam-Packet Company on the Liverpool, Halifax, Boston route. Annoyed that his passengers had only sparse hotel accommodations in Bermuda, he threatened to withdraw his ships. It was why Bermuda's first luxury hotel, the Hamilton Hotel, was built by the Corporation of Hamilton. But the New York portion of the service was not a commercial success compared to his earlier Halifax Bermuda direct service and was canceled in May of 1854. In May 1854, Cunard extended his direct Halifax Bermuda service. This route remained in place until January, 1880, when a number of West Indian islands replaced St. Thomas as ports of call. In 1865, knighted for his services to British shipping and pioneering the Halifax Bermuda direct route earlier, he died in London. His son assumed the helm of the Cunard shipping empire. In May 1854, Cunard extended his direct Halifax Bermuda service. This route remained in place until January, 1880, when a number of West Indian islands replaced St. Thomas as ports of call.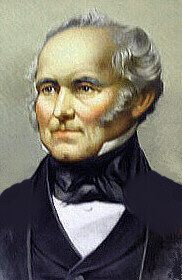 Samuel Cunard

1851. February. During the term of Mayor Henry James Tucker, the minutes of the corporation of Hamilton showed a decision to erect a town hotel for the accommodation of strangers from colder climates. It was a wise move to have the town's first purpose-built hotel to coincide with moves of the House of Assembly to subsidize a regular steam ship service from New York to Bermuda and back.

1851. Master stone carver Charles Thomas arrived in Bermuda. He was appointed foreman of works with the Works Department of the Royal Navy, responsible for development of the strategic Royal Naval Dockyard.

1851. November 17. The brig Swan, master Joseph Pierce, sailed from Bermuda and arrived at the Port of New York.

1852. A third American spy was sent to Bermuda by American Secretary of State Daniel Webster. The only plan record that survives of the first phase of Fort Albert is preserved in a sketch of the forts at Bermuda made that year by Lieut. Frederick Prime, the American spy. The drawing shows that the fort was constructed to the Duke of Wellington's specifications, but in addition, it had two eight-inch howitzers and two ten-inch mortars, thus incorporating the three types of artillery of the day, the cannon (for low level and long-range), the howitzer (for higher level, shorter range) and the mortar (for high level, short range, for "plunging fire" again the unprotected decks of ships). The fort was constructed of Bermuda stone, with some details in the harder limestone, probably carved at the dockyard, and had a deep ditch with reverse fires and a "Keep" for housing the officers and gunners. Lieut. Frederick Prime also reported to General Totten at Washington, DC. Having graduated first in his class at West Point in 1849, he found himself at Bermuda three years later. Prime was clearly taken by Bermuda, so much so that he returned to the subject of its invasion while on duty at Fort Alcatraz some years later. In his "Notes on an expedition against the Bermudas", he examines all of the channels, the strength of the garrison and the nature of the fortifications. Prime defines the weakest point as Castle Harbour, which could be entered easily without coming under fire from the major forts on St. George's Island, those on Castle Island being in disrepair. Having reduced the Martello Tower at Ferry Reach, the American invaders could effectively cut off St. George's and its forts from the rest of Bermuda. By taking St. George's from the rear, the subjugation of the rest of the island would soon follow, as the enemy would control the Narrows Channel, the only sea access to the dockyard and Hamilton, a blockade from the land as it were. The most remarkable piece of this espionage is Prime's sketch of the major Bermuda forts in 1852, reproduced here from the National Archives in Washington, DC. These little fort maps are remarkable for their detail, considering that the forts were "visited but once and sometimes under such circumstances that nothing would be committed to paper for many hours after". This detail is important as all of the major forts of the 1820s-1860s were heavily altered in the 1870s and some again in the 1890s.

1852. August. The cornerstone of the new Hamilton Hotel was laid by Governor of Bermuda Captain Charles Elliott, RN. It was the brainchild of Henry James Tucker, elected mayor of Hamilton in 1851. Originally, it was designed to have 36 rooms. It would take more than nine years before the structure was completed, with a mere 26 rooms, at the northern end of Queen Street. It was the first hotel in Bermuda and pioneered Bermuda's fledgling tourist industry. British Army soldiers were paid extra to help dig the foundations in their off-duty hours. Hamilton had long experienced the urge for respectability. Efforts were made to tidy up Front Street, where the debris of trade, the smells of goods unloaded from trading ships of the day, the rotting odor of the horse's d'oeuvres carrying the goods and the filth of garrison privies blighted the waterfront, made all the more pungent on a hot and humid summer day. There it stood for almost a century, with many elaborations. It was deemed "necessary to the prosperity of the town, and required by its commercial and geographical position." It was extended and modernized at the beginning of the 20th century. It stood where the City Hall Car Park is now located. It was destroyed by fire on December 23, 1955.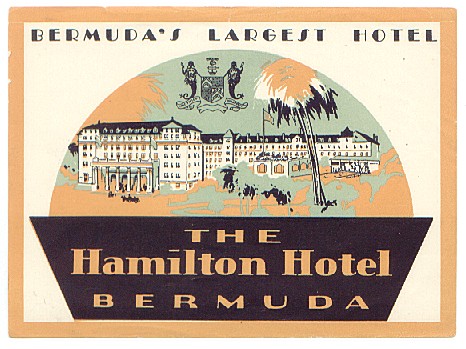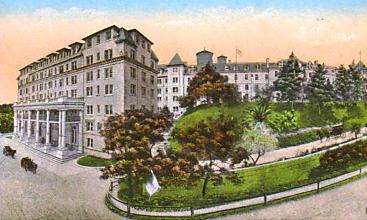 Hamilton Hotel begin in 1851, finished more than a decade later
1852. Alexandrina Lodge No. 1026 was established at Alexandrina Hall in Court Street, Hamilton, as a lodge built by black Bermudians following the 1834 emancipation from slavery.
1852. Ports Island Isolation buildings constructed.
1852. Albert Lodge No 1027 was established in Somerset, as a lodge built by black Bermudians following the 1834 emancipation from slavery.
1853. William Dowding opened St. Paul's School for "white boys and youths of African descent" but this attempt at a college failed through prejudice against the education of the latter.
1853. Bermuda had another, even worse, year from Yellow Fever deaths, 10 years later. In the civilian population, 130 were white, 160 were colored. The British Army military fared even worse, with 361 deaths. Convicts and their officers had 163 deaths. Total deaths were 814 out of a total population then of 11,092.
1853. May 23. The launch, at Shelley Bay, Bermuda, from the shipyard of John Joseph Outerbridge, of the Bermudian cedar clipper ship (barque) Sir George F. Seymour, 267 tons, later to become famous. Owners were Nathaniel T Butterfield, Nathaniel A Butterfield, James Henry Trimingham, Henry Mills Stowe (master mariner), and John Joseph Outerbridge.. She sailed first to San Domingo under master Henry Stowe, not yet coppered. Later, under the command of Captain Thomas Melville Dill, she made a record run of 13 days from Bermuda to Cork, Ireland. Another of her commanders was Captain Henry Joseph Watlington, under whom Nathaniel Vesey sailed. Her builder, John Joseph Outerbridge owned yards at Shelley Bay, extending from the North Shore to Harrington Sound, and to Flatt's Inlet.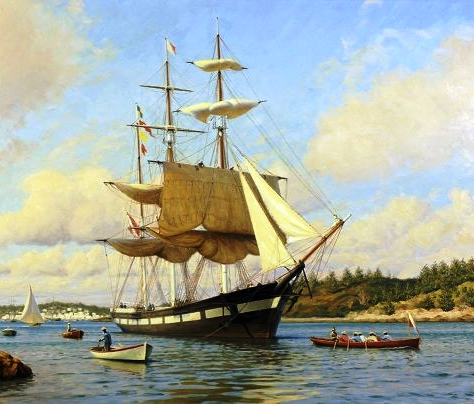 1850s-60s. From the United Kingdom, the Portsmouth Roman Catholic Diocese was the one that began the British Army's Military Chaplaincy in Bermuda in the 1850s and 1860s. It was because a number of Catholics soldiers serving in Bermuda were from Ireland.

1853. Bermuda was struck by a terrible epidemic of yellow fever. Father Thomas Lyons, the Catholic priest quiet hero who had been administering to the spiritual needs of the convicts on the prison hulks, began to work among the sick. It did not matter whether they were Catholic or Protestant, he did what he could for everyone. He and a visiting Priest, Father Phelan, went and did where and what others were afraid to go and do, lest they catch the disease. In addition to acting as priests, Lyons and Phelan acted as doctors and nurses as well.

1853. Deaths from Yellow Fever of 230 officers and men from Second Battalion, 56th Regiment (West Essex) of the British Army stationed in Bermuda. One was Lieutenant Alexander George Woodford, who died on September 12, 1853 when his unit was stationed in St. George's, Bermuda - then a garrison town. He was buried at St. Peter's Church in St. George's. The Woodford Memorial Tablet is still there. His father was Field Marshal Sir Alexander George Woodford. Men of the 3rd Company of the 56th bivouacked at the Oxford home in Pembroke Parish belonging to Mr. John Bluck, in hope of escaping the disease, at the order of Bermudian physician Dr. Harvey. They were lucky enough to escape the disease-carrying mosquito. To record their genuine thanks, as so many of their comrades had been felled by the epidemic, the men erected at the very top of Bluck's Point a stout monument surmounted by a cannon ball. The landmark still exists. Others - included in a separate mention at the same church at the same time to the 56th Regiment - included Captain E. F. Hare, Captain G. S. Hanson, Lieutenant F. H. Sykes, Joseph Lawson, assistant Surgeon, and many more officers, men and their wives and children.

1853. 19 July. At. St. James' Church, Somerset, Sergeant William Lang of the British Army's 56th Regiment then posted to Bermuda married Catherine Dempsey, daughter of Peter Dempsey of the R. N. Yard, Ireland Island (Bermuda).

1853. Easter Lilies, known to botanists as Lilium longiflorum, were introduced to Bermuda from Japan - and began a tradition. A ship en route from Japan to England, diverted to Bermuda for repairs. One of the passengers was an English priest of the Anglican Christian faith who had amassed in Japan an exotic collection of bulbs, plants and souvenirs. As it happened, he has an old school friend then living in Bermuda, the Rev. J. A. J Roberts, then the Rector of both Hamilton and Smith's Parishes and known locally as a keen gardener. He planted those lily bulbs, from Japan's Ryukyu islands, in his garden on Radnor Road off Crawl Hill in Hamilton Parish. The bulbs grew and flourished and began a tradition as well as an important cash crop for local and overseas markets. Clara Elliot, wife of then-Governor Charles Elliot, was so impressed with their distinctive shape and fragrance that she had some planted at Government House. That began the craze that first affected many Bermuda gardens and then the commercial growers.

1853. July. The first fitted dinghy races were held in Bermuda - and began a tradition.

1853. A New England ship, the Eliza Ann, was found adrift off Daniel's Head in Sandys Parish. The derelict reportedly contained only the skeletal remains of its crew along with the tattered shreds of clothing hanging from the corpses' bleached bones. There was ever a clue or a trace of evidence to explain what misfortune had overtaken the ship.

1853. October 31. Death in Bermuda from yellow fever of Canadian journalist, author and earlier Bermuda resident Edmund Ward, born 24 June 1847 in Halifax. Edmund Ward's father, a loyalist from Connecticut, met his wife while he was a prisoner in her father's home during the American Revolutionary War; Captain Ward later served as an official in the barracks department in Nova Scotia, where he received land grants after the war. Young Edmund was trained as a printer in the office of William Minns. In 1809 the governor of Bermuda, Brigadier-General John Hodgson, invited him there to edit a newspaper, which became the Royal Gazette. In Bermuda, Ward also issued the Gleaner, a short-lived literary paper, and the Weekly Gazette; he held a clerkship in the Court of King's Bench and a post in the customs department; and he helped organize a Sunday school. Because he was an associate of the unpopular Hodgson, he became involved in local controversies; the House of Assembly sometimes withheld payment for printing, and in 1815 declined to give him its printing contract. Ward's Bermuda career ended over the incident of the capture of the American warship President by the frigate Endymion and other ships of a blockading British squadron off Long Island on 14–15 Jan. 1815. When the President was brought to Bermuda, Ward reported that the Endymion alone had captured her (which was denied in the official American reports) and that 68 American seamen were discovered stowed away in an unsuccessful ruse to recapture the ship. Governor Sir James Cockburn ordered Ward to retract the latter statement, but Ward trusted the word of a British lieutenant and stuck to his story; he was beaten up by an American midshipman and lost his commission as king's printer on 12 April. He angrily issued a pamphlet on the whole affair, continued the Weekly Gazette for a short time, and then returned to Halifax. In April 1816 Ward began the Free Press, a Tory newspaper that reported the House of Assembly debates and took a lively interest in economic and cultural affairs. But his stubbornness and quick temper, as well as his need to increase circulation, soon gained the paper a reputation for political quarrelling and personal abuse. His chief antagonists were publisher Anthony Henry Holland and the contributors to his liberal newspaper the Acadian Recorder. The enmity reached a climax in 1820, when Ward was horsewhipped by George Renny Young, the son of Recorder contributor John Young; the next year Ward was beaten up by Holland's brother Philip John. In court in the latter year Ward was fined £2 for libeling another Recorder contributor, James Irving, while Philip Holland was fined £9 0s. 3d. for his attack on Ward. In 1838 the Holland's' successors, John English and Hugh William Blackadar, were to print a letter in the Recorder from one A. H. Duncan, who evidently had crossed swords with Ward in Fredericton, which stated that Ward was "celebrated for many a feat of thoroughbred swindling." Duncan then disappeared but English and Blackadar were fined £40 for libel in June 1840. Ward's other publications included the Nova-Scotia Almanac, The farmer's almanack, Ward's almanack, and one issue of the British North American Magazine, and Colonial Journal. Elected secretary of the Halifax Temperance Society in 1834, that May he began the Temperance Recorder to bring together the 10,000 persons in some 90 temperance societies around the province whom he hoped to attract with a low subscription rate. He always had trouble collecting subscriptions, and by 1837 was feeling the competition of the new Baptist paper, the Christian Messenger. His premises were offered for sale in May and auctioned in late October, by which time the Temperance Recorder had ceased to appear. For several years Ward had traveled extensively around the Maritime provinces lecturing on temperance, and after one such trip to New Brunswick in 1837 he began the Sentinel and New Brunswick General Advertiser on 16 December in Fredericton. Ward was appointed assistant emigrant agent for New Brunswick in 1840 through his friendship with the lieutenant governor, Sir John Harvey, to whom he gratefully dedicated a pamphlet advocating the cultivation of the interior, An account of the River St John, with its tributary rivers and lakes. Ward is also reputed to have been the author of Solitude and other poems; by an old resident of New Brunswick, which was printed at his office. When the Sentinel closed down some time early in 1844, Ward moved to Halifax to issue a short-lived tri-weekly, the Evening Gazette, but soon left for New York to work as a reprint publisher's agent, in which role he traveled extensively through the southern states. In June 1846 he was back in the Maritimes as the agent for the New York Anglo-American newspaper, and by late 1848 he was the agent for the New York firm of Leonard Scott and Company, which had just secured the American reprint rights for the major British magazines. Since Nova Scotia now allowed these reprints in legally, Ward pressed for reduced postal rates so that subscribers outside Halifax could get the periodicals at Halifax rates. Ward had lost the Scott agency by early 1850, at a time when he was burdened by the deaths of three sons. Forced to work as a manual laborer, he sought relief for his desperate condition from Harvey, now the lieutenant governor of Nova Scotia. Little is known about the years Ward then spent in New York City before he went to Hamilton, Bermuda, in October 1853 to assist his son Robert, the editor of the Bermuda Herald, who had contracted yellow fever. Ward himself came down with the fever and died suddenly. He was buried in the parish of Pembroke.

1853. November 13. Death in Bermuda from Yellow Fever of Catholic priest Father Thomas Lyons. He was a quiet hero who had been administering to the spiritual needs of the convicts on the prison hulks, began to work among the sick. It did not matter whether they were Catholic or Protestant, he did what he could for everyone. He and a visiting Priest, Father Phelan, went and did where and what others were afraid to go and do, lest they catch the disease. In addition to acting as priests, Lyons and Phelan acted as doctors and nurses as well. Unfortunately, the long arm of the disease finally caught Father Lyons in its iron grip, due to his selflessness. Because there was no Catholic cemetery in Bermuda at the time, he was buried in St. John's churchyard in Pembroke Parish. He was a man who truly followed in the footsteps of the Lord.

1854. Gibb's Hill Lighthouse in Bermuda was built.

1855. January 30. The launching from Shelley Bay, Hamilton Parish, of the famous Bermuda clipper ship the barque Koh-i-noor, 258 tons. She was built by Davis and Outerbridge .She had a distinguished 51 year history. Her Bermudian owners included Benjamin W Watlington, William Richard Outerbridge, John Thomas Watlington (master mariner), and William John Cox. Mr Outerbridge's shares were acquired on his death in 1857, by Eugenius Harvey of St John's, Newfoundland. She was commanded by Captain John Thomas Watlington from her first voyage (to Barbados) until his death in 1870. She made voyages to England, Cape of Good Hope, Cape of Ceylon, Oporto, the West Indies, Newfoundland and Havana, Cuba. Classed A1 at Lloyd's.

1855. The British Army command in Bermuda, with its base primarily in St. George's until then and with only a smaller garrison, Prospect Camp present in the central parishes, commenced serious strategic thinking on island-wide garrison improvements. It was decided that Prospect Camp located in Devonshire, on the outskirts of Hamilton, it was to be called Prospect Garrison. It housed other units, as well, including Royal Garrison Artillery detachments at a fort built within the camp, Prospect Fort. Although Prospect Camp had extensive areas for training, it was surrounded by public roads and residential areas, and had no safe area for a rifle range. Consequently, a second camp, Warwick Camp, was added primarily to provide rifle ranges to the soldiers of the Garrison, and the Dockyard's own Royal Marine detachment (and those of the ships stationed there).

1855. May 10. The launching, from the shipyard owned by Nathanial Yates of White's Island in Hamilton Harbour of the famous but short-lived Bermuda clipper barque, the Pearl. She was 252 tons burthen. Her various owners included Samuel Pruden Watson, Thomas Burch James, Solomon Hutchins (master mariner), and William Smith Hutchings. Within a few weeks after being completed, she left Bermuda bound for New York with one of the largest cargoes of Bermuda-grown produce ever shipped up to that time. This cargo included 134 barrels and 1640 baskets of onions, 3160 barrels and 80 bags of potatoes, 1261 boxes of tomatoes, 40 half-barrels and 12 kegs of arrowroot, as well as passengers.

1855. St Paul's School opened as a non-segregated institution for the education of Bermudians and students form the West Indians. It was modeled on Bishop Berkeley's plans but met much opposition. It closed in 1856.

1855. December 7. The Bermuda-built in 1855 clipper barque Pearl left Bermuda with 245 Irish convicts, who had completed their terms of imprisonment in Bermuda by helping to build the Royal Navy Dockyard and were returning to Cork, Ireland. She made the run in 15 days. The authorities were charged for conveying the convicts, at a cost of £4 10 shillings each.

1856. Bermuda had more Yellow Fever deaths. In the civilian population, 80 were white, 160 were colored. The British Army military had 4 deaths. Convicts and their officers had 37 deaths. Total deaths were 281 out of a total population then of 11,092.

1856. Men of the 3rd Company of the 56th bivouacked at the Oxford home in Pembroke Parish belonging to Mr. John Bluck, in hope of escaping the Yellow Fever disease, at the order of Bermudian physician Dr. Harvey. They were lucky enough to escape the disease-carrying mosquito. To record their genuine thanks, as so many of their comrades had been felled by the epidemic, the men erected at the very top of Bluck's Point a stout monument surmounted by a cannon ball. The landmark still exists.

1856. Maria Hill Fort was demolished, with the hill partly quarried away to supply the Dockyard with soft Bermuda stone, a quality of the rock indicated in several military reports.

1857. In his report titled Defence of Bermuda" Colonel A. J. Hemphill, Royal Engineers, included this comment about the defence of the Dockyard: "There are mounted altogether on the Land Front and its outworks four 32-pdrs, fourteen 24-pdr guns and eleven 24-pdr carronades, and in rear of it, covered by its ramparts is a Bombproof Barrack, constructed for 13 officers and 307 men, with tanks underneath for 120,000 gallons of water; and on the flanks of the barrack, but at a lower level, bombproof magazines for 2500 barrels of gunpowder, (but now unused owing to the dangerous proximity of the Dockyard new blacksmiths), and a range of bombproof buildings, containing Commissariat offices, storehouses, bakery, etc., and barrack stores."

1858. A Board of Education was established and an inspector of schools appointed. The annual education grant allocation was increased to £450.

1858. Trinity Church, in Hamilton, begun in 1845, progressed so slowly that by this date there was only the stub of what one presumed should have been a long nave and the edifice lacked a spire. As historian Thomas Reid noted: "One bay of the Nave was built and the West end boarded up, presenting a rather old appearance, reminding one of a Norwegian church of the 14th Century."

1858. Bermuda's first Roman Catholic church, St. Edward's, began construction

1858. Bermuda visit of British author Anthony Trollope (1815-1882), later a prominent and prolific author but then a British Post Office manager. In 2 volumes, 168 pp and 395 pp. His first travel book, written between January and June 1859 and published in 1860 in London, by Chapman & Co. It was the only one that included Bermuda and was titled The West Indies and the Spanish Main. Bermuda was mentioned not altogether favorably at the time. Trollope himself rated this book highly. (He thought the future lay in miscegenation). He became one of the most successful, prolific and respected English novelists of the Victorian era. Some of Trollope's best-loved works revolve around the imaginary county of Barsetshire, but he also wrote penetrating novels on political, social, and gender issues and conflicts of his day.

1858. March. Captain Thomas Melville Dill was in command of Sir George F. Seymour when it made a spectacular run of only 13 days from Bermuda to Ireland, a record never surpassed by the island's barque-rigged clippers.

1858. Death of Major General Sir William Reid, KCB, FRS, Bermuda's Governor from 1839 to 1846. He was commissioned into the Royal Engineers in 1809 when 18, and he served from 1810 to 1814 in the Peninsular War in Spain. He served under then-General Arthur Wellesley, later Field Marshal, then 1st Duke of Wellington. The National Dictionary of Biography stated the young Lieutenant Reid proved "a skilled engineer, a brave soldier and a fortunate man, since he survived three wounds, including a severe one to the neck. "In 1832, Sir William was sent to Barbados to be resident engineer, assisting in the cleanup after the hurricane of August 1831, which killed some 1,500 people and caused great damage. Hurricanes interested him. When he went back to England, he began to collect data about them from the logbooks of British ships. In the course of his research, he read a paper written by American William Redfield, suggesting that the winds of hurricanes moved in a circular path. Redfield reached this conclusion after observing the direction in which felled trees lay after a freak hurricane in New England. That was, at the time, a controversial idea. But Sir William's own research confirmed Redfield's suggestion, and he wrote Redfield to say so. The two men corresponded and became lifelong friends (although they never met), exchanging over 300 letters before Redfield's death in 1857. Sir William confided in him about his work in Bermuda, and Redfield acted as his supplier of things American. In 1838, before he was posted to Bermuda, Sir William published a book acknowledged by meteorologists as the basis of the modern understanding of the nature of hurricanes. He called it An Attempt to Develop the Law of Storms By Means of Facts, Arranged According to Place and Time and Hence to Point Out a Cause for the Variable Winds With the View to Practical Use in Navigation, a humungous title shortened to The Law of Storms. He founded Bermuda's first library. He also changed Bermuda's attitude toward agriculture. Shortly after he arrived, he wrote a letter to Redfield in which he described the place as "covered...with cedar, rocks and weeds." Bermudians of the day, especially poor white Bermudians, thought farming was beneath them and didn't believe that anything worth having would grow in the soil. Sir William knew better. He believed Bermuda's climate was favorable to plant growth, and knew that if the soil were improved by fertilization and irrigation, if the land were terraced to reduce erosion, nearly everything would grow. He turned the gardens of Government House into a showplace, cultivating citrus and other plants and holding horticultural exhibitions there. He imported ploughs (there were evidently only two in Bermuda when he arrived) and held ploughing competitions at Government House. A little snippet in the Bermuda Gazette of September 8, 1840 records one of these matches at The Ploughing Match, an initiative of members of the Agricultural Society, in Paget Parish, on a reclaimed piece of March Land, owned by Henry J. Tucker. At the conclusion of the match all five ploughs operated at the same time, including one owned by the Governor. Sir William began to correspond with Kew Gardens in England, sending Bermudian plants there and receiving more in return. He imported seeds and plants from the United States. He subscribed to agricultural magazines and got the Royal Gazette to reprint some of their articles. It was at his suggestion that tamarisk was planted all along the North Shore, providing shelter from the strong northerly winds in winter. His campaign worked; acreage under cultivation grew by leaps and bounds, as did Bermuda's fruit-and-vegetable export business. Later, he sent Bermuda loquats, via seeds in 1850 from his new posting in Malta following Bermuda. He also had a foreboding that Britain and the USA would once again declare war against each other. He was known in Bermuda as the "good Governor" and in his memory there is an obelisk made of granite in the grounds of the Cabinet Office on Front Street. Bermuda's Royal Gazette said: "As Governor of these Islands, he left behind him here a name and a reputation which have ever been warmly cherished by all classes of the community. The secret of this sentiment of esteem, unhappily too unusual a phenomenon in Colonial History, may be found, we believe, in the conviction which all, whether friendly or hostile to Governor Reid's plans, felt of the perfect sincerity of his efforts to promote the good of the Colony. The Times of London said: He possessed the placid and calm temper of a true philosopher...combined with a rare talent for conducting business and in making his colleagues and subordinates do their best. In private life, he was one of the most amiable of men, with a pleasant mixture of gravity and cheerfulness." The Governor became extremely keen on encouraging the Legislature to grant what money it could spare on improved educational facilities. He feared that Bermuda would become an intellectual backwater, unresponsive to the introduction of new ideas. He felt that Bermuda's most serious educational disabilities were in higher education. In 1844, he tried unsuccessfully to impress upon the Colonial Office officials the need for an adult school, similar to a Mechanics Institute, so that the Dockyard workmen could improve their technical skills, in view of the rapid progress being made in steam navigation. The following year, he arranged to send several youths to model schools in England to train as teachers, and towards the end of the year obtained a grant from the Assembly of £80 each for two men to attend college in England. Since there were roughly equal numbers of Europeans and Africans in Bermuda, it was decided to send one black and one white youth. Only one black man, Robinson Tucker, expressed interest in the scheme and duly took up his place at Battersea College.

1858. October 18. All the crew who embarked for Madeira in the 1855 Bermuda-built barque Pearl to collect Portuguese immigrants, were lost at sea, while en route from Bermuda to the Azores. She was never heard from again. Some of their names are not known. Her last voyage was under Captain William Smith Hutchings.

1859. February 2. A seven-year-old girl accidentally set fire to dried brush and palmetto leaves while lighting Samuel Tacklyn Jr's cellar fireplace in their Warwick home at the bottom of a hill, on the waterside The house went up in flames. Four young children died, including two who were locked in upstairs, while their caregiver was out. The remains of the burnt house remained on the hill for many years. In the 1930s, an American bought the property and built a new house, calling it Burnt House. The hilly road later became known as Burnt House Hill.

1859. Construction of the Bermuda clipper ship barque Eliza Barrs. She became one of Bermuda's famous sailing ships. She was of shallow draught, broad beam, and very fast before the wind. She proved to be ideal for trading between New York and Bermuda in her years of service until 1889. She beat the "Canima, a steam-propelled passenger ship, in a NY-Bermuda run with a time of 3 1/2 days, under Captain Henry Hollis. Many young Bermudians began their sailing experience on this clipper, including Captain Henry Hollis, Captain Nathaniel A Vesey, Captain Edmund G Young, and Captain Elliott ("Dixie") Cooper. Her passenger lists were many, with the ship's master of the day having to declare them every time she reached New York, where she was regarded as one of the immigrant ships.

1859. In his report titled " Defence of Bermuda" Colonel A. J. Hemphill, Royal Engineers, included this comment about the defence of the Dockyard: "There are mounted altogether on the Land Front and its outworks four 32-pdrs, fourteen 24-pdr guns and eleven 24-pdr carronades, and in rear of it, covered by its ramparts is a Bombproof Barrack, constructed for 13 officers and 307 men, with tanks underneath for 120,000 gallons of water; and on the flanks of the barrack, but at a lower level, bombproof magazines for 2500 barrels of gunpowder, (but now unused owing to the dangerous proximity of the Dockyard new blacksmiths), and a range of bombproof buildings, containing Commissariat offices, storehouses, bakery, etc., and barrack stores."

1859. The Admiralty House area used by the Royal Navy was extended to 16.36 acres with the purchase by the Admiralty of an area east of Clarence Cove, often referred to as Burnt House Hill. It included a small cottage, later known as the Clerk's Cottage from being occupied as the dwelling of the male Admiralty House clerk of the Admirals. A local scribe, H. J. Carr, wrote at the time that the addition of the tract was necessary because the Clerk's Cottage property had earlier been used as a house of ill repute, a haunt of bad characters, possibly even a brothel according to Spanish Point folklore. It later became the headquarters of the Pembroke Community Club.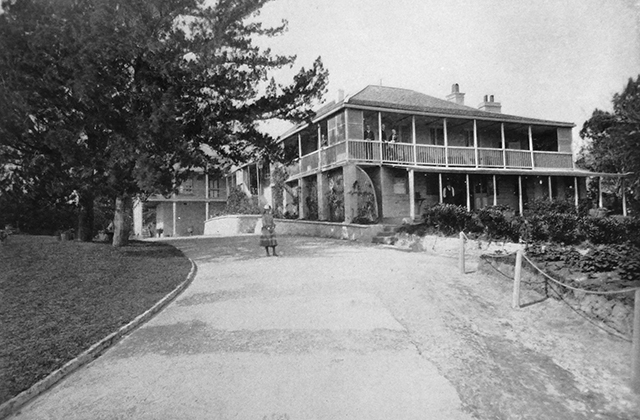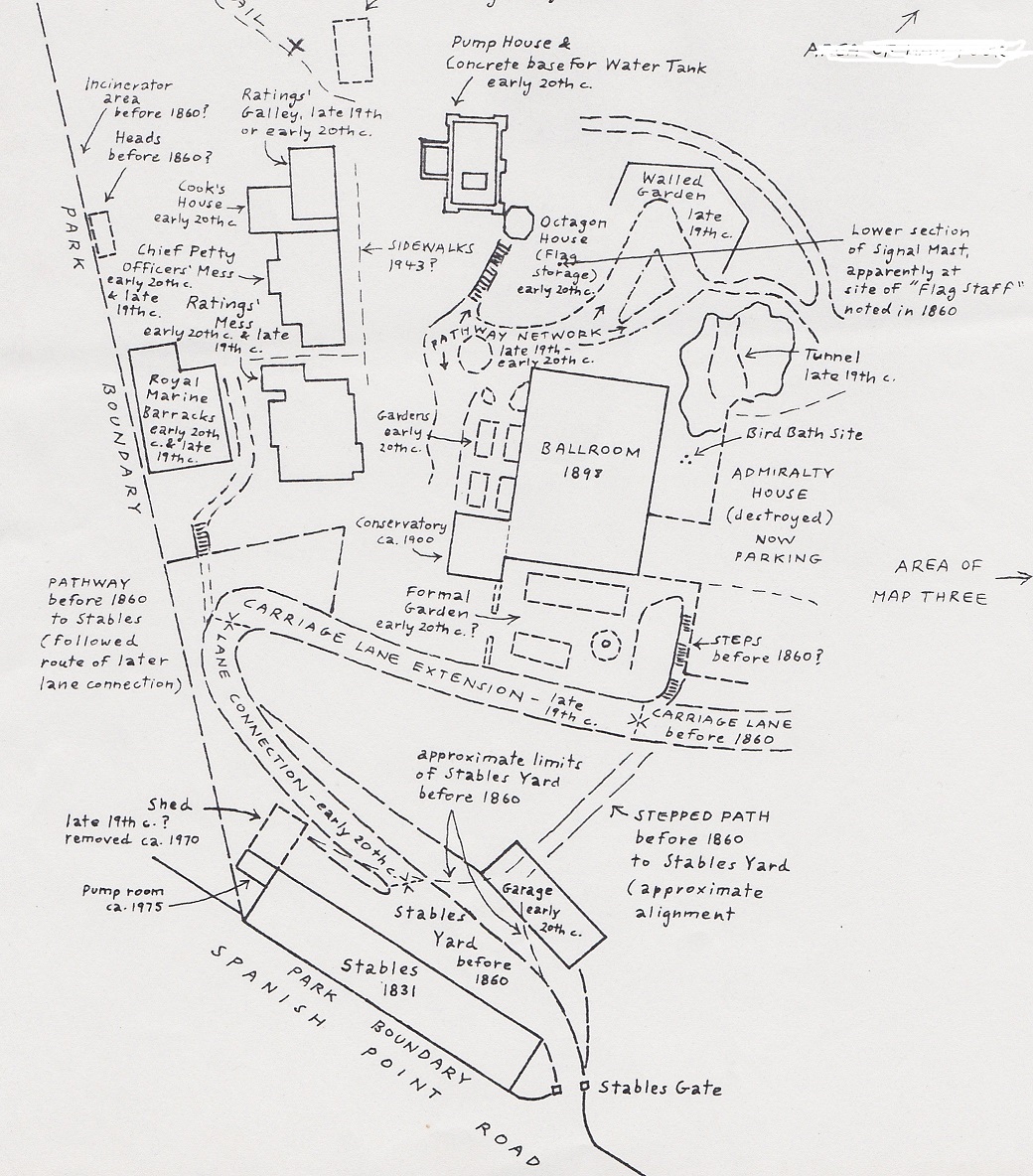 The Burnt House Hill addition, below: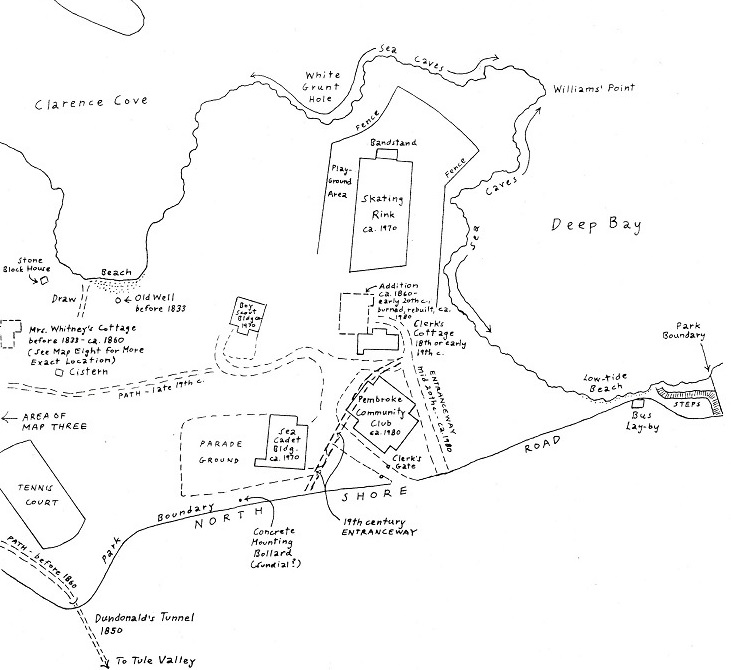 1860. Gosling Brothers Ltd. imported its first barrels of Caribbean rum into Bermuda. Numerous different blends were tried until one was formulated and deemed ideal, from British Guinea (now Guyana) now known as Black Seal Rum.
1860. Fort Hamilton in Bermuda was built by British Army Royal Engineers.
1860. The A. Fullarton and Company of London and Edinburgh published this 1860 map of Bermuda, in its Royal Illustrated Atlas of Modern Geography, referring to Bermuda as being a British West Indian possession, northern.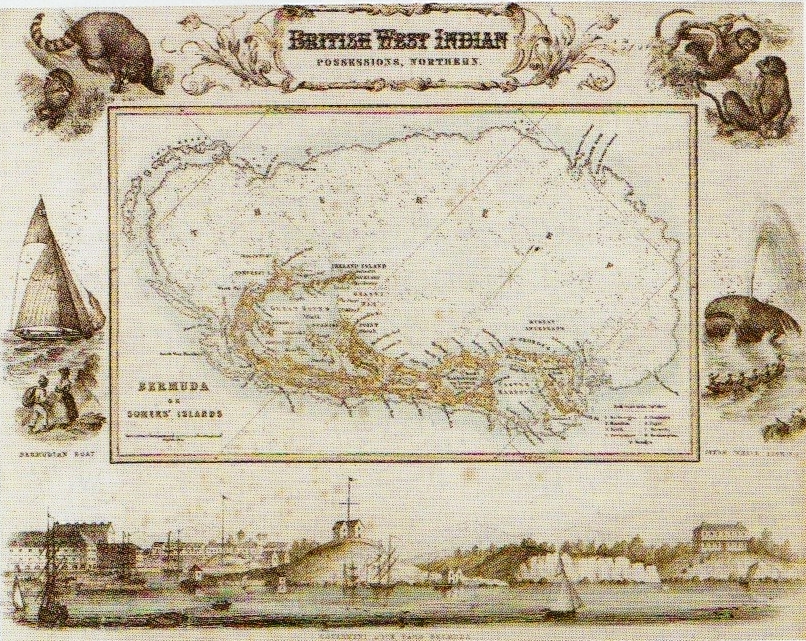 Fullaton1860 Bermuda map, above
1860. Fort Albert, sometimes referred to as the Eastern Redoubt, was expanded by order of Governor Sir Stephen Chapman.
1860. In London, appalled by the conditions on prison hulks, particularly those in Bermuda, an impassioned speech was given in the British House of Lords by Earl Carnarvon. The Under-Secretary of State for the Colonies in 1858 and 1859, Carnarvon had grown increasingly dismayed by the woeful living quarters aboard the hulks after studying a series official reports dispatched to his office from Dockyard. When he addressed the Lords in 1860, Carnarvon thundered: "In every other part of the British Empire the system of hulks had been abolished, but it was retained at Bermuda. All persons who had turned their attention to the subject said that, from want of space, and other causes it was perfectly impossible to exercise a supervision over the convicts, and to enforce discipline among them on board of hulks. By the last Returns, of 1,500 convicts in confinement at Bermuda, two-thirds were confined in hulks."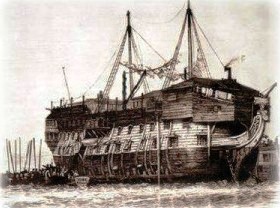 1860. Theodore Godet's 1860 treatise on Bermuda was published.
1860. The first plan for a Bermuda Moongate was brought from a Chinese flower garden by a Bermudian sea captain - and began a tradition.
1860. March 8. Vice Admiral Sir Alexander Milne arrived at the Bermuda Dockyard to become commander-in-chief of the North America and West Indies Station, a position he was to hold through all but the last year of the American Civil War. Forty-three years earlier, when the Dockyard was but an embryonic facility, Milne had been on station as a midshipman in HMS Leander, once the flagship of his father, Sir David Milne, "one of the most distinguished seamen in British naval History". Milne, the son, in 1837, while commanding HMS Snake, captured two slavers on the Brazilian Station. Sir Alexander Milne, a keen student of Britain's military history, had noted that Bermuda´s military value had been amply demonstrated during the war of 1812, when privateers from Bermuda captured 298 American ships, and Bermuda was a staging post for amphibious operations such as the capture of Washington. He made sure he voiced much the same considerations during the American Civil War. He wrote: "If Bermuda were in the hands of any other nation, the base of our operations would be removed to the two extremes, Halifax and Jamaica, and the loss of this island as a Naval Establishment would be a National misfortune."
1860. An oarfish - a little-known creature with oar-shaped pelvic fins and a blood-red dorsal crest running the length of its body which lurks in the depths of the ocean - was seen in Bermuda, swimming off Hungry Bay, Paget. It was spotted by a Scottish botanist and a drawing was published in Harper's magazine. Described by sailors for centuries as a strange fish which propelled itself with "oars" it was determined much later that these fish live some 2,000 to 10,000 feet below the surface and are only spotted, usually in poor condition, near the shoreline. They float to the surface after storms or if they are sick. No one has photographed an oarfish in the ocean and the shape and contours of a live specimen can only be imagined from photos of dead ones.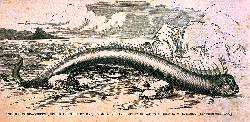 1860 sketch of an oarfish in Bermuda

1861. April. US Civil War began. It lasted until 1865. As a result of the long-standing controversy over slavery, war broke out when Confederate forces attacked Fort Sumter in South Carolina, shortly after U.S. President Abraham Lincoln was inaugurated. The nationalists of the Union proclaimed loyalty to the U.S. Constitution. They faced secessionists of the Confederate States, who advocated for states' rights to expand slavery. Among the 34 U.S. states earlier in February 1861, seven Southern slave states individually declared their secession from the U.S. to form the Confederate States of America, or the South. The Confederacy grew to include eleven slave states. The Confederacy was never diplomatically recognized by the United States government, nor was it recognized by any foreign country (although the United Kingdom and France granted it belligerent status). The states that remained loyal to the U.S. (including the border states where slavery was legal) were known as the Union or the North. With President Lincoln's immediate proclamation of a Union naval blockade from Texas to North Carolina (later extended to Virginia and South Carolina, Bermuda assumed a whole new international significance. The fact that Queen Victoria herself in London and the British Government had declared their neutrality meant little to all mercantile white Bermudians who controlled the local economy. Their Bermuda, about 600 miles due west from the coast of North Carolina, was almost completely Southern or Confederate in sympathy from a combination of a shared history, blood, commerce and trade. Support of the Southern cause appealed to almost all their sensibilities, not the least of which was profit. Within weeks of the start of the war Bermudian merchant families were raking in the profits and Bermuda became hugely prosperous as Confederate blockade runners began supplying the South with food and munitions and Britain, again via Bermuda, received bales of Southern cotton and more. St. George's in particular incurred the most prosperous time ever in its history. Bermudian traders were convinced there would be a resounding Confederate victory and invested hugely in developing St. George's accordingly.

1861. April. Arrival in Bermuda with his family of US Consul Charles Maxwell Allen, who represented the Union in Bermuda during the US Civil War — at a time when local sympathies tended toward the side of the Confederacy. His fight against the use of St George's by blockade runners trading with the South made the outset of his 27-year service in in Bermuda a miserable one. In the end, however, Mr Allen came to love Bermuda, as his later friend Mark Twain did, and served as Consul until his death in 1888 at the age of 66. With his residence at Wistowe in Flatt's, he was buried at St Mark's Church.

1861. April. Bermuda, in the Anaconda Plan, was in the US Navy blockade region. During the US Civil War, Union forces used their navy to create a blockade of Southern ports — hoping to break the South's economy, deprive its troops of materiel and munitions and force the newly-created Confederate States of America to surrender. Known as the Anaconda Plan, this blockade stretched from Maryland down the Eastern seaboard, around Florida, and into the Gulf of Mexico. As a consequence of the naval blockade, Bermuda — along with the Bahamas and Cuba — became a centre of Confederate commerce. A steady stream of fast-running ships from the South clandestinely skirted the Union blockade, passing through St. George's carrying cotton from Charleston, South Carolina and Wilmington, North Carolina for English manufacturers; they made the return journeys freighted with European armaments. Bermuda was both a transhipment point where cotton was directly exchanged for British weapons warehoused here and a refuelling depot for Confederate blockade runners making transatlantic runs.

1861. April 19. The Confederate government had no means of producing the volumes of supplies and equipment needed by its armies to engage in a long war with the Union. Their only means of getting the goods they needed was to have them brought in by sea. The incoming ships, mostly from Europe but Great Britain in particular, would unload weapons, gun powder, medicines and other necessities as well as mail, and load up with tobacco and cotton destined for the markets at home. In an attempt to stop this trade, on this day President Lincoln issued a proclamation imposing a blockade of the states of South Carolina, Georgia, Alabama, Florida, Mississippi, Louisiana, and Texas. This covered about 3500 miles of coastline and about 180 ports. This was no small undertaking with the limited number of vessels the Union Navy had at its disposal at that time. (by the end of the Civil War the Union would have the largest navy in the world). Not surprisingly, a large number of British ships were soon employed as 'blockade runners'. There were several of these purpose-built blockade runners built on the Tees.

1861. May 6. The first Royal Visitor to Bermuda was Prince Albert, Duke of Edinburgh, second son of Queen Victoria, on board HMS St. George. He was met by Governor Colonel H. St. George Ord and stayed six days.

1861. August. One of the most well-known of the blockade running vessels of the Confederate Navy was the CSS Bermuda. She was an iron-hulled screw-steamer weighing 1238 tons, built this year at the Thornaby yard of Pearse and Lockwood in England. Length: 226 ft. Beam: 29 ft. Draft: 16 ft. Iron Hull, Sister Ship: Bahama, the first vessel to run the blockade. She was built for Edwin Haigh of Liverpool whose main business interest was cotton. She was obviously purpose-built for the blockade-running business as shortly after being completed, she was sold in secret to Messrs Henckle and Trenholme of South Carolina. She was then chartered to Frasier, Trenholme and Co., a British company that operated as the Confederate government's agent in Britain – they owned several blockade runners. This kind of arrangement allowed American owned vessels to sail under the British flag. In this month. under the command of Captain Eugene L Tessier, the Bermuda steamed down the Tees to Hartlepool to load her first cargo of war supplies before setting out to cross the Atlantic by way of Falmouth, where she took on more coal for the crossing. While in Falmouth there was much speculation about her cargo and her destination - details of which had to be kept secret to avoid her being impounded by the authorities for being involved in a war against a nation with which Britain was at peace. She made a good crossing of the Atlantic under British colours and, arriving off the coast of Georgia in the middle of a storm, she was able to slip into the port of Savannah undetected while the blockading Union frigate 'Savannah' was forced out to sea to avoid the storm. Here she discharged her million dollar cargo and took on 2000 bales of cotton to be sold in Britain.

1861. Southern sympathies from Britain and British colonies surrounding the United States were many and hugely varied. The English upper classes saw in the South a genteel and romantic way of life threatened by industrial vandals, mixed with a resentment of the increasing economic power of the US which the North symbolized---"an arrogant and encroaching people." Britain's governor of the Bahamas, Charles John Bayley, was decidedly pro-South and Bermuda's governor H. St. George Ord, was officially neutral but privately predisposed toward Southern activities. Canada viewed the United States at that time as a dangerously aggressive neighbor which, from two previous attempted invasion occasions would eventually attack Canada again when strong enough, so much so that after the outbreak of war, Colonel Garnet Wolseley (pictured, right), of the British army in Canada, argued that Britain should grant the Confederacy diplomatic status. He was firmly convinced that the division of the United States into two separate republics would immediately strengthen the position of Britain's Canadian colonies. Many Canadians thought that if the South wanted to go its separate way because of cultural and political differences, that surely this was no different than the desire of the Thirteen Colonies who had declared independence from Britain in 1776. Seen in that light, the disintegration of the union was merely a continuation of events begun some eighty-odd years earlier. This understanding of the war was underscored by Canadian newspapers referring to the great conflict as the second "American Revolution." Wary of a powerful US Army, Canadian Minister of Colonial Defence, John A. McDonald, increased his country's active militia to 100,000 men, and Britain developed a well-detailed plan to deal with an expected invasion force coming through the traditional Hudson Valley-Lake Champlain route. In addition to seizing forts on the US side of the border to delay an American advance, a British expeditionary force of 50,000 men would add to the existing 25,000 troops at Montreal. Also, the British fleet under Admiral Milne would attack US warships on the high seas as well as blockade northern ports.

Had Lincoln and Seward blundered into war with Britain at the same time they were invading the American Confederacy and losing the merchant marine to privateers, the United States defeat would have been devastating. Bermuda, with its convenient access to open ocean and its St. George's in particular, became the second-largest, after Nassau, Bahamas, transshipment base for large British-built but not British-approved (because Britain was officially neutral) ships crossing the Atlantic and smaller but faster, also mostly British-built but Confederate-owned fleet of blockade runners. In contemptuous defiance of British neutrality laws or regulations, large ships from the United Kingdom unloaded in St. George's huge cargoes of arms and ammunition, cannon, gunpowder, lead and other tools or weapons, plus huge amounts of smokeless anthracite coal from Wales, into town warehouses, where they were stored until loaded aboard fast steamers bound for Confederate ports. Confederate purchasing agents and British speculators - English, Scots, Welsh and Irish - rented every available wharf, storehouse and warehouse, often at exorbitant rates, while Bermudians made fortunes from renting or leasing their wharves or warehouses. It turned usually sedate St. George's into an overcrowded, polluted, often lawless and dangerous town, especially with sailors looking for liquor and women. Bermuda was openly on the side of the Confederacy, to the consternation of Britain. However, many young black Bermudians joined the Union not the Confederacy and fought bravely (see 1865). To geography, the physical nearness of the US Southern States, was added the political advantage that many in the islands were sympathetic to the Confederacy: "This feeling, in Bermuda at least, effervesced to the point of violence toward United States citizens, and extreme courtesy to Confederate commissioners and agents". Bermudians came down on the side of hard cash, for it was with the southern, not northern, states, that money could be made in the Civil War. The Confederacy was short of many types of supplies, especially war materiel and such had to be imported from Europe. The line of transportation, however, was due to be interrupted by the blockage of the southern ports by the navy of the North and so a new system of importation was devised. By that method, freighters brought cargo to St. George's, Bermuda, and Nassau in the Bahamas, at which harbors the goods were transferred to a new type of ship, the blockade runner. This was a fast, sail and steam powered vessel, with a low hull profile to help escape detection.

1861. Marsden Church was established by it's black community in Tucker's Town.

1861. It decided in London that no more convicts would be sent to Bermuda, and a plan was begun for all the convicts to be withdrawn from the islands by the end of 1863. They would not be sent back to England, instead they were to go to Australia.

1861. Hamilton Hotel first opened, ten years after its cornerstone was laid.

1861. The Royal Navy's HMS Desperate was headquartered in Bermuda during the US Civil War (1861-65).

1861. Arrival in Bermuda from the UK of the mysterious artist Edward James, who lived in St. George's until his death in 1877. He became especially known for his paintings of ships, particularly blockade runners, those swift paddle steamers that ran the American blockade into Southern ports, during the American Civil War. He became a friend of the American Consul Charles Maxwell Allen.

1861. September 28. The SS Bermuda, named after its port of departure, was the first of a new type of cargo ship, a blockade runner, a fast, sail and steam powered vessel intended to supply the Confederacy, and with a low hull profile to help escape detection, arrived at Savannah, Georgia. (After other successful runs, the Bermuda was captured in April 1862).

1861. With the United States of America in the midst of a Civil War, Great Britain was worried about the possibility of an invasion of its British North American colonies (Lower Canada, Upper Canada, New Brunswick, Nova Scotia, PEI, Bahamas, Bermuda, etc) by the US and so began to reinforce her military and naval presence there. As a result, in Bermuda plans were made for the British Army units stationed there to be added to and reinforced, while the Dockyard was also strengthened.

1861. November 1. The blockade runner Bermuda steamed out of Savannah, once more avoiding the blockade, and made a good passage home by way of Bermuda and Le Havre, arriving in the port of Liverpool on 23 January 1862.

1861. November. Civil War matters came to a head with the famous "Trent Affair" when two commissioners of the Confederate (or southern) States were forcibly removed from a British vessel, the Royal Mail Steamer Trent in Bahamian waters, in effect a neutral ship, by the U. S. Navy. War fortunately was averted and Vice Admiral Sir Alexander Milne, C-in-C Royal Navy, Bermuda, intervened successfully in the affair and used his diplomatic skills to prevent war between the USA and Britain. He spent much of his remaining time on the Bermuda Station dealing with the defence of British America and the issues surrounding the transshipment of goods from England and Europe, via Bermuda, to the Confederacy.

1861. December 31. "If Bermuda were in the hands of any other nation, the base of our operations would be removed to the two extremes, Halifax and Jamaica, and the loss of this island as a Naval Establishment would be a National misfortune."

As written by Vice Admiral Sir Alexander Milne, then commander-in-chief of the North America and West Indies Station, based in Bermuda.

1862. The following Royal Navy warships were at anchor at HM Dockyard, Bermuda: Diadem, Nile, Immortalitie, Melpomene, St. George, Hero, Aboukir, Agamennon, Diadem.

1862. January 10. The U.S. Consul in Bermuda, Charles Maxwell Allen, informed his government that the Confederate commissioners James Mason and John Slidell had reached Bermuda in transit to Europe and laments:"The sympathy of the people of these Islands is almost entirely with them and their cause; and they are very bitter against the government of the United States."

1862. January 13. From the consulate in Bermuda, Charles Allen tells his wife that he has had to remove a "Secession Flag" surreptitiously placed on the flagstaff of his facility, but assures her that he had "captured it before anyone saw it."

1862. January 27. President Lincoln issued a war order authorizing the Union to launch a unified aggressive action against the Confederacy.

1862. January 30. Mason and Slidell, the embattled Confederate diplomats, finally reach England from Bermuda by ship, where they hoped to be able to buy goods including ships for the Confederate states.

1862. January 31. In London, Queen Victoria herself, and her British Government, assert that her realm will remain neutral regarding the American Civil War conflict.

1862. February 1. President Abraham Lincoln sends a letter of condolences on the part of the United States to Queen Victoria of Great Britain on the death of her consort, Prince Albert. He reiterates the connections between the countries and dismisses any "accidents" that might have come between the two nations. "The People of the United States are kindred of the People of Great Britain. With all our distinct national interests, objects, and aspirations, we are conscious that our moral strength is largely derived from that relationship, and we do not deceive ourselves when we suppose that, by constantly cherishing cordial friendship and sympathy with the other branches of the family to which we belong, we impart to them not less strength than we derive from the same connection."

1862. February 18. Under the command of Charles W. Westendorff of Charleston SC, the blockade runner Bermuda embarked on her second voyage with her hold full of gunpowder.

1862. February 20. (i) Personal tragedy strikes in Washington, D.C. when twelve-year old William Wallace "Willie" Lincoln, son of President Abraham Lincoln and his wife, succumbs to typhoid. Happier news from the war front cannot off-set the despair that pervades the White House.

1862. February 20. From his post at Bermuda, U.S. Consul Charles Allen reports the arrival of the "Rebel Steamer Nashville," purported to be short of fuel. "I shall do all I can to prevent her getting coal," he adds in his communication with his superiors in Washington.

1862. February 25. Nashville becomes the first state capital in the Confederacy to fall to occupying Union forces.

1962. February. U.S. Consul in Bermuda Charles Allen reported that the Confederate commerce raider CSS Nashville had better fortune than her namesake city. She obtained 150 tons of coal in St. George's, Bermuda, to continue her voyage and left Bermudian waters.

1862. March 24. The Confederate blockade runner Bermuda docked in St. George's, Bermuda where she was told by the British authorities that she would not be allowed to discharge her cargo of ordnance, guns and ammunition, as it was clearly intended for the Confederate rebels. She was there for about 4 weeks trying to come to some agreement but, with her deadly cargo still in the hold, she was eventually forced to head for the port of Nassau, in the Bahamas, where she was to take on a consignment of cotton destined for England

1862. March. The launching of the famous Bermuda cedar-built clipper ship the Cedrine 314 tons. Her first voyage was to prove her last. She left Bermuda with much fanfare bound for Portsmouth, England, carrying two hundred convicts who had served their sentences building the Dockyard. In fog and shallow water she ran aground near Brightstone, Isle of Wight but the weather was calm. There were no deaths. The ship could not be salvaged but many of her timbers were used to repair the roof of the Mottistone Church close by.

1862. April. The last Bermuda-built brig, Cedrine, launched only a few months earlier on January 16, designed by John Martin and built by Davis and Outerbridge, crashed and sank off the shore of the Isle of Wight, England, on its maiden voyage. It was the end of an era for Bermuda boat-building. She was carrying the last of the UK's sentenced-to-Bermuda convicts back to the United Kingdom after they had served their sentences. All survived. But the disaster cost Bermudian Captain Thomas Melville Dill his Master's certificate.

1862. April 22. As the Confederate blockage runner Bermuda, by then on the Bermuda-Nassau Bahamas cargo run, approached the Bahamas from the North she was intercepted by the Union blockade ship 'the Mercedita' commanded by Henry S Stellwagen. The Union vessel gave chase and fired a shot across the bows of the unarmed Bermuda. Captain Westendorff had no choice but to heave to. The Mercedita put a boarding party aboard the Bermuda where they not only found discrepancies in the cargo manifests, but also discovered the contraband cargo. This included 'a battery of 7 fieldpieces (rifled), with carriages and everything complete, a number of heavier rifled cannon, 42,720 pounds of powder in barrels, and one-half and one-fourth barrels; 70 barrels of cartridges, over 600 cases of shells, etc. As her captain admitted his cargo was intended for the Confederate armies and that the ship had previously ran the blockade, the Bermuda was seized and sent to the port of Philadelphia.

1862. May 3. The captured by Union forces Confederate blockade runner Bermuda, seized earlier, arrived in the port of Philadelphia under the command of Lt. T.Abbott and a prize crew of 30 Union sailors. Included in the impounded earlier-contraband cargo was a large supply of paper that was to be used by the Confederacy for the printing of bank notes. Watermarked CSA (Confederate States of America) the paper was sent to the Currency Bureau in Philadelphia where it was used to print specimen notes of 'fractional currency' (these were bank notes of various denominations from 3 cents up to 50 cents which were in use from the outbreak of the Civil War until about 1876. A number of these sheets of paper with the water mark CSA still exist). The loss of this bank note paper was by far the most damaging of the Bermuda's cargo that was lost by the Confederates.

1862. St. George's. This blockade-runner painted and shown below entered and later left the town.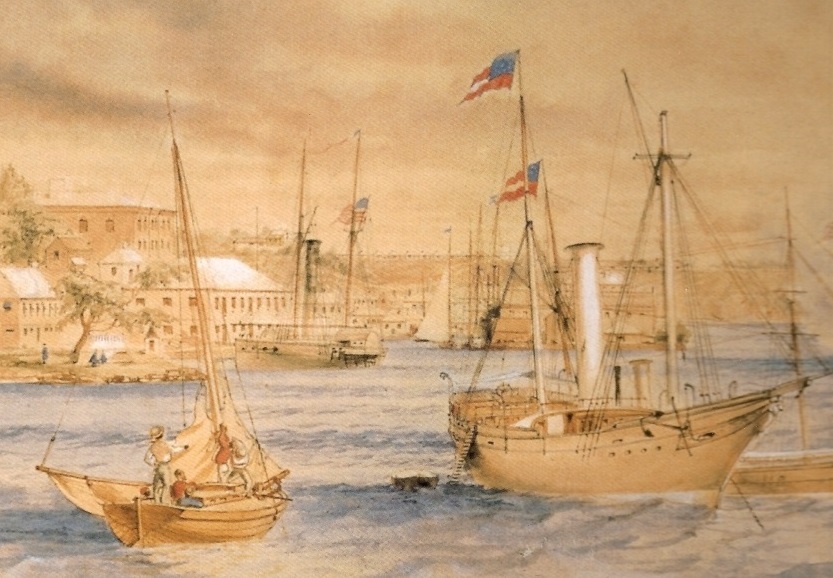 1862. May 15. At Liverpool, England, a seemingly nondescript vessel (it bore only the number 290) is launched from the Laird Shipyards and will soon assume a famous identity in Confederate service as the CSS Alabama.
1862. June 19. Abraham Lincoln signs a law prohibiting slavery in the territories of the United States.
1862. Bermuda's cotton ranked highest of all exhibits in an international exhibition in London.
1862. July 7. In Bermuda, U.S. Consul Charles Allen remains vigilant, thwarting blockade-running efforts by the Confederates wherever he finds them. In the case of the CSS Lodona, carrying a load of "salt-petre [as well as] other contraband goods besides spirits, among which are some Enfield rifles," he has enjoyed some success in detaining the vessel. The master of the ship initially denies the presence of any such cargo, then argues that it was taken on-board by mistake, all while flying a United States flag and insisting upon his loyalty to the Union. Consul Allen remains resolute: "Every scheme human ingenuity could invent has been resorted to induce me to let him have coal. He went as far as to offer me $1000 if I would go to the other end of the islands and remain two days and leave my business in the hand of a merchant there."
1862. July 15. US Consul Charles Allen laments to his wife the loneliness of his post in Bermuda. "I had my flag-staff cut down on 3rd July so could not hoist my flag on the 4th." Some of his earlier compatriots have departed and there is now less traffic bound for New York than before the war, leaving him "in such a God-forsaken place as this with scarcely one friendly person to speak to[.] I have once been attacked in my office and once knocked down in the street within a few days; the general sentiment is 'It's good enough for him; he's a damn Yankee.'"
1862. July 29. U S Consul Allen reports to the state department that the CSS Lodona has steamed away from Bermuda, but without her load of contraband material.
1862. August 2. U.S. Secretary of State William Seward directs his Minister to England, Charles Francis Adams, not to consider any offer of mediation by Great Britain to end the war in America.
1862. September 10. From Bermuda, U.S. consul Charles Allen informs Secretary of State William Seward of activities in these waters and concludes from his observations: "I hope the Navy Department will consider the importance of keeping some watch about these islands or at least communicating with them as often as possible as it is evident the blockade breakers consider it less hazardous to come and go from Bermuda than Nassau."
1862. September 17. The ever-vigilant Consul Allen in Bermuda passes along the latest intelligence on blockade-running activities. He documents the exchange of cotton for arms, ammunition and powder that appears to be taking place, noting of one vessel efforts to camouflage her profile for the endeavor of returning to Confederacy successfully: "I am informed she will leave here this week for Charleston. They have this morning commenced painting her a lead color." Only a week before he had overheard one skipper calculating when the trip could be made so as to appear before the Southern port city "between the 20th and 25th inst[.] and go in the night as there will be no moon."
1862. September 27. The Confederate Congress passes the Second Conscription Act that allows for the drafting of men between the ages of thirty-five and forty-five for service. The First Regiment Louisiana Native Guards or "Chasseurs d'Afrique" musters in New Orleans. The unit is largely composed of "free men of color." Some of these recruits have previously served with a Confederate militia unit and their captain is a manumitted slave who had held a lieutenancy in that command named Andre Cailloux.
1862. October 7. In a speech at Newcastle, Great Britain's Chancellor of the Exchequer, William E. Gladstone, pronounces: "We may be for or against the South. But there is no doubt that Jefferson Davis and other leaders of the South have made an Army; they are making, it appears, a Navy; and they have made — what is more than either — they have made a Nation... We may anticipate with certainty the success of the Southern States so far as regards their separation from the North."
1862. From October. Bermuda was visited several times by the new CSS Alabama. She was preying the North Atlantic, looking for Union shipping to destroy or capture.
1862. October 21. From Bermuda, U.S. Consul Charles M. Allen reports the arrival of a steamer carrying a cargo of cotton and an important passenger, Matthew Fontaine Maury. A scientist and naval officer, Maury is on special assignment to England to promote the purchase of ships and advocate generally for the Confederacy.
1862. November. In Petersburg, Virginia, Georgiana Gholson Walker, wife of Confederate Agent in Bermuda Norman Walker, began keeping a diary. She was no longer at peace with the world as a well-connected, happily married Southern hostess. Instead, she and her husband, who had recently left the Confederate Army after his brother John had been killed at the Battle of Malvern Hill in July 1862, had been transferred to Bermuda. She missed her husband dreadfully. At Bermuda, he had just joined a Confederate blockade runner at St. George's bound initially for Nassau, Bahamas and then to England to perform a secret mission, to deliver $2 million in bonds to a Confederate purchasing agent. She wanted to join him. She continued writing her journal intermittently until 1876.Later, it became an important work. Her writings included these words: "Today I drove up to Hamilton in order to bring my Husband down and after to make a visit at Clarence Cove and one at Mount Langton [the home of the Governor]. I found Lady Milne [wife of Sir Alexander Milne] at home, evidently ready to receive morning calls. Admiralty House is a very pretty little structure about three miles from Hamilton; with neat grounds around and the House furnished handsomely but with no remarkable elegance. The Admiral is now absent on official duties. Lady Milne is a polite, agreeable person, but is wanting in that grace and ease of manner, which I must say are more characteristic of the women of my own Country than that of any other I know. One of the best evidences of an elegant and graceful woman is her ability to meet a perfect stranger with as much affability, as those whom she has known before. Lady Milne is Scotch and while that nation can boast of a people generally of sterling worth, they are certainly deficient in grace and elegance of manner, in that 'suavita in modo' which you find in France and the Confederate States."
1862. December. The first of two batches of British convicts originally sent from Britain to Bermuda left for Western Australia.
1863. January 1. President Lincoln, aware of the public's growing support of abolition, issued the Emancipation Proclamation declaring that all slaves in areas still in rebellion were, in the eyes of the federal government, free.
1863. January 22. A letter cover featuring a now-rare circular Bermuda date stamp, American-styled, reading "Paid at Ireland Island/Bermuda'" on a mourning envelope of the time was sent to his mother in New Brunswick by Midshipman John Hemery Robinson (who later died at the age of 25 in late 1870 while serving on board the HMS Endymion, and was buried in the Sea of Japan). It is suggested that the stamp used on the cover was obtained from an American source by the Bermuda postmaster-general for use at Ireland Island.
1863. March. The last of the convicts sent originally from Britain to Bermuda sailed from Bermuda to Australia.
1863-1870. British Army outposts of Malta, St. Helena and Bermuda, as well as at army depots and fortresses at Portsmouth and Aldershot in England, were all provided with electric telegraph circuits for internal communication. The longest circuit that the Royal Engineers operated was in Bermuda, connecting the strategic forts and the navy yard. During 1863 No 5 Company, Royal Engineers, constructed a single overhead, roadside iron wire from the Central Signal Station at Fort George above St George's, the mercantile port and principal military garrison in the eastern part of the colony, eleven miles west to the Governor's Residence at Mount Langton. By 1866 the line had been extended two miles westwards to Spanish Point and the Admiral's House opposite the Royal Navy yard and fort on Ireland Island. It was completed in 1868 by a 2¼ mile submarine cable to the yard. In 1864 the civil government contributed for its extension with a branch from Mount Langton to the Post Office in the capital of Hamilton. There were eleven military telegraph offices on the Bermudas in 1868, reduced subsequently to nine, most of which were also open for public use. This system gradually replaced the flag signals that had worked across the islands since the 1820s, which by 1847 had four hill-top posts - at Fort George, with the Central Signal Station for shipping and for meteorological reporting, Mount Langton, Gibbs' Hill, with the colony's lighthouse, and Ireland Island. The flags indicated the arrival and passing-by of shipping and other events, including a midday time signal; the numerical flag code was easily read by the civil residents, who were also allowed to send private messages.
1863. April 3. From his post in Bermuda, U.S. consul Charles M. Allen informed Secretary of State William Seward of Confederate activity. "The islands here are filled with Southerners. They seem to have plenty of money and have purchased largely from the merchants here."
1863. April 3. The Confederate steamer General Beauregard arrived in St. George's, Bermuda with a cargo of the UK's Enfield rifles, 1 field battery of guns complete, 500 bags saltpetre, blankets etc, bound for a Southern port.
1863. April 18. US Consul Charles M. Allen reports from Bermuda the arrival there of the Confederate blockade-runner Robert E. Lee out of Wilmington, North Carolina, with a cargo of "600 bales of cotton, turpentine, tobacco & rosin." In addition to these items, five individuals who have sought assistance in locating passage to the North. "The men sent to New York were free people of color who shipped in the south to escape being compelled to work on the fortifications, and did not wish to return. The Contrabands stowed themselves away till after they had passed the blockade."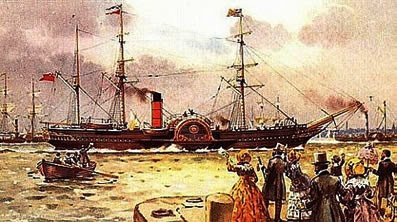 1863. April 21. In Bermuda, US Consul Charles M. Allen is anxious to keep his superiors informed of blockade-running activities. "The steamer Robert E. Lee will leave here for Wilmington in about 8 days with a cargo mostly of arms and ammunition."
1863. US Union Navy Commander Charles Wilkes, almost determined to cause his own war with Bermuda and Great Britain, arrived in Bermuda in command of a small squadron, the Wachusett, Sonoma and Tioga. He sailed into St Georges harbour, and not only refused to leave for a week but ordered the two gun boats in his squadron to blockade the harbour, even firing on a Royal Mail cutter, the Merlin. Later, he began the infamous Trent dispute.
1863. The Confederate Navy ship Robert E. Lee, earlier a regular caller in Bermuda with contraband from the Southern States, was finally intercepted at sea near Bermuda by the Union Navy. She had been picking up munitions. The Scottish-built ship, a speedy paddle steamer, built on the River Clyde in Glasgow, bought by Southern agents in Glasgow, was reckoned by Union forces to have been one of the most important blockade runners on the Wilmington, North Carolina to Bermuda route. Prior to her Southern activities she was known as the Giraffe and had been built for the Glasgow to Belfast run. After her capture by the Union Navy she became one of its ships, was renamed the USS Fort Donelson and was sold to a commercial owner in 1865 when the Civil War ended.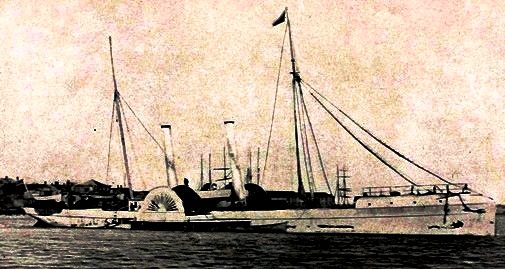 Robert E Lee, captured

1863. The Confederate Navy ship Nola, a blockade-runner, hit a reef and sank eight miles off Hamilton Harbour, off the Dockyard, during a storm while trying to dock.

The Nola sailed under several other names to avoid capture, including the Montana and Paramount.

The speedy ship, like many other Confederate vessels, was built in the famous River Clyde shipyards in Glasgow, Scotland.

1863. Following major improvements in British shore-based British Army gunnery in terms of range and accuracy, Fort Langton in Devonshire was built as part of the massive British Army deployment plans in Bermuda. It became the only fort ever constructed on the north shore of the main island of Bermuda.

1863. Bermuda-based British Army Royal Engineers created from scratch what was then the longest circuit in the world for the British Army's military telegraph system. They connected all Bermuda's strategic Army forts that stretched from Paget Island to Castle Harbour and all the parishes and the Royal Navy Dockyard. No 5 Company, Royal Engineers constructed a single overhead, roadside iron wire from the Central Signal Station at Fort George above St George's, the mercantile port and principal military garrison in the eastern part of the colony, eleven miles west to the Governor's Residence at Mount Langton. By 1866 the line had been extended by the Royal Engineers two miles westwards to Spanish Point and Admiralty House opposite the Royal Navy yard and fort on Ireland Island. It was completed in 1868 by a 2¼ mile submarine cable to the yard. There were eleven military telegraph offices on the Bermudas in 1868, reduced subsequently to nine, most of which were also open for public use. This system gradually replaced the flag signals that had worked across the islands since the 1820s, which by 1847 had four hill-top posts - at Fort George, with the Central Signal Station for shipping and for meteorological reporting, Mount Langton, Gibbs' Hill, with the colony's lighthouse, and Ireland Island. The flags indicated the arrival and passing-by of shipping and other events, including a midday time signal; the numerical flag code was easily read by the civil residents, who were also allowed to send private messages.

1863. May 13. The captured Confederate blockade runner CSS Bermuda, after having been put on trial before the Philadelphia court on August 12 1862 on a charge of assisting the rebels, and on March 15, 1863 found guilty' and condemned, formally changed hands and became a Union Navy vessel, commissioned her into the service as a supply vessel for their blockade ships. She remained in service steaming between Philadelphia and the Gulf of Mexico, running supplies to the blockade ships, carrying Union sailors to and from their postings and from time to time ferrying captured Confederate sailors into captivity. By then re-titled the USS Bermuda, she had a number of successes herself intercepting blockade runners and took some valuable prize cargoes.

1863. June 15. The birth, at Lough House (renamed Banana Manor in the 20th century), 4 Blockade Alley, St. George's, during the American Civil War, of a son to the Confederate military agent in Bermuda, Major Norman Stuart Walker, and his wife. They had leased the house from the Lough family since the beginning of the American Civil War and had also held many meetings there with Confederate sympathizers, shipping agents and officials. At the special request of Mrs. Walker, a Confederate flag was ceremoniously draped over her lying-in bed.

1863. June. Formerly in Petersburg, Virginia as a well-connected society hostess, Georgiana Gholson Walker, wife of Confederate Agent in Bermuda Norman Walker, was finally able to join her husband in Bermuda. She ignored the advice of her friend, Mrs. Jefferson Davis, wife of the president of the Confederate States, and persuaded the captain of the blockade runner Cornubia to take her and her two children (and she was expecting a third) to Bermuda. They arrived safely and finally a family again, set up house in St. George's. Her diary recorded the event.

1863. June. Among other commodities leaving and entering the port of Wilmington, North Carolina, were government officials of the Southern Confederacy, as well as secret agents and banished Northern peace advocates. Among the latter was Ohio Congressman Clement Vallandigham, who was exiled to the Confederacy for criticizing Lincoln and his pro-war administration, was sent to President Jefferson Davis in Richmond, then to General William Whiting in Wilmington to be put aboard the blockade runner Cornubia, destined for Bermuda. From there, Vallandigham continued on to Canada, ending up at the Clifton House Hotel in Niagara Falls and running as a peace candidate for Ohio governor in 1863.

1863. July 4. Union troops captured Vicksburg, after a year-long campaign that ended with a 47-day siege.

1863. July 18. While serving with the 54th Massachusetts Volunteer Infantry, a Bermudian Sergeant was killed in action. He was Sergeant Robert J Simmons. He had fought in the Union assault on the Confederate Fort Wagner in South Carolina. Despite their valiant effort, the 54th suffered heavy casualties and Union forces failed to capture the fort. He died in a South Carolina prison after being taken prisoner during the assault on Fort Wagner.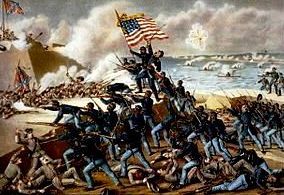 54th Massachusetts Volunteer Infantry in action
1863. July 21. In the port of St. George's, Bermuda, a painting of the notorious Confederate ship Florida, painted by Bermuda-based artist Edward James, was sold for a handsome but undisclosed sum. The watercolour "Florida — Running Before A Gale" went to an ardent Confederate buyer.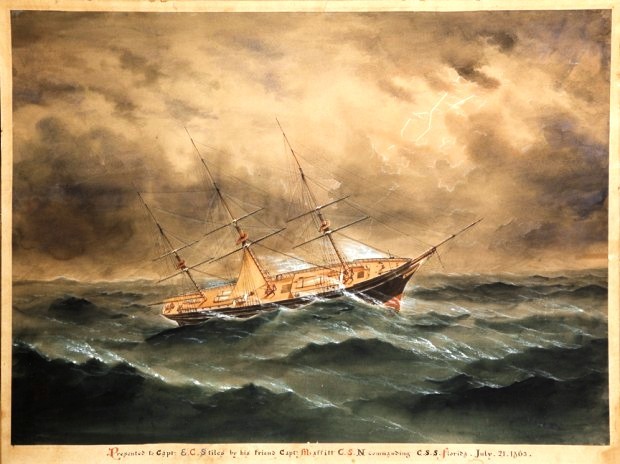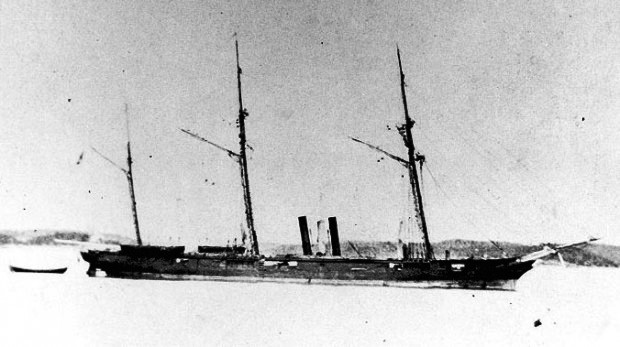 Captained by John Newland Maffitt (1819-1886) of Wilmington, North Carolina the "Florida" — launched in 1862 — had gained fame for her relentless attacks on US Navy ships blockading Confederate ports. She operated as a commerce raider from the West Indies to New England throughout the first months of 1863. By the summer she had sunk or captured millions of dollars of Union shipping and was constantly pursued by warships of the US Navy. A few days earlier, on July 17, the Florida reached Bermuda where Maffitt hoped to take on coal and contract for repair but was refused access to official British government fuel stockpiles or dry docks. He was allowed to await the arrival of a coal ship and secure emergency repairs by private commercial yards. During this brief stay in Bermuda, Captain Maffitt encountered Edward Copeland Stiles (circa 1827-1895) who had been in St George's as early as December, 1862 where he was reported by the US Consul as deeply involved in Confederate naval activities. The painting of the "Florida" was commissioned by the "Florida's" captain and presented to the Confederate agent, carrying the inscription: "Presented to Capt. E.C. Stiles by his friend Capt. Maffitt C.S.N. Commanding C.S.S. Florida July 21, 1863." Ship's logs show that the Liverpool-built "Florida" sailed for France for repairs on July 27 indicating that the presentation of the painting took place only a few days before her departure.
1863. September. Bermuda-based British artist Edward James capitalised on the international newsworthy value of Confederate raiders and blockade-runners which visited Bermuda during the 1861-1865 US Civil War by placing an advertisement offering drawings of the various ships in St. George's harbour. Confederate cruisers galore had been of huge concern to US Navy vessels during the conflict. One ship in particular, the Florida, one of the many painted by James had earlier attracted significant interest.
1864. January. The Nola, built as a paddle-wheel steamer in late 1863 and intended for use out of Bermuda in running the blockade, was on her maiden voyage to the Confederacy. But she struck the reefs near the Western Blue Cut and was lost.
1864. The launching of the Bermuda clipper ship the Lady Milne.
1864. Spring. The Agnes E. Fry, ordered by Bermuda-based Confederate Captain Fry, was built on and collected from the River Clyde in Scotland. She was to conduct Confederate business in Havana, Cuba, and other neutral ports in Bermuda and the Bahamas. She was a large vessel, 237ft long by 25ft in beam, with a depth of hold of 13ft. (She made two successful runs into Wilmington, the first from Nassau in late September 1864, and the second from Bermuda in November. She was lost on her third attempted voyage into Wilmington, two days after Christmas 1864. Captain Fry was sent from Bermuda to Scotland to bring out this new blockade-runner, which, in honour of her future commander's wife, was named the Agnes E Fry. In her final days, Captain Fry's small crew ran it aground near Fort Caswell rather than let it fall into enemy hands.
1864. April. At the urging of Confederate President Davis, the Confederate Congress passed a Secret Service Act to provide $1 million for clandestine operations, most of it planned for use in Canada. Davis dispatched commissioners, agents and funds to Canada for an effort to aid Southern prisoners in their escape from Northern prisons, and take advantage of the political unrest and Midwesterners (and New York) opposition to the war. Davis sent Clement C. Clay of Alabama, James Holcombe of Virginia, Captain William Cleary of Kentucky and Jacob Thompson of Mississippi to Canada for this purpose, leaving Richmond on May 3rd for Wilmington, and departing on the blockade runner Thistle for Canada on May 6th. These were very distinguished Americans aboard the Thistle, Thompson being President Buchanan's Secretary of the Interior, and Clay serving two terms as a United States Senator from Alabama in the late 1860's. The runner Thistle was escorted by the ironclad CSS Raleigh, which turned south to engage blockading ships whilst the Thistle ran north for a spell, then eastward to Bermuda. It was only through the extraordinary efforts of Captain John Pembroke Jones, commanding the Raleigh, in keeping the blockaders distracted that the mission was not captured off Wilmington. Once in Canada, the commissioners went to work, with Holcombe in particular establishing a network of agents in Montreal, Toronto, and Windsor (across from Detroit), to channel escaped Southerners toward Halifax, and thence to Wilmington.
1864. Bermuda had more Yellow Fever deaths. In the civilian population, 217 were white, 20 were colored. The British Army military had 206 deaths. Convicts and their officers had 28 deaths. Total deaths were 471 out of a total population then of 13,356.
1864. A Board of Health hospital was established at Cedar Hill, St. George's, for victims of the Yellow Fever epidemic then raging in Bermuda.
1864. Shelley Bay racetrack was opened, for horse-racing, thanks mostly to officers of British Army units posted to Bermuda then based at both Prospect and St. George's. They picked where the racecourse should be, between the two army garrisons. Races drew impressive crowds. It lasted until 1961, when closed.
1864. From this year there were repeated but initially unsuccessful attempts by the Bermuda Government to significantly increase the number of imported agricultural workers, this time not only from Portugal's Madeira from where the first immigrants had come in 1849 but also from the Azores, Britain, Germany and Sweden.
1864. Yellow fever deaths in Bermuda reached alarming proportions this year, by far and away the highest number in any one year since 1843, especially among the British military posted to Bermuda.
1864. In Bermuda in his military capacity, Duke of Somerset reported in the UK;s United Service magazine: "During the last twenty years much has been done to render Bermuda an important naval Station, more especially while Rear-Admiral Hutton was Superintendent. The old floating depots for provisions, naval stores, &c. have been abandoned, and a fine dock and Victualling yard have been built with a basin of more than sixteen acres, and a jetty for coaling ships, at a cost of about £112,000: the construction of a first-class dock would complete the establishment. Bermuda lies in a central position, which is the key to the North American United States in case of war: it is a convenient distance from Halifax to vessels which might be injured in the Gulf Stream, and it is convenient also with regard to the West India Islands. Engineers have, however, contended that there are natural difficulties which are insurmountable, "owing," as one of them says, "to the ground being so porous and uncertain. You may go through a solid piece of rock, five, six, or ten feet, and you may come into a cavern connected with the ocean sixty or seventy feet deep: the openings in the rock are something very extraordinary. In Bermuda there are caves which will astonish you: the connexion between the rock and the sea is surprising : you cannot go fifty feet without getting to something which would upset your arrangements." This porous rock was a problem. Maintenance of a fleet "on station" required a dry dock, but the nature of the rock made this impossible. The ingenious, but hugely expensive, alternative, was to make a floating dock, in England, and float it down to Bermuda.
1864. Most of Devonshire Parish, on the outskirts of the City of Hamilton, was acquired by compulsory purchase by the British War Office for the British Army, for the construction of a new large base, for the infantry. Prospect Camp was to be extended.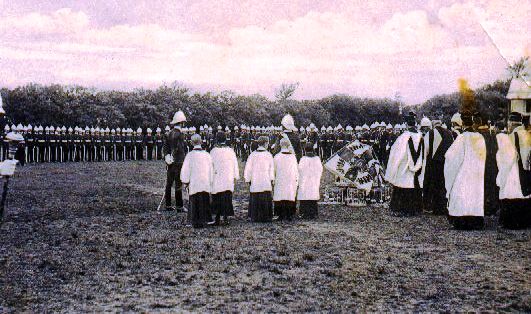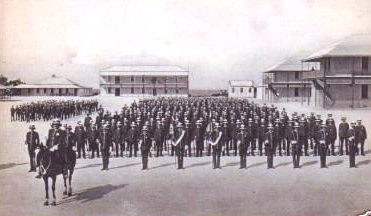 1864. Summer. A plot by Southern sympathizers was hatched to spread a yellow fever epidemic from Bermuda to US Northern cities. The Confederate South was hard-pressed in its war against the Union. From the beginning, it lacked the industrial capacity and manpower of its northern neighbor, a fact that was taking its toll three years into the conflict. The Confederacy was desperate for resources, and could ill afford the outbreak in Bermuda, a key partner in its trade network. The scheme began when a mysterious Dr. Luke Blackburn from a Confederate southern part of the USA, arrived in Bermuda from Halifax, Nova Scotia. Already in his 40s and therefore too old to take up arms on the frontlines of the battles himself, he vowed to do what he could for his beloved South. After his request to become the General Inspector of the Hospitals and Camps was turned down — despite the fact that he was willing to do it pro bono — he was enlisted by the Mississippi governor as a civilian agent and made his way up to Toronto in 1863 to collect supplies for the Southern ships aiming to penetrate Northern naval blockades. The city was then increasingly becoming a haven for well-to-do Confederate plotters intent on dreaming up new ways to sabotage the North from the relative safety of neutral Canadian territory. Bermuda was then being devastated by a yellow fever epidemic, referred to elsewhere as Yellow Jack, and Dr. Blackburn, a physician from Kentucky, produced records to show he practiced medicine in New Orleans and had a special knowledge of the disease. It emerged he was famous for his treatment of yellow fever (yellow jack) outbreaks in Louisiana and Mississippi, which made him more than qualified to help when the dread disease broke out in Bermuda. Yellow Jack got its name from the flag that had to be flown by quarantined chips in harbors because their crews or passengers had contracted yellow fever. It had been a deadly disease in US coastal cities during the 1800s, with special concerns after an 1853 outbreak in New Orleans, Louisiana that caused 9,000 deaths, 28% of the city's population. The disease was notorious for causing black vomit, an ominous clinical sign resulting from hemorrhage in the stomach. The black vomit devastated the internal organs. Fever, muscle weakness, nausea and constipation were only the beginning. After a brief respite from the initial symptoms, during the so-called toxic phase the virus continued its deadly advance with a vengeance. Within days, jaundice set in, and the internal hemorrhaging responsible for sufferers' characteristic dark vomit and stool took their toll. Liver and kidney inflammation soon followed, with hallucinations coming before coma and, finally, roughly 10 days after the initial infection, death. Many of those who survived were so traumatized that they would never again be the same, even when they made full physical recoveries. Blackburn, undaunted, initially fought valiantly on behalf of the afflicted, meeting the killer virus head on. At first, Blackburn's battle against yellow fever would bring the promising young physician great respect and even fame. He was well known for setting up the first effective quarantines in the US during the 1853 yellow fever outbreaks in the Mississippi River Valley. Before too long, however, his intimate knowledge of the virus took on an altogether different tone. In Bermuda, he was visiting the sick, refusing all payments for his services or expenses. People were genuinely sorry when he announced he had to return to Halifax at the end of a month. It was not known at the time that Dr. Blackburn had an ulterior motive. Little did his patients know that his expertise was not offered solely out of the goodness of his heart. Dr. Blackburn gathered their bedding, clothes, blankets, vomit crusted rags, and other sickened articles, many stained with black vomit and gross. He packed them into trunks, which he put under the care of a co-conspirator named Mr. Swan. The plan was to ship the trunks first to Halifax, Nova Scotia, and then to New York, Boston, Philadelphia, Norfolk, and Washington where the plague infested articles would be sold to clothing merchants, who would inadvertently spread yellow fever to their customers and thereby cause an uncontrollable epidemic. The plot was ultimately foiled. One spy in Bermuda, either not paid for his services or alarmed or both, told the United States consul in Bermuda, Mr. Allen, about Dr. Blackburn's suspicious activities. The consul, told local officials about the trunks and their cargo of infected clothing and bedding. But one man at a town meeting in St. George's was secretly a Southern sympathizer, and he signaled a Confederate spy who was lurking outside that Dr. Blackburn's plan had been discovered. The Confederate spy quickly notified the guardian of the clothing, a Mr Swan, that trouble was imminent. Swan was said to have been preparing to burn the supposedly infected clothing articles when he was caught and sent to jail. Blackburn escaped to Canada where he re-joined the nest of Confederate spies plotting further terrorism activities. Blackburn was arrested on his arrival back in Halifax, after charges were laid against him following disclosures by the Bermuda authorities. In Bermuda, US Consul Mr Allen submitted his belief that Dr. Blackburn's expenses had been paid with funds from the Rebel treasury. A blockade runner, Thomas E. Taylor, reported that an eminent Confederate military doctor proposed to him during the prevalence of the yellow fever epidemic that he should ship by Confederate boats to Nassau and Bermuda sundry cases of infected clothing, which were to be sent to the North with the idea of spreading the disease there. When Dr. Blackburn returned to Canada, he was arrested and charged with violating Canada's Neutrality Act. However, charges were dropped because there was no hard evidence showing that the plague trunks had ever entered Canada's border. US government never followed up on the matter, although newspapers had a field day. While a link to the Confederacy was suspected, any record was destroyed in the wake of the Southern defeat. So Blackburn was acquitted. He was able to return to the US south which needed his medical services so urgently that it apparently overlooked his medical transgressions. He did not know at the time that the virus that causes yellow fever is spread by infected mosquitoes, not people. (That was not discovered until 1901). Dr. Blackburn always refused to talk about the plot. The only time he spoke on the matter, Blackburn denied all involvement and said that the plot was too ridiculous for a gentleman to be involved with. He continued his work with yellow fever, combating an outbreak in Louisiana in 1878. He was elected governor of his home state of Kentucky from 1879-1883, where he was held in high regard for his work on prison reform. As a politician, he would be remembered — and occasionally reviled — for his efforts at prison reform, especially raising taxes to improve the conditions at the state's most notorious prison, Frankfort Penitentiary, a.k.a the USA's The Black Hole of Calcutta.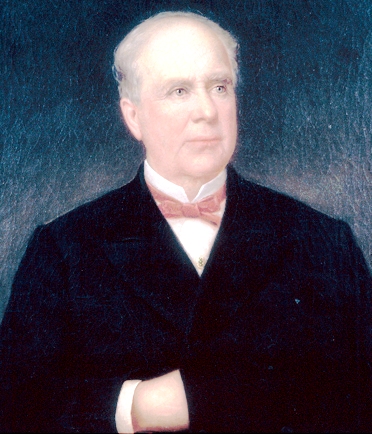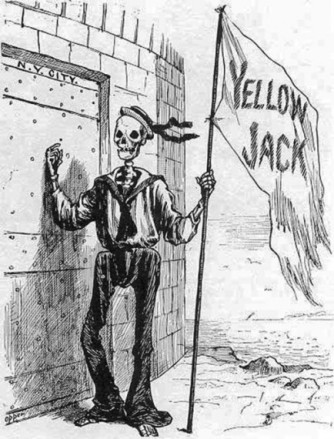 Dr Luke Blackburn and Yellow Jack disease cartoon
1864. August 11. An excerpt from a letter to the Confederate Secretary of State, the Hon Judah P Benjamin, from Commissioner James P. Holcombe of Virginia who had become a Confederate secret agent in Canada and was helping to arrange the escape to Canada and beyond, namely back to the South, of Confederate prisoners held in Northern prisons. He wrote it from Clifton House, Niagara Falls, Canada West. "Sir---Since my last dispatch I have visited all the points in Canada at which it was probable any escaped (Southern) prisoners could be found. I have circulated as widely as possible the information that all who desired to return to the discharge of their duty could obtain transportation to their respective commands within the Confederacy. For this purpose I have made arrangements with reliable gentlemen at Windsor, Niagara, Toronto and Montreal to forward such, as from time to time may require this assistance, as far as Halifax, from which point they will be sent to Messrs. Weir & Company to Bermuda. The system thus organized will provide for the return of any ordinary average of escaped prisoners. With the highest respect, etc., James P. Holcombe."
1864. September 13. The "Mary Celestia" a 225 foot long, 207 tons, Confederate blockade runner smuggling much needed guns, ammunition, supplies and food to the troops in the South, sank off Bermuda. She was built in Britain. It has been claimed, but never substantiated, that the Confederate Forces for whom her cargo was due were British-backed. She was under the command of Captain Sinclair and piloted by a local Bermudian, John Virgin. One of the swiftest of her class, she had made at least five successful trips delivering goods into the south. After leaving St. George's bound for Wilmington, South Carolina, she struck a reef off the South Shore off Gibb's Hill Lighthouse and sank in 20 fathoms. First officer Stuart announced some breakers he had spotted ahead, but the local pilot who was steering the vessel replied that hew knew every rock there. Within moments, the vessel had slammed hard into the reef. The ship's cook was the only casualty. He had returned to his cabin and never made it out of the sinking ship. The vessel, which took about seven minutes to sink, was a total loss, cargo nearly so. Unauthorized cargo, probably at the behest of the crew, included several crates of wine. The circumstances were described as "suspicious." The remnants of its paddle wheels and a portion of the deck still sit on the sands and are a major attraction for scuba divers. British Bermuda-based artist Edward James memorialized the sinking in a watercolour, as shown below.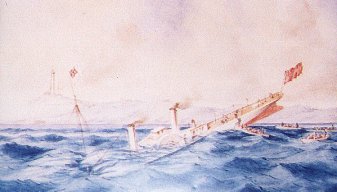 Sinking of the Mary Celestia, 1864 by James

1864. September 25. Lynx was a long, very fast paddle-steamer with two stacks and two masts, all painted white. She met her end bound for Bermuda, running out of Wilmington NC, under Captain Reid, with 600 bales of cotton, passengers and special cargo, including $50,000 in gold. She was hit eight times, six below the waterline, by the 100-pounder and 30-pounder rifles of much slower USS Howquah, assisted by Niphon and Governor Buckingham. Sinking, with one of her wheels damaged, Lynx was beached about six miles below Fort Fisher. The Confederates all escaped, along with the gold, although Federal sharpshooters got near enough to wound one crew member. The ship's remains were set afire.

1864. November. Escaped Confederate soldiers were passengers on blockade runners that called at Bermuda, including, seven of whom booked passage on the Confederate runner Armstrong in St. George's, bound for Wilmington, after having escaped a Yankee prison and made their way to Halifax, Nova Scotia, then to Bermuda.

1864. December. Canadian anxiety, expressed and as noted in 1860, was increased and shared with British Army staff in Bermuda when several American newspapers this month called for the annexation of Canada. General Hastings Doyle, commander of British troops in the Atlantic, publicized a conversation between Northern Generals Grant and Meade which intimated that Canada would be attacked after French involvement in Mexico was dispensed with. It caused Bermuda's British Army units to be reinforced.

1865. January 1. The Princess Hotel in Pembroke Parish opened for business. The hotel quickly became a beacon to travellers and saw Bermuda go from a winter destination for wealthy New Yorkers who arrived by steamship to a spring break capital for east coast college students to a destination for discerning travellers looking for something different from what other Islands offer. The opening date was just two years after Princess Louise, who was the fourth daughter of Queen Victoria, visited Bermuda and called it "a place of eternal spring." From that day, hotel became part of the fabric of the Bermuda community. It was when Bermuda's nascent tourism season was winter, when guests arrived by steamship from New York and stayed on the island for months, when horses and buggies transported passengers along dusty roads. In those days, as ocean liners entered Hamilton Harbour and sailed past The Princess, it was tradition for our staff to welcome them, dressed in white jackets and waving pink handkerchiefs. Over the years it had its fair share of celebrities, including Mark Twain who was known to recite poetry while smoking a cigar on the veranda. The hotel has played a leading role in more recent Bermuda tourism. A key ingredient in the hotel's success from the start was the loyal, dedicated and professional staff, many who have been there for more than 20 years and the commitment by the hotel's various owners since the opening, who have kept the Grand Dame tastefully decorated and equipped with the latest furniture and fixtures, and first-class hotel amenities. This hotel also played a significant role in Bermuda's economy.

1865. January. Wilmington, North Carolina was captured by Union forces, the fleet of blockade runners based in Nassau and St. George's, Bermuda, vanished - and so did the prosperity that the US Civil War had brought Bermuda by being so hugely on the side of the Confederates.

1865. February. Bermuda's British Army military command was alerted and further strengthened when Canadian Cabinet Minister D'arcy McGee referred to the expansionist United States and said: "They coveted Florida and seized it; they coveted Louisiana and purchased it…they picked a quarrel with Mexico which ended by their getting California …The acquisition of Canada was the first ambition of (America)…Is it likely to be stopped now, when she counts her guns afloat by thousands and her troops by the hundreds of thousands?" It confirmed once again that Canada was sympathetic to the South and hoped for two smaller, and less threatening, neighbors, from a split up USA who might leave British North America alone.

1865. February. In London, England War Office looked to Bermuda (along with Halifax in (Nova Scotia, Jamaica and Antigua) as a possible strategic base for launching attacks against the United States if there was any attempt by the USA to attack any part of Canada or Bermuda or any British Atlantic territory in retaliation for their roles in the US Civil War.

1865. Fort Albert was modernized for four ten-inch Rifled Muzzle Loaders by the British Army.

1865. April 14. As President Lincoln was watching a performance of "Our American Cousin" at Ford's Theater in Washington, D.C., he was shot by John Wilkes Booth, an actor from Maryland obsessed with avenging the Confederate defeat. Lincoln died the next morning. Booth escaped to Virginia. Eleven days later, cornered in a burning barn, Booth was fatally shot by a Union soldier. Nine other people were involved in the assassination; four were hanged, four imprisoned, and one acquitted.

1865. William Perot's Bermuda homemade stamps were replaced by printed postage stamps, which were printed almost exclusively using the engraved, or gravure, printing method.

1865. The Roanoke, a Union steamer, was hijacked en route from Cuba to New York by Confederate sailors who had joined the ship in Cuba in disguise. The Confederate seamen took over the ship after it set sail and diverted to Bermuda because it needed coal and wanted to disembark the Federal crew and passengers. But the Governor of the day refused to resupply the ship because he regarded its seizure as an act of piracy and Bermuda, as a British territory, was neutral during the US Civil War — although Bermudians made a fortune on the sly trading with the rebel Southern states. Confederate Lieutenant John Braine, who had assumed command of the Roanoke, put the passengers and crew in lifeboats and scuttled the ship to avoid it being reclaimed by Union forces. Braine was tried in Bermuda for piracy, but acquitted and he and his crew were transported back to the Confederate states, which were forced to surrender to the Union only months later.

1865. To help in it's battle against yellow fever that had caused epidemics in British Army and Royal Navy units then based in Bermuda, the Royal Navy sent Dr. Henry Domville, of the RN's medical service, to the Royal Naval Hospital, Ireland Ireland. It is believed he and his wife were there for several years.

1865. British painter Edward James painted St. George's Harbour. (He painted in Bermuda from 1861 to 1877).

1865. June 2. The US Civil War ended with victory for the Union when General Edmund Kirby Smith, commander of the Confederate forces west of the Mississippi, surrendered to Union forces. Four years of fighting ended. An estimated 750,000 and civilians died in the conflict .Many Bermudians too had fought for it, some with great bravery. They included Wate O. Harris, 6th US Colored Infantry; Samuel Rollins, 26th US Colored Infantry; Robert J. Simmons, 54th Massachusetts Infantry: George Smith, 29th Connecticut Volunteer Infantry; Robert Tappin (Tappan), 31st US Colored Infantry; Joseph Thomas, 31st US Colored Infantry; John Thompson, 26th US Colored Infantry; James Jacobs, 5th Massachusetts Cavalry: John Wilson, 31st US Colored Infantry. US Military records reveal that at least 40 Bermudians of African descent served in the Union navy. Despite its small size, Bermuda was among the foreign nations with the highest number of black sailors in the Union Navy. Bermuda's numbers exceeded many South American and Caribbean nations that had larger African descent populations. In comparison to Jamaica and Canada, Bermuda had a higher representation of sailors per each country's population size. Many of the Union foreign sailors of African descent like those from Bermuda were already experienced seamen prior to their enlistment. At least half of the 40 Bermudian sailors reported having nautical occupations at the time of their enlistment. Some may have already been in the American Navy prior to the outbreak of the war so their enlistment may actually have been a re-enlistment. It is worth noting that of the known Bermudians who served in the Union Army, most were sailors prior to their enlistment. Aboard the USS Hartford was Bermudian Augustus Simmons; and on the USS Brooklyn was Bermudian John Tucker.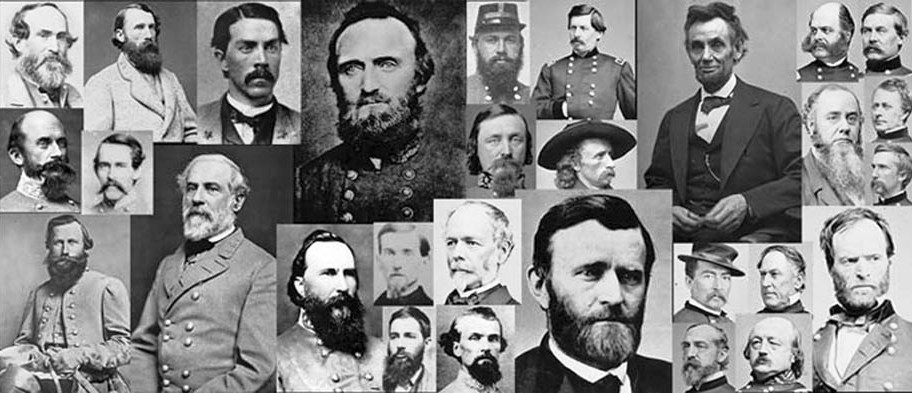 Confederate and other personalities
1865. Enactment by the Bermuda Government of the Defence Act 1865. This followed alarming news from the British Government of the threat posed by the war-like United States of America looking for revenge for Bermuda's involvement in the US civil War. One repercussion was the disappearance of White's Hill in Devonshire Parish. It commanded a high central position over Hamilton and the harbour and therefore an invading force could not take the capital by surprise. Furthermore its comparative isolation was thought to minimize the camp from the threat of yellow fever, the scourge of the military in Bermuda during the 19th century. The Defence Act meant that generations of Bermudians were uprooted from ancestral homes, causing much consternation and anger. Such was the upheaval that thought was given to abandoning Devonshire Parish and incorporating the remaining areas into Pembroke and Smith's. This never happened but as a direct consequence the British Army built Forts Langton, Prospect, and Hamilton to ward off attack from land and sea. Prospect became a garrison town complete with barracks, school, church, gymnasium and married quarters plus the Garrison Cemetery.
1865. HMS Challenger visited Bermuda for the first time, en route to her epic voyage of discovery. She was based at HM Dockyard. Like many of the Victorian steam corvettes she had a story to tell. In 1862 she had been part of the force that occupied Vera Cruz in Mexico, whilst in 66 and 68 she was in action in Fiji. But her contribution to history is as the world's first oceanographic ship on the Challenger Expedition. The Space Shuttle Challenger was named after her.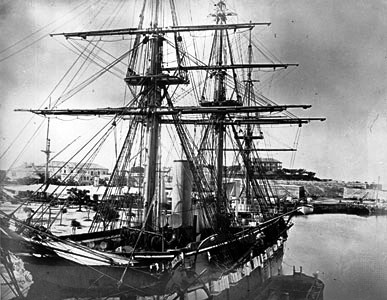 HMS Challenger 1965 off Dockyard

1865. December 16. A British Army report on the yellow fever epidemic in Bermuda in 1864 was delivered at the Army Medical School, Royal Victoria Hospital, Netley, UK, by Deputy Inspector McClean, MD, Professor of Clinical and Military Medicine.

1865.The investigative report "On the Yellow Fever Epidemics of Bermuda", by William R. E. Smart, MD, Deputy Medical Inspector-General of the Royal Naval Hospital, Bermuda, 68 pages, was published in London.

1866. March 19. A confidential Dispatch from the Major General in command of British and Canadian troops in Halifax, Nova Scotia, warned the Officer Commanding HM Troops, Bermuda, Colonel W. G. Hanley, that a signal had been received from Sir F. Bruce, the British Government's Minister in Washington, DC., stating that a Fenian attack under General Sweeney (who as an Irishman had served in the USA's Civil War Union Army but was not content with that, wanted his bitterly anti-British ambitions furthered) could be made on Canada and Bermuda. On March 7, 1866 in Ottawa, Canadian Minister of Militia George-Étienne Cartier had put 10,000 militia on alert after Fenians and their malcontented followers had held meetings in New York to try to recruit the Irish community to their cause and threatened invasion. But this precaution against anticipated attacks on St. Patrick's Day in Ottawa, Ontario was only partially successful. Irish discontents did briefly invade Canada and tried to cause considerable havoc both in Canada and the USA, as a result of which there was some intensive military activity in both Canada and USA before they were defeated, captured and punished. Bermuda was regarded as a potential target by Sweeney and his ilk because of the support of most Bermudians towards the south not the north in the US Civil War. As a direct result of this warning, in Bermuda British military precautions were taken immediately in getting the local militia ready, ensuring cannon were in good order, ammunition was available and all Bermuda's military forts from St. George's to Dockyard were prepared for possible action with Royal Navy ships reinforced, Royal Marines prepared for action at their base at Casemates, watches doubled and more. Likely as a result of these precautions the attack from America never materialized.

1866. March. Following the establishment a few weeks earlier in St. George's of the joint-stock St. George's Marine Slip Company located on the western edge of the town for the purposes of hauling, repairing and maintaining ships, it's first operation was the slipping of the Norwegian bark Grenmar. It's arrival was recorded by the Bermuda-based British painter Edward James who had earlier painted many ships which had called at Bermuda during the American Civil War.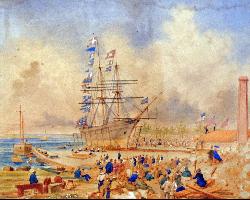 1866. May 15. As part of the anti-Fenian precautions referred to above on March 19, the ship on which the 2nd Battalion, the 16th Foot, British Army, was traveling from Nova Scotia to Barbados via Bermuda for a spell of reinforcement duty if necessary, ran aground on a Bermuda reef when trying to enter harbor. The voyage was delayed for five days.
1866. August. Lieutenant Albert Henry Hime, Royal Engineers, then 24 years old and newly married (three months earlier to Josephine Searle) in Plymouth, Devon, England, arrived with his wife and was almost immediately given a significant assignment. It was to design, primarily for British Army in Bermuda defense purposes given the threat of invasion by the victorious Union in the USA after the US Civil War, the building of the Causeway, to link up all Bermuda's military forts. He accepted the challenge immediately, even though he had no previous experience of such an undertaking. It demonstrated both his capabilities and his leadership qualities that much later resulted in him being knighted and appointed Governor of Natal. What was required was a road 1.8 miles long, 47% of it across a harbour, and incorporating two bridges: one wooden and one of iron, the latter a swing-bridge to allow the passage of ships. It took more than four years ro complete and was opened with much fanfare in 1871.
1866. August. The building of the floating dry dock "Bermuda" commenced near London. At one time there were 1400 hands employed See 3rd September 1868 and 1869.
1867. The wealth Joseph Rainey had acquired in four years in Bermuda instantly elevated his social status when he and his wife Susan returned to South Carolina. Already the son of Georgetown's richest black man, he settled into his father's house and worked actively in the Republican Party, soon becoming its county chairman.
1867. November. First Bermuda visit of Mark Twain, Samuel Langhorne Clemens. He was a passenger on the SS Quaker City, 1,800 tons, see photograph at right, powered by steam and sails. She had 73 passengers, was a converted US Navy warship which during the US Civil War had helped to impose a Union blockade of Southern ports. She had left New York City on June 8, 1867 for the Mediterranean, Black Sea and Holy Land. Her first call was at Horta in the Azores on June 21-23, then Gibraltar and points east. She arrived back in New York on November 19, via Bermuda. It was from Bermuda, because of its newly-established telegraphic facilities, he dispatched letters to San Francisco's Alta California news journal. In their revised form (1869), they were his The Innocents Abroad, his impressions of all the places he had visited on this voyage, which won him virtually immediate international attention .In it, he wrote of his immediate liking for Bermuda after the ordeal of his trip: "Days passed — and nights; and then the beautiful Bermudas rose out of the sea, we entered the tortuous channel, steamed hither and thither among the bright summer islands, and rested at last under the flag of England and were welcome. We were not a nightmare here, where were civilization and intelligence in place of Spanish and Italian superstition, dirt and dread of cholera." He penned the famous phrase that Bermuda was a paradise but one had to go through hell to get there. It was because ships' voyages made him sea sick. He hated ships but had no other means of crossing seas and oceans. This, his first Bermuda visit, was over a period of four days. Twain viewed the enormous rubber tree (still there) in the grounds of Par-la-Ville Park, in front of where the Bermuda Historical Society now stands. It had been the town house of Postmaster William B. Perot, who laid out the gardens in the mid 1800s. Mark Twain pretended to be disappointed with the rubber tree. He complained - with a twinkle in his eye - that it did not bear a crop of hot water bottles and rubber overshoes! He was noted for his humor and consideration for others. He became Bermuda's most famous visitor by far, so much so that several busts of him remain in Bermuda, plus a famous local hotel named a prestigious suite after him. He used the 1867 voyage to introduce his readers to the history of Bermuda, a British colony that for purely coldly profitable reasons had openly and massively supported the Confederacy in the American Civil War and given the North's Consul in Bermuda a consistently hard time with often open hostility directed against him. As a result, Bermuda was a place few Americans wanted to visit in the post-war years. More than any other person or entity, it was he and he alone who introduced Americans, via his "Atlantic" writings of 1877 and later, of traveling to Bermuda for its own distinctive long-term charms not its short-term American Civil War history and not just for a short summer vacation but for an extensive visit over several months in America's often bitter winter but Bermuda's balmy winter where there was never any snow and the climate was much more invigorating than in the Caribbean 1,000 miles to the south.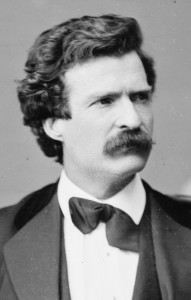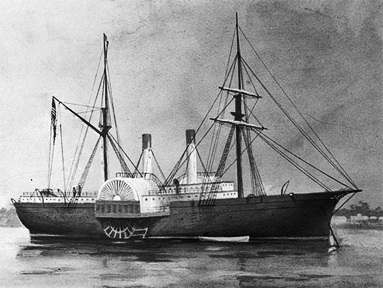 1868. When U.S. blacks became citizens in this year, they were able to serve in the state militia, so Joseph Rainey - lately of Bermuda - joined, rising through the ranks to become a Brigadier General. Also that year, voters in Georgetown, South Carolina elected him to the South Carolina Constitutional Convention where he was instrumental in drafting one of the most progressive state constitutions in history. Under that new Constitution, he was elected to the State Senate, immediately appointed to the State Senate Finance Committee, and then made its chair.

1868. An outbreak of fever and diarrhoea struck the Bermuda garrison of the British Army. Out of 3,519 men then stationed in Bermuda, 1,665 were admitted to hospital. The official report at the time noted that his outbreak of fever was attributed by the Principal Medical Officer to the "effects of a sudden change from the cold bracing climate of New Brunswick in Canada to the hot relaxing climate of Bermuda." The exemption of the Royal Artillery from fever was attributed to their having previously served at Gibraltar, and thus being more inured to the heat, and to their duties being lighter than those of the other troops. The civilian population of Bermuda, on the other hand, was almost completely unaffected by that outbreak. The scale of it led to many improvements in conditions at the barracks, as well as a recommendation, duly accepted whenever possible that troops arrive during the autumn so that they can acclimatize slowly.

1868. 3rd September. The building of the floating dry dock " HMS Bermuda" was nearing completion near London, after having commenced in August 1866. At one time there were 1400 hands employed See 3rd September 1868 and 1869.

1868. The Lunatic Asylum moved from the North Shore to the former Devonshire College and eventually became known as St. Brendan's.

1868. Cassava, introduced to Bermuda by colonists in 1616 was the principal export in 1868–1869.

1869. January. F Company of the 61st Foot of the British Army in Bermuda was moved to Warwick to work on the Military Road (now, the South Shore Road), following which they constructed the rifle ranges at Warwick Camp. Two companies of the 15th Foot continued working on the road, west of Warwick Camp, and also built a new battery for the coastal artillery at Whale Bay. The Camp enclosed Warwick Long Bay and Horseshoe Bay, which, today, are Bermuda's two most popular public beaches, and all the land between. The rifle ranges were placed here, on the south side of the road, and between the beaches. The Camp also included an area to the north of the road where permanent buildings were erected. No barracks were built until after the Great War, however, as the Camp had no permanent establishment of its own. Use of the camp was allotted for different periods throughout the year to any, or several, of the army units comprising the military garrison. The regular troops used the Camp for rifle training and for tactical training, as did the Volunteers/Territorials (part-timers), who used it for annual camps. The part-time units originally had no camps of their own, their sub-units being divided amongst a number of drill halls, or attached to the regular complements of coastal artillery batteries.

1869. January. The Royal Navy, both in Bermuda and in England, resolved to end the primary limitation of Bermuda as a Dockyard because of the porosity of its limestone sandstone, which prevented construction of a proper dry dock. It decided to remedy the problem with an order for a floating dry dock. This (and its successors), was a large hull, with a U-shaped cross section. It could be partly-submerged by filling ballast tanks with water, so that a ship might be brought in and braced into position. The tanks were then emptied to lift the ship out of the water for repairs below its waterline.

1869. Colonel William Drummond, Royal Engineers, British Army, based in Bermuda, wrote his Report on the Defences of Bermuda which included these words about Fort Scaur: "With a view to prevent the capture or destruction of the Naval Establishment by an enemy who might have succeeded in effecting a landing, two positions have been selected, viz.: 1st, a line between the head of Hamilton Harbour and the Navy Wells, on the North Shore, called the Prospect Hill position; 2nd, a line between Ely's Harbour and the Great Sound, called the Somerset position.

The latter being only 500 yards in extent, may be most advantageously defended by a continuous ditch and parapet from shore to shore, with a small keep in the centre, to prevent the position being turned. Plans are now being prepared."

1869. Autumn. Three far-sighted black Christian men, dissatisfied with what they deemed the then existing racial situation in Bermuda, set the wheels in motion that brought African Methodism to Bermuda, with the creed of its founder Richard Allen being God Our Father, Christ our Redeemer and Man our Brother. Generations of Bermudians quick caught the spirit of Allen. They were Benjamin Burchall of St. George's, William B. Jennings of Devonshire and Charles Roach Ratteray of Somerset. It was 35 years after Bermuda blacks had been emancipated from centuries of slavery. At Emancipation in 1834 they had absolutely no infrastructure of their own: no shops, no churches, no schools. They were landless and voteless, possessing only their indomitable spirits and strong faith in God. They needed their own African Methodist Evangelical (AME) church where they could feel racially at home. They began the process of asking for Bermudian versions of AME churches, long established in the USA, to become established here.

1869. In Hamilton, the Post Office and Telegraph Office was built. By 1900 it became the General Post Office and later the Magistrate's Court.

1869. May 6, Ascension Day. Trinity Church, on Church Street, Hamilton, was consecrated. It remained in service for the next fifteen years.

1869. Samuel Seward "S.S." Toddings founded and became the publisher and editor of the Colonist newspaper. It lasted until 1911, when he founded and edited the Mid Ocean News. It was later discovered he had both a mother and grandmother who were once enslaved.

1869. June 23. Bermuda's first Royal Navy Floating Dock was completed in England. The earliest dock proposal was made in 1823 but in 1827 the Clerk of the Works argued that the local rock was too heterogeneous and porous for an efficient coffer dam. But a slip was started to careen the hulls of ships and is still there. The idea of a floating dock was discarded for a generation. It was stated that the new slip had to be capable of accommodating two 46-gun frigates. Correspondence was renewed in 1852 on the relative merits of a dry-dock, a slip and a floating dock. At that time, it was specified that the largest vessel to be considered would have the beam of the Terrible and the length of the Simoom, or the size of an 80-gun ship as these were the largest that could come through the Narrows in the channel widened for ships. In 1854, a 600-foot slip was proposed at a cost of 35,000 pounds sterling but considered too costly. Three years later there was a plan for a dry-dock and yet another slip in 1862. Then it was finally decided Bermuda should have a floating dock. It was built by English floating dock engineers Campbell & Johnstone at Blackwall on the River Thames and completed on this day.

1869. July 28. Bermuda's first Floating Dock, the mammoth HMS Bermuda, ordered seven months earlier from London and Bermuda, arrived after being towed from the United Kingdom starting on 20th May that year to Bermuda's Royal Navy Dockyard, following the decision taken to order it. In May 1869, the construction of what was then the world's second largest floating dry dock, HMS Bermuda, was finally completed by the company which had employed more than 1,400 skilled workers for the job. The floating dock was over 47,000 square feet in total size, 381 feet long, 123 feet wide, and 74 feet deep. It was ordered from Campbell's Patent Floating Dry Dock expressly for for H M Dockyard at Bermuda. It was designed by Col. Clarke R E. and built at Messrs Campbell Johnstone and Co Works, Silvertown near North Woolwich and launched by Col. Clarke's wife on Sept 3rd 1868. For its transit to the Island, the first-ever such long distance operation, the vessel was named HM Floating Dock Bermuda, with a crew of around 80 under Staff Commander William Hains, RN. It was designed for docking ships of the 'Bellephron' class when waterlogged between the caissons and capable of lifting without the caissons a vessel of 8,700 tons weight which with the weight of the dock itself 8,000 tons gave a total displacement of 16,700 tons. It was designed to accommodate ships up to 370 feet long and 25 feet wide. Due to her size, only three docks in the world were able to receive the 'Warrior', Portsmouth, Liverpool and Southampton - all in England. She could, however, berth at the floating dock at Bermuda. Floating docks were less expensive than investment in major permanent construction. Additionally, there was the strategic advantage of having moveable docking and repair facilities. It serviced both naval and civilian vessels, some weighing as much as 10,000 tons, from all over the world, until 1904 (while being towed away to a ship breaker's yard, the dock broke loose and stuck at the foreshore, Spanish Point, where some remains are still visible in the water). The floating dock lay in Grassy Bay until the following April when it was brought to the North Basin and moored against the Great Wharf. As a functioning Dockyard, this facility had ammunition depots, deep water berths, barracks, chapels, soldiers and sailors to guard it. The soldiers were based at the fort here, the largest in Bermuda (now the Bermuda Maritime Museum).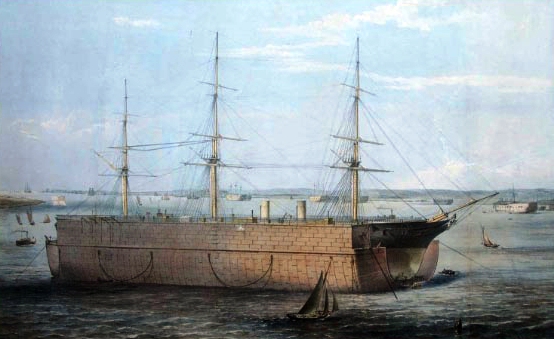 Bermuda's first Floating Dock for HM Dockyard. Thomas Dutton, artist and engraver. Original in the National Maritime Museum, London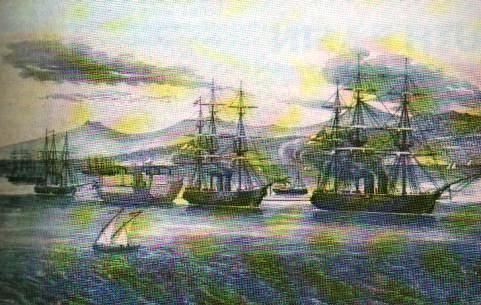 She was towed out by HMS Agincourt and HMS Northumberland (see above) as far as Porto Santo, Madeira, where HMS Warrior (Britain's first iron-hulled, armored warship, built in Blackwall on the River Thames in 1860 as a counter to the naval ambitions of Emperor Napoleon III of France, the fastest, largest, strongest and best-armed warship in the world but by 1869 she was obsolete, nevertheless recognized as one of the Royal Navy's most historically important warships) and her sister-ship HMS Black Prince took over.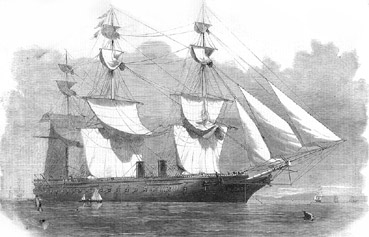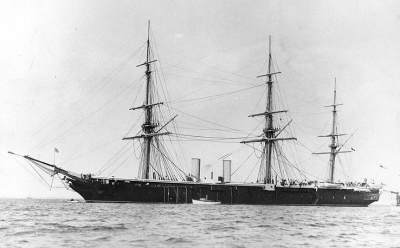 HMS Warrior (left) and HMS Black Prince (right)
With the paddle frigate HMS Terrible and a small gunboat both fast astern and lashed as a rudder, the voyage took 35, some say 39, days. This was partly because of the sheer power needed to tow the dock, but it also sent a message that Britain had bigger and better iron-clads than the United Staes, and was committed to defending her American and Atlantic territories. It caused a huge local crowd when the two vessels above, the world's most powerful and modern warships at that time, arrived in Bermuda with their tow and other smaller escorting ships. (HMS Warrior still exists in England, having been restored. HMS Black Prince was later scrapped).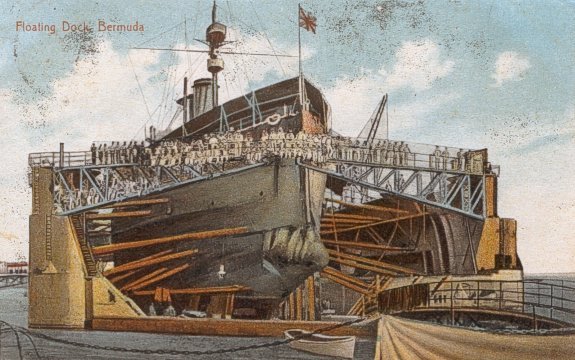 Floating Dock arrives in Bermuda 1869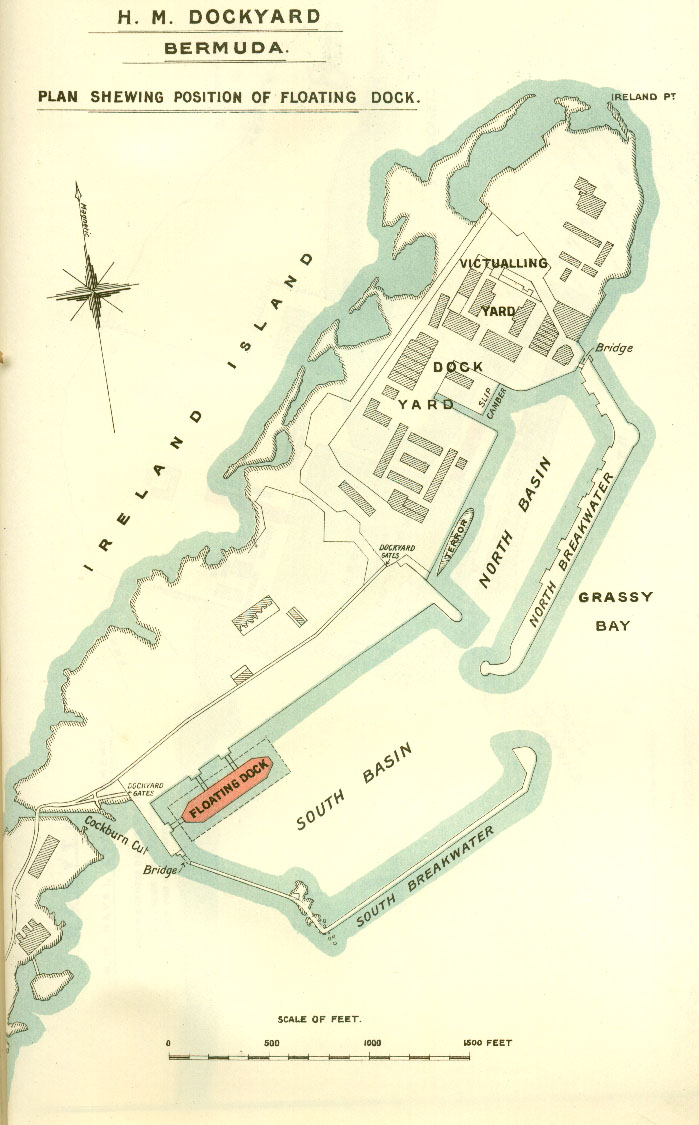 Placement of Bermuda Floating Dock, Royal Navy source.
1869. December. It was reported in London by Colburn's United Service magazine that "The floating dock at Bermuda which was launched last year, and is so far successful, is paid for, having cost altogether about .£300,000. It is a most ingenious construction, and 18 well worth the money spent upon it It will be most useful, as it is much better to repair ships at Bermuda, if possible, instead of sending them home."
1870. The Rev. R.R. Norris was sent from the USA as the first resident pastor of St. Paul's AME Church, Hamilton. He stayed until 1877.
1870-1873. Alice Fanshawe was a watercolorist who painted on the island from 1870-1873 while her father Sir Edward Fanshawe, CB, was the Admiral of the North America and West Indies Station. She is known to have painted at least eight scenes of Bermuda. Ms Fanshawe lived in Admiralty House, or Clarence Hill, in western Pembroke with her family and painted many watercolours of that property, especially the gardens. She also traveled further afield to capture the striking view over Sinky Bay and Hunt's Bay in Southampton, which is now part of The Hamilton Princess & Beach Club. The painting depicting Boss's Cove in Pembroke shows a couple of buildings standing, as well as the structure at the mouth of Mill Creek that may be the mill house itself. The grinding wheels of the mill were powered by the ebb and flow of the tide into that bay. Admiral Fanshawe and his family would also visit Jamaica and other Caribbean islands during the mild Bermuda winter. In the summers, the Royal Navy fleet would head north for cooler climates and Ms Fanshawe painted on the Hudson and at Quebec and Halifax, the latter being the north base for the North America and West Indies Station. (An historic album of spectacular watercolour paintings of Bermuda dating back nearly 150 years was later donated to the Bermuda National Museum).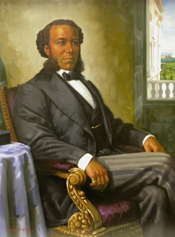 1870. February. Representative Benjamin F. Whittemore resigned his northeastern South Carolina seat, having been charged with selling appointments to U.S. military academies. The Republican Party nominated Joseph Rainey, formerly of Bermuda, to replace Whittemore for the remainder of the term and for a full term in the 42nd Congress (1871-1873). Rainey won the full term by a substantial majority over his Democrat opponent and was sworn in on December 12,1870, the first African American to serve in the U.S. House of Representatives. Other African Americans had been elected to Congress before Rainey, but many white congressmen had refused to recognize their legitimacy. Rainey immediately demanded treatment equal to that of his peers when he took his congressional seat .A very proper man who never forgot his time in Bermuda, Rainey expected decorum and civility from whites. Rainey's work on the Committee on Freedmen's Affairs-created in 1865 to handle all legislation concerning newly freed slaves-earned him great recognition. He also generally opposed legislation that restricted Asian immigrants entering the United States. Public discrimination was rampant at the time, and a black Congressman was certainly not immune. Rainey insisted he be treated equally in public accommodations and exposed segregation he witnessed in Richmond, Virginia, even filing a lawsuit when he was forced off a streetcar because he was black. He eventually withdrew the suit, but it preceded the landmark Plessy v. Ferguson case by more than 20 years. From the beginning of his time in office, Rainey steadfastly defended both Southern blacks' civil rights and amnesty for former white rebels. Photo: Congressman Joseph Rainey, left.
1870. The African Methodist Evangelical (AME) church, initially from Canada, later from the USA, began in Bermuda with a visit from Bishop Nazery.
1870. 2 batteries of Royal Artillery, Royal Army Ordnance Corps (RAOC) and 3-4 companies of Royal Engineers arrived in Bermuda from the UK. They arrived to create and/or enlarge a depot at Ordnance Island for the RAOC in St. George's, to supply munitions to the coastal artillery. They also built a secret gunpowder store underground at Agar's Island. Munitions were also held at the Royal Army Service Corps (RASC) wharf on East Broadway, at the outskirts of the City of Hamilton. The RASC had another wharf in the town of St. George's near to Ordnance Island. On Agar's Island, the British Army had been worried about the vulnerability of its stores of weaponry at Ordnance Island in St. George's and its ring of forts and their munitions stores around Bermuda, thus they built the gunpowder and weaponry facility there. It was then reputed to be one of the largest in the world. British military authorities both in Bermuda and elsewhere refused to acknowledge its construction but it still exists and was later restored by late owner James Martin.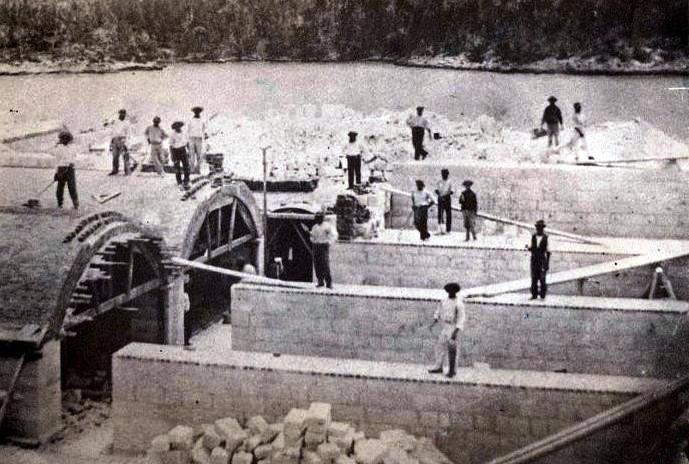 See above story
1870. Fort Hamilton was also built, constructed to protect Hamilton Harbour, by forming a line of defence for the western Royal Naval Dockyard. (It is now a scenic park, offering vista views of Hamilton, lush gardens growing within its' deserted moats and tunnels that go deep into the limestone bedrock of the fort.
1871. April 1. Republican Congressman Joseph Rainey, formerly of Bermuda, delivered his first major speech, advocating the use of federal troops to protect Southern blacks from the Ku Klux Klan. He detailed the dangers of returning to South Carolina during congressional breaks, where he and black colleagues would be exposed to violence by white supremacist organizations. After his speech, Rainey received a letter written in red ink warning him and other advocates of black civil rights to "prepare to meet your God." Though President Grant signed the Ku Klux Klan Act into law that month, white southerners ignored it, and it did nothing to stop terrorism. Eventually, the act's opponents in Congress killed it by eliminating funding, forcing Rainey to argue for federal appropriations needed to enforce the act, less than a year after it passed. On the House floor, Rainey said, "I tell you that the Negro will never rest until he gets his rights. We ask (for civil rights) because we know it is proper, not because we want to deprive any other class of the rights and immunities they enjoy, but because they are granted to us by the law of the land." As a result of his moderate policies, many white voters approved of Rainey as much as African-American voters did, and he was re-elected to the 43rd Congress in 1872 without opposition.
1871. September 19. The opening of the Causeway, the road linking St. George's with the Main Island of Bermuda. Long Bird Island provided the land bridge for two causeways that formed the first road to connect St Georges Island with Bermuda. The work took more than four years to complete. The road was constructed to a width of 22 1/2 feet – somewhat wider for military purposes than would have sufficed for ordinary traffic – reducing to 15 feet and 12 feet at the wooden and iron bridges respectively; the retaining walls were 3 feet thick and made from the local soft stone; the iron-work for the bridge was constructed in England. On 19 September 1871 there was a grand opening ceremony attended by all the dignitaries on the island. Brass bands played, there was bunting everywhere, and some 6000 inhabitants or half the population turned out to watch the proceedings. At about 2.30 pm the Governor, May.-Gen. John Henry Lefroy RA, accompanied by his ADC, Capt. Charles Chevenix-Trench, arrived at the western end of the Causeway where he was met by a Guard of Honour and given a 17 gun salute. He then received a report from the designer of the Causeway. He was Lieutenant Albert Henry Hime, Royal Engineers, then nearly 29 years old, who in August 1866, then 24 years old and newly married (three months earlier to Josephine Searle) in Plymouth, Devon, England, arrived with his wife and was almost immediately given a significant assignment. It was to design, primarily for British Army in Bermuda defense purposes given the threat of invasion by the victorious Union in the USA after the US Civil War, the building of the Causeway, to link up all Bermuda's military forts. He accepted the challenge immediately, even though he had no previous experience of such an undertaking. It demonstrated both his capabilities and his leadership qualities that much later resulted in him being knighted and appointed Governor of Natal. What was required and duly delivered was a road 1.8 miles long, 47% of it across a harbour, and incorporating two bridges: one wooden and one of iron, the latter a swing-bridge to allow the passage of ships.
Governor John Henry Lefroy of Bermuda declared a Public Holiday for the Opening of the Causeway and when he reported the days events to the Earl of Kimberley, Secretary of State for the Colonies, noted the day attracted the largest assemblage of people ever seen in the colony; was completed for £27,000 and summarized the description of the work as an iron girder swing bridge 104 feet long, supported on central piers, to permit the passage of vessels at the East end of the Causeway. He noted how the work was entirely put together under the direction of Lieut. Hime, and was worked by two men. Considering the want of skilled workmen, the magnitude of the task, and the short time in which it has been done, this is a work which reflects great credit on that officer and on the NC officers and men of the Royal Engineers employed under him. The smoothness with which the bridge worked was entirely satisfactory. No serious accident has occurred during any part of the works. On 25 October 1871, Lord Kimberley replied to Lefroy (PRO: CO/38/38/22) saying: I have received this intelligence with much satisfaction and I approved the terms of the speech which you delivered on the occasion. I have to request that you will convey to Lieut. Hime the expression of my acknowledgements for the services rendered by him and the Royal Engineers under his command in putting together and working the swing bridge. In addition to these two measures of gratitude shown to Hime he received a service of plate from an appreciative colonial legislature. When Albert and Josephine Hime departed for England in December 1871 they took with them the four children born since their arrival on the islands.
1871. November. The British Army's 69th Regiment of Foot, which had arrived earlier from Canada before being posted to Bermuda, spend a period on Boaz Island to help protect HM Dockyard Bermuda before being re-assigned to Gibraltar.
1871. Loss at sea off Bermuda of the ship Republique, before that the Mont Organise of the Haitian Navy, before that the Columbia and in 1867 as the Quaker City, during his trip to Europe on her, the scene of some of the tales related by Mark Twain in his book "The Innocents Abroad." Quaker City was a 1428-ton (burden) wooden side-wheel steamship, built at Philadelphia, Pennsylvania, in 1854. She was chartered by the Navy in April 1861, soon after the outbreak of the Civil War, and sent to enforce the Federal blockade of the mouth of Chesapeake Bay. Over the next five months, she captured or took part in the capture of ten would-be blockade runners. In August 1861, shortly before Quaker City's charter was to expire, she was purchased for formal conversion into a warship. She was commissioned as such in December 1861. She was then sent to sea to search for the Confederate cruiser Sumter and was later similarly employed when necessitated by the activities of other Confederate raiders. While she did not encounter any enemy warships on the high seas, on 31 January 1863 she was damaged in a fight with the Southern ironclads Chicora and Palmetto State off Charleston, South Carolina. Quaker City continued her campaign against blockade runners, participating in the capture of more than a dozen during 1862-1865. In December 1864 and January 1864, she was part of the powerful fleet that supported the capture of Fort Fisher, thus closing Wilmington, North Carolina, to enemy commerce. While serving in the Gulf of Mexico area in May 1865, she assisted in the chase of CSS Webb as that ship made a dramatic run down the Mississippi River in an abortive attempt to escape from the collapsing Confederacy. Decommissioned in May 1865, Quaker City was sold a month later and resumed her commercial career.
1872. Nathaniel A Butterfield became Mayor of Hamilton, a post he held for fourteen years.
1872. The House of Assembly in Hamilton was prevailed on by the general public to legislate for a Post Office-housed Bermuda Savings Bank, in place of the earlier facility that had not been satisfactory and offered too few services. In contrast, the new facility was open to all, instead of just a select few; and customers could both deposit their money, up to £100 and earn interest, at a maximum rate of 3.5%. It was to last for over a century.
1872. August 8. Bermudians first celebrated their emancipation from slavery in a new way - by making a point of including the British game of cricket in their celebrations. Hitherto it had been played officially by Britons in the British Army and Royal Navy then based in Bermuda, and unofficially among local teams not white in complexion. The unique match was to commemorate the annual August "Emancipation" Carnival-like celebrations after Britain enacted in Bermuda and the rest of the-then British Empire its formal, official and final Abolition of Slavery Act on August 1, 1834. Was this inclusion of British cricket into their celebrations a belated acknowledgement to Britain which had ended slavery after the strenuous efforts of the British politician William Wilberforce had finally been successful after many years of trying? Or was it simply because Bermudians wanted to make cricket as much of a Bermudian sport as a British one? We may never know for sure. What is known is that this cricket match was the very first of its kind in Bermuda between a cricket "eleven" (the number of men in a cricket team) representing Alexandrina Lodge No. 1026 of Hamilton and a similar "eleven" from the Victoria and Albert Lodge No. 1027 of Somerset. It may also have been the first time in the cricketing world that non-white teams are recorded as having competed in what was, until then, a mostly-white if not wholly white British sport. If so, Bermuda is certainly due some long-belated cricketing and socio-economic credit. Both Masonic Lodges there and then had played a leading role in getting former slaves recognized as real men despite their darker complexions and in getting them jobs, self-worth and respect for them as individual contributors to the human race in their own distinctive ways, not as people to be looked down on racially. All black members of both teams were Masons, members of the Grand United Order of Oddfellows. The event took place at the Naval Cricket Ground in Somerset and was won by 43 runs by the Somerset side. Both sides played in fraternal friendly sporting rivalry, not in the win-at-any-cost way many cricket matches overseas are played today.
1872. The rebuilt Anglican Cathedral in Bermuda was mostly completed. Bishop Field wrote from Bermuda: "On Ascension Day I consecrated the Nave of a very beautiful church, the Chancel and Transepts of which I consecrated on the same Holy-day seventeen years ago."
1873. January 1.Sinking off Bermuda of the ship Minnie Breslauer, on her maiden voyage. She was a large (300 foot long) English steamer, built and launched in the latter part of 1872. Bound for New York she departed Portugal with an assorted cargo of cork, lead ingots, dried fruit and wine. There were 25 crew including the captain. Intending to use Bermuda as a landmark, the captain edged his new ship close to the islands off the South Shore. He did not have the appropriate navigation chart and was unfamiliar with the waters. Cruising at full speed, the ill-fated ship rammed into a submerged reef one mile offshore, causing the bow section of the hull to collapse. Not realizing the extent of the damage, the captain desperately tried to back his ship off the reef. This caused it to begin sinking. south but not far from the Southampton Princess Hotel beach. She lies on her starboard side on a coral slope, with her crumpled bow at 40 feet and her stern against the flat sand bottom at 70 feet. Her huge steam boiler sits amidships.
1873. April 4. Death in Bermuda from apoplexy or a stroke of Adam Ebbels, on his 37th birthday, born April 4, 1837. He was one of the officer-crew of HMS Challenger, on the first full day of her second and most significant visit to Bermuda, schoolmaster for Captain Nare's son also on the voyage.
1873. April 4. When Sir C. Wyville Thomson, chief scientist on the Challenger Expedition of that year, went to pay his respects to Admiral Fanshawe at Admiralty House, Pembroke, he rowed over from Dockyard instead of arriving by the more sedate horse and carriage. In his account he said:, "We rowed across a glassy sea, clearly mapped out into patches of bright purple and stripes of the most vivid green by the reefs and the sandy spaces between them. Over the reefs in some places the water was only a fathom deep or less and we could see the great round masses of brain coral beneath us.... Clarence Cove, the landing-place for Clarence Hill, the admiral's official residence, is an enclosed little bay, with the dark cedar woods coming close down on all sides to the water's edge...and in the garden a little mound marks the grave of a middy, who died poor boy!" He was referring to the grave of a Royal Navy midshipman killed during the 1812-14 War.
1873. April 6. Burial in Bermuda, at the Royal Naval Cemetery, Ireland Island, of 37-year old Adam Ebbels, staff member of HMS Challenger and schoolmaster for the son, also on board, of the Challenger's captain. Nearly all the ship's company attended the funeral. The band of the Royal Navy's HMS Royal Alfred ironclad, flagship of Admiral Fanshawe, also at the Dockyard, played "The Dead March in Saul" at the grave site. As the Royal Navy Chaplain at the Dockyard was conducting the burial he noticed the coffin's brass name-plate and was hugely affected, recognizing the name of an old friend with whom he had once sailed around the world.
1873. April 14. While HMS Challenger was still in Bermuda, at the Dockyard, a Royal Navy seaman, while in the rigging of the nearby HMS Royal Alfred ironclad fell to his death.
1873. April 21. HMS Challenger left Bermuda, for the rest of her two-year voyage of discovery.
1873. April 21. Coral mud was collected at Bermuda was sent to be housed at Royal Museum Greenwich, UK.
1873.September. Her Royal Highness Princess Louise, a daughter of Queen Victoria and Prince Albert and wife of the Governor of Canada, arrived in Bermuda, to escape the harsh Canadian winter. Her visit caused a sensation. It marked the beginning of fashionable tourism in Bermuda. In her honour, the Hamilton Princess Hotel was named.
1874. January. The first regular New York-Bermuda service began, operated by the Quebec Steamship Co, otherwise known as the Quebec/Gulf Ports Steamship Company. It was awarded a contract by the Government of the day. It was due to Bermuda's demonstrated popularity as a warm winter resort compared to the cold and awful winters in the USA and Canada, after the sensation of the visit by Princess Louise. It was inaugurated by the Quebec/Gulf Ports Steamship Company. (Although Samuel Cunard had operated a service between Halifax and Bermuda from 1833 to 1886, the Quebec Steamship Co provided the first regular connection with New York, and built the first new ships for the Bermuda trade in the 1880s. This company remained on the run until after World War 1, in December 1919, when after forty-five years service and more improved ships as the years passed, it was taken over by Furness Withy & Co Ltd, to become the well-known Furness Bermuda Line).
1874. In St. George's, Bermuda, the Unfinished Church began.
1874. March. Though the representation was largely symbolic, Joseph Rainey, formerly of Bermuda, presided over the South Carolina House of Representatives as Speaker pro tempore, the first black to do so. Having been appointed to the Committee on Indian Affairs, he oversaw the debate on an appropriations bill providing for the management of Native American reservations. Rainey faced Independent Republican Samuel Lee, another African American and a former speaker of the state house of Representatives. Although he won with 52 percent of the vote, Rainey faced violent threats from Lee's supporters during the campaign
1874. Arrival in Bermuda of William E Meyer. Born in Prussia, after going to sea he survived service during the US Civil War for the North for which he earned his US citizenship, he captained vessels out of the east coast of America. On a voyage from New York to China his vessel was dismasted off Bermuda, where it was towed for repairs. Bermuda's town of St. George then thrived on the ship repair business, at a time when steamships began to dominate the seas, or for coal to replenish their bunkers. With time on his hands while his ship was being repaired, Meyer was initially employed by William C. Hyland, then a major player in such local business, dominating ship provisioning and powerful in the town's politics, religion and fraternal organizations. As master of the waterfront, mayor and Grand Master of the Masonic Lodge, he was the model for Meyer to aspire to similar lofty aims. The young German-American decided he liked what he saw and decided to stay. Later, he began his own business.
1874. Legislation was enacted which introduced the secret ballot in Bermuda. Following the enactment of a similar measure in Great Britain two years earlier, it was a momentous procedural change which reduced the possibility of recrimination and reprisal often associated with open voting and encouraged a strategy referred to as "plumping." This was the practice of an elector deliberately restricting his vote in a parish constituency to only one of the names listed on the ballot sheet, the underlying purpose being to increase the election chances of a preferred candidate.
1874. November. A year after he invented the-then new game of lawn tennis in England in 1863, British Army officer Major Walter C. Wingfield was posted to Bermuda and brought with him the then primitive equipment with which to play the game, in the belief that Bermuda, as a remote, isolated and small colonial outpost, would have little in the way of entertainment. After setting up a net in the grounds of Clermont in Paget, he and a bother officer played the first game of lawn tennis in the Western Hemisphere.
1874. December. A young American lady, Mary Ewing Outerbridge, then aged 22, whose parents were originally Bermudian, was vacationing in Bermuda that winter. During her stay, she chanced upon the Army officer Major Walter C. Wingfield and others cavorting on the lawn of Clermont and participating in the new sport of lawn tennis. She also became enamored with the game and took back to the United States with her the measurements of the court and probably a racquet or two. She was not a Bermuda Outerbridge, traditionally one of the forty thieves families of the Island. When she returned home via the Canima to New York (on the same ship that had brought her to Bermuda earlier), she did not know she was about to create history as the person who first introduced Tennis to the United States of America. She set up a make-shift tennis court on the lawns of the Staten Island Cricket Club, lent some racquets to her friends and instructed them in the rules and techniques of the fascinating but in those days hardly lady-like occupation. Since then, hundreds of millions of Americans have become impassioned with tennis and have idled away thousands of millions of hours in pursuit of the game.
1875. Governor of Bermuda General Lefroy persuaded photographer James B. Heyl to make an expedition to North Rock to photograph the pinnacles. North Rock, called on early French maps "La Petite Bermude", is the northernmost land in the Bermuda archipelago, at least some of it is during the hours of low tide. Lefroy wanted a image to publish in his upcoming book on the early history of Bermuda and he, his Aide-de-Camp, Capt. Trench RA, and a group of friends all went on the adventure. As the "wet-plate process" was then in use, Heyl had to take his chemicals and a tent to develop the photographs immediately, as so required by that process. The tent-darkroom and the camera were set up on the eastern perimeter of the North Rock boiler and the resulting images captured the site on film, possibly for the first time. To the he east of North Rock, a channel to the open sea is defined to the east by the Great Breaker, which always breaks, and therefore around which the ocean constantly heaves.
1875. Captain Thomas Cunningham, Royal Engineers, after proposing its creation earlier, supervised the commencement of the building by Royal Engineers of massive Fort Cunningham on Paget Island, with the fort named after him.
1875. Arrival in Bermuda from the USA of General Russell Hastings, a very tall (six-foot-four) Unionist Civil War veteran who had badly wounded during that war and received accelerate promotions from his bravery. He had sought out Bermuda for two reasons, its mild winter climate to restore him to good health physically and calm his mental state emotionally. After the war, he had served briefly in the Ohio legislature and then—thanks to the patronage of his friend and mentor Rutherford Hayes, by then an influential Washington congressman—as US Marshall for the Northern District of Ohio from 1867 to 1872. He was living in Rockford, Illinois, when in April 1874 his young wife, vivacious Michigan schoolteacher Mary Adele Humphrey, died shortly after giving birth to a son. They had been married just seventeen months. During that winter in Bermuda, Hastings sought rest and respite from physical pain and marital grief. Later, he became a key figure in local commercial and real estate life.
1875. March 20. Death in Newry, Ireland, of John Mitchel, born in 1818, who one lived in Bermuda but not as a free man, instead as a convict sent first to Bermuda then Australia by the British prison service. He was an Irish nationalist activist, solicitor and political journalist. Born near Dungiven, County Derry, he became a leading member of both Young Ireland and the Irish Confederation. He was an outspoken critic of British rule. At that time, Britain still ruled all Ireland. On May 27,1848 Mitchel was sent from Dublin on board HMS 'Scourge' to Spike Island in Cork Harbour, then a convict depot, where he was incarcerated for three days. On Spike, Mitchel met Edward Walsh (1805 -1849), the noted poet and schoolmaster of the prison on the Island. Not long afterwards in 1848, he and other Irishmen were convicted of sedition and sentenced to transportation to Bermuda via a prison ship for fourteen years hard labor based on a prison hulk. From Bermuda, because he had not earned remission and was deemed a serious troublemaker, Mitchel was sent in chains to the penal colony of Van Diemen's Land - now Tasmania. It was during this journey he wrote his famous 'Jail Journal'. Mitchel escaped from the colony in 1853 and settled in America. He returned to Ireland and was elected to the British House of Commons, only to be disqualified because he was a convicted felon. The fort on Spike Island was renamed Fort Mitchel in his honour in 1951.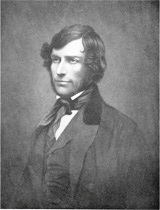 John Mitchel

1876. Governor Lefroy, great compiler of the earliest historical records of Bermuda, made sure a memorial tablet was erected in the Somers Garden, St. George's, with the following inscription: "Near this spot was interred in the year 1610 the heart of the heroic Admiral Sir George Somers who nobly sacrificed his life to carry succor to the infant and suffering Plantation now the State of Virginia. To preserve his fame to future ages, near the scene of his memorable shipwreck of 1609, the Governor and Commander in Chief of the Colony for the time being caused this tablet to be erected, 1876."

1876. October 10. Four Bermudian seamen, Richard Bean, Alfred Ward, Thomas Tucker and SC 'Rickison' were among 33 persons lost at sea when the four-masted, 265-foot barque City of Manchester foundered in the Bay of Bengal. Their deaths were recorded in The Times of London on 16 November, and relayed to Bermudians when the newspaper was sent to The Royal Gazette and appeared here in the issue of 19th December that year.

1877. Major-General John H. Lefroy RA, Governor of Bermuda, in his magnificent "Memorials of Bermuda" noted It will be necessary to erect on the North Rock a lighthouse, which is said also to be very practicable, in order to serve as a mark by day and night.

1877. Mark Twain made his second visit to Bermuda, this time accompanied by his friend the Rev. Joseph Twichell. They stayed four days in a private boarding house. The trip resulted in Twain's 15,000-word sketch "Some Rambling Notes of an Idle Excursion" which was published in four installments in the Atlantic Monthly from October 1877 through January 1878.

1877. At Fort Albert (expanded in 1860) in St. George's, a huge fire occured. With much gunpowder stored there, all St. George's was threatened. Heroic efforts by men of the Royal Artillery and 87th Royal Irish Fusiliers stemmed the fire.

1877. October 27. William E Witter, in his 51st year, a native of Bermuda, First Officer of the Canima, drowned at sea, when swept overboard in a gale, en route from New York to Bermuda. He left a wife, 3 sons, 4 sisters. He was one of Bermuda's most experienced mariners, and had joined the Canima in January 1874.

1878. April 1.Captain John Moresby R.N., arrived in Bermuda via the Mail Steamer Canima from New York, and succeeded Captain Somerset as Superintendent of the Naval Establishment at the Dockyard. In November of that year he was appointed a Justice of the Peace by the governor. He carved a unique piece of Bermuda history for himself in his three years in Bermuda. He also had a military parade area and cricket ground named after him. He left Bermuda in April 1881 to gain more fame in the Pacific, via the Mail steamer Flamborough. He was succeeded by Captain Thomas Barnardiston, RN.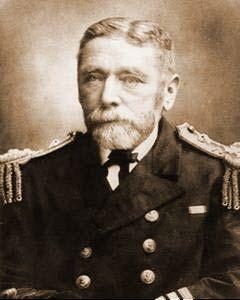 Captain John Moresby, RN

1878. March 24, 4:30 pm. There was a tragedy at sea on an elderly British warship, HMS Eurydice, 26 guns, launched at Portsmouth, Hampshire, England on May 20, 1843., bound from Bermuda to the United Kingdom. She was caught in a sudden and severe gale in blinding snow which came down the channel from the northwest. Off the Isle of Wight, the ship capsized and sank with only two survivors. More than 300 passengers aboard her died. One of them was Captain Louis John George Ferrier of Belsyde in Scotland, Commanding Officer since 1877 of the 32nd Company of the Royal Engineers in Bermuda. He was going home on leave and had boarded the ship on 6 March in Bermuda. His body was identified by his brother Captain George Henry Ferrier of the 105th Foot which was stationed at Colchester. Captain Louis John Ferrier was 38 years old. That "hurricane" also caused much damage to the Floating Dock in Bermuda at the Dockyard.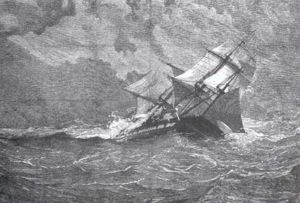 HMS Eurydice sinking of the Isle of Wight
1878. October. At what later became known from this tragedy as Skeeters' Corner, in Somerset near Daniel's Head, the notorious nineteenth-century murder of the 41-year old black woman Anna Skeeters took place. Her husband Edward James Skeeters was known as chronically unfaithful, one who reacted violently on the occasions when his long-suffering wife was driven to protest his philandering ways. When, after a church service, she disappeared, her friends and neighbours pointed the finger at him but he claimed he was innocent. But exactly a week after Anna's disappearance a small group of men, including Anna's brother, John Evans, a seaman on HMS Spitfire, gathered on the heights above the windswept bay near the cottage and noticed a curious phenomenon. White-tipped waves were racing across the bay, unsettling its surface, except in one spot on the reef, which was much calmer than the surrounding froth. The onlookers, seasoned sailors and fishermen, knew that something unusual in the depths of the Blue Channel was responsible for the eerie sight. On Wednesday, when the high winds finally subsided, a small group of men rowed out to the site of the slick. They brought nets and homemade grappling lines made of rope and fishhooks in order to drag the six-fathom-deep waters. After several laborious passes, they finally snagged and brought up a gruesome bundle: a skeleton to which still clung some slimy shards of stinking flesh, but that lacked the bones of head, arms and feet. The grisly remains had been anchored to the bottom with rope and an 80-pound stone, whose lack of barnacles indicated it came from land. Similar stones from an old wharf littered the nearby shore close to Edward Skeeters's mooring spot, and there had been a moon starting about 3:00 a.m. on the night of Anna's disappearance. There had been sufficient light for someone to row out and dump a body without a telltale lantern. Anna's sunken corpse was brought initially to the Skeeters cottage after being fished out. The authorities asked Captain Moresby, the British naval officer commanding the Dockyard, to send divers from HMS Terror to the site. One brought up underclothing, including a petticoat (later identified by its distinctive seaming as Anna's), as well as a large hank of her grey-sprinkled hair, still twisted into the knot she had worn that evening at church. Edward Skeeters was speedily charged with his wife's murder. By now, he was already in the Hamilton Gaol near Court and Church streets, shut up there for his protection after a mob, made up largely of indignant women, had besieged the Somerset lockup, threatening to lynch him.
1878. November 3. Sinking off Bermuda of the "Kate." She was an iron-hulled British steamer built in Whitby, Yorkshire, England in 1874, about 200 feet long, 1,413 tons. She had sailed from Galveston to Le Havre. When 22 miles north west of Bermuda she struck a reef.
1879. January. General Russell Hastings, who had fond memories of his sojourn in Bermuda in the winter of 1875-76, returned to Bermuda, this time with his new bride. They sailed aboard the steamship Canima. The couple enjoyed the winter. After an initial stay at the Hamilton Hotel, they rented a little cottage "smothered with flowers", were entertained by Governor Laffan and Bermuda's white elite and went rowing and carriage-riding around the island.
1879. February 25. Royal Gazette newspaper recorded the events of the day.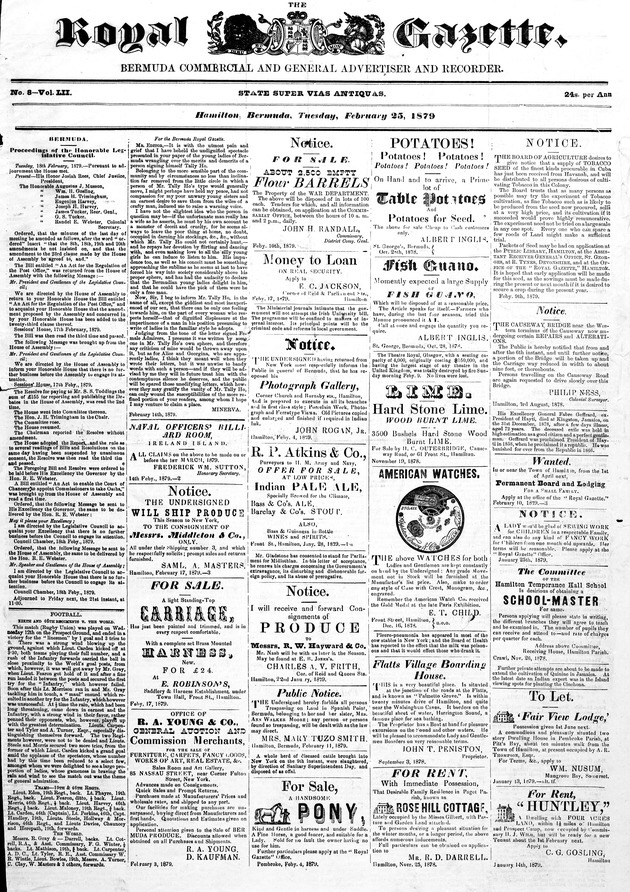 1879. July 2. Edward Skeeters of Somerset, earlier found guilty earlier of the murder of his wife Anna, was hanged. The trial, held in Hamilton, had been sensational. Skeeters, through his court-appointed attorney, Solicitor General R. D. (Richard) Darrell, who was aided by prominent young local lawyer Reginald Gray, initially pleaded not guilty. The sorry story of Anna Skeeters's married life soon emerged in testimony for the Crown, with Samuel Brownlow Gray, the colony's Attorney General, as prosecutor. Anna, who worked as a washerwoman for a Somerset family, had been married to Skeeters for eight years and had a mentally challenged daughter by a much earlier relationship. The girl did not live with the couple despite Anna's affection for and frequent visits to her, and she seldom visited the Skeeters house. On several occasions, especially in the year before her death, an agitated Anna had fled the house for the night, telling her sheltering friends little about why she had left, though marks on her person told the tale in at least one instance. Friends and even in-laws testified that Anna Evans Skeeters was above all a nice quiet woman; too quiet...not quarrelsome at all. Yet even the pacific Anna had been driven to appeal to Magistrate Fowle for help on one occasion, when Skeeters had allegedly blackened her eye. However, in a day when a man's home was considered his castle and domestic violence was considered a private affair, Magistrate Fowle felt he could do little. For his part, Skeeters's own father testified that Edward had once knocked his wife to the ground in front of him. When the elder Skeeters remonstrated with his son, Edward replied that Anna was "his wife and he could treat her as he liked." The all-white jury took just 25 minutes to bring in a guilty verdict. A few days before his execution, Skeeters made a complete confession to the editor of a Bermuda paper, The Colonist, having spent his months in prison writing his account of events. The judge, donning the traditional black head covering, sentenced Edward Skeeters to death by hanging, declaring that he could only hope for mercy in heaven as there could be none for him on earth. The condemned man had earlier protested his innocence and was led away. Skeeters was hanged in the Hamilton Gaol yard, the area of the gallows blanketed with canvas to conceal it from the large crowd gathered nearby. Skeeters went to the gallows calmly, even reciting a poem on the scaffold about his fate, which ended with a mawkish invocation of his heartbroken mother: "Tell her that her prayer is granted/God has pardoned her darling boy." A few days before his execution, Skeeters made a complete confession to the editor of the Bermuda paper, The Colonist, having spent his months in prison writing his account of events. He claimed the murder had been precipitated by the fact that he had thrown a lit oil lamp at Anna when she had reproached him and he was afraid that she would once again go the magistrate to show the burns on her forehead and scalp. Accordingly, he choked her to death. Skeeters chillingly added that he had reluctantly completed the murder some 10 minutes after the initial strangulation when he discovered Anna still breathing as he prepared to rid himself of her body. He admitted that he was astounded when her submerged remains were recovered after he had drowned her. He had mistakenly thought the sea would hide her "till the great day of judgment." When Edward Skeeters's hanged body was buried on Burt's Island in Hamilton Harbour (where several other executed criminals also lie), the stone that he had used to sink Anna's body was used as his headstone. The case had other Gothic overtones. During the search for Anna, neighbours had consulted a local witch for clues as the police investigation faltered. Fatefully, both Skeeters's sexual partner, Hannah Morris, and her infant died in childbirth the month after he was arrested. The night Edward was hanged, a group of arsonists torched the Skeeters cottage, burning it to the ground. Much later, Terry Tucker used the case to write her haunting 1972 historical novel "What's Become of Anna." Sadly, Tucker felt that she had to transform the middle-aged Anna into a more marketable twenty-something young wife, as if only young and pretty women were abused. Moreover, Tucker's dramatic account is disfigured with racial condescension toward blacks, especially black men. Nonetheless, Tucker penned a powerful tale. The Royal Gazette had earlier carried an account of the trial in the spring of 1879, and a copy of Skeeters's confession, "The Somerset Mystery", published in booklet form in 1879 by S. S. Toddings, editor of the Bermuda Colonist.

1879. The use of pillar letter boxes in Bermuda was first proposed in 1879 by postal inspector Percy V. Turner. Mr Turner had come from England the previous year to help reorganize the Bermuda Postal System and help prepare a new Post Office Act.

1879. August. Formal establishment of the Bermuda Police force with the enactment by the Bermuda Legislature of the Police Establishment Act, 1879. The wording of the Act, reflecting the concerns of the Chief Justice, began 'Whereas the present police force is deficient in organization, discipline and efficiency and it is expedient to reorganize it under more efficient management...

1879. October 1, Bermuda's first full time Police Force was officially formed. The new Force had an establishment of ten full time men and an annual budget of six hundred pounds. The very first Chief of Police was Superintendent John Charles B. Clarke, a former British army officer sent to Bermuda in 1866. He bought himself out of the Army when offered the position as Superintendent. He was stationed in Hamilton. His second in command, Chief Constable H. Dunkley, was stationed in St. George's. Three Assistant Police Constables were posted to Hamilton, three more to St. George's and the remaining two to Sandys Parish. with basic rank officers mostly imported from England. Twenty one Rural Constables, who were still employed, backed them up on a part time basis. From then on, until a century later, Bermuda's most senior police officer was imported from Britain.

1879. October 6. The Berkeley Educational Society was formed and met at the home of businessman and landowner Samuel David Robinson. Bermuda's first school for black children was named after Bishop George Berkeley — an Anglican priest from Dysart, Ireland, who wanted to establish a school in the colonies. But his original project collapsed after funding failed to materialise. Around 100 years later, the Reverend William Dowding revived Berkeley's dream of establishing an interracial school but financial support for Rev Dowding's short-lived interracial St Paul's College also evaporated. At this meeting, members campaigned to raise funds for the school and they became known as Berkeley Institute's founding fathers. They achieved their dream of a new school for all, despite 18 years of struggle — not least with a reluctant white establishment in still-segregated Bermuda. The school's motto Respice Finem — Keep the end in view — still stands as a tribute to their determination.

1879. November 3. Overlooking the South Shore, the St. David's Lighthouse at Mount Hill, the highest spot on St. David's Island, St. George's Parish, on the north eastern coast of Bermuda, was completed and formally handed over to the government's lighthouse commissioners. It was the second lighthouse to be built in Bermuda after the construction of Gibb's Hill Lighthouse. It became a landmark. Building had begun in September 1976. Then on almost seven acres of land compulsorily purchased from local landowners for the purpose deemed to be in the national interest, it was constructed not from iron but sturdy Bermuda Stone (limestone of a type unique to Bermuda and then commonly used in building construction as a cheap local source of building materials). The builder was Francis Hill. The structure was 55 high to the lantern. Then plainly whitewashed, it showed a fixed white light of the second order, about 30,000 candlepower, 208 feet above sea level. It continues to warn ships. Since then it has undergone many changes and improvements. Instead of the original kerosene burner of the ordinary wick type it had a hood petroleum burner installed in June 1922. It was deliberately constructed inland, on a hill, not on the shore line, to be seen from afar. It was built to stop St. David's Islanders from luring ships with other kinds of lights to come too close to the reefs and get their bottoms torn out for easy plundering. When the lighthouse defeated their illegal activities, they became fishermen and excellent pilots. From that time, St. David's Islanders were appointed as Lighthouse Keepers of the structure.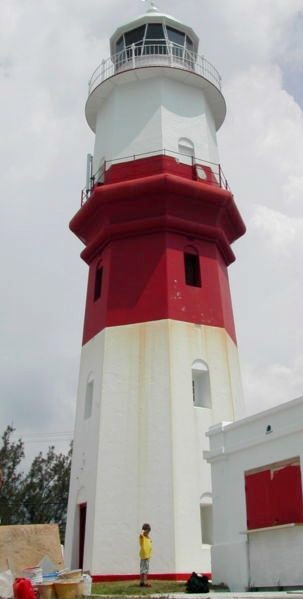 St. David's Lighthouse since 1879

1879. November 21. Following a meeting at the Town Hall in Hamilton, six pages of a minute book were filled with signatures agreeing to a declaration to promote the "object and intention" of the recently-formed Berkeley Educational Society. At least nine of those who signed were unable to write their names and were obliged to simply make a mark on the paper – evidence, if any were needed, that the society's goal, to found a school to educate all, was desperately needed in Bermuda. It was to be 18 years before that school, Berkeley Institute, was established but its name can be traced back to 1724, when Irish philosopher Bishop George Berkeley formulated a plan to build a college for white boys and North American Indians in Bermuda. A Proposal For The Better Supplying Of Churches In Our Foreign Plantations And For Converting the Savage American To Christianity By A College To Be Erected In The Summer Islands, Otherwise Called The Isles Of Bermuda contained a detailed scheme for St. Paul's College – but the project was abandoned for a number of reasons, including a lack of funding and the Island's isolated location. Bishop Berkeley never made it to Bermuda but his surname has, for more than a hundred years, been one of the best-known and most often referred to on the Island. For though it was not recorded anywhere at the time of the founding of the Berkeley Educational Society in 1879, it is believed that the parent body which eventually opened the Berkeley Institute in 1897 was named after the Bishop.

1879. December 14. Sinking of the Lartington, an old steamer freighter that crashed into Bermuda reefs. She had departed Savannah, Georgia, for Russia with a cargo of cotton. She had encountered numerous storms and heavy seas. A giant wave cracked her hull, causing a massive leak. The ship's water pumps could not keep ahead of the incoming sea and the captain decided to make a run for Bermuda. Instead, she ran aground on the reef five miles northwest of the Royal Naval Dockyard. The crew abandoned ship in lifeboats and was soon spotted and towed into Hamilton by a pilot boat. The Marine Board of Inquiry attributed the stranding to gross negligence and carelessness. The Captain should have taken information for depth and should never have altered his course. Subsequent storms scattered her remains but her bow section was fairly intact. She lies in 15 to 30 feet of water with her steam boilers, stern section and propeller still visible.

1879. Following on from the earlier-established and flourishing Bermuda branches of the American-based Grand United Oddfellowship, the Manchester, England-based Independent Order of Oddfellows took formally root in Bermuda. It stemmed from the fraternization of British military personnel - in particular members of the 1st York North Riding Regiment then based in the Island - with black Bermudians, leading to formation of the Loyal Flower of Day Lodge, and more thereafter.

1880. January 1. The English iron-hulled barque, North Carolina, approximately 205 feet in length, about 533 tons. She was launched for the Macmillan & Son Shipyard in Dumbarton, Scotland in October 1876 and was owned and operated by Patton, Vickers and Co. of Liverpool. She was en route from Baltimore to Liverpool in winter 1879, with a general cargo of cotton and other goods, when it was discovered that the rudder was damaged and, on 21 November 1879, she detoured to Bermuda for essential maintenance. The repaired ship left St. George's Harbour, Bermuda on 30 December 1879 but ran aground on western reef on New Year's day. There are many conflicting reports regarding the cause of the accident, as there were no problems with either the weather or visibility. The authorities were suspicious of the fact that the cargo was saved so quickly. The ship had the highest insurance classification allowed by Lloyds of London and it was suspected that the North Carolina's captain, Alexander Buchan, was in collusion with someone in Bermuda and had planned to wreck the ship. Today, the wreckage of the North Carolina sits upright in 25-45 feet of water.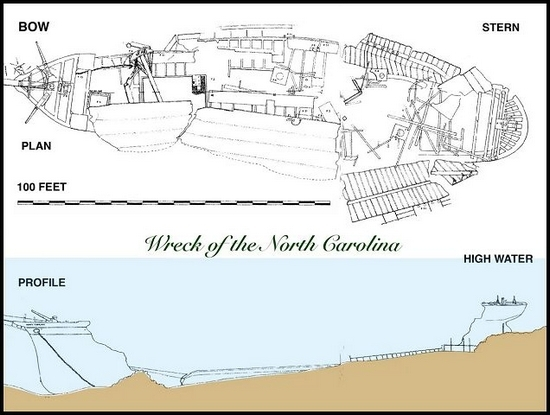 Bermuda postage stamp of wreck of North Carolina January 1, 1880

1880. A hurricane struck Bermuda and did great damage.

1880. Bermuda's Colonial Postmaster Aubrey G. Butterfield obtained "with considerable difficulty sufficient funds through the Legislature to purchase twelve British pillar letter boxes."

1880 to 1885. Dr. Edward Lewton Penny was the Dockyard parson, schoolmaster and librarian. A scholar, he described himself in Latin as "unhappily submerged and badly treated in the Bermuda Islands. " In this sketch by him he notes in Greek that the man who borrows a volume and does not return it is committing a sin. He hoped for the best but expected the worst.

1880. The S. S. Canima, 712 tons, built in 1863 and formerly named the Princess Royal, entered Bermuda service on the New York route. She did so until 1884 when she was scrapped.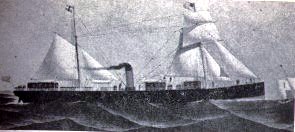 1880. Prince Albert, 16, and Prince George, 15, sons of the-then Prince of Wales, later, Edward VII), arrived in Bermuda as midshipmen on HMS Bacchante.
1880. December. General Russell Hastings, accompanied by his new wife, arrived back in Bermuda for his third time and his wife's second. his time they came not just to visit but to stay. When told by his Bermudian friend Darrell that the latter had recently inherited Norwood, an historic early eighteenth-century house on Pitts Bay Road in Pembroke, Hastings impulsively proposed that he take out a two-year lease on the property.
1881. April 1. Captain John Moresby, RN, later Rear Admiral, left Bermuda after a three-year assignment at the Royal Naval Dockyard: 'I handed over my command to another, when parting kindnesses, warm farewells, and much speechifying, poured in on me from all quarters, together with gratifying official recognition; but I think the Commander-in-Chief Sir Leopold McClintock's last words were my greatest pleasure, when he simply said: "I hope I shall be regretted as you are when I also give up my command."
1881. June. General Russell Hastings, from Norwood in Pembroke where he then resided, sent a gift of bulbs of Bermuda lilies to a friend in Tarrytown, New York. He was florist F.R. Pierson, who owned commercial greenhouses there. He was hugely surprised but pleased when Pierson arrived in Bermuda within weeks to find out more about the Bermuda lily. He also suggested he and Hastings go into partnership to market the bulbs. Hastings would grow and export them and Pierson would sell them in the US and Europe, with florists able to force the bulbs under glass, bringing them into blossom for Christmas and Easter. Bermuda was already will-known as a winter garden, supplying tomatoes, potatoes, celery and onions to the east coast in the winter and early spring. Hastings, who had been looking for some worthy occupation and knew farming from his Ohio youth, put down his first lily beds at Norwood in September 1881. The next August, Pierson returned to inspect the beds, and after finding them flourishing, prompted Hastings to resolve to grow lilies on a large scale. For that, Hastings needed land and was keen to purchase Point Shares, a fifty-acre property nearby, at Hamilton Harbour's Saltus Bay. Since April, Hastings and his wife had both the financial resources and the need to buy a large property as they would soon have to give up Norwood. That September, Hastings, swearing an oath of fealty to the British Crown to be able to do so, paid eight thousand dollars for the Point Shares acreage and promptly planted an acre of lily bulbs in its Tamarind Valley. He also built a handsome, rambling two-storey house of Bermuda stone, with a spacious piazza overlooking the water, christening it "Soncy," which, he explained in his memoirs, was "a Scotch word signifying thrift, prosperity, and all things good."( Hastings and the lilies did indeed prosper, the bulbs bringing $150 a thousand, the profits enabling him to remit considerable sums to his New York bank. After harvesting his first major crop in September 1883, Hastings steadily increased his plantings so that all of Soncy's available arable land—some ten acres—was under cultivation by 1888. By 1890, visitors to the island rhapsodized over the beauty of the estate, with its palm-lined circular driveway and sight of 100,000 lilies in bloom in the fields. The bulbs were harvested by the middle of June, and packed in sand in wooden boxes bound with iron straps for the seventy-hour journey by steamer to New York. By the late 1890s, Bermuda bulbs had 90 percent of the Easter lily market in the US).
1881. The American zoologist, Clinton Hart Merriam (1855-1942), collected birds during his visit to Bermuda. Merriam would later become one of the founding members of the American Ornithological Union in 1883, and the first chief of the Division of Economic Ornithology and Mammalogy of the United States Department of Agriculture in 1886. Merriam's birds of Bermuda are now housed at the American Museum of Natural History in New York. (British Army and Royal Navy officers stationed in Bermuda before, during and after Mirriam's visit also collected birds and took or sent them back to England).
1881. There were slightly more than eight hundred registered voters in Bermuda at this time, a statistic which underscored the fact that the franchise was restricted to a privileged few.
1881. The funeral service firm of Bulley-Graham began in Bermuda.
1881. Fanatical Fenians, Irish nationalists, haters of everything British and forerunners of the Irish Republican Army, planned a terrorist attack on Bermuda from their base in New York. Men arrived in Bermuda by ship and planned their moves but British Army officers in Bermuda had been sent by secure military telegraph certain information from British Embassy authorities in New York. Civilian Bermuda authorities were promptly informed and began a manhunt but the suspects managed to board their ship back to New York before they could be apprehended by the Bermuda Police.
1881. September 26. A new newspaper began in Bermuda, the New Era or Home Journal. It was a weekly, published on a Monday.
1881. December 27. The Royal Gazette printed and published the edition shown below.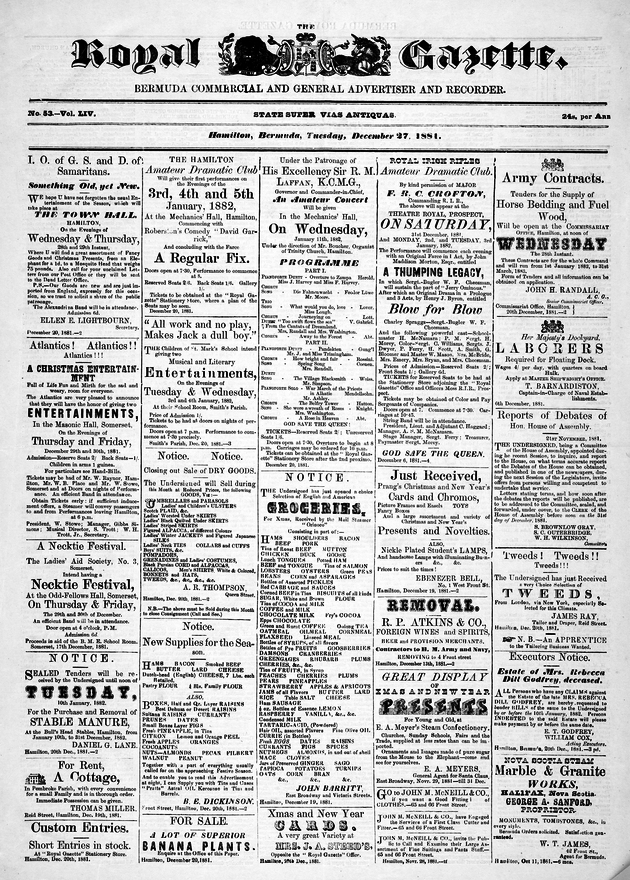 1882. February 10. Sinking of the British-built one-time Confederate blockade runner CSS Bermuda, then after being captured by Union forces and impressed into the Union Navy as USS Bermuda.

She had been decommissioned at the end of the US Civil War. On September 22, 1865 she was auctioned off to the merchant trade where she sailed as the 'General Meade' and later the 'Bahamas'.

As the latter she was

lost in a storm when bound for New York from Puerto Rico.

1882. The fifth Government House was started, at Mount Langton, Pembroke.

1882. The Merchants' Bank of Halifax (later, the Royal Bank of Canada), established in Halifax in 1864, opened an agency in Bermuda via N. T. Butterfield & Company, then headed by Nathaniel Augustus Butterfield, later a prominent Bermudian bank.

1882. A book about Bermuda, most likely written by early 17th century Governor of Bermuda Nathaniel Butler, was discovered by Governor Lefroy among documents and papers at the British Mudeum in London.

1882. Then only 23 years old but already an up-and-coming New York politician, Theodore Roosevelt (later a President of the USA) published his book "The Naval War of 1812" Or The History of the United States Navy During the Last War with Great Britain to which is Appended an Account of the Battle of New Orleans, Volume 1. Bermuda, from where the naval war began, is mentioned quite prominently Interestingly, he got his interest in naval history from his uncle, James D. Bulloch, originally from the Confederate State of Georgia, an experienced naval officer whom Jefferson Davis, during the American Civil War, had appointed as his representative in England to buy ships for the South. After that war he had remained in Liverpool, England, but his celebrated exploits there in buying famous British-built ships such as the Alabama, Florida, Shenandoah and others had made him a hero to many including his nephew notwithstanding Roosevelt's own pro-Union sentiments.

1882. September 2. Disclosure by a New Zealand newspaper of a third (the first was mentioned on March 19,1866, above, the second in 1881, above) planned Fenian attack on Bermuda. It was thwarted partly because Princess Louise, Marquise of Lorne, a daughter of Queen Victoria, was no longer available at her usual place to be kidnapped. Instead, she had begun to travel and in a few months would be in Bermuda. (See January 1883).

1882. December 6. A Transit of Venus occured, clearly visible from Bermuda for several hours. A team of British scientists and astronomers from the Royal Greenwich Observatory were sent to Bermuda to witness it. They set up camp a few weeks before the event. They were led by well-known astronomer and meteorologist John Isaac Plummer and their viewing was conducted from Gibb's Hill, Southampton. In the USA, from its sightings there, US composer John Phillip Sousa composed the march "The Transit of Venus" in its honor.
Sousa's Transit of Venus March

1883. January. Princess Louise Caroline Alberta (1848 to 1939), sixth child and third daughter of Queen Victoria, wife of the Marquess of Lorne, Governor-General of Canada, made her first trip to Bermuda. She referred to it as "Shangri-La" and as a result extended her stay to 10 weeks at Inglewood, Paget. Her arrival and stature meant that Bermuda was suddenly transformed from a sleepy, Atlantic backwater into a trendy tourism destination for wealthy Americans. One of her duties was to present the Princess Louise Cup to what then became officially known, with her Royal Assent, as the Royal Bermuda Yacht Club. With her visit she played a major role in the development of the Island's tourism industry, her name remaining synonymous with the hospitality sector to the present day. When asked why she had chosen Bermuda as her winter retreat, the most beautiful and accomplished of the Queen's daughters replied: "Because it is a place of eternal spring." By providing the Island with the royal imprimatur, she helped to popularise Bermuda as the preferred location for wealthy North Americans to escape the rigours of the winter months and the Princess Hotel, opened in 1885, was named in her honour. Princess Louise was a sculptor and painter, friend to the Pre-Raphaelites and a keen member of the Aesthetic movement. During her Bermuda sojourn, the independent-minded and artistically inclined Princess Louise went on a sketching expedition along the St George's shore line (Bermuda was to hold the first ever exhibition of her watercolours in 1998). Growing thirsty, she stopped at the home of an East End fisherman and asked for a glass of water. The fisherman's wife, a Mrs McCarthy, apologized and said she was too busy ironing a shirt her husband was to wear at a reception he was attending for the Queen's daughter. "You'll have to wait until I finish, "she told her visitor. Princess Louise replied, "You get the water while I finish the shirt." The offer was accepted. Mrs McCarthy fetched the water and Princess Louise finished off the shirt before revealing her identity. When she recovered from her surprise, Mrs McCarthy said no one not her husband nor anyone else would ever wear that shirt again. The most feisty of the Victorian princesses, she kicked against her mother's controlling. She sought out other unconventional women, including Josephine Butler and George Eliot, and campaigned for education and health reform and for the rights of women. She battled with her indomitable mother for permission to practice the masculine art of sculpture and go to art college and in doing so became the first British princess to attend a British "public school" (actually, a private boarding school). Rumors of Princess Louise's colorful love life persist even today, with hints of love affairs dating as far back as her teenage years, and notable scandals included entanglements with her sculpting tutor Joseph Edgar Boehm and possibly even her sister Princess Beatrice's handsome husband, Liko. True to rebellious form, she refused all royal suitors and became the first member of the royal family to marry a commoner (albeit a Scottish Lord aristocrat) since the 16th century.
At the time of Princess Louise's death in 1939, the McCarthy family still retained the old shirt as a souvenir of that amusing incident.
1883. February 11. Death of Donald McPhee Lee, editor until almost his death of The Royal Gazette newspaper for over 50 years. He was originally from Canada. He had begun work on the January 30, 1883 edition, but took sick and died two weeks later, on his 79th birthday. He was buried at St John's Church, Pembroke. His obituary, which unsurprisingly ran on the front page in the Gazette, said: "Mr Lee was not only a practical printer, but an educated man, moving in good society, capable of writing a sound article himself, of calling in extraneous aid and utilizing it, and possessing both tact and good sense to allow his correspondents proper latitude without causing unnecessary irritation. "Mr Lee was moreover a man of practical ideas, and endeavored to get at the reason of things. He was at once Editor, foreman and journeyman." The article also noted his extraordinary work ethic: other than an occasional trip to England, New York, Halifax and Turk's Island, he was always on the job. An obituary, which ran in a subsequent edition, noted that his long tenure as editor was "one of a most unusual character, if not altogether unequalled anywhere". His second-eldest son, Gregory Vose Lee, took over as editor and remained in the position until his death in 1898, when the newspaper's connection with the Lee family ended. Donald McPhee Lee has descendants, but none are believed to be living in Bermuda. Gregory Lee did not marry or have children. The newspaper he founded became a biweekly in 1900. In 1911, it increased publication to three times a week. In 1921, it merged with The Colonist and became a daily. The Gazette has been the island's newspaper of record from its first edition. It has been the only daily for 50 years, and as of July 2014, with the closure of the Bermuda Sun, occupies a singular place as the island's only newspaper. Its survival instincts and longevity match those of its founder.
1883. December. The indefatigable Lady Anna Brassey, aristocrat, pioneering travel writer and philanthropist, arrived in Bermuda on the heels of a hurricane. From this unexpected visit came her book In The Trades, The Tropics and the Roaring Forties (1885). Her yacht, the Sunbeam, had not been scheduled to stop in Bermuda, but Lady Brassey had longed to visit the island ever since a planned visit here 1862 aboard the Eothen from Canada had to be cancelled. (By the end of her visit, she had launched St. John Ambulance service in Bermuda). During her cyclonic visit, Lady Brassey hugely influence Bermudian society. The driving wind and heavy seas of the northeast gale that brought her here also beached the admiral's flagship, H.M.S Northumberland, the heaviest ship in the British Navy of the day, off Ireland Island. Lady Brassey was to use her influence to affect Bermuda's medical, geographical and sailing life.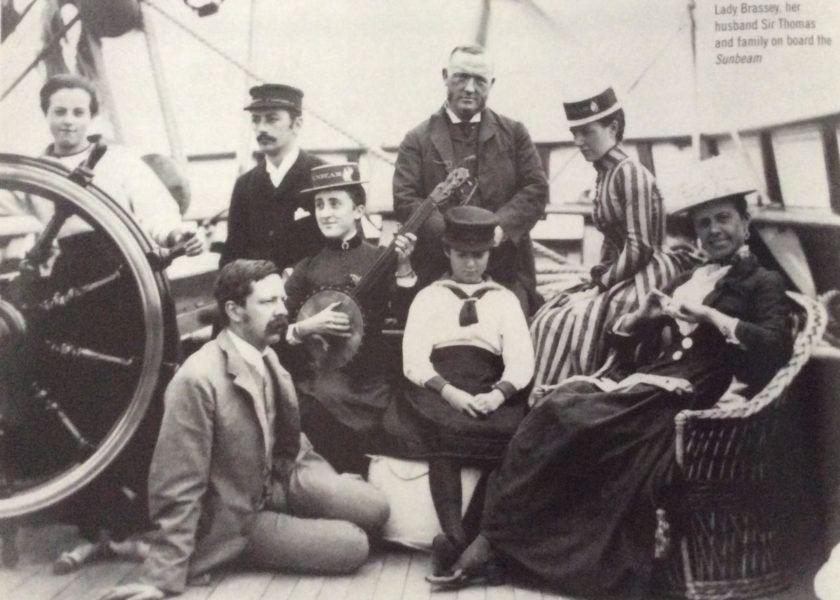 When her husband Sir Thomas Brassey's splendid 157 feet long yacht Sunbeam—a triple-masted topsail schooner with a 350 horse-power auxiliary engine—arrived in Hamilton Harbour to shelter from the raging storm, every Bermudian from the ship's pilots to the lordly British governor quickly knew that VIPs had arrived. Husband and wife were each well-known in their own right—a rare situation in the 1880s when women, even rich women, tended to enjoy at best only a secondary role in the public eye. Sir Thomas Brassey (1836-1918) was the philanthropic son of a powerful father. His father, also called Thomas, was one of the greatest railway builders of the Victorian heyday of the British Empire. He had risen from the obscurity of a snug Cheshire farm to become the most famous railway contractor of the age before his death in 1870. Hard-driving Brassey senior was world famous for building railways across thousands of miles of daunting terrain in England, France, India, Canada, Australia, Argentina, the Crimea and elsewhere. Thomas junior inherited his father's vast fortune but not his drive or his acute intelligence. But then, with a fortune, a splendid English country seat (Normanhurst Court near Hastings in Sussex), as well as other large properties in England and Ireland, Thomas the younger did not need to be brilliant to do well, given the class deference that pervaded England and the British Empire in the mid-19th Century. Moreover, Brassey was an earnest and amiable chap deeply interested in yachting, Liberal politics and naval policy. He even served as one of the civil Lords of the Admiralty—under British Prime Minister Gladstone in 1880. He later received the coveted honorific of Lord Warden of the Cinque Ports. Brassey was made a baronet in 1881 and was later raised to an earldom on the basis of his devotion to political and marine issues, expressed through his role as founder and first editor of the Naval Annual, and by his tireless interest in marine facilities during his yacht cruises on the seven seas.
This millionaire married in 1860 Anna Allnutt, a women who was not passive, self-effacing, sequestered within the rigid roles of gracious lady, devoted mother and deferential wife. Lady Brassey dared to be different. Orphaned of her mother at an early age, Annie had been brought up largely at her grandfather's country estate. As a result, she became a bit of a tomboy, interested in the outdoors and the natural world. There was no mother to make her stick to her embroidery instead of botany and rock collecting. Her strong will was reinforced by a long stint of invalidism when she was badly burned in an accident when she was a debutante. As a result, she developed a lifelong interest in emergency medical care and in adult life, took up the cause of first aid, promoting the formation of branches of the St. John Ambulance Society (founded in 1877 by the Duke of Manchester) all over the Empire.
Twenty-one-year-old Anna Allnutt Brassey's marriage to the fabulously rich Thomas Brassey in 1860 enabled her to override convention once she had done her wifely duty and produced heirs. Annie quickly bore four children—three daughters and the expected male heir. Given that one of Thomas Brassey's great loves was yachting, Lady Brassey's doctors advised that sea air was good for her delicate health. The family spent a good deal of time at sea, first on their yacht Eothen (in 1862 the first private yacht to sail from England to Newfoundland under both steam and wind power). When her husband succeeded to his father's huge estate in 1870, he acquired an even more staggering yacht, the Sunbeam, a craft so magnificent that it would better have been called "Sunburst." Brassey was to sail over 400,000 nautical miles in her over his lifetime, on long voyages through the Mediterranean, the Caribbean, the Atlantic, and the reaches of the Pacific. On board Lady Brassey fought off frequent seasickness with typically aristocratic 'pluck' and began to break the mould of Victorian womanhood in a fashion available only to rich women. As early as 1812, Annie Brassey began to keep journals of her maritime travels, at first only for the eyes of family and friends, in particular her father, an exclusive audience suited to her gender and class. With the help of an editor and gifted artists who created wonderful wood engravings as illustrations for her journals, Lady Brassey soon began to publish her work. She donated all the royalties to charity. Moreover, one of her first published works had a lavish dedication which firmly framed her unconventional behaviour in terms of socially acceptable benevolence.
Her first commercially published book, A Voyage in the "Sunbeam": Our Home on the Ocean for Eleven Months (1878), became a best-seller in England and America, going into 19 editions and five languages over the next two decades. To her surprise, Lady Brassey the author received fan letters from the backwoods of Canada and the sheep stations of Australia. On her voyages, admirals and governors deferred to Lady Brassey and her rich husband. Colonial hostesses flattered her even as they envied and deplored her high-handed, adventurous ways.
The Sunbeam's opulence below decks was awesome. It had massive plate glass mirrors, superb paintings, caged exotic birds and the imposing black ebony writing desk crowded with art treasures. But Lady Brassey was not simply in Bermuda to dazzle the locals, or even just to make a whirlwind tour of the island's predictable attractions—Devil's Hole, Tom Moore's, St. George's, Dockyard—though she did do that. Even while sightseeing, she collected specimens of shells and other natural curiosities to display in the museum the couple created in Hastings (where these treasures can still be seen today, along with a model of the Sunbeam.) Lady Brassey's critical eye scoured the colony. When she published In The Trades, The Tropics and the Roaring Forties (1885), an account of her West Indies voyage, however, she told readers that she was shocked by the "hideous business-placards" stuck on rocks on the islets in Hamilton Harbour which "spoiled the picturesqueness of the landscape. She was happier with Hamilton itself "a nice clean little place," but she deplored the "tough cutlets" and "greasy… potatoes" that were its standard restaurant fare. She was more impressed by the coral reefs and the skilled black boatmen of Bermuda, even going swimming in the warm sea in her usual bluestocking style after the latter assured her there was little danger of sharks within the reefs.
Wherever she went, Lady Brassey bullied, cajoled, and lobbied for the creation of a branch of the St. John Ambulance Society, with its devotion to the cause of first aid. During her short life, she was instrumental in lobbying for the creation of branches of the Society from Singapore to Australia to the Caribbean. Some Bermudians found her bossy and arrogant. Some whispered that her forthright opinions were bolstered by a fondness for alcohol, but many others knew that she was right—about the need for better medical care on the Island at least.
One Bermuda physician, Dr. Kidd, chief medical officer of the military garrison of the day, pointed out that the colony had in 1883 no formal medical facilities whatsoever—no public dispensary, no infirmary, no hospital-outside of the British military establishments on the Island. There were doctors, true, but civilians got sick and died at home. Organised first aid was non-existent, and Kidd wrote that many an epileptic or stroke victim had died when they had fallen sick in public, ignored or mistreated as drunkards or madmen.
Other advocates for a St. John Ambulance Society, like prominent Bermudian Reginald Gray, urged Bermudians to throw off their innate dislike of interfering outsiders and help the St. John Ambulance take root in Bermuda. The Royal Gazette appealed to the "ladies of Bermuda" as well as to the Island's medical men to make it possible to "be glad to have in their servants, male and female, persons on whom they could rely in cases of difficulty and emergency." After stirring up some action, Lady Brassey sailed off in mid-December for an English Christmas, heading for home port at last after a four-month sea voyage that had ranged from Malta to the Caribbean to Bermuda.
She was equally determined to get the Ambulance into Bermuda. Before her departure on December 10, after just over a week on the Island, she admonished Bermudians from the governor on down that she hoped soon "to be able to write and congratulate [Bermudians] on having established one of the most useful Centres" of the St. John Ambulance.
Sir Thomas was also busy in Bermuda with his own pet projects. He had drunk rum and talked of maritime matters at the Royal Bermuda Yacht Club. He also inspected Dockyard and other British military facilities, discussing what he saw with the admiral in charge of the West Indies Station, as well as with the Governor and even with Prince George (later King George V) who was also visiting Bermuda aboard H.M.S. Canada that December. Sir Thomas and Lady Brassey were disappointed when, because of blustery weather, the Sunbeam had to sail before a Bermuda regatta could be held by the Yacht Club for the new 'Brassey Challenge Cup,' a silver trophy endowed by the baronet.
Front Street merchants were delighted by the Sunbeam's visit. Brassey's crew had provisioned the yacht with an expensive raft of goods; Hatchers of Reid St. had been engaged to paint the storm-battered yacht as she lay at anchor. The Brasseys also bought £5 life memberships in the prospective St. John Ambulance Branch. According to historian Henry Wilkinson, Princess Louise, another aristocratic Bermuda visitor earlier that year, soon accepted the presidency of the Ambulance Society and the new colonial surveyor its secretary-treasurership.
What became of this famous husband and wife? Lady Brassey, plagued by bouts of malaria caught sightseeing in mosquito-infested lagoons in Borneo, died at sea off Western Australia in September 1887, after cruising the Pacific reconnoitering exotic sights and prospective Society branches. She was buried at sea there. She was just 47-years-old. Lord Brassey wrote an affectionate memoir of his strong-minded, capable wife for his children. He soon married a more traditional society woman after a suitable interval of mourning. He died in 1918: his son and heir died of influenza a year later without a male progeny, and the earldom lapsed. The Sunbeam, the yacht so beloved of husband and wife, was given to India as a hospital ship in 1916.
1883. The first black elected as a member of Parliament in Bermuda was William Henry Thomas Joell (born 1838, died 1885), of the city of Hamilton. He was responsible for building Glebe Road. He Served on the committee that founded Berkeley Institute and was also a cabinet maker and carpenter. Joell's Alley in Hamilton is named after him. "Plumping" appeared to have played a critical role in the election of Mr. Joell, who was voted in as a representative for the constituency of Pembroke, his success being largely attributable to the support given to him by the Pembroke Parish Political Association. Much later, the Tennis Stadium in Pembroke was named to honour W.E.R Joell, the grandson of W. H. T. Joell.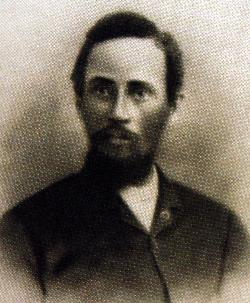 William Henry Thomas Joell, Bermuda's first black Member of Parliament

1883. Bermuda's original Anglican cathedral, then known as the First Trinity, was completed in 1883, having been commenced in 1844.

1883. The paper "An Account of Bermuda, Past and Present" was written by John Ogilvy, born Aberdeen, Scotland 1831, died Frimley, Sussex, England 1899. He entered the British Army in 1853 as assistant surgeon, retired before 1885 with the honorary rank of Surgeon General. Listed in the Army List as Principal Medical Officer to Bermuda, 1882.

1883. October 6. First Bermuda Banknote was printed, in Ottawa. See details below:
First Bermuda Banknote, 1883. A Canadian $5 note printed for the Merchant Bank of Halifax and converted to a £1 1 shilling (one guinea) note for use in Bermuda.

The Merchants' Bank of Halifax (later, the Royal Bank of Canada), established in Halifax in 1864, opened an agency in Bermuda in 1882 via the local Butterfield's Bank. On October 6, 1883, it issued its own money for use in Bermuda. It began circulating a $5 Canadian note printed by the American Bank Note Company in Ottawa for its bank in Halifax and converted to a one pound, one shilling (guinea) note for use in Bermuda. This Canadian/Bermudian note has considerable historical value as the first "Bermudian" paper money to arrive in Bermuda; some 31 years before Bermuda got its own official currency notes. Later, the Merchants' Bank of Halifax divorced itself from Butterfield's Bank in Bermuda and ran its own branch bank in Bermuda for four years. Thus it also became the first (and only) non-Bermudian bank in Bermuda. Later yet, the Merchants' Bank of Halifax's Bermuda operation was bought out by banking newcomers in Bermuda who established from it the present day Bank of Bermuda Ltd.

1884. January 27. The church, known as the First Trinity, only completed in 1883, was almost completely destroyed when arsonists torched the building. Only the walls were left standing. Five months later a building committee was organized and architect Mr. Hay, who had been working at the East End on what would become known as the "Unfinished Church" at the time, was called back. Ironically he abandoned this impressive gothic vestige looming out over St. George's on the eve of its completion, perhaps in part because the funds were diverted to the rebuilding of Hamilton's fire-ravaged Cathedral. Mr. Hay, also involved with the original church here, called in another architect, George Henderson - the men later formed a partnership - and together work began on rebuilding the Cathedral. As they set about the project the men decided to use something they had an abundance of, native Bermuda stone. And they imported Caen stone from Normandy, France to frame the doors and windows. The final result was a typical Restoration Gothic-style cathedral in the shape of a Roman Cross. The Cathedral of the Most Holy Trinity was finally completed in 1905 with the addition of a nave and tower under the watchful eyes of Mr. Henderson's assistant, Alan Lawrie Goodwin, who took over the work following Mr. Henderson's death some months before. The church was dedicated by Bishop Lewellyn Jones in 1911. Mr. Goodwin was also responsible for the rebuilding of the choir area from 1906 to 1911, while the tiled roof was replaced in copper in 1926 by Harold Tarbolton and completed by Lawrence Harrower Smart in 1927.

1884. Julia Dorr, author of Bermuda, An Idyll of the Summer Islands, made disparaging remarks about Admiralty House in Pembroke in particular: "Her Majesty (Queen Victoria) does not provide for her representatives in Bermuda very luxurious or elegant mansions. Neither Mount Langton, the Government House, as it is called, nor Clarence Hill, the Admiralty House, are fine buildings. Indeed, they are quite the opposite." However, in her ebullient determination to see Bermuda in the best possible light, she added, "But both places are beautifully situated, with fine grounds and extensive gardens; and what does it matter if the house be fine or otherwise, when one lives out of doors?"

1884. Bermudian John Smith, born at Bermuda in 1854 and in the US Navy at the time serving as a Sailor, received the Medal of Honor from the President of the United States. The Medal of Honor is the highest military award given by the US Government and is conferred on an individual by the Congress through the President for outstanding acts of gallantry under enemy fire and also in peacetime circumstances. He jumped overboard from his ship, USS Shenandoah, at Rio de Janeiro in 1880, and saved a shipmate from drowning. The USS Shenandoah was a wooden screw sloop of the United States Navy and was built at the Philadelphia Navy Yard in 1862. It was involved in Civil War actions, including the December 1864 attack on Fort Fisher, a Confederate Army stronghold.

1885. January 1. Following the success of the Hamilton Hotel, the Princess Hotel was established. Originally the Pembroke Hotel, it was re-named after Princess Louise Caroline Alberta. Harley Trott, a leading businessman of the time, saw opportunity and had the new hotel built to provide a winter haven. The hotel opened two years after Princess Louise's visit to the Island and was named "The Princess" in her honour. It became affectionately known as "The Pink Palace" because of its architecture. The original hotel was an all wooden structure. One of the original focal points was a beautiful sweeping veranda that came right up to the harbour. Patrons loved to sun themselves on lounge chairs on this veranda, wrapped in their fur coats, as it was a winter destination. Afternoon tea was also served on the veranda and the ladies would appear in their best dresses. Over the ensuing years it had some very distinguished patrons including author Mark Twain whose bronze statue now sits in the lobby, and Frances Hodgson Burnett author of 'The Secret Garden', and much later, Robert Kennedy and singer Michael Jackson. Many guests houses also sprang up in Hamilton and elsewhere. Bermuda's winter tourism trade began to create its own special niche, the envy of many other small Atlantic and Caribbean islands.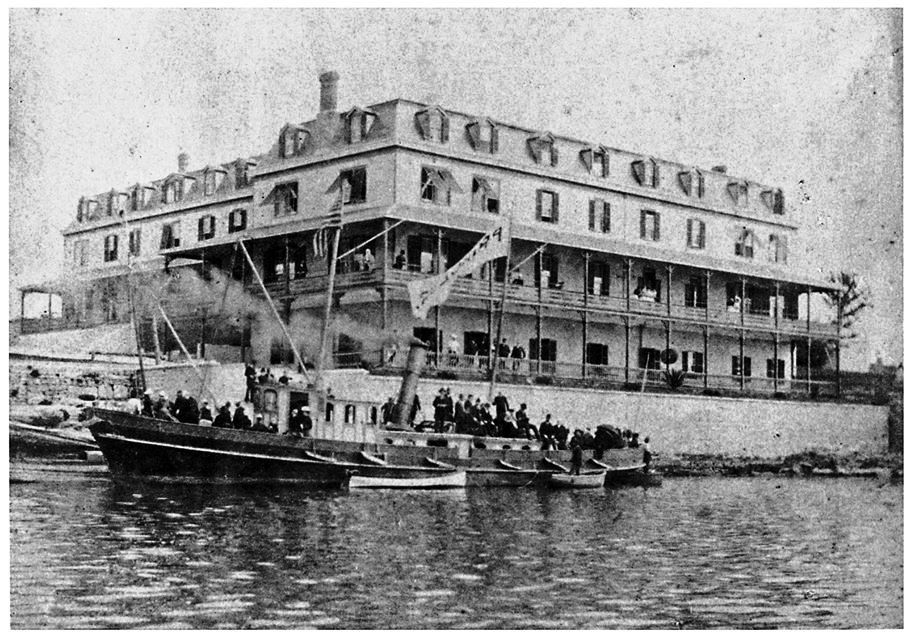 Hamilton Princess 1885
1885. Opening of St. Paul's AME Church, Hamilton, as a direct result of what happed in 1869. From then on the impact of the AME Church in Bermuda, with St. Paul's at its epicenter was profound, widespread and continuing. St. Paul's became venue for political, cultural and educational forums.
1885. August 27. An unidentified flying object panicked Bermuda when it crossed over the island in a mysterious episode which has continued to remain unexplained. At about 8:30 a. m., Mrs. Adelina D. Bassett, according to a press report at the time, observed "a strange object in the clouds, coming from the north. She called the attention of Mrs. L. Lowell to it, and they were both somewhat alarmed. However, they continued to watch the object steadily for some time. It drew nearer. It was of triangular shape, and seemed to be about the size of a pilot-boat mainsail, with chains attached to the bottom of it. While crossing the land it had appeared to descend, but, as it went out to sea, it ascended, and continued to ascend, until it was lost to sight high in the clouds." The London "Times" published a short account of the incident on September 29, 1885 accompanied by a comment from former Bermuda Governor Henry Lefroy suggesting the object might have been a stray balloon sent up in England or France. He accounted for the triangular form by deflation — "a shapeless bag, barely able to float." This was followed by a letter from Charles Harding, a fellow of the Royal Meteorological Society, commenting on the "extreme improbability of a balloon crossing the Atlantic, and even adding that "a little practical experience in ballooning suggests it to be thoroughly impossible." In fact, the Atlantic wasn't successfully crossed by a helium-filled balloon until 1978 — the 14th such attempt in a hundred years. According to researcher Jerome Clark, airship reports were made worldwide from the 1880s to 1890s. What have been called "mystery airship" reports are seen as a cultural predecessor to modern extraterrestrial-piloted flying saucer-style claims.
1886. Thomas S. Reid, in his booklet Trinity Church, Bermuda, a Sketch of its History, wrote this: "As time wore on and Hamilton increased in population and importance it was found inconvenient to have no Church within town limits, and the Parish Church, moreover, was unequal to the wants of the Church. An agitation began. The subscriptions were general and liberal. The Legislature came forward to supplement private liberality."
1886. End of the Samuel Cunard-operated shipping service between Halifax and Bermuda that was begun in 1833.
1886. Marriott Morris brought his penny-farthing bicycle to Bermuda and started a fad for what was then a new form of transport.
1886. The Merchants' Bank of Halifax, Nova Scotia was established in Hamilton, after splitting off at the same time from its original agency-holder, N. T. Butterfield & Son Ltd.
1887. Saltus Grammar School opened at the instigation of Samuel Saltus for the education of white boys, and was operated from part of the funds left from the defunct Devonshire College. It is no longer solely for whites, blacks have equal access.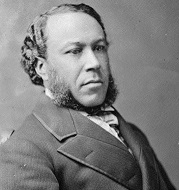 1887. August 2. Joseph Rainey, formerly of Bermuda and firebrand politician, died.

Although he repeatedly won election as a Congressman, he became embittered when blacks were further prosecuted in the USA, mostly under the white supremacist wing of the Democratic Party to which he had long been opposed.

In the 1878 election he lost his seat to w white Democrat, John Richardson, by more than 8,000 votes.

He never recovered from his political loss. It was said he was offered a post as Clerk to the House, then the offer was withdrawn.

Rainey became an agent for the Internal Revenue Service but gave that up, then started a brokerage business in Washington DC but after 5 years it collapsed.

After his father died in 1883 he sunk into a depression.

1887. John Henry Thomas Jackson became the second black Bermudian to be elected to Parliament.

1887. The Bermuda Government considered and approved a new feature of the House of Assembly, the Florentine Clock Tower, to commemorate Queen Victoria's Golden Jubilee. Unfortunately work was delayed for a few years.

1887. The first Watford Bridge on Watford Island was conceived after a great storm cut communication between Somerset and the Royal Naval islands, it accentuated the need for a bridge. Later, when the Dockyard was to be expanded a "Watford Island Bridge" was deemed essential. Works on the South Yard of the Dockyard and what was intended for the new bridge meant that the descendants of any Bermudian families of today who now live in Somerset first came to Bermuda to be employed on the construction of the South Yard and the bridge. This bridge, now the third, was named after Watford, Ireland, not the English town in Hertfordshire as has long been claimed. It connects Somerset Island with Watford Island, Boaz Island, Ireland Island and the Royal Naval Dockyard. Sea views are marvelous. Bus routes # 7 ("Dockyard") and # 8 stop in the immediate area. There's also the Watford Bridge ferry stop, on the Royal Naval Dockyard to city of Hamilton route. See a British historic military cemetery on nearby Watford Island and another one near this bridge. In 1958 the bridge was rebuilt to provide fishing and pleasure boats a shorter trip to and from the West End. The first bridge was conceived in 1887 after a great storm cut communication between Somerset and the Royal Naval islands of Watford, Boaz and Ireland Islands. It accentuated the need for a bridge. In 1902, a bridge to the mainland, begin in 1901 and formally opened in September 1903, finally spanned the Watford gap. Prior to 1900, a "horse ferry", being a small flat-bottomed boat that could accommodate a horse and carriage, traversed the channel. It eventually spanned the 450 feet of the channel. Great cast-iron cylinders were sunk into bedrock and filled with concrete. Some 3,000 tons of local stone, 200 tons of cement and 55 tons of granite were required for the works, along with 433 tons of steel for the bridgework and central swinging span. The original bridge lasted for 54 years; its replacement from 1957, a mere 23 years. The present Watford Bridge, minus the Island, was built in 1982, and claims to be "one of the most successful tributes to the use of galvanizing in civil engineering." It is supposed to have a "design life" of 120 years.

1887. Buildings on Maria Hill near the Royal Navy Dockyard were erected as the Single Mechanics Quarters.

1887. Installation of Bermuda's first telephones.

1887. British artist Margaret Wilson Walker visited Bermuda and painted the watercolor below.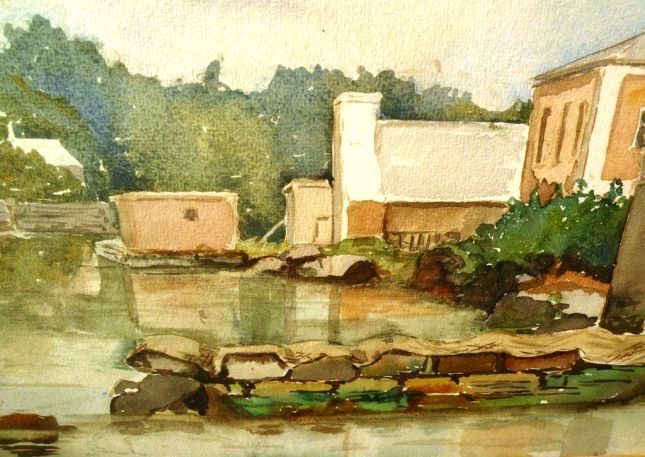 1888. A structural change of Parliament was enacted which created two bodies called the Executive Council and the Legislative Council. The Governor's Council was replaced by these two newly-created bodies, the latter serving as the second law-making branch of Government and being referred to as the Upper House. The Legislature became bicameral. Since then the Legislature consisted of an elected Lower House (The House of Assembly) and a Upper House (The Legislative Council). The Legislative Council comprised of civil servants and other members, all of whom were appointed by the Governor.

1888. The former Royal Navy gunboats Vixen and her sister ship the Viper were towed to Bermuda as coast defence ships after reaching the end of their careers. H.M.S. Vixen displaced 1,230 tons and was built by Lungley Shipyard, Deptford, England, in 1864, and launched in 1867. Vixen was the first twin-screwed vessel of the Royal Navy. Her iron hull was completely clad in teak wood. This design was made in an effort to overcome problems that iron hulled ships were having with marine organisms. The teak also produced extra drag on the ship, therefore, resulting in Vixen being the slowest ironclad vessel in the Royal Navy. Another very interesting aspect of this ship is that she was built with a ram type bow. Her heavily supported bow protruded forward almost nine feet under the water line. Unfortunately, after sea trials, the Vixen and her sister ship, Viper, were considered too slow as well as un-seaworthy. They were withdrawn from service in 1887.

1888. At Admiralty House, Pembroke, a Royal Marine barracks building was built and a Ratings Galley, Chief Petty Officers Mess and Ratings Mess also constructed.

1888. October. Sir Edward Newdigate Newdegate KCB (June 15, 1825 to August 1, 1902) became Governor of Bermuda, until June 1892. He was a member of the Newdigate family. He was born at Astley, near Nuneaton, Warwickshire, the second son of Francis Parker Newdigate and Barbara Maria Legge. He was a professional soldier and reached the rank of Lieutenant General in the Rifle Brigade. He served in the Crimean and Anglo-Zulu Wars. On retirement from the Army he was appointed Knight Commander of the Order of the Bath. He changed his surname by Royal Licence in 1888 to Newdigate Newdegate. He married Anne Emily Garnier on 1st June 1858. Their home was Astley Castle, Astley, Warwickshire. In his honour a place in Warwickshire, England, is named after him.

1888. The American House hotel at the top western end of Queen Street, Hamilton (where Boyle's Shoe Shop now stands) was an elegant Bermudian structure of two main buildings with verandas. In operation earlier, from this year Ii was managed by Mr. A Paschal and by 1908 had some 65 rooms and several suites. By 1909, "the American" was lighted by electricity and acetylene gas.

1888. December 24. Death in Bermuda, at the age of 66, of US Consul Charles Maxwell Allen. Mr Allen represented the Union in Bermuda during the US Civil War — at a time when local sympathies tended toward the side of the Confederacy. His fight against the use of St George's by blockade runners trading with the South made the outset of his 27-year service in 1861 a miserable one. In the end, however, Mr Allen came to love Bermuda, and served until his death. He was buried in the grounds of St Mark's Church where his remains still exist. On numerous occasions, Mark Twain was a regular friend and a popular guest, at their historic Wistowe home in Flatt's, of Mr. Allan, initially Assistant (later confirmed as) Consul General of the USA, his wife, Mrs. Marion Schuyler Allan. (Later, their son, daughter-in-law and granddaughter Helen Allen became closely associated with Mark Twain's dying days). In the 1860s, Allan had been a friend in Bermuda of another expatriate, the English artist Edward K. James. Allen had served as President Abraham Lincoln's wartime consul in Bermuda in 1861 and stayed on after the war. In 1888, Twain was saddened to learn of the death in Bermuda of his old friend Allan who had so ably represented the Union in Bermuda during the US Civil War — at a time when local sympathies tended toward the side of the Confederacy. His fight against the use of St George's by blockade runners trading with the South made the outset of his 27-year service in 1861 a miserable one. In the end, however, Mr Allen came to love Bermuda, and served until his death. He was buried in the grounds of St Mark's Church where his remains still exist. His grave was later visited by Twain.

1889. A hurricane devastated the Causeway linking St. George's Island to the Main Island. It had to be rebuilt.

1889. The Bank of Bermuda Ltd. was founded, in Hamilton, as the beginnings of a second major banking house, as a going concern - by taking over the 3-year old branch in Bermuda of the Merchants' Bank of Halifax, Nova Scotia which split off in 1886 from its original agency-holder, N. T. Butterfield & Son Ltd. It was formally established and incorporated in 1890 and is now the largest bank in Bermuda by a considerable margin.

1889. The Windsor Hotel, on Queen Street, Hamilton, was opened. It had hot and cold baths and, unlike the Hamilton Hotel, which closed for half the year (June to November), the Windsor was open year round. It became a much-favored retreat for both local Bermudians and Canadian visitors. (Americans tended to go to the American House Hotel opposite it).

1889. August. The first phonograph known to have appeared in Bermuda was imported by Reginald Aubrey Fessenden, formerly the principal and only teacher at Whitney Institute for two years from 1884.

1890. February. The New York Times newspaper noted that the streets of Hamilton were full of American people and the shops full of American customers. Unlike now, the season at that time was in winter when Bermuda could provide relief from the snows and frigid temperatures of the US East coast.

1890. February 15 to March 3. Mount Saint Agnes Academy (MSA) convent began in Bermuda at Woodlands (where Saltus Grammar School now stands). The school was started after Father Bellord, an Irish priest sent to Bermuda as the military chaplain to minister to the few Catholic officers but the Catholic majority of the NCOs and men and their dependents of the Irish Garrison, the Irish Rifles, who were stationed in Bermuda at the time, appealed to the Archbishop of Halifax, Nova Scotia, in 1889 to open a school for the children of Irish soldiers. In response, four Roman Catholic Sisters of Charity of St. Vincent DePaul, after three earlier attempts to get the approval of Mother Superior Cleophas of the nuns had been unsuccessful because she had thought Bermuda was too far away, were sent to Bermuda When Mother Cleophas left office, her successor, Mother Mary Bonaventure, with the prompting of Archbishop O'Brien, finally agreed. On February 15, 1890, Sisters Mary Philippa, Mary Blanche, Maria Agnes and an orphan girl, Elizabeth Archibald, boarded the ship Alpha to set sail for Bermuda. After the ship docked, the Sisters answered their call to serve God's people here on the Island, But their initial efforts were difficult, caused by the fact that almost immediately on arrival, amid terrible living conditions, the Sisters were quarantined on Nonsuch Island. This happened after the ship they had arrived on had sailors diagnosed as possibly having small pox. The Sisters carefully ministered to all during that time. They themselves experienced many hardships beginning with all four of the Sisters being struck with typhoid fever during their first experience of a Bermuda summer. In the early days, the Sisters walked North Shore gathering the Portuguese children who did not attend school so that they could be taught religion. The Sisters chose St. Agnes (Agnes being the name of the Archbishop's mother), as the patron of the school that became Mount St. Agnes Academy (MSA). This was also appropriate, as St. Agnes is a Patron Saint of youth. The soldiers were recalled before the Sisters arrived, but the need for a girls' school would serve not only Bermudian children, but also the children of visitors who wintered here. Since its founding, MSA has become co-educational and has moved twice. In April 1892 the school was moved from Woodlands to Experiment Hill, which is on the corner of Cedar Avenue and Laffan Street, and now houses the mosque Masjid Muhammad #1. In 1914, the Sisters were returning from Halifax when they suffered a terrible shipwreck, but were rescued. The 1925 hurricane was so severe that Mother Mary Louise considered closing the mission. The property, with its additions and improvements over the years, was more often referred to as 'the Convent' and was utilised for teaching until 1967 when the entire student body was moved to the school's present location. Throughout its long history, Mount Saint Agnes Academy has remained dedicated to the principles of Catholic education, which form the basis of the school's philosophy.

1890. April. Former US President Rutherford Hayes arrived in Bermuda with his daughter to stay with his old friend General Russell Hastings at Soncy, Pembroke. Hayes's presence resulted in a Royal Navy ceremony off Ireland Island.

1890. June 8. The International Cable Company sent the SS Westmeath and she anchored that day at Grassy Bay. There was a pressing mostly military but also increasingly commercial need for it. While Bermuda had become by then the key Royal Navy base serving the Americas and Caribbean. until then the only link was a fast dispatch boat operating between Bermuda and Halifax, while a much slower shipping service operated only once a month between Halifax, Bermuda and Kingston, Jamaica. At that time, Jamaica was the only western Atlantic island with a cable service and this was via Panama. For communications and telecommunications purposes, Bermuda's British Army and Royal Navy bases and commercial interests needed a much faster, more reliable and less prone to bad weather service.

1890. June 11. The shore end of the Bermuda-Halifax cable was laid by SS Westmeath from no. 6 Front Street, Hamilton, through Hamilton Harbour to Cross Head float at The Reach.

1890. June 16. SS Westmeath arrived at Halifax, Nova Scotia, from Bermuda.

1890. June 24. From Halifax, SS Westmeath commenced laying the cable to Bermuda.

June 30. SS Halifax arrived in Castle Harbour, Bermuda from Halifax, after passing through dense fog in places.

1890. July 7. SS Westmeath laid first submarine cable between Halifax, Nova Scotia and Bermuda. It ended at what became known as Cable Beach, Green Bay (next to what later became Cable Hut), Tucker's Town. It was the spot at which the main sections and the bay cables were placed It was a unique day in Bermuda in world communications. The SS Westmeath, commissioned by the International Cable Company, laid the first cable linking Bermuda with the rest of the world. The cable itself was laid in six days, with the Westmeath starting the lay from Halifax in dense fog. Until the laying of Bermuda's first cable on this day, messages from the colony, which at the time was an important Royal Naval Base, were rushed by fast dispatch boat to Halifax and then to the Admiralty and War Office in London over the first successful trans-Atlantic cable laid in 1866. From this day onwards, Royal Navy and British Army communications could be sent directly from Bermuda.

1890. July 10. Via the newly laid submarine cable, His Excellency the Governor of Bermuda, General Newdegate, sent a message via the new cable service to Her Majesty Queen Victoria "Greetings to our beloved Queen

1890. July 14. The Halifax and Bermudas Cable Company (later, Cable & Wireless) Office opened for service in Hamilton. Its first cable office in Bermuda was in the old Saltus Building at Number 6, Front Street. The cable office which was next to a seed store, displayed a large sign over the door which proclaimed "The Halifax and Bermudas Cable Company Ltd. and The Direct West India Cable Company Ltd." The event was celebrated with band music on Front Street, a fireworks display from White's Island and a dinner at the Royal Bermuda Yacht Club. The Royal Gazette carried an Extra page.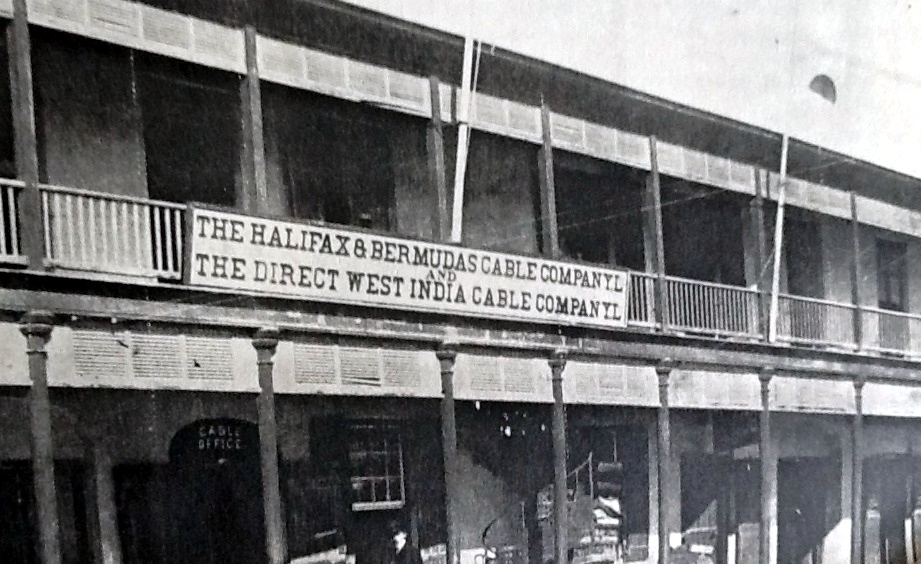 1890. August. (until July 1891). 2nd Battalion Grenadier Guards arrived in Bermuda. After refusing to serve at Wellington Barracks in London, this unit was sent - exiled - to Bermuda as a punishment. It overlapped the stay of the Leicestershire Regiment and King's Regiment (Liverpool). Stationed in St. George's. Their many exploits included enlarging and leveling a playing field by the little lane running by it (now called Grenadier Lane). Brass tablets in memory of the six men who died in Bermuda were affixed in the Garrison Church (gone now), then Prospect Chapel (gone now), then St. Peter's Church in St. George's. The Bermuda Historical Society has many glass slides showing NCOs in family situations. Because of the stature of the Grenadier Guards and in ignorance of the real reason they arrived in Bermuda, their presence in Bermuda marked more parties, more social events, more military involvement in sports and pastimes like sailing than any other period in Bermuda's British military history.
1891. January 21. The Halifax and Bermudas Cable Company (later, Cable & Wireless) opened a branch office at the Town Hall, St. George's. This office remained in use until May 1928 when the Wireless Station at Lily Park in St. George's was opened.
1891. A little over a decade after his first visit, Prince George (later, King George V) returned to Bermuda in command of the gunboat HMS Thrush. While he and an aide were rambling in St David's, he noticed locals playing cricket and asked if he and his colleague could join in. They were welcomed.
1892. With the UK Government having tried for years in vain to encourage the Bermuda Government to raise part-time units to allow the reduction of the regular component of the garrison, the local parliament authorized the creation of the Bermuda Militia Artillery and the Bermuda Volunteer Rifle Corps as reserves for the RGA and the regular infantry. The Bermuda parliament's prior reluctance to the creation of such units was partly due to the concern that social unrest might result from creating either racially segregated or integrated units, and partly due to fears that it would be saddled with the entire cost of the military defences. The Secretary of State for War finally achieved their support by what local protestors at the time stated was the "ransoming" Bermuda's nascent tourism industry. Bermuda's tourism had arisen without conscious planning, and the hotels at first available to the wealthy visitors who pioneered holidaying on the island were generally small and uninspiring. Bermudian business and political leaders realised that a large, first-rate hotel was required. The development of the hotel hinged on American investment, however. Foreigners were not, at that time, permitted to buy land or businesses in Bermuda, lest their governments use protecting those interests as a pretext for invasion. The USA was seen, throughout the 19th Century, as the primary threat to Bermuda. As the Secretary of State for War put it, Bermuda was, at the time, considered by the UK government more as a naval and military base than as a colony. Allowing American investment in the new hotel, as well as plans to widen the channel into St. George's Harbour (necessary in an age where ships had grown too large to safely use the existing channel, but which it was argued would make an invader's task easier), were seen as weakening Bermuda's defence. The Secretary of State for War insisted that he could not approve either project while Bermuda contributed nothing to her own defence. As a result, two Acts of the Bermudian Parliament were passed in 1892 authorizing the creation of the Bermuda Volunteer Rifle Corps and the Bermuda Militia Artillery, and the project to build the Princess Hotel was allowed to move forward. A third act had authorized the creation of a unit of submarine (underwater) miners militia. This would have followed in the pattern of the Submarine Mining Militia formed in Britain in 1878 and tasked with defending major ports. They received a minimum of fifty-five days training per year, and were recruited from experienced boatmen. In Bermuda, the unit was intended to operate boat from the Royal Army Service Corps docks in Hamilton and St. George's, tending to the underwater mine defences, but the unit was never raised. Thus, the Bermuda Legislature enacted the black Bermuda Militia Artillery (BMA) and Bermuda Militia Engineers (BME), under white officers, the white Bermuda Volunteer Rifle Corps (BVRC) and Bermuda Volunteer Engineers (BVE). It was a hugely significant and historic move given what happened later.
1892. The fifth Government House, again at Mount Langton, Pembroke, begun in 1882 was finally completed (Moniz Collection, National Museum of Bermuda). That new building ran over into difficulties (of the types both monetary and masonry), based on a design by William Hay, architect of the Anglican Cathedral in Hamilton. Two Bermudians, W. Cardy Hallet, the Colonial Surveyor, and the master carpenter, John Henry Jackson, were brought in to sort out the site.
1893. The Public Gardens - later, the Bermuda Botanical Gardens - were established.
1893. The Bermuda Jubilee Turret Clock was housed in the tower of the Sessions House with its four faces illuminated by oil lamps.
1893. The book "Diary of a Month In Bermuda and Storm At Sea" was written by John T. Smith (1868-1938). He was a wealthy man who with his brother Ed and cousin Nan visited Bermuda in the winter of that year. With intriguing insights on Bermuda's unique past, detailing experiences ranging from dealing with British regiments to riding upon donkey carts. Author had a penchant for travel and a curiosity to match his millions, so found himself on board an ocean steamer in the winter of 1893 bound for Bermuda, spending a month there.
1893. The Government of New Zealand enacted legislation which allowed women to vote in general elections. Bermuda was far behind.
1890s. Bermuda faced agricultural tariffs from its main market, the USA. The US railway system could by then go throughout the huge country carrying fresh fruit and vegetables at far cheaper cost than importing produce from Bermuda and elsewhere offshore. As a result, a US agricultural tariff was introduced and because of it Bermuda's agricultural exports, once prolific, soon ended.
1894. March 11, Hospital Sunday. Patients of all classes who required hospital treatment were admitted to the little rectangular structure known as the Cottage Hospital which had only a handful of beds. It was the first civilian (but not military, as there were two) hospital in Bermuda. It was on elevated ground near the east end of Pembroke Parish on the Military Road from Fort Hamilton to Prospect.
1894. September 17. Bermuda High School for Girls first began, initially from two rooms of a rented house on Reid Street, Hamilton.
1894. The Bermuda Volunteer Rifle Corps (BVRC) was formally established under an Act of the Colonial Parliament legislated in 1892. It was then an all-white, racially segregated reserve for the Regular British Army infantry component of the Bermuda Garrison. Although Bermuda had maintained its own militia from 1612 until the end of the American War of 1812, it had been allowed to lapse thereafter due to the large garrison of regular soldiers that had been established following US independence. The reason for the military garrison in Bermuda was ultimately the protection of the Royal Naval dockyard on Ireland Island. At the time, the primary defence was seen to be by the coastal artillery, mounted in various batteries and fortifications and manned by the Royal Garrison Artillery (RGA). A voluntary reserve was created for the RGA at the same time, titled the Bermuda Militia Artillery (BMA). If, despite the best efforts of the artillery, enemy vessels succeeded in landing military forces on Bermuda (which was most likely to be achieved using small boats to cross over the reefs to reach beaches on the South Shore), the infantry was expected to tackle them, in the worst scenario, making a fighting withdrawal into the forts and the dockyard itself. The BVRC was the first local Amy unit in Bermuda, raised with a mandated strength of three-hundred officers and enlisted men split between three companies (A, B, and C, located at the West End, in the Centre, and at the East End of Bermuda), each with its own armory (drill hall). A fourth (headquarters) company was also located centrally, at the Armory Building in the City of Hamilton, the colonial capital. It's recruitment was exclusively from the white population. It was organized, and its volunteers served, under identical conditions to the Volunteer Force (VF) rifle corps already raised by Lords-Lieutenant of British counties. Captain E.S.B. Evans-Lombe, of the Prince of Wales Leinster Regiment, arrived in November, 1894, to oversee the raising of the Corps, and became the first Adjutant. The BVRC was originally divided into three companies (A, B, and C), one each located in the West End, the centre, and the East End of Bermuda. Headquarters was located centrally, where a fourth Company, D, was added. Twelve officers were appointed, including the Commanding Officer, Major Sir Josiah Rees, three for each of the original three companies, a Surgeon-Lieutenant and a Chaplain. To these were added four Permanent Staff, attached from the Regular Army, including Captain Evans-Lombe, a Regimental Sergeant Major (RSM), and two Non-Commissioned Officers (NCO). The mandated strength of the Corps was 300, all ranks. The lowest rank in the BVRC, as with other rifle regiments, was Rifleman, which was equivalent to a private in a normal infantry regiment (the first rifle regiments had been distinguished from infantry units by their weapons, their tactics, and their green (camouflage) uniforms. When the Enfield rifle replaced the musket as the standard weapon of the British Army, there ceased to be any distinction between the equipment and tactics of the infantry and those of the rifle and light infantry regiments). Recruitment into the BVRC was restricted to white males, aged 17 to 50, although the barrier to non-whites was achieved by requiring volunteers to be members of a rifle club. All of the private rifle clubs, at the time, restricted their membership to whites. The terms of service for the Bermudian volunteers were similar to those of Volunteers in Britain. Enlistment was voluntary, and a member could leave the Corps by giving fourteen days notice, except while embodied for active service, or training on a military camp-when he also became subject to Military Law. Whereas Volunteers in Britain were originally expected to pay for their uniforms and equipment (including their rifles), Bermudian volunteers were issued these. The uniform was rifle green with black buttons, in conformity with other rifle regiments throughout the Empire, but khaki uniforms were issued from 1898. A minimum attendance at drills, and completion of annual inspection and musketry tests, was required for a volunteer to be returned as 'efficient'. The Corps could be called out in times of War, or in response to an invasion, but volunteers could not be sent overseas without their consent.
1894. The St. John Ambulance Brigade was established in Bermuda. It is one of the oldest charities in the world, dating back to the 11th century. The brigade provides first aid and ambulance services to large and small events throughout the year.
1894. Many West Indians began their relocation to Bermuda.
1895. The Bermuda Historical Society was established, by Archdeacon George Tucker.
1895. A petition was presented to the Colonial Assembly (as the Bermuda Parliament or House of Assembly was then called) signed by 172 women requesting that the ability to vote in General and other Elections be extended to them. Anna Maria Outerbridge, an early Bermuda human rights activist, was said to have persuaded her father, Dr T A. Outerbridge MCP to propose the first Women's Franchise Bill. Much to the surprise of many, the B ill passed in the Lower House. However, it was defeated in the Legislative Council by a single vote.
1895. Born to a Bermudian, Maria Susan Hayward, and an English father, John James Bushell published his first guide to his "beloved Bermuda" at the age of 23. In the same year he married Rosalie Popham and moved to "Palm Vale" off the South Road, one of her family's properties. For many years afterwards, he produced the definitive yearly-updated guidebook to Bermuda for visitors and newcomers.
1895. An Act of Parliament formally legislated the organized military units first planned the year earlier to both supplement and complement the regular British Army garrisons in Bermuda. Two initial units were formed from this, the white Bermuda Volunteer Rifle Corps in 1894 and from this year the black Bermuda Militia Artillery. This second unit recruited primarily blacks (although only whites could receive commissions) was raised to provide a part-time reserve to the Royal Artillery (between 1899 and 1924, the Royal Garrison Artillery).
1895-1896. In two successive years, there were attempts in Bermuda to pilot legislation through Parliament for the express purpose of extending the vote to property-owning women. On both occasions, the franchise Bill was rejected by the Legislative Council by a narrow margin after having passed the House of Assembly.
1896. After The Bermuda Militia Act four years earlier, the Bermuda Militia Artillery (BMA) was officially formed by Act of Parliament and embodied on a three-month training exercise at a camp in St. George's as the result of a threat of world conflict and the need for local security. Its purpose was to operate coastal defense facilities previously manned by elements of Britain's Royal Artillery.
1896. After removal of her engines and machinery, the former Royal Navy gunship HMS Vixen, towed to Bermuda in 1888, was scuttled to block a narrow channel off Daniel's Head. The scuttling was done to prevent possible attacks by torpedo boats on the Dockyard.
1897.September 6. The first school mostly black children in Bermuda, Berkeley Institute, was opened. It then had 27 pupils, one of whom was white. (See origins on November 21, 1879).
1897. Professor Edward Laurens Mark, with Charles Bristol of New York University, was one of the founding fathers of the Bermuda Biological Station for Research. He began his association when he brought a party of students to Bermuda by ship.
1897. November. The Ordnance Survey of the Bermudas, the necessity for which both for military and civil purposes, had long been recognized by the authorities, was commenced by Lieutenant Savage of the Royal Engineers. Arthur Johnson Savage was only 23 years old when he arrived at Bermuda. He later served in South Africa and was awarded the DSO during World War One, passing away in 1933. The new technology he used was the Ramsden theodolite which became the surveyor's major instrument of land measurement, until it was rendered obsolete by the invention of the digital "total station." He brought two theodolites to Bermuda for his survey, one capable of making astronomical observations. This system originated from mapping the Scottish highlands after the revolt of 1745 and in the 1790s, when threats from France precipitated a survey of the south coast of England. His survey became the foundation for land tenure at Bermuda for the next 60 years. Instead of spying from on high, Savage had to work on the ground, with his theodolite, measuring chains and machetes, for the island was then much covered with heavy bush. Surveying works on the method of triangulation, for which a base line is essential. Savage established a primary one on the causeway road on Longbird Island, with a secondary one on the breakwater at Dockyard. Once these lines were accurately measured and their geographical position set by astronomical observations, the survey could begin. A network of imaginary triangles, from which all other detailed surveys were undertaken, in effect covered Bermuda. Levels were recorded on "bench marks" throughout the island, based on the datum of "Mean Sea Level as accepted by the Admiralty and recorded on the Dockyard Fire Gauge at Ireland Island". The Savage map was published in six sheets in 1901 and also appeared in a folded edition, of which few copies survive. Markers of dark grey granite defined the parish boundaries and a number of these little monuments are still to be found.
1898. January 17. The Bermuda to Turks Island cable opened for public traffic by The Direct West India Cable Company Ltd, with offices at 6 Front Street, Hamilton it shared with its sister company The Halifax & Bermudas Cable Company Ltd. (It became known later as the Cable Office). The cable between Bermuda and Turks Island continued through the Windward Passage to Jamaica.
1898. February 8. The Direct West India Cable Company Ltd and its sister company The Halifax & Bermudas Cable Company Ltd opened a cable between Turks Island and Jamaica, thus connecting Halifax direct to Jamaica via Bermuda.
1898. Major Reginald Appleby established a law practice in Bermuda.
1898. One of the ships on station at the Royal Navy Dockyard, Bermuda was HMS Buzzard, a Nymphe Class composite screw sloop, namely of both sailing (barque rigged) and steam propulsion. The vessel was launched in 1887 at Sheerness Dockyard on the River Medway, near the Thames estuary. At 195 feet, with a beam of 30 feet, Buzzard mounted eight four-inch Breech Loaders and for close work, the ship had four Nordenfeldt and four Gardner machine guns.
1899. Lieutenant Andrew Savage, Royal Engineers, undertook the first Ordnance Survey of Bermuda. Places he listed included six buildings on Long Bird Island, then 62 acres, Bermuda's largest by far in Castle Harbour. One building, Melrose, was in the northwest section.
1899. Fort Hamilton, initiated in the 1870s, was completed by the Royal Engineers of the British Army. It was built to protect Hamilton Harbour from possible American or other invasion. It included a moat, dungeons and artillery.
1899. The Causeway was swept away during a severe storm.
1899. December. Bermuda welcomed noted American artist Winslow Homer for the first time from Maine, on the SS Trinidad which he painted, the first ship built specifically to service Bermuda's tourism industry. He stayed until February 1900. In 1901, it brought him back for an extensive visit. He captured the ship on canvas as she sailed the North Channel. On March 31, 1901, he wrote to his New York dealers to advise them that he was sending them three Bermuda drawings as at that time they should attract attention due to the close for the season of Bermuda's hotels (at that time, Bermuda's high season for tourists was November to March). "Bermuda (1901)" pictured here is back home, thanks to the Christian Humann Foundation. It donated $30,000 to the acquisition by Bermuda's Masterworks Foundation which pioneered the repatriation of Bermuda's artworks by famous artists. Homer painted at least 21 Bermuda watercolors. In 1901, they were exhibited at the Pan American Exposition in Buffalo, New York. Homer was awarded a gold medal. Also in 1901, he selected a quiet spot in Southampton near the Great Sound for a splendid scene on a 21 by 14.5 inches canvas. It was "Inland Waterway". It shows Granaway Deep, with Marshall's and Darrell's Islands in the background. He also painted Spithead, later the home of American dramatist Eugene O'Neill, Charles Chaplin and British playwright Sir Noel Coward. After many years in the USA, the painting finally returned to Bermuda in 1992, with a price tag of $700,000, paid by Bermuda's Masterworks Foundation, with some help from friends of Bermuda. Homer was hugely intrigued by Bermuda's early history and how the first involuntary settlers off the wrecked Sea Venture in 1609 found wild hogs as food. He painted them in " Bermuda Settlers -1901" (and on a Bermuda postage stamp years later). The hogs were dropped in the water by 15th century Spanish and Portuguese sailors who used Bermuda as a navigational landmark to Mexico and beyond. They knew the hogs would swim to shore and breed. They were food for shipwrecks on Bermuda's dangerous reefs. Two of his many Bermuda works are shown below.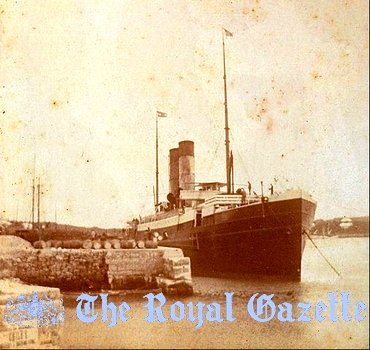 SS Trinidad in 1899, the ship that brought him to Bermuda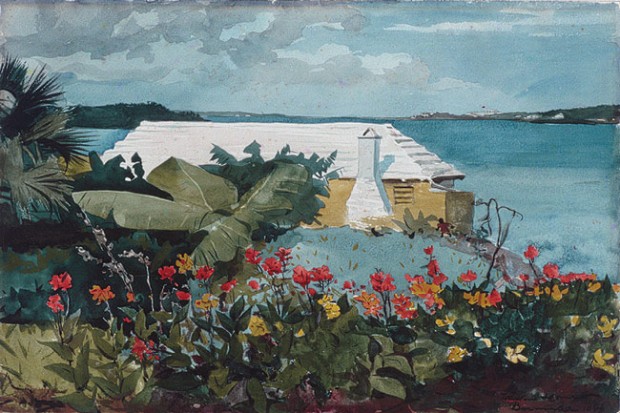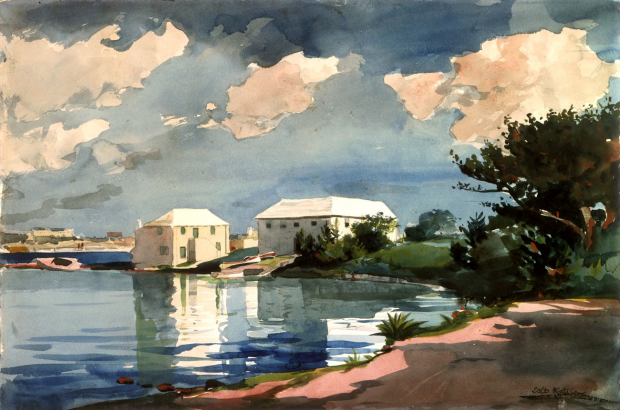 History & daily newspaper reports

Authored, researched, compiled and website-managed by Keith A. Forbes.
Multi-national © 2020. All Rights Reserved