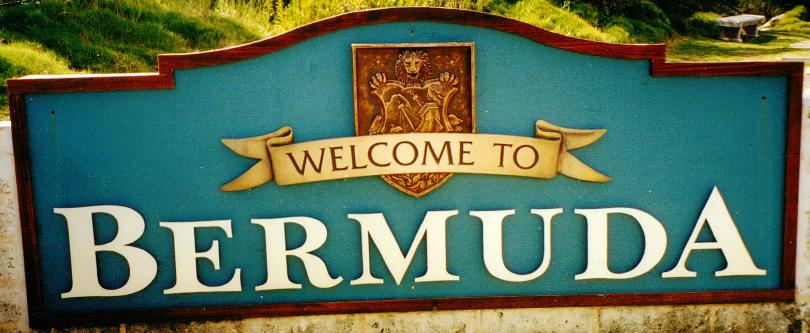 Click on graphic above to navigate the 165+ web files on this website, a regularly updated Gazetteer, an in-depth description of our island's internally self-governing British Overseas Territory 900 miles north of the Caribbean, 600 miles east of North Carolina, USA. With accommodation options, airlines, airport, actors, actresses, aviation, banks, beaches, Bermuda Dollar, Bermuda Government, Bermuda-incorporated businesses and companies including insurers and reinsurers, Bermudians, books and publications, bridges and causeway, charities, churches, citizenship by Status, City of Hamilton, commerce, communities, credit cards, cruise ships, cuisine, currency, disability accessibility, Devonshire Parish, districts, Dockyard, economy, education, employers, employment, environment, executorships, fauna, ferries, flora, former military bases, forts, gardens, geography, getting around, golf, guest houses, highways, history, historic properties, Hamilton, House of Assembly, housing, hotels, immigration, import duties, internet access, islands, laws, legal system and legislators, main roads, marriages, media, members of parliament, money, motor vehicles, municipalities, music and musicians, newcomers, newspaper, media, organizations, parks, parishes, Paget, Pembroke, performing artists, residents, pensions, political parties, postage stamps, public holidays, public transportation, railway trail, real estate, registries of aircraft and ships, religions, Royal Naval Dockyard, Sandys, senior citizens, Smith's, Somerset Village, Southampton, St. David's Island, St George's, Spanish Point, Spittal Pond, sports, taxes, telecommunications, time zone, traditions, tourism, Town of St. George, Tucker's Town, utilities, water sports, Warwick, weather, wildlife, work permits.

Bermuda's 2008 through 2010 History
Significant events that made the news in these three years

By Keith Archibald Forbes (see About Us).
See end of this file for all of our many History files
2008
January 1. Ariel Sands Beach Club, a unique and lovely Bermuda beach-side Devonshire property since 1954, closed. A gracious era came to an end but it was hoped a much anticipated re-development phase would commence. The concept included a complete demolition of the property and constructing a mixed use condo-hotel and resort with a fractional component included. The new buildings will be strategically placed throughout the magnificent site on Bermuda's South Shore to maintain the quaintness and intimacy of Ariel Sands, with all the accoutrements of a Five Star property.
Early. The face of insurance company regulation in Bermuda changed after Government passed the Insurance Amendment Bill in the House of Assembly. The new bill made a number of changes to the Insurance Act 1978, allowing the Bermuda Monetary Authority (BMA) to prescribe standards for an enhanced capital requirement and a capital and solvency return for insurers to comply with, and making new provisions for classes of insurance companies and Special Purpose Insurers (SPIs). It also allowed for the provision of additional financial statements prepared in accordance with Generally Accepted Accounting Principles (GAAP) by Class 4 insurers. The changes came about through a consultation and from International Monetary Fund Offshore Assessment recommendations carried out in 2003 and published in January 2005 to evaluate the regulation of the banking, insurance and securities sectors on the Island and review the financial services legislation and identify steps to be taken to improve the country's regulatory framework. The amendments will further enhance Bermuda's regulatory framework and ensure that it keeps up with the evolving international standards. The amendment to GAAP reporting for Class 4 insurers would be extended by the BMA to Class 3 commercial sector insurance companies after a recategorisation of the Class 3 section had been completed as per the timeline set out in the Authority's 2009 Business Plan. The recategorisation of Class 3 insurers, meanwhile, will separate the captive and commercial insurance firms, redefining the Class 3 sector and forming two new sub-classes, namely Class 3A and 3B to allow the BMA to supervise and regulate each range and type of insurer consistently.
January 21. The Royal Gazette launched a campaign to throw open the doors of Government and publicly-funded groups to give the people of Bermuda access to information that shapes their lives. A Right to Know: Giving People Power is all about helping the people of Bermuda find out what Government and other publicly funded bodies are doing on behalf of citizens, residents and taxpayers and how they are spending tax dollars. There have been pledges of support from around the Island and the world, with former Progressive Labour Party Premier Alex Scott one of the first on board. He said: "This is not an anti-government exercise. It's a pro-democracy vehicle for the public that we serve." A Right to Know calls for Premier Dr. Ewart Brown and his Government to return plans first introduced in 2003 by Mr. Scott for public access to information (PATI) to the top of the PLP's agenda. This newspaper asked to see a commitment in the 2008 Throne Speech delivered on February 1 to table a PATI bill in the House of Assembly this year. It also urged Government, on behalf of all consumers, to agree to open up to the public all quangos, boards and other publicly-funded bodies, including the Corporation of Hamilton, which has a $20 million annual budget. There are more than 100 such entities in Bermuda spending millions of dollars of taxpayers' money and all hold their meetings behind closed doors, with a only a couple releasing minutes to the public. The Royal Gazette believes that anyone should be allowed to attend these meetings if they wish and that minutes detailing what happens during them and the decisions taken which affect the people of Bermuda should be made publicly available. The final aim of A Right to Know is to persuade Government and other bodies that are paid for by the taxpayer to answer questions about their activities unless they have sound and irrefutable reasons not to, such as for national security purposes. Mr. Scott said Bermuda was ready for a public access to or freedom of information (FOI) law and a more open government, as the more than 70 countries around the world, including Cayman, Trinidad and Tobago, Jamaica, Antigua and Barbuda, the UK, Canada, the US and Ireland have done. Other community members supporting transparency include Anglican Bishop Ewan Ratteray, Bermuda National Trust director Jennifer Gray, teachers' union leader Mike Charles, former Opposition UBP leader Grant Gibbons, columnist and journalist Tom Vesey, lawyer Tim Marshall, environmentalist Stuart Hayward, businessmen Stephen Davidson and Nalton Brangman and US Consul Gregory Slayton. Mr. Slayton said the US's FOI laws had made a big difference in various obvious ways and he was all in favor of that for all in Bermuda, to make Government accountable and responsible to citizens and taxpayers. The National Freedom of Information Coalition (NFOIC) in the US is behind the initiative, as is the Carter Center, the human rights organisation founded by former American President Jimmy Carter which helped Jamaica implement its PATI law. Charles Davis, from NFOIC, said he had witnessed other small countries successfully bring in FOI. He said: "You have got a great case for reform here. In a small country a lot can happen with nobody knowing about it. The default is almost to be secretive. I think this is an excellent case for a new FOI law."
February 28. Government set out its stall for tackling illegal companies trying to open up shop in Bermuda following the passing of the Companies Amendment Act 2008. The proposal to amend the fifth schedule of the Companies Act 1981, which lists the annual company taxes incurred by local, exempted and permit companies, used to help improve the Island's regulatory structure, was given the go-ahead by the House of Assembly on Monday. Earlier this month Finance Minister Paula Cox announced in her Budget statement that company fees would be raised 6.5 percent, effective April 1 this year. Ms Cox said the Act would help to recover the costs of policing international business in Bermuda so that the Island retained its reputation. She said stricter procedures were necessary to watch for illegitimate companies setting up on the Island and to ensure all business complied with international regulations. Shadow Finance Minister E. T. (Bob) Richards asked Ms Cox how Bermuda compared with other financial jurisdictions in terms of costs for companies. He said: "We have to pay for the protection of our reputation. The Minister has made a good case for the protection of reputation but I don't believe she has for competitiveness. But Ms Cox said that it was a case of "swings and roundabouts" and that in comparison with other destinations, Bermuda offered lower work permit fees. An example of this was the Cayman Islands, where work permit fees cost up to $15,000. "When you look at the raft of fees in other jurisdictions, it's swings and roundabouts. Although in company fees we may be seen as considerably higher, and companies recognise that in certain areas Bermuda is more costly, they also feel it's worth it because of our reputation. We are seen as blue chip. Certainly, I think on swings and roundabouts, Bermuda is not out of the ball park. In some areas we're higher but in other areas, other jurisdictions are much higher. We aren't going to tolerate abusive and sham transactions. We are going to protect our reputation and are not going to tolerate sham or abusive transactions. We are serious about protecting our reputation and are not willing to be tarnished or sullied by those wishing to use us." The Exempted Partnerships Amendment Act 2008 and the Overseas Partnerships Amendment Act 2008 were also passed in the House of Assembly without any objections from the Opposition. Meanwhile, the Bermuda Monetary Authority Amendment Act 2008 was also passed in the House of Assembly, which includes annual fees for insurance companies such as $210,000 for Class 4 insurers and $10,000 for those in the Class 3 category.
March 30. The Bermuda II agreement between the UK and USA was replaced in two stages, on this date and on June 24, 2010, by an Air Transport Agreement between the European Union (representing 25 European countries) and the United States. This provides for an Open Skies regime, which is more liberal even than Bermuda I and Bermuda II.
March 30. Bermuda-registered aircraft crashes in UK. The Cessna Citation I crash near Biggin Hill aerodrome south east of London, was attempting to turn onto final approach having suffered engine problems. It came down on the edge of a residential area, hitting a house, but no-one on the ground was killed. The aircraft was VP-BGE, Bermuda-registered, that entered service in 1975, according to Flight's ACAS database. Owned by the UK division of US fixed-base operator Ross Aviation, the aircraft was powered by a pair of Pratt & Whitney JT15D-1 engines, and has notched up a total of 5,780h and 5,242 flight cycles. Both pilots and all three passengers died in the accident, which occurred shortly after take-off from runway 21 bound for Pau, France. The impact point was about 3.7km (2nm) north east of the threshold of Biggin Hill's runway 21, close to the extended centreline. Just after take-off the crew put out an emergency call to Biggin Hill reporting engine trouble, citing severe engine vibration. The aircraft hit a house in the village of Farnborough, Kent, [not the town associated with the international air show], but the residents were away.
April. Norman Palmer, 57, who ran his own excavating business, died after he got into breathing difficulties at his Paget home and was taken to King Edward VII Memorial Hospital by ambulance. After Mr Palmer's body was repatriated to the UK, many of his body parts, including his brain, spleen, a kidney and throat, were found to be missing, sparking international headlines. A UK coroner stated he was "satisfied the body parts would have been removed in Bermuda because of the lack of the Human Tissue Act. That meant the family were not advised of the removal and it only came to light as a result of further examination in this country. I have to say it is not uncommon for bodies to be returned to this country with body parts missing." Ms Bishop, sister of Mr Palmer, said the harrowing mystery of what happened to her brother's body parts still haunted her and her sister-in-law and they had no intention of giving up their search for them. A Bermuda Police Service investigation into the body parts found no evidence of wrongdoing but recommended that the Island consider introducing regulations about permission for retaining body parts. A Bermuda Hospitals Board spokesperson said the missing organs "were not retained by BHB. As we have previously stated, in accordance with regulations, a small number of tissue samples were initially retained with the approval of the coroner's officer to ascertain cause of death, but the organs were returned with the deceased to the funeral home in line with BHB's policy. We have every sympathy for the family of Mr Palmer. We have already given detailed evidence in a public court about this matter, at which time our physicians, emergency staff and pathologist were extensively questioned. The facts show that our staff acted entirely appropriately."
April. Bermuda's insurance industry was worth a staggering $6.8 million per person, if its total aggregated assets of $440 billion were distributed among the Island's population of 64,000. The report by the Bermuda Monetary Authority (BMA) reveals that the Island's insurance sector was in good shape despite a softening global market after boosting its aggregate total assets by 33 percent, while increasing its gross premiums written to the tune of more than $15 billion. The BMA's findings show that the Island's insurers reported aggregate total assets of $440.4 billion over the past year, compared to $329.9 billion the previous year. Gross premiums written totaled $115.8 billion for the year, surpassing the $100.7 billion written the prior year. Of these amounts, captives accounted for $72 billion in total assets and almost $22 billion in gross premiums written. A total of 71 new insurance and reinsurance companies were established in the Bermuda market during 2007, compared to 82 in 2006, the BMA reported. The fall in registrations reflected the generally softer market conditions globally, which saw a slowing of captive incorporations. In such conditions, companies typically are able to purchase reinsurance coverage at competitive rates in the traditional commercial markets. According to the BMA, the majority of the new Bermuda market entrants for 2007 were once again Class 3 insurers, a combination of captive and commercial companies. With respect to the commercial sector, 2007 saw the formation of two Class 4 companies. This reflected the general inactivity in the property and casualty market, and the relative lack of major catastrophic events during the year, resulting in the likely record profitability of existing insurers and a sufficiency of global capital in the property/casualty sector.
August 25. Demolition at 10 am of the old Holiday Inn/Loews/ Club Med hotel in St. George's. It was the first building implosion in Bermuda's history. Explosives, dynamite (more than 70 pounds weight), were set off by button pressed by then-Premier Ewart Brown and the huge landmark hotel, weighing some 28,000 pf concrete, was demolished in a mere seven seconds, with many cheers from spectators a safe distance away . The implosion left tons of debris scattered everywhere on the grounds. As a direct result, developer Carl Bazarian was later awarded a 262-year lease to build a resort at the site of the old Club Med in St George's. The Park Hyatt Resort (St George's) Act 2008 was the authority. The lease stipulated a "construction period" mean "a period not exceeding forty-eight (48) months commencing from the date of completion of the demolition under Article 6 of the MDA (master development agreement)". St George's was still desperately in need of an economic revival and a new hotel will definitely help change that. (But as reported in March 2012, with 42 months since the property was imploded, the property was in breach of this deadline, Furthermore, Bermuda was promised development would have commenced in 2011 at the latest).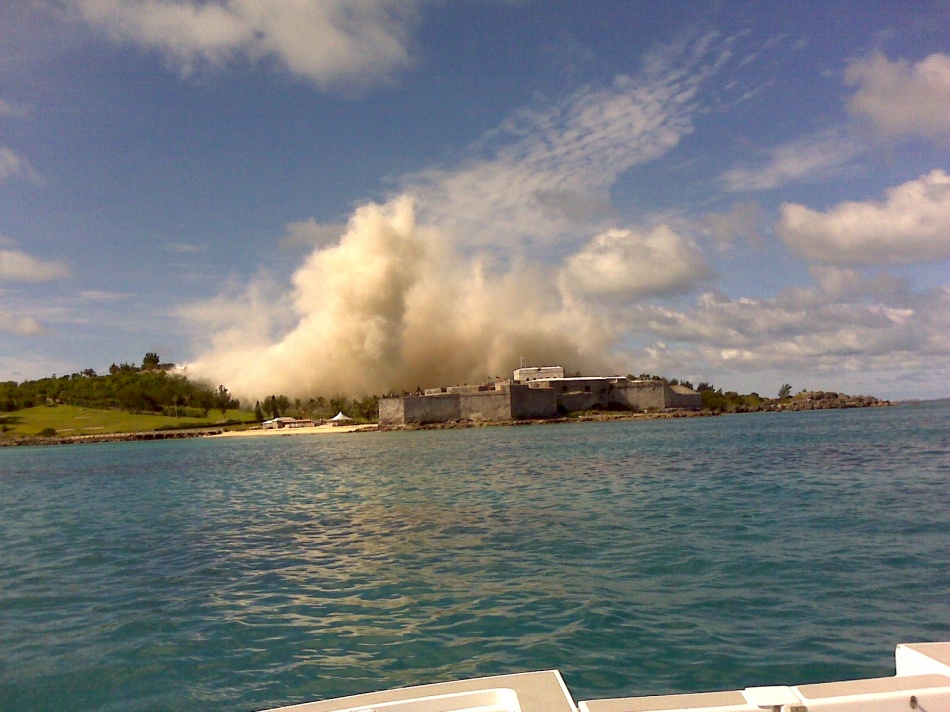 Implosion of old Holiday Inn, Loew's, Club Med hotel, St. George's
The skeleton of Governor George Bruere (Governor from 1764 to 1780) was unexpectedly found under the floorboards of St Peter's Church in St, George's when archaeologists from Boston University were searching for evidence of the foundations of the original church on the site, built in 1612. His wooden coffin had crumbled away, but a copper plate supposed to be from the top of the coffin was found in the skeleton's chest cavity, bearing the inscription "His Excellency / George James Bruere Esq / Governor of Bermuda /Lieut. Col. In His/ Majestys Service OB / The 10 September 1780/ AE 59 Years". The vicar of the church commented that he had no record of the funeral. From the bones, it was estimated that Bruere was 5 feet 4 inches (1.63 m), in height, which was about the average for the 18th century.
The Harmony Club was acquired by the Bermuda Government and closed as a hotel. It was once a particularly nice hotel in a great inland position off the Middle Road not far from Elbow Beach and adjacent to the Bermuda Railway Trail, the nearest major hotel to the City of Hamilton. Then an adults-only resort with a splendid garden, pool, tennis another facilities it was the only place in Bermuda until 2005 to offer an all-inclusive package to its guests. After that, it switched to regular plans.. It is now a facility to lodge for visiting government officials and overseas-hired police officers.
Beyoncé Knowles visited Bermuda, including a presence at the 2008 Music Festival at the Bermuda National Stadium.
A controversial company was set up by the Bermuda Hospitals Board (BHB). Healthcare Partners Ltd was formed to go into business with private partners as a subsidiary of BHB. But the scheme soon came under fire, facing allegations that hospital staff were profiting from its activities at the expense of home-grown medical companies.
The Progressive Labour Party Government axed dozens of Bermudians working in the Tourism Ministry's New York office and replaced them with a US sales firm, Sales Focus.
An ice cream factory closed down. It had been the Bermuda Creamery site in Devonshire. The site was near the junction of Hermitage Road and Middle Road. The Bermuda Creamery was a part of the Gibbons Group. It produced Freeza Fresh and Bermuda Creamery ice creams, as well as Simmons sherbets, for more than 20 years before it closed its doors.
Internationally famous Canadian actor Christopher Plummer published his autobiography "In Spite of Myself" in which he showered praise on Bermuda. He had journeyed to Bermuda not long after he had begun his acting career. He made his professional debut in 1948 with Ottawa's Stage Society, performing over 100 roles with its successor, the Canadian Repertory Theatre. He then joined the Bermuda Repertory Theatre — a professional theatre company based out of the old Bermudiana Hotel in Hamilton — for its 1952 season. Performing for visitors and locals at a small theatre at the hotel, the Bermuda Repertory Theatre was for several years a magnet for young, up-and-coming American and Canadian actors. Mr. Plummer performed in half-a-dozen plays during his time in Bermuda, playing Old Mahon, "The Playboy of the Western World", Anthony Cavendish in "The Royal Family, Bermuda Repertory Theatre", Ben in "The Little Foxes", Duke Manti in "The Petrified Forest", Father in "George and Margaret", Hector Benbow in "Thark" and Bernard Kersal in "The Constant Wife." His success in Bermuda caught the attention of a US producer which led to Mr. Plummer being cast in a 1953 American tour of the play "Nina." But when the time came for him to leave Bermuda, he was reluctant to do so. "Whenever I'm about to say farewell to a place in which I've lingered too long and I know I must get out — damn it, if I don't get hooked," Mr. Plummer said of Bermuda in his autobiography. "I'd known all along these jewels set in Azure waters were a romantic group of islands whose history was as baffling and mysterious as the triangle that bears their name. If Bermuda had been created by any other than some sea god, it had certainly been christened by a force called Shakespeare [in his Bermuda-inspired play 'The Tempest']. If it had been born merely in a poet's mind — a poet who had never seen it — what a rich magnificent birth. But it did exist; it was real. In the beginning of time, the sea had belched it forth. It was Caliban's island, wild, lush, painfully beautiful — I suddenly wanted to stay: 'I'll show thee every fertile inch o' the island/I'll show thee the best springs, I'll pluck thee berries …/I prithee let me bring thee where crabs grow/… Wilt thou go with me'?"
2008. December 10. Report from the Bermuda Sun, It has been kept under wraps - perhaps understandably hidden from the public eye - but a small corner of Bermuda is slowly becoming a haven for nudists. Guests at the Cambridge Beaches resort are being invited to step onto the Sky Deck terrace, where "clothing is optional". That area of the cottage complex is proving very popular, "particularly with Italians," according to those who work at the resort. As part of Cambridge Beaches' push towards an adult-only market, the resort has once again invited world famous sexologist Dr. Pepper Schwartz to host seminars and courses aimed at improving couples' relationships. Author Dr. Schwartz, who has appeared on Oprah and other chat shows, will be at the Sandy's resort throughout February to help couples make the most of their Valentine's break. Sex advice and "relationship wellness" books are also left in guest rooms and in various parts of the spa. The Bermuda Sun has written about the resort's sex seminars before but it is the Sky Deck terrace that is the most radical break with conservative tradition in Bermuda, where topless bathing is virtually unknown and official law still dictates the correct length of a man's shorts. Louise Palmer, Director of Spa, said that the resort is within its rights because it is private land. She said: "There are signs before you get to the terrace warning guests that clothing is optional. It is entirely their choice; guests can still use the terrace clothed. But many of our guests have appreciated the option; our Italian guests, particularly, have been very open to it. A lot of our other European visitors too; the English have embraced it. We've had no adverse comments from guests at all." The Sky Terrace is set above the resort's main pool; it is possible to look down into the pool but a screen and landscaping make it impossible to look the other way. Boats and bathers in Mangrove Bay will also be unable to spy on those using the Sky Deck. Cambridge Beaches is offering a range of packages aimed at couples. One is called Sensual Journey, which begins with aphrodisiac-heavy breakfast in bed and continues with a couple's massage, replete with silk and feathers. Other packages include champagne picnic lunches in a secret garden, blindfold food tasting and moonlit dining on the beach. During certain times of the year, couples can choose to take workshops with Dr. Pepper, after which she will set "homework." Mike Winfield, president of Cambridge Beaches, was unavailable for comment when we tried to reach him yesterday, but he previously told Canada's thestar.com: "I believe people who have been in a relationship for some time are perfectly capable of being romantic. They may need a little help, a little inspiration. "Why is it that people will go to a golf clinic to improve their game, but won't go to a relationship seminar to improve their relationship?" Locals who want to use Cambridge Beaches' facilities, including the Sky Deck, can become a member of the Cambridge Club.
Others not available here.
2009
Celebration of the 400th anniversary of the accidental settlement of Bermuda.

Her Majesty Queen Elizabeth II and her husband the Duke of Edinburgh visited Bermuda.

January. Bermuda was in the American political spotlight once again with the publication of a report on "tax havens" which shows that the 100 largest US corporations have a combined total of 229 subsidiaries on the Island. The USA's Government Accountability Office (GAO), which includes the Island on its list of tax havens, showed that 83 of the 100 companies had at least one subsidiary in what it defined as a tax haven. Citigroup, the recipient of some $45 billion in US Government aid during the market turmoil since 2008, topped the list of companies with Bermuda subsidiaries, with 19. Another banking group, Wachovia, was second on the Bermuda list with 18 subsidiaries here. Wachovia was taken over last year by Wells Fargo, which received $25 billion in US bailout money in 2008-2009. Citigroup is one of several corporations with Bermuda units to have received government bailouts, including General Motors (three subsidiaries on the Island), Bank of America (two), American International Group (five), Merrill Lynch (two) and Morgan Stanley (two). Two oil company giants, ConocoPhillips and Chevron, who achieved a combined full-year net income of more than $30 billion in 2007, take third and fourth places on the Bermuda list, with 17 and 16 subsidiaries respectively. Pharmaceutical giant Merck is fifth with 14, while Caterpillar, the machinery manufacturer that stands to cash in on incoming President Obama's economic stimulus and its focus on infrastructure spending, is equal sixth with 13. Drinks giant PepsiCo also has 13 subsidiaries in Bermuda. AIG, an insurer which employs around 200 people on the Island and which has received some $150 billion of federal support to enable it to survive, has five subsidiaries based on the Island of its 18 in "tax havens" the GAO report showed. The report was requested by US Senators Carl Levin, a Democrat from Michigan, and Byron Dorgan, a Democrat from North Dakota, who have pushed for tougher laws to fight offshore tax havens around the globe. Sen. Levin, who leads the Senate Permanent Subcommittee on Investigations, has estimated abusive tax havens and offshore accounts cost the US government at least $100 billion a year in lost taxes.

March. As then-UK Prime Minister Gordon Brown and his fellow European leaders prepare for the April 2009 G20 summit in London, where Bermuda and other 'tax havens' will be debated, the island's business sector was being targeted from another direction: the state of New York. New York Governor David Paterson has thrown his weight behind state insurance commissioner Eric Dinallo's plan to bring reinsurance business back from Bermuda to the US by establishing a New York Insurance Exchange (NYIE). Mr. Dinallo intends to have the NYIE up and running by 2010 and plans to narrow the tax gap in order to compete with Bermuda in its most lucrative sector. Mr. Dinallo believes his plan will see insurance jobs move back to New York, which he recently described as a reinsurance "vacuum." While the last incarnation of the NYIE folded in 1987 after losses mounted, those working on the 2010 version believe the current state of the economy will work in New York's favour. "The US currently gets none of the tax revenue from this activity because all of this is in Bermuda, so if we can capture some tax revenue from the business that comes to NYIE, that would be a big benefit," the New York State Insurance Department's Mr. Mais said. "This is particularly important, given the hits that employment in the financial markets has taken recently. The NYIE itself would be a new employer and presumably numerous insurance companies, capital providers, syndicates and brokers would have to hire more people here in New York to work on the exchange. We hope to get favorable tax treatment and a relatively small amount of initial capital committed and the exchange set up, so that as the economy begins to turn around, the facility is available and New York will enjoy the benefits of drawing new sources of capital to our financial markets. There is also the probability that there will be a shortage of reinsurance capital, particularly catastrophe coverage, over the next few years, which will create an opportunity for the NYIE."
March 30. Bermudian music pioneer Roy Talbot, will be honoured with a lifetime achievement award at a special blues concert in April. Mr. Talbot, 94, is the sole surviving member of the Talbot Brothers group that were popular in Bermuda and the United States in the 1950s, and 1960s. He will receive a lifetime achievement award from the Azimuth Group on April 4 at 'Red Hot Blue & Jazz' at City Hall, a performance by the Saffire Uppity Blues Women. Singers include Ann Rabson, Gaye Adegbalola recently nominated for a Blues Music Award for Best Contemporary Female Blues Artist, and Andra Faye. The Saffire Uppity Blues Women are a middle-aged all female blues group from Virginia and don't ordinarily have a lot in common with the all-male Bermudian calypso group. But both groups have songs with the word 'Butt' in the title. The Talbot Brothers: 'She has Freckles on her But(t) she is nice'. And Saffire Uppity Blues Women: 'Too Much Butt'. (One of their most popular songs). But on a more serious level, both groups have been known to break down barriers in the music industry in the arenas of race, gender and nationality. The Uppity Blues women sing about pro-female topics not normally explored: domestic abuse, miscarriages, body weight, being middle aged. The Talbot Brothers played in some of the most exclusive hotels, country clubs and parties at the height of racial segregation. So it seems fitting that Roy Talbot, 94, should be presented with an entertainment industry lifetime achievement award at a Saffire Uppity Blues women concert. The award is being presented by The Azimuth Group, a company that provides advisory services in international finance and treasury management. They are funding the concert. "Mr. Talbot is being given the award to commemorate and capture the spirit of Bermuda's musical heritage which the Talbot Brothers have brought forward which is clearly a one of the kind musical style," said Jeff Lewis, Azimuth Chief Executive Officer. "They appeared at the London Palladium, they entertained not just visitors, but Bermudians. They also appeared on the Ed Sullivan Show in the 1950s, twice. Ed Sullivan said of the Talbot Brothers: 'these guys are not good; they are great'. Those are tremendous accomplishments." The lifetime achievement award coincides with the publication of a new book, CD and DVD about the Talbot Brothers, to be released this week. "We thought it was perfect timing," said Mr. Lewis. "The Azimuth Group provided all the resources for the project management of the Talbot Brothers gift package that hits shelves this week. We are very pleased about that because a portion of the proceeds will go to scholarships of young Bermudians. That is the charitable spirit that our company is very much engaged in. And this concert is a nice connection because we get to honour Bermuda's musical heritage, and also hear an internationally known trio." Proceeds from the Saffire Uppity Blues Women concert will go towards the Physical Abuse Centre that helps people in domestic violence situations. "In 2008 and 2009 we were asked to join the Physical Abuse Centre," he said. "We thought the organization needed to do more to support the building fund and the shelter which is a extraordinarily key need in the community. It is utilized 24-hours a day and is full to capacity. I thought I would put the resources behind bringing in the Saffire Uppity Blues Women." He said the songs of the Saffire Uppity Blues women chronicled tough times, which gave them a link with the mission of the Physical Abuse Centre. "I thought it would be great for them to come here," said Mr. Lewis. "Although they were booked solid, as this is their last year, I actually flew to Virginia and convinced them to take part. It is going to be a terrific show and tremendous value for money. The funds will go directly to the people who need them." Mr. Talbot is not the only musical industry personage who will be honoured at the concert. "We are also going to be honoring Kristy Burgess known as 'Ms Thang' a DJ on Hott 107.5. She has been doing a lot with the community and the youth," said Mr. Lewis. "We feel it is important to help young people develop positive self-esteem and to get an excellent education. Self determination is important." The show will be at the City Hall Arts Centre on April 4 at 7 p.m. Tickets are $100 and available from Music Box on Reid Street and the Physical Abuse Centre.

April 17. Tucker's Point Hotel and Spa opened, at 60 Tuckers Point Drive, Hamilton Parish, Harrington Sound, Bermuda, HS 02, as a reincarnation of the old Castle Harbour then Marriott's Castle Harbour Hotel. Performing the opening ceremony were Michael Douglas and his wife Catherine Zeta-Jones and Premier Ewart Brown. It had been 37 years since Bermuda had last constructed a new luxury hotel.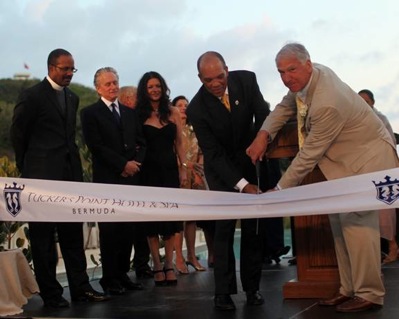 April. The Lamb Foggo Urgent Care Centre opened to much fanfare in Southside, St. David's. It was built on the site of the former US military hospital.

April 29. There are parts of an airplane in the garden and it is claimed a ghost walks the stairs. These are just two hints to the remarkable past of Palmetto House, one of Bermuda's oldest and finest pieces of architecture. The National Trust is currently restoring the ­Devonshire home to its former glory, with attention to the minutest detail. The $1million dollar project is the biggest renovation of a single property the Trust has ever undertaken. They will retain the structure and the character of the early 18th century home but will equip it with mod-cons so it can be rented out to a family...if they have around $8000 per month to spare. The renovation has begun from the smallest detail up - every door latch and window frame has been replaced or refitted, with an eye to historical accuracy. In addition, the jungle garden has been cleared and landscaped. "We are basically starting from the beginning," said Paul Leseur, chair of the Trust's preservation committee. "The only thing we didn't have to do was build the house - and they say that is the easy part. It is a conservation ­effort as opposed to true renovation. We want to be historically as sensitive as possible but it also needs to be a house to live in the 21st Century. It's a compromise. It will have air-conditioning but it will be limited so it can't be made icy cold - that would be too damaging to the building." Dorcas Roberts, the Trust's director of preservation, claimed it was "scary" to see the historical home come together like the pieces of a completed jigsaw puzzle. She said: "We took the whole thing to bits. But now I am beginning to see the finished shape and that's very exciting." Mrs. Roberts said the project is "perhaps the most significant restorations in the Trust's forty year history. We have embraced this project with passion and are excited to see the transformation of this exceptional Bermuda property." The renovation began in January and is due to be completed by the end of May. The Trust will hold an open day to allow interested families to view the house, which will have three bedrooms, two bathrooms and a guest cottage at the rear. The Trust hopes to earn between $6000 and $10,000 a month renting the property - money that will help maintain the house indefinitely. As with many Trust-rented properties, the public is invited to visit at certain times during the week. The Trust may negotiate such an arrangement with the eventual tenants of Palmetto House. The property - which stands 200 yards east of the roundabout at the bottom of Palmetto Road. In 1868 it was compulsorily purchased by the British military to be part of the Prospect Garrison - despite its distance from Prospect. It became officers quarters and later the garrison's golf club house and was roundly wrecked by servicemen. It was partially reconstructed in the 1940s but still remained a long way from its former glory. The National Trust has owned the property since the 1970s and has long wished to renovate it. Its last tenant, Sylvia Ware, left it around three years ago. The Trust found the funds for the renovation after leasing out a property in Southampton they were left by benefactor Miss Marjorie Jackson. In its colorful 300-year history, Palmetto House has been chopped about, ­neglected, restored...and linked to four separate murders and suspicious deaths. Built by landowner William Williams in or around 1700, it was passed down through his family, coming to Benjamin Cox at the end of the century. Cox's first wife, Frances, died in mysterious circumstances in 1790. When his second wife Mary Robinson died in 1793, it was rumored she had been killed by poisoned coffee. The horrific deaths led to the home briefly being renamed Bleak House. The property eventually came to Benjamin S. Williams, church warden and choirmaster at Devonshire Church. He lived there with his wife, the eccentric Frances Cox Williams, and their five daughters. They were evicted when the house was appropriated by the War Department in 1868. It became officers' quarters and then later a club house, when the grounds and surrounding land were cleared for a golf course. But tragedy again struck at the house when a wartime censor was murdered as she was leaving the grounds. By the time the British troops left in the 1940s the house was a wreck. In 1948 Hereward Watlington bought it and began renovating it, removing the additions added by the military. He rented it out to Wing ­Commander Mo Ware, who was seconded to the Bermuda Government to oversee the conversion of the military airport to civilian use. Mr. Ware remained a keen pilot all his life and repaired his plane on the grounds of the house. Mr. Ware's widow, Sylvia, remained at the house until recently, when she moved back to Britain.

May. The Bermuda Government's application was approved to become a contributory member of the University of the West Indies (UWI). Bermuda's membership was slated to allow Bermudian students to enter the University at an agreed upon subsidized rate possibly as early as the 2009/2010 school year. UWI also agreed that their Open Campus (online degree courses) would become open to Bermudian students in the future, with Bermuda becoming the 13th country to have access to the Open Campus.

May 16. Roy Talbot, the last surviving member of Bermuda's famed Talbot Brothers band, has died. The 94-year-old, who with his talented family helped popularize calypso music in the wider world, was yesterday remembered as a skilled bass player, "a gentleman and a fine Bermudian" and an early promoter of the Island as a tourist destination. The Talbots were hugely popular here, in the United States and the United Kingdom in the 1950s and 1960s. The group released four albums and were known for such songs as 'She Has Freckles On Her Butt', 'Bermuda Buggy Ride' and 'Yellow Bird'. Mr. Talbot played the bass fiddle and actually created his own instrument, a double bass known officially as "the doghouse", and affectionately as "Bermudavarius" a nod to the Stradivarius violin. The group's accomplishments were never forgotten. VSB radio and television station manager Mike Bishop recently produced a documentary. Last month, the 94-year-old was presented with a lifetime achievement award and a book, CD and DVD collections compiled by Mr. Talbot's nephew Clement were released. Mr. Talbot's health quickly deteriorated soon after, however. "It's a real loss," said his nephew, who started the Ross (Blackie) Talbot Foundation, named eponymously after his father, another band member. "I spoke to (his wife of 22 years), my aunt Mary this morning. It was a shock. She knew his time was running to the end but wasn't anticipating it would end as abruptly as it did. Obviously it has an emotional impact but I think the family is holding up well although we're all saddened by the loss. " Several tributes were paid to the legendary musician in the House of Assembly yesterday. Said Environment and Sports Minister Glenn Blakeney: "The Talbot Brothers were a national treasure, known not just here on these 22 square miles, but around the world as they traveled bringing incredible joy to communities with their unique style of performing original and classic calypso songs. Roy Talbot was the bass player and actually invented an upright bass made of one string, he hit all the right notes." Several MPs added their comments to his, among them former Premier Dame Jennifer Smith: "I was glad he was around to see the book his nephew published." Culture and Social Rehabilitation Minister Dale Butler described Mr. Talbot as a "gentleman and fine Bermudian". However one of those who best knew him was his nephew, who spent three years trying to convince him to agree to the special project he had in mind. Mr. Talbot said he persisted because he saw his relatives as being "the last of what you call the almost-forgotten." Roy Talbot also enjoyed the production of a new book and DVD on the Talbot Brothers. "He and his brothers made a significant contribution to Bermuda's hospitality industry. They broke down a number of barriers and were able to climb a number of barriers (which existed) because of their skin colour."

May 27. Visitor arrivals and spending plummeted by more than a quarter in the first three months of this year, according to figures released yesterday. Announcing the Department of Tourism's 2009 First Quarter figures, Premier Ewart Brown said: "It should be abundantly clear to everyone that Bermuda Tourism is not immune to the regional and global trends of an economy in dramatic downturn." Shadow Tourism Minister Michael Dunkley however, dismissed this as "spin". "No amount of recession, no amount of words, aka 'spin', can cover over the fact that the Government's tourism woes are self-inflicted," he said. Senator Dunkley said what was needed now was a Tourism Authority, to put "the management of tourism into the hands of hospitality professionals and out of the hands of politicians". Dr. Brown, Tourism Minister, yesterday revealed air arrivals have dropped by more than a fifth and occupancy of hospitality properties declined 28 percent. Government statistics for the first quarter of 2009 show visitor spending also fell. The figures show visitors spent between $734 and $922, compared to $1,013-$1,216 per person in January to March 2008. Total visitor arrivals for the opening quarter of 2009 fell by 27.84 percent year over year, with 32,361 tourists during this period, compared to 44,845 last year. Air arrivals fell 22.75 percent, with 32,235 visitors 9,500 less than the first quarter of 2008. The statistics also point to a steady decline in 'all arrivals' as the year progresses, with 17.3 percent fewer arrivals in January, 26.1 percent less in February, and 33.4 percent <\!m> a third less in the total number of visitors for March. The number of people travelling to Bermuda for a vacation dropped by 29.1 percent in the first quarter, year over year. Business visitors declined by 10.5 percent and convention visitors were down by more than half compared to 2008, with a 53.6 percent drop. Yesterday however, Dr. Brown said he was optimistic things would pick up in the summer. Commenting on future hospitality bookings, he said: "The rest of May and going into June have been better than anticipated." He added the opening of Tucker's Point had created "a buzz in the industry", and that hoteliers would succeed by showing "creativity". But Dr. Brown added that for some visitors, the Island was perhaps too expensive. He said: "There is something about the Bermuda price point which didn't sit well with visitors. I don't know that it wasn't acceptable value for money but it didn't sit well with some." Announcing a raft of measures to attract more tourists, he said: "I feel good about all the good things that are happening. In spite of the tendency of some of the media to paint a miserable picture, we believe there are some good things happening, but they must do what they do." Dr. Brown said the opening of the new Heritage Pier in Dockyard would also buoy up cruise visitation figures. He said that once global tourism recovered from the economic downturn, people "would start travelling again. And when they travel again, we believe they will be more likely to visit or re-visit those destinations where the tourism product is fresh and buzz-worthy. With the new Port Royal and the revitalized Dockyard, with the new Tucker's Point Hotel and the crowd-pleasing Newstead, with the soon-coming Park Hyatt, Four Seasons and Grand Atlantic we think Bermuda Tourism is in a position to capitalize on the comeback. I trust all of our local Tourism partners will be ready." Yesterday however, Sen. Dunkley said: "We need a new approach to tourism and new leadership. The best thing the Premier can do today to improve tourism is to begin the transition to a Tourism Authority." The Opposition Senator said Government had failed to provide a "dedicated cruise ship for Hamilton this year" and "did not vote extra marketing dollars this winter to pump up Bermuda's market profile, as did our competitors to the south". He added: "We don't have a working sales force in the United States as a result of the Minister's destruction last year of the New York sales office. The so-called 'reorganization' fired its Bermudian sales force in favour of a US company that was dumped just a few weeks ago by the Minister. As we said last week in an editorial: The upshot is that Bermuda Tourism's marketing organization is in a shambles; with the Minister supervising the meltdown of our North American operations. In the midst of a worldwide economic crisis, when Bermuda needs its strongest sales effort against intense competition, we are without a dedicated sales force in our most important market." Last night Stephen Todd, President of the Bermuda Chamber of Commerce, said hoteliers and hospitality partners, retailers and restaurateurs had anticipated a fall in visitor numbers. "They are concerned, as we all are, but also guardedly optimistic," he said. "We are all looking at the manner in which we deliver our products and services, and the restaurant and retail sector are looking to provide value to their customers, and also the way they deliver those products and services. While we can't control the ability to get people to come to Bermuda and to travel in this current global economic climate, we need to encourage visitors who do come here to return. We've seen a number of initiatives the Department of Tourism has and will be moving forward, some of which the Premier indicated in his speech today, but the true test will be if we see an increase in visitor numbers in the coming months. This is really something we can't predict." Premier Dr. Ewart Brown outlined a number of initiatives to encourage visitors to the Island as the tourism industry is hit by recession and the global economic downturn. The measures announced yesterday at a Ministry of Tourism and Transport press conference, include Partnership with the Bermuda Hotel Association (BHA) in the 'Compliments of Bermuda' $200/$300/$400 promotion, from November 2008 to March. The Department of Tourism provided $650,000 in subsidized funding to hotels for the hotel package promotion. Government contributed a total $900,000 to hotels for joint promotions with Bermuda Tourism in the fall and winter of 2008-9. This resulted in 5,031 bookings, or 10,062 passengers. A 'Sizzling Summer 400 Program' to mark Bermuda's 400th anniversary of permanent settlement, will provide a credit of $400 to visitors spending four nights of more on the Island. The Department of Tourism executive team completed a 2009/2010 sales and marketing plan in mid-February. Dr. Brown, Tourism Minister, said this was "designed specifically to address the current challenges faced by Bermuda in the face of the current economic downturn". This includes more emphasis on digital (Internet) marketing. $2.5 million has been allocated to digital and interactive marketing, with a revamped Bermuda Tourism website and more marketing on social networking sites. Marketing efforts will also focus on the "core northeast market with secondary attention to the UK, Canada and Europe". The Premier, the Director of Tourism and the director of Global Operations, have given presentations to industry partners in Philadelphia, New York and Boston. Dr. Brown said: "Approximately 25 percent of Bermuda's business is attributed to retail travel agents and we will continue that commensurate level of support to this distribution channel." Speaking engagements. Dr. Brown said this was a means for Bermuda "to get word out on the street about our outstanding tourism product". He cited a speech to the Young Presidents' Organization at a regional function in Miami as an example, and said the aim was to get business leaders inspired to visit Bermuda for a retreat. New marketing partnerships with the Boston Red Sox and the Deutsche Bank Golf Championship. A Red Sox Bermuda Night is to take place at Fenway Park on June 19. The course renovations are now complete for the new Port Royal Golf Course and the Premier said Tourism has "big plans for Port Royal" in its strategy, with plans to focus on New England in marketing. The Bermuda International Love Festival. Dr. Brown said this year's sponsors included: Elle, W, and Departures magazines, Golf World, Robb Report, Veranda, Chopard Jewelers and JetBlue. The partnerships would lead to more "editorial coverage of Bermuda". Dr. Brown said that while this year's Love Festival attracted 160 people, next year the target would be 300. Salsa dancing and street festivals could feature among the activities on offer this summer. The Department of Tourism is sponsoring free events around the Island, which include: an increased schedule for the 'St. George's Historical Reenactment; storytelling in Bob Burns Park; 'Gombey Saturdays' at Par-la-Ville Park; a 'Taste of Bermuda Calypso Sundays' at Royal Naval Dockyard; and the return of Movies on the Beach. Whenever cruise ships are berthed at Dockyard on a Saturday, the ferry service will operate to St. George's with four round trips a day. Dr. Brown said: "We are providing this service in response to input received from residents and businesses in St. George's."

June 11. Four Uighurs who had been held in extra-judicial detention in the United States Guantánamo Bay detention camp, in Cuba were deported to Bermuda under a secret deal reached solely between the-then Premier of Bermuda, Dr. Ewart Brown, the-then United States Consul General in Bermuda and the-then Secretary of State, Hillary Clinton, of the United States government, but not with the British Government or its British Governor - and in violation of Bermuda's Constitution.

The four men were among 22 Uighurs who claimed to be refugees, who were captured in 2001 in Pakistan after fleeing the American aerial bombardment of Afghanistan. They were suspected of training to assist the Taliban's military. They were cleared as safe for release from Guantánamo in 2005 or 2006. But U.S. domestic law prohibited deporting them back to China, their country of citizenship, because the U.S. government determined that China was likely to abuse their human rights. In September 2008 the men were cleared of all suspicion, and Judge Ricardo Urbina in Washington ordered their release. However domestic opposition to their admittance to the United States was very strong and until Bermuda and Palau agreed to accept them, the U.S. had failed to find a home for them. The Uighurs concerned were banned from ever going back to the USA for having accepted training from al Qaeda and taken part in terrorism. The secret, sneaky and illegal bilateral discussions that led to prisoner transfers between the U.S. and the devolved Bermuda government sparked diplomatic ire from the United Kingdom, which was not consulted on the move despite Bermuda being a British territory and with Britain, not Bermuda, responsible for Bermuda's external affairs. British officials on London stated bluntly that this was very well known by both the US Secretary of State in Washington DC and her US Consul General in Bermuda, as well as Bermuda's Premier Dr. Ewart Brown, and it was done by both the USA and the Premier in deliberate and contemptuous violation of Britain's interests. Tensions between Bermuda and Whitehall reached fever pitch with then-Governor Richard Gozney calling the move 'invalid' and 'unacceptable.' The British Foreign Office issued the following statement: "We've underlined to the Bermuda Government that they should have consulted with the United Kingdom as to whether this falls within their competence or is a security issue, for which the Bermuda Government do not have delegated responsibility. We have made clear to the Bermuda Government the need for a security assessment, which we are now helping them to carry out, and we will decide on further steps as appropriate." A company led by Mr Art Collins, Public Private Partnership Inc, was linked to Bermuda after The Times of London reported that it came up with the idea to resettle four Guantánamo Bay detainees on the island. Mr Collins was photographed with the Uighurs when they landed on the tarmac at LF Wade International Airport on this day. He was described at the time by US political website The Hill as a lobbyist for Bermuda's government. The Hill quoted Glenn Jones, press secretary to Ewart Brown, then premier, as saying: "Art Collins does indeed do work for the Government of Bermuda but he did not propose the transfer of innocent detainees from Guantánamo Bay to Bermuda. He did, however, assist in facilitating this humanitarian gesture." The previous year, Dr Brown had attended a sporting event in New Orleans as a dignitary; Mr Collins (fifth from left in photo) was listed as a dignitary at the same event.

June 12-15. Bermuda participated in the international event linking Europe and North America also part of the 400th anniversary celebrations of Bermuda's permanent settlement after the wrecking of the Sea Venture. Bermuda was named one of the host ports for the Tall Ships Atlantic Challenge along with Vigo on Spain, Tenerife in the Canary Islands, Halifax, Canada, and Belfast in Northern Ireland. Young Bermudians were given the opportunity to be placed as trainees on some of the international ships as they sailed from port to port. The Spirit of Bermuda took part in some stages of the event. Between 30 and 40 tall ships were on hand for the festival, which got a boost in 2009 as it coincided with the 100th anniversary of the Royal Canadian Navy, also bringing a number of military tall ships. A fleet of ships from Europe raced to Bermuda and gather back in Halifax for another leg of the race. This leg ended in Belfast, Northern Ireland.

August 18. A new digital marketing campaign has proven extremely successful for the Department of Tourism, Premier Ewart Brown said yesterday.

The Department released the second quarterly bulletin which showed that despite arrivals being down between April and June visits to BermudaTourism.com were up 81 percent compared to the same period in 2008. Dr. Brown, who is also Minister of Tourism, said several high impact promotions on the site in the second quarter attracted approximately 301,000 visits. Page views were also up 49.9 percent to 2.7 million. The results mean potential tourists are now spending more time while viewing more pages and sections of the website. Dr. Brown said he believes the increase is due to the website's new look as well as an increased amount of new information being posted. Data also shows that people are staying on the website longer as the "bounce rate" is down 48.5 percent. "We believe this trend will continue which is important because search is a cost effective way of touching our target audience and we will continue to increase investment not only with our own website development but also with our online distribution partners. Increased traffic to the website, despite fewer visitors, is an extremely encouraging indicator that our goal to increase destination awareness is definitely working and this augurs well for the future." News is also good from online booking agencies. Dr. Brown said in 2007 they realized more effort needed to be put in online tourism sites as 57 percent of North American consumers booked vacations online. Online bookings on Expedia were up 33 percent year to date, compared to the first six months of 2008, while Orbitz bookings were up 45 percent, Travelocity bookings up 35 percent and Purely Bermuda, a key UK online operator, up 36 percent. No actual numbers were provided. He added that in key markets BermudaTourism.com is the first site located by a Google search, previously the site ranked third or fourth. "These numbers are very encouraging," Dr. Brown said. "In fact they are exciting. I have supreme confidence we are moving in the right direction on our digital marketing strategy and I will be compelling our Internet group to keep their foot on the gas pedal." Tourism stats for the second quarter of 2009, competed to the same period in 2008, showed Air arrivals were down 14.2 percent, brining 74,979 visitors to the Island this year; Air arrivals for people coming on vacation were down 12.4 percent; Air arrivals for people coming for business were down 16.4 percent; Air arrivals for people coming for a convention were down 41.9 percent; Air arrivals for people coming to visit friends or family were down 0.8 percent; Air arrivals from the core US market were down 12 percent; Air arrivals from the rest of the US market were down 13 percent; Air arrivals from Canada were down 10.8 percent; Air arrivals from the UK were down 19 percent; Air arrivals from Europe were down 28 percent; Cruise arrivals were down 3.7 percent, bringing 124,553 visitors to the Island this year; Yacht arrivals were down 7.98 percent, bringing 3,529 visitors to the Island this year. For the year to date the number of total visitors was 235,525, down 11.28 percent. In the past 30 years the total visitor number has surpassed 200,000 only eight times. This year's total visitor number is the fifth best since the modern recording system was implemented. 201,565 visitors came to the Island in 1982. 213,931 visitors came to the Island in 1987. 200,607 visitors came to the Island in 1994. 200,676 visitors came to the Island in 1996. 228,768 visitors came to the Island in 2006. 232,806 visitors came to the Island in 2007. 220,634 visitors came to the Island in 2008. 203,061 visitors came to the Island in 2009.

September. What for centuries in Bermuda used to be known as Spanish Rock formally renamed Portuguese Rock in a ceremony attended by dignitaries from Bermuda and Portugal. The ceremony was held at the rock, which was engraved here almost 500 years ago. Portuguese Rock is a poignant reminder that Bermuda has and will continue to have strong cultural connections with Portugal and a shared maritime and international commercial history that built the foundations of the modern Atlantic world. Antonio Nunes de Carvalho Santana Carlos, Ambassador of Portugal, flew in from London for the ceremony and made a short speech. Once the new sign was unveiled, Bishop Robert Kurtz and Father Julio Blazejewski both said prayers. The Portuguese national anthem was performed on the accordion by Antonio Araujo and Wendell "Shine" Hayward played Bermuda's official national anthem God Save the Queen, on his saxophone. It was thought that the inscription 'RP 1543' was made by the Spanish who roamed the seas in the 1500s and hence it was called 'Spanish Rock.' But subsequent research indicated that the inscription was made by a Portuguese sailor who was wrecked off Bermuda's reefs in 1543.

September. Government's Washington office opened, on 7th Street in the US capital. The-then Progressive Labour Party administration said that its core functions were to maintain open channels of communication with US policymakers and their advisers while also facilitating business development opportunities for Bermuda. Opposition MPs branded the initiative extravagant — it is understood that the Government signed a ten-year lease on the office, paying $180,000-a-year to rent the space.

October. Bermuda's honey bees were badly hit when the varroa mite hit the Island, causing thousands of local bees to die. The mite infected most of the bee hives in Bermuda. There was a knock-on effect on agriculture as bees are needed to pollinate crops.

October 26. With the closure of Elbow Beach Hotel's main building for the next several years, many people have been left wondering what does this mean for much touted hotel developments across the Island.

Last Wednesday, when the announcement was made that 160 people would loose their job as a result of Elbow's partial-closure, Premier Ewart Brown said he was saddened by the news but optimistic. A press statement indicated that the Premier believed the hotel was in "dire need of upgrading" and added that he was "expressing optimism on the future. The rooms that will replace the old-style accommodations in the old building will make a welcome addition to the improved product that will come when other hotels are developed," he said. "Elbow Beach will then be able to compete with brands like Park Hyatt, Four Seasons and St. Regis." The press statement added that Elbow Beach will neighbour the proposed Four Seasons to be developed at the site of Coral Beach/Horizons. Here's a look at the progress of the hotel developments Dr. Brown mentioned as well as six other properties across the Island: Ariel Sands, Devonshire. After closing its doors indefinitely in January, the owners attempted to find an investor to redevelop the property. In March executive director John T. O' Brien said its original investor had backed out of the deal because of the deteriorating financial climate and the company was looking for new investors. Since then no new investors have been publicly named. Grand Atlantic Resort and Residents, South Shore, Warwick. In 2007 it was announced that a nine-storey, 706-bed hotel would be built at the former Golden Hind site. A Special Development Order was passed outlining that Government and landowners Atlantic Development were to build a 100-room hotel and 125 affordable homes in a public-private partnership. It added that the 125 two and three-bedroom condos would be built in four phases, while the hotel was constructed on a neighbouring site, with a projected completion date by 2013. St. Regis. Hamilton. In November 2007 the Corporation of Hamilton signed a deal to develop a five-star Ritz Carlton on the site of the Par-La-Ville car park. However, in June Premier Ewart Brown announced the exclusive five-star hotel and residence development would now be a St. Regis. The St. Regis Bermuda will feature 140 rooms and suites and 80 serviced residences, and will be located on the corner of Par-la-Ville Road and Church Street, overlooking the park. A spokeswoman for the overseas developers said the ground breaking will take place between July and December next year and the foundation will be laid sometime in 2011. The hotel will be opened by September 30, 2013, at the latest. She added that they were confident with their financing. Coral Beach Club and Horizons, South Shore, Paget. Owners are waiting for the Draft Plan Tribunal to decide on an appeal against the Development Applications Board's refusal of planning permission for the Four Seasons Hotel in Paget. The plans include a 150-room hotel, 60 fractional ownership villas, 20 residential units, a spa, fitness centre, tennis courts, pools and conference centre to be located at the properties. The developers did not respond to a request for comment. Former Wyndham/Sonesta property, Southampton. In January 2008, developers Scout Real Estate Capital announced plans for a $300 million resort called Southampton Beach Resort. Last week the company declined to comment on rumours it was looking for a quick sell-off of the property and did not respond to a request for an update. Coco Reef Hotel, South Shore. In January 2008 Coco Reefs Hotel was granted a Special Development Order to build 66 apartments on Government owned property. In March this year Coco Reef Resorts Ltd. owner John Jefferis said he planned to break ground on the 66 new lease back Coca Villas cottages in December. Mr. Jefferis did not respond to a request for an update. Stonehaven Development Condominium Hotel, Hamilton. The 81-unit apart-hotel at the corner of Court Street and Reid Street will house 42 'hotel condominiums', 39 'residences', plus a restaurant and spa. The development, on the site of the former Canadian Hotel, was granted a Special Development Order in 2008. Owner Ted Powell said they were still working on financing the project and talking with prospective hotel brands. There is no date in place for breaking ground on the project. Former Club Med, St. George's. In June Dr. Brown told a PLP Town Hall meeting in St. George's financing for the five-star Park Hyatt hotel at the former Club Med site would be signed in July. Financing is at an advanced stage. Final documents are to be signed in July. That will secure all of the funding both from the investment side and the debt side. These documents will be signed next month. Developer Carl Bazarian did not respond to a request for an update as to whether financing had been secured or a start date for the project. Morgan's Point, Southampton. Government agreed to a land-swap with developers to swap Southlands for the Morgan's Point property in April 2008. Originally the Jumeirah hotel group was attached to the project. In March, a Jumeirah spokeswoman said the ultra-luxury Dubai-based chain had signed an agreement to manage a new hotel in the US Virgin Islands, but not in Bermuda. But she added: "Jumeirah was appointed in 2007 to manage the first five-star resort to be built in Bermuda in 35 years. Since then, the developers, along with the Government authorities, have been looking at a new opportunity on a different site. We continue to be committed to Jumeirah's resort in Bermuda." Attempts to reach developer Craig Christensen for an update were unsuccessful.

2009. John Barritt & Son Ltd began importing Coca-Cola and other soft drinks from overseas, rather than bottling them locally, to cut costs amid falling sales.

2009. Gosling's joined with Polar Beverages of Massachusetts to create, package and distribute its own ginger beer soft drink.

2009. Plans to develop the South Shore, Warwick homes were announced by Premier Ewart Brown. He promised a combination of 125 housing units and a 100-room hotel would be built on the site of the former Golden Hind resort and before that, in the 1960s, the Bermudiana Beach Club premises fronting one of Bermuda's loveliest beaches.

2009. The government of Bermuda transferred Casemates Barracks and its adjacent Ordnance buildings and fortifications into the existing Bermuda Maritime Museum and the combination, involving a total of 16 acres of land and buildings, became the National Museum of Bermuda.

2009. The Bermuda Chamber of Commerce, Real Estate Division, published its 2009 Handbook on buying and selling Bermuda Homes, see 2009 Bermuda Real Estate Handbook.pdf

2009. Death of Bermuda war veteran David Lindsay. Born in Bermuda on March 4, 1920, he was the son of Walter and Mary Lindsay, formerly of Kirkaldy, Fifeshire, Scotland. Walter had come to Bermuda to be chief electrical engineer at the Hamilton Hotel, then the largest in Bermuda, where city hall now stands. David attended Saltus Grammar School until he was 16, when he went to Scotland to complete his education. He remained in Scotland after leaving school. He wrote a vivid account of his experiences as a soldier overseas in World War Two. It was originally published in the Bermuda Mid-Ocean News of October 20, 2000, under the headline "My 6 ˝ years as an anti-aircraft gunner". At the outbreak of the Second World War, he was 19 and an apprentice insurance actuary. He had not long to wait before being called up for the Royal Scots, the oldest regiment in the British Army. Following 12 weeks of basic training, a special course and a lance corporal's stripe, he qualified as an instructor. He could really shout in those days! His platoon was in dawn-to-dusk stand-to duty. He decided it was time to move on and, along with three others, answered a call for volunteers to become Lewis gunners on trawlers. He trained in everything from basic .303 ammunition to six-inch naval guns. On completion, we were posted to the 3/2nd Maritime Anti-Aircraft Regiment in Middlesborough. A further call for volunteers for training on 40mm Bofors guns saw him posted to a troop ship leaving Gourock in Scotland for South Africa. He was sea-sick for days. After a stop at Freetown, Sierra Leone, he reached South Africa. He spent three glorious days there, and a further nine at Durban, where people were wonderfully hospitable. He still had his Glengarry (the special Scottish cap worn by the Royal Scots) which was a great passport abroad. Eventually, he returned to Glasgow where he went to Sheerness to join a tanker bound for the United States. It had been refitted at Mobile, Alabama. On the way to Halifax to join a convoy for Britain, he was torpedoed. He got off safely, was picked up and taken to Norfolk, Virginia. He ended up in a convoy named Operation Pedestal with 14 merchantmen and 50 escort ships bound for Malta. He hardly got through the Straits of Gibraltar when the aircraft carrier Eagle, at the rear of the convoy was torpedoed and sunk. He fired so many rounds he had to change gun barrels twice as they became too hot. After two days of chaos, the two battleships and the aircraft carriers departed, leaving him to get on with it. He was the loader on top of the gun and at dusk someone handed him an ammunition clip the wrong way round. The gun jammed just as German Stuka dive bombers were attacking him and his party. "I looked up and saw a Stuka coming straight down. Its bombs went diagonally across the aft part of the ship, just below us. The blast blew me off the gun against the parapet. All I got was an injured knee. Another guy broke his wrist. We were lucky. Next day we came upon the convoy's only tanker, which had been torpedoed. Another destroyer was standing by. The two destroyers (HMS Penn and HMS Braham. I was on the Penn) got ropes aboard the tanker. But the dive bombers appeared and the destroyers had to let go of the ropes. Eventually, they lashed the destroyers to the tanker, one on each side and, in spite of further attacks, we got into Malta's Grand Harbour where, later, the tanker sank. They gave the tanker's captain the George Cross. They should have given our destroyer's captain a medal. I don't know how or when he could have slept. When we got him ashore, they had to cut his boots off, his feet were so swollen. Things were so bad that each gun crew had been on a ration of only four rounds of ammunition a day. That took two seconds to fire off. We were kept in Malta. We thought we would be there until the war ended. However, Allied victories in North Africa and Sicily changed things. I was put on a trooper and a guard to prisoners-of-war going to Egypt and Palestine. It had been a hard year in Malta. We had dysentery and sores which wouldn't heal due to shortage of rations and Vitamin C. After four months on a tanker plying between Haifa and Egypt, I got shipped to Scotland, and my fortunes improved. I went to a new regiment in Bristol, and was placed on a small Dutch coastal ship loaded with coal. I was waiting to go on a sergeant's course when D Day intervened. I was assigned to a top-heavy American vessel, taking supplies to Utah and Omaha Beach Heads in Normandy. We ran the ship up on the beach at high tide and waited for low tide to unload . Later, we twice went up the River Seine to Rouen. After a course at the Royal Artillery School of Survey, I went to Hanover, Germany, and Osnabruck, Austria, and ended up in charge of a 25-pounder team in Dortmund before demobilization after six and a half years of service. Looking back, it didn't seem that long." During David's post-War period of duty in Germany, he met and married Maria. They were married for 54 years before Maria died following a serous illness. They are survived by a daughter, Elinore Thomson, and a son Robert. Elinore and Robert are now retired but still live in their ancestral home city of Kirkaldy in Scotland.

2009. British American Insurance Company (BAICO) was wound up after its collapse. Later, its distinctive blue building was listed with agents Coldwell Banker, initially for $3.6 million, then $2.7 million, most recently for far less than that, $1.95 million. In October 2012 it still had not sold. The building was home to BAICO. The drop in asking price means the final distribution to be divided among creditors or policyholders still awaiting a final cheque will be less than hoped. In a statement sent out in October 2012, KPMG Advisory Ltd, agents to the Official Receiver, said: "Creditors should be aware that it remains the objective of the Official Receiver to execute a sale as soon as possible, and that notwithstanding the significant reduction in price aimed at attracting a buyer, no one has yet been identified with the ability to finance the building's purchase. As such, in order to assist those purchasers who are finding it difficult to obtain financing in the prevailing economic environment, the Official Receiver has further reduced the asking price to $1.95 million." BAICO owns 40 percent of the building with the other 60 percent belonging to the BAICO Bermuda pension scheme. There are approximately 3,800 BAICO policyholders and 6,000 policies.

2009. October. End of the Mid Ocean Newspaper, established in 1911 by St. George's native Samuel Seward Toddings, then carried on by his son Seaward Toddings, Jr, MCP. It was an afternoon newspaper for many years. It was bought by The Royal Gazette in 1962.. It was Todding's Sr's second newspaper. In 1869 he had founded and became the publisher and editor of the Colonist newspaper. It lasted until 1911, when he founded and edited the Mid Ocean News.

2009. The Bermuda Housing Corporation (BHC) warned Cabinet against building the Grand Atlantic development in Warwick. BHC was informed of the plan for a hotel and housing development on the South Shore in 2009. The Grand Atlantic project was a Cabinet directive, which the Corporation cautioned against. At that time, the data regarding the real estate market supported the case that the cost of housing was falling and the demand was not there. It was agreed that BHC would buy 78 of the 125 units and offer them for resale, with an option to buy the additional 47 units "if the market supported the purchase."

2009. The controversial Heritage Wharf cruise ship terminal at Dockyard was opened at a Bermuda taxpayer cost of $60 million — a huge increase on the original estimated cost price of $35 million.

2009. November. The Energy Commission, a regulatory body, was empowered by the Energy Act 2009. It does not release its annual reports to the public — nor does it have to. The Energy Act requires only that it provides the relevant Minister with a report on its activities, not taxpayers. Visit www.energy.gov.bm for more information on the Commission and the Department of Energy.

November. Establishment of the Bermuda Government's Energy Commission. The mission is to assist in the development and maintenance of affordable, clean and sustainable energy, for the economic, social and environmental well-being of residents and businesses in Bermuda. As required by the Energy Act 2009, appointed by the Minister of Energy, Telecommunications and E-Commerce in November 2009. The Commission consists of a chairman and four other members, though an additional member may be appointed to assist in an inquiry by the Commission if their expertise/experience is required. Members are appointed for a period of three years. Meets twice a month and primary duties are to Review, and subsequently approve or disallow variations to the price or charge for electrical power submitted to the Commission by a specified businesses; Set out the terms and conditions under which a specified business may make a variation to the price or charge for electrical power; Conduct inquiries into the price or charge made for any energy-related commodity; Conduct inquiries into other matters concerning the cost or supply of any energy-related commodity; Conduct inquiries into any matter which may affect the exercise of the Minister's powers under the Energy Act 2009; and Advise the Minister in the discharge of the Minister's functions under the Energy Act 2009.

2009. November. The Queen and the Duke of Edinburgh visited to commemorate Bermuda's 400th anniversary. While here, the Royals did a little gardening. At Government House they helped plant two new palms alongside various other trees they had planted over the years including a Yew tree. On this occasion, they used the same shovel they had used to plant a tree back in 1953. They recalled how on their first visit to Bermuda, the Island was in the grips of the cedar blight and all the cedars were dying. The Royal Couple took a tour on one of Bermuda's fast ferries. As the ferry passed through Hamilton Harbour they passed the Fairmont Hamilton where hundreds of Union Jacks waved. They disembarked in Dockyard where 102-year-old Hilda Smith played the piano for them.

2009. November. An observant Bermuda beekeeper noticed an unexpected and new bee parasite in a sample of bees and comb they removed from a feral (wild) hive. The parasite was confirmed to be Varroa mite, (Varroa destructor) – arguably the most destructive pest to the beekeeping industry and the one that has also been proposed as one of the several stressors that may be contributing to Colony Collapse Disorder (CCD). Scientists have predicted this mite will nearly eliminate our feral bee populations as well as having a devastating impact on kept (managed) bees. Recent surveys of local hives revealed that hundreds of hives are dying and the Varroa mite is the main suspect. Prior to the mite introduction there were estimated to have been several hundred wild bee colonies scattered around the island and approximately 310 kept hives. Bee specialists have advised that without any treatment or mite control, the bee population in Bermuda will dwindle down to about one hive every two kilometers (1.2 miles). That would be a total of 18 kept hives left in Bermuda. The effects on our environment especially on our agricultural crops and bee pollinated fruits could be catastrophic. In recent years, much attention has been focused on bees and their mysterious disappearance in areas of Europe and the United States. This phenomenon has been called (CCD) and as of yet no conclusive evidence has been found to prove that a single factor is the cause. Scientists believe that several factors combined, including viruses, mites, bacterial and fungal diseases, long-range hauling for pollination services and pesticide exposure may be stressing the bees' immune systems, leading to the demise of bee colonies worldwide. In Bermuda, it often assumed wrongly that the island's distance from the USA as the nearest landmass offers some protection, but this is not so.

2009. Revision of the original Grand Atlantic Resort and Residences (Warwick Parish) Special Development Order 2007, which specified that the site was to contain a nine storey, 220 room 'five star' hotel, 20 luxury fractional suites, five luxury villas and 52 luxury condominiums. The revision announced that the project would be a hybrid project consisting of 125 affordable housing units and a 100-room hotel.

2009. Columbia University of the USA was commissioned by the Bermuda Government to prepare a report on the state of Bermuda's young black males. It was undertaken by Professor Ron. L. Mincy. Out of it came a number of key recommendations on education, training and workforce development.

2009. The book "Bermuda Growth of a Naval Base 1795-1932", by William Eric Brockman, was published. A chapter focuses on Admiralty House, explaining that in 1816 the colony bought a house and part of the present grounds from John Dunscombe for Ł3,000, transferring them to the Crown as the official residence for the naval commander-in-chief. Previously the admiral's residence had been at Mount Wyndham in Hamilton Parish, but this new venue was preferable because of the growing importance of Dockyard and because it was nearer to the City of Hamilton, which one year earlier had become Bermuda's new capital. It also, of course, had clear views of Dockyard and St. George's, making it an excellent location for the admiral's flag station. The house itself, Brockman surmised, had two storeys with possibly three or four rooms on each level and verandas. Surrounding it were outhouses comprising servants' quarters, washhouses and stables. But, he says, "There was none of that dignity, that imposing solidity and orderly array of clipped lawn and box hedge, so dear to the heart of the 19th-century Englishman."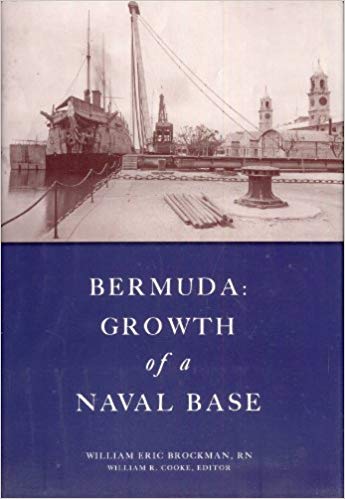 2010
January 2. The 2009 draft valuation list is now ready for publication in 2010, according to the Land Valuation department. The Draft Valuation List is a list of all properties on the Island assessed for land tax purposes and according to a press release, the Land Valuation and Tax Act 1967 requires all properties on the Island be revalued every five years, with the last revaluation carried out in December 2004. All properties are revalued at the same time to maintain fairness in the Valuation List. Property values change over time with some property types and areas going up in value while others in some cases may go down. The revaluation re-levels the playing field by reflecting these relative changes in value. Copies of the draft valuation list will be available in the post offices throughout the Island. The information will also be accessible on the Land Valuation website www.landvaluation.bm. If anyone believes the information is wrong, contact the Land Valuation Department until June 29 to make an objection.

January 2. A compendium of Government statistics has revealed more than a third of hotel rooms and guest houses lay empty in 2008.

The latest Environment Statistics Compendium says the 2008 tourism occupancy rate was only 59.1 percent. This is a drop of eight percent on the previous year. Tourism arrivals fell by 17 percent to 550,021 visitors, and total expenditure dropped from $513 million to $402 million from 2007 to 2008. Visitor expenditure includes hotel accommodation, meals and drinks, shopping, entertainment, transport and sightseeing. Government recorded 18 percent fewer visitors from the US in 2008, and an overall decrease in air arrivals of 14 percent. Cruise ship passengers reduced in numbers by 19 percent. The first Environment Statistics Compendium was released recently, providing a comprehensive overview of land use, population, energy, transportation, environmental health and the natural environment. The latest figures, for 2008, will assist in guiding Government's Sustainable Development Strategy and Implementation Plan, particularly in 'Protecting and Enhancing Our Environment and Natural Resources'. In the foreword to the new report, Chief Statistician Valerie Robinson-James says: "The thrust of this project is to ensure that environmental considerations are integrated within social and economic planning contexts." The compendium includes data on the number of vehicles on our roads; fishing catch; electricity consumption; and the growth in fertilizers and pesticides. It is broken down into nine sections: Agriculture and Land Use; Biodiversity; Coastal and Marine Resources; Energy, Minerals and Transport; Environmental Health; Natural and Environmental Disasters; Population and Households; Tourism; and Water. The report reveals registered vehicles on our roads rose from 48,054 to 48,571 in 2008, however, less gasoline was imported. A total of 34 million liters was brought to Bermuda, a tenth less than the 37.3 million liters in 2007. The population of Bermuda only officially grew by 200 people in 2008 to 64,209. This gives a population density of 1,181 people per square kilometer. Electricity consumption also only increased marginally, from 644 million kilowatt-hour (kWh) in 2007 to 645 million kWh last year. Copies of the 2009 Environment Statistics Compendium are available from the Department of Statistics, 3rd floor, Cedar Park Centre Building, 48 Cedar Avenue, Hamilton, or can be downloaded from: www.statistics.gov.bm.

January 8. The bad news is air arrivals have dwindled to a few hundred thousand a year, another of Bermuda's hotels closed down, and no ground was broken last year on any of at least ten proposed new resorts. But the good news is developers behind most of the highly publicized hotel developments announced in 2009 remarkably are pushing on. Despite the economic uncertainty, construction could finally begin this year on at least three, and possibly four, new hotels. Some of the proposed developments, including the St. George's Park Hyatt, appear to have been scaled back. However, 2010 may finally see at least a dawning of Government's much-touted and badly needed "platinum period" of tourism revitalization. Last year two new, or rather, redeveloped hotels opened, Tucker's Point and Newstead Belmont, while Elbow Beach made the shock announcement it was closing its main hotel in order to upgrade the rooms. In the past decade the number of tourists flying to Bermuda has dropped from close to 400,000 to just 264,000 in 2009. But that's not putting off developers. U.S. hotel developer Carl Bazarian says he now has full financing in place and could finally break ground on the planned Park Hyatt at the old Club Med site in St. George's possibly "at the end of the year" once the design is finalized and approved. Mr. Bazarian told The Royal Gazette: "We have received a commitment on rounding out the equity from a London-based investor well known to HSBC and Credit Suisse." Officials with Ariel Sands hotel, closed for a year, say they are close to a redevelopment deal with a Canadian developer and high-end hotel operator, which could see ground broken this year. "Feasibility studies are currently underway and will be completed within three months," said Trevor Boyce, accountant-consultant to Ariel Sands. "If successful Ariel could well see ground broken this year." He said the Canadian developers view the site as "absolutely unique" and were very serious about proceeding once the studies are done, if there are no major red flags. Officials with the planned Par-La-Ville Hotel and Residences says the project is "on track" and the development is now featured on the St. Regis Residences website, which has begun taking names of people interested in buying one of the 80 private residences. Detailed plans for developing Morgan's Point into "a five star luxury hotel resort with full amenities" were shown to Government at a meeting in early December. A spokesperson for Premier Ewart Brown said the proposal was still being reviewed by the various Government agencies involved. "Southlands Ltd made a presentation to the Cabinet Committee on Special Hotel Development," the Premier's spokesperson said. "The developer's proposal continues to emphasize tourism use for the land at Morgan's Point." Government has held off completing a planned swap of the Southlands site for Morgan's Point land until the plan for the entire development is revealed. A spokesperson for Southlands Ltd., said "(Earlier in December) the principals of Southlands Ltd made a presentation to Bermuda Government representatives at a recent Tourism Cabinet committee meeting. There, they presented their proposal for developing Morgan's Point into a five star luxury hotel resort with full amenities. At this point they are waiting for a response from Government on the success of that proposal." Plans for a Four Seasons 150-room hotel and residences at the Coral Beach Club are proceeding. The project, which will include a pedestrian tunnel, won in-principle approval upon appeal and owner George Wardman said "a new slower approach" was being taken with U.S. partners Brickman. He said the hotel remains open, having never actually closed down in November as originally planned. "I believe something is going to happen soon," Mr. Wardman said. Brickman officials did not return phone calls. Developer Gilbert Lopes said plans for a 100-room hotel and 125 affordable homes for Bermudians on South Shore, Warwick, are on track and he is involved in "almost daily" talks with Government, the Housing Corporation and lenders to finalize the details and the financing. Mr. Lopes said he and Larry Swenson, of Atlantic Development, hope to have a building permit by this summer and to break ground right after. Coco Reef Resorts Ltd. owner John Jefferis announced plans to break ground next year on 66 serviced villas, to initially be leased back to the hotel for six months a year. He said financing is in place. A second phase at the South Shore, Paget site will include a six-storey hotel. It's unclear whether Bermuda's foreign home ownership rules will have to be revised in any way to accommodate the new kinds of residential components of some of the proposed resorts, such as the St. Regis Residences. Bermuda laws right now allow foreigners only to purchase certain houses and condos, and they must have certain high annual rental values. Fees up to 22 percent to acquire a property are also charged by Government. Plans, meanwhile, look uncertain for the former Wyndham/Sonesta prime beachfront property that now sits derelict in Southampton. In January 2008, developers Scout Real Estate Capital announced plans for a $300 million resort called Southampton Beach Resort to open in 2011. The hotel was demolished and Lehman Brothers was supposed to finance the new resort, but went bankrupt. Last October Scout declined to comment on reports it was looking for a quick sell-off of the property and that it had been newly appraised. Scout CEO Alan Worden did not return repeated phone calls seeking an update. Plans for an 81-unit hotel and residences at the corner of Court Street and Reid Street also seem to have gone cold. The development on the site of the former Canadian Hotel was granted a Special Development Order in 2008. But owner Ted Powell said last year financing was still not in place. Also stalled, are plans by Lawrence and James Doyle, of New York, to create a $145 million "ultra-luxury resort" on the site of the old Lantana cottage colony.

January 13. Bermuda's rental market has picked up considerably over the past year, with total closed units increasing by 18 percent versus 2008, according to the latest report released by Coldwell Banker Bermuda Realty. The Real Estate Sales Update, which is complied by Coldwell Banker's agency manager Susan Thompson based on company data, revealed that despite the number of closed units rising year over year, the overall average price per unit was down by 15 percent as a result of lower rental prices or fewer high end properties for rent. Furthermore, there was a 32 percent reduction in the volume of properties renting for $9,000 and above from 2008 to 2009, but those that were rented were approximately 14 percent higher than the same category in 2008 and average days on the market was up 25 percent. The average price for a one-bedroom apartment was $2,378, two-bedroom was $3,576 and three-bedroom $5,514, equating to a rental reduction of around 25 percent from 2008 as a whole. The report also found that rental prices began to fall at the end of 2008 through March 2009, before levelling off as landlords placed their properties on the market at competitive prices. Information compiled by Coldwell Banker which was gathered from Government's Registrars Office records, while at least three months behind actual closing dates, showed that the figures for 2008 compared to 2009 were little changed, with the average price of a single family home in 2008 at $1,415,003 versus $1,422,169 for 2009. The data also revealed that condo/townhouse prices were basically unchanged, with $803,271 reflecting the 2008 average price and $807,274 in 2009. Vacant land was again almost the same, with $644,136 (2008) compared to $624,447 (2009) once the $10,000,000 South Shore Road (2008) sale and Loughlands (2009) land sale at $11,864,000 were removed as anomalies. "Because all 2009 figures are unaccounted, it is difficult to reconcile the overall strength of the Bermuda housing market," the report read. We suspect that even though the average price per unit has not varied greatly that the overall volume of properties sold has diminished. We can report that 40 percent of the recorded inventory for 2009 that successfully closed were condos, followed by 25 percent being single family homes. Only nine properties thus far have been recorded as selling at $3,000,000+. Available inventory is still at an all time high with 56 percent of the inventory condos."

British Airways cabin crew to strike. BA plans to operate all Gatwick long-haul flights. British Airways cabin crew plan to strike for a total of seven days this month after talks with management over changes to pay and working conditions broke down.

Top hotel confirms its plans for Coral Beach. Four Seasons Resort and Hotel gave its name publicly to the redevelopment of Coral Beach Club for the first time last night.

BEC voices Budget concerns, Cox says common sense will prevail. Finance Minister Paula Cox said last night there was "nothing unique" about the heavy criticisms of this year's Budget. And she will "rely on the residual goodwill" within the business community.

Questions are asked about cost of KEMH project. It's time the public was informed of the total cost of the redevelopment of King Edward VII Memorial Hospital (KEMH), said Opposition MP Grant Gibbons.

Witnesses are accused of lying in murder trial. The prosecution accused two defence witnesses of lying yesterday as they took the stand in the Kellon Hill murder trial. Lewis denies kicking victim as he lay on the ground. Murder-accused Kellan Lewis stabbed and punched victim Kellon Hill, then kicked him as he lay on the ground.

Southlands property could be developed on if land swap doesn't happen, warn owners. The owners of Southlands warned yesterday they would have "no alternative" but to reconsider developing the estate if Government reneges on a promised land swap deal, says Brian Duperreault.

Government set to collect $51m as land tax and stamp duty rises are approved. Land tax increases on high end of the market properties reaping Government $50 million were passed through the House of Assembly on Wednesday night.

Grants are cut as Health Ministry reallocates funds. The Ministry of Health has cut grants to its charities and organizations by more than $250,000.

The funding in the Budget for general elections and by-elections has increased by 50 percent.

MPs back doubling of foreign currency purchase tax. MPs backed legislation doubling foreign currency purchase tax, creating extra costs for customers in Bermuda, according to local businesses.

Taxis to get limited period tax rebate. Taxi drivers will pick up an estimated $490 tax relief each after legislation passed through the House of Assembly on Wednesday.

Roban: Hospital changes will improve patient satisfaction. The King Edward VII Memorial Hospital is making positive changes to increase patient satisfaction, according to the Minister of Health.

Four invited onto Corporation's pedestrianization committee. The Corporation of Hamilton yesterday announced that four members of the public have joined it, making good on an election promise to invite public participation in the city's decision-making processes.

Public-private plan for hospital redevelopment. Government has said the redevelopment of King Edward VII Memorial Hospital will be financed through Bermuda's first public-private partnership. A public-private partnership (PPP) is a contractual agreement between Government and a private sector entity to deliver a facility for the use of the general public.

Parliament to get a Hansard reporting system and website. A Hansard system of reporting and a Parliamentary website are to go live this year, as Government tries to improve public access to information.

Premier says Bermuda is ready to host global economic forum. Bermuda will be able to beat the drum for Caribbean countries when it hosts a global economic forum, Premier Ewart Brown said yesterday.

Gay cruise ship plans a visit to Bermuda. A gay cruise ship is due to swing by Bermuda in June says Pied Piper Travel.

Nursing aides at MWI graduate with City & Guilds. Nine nursing aides furthered their education by graduating from a programme designed to help them work with patients with disabilities.

Rider breaks leg. A 21-year-old Paget man sustained a broken leg in a road accident in Paget. According to Police the accident happened at 12 noon.

Slumped over man in car is arrested. A man was found slumped over in his car in the middle of the road by Police yesterday at 1.45 am.

New plans for Serpentine Road apartments. Plans have been resubmitted for an apartment complex and commercial premises at 44 Serpentine Road. The Development Applications Board (DAB) refused the original Planning application because the development was higher than two storeys.

Government is silent on claim that new road in St. George's had no Planning permission. Government is refusing to comment on claims it has authorised a new road without Planning permission.

BELCO honors Oughton and Cox with new postgraduate scholarships. BELCO has introduced two $25,000 scholarships for full-time Bermudian postgraduate students. The scholarships were named in honour of retired BELCO president and chief executive officer Alfred Oughton.

US students assist Habitat for Humanity's efforts in Bermuda. American students have sacrificed their spring break to help Habitat for Humanity Bermuda complete much-needed maintenance work at three sites.

Clocks change this weekend. Daylight Savings Time begins this weekend. Residents are reminded to move clocks forward one hour before going to bed Saturday night.

February 11. Death in Bermuda of internationally respected local author Brian Burland. Born on April 23, 1931 he was the author of nine acclaimed novels that typically dealt with colonialism, family strife and race. He was also a published poet and the first Bermudian novelist to receive international acclaim. His parents were Gordon Burland and his wife Honor (née Gosling), and he was one of four siblings. His was a privileged family background, but from an early age Brian was very conscious of Bermuda's racial inequalities and empathized with black Bermudians: "An important figure in his early life was Sarah Hinson, his black Bermudian nanny who... appears in his novel The Flight of the Cavalier as a heroic figure. Burland's family honoured his request to be buried next to her at St. Paul's Church, Paget. Burland began his education at Saltus Grammar School before being sent to England in 1944 as a boarder to Aldenham School in Hertfordshire.] His experiences on the ship crossing the Atlantic during World War II would be evoked in his early novel A Fall from Aloft (1968). Burland subsequently attended the University of Western Ontario in Canada, where he took a graduate English course, but dropped out without graduating. Traveling to Ireland, he began working on his first novel. On the death of his father in 1951 Burland returned to Bermuda and worked in the family construction company for five years. During this time he played with a black cricket team, "which raised eyebrows from blacks and whites... and gave him material for his novels." In 1956 he sold his interest in the company, and, aged 26, went to Jamaica. There he met Noël Coward, who was impressed with a short story of Burland's. It was not until 1964, however, that Burland began to be published, with his first book, St. Nicholas in the Tub, being produced in the US. His next novel, A Fall From Aloft, was published in the United Kingdom in 1968, followed by A Few Flowers for St. George (1970), Undertow (1961) and in 1973, The Sailor and the Fox. Burland's other published novels are Surprise (1975), Stephen Decatur, the Devil and the Endymion (1975), Flight of the Cavalier (1980) and Love is a Durable Fire (1985).[2] His papers include the manuscripts of five as yet unpublished novels. Burland's novels were generally well reviewed in publications including The Observer, The Times Literary Supplement, The Spectator, The Times in London, the New Statesman and The New York Times, being praised by the likes of novelist Anthony Burgess, playwright David Rabe and actor Sir Ralph Richardson. Burland was married and divorced three times: to Charlotte Ann "Gale" Burland (with whom he had three children: Susan, Anne and William), to Edwina Trentham (mother of his son Benjamin) and finally to Ishbel Gibb Lee. He was the first Bermudian to become a Baha'i, in 1949, and said: "It's been an inspiration for all my writing and painting; it's a connection with a higher power." Burland suffered from Huntington's disease in his later life and spent his last years at Westmeath Nursing Home and finally at Sylvia Richardson Care Facility. He died on 11 February 2010 at the age of 78. He was buried on 16 February 2010 at St. Paul's Church, Paget, following a Baha'i memorial service at the church hall. In 1994 he received a Lifetime Achievement Award from the Bermuda Arts Council. In 2001, the Bermuda government's Department of Community and Cultural Affairs established the Bermuda Literary Awards, and Burland won the Founder's Award and the prize for Children's and Young Adult Fiction. In 2007, the fiction award was renamed the Brian Burland Prize for Fiction. After his death Burland's family donated a collection of his original manuscripts, unpublished novels, poems, journals, correspondence and paintings, for educational use to the Bermuda College, where on 9 May 2013 the Brian Burland Centre for Research was formally opened. Dedicated to preserving and promoting his works and as well as to encouraging aspiring Bermudian writers, the Centre features a specially commissioned mural by leading Bermudian artist Graham Foster that depicts imagery from four Burland novels: The Sailor and the Fox, Flight of the Cavalier, A Fall From Aloft, and Stephen Decatur, the Devil and the Endymion.

His published works:
St. Nicholas and the Tub (for children; illustrated by Joseph Low), New York: Holiday House, 1964; 2000
A Fall from Aloft, Barrie & Rockliff, 1968; Random House, 1969; W. W. Norton, 1986; Paladin Books, 1987
A Few Flowers for St. George, London: Barrie & Jenkins, the Cresset Press, 1969; Norton, 1986; Paladin Books, 1987
Undertow, London: Barrie & Jenkins, 1971
The Sailor and the Fox, New York: Hill & Wang; 1973; London: Eyre Methuen, 1973; Penguin Books, 1978
Surprise, London: Allen & Unwin, 1974; Harper & Row, 1974; Penguin, 1978
Stephen Decatur, the Devil, and the Endymion, London: Allen and Unwin, 1975
The Flight of the Cavalier, London: W. H. Allen, 1980
Love is a Durable Fire, W. W. Norton, 1985; HarperCollins, 1985
Whatwanderwith, Norton, 1987
March 12. MPs backed legislation doubling foreign currency purchase tax, creating extra costs for customers in Bermuda, according to local businesses. The Foreign Currency Purchase Tax Amendment Act sees the tax on buying foreign currency jump from 0.5 percent to one percent, giving Government an extra $14.5 million windfall for 2010/11. This means businesses will have to pay more tax on goods bought overseas, passing that burden onto the consumer, with Butterfield & Vallis claiming it faces paying an extra $350,000 alone as a result of the legislation. Introducing the debate on the act on Wednesday, Finance Minister Paula Cox said other people affected by foreign currency purchase tax include those paying off credit card balances, buying goods on the Internet or purchasing foreign money to go travelling. Giving two examples illustrating the impact of the tax increase, the Minister told the House of Assembly: somebody making a credit card payment of $1,000 currently has to pay $5 tax; that will increase to $10; somebody paying a university tuition bill of $25,000 currently has to pay $125 tax; that will double to $250. Ms Cox said: "The rate of the tax is being doubled. However, due to the small base of the tax, the impact is not unduly large in effect. A good analogy is the weekly shopping list. If the price of bread, or the price of eggs, or the price of milk doubles, the overall impact is not to double the final cost of the total grocery bill. The total percentage change in the overall grocery bill very likely will be less than one percent. In the existing climate of low overall inflationary pressure, a 0.5 percent change in the cost of goods and services is not a burden." Shadow Finance Minister Bob Richards warned the act would lead to "a devaluation of the Bermuda dollar" in the economy. Mr. Richards said: "The Bermuda dollar we have now buys less foreign currency than what it used to. With this one-way devaluation it gives an incentive for people to use Bermuda dollars less and less. A person might say, 'Why should I use this Bermuda dollar? They're purchasing less and less currency. Why don't I just use the US dollar'." Bermuda Democratic Alliance MP Mark Pettingill said Government should take heed of Mr. Richards' cautionary tale. Ms Cox responded that there was no question of devaluation, claiming she felt like she was listening to a nursery rhyme that "the sky is falling in". Former Shadow Finance Minister Patricia Gordon-Pamplin said: "We have just made it a little bit more expensive for families to afford to pay their fees for their children when they go abroad to study." Mrs. Gordon-Pamplin said many families would also find it difficult paying off the extra tax on the credit card balances. She said the pond is being dredged for cash because of Government's fiscal indiscipline. The bill was passed by the House.
March 12. School principals reassigned. Three school principals are being reassigned and another is to retire, the Ministry of Education announced this morning. Commissioner of Education, Wendy McDonell announced it.
March 13. The Department of Tourism will use its 18 percent budget increase to fund innovative promotional contests, a new public relations firm and increasing the number of visitors from UK and Canada. Minister Derrick Burgess delivered the Ministry of Transport and Tourism's budget brief yesterday as Premier Ewart Brown, who is responsible for those ministries is in Dominica at a CARICOM conference. Mr. Burgess said that 2009 had been a "weak" year for the Department of Tourism largely due to the global worldwide recession. Total arrivals increased modestly by one percent over the previous year, buoyed by encouraging cruise arrivals while air arrivals declined in 2009 by 10.5 percent compared to 2008. Hotel occupancies reflected the "weak performance of 2009" Minister Burgess said with average occupancy at 51 percent, compared to 59 percent in 2008. But he added that cruise ship arrivals were up. "The decision of government to invest in the Heritage Wharf terminal in Dockyard is clearly paying dividends. Cruise ship arrivals were 318,528 in 2009, an increase of 11.2 percent over 2008. This trend will continue in 2010 with strong advanced bookings reported, and double digit arrivals projected." Looking ahead Minister Burgess announced the Department has hired a Public Relations company, Lou Hammond and Associates, effective April 1, 2010. The budget for PR went up by 71 percent, to $1.5 million, which has been allocated to drive awareness of Bermuda the Minister said. "This also includes a greater focus on Canada with the advent of Westjet," he added. In total the Department of Tourism was allocated $38.1 million for 2010/2011, this represents an increase of $6 million or 18.7 percent compared to 2009. Minister Burgess outlined several projects the Department will do in the coming year to encourage people to visit the Island, including the renewed deal with Fenway Sports Group. "The deal includes additional Bermuda themed nights; more static signage at Fenway Park; sponsorship opportunities at the Deutsche Bank and the Barclays golf tournaments, the first two tournaments in the prestigious FedEx Cup; and for the first time there will sponsorship in the Champions Cup Legends of Tennis series in Boston in April this year," he said. Bermuda has also inked a deal to be the first destination promoted in a new nationally televised half-hour programme on NBC, entitled Global Golf Adventure. It airs in May. The PGA Grand Slam will also return this year to Port Royal. And billboard advertising will again be on display in key cities of New York, New Jersey and Boston, he said. And Minister Burgess said the Department was thinking outside of the box when it came to attracting attention. "We are set to launch an exciting and innovative promotional contest designed specifically for a growing, buoyant niche for Bermuda, i.e. the destination wedding business," he said. "The Perfect 10. Ten themed weddings, all-occurring on October 10, 2010, at 10 of Bermuda's great resorts where ten winning couples with ten of their friends and family will come to Bermuda after a major destination awareness campaign. The promotion will be exclusively executed by the most influential wedding website in the world, the Knot.com. In the UK the Department will expand the services of the PR agency of record, Rooster Inc, to include sales and marketing services. "We have cemented our partnership with BA this year with coop marketing support that leverages a major campaign that the airline will be launching in April," he added. Minister Burgess said the Department would have a major focus on Canada this year now that Westjet will be flying to the Island in addition to Air Canada. To assist this the Department will appoint a new Sales and Marketing representative in Canada on April 1, 2010. On the Island The Department is again working with hotels to attract visitors. "The Minister of Tourism & Transport has reiterated on previous occasions, our firm commitment to directly support the Island's hotels with tactical support during this very difficult period," he said. "The Department has directly contributed support to hotels in excess of $2.5 million in the past 18 months. We have again committed to support two similar major promotions that will be launched in the USA, Canada and the UK in the next few weeks. These promotions will be designed as Early Booking Promotions and will attempt to encourage increased advanced bookings for the important upcoming Beach and Sizzle season."
March 19. Showing of the locally made movie Riddle of the Crest. Director: J.P. Rouja, Ben Watson, 30 minutes run time, with this preamble. "It's a little bit difficult to swallow at first but as you watch local BIFF entry, The Riddle of the Crest, it becomes quite apparent that the shipwreck depicted on our coat of arms is unlikely to be that of the Sea Venture. Custodian of historic wrecks, Dr. Philippe Rouja, has been researching the possibility that the wreck is a ship that crashed here ­before the Sea Venture in 1593, the wreck of Henry May. The Bermuda coat of arms we see today was granted in 1910 by the ­College of Arms and is based on the seal of the Somers Isles Company granted in 1535. But the representation of the wreck doesn't fit with the historical facts of the Sea Venture. The ship on the coat of arms appears to be smashing against a high cliff and this interesting yet inconclusive documentary looks into whether this was artistic license on behalf of the crest's creator, or whether it does in fact ­depict another ship. A shard of pottery, rising sea levels, rounded, non-Bermudian stones and ­information from Sir. George Somers himself all contribute to the cocktail of evidence that point to the unnamed ship whose English crewman, Henry May, lived to tell the tale. May describes the ship as having been dashed against high cliffs off Bermuda's shores. It sounds ridiculous that we should have cliffs off of Bermuda yet Mr. ­Rouja draws on the knowledge of marine scientist Steve Blasco as well as ­Teddy Tucker who discuss the possibility of a rocky out cropping now ­submerged or destroyed. Along with this fascinating tale stretching back to the origins of Bermuda's recorded history, we learn some of the methods Mr. Rouja uses in his work to discover the stories behind the wreck he discovers. Next time you see a smooth rounded rock on the seabed you may just tap on it to discover whether it is ballast - stones that used to weigh down ships before keels were invented. While there are a few ­illustrations of ships, plenty of face-to-face interviews and on location filming, there are no sounds of crashing waves or atmospheric roars to take you back to the era. It is a clear and straight up explanation of Mr. Rouja's quest of ­discovery and while there is no conclusive evidence of it ­being the wreck of Henry May, Mr. Rouja gives us plenty of food for thought."
April 1. A controversial rise in payroll tax comes into force today, along with a slew of increased government fees. The extra costs come courtesy of this year's Budget, which critics claim unfairly punishes the working poor for Government's failure to prepare for the economic crisis. Workers will feel the pinch initially when they check their take-home pay. Payroll tax for most jobs has gone up from 14 percent to 16 percent, with Government expecting employer and employee to share the two percentage point increase. That means that if you earn $60,000 a year and your employer makes you pay the maximum employee contribution for payroll tax of 5.75 percent, you will now pay $3,450 a year, compared to $2,850 previously. If you get paid weekly, that equates to about $66.34 a week, as opposed to $54.80, an increase of more than 20 percent. Your employer will pay almost 11 percent more a year on your salary $6,150 compared to $5,550 previously. Companies which stump up the entire payroll tax contribution for their employees - as many exempt firms do - will be looking at an overall increase of 14 percent on those payments. High earners will have to pay 16 percent payroll tax on their salaries up to $750,000, where previously it was tax-free after the first $350,000. But payroll tax w ill not be the only factor reducing disposable income for the majority of people. Anyone with a car, motorcycle or scooter - and there are more than 40,000 of them on the roads - will have to fork out about five percent more for their vehicle licence from today. If you ride a bike with an engine under 50cc, for example, the licence now costs $58.40, rather than $55.81. The licence for a 100cc motorcycle is now $83.95, as opposed to $78.95. Annual Car licenses now cost between $281 and $1,551, depending on length, where previously the range was $268 to $1,476. If you own a boat, there is even more bad news. You will have to pay almost 90 percent more for a mooring licence this year as it has gone up from $79 to $150. With an estimated 5,200 moorings on the Island, that change alone should boost Government's coffers by almost $370,000. Pet owners needing to obtain a licence for a dog or bitch which has not been neutered or spayed will now have to pay $100, an increase of more than 40 percent from the previous $69 fee. The same fee increases from $69 to $100 when applying for entering a marriage notice. Gaining a short birth certificate will now set you back $20, as opposed to $16, and standard size passports have gone up to $84 from $66. Foreign currency purchase tax has doubled from 0.5 to one percent, which will give Government an extra $14.5 million windfall for 2010/11. That means if you take US $500 out of the ATM for a trip to the States, the tax will now be $5, rather than $2.50. You will also feel the effects of the increase when shopping locally, as businesses here will have to pay more tax on goods bought overseas and will pass the burden onto the consumer. The Island's most needy will be hit by yet another increase today as the monthly premium for the basic state health insurance plan (HIP) will jump to $299 from $241, with another rise expected next year.
April 13. Visitors spent 23 percent less on the Island in 2009 than they did in 2008. The Quarterly Bulletin recently released illustrated the financial fall out of the reduced air visitors who came to the Island in 2009. Last year 235,860 visitors flew to Bermuda a 10.53 percent drop compared to 2008 and of those, 18 percent of visitors came for business and 16 percent to visit family and friends. Four percent of visitors came for a convention, down 24 percent compared to 2008. The report, compiled by the Department of Statistics added: "Overall, spending by visitors in 2009 totaled $266 million, a drop of 23 percent year-over-year. The overall decline in spending reflects both the weak air arrivals in 2009 and the lower average daily expenditure by these visitors." And with cruise arrivals up 11 percent to 318,528 people, spending also rose 12 percent to $65 million. The large drop in air arrivals spending resulted in less money for those in the hospitality sector. "Total hotel gross receipts stood at $211 million at the end of 2009, down $63 million from the previous year," the report stated," the report stated. "The fall in occupancy levels was partly responsible for the industry employing 153 less employees at the end of October 2009 when compared to the year prior. Hotels employed 1,852 workers which was 218 less than the same period in 2008. In contrast, employment at cottage colonies increased by 65, to 654 workers. Total employees at guesthouses remained unchanged at 20 workers." In particular visitors arriving by air spent 23 percent less on shopping, entertainment and transport than they did in 2008 while hotels and restaurants also saw visitor spending drop by 22 percent.
April. Thanks to US scientist Dr. Sylvia Earle who received a prestigious award, the Sargasso Sea was highlighted with the support of the Bermuda government and its partners as a Hope Spot during the Mission Blue cruise. This resulted in raising the Sargasso Sea project's profile and in finding donor support for the alliance. Further, the importance of the Sargasso Sea and the alliance's goal to enhance its protection were stressed.
May 1. Effective immediately, nationals of the following countries require Bermuda entry visas. Cyprus, Republic of Kuwait Sierra Leone, Albania (northern part of), Kyrgyzstan, Somalia, Algeria, Djibouti, Lebanon, South Africa, Angola, Dominican Republic, Lesotho, Soviet Union (former), Armenia, Ecuador, Liberia, Sri Lanka, Azerbaijan, Egypt, Libya, Sudan, Bahrain, Eritrea, Malawi, Swaziland, Bangladesh, Ethiopia, Moldova (Rep. of), Syria, Belarus, Macedonia (Former Yugoslav Mongolia Tajikistan Bolivia Rep. of Macedonia), Montenegro (Rep. of), Tanzania, Bosnia-Herzegovina, Gambia, Morocco, Tunisia, Bulgaria, Georgia, Myanmar (Burma), Turkey, Bolivia, Ghana, Nepal, Turkish, Rep. of N. Cyprus, Burundi, Guinea (Rep. of), Nigeria, Turkmenistan, Burma, Guinea-Bissau, Oman, Uganda, Cambodia, Haiti, Pakistan, Ukraine, Cameroon, India, Palestinian Authorities, United Arab Emirates, China, (People's Republic of) Iran, Panama, Uzbekistan, Iraq, Philippines, Venezuela, Colombia, Jamaica, Qatar, Vietnam, Congo (Brazzaville), Jordan, Romania, Yemen, Congo (Kinshasa), Kazakhstan, Russian Federation, Yugoslavia, Croatia, Kenya, Rwanda, Cote d'Ivoire, Korea, Senegal, Zimbabwe, Cuba, Saudi Arabia, Kazoo Serbia.
May 18. Shadow Tourism Minister Michael Dunkley has questioned Government's ability to "get things done properly." He made his remarks after news that visitors to the Island were barred from stepping off their cruise ship for not being compliant with new visa regulations for foreign nationals. More than 30 countries have been added to the list of nationalities that now require a visa to enter Bermuda, as of May 1. Expatriates from the affected countries make up a large portion of the Bermuda workforce and The Royal Gazette has received calls from several employers and employees, mostly South Africans, who claim they were never informed that their countries had been added to the list. "The new visa requirements came into effect on May 1 and it is evident in the confusions for cruise ship passengers that the changes were not effectively communicated to the marketplace, from travel agents to cruise companies," said Mr. Dunkley. "This is a basic function that once again calls into question the Government's ability to manage the nuts and bolts of Government – to get things done properly. Although communicating with the tourism market is not a sure-fire proposition it is clear that not enough was done to warn and inform our visitors. Incidents like these could damage Bermuda's tourism industry and the Country's reputation. I urge the Minister responsible for the mishap to apologise. I can't imagine how upset the people were who were not allowed off of visiting ships. Our tourism business is too delicate for word of these kinds of mishaps to spread," he said. "The Minister of Immigration should contact the visitors impacted and make amends for their stopped visit to Bermuda and take the appropriate steps to make sure future visitors are aware they must have proper documentation." In response to media reports, as well as complaints from the community, the Department of Immigration released a statement explaining the visa situation and how it intends to fix it. In the statement, a spokesman for the Department said it was working to ensure that all of the affected parties were up-to-date. "Regarding perceived immigration challenges at the Island's cruise ports, the Department of Immigration can confirm that its staff have been in contact with the relevant travel agencies for the visiting cruise ships and are working with them to minimize any future delays or disruptions. Well in advance of May 1, the Department of Immigration undertook to inform as many organizations as possible about the impending visa changes. The Department had a system in place to inform anyone and everyone who may be affected. It has been the Department's normal practice to circulate new policies to local employer industry groups who then inform their membership. This practice has been very effective in the past in getting the relevant information to the majority of employers, and by extension, to their staff." The Department claimed that similar to other countries, visitors planning to travel to Bermuda must check whether they require a visa. South Africa and India are among the countries that now require additional documentation to live and/or work on the Island even if they have a valid work permit. Guest workers from the newly-added countries, currently in Bermuda on valid work permits, must submit their permit to the Department of Immigration in order to be compliant. The new condition involves having a stamp put on the permit and will take two weeks to process, said Chief Immigration Officer Rozy Azhar. "Visa controlled nationals who are already residing in Bermuda on a valid work permit may submit their work permits to the Department to be updated with the condition 'BONA-FIDE RESIDENT, DOES NOT REQUIRE A BERMUDA ENTRY VISA'," she said. Government put the new regulations in place in compliance with the UK Direct Airside visa list which indicates which countries not only require visas to enter the United Kingdom but also require a visa to transfer through the country's airports. Ms Azhar said: "Nationalities added to the list are considered high risk. All nationalities on the United Kingdom Direct Airside Transit (DAT) visa list have now been added to Bermuda visa controlled nationals list," she stated in an e-mail. "These nationalities are considered high risk as they cannot transit through the United States, Canada or the United Kingdom without a visa. We have taken this action because of the number of nationals on this list that have come to Bermuda to work and then have not been able to obtain a visa to leave Bermuda, thus requiring two Immigration Officers, at great expense, to escort the nationals out of Bermuda at great cost to the employer or the tax payer. Visa controlled nationals who are already residing in Bermuda on a valid permit are not affected by the new list. They are encouraged to submit their work permit to the Department of Immigration to add the new condition. However, work permit holders coming to Bermuda for the first time will have the condition on their work permit policy: 'VISA CONTROLLED NATIONAL, MUST HAVE BERMUDA ENTRY VISA'. Such persons will have to go to the British Embassy in their country to obtain a Bermuda entry visa." There have been a number of complaints from guest workers, mostly South Africans, who claim neither themselves nor their employers had been informed of the policy change by Government. Most said they were informed through word of mouth. According to a South African employee of one of the Island's largest employers of guest workers, her company's human resource section received no indication from Government. Ms Azhar claimed that the Department of Immigration only informs certain sections of the business community and then relies on them to spread the message. "It has been our practice to notify the employer organizations. Specifically we inform the Association of Bermuda International Companies; Bermuda Bar Association; Bermuda Chamber of Commerce; Bermuda Employers' Council; Bermuda Hotel Association; Bermuda Human Resources Association; Bermuda International Business Association. Those organizations then circulate the policies to their members which guarantees the largest possible circulation. Your Human Resource Department should contact their member organization." As with other jurisdictions, visitors planning to travel to Bermuda must check whether they require visa. Our new list of visa-controlled nationals have been circulated to the British missions; the Department of Tourism overseas offices; and to the airlines. The list can be found on our website, www.immigration.gov.bm."
May 22. Bermuda has lost at least 274 hotel rooms since the end of 2008. That is an approximately 11 percent reduction in the number of hotel rooms available at Bermuda Hotel Association properties compared to last year. And compared to the Bermuda Department of Tourism's room count for 2000 the number of rooms available has fallen by 31 percent, down from 3,308. However, the Department's statistics also include guesthouses that are not members of the BHA. Shadow Tourism Minister Michael Dunkley said: "The figures on hotel rooms and beds available paints a bleak picture of a continuing downward trend over the past 20 years and perhaps shows an escalation of that trend over the past few years. It is unlikely this trend will be reversed until the current economic climate improves, where capital is available for development and demand grows for the use of any type of unit associated with new hotel development. We do note the recent public announcement of development that offer some hope but there is much more required." The closure of the main hotel at Elbow Beach last year resulted in a loss 137 rooms, the biggest single loss during 2009. The 98 rooms at the Elbow Beach Hotel cottages remain open. And the recent loss of 84 rooms at 9 Beaches, which will remain closed until next spring while it undergoes a massive redevelopment, has also reduced the rooms available to tourists. The loss of 24 rooms at Grape Bay Beach Hotel, which has been leased to the Bermuda Hospital Board to house nurses, and the closure of Waterloo House have further impacted the reduction in hotel rooms available in Bermuda. The Bermuda Hotel Association has 34 members across the Island including the largest hotel, Fairmont Southampton with 593 rooms, right down to Little Pomandar which has five rooms. There are currently 2,251 hotel rooms available at BHA properties. And if the Bermuda Hospitals Board leases out Horizons & Cottages, which they are currently in talks to do, the number will drop to 2,206. Last year there were 2,525 hotel rooms available through BHA properties. Sen. Dunkley said losing hotels to local use was not a positive thing. "It is disturbing to learn that former hotel properties are now being used on a regular basis for housing not related to our visitor industry. While this might plug immediate on-island needs it indicates the government has no faith in its multi-million dollar marketing efforts to attract visitors or as one of my colleagues once said heads into beds. It sends a less-than-positive message to the industry and says to us tourism remains on the wrong track." Sen. Dunkley also questioned whether Premier Ewart Brown, who is responsible for tourism, had given enough type of leadership to the industry. He added: "We are under no illusion that there is any one solution or a quick fix to this problem. It is clear that there are many steps that must be taken to restore health to Bermuda's tourism industry. We have in the past and will do in the future offer our thoughts on action that is required, but without any public announcement by the government of an integrated plan that deals with marketing, promotion, activities, facilities and service who can blame us for being skeptical that we are headed in the right direction?"
June 3. For those who don't know much about history, and even for those who do, LookBermuda's 'The Riddle of the Crest' is a fascinating investigation of a puzzle that has baffled historians for years. The half-hour documentary is based on an article written by Dr. Philippe Rouja, Bermuda's Custodian of Historic Wrecks, published in the 2009 Heritage issue of RG magazine. The film outlines the process by which Dr. Rouja came to the conclusion that the wreck on the Bermuda coat of arms is not a fanciful creation of some 17th Century artist but an actual historic wreck – just not that of the Sea Venture. The film takes the viewer step by step from thesis to conclusion in a logical but highly entertaining fashion, with cinematic "sidebars" on 17th Century naval architecture and ceramics to provide background information on the significance of certain artefacts found on wrecks. It is beautifully narrated by Nigel Kermode, and the fact that Dr. Rouja is not only knowledgeable but also articulate helps a great deal. Stunning photography of local waters, including underwater shots and clips taken during Hurricane Fabian, time lapse photography, shots of contemporary paintings, etchings, charts and maps are all used to illustrate the narrative. The latter includes interviews with Teddy Tucker, Dr. Edward Harris and conservator and restorer William Gillies. Dr. Rouja's thesis is that the wreck depicted on the coat of arms, is that of the ship on which Englishman Henry May sailed when it ran against high cliffs seven leagues off Bermuda in 1593. For the Somers Island Company laying claim to the archipelago in the 17th Century, the earliest landing of an Englishman, that of Henry May, was more significant than the landing of the Sea Venture survivors, hence its depiction on their coat of arms. Dr. Rouja surmises that Henry May's first hand account of the wreck is truthful, and sets out to establish the role of North Rock in "one of the most significant wrecking events in Bermuda's history". To argue that North Rock is the site of Henry May's wreck, four things are needed: a) a wreck, b) a wreck of the right period, c) a wreck of the right origin and d) the cliff described in May's account. The film takes the viewer along on the treasure hunt, conveying some of the excitement felt with each new piece of the puzzle put in place. The complexity of the process, involving many different local institutions, and international and interdisciplinary cooperation is fascinating. The clarity with which Dr. Rouja's methodology is demonstrated leads one to the same conclusion as he The film would make an excellent teaching tool for freshman historians and archaeologists, but is entertaining enough and accessible enough for the layman to enjoy as well. It will make a worthy addition to my collection of Bermudiana. "The Riddle of the Crest" will be airing regularly on LookBermuda's cable TV channel (CableVision Channel 1). See more about LookBermuda in tomorrow's Royal Gazette.
June. The Canadian Consul General in New York, which has jurisdiction over Bermuda too, signed a Tax Information Exchange Agreement (TIEA) with Bermuda's then-Minister of Finance, Paula Cox. MP. It is believed this TIEA instrument serves at least two purposes. One is to curtail money laundering. Another is understood to require or authorize Bermuda to routinely feed info to Canadian tax authorities about bank and other accounts held in Bermuda by Canadians. A third may require Bermuda to also release info about Canadians living and/or working in or dealing with Bermuda. Many other countries specifically including the USA and UK, have similar TIEAs with Bermuda and operate under the same basic and/or more complex provisions.
June 9. The mainstream Bermuda media yesterday signed up to a "cogent, thoughtful" code of practice it said would help improve accountability and uphold the principles of press freedom. The 25-point code, published in full in today's edition of The Royal Gazette, has been adopted by this newspaper, the Bermuda Sun, DeFontes Broadcasting Company, Inter-Island Communications and Bermuda Broadcasting Company. The Royal Gazette has followed its own code of practice for more than two years, which has now been replaced by the joint code. Managers of the five organizations sent a copy of the code to Premier Ewart Brown yesterday, as well as a draft plan for a self-regulating media council to be up and running by mid-September. They told Dr. Brown the code was based on one used by the British Press Complaints Commission and could be reviewed annually to keep pace with changing circumstances and technology. "Having worked through the code meticulously, we're in agreement that the final version is a cogent, thoughtful document that will prove useful both in terms of accountability and as an essential guide to journalists," wrote the five signatories. "But most important, it upholds the principles of press freedom." The pledge to draft a code and set up a voluntary council was prompted by the tabling of a controversial media council bill in the House of Assembly by Dr. Brown on May 7. The proposed legislation, if approved, would have meant the creation of a statutory watchdog with the power to ban publication or broadcast of material. It was denounced by global press freedom groups and local lawyers and journalists. The media admitted to the Premier last month it had "dropped the ball" on the formation of a media council after being told Government wanted one in the 2008 Throne Speech. Dr. Brown told the House of Assembly on May 28 that Government would review the proposal for a self-regulatory body and withdraw the bill if satisfied with the media plan. The Premier's press secretary said yesterday he was in Washington DC for meetings but would comment on the code on his return. Those behind the new set of ethical standards are PLP Senator Thaao Dill, from Inter-Island; Chris Lodge, from DeFontes; Tracey Neale, from Bermuda Broadcasting; Tony McWilliam, from the Bermuda Sun; and Bill Zuill, from The Royal Gazette. They said in a joint press release: "The main role of the council will be to serve members of the public who have complaints about the media, while protecting freedom of expression. Our plan is very much a work in progress and we, that is, the media working group, will meet regularly to flesh it out and ensure that the council is up and running by our self-imposed deadline of September 14, 2010." Their letter to Dr. Brown said online news providers had been asked for feedback and their views were taken into account, though none are understood to have yet signed up to the code. Bermuda Democratic Alliance chairman Michael Fahy said the Island now had several online-only news sites and it would be preferable for them to adopt the code, along with print media, radio and television. He said he was pleased the media had finally drafted an agreed code. "It's a shame it's taken them to have a government bill on the table to make them put something together," he added. Patricia Burchall, owner/operator of Bernews.com, said yesterday she was not approached personally but would have no problem signing up to the code. International human rights lawyer Toby Mendel, from the Centre for Law and Democracy in Canada, said the media had set itself a "reasonable" deadline to form the council. "They should try to follow the example of better practice jurisdictions, including the UK, where a majority of members of the complaints body, including the chair, are not from the media. This helps both ensure credibility and that the body remains connected to everyday values."
June 23. Premier Ewart Brown has threatened to issue 100 temporary taxi permits due to poor service during this year's Newport to Bermuda sailing event. Dr. Brown said the bi-annual race, which sees hundreds of wealthy sailors and their families visit the Island, generates more revenue for Bermuda than any other tourism event. He called an urgent meeting yesterday afternoon at the Cabinet Office with representatives of the two Taxi Dispatching Companies to deal with the issue. He described the meeting as "productive and fruitful. It provided an opportunity to outline the criticism and complaints that have been received regarding the level of service provided by the taxi industry particularly, as it relates to the people involved in the Newport-Bermuda Race," he said. "This event generates more revenue for Bermuda than any other tourism event we host and we must ensure that the people who are drawn to Bermuda by this exciting race are given ample reason to return to our shores. As the Minister responsible for Tourism and Transport I shall take whatever steps are necessary to provide transportation for Bermudians and visitors to Bermuda. If that means authorizing 100 temporary additional taxis to the existing pool, than that is what we shall do. Those taxi drivers who tend to park their vehicles for most of the day should consider this a warning." The owners of the two companies could not be reached for comment last night. It is not the first time the taxi industry has been reprimanded by the Government. Last year, after the Cup Match holiday, Acting Transport Minister Derrick Burgess said it was "not reasonable" for cabs to stay home on public holidays. He said an efficient taxi service year round is crucial to Bermuda's success as a tourism destination. Shortly after Junior Transport Minister Marc Bean said it was unacceptable that 316 passengers were stranded at the L.F. Wade International Airport for up to an hour-and-a-half during the Remembrance Day holiday. And the Premier has waged a long battle to get GPS equipment, which monitors the amount of time a cab is on the road, for years. One company, Radio Cabs, has until the end of this month to ensure all its drivers are compliant or their dispatching licence will be revoked.
June 25. Internet subscribers in Bermuda are paying on average four times more for web access than consumers in other developed countries, according to the latest figures. An annual survey conducted by the Organization for Economic Cooperation and Development (OECD), which did not include Bermuda, found the most expensive average Internet connection to be in Mexico - at $26 per megabit per second. Next was Luxembourg, with subscribers in the tiny European country paying on average $19.86 per Mbps. However, the average monthly charge in Bermuda is $104.68. This figure includes two components. The first is the advertised monthly rate charged by Internet Service Providers (ISPs). The second is the rate charged by so-called "broadband access providers", such as Bermuda CableVision, with its fibre-optic network, or the Bermuda Telephone Company, which offers DSL. The price of this component varies considerably. The survey found the highest monthly price on the Island to be $119.09 and the lowest $88.95. Some ISPs have in the past attributed high costs of broadband here to the Island's isolation, and the high rates charged by carrier services for use of under-sea cables. Representatives from the three local ISPs were not available for comment.
By the numbers
Average monthly broadband cost per Mbps
Bermuda: $104.68

Mexico: $26.03

Luxembourg: $19.86

Canada: $11.85

United States: $8.06

Germany: $5.89

United Kingdom: $2.12

South Korea: $1.30
July. Construction on the Grand Atlantic project began at the South Shore site of the former Golden Hind Resort and before that, the Bermudiana Beach Club. The $150 million development will feature 125 affordable homes, including 30 three-bedroom units and 95 two-bedroom condos. The site is also expected to host a 100-room hotel and 20 fractional units. Warwick residents complained that construction has blocked access to the beach through Tribe Road 2. They grew more concerned when they recently discovered what they believe are surveyor and contractor markings on Tribe Road 1, the remaining path leading to the beach.
July 8. Bermuda recorded a current account surplus of $120 million in the first quarter of 2010, down some $61 million from the same period last year, according to the latest statistics released by Government. The fall in the surplus, which reflects the balance of transactions between Bermuda residents and entities and overseas parties, is attributable to a decline in receipts and an increase in payments for goods and services. Meanwhile, the Department of Statistics' Balance of Payments report also revealed that $243 million was spent on imported goods, a marginal increase of $1 million year-over-year. The figures showed expenditure on imported machinery and food registered the largest increases of $4.1 million and $1.3 million respectively. The growth was offset, however, by declines in the imports of basic materials, transport equipment, finished equipment and chemicals. Bermuda's exports remained unchanged at $5 million for the same period, meaning the Island's goods account deficit for the quarter was $238 million. A more significant deterioration was witnessed in Bermuda's financial, capital and reserve assets accounts, which recorded a net inflow of $121 million, down from $660 million in the same quarter last year. This performance was due largely to the drop in net inflow for financial account transactions or transactions associated with changes of ownership in foreign financial assets and liabilities of the economy. Receipts from services rose seven percent to $313 million, with business services alone increasing $13 million over last year. A decline was also registered in Bermuda's income account, with its surplus falling by $68 million to $283 million in the first quarter. The report noted this decline was largely due to a $29 million decrease in investment income during the quarter.
July 14. The first decline in the number of jobs in international business for at least five years is a warning sign that Bermuda cannot afford to be too dependent on any one industry in the future. That was the message from David Ezekiel, chairman of the Association of Bermuda International Companies, who was responding to the latest jobs report released by Government this week, which revealed that seven percent, or 330 positions, were lost in the international business sector - marking a significant drop from 4,761 jobs in 2008 to 4,431 jobs in 2009. The international business sector has been the mainstay of the Island's economy and employment market over the past 25 years, providing opportunities for Bermudians and significant revenue for local service providers. The fall was driven by mergers, redundancies and business closures last year, with the biggest drops in senior and junior accountants (82 jobs), office clerks (31) and executive secretaries (25), according to the Department of Statistics' Bermuda Job Market Employment Briefs report for June 2010. Meanwhile the disparity in earnings between races continued with white employees taking home on average $21,000 more than their black counterparts at $74,176 versus $52,303 respectively during 2009. The median income for mixed and other races was even lower at $49,513 per year. And the share of jobs filled by older workers increased by three percent from 18 percent in 2005 to 21 percent in 2009, accounting for a total of almost 8,200 jobs last year and indicating that more people are continuing to work beyond retirement age in order to boost their income. Mr. Ezekiel described the decrease in jobs as a "worrying trend", but questioned whether there had been any major closures that had contributed to it, pointing instead to a number of mergers that had resulted in redundancies. In addition to this, he said there was a continuing move towards outsourcing, which usually, by attrition, ended up impacting the number of positions available. "Clearly I think there are some warning signs," he said. "It is the first year for a while that international business has posted such a decrease." Mr. Ezekiel added that it was interesting to see the gap between international business and public sector jobs had continued to close, with the former dropping to 4,431 and the latter climbing from 4,223 in 2008 to 4,318 last year, while the rising cost of Government remained at the forefront of most people's minds. "But at the end of the day it is better having people employed, whether in the public or in the private sector. I think the goal is to try and get back to where we were to full employment and clearly that is where we should be aiming." Turning to the other figures, he said it was important not to read too much into them, with the average salary of females being higher than males due to the significant number holding senior positions in international business, such as underwriters and HR professionals. "The report is interesting - it clearly provides a lot of back-up to the various initiatives that have been started to look at how Bermuda maintains its position or re-tools itself, like Bermuda First, and we have got to keeping looking at them. The danger, as we all know, is becoming too dependent on one sector. When you see it for the first time, this decline in jobs is worrying. But it is also interesting from an international business perspective to see that it has given Bermudians an opportunity to work in the sector and earn salaries substantially in excess of what they would have been able to earn in other sectors. The figures themselves in terms of the reduction of jobs in the international business sector have a trickle down effect on landlords, restaurants and the like, and each part of the report to a certain extent confirms what a lot of us have known is happening, but this is the first time we have seen it in black and white." The median age of workers reached a high of 43.6 years in 2009, reflecting a steady ageing trend in the workforce, while the increase from 2008 was down to the loss of 435 jobs held by guest workers, mostly aged between 25 and 54, through the completion of contracts and redundancies. The total number of filled jobs held by males dipped by 413, while positions filled by females declined by 280, and the number of jobs held by Bermudians fell by 391 and non-Bermudians by 435. In contrast, the number of filled jobs held by non-Bermudian spouses and permanent residents rose by close to two percent and 14 percent respectively. Significantly the construction industry was hit hard by the downturn, shedding 161 jobs or four percent of its workforce from 3,649 jobs two years ago to 3,488 jobs in 2009, while the business services sector saw the loss of 129 positions or three percent of its staff base from 2008. But last year's influx of registered nurses (86) and other medical workers (87) contributed to an 11 percent increase in the number of jobs in the education, health and social sector. Seven of the 10 major occupational groups recorded a drop in employment from the previous year, with categories such as clerks, senior officials and managers, and craft/related workers, posting a combined loss of 219 positions. Blue and white and collar professions suffered particularly, with the number of jobs for masons down by 66, tax drivers 55, office clerks 45, truck drivers 43, finance managers 35, secretaries 23 and office messengers/porters 43. The median income earned by all job holders in companies with 10 or more staff was $56,429, representing a three percent rise in annual employee pay compared to the 2008 estimate of $54,867. Despite the decline in the number of jobs filled for the year, job holders in the international business sector still received the highest pay packet with an annual median salary of $102,023. Other sectors that paid higher salaries included electricity, gas and water ($76,054), business services ($65,603), and education, health and social work ($58,520). However, those working in the hotel and restaurant, cafe and bar trade took home the lowest estimated salary, with median annual incomes of $35,891 and $37,312 respectively.
July 14. Government raises $500 million in bond sale. The Bermuda Government yesterday raised $500 million in a public bond offering that was six times oversubscribed. Government will pay a fixed interest rate of 5.6 percent on the 10-year bonds, or a total of $28 million a year. Originally, the intention was to raise $400 million, but then Financial Secretary Donald Scott revealed last night that the strong global demand, which generated an order book of $2.4 billion, had enabled Government to upsize the transaction to $500 million. Mr. Scott added that the debt sale had attracted 146 investors, 10 percent from Bermuda. The other geographical areas of greatest demand were North America (60 percent), Europe (20 percent) and Asia and the Middle East (10 percent). The Government is saddled with a debt burden that has soared in recent years and total debt outstanding was $826 million at March 31 this year. The proceeds of the bond sale will be used to repay a bridge loan covering a revolving credit facility, short-term indebtedness with local banks of around $140 million and to fund ongoing capital expenditure programmes. Finance Minister Paula Cox was said to be overseas and unavailable for comment. Yesterday's sale was managed by HSBC and followed a roadshow designed to drum up global investor interest in the bonds. This involved a delegation led by Mr. Scott, with Assistant Financial Secretary (Economics and Finance) Anthony Manders, Director of Budget Tina Tucker and Economic Adviser Hasan Durham meeting some 35 high quality investors in Singapore, Hong Kong, London, Los Angeles, Boston, New York and Hamilton earlier this year. Mr. Scott said the bonds had been priced at the lowest yield ever offered by a Caribbean region issuer in the US dollar public bond market and it locked an historically low interest rate for the 10-year duration. Mr Scott noted The Ministry of Finance borrowing strategy is set well in advance of a given financial year taking account of long term capacity to repay debt, the view of debt capital markets, the borrowing requirement signaled by planned capital investment in infrastructure for Bermuda's sustained future and other important policy factors. However, the pricing of the bonds attracted criticism from Acting Shadow Finance Minister Grant Gibbons, who said it was bad news for the taxpayer. The Government will undoubtedly spin this issue as a great success as they were able to get subscriptions for the full $500 million offering, Dr. Gibbons said last night. However, in the cold light of day, the community should understand that it is just more debt and that it will cost $280 million in interest payments over the 10-year life of the bonds. In fact, a number of financial observers have noted that the 5.6 percent pricing (at 2.5 percent spread over US 10-year bonds) was at a premium and certainly no bargain to the long suffering Bermudian taxpayer. The Finance Ministry last night stated that included in the deal were major investors from Bahrain, Bermuda, Denmark, Germany, Great Britain, Hong Kong, Israel, Italy, Portugal, Saudi Arabia, Singapore, Spain, Switzerland, and the US, among others. Most of the demand came from institutional accounts, driven by asset/fund managers (66 percent), private banks/retail (12 percent), insurance companies (nine percent), financial institutions (nine percent) and other (four percent). But one potential local investor had been frustrated in his attempt to buy the bonds, having read The Royal Gazette's exclusive story on the offering yesterday morning. The Bermudian caller said he had contacted HSBC, the agent managing the sale, to find out more. He said the bank had not been able to tell him the price of the bonds and added that a bank employee had told him that he was awaiting confirmation that the issue is being offered on a retail level. The caller said: "This is a bond issue for the people of Bermuda. But nobody at the bank can tell me anything about the bond, never mind the coupon." ťMr. Scott revealed more about the Government's pricing strategy for the historic offering. He said that on Monday this week, the Government took advantage of a positive market window by whispering a price range of US Treasury 10-year bill rate plus around 275 basis points (2.75 percentage points), generating a more than $1.5 billion order book by market close in the US. Based on this strong early market response, the transaction was left open overnight for Asia, Europe and Bermuda at a revised, tighter price range of 262.5 basis points over US, which generated more than $1 billion in additional demand. With an order book approaching $2.5 billion, the Government proceeded to launch and price the deal on Tuesday, July 13, at a revised price of T+250 basis points, the tightest end of guidance. Fitch, which yesterday rated the bonds AA+, said in its commentary: "Bermuda's creditworthiness is underpinned by a high per capita income of over $94,000, low public debt burden and effective management of the business and economic environment. Moreover, Bermuda's well-established reputation as a domicile of choice for (re) insurance and financial services companies provides a basis for sustainable economic growth." But Fitch warned: "Such credit strengths, however, are counterbalanced by the island's lack of economic diversification and small size, which curbs the capacity to absorb extreme shocks relative to other high-grade sovereigns. Policy flexibility is limited by the lack of reserve currency status and a lender of last resort to the financial sector, as well as a limited scope to incur and fund large fiscal deficits."ť
September 2. Companies are taking advantage of competitive rents in an over-supplied commercial property market to upgrade from their current premises. With a number of new developments nearing completion and others seeing their first tenants move in, there is an abundance of supply. Companies are relocating to get more room, better value for money or simply upgrade their facilities. Several businesses have moved from to prime locations in Front and Reid Street due to more competitive rents and others are set to follow that trend in the coming months. One beneficiary from relocating tenants is the Sago Properties' SE Pearman Building in Par-la-Ville Road, which is expected to be 55 percent occupied by the end of the year, according to Sanz Pearman, owner of Overnight Construction Ltd., who has been overseeing the project. Mr. Pearman, who is also a director at Sago, said that tenants were set to start moving into the new building by the close of 2010 following completion of construction work earlier this year. "We are finally moving," he said. "People have been signing leases and we expect a 55-percent occupancy by the end of the year and that is a good number compared with what is going on around us at the moment." He said that there had been a lot of interest in the six-storey (including one underground) mixed use/commercial development but a number of potential clients were waiting for their current leases to expire in 2011 before committing. "People who are looking for the bigger space are maybe tied up to their leases until the mid part of next year. A couple of people are negotiating leases and guys who were biting four or five months ago are calling up now to see what is available." Mr. Pearman said that the basement (which houses a private fitness club), ground and second floors were already taken by international business and insurance companies with fit outs due later this year, but there were still four floors available. Rental prices start at $27,597 per month for 5,810 sq ft on the third floor to $29,845 per month for 5,510 sq ft on the sixth floor. Work on the 45,000 sq ft building, formerly the site of Just Shirts, started in late 2008 and despite the recession Mr. Pearman and his team pressed ahead with finishing the job And its key selling points of distinctive blue glass windows, and curtain wall combined with the masonary band, as well as panoramic views, complemented with a public art glass lobby wall mounted on black granite commemorating Bermuda's five national sports have helped to set the development apart from its competitors in Hamilton, such as neighbour The Power House and 141 Front Street. An added incentive for any tenant who decides to take three floors will be entitlement to the naming rights of the building, which also boasts one generator with 100 percent redundancy in the event of an outage and air conditioning. Elsewhere. a place on the ninth floor of Sir John Swan's new 141 Front Street development would set you back $73,460 per month for 11,019 square feet (sq ft), while The Power House has 4,190 sq ft available on the third floor for $34,437 per month, according to the Coldwell Banker Bermuda Realty website. At the other end of the scale, rents in the existing Swan Building range from $12,412 per month for 3,310 sq ft on the second floor and $34,437 per month for 8,265 sq ft on the third floor and Mintflower Place prices run between $11,047 per month for 2,946 sq ft of space on the third floor to $39,783 for 8,680 sq ft on the fifth and sixth floors.
September 3. Plans for a new resort complex on the former Club Med site in St. George's have been submitted to Planning. The Park Hyatt resort would feature 122 hotel beds spread between eight buildings; a further eight buildings would house 39 villas. The main building would be located on the Fort Victoria site. Also shown in the plans are 12 four-bedroom homes bordering Barry Road, and a condominium complex featuring more than 70 units. The site will also have a fitness and activity centre, a beachside restaurant on Fort St. Catherine Beach and a spa and gardens inside Fort Albert. The plans also show the newly redesigned 18-hole golf course, which can be played as either a 67 or 71-par course. A desalinization plant, a sewage facility and 90 living quarters for staff are also included. The $90 million, 262-year lease on the property was signed in 2008 following the demolition of the former Club Med hotel. According to a Bill passed in 2006, the hotel must be built by 2013, and is expected to cost around $294 million. US-based developer Carl Bazarian announced in January that financing for the resort is in place. At that time he said work on the site could start by the end of this year. The hotel is hoped to help lift the St. George's economy, which has been hard-hit by a decline in visiting cruise ships.
September 23. Bermuda-based Maiden Holdings Ltd. has announced that it has entered into an agreement with its founding shareholders, Michael Karfunkel, George Karfunkel and Barry Zyskind, to exchange all of their outstanding warrants for restricted Maiden common shares. The outstanding warrants, which entitle the holders to purchase 4,050,000 Maiden common shares, were issued June 7, 2007 with an exercise price of $10 per share, an expiration date of June 7, 2017 and a three-year lock-up period that expired on June 7, 2010. The founding shareholders will receive an aggregate of 1,800,000 Maiden common shares in exchange for the warrants. The shares issued will not be registered under the Securities Act of 1933 and will be subject to a three-year lock-up expiring on September 20, 2013. As of September 17, 2010, Maiden had 70,305,511 common shares outstanding, exclusive of the common shares to be issued in connection with this exchange.
John Barrett & Son Ltd stopped bottling and canning ginger beer in Bermuda and instead began importing it from Florida. Barritt's Bermuda Stone Ginger Beer, sold as a Bermuda product, is now (since the end of 2010) produced in Florida from a special concentrate made in Milton Keynes, England, derived from raw Jamaican and African ginger.
October 4. International shipping company Stolt-Nielsen SA (SNSA) intends to move its domicile to Bermuda from Luxembourg. The company's board is urging shareholders to back the proposed move to the Island in an extraordinary general meeting to be held on November 16. "The proposed move is intended to enable SNSA and its shareholders to continue to benefit from a legal structure similar to that which SNSA has experienced as a holding company in Luxembourg since 1974," the company said in a statement on Friday. SNSA company employs more than 5,000 staff in 33 offices around the world, and is listed on the Oslo Stock Exchange. The company describes itself as one of the world's leading providers of globally integrated transportation services for bulk liquid chemicals, edible oils, acids, and other specialty liquids. One of its subsidiaries, Stolt Sea Farm, also produces and markets turbot, sturgeon, sole and caviar. The transaction will be structured so that SNSA and a recently formed Bermuda company (initially owned by SNSA) will merge with and amalgamate with each other and the combined company, named Stolt-Nielsen Ltd., will continue as an exempted company in Bermuda.
October 21. Bermuda's balance of payments surplus grew by 50 percent year on year to $269 million in the second quarter. The surplus, which represents transactions between Island entities and the rest of the world, grew by $90 million compared to the same period last year. A fall in imports meant the goods trade deficit fell by $24 million to $246 million. The surplus in services transactions was $132 million, up $32 million compared to 2009.
October 24. Park Hyatt Hotels indicated publicly it was an official equity stakeholder in a $300 million project to develop a new hotel in St George's on the demolished (in August 2008) site of the former Holiday Inn, then Loew's Inn, then Club Med.
November 27. The National Library will showcase films about Bermuda throughout next month, Minister of Public Information Services Neletha Butterfield told the House of Assembly this morning. The films will be shown in December at noon on Tuesdays and Thursdays, in the Hamilton library's Bermuda History and Cultural Studies Room. The Minister said that due to limited space, groups of between six and 15 people should contact Ellen Hollis to arrange special viewings. Offerings include the history film 'Bermuda Five Centuries' by Panatel Productions; 'The Riddle of the Crest', based on Dr Philippe Rouja's investigation into the origins of Bermuda's coat of arms; nativity story 'First Christmas' by Alastair MacDonald with illustrations by Adel Nasief; documentary 'Behind the Mask: Bermuda's Gombeys, Past, Present and Future'; 'Bermuda's Defence Heritage'; 'The Bermuda Tattoo' — showing a performance of military music — and a documentary narrated by Michael Douglas called 'The Lion and the Mouse: the Story of America and Bermuda', on the history of US/Bermuda relations.
November 18. Stolt-Nielsen SA (SNSA) has bucked the trend of companies leaving Bermuda after the company's shareholders approved a plan to migrate its parent company to the Island from Luxembourg, where SNSA is currently registered. Under the plan, which was recommended by the SNSA board of directors, as reported in The Royal Gazette last month, SNSA and Stolt-Nielsen Ltd., a recently-formed Bermuda company wholly-owned by SNSA, will merge and amalgamate with each other, effective from today. The new company will be named Stolt-Nielsen Ltd. As required by the plan, shareholders of Stolt-Nielsen Ltd. also approved the plan at a special general meeting held in Bermuda this week. SNSA shareholders registered in the Norwegian Central Securities Depository (Verdipapirsentralen or VPS) with DnB NOR Bank ASA, as VPS Registrar, at the close of business today will receive one share in the Bermuda company for each share in SNSA. Today will be the last day of trading of SNSA's shares on the Oslo Bors, and the first day of trading of the Bermuda company's common shares on the Oslo Bors will be tomorrow.
November 27. Premier Paula Cox hinted an election was not on the cards as MPs approved the Constituency Boundaries Commission report. The new Boundaries Commission map — which would give a number of MPs an uphill battle retaining their seats — was outlined by Premier Cox in the House of Assembly yesterday. She said a bi-partisian committee decided to make changes to ensure each constituency had a similar number of eligible voters. The report was tabled in May but not debated during the summer parliamentary session. This prompted some United Bermuda Party members to speculate the delay was intentional, so Government could utilise the boundaries in place when they won the 2007 General Election. Yesterday, Ms Cox referred to the speculation about an election last summer and said: "We did not deal with this before summer break because there was no immediate need to and some would say there was no immediate need to now." The Premier also said amendments to the Parliamentary Election Act could be brought forward in the future. The changes approved last night have altered several boundaries and will affect 14 percent of the voting population, or 6,594 voters. Political commentators have previously said they believe the new boundaries could impact several MPs including Patrice Minors of Smith's North, Zane DeSilva of Southampton East Central and Donte Hunt of St. George's South. Last night Premier Cox said: "The 2009/2010 Commission convened on Thursday, 4th June 2009 and after utilising all the information obtained, the Commission took note that an examination of the variation in the number of qualified electors in certain areas of Bermuda demonstrated that some constituencies had changed such that they were as much as 19 percent over and in some cases more than ten percent under the mean. Having noted the significant variations, the Commission resolved, pursuant to section 54.1b of the Constitution, that changes to the boundaries were required." The new boundaries will not be in place until the next general election and have no impact on bi-elections before then. The Governor will order the changes to be gazetted when Parliament is dissolved before the next general election.
November 29. Business Development and Tourism Minister Patrice Minors told MPs in the House of Assembly on Friday that the new laws will seek to provide a better legal framework with regard to functions such as electronic signatures and digital certificates. She said the aim was "not only to strengthen our already existing legislation, but to also ensure that Bermuda remains a competitive jurisdiction with respect to conducting business electronically." Ms Minors also stated that her Ministry is open to suggestions from the public and the business community on the Electronic Transactions Act 1999. A five-week consultation process will take place from November 29 to December 31. Ms Minors said the Act had been introduced to ensure that information should not be denied legal effect, solely on the ground that it is in the form of an electronic record, with added electronic communications security provisions. Ms Minors said: "It is now over ten years since the ETA was passed. While the Department of E-Commerce has not received any feedback suggesting that the ETA is outdated, there have been a great many technological changes during that time. With this in mind, it was felt that it was time to review the ETA and its supporting regulations. As a part of the Department of E-Commerce's internal review of the legislation, it was believed prudent to seek external comment from ETA stakeholders." Ms Minors officially launched the consultation period at a press conference last Wednesday. An E-Commerce Advisory Board has been consulted for recommendations and the resulting consultation document will be the basis for public discussion. The document applies to e-commerce service providers and it has been suggested that it be amended to update its contents, correcting some anomalies that have arisen as a result of changes in the use of technology. The Department of E-Commerce encourages all suggestions regarding any potential changes to the ETA. It also wishes to hear from interested parties with regard to any potential opportunities and/or challenges that might exist for the IT, E-Commerce and E-Business sectors." Anyone wishing to add their views can do so in a response form, available at www.gov.bm or at the front desk of the Department of E-Commerce. A summary of responses will be published on the Government website. The consultation will include a public meeting on Monday, December 6, from 5.30pm to 7.30pm at the Bermuda Chamber of Commerce. An additional session will be held for business and technology industry representatives on Thursday, December 2, from 1.30pm to 3pm at the Bermuda Chamber of Commerce. Ms Minors said the Department of E-Commerce would collate all responses and deliver its recommendations to her. Following ministerial approval, a Cabinet memorandum will be drafted. This will be submitted to Cabinet for consideration and, if approved, drafting instructions will be prepared for submission to the Attorney General's office.
December 3. It doesn't really feel like the holiday season until you've had Christmas cookies and beverages as part of the annual Bermuda National Trust Christmas Walkabout. One of the Island's favourite seasonal events, it takes place tonight in the town of St. George. "The excitement and romantic yesteryear elegance that the Bermuda National Trust Walkabout brings to St. George should not be missed," said organiser Kelly Way. "It is a special event with the pulse of history beating strongly. The walkabout is a yearly tradition that is the start of Christmas for many. It is a time when the warmth of friendship prevails. Neighbours walk and talk. Visitors observe and participate by getting out and touring the historical places. The joy of this event brings people together." There will be entertainment throughout the town and refreshments will be served at various locations marked on a map distributed on the evening. Churches will be decorated and open for the event parishioners of the Stella Maris Church will offer soup and rolls; there will be live entertainment at St. Peter's Church and Ebenezer Methodist Church. There will be children's Christmas crafts at St. Peter's Church Hall where Santa and an elf will listen to Christmas wishes. The Trust's walkabout is a free community event thanks to generous support from volunteers. It allows people to explore some of the oldest continually occupied buildings in the New World, all of which will be decorated for the event. The Old Rectory, Samaritans' Lodge, Samaritans' Cottages, Buckingham, Tucker House and the Globe are among those that will be open. Meanwhile, performances in King's Square will include those by Jackson School of Performing Arts, In Motion School of Dance, the Bermuda School of Music and the Salvation Army Band. "The Christmas walkabout is a wonderful way of touring the extraordinary living history of St. George's World Heritage Site," said Ms Way. "Each year the popularity of this event is evident as crowds embrace the old town. The National Trust hopes everyone will come and enjoy the festivities. The National Trust could not hold this event without a huge amount of community support and our generous sponsor Butterfield Bank. We look forward to seeing you there." The event runs from 6.30 to 8.30pm.
2010. Bermudian author Brian Burland died. He published several acclaimed novels including 'A Fall From Aloft', 'Stephen Decatur, the Devil and the Endymion', 'The Flight of the Cavalier' and 'The Sailor and the Fox'. He was elected a Fellow of the Royal Society of Literature in 1979. In 2012 his daughter Susan approached the Bermuda College to see it it was interested in housing her father's works which includes numerous unpublished novels, poems and artwork, and if so under what conditions. In May 2013 the Bermuda College formally opened the Brian Burland Centre for Research. The area serves the dual purpose of providing new facilities for the college and honouring the late Bermudian writer. It features a reading room and a climate-controlled vault that holds a collection of Mr Burland's work. To satisfy the conditions of the endowment, the Centre has two components — a vault which houses the catalogued papers and artwork, and a reading room where students, scholars and researchers can access the materials. The reading room, while essentially for study, is also a place that celebrates the pioneering nature of Brian Burland's work. As part of this, the College commissioned one of Bermuda's foremost artists, Graham Foster, to paint a mural with the unique idea of one fine artist interpreting the work of another.
2010. December 11. Insurers will have to provide more financial information in their yearly reports under regulations approved by the House of Assembly yesterday. Category 3B and E insurance companies are affected by the Insurance Accounts Amendment (Number 2) Regulations pushed through by Premier and Finance Minister Paula Cox. MPs gave full backing to the regulations, which also mean 3B insurers are required to report the same financial statement information currently provided by Class 4 insurers. Ms Cox said the move comes in addition to amendments already made to the Insurance Act 1978 which aims to set standards for corporate governance that will enhance Bermuda's international reputation. United Bermuda Party MP Patricia Gordon-Pamplin said: "There are worldwide standards that must be upheld. It's not sexy or riveting, but it's necessary for us to continue to have the cutting edge."
2010. December 16. The Senate agreed to increase fees for captive and domestic insurers yesterday. Amendments to the Bermuda Monetary Authority Act will also impose financial penalties on those companies who are late paying their fees and enable the BMA to recover unpaid fees as a civil debt in any court or competent jurisdiction, if required. Previously the Bermuda Insurance Management Association told The Royal Gazette the increases would have a detrimental impact on the Island's competitiveness as a domicile. The increased fees will see Class 3 insurers pay $30,000 to the BMA compared to the $19,000 they used to pay. Domestic insurers will also see their fees increase by $25,000 Yesterday Junior Finance Minister David Burt said the fees were being increased because the BMA had an increased regulatory role in Bermuda. He added: "While the BMA is committed to running its affairs efficiently so as to keep the financial burden on regulated firms as low as possible, further increases in resources remain necessary if the BMA is to achieve its objectives and continue to play its key role in Bermuda's economy." Opposition Senate Leader Jeanne Atherden said she was concerned the fee increases may have an impact on Bermuda's reputation as a competitive business jurisdiction. She questioned why the BMA could not achieve best practice without a rise in fees. "Why not reorganize so there isn't more expense?" she asked. "The reason I am asking this is it has a direct knock-on effect to the cost of doing business in Bermuda. We have a real concern as we go forward as to whether we are going to maintain the competitiveness." She asked when the last time was that there was a review of the operational efficiency of the BMA. She also said perhaps it is time for the BMA board to be replaced with an independent body to oversee the authority. Independent Senator Joan Dillas Wright said: "I understand the BMA has a major responsibility in overseeing the companies registered in Bermuda, but I also have concerns about this increase and I just wondered whether this was exorbitant." In his reply, Sen Burt said Bermuda remains competitive when its fees are compared to those in other jurisdictions. "Our fees are definitely within reason," he said. He added that the International Monetary Fund last reviewed Bermuda's regulatory regime in 2007. In other legislation related to the BMA yesterday, the Senate also passed the Insurance Amendment (No.3) Act 2010. The bill requires that insurers have enough funds to satisfy regulatory levels so there is a basic amount of money available when people are ready to make a claim. It will also extend the powers of the Bermuda Monetary Authority allowing them to investigate other classes of insurers and establish a new regime for the classification of long-term insurers. The legislation was passed without debate, other than a comment from Sen Atherden who said: "We understand the need for this piece of legislation."
2010. December 23. Shadow National Security Minister Michael Dunkley yesterday called for all house buyers caught "fronting" to face the same outcome as the couple who bought Southampton property Laughing Waters. About 20 homes are thought to have been purchased using fronting: when a non-Bermudian uses a local as a front to gain illegal interest in Bermuda land. And Sen Dunkley said he hoped others would be treated the same way as the expatriates who saw their $1.5 million Laughing Waters given to the Bermuda Housing Corporation at no cost. "The UBP has always been on record stating that fronting arrangements are not on," Sen Dunkley said. "We support the Department of Immigration getting to the bottom of this case. But if we are going to make a big deal about it publicly, we need to always make sure the law is being adhered to. I am sure there are other people who fall into a similar situation. We need to make sure their cases are treated the same way." Sen Dunkley said the law firm which acted as trustees should also be dealt with by the authorities, although Sen Burch yesterday said it would not be penalized. On Tuesday, Sen Burch announced the BHC had acquired the home as a settlement after finding out the expatriates bought it illegally. Instead of being prosecuted and facing a possible jail sentence, the couple must pay $4,500 rent a month for the next five years; that cash will go towards national housing needs. Sen Burch believes there have been around 20 cases of fronting, and hopes others will now be encouraged to strike similar deals with Government or end up in a legal battle "you cannot possibly win". He says one case is ready to go to court in the New Year, with two others close. As part of the crackdown, expatriates have until December 31 to get a licence for any property they own or face up to five years in jail or a fine of up to $1 million. Expressing a long-held UBP criticism of that aspect, Sen Dunkley said yesterday: "We still feel many Bermudians are very concerned that because they are married to a non-Bermudian they need to go and apply for a licence."

History & daily newspaper reports

Authored, researched, compiled and website-managed by Keith A. Forbes.
Multi-national © 2020. All Rights Reserved