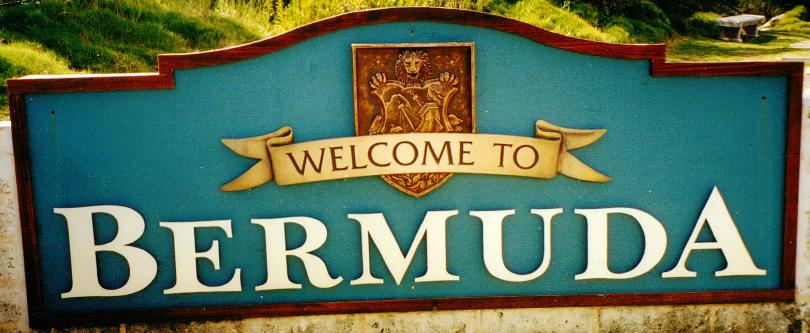 Click on graphic above to navigate the 165+ web files on this website, a regularly updated Gazetteer, an in-depth description of our island's internally self-governing British Overseas Territory 900 miles north of the Caribbean, 600 miles east of North Carolina, USA. With accommodation options, airlines, airport, actors, actresses, aviation, banks, beaches, Bermuda Dollar, Bermuda Government, Bermuda-incorporated businesses and companies including insurers and reinsurers, Bermudians, books and publications, bridges and causeway, charities, churches, citizenship by Status, City of Hamilton, commerce, communities, credit cards, cruise ships, cuisine, currency, disability accessibility, Devonshire Parish, districts, Dockyard, economy, education, employers, employment, environment, executorships, fauna, ferries, flora, former military bases, forts, gardens, geography, getting around, golf, guest houses, highways, history, historic properties, Hamilton, House of Assembly, housing, hotels, immigration, import duties, internet access, islands, laws, legal system and legislators, main roads, marriages, media, members of parliament, money, motor vehicles, municipalities, music and musicians, newcomers, newspaper, media, organizations, parks, parishes, Paget, Pembroke, performing artists, residents, pensions, political parties, postage stamps, public holidays, public transportation, railway trail, real estate, registries of aircraft and ships, religions, Royal Naval Dockyard, Sandys, senior citizens, Smith's, Somerset Village, Southampton, St. David's Island, St George's, Spanish Point, Spittal Pond, sports, taxes, telecommunications, time zone, traditions, tourism, Town of St. George, Tucker's Town, utilities, water sports, Warwick, weather, wildlife, work permits.

Bermuda's History from 2011 through 2012
News and significant events in these two eventful years

By Keith Archibald Forbes (see About Us) exclusively for Bermuda Online
See end of this file for all of our many History files
2011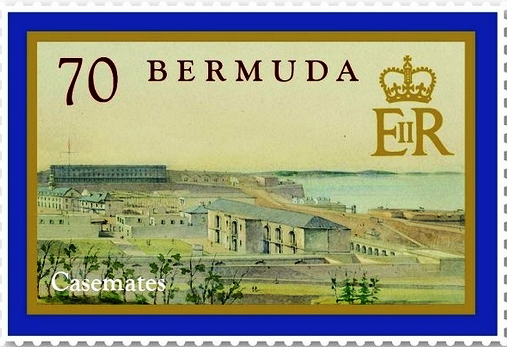 2011 Bermuda stamp 2
February. Kurron's contract with the BHB was terminated by Paula Cox — a year and a half early — after she succeeded Dr Brown as premier. Kurron had also won a contract with the Ministry of Health to develop the FutureCare health insurance scheme for seniors. The BHB cut short its multi-million dollar five-year contract with Kurron Shares by 18 months to save money. It cost Bermuda $13.5 million over five years. Kurron had also won a contract with the Ministry of Health to develop the FutureCare health insurance scheme for seniors.
February 15. The Corporation of Hamilton filed a writ against the developers of the St Regis hotel near Par-la-Ville park last week. Mayor Charles Gosling told The Royal Gazette he could not expand on the issue yesterday, as it was now a matter for the courts. The writ against Par la Ville Hotel and Residences Ltd was filed on Friday. Donal Smith, vice president of the development company, said he was overseas and was not aware of the writ yesterday afternoon. He added that there was no reason the development would not go ahead from his company's point of view. He said he could not comment further until he knew more about the writ. Shortly before retiring in October former Premier Ewart Brown said the Corporation was holding up the development, but did not expand. The Royal Gazette understands the issue is based on unmet deadlines. Previously Corporation Alderman Pamela Ferreira said groundbreaking would take place between July 31 and December 31 last year. Mr Smith denied that the issue was based on deadlines. The two groups signed a ground release in 2007. At the time former Mayor Sutherland Madeiros said: "The lease contains certain conditions that must be met by Par-la-Ville Hotel & Residences Ltd. prior to the development of the site." Ritz Carlton was originally attached to the project however the St Regis got involved in 2009. The hotel has "in principle" planning approval to build nine storeys on the Church Street side and ten storeys on the Par-la-Ville side, with three levels of underground parking. In addition to the hotel rooms the development was granted permission for 80 residences.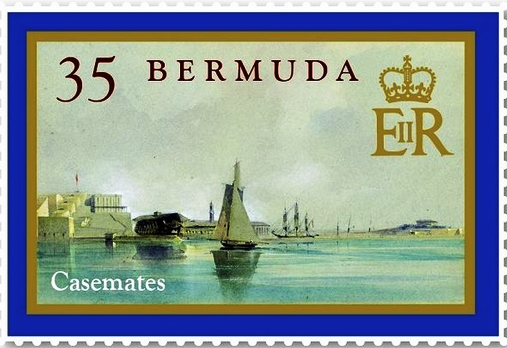 2011 Bermuda stamp 1
February 19. Finance Ministry forecasters do not expect Bermuda's economy to emerge from recession until the middle of next year. The grim prognosis came in the National Economic Report of 2010, which estimates that Bermuda's gross domestic product (GDP) fell four to five percent last year, against the Ministry's forecast of 0.5 to one percent growth. In 2011, GDP is expected to contract again, by between 0.5 percent and one percent, "with only a modest recovery likely by the middle of 2012." This follows the 8.1 percent fall in GDP in 2009, taking inflation into account. The report states: "The 2009 recession was the most severe one to have affected Bermuda since the 1930s and the Bermuda economy was adversely affected by economic forces far beyond its control. The higher than anticipated contraction in GDP was largely driven by sharp declines in output in the financial intermediation, international business, hotels and restaurant and the construction sectors. In particular, the 27.5 percent decrease in output in the financial intermediation sector was extraordinary, which highlights the vulnerability of Bermuda's small open economy, as external shocks can have quite substantial effects on output as they are magnified throughout the economy." The report expects 2011 growth in the international business sector to be "less robust than in previous years, but it will still remain as the primary driver of the Bermuda economy." The Island ended 2010 with 15,091 international companies registered, 558 fewer than a year earlier, representing a fall of 3.6 percent. But the report reflects some more positive signs too, with the net asset value of the Island's investment funds having grown by 18.9 percent year-over-year to $183.6 billion by the end of the third quarter. The sector appears to be rebounding strongly after a dramatic fall from its pre-crisis high net asset value of $250 billion. The report noted that the Island's insurance companies showed resilience during these difficult times in terms of revenue, capital and surplus, and the captive sector grew in assets and gross premiums written. The decline of the construction industry was highlighted, illustrated by the huge decreases in the value of work done and work started. During the first three quarters of 2010, work put in place was valued at $135.8 million, down 49.5 percent from the $268.7 million recorded in 2009. The value of new projects put in place plunged by 59.2 percent to $78.2 million, compared to $191.8 million in 2009. Offices, shops and warehouses accounted for nearly two-thirds of construction work carried out last year, with residential projects accounting for about a fifth. The suffering sector will get a welcome boost from the building of the new hospital, the report stated, adding that it will create 300 jobs over the duration of the project. Tourism continued to be badly impacted by the downturn, but air arrivals, down 1.5 percent to 232,262 last year, showed signs of stabilizing, the report stated. Cruise ship arrivals increased by 9.2 percent to 347,931, aided by the opening of the new Heritage Wharf cruise ship pier in Dockyard, which can accommodate mega ships with a passenger capacity of 3,200 passengers. The report projects the number of cruise ship visitors will increase again in 2011, by 11 percent. Hotel occupancy rates averaged 54 percent an improvement of 5.7 percent on 2009. Major hotels (58.3 percent) did best in filling their rooms, followed by small hotels (52.9 percent), but cottage colonies recorded the lowest occupancy rate of 37.6 percent, unchanged from last year. In its conclusion, the report points out: "Under these circumstances, it is imperative that Bermuda addresses the issue of its competitiveness in key economic sectors. If everyone in the community is prepared to pull together, Bermuda could then be well placed to take advantage of the eventual upturn in overseas economies, particularly the United States." In her Budget statement yesterday, Premier Paula Cox noted that stimulus spending was continuing in the US, encouraging growth. "In all likelihood, the Bermuda economy will benefit from this trend, but probably not until next year at the earliest," she said.
February 23. Cable & Wireless Communications plc announced today that it has sold its Bermuda operations to Canadian cable company, the Bragg Group. The operations comprise Cable and Wireless (Bermuda) Holdings Ltd (CWBH); Cable and Wireless Bermuda Ltd; Cable & Wireless eBusiness Ltd; and its 40 percent shareholding in Quantum Communications Ltd No jobs will be lost as a result of the acquisition, the Canadian company stated. "We will not be replacing existing operations and people who work for CWB today. In fact, we expect to increase local Bermudian employment in the near future," Bragg said. Cable & Wireless has been operating in Bermuda for 121 years. Bragg operates under the Eastlink brand in Canada, where it was the first company to offer was the first Canadian cable company to offer a "triple play" (telecom, internet and video services) to customers. Binding agreements were signed yesterday by CWC and the Bragg Group, with closing to take place within a few weeks. CWC and the Bragg Group said they would "work closely together to ensure a seamless transition for customers and employees". Terms of the deal were not disclosed, although reports suggest the deal was worth in the region of $70 million. At the time of the acquisition and renaming, Ann Petley-Jones, CEO of EastLink International and the LinkBermuda Group, said: "We have kept, and are growing, our local Bermuda workforce. We have repatriated dozens of corporate functions to Bermuda from the UK. We have hired Bermudians in executive management, operations, sales and customer care positions." (In October 2011, Cable and Wireless (Bermuda) Holdings Ltd was rebranded with the new name LinkBermuda Holdings Ltd. EastLink International Holdings Inc.) Ann Petley-Jones will be the new CEO said: "We are excited to invest in Bermuda's economic growth and communications excellence. We are impressed by the quality of the employees and the company's operations, and look forward to further modernizing and expanding a full range of communications services for Bermuda consumers and businesses. In the process, we intend to improve Bermuda's communications infrastructure and create additional employment for Bermudians." She added that during the transition period, the Bermuda companies will operate as they do today, with the same employees, local management, processes and contact points. Cable & Wireless Bermuda's operations were previously part of Cable & Wireless Communications' Channel Islands and Isle of Man business unit. "Management support and certain support services from Guernsey and London, will now be repatriated to Bermuda," Ms Petley-Jones said. "Following the transition, we will build on CWC's long history in Bermuda, as well as the Bragg Group's reputation for reliability, innovation and high-quality products, supported by superior customer service, to provide additional telecom and e-Commerce services to Bermuda businesses and consumers". Eddie Saints, chief executive of CWC for the Channel Islands and Isle of Man region, said: "This transaction is an example of our efforts to reshape our portfolio and focus on geographies where we have scale and competitive advantage. While Bermuda now sits outside our core hubs, as a Bermudian I am happy and very proud of our wonderful heritage spanning 121 years of service dating back to 1890 when modern technologies of the telegram cable system and radio systems first connected Bermuda to the rest of the world. We continued the journey of bringing new and evolving technologies and capabilities to Bermuda, which we experience and benefit from today. I am also very proud of my team who have endured tremendous transformation over the past ten years as the company repositioned itself to meet the changing competitive landscape in Bermuda. I am confident that we are passing the business onto an owner that has the expertise and entrepreneurial drive to further enhance the delivery of telecom and e-commerce services in Bermuda." The CWC statement added that CWC would continue to play a role in local telecommunications by way of its ownership in Cable & Wireless Network Services Ltd, through the CBUS cable system to the US and British Virgin Islands, in which the new owners will have significant capacity.
February 25. Employees could be worse off in 2011/12 than they were two years ago, despite Government's payroll tax rollback. Payroll tax for most jobs will go down from 16 percent to 14 percent, a reduction of two percentage points or 12.5 percent. But employers could benefit more than employees in the coming financial year, which begins April 1, as the reduction for employees is by only half a percentage point, compared to one and a half percentage points for employers. That means that of the $50 million Premier Paula Cox says she is giving back to taxpayers, employees could get only a quarter ($12.5 million), compared to three-quarters for employers ($37.5 million). For example, if you earn $60,000 a year and your employer makes you pay the new maximum contribution for payroll tax of 5.25 percent (it was previously 5.75 percent), you will now pay $3,150 a year (compared to $3,450 last year). If you get paid weekly, that equates to about $60.50, as opposed to $66.34 previously. The decrease is about 8.5 percent or a saving of $300 annually. In the financial year 2009/10, you would have only had to pay 4.75 percent or $2,850 a year. In 2011/12, your employer, for the standard rate of payroll tax, will pay 8.75 percent of the total (previously 10.25 percent) or $5,250 (compared to $6,150 last year). That's a decrease of about 14.5 percent or a saving of $900 annually. In 2009/10, they'd have had to pay $5,550, so will be better off in 2011/12. Your employer could choose to deduct less from you than 5.25 percent and pay more themselves, meaning you could have more dollars in your pay packet than two years ago. Companies which contribute the entire payroll tax contribution for their employees, such as many exempt firms, are looking at tax relief in 2011/12 of 12.5 percent. In the case of the $60,000-a-year employee, the company would pay $8,400 a year, compared to $9,600 previously. Bermuda Public Services Union president Armell Thomas said last night that even though employees could still have to pay more in payroll tax than two years ago, the rollback in the 2011/12 Budget was welcome. "A lot of the members are quite happy that they are getting a few dollars back in their pockets. It's a big plus to roll that back. Some companies are saving 40 grand, 30 grand. That's a pay cheque, at least for a temporary worker or something. It's going to help." Finance Minister Ms Cox told MPs last week: "The payroll tax reductions I have outlined will return approximately $50 million of spending power to taxpayers in 2011/12. The fillip was aimed at stemming job losses, stimulating new employment and helping businesses and workers through the final stages of the recession." Peter Everson, from the Bermuda Chamber of Commerce's economics division, questioned whether the money gained by companies from the tax break would really create new jobs. "This is only reversing what happened last year so their profits went down but they obviously tried to save money where they could. Now it's come back they are not necessarily going to be spending all of it. Some of it will be used to repair profit margins; some [firms] are unfortunately no longer trading; and some of the jobs were actually pushed overseas and are highly unlikely to be pushed back. it wasn't certain that all the money employers got back would be fed into the economy."
March 4, 2011. HSBC 2010 report card shows Net income: $254 million, up 15 percent from 2009 (includes $31 million sale of HSBC Insurance (Bermuda) Ltd). Underlying profit: $182 million, up three percent from 2009 (excludes $31 million sale proceeds of HSBC Insurance (Bermuda) and the $41 million profit it contributed in first half of 2010. Loan impairment charges: $10.8 million compared to $6.1 million in 2009. Total assets: $11.8 billion compared to $10.8 billion in 2009. HSBC's net pre-tax profit rose 15 percent to $254 million in 2010, boosted by a one-off gain from the sale of a subsidiary. Underlying profit - which strips out the $31 million booked from the transfer of HSBC Insurance (Bermuda) Ltd to another HSBC affiliated entity and the $41 million profit the unit contributed in the first half of the year - was also up by three percent to $182 million. Customer accounts grew, as did the bank's loan book, while total assets increased 10 percent over the year to $11.85 billion. Evidence of economic strain taking its toll on borrowers is evident in the bank's figures which showed a sharp rise in loan impairment charges from $6.1 million in 2009 to $10.8 million last year - but that is still at a low level relative to the bank's $3.2 billion loan book. There are signs that more people are struggling to make repayments on time. The bank's breakdown of loans and advances by risk category show that loans classed as "performing" fell from 97.5 percent at the end of 2009 to 91 percent at the end of last year, while 4.6 percent were rated "substandard" and 4.4 percent "non-performing." In an exclusive interview with The Royal Gazette, the bank's CEO Philip Butterfield said yesterday: "It's a good performance that has come in a period of continuing challenge. Both globally and locally, things are more uncertain than they ever have been. HSBC Bermuda's response to that uncertainty would be to exercise a higher degree of caution and conservatism. The hard work of employees and the bank's fiscal discipline were key to achieving the increase in underlying profit. Record low interest rates are putting pressure on bank earnings and I do not expects rates to climb any time soon." Chief financial officer Michael Schrum said the quality of HSBC's revenue was high, since a large portion of it was fee-related and not impacted by interest rates. Net interest income rose year on year, to $236.8 million from $230.4 million, while net fee income climbed to $217.4 million from $211.7 million in 2009. Mr Schrum said the bank's core Bermuda and Cayman Islands banking operations contributed $139 million to earnings, while the Global Private Banking trust businesses contributed another $28 million, with the remainder generated by overseas operations. The bank was very strongly capitalized at the end of last year with a tier 1 capital ratio - a measure of core financial strength - at 31 percent, far in excess of regulators' requirements. Rating agency Standard & Poor's affirmed the bank's AA- rating in October last year, raising its outlook to stable from negative. The CFO added that he was happy with the quality of the loan book, with total allowances as a percentage of total loans and advances to customers having climbed to 0.6 percent in 2010 from 0.4 percent in the prior year. Expenses rose to $308.4 million as general and administrative expenses jumped about 12 percent, although employee compensation and benefits costs were trimmed to $192.7 million, compared to $196.2 million in 2009. The amount of money in customer accounts rocketed to $9.71 billion, up 18 percent from $8.22 billion at the end of 2009. Mr Butterfield said the bank's aims for 2011 were threefold. To improve profitability, to maintain and improve a high standard of service to customers, including linking them with HSBC's global network, and to continuously improve efficiency and effectiveness. He also hoped to encourage Bermudians working at the bank to consider working for stints overseas within the HSBC group. "Within the past year, we've had six Bermudians working in places like Hyderabad, London, New York, Malaysia and Vancouver," Mr Butterfield said. "They have wonderful stories to tell, of learning how to function in another culture, how they have managed to be successful outside their own country and have come back with a set of skills that will allow them to make a bigger contribution in their own country." Last year also saw the opening of HSBC's new Harbourview building on Front Street - a move that had been very popular with staff, Mr Butterfield said, as well as customers and those using the building as a thoroughfare between Front Street and Reid Street. The CEO also highlighted two major transactions that he said illustrated the way in which HSBC could leverage its global network for the benefit of the Island. Firstly, the $500 million Bermuda government bond issue, for which HSBC was the book runner, and second, the financing agreement for the new hospital. Chief risk officer Sonja Salmon said the bank regarded risk management as a contributor to performance. She said that changes in regulation were a major challenge. "The regulatory environment is changing a lot and we see ourselves having to adapt, particularly to international changes," she said. High on the list of such changes was the Foreign Accounts Tax Compliance Act (FATCA) being introduced by the US, in an attempt to better track the holdings of US citizens in order to clamp down on tax dodging. "We are trying to understand exactly what impact this will have," Ms Salmon said. "We have a real benefit in that we are part of a large company and we can draw on resources and expertise from inside the US and outside." Mr Butterfield added: "The world is becoming more interdependent. Globalization is a reality and there is more global oversight of financial services. It is incremental to the cost of doing business, but it can't be ignored."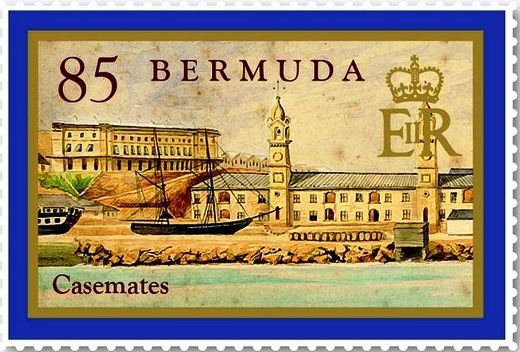 2011 Bermuda stamp 3
March 6. The advocacy group for seniors, Age Concern, has been inundated with calls for assistance to help keep the lights on. The Age Concern Belco Hardship Fund was established last June to assist senior citizens on fixed incomes who are having trouble making ends meet. Director James McCulloch, who assesses the cases, attributes the increase to the fact that several seniors have reached the limit on their health insurance allowances that cover 80 percent of costs for prescription drugs. In some cases the need is so bad that seniors are having to choose between buying food, medication that keeps them alive or pay their light bills. With $24,000 in donations 25 households have been assisted to the tune of $15,000. In an interview with The Royal Gazette, Mr McCulloch said: "This is the worst we've ever seen it, they keep coming and the numbers are accelerating. The insurance coverage runs on the same financial year as government. The new financial year starts April 1 and by this time of year many of the applicants have reached the ceiling. Until next month they either pay the full price for medicine or they don't buy it, or they fall behind on other bills it's a sign of the times. Most of the people I meet they are proud, they're embarrassed about having to ask, they're grateful for any help they can get and many of them are at their wits end. They're stressed, many are single or widowed, 70 percent are women. I see elderly married couples and single male applicants as well, most are being threatened with a disconnect, their bills range from $250 to $2,000. The largest single bill paid was $2,000 for a man who is out of work who is over the age of 65 but there's a lot of people are haunted by being out of work. The son or daughter who chipped in before are now unemployed. We can't give every month it's a one-off payment; we give them a hand up just to get over one crisis in the hope that things will get better in the spring or in the summer. Some people are in jobs that depend on the tourism industry, taxi drivers say they'll be able to get work in April but they need help now because they cannot pay their bills. We must be able to see that there is a prospect of them being able to cope with their electricity bill if we just take care of this one. They must be in danger of being disconnected or actually be disconnected, I've been to houses that are actually in the dark. It's very real when you have somebody who has already had a stroke or he's got a pacemaker and is in in desperate need. The level of family support varies, sometimes they're all chipping in and sometimes they're not. It makes for a very lonely situation for a lot of senior citizens, at the rate we're going all the money will soon be all gone. We do need some help, our budget has been cut for the last two years. We get grants from Government, charities and others but we're all facing the same story; charitable donations are difficult to find." The most troubling cases he has seen so far involves an elderly woman in her 80s who has already had a stroke. She is on medication to prevent her from having another stroke and in January she was told her coverage has run out. "She took her last bit of money out of the bank to pay for either her prescription or she bought food, but she has stopped taking her medication. I don't see the logic from a countrywide point of view. If she has another stroke, there's considerable chances that not only will her lifestyle be impaired but she might end up in long term care which will cost a fortune. It would be far better to keep her on preventive medicine than it will to deal with the consequences of her having another stroke or even a heart attack. She was two months in arrears, her light bill was $400 but it's hard to catch up once you fall behind. The problem does not discriminate it doesn't matter what colour you are I am seeing them all, I'm meeting and seeing people from all walks of life." Mr McCulloch also questioned what he termed the short sightedness of the decision by Government to relax the rules to allow people to dip into their pension funds due to hard times. "I meet people who don't have much income by way of pensions, they get an occupational pension or sometimes they don't. Sometimes they have a full government pension of about $1,100, but there are those who don't have a full contribution record. I would be very reluctant to dip into my own pension fund no matter how hard times are because it affects your future, it means you'll have less pension going forward. A pension payment holiday in some ways I think its madness. I see people now who don't have enough to live on, in 20 years we'll be finding more people who's income is reduced partly because they took advantage of this. All it does is let you steal from your own future. In a world of instant gratification some people just won't care and that's exactly the point. The most insidious thing is its tempting, its attractive and it gives you something now, but its not going to help you later. All it means is another set of elderly poor people, a new underclass. There is a price to be paid for dipping into your pension now, it means poverty when you're 65."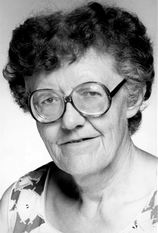 March 13. Death in Bermuda and burial next day of activist Doctor Barbara Bertha Ball, MRCS, LRCP, OBE. Born in Bermuda on June 13, 1924 she was a Bermudian physician, politician and social activist. She was the first woman physician to practice in Bermuda and took both black and white patients, an unusual event in the 1950s. During the time that segregation was rigidly enforced in Bermuda, Ball actively ignored the social norms, actively fighting for the civil rights of black Bermudians. She served as a Member of Parliament in Bermuda and represented black workers through her work with the Bermuda Industrial Union. In 2000, she was awarded the OBE (Order of the British Empire). Her parents were Jessie Alice (née Clap) and Carlton Ball. Her mother was a native Bermudian and her father was an English carpenter who came to Bermuda to work at Prospect Garrison. Ball's younger brother Walter was physically disabled and would later become well-known newspaper vendor. After completing her secondary education at the all-white Bermuda High School for Girls, she won a government scholarship to attend medical school in Liverpool, England. In 1942, despite the difficulty in getting there by ship and air during the height of World War 2 she entered Liverpool University, and also studied judo, graduating with her medical degree seven years later. Ball began her career in England and spent the next five years working as a physician at hospitals in Liverpool, nearby Merseyside and the UK's Lake District area of Westmorland. In 1954, Ball returned to Bermuda and joined an existing medical practice, Bermuda Medical Associates (BMA). The third Bermudian-born woman to train as a physician, she was the first Bermudian practitioner. She quickly became known for taking and providing equal care to patients without regard to their race. Her actions caused the other physicians at BMA to ask her to withdraw from the practice. She then rented a small office space on Cedar Avenue from the St. Theresa's Catholic Cathedral, and continued treating patients from all races. She simultaneously began teaching judo classes in the evenings, but after receiving warnings from the police that she could not teach black Bermudians, she formed her own judo club, which was one of the first integrated sports centres in the country. In 1959, during the Bermuda Theatre Boycott, Ball publicly supported black Bermudians in their quest for equality. She was well aware of the difficulties many of her black patients had in paying for medical treatment and felt that lack of income should not impact one's health. The following year, speaking at a public meeting, she supported the abolition of the property requirement as a qualifier to being able to vote, instead expressing support for universal suffrage for all adults upon attaining the age of 21. Her radical stance was that wealth should be equally distributed among society. Her support of blacks and workers, caused a rift with her church causing her conversion from Anglicanism to Catholicism that same year. Ball joined the Bermuda Industrial Union (BIU) in 1961. The BIU had been formed in 1946 to represent the working class, which was predominantly black and disenfranchised. By the following year, she became the BIU's General Secretary. In 1963, Ball and Walton Brown attended a United Nations subcommittee meeting regarding colonialism. She stressed that the racism in the country created unequal opportunity for black Bermudians and pressed for self-determination. British representatives dismissed the idea. Ball's work with the union caused her to be unpopular with those whites who thought she was a traitor to her race. In 1964, she lost admitting privileges at King Edward VII Memorial Hospital and was dismissed as choir mistress and organist of her Catholic church, St. Michael's in Paget. The following year Ball was threatened with a prison sentence for her participation in the Bermuda Electrical Light Company (BELCO) strike. She gained respect from the underground civil rights workers during the BELCO strike because she used her skill with judo to avoid police detention. Charged with inciting a riot, Ball and six other accused strike leaders, were tried in the Supreme Court. Four of the accused men were found guilty of obstruction and incitement, while Ball and the other defendant were acquitted. Under Ball's leadership, the BIU expanded its base of laborers, seeking construction workers and hotel workers as members. After her trial, union membership grew and the BIU became the largest union in the country. In 1968 and again in 1972, Ball was a successful candidate for the Progressive Labour Party (PLP), as a member of the House of Assembly of Bermuda. The 1968 race was the first general election in Bermuda after the passage of the universal suffrage law. She resigned as General Secretary of BIU in 1974, but continued to remain active negotiations for pay increases and benefits, like pensions and insurance as well as paid maternity and sick leave until 2005. In 2000, Ball was honoured as an officer in the Order of the British Empire. Ball died on 13 March 2011 at the Sylvia Richardson Care Facility in St. George's, Bermuda. She was buried at St Paul's Anglican Cemetery in Paget on 19 March 2011, after her funeral service which was widely attended by noted politicians and trade unionists. While she is remembered as a pioneering doctor in Bermuda, her legacy was in her fight for the civil rights of Bermuda's black residents. The Bermuda Government at the time established the Dr. Barbara Ball Public Health Scholarship in her honour. Former BIU President Ottiwell Simmons, with whom Ball had worked at BIU, published a biography of Ball's life, Our Lady of Labour in 2010.
March 15. Bermuda has been overtaken by Vermont to lose its long-held position as the world's leading captive domicile, according to The Captive Review magazine. But that assessment - derived from a weighting system based on captive numbers, premium and assets under management - was contested by leading members of a Bermuda delegation at a captive conference in Arizona yesterday. In terms of numbers of captives, Bermuda is still number one, with 845, compared to the Cayman Islands' 738 and Vermont's 576. But the magazine found Vermont to be the leader on both assets under management and premium. The magazine said assets under management in Vermont of $134.4 billion compared to Bermuda's $118 billion, while captive premium was $73.8 billion in Vermont and $19.6 billion in Bermuda. Another publication, Business Insurance, also published captive domicile rankings yesterday and had Bermuda at number one, based on captive numbers. Tom McMahon, president of the Bermuda Insurance Managers Association, said: "It seems to be based on one year's premium levels, but from an overall perspective Bermuda is still number one." Mr McMahon was part of a dozen-strong delegation of captive managers, lawyers, accounts and regulators at the Captive Insurance Companies Association conference in Tucson, who were busy yesterday networking at the Bermuda Insurance Development Council booth. Making up the rest of the top ten are Guernsey (333), Anguilla (252), Luxembourg (249), Barbados (242), the British Virgin Islands (219), Utah (188) and Hawaii (168). The Captive Review article quotes Brady Young, president and chief executive officer of Strategic Risk Solutions (SRS) as saying: The tax advantage of being offshore had gone and that it had become politically incorrect to base offshore. Arizona, South Carolina, Utah and others have attracted big captives from Bermuda and have landed new ones that historically would have gone offshore. Bermuda has positioned itself as more of an insurance company domicile and is not really focused on captives, unlike every other domicile listed." That statement went down particularly badly with Mr McMahon, who said: "I take great exception to that." Just last week, he said he had been part of a Bermuda delegation in Brussels for talks with European Commission officials on Europe's planned new Solvency II rules. The group was arguing the case for captive insurers, who predominantly underwrite the risks of their parent corporations, to be treated differently under the regime from commercial insurers writing higher-risk third-party business. Solvency II will require insurers to hold more capital but whether there will be different treatment for captives is not yet clear. After a couple of lean years for new incorporations, Mr McMahon said there were prospects for growth in the Bermuda captive market. "We see a lot of opportunities for new business particularly coming from Latin America and Canada, so I'm confident that Bermuda will continue to be number one." That point was seconded by Shelby Weldon, director of insurance licensing and authorizations, at the Bermuda Monetary Authority. "We are seeing some interest from a number of parties in Canada. Barbados has been their traditional domicile of choice, but from the interest we've seen in the first two months of this year, I would expect to see growth in that area." Nick Dove, chairman of R&Q Quest Management, also with the Bermuda group in Arizona, said about the Captive Review findings: "I think the stats they used were skewed by a couple of extremely large captives that produced significant premium." He said the fact that Bermuda had one of the largest delegations at the Tucson event was reflective of its importance as a captive domicile. The Captive Review also quoted Charles Winter, head of risk finance at Aon Global Risk Consulting as saying about the survey: "It confirms and further illustrates the notion that captives are no longer formed for tax reasons and suggests offshore domiciles may be in relative decline." Eduardo Fox, corporate commercial and trusts manager at Appleby in Bermuda saw the situation differently, suggesting that much of the growth for US domiciles had come about through state-run organizations that were keen to base their captives on home soil. "The majority of captives that really matter go offshore, especially to Bermuda," Mr Fox said. "Before Vermont and Delaware, Bermuda had no US competition and there still isn't competition for multinational companies." Mr Fox said he saw great opportunities for Bermuda from Mexico, following recent changes to Mexico's tax law, which lowers the withholding tax rate to Bermuda-based captives. He added that the Island was in negotiations with Brazil, Argentina and Chile to forge similar arrangements.
March 21. The cost of Government health care plans will increase by more than ten percent on April 1, it was announced today. Health Minister Zane DeSilva said HIP, Government's basic health coverage plan, would increase by $86 a month while FutureCare, Government's health plan for seniors, would increase by $35 a month. It will now cost $384 a month to enroll in HIP and $635 a month to enroll in FutureCare. Mr DeSilva said: "The primary reasons for this significant premium increase are: increases in utilization; increases in medical inflation in Bermuda; and increases in administration costs. The combination of these increases led HIP's cash position to decline approximately $7.7 million, or 190 percent, to a deficit of minus $3.6 million at March 31,2010. This was in contrast to a surplus of $4.1 million in 2009. The significant premium increase is needed and is the right thing to do at this time. All health insurers in Bermuda are experiencing similar increases in claims costs. The Ministry of Health is working closely with the Health Insurance Committee, the Health Insurance Department and the Ministry of Finance to ensure financial support is available to HIP in fiscal 2011-12." As of April 1 all seniors in Bermuda will be eligible for Future Care Mr DeSilva said. He said the insurance plan ended in a strong financial position with approximately $8. 2 million. Neither plan will see any additional benefits in the coming fiscal year.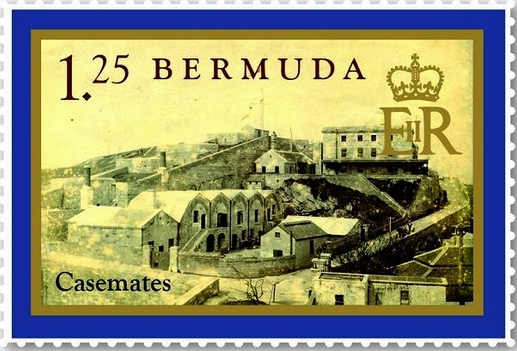 2011 Bermuda stamp 4
March 22. The cost of Government's basic health care plan has jumped 60 percent in two years. Meanwhile, the cost of FutureCare has also increased. Senior citizens will be asked to pay six to 25 percent more for Government health insurance depending on the plan they're enrolled in. The changes were announced by Health Minister Zane DeSilva yesterday. He said the monthly Heath Insurance Plan (HIP) premium would be $384 a month starting April 1. It represents an $86 increase from the 2010-2011 fiscal year and a $144 increase from the 2009-2010 premium. HIP covers unlimited inpatient care at King Edward VII Memorial Hospital as well as 40 days inpatient treatment at Mid-Atlantic Wellness Institute. It also covers some specialist treatment at the hospital as well as a portion of annual visits to a physician. The number of people on HIP has risen by 500 over the past 12 months. There are currently 3,203 HIP policyholders. Yesterday, Mr DeSilva said the cost of enrolling in the programme had to increase to ensure the long-term viability of the health plan. "The primary reasons for this significant premium increase are: increases in utilization; increases in medical inflation in Bermuda; and increases in administration costs," he said. HIP went from having a $4.1 million surplus in 2009 to a $3.6 million deficit in 2010. Mr DeSilva said the program's surplus had been inflated for years as a result of a slow turn-around time for paying claims. HIP also added benefits, such as dental care in 2008, and automated its claims process last year without increasing the premiums. As a result of these issues Mr DeSilva said: "The significant premium increase is needed and is the right thing to do at this time. All health insurers in Bermuda are experiencing similar increases in claims costs. The Ministry of Health is working closely with the Health Insurance Committee, the Health Insurance Department and the Ministry of Finance to ensure financial support is available to HIP in fiscal 2011-2012."As for FutureCare, Mr DeSilva said that would also be rising. There are currently 2,840 people on FutureCare; approximately 400 of them receive financial assistance to help cover the cost of the plan. The plan was first implemented in 2009 for seniors who were on HIP at the time. Approximately 2,600 people joined in the first phase. Their premium will rise this year from $300 to $375. Phase two, which opened in 2010 and was for seniors over 70, saw an additional 160 seniors join the health care plan. Their premium will rise from $600 to $635 in April. This year Government will implement the third and final phase of the programme which means all seniors are eligible to join the plan. Anyone who joins phase three will pay $635. Mr DeSilva said: "In doing this, the Government of Bermuda has now fully achieved its promise of offering an affordable and comprehensive health insurance plan to all seniors." As of March 31,2010 the FutureCare plan had an $8.2 million surplus. Mr DeSilva added: "We are prudently managing HIP and FutureCare. Our external actuaries provide advice to the Ministry to ensure the sustainability of the funds. Appropriate premiums are required to ensure FutureCare and HIP's viability. This means we must act both fiscally and actuarially responsible, and at times that means by increasing premiums. We must avoid prolonged periods where premiums are inadequate to cover the risks accepted." He added that the Government must also ensure they manage risks properly and place limitations on benefits where needed. Government must also control reimbursement rates, manage administrative expenses and look for ways to generate greater efficiencies.
March 28. Award winning flower-arranger Nicky Gurret is heading to the world-famous Chelsea Flower Show with honeymooners in mind. Ms Gurret has designed a garden called 'A Bermuda Honeymoon Garden' and it has the support of both the Department of Tourism and the Department of Parks. In past shows, she has won first place in flower arranging at the National Association of Flower Arrangement Societies (NAFAS) National Show in Bournemouth, in the UK, and at the Chelsea Flower Show she was awarded a bronze medal in 2005, a silver in 2007, and a silver gilt in 2009. She also won the Bermuda NAFAS cup at the Annual Exhibition and has exhibited at the World Flower Show. When she last exhibited at the Chelsea Flower Show, she noticed that the Cayman Islands and other Caribbean nations had displays and she felt that Bermuda should be represented. "The Caymans has been outshining Bermuda in tourism and in terms of business and I saw them at the Chelsea Flower Show and they had so much interest. Cayman had an underwater scene with two female scuba divers with lots of breasts and that was all over the media. And I was adamant that Bermuda should be there. So that is why I campaigned to Parks and Tourism and they have relented to partner. I think Bermuda is ready to try it. It is so popular and I think they have 150,000 visitors and they are mostly high-end people, and Bermuda is expensive, so you have to cater to people who can afford to come here." Many of the Caribbean nations exhibit in an area called the Grand Pavilion. "Grenada, Jamaica and the Bahamas always do a big exhibit," she said. The Parks Department was always enthusiastic and said they could do something with Ms Gurret this year, but that they couldn't do it alone, because of the cost of pitching an exhibit that is 18ft by 15ft. Department of Parks then looked into the shipping costs of sending the exhibit to England. The Department of Tourism is paying for half of the exhibit and they have produced a postcard for the show. "So everyone that comes by we will give them a postcard and tell them to come to Bermuda. We have a pink beach at one end, the moon gate, and we will be taking some plants up, like the mystery rose and the Easter lilies will be forced to bloom to put along the path. You will see different types of gardens that you see in Bermuda, such as a coastal with Spanish bayonets, the pink beach will have Bermuda roses, Bermuda Easter lilies, a vegetable garden with some cassava, Bermuda onion, but most of the product will come from Holland, but about six people from the Department of Parks will come over with me with fresh specimens from Bermuda." At Department of Parks she has worked with Jemeka Kelly and landscape architecture student Lucy Hollis, who was a summer intern. "I wanted to put in everything that Bermuda is, [but] I didn't want to be too modern for our first year or do anything way out." The exhibit will be built by a landscape company that constructed Malaysia's award winning exhibit last year. During press day at the Chelsea Flower Show, they often have an international celebrity, but this year Bermuda will have a honeymoon/wedding couple for the photographers and other media. "That is the hope and on press day we will have a gold leaf cake and Bermuda postcards. They will get to see a snapshot of Bermuda. The press in England will come to see the show will see in a snap shot of Bermuda." The Chelsea Flower Show opens on Bermuda Day, May 24 and runs until May 28.
March 29. Seniors excluded from Government financial assistance have been made eligible again. A stipulation in the 2004 Financial Assistance Regulations, which blocked struggling seniors who owned their own homes from receiving help, has been rolled back, effective next week. Seventeen seniors were declared ineligible for assistance over the past year because they owned their own homes or had interest in property. Families Minister Glenn Blakeney yesterday announced that changes will be made to the Financial Assistance Regulations 2004, enabling such persons to be assessed for benefits. "Some will recall that on April 1 2011, the Financial Assistance Regulations 2004 came into effect and changed eligibility criteria such that any applicant with assets exceeding $5,000, inclusive of interest in real property, would not be eligible to receive financial assistance," Mr Blakeney said. "There were 34 seniors who owned property and were receiving financial assistance at the time the legislation changed on April 1 2011. Those seniors were 'grandfathered in' and allowed to continue to receive financial assistance for one year up until March 31 2012." However, the Families Minister said, the Department of Financial Assistance discovered that some older residents were being left out in the cold. "Since the legislative changes went into effect, it has been observed that there has been an adverse impact on seniors who are homeowners or who have an interest in real property, even though the changes in the law made at that time were not intended to disadvantage such persons." Mr Blakeney said: "These most recent amendments to the Financial Assistance Regulations 2004 will take effect on April 1 2012 and will mean that persons 65 years or older will not have their interest in real property factored into consideration by the Department of Financial Assistance when calculating the value of assets for purposes of eligibility to receive financial assistance benefits." The news was welcomed by Age Concern director Claudette Fleming, who said she knew seniors who had been hit by the earlier regulations. She said Government's action was "probably not quick enough for those being affected", but praised the reversal. "There are times when good intentions yield unintended consequences," Ms Fleming said, adding that it was important that "there remains a willingness to be flexible". Seniors advocate Marian Sherratt suggested an adjustment of financial assistance to "house rich, cash poor" seniors, in the form of a loan that required property put forward as collateral. Assistance could then be repaid by family, or the estate itself, she said. "This puts the funds back into the pot to help someone else, rather than increasing Government debt and, ultimately, taxes," Ms Sherratt said. "I can also see the potential for abuse if Government supports the home owning senior while the family waits to inherit property free and clear." Shadow Community Development Minister Donte Hunt called the switch good news for the seniors who would now get help. "But it comes after so many tales of hardship have been put to the Government people like 'Mrs O' and 'Auntie Em', who suffered for years without help from Financial Assistance. The arguments for expanding access to financial assistance for struggling seniors who owned their own home or had an interest in it have been put by Opposition spokesmen for years, dating as far back as Health Minister Patrice Minors. The hardships have not fundamentally changed for these seniors, yet only now in the shadow of an impending election does the Government finally extend a helping hand. Good for them, but people's needs, not political needs, should be what drives decisions such as this."
March 30. The Bermuda Sloop Foundation was given $100,000 toward its youth programmes aboard the Spirit of Bermuda. Validus Group's donation was hailed as "extremely significant" by the Foundation's Malcolm Kirkland. The Spirit is under regular use by the Island's students. Validus Group CEO Conan Ward said that the challenges of life at sea had a tremendous impact on youngsters. He said: "We are proud to be associated with a programme that accomplishes so much for our community, all in the context of Bermuda's rich sea-faring tradition."
April 1. Brazen residents have been making quick cash by selling on the food they buy with government vouchers right outside the doors of grocery stores. This is why Government has replaced its monthly paper food vouchers with new grocery cards, which will be used like debit cards. The Department of Financial Assistance will today hand out about 600 of the new cards and activate each one with a person's monthly food allowance. Shoppers have been spotted paying for $100 of groceries with government food vouchers, then going outside and selling them for $50. They then use the cash to buy cigarettes and alcohol, which cannot be bought with the vouchers. Youth, Families, Sport and Community Development Minister Glenn Blakeney admitted calculating minds were abusing the system as he revealed a whole raft of changes to government handouts. It comes after the Department spent almost $10 million more than its $25 million budget for the fiscal year, pointing the finger at the number of applicants rising from 650 to 1,600 in the past six years. Mr Blakeney said: "People are brazen, they simply walk around the corner and sell on the goods. But those who abuse the system will be ousted and suffer a consequence that will deny their basic need. The Non-Cash Grocery Cards will be marked with a person's name and use of the card at the checkout will require photo identification. MarketPlace staff will also work in partnership with Government to look out for any fraudulent activity. MarketPlace has been very vigilant and diligent in assisting us with what has been going on. They pick up the phone and tell us exactly what is happening. Our investigation officers then follow it up." People will only be able to use the cards at The Shopping Centre for a one-month trial, then from May 1 the cards will be accepted in MarketPlace stores island-wide. Mr Blakeney said: "No longer will the clients of the Department have to make a monthly trek into the office in order to collect their monthly paper food vouchers." It is also hoped that the cards will increase the integrity and self esteem? of people receiving financial assistance as they have been designed to look like normal MarketPlace charge cards. Mr Blakeney said the department had been trying to add dignity and respect to seeking financial assistance as he knew it could be embarrassing to ask for help. He said: "More and more people have been made redundant, lots of people are being affected. People are becoming victims of circumstances beyond their control. They have never had to be dependant on Government before, but now they find themselves in that position. It can be embarrassing and humiliating because of their pride." To be eligible for a childcare allowance the income threshold has now been reduced to $50,000 from $70,000. This will force about150 people to go without after the budget for this programme was reduced from $3,840,000 to $2,500,000. Property is now considered an asset so anyone who owns property is no longer eligible to apply for help. And people who sell on property cannot apply for handouts within five years of the sale. Returning Bermudians must have lived on the island one year before applying for help and if a person loses their job because of their own actions, they cannot begin the application process until three months after the date of termination. Mr Blakeney said it was their duty to continue to provide people with basic financial assistance but it would be "workfare not welfare" as able-bodied people would be encouraged to find jobs. He said making savings was essential as they had seen ?an influx of applicants in need of assistance over the last several years.? He said: "Times are hard because of the economic downfall. We have to tighten up. People hold us accountable and feel Government should not be an agency that gives out handouts. We are, in essence, endeavoring to do more with less." The financial assistance changes also includes the axing of help with mortgage interest, property insurance and personal household allowances. And only one month's arrears will be paid on expenditure items to encourage people to be more timely and responsible. Seniors will continue to be able to retain $5,000 in investments or assets, while all others will be able to retain $500. All income over this amount will be calculated in the assessment for a financial award.
April 4. Government has announced a reshuffle of senior positions within the Civil Service, with the aim to "streamline efficiency." The changes took effect on April 1. A Cabinet Office spokeswoman said: "Oversight of the Government quangos the Bermuda Land Development Corporation and West End Development Corporation will be transferred from the Ministry of Public Works to the Ministry of Environment, Planning and Infrastructure Strategy." Meanwhile Robert Horton, who was Permanent Secretary to the Ministry of Public Works, has been reassigned to the Ministry of Government Estates and Information Services. That Ministry's Permanent Secretary William Francis has been transferred to a post within the Cabinet Office to join a strategy team working through the implementation of recommendations from the National School of Government. Premier Paula Cox announced late last year her intention to save millions of dollars with a Civil Service shake-up. As part of that, she got the UK's National School of Government to do an assessment of the service. In other moves announced, Director of Transport Randy Rochester has rejoined the Civil Service Executive as an Acting Permanent Secretary in the Ministry of Public Works. Ms Cox explained: "The shift of the Government quangos provides synergy with the Ministry of Environment, Planning and Infrastructure as it incorporates environmentally green initiatives and technology. It also provides a more integrated approach in dealing with infrastructure and planning matters. This refinement to Government's operating model helps in our effort to streamline efficiency." Cabinet Secretary Donald Scott, said: "Everyone recognizes that dynamic change is here and they have committed to doing their share in raising the standard of service delivery across Government."
April 7. British Airways plc (BA), which flies to Bermuda, is increasing its fuel surcharge on long-haul flights including to Bermuda for the second time this year because of recent oil price rises. BA said Friday that it will raise the fee by 10 pounds (around $16) per flight from Friday. That means passengers will pay a surcharge of between £85 and £145 depending on the class of cabin and the length of the flight. Surcharges on BA's short-haul flights will be unchanged. The company last raised the long-haul fee in February. An earlier rise in December was the first in more than two years. Political unrest in the Middle East has pushed Brent crude oil well above $100 a barrel.
April 11. Bermudian students may find it cheaper to attend some Canadian universities, with tuition fees set to rise in the UK. Locals who have paid home tuition fees at UK universities, rather than the international rate, face a substantial price hike for the coming year, as the UK government transfers costs from the state to students. This week, 31 UK universities announced their 2012 fees. The University of Warwick, which will cost £9,000 ($14,700) for the coming year, showed a standard home fee of £3,375 ($5,500) for last year the same as the University of Portsmouth, which is now charging £8,500 ($13,900), and Coventry University, which at £4,600 ($7,520) was the least expensive on the list. Out of the 31 academic institutions, 23 have hiked their annual fees to the £9,000 upper limit more than Nova Scotia's Acadia University, whose tuition fees for full-time undergraduates this academic year were just under $13,000 (BDA$13,500). An international undergraduate taking a Bachelor of Management course at Dalhousie University stands to pay about $15,000 (BDA$15,700). Attending university in the US, which can cost international students $40,000 a year, remains the most expensive option for Bermudians.
April 11. Harbour Nights event is to end two months earlier this year due to budget cuts but will remain a quality event, says the Bermuda Chamber of Commerce. The Ministry of Cultural Affairs and the City of Hamilton will continue as lead sponsors for Harbour Nights. However, they have had less money to spend due to the recession, said Diane Gordon, the Chamber's executive director. She said the event would take place from May 18 to August 31, for a total of 16 weeks compared to 24 weeks in past years. "Like everything else in the world, in particular Bermuda, there are certain budgets that have been cut. That goes all the way from the top of Government all the way down to small businesses. So while sponsors are still supporting us. the money is less than in previous years. Because we have been urged to continue putting on this event, we have had to get out to a broader spectrum of businesses to seek sponsorship dollars. We have also had to make the cut in terms of weeks, not in the quality of the event," Ms Gordon said. Harbour Nights has run for the past 19 years and has an annual average of 85 food, arts and crafts vendors on Front Street each Wednesday night. According to Kristi Grayston, of the Chamber, retail stores typically don't benefit from increased sales during the event, but stay open late in support of the small businesses. Ms Gordon said some restaurants and bars in Hamilton have stepped forward as sponsors, because they also benefit from higher traffic through the city. She said this year, more than ever, there has been a huge interest from local performers and added: "I would suggest the reason being many people have either lost their job or lost benefits." This year the Chamber is looking to get buskers, people who play instruments and get paid through cash donations from the audience, rather than a set fee. Such changes, in addition to the heavy traffic from the cruise ships and groups coming to the Island, will ensure the event is a success, according to the Chamber. "We have decided this is definitely a worthwhile event for the community," she said, adding that it gives tourists a chance to mingle with Bermudians and learn about the Island's culture and entertainment.
April 29. It was business as normal for the Progressive Labour Party as it dismisses the emergence of new political party One Bermuda Alliance (OBA) as "a non-issue." Most PLP politicians and supporters have today played down the significance of the merger between the United Bermuda Party (UBP) and the Bermuda Democratic Alliance (BDA). They say the OBA will mean "very little," adding that the new party won't be much of a threat to the PLP at the next general election. They are calling it a "reunion of the UBP" rather than a merger, comparing the OBA to "a new wine in an old bottle." The UBP and the BDA have not yet been dissolved and nothing has been officially signed to say the amalgamation has taken place. But Bermuda is expected to return to a two party country before the House of Assembly resumes on May 13. UBP MP John Barritt will initially lead the OBA and he yesterday said the new party would "work together to do what is best for Bermuda." Mr Barritt said voters were looking for change and the PLP should be happy to "see signs of positive development on the political scene." But PLP public relations officer Curtis Williams branded the new political party a "non-issue" as it means so little to the PLP. He said the "reuniting of the UBP and BDA" included "the same people, in the same Parliamentary seats as have been there since 2007." Mr Williams said: "The reunited UBP will not have any effect on the business of the PLP as nothing has changed. The BDA MPs have simply gone back home and changed the name of the house. The PLP and Premier Cox are solely focused on the many challenges that are currently facing our community and will not be distracted by the UBP reunion and name change. The Premier's standing in the community is sound and Bermudians know and see that she is working hard for Bermuda." PLP MP Ashfield DeVent said the PLP would simply continue to serve the country. He said: "A rose by any other name is still a rose. This party is nothing new. There is going to be no change for us. We don't see it as two parties combining. It's like a husband and wife who break up then get back together. This is a party that's had a break, they had a little falling out and now they are trying to mend their differences." Mr DeVent, an MP for Pembroke South East, added that he didn't think there would be "much new and exciting" about OBA. He said: "As nothing has officially been announced, we don't yet know who really is in charge, what their plan is and what direction they will go in. Only time will tell." Former Premier and PLP MP for Warwick South East Alex Scott said he wasn't too worried about the "re-emergence of the UBP" especially during the party's honeymoon period. "It's a reconstruction of the UBP with the addition a few very new BDA members. It will be business as usual for the PLP. As far as the PLP and its political base are concerned, I don't think that's going to change dramatically. In recent years that political base had held firm and I don't see that changing. I predict the early days of the OBA will see several politicians "jostling" for the new party's top jobs. The question is can they get themselves in order to campaign for a general election in a short period of time? The answer is probably not. Their best shot will be future elections." But Mr Scott added that the country was "moving into a new era" with uncertainty over the economy, crime and health. "The PLP shouldn't underestimate this new construct. It has to make the Opposition stronger. We should take these politicians seriously and shouldn't write them off. We'll just have to see if the new political muscle will cause ripples and see how the voting public reacts." Former PLP Senator Walton Brown said: "The UBP have just rejoined together and changed its name. It's the same Opposition party, I don't see any difference, positive or negative. Every political party obviously represents a certain threat, but nothing that's been reported so far shows that there is going to be any drastic change. We will have to assess their performance and objectives, then if something does come up we can reassess the situation." However political commentator and PLP supporter Jonathan Starling said the "reunification of two UBP factions" could capitalise on people's disappointment with the PLP. "I think they have a lot of potential at the moment, but it really depends on how they play their hand from now and what the PLP does from now on. People are upset with the PLP, and the PLP's base is far from happy with the current situation. I wouldn't have thought this a year ago but, quite honestly, unless the PLP gets their act together pretty quick, I wouldn't be at all surprised if the Opposition were able to form the next Government." Mr Starling said the new party was "old wine in a new bottle" but said it didn't have to be if they worked together to become "a very new entity" putting pressure on the PLP. To do this he believes the OBA needs to tackle the race/class issue and convince the public of a more economically stable environment. "I do look forward to seeing if they can contribute to a better level of politics than we've had so far. We've seen the PLP can govern as well as, and as bad as (and in some ways better and worse than) the UBP did." Guilden Gilbert, who describes himself as "a lukewarm PLP supporter", also questioned whether the combined entity would be more effective than the UBP, but he believes Bermuda is ready for a new governing party. "I thought the BDA had the potential to eventually become a valid choice for the voters and I think they have given up the fight too soon and this could be reflected in the poll numbers as we move forward. Some may see this merger as a sign that a third political party is not viable in Bermuda, I firmly disagree with this position as I think this merger is more a case of impatience on the part of the BDA. The fact remains that if the BDA remained as a party it would have killed off the UBP and being able to ably compete for the seat of Government, the UBP needs this merger more than the BDA." Mr Gilbert added that the PLP changed with the election of Paula Cox as leader and the party was immediately given "a softer look." He said: "Ms Cox, from what I know of her, is not going to focus her attention on berating the Opposition or get into a game of name calling. She will instead put her head down and focus solely on her task." When Mr Barritt was asked about being the new leader of the OBA, he said: "Nothing in life is ever certain at least not until that certain something actually happens. That's the case here, and when there is something definitive to be said, it will be said." Mr Barritt called comments in yesterday's Royal Gazette by PLP chairman Anthony Santucci "nasty and vituperative." He said: "What we have here is a group of Bermudians, young and old, experienced and not so experienced, trying to work together to do what is best for Bermuda. We believe what we are trying to do is a good start to the sort of change the people of Bermuda are looking for when it comes to politics and political parties. I would have thought then that the PLP and Government would be happy to see signs of positive development on the political scene."
May. The Princess Royal, second child and only daughter of the Queen and the Duke of Edinburgh, visited the island briefly. Her flying stop coincided with a visit by members of the Caribbean-Canada Emerging Leaders' Dialogue.
May 20. Energy Systems (Bermuda) Ltd (AES) has announced the completion of Bermuda's first commercial installation of a photovoltaic (PV) solar energy system for Lindo's Market in Devonshire. This 300 solar panel system will produce approximately 11,340 kilowatts of energy per month, enough to handle between 40 and 60 percent of Lindo's load requirements at any given time. "It's extremely gratifying to bring solar energy to Bermuda's commercial market," said AES founder and CEO, Tim Madeiros. "I commend Lindo's Group of Companies for continuing to be an environmental leader in our community and I am grateful to the Bermuda Government for their support in raising awareness of solar energy in Bermuda." In one year, Lindo's solar energy system will produce more than 136,000 kilowatts of power, which equals a 211,000-pound reduction in dangerous CO2 emissions. This reduction in CO2 is equivalent to planting 2,300 trees or not driving 209,000 miles in a standard car. The solar panels have been designed to tilt up in four-panel sections to allow the roof to be cleaned or painted and without interrupting the energy supply - an exclusive feature provided by AES. "We worked diligently with our solar panel vendor, SunPower, to provide a customized solution for this project," said Mr Madeiros, "We chose SunPower panels because of their patented technology that provides up to 50 per cent more power than conventional panels, thus maximizing energy output." A system such as the one installed at Lindo's, requires specialized electrical engineering to factor in the high DC current and voltages that are inherent in a large-scale commercial solar system. Mr Madeiros, who is a Chartered Engineer with the UK Council of Engineering, was able to draw on his extensive knowledge and experience in the electrical and solar industries to design the system to meet the stringent requirements. The system employs all of the specialized equipment and protective devices to tie safely and efficiently into the store's electrical system and, ultimately, into the utility grid. "This is just one of the green initiatives that Lindo's Group of Companies has implemented," said Giorgio Zanol, president of Lindo's Group of Companies. "Not only will this solar energy system provide cost savings on energy for us, but it's a step toward helping the environment - one that we hope other companies will also be inspired to take." AES manages all aspects of photovoltaic projects in-house, offering cost-effective and seamless solution for its clients. In addition to Mr Madeiros, the AES team comprises project manager Earl Wescom and technician Armindo Ferreira. The company offers a free site evaluation and financial analysis to residents and businesses.
May 29. New legislation has been passed to ease the workload of psychologists who are struggling to cope with the impact of gun crime on our communities. Politicians have unanimously approved the Psychological Practitioners Amendment Act 2011 to assist the Island's 32 qualified psychologists. Health Minister Zane DeSilva, who introduced the second reading of the bill yesterday, said the amendments would tighten up the profession's code of conduct by checking on qualifications, training and experience. The current restriction on practicing based on old age will be scrapped. Going forward the only practicing restrictions will be mental and physical health. Mr DeSilva said it was "less than ideal" that psychologists were restricted by old age, especially at a time when more people needed psychological help. OBA MP Grant Gibbons said the legislation was important as there was currently "increased pressure" on the Island's practicing psychologists. Dr Gibbons, who was speaking on behalf of the OBA, said the updates to the Psychological Practitioners Act 1998 were "sensible." He said: "There's a shortage of psychologists with little over 30 on the current register. Many of them have their hands full. We have to support them to help them fulfill a particularly important and critical role at the present time." UBP MP Charlie Swan said the UBP was "entirely in agreement as well." He then questioned whether the change in the age restriction would "open the door for those who are retired to rejoin the profession." PLP Randy Horton called it a "great" piece of legislation and said he was pleased it had attracted lots of support. He said: "The question of age is particularly relevant. Just because you continue on through old age doesn't necessarily mean that you don't have that physical or mental capacity. Some of us know that when you go past a certain level you can still continue at the same level as young people." Attorney General Michael Scott said within the Department of Corrections there were three psychologists "delivering a very important service to inmates." He said: "These are professional doctors who try to understand the issues and profiles of people through their concerns. They say our children are being asked to raise themselves, which almost cuts off their time to enjoy their childhood. They tackle the stresses and strains of life in our community, they are doing really good work." Mr DeSilva introduced the legislation's second reading, saying there were "just a couple of amendments", calling them "housekeeping changes." The Act also adds "both practical experience and continuing education credits" to the list of requirements that need to be met by professionals wanting to renew their certificates of registration. This aims to enforce that local psychologists keep up with changes and developments in their field. Members of the Bermuda Psychologists Registration Council will also be paid a fee in accordance with the Government Authorities (Fees) Act 1971. Mr DeSilva said they "put in a huge amount of time" so members deserved to be compensated. Shortly before the new bill was passed, Minister of Youth, Families, Sports and Community Development Glenn Blakeney had praised the work of the Bermuda youth counseling services' high risk intervention unit. He said they "strengthened and transformed the lives" of those affected by violence through training, mentoring and coaching. Since the high risk intervention unit was set up in 2010, 58 referrals have been received, with 19 referrals received since January this year. They are also helping about 60 additional family members. Mr Blakeney said: "The unit is having a progressive impact on lives that may otherwise be directly or vicariously affected by social issues related to gang affiliation. The unit takes seriously the strongholds of gang involvement and the emotional pains that break the hearts of Bermuda's people."
May 30. Bloomberg reported that Bermuda-based Alpha Prime Fund Ltd and Senator Fund SPC, two funds sued along with HSBC Holdings Plc by the trustee liquidating Bernard Madoff's firm, filed so-called cross claims against HSBC to try to recoup damages they incurred in the fraud. HSBC, which acted as custodian for the funds, failed in its duty to monitor Madoff and profited from his Ponzi scheme at their expense, Alpha Prime and Senator Fund said in a filing. The London-based bank is therefore liable for any damages accrued by the funds, they said in the May 27 filing in US Bankruptcy Court in Manhattan. HSBC is the direct cause of the loss of hundreds of millions of Alpha Prime's dollars and tens of millions of Senator Fund's dollars, they said. Irving Picard, the Madoff firm's trustee, sued HSBC and a dozen feeder funds for $9 billion in December, saying they should have known of the fraud. HSBC, Europe's biggest lender, has asked a district court judge in New York to dismiss Picard's suit, saying it didn't know of the fraud and lost $1 billion of its own money investing in funds that in turn put money with Madoff. The tax and advisory firm KPMG LLP told HSBC about the risks of Madoff's business in 2006 and 2008, according to copies of the reports obtained by Bloomberg, which was allowed access to them on the condition they not be published. KPMG identified 25 fraud and related operational risks in the way Madoff received, checked and accounted for client funds, it said in a 56-page report dated February 16, 2006, more than two years before the fraud came to light. The limited controls in place may not prevent fraud or error occurring on client accounts if management or staff at Madoff LLC either override controls or undertake activities where appropriate controls are not in place,? according to the report. In an e-mailed statement to Bloomberg in March, HSBC said that ?KPMG did not conclude in either of its reports that a fraud was being committed by Madoff. HSBC did not know that a fraud was being committed and lost $1 billion of its own assets as a victim,? the bank said. According to Alpha Prime and Senator Fund, HSBC failed to verify trades reported by Madoff, even though that was its duty as custodian. If the bank had done so, it would have seen that trades were allegedly executed at prices outside the daily range of prices of such securities on the days in question, the funds said. HSBC misled Alpha Prime and Senator Fund to believe that they were complying with these obligations, they said in the filing. The funds said they were told on December 5, 2008, about a week before Madoff's arrest, that the bank had started to receive copies of trade tickets from Madoff and to try to replicate the trades. Answering Picard's case against them, the two funds said they were investment funds, not feeder funds. They received money from Madoff in good faith and were not obliged to return it, they said. Picard's suit against Bermuda-based Alpha Prime seeks to recover $213 million. HSBC spokesman Patrick Humphris and spokeswoman Juanita Gutierrez didn?t immediately respond to an e-mail seeking comment. Madoff is serving a 150-year sentence in federal prison in North Carolina. The case is Picard v. Alpha Prime, 09-01364, US Bankruptcy Court, Southern District of New York (Manhattan).
June 10. Government needs your help in tracking two recently introduced species of lizard. The Department of Conservation Services within the Ministry of Public Works yesterday advised that two geckos, the Mediterranean or Turkish gecko, (Hemidactylus turcicus) and the Asian gecko (Hemidactylus frenatus) have been inadvertently introduced to the island. Both geckos have spread successfully around the world via cargo and are well-established in the southern states of the US and it is suspected they arrived in Bermuda by the same method, likely hidden in bales of peat moss or similar material. The geckos have been spotted at four locations. Both species feed at night and hide in the day, usually in houses and buildings. They can be seen at night on walls under lights waiting to catch insects. They make a loud TCKKK noise which is very distinctive. Director of Conservation Services Drew Pettit said tracking the geckos will be important because they will compete for food sources with the endemic Bermuda Skink and the introduced and established populations of anoles lizards and tree frogs. Mr Pettit added: "Also they might bring with them unknown viruses that could impact the same species. We are unsure how invasive they are and how rapidly they will spread if left to their own devices. The geckos are easily distinguished as they have a mottled tan, brown or grey skin with distinctive bumps all over the body. Also the pupil of the eye is orientated vertically." The Department of Conservation Services seeks the cooperation of the public in reporting any suspected sightings to Alison Copeland, Biodiversity Officer at 293-2727. It is safe to capture the animals and they can be brought to the Bermuda Aquarium Museum and Zoo in Flatt's.
June 13. Meet Amy Cook one of the very first international business people ever to step foot in Bermuda. Before Ace and XL, before the Hamilton skyline was dotted with construction cranes, there was petite Ms Cook and her mechanical adding machine. She arrived in 1947 aboard an oil tanker with the Shell Petroleum Company Ltd to help set up their British expatriate pension fund which eventually became Shell Trust (Bermuda) Ltd. While originally contracted to work here for only two years, Mrs Cook (nee Licence) ended up staying, marrying a Bermudian and working for Shell Trust Bermuda for 40 years. She is the longest-serving Shell employee in Bermuda. The office was created so that Shell's pension fund could invest worldwide. In the 1940s, the UK had severe restrictions on foreign investment, and in order to give the company the opportunity to invest around the world, Bermuda was chosen as the jurisdiction in which to be based. Shell Trust Bermuda was one of the first international companies to set up shop on the Island around the same time as insurance company American International. Today, the pension administrator manages billions of dollars over three pension funds. Along with two other women, Mrs Cook was selected as the original convoy to Bermuda to do bookkeeping, administration and clerical work. Eventually 27 women would relocate to the Island. They brought everything with them, including their sumlock machines, a mechanical precursor to the modern-day calculator and even the office furniture, including red leather couches and chairs that reside in the reception area to this day. Born in the suburbs just outside London in 1921, she started her career at Lloyds Bank in the capital. She then moved over to Shell, getting her certification at the National Cash Register School at the same time. After a year at the firm, she stepped aboard the ship to Bermuda. The nonagenarian has a remarkable memory even recalling the name of the tanker she arrived on: Neverita and its captain: Captain Rumbelow. She clearly remembers the trepidation of sailing into the unknown as the three women had little prior knowledge of Bermuda. "We didn't know what we were coming to," she said, adding that the crossing took 10 days in stormy weather. It was a rough trip. Mrs Cook recalls that Shell Trust Bermuda started in an office on the corner of Woodbourne Avenue, eventually moving to the Vallis Building and then to Ferry Reach. Today, the office is in the JLT Building on Cedar Ave. "When I first came to Bermuda there were no cars, just a little train running through Front Street, she recalls. We brought our pushbikes from London and that's how I met my husband because we cycled past Heyl's Drugstore every day where he was a pharmacist." She married Bermudian Leighton Cook in 1954 and had a son, Brian. She now has three grandchildren who live in Canada. Mrs Cook retired from her position of senior administrator after 40 years of service in July 1986. As a matriarchal figure at the firm, the company has always celebrated important milestones in her life. Last week, Shell threw a small birthday party for Mrs Cook, who turned 90 in April. At the party, she wore her shell earrings and gold pendant that the company gave her in 1997, showing her pride in her former employer. Attending the party was Bob Stewart, vice-president of Shell Trust Board, who was the country chairman of Bermuda for 13 years. Mrs Cook was his boss. "Not many Shell employees make it to 90 and Amy, being one of the first employees at the company here in Bermuda, this is an opportunity to give her the true recognition for the success of this company," Mr Stewart said.
June 17. A NASA structure that played a role in tracking space missions from the 1960s until the 1990s is getting a new lease of life as a place where wonders much closer to home can be viewed. The artifact is a small and unusual landmark in the traffic-free oasis of quiet wilderness at the far end of Cooper's Island where Bermudians and visitors alike can now go to enjoy peace and tranquility and simply relax or observe nature. This Saturday, public access to the nature reserve will be expanded with the official opening of around one acre of land on the outer fringes of the nature reserve that was previously out-of-bounds but which have now been cleared of derelict buildings and replanted with native and endemic species. The lonely pyramid-shaped mount at one of the remotest points of Cooper's Island once supported a radar tracking station that monitored the progress of spacecraft lifting off from Florida's Cape Canaveral. It is now one of the last remaining pieces of infrastructure on the peninsula, which was abandoned by NASA in the late 1990s and has been transformed, bit by bit, into a significant nature reserve. Jeremy Madeiros, conservation officer at the Department of Conservation Services, said of the radar mount: "It was one of the critical parts of the space programme, helping to track everything from the Gemini missions all the way to the space shuttle launches. We discovered it was hollow inside and we opened the door. We are going to have placards there with information on humpback whales and cahows. It's a great place to see humpback whales, which can swim nearby as it is so close to the reef line and the open sea. It is also a perfect spot to view birds such as longtails and cahows. " Mr Madeiros pointed out the area is internationally recognised for its importance to bird species, notably the rare cahow, with the entire world population living within one kilometer of Nonsuch Island the nature reserve just off the coast of Cooper's Island. Around half of all longtails that visit Bermuda each year also nest in the area. Volunteers from HSBC Bermuda worked to clear the land, replant suitable shrubs and trees and install 23 man-made Longtail nests. "This is a really significant area and it was important to protect it. HSBC jumped in with volunteers, without whom it really would not have been possible to move ahead with the project the way we have. It's amazing what you can do if you have 30 volunteers for a few days. This has allowed us to open these areas ahead of time, without them it might have taken a few more years," said Mr Madeiros. Decrepit buildings and rusting underground corrugated iron ammunition bunkers have been among the structures bulldozed and removed. The ammunition bunkers pre-dated the NASA facility as the land was previously used by the US military. "There is a lot here that will be of interest to Bermudians and visitors. It is an ongoing project, like Nonsuch Island, although Cooper's Island is five times bigger. There will be no vehicles in the area so people can get away from everyday noise and walk and picnic in an area that's totally natural," said Mr Madeiros.
June 17. After two years of sweat and hard work HSBC Bermuda will tomorrow open more acreage of Coopers Island Nature Reserve to the public. Bank CEO Phil Butterfield spoke yesterday on what he called the opening of an absolutely outstanding piece of property for Bermudians and visitors to come and enjoy. HSBC Bermuda joined forces with the Ministry of the Environment and the Department of Conservation Services in 2009 to restore the reserve in honour of the Island's 400th anniversary. Since then, staff have volunteered their time to remove invasive and plant endemic species on the property. Tomorrow the restored area will be accessible to the public and according to Mr Butterfield will be a point of attraction for all Bermudians, their friends and visitors. So far nearly five acres have been restored and made safe for the public, said conservation officer Jeremy Madeiros. The entire Island, totaling 77 acres, will take 15 to 20 years before it has all been returned to its original state before settlement. Acting Public Works Minister Zane DeSilva represented Government at the unveiling yesterday. He said: "Today, after an exciting partnership with HSBC Bermuda that has included much sweat and hard work and hopefully minimal blood and tears, for the first time in a generation this extraordinary piece of Bermuda will be open to the public and this is just the beginning. Over the next ten years the plan is to transform the Coopers Island Nature Reserve into Bermudas largest eco-destination and an essential extension to the living museum of the internationally recognised Nonsuch Island Nature Reserve. It will attract locals and visitors who can experience Bermuda as they have never experienced and lose themselves in nature. " Over the past two years HSBC Bermuda has assisted in the demolition of four robustly constructed buildings, totaling approximately 32,000 sq ft. Bank volunteers also helped to demolish several three-storey radar mounts and three ammunition bunkers dating back to the Second World War. They also dug 400 tree pits in preparation for planting of native and endemic plants. Cooper's Island, located at the extreme south-east point of Bermuda, used to house the NASA tracking station. Mr DeSilva called the site a Mecca of protected sea birds and said its reopening could revitalize the Islands tourism product and help tap into new markets. "This will be one of the best spots for viewing both longtails and cahows coming to roost on Nonsuch Island and other small islands to the south. For those who know about keen Audubon enthusiasts, you will know there is a list that everyone is trying to complete birds they have observed in the wild. There are 48 million birders in the US alone, and many of them, I'm sure, would love nothing more than to come to Bermuda and see perhaps the rarest bird in the world our Bermuda cahow. That's quite a market to tap for local tourism. The Coopers Island reserve also provided one of the best habitats for the Bermuda skink."
June 27. Royal Gazette financial columnist Nathan Kowalski wrote this: "I just received a letter from my local healthcare provider indicating that my monthly healthcare premiums have been increased 16.9 percent this year. This meant that the monthly payment had jumped almost 27 percent in two years. Although I was disappointed, it was not really a surprise. Let me explain why. Bermuda's health industry is currently going through a period of drastic change and review. The National Health Plan of 2011 has been initiated to reset the direction of Bermuda's health system. Specifically, it lays out a conceptual framework with the goal of making healthcare more affordable and to improve the quality and access of care. Healthcare reviews over the last 15 years have identified a number of ways to improve the healthcare system. The major concerns highlighted are the increasing level of healthcare costs and the affordability for Bermudians. Overall health in Bermuda. Recently the Bermuda Health Council (BHC) and the Department of Health commissioned a report titled "Health in Review: An International Comparative Analysis of Bermuda Health System Indicators.". This report provides a benchmark of Bermuda versus other OECD countries with respect to the state of the nation's health, access to healthcare, and quality. It detailed 76 various indicators. The following are some of the key findings:
Life expectancy has increased steadily since 1960 and is on par with the OECD average.

Road fatalities and mortality rates are significantly higher than other countries.

The rate of diabetes is much higher than in other countries.

Breast cancer mortality and suicide rates are lower than average.

Lowest rate of daily smokers anywhere.

Local hospital occupancy rate and the average length of stay in hospital have been relatively stable and are below the OECD average.
Unfortunately, in comparison to other countries, Bermuda shows the greatest level of inequality in terms of access to healthcare (this could be disputed as I am unaware of anyone being turned away from the hospital that needed emergency medical assistance, for example). Bermuda's total health expenditure per capita in 2007 was US$4,959 (PPP). In relation to the OECD, this places Bermuda as the country with the second highest level of expenditure, surpassed only by the US. Healthcare costs in Bermuda have been running at an annualized growth rate of about 6.5 percent per annum based on the government of Bermuda's CPI index. This compares to the Bermuda Health Council's annual increase of health spending of roughly 8.8 percent per year. From the "Health in Review" report, total household expenditures for healthcare services as a share of total household consumption has increased steadily since 2004, reaching 17.8 percent in 2007. This rapidly escalating cost is driven primarily by the aging demographic profile of the Bermuda population, the associated consumer expectations and greater utilization of services. For years these escalating costs were absorbed in a thriving economy where people were earning more. Now, Bermuda is experiencing what many other developed Western countries have had to deal with. In fact, Bermuda's use of tertiary care in top US hospitals has also driven up costs; in 2009 the cost grew by 40 percent. These escalating costs have been followed with ever increasing health premiums. Since 2004 the standard premium rate in Bermuda has more than doubled and has grown in excess of 12.6 percent every year between 2004 and 2010. Actuarial studies recently conducted suggest that claims expenses do not appear to be moderating. According to the government actuary, the actual healthcare inflation and claims in Bermuda continues to grow at nearly 14 percent per year. These spiraling costs are becoming a large economic burden on the government (which sponsors and funds FutureCare) and lower-income Bermudians. As a result, government is trying to enact measures to slow cost increases and force greater efficiencies onto the healthcare providers such as the hospital. As an example, the Bermuda Hospital Board (BHB) has been mandated to limit its fee increases to below the inflation rate and absorb the cost of increased utilization of its facilities. Via a memorandum of understanding with health insurers, the BHB will cap the total fees that it can bill. The Grey Tsunami. One has to factor the impact of demographic changes on entitlement obligations and ultimately healthcare in Bermuda. Seven hundred post-war "baby boomers" will turn 65 in Bermuda this year. This compares to only 276 in 2010, an over 150 percent increase. The Department of Social Insurance says this is the largest number in the history of Bermuda and they estimate equal or greater numbers each year for the next 20 years. As a result, FutureCare is slated to expand massively over the coming years here in Bermuda. It is not a stretch to assume that current levels of healthcare spending will not suffice for a rapidly aging population. Costs can be kept down artificially through rationing, but the Bermuda public and even the government will likely reject any kind of triage, "death panels," in the popular parlance. There are ways to reduce spending somewhat, such as eliminating inefficiencies in the system, but they would not likely provide enough in savings to fund the additional demands of an increasingly older population. Simultaneously, the total fertility rate of 1.76 in Bermuda continues to trend lower than replacement levels of 2.1. In the past a relatively stable birthrate combined with the large annual waves of expatriates was enough to ensure that there were far more young people in the insurance-paying workforce than older people reliant on benefit payments. None of those conditions seem to exist today. The demographic pyramid is flipping and will create a negative drag on funding escalating costs. In summary: fewer working young people simply will not be able to pay the medical bills of a growing population of older retired people. This poses somewhat of an overall economic problem. If enough resources to cover the medical costs of the coming "grey tsunami" were to be taken from the productive private sector, it would devastate job-creating investment and innovation. The economy in Bermuda could shrivel even further. There is a simple solution, however, people could work longer or invest more to fund more of their own medical needs. The ultimate effect on this situation in Bermuda may be twofold. 1. Escalating healthcare costs are job killers. As the marginal cost to retain an additional worker escalates due to rising healthcare premiums, employers' budgets for staffing will get squeezed somewhat. This may not be a large expense for the multinational firms here in Bermuda but it is one additional reason why Bermuda may become uncompetitive compared to other jurisdictions. For the small business owner these escalating costs may actually make the difference between hiring an additional worker or not, frustrating Bermuda's unemployment problem. 2. It is too early to definitely state what the effect of these costs will be on future increases in premiums, but it would not be a stretch to assume that the local healthcare insurers may be hard pressed to maintain margin levels as witnessed in the past. Either that or the level of services offered may be reduced to assist in defraying costs. The healthcare situation in Bermuda is not a problem. It is becoming a crisis."
July 1. Two priceless copies of the Bible were put on display behind bulletproof glass at St Peter's Church. The antique books were restored by the St George's church in celebration of the 400th anniversary of the King James Bible. A special service to mark the anniversary was held Sunday at St Peter's Church, believed to be the oldest continuously-used Anglican church in the Western Hemisphere Church rector Rev David Raths said he noticed the two books when he first came to Bermuda to take up the position six years ago. "The Geneva Bible was open to Genesis 3, verse 7. This version of the Geneva Bible is known as the 'breeches' Bible, because it says of Adam and Eve: 'then the eyes of them were opened and they knew that they were naked and they sewed figge tree leaves together and then breeches'. Later versions say 'aprons' instead of breeches. It is a very significant Bible in the whole development of the English Bible." The title page of the Geneva Bible carries a well-known typo. It states that it was printed in 1495, when it was actually printed in 1594. Rev Raths was surprised to discovered that the Geneva Bible was propped up by a King James Bible printed around 1640. "The Geneva Bible was older, but the King James Bible was probably more valuable. In 1936 someone had the Geneva Bible rebound to look like what they thought was an old Bible. Unfortunately, it was trimmed during the process. This trimming probably reduced the value. The King James Bible was probably much more interesting because it has the Book of Common Prayer, as well as genealogies from the Bible. The most interesting thing is that it is still in the original binding. At the back of it is the whole Book of Psalms needed for singing." The antique King James Bible benefited from what appears to be benign neglect and escaped the cutting board and the clumsy rebinding efforts of the 1930s. Last winter, St Peter's had both books properly restored in Boston. "A high-tech display cabinet was also designed for the books, that puts them behind bulletproof glass, further protected with an alarm. We spent $6,000 restoring the Geneva Bible and $13,000 restoring the King James Bible. The conservators had to completely take it apart, treat every page, and reassemble it They replaced the spine, but you would swear it is from 1640. They did a beautiful job. They discovered a couple pages, places where there were other things written, but we couldn't decipher what it was." Both Bibles are significant artefacts from the history of the Anglican church. The Geneva Bible goes back to the time of Queen Mary, who was known as "Bloody Mary". It was printed from 1560 to 1644, during what is known as "the reformation period". "Before the reformation period, most people in church would not have understood a word of the Bible, as it was written entirely in Latin," said Rev Raths. "During the reformation, those who didn't want to be staunch Latin-speaking Catholics had to flee England. They went to Geneva. It was there that William Tyndale and Miles Coverdale produced the first English Bible in 1535. Basically, an emphasis of the reformation was to put the Bible into the language of the people. The Geneva Bible became very popular, because it was the first to have commentaries, sidebars, footnotes, maps and readers' aids. However, these commentaries irritated King James I who became King of England in 1603. Unfortunately, a lot of the commentary in the Geneva Bible was very bellicose and aggravating and not politically correct. It was sort of 'down with the Pope'. It was theologically slanted. King James said he wanted a Bible without that." As a result, the King James Bible was printed without any sidebars or commentary, and it is still widely used today. One of the interesting things about St Peter's copy of the King James Bible is that it contains handwriting on several pages. On the inside page is written: "Robert Gill, His Book 1704." On another page, under some handwritten musical scores, is written: "Robart Gill, 1703." The reason for the change in spelling is unknown. "The tunes he wrote here were new in 1703," said Rev Raths. "Here he has written 'proper tune for 100 psalm'. We now call that 'old 100'. This was a new tune for him in 1703." In another part of the book is written "Robert Gill" and what looks like "June 1748." It was common for people to note important bits of information in the Bible, such as birth dates. The date suggests that several generations of Gills might have owned the book, which would have been very precious and coveted in the 1700s. Rev Raths would like to think that Robert Gill was a singing clerk at St Peter's Church, but he has found little information about him. "The singing clerk, standing at the lower level of the three-decker pulpit, led the people's responses to what the minister said and also led the congregation in singing the Psalms, line by line. There are still some old, very conservative Presbyterian Scots who do this. This 1640 copy of The King James Bible contained everything a singing clerk needed: The Book of Common Prayer, The Bible, and The Book of Psalms, put into rhymes and meters for singing. It has not been possible to determine whether he was the singing clerk in this church or whether a later singing clerk used his book here. The singing clerk probably would have some theological training or musical training. He was also, at times, the parish clerk." The Royal Gazette did a cursory search for Robert Gill using genealogy website ancestry.com. It was a common name at the time, but British baptismal records available on the website turned up a line of Robert Gills from Kirkby Overblow, North Yorkshire, who fit the bill. No occupations are given in these records, so it is impossible to tell if any of them were singing clerks. However, the baptismal records show that there was a Robert Gill born 1684 in Kirkby Overblow. Kirkby Overblow is a small village in the Harrogate district of North Yorkshire. Kirkby refers to a church and Overblow refers to the town's original industry of iron mongering. Mr Gill married Jane More in 1706 in Knaresborough, not long after the inscriptions were made in the King James Bible owned by St Peter's Church. They had a son, also Robert Gill, baptized May 1710 in Kirby Overblow. This son and his wife Mary had another son Robert, baptized June 30, 1748, which somewhat matches the date written in the Bible. Grandfather Gill died in 1717 in Kirkby Overblow. These three generations appear to have been firmly ensconced in Yorkshire. If this line of Gills were the original owners, it would suggest the book was brought to Bermuda later than 1748. For more information contact the church on 297-2459.
July 11. Government announced two major policy changes on Friday, which while late and limited, should do something to improve the economic mood. The first is an incentive for a limited number of non-Bermudian "job creators" to enable them to get ten-year work permits and to open up the possibility of their gaining permanent resident certificates. The second initiative is a review by National Security Minister Wayne Perinchief into landholding policies. Both of these decisions will be seen at best as modifications of past policies that have hurt the economy and slowed any chance of recovery. They appear to be a recognition, at last, of the poor state of the economy, and that international business cannot be taken for granted. In the first instance, the incentive for job creators recognizes that the policy of six-year term limits and the effective cessation of the grant of permanent residents certificates has been a disincentive to businesses wishing to have a substantial physical presence in Bermuda and that it has been a contributing factor in the movement of some companies establishing their holding companies elsewhere and of moving senior executives off-Island. More broadly, the strength of the Bermuda international business sector has been its ability to innovate. That can best occur when the leaders of these companies are in Bermuda and are creating a marketplace of ideas and competition. To be sure, Bermuda continues to have a strong underwriting market, but that is not the same as having the leadership of the companies on the Island. There is a further aspect to this. If the leaders of these businesses are not in Bermuda, they have less interest in the well-being and success of the Island. It is just another office, or location on the map. So given the well publicized departures of some executives and the relocation of some companies to other domiciles, this move is welcome, although long overdue. Similarly, Mr Perinchief's land review recognizes that the restrictions on property ownership for permanent residents certificates are too onerous. The suggestion that restrictions on foreign property ownership may be eased is also welcome in the current environment as is the likelihood that Bermudians will be able to sell their property to non-Bermudians again. The previous policy, enacted by the Progressive Labour Party government, was well-intentioned in the sense that it aimed to protect Bermudians' ownership of Bermuda land, but the policy put in place had the consequence and this was well flagged and warned of at the time of devaluing Bermudians' property and depressing the real estate market as a whole. Mr Perinchief also stated that he would keep an open mind to perhaps the worst policy of all, the one which restricts Bermudians married to non-Bermudians from owning more than one property and requiring that they get a licence to own a property at all. This is fundamentally wrong because it discriminates against Bermudians who choose to marry non-Bermudians. But the apparently onerous process of getting a licence to buy property at all has also done great damage to them. This policy does not directly damage the economy, or deter international business. But it is bad policy all the same. However, having substantially modified Government positions in two other areas, Premier Paula Cox and her colleagues may feel this is too much to swallow at one time. These initiatives may be calculated to satisfy swing voters, but they are sufficient reversals of policy that they will unsettle the PLP's base. By the same token, whenever a Government does change policies in this way, it throws its earlier judgment into question, especially when the warnings against these policies have been made for years. No doubt the Opposition will see this as a policy U-turn and will attempt to exploit it as such. But for all of that, these are welcome decisions, albeit overdue, and show Government finally is doing something to reverse the serious decline in Bermuda's economic fortunes.
July 15. Hundreds of Bermudians working in the Island's reinsurance industry - even in this economy - are making an average of almost $200,000 a year. In addition, the Island's 22 major re/insurers pumped nearly $1 billion ($971 million) into the local economy last year, including $10 million to charities. New figures from the Association of Bermuda Insurers and Reinsurers (ABIR) also show the industry employs 1,696 people- on the Island. Of that number, 66 percent are Bermudian. While the total number employed in the industry on Island has slipped from about 1,782 in 2007 to just under 1,700 in 2010, the number of Bermudian employees has risen from 1,098 in 2007 to 1,128 in 2010. By comparison, ABIR's 22 members, who include Ace, XL, PartnerRe and Hiscox, employ some 32,000 employees globally. ABIR says reinsurers have been increasing their employee counts in Asia, Europe and the US. The figures are based on the results of ABIR's 2010 economic impact survey. According to the survey, ABIR members' 2010 economic contribution to Bermuda included:
$737 million in aggregate compensation (salaries, stock options, bonuses, benefits) to all employees based in Bermuda

$302 million in salary and other compensation paid to just Bermudians

$116 million in payments on construction, real estate, housing, rentals or office leases

$81 million paid to Bermuda-based third party business consulting providers

$27 million in travel and entertainment payments

$10.6 million in contributions to Bermuda-based charities.
"ABIR's members are integral to a successful economy in Bermuda," said Dinos Iordanou, ABIR board chairman and Arch Capital Group CEO. He noted that the average salary and benefits compensation for ABIR member Bermudian citizens only was $197,000 in 2010; while the median was $127,000 (that means of the 1,128 Bermudian employees, half had compensation higher than this number and half had compensation lower than this number). Average salary and compensation for Bermudians has risen substantially to $197,000 from $108,000 back in 2007. "ABIR members provide good quality jobs for Bermudian citizens and it is in our self interest to hire Bermudian employees with skills and talents that match our needs," Iordanou said. ABIR president Brad Kading said the group is pleased by the Government's plans to offer permanent residency status to some 10-year work permit holders, plus other initiatives including plans to identify job categories that will be exempt from term limits. "We strongly support the government's efforts to create incentives for senior executives with hiring authority to be resident in Bermuda. We are quite encouraged by the Premier's recent announcements on this matter and we are looking forward to the development of the implementing measures. The more executives with hiring authority located in Bermuda, the more opportunities there will be for additional Bermudian citizens to find jobs with these employers. Additional executives will provide additional spending which will further boost the hard hit hotel and restaurant sector."
July 23. People are to get the chance to have their say on what needs to be done to try to salvage Bermuda's tourism industry. The initial proposals of the National Tourism Plan are to be "taken to the community" this summer to find out what people think. It is hoped public discussions will add to the master plan, which is intended to guide Bermuda's tourism policies for the next decade and beyond. In recent years the industry has suffered from the closure of hotels and guest houses as well as a decline in tourist numbers. But the formulation of Bermuda's first strategic plan for the industry is seen as the way to save the industry. Tourism Minister Patrice Minors said the Tourism Board was "working diligently to formulate a document that represents the full, comprehensive input of all stakeholders." The Minister insists progress is being made, even though drawing up the tourism blueprint is taking longer than planned. It was originally announced that it would be completed by the summer. Ms Minors now estimates the National Tourism Plan will be published by the end of the year, but she said it was important they weren't rushed as they wanted a "a truly balanced view of all the crucial issues that need to be properly addressed." The Tourism Board was set up at the start of the year specifically with the aim of developing and sustaining the tourism product to make Bermuda "an envied tourist destination of the world." Then at the end of April about 30 key tourism figures attended a two-day retreat to brainstorm the future of the industry. Hoteliers suggested passing gaming legislation to make them more competitive and creating revenue through the winter months. Other options discussed at the retreat were a convention centre, the Island having its own airline, waiving landing fees for Lear jets and scrapping property tax. Ms Minors said over the last month Tourism Board members have split up into smaller committees to discuss "a series of hot topics." These topics include hotel development, branding, gambling, entertainment, service standards and the much-talked-about creation of a tourism authority. Policy issues such as hotel concessions, immigration, residence and property taxes have also been discussed. The board will then draw up a document of 'Key Strategic Imperatives' and Ms Minors says these will become "crucial components of the National Tourism Plan." Ms Minors said: "A series of town hall meetings, public panel discussions and stakeholder engagements will occur in early September where these imperatives will be presented to the public. We are going into the community, we are rolling it out through town hall meetings. We want to show the Bermuda people where we are heading with the National Tourism Plan. We want to hear what people have to say, we are not going to be dismissive of any ideas. It is my intention to lay these fundamental proposals in Parliament when it resumes in November. We don't want to rush things, we accept that this is the pillar of our economy and we have to take our time. It has required a greater depth of discussion than first imagined. We want to be able to produce a truly comprehensive plan, we are not going to rush it". Ms Minors discussed the progress of the National Tourism Plan after revealing the 2011 second quarter visitor statistics at a press conference on Wednesday. When asked who Bermuda's competition was, Ms Minors said lots of people considered it to be Aruba, but she added it was important not to make comparisons with Caribbean islands. She said: "Our greatest competition is ourselves. We don't like making comparisons with others. Competing against ourselves makes us much more creative, it's one of the ways we can make ourselves shine." Ms Minors was also put on the spot about tourism as she sat on the panel at Tuesday's town hall meeting about what Government is doing to strengthen the economy.
July 23. Members of Parliament have approved legislation to tighten the regulation of imported prescription drugs so they meet the high standards stipulated by other key Western countries. The move by Health Minister Zane DeSilva came after concerns over an order that came into effect on July 1 allowing such drugs to be imported from India, Brazil and Israel. Now, drugs can be imported to Bermuda from anywhere in the world, but they must have been approved for sale in the US, Canada or an EU country and meet the country's regulatory standards. The move came after concern from pharmacy industry figures over patient safety following Government's decision to allow drugs from India, Brazil and Israel. The experts, along with the Opposition, cited concern that countries such as India have a problem with counterfeit medication. Before the new bill was passed just after midnight, the law had restricted the importation of prescription drugs based on two conditions; where they are manufactured and where they are approved for sale. Drugs could only be imported from a list of designated countries, which included India, Israel and Brazil after the recent controversial order was approved. Last night's follow-up legislation scrapped the designated countries list. Now, explained the Minister, prescription drugs may be imported from any country, provided that they meet the regulatory standards of the United States, Canada or European Union. In addition, the product must be eligible for sale in one of those countries. Furthermore, all commercial importers of prescription drugs must register with the Ministry of Health and prove they meet data collection and storage standards. Introducing the bill, Mr DeSilva told MPs: "Following meetings with the representatives of the pharmacy community, I assured them I would make every effort to bring amendments to the (Pharmacy) Act before the House recessed for the summer. I listened, I took action and I'm here today to present those amendments as promised." He said local prescription drug importers have always stuck to high standards. However, he acknowledged that the act needed to be amended because not all countries have the same regulatory standards. Pharmacy industry figures had been at pains, despite their criticism of Government, to assure patients that they should not be put off embracing generic drugs. Last night, Mr DeSilva said generic drugs, which can be produced cheaply on a mass scale once the patent for brand name drugs has expired, will save money for ordinary Bermudians. The One Bermuda Alliance complained the new law is too ambiguous and suggested an amendment to take the safety measures even further. Its MP Grant Gibbons said in addition to stipulating that drugs imported to Bermuda must be eligible for sale in the US, Canada or EU, they should also "meet the same regulatory, safety and bio-equivalence standards" required for importation into one of those countries. Dr Gibbons said the suggested amendment came after consultation with industry experts. He explained the US Food and Drug Administration examines those issues when deciding if a drug can be imported into the US. He explained that bio-equivalency standards are checks on whether a generic drug acts the same in patients as the original branded product. He added that safety standards are important as some low-standard generic drug manufacturers might use the same production line for different types of drugs, leading to dangerous cross contamination. "If we really want to assure people that these generics are as safe, I suggest we take on board this amendment. It will provide additional assurance," he said. Shadow Minister of Health Louise Jackson also spoke in favour of the amendment. She urged Government to "do the right thing" and accept it "as a small thing to do." She said the Opposition otherwise backed the bill, albeit with concerns that it should have been tabled sooner. The Government rejected the suggested amendment in a vote after Mr DeSilva questioned which industry experts the Opposition had spoken to about it. He said they had already been consulted and approved the bill as he tabled it. "These amendments were made with every stakeholder that we have in the industry," he insisted.
July 30. Business leaders and employment specialists have welcomed Government plans to offer permanent residency status to some 10-year work permit holders. They said the proposals, which were outlined by Premier Paula Cox in the House of Assembly on Friday and would enable certain key workers, including senior executives and leading decision makers, to obtain Permanent Residents Certificates for themselves and their families after 10 years in Bermuda, would help boost business and create and maintain jobs. Martin Law, executive director at the Bermuda Employers Council, viewed the proposed changes in immigration policy as entirely positive. He said: "The Bermuda Employers? Council recognizes these welcome initiatives by the Government as ones that should have a beneficial effect on stimulating the economy and helping with job creation and retention. Giving job creators an increased stake in Bermuda sends the positive message that we want them here. There will be a knock-on effect for existing local firms too - the stronger our overall economy is, the greater the benefit to all employers and employees. Any and all economic stimulation measures will help our existing employers to survive and re-grow their businesses and keep people employed." Mr Law also commended the statement that Economy Minister Kim Wilson would shortly identify job categories that will be exempt from term limits and said it would send a clear signal that Bermuda was very much open for international business at the same time as dispelling a lot of the negativity about the Island that came from its competitors. "We recognize that Government has to balance Bermudians national interests with the need to stimulate the economy but with these policy initiatives we believe that the balance is right. Job creators and key persons need to feel welcome and part of Bermuda in a tangible way so that they can become personally vested in the Island, creating and retaining jobs so that Bermuda can begin to re-grow its employment base." Doug Soares, partner at Expertise Ltd, Bermuda's largest management consulting and outsourcing company, said that despite the specific details of the new policy not yet being revealed, the result was likely to be beneficial to all parties. "To provide key executives with residency rights makes good economic sense. Furthermore, providing automatic waivers from term limits for specific categories will provide greater certainty for key employees in international business without sacrificing job opportunities for Bermudians. This bodes well for Bermuda as a top jurisdiction for global companies. Some Bermudians would struggle to see the merit in the new changes due to having a false sense of job security, pointing out that few jobs needed to be based in Bermuda nowadays and that the Island was competing on an international stage for business. Many believe that jobs and country are inextricably bound together. Many believe that having a job is simply a matter of restricting foreigners from entering our country. But the fact is that relatively few jobs are in Bermuda by necessity in the 21st century. Jobs nowadays belong to a global economy and Bermuda must compete with other jurisdictions to domicile those jobs in Bermuda. Consequently, we need to begin to see the Department of Immigration as an enabler of job creation, not just as border control and a protector of local jobs." Brad Kading, president and executive director of the Association of Bermuda Insurers and Reinsurers, said: "We support the multiple proposals from the government on workplace reforms. We support liberalization of policies that can lead to incentives for job creators - those executives with hiring authority - to be located in Bermuda. We expect successful implementation of such reforms will lead to more jobs for Bermudian citizens." Stephen Todd, president of the Bermuda Chamber of Commerce, also welcomed the announcement. He said: "We believe it sends a very positive message to the international business community and allays some of those concerns that have been expressed in the past. From a business development standpoint it not only reassures our international business partners that we have on the Island but also gives us the ability to further our relationship going forward. It also gives a stability to the business sector knowing that their continued participation in the local economy is welcomed."
August 3. Bermuda featured prominently in a report on US corporate tax avoidance. The report entitled 'Corporate America Untaxed: Tax Avoidance on the Rise' was published by The Greenling Institute, a national policy, research, organization and leadership group. It revealed that 184 significant corporate subsidiaries were based in Bermuda - considerably less than the likes of the Cayman Islands (580) and Ireland (287), but more than Switzerland (179). It also disclosed that the Island accounted for 10.4 percent of dividends that came back to the US during the 2004 one-time tax holiday that allowed corporations to repatriate offshore earnings, according to Internal Revenue Service figures. American corporations are known to avoid approximately $60 billion in US corporate income taxes through using "devices and gimmicks" to shift profits to foreign subsidiaries, according to the report, and since the US Government Accountability Office reviewed the issue in 2008, top companies had added 44 new subsidiaries in countries it had identified as tax havens. Fifty-two of the 100 largest corporations in terms of 2010 revenue added at least one subsidiary in a tax haven and 21 companies reduced their subsidiaries in tax havens by at least one between 2008 and 2010, the report stated, with each company adding on average 2.9 foreign subsidiaries and 0.5 in a tax haven over that period. CitiGroup was the outlier, decreasing its number of foreign subsidiaries by 1,129 during that time, 404 of which were in tax havens. Caterpillar Inc, which has 10 Bermuda subsidiaries listed on the Registrar of Companies website, was listed as having 38 subsidiaries based in tax havens, down by 11 between 2008 and 2010, bringing in revenue of $42.5 billion. General Electric (GE), which also has 10 subsidiaries listed in Bermuda, has 14 significant subsidiaries in tax havens and 57 significant foreign subsidiaries, bringing in revenue of $151.6 billion, and Google, with six subsidiaries on the Island, had two significant subsidiaries in tax havens and two significant foreign subsidiaries, with a revenue stream of $29.3 billion. GE made $94 billion in undistributed earnings of profits from foreign subsidiaries, while Google earned $17.5 billion.
August 5. A telegram sent by British actor and playwright Noel Coward to Agatha Christie from Bermuda has been recovered after it was found hidden in the back of an old bureau. The message is dated September 1957 and was sent from Bermuda to London. Mr Coward wrote to congratulate the writer on the recent success of her play 'The Mousetrap', which overtook his own play, 'Blithe Spirit', as the longest running in the West End. Mr Coward wrote: "Dear Agatha Christie, much as it pains me I really must congratulate you on The Mousetrap breaking the long run record. All my good wishes, Noel Coward." Mr Coward briefly resided in Bermuda for two years during the 1950s after he bought Spithead Lodge on Harbour Road in Warwick. According to his longtime partner, Graham Payne, Mr Coward did not take well to the island's warm climate. Mr Payne recalled: "Oh, it was a terrible time we went through! But he loved it. It was very hot, as you know, in Bermuda in the summer and when he was in the kitchen, he didn't wear any clothes at all, virtually nothing, except a little apron a plastic thing here in front, was all." He originally moved to the island to escape what he considered to be the unjust tax situation in England at the time. The bureau containing the telegram had been recently auctioned off and furniture restorer Clive Payne, from Gloucestershire, in the South West UK, was commissioned by the owner to repair it. He discovered the message in the back of the bureau. "As part of the restoration process I needed to remove its back. The usual dirt and muck fell out, but also two pieces of paper," Mr Payne said. The discovery also confirmed the bureau's previous owner had been Ms Christie. Ms Christie's grandson, Mathew Prichard, added that his grandmother greatly valued the opinions of her peers. He said: "I'd have thought to have had acknowledgment at The Mousetrap running so long would have pleased her very much". He also confirmed that Ms Christie greatly admired Mr Coward. Today Ms Christie is the best-selling author of all time, along with William Shakespeare, according to the Guinness Book of Records.
August 8. A fire engulfed the HWP's body and paint centre, on St John's Road, Pembroke.
August 17. The cruise ship Veendam will not be visiting St George's next year, leaving the town without a regular cruise ship in the 2012 season. However, St George's Mayor Kenneth Bascome said that he has already discussed the possibility with area businesses, and believes that the move could be a positive one. "I honestly believe that we could make it work to our advantage. I think it would be better to have tours coming to St George's rather than leave from St George's. I had previously asked the business community if they would be receptive to the ship bypassing the town. I caught a whiff that the principles involved were looking at that particular proposal, so I went to speak to the business community again." He said business operators were disappointed, but supportive of the Veendam traveling directly to Hamilton in the future, provided that a system is put in place to get the visitors to St George's. "There are logistics that need to be worked out to make sure that St George's benefits," he said. "It is hoped that we would be able to go to the principles and the minister to get those people to come back to the town. Once we know what is happening, we will form a committee and put forward proposals that we believe will be a benefit to the community." Businesses in St George's have suffered in recent years due to the reduced number of visiting ships. For the last two years the East End has had only one regular cruise ship, Holland America Line's Veendam. Because of its size, the ship cannot safely pass through Town Cut and instead moors at Murray's Anchorage, with passengers ferried into St George's. Poor weather has frequently caused the ship to bypass St George's and dock in Hamilton. Yesterday evening, a Holland America spokesman confirmed that the ship would no longer stop at St George's, but that shore excursions to the town would still be offered. "The cruises will now feature a three-day port call in Hamilton, Bermuda (previously two days) and will no longer call directly at the port of St George's. All booked guests and travel agents are being notified of this itinerary change." The Government did not respond to requests for comment by press time last night while Joe Simas, general manager for Holland America's local agents Meyers Shipping, declined an opportunity to comment. While the Veendam may not visit St George's after this season, Mr Bascome said the town still sees cruise ships as a part of its future, saying that the results of a report on modifying Town Cut could be released in the next two weeks. According to Mr Bascome the report, announced by Government last December, is now completed; he expects Government to make a public statement in about two weeks. "I have some information myself, but not all the details. I'm just hoping that whatever is determined in the report that the community is behind it. We hear much about the cruise ships not benefiting the economy, but we know when they are there. When the cruise ships are in, the cash registers start ringing." The $238,500 study by Moffatt & Nichol was also expected to look at the possibility of modifying Two Rock Passage to allow Panamax or post-Panamax ships into Hamilton. Transport Minister Terry Lister told the House of Assembly in March that the study would be completed in May. He said then that Government was still looking to find smaller cruise ships that could serve both areas. Shadow Tourism Minister Patricia Gordon-Pamplin said the results of the channel study should have already been released to the public. "For the people of St George's, this is their lifeline. People need to know what the heck is going on. They need to get up and say whatever recommendations are made or at least let the public know what the reason for the delay is."
August 21. More must be done to make St George the tourist hub that it should be, according to UBP's Kim Swan. "Today, it is the town of St George who needs 'So Much More' in order to properly meet the challenge of a competitive tourism market internationally," Mr Swan said. Mr Swan, MP for St George's West, said that while the newly unveiled tourism brand will hopefully draw visitors to the Island, St George was still suffering from the loss of key tourism elements. He lists the closure of the St George's Golf Course and related facilities, along with the demolition of the St Catherine's Beach Pavilion and a lack of dedicated cruise ships visiting the port as examples. "The impact caused by the discontinuance of these amenities, services and the facilities, have contributed significantly to the decline in economic activity and quality of life on offer in St George. In addition, the failure of successive government administrations over a 20-year period, to increase the hotel beds in the town of St George has also adversely impacted our marketability. The unfortunate part for us in the East End is that the town of St George — considered hub number one in the National Tourism Plan — is without major economic engines such as its golf course that can help fulfill the promise the marketing message that Bermuda Tourism is selling overseas. The issues were raised with Tourism Minister Wayne Furbert during a recent town hall meeting in St George, organized to discuss the National Tourism Plan. He was especially reminded that among other things restoring St George's Golf Course with a vision to market golf in St George's would greatly enhance the marketability of St George. Since then we have seen the grass cut — which makes the area far more presentable — but we need an immediate plan to reopen the St George's Golf Course." Mr Swan also called for improved capital funding to help rebuild the town's infrastructure to emphasize the town's historic significance and beauty, and a review of public beach facilities so that adequate bathrooms can be available for visitors. He also asked for better Government support to help build the town's yacht trade. "The town of St George is a historic gem that needs requires a greater emphasis financially to rejuvenate our physical product. The recent marketing focus must be supported on-island by a high quality product to ensure visitor satisfaction which is a key to secure repeat visitors."
September 9. The Bermuda Stock Exchange (BSX) celebrated 40 years in business this year. Set up in February 1971, today it has more than 800 securities listed, including more than 360 funds, with a combined market capitalization of more than $225 billion. Among the factors which have helped to shape the BSX have been its operational reliability, Bermuda's unique service-based economy, its geographical proximity to the US, UK and European markets and the streamlined regulatory regime in which it operates. It has also been able to tap into the success of the Island's financial services and insurance industry which is home to more than 1,000 insurers with total assets of $96 billion and gross premiums of $120 billion, as well as providing approximately 40 percent of US and European Union broker-placed catastrophe covers, most recently through its Insurance Linked Securities catastrophe bond listings. Maintaining itself at the fore of international standards of regulation and transparency, while meeting the needs of the local economy and remaining cost competitive with other offshore stock exchanges, the BSX has achieved a number of accolades, including becoming a full member of the World Federation of Exchanges, a "Recognised Stock Exchange" by the UK's HM Revenue & Customs, a "Designated Offshore Securities Exchange" by the US Securities and Exchange Commission, and recognised as a 'Designated Investment Exchange' by the UK's Financial Services Authority. A report in The Royal Gazette dated February 3, 1971, said that the BSX opened to a cautious reception with high asking prices and low bids, predicting that while there was interest in the market it would take "several weeks" before it settled down. According to the report, the Exchange started life out of the Bank of Bermuda's conference room, with a number of household names such as Argus Insurance, Butterfield Bank, Belco and Bermuda Fire & Marine among the first securities listed. Others have come and gone from the original 35, and today there are around 20 or so listed. David Brown, chairman of the BSX, said: "Forty continuous years of service to the capital markets is an achievement in any jurisdiction and notable in one the size of Bermuda. Leading edge technology and niche market opportunities have placed the BSX on the international stage and further demonstrated Bermuda's ability to innovate and deliver services to a sophisticated and demanding global marketplace. In the wake of the international economic crisis and in the absence of a Federal Reserve to buoy the market, the BSX has demonstrated its considerable strength and value to the core domestic capital market by clearly illustrating its regulatory and operational capabilities as the global financial crisis affected the local market." Former president and CEO of the BSX William Woods said that the same forces of globalization behind several mooted mergers between large international stock exchanges formed the original vision for the transformation of the BSX as it evolved from a domestic marketplace for local stocks to a truly internationally recognised exchange. He said that the BSX had kept pace with the rest of the world, introducing an electronic trading and dematerialized securities settlement in the mid-1990s, enabling traders to buy and sell shares and providing business owners with the ability to raise fresh capital through rights issues. Mr Woods said that while enhancing Bermuda's reputation as an international finance centre, the BSX had also helped to attract business to the Island, enabling companies domiciled here to list their securities on the Exchange, with 10 international insurance companies listed to date. The BSX has also served as a leading example to other offshore centers to follow, with the Cayman Islands and the Channel Islands soon following suit, he said. Launched initially as an idea, the Bermuda Exchange, as it was known then, was devised by bankers Donald Lines and Richard Thatcher, who acting on behalf of their clients, saw the need to create liquidity in the local market and move away from the burdensome tender process used to buy and sell stock locally. Having floated the concept to the four banks Bank of Bermuda, Butterfield Bank, Bermuda Provident Bank and Bermuda National Bank it soon became a reality with a representative from each bank sitting at the trading table and drawing numbered ping-pong balls out of a bag to establish their position for the day. Each trader would state their offers using an open cry system and the remaining traders would then bid on the position, taking place every Monday afternoon and rotating between the banks. By mid-1971, the total value of securities traded since February of that year was more than $500,000, and by the end of the year that figure had surpassed $1 million. The BSX was incorporated in March 1993, with the management committee being replaced with a more formalized council and the appointment of current president and CEO Greg Wojciechowski as project manager two months later to oversee its day-to-day operations, ultimately taking on the full role in 2001. "The development of the BSX has contributed directly to the growth and maturity of the domestic capital market, which is evidenced by over $1.5 billion being raised by listed companies in Bermuda from investors in the domestic capital market," said Mr Wojciechowski. He continued: "For nearly two decades I have had the distinct privilege of working with scores of people who shared the vision of the development of an exchange in Bermuda. Collectively we have grown and matured into a team of world-class stock exchange professionals. I believe we have established the rock solid foundation upon which a great exchange institution will continue to develop and serve investors far beyond the shores of Bermuda. The BSX will not only continue to do its part in driving the evolution of the domestic capital market for Bermudians and the country, but it will also provide the support for innovative global financial products. Regardless of how changes in global market structures play out, I know that the BSX will have a future role in the global exchange and capital market systems. I am confident that when I hand over the reins to the next generation of BSX management, the spirit of dedication, entrepreneurialism, old fashioned grit and hard work that has defined the organization thus far will provide the impetus for even further growth, achievement and success."
September 13. One day soon sunburned tourists will swim, sip fruity drinks and complain about the weather at a new hotel development planned for Morgan's Point in Southampton. Few people will probably give a thought to the fact that they are standing on ground that was once a vital Cold War defence post against nuclear attack. American Renee Nunn, a former Bermuda base worker, has obtained permission to document what is left on the Southampton property that once housed the Naval Air Station (NAS) Bermuda Annex before it undergoes development. She lives in Miami, Florida and will be visiting the Island later this month on the Holland America Veendam . "I am going to document every inch of what is left," she said. "There are 50 years of memories in that ghost town. Thousands and thousands of United States Navy veterans called it home at one time. Because it has been off-limits, what's left of it makes it a little ghost town time capsule." She plans to photograph the property with assistance from two friends; one of them is Lisa Ruiz Hayward, a United States Navy veteran who married a Bermudian. Ms Nunn worked in Bermuda on the Kindley Air Force Base in St David's helping to service Lockheed P-3 Orion aircraft from 1983 to 1986. The four-engine turboprop anti-submarine and maritime surveillance aircraft were developed for the United States Navy and introduced in the 1960s. Ms Nunn was 20 years old when she first came to Bermuda. "I worked in the avionics shops," she said. "It was in the pink air craft hangar that sat on the runway. It was across from what later became McDonald's. It had a series of white trailers attached and that is where we had the repair shop set up. When an avionics system malfunctioned, the aircrew and ground crew isolated the component. That component of the system came to me and I repaired damaged circuits in the component. My friends and I frequently visited NAS Bermuda Annex for picnics and parades. We liked it up there because it was closer to the beaches. We were younger then and liked the beaches with the waves, like Horseshoe Bay Beach." The NAS Bermuda Annex was constructed during the Second World War. On the western side of the Great Sound two islands, Tucker's and Morgan's, were leveled, adding 36 acres to Bermuda's land mass, and creating a peninsula extending from the mainland in Southampton. The entire base was a little less than half a mile in length. During the Second World War it was used to shelter and service large Martin flying boats. It was originally called the Naval Operating Base, but in the 1970s became known as the Naval Air Station (NAS) Annex. After the Second World War, the area became even more important as an anti-submarine warfare operations centre. "When it was active, a lot about that facility was classified," she said. "When we went there, we never asked any questions about it. On the Eastern United States it was the centre point for defending us from Soviet submarines. It was a very quiet place. It was very important. The Cold War was a very long period and the threat of nuclear annihilation was very real. Soviet submarines were carrying intercontinental ballistic missiles with nuclear warheads. It was a considerable threat. The duty of the NAS Bermuda Annex was to keep track of all Soviet submarines within striking distance of the East Coast. The NAS Bermuda Annex was the point of the triangle coming out of the United States from bases in Jacksonville, Florida to Brunswick, Maine." Ms Nunn's mother worked for the United States Navy and then the Pentagon; her father was also in the military. "A lot of people forget what it was like during the Cold War back then, but I was born into it," she said. At 19 years old she took a one-year course in aviation electronics at the Naval Air Technical Training Centre in Millington, Tennessee "That was where they trained everyone," she said. "There were a good number of women on the base. Maybe we made up about ten percent of the population on the Kindley Air Force base in 1983. Maybe in my training class there were two females out of 20 students." Now she keeps in contact with many of her old friends from Bermuda on a Facebook page devoted to the NAS Bermuda Annex. Among the many is one for students of Roger B Chaffey School.
September 13. US movie and TV subscription service Netflix is now available in Bermuda. For just $7.99 a month, the same price as in the US - local residents can get unlimited movies and TV episodes downloaded instantly over the Internet to their TV or computers. But there's a catch! The service costs the same as America, but the library of movies and shows the Island's residents will have access to is not the same. Due to licensing and other issues the library is far smaller and does not appear for now to include many new releases. And many of the movies and shows available in Bermuda are dubbed in Spanish and Portuguese without the English versions being available as well. Also, Netflix's service here is streaming-only, with no DVD-in-the-mail option. To compare, Netflix's streaming library in the US is about one-fifth the size of the 100,000 selections in the physical DVD section plus new movies are not available on the streaming service until several months after their retail release date. It's not clear if the library will grow over time. A Netflix representative admitted yesterday the US market does have access to "way more" movies as it has had the service longer and she said new movies are not available on the streaming service for at least three to six months after they are released. The launch in Bermuda is part of Netflix's rollout in Mexico, South America and the Caribbean by September 12, as part of a major international expansion. The company has also announced a deal with CBS to offer content in these regions. While the new service is a concern to local video rental stores, Games + Flix owner Kirby Brackstone said he is confident that for now he will still be able to compete with the movie rental giant. "I went on and signed up and most of the movies available are in Spanish or Brazilian Portuguese and the selection is very limited," Mr. Brackstone said. "There is nothing really current I could see." He said he could find no episodes of the popular TV shows House, Dexter and Weeds. He also pointed out Bermuda and his store actually get many new release hit movies a few weeks before the US. And new releases are not available on even Netflix US for at least a month after his store gets them in. For example, he said his Dundonald Street store has had the summer hit "Thor" for two weeks already and it is only just being released in DVD tomorrow in the US and probably won't be available as a download in the US until October. "We are not that worried at this point in time," he said. "We feel our unlimited plan is very competitive and we certainly have a lot more titles." For $25 per month you can take home as many titles from Games + Flix as you want as long as you only have three DVDs out at a time. Netflix hasn't been available in Bermuda before, not because of any local Government restriction or lack of approval, but mainly because it simply had not set up the servers and technology to service the market and was not set up to accept Bermuda credit cards and IP addresses. Mr Brackstone compared the new Netflix service to shopping online. Bermuda CableVision yesterday said it had no comment on the new Netflix service. Netflix subscribers can watch movies and TV shows on their computers or they can watch instantly via certain game consoles (Wii, Xbox, PS3), or any other device that streams instantly from Netflix such as certain Internet connected Blu-ray players and Internet-connected High-def TVs (HDTVs). In addition, digital video recorders and Internet video players; Apple's iPhone, iPad and iPod touch, as well as Apple TV and Google TV, can all be used to stream/view Netflix movies. In an interview published last week with Associated Press, Netflix CEO Reed Hastings declined to say how many movie and TV titles would be available to Latin American and Caribbean consumers. The AP report said Netflix has been scrambling to fill a potentially big void in its video library that will be created in March if it loses the rights to stream movies and TV shows from Starz Entertainment, part of Liberty Media Corp. AP said Netflix had been trying to renew the Starz deal, which included recently released movies from Walt Disney Co's various studios, only to have the talks collapse last week when Starz announced that it wouldn't renew a contract that allows Netflix to stream recently released movies and TV shows online under the $30 million annual deal. Those developments have raised fears that Netflix might lose subscribers in the US, and that has driven down the company's stock price significantly.
September 17. St. George's businesses yesterday expressed apprehension over a study suggesting that the Town Cut be dramatically widened to allow larger ships. Media reports detailing the study say it recommends doubling the width of Town Cut, destroying large portions of Higgs, Hen and Horseshoe Islands. The widening is expected to cost between $48 and $71 million, and would not be completed for at least another six years. A Government spokesman last night could not confirm if the published information was accurate, but said that details of the study would be released to the public in the near future. St George's Mayor Kenneth Bascome said yesterday that he still had not seen the final report and could not comment on the specific details. And while he reiterated the Corporation of St George's plans to seek input from the public before any decisions are made, Mr Bascome warned that the final decision would be made not by the Corporation, but by Government. "The final decision will not be mine," he said. "If Government decided that this is the way forward, there is no stopping them. I'm hoping that the Corporation will have the opportunity to view the total plan before it is released to the public. Since 2000, we have not had any sort of tourism promotion about the fact that St George's is a World Heritage Site. That is something that could be used to bring cultural tourists to Bermuda and the town." In the last four years, the number of cruise ships visiting the town has plummeted as the average size of cruise ships has grown. According to statistics in the report, 126,158 visitors visited St George's on a cruise ship in 2007, but this year only two ships carrying a total of 1,023 were scheduled to dock in the town. The Holland America Line's Veendam also made regular visits to the east end, tendering at Murray's Anchorage and ferrying passengers to the town, but rough weather and medical emergencies have repeatedly caused the ship to divert to Hamilton. The concept of modifying the Town Cut has long been viewed as a possible remedy, allowing larger ships to reach the port. The study, ordered in 2010 by then-Premier Dr Ewart Brown, was intended to look at the possibility of straightening, widening or dredging the waterway. According to media reports, of 14 strategies investigated, the three recommended each involve widening the shipping channel by between 75m and 95m by cutting away at islands to the south. The proposals are also expected to impact sea grass and coral in the area. While awaiting the complete results of the study, Mr Bascome said the Corporation is doing what it can to prepare for next year's cruise ship season the first in many years in which there are no regular cruise ships scheduled to visit the town. "We are looking to do many things for next year to bring people to St George's now that we know the Veendam will be going to Hamilton. We will have to up our game when they come in so they catch a bus to St George's, enjoy themselves, and go away to tell their friends what a pleasant time they had." He also said that a tourism promotion focusing on the town's World Heritage Site status could be used to bring additional tourists to both Bermuda and the town, but such a campaign has yet to be launched. Despite the challenges, he reiterated that he believed the town is on the verge of an upswing, and that there are numerous opportunities for young entrepreneurs. Speaking yesterday, several St George's businesses said that they felt the cost of widening the channel could be better spent on improving ferry service to the town and seeking a ship that could service the town as is. Geza Wolf, co-owner of Wahoo's Bistro and Patio, said that improving public transportation to help visitors travel between Dockyard and St George's would make a massive difference, both to visitors and to businesses. "In Dockyard, they have more people than they can handle," he said. "You need to have eight or ten buses there, ready to go. That's the key." He said that he has on several occasions called taxis for customers in the evenings, but 45 minutes later the taxis still haven't arrived. "I call them back and ask when it's expected, and they can't tell me. It looks bad for the place, the whole Island." Regarding the proposed modifications to Town Cut, he said: "I don't think that's the right solution." He said business at the restaurant was steady, but others were not faring as well. One business owner said over the past few years, he has struggled to keep his Water Street business up and running. "We just don't have the bodies to sell to," he said, indicating towards a largely empty street. "I really need to see the light at the end of the tunnel in the next year or two." He said that investing in ferries to serve St George's could be an effective short-term solution, but the long-term solution would have to be a smaller ship. While he acknowledged that operating ferries would cost the Government, he said the collapse of more local businesses would be more costly in the long run. He dismissed the idea of bringing a larger ship to the town, saying: "If they did bring a big boat in here and all of a sudden there were 3,500 people looking for a bus, what are they going to do? Take the buses away from Dockyard? It's a lot harder finding a smaller ship, but it's the ideal solution. If we can get two small ships, that's 4,000 people a week." Regarding the St George's economy, local sculptor Paul Clinton said: "There is no economy. We need a hotel. We desperately need a hotel. How many announcements were made about groundbreakings, and yet we have seen nothing." He called the proposal to widen the cut a "disaster," and said that public transportation to the town had drastically limited the number of visitors who can reach it. "The ferry service has been crippled and the buses, when they are running, scarcely run on time. And they are concerned about Town Cut?"
September 27. Relaxing the Island's 60/40 rule could help local companies raise significant capital in the challenging economic times. This is according to financial analysts, who said if Government changed the rule and allowed more domestic companies to sell their shares to foreign investors it would boost liquidity on the Bermuda Stock Exchange. The Exchange's president and CEO Greg Wojciechowski said that opening up the market is something the BSX would back. "Anything that further modernizes the domestic capital market and encourages investment is something that would be supported by the BSX," Mr. Wojciechowski said. "A fluid, modern capital market is important to the economic well-being of the country and it benefits the shareholders and the companies by creating an environment in which to raise capital." At this time only Butterfield Bank and Bermuda Commercial Bank are not bound by the 60/40 rule, but other local companies are. HSBC is not considered a local company. As of March 8, 2011, Butterfield Bank made up well over half of the entire BSX market capitalization, with the total market value of its outstanding shares worth $713.8 million. Despite the limitations here, Mr Wojciechowski said to date the BSX has helped local companies raise $1.5 billion in new capital. The 60/40 ownership rule means that any company that's listed as a local company must be owned by a 60 percent majority of Bermudians or Bermudian companies, the other 40 percent can be owned by people or institutions from outside Bermuda. Paul Cox, Premier and Finance Minister, said: "The Bermuda Government is currently engaging in discussion with both publicly-listed and privately-held companies in order to arrive at a position which is in the best interest of the country. I indicated in a speech just yesterday on PPP public private partnerships that it is 'game-on time'. In essence, this means we have to look at bold and innovative measures as we seek to spur greater economic activity and also to spur job creation and retention. Access to capital for business, both in a global and domestic environment has become even more critical. Joint ventures and strategic partnering is what will distinguish business models going forward and private sector financing and private equity will play a role. There are no easy answers or cookie cutter solutions to the issue. The Bermuda Government, specifically the Ministries of Economy Trade and Industry, Business Development and Tourism and Ministry of Finance on an ongoing basis review and consider and discuss these issues with our stakeholders and are mindful of a number of options. The appropriate policy options will be discussed in the near future. At a time when we need game changers there are no 'sacred cows." Anchor Investment Management chief financial officer Nathan Kowalski said: "The 60/40 rule is definitely not helping the liquidity conditions. Obviously opening up the market to foreign ownership will increase the ultimate investor base and potential level of total capital." He noted average daily trading value on the BSX was approximately $204,000 per day last year based on the total value traded of $51 million. Therefore, an investors' ability to exit a sizeable investment is limited, he said. For example, according to AIM, if you owned $1 million in BF&M, it would take you roughly 65 days to reduce the position to zero based on a daily average trading value of about $15,400 and assuming you were the only one selling. In times of stress this window is even narrower and in many cases unavailable unless a large discount is applied, Mr Kowalski said, adding, "The bid/ask spread on local shares make the total cost on trading much higher than more liquid securities." LOM portfolio manager Bryan Dooley said local companies are clearly faced with the issue of having a limited number of buyers for their shares at any one time , which "will always keep a cap on what they can do. If the market can be opened up in way to foreign investment that would certainly be constructive in terms of providing more liquidity," he said.
September 30. A Willowbank worker has spoken of the "hurt and frustration" of staff as the 50-year-old hotel prepares to close. The woman, who did not want to be named, says even though the 46 full and part-time staff are struggling to come to terms with losing their jobs, they are said to "understand that this needed to be done". Staff are now calling on the public to let them know of any jobs available as they believe they will struggle to find work in today's economic climate. Willowbank trustees announced this week that the family-run Christian hotel would close "for an indefinite period" on November 30. The female hotel worker had high praise for Willowbank manager Terri Allison, but said: "I'm sad to see that it will close its doors after all these years. The staff understand that this needed to be done and we have accepted the fact. The leaders of the company haven't offered much help to the staff but they did say they are sorry. We leave it in the Lord's hands and hopefully something good will come of this. Many lives will be affected by this terrible loss and I hope that those with families and other major responsibilities can get back on their feet after getting such devastating news. In this bad economic time I feel as though many of my fellow co-workers will struggle to find a new job and that's the sad part. Everyone is feeling the blows from this global recession. Businesses are trying to let go staff and cut down on cost by any means necessary." The woman said staff had many concerns, such as how they were going to continue to pay their mortgages or rent, afford childcare or buy presents for Christmas. She said they knew it was "hard out there" and that "the job market is tough" as there were now so many people unemployed in Bermuda. She also called on Government to "take a good look at the crisis and figure out a solution. I've been listening to different people after we all got the news on Monday morning and I see the hurt and frustration that they are dealing with. It's a sad situation. We all just need to have faith that God will help us through this rough time. "I ask that the public of Bermuda keep the staff in prayers and try to reach out to some of my co-workers to try and encourage them and offer some assistance in any way. If any one knows of jobs, even if its part time ... Please let us know." The woman described her time at Willowbank as "a beautiful experience" and she particularly praised the on-the-job training.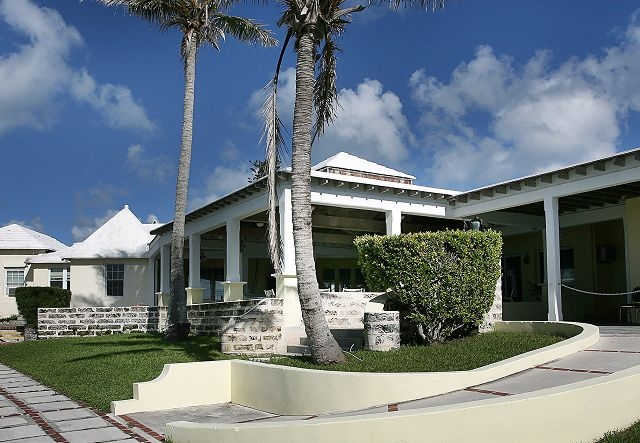 Willowbank Bermuda, closing
October 8. Bermuda became a more prominent trading partner with the US as other offshore financial centres suffered from the fallout from the financial crisis. That is according to the 'US-Bermuda Economic Relations: Economic Impact Study 2011' conducted by Dr Charles Ludolph, senior vice-president of the Washington DC-based Albright Stonebridge Group. The report, which was obtained by The Royal Gazette, revealed that the two-way trade in services between the two countries had grown to more than $80 billion by the end of last year. Bermuda also became the leading supplier of reinsurance to America averaging $20 billion in payments or as much as $35 billion in recovered losses annually and the leading export market for the US primary insurance sector in 2010, while US exports of research and development and testing services to companies here rose by $2 billion during the recession. The study found that over 2010 the Island was the fourth largest investor in US government bonds, the eighth largest investor in the US, the fifth largest export market for banking and investment funds, the eighth largest for shipping services and the 11th largest for business services. In addition, Bermuda represented the 14th largest market for all US services exports, excluding royalties and service fees and was the 10th largest portfolio capital investor. "The overall economic relationship between Bermuda and the United States continued to expand through the 2000s," wrote Dr Ludolph, who is due to report his findings at a Business Bermuda meeting next week. "The relationship even strengthened during the most recent global economic crisis as Bermuda continues to offer economic advantages that met US business needs and expanded employment opportunities." Furthermore the report concluded that the Island's prominent position in the US marketplace, particularly in insurance, was due to a number of factors including its proximity to the US financial and capital markets, UK and US compatible law and regulation and extensive financial regulatory co-operation and quality. And it surmised that Bermuda's economic independence from larger global financial centres and concentration in niche risk insurance sectors which were not correlated with the world's financial meltdown gave it a more competitive capacity. The Island's trade and investment relationship with the US helped to sustain 300,00 jobs during 2010, with 101,000 US jobs created by annual exports to Bermuda and 200,000 were derived from US majority-owned affiliates of Bermuda companies. From a re/insurance perspective, approximately 75 percent of the 500 top American companies have captives in Bermuda, while Bermuda-domiciled shipping companies provided $1.1 billion in energy-related shipping services designed to work with existing US refineries, ports and pipelines. The report said that US operating companies continued to domicile in Bermuda, with Freescale, Marvell, Contel, AOSL and Chipmos moving base to the Island since 2006. Since 2008, these chip companies provided more than $3 billion of service-based export business to Bermuda in testing and research and development services thus creating more US jobs.
October 12. Labour Relations officers deal with hundreds of complaints each year about employers - mostly over termination and pay issues. Last year they dealt with 365 complaints, compared to 304 in 2009 - and of course not all were found to be valid. But with the dramatic rise in lay-offs and companies struggling in the current economy, Government and employment experts said it's critical both employers and employees understand their rights, which are clearly set out in the landmark Bermuda Employment Act that's been in effect more than a decade now. For example, did you know that any termination of employment has to be for cause, however, your employer can fire you for no reason at all if you are on a probationary period? Furthermore, any lay-off or redundancy in Bermuda must be fair and lawful - and genuine. Also there is such a thing as constructive dismissal, where you can terminate your own contract of employment without notice if the employer's conduct makes it unreasonable to expect you to continue in the job. And if there is a finding of constructive dismissal then it is deemed unfair dismissal under the Act. Both the Employment Act and our Human Rights Commission and laws protect employees from issues such as sexual harassment and discrimination, and employees can go to either one with a grievance in that area (we will have more on human rights law tomorrow). In this tough job market, Mello Jones & Martin partner Juliana Snelling, who has practiced employment law for 15 years, said while most employers want to abide by the law and some go beyond the minimum in giving severance pay- there are still those who are not complying with the Act when it comes to lay-offs, either knowingly or unknowingly. She urged employers to seek legal advice on whether a contemplated redundancy is lawful and whether the package being offered is a fair and adequate one. And she urged employees not to sign any severance agreement or cash any severance cheque without first getting independent legal advice. She added: "Employees should be on guard for ensuring that the redundancy is a genuine one and that they are not replaced soon after with someone else doing the same job." The Act also provides that an employer that is making an employee redundant must give advance notice and actual redundancy pay, not just the last month's salary. Ms Snelling said she has noticed a "disturbing" trend by a few employers recently. "The employer wants to hire an expat under a work permit or renew their work permit even though a qualified Bermudian has applied for the job," she said. "They hire the Bermudian as a token gesture, to ensure the granting of the work permit for the expatriate employee, and put the Bermudian under a probationary period. Once the expat is secured in the job, they then let go the Bermudian during the probation period, even though the Bermudian was performing well. Since the Act says that an employee can be terminated during probation without any reason, the employer argues there is no breach of the Act." But Ms Snelling said that is an abuse and one that can be reported to Immigration if the employee catches it. In addition, she said, it's an abuse to keep extending probationary periods. "Even in order to extend it once, the employee should have agreed to that possibility in the contract or Employee Handbook in order for it to be considered an agreed term." "Know your rights! There are employers who do not know what the provisions are in the Act," said Economy Minister Kim Wilson. "It is incumbent on both employees and employers to know their rights under the Act." She added the Act is specific about redundancies and she cautioned companies to be aware that the law must be followed if they are planning any lay-offs. Ms Snelling said there are a number of issues employers need to consider before making lay-offs. She said the key elements of a fair dismissal by reason of redundancy are:
The redundancy situation must be a genuine one.

Fair selection.

The employer should provide a reasonable warning to, and consult with the employee prior to making them redundant.

Consideration of suitable alternative employment
The Employment Act basically:
Sets minimum standards of employment for all employees working over 15 hours per week.

Requires a statement of employment and itemized pay statement be provided to every employee.

Provides for inspectors to investigate suspected contraventions of the Act.

Sets up an Employment Tribunal - with wide powers of enforcement - for cases which are not settled by internal grievance procedures or the inspector.

Requires that termination of employment will have to be for valid reasons and done in accordance with the provisions of the Act.
"The statement of employment is a critical part of the Act," Ms Snelling said. "It is meant to ensure that both employer and employee are fully aware of and have agreed on the basic terms and conditions of the employment contract. Furthermore, this statement of employment must be signed by both parties and must contain all of the particulars required by Section 6 of the Act. And it must be provided to the employee no later than one week after commencing employment." In general, the statement of employment is a summary of the contractual terms including job title, place of work, gross wage or methodology of calculating the gross wage and the intervals at which it is paid, days and hours of working, holiday entitlement, sick leave, notice provisions, pension provisions, disciplinary and grievance procedure, probationary periods and other matters that are relevant to the employment. Minister Wilson said the Labour Relations Department's role is to resolve labour disputes and not just disputes involving the unions. If in fact, the employer or employee is unionized, they would be advised to first go to their union, she said, before the Labour Relations Department gets involved. She said the "vast majority" of the complaints made to the Labour Relations officers are resolved and do not go to the Employment Tribunal. In addition, employees who feel wronged can make a complaint to the Immigration hotline (see contact information below) She said officers are assigned to look into all the complaints made via that hotline. Acting executive director of the Bermuda Employers Council, Keith Jensen, said: "The Act is straightforward and the BEC membership is aware of it. But there will always be some who try to not follow what they should do, just as there are employees who sometimes do things they should not do." He said the BEC had not had any redundancy issues go to the Tribunal - all complaints had been sorted out at the Labour Relations Department. He added: "In a small community businesses don't relish or look forward at all to the idea of redundancies and lay-offs. Employers are interested in expanding their businesses." He said one thing that could go a long way in helping employers and even lead to increased hiring and stabilizing of the economy, was adjusting the current work permit policy which does not allow for ten-year work permits. "Business investment and new business goes on matters of confidence and we need changes in work permit policy to help generate that confidence. And it affects not just international business but also hotel investment and reinvestment. It would certainly be encouraging to developers ... to have confidence in the future with regards to hiring specialized personnel from outside the Island."
October 14. Congressman Richard Neal and US Senator Bob Menendez have reintroduced legislation that aims to levy more US taxes from some Bermuda reinsurance groups. The Neal bill, which was referred to the House of Representatives Committee on Ways and Means on Wednesday, would limit the ability of US subsidiaries of foreign insurance groups to claim deductions for reinsurance ceded to affiliates that are based offshore. Rep Neal, a Massachusetts Democrat, has been trying for three years to push through this legislation, but has failed to muster serious support so far. But with the heavily indebted US Government desperate to find new sources of revenue, observers have recognised a growing threat of legalization punitive to the offshore reinsurance industry. Eli Lehrer, vice-president of US-based think tank the Heartland Institute, which opposes the bills, spelled out the gravity of the threat to the Island's biggest industry. "The risk for Bermuda is greater than it has been in some time," Mr Lehrer told The Royal Gazette. "For the first time, the bill has a Senate sponsor and, in many ways, Republican anti-tax orthodoxy seems to be crumbling. The sponsors of the bill still have a long road ahead of them and the negative consequences of the bill become clearer with each passing day. The threat that this could pass is very real." The legislation applies to all foreign reinsurers and does not single out Bermuda. Both the House and Senate bills met with criticism from the Coalition for Competitive Insurance Rates (CCIR), which argues that the proposals would drive up consumer insurance rates by reducing competition and critical US insurance capacity. CCIR, an organization made up of businesses, consumer advocates, and insurance industry groups such as the Association of Bermuda Insurers and Reinsurers (ABIR), sent a letter to the chairmen and ranking members of the Senate Finance Committee and House Ways and Means Committee detailing the negative consequences of this proposal. "Consumers in states like Florida rely on a global reinsurance market to protect their homes and businesses," said Bill Newton, executive director of the Florida Consumer Action Network. "Especially in these challenging economic times, we need to make sure that Americans can afford to conduct business and protect their families. Rep Neal's legislation chooses to benefit a few large, profitable companies while putting average Americans at risk. Now is certainly not the time to make access to insurance more costly." Nearly two-thirds of all reinsurance coverage required to protect US consumers and businesses is provided by non-US reinsurance companies or their affiliates. A study conducted in 2009 and updated in 2010 by researchers at the Brattle Group, a Cambridge, Massachusetts based economic consulting firm demonstrated that the proposed legislation would cost consumers more than $11 billion per year and would reduce US reinsurance capacity by 20 percent. The effects of these cost increases would be felt most in disaster-prone states like California, Florida, Louisiana and Texas. "On the heels of Hurricane Irene's devastation in my state, anything which has the impact of driving up insurance rates and reducing reinsurance capacity for hurricane-prone states is unacceptable. Accordingly, I must raise my objection to Congressmen Neal's legislation," said North Carolina Insurance Commissioner Wayne Goodwin. "Ultimately, anyone in favour of consumer protection must oppose this measure." Nancy McLernon, president and CEO of the Organization for International Investment said: "The choice to single out foreign-based insurers and reinsurers is a particularly bad one at a time when we are looking to create jobs in the US." said. "The bill sends an unfortunate, but clear message to global companies that they cannot count on being treated in a fair and equitable fashion when doing business here."
October 16. The unemployment rate among Bermudians is greater than the national average, it was reported yesterday. And Bermuda continues to experience weak population growth and a graying population, according to the preliminary results of the 2010 Census. In May 2010, the Island's unemployment rate was six percent, while for Bermudians it was eight percent and is now expected to be higher. Joined by senior officials of the Department of Statistics, then-Premier Paula Cox released selected data to the public at a press conference yesterday afternoon. "The 2010 Census counted 2,581 persons unemployed with our official unemployment rate standing at six percent at May 20th 2010," the Premier announced. She reminded the assembled press that Government had "implemented a number of initiatives to increase employment opportunities for our people," including workforce development programme aimed at retraining Bermudians. "The number of jobs in our economy still exceeds the number of Bermudians in our workforce; and certainly we have to continue to be committed to ensuring that Bermudians become qualified to fill these jobs." The Premier did not mention the unemployment rate for Bermudians in her prepared statement, but the preliminary report which was handed out by officials makes the distinction clear. "The unemployment rate for Bermudians jumped from three percent in 2000 to eight percent in 2010," the report notes. "This rate outpaced the unemployment rate of six percent measured for the entire population, essentially due to the fact that non-Bermudians are recruited to work in positions not generally filled by Bermudians." The statement reasoned that non-Bermudian workers were most likely to repatriate or emigrate to another country. Premier Cox also highlighted the fact that the number of new residential units since the last Census ten years earlier exceeds the increase in Bermuda's population by 38 percent. She touted the statistic as "an excellent indicator of progress" which "reflects the collective efforts in assisting to provide housing for our people". She noted that, at 64,186 persons, the Island's resident population, not including the homeless and institutionalized, was three percent higher than it was during the last Census. "From the data it is evident that Bermuda's population is growing at a very slow rate than that experienced in the past... but definitely in alignment with our expectations, considering Bermuda has a declining birth rate and a below-replacement fertility level." The Premier added the proportion of seniors has increased to 14 percent from 11 percent, while the number of children under five years old remained at six percent. "The Government is committed to providing for our seniors as we recognize the steady growth of our elderly population," she continued. "As you recall, earlier this year, the Ministry of Health held a Conference on Ageing, and really that was to help us craft a national strategic plan for the support of our senior population." The number of homeless people was recorded at 82, while the number of institutionalized people, at 801, was 100 less than in 2000. Data collection for the 2010 Census was delayed by a lack of enumerators. But the Statistics Department reported yesterday that the release of the Preliminary results "has been done in record time," taking just 18 months since the official launch of Census Day, as compared to two and a half years for the two previous censuses. The response rate, at 92 percent, was also declared respectable when compared to other jurisdictions.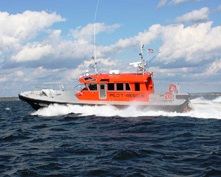 October 21. Gladding-Hearn Shipbuilding, Duclos Corporation, of Somerset, MA, has delivered a new pilot/rescue boat to the Bermuda Department of Marine and Ports Services to replace the Saint David, built by the shipyard in 1986. Designed by C. Raymond Hunt Associates and classed to Lloyds Register, the high-speed, all-aluminum vessel measures 61 feet over-all, with an 18-foot beam and a 6-foot draft. Designed and built to serve as a pilot boat, the vessel is equipped for offshore search and rescue missions as well, with a rescue-well recessed into the transom, a tow bitt, space for a 12-foot inflatable tender, and accommodations for a stokes litter-basket stretcher. The boat's main propulsion comes from twin 12 cylinder MTU-12V2000M70 diesel engines, each producing a conservative 1055 Bhp at 2100 rpm, giving the new boat a top speed of about 29 knots. The engines connect to ZF Marine NiBrAl propellers through ZF2050A gear boxes. A Northern Lights 20 kW generator provides service power. The boat features wide side-decks, inverted front windows, and large boarding areas on the main deck. The wheelhouse, mounted aft of amidships on a flush deck, provides the pilots with additional comfort and safety at high speeds offshore and increased visibility of the boarding areas. At the shear is a heavy-duty 10" D rubber fender, in addition to five diagonal rubber side-strakes to protect the topsides. Interior accommodations feature HVAC, six Llebroc recliners, cushioned settee large enough to accommodate an injured person, dinette, galley, and enclosed head. Sound level in the wheelhouse is about 76 decibels at full speed.
October 21. Personnel for a local European Space Agency (ESA) tracking station have been given the same legal immunities as diplomatic consuls, according to Government. An ESA station is currently being set up on the Island to monitor the launch of a Soyuz rocket, due to set off this December, from Kourou in French Guiana. A spokeswoman for the Ministry of Environment, Planning and Infrastructure said the local ESA tracking station will receive and send on telemetry data from the rocket once it loses contact with Kourou, and before it makes contact with another tracking station in Canada. According to an October 14 notice in the Official Gazette, four ESA staff posted to the Island are to be given immunity from suit and legal process. Bermuda granted the immunities under the Consular Relations Act of 1971. The spokeswoman said: "ESA has requested that Bermuda allow them to set up their Transportable Station on the Island and the Foreign and Commonwealth Office (FCO), as required, has consented to Bermuda making bilateral agreements with them on their requested mission project." France's four space centers around the world will monitor the launch and tracking of the rocket. Other scientific missions may follow the Soyuz take-off, and continue to use Bermuda-based tracking facilities.
October 21. Fund administrators have dramatically downsized in Bermuda as companies including Citco and Citigroup cut jobs and relocate staff to Canada where it's cheaper and there's a larger labour pool. Top executives in the fund administration industry expressed concern about the trend of firms cutting jobs in Bermuda while expanding in Halifax and Toronto and in the US. They warned the exodus is likely to continue with at least one other fund administrator poised to cut staff in Bermuda. One top fund administration executive said the once booming sector had gone from 1,000-plus to just 150 staff in the last five years. Executives said while some factors were out of the Island's control, Bermuda needed to be more welcoming to international business or risk further erosion of the industry. However, not all the fund administrators we spoke to were cutting staff in Bermuda and some saw the downsizing of Citco and Citi as an opportunity to pick up clients who still wanted to be serviced out of Bermuda. Those who had no plans to cut back had strong personal ties to Bermuda. Citigroup sent shock waves through the community when it announced last month it was cutting 105 jobs at Citi Hedge Fund Services as the company relocated to the US and Canada. Fund administrator Butterfield Fulcrum axed 10 staff from its Bermuda office last August after reviewing the distribution of work at its operational centres - but said it is now hiring in Bermuda again and was here for the long-term. And Citco Fund Services announced this week it was cutting 15 to 20 jobs in what the company said was a "reorganisation" of its Bermuda office. An employment ad in Wednesday's newspaper said it all though that ad did not reappear the next day. Announcing "Citco Halifax is Growing", the ad touted the natural beauty, "sparkling coves" and "charm of port city Halifax". "With over 200 employees currently, the Halifax location is slated for significant growth in 2012," the ad said, noting there were career opportunities in operations, back office, corporate actions and trust, connectivity and training. A number of fund administrators have expanded or opened offices in Canada recently after aggressive marketing for their business by cities such as Halifax and Toronto. Among them Goldman Sachs Administration Services whose decision to open a hedge-fund administration office follows the on the heels of a similar move in 2006 by UBS. A Goldman Sachs executive told a hedge fund magazine: "We believe that Toronto offers an ideal mix of attributes for us. The business culture and time zone are favorable, there's a large pool of talented workers and the communications infrastructure is first-rate." Meridian Fund Services, which has a Bermuda office, has also opened a lower-cost servicing centre in Halifax. "We have lost our edge as being the jurisdiction of choice for funds and are now losing our reputation as being the jurisdiction of choice for offshore fund administration," said Ede Conyers, executive director and chief executive officer of ISIS Fund Services. "Unfortunately there is downsizing going on and I think it can be expected that trend will continue." ISIS employs 14 in its Bermuda office and five in its North Carolina office. Ms Conyers added ISIS was "happy and proud" to be headquartered in Bermuda, as the Island still had many strengths, including strong corporate governance and good infrastructure, and rather than downsizing in Bermuda is looking to grow their operation here. However, Ms Conyers added she was Bermudian, therefore has strong ties here. She said she could understand why other fund administrators were not growing their Bermuda offices. She said the trend actually began a number of years ago when Bank of Bermuda/HSBC started moving its fund accounting business and other operations to the US. "Large organisations have been looking to centralize as much as possible and have been downsizing for quite some time. It's only become more public now. They are looking at operating costs and obviously immigration plays a factor. If it's difficult to do business in a jurisdiction and it's expensive then a business obviously looks at why it needs to be there. Halifax has been very aggressive in wooing business and offering incentives in the last few years. Meanwhile, Bermuda has not appeared to be as welcoming." Business Bermuda chief executive officer Cheryl Packwood said the organization continued to support having no term limits on work permits. "We are concerned this is the beginning of a trend. We know there is concern in that sector and I know costs are a concern as well as work permits and term limits, and other factors," Ms Packwood said. "We continue to believe strongly the Government needs to revisit term limits and remove them. We are in a different time period. We need to protect Bermudians but in the grand scale if jobs are leaving it is hurting Bermudians." The long-time chief executive of a Bermuda-based fund administrator, which opened an office in Halifax four years ago, told us term limits on work permits had definitely had an impact on the industry. The CEO, who declined to be named, said: "It's not just the term limits, it's also to get a work permit processed at all it takes forever. When we needed to replace an accountant it took six to nine months and when we wanted to promote someone and announce it to the clients, we were required to advertise it! At the end of the day there is just not enough understanding and support by the Government." He pointed out the majority of his staff were Bermudian. He added: "It's not just the cost of having staff here it's the taxes on top of it and the productivity level can be low." Peter Hughes, group managing director of Apex Fund Services said he has lived in Bermuda for 15 years and still sees the Island as a great place to do business. He said the recent downsizing is concerning, but could be an opportunity for his privately-owned company to grow its business in Bermuda and add talented staff. "I think the Government has taken steps in the right direction, but it remains to be seen how it affects the downsizing that's been going on. The industry tries to recruit locally but we need to still be able to be the best in terms of providing a global service." Apex employs 25 staff in Bermuda. Another top fund administration executive, who did not want to be named, said while his company had no immediate plans to cut staff, it had gone from 75 staff two years ago to about 60 today through natural attrition. He said he believed the actions by Citco and Citigroup "were purely about cost-cutting", however, he said work permit limits create "uncertainty for us even if you get exemptions". Butterfield Fulcrum Group and FORS principal shareholder Tim Calveley, who is the spouse of a Bermudian, said the fund administrator had a strong allegiance to Bermuda and was "here to stay". He said the company had 40 staff in Bermuda and currently has four open positions and expects to add several more jobs by the end of the year, after winning a major new client. He added: "On the back of recent moves by other administrators we are actively looking for clients who may have been forced to have an administration change and still want to be serviced out of Bermuda. Some clients don't want to be moved." Mr Calveley said he had no concerns with Immigration or the work permit process and tried to maintain a close working relationship with the Department. BFG still has a big presence in Canada though, employing 65 staff in its Halifax office and 65 in its Waterloo, Ontario office. Those offices were opened before the ownership change and in an article two years ago in a Canadian trade magazine Steve Slessor, managing director of the company's office in Waterloo, was quoted as saying the decision to open offices in Canada was motivated by capacity constraints and staffing issues in the traditional offshore jurisdictions of Bermuda and the Caribbean islands. "It is hard enough to recruit and retain qualified staff without having to worry about having work permits being revoked by the Government. If you have high levels of staff turnover that inevitably impacts on client service levels," he was quoted as saying. The article was also revealing about Citco's reasons for growing its offices in Canada over the past few years, quoting Kieran Conroy, managing director of Citco Fund Services (Canada), as saying: "The move to Canada has been very successful for Citco. The Toronto office has supported our growth over the years and we have been very happy with the quality of staff we are able to locate here."
October 25. Top level international business executives often those that bring in the most money to the Island have been leaving Bermuda in droves over the past year as companies have been letting go of staff or moving jobs overseas. That is according to relocation services firm Corporate Concierge Bermuda Ltd, which has seen for the first time in its four-year history more departures than arrivals to the Island in 2011. Most of those directly affected are from re/insurance companies and cite Government's stringent immigration policy as the number one reason for their going, followed by the high cost of doing business and accommodation and the fear of crime, the company said. Despite many of these departures going unrecorded, the effects are already being felt throughout the community with almost everyone impacted from taxis, buses, grocery stores, shops, restaurants, bars, hotels and guest houses to landlords and schools. Over the past 12 months one company has moved its entire accounting department and another firm has relocated its legal department of 15 staff overseas, according to Corporate Concierge. Sylvia Jones, managing director of Corporate Concierge, and Vaughan Sullivan, executive concierge, were prompted to speak out about the silent exodus following a conversation with one of the service providers they use on behalf of their clients who said they had noticed a trend of more people leaving than coming to Bermuda's shores. "We just felt that people need to realize the scale of what is happening. "A lot of us are concerned about when it will stop we don't know what will happen and how far away that end point is," said Ms Jones. Ms Sullivan said that said that for every person who left the Island a landlord may be missing out on his rent, service providers had one less electric, telephone or cable bill payment coming in, one less car or bike was being sold, had to be maintained or needed insurance and the grocery stores had one less customer. She said that the knock-on effect was also felt within the local employment market as senior executives left with their personal assistant's position and immediate team often no longer required in Bermuda a lot of which had been occupied by Bermudians. As a result, Ms Sullivan said that while many locals who had been let go received good compensation packages, they would struggle to find work in a saturated jobs market with even some of those who were lucky enough to get work with another company having their spending power greatly reduced after moving from an international to a local firm and thus struggle to pay their mortgage and make ends meet. She said the trickle-down effect of the departures was similarly been seen in private schools who were hurting from the number of top level executives with families who had left. Ms Jones said that due to the increasing number of people leaving, her company had decided to focus on its departure service. "We have primarily for the last four years focused on the top executives coming in to Bermuda and those are now the same people who are moving out. These are not recorded as jobs lost a whole accounting department and a legal department have gone overseas and the companies affected to our knowledge do not plan on replacing those in Bermuda because it is cheaper to operate overseas." Ms Sullivan said that Government's "belligerence" towards international businesses had proved to be a sticking point with many companies with it taking anything up to six months for a CEO or general counsel to obtain a work permit and in some cases a middle management applicant receiving their permit before a top end executive despite submitting their applications at the same time. The next hurdle would be for those granted a temporary work permit being unable to bring their spouse and children to the country to settle with many questioning whether the rigid immigration policy meant it was really worth coming to Bermuda in the first place. For the company concerned it can also be a lengthy and costly business, and for those looking to move their whole operation to the Island the current policy was very restrictive in its terms, she said. Ms Jones said that she had also witnesses a slow down in hiring with many companies put in place a hiring freeze as they consider their next move. She said that her experience was that the departures of senior executives were being made from at least six to eight top re/insurance companies with anything from one to 12 people leaving each firm with the US, Ireland and Switzerland among the main destinations. For every one executive level job lost, another three which supported that role also went. "There has to be a reality check for people now to realize that now is the time to reverse this trend or bring now business to Bermuda before it gets too late and it is getting really close to that," said Ms Jones. Ms Sullivan said that landlords were having to drop their rents for executive accommodations by on average $2,000 to $3,000 per month, meaning that their income was reduced by about $24,000 to $36,000 per year, as companies told their management to reduce costs by moving into lower rated rentals, as well as slashing school fees, golf club memberships and other relocation costs. Additionally landscaping and pool maintenance firms were being forced to reduce staff or has gone out of business altogether as the landlords cut back on the frequency of service as a result, she said. From a hospitality perspective, Ms Sullivan said that companies were flying their executives in for meetings and they would often leave the same day rather than the traditional two or three-day stay when they would make use of the hotels, restaurants and golf courses. On the flipside, Ms Jones said that Corporate Concierge, whose clientele includes re/insurance companies, hedge funds and capital management firms, had seen one or two new small companies come in to set up offices of two to three staff and those that did choose to come often had the pick of office space and were able to negotiate the rent down. However, Ms Sullivan said that poor customer service and laissez-faire attitude had on occasion put some clients off with one in particular deciding to settle for secondary office space having originally set out to secure prime space due to his experience of the level of service he received. "You would hope that because there are less people here that the quality of customer service would improve," said Ms Jones. "In some cases there has been an improvement on the part of the service provider, but we have to see that happen across the board. People coming here are international and have high standards and expectations that the quality of service will match those, but that is not always afforded to them in Bermuda. We need to offer top-notch service to the people that we are dealing with because they are the ones who are sustaining the economy." Crime was another big issue deterring executives and their families from being based in Bermuda and according to Ms Jones it is the number one question from those candidates who come over on a pre-assignment visit to see the place. One top executive, she said, had been witness to a crime and once exposed to such there is always the danger that that fear would spread within their organization and start people questioning whether it was safe to be in Bermuda as the nature of the crime became more brazen.
October 21. Credit rating agency Standard & Poor's has lowered HSBC Bermuda's outlook to "negative" from "stable" because of concerns over potential deterioration of its loan book. S&P affirmed the bank's credit rating at AA-, which is the highest of any bank in Bermuda, but the negative outlook assesses the potential direction in which a rating will move over the next six months to two years, with "negative" indicating that it may be lowered. The bank has been impacted over the past year by the softening of the property market and slowdown in the economy resulting in people losing their jobs or rental income and struggling to meet their loan obligations. Earlier this month, The Royal Gazette reported that the number of "non-performing loans" on the books of local banks rose by 23.6 percent during the second quarter of this year, according to the Bermuda Monetary Authority latest figures. The ratings agency said: "The negative outlook under current bank criteria is based on our expectation that the bank's loan performance could weaken further." On the rating affirmation, S&P noted the bank's "strong competitive position within the Bermuda banking market, very high capital ratios, good profitability, and a highly conservative liquidity position." HSBC Bermuda's CEO Philip Butterfield said: "Over the past year we have witnessed a softening in the Bermuda real estate markets with inventory build up. This has been combined with widespread reduction in business activity in the local economy, leading to loss of income through unemployment or loss of rental income for some customers. We remain committed to working with our customers to create sustainable solutions and would ask that they contact the bank immediately if changing personal or professional circumstances present future challenges in meeting existing obligations with the bank. We have found that these early discussions with our customers present the best prospects for success." The bank's chief financial officer, Michael Schrum, said: "The bank is very pleased to maintain a strong rating in the current economic climate. All our businesses continue to generate high quality revenues and I am confident our capital strength will continue to position the bank as the leading financial services provider in Bermuda."
October. Bermuda's National Tourism Plan was commissioned by the Government of Bermuda. It was apparent that our tourism industry was declining, and Bermuda needed to take definitive and meaningful action to turn it around.
November. Bermuda Air Medivac, Bermuda's air ambulance service founded in 2004, stopped operating. The service was dealt a double blow by a declining number of patients and competition from cheaper US services. The air ambulance aircraft made 500 trips to take sick people for specialist medical help overseas before it folded. Patients ranged from head injury and stroke victims to cardiac cases.
November 2. Wages are continuing to rise in Bermuda and non-Bermudians are earning considerably more than locals. Government's Labour Market Indicators, published yesterday, shows that the median gross earnings were $57,915 in late August last year, up 2.6 percent from 2009. For the second successive year, women fared better than men, with medium pay of $58,341 compared to the $57,559 earned by men. The median earnings of Bermudians were $55,264, while those of non-Bermudian spouses totaled $67,091 and other non-Bermudians, $69,738. The most popular occupation for men was mason (609 posts held) followed by chef de partie / cook (524) and finance (456). For women executive secretary / personal assistant was the most popular occupation, with 897 posts, 739 of them filled by Bermudians. This was followed by registered nurse (471) and retail sales clerk (430). Among Bermudian men, the most popular occupations were heavy-truck driver (399), semi-skilled construction laborer (365) and security officer (356). The unemployment rate was put at six percent, based on the findings of the 2010 Census.
November 9. Bermuda still retains and may well be gaining some competitive advantage over its many of its rivals and is now effectively the world's number one capital centre for wholesale capital for risks within the insurance industry. That is according to Michael Butt, chairman of Axis Capital Holdings Ltd, who was part of a panel with former XL CEO Brian O'Hara, at the Bermuda Re/insurance 2011 conference organized by PricewaterhouseCoopers (PwC) and Standard & Poor's (S&P) Ratings Services which was held at the Fairmont Hamilton yesterday. The pair talked about a number of issues including from the management of risk and growth in an unpredictable economic environment such as the challenges facing the re/insurance sector and balancing the interests of stakeholders in an increasingly regulated environment. "Bermuda is now effectively the world's capital centre for wholesale capital for wholesale risks within our business," said Mr Butt. "Both our insurance and reinsurance businesses are capital intensive and need global support and I believe that Bermuda is by far the best means for that." Mr Butt said he believed that capital would flow back to the Island in the form of sidecars and other vehicles in the wake of the next big event. He said that the market had evolved with the ability of companies to move their management across the globe not just those in Bermuda but also in other parts of the world. Mr O'Hara said that at the outset of Bermuda's insurance market CEOs were required to live on the Island but now more companies had redomiciled to Ireland and Switzerland and had more staff based in the US. "I wouldn't react too much because senior executives may have moved to other places. What is important is that we still have an underwriting culture and pool of expertise that is very strong in chosen lines and should continue to be so and to be a competitive force in the future and a spawning ground of new lines of business or and expansion of those." Mr Butt had earlier given an overview of capital management in a softening market, saying that he thought companies would be equipping themselves with sufficient capital to take advantage of a turn in the market. On the issue of diversification, he said that while the industry as a whole had been following that route for some time, it had resulted overall in more losses than income in terms of the exposure to catastrophes in Asia over the past few months. Diversification could be attractive, particularly from a shareholders' point of view, but it had to be available at the right price. On modeling, Mr Butt said that there was no doubt that the sector had improved significantly over the past ten years, however every time there was a major event the faults became apparent. From the perspective of a chairman, he said that most boards and management teams were spending more time dealing with the issues of enterprise risk management and subsequently Solvency II and as a result the industry was healthier for it. In favour of more geographically diverse boards in line with the global nature of the business, especially given that 70 percent of the world's growth in the future is expected to come from new and emerging markets, Mr Butt said he preferred a division of power between the chairman and CEO and admitted that it was becoming increasingly hard to find relevant people with the knowledge who could add value to the board. Mr O'Hara said that the right skill sets and timing were key for those companies seeking diversification and where the make-up of the board was concerned in the case of a combined chairman and CEO role, a lead director was essential to maintaining the right balance of power. The conference had opened with oversights from Caroline Foulger, insurance leader with PwC Bermuda, David Law, global insurance leader at PwC, Peter Dunkerley, director of insurance and reinsurance at PwC Bermuda. The opening panel discussion on mergers and acquisitions featured moderator Laline Carvalho, director of S&P, and panelists Bill Babcock, CFO at PartnerRe Ltd, Marty Becker, CEO of Alterra Capital Holdings Ltd, and Robert Fleischer, managing director of Willis Capital Markets and Advisory.
November 15. Media Council of Bermuda has not received a single official complaint in the first ten months of its existence. The self-regulating watchdog was launched in early February by industry members in response to Government plans to introduce a state-controlled body to handle complaints from the public. But chairman Christian Luthi admitted yesterday the council had not been "that busy" since then, with just six matters brought to its attention and none leading to a formal complaint. An advertising campaign will be launched this week to raise the council's profile among the public, though lawyer Mr Luthi said the aim wasn't to drum up more grievances. "We are not into making work for ourselves that isn't there," he said. "It's to make sure that people are aware and continue to be aware of the Media Council and its function. When this whole thing started, we didn't know what to expect in terms of complaints. We didn't know how active it would be. We do want to ensure that the public continues to be aware that the council exists and that there is this route for resolution of their complaints." Former Premier Ewart Brown's plan for a legislated council was revealed in 2008, when he said it would create a code of ethics for news reporting that could protect the public from irresponsible journalism while protecting freedom of expression. But when the legislation was tabled in May 2010, it prompted an outcry from international press freedom organizations and local critics, who claimed it would lead to censorship. A Government spokesman said the watchdog was needed because "although there have been many complaints from the public in the past, there has been no attempt on behalf of the media to form a mechanism to address such complaints." Industry members urged Government to give them time to form their own body and create their own code, leading Dr Brown to shelve the proposed law in July last year. Mr Luthi said: "There's no question that there was a public perception that some form of media regulatory body was necessary. This is purely anecdotal, but you hear complaints about the press and yet we haven't seen them coming to the council. I think the most disappointing thing of all is to have members of the public complain about the press and press standards but not do anything about it." He suggested journalistic standards and accountability had improved since the introduction of the council's code of practice, which 20 media outlets have agreed to abide by. "My information has been that they are more ready to recognize if they haven't complied with the code and take steps to deal with the complaint directly. I think that the members, so far as I can tell, do their best to adhere to the standards of the code. On the whole, I think standards are pretty good." Meredith Ebbin, the council's executive officer, said several alleged breaches of the code had been reported since February but the complainants had not lodged official complaints. "People have taken their complaint directly to the media outlet and the matter has been resolved, usually by way of an apology, a correction, or a clarification, to the satisfaction of both parties." She said the council's media working group, which established the organization, believed the mere existence of the watchdog and the code had led to improvements in reporting. "An aggrieved person has something tangible on which to base his or her complaint and the media outlet is less able to wiggle out of making an apology." Bermuda Sun editor Tony McWilliam, chairman of the media working group, said: "One of the goals from the outset was to heighten the accountability of the media and I've been made aware of a number of situations over the past ten months in which informal complaints have been made against various outlets but have subsequently been resolved quickly. The outcomes might have been less satisfactory had it not been for the existence of the code and the council. The upshot is that Bermudians are now better served by the media." The outlets to have signed up to the code are: The Royal Gazette, bermuda.com, Bermudabiographies.com, Bermuda Broadcasting Company, Bermuda Media, Bermuda Sports Network, Bermuda Sun, Bermuda Wired, Bermudian Publishing Company, Bermynet, Bernews, BlackAndCoke.com, Breezeblog, DeFontes Broadcasting Company, Inter-Island Communications, Islandstats.com, LookTV, LTT Broadcasting Company, VATV and the Worker's Voice.
November 17. A new regional group of the London‐based Institute of Risk Management [IRM] has been established in Bermuda. The formation of the new regional group in Bermuda reflects rising local interest in a professional approach to risk management. IRM chairman Alex Hindson commented: "Effective management of risk is becoming increasingly important for organisations of all types. IRM is an international body which believes passionately in the value of professional education and training in risk management and in the business benefits that can be gained from effective networking. Although many of our members will initially come from Bermuda's insurance and finance community, IRM welcomes students and members from many different sectors." Inspired by a desire to tap in to the growing Risk field, to collaborate across industries and to enhance networking opportunities in Bermuda, a group of local risk professionals came together earlier this year to discuss the best way forward, and this resulted in the formal establishment of the IRM Bermuda Group. Justin Baillie, who was appointed as the local group's first chairman, stated, "We are very excited about this new development, especially at a time of heightened focus on the growing area of Risk and a multitude of new regulations. Having a formal Risk group in Bermuda is an important development for risk professionals, allowing them to enhance their knowledge, education and skills which in turn will assist them in their careers. It is equally important for businesses and other similar organizations in Bermuda who will benefit from new information and best shared practices through networking and other events. And we also aspire to being just as valuable to Bermuda as a jurisdiction, by reinforcing its crucial position as a key international player, at the forefront of critical risk issues. All credit is due to my fellow members for taking this idea forward and I would like to recognise their tremendous efforts." The group is organised in Committees focusing on Programmes, Education, Marketing & Communications and Membership. Roy Bray, the Bermuda group's co-chairman says "In addition to formal events and educational programmes, we will also be hosting networking functions to allow those in the Risk Management profession to meet like‐minded colleagues from different industry sectors and share their experiences on various subjects. It is the perfect opportunity in a relaxed and informal setting for participants to learn more about this growing field and to be more attuned to the risk management skills that local economic sectors require." The group's free inaugural event is being held on November 29th, from 8:00 to 10:00 am at HSBC Harbourview Centre, 6th floor (Hamilton Room), 37 Front Street, Hamilton. IRM chairman Alex Hindson will be the key note speaker, presenting on the topic of "Risk Appetite – the foundation of a successful risk framework". The presentation will be followed by a panel discussion with senior executives in risk functions. Andrew Vaucrosson, a member on the Membership Committee and one of the main organisers of this event says "We are thrilled to be launching our first event and we are privileged to have the distinguished speaker and panelists. Risk appetite is on everyone's lips — excuse the pun — and this will be particularly relevant to all risk professionals in Bermuda who are interested in hearing more about us as well as learning about the key challenge we all face in embedding a risk framework into our corporate cultures. We look forward to hosting many of our fellow professionals on the island."
2011. November 21. Chamber of Commerce director Peter Everson says owners of Loughlands properties effectively live with no housing costs, according to logic put forward by Bermuda Housing Corporation. Mr Everson added his voice to the debate over a two-bedroom condo on the Paget development now being sold for $570,000 just three years after it was purchased for $450,000. The Opposition claims the market is open to manipulation by "flipping", with first-time buyers facing being frozen out as homeowners can quickly resell their units for profits. BHC argues the homeowners of the property in question had not actually made a profit because of the costs they'd incurred since 2008, including interest on the mortgage repayments and monthly maintenance fees. But Mr Everson said mortgage repayments and monthly maintenance fees have zero to do with the capital value of a house. "They represent monthly living expenses of the owner or occupier for services received," he told The Royal Gazette. A Public Works spokesman said of the unit in question on Wednesday: "There are additional costs to the original owner including legal costs, stamp duty, conveyance cost, interest on the mortgage to the bank, monthly maintenance fees as well as other miscellaneous costs. The BHC has assessed the unit in question and, when factoring in the additional costs, it has been determined that the unit has not made a profit in the current real estate market." However, Mr Everson responded: "The BHC perspective has the owner or occupier adding all of their housing costs for three years onto the original purchase price to determine the sales price. In other words, the individual has incurred no housing costs for three years, that is, lived rent-free for three years. If the BHC believe their route is appropriate they need to deduct the fair market rent for the unit from the sales price. If the FMV rent is, say, $2,500 per month then that would be $30,000 per annum or about $90,000 deduction from the sales price." The 96-home Loughlands development was set up to allow young Bermudians to take their first steps on the housing ladder. But the United Bermuda Party and One Bermuda Alliance fear homeowners at Loughlands and other Government housing developments will take advantage of a lack of safeguards and resell their units for profit. As Loughlands was being developed, the United Bermuda Party repeatedly urged Government to consider restrictive covenants against flipping to ensure future opportunities for entry-level families.
2011. There were 504 Class 3 companies with total capital and surplus of more than $66.7 billion at year-end, with the firms writing more than $42 billion in gross premiums and representing about 34 percent of the total number of active insurance companies in the jurisdiction. In terms of SPIs, Bermuda Premier and Minister of Finance Ms Paula Cox recommended that an SPI's minimum share capital be set at $1, the margin of solvency requirement will require that the asset of an SPI exceed its liabilities, an SPI will only be permitted to write 'special purpose business', and will be allowed to fund its insurance liabilities through a debt issuance or some other form of financing approved by the Authority. Furthermore, she added that a recent study published by Swiss Re indicated that the Insurance Linked Securities market was worth $38 billion in 2007 and is projected to grow to $200 billion in 2013 and $600 billion in 2017.
2011. The Body Shop had been in Bermuda for 25 years until this one when retailer Ellen Brown closed down the store in the Washington Mall.
2011. Death in Bermuda at the age of 89 of Geoffrey (Dickie) Bird. He had served in the Royal Navy as a carrier-based pilot but is perhaps best known as the engineer who oversaw the renovation of the former Hamilton Princess Hotel and constructed the Bird Cage on Front Street. He was born in England and after serving in the Second World War moved to Bermuda where he lived for more than half a century prior to his death. The legacy of the Marion Bermuda Race was due in large part to him as the co-founder. A plaque bearing a photo and his name as the late Royal Hamilton Amateur Dinghy Club (RHADC) Commodore and his counterpart David Kingery (Beverly Yacht Club) are at their clubs. They met at the RHADC and from that friendship sprang the Marion Bermuda Race that was first held in 1977. Mr Bird's 34ft yacht Water Gipsy was in that inaugural Marion Bermuda Race. Unfortunately, Mr Bird's yacht collided with another boat (Salty Dog) and was forced to retire.
2011. December 15. Opposition MPs said it was no surprise a vehicle licence exemption for seniors had been abused, costing Government $17 million in lost revenue. Those aged 65 and above who own a car have not had to pay to licence their vehicle since 2007 but the policy is now likely to be reversed, according to a pre-Budget report released by Premier Paula Cox on Monday. The report revealed that the number of cars licensed to seniors has risen by 26 percent in the last five years, with a 358 percent increase in the largest category of car (class H). "This blanket tax expenditure, while popular, has been very open to abuse," the report stated. "This tax expenditure has cost the Government $17 million since its inception. The Government will examine this tax expenditure with a view to putting into place a provision that assists seniors in need and is less open to abuse." Shadow Transport Minister Patricia Gordon-Pamplin described the policy as a "typical pre-election promise that was not thought through. It may have sounded good to garner votes in 2007 but now it is time to pay the piper. It is not surprising that Government once again finds itself having to roll back promises made, once they evaluated the practical application of the policy. It is proof positive that you cannot buy votes with taxpayer money." It is understood some motorists aged under 65 are abusing the system by registering their cars to an elderly relative to avoid licence fees. One Bermuda Alliance MP Mrs Gordon-Pamplin said: "I have not seen many seniors driving class H vehicles and, as that class of vehicle is on the upper end of the cost spectrum, one would question whether the policy made any sense." She said her party colleague Louise Jackson "called for a means test before giving away the shop but the Government ignored her. Her position is now totally vindicated, albeit $17 million later. Mrs Jackson, the Opposition's spokeswoman on seniors, said she hoped Government would now means test the exemption for cars above class C. "The lower classes perhaps ought to be exempt," she said. "Once you are into larger, luxury cars, it's a different story and you have to ask if the exemption is justified." Government did not respond to a request for further comment before press time last night. Car licence fees at a glance. Class A: up to 138in = $281.05. Class B: exceeds 138in to 144in = $386.90. Class C: exceeds 144in to 150in = $547.50. Class D: exceeds 150in to 156in = $675.25. Class E: exceeds 156in to 162in = $945.35. Class F: exceeds 162in to 166in = $1,095.00. Class G: exceeds 166in to 169in = $1,273.85. Class H: exceeds 169in to 175in = $1,551.25.
December 22. The president of the Bermuda Stock Exchange sounded the opening siren at the Toronto Stock Exchange yesterday morning in celebration of BSX's largest foreign investment to date. The owner and operator of Canada's Toronto Stock Exchange, TMX Group, has become one of the largest shareholders in the BSX with the purchase of a 16 percent stake. TMX's CEO, Tom Kloet, will be joining the BSX board of directors. The Toronto Stock Exchange is the seventh largest in the world and TMX Group's investment in BSX is its second overseas transaction, the first being in Australia last month. The news was widely reported with Greg Wojciechowski, president and CEO of the BSX and Mr Kloet speaking to international media on the venture. Mr Wojciechowski said: "This is one of the larger milestones for the BSX. This underscores the value that's seen in the Bermuda market. They have a whole new level of experience that the BSX can leverage. The board of BSX is looking at how the Exchange is going to develop going forward. This is a culmination of strategic decisions that are yielding real commercial transactions. There are niche opportunities for the capital market space and we have continued to develop our platform in Bermuda to be ready to support niche markets," citing the listing of insurance-linked securities as one example. "We think the BSX is the important stock exchange in that region," added Mr Kloet to Financial Times. "One of the key things is their [BSX's] positioning with equities and their offshore presence. We have infrastructure that they can't necessarily afford. We will run into people in our London office who are looking for an offshore listing location and now we are going to be promoting that. I think it will help the BSX." Created in 1971, the BSX states it has grown to become the world's largest offshore, fully electronic securities exchange. The news comes on the heels of increased financial activity between Bermuda and Canada, including the signing of a Tax Information Exchange Agreement (TIEA) in July and Bermuda gaining recognition as a Designated Stock Exchange under Canada's Income Tax Act, which went into effect in late October. The BSX has been recognised by leading stock markets, including The London Stock Exchange, US SEC and the World Federation of Exchanges, among others. The significance of the designation for the BSX is that it opens the door for Canadians to invest some of their tax-deferred retirement plans and other investments in BSX-listed securities, which could translate into greater liquidity of BSX-listed stocks. In 2005, the Canadian Government removed the foreign content limit on tax-deferred retirement plans prompting an increasing number of Canadian investors to look to foreign securities listed on foreign exchanges to enhance their returns and diversify the investments held in their Canadian Registered Retirement Savings Plans (RRSPs) and Deferred Profit Sharing Plans (DPSPs). TMX Group operates offices across Canada (Montreal, Calgary and Vancouver), in key US markets (Houston, Boston and Chicago) as well as in London and Beijing. It is the target of a $3.66 billion bid by a group of Canada's biggest financial institutions, Maple Group Acquisition Corp. The move would, according to Reuters Canada, bring most of the country's major exchanges under one roof.
December 28. The hunt for low-cost healthcare has led one campaigner to a UK provider which she believes could treat Bermudians, including the elderly, at a substantially lower cost than in the US. Searching for treatment for Bermuda's war veterans and their families led Royal British Legion caseworker Carol Everson to Spire International. Locals can refer themselves to Spire International, but with no age cap on the treatment offered, Ms Everson said the company could prove highly suitable for senior patients. In particular, elderly clients with veterans' pensions say their bills are easier to deal with in the UK rather than at US hospitals. Ms Everson cautioned: "I'm not trying to get people to run off to England. Government's latest report on Bermuda's healthcare costs identifies overseas treatment as the top culprit in the Island's spending. Spire could be a good alternative source of overseas treatment where treatment isn't available here in Bermuda." Ms Everson shared an e-mail exchange with Spire International, in which a company representative notes that Bermudian patients often travel to the US, which has "the advantage of being nearer but as we know can be very expensive and there is uncertainty over the final bill". For example, according to quotes supplied by Spire International, a hip replacement operation at one of the company's clinics could cost between $9,989 to $13,000. Ms Everson believes that, as British Overseas Territories citizens, Bermudians may qualify for lower cost treatment in UK hospitals if they can withstand taking a longer journey to receive it. With so many healthcare providers available overseas, sourcing a good deal for Bermudians has taken her no small amount of sleuthing. "It started off as an enquiry for an elderly local client who had receiving dialysis," she said. The client, who requested not to be named, required irradiated human plasma from donated blood the only treatment available for his condition. "The cost to their insurance company was $20,000 a month, and the client was being asked to provide $4,000 a month, which was impossible for him to pay, and would be for many people," Ms Everson said. "Dialysis is what's keeping him alive. During the course of my research into the plasma, I found that other countries could provide plasma at a far lower cost than in Bermuda. We were able to find a cheaper supply in Canada, and because there is no generic form of plasma available, and we were able to prove there was no generic, and we were able to get those costs temporarily waived." With a certificate from the Department of Public Health, the plasma could be imported duty free to the Island. A further search, however, uncovered possibly cheaper UK sources for irradiated plasma through Spire International. "Spire has a network of 37 private hospitals in the UK," Ms Everson said. "They have an international division, they offer cardiac treatment, cancer treatment services, radiotherapy, oncology, all major surgeries, and they consider their prices to be substantially lower than US prices. I have a war veteran client who just came back from prostate surgery in the Lahey Clinic. We used money from our poppy appeal to have him airlifted for emergency surgery. Aside from dealing with the other expenses, which came to $144,000, his family had to pay medical bills of $4,000 up front, including $700 for medication, which they had to pay while he was in Lahey. Spire, by contrast, would give them one bill for everything all hospital costs." Spire has indicated that it would be interested in taking Bermuda patients. Those seeking treatment would need to be fit to travel to the UK by air. Seeking UK treatment, however, avoids emergency airlifts, which have cut off ages of 75 for the Lady Cubitt Compassionate Association, and 80 for Government insurance. Health Minister Zane DeSilva confirmed that he was aware of Spire International, and reported talks with Ms Everson had been "positive to date." Mr DeSilva said: "Of course, if there is a savings for the people of Bermuda and to the healthcare system as a whole, we will certainly explore this option. But, due diligence must be completed first before any decision is made. If anyone has any ideas with regard to reducing healthcare costs in Bermuda, my door is always open." A Ministry of Health spokesman said that details on Spire International's services had been passed on to the Bermuda Hospitals Board. "The Ministry of Health encourages people to seek treatment locally in the first instance, and then recommends that they work closely with their health service provider when selecting overseas care," the spokesman said. Suggestions to the Ministry of Health should be submitted as a formal proposal for research. Michelle Jackson, Vice President of Group Insurance for local insurers Argus Group, confirmed that the company has begun its own investigation of Spire International with the hope of establishing a relationship. "I hadn't heard of Spire prior to my conversation with Ms Everson," she said. "I got our overseas network people to start checking up. Argus uses a management care company called CMN to handle its handle these kinds of negotiations and assessment. It's a bit of work to see if they can negotiate better rates as well as quality. It's a situation where we want to make we're not just getting a great deal, but also sending people to quality facilities."
December 28. Veteran tells of huge hospitalization expense. At the age of 86, Bermudian veteran Kenneth Dunkley is part of a dwindling number of locals who joined the armed forces in the Second World War. After enduring gruelling surgery at a US clinic, Mr Dunkley counts himself lucky to be alive. But family members question if the cost and complication of his treatment at the Lahey Clinic might have been avoided if he could have been sent to the UK instead. The Devonshire senior is no stranger to matters of life and death: seventy years ago, following the Japanese attack on the US at Pearl Harbor in Hawaii, he signed up to join the Royal Navy. "I was young and I'd never been around guns, and I didn't know the danger," Mr Dunkley recalled. "I was just 16-years-old." Getting a job as a saloon steward aboard the HMS Suma, Mr Dunkley learned fast about war: the ship took a German torpedo to its stern while out on patrol in the Atlantic. Later in the war, he took a job as the leading hand aboard the "liberty ships" that ferries crew from land to ships offshore. "I got blown up twice," Mr Dunkley recalled. Both incidents occurred during fuelling of the boats. Over the past summer, Mr Dunkley's brush with mortality was of a strictly medical nature. Bleeding internally from his prostate, he was kept in King Edward VII Memorial Hospital for two weeks while doctors evaluated his condition. "While I was there, they notified my doctor on the Sunday," Mr Dunkley recalled. "The doctor came to see me on the Monday, and they operated on Tuesday. But I was in terrible pain. I would not wish that on anybody." Complications from blood clots led to an argument with hospital staff as to whether or not Mr Dunkley's condition could be treated in Bermuda, his daughter Lillian said. "They wanted him to take a commercial flight to the US, and we said no," said Ms Dunkley. Ultimately, the Royal British Legion paid for Mr Dunkley to be airlifted for emergency treatment at the Lahey Clinic in Massachusetts. His family credits the surgery with saving his life. Although his war veteran's insurance covered Mr Dunkley's treatment afterwards, meeting upfront payments proved highly stressful, Ms Dunkley said. "I had to use money that I felt, if things were organized differently, I wouldn't have had to pick into," she said. "Payment was really complicated. As a person with a small income, it was a lot for me. There was so much confusion with the war veteran process in the States. They didn't know what was going on. My father couldn't use his war veteran's card. It's a whole different thing in the States. So I think for veterans to get treated in England, it would be a lot easier." By the time Mr Dunkley was sent overseas, his condition was so grave that he required immediate care. A veteran seeking UK treatment would have to be fit enough to take a commercial flight to receive it. For the Dunkley family, any cheaper alternative coupled with the possibility of less bureaucracy owing to Bermuda's historical link to the UK would be worth investigating. "I feel that our seniors should be looked after much better than they are," Ms Dunkley said. "The system's got to change."
2012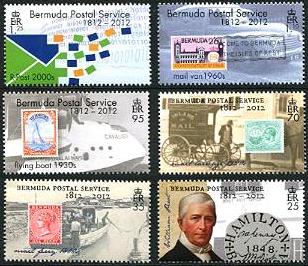 Celebration of the 400th anniversary of the deliberate first permanent settlement of Bermuda.

January 4. A proud vessel once known as "Bermuda's greatest party boat" has been tracked to a lonely wharf in New Brunswick, Canada, where the rusting Canima has been branded an eyesore by locals. Originally an Irish ferry, and bought out to Bermuda as a tender, the Canima was also a pleasure boat for holidaying students during the College Weeks of the Island's tourism heyday. Now, for residents of New Brunswick's Miramichi Bay, the ageing boat's fate is as much of a mystery as its purpose there. According to the local Moncton Times, the Canima looks "ghostly and decidedly abandoned" at its current berth. Attempts to explore the ship's history are muddled by the fact that a few different Canimas have been associated with Bermuda over the years. However, New Brunswick businessman Steve Hawkins told The Royal Gazette that he and US business partner Del Schultz haven't given up on their investment in the boat. "We've been trying to do something with it, but the way the economy's been in the States, we haven't been able to so far," Mr Hawkins said, estimating that Mr Schultz has put about $250,000 into maintaining the vessel. Former Director of Marine and Ports Ron Ross recalled the Canima as a fixture of Bermuda's College Weeks party circuit in the 1970s and early 1980s. "It was used for cruises back when the Island got 10,000 of these students at a time," Mr Ross said. "Before that, she was used as a tender for the trans-Atlantic ships, to bring the visitors off the big ships and into Hamilton." Mr Ross, who inspected the Canima many times, said the old vessel could prove tricky to repair. "It's very difficult recovering these old boats," he said. "The old steel hulls get corroded with time." Complicating matters, the Canima was replaced in 1988 by two new tenders the Bermudian, which remains in service, and its sister ship, also named the Canima, which Government sold off to the local company Bermuda Island Cruises. The newer Canima was renovated for a career as a party boat in Cuba, but eventually was sold off to Mexican owners, according to former owner Derek Morris of BIC. The old Canima, meanwhile, had long since been sold off in Canada where Arizona businessman Del Schultz acquired it. "Mr Schultz bought it off an auction, and we tried to open it as a restaurant in the Shedian," Mr Hawkins said, referring to the nearby Shedian Bay. "It was anchored offshore and a storm came down from the Northeast. The boat took off, and it ended up on the beach for a year and a half. It cost us $100,000 to get it off the beach." The vessel is now being held at a private port at Miramichi Bay, he said. In Mr Hawkins' recollection, the old Canima passed through the hands of several owners before reaching its present resting-place. "It was sold to a company in Montreal, Quebec, where a guy wanted to take it out on the St Lawrence River for cruises," the Moncton resident recalled. "He couldn't come up with the money to make it work. Then it was opened up as a restaurant by another guy in Campbellton, New Brunswick, and that went bankrupt as well. A guy from New York bought it and was going to fix it up as a museum, but he died from a heart attack. Then Mr Schultz bought it." The Canima appeared in the Schediac in 2003, and promptly ended up wedged on a sandbar, according to the Moncton Times. Mr Schultz attributed part of the boat's difficulties to local opposition. "I think there were people who didn't want to see it go ahead as a restaurant at the time," he said. "I think that's how the boat ended up where it did." It has spent the past four years docked at Miramichi, where it caught the attention of Bill Anderson, whose son, Ramsay, undertook to investigate it. Spotting the faded letters of "Hamilton" still stamped on the hull, Mr Anderson turned to Google and The Royal Gazette online to track the vessel down. His search was frustrated, however, by the old Canima and its replacement of the same name in Bermuda. Mr Ross said he had heard that the modern version of the boat was still in use in Mexico. Its older namesake, however, continues to rust at the waterside while it waits for investment. "Mr Schultz would probably sell it if he had a chance," Mr Hawkins said. "But it's sitting at wharf right now. We have been trying to do something with it, but the economy's too bad. It's a historic vessel, one of the last riveted ships. It has a sister ship in Ireland, the Cill Airne." A search online reveals that a Cill Airne, built in 1962, is currently in the Irish port of Cork City. According to the site Irishseashipping.com, a sister vessel named Blarna was built in 1961by Liffey Dockyard, and based on the design of the Birkenhead and Wallasey ferries. The site adds that the Blarna "left Cork in the mid-1960s to be a tender in Bermuda and was renamed Canima in 1966". The site gives 1988 as the year the vessel was sent off to Canada the same year as the modern tenders Bermudian and new Canima were purchased which corroborates the version of events given by the boat's present owners. The confusion over which Canima ended up in New Brunswick the old or the new managed to perplex The Royal Gazette, which confused the vessels in a 2003 article. How had the Canima been sent off to the Cuban tourism circuit in 1999, when Canadian reports had it being used in New Brunswick as early as 1988? To confuse matters further, Mr Anderson's research found still another Canima with a Bermudian connection: the SS Canima a nineteenth century steamship operated by the Quebec and Gold Ports Steamship Company, which ran between the Island and New York. However, it appears that the most fondly-remembered version of the vessel, once a mainstay of College Weeks, started life as an Irish ferry boat. What the future holds for the Canima now is anyone's guess. A story from last year's Moncton Times quoted local politician Carmel Robichaud, a Liberal member of the Legislative Assembly of New Brunswick, calling for the deteriorating vessel to be towed away. "In 100 years that will never be turned into a restaurant," Ms Robichaud told reporter Kris McDavid. "That boat should be removed, something has to be done."

January 10. Bermuda was cut from HSBC's global Expat Explorer Survey for last year, which lists the top places to live as an expat, due to a lack of participants. Bermuda was ranked fourth in the 2010 survey, tied with along with United Arab Emirates and Singapore. "We needed at least 30 respondents to make it statistically significant," said a PR spokesperson for the survey in an interview with The Royal Gazette. The survey is commissioned by HSBC Expat, an offshore financial services provider, focused on expatriate workers. Local branches of HSBC, such as HSBC Bermuda, do not participate in the running of the survey. This is the fourth year of the Expat Explorer survey, which is the largest global expat survey of its kind. Bermuda's lack of the 30 requisite respondents meant it only made the list one time over those four years. This year, HSBC surveyed 3,385 expats from 100 countries who answered questions relating to their quality of life, salary and benefits and the experience of raising children abroad. Only 31 countries made the cut due to participant requirement. "As the largest global survey of expats, Expat Explorer allows us to capture invaluable insights into expat life and how it differs from country to country, continent to continent and from an expats' home country of origin," says Lisa Wood, head of marketing for HSBC in an interview with Forbes. "We want to be a business that truly understands its customers so that we can ensure our products and services meet their needs effectively." Thus far, the survey has generated a lot of buzz for the countries that participate. "We always receive great feedback from expats," said the survey spokesperson. "It helps provide a lot of information for when and where they decide their next posting will be." The survey is administered by a UK-based research firm and according to HSBC, they will be starting to recruit participants for the 2012 survey within the next few months via their Twitter feed, blog and website. In 2010, the survey showed that Bermuda had the third highest salary for expatriates and 60 percent of expats in Bermuda thought their work/life balance and their working environment was better here than in their home country. To learn more about the survey visit: www.expatexplorer.hsbc.com.

January 11. Two local package service companies are mounting a defence against a potential duty hike on all personal imports by rallying its customer base to speak out against the proposal. Steven Thomson, President of Mailboxes Unlimited, sent an e-mail to thousands of his customers on Friday asking for support to stop a possible rise in duty on goods he ships in to 35 percent. Tom Nelmes, chief operating officer of BEST Shipping, is planning on sending out an e-mail to his 4,000 customers today. As reported by The Royal Gazette last month, the couriers are reacting to Premier Paula Cox's Pre-Budget Statement in which she said Government was considering "harmonising duty for personal imports", potentially looking at making the duty rate on personal imports shipped in by air or freight, more in line with the airport rate of 35 percent. Currently duties range from five percent to 33.5 percent depending on the item. In an "urgent" e-mail to approximately 9,000 customers, Mr Thomson, whose company acts a middle man between vendors and consumers, asked for those who were concerned about the proposal to contact the Premier or their MP, call into local radio talk shows, write Letters to the Editor, and attend any open forum on the matter to ensure their voices are heard. While he stressed in his e-mail that at this stage, the tax idea was only a proposal, Mr Thomson said to customers: "The Premier, in recent interviews, has made it clear that she intends to discuss, in open forums throughout Bermuda, the potential to increase duty rates on all imported personal items to 35 percent as has been implemented at the airport. Increasing duty by over 500 percent in some instances (clothing is currently 6.5 percent) would be destructive to both residents and Bermuda as a whole." According to Mr Thomson, response to his e-mail plea was immediate and en masse. "I got return e-mails from people right away," he said. "One that stuck a chord with me said 'Yes we need to fight. I am a full size person and there is not much in Bermuda for people like me. I think it is a big injustice to our country. Everything is made easier for outsiders to buy Bermuda but for Bermudians, we are foreigners in our own land. It is not right'." In her Pre-Budget Statement the Premier said: "There are different rates of duty that are assessed to individuals who import items for personal use. At the airport the rate is 35 percent however via other methods of import, the rates vary from five percent to 33.5 percent. Because of the inconsistent duty rates across methods of import, Government efforts to support local business are not as effective as intended. Therefore the Government will examine changes to duty rates for personal imports." Mr Nelmes, of BEST, said he has "no problem" with Government raising duty charges on things such as luxury items, but rather with the "blanket coverage" of taxes that has been proposed. I have a major problem with the protectionist type of mentality that restricts the freedom of choice. It's choice that is being put on the line here. People in the community should in an uproar about this." The issue is becoming a vocal struggle between couriers and retailers, with Paula Clarke, chairman of the Bermuda Chamber of Commerce's retail division, saying that the couriers were the biggest single threat to the livelihood of brick and mortar retailers. "The argument is being made that if you shop in Bermuda, the majority of your money is staying in Bermuda," said Mr Thomson. "That's a fallacy because the store that you bought it from has to bring the item in from away. Nothing is made here. So what is the difference if you order it online and you bring it in through a company like Mailboxes, BEST, FedEx, DHL or IBC where we pay import duties, we hire Bermudians, we pay office rent and we pay corporation taxes? In fact, we pay more than the retailers because we pay full payroll taxes where they (retailers) have been granted payroll tax relief. Why destroy the shipping companies? The law of unintended consequences is going to come into play here." Mr Nelmes added: "It's clothing and apparel that is the largest group of undeclared items at the airport; this proposal will force the man on the street to become a thief and a liar. Why should we do that?" Mr Thomson also questioned whether the retailers and Government are fighting the inevitable. "Are we really going to try and fight online shopping?" he asked. "Why don't retailers try to get creative, like Gorham's is doing, and offer customers both (local and online options)? We are talking about every method of importing things into Bermuda from ocean to air to couriers," he added. "If this is all purportedly to help the retailers, two things will happen: one there will be a big backlash against the retailers and the second is it will injure the shipping companies." Mr Nelmes had strong words for retailers: "Any retailer that stands up and supports this could go out of business because Bermuda will boycott them." The men said that a shipping and courier committee is currently being formed in the Chamber of Commerce in order to better have the industry's voice heard.

January 26. Bermudians need to lose their sense of entitlement and wake up to the economic crisis rocking the Island, former Premier Sir John Swan told a public forum yesterday. Repeating his call for a big conversation on the economy, Sir John said Bermuda will plunge into worse financial turmoil if Government doesn't fix its relationship with international business and Bermudians don't improve their attitudes. Policies over work permits and land licenses are hurting international business, he said, while foreigners are made to feel so unwelcome from the moment they arrive at the airport, many don't want to come back. Speaking at a Chamber of Commerce panel discussion at Fairmont Hamilton, Sir John said: "The biggest threat I see is a lack of information, communication and assessment, in a non-partisan way, of where Bermuda is. "You can't run a business without partnership. Government needs to have a good relationship with business and the community, but that process is not taking place. Everyone feels they are entitled to something because they are Bermudian. Well everyone who is non-Bermudian is slowly pulling the plug on Bermuda." Remarking that many Bermudians believe they should get jobs over non-Bermudians whether they're qualified or not, Sir John warned: "Are we going to raise the noise level enough that international business decides 'we are not going to argue with you any more'? Most are going to pack up and leave Bermuda." Sir John said visitors are often grilled at the airport as they are told of the disproportionately high tax they must pay on arrival, claiming: "It makes them feel as though they are being interrogated." This is often followed by impoliteness from the taxi drivers taking them to their hotels, he said. "They get to the airport and are not treated with the courtesy they get in their own country. We are not very pleasant people. We used to be very pleasant; we are not any more. We are not pleasant to tourists or international business." He also spoke on Government's land policy, which requires Bermudians with non-Bermudian spouses to obtain licenses to buy property. "First of all, we should recognize we are all human beings. The Bermudian married to a foreigner should not be discriminated against as a result of that marriage," he said. "Our law allows them to get married and stay in Bermuda. We should not be saying to them, you are no longer a Bermudian. That's not right. What's worse is even if that Bermudian wants to put property in their own name, they say you can't do that. That's against the Human Rights Act. I suspect anyone who took it to court and got as far as the British court, they would laugh at it." Fellow panelists Larry Burchall, the political commentator, and Bermuda College economist Craig Simmons gave the audience of about 200 people figures illustrating the Island's decreasing population and expatriate community, and expressed concern at the growing debt level. Sir John said on top of private debt of $5 billion and public debt of $1 billion, Bermuda faces further financial woes because of under funded pensions, a Sinking Fund which has not been kept up, and costs incurred by the hospital rebuild. "We are in a crisis. We need to have a conversation about that," he said. Recalling the Big Conversation on race by former Premier Ewart Brown and consultant Rolfe Commissiong, Sir John said: "I don't know where that took us, but while we were having that conversation we were convincing other people to pack up and leave Bermuda." Mr Burchall said Bermudians need to understand tourism has been replaced by international business as the key pillar of the economy. "We have to get Bermudians as involved, as supportive of Business Bermuda as they were Tourism Bermuda. That requires a huge psychological shift; it will be done against the racial legacies of the past and the present. They are here 365 days a year. Under the older regime, they came, we smiled for five days and they went back home. We have to adjust. We Bermudians have to do something." He said Bermuda should replace its system of heavy taxing at ports, imposed during the Victoria era, with Value Added Tax on goods. Mr Simmons suggested one way of helping the Island prosper financially would be to move towards renewable energy.

January 27. The Royal Gazette's A Right To Know: Giving People Power campaign, launched four years ago in January 2008, called on Government to open up to the public all quangos, including the Bermuda Land Development Corporation (BLDC). We asked that these taxpayer-funded entities, of which there are more than 100 on the Island, be made to hold their meetings in public and publish regular minutes. That hasn't happened yet, despite the passing of public access to information and good governance legislation in Parliament and a commitment from Premier Paula Cox to ensure transparency and accountability in Government.

February 3. Legislators are today being urged to reject proposed changes to the Human Rights Act in favour of amendments which bring Bermuda's human rights regime in line with international standards. The amendments to be debated today do not go far enough to create a truly independent Human Rights Commission, according to the Centre for Justice. "Until such time as the Human Rights Commission can be truly independent of Government it cannot, according to the Paris Principles and the Commonwealth Secretariat, claim to be a legitimate and genuine national human rights institution," said Venous Memari, Managing Director of the Centre for Justice. "They should send it back for further amendments." Families Minister Glenn Blakeney, who has responsibility for human rights, will today attempt to pilot changes to the legislation intended to improve the administration and functioning of Bermuda's human rights regime. In a press release issued when the bill was tabled in December last year, Minister Blakeney claimed that the proposed measures would bring the Human Rights Commission in line with international standards, a claim he is expected to repeat when he introduces the bill to his House colleagues this morning. But Ms Memari insists that the changes will ensure that the HRC continues to "be an extended arm of Government as it will lack independence." The proposals, she said, fall "woefully short of international baseline standards with respect to the independence of a legitimate and genuine human rights commission, specifically the Paris Principles. According to the Paris Principles and Best Practice Guidelines established by the Commonwealth Secretariat, independence is the cornerstone to the effective functioning of a national human rights institution and good governance. In order for a national human rights institution to be effective and maintain public confidence, it must be independent and be seen to be independent of Government and the political process and not subject to pressure or influence from those who might have a stake in the national institution's community activities and educational programmes that are designed to promote equal treatment of all members of the community." Among other administrative changes, Minister Blakeney's bill proposes to remove the Minister from adjudication of cases and replace the Board of Inquiry with Human Rights Tribunals composed of a small number of Commissioners. Currently, if unable to settle a complaint, the Human Rights Commission will ask the Minister to refer the matter to a Board of Inquiry. But under the proposed changes, complaints that are not resolved within the nine month period will be referred to the tribunal by the Executive Officer. That, says Ms Memari, is a "most welcome change." Minister Blakeney's bill also proposes a new system for selecting Commissioners. Commissioners would be selected by a five member Selection and Appointment Committee via a recruitment process. That committee would be headed by the Minister's appointee who selects two members from the general public. Another two members of the selection committee would be selected by the Opposition and the ruling party. The recruitment process for Commissioners, to include advertisements, direct invitation and an application and interview process, is also prescribed by the new bill. "What is the likely independence of the Committee in light of the fact that the Head is selected by Government and the Head appoints two members of the public?" asked Ms Memari. "Also the criteria for the selection of the commissioners will be prescribed by the Minister in consultation with the Executive Officer and the department responsible for human affairs. Ms Memari also noted that the bill retains provisions which maintain political control of the Human Rights Commission. "The commission will continue to be responsible to the Minister for the administration of the Act," she told The Royal Gazette. "Guidelines prepared by the Commission under section 14B (which may not have the force of law but may be received in evidence) and codes of practice (with respect to elimination of racial discrimination in the field of employment and the promotion of equality of opportunity in that field between persons of different racial groups) cannot be published without the prior approval of the Minister. Annual reports must still be submitted to the Minister rather than directly tabled in Parliament." The Centre for Justice is also raising the alarm over a new clause which allows the Executive Officer to discontinue an investigation under certain circumstances but does not allow a right of appeal.

February 7. A former home of the US Consul General has been put up for sale with a $45 million price tag. The luxurious Chelston, built between 1939 and 1941 for California oil baron Carbon Petroleum Dubbs, was conveyed to the US Government in 1964 and served as the official residence of the US Consul General for more than 30 years. During that time, it housed guests including US President George Bush, Vice President Dan Quayle, Senators John Kerry, Edward Kennedy and Chris Dodd, General Colin Powell, former Secretary of State Henry Kissinger and actress Brooke Shields. It was also known locally for hosting an annual July 4 celebration, which sometimes drew more than 3,000 people to the 14-acre property. However the US sold the property to a US businessman in 1999 for around $15 million. The estate features a 10,000 square foot main house overlooking Grape Bay and boasts 15 bedrooms and 19 baths, including three guest cottages and a staff cottage. It also includes a well-equipped home cinema, a nearly Olympic size swimming pool, a croquet lawn and a wood-burning pizza oven. A section of the official listing for the site reads: "Exemplifying understated elegance and incorporating the best of traditional Bermuda design, the main house, on three levels, is light-filled and spacious. "High 'Bermuda tray' ceilings, floor-to-ceiling windows, multiple sets of French doors, generous room proportions and a general consistency of finishes throughout the estate are Chelston's hallmarks."

February 15. Peter's Church in St George's is preparing to celebrate a new jewel in its crown: the gift of an old royal title restored. The church is launching its 400th anniversary with a service next month, to commemorate a little-known but historically significant designation: "Their Majesties Chapell", which dates back to the year 1697. Evidence of the special royal title remained buried in archives for centuries, until a scholar brought it to the church's attention. "The service has been set for March 18, because that's the date on the warrant," explained church rector Rev David Raths. "It is the earliest known instance of that term being used." The warrant in question authorized the delivery of royal silver to St Peter's, which the church still keeps in its safe. The document bearing the special term did not emerge until considerably later. The historian who uncovered the warrant, Thomas Sinsteden, has sailed to Bermuda several times over the years. Mr Sinsteden noticed the document among other warrants at the Public Records Office in Kew Gardens, London, and recognised it as a significant titling. Contacted in the US, Mr Sinsteden described the chance discovery as "typical of research. When one does research, one comes across these things. Mr Sinsteden spotted the document about ten years ago, during research on the Duke of Ormonde a major figure of the 17th century Anglo-Irish political stage, who was born the year after the arrival of the Sea Venture in Bermuda. Stopping off at the Island during the Newport-to-Bermuda yacht race, Mr Sinsteden said: "I had a bit of time on my hands. I went to St Peter's Church and saw some Irish silver on display in the safe there. Among the silver was some royal silver." He returned to the church with a copy of what is technically known as the Intituling Document: the order for the silver, sent to the "Master of His Magesties Jewell House", which specified its use in "Their Majesties Chappell." The warrant will not change the name of St Peter's Church, but it adds another title and another distinguishing feature to what is already the oldest Anglican Church outside the British Isles. Mr Sinsteden brought his copy of the document to St Peter's in 2007, just in time for church authorities to add it to this year's happy coincidence of the Queen's Diamond Jubilee and the 400th anniversary of St Peter's. The historian said he looks forward to attending the ceremony in Bermuda. "He just walked in off the street and said he had something for us. I saw the Majesties Chappell and I thought, Oh, boy," Rev Raths said. "That's why the first thing in our service will be to have the warrant read it out publicly." Actually confirming the Royal title for St Peter's required some behind-the-scenes diplomacy. Rev Raths spoke with David Baldwin, a member of the Queen's Household, whose official title is Sergeant of the Vestry of the Chapel Royal. "He was very excited to hear about it," Rev Raths said. "We've had Royal visits before but we've never had a Sergeant of the Vestry." Mr Baldwin's own title extends back significantly farther, he added, to 1066. Mr Baldwin is to visit the Island to present Governor Sir Richard Gozney with the formal document redesignating St Peter's as "Their Majesties Chappell", which Sir Richard will then read at the March 18 service. Rev Raths said that was fitting because Sir Richard had to write to the Queen to request permission to restore the title to St Peter's. Actually reading the Intituling will be one of Sir Richard's last duties as Governor of Bermuda, as he prepares to step down this May. St Peter's will also receive new emblemage, in the form of a Royal scarlet banding, to decorate the Rector's belt and the church's own flags and banners. "This church has always been more than a town church," Rev Raths explained. "We see it as an icon for Bermuda." Grace Rawlins, chairwoman of the Intitulation Committee, said St Peter's has been appropriately refurbished for the ceremony opening its 400th anniversary celebrations. "It's going to be a challenge fitting everyone in here, Ms Rawlins added. "One of the most interesting points for me is the silver, which will be taken out and displayed on the altar table. I think that table could be the oldest piece of furniture in Bermuda." The original document ordered the sending of two little flaggons, one challice, a petten and a receiver, to then Governor of Bermuda, Samuel Day.

February 21. The Arthur Morris Group yesterday announced longtime partner Craig Christensen was retiring from the firm as a partner to focus on the proposed Morgan's Point development. In a statement from the firm, Mr Christensen said: "I am sad to be leaving Arthur Morris, Christensen & Co, which I have seen grow into Bermuda's largest independent audit firm employing a large number of Bermudians. I'm very proud of the reputation the firm has in the local and international community. My retirement from the firm will allow me to concentrate fully on the Morgan's Point project and the promotion of Bermuda to overseas investors which is hugely important to our country in today's economic environment. I wish my fellow partners the best in their future endeavors with the Arthur Morris Group of Companies." Mr Christensen's Southlands Ltd plans a $1.8 billion Morgan's Point resort. He and partner Nelson Hunt say the resort will include an 80-room boutique hotel, a harbour surrounded by shops and restaurants and a 365-room, five-star hotel.

2012. February. Coral Beach Club Members were presented with an extraordinary plan to sell them the club facilities for some $28 million. As part of the "equity conversion" plan members would have to make an investment of $35,000 (resident) or $20,000 (non-resident) and take on at least $5.5 million in debt owed by the club's US operator, Brickman in return would set aside in escrow $11 million for a capital improvement programme to make badly needed upgrades to the club facilities - and also $3 million to redo its guest rooms, which Brickman would retain. Brickman came up with the idea to sell the club facilities to the membership after scrapping a plan to redevelop the property as a five-star Four Seasons 150-room resort and residences. Brickman, which had gotten as far as winning in-principle approval on appeal for the project - which it had worked on since 2007, blamed the global economic slowdown for backing off it. Brickman's existing mortgage on the club amounts to $5.5 million, which it wants members to assume as part of the deal. Furthermore, members will not have any expectation of profiting from their equity investments of $20,000 to $40,000. New clubhouse windows, bathrooms, furnishings and chairs, improving the beach hut and rooms, adding air conditioning and a pool, a new television and replacing the squash court floors, has been estimated to cost $11 million. Developers Brickman Holdings of New York effectively bought the property in January 2008. (More precisely, Brickman Associates, part of the group, holds a 200-year lease on the prime 26-acre beachfront property. In March 2010, Four Seasons Resort and Hotel gave its name publicly to the redevelopment of Coral Beach Club for the first time. A joint statement from Brickman and Four Seasons said construction on the initial phase was expected to have begun in 2010. It was never built, in April 2009 Plans for a Four Seasons Hotel 150-room five-star hotel and fractional resort here were scuttled by planning officials after objections galore. The 150-room hotel was to be accompanied by a spa, fitness centre, tennis courts, pools and a conference centre. The Horizons nine-hole golf course was to disappear and the resort would also have brought major changes to South Road, with new access points and a pedestrian underpass tunnel near the entrance to Coral Beach. If approved, South Road would also have undergone a reconfiguration, to straighten a bend at "two well-known traffic accident spots". An access road would have also linked the resort to Tribe Road Five. On appeal, a modified plan was approved in June 2009 to develop a 150-room hotel and 80 fractional units. Instead of closing in 2009 as hoped to make way for redevelopment the property remained open for business.

February 26. The shipping industry and consumers alike will be hit hard by Government's decision to charge 25 percent duty on all goods imported for personal use, according to three of the Island's couriers. They criticized Premier Paula Cox's announcement in her Budget statement yesterday that the duty rate would be "harmonised at all ports of entry" to 25 percent, while Bermuda Chamber of Commerce welcomed the move. The change is expected to mean a leap in the duty rate payable on items imported from abroad such as clothing, shoes, cameras and vitamins, from April 1. The rate for clothing is currently 6.5 percent, shoes are ten percent, cameras are 8.5 percent and vitamins are 15 percent. The rate should decrease for televisions, radios and car parts, which are currently charged at 33.5 percent. Steve Thomson, president of Mailboxes, said: "This is an extremely unpopular move by the Government to increase duty for personal items, specifically because the people of Bermuda are going to have their choice limited now. This will push the cost of items up. For an individual who wants to buy a pair of shoes or pair of pants where they couldn't find [them] here, they are the ones being penalized and punished. The object is to force consumers into the local shops. Now that they don't have competition, it will give them free reign to increase their prices." Chris Heslop, general manager of FedEx, said the increase wouldn't be huge for the majority of imports, such as toys, computers, software, MP3 players and devices like iPads, which are currently charged at 22.25 percent. But he added: "For certain items currently in the 6.5 percent and 8.5 percent range, it is a significant increase, which I think is the wrong thing to do to stimulate the economy during the economic downturn. Unfortunately, importers are at a further disadvantage to people shopping overseas and bringing it in with them via the airport, as we also have to pay the 1.25 percent wharfage tax and package tax. I don't think that this increase will have any benefit on retailers and it is just another way for the Premier to raise taxes under the pretence of saving jobs." Tom Nelmes, CEO of BEST Shipping, said: "I don't think the Government has had the right level of consultancy. I appreciate that working in Government is not easy but they haven't consulted all the stakeholders, including our industry and that's a shame. Small businesses would also feel the pinch. I think this will irreparably harm the small business in Bermuda in ways they haven't thought through." Couriers have been fighting against the potential for a duty hike since the Premier's pre-Budget statement came out in December. A petition against the proposal attracted more than 3,000 signatures and was delivered to Finance Minister Ms Cox in January. The Chamber of Commerce said yesterday the 25 percent harmonization was expected and many retailers would be "cautiously optimistic" about it. Peter Everson, head of the Chamber's Economics Advisory Committee, said: "This decision simply corrects a long-standing anomaly and brings Bermuda into line with internationally accepted tax practices." Government confirmed yesterday that the duty increase would take effect on April 1, with legislation needing to be passed first. It said goods arriving here on April 1 and after would attract the new rate. In November, the duty rate for people bringing in items at the airport rose temporarily to 35 percent and the duty-free allowance was set at $100 per household. Yesterday's Budget returned the airport rate to 25 percent and increased the duty-free allowance to $200 per person, from April 1. Duty will rise on cigarettes and tobacco that day, with Ms Cox explaining the increase would yield Government additional customs revenue of about $1 million. The rate will go up per cigarette by two cents (from 18 cents to 20 cents), meaning consumers should expect to pay an extra 40 cents on a pack of 20. Ms Cox said apart from changes to land tax and car licenses for seniors (see separate story) most other tax rates would not change in 2012/13. She added: "The biennial adjustment of government fees will be increased by about three percent for most fees and the anticipated yield is an additional $4 to 5 million. There will not be an increase in bus and ferry fares and all other tax rates will remain the same as they are now through 2012/13."

February 25. Premier and Finance Minister Paula Cox presented a $1.08 billion Budget yesterday which she said rejects harsh austerity measures in favour of economic growth. The package involves a year-long suspension of Government payments into the civil servants' pension fund, harmonizing duty rates at 25 percent for personal imports, and extending tax concessions for certain businesses. Government fees are to be increased by three percent for an expected $4 million to $5 million in additional revenue. As expected "sin taxes" on cigarettes will be increased. And, for some senior citizens, a land tax exemption will end as Government seeks to claw back an estimated $4 million. But residents will be spared any increases in bus and ferry fares. The 2012/13 Budget anticipates roughly the same level of total spend as for the current fiscal year which ends March 31, and is expected to come in at a $172 million deficit. And the statutory debt ceiling, which was raised to $1.25 billion in April 2010, will be increased again this time by another $200 million, to $1.45 billion. The Premier defended her Government's use of debt in her Budget Statement which was read to the House of Assembly yesterday morning, saying that $98 million in payroll tax relief and other concessions to the hospitality and retail sectors had saved thousands of jobs. "In short, $98 million was added to our debt. Government considers that it did the right thing. Preserving jobs and helping to stabilize vital sectors of the economy was the right thing to do. Some 8,500 jobs were at risk if Government had not responded with assistance." The Island's debt now stands at $1.2 billion, which at 24 percent of GDP, is below the 30 percent affordability rule, the Premier noted. The 2012/13 Budget foresees an overall deficit of $172 million to be financed in part by the issue of a local bond. That, Ms Cox said, will be a "win-win" for Bermuda because it will stimulate local economic activity. The Budget extends the payroll tax concessions for hospitality and retail, at a cost of $21 million, and aims to further stimulate the economy by allowing the private sector to freeze pension schemes for a year. "If the suspension of contributions is taken up across the private sector, it will provide both relief and stimulus to families and businesses," Premier Cox said. "The stimulus to the economy will be generated if some of the saving is converted to consumer spending and business infrastructure and improvements." Another stimulus measure is to eliminate a ten percent stamp duty charge on mortgage transfers. The intention is to promote competition between lenders and reducing costs to customers when transferring a mortgage from one bank to another. Government's contribution to the civil servants' pension fund will be frozen for a year, for an additional $31 million in "fiscal space" but the money will be returned to the fund in the future, Premier Cox said. In the meantime, an actuarial review of the fund will be undertaken to determine how to make it sustainable. And the Public Service Superannuation Act 1981 will be amended to allow its employees to access their pension money when facing financial hardships. Sandys 360 Sports, Aquatic and Enrichment Centre is set to receive a $2 million capital grant "to assist in defraying the cost of works undertaken". Senior citizens have, since 2005, enjoyed a land tax exemption for their primary residence, as well as exemption from having to pay vehicle licence fees. But Government plans to claw back some $4 million in foregone revenue by charging land tax on properties with an annual rental value above $50,000. Another $3 million will be recovered by ending the vehicle licence exemption for vehicles from Class E to Class H the larger vehicle classes. Government has been concerned that the vehicle licence exemption scheme was subject to abuse as it led to an 358 percent increase in class H registrations to seniors. The revenue estimate for 2012/13 is $909.6 million, three percent lower than the original estimate for the previous year. The Premier noted that Government is developing new revenue streams "including the possibility of a public-private partnership to generate additional $18 million per year revenue from Bermuda's commercial airspace". And Government will be assessing the feasibility of commercializing its exclusive economic zone by establishing a licensing regime for international fishing vessels to fish in the Island's waters.

Budget Highlights:

1.45 billion. New statutory national debt limit, up from $1.25 billion.
$1.22 billion. Estimated total national debt outstanding by March 31, 2012.
$1.40 billion. Estimated total national debt outstanding by March 31 2013.
$70 m. Amount by which 2011/2012 revenues were overestimated.
$69 m. Amount by which 2011/2012 expenditure was underestimated.
$1.08 billion. Total national budget for 2012/13.
$909,634. Estimated Current Account Revenue.
$1,005,517. Estimated Current Account Expenditure.
$76.19 m. Estimated Capital Expenditure.
$172 m. Projected deficit, to be financed by borrowing.
$242m. Last year's actual borrowing.
$147m. Last year's estimated borrowing.
$312 m. Estimated Revenue from Payroll tax in 2012/13.
$5.16m. Revenue from the Post Office, down from $5.4 million in 2011/12.
$14.14m. Cost of operating the Post office.
31%. Cut in current account expenditure in the Ministry of Finance, the Ministry with the single biggest cut.
5,708. The projected number of Government employees in 2012/13.
5,767. The number of Government employees in 2011/12. The projected number was 5,829.
$457m. The cost of personnel in Government in 2012/13 compared to $480 million in 2011/12.
$17.9m. How much Government will pay in rent this year.
$18.9m. How much Government paid in rent last year.
$191m. How much the Health Ministry, the biggest spender, will spend this year.
$15.3m. Estimated revenue from the Telecommunications industry in 2012/13, unchanged from this year.
$23m. Stamp duty revenues in 2012/13, down $3 million from the estimate in 2011/12.
$84.8m. The amount Government will spend on professional services in 2012/13, up $5 m.
$9,000. How much Government expects to spend on chiropodist services in 2012/13. It spent $9,000 this year.
$50,000. How much Government expects to spend on psychological services in 2012/13. It spent $6,000 this year.
$212,887. Premier Paula Cox's salary in 2012/13.
$224,092. Premier Paula Cox's salary in 2011/12.

February 28. A long-planned new luxury hotel and condo development in Hamilton could get off the ground this year. Ted Adams III, a principal with US-based Unified Resorts, said he has the financing in place for the proposed new St Regis hotel and residences at Par-La-Ville Road car park. "We hope to break ground later this year. I cannot provide you with a detailed update except to say that with Starwood's full support, we are working diligently in bringing the St Regis Bermuda to Hamilton. We hope to break ground later this year. I cannot comment on the financial arrangements because of confidentiality agreements. The necessary project financing has been committed." Back in 2009, Starwood Hotels & Resorts Worldwide had announced plans to open a new St Regis hotel in Bermuda, marking the debut of Starwood and the St Regis brand on the Island. No cost for the resort was given, but estimates have ranged from $50 million up to $200 million for such a project. The terms and length of the developer's lease on the Corporation of Hamilton property were not known. Asked how given the global economic climate, he was able to secure financing, Mr Adams said: "We have sound fundamentals including: the best location on a progressive island; the Number 1 luxury brand in the world; a vibrant international business community that demands a five star business hotel; an experienced Development Team; a highly educated and skilled local workforce; and, significant support and encouragement from the Bermuda Government." The St Regis Bermuda and The Residences at The St Regis Bermuda was scheduled to open next year, in 2013. Ultra-high-end St Regis condos in other cities around the world usually sell for millions of dollars, for example, the San Francisco and Atlanta St Regis Residences sell for about $1.5 million and up, while in Singapore they start at several million. If the hotel is built, Starwood has said it would be "the first major luxury hotel to open in downtown Hamilton in more than 50 years. The St Regis Bermuda will feature approximately 140 exquisitely appointed guest rooms and suites, approximately 80 exclusive, serviced residences, a RemRe Spa, signature restaurant, a wine bar, library, and a rooftop conservatory," Starwood has said in its original release. "Owned by Par La Ville Hotel and Residences, Ltd, a partnership between Virginia-based Unified Resorts, Ltd and New York-based Sagewood Investments, LLC, The St Regis Bermuda will offer unparalleled luxury, highly personalized service and refined elegance at one of the world's best addresses." In her Budget speech last Friday, Premier Paula Cox had said Bermuda had "attracted renewed interest from investors in hotel developments. Recent negotiations spearheaded by the Minister of Business Development and Tourism with a developer and the Bermuda Industrial Union provides reason for cautious optimism that ground will be broken on a luxury brand hotel this year." At his news conference, Tourism Minister Wayne Furbert had said: "We are 99.9 percent there, as the developer says, and so we hope to make that announcement, hopefully in the next month or so." Government did not name the development it was referring to and declined to provide further details when asked about it yesterday. One potential issue is that the Corporation of Hamilton last February had filed a writ against the developers of the planned St Regis hotel. Mayor Charles Gosling declined to comment at the time. Donal Smith, vice-president of the development company for the St Regis also declined to comment. Shortly before retiring in October 2010, former Premier Ewart Brown said the Corporation was holding up the development, but did not expand. The hotel has "in principle" planning approval to build nine storeys on the Church Street side and ten storeys on the Par-la-Ville side, with three levels of underground parking. In addition to the hotel rooms the development was granted permission for 80 residences. This month, the city's only major resort, the Fairmont Hamilton Princess, told the Bermuda Sun it was looking for an equity partner to "fast track" a $50 million project to expand and upgrade facilities, including adding dozens of marina slips. The hotel was listed on an international real estate website by owner Global Hospitality Investments in order to attract new investment.

March 1. TeleBermuda International (TBI) helped Wedco turn the whole of Dockyard into a Wi-Fi hotspot. Instead of incurring costly roaming charges to surf and e-mail, anyone visiting Dockyard, including Bermuda residents, can now sign up for TBi Wi-Fi starting at $3 for one hour, up to $29.99 monthly. It was hoped new TBi Wi-Fi zone will be welcomed by the tens of thousands of cruise passengers and crew who visit Dockyard in the summer. Up until now, to access the web they have had to go to internet cafes or pay the high cost of cellphone roaming or using cruise ship satellite internet service. Wedco chairman Walter Lister said yesterday the new "value-ad" TBi service was like an internet ring around Dockyard and was "a first" for Bermuda. Any Wi-Fi enabled device such as a smart phone, tablet, personal computer or digital audio player, can connect to the network via seamless access points installed throughout Dockyard. The service is available throughout the Dockyard. Wedco said it would also use the network to support surveillance throughout the area, enhancing security for visitors and businesses. "At Wedco we are continually looking for new ways to enhance our tourism product and make Dockyard a first class destination for locals and tourists," Mr Lister said. "The addition of Wi-Fi, at globally competitive prices, positions us to be able to provide cutting edge technologies for all visitors within Dockyard." TBi president and COO Gregory Swan said the rates were the lowest available and he was excited about the value the new service brought to Dockyard. "Dockyard is the perfect place to shop, have a good meal, relax, and surf the web. Wi-Fi Network Access is becoming increasingly popular as people are demanding alternatives to traditional internet connectivity. TBi is very pleased to have had the opportunity to partner with Wedco on this initiative." The pricing is as follows: $3 for 1 hour; $9.99 for 24 hours; $14.99 for 72 hours; $29.99 for basic monthly. TBi said to have the service all you need to do is turn on your device and enable Wi-Fi connection, look for the TBi Wi-Fi Zone network (see second photo below), and connect, then proceed to the Wi-Fi hotspot login page.

March 2. Bermuda's Commercial Court: The first five years. Five years ago, the Supreme Court of Bermuda set up The Commercial Court. It has enhanced the island's legal infrastructure and enabled Bermuda to become a leading offshore jurisdiction for the resolution of commercial disputes. The Royal Gazette asked Supreme Court Judge Ian Kawaley, who in April will be sworn in as Bermuda's next Chief Justice, to discuss the genesis of the Court and what he believes it has achieved. The Commercial Court, a Division of the Supreme Court of Bermuda, was born on January 1, 2006 when the Rules of the Supreme Court Amendment Rules 1985 enacted by Chief Justice Richard Ground came into force. Members of Bermuda's Commercial Bar had for many years called for a specialist commercial court. Official support for such an innovation came in March 2004 from the Justice Review Committee set up by then Attorney-General Larry Mussenden and chaired by Justice Norma Wade-Miller. However, under section 62 of the Supreme Court Act 1905 the Chief Justice is empowered to make Rules regulating the practice of the Court, and Chief Justice Ground took the necessary steps to ensure that the Commercial Court became a reality. Many leading financial centres have specialist commercial courts designed to deliver speedy and commercially sensible decisions in a way which encourages international businesses to do business with the domicile in question. Bermuda was possibly the first offshore financial centre to establish such a court, although it has now been emulated by BVI and Cayman. What has the record of Bermuda's Commercial Court been over its first five years? Jurisdiction of the Court. What types of matter are eligible for being commenced or transferred into the Commercial List created by Order 72 of the Rules of the Supreme Court is very broadly defined. Typical cases include contractual disputes between companies, winding-up proceedings, shareholder disputes and arbitration-related applications. Although applications in relation to trusts are not technically considered to be 'commercial' matters, in practice such matters are ordinarily dealt with by a commercial judge. Court staff and premises. Throughout the five-year period in question (and thereafter), there have been at least two designated Commercial Judges. In May 2008, an informal Commercial Court Consultative Committee was formed comprising representatives of ABIC, BIBA (Business Bermuda's predecessor organisation) and four members of the Commercial Bar. The object of this Committee was to provide a vehicle through which the Commercial Court could be kept apprised of any concerns about the quality of its service provision by Court users. The lack of appropriate accommodation was identified as the main problem at this time. It was resolved to tackle the absence of suitable Court premises by way of representations to Government. In July 2010, dedicated premises were opened for the Commercial Court. Output of the Court. One measure of the output of the Commercial Court is to analyse quantitatively the speed of decision-making and the extent to which the Court's decisions have been upheld on appeal. Statistics compiled by the Court and based solely on those significant cases in which considered judgments have been prepared and published indicate that for the five-year period 2006 to 2010: (1) the average time for delivering judgments was 14.43 days, and (2) an average of 86.66 % of the Court's appealed decisions were subsequently upheld on appeal. The volume of the work processed by the Court is difficult to assess as a significant number of cases are disposed of without a contested hearing resulting in a considered judgment. However, the number of cases commenced in the Commercial List has ranged from 73 in 2006, down to a low of 45 in 2008 and up to a high of 108 in 2010. (There were 75 Commercial List filings in 2011, the second-highest number of filings since the Court was established in 2006).These figures do not include trust cases or de facto commercial cases which were commenced either before or after 2006 but were not formally filed in or transferred into the Commercial List. Also noteworthy are the various Practice Directions issued by the Chief Justice to regulate the conduct of commercial cases. On May 25, 2006, a Practice Direction on Civil Procedure was issued setting new case management powers designed to streamline the progress of heavy commercial cases through the courts. On October 1, 2007, Guidelines for Court-to-Court Communications in Cross-border (Insolvency) Cases were published, followed by Guidelines Applicable to Schemes of Arrangement under Section 99 of the Companies Act 1981 on October 8, 2007. Finally, on June 13, 2008, the need for advocates to wear wigs and gowns in open court matters in the Commercial Court was abolished to better reflect a modern business-like approach to commercial dispute resolution. A more qualitative measure of the Commercial Court's output may be found in the views of those who use the Court. Two examples should suffice. Alex Potts then of Conyers Dill & Pearman in an April 2009 article entitled 'Commercial and Trust Litigation and the Commercial Court in Bermuda' contended that: "…as a result of a number of developments over the past three years in particular, Bermuda has a serious claim to be one of the leading offshore jurisdictions for the resolution of commercial and trust disputes, consistent with its status as a leading centre for international business , and a jurisdiction celebrating its 400th birthday." Kiernan Bell of Appleby, writing the Bermuda Chapter in 'The Dispute Resolution Review' 3rd edition (2011) stated in more matter of fact terms: "Bermuda now has a Commercial Division of the Supreme Court. Commercial cases are allocated to specialist commercial judges, thus ensuring that commercial matters are dealt with by judges with the appropriate expertise and are dealt with expeditiously." Conclusion. As Chief Justice Richard Ground prepares to end his tenure in Bermuda, the importance of his contribution to the main pillar of Bermuda's economy and the standing of Bermuda's legal system through the establishment of the Commercial Court cannot be overstated. He has ensured that the Court, over its first five years, has made a strong start. The Commercial Court is now an integral part of Bermuda's legal infrastructure and it is hoped and expected that its performance will be consolidated in the years to come.

March 2. HSBC Bank of Bermuda Ltd made net income of $152 million, the bank revealed yesterday. Although that was down 38 percent from 2010, the underlying performance, which strips out the impact of parts of the business being sold off, showed a three percent improvement on the previous year. CEO Philip Butterfield described 2011 as a "generally resilient" year for the bank, but added that the signs of the slow economy were evident in the bank's results. Underlying operating income rose to $423 million, up six percent on 2010, while underlying operating expenses fell four percent to $231 million. HSBC Bermuda's loan book grew by 11 percent to $3.6 billion, while customer accounts rocketed 33 percent to $3.2 billion. The bank's total assets grew 26 percent year over year to $14.9 billion by the end of 2011. The bank's results showed more signs of people struggling to meet loan repayments in the tough economic circumstances. Loan impairment charges more than trebled to $37.8 million, from $10.7 million in 2010. Total allowances as a percentage of loans and advances to customers rose significantly to 1.3 percent from 0.6 percent. In an interview with The Royal Gazette, Mr Butterfield said the bank was clearly seeing the negative effects of unemployment in the community. "Peak employment was more than 40,000 and now we're down to about 38,000. Most of the jobs no longer here were higher-paying roles. Given that our economy works as a result of a cascade effect, this has had a significant knock-on impact. We see that in the number of people having great difficulty in meeting their obligations. We have seen an increase in loan impairment charges in our residential and commercial lending portfolios. This is all reflective of the shrinking economy. What we are also seeing is an increasing level of engagement between our customers and our staff. We don't want to be in the business of foreclosure, that's a last resort. The earlier the customer lets us know they're having difficulties, the better the situation is likely to end up. There was pessimism over the economy in the short term and optimism for the longer term, adding that the bank had a cautious outlook for at least the next 24 months. I think it will be at least two years before we start to see sustained, positive growth. I also think that when we do see growth, it will not be like the good old days, it will be markedly different. So we all have to manage our expectations. Our organization has been working to become more efficient, to do more with less. Other businesses are taking on the same challenge. We would hope that Government would embrace the same idea and find ways to become more efficient." Deputy CEO Richard Moseley said that historically low interest rates were having a significant impact on the Bermuda economy through their dampening effect on insurance companies' investment returns. A rise in interest rates could therefore provide a boost. Mr Moseley added that customers were seeing the value of diversification in their investments, as opposed to simply buying a second property. HSBC was investing in training more staff in financial planning skills to meet these needs. "We have made good progress in wealth management, having distributed $75 million of structured products to our individual clients who are looking for principal secured opportunities. We have also assisted our Bermuda insurance customers with management of their non-US dollar catastrophe claims by providing value added foreign exchange advice and foreign currency accounts. We continue to segment our approach across the businesses, and have seen significant revenue growth in corporate banking relationships as we provide a greater range of banking services through focused relationship management. During this difficult time, we are working ever more closely with our customers to help them navigate the changing market landscape and secure lasting partnerships." HSBC has welcomed Government's proposal, announced in last month's Budget statement, to remove the stamp duty of 0.1 percent, levied when a borrower switches lenders. Chief financial officer Michael Schrum said: "We think it's great to see switching costs reducing. The way we see ourselves in the marketplace, this is good news for us." HSBC Bank Bermuda Ltd has reduced its headcount by more than a quarter over the past seven years. Chief executive officer Philip Butterfield said yesterday that the bank now employed 750 people, down from the 1,050 in 2004, when HSBC bought the former Bank of Bermuda. He added that the number of work permit holders employed at the bank was now 57, down from more than 250 in 2004. Therefore the proportion of Bermudians in the workforce has risen substantially. Mr Butterfield said the reductions were a result of increased efficiency in the bank, some through technological advances. Also, many roles were now more knowledge-based, which was why the bank put a heavy emphasis on education of its staff. He said an increasing number of Bermudians were being sent on secondments overseas, working for other parts of the HSBC group, and staff were given opportunities to expand their knowledge and expertise through training. "My mantra is that if you think you know all you need to know, then don't get out bed in the morning," said Mr Butterfield.

March 5. Corporation of Hamilton said it has no existing agreement with the US developer who said this week he had financing in place and hoped to break ground later this year on a hotel and ultra-high-end condos off Par-La-Ville Road. Despite what Unified Resorts principal Ted Adams III said, the Corporation said the company had not met its agreed obligations and deadlines, and failed to even put forward a construction plan for the proposed development. Meanwhile, Starwood Hotels & Resorts Worldwide, which attached its name to the development in 2009 with much fanfare, now refuses to say whether or not it's still involved as the brand partner. Starwood had said a St Regis hotel and luxury residences, owned by Par La Ville Hotel and Residences Ltd, would offer "unparalleled luxury" and open next year, in 2013. Par La Ville Hotel and Residences Ltd is a partnership between Unified Resorts and New York-based Sagewood Investments; local businessman Donal Smith is a partner and shareholder in the company. However, appearing to back away from the deal, all a Starwood spokesman would say was: "Due to confidentiality agreements we are unable to comment on the status of this particular project, but we can confirm that Starwood continues to view Bermuda as a very attractive market, particularly for our ultra luxury St Regis brand." When pressed whether or not St Regis was still on board as the brand partner, the Starwood spokesman refused to comment further. In a statement to The Royal Gazette, the Development Committee of the Corporation of Hamilton said: "The Corporation was very surprised to see the article in the paper on the development of the St Regis hotel. Par La Ville Hotel and Residences Ltd have consistently failed to meet various obligations under the development agreements entered into with the Corporation of Hamilton, in particular they have failed to provide the Corporation with a proper completed construction contract for the development works, which the Corporation should have had no later than 1 July 2010. So far as the Corporation is concerned there is no existing agreement between Par La Ville Hotel and Residences Ltd and the matter is, as Par La Ville Hotel and Residences Ltd is well aware, currently before the Court. The Corporation cannot go into any greater detail other than that, save to say that it expects the matter to be resolved in the next two months." The Corporation of Hamilton filed a write last February against Par La Ville Hotel and Residences Ltd. Insisting he had financing and was ready to break ground, Mr Adams told the Gazette last week: "We have sound fundamentals including: the best location on a progressive Island; the number one luxury brand in the world; a vibrant international business community that demands a five-star business hotel; an experienced Development Team; a highly educated and skilled local workforce; and, significant support and encouragement from the Bermuda Government." The Par La Ville hotel was one of several proposed hotel developments that was touted as the start of a "platinum period for tourism" by former Premier Ewart Brown, who had said he expected the Island would have three or four new five-star hotels by 2011. But one by one, nearly all of those proposed developments fell through due to lack of financing, and none has actually broken ground. Developer Carl Bazarian said last week he is still working on his proposed Park Hyatt resort in St George's, though there's no date for breaking ground. And developer Craig Christensen of Southlands Ltd continues to work on the proposed $1.8 billion Morgan's Point resort.

2012. March 6. Standard Premium Rates (SPR) for health insurance will rise by 7.7 percent, or around $19 per month according to draft regulations approved in the House of Assembly. While Health Minister Zane DeSilva said the increase was lowered through the capping of expenditure, Opposition MPs said they were left "shooting in the dark" because of a lack of information. Speaking on the Draft Health Insurance Standard Hospital Benefit Regulations, Mr DeSilva told the House that the minimum insurance rate would increase from $252.27 per month to $271.61 per month. He explained that an annual actuarial report had suggested a nearly 19 percent increase, which would have resulted in monthly bills of $299.42, but given the current economic climate the Ministry fought for a way to lower that. By capping some expenses, he said the Ministry was able to produce a significantly lower increase that would be sustainable. Responding to the legislation, OBA Minister Louise Jackson said the opposition had no access to the actuarial report, leaving them in a difficult position. "We're left shooting in the dark," she said. "We are listening to the Minister, but we're not seeing anything." She also noted that the $19 increase could still cause hardship for some, saying: "Most people are really struggling to get their health insurance paid. A rise of $19 may not be much for some people, but it's very hard for others." Fellow opposition MP Dr Grant Gibbons meanwhile expressed concern that by limiting cost increases Government could be causing even higher bills down the line as redevelopments at King Edward VII Memorial Hospital continue. "What we really want to hear is that this Minister is actually going after cost increases instead of just having a cap on it," he said. The rate, which has increased by more that 12.6 every year between 2004 and 2010, increased by 6.8 percent last year. The rate covers the minimum healthcare package, the standard hospital benefit. All employers in Bermuda are legally required to provide this level of health insurance to employees and non-working spouses and to cover at least half the cost of the insurance. Most employers offer benefits well in excess of the minimum, and all insurance companies offer more than just the minimum benefits, but it is up to the individual insurance company how much they charge for coverage above the minimal level.

March 7. NASA Signs Agreement With Bermuda For Tracking Station.

NASA and the government of Bermuda signed an agreement today to establish a temporary mobile tracking station on Cooper's Island to support launches from the agency's Wallops Flight Facility in Virginia including future commercial missions. Deputy Premier and Transport Minister Derrick Burgess and NASA Deputy Administrator Lori Garver signed the agreement. The mobile tracking station will be provided and operated by Wallops under NASA's Research Range Services Program. The station can provide telemetry, meteorological, optical, and command and control services. It will support the launch of commercial rockets carrying supplies to the International Space Station or satellites to low-Earth orbit. "This tracking station will help facilitate NASA's partnership with commercial companies and support operations aboard the International Space Station," Garver said. "We're grateful to the government of Bermuda for its ongoing support to NASA." Bermuda has been a long-time partner of NASA in supporting space exploration. The British territory hosted a radar tracking station from the Mercury Project in the early 1960s through most of the Space Shuttle Program. For more information on NASA's Commercial Orbital Transportation Services, visit: http://www.nasa.gov/offices/c3po/home/cots_project.html.

2012. March 9. Legislators have agreed to extend a passenger cabin tax waiver for cruise ships docking in Hamilton and St George. Cabin tax will continue to be collected at Dockyard where most of the cruise ships arrive, Premier and Finance Minister Paula Cox said in her introduction of the Miscellaneous Taxes Amendment Act 2012. "In addition, the Cruise Passenger Tax will continue to be collected at all three ports, Hamilton, St George's and Dockyard," she added. The Premier said that the waiver is intended to entice smaller ships to come to Bermuda. "This move has proven successful in attracting small ships such as Holland America Line's Veendam and other luxury and Premium brand ships calling in Bermuda on occasion." Ms Cox added that the waiver amounted to some $2 million in foregone revenues from 2009 to 2012 but $6.4 million was collected in Cruise Passenger Taxes for ships docking in Hamilton and St George. "For the three year period extending from 2009 to 2011, cruise passengers and crew members on cruise ships docking in Hamilton and St George's contributed approximately $18 million to Bermuda's economy, including purchases made while on-Island and shore excursions booked by cruise passengers. The waiver policy had been "critical" in getting the Norwegian Majesty to St George in 2009 and the Veendam to Bermuda in 2010-2012. It is likely that had we not waived the Cabin Tax both Norwegian Cruise Line and Holland America Line would have either reduced the number of calls, or not visited Bermuda at all. We have also experienced an increase in the number of occasional callers, including some that overnight in Bermuda. Many of these are luxury cruise lines, and cruise line executives have provided us feedback that waiving the Cabin Tax was a factor in their decision to deploy the ships here." The measure passed without objection.

2012. March. With 42 months gone since in August 2008 the old Club Med Hotel in St. George's was imploded, the The Park Hyatt Resort (St George's) Act 2008 was signed but nothing has been done, the property was in serious breach of the deadline. There was a formal complaint. Bermuda was promised development would have commenced in 2011 at the very latest. Developer Carl Bazarian was awarded in 2008 a 262-year lease to build a resort at the site but had defaulted. The lease stipulated a "construction period" mean "a period not exceeding forty-eight (48) months commencing from the date of completion of the demolition under Article 6 of the MDA (master development agreement). St George's was desperately in need of an economic revival and a new hotel would definitely have helped change that.

2012. March 15. Fix the broken hotels. Newstead Belmont Hills was the first new hotel in Bermuda in 35 years when it opened its doors in 2008. Three years later, when it was one of the top-rated hotels on the Island with a restaurant named among the world's best and a fractional development that was 80 percent sold, Butterfield Bank put it in receivership. It's understood from sources that several investors have looked at the hotel, which cost about $70 million to build, and one group came close to buying it for less than $15 million, but just could not make the investment work and walked. In 2009, Rosewood Tucker's Point, which replaced the former Marriott resort, was the second new hotel to open in Bermuda. But it too ran into problems and Tucker's Point Resorts fought for a special development order to build dozens more luxury homes on the property that it said would be sold to help repay an initial $85 million loan with HSBC Bermuda. Pink Beach Club, in a prime beachfront location, was also put in receivership by Butterfield and has been unable to find a buyer since it closed in 2010, though a group is said to be interested. If Newstead and Pink Beach failed, and Tucker's Point struggled, it begs the question, what's the incentive to build another new hotel in Bermuda, and how can it succeed? And why is it that so many real estate investors, before they finish crunching the numbers, are half away across the Causeway to catch the next flight out of Bermuda? Hoteliers and international developers who spoke to us for this series, said clearly the industry was in a state of crisis and nothing short of radical steps were needed for it to come back from the brink. Industry sources estimated hotels in Bermuda were carrying at least half a billion dollars in debt from various lending institutions here and overseas, and that may even be "light", one source said. The sources questioned how some of the hotels will ever repay that kind of debt and said it may be the case that they end up being put into receivership and/or bought by new owners at cents on the dollar until they finally get to a position where they are a reasonable investment that isn't saddled with massive debt. The estimated debt is on top of the provisions for credit losses related to hospitality loans of more than $100 million written down by Butterfield Bank in 2009, and the bank's actions in 2010 and last year. As Butterfield explained to us for this series: "In 2010 and 2011, the bank took decisive actions to address non-performing loans associated with two hotel properties in Bermuda, with the result that those properties were placed in receivership. The Bank has substantially reduced its credit exposures in the hospitality industry. As is standard practice, in the normal course of business and as is disclosed in our audited financial statements and notes, the Bank takes provisions against non-performing commercial loans. Management believes the current level of provisioning is sufficient to address any inherent risks in the commercial loan portfolio. We continue to welcome applications from businesses engaged in the hospitality industry." Whether it makes such a loan is another story. You need only travel the South Shore to see how paralyzed tourism has become. Properties once busy with visitors now sit empty in a state of disrepair, from the once top-notch Ariel Sands resort to the beachside Grape Bay Hotel. Others like the former Club Med, Lantana and Sonesta Beach have been razed to the ground, waiting years now for a new developer to break ground, while Elbow Beach remains half-closed. And 9 Beaches, created from a failed eco-resort, was closed in 2010 and won't reopen until it undergoes a multi-million-dollar redevelopment. The string of closures are a terrible indictment on a tourism industry that was once the envy of the world, and that in 1980 attracted nearly 500,000 air arrivals - or 600,000 total visitors if you count cruise passengers. Even top-rated The Reefs and the city's only resort hotel, the Fairmont Hamilton Princess, have had challenges. David Dodwell, owner of The Reefs, has said that he had made a significant investment in the infrastructure of his resort with the $52 million Reefs Club fractional ownership development. But he said last March membership in the club was below initial expectations, and as of January the resort said the fractionals were 40 percent sold. Meanwhile, the Fairmont Hamilton Princess is listed for sale, though it says it's just looking for an equity partner to "fast track" a $50 million project to expand and upgrade facilities, including adding dozens of marina slips. A slew of new resorts was promised by former Premier Ewart Brown to usher in his "platinum period" legacy of restoring Bermuda tourism. None has ever materialized although two of the most high profile, Southlands Ltd's Morgan's Point resort and Carl Bazarian's planned Park Hyatt project, are still being actively worked on. Asked what were the challenges in making a hospitality project work in Bermuda, Mr Bazarian told us number one was construction costs. He added: "Generally, not specifically, equity and long-term debt are difficult in the Caribbean and North America for new-build resorts because of high inventory of distressed properties which has not burned off." He said plans for the St George's resort, first announced in late 2007 and supposed to open this year, were "going good...we are still designing and pricing construction". If you look at Tourism Department statistics, the number of hotel-staying tourists has dwindled to less than 180,000, when we once enjoyed close to 500,000 guests. It should be noted that of the some 236,000 air arrivals recorded in 2011, 57,000 said they stayed in private homes. The statistics also show the number of hotel properties on the Island has fallen from more than 100 in 1980 to 48 last year, although the website TripAdvisor.com only lists 29 being actively reviewed and the Tourism website lists only about 40, of which several no longer appear to be taking tourist bookings, or are very small guest houses. The number of hotel beds, around 5,000 last year, is half of what it once was in the 1980s and hoteliers say probably far less in 2012 than even that number. According to US real estate developer and owner of Bermuda's Munro Beach site, Sam Byrne, the tourism industry in Bermuda needs an overhaul. "Bermuda did not encourage ownership schemes, in fact prohibited them in most cases, and was too expensive for mid-market hotel operations to succeed," Mr Byrne told The Royal Gazette. "Thus, the bed base reduced, airlift declined and the overall industry suffered. The economy still succeeded with global business, particularly reinsurance, thriving in Bermuda, but the tourism market suffered to the point that it requires complete rebuilding from the ground up with new thinking and creative incentives to attract outside capital. Other industry stakeholders said Bermuda needed to understand the multitude of challenges facing hotels. "I think profit is a word we have almost forgotten," Cambridge Beaches president Michael Winfield said. "It has been many years since most hoteliers realized even a reasonable return on their investment. Right now we are working to stay in the business, to stay viable." Developer Kevin Petty, who said he personally lost millions in his Newstead development, said in this climate: "There is no reasonable return for an investor, over a reasonable period of time, based on the high costs associated with building a new product." Mr Winfield agreed, saying: "No investor is going to consider an investment unless he can see a reasonable return. The answer for new development thus must be that we need to get the existing hotels profitable." Mr Winfield added: "Unless and until we can see our costs reduced and the demand for our product increased, we have huge challenges. Electricity is one of those costs that are far higher in Bermuda than almost anywhere else."

March 19. Fix the Broken hotels. Another a series of reports on the state of the Bermuda tourism industry. We at the Royal Gazette will examine how far we have fallen since our heyday in the 1980s, why dozens of resorts and hotels, including highly rated ones, have failed and closed, why no one wants to invest in a hotel in Bermuda right now, why no new developer has broken ground despite promise after promise, and what it will take for a new resort to be built, and for the less than 50 hotel properties we have left to be profitable enough to keep their doors open. Hoteliers say Bermuda needs to fix its "broken brand" and re-engage with its core high-end market. They said the Island needed to stop being all things to all people, because it was diluting the funds available for marketing and giving tourists the wrong message. The number of hotel beds on the Island is now less than 5,000 when it was once almost 10,000 back in 1980. While cruise arrivals have risen, air arrivals were down to 236,000 in 2011, of which 57,000 stayed in private homes. "Because demand is so low overall for the Island, you now have Government and the hotels trying to reach out to myriad potential sources of business and to steal market share by way of discounting," said Michael Winfield, president and CEO of Cambridge Beaches Resort and Spa. "That discounting means that hotels' revenues are reduced and they can't afford to put money back in to improve the physical product to ensure they stay competitive, and the cycle just goes on and on." Paul Telford, director of rooms at Rosewood Tucker's Point said to improve tourism: "We need a true definition of what Bermuda is as a tourist destination and then aggressively communicate this to our target markets as well as stakeholders on the island. Re-engage with and focus more on our core markets which are the high-end travelers in Northeast United States who are only 90 minutes away from Bermuda and don't realize it. Finally, get Bermuda back to being excited about tourism. It's proven that we need tourism, so let's get serious about it again." Sally-Ann Kyle, president and CEO of The St George's Club, a vacation ownership resort and cottage hotel, said getting demand for Bermuda back up was key. "The St George's Club has fared better than most during the current economic meltdown but we are still suffering," she said. "Revenue generation facilities that are relied on to boost revenue such as the restaurants Griffin's Bistro and Bar and our seasonal beach property Blackboard's Hideout have not generated the business that they used to, simply because the numbers of people willing to and wanting to eat out are down substantially." Mrs Kyle said if we do not increase the number of air visitors coming to the island then, along with hotels suffering, we may not have the same number of airline flights in the future. "We need to promote Bermuda so that people know about us, understand what we are as a resort the Island is a wonderful resort and there are several different levels of accommodation to choose from and understand our costs. There is no point attracting people that find the place too expensive and leave thinking I won't go back there again. The marketing in the past has been too focused on what we would refer to as tactical and not strategic. We need to tell people about the fantastic positive things on the Island: the beauty, the beaches the people, our history and 'Britishness'! We need to make sure that if someone is thinking about a holiday then Bermuda comes to mind. Perhaps the most recent announcements by the Bermuda Department of Tourism with respect to pink buses, trains and billboards are a significant step in the right direction, but it needs to be sustained and augmented by a rebranding of the Island as a destination of choice. With hopefully a large part of the marketing money spent on strategy, the government, the unions and the industry must continue to work together so that in the short term while the new branding takes effect, hotels can receive concessions as required to survive, renovate and everyone works to improve service so that the perception moves to Bermuda is expensive but it was really worth the money and I will go back!" Another long-time hotelier declared: "The Bermuda brand is broken." The hotelier told us a reasonable goal for Tourism right now should be bringing air arrivals up to 350,000 and reducing cruise arrivals and the strain they place on tourism. "Cruise visitors are our biggest rivals," the hotelier said. The hotelier also said the industry faced "incredibly high costs" and too much bureaucracy in everything from the planning approval process to immigration approvals for labour "Almost every hotel on this island is in the deepest struggle it's ever been in to be profitable," the hotelier said, adding, without sufficient revenue for owners to reinvest in hotel properties it becomes a "death spiral". Mr Winfield says everyone in Bermuda needs to understand how critical tourism is to the Island. "If the tourism industry is dying, then much of the rest of our economy will follow," he warned. Here Mr Winfield agreed to answer our questions about the state of tourism and what it will take to turn it around. "Why has it been so difficult to make a hospitality project work in Bermuda?" His answer was: "Because almost all of the costs involved are at a multiple higher than our competitive jurisdictions. Virtually every aspect of getting a room and the facilities in place for a guest costs us more than our competition and yet we have to charge to be competitive. Thus we are effectively capped on the rates we charge but have higher costs than almost anywhere else, that leaves very little room for any return and in the last few years has been a negative proposition. But even in the best of years, the gap was pretty narrow." Are you struggling right now to make your resort profitable? "I think profit is a word we have almost forgotten, it has been many years since most hoteliers realized even a reasonable return on their investment. Right now we are working to stay in the business, to stay viable." What are the top three things that could be done right now that would help your property to thrive? "As I have often said, the model is severely challenged in Bermuda. Unless and until we can see our costs reduced and the demand for our product increased, we have huge challenges. The new Minister is making strides forward. We have a new agency about to be announced and the national tourism plan should be out by end of May. Having been involved in such plans several times in the past, the key is not just in the details of the plan it is in the commitment of all involved to make the action steps happen. Too often in the past we have gone to huge efforts to produce plans only to have the reports grow dusty on a shelf. We, the people of Bermuda, have to understand the true value of tourism to our livelihoods. Unlike much of international business expenditure, tourism dollars flow through the community and impact right across the economic welfare of the country. So many people benefit from every dollar spent by a hotel guest. We also have to understand that the other pillar of our community is dependent on the tourism infrastructure. That business requires the flights, the taxis, the restaurants and the tourism infrastructure, one cannot survive successfully without the other. For leading business people to be proclaiming the death of tourism is both naive and self defeating. If the tourism industry is dying, then much of the rest of our economy will follow. In simple terms:
We need to boost the brand awareness of Bermuda in our key markets we are the closest resort destination to the richest markets in the world but those prospective guests need to understand the key attributes of Bermuda and be reminded of them continually.

We have to develop plans that address the growing seasonality of Bermuda, we need to give people a reason to come to Bermuda in the winter months. A five-month season is simply unsustainable.

We need to bring all those involved together to address the costs of operating, right from construction to delivery of services.
Fractionals are being discounted now in Bermuda and not selling as well. Why has the fractional product and financial model failed? " I am not in the fractional business and thus not an expert but I do not believe fractionals are a dead idea. Tourism is a cyclical business, anybody that understands the industry knows it goes through up and downs. Unfortunately this latest down cycle has been deeper and longer than almost any before it but the demand for travel will come back and the demand for the fractional type product will also come back. It may need to be modified and changed as the aspirations of the target markets change but a variation of fractional development may well be the only way we are going to see new build of tourism infrastructure in Bermuda." How does the cost of construction and electricity in Bermuda affect the costs of operating and the bottom line? "Electricity is one of those costs that are far higher in Bermuda than almost anywhere else. We are paying north of 30 cents a kWh. I know of no other competitive jurisdictions, even on small islands, where their costs are so high. It is a huge element of our cost structure. We are probably looking at something close to $500 per square foot for new build. That is a multiple of at least two over competitive areas. And that is before the cost of land is incorporated. So in construction costs alone, we are starting at twice the cost of product than most other places. Potential new developers come and talk to existing hoteliers when they survey Bermuda. They ask us questions about the various costs and they go away and try and make the model work. No investor is going to consider an investment unless he can see a reasonable return. The answer for new development thus must be that we need to get the existing hotels profitable. Show any investor, companies already operating profitably and consistently and they will be interested. I don't think Government fees are generally that high, although they are in certain areas. It is not just fees it is the need to get those within Government that interact with us, to genuinely understand our challenges and to work with us to make operating a hotel easier. Many of us spend inordinate amounts of time dealing with various Government departments and that is expensive." What is your view of Bermuda as a tourism destination? "It has so much going for it. We have better beaches, we are a first world tourism destination, guests coming to Bermuda can expect to have the infrastructure they are used to in their homes, here in Bermuda. Transport, generally works, communications work, there is little pestering of guests by people trying to sell them things, we don't have nasty insects, our crime levels are still pretty good although the increase in violent crime is very concerning. We are still generally a friendly people and getting here is easy. We certainly need to look at what we can do to attract people in the winter months and we need to ensure that our interaction with visitors is always welcoming this begins at the airport and is relevant to our shops, our taxis and bus operators, indeed any point of interaction with our guests." What additional Government or other incentives and/or policy or law changes are needed to help tourism? "We need to appreciate that Government is facing many of the same financial challenges we are and that the hotel industry, nor any other entity, cannot be continually going back to Government asking for more financial support. Having said that, there are things that can be done. A long-term review is needed on the cost of electricity on the Island. Clearly Belco is facing similar challenges to the rest of us but we need to break the cycle and look at what it is going to take to get the cost of electricity to a position where it is competitive with the rest of the world. Clearly there are going to be capital expenditure issues here that will have to be amortized, but should we not, for financial and environmental reasons, now be looking at reducing our dependency on the spiraling costs of oil? Belco has a wonderful system for them, they just add a fuel surcharge and thus the increased costs of oil does not impact them, they can pass that straight on to their customers. The rest of us in business do not have that option. And as electricity is a significant part of all of our monthly costs, a reduction in that would help lower the cost of living across the board. I understand that the Minister is already talking to the construction industry about reducing costs for new build and renovation of hotels. This is a great first step. But I think we need to analyze this in detail, understand what costs are built into the construction industry's expenses that add up to the high overall costs and see if there are elements within their cost structure that we can impact on. For many years, Tourism has tried to be all things to all people and the end result has been a dilution of funding available for branding Bermuda. I have always said, get the demand for the Island up and I as one hotelier am more than prepared to compete for that business. Because demand is so low overall for the Island, you now have Government and the hotels trying to reach out to myriad potential sources of business and to steal market share by way of discounting. That discounting means that hotels' revenues are reduced and they can't afford to put money back in to improve the physical product to ensure they stay competitive, and the cycle just goes on and on. Position Bermuda as a unique destination, make it THE place that the affluent want to come to, reduce strains on the infrastructure (like too many cruise ship visitors) move your average customer base more up market and you will see Front Street start to revert to the quality shopping it once was, which in turn will appeal to the affluent client that we need. Of course we need to do much more than that, we need to understand what that target guest is aspiring towards in relation to their vacation and then build a plan to satisfy those needs and wants. We need to be more innovative in terms of the activities we offer, we have offered glass bottom boat trips, scuba diving, etc for many years but how much innovation has there been? And as we develop and approve new innovative ideas, Government can come in and look to providing duty relief for those approved projects. We need to seriously look at how we can finance as a small country, the proposed Front Street development, make it totally unique and attractive to the target, affluent market, we need to look at a central convention facility and yes we need to seriously consider casinos, not as a total answer but as another facility, particularly in the winter months. What about a large water park, a larger and more interactive zoo? And yes, as per my recent suggestions, what about an interactive marine sanctuary and a protected snorkel park that allows our guests to experience the enormous variety of marine life that surrounds us. Perhaps most importantly, we have to really get, as a community, just how important tourism is to us, we have to embrace it, defend it and fight for it and this cannot be just a small group of hoteliers who feel they are lone voice in a vast wilderness sometimes. Where Government can really help is with the processing of our interactions with them. Let us understand and be brave enough to state that if we are to charge five-star prices, we have to offer five-star services and that means we need the best of the best staffing our hotels. Hoteliers are desperately trying to get more Bermudians into the industry but we have to have the necessary work ethic and attitudes, given that we can train. But as we train we also need first-rate professionals, the best in the world if we are to offer service standards that are the best and the reality is we are going to need to import labour and we need to be competitive in doing so. We simply can't take months to clear permits. Same applies to planning, health and safety inspections, all of the interactions we have continuously with Government. We have much of what we need already, we have one of the most beautiful islands in the world. But we cannot rest on our laurels, we have to honestly debate, question and challenge the road blocks and the impediments and see how we can, collectively, eliminate them."
March 25. Costs at the Island's post offices will increase as of April 1, according to Minister of Economy Trade and Industry Patrice Minors. Post Box rental fees, Express Mail Service fees and Customs Clearance and processing fees are all set to rise, while new fees will be put in place for redirecting overseas mail and holding mail at the post office. Speaking on the fee increases, Ms Minors said: "The pro bono provision of postal services by Bermuda Post Office is no longer sustainable in the face of its spiraling annual deficit. The levying of fees on postal services has precedence in the standard practices of other postal administrations within the Universal Postal Union (UPU) of which Bermuda is a member country through the UK. The US Postal Service and the British Royal Mail are examples of UPU member countries that levy fees on postal services to cover their operating costs." The changes include:
Express Mail Service fees will be increase by 25 percent starting with the base charge increasing from of $25.00 to $31.25.

Post box annual rental fee will increase from $65 to $85 for small boxes; $90 to $120 for medium boxes and from $260 to $300 annually. A late fee of $25 for large boxes. A $25 late fee will be applied on payment of all post box renewals that fall into arrears by 30 days or more.

Customs clearance and processing will be increased from $1.00 to $5.00 for all dutiable parcels received and processed through the Post Office.

A new fee of $10 per week or any period thereof will be charged for holding of mail for persons traveling at any post office.

Land redirection of mail overseas due to change of address will incur a new administrative fee of $25 for the three month redirection period in addition to the standard overseas postage costs.
March 26. A new standard duty rate of 25 percent will take effect on April 1 for non-business goods. But a statement released by Government on Friday added that "special" rates of duty, including zero-rates; higher rates (33.5 percent, 75 percent and 150 percent); and specific rates (for example for litres of alcohol), will remain unchanged. The standard 25 percent duty rate and the special rates will be paid for goods imported by personal taxpayers, while the duty rates specified in the First Schedule to the 2012 Customs Tariff will be paid for business goods. Businesses will be able to apply for generally lower duty rates in the Customs Tariff by specifying customs procedure code (CPC) 4000, which applies to goods eligible for business end-use relief on their Bermuda Customs declaration. For the purposes of CPC 4000, "business" means: A business carried on for profit (i.e. the supply of goods or services for valuable consideration); A public authority in the performance of its functions (eg Government of Bermuda, Government boards or commissions, quangos, municipalities etc); or A registered charity in the performance of its functions. See Customs website, www.customs.gov.bm. Any questions on the standard rate, special rates or business end-use relief may be sent to customs@gov.bm.
March 25. A standardized 25 percent duty rate on imported personal goods was approved by Senators last night. Personal duty free allowance for goods brought in through the airport will also increase from $100 to $200 per person under the Customs Tariff Amendment Act. Meanwhile temporary measures restricting the allowance to one claim per household will be abolished. Government hopes the new rate on personal goods will encourage people to shop locally. However courier companies complained it will make life more difficult for Bermudians, especially the construction industry, as homeowners will be charged more on building supplies.
March 31. New import duty rates go into effect this weekend. As of Sunday, a standard rate of 25 percent will be charged for such items as clothes, jewellery, electronics and household furniture and appliances. The duty for wine and champagne will be $2.63 per litre; spirits $9.66 for the same amount. The duty stands at 33.5 percent for such items as batteries, generators, air conditioners and vehicle parts. Smokers hoping to cut costs by purchasing cartons of cigarettes abroad, will have to pay $40 per carton of 200 cigarettes. The rates apply to all goods that accompany returning residents. Reading materials, corrective eye glasses, computer software and prescription drugs remain duty-free. In addition, every returning resident is allowed a duty-free allowance of $200 on accompanied goods; visitors are allowed to bring gifts not exceeding $30 in value. All passengers are allowed one litre of spirits, one litre of wine, .5kg of tobacco, 50 cigars and 200 cigarettes duty-free. The rates were released as a public reminder by Collector of Customs Winifred Fostine-DeSilva.
April 5. The combined total of annual employee compensation in Bermuda's international business sector topped $1 billion for the first time in 2011, according to figures compiled by Government. The sector's employment income last year totaled $1.025 billion, representing a 10.1 percent increase from 2010's total of $932.2 million. In total, Bermuda's employment income totaled $3.137 billion, up 1.7 percent from the year before, despite hundreds of reported job losses. The numbers show that the approximately 11 percent of the Island's workforce with international business jobs earn almost a third of Bermuda's total employment compensation. The figures are based on data from the Office of the Tax Commissioner. A spokesman for the Department of Statistics said the figures represented all types of compensation, including bonuses and housing allowance. What makes the international business double-digit increase all the more remarkable is that it follows a 9.4 percent increase in compensation for this sector in 2010 and comes despite a decrease in the number of employees working in international business in recent years. Government figures showed that the number of international business workers fell 6.9 percent in 2009 and 3.2 percent in 2010. The last reported number of international business employees was 4,287 in 2010, as reported by the Department of Statistics. Another notable increase came in the hotels and restaurants sector, which produced 20.2 percent more employment income year over year, rising to $71.6 million in 2011, up from $59.6 million a year earlier. The fourth quarter saw hospitality workers earn $24.8 million, up 56 percent from the same period a year earlier and the highest quarterly compensation earned in this sector for three years. The banking, insurance and real estate sector generated employment income of $338.2 million, up 1.8 percent from 2010, while business services experienced a 0.4 percent fall to $308.6 million. On the downside, the construction industry suffered the biggest fall among the sectors, with a 22 percent drop in employment income to $122.2 million. This marked a third successive year of contraction in this sector, following a 5.7 percent decrease in 2009 and a 13.9 percent fall in 2010. At its peak, construction employment income was $193.2 million in 2008, a time when several major office buildings were being erected. That figure had declined by $71 million, or more than a third, by 2011. Public administration and defence employment income fell for a second successive year, falling two percent to $432 million, following a 0.5 percent fall in 2010. The wholesale and retail sector recorded a third consecutive year of declining compensation. A fall of 3.9 percent in 2011 saw the sector's workers earn $204.3 million.
April 17. Health Minister Zane DeSilva has reported on the "aggressive time frame" for putting in place Bermuda's National Health Plan (NHP). The plan is designed to provide residents with universal access to healthcare by 2014. In a Ministerial Statement before the House of Assembly, the Minister listed deadlines for the various task groups overseen by the plan's steering committee. The Benefit Design Task Group has created "draft options for health benefit packages", Mr DeSilva said, with the aim of getting the most out of the Island's minimum mandated insurance plan, the Standard Hospital Benefit. Those options are now being priced by the Finance and Reimbursement Task Group, through actuaries Morneau Shepell. "A draft consultation report with costed financial options will be completed in the autumn, and the final report will be submitted to the steering committee by the end of the year," Mr DeSilva said. In tandem with this, an Overseas Care Task Group is seeking more efficient options for treatment abroad. Overseas care has shown the greatest rise in expenditure each year, Mr DeSilva told the House. Next, the Long-Term Care Task Group, dealing with health strategies for the chronically ill and disabled — from children to seniors — is to present its findings to the steering committee before the end of this summer. Overall, this group has a four-year time frame in which to put its goals in place. Meanwhile, a Health IT Task Group, Mr DeSilva said, is to develop "an integrated health IT system that will increase quality care and efficiency through the creation of an electronic health record." It is currently engaged in an online survey. The Bermuda Hospitals Board has also recruited William Flatman as project director to develop its Electronic Medical/Patient Record initiative. Mr DeSilva also addressed the health promotion targets of the Well Bermuda Strategy, which is being implemented by a Prevention Task Group. It is to report on its progress this June to the steering committee. Useful website: www.nhp.bm.
April 19. Bermuda Government yesterday confirmed what The Royal Gazette has been reporting for months now, hundreds of people in Bermuda have lost their jobs. Nearly 700 people in all lost their jobs in Bermuda last year, according to the Government, marking the third straight year of job losses for the Island. The vast majority of those made redundant were expatriates. According to the annual Bermuda Job Market report, released by the Department of Statistics yesterday, there were 698 fewer jobs in 2011 than there were in 2010, a decline of two percent. The report said the number of filled positions reported in 2011 was 37,399 compared to 38,097 in 2010. Of those 698 people who lost jobs, 691 were non-Bermudians and 60 were Bermudian, offset by spouses of Bermudians who gained 30 jobs and permanent resident certificate holders who gained 23 jobs. "My initial reaction is that this survey further exemplifies the need to change gears," said Buddy Rego, President of the Bermuda Chamber of Commerce. "Relax employment restrictions, give incentive to the business community to create new business and job opportunities." After reading the report, Doug Soares, a partner at Expertise, Bermuda's largest management consulting and outsourcing company, said employees in the private sector seem hardest hit. "The level of austerity felt by private-sector employees has not yet been felt by Government employees. For the 12 months ending August 2011, Public Administration shed only 12 jobs and increased compensation by 1.5 percent over the annual inflation rate," he said. "The Government seems committed to preserving the size of the public service. This is only sustainable for as long as we continue adding to the public debt. Government has instituted a hiring freeze so downsizing will occur but too slowly to avoid the eventual need for reductions in the public sector payroll. At some point, job losses or reduction in hours of work, pay or benefits, or a combination thereof, will be required to match payroll costs with shrinking tax receipts." The Government's report is based on a census of all businesses on the Island. The survey was conducted during the week of August 28 to September 3, 2011. Mr Soares said unemployment figures are likely to get worse before they get better. "It is important to note that the statistics published in the 2012 employment brief are already dated. They represent a snapshot of the job count in August 2011," Mr Soares said. "So the question is, has the unemployment situation gotten better or worse over the past seven months? Unfortunately, the answer is worse." The hardest hit sector was construction, which shed 493 jobs, a fall of 16 percent. Also hard hit were real estate, which lost 14 percent of its workforce due to a slumping housing market. The number of jobs in international business dropped five percent from 4,287 in 2010 to 4,077 in 2011, down 210 jobs. Mr Soares points out that in some sectors, the losses might not get too much worse but for others, there could be greater issue at hand. "For example, job losses in construction have slowed in recent months," he said. "What is not well understood by the average Bermudian is the cause of the job losses. It is widely presumed that all job losses are caused by the recession. Not so. For example, while a construction job is lost due to a lack of demand for building in the economy, most international business job losses are actually job relocations. This means that the job is just moving from Bermuda to another jurisdiction. So the question should be: what must we as a jurisdiction to retain international business job in Bermuda?" One of a handful of sectors not cutting positions was the hotel industry, which added 131 jobs last year. Restaurants, cafes and bars added 53 jobs. And 270 positions were added in education, healthcare and social work. Those who managed to stay employed are likely earning more money. The median annual salary for jobholders in companies with ten or more employees increased three percent from $57,915 to $59,364. For the third year in a row, women, on average, earned more than men. The median annual income for women was $59,677 and for men, it was $59,081. The report points out that the increase in women's earnings exceeding those of men is attributable to the decline in construction jobs, primarily held by men. Of all the jobs lost in 2011, male workers held 90 percent of them. There was no change in the number of jobs filled by black workers however, there were significant job losses among workers who classified themselves as white, mixed and other races. The highest average salary was in the international business sector at $111,938 while the lowest averages were in the retail ($42,000), hotel ($35,898) and restaurant ($35,664) sectors. Non-Bermudians with no spousal ties to Bermudians were heavily employed in the professionals occupation group. Positions in that category include actuaries (123 jobs), lawyers (103) and certified accountants (490). They were also some of the better jobs with median salaries of $189,263 for actuaries, $184,902 for lawyers and $98,229 for certified accountants. Other positions with large numbers of work permit holders, which also paid above the national median salary included junior accountants (174 jobs, $96,346), secondary school teachers, (153 jobs, $85,500) and registered nurses (490 jobs $67,598).
April 24. Less than a week after the Bermuda Government's Department of Statistics released its latest unemployment figures, business leaders on the Island are making a call to action, saying the government needs to make changes to create a more "business friendly" Bermuda. The Government's report revealed 698 jobs were lost last year and 691 of them were positions held by expatriates. On the same day we reported on those figures, this newspaper also reported that Saltus Grammar School had cut five positions, citing a drop in enrolment numbers due to expats leaving the Island as the reason. Now, in an exclusive to The Royal Gazette, The Bermuda Employers' Council (BEC) has released the results of a survey that finds the vast majority of employers in Bermuda are not at all optimistic about the economy. The survey found 71 percent of its members believe the recession will go on into 2013 or 2014. The BEC is Bermuda's largest employer organization dealing with trade union and human resource matters. Keith Jensen, the organization's President said the majority of their members are pessimistic about recovery and are hesitant to invest and hire in Bermuda, "Almost 60 percent of our members see the economy becoming somewhat or much worse with the remainder believing it will be about the same as a year ago. Consequently, conditions for making major capital investments, which helps to drive employment, are somewhat worse or much worse than a year ago." Two out of the top four concerns for businesses, the survey found, are immigration-related issues: keeping people employed, keeping/attracting business to the Island, work permits and immigration policies. Mr Jensen said a majority of BEC members in the survey suggested changes to work permit and immigration policies and the relaxation of term limits were priority matters that Government should address. Other changes they said they would like to see the Government make included ensuring friendlier business climate, (i.e. attracting and keeping business in Bermuda), lowering taxes and cutting Government spending. The concerns of BEC members and the changes called for are echoed by the Bermuda Chamber of Commerce, Construction Association of Bermuda and leaders of the opposition party. "This is a very interesting survey that not only serves to highlight what we, at the Chamber, have been seeing and commenting on for some time," said Diane Newman, co-chair of the Bermuda Chamber of Commerce's Economics Advisory Committee. "Certainly, the latest Government Employment Report released this week, underlines the situation we have here with large numbers of jobs leaving the Island and, as a result, fewer local jobs in the economy. The latest employment survey underlines the correlation between work permits and local jobs. For every five work permits lost, one job in Bermuda ceases to exist, so for every 500 guest worker jobs that are lost, translates into 100 local jobs lost. Expatriates create jobs for Bermudians, they don't take jobs from Bermudians. Bermuda needs to take immediate steps to "regrow" the international business sector and attract more foreign job creators. "We understand that since 2008, insurance and reinsurance has grown around the world, but shrunk in Bermuda. Government needs to embark on immigration reforms by abolishing term limits on work permits, streamlining the immigration process and adopting policies that tie expatriate workers to the island for the long term. Similarly, it could reduce the costs of employing skilled foreign workers for local businesses by doing away with term limits, which simply result in employers having to 'churn' workers, bringing in new expats to replace departing ones." "Treating immigration as a political tool, by making international business feel uncomfortable here, has caused, and continues to cause that sector of the economy to shrink," said Shadow Finance Minister, Bob Richards "When international business downsizes or leaves Bermuda, it reduces the number of Bermudian jobs, both directly and indirectly. Over 60 percent of jobs in the international insurance sector are held by Bermudians. In addition, non-Bermudians working in international business are heavy consumers of goods and services in Bermuda. To put it bluntly, when they leave and stop buying here, Bermudians are thrown out of work." Hardest hit by lob losses last year was the construction industry, which saw 493 jobs cut. It's the second year in a row jobs in the sector have declined by 400 or more jobs, a total loss of 1,100 jobs or 30 percent of the construction workforce since its peak in 2008. The BEC's survey finds demand for employees remains weak in construction and the also hard-hit retail, hotel and restaurant industries. "The fact that construction is one of the hardest hit sectors of the economy is not a surprise given what is going on in the community, which is why construction is generally considered a leading indicator of the economy," said Charles Dunstan, president of the Construction Association of Bermuda. Mr Dunstan said there's a trickle-down effect when guest workers lose their jobs, one that is reflected in the construction industry. "The largest loss over the past three years has been guest workers. This loss represents less rents to Bermudian landlords, less business for restaurants, less tax revenue, and less money in the local economy generally," Mr Dunstan said. "The specific effect on construction is less investment by homeowners, government and businesses in property development, i.e. less construction. Maintaining and growing our international business sector is key to this investment."
April 24. The Bermuda Captive Owners Association is resurrecting itself (after first being formed in 2005 but went dormant some time thereafter) and is actively trying to recruit new members. The once-dormant group is starting a new marketing and re-branding campaign under the direction of William Montanez, chairman of BCOA. Mr Montanez, an American, who is also on the Board of Directors for the Risk and Insurance Management Society (RIMS), oversees his own captive in Bermuda as the director, risk management for the US company, Ace Hardware Corporation. The group currently has around 20 members, which represents a fraction of Bermuda's 862 captives on the Island. "Main thrust, for now, is to expand the influence of captive owners," said Mr Montanez. "We have had a lot of interests in Bermuda but haven't had a lot of participation." The group is behind the Bermuda Captive Conference in June but has been largely inactive until recently. Speaking from the 48th annual RIMS conference, Mr Montanez said that BCOA is actively working with the Bermuda Insurance Managers Association (BIMA) to resurrect their membership base. "Actively working with BIMA, trying to forge a relationship to generate new members," he said. "We are actively soliciting members to become engaged in moving forward initiatives of BCOA, which is advocacy of their own interests."
May 14. The multimillionaire owner of Lantana is speaking out against a local bank after two attempts to buy Newstead Belmont Hills golf club and fractional resort fell through at the last minute. New York-based investor Lawrence Doyle said: "I have bought and sold $100 million worth of real estate in Florida, New York and North Carolina and I have never had a bank behave that way. And it was not like there was any other bidder for Newstead. I raised my offer against nothing." Butterfield put Newstead in receivership last January. Mr Doyle stressed his criticisms were not with the entire bank, but more with the particular negotiator/s he dealt with at Butterfield. Mr Doyle said he had felt Newstead, with its golf course, two restaurants and ferry stop, would be a "good strategic fit" to Lantana once he redevelops the waterfront Somerset resort, which he eventually plans to do as the economy and tourism turn around Mr Doyle, a former money manager, started a real estate investment company specifically to buy post-financial crisis properties. He said his firm Katierich Asset Management LLC recently purchased two golf courses in North Carolina, 385 apartment units in New Orleans, 285 units in North Carolina, and more than 50 units in NYC. Mr Doyle said he went through two rounds of negotiations with the receivers Ernst and Young and Butterfield was kept apprised and both his offers had been accepted. In the first case, he said, his offer was accepted, financing was in place and a sale was ready to go through, however, "The bank negotiator came back and said they wanted more money." Having gone so far in the negotiation, Mr Doyle said he was very upset by the eleventh-hour set back, but after a period he came back to the table and upped his offer in the region of a $1 million. "They asked me 'can you close by Tuesday?', I said yes, I can put the money down in escrow by Tuesday," Mr Doyle said. "But then they came back again ... saying they needed time to negotiate with (a financial entity/partner). I guess they just do not want to sell it." He said it was suggested there was a several-hundred-thousand-dollar shortfall that needed to be made up, and he then did not hear back from the negotiators. In response to Mr Doyle's comments, a Butterfield spokesperson said: "We cannot offer comment on the particulars of any discussions we have had regarding the property. It continues to operate under the professional management of the receivers with a view to selling it as a going concern. As we have stated in the past, our objective is to preserve the value of the asset for the benefit of all stakeholders." Mr Doyle said his goal with Newstead would have been to aggressively sell the remaining unsold units and then operate it. He said he was not as pessimistic as some developers about Bermuda. "You just need to get rid of the product and inventory (unsold and receivership) that's out there and things will start moving again," he said. "A lot of property is moving in Miami again. I think the banks should not be holding onto product. If it's sold it helps out everybody in the industry." It's understood from sources that Newstead cost about $70 million to build, and a previous group came close to buying it for less than $15 million. Newstead's shock receivership came several months after Pink Beach Club was also put in receivership. Pink Beach remains unsold. Other closed resort properties like the former Sonesta Beach site on the South Shore, are also up for sale. Mr Doyle said despite the experience with Butterfield and Newstead, "I am not walking away from Lantana. We will see what happens in the next 12-24 months." He added the Bermuda Government, in his experience with Lantana, had been highly supportive of his development plans and he had nothing but positive views of the Tourism Department. "When things turn around they will turn around quick," he said. "Once Bermuda gets rid of its inventory you will discover there are more buyers out there." Mr Doyle was due to begin construction on a beach club last summer as part of his planned $100 million redevelopment of Lantana which would see around 28 luxury units built on the former cottage colony property. The project was put on hold after Newstead was put in receivership. Mr Doyle bought Lantana after coming across it several years ago when he came to the Island on a cruise for his mother's 80th birthday. Despite being very run down and overgrown, having closed a decade ago, Mr. Doyle said he liked the property, after being shown around by agent Rego Sotheby's, and saw its potential.
May 16. Three local vendors have won Government's tyre contract in a move saving taxpayers $170,000, Premier Paula Cox revealed today. The Procurement Office reached out to companies who may have been unaware that the contract had been put out to tender, but offer good value for money, Ms Cox told a press conference. Discount Tyre & Wheel, Affordable Tyre and Bermuda Tyre Company scooped the award, which is just over $1 million, to supply tyres for Bermuda Police Service, the Public Transport Board, Bermuda Fire Service and Public Works. Ms Cox said individual Government departments previously paid differing amounts for their tyres; under the new system tyres will be supplied to all departments as part of the same deal. The Premier told the media: "The award of this contract, which is valid until March 2013, will realize a savings of $170,000, while, at the same time, meeting the Government's commitment to spread its purchasing power."
May 17. Our spotlight on Bermuda's hotel heritage continues here with a look at the Bermudiana Hotel which was torn down in the 1990s. During the heyday of Bermuda tourism it was one of our most popular hotels. It was built in 1924 by the Furness-Withy shipping line and was the first hotel built in Bermuda after the First World War. It was designed by the American firm Warren & Wetmore which also designed Grand Central Terminal and the Biltmore and Ritz-Carlton Hotels in New York City. The hotel was known for its lush 15 acres of grounds, swimming pool and grand ballroom, although the original hotel had quite a boxy modern design which shocked Bermuda at the time. An advertisement from the 1930s billed it as the "centre of social activity in Bermuda" and bragged about its "fireproof construction". Unfortunately, this was later proved woefully untrue. One of the worst hotel fires in Bermuda's history began with a small whiff of smoke coming from under the eaves of the top floor of the Bermudiana on September 4, 1958. That afternoon Patricia Dooley (now Fortenbaugh), 15, was swimming in the hotel pool. She had her first job but was off because it was a Thursday afternoon, a time when most businesses closed in Bermuda. Her father, Carroll Dooley, was the general manager of the hotel which, at that time, had around 450 guests. "I saw the smoke and since we were living in the hotel at the time, went up to our apartment to check things out," said Mrs Fortenbaugh. "We started throwing things out the window pretty quickly and I remember that the walls of the closet were very hot." All manner of things were thrown from the windows guests' personal belongings and furniture. A dentist had an office in the building; a dentist's chair and boxes of false teeth flew out of that window. The lawn of the hotel was compared to a refugee camp, with items scattered and piled everywhere. One of the hotel managers first discovered a small blaze in a room on the sixth floor at 4.30pm. He tried to use a fire extinguisher but it didn't work. He found another one but that didn't work much better. Unable to put out the fire, he called the fire brigade around 5pm and hotel staff started knocking on guests' doors to get them to evacuate. Today, a fire alarm and sprinklers would go off. Not so in 1958. The fire got into partitions between the walls and travelled from one room to another. At first it appeared to be moving very slowly from the East to the West side of the building. Guests came into the hotel to pack. Tea and sandwiches were served in the lobby and the bar remained open for some time. One guest even swam in the pool while the fire burned. When the bar finally closed to guests, bartenders calmly packed up large boxes of cigarettes. Everyone seemed resigned to the fact that the hotel would burn to the ground, but there was no sense of urgency to leave. Bermuda's fire department at the time was entirely volunteer. Some firemen arrived from the beach dressed in bathing suits. There was no breathing apparatus or protective fire gear or city fire hydrants in those days. Maids wet down towels for the firemen to wrap around their faces. Fire fighting equipment consisted mostly of two cranes, ladders and fire hoses for several hours they struggled to achieve the water pressure needed to put out the fire. "[The hotel] was supposed to be painted with a fire retardant paint," said Charles Harris, one of the volunteer firemen that day. "It certainly wasn't. It was a strange fire and it burned very quickly." An eyewitness account in the newspaper the next day told how the reporter went into the hotel to get a great story, and instead found himself helping guests to pack. He wrote: "Advice seemed called for in some cases. Some visitors dazed and uncomprehending, were doing a neat job of hotel packing into suitcases, carefully folding clothes and clearing drawers while around them hot yellow-stained water was steadily dripping and from a drip, trickling and running through the cracks which appeared in the ceiling. The ceiling would clearly collapse at any moment." Somewhat desperately the journalist had the brilliant suggestion that the guests just wrap everything in a bedspread. As they were stumbling down a pitch black metal stair with floods of water running down it, a woman suddenly declared that she had left her son behind. The journalist pictured an infant helpless in his crib and wondered, 'how heroic is a reporter supposed to get?'. This exchange with the mother, detailed in the article, ensued: "How old is he?" "Seventeen." "Oh surely he can take care of himself." "That's just it. He took off with the firemen." The reporter ate sandwiches in the lobby while the hotel burned around him. In his article, he described the sandwiches as "a little dry, and a bit smoky". Meanwhile, crowds of people gathered outside. Some of them tried to help by bringing sandwiches and drinks to the firemen. Some men even joined the volunteer fire service in attempting extinguish the fire. Other onlookers were less than helpful. The curious crowd grew so unmanageable that the Bermuda Militia was called in to control it. The scene became Bermuda's first experience with live, on-the-spot television reporting. The newly established ZBM studios were just across the street from the Bermudiana. One of the journalists stuck a camera out of the window and filmed the inferno. Those lucky enough to have television sets in 1958 were glued to their sets. All of Bermuda had come to a standstill while the hotel burned. One young policeman, the late Derek Fletcher, left his bride standing at the altar for over an hour while he helped. "The fire went on for a very long time and the next day there was not much left, and a great deal of debris on the property," Mrs Fortenbaugh remembered. The hotel burned to the ground. An electrical fault in the air conditioning system was later named as the cause of the blaze. The fire spurned major changes to Bermuda's firefighting system a professional service was formed for the first time. The hotel was rebuilt within a year, some would say it was rebuilt too quickly. Mel Dillas, who is currently the Maître d' at Cambridge Beaches worked at the Bermudiana during its second incarnation. "I remember it burning down," he said, "I was a little kid. I left there in 1988. It wasn't a good thing they built it so quickly, because they always had plumbing problems and things like that." Jean Astwood also worked at the Bermudiana in the 1980s, remembered that the hotel had been a haven for visiting college students on their spring breaks. "I started working there probably from 1980 to 1982, but I was also a guest in 1972 and stayed there when I was in college," she said. "I am originally from Cambridge, Massachusetts. I remember I paid $299 for a week's stay at the Bermudiana with breakfast and dinner and airfare included. There were a lot of college kids. Some of the rooms would have six girls to a room. They were pretty strict about who stayed where. Guys and girls were housed on different floors." In later years the hotel fell into a dilapidated state and was knocked down. In December 1993 the property was sold for $14.5 million to become "the Wall Street of Bermuda". The Ace and XL buildings now occupy the site.
May 18. Britain will not urge Bermuda to go Independent because that would be patronizing, according to outgoing Governor Sir Richard Gozney. And in one of his final interviews before ending his diplomatic career, the Governor warned Bermuda not to get complacent about the economy. The wide ranging discussion had its lighter moments. Sir Richard admitted, almost, that he wasn't exactly fond of wearing the ceremonial garb of a colonial Governor. "You feel you're going to take off in a strong wind," he said when asked what it was like wearing a feathered hat. His predecessor, Sir John Vereker, had discussed with then Premier Ewart Brown, the possibility of ditching the uniform as he ended his tenure. But Dr Brown had gone to his Cabinet and insisted it should be worn. "I'm a servant of Bermuda. Bermuda's paying not only my salary and for this house and I'll go along," Sir Richard said. Asked if he liked wearing the uniform, he said: "'Like's' quite a strong word, isn't it? I'm content wearing that uniform if Bermuda wants me to wear it." Sir John took his plumed hat and ceremonial uniform with him when he left. Sir Richard was issued a new one. He agreed that being a Governor of one of the world's last remaining colonies felt a bit odd. "It's bound to. In the 21st Century. No one's holding onto bits of Overseas Territories because they want to. At least I hope they aren't in this day and age. But we, unlike one or two other European countries, are not going to shed them if they don't want to leave the fold. The Portuguese shoved theirs off when the dictator Salazar died in the mid-seventies and poor Mozambique, poor Angola and poor East Timor went into civil war — each of them as a result. So we will say, those territories are small and for reasons of small size and for whatever other reasons, if and for as long as they want to retain the British link then we will do our bit to maintain it. It costs next to nothing. And it's a legacy of history. It's a responsibility of history and we accept it. We'll do it wholeheartedly. We won't be curmudgeonly or graceless about it." He repeated Whitehall's long held policy to support the wishes of Bermudians should a majority signal clearly that they want to became a sovereign nation. "But we're not going to force that issue either way. Because we don't think that's a grown up way of dealing with a very grown up situation," he said. "Bermuda is a fully grown up country which can decide for itself how it wants that future to be. And so, in the meantime — of course, it's an unusual position to have an overseas territory or colony. But we accept that we will do our small part in making those small territories run for as long as people want the status quo to continue." He said self determination "can include a determination to keep yourself in the fold of a bigger country — or linked to a bigger country." Asked why Britain does not simply tell Bermuda that it is old enough to take the sovereignty option, he said: "Because that would be patronizing. "We won't patronize Bermuda. We'll say 'Bermuda, you're grown up. You take that decision'. All we'll ask is if you decide to go independent, we'll need an unambiguous signal that that is the case." The arrival of the four Uighurs — the former Guantanamo detainees who were brought to Bermuda by former Premier Ewart Brown without consulting Britain or his Cabinet — was the most challenging aspect of his tenure as Governor, he said. "It made me scratch my head more than other things," he said. "Because of that double effect of breaching the Constitution and landing four men here who can't be given travel documents to go elsewhere." Britain and the US are still in talks over the fate of the Uighurs, he said. Turning to his most enjoyable experience he said: "It's hard to beat non-mariners. It is quite a magic afternoon." On his final message to Bermuda, he said: "I wish Bermuda every success in finding the next pot of gold. Whether it's going to be fish farming — the Chinese in those fancy restaurants in Shanghai and Hong Kong would pay ridiculous sums of money for what they regard as really special fish — I'm sure those fish would grow in netted tanks out on the reefs somewhere. Or whether it's the mineralisation of the sea bed around here. There's no oil but people have been down and found some quite interesting mineralisation. Financial services are not growing but they're not shrinking much. And tourism is strongly cyclical but may be coming back a bit. So, I'm not saying that people need to find the next crock of gold within the next year or two years. But the fragility and vulnerability of small countries is essentially based on just a couple of industries and that's the case in Bermuda. So one's always on the look out for the next serious piece of diversification." Asked if he agreed with those who feel that the economy may be on a permanent decline, he said he did not think that was likely "as long as people are not complacent. Economies have tired because of complacency. That didn't hack it in the 19th century, the 20th century and it certainly won't work in the 21st century. Because someone's going to come up and snap your ankles and take whatever business away from you. Because there are a lot of countries which are far more worldly than they used to be and most of the markets — whether they are for tourism or financial services, almost everything else other than oil and gas in the ground — are mobile. So as long as people here, as in other such well-to-do small countries, don't rest on their laurels I see no reason why Bermuda shouldn't thrive." Richard Gozney leaves for his homeland on Sunday. The new Governor, George Fergusson, is scheduled to arrive on Tuesday.
May 21. Leading Bermuda-based international insurers have urged Government to act to encourage companies to locate their senior executives on the Island after their Bermuda-based staff numbers fell for a fourth successive year. The Association of Bermuda Insurers and Reinsurers (ABIR) said a survey of its member companies showed a clear correlation between the number of senior staff leaving and employment opportunities for Bermudians. Wayne Furbert, the Minister of Business Development and Tourism, yesterday said Government is considering recommendations made by ABIR to streamline Immigration processes. The five ABIR members who historically have had the largest Bermuda-based workforces have cut staff numbers on the Island by almost a quarter over the past four years. Over the same period the number of Bermudian citizens (including spouses of Bermudians and permanent residents) on their payrolls fell by one-fifth. The figures are revealed in ABIR's seventh annual Economic Impact Survey, released today, which estimates that the body's 22 member companies last year contributed almost $1 billion to the Bermuda economy directly and much more indirectly. ABIR chairman Constantine (Dinos) Iordanou said ten-year work permits for "job creators" was a good start, but suggested more action was needed to halt the loss of industry jobs. "We appreciate the action the Government has taken with regard to the Job Creators' Act," said Mr Iordanou, who is also the chairman and CEO of Arch Capital. "Accelerated action by the Government to encourage ABIR members to locate senior executives here in Bermuda would be helpful. As the numbers from our survey demonstrate, there is a direct correlation between these senior executives being in Bermuda and employment opportunities for Bermudians." The survey found that ABIR companies employed 1,666 people in 2011, down 30 from the end of 2010 and down 116 from the group's peak employment in 2007. More than two-thirds were Bermudian citizens. Salary and benefits paid out to these employees totaled around $698 million last year. Some 45 employees left Bermuda to work elsewhere for their companies. Of the larger number who left Bermuda for a variety of reasons, 51 were in executive, senior or middle management positions. Mr Iordanou said the key finding of the survey was that ABIR companies' Bermuda workforce shrank for the fourth consecutive year. "Most worrisome is that the five ABIR members with historically the largest number of employees in Bermuda have reduced their employment during that time by an average of 23 percent. For these same companies, their average reduction in Bermudian employees is 19.6 percent. This trend is worrisome for Bermuda's economy because: 1) it means fewer jobs in Bermuda; 2) lower payroll tax revenues; 3) less compounding economic activity from these highly compensated executives; 4) fewer meetings filling up hotels and restaurants." The ABIR survey was delivered to Government last week. Mr Furbert yesterday described international re/insurers as "a critical component of Bermuda's economy. We need to keep these companies and jobs here. We value their contribution to the Bermuda economy. The employment of non-Bermudian employees in the management ranks is expected and essential for the success of these companies. We applaud the ABIR members for their commitment to Bermuda and the fact that nearly 67 percent of their employees here are Bermudians, spouses of Bermudians or PRCs. ABIR has recommended to us some changes that will streamline Immigration processes for these workers and the Government is considering those recommendations. We've made significant changes in the last year and we expect that those changes will bear fruit. We welcome additional ideas." Despite the shrinking workforce and the fact that many ABIR firms lost money on paying their share of claims from $105 billion of global insured catastrophe losses last year, the insurers spent more money in Bermuda. ABIR members estimated they spent nearly $86 million in Bermuda on legal, accounting, actuarial, temporary services, up by around $5 million from 2010. They forked out $28.3 million in Bermuda on hotels, airfare, restaurants, taxis and catering in 2011, up seven percent over 2010 expenditures of $26.6 million. Nearly $121 million was spent on construction, real estate and housing costs in Bermuda by ABIR companies, up from $116 million in 2010. The group also contributed more than $12 million to Bermuda charities last year, up from $10.6 million in the previous year.
May 23. Businesses demand work permit reform to stem major job losses. The wish list below is by organization.
ABIR. Grant exemptions from term limits to key business executives, provide waivers to expedite and approvals to keep executives here (i.e., nanny), hassle-free immigration process, great number of work permit exemptions to qualifying companies, PRC status to execs with ten-year tenure, new immigration process in place by 2013.

Bermuda Chamber of Commerce. Moratorium on term limits, PRC for job creators and their families, clear and consistent work permit policy, PRCs able to buy property from Bermudian landowners, relax punitive restrictions on non-Bermudian home ownership.
Employment expert Doug Soares. Grant exceptions and exemptions to work permit and term limit policies for executives, new mindset by Government that they cannot protect Bermudians from advances in the global economy.

OBA. Suspend term limits for two years, streamline immigration process to eliminate the 'hassle factor', crack down on abuse of the system, retrain immigration and airport staff to boost the welcome factor and simplify incentives for job creators.
The industry groups above and below have joined the chorus for "radical" immigration reform in the wake of the Association of Bermuda's Insurers and Reinsurers' (ABIR) economic impact survey — some calling for the elimination of term limits, a hassle-free immigration process, PRC for job creators and their families, and the right to own property. ABIR's survey showed a correlation between the number of senior staff leaving the Island and declining job opportunities for Bermudians. Minister of Economy, Trade and Industry Patrice Minors, has weighed in, assuring international business that her Ministry is undergoing an internal work permit review and she is seeking to strike "the right balance" to ensure companies get the resources they need while ensuring qualified Bermudians obtain jobs. The Bermuda Chamber of Commerce, Association of Bermuda International Companies (ABIC), reinsurance law firm Attride-Stirling & Wolonieki, employment agency Expertise and the OBA have all publicly voiced their concern over ABIR's survey and are urging Government to act immediately to attract and retain international business. The Chamber, which called on Government in early April for "major" immigration reform, including a moratorium on term limits, permanent residency certificates for job makers and their families and PRC holders having the right to buy property, also voiced their concern about ABIR's survey. "The fact that employment in the international business sector has been in decline since 2007 is borne out by the Chamber's own research, and by job statistics kept by Government," said Chamber president Ronnie Viera. "There is no question that the growth of the local economy, and the number of jobs available to Bermudians, is directly correlated to the success of international business." Joanne MacPhee, the executive director of the Chamber added that while Government "dabbles" in immigration reform, Bermuda is "losing more and more key job creators. What those who do not currently support immigration reform need to understand, is that even major changes in immigration will not change the situation immediately, it will take time to rebuild the confidence lost in the Bermuda product. People need to understand that we are not talking about giving the Island away. At best there are probably only a few dozen who would immediate benefit from radical immigration reform and these are families that are already here. They currently rent, drive a car and have children in the private school system; giving them long-term residency and the opportunity to settle in Bermuda would have little to no impact on our infrastructure, but it could most certainly have a very positive impact on our economy." George Hutchings, chairman of ABIC called for changes to be implemented "immediately" and that data from their group shows that more than 60 percent of the jobs in international business are held by Bermudians. He added that those were the jobs being lost as senior staff, roles and functions in the sector leave Bermuda. The group has submitted a letter to Minister Minors laying out their immigration suggestions. He said that ABIC supports all of ABIR's recommendations. "To begin to stem the tide of job losses these changes must be implemented immediately. Our ABIC member surveys confirm that immigration reform and a business friendly environment are key to retain and attract business. " Senior partner Rod Attride-Stirling at law firm Attride-Stirling & Wolonieki, which specializes in corporate and commercial law, commented that many Bermuda-based companies have seen their workforce grow, but the workforce growth is overseas where they don't have "so many bureaucratic hurdles. We need to do more to get these jobs to stay in Bermuda, and to ensure that the both the people working in the industry and the contributions they make are appreciated," he said. "The Bermuda Government's Job Creators Act is a great start and an example of the type of creative thinking that is needed. We need to look actively at what else we can all do." In a Letter to the Editor to this newspaper, Doug Soares, the founder of HR and employment consultancy Expertise, said he has a "front row" seat as jobs leave Bermuda, describing the resulting hardship for Bermudians heartbreaking. In the short term, all Government will have to do is grant exceptions and exemptions to work permit and term limit policies for international business executives," he said. "The policies are set up to allow this but, in recent times, Government has made it more difficult for international businesses. So they simply relocate jobs overseas. The mindset that Government's ability to protect Bermudians in a global economy is "limited and diminishing" has to change. Government needs to explain that the world has changed," he said. "When the current policy was designed, the economy was almost entirely local and we did not have the internet. This meant that our Government could easily protect us from foreigners trying to take our jobs. All we had to do is stop them at the border. But now the majority of jobs in Bermuda are part of the global economy and technology has enabled foreigners to do 'our' jobs from their own country. So if our current work permit policy says that the foreign CFO of an international company will not be issued a work permit for any reason, the company simply moves the job overseas. Not only do we lose the potential for that job to be done by a Bermudian in the future, we lose the income of that CFO's family in terms of payroll tax and local company services." Ms Minors, whose ministry is responsible for work permit matters, said in a statement yesterday: "I want to assure both the local and international business sectors that we are seeking to strike the right balance in these tough times between ensuring that companies are afforded the resources that they need, and ensuring that Bermudians that are available for employment obtain a job for which they are suitably qualified. I announced some weeks back that we are sensitive to the needs of our business organizations and in that respect, I did confirm that an internal work permit policy review is underway this would include the reorganization of our work permit section. As a result of the review, there are number of initiatives that we are considering that we will share directly with relevant stakeholders. The recommendations, once approved by Cabinet will be included in the existing work permit policies." Shadow Minister of Finance Bob Richards said that the OBA was "not surprised" at ABIR's survey results, saying their position was that the current term limit policy was the "most destructive" to international business. He added that his party has publicly stated that they are in favour of suspending term limits for two years, revamping the immigration process, crack down on abuse in the immigration system (tailoring job descriptions to one specific candidate), retraining immigration and airport officials to be more welcoming and cut down on the caveats associated with incentives for job creators. "It [immigration process] just takes up too much time and there is too much uncertainty — we need to eliminate the hassle factor," he said, adding that term limits have caused "entire teams" of people to move out of Bermuda. The public, however, seems divided as online comments made regarding Monday's ABIR story show readers sitting on both sides of the fence. On having more relaxed immigration laws, blogger 'Al Eastmond' said: "In other words I see it as putting up a sign BERMUDA FOR SALE. If Bermuda had vast land resources this would not be an issue but the Island is only 21 square miles. And to these companies that are joining the chant I would say that this is akin to walking into somebody's house and declaring that you will stay as long as you like and eventually will be considered part of the family." In response to what some believe is a arduous immigration process, blogger 'navin johnson' said: "The CEOs are exempt but everyone else sweats out the renewal process and are made to go through hoops in a very drawn out and frustrating process ... and the balance is not so delicate.......do not bother coming to me and asking what I need to run my business time and time and time again and then fail to listen to anything I suggest.....just give me the permits I need and allow me to run my business as I have nothing to prove to you as shown by the statistics that I WANT and do employ Bermudians."
May 28. A housing development in the West End was again the subject of debate in the House of Assembly as opposition members said taxpayers will be stuck with the bill. Launching a lively debate in the House of Assembly on Friday, Mark Pettingill of the One Bermuda Alliance (OBA) claimed a US-based company was quietly selected to build the prefabricated buildings that are intended to replace the ageing Albert and Victoria Rows. While the OBA criticized the tendering and financial aspects of the project, saying it would leave to major shortfalls for Government, members of the Progressive Labour Party (PLP) adamantly defended the project as a way to affordably replace the 140-year-old buildings with new housing while creating more than 100 jobs. Government have said the $36 million project will be financed by Wedco, and paid for by the rent of the units and sale of other units on Boaz Island. Government will provide a shortfall guarantee, but Public Works Minister Michael Weeks said it was not anticipated that the shortfall will be activated. Estates Minister and MP for the area Michael Scott said that new units to replace the existing housing is desperately needed and long overdue. "The housing is in a horrible state of repair and needs to be replaced now. It needed to be replaced in 2004," he said. "It was in that state of condition for years." Despite the buildings being prefabricated, Mr Scott said the project would create many jobs, both in the actual construction of the housing units, but the expansion of the infrastructure. The nature of the project, he said, will also provide Bermudian construction workers the opportunity to learn and develop new skills while making the development more affordable. "The cost is brought down by the fact that the construction method is much less expensive than bricks," Mr Scott said. "If you were to use traditional construction methods, there is no way you could replace that housing there in Dockyard at this price. There is no effort to put this project, or to have it put the Government, in the position of funding where we cannot afford it. It will be supported and financed by the rents of the many tenants and there will be sales of other units on Boaz Island." While he also said the units would replace existing ones, not add additional housing units to the market, but Mr Pettingill responded that while 100 units were being built as part of the project, there are only 48 units on Victoria and Albert Rows, resulting in an additional 52 units. Shadow Health Minister Zane DeSilva said he grew up in the housing units, and that they were in need of serious work decades ago. "These houses were built in the 1870s," Mr DeSilva said. "They should have been fixed 30, 40 years ago. 50 years ago. They were renovated in 1979, and if [the opposition] were in power, they would have renovated them again. Anybody that's been in Bermuda for a period of time knows that if you renovate, especially in an old Bermuda home, the type of things you can run into." He noted a personal renovation project that, while originally priced at $25,000, wound up costing around $48,000. Mr DeSilva then asked where the residents of the units would be moved to while renovations were underway. Mr Pettingill responded that there are currently nine empty units at the Victoria and Albert Rows. Others in the House shouted "Grand Atlantic." The Health Minister replied: "Those units are for sale. Let's not say we are going to stick them in Grand Atlantic. That's not going to work." While Mr Pettingill had said residents were concerned about the increased rents, Mr DeSilva said that Mr Weeks had met with the residents recently to discuss the project. "He said that he met with the tenants, and all but one were very, very happy that this project is finally going and excited to move into the new homes," Mr DeSilva said. "Regardless of the amount of the rents that we will be asking for these units, the residents are excited to get these new units." Regarding Mr Pettingill's claim that the US company involved would be paid first, Mr DeSilva said that any company that imports goods from the US pays the company sending the goods first. Shadow Finance Minister Bob Richards said that the project is destined to cause a Government shortfall, saying that 11 current tenants at Victoria and Albert Rows pay no rent whatsoever. "We have people who cannot afford to pay these very modest rents who are being promised to be put in new units with double or triple the rent," he said. "That burden will go to the Government because they will go to financial aid. There will be shortfalls." While the sale of other units on Boaz Island is also expected to help finance the project, Mr Richards said: "We have built new units 300 yards from my house that cannot be sold with 100 percent financing." He also questioned how the US company hired to build the prefabricated units was selected, asking if it had been put out to tender. He asked: "Was this company chosen because somebody knew somebody in this company? Did it just fall from the sky? If a local company did this, there would be a much more stimulating effect than if we bring in all the materials prefab from the US. There is a lot of value being exported to the US by this model." Mr Richards then suggested that the residents of Victoria and Albert Rows could be matched with private properties for rent, with Government covering the difference. "That is one solution to this problem that the Government doesn't seem to want to comment on." PLP MP and Wedco Chairman Walter Lister said the opposition was merely attacking the project for political gain, and because the PLP was working to improve the quality of life for the residents. "We are trying to improve the quality of life for Bermudians and the OBA are upset about that. They are envious because we are trying to do it to help people improve their quality of life. This project is going to have a lot of opposition because we are trying to help people. I don't know where this sinister sort of thing comes from. I believe the opposition are trying to scuttle this idea because of political advantage. Why can't you address the positive side of the issue. Government has been working on the matter for years, and that the Government had looked overseas for assistance. We did go overseas and we thought we had a deal going and we didn't, but we know we have to shop around." Kim Swan, who was elected under the United Bermuda Party banner, meanwhile said that it would be a mistake for Bermuda to not prepare itself for when the economy improves, noting the effect the last economic boom had on rents. "People didn't start leaving Bermuda and going to the UK when the recession came in the early 90s," Mr Swan said. "They left because they couldn't afford Bermuda when it was prosperous. We need to put people first because we have every confidence that this country will get itself back." Shadow Transport Minister Patricia Gordon-Pamplin expressed concern about building more houses when the issue of demand and supply has, in her view, not been addressed. "At what point in time is there any consideration for the demand?" she inquired. She suggested the development would affect prices of existing houses, and was prompted by the fact that a general election is drawing near. She later retracted that remark after Government backbencher and Wedco Chairman Walter Lister said the plans have been worked on for 24 months. "If the plans have been two years in the making I accept that and therefore I apologize," she said. Deputy Premier Derrick Burgess said the developers wanted to build a marina first but he said he told them: "Guys, (build) some houses first, and (then) we can talk about the marina. I said the houses must be built first and they are carrying that out." He said he had already brought a paper to the House explaining what the rents would be and public meetings were held about the project with residents.
June 16. A Bermudian slave who became the face of the anti-slavery movement has been formally named a national hero. In a ceremony at Barr's Bay Park this evening, more than 200 people gathered to remember the life and sacrifices of Mary Prince, who was born into slavery in 1788 in Bermuda. Her autobiography, The History of Mary Prince, made history when it was published in 1831, detailing firsthand the brutality of slavery in Bermuda and the British Caribbean. Addressing the crowd, Premier Paula Cox said that while we today put a great deal of focus on our material goods, Ms Prince was a woman who risked everything on principle. "Mary Prince is the hero of her own story," then-Premier Cox said. "She is a woman who stood up for principle. She is a woman who stepped out of her comfort zone, and she is a woman who felt we have to become the change that we want. She did it at considerable risk, cost and peril to herself and here tonight it is certainly a privilege for us all to celebrate and acknowledge and salute the 2012 National Hero." Reading the official proclamation, she said: "Her words live on in the pages of her autobiography, a firsthand description of slavery whose publication in the UK in 1831, while slavery was still legal in Bermuda and the British Caribbean, contributed to its abolition in Bermuda and the Caribbean." As the Premier formally named Ms Prince a national hero, the crowd stood in applause. Ms Prince is the fifth person named a national hero, following Dame Lois Browne-Evans, Dr Edgar 'Mazumbo' Gordon, Sir Henry "Jack" Tucker and Dr Pauulu Kamarakafego. Minister of Economy, Trade and Industry Patrice Minors said that because last year three national heroes had been named, there was not an intention to name a new national hero this year. However that plan was changed after the Induction Committee received 12 unsolicited letters from members of the public calling for Ms Prince to be celebrated this year. Ms Minors said: "In the past week or so I have been particularly heartened by the way that all seem to have come together to celebrate this year's selection of National Hero." During the outdoor ceremony, the audience were treated to singing performances by Kassandra Caines, granddaughter of Dame Lois Browne-Evans, the Marsden First United Methodist Church Praise Team. Induction Committee Member and PLP MP Ashfield DeVent read a brief biography of Ms Prince, while Tramaine Stovell performed a dramatic reading and Shahnel Woodley performed an interpretive dance choreographed by Conchita Ming. Wanda Ming, from Pembroke, said Ms Prince was a perfect selection for National Hero because of her contribution to Bermuda and the Caribbean. "If it wasn't for people like Mary Prince who were willing to take what was I'm sure a big chance to do the right thing, who knows where we would be," she said.
June 25. Government finally signed over the former base land at Morgan's Point to three developers who plan to build a $2 billion luxury resort there. The deal, which has been in the pipeline since 2007, was completed and means the pristine Southlands estate in Warwick is now public property. Bermudian businessmen Craig Christensen, Nelson Hunt and Brian Duperreault agreed to swap 37 pristine acres at Southlands for 80 acres of brownfield land at Morgan's Point on the Southampton/Sandys border. The trio plan to build three hotels, condominiums, restaurants and a spa, among other facilities, on their new plot, as well as lease another 140 acres from Government for a par 71 golf course. Then-Government Estates Minister Michael Scott told a press conference at Cabinet that the Morgan's Point development was "one of the most ambitious" projects in the hotel and hospitality industry in Bermuda's history. He said the "multifaceted" scheme would create "remarkable opportunities" for Bermudians. Mr Christensen said: "This land swap represents the beginning of a new chapter and a great deal of work lies ahead. We have a responsibility to deliver to Bermuda this significant development for the benefit of Bermuda and future generations of Bermudians. We look forward to meeting that challenge by working with the Government of Bermuda to deliver an outstanding development that all Bermudians can be proud of for many years to come." He and Mr Hunt signed the final paperwork and exchanged documents with Mr Scott in front of the assembled media. Until the June 2012 deal, like the former Fort Bell/USAAF/Kindley AFB/USNAS complex, this former base had been owned by - and was the responsibility of - the Bermuda Land Development Company, a Bermuda Government-owned entity.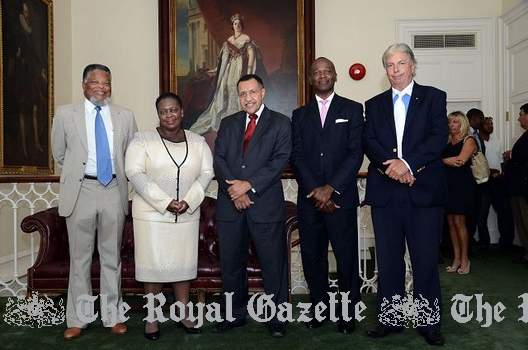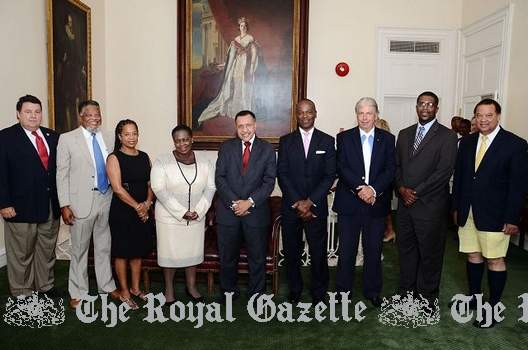 June 26. Morgan's Point developer Craig Christensen wants to attract younger tourists to Bermuda by building a luxury resort beyond our wildest dreams. "I believe the former base land on the Southampton and Sandys border could be turned into an attraction to compete with the Atlantis in the Bahamas, which features hotels, a spa, a casino, water park and a marina. I've been there [Atlantis] twice in recent months. I think what you can visualize is that what Atlantis did for the Bahamas, we've got to look at what Morgan's Point can do for Bermuda. I'm not saying copy Atlantis but they have some concepts which are worthy to look at. The sizing and intensity of the development provides for the excitement of the resort. They do attract the age group that I think is significant, which is [the] 25 to 45-year-old market, who are spending money and use the facilities extensively." He cited other overseas hotels he'd recently visited and been impressed with, including Palm Beach's Breakers and Fontainebleau and Hard Rock in Miami. Of the latter, he said: "You go in there and it's vibrant. The restaurants have got TVs in them, the bars are lit with lights, it's reasonably loud, it's visually stimulating. You're creating a vision, you are creating things for the younger crowd who want that extra stimulation and that restaurant turns into a nightclub through the night. Same thing with the steak house etc. You can only create that vibrancy with the intensity of the development, with people there, rooftop bars, these types of things. They don't cost a lot, we just need to figure out how to do it. That, to me, is the focus that Bermuda should be looking at: the up-and-coming vibrant crowd." He and fellow Morgan's Point directors Nelson Hunt and Brian Duperreault have already said they have a $2 billion vision for the former base land, which they formally swapped with Government for the Southlands estate in Warwick at a signing ceremony at Cabinet yesterday. "There's interest in really trying to take Morgan's Point and squarely put Bermuda on the map, beyond our wildest dreams," said Mr Christensen. "Really to make Bermuda a focal point once again for tourism and put Bermuda back on the boil." He said the scale of the development had expanded since the public was given a glimpse of the plans in June last year and that Morgan's Point Ltd was "reviewing" its position with overseas development partners John Ryan and Egbert Perry. The ultimate development partners will be primarily dependent on the requirements of the lenders. I've got to look at things in the best interests of the project and in the best interests of Bermuda. In that regard, we've got some different visions for Morgan's Point, in certain areas, that may be different than the original plan that we shared with Government. The point is really taking the development of Morgan's Point from what we currently have, which is really good, to absolutely stunning."
In February 2010, Government said the developers had indicated the resort was likely to be a Ritz-Carlton, due to Mr Ryan's relationship with the five-star brand. Mr Ryan said later that year that "deep negotiations" were ongoing with three major hotel chains. Mr Christensen said discussions continued with "hotel brands" though he wasn't prepared to say which ones. "It is generally unwise and not cost-effective to do that," he said. "Like giving somebody a blank cheque, in essence." He said he and his partners were "absolutely" confident they could secure funding for the resort, despite the tough economic times. "There's a major difference that Morgan's Point has over most of the other developments," he said. "First of all, we are not dealing with leased land and that's really, really tough to fund. At least with freehold land, like we've got, we've got true security [so] that people can feel comfortable in terms of lending. "And, two, Morgan's Point is really uniquely placed in Bermuda for a resort, which is distinctively different than your traditional resorts, which have been located primarily on beach lands in most places in the world." The water surrounding Morgan's Point was its best feature, he said, making it accessible by boat to Hamilton and providing the opportunity for a world-class marina and activities such as jet skiing, sailing, snorkeling and scuba diving. "We have the best scuba diving in the world [but] we've completely underutilized our water asset to our advantage from a tourism perspective. We've had interest in putting up capital. We have identified equity sources. We have equity in Morgan's Point and we are very fortunate in that respect over, I think, other developments." Mr Christensen said building was unlikely to start this year as detailed plans still needed to be completed and contracted bids invited. But he said other work could be done and he was keen to get the marina built "quickly" in order for boats to be able to dock there. One idea he's considering could vastly extend the resort's tourism season, he believes. He explained: "How do we deal with keeping people warmer at night [to] extend our seasons? Wind control is probably the most critical thing and that's a design issue. We need to] harness it for protection, for people to enjoy outside, because it's actually pretty comfortable outside in Bermuda if you find you can get out of the wind. How you design and get out of the wind is critical to the development of the future, in my opinion. I think you can go much longer [than May to November]. I had lunch in Montreal in zero degrees Celsius and was comfortable sitting outside. How do you do that without using a space heater and they didn't use a space heater. What I'm saying is, it's totally solvable for Bermuda. It's not necessarily expensive. You've got to figure out: how do you reduce your electricity costs?" When the Morgan's Point Act was passed in Parliament last year, the proposed development was described as including three hotels with more than 450 rooms, condominiums and residences, a par 71 golf course, a marina, retail shopping, a spa and restaurants.
Mr Christensen said all of Bermuda would benefit from the five-star facility as guests would spend money outside the resort. "I think you have to create the intensity at the resort to begin with, without a doubt, so it can be self sufficient," he said. "But the uniqueness of Bermuda is that when you come to Bermuda, Bermuda's your playground, not just your resort. You have all-inclusive resorts but I just don't see all-inclusive as something that we want to promote because people can get up and easily leave their resort to experience other parts of Bermuda in a relatively safe environment, unlike most places in the world. I think we've got a huge advantage there. You want to a) get it going in your resort first but b) you would love to see it get vibrant in other locations so that people can enjoy different experiences."
July 2012. Bermuda's National Tourism Plan, commissioned by the Government of Bermuda in October 2011 after it had become apparent that our tourism industry was declining and we needed to take definitive and meaningful action to turn it around, was completed this month and was immediately set into motion with short term goals. Note it from this link: Bermuda National Tourism Master Plan
July 6. Some Bermuda public companies will be allowed to apply for relief from the 60-40 rule on foreign ownership, under new legislation tabled in the House of Assembly on Friday. The Companies Amendment Act 2012 will permit certain firms to apply for a licence access more capital from overseas than the current 60 percent Bermudian ownership requirement allows. Business Development and Tourism Minister Wayne Furbert said the amendment aimed to provide "an alternative process by which local companies in certain specific categories may source foreign capital, free of the foreign investment restrictions referred to, on a timely basis that will be more commercially attractive". Only public companies listed on the Bermuda Stock Exchange, or another designated exchange, in a "prescribed industry" will be eligible to apply for relief from the 60-40 rule. Prescribed industries listed in the bill are telecommunications, energy, insurance, hotel operations, banking and international transportation services (ship or aircraft). The new rules will open the door to overseas investors to buy more shares of BSX-listed companies like Ascendant Group Ltd, KeyTech Ltd, BF&M Ltd and Argus Group Holdings. Mr Furbert told MPs that the amendment aimed "to attract foreign capital investment to Bermuda for the purpose of improving liquidity in the local market for the production of products and services."
July 7. Cruise ship visitors are raiding Ireland Island South's Bottle Beach and removing buckets of sea glass, according to West End residents. One resident admitted taking a handful of pieces of glass from the spot and said visitors are coming to the beach en masse and stripping it of its titular glass. "Today I was sitting on a bench outside and was horrified to see two cruise ship passengers walking along with enormous plastic bags filled up to the brim with sea glass," she told The Royal Gazette. "I was told of two tourists who went to the beach with five-gallon buckets and filled them up and took them back to the ship. I am so angry I could spit. I am appalled. You are not allowed to take sand, shells, coral or sea fans out of Bermuda. Why allow sea glass? Once the sea glass has all gone, that's it. It's too terrible." She said that when she was a child, things such as conch shells and sand dollars were in abundance around the Island, but over the years those numbers have dwindled, and she feared the same could be true with sea glass. Sea glass, which is weathered smooth by the ocean, can be found on beaches throughout the Island but is particularly common on a few smaller beaches, such as Bottle Beach. It is sometimes used to make jewellery and various decorations. The Ministry of Public Works, responsible for the Island's parks, and the Ministry of Tourism were both contacted for this story. Neither commented by press time.
July 12. The Bermuda Post office, to commemorate Masterworks Museum of Bermuda, released this First Day Cover of new Bermuda postage stamps. They featured the artworks done in Bermuda by Thomas Anshutz, South Shore, Bermuda; Ogden Pleissner St. George's; André Biéler, Front Street; Dorothy Austen Stevens Street Scene, Bermuda (Elliott Street); Albert Gleizes La Maison du Gouveneur; and Frank Small,Welcoming Smile.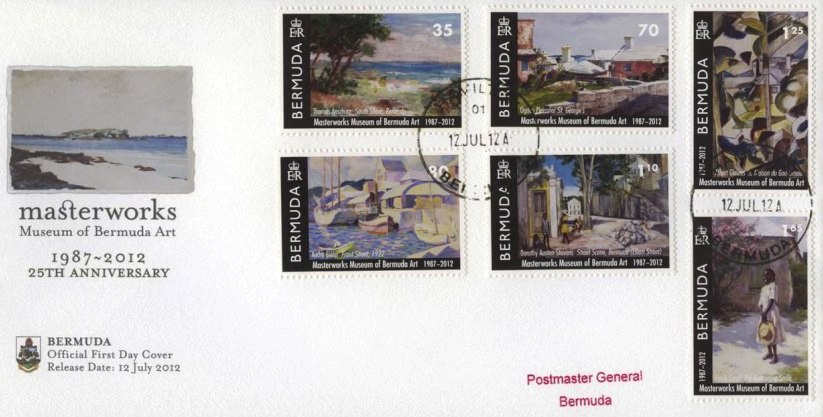 July 25. Mailboxes Unlimited argued yesterday that it qualifies for relief under the new legislation that raises duty to 25 percent for imported goods that are not for business use. Lawyer Alan Dunch argued in Supreme Court before Chief Justice Ian Kawaley yesterday that Mailboxes fits the definition of a business and an importer, thus it qualifies for "business end-user relief" under "Customs Procedure Code 4000" --- even if that's not what Government actually intended with the legislation. "It may be that they have to rewrite CPC 4000," he said. Earlier this year in an effort to "harmonise" duty, Government raised the duty rate to 25 percent on all goods imported for personal use via all ports if entry. Goods imported for business use remained subject to generally lower duty rates. Mailboxes provides a US address for customers buying for personal or business use online, consolidates their purchases and has a courier ship them in to its Bermuda premises. Mailboxes also hit out at a "sudden" change "with no explanation" in Customs procedure, requiring one Customs Declaration form per item shipped in, whereas before, only one form was required per consolidated shipment and the paperwork and duty calculation could be completed before hand, allowing for streamlined, quick delivery. Mr Dunch said Mailboxes faced significant delivery delays and higher labour costs as a result of the new procedure. However, Collector of Customs Lucinda Pearman testified that the procedure was "not really a change" and was "not CPC 4000 driven." "It's just Mailboxes was one of the last companies to get with the procedure," she said. She said other companies similar to Mailboxes had all complied with the procedure "with no problem. She told the court the new procedure was necessary to prevent against importation of drugs and guns and provide Customs with a clearer picture of goods being imported. Crown counsel Martin Johnson argued despite what the definition may be written as in the Act, Mailboxes was not really an importer, because an importer buys and then sells goods for a profit. But Mr Dunch said the Collector of Customs herself had acknowledged in a letter that Mailboxes was an importer, although she later "curiously changed her tune" saying that Mailboxes was not an importer of goods nor seller, rather a shipper. Mr Dunch gave examples of how as the Act stands, Boyle's can bring in a pair of shoes specially ordered for a customer and still qualify for business end-user relief, while Gorham's offers internet access in-store for people to order their own goods and bring them in and also get business end-user relief. Mailboxes owner Steve Thomson earlier this month filed a writ against the Collector of Customs over amendments to the Customs Tariff Act 1970 and the Customs Procedure Code 4000, as part of his case to be entitled to "business end user relief."
July 26. Bermuda's Work Permit and Residency policies are hampering our recovery. So said the Hon. Sir John Swan, former Member of Parliament, Cabinet Minister and Premier, one of Bermuda's most successful-ever business leaders. "Bermuda is still very appealing to existing and start-up companies as a place to do business. Bermuda's climate is second to none, our standard of living is still relatively high, crime is low compared to other Caribbean islands and our proximity to major US business centres is unmatched. So why are many companies setting up in other jurisdictions? Recently, I have been told by several heads of international companies who wanted to domicile their company here in Bermuda that the main reasons that have discouraged them from doing so is our work permit and residency policies. Decisions in today's high-paced business world must be made in days and not months in order to keep the business competitive and profitable. Recently, an announcement was made that work permits are now going to be turned around in four weeks instead of ten weeks.
How can a business in the real world wait four to ten weeks to make a decision?
A company may now apply to obtain concessions for work permit exemptions for their employees under the Incentives for Job Makers Act provided the following criteria are met:
They have at least 25 Bermudians on its staff

They have Bermudians at all levels, ie entry, middle and senior levels of the company

They have entry level positions held by Bermudians graduating from high school or college

They have programmes to develop and promote Bermudians

They employ fair employment practices

Once the company has obtained the concessions, the employee must fit certain in order to be eligible for an exemption from requiring a work permit:

The company in which the applicant is employed must be a company that has been designated as being able to apply for the work permit exemptions

The applicant must be a person in a senior executive position in that company and will continue to be employed in the company for the duration of the exemption

The applicant must be responsible for making decisions that are critical to the continuity of the company in Bermuda

The continued presence of jobs, particularly being held by Bermudians in Bermuda, is dependent on the applicant remaining in Bermuda
The above are just the criteria that a company and employee must meet in order to make an application. They must then submit various pieces of documentation to support the application including the fees. The cost for a work permit exemption is $20,000 per applicant. In comparison, companies who set up in the newly created special economic zone in Cayman, Cayman Enterprise City, are entitled to numerous benefits such as 50-year direct tax exemption, ten-day streamlined set-ups and are exempt from import duties and work permit requirements.
Included in the Incentives for Job Makers Act is a provision where an applicant can obtain a Permanent Residency Certificate (PRC) in Bermuda in which the following criteria must first be met:
They have been exempted from a work permit for at least ten years

They have been ordinarily resident in Bermuda for a period of ten years

They Have been ordinarily resident in Bermuda during the two years immediately preceding the application
After the criteria is met, applicants for the PRC who are already exempt from a work permit and have made an invaluable contribution to the economy of Bermuda are still made to produce documentation and pay an outrageous fee as follows:
A completed application form

two passport photos

Certified copies of the applicant's passport

A letter of support and character references from two sponsors

A letter from the employer supporting the residence of the applicant for ten years

A copy of the applicant's exemption certificate

The application fee of $120,000
The Government of St Kitts & Nevis has been offering full citizenship since 1984 to investors who make a qualifying purchase in an approved project. This helps to stimulate the economy in many sectors and keeps the country's infrastructure current. Presently an investment of $400,000 in a hotel project can qualify an individual for full citizenship. International Business and their employees make a significantly larger contribution to Bermuda's economy than $400,000 and both still have to jump through hoops and pay an exorbitant fee in order to have only residency status. It borders on being ridiculous. I agree and understand that some of the documentation is necessary but asking the head of an international company to get two sponsor letters from Bermudians to attest to their character (after they have probably appeared in numerous newspaper articles and attended functions with the Governor and Premier) and another letter from their own company, probably signed by the applicant, indicating that they have been resident in Bermuda after they have invested millions of dollars in Bermuda's economy, produced jobs for Bermudians and given money to charitable organizations can be viewed as an insult. We should have the decency as good hosts to extend some courtesy to them as they have extended to Bermuda. We think that we are giving companies options when it comes to work permits and residency but the policies are so restrictive and complicated and the process so arduous that it is no wonder that companies are throwing their hands up in disgust and running to more welcoming, low red tape jurisdictions where they can be open for business in a matter of days and not months and made to feel that their contribution is appreciated."
July 31. Anxieties linger in the healthcare industry, over tomorrow's deadline for the end of upfront charges on the insured portion of a doctor or dentist's service. Bermuda Dental Association head Chris Allington told The Royal Gazette: "I think there is a lot of trepidation still. People are concerned because of the uncertainty." His own dental practice dropped the upfront payment practice back in April, Dr Allington said, and a number of practices have been content with receiving payment from insurers all along. But as of August 1, according to the legislation technically known as the Health Insurance (Health Service Providers and Insurers) (Claims) Regulations 2012, the practice will no longer be allowed. "We are going to have some confusion," he charged. For Dr Allington, the uncertainty lies principally with the new regulations' stipulation that insurers pay up on electronically-submitted claims within 30 days of receipt. "Providers are not required to file their claims electronically. From the providers' perspective, all along, we have been asking for insurers to give us their real-time results of what they cover. Insurance coverage has not always been made available to us. Some insurers are doing a good job trying to comply by August 1, and others still won't have that information available. They've made an effort, but it's still not available online. We have had meetings with all four of the big insurers to find out what state they're at. A couple are a little bit behind. We still don't have all the information as easily accessible as we would like. It's encouraging to see that this legislation has insurers moving in the right direction, in providing the real-time information that we need. Colonial and BF&M have made significant upgrades in their websites. But I believe insurers in general don't feel they have been given enough time." Medical specialists are liable to be the worst-hit in the switch, he predicted. "Specialists are going to have a lot more difficulties than the dental practices, because of the complexities of their coding system." But healthcare providers in general face a one-sided deal, he said, since claims can still be made on paper — but insurers are not beholden to a 30-day payment in that event. "We can't submit it electronically if they don't provide the information," Dr Allington said. "The reality is, with this legislation, insurers get off. If they don't turn around their paper claims in 30 days, we don't have any recourse."
August 9. The Bermuda Challenge has a new champion, after determined mariner Chris Fertig reached the Island in record time from New York harbour. Mr Fertig was turned back on last year's attempt by bad weather, but arrived victorious in St George's just after 8am yesterday, after crossing nearly 800 miles of ocean. He beat the 2002 record of 22 hours and 23 minutes, by a healthy margin of 44 minutes, in a 37-foot craft. "A lot of people have tried, and Neil Burnie held the record for ten years," said Peppercorn Marine proprietor John Trimingham, who met the arriving boat. "These guys have nicked a good piece of time off the record. There will be triers in the future. It's a good test for the technology." Founded in 1996, the Bermuda Challenge is an endurance trial set for powerboats. Mr Fertig set off on Saturday, in a Statement Marine 37 powered by twin diesel engines. The Virginia Beach native, a general manager for Maersk Line, had aimed to knock two hours off the record last year.
August 10. Premier Paula Cox congratulated Bermuda's Olympic athletes and said she is looking into ways to better support Bermuda's athletes. Speaking yesterday, Premier Cox said following the impressive showing of Bermuda's athletes, she is looking forward to the 2016 Olympics in Rio. "Seeing Bermuda's athletes perform on the world stage has been a phenomenal experience. This evening I shared with them that they may hail from a small Island, but they truly pack quite a punch. This is my first Olympics as the Premier, however I am already thinking of ways to identify what more I can do from the position as Premier to give our athletes more support in preparation for Rio. [Youth, Family and Sports] Minister Glenn Blakeney and I have had a lengthy discussion as to the possibilities and we will follow-through. We recognize that greatness does not just happen overnight. There are building blocks that must be put in place." Both the Premier and Mr Blakeney yesterday attended a reception at Aspers Sky Bar in the Olympic Park, honoring Bermuda's athletes. "My message to our athletes this evening was clear: we support them, we thank them and we are tremendously proud of their performances here in London," she said. A Government spokeswoman said that following the reception, both Ms Cox and Mr Blakeney returned to Olympic Stadium to watch the Olympic Men's 200 meter final.
August 14. A hike in pension contributions took a little more out of pay cheques, effective this month. According to Department of Social Insurance, the new weekly rate has increased from $60.80 to $64.14 — divided equally between employer and employee at $32.07 each. Bermuda Employers Council President Keith Jensen said called even small increases unwelcome during a recession. "It's a concern not only to business but to staff," he said — especially in cases of reduced hours, reduced wages or fewer household members working. Consequently, everyone looks to see what they can do to minimise expense, or cut out some expense so they can cover this one." The increase is in accordance with the Contributory Pensions (Amendment of Contributions and Benefits) Order 2011. The new rate went into effect on August 6.
August 14. Visitors to Hamilton will no longer have to incur costly roaming charges to send an e-mail or post a picture of Bermuda on their Facebook. TeleBermuda International (TBi) has helped the City of Hamilton turn the whole city into a Wi-Fi hot spot. The service officially launched yesterday. Instead of getting a shocking cell phone bill up on their return, tourists can now log on to the new citywide Wi-Fi network. To access the network, users should select "WiFiZone by TBi" under their available Wi-Fi networks. Once on the network, they'll be prompted to go to the TBi website where they can pay by credit card to use the network. Visitors and residents alike can access the network at a rate of $3 for an hour, $9.99 for the day, $14.99 for 3 days or $29.99 for a month. For those not wanting to pay with a credit card, vouchers will be available for purchase at City Hall. Soon, they'll be available at retailers throughout the city. "In today's busy and ever demanding technological environment, the City wanted to be able to offer the service so anyone who has a need to quickly and easily respond to e-mail messages and visit websites as required, can do so securely from any public area," said Hamilton Mayor Graeme Outerbridge. "Seamless internet access has gone from being a nice to have, to a requirement for busy people in the city, including our visitors." "TBi is very pleased to power the new Hamilton Wi-Fi network which provides a new way for locals and visitors to connect to the internet through Hamilton's public areas." said Gregory Swan, president and CEO of TBi. "Customers on the go can enjoy a convenient connection from their Wi-Fi enabled laptops, tablets or smartphone devices." This isn't the first Wi-Fi partnership for TBi. Back in March, the company, teamed up with Wedco to turn the whole of Dockyard into a Wi-Fi hot spot. The new TBi Wi-Fi zones will be welcomed by the tens of thousands of cruise passengers and crew who visit Bermuda in the summer. Up until now, to access the web they have had to go to internet cafes or pay the high cost of cell phone roaming or using cruise ship satellite internet service.
August 14. Obstetricians in Bermuda have faced some of the highest malpractice insurance premiums in order to offer their services. In fact obstetric care was in jeopardy of becoming exorbitantly expensive had the Bermuda Hospitals Board (BHB) not come to the rescue. Premiums for private obstetricians have steadily increased from about $28,000 12 years ago to about $200,000 today. While we tend not to consider ourselves a litigious community, medical professionals do face lawsuits in Bermuda. Malpractice insurance is therefore a must and all practicing local physicians do have at least one policy to cover them in this area. Many use the Medical Protection Society (MPS) in the UK for this purpose. MPS is not an insurance company. It is described on its website as "a discretionary, mutual, non-profit organization". It has no shareholders, which it says enables it to make decisions which support good practice in the medical and dental professions, and are not simply made for "financial expediency". About four years ago, malpractice insurance with MPS rose significantly for local obstetricians causing them to actively seek alternatives. MPS was charging over $100,000 a year for a premium with plans to increase that premium over four or five years to a whopping $350,000 to $400,000 a year. That's significantly higher than most other medical professionals have to pay (although cosmetic surgeons pay a premium of $110,420 a year). The MPS rates for 2012 reveal physicians in "super-high risk" categories of neurosurgery, plastic and reconstructive surgery and spinal surgery, pay a yearly premium of $44,180. Doctors in the "very high risk category" which includes bariatric surgery, gynaecology, hand surgery, trauma and orthopedic surgery, pay a yearly premium of $31,960. Part of the reason premiums are so high for obstetricians is that people can sue up to the age of 21 for problems that may have happened during pregnancy and/or delivery. This long-time period increases the risk of a suit happening. On average 800 babies are delivered on Island each year. But local obstetricians have said this volume is not enough for them to have been able to absorb the increased cost. "Local obstetricians were seriously having to consider ceasing their local service," said Dale Wilmot chief of obstetrics for the BHB. "The only other alternative would have been to increase fees to a level that would be prohibitive for most people." Practitioners said they contacted insurance companies locally and overseas in a bid to find a new provider, but this was not fruitful. Talks with Government and former Health Minister Nelson Bascome were undertaken in an effort to satisfy MPS on a reduction of risk. Local practitioners said they encouraged Government to amend some laws in an effort to meet demands of MPS. In the end, King Edward VII Memorial Hospital's chief of staff, Donald Thomas, offered the best solution. Local obstetricians became employees of KEMH and received malpractice insurance under their umbrella through local insurer, Kitson & Company. Dr Wilmot explained further: "Local obstetricians joined BHB as employees so that we could maintain an obstetric service in Bermuda. Although this development was driven by the malpractice insurance, there are benefits to service consistency and patient safety possible with local obstetricians working as an employed team."
August 16. Legislation allowing for a crackdown on vehicles pumping out toxic exhaust emissions is still a work in progress, more than three years after Bermuda Emissions Control launched its pollution testing project. The Ministry of Transport yesterday said it is currently working on legislation which would force owners to repair their vehicles when they fail an emissions test. Government would only give a minimal progress report on the $15 million initiative plagued by criticism due to soaring costs and accusations of cronyism under former Premier and Minister Ewart Brown. Kicking off the programme in April 2009, Dr Brown pledged it would help the environment by establishing an exhaust emissions standard to cut greenhouse gases. In recent weeks, The Royal Gazette has been asking the Ministry for details on its emission standard and numbers of vehicles which have failed an emissions test. A Ministry spokeswoman replied in a statement yesterday: "The Ministry advised that emissions legislation is currently being worked on." Government declined to say whether BEC has met the conditions in its contract, the handling of which came under fire from Auditor General Heather Matthews and the Public Accounts Committee, and prompted Premier Paula Cox to declare such a performance would never happen again. The motor vehicles safety and emissions testing programme involved constructing the new TCD building in Hamilton as well as satellite testing centres in St George's and Southampton. In 2001, Dr Brown told BEC that Government would waive tendering requirements and award it any related contracts on emissions testing. The initiative faced numerous delays as Cabinet debated its value for money, before BEC finally began safety and vehicle inspections at TCD in April 2009. At that time, Dr Brown said: "I salute the principals of BEC for their persistence. They are proving that good transport technology can enhance our Country's health and environment in line with a global mission to protect the earth." Government said no vehicle would fail between April 2009 and March 2010 while it established its exhaust emissions standard. An update was provided in October last year, when BEC director of operations Ian Hind said the company had collated and analyzed emission data to determine suitable pass and fail points. "This information is now with the Government and the new emissions legislation may come into force in the first quarter of 2012," said Mr Hind. "When legislation is in place, any vehicle not meeting the required emissions standard will fail and have to be repaired and presented for a retest." Last July, the PAC issued a report claiming there was specific intent at the highest level of the Ministry of Tourism and Transport to give the emission project's contract to BEC, a company partly owned by Dr Brown's close friend Dennis Correia, regardless of Financial Instructions rules. In October 2010, Mrs Matthews delivered a scathing report condemning the lack of oversight as the project's cost to taxpayers jumped from $5.3 million to $15.2 million. Ms Cox, who introduced good governance legislation shortly after replacing Dr Brown as Premier, told the House of Assembly a year ago: "I can stand here before this Honourable House and state with great conviction that there will be no repeat of this type of performance under this Government." Former Cabinet Secretary Marc Telemaque has previously defended the project, saying much of the cost increase was approved by MPs in Budget debates, and that TCD has hugely improved as a result of the redevelopment.
August 16. Bermuda Public Services Union (BPSU) says it has a duty to advocate for migrant workers even if they're not union members. President Kevin Grant said foreign workers considering moving to Bermuda can learn their labour rights and other key information through an online advice kit put together by BPSU and Public Services International. Mr Grant was speaking after The Royal Gazette reported how one Filipino nanny was practically held prisoner in a couple's home for nearly two years and paid a total of $7,000, less than 20 percent of the money she was contracted to receive. Campaigners are calling for legislation to protect migrant workers, such as an interpreter to be present when they sign their contract to make sure they understand their rights. Yesterday, Mr Grant said the BPSU represents migrant workers within public health services, but also hopes to provide support for those not represented by any union. "The migration pre-decision and information kit, released in December 2010, makes important details available to all foreign workers, regardless of their union attachments. The mission of the BPSU is to promote effective labour and community relations by encouraging fair workplace practices safeguarding the conditions of service through consultation, negotiations, education and collective bargaining. Although we do not represent domestic migrant workers, our affiliation is that we do represent migrant workers within public health services and it behooves us to be vigilant and be advocates for workers' rights and fairness in the workplace. "It is a fact that Bermuda's small population limits our ability to provide workers in specific areas of public service, so we have to rely on migrant workers to fill this void. To be fair to migrant workers, the Bermuda Public Services Union, in conjunction with Public Services International, spearheaded an initiative to produce a pre-decision and information kit for migrant and health workers who were considering being employed in Bermuda." The document is titled "You have the right to decent work and decent living conditions" and was distributed internationally to PSI affiliates. It provides information on issues ranging from Customs and immigration processes, cost of living, banking, housing, transportation, other pertinent public services, and labour rights. Mr Grant said: "It is through this document that the BPSU hopes to provide support not only for workers who we may represent but for any migrant worker who is considering working in Bermuda." Human rights groups say domestic and hospitality workers from Latin American and Asian countries are prepared to work for very low wages in poor conditions because the money is worth much more in their homeland. Bermuda's Royal Gazette newspaper previously reported how an Immigration Department investigation found a Filipino nanny was banned from leaving her employer's home and mixing with other people, and made to work seven days a week and through public holidays without a break. Bank statements showed she was paid a total of $7,000 in two years whereas her contract stipulated she was supposed to receive at least $38,400; she has since returned to the Philippines. Immigration has taken steps to ensure her former employer's new nanny is being in accordance with her employment offer. However, no legal action was taken over the matter. Bermuda Industrial Union has previously joined the Building Workers International group, which calls for Government to consider legislation to protect all workers. Useful websites: www.world-psi.org, www.bpsu.bm
August 21. Soldiers may soon be able to elect to be tried in Magistrates' Court if they get into trouble at the Bermuda Regiment. Currently military officers mete out discipline, but under legislative changes to be tabled in the House of Assembly during its next session soldiers will have a choice. Fines will also be revisited under the changes with the new regime adopting the practice in the UK of prescribing a number of days pay instead of specific amounts. The changes, will "modernise and reform the Bermuda Regiment, positioning the organization for a new and enhanced role in modern Bermuda," said National Security Minister Wayne Perinchief at a press conference yesterday. But they have also stoked the ire of anti-conscription campaigners. Larry Marshall, founder of Bermudians Against the Draft, whose son Lamont is to be tried next week for disobeying an order after refusing to pay a fine meted out by the Commanding Officer, dismissed the development as "nauseating hypocrisy." The Minister said that the changes will bring Bermuda's defence laws in line with current British military law and the European Convention on Human Rights. "Soldiers will now have the right to elect for their disciplinary trials to be heard outside of the normal chain of command and in Magistrates' Court rather than the internal discipline process." He added that the option would remove allegations of bias and ensure that soldiers get a fair and impartial trial. Magistrate's sentencing powers will remain unchanged. "With this Amendment Act, there will be more options for disciplining officers and senior non-commissioned officers. Options for discipline must be fair, equal and constant across all ranks of the Bermuda Regiment. These amendments will ensure that the most senior members of the Regiment are held accountable and subject to disciplinary procedures comparable to those imposed on soldiers of a lower rank. These amendments address some of the issues raised in those quarters opposed to certain Regiment practices. Careful attention has been given to ensuring that the legislation is gender neutral as far as possible. There has also been clarification on which organisations are considered exempted services." Regiment Commanding Officer Brian Gonsalves said that internal disciplinary procedures had also been revamped and that officers could use their discretion in dismissing chargeable offences. Asked what was in place to prevent intimidation of soldiers who opted to have their case heard by a Magistrate, CO Gonsalves said that the soldier could appeal upwards in the chain of command. "But it's up to the soldier to raise his hand," he said. "After all, we are all adults." Mr Marshall, founder of the group Bermudians Against the Draft, was unimpressed. "You cannot reform a corrupt system," he said. "This is comparable to enacting legislation during slavery making conditions better for the slaves." He said he was incredulous at the Minister's statement that the changes were in line with British military law when Britain abolished conscription 50 years ago. "In 1965, freedom for young men in this country was replaced by conscription. The only remedy is to replace conscription with freedom." Conscripts get paid $6 an hour, Mr Marshall said. "Why don't they deal with the ridiculously low wages that these conscripts are paid? Reform that." Lamont Marshall goes to court next week for disobeying Regiment orders. His father, Mr Marshall, said that he had spoken to the media in violation of Bermuda Regiment's standing orders and the CO had fined him $500 which he refused to pay. Some BAD members are of the view that the Minister's announcement yesterday is a "pre-emptive strike," said Mr Marshall. "They know we are going to court next week and we are going to be asking for records of the fine system because that is unconstitutional. You cannot reform a system that is fundamentally flawed from a human rights perspective. Because of their intransigence on this issue and their refusal to abolish conscription we will be continuing with our anti-vote campaign." Last year BAD called for an extra box labeled "none of the above" to be added to the general election ballot paper. Mr Marshall's view is that since neither of Bermuda's main political parties backs the campaign to end military conscription, young black men feel marginalized by the political process. The group hopes an extra box would allow those backing the campaign to participate in the democratic process, while at the same time signaling a lack of confidence in the available candidates.
August 22. More police officers will be trained to carry firearms, according to the Bermuda Police Service's pledges for the coming year. With guns, gangs, drugs and violence continuing as the force's four key priorities, greater CCTV surveillance and an enhanced partnership with gang-fighting agencies are among the force's plans in coming years. Unveiling the service's Strategic Plan for 2012 to 2015, Police Commissioner Michael DeSilva called the checklist "ambitious", but said it was necessarily so. "Bermuda remains in a state of economic recession, the pressures of which could fuel increases in burglaries, robberies, vehicle thefts, fraud and other acquisitive crimes. Government funding is limited and is being stretched across a broad spectrum of competing demands. And the Police Service — like every Government department — is contending with financial, operational and organizational challenges." Producing the three-year plan was itself one the recommendations made earlier this year by Her Majesty's Inspectorate of Constabularies (HMIC). And, in its Annual Policing Plan, Bermuda Police further vowed to employ intelligence and tip-offs against gun, drug and gang crime, and to target perpetrators of serious crimes with DNA profiling. The force's yearly list of goals, first launched in January 2010, is now linked to the financial year, and the latest report reflects plans moving forward from April of this year. The two strategy documents were made public yesterday through the service's website [see below]. Short-term, police patrols will be used to "deny criminals use of the Island's roads", while over the next three years, surveillance upgrades could include number plate recognition and the ShotSpotter system to speed up gun crime deterrence. An information and intelligence-based Covert Policing Strategy — recently alluded to by Assistant Commissioner David Mirfield — is also among long-term goals. In several nods to the effects of the economic downturn, a rise in burglaries is anticipated. Meanwhile, among the three-year plan's more mundane items, a Collision Policy was mentioned, to avoid police attending certain non-injury road accidents. Bermuda Police are looking into forming a single emergency centre for 911 calls by 2015, and getting a new Records Management System automated and compatible with anticipated Public Access to Information (PATI) legislation Many of the plan's points echo recommendations presented in March by the HMIC report, which called on the force to modernize. Carrying on the HMIC's call for more local recruits, Bermuda Police also committed to diversify staff. Describing the latest annual plan as a "bite sized activity list", the document adds: "It also helps the public know what to expect from us and to monitor our performance against what we say we are going to do." Useful website: www.bps.bm.
August 23. Mailboxes Unlimited won its battle with Government yesterday over customers having to pay a new higher 25-percent duty rate for goods imported to the Island through the company. In a judgment handed down yesterday, Chief Justice Ian Kawaley ruled Mailboxes was a business and thus was entitled to so-called business end-use relief under a new law. As a result of the ruling, Government will have to pay half of Mailboxes' court costs. Mailboxes owner Steve Thomson, who was represented by Alan Dunch, said he felt "vindicated" by the ruling. "Our driving motivation has always been to serve our customers to the best of our ability and keep costs as low as possible," he said. "This decision will help our business and our customers in that process." Premier and Finance Minister Paula Cox, commenting last night, said the Ministry will "carefully review the judgment and make any necessary changes in line with the judgment." She noted the Court had ruled in favour of the Crown in refusing the other two declarations sought by Mailboxes, including its order that it be allowed to return to using one BCD per shipment. In an effort to "harmonise" duty rates, Government's new legislation had raised duty to a flat 25 percent rate for all imported goods for personal use while goods imported for business use remained subject to generally lower duty rates, such as 6.5 percent for clothing and 8.5 percent for camera equipment. Mailboxes provides a US address for customers buying online for personal or business use, consolidates their purchases and has a courier ship them in to its Bermuda offices. The Collector of Customs contended Mailboxes was merely a shipper not a business, or importer, thus did not qualify for "business end-use relief" under "Customs Procedure Code 4000" . But the Chief Justice ruled "the interpretation contended for by the Crown would not just deprive the Applicant (Mailboxes) of business end-use relief. It would potentially deprive a wide array of businesses which the Customs Department itself has previously suggested are intended to benefit from CPC 4000 from entitlement to relief impacting on their tax burden in a significant way during a period of economic recession." Mr Kawaley further said: "The main difficulty with the Respondent's argument, as Mr Dunch pointed out, is that it flies in the face of the plain words of CPC 4000. CPC 4000 does not, as it easily might, limit the relief to a specific class of importers such as retailers. Nor indeed does the legislation exclude importers bringing in goods on behalf of third parties as opposed to on their own behalf. It expressly applies to 'all importers'." Mr Thomson said he remained concerned about delays in getting his customers' goods cleared due to a new system requiring one Customs declaration for per item, rather than one BCD per shipment of consolidated goods required under the old system. He said it used to take hours to deliver landed goods, but under the new system they can take weeks to clear. Mailboxes had sought an order that it be allowed to use one BCD per shipment, but it appears the Chief Justice ruled that the Collector of Customs needed to deal with that point outside of the Court.
August 27. Bermuda College (BC) will be signing a second agreement with Georgia State University (GSU), providing on-island baccalaureate degrees to Bermuda residents in the areas of Finance and/or Risk Management and Insurance. BC first partnered with GSU two years ago (2011) allowing qualifying BC students to enter into the junior year at GSU and pay discounted (instate) fees for a baccalaureate degree in business. The College says the new agreement that will be signed on Monday, September 9, will allow BC students who have earned at least 60 credit hours and who have been accepted into the Robinson College of Business at GSU to take online evening classes at GSU via simulcast to earn the Bachelor of Business Administration degree with specialisation in either Finance or Risk Management and Insurance. Barry Wood, director of External Relations for the Department of Risk Management and Insurance at GSU, will be at the signing on September 9.
August 29. Nuclear power is not a suitable alternative energy source for Bermuda and wind farms are questionable — the Island should be looking more to the sun and importing natural gas while cutting down on its own electricity usage. This according to the new president and CEO of Ascendant Group Walt Higgins, who has been a US energy industry leader and nuclear engineer. But even solar panels, solar thermal energy and introducing natural gas aren't without significant challenges, he said. It's estimated it would cost hundreds of millions of dollars to transport liquid natural gas and build an LNG terminal and infrastructure in Bermuda. Meanwhile, solar energy would require substantial investment and space — seven to 10 acres per megawatt — and output is intermittent. To address our future energy needs and environmental concerns Belco's so-called New Energy Equation calls for a combination of replacement of its engines over time to ensure that base load is met efficiently and reliably, as well as power generated from renewable sources and demand-side management — technical, organizational and behavioral solutions to cut electricity consumption and demand. In fact, the Equation calls for 20 percent of Bermuda's power to come from renewable sources by 2020, while Government's Energy White Paper calls for 30 percent from renewable sources by 2020, therefore, somewhere between 70 to 80 percent of power will be generated by base load engines when the 2020 targets are met. So where will that energy from renewable sources come from, on an isolated 21-square-mile Island, in the midst of recession, with a population of about 64,000 people, thus making it tough to achieve economies of scale? Currently, we are nearly 100-percent dependent on imported oil. Belco uses around one million barrels of fuel annually, its total fuel costs were some $122 million in 2011. Bermuda's volume of electricity consumption in 2010 was nearly 651 million kilowatt hours (kWh), slightly lower than the 656 million kWh consumed in 2009. We asked Mr Higgins and two Belco officials what they believed the best options for Bermuda were when it came to alternative energy sources and renewables. The answers below were provided collectively by Mr Higgins, Belco assistant vice-president, Engineering Roger Todd and Belco senior vice-president, Engineering, Environment and Occupational Health and Safety Michael Daniel. What do you feel are the best alternative energy options for Bermuda? Walt Higgins: "Introduction of natural gas as an alternative fuel to enable higher efficiency plant and reduce greenhouse gas emissions, in support of the (Government) Energy White Paper. Solar thermal water heating, most easily achieved during major renovations or new construction. Commercial scale solar photovoltaic (solar PV). Significant penetration of solar PV would provide a measure of peak 'shaving', as peak demand is driven by air conditioning loads in the summer. Not really alternative energy, but a lot can be done with demand side management (ie on the customer side of the meter) to better utilize the plant we have." What are the pros and cons of Solar Thermal Water Heating for Bermuda? (Solar water heating systems use panels to collect free heat from the sun to warm domestic hot water, mostly for indoor water heaters or for pools.) (Mr Higgins, Mr Todd, Mr Daniel): Pros: High-efficiency method of water heating. Reduces fossil fuel dependency and greenhouse gas emissions Not subject to electricity or fuel pricing. Low maintenance. Mature technology. Prices are reducing as production increases, resulting in shorter payback periods than a few years ago. Cons: Retrofitting can be difficult, therefore, best achieved during major renovations or new construction. Capital cost required to install the system, but good return on investment. What are the pros and cons of Solar Photovoltaic (PV) for Bermuda? (Mr Higgins, Mr Todd, Mr Daniel): Pros: Reduces fossil fuel dependency and greenhouse gas emissions. Not subject to the fluctuations in fuel pricing. Low maintenance (if no battery storage). Mature technology. Prices are reducing as production increases, resulting in shorter pay back periods than a few years ago. Cons: Requires substantial space seven to 10 acres per megawatt (MW). Therefore opportunity in Bermuda is limited primarily to rooftops. High capital investment. Typically $7,000 to $10,000 per kilowatt (kW), depending on the size of the installation. Output is intermittent as it relies on the intensity and duration of sunlight. It is not suitable for base load power production. Conventional power generation or battery storage is required as backup to provide firm capacity. If battery storage is utilized, maintenance, replacement and disposal of batteries are required on a shorter life cycle than PV system. Battery storage will also increase the capital cost and reduce the return on investment (ROI). What are the pros and cons of Wind Farms for Bermuda? (Mr Higgins, Mr Todd, Mr Daniel): Pros: No fuel costs. Reduced greenhouse emissions in support of the Energy White Paper. Cons: Requires substantial space, therefore only possible offshore in Bermuda. Offshore solution has higher capital and operating and maintenance cost, therefore wind farms are often heavily subsidized. Significant transmission infrastructure requirements and backup generation. Highly variable output dependent on intensity and duration of wind — not suitable for base load power production. Noise and aesthetics. What are pros and cons of Ocean Energy for Bermuda? (Mr Higgins, Mr Todd, Mr Daniel): Pros: No fuel costs or emissions. Ocean energy is fairly reliable (or so research has shown so far). Cons: Technology is in research & development (R&D) and not yet in commercial production/operation. Unforeseen operations and maintenance challenges as with any new technology. What are the pros and cons of Nuclear Energy? (Mr Higgins, Mr Todd, Mr Daniel): Pros: Lower emissions than traditional fossil fuel power generation Typically lower electricity cost than oil-based generation. Cons: Not available on a scale appropriate for Bermuda. Traditional nuclear plants too large for Bermuda, greater than 500MW but typical capacity is 1300MW. (For comparison — Belco's maximum generation capacity is 162MW). Smaller Nuclear Pebble Bed Reactors are still in R&D phase. High capital cost. Nuclear waste, regulation, safety. Due to the worldwide sentiment with regards to nuclear this is not a likely option. What are the pros and cons of Natural Gas in Bermuda? (Mr Higgins, Mr Todd, Mr Daniel): Pros: Natural gas is the cheapest fossil fuel, less expensive than heavy fuel oil, diesel and propane. Natural gas is the cleanest fossil fuel. When compared to diesel there is a 25 percent carbon dioxide (CO2) reduction, 85 percent nitrogen oxide (NOx) reduction, 99 percent sulphur oxide (SOx) reduction and 99 percent reduction in particles. Natural gas is in abundance with proven reserves of over 100 years in the US alone. Belco's existing and planned generators are capable of running on Liquefied Natural Gas (LNG). Cons: Natural gas would need to be transported to Bermuda in its liquid form or as LNG. An LNG terminal would need to be constructed to receive, cryogenically store and re-gasify the LNG for distribution. LNG terminals and associated infrastructure have a high capital cost.
September 7. The announcement that Government schools are rushing to fill 23 teacher vacancies this month was branded "an annual and recurring problem" by the Opposition One Bermuda Alliance. Education Shadow Minister Grant Gibbons said: "While some last minute resignations or retirements are to be expected, parents were being told a similar story last year in September: that red tape and hiring delays would mean teacher shortages in a number of specialist areas." Out of a total of 901 positions, 23 have been left empty — although Education Minister Dame Jennifer Smith has said Government expects to have 21 filled during September. She attributed most of the gaps to "last minute decisions" by teachers to retire or move on. "It's not clear from the Minister's statement whether existing teachers will have to cover classes and prepare lessons outside their normal areas to address the shortages — or whether substitutes will be made available given the government's budgetary problems. Neither approach is ideal and raises the possibility that the quality of the students' education could suffer in the first few critical weeks of school." Bermuda Union of Teachers leader Mike Charles said he knew of many teachers who had gone overseas, especially in science and maths. However, he added, the BUT didn't anticipate other teachers being moved out of their specialist subjects to fill the gap. "It used to happen, but we haven't had any complaints about that in quite a while. Schools themselves would be remiss if they tried to encourage that kind of thing." Mr Charles said the new Cambridge Curriculum in public schools made it especially unlikely for teachers to be moved outside their specialty. Overseas teachers are expected to fill the majority of vacancies over the coming weeks.
September. Report on the global reinsurance market by ratings agency AM Best. The report, which bases its rankings on the amount of gross premiums written by reinsurers in 2011, rates ninth-placed PartnerRe as the largest Bermuda-based reinsurer with gross premiums written of $4.6 billion, with Everest Re close behind in 11th place on $4.28 billion. The figure of 15 includes only groups whose holding companies are based in Bermuda. It doesn't include companies such as Ace, XL, Flagstone Re and Allied World Assurance Company, who all make the top 50 and have substantial underwriting operations on the island. The report, entitled 'Reinsurers show resilience under weight of catastrophes, economic woes', also suggests that Bermuda reinsurers shouldered more of the burden of insured losses from last year's high incidence of natural disasters than their European rivals. Bermuda reinsurers' underwriting results have been propped up in recent years by the release of reserves set aside for prior-year events. There have been increased efforts by the US reinsurance lobby, notably from the Reinsurance Association of America, for the US Government to enact tax changes and add that a shift in tax policy could prompt an exodus of companies out of Bermuda. For various reasons, some Bermuda-domiciled companies already have moved their headquarters to Ireland or Switzerland, which have established tax treaties with the United States. Taxes may be higher than in Bermuda, but they're lower than in the United States, and less subject to change. A shift in US tax policy toward Bermuda could prompt a further exodus. In recent years, Flagstone Re and Allied World moved their corporate domiciles from Bermuda to Luxembourg and Switzerland, respectively, while others, whose operational headquarters were in Bermuda, such as Ace and XL, have also shifted their base to Europe. Over the past year, Bermuda has become home to start-ups backed by US hedge funds, including Third Point Re, SAC Re and PaCRe. Bermuda remains attractive even to newcomers, such as the hedge funds that are a growing source of capital to the reinsurance market. These investment vehicles, like generations of reinsurers before them, are looking to Bermuda as a haven to avoid paying US tax rates on their insurance-related income. Unofficial reports abound of hedge funds holding discussions with Bermuda-based companies over various reinsurance vehicles to be based on the Island.
September 17. Bermuda's captive industry is "unparalleled", making it the preferred location for US and Canadian companies looking for a captive domicile. This is the view of Alan Gier, Global Director of Insurance & Risk Management at General Motors, a Fortune 500 company. In an interview ahead of a series of captive industry meetings in the US, including in Detroit where he will speak on a Bermuda panel, Mr Gier discussed GM's three decade long relationship with the Island. "GM always views our partnerships on a long term and mutually beneficial basis, over the past 30 years our relationship with Bermuda's regulator, service suppliers and insurance market place has proved to be such a relationship and we are happy to endorse this excellent captive domicile," said Mr Gier. The Bermuda Captive Seminar Committee, which is a collaboration between local service providers, audit firms and management companies, is putting the full court press on potential overseas business, conducting marketing road shows and attending high-level conferences in the US and Canada over the next several months. The ongoing initiative marks the first time local service competitors have come together to promote Bermuda in a unified bloc. GM, which has owned a captive here since 1981, will join local industry representatives at a meeting in October with the Detroit Chapter of Risk and Insurance Management Society (RIMS) to discuss its personal experience with working in Bermuda and the advantages of the marketplace. James Nicholson, vice chairman of PVS Chemicals, another long-time Bermuda captive owner, is also on the panel. Mr Gier explained that three decades ago, Bermuda was the only "sensible" choice for a US corporation looking for a captive domicile. Since then, he said, the jurisdiction has evolved and developed in tandem with GM's changing needs and captive requirements. "Over the 30 plus years that we have had a captive in Bermuda, its innovation, market development and proactive regulator have always made it our preferred captive location. The access to international reinsurance markets and capacity provided by the Bermuda domicile is unparalleled and highly valued and utilized by GM." After Detroit's meeting, Bermuda representatives will then move on to Dallas where they will present at the Risk Management Symposium hosted by the Dallas chapter of RIMS and then on to Toronto. This isn't the first time this year Bermuda reps have visited Canada — in February, captive industry members held breakfast seminars in Toronto, Montreal, Calgary and Vancouver. Providing a captive owner's perspective were representatives from two Canadian energy companies that recently redomiciled here from Barbados — Encana a leading North American oil and natural producer and Vancouver-based Teck. This week Business Bermuda exhibited at the Captive Live USA 2012 conference in Chicago where more than 600 American captive owners, managers, and service providers attended. At the conference the Bermuda Monetary Authority was awarded the 2012 US Captive Services Award for the Best Regulatory Initiative of the Year. "We are excited that our jurisdiction has been recognized for the Bermuda Monetary Authority's work as having the Best Regulatory Initiative of the Year," said Business Bermuda CEO Cheryl Packwood, accepting the award on behalf of the BMA.
September. Bermuda re-insurers make up about 36 percent of the global reinsurance market based on property/casualty net premiums earned, according to credit rating agency AM Best Co. Best's special report on global reinsurance. Bermuda market's major US-listed re/insurers bounced back strongly to reap more than $4 billion of net income in the first quarter of this year. This represents a dramatic swing from the $2.67 billion net loss the group of 17 companies recorded in 2011, when most were hit by claims from an earthquake in New Zealand and a tsunami in Japan. For the Bermuda market a relatively quiet first quarter, in terms of catastrophe activity, came as a welcome relief after last year's losses, which were not only driven by heavy claims from natural disasters, but also by low interest rates which squeezed investment income. The change of fortune is also shown by the companies' combined ratios, a measure indicating the proportion of premium dollars spent on claims and expenses. A figure lower than 100 percent indicates underwriting profitability and the average combined ratio for the group in this year's first quarter was 89.4 percent, a stark contrast from last year's dismal 149.5 percent. In fact, all except Platinum and Argo Group managed a sub-100 combined ratio this year. Last year, only Maiden Holdings, which has little exposure to catastrophe business, came in under 100. By far the biggest generator of profits was Ace Ltd, which earned nearly $1 billion, compared to a $250 million profit in the same period of 2011. Ace has evolved from its Bermuda roots into a truly global insurer, with its holding company now based in Switzerland. Some companies produced almost a mirror image of their results from the same period last year. Everest Re, for example, made a profit of $304.7 million, compared to a loss of $315.9 million last year, while Montpelier Re posted net income of $107.1 million, compared to its 2011 first-quarter loss of $104.3 million. Only Ace, Alterra, Arch Capital, Allied World and Maiden Holdings managed to make a profit in the first quarter of both years.
September 21. Bermuda Used in $4.5 billion tax avoidance scheme. Also Royal Gazette. WASHINGTON (Reuters) — Microsoft Corp and Hewlett-Packard Co have pushed back against claims by a US Senate panel that they used offshore units and loopholes to shield billions of dollars in profits from US taxes. Calling tax avoidance rampant in the technology sector, the Senate's Permanent Subcommittee on Investigations said tech companies used intellectual property, royalties and license fees in overseas tax havens to skirt taxes. The panel subpoenaed internal documents from the companies and interviewed Microsoft and HP officials to compile its report, which uses the companies as case studies. "The tax practices and gimmicks range from egregious to dubious validity," Democratic Senator Carl Levin, chairman of the panel, said at a news conference. Officials at HP and Microsoft strongly denied any wrongdoing, noted tax officials had not objected to the structures and said there were valid reasons for tax planning. Senator Tom Coburn, the top Republican on the panel, signed onto the new report but blamed Congress. "Tax avoidance is not illegal. Congress has created this situation," Coburn said, criticizing the complex tax code and the 35 percent corporate tax rate, among of the world's highest, though few companies pay that statutory rate. The subcommittee said that from 2009 to 2011, Microsoft shifted $21 billion offshore, almost half its US retail sales revenue, saving up to $4.5 billion in taxes on goods sold in the United States. This was accomplished, the report said, by aggressive transfer pricing, where companies value intra-company movement of assets. Corporate units must use a fair market price to value transfers, but critics say they are manipulated to minimize tax. The report also said the software giant shifts royalty revenue to units in low-tax nations, such as Singapore and Ireland, avoiding billions of dollars of US tax. Levin said one Microsoft Singapore unit was legally headquartered in Bermuda and had no employees. Levin asked Microsoft's tax vice president, William Sample, if the reason was to cut its tax bill. "Yes, that is correct," Sample said. Sample also said several offshore units employ hundreds of workers, which Levin noted was a tiny fraction of its workforce. Internal Revenue Service officials are not allowed to comment on specific taxpayers, but Chief Counsel William Wilkins said enforcing transfer pricing law "has been the IRS's most significant international enforcement challenge." US companies have at least $1.5 trillion in profits sitting offshore. Most say they are keeping them there to avoid US tax. Of the top 10 companies with the biggest offshore cash balances, five are in the technology sector. "The high-tech industry is probably the No. 1 user of these offshore entities to transfer intellectual property," Levin said. The panel said Hewlett-Packard funded US operations with a stream of intra-company loans, using an exception in the law for short-term loans, to avoid billions of dollars in taxes. Levin said more than 90 percent of HP's cash was sitting offshore, as opposed to about 65 percent of revenue coming from countries outside the United States. An HP spokesman said in a statement that the hearing was a politically motivated attack. "We are disappointed to see what appears to be a politically motivated attack on one of America's largest employers," HP spokesman Michael Thacker said before the hearing. Lester Ezrati, an HP tax vice president, said HP used cash faster in the United States for valid reasons including that certain payments like pensions must be made with US cash. "HP has an overall strategy to minimize expenses and that is what generates where the cash is located," and "one of those expenses is taxes," Ezrati said. Under tax law, foreign profits are subject to US tax when they are "repatriated," or brought into the United States, usually in the form of a dividend. One internal document released by the panel suggested that HP routinely brought money into the US without paying US tax. An HP presentation noted that "without planning, repatriation of foreign earnings could lead to tax payments." Loans by the foreign units to a related US entity are considered a dividend for tax purposes but there is an exception for loans that are repaid within 30 days, according to the committee's tax experts. HP set up a complicated series of short-term loans starting in 2008 to these businesses that were continuous without gaps, to get around that provision, the panel found. Big companies have lobbied for a tax holiday to let them bring offshore profits into the United States at a reduced tax rate, arguing that the profits are trapped offshore. That effort has fallen flat amid reports suggesting such a program would cost the government significant revenue and not produce US jobs. The report on transfer pricing "mocks the notion that profits of US multinationals are 'locked-up' or 'trapped' offshore," Levin said. The subcommittee also criticized accounting giant Ernst & Young for blessing HP's practices. Ernst & Young partner Beth Carr said that the firm stands firmly behind its auditing for HP.
September 22. Following Cabinet approval last month, Bermuda's Exclusive Economic Zone (EEZ) has been declared a Marine Mammal Sanctuary with special emphasis on the endangered humpback whale. In making the announcement yesterday, Environment Minister Marc Bean said the symbolic designation reaffirms Government's commitment to support the Sargasso Sea Alliance. "Steps were taken last year to establish a partnership with the Stellwagen Bank National Marine Sanctuary which is administered by the United States National Oceanic and Atmospheric Administration." Famous for whale watching, Stellwagen Bank is a 638 nautical square mile marine sanctuary located at the mouth of Massachusetts Bay. According to the Minister, the new Bermuda Marine Mammal Sanctuary will be more than 170,000 square miles, approximately circular in shape with Bermuda at its centre. "Although by no means the biggest Marine Mammal Sanctuary in the world, it is a very substantial size and we hope it will be a great contribution to marine mammal conservation in the Atlantic Ocean," said Mr Bean. "The formal declaration of the Bermuda Sanctuary means that Bermuda can now establish a 'Sister Sanctuary' agreement with Stellwagen Bank. The Bermuda Government has today signed this collaboration agreement." A letter of intent was signed at a ceremony in June to build a model for international cooperation to extend protection zones for the endangered humpback whale. "Over the past six years 673 individual humpback whales have been identified here in Bermuda by the Humpback Whale Project Bermuda, many of them matching to fluke IDs made in the southern calving grounds and the northern feeding grounds," said Mr Bean. "Some of these matches go back 35 years. This is the largest data base of fluke IDs of migrating whales in the middle of the ocean obtained anywhere. Individual humpback whales migrating each spring from the Caribbean to Bermuda and Stellwagen Bank have been routinely identified by the unique patterns of their tail fins, here in Bermuda a well as at Stellwagen Bank. The endangered Atlantic humpback whale population spends the summer months feeding in the northern feeding grounds before making the return voyage to the Caribbean for the winter calving season." Humpback whales are already protected by two pieces of local legislation, the Fisheries Act 1972 and the Protected Species Act 2003 which gives specific protection to whales that are considered threatened. The Minister was accompanied by Dr David Freestone, Executive Director of the Sargasso Sea Alliance and local whale expert Andrew Stevenson to make the announcement. Mr Stevenson noted that Bermuda is one of the best places in the world for whale watching. He was hopeful that once the word gets out that Bermuda is at the centre of a new sanctuary for mammals it will become an added attraction for whale watchers. "Unlike other regions the waters off Bermuda are crystal clear, you can even see the whales below the surface, I've even watched whales off Bermuda from the shoreline. And you don't have to go very far off shore during the migration period to see whales off Bermuda, we have about five hot spots, some as close as five to seven miles offshore."
September 28. Tourism Minister Wayne Furbert this morning admitted he had made a mistake over the future of the Park Hyatt resort in St George's. On TV last night he said the contract with developer Carl Bazarian had been terminated. But in a statement this morning he said: "Yesterday, when I spoke on ZBM news, I misspoke when I said that government has terminated the Park Hyatt agreement. What I meant to say, is that the time period for the agreement has expired and that the agreement has lapsed. We are fully committed to a hotel in St George's. Mr Bazarian and his team are traveling to Bermuda and we will be meeting with him next week."
October 2. Australian television pioneer Reg Grundy has put his huge Tucker's Town estate up for sale for just over $38.2 million. Behind former US consul general's residence Chelston in Paget, Idolwood Lagoon Estate is one of the most expensive homes ever listed in Bermuda. Chelston is listed with Christie's local affiliate John Sinclair for $45 million. Mr Grundy's palatial Idolwood Lagoon Estate is set on the waterfront on 4.25 acres and has a 10,000 square-foot main house, three cottages and its own beach, dock, tennis court and four garages. The home and grounds featured extensively during Mr Grundy's interview a few years ago with Australian TV host Tracy Grimshaw. He and wife Joy invited her exclusively into their sprawling Bermuda home and grounds. Mr Grundy, the man behind the Restless Years, Young Doctors, Sons and Daughters, Neighbours and Sale of the Century, had not given a major interview in decades. His home is listed with Rego Sotheby's International Realty, and agent Margaret Young. She declined to comment on the listing or reason for the estate being put up for sale. Rego's website describes the estate as having a main residence which was completely rebuilt in 1997 includes five bedrooms with ensuite bathrooms, a study with half bathroom. "As well as a spacious two-storey entrance hall, grand living room, formal dining room, kitchen, family room and two-storey library, two of the guest bedrooms have their own living room, dining area and kitchenette," the listing says. "Summer Cottage is a self contained guest cottage with studio kitchen and patio overlooking the lagoon. Little Moss Cottage has 2 bedrooms ensuite, living room with open plan kitchen and outdoor terrace as well as a studio annex with bedroom, kitchenette and bathroom. Mayfield Cottage is currently used as an office but has the ability to be three bedrooms with one ensuite and two half baths with entrance hall, kitchen and living room and a terrace overlooking Castle Harbour. Adding to its desirability are four garages, gym, tennis court, an extensive orchard, nature trails with ravines, two docks and moorings." Mr Grundy, now nearly 90 years old, often ventured out from Idolwood Lagoon Estate to photograph his beloved Bermuda longtails. He published a book of photographs in 2005, "The Wildlife of Reg Grundy" and has exhibited his photos of longtails at local galleries. They are also displayed at LF Wade International Airport.
October 4. A new report reveals that Bermuda's international companies provide nearly $1 trillion of direct investment in the global economy. Business Bermuda's 2012 Economic Impact Report, published yesterday, showed that Bermuda's holding companies provided $939 billion of inward and outward direct investment for the world economy. It also shows that the Island's two-way trade with the rest of the world totaled $80 billion in 2010. In addition, Bermuda's multinational companies generated an additional $100 billion of direct sales in ten major markets surveyed through its subsidiaries in the manufacturing and financial services sectors. The report also concludes that Bermuda's businesses provide 600,000 jobs in the world economy. The US remains the Island's largest trading partner. Bermuda is the eighth largest investor in the US, with a direct investment position of $55 billion — more than the entire Caribbean, Singapore and Hong Kong taken altogether. Asia is the fastest growing trading partner for Bermuda. Trade with China, including Hong Kong, and Singapore grew 200 percent between 2004 and 2011. Bermuda holds $20 billion of investment from China and Singapore — up from $1 billion in 2000. Meanwhile, Bermuda emerged as one of the top 20 trading partners of the European Union. Dr Charles Ludolph, a US-based economist who conducted the study on Business Bermuda's behalf, said: "The study captures the four economic roles that Bermuda plays in the world economy. "Bermuda's financial sector and regulatory governance provides financial stability in a time of volatile global capital flows. Second, Bermuda is stepping up from its regional strength in providing a needed capital market for the US in insurance and reinsurance and expanding into Asia and other markets. Bermuda is finding a new role as an investment domicile for Asia. And perhaps most important, Bermuda continues to support US international business competitiveness with company law and regulation that meets the security needs of business but is responsive enough to lower costs in a tough international competitive environment." Business Bermuda also revealed the results of its annual Top-of-Mind Awareness Study, which showed that awareness and understanding of Bermuda in international business is high overall in key markets around the world. Sloane & Company, in partnership with regional firms, conducted 250 telephone interviews among a representative sample of Bermuda's traditional base of clients in North America, London, Europe, Asia and the Gulf including lawyers, accountants, financial services and re/insurance executives between August 1 and August 30, 2012. One finding was that Bermuda faces challenge in reinvigorating the discussion about its international business offerings as familiarity breeds complacency. Since the 2011 study, there was a ten percent increase in overall awareness in Asia to more than 95 percent and an 18 percent increase to 78 percent in the number of people who indicated they were very familiar with Bermuda in the Gulf. One issue that emerged is that Bermuda's sophistication and reputation for substance are "double-edged" swords. Respondents highlighted that Bermuda is great for complicated international business transactions and the most-established hedge funds as they enter the reinsurance market. However, when lawyers are looking at jurisdictions for the most basic, small and emerging hedge funds other jurisdictions appear to have a simpler and more efficient approach. In addition, the lingering effects of the economic crisis in Europe and North America remain a concern for the financial community and have caused investors and others to be more cautious. While not as significant as previous years, there are some concerns about the impact on tax and regulatory environments impacting offshore based on the outcome of the US Presidential election in 2012. Business Bermuda CEO Cheryl Packwood said: "This research is very helpful in guiding our marketing efforts and providing a benchmark for our progress. The news out of Asia and the Gulf is heartening and confirms that we are investing time and energy and that is making a difference. We are also pleased with the research out of the US, UK and Europe as it shows we have not lost any ground in highly competitive markets and it gives us some clear indications on the issues we need to address."
October 9. Bermuda has the second highest salary for expatriates — just behind Singapore, one of the Island's main competitors. According to HSBC's fifth annual Expat Explorer survey, Bermuda ranked second overall in Economics League table, as well as whether expats feel the Island is a wealth hot spot, and ranked first in disposable income. Expat Economic findings reveal how economic situations differ for expats around the world and how countries compare with one another. The survey is the largest survey of expatriates around the world, interviewing 5,300 expatriates from 100 countries, across the globe, including Bermuda, making it the largest ever sample to date. A sample size of 30 or more respondents was needed from each country to be included in the results and as such, only 30 countries qualified. The Island ranked in the middle of the pack for overall experience (15th spot), with Cayman Islands (1), Singapore (4), Switzerland (7), Bahrain (11) and Hong Kong (12) ranking higher. Bermuda ranked 14th for the ease with which expats can set up here and ranked in the ninth spot for quality of life which fell from fifth in 2010. Bermuda was not included in the 2011 survey due to lack of participants. Bermuda ranked close to the bottom of the pile, in the 29th spot, for the ease at which expatriates integrate into the local community. Bermuda also ranked in the top ten for the local weather, commute to work, work/life balance, social life and sports. Meanwhile, the Island ranked close to the bottom regarding access to quality healthcare, organizing schools for children, access to shops, availability of entertainment and finding accommodation. "This is the fifth year we've run the Expat Explorer survey and the quality and depth of the findings continue to provide a wealth of information for the expat community," said Dean Blackburn, head of HSBC Expat. "Not only is our online interactive tool a valuable and trusted resource for expats, the insights also help us as a business offer advice to those looking to grow and protect their wealth while living or working abroad." The survey revealed that Southeast Asia has come to the fore as a leading destination for expat earning potential. Four additional countries in the region also make the top ten, including Thailand (3), Hong Kong (4), China (7) and Vietnam (10). Expatriates in Southeast Asia continue to benefit from increased earnings with Singapore holding the largest proportion of wealthy expats of any country. More than half (54 percent) of Singapore-based expatriates who took part in the Expat Explorer survey earn more than $200,000 per year, compared to a global survey average of only seven percent.
October 17. Par-La-Ville Hotel & Residences, the company behind the proposed St Regis hotel in Hamilton, is suing a major Chinese investment bank. The Royal Gazette also revealed that Donal Smith is no longer with Par-La-Ville Hotel & Residences; and the new president of the company is Michael MacLean, managing director of M&M Construction. Local firm M&M worked on Rosemont City Place, the Hamptons, and major projects at the Tucker's Point resort. Mr MacLean told us yesterday the writ has "no bearing on the current financial structure we have or the financial partners we have". He added that the action taking place with the company and Citic will not affect the hotel being developed or push back the schedule. He declined to comment on the reason for the writ. Par-La-Ville Hotel & Residences' US-based principal Ted Adams, of Unified Resorts, also declined to comment. The writ filed in the Bermuda Supreme Court against Hong-Kong-based Citic Securities International, a subsidiary of China's largest listed brokerage, as such: Par-La-Ville Hotel & Residences Ltd vs Citic Securities International Company Ltd, October 10, (law firm) Conyers Dill & Pearman Ltd. Donal Smith declined to comment on the writ or reason for his departure from the company. He was its co-founder and vice-president. Some observers had expressed concerns about a conflict of interest since Mr Smith was also deputy mayor for the City of Hamilton, which owns the Par-La-Ville Road site for the proposed hotel. Tourism Minister Wayne Furbert had no comment on the matter either. Last week Hamilton Mayor Graeme Outerbridge said that developers were "meeting the obligations" of an "extended lease". This after the previous City leaders and Mr Adams had signed new agreements and a ground lease for the Par-la-Ville site after project deadlines in the previous contracts were missed. Those agreements were said to include strict deadlines for a St Regis hotel, the specifics of which were not released. Those deadlines, though apparently expired. Mr Smith had insisted in August that financing for the Par-La-Ville project was in place, and that the project would break ground this year. The St Regis project has "in principle" planning approval to build nine storeys on the Church Street side and ten storeys on the Par-la-Ville side, with three levels of underground parking. In addition to 140 hotel rooms the luxury development was granted permission for 80 St Regis residences. Plans for a hotel at the Par-la-Ville were first announced in 2007 with Ritz Carlton attached. Starwood was named as a new partner in 2009, when it was stated the hotel would open in 2013.
October 19. Up to 60 jobs are on the line as Coral Beach Club faces an increasingly uncertain future after members turned down a plan by the operator to sell them the resort's facilities for $28 million. There are concerns the exclusive beach and tennis club could close at the end of next month, be sold, or that it could even be handed back to the mortgagee, Swedbank. New York-based Brickman Properties, which acquired a 200-year-lease on the club and operates it, had said it would collect membership dues only through November this year by which time it had hoped its equity conversion plan would have gone through. Brickman has said it's no longer interested in redeveloping the property as a five-start resort. A group of senior members of the club have banded together to try to keep it open and have presented an alternative ownership proposal to Brickman. But a letter this week updating the members on their efforts said Brickman refused to discuss the new proposal with them, however, they were "continuing to work towards ensuring that CBC will remain open beyond 30th November". An official with Brickman told The Royal Gazette this week the company had no comment on what's happening with the club at this stage. Club sources told us a large percentage of members rejected paying up to $35,000 each to Brickman as part of an equity conversion plan giving them ownership of just the facilities and not the 138 rooms/cottages, or much of prime oceanfront property, on which Brickman holds a lease. As part of the equity conversion, around 1,500 local and overseas members of the club were asked to also take on at least $5.5 million in debt owed by Brickman. Coral Beach Club management told us yesterday they had "no idea" what would happen to the club after November and were "carrying on business as usual", booking guests, events and parties beyond next month. The resort employs some 60 full and part-time staff. A tourist, who works for a major US association, said he stayed at the resort last month with his wife as a non-member and got the sense staff were concerned when he brought up articles he had read about the club's future. "I asked several non-senior staff members if they knew what was going to happen, but they said they didn't and it clearly made them uncomfortable, so I dropped it," he said. "One waiter added that they were told they would get word at the end of the month (September)." He added that when he was taking some pictures in the main building, a woman who worked there "asked if I was taking some last pictures". The steering committee of the Informal Group of CBC Members said this week in a letter to members, which we obtained: "Since our last communication to CBC Members dated 5th July, we have been working hard to assess and develop plans for the survival and possible Members' acquisition of CBC." The committee said members had donated more than $75,000 towards legal and other professional costs being incurred as part of the effort, which includes: "We have revised and correlated a master contact list for Members, analyzed Members' responses and considered Members' ideas and suggestions for the future of CBC. "We have communicated and negotiated with BP3 (Brickman Properties 3 Ltd) on Members' responses to the original 'equity offer' and considered the terms of a potential revised offer from BP3. We have analyzed the current financial statements of CBC and formulated a budget for the period 2013 to 2015. We have targeted and valued renovations needing immediate attention and other renovations that will be required over the next three years as available funds dictate. We have reviewed the current lease between BP3 and Horizons Ltd, the terms of the original mortgage secured over the property and Swedbank's role as current mortgagee. We have agreed on an alternative proposal to BP3's revised terms. Our proposal provides for complete CBC ownership and control by Members. However, to finalize our proposal we need further information and access to other documents, including a 'Definitive Agreement', which is referred to in the Lease and which we expect contains obligations that would be critical to any purchaser of CBC, including potential protection for its continued operation. We recently invited BP3 to meet with us to discuss revised terms, but our request for a meeting was turned down. We were simply invited to submit a counter offer in writing. We have been asked to confirm rumors relating to the handing over of CBC by BP3 to Swedbank. Whilst we do not have information to confirm or deny this, we would expect and trust that the interested parties would make any change in ownership known to the Members at an appropriate time. Despite BP3's apparent lack of interest in discussing revised terms with us, we are continuing to work towards ensuring that CBC will remain open beyond 30th November. We intend to request an extension of Membership for a further period to allow negotiations to continue and to keep CBC an open and vibrant club with the help of the excellent and committed staff whom we all appreciate so much. Finally, we continue to believe that the future success of CBC depends on the Members being in a position to act quickly in a coordinated and financially feasible manner and will be looking to the Members to support and achieve this." The committee includes Francis Carter, Anthony Gorham, Elliott Rogers, Teresa Chatfield, Richard Keane, Steven Rees Davies, Jeff Conyers and Judith Howe Tucker.
October 22. The combination of the Island's escalating healthcare costs and the state of elder care is a "sleeping time bomb" in need of an immediate fix, seniors' advocate Claudette Fleming has claimed. And pensioners can't afford to wait until a Government review of healthcare is completed, she insisted. "I understand that the acting manager of National Office for Seniors and the Physically Challenged has been charged under the National Health Plan task force to look at the issue extensively. However, most individuals who need long-term care need viable solutions today," said Ms Fleming. Residential elder care in Bermuda means "long waiting lists, limited facilities and sizeable monthly fees and crippling staffing costs with little private financing options and no insurance provisions private or public. It's the sleeping time bomb of the ageing population. Most people in need of immediate long-term care can expect to encounter a waiting list, limited facility options and sizeable monthly fees. Those wanting to get into and stay in the business have to be creative of how to avoid crippling staffing costs." The costs for residential care range from $3,500 to $14,000 a month. Ms Fleming noted: "There are few private financing options except perhaps individual private savings, and no long-term care insurance provisions private or public. The Government heavily subsidizes long-term care through grants to facilities such as Lefroy House, Sylvia Richardson and the Continuing Care Unit. Individual seniors who are deemed poor enough can get support through Financial Assistance but even the Financial Assistance Department will have to establish its support limits as the population ages, if it has not done so already. Perhaps the most efficient and cost-effective way to go is to provide financial support to families to keep their ageing relatives at home for as long as possible. But, this will only prove to be a viable option if families are supported financially and in the workplace and if we transition to a more community-focused delivery of healthcare within the home setting that supports the family's efforts. Still, there will always be those persons who will require residential, long-term care so there will always be a need for some facilities to be in existence." According to the Organization for Economic Cooperation and Development, Bermuda is the second most expensive country for healthcare and that's without universal coverage. Senior citizens also represent the fastest growing segment of Bermuda's population. Ms Fleming said: "The silence on the issue of long-term care is deafening. To say the buck keeps getting passed is an understatement, we can't even find the buck anymore. We could help tremendously by implementing a national agenda on how to systematically address these types of ageing issues. We continue to extend our support, wherever possible, to bring a national ageing plan into fruition in the sincere interest of the successful ageing of the people of Bermuda." Elder care is one of many issues being tackled under the proposed National Health Plan. "CCU continues to be over-subscribed," said Health Minister Zane DeSilva at a recent press conference. "The long-term task group, that is in their remit and I expect that to be part of their final report. It won't be in the new hospital. The CCU will stay where it is and it will continue to be funded as it is and you will know that most of that funding is through subsidy through the Government. There is a long waiting list for CCU as there are for many of our homes throughout the Island, that is going to be addressed by the long-term task group." Westmeath Residential and Nursing Care Home raised residential rates this month. Administrator Chrissie Kempe would not state what the new fees were. "Disclosing to you the details of these increases would breach private contractual information between residents and Westmeath," she said "In the current economic climate Westmeath, as a non-profit organization, must be mindful of the increasing costs associated with care and the obligation to our employees. Westmeath does not believe this is a topic to be debated in the press." The general consensus expressed at other rest homes was that they "could use a rate hike to match rising costs." A spokeswoman at Matilda Smith Williams Home said they haven't had an increase in years. That sentiment was echoed at Packwood Home where there are 28 residents in a facility with 30 beds paying approximately $5,000 a month for elder care. Jennifer Attride-Stirling of the Bermuda Health Council said: "The Bermuda Health Council doesn't regulate the price of residential care facilities. There is no legislated mandate to do so. The extent to which long-term care is deemed an essential health service is an issue that is being considered under the National Health Plan."
November 2. Alterations to the tune of $4.6 million are planned for Bermuda's airport. The eight-month project is to begin this year, as much of the Ferry Reach skyline now presents obstacles to aircraft under tighter global regulations. Explained LF Wade International Airport general manager Aaron Adderley: "Objects now defined as obstacles include the hilltops, trees and houses in the approach zone." The rules are set by the International Civil Aviation Organisation (ICAO). As a result, planes descending to the 9,753ft strip technically known as Runway 1-2 will have to make a slightly steeper approach to allow sufficient clearance and the markings and lights on it will have to be moved 587ft forward. Florida-based HR Pruitt has been hired for the job, but Mr Adderley said local companies should pick up significant business from the project, which will require the old markings to be scrubbed off and new paint and asphalt to be laid down. The entire runway was last resurfaced in 2003, although part of the runway's 1-2 portion got repainted in 2007 along with the "apron", where aircraft park. The project is known technically as visual slope segment penetration, or VSSP. Explained Mr Adderley: "One of those alphabet soup acronyms within aviation." He continued: "In addition to moving the runway marking, we also have to relocate the edge lights. We will add central lane lighting, which right now we don't have, that will also enable aircraft to land here in Bermuda when the visibility is low, for example if there's a thunderstorm cell overhead. With this additional lighting, we can accommodate aircraft in more inclement weather conditions." Precision approach procedure indicators, which give pilots guidance on their vertical approach, will also have to be moved. Mr Adderley said Bermuda's airport faces special challenges in the tight space that it occupies. Under the Bermuda Plan, any East End development application must go before the Department of Airport Operations as well as Planning, to ensure no obstacles are presented. "Even though this project requires overseas expertise, there is a significant opportunity for local companies to participate," Mr Adderley said, adding: "I'm happy to say that this particular company has a record of completing projects on time and under budget." Airport engineering manager Wendell Burchall said the work will take place between 10pm and 6am to avoid disrupting air travel. About 52 personnel will be required for the task, although numbers out on the runway will vary as the job progresses. LF Wade International Airport has a single active runway, known as 1-2-3-0. Runway 1-2, the portion where aircraft come in over Ferry Reach, has the same amount of asphalt surfacing as 100km of Bermuda's twin-lane roads. There are also 100km of markings on the 150ft by 9,753ft runway, which is about to undergo changes under new international regulations. LF Wade Airport Bermuda runway was last resurfaced in 2003. The runway itself dates back to the 1940s, when it was laid down by US forces. Bermuda's runways are still laid out in the 'A' shape characteristic of military facilities, but only the main strip is in use. That leaves the "finger" for fire department exercises, the parking of military aircraft — and future developments such as a proposed solar energy plant. A third strip is known as Taxi Way Bravo, which connects the runway to the "apron" in front of the airport buildings. In order to give adequate clearance for aircraft landing over Ferry Reach, their angle of approach is to be adjusted by two-tenths of a degree — enough for the "threshold" and other landing markings to be moved forward more than 500ft. The alterations, which are required of Bermuda under international standards, will have no effect on take-offs. April 2013 has been set as the final deadline for the project to start, but work is set to begin before the end of this year.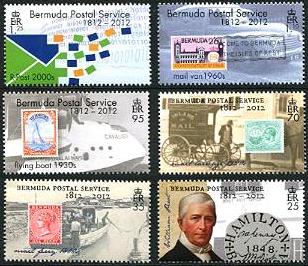 Bermuda stamps 2012
November. Government announced the removal of the requirement to file prospectuses for listed companies. Then-Minister of Business Development and Tourism Wayne Furbert approved an amendment to the Companies Act 1981 to remove the current requirement that certain companies file a prospectus with the Bermuda Registrar of Companies. This is applicable to companies whose shares are listed on an exchange deemed an appointed stock exchange by the Minister of Business Development and Tourism; or the prospectus is otherwise accepted by a competent regulatory authority appointed by the Minister. This amendment to the Companies Act was proposed by a consortium of Bermuda stakeholders working through the Business Bermuda Legislative Change Committee who provided a wide range of recommended amendments in 2011. The proposed amendments are intended to respond to changed economic circumstances with the international business environment with the specific intent of removing inefficiency. This is very welcome news for the international business sector. The Legislative Change Committee was instrumental as a stakeholder in bringing about this amendment. This removal of an unnecessary step makes the process of doing business in Bermuda even more attractive and that is good for the industry as a whole. The Government began adopting many of the recommendations of the Legislative Change Committee in late 2011 with the passing of the Companies Amendment (No. 2) Act 2011 and this decision is an extension of that reformation process. This proposed amendment is consistent with the Ministry of Business Development and Tourism's mandate to expand the economy, create jobs, and increase revenue through continued promotion and development of Bermuda as a first-tier international financial centre.
November 15. If you are looking for a weekend retreat, two small islands off Pembroke have come on the market. Listed with Coldwell Banker Bermuda Realty, 0.504 acre Goose Island and 1.062 acre Bird Island are listed for sale for $550,000. They are a unique opportunity to own a pair of islands that are within close proximity to the Point Shares and Fairylands neighborhoods. "The current owners have placed these two islands on the market for sale as they are no longer using them as much as they once did," said Bermuda Realty's Brian Madeiros. Ideally they and would like to think that another family will purchase them and actively use them as weekend retreats, The islands are zoned to preserve the environment and natural habitat hence development of any significant nature isn't permissible. But as an amenity this pair of islands will provide hours of enjoyment for the boater or environmentalist or quite simply for someone who just wishes a convenient escape from the mainland."
November 24. A labour of love will be unveiled to the community today, as a brand new hockey rink on the ground of Pembroke Community Club opens for play. Freshly tiled, bright-lit and considerably larger than its concrete predecessor, the rink is a testament to the hundreds of thousands of dollars raised in memory of the late Tom MacNeil, the Bermuda In-line Hockey Association President who died in 2008. "My husband Tom was a bit of a dreamer and an ideas guy, and this is the culmination of his dream," widow Gail MacNeil said, surveying the 165ft by 80ft rink. "Just because someone has an idea doesn't mean it's going to come to fruition. I can't say 'thank you' enough to everyone who was involved." PCC President Valerie Dill said a public-private partnership between the Club, the Association and Government had brought the project to reality — but commended the BIHA as "single-handedly responsible." Added BIHA President Mike Daly: "This was a long time coming — a lot of hours work by a lot of people." Some $300,000 in donations, about three-quarters of it from private contributions, went into the project, which broke ground in July after years in stasis. "It's not just a hockey rink. In-line skating and lacrosse are among the other sports that can be deployed on the new Ice Court tiles. The PCC's majorettes can use the it — and even remote control race car drivers should be able to schedule times to take a spin. Ball hockey and in-line hockey international tournaments could prove a potential tourism booster. It's a great day when all sides can share in the dream of this multi-sports, multipurpose facility." The rink, which overlooks North Shore at the eastern edge of Admiralty House Park, get its official opening today at 2pm.
December 12. BBC News, London. A man who died in a crash on the A34 in Oxfordshire was an officer from Bermuda in the UK for military training. Christian Wheddon, 43, died when the Mitsubishi he was a passenger in left the northbound carriageway near Drayton on Sunday. The driver was also hurt. He had been in the UK since July preparing to become the next commanding officer of the Bermuda Regiment. Major Wheddon was part of the security forces for the Olympic Games, where he met up with Bermudan athletes. In a statement released through police, his family said: "We are devastated. Words cannot express the shock and horror of Chris's passing. He was so happy to have the opportunity to train in the UK and was looking forward to his next posting in Bermuda. He was the rock of the family and we will all feel lost without him." The major, who was born and raised in Bermuda, leaves a three-year-old daughter, Katherine. His family added: "He will be deeply missed by all that knew him but his family and friends take comfort knowing he was doing what he loved. He had two real loves in his life: his daughter Katherine and the Army." Major Wheddon was also a sergeant with the Bermuda Police Service and an avid sailor who spent much of his spare time taking part in races around Bermuda.
December 24. UK Overseas Territories Minister Mark Simmonds has congratulated Craig Cannonier for his appointment as Premier in the wake of last week's general election. "I welcome the appointment of Premier Craig Cannonier, JP, MP, leader of One Bermuda Alliance. Bermuda is the oldest and most populous Overseas Territory with strong constitutional connections to the UK, going back 400 years," Mr Simmonds said in a statement on Friday. "When I spoke to Premier Cannonier today (20 December) to congratulate him, I stressed that I look forward to working with the Premier and his Government on a wide range of issues highlighted in the UK's White Paper on the Overseas Territories. I would also like to thank former Premier and Finance Minister Paula Cox MP for the valuable contribution she made to Bermuda politics during her term in office, both domestically and internationally. I wish her every success for the future." The UK's White Paper on the Overseas Territories was released in June this year. It sets out three broad goals — to deepen engagement between the Territories and the UK, to help the Territories "strengthen good governance, financial management and economic planning" and "to improve the quality and range of support to the Territories", according to former Overseas Territories Minister Henry Bellingham.

History & daily newspaper reports

Authored, researched, compiled and website-managed by Keith A. Forbes.
Multi-national © 2020. All Rights Reserved