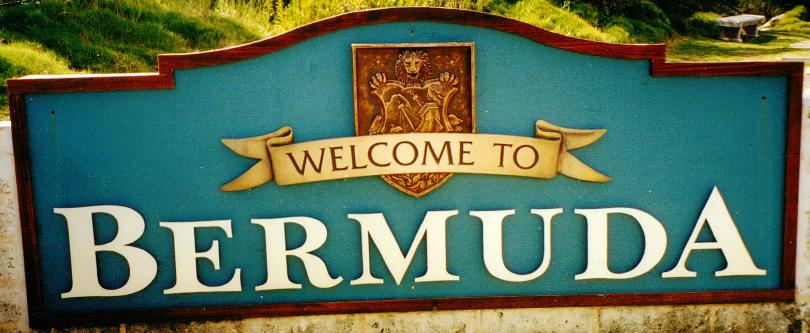 Click on graphic above to navigate the 165+ web files on this website, a regularly updated Gazetteer, an in-depth description of our island's internally self-governing British Overseas Territory 900 miles north of the Caribbean, 600 miles east of North Carolina, USA. With accommodation options, airlines, airport, actors, actresses, aviation, banks, beaches, Bermuda Dollar, Bermuda Government, Bermuda-incorporated businesses and companies including insurers and reinsurers, Bermudians, books and publications, bridges and causeway, charities, churches, citizenship by Status, City of Hamilton, commerce, communities, credit cards, cruise ships, cuisine, currency, disability accessibility, Devonshire Parish, districts, Dockyard, economy, education, employers, employment, environment, executorships, fauna, ferries, flora, former military bases, forts, gardens, geography, getting around, golf, guest houses, highways, history, historic properties, Hamilton, House of Assembly, housing, hotels, immigration, import duties, internet access, islands, laws, legal system and legislators, main roads, marriages, media, members of parliament, money, motor vehicles, municipalities, music and musicians, newcomers, newspaper, media, organizations, parks, parishes, Paget, Pembroke, performing artists, residents, pensions, political parties, postage stamps, public holidays, public transportation, railway trail, real estate, registries of aircraft and ships, religions, Royal Naval Dockyard, Sandys, senior citizens, Smith's, Somerset Village, Southampton, St. David's Island, St George's, Spanish Point, Spittal Pond, sports, taxes, telecommunications, time zone, traditions, tourism, Town of St. George, Tucker's Town, utilities, water sports, Warwick, weather, wildlife, work permits.

Bermuda's Paget Parish
Exploring this central area bordering Devonshire, Pembroke and Warwick

By Editor/Author Keith Archibald Forbes (see About Us).
About Paget Parish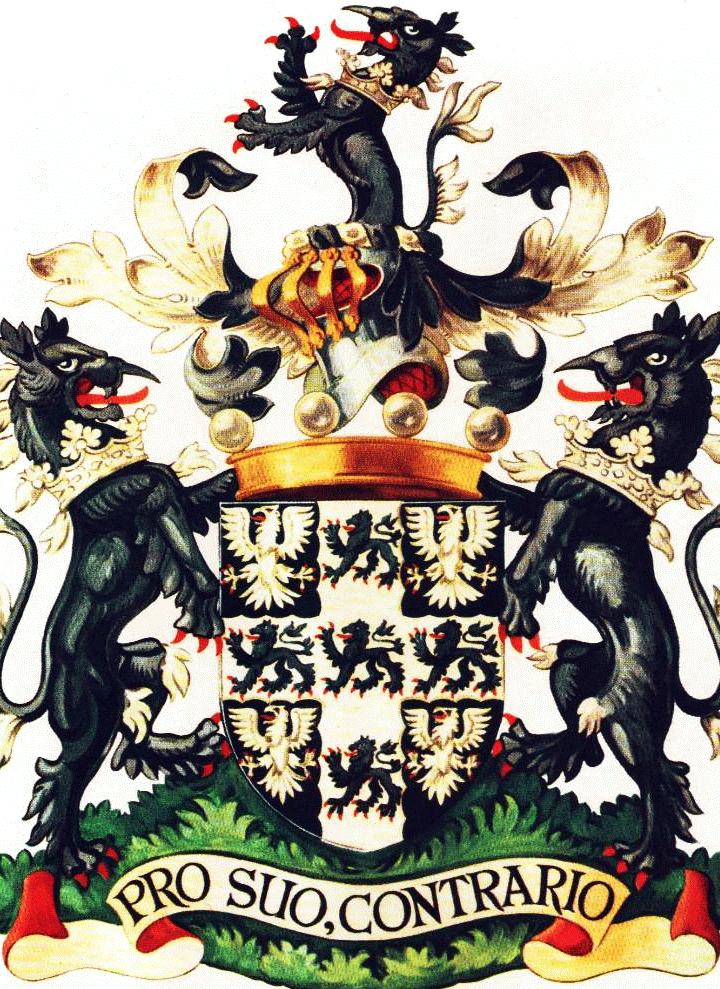 Part of Paget Parish's crest, identical to that of the fourth Lord Paget mentioned below. His coat of arms, copyrighted by his family, members of which still exist today, is exactly what is shown on Bermuda's Paget Parish crest. Used with exclusive permission from the copyright owners. Do not copy.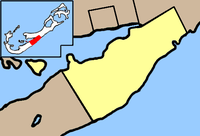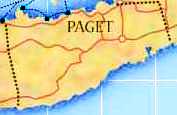 Paget Parish is on Main Island, the same size as the other eight parishes. It is on Bermuda's South, Middle and Harbour Roads. It was named in 1617 after Elizabethan patron, English peer and colonist William Paget, fourth Lord Paget (1572-29 August 1629), 4th Baron Paget de Beaudesert.
Born in Beaudesert, Warwickshire, England the year of the Massacre of St. Bartholomew, he was the son of Thomas Paget, 3rd Baron Paget and Nazareth Newton. On 27 February 1586/87 after his grandmother's death, the Queen made him a ward of Sir George Carey. He matriculated at Christ Church College, Oxford University, Oxford, Oxfordshire, England, on 31 July 1587. He graduated from Christ Church College, Oxford University, Oxford, Oxfordshire, England, on 25 February 1589/90 with a Bachelor of Arts (B.A.).
He spent much of his life under suspicion in England because of his father's ardent Roman Catholicism. His father fled to Spain and was considered a traitor. His son turned Protestant and grew to hate all things Spanish but was still mistrusted by Queen Elizabeth, even after serving with Lord Essex in the Calais Expedition of 1596. He avoided the same fate as Essex. He was finally restored to his paternal lands and honors by King James in 1605. He was admitted to Middle Temple on 20 February 1610/11 entitled to practice as a Barrister-at-Law.
In 1612 he became a member of the Virginia Company which then included Bermuda. He was one of the illustrious band of gentlemen "Adventurers" who invested in the Bermuda Company to colonize the Bermuda islands from 1615 onwards. He was the largest shareholder in the original Paget Tribe named after him in 1617, later Paget Parish. He is buried at West Drayton in Middlesex, England. Children by him and Lettice Knollys were the Hon. Katherine Paget; Hon Margaret Paget and Sir William Paget, 5th Lord Paget, born September 1609, died 19 October 1678. Early settlers called the Tribe Crow Lane. Crows were there and "lane" meant a "sheltered waterway." Today, Crow Lane is the easternmost area of Hamilton Harbor, a busy "roundabout" (rotary) and small park. This Parish is not as far from the Bermuda International Airport as western Parishes. Its northern side is served by Bermuda Government ferry boats. Its middle and southern areas have buses.

Constituencies in the Bermuda Parliament
# 12, Devonshire South (covers much of Paget, as the map below shows):
Paget East
Paget West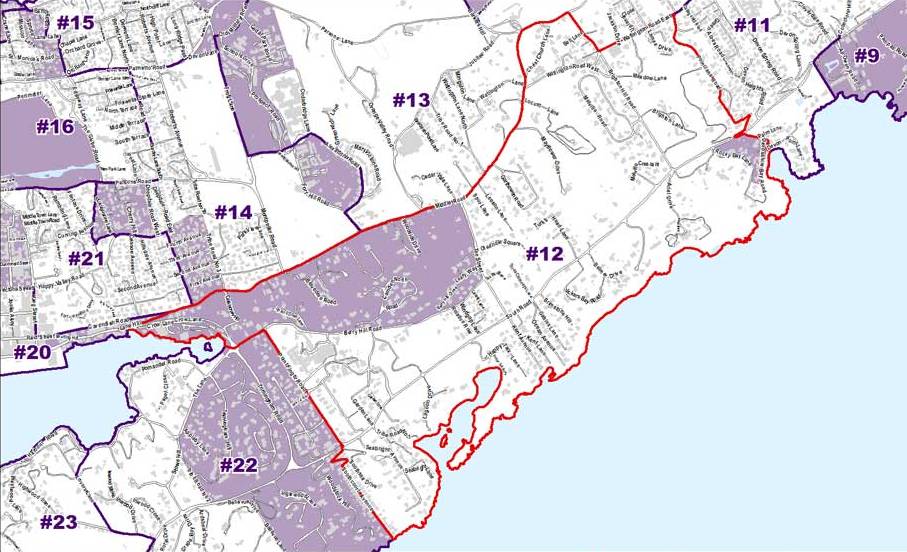 Hungry Bay (see later on this page), in the No 12 Devonshire South Constituency, is the bay shown in red at the bottom of the map above.

Alfred Blackburn Smith Nature Reserve
8.7 acres on the South Shore, it is not public but open to guests and members of the Coral Beach Club and Bermuda Audubon Society. It was donated in 2003 by then owner Elfrida Chappell, daughter of the late Mr. Smith, to the Bermuda Audubon Society and named as such after him. He gave it to his daughter as a 21st birthday present in 1935. It is one of the last undeveloped tracts of undeveloped Bermuda upland forest. It offers spectacular views of the South Shore and is open to members of the Bermuda Audubon Society and members/guests of the Coral Beach Club.

Avocado Lodge Park
A Bermuda National Park. A small but interesting facility off Middle Road a little west of the US Consul General's Office and partly down Corkscrew Hill.

Bermuda Botanical Gardens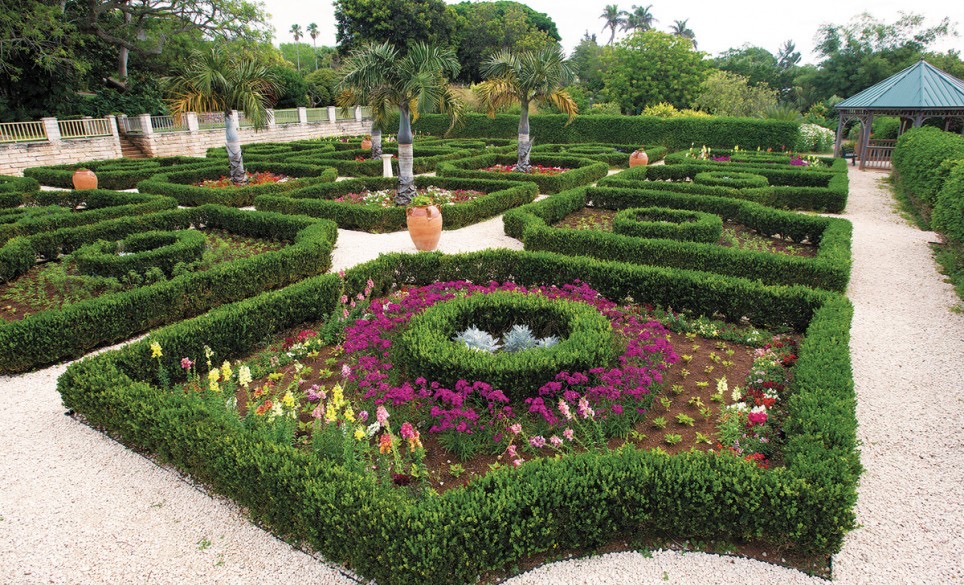 169 South Road, Paget Parish DV 04. Or P. O. Box HM 834, Paget HM CX. Phone (441) 236-4201. Fax (441) 236- 7582. The largest local public garden by far, with over 100,000 visitors and locals each year. Since April 2002 part of the Department of Conservation Services of the Bermuda Government's Ministry of the Environment. On Main Island. One mile from the City of Hamilton, they are open daily from sunrise to sunset, via Berry Hill Road, Point Finger Road and South Road. Bus routes 1, 2 and 7 go to King Edward VII Memorial Hospital nearby. Open 365 days a year. Free for 362 days (except during the Agricultural Exhibition every April). A mix of park, woodland, greenhouses, agricultural buildings and horticultural collections. A Bermuda National Park under the Bermuda National Parks Act 1986. Chiefly of interest for its trees, orchard, collection of orchids and Camden. Visitors should expect a fair amount of walking.
A Board of Agriculture was formed after the Board of Agriculture Act 1875 during the governorship of Sir John Henry Lefroy. The Public Garden Act 1896 provided funds for the acquisition of land for experimental gardens and the appointment of a full-time superintendent. The Gardens began officially in 1898 as the Public Garden with 10 acres (which became the Agricultural Station in 1912), with the arrival of Ga. A. Bishop, a professional horticulturalist trained at the Royal Botanic Garden at Kew, near London, England.
The Public Gardens continued to be under the Board of Agriculture until the Department of Agriculture Act 1912 went into effect. They nearly doubled in 1921 after the Montrose estate was acquired. An outbreak of oleander scale in Bermuda (in 1917) led to legislation that in 1923 provided for a plant pathology section of the Bermuda Government, still there today. In 1958, the Bermuda Botanical Gardens were established instead of the Agricultural Station. In 1958, remaining experimental plots at the Gardens were moved to other Government properties such as "Avocado Lodge" and "Clifton." Three acres were lost in 1962 when King Edward VII Memorial Hospital was expanded. The Gardens expanded again in 1965 when Camden House and its garden were acquired from the Tucker family. They now occupy 36 acres. The 72nd Agricultural Exhibition was here in April, 2009.
Facilities include, in a particularly serene area, a lovely Sensory Garden for the Blind, well worth sensing by the blind and disabled and also of great interest to those who help them professionally. The actual design is based upon a Garden for the Blind constructed in Queen's Park, Harborne, Birmingham, England. Geographically, the site chosen was formerly known as the Banana Patch . A map of the Garden made in Braille was placed in the stone pillars framing the entrance. Enclosed by a Bermuda stone wall, it was made in 1960 for the benefit of those unfortunate persons not blessed with sight. While it may appear a little unusual to those who can see, the idea on the designer's mind was the make the Garden easy for the sightless to use and enjoy. In the paths made of Bermuda stone chippings will be noticed a large cement stone at each path junction. This is to indicate a change of direction. The sightless person is soon able to pick his or her way round the garden by the aid of these stones. The raised beds on the eastern side are to enable the plants to be touched without the person having to stoop. Running water is an essential feature of a garden of this type, hence the small pool and fountain. The fountain centerpiece is a replica of one by Verrochio to be found in the Vatican Gardens, Rome. The choice of planting material used in this Garden is limited to plants which have a pleasant odor when handled or which have a pleasant texture. Most of the herbs such as sage, thyme, lavender, rosemary and many others have been used freely. The large tree in the center of the lawn is the Camphor tree (Cinnamomum camphora) the natural source of camphor and a native of Formosa and China. Growing over the shelter in the north east corner is coralita, a slender but vigorous vine which bears masses of small pink flowers in summer. The Garden is bounded on the western and eastern sides by a hedge of the Martinique laurel (Murraya exotica), related to the citrus family. This attractive evergreen shrub bears fragrant white flowers which are followed by red berries. Its fragrance makes it an ideal choice as a hedge to this garden."
Beyond the Sensory Garden, for details of what other plants grow in Bermuda, see Bermuda Flora.
A new Cactus House was completed in 2003 after a Master Plan for the Gardens was published in March 2003. In September 2003, the Gardens, Grandstand and buildings were so badly damaged by Hurricane Fabian that it forced the cancellation of the 2004 Annual Exhibition normally held here every late April. They have since been repaired.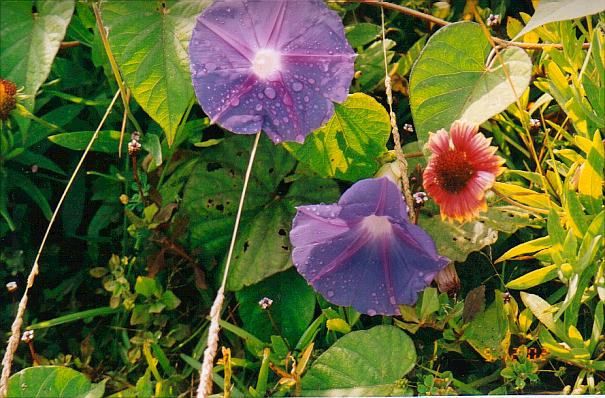 Morning Glory. Photo by the author, exclusively for Bermuda Online

In April 2008, a five-year project transforming the Botanical Gardens by introducing historical designs came to fruition.

The new Formal Gardens feature a new exhibit featuring a Japanese Zen Garden, 17th Century-style English Parterre Garden, 12th Century-style Persian Garden and Tudor-style children's Maze Garden. The development increases the Botanical Gardens' aesthetic appeal, and will help the location serve as an attraction for tourists and locals alike. Each of the four gardens is about 90-square feet and has themed plants, and they are all separated by a central viewing gazebo. Working locals can sit there on a Saturday or Sunday afternoon in the summer and de-stress. The gardens give further appeal to the locale for wedding photographs.

Bermuda College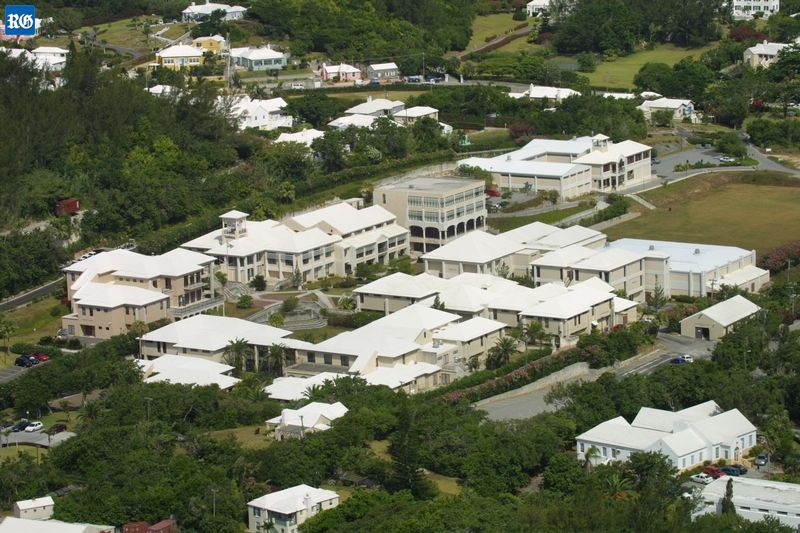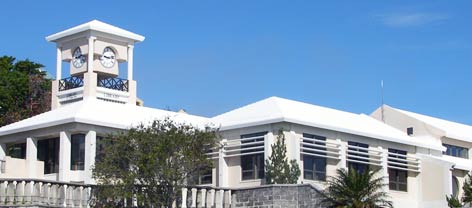 Off South Road. See Education in Bermuda. There is also a Bermuda College Faculty Association. It is NOT a university as it does not award degrees. It is a non-residential technical institute, community college, hospitality training center, business school and further education center for adults. It owns - but no longer operates (it leases) the Coco Reef Hotel (formerly Stonington Beach Hotel). With several academic buildings. It also has a library, open to the public, on a membership fee basis. Bermuda Government owned and operated as a guango, it is the equivalent of a junior college in the USA or a community college in the UK.

2019. November 26. New virtual classes at the Bermuda College will offer skills relevant for the island's growing fintech sector, the US-based provider said yesterday. Global Knowledge, an international IT training firm expects to introduce further IT courses to Bermuda next year, with topics including cybersecurity. The company's United States base is in Cory, North Carolina, and two representatives are on the island this week to discuss its first round of classes in Bermuda. The information session on its spring 2020 project management courses will be held today from 6pm to 7.30pm at the Bermuda College's Hallett Hall Blue Room. The courses will include the examination for the Project Management Professional certification. Paul Morrissette, the senior director of client solutions at Global Knowledge, said the project management designation was "ubiquitous across the tech industry". He added: "You can use project management to set up something like blockchain in your company, but it could also be used in a construction company." Mr Morrissette said the company has been in partnership talks with Bermuda College since April and "getting a presence on the island to start things off". Tawana Flood, the college's director of professional and career education, said the courses will be "all virtual — they are not limited to coming here to the college". Christopher Scott, Global Knowledge's project management solutions engineer, said the online classes would use the Zoom video communications platform. The platform has the potential to accommodate hundreds, but Mr Scott said the training at the college would be limited to around 24 students. Mr Scott added: "For the fall of 2020, we are projecting to have three primary cybersecurity courses. We think that would be a natural follow-on." For more information, see college.bm.

2019. November 22. Bermuda College will offer specialized IT skills training next year with the help of state-of-the-art virtual classroom technology. The college has teamed up with Global Knowledge, a major provider of IT training, to give industry-accredited training in the 2020 spring semester. Duranda Greene, the president of Bermuda College, said: "This partnership is another demonstration of delivering on our mission to provide the community with innovative programmes, training, support services and access to partnerships that lead to local and global success. We are thrilled that industry professionals seeking to expand their skill set, and Bermuda College information technology students, will be able to take advantage of the full suite of resources available through Global Knowledge's extensive virtual library and online training." Technology students and industry professionals can choose several courses on project management, including the project management professional certification. Todd Johnstone, the CEO of Global Knowledge, said: "Global Knowledge has the best instructors and the broadest and deepest portfolio of IT training programmes in the world. By using our industry-leading virtual classroom technology we can deliver that excellent experience anywhere. I am looking forward to seeing our students succeed and to developing our relationship with Bermuda College." More information on the new courses can be obtained from the Bermuda College website at college.bm, by phone on 239-4099 or e-mail to padmin@college.bm.

2019. October 30. A new fundraising group has a target of $15 million to tackle "critical" upgrades to Bermuda College, the head of the organisation said yesterday. Mark Berry, the chairman of the Bermuda College Foundation, said there was a "significant list of needs" to be tackled at the college. He added: "It's going to require significant funding to match those needs. Because of their significance, it is not going to be a quick fix. It is going to take time and a lot of effort." Mr Berry warned: "We have no more time to wait. The time now is critical." Mr Berry said that the college, now in its 45th year, had the potential to "be what it can be". But he added: "It needs our help." Mr Berry said the Government had been a "significant contributor" to the college over the years, but that the "needs have outpaced the revenue stream. Significant modernisation, upgrading and overall improvements are required to take the college to where we have as our vision — a fully funded, state-of-the art Bermuda College." Mr Berry said that specific needs identified for immediate attention by the foundation included "modernisation and upgrades" to 52 classrooms and labs, and upgrades to IT infrastructure and classroom equipment. Mr Berry added that general upgrades to the school were also needed. He said: "There's windows that need to be replaced, wiring, plumbing, ceiling tiles. It's at the point where, really, it's a time for action." Mr Berry, the managing director and head of speciality reinsurance at Axa, studied accountancy at Bermuda College in 1979 and 1980. He took a summer job with an insurance company after his course. Mr Berry said: "I got into their accounting department because of my two years at Bermuda College." He said that Ralph Richardson, a consultant for Bermuda College, had contacted him to take part in the foundation. Mr Berry said that he had accepted the post despite a busy schedule. He explained: "I get a real high. You feel really, really good. It is a meaty project, but it's worth it. This is a good one." Mr Berry said the other members of the foundation's board of directors were "fabulous". He highlighted the "tireless" work of Garry Madeiros, the deputy chairman. Mr Berry said that the foundation was accountable to its donors. He said: "We will hold the college accountable for delivering. We are advocates for our donors." Duranda Greene, the president of Bermuda College, floated the idea of a foundation in 2011. The group, established as a separate entity from the college, has the sole task of raising funds on the college's behalf. Mr Berry said that the "soft launch" of the foundation earlier this year had gone well. He added: "We've got a very, very good start. It's humbling when people commit meaningfully. We are very excited."

2019. August 26. Bermuda College has adopted a new flag and brand as part of its Vision 2023 Strategic Plan. The college has unveiled a new turquoise and white logo intended to symbolise the various paths that bring students to the institution and reflect its strategic direction. Duranda Greene, the college president, said the almost yearlong journey to develop the school's new brand had been transformative. Dr Greene said: "Once all of the data from our focus groups, surveys, meetings and discussions came together, we realised how transformative Bermuda College is to so very many that have entered our gates. It's not just the fact that our teaching faculty are more highly credentialled than most in comparative community colleges. This goes way beyond that. Our faculty and support staff really care about our students in a way that shows up in our data. In our most recent graduate survey, we had nearly nine out of ten graduates said they would recommend Bermuda College to someone. That speaks volumes not only about how we do what we do; it also speaks to our relevance to this community and internationally." A spokeswoman for the college explained that the logo was designed to be "trendy and timeless". She said: "The new colours are indicative of Bermuda's landscape, reflecting the vibrant tropical hues and refreshing tones of the island. They are as distinctive as the college's resilience and relevance to our community. And our commitment is renewed to continue to deliver excellent opportunities and access to further education and career goals for students from all walks of life." Peter Sousa, the chairman of the board of governors, said he was confident that the new brand reflects the new shift of the college. Mr Sousa said: "I am firmly convinced, that the college is well-positioned to continue to provide a standard of education, second to none, for Bermuda's residents, and that it will continue to be recognised internationally, offering unparalleled opportunities and access to our students, to set their feet firmly on paths to further education or career goal success." Dr Greene added: "There are so many opportunities available here, that quite frankly, are not available to students overseas. Transfer pathways to more than 30 accredited and recognised institutions in Canada, the UK, US and the Caribbean; new career opportunities in emergent fields, such as compliance; new internship experiences with our business and industry partners; and more online studies to gain professional designations from quality external providers. Bermuda College truly offers many pathways. We're inviting the community to discover their own with us."

2019. April 30. A new education transfer pathway partnership has opened at Bermuda College. St. Francis Xavier University, in Antigonish, Nova Scotia, recently signed a five-year agreement with the College to offer graduates a 2 + 2 partnership in its actuarial science concentration in the Department of Mathematics. The agreement allows Bermuda College students graduating with the Associate of Science degree in Actuarial Science to transfer credits seamlessly into St. Francis Xavier and complete their bachelor's degree in two years. The Bachelor of Science in Mathematics with a concentration in actuarial science is especially exciting because it is the first agreement negotiated for BC students to continue their concentration in Canada, providing geographical options. Academic Vice-President & Provost at St. Francis Xavier, Dr. Kevin Wamsley, who travelled to the Island for the signing, noted the significant links the two institutions shared. "StFX has a long history of accepting students from Bermuda and many wonderful, engaged alumni in Bermuda. In fact, it was a student from Bermuda, Jacqueline MacKay, Class of 2018, who approached the Chair of our Math Department about developing an actuarial science concentration at StFX. Through her leadership and initiative, we now have the concentration, so it makes sense that our first partnership agreement into this program is with a Bermudian institution. We are very pleased to be formalizing our relationship with Bermuda College through this pathway agreement. We hope that this will be the first of a number of agreements and look forward to welcoming more students from Bermuda to StFX." Vice President of Academic & Student Affairs at the College, Dr. Phyllis Curtis-Tweed agreed, and noted another significant link. "Esteemed Bermudian educator, Dr. Clifford Maxwell, was a graduate of St. Francis Xavier ('57) and was posthumously inducted into StFX University's Hall of Honour in 2017. We are pleased to provide the opportunity for another generation of Bermudians to follow his path at St. Francis Xavier University." Currently, Bermuda College enjoys long-standing "2+2 Agreements" with Georgia State University and St. John's University in the United States. Last year, the College provided additional US options for the study of Risk Management & Insurance at Eastern Kentucky University and at Temple University in Philadelphia.

2018. November 24. Courses in fintech, compliance and gaming are on the cards for the Bermuda College as part of a new five-year plan. Duranda Greene, president of the college, unveiled details of its Vision 2023: Delivering Success plan at the Hamilton Rotary Club on Tuesday. Dr Greene said: "Preparation for the plan began in earnest last October and was approved by the board in September. The strategic lens through which the college views its ongoing relevance to our community and, in particular, to our students, is the result of extensive and comprehensive consultation with industry partners." Other highlights of the plan include work on succession planning and a bid to find replacements for the more than 20 per cent of college employees eligible to retire over the next five years. Dr Greene added that the college also aimed to become a resource hub for intellectual activity and development for the community as well as an eco-friendly campus. She said that it was also planned to re-brand the college, which will include a review of its logo, tagline and colors. The re-brand could include the introduction of a college mascot. Full details of Vision 2023 will be available on the Bermuda College website next week. Dr Greene said that a 2017 government grant of $300,000 to help students get through was "a game-changer". She added that the Throne Speech announcement that the grant would be increased by $200,000 meant even more students would benefit from a college education. Dr Greene said that a separate grants scheme, the College Promise, designed to reward students from the public education system who have a grade-point average of at least 3.0, would be introduced next year. She added: "Recent studies indicate that by 2020, with new technology and emergent industries, at least 65 per cent of all jobs will require some level of postsecondary education. It is imperative, we believe, and our mandate as a community college, to continue to prepare and equip our citizens to take advantage of these job opportunities." The college will celebrate its 45th anniversary next year and will be making a special effort to reconnect with college graduates through a series of events.


Bermuda National Trust headquarters at Waterville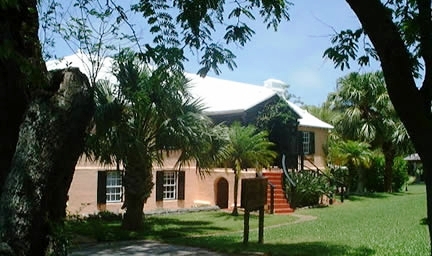 National Trust properties throughout Bermuda are open to visitors - for a fee for those who are not members in Bermuda or places abroad that reciprocate the membership, or free for members. Americans who are current members of The Royal Oak Foundation should ask if they are entitled to free admission to all properties open to the public, because they are if they visit the United Kingdom.

Members of National Trusts in Australia, Barbados, British Virgin Islands, Cayman Islands, England, Wales, Northern Ireland, Jersey (UK Channel Islands), Fiji, Japan, Isle of Man, New Zealand, Puerto Rico, Scotland and Zimbabwe are admitted free if they remember to bring current their membership cards with them to Bermuda.

Bermuda based members of the Bermuda National Trust can visit National Trust premises in the same countries for free when visiting there, if they take their Bermuda membership cards with them.

This organization owns several museums and more other private properties than any other organization in Bermuda, many of which it rents out to overseas people. Its historic headquarters of "Waterville" shown here has small but nice gardens including roses.

Waterville Park, also part of the property, is on the shore. The grounds but not the house are open to the public. They are adjacent to and join Crow Lane Park.

2019. August 8. A conservation charity is on the hunt for a new head. Bill Zuill confirmed yesterday that he has quit as executive director at the Bermuda National Trust. Mr Zuill said the departure had been amicable. He added: "I've had a good three years there, and, now, I am interested in doing some other things. I'm looking at some opportunities." Mr Zuill said the BNT was "a wonderful organisation with some great people doing extremely important work for Bermuda". He directed further questions about the circumstances of his departure to Alana Anderson, the president of the BNT. Ms Anderson said that Mr Zuill had resigned from the post on Tuesday to pursue other business opportunities. She added: "We definitely wish him all the best and we do hope that he will be able to continue to be involved in the trust." Ms Anderson said that Mr Zuill had been responsible for "numerous successful ventures" in his time at the trust, including the International Conference of National Trusts, held in Bermuda this year. The event brought representatives from conservation organisations in 37 countries to the island in March. She added that it had been a pleasure to work with Mr Zuill. Ms Anderson said: "He has an incredible knowledge of Bermuda's history, both built and natural heritage, which was an asset to the trust. We wish him the best in his future endeavors." She said that a search would be launched to find a replacement. Vincent Chaves, the trust's director of finance, will become interim executive director. Mr Zuill was appointed to the role three years ago. He took over from Jennifer Gray, who held the post for nine years. Mr Zuill, a former Editor of The Royal Gazette, said at the time of his appointment that he was "deeply honoured" to take over. He added: "In some ways, this role means that I am coming home as I feel that I grew up with the trust, since my father was director from 1972 until the early 1990s and I spent a lot of time on trust properties. Ever since, I have had a great passion for Bermuda's history and environment and look forward to utilizing my experience as a journalist and as a manager to make the trust an even better organisation than it is today."

Description of each property

All are historic buildings or areas. HM is an historic monument.

Bel Air. Cobb's Hill Road, Paget.
Bridge House. Off King's Square, Town of St. George. Art gallery and gift shop.
Bermuda Maritime Museum Shell House of Keep Yard at Royal Naval Dockyard in Sandys Parish.
Bermuda Maritime Museum Shifting House of Keep Yard of above.
Bermuda Maritime Museum Main Magazine, Sea Service of above.
Bermuda Maritime Museum Second Magazine & Shell House, Keep Yard of above
Bermuda Maritime Museum Eastern Store House, Keep Yard of above.
Bermuda Maritime Museum Former Commissioner's House of above.
Bermuda Maritime Museum Boat Store of above.
Buckingham. King Street, Town of St. George.
Casino. Water Street, Town of St. George.
Cluster Cottage. St. Mary's Road, Warwick.
Fanny Fox's Cottage. Governor's Alley. Town of St. George.
Globe Hotel. (Confederate Museum). York Street, Town of St. George. Now a museum. Telephone 441 297 1423. Open Monday to Saturday 10 am to 4 pm, Sunday 1 pm to 4 pm.
Old Rectory. Broad Alley, Town of St. George. Open Wednesdays from November to March, 12 pm to 5 pm.
Paget Marsh. Middle Road, Lover's Lane, Paget. Telephone 441 236 6483 for further information.
Palmetto House. North Shore Road, Devonshire, telephone 441 295 9941. Open Thursday, 10 am to 5 pm.
Pembroke Hall and Boathouse. Pembroke, Crow Lane.
Royal Navy Cemetery. Ireland Island, Sandys Parish.
Royal Navy Dockyard defence works on Ireland Island North, Sandys.
School Lands Cottages. Pembroke. Including outbuildings.
Reeve Court. King Street, Town of St. George.
Samaritan's Lodge & Cottages. Bermuda Lodge Heritage Museum, Water Street, Town of St. George. Telephone 441 292 6157.
Spittal Pond. South Road, Smith's. Open daily. Keep to the pathways provided.
Springfield and Gilbert Nature Reserve. Somerset Road. Sandys.
Stewart Hall. Queen Street, Town of St. George.
Tivoli. Middle Road, Warwick.
Tivoli South. Stadium Lane, Warwick.
Tucker House. Water Street, Town of St. George. Open Monday to Saturday, 10 am to 4 pm Telephone 441 297 0545
Unfinished Church. Government Hill Road, Town of St. George.
Verdmont & Cottage. Verdmont Lane, Smith's. Telephone 441 236 7369. Open Tuesday to Saturday 10 am to 4 pm.
Waterville. (See photograph above). Corner of The Lane and Pomander Road, Paget. Office open Monday to Friday, 9 am to 5 pm. Telephone 441 236 6483.


Birdsey Studio
5 Stowe Hill, Paget PG 05. Telephone (441) 236-6658 or 236-5845 or fax (441) 236-9123. Artist and sculptor Joe Birdsey Linberg is the daughter of the late renowned artist Alfred Birdsey (1912 to 1996). She is married to Norwegian architect Sjur Linberg. A nice attraction if you like Bermuda art. Numerous tourists stop here to admire the art and tranquil garden setting of interesting plants.

Bus (public transportation) routes
Visitors and new residents who use the Bermuda Government pink and blue buses should always first obtain a free copy of the schedule, to know when the service operates, when it stops and what fares apply.
Dockyard. The # 8 bus service from and to the city of Hamilton on the outward and inward routes services the Middle Road of Paget Parish and is the most frequent service. This main road has many interesting attributes, showing off much of typical urban, suburban and rural Bermuda. It's the only Parish stretch of any main road in Bermuda completely inland until Southampton Parish beyond Paget Parish going west, so you won't see any open water in Paget Parish once you start out. Avoid the crowded rush hour buses.
Maritime Museum or the shorter Barnes Corner. The # 7 bus service from and to the city of Hamilton on the outward and inward routes services most of the main South Road in the Parish on the way or back. The second most frequent service in the Parish, it has many nice views and sightseeing attractions. Avoid the crowded rush hour buses and other times when cruise ship passengers also jam up the buses to get to and from the South Shore beaches.
Part of South and Ord Road. The # 2 bus route from and to the city of Hamilton on the outward and inward routes is the least frequent of these three. It serves Elbow Beach but not more of the South Road.

Camden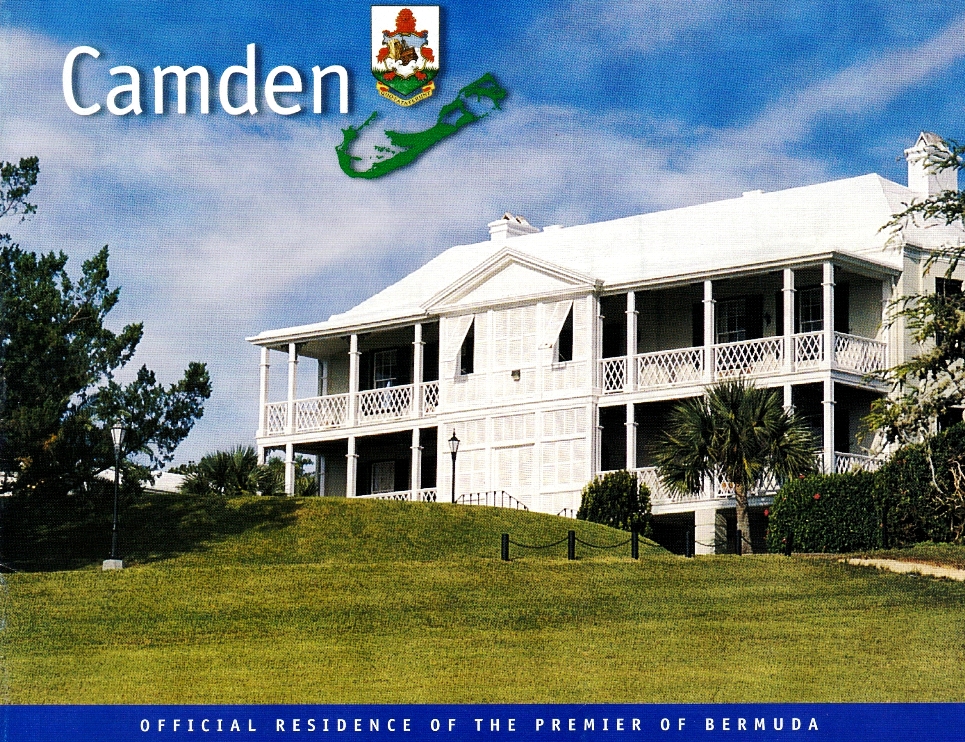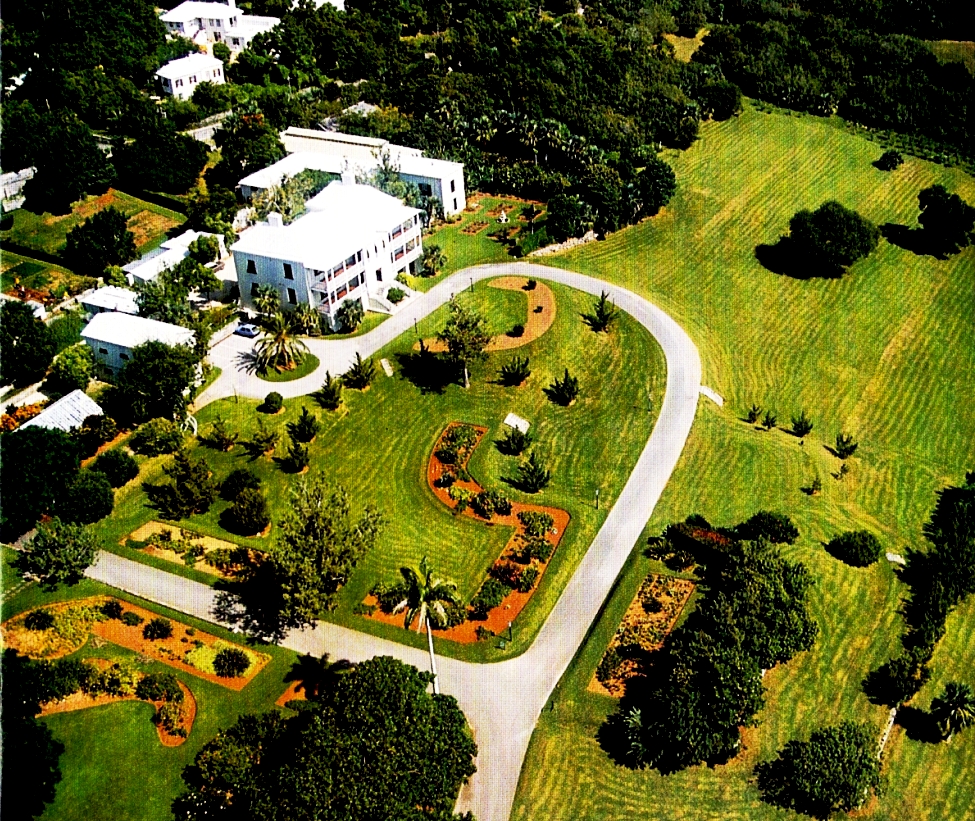 Off South and Middle Roads, Paget Parish. Owned by the Bermuda Government. Located in the Bermuda Botanical Gardens. Chiefly of interest for its house, front garden and vegetable garden behind it. With a panoramic view of the South Shore, it stands on grounds open to the public during daylight hours. The house itself is open to the public on Tuesdays and Fridays from 12 noon to 2 pm. Admission is free. An historic house in typical Bermudian architecture, the official residence of the Premier of Bermuda, although not lived in by him (the Bermuda Government pays for him to live elsewhere). It was first built in the early 1700's. Francis Jones, eldest son of Colonel Thomas Jones of Paget Parish, purchased it and lived there until his death on September 12, 1796 from yellow fever. William Durham acquired it in 1810, but sold it to the Hon. Henry James Tucker in 1823. He was Mayor of the City of Hamilton from 1851 to 1870. He began to produce arrowroot on a large scale in a factory at the back of the house. He initiated the appearance the property has today. The verandah, porch and bow windows in the dining room and drawing room were probably by his son Thomas Fowle Jauncey Tucker, a bachelor who became well known. He continued the mercantile business and arrowroot factory. The Tucker Arrowroot Trade Mark was a guarantee of genuineness in Great Britain and the USA. Thomas Tucker died at Camden on January 24, 1892, without a will.
The property passed to Boswell Tucker in London, England. In October, 1894, Camden and 23 acres of land were sold to Alexander Ewing Tucker for 3,500 pounds sterling, at the same time he purchased the land on the other side of the South Road for l,100 pounds sterling. He, his wife Violet and his two sisters Mary and Kate, were the last Tuckers at Camden. Alexander died on August 10, 1934. Violet continued to reside there until her death in 1965. The property then passed to Alexander's cousins, Sir Henry Tucker and his brother Noel Tucker. They sold it to the Bermuda Government as an extension to the Botanical Gardens.
In the front hall are the cedar staircase, a freehand blown glass hall light and Bermuda cedar chest with cabriole legs (circa 1750), one of the many items on permanent loan from the Bermuda National Trust. The carved cedar paneling in the dining room and the entrance hall, and the furniture in the dining room, were by the cabinet maker Jackson during the mid 1800's. They took about 30 years to complete. The door and window surrounds and ceiling molding are trimmed with a motif known technically as quarter sawn "egg and thread" turnings. The design is repeated in the dining room chairs and the large 3 tiered side table.
The panels of "bird's eye" cedar, prized for its interesting grain, and the "mirror image" paneling of the doors, are also noteworthy. The dining room also shows the work of four modern Bermudian craftsmen. George Trott made the table. Edward Cross turned twenty four cedar serving plates. Fred Phillips reproduced four additional chairs. Bob Patterson did the "egg and thread" design on the elegant cedar trolley. The William and Mary cushion molded mirror (circa 1680) over the fireplace reflects the central brass chandelier which, with the wall sconces, provides the only source of light for formal candlelit dinners hosted by the Premier.
Bermuda plates depict endemic flowers, part of a limited edition series produced for the local firm of A. S. Cooper and Sons Ltd. by Coalport. At the top of the stairs hang portraits of five former Premiers of Bermuda. The Honorable Sir Henry Tucker and Honorable Sir John Sharpe were painted by Anthony Harper, the Honorable Sir Edward Richards and Honorable Sir David Gibbons by prominent British, Bermuda based, artist Sam Morse-Brown and the Honorable Sir John Swan by R. Samimi. There is a carved walnut Italian Renaissance chest (circa 1650) on the landing. The drawing room is lit by a great Waterford crystal chandelier. The inlaid Sheraton console table (circa 1790) is a fine piece and the cedar chest (circa 1750) is unusual for its small size and lower drawer.
The fireplace is in the Adam style with fluting reflecting the molding of the columns at either end of the drawing room. A large gilt Regency mirror hangs over the mantelpiece. It is a handsome example of Regency detail. Lady Gibbons stitched the needlepoint cushions which repeat the poppy design of the curtains. The walls are decorated with water colors of old Bermuda by Augusta Russell (circa 1810), part of the collection of the late Hon. Bernard T. Gosling, on loan from the Bermuda National Trust.
Beyond the drawing room is the study, fitted on one wall with cedar bookshelves. Immediately opposite the drawing room is the gallery, hung with paintings provided by the Bermuda Society of Arts. The rosewood pedestal table of the Regency period bears a large silver epergne, donated in 1864 by a grateful legislature to Alexander Ewing, a long term Speaker of the Bermuda House of Assembly. The highly ornate epergne, based on a grape and grape leaf design, was wrought in London by A. B. Savory and Sons.
Also see the mahogany Hepplewhite secretaire/bookcase (circa 1780) with a complete set of Herend hand painted porcelain plates depicting Bermuda flowers, on loan from the Bermuda National Trust. Around the gallery are occasional chairs of the Victorian period (circa 1860). It is in these two rooms that official receptions are held. Beyond the gallery is the ladies' powder or withdrawing room, decorated with water color paintings by local artist Gay Corran. Admire the silk flower arrangements.

Coco Reef Bermuda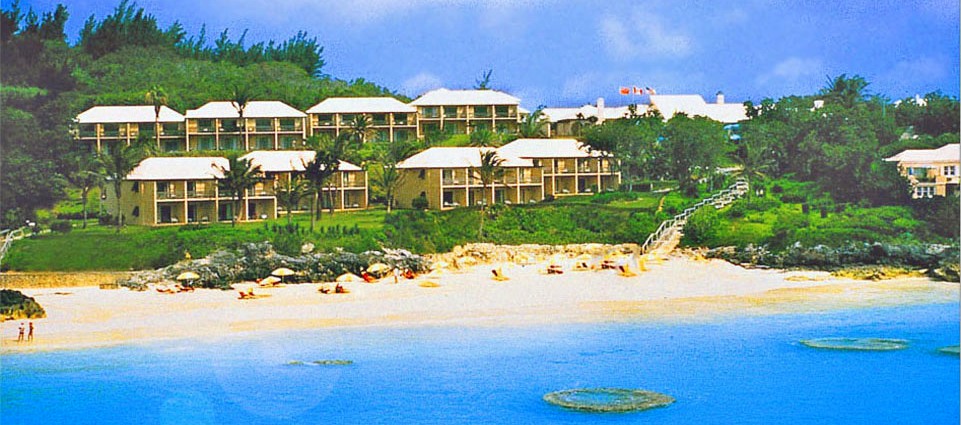 3 Stonington Circle, South Road, Paget Parish, Bermuda PG 04. Phone (441) 236-5416. Fax (441) 236-9766. Formerly Stonington Beach Hotel. 32 ocean view rooms and 2 one-bedroom ocean-front suites. The real estate is owned by the Bermuda Government and is leased to the current operator. It first opened in 1980 as a training ground for students at the Bermuda College (a junior college, awarding associate degrees). Name changed June 2003 to reflect the Coco Beach name of its Tobago-based Bermudian property owner and land leaseholder John Jefferis who once managed the nearby Elbow Beach Hotel. Overlooking the ocean and with a shared - by Elbow Beach - gorgeous private beach (until the late 1950s it used to be public Elba Beach (named after the island where Napoleon was first exiled and escaped from until the original Stonington Beach hotel was built), complete with superb boiler reefs, one of the very best of all Bermuda beaches. Less than a ten minute drive from the City of Hamilton and on the # 2 and # 7 bus routes. With tennis courts, bar, two restaurants and a fresh water pool. In January 2008 a Bermuda Government-issued Special Development Order was granted in lieu of normal planning regulations, for an additional 66 luxury holiday apartments. The latter are for sale to non-Bermudian as well as Bermudian buyers and can be leased back to the hotel for transient visitors for six months of the year by mutual agreement in accordance with local legislation. In May 2010 the Bermuda Government pledged to ensure publicly paid consultants will stay at the Coco Reef Resort while visiting Bermuda on official business.

Coral Beach Tennis Club & Cottages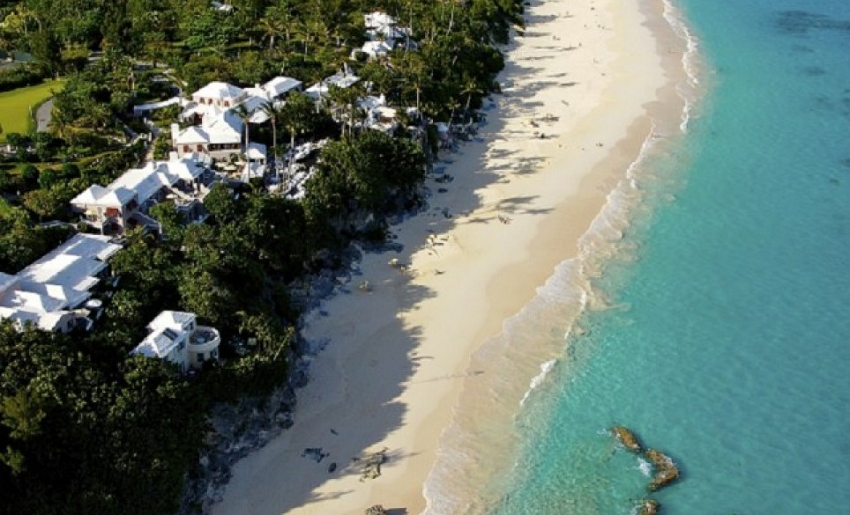 66 rooms. South Road, Paget Parish. Air-mail postal address is Horizons Ltd, P. O. Box PG 200, Paget, PG BX, Bermuda. Telephone: (441) 236-2233. Fax: (441) 236-1876. Just west of the Elbow Beach Hotel, it is less than 3 miles from the City of Hamilton. A Private Club. If not a member, you need an introduction from one. Garden and estate cottages are spread over a large, groomed estate with its own gorgeous private beach. International tennis is often played here. There are 8 clay courses, 3 lit. With Horizons & Cottages - because it has the same owner - it shares a 9-hole mashie golf course. On bus route # 7.

Guests at the property who stay here should see the Alfred Blackburn Smith Nature Reserve. 8.7 acres, it is not public but open to guests and members of the Coral Beach Club and Bermuda Audubon Society. It was donated in 2003 by then owner Elfrida Chappell, daughter of the late Mr. Smith, to the Bermuda Audubon Society and named as such after him. He gave it to his daughter as a 21st birthday present in 1935. It is one of the last undeveloped tracts of undeveloped Bermuda upland forest. It offers spectacular views of the South Shore.

In April 2009 Plans for a Four Seasons Hotel 150-room five-star hotel and fractional resort here were scuttled by planning officials.

The Development Applications Board (DAB) refused the 'in principle' planning application for the Four Seasons Hotel, citing several examples of how the development would defy the zoning of Draft Bermuda Plan 2008. Developers Brickman Holdings of New York, which bought the property in January 2008, submitted the application, with the resort to be managed by Four Seasons Hotels and Resorts. More than 40 objections were received against the five-star hotel and residence club. The Bermuda National Trust, Bermuda Environmental and Sustainability Taskforce (BEST) and scores of residents raised concerns about loss of open space, potential traffic congestion and construction noise. The plans for the resort included 60 fractional ownership 'cottage colony' style villas at Horizons and Coral Beach. Another 20 residential units were to be built for sale to sole owners. The 150-room hotel was to be accompanied by a spa, fitness centre, tennis courts, pools and a conference centre. The Horizons nine-hole golf course was to disappear and the resort would also have brought major changes to South Road, with new access points and a pedestrian underpass tunnel near the entrance to Coral Beach. If approved, South Road would also have undergone a reconfiguration, to straighten a bend at "two well-known traffic accident spots". An access road would have also linked the resort to Tribe Road Five. This drew 25 letters of objection from residents, who claimed traffic congestion along Ord Road, Southcote Road and the tribe roads would increase as a result.

Planning officials initially refused the application for reasons including:
The proposal was against the Draft Bermuda Plan 2008 in that fractional units went against "permitted forms of development" which were "limited to recreational uses only".

Fractional units, parking, roadways and tennis courts would have been sited on Open Space Reserve areas.

The development would also encroach on Agricultural Reserve.

The development as proposed would cause measurable damage to Agricultural Lands, Woodlands, and Habitats forbidden under the Development and Planning Act 1974.

The resort would have impinged on Woodland Reserve areas, also contrary to the Draft Bermuda Plan 2008.
On appeal, a modified plan was approved in June 2009 to develop a 150-room hotel and 80 fractional units. Instead of closing in 2009 as hoped to make way for redevelopment the property remained open for business. In March 2010, Four Seasons Resort and Hotel gave its name publicly to the redevelopment of Coral Beach Club for the first time. A joint statement from Brickman, which own the Coral Beach Club and Horizon Cottages properties, and Four Seasons said construction on the initial phase was expected to begin in 2010. It has been delayed.

Crow Lane
A Bermuda National Park near a busy highway a mile east and south of the City of Hamilton. It overlooks and fronts Hamilton Harbor. Its name comes from when the whole area was populated by crows. Sit on a bench or under a tree, see the views of the harbor and city.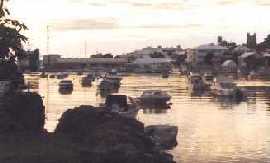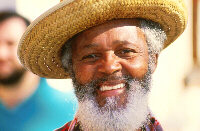 Left: Crow Lane Park facing the City of Hamilton (photo Keith A. Forbes). Right: Johnny Barnes (photo Government Information Services)
Today, the park is peaceful, but on June 2, 1730 it was used to tar and burn at the stake Sally Basset, a black slave, convicted of poisoning slave owners Sarah and Thomas Foster or, as some other accounts say, Francis Dickinson of Southampton Parish. She maintained her innocence but her stand against slavery was well known. Complicating the case was that by 1729 she was considered old and was placed on the auction block. It is alleged she instructed her granddaughter Becky in the use of poisons, to poison her owners. She was regarded by whites of the day as a ringleader of poisoning plots. Thus this is a stop on the African Diaspora Heritage Trail.
It is from the roundabout (rotary in the USA) near this park that Johnny Barnes, a remarkable Bermudian senior citizen, has made it a tradition for decades of waving a cheery "Good morning" - in all weather - to commuters exiting the parish to enter Pembroke Parish to work in or near the City of Hamilton. Near the entrance to the Bermuda Underwater Exploration Institute is a statue in his honor. It was funded by Andrew Banks, a philanthropist actively involved with the Jewish community, an American producer, who has been recognized publicly for donations to the Bermuda Underwater Exploration Institute.

Darrell's Wharf
Harbour Road, between Morgan Road and Cobb's Hill Road, Paget. A ferry dock and stop for residents and visitors, on the ferry route. It serves residents of the immediate area and visitors staying nearby who are not served by buses. It is also a beauty spot well worth a brief visit for photographs. It has a gorgeous view of the Great Sound and Hamilton Harbor to the northeast. Cars parked on the wharf belong to Hinson's Island residents who can't transport them to the island so they hop the ferry to Darrell's Wharf every workday morning, take their cars into the city of Hamilton - and reverse the procedure every evening. The # 8 bus route stops on the Middle Road at the junction with and half way up Cobb's Hill Road nearby.

Elbow Beach
So-called as the beach has a gentle curve similar to a human elbow.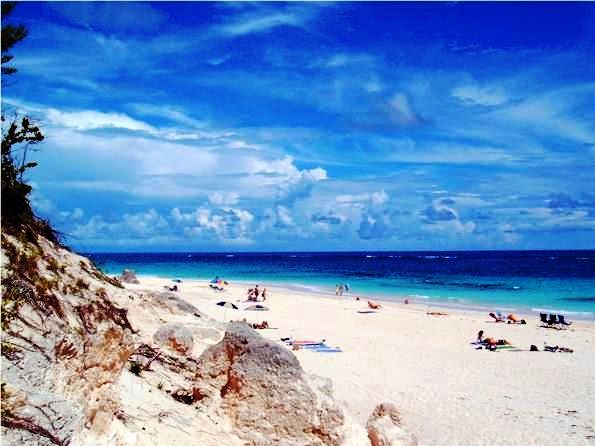 Elbow Beach, public part, Bermuda Tourism photo

Public part. Off Tribe Road + 4, off South Road. Walk 500 yards or so or park. One of the closest public beaches to the City of Hamilton 2 miles away and its mid-size cruise ship visitors in port there from April through October. This section of the three-section beach is adjacent to and between the up-market Elbow Beach Resort Hotel and the exclusive Coral Beach Club. Basic bathrooms (toilets). In season, a lunch wagon provides fast food. Bus routes 2 or 7. (There is a bus stop nearby, on the South Road).

Elbow Beach Resort Hotel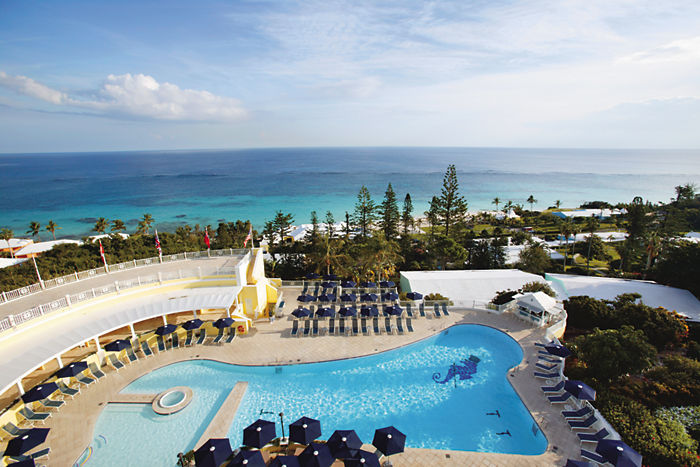 60 South Road , Paget Parish, PG 04.Or P. O. Box HM 994, Hamilton, HM DX, Bermuda . Phone 1-441-236-3535 or in USA 1-855-Go-Elbow.Over 300 rooms, suites and cottages. 7 minutes by taxi from the City of Hamilton. One of the most expensive and luxurious places to stay in Bermuda. A luxury four-star/diamond resort hotel and and cottage colony combined, on 50 lush acres of botanical gardens and with its own superb private beach, one of Bermuda's best. It offers both a full-service hotel and selection of garden cottages, executive villas and condominiums.
Owner: Prince Khaled bin Sultan bin Abdulaziz Al Saud, a prominent member of the Saudi Arabian Royal Family. All hotel units have 53-channel television. For tennis, there are 5 newly resurfaced plexi-pave courts, 3 lit for night play. There is also the Deep night club. Near the frequent by day 7 bus public transportation route. Facilities include conference facilities, restaurants, bars, snorkel equipment, kayaks, sand chairs, beach umbrellas and more.
The hotel first opened in 1908 as the South Shore Hotel, later as the Elbow Beach Surf Club. It was the third oldest hotel in Bermuda, after the Hamilton Hotel (now gone) and Hamilton Princess Hotel still around, but first to be built on the South Shore. At one point it was owned by a wealthy English football pools magnate.
In the 1950s, 1960s and early 1970s it was the favorite place for American college students to stay. They came in droves, got up to all sorts of mischief. In those heady days it was also the place where in Easter Week, the Easter Queen stayed, crowned as such just before the fabled-but-no-more Bermuda Easter Parade. In May 2013 the hotel celebrated its 105th anniversary.
Until early 2014, the resort was part of Mandarin Oriental's portfolio of luxurious properties, managed by the Mandarin Oriental Hotel Group, which is registered in Bermuda and part of the Jardine Matheson Group - but with most of its operations in China (and its administrative territory Hong Kong), Singapore and elsewhere in Asia. From spring 2014, the management contract with the Mandarin Oriental Hotel Group ceased and the hotel re-opened as an independently managed property.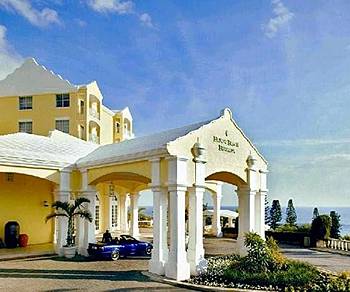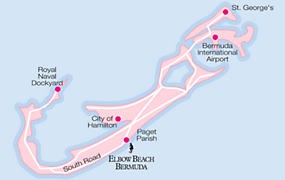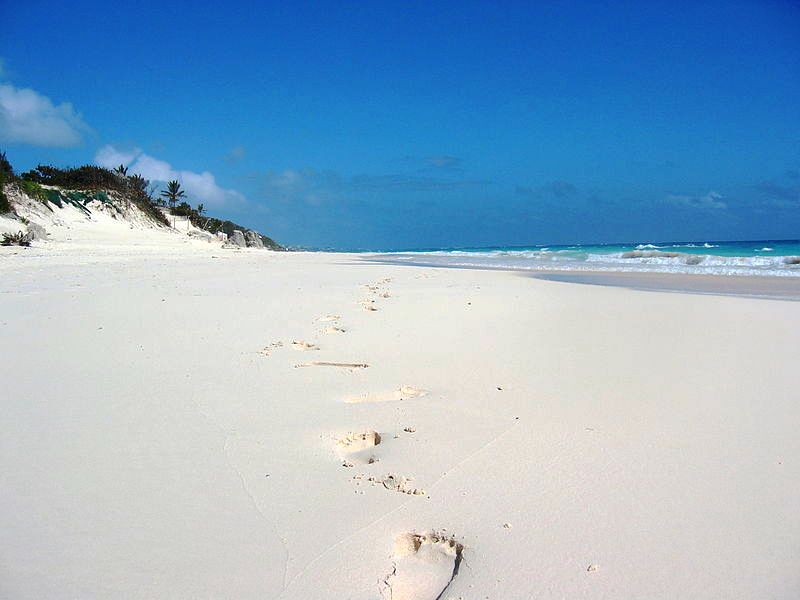 Elbow Beach private part, photo Bermuda Tourism. There is a shipwreck about 100 yards offshore.

Ferry stops for residents and visitors
They can obtain a free copy of the schedule, to know when the service operates, when it stops and what fares apply.

Darrell's Wharf. Harbour Road, between Morgan Road and Cobb's Hill Road, Paget. On the Hamilton to Paget round trip ferry route.

Hodson's Ferry Dock. Harbour Road and Chapel Road, Paget, on the Hamilton to Paget round trip ferry route. It serves residents of the immediate area and visitors staying at the Newstead hotel nearby who are not served by buses. It is also a beauty spot well worth a brief visit for photographs. It has a gorgeous view of the Great Sound and Hamilton Harbor to the northeast. The island opposite is White's Island, owned by the City of Hamilton and a recreational site, with a favored anchorage for motor yachts just off it.

Lower Ferry Dock. Harbour Road, on the Hamilton to Paget round trip ferry route. It serves residents of the immediate area and visitors staying at hotels nearby who are not served by buses. It is also a beauty spot well worth a brief visit for photographs. It has a gorgeous view of the Great Sound to the west and Hamilton Harbor to the northeast.

Salt Kettle Ferry dock. Off Harbour Road and end of Salt Kettle Road, on the Hamilton to Paget round trip ferry route. It serves residents and visitors staying at guest houses or apartments in the area. It's also a beauty spot worth visiting with gorgeous view of the Great Sound and Hamilton Harbor. The great American artist Winslow Homer painted several scenes here. Most people today have no idea Bermuda both inspired and featured in them. Homer painted at least 21 watercolors of Bermudian landscapes and seascapes. These were received with so much acclaim in 1901 when exhibited at the Pan American Exposition in Buffalo, New York, that Homer was awarded a gold medal for them. Several are now considered to be among his finest works.

Fourways Inn and Cottages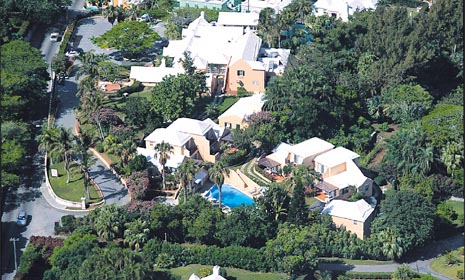 1 Middle Road, Paget Parish. P. O. Box PG 294, Paget PG BX. Phone in USA (800)-962-7654 or directly at (441) 236-6517. Fax (441) 236-5528. Email info@fourways.bm. This upmarket restaurant, one of Bermuda's finest, has 5 luxury cottages, 5 suites and 6 deluxe rooms in a tranquil and verdant garden with swimming pool adjacent to restaurant. Inland. Flat screen digital television. Not on a beach but not far from a public beach and with access privileges at the nearest private beach. On bus route 8. In 1727 Fourways was built of native coral stone and cedar. It was commissioned by John Harvey of Harvey's Bristol Cream fame, who made it his home. It was aptly named Fourways because it spread modestly in all four directions and was enclosed within two and a half acres of walled gardens at Amen Corner, a vital crossroads in Bermuda for over 250 years. Guests attending Mr. Harvey's elegant dinner parties enjoyed lavishly cooked meals, an excellent wine cellar and - because they were forced to travel many miles by horse & carriage - they were offered overnight lodging as well. For more than two centuries this lovely Georgian home was retained as the private residence of the Harvey family and several other owners, and remained a fixture on the Island's social scene. Extensive renovations and additions were made, but the uniquely Bermudian character of the house was carefully preserved.

Gilbert Park
A Bermuda National Park. A small but interesting facility just behind the Gilbert Institute School, off the South Road. It is often overlooked by visitors.


Grape Bay Beach
South Shore, off South Road, a good mile before you get to Elbow Beach and closer to the City of Hamilton than the latter. Private and superb, arguably the best in Bermuda, for guests of the intimate Grape Bay Cottages and local homeowners in this up-market area. The nearest (private) beach to the City of Hamilton. Unlike many other beaches, never crowded. It once had an earlier name, Crow Lane Bay. It is isolated by rocky stretches of coastline from Hungry Bay to the west and Coco Beach (formerly Elba, then Stonington) and Elbow Beach to the west. The newer name of this beach probably stems from the naturalized Bay Grape (Coccoloba ubifera) that once grew abundantly - and still does to some extent - on the land side of the beach. Bay Grape or Sea Grape is non-endemic, native. A spreading coastal tree growing to 30 feet. Common, growing wild or as a part of hedges. It has large round glossy green waxy leaves 4-8 inches wide with red veining. Female plants pollinated by male plants produce small, white flowers that become grape-like clusters of green fruit that matures to purple. The plant can be pruned to form a single-trunk specimen tree, or clipped into a hedge. When clipped into a screen, the plant makes an effective windbreak. Bay grape is also tolerant of salty conditions, and is often grown in a shrub form to stabilize land near the beach and prevent erosion. The grapes are edible, not pleasant raw and can be made into a superb and distinctively-tasting jelly and jam. In Bermuda, berries ripen from October to December. Considered to have been the main reason for the naming of Grape Bay Beach, in Paget.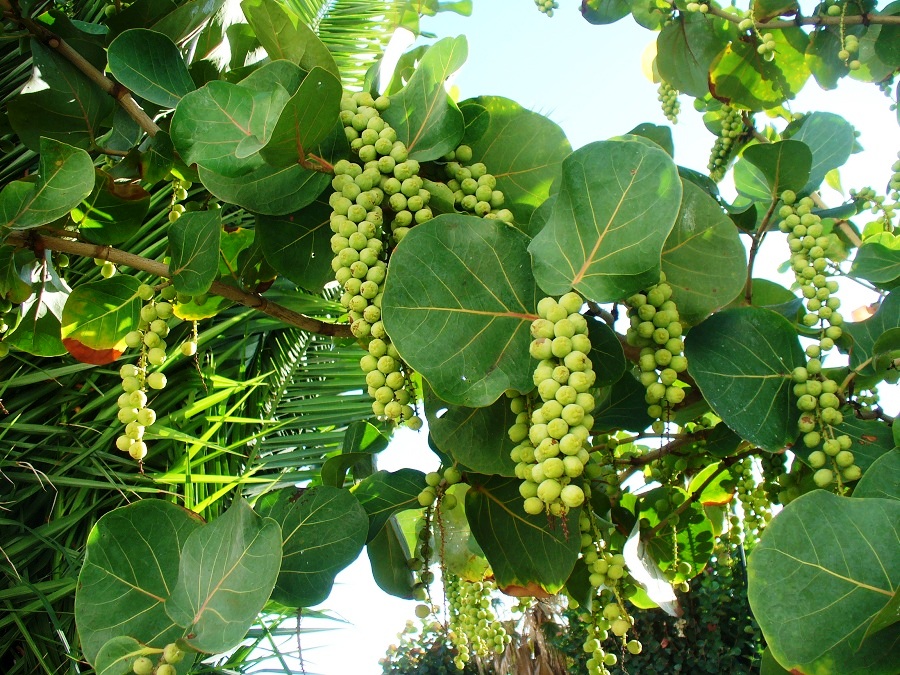 Bay Grape tree at Grape Bay Beach. 2009 Photo by this author exclusively for and copyrighted by Bermuda Online

Grape Bay beach

4 star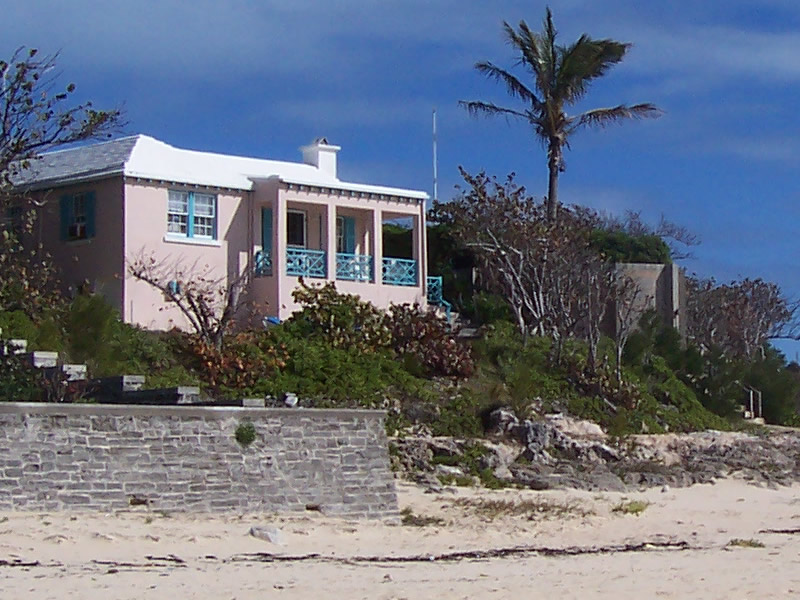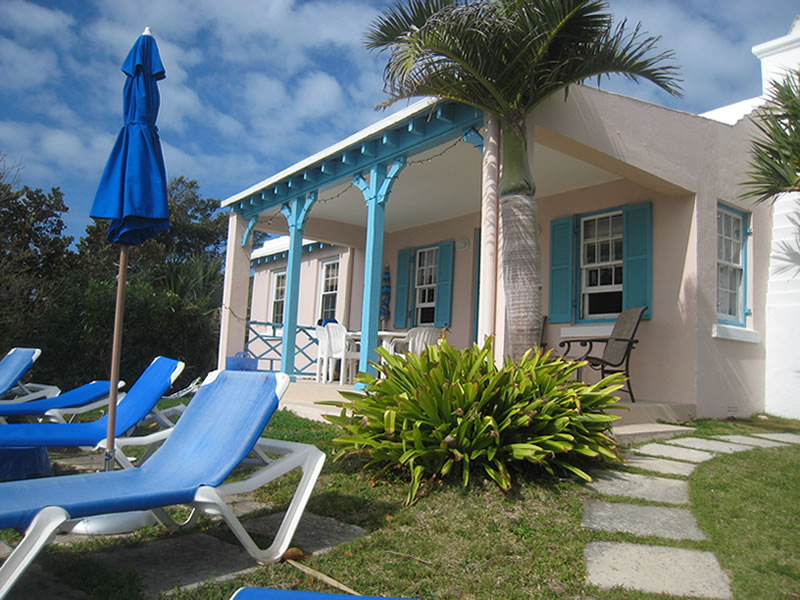 Grape Bay Cottages by the beach
Grape Bay Drive, Paget Parish. Telephone (441) 236-2515. Email host Maria Frith at Maria@gbcbermuda.com. Fabulous beach-side location. central (City of Hamilton is just over one mile away (to get there by public transportation bus walk to bus stop at junction of Grape Bay Drive and main South Shore Road) Two separate beach cottages (guests can take one or both if they wish), each with two bedrooms, living/dining room, fully-equipped kitchen, bathroom. Rented scooters or mopeds can be parked outside. Ideally situated on superb Grape Bay, a 5-star private beach, best in all Bermuda. Minimum stay of 5 days, see sections of website above for precise terms.

Harbour Road
The Paget Parish portion on the north side of the Parish is loaded with marvelous seascape views all the way. Buses don't service it because it is too narrow and twisting. The best way to see it is to get on your rented moped - try not to select the morning and evening rush hours as there are few places to get out of the way of heavy traffic. You won't be able to do full justice to the seascapes. To appreciate them as they deserve, pick a time of day when traffic is light. Or hail a taxi and go towards Warwick Parish. Or pass by on the ferry.

Harmony Club
Once a particularly nice hotel in a great inland position off the Middle Road not far from Elbow Beach and adjacent to the Bermuda Railway Trail, the nearest major hotel to the City of Hamilton. Then an adults-only resort with a splendid garden, pool, tennis another facilities it was the only place in Bermuda until 2005 to offer an all-inclusive package to its guests. After that, it switched to regular plans. But the hotel was closed in 2008 after being purchased by the Bermuda Government. It is now a facility to lodge for visiting government officials and overseas-hired police officers.

Hodson's Ferry Dock
Harbour Road and Chapel Road, Paget. A ferry stop on the Paget to Hamilton route.

Horizons & Cottages, closed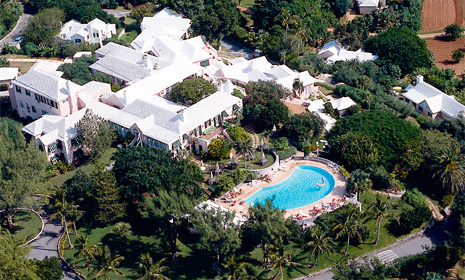 Presently closed, to be reopened. Recently sold. 33 South Road & Southcote Roads, Paget Parish PG BX, Bermuda. P. O. Box PG 200, Paget, PG BX, Bermuda. Telephone (441) 236-0048. In USA & Canada 1-(800)-468-0022. Fax (441) 236-6651. On an 18th-century hillside plantation of 22.96 acres on the north side of South Road, across from Coral Beach. The property slopes upward from the road, providing expansive views from the upper portions of the site. Horizons currently includes the main house, formerly a hotel, along with 14 detached cottages totaling 56 guest or residential units. The property also includes a pool with spectacular views, two tennis courts, and a former nine hole golf course, providing ample open space on the site. It first opened as a property for paying guests in the latter part of the 1930s. The Main House has 9 guest rooms, all with private baths, seating areas, balconies or patios. The 14 cottages contain from one to 5 bedrooms each with private bath and breakfast terrace. The Banana Tree cottage is a favorite for honeymooners. Luxurious in service, price and comforts. With access to the private Coral Beach for guests, its own smart-casual restaurants at Ocean or Barbeque Terrace or coat-and-tie Middleton Room, tennis on 3 all-weather courts, freshwater pool, beach facilities within easy walking distance at the superb private beach of the Coral Beach Club sister property owned by the same family. On bus routes 2 and 7. Chelsea Clinton, who was married in August 2010, only daughter of former US President and Senator Clinton, is reputed to have been conceived here in the late 1970s.
2013. December 22. The property was taken over by US investors. New York-based CBC 2013, a subsidiary of Three Wall Capital and ROC Group, assumed ownership of the resort. Alan Kenders, CEO of Three Wall Capital, said: "We are thrilled to be taking over Horizons and Cottages and Coral Beach and Tennis Club in Bermuda. Both Bermuda and Coral Beach Club have been synonymous with luxury, service and hospitality for a number of years. As the new owners of Coral Beach Club we seek to pay homage to the past yet firmly embrace the standards the world has come to expect in 2014 We intend to create a product all Bermuda can be proud of." Three Wall Capital is boutique hotel investment firm with interests including the Mayflower Inn and Spa in Connecticut and the newly-opened New York luxury property The Quin. The Mayflower Inn has won a prestige Conde Nast Travelers Readers Choice Award as best in America. ROC Group is a New York investment firm focused on real estate. The resort went into receivership in September 2012 after the lease was bought by New York-based Brickman in 2007. Brickman had a 200-year lease for the 26-acre property, bought with a loan held by Swedbank. But plans by the firm to redevelop the club as a Four Seasons 150-room resort were scrapped by Brickman, which blamed the global financial crisis. A 2012 bid by Brickman to sell the club to its members with a price tag understood to be $28 million fell through and Coral Beach went into receivership. Professional services firm KPMG were appointed receivers and began looking for a new buyer. Earlier this month, the receivership was formally ended after a hearing in the commercial courts. Lawyers for Swedbank AB New York, which held the mortgage on the property, said then that by Friday, December 13, the property would be taken over by Swedbank or it would be sold to a third party. Three Wall Capital was founded in 2008 and is led by Mr Kanders, a former managing director of Lehman Brothers investment bank in the US, which went bankrupt in 2008, helping to trigger the global financial crisis. Three Wall Capital has completed more than $400 million in transactions in the past 36 months in both advisory and principal investor roles. ROC Group, founded in 1991 by Roderick O'Connor, specializes in buying up real estate assets held by banks, government agencies and other financial institutions in the US.
The golf course closed to the public on July 1, 2010

Hungry Bay

A lovely Bermuda bay out of the way of most visitors, a Bermuda National Park and Nature Reserve, also considered a nice area in which to live only two miles to the center of the busy City of Hamilton, with many local properties close to the sea.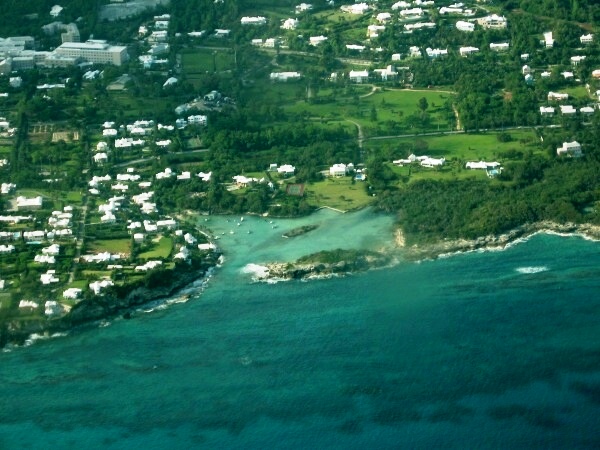 At the top left of the photo above is the King Edward VII Memorial Hospital. At the middle right, top, are the open-space grounds of the Bermuda Botanical Gardens.
The land part of it has a small but choice private beach to the right of Tribe Road No. 1 which begins at the Peace Lutheran Church and ends south at the sea. Enter the bay at the small public wharf at the bottom (or if you are a resident or friend of one, via Seabright Avenue and then then left on Seabright Lane, straight down to the dock going down to the sea before the lane turns right).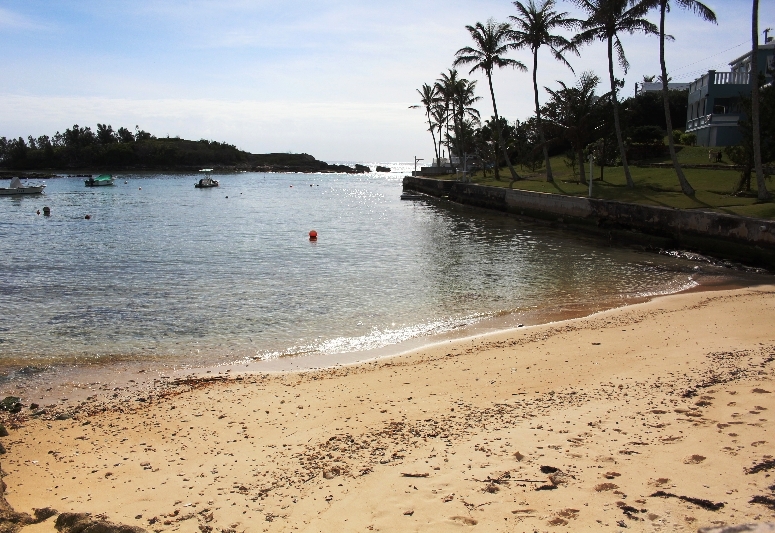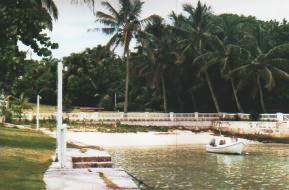 Two views of a Hungry Bay beach, this one at the very end of Tribe Road
If you go by land instead of by water, there are some charming coastline areas nearby to explore to the south east. Walk along the cliffs, for superb ocean views (but no beaches). Also in the area, at the entrance to the bay and via a bit of a climb of a cliff for the agile, is the old ruin of Hungry Bay Fort, one of the many tiny coastal batteries used in early colonial days by British Army soldiers to guard Bermuda against invasion by Spain, France and the USA.
Hungry Bay Mangrove Swamp
In Hungry Bay, turn left at Crow Island and left again to go into the north-east section. Look for a waterway on your right as you face the land. It is a mangrove enclosed opening to the swamp. The bay is also a lagoon and swamp, a smaller version of the Florida Everglades, more like a series of Louisiana bayous, a part of Bermuda 99% of tourists and locals never see.
A UK-registered Bermuda RAMSAR wetlands site of national importance. Enter at your own risk, preferably via someone who knows the swamp and has an aluminum or rubber inflatable dinghy or kayak. (The author himself provided this service until 1989, but not since then). Assist in rowing, paddling and fending off mangrove branches. Swim if the craft overturns or is punctured. Wear old clothing, or swim suit with an old shirt, old sneakers or docksiders. Or go via road and path instead of by water, on a periodic Bermuda Aquarium, Museum & Zoo tour with a volunteer guide.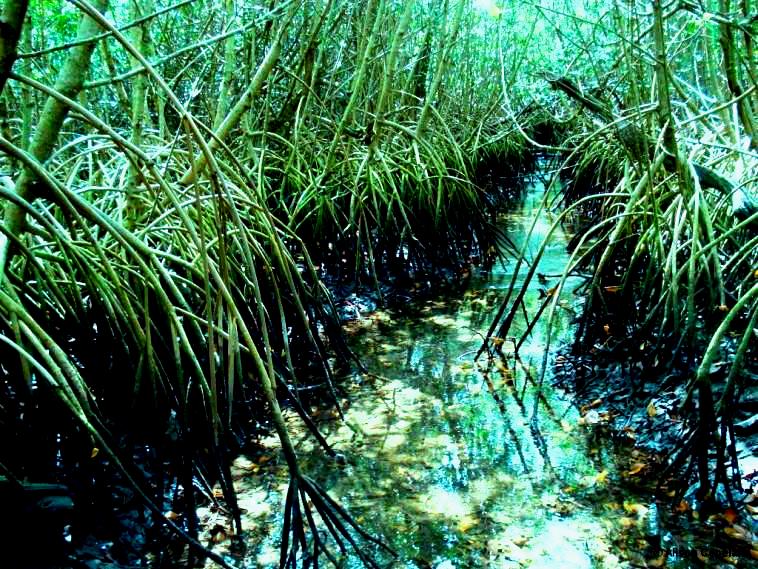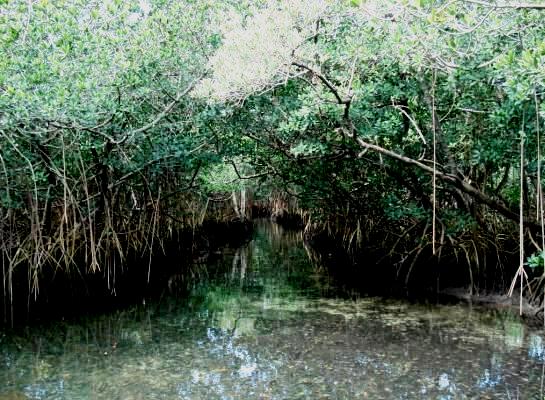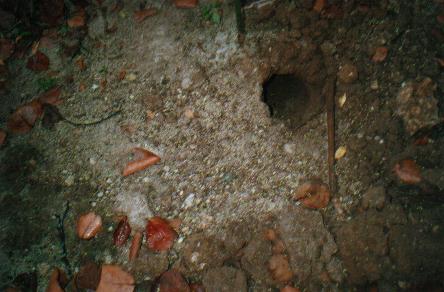 Hungry Bay mangroves
You can go a long way up the canals. The best time of day to access the swamp by water is at least an hour before high tide crests. It will help bear you right in. Note native Red Mangroves (Rhizophora mangle), evergreen trees reaching up to 25 feet via numerous aerial roots from lower branches. Their aerial roots, with root systems resembling eggs of gigantic spiders, indicate they are the red variety. Aerial roots act as props to give them plenty of stability. They have air-breathing organs on their prop roots, which carry air to the roots in the salty mangrove swamps where the sediment is poor in oxygen. The prop roots excrete some of the salt the tree brings in. They are seldom torn up by storms or gales and are vital to our coastlines because they stop the shores from eroding. They grow only in mud at the edge of salt lagoons and bays. They have pendulous fruits. Also see Black Mangroves (Avicennia nitida), gray-foliaged evergreen trees up to 40 feet high with numerous air-breathing roots growing upwards to 6 inches from the mud around the base of the trunk. They grow in the mud of salt lagoons and bays like these, excellent trees for bees and birds. Black mangroves are slightly smaller than the red variety, with breathing roots rising straight from the water. They also supply air to the underwater roots. On the back of their leaves, you may see salt crystals. This is how the tree gets rid of its salt in the water it consumes.
Mangroves are less aggressive than other trees. They cannot compete with trees and shrubs using fresh water, so they have adapted themselves to living in salt water. Hear the red and black mangrove trees and their young ones murmuring, sucking and expelling water. Both types of mangroves have waxy leaves to conserve fresh water. For the survival of the species, mangrove seeds start growing on the parent tree to ensure they are not lost in the mud at the foot of the tree. Sprouting seeds fall into the water below and find where they can establish roots of their own. This mangrove area provides nurseries for fish and crabs including marine and local, protected land Hermit Crabs, another protected local species of Giant Land Crab (see photograph above of the holes it digs) - more right here than anywhere else in Bermuda - and mangrove crabs, and habitats for a variety of wild fauna. The coffee bean snail is another well-known resident. Young barracuda, snappers and grunts live here, as do adult damselfish, bream, wrasses and parrotfish, some very large. The water is calm and less salty than in the ocean and mangrove leaves provide a good supply of food.
Also in or near beautiful deep water lagoons are nesting birds such as herons and egrets, under their marine forest canopy. Listen to tree frogs at dusk. Elsewhere in Bermuda, their chorus is soothing, but here it is mysterious and sensuous, a mating call indeed, with answers. Mangroves act as sand and soil traps, keeping waters clear and protecting coastlines during storms. When you're ready to leave this tranquil place, the outgoing tide will guide you back to Hungry Bay (lower right).
Note: This area has suffered significant degradation of the Mangrove Swamp over the last 3 decades, culminating in the almost total destruction of the outer (western) third of the swamp, representing 25% to 30% of the total area of Mangroves, during hurricane 'Fabian' in Sept. 2003. There is considerable evidence, in the form of layers of Mangrove peat and stumps underlying the outer portion of Hungry Bay, that this Mangrove swamp has been in retreat for hundreds if not thousands of years. This is largely due to natural causes, in particular the continuing rise in sea levels. Much of the recent damage is being caused by the eroding of the protective peninsula which separates the Mangrove swamp from the open ocean and the formation of a new tidal channel/over wash area which enables huge waves and storm surge from hurricanes to break directly into the outer third of the swamp. In this area, more than 75% of the Red Mangroves Rhizophora Mangle were completely washed out by the roots and destroyed. Although most of the large, mature Black Mangroves Avicenia nitida were not uprooted, more than 50% have subsequently died after being smothered by a deep layer of sand and rubble swept into this area by the ocean surge during Fabian. In addition to the catastrophic damage resulting from hurricanes and storms, there is also evidence of long-term erosion of the organic peat/sediment substrate that underlies the present swamp and that the living Mangroves actually grow in. Although this may be caused in part by sea level rise, it appears to have been greatly accelerated by the cutting of a boat channel through the Mangroves approximately 40 to 50 years ago. This has had the effect of concentrating and increasing the speed of tidal flow through the Mangroves, sweeping away leaf fall from the Mangroves and other vegetation as well as fine sediment that otherwise would be trapped and deposited around the prop root complexes.
As a result, peat and substrate build-up has not been able to keep up with sea level rise and their continuing erosion, especially along the margins of the boat channels, has resulted in undermining and exposure of the Mangrove root systems, making them less able to survive catastrophic storm events. The Management and protection of the Mangrove swamp would be greatly enhanced by the extension of the boundaries of the Reserve to include the peninsula that separates the swamp from the ocean. This area is however presently privately owned and would require either government purchase or the consent of the landowner. (There was an attempt in the early 1990s to purchase this land for addition to the Nature Reserve, but this was unsuccessful. The Bermuda government was unwilling to pay the price asked by the property owners). An additional factor adversely affecting the Mangrove swamp is the large amount of floating debris that comes in off the ocean and is swept into, and becomes trapped within the Mangroves. The majority of this debris consists of a variety of plastic
containers and products, some of them, like fuel containers and ice chests, quite large in size. There are also heavier items such as car and motorcycle wheels, refrigerators and heavy lumber that are also swept into the Mangroves, especially during storms, and can cause significant damage to the supporting prop roots of the trees. The majority of the plastic debris is not of local origin but comes in from the open ocean, although some of the heavier items such as household appliances, car and motorcycle parts, have their origin at the solid waste dump at the Bermuda airport.

Islands
Only those in the Parish are shown here. See other Bermuda Islands.
Burnt
Very small, near Salt Kettle. It is named as such from when settlers set fire to its vegetation hundreds of years ago to get rid of great swarms of rats going from island to island.
Crow
Hungry Bay
Doctor's
Small, in Hamilton Harbor, immediately north of Salt Kettle.
Duck's
A mangrove patch at the Foot of the Lane. Aquatic life takes refuge here and during storms or hurricanes small boats take shelter to leeward.
Hinson's
Paget Parish (Warwick North Central constituency). Number 16 on the listing of Bermuda National Parks and Reserves. Also known in the past as Brown's or Godet's. An island in the Great Sound. It became the first air base for aircraft in Bermuda. One of the largest in the Great Sound, closer to the Warwick shore than the Paget shore but actually in Paget Parish. It has a convoluted history. It was a Boer War prisoner of war camp from 1901 to 1902, mostly for Boer teenagers. Later, it was the base for Bermuda's first seaplane service, the Bermuda and West Atlantic Aviation Company, run by Major Hal Kitchener and Major Hemming, a veteran of World War I. Now it is an exclusive island - and a private club - for the wealthy, with a request ferry stop on the Warwick service for residents to get to the city of Hamilton and back. Most homes have their own water frontage or private docks or moorings. There are no private automobiles on the island. Ashore, see it best from Harbor Road, at the Belmont Wharf or Darrell's Wharf ferry stops.
Spectacle
Also known as Hunt's, north of Hinson's. One of two by this name in Bermuda but the only one in this Parish. In Hamilton Harbor.
White's

White's Island. Royal Gazette photo

Paget Parish. Originally Hunt's from the family that once owned many shares in old Bermuda. In the middle of Hamilton Harbor, now the property of the Corporation of Hamilton. Few Bermuda islands have had a more varied history. Most locals and visitors do not know that in the closing months of World War 1 it was sub leased to the United States Navy as an operating base for U boat chasers. An oil painting of the Stars and Stripes on the island's flag pole was painted then by a well known local artist. The lease lapsed at the end of the war. Has long been a campsite, with permission in advance directly from the Bermuda Government's Department of Youth, Sport and Recreation. Has a small beach. Also from where fireworks are let off periodically, after permission from Government.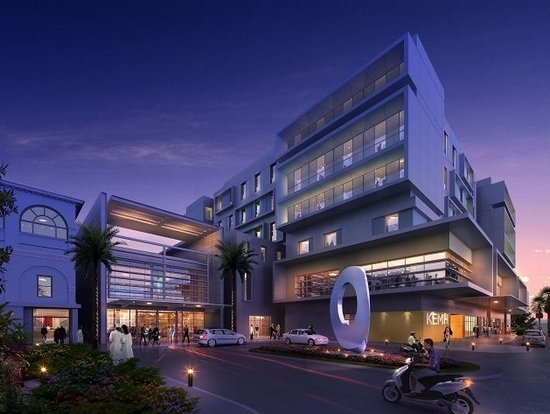 New hospital wing constructed

Lower Ferry Dock
Harbour Road, Paget. A ferry stop for residents and visitors on the Paget to Hamilton route.

Middle Road
One of the three major roads in Bermuda. It runs through the Parish going west, parallel to South Road and Harbor Road. The single bus route on this road is the #8, from the city via this Parish, west to Sandy's Parish and from there back to the city.

Musson's Point
One of the most prominent features of the Paget shore, thrusting north from Hamilton Harbour, it separates Prudden Bay and Salt Kettle Bay. It was once the site of the original Crow Lane Tribe, once a small village of colonists from Britain in the 1620s. The Musson name overtook a previous name when the Reverend Samuel P Musson became Rector of Paget and Warwick. Musson family members still live in Bermuda.

Newstead Belmont Hills Golf Resort and Spa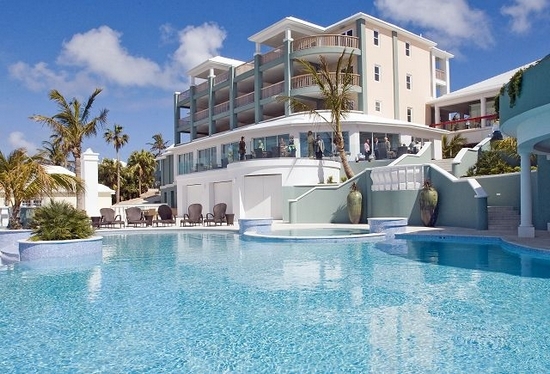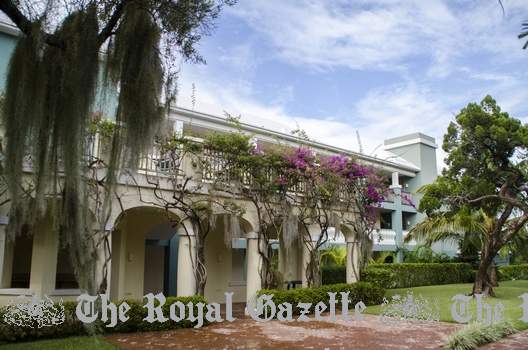 27 Harbour Road, Paget Parish PG 02. Phone (441) 236-6060. Fax (441) 236-2296. On the harbor's edge overlooking the city of Hamilton. Built from the remnants of two once-elegant Bermuda hotels called Newstead, once a 19th century colonial manor, then a hotel, and the former Belmont Manor - a less luxurious but also spectacular in water views 20th century hotel circa 1920 - plus the rebuilt 18 hole Belmont Golf Course owned by the company nearby. The full service resort destination has numerous hotel rooms and residential units. It offers many amenities in addition to golf, a world class spa, two tennis courts, infinity pool overlooking Hamilton Harbour, two fine restaurants and a private ferry service to the City of Hamilton. It combines traditional Bermuda architecture with new Bermuda design. Also offers part ownership of luxury suites to non-residents. Some Newstead guests qualify to use the Elbow Beach Hotel's private beach facilities via a shuttle service.
2014. September 30. A US business tycoon bought up the Newstead and Belmont Hills golf course. Now hedge fund manager Larry Doyle — who already owns the old Lantana property — plans to upgrade both the golf course and the hotel, with a new clubhouse at Belmont Hills and more rooms at the Belmont on his agenda. And he added that prices for fractional ownership at Belmont would be slashed to as low as $99,000 for eight weeks. Mr Doyle, who has been linked with the properties for three years, said: "We are very bullish about Bermuda." He declined to discuss the price of the twin properties — but it understood it could be as high as $18 million. Mr Doyle said: "In fairness to the banker and receivers, they got me to pay more than I would have liked — but I still believe I have a very marketable property with the best location in Bermuda. I'm very happy." The news ended uncertainty over the Newstead and Belmont sites, which have been in receivership for three years. New York-based Mr Doyle said he planned to concentrate on the Newstead in Paget and Belmont in Warwick before tacking the Somerset Bridge-based Lantana. Mr Doyle added: "First things first — we're going to aggressively market the fractional units that are there just now. They will start as low as $99,000 for eight weeks. Existing owners will get the deep discounts. but we will be discounting for new buyers as well. Any money that's going to go into it will be the golf course. We're exploring building a new clubhouse and that's probably where our energy will go to initially. There is a phase we might want to develop and build at Newstead before we do Lantana. It doesn't make much sense to redevelop Lantana before selling off the fractional units already built at Newstead. There is talk of raising the tennis courts and adding on more rooms — Newstead is only a 60-bed hotel. If we could take that up to 90 or 100 rooms, it would be a much more efficient hotel." The property developer and managing director of hedge fund and mutual fund managers Horizon Kinetics also controls real estate investment company Katierich Asset Management. He bought the Lantana site several years ago while on vacation in Bermuda and snapped it up despite the resort having closed more than a decade ago. Mr Doyle added that, once the site is redeveloped, it would share service like ferry and limousine services with the Newstead/Belmont operation.

Paget Marsh
Nature Reserve. Off Lover's Lane at the Middle Road, or via Valley Road at the Middle Road, this is on accessible Bermuda National Trust private property. There are nearly 26 acres of prime nature reserve, the second largest in Bermuda. Last surviving remnant of prehistoric Bermuda.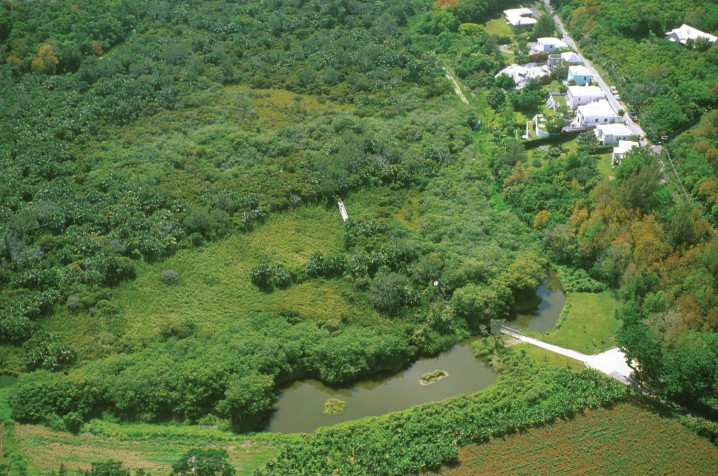 Photo Bermuda Department of Tourism

A UK registered RAMSAR wetlands site of national importance. The central portion is owned by the Bermuda Audubon Society and the Bermuda National Trust has extensive land on either side. A boardwalk, mostly on Audubon property, a 315 foot attraction, takes visitors over five separate areas. $350,000 of its cost is the gift of American philanthropist and Bermuda resident Dennis Sherwin, a former Bermuda National Trust president. The nature reserve has fine palmetto and cedar trees and a mangrove swamp. A pond in the marsh, near the swamp, funded by Audubon, was filled in with garbage in the 1920 era but re-established to create rare new wetlands for migratory birds. The reserve is the last place on the island where a forest remained intact after colonists first arrived in 1609. But rising sea levels - caused by whirlpools of warm water called gyres - may be causing the loss over a period of time of up to 70% of the cedar trees. In 2002, sea levels were the highest in Bermuda for 300 years. They have risen 9 inches since 1926 and the rate at which the water is rising has increased every year. Because it is otherwise a safe refuge for endangered trees and plants, please take only photographs and leave only footprints.

A recent addition is the pond, in which attempts have been made, not successful to date, to catch and transfer from Warwick Pond (in Warwick Parish) some live specimens of the precious endemic the Killifish (Fundulous bermudae), found in a special tank at the Bermuda Aquarium, Museum and Zoo - about 2.5 inches long, with a low dorsal fin, light brown to pale greenish yellow, darker on the ventral surface, with dark, indistinct greenish-brown bands on the sides. Still largely unknown to the general public. First described in 1874 by Gunther. Male and female have slightly different coloring. First illustrated in Beebe and Tee-Van's 1933 "Field Book of Shore Fishes of Bermuda. " A favorite place is a fresh to brackish water pond, especially when fringed with mangroves.

Note: Paget Marsh, which is in two sections, has remained the least affected of all large peat marsh basins on Bermuda by the wholesale rubble and trash dumping or clearing of vegetation that destroyed or severely damaged all other similar sites. Nevertheless, there have been both human-related and natural events which have adversely affected this area. Although large-scale trash dumping never occurred on most of Paget Marsh, there was some localized dumping in the 1920's and 1930's at the southeast corner of the marsh, where a small open water pond was filled in as a private dumpsite by the nearby Elbow Beach Hotel and area residents. This area was dredged out and restored in 2000 as an open pond habitat with boardwalk. The close proximity of the Middle Road, one of Bermuda's busiest, to the south edge of the marsh poses risks from oils/fuels contained in road rainwater run-off flowing almost directly into the marsh. Evidence supporting this concern was collected through the Bermuda amphibian project, which has been attempting to document and find causes for high percentages of tadpole mortality and adult deformities of the introduced Marine Toad Bufo marinus which breeds in many wetlands on Bermuda. The research seems to indicate that there are sharp increases in tadpole/juvenile mortality and deformities after heavy rainfall events, with one of the main causative agents being heavy diesel-family fuels which are washed into the pond from road run-off at these times. Efforts to reduce this problem have so far been confined to the installation of settling out reservoirs under the main drainage pipes to reduce direct flow of run-off into the marsh. The threat of rising sea level flooding the low-lying peat basins was not seriously considered until recently, when it was realized that sea levels may now be rising faster than the marshes can keep up with at normal levels of peat formation and deposition. This can cause salt water to invade what is mainly a fresh-water wetland and inundate the root systems of trees comprising the hammock forest which covers much of the surface of this marsh. This is what occurred for several months during 2002, when high tides combined with the effects of a strong gyre or ocean current circulation to produce unusually high sea levels in the western Atlantic, centred on the Bermuda area. This caused water levels in the marsh to remain 12 or more inches higher than normal for over 4 months, coupled with an influx of salt water into the marsh. This resulted in the death within 6 months of over 90% of all Bermuda Cedars in the hammock forest, many of them mature trees 200 or more years of age, and the weakening of others. Cedar death from inundation was also recorded in Devonshire Marsh and Shelly Bay Marsh. It is noteworthy that this was the longest duration and highest sea levels recorded for any such event since records have been kept, and points to the potential of further sea level rise having further detrimental effects on these wetlands in the future. One adverse effect has been the increased invasion of Paget Marsh by introduced invasive species of vines trees and shrubs. Although many of the invasive species affecting the upland areas of Bermuda are optimized for alkaline soils and do not do well in the acidic peat soils of Paget Marsh, there are some exceptions. These include Guava Psidium guajava, Ardisea or Marlberry Ardisea polyponoacea, Chinese Fan Palm Livistonia chinensis and Shefflera Shefflera umbellatum. This has resulted in a need for regular culling of the entire marsh to selectively remove all aggressive invasive introduced plant species.

Paget Parish Council
P. O. Box PG 150. Paget PG BX, Bermuda. Appointed under the Bermuda Government's Parish Councils Act 1971.

Paget Plaza
A small shopping area, with a food store and a gift store.

Pomander Road
This pretty quiet road is near Trimingham Hill. It winds past the commercial Aberfeldy Plant Nursery, the car park to the Bermuda National Trust, residences and small select guest houses (see "Accommodation"). It ends at the Royal Hamilton Amateur Dinghy Club. It has nice water views of Hamilton Harbour.

Prudden Bay
Nearly encircled by Musson's and Frith's Points, the bay, sometimes also referred to as Pridden Bay, is on the east side of the old village of Salt Kettle. The name comes from a 17th century family who then owned the land. In 1798 the last of the line, Daniel Prudden, a coroner and surveyor was appointed to the post of Customs Watcher ir inspector for the new port of Hamilton - now city of Hamilton. His job required him to live where he could observe shipping in Hamilton Harbour.

Rebecca Middleton Nature Reserve
Ten years after the repeated rape, sodomy, murder and torture in Bermuda - on July 3, 1996 - of Canadian teen Rebecca Middleton, this half acre Paget nature reserve of wooded hillside near Ord Road, on a stretch of the Bermuda Railway Trail, was formally named in her honour on late February 2006. It is owned by the Bermuda National Trust (BNT). It was donated by Mr. and Mrs. Walter Cook. Mrs. Cook's maiden name is Middleton, and although no relation to Rebecca, she was particularly upset by the case and wished the land to be a permanent memorial. BNT then-president Hugh Davidson said the gift would continue a vision of an 'Emerald Necklace' of green spaces throughout the Island.

Restaurants
See Bermuda Cuisine.

Royal Hamilton Amateur Dinghy Club
"Mangroville," 25 Pomander Road, Paget PG 05, or P. O. Box PG 298, Paget PG BX, Bermuda.
Phone (441) 236-2250. Membership required, at some considerable cost as normal for a club of this stature. The second yacht club in Bermuda, with new members welcome. Earned its "Royal" designation by special warrant. One of the few yacht clubs in the world with such an honor. Ideally centrally situated for yachts and other marine craft. It is in a superb location overlooking the waters of Hamilton Harbor, with a nice view of the city. Lunch in its nice restaurant is served daily and dinners are by appointment or for special events. Extensive facilities include 2 tennis courts. Does not offer accommodation for visiting yachtsmen or women. Is a favored local for many local meets, groups, weddings, anniversaries and more. Open 7 days a week.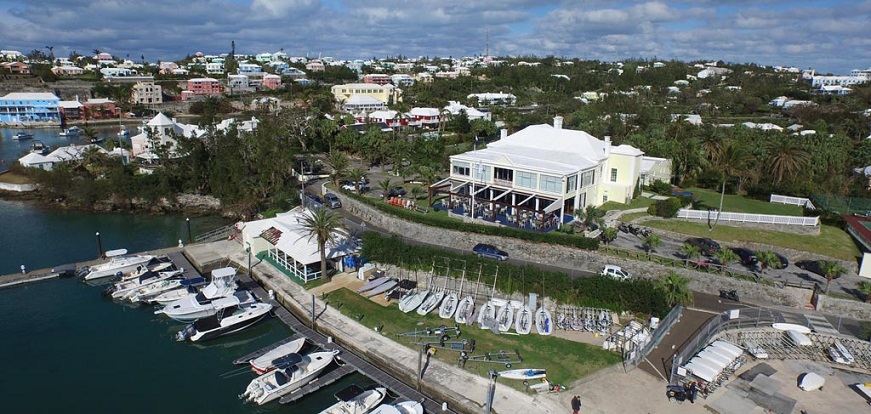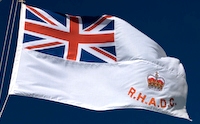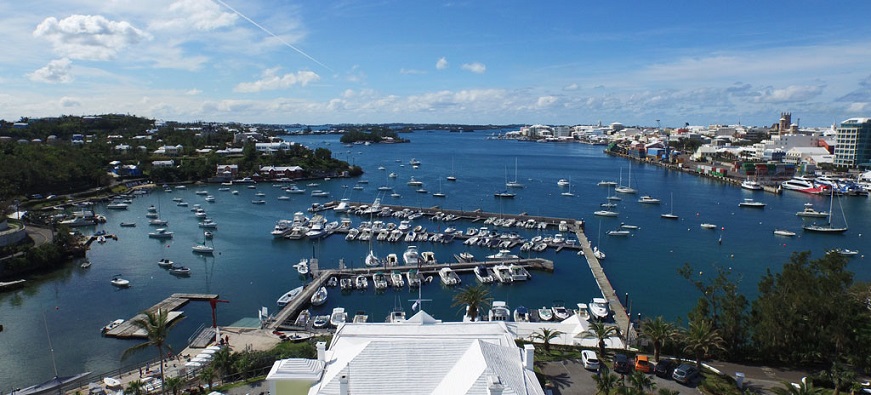 Salt Kettle, Salt Kettle Bay
So-named from the once- lucrative salt business Bermudians began in the Turks Islands that supplied salt to America and beyond. It was here, then a village, that head-quartered the business. It is near Hamilton Harbor, a peaceful, quiet and up-market place with fine residences, beautiful views and excellent walking. The bay and its land area including Salt Kettle Lane and Salt Kettle Road are particularly attractive when approached by the very convenient Government ferry on the City of Hamilton to Salt Kettle route or when passed on the Warwick ferry from the City of Hamilton to Darrell's Wharf route. There is no direct bus route here as Harbor Road, which provides access to this area, is too narrow. The nearest bus service is the number 8 route and the nearest stop is about a mile away at the Cobb's Hill Road stop at the Paget and Warwick junction.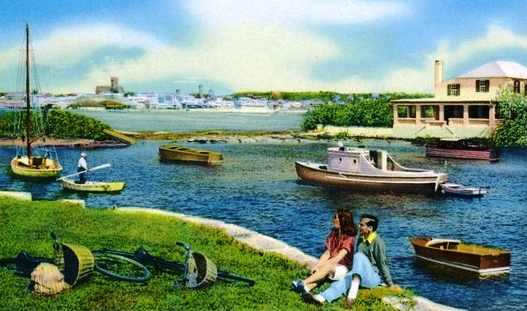 1950s view of Salt Kettle

Salt Kettle Ferry Stop
10 Salt Kettle Road, Paget. A service for residents and visitors on the Paget to Hamilton route. Several hotels and guest houses are close by.

St. Paul's Church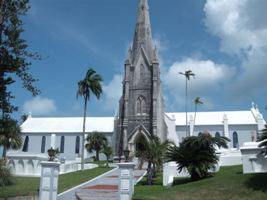 Anglican/Episcopalian. 69 Middle Road, Paget PG 05, Bermuda. Phone: 1 441 236 5880. Bus Routes: #2, 7 and 8 pass by there. There is no admission fee. Built in 1796 to replace another old church that was already existing there. This Anglican church has its own long-established graveyard where many prominent and other Bermudians are buried and is open from dawn to dusk.
One particularly ornate grave is that of 1940, November 26, commemorating the death in Bermuda of Harold Sidney Harmsworth, 1st Viscount Rothermere, born April 26, 1868, in Hampstead, London, England, who died in Bermuda from dropsy at the age of 72.
A British newspaper proprietor who, with his brother Alfred Harmsworth, 1st Viscount Northcliffe built the most successful journalistic empire in British history and created popular journalism in that country. A shy individual, he let his brother handle the public and journalistic side of the business, while he handled financial matters. He is buried in grave 271, a prominent one by itself. In October 1940, Lord Beaverbrook, with the approval of Prime Minister Winston Churchill, sent Harmsworth on a secret war mission to Canada and the United States. Upon the completion of the job, Harmsworth went to Bermuda to take a rest. It proved to be his eternal rest.

Seabright Avenue
A quiet, hilly to start with residential road that begins at South Road just west of the Lutheran Church. It has a number of homes, plus a Bermuda Telephone Company substation, Leading off it is Seabright Lane, going down to Hungry Bay. It is not generally known that from the City of Hamilton 3 miles away sewage is not piped from individual houses as is common in USA, Canada, UK, etc. Instead, a pipe pumps the city's raw sewage all the way from the city, under Seabright Avenue, to the Seabright Outfall located south of Hungry Bay.

Supermarkets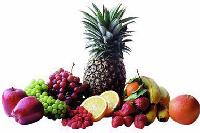 Market Place Group has two stores, the Modern Mart on South Road, bus route 7, and A-1 Paget on Middle Road, bus route 8. Unlike in the UK and USA, liquor cannot be bought on Sunday. Be prepared and budget in advance for Bermuda food and other prices. Store prices are very high compared to USA.

Waterville
2 Pomander Road, Paget. Historic. Once an elegant merchant manor house, now the headquarters of the Bermuda National Trust, a charity dedicated to preserving the natural, architectural and historic places of Bermuda. A Georgian-style building located at the end of Hamilton Harbour, built in 1725 by the Trimingham family. It was the site of the first Trimingham's store, which opened in 1842, the leading department store on Front Street in Bermuda until it became no longer politically and profitably possible to continue and closed with much public distress in the 1980s. Inside are 17th and 18th centuries oil paintings, antique Bermuda-made Bermuda cedar furniture and heirlooms. The grounds include the Bermuda Rose Society's garden and Mary-Jean Mitchell Green Memorial Garden and gazebo.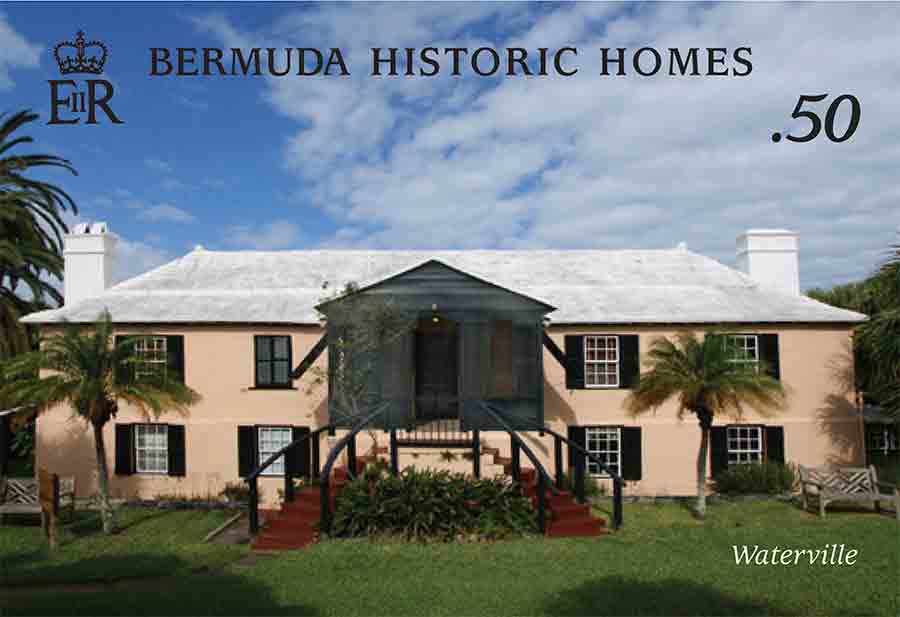 The Wharf Executive Hotel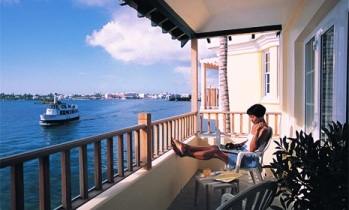 1 Harbour Road, PG 01, or P.O. Box PG 176, Darrell's Wharf, Paget, Bermuda. Phone 441 232-5700. Large Suites With Free Wi-Fi & Continental Breakfast. With adjacent condominiums, ranging in size from 2-4 bedrooms. Formerly the Palm Reef Hotel. Before that the famous Inverurie, a huge Bermuda favorite in the 1950s and 60s, on Hamilton Harbor. Geared towards the corporate business traveler. Opened on July 10, 2002 as a 15-suite boutique hotel. With office facilities, 24-hour concierge service and kitchens. There is a ferry stop adjacent to the hotel, for a 7-minute ferry ride (when it arrives) to the City of Hamilton

Other Bermuda geographic areas


Authored, researched, compiled and website-managed by Keith A. Forbes.
Multi-national © 2020. All Rights Reserved