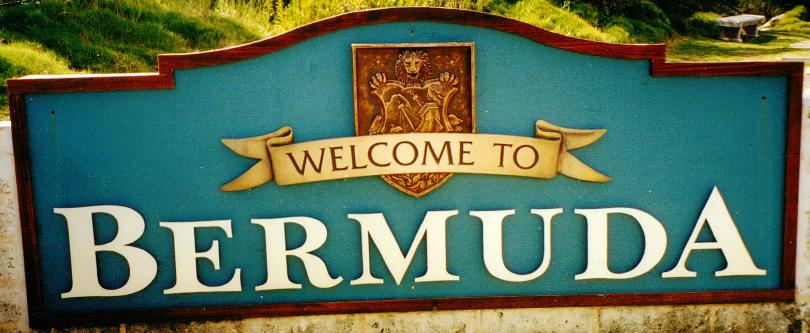 Click on graphic above to navigate the 165+ web files on this website, a regularly updated Gazetteer, an in-depth description of our island's internally self-governing British Overseas Territory 900 miles north of the Caribbean, 600 miles east of North Carolina, USA. With accommodation options, airlines, airport, actors, actresses, aviation, banks, beaches, Bermuda Dollar, Bermuda Government, Bermuda-incorporated businesses and companies including insurers and reinsurers, Bermudians, books and publications, bridges and causeway, charities, churches, citizenship by Status, City of Hamilton, commerce, communities, credit cards, cruise ships, cuisine, currency, disability accessibility, Devonshire Parish, districts, Dockyard, economy, education, employers, employment, environment, executorships, fauna, ferries, flora, former military bases, forts, gardens, geography, getting around, golf, guest houses, highways, history, historic properties, Hamilton, House of Assembly, housing, hotels, immigration, import duties, internet access, islands, laws, legal system and legislators, main roads, marriages, media, members of parliament, money, motor vehicles, municipalities, music and musicians, newcomers, newspaper, media, organizations, parks, parishes, Paget, Pembroke, performing artists, residents, pensions, political parties, postage stamps, public holidays, public transportation, railway trail, real estate, registries of aircraft and ships, religions, Royal Naval Dockyard, Sandys, senior citizens, Smith's, Somerset Village, Southampton, St. David's Island, St George's, Spanish Point, Spittal Pond, sports, taxes, telecommunications, time zone, traditions, tourism, Town of St. George, Tucker's Town, utilities, water sports, Warwick, weather, wildlife, work permits.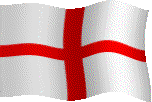 Bermuda's historic Town of St. George
A British Overseas Territory UNESCO World Heritage municipality
By Keith Archibald Forbes (see About Us)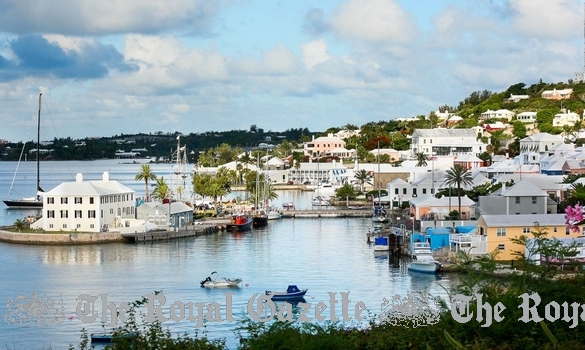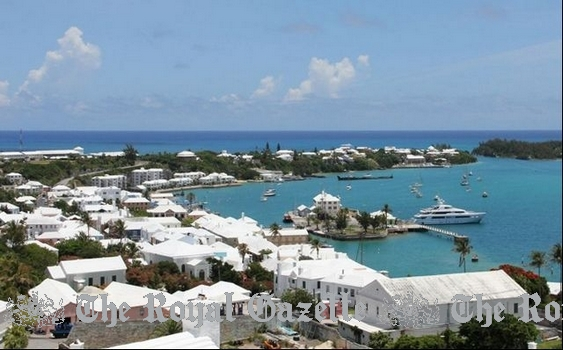 See its UK Government (not Bermuda as only a sovereign (independent) country, which Bermuda is not, can claim accreditation for a World Heritage site at https://assets.publishing.service.gov.uk/government/uploads/system/uploads/attachment_data/file/89287/Historic_town_of_St_George_and_fortifications__Bermuda.pdf. The UK has a number of domestic World Heritage sites. Overseas British overseas World Heritage sites are at: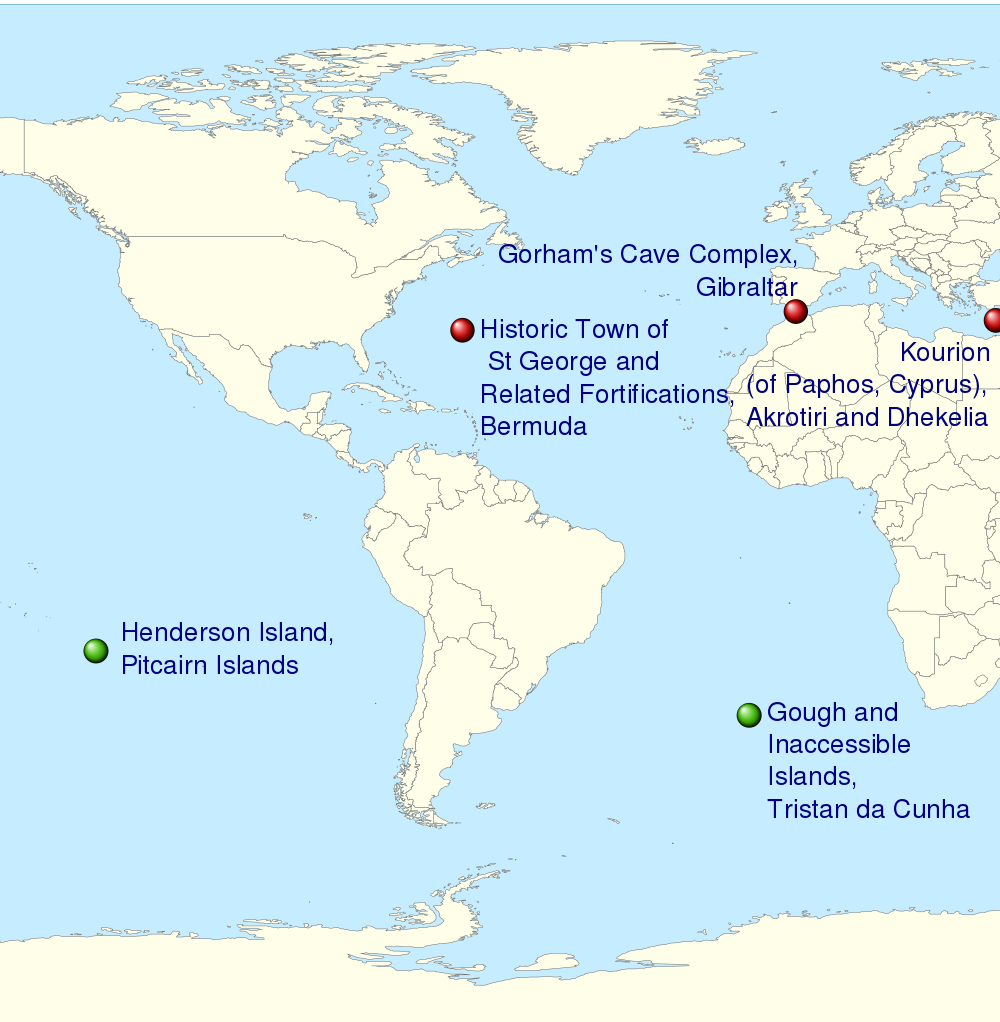 Fifth oldest Northern European municipality in the Western Hemisphere, after St. John's in Newfoundland founded by the British; Annapolis Royal (formerly Port Royal) founded by the French in Nova Scotia, in 1605; Jamestown, Virginia, founded by the British in 1607 and Quebec City founded by the French in 1608. All were long after the Spanish founded their empire in the New World and the Portuguese theirs.
Bermuda's first capital, St George's, or more accurately the Town of St. George, was settled in 1612 and is the oldest continuously inhabited English town in the Americas. St. George is named after the Patron Saint of England. It was given that name by the survivors of the Sea Venture Wreck. This saint was said to have been a Roman officer of Greek descent, and as the legend goes he was tortured over the course of seven years, but would not renounce his Christian faith. He eventually prayed for death from the Lord, cursed those who had tortured him, and blessed those who had supported him.
St. George's, from 1609 to 1815, was Bermuda's capital. It lost that title partly from being substantially outgrown in commerce by the city of Hamilton that was then being developed. and partly because Hamilton by then had a more strategic military value. Officially, it is the Town of St. George, but known to locals as St. George's. Many old stone buildings still stand today (built from models and drawings originally from England). They were built from Bermuda stone after 1619 for protection against elements and fires. Before that, they were thatched with palmetto. Their external British Bermudian architecture has not varied much in 380 years. The town has remained a port, residential and trading center.
For at least a century now the town has been populated by individuals whose ethnicity and heritage are mostly African Bermudian, not European Bermudian. There are also a Town Gateway, Town Center Gateway, heraldic signs and a small new public garden. Since the mid-1990s the town's narrow streets and lanes have, one-by-one, been dug up and re-paved to create a more old world feel to the World Heritage Status town. Cobblestones on the sidewalks (pavements) of the streets were imported from Wales (as none were available from local materials in Bermuda).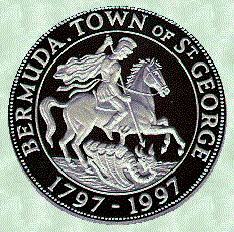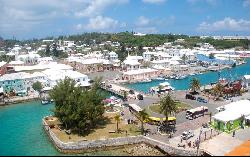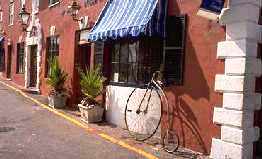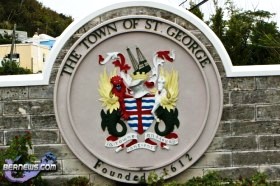 The town occupies a unique place in Bermuda's history. Discovery Bay, not far away, was the first place in Bermuda where in 1609 British colonists under the command of Admiral Sir George Somers landed involuntarily after their ship the Sea Venture, en route to Jamestown, Virginia, sank after being destroyed by reefs. Prior to that, Bermuda had been uninhabited except by stranded Portuguese and Spanish mariners in New World expeditions.
It was from this place in Bermuda that in 1611 those same British colonists landed in Jamestown, Virginia, to help replenish the dwindling colonists, provided the starving Jamestown folk with food brought from Bermuda and, via John Rolfe, one of the new arrivals from Bermuda, provided them with tobacco found growing in Bermuda which later became a major American industry.

The town also played a role in the American Revolution. Bermuda depended on the American Colonies for food, and when the war began, supplies grew dangerously low. Defying and ignoring the town-based British governor, George Washington and prominent British Bermudian but pro-American legislator and landowner Henry Tucker and his friends agreed that Tucker and his supporters would steal a large quantity of town-based British Army gunpowder for food under the cover of night and roll it down the hill to nearby Tobacco Bay from where it was loaded on to American ships, in the very first action by a group of American sailors and militia who later became the US Marine Corps. The town was used by the British as a prisoner-of-war camp for crews of American ships captured and brought to Bermuda.
During the war of 1812-14, this time when Bermudians were more openly pro-British, the town again played a significant military role, both as a depot for British prison ships moored at Convict Bay once again housing American prisoners-of-war and again as the capital of Bermuda from which the Attack on Washington DC was planned from the Royal Navy's main command post then at Mount Wyndham nearby.
The town played a major role in the US Civil War, but not on the Union side, instead the Confederate side. It did so for urgent socio-economic reasons, primarily because North Carolina and Virginia were by far the closest mainland areas to Bermuda and both were long-established centers of commerce for Bermuda in trade and commerce, with Virginia in particular offering many historical and family links with Bermudians (not Bermudans). From Liverpool, England, Glasgow, Scotland and many British ports in between, ships sailed to Bermuda laden with cargoes bound, via Bermuda, for Confederate ports. More details about this are shown later.
The town played a key role in World War 2, with, from 1940 the building from scratch nearby of a brand-new US Army (later US Army Air Force, later USAF, later USNAS) base on St. David's Island and, in addition, the creation from 1942-1944 of a US Navy submarine base in the town at Ordnance Island. Thousands of Americans, initially civilians building the new base, then military personnel, brought with them dredgers, earth-moving equipment, motor vehicles not previously seen in the town, aircraft, heavy guns and other weapons and submarines. St. George's was their nearest town. They changed the geography of Bermuda and altered local life significantly.
Thanks to a British Government (not Bermuda Government or Bermuda Tourism) initiative (because the United Kingdom, not Bermuda, is a member of UNESCO), on November 30, 2000 it became one of the (now over 1,000) World Heritage properties - the list increases each year - in 145 countries on the UNESCO list - see http://whc.unesco.org/en/list. Briton Frank Lawrie, on behalf of the British-UK committee that makes recommendations for UNESCO World Heritage status, had earlier visited to help get the town formally nominated by Britain as a UNESCO World Heritage site. He was then a senior United Kingdom civil servant with Historic Scotland. Thus, on the UNESCO country-by-country listing, it is not shown under "Bermuda" but as one of the World Heritage sites of the United Kingdom of Great Britain and Northern Ireland. The British Government had to be involved in classifying it as a British overseas territory and therefore as one of Britain's such sites. It was described as "The Town of St George's, founded in 1612, an outstanding example of the earliest English urban settlement in the New World. Its associated fortifications graphically illustrate the development of English military engineering from the 17th to the 20th century, being adapted to take account of the development of artillery over this period." See it there under the UK as the Historic Town of St. George's and Related Fortifications.
What constitutes a World Heritage site? It is not a country but a specific place or places within a country that make them historically, culturally and in specific other respects unique. This is why some countries have more than one UNESCO World Heritage sites. Italy, for example, has 47; Spain has 43; China has 41; the UK, including Bermuda and other British Overseas Territories has 28, the same as India; the USA has 21, etc). As Bermuda is so small (only 21 square miles or 58 square kilometers in total size) compared to these countries and with her former colonial historical and cultural uniqueness already recognized by UNESCO through Britain, it is unlikely there will be any further World Heritage Site additions in Bermuda in the foreseeable future. Until 2011, UNESCO was funded principally by the USA.
On April 26, 2001 The Princess Royal, Princess Anne, was present in the Old Town, with appropriate formalities and other dignitaries, to mark its World Heritage accreditation. These UNESCO sites are deemed important for all humanity rather than just the host nation or island or nation nominating another as happened in this case when Britain recommended its oldest British Overseas Territory, Bermuda. One of the criteria for inclusion on UNESCO's list (with Britain being a UNESCO member, Bermuda is not) is "to represent a masterpiece of human genius." In this case, the genius was the ability of the British ship Sea Venture to reach Bermuda in 1609 albeit by accident not intent under the leadership of British Royal Navy Admiral Sir George Somers and to establish Bermuda as a British Colony with its first settlers all from Britain.
On April 1, 2011, Bermuda's Municipalities Act 2011 replaced the earlier Municipalities act 1923. Since April 1, 2011, all residents on the electoral register of the town have the right to vote. Earlier, only town businesses and their owners could vote. The change meant that the Parliamentary Election Act now applies to municipal elections as well, run in the same way as national elections. Anyone ordinarily resident in this municipal area is allowed to vote and electors' names are taken from the annual Parliamentary Register, compiled every June.

Founded in 1612, incorporated in 1797
This ancient town began three years after Bermuda was founded in 1609 - by accident- as a British colony in 1609. Nine ships left England under the overall personal command of Royal Navy hero Admiral Sir George Somers. He was born and bred in Lyme Regis, the lovely historic town in Dorset, England from where Bermuda's History began. Lyme Regis has a special section on this unique chapter of Bermuda's earliest colonization history. It can be found at "Lyme Regis and Bermuda."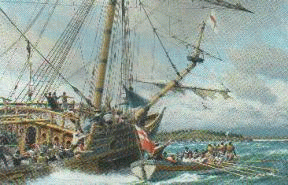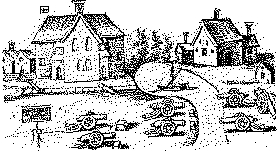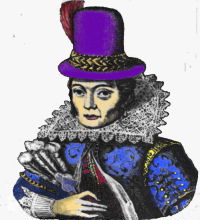 Centre graphic: Town in 1618.
Under the command of Admiral Sir George Somers, Royal Navy, the fleet sailed from Plymouth in Devon, England. They were bound for Jamestown in Virginia under the first 17th century Virginia Charter of April 10, 1606 - not the Second Virginia Charter of May 23, 1609 as some historians believe, wrongly. But the flagship "Sea Venture" was blown off course and wrecked on the reefs off Bermuda. Another vessel - the "Catch" - perished in the same tempest. Stranded here for 42 weeks, the colonists left Bermuda in 1610 in two small ships and with many local provisions. They arrived in Jamestown in time to rescue it from starvation. The town was the first municipality in Bermuda, established before St. George's Parish (in which the town is located). It was referred to initially as New London. It was first populated by British settlers. They arrived in 1609 by accident instead of going to Jamestown in Virginia. Admiral Somers wrote his last will and testament at his home in Lyme Regis on April 23, 1609. It was just before he set out for Plymouth in expectation he would reach Virginia but instead was shipwrecked on what is now St. George's Island, Bermuda. The writings in 1609 and 1610 of William Strachey from Lyme Regis have been recorded in local, American and British history. It was as a direct result of how the Bermuda colonists rescued Jamestown in 1610 that Bermuda was included by name with Virginia in the Third Virginia Charter of March 12, 1612 and settled deliberately. Stachey wrote the main accounts and was described in the original ship's manifest as Secretary Elect to the Deputy Governor of Virginia. Later, Strachey became famous as the author of the first code of laws for Virginia. The colonists who arrived in Jamestown included widower John Rolfe (later the husband of Princess Pocahontas, pictured, above, right) whose first wife and infant child died in Bermuda. The women among them were the first ever to be allowed in as voluntary female colonists. Goods carried by them included large sea shells like conch, coral for ballast, the original signet ring of Strachey with his family crest and more. They are all now preserved by a Jamestown museum. Thus this earlier Bermuda town has great importance in early British North America as the catalyst of British colonial development in North America. By contrast, not until 1620 did the "Mayflower" - also from Plymouth in England - reach Plymouth in Massachusetts.

"God for Harry, England and Saint George." Shakespeare, King Henry V, Act 3, Scene 1
In 1609, Admiral Sir George Somers (see painting above, left), who founded Bermuda, named the town not after himself but in honor of the Patron Saint of England, St. George. The admiral's ships all flew the flag of St. George, as ships of the Royal Navy still do today. The Admiral died in Bermuda on April 24, 1610 - a day after the anniversary of his patron saint. But in this British colonial town named after the saint, the Flag of St. George is flown only over St. Peter's Church, not in the town proper, not even on April 23, the official feast day in England of St. George, who died in 304. No particulars of his life have survived but veneration of Saint George as a soldier saint is extensive, not just in England, especially in the east where he was martyred. It is not known how and why he became the patron saint of England. But his cult was popularized by crusaders returning from the east, initially led by King Richard of England. This is why St. George is most often shown wearing a white tabard with the red cross of the crusaders and is the patron saint not only of England but also Boy Scouts (as St. George was a hero of Lord Baden - Powell), various places in Spain and elsewhere. Places in the United Kingdom dedicated to his saintly name and history include St. George's, Vale of Glamorgan, Wales; St. George's Island, Cornwall, England and Ogbourne St. George, in Wiltshire, England. Other places include this town, of course; St. George's Parish in Bermuda; Georgetown in the Cayman Islands, Georgetown of Guyana in South America and St. George's of Grenada in the Caribbean. None are as old as our town.

William Shakespeare wrote "The Tempest" because of Bermuda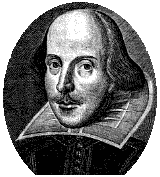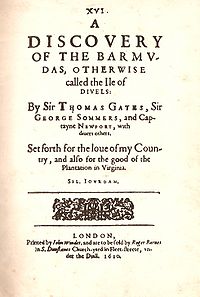 April 23, 1564 was the birth, at Stratford upon Avon, Warwickshire, England, of British playwright William Shakespeare. For Bermuda, he has a special claim to fame. His story about Bermuda in 1610 as the still vexed Bermoothes in "The Tempest" where the settlers had been alive and well after all after the sinking of the "Sea Venture" and had succeeded in their journey from Bermuda to Jamestown in Virginia, made the Town of St. George and Bermuda famous. It was because William Strachey wrote the description of the wreck of the Sea Venture in Bermuda in 1609 and the time spent there by the passengers and crew.
He spent a year in America before returning to Lyme Regis. It was mostly from his accounts that Shakespeare wrote The Tempest. Except that instead of correctly showing Bermuda, Plymouth and Virginia in his story, he used an Italian island and the people as mythical. Yet there are many sections of his play where he originally used the word for word accounts of the epic voyage of the "Sea Venture" ship that ended its days in Bermuda and gave him the inspiration for the drama. He was a friend of the Earl who knew Admiral Sir George Somers well. He was the first famous literary historian of Bermuda. He was the son of John Shakespeare, a highly respected citizen of Stratford, where he held various offices including that of bailiff, or presiding officer, and his wife Mary, the daughter of Robert Arden of the Warwickshire landed gentry, closely related to the ancient Catholic family of Arden. Alas, all versions of "The Tempest" have used the fiction of Shakespeare, instead of the facts and accounts of the "Sea Venture" he was given.
When he died in 1616 - also on April 23 - at Stratford upon Avon on his 52nd birthday, his dramatic works were of critical importance for the hundreds of compositions they inspired from composers from then to now. At his death, more than half of his plays remained unpublished. They appeared for the first time in the famous First Folio of 1623.

Twinned since 1996 with Lyme Regis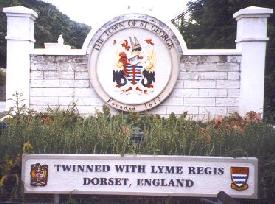 The seaside town in Dorset, England - many centuries older and also a World Heritage site - occupies a unique place in Bermuda and English history. It is because our famous Admiral Sir George Somers - the man who discovered and colonized and is the Father of Bermuda - was born, lived in, represented and was buried there. He was accompanied to Bermuda and Jamestown by other settlers from Lyme Regis. They included scribe William Strachey.
Lyme Regis was granted its Royal Charter in the year 1284, hence its Latin version of Royal in its name. It was then a prominent English port. Admiral Sir George Somers - born on April 24, 1554 and shown on the left - was one of the sons of John and Alice Somers, both also from Lyme Regis. He became a Freeman, first a Mayor of and then a Member of Parliament for Lyme Regis. He married Joanne Somers - originally Heywood or Hayward. She was also from the town. Once established, they lived in Berne Manor, near Lyme Regis. Much later, Lyme Regis had other famous figures. They include Jane Austen - with her "Persuasion" in Lyme Regis. She wrote many books. Modern author John Fowles established an international reputation with his The French Lieutenant's Woman. He was then the Curator of the town museum.
1996. July 25. Lyme Regis and this town were twinned, initially in Lyme Regis. Then-Mayor of St. George Henry Hayward and then-Lyme Regis Town Council Mayor Mrs. Barbara Austin signed the documents. A flight of the Royal Air Force's Red Arrows acrobatic team roared overhead. They used smoke to form a heart shaped image over Lyme Regis Bay, in tribute to Bermuda where Admiral Somers in 1610 asked that his heart be buried. Other ceremonial events included the raising of the flags of Bermuda and Lyme Regis in the British town where the body - minus his heart - of Admiral Somers was landed for burial in Lyme Regis after he died in Bermuda in 1610. His remains are interred at the nearby church going back to the 9th century and a brass plaque records how he was buried on July 4, 1611. It was erected by public subscription in 1908. Special twinning message of congratulations from Her Majesty the Queen to both towns were read and paintings were exchanged by the Mayors. Bermudian guests were taken to see the still standing old Lyme Regis home of Sir George and Lady Somers. The local newspaper, The Lyme Regis News, published an eight page color supplement. Later, Mrs. Austin visited Bermuda. One of her three sons is Kerry Austin. Another is a photographer whose works have been featured in Bermudian and prominent United Kingdom publications.

Constituencies in the Bermuda Parliament
St George's West.
St George's South.
St George's North.
St George's West.
St George's South.
St George's North.
St George's West.
St David's.
St George's South.

Aunt Nea's Inn
1 Nea's Alley, Town of St. George. Phone: (441) 296-2838. Fax (441) 297-1908. Historic. Built in 1791, originally known as Hillcrest, lovingly restored by former owners Faith Bridges and Neil Moncrieff in 2015, this iconic property is located on a half-acre lot in the town of St George's, a Unesco designated historic site. The 19th century poet Tom Moore is said to have stayed at the Inn - then likely under the name of Hillcrest - and penned his poem Odes to Nea there. The property was the American Consul's residence in Bermuda during the US Civil War. With manicured gardens including a Bermuda moongate and stunning St George's Harbour views from wraparound upper-floor balconies. The property was quire recently listed for sale at $2,995,000. In 2003, the property was one of a handful on the island considered for restoration as part of the PBS series This Old House.

Banana Manor
4 Blockade Alley. Originally called Lough House. Historic, privately owned. Name was changed in the 20th century. Won the 2003 Bermuda In Bloom best Garden in this Parish Award. A privately-owned, not open to the general public, historic house in the Town of St. George built by one of the town's most prominent 18th-century citizens. He was the Honorable Dr. George Forbes, originally from Strathdon, Aberdeenshire, west of Aberdeen, in Scotland. Born there in 1710 he was a graduate in 1734 of the University of Aberdeen, specializing in "phisick and surgery." He emigrated to Bermuda shortly after his graduation, as a medical doctor. He brought with him recommendations from his relatives Lord Forbes, the Duchess of Gordon and his kinsman, Lord Gordon, Sir Arthur Forbes and Sir Duncan Forbes. In Bermuda, he fell in love with and married Mary Jones, daughter of Francis Jones, a prominent local merchant, councilor, militia general and frequently Bermuda's President (leading legislator, president of the legislative counsel). He became renowned throughout Bermuda for his decency and humanity. He pioneered smallpox inoculation in Bermuda and saved many lives. He was the personal doctor of Governor William Popple and became a councilor, vestryman, Justice of the Peace in 1763, briefly Chief Justice in 1749 and, like his father-in-law, President of the Council, member of the Executive Council of the Bermuda Government. In 1759 he was made the Honorable George Forbes. He purchased Paget Island - then called Paget Ford Island and 36.35 acres - in St. George's Parish for sixty pounds sterling. There is a large tomb in his honor on the left, shortly after you enter the ancient church of St. Peter's in the old town of St. George. His first child was Francis - born at Brackish Pond, Devonshire, Bermuda. Others, including James, William and Thomas, were born in the old town above. Two sons, Francis and Robert, were sent to medical school in Edinburgh and two others, William and Thomas, left Bermuda and became merchants in St. Kitt's, West Indies. James did not succeed as a merchant in Georgetown, now Guyana, and Charlestown, South Carolina, and returned to Bermuda. Dr. Francis Forbes married Mary Tucker of Bermuda and had a son, also Francis, later Chief Justice in Canada, was knighted and as Sir Francis Forbes was transferred by the British Government to Australia as Chief Justice of New South Wales, lived in Sydney and died there. His descendants today include Forbes family members of Sydney, Bermuda, Scotland, England, South Africa and Forbes wineries in Victoria, Australia. Some time later, the house passed to a member of the Lough family which descended from the Forbes family of Bermuda. During the American Civil War it was leased by the Confederate military agent in Bermuda, Major Norman Stuart Walker, and his family. Lough House was where a son of Major and Mrs Walker was born on June 15, 1863, and at the special request of Mrs. Walker, a Confederate flag was ceremoniously draped over her lying-in bed. It then had various owners including F. C. Outerbridge and at one point was subdivided. Now owned by a member of the Hayward family originally from St. David's.

Bermudian Heritage Museum
York and Water Streets. Telephone 297-4126. Registered charity # 406. It shows the history of the black people of Bermuda and local black history. Began on March 8, 1998 under the leadership of Mrs Joy Wilson-Tucker. Staffed by volunteers. Tuesday to Saturday from 10 am to 3 pm. There is an admission charge per person. There are two floors. Of interest are collections of old photographs and sculptures. Notable in the Eagle Room is "Minna, the slave girl" crafted in Bermuda cedar by local artisan Hubert (Cookie) Spence. She was mentioned in the book "Chained on a Rock" by the late author, librarian and historian Cyril Outerbridge Packwood, one of the museum's founding members. Of outstanding interest are the beautiful and intricate Bermuda Cedar animals carved by Bermudian David Ifor Nisbett, a retired master craftsman and former superintendent and once manager of one of Bermuda's largest wood-working facilities.

Blacksmith's Hill
A steeply inclined street at the western end of Water Street. It has been re-surfaced with brick paving. Former overhead wires have been relocated underground. The street takes its name from blacksmith Samuel Adams who opened his Old Town shop in the 1700s while his brother built the Armoury building at the end of the street. The Rev. Richard Tucker acquired the blacksmith's shop in 1852 but it is not known when the shop stopped operating.

Bridge House
1 Bridge Road. Behind King's Square. The house that stands today is a circa 1700 mansion, one of the earliest in the area, once near a bridge across a creek from the sea to a marsh. The original building which the present house replaced was a timber-frame house erected by planter and shoemaker Roger Bailey, whose father arrived in Bermuda before 1623. The present house was once the home of Governor Benjamin Bennett in the early 18th century and later the American-born Revolutionary War Loyalist and privateer Hon. Bridger Goodrich and his wife Elizabeth. He purchased Bridge House for US$1,000 cash and prizes he amassed from capture by his Bermuda-built privateering vessels and their commanders of a large number of American ships during the Revolutionary War, after his American home and lands were confiscated by their local authorities. His ships blockaded Chesapeake Bay, much to the consternation of Thomas Jefferson and others. Goodrich was appointed to the local Legislature, hence his Honorable title. There's an ornate Memorial to him in nearby St. Peter's Church. His exploits are written about in full in the 2012 book "The Prince of Privateers. Bridger Goodrich and his Family in America, Bermuda and Britain 1775-1825" by Nick Hartley. Later, the house ownership passed from Bridger Goodrich to Edward Goodrich. The house today, after many subsequent owners and most recently the Bermuda National Trust (BNT), the present owner, has the Bridge House Apartment, an office and artist's studio. Both the main house and rented apartment received sensitive but significant BNT upgrades in 2013-2014.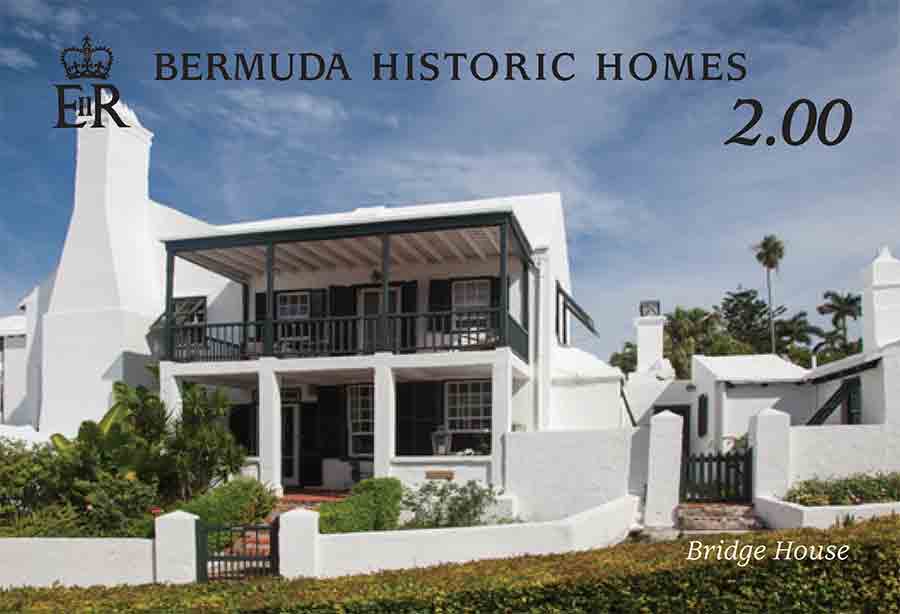 Technically, the town got World Heritage status not only for its municipality (as a town, not a city by any British or North American definition) because of the former British Army then in Bermuda forts guarding it.

Those in this Parish - but not the town although some of the following are very close to it by land or sea - include some of the oldest and most historic, as well as most picturesque in Bermuda. The town has hundreds of British Army and Royal Navy reminders. At one time, the British Army had extensive barracks just up the hill from the town. Its official garrison church was St. Peter's, where regimental flags and pennants used to fly and plaques still in the church show the town's many links with the British Army. And the Royal Navy once had many vessels moored in the harbor.
Alexandria Battery
Fort Albert
Fort George
Fort St. Catherine
Fort William
Fort Victoria
Gate's Fort
Governor's and Bremen Islands
Great Head Battery on St. David's Island
Paget Island
Smith's Island

Buckingham
2 King Street, GE 05, telephone 297-1532, fax 297-0062. Near the State House, this venerable building had a 1996 $175,000 restoration project spearheaded by the Bermuda National Trust and supported by the St. George's area Chamber of Commerce and several commercial organizations. The Corporation of St. George's - the municipal agency that runs the town - has offices here.

Bus routes
The Town and Parish are served by the following routes, some for a much longer length of time daily than others. See the schedule available free from the bus terminal in Hamilton and note its times on Monday to Friday, Saturday, and Sunday & Holiday, as well as where the routes go and do not go.
# 1 route (Hamilton to St. George's, via Harrington Sound Road, South Road, Castle Harbor, Harrington Sound Road, The Caves and Grotto Bay).
# 3 route (Hamilton to St. George's via Middle Road, Harrington Hundreds, Knapton Hill, Harrington Sound Road, The Caves and Grotto Bay).
# 6 route (St. George's to St. David's).
#10 route (Hamilton to St. George's via Palmetto Road, Aquarium and Bermuda Perfumery).
#11 route (Hamilton to St. George's via Black Watch Pass, Aquarium and Bermuda Perfumery).
Bus Terminal
Old Military Road.

Churches
There are a number, representing different faiths, including the Catholic Church of Stella Maris built in 1947.

Cruise ship berths
See Bermuda's Cruise Ship Season.
Large cruise ships cannot enter the town. They must anchor and take passengers ashore by tender. Smaller cruise ships - up to 700 feet in length - can dock in town (a) when wind conditions are favorable and (b) they can access Town Cut, in one of two places, Ordnance Island - no longer an island, once a British Army military depot and wharf, then a US anti-submarine base during World War 2 - or Penno's Wharf. When wind conditions are not favorable for cruise ships to enter Town Cut to get to St. George's, they are diverted to elsewhere in Bermuda. Both are within easy walking distance of attractions for all who are not severely disabled in a wheelchair or needing a stick or crutches. There is no elevator service for the disabled from the ships to the docks.

Corporation of St. George
"Buckingham," 2 King Street, St. George's GE 05, telephone (441) 297-1532, fax 297-0062. Or e-mail corpstg@northrock.bm. The municipal entity that runs the town. The British-style administration of the town is headed by Mayor Quinell Francis, elected in 2015. Full-time officials include the Secretary of the Corporation of St. George who serves as the Chief Administration Officer, executing the strategic plan, overseeing the day-to-day operation of the Corporation office. Book about the town: The Historic Towne of St. George. By British-born Bermudian the late David Raine, local resident and town councillor who died in August 2004 at the age of 63.

Deliverance II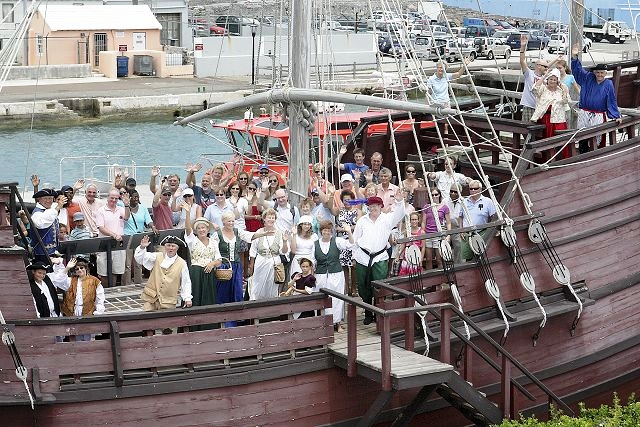 Tourists visiting the ship in previous years. Royal Gazette photo
Ordnance Island, town centre. Photo right: by this author Keith A. Forbes.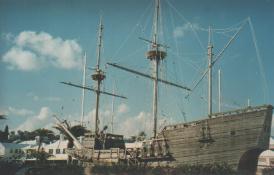 Open to the public daily. A replica of the ship that in 1610 saved the starving colonialists in Jamestown, Virginia. It was rescued thanks to concerned citizens in St. George's, after very nearly being demolished. Over the past few years, the wooden vessel had fallen into a state of disrepair with rotted planks, structural damage from the elements and a missing mast that was destroyed during Hurricane Fabian in 2003. With demolition on the horizon, the Corporation of St. George's and the St. George's Foundation appealed to the public for financial support. The improvements include an educational exhibit to visually depict the ship's history and voyage from Bermuda to Virginia in 1610. The replica, originally built in 1967 by the Junior Service League of Bermuda, was privately owned since 1995, most recently by Nick Duffy who donated the vessel to the St. George's Foundation. The restoration, which began in September 2008 and was completed in February 2009, was undertaken by Michael Hooper, a resident of St. George's. Improvements included replacing any missing or rotten planks, fortifying the existing masts, building and erecting the missing mizzenmast, replacing the rigging, installing floodlights to illuminate it at night and ensuring the ship is waterproof so that the exhibit equipment will not be damaged. Future visitors can expect to see a circular tour of the ship with facts about its history on the walls in words. The renovations were completed in time to participate in Bermuda's 2009 400th anniversary celebrations and take a leading role in educating children about Bermuda's history. Persons setting foot upon the restored Deliverance will be able to imagine life aboard it as it travelled to Virginia.
One of the many striking exhibits is the one-of-a-kind talking figure that leads visitors on an audio-visual tour of Bermuda's history. As visitors enter the ship they are greeted by a figure, a sort of robot, of William Strachey, a 1609 passenger on the original Deliverance, whose writings announced the passengers were saved, not lost, and whose words were likely borrowed by Shakespeare when he wrote The Tempest as the true tale of what devised. The replica pays homage to the vessel that sailed from Bermuda to Virginia in 1610 and was credited for saving the struggling colony's starving British inhabitants from their demise. The original Deliverance, which was not saved, was built in 1609 to 1610 by Admiral Sir George Somers and Governor Elect Sir Thomas Gates. The ship allowed them to continue their 1610 journey to Jamestown, Virginia, after 42 weeks in Bermuda. She was constructed at Buildings Bay from spars and timber salvaged from the Sea Venture - and native Bermuda cedar. She was the larger of the two Bermuda built vessels and had about 80 of the 142 castaways. When the colonists arrived in Jamestown ten days later, they had enough food to buy some time for the Colony of Virginia, then with only about 60 souls remaining from the first two expeditions and those who had come ashore in 1609 as survivors of the seven other ships of the Third Relief Supply fleet also commanded by the Admiral.
2018. August 15. Renovation work to a replica historic ship is almost done but cash is still needed for further repairs, St George's Foundation general manager Peter Frith said yesterday. Mr Frith said $65,000 had been spent on the replica of the Deliverance, one of two ships built from the wreckage of the Sea Venture after it was wrecked off Bermuda in 1609, which led to the permanent settlement of the island by Britain. However, he said another $25,000 was needed to finish work on the ship, which was badly damaged in a double hurricane strike in 2014. The money will be used to replace rotten planks and install windows for light and air flow. Mr Frith said: "It's an ongoing process because you're dealing with a 50-year-old wooden structure that was not designed to be seaworthy, or survive the elements as much as it has." Volunteers from the Hamilton Princess and the Corporation of Hamilton painted the ship's hull and changed the colour from dark red to a tan colour closer to the shade of the ship's original oak planking. David Chew, the contractor and head of project management on the Deliverance, said: "All the volunteers, no matter which group, they're all hard working. When they come here there's something totally different from what they do. When they get down here, it's like a playground but with paintbrushes. They just go crazy." Mr Frith also thanked the American mortgage group Ellie Mae, which offered to help with the restoration while on the island for a conference. He said: "They wanted to give back to the Bermuda community so they did six projects in St George's. One was to come and continue the painting of the Deliverance." The Deliverance, and her sister ship Patience, were both created from the remains of the Sea Venture. They were used to continue to the Sea Venture's planned destination of Virginia to bring relief to early colonists, who had struggled against starvation. After the ship was damaged by Hurricanes Gonzalo and Fay four years ago, reconstruction work was kept afloat by donations from individuals and companies. Mr Frith said: "We had excellent donations from the NCL cruise line, from the BTA initiative and then the Junior Service League, who were the folks that actually built the ship back in 1967." Higher railings were installed on the upper deck and a ramp was built into the ship's lower deck to improve safety and accessibility. The ship re-opened to the public in March 2016 so visitors could learn about the repairs. An animatronic version of William Strachey, an English poet and Deliverance crew member, was also installed in the lower deck to give visitors a "first-hand" account of the voyage. A Deliverance re-launch is planned. Mr Frith said the ship was important not only to Bermuda history, but also that of the United States. He explained: "The Deliverance is an extremely historic icon and has been a part of Bermuda's history. The tagline for the replica exhibit is The Deliverance: the Little Ship that Saves America. It is indeed thanks to the bounteous food that the settlers found when they were shipwrecked that they were able to build the Deliverance to take them on to Jamestown and to save the starving colony there."
2016. June 2. The Deliverance, a top East End historical attraction that suffered serious damage in the 2014 hurricane season, has been given a boost for its restoration. The first ever Marine Expo in St George drew more than 2,500 people on May 1, with some of the proceeds earmarked for repairs to the replica ship by the St George's Foundation. Foundation member Peter Frith thanked expo organizers for the group's inclusion as a lead attraction in the roster of events on land and sea. Mr Frith also thanked the Bermuda Economic Development Corporation, along with sponsors, for the donation to the landmark vessel. The expo drew more than 50 vendors, ranging from boat dealers, government agencies and water sports groups to children's activities, the Bermuda Institute of Ocean Sciences, and children's sailing courtesy of the Endeavour Programme. America's Cup sailors were on hand for a race, autograph signings and to meet with the public. Ray Lambert, the BEDC economic development officer for the Olde Towne and a member of the expo committee, commended the community and business owners for rallying around the Deliverance, an icon of the island's early maritime history. Jermaine Simons, sales manager of RUBiS Energy Bermuda Limited, said the company had been all too happy to pitch in as the lead sponsor. "One of the aims of the expo was to honour the maritime history of Bermuda. The Deliverance represents a key turning point of our maritime history. We feel that it is important that generations of Bermudians and visitors should be able to imagine life in the 17th century. RUBiS is very proud to assist such a memorable replica of our past."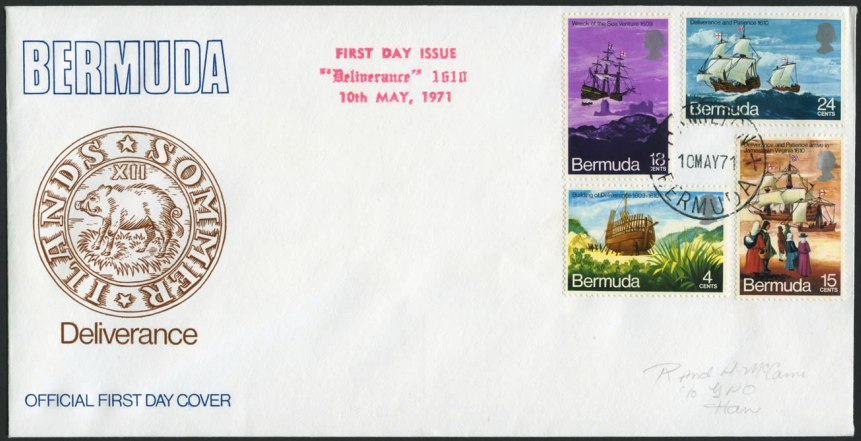 1971 Bermuda First Day Cover and postage stamps honored the Deliverance, 1610

Disabled parking around the town generally is poor. Unlike in the USA, United Kingdom and North America where certain properties regardless of age or historic registration open to the public must be accessible to the unaccompanied handicapped or disabled, this is not yet a requirement in Bermuda. There is no legal requirement to have any property comply with Americans with Disabilities Act (ADA) standards.

Ducking Stool
On that part of Ordnance Island that was once the separate Ducking Stool Island, this was used for public civil punishment in the 17th and 18th centuries. Troublesome people were immersed into the harbor waters. It cooled them off and terrified them out of their anti-social behavior. Visitors on a Wednesday at noon and at certain other times will see a modern day local lady volunteer for "witch for a day" duties, getting herself ducked according to ancient custom.

Duke of York Street
A principal road in the town. It commemorates the Duke with that title when the street was created in 1612. (British royalty still has a Duke of York. Today, he is Prince Andrew, one of the sons of Queen Elizabeth II and the Duke of Edinburgh.)

Durnford House
36 Wellington Street. Historically important, built in 1795 by then-St. George's Mayor Andrew Durnford, once of the British Army based in Bermuda, as his residence. Durnford was assigned to Bermuda from the UK with one of his specific assignments to oversee, maintain and improve as needed or ordered the construction work of the British Army's forts in St. George's, including Fort Cunningham on Paget Island. It has since been claimed, but never proved, by some of his fellow officers, that part of the funds allocated for forts were diverted to build this house. His enemies referred to this house as the Fifth Fort. Some of his enemies called this house 'The Fifth Fort'. It is an attractive pink colored large traditional house with white slanted roof in a lush garden setting. A stairway with two support walls (welcoming arms) leads up to upper level. Durnford was not able to live there for long, he died on He died on September 11, 1798 and was buried in the grounds. His memorial is still there.

Fanny Fox's Cottage
10 Governor's Alley. Historically important small residential cottage, built around 1707, much extended in the late 1700s but with original architecture. In the 1800s it was bought by Miss Fanny Zuill, who was very briefly married a Mr Fox. She spent the rest of her life here. It is now owned by the Bermuda National Trust and leased.

Featherbed Alley and Print shop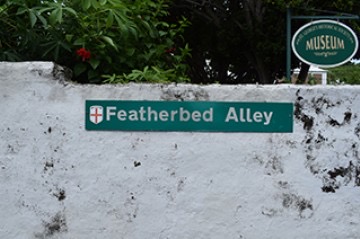 This street commemorates the fact that in 1612 when first created, a property here was of the type that could afford a featherbed, a mattress filled with goose or other feathers. It was at a time when most properties both in Bermuda and abroad could not. The street was for the affluent.
One of the main occupants of the street had a Gutenberg press, obtained from a local printing business which had imported it some years earlier. Today, a working replica of a Gutenberg printing press brought to Bermuda in 1784 to print the colony's first newspaper is still featured in the lower part of the building, Mitchell House. It was first invented in Germany in the late 1400's and refined slightly in the 1500's. It remained popular in Bermuda and elsewhere for printing of broadsheets for well over 300 years. The museum is largely dedicated to the history of Bermuda's first newspaper and printing business, that of Joseph Stockdale, who published the Bermuda Gazette.
Stockdale originally operated his business from the cellar of his own house, Stockdale House, on Printer's Alley nearby (currently a private home). Following his death, Stockdale's heirs continued to run operate the business from Stockdale House until they relocated to Hamilton, Bermuda, following discontinuation of St. George's as Bermuda's capital's in 1815 in favor of the much more centrally located and then new City of Hamilton. It is said that St. George's folk objected so much to the relocation and the business reasons for it that they petitioned against the Bermuda Gazette, and the cancellation of subscriptions by many in St. George's, resulting in the temporary closure of the newspaper.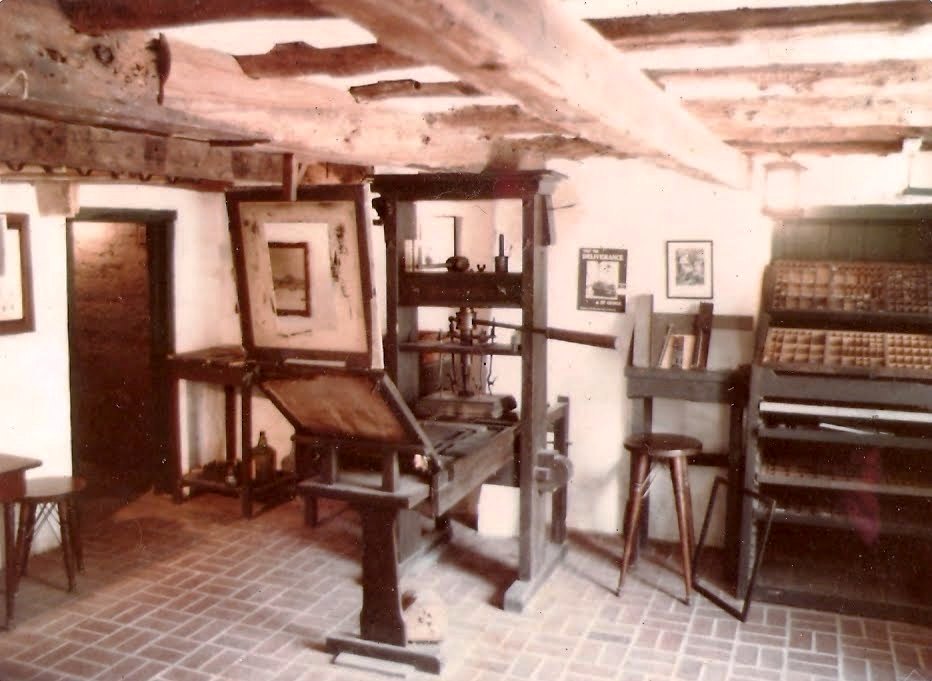 Featherbed Alley Print Shop
However, it was later reconstituted as the Royal Gazette, today Bermuda's only daily (Monday to Saturday) newspaper which has never been printed or published here, instead in Hamilton. Throughout the 1980s the Curator of the museum was the late Major Donald Henry 'Bob' Burns, MC, famous also as the town crier of St. George's, and holder of the Guinness Book of World Records record for the loudest human speaking voice. The upper level of the house holds the St. George's Historical Society Museum (see separate entry).

Floating Dock
Off Bridge Street, to accommodate dinghies from visiting yachts. The raft is situated in Market Wharf, near the toilet block off King's Square, a listed building. The block dates back to the early nineteenth century and features a non-lapped stone roof and unusual small false chimneys. In the 1870s it housed the McCallan's grocery store and bake house, and in the 20th century, more facilities.

Fort St. Catherine
See by name in St. George's Parish.

Fort William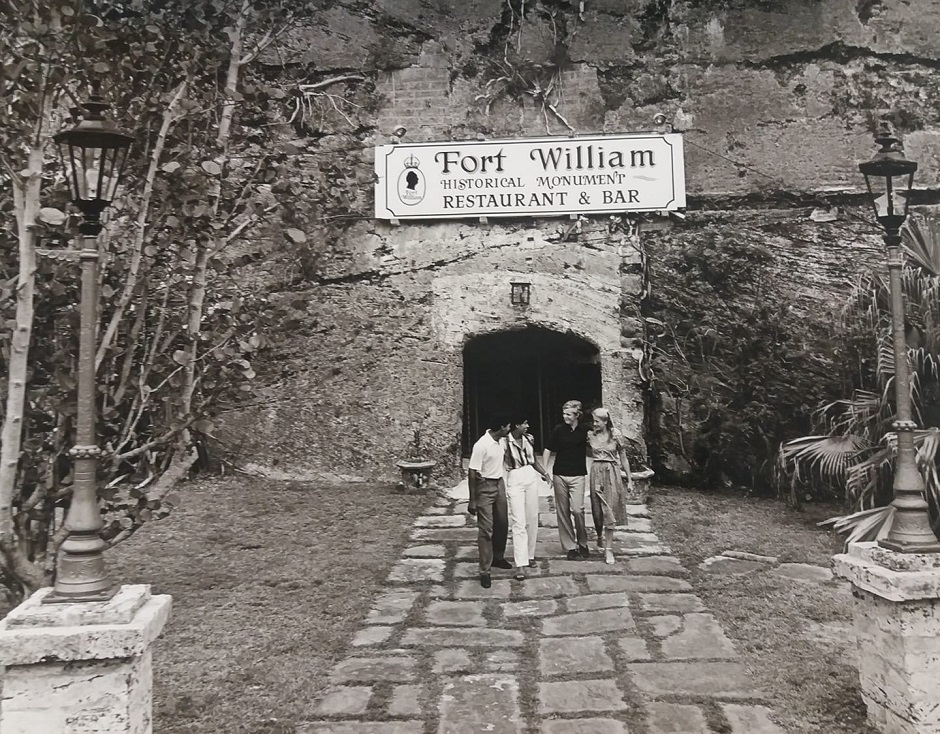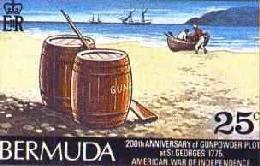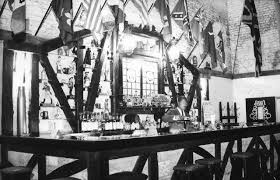 Left. Bermuda Gunpowder Plot of 1775, from a 1995 Bermuda Postage stamp. Right. One of the atmospheric rooms
On August 14, 1775 many barrels of gunpowder were stolen from the original Gunpowder Cavern at the British garrison near this site by Bermudian sympathizers of the American Revolutionary War. They were rolled secretly by night by Bermudian sympathizers of the down the hill to nearby Tobacco Bay and rowed to an American ship manned by men some of whom later became US Marines, in one of the first actions of the Continental Navy, before the establishment from the latter of the UN Navy. In the 1950s, after long lying deserted, it became a combined restaurant and tourist attraction, especially popular with with both civilian visitors and American military personnel and their families then stationed in Bermuda who wanted an atmospheric night out. Unfortunately, the Gunpowder Cavern, a magnificent and unique structure that is known to have once been connected by a secret tunnel to all of the British Army forts in St. George's, built by Royal Engineers and Sappers in 1887 near where the Gunpowder Plot occurred, again to store British Army gunpowder but this time much more securely than earlier, closed in the 1970s and no longer open to visitors. It more than merits a new detailed examination and if possible exploration, possibly by a British or American or Canadian university team if health and safety regulations will allow.
When part of Fort William was opened as a restaurant until the 1970s as the Gunpowder Cavern a major historic feature was the display of battle flags of British units who served in Bermuda. These battle flags were relocated to the National Museum of Bermuda. See the photo, below, of the outside of the long-closed Gunpowder Cavern. It was once featured, uniquely, on a much sought-after mug.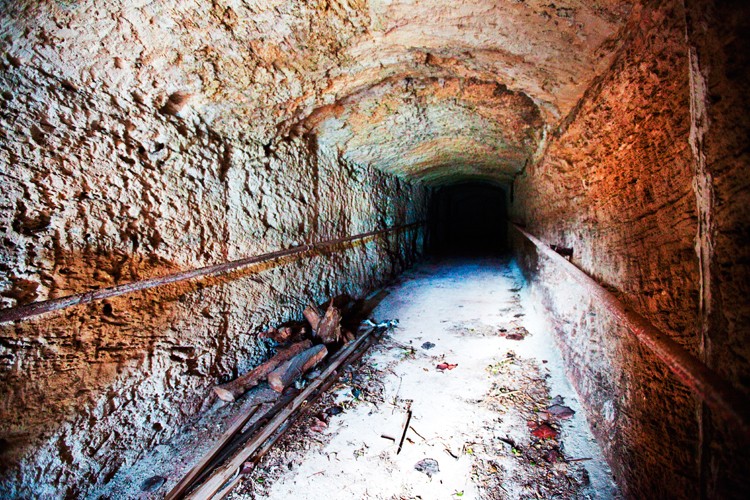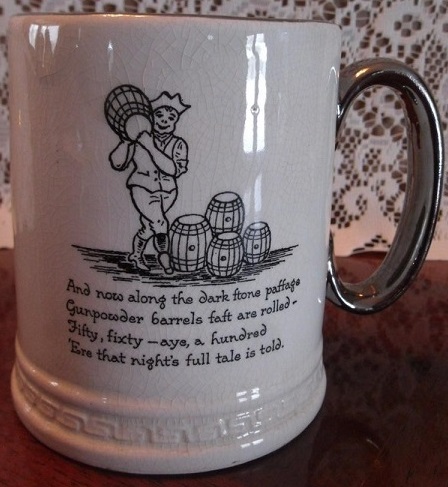 Globe Hotel
32 Duke of York Street, across St. Peter's Church. Telephone (441) 297-1423. It is one of the oldest stone buildings in Bermuda, dating back to about 1700. In the renovated (at a cost of $431,000) Globe Hotel, King's Square, owned by the Bermuda National Trust. Open Mondays to Saturdays, 10 am to 4 pm and on Sundays, 1 pm to 4 pm. It began life as Bermuda's second Government House, built for Governor Samuel Day as both his dwelling and seat of power of his colonial Bermuda government from 1698 to 1700. When he refused to give it up after being replaced as Governor, it became his private residence and a third Government House was built on the site of the Unfinished Church. Later, as the Globe Hotel, it became the headquarters of the Confederate Agent in Bermuda in the American Civil War. The offices of the Confederate agent, Major Norman Walker, were housed here during the American Civil War (1861-1865), which makes this building appropriate site for the permanent exhibit now there. For many years, until one American gentleman with enough credentials to make his objections stick, this building was referred to in both Bermuda and beyond as the Confederate Museum. So as not to be labeled inflammatory or racist or similar, the Bermuda National Trust decided to change the name, refer to all the then-willing participants as rogues - hence Rogues & Runners: Bermuda and the American Civil War. The BNT's video presentation, "Bermuda: Centre of the Atlantic" - described in more detail below - features rarely-seen paintings and documents in telling the story of Bermuda and the forces which shaped her history.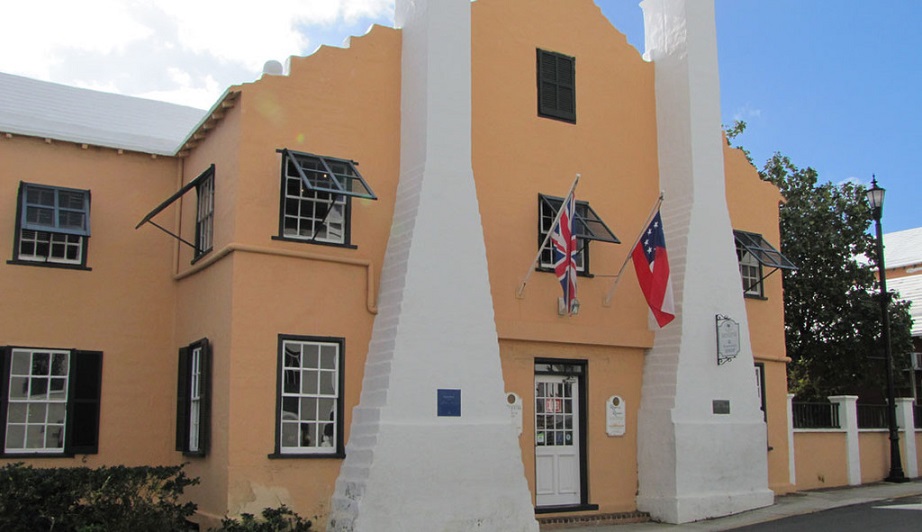 When the US Civil War began in 1860, many Bermudians were on the side of the Confederates, much to the chagrin and despair of the resident USA Northerner consul. Confederate ships galore used the port at St. George's to transship goods bought in England as proceeds from southern cotton exports and more. Bermuda and Bermudians in general, St. Georgians in particular, prospered hugely from this trade. St. George's went on to flourish in ways never yet seen again. Bermuda, with its convenient access to open ocean and this town in particular having a military strategic advantage, became the strategic transshipment base for large British-built but not British-approved (because Britain was officially neutral) ships crossing the Atlantic to the Confederates. Many ships carried the goods to Bermuda, from where they were trans-shipped to Confederate ports, some by Bermuda-owned, the majority Confederate-owned vessels. Many of those ships were built in or near Glasgow, Scotland, UK and sold to Confederate interests.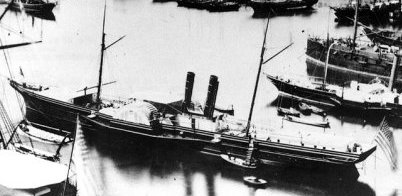 Here are shown detailed displays, maps, memorabilia and period furnishings on Bermuda's US Civil War involvement and bias towards the Confederates. Artifacts tell of blockade running and linking Bermuda with the Confederates, thanks to the skills of Britons and Canadians. Bermuda, St. George's in particular, was the principal West Atlantic base for smaller but faster, also mostly British-built but Confederate-owned fleet of blockade runners. In defiance of British neutrality laws or regulations, large ships from the United Kingdom unloaded in St. George's huge cargoes of arms and ammunition, cannon, gunpowder, lead and other tools or weapons, plus huge amounts of smokeless anthracite coal from Wales, into town warehouses, where they were stored until loaded aboard fast steamers bound for Confederate ports. Confederate purchasing agents and British speculators - English, Scots, Welsh and Irish - rented every available wharf, storehouse and warehouse, often at exorbitant rates, while Bermudians made fortunes from renting or leasing their wharves or warehouses. It turned usually sedate St. George's into an overcrowded, polluted, often lawless and dangerous town, especially with sailors looking for liquor and women. In those days, with the fastest method of transport by a slow sea crossing, the principal local British authorities, transferred from this town to Hamilton since 1815 and with only a small British Army garrison in the town, only 18 miles away by road but three or more hours away in fact, were unable as well as probably unwilling to act to stamp out the US Civil War-induced trade and profiteering emanating from this town. Here below are merely some of the events that unfolded, with ships shown in alphabetical, not chronological, order:

In October 1864, Bat, length 230', beam 26', draft 7'6", speed 16 knots, her sisters Owl, Stag, and Deer were side-wheelers with long, low, molded steel hulls, schooner-rigged fore and aft, with two funnels. They had twin, 180-nominal hp., vertical, double-oscillating, Watt engines and capacity for 800 to 850 bales of cotton, plus enough anthracite to return from Nassau, Havana or Bermuda. Bat reached Halifax on her maiden voyage and ran down to the Cape Fear River, attempting entrance the night of October 8 1864 with a cargo of shoe machinery and 200 tons of coal; she was turned back by blockaders. On October 10, Captain A. Hora, a blockade runner, tried again and was hit by USS Montgomery. The 30-pounder amputated the leg of seaman Match Madick, an Austrian, who had been captain of the forecastle in the Alabama during her battle with USS Kearsarge. Captain Hora surrendered and called Montgomery's surgeon but Madick died.
Flamingo, length 270', beam 24', draft 7', crew 45, speed 16 knots. She suffered a serious setback in Bermuda, with with her sister, Ptarmigan, while their crews battled yellow fever. She was wrecked off Battery Rutledge on the north side of Charleston harbor.
Florida. A major Confederate ship, frequent visitor to Bermuda. She caused problems galore for Union forces trying to capture her.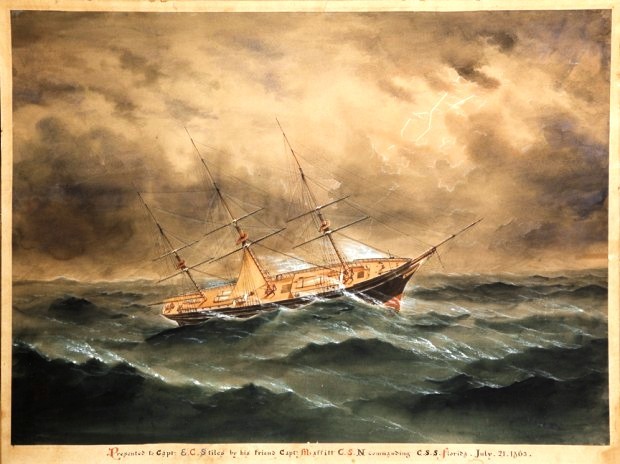 Florida, as painted by prominent contemporary Bermuda-based artist, Edwin James.
Greyhound was fast, with red streak along her light lead colored hull. Built in Liverpool in 1863 she left for the Confederacy on January 5, 1864 on her maiden voyage, and ran between there and Bermuda mostly. Commanded by Lt. George Henry Bier, CSN, on 9 May 1864 she ran out of Wilmington NC, with 820 bales of cotton, 35 tons of tobacco and 25 casks of turpentine. Captured next day by USS Connecticut, she became celebrated as the ship that carried a mysterious "Mrs. Lewis", soon recognized as "the famous rebel lady, Miss Belle Boyd." The prize master, Acting Ensign Samuel Harding, Jr., USN, who took Greyhound to Boston was persuaded by his charming prisoner to let Captain Bier escape from Boston to Canada; for this Harding was dismissed from the US Navy in disgrace, so married Belle Boyd in England.
Lynx was a long, very fast Clyde-built (in Scotland) paddle-steamer with two stacks and two masts, all painted white. She met her end bound for Bermuda, running out of Wilmington NC, under Captain Reid, with 600 bales of cotton, passengers and special cargo, including $50,000 in gold. She was hit eight times, six below the waterline, by the 100-pounder and 30-pounder rifles of much slower USS Howquah, assisted by Niphon and Governor Buckingham. Sinking, with one of her wheels damaged, Lynx was beached about six miles below Fort Fisher. The Confederates all escaped, along with the gold, although Federal sharpshooters got near enough to wound one crew member. The ship's remains were set afire.
Owl, length 230', beam 26', draft 7'6", speed 14-16 knots. She was at Bermuda with cotton. Captain John N. Maffitt, once the Florida captain, collected the latter's survivors in Bermuda. (She was a Confederate cruiser sunk by the Union Navy).
Robert E. Lee, length 283', beam 20', draft 10', speed 13.5 knots. A schooner-rigged, iron-hulled, oscillating-engined paddle-steamer with two stacks originally the Giraffe, built on the Clyde during the autumn of 1862 as a fast Glasgow-Belfast packet. Alexander Collie & Co., Manchester, acquired her for their blockade-running fleet but were persuaded by renowned blockade-runner Lt. John Wilkinson, CSN, to sell her to the Navy Department. Her first voyage, for the Confederate Navy, was into Old Inlet, Wilmington NC, in January 1863 with valuable munitions and 26 Scot lithographers, eagerly awaited by the Government bureau of engraving and printing. She established a legendary reputation by outracing the blockader USS Iroquois. Lt. Richard H. Gayle, CSN, assumed command in May, relieving Lt. John Wilkinson. Robert E. Lee's luck ran out on November 9, 1863, after 21 voyages in 10 months carrying out over 7,000 bales of cotton, returning with munitions invaluable to the Confederacy. She left Bermuda five hours after her consort, Cornubia, only to be run down a few hours later by the USS James Adger.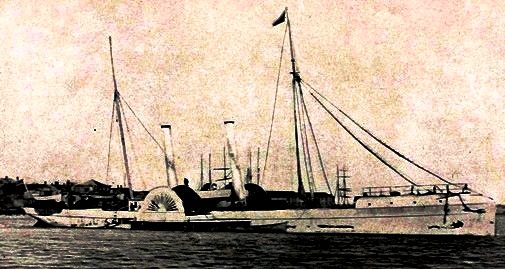 Robert E. Lee in Bermuda
Stag. Length 230', beam 26', draft 7'6", speed 16 knots. She was a fast, modern, steel paddle-steamer built for the Confederate Navy at Liverpool as Jones, Quiggin & Co.'s Hull No. 169 in 1864 to the order of Cdr. James D. Bulloch, CSN. She sailed from Liverpool on her maiden voyage in August, getting away from Nassau about 1 September. For the rest of the year, she was busily running out of Charleston and Wilmington to Nassau or Bermuda. She fell into Union hands when she attempted to run into Wilmington in January 1865; Fort Fisher having just fallen, she was trapped by the Union Navy along with the Charlotte.
In January 1865, when Wilmington, North Carolina was captured by Union forces, the fleet of blockade runners based in Nassau and St. George's, Bermuda, vanished - and so did the prosperity that the US Civil War had brought Bermuda by being so hugely on the side of the Confederates. At this museum, see the story of Bermuda and the American Civil War and a video with great images of the forces which shaped Bermuda, titled Bermuda: Center of the Atlantic.
The Trustworthy Gift Shop is on the main floor with permanent exhibits upstairs.
Book: Rogues and Runners. Bermuda and the American Civil War. Catherine Deichmann. 2003. Information about the American Civil War from the exhibition in the Globe Hotel in St George's. 79 pages, paperback.

This web site shows all those in Bermuda.

Harbour Nights
An initiative begun in 1993 by the Bermuda Chamber of Commerce. Seasonal, usually May to early fall. With free local entertainment. Locals and visitors can shop at many stores with special late closing hours (7:00 pm to 10 pm), eat and listen to island culture.

Heritage Centre
The historic, 2-storey, 4,500 square feet, former Queen's Warehouse building by the Penno's Wharf Cruise Ship Terminal. This was earmarked with the help of overseas expert Bill Pfeifer, the director for interpretive programs, staff development and visitor services for the Colonial Williamsburg Foundation in Virginia, and design consultant Ed Bronwikonski, Jr. who had earlier designed the award-winning North Rock Exhibit at the Bermuda Aquarium.

HSBC Bank of Bermuda Building
Now HSBC after the worldwide bank that acquired the Bank of Bermuda Ltd some years ago. Built in the 1970s as a bank after a former grocery store was demolished. The present parking lot is believed to be rich in history. In the town's earliest years - dating back to when Governor Richard Moore began it, was the first Government House in Bermuda - dwelling of the Governor and seat of the British colony. It was noted by Nathaniel Butler, Governor 1619-22, as a handsome house built of wood, in the shape of a cross. It was demolished by Samuel Harvey in 1693 after being in disrepair since 1685. When built, it was on part of a sea inlet - no longer there. When the second Government House was built in 1699 nearby by Governor Samuel Day, the area that housed the original Government House became a garden for the second Government House - later, the Globe Hotel. In those days and until 1815, St. George's was the capital of Bermuda. The area may have degenerated into waste land until the 1930s, when John Smith built a grocery shop on the site.

Hunter Building
4 Penno's Drive, St. George's. Historic. A large U-shaped 2-storied building with four impressive chimneys. It was built by J. S. Hunter likely before 1791 and it remained with the Hunter family until 1918. On the eastern side a large beautiful verandah was added in 1920s. On the eastern and northern sides, note lovely 9 by 9 window panes with mouldings around. However windows at the other sides have been replaced. Inside, see huge ceiling beams, great woodwork and attractive floors. There is also a service house and bathroom in the back side. The building is presently owned by W E Meyer and Company Limited and lying mostly vacant.

King's Square
The hub of life in the town. Named after King George III. In British tradition, the town crier bawls out his proclamations from here. His other duties include being present at various official events including the Peppercorn Ceremony. King's Square also has replica stocks, pillories and a ducking stool. St. George holds historical re-enactments where a "nagging wench" is given a trial by the town crier. Nearby are prime town attractions, shops, restaurants, historic artifacts and municipal offices. At various times, it was also known as King's Parade and Market Square.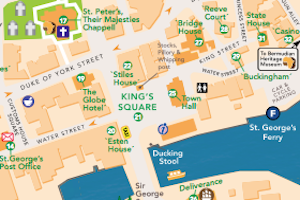 Major Donald H. (Bob) Burns Memorial Park
The small park on the right side of Ordnance Island as you face it. It includes the the Desmond Hale Fountain statue of Sir George Somers, unveiled by the late Princess Margaret in 1984, during the 375th anniversary of the Sea Venture shipwreck in 1609. The park itself was unveiled on April 20, 1997 during the Twinning Ceremonies with Lyme Regis, with a Scottish Piper in attendance. Major Burns, originally from Scotland in the United Kingdom but Bermudian by status and domicile, was the Town Crier from 1964 to 1994 and a very popular figure for many years.

Mitchell House
3 Featherbed Alley. Telephone (441) 297-0423. Home of the St. George's Historical Society & Museum. Bermuda registered charity 478. Since 1920. 18th century house filled with antique furniture and paintings. This was once a typical Bermuda dwelling. Built circa 1725, the unusual "welcoming arms" entrance is a distinctive feature of Bermudian architecture. In the high season from April to 15 November, It is open Monday to Friday 11 am to 4 pm. There is an entrance fee per visitor and an annual membership fee for residents and interested overseas persons. Bermudian historical artifacts including reminders of Bermuda's roles in the American Revolutionary, 1812-14 and Civil Wars, cedar work, documents. There is also a working replica of a Gutenburg printing press (brought to Bermuda in 1784 to print the colony's first newspaper). It was first invented in Germany in the late 1400's and refined slightly in the 1500's. It remained popular for printing of broadsheets for well over 300 years.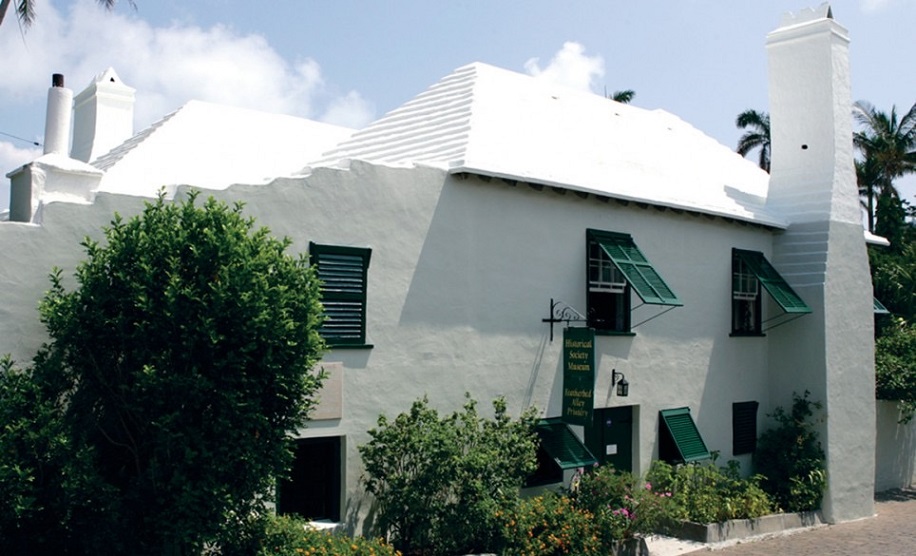 Needle and Thread Alley
Another famous old town street, named for once being the place where many 17th century seamstresses operated en masse, almost like a union.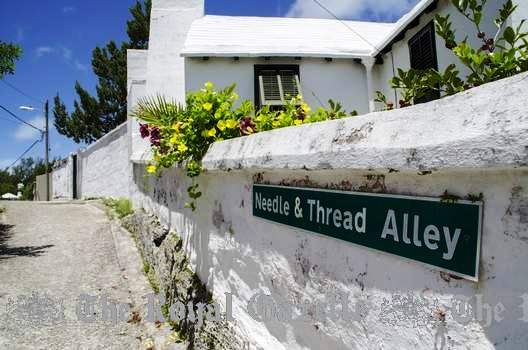 Old Rectory
Broad Alley, behind St. Peter's Church. A restored 18th century 2-bedroom parsonage, an immaculate cottage with black shutters and with its exterior similar to an English country garden except that lime, loquat and spice trees abound. Note the similarities to many buildings in the more historic parts of Virginia, built in the same period. With typical welcoming arms architecturally. One of Bermuda's earliest homes. Originally built in or before 1699 and lived in by a notorious buccaneer whose exploits included buying and selling Bermuda-built cedar ships for the Royal Navy. His widow inherited the property. Once the residence of the Rev. Alexander Richardson, rector of St. Peter's, thus the name. He died in 1805. In 1903, owned by Robert H. James whose heirs sold it in 1950 to the Bermuda Historical Monuments Trust, now the Bermuda National Trust. It leases the property. In September 2015 it advertised it for rent at $2,850 a month.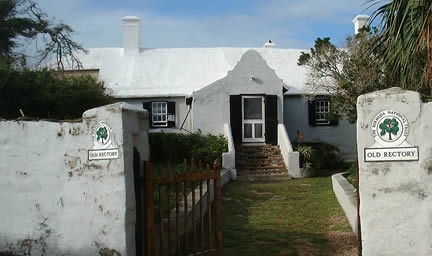 Old State House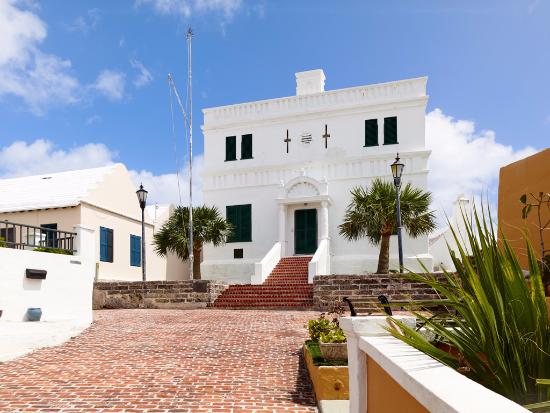 Princess Street. A major Bermuda historic landmark. This property is administered by the Old State House Preservation Society (see below). It was constructed in 1621 specifically to serve (instead of at St. Peter's Church as before, from 1620) as the meeting place of local parliamentarians. It later became a Freemasons Lodge but is open to the public. It was the first stone-built civilian property in Bermuda and one of the oldest standing stone structures erected by English colonists in the New World.
It was built by Governor Nathaniel Butler, constructed nine years after the first stone-built military property in Bermuda, Paget Fort on Castle Island. Its design was perhaps influenced by the Italianate style introduced to England by Inigo Jones from about 1610. Except that an Italian flat roof proved to be completely the wrong idea for Bermuda's porous native limestone building material.
Various changes had to be made from a flat roof to a hip roof. It was rebuilt yet again, this time with a flat roof once more, from the level of its downstairs windows in 1969 using John Smith's engraving as evidence and with technical overseas assistance.
Its flat roof is not original, a reconstruction of the original flat roof from Gunpowder was stored in this building for more than a century and a half, until 1767. During the American Revolution, British troops from New York and South Carolina were quartered here from September to December 1780. From the time of Governor Butler until the capital of Bermuda was moved to Hamilton in 1815, it was also referred to as the Sessions House - as the seat of the local parliament and Courthouse, where legal justice was dispensed.
Today, it is leased by the Government of Bermuda to the prominent Masonic Lodge St. George No. 200 of the Grand Lodge of Scotland, for the annual rent of one peppercorn. The Old State House Preservation Society is a registered Bermuda charity, number 576, to help maintain the Old State House.

One Gun Alley
A residential street with, like so many others in the old town, a distinctly British name. It was named during the American Revolution when Governor Bruere, a former British Army soldier whose two sons were fighting in the British Army in America, placed a gun platform in the alley after the pro-American Gunpowder Plot of 1775 in Bermuda.

Ordnance Island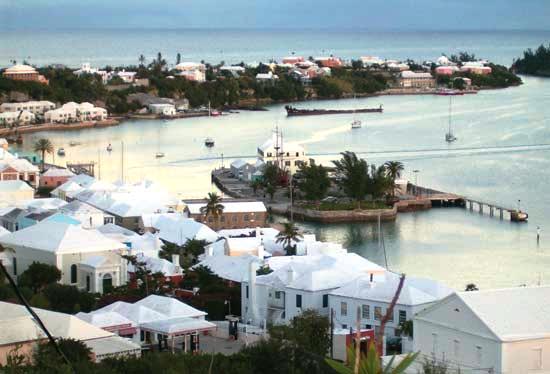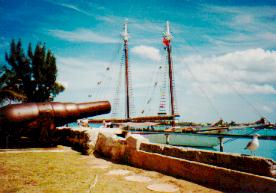 The only island in the old town, this one is 1.75 acres (7,100m2) and man-made. There were once several islands here, with none connected to the town. The present island, the only one in the town, accessible to the town via a bridge, lies close to the shore opposite the town square (King's Square) and incorporates via reclaimed land what once were Ducking Stool, Frazer's and Gallows islands. Gallows island, no longer there, was once used for public executions by hanging after being convicted of witchcraft or capital crimes. Criminals were then deliberately isolated, kept off the mainland, but crowds from there were always attracted to and could easily see the hangings or witch burnings during the 1650s in particular. Thus executed were at least five people, four women and one man..

One island also stored munitions for the British Army and Royal Navy. They were joined together in stages by the mid 19th century on the order of the British Army, which then had a very considerable presence in Bermuda including in this town and nearby and was very concerned about a potential threat, mostly from the USA. The combined new island took the name "Ordnance" from the fact that it became the British Army's Royal Army Ordnance Corps (RAOC) main Bermuda depot and British Army receiving port for packet ships mostly from Britain, serving the garrison in this town, the large new Prospect garrison in Devonshire Parish then under construction and the eventual sweeping acquisition by the army of large chunks of that parish for military fortifications including forts and batteries, logistical, supply and related purposes. (The RAOC also operated from another, smaller, depot from a wharf on East Broadway on the outskirts of the city of Hamilton 12 miles west of this town).

By the Second World War, because the RAOC depot was no longer being used and United States military forces had been stationed in Bermuda and were building two big military bases in Bermuda, one across the harbor on St. David's Island and the other in Southampton Parish, it became a United States Navy anti-submarine base (1942 to 1945). The channel between Ordnance Island and the King's Square was not bridged until after the Second World War, by the US Navy. Before that, it was a wooden bridge.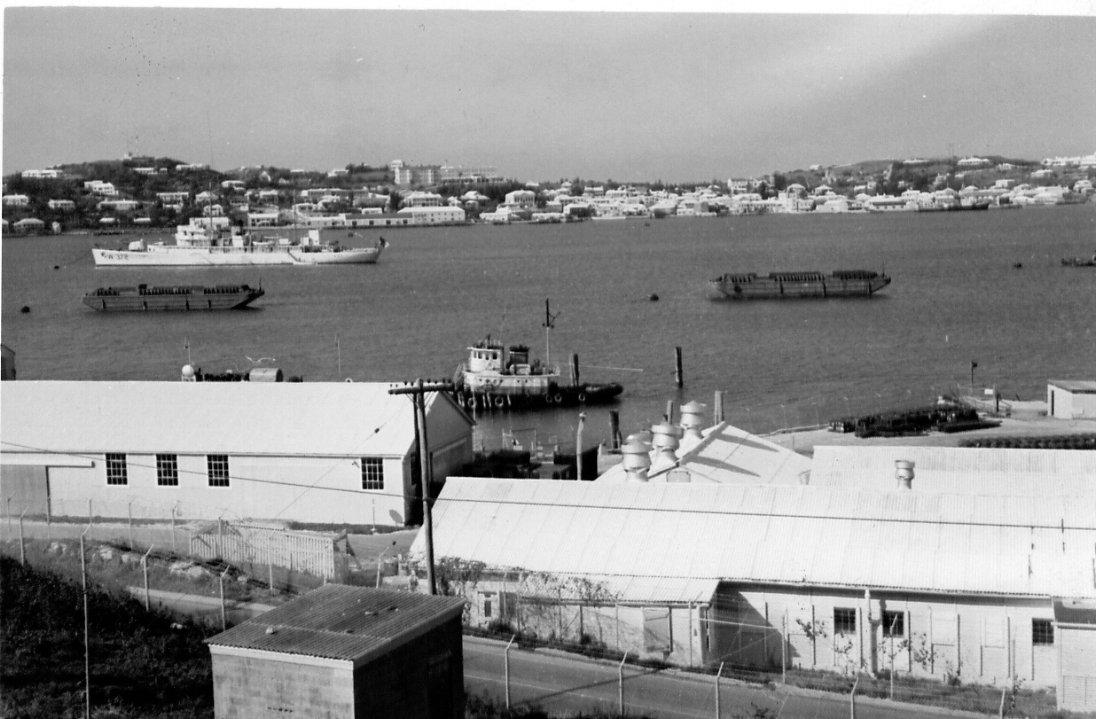 US Navy, Ordnance Island, World War 2. US Navy photo
In 1962 the island was visible as a location in the 1962 film That Touch of Mink, with Cary Grant and Doris Day.
All the principal buildings once erected by the British Army and US Navy have long gone. One large Army building, the Storekeeper's House, was later refurbished as offices for the Corporation of St. George. The only other buildings on the island are an office of Bermuda's HM Customs used to clear visiting yachts, and a new cruise ship terminal. There is, however, a prominent replica of the Deliverance located on the island. The original was one of the two ships built by the survivors of the Sea Venture, flagship of the Virginia Company, which was wrecked in Bermuda in 1609, accidentally beginning Bermuda's settlement. Several of the most prominent attractions of the town are located here or nearby.
Ordnance Island was the starting and finishing point of Dodge D. Morgan's record-breaking 1985-1986 non-stop, solo circumnavigation of the planet aboard the American Promise.
Today, the island has a small park for choice views, a statue of Admiral Sir George Somers who founded the town in 1609, one of the two cruise ship berths and a former government building, "Tabernius House," tastefully renovated with spacious and unique 2-bedroom condominium suites with waterfront and views across St. George's Harbor. The Major Donald H. (Bob) Burns Memorial Park on the island includes the Desmond Hale Fountain statue of Admiral Sir George Somers (credited as the founder of Bermuda, and at the helm of the Sea Venture when she was driven on the reefs) which was unveiled by the late Princess Margaret, Countess of Snowdon in 1984, during the 375th anniversary of the shipwrecking. The Memorial Park was unveiled on April 20, 1997 during the Twinning Ceremonies with Lyme Regis.

Patience
She was the smaller of the two Bermuda built vessels Admiral Sir George Somers commanded when he and his party set sail for Virginia in 1610, with 142 castaways, after 42 weeks in Bermuda. When the colonists finally arrived in Jamestown, Virginia, ten or so days later, they brought with them enough food to buy some time for the Colony of Virginia, then with only about 60 souls remaining from the original two expeditions and those who had come ashore in 1609 as survivors of the seven other ships of the Third Relief Supply fleet also commanded by the Admiral. She brought the Admiral back to Bermuda in 1610 but he died here. His heart remained here but his body was returned to Lyme Regis in England on the Patience. Alas, she was never seen in Bermuda again. There is no replica of her in Bermuda.

Penno's Wharf
Built in the town in 1858. This wharf was constructed by and named for onetime Royal Army Ordnance Corps captain William Lanyon Penno, originally from Cornwall, England. Penno had arrived earlier in Bermuda as part of a military plan to heavily fortify Bermuda, as a British island in the American geographic and geo-political region, from possible American attack after numerous recorded American spies sent to Bermuda were caught in the 1840s to 1860s. St. George's was then an active British Army base. Penno was one of those who initially created then lived with his wife Jane whom he married in 1843, on Ordnance Island in the town, for the ordnance activities of the British Army. An ambitious man, he saw the potential of the land he purchased, on which he built his wharf. He became so rich after his wharf was used countless times during the US Civil War by Confederate ships sailing from Britain via Bermuda with military and other supplies to southern US ports that he, his wife and family were later able to relocate to Britain in great comfort. He later headed ordnance for a major British military base and became a British Army Major General and head of Ordnance.

Peppercorn Ceremony - military and ceremonial
On a morning in every late April, see this civic and military ceremony, believed to be unique to Bermuda and Britain. It takes place on King's Square and costs thousands of dollars to mount a full fledged parade and ceremony to collect a rent of great historic but no monetary value. With much pomp, circumstance and military precision, the Governor, on behalf of the Government of Bermuda, accepts from the Lodge which has occupied the State house as its headquarters since 1815 the annual rent of one peppercorn. Lodge officials, the Governor and the town Mayor are in their full costumed regalia as this payment is formally demanded by the Government and promptly rendered. Peppercorn rents were customary British rents from the 17th century onwards. They are symbolic, ensuring there was some form of rent to be paid; that a tenant had certain obligations to a landlord.

Pilot Darrell Square
Located the end of Silk Alley. It honors James Darrell, one of Bermuda's most legendary seamen. As a slave in 1795, he earned fame for expertly piloting the Royal Navy's 74-gun HMS Resolution through the treacherous reefs off of Bermuda. The Royal Navy was so impressed with his superior navigation skills that Darrell was granted his freedom after his daring feat. He subsequently bought the house located here. He also became the first documented black homeowner in Bermuda. His direct descendants still reside here.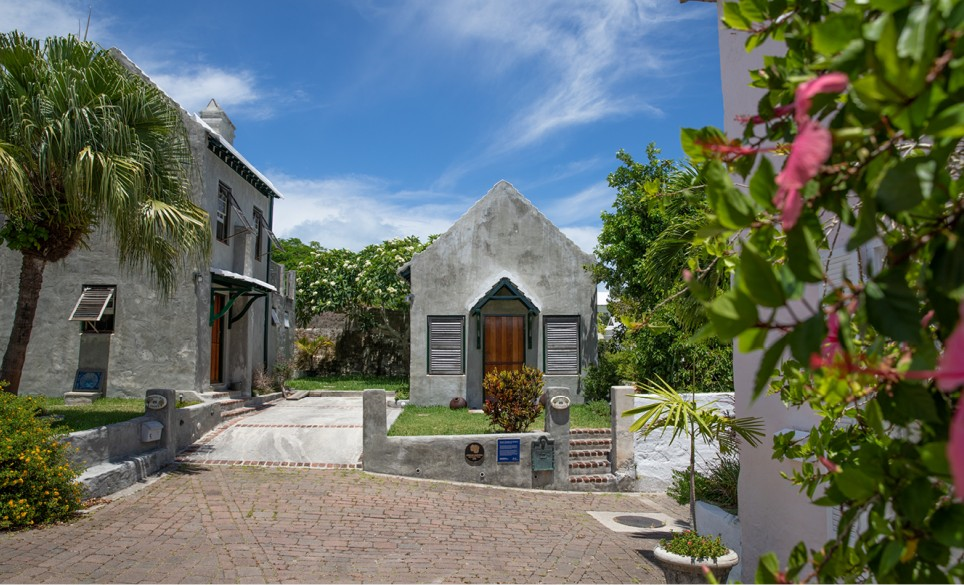 Queen's Warehouse
No longer serving the Queen as a Bermuda Customs warehouse but still named this. Now a world-class visitor centre for the St. George's Foundation, for a symbolic lease of a small bale of cotton. It is the $20 million cornerstone of St. George's as one of the more than 812 World Heritage properties in 125 countries on the UNESCO list.

Reeve Court
King Street. It stands in front of the State House. It was one of four buildings acquired by the Bermuda National Trust (BNT) to protect the facade of this very significant historic property. A residential building with interesting gardens representative of early colonial plantings. The small gardens are open to visitors. Also now the repository of the BNT's 500,000-piece collection of archaeological artifacts mostly from the town. The building underwent a US $350,000 restoration in 1998, with a $100,000 donation from a leading locally based insurance company. It is a three floor building originally started in 1705 and completed in 1706 by the English minister of St. Peter's Church, the Reverend Thomas Holland. Extensions to the north and northwest were added in the late 18th or early 19th century. It got its present name from an English shipping merchant, Thomas Reeve, who married Elizabeth Tucker from this town in 1781. For centuries, it was the tallest building in the town.

Remembrance Sunday
The Sunday before Remembrance Day, a Public Holiday. The Royal Artillery Association Bermuda Branch has an annual Remembrance Sunday Wreath Laying Ceremony, Parade and Church Service on King's Square - near the war memorial - and St. Peter's Church, led by the Band of the Bermuda Regiment, on the day before Remembrance Day. Decorations and medals are worn.

Restaurants in the town and Parish
See Bermuda Cuisine.

Samaritan's Lodge Museum & Cottages
Water Street. Telephone (441) 292 6157. With its Bermuda Lodge Heritage Museum, it focuses on local black history. Its permanent collection features the works of local Friendly Societies and Lodges which originated in England, Ireland and Scotland to offer practical help to working class white people. They did the same for blacks in Bermuda and rose to prominence after Emancipation in 1834 when blacks had no property and could not legally earn money until they were freed. Societies pooled funds and redistributed them among the needy, especially after development in the 19th century of trades and building up of this former military garrison town and concurrent development of the Royal Naval Dockyard in Sandys Parish. Areas covered include ship building that went on in Bermuda throughout the early to mid 1800's; the piloting skills; and the training in marine related industries given to artisans and craftsmen. Practically every local black family of the period had a member who was a member or beneficiary of one of the Friendly Societies. They introduced gift clubs, bank savings and other forms of self help to many individuals. They were formed by people who were sometimes illiterate themselves, yet helped others to find dignity, a little accumulated money and job satisfaction.

Sewage disposal
Thousands of gallons of raw sewage from St George's are dumped out at sea every day. About 35,000 gallons of untreated sewage is discharged daily from a municipal outfall on North Shore which serves the town of St George. The wastewater disposal does not appear to have affected the quality of the bathing water this summer at Tobacco Bay, a popular beach for tourists and locals close to the old town, according to routine testing done on seawater samples taken by the Department of Health.

Shinbone Alley
An historical street, so-named because it commemorates British soldiers being so drunk from a grog shop once here that they went back to their barracks on their hands and knees.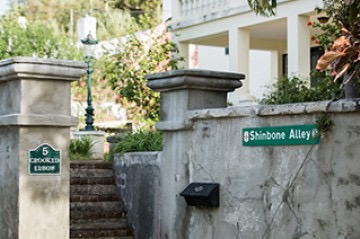 Silk Alley
An historical, tiny but rewarding street that gives visitors a unique time-span experience of architectural and botanical Bermudiana. On the street are Stuart Hall, a building with a rich history, rented by prominent local individuals since 1700, and with archaeological digs revealing a gravesite with human remains from the 1600s. Now the vaulted cedar-beamed building houses The Bermuda Perfumery, where visitors can learn about fragrances made from Bermudian flowers. The alley meanders down, past Pilot Darrell's house, one of the first houses to be owned by a black Bermudian. Crossing the main York Street, visitors can find a walled garden built into the side of the road. This shady patch abounds with ferns and deep green broad-leafed plants, nice to see or to take a light lunch. The Alley opens out onto Water Street, the bustling, picturesque main street of St. George for retailers. Right next to Silk Alley entrance, visitors will enjoy browsing the cozy, low-ceilinged Book Cellar's extensive collection.

Smith Garden
St. George's, just off Barber's Alley. Designed by Garden Club of Bermuda (GCB) member Evelyn Young and created by other members as a GCB gift to St. George's when it acquired World Heritage Status some years ago. The GCB has looked after it since then. It has been on show during Bermuda National Trust annual Christmas Walkabouts. Small but worth seeing by visitors to the Old Town.

St. George's Club
Closed until April 2021.
Hotel, condominium and cottage and timeshare complex overlooking the town. The club house property and time share units were built on the site of the famous St. George's Hotel which in a previous era had an illustrious career. It was once the choice place to stay for many artists who came to Bermuda to paint the Old Town in the early 20th century. (See Artists who Painted Bermuda).
2020. February 3. The company buying the St George's Club has pledged to complete renovations and reopen the venue by early next year. Hotelco Bermuda SGC Ltd, which is also behind the St Regis development in the Olde Towne, confirmed today it intends to purchase the St George's Club, which announced its closure after 25 years last Friday. Laura Purroy, the general manager of Hotelco, said in a statement: "Today we are pleased to share with you that Hotelco Bermuda SGC Ltd has the intention to acquire the property known as St George's Club, once the leases have been assigned. Current obligations towards timeshare members, creditors and vendors will be honoured." Ms Purroy continued: "Our plans are to renovate and redevelop this much beloved property in the same spirit as we are developing the neighbouring St Regis Bermuda Resort — one that celebrates the town of St George's and its culture and history. The progress made at the St Regis Bermuda Resort development has been significant and the continued support of the East End community and Government has proved to be equally significant. We are excited about the opening and reopening of both hotels in April 2021." Up to 25 staff members were made redundant at the St George's Club last Friday, when the company announced it would hand back its lease to the Bermuda Government. Sally-Anne Kyle, the president and CEO of the St George's Club, blamed the closure on the demise of the St George's golf course, increased costs, the recession and members defaulting on their contracts. Ms Purroy remained optimistic the East End has a bright future. She said: "The intended acquisition of the St George's Club — and our plans to redevelop it — signifies our confidence and our conviction that St George's has begun to re-emerge as a tourist destination and a favourite for Bermudians alike. We've already seen interest of local businesses, restaurants and residents in investing in their products and property. Like them, we aim to invest in the future of St George´s and in doing so create more opportunities for Bermudians and more attractions for our visitors who choose Bermuda as their destination of choice."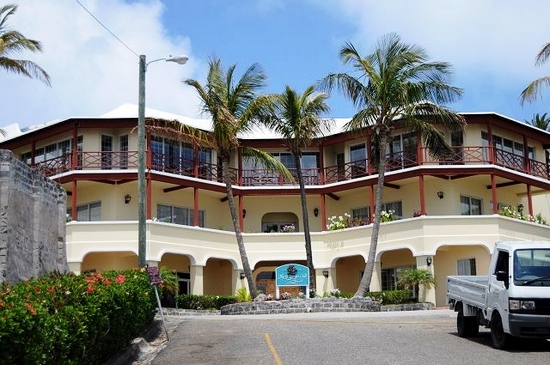 Above, St. George's Club and its properties, built on the site of the pre-1960s lovely old St. George's Hotel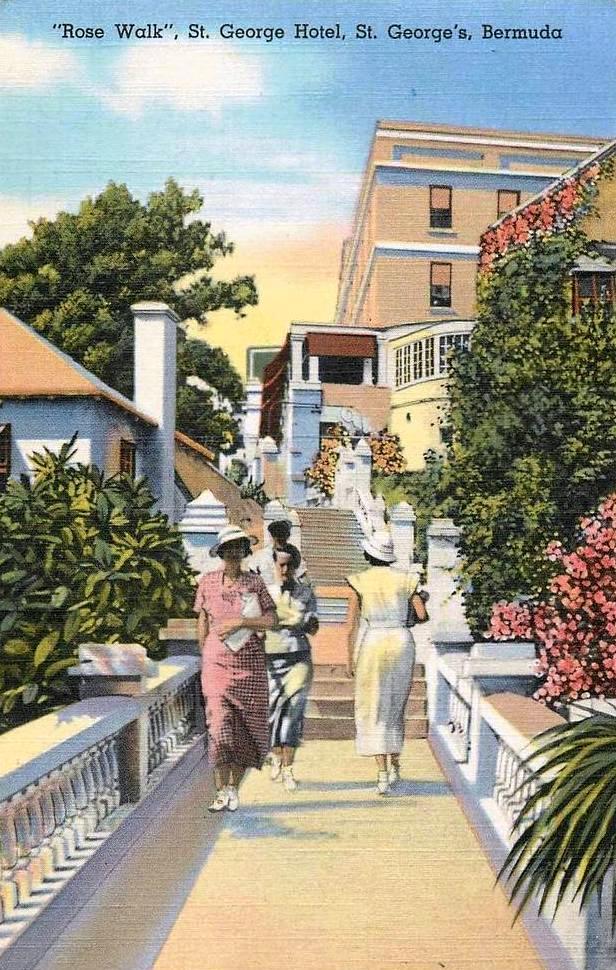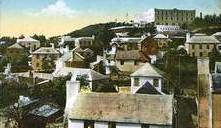 The lovely old St. George's Hotel, no longer there, seen in top right of this small historic photo, replaced by the nice St. George's Club.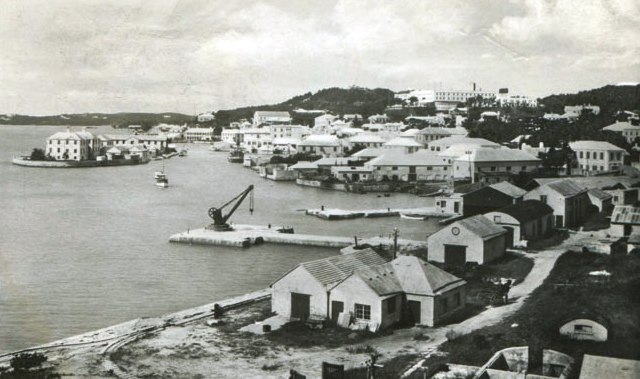 St. George's in the 1940s, showing the former St. George's Hotel at top middle right. The present St. George's Club now occupies the splendid site.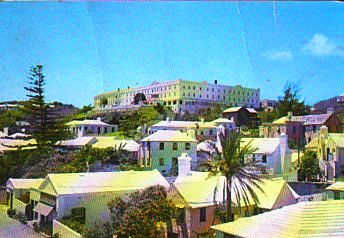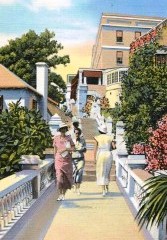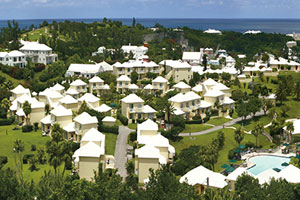 Photos of old St. George's Hotel. It was there until the 1960s, now replaced by this nice complex (see right)

St. George's Dinghy and Sports Club
24 Cut Road, phone 297-1612.

St. George's Ferry Dock
Water Street and King Street, St. George's. Serves residents and visitors on the ferry service between Hamilton and this town. See under "Ferries" in Bermuda Transportation for Visitors.

St. George's Foundation
5 Queen Street, GE 05. P. O. Box GE 58. Telephone (441) 297-8043. Fax (441) 297-2479. E-mail stgeofoundation@ibl.bm. Bermuda registered charity 454.

St. George's Golf Club
Closed at this time until new hotel is completed in 2021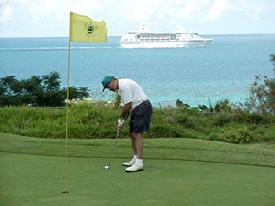 1 Park Road, St. George's GE 03. North of and near Town of St. George. Not on bus route. Phones: Office 297-8067 (fax 297-2273); Pro Shop 297-8353; Golf Pro 297-3660; Tee Times 234-4653; Maintenance 297-8370; Restaurant/Bar 297-1836. An 80 acres scenic 18 hole par 62 course over 4,043 yards, first opened in 1985. Cruise ships pass by. Extensively renovated in most of 2006. For visitors who arrive at the airport on one of the commercial airlines or cruise ships, the closest cruise ship berth is the Town of St. George, about 2 miles away to the south. Many cruise ship visitors play this course. Buses (# 1 or 3 or 10 or 11) go part of the way. Check rates directly with course depending on time of day and time of year. This was one of the last designed by Robert Trent Jones Senior prior to his retirement. The 18th hole is named after Bermuda's first Governor, Richard Moore. One of the greens overlooks historic Fort St. Catherine.
Re-opened in part in May 2011 after being closed since July 2008 because (a) it was losing money for the Bermuda Government which owns the course and (b) to allow for building of the one-planned but since 2012 no longer viable new Park Hyatt hotel. The motivation for re-opening the course on a temporary basis is a joint venture with the Bermuda Chamber of Commerce, the St George's Club and the government's Economic Empowerment Zone (EEZ). The course is maintained at a similar level to municipal courses in the UK, in the best interest of the Old Town and increase the latter's marketability to tourists. Some changes have been made to the course layout. The front desk area of the St George's Club on Rose Hill now serves as the club house. Parking is at the tennis courts, with extra space at the old Oxford Laundry. Drinks and refreshments are available at Griffin's Bistro and Bar and Blackbeard's Hideout, by St Catherine's Fort.
No longer applicable but until 2012 it was intended by Government that once the new hotel was built, the course would be run (although still owned by the government) by the new hotel. The long-term re-development plans for the course included an extensive enlargement to 6,000 yards and redesign by top British golf professional and winner of six Major tournaments Nick Faldo, by his corporation Faldo Design. The Park Hyatt (St. George's) Resort Act 2008, (revoked in 2012 by the government for non-compliance with the agreed terms after several extensions) would have removed the course from the Golf Courses (Consolidation) Act 1998 under which a single Board of Trustees manages the publicly-owned courses at St. George's, Port Royal and Ocean View. But it had been stipulated that the developer had to ensure that the golf course remain accessible to the public during such times and on such reasonable terms and conditions as shall be approved by the government.

St. George's Harbour
Scenic waterfront, looking clear over to St. David's. The harbour has docks for cruise ships, marinas and anchorages. Modern vessels must pass through an area of wrecked ship and deadly reefs.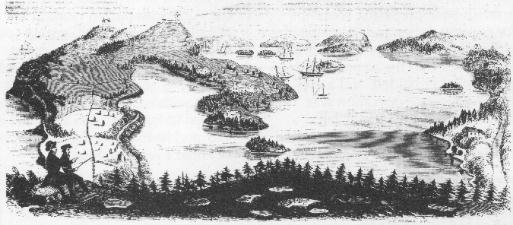 In the first half of the 10th century, it also housed prison hulks, as the second graphic below shows. They included American prisoners-of-war during the war of 1812-14.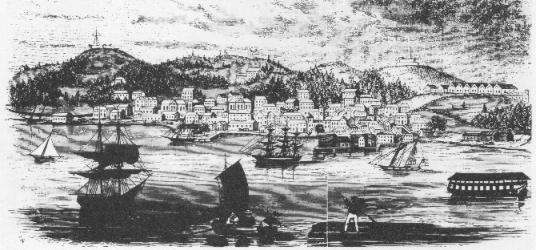 This view from Gleason's Pictorial Drawing Room Companion.
Shipwrecks in the harbour include:
1918. En route to the USA from Britain with a cargo of Dover chalk, the three-masted, steel-hulled, 236 foot vessel Taifun, built in Greenock, Scotland in 1894, was badly damaged at sea in a bad storm. She was stranded there for 3 years and in February 1921 was further damaged by a steamer in the harbour. She was left to decay.

1919. The American four-masted auxiliary schooner NE Turner, quite new when disabled off Bermuda and towed here where she remains.

St. George's Historical Society & Museum
See under Mitchell House.

St. George's Market Group
Market Nights every Tuesday night 7 pm to 10 pm from April 30 to November 30 in King's Square. A traditional Bermuda market with stalls featuring locally made arts and crafts, market produce, music and sale of baked goods. Gombeys perform. Cruise ship passengers can join other visitors and residents.

St. George's Post Office
Of historical interest, chiefly as a prison in the 1770s-1780s. During the USA's War of Independence, American prisoners-of-war were confined here. In September, 1780, Bermuda suffered from a terrible epidemic that began with the Americans in this prison and spread quickly throughout Bermuda. The prisoners died. Because of a shortage of food island-wide caused by the war, resistance to the disease was low.

St. George's Preparatory School
This primary school celebrated its 140th anniversary on January 8 2016 with a special assembly announced by David Frith, the Town Crier and former chairman of the board of trustees. "The Prep" is now the highest ranked public school in the Cambridge Checkpoint examinations. The school opened on January 10, 1876, as a one-room schoolhouse in the former Sunday school of the Ebenezer Methodist Church. Known simply as "the school" in those days, it was officially recognised by the Ministry of Education in 1880 and renamed the St George's Grammar School. The present school was built in 1923, as a community effort; it stopped taking senior students in 1966 when it became known as the St George's Preparatory School. The school has strong family ties. The Spurling family have kept an "unbroken line" as trustees of the school since the beginning, with Ann Spurling now sitting on the board. Devastation was wreaked upon the campus by Hurricane Fabian in 2003. The school was partially destroyed and was repaired using insurance money and donations.

St. George's Preservation Authority
Under the Town of St. George (Protection of Buildings of Special Interest) Act 1950, Bermuda Government appointees are shown under this name in Bermuda Government Boards.

St. George's Town Crier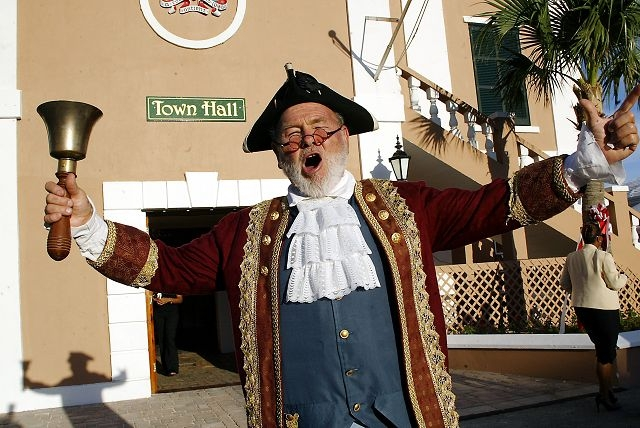 Bermuda's David Frith, Town Crier of St. George's
Mr. Frith been a top prize winner at an international Town Crier competition in England. As Lyme Regis is the twin town of St. George's, Mr. Frith is also the honorary Town Crier of Whitchurch Canonicorum, the village where Admiral Sir George Somers, who founded Bermuda in 1609 was born and died on his return to Bermuda from Virginia to bring more food from Bermuda to the Virginia colonists who were starving. His heart remained in Bermuda but his body was taken back to Lyme Regis. In in the European Town Crier Championship and other town crier competitions, Bermuda has historically done well. St. George's former Town Crier E. Michael Jones won the Armada Cup in 2000 and St. George's Town Crier in the mid-1980s, the late Major D. H. (Bob) Burns, MC, once held the Guinness World Record for the loudest human speaking voice.
Town criers and their spouses from around the world have visited Bermuda and this town.
The custom and tradition is an entirely British one. It stretches back many years before this town was born in 1612. In medieval Britain, criers were the nation's newscasters. Dispatches from foreign wars, by-laws, judicial rulings, important proclamations, even advertisements, were issued forth by men whose status was soon indicated by the fine livery they wore, and, the unique royal protection they enjoyed. The costume indicates a UK and British colonial town crier's once- official status as an ancient town's watchman and reader of news. At that time - but no longer - ee also specified the punishments to be publicly administered to law breakers according to the traditions then in effect. They included consignment to the stocks, being pilloried and whipped, ducking stool sessions, and execution. It was a part of the crier's job to deliver bad news such as tax rises, and the closing of bawdy houses, and to this day it remains an offence to "hinder or heckle" a town crier as he goes about his business. In the United Kingdom today, a valid, competition-grade cry must begin with the traditional "Oyez, oyez, oyez!" – thought to be a corruption of the French ecoutez (listen) – and end with the National Anthem. Most criers further preface their announcements with a peal on a hand bell, although horns, trumpets and even rattles are permitted. Criers strive to develop a distinct style of delivery. Tracing the position's roots back to ancient Greece, town criers were virtual "newscasters" of the day and usually the chief means of disseminating public news. Employed by a town council, criers were typically literate individuals who were able to read announcements, proclamations, local bylaws, advertisements to the townspeople, since many townspeople could not read or write. Notifying citizens by ringing a bell (or banging on a drum in France and Holland), criers in mediaeval Britain typically dressed elaborately and shouted "hear ye, hear ye" which signified attention and silence.

St. George's Town Hall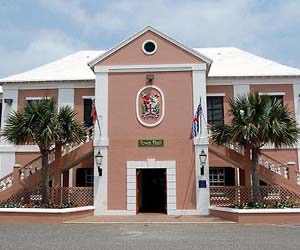 King's Square. This is where the elected Mayor, Aldermen and Councilors of the town meet and conduct their business. This is a reconstruction of of what was originally a much older original building. The premises include:

Bermuda cedar furnishings including the old chairs and Mayor's "throne" and photographs of past mayors.

A painting of St. George's Harbor in 1861 by noted British artist Edwin James, then a resident of the town. Note the ships, complete with their names, flying Confederate flags.

Letters written to and by Her Majesty Queen Elizabeth II. (On quite a few occasions in the past, members of the British Royal Family including the Queen and Duke of Edinburgh have visited the town).

in November 1998, a flagstone from Somer's actual home at Berne Manor, Dorset, was brought from England and is now laid permanently in the entranceway of the Town Hall. It serves as a reminder of the unique bond between the two towns.

When not in session, the town hall is open to the public by day. Behind the Town Hall are basic (bathrooms (toilets) for men and women, also with access for the disabled.


St. Peter's Church, Their Majesties Chappell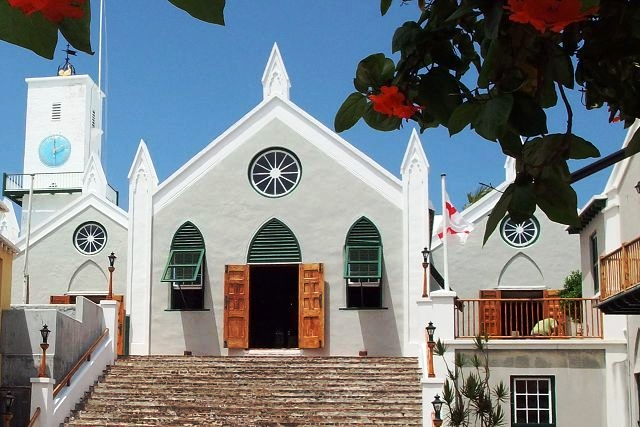 Duke of York Street. Phone 297-2549. In many ways the religious, spiritual and cultural icon of Bermuda.
2019. June 7. Bermuda's oldest church has appealed for help to repair the flagpole on top of the 17th-century building. The pulley system on the flagpole at St Peter's Church in St George was damaged after the flag became entangled in the ropes last year. Gillian Outerbridge, the parish administrator, said that the flagpole's position on top of the church made it "dangerous and inaccessible". She explained: "The flagpole's at the top of a tower where the only place to stand is on this tiny little balcony that runs around the top. Ms Outerbridge added: "From that you need to get up another ten to twelve feet to reach the bracket that the flagpole is on, and once you release that 15ft pole from the bracket you've got a long, heavy pole that you can't control. It's really quite a dangerous situation, and certainly we don't have anybody on the staff of this old church who could do it." Ms Outerbridge said that the flag became tangled around the flagpole in heavy winds during a storm last December. Church staff said they expected the flag to untangle itself over time, but instead the weight of the heavy fabric snapped the rope pulley. Ms Outerbridge added that the congregation did not have the skill or manpower to remove the pole themselves. She said: "It's almost like a piece of sailboat equipment, like a mast or a boom, and if you haven't got good control of it, it's just going to fall and crash through the roof or take somebody down with it." Ms Outerbridge added that the parish hoped a construction company, the Bermuda Fire & Rescue Service or the Ministry of Public Works would help the church out so the flagpole could be repaired and repainted. She added that anyone who sponsored the repair work would get the chance to re-hoist the flag once repairs were completed. The flag design was granted to the church on its 2012 400th anniversary by the Queen, which coincided with her Diamond Jubilee. The church was given the title "Their Majesties Chappell" and the special flag, a St George's Cross with the depiction of the 1609 wreck of the Sea Venture, which led to the island's colonization by the English, taken from the church's chalice in one of the quarters. Ms Outerbridge said that the flag had become a fixture at the church, part of the St George's Unesco World Heritage Site, and its absence was "quite depressing". She said: "It's a very distinctive flag. It's very high up above the ground and it's a very significant part of St George's, so people recognize when it's missing. It's like Buckingham Palace: people look up and say 'where's the flag?'."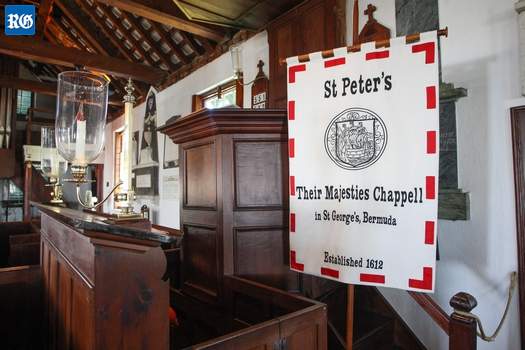 2019. March 13. A $2 entrance fee has been imposed at Bermuda's oldest church. St Peter's Anglican Church in St George's said the charge had to be made to help maintain the church and keep it open for visitors during the week because a voluntary donation scheme did not work. Gillian Outerbridge, the parish administrator, said: "We relied for a long time on people donating out of the good of their spirit, but they don't. I'm amazed at the lengths people will go to just to not donate. Pretend not to see the box, pretend not to see the sign. At the end of last summer I put up a sign that said 'Entry by Donation', and still people are pretending not to see the sign." Ms Outerbridge said the church took in about $45,000 per year from visitor donations — about 60 cents a head. She added that the $2 entrance fee would help the church become more self-sufficient. Ms Outerbridge said: "I won't be going out begging for money all the time." She explained St Peter's problem was that it was caught between being a parish church serving its congregation and a "business with nothing to sell". She said: "There has to be someone in the office all the time if the church is open, so we have an administrator. We have a treasurer. The priest is in and out. If this was just a parish church, there would be no one here. The administrator could volunteer three days a month, whereas here it's a full-time position. Ms Outerbridge added: "We have 50 light bulbs in the church, so when we're open, that's 50 lights burning." She said the church had already cut its opening hours to help reduce expenses, but that the church buildings required expensive maintenance. "We just booked to have the church hall tented, and that's $6,000. It has got termites, and I feel the need to protect the church from infestation. There are also all sorts of extra things we would like to do. If you go to the old black cemetery, it needs steps or possibly even a ramp. The entire exterior wall needs painting and grouting. We have applied to the Unesco fund, so we will hopefully hear back this month how much they are allocating. Whatever they give us will go straight into the building. The museums down in St George's are closed most of the time because Government took their financing away. They were giving them about the same amount they had been giving us, which meant they had someone there to open the museums. It's no good people complaining about St George's being dead and quiet and closed up. We don't have the money to stay open. One of the reasons why we have been able to stay open is our wonderful volunteers. They give two hours a week, and they are so devoted to the church — they don't even all attend the church." Ms Outerbridge added that she hoped to have the church back to pristine condition before next year, when the island celebrates the 400th anniversary of the first sitting of Parliament. "It is where they held the first sitting of Parliament. The 400th anniversary is coming up in 2020 and we're already planning a special service to mark that on August 1, 2020. One of the reasons we are fundraising now is we want the church to be in first-class shape. We have invited Prince Charles to return, and it has not been declined, which is apparently a good sign."
2018. November 24. Historic St Peter's Church in St George may be forced to reduce its opening hours after the Bermuda Tourism Authority axed its $25,000 contribution. Henry Hayward, senior warden for the St George church and a former Mayor of St George, said the church will likely have to be closed on some days if it cannot find extra cash. He said: "The church is an important part of our history. When the Unesco representative came to look at the town and the forts, he said St Peter's was worthy of being a World Heritage Site by itself. It's that important. The tourism authority talks a lot about creating tourism adventures. Well, we are not Disney Land where we make up things to offer visitors. We're a part of Bermuda's history, the oldest Anglican church outside of England with a building dating back to 1612." St Peter's is the only Anglican church referred to as "Their Majesties Chappell", as was found in a very unique 1697 document discovered in 2007, from that very short time period in which the British Empire was jointly ruled by two sovereigns, King William and Queen Mary. Mr Hayward explained: "We have been opening seven days a week, but if we cannot get the funding ... Well, we have to consider closing it like every other church." He said: "We read all the time that Government is looking for money, so it's not a surprise but it is disappointing. There were discussions last year as well, but they did come up with $25,000. We are still in communication with them, and hopefully something will come out of it." Mr Hayward said the church had received financial support to remain open for about 20 years, first from the Bermuda Department of Tourism and later the Bermuda Tourism Authority. He said: "The funding that has supported us in the past, they have advised us that the funds aren't available this year. Over the years, it has been gradually dropping down. There are thousands and thousands of tourists that go through the Church every year, particularly in the summer time. It's not unusual to get 400 or 500 people a day going to visit the church." Mr Hayward said the cost to keep the church open seven days a week is about $300,000 per year and the cash from the BTA had played a vital role in covering the cost. He said: "We have the Friends of St Peter's, who hold events to help raise funds, but there's no where near enough to keep the Church open. We are discussing the various possibilities now about what direction we will go in." Gillian Outerbridge, parish administrator, said: "Funding has become a little more complex than it used to be. Originally in 2009, under Canon W. David Raths, the Department of Tourism provided approximately 50 per cent of the cost of keeping the Church open to visitors. That amounted to $49,000. The BTA has a different availability of funding via the 'Experience' programme whereby an application to provide a new 'Experience' may apply for funding of up to $25,000. This has enabled St Peter's Church to receive funding each year so far. The BTA has since reached out to us to join them to discuss ways and means that they can assist us to formalize our funding in the future with a more balanced funding strategy. We appreciate their concern and assistance." A BTA spokesman said the church had applied for support through the Experiences Investment Programme but its application did not contain an experience or a business plan. The spokesman said: "The Experience Investment Programme is designed to help new experiences for visitors get off the ground or for existing experiences to grow and attract more visitors. The application for experience funding received from St Peter's Church did not meet these criteria. Rather, it was to fund the Church's operating budget without any plan to deliver an experience to visitors, nor a business plan. This has been communicated to the leadership at St Peter's, along with examples of what other churches are doing around the world to introduce revenue-earning experiences. We have also proposed a meeting to discuss these opportunities. It's hoped these examples will inspire new ideas that will allow the programme to say yes to the church." The spokesman added: "We appreciate the chapel's historical significance and want to ensure every visitor can enjoy a distinctly Bermudian experience at St Peter's."
2018. November 21. The oldest continuously functioning Anglican church in the Western hemisphere has been refused funding after the Bermuda Tourism Authority determined that its application did not meet the criteria. St Peter's Church applied for the BTA's Experiences Investment Programme but according to the authority, its application did not contain an experience or a business plan. A BTA spokesperson said: "The Experience Investment Programme is designed to help new experiences for visitors get off the ground or for existing experiences to grow and attract more visitors. The application for experience funding received from St Peter's Church did not meet these criteria, rather, it was to fund the church's operating budget, without any plan to deliver an experience to visitors, nor a business plan. This has been communicated to the leadership at St Peter's, along with examples of what other churches are doing around the world to introduce revenue-earning experiences. We have also proposed a meeting to discuss these opportunities. It's hoped these examples will inspire new ideas that will allow the programme to say yes to the church. We appreciate the chapel's historical significance and want to ensure every visitor can enjoy a distinctly Bermudian experience at St Peter's."
In 2012, its 400th anniversary year, Queen Elizabeth II honored St Peter's with the unique title: 'Their Majesties Chappell', a term first used in the late 1600's during the reign of King William and Queen Mary.
This church was once on part of a sea inlet. Claimed as the oldest continually occupied Anglican church in the Western Hemisphere. Governor Moore constructed the original church before Christmas, 1612. Whether exactly on the site of the present church is not known, but due to negligence of the workmen in charge, but mostly because the church was located on an bleak, exposed hill, a gale tipped over the timber-framed structure. The Governor then, from the ruins of the wooden church, constructed a very fine house built in the shape of a cross", which served the faithful and may also have been used for the first Court of General Assize in 1616. That second church lasted but four years, at which time in early January 1620, the energetic Governor Butler built a new one: it was there that the first Assembly was held on August 1, 1620.
Graphic above right - Bermuda postage stamps of October 18, 2012 depicting St. Peter's Church.
In September 1712, the church was demolished by a hurricane and the "parishioners rallied round to make a new stone building" in 1713 which was to be a cruciform with a "southern extension with a welcoming-arms porch and steps". In 1815, under the "moving spirit" of John Till, the church was extensively enlarged. The original Jacobean communion table (the oldest piece of Bermudian cedar woodwork), the unusual three deck pulpit and other fittings salvaged. A large number of the original timbers were also incorporated. Gravestones in the way of that development were tossed aside or buried; walls built over graves contributed to the perilous state of the building by the 1950s. In 1841, the southern extension was lengthened for a new main entrance. In the early 1950s, the church was much rebuilt and at that time, "the most spectacular find was the old original 'welcoming' bricked steps" of the 1700s, and a number of headstones which had been "buried" under the main entrance when it was extended in 1841. The church's oldest bible is dated 1594 and the earliest communion ware is the St. George's Chalice given to the church by the Bermuda Company in 1625, in the reign of Charles I. Another set was given to the church by William III in 1697. The Bishop's throne dates from the 18th century. With the flag of St. George waving over the town from its tower, St. Peter's has been at the heart of the community for almost four hundred years. Generations of townspeople have looked to its clock for the time of day and its bell has called the people of the parish to worship. It has also announced other important events such as the declaration of the emancipation of slaves on August 1, 1834. The church was also the meeting place of the first Parliament of Bermuda, held August 1, 1620 and has continued to be a special place of important community events such as the annual Remembrance Sunday Service.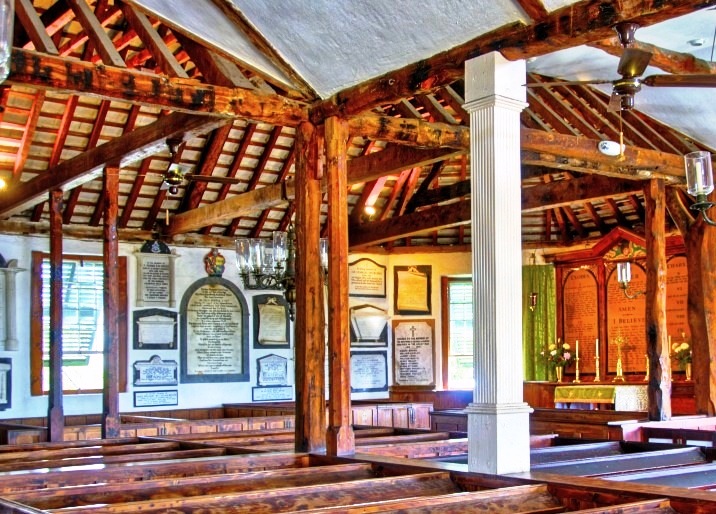 The church has many unique military memorials from when it was a British Army garrison town, mostly from or about soldiers who died in Bermuda from yellow fever earlier or in the mid to late 1800s. The valuable and unique communion plate and related items are tangible reminders of Bermuda's history. In August 2008 the remains of three men were found under the floorboards of the church. They were buried in haste. One was the skeletal remains of the man who was Governor of Bermuda during a significant moment in history, found after lying forgotten for 228 years beneath the floorboards of this church. The wood coffin that once encased Governor George James Bruere had disintegrated with the passing of the centuries, but a copper name plate inscribed with his details and date of death, September 10, 1780 at the age of 59, originally attached to the top of his coffin was found resting in the chest cavity of his skeleton by archaeologists crawling through a tiny two-foot gap beneath the church floor. It is believed he died of Yellow Fever, which is why he was placed under the church, not in the graveyard. Bruere was in charge of Bermuda at the time of the infamous gunpowder plot during the American Revolutionary War, when a stash of gunpowder was plundered from the Island and then used to devastating effect against the British forces. Bruere, a former British Army Lieutenant Colonel who lost a son also in the army fighting the Americans, was outraged when he discovered what had happened and put up a reward for the capture of the Bermudians responsible but to no avail. Bruere was Governor from 1764 until his death on September 10, 1780. His portrait hangs in the Bermuda National Trust's Tucker House museum in the heart of St. George's.

Another skeleton found there, also buried in haste for the same reason, was Sir Jacob Wheate, a British Navy captain and commander of HMS Cerberus - now a dive site also known as the 'Musket Ball Wreck'. The 5th Rate 32 gun ship was launched in 1779 but struck rocks in Castle Harbour and sank in 1783. A team of archaeologists at St. Peter's Church found a coffin plate next to the corpse, inscribed with Sir Jacob's name and the words 'Commander of his Majesty's ship Cerberus'. Historical records suggest Sir Jacob died in 1783 of yellow fever. He should have had a more substantial burial, but it is thought they may have buried him quickly because he had yellow fever. It is hoped to re-intern Governor Bruere and Sir Jacob in the grounds of St. Peter's Church in a ceremony officiated by the present rector. The other corpse has been discovered slightly to the south, on top of the limestone bedrock. Traces of a coffin and coffin nails were found, plus small copper pins which suggest the man was wrapped in a shroud, the fibers of which would have disintegrated over the centuries. His identity is not yet known.

The surrounding historic graveyard is the last resting place for many generations of gentry and commoners, governors and slaves, privateers and statesmen of Bermudian, British and American birth. Inside the Church the walls are covered with memorials to many men and women significant in the history of Bermuda and Western Atlantic settlement. Slaves and former slaves were freed when the British declared slavery illegal in the early 1800s. Those reposing in their eternal rest in the graveyard to the right of the church include American midshipman, Richard Dale, mortally wounded in the 1812-14 War. In gratitude, his parents inscribed the headstone. Dale died when, in 1815, on January 15. "HMS Endymion" (Capt. Hope), the "Pomona", and the "Tenedos" both at sea off the city of New York engaged the US Navy warship USS "President" - one of the US Navy's six great frigates - forcing the latter's surrender. The "President", Capt Stephen Decatur, was brought to Murray's Anchorage, Bermuda. For a fuller account of the action see http://1812privateers.org/NAVAL/president.html. During the action, Midshipman Richard Sutherland Dale, Jr, of the President, oldest son of Commodore Richard Dale (1756-1826) from Philadelphia, was shot by a British marksman and had to have his leg amputated. As a severely wounded prisoner-of-war he was brought by litter with his colleagues to St. George's but five weeks later he died on February 15 from his wounds and was buried here at St. Peter's Church. He was 20 years old when he lost his leg after his ship President engaged the British warships above in the 1815 war between Britain and the US. He was brought to St. George's for treatment and cared for in Stennet's Hotel where the Bank of Butterfield now sits in the Town Square. But he was never forgotten. After the conflict ended, his father, Commodore Richard Dale, who had once served as First Lieutenant to John Paul Jones, came in thanks rather than revenge, to show his gratitude to the people of St Georges, for the respect shown his son in life and in death. Commodore Dale arranged for a horizontal tombstone, which reads: To Commemorate the Gallant Deeds of the People of St Georges whose Generosity and tender sympathy prompted the kindest attention to him while living and honoured him when dead." From 1932, Bermuda-born Captain Scarritt Adams, US Navy, initially funded an almost yearly remembrance service involving relatives of Midshipman Dale.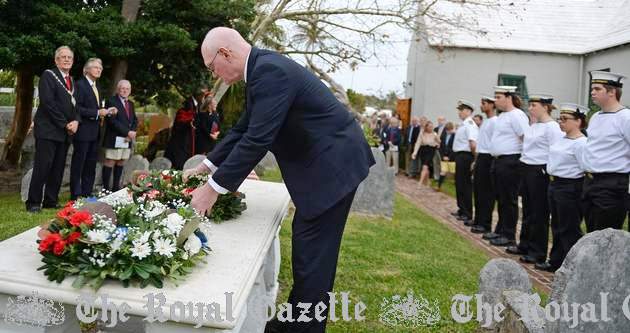 Grave of US Navy's Midshipman Dale, died 1815.
Among the other formal military graves is that of an American patriot from Philadelphia, honored by the the Daughters of the American Revolution organization. She was Anne Willing Bingham, said to be the most beautiful woman of her time. On May 11, 1801 she was buried here. She was Anne Bingham, in her 37th year, born in 1764, daughter of Thomas Willing of Philadelphia. At the age of 16, she married Senator William Bingham, possibly the wealthiest man in America, owning at one time more than a million acres of the state of Maine. They spent some years in Europe and it was there that Anne contracted an illness, for which Bermuda was prescribed as a place of cure. Unfortunately, a cure was not to be had. Anne Willing Bingham's reputation and fame yet survives, for she is supposed to have been the model for the famous Draped Bust portrait on the obverse of the American silver dollars and other United States coinage between 1796 and 1804. The famous artist Gilbert Stuart is said to have made a portrait of Anne in 1785, when she was 21 years old. From that sketch, the "Miss Liberty" of the Draped Bust coins was probably created.

In the lower graveyard to the right of the church are the graves - shown above and here - of Sir Richard Sharples, Governor of Bermuda and his aide-de-camp (ADC) at that time Captain Hugh Sayers, Welsh Guards, British Army. Both were assassinated on March 10, 1973 and buried here at the express wish of their families after being gunned down without warning in Bermuda in the grounds of Government House, Pembroke Parish, as they were taking a walk with a dog. It was only a few hours after the Governor and Captain Sayers had been visited by the Commanding Officer of the US Naval Station at St. David's. (He had been driven by Ed Falato, who served on the base from 1970-74).
The Bermudian killer Erskine Durrant Burrows was hanged, after being found guilty not only of these murders but also Police Commissioner George Duckett in September 1972 and an armed robbery in April 1973. After the hanging at Casemates Prison on December 2, 1977 of Burrows and another killer Larry Winfield Tacklyn, dreadful revenge racial riots occured in Bermuda, with attacks on police stations and many injuries to policemen and others. World-wide publicity gave a terrible picture of Bermuda. Many from overseas swore never to go there, or go there again. It was claimed by the Bermuda and British Governments that the killer was a Black Power advocate. During the riots, a prolonged State of Emergency occured that included a call-up of the Bermuda Regiment. British Governors of Bermuda were advised to stop having aides from overseas and instead to have local ones. It is how the tradition started in the Bermuda Regiment.
The widow of Sir Richard Sharples was subsequently made Baroness Pamela Sharples in 1973 by the British Government in London, to mark the honor, sympathy and respect the British Government had for Sir Richard and to show the outrage Britons felt over how the Queen's Representative in Bermuda was assassinated in the only British territory ever to have a Governor murdered in cold blood. After a long absence because of the assassination, Baroness Sharples and her family bought a house in Bermuda.
In 1999, perhaps fearing the repercussions of another riot - and under pressure from the British Government which objects to it - the Bermuda Government abolished the death penalty - unlike the USA which retains it.
In 2005, the then-new organization Friends of St Peter's was formed under the patronage of the Duke of York. The first major undertaking of this organization was the refurbishing of the St Peter's tower clock. Apparently it ceased working about 50 years ago and was subsequently dismantled and its inner parts stored somewhere within the church. The clock's face was taken and stored in an outbuilding at St Peter's rectory. The clock face was replaced with a replica, made of fibreglass. The remarkable thing is that most of the clock's parts, when found, were still largely intact, with only a few minor parts missing. The clock was originally purchased by John Till in 1815, but sometime in the mid-20th century it was damaged in a storm and then replaced by an electric clock with an electric bell. It is believed that the original clock was repaired by the same firm that actually made it in 1815, namely Thwaites and Reed, of Brighton, England. The tower itself, was built in 1814. St Peter's has evolved over the centuries. The original church, a wood and thatch structure, lasted only a short while before being destroyed in a storm. This was replaced by a more substantial building and this is the one depicted in Captain Smith's illustration of 1624. Eventually the church was replaced by a stone structure, but with substantial amount of timber from the original building. Over the years since, various wings have also been added. The Victorian Gothic entrance that we see today, dates from 1841. Although we all refer to the parish church in St George's as St Peter's, it has only been known by that name since 1826, when the church was consecrated by Bishop Inglis. Before that it was known as the St George's town church or more simply, the town church.
In 2010 a new DVD was made of the church, by St. George's resident and filmmaker Lucinda Spurling and premiered at the World Heritage Centre at Penno's Wharf. Ms Spurling, of Afflare Films, was commissioned by the church to make the film to highlight its importance in Bermuda history. Her family have been members of the church for several generations. Her great grandfather Sir Stanley Spurling helped organize the upgrades in the 1950s. The film highlighted the fact that over the years the church building has had a number of purposes in addition to being a place of worship, including acting as a place for drying tobacco, and as a court room. Ms Spurling's 30-minute documentary features a number of experts on St. George's history including Michael Jarvis who wrote 'Bermuda's Architectural Heritage: St. George's' and most recently 'In The Eye of All Trades.' One of the things that is brought across in the movie is how special it is that the building not only still exists, but that it is still used for worship. The film also featured archaeologist Brent Fortenberry, Rev. David Raths the current vicar at the church and Chairman of the Friends of St. Peter's Rev. Erskine C. Simmons. Ms Spurling has also produced several other films including 'Rare Bird' (2006) and 'The Lion and the Mouse' (2009). 'The Lion and the Mouse' has won several awards including an Audience Award at the Bermuda International Film Festival 2010, A National Trust Awareness Award, and The Doreen Lightbourn/ Lionel Pearman Award. At international film festivals, it won The Golden Reel Award at the Nevada Film Festival, A Silver Remi Award at Worldfest Houston, and The Award of Excellence at Indie Fest. 'St. Peter's' the DVD, is available at the church office for $25. All proceeds from the sale of the DVD go to the church. For more information contact the church on 297-2459.
On July 1, 2011, two priceless copies of the Bible, restored by St. Peter's at considerable cost and once owned by a Bermuda family, were put in display, behind bullet-proof glass. They can be seen. on application.
2012. February 15. Peter's Church in St George's prepared to celebrate a new jewel in its crown: the gift of an old royal title restored. The church is launching its 400th anniversary with a service next month, to commemorate a little-known but historically significant designation: "Their Majesties Chapell", which dates back to the year 1697. Evidence of the special royal title remained buried in archives for centuries, until a scholar brought it to the church's attention. "The service has been set for March 18, because that's the date on the warrant," explained church rector Rev David Raths. "It is the earliest known instance of that term being used." The warrant in question authorized the delivery of royal silver to St Peter's, which the church still keeps in its safe. The document bearing the special term did not emerge until considerably later. The historian who uncovered the warrant, Thomas Sinsteden, has sailed to Bermuda several times over the years. Mr Sinsteden noticed the document among other warrants at the Public Records Office in Kew Gardens, London, and recognised it as a significant titling. Contacted in the US, Mr Sinsteden described the chance discovery as "typical of research. When one does research, one comes across these things. Mr Sinsteden spotted the document about ten years ago, during research on the Duke of Ormonde a major figure of the 17th century Anglo-Irish political stage, who was born the year after the arrival of the Sea Venture in Bermuda. Stopping off at the Island during the Newport-to-Bermuda yacht race, Mr Sinsteden said: "I had a bit of time on my hands. I went to St Peter's Church and saw some Irish silver on display in the safe there. Among the silver was some royal silver." He returned to the church with a copy of what is technically known as the Intituling Document: the order for the silver, sent to the "Master of His Magesties Jewell House", which specified its use in "Their Majesties Chappell." The warrant will not change the name of St Peter's Church, but it adds another title and another distinguishing feature to what is already the oldest Anglican Church outside the British Isles. Mr Sinsteden brought his copy of the document to St Peter's in 2007, just in time for church authorities to add it to this year's happy coincidence of the Queen's Diamond Jubilee and the 400th anniversary of St Peter's. The historian said he looks forward to attending the ceremony in Bermuda. "He just walked in off the street and said he had something for us. I saw the Majesties Chappell and I thought, Oh, boy," Rev Raths said. "That's why the first thing in our service will be to have the warrant read it out publicly." Actually confirming the Royal title for St Peter's required some behind-the-scenes diplomacy. Rev Raths spoke with David Baldwin, a member of the Queen's Household, whose official title is Sergeant of the Vestry of the Chapel Royal. "He was very excited to hear about it," Rev Raths said. "We've had Royal visits before but we've never had a Sergeant of the Vestry." Mr Baldwin's own title extends back significantly farther, he added, to 1066. Mr Baldwin is to visit the Island to present Governor Sir Richard Gozney with the formal document redesignating St Peter's as "Their Majesties Chappell", which Sir Richard will then read at the March 18 service. Rev Raths said that was fitting because Sir Richard had to write to the Queen to request permission to restore the title to St Peter's. Actually reading the Intituling will be one of Sir Richard's last duties as Governor of Bermuda, as he prepares to step down this May. St Peter's will also receive new emblemage, in the form of a Royal scarlet banding, to decorate the Rector's belt and the church's own flags and banners. "This church has always been more than a town church," Rev Raths explained. "We see it as an icon for Bermuda." Grace Rawlins, chairwoman of the Intitulation Committee, said St Peter's has been appropriately refurbished for the ceremony opening its 400th anniversary celebrations. "It's going to be a challenge fitting everyone in here, Ms Rawlins added. "One of the most interesting points for me is the silver, which will be taken out and displayed on the altar table. I think that table could be the oldest piece of furniture in Bermuda." The original document ordered the sending of two little flaggons, one challice, a petten and a receiver, to then Governor of Bermuda, Samuel Day.
In November 2012, The Bishop of London, the Right Reverend Dr Richard Chartres, was on the Island to celebrate the 400th anniversary of the founding of St Peter's Church. It was a ceremonial affair, attended by the Governor, Bermuda Regiment and clergy, with hundreds more watching. The church is possibly the oldest continually used Protestant church in the Western hemisphere, and believed to be the oldest surviving Anglican church outside of the British Isles. As Bishop of London, the Rt Rev Chartres is considered to be the third-highest ranking official within the Church of England. The visit was the Bishop's first to the Island. While here he also hosted a lecture honoring Canon Thomas Nisbett for 50 years of service.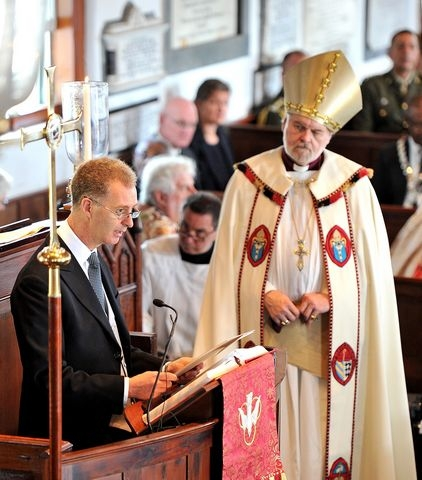 The Bishop of London with the Governor, November 2012. Royal Gazette photo

Stella Maris
The local (parish) Roman Catholic Church, built in 1947.

Stewart Hall
5 Queen Street. 5 Queen Street, St. George's GE 05, Bermuda. Or by airmail at P. O. Box GE 58, St. George's GE BX, Bermuda. Telephone (441) 297-8043. One of the largest early 18th century houses in the town. In the past three centuries, it has been owned or rented by some of the most prominent and influential families in Bermuda. It was already built when the land on which it stood was granted to Walter Mitchell in 1707. An active militia commander and officer in HM Independent Company, Mitchell was a third generation descendant of a family who migrated to Bermuda on the 'Plough' in 1612 and eventually settled in Southampton Parish. The house he built was one of the grandest of its day, a large two-floors hall and parlor house set right against the street, with two massive flanking chimneys and a steeply pitched gable roof. An even larger chimney was built on the end of the kitchen wing to the rear of the house and, over the centuries, no fewer than seven chimneys have been added to this building. Even the northern one floor extension at Stewart Hall has its own chimney.

This may have been to accommodate a silversmith's workshop in about 1820. Mitchell married Sarah, the widow of Daniel Johnson, through whom he acquired a wharf and lot to the east of the Block House in St. George's. In the 1720s Mitchell was an active architect. He supervised the construction of the new Government House and built the Mitchell House, now the St. George's Historical Society Museum, for his nephew. By the time he died in 1731, Walter Mitchell owned several ships and possessed furnishings, trade goods and gold worth more than 4,000 pounds sterling, making him one of the richest men in Bermuda. Sarah Mitchell followed him to the grave two years later, and Stewart Hall was bequeathed to her daughter, Martha, the wife of Alexander Herron. The Herrons spent the 1730s living in the house before they moved to the colony of Georgia, where Alexander became Lieutenant Governor. In 1751 they sold Stewart Hall to George Tucker, the Colonial Secretary. George Tucker was a model citizen. He had inherited the posts of Colonial Secretary and Provost Marshall from his father, who had served in these offices in the 1720s. He was a member of the Govenor's Council under both Governors Popple. His house was a crowded one, since he had a wife, five children, and eleven slaves.

The detached two-floor cottage to the north of the main house was probably home to some of Tucker's slaves, whose duties undoubtedly included looking after the small herd of livestock which Tucker kept in the yard. An archaeological excavation at Stewart Hall in 1990-91 revealed a livestock watering trough for these cattle, over a mid-17th century woman's grave, dug long before Stewart Hall was built. A probate inventory made after George Tucker died in 1766 reveals the wealth and refinement of the Secretary's home. He had created a cross chamber on the ground floor by dividing the larger hall with a partition, reflecting the Georgian predilection for symmetry and its emphasis on creating private spaces by increasing the number of doorways in a house. Tucker has a writing closet off the hall where he attended to his official duties. Silver plate, Chinese porcelain, English salt-glazed stoneware and lead crystal graced the Tuckers' dining room and exhibited their wealth and status. George Tucker's widow Mary lived in Stewart Hall until her death in 1787. The house was then rented to Andrew Durnford between 1789 and 1791 while he was improving the colony's fortifications and building Durnford. He lived in Stewart Hall with his mistress, Elizabeth Lucas, with whom he had six children. Hannah Stockton, who was George Tucker's niece, purchased the house at auction in 1795. She died there two years later and the house went to her two young children.
19th Century
The direct impact of the arrival of the British military in the 1790s can be seen in the fate of the Stockton's children. Her son became a purser in the Royal Navy and her daughter Sarah married Lieutenant James Robinson of the Royal Fusiliers. The Robinsons lived in Stewart Hall until 1819, when they departed for England and sold the house to silversmith John Trott Cox. He was responsible for the one-floor addition to the north of the house, which housed his workshop and retail store. Barrister (lawyer) Duncan Stewart purchased the property in 1849 and, although he never lived in the house himself, the name Stewart Hall, commemorates his ownership.
20th Century
In the early 20th century, Stewart Hall was owned by the Higinbothom and Clifford families before the Bermuda Historical Monuments Trust purchased it in 1949. Until recently, it housed the St. Georges' branch library. It has since been acquired by The Bermuda National Trust. The latest tenant is the Bermuda Perfumery, now owned by The Brackstone Partnership.

Somers Gardens
Pleasant public gardens in the town, mostly open space, more of a park. They were opened in 1920 by the Prince of Wales at the time (later the Duke of Windsor), during his first visit (voyage) to Bermuda. Albert Edward, Prince of Wales (later, briefly, King Edward VIII) was then a serving Royal Navy officer on the 1920 refitted Royal Navy battle cruiser Renown, on a tour of Bermuda, the Caribbean, the USA and Australia. HMS Renown, lead ship of a class of two 26,500-ton battle cruisers, was built at Glasgow, Scotland. Completed in September 1916, she served with the Grand Fleet in the North Sea during the remaining two years of World War I. She was at HM Dockyard Bermuda during the Royal Visit.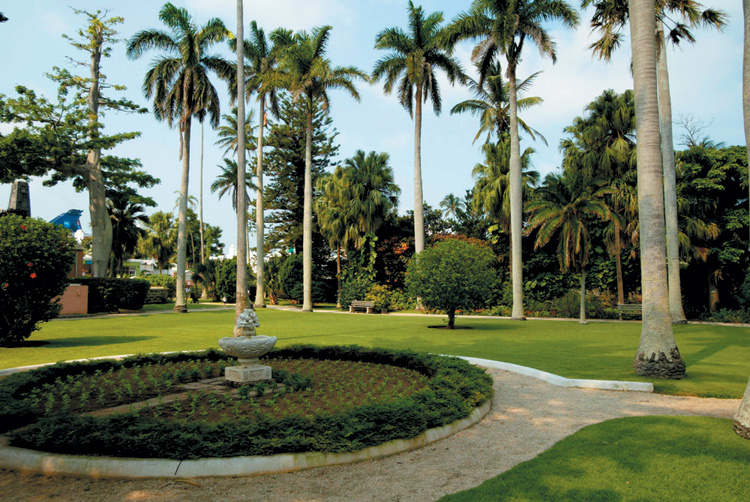 The main feature of the gardens is a monument - the Somers Memorial, below - to Admiral Sir George Somers whose body was shipped to England but whose heart was buried here. In the Christmas season, the Gardens are lit, from 5 pm to 8:30 pm. with nest views of the light display from Shinbone Alley and the York Street side.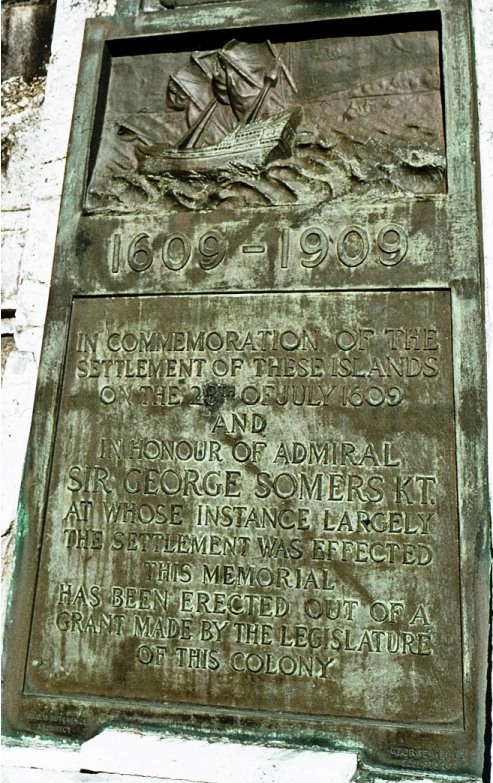 Stockdale House
3 Printer's Alley, St. George's. Privately owned, residential. Originally built in the early 1700s. Although small, it is quite complex in its design. The oldest section of the house runs east-west with a gable roof and a chimney on each side of the roof. Later a north section was added also with gabled roof while a south wing was added with a nice wooden porch. Gateposts and the boundary walls are impressive. Named after Joseph Stockdale who was the first printer in Bermuda. He arrived in 1783, made this house his residence and also setup his printing press in the house. He started publishing Bermuda Gazette from 1784 and continued to publish till 1803 when he died. His three daughters took over the press and continued with the Gazette until 1816. One of them also had a small shop in the house selling dress and sewing materials.

Stocks and Whipping Post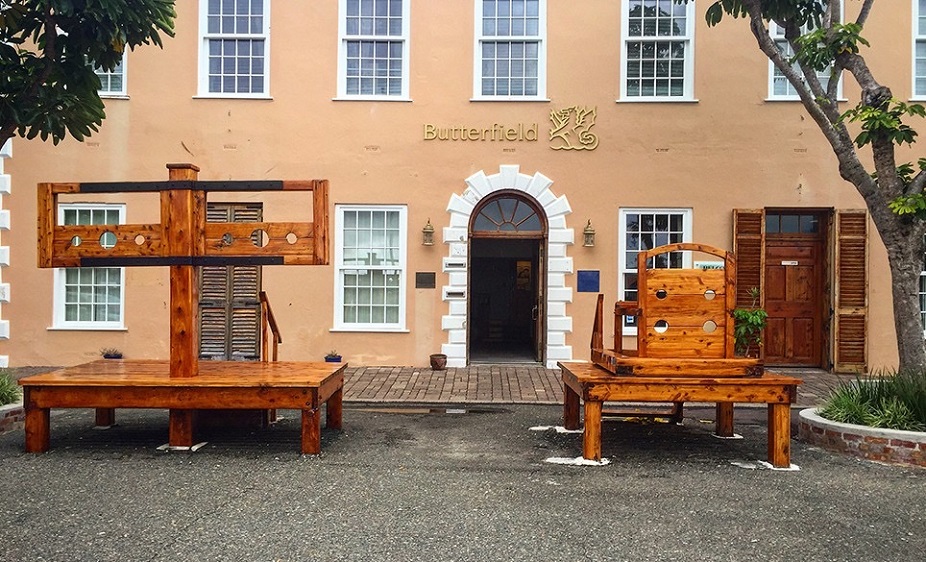 Bermuda cedar originals of these on King's Square were used from the early 17th century onwards, to mete out public humiliation and punishments. Today, they show how the punishment was inflicted. The stocks are like a guillotine's platform an offender has to climb up. Instead of a sharp and vicious blade coming down to sever the head at the neck, the head is held in the tight grip of two boards with apertures for the head and hands. It was very uncomfortable.. In the old days, onlookers, sometimes crowds, often jeered, shouted rude messages and threw rotten fruit or worse at those being punished. It was also a time when disputes between neighbors could be settled with malice. It was extremely humiliating and could go on for hours. It was highly effective at making sure folks did not break the law or disturb the peace. A whipping post was also once here, where criminal miscreants were publicly whipped with a cat-o-nine-tails.

Street names and scenes
The streets of St. George's, composed of confusing, winding one-way streets, were designed as only footpaths for the original settlers who arrived in 1612 on board the Plough. Names reflect the whimsy or purpose at the time of the streets. Some streets are listed separately.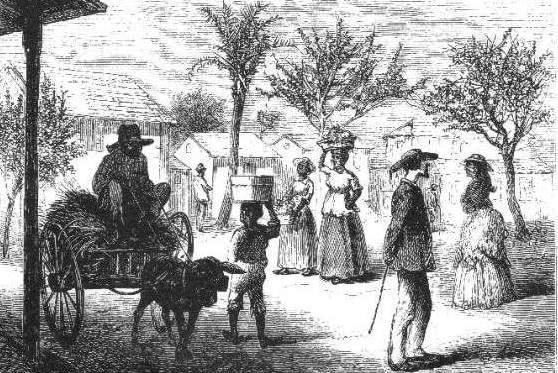 Street scene in the old days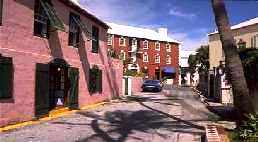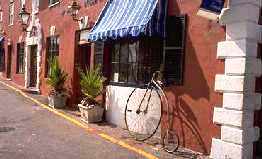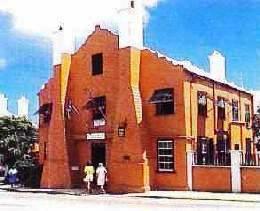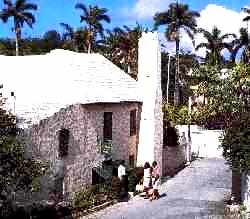 Supermarkets
Somers Supermarket, 41 York Street, open 7 days a week, telephone 297 1177. (A branch of the Supermart in the the City of Hamilton. Limited selection). A bigger supermarket is on St. David's Island, also in the Parish.

The Casino
21 Water Street, St. George's. Built about 1716. A typical 18th century merchant's house situated conveniently close to the wharf-side, with living quarters above and storage area below. It is a good example of an early building which has survived relatively unchanged. It has a characteristic 18th century chimney at its western end with two simple lines of necking close together and a Flemish gable at its eastern end. In 1920 the property was sold to Reginald H Higinbothom who ran the Casino as a hotel and tavern. That is when it acquired its unusual name, because of the illegal gambling that took place on the premises. The Historical Monuments Trust, later the Bermuda National Trust, acquired the property in 1966 to help with the restoration of the State House. This was achieved by using part of the Casino as a replacement for the State House's ante-room, which was subsequently demolished, thereby returning the State House to its architectural footprint. This property is now leased.

Thread & Needle Street
One of the quaintly named streets of the 17th and 18th century that still exists today. It was once a known locale for dressmakers and seamstresses.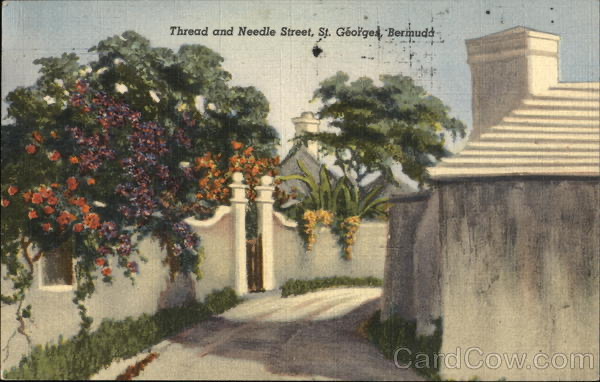 Tiger Bay
Named after a dockside area in Cardiff, Wales, United Kingdom. It is a western area of the town, near where ships and freighters dock and where there are loud concerts. A plaque here marks the World Heritage Site status conferred on the town, to make it one of the more than 630 such sites.

Tom Moore (1779-1852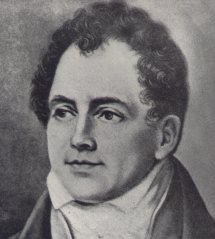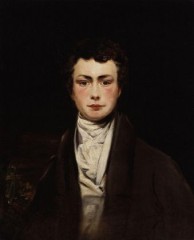 This town is connected with this distinguished British/Irish poet Thomas Moore who in Ireland is considered a national poet and always referred to correctly there as Thomas Moore, never as Tom Moore as Bermuda refers to him fondly. He arrived here in 1804 aboard a Bermuda-built sloop after a stormy voyage, via Norfolk, Virginia, when he was 24 years old, before he became famous. He lived and worked as Registrar to the Court of the Vice Admiralty. The town was then still the capital of Bermuda. He described the harbor of the town and parish as the "sweetest miniature of nature that can be imagined." He was said to have become instantly enamored of Bermuda. "These little islands of Bermuda," he wrote in a letter on January 19, 1804, "form certainly one of the prettiest and most romantic spots that I could ever have imagined, and the descriptions which represent it as like a place of fairy enchantment are very little beyond the truth. "From my window now as I write, I can see five or six different islands, the most distant not a mile from the others, and separated by the clearest, sweetest coloured sea you can conceive; for the water here is so singularly transparent, that, in coming in, we could see the rocks under the ship quite plainly. These little islands are thickly covered with cedar groves, through the vistas of which you catch a few pretty white houses, which my poetical short-sightedness always transforms into [ancient Greek] temples …" Hr wrote touchingly of Bermuda in other ways. He had already published many poems and ballads so had a certain reputation. He lived in rented premises on Old Maid's Lane, where there is a statue of him. Later, as a lusty bachelor hungry for female companionshp he became notorious as the author of love poems to "Nea" - the 17 year old wife of William Tucker, Marshal of the Court of the Vice Admiralty. But he stayed less than four months. Perhaps because his ardor cooled when his attentions to Nea were not reciprocated and he was not well-regarded by her husband and his friends, he came to believe that Bermuda and its remoteness were too tame. Later, he came to regret bitterly that he ever set foot in Bermuda. It was because the man who replaced him, or someone else in Bermuda, cheated the Admiralty but Moore was blamed and had to make good the losses. It aged him prematurely and affected his health. After he left Bermuda, he wrote splendid poetry later set to music, one of the most recognizable pieces being the "Last Rose of Summer." But his name lives on in Bermuda for the Tom Moore's Restaurant in Hamilton Parish named after him.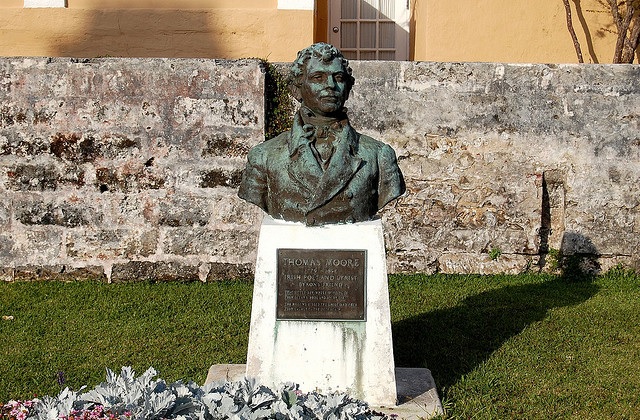 Town Cut
See http://www.bermuda-online.org/seestgeo.htm

Tucker House Museum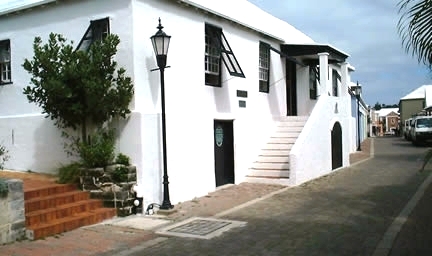 Book: Tucker House. The Story of a House, its people and its contents. 2015. Diana Chudleigh, photographs by Ann Spurling. Bermuda National Trust. 68 pages.
Water Street, St. George's. Telephone (441) 297 0545. Open Monday to Saturday 10 am to 4 pm. The stark exterior of this early 18th century merchant's house is a most interesting museum owned by the Bermuda National Trust. The house is said to be the most typical of early Bermudian house construction although the date of the building is unknown. Archaeological evidence suggests that it was standing, largely as it appears today, by the middle of the 18th century. A known first owner was a Thomas Smith. See the architecturally elegant interior furnished with family heirlooms dating back to 1775, when the house was owned and occupied by the Hon. Henry Tucker, Colonial Treasurer and President of the Governor's Council (1775-1807) and his family from 1770 to 1808. The first Tucker to arrive on the Island was Daniel, who came out from Kent in 1616 to serve as the Colony's second governor.
It is believed that the Tuckers installed the large paneled doors with the decorative wood carvings, inspired by the Adams brothers, some time during the last quarter of the 18th century. Henry Tucker and his sons were involved in the infamous Bermuda Gunpowder Plot of 1775. They contributed richly to British, American and Bermudian history. Crystal chandeliers, an extensive collection of Tucker family silver, antique English mahogany and Bermudian cedar furniture and exquisite hand sewn quilts, are some of the treasures on view. A few of the lovely antiques include a superb Bermuda cedar tea table circa 1730-1740, along with a fine set of Bermuda cedar side chairs with caned seat (circa 1730).
These and the tea table are thought to have once belonged to the original Tucker home, The Grove. In the drawing room are two important portraits of Colonel and Mrs. Tucker, nee Anne Butterfield, painted in 1753 by Joseph Blackburn, a visiting artist who was also well know in New England. Major Henry Tucker (1658-1726) stands over the fireplace. The bedroom has an English mahogany four-poster bed with rice pattern carving, on which lies a hand sewn quilt. There is a rare example of a Bermuda cedar three-sided cradle in the nursery along with side chairs made for children.
Many items were donated by the American branch of the Tucker family, from Baltimore, Maryland, and Williamsburg, Virginia. Three pieces were made by cabinet makers Henry and Samuel Smith and their slaves Nokey and Augustus. As a team, they created superb examples of local furniture modified from English and American furniture.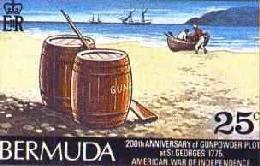 One of the portraits on display is that of His Excellency, Governor George James Bruere, Lieutenant Colonel in His Majesty's Service, at the who died on September 10, 1780 at the age of 59 years.
Bruere was the British Governor and Commander-in-Chief of Bermuda from 1764, through the start of the American Revolution in 1776, until his death.
He was outraged when, under his nose, Bermudians who sympathized with George Washington and his patriots including the owner of this house, stole a big cache of British Army gunpowder in Bermuda in 1775 and got it to the Americans. Bruere put up a reward for the capture of the Bermudians responsible but to no avail. It became celebrated as the Bermuda Gunpowder Plot (see stamp, right). Because he died of fever he was buried under St. Peter's Church, St. George's. Bruere lost a son also in the army fighting the Americans in 1778.
One of the rooms in the house, the Rainey Memorial Room, is dedicated to one Joseph Haynes Rainey, who spent the American Civil War years and until 1866 in Bermuda with his wife. Both had managed to escape from their earlier lives in the American South, where they had been slaves. They sought and obtained refuge in Bermuda. As a barber and dressmaker respectively, they were treated with respect and made a good living. When they finally returned to their native Southern state in 1866, with slavery having been abolished there, Mr. Rainey was appointed - not elected - during the Reconstruction period as the first ever black member of the United States' House of Representatives. The late Bermuda historian Cyril Packwood wrote a book about him, Detour - Bermuda, Destination - US House of Representatives.
The home was bequeathed to the Bermuda Historical Monuments Trust, predecessor of the Bermuda National Trust, by their great-grandson, Robert Tucker, when he died in 1950 at the age of 102. Underneath Tucker House, at street level, there is a book store called "The Book Cellar" with a complete range of books on the town. For further information, call (441) 297 0448 or fax (441) 297 4072.

Turkey Hill
A long, colorful residential homestead road, a hill in parts, off the main artery of Queen Street, within the town. It is so-called because the road and area was once part of a 17th to 18th century farming district which used to grow lilies, potatoes, turkeys, ducks and chickens for export. In about 1620, the turkeys that originally came from the USA were the subject of many complaints for being wild. So they became naturalized and their offspring were exported to the USA.In about 1762, about 30,000 turkeys were reputedly sold from here to the USA, which is when the road was titled.

Unfinished Church
On Church Folly Lane. On 2nd December 2010 it was officially declared off limits due to an "imminent danger to the public" posed by crumbling masonry. According to a Bermuda National Trust spokeswoman, a recent structural survey shows "substantial deterioration suffered in recent years by the venerable structure." The popular site, rented and maintained by the Unfinished Church Refurbishment Company, was ordered shut after the group's November 17 annual general meeting. The Company now plans to meet with the Trust, St. Peter's Church Vestry and other interested parties "in hopes of securing the future of this iconic building." The spokeswoman said although the Unfinished Church needed constant attention, the extent of recent deterioration was more than expected. "The survey showed weathering from water and wind posed a danger to the public from falling masonry, and the Trust had no choice but to close it." The Church remains closed until repairs can be arranged.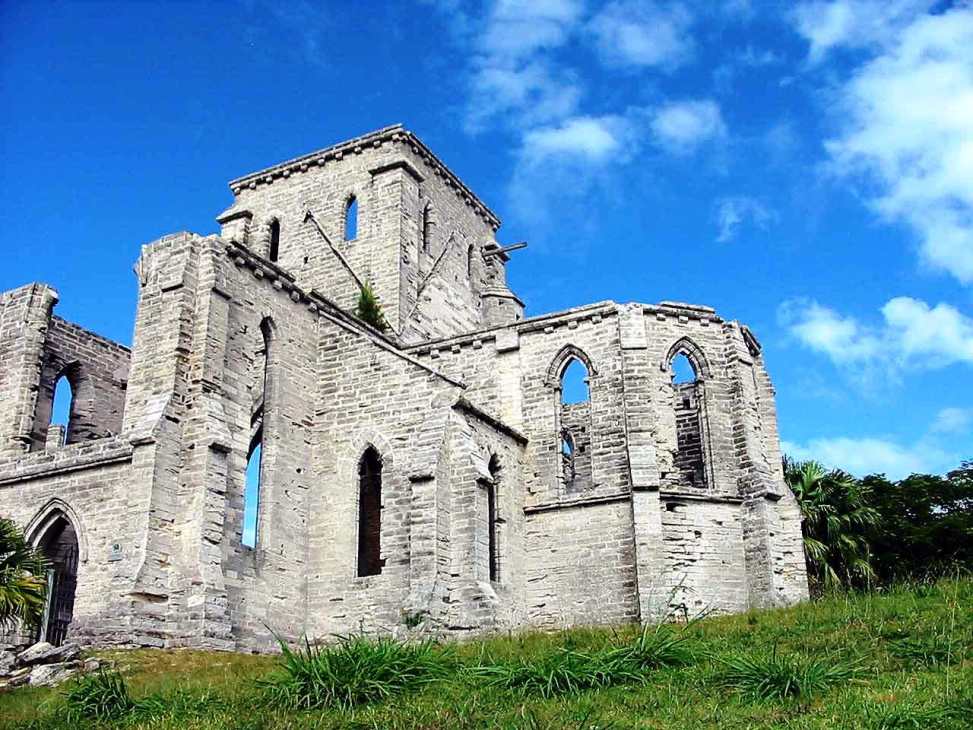 This towering structure on Government Hill Road was begun in 1874, on the site of the third Government House - dwelling of the Governor until 1815 and seat of local colonial power - which was demolished to make way for this church. Original architectural plans for this historic monument were by the famous Scottish firm of William Hay (who also designed the current Anglican Cathedral in the city of Hamilton and Government House in Pembroke Parish). It was intended as a replacement for St. Peter's Church, but was never completed. It was then believed that St. Peter's had deteriorated too much to be worth saving. But financial difficulties, followed by dissent within the Anglican community at the time, then finally severe damage to the rising structure by a storm, caused the project to be abandoned for good. Nevertheless, it is a magnificent gothic structure. In its death as an intended new church, it breathed life back into the old one when St. Peter's was restored. Today, it is one of the many properties of the Bermuda National Trust which is working to make it safe for public viewing and perhaps a site for cultural performances. Visitors can enjoy the views, but from a safe place.

Visitor Services Centre
2019. April 16. A new facility has opened on York Street. Phone (441) 297-0556. Cell: (441) 599-1239. Email stgeorgesvic@bermuda-tourism.com. 9 am to 4 pm Monday-Saturday. Closed Christmas Day, Boxing Day, New Year's Day, Good Friday. The facility gives visitors electronic information on the Olde Towne and across Bermuda, helps them book activities and sells Bermuda-branded products. It was set up as part of the Bermuda Tourism Authority's plan to make information more readily available for tourists. Tourism minister Zane DeSilva said: "St George's is one of the best places in Bermuda to spend the day wandering through the town, shopping at locally owned businesses, visiting the beach, and mingling with the locals. One of the biggest challenges that has faced the Town of St George's is how to share the wealth of information and activities in and about the Olde Towne with our visitors. We needed a location with the necessary technology and features, while maintaining the Olde Towne's architectural charm. We needed a location that was more aligned with our younger, fresher Bermuda brand. Our visitors now have a central location in the heart of St George's to learn about the history of St George's and to plan and book their personalised Bermuda experience. The new VSC will encourage visitor spending and enhance awareness of the incredible experiences available in the East End and across Bermuda. It provides a place where our visitors can discover all that is on offer and make purchases or reservations with the touch of a button." Mr DeSilva said visitor satisfaction levels had improved since the opening of the Dockyard Visitor Services Centre.

Water Street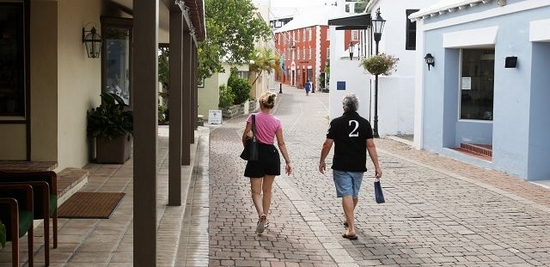 One of the town's principal streets, so-called because on the south side stores and other properties overlook St. George's Harbour. The street ends/begins at King's Square.

Witchcraft Trials
Before they happened in Salem, MA, there were many in this town, with a number of executions. The Corporation of St. George will have a town record of them. Witchcraft hysteria of the times was caused mostly by one-time Scottish solders captured by English forces at the behest of King James 1 of England and 6th of Scotland who was known to be superstitious, and later by victorious Oliver Cromwell, Lord Protector of England and shipped to Bermuda and other colonies to serve out their sentence before being allowed to settle.

Whitehall
12 Clarence Street. St. George's. Historically important, a 2 storey mansion house built and designed himself by St. George's Mayor John Van Norden in 1815 as his residence. He also supervised its construction. Many elite social functions were once held here. It later became residence of several other Mayors of the town. With a slanted hipped roof, quoins at the corners of the walls, moulding around the windows, eaves and double verandas. One veranda was added later by the Mayor B.F. James. There is a wooden porch at the western side. The gateposts are attractive. The splendid staircase has two welcoming arms. Now a private residence.

World Heritage Visitors Centre
A $6 million project officially opened in its entirety by Governor Sir Richard Gozney on July 28, 2009 for the Somers Day public holiday, previously opened in stages. A museum and exhibit centre with a small shop on the ground floor and a Visitor's Service Bureau. It was begun in 2004 as a project to restore the 1860-built Queen's Warehouse at Penno's Wharf. Installed were a movie theatre; air conditioning; a bathroom, staircase, windows, doors, with flooring and roof repaired. It is an important education and tourism product; creates life and activity in the Penno's Wharf area; and became a teaching resource for Bermuda's students and visitors who can view Bermuda's history through film and interpretative exhibits, and then explore the Town. The Bank of Bermuda Foundation was the single largest donor to the Centre. Visitors and residents alike can learn more about the history that has shaped Bermuda over the past 400 years. Guests take a walk-through tour of displays charting Bermuda's history from the pre-settled era the ending of slavery in the 1800s. There is a life-size recreation of the deck of the Sea Venture as she floundered in the storm that brought the first settlers to the Island, and another exhibit features a model whale's tail and a Bermudian fisherman poised with a harpoon. Amongst the static displays is a life-size giant turtle, a few cahows looking down from rocky perches and a miniature model of how St. George's is thought to have looked in 1620. Children and the young at heart are able to dress up in period costumes from bygone days in a special activity corner of the Orientation Exhibits Gallery. On the walls of the gallery are displays charting the events that shaped Bermuda's evolution from an uninhabited paradise to a prosperous and remote colony. Bermudian actors recorded the audio soundtracks played in some parts of the gallery. The exhibition is part of the St. George's Foundation's work.

Other Bermuda geographic areas


Authored, researched, compiled and website-managed by Keith A. Forbes.
Multi-national © 2020. All Rights Reserved