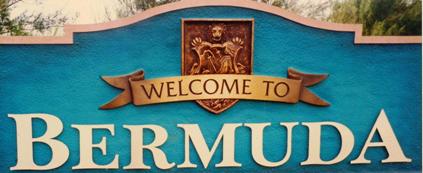 165+ web files about Bermuda, an internally self-governing British Overseas Territory 900 miles north of the Caribbean, 600 miles due east of North Carolina, USA. A comprehensive and constantly updated Gazetteer. Accommodation options, aircraft registry, airlines, airport, America's Cup 2017, art, banks, beaches, Bermuda Dollar, Bermuda Government, Bermuda-incorporated international and local businesses and companies including insurers and reinsurers, Bermudians, books and publications, bridges and causeway, charities, churches, citizenship by Status, City of Hamilton, commerce, communities, credit cards, cruise ships, culture, cuisine, currency, disability accessibility, Devonshire Parish, districts, Dockyard, economy, education, employers, employment, environment, executorships, fauna, ferries, flora, former military bases, forts, gardens, geography, getting around, golf, government, guest houses, history files since 1609, homes, Hamilton, House of Assembly, housing, hotels, immigration, import duties, internet access, islands, laws, legal system and legislators, location, main roads, marriages, media, members of parliament, money, motor vehicles, municipalities, music, nearest mainland, newcomers, newspaper, organizations, parks, Paget Parish, Pembroke Parish, permanent residents, pensions, political parties, postage stamps, public holidays, public transportation, railway trail, religions, Royal Naval Dockyard, Sandys Parish, Smith's Parish, Somerset Village, Southampton Parish, St. David's Island, St George's Parish, senior citizens, shipping registry, Somerset, Spanish Point, Spittal Pond, sports, taxes, telecommunications, time zone, traditions, tourism, Town of St. George, Tucker's Town, utilities, water sports, Warwick Parish, weather, wildlife, work permits.

Airlines serving Bermuda
Four American, two Canadian and one British carriers have direct regular scheduled services

By Keith Archibald Forbes (see About Us) exclusively for Bermuda Online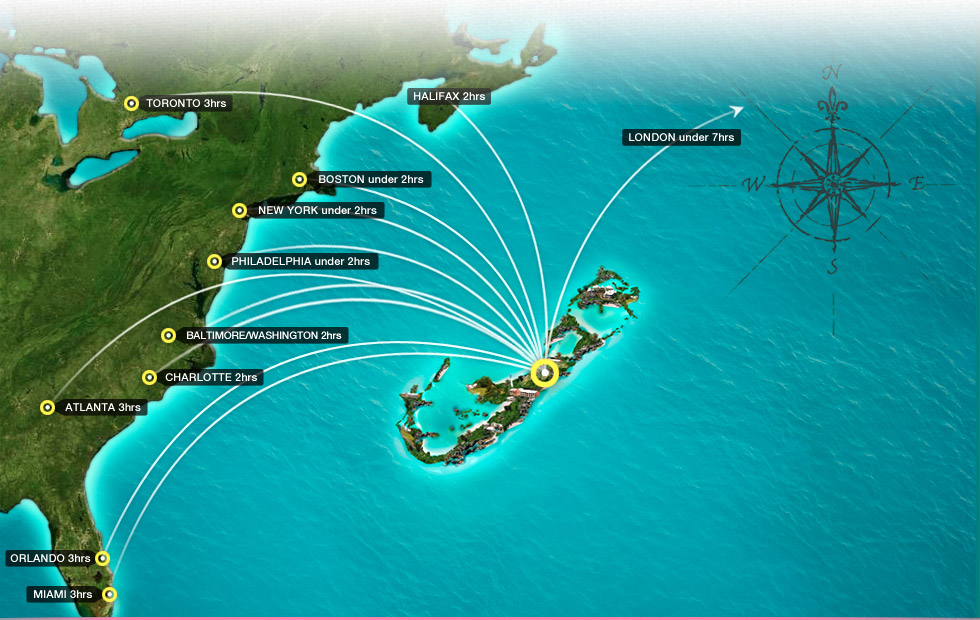 Graphic, Bermuda Tourism. Bermuda gets more than 75% of its tourists from the USA, 5% from Canada, 4% from the UK and rest of the world combined, hence the great majority of Bermuda's airline arrivals and departures are from mostly US East Coast cities.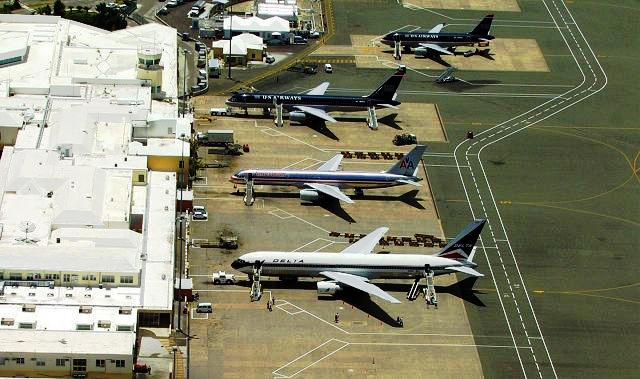 Aircraft apron in Bermuda
Airlines serving Bermuda don't fly to or from the Caribbean 900 miles to the south
Why not? There's not enough consumer and/or business demand to justify the costs and frequency of flights between Bermuda and the Caribbean. Bermuda subsidizes airlines flying to and from Bermuda and may not wish to dilute their effect on Bermuda by seeing them go to competing jurisdictions. Those other islands also subsidize their flights and don't wish to share them for similar reasons. Most tourists and businesspeople want to get from A to B directly and as fast as possible, not via other jurisdictions. Landing slots and principal markets from where airlines fly to Bermuda may also be factors. Bermuda gets 85% or so of its tourists from the USA, 5% from Canada, 4% from the UK and rest of the world combined. Business practicalities in ways outlined above likely rule the airlines and where they go. Yes, many years ago, until about the 1960s, British Airways operated a flight between London, Bermuda and Barbados but what was practical and profitable then is not the case now. Bermuda's present BA service is always full as Bermuda is a world international business insurance centre and for this alone is probably hugely more profitable than its pre-1960s service from London to Bermuda and the Caribbean.
Bermuda Government subsidy to airlines
2016. January. Tourism Minister Mr Crockwell said that the Bermuda Government had "significantly reduced" its Minimum Revenue Guarantee (MRG) liability, through which airlines are guaranteed a minimum return for their service. "Normally when you have new flights or new gateways there has to be some form of subsidisation," he said. "I am proud to say — and some people may say this is not a good thing — that we have as a government significantly reduced our MRG liability. Most tourism destinations have a significant MRG liability because you want to preserve your flights, but quite a few of our flights have been doing well, and therefore we have not been forced to pay out those MRGs. We do have MRGs, and you will see them in the budget, but they are significantly less than what we have paid out year after year."
Every year, the Bermuda Government and its taxpayers pay out $ millions to international airlines serving Bermuda companies to cover the cost of Bermuda flights. They do so because failure to make revenue guarantee deals with airlines would mean losing Bermuda routes. Small islands and countries not attracting a million or more visitors every year have a challenge getting flights. The payouts are part of the cost of doing business. Bermuda offers most airlines a minimum revenue guarantee which kicks in when airlines serving Bermuda and their volume of passengers don't make industry-level returns. Such deals are understood to be common elsewhere when facing similar shortfalls. Cutting deals with airlines is not optional, it's either that, or lose the route. It's up to Bermuda not the airlines to increase the numbers of people getting on those flights. Jurisdictions like Bermuda with these minimum revenue guarantees have to hope their marketing will bring in the people. The Bermuda Government pays out an annual $2 million-plus subsidy to airlines when they fail to meet their revenue projections in accordance with the minimum revenue agreements Government entered into with airlines flying to Bermuda dating back to 2007. Airlines have a uniform policy of building into their fares structure wherever they go a standard formula for their cost of doing business there. They use a system based on net operating ratio per territory they cover, with the relevant impact on net operating revenues and net operating expenses. In airport user charges and taxes and fuel costs for refueling locally, they pay vastly more per square mile for a place of Bermuda's total geographical size for their airport and city offices and other services than anywhere else they go. Plus, operating costs and staffing etc. expenses are much higher than elsewhere. Economies of scale in terms of numbers of passengers per airline flying to and from Bermuda don't exist, with Bermuda's total number of visitors by air - spread among all the airlines flying here - totaling less than 450,000 flights a year combined among all the airlines, compared to millions in some other jurisdictions.
Airlines flying from Bermuda are not required under Bermuda law, as they are required in the UK since January 2008 and Europe earlier under their laws, to include compulsory taxes and charges in their headline prices.
Bermuda has no international regularly scheduled airline of its own - although this was not always the case - see Bermuda's Aviation Pioneers. The last one was Eagle Airlines (Bermuda) Ltd in the late 1950s.
Bermuda's location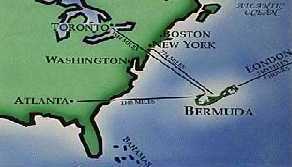 It is NOT in the Caribbean. There are no commercial scheduled direct flights between Bermuda and any of the Caribbean islands. Going via the USA or Canada are the only ways. The International Air Transport Association (IATA) refers to Bermuda as in North America. Bermuda is 568 miles east of North Carolina, 693 miles south east of New York (with direct daily connections by air), 729 miles south of Nova Scotia (with a seasonal once-weekly direct connection by air), 770 miles south east of Boston (with a direct daily connection by air), 788 miles north east of Nassau (no direct connection by air but via the USA), 1115 miles south east of Toronto (with a direct daily connection by air), 1290 miles north of Puerto Rico (no direct connection by air but via the USA), 2055 miles from Winnipeg (no direct connection by air but via Toronto) and 2996 miles from London, England (with a direct six times a week in summer and three times a week in winter connection by air).
Non-stop service to Bermuda by these airlines
Some are daily year-round, others are seasonal (usually May to October). For reviews and information on their airline cabins see http://www.airlinequality.com
Air Canada. From Toronto, weekly flights from Halifax (YHZ).

American Airlines. From New York, Boston and other airports in the USA

British Airways. A daily flight from London, England (Gatwick), the UK's second-biggest airport, in high season, five times a week in low season.

Delta Air Lines. Daily from Atlanta International Airport (ATL), Logan International (BOS) and New York La Guardia (LGA).

JetBlue. Daily flights from New York (JFK) and Logan International (BOS) Boston.

United Airlines. Daily from Philadelphia (PHL) and elsewhere to Bermuda.

WestJet Airlines. To/from Toronto, seasonal.
Air charters from USA to Bermuda
Apple Vacations of USA and some other services, are allowed in from the USA to carry tourists going both ways but are not allowed to carry one-way passengers including Bermudians and residents.
TNT Vacations of USA have also operated off-peak charter flights to Bermuda, heavily subsidized by the Bermuda Government.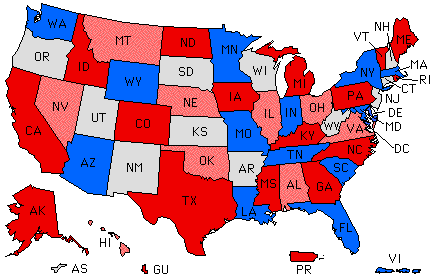 Airport closes at night
Bermuda International Airport closes at night after the last flight. Under no circumstances are any passengers allowed to sleep there overnight. When it closes, all facilities - restrooms, etc. - close as well. Security guards enforce the closure. All are expected to go home or to an hotel.
Disabled facilities are limited
There are no airport jet ways in Bermuda so passengers in wheelchairs or who have mobility problems and cannot mount and dismount aircraft steps unaided should ask ahead of time for airline assistance when arriving and departing.
Departure tax and Airport Security Fee
All passengers pay both these, built into the cost of their tickets. See the latest Bermuda Government's Miscellaneous Taxes (Rates) Amendment Act. Bermuda has the highest Departure Tax in the world per square mile - now US$1.66 per square mile of Bermuda's 21 square miles.


Formed in 1937 as Trans Canada Air Lines, It first flew in 1939. In September, 1946, in one of the first not pressurized Canadian North Star aircraft, it surveyed the route from Montreal to Bermuda. In 1948 it began a Montreal Toronto Bermuda route and established air to ground communications systems it needed, in Bermuda, Goose Bay, Labrador and Gander, Newfoundland. It commissioned the 1986 book "It Seems Like Only Yesterday" by Philip Smith to commemorate its 50th anniversary. Today, Air Canada once offered daily year-round service but recently reduced it to high-seasonal non stop Tuesday, Thursday, Friday, Saturday and Sunday service to and from Toronto and a weekly seasonal flight to and from Halifax, Nova Scotia.
The local head office (open Monday to Friday 9:00 am to 5:00 pm) is at the Bermuda International Airport, 3 Cahow Way, St. George's Parish, Bermuda, telephone (441) 293-0793, fax (441) 293-0667. Telephone Aero plan 1-800-623-0752; Passenger Reservations & Information 1-800-776-3000 (7 am to 3 am, 20 hours daily); Air Freight (441) 293-2480 or 2105; Baggage (441) 293-0794; Flight Information (441) 293-1777.

Merged beginning in 2013 with US Airways. It began daily non-stop service between Bermuda and New York (JFK) on September 8, 1975. It was when Pan American World Airways (which began flights to Bermuda in 1936 but no longer exists) and American Airlines agreed to orchestrate an airline route swap, whereby American would service Bermuda and certain Caribbean destinations (but not necessarily to and from each other) and Pan Am would service Hawaii and certain Pacific destinations (as Pan Am once did much earlier). That first Bermuda flight on American was a Boeing 707 from Boston's Logan International (BOS). It has been flying to Bermuda ever since. Now-defunct US Airways, merged into American Airlines with the final end of the merger in October 2015, when still Allegheny, began its services to Bermuda on June 1, 1989, flying from Baltimore/Washington (BWI) to Bermuda and Philadelphia. Now Bermuda's most frequent carrier, with some services daily year round. Main office is at Bermuda International Airport, 3 Cahow Way, St. George's Parish. Telephone Reservations & Information at 1-800-622-1015 or fax 1-441-293 1270. Air Cargo (441) 293-1972; Baggage (441) 293-3073. Receives an annual Bermuda Government subsidy.
2016. November 2. American Airlines is set to offer year-round flights between Bermuda and Philadelphia, Senator Michael Fahy announced yesterday. The Minister of Tourism, Transport and Municipalities added that the move was part of a wider "renaissance period" for the island's tourism industry, with visitor numbers and hotel occupancy both thriving. AA will provide a once-a-week winter service from January 14 to April 1 as well as daily connections in the peak summer season. The airline will operate a 128-seat Airbus 319 aircraft every Saturday during the off-peak months, departing Bermuda at 3.05pm and arriving in Philadelphia at 4.34pm. The return flight, also on Saturday, will depart Philadelphia at 10.30am and arrive in Bermuda at 1.48pm. Mr Fahy welcomed AA's decision to resume year-round service to the island for the first time since 2013, after he and a team of delegates visited the company's Dallas, Texas headquarters in the summer.
2016. February 10. American Airlines will begin a second service to Bermuda tomorrow from New York's JFK Airport. American Airlines flight 1428, its second from New York's JFK, is scheduled to depart at noon eastern time and arrive in Bermuda at 3.05pm local time. It will return to JFK same day with a departure at 4.00pm, arriving at JFK at 5.30pm eastern time. The additional flight will operate every day of the week except on Tuesdays.
See http://www.britishairways.com/travel/explore-our-past/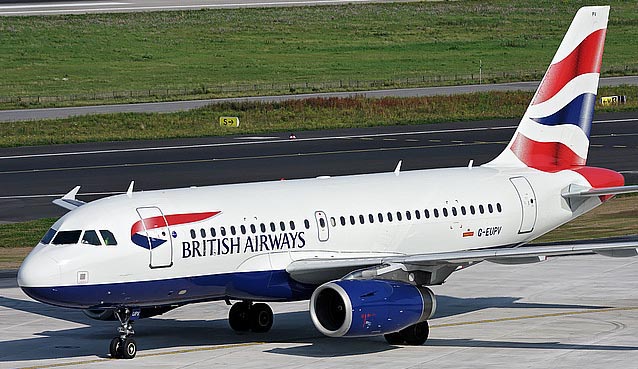 2016. August 11. British Airways is preparing to celebrate 80 years of service to the island next year. No airline has linked Bermuda to the outside world for longer and according to a senior manager at BA the relationship is only getting stronger. Colm Lacey, BA's head of commercial, Gatwick, told The Royal Gazette that passengers on BA's Bermuda service will disembark at London Gatwick Airport's South Terminal from January next year, rather than the North Terminal. And he added that the airline was working with the Bermuda Tourism Authority to serve their mutual interest of boosting visitor numbers to the island. "From January 4, 2017, the Bermuda service will be flying to and from the South Terminal," Mr Lacey said. "We will have a new area there and new lounge with a great view of the open runway. It will also be more convenient for many of our customers who use public transport as the train station is at the South Terminal. The 80th anniversary, coming in the same year as the island hosts the America's Cup finals, presents great opportunities to attract more visitors from the UK. Bermuda is a very important route for Gatwick and for the airline," Mr Lacey said

Presently, providing the only airline service between Bermuda and the UK and Bermuda and Europe via the UK, thus this extensive profile. It began services to Bermuda on May 18, 1937 - see Bermuda Aviation - as Imperial Airways with a survey flight on May 25, the first passenger carrying flight on June 8 and official inaugural flight on June 12, via flying boat G-ADUU RMA "Cavalier" shipped to Bermuda in parts from Britain, then re-assembled by Imperial's engineers. It and Pan American World Airways - now gone - were the original pioneers of commercial air services to Bermuda. It once flew between Bermuda, New York and Miami and Bermuda to the Caribbean. It began flying in UK in 1919 as Daimler Air Hire, then Daimler Airway. Handley Page Transport was added to the stable, then Instone Air Line and British Marine Air Navigation (BMAN). The amalgamated service became Imperial Airways in 1924 and British Overseas Airways Corporation (BOAC) in 1939, then British Airways again.
A Front Street City of Hamilton ticketing office is open Monday to Friday from 9:00 am to 5:00 pm. Also at Bermuda International Airport, 3 Cahow Way, St. George's Parish. Telephone toll free 1 - 800 AIRWAYS (1-800-247-9297) for automated services 24 hours daily including fares, schedules, flight arrivals, departure times. Local telephone numbers are Airport Customer and Baggage Service (441) 293-1944; Executive Office (441) 295-0710; and Sales Manager (441) 296-2031.
Bermuda is one of BA's long-haul destinations. It is the only airline with once-daily high-season six times a week weekly (except Mondays) low-season non-stop direct flights on its 6.5 to 7.5 hours flights (depending on going west from the UK or going east to the UK) to and from Bermuda and London, England (Gatwick), the UK's second-biggest airport, via its fleet of Boeing 777 aircraft. BA Fares to Bermuda from London are always substantially more than BA fares from Bermuda to London, also hugely more than BA fares from London to the USA, further away by air but on a much more competitive and frequent route. It has one of the highest fuel surcharges per passenger in the world. The mere 31 inches of seat pitch in BA Economy - compared to at least 33 inches of seat pitch on American airlines - turns into an uncomfortable and stressful flight, especially for the genuinely physically challenged (disabled) with substantial long-term balance mobility problems and seniors needing quick, easy and frequent access to the washrooms. Making the cramped conditions in Economy even worse is the fact that flights between Bermuda and London at popular times, such as before and after Christmas and any time in June, July, August and September are invariably full, so full that it is manifestly impossible to do any of the anti Deep Vein Thrombosis exercises the airline recommends. If you are in Economy and are trying to read a magazine or work - for example, trying to use a lap top computer - forget it completely if the seat ahead of you is reclined. Being seated in the middle of a long row in these conditions can be a nightmare. Economy Class seats are usually full to the brim and for those in this class the seating, flight and cramped areas for movement are not pleasant, especially when young children or infants are crying or screaming in the two front rows of economy, where they and their accompanying parent or parents are invariably given priority in seating. Quality of food has declined noticeably. With the airline having made huge losses in recent months to June 2010, some food onboard in Economy, such as breakfast en route to the UK from Bermuda, is best left untouched. After an overnight flight from Bermuda you get a horrible breakfast, unlike on an early BA domestic to say Edinburgh with a hugely better breakfast.
Seat pitch comfort level in World Traveller Plus economy
| | |
| --- | --- |
| | Fair (38" on a 777 for a long haul journey of 7.5 hours to Bermuda and 6.5 hours from Bermuda). |
The World Traveller Plus has its own dedicated cabin with 40 seats, all equipped within-seat power and telephones. With an additional seven inches of legroom and wider seats, you have the space and comfort to relax or work in-flight.
Seat pitch comfort level in World Traveller economy
| | |
| --- | --- |
| | Bad (only 31" on a long haul journey of 7.5 hours to Bermuda and 6.5 hours from Bermuda. Economy Class seats in seat pitch are the worst of any airline serving Bermuda. In comparison, movie houses (cinemas) in USA and worldwide, for a show lasting less than 3 hours, have a seat pitch of 47.2 inches. Even overseas public transport buses have better seat pitch than BA economy long haul flights. |
Passengers who can afford it should seriously consider going at least Premium Economy for a vastly more enjoyable flight with far better comfort, better seat pitch, leg room, food and service. BA's single most profitable route is this Bermuda run, with the added bonus of no competition from Virgin Atlantic or any other, unlike in BA's other routes. BA air fares reflect this lack of competition.
BA staff have the highest salaries and most generous perks of any airline. For senior staff the latter include one completely free trip a year to anywhere in the world. All staff get 90% off the full fare on any flight although they are on standby and can be bumped off full flights. Married staff can take family members on 90% and 100% reduction flights. Those who are unmarried can nominate two other people to accompany them for the same discounts. Staff and/or family-friends get first preference for bulkhead seats if flying Economy is their only realistic option. The concessions are also available to former BA staff for a number of years after they have left BA and retirees from BA and their families including grandchildren. (Source, Daily Telegraph).
UK's Air Passenger Duty (APD) Tax applicable to Bermudians and residents
Tax for a family of four in Economy Class in 2014 and 2015. From/to Bermuda and UK. To other parts of the world from Bermuda via UK. Bermuda is in Band B (2001-4000 miles). For BD$ equivalents use foreign exchange rates applicable at time of purchase.
| | | | | |
| --- | --- | --- | --- | --- |
| Band A (0-2000 miles | 2014 | £52 | 2015 | £52 |
| Band B (2001-4000 miles | 2014 | £276 | 2015 | £284 |
| Band C (4001-6000 miles | 2014 | £340 | 2015 | £284 |
| Band D (6,001+) | 2014 | £388 | 2015 | £284 |
World Traveller Plus tickets from London Gatwick to Bermuda cost more than for flights to Barbados or St. Lucia in the Caribbean, both much further away.
Since November 2009 the UK Government has hiked its Air Passenger Duty (APD) tax to levels that are the highest in the world by a wide margin, by 375% in two years. Flying to Bermuda from this alone is now appreciably more expensive as a result. It now costs more in taxes than in fares (as the above example illustrates) to fly from the UK to anywhere as the fare.
London and UK public transport systems ( tube or subway, buses, trains except for the Gatwick Express) are not designed for passengers with suit cases and are hugely more expensive than far more comfortable-for-travelers systems in France, Germany, Belgium, Holland, etc.
Passengers cannot take 0.75 or 1 liter bottles as hand baggage if going from Gatwick to any other UK or foreign airport.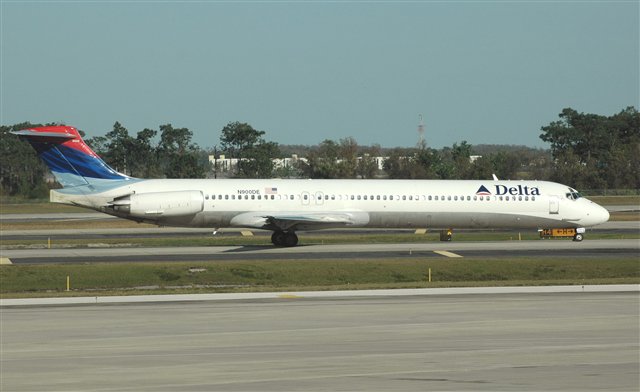 Still as North East Airlines - before it changed its name - it inaugurated its Bermuda service in March, 1969, from Boston. For a while it had a direct flight between Bermuda and Hartford, Connecticut. In May 2012 it announced that from April 2013 Delta would also offer daily year-round service between New York (LaGuardia) and Bermuda. The airline announced the new flights to Bermuda were part of an expanded service out of New York that would also include additional transport to destinations in the Caribbean and Florida. The move was hailed by the Bermuda Hotel Association and still applies. Delta's office is at Bermuda International Airport, 3 Cahow Way, St. George's Parish. There is also a City of Hamilton ticketing office.

(1-800-538-2583) or 1-801- 365-2583, if calling from Bermuda. Began twice-daily high-season service from JFK New York on May 4, 2006 and Boston in 2007. This low-cost airline came to Bermuda after five years of wooing by the Bermuda Government. It had been a target since 2001 in the expectation that its low cost tickets will entice more visitors to the Island.

World's largest airline in terms of number of destinations. It is a subsidiary of United Continental Holdings, Inc. formerly UAL Corporation, with corporate headquarters in Chicago. United's largest hub is George Bush Intercontinental Airport in Houston. United is a founding member of the Star Alliance, the largest airline alliance in the world, and offers connections to over 1,000 destinations in over 170 countries worldwide. Has long been a frequent seasonal carrier to Bermuda. Local office is at 3 Cahow Way, Bermuda.
2016. August 13. The Bermuda Government and the Bermuda Tourism Authority have lamented the suspension of the United Airlines service to Newark this autumn. While the airline cut winter service to the city in 2014, it last year elected to offer three weekly flights to Newark after discussions with the Government. However, this year it has emerged that service between the city and Bermuda will be suspended for the autumn and winter seasons on September 7.
2015. September 29. United Airlines will reinstate its winter schedule between Newark and Bermuda, the Ministry of Tourism Development and Transport announced yesterday. In 2014, the airline chose not to fly to Bermuda during the slower season, opting instead to use its aircraft in markets that were in peak season demand. However, in a welcome show of confidence, it has announced it will provide a non-stop service to Newark throughout the winter, beginning November 20. The airline will operate three flights per week: Monday, Wednesday and Friday. The flight departs Newark at 11.38am and arrives in Bermuda at 2.52pm. The return departs Bermuda at 3.50pm and arrives in Newark at 5.25 pm.

Began services to Bermuda in May 2010. A Canadian low-cost carrier based in Calgary, Alberta. It flies within Canada, to the USA, Mexico, Bahamas and Caribbean. The second largest Canadian carrier behind Air Canada. Non-unionized. A public company with over 7,500 employees and 1.2 billion USD market capitalization.
Bermuda International Airport arrivals

From cities shown in USA, Canada and United Kingdom.
On arrival, passengers go through Bermuda Immigration and Customs, not through lines for Bermudians and residents but those for visitors. Then they take taxis or minibuses to get to their hotels or guesthouses or wherever else they are staying, or are met by friends or family.
There are no rent-a-car or public transportation services for passengers with luggage.
Note that some flights are seasonal.
Bermuda International Airport departures

To cities shown. Refer to airlines for any changes.
USA-bound passengers go through US Customs & Immigration pre-clearance in Bermuda.
Fights shown are in order of time of departure, to help persons taking them to the airport, or taxi owners and operators, or local mini-bus services for departing passengers.
Departing passengers should check in to the airline ticket counter two hours before their departure times, to avoid being refused if they arrive too late to be questioned, screened and processed. Passengers going to Britain or Canada will encounter Immigration and Customs clearance when they arrive in London or Toronto. In the United Kingdom, if a spouse has a UK national passport, an accompanying husband or wife who is not a UK national may also go through the UK and European Community lanes instead of the far more lengthy other Immigration lanes.


Last Updated: September 19, 2017.
Multi-national © 2017 by Bermuda Online. All Rights Reserved.