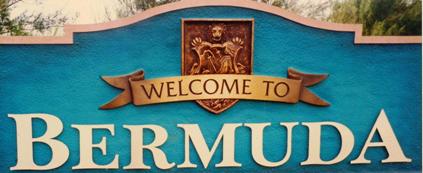 125+ web files in a constantly updated Gazetteer on Bermuda's accommodation, activities, airlines, apartments, areas, art, artists, attractions, airport, aviation pioneers, banks, banking, beaches, Bermuda Status and citizenship, British Army, businesses, calypso, Canadian military, causeway, churches, city of Hamilton, commerce, community, cruise ships, culture, cuisine, customs, Devonshire Parish, disability accessibility, districts, Dockyard, economy, education, employers, employment, entertainment, environment, executorships and estates, fauna, ferries, flora, food, forts, gardens, geography, getting around, golf, government, guest houses, history, Hamilton Parish, homes and housing, hotels, internet access, islands, laws and legal system, local groups and organizations, location, media, motor vehicle options, music, municipalities, Paget Parish, parishes, parks, Pembroke Parish, politics, postage stamps, public holidays, public transport, railway trail, religions, Royal Navy, Sandy's Parish, St. David's, St. George's Parish, shopping, Smith's Parish, Somerset, Southampton Parish, Spanish Point, Spittal Pond, sports, stores, telecommunications, traditions, time zone, town of St. George, United States armed forces, tourism, vacation planning, villages, vital statistics, water sports, weather, Warwick Parish, wildlife, work permits, etc. For tourists, business visitors, employers, employees, newcomers, researchers, retirees, scholars.
Bermuda's banking scenario
How banks and trust companies operate in this Island community

By Keith Archibald Forbes (see About Us) at e-mail exclusively for Bermuda Online
To refer by e-mail to this file use "bermuda-online.org/banking.htm" as your Subject.
While Bermuda is certainly an offshore international business and insurance center, it is not an international banking center. International banks, which in other offshore locations and also in many onshore jurisdictions, are allowed to register as banks and can operate in those countries, are not allowed in Bermuda to register or operate as banks.
Unlike UK banks, Bermuda banks charge (presently at least $6 a month) for current accounts. Their loan policies are ultra conservative, with loans constituting under 15% of total deposits, creating a low loan portfolio exposure. Mostly, they concentrate on fee driven business. The two main banks mentioned below have gone multi-national, with operations (branches, representative offices or wholly owned subsidiaries) in Barbados (Butterfield Barbados Ltd), Cayman Islands, Channel Isles, Dublin, Hong Kong, Isle of Man, London, Luxembourg, Mauritius, New York, Singapore, etc. In services, facilities and competence the local banks benefit the economy generally and enjoy many advantages, especially to visitors and newcomers who, in their own home countries will not find any of their High Street banks with the same national and international range of Foreign Exchange and other facilities and services. The Bermuda Government charges them the high banking fees, plus millions of dollars in Payroll Tax, so their interest rates are lower, interest bearing checking accounts do not exist and service fees to consumers are among the highest in the world. In the case of three of the four banks, their shares are traded on the Bermuda Stock Exchange.
There are now four banks, with only one now local (used to be all four).
Bank of Bermuda/HSBC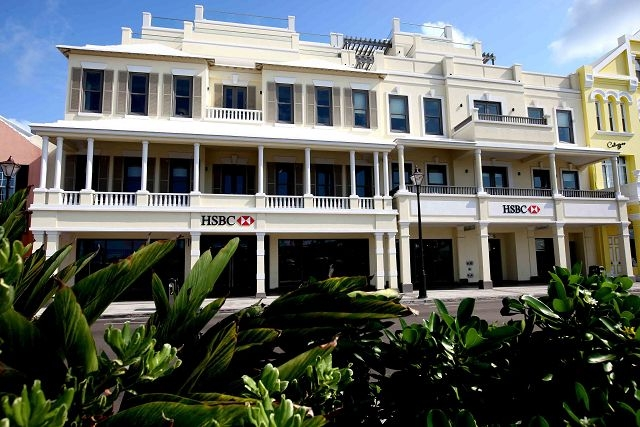 HSBC, Bermuda, Royal Gazette photo
Harbourview Centre, Front and Reid Streets, Hamilton. Phone 295-4000. Fax 295-7093. About 47% of the local banking market. The largest by a considerable margin and most profitable Bermuda bank, especially since February 2004 under HSBC ownership when acquired for US$1.3 billion. Since 1889. Formerly the Bank of Bermuda Limited.
Butterfield Bank Limited
65 Front & Reid Streets, Hamilton HM 12. Phone 295-1111. About 40% of the local banking market. Main investors are the Canadian Carlyle Group (18.64%) and the Canadian Imperial Bank of Commerce (CIBC), 18.64% (together they own nearly 40%), then Bermuda Government Pension Funds, Wellcome Trust, Julian Robertson and Goshen Investments LLC.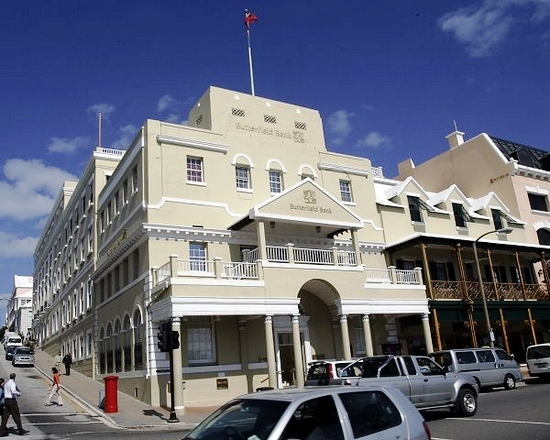 Bank of Butterfield, Bermuda
Bermuda Commercial Bank Ltd (BCB)
19 Par-La-Ville Road, Hamilton HM 11, PO Box HM1748, Hamilton HM GX, Telephone: 441.295.5678 Fax: 441.295.4759
.
Capital G Bank Limited
19 Reid Street, Hamilton HM 11. P. O. Box HM 1194, Hamilton HM EX. Phone (441) 296-6969. Fax (441) 296-7701. Bermuda's largest privately-held full-service bank and deposit-taking company.
Free courtesy hyperlinks (links)
to their main websites, which include full details of their histories and operations, will be shown gladly, to give their full details as Bermuda resources, once they return the courtesy with a free reciprocal link to our main Bermuda Online website at http://www.bermuda-online.org. See our Links and Mentions policy at http://www.bermuda-online.org/links.htm. Until then, only basic contact information without email or website addresses can be shown, at our discretion. Updates to bank information. Banks are asked to let this author know of updated contact details, facts and figures. Please contact Keith Forbes at email admin@bermuda-online.org.
Trust Companies
There are two types.
Trust companies don't have the same powers as banks. The BMA is also their regulatory authority. Major further changes to the Trust Companies Act were enacted recently, as a result of which the Trusts (Regulation of Trust Business) Amendment (No. 2) Act 2002 came into force. This Act replaced the Trust Companies Act 1991. Licensing is a requirement.
Private trust companies are similarly regulated and licensed. There are now specific tests for carrying on private trust business in Bermuda.
Deposits made with all the Bermuda banks are
Not covered by the UK Government's Financial Services Compensation Scheme - http://www.fscs.org.uk/ - under the UK Financial Services and Markets Act, 2000. Nor is there yet any Bermuda equivalent. In addition, they are not licensed to conduct banking business in the United States or Canada.
Not covered by the US Government's Federal Deposit Insurance Commission (FDIC) insures deposits of all kinds in all licensed banks up to $250,000 per depositor for all deposits, savings and individual retirement accounts.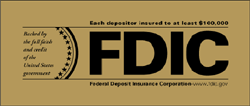 Instead, in July 2011 Bermuda's House of Assembly parliament enacted an insurance scheme to protect individuals, charities and small businesses. Referred to as the Deposit Insurance Act, the recent global financial turmoil has led to a re-evaluation of the safety net. The Act bolsters public confidence in the banking system by providing insurance coverage to depositors in banks, credit unions (but not trust companies) that are members of the scheme. Membership of Bermuda's Deposit Insurance Scheme [DIS] - see Bermuda Deposit Insurance Corporation below - is mandatory for all four commercial banks, the one deposit company licensed under the Banks and Deposit Companies Act 1999 and the sole credit union. The maximum threshold for compensation is $25,000, although that amount "could grow over time." The legislation will put a Bermuda Deposit Insurance Corporation [BDIC] in place to administer the scheme, which will be funded by its members in advance of any claims, to bring greater stability and confidence to the Island's financial system. The financial safety net typically consists of three elements: prudential regulation and supervision, a lender of last resort, and deposit insurance. In Bermuda, which has no lender of the last resort, the safety net relies heavily on prudential regulation and supervision by the Bermuda Monetary Authority [BMA]. Deposit insurance is a guarantee to depositors in a bank that they will be compensated up to a maximum specified amount of their deposits upon failure of that institution.

While a large country such as the US has a three-layer safety net of currency control, the Federal Reserve or central bank, and the Federal Deposit Insurance Corporation, Bermuda has no central bank. Instead, the BMA is the regulatory authority and the relevant pieces of legislation are The Banks & Deposit Companies Act 1999 and The Banking Appeal Tribunal Regulations 2001. The BMA is responsible for the licensing, supervision and regulation of all financial institutions in Bermuda (including those conducting deposit taking, insurance, investment and trust business). Since 2009, the BMA has required all Bermuda banks to ensure they have a "capital buffer" which would keep them on a solid footing even in the case of a dramatic worsening of economic conditions.

Investment vehicles and services of Bermuda banks have not been registered or licensed under any United States securities legislation and are not being offered, directly or indirectly, in the United States or in any of its territories or possessions or areas subject to its jurisdiction or to its citizens or persons thereof.

The Bermuda Government has not approved any local bank as the depository of public funds. Instead, it awarded this to the Bank of New York.

Bermuda has links with principal banking regulatory authorities world-wide, especially with the Offshore Group of Banking Supervisors and the Basle Committee on Banking Supervision.
Applicable Bermuda laws
Anti-Terrorism (Financial and Other Measures) Amendment Act 2009. Following dialogue between the UK and Overseas Territories with the declared aim of ensuring that countries like Bermuda cannot be used as a backdoor for certain types of undesirable and illegal activities
The Banks and Deposit Companies Act 1999
The Bermuda Commodities Exchange Act 1996
The Bermuda Commodities Exchange Clearing House Act 1996
The Bermuda Monetary Authority (Collective Investment Scheme Classification) Regulations 1998
The Bermuda Monetary Authority (Financial Institutions) (Control) Regulations 1994
The Bermuda Monetary Authority Act 1969
The Bermuda Stock Exchange Company Act 1992
The BIU Members Credit Union Co Op Society Act 1983
Commission on Racial Equality (CURE). See Bermuda Government Boards. Melbourne House, Suite 202. 11 Parliament Street, Hamilton HM KX. Telephone (441) 296-0613 or fax (441) 296-9142. In other countries, these racial guidelines and regulations apply only in the public sector. But the Bermuda Government has made them apply in the private sector as well.
The Companies Act 1981
The Credit Unions Act 1982
The Electronic Transactions Act 1999
The Exchange Control Act 1972
The Exchange Control Regulations 1973
The Exempted Partnerships Act 1992
The Insurance Act 1978
The Interest and Credit Charges (Regulation) Act 1975
The Investment Business Act 1998
The Investment Business Regulations 1999
The Limited Partnership Act 1883
The Proceeds of Crime (Money Laundering) Regulations 1998
The Proceeds of Crime Act 1997
The Trusts (Regulation of Trust Business) Act 2001
ATMs
The Bank of Bermuda/HSBC and Bank of Butterfield have Automatic Teller Machines (ATMs) scattered throughout Bermuda, plus full service offices in and beyond the City of Hamilton. Most American, Canadian & other visitors will find that if they need cash in Bermuda, local ATMs from either of the two largest local banks will service them. But the dollar notes they dispense will be in non-exportable Bermuda dollars only (which cannot be cashed overseas).
Bermuda Banks and Foreign Exchange rates
Bermuda banks charge between 4 and 5 points more for foreign currency purchase transactions than US, Canadian, British, etc banks do. For example, on February 1, 2013, see the UK rate of 1.6266 at http://www.bm.butterfieldgroup.com/Business_Corporate/treasury/Foreign_Exchange_Rates/Pages/Home.aspx compared to http://www.hifx.co.uk/ . For a payment made from Bermuda on January 29, 2013 of BD$1486.14 the UK recipient received £897.04, compared to £940.11.
Bermuda Local Currency, tied to the US Dollar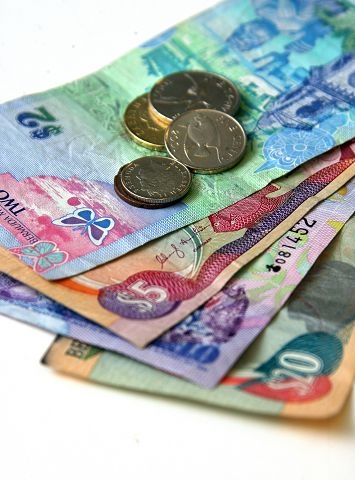 The Bermuda Dollar, not an exportable or international currency, is not available from any bank in USA, Canada, UK, etc. and only usable within Bermuda. But for all non-Bermudian visitors the US Dollar - on which the Bermuda Dollar is based and in Bermuda is worth the same - is accepted everywhere in Bermuda despite the fact that Bermuda is not part of the USA politically and is not a US Commonwealth country like Puerto Rico or the USVI, etc. Until 1970 but not thereafter, Bermuda had its own local pound sterling notes, based on UK sterling. All visitors from the UK, Canada, Europe and elsewhere should bring US dollars only. If visitors who purchase goods and services in Bermuda get their change offered in Bermuda dollars they should ask if it can be exchanged for US dollars.
Bermuda Banks and bad debts
On September 12, 2012 it was announced in the Royal Gazette daily newspaper of Bermuda that soaring levels of bad debt at the banks show the net is closing in on numerous homeowners and businesses struggling in the economic crisis. And Shadow Finance Minister Bob Richards urged Government to change its attitude towards the recession as evidence grows people are failing to make ends meet. The Bermuda Monetary Authority (BMA) announced that banks racked up a $73.9 million loss charge for bad debt in the second quarter of 2012 — more than quadruple the $12.8 million figure for the first quarter. Mr Richards said this means the banks are finally accepting people are unable to make their repayments, writing off the debt and attempting to reclaim the cash through other assets.
Mr Everson, economic chairman of the Chamber of Commerce, said those most affected include people who bought homes towards the end of the boom, and those whose businesses expanded quickly before the recession kicked in. "The bad debt data is reflective of the struggles facing many in the business and private sectors. Few are the businesses that make substantive profits. For homeowners, the diminished rental income coupled with reduced earnings in the private sector make for challenging times. It is only the Government-employed people who have so far not borne the effect of Bermuda's shrinking economy. For those householders who purchased towards the end of the boom or businesses who expanded too quickly without adequate capital support these last three years have become increasingly challenging." The BMA's Banking Digest reported how the banks have sharply increased provisions for bad debt as a result of Bermuda's "poor economic fundamentals." Mr Everson reflected: "The increased provisions are reflective of where people or businesses have fallen so far behind in their payments and/or the collateral for the loan has declined in value that the bank cannot foresee any realistic chance of being repaid in full. Once that have reached that point, the banks then assess whether their interests are best served by continuing to work with the debtor or whether to cut their losses and move to close out the loan and recover whatever they can." Capital G Bank and Butterfield Bank both said they work with customers struggling to make repayments.
Bermuda Bankers Association (BBA)
Since November 2007. Funded by its members. Serves as the main representative body for banks and deposit taking/lending firms on the Island. Similar to banker's associations in other important financial jurisdictions, the BBA serves as an industry think tank, lobby group and a forum for increased cooperation on non-competitive issues among the Island's banks. The BBA's stated mission is to be a leading contributor in the development of public policy on the financial services sector and to ensure that the legal and regulatory framework governing banks operates in an efficient, effective and fair manner. It actively cooperates with other organizations locally and internationally in developing industry standards and conventions to enhance the efficiency and soundness of the financial system. It endeavors to encourage compliance with the highest ethical standards and risk management practices within the industry to ensure that Bermuda's reputation as a respected international financial centre is protected. All the Island's chartered banks and lending/deposit taking institutions are eligible for membership and currently all banks doing business in Bermuda are members. The BMA acts as an ex officio observer of the BBA.
Bermuda Deposit Insurance Corporation
The 2011 Bermuda legislation to provide deposit insurance of $25,000 per depositor is the result of a collaborative effort between financial regulator the Bermuda Monetary Authority (BMA), the Ministry of Finance and the Bermuda Bankers Association (BBA). In addition, technical advice was provided by the International Monetary Fund. Deposit insurance is a guarantee to depositors in a bank that they will be compensated up to a maximum specified amount of their deposits upon failure of that institution. It has three main objectives, to protect small depositors; promote stability in Bermuda's financial system and economy by providing prompt reimbursement or access to insured depositors' funds; and promote competition between financial institutions in Bermuda. Under the legislation, membership of the scheme is compulsory for all relevant financial institutions. The premiums are paid by the banks as a fixed percentage of insurable deposits. The Bermuda Deposit Insurance Corporation has an appointed board of directors to run the scheme. The legislation also entails elements on protection from personal liability and preservation of confidentiality.
Bermuda's first bank and currency note came from Halifax, NS, Canada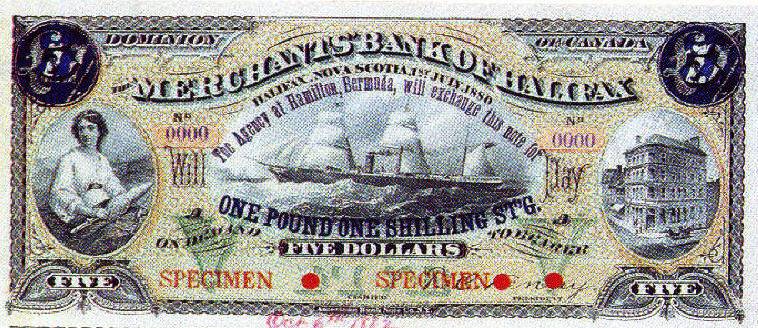 First Bermuda Banknote, 1883. A Canadian $5 note printed for the Merchant Bank of Halifax and converted to a £1 1 shilling (one guinea) note for use in Bermuda.
The Merchants' Bank of Halifax (later, the Royal Bank of Canada), established in Halifax in 1864, opened an agency in Bermuda in 1882 via the local Butterfield's Bank. On October 6, 1883, it issued its own money for use in Bermuda. It began circulating a $5 Canadian note printed by the American Bank Note Company in Ottawa for its bank in Halifax and converted to a one pound, one shilling (guinea) note for use in Bermuda. This Canadian/Bermudian note has considerable historical value as the first "Bermudian" paper money to arrive in Bermuda; some 31 years before Bermuda got its own official currency notes. Later, the Merchants' Bank of Halifax divorced itself from Butterfield's Bank in Bermuda and ran its own branch bank in Bermuda for four years. Thus it also became the first (and only) non-Bermudian bank in Bermuda. Later yet, the Merchants' Bank of Halifax's Bermuda operation was bought out by banking newcomers in Bermuda who established from it the present day Bank of Bermuda Ltd.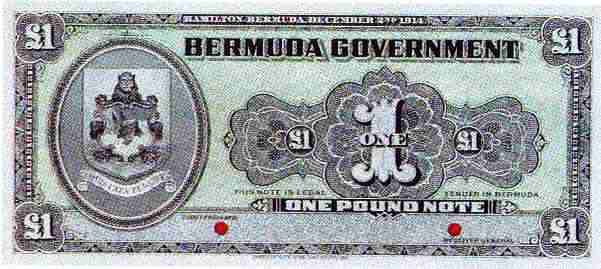 First Bermuda Government £ sterling note of 1914, also printed by the American Bank Note Company in Ottawa.
Bermuda's USA Patriot Act involvement
As a result of the enactment of the USA PATRIOT Act (Public Law No. 107-56 - October 26, 2001), the U.S. Department of the Treasury has issued regulations requiring U.S. financial institutions to obtain certain information relating to foreign banks that maintain relationships at U.S. financial institutions using a certification form. This certification is needed to comply with provisions of the USA Patriot Act. Bermuda banks are involved when they, as foreign banks, maintain relationships at US financial institutions, using a certification form. This certification is needed to comply with provisions of the USA Patriot Act, and a relevant Patriot Act Certificate is available for inspection at the Bermuda banks concerned.
Euro currency
Incoming visitors from Europe should note that the Euro is not accepted anywhere in Bermuda as a trading currency. They should use US dollars. But all Bermuda's banks offer the Euro - € - to all visitors and business executives or representatives heading for Ireland and EU countries of Europe. Avoid using Euro traveler's checks, instead use credit or debit card cards at ATMs of banks in Euro countries.
Foreign Account Tax Compliance Act (FATCA) affects Americans with Bermuda bank accounts and Bermudians/residents with US connections
On October 11, 2012 it was announced in the Royal Gazette daily newspaper of Bermuda that Bermuda's four banks are facing a 2013 deadline to supply a list of all accounts held by US citizens to the US tax authorities. Failure to do so would mean the local banks would face a 30 percent withholding tax on all the many transactions they do with the USA. The obligations have been placed onto all non-US financial institutions by the Foreign Account Tax Compliance Act (FATCA), enacted by the US Congress in 2010. For Bermuda banks, compliance may entail a lot of work. As well as the thousands of US guest workers on the Island, there are many dual-nationality Bermudian-Americans, and spouses of Americans, people with an American parent and green card holders, who fall into the category of "US persons" whether or not they possess a US passport. The USA is one of few countries in the world that taxes its citizens living overseas on the income they earn outside the US. With the US Government's national debt up around the $16 trillion mark, the Internal Revenue Service (IRS) is seeking to maximize tax revenue — and a growing focus is Americans overseas that may be slipping through its net. A recent visitor to Bermuda was Anne Hornung-Soukup, finance director of American Citizens Abroad (ACA), an advocacy group which has long fought for taxation based on residency rather than citizenship, as practised by most countries. In an interview she outlined her concerns about FATCA. "What FATCA means is that every financial institution in the world outside the US will effectively be an instrument of the IRS. How it will work in practice is posing a lot of problems. They're struggling to put the system in place. There are a couple of models being discussed. The first is that the information from the bank goes straight to the IRS. For them to give this type of information directly to a foreign government is against the law in many countries. In the second model the information would go to the domestic authorities, for example the Bermuda Government, who would then pass it onto the US Government." Some European governments, including the UK, have agreed to provide account holders' information to the IRS on the condition of reciprocity. Germany, for example, has reportedly been particularly vocal about the need for US banks to supply information about German account holders in return for their Fatca compliance. Some have suggested that the clampdown could backfire, if institutions or countries choose not to comply with FATCA, and their clients and residents pull their money out of US investments. US citizens resident overseas have been required to report their US bank accounts and file tax returns for decades, but only in recent years has the IRS been really clamping down on compliance. For more information on FATCA, visit http://www.irs.gov/Businesses/Corporations/Summary-of-Key-FATCA-Provisions
Foreign Currency Purchase Tax
All who work in or have business dealings in Bermuda or who visit there on vacation should note that Bermuda, uniquely in the economies of the international business centers, has a Foreign Currency Purchase Tax (FCPT). It applies to the purchase of all non-local currencies including the US Dollar. In theory the Bermuda Dollar is on a par with the US Dollar but in in fact it is worth less. Why? Mostly on account of the FCPT, also because of Bermuda bank currency processing charges, in addition to the FCPT applied on every transaction. On February 26, 2010 the Bermuda Government doubled this tax, from one half of 1% to a full 1% per transaction.
This includes all purchases of foreign currencies for travel and business purposes and all telegraphic (wire) transfers of monies from Bermuda to individuals and businesses abroad. This means that in addition to bank charges built into the cost of wire transfers, government alone will now charge consumers $1,000 for every $100,000 taken or wired abroad. There is no Government Receipt given for this FCPT charge. The local-only Bermuda Dollar is not exportable. It is not used by traders world-wide. It is not cashable or exchangeable by any foreign banks. It is used only by local citizens and residents - not by international companies based in Bermuda (all of which use US dollars).
Foreign Exchange brokers in Bermuda
Currently, none independent of the Bermuda banks above.


Last Updated: May 16, 2013.
Multi-national © 2013 by Bermuda Online. All Rights Reserved. Contact Editor/writer and webmaster.