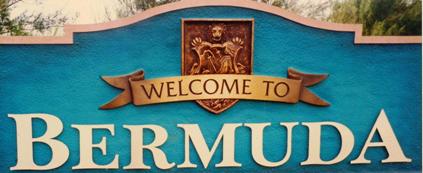 125+ web files in a constantly updated Gazetteer on Bermuda's accommodation, activities, airlines, apartments, areas, art, artists, attractions, airport, aviation pioneers, banks, banking, beaches, Bermuda Status and citizenship, books and publications, British Army, businesses, calypso, Canadian military, causeway, churches, city of Hamilton, commerce, community, cruise ships, culture, cuisine, customs, Devonshire Parish, disability accessibility, districts, Dockyard, economy, education and universities abroad, employers, employment, entertainment, environment, executorships and estates, fauna, ferries, flora, food, forts, gardens, geography, getting around, golf, government, guest houses, history, Hamilton Parish, homes and housing, hotels, internet access, islands, laws and legal system, local groups and organizations, location, media, motor vehicle options, music, municipalities, Paget Parish, parishes, parks, Pembroke Parish, politics, postage stamps, public holidays, public transport, railway trail, religions, Royal Navy, Sandy's Parish, St. David's, St. George's Parish, shopping, Smith's Parish, Somerset, Southampton Parish, Spanish Point, Spittal Pond, sports, stores, telecommunications, traditions, time zone, town of St. George, United States armed forces, tourism, vacation planning, villages, vital statistics, water sports, weather, Warwick Parish, wildlife, work permits, etc. For tourists, business visitors, employers, employees, newcomers, researchers, retirees, scholars.

Bermuda's costs of electricity, imported cooking gas, gasoline and oil
Lack of economies of scale and huge import duties make them very costly compared to North America, primarily from British-style huge taxation

By Keith Archibald Forbes (see About Us) at e-mail exclusively for Bermuda Online
To refer to this webfile, please use "bermuda-online.org/electgas.htm" as your Subject
Electricity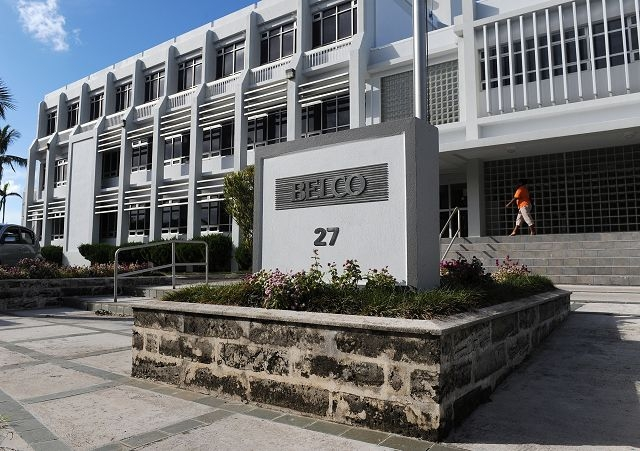 The voltage system is 120 volts, 60 cycles - same as in North America. Some larger appliances use 220/240 volts, smaller ones and lights use 110 volts. No UK-produced consumer appliances will work in Bermuda. Electricity for residential - mostly at 120V - heating, lighting, cooking and cooling is provided exclusively in Bermuda by the Bermuda Electric Light Company Limited (BELCO) at 27 Serpentine Road, Pembroke HM 07, Bermuda. Telephone (441) 295 5111. Fax (441) 292 8975. The Ascendant Group has seven operating companies: Belco, Bermuda Gas & Utility, iFM Ltd, iEPC Ltd, Air Care Ltd, Purenergy Renewables Ltd, and Ascendant Properties Ltd. Belco began in 1904, commenced selling electricity in 1908 and was originally called the Bermuda Electric Light, Power and Traction Company. It has a Bermuda Government legislated monopoly on the supply of electricity locally, is the sole supplier to the government at a preferred rate and is a local commercial joint stock company majority owned by Bermudian shareholders.
Bermuda's mere 20 square miles - more than 600 miles away from the USA in the North Atlantic - resident population of only 68,500 and obvious inability to have no economies of scale makes local costs very high.
The demand for electricity has continued to increase and is always greater in the summer than in the winter. Belco is presently capable of generating up to 152 megawatts of electricity. Large commercial organizations use about 40 percent of all local electrical output.
Belco does not have off-peak rates.
In Bermuda, the architecture, closeness to others and small land size of most Bermuda homes, plus the complete lack of any rivers, nuclear plants, etc. don't allow alternatives - often, less expensive - such as wind farms or solar panels or ground source systems, so imported fuel oil is used exclusively. It is piped directly into the central electricity generating plant owned by the utility on Serpentine Road in Pembroke Parish, west of the City of Hamilton, via a 9-mile 6 inch underground pipe from the oil docks terminal at Ferry Reach, St. George's Parish.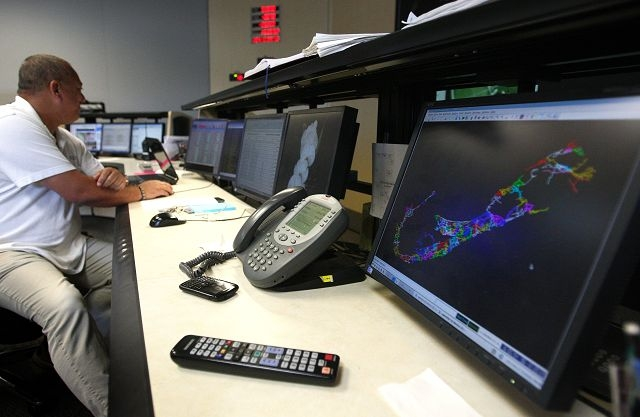 Belco staff monitoring electricity usage. Royal Gazette photo
Solar and other renewable energy sources may be cleaner and cost-effective elsewhere, but in Bermuda they are still considerably more expensive than oil. Recently, during a Bermuda visit, former CIA director James Woolsey urged Bermuda to go solar, saying the Island needed to end its nearly 100-percent dependence on imported oil because the cost of petroleum had become increasingly volatile and unpredictable. But the cost is unrealistic. However, Belco is exploring importing natural gas, which could be a "promising alternative" to oil. Belco supports reducing reliance on imported fossil fuel (oil), noting that its "Energy Equation" for Bermuda called for renewable energy sources, including solar. Belco's own target is 20 percent of energy produced from renewable sources by 2020. That said, renewable energy resources, such as solar and wind, provide only intermittent power; that is, only when the sun is shining or the wind is blowing. Belco alone is responsible for providing secure, reliable power, meeting the Island's base load, likely to continue with conventional fossil fuel generation, although it is exploring the liquefied natural gas as a cleaner alternative. Currently, there is no commercially available wave or tidal power generation equipment; all such technologies are in the research and development phase.
Liquefied natural gas has been converted temporarily to liquid form for ease of storage or transport. (It's estimated 23 percent of America's energy comes from natural gas). Belco believes significant infrastructure would be needed to offload and store imported natural gas, and there would be costs associated with conversion of the generating plant. Belco supports the introduction of large- and small-scale renewable energy installations, however it does not have responsibility for encouraging solar or other alternative energy use in Bermuda. That responsibility lies with the Bermuda Government, in particular with the Ministry of Environment, Planning and Infrastructure Strategy, as well as the Energy Commission, which regulates Belco. The Bermuda Government also has authority over where such installations would be located, and Bermuda's limited land mass makes location of large solar installations challenging.
Belco has established an Interconnection Policy for any residential and commercial renewable energy installations. The Interconnection Policy is for those interconnecting their commercial or residential alternative energy installations with Belco's transmission and distribution system. They must meet certain technical specifications to ensure that they are operating safely, and that they don't compromise the overall system.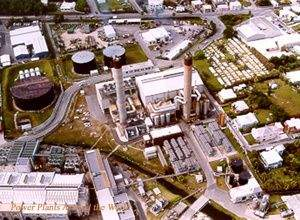 Presently, There are two generating stations on 23 acres of property on Serpentine Road in Pembroke Parish. The East and West Power Stations contain a total of 12 diesel engines and 9 gas turbines. The type of fuel used depends on which engines are in operation. Heavy fuel, used by 82% of the entire system, powers four newest diesel engines which carry the basic load of power used on a daily basis. They are slower to start up than the gas turbines but are more efficient to operate. A very light diesel fuel called Cetane runs the six smallest gas turbines. Both types of engines generate a maximum of 168 megawatts of electricity at a frequency of 60 Hz. A generator (alternator) produces alternating current. Voltage is about 18,500 volts. A generation transformer increases voltage to 22,000 volts to transfer electricity more efficiently over long distances. Transmission cables are made from copper or aluminum because they have low resistance.
Belco's central plant needs to be redeveloped. It wants a new North Station, located between Cemetery Road and St John's Road. It will initially feature several 18MW diesel engines along with a 65m (213ft) smoke stack, storage tanks and external radiators. Once the new facilities are in place, Belco plans to decommission its oldest power station, located to the north of the Belco offices. Belco has said that the new site needs to be in place by 2013 in order to guarantee reliable power delivery throughout the Island as several of the plant's generators are already working beyond their normal service life. According to the company's long-term plan, new diesel generators will be built within the site's existing footprint as older generators are decommissioned. While Belco believes that fossil fuels will continue to make up the backbone of the Island's electricity system, it has set a goal of having 20 percent of Bermuda's energy coming from renewable sources by 2020. The company believes that Bermuda could see the construction of a large-scale solar farm by 2015, and an offshore wind farm by 2018.
Underground cables are not as vulnerable to wind damage but cost more to repair than overhead cables. In most rural and urban areas, the cables are overhead, not underground. But BELCO funded underground cabling in the Town of St. George to help improve the look of the town as it went for and got World Heritage Site status. All electrical cabling for new developments such as office buildings and hotels, both in the City of Hamilton and elsewhere are located underground. Otherwise, this is done only when customers request it and pay for it themselves.
There is a major step down sub station where electricity is routed for commercial or domestic use. 30 substations transform high voltage to low voltage. For commercial use, transformers in large buildings and some other buildings transform low voltage electricity even lower to 120 or 220 volts. For domestic use, the electricity passes along high voltage poles to pole-mounted transformers to low-voltage poles to households.
In Bermuda, for domestic premises, the average per kilowatt hour (KwH) cost before tax (Fuel Adjustment Rate, FAR) is huge by international standards. It is higher than any of the countries named in the International Energy Agency's key world statistics report. The cost to Bermuda consumers is per KwH, plus the Fuel Adjustment Rate of 19.5 cents per Kwh.
May 9, 2013. Finance Minister Bob Richards accused Belco of charging too much for electricity and urged it to give some of its profits back to customers by lowering prices. Mr Richards claimed the company was using its "monopoly power" to grow its business and pay dividends to its shareholders, while cash-strapped consumers suffered from its high charges. He said: "They are a private enterprise, they are entitled to make a profit, but when those profits are used to buy other businesses and, of course, they still have money left over to pay dividends, you say to yourself perhaps some of that profit could have been given back to customers Perhaps they shouldn't be charging us what they are charging us." Belco's parent company Ascendant Group hit back at his comments, with a spokeswoman saying the cost of electricity here was primarily driven by the price of fuel oil on the global market. She said "electricity rates in Bermuda did not support diversification by Ascendant and it was using a combination of earnings from across its group of companies, as well as investor funds and debt, to expand. As for dividends, the spokeswoman said: "Investors in any business will only invest if they receive a fair return on their investments." Economic Development Minister Grant Gibbons, meanwhile, said "my Cabinet colleague was simply voicing the frustration that many people feel about high energy costs" he had seen a willingness on Belco's part to be involved with efforts to make energy more affordable. I think a lot of people see Belco as the enemy but I think we have to see them as part of the solution and they will need to be part of the solution. Dr Gibbons is responsible for the Department of Energy, as Economic Development Minister. He also stated that reducing energy costs was a priority for Government, with several alternatives to fossil fuel being explored for Bermuda. They include wind, wave, photovoltaic solar panels, solar thermal energy and combined heat and power plants. There is a "real prospect" of a solar farm being built on the old navy munitions pier at the airport — an area jutting into Castle Harbour sometimes referred to as the Finger. "We have a number of proposals where people are interested in putting in a solar farm down there. The idea is to cover that area with solar cells and use that to generate electricity, which is different to what Belco is generating in Pembroke. The issue of high energy costs is right across the board, whether you are an individual householder, a business or, in fact, Government. Our current budget for energy — which is not all Belco — is something in the order of $20 million a year so Government is invested in this as well. I think we all understand, because we are all paying." Mr Richards said: "I think there is something intrinsically unbalanced about a company that has a monopoly using monopoly power to buy third-party companies. If they have that kind of money left over, and are still able to pay dividends, it says to me that we are paying too much money [for electricity]. "It's a private enterprise, I understand that [but] because of the nature of it, it strays into public policy. I don't know anywhere where power costs as much as it costs in Bermuda." The One Bermuda Alliance MP recalled how the United Bermuda Party Government of the late 1990s "broke the monopoly" in the telecommunications industry, when he was Telecommunications Minister. And while he suggested it wasn't "necessarily practical to talk about having another Belco in Bermuda", it was important to have tougher regulation of the company. Their interests are not necessarily, as a company, in sync with the public interest. Our job as government is the public interest." The Minister admitted he couldn't "reel off solutions" for driving down energy costs but said there was a will within the new Government to find a way. "I'm just sort of laying down markers here insofar as my job as Finance Minister to oversee the Bermuda economy," he said. "I believe that this is a critical factor in how we are competitive as a jurisdiction. I really do believe there are a list of reasons why Bermuda has become uncompetitive and has had four, going on five, years of economic contraction. On that list is the cost of doing business and the cost of living and fundamental to those costs is the cost of energy. I won't stop talking about it and I won't stop looking at ways to do something about it." Shadow Economic Development Minister Glenn Blakeney said soaring energy costs were something the Progressive Labour Party Government tried to get to grips with, adding: "I don't think we did. That was a great disappointment." But he said he saw a "level of disingenuousness" in the Finance Minister's comments because "we are in a capitalist market, driven by meeting projections." No one wants to sacrifice the profit margin. People invest in companies to be paid dividends, so the bottom line is that those that are charged with the corporate well-being of the company are looking to drive the bottom line. They aren't in business to be socially conscientious. Electricity was an essential need, so to make it affordable the only way you can encourage the free enterprise system to work is to encourage competition." The Ascendant spokeswoman said the group shared Government's concern about the high cost of living here and the impact that the cost of electricity had on that and on doing business. She said "any new initiative in the energy industry should focus on a reduction in energy prices and that it was a "strategic imperative" for Ascendant to work with Government and others to increase the efficient use of energy, reduce costs and find alternatives to traditional electricity production. Belco had no influence over the price of fuel oil globally but was always looking to get the best rates and had saved $5.9 million since January 2010 with efforts to hedge its fuel purchases. Electricity rates in Bermuda do not support diversification by the Ascendant Group. Electricity rates and the return on utility investment are regulated by the Energy Commission. The current return on utility investment of less than four percent is now well below average international accepted rates of return, which are closer to ten percent, as well as previously acceptable Bermuda rates of return. Ascendant is using a combination of earnings from across the group of companies, as well as investor funds and debt to expand its service and product offerings beyond the traditional electricity generation and delivery product, to other energy infrastructure solutions which will combine to bring better efficiencies and, in the long term, lower overall prices."
November 15, 2012. Belco proposed to increase base tariff rates over the next three years to finance a planned expansion of its facilities after electricity sales have stagnated. According to the proposal being made to the Energy Commission, base costs for residential customers would increase by 3.5 percent annually in 2012, 2013 and 2014. Facilities fees would increase by $3 in 2012 and 2013 and $2 in 2014. A Belco spokeswoman said that because the rate of electricity increase is based on how much is used by a customer, the rise would be less than 3.5 percent for most. She said the average residential customer uses 700 kilowatt hours (kWh) per month. Based on that usage, a Belco bill would increase from $280.13 to $283.05, or around $2.92 per month between 2011 and 2012. "The present average price per kWh for this customer inclusive of the facilities fee and with an average fuel adjustment rate of 15 percent per kWh is 40.02 cents, as compared with the proposed price of 40.04 cents per kWh for 2012. The recommended rate structures have been designed to encourage customers to use energy efficiently, with higher prices for higher usage." According to a notice appearing in yesterday's The Royal Gazette, the company proposes to remove the $40 minimum bill for residential service as of next year. Commercial demand customers would see rates increase by five percent per annum until 2014, while small commercial customers would see a 3.75 percent rate increase annually during the same period. The spokeswoman said: "In the past, Belco was largely able to avoid rate increases and finance operations and capital expansion from income growth that was achieved by kWh sales growth and cost containment efforts. Belco continues to make strides with respect to cost containment. However, stagnant electricity sales have led to the company to submit the application for rate increases to ensure a strong fiscal platform that can support the debt financing costs of the capital replacement programme. Belco had received approval to increase rates this year, but chose not to do so given the current economic climate. The increase in fees will be used to fund a $300 million expansion, replacing ageing equipment that has reached the end of its operational life. Capital work over the next decade is imperative so that Belco may continue to provide a secure, reliable base load electric poser system for Bermuda's residents and businesses." Along with a recently approved North Power Station, to be built in Pembroke, Belco intends to improve its transmission and distribution, replacing underwater cables and ageing equipment in several substations. "Throughout its 105-year history, Belco has always maintained a core infrastructure that accommodates the growth of power throughout the Island, regardless of whether it is an extension to a single-family home or a major commercial development. Belco's application to increase rates is necessary to ensure that the people of Bermuda continue benefiting from a secure, reliable and sustainable base load electricity power system that supports the Island's progress." Belco also said they are looking at piloting a Time-Of-Use rate next year, which would offer lower electricity costs at times of low usage, and higher rates at high-use periods. Members of the public are also invited to make written submissions to the Energy Commission between now and November 30, delivered either at their headquarters at the Department of Energy in the FB Perry Building, or at energy@gov.bm.
On July 1, 2012, with the approval of the Bermuda Government's Energy Commission, the fuel adjustment increased to 20.50 cents per kilowatt hour sold for meter readings taken on or after that date and until further notice. BELCO does not profit when the fuel adjustment rate increases. The Energy Commission sets the fuel adjustment rate every month based on a calculation that includes the cost of fuel and projected usage, and starts with a base cost of $30.00 per barrel of fuel. The cost of fuel for BELCO is made up of: the actual cost of the fuel purchased on the world market, plus transportation and a static Bermuda Customs duty of $15.10 per barrel. As the actual cost of fuel changes on the world market, the fuel adjustment rate changes. World market prices fluctuate greatly due to the growing demand for fuel around the world, limited refineries to process crude oil, and the impact of political, economic and other events. The fuel adjustment rate is announced in the media by the first day of each month.
The fuel adjustment rate has climbed steadily rising since July 2009, when it stood at 11.5 cents. Now it is nearly 20 cents per kWh. The Bermuda Government's huge import duty on fuel oil is by far and away the highest tax in the world per square mile, both for oil and for the generation of electrical power. These make electricity three times the cost of the product in North America, Britain and most of Europe, plus the latter have no additional Fuel Adjustment Rate.
On April 17, 2012 it was reported that Bermuda's total reliance on fossil fuels is largely to blame for the most recent huge hike in household electricity bills. The average family's monthly Belco bill has jumped from $185 to $312 in the space of eight years, an increase of nearly 70 percent. Figures provided by Belco show the fuel adjustment rate, a section of the bill based on world oil prices and determined by the Energy Commission, has soared by nearly 400 percent since 2004, from $33 a month to $138 a month. The charge for owning a meter, meanwhile, has tripled from $10 a month to $30. Even though Belco froze its own section of the bill two years ago to help families during the economic crisis, the overall cost of the bill has continued to grow, thanks to the fuel adjustment increase. The fuel adjustment cost - presently nearly 20 cents per kWh. has fluctuated by almost 400 percent since 2004 and at present accounts for over 41 percent of the total average household energy cost.
Newcomers to Bermuda should ensure the premises (apartment or flat or condominium or house) they rent or buy - see Homes - has its own electricity meter and should establish an account without delay. There is an upfront deposit payable. If returning to the UK from Bermuda after an employment contract, sell or give away your US-type appliances before you go and give one month's notice in writing to BELCO. On request, it will also give a written reference to a customer who goes abroad and uses an electricity supplier there.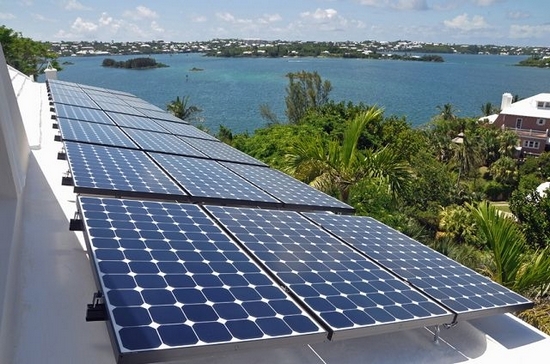 Alternative energy sources, when practical such as wind turbines and solar panels, are welcomed. To those with their own Bermuda homes - not most rented units - solar water heaters are expensive to purchase and install but may be able to pay for themselves in a few years. Also available are air-sourced heat pumps and geothermal heating/cooling systems. To encourage their use, Government has a 0% customs duty tariff on relevant imported items. However, there is not yet any plan, similar to that in the UK and believed to be in parts of Canada and the USA too, for any kind of government grant for home-owner-qualified purchase of solar panels or for surplus energy over and above that used by homes concerned to be sold to local or regional electricity providers.
Recommended to all locals and newcomers are energy-efficient light bulbs and consumer electric appliances such as air conditioners, refrigerators, freezers and washing machines with an Energy Efficiency Recommended logo or North American equivalent.
Air conditioners are essential in Bermuda from May to October to live comfortably at home or in the office. Those who come to work and rent a three bedroom home with say two air conditioners running 24 hours a day to help combat Bermuda's hot and very humid months. At other times - November to April - note there is no central heating in most Bermuda homes and apartments. Some winter days and nights can be damp and chilly for non Bermudians accustomed to seasonal central heating. Some homes have a fireplace, while others may have a ductless split heat pump system with reverse cycle heat during the winter and air conditioning in summer. If not, electric heaters and separate air conditioning units for winter and summer comfort levels are available commercially.
Outages
Most residential electricity is from electricity poles placed in the ground. In severe windstorms and hurricanes this can mean outages for days or weeks in extreme cases. Beyond Bermuda, many other places using electricity poles have found a solution or part-solution to this. Unlike in Bermuda, their utility entities do not use a centralized system with its limitations. Instead, they employ distributed generation which allows outages to be isolated with minimal consumer impact. BELCO has long considered the implications and costs of an all-underground system in Bermuda. But it would cost far too much, inconvenience far too many people using Bermuda's crowded small roads; and not be the technical answer.
When power outages occur (as they often do just as frequently beyond Bermuda), far more is lost in Bermuda than just the use of dishwashers, cable and local television, computers, electric can openers, electric clocks & clock radios, electric shavers, electric stoves, freezers, kitchen sinks, refrigerators, shavers, showers, stereo and CD or DVD systems, and other electricity-powered items. Each property in Bermuda then also loses the use of all toilets, bidets, wash basins, showers, baths and kitchen sinks fed from electrical pumps from the private water tanks supplying their home or apartment. There is an almost-complete absence of any central piped-in potable fresh water supply or waste water (sewage) removal. In such dire conditions consumers have to draw water from their water tanks by hand in buckets, haul them inside to pour into toilets to make them flush and clean dirty wash basins and do without a shower or bath. Plus, in the high Bermuda temperature and humidity, when prolonged outages occur, frozen foodstuffs in their freezers perish. To help avoid this and other problems mentioned it is recommended that Bermudian and Bermuda-based home owners buy an emergency back-up system - their own generator - and if a suitable unit is not available locally, to import one privately and pay the applicable customs duty.
Computers at home or work
Most homes with computers and businesses running computers should have at least one UPS for each computer. You can lease surge protection equipment for appliances, computers, stereo sets and televisions against damage caused by lightning or fluctuations in electricity. Businesses in Bermuda and in North America use a UPS routinely, unlike in the UK where they are much more the exception than the rule.
Paying BELCO bills online
Log on to the Bermuda Electric Light Company Limited website. Double-click on the icon on the bottom left corner of the page, called "Your account." Follow instructions. Fill out on online registration form and physically take it to where specified. Also see your payment history, account history and more.
LP gas companies

With no natural gas available in Bermuda, all gas is imported and is very expensive compared to USA. Canada, United Kingdom and Europe. The Bermuda Government levies a very significant import duty on LP gas, the highest anywhere per square mile.

LP gas (liquid propane) is available in Bermuda for cooking, heating, hot water supply, clothes' drying and other commercial purposes as an alternative to electricity, but is not produced in Bermuda. It comes from Argentina, is supplied by an overseas oil company and imported by tanker ships in bulk. It is then distributed by the three wholesale and retail commercial companies shown below - all Bermudian joint stock companies.

The gas is not underground piped to homes and businesses on a metered system from a central plant.

Instead, it is brought to premises in cylinders and piped to the relevant appliances.

Many homeowners and owners of commercial premises use imported liquid propane for cooking and other purposes, instead of electricity. For home use, there is a standard 100 lb. household cylinder, delivery included. It fluctuates in price. A cylinder lasts for about three months, depending on usage. Home users are billed immediately on delivery, with established customers having 30 days to settle the account. The cylinders remain the property of the company supplying them to households. When a current cylinder is exhausted, the company concerned will remove it and replace it with a fresh cylinder; and bill you for it.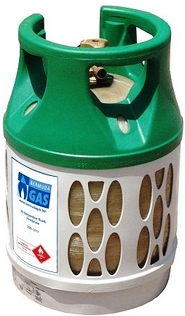 There are also imported barbecue cylinders. These come in the 20 lb. size - as shown above - and can be purchased or rented by consumers. As well as for outdoor barbecue purposes, they are the source of heat for blow torches, etc. Customers can go to the companies and get them refilled immediately.
Or they can go to the Bermuda Gas BBQ cylinder exchange program at local gasoline stations.
Newcomers will find a selection of new gas operated domestic and commercial stoves and other relevant appliances from reputable manufacturers in showrooms of various companies.
No vehicles in Bermuda use imported propane gas or any imported bio-fuels (unlike vehicles in the UK, Europe, USA. etc).
Bermuda Gas & Utility Company Limited. Wesley Street, Hamilton. Telephone 295-3111. Fax: 295-8311. Sunshine Company Limited, The Famous Building, 57 Victoria Street, Hamilton HM 12, phone 295-6246.
Gasoline and oil prices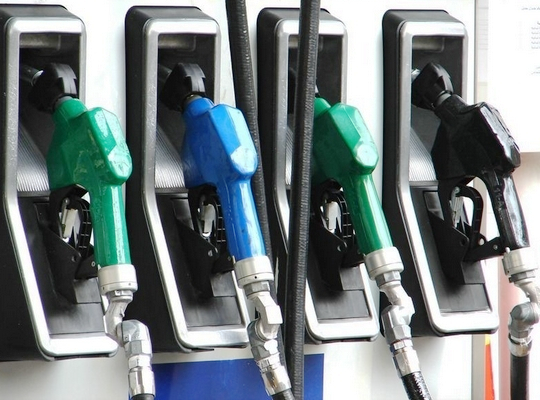 March 19, 2013. Fuel prices have risen across the board, with the new maximum pump price for regular gasoline hitting $2.15 per liter. Drivers who use diesel pay $1.91 per liter. Kerosene costs $1.62 per liter. The new maximum prices for fuel were announced by the Ministry of Finance. The Bermuda price for unleaded gasoline is now over $8.60 a gallon.
About the same as in London, but with far more justification in this tiny 21 square mile isolated island
How Bermuda prices affect US and Canadian visitors. Bermuda prices for unleaded gasoline (petrol to newcomers from Britain) will come as a very considerable shock to our North American visitors, especially when compared to gasoline prices in the Caribbean. Here, the price of gasoline is higher than most other places anywhere in the world. Only the far North of Scotland, namely Sutherland, Caithness, Orkney, plus in Europe, Norway, Ireland and Iceland are they higher. Fluctuations in the US$ rates with UK Sterling and the Euro must also be taken into account.
In Bermuda, the Ministry of Finance regulates fuel prices in Bermuda based on a pricing formula agreed between Government and the industry. The selling price of fuels changes monthly in sympathy with supply prices. Costs to motorists and consumers of petrol (gasoline) and oils are on average, nearly three times the prices in USA; well over two times the prices in Canada; far more than double the cost of anywhere in the Caribbean. (213 percent more than the cheapest nation in the region, l liter of regular gasoline in the Cayman Islands was $1.69 and in Trinidad and Tobago, only $0.69 a liter).
But when you consider that Bermuda is
only 21 square miles (56 kilometers) in total land area, far smaller than anywhere else mentioned above

not near a mainland but a tiny island 600 miles due east of the nearest mainland, North Carolina, USA

has a total resident population of under 66,000 and a resident plus tourist population of under 69,000
there is far more justification for higher petrol (gasoline) and oil prices in tiny Bermuda than in Britain, despite the latter being a North Sea oil-producing country of 60 million people. Britain is the only oil-producing country in the world - the others are mostly in Saudi Arabia, other countries of the Middle East and Venezuela - that applies gasoline taxes far more heavily than most of the non oil-producing nations.
| | |
| --- | --- |
| Bermuda prices are in liters, not gallons | There are 3.785 liters to 1 US gallon |
Comparisons

Bermuda consumes more oil and gas annually than the combined Caribbean islands - more than 800 miles to the south - of Antigua, Dominica, Grenada, St. Lucia and St. Vincent combined, yet pays so much more for them than those islands do in government duty and retail prices. It is one of the reasons why Bermuda is so expensive. Prices of oil, gasoline and related petroleum products are key factors mostly responsible for not only the cost of transport by air and land but also the prices we pay for accommodation, electricity, air conditioning, food, furniture, heat, household goods and more.
Bermuda prices are fixed and heavily taxed and, with all gasoline and oil imported, has very high Bermuda Government Customs Duties of US$ 0.54 per liter. This alone is 44 percent of the price consumers pay at the gasoline service stations, the biggest single reason for - and biggest single beneficiary of - the huge local prices. Government duties mentioned above of 44% plus employment and other taxes and their repercussions amount to about 58% of the total price. Perhaps because Bermuda visitors use mopeds - with gas tanks in liters, not gallons - they don't realize the price differential. Bermuda does not produce any oil or gas, all in imported - and is tiny in land area, only 21 miles in total land area. In contrast, the United Kingdom, which is an oil, petrol and gas producing country and is 58,000 miles in total land area, charges consumers 75% in total taxes.
More than 21,000 automobiles and 30,000 mopeds, trucks, taxis and buses are on the roads of Bermuda.
The Bermuda Government appoints a Price Control Commission (see Bermuda Government Boards) under the Price Commission Act 1974, to approve prices of petroleum products. It meets on or about the 16th day of each month to determine local prices. It sets the maximum levels that service stations may charge.
It is wrong to state that because Bermuda is only 21 square miles in total area, less gasoline is used proportionately. Because Bermuda's top legal speed is only 22 miles an hour (33 kilometers per hour), it does not enable motor vehicles to use fuel most efficiently. So the impact of the Bermuda cost is even more noticed, not less. Inefficient use adds to the expense instead of mitigating it.
The only two retailers allowed to offer gasoline and oil in the Bermuda marketplace are USA-owned ExxonMobil (trading in Bermuda as Esso) and the British-Dutch Shell Oil Company.
Because of the price the Bermuda Government expects per liter from gasoline service stations, there is no competition between Esso and Shell shown below, the only two gasoline corporations allowed to sell to Bermuda and visiting consumers.
May Bermuda gas (petrol) stations are closed during Bermuda Public Holidays. Visitors on mopeds or scooters should tank up the day before or after. Also, gas (petrol) stations keep different - not standard - hours.
ExxonMobil group of companies
Based at its Ferry Reach head office, Ferry Reach, St. George's Parish, GE 01. Telephone (441) 294-5220. Fax (441) 294-5243. An Esso oil tanker arrives in Bermuda about once every six weeks to discharge fuel. But instead of being in competition with each other, their prices are the same. About half the 30 gas stations are owned by Esso. It alone pays the Bermuda Government many US$ millions a year in fuel taxes.
Esso Bermuda is a division of a Bermudian corporation, Coral Petroleum Company Limited, owned by ExxonMobil. Stretching from the Esso Oil Docks at Ferry Reach in St. George's Parish to the Belco electricity generating plant in the industrial part of Pembroke Parish is the Esso pipeline that feeds Belco with heavy atmospheric gas and heavy oil. It enables Belco to generate 509 million kilowatt hours of electricity annually to businesses, hotels, guest houses, efficiency units and homes.
Esso gasoline stations and marinas
Many outlets island-wide. Always call first to ask for opening hours
Shell Oil Company in Bermuda
Update: French oil company RUBiS SA purchased Shell Oil's operations in Bermuda in 2007. It continued to be marketed under the Shell brand until 2011 after which it switched to RUBiS. Terms of the purchase were not disclosed. Rubis revealed that Shell, which in Bermuda owns two major fuel depots, one liquefied natural gas terminal and 12 gas stations, had sales of $45 million per year in Bermuda and net income of $3.6 million. The agreements signed with Shell provide for a licence to use the Shell brand in the service stations as well as finished goods supply contracts. Rubis already has an extensive network of energy businesses in the Caribbean and French Guiana. The deal was announced in July 2006 at when Phil Burton, country chairman of Royal Dutch/Shell Companies Bermuda said a final decision was subject to the approval of shareholders and the Bermuda regulatory authorities. Shell has had the Bermuda operation on the market since late 2005. Rubis is one of the largest bulk storage operators in France. Through Rubis Gaz, the company distributes liquefied petroleum gas (LPG) to retailers as well as propane and butane to residential and commercial customers.
History: Based at its Ferry Reach head office, Shell House, Ferry Reach, St. George's Parish, GE 02. Telephone (441) 297-1577. Fax (441) 297-8472. In 1947 - a full three years before appropriate legislation officially launched the industry - Bermuda welcomed an organization known worldwide because of its distinctive trademark of a sea shell. With dramatic implications to fuel and light Bermuda's lawyers for future business of equal caliber, the Provident Fund of the combined petroleum companies known in The Netherlands as Voorzieningsfond Der Verbonden Petroleum Maatschappojen was transferred to Bermuda. It had been granted exemption from payment of United Kingdom Income Tax on its investments when it had to quickly transfer its Headquarters from The Hague to London following the fall of Holland in 1940.
Thus Shell arrived in Bermuda, initially as an investment vehicle to protect the pensions of employees of all companies within the Royal Dutch Shell umbrella from unnecessary taxation by Britain. Lawyers Conyers, Dill & Pearman, with bankers Jack Tucker (later, Sir Henry) of the Bank of Bermuda and Hal Butterfield (later, Sir Harry) of the Bank of N. T. Butterfield & Son, assisted in the transfer of Shell's Provident Fund to Bermuda. Three Shell VIPs, Sir George Legh-Jones, Mr. Tim Wilkinson and Mr. Tim Boyle even bought land in exclusive Tuckers Town. They built very expensive homes there, as a visible sign that Shell was here to stay. Its first staff - a group of 20 mostly young ladies - arrived from England on Shell tankers on September 28, 1947. Most have since died. Its first service station - still there - was on May 12 1952 at East Broadway in Pembroke Parish.
Shell was also the first to operate a corporate administrative structure for a collection of affiliated international companies outside the City of Hamilton, at Ferry Reach in St. George's Parish. Now they look after the retirement plan interests of Shell employees worldwide.
About half the 30 gas stations and marinas were until recently owned or operated by Shell. It paid the Bermuda Government more than US$ millions a year in fuel taxes. They have since been taken over by and since 2011 have traded as RUBiS.
Many outlets island-wide. Always call first to ask for opening hours.
Kerosene
It was the first product brought in by the West Indian Oil Agency (later, Esso) for cooking, lighting and heat. It is still imported, mostly for heating kerosene units in the winter months and as an emergency fuel source during frequent electricity outages. Until the year 2000, this was far less expensive than electricity, although also with a very heavy import duty.
Oil
Then naphtha, it was first imported into Bermuda by West Indian Oil Agency (later, Esso) in Bermuda in 1908 to coincide with the introduction by the Bermuda Electric Light Power & Traction Company (later, the Bermuda Electric Light Company Limited or Belco) of electricity in Bermuda. When commercial aircraft first flew between Bermuda and the USA in 1937, Esso Bermuda supplied the fuel.


Last Updated: May 18, 2013.
Multi-national © 2013 by Bermuda Online. All Rights Reserved. Contact Editor/writer and webmaster.