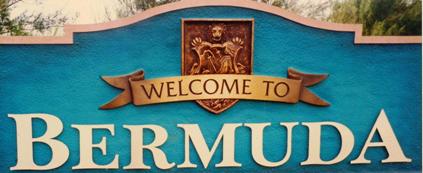 165+ web files about Bermuda, regularly updated as a Gazetteer, focusing on this internally self-governing British Overseas Territory 900 miles north of the Caribbean, 600 miles east of North Carolina, USA. Accommodation options, aircraft & shipping registers, airlines, airport, America's Cup 2017, actors/actresses/musicians/singers/ performing artists, banks, beaches, Bermuda Dollar, Bermuda Government, Bermuda-incorporated international and local businesses and companies including insurers and reinsurers, Bermudians, books and publications, bridges and causeway, charities, churches, citizenship by Status, City of Hamilton, commerce, communities, credit cards, cruise ships, cuisine, currency, disability accessibility, Devonshire Parish, districts, Dockyard, economy, education, employers, employment, environment, executorships, fauna, ferries, flora, former military bases, forts, gardens, geography, getting around, golf, government, guest houses, history, historic homes, Hamilton, House of Assembly, housing, hotels, immigration, import duties, internet access, islands, laws, legal system and legislators, location, main roads, marriages, media, members of parliament, money, motor vehicles, municipalities, music, nearest mainland, newcomers, newspaper, organizations, parks, Paget Parish, Pembroke Parish, residents, pensions, political parties, postage stamps, public holidays, public transportation, railway trail, real estate, religions, Royal Naval Dockyard, Sandys Parish, Smith's Parish, Somerset Village, Southampton Parish, St. David's Island, St George's Parish, senior citizens, Somerset, Spanish Point, Spittal Pond, sports, taxes, telecommunications, time zone, traditions, tourism, Town of St. George, Tucker's Town, utilities, water sports, Warwick Parish, weather, wildlife, work permits.
Bermuda forbids all narcotics, weapons, ammunition, pornography and more
Huge penalties, prison and travel restrictions will result from ignoring this warning and importing them

By Keith Archibald Forbes (see About Us) exclusively for Bermuda Online
Illegal Imports and recent cases and/or convictions
2017. November 17. A 24-year-old drug trafficker was jailed yesterday for 11 years after trying to smuggle nearly $500,000 worth of cocaine into Bermuda. Charmari Burns was caught red-handed with the drugs hidden in secret compartments in his luggage as he arrived at LF Wade International Airport last year. Acting Puisne Judge Juan Wolffe said in Supreme Court when he passed sentence that the prevalence of drugs in Bermuda had torn apart the social fabric of the community. He added: "It is at the core of many of our social ills. Those who import drugs do so with scant regard for the results of their actions. Families have been destroyed and dreams have been dashed. Sentences must be serious enough to deter." The court heard that Burns of Friswell's Hill, Pembroke, had left Bermuda on October 9, last year and traveled to Trinidad and Tobago through the United States. More than $10,000 was transferred into his bank account while he was away — and a large part of that sum was withdrawn from cash points in the Caribbean. Burns returned to Bermuda on October 22 last year through New York and was detained after a police sniffer dog alerted customs officers to traces of contraband on his two bags. The suitcases were searched and found to contain nearly 1.7kg of cocaine with an estimated street value of $465,607. The drugs were stashed in various parts of the bags including the wheel wells, the handles and the lining. Burns was interviewed by police but answered "no comment" to all questions before he later pleaded guilty to importing the drugs into Bermuda. Yesterday he apologized for his actions, and specifically said sorry to his mother. He added: "I am hoping to come out of jail a better person, and will stick to the guidelines." Defence lawyer Liz Christopher told the Supreme Court that Burns had felt he had "no other choice" but to take part in the smuggling operation. She said: "This was the worst decision of his life. He feels ashamed at having not followed the example his mother set. He is a guy that has been trying for a long, long time."
2017. November 16. A Pembroke man caught with 1.99 grammes of cocaine has been fined $1,500. Dahlano Simons admitted having the drug on him at the Bermuda Bistro at the Beach in Pembroke on June 3. Magistrates' Court heard on Tuesday that police approached the 29-year-old after they were alerted to a short black male suspected of selling drugs on the porch of the restaurant. Simons was taken to Hamilton Police Station where officers found a clear plastic bag containing five twists of white powder in his boxers. The white powder was analyzed and found to contain 55 per cent cocaine. Simons, who has similar previous convictions, told the court that he had been dealing with family problems at the time and the drugs were for his personal use. Magistrate Khamisi Tokunbo handed him a $1,000 fine and because cocaine is a Schedule 5 drug, increased this by 50 per cent to a total of $1,500.
2017. November 16. A St George's woman today denied importing cannabis worth more than $70,000. Natasha York, 41, also pleaded not guilty to possessing 1,430.7 grammes of the drug with intent to supply in St George's on May 28. Prosecutor Nicole Smith told Magistrates' Court that the drugs would have had a street value of $71,525. Ms York elected to be tried in Magistrates' Court and magistrate Khamisi Tokunbo adjourned the matter to November 30. The defendant was released on $25,000 bail on the condition she surrender her travel documents and not leave Bermuda without the court's permission. She was also ordered to report to Hamilton Police Station every Wednesday.
2017. November 14. A judge has called for improved sentencing guidelines on drugs cases. Puisne judge Carlisle Greaves said in a recent sentencing hearing that a table of guidelines for such cases would make the process simpler and remove uncertainty. Mr Justice Greaves said: "As it presently stands, the darting about mathematically between different quantities measured by grams is too tedious an exercise for a criminal disposition and is likely to bring about some uncertainty to defendants when it comes to the course they may wish to take. "Despite the many helpful Court of Appeal judgments, there appear to be too many cases, some of which have not been appealed, which tend to lead to a little too much confusion in this jurisdiction and tend to raise specters of some inconsistency." The judge said he did not believe it would be difficult for a committee to conduct the necessary research and come to a consensus on appropriate sentencing guidelines. The comments came during a sentencing hearing last month, in which Mr Justice Greaves sentenced Ryan Willingham-Walker and former customs officer Roberto Marques for drug offences. Marques had admitted possessing cocaine with intent to supply, while Willingham-Walker pled guilty to possessing cannabis with intent to supply. Prosecutors had called for a sentence of no less than 12 years for Marques, while defence lawyer Charles Richardson argued for a sentence below eight years. Both sides referred the court to different cases, which involved a range of sentences and drug quantities. After deliberation, Mr Justice Greaves sentenced Marques to ten years behind bars and Willingham-Walker to 18 months in prison.
2017. November 1. Police hope that the jailing of a former customs officer for ten years for drug offences will send a "strong message" against corruption. Roberto Marques, then still serving in customs, was arrested outside a Pembroke grocery store with 30 bags of cocaine hidden in a sunglasses case. A search of the 41-year-old's home revealed another 118 grams of the drug, along with drug equipment. Detective Chief Inspector Nicholas Pedro said the case showed that the police would act "without fear or favour" in tackling cases. Mr Pedro said: "This was an appropriate sentence, which conveyed the level of severity for the charges he was facing and ultimately convicted of. We hope that it sends a strong message to those who would engage in corrupt practices and illicit activities. The court's sentence shows that we take these matters very seriously and will deal with them appropriately." Puisne Judge Carlisle Greaves said Marques's role as a customs officer was a "substantial aggravating factor". Prosecutors had called for a sentence of no less than 12 years, while defence lawyer Charles Richardson argued that the sentence should not exceed eight years. Meanwhile, a second man, 34-year-old Ryan Willingham-Walker, was sentenced to 18 months in prison for possessing cannabis with intent to supply. Both men were arrested at the same time last November. The Supreme Court heard that officers had been watching the parking area at Arnold's store on St John's Road when Marques arrived in a car. Willingham-Walker got into the front passenger seat and left the car about five minutes later. Police swooped as Marques tried to pull out of the parking area and arrested both men. Marques admitted he had some "molly", and during a search officers found cathinone — a drug similar to amphetamines but legal — stored in the centre console. But they also found the sunglasses case with 30 ziplock bags containing cocaine. Willingham-Walker was found to be carrying 6.4 grams of cannabis and a small amount of cathinone. A search of Marques's home turned up more cocaine — a total of 131 grams of the drug from his house and car worth $31,375. Police also found more cannabis at Willingham-Walker's home, with the total seized from his clothes and property said to be 144 grammes — worth around $6,750. Both defendants pleaded guilty to possession of drug equipment and money laundering. Marques also pleaded guilty to possession of cocaine with intent to supply and Willingham-Walker admitted possession of cannabis with intent to supply. Nicole Smith, prosecutor, argued that Marques's position as a customs officer was a serious aggravating factor. However, Mr Richardson said there was no suggestion Marques had abused his position. In the case of Willingham-Walker, Ms Smith said a sentence of between two and four years would be appropriate given the quantity of cannabis. But Mr Richardson said the only reason Willingham-Walker was before the Supreme Court was that prosecutors had tied his charges to those of Marques. Willingham-Walker said he did not believe he should have been grouped with Marques, and that he had only got into his co-defendant's car to discuss a football bet.
2017. October 21. Bermuda ranks 13th for cocaine consumption out of 115 countries, according to a survey. The statistics showed that 1.3 per cent of Bermuda residents used the drug — more than anywhere in the Caribbean region except the Dutch territory of Aruba, which was 12th in the table. Truell Landy, director of youth drug prevention charity Pride, said the results underlined the need to prevent people falling victim to gateway drugs as they entered adulthood. She added: "It is just an indicator that we need to be more vigilant with our young people here in Bermuda. Gateway drugs are an opening to the harder drugs — we know that if you have the tendency or predisposition to get involved in drugs or hard drugs, starting with tobacco, marijuana and alcohol, it can open the door and expose our young people." Albania, where 2.5 per cent of people use cocaine, came top of the list, compiled by British newspaper The Daily Telegraph. Scotland came second, on 2.34 per cent, followed by the US, where 2.3 per cent of the population use the drug and England and Wales on 2.25 per cent. The small European duchy of Luxembourg anchored the top 20 with cocaine used by 1.04 per cent of the population. Ms Landy said that cocaine use did not appear to be a major problem among the under-18 age group in Bermuda, with an average of 1.9 per cent using the drug. She added that more could be done to deal with drug abuse on the island. Ms Landy explained: "There are gaps in services among all of the substance abuse agencies whether it be prevention or treatment. We encourage people to get involved in providing effective services in prevention, treatment and even intervention — making sure that we have all of the resources on the island." The Daily Telegraph survey was based on the most recent statistics from the UN Office of Drugs and Crime and national reports. The newspaper report said: "The data corresponds to a variety of reporting years so does not offer a perfect comparison, but gives a good indication of the nations that have the biggest appetite for cocaine." Ms Landy added that the survey showed the need to nip drug use in the bud. She said: "It is just an indicator that we need to be more vigilant with our young people here in Bermuda. Gateway drugs are an opening to the harder drugs — we know that if you have the tendency or predisposition to get involved in drugs or hard drugs, starting with tobacco, marijuana and alcohol, it can open the door and expose our young people. I would encourage our parents and adults caring for young people to be very vigilant. We are looking at what's the current use of all substances among our young people now — some, such as alcohol, are really wreaking havoc even though it is a legal drug. There are many of our young people who are engaging with alcohol and marijuana use and it is causing problems. We can see it in the news over the last several years. It is something that we really want to focus on as a concern." This year's National Household Survey report on drug use and health in the adult population found that two per cent of respondents admitted to a lifetime prevalence of cocaine use and 0.4 per cent said they were current users. The Daily Telegraph article can be found at telegraph.co.uk/travel/maps-and-graphics/cocaine-consumption.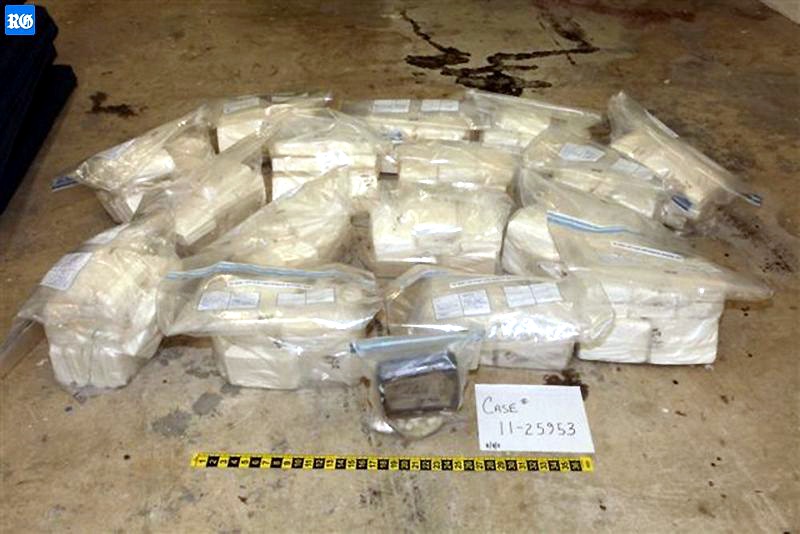 Cocaine intercepted
2017 October 7. A woman jailed for importing cannabis has had sentence reduced by eight months — but the court refused a request to increase the sentence of a second woman for drugs offences. Valisa Holder appealed against a 2½-year sentence imposed in Magistrates' Court, while the Crown asked to have the 2½-year sentence given to Amanda Henry-Huggins increased. Chief Justice Ian Kawaley found that Holder's sentence was harsh and excessive and reduced it to 22 months in a judgment issued earlier this month. But he quashed the Crown's appeal against the sentence of Henry-Huggins and said it was in the range proposed by defence counsel and "tacitly conceded" by prosecutors at the time. Henry-Huggins and Holder were arrested in separate incidents at LF Wade International Airport. Holder was found with 1,101g of cannabis in September 2014. Henry-Huggins was caught with 10,896g of the same drug last December. Both pleaded not guilty but were convicted after trials and received the same sentence. During an appearance before the Supreme Court last month, lawyer Auralee Cassidy argued that Holder's sentence should have been between a year and 18 months. He added that in his notes on sentencing, the magistrate singled out the extended trial as an aggravating factor. Ms Cassidy said: "In this case, there were no aggravating factors. It gives an impression that she was punished for going to trial, but that's wrong." She added that the Crown's comments on sentencing mentioned an "uncertainty" about the value of the seized drugs and argued that the lowest value should be taken into account. But Crown counsel Alan Richards said that the only "uncertainty" he could see in the court records was the usual difference between the estimated street value of the drugs and the wholesale value. Mr Richards accepted that the magistrate would have been wrong if he had used Holder's trial as an aggravating factor, but he said that the sentence was in the appropriate range. In the case of Henry-Huggins, Mr Richards called for a higher sentence, arguing that the 2½-year sentence imposed was inadequate. Supreme Court heard that during sentencing, defence lawyer Vaughn Caines had called for a sentence of three years, while the prosecution did not suggest a sentence length or oppose the one proposed by Mr Caines. Mr Richards accepted that the submissions by the Crown were "not particularly detailed", but said that Mr Caines's suggestion would have been at the lower end of the sentencing scale. Mr Caines said that the legal system in Bermuda was adversarial and questioned if it was right for the Crown to complain about a sentence after it failed to make a submission on the subject at the sentence stage. Mr Justice Kawaley wrote in his rulings that the sentence of Holder was excessive when compared to that of Huggins and that the magistrate had failed to provide sufficient reasons to give her a sentence at the higher end of the proposed sentencing range. He allowed the appeal and reduced her sentence by eight months. However, the judge dismissed the Crown appeal in the case of Henry-Huggins. He said: "The Crown has demonstrated that the sentence imposed was manifestly inadequate in the sense that it was both unduly lenient and wrong in principle. However, because the sentence imposed was within a range which was proposed by defence counsel and tacitly conceded as appropriate by prosecution counsel at the sentencing hearing, a case for allowing the appeal and quashing the sentence imposed has not been made out."
2017. September 27. A man accused of smuggling $8.5 million of heroin into the island was remanded in custody yesterday to face trial in the Supreme Court. It is alleged Josef Vlcek, 47, from Czechia, also known as the Czech Republic, brought nearly three kilograms of the drug into Bermuda on Saturday. He was also charged with possessing heroin with intent to supply. Mr Vlcek, who appeared in Magistrates' Court, did not have to enter a plea as the case must be heard in the Supreme Court. The court was told that the drugs imported have an estimated street value of up to $8.5 million. Magistrate Khamisi Tokunbo ordered Mr Vlcek to appear at the November arraignments session.
2017. September 15. A 25-year-old cruise ship passenger was today handed a suspended prison sentence for possessing 3.73 grams of cannabis. Ioas Durham, from Boston, was sentenced to one month in prison, suspended for six months, for the offence that happened in Sandys on Tuesday. Magistrates' Court heard that Durham was searched by customs officers when he left the Anthem of the Seas around noon and plant material was found in his backpack. Durham also dropped an item down the back of his shorts. It fell on the ground and he stepped on it. His cabin was also searched and more plant material was seized. Plant material was later recovered from the search area and Durham told police officers that it was probably his. In court today, Durham explained that he has a Massachusetts medical marijuana card for a variety of health problems. He added that he was not aware that cannabis was illegal in Bermuda and that he was "extremely embarrassed and apologetic". Durham also told the court that he spent the night in the emergency shelter at the Salvation Army and a Go Fund Me account was set up for him so he could afford a ticket home. Senior magistrate Juan Wolffe handed him the suspended sentence and warned him not to commit any further offences in Bermuda in the next six months.
2017. September 6. An American visitor who "accidentally" travelled to Bermuda with 38 rounds of ammunition in his luggage has been fined $300. Johnny Jefferson flew to Bermuda last month from Houston to escape Hurricane Harvey, Magistrates' Court heard yesterday. Jefferson was leaving the island on September 1 when airport security detected the bullets in his bag. The 55-year-old was arrested and told officers that he thought he had left the ammunition in a different bag with his gun in Memphis. He admitted possessing ammunition and told the court: "This was an innocent mistake. I had no idea the ammunition was in my bag when I came to Bermuda. Since this is my first offence, I ask you to have mercy on me." Magistrate Khamisi Tokunbo told Jefferson that he accepted his explanation. He added: "I am glad that Bermuda was able to give you some safety from Hurricane Harvey. But unfortunately we don't want ammunition coming into this country. We take it very seriously."
2017. September 5. A 47-year-old man has denied being part of a plot to smuggle cocaine into Bermuda. Rudolph Travers Clarke pleaded not guilty to conspiracy to import a controlled drug into Bermuda in January at Supreme Court arraignments. Mr Clarke also denied a further charge of possessing a controlled drug with intent to supply. He was remanded in custody
2017. August 18. A 33-year-old St George's man accused of possessing a firearm and ammunition was this morning remanded in custody. Dion Cholmondeley was charged in Magistrates' Court with possession of a Glock 9mm handgun and four rounds of 9mm calibre ammunition without a licence in Warwick on August 15. He was not required to enter pleas because the charges are indictable and must be heard in Supreme Court. Magistrate Khamisi Tokunbo remanded Mr Cholmondeley, represented by lawyer Charles Richardson, in custody until the October 2 arraignment session.
2017. August 12. The Customs Department has not changed its policy on importing cannabis-related items, shop owners have been advised. It follows confusion on social media after Customs sent businesses a letter warning them food, drink and beauty products containing hemp are being sold in local shops. That letter reminded traders that the importation of goods containing cannabis, cannabis resin or cannabinoids is punishable by imprisonment or fines, and that any goods found containing them, including hemp, would be sent to police for investigation. In a statement to clarify the matter, shared with The Royal Gazette today, the Customs Department said: "The Collector of Customs has taken note of certain concerns expressed on social media regarding a letter to all customs traders concerning the importation of goods containing cannabis, cannabis resin or cannabinoids. The Collector wishes to dispel any possible misunderstanding concerning the content of that letter. The Collector confirms that there has been no change in Customs policy regarding the import prohibition on cannabis, cannabis resin or cannabinoids. The letter simply restates the effect of the relevant legal provisions, and sets out what importers of products containing these substances might expect for any breach of the law. For the avoidance of doubt, no advice has been issued to importers by the Customs Department regarding any such products already on the shelves of local shops." The Customs letter dated August 2, stated: "It has come to the attention of the Collector of Customs that a variety of food and beverage preparations and beauty and skin care products purporting to contain hemp protein, hemp seed or hemp oil are on offer for sale in certain local retail shops. The presence of these products on shop shelves notwithstanding, we would remind all customs traders that the importation of any part of the cannabis plant (except fibre produced from the stalk of the plant); cannabis resin; or natural or synthetic cannabinoids is prohibited by law. Importations of goods or products containing these substances are subject to forfeiture and those responsible for the importation may be liable to penalties or imprisonment. For the avoidance of doubt, 'cannabis plant' includes the hemp plant or industrial hemp plant. Should any customs officer have reasonable grounds to suspect that any imported goods contain any of the substances listed above, those goods will be detained and forwarded to the Bermuda Police Service for investigation." Any questions concerning the importation or exportation prohibited or restricted goods should be sent by e-mail to customs@gov.bm. Information on import and export prohibitions and restrictions has been published on the Bermuda Government website at www.gov.bm.
2017. August 2. A 47-year-old Southampton man is to face trial on charges of possession of cocaine with an estimated street value of $117,000 and intent to supply. Rudolph Travers pleaded not guilty to two counts — possession and intent to sell cocaine on both January 8 and January 14 of this year — in Magistrates' Court yesterday. Travers was remanded in custody and is scheduled to appear in court again on Friday, September 1. Meanwhile, Shaki Easton, 34, of Warwick, was banned from the road for 18 months and fined $1,200 after he admitted driving while impaired. Magistrate Khamisi Tokunbo heard how Easton was involved in a single-vehicle collision in his van at about 4am on July 20 in Smith's Parish. Police found the damaged vehicle against a wall and utility pole.
2017. August 1. Two cases of drug possession were adjourned during the arraignment session at Supreme Court this morning. Chamari Burns, 25, is accused of importing the controlled drug cocaine and being in possession of cocaine with intent to supply on October 22 of last year. The case was adjourned so he made no plea and is due to return to the court for the next arraignment session on September 1. Mr Burns was remanded in custody. Raza Mirza, 23, of Ontario, Canada, appeared to face charges of the importation of cocaine and possession with intent to supply on June 9 of this year. The setting of his trial date was also adjourned. He will return to court for arraignment on September 1.
2017. July 27. More than 130,000 fatal doses of fentanyl could be on the streets of Bermuda, with Chief Medical Officer Cheryl Peek-Ball describing the amount of missing drugs as "exceptionally large and dangerous". Canadian Jacqueline Robinson was jailed for seven years last Friday for smuggling 45 pellets of the drug into Bermuda — and the Supreme Court heard how all but one of them were never recovered. At Robinson's hearing, prosecutor Cindy Clarke told the court that the total weight of 45 pills would be approximately 262 grams. The court heard how Robinson, 25, collapsed in a room at the Hamilton Princess Hotel & Beach Club five days after arriving from Toronto on December 15 last year. While being medically assessed, she vomited a pellet, which was later found to be 5.83 grams of fentanyl. The drug — a synthetic opioid up to 100 times more powerful than morphine — is often used to cut heroin and can be fatal even in very small doses. According to Dr Peek-Ball, it also poses a serious risk to both the public and first responders, as well as those who work in labs and various healthcare capacities who may have professional exposure. She said: "Given that two milligrams of fentanyl is known to be lethal, the unaccounted for quantity equates to 131,000 lethal doses. Contact with fentanyl through inhalation or skin must be avoided at all cost. Even minuscule quantities — as small as a grain of salt — can cause immediate harmful health effects, including respiratory depression, unconsciousness and death." Last month, Lieutenant-Colonel Edward Lamb, Commissioner of Corrections, confirmed that an internal investigation was continuing after suspected fentanyl-related overdoses at Westgate Correctional Facility. That followed a media report in April that multiple inmates at the prison had suffered overdoses thought to be connected with the drug. Also last month, a Ministry of Health and Seniors spokeswoman said that four samples had tested positive for the drug. The samples were collected between December 2016 and May 2017. No further information was provided. Police said their investigation into the unrecovered fentanyl remained active. "There is no connection with any other suspected fentanyl overdoses," a Bermuda Police Service spokesman said. The agency reminded the public of the dangers of the drug. "Those that may come into contact with this illegal substance should exercise extreme caution, be aware of any signs of exposure, seek immediate medical attention if exposed to any amount, and provide as much detail as possible to medical personnel so appropriate treatment can be considered," the spokesman said. There have been no deaths connected with the drug in Bermuda.
2017. July 25. A Southampton man accused of smuggling drugs into the country has been found not guilty by a unanimous verdict. Harry Lightbourne, 56, was formally acquitted yesterday afternoon after a weeklong trial in the Supreme Court. Prosecutors had alleged that Mr Lightbourne had brought in more than $320,000 worth of cannabis and cannabis resin in an incident last year — an offence which he steadfastly denied. However after a few hours of deliberation yesterday, the jury delivered a unanimous verdict in his favour on all four charges. Acting Puisne Judge Shade Subair-Williams subsequently told Mr Lightbourne that he was free to go. While he remained silent upon the reading of the verdict, sounds of celebration could be heard shortly after he stepped outside of the building.
2017. July 22. A drugs mule who was caught after smuggling a stash of fentanyl into Bermuda believed to be worth nearly $800,000 has been jailed for seven years. Jacqueline Robinson swallowed 45 pellets of the lethal drug before travelling from Toronto to Bermuda on December 15 last year. The 25-year-old Canadian national made it through LF Wade International Airport, but collapsed five days later in a hotel room having excreted all bar one of the pellets. She admitted her involvement in the smuggling operation and was given a discounted sentence at Supreme Court this week for co-operating fully with the police. But in the first case of its kind involving fentanyl in Bermuda, Puisne Judge Juan Wolffe warned that those who tried to smuggle fentanyl on to the island could expect a prison sentence of between 18 and 21 years after trial. Mr Justice Wolffe noted the devastating effects of fentanyl and stated that the 18 to 21-year starting point was before any mitigating factors were taken into consideration. Prosecutor Cindy Clarke told the Supreme Court that it was likely that fentanyl was already prevalent on the streets of Bermuda, and that there had been reported overdoses at Westgate Correctional Facility. She said: "To a drug trafficker, fentanyl provides a greater profit margin. It is cheaper than heroin." Ms Clarke added: "Fentanyl is a synthetic opiate painkiller. It can be mixed with heroin to increase its potency, but dealers and buyers may not know exactly what they are selling or ingesting. Fentanyl can be lethal and is deadly at very low doses. Fentanyl, carfentanyl and other fentanyl-related compounds have recently gained unprecedented notoriety in North America. In Canada, the Royal Canadian Mounted Police has declared a state of emergency for the province of British Columbia due to over 600 deaths in British Columbia alone in 2016. Fentanyl and carfentanyl are killing thousands across Canada and USA every year. Fentanyl is often pedaled as heroin. It can be lethal at the 2mg dosage range, depending on route of administration and other factors." On December 20 last year, Robinson was rushed to hospital after being found unconscious on the balcony of her room at the Hamilton Princess Hotel & Beach Club. While she was being medically assessed she vomited a pellet, which was later tested and found to be 5.83 grams of fentanyl. Ms Clarke told the court: "If the defendant did in fact swallow 45 pills the total weight would be approximately 262 grams; which would have had a street value in Bermuda of $768,520 if it was sold as heroin." The 44 other pellets, which Robinson told officers she had already excreted, were never recovered by police. Robinson, who has no previous convictions, remained in hospital for nine days and was treated for severe kidney failure. She was rearrested for conspiracy to import a controlled drug and later told detectives she had been recruited in Canada to travel to Bermuda to take out $10,000. She said that on the night prior to her travel she was collected and told to swallow the drug pellets, which she did, before getting on board the Bermuda-bound flight.
2017. July 18. A visiting husband and wife have been fined $1,400 for bringing cocaine and cannabis into Bermuda. Appearing in Magistrates' Court this morning, Kelly Ann Geyer and Joseph Geyer, both 56 and from Pittsburgh in Pennsylvania, pleaded guilty to importing the drugs on July 11. Prosecutor Alan Richards told the court that customs officers did a "rummage search" on board the Grandeur of the Seas on July 11 and noticed that one of the defendants smelled of cannabis. They searched the couple's cabin and found plastic bags containing plant material, white powder and pills. The plant material was found to be 7.49g of cannabis, while the white power was determined to be 0.48g of cocaine. Mr Richards added that the pills, which Kelly Ann Geyer claimed were vitamin B, could not be analyzed. In court today, both defendants apologized repeatedly. "I was on vacation — it was for personal use," Kelly Ann Geyer said. "I am just extremely sorry that we disobeyed your laws." Joseph Geyer added that they had left the drugs on the ship and did not know they were doing anything wrong. Magistrate Khamisi Tokunbo took into account their guilty plea, the amount and that the drugs were found in their cabin. He handed each defendant a $500 fine for importing the cannabis and $200 for importing the cocaine, with the fines to be paid forthwith.
2017. July 6. A Southampton woman has appeared in Magistrates' Court, charged with possessing more than $42,000 worth of cannabis with intent to supply. Rebecca Wallington, 41, of Welcome Place, entered a plea of not guilty to having 857.3g of the drug in Southampton on January 23. Magistrate Khamisi Tokunbo granted Ms Wallington bail to the amount of $30,000, with a like surety, setting a mention date of July 26.
2017. June 22. Court reports were ordered on a St George's man after he was caught with around a gram of cocaine. Levar Hollis, 38, was reportedly stopped by police on November 4 last year for a traffic offence on Kindley Field Road. Officers noticed that Hollis seemed nervous and asked him if he had anything illegal on his person. He then indicated towards his pockets, where officers found two small plastic bags. One bag was found to contain 0.85 grams of cocaine, while the second held 0.16 grams of cocaine freebase. Appearing in Magistrates' Court this morning, Hollis pleaded guilty to possessing the controlled drug, saying that at the time of the traffic stop he was at a low point in his life. "This arrest was like a wake-up call," he said. "It wasn't just about me, it was about those around me." Noting a lack of previous drug convictions, magistrate Khamisi Tokunbo ordered a Social Inquiry Report and a drug assessment for Hollis to determine if a conditional discharge would be suitable. Hollis was released on $1,500 bail and is set to return to the court in August for sentencing.
2017. June 15. A conspirator in an international operation to smuggle nearly $1 million worth of cocaine soaked in shredded paper packaging into Bermuda has been jailed for 21 years. Curtis Swan had also been convicted of possessing more than $130,000 in ill-gotten gains and removing $90,000 from the island that police believe was earned from the illegal trade of narcotics on the island. Yesterday the 54-year-old was sentenced to 21 years for conspiracy to import the drugs and three years each for two counts of money-laundering. Acting Puisne Judge Juan Wolffe ordered that all the sentences should run concurrently. Mr Justice Wolffe described the drug smuggling operation as "sophisticated" and said Swan's role was on the "middle rung of the ladder". "There is not much in the way of mitigation in this case," he added. "Without conspirators and the brains behind the operation the drugs would not reach our streets. It must have been clear to the jury that you were not just a simple mule duped into picking up the box of vases. Money obtained from drugs transactions is the ultimate motivator for the importation of drugs and the money launderer is the most critical person in the entire industry." Earlier in yesterday's sentencing hearing, Swan had again professed his innocence of any involvement in the drug operation. During the course of a five-week trial at Supreme Court, jurors heard that Swan, who previously worked at The Royal Gazette, was caught red-handed in May 2015 after he picked up a package containing shredded paper and glass vases from FedEx in Hamilton. Authorities in the United States had already intercepted the package, which originated in Panama, and removed the packaging that was found to have been soaked in cocaine hydrochloride. After Swan picked up the package he was kept under supervision as he stopped at Bermuda Paint and bought liquid ammonia on behalf of The Royal Gazette — which he was not authorised to do. Prosecutors told the court that the chemical would have been used to remove the cocaine from the shredded paper and would have produced a large quantity of crack cocaine with a street value of over $811,000. When police descended on Swan's Warwick home, they discovered vases and other packaging, which contained traces of cocaine. They believed it showed this was not the first attempt to smuggle in the cocaine from Panama. Further inquiries by financial crime officers revealed huge quantities of cash had been deposited in Swan's three Bermuda bank accounts between January 2013 and 2015 and withdrawn soon after the money was transferred. Examination of his bank account records showed Swan had removed just over $92,000 from Bermuda through his various accounts that had then been withdrawn from cash points in Trinidad and Panama. He had also personally tried to launder a further $39,000 in ill-gotten gains by exchanging Bermuda dollars for US currency at various financial establishments in Bermuda. Swan was arrested and questioned by police on May 28, 2015. He admitted picking up the package from FedEx but claimed he had no idea it had contained drugs. During his trial Swan took the stand and again insisted that he had done nothing wrong and had no idea that he had been involved in a drug importation conspiracy. However, the jury rejected his version of events and found him guilty of conspiracy to smuggle cocaine into Bermuda and money-laundering by a majority decision last month.
2017. June 13. A 32-year-old woman has pleaded guilty to possession of cannabis following a search warrant early this year. Police attended a residence on Fentons Drive, Pembroke, with a canine unit shortly before 5.30pm on January 7. Magistrates' Court heard that officers asked Okeisha Clarke if she was in possession of any illegal drugs. "Yes, in my back pocket," she replied. The marijuana, totaling 3.39 grams, and a partially-burnt marijuana cigarette were seized by police. Asked by Magistrate Khamisi Tokunbo if she had anything to say in court, Clarke responded: "They didn't have to look for it. I gave it up. I was co-operative." He adjourned sentencing until Tuesday, June 27, pending reports. Clarke was granted $1,000 bail
2017. June 7. A 26-year-old convicted of conspiring to import heroin was jailed for 12 years yesterday, while his mother received a suspended sentence for a money-laundering charge. Damon Morris, of Paget, was convicted by a jury of conspiring to import heroin and possessing cocaine among other charges, and his mother, Denise Morris, also of Paget, 55, was found guilty of money laundering. During their trial, a jury heard that, in December 2015, a passenger arrived in Bermuda on a commercial flight when an X-ray confirmed the items were inside his body. He subsequently excreted the items, which were found to be 86.38 grams of heroin with a street value of $253,380. Following an investigation, police arrested Damon Morris on conspiracy to import controlled drugs. During the arrest, officers also found 49.97 grams of cocaine and 10.14 grams of cocaine, with a combined value of $18,800. In addition, they seized $15,210 which was in Denise Morris's possession. After a 7½-week trial, a Supreme Court jury found Damon Morris guilty of conspiracy to import heroin, possession of cocaine with intent to supply and possession of drug equipment. Denise Morris was acquitted of the drugs offences, but was found guilty of possessing criminal proceeds in cash that were connected to the case. Addressing the court on Friday, prosecutor Larissa Burgess said that Damon Morris had previous convictions and has shown no remorse, noting that he still maintains his innocence despite what she described as "overwhelming evidence". She recommended a total sentence of 33 years behind bars for Damon Morris, including 18 years for the conspiracy to import heroin and 15 years for the cocaine charges with the charges running consecutively. However, defence lawyer Marc Daniels said such a sentence would be "manifestly harsh and excessive" as it would be significantly greater than sentences imposed for the importation of much greater quantities of drugs. Given all the circumstances, he said a sentence of between eight and ten years in prison would be appropriate, arguing that any more than 12 years in totality would be the upper limit the court should consider. And while Ms Burgess called for a sentence of 12 months in prison for Denise Morris, defence lawyer Susan Mulligan argued that a conditional discharge would be appropriate given the impact the charges have already had on her. Ms Mulligan told the court that her client was embarrassed and humiliated by the charges, had lost her relationship with her son and was at risk of losing the job she has held for 30 years. Delivering her sentence, Puisne Judge Charles-Etta Simmons noted that Denise Morris had no previous convictions and had done much service to the community. "To any bystander, they may feel she has been punished enough," she said. "Circumstances call for more than a conditional discharge, but present circumstances merit a suspended sentence." She subsequently imposed a 12-month sentence, suspended, adding that there was no need for further supervision. However, in the case of Damon Morris, Mrs Justice Simmons said a message must be sent by the courts, noting the damage that drugs do to the community. She said that there were no mitigating factors in his case, saying that he has shown no remorse for his actions, only to the damage they have done to his family. Mrs Justice Simmons sentenced Damon Morris to 12 years behind bars for the conspiracy to import heroin, 10½ years for the cocaine charges and one year for the possession of a scale, but ordered those sentences to run concurrently.
2017. June 6. A 29-year-old American visitor caught with cocaine and methamphetamine on board the Anthem of the Seas has been fined $600. Appearing in Magistrates' Court this morning, Akeem Thompson, from Brooklyn, admitted possessing 0.04 grams of cocaine and 0.51g of methamphetamine on June 3. The court head that the drugs were discovered after the head pool attendant found an iPhone on deck 14. When he pulled off the case to check for the model number, he found a small plastic bag containing a white powder and another bag containing a grey powder. He alerted security and a review of the CCTV footage showed the defendant with the phone minutes before it was found by the pool attendant. Thompson was questioned by security and told them that while he had lost his phone, the one they had in their possession was not his. Police officers attended the ship yesterday and Thompson again told them that the phone did not belong to him. He was arrested and taken to Hamilton Police Station. In court today, defence lawyer Susan Mulligan said her client was an "occasional user" of the drugs but had forgotten that they were stashed behind the phone case. She said this was evident in that he had reported the phone as lost and that the "penny dropped" when the police confronted him about the drugs. Ms Mulligan also said that Thompson, who was on the cruise with his parents, "meant no disrespect and did not mean to violate any laws". Thompson also apologized, attributing the offences to negligence on his part. Magistrate Khamisi Tokunbo handed him two $200 fines, which were both increased to $300 because the drugs fall under Schedule 5 of the Misuse of Drugs Act and are subject to an increased penalty.
2017. June 1. An American visitor has been fined $300 for bringing more than 30 grams of cannabis on a cruise ship. Appearing in Magistrates' Court this morning, 67-year-old Roberta McQueen pleaded guilty to having 33.12g of the drug in Sandys on May 27. The court heard that police were called to search her cabin on board the Anthem of the Seas after cleaners noticed a strong smell of cannabis. A ziplock bag containing 18 "homemade cigars" was found in the cabin safe and another bag containing eight one-inch pieces of plant material were also recovered. McQueen told officers that she uses the drug for her arthritis, adding: "It was a nine-day cruise and I use it for the pain." In court today, McQueen said she did not have a medical prescription although she had told her doctor of her use. She said she comes from Delaware, where the possession of the drug has been decriminalized up to an ounce. Marc Daniels, who was acting as duty counsel, added that McQueen was on a family cruise and that she was only supposed to be in Bermuda for one day. He noted that McQueen uses the drug to cope with a series of medical conditions. Mr Daniels also pointed out that she had never been in trouble before, let alone arrested, and asked for "as much leniency as possible". But Magistrate Khamisi Tokunbo said McQueen entered a contract with the cruise ship company and should have known that Bermuda is a jurisdiction that does not tolerate the possession of cannabis. However, taking her guilty plea and upfront admission into account, as well as her use of the drug for medical reasons and that she comes from an area where it is decriminalized, he handed her a fine of $300.
2017. May 26. A St David's man has been hit with a $1,000 fine after being caught with 15.5 grams of cannabis by police executing a search warrant. Magistrates' Court heard that Deon Pitcher, 32, of Chapel of Ease Road, was arrested at a Pembroke residence after officers seeking another individual found him with a bag of plantlike material on December 9. Magistrate Khamisi Tokunbo ordered Pitcher to pay the fine by June 30.
2017. May 22. The approval of amendments aimed at decriminalizing the possession of small amounts of cannabis was applauded yesterday by anti-racism charity Curb. Lynn Winfield, the charity's president, called the amendments a step in the right direction to address the criminalisation of young black men. She called on the opposition and the government to further consider the charity's recommendations and "begin the process of moving towards legalization of cannabis once the appropriate studies have been carried out on how best to regulate. Curb is an advocate for the use of restorative justice in Bermuda's criminal justice system, and this legislation takes a step in the right direction and will hopefully prevent the further criminalisation of our young black males," she said. "As part of that restorative justice process, there is a need to ensure the conviction of any individual for this amount of cannabis be overturned, so that their record can be wiped clean." The Misuse of Drugs (Decriminalization of Cannabis) Amendment Act 2017 must first pass through the Senate and be approved by the Governor before becoming enshrined in law. However should it pass those barriers, the possession of up to 7 grams of cannabis would be decriminalized on June 30. According to the law, drugs would still be seized and minors caught with any amount of cannabis could be required to go through drug education or treatment. And the Department of Public Prosecutions could still seek charges for intent to supply, if there was sufficient evidence, even if the drugs amounted to less than 7 grams. Michael Scott, the shadow attorney-general, said the amendments were intended to help prevent Bermudians, particularly young black males, from suffering the long-term consequences of a drugs conviction, including placement on the US "stop list. Our history in the even dispensation of justice has been dire, as reflected in the observations of independent investigations of the drug issue," Mr Scott said. "Certainly this Decriminalization Bill is exclusively about addressing historic uneven arrest and prosecution policies that target one section of our society over another." Mr Scott also emphasized that 7 grams is a "most conservative amount, given the fact that 28 grams is generally seen as the amount […] that the law in other countries deems as simple possession". The One Bermuda Alliance had tabled its own decriminalization legislation with a limit of 3 grams, but the legislation was approved without objection after receiving a handful of amendments on the floor. Michael Dunkley also noted that there had been concerns that 7 grams was "pushing that envelope too far". But he added that the primary aim was to deal with the stop list, which has been "the bane of probably thousands of people just in my lifetime alone". The Premier said it was also necessary to focus attention on "being able to look at expunging people's record in this regard and also remove people from the stop list". Kim Wilson, meanwhile, stressed the negative impact that cannabis can have on adolescents, leading to higher risks of mental illness. Noting amendments brought forward on the floor to require young people caught with cannabis to undergo drug education, she said: "We have two competing interests that need to be addressed and this Bill addresses both of those issues." Her concerns were echoed by OBA MP Susan Jackson, who called for some sort of support system for parents and victims of schizophrenia and "other disorders that are directly attributed to the misuse or use of cannabis". While Ms Jackson said the legislation was a long time coming, she said it also comes with a "level of responsibility for all of those that may want to take advantage of the consumption and use of cannabis in this community". Environment minister Sylvan Richards recounted how he was stopped and searched one night in his youth by police — the officer did not find the joint he had in his pouch, he said. "My life would've changed completely. If I would have got busted that day, I probably would not have got to go to university and the whole trajectory of my life would have gone someplace else." He said he had long hoped to do something to help those who had been less fortunate. But he also said that professions such as the fire service or construction were already struggling to hire Bermudians because many could not pass a drugs test, which could potentially become even more difficult. PLP MP Jamahl Simmons said that while he supported the bill, "each of us in our community who do engage in marijuana need to ask yourself a question — if you need it to get your confidence up to go pull some leg, you need to examine your use. If you need it to deal with the stress of your job and you can't face the day without it, you need to examine your use. If you are avoiding working in certain places because they drug test, you need to examine your use." Education minister Cole Simons, however, said that as education minister, said he could not support the Bill. "We have encouraged our students to live our drug free life," he said. "We have encouraged our students to make wise choices, so in my mind it would be duplicitous of me to support this legislation because it will basically allow the usage of marijuana to increase in this country". Leah Scott also said the legislation was a challenge for her, saying that while it was important to create a level playing field for young black males, she knew through her son the potential risks. Independent MP Mark Pettingill, who tabled several amendments to the Bill, said money needs to be placed into education and treatment rather than the war on drugs, which he said has already been lost. While he said there might be some debate in the details, for the most part they were all singing from the same pew. He said believes there should be a move towards licencing for cultivation, but the decriminalization was a first step. "I believe we have to move it forward," he said "Lets move it forward not back." Michael Weeks, meanwhile, called on increased early education on drug issues, saying: "A lot of times we talk about education only after the horse has left the stable." And he said that the island needs to have a conversation about cannabis cultivation and where the legal lines should be drawn.
2017. May 19. Legislation decriminalizing up to 7 grams of cannabis was passed unanimously in the House of Assembly tonight. If approved by the Senate and the Governor, the legislation will come into effect on June 30. The Opposition bill, tabled by shadow Attorney-General Michael Scott, received support from both sides of the House, although some expressed concern over possible "unintended consequences". Delivering his brief, Mr Scott said the Misuse of Drugs (Decriminalization of Cannabis) Amendment Act 2017 aimed to help prevent Bermudians, particularly young black males, from suffering the long-term consequences of a drugs conviction, including placement on the US "stop list". However, the Director of Public Prosecutions could still charge those caught with less than 7 grams of cannabis if there is evidence of intent to supply.
2017. May 13. A Bill to decriminalize cannabis in amount of 3g or less has been brought before MPs by the Government. But amendments to the Misuse of Drugs Act, presented in Parliament by Attorney-General Trevor Moniz, appeared to take both the Opposition and Speaker of the House Randy Horton by surprise. Shadow Attorney-General Michael Scott protested that the Bill clashed with the Progressive Labour Party's own decriminalization Bill, brought to the House in February. Having not had the chance to "peruse" the Bill, Mr Horton told MPs he would have to read it first and reflect. Mr Moniz apologized to the shadow minister, saying he had been unable to discuss it with Mr Scott before Parliament — with Mr Horton responding: "That's what we must do."
2017. March 10. Functioning addicts, many with careers and children, make up a large portion of the island's heroin-using population, according to health experts and police. "It's not the guy shooting up in the alley that you saw 20 or 30 years ago," Edward Schultz, director of Emergency Services for Bermuda Hospitals Board, said of the island's modern-day heroin user. "It's not the kids. It's the 30 to 50 age group. They're working — they're not skid-row types." Detective Superintendent Sean Field-Lament of the Bermuda Police Service added that the island had a "very high amount" of functioning addicts, many of whom have affluent backgrounds and large sums of disposable cash. The arrival in Bermuda of fentanyl — a synthetic opioid 50 to 100 times more powerful than morphine — has prompted warnings from health, law enforcement and government representatives over its possible impact. The drug, which can be fatal even in very small doses, is often used to cut heroin, increasing users' risk for overdose and death. Dr Schultz, psychiatrist Grant Farquhar and Mr Field-Lament spoke to The Royal Gazette about Bermuda's heroin problems, with Dr Farquhar saying that dozens of addicts are currently undergoing treatment, many after using up to $200 a day of the drug. By all indications, according to Dr Schultz, fentanyl has yet to find its way into the country's heroin supply. "If there was that much on the street, we would be seeing more serious overdose and deaths. Relative to the number of users on the island, there are few heroin overdoses that end up in the emergency room. What that says to me, is that the consistency of what's coming in is very stable," Dr Schultz said. "We've never had episodes where all of a sudden we get flooded in the ER with five or six people who suddenly got a really strong batch of heroin." Unlike other locations, such as Vancouver, where deaths associated with fentanyl have largely been associated with intravenous injection, the majority of Bermuda users today ingest the drug through the nasal cavity, Dr Schultz said. "They don't get endocarditis, they don't get hepatitis, they don't get abscesses," he said. "They work. They're the thin guy you see at work, who's pretty fit — he uses heroin." Similarly, while the recent popularity of heroin in the United States can be linked with the prescription of powerful opioids for pain — such as OxyContin and Oxycodone, there seems to be little correlation here. "It's pretty well controlled here," Dr Schultz said of prescription opioid sales. Mr Field-Lament said: "We don't have what I would say is an over-prescription problem." He said the resurgence of heroin on island instead came out of "a really bad spate" of crack cocaine use. Back in the 1980s, Mr Field-Lament said he was put on a task force to deal with the emerging threat of HIV/Aids. "In Bermuda, it was literally isolated to intravenous drug use," he said. Following the death of many heroin users, crack cocaine began to gain popularity, with heroin mixed in to take the "roller-coaster edge" off the high, the Detective Superintendent said. Astute dealers realized that heroin was the smart drug to supply. "Your clientele, you can set a clock to them," Mr Field-Lament said. "Bermuda, I would say, has a very high amount of, I call them, functioning addicts. We're an affluent society with quite a lot of disposable income." Dr Farquhar, one of two psychiatrists with the Turning Point Substance Abuse Programme, said addicts could often operate for decades before "hitting bottom. The functioning addicts don't tend to seek treatment until there's a problem. And that problem might be they've been fired from their job, or divorced by their wife, or have lost their house." Dr Farquhar said that the majority of 100 people currently in the Methadone Maintenance Treatment Programme are men between the ages of 30 and 50, who have been using heroin for up to 20 years. Many, he said, report using between $100 and $200 a day worth of the drug. "You can only, usually, keep that lifestyle up for so long before your body cannot physically handle it any more, or something else happens," the doctor said. Those seeking treatment to kick the habit often come with a serious misconception. "There's a perception that once you come into detox and you get clean, that's it, you're cured," Dr Farquhar said. "But you're not. That's just the beginning of the battle, really. Bermuda is very small. It's hard to avoid people. It's not like you can move to the next city where you don't have a network of drug dealers and associates." And while detox helps rid the user of the physical drive to find their next fix, the impact of — in some cases — decades of drug use has dramatically altered the mind of the addict. "Over a period of time, over ten or 20 years of heroin use, your brain has changed," Dr Farquhar said. "So your brain is going to be telling you that you need to have opiates. Those ready to clean up should not fear the impact. Withdrawing from heroin is not a serious problem. Opioids kill you in overdosing — that's the big danger." There is also no waiting list for admission into the Methadone Maintenance Treatment Programme, he said. "Treatment's available, and it's free. Residential rehab is available and it's free, detox is available and it's free." While popularity may be highest among the 30 to 50-year-old men, use of the drug would seem not to be confined to lower-income earners. Mr Field-Lament said of those who have fatally overdosed on the drug: "Some have been retired construction workers; we have sons of really affluent rich white people. I can remember overdose deaths in the bathroom at very rich white people's Christmas parties," Dr Schultz echoed. "It's across the board." "Construction, office jobs — could be a doctor," Dr Farquhar said of the careers of those who have sought treatment. "It basically goes across all social strata."
2017. February 24. Many are sceptical that a new cannabis caution policy will avert convictions, under the belief that police have long held the power of discretion for minor drug offences. Others at last night's meeting on the decriminalization of marijuana, hosted at Warwick Workmen's Club, supported full legalization of the drug via the first step of bringing in medical cannabis. Roughly half of attendees supported decriminalization, with one man telling the gathering: "Everybody smokes it. You're not going to stop it." Meanwhile, a drug prevention officer from the Department of National Drug Control said her office was focusing on school-age children and "stopping drug use before it starts". "Marijuana is coming into our schools in the form of cookies and brownies and we're very concerned about it," she told The Royal Gazette. "It's very hard to regulate potency and young people don't know about it. All they know is they would like to be high." Several at the meeting, led by Warwick South East MP Lawrence Scott of the Progressive Labour Party, called for the drug to be legalized as a form of regulating it, with one woman telling the gathering of about 20 people: "Even if we decriminalize, there's still a criminal element that's going to give you a tainted product." One man voiced frustration at the debate over how Bermuda should proceed, saying the argument amounts to "reinventing the wheel. Just look at all the states in North America that have done it," he said. "All the concerns have already been addressed." The majority seemed to view legalization as an inevitability, with another man declaring: "We need to become independent thinkers in an industry that's leaving us behind." He said he worked with tourists and was regularly approached by visitors curious about buying cannabis. "We're competing with other places with pink sands and beautiful waters that allow tourists to be free. In Jamaica it's not legal, but they leave the tourists alone." Mr Scott characterized the meeting as a fact-finding endeavour, saying many of his constituents had spoken to him regarding the issue. Larry Mussenden, the Director of Public Prosecutions, initiated a survey of opinions in May 2016 for a caution policy on simple possession of small amounts of cannabis, while the Opposition has prepared its own Bill for decriminalization. Mr Mussenden announced yesterday that he had issued the guidance for formal cautions on simple possession of cannabis to the Commissioner of Police, detailing a "three strikes" policy in cases where a person is found with less than 3g of the drug.
2017. February 20. Legislation paving the way for people to be cautioned for possession of a small cannabis is set to come into force, Attorney-General Trevor Moniz has confirmed. Mr Moniz released a statement after Director of Public Prosecutions Larry Mussenden unveiled a new "three strikes" draft policy meaning people caught with less than three grams will receive formal cautions. He recalled the Police and Criminal Evidence Amendment Act, passed last March, allowed for the Bermuda Police Service to issue formal police cautions to persons suspected of committing offences and who admit culpability. "Formal cautions serve as an alternative to traditional prosecutions before the courts," Mr Moniz stated. "They give law enforcement another tool in helping to prevent unnecessary criminalisation in the first instance and to further deter persons from future actions that may lead to criminalisation. Cautions permit the police and prosecutors to consider a response which is proportionate to the level of criminality involved. Following passage of the legislation, the DPP commenced a consultative exercise with stakeholders across Government and the community. The result of that exercise was the announcement of Draft Formal Police Caution guidance for Simple Possession of Cannabis weighing three grams or less. To that end, I am now bringing the legislation into force, and a notice to that effect will be published in the Gazette shortly. The DPP will then be in a position to formally bring the guidance into effect. I wish to thank the DPP and his team for all of their hard work in effecting this guidance, and to all stakeholders who took the time to respond to his request for comment."
2017. February 20. The arrival of fentanyl in Bermuda is prompting warnings over the drug's potential impact to public health and safety from representatives of the health, policing and government communities. The message follows the arrest of two Canadians in December after allegedly smuggling the drug into the country. A third suspect — a Jamaican national — was subsequently charged. The matter remains before the courts. "This is an incredibly dangerous drug, and people can die very quickly from it," Edward Schultz, director of Emergency Services for the Bermuda Hospitals Board, said of the synthetic opioid. With a potency roughly 50 to 100 times that of morphine, the drug has been heavily linked to what Health Canada in November described as a "crisis of opioid-related overdoses and death across the country," and which prompted a nationwide alert from the United States Drug Enforcement Administration nearly two years ago. Widely used by physicians as a pain reliever, forms of fentanyl began to be sold for illicit purposes, most commonly as a cutting agent in other narcotics — primarily heroin — creating greater risks for those using the drug. "I think there's a huge issue with heroin use in Bermuda," Dr Schultz said. "We've had a large number of people using heroin for the last 20 years. There's always been a very large heroin-using population," Bermuda Police Services Detective Superintendent Sean Field-Lament said. According to Mr Field-Lament, the country's heroin supply — traditionally sourced from either Mexico, via the eastern United States, or more recently The Netherlands, via London — has rarely been stepped on. We tend to get quite high purity," he said. The arrival of fentanyl, he said, would allow heroin to be cut down by importers and dealers to increase yields, and ultimately profits. "My concern is that you're going to see an expansion of heroin use by just adding amounts of fentanyl," he said. Fatal even in small doses, fentanyl's infiltration into heroin elsewhere has put users at an increased risk for overdose and death. With a 10-milligram "deck" of heroin selling for $25 on the island, the amount of fentanyl needed to cut a single hit is minimal. "The amount of powder that gets somebody feeling good from fentanyl and the amount that will kill you — you can't eyeball that," Dr Schultz said. "The amount is even smaller to create a high-risk of toxicity, overdose and death," Government of Bermuda analyst Nadine Kirkos echoed. Prior to fentanyl's recent arrival on island, Mr Field-Lament said the drug wasn't really on "the radar" of police. In fact, fentanyl was not technically illegal when it first showed up, and required fast tracking to add to the Government's list of banned substances, he said. Ms Kirkos, however, said that the Government had been tracking the issue for some time. "Fentanyl has certainly been on our radar for a while," she said. "But obviously we can only test what comes in." Testing of the drug, as well as identifying its effects, also presents a myriad of problems. According to Mr Field-Lament, results on tests ordered into suspicious deaths have taken an "inordinate amount of time, from a policing perspective" to receive. "The capacity on the island to do a very timely toxicology report is not there," he said. "And that's one of the things we're trying to address." Test results can typically take six to eight weeks to be returned, Mr Field-Lament said. Results on tests ordered relating to three "incidents" in 2017 remain outstanding. "The problem is we are an island," Ms Kirkos said. "You have a large bureaucratic pathway to go through to be able to ship something away." Samples dating back to 2013 are also being re-screened for the drug, she said. Fentanyl also does not show up on standard tests, making the diagnosis of an overdose by the drug by first responders and health practitioners particularly difficult. After the death of 25-year-old Christopher Spencer in 2015, the use of Naloxone — a drug used to counteract the effects of an opioid overdose — was approved by all emergency medical technicians without a doctor's approval following a coroner's recommendation. Naloxone, commonly sold under the brand Narcan, is now carried by all EMTs. "The drug will save lives," Dr Schultz said. "What I advised all my colleagues in the emergency department when we found out fentanyl is on the island, is that if anybody comes in under this profile, we need to give large amounts of Naloxone and you're not going to be able to test for it, so don't be deterred by negative tests," he added. A national strategy to address fentanyl is currently being developed, Mr Field-Lament said. "Certainly if your loved one is an addict, you should be aware of the dangers," he said.
2017. February 17. People caught with less than three grams of cannabis will receive formal cautions, under a new "three strikes" draft policy unveiled by Director of Public Prosecutions Larry Mussenden. On being arrested for a third time, the offender will have to undergo drug assessment or drug counseling or face being sent to court for prosecution. In a statement, Mr Mussenden said that under the Police and Criminal Evidence Act, a provision was created to allow the DPP to give guidance for a formal police caution policy for appropriate offences. "Thereafter, I announced that I would consider a guidance for a police caution policy in respect of simple possession of cannabis," he said. "I stated that I would welcome input from the community. Also, at that time I reached out to various agencies for their views on a police caution policy for simple possession of cannabis. I have drafted a guidance for a police caution policy for simple possession of cannabis. I am pleased to release a draft of the guidance for a caution policy today as information to the general public. I intend to formally bring the guidance for a police caution policy into effect once the Police and Criminal Evidence Amendment Act 2016 is brought into operation by the Honourable Attorney-General by way of a notice in the Official Gazette." He said that in order to create the policy, he consulted with a number of bodies and members of the public, who provided a wide range of recommendations. "The submissions ranged along the spectrum of how a police caution policy should be structured from a blanket caution for all cannabis to having a limited number of cautions, and to having some conditions in order to obtain a caution. Other aspects were urged such as reducing the number of people being convicted, preventing the harmful impact of drugs on society, preventing initiation and use of drugs in youth in order to protect the developing brain, protecting minors from drug use which leads to drug abuse as an adult, preventing unintentional accidents, preventing diversion of funds to drugs and to promoting health education generally." The key points for the policy as laid out by Mr Mussenden are:
the weight of the cannabis must be under three grams;
an offender must admit to possession of the cannabis;
an offender must not have other drugs on them at the time of the seizure/search;
children offenders under 18 years of age will be referred to Child & Family services;
on a first and second arrest for possession of cannabis, a first caution and second caution respectively may be granted;
on a third arrest for possession, a caution may be granted on the following conditions: A person will be bailed from the police station to return to the police station three months later — such time to be used to complete some tasks; an assessment must be made by BARC, an offender must undergo a minimum of 12 hours of drug counseling and an offender should pass a drug test.
If the conditions are met, then a third caution will be issued — otherwise the offender will be sent to court for prosecution. On a fourth arrest within two years of a third caution, the offender will not be eligible for a fourth caution. Upon two years passing from the date of the third caution, an offender is re-eligible for a first caution. "It is a pleasure to release this guidance for a caution policy for cannabis," Mr Mussenden concluded. It is designed to steer offenders away from the courts with all the consequences arising from convictions, builds in a three strikes policy, and involves counseling and drug testing. The policy is designed to allow our people to pursue their life and career objectives and to be productive, healthy and successful members of the community."
2017. January 23. A Jamaican national was named yesterday as the third person charged with a plot to supply the controlled drug Fentanyl. Maurice Martin was charged in Magistrates' Court of a single count of conspiring with others between an unknown date and December 20 to supply the synthetic opioid. He was not required to enter a plea as the matter will be heard by the Supreme Court. Two Canadian nationals have previously been charged in connection with the same incident. The 33-year-old was released on $150,000 bail with a like surety, under the conditions that he surrender all travel documents and report to the Hamilton Police Station on a daily basis. The matter is expected to appear before the Supreme Court in March.
2016. December 29. The Bermuda Police Service has said officers have discovered the controlled drug Fentanyl on the island. The drug — a synthetic opioid — is associated with the misuse of heroin and has been linked to multiple fatal overdoses. According to the Drug Enforcement Administration (DEA), Fentanyl is a dangerous, powerful Schedule II narcotic responsible for an epidemic of overdose deaths within the United States. Detective Superintendent Sean Field-Lament said: "The BPS Drug Unit is conducting an investigation and we have informed our public safety and healthcare partners of the associated risks. We will work with our partners to formulate a more detailed response in the coming days, but in the meantime we would like to draw the DEA's safety precautions regarding Fentanyl to the public's attention: exercise extreme caution, be aware of any signs of exposure and seek immediate medical attention."
2016. May 25. In the UK. so-called legal highs were banned. Visitors from the UK and elsewhere should note that all these drugs have never been legal in Bermuda. They include Methylphenidates which are promoted as cocaine alternatives which are also known as the following: Ritalin, propylphenidate, Posh, Opaline, Gogaine, Fake Cocaine, Evoke, ethylphenidate, Ching, Burst, Banshee Dust. Synthetic cannabinoids which are also known as the following: X, Tai High, Hawaiian Haze, Spice, Mary Joy, Exodus Damnation, Devil's Weed, Clockwork Orange, Bombay Blue Extreme, Blue Cheese, Black Mamba, Annihilation, Amsterdam Gold, are also banned in Bermuda.
2016. April 25. A Cannabis Reform Collaborative was formed in 2014 to determine if legislative changes are needed but the changes it recommended to reduce the illegality remain on the shelf two years after they were presented to the Bermuda Government. Until then, it remains illegal and persons in Bermuda and all visitors discovered to be importing any narcotic face huge fines, imprisonment and being banned indefinitely from visiting or residing in the USA and other countries.
2015, November 20. Marijuana, heroin and cocaine remain the most commonly used illegal drugs in Bermuda, according to the annual report from the Bermuda Drug Information Network. The study by the Department of National Drug Control, provides analysis of trends in drug use in 2013 and 2014 according to a press release from the Ministry of National Security, it presents national data on the nature and magnitude of use and misuse of legal and illegal substances in Bermuda and represents the work of a broad spectrum of agencies and departments engaged in drug prevention, intervention, treatment, counseling, rehabilitation, enforcement, interdiction, and health. The release states: "Drug use is a difficult and complex phenomenon to monitor. This report serves the purpose of providing a comprehensive overview of the current drug situation in Bermuda using multiple sources and indicators, with the intent of providing insight into the different aspects of the drug problem." The report monitors and accounts for local drug-related information from about 30 data providers, covering some 45 drug control areas, and providing measures for more than 150 indicators. Since last year, it has expanded to include four new measures and one new survey. Drug use prevalence has remained constant among Bermuda's residents over the past ten years, with alcohol, tobacco and marijuana the most commonly used substances among the general adult population and youths, while the heroin and cocaine remain drugs of choice for problem drug users. Since 2014, drug-related crime has declined and there were no cases where drug use contributed to the underlying cause of death. Michael Dunkley, the Premier and Minister of National Security, stated: "The Government is committed to a healthier and safer Bermuda and an interconnected balancing of drug control efforts in both supply and demand reduction. Drugs continue to jeopardize the health, safety and welfare of people throughout the world; and Bermuda is no exception, as substance abuse continues to negatively impact our island extensively. Drug use prevention cannot occur unless there is change in our social attitudes toward alcohol and drug misuse." The report can be found at www.dndc.gov.bm.
To avoid arrest for any type of illegal narcotics, such as but not limited to cannabis, liquid ecstasy, magic mushrooms, marijuana, cocaine, heroin, etc. don't import them. Bermuda laws do not permit the sale of marijuana or any other narcotic drugs for any reason, not even for any alleged medical purposes. Even so-called "legal highs" of the type sold in some places in the UK are illegal here. It applies to those who arrive by any means - air or cruise ship or yacht. Locals, tourists and visitors are not given any breaks. UK European, USA and Canadian laws don't apply in Bermuda. Excuses that the drugs are needed for medical reasons are deemed spurious, irrelevant, immaterial and not accepted.
If you live in Colorado or Washington State or anywhere else that has legalized marijuana or any other narcotic drug in any way, don't bring it to Bermuda. It isn't allowed here under any circumstances. Your home-state policies don't apply and are not recognized in Bermuda and you'll be prosecuted to the fullest extent of Bermuda law, regardless of whether you are cruise-ship visitor or airline passenger visitor or working newcomer or Bermudian or non-Bermudian resident.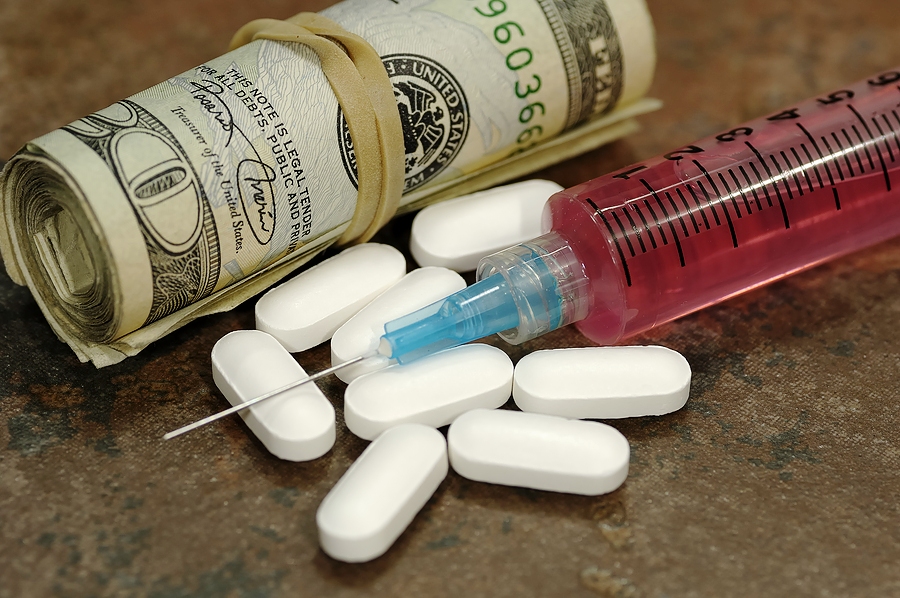 Do not bring them to Bermuda! Yet despite this warning, Bermuda-bound cruise ship passengers galore are caught and convicted, spoiling their vacation and earning a permanent Bermuda and worldwide criminal record.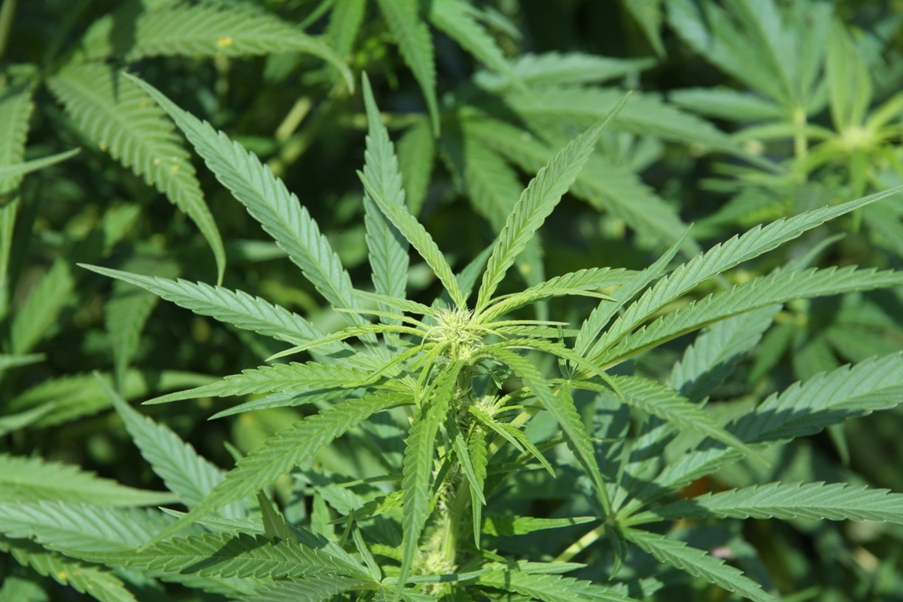 Cannabis sativa. Marijuana. One of the many narcotics for which there is zero tolerance on Bermuda, not even for medical use.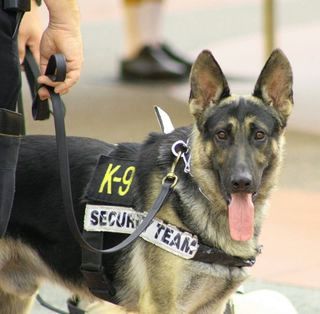 There is a total zero tolerance policy and crews of cruise ships and drug couriers are known as major importers. Bermuda Police and Customs Officers work very closely with their drug enforcement counterparts in the USA and elsewhere. Narcotics officers travel on every Bermuda-bound cruise ship, with drug-sniffing dogs and more and are given complete freedom by every cruise line whether in American, international or Bermuda waters to enter cabins of suspects at any time of the day or night, whether the cabins are occupied or not, when passengers are awake or sleeping, without a warrant, to make detailed searches and arrest suspects. They can routinely search and often act, either for no specific reason or on tips from passengers and crew who detect smells and unusual behavior. They work closely with staff on all the cruise ship lines serving Bermuda and when necessary call on the services of their Cruise Ship Enforcement Team. Detection systems are now very sophisticated and include drug-sniffing dogs employed for the task at the airport and on cruise ships. Despite warnings, arrests and convictions happen every day. Penalties for not complying are very harsh in Bermuda for even the smallest amount, with separate criminal charges for importation, possession, intent to supply and more - and with substantial repercussions elsewhere as well, as their names, passport numbers, social security numbers, and more are circulated to overseas authorities.
There have been many cruise ship and other visitors, crew members and others caught with drugs. Those arrested are charged, remanded in custody and possibly face several serious charges including importation with intent to supply. When visitors are caught and convicted of having illegal narcotics, they may lose their scheduled airline or cruise ship departure dates because they will have to remain in Bermuda until their court cases are scheduled, 5 days or more later; will not be able to apply for refunds; will be officially deported; and will have files on them given to police forces in other countries. Some complain, thinking their constitutional or other rights have been ignored, which is complete rubbish. They are expected to obey the laws of the land or pay the price.
Cruise ship passengers are strongly recommended to read, learn, inwardly digest and pay strict heed. The full list of the hundreds of banned narcotics are in the Bermuda Government's Misuse of Drugs Amendment Act 2005. It is not an excuse if you fail to make yourself familiar with the contents of the full list. Claims they invariably offer that they do not have the money to pay the fines are routinely ignored. They are remanded in custody or are put on bail with their transportation tickets impounded until they do. One reason officials in Bermuda are so tough is because fines are revenue to the Bermuda Government and the Customs Department is the source of the biggest of all revenue departments of the Government. So, unlike many other countries where Customs procedures appear to be relaxed and tolerant, the Bermuda system is neither. The discovery rate is over 70%. Cruise ships, their crews and passengers are automatically suspected now, especially since a huge stash of over 15 kilos of cocaine - valued locally at over US$4 million - were seized from a cruise ship recently.
Also illegal
Under no circumstances - except for specific, limited duration sporting occasions which include competitive shooting - are visitors and new residents allowed to import or own unlicensed (under Bermuda laws) guns of any kind, not even BB or pellet guns or slingshots. Penalties for doing so are severe. Only when such sporting events occur can participating athletes and/or their sports organizations apply well in advance to be allowed to import their firearms under a temporary Bermuda Government-issued Firearms License. Only they or the Bermuda Police or Bermuda Regiment or some other Bermuda-recognized entity or their registered members authorized to do so may hold Bermuda Firearms Licenses to possess and use Bermuda-licensed firearms in Bermuda.
Offensive and defensive weapons of any kind, like real or fake or toy firearms (guns) of any type, including flare guns and any ammunition; any kind of weapon to deter thieves or intruders; catapults (slingshots); BB guns; cutlasses; crossbows; mace in canisters; pornographic material; throwing knives; flick knives; martial arts weaponry; nightsticks; nunchakus; spiked wristbands; swords; spear guns, all pistols, all rifles, all ammunition for them, signal guns, all other weapons and all live marine animals (including lobsters) by any private individuals. Residents, visitors, and businesspeople who ignore the above will have their weapons seized permanently by the Bermuda Police Service and those convicted will be prosecuted to the fullest extent of the law. They will get a minimum ten year jail sentence for illegally importing the weapons into Bermuda and will be publicized and reported to Federal or provincial or state authorities for illegally carrying firearms on ships or aircraft. It is not an acceptable excuse to say you were not asked by airport staff if you packed your bags yourself, because you were. Nor is it acceptable to say that you forgot an illegal item was in your luggage, or was put there by mistake.
Snakes. It is illegal to bring snakes into Bermuda either as a business or a private citizen.
Bermuda Immigration and Customs inspection
Bermuda Customs Officers took over from Bermuda Immigration the procedure for arrivals in early 2002. Be prepared for lines (queues) at the Immigration desk, then Customs duty counter, then Customs inspection queue. There is now a "green light" or "nothing to declare" system as in North American, Irish and European airports. After claiming luggage from the carousels, go through Bermuda Customs. Declare a medically prescribed drug.
If at a hotel and a Customs Officer notes you are bringing nothing illegal and have no items to declare, you may be waved through. If not staying at an hotel, you and your luggage will probably be inspected, possibly thoroughly.
Allowed in Bermuda
85% of all visitors are from the USA and assume, incorrectly, that in Customs exemption of duties for visitors - from wherever they may be - and returning residents, Bermuda has the same very generous laws as the USA. Unfortunately, this is not the case. By comparison with the USA, Britain and Europe, Bermuda greets its visitors with tiny personal allowances, almost no customs-duty free allowances for gifts. (Visitors may bring in, duty free for personal use only while they are here, their clothes and articles like cameras, golf bags, 50 cigars or 200 cigarettes or 0.454 kilos (1 pound weight) tobacco; 1 liter of liquor or wine and a token $30 gift allowance). To avoid being arrested and having goods confiscated, do not try to import goods into Bermuda without paying the duty. And for returning residents there are extremely strict laws, regulations, controls and miniscule allowances compared to the generous procedures allowed in the USA, Canada, United Kingdom, etc. for their returning residents. Items brought in by visitors and residents that are not within their duty free category incur a stand import duty rate of 22.25% of purchase cost. Produce receipts from a retail store satisfactory to the Customs Department of actual purchase price of the items or be prepared for the Customs Department to assess items for your payment of duty at much higher Bermuda prices. This is applied vigorously.
Compare the following:
Normally, in the USA, for visitors or returning residents, the duty-free allowance or exemption from Customs Duty is $400 per trip, but from November 4, 2002, it was raised from November 4, 2002 to $800 (from $400) for those who have not used the exemption in 30 days.
In Bermuda, returning residents are allowed an allowance of only US$ 200 (until 1989 it was US$400 a person, reduced in 1990/91 to US$250 a person and subsequently reduced yet again to US$100 per person, now back since 2015 to $200 a person after severe international criticism) before they pay duty on items they bring but visitors are not entitled to such an allowance.
All visitors and residents arriving by air or cruise ship are now being given the following form by airlines and cruise ships and are required by the Bermuda Government to complete them on both sides before they clear Bermuda Immigration. No other country requires this form.
Front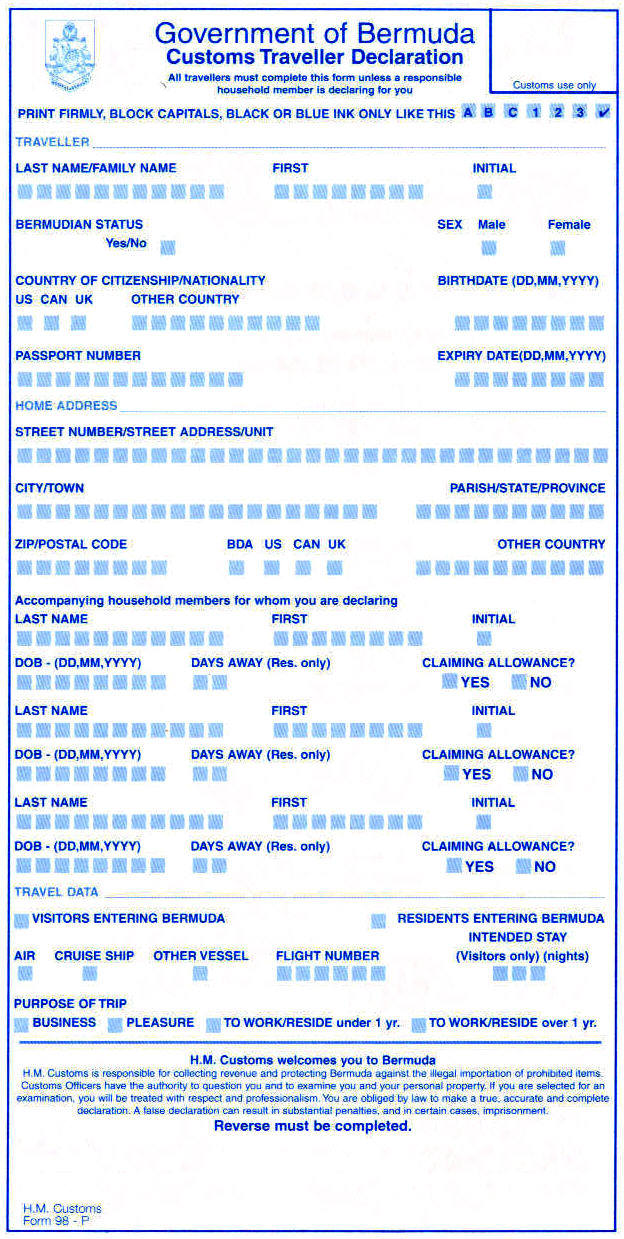 Reverse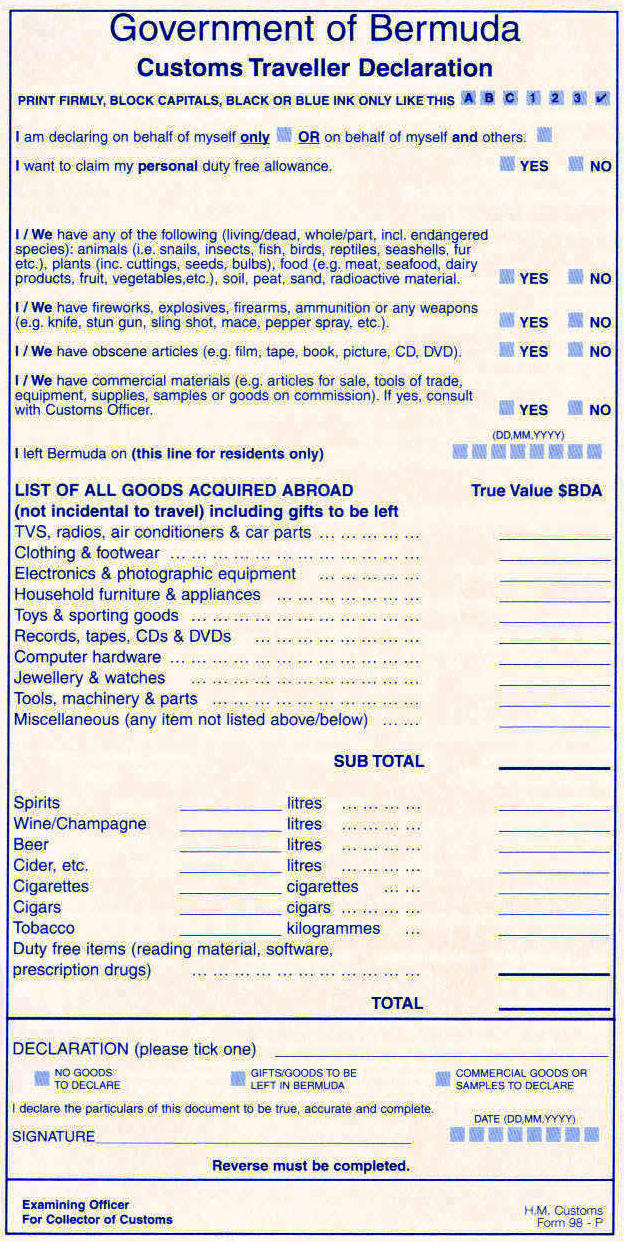 Bermuda Customs are now very, very tough on the rising number of duty evaders with more court cases plus on-the-spot fines at the airport. Failure to comply with customs regulations result in penalties for false declarations and prosecution of more cases involving serious commercial fraud. Duty cheats can also get a criminal record. Individuals who evade duty are liable for penalties of up to $12,000 or five times the duty payable while commercial duty cheats are subject to fines of up to $100,000. Customs officers make on-the-spot penalty assessments at the Airport Baggage Hall with officers given discretion about the levels of fines.
If you bring any foodstuffs with you, check with Bermuda Customs to know what is legal and dutiable as the case may be. Only Bermuda Customs can be the definitive source of information in this regard. Write in advance to Bermuda Customs at Hamilton Hall, 40 Front Street, Hamilton HM 11, P. O. Box HM 2084, Hamilton HM HX, Bermuda. Some fresh, frozen or cooked fish can be brought in providing the packaging is free of algae or seaweed.
Most Consumer and electronic goods can be imported if determined to be free of narcotics, subject to import duty.
Owners of arriving animals, plants, flowers, fruits, shellfish and products and vegetables must have proper documentation approved earlier by the Bermuda Government's Department of the Environment. All plants brought in by residents and visitors by air or via the Post Office must have documentation approved in advance by the Plant Protection Laboratory or they will be confiscated and referred to that facility for extensive plant inspection for any pests or problems. Residents and visitors should note that under the Fisheries (Protected Species) Order 1978, the Queen Conch (Strombus Gigas) and the Harbour Conch (Strombus Costatus) are illegal to import, an offence to purchase and possess and illegal to take from Bermuda waters.
To ensure that persons do not pay duty again on goods they export temporarily for their personal use, they should register duty paid articles, via Customs Form 52a, before their departure. They can do so before a Customs Officer at HM Customs Main Office; or General Post Office - Parcel Post; or Airport Customs Passenger Arrivals Hall prior to check-in for an airline flight; or Airport Customs Long Room Freight Shed; or HM Customs Yacht Reporting Facility, St. George's.


Last Updated: November 18, 2017.
Multi-national © 2017 by Bermuda Online. All Rights Reserved.