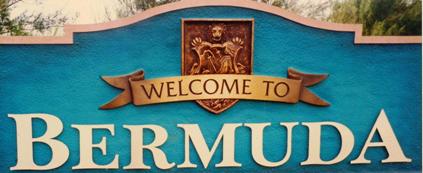 165+ web files about Bermuda, regularly updated as a Gazetteer, focusing on this internally self-governing British Overseas Territory 900 miles north of the Caribbean, 600 miles east of North Carolina, USA. Accommodation options, aircraft & shipping registers, airlines, airport, America's Cup 2017, actors/actresses/musicians/singers/ performing artists, banks, beaches, Bermuda Dollar, Bermuda Government, Bermuda-incorporated international and local businesses and companies including insurers and reinsurers, Bermudians, books and publications, bridges and causeway, charities, churches, citizenship by Status, City of Hamilton, commerce, communities, credit cards, cruise ships, cuisine, currency, disability accessibility, Devonshire Parish, districts, Dockyard, economy, education, employers, employment, environment, executorships, fauna, ferries, flora, former military bases, forts, gardens, geography, getting around, golf, government, guest houses, history, historic homes, Hamilton, House of Assembly, housing, hotels, immigration, import duties, internet access, islands, laws, legal system and legislators, location, main roads, marriages, media, members of parliament, money, motor vehicles, municipalities, music, nearest mainland, newcomers, newspaper, organizations, parks, Paget Parish, Pembroke Parish, residents, pensions, political parties, postage stamps, public holidays, public transportation, railway trail, real estate, religions, Royal Naval Dockyard, Sandys Parish, Smith's Parish, Somerset Village, Southampton Parish, St. David's Island, St George's Parish, senior citizens, Somerset, Spanish Point, Spittal Pond, sports, taxes, telecommunications, time zone, traditions, tourism, Town of St. George, Tucker's Town, utilities, water sports, Warwick Parish, weather, wildlife, work permits.

Bermuda's Economy
Dependent on international business and tourism, almost everything has to be imported
By Keith Archibald Forbes (see About Us) exclusively for Bermuda Online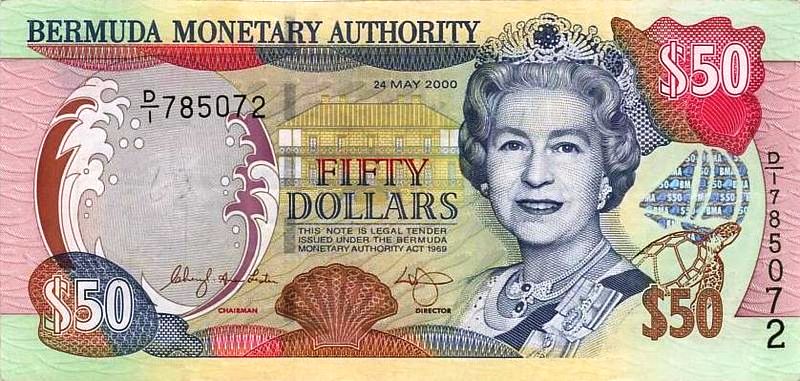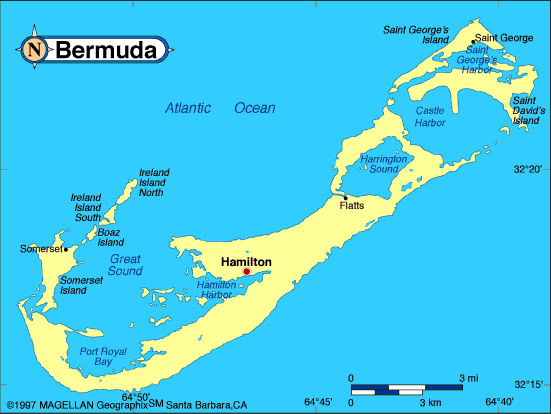 Important first points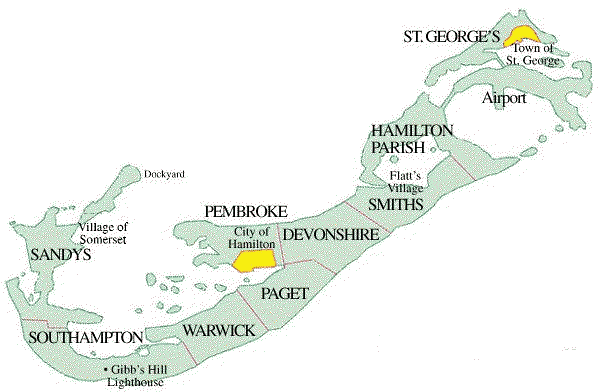 Economic pillars are international business and tourism. British Bermuda is a North Atlantic business & tourism center. Not in the Caribbean, it is the only part left of British North America after the USA and Canada got their independence. There is a public sector Bermuda Government Department of Tourism web site which includes what offices in Bermuda and overseas it operates at Bermuda taxpayers' expense.
Bermuda has a high-cost economy. The World Bank rates it as # 3 in the world in GNI - Gross National Income. (Until quite recently it was # 1). Most of its money comes from being an International Business center or offshore jurisdiction - some would say tax haven for corporate entities (not for their employees). It is also a long-established tourism resort. It has no natural resources of its own in its 21 square miles, no oil, no gas, no heavy industry. It is one of the most isolated yet highly populated places anywhere in the world and one of the most regulated, with controls on what non-nationals cannot do that no other jurisdiction in the world imposes. Lack of citizenship to newcomers except after 10 years of continuous and living-together marriage to a Bermudian, lack of citizenship to children of non-nationals, plus their consequences of inability to vote, inability to buy property except in certain circumstances only, are merely some of them. All these mean that for most non-Bermudians including all from Britain who come to Bermuda to work in jobs Bermudians cannot or will not do or want, there can be little chance of staying beyond their Work Permit term, with no security of tenure, no prospects of citizenship, no opportunity to buy a house or condominium at the same price levels as Bermudians. But for their international business employers, it is a different story. Many were either incorporated in Bermuda or have moved their corporate headquarters to Bermuda, for international tax reasons. Why? Because Bermuda levies no taxes on their world business activities. So far, Bermuda offers them far more in assets than in liabilities. It pays them to come here, for as long as Bermuda's advantages as an offshore jurisdiction outweigh those of competing jurisdictions. It continues to do so for the international corporate entities, but not to their non-Bermudian employees for the reasons given above. Plus, it it is not true to say Bermuda has no taxes. It has no capital gains tax, true, but the other direct and indirect taxes it levies on managements, their staff, business visitors and tourists are many and they can be so very heavy that overall Bermuda's cost of living is one of the highest in the world, if not the highest, nearly three times more than in the UK and nearly four times more than in the USA. They include a direct income tax, in the form of a Payroll tax, payable by employers and employees. It is based on what is earned from employment. From April 1, 2011 it is 14% with employers paying some and employees paying the balance. Bermuda Government Customs Duties averaging 35% of wholesale costs, translating into 100% or more at retail level, and Bermuda Government Annual License Fees on automobiles averaging $590 per auto. These are merely a few examples of why Bermuda has an appreciably higher cost of living than direct taxed and indirect taxed jurisdictions.
Bermuda has no double taxation treaties of any kind. This does not affect nationals of most other direct-taxed countries who live and work in Bermuda but it means that nationals of countries like the United States of America and the Philippines who live and work in Bermuda are liable to taxes on their Bermuda income over a certain amount, without any kind of tax rebate from their own country. A form of taxation treaty with the USA gives USA resident taxpayers in Bermuda a more than $80,000 discount off their US taxes payable, partly because the overall cost of living overseas - in places like Bermuda - is recognized as much higher than in the USA.
Bermuda's most important trading partner is the USA, by a huge margin. From October 8, 2011. Bermuda became a more prominent trading partner with the US as other offshore financial centres suffered from the fallout from the financial crisis. That was according to the 'US-Bermuda Economic Relations: Economic Impact Study 2011' conducted by Dr Charles Ludolph, senior vice-president of the Washington DC-based Albright Stonebridge Group. That report revealed that the two-way trade in services between the two countries had grown to more than $80 billion by the end of 2010 (and has grown significantly more since then). Bermuda also became the leading supplier of reinsurance to America averaging $20 billion in payments or as much as $35 billion in recovered losses annually and the leading export market for the US primary insurance sector in 2010, while US exports of research and development and testing services to companies here rose by $2 billion during the recession. The study found that over 2010 the Island was the fourth largest investor in US government bonds, the eighth largest investor in the US, the fifth largest export market for banking and investment funds, the eighth largest for shipping services and the 11th largest for business services. In addition, Bermuda represented the 14th largest market for all US services exports, excluding royalties and service fees and was the 10th largest portfolio capital investor. "The overall economic relationship between Bermuda and the United States continued to expand through the 2000s," wrote Dr Ludolph. "The relationship even strengthened during the most recent global economic crisis as Bermuda continues to offer economic advantages that met US business needs and expanded employment opportunities." Furthermore the report concluded that the Island's prominent position in the US marketplace, particularly in insurance, was due to a number of factors including its proximity to the US financial and capital markets, UK and US compatible law and regulation and extensive financial regulatory co-operation and quality. And it surmised that Bermuda's economic independence from larger global financial centres and concentration in niche risk insurance sectors which were not correlated with the world's financial meltdown gave it a more competitive capacity. The Island's trade and investment relationship with the US helped to sustain 300,00 jobs during 2010, with 101,000 US jobs created by annual exports to Bermuda and 200,000 were derived from US majority-owned affiliates of Bermuda companies. From a re/insurance perspective, approximately 75 percent of the 500 top American companies have captives in Bermuda, while Bermuda-domiciled shipping companies provided $1.1 billion in energy-related shipping services designed to work with existing US refineries, ports and pipelines. The report said that US operating companies continued to domicile in Bermuda, with Freescale, Marvell, Contel, AOSL and Chipmos moving base to the Island since 2006. Since 2008, these chip companies provided more than $3 billion of service-based export business to Bermuda in testing and research and development services thus creating more US jobs.
All visitors, mostly from USA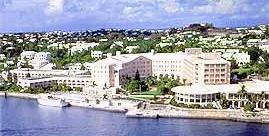 The USA has more visitors to Bermuda than all other countries combined, about 85 percent in total. Next are Canada and UK, with about 5% each, then other countries. Tourism is the major pillar of the economy in employment. It employs thousands more than international business. All the latter's accommodation, service and travel needs developed as an adjunct of tourism. Bermuda caters to thousands of business visitors as well as tourists. So an exception is made in the case of hotels to the rule of local companies having to be at least 60% beneficially Bermudian owned. Non local hotel investors may provide the foreign capital required to build and maintain an up market resort hotel.

With their labor intensity, size, heat and light needs and other factors, they bear the biggest burden of the Bermuda Government's up-front payable labor related employers' taxes, fuels' import duties and other hotels related costs. Since 1989 more than a third of Bermuda's hotel rooms have been lost. Bermuda is a quality but very high cost destination. The Bermuda Government makes no secret of the fact that it does not want low-income tourists, expects them to be earning good incomes and charges them accordingly. They are mostly 35 years old or more, 60 percent with college degrees and annual income of at least US$ 75,000 per person. A high 35% to 40% are repeat visitors earning much more each and staying an average of 6.2 nights, the majority in April through October.

As of December 31st, 2010 there were 57 licensed properties, 3,000 rooms and an estimated bed count of 5,998.

In recent years, Bermuda's tourism industry has been overtaken hugely by International Business as Bermuda's principal revenue-earner (see Bermuda's International Business Industry: a Profile).
Alternative Investment Funds Managers Directive (AIFMD)
In July 2013 the Bermuda Monetary Authority signed the cooperation agreement with European Union (EU) Member States in relation to the AIFMD. This means that new and existing Bermuda-based funds and fund managers can continue to seamlessly conduct business with the European market. This is the result of a concerted effort by the Bermuda team, led by Shauna MacKenzie, Director of Policy, Legal and Enforcement at the Authority. The ongoing work on this initiative also involves a legislative review of Bermuda's methodology and appropriate adaptations in relation to the oversight of Bermuda-based investment managers. This work will ensure that investment managers may fully participate in European markets from Bermuda and reinforces Bermuda's position as a competitive jurisdiction for the global funds sector.
Annual Economic Activity Survey
Conducted periodically by the Bermuda Government's Department of Statistics from businesses and organizations including retail stores, hotels, guest houses, banks, utilities, schools, restaurants and sports clubs.
AMB (A.M. Best) Country Risk Report
See http://www3.ambest.com/ratings/cr/reports/Bermuda.pdf.
Average median salary per person island-wide
In 2014 the median gross annual income for all job holders — in firms with ten or more employees — rose by 5 per cent to $63,897, up from the $60,668 for the year before. High median salaries included actuaries at $175,378, lawyers at $180,499 and auditors at $100,000. Job benefits went up with 10,551 getting annual bonuses and 3,541 getting stock options. More than 2,300 workers got mortgage subsidies or rent subsidies while more than 1,800 got travel allowances. The average salary in the banking and international business sector was estimated as US$ 89,896. But women continue to earn more than men — an average of $65,213 against $62,584. There were also more women than men in the workforce — 16,992 (51 per cent) compared to 16,483 (49 per cent). The number of black people compared to white people in the workforce remained static, with 18,105 black people compared to 10,736 white people. Although both numbers declined in 2014 compared to the previous year, the balance 54 per cent to 32 per cent — remained the same. The number of people described as mixed or other race also fell, but maintained a 14 per cent share of the total year-on-year. Out of 487 people described as "senior officials and managers" 256 were white, 200 were black and 31 were mixed/other race. In the "professionals" category, 113 people were white, 112 were black and 14 were mixed/other race. However, white people continued to earn more than black people — a median gross annual income of $87,799 compared to $57,877.
Balance of Payments
2015. May 29. Bermuda had a balance of payments surplus of $813 million in 2014, with the value of goods and services sold by the Island to the rest of the world easily dwarfing the value of goods and services the Island bought from overseas. As a barometer of the Island's economic health, the new figures indicate a steady state of affairs, with no major swings in the value or volume of goods and services' transactions between Bermuda and the rest of the world. However, the surplus is $25 million lower than in 2013, and is also the second lowest recorded by Bermuda during the past nine years. The lowest surplus was in 2009, during the global financial crisis, when the figure dipped to $626 million. Last year's balance of payments were impacted by a reduction in travel receipts from cruise and air visitors, which fell $27 million year-on-year, and a net reduction in investment income of $56 million. There was a strong finish to the year with the fourth quarter figures showing a balance of payments surplus of $232 million, up $130 million on the same quarter in 2013. This was primarily due a 10.3 per cent decrease in the value of imported goods and an improvement in dividend income received, which was up $92 million on the corresponding quarter in 2013. The information was released by the Department of Statistics. Bermuda's net international investment position (IIP) improved in the fourth quarter to $4,341 million, and increase of $442 million on the third quarter. The IIP is a record of Bermuda residents' investments abroad and non-residents' investment in Bermuda, including Government, financial and non-financial corporations.
For more information see Bermuda Government's Department of Statistics.
Bermuda Government, Bermuda's largest employer, spender and revenue earner
With 47 paid legislators (36 in the House of Assembly plus 11 in the Senate), for a total of about 38,500 registered voters, a ratio of legislators to voters more than twelve times higher than the average equivalent in virtually any other country, and with in excess of 13 percent of the entire workforce working directly or indirectly by it. In February 2013, the Bermuda Government workforce - excluding the Government-owned quangos - was 5,815 - in less than 21 square miles. Thus it can be readily seen how the Bermuda Government is exceedingly expensive for Bermuda's individual taxpayers, companies both local and international, business visitors and tourists, to finance and maintain. It is Bermuda's single largest beneficiary of tourism revenue.

Bermuda Government imposed methods of direct and indirect taxation and fees have become complex, bewildering - and why Bermuda is such an expensive place for locals and residents to live, companies to operate and tourists to visit. The tax structure puts a burden directly on locals, business visitors and tourists and penalizes tourism dependent industries.

In every year without exception Government spending has increased appreciably, to the highest ever total. Since the final closure of the American, British and Canadian military bases in 1995, recouping the $60 million they yielded yearly has become a Bermuda Government priority, with a mix of tax increases and new taxes. In terms of total employers, only the international business sector generally, with 4,701 employees in thousands of different businesses in 2013, has fewer employees than the government.

Government's salary bill has jumped more than $70 million in two years.

An estimated $383 million went on salaries in 2012, up from $339 million in 2008 and $283 million in 2007. An estimated 5,815 people were employed by Government in 2012, up from 5,754 in the previous years. Meanwhile Government cut its travel budget from $7.4 million last year to $6.3 million, a fall of 14.2 percent. That move comes after criticism of soaring government travel expenditure.
Bermuda Beneficial Ownership of Businesses trading in Bermuda
In general, all businesses trading in Bermuda in the local marketplace must be at least 60% Bermudian beneficially owned, controlled and managed, unlike exempted or international companies and corporations that do not trade in the local marketplace except with each other, instead trade beyond Bermuda from their corporate base or office located in or managed from Bermuda. However, on July 26, 2012 amendments relaxing the 60-40 rule on foreign ownership of businesses in specific industries were approved by the Senate, after being similarly approved by Bermuda's House of Assembly. The change allows firms listed on the Bermuda Stock Exchange, or other designated exchange, to apply for a licence to access more capital overseas than the current 60 percent Bermudian ownership requirement allows. The legislation however limits the businesses that can apply for such licenses to capital-heavy industries, such as the insurance, telecommunications and hotel industries. In the past the blanket 60-40 rule had helped protect Bermudians, but industries like hotels and insurance need capital injections to spur them to higher levels. It had become prudent to review policies. There was already a way for businesses to apply for an exception to the 60-40 rule, with 169 companies having applied for 114B licenses. Noted was the importance of striking the right balance with the legislation to both protect Bermudian business ownership, and help businesses grow to create jobs. With controls still in place there was no danger of Wal-Mart or the like being allowed in Bermuda.
Bermuda Casino Gaming Commission
2017. August 1. Bermuda Casino Gaming Commission executive director Richard Schuetz has resigned for "personal and professional reasons". Mr Schuetz will continue to serve in the position until the end of the year and help to identify and prepare his successor for the role. Commission chairman Alan Dunch said: "The Bermuda Casino Gaming Commission is thankful for Richard's two years of service, leadership and commitment to formulating a framework for Bermuda's introduction of integrated resort casinos. We understand and support his decision to step down and are grateful for his assistance in positioning the commission and its staff for future growth. As a result of Richard's resignation, one of our immediate priorities will be to implement a search process with a view to recruiting a new executive director. I am pleased that Richard will be assisting us in this process so that his expertise will be available to us in terms of assessing the credentials of any applicants and advising us as to whom is best suited to take over from him in this role. He will also use his remaining time with us to ensure the Hamilton Princess response to the request for proposals for a provisional gaming licence is appropriately handled without any disruption." The commission was appointed to regulate, manage and safeguard the island's emerging gaming industry. Mr Schuetz said: "It's been an enormous privilege to work with the commission and its staff, to help create a viable casino industry, one that operates with a high level of integrity and ethics, and produces jobs and investment for Bermuda, as well as enhancing the island's tourism product." Prior to the July 18 General Election, Mr Schuetz gave notice to commission chairman Mr Dunch of his intentions. But the news was not made public in an effort to avoid it becoming "part of the clamor surrounding the political campaigns". Mr Schuetz joined the Bermuda Casino Gaming Commission in September 2015. During his time in office, several pieces of gaming legislation were approved in the House, but not without controversy. Debate over regulations establishing the cost of casino licences became particularly heated with independent MP Shawn Crockwell joining opposition MPs in declaring the fees too high. While the BCGC said it had not had any pushback about the proposed fees, Mr Crockwell claimed that Australian casino expert Tibor Vertes had raised issues in a meeting with Mr Schuetz. A defamation suit was subsequently filed by Mr Schuetz personally against Mr Vertes over comments made in an e-mail. As of yesterday, a spokeswoman for the BCGC confirmed that case remains ongoing. Prior to coming to BCGC, Mr Schuetz worked for four years with the California Gambling Control Commission. In addition to working as a senior executive in the gaming markets of Las Vegas, Atlantic City, Reno/Tahoe, Laughlin, Minnesota, Mississippi and Louisiana, Mr Schuetz served as a consultant to the City of Detroit and the state of Kansas as they introduced casinos. For more information on the Bermuda Casino Gaming Commission, visit www.bcgc.bm.

2015. October 1. Former Ombudsman Arlene Brock was appointed to the Bermuda Casino Gaming Commission. Ms Brock served as Ombudsman for more than eight years and as the director and vice-president for the Caribbean and Latin America at the International Ombudsmans Institute. Richard Schuetz, the commission's executive director, said: "Chairman Alan Dunch and the other members of the Casino Gaming Commission gave me clear instructions to assemble the best and the brightest individuals available to assist in the introduction of regulated casinos in Bermuda. "Having Ms Brock join our team abundantly indicates that we are on target with that goal. Ms Brock will be an integral person in helping to make certain that our activities will operate at the highest standards of integrity and ethics, and to ensure that the casino experience will enhance the tourism profile of the Island, and increase investment and employment for the people of Bermuda." Ms Brock herself said: "I look forward to working with the commission and commission staff to realize the goal of introducing casino gaming into Bermuda with the highest level of integrity and best practices."

2015. August 31. A gaming senior executive from the United States has been appointed executive director of the Bermuda Gaming Commission. Richard Schuetz will leave his post as commissioner for the California Gambling Control Commission to start work on the Island on September 1. According to a statement from the Bermuda commission, Mr Schuetz has worked as a senior executive in the gaming markets of Las Vegas, Atlantic City, Reno/Tahoe, Laughlin, Minnesota, Mississippi, and Louisiana. He has served on the boards of Shuffle Master Gaming, the Stratosphere Hotel and Casino, where he was also president and CEO, and Casino Publishing. He also sat on the International Advisory Board for the Institute for the Study of Gambling Commercial Gaming at the University of Nevada, Reno, and was the Co-moderator of the Institute's Executive Development Program. Commission chairman Alan Dunch stated: "All of us at the Commission are thrilled to have Richard join us in helping to introduce casinos to Bermuda. His extensive experience as both a casino operator and as a regulator make him ideally suited to ensure that the Bermuda casino experience operates with a high degree of integrity, and offers an additional world-class tourism amenity for Bermuda. In addition, Richard's strong background in teaching and publishing on the subject of casino gaming and its regulation is exactly what the Commission needs to assist us in educating the people of Bermuda about the benefits of this new industry to the Island as a whole." Mr Schuetz stated: "It is a true honour to be entrusted with such an important task, and I am thrilled to be able to work hand-in-hand with the people of Bermuda to usher in this new chapter of Bermuda's tourism and economic development." The Commission's task is to execute the Casino Gaming Act 2014, designed to increase employment and investment through casino development.

2015. May. Tourism Development Minister Shawn Crockwell announced two new appointments to this Commission — Judith Hall-Bean and Derek Ramm. Ms Hall-Bean retired in October 2013 as Assistant Cabinet Secretary and has more than 40 years' experience in the public service, having served as department director of both human resources and tourism. Mr Ramm was appointed from overseas and serves as director of anti-money-laundering programmes for the Ontario Lottery and Gaming Corporation. He is responsible for the oversight of anti-money-laundering compliance at 24 casinos. They join three other commission members — chairman Alan Dunch, deputy chairman Garry Madeiros and Denis Tucker.

2015. February 12. The Bermuda Government announced the first three members of the Casino Gaming Commission, who will be tasked with regulating the industry. The five-member commission will be led by Alan Dunch, who was named chairman. Garry Madeiros was named deputy chairman while Dennis Tucker will also serve on the commission. Mr Dunch, an experienced lawyer, is the director responsible for the litigation practice group of MJM Ltd, while Mr Madeiros, a chartered accountant, is the former president and CEO of Belco and a director of BF&M Life Insurance Company. Mr Tucker, meanwhile, is a former director of the Bank of Bermuda, the CEO of the Hotel Pension Trust Fund and a director of the Bank of Bermuda Foundation. Tourism Minister Shawn Crockwell said the two remaining appointments have yet to be made, but one of the posts will be a former gaming commissioner from another jurisdiction with experience dealing with money laundering. "Advice was given and received that we should have someone with gaming commission experience sitting on this," Mr Crockwell said. "As you know, we have not done this before. The reason why I want to start now is that there are training opportunities in the very near future and I wanted to have, particularly the chairman and deputy chairman exposed to them, so we are getting the ball rolling. I don't know how long it will take to identify the overseas member, but a list is being compiled now so we don't expect it to be too long. The commission will be tasked with regulating the casino gaming industry on the Island when it is introduced, and will be the only entity which will determine who receives a casino licence. Legislation passed last December allows only three casino licenses to be in effect at any given time. The transfer of a casino licence without a fresh application to the commission will be prohibited, and licence-holders will be required to report any material changes in their circumstances. The commission will also have the power to approve the layout of a casino, gaming equipment and hand out licenses for key casino employees. I remain confident that resort casino gaming is right for Bermuda and that most Bermudians supported the legalization of gaming in Bermuda. It is now imperative that we put the regulatory structure in place to ensure that we create a responsible and highly respected gaming industry in Bermuda." Gaming has been a controversial issue for the One Bermuda Alliance, who had promised before their election in 2012 to hold a referendum on the topic. The Government scrapped the referendum plans in 2013 a decision which drew harsh criticism from opponents but were able to pass the Casino Gaming Act 2014 in both the House of Assembly and the Senate. Further gaming regulations are expected to come before Parliament later in 2015.
Bermuda's credit rating
2017. April 27. Bermuda's A+ credit rating and stable outlook have been affirmed by ratings agency Standard & Poor's. The island report said: "The ratings reflect our view of Bermuda's effective and predictable policymaking, very high gross domestic product per capita, small and improving fiscal deficits, moderate debt burden, net external creditor status, and lack of monetary flexibility. The stable outlook reflects our expectations that fiscal deficits will continue to improve, resulting in no significant increase in debt. Real GDP annual growth will be about one per cent in 2017 and the territory will remain a net external creditor in the next two years. We expect broad continuity in economic policies following elections in 2017." The report also contained projections based on best and worst-case scenarios. It said: "A sustained return to more robust real GDP growth and greater economic diversification, balanced fiscal results that persist leading to declining debt and interest burdens, or an improvement in our external assessment could lead to a positive rating action." But the report warned: "A return to economic contraction that leads to a resumption of large Government deficits and increasing debt and interest burdens or negative banking-sector outcomes could cause us to lower our ratings." News of the maintained ratings was welcomed by Bob Richards, the Minister of Finance. Mr Richards said: "Key drivers stated as the reasons for the affirmation are effective and predictable policymaking and a high gross domestic product per capita. The Ministry of Finance and the Government as a whole has been working diligently to communicate and implement credible fiscal plans and it is pleasing that S&P has recognized this and affirmed Bermuda's ratings. It is rewarding to see our sovereign rating affirmed at A+, especially when ratings agencies have been extremely cautious, as evidenced by the ongoing downgrades of several countries." Mr Richards said the stable outlook reflected the agency's expectation that the island's economy would grow over the next two years and help to reduce the deficit, in line with the 2016/17 Budget projections. He added "The S&P affirmation reflects its confidence in the Government to grow Bermuda's economy and put us back on the road to success. The S&P ratings update report is very positive news as the Government remains on track to eliminate the deficit by 2019/20. This report is further evidence that our policies are bearing fruit. With our practical and measured approach, the future of Bermuda is looking much brighter for all."
2016. June 6. Bermuda's rating has been downgraded to A2 from A1 by Moody's Investors Service. The high level of interest repayments the Bermuda Government makes to service the island's debt of more than $2.2 billion was among the determining factors that led to Moody's decision. The island's rating has now been lowered by Moody's four times since April 2009. The agency said Bermuda's outlook remains stable. Rating downgrades generally make it more expensive for the government to borrow money. Bob Richards, the finance minister, said it was disappointing that Moody's had downgraded the island, but stated he would not swerve from his plan to balance the island's budget by fiscal year 2018-19. Bermuda's lower economic strength, relative to A1 peers, was one of the rationale for the downgrade identified by Moody's. In a statement, the agency noted that the island's economy of $5.8 billion was significantly smaller than the A1 median of $256 billion. "Even as the country emerges from recession, we do not think that the negative impact of its size on its credit profile will be compensated for by growth: we forecast that Bermuda will grow on average 1.8 per cent annually in 2016-20, lower than the 3 per cent median forecast for A-rated peers," stated Moody's. "The latter factors weigh on the island's overall economic resilience and point to Bermuda's higher susceptibility to shocks than A1-rated sovereigns." Moody's noted that the island's debt-to-GDP ratio has been about 40 per cent since 2013, and was a debt burden in line with the median for A1-rated peers. However, Bermuda's narrow revenue base means the interest burden on its debt, the interest payments-to-revenue ratio, is above 12 per cent. That is the second highest among A-rated sovereigns, where the A1 median is 4.5 per cent. "The need to devote greater resources to servicing its debt leaves Bermuda with considerably lower fiscal flexibility than its A1-rated peers and less able to absorb shocks," stated Moody's, which last lowered the island's rating two years ago. Reacting to the news, Mr Richards said: "Given the momentum we continue to gain in reducing the deficit, as outlined in the government medium-term expenditure framework, it is disappointing that Moody's has chosen to downgrade Bermuda." Moody's noted that the island's economy was in recession from 2009 to 2014, contracting by 3.3 per cent annually, however it estimated the economy grew by 1.5 per cent in real terms last year. Moody's reported: "Positive economic momentum should carry into 2016 and 2017 supported by increased tourism activity related to the 2017 America's Cup, as well as by increased investment on tourism-related and public infrastructure projects. Moody's expects that the economy will accelerate to 2.3 per cent on average in 2016-17 and will grow 1 to 2 per cent during the following three years." Regarding the stable outlook, Moody's attributed this to "our view that with economic prospects beginning to improve and the government's consolidation programme expected to support a gradual improvement in the fiscal position, debt metrics will remain stable over the rating horizon". Mr Richards, who is also the Deputy Premier, said the report would not change his plans to balance the budget by fiscal year 2018-19. He said: "Keys to getting Bermuda back on a balanced footing include avoiding becoming too aggressive in cutting expenditure, because that would mean huge layoffs and/or cuts to government programmes such as financial assistance, health and education. Also we must not excessively increase taxes, because that would only put a burden on our people and discourage foreign direct investment." He added: "Standard & Poor's affirmed our rating at A+ and furthermore, in February of this year, Moody's published a glowing report on Bermuda titled, Bermuda's Fiscal Consolidation Efforts Bear Fruit, a Credit Positive. It would therefore seem inconsistent that Bermuda should be downgraded by Moody's now." Moody's lowered Bermuda's rating from Aa1 to Aa2 in 2009, and to Aa3 in 2013. A year later the rating was downgraded a further notch to A1, where it remained for two years until the latest downgrade. Countries that have Moody's "Aaa" top rating include Australia, Canada, United States, and Switzerland. Isle of Man is rated Aa1, while Cayman Islands is Aa3. Countries that are A2 rated include Poland and Slovakia, while Ireland, Malta and Malaysia are a notch lower at A3.
2016. April 29. Bermuda's sovereign credit rating was affirmed at A+ by Standard & Poor's Rating Services. The rating is important, as it influences the interest rate the Bermuda Government — which is carrying gross debt of more than $2.2 billion — will have to pay on new borrowings. In their commentary, Stephen Ogilvie and Paul Judson, the S&P analysts, said they expected the economy to grow, fuelled by the construction and tourism sectors. They expect real GDP growth — after inflation is taken into account — of about 2 per cent in 2016 and 3 per cent in 2017. This level of growth would assist the Government "in returning to fiscal balance by fiscal year 2017 or 2018", S&P's report stated. Bob Richards, the Minister of Finance, has set out plans to eliminate the annual budget deficit by 2018/19, predominantly through increasing revenue. The analysts expressed confidence in the island's "institutional effectiveness" and added: "The territory's policymaking is largely effective, predictable, and proactive; and its political institutions stable. We believe Bermuda has the ability and willingness to implement reforms to ensure the long-term sustainability of public finances." S&P also affirmed its A-1 short-term rating on Bermuda with a stable outlook. It lowered its transfer and convertibility assessment on Bermuda to AA+ from AAA, but added that this had no impact on the sovereign credit rating. "The ratings reflect Bermuda's status as a net external creditor, its moderate and improving fiscal deficits and low debt burden, effective and predictable policy-making, high GDP per capita, and lack of monetary flexibility," the S&P commentary stated. "According to our estimates, real GDP increased about 0.4 per cent in 2015 and nominal GDP 3.5 per cent, the highest annual nominal growth rate since 2008. The return of positive real GDP growth ends six years of consecutive annual declines: from 2008 to 2014, real GDP declined 19 per cent and nominal GDP 8 per cent. Nevertheless, until a positive trend is established, our view that economic trend growth is below-average still tempers our assessment." A year ago, S&P downgraded the island's long-term issuer credit rating from AA- to A+. In its commentary, S&P said government was making progress with improving the fiscal situation, citing a 3 per cent reduction in general government (GG) spending in the past fiscal year, as well as an increase in payroll tax and a broadening of the tax base with the introduction of a general services tax. The government target is to increase revenues by $150 million in the 2016-2018 fiscal period," S&P stated. "Despite these measures, we still view the government's ability to raise GG revenue is limited by both pressure from competing jurisdictions and domestic political preferences and the need to retain and attract employers and jobs." S&P was not unduly concerned by the scale of Bermuda's national debt, stating: "Gross GG debt stood at 40 per cent of GDP at the end of fiscal 2015, a level we consider low."
2013. June 8. Fitch Ratings yesterday downgraded Bermuda's credit rating, citing the Island's continuing recession, sustained high fiscal deficits and increased Government debt burden. Downgrading Bermuda's Government bond rating to 'AA-' and changing the rating outlook from stable to negative, Fitch said the Island's prospects for 2013 and beyond were "weak." The ratings agency also warned that public debt could approach 40 percent of Gross Domestic Product (GDP) by 2014-15. That would equate to a $2.2 billion debt when measured against 2011 GDP, the most recent number available. Government had more than $1.5 billion of debt outstanding at the end of March this year. The negative outlook is a signal that Fitch may downgrade Bermuda's ratings again if it sees a worsening of the fiscal situation. The outlook reflects "continued uncertainty as to Bermuda's fiscal and economic trajectory and the lack of a credible fiscal consolidation strategy." The downgrade means that Bermuda is likely to have to pay more to borrow money, as investors in future Government bond issuances would seek a higher rate of interest. The 'AA-' rating is in line with countries including Saudi Arabia and South Korea. Public debt had soared from six percent of GDP in 2007 to 28.5 percent in 2012, Fitch noted, adding that "multiple changes in the debt ceiling have undermined the credibility of this fiscal policy anchor." The agency said the 2013-14 Budget had effectively postponed fiscal adjustment for a year. But it added that Government's business-friendly policies and efforts to cut wasteful public spending, spearheaded by the SAGE Commission, could result in higher economic growth, "but only in the medium term". Finance Minister Bob Richards said yesterday: "The Ministry of Finance anticipated that the tough conditions at home could put Bermuda's sovereign rating at risk of a downgrade." While the ratings adjustment is "disappointing news", Mr Richards noted that the adjusted rating remains in the top tier of the ratings matrix. "At AA-, our sovereign bond rating is only three notches below the highest rating of AAA," he said. "This rating action now brings Fitch's Ratings on Bermuda in line with the other major ratings agencies. "Fitch continues to endorse our competitive advantage as a domicile for reinsurance and financial services companies due to our sophisticated legal system, strong regulatory framework, simple tax regime, proximity to the US and highly-skilled human capital. The report also noted that "Bermuda's 'AA-' ratings are supported by Bermuda's wealth (the fourth-highest GDP per capita among Fitch-rated sovereigns) and its high savings rate relative to its peers in the 'AA' category. "The Government will continue to balance the needs of all citizens during these tough times. We will continue to press ahead with our Jobs and Economic Turnaround Plan that strikes a balance between responsible growth and disciplined financial management. As the Minister of Finance, I remain committed to creating an economy that works for everyone and returning our public finances to a sustainable position." Fitch's downgrade follows Moody's downgrade of Bermuda's rating last month by another notch as it reiterated its concerns about Government's mounting debt and lack of an economic recovery. That review came about a week after Standard & Poor's Ratings Services lowered its outlook on Bermuda to negative from stable, citing its prolonged economic downturn and weakened financial performance. Fitch said its downgrade of Bermuda's sovereign ratings "reflects four years of economic contraction, sustained high fiscal deficits, and increased government debt burden. The sovereign's ability to sustain higher levels of debt is constrained by its narrow revenue base and its underdeveloped domestic public debt markets. Bermuda's lack of economic diversification and excessive reliance on mature industries is limiting its growth prospects." Commenting on the key rating drivers, Fitch said: "Bermuda's economic recession continued for the fourth consecutive year in 2012 due to a combination of cyclical and structural factors affecting employment creation, household consumption, public finances, and the real estate market. Prospects for 2013 and beyond are weak as tourism and the international business sector, Bermuda's two main industries, have reached a mature stage of business and face increasing competition from other jurisdictions. Bermuda's government debt-to-revenue ratio is high and is forecasted to deteriorate faster than its peers. This fiscal solvency ratio gains importance because of the sovereign's limited tax-raising capacity." The agency noted that Bermuda has the strongest external creditor position among sovereigns rated by it, thanks to large external assets held by its international business sector.
2013. May 16. Moody's Investors Services downgraded Bermuda's rating by another notch, following its April 2013 findings, as it reiterated its concerns about Government's mounting debt and lack of an economic recovery. Moody's lowered Bermuda to Aa3, three notches below the top triple-A level, and said the outlook is negative, reflecting uncertainty about Government's debt trajectory over the medium term. The move ends a review for a potential cut that began April 3 when Moody's put Bermuda on a downgrade watch. The ratings agency said then that the review was prompted by the Island's steep rise in government debt and its ongoing recession since the global financial crisis. That review came about a week after Standard & Poor's Ratings Services lowered its outlook on Bermuda to negative from stable, citing its prolonged economic downturn and weakened financial performance. S&P had Bermuda at double-A-minus, also three notches below the top rating. Moody's expects Bermuda's weaker economic trends will continue through this year, with moderate growth returning next year. Moody's also expects a long-term decline in the tourism industry and says less dynamic growth in the insurance sector may limit future growth. The outlook could return to stable if the economy begins to grow and the government can contain its rising debt. However, a further potential downgrade could be prompted by continued economic weakening or a lack of significant government spending policy measures. In response to Moody's rating action, the Ministry of Finance today said it recognised that continuing government deficits and weak economic growth could put Bermuda's sovereign rating at risk of a downgrade by one notch. "We note however, that in so doing, Moody's affirmed that our rating is supported by very high per capita income, strong institutions, and our still moderate level of government debt in relation to similarly rated sovereigns," the Ministry of Finance said in a statement. While the ratings adjustment was not positive, the Ministry of Finance also noted that the adjusted rating remains in the top tier of the ratings matrix. "At Aa3, our sovereign bond rating is only three notches below the highest rating of Aaa. Moody's continues to endorse the Island's institutional strength and the Island's very high per capita income. Government remains optimistic about future prospects for growth and will continue to press ahead with our Jobs and Economic Turnaround Plan which involves providing balance between responsible economic growth and disciplined financial management."
2013. April. The Standard & Poor's (S&P) rating agency, after earlier having placed Bermuda's sovereign credit rating from stable to negative, said its outlook revision for Bermuda does not affect the Island's insurers and reinsurers. S&P's credit and financial strength ratings on Bermuda-based insurers and reinsurers remains unchanged. Seven (re)insurers in Bermuda are rated 'AA' by S&P's. The firm said that in limited circumstances it rates reinsurers higher than the local currency sovereign credit rating according to its criteria. As a financial centre, Bermuda is rated (AA-/Negative/A-1+) by S&P's. The agency has produced a special report titled "The Recent Outlook Revision On Bermuda Does Not Affect Bermudian (Re)Insurers." In September 2010 Standard & Poor's lowered its outlook on Bermuda's creditworthiness to stable from negative. In its statement, S&P said its decision to affirm the Island's AA long-term credit reflected "receding economic, fiscal, and banking-sector risks compared with our expectations in mid-2009." However S&P warned that "the ratings could come under downward pressure if the general Government deficit was to continue at current levels due to weaker-than-expected economic growth or flagging political will to consolidate fiscally." In April 2012 stated this in similar terms and in June 2012 Fitch Ratings agreed.
In its statement, S&P said its decision to affirm the Island's AA long-term credit reflected "receding economic, fiscal, and banking-sector risks compared with our expectations in mid-2009." However S&P warned that "the ratings could come under downward pressure if the general Government deficit was to continue at current levels due to weaker-than-expected economic growth or flagging political will to consolidate fiscally." In April 2012 stated this in similar terms and in June 2012 Fitch Ratings agreed.
2013. January 24. Most of Bermuda's reinsurance market is expected to report profits and capital growth for 2012, despite losses from Hurricane Sandy, stated a new Fitch Ratings report. In its Bermuda 2013 Market Update, Fitch states that the Bermuda market, made up of the 17 publicly traded companies Fitch actively follows, remains robust. "While companies will suffer a sizeable hit to fourth-quarter earnings, (re) insurers will still report an improved combined ration of approximately 95 percent for 2012 compare with 107.1 percent in 2011," the report stated, adding that the firm views Superstorm Sandy as an earnings event and not a capital event for Bermuda. Re/insurers will be reporting fourth-quarter and full-year earnings over the next few weeks. Supported by its strong capitalization and favorable risk management, the Bermuda market has been able to absorb heightened catastrophe losses in recent years, including Sandy. "This is partly reflective of the large capital buffer accumulated by the sector from earlier years of profitable business," the report read. "Companies have been further protected by the purchase of retrocession and the use of capital market risk transfer instruments. Sandy losses were below or well contained within the first layer of primary insurers' excess of loss property catastrophe treaties." According to Munich Re, global industry insured losses from natural catastrophes in 2012 will total $65 billion, which is above the ten-year average of $50 billion. While in 2011, cat losses came from Japan, New Zealand and Thailand — in 2012, the top five catastrophe losses originated in the US, including Sandy ($25 billion insured losses), drought ($15-$17 billion), storms and tornadoes ($7 billion). The report also states that Bermuda is the "preferred domicile of choice" for special-purpose insurers (SPIs) due to the Island's "moderate regulatory environment, lower operational entry barriers, and concentration of underwriting talent and capital resources." According to the Bermuda Insurance Development Council, a total of 27 new SPIs were registered by the Bermuda Monetary Authority (BMA) last year — 11 in December alone. Though this area of capital market alternatives is growing for Bermuda, Fitch, along with many industry veterans, do not expect there to be another influx of brick-and-mortar reinsurers to the Island following a significant catastrophe event, which last occurred with the class of 2005. Instead, Fitch expects that sidecars, will continue to be employed post a large cat event, particularly for the property catastrophe retrocession business. Between 2012 and January 2013, approximately $1.9 billion in capital has been invested in 11 Bermuda sidecar formations. Additionally, four Bermuda reinsurers set up insurance-linked securities fund managers and three hedge fund-backed start-up reinsurers have formed. The report also states that it does not expect a wave of consolidation or M&A activity due to a number of obstacles, one of which being that 15 of the 17 reinsurers, as of September 30, 2012, were trading below book value. Add in regulatory uncertainty; and unattractive valuation multiples, with low market-to-book value ratios "make share repurchases more attractive than M&As", the report stated.
Bermuda Digest of Statistics 2013
See http://www.royalgazette.com/assets/pdf/RG1462381122.pdf.
Bermuda Government Fees and Taxes, main sources
Alphabetically:
Bermuda Monetary Authority Fees 2013. See http://www.bma.bm.
Bermuda Register of Aircraft. See http://www.dca.gov.bm/LTOs/General%20Information%20Brief.pdf.
Bermuda Ship Registry Fees. See http://www.bermudashipping.bm/useful-information/.
Betting (Gambling) Taxes. See http://www.gov.bm/portal/server.pt?open=512&objID=275&&PageID=231427&mode=2&in_hi_userid=2&cached=true.
Corporate Services Taxes. See http://www.gov.bm/portal/server.pt?open=512&objID=275&&PageID=231426&mode=2&in_hi_userid=2&cached=true.
Customs Duty Taxes. See http://www.customs.gov.bm. Government's main source of revenue. Payable by individuals, wholesalers and consumers on virtually everything imported, with only relatively few items customs-duty exempt.
Foreign Currency Purchases Taxes. Payable by all in Bermuda who buy US$, Canadian Ł, British Pounds Sterling or any other foreign currency. See http://www.gov.bm/portal/server.pt?open=512&objID=275&&PageID=231425&mode=2&in_hi_userid=2&cached=true.
Hotel Occupancy Taxes. See http://www.gov.bm/portal/server.pt?open=512&objID=275&&PageID=231424&mode=2&in_hi_userid=2&cached=true. Payable by all airline visitors at all categories of guest premises.
Insurance Companies taxes.
International Companies Taxes.
Land taxes. See http://www.gov.bm/portal/server.pt?open=512&objID=275&&PageID=231421&mode=2&in_hi_userid=2&cached=true. Payable by home owners and indirectly by those who lease or rent apartments or homes.
Motor Vehicle Licenses, payable annually by owners.
Motor vehicles taxes. Payable by all who buy them new.
Oil and gasoline taxes. Payable by all who own and drive motor vehicles and who own homes with electricity powered by oil-burning BELCO turbines.
Passenger Cabin Tax. See http://www.gov.bm/portal/server.pt?open=512&objID=275&&PageID=231429&mode=2&in_hi_userid=2&cached=true. Payable by all incoming/outgoing cruise ship passengers.
Passenger Departure (Cruiseships) Taxes. See http://www.gov.bm/portal/server.pt?open=512&objID=275&&PageID=231429&mode=2&in_hi_userid=2&cached=true. Payable by airline and cruise ship residents and visitors.
Passenger Departure (Aircraft) Taxes. http://www.gov.bm/portal/server.pt?open=512&objID=275&&PageID=231430&mode=2&in_hi_userid=2&cached=true. Was $30 per person prior to August 2015, now $78 since early 2016, highest in the world.
Payroll Tax. See http://www.gov.bm/portal/server.pt?open=512&objID=275&&PageID=231418&mode=2&in_hi_userid=2&cached=true. Payable in equal proportions by all employers and their employees.
Stamp Duty Taxes. See http://www.gov.bm/portal/server.pt?open=512&objID=275&&PageID=231422&mode=2&in_hi_userid=2&cached=true. Payable by consumers on real estate, mortgage and death duties
Telecommunications Taxes. Payable by ISPs, cellphone (mobile) users, etc.
Timesharing Services Taxes. For those with Bermuda-based timesharing units. See http://www.gov.bm/portal/server.pt?open=512&objID=275&&PageID=231423&mode=2&in_hi_userid=2&cached=true.
Yacht Arrival Taxes. See http://www.gov.bm/portal/server.pt?open=512&objID=275&&PageID=231431&mode=2&in_hi_userid=2&cached=true. For all who arrive by yacht.
Bermuda Government Tax Breaks for Employers
2013, February 23. Creating an economic environment in which entrepreneurs can thrive and job creation blossoms is key to driving the economy forward, according to Government. And yesterday Finance Minister Bob Richards unveiled a number of measures including tax breaks and the slashing of red tape which he believes will enable Bermudians to get back to work. Running through a catalogue of failing industries, from a depressed retail sector to a tourism industry forced to downsize, Mr Richards said: "The human toll that these trends have inflicted is unprecedented. Although up-to-date accurate statistics are not available, we know that thousands of Bermudians are unemployed and that more are under-employed, earning less than before." Stressing that it was not Government's responsibility to provide employment, Mr Richards said Government will improve the Island's entrepreneurial environment "so that job creators can do what they do best. As a Government, the choice is simple we either employ everybody who wants to work but doesn't have a job, or we make it easier, cheaper and more attractive for businesses based in Bermuda to employ more people. The first option would bankrupt the Government, the second option leads to a more sustainable path. We choose the sustainable option." Pointing out that "ultimately, all jobs in Bermuda are derived from primary foreign exchange earning businesses", Mr Richards said the Island had become "an uncompetitive player" in the global market and it was now essential to improve the quality of service and speed of delivery to lure overseas business back to the Island. But he denied that Government was cosying up to big business while ignoring the plight of struggling Bermudians. "I cannot repeat this enough it takes an employer to create a job, they don't just fall from the sky," Mr Richards said. He described the recently-dropped term limit policy as "a job-killer" that had driven out foreign intellectual capital and put Bermudians out of work. And he said cutting bureaucracy which had "reduced the flow of inward direct investment to virtually a trickle" would also give Bermuda a competitive edge in the global market. He announced the creation of two bodies, the Economic Development Committee and the Bermuda Business Development Corporation which will "compress the time taken to obtain the necessary approvals for direct investment" and "spearhead the promotion of Bermuda as a preferred domicile for a variety of international business activities." Mr Richards said the measures would also encourage foreign hotel development "which will provide new construction jobs and ultimately new jobs in hospitality". And he said local entrepreneurs would continue to be supported by the Bermuda Economic Development Corporation. "This Government has embarked on these initiatives and will take any other necessary steps to stimulate economic growth through these non-tax policy driven initiatives," Mr Richards said. Government believes that two new tax initiatives will also help job creation a payroll tax "holiday" for employers who hire Bermudians, and a reduction in licence fees for non-Bermudians who purchase property on the Island. Currently, the fee is calculated at 25 percent of the value of the property being purchased, but Government will slash that to just eight percent.
Bermuda's International Business contributions to Economy
2013. November 26. Bermuda's international business pumped an estimated $1.47 billion into the islands economy last year, a survey released today said. The largest single contribution was salaries, with exempt companies paying staff a total of $433 million last year pouring $47 million into Government coffers through payroll tax. Another $10 million was paid in other taxes, while rents and services amounted to more than $50 million and charities got $8 million in donations and sponsorships. A further $7.4 million was spent on entertainment in Bermuda by international business. But Association of Bermuda International Companies (ABIC) president George Hutchings said that overall spending by international business had dropped in recent years, with only training expenditure increasing.
Bermuda Majority Ownership of Local Companies
For decades this has been a strict rule but there are now signs of relaxation in appropriate circumstances.
2014. February 26. Big business has backed a relaxation of the rule ensuring majority Bermuda ownership of local companies. The Association of Bermuda International Companies (ABIC) said that the Budget pledges to review of the 60/40 rule, support for the Bermuda Business Development Agency (BDA) and the creation of the new Bermuda Tourism Authority signaled a commitment to getting the Island back on track. Each of those initiatives is focused on the objectives to retain existing business and attract new businesses and revenue sources to the Island, ABIC said. "We believe there is an urgent need to formulate and execute strategies which maintain and grow international business, tourism and additional revenue sources." ABIC chief George Hutchings said that the two-track strategy proposed by Finance Minister Bob Richards growth in the economy and a cut in Government expenditure would assist recovery. "ABIC supports the actions already taken and those promised to further develop a business-friendly environment and to promote investment and job creation. We encourage the implementation of targets and accountability in the management of our Islands finances and to close the Budget deficit at a pace that the Bermuda community can withstand." Mr Hutchings was speaking after Mr Richards last Friday announced a total of $70 million in spending cuts but with no job losses, at least in the current financial year. He added that the Islands debt burden could only be reduced if existing businesses and jobs were retained. And he said that international business and support services provided more than 80 percent of Bermudas foreign exchange and a third of air visitors, while most of the jobs in the sector were held by Bermudians. The ABIC statement added: "Our members have identified cost, immigration reform and a business-friendly environment as key issues and progress has been made on each of these areas. Changes to the Incentives for Job Makers Act which made it easier for non-Bermudian senior executives to be exempt from work permit requirements and to be granted permanent residency and changes to work permit policy, as well as no new taxes, would help job creation. Public policy should create certainty and encourage investment while allowing us to improve the Islands competitiveness and to grow jobs and Government revenues. ABIC continues to have an open and transparent dialogue with the Government with regard to the consultation on key international business policies as well as the sharing of information and data that will help to further develop Bermuda as the domicile of choice. And more importantly, ABIC wants to grow those jobs necessary to accelerate our economic recovery and provide the Bermudian people with employment opportunities to support their families."
Bermuda's Economic Reports
2016. November 10. Bermuda's economy grew in the second quarter of the year, driven by an increase in services exports and higher capital spending. Gross domestic product — a measure of all the goods and services produced by the island — totaled $1,442.7 million, up 2.7 per cent on the same period last year, according to a report published by the Department of Statistics. Real GDP growth — that is, after inflation was taken into account — was 1.3 per cent. It was the sixth quarter of real GDP growth in the past seven and represented a bounce back to expansion after the 0.3 per cent decline in the first three months of this year. The main driver of growth was a $39.7 million increase in the exports of services, mostly generated by increased earnings for travel and insurance services. The exports increase helped to boost the island's net trade surplus by 8 per cent to $24.2 million. Imports of goods and services, which has a downward effect on GDP growth, increased $14.2 million reflecting higher payments for telecommunications, professional and management consultancy services. It was the third successive quarter of imports growth, reflecting a higher demand in the economy for goods and services purchased from overseas. Gross capital formation — or net spending on capital assets, expected to last for more than one year — grew $19 million, or 10.8 per cent in real terms, driven by higher spending on transportation equipment such as boats and vehicles. The figures suggested that the Bermuda Government tightened the purse strings during the third quarter, as government consumption fell 2.3 per cent during the quarter, or 3.1 per cent after inflation. Island residents also reduced their spending, as household consumption fell 1.4 per cent after inflation to $773.4 million.
2016. October 20. Bermuda Government's debt has ticked up another $188.9 million. The Government has repositioned part of the island's $2.36 billion debt burden through the issuing of $665 million in 10-year senior notes. Bob Richards, the Minister of Finance, sees it as a prudently timed maneuver in the credit markets. Government needed to act to address a $199.4 million budget deficit in the current financial year. It has locked in a 3.717 per cent rate on its new 10-year securities, which is the lowest coupon Bermuda has issued. That rate might not be achievable in a few months' time as expectations are rising that the US Federal Reserve will hike interest rates in December, and any shift would likely be mirrored in future bond offerings. By taking a bigger fill from outside investors than was needed to meet current budget deficit obligations, the Government is also able to refinance a $200 million, 5 per cent loan facility due next year, and repurchase $276 million of higher-coupon bonds that were to mature in 2020. The refinancing of the loan facility will result in interest savings of $1.8 million, while the early redemption of more than half of its 5.603 per cent senior notes, due in 2020, will bring annual savings of about $3.8 million. It is the first time Bermuda has made an early redemption of senior notes. In effect, that debt has now been rolled further down the road, albeit at a lower interest rate. Mr Richards said the tender offer "signalled to investors that the Government has now moved to a strategic mindset in its debt management operations". He also said: "It is important to note that although the Government issued a total of $665 million in new bonds, the total amount of debt held by the Government will only increase by $188.9 million." A Government team traveled to London, New York, Boston, Los Angeles and Germany, to attract interest in the new senior notes. They met with 34 investor groups, 24 of which ultimately participated in the offering, including Bermudian investors. Three-quarters of the investors are "top quality fund manager and insurance names", with pension funds and central banks accounting for another 10 per cent. The new senior notes proved attractive, and the offering was two-and-a-half times oversubscribed. Mr Richards said this was "a sign of confidence in Bermuda's recovery". Asked about the timing of the new offering, he said: "We were forecasting a deficit of just under $200 million for this fiscal year, and we would have had to do some more financing anyway. "We thought it would be a good opportunity to take advantage of market conditions. And they all seemed to come together in a successful transaction." When the Government announced its tender offering for the 2020 notes last month, it originally stated a maximum tender of $150 million, this was revised in light of the high demand, settling at $276 million. For each of the notes redeemed early, the Government is repaying the $1,000 principal, together with an additional $100 and an early tender premium of $30. Mr Richards said it is possible the Government might undertake a future early redemption of senior notes, depending on market conditions. The island's debt repayment schedule is daunting, and includes $1.27 billion of debt that will become due in 2023 and 2024. However, refinancing part of that debt was not the result of pressure from ratings agencies, the minister stated. In June, Bermuda's rating was downgraded to A2 from A1 by Moody's Investment Service, it was the fourth time Moody's had downgraded the island's rating since April 2009. The agency said Bermuda's outlook remains stable. Yesterday, Mr Richards said: "Everything we do, we take the rating agencies into account. The rating agencies are something that we have to live with, and they are very important to us. But this transaction was more about market conditions, the fact that we needed to do some financing anyway and we had the opportunity to refinance some more expensive paper. It just goes to show that with proper financial management we can save the Bermuda Government a significant amount of money, without doing some of the less palatable things that we also sometimes need to do to keep Government afloat and keep the deficit ticking downwards." Mr Richards said the successful capital markets transaction "underscores investors' positive response to the Bermuda team's narrative of the progress Bermuda has made to date and our future plans", which include making payroll taxes more progressive in order to yield more revenue. Government's new 3.717 per cent senior notes, which mature in January 2027, have been admitted for listing on the Bermuda Stock Exchange.
2016. August 11. Risks to Bermuda's banking sector have stabilized thanks to a gradually strengthening economy helped by the island's hosting of the America's Cup. That is the view of analysts from Standard & Poor's Rating Services, who believe Bermuda is in the latter stages of a decade-long "correction phase" of economic imbalances in the form of real-estate valuations that soared in the pre-recession boom years. The report, authored by Nikola Swann, primary credit analyst, leaves Bermuda with an unchanged rating of 5 under S&P's Banking Industry Country Risk Assessment methodology, on a scale in which 1 represents the least risk and 10 the most. The report found that soured-loan write-offs had been less severe than the ratings agency had expected and it expects total credit losses at Bermudian banks during the 2008-2018 period to total between $600 million and $800 million. S&P estimates that island banks have already charged off more than $500 million in credit losses, net of recoveries. It expects additional credit losses of between $100 million and $300 million in the 2016 to 2018 period, some of which may result from some "overreaching" America's Cup-related investments. "The Bermudian banking sector remains in a correction phase, in our view, following the real-estate and stock-market boom in the last decade that peaked in 2007 to 2008," the report states. "Although spread over several years, the magnitude of this peak-to-trough correction has been severe." House prices fell by 26 per cent between 2008 and 2015, S&P estimated, while gross domestic product slumped by 18 per cent during the same period. "In our opinion, the valuation boom was spurred by the large and extended (over more than a decade) growth of high-value-added, internationally focused insurance and reinsurance companies, accompanied by a large influx of non-Bermudian staff," S&P stated. "We believe financial market dislocations since 2008, particularly in the US, flowed through to Bermudian profits, salaries, and employment, with extended knock-on effects on Bermudian valuations. The severity of Bermuda's correction highlights the risks to its extremely concentrated economic model, in our opinion." The analysts added that Bermuda's economy is experiencing a "substantial, multiyear boost" from hosting the America's Cup. "Taking into account the race's positive influence on borrowers' corporate, employment, and rental income, we expect the event will prove a substantial mitigant to the bank credit losses we had previously expected in the 2015 to 2018 period," the report added. "On the other hand, we are not sure that the event will significantly benefit the island's economy beyond 2017." S&P expects continued job losses from consolidation in the insurance industry, possibly mitigated by the competitive advantage the sector enjoys from the European Union's granting of equivalence with its Solvency II regulatory regime. The analysts believe that upside potential for the banking sector outweighs downside risk, mainly because of the One Bermuda Alliance government's rule changes to encourage inward investment, the likelihood of an outsize boost for investment flows from the America's Cup main event next year and the economy's return to growth in 2015.
2016. August 9. Bermuda's economy cooled slightly in the first quarter of this year, despite a pick-up in household consumption and construction activity. The Department of Statistics today released figures which showed that the island's gross domestic product contracted 0.6 per cent in real terms — that is, after inflation was taken into account. The setback comes after five successive quarters of real GDP growth that lifted the island out of a six-year recession. GDP, a measure of the island's economic activity, totaled $1.643 billion for the first three months of the year, up from $1.634 billion in the same period of 2015. Household consumption rose by $29.2 million from the first quarter of 2015, or 2.4 per cent in real terms, as consumers spent more on food in stores and restaurants. Construction industry activity grew by $21.6 million, boosted by higher spending on residential construction and the refurbishment of commercial space. Overall, investment in fixed assets increased by 4.2 per cent after being adjusted for inflation. However, a growth in the amount the island paid for imported goods and services weighed on GDP. The net trade surplus fell by $31.9 million, due mostly to higher payments for imports of goods and services. Imports of services increased $11.4 million reflecting higher payments for telecommunications services and reinsurance. Imports of goods rose by $10.2 million as more iron and steel was brought in. Exports of services fell by $9.1 million as fewer fees and commissions were received by financial institutions from non-residents. In real terms, the net surplus on trade in goods and services decreased 8.7 per cent.
2015. February 21. Bermuda is likely to emerge from recession this year, according to projections by the Ministry of Finance. Analysts from the Ministry estimate that the economy will grow by up to 1.5 per cent next year. In the outlook section of The National Economic Report of Bermuda 2014, published yesterday, the Ministry pins its growth hopes on hotel developments, the broad impact of the America's Cup, and the efforts of the Bermuda Tourism Authority (BTA) and the Bermuda Business Development Agency (BDA) to bring visitors and international business to the Island. Gross domestic product figures are not yet available for 2014, but the Ministry estimates that the economy contracted by between zero and 1.5 per cent last year, which means the Island endured a sixth successive year of recession in real terms, that is when inflation is taken into account. The report quotes preliminary data from the 2014 Employment Survey, which shows the Island lost 790 jobs last year, representing a 2.3 per cent fall in the number of jobs. Throughout the current recession, the loss of jobs in the economy is one of the chief contributing factors preventing economic recovery, the report states. The Island has lost 6,726 jobs since 2008 when employment levels were at their peak of 40,213. The 33,487 jobs recorded in 2014 were 16.7 per cent less than the 2008 figures. Bucking the trend last year was the international business sector, which added 161 jobs for a total of 3,929 jobs, representing a 4.3 per cent increase over 2013. Bermuda lost 221 construction jobs last year continuing a downward trend that the report expects to be reversed this year leaving the industry with 1,922 jobs, 10.3 per cent fewer than in 2013. The financial intermediation sector, which includes the banking industry, shed 301 jobs, representing a 12.1 per cent decline. The business services segment had 106 fewer positions. The unemployment rate rose to 9 per cent in 2014 from 7 per cent in 2013. "The lower levels of employment and the corresponding loss of expatriate workers who leave the Island when their employment is terminated will continue to weigh heavily on household consumption and retail sales," the report added. The selection of Bermuda as host nation for the 2017 America's Cup is described as one of the most significant economically beneficial events in the history of Bermuda, benefiting the economy from an additional $250 million of spending over three years. New jobs and investment starting this year and during the run-up to the event represent a major stimulus. Practically all sectors of the economy will benefit, including hotels and restaurants, transport services from taxis to ferries, construction, wholesale and retail, small businesses and real estate, telecommunications providers and opportunities for Bermudians to rent their homes and apartments, the report states. To back its case for a return to growth, the report also cites ongoing or pending work at numerous hotel developments, including the Hamilton Princess, South Beach in Southampton, Ariel Sands, Pink Beach, Morgan's Point, Grand Atlantic and St George's. The report also anticipates positive results from the BTA this year. "With the insight of new business intelligence on our target visitors, better marketing strategies and a newly established competitive set, the BTA is well positioned to grow air arrivals in 2015," the report states. In international business, the Ministry mentions the BDA's efforts to boost re/insurance and asset management business. In the Trust and Private Client sector, the top priorities for the BDA are to significantly raise Bermudas profile in the US, UK and Switzerland, and start work on Asia. The reports adds that the BDA will lead efforts to diversify the economy by attracting life science/biotech and Canadian e-commerce business. The latest business and consumer sentiment surveys suggest opportunities for increased employment and rising income, the report states. Also, the global economic environment is favorable, mainly because of the robustness of the US economy, which has re-established itself as the economic growth engine of the world. Taking all the information into account, the prospects for GDP growth look favorable.
2012. October 4. A new report reveals that Bermuda's international companies provide nearly $1 trillion of direct investment in the global economy. Business Bermuda's 2012 Economic Impact Report, published yesterday, showed that Bermuda's holding companies provided $939 billion of inward and outward direct investment for the world economy. It also shows that the Island's two-way trade with the rest of the world totaled $80 billion in 2010. In addition, Bermuda's multinational companies generated an additional $100 billion of direct sales in ten major markets surveyed through its subsidiaries in the manufacturing and financial services sectors. The report also concludes that Bermuda's businesses provide 600,000 jobs in the world economy. The US remains the Island's largest trading partner. Bermuda is the eighth largest investor in the US, with a direct investment position of $55 billion — more than the entire Caribbean, Singapore and Hong Kong taken altogether. Asia is the fastest growing trading partner for Bermuda. Trade with China, including Hong Kong, and Singapore grew 200 percent between 2004 and 2011. Bermuda holds $20 billion of investment from China and Singapore — up from $1 billion in 2000. Meanwhile, Bermuda emerged as one of the top 20 trading partners of the European Union. Dr Charles Ludolph, a US-based economist who conducted the study on Business Bermuda's behalf, said: "The study captures the four economic roles that Bermuda plays in the world economy. "Bermuda's financial sector and regulatory governance provides financial stability in a time of volatile global capital flows. Second, Bermuda is stepping up from its regional strength in providing a needed capital market for the US in insurance and reinsurance and expanding into Asia and other markets. Bermuda is finding a new role as an investment domicile for Asia. And perhaps most important, Bermuda continues to support US international business competitiveness with company law and regulation that meets the security needs of business but is responsive enough to lower costs in a tough international competitive environment." Business Bermuda also revealed the results of its annual Top-of-Mind Awareness Study, which showed that awareness and understanding of Bermuda in international business is high overall in key markets around the world. Sloane & Company, in partnership with regional firms, conducted 250 telephone interviews among a representative sample of Bermuda's traditional base of clients in North America, London, Europe, Asia and the Gulf including lawyers, accountants, financial services and re/insurance executives between August 1 and August 30, 2012. One finding was that Bermuda faces challenge in reinvigorating the discussion about its international business offerings as familiarity breeds complacency. Since the 2011 study, there was a ten percent increase in overall awareness in Asia to more than 95 percent and an 18 percent increase to 78 percent in the number of people who indicated they were very familiar with Bermuda in the Gulf. One issue that emerged is that Bermuda's sophistication and reputation for substance are "double-edged" swords. Respondents highlighted that Bermuda is great for complicated international business transactions and the most-established hedge funds as they enter the reinsurance market. However, when lawyers are looking at jurisdictions for the most basic, small and emerging hedge funds other jurisdictions appear to have a simpler and more efficient approach. In addition, the lingering effects of the economic crisis in Europe and North America remain a concern for the financial community and have caused investors and others to be more cautious. While not as significant as previous years, there are some concerns about the impact on tax and regulatory environments impacting offshore based on the outcome of the US Presidential election in 2012. Business Bermuda CEO Cheryl Packwood said: "This research is very helpful in guiding our marketing efforts and providing a benchmark for our progress. The news out of Asia and the Gulf is heartening and confirms that we are investing time and energy and that is making a difference. We are also pleased with the research out of the US, UK and Europe as it shows we have not lost any ground in highly competitive markets and it gives us some clear indications on the issues we need to address."
Bermuda Monetary Authority Fees 2014
See http://www.bma.bm. They apply in a vast number of areas.
Bermuda's role in tax avoidance schemes used by multi-nationals
On June 24, 2013 it was reported Bermuda's role in tax avoidance schemes, such as those employed by multinationals like Google, is being examined, Premier Craig Cannonier said in a response to parliamentary questions. "Does the Premier and his Government have any intention of extricating Bermuda from the tax avoidance networks comprised of countries such as Ireland, the British Virgin Islands and Luxembourg, which allow Bermuda-based global registered companies to considerably reduce their tax obligations in the countries in which their substantial business takes place?" asked Progressive Labour Party MP Rolfe Commissiong. "Yes, we'll continue to look at it. Yes," Mr Cannonier said. "In light of the fact that the aforementioned global companies are not part of the general insurance reinsurance risk management sectors why does Bermuda continue to facilitate these networks and/or allow Bermuda to be used by these companies?" Mr Commissiong then asked. "It's something that the Finance Ministry is continuing to take a look at," the Premier responded. Google avoids paying about $2 billion in taxes every year by shifting profits to a Bermuda subsidiary via Ireland and the Netherlands. Earlier this week Mr Cannonier said that the UK should look at Ireland first if it wished to address Google's tax avoidance strategy as Bermuda is "further down the chain." The European Union has estimated it is losing collectively about $1.3 trillion a year from tax avoidance schemes of multinationals such as Google, Amazon, Apple and Starbucks.
Bermudians versus non-Bermudians in the workforce
In December 2012 almost one in three jobs on the Island were held by non-Bermudians.
Business attire
Many locals wear dress Bermuda Shorts and their ensembles as standard business attire. Especially from May through October. If you prefer, you can attend business meetings in conservative business suits. Bring what you expect in a conservative, upscale resort. Lightweight natural fiber clothes are better for the hot and humid summer. Bring sports clothes, swimsuits, and a raincoat or light wind breaker during the day, and casual cottons, such as light dressy sweaters or wraps and cocktail type outfits for ladies, sports jacket and tie for men, by night. In November through March, bring light wool clothing or fall weight casuals, sweaters, raincoat and warmer jacket, wind breaker or coat. For evenings, use casual elegant lightweight woolens including sweaters or wraps - and for gentlemen, a suit or sports jacket and tie.

Casual upscale sportswear is acceptable in restaurants for lunch but many restaurants and night clubs require a gentleman's ensemble to include a pair of long trousers and jacket and tie in the evenings, or official dress Bermuda shorts with full jacket and tie and long knee length hose ensemble. Formal dress attire is not required. Swimsuits, abbreviated tops and short shorts should be used only at beaches and pools. There are no nude or semi nude beaches in Bermuda and indecent exposure is an indictable offense. Bare feet and hair curlers are not acceptable anywhere in public. If you jog, wear standard running shorts and shirts.
Business hours, types and times
The local time is Atlantic time - one hour ahead of Eastern Standard Time in the USA. Locally owned or majority Bermudian owned business houses - the only ones allowed to trade with locals and visitors - operate Mondays to Fridays or Mondays to Saturdays except public holidays from 8:30 or 9 am to 4:30 or 5 pm. Banks close to the public earlier, at 3 pm but have ATMs island wide 24 hours a day. Most retail and other establishments are open six days a week including Saturdays but except for public holidays, usually to 5 pm, occasionally later. Only a few stay open until 9 pm for certain peak periods but some larger grocery stores will stay open every night except Sundays and public holidays to 10 pm. Only a few retail establishments, small grocery stores and non hotel restaurants are allowed are open all day on Sundays. The larger grocery stores are restricted to 1 to 5 pm on Sundays.
Business protocol for first visits
Come armed with solid business credentials including bankers' and other referrals. Only registered local attorneys (barristers at law) may incorporate companies - Bermuda doesn't have the kind of "do it yourself" system found in many other countries. Give adequate notice of your visit if you wish to have appointments. Certain policies and restrictions apply. Non nationals acquiring Bermuda real estate are required to pay a significant acquisition tax to the Bermuda Government based on the sale price. Most non locally owned companies cannot own local real estate. Investment by non nationals in a "local" company is limited to an individual or collective maximum of 40 percent (except for investors in leasehold hotel properties). Operating costs and dividends paid are similarly apportioned. However, you may hold 100% of the stock of a Bermuda incorporated or registered "international" (in other words, not local) company which does not trade in the local marketplace except with other international companies.
Casinos and Gambling (Gaming)
2017. November 17. A plan to bring the Bermuda Casino Gaming Commission under ministerial control has been described as "flying in the face" of best practice and a "recipe for disaster" by overseas experts. Industry insiders in the United States, including one who helped to draft Bermuda's casino gaming legislation, said the fledgling industry needed a regulatory body that could make decisions without political interference and with a high degree of integrity. They insisted the Casino Gaming Amendment Act 2017, tabled by tourism minister Jamahl Simmons last Friday in the House of Assembly, would jeopardize that and could have a "chilling effect" on the island's progress towards entering the casino industry. The Bill would compel the commission to follow the directions of the minister and give him power to fire commissioners without cause. Fredric Gushin, managing director of Spectrum Gaming Group, which worked for the Bermuda Government to help draft the island's Casino Gaming Act 2014 and has also worked for the Singapore Government, said gaming commissions had to be accountable but the minister's amendment was not the way to ensure that. Mr Gushin added: "Gaming commissions around the world are created to be independent, as much as possible, from the political process because experience has generally been that politics and gaming don't mix very well. It usually results in an implosion or an explosion." He said one way to ensure independence was to have staggered fixed-term appointments for commissioners, so a change in government would not result in their removal. Another was to ban those working for the regulatory body from entering the gaming industry for several years after leaving their posts. Mr Gushin said: "It's all done to preserve the integrity of the decision-making process. In Bermuda, issuing a casino licence, like anywhere, is a big deal. You want it to be done fairly and with a high degree of integrity. You want the public to understand that this was not a political hack or corrupt result." Mr Gushin, whose company has worked in 33 American states and 45 countries, said Mr Simmons's amendment "kind of flies in the face of not compromising the integrity of the gaming commission". He added that Singapore was a very different jurisdiction to Bermuda. Mr Gushin said that when he worked on drafting the law for Bermuda, alongside tourism minister Shawn Crockwell and the Attorney-General Mark Pettingill, there was a consensus that the legislation ought not to copy Singapore entirely and that the commission should be as apolitical as possible. Mr Gushin, who worked as an assistant director of gaming enforcement in New Jersey for many years before setting up Spectrum, added: "I didn't hear any objection to that." And he warned that the proposed change could put off investors and "certainly have a chilling effect" on efforts to get the industry up and running. Gaming consultant Gene Johnson, of Victor Strategies, said: "It looks, quite frankly, like an attempt to exert political control over what should be an independent organisation. It is obviously an attempt by a minister to bring the gaming commission under his direct control. "That's problematic because one of the fundamental reasons for having a gaming commission is to ensure the integrity of the industry." Mr Johnson said the commission's job was to carefully vet vendors, with political influence playing no part in who was granted a licence. He added: "This is a recipe for disaster." He warned it could open the door to corruption and added: "Even the perception of corruption will have a negative impact on the industry." Jennifer Roberts, from the International Centre for Gaming Regulation at the University of Nevada, Las Vegas, told The Royal Gazette: "Bermuda is in a great position to offer regulated casino entertainment along with the other tourist amenities provided within a luxurious resort destination. The UNLV-ICGR does not take any position regarding disputes that may occur between legislators and regulators that could impact gaming. The ICGR certainly supports the implementation of a durable gaming regulatory system that promotes fair and honest gaming. As such, gaming regulatory systems should remain non-political and independent, and it is common for legal safeguards to be incorporated within those systems, such as prohibitions on current political party representatives serving as gaming regulators, cooling-off periods for transitioning from regulation to industry and due-process protections for removal from a gaming board or commission position." Mr Simmons did not respond to a question yesterday on whether he would withdraw the amendment as proposed by gaming commission chairman Alan Dunch in his resignation letter. The minister said he had received and accepted Mr Dunch's resignation, and would announce his successor early next week. The Bill could be debated in the House as soon as next Friday, before going to the Senate.
November 16. Under-fire gaming chief Alan Dunch has quit his post, days after the Government tabled legislation to oust him and place the Bermuda Casino Gaming Commission under ministerial control. Mr Dunch told tourism minister Jamahl Simmons in a letter sent last night that the proposed change to the law "completely undermines the fundamental premise upon which I agreed to serve as chairman of the Casino Gaming Commission, namely that the commission would be a wholly autonomous, independent regulatory body which would operate free from political interference and government dictate". Mr Simmons confirmed he had received and accepted the resignation of Mr Dunch, adding: "I thank him for his service and will announce his successor early next week." The outgoing chairman, a director at MJM law firm, urged Mr Simmons to withdraw the legislative amendment, which, he claimed, could "impede Bermuda's ability to attract first-class people of the utmost integrity to both operate and regulate the gaming industry here". Mr Dunch, who will leave his post officially on December 6, told The Royal Gazette: "I acknowledge the reality that if these amendments are passed, then he will simply fire me. Given the impetus for these amendments is the desire to have me go, now that I'm going to go after the next commission meeting, I hope he rethinks whether there is any need to make the amendments. I truly believe the amendment that compels the commission to follow [the minister's] direction on any given subject is going to be very counterproductive in terms of putting Bermuda on the international gaming stage as a credible jurisdiction." The Bill tabled in the House of Assembly last Friday has prompted criticism from the island's gaming commissioners and overseas experts, including an opinion piece in an international gaming publication that claimed bringing the regulatory body under government control would be the "definition of corruption". If approved, the Casino Gaming Amendment Act 2017, would change the law to compel the commission to follow the tourism minister's "general directions" on policy and allow him to remove commissioners without cause, in any circumstances he "considers appropriate". Commissioners can be removed at present only if they are incapable of managing their affairs, or for bankruptcy reasons, or if they are convicted of a dishonesty offence. Mr Dunch, who was appointed as gaming commission chairman in May 2015 for a four-year term, has been in Mr Simmons's crosshairs since August, when the latter made the first of three attempts to fire him. On August 10, Mr Simmons e-mailed Mr Dunch to "formally" invite him to consider resigning — a move Mr Dunch said "surprised and disappointed" him because the new minister had just a few weeks before declared his "unequivocal confidence, support and enthusiasm" for the chairman and his team. Mr Simmons tried to sack Mr Dunch again on September 27 and then on October 20, the same day Mr Dunch publicly questioned a claim by local firm MM&I Holdings that it would give away 95 per cent of its profits to good causes if it landed a lucrative government gaming deal. As revealed in a special report by The Royal Gazette, MM&I and its Florida-based partner firm Banyan Gaming had been trying to secure the deal since 2013, even signing an memorandum of understanding with the One Bermuda Alliance government, which was later terminated. MM&I is represented by lawyer Mark Pettingill, who pushed for the MOU when he was Attorney-General in the OBA Cabinet, as did the late Shawn Crockwell, then the tourism minister. Banyan representatives appeared as "experts" at a Progressive Labour Party forum in May promoting their "cashless gaming" product. Mr Dunch has repeatedly resisted the minister's attempts to sack him, insisting there was no statutory basis to remove him. But in his resignation letter, he wrote: "It is my sincere hope that in making this decision to resign, you and the Government might now consider it unnecessary to move forward with the proposed amendments and, in the best interests of Bermuda, choose instead to withdraw the Amendment Act which ... is ill-advised and could do irreversible harm to the reputation of our country." Mr Simmons said on Tuesday the legislative change would bring Bermuda "in alignment with other jurisdictions in terms of allowing ... the minister to remove members of the commission who do not follow legal directions of the Government". He said it mirrored gaming legislation in Singapore but did not name any other gaming jurisdiction with similar provisions, even after questions from The Royal Gazette. Mr Dunch, who was appointed by Mr Crockwell, said yesterday: "It's true that similar provisions exist in Singapore but Singapore is governed by a very different governance system to the Western world. I know from my discussions with the late Shawn Crockwell that when the original Act was introduced, there was a deliberate decision not to include those types of provisions, as he wanted to establish a commission that was clearly free of political influence and interference." Most leading gaming jurisdictions in the United States — including California, Nevada, New Jersey and Pennsylvania — allow gaming commissioners to be removed only with cause, or after a vote in the relevant legislative chamber. Legislation in Britain allows the Secretary of State to dismiss a commissioner if the secretary thinks the commissioner is unable, unfit or unwilling to perform their functions. Mr Dunch said he never indicated to Mr Simmons that he would not resign; it was merely a question of timing. He wanted to remain chairman until:
The Hamilton Princess provisional casino licence hearing was held
Regulations were approved by MPs to ensure a proper regulatory framework was in place and banks were on board to "bank" the island's casinos
A replacement was found for the commission's outgoing executive director, Richard Schuetz, who leaves the island next month
Only the first of those goals was achieved, Mr Dunch admitted, adding: "It's obviously disappointing to me that I'm not going to have the opportunity to finish what I started, but that's life."
2017. November 15. Alan Dunch has branded new legislation giving politicians power over casinos as a "potentially sad and seriously backward" move against efforts to keep corruption out of gaming. The chairman of the Bermuda Casino Gaming Commission warned that it would allow Jamahl Simmons, the tourism minister, to hand out lucrative gaming contracts which should be the remit of the gaming commission. Mr Simmons, who has tried to oust Mr Dunch three times since the Progressive Labour Party was elected, tabled amendments on Friday giving himself the ability to fire Mr Dunch. That came after Mr Dunch repeatedly questioned the intentions of MM&I Holdings, the local firm bidding for a cashless gaming contract worth tens of millions of dollars per year. Mr Simmons has repeatedly refused to say whether the Government is in talks with MM&I, but he said on Friday it was not "currently considering any proposals" from MM&I and/or its American partner firm Banyan Gaming. Mr Dunch, whose contract expires in May 2019, said in a statement: "The tabling of the Casino Gaming Amendment Act last Friday was a potentially sad and seriously backward misstep in the ongoing efforts of Bermuda to introduce a moral and apolitical gaming regime, free from the potential of corruption. At face value, it would appear to be a knee-jerk reaction arising out of the minister's great frustration with the refusal of the chairman of the commission to resign, in the absence of reason. However, it is far more alarming that his proposed amendments would compel the commission to give up its independence and follow any general directions given to it by the minister. This in and of itself should be of great concern to the Bermuda public. It will mean the minister has the power to interfere in all of the commission's dealings and ongoing work. It means the minister is asking Parliament to give him an absolute, unchallengeable right to tell the commission what to do and the commission, despite its own convictions and expertise, will be unable to refuse." Mr Dunch said this would make Bermuda's gaming industry an arm of the Government. Who we issue gaming licences to and who we approve as operators, may no longer be based on our internal, and internationally recognized, suitability standards, but those of the minister's. This will not resonate well within the international gaming community and may seriously impede Bermuda's ability to attract first-class people of the utmost integrity to operate and regulate the casino industry going forward." He said the gaming commission strives to operate and function in an autonomous environment. Mr Dunch said: "The commissioners and the commission's staff have no other goal or agenda other than this. It is not political and it is not personal. We are motivated only to do what is in the best interests of Bermuda — and aim to do so without fear of intimidation, victimization or political interference." Mr Simmons accused the commission on Friday of pursuing a "systemic misinformation campaign" to damage Bermuda's reputation as well as the gaming industry, refusing to "engage in a collaborative and mutually respectful relationship" with the Government and refusing to acknowledge and accept change. Mr Dunch responded: "Nothing could be farther from the truth. There have been very few interactions, either by e-mail or in person, between the minister and the commission since July 2017. The commission has made every effort to engage with the minister and work with him to move the gaming initiative forward. However, it is the minister himself who has engaged in a course of non-communication and complete silence on multiple occasions. The minister has systematically refused to meet with the commission, engage with the commission in writing or by telephone, assist the commission with the enactment of a regulatory package that was presented for tabling in Parliament last May or generally in any way assist the commission in its ongoing efforts to get Bermuda's first casino up and running in circumstances where a provisional casino licence has in fact been issued. It is regrettable that the minister seeks to attack the chairman, if not directly then certainly by inference, in his personal capacity. His attempts to impugn the chairman's character and integrity by suggesting that unfounded and ulterior motives lie behind his conduct as chairman are misconceived and without substance. Indeed, given his refusal to engage in any way with the commission, it is difficult to understand upon what basis he would make such accusations." Mr Simmons also suggested Mr Dunch had e-mailed him to say he was ready for a "public fight" over the issue. Mr Dunch described this as an "out-of-context reference", saying that he had been responding to Mr Simmons's own defamatory accusations against him. He said: "It was made clear to the minister that the chairman does not take kindly to having his character, integrity and reputation called into question and that if he continued to do so in public, then such defensive steps as were necessary would be taken." He added: "In terms of the best interests of Bermuda, it would be ill-advised and most unfortunate if the proposed amendments were to be passed by Parliament, approved by the Senate and assented to by the Governor. The commission does not support them and can only hope that the Government will rethink its position."
2017. November 11. Tourism minister Jamahl Simmons tabled legislation yesterday to give himself the power to sack Bermuda Casino Gaming Commission chairman Alan Dunch. The move came after Mr Dunch questioned the intentions of MM&I Holdings, the firm involved in a controversial bid for a gaming contract worth tens of millions of dollars per year. Mr Simmons's amendment to the Casino Gaming Amendment Act read: "The minister may at any time revoke the appointment of a member who is unable or unwilling to perform his duties as a member, or in such other circumstances as the minister considers appropriate." The legislation also gives politicians greater power over the governing of casinos. Mr Simmons, who has repeatedly refused to say whether the Progressive Labour Party government is in talks with MM&I, has made three attempts to oust Mr Dunch since taking over as tourism minister. Mr Dunch, whose contract expires in May 2019, has insisted he will not resign and has said there is no statutory basis upon which he can be removed. In a statement released last night, the minister said the Act would bring Bermuda into line with jurisdictions such as Singapore on gambling governance. Mr Simmons added: "The amendment will allow the Government to give policy direction to the Casino Gaming Commission and will allow the minister to remove members of the commission who do not follow legal directions issued by the Government." Mr Simmons said the amendment would not interfere with the independence of the commission in its investigations, or the enforcement of Bermuda's casino gaming laws. The legislation, if approved by MPs, would give politicians greater power over the governing of casinos. The gaming commission, which was set up two years ago as an independent body to oversee gaming regulations, would be forced to operate under the orders of the tourism minister. The Bill said: "The minister may, after consultation with the commission, give general directions to the commission as to the policy to be followed in the achievement of the objects of the commission under this section. The commission shall give effect to any general directions given by the minister." Mr Simmons yesterday used the House of Assembly to launch an attack on Mr Dunch's performance as chairman and accused of him of having a political agenda. In a special report last month, The Royal Gazette reported how MM&I tried to net a lucrative contract to provide a cashless gaming network management system for any casinos that open on the island. The gaming commission warned the deal could damage Bermuda's financial reputation, and highlighted that individuals from its partner firm, Banyan Gaming, had surrendered their gaming licences in major gambling jurisdictions in the United States. MM&I reached an agreement with the One Bermuda Alliance government while Mark Pettingill, who represents MM&I, and Mr Pettingill's business partner, the late Shawn Crockwell, were both in the OBA Cabinet. The memorandum of understanding was terminated by the OBA in July 2016 under advice from the gaming commission. PLP MP Zane DeSilva this year helped organize a public gaming forum in which Banyan representatives were introduced as experts. Mr Simmons has refused to explain why he tried to fire Mr Dunch immediately after the chairman ridiculed MM&I's claim that it planned to give away the vast majority of its casino profits to good causes. Mr Dunch has previously expressed surprise that Mr Simmons requested his resignation "out of the blue" a few weeks after declaring his "unequivocal confidence, support and enthusiasm" for the chairman and his team. In a Ministerial statement, Mr Simmons told MPs: "The Progressive Labour Party government has not conceived, considered or given any assurances, public or private, either that system or that operator will have a presence in our casino gaming industry. To be clear, the Government is not currently considering making cashless gaming on the island mandatory for casino operators. The Government is not currently considering any proposals related to the gaming industry from MM&I and/or Banyan Gaming. The Government has not entered into any arrangements with Banyan Gaming or MM&I. That was the previous government." Mr Simmons said in an apparent reference to Mr Dunch: "It is apparent that there are individuals who have not accepted the results of the recent General Election, do not respect the mandate for change that the people of Bermuda delivered and would rather orchestrate systemic misinformation campaigns, jeopardize the reputation of Bermuda and undermine the Government than engage in a collaborative and mutually respectful relationship for the benefit of Bermuda. An example of this attitude may be seen in an e-mail sent to me by the current chairman of the Gaming Commission Mr Alan Dunch on October 20, in which he wrote and I quote, 'If you want a public fight, I am more than up for it'. Those words now seem oddly prophetic as shortly afterward a select series of e-mail exchanges between my ministry and the gaming commission were 'obtained' by The Royal Gazette and an attempt to damage this government and Bermuda commenced in earnest. That attitude may perhaps be further seen in the recent non-participation in the National Anti-Money Laundering Committee's National Risk Analysis, failure to provide the requested presentation for the related workshops and failure to provide the analysis and conclusions of the working group that the commission was chairing. The chairman of the Gaming Commission may want, crave, seek or desire a public fight. This government was not elected to engage in petty public fights. This government was not elected to get dragged into the drama and theatrics of those who by their words and deeds have demonstrated a complete and utter disregard for the well-being of our island and our people. This government was elected to create economic growth, help local and international business to thrive and create a wider range of jobs and opportunities for Bermudians with partners that share this vision and are willing to seek positive action over public fights and job creation over petty squabbling. While others want public fights, we seek a Bermuda that with greater economic growth and a diversified economy will bring new jobs and new industries to Bermuda. Although there are individuals within the Bermuda Gaming Commission seemingly prepared to drag Bermuda and its reputation through the mud to get their own way, this government was elected to make change, we have a mandate to make change and we will make the change that the people who elected us sent us here to deliver. The Casino Gaming Amendment Bill that I will table today will execute that mandate." The Royal Gazette approached Mr Simmons yesterday to ask whether the PLP government has been in talks with MM&I or Banyan or any other company about a casino gaming system for Bermuda, and why the PLP promoted representatives connected to MM&I/Banyan as experts in gaming at its public forum earlier this year. Mr Simmons responded that he does not talk to The Royal Gazette. When contacted, Mr Dunch said that he was still considering his comment.
2017. August 18. A Bermuda lottery would be a tax on the poor, the executive director of the Casino Gaming Commission warned yesterday. Richard Schuetz said a lottery would not benefit the community. He added: "Lotteries have historically been called a tax on the poor. They are known as a regressive tax. Jurisdictions use them to raise money, and they raise it on the backs of the poor. I don't get that as a public policy goal." Mr Schuetz was speaking after Zane DeSilva said the new Government planned to create a lottery to support sports funding and education. But Mr Schuetz said: "What I heard during the election is there is a problem with people being poor, so lets not exploit the poor to deal with this debt." Mr DeSilva told ZBM News earlier this week that he backed the introduction of a lottery and explained that, if implemented correctly, lotteries and casinos could generate government revenue to fund sport across the island. He told the station: "I think that if we use gaming correctly, if we set it up correctly, whether it's gaming, a lotto or what have you, I believe if we set it up correctly we can use the surplus of funds that are expected to put into our community, whether its education or sports." The Progressive Labour Party's election platform called for the introduction of a local lottery to benefit sports development and national sporting bodies within two years. Mr DeSilva said: "That is going to be very much on our agenda. I think that between gaming and lottery, if it's done correctly, I think we can generate quite a bit of extra revenue for the government." A 2010 Government-commissioned study by the Innovation Group estimated that a lottery could generate more than $17 million a year in revenue. It said that the introduction of lotteries are often "politically motivated", aimed at raising funds for programmes to improve the quality of life of citizens. But Mr Schuetz raised several concerns about legalized lotteries. He said: "In tax language a lottery is known as a regressive tax, meaning that it takes a larger percentage from lower income people. Furthermore, empirical studies have demonstrated that lottery sales increase during the times of the week or month when transfer payments are made. A classic example of a transfer payment is welfare." Mr Schuetz added that lotteries serve as competition for casinos while creating comparatively few jobs and that the introduction of a lottery could translate to fewer casino jobs. Asked why lotteries would be viewed as regressive tax and casinos not, he said the cost of entry was a key point. Mr Schuetz added: "You can get into the lottery for a fairly low price generally. Even when they raise the price of entry, you get these syndicates in the neighborhood to buy tickets, so raising the price doesn't work. People don't go into a casino and bet a dollar." He also said the casino model being adopted on the island was intended to increase investment and employment and boost tourism. "A lottery is not going to do that. This is a small island. It's not like you are going to get those jumbo jackpots." He explained that lotteries need liquidity to survive and that Bermuda's size would cause problems. "Bermuda has a very small population. This means that the jackpots would be very low and the administrative costs would be quite high as a percentage of revenues." Mr Schuetz also said he had discussed the topic with Roger Trott, the Commission's director for problem and responsible gaming, who said that lotteries could present a high level of risk for problem gamers and poorer participants. Government did not respond to requests for comment by press time last night.
2017. August 11. The proposed casino at the Hamilton Princess & Beach Club will feature 17 gaming tables and 200 slot machines, according to international casino entertainment company Century Casinos. An automated roulette machine will be on the main floor of the development, with a total of about 12,000 square feet of gaming space also including a "high limit area" and private room. The details were outlined in a press release announcing that Century Casinos had submitted a licence application for the casino jointly with hotel owner Hamilton Properties Limited. "The casino with approximately 12,000 square feet of gaming space will feature 17 gaming tables, 200 slot machines and an automated roulette machine on its main casino floor, high limit area and salon privé," it said. The Bermuda Casino Gaming Commission announced last month that the Hamilton Princess made an application to become the island's first integrated casino resort and that the hotel will make its presentation to the commission in a public meeting in September. The release from Century Casinos added that it had entered a long-term management agreement with Hamilton Properties Limited through its Austrian subsidiary Century Casinos Europe GmBH. "Pursuant to the management agreement, CCE assisted with the licence application and would manage the operations of the casino, should a licence be awarded. In addition, CCE would also provide loan funding in the amount of $5 million for casino equipment." The Hamilton Princess was named a "designated site" last year, making it eligible to apply for a casino licence. And earlier this year, legislators approved the casino licensing application process, with the first window for applications opening in April. "The next step will be a hearing of the application on September 22. This second stage may end with the award of a provisional casino licence by the commission," the press release added. "The third stage of the application process will be the suitability stage. Only at the conclusion of this final stage will a casino licence be granted, permitting the offering of gaming to the public, subject to the final approval of the commission to open and operate the casino."
2017. July 24. The Hamilton Princess Hotel & Beach Club has made a play to become Bermuda's first integrated casino resort. And the Bermuda Casino Gaming Commission has announced that the hotel will make it's presentation to the commission in a public meeting in September. Alan Dunch, chairman of the Bermuda Casino Gaming Commission, confirmed yesterday that the hotel had submitted a "substantially completed" application for a casino facility. "The application provides the detailed plans to develop a casino within the Hamilton Princess and Beach Club," a release issued from the BCGC said. Mr Dunch called the application a "landmark event. We feel that this is an important step towards realizing the public policy goals of the Casino Act, by increasing employment and investment in Bermuda, as well as enhancing the tourism product. I also want to thank the staff of the BCGC and the Princess for working the many long hours necessary to get us to this point." The statement described the application as "fully funded", noting that the project will be presented to the BCGC for approval at 2pm on September 22 at the Bermuda Underwater Exploration Institute, with the public able to attend. Further details about the casino presentation are expected to be released at a later date. The casino licencing application process was approved by legislators earlier this year, despite concerns that the price tag for a licence was too high, with the first "window" for applications opening in April. Under the Bermuda Casino Gaming Act 2014, the commission can approve up to three provisional casino licences, in addition to the provisional licence granted to the developer of the St Regis hotel project in St George's. According to the application process, a $600,000 application fee must accompany all applications, while a $1.4 million provisional licence issue fee is payable by applicants awarded a provisional licence. Those making it through to the final stage will then be subjected to a further $1 million casino licence issue fee. The Hamilton Princess last year became one of the first resort properties to be named a "designated site", making it eligible to apply for a casino licence. It was revealed earlier that this year both the Fairmont Southampton and the Morgan's Point hotel had applied for site designation.
2017. April 20. George Rover, the former deputy director of the New Jersey Division of Gaming Enforcement, has been engaged as a consultant by the Bermuda Casino Gaming Commission. Mr Rover will visit the island on a monthly basis to advise on "all gaming-related matters, including the drafting of regulations, assistance with background and suitability investigations and with respect to the Request for Proposal process", according to a statement issued by the commission. Mr Rover stepped down last year from the New Jersey State Attorney-General's Office after 26 years of government service. He had been appointed Assistant Attorney-General in 1999 and assigned to gaming enforcement, and served as deputy director from 2011 until November 2016. Calling the Division of Gaming Enforcement "tough but fair", Mr Rover stressed the rigorous vetting required for a viable gaming industry on the island, including anti-money laundering protocols. Mr Rover acknowledged his five-year relationship with Richard Schuetz, the executive director of the Bermuda commission. He went on to call Mr Schuetz "an invaluable resource" for launching the local industry.
2017. February 4. New regulations were tabled by Government designed to set taxes and fees for casino gaming in Bermuda. The Casino Gaming (General Reserve and Casino Taxes) Regulations 2017 and Casino Gaming (Casino Fees) Regulations 2017 were passed. It is feared by some MPs the fee structure would deter operators coming to Bermuda. Grant Gibbons, the Minister for Economic Development, brought the new regulations before the House. He said that the fee structure and 10 per cent tax rate established in the regulations were "clearly in accord with the stated policy goals of the 2014 Casino Gaming Act". The fee schedule sets the casino licence application fee at $600,000 and the provisional licence issue fee at $1.4 million. Under the regulations a casino licence issue is set at $1 million, while an annual casino licence fee is $1 million, "less any applicable discount". The regulations state: "The schedule sets out the fees payable which are in addition to any requirement to reimburse the Commission for the costs of any investigation pursuant to the Act of any regulations".
2016. November 28. The Casino Gaming Amendment Act 2016 was passed without opposition in the Senate this morning paving the way for a new stream of economic activity on the island. Also passed without opposition were the St George's Resort Amendment Act 2016 and The Bribery Act 2016. In passing the Casino Gaming Amendment Act, One Bermuda Alliance senator Michael Fahy pointed out that the Hamilton Princess and St George's Resort had already been given designated site status while two further applications were being processed. Mr Fahy expressed his gratitude to the Gaming Commission and its chief executive officer, Richard Scheutz, for working "diligently to move gaming forward for Bermuda." Independent senator James Jardine spoke favorably on extra measures taken to protect minors and vulnerable people as part of the legislative amendment. Speaking on the St George's Resort Amendment Act, Mr Fahy assured senators that every effort had been made to help the old town to retain its Unesco world heritage designation status. Progressive Labour Party senator Renee Ming raised questions regarding an amendment that allows the developer of the hotel to have an organisation of its choice to make environment and traffic impact assessments as they relate to any "minor" adjustments to the development. Mr Fahy said that full assessments had already taken place and the amendment would merely offer flexibility on only minor changes from here on. Mr Jardine said he was "disappointed" that the process to build a hotel in the East End had taken so long, saying that he had expected ground to have been broken by now. Pressed on the need for public consultation, Mr Fahy said that the information regarding the new development was in the public domain describing it as "one of the most transparent processes" undertaken by the government. Taking time to explain the planning process relating to the St George's development, Mr Fahy said: "In the usual way, all plans have been made available to the public to allow for objections and suggestions. The public will also be aware that the developer has made some changes to accommodate concerns raised by the Historical Building Advisory Committee relating the site line to Fort St Catherine and will also be providing public parking to facilitate beach use by the public. All in all the development is and exciting economic opportunity for St George's and the Bermuda tourism product as a whole." The Bribery Act which is based on the United Kingdom's Bribery Act 2010, was enthusiastically embraced by senators of all affiliations.
2016. November 22. Revisions to Bermuda's gaming laws were passed by MPs in the House of Assembly last night, paving the way for casinos in Bermuda. The Casino Gaming Amendment Act 2016 was passed after a fiery debate lasting more than four hours, while Casino Gaming Designation Site Orders for the St Regis Hotel in St George's and the Hamilton Princess were also approved. The Act faced harsh criticism in Parliament from the One Bermuda Alliance's own ranks as well as Opposition MPs. A two-year exclusion for any public officer involved in gaming from business in the new industry was denounced as a superfluous restraint of trade, with MPs calling it unnecessary given the anti-bribery legislation already in place. Economic development minister Grant Gibbons launched the debate, in which the 2014 gaming act was "streamlined" with provisions to address issues such as problem gaming. But a clause granting a provisional casino licence to Desarrollos Group, developers of the upcoming St Regis hotel for St George's, proved unpopular. Such licences did not permit gaming, Dr Gibbons said — but merely confirmed an applicant as eligible for a full licence, enough to start construction. E-gaming, a category separate from internet gaming, would be open to guests in specific areas via their mobile devices — and the Casino Gaming Amendment Act 2016 would also allow betting. Opposition deputy leader Walter Roban opened the Progressive Labour Party's response, calling it "a cleanup Bill for the first Bill" and criticizing the Government for the expensive "ministerial misadventure" in Singapore to create the 2014 Act. Mr Roban also queried whether Cabinet had circumvented the gaming commission in the exception for the East End developer. PLP MP Wayne Furbert echoed both points, asking the House why the Morgan's Point developers were left off. Shawn Crockwell, the former tourism minister and now independent MP, chastised the lack of "real leadership" in the gaming delay. Noting that the America's Cup would miss out, Mr Crockwell asked repeatedly why it had taken so long. Both Mr Crockwell and OBA backbencher Mark Pettingill excoriated clause 187, which carried the two-year business ban. Mr Crockwell questioned its timing, telling the House he had never seen it among amendments that came across his desk during his time as minister. Describing himself as "the only lawyer in this country who is a member of the international association of gaming advisers", Mr Pettingill called the restriction "jaw-dropping. Tomorrow, former minister Crockwell has to call our clients and say 'we can't work for you any more'," Mr Pettingill told the House. Both disaffected MPs added that the Bill would require their reluctant support if gaming was to go ahead. Another consistent complaint from MPs was that Desarrollos had been given special treatment simply to keep the St George's resort deal alive. Opposition leader David Burt questioned "what research has Government done to make sure this person is fit to get a gaming licence? What work has been done to make sure that this decision will not come back to bite us? This is about keeping Desarrollos at the table. We have to think very, very carefully about what granting a provisional licence to Desarrollos means. This Bill is certainly needed and we want the gaming industry to get off the ground, but it is certainly clear this is a troubling development and it should concern all parties. If we set this precedent today, every developer is going to ask for the same thing — and they would be well within their rights to demand it."
Companies and their categories
In January 2012 the total actual number of companies registered in Bermuda fell below 17,000 for the first time since 2007, presumably due to liquidations and companies re-domiciling.
Until then there were more than 15,300 Bermuda based international companies, 2650 local companies, 430 overseas partnerships and 940 other non residents, many with a global business empire. They include subsidiaries of 75% of the Fortune 100 and their European equivalents. Only 235 or 3.4% of the internationals have local offices, yet account for 75% of internationals' spending. In insurance and reinsurance, Bermuda has an industry capital base exceeding US$ 35 billion and gross premiums of US$ 24 billion. It ranks with Lloyds of London and New York as a global leader.
Exempted companies, or international companies. Most focus on international activity. To protect local business interests, the Bermuda Government will not normally allow the formation of an exempted company in banking. However, some quality international banking organizations may, under certain circumstances, apply to form an exempted company for international or multinational general trust, investment and executorship activities. By qualifying as exempted companies, these corporate entities are not subject to any restrictions on foreign ownership. They can be either 100% owned by non-Bermudian interests or anywhere from 100% to 80%. Bermudians cannot hold more than a combined 20% interest in any one exempted company or partnership.
Continuation or Permit Companies. Also Exempted Companies. These are incorporated outside Bermuda but are permitted to operate from Bermuda in the same way as exempted companies. They evolved originally to meet certain special situations, for example when the United Kingdom's exchange control restrictions once prevented incorporation in Bermuda, or where tax treaties made it disadvantageous to incorporate in Bermuda. Others are encouraged to do so, for strategic reasons.
Local Companies. Beneficially owned by Bermudians and operating in the local marketplace, they are NOT "exempted" companies. The legal requirement that they must be at least 60 percent beneficially owned by Bermudians goes further. To avoid non Bermudians controlling local companies through pyramiding or secret agreements, corporate shareholders of local companies must themselves be at least 60 percent owned by Bermudians to qualify as Bermudian owners and with at least 60 percent Bermudians as directors. They provide support services. They include local accounting, banking and legal firms.
Consolidated Fund
2017. March 11. The annual accounts of the Consolidated Fund of the Bermuda Government for 2015-16 have been given an unqualified audit opinion. Finance minister Bob Richards welcomed the news, which he pointed out was the Consolidated Fund's fourth consecutive clean audit after six years of qualified opinions. Current account expenditure was less than originally estimated, Mr Richards noted, while revenue was higher than projected. The Consolidated Fund deficit for 2015-16 was $160.6 million — narrower than the $220 million budget projection by $59.4 million, or 27 per cent. Mr Richards put the decreased deficit down to "prudent management" of expenditures. However, in her report tabled with the House of Assembly yesterday, Auditor-General Heather Thomas urged Government to take action to address rising debt levels. The Consolidated Fund is the general operating fund of the Government, through which it conducts most of its transactions. "I am pleased to note that the annual accounts of the Consolidated Fund of the Government of Bermuda were given an unqualified audit opinion for the fourth consecutive year following six years of qualified opinions," Mr Richards told MPs. "Despite the clean audit opinion, the Auditor-General has, for the sixth consecutive year, included explanatory paragraphs as 'other matters' which she deems appropriate." Ms Thomas's first concern was the level of the net debt, which increased by $186 million to $3.5 billion. She said: "Government needs to take concerted action to address this fiscal challenge." The auditor also pointed to ongoing incidents of non-compliance with the Government of Bermuda's Financial Instructions, which she said "revealed weaknesses and deficiencies in the control environment", and limitations with the preparation of summary financial statements. Mr Richards said: "The Government shares the auditor's concerns in these areas and has already started to tackle these matters." An enhanced Financial Instructions training programme is being developed, he said, while the Ministry of Finance has already put in place a three-year plan to eliminate the deficit and ultimately reduce the debt. Financial highlights presented by the minister included:
Total revenue raised by the Consolidated Fund for 2015-16 was approximately $960.7 million, an increase of $57 million from 2014-15.
Revenue from payroll tax was $361.1 million, up from $326.9.
Revenue from Customs Duty was $192.6 million, up from $171.5 million.
Total revenue on a modified cash basis was $953.6 million: $22.3 million more than original budget estimates.
Total current expenditure on a modified cash basis was $1.071 billion: $12.1 million less than original budget estimates.
Total capital account cash expenditure was $43.7 million: $24.6 million lower than the original budget estimate.
Total capital and current account cash expenditure was $1.114 billion: $36.7 million lower than the original budget estimate.
Modified cash all-inclusive results from government operations was a deficit of $160.6 million, $59.4 million less than was originally budgeted.
Net public debt, excluding guarantees, was $2.218 billion: an increase of $168.1 million.
Mr Richards said: "The decreased deficit is a result of prudent management of discretionary current and capital expenditures. The level of debt is not only unsustainable but economically and fiscally imprudent and the Government has already committed to intensify our efforts and determination to eliminate the government deficit, and eventually pay down on our debt."
Corporate America Untaxed, Tax Avoidance on the Rise, Bermuda's Role
In August 2011 Bermuda featured prominently in a report on US corporate tax avoidance. The report entitled 'Corporate America Untaxed: Tax Avoidance on the Rise' was published by The Greenling Institute, a national policy, research, organization and leadership group. It revealed that 184 significant corporate subsidiaries were based in Bermuda - considerably less than the likes of the Cayman Islands (580) and Ireland (287), but more than Switzerland (179). It also disclosed that the Island accounted for 10.4 percent of dividends that came back to the US during the 2004 one-time tax holiday that allowed corporations to repatriate offshore earnings, according to Internal Revenue Service figures. American corporations are known to avoid approximately $60 billion in US corporate income taxes through using "devices and gimmicks" to shift profits to foreign subsidiaries, according to the report, and since the US Government Accountability Office reviewed the issue in 2008, top companies had added 44 new subsidiaries in countries it had identified as tax havens. Fifty-two of the 100 largest corporations in terms of 2010 revenue added at least one subsidiary in a tax haven and 21 companies reduced their subsidiaries in tax havens by at least one between 2008 and 2010, the report stated, with each company adding on average 2.9 foreign subsidiaries and 0.5 in a tax haven over that period. CitiGroup was the outlier, decreasing its number of foreign subsidiaries by 1,129 during that time, 404 of which were in tax havens. Caterpillar Inc, which has 10 Bermuda subsidiaries listed on the Registrar of Companies website, was listed as having 38 subsidiaries based in tax havens, down by 11 between 2008 and 2010, bringing in revenue of $42.5 billion. General Electric (GE), which also has 10 subsidiaries listed in Bermuda, has 14 significant subsidiaries in tax havens and 57 significant foreign subsidiaries, bringing in revenue of $151.6 billion, and Google, with six subsidiaries on the Island, had two significant subsidiaries in tax havens and two significant foreign subsidiaries, with a revenue stream of $29.3 billion. GE made $94 billion in undistributed earnings of profits from foreign subsidiaries, while Google earned $17.5 billion.
Cost of Living
See Cost of Living Guide in Bermuda. Bermuda's retail prices are high mostly because of the Bermuda Government duty rates on imports, the Government's single biggest source of revenue - and the Government law requiring all local companies except hotels to be at least 60 percent Bermudian owned. So non-Bermudian companies with substantial bulk purchasing power cannot enter the local market as investors and part owners to give much needed economies of scale in local costs of goods to businesses, residents and visitors in the same unrestricted way they can do so elsewhere. Despite these drawbacks, Bermuda's overall economy remains good, even if it is artificially so. Except that export earnings from international company businesses based in Bermuda now greatly exceed tourism earnings from people who visit Bermuda on vacation.
Current Account Surplus
2017. July 31. Bermuda's current account surplus doubled in the first three months of this year to $328 million, compared to $161 million for the same period last year.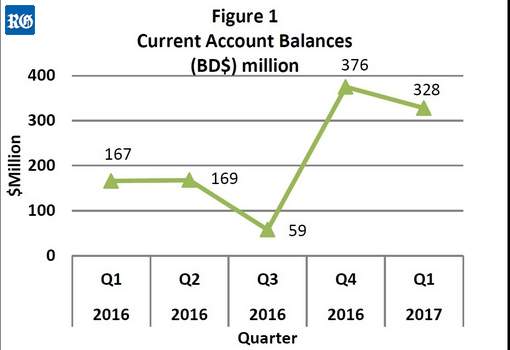 The increase was largely attributed to improvement in the surplus balance on the primary income account as a result of investment income. Imports of goods jumped to $250 million, an increase of $27 million on the same quarter last year. Bermuda Government statisticians said the change was down to an $11 million increase in imports from the US, the country's main trading partner, and a $6 million increase in importation of Caribbean goods, while imports from countries competing in the summer's America's Cup also recorded "large increases". But the value of imported goods from Canada dropped $2 million. In the commodity groups, the increase was reflected mostly in the imports of finished equipment and machinery, which rose by $13 million and $11 million respectively. Basic materials and semi-manufactured items, however, saw a decline of $4 million over the period. Revenue from exported goods went up by $1 million. The figures were contained in government's balance of payments statistics, which reflect the island's economic transactions with the rest of the world. The services account surplus increased by $3 million and stood at $282 million during the quarter. The provision of government services earned an extra $6 million from an increase in revenue from exempted companies tax. In addition, there was a $3 million increase in travel services revenue due to an increase in both air and cruise ship arrivals and a higher per visitor expenditure. Receipts from business services dropped $30 million to $186 million compared to the previous quarter's $216 million and $3 million on the same quarter of 2016. In insurance services, receipts also fell, down $3 million to $20 million. Financial services receipts, however, rose by $1 million to $30 million compared to the same period last year, but showed a $24 million drop when compared to the previous quarter. The primary income account, which shows balances on compensation earned or paid to non-residents and income from investments and payroll tax paid by non-resident companies to Government, recorded a surplus increase of $189 million, up to $580 million for the quarter compared to $387 at the same point last year. The balance of payments report said: "This increase reflected primarily a $180 million rise in net investment income as a result of lower reinvested earnings. "The surplus on other income also grew by $12 million when compared to the same period in 2016." The country's international investment position — the overseas assets of Bermuda residents and companies less overseas liabilities — stood at more than $4.2 billion, up $481 million on the last quarter of 2016.
2016. August 9. Bermuda's current-account surplus narrowed in the first quarter mainly due to a slump in investment income. The island recorded a surplus of $121 million in the January-through-March period, down by $99 million from the same period last year. The investment income recorded by residents and companies based in Bermuda fell by $66 million and was the main reason for the shrinkage of the surplus. Services transactions realized a $33 million surplus, while the deficit of the goods account widened by $6 million to $219 million. In its commentary on the Balance of Payments figures, the Department of Statistics said increased payments and lower receipts relating to business services contributed to the fall in the current-account surplus. Year over year, the value of imported goods rose 2.8 per cent to $223 million. This increase was due mostly to a $12 million increase in imported goods from Bermuda's largest trading partner, the US. In contrast, imports from Canada fell by $6 million while imports of goods from the Caribbean region fell by $3 million. Among the commodity groups, the increase was reflected primarily in the imports of basic materials, and food, beverages and tobacco, which rose $5 million and $4 million, respectively. In contrast, imports of finished equipment contracted by $5 million during the period.
2016. May 11. Bermuda's current account surplus in the fourth-quarter of 2015 was $204 million, down $38 million on the same period in 2014. The deficit on the goods account decreased $7 million to $223 million. There was a $49 million surplus in services transactions, while the surplus on the island's primary income account fell to $410 million in the fourth-quarter. A balance of payments and international investment position bulletin, issued by the Department of Statistics, noted: "The decrease in the current account surplus reflected mostly a reduction in net receipts for insurance services and a small decline in the surplus on the primary income account. In contrast, the deficit on merchandise trade narrowed due to lower payments for imported goods." The island imported goods valued at $227 million, down 3 per cent year-on-year. There was a $31 million drop in goods imported from the US, while imports from Canada grew by $17 million. Imports of fuel fell $18 million, and imports of food, beverages and tobacco contracted by $4 million. However, there was a rise in imports of finished equipment and transport equipment of $7 million and $5 million respectively. Revenue from exports during the quarter fell by $1 million to $4 million.
2013. July 13. The Bermuda current account surplus increased by more than half a billion dollars year-over-year, recording a surplus of $725 million in the first quarter of 2013. The figure, which represents the difference between receipts and payments in transactions with overseas entities represents a $633 million increase year-over-year. The Department of Statistics' 'Balance of Payments and International Investment Position' report said the surplus on Bermuda's primary income account grew to almost a billion dollars — $922 million in the first quarter of 2013. Services transactions' surplus was $70 million in the first quarter of 2013, while the deficit on the goods account increased by $15 million to $230 million. Bermuda also decreased its net incurrence of financial liabilities by $799 million this quarter, compared to a decrease of $818 million in 2012. The value of goods imported grew 6.8 percent to $233 million during the quarter. Imported goods from the United States increased $27 million, while the value of imports from Canada increased $5 million over the same period. Imports of fuel recorded the largest increase of $14 million. Moderate increases were recorded in the food and machinery categories at $3 million and $2 million, respectively. In contrast, imports of finished goods such as furniture and photographic equipment fell $4 million. Revenue earned from the exports of goods remained unchanged at $3 million during the quarter. Payments by residents for travel (including overseas training and conferences) totaled $61 million. In contrast, transportation outflows increased $1 million and mostly reflected freight payments for imported goods. The services account surplus fell $8 million, with receipts from services transactions standing at $296 million during the quarter. Among the services categories, revenue from business services transactions fell $12 million. This was due partly to a $5 million decrease in financial services related to less fees and commissions collected on transactions with non-residents. In contrast, revenue received from government services increased $1 million while travel services remained unchanged at $46 million. Payments for services from non-residents totalled $226 million in the first quarter, $5 million below the level recorded in 2012. The report explained this outcome reflected a $4 million decrease in insurance services, specifically reinsurance premiums paid by resident firms to non-resident entities. The primary income account, the balances on compensation earned or paid to non-residents, and income from investments and payroll tax paid by non-resident companies to the government, grew $656 million. The surplus on the primary income account increased to $922 million from $266 million in 2012. Income receipts advanced $564 million, reflecting mostly dividend earnings on direct investment. Employee compensation increased $13 million, while income payments to non-residents fell by $93 million to $72 million. This decrease was due to a sharp decline in direct investment income paid overseas on equity and investment fund shares. Secondary income recorded a $38 million deficit. The report explained that the secondary income account reflects the balances on donations, insurance claims and other transfers between residents and non-residents. The deficit on the secondary income account increased $2 million from a year ago. Transactions on Bermuda's asset accounts resulted in a net lending position of $762 million. Factors influencing this performance include Bermuda's net acquisition of financial assets which resulted in a reduction of $37 million compared to a reduction of $604 million in 2012.
Employment
See Bermuda Government's Department of Statistics.
The figures below do not include race. It is estimated that of Bermuda's current total resident population of about 65,400 about 38,674 or 62 percent of all employees in Bermuda are black, with whites and others about 24,726 or 39 percent.
| | |
| --- | --- |
| Total working population (excludes juveniles, retirees and those unable to work) | 39,457 |
| Hotels, restaurants and clubs | 5,607 |
| Public Administration (excludes employees in Bermuda Government-owned hospitals and quangos | 4,054 |
| Banks, insurance and real estate | 3,359 |
| Business services | 3,330 |
| International entities | 3,201 |
| Average employment income overall for the population and all ages ($55,000 in government, $78,666 in private sector including international insurance company executives based in Bermuda) | $46,414 |
| Hours worked per week | 33.3 |
| Unemployment - among Bermudians allowed to work | estimated 3 percent |
| Male employees | 50 percent |
| Female employees | 50 percent |
| Bermudian employees | 70 percent |
| Expatriate employees (on Work Permits) | 30 percent |
Overall, women outnumber men in population (32,019 compared to 30,258 men) in the community services, education, financial sector, retail and wholesale trades. Men outnumber women in the transport sector. Nearly 75 percent of the new jobs created in 1999 were in professional and managerial posts. Non Bermudians number 7,521 persons. Work Permits (see separate file) are required to be applied for by all employers (except the Bermuda Government) of non Bermudians without local spouses. The Bermuda Government reaps a healthy annual revenue benefit from the desire of employers to employ non Bermudians.
The majority of employees in Bermuda work for a relatively small number of businesses. Some 113 companies, representing just over 3 percent of the total number of locally based business organizations, employ 18,517 people, 54 percent of the entire work force. In the international sector, 262 non-Bermudian companies with an active physical presence employ an average of 8.7 persons each. By contrast, some 2,741 organizations, nearly 75 percent of all employers, provide a total of 4,422 jobs, representing 22 percent of the work force. Most employers in this category employ five or fewer people.
Employment Rights. Under the Employment Act 2000, employees are entitled to legislated benefits from employers. They include two weeks holiday (vacation) after one year; no unauthorized docking of salaries or wages; a written contract after one week's employment; a 40-hour week; time and a half, or time off, after 40 hours, with possible exemptions; paid Public Holidays; a rest period of at least 24 consecutive hours each week; 8 days paid sick leave per year; unlimited time off to attend ante-natal classes for pregnant employees; 8 weeks paid and 4 weeks unpaid maternity leave after one year; statutory notice period; bereavement leave of 3 days unpaid or 5 days unpaid if traveling abroad; disciplinary procedure; time off for court duty, voting, meeting of Government Boards, Bermuda Regiment, Reserve Police, Senate or House of Assembly; notice of 1 week if weekly paid, 2 weeks if bi-weekly paid, 1 month in any other case; employers cannot sack employees for complaining about their treatment; an employees can take an employer to the Employment Tribunal for unfair or constructive dismissal.
Exempted Undertakings Tax Protection Amendment Act 2011
Extends a guarantee that the Bermuda Government will not charge exempt companies any taxes on profits, income or capital gains. The amendment prolongs that guarantee until 2035. While then-Premier Cox said the Government had no intention of starting taxation based on profit, income or capital gains, she said the amendment was meant to reassure businesses and make them more comfortable investing in the Island. She said that extending the agreement had always been on the Government agenda, but had been put off in the past because of international concerns that the exception could lead to harmful business practices, favoring international businesses over local.
Financial Assistance to residents from Government
2013. June 29. Tougher requirements for Financial Assistance proposed by Community Minister Wayne Scott have been approved in Parliament. The amendment won broad support from Opposition MPs. They include requirements that recipients register with the Department of Workforce Development — and give the Director of Financial Assistance the power to require recipients to attend life skills programmes or vocational training. An able-bodied recipient who has failed to find a job after three months could be ordered to do up to 15 hours a week of community service. They may also be referred for substance abuse assessment. The Minister said the amendments allowed Government to offer assistance beyond mere financial help. "We have given our people fish — we will now aim to teach our people how to fish," Mr Scott said, adding that Financial Assistance is not "a right." More and more people are applying for assistance, he said. For the 2012 to 2013, fiscal year there were 385 in the second quarter and 498 for the most recent quarter. Shadow Minister Michael Weeks said the amendments would "bring Financial Assistance into the 21st century". However, he added that not all applicants needed parenting and financial classes. "We have to be careful we don't just put that blanket over all applicants," he said. Progressive Labour Party MP Glenn Blakeney called the measures "prudent" but said the Department itself was heavily stressed. "On this side we have no real contention or objection," the former Minister said, but added: "I don't know how Government will find a way to infuse the capital required to reduce the number of clients per case worker." And Independent MP Terry Lister cautioned that measures designed to decrease clients shouldn't frustrate people or chase them away. "Ultimately, the real help people will get is through jobs," Mr Weeks said, challenging Government to say more on plans to generate employment. Mr Lister supported life skills requirements but added: "What we don't have is any control or knowledge of its application in reality." PLP MP Michael Scott agreed: "We don't need to add, in bad economic conditions for people looking for financial assistance, added stress." Mr Scott called for a "more human, respectful approach" in the rush to address social problems, and said training was the trigger for innovation. "We can do better," Mr Scott told MPs, asking that training be looked into going forward. PLP MP Wayne Furbert told the House the numbers of people on financial assistance were "not really that high". He speculated whether rent assistance could even be cut because rents have fallen. Mr Furbert threw in his support but said: "I hope they don't hurt those who really need it." In a committee debate, Mr Scott was challenged by Mr Blakeney to explain protocols for assessing substance abuse problems. Mr Lister asked to hear what life skills programmes were in place. The Minister said a Department social worker would make referrals, and that life skills programmes were offered by the Department of Workforce Development, the National Training Board and Bermuda College. Parenting classes are offered under Government's Child Development programme. Their frequency would be as deemed necessary.
2012. April 17. The number of people on financial assistance has nearly doubled in the past seven years, and the amount they're receiving has dramatically increased. Government figures show 1,375 people are claiming assistance, up from 1,350 last year, and a rise of 94 percent from the 714 who claimed in 2005/6. The average monthly payout is now $1,855, up from $1,110 in 2005/6, an increase of 67 percent. These figures are in addition to the 390 people currently claiming an average $775 child day care allowance, although the number claiming that benefit has decreased from 600 in 2009/10. Seniors and disabled people make up the majority of those on financial assistance. About 38 percent are seniors and another 38 percent are people with temporary or permanent disabilities. Fourteen percent are employed people who don't earn enough to make ends meet, while the remaining ten percent are able-bodied unemployed people. To qualify for financial assistance, a family's income must be less than its living costs. The amount they get is calculated by the simple formula of subtracting their income from their expenses. For more information on financial assistance, call 297-7600 or 295-5151, extension 1608.
In general, non-Bermudians may not be eligible for this, period, not even if they lose their Bermuda employment or fall on hard times. In the case of Bermudians, anyone who owns or has recently sold their home will no longer be entitled to cash handouts from Government. The money-saving crackdown on those who are eligible for financial assistance were announced in 2011 due to Government's reduced budget. To be eligible for a childcare allowance the income threshold is now $50,000, reduced from $70,000. Only one month's arrears will be paid on expenditure items to encourage people to be "more timely and responsible." Property is now considered an asset so anyone who owns property is no longer eligible to apply for help. And people who sell on property can't apply for handouts within five years of the transaction. The raft of changes also includes the axing of mortgage interest/ areas, property insurance, personal/household and comfort allowance. Returning Bermudians must have lived on the Island one year before applying for assistance and if a person loses their job because of their own actions, they have to wait three months after the date of termination. It was also announced that the Department of Financial Assistance, of the Ministry of Youth, Families, Sports and Community Development, would be giving out about 600 non-cash grocery cards. Each card will be activated monthly with the approved food allowance and will replace paper food vouchers.
Foreign Account Tax Compliant Act (FACTA)
See http://en.wikipedia.org/wiki/Foreign_Account_Tax_Compliance_Act.
Its impact on Bermuda's insurance, funds and banking industries
Those likely to be affected by FATCA include US citizens and green card holders resident in the US and living abroad such as Bermuda who have foreign financial bank accounts, financial interests and other holdings; US residents for income tax purposes (those who do not have a US passport or citizenship but have resided in the US long enough to meet the substantial presence test), and others with US connections such US owned foreign entities. Also liable are US-classified foreign financial institutions and non-financial foreign entities including all those with US proprietary investments, US account holders, or other US financial dealings. FATCA cooperation is both encouraged and enforceable in Bermuda because Bermuda has signed Tax Information Exchange Agreements (TIEAs) in the last few years with the United States and other countries. TIEAs, tax treaties, and Intergovernmental Agreements all aid in mutual information exchange cooperation. In cases where tax evasion, etc, is suspected or determined, the US Internal Revenue Service has profound regulatory powers (agreed on by the TIEAs and tax treaties) to request detailed significant confidential information on specified US individuals and related parties.
2013. November 25. Minister of Finance Bob Richards today signed the UK FATCA Intergovernmental Model 2 Agreement, IGA Model 2 with the United Kingdom. Signing on behalf of the UK was the Secretary to the Exchequer, the Hon. David Gauke. A press release announcing the move quoted the Minister of Finance, who said: "The signing of IGA Model 2 is in keeping with the Government's international tax strategy which is to demonstrate our commitment to tax transparency and automatic exchange of information, and ensure Bermudas reputation as the premier international financial jurisdiction in which to do business. The significance of choosing IGA Model 2 versus IGA Model 1 means all Bermuda's financial institutions must identify all UK residents with interests in Bermuda and automatically report them to HM Treasury on an annual basis. HM Treasury will receive the information on those residents in bulk form and will be able to issue group requests for information in relation to recalcitrant clients of Bermuda financial institutions." Recalcitrant clients are persons who refuse consent to allow the financial institution to automatically share their information. Additionally, where HM Treasury initiate investigations on a person with respect to possible tax evasion, a request for information can be made under the UK Bermuda Tax Information Exchange Agreement. Utilizing this method of automatic exchange of information guarantees the rights, safeguards, and confidentiality of the information received in regards to those persons.
May 22, 2013. More than 250 local industry professionals were told "now is the time to take action in preparation for FATCA", during KPMG's second FATCA forum, held earlier this week at the Fairmont Hamilton Princess. Building on the topics raised during the 2012 FATCA forum, the interactive session again asked the question "Are you ready for FATCA?" and delivered the message that as we approach the looming FATCA threshold dates, it is clear that FATCA is not going away. Discussion covered a wide range of topics, including FATCA from a global perspective; Bermuda's response to FATCA; the Intergovernmental Agreement (IGA) models; FATCA's potential impacts on business in Bermuda; and the cost of compliance and impact on customers, investors and counterparties. Describing why KPMG in Bermuda felt it was important to run a second FACTA forum for Bermuda professionals, KPMG managing director Charles Thresh, said; "This US legislation will have far-reaching consequences for the financial industry worldwide and Bermuda is no exception. If companies haven't yet started planning for FATCA, it is not too late to become compliant, but the window is closing and the time to do so is now." A key component of the panel portion was discussions around the IGA models, with particular interest on the differences between Models 1 & 2, the potential benefits and impacts of a Model 2 IGA, and the potential impact of FATCA on Bermuda's insurance, funds, trust and banking industries. Additional analysis was also sought around the final FATCA regulations, as issued January 17, 2013, and a high degree of interest was shown around the compliance timeline, strongly echoing last year's forum. In the wake of the timeline discussion, consensus again reflected that the time for Bermuda companies to act on FATCA is now. Describing the global implications of planning and preparation, David Neuenhaus, KPMG global FATCA lead partner said; "How companies transition to FATCA compliance will have a significant impact on their relationships with their customers, investors, counterparties and services providers. Companies who are early adopters of a robust compliance programme will have the competitive advantage — so a timely response is key." This year's forum was led by Charles Thresh, Managing Director of KPMG Advisory, Bermuda with keynote address provided by KPMG Global's David Neuenhaus and Daniel Dzenkowski, and additional local market insights from KPMG FATCA team members including Catherine Sheridan Moore, James Berry and Will McCallum. In addition, valuable industry insights were provided by Kiernan Bell, managing partner, Appleby; Alison Morrison managing director, Oyster Consulting; Peter Pearman, partner CD&P; and Lyndon Quinn of HSBC.'
2013. On April 17, it was announced that Bermuda is set to sign on to new US imposed regulations to combat tax evasion by Americans, said Finance Minister Bob Richards. And similar arrangements with the United Kingdom are certain to follow. According to Mr Richards, Government will decide how Bermuda will comply with the US Foreign Account Tax Compliance Act (FATCA) which would require foreign financial institutions to automatically make available to the Internal Revenue Service details on accounts held by US taxpayers or by foreign entities in which US taxpayers own a substantial interest. Mr Richards said Bermuda had little choice but to accede to the US demands, and that the UK has asked for a similar arrangement. Government had waited to see how other jurisdictions would respond to the US demands and is now in a position where a decision will be made in a matter of weeks, Mr Richards said. All offshore jurisdictions are "having our hands forced," he added. "It's a question of how we go about it, how we negotiate it. There's a couple of different models that are acceptable to the US. We've been examining which one is best for us. That decision will be made very shortly." Bermuda's Tax Treaty with the US already provides for information to be passed on to the US Government, upon request. "The big hurdle here with FATCA is that this is now being taken a giant leap further where they are demanding that information on their citizens overseas be provided automatically by way of computer data. Because the US has such a big stick they can make this demand and they can make it stick. I don't think there's any question of whether we are going to do it. We have to. And the United Kingdom government has basically said to us 'whatever you do with the US, you have to do with us.' The international environment, as it relates to tax matters, is such that offshore financial matters are under a lot of scrutiny and we have to make the adjustments that are in the interests of Bermuda so that we can stay in business and grow our businesses." But Bermuda does not face the same kinds of threats to its business from such scrutiny as other jurisdictions which thrive on secrecy, he noted. "Bank secrecy, data secrecy — we gave that up in 1986-88 (with the US Tax Treaty). So it's not a big issue here," he said. But Bermuda does get lumped in by international media with other jurisdictions, such as the British Virgin Islands, which are tax havens and which help people hide huge sums of money. "We try extremely hard to differentiate ourselves from countries whose principal business is hiding money. Our principal business is risk management. And we provide that risk management to most of the major nations of this world. We provide value here in Bermuda." While Bermuda shares some attributes with other offshore financial centres, such as size, British law and good weather, "what we actually do in Bermuda is different. And it's a challenge for us to have to continue to highlight that differentiation in the face of an onslaught of being damned by association." Mr Richards continued: "There is no secrecy, we are not a tax haven. Is the US a tax haven? The biggest tax haven in the world is the state of Delaware. Let's forget about these silly labels. Companies, particularly multinational companies operate in a way to minimize their taxes. Their shareholders consider that to be a sworn duty — to mitigate their taxes." Still, larger and more powerful jurisdictions are constantly seeking ways to get more tax revenue into their national coffers, and offshore jurisdictions are an obvious target. "It is a threat, there's no question about that. We are a guppy swimming in an ocean of sharks. There's no question about that. We are fully aware of that."
Foreign portfolio holdings
2016. December 2. Bermuda had foreign portfolio holdings of more than half-a-trillion dollars last year, predominantly through its financial services sector. At $505.6 billion, that was down 2 per cent on 2014. The decrease was attributed to a decline in the assets of the insurance sector and net assets values of investments funds. Globally cross-border holdings fell 5.6 per cent last year. The insurance sub sector accounts for 84 per cent of the island's total foreign portfolio holdings, followed by investment funds, banking and the Bermuda Government. While the island does not feature in the world's top ten places with the largest foreign portfolio holdings, it does account for a chunk of the $46.2 trillion of global cross-border holdings of securities. The insight comes from data released for the first time by the Bermuda Monetary Authority. Since 2001, Bermuda has been participating in a voluntary global investment survey, under the auspices of the International Monetary Fund. The Co-ordinated Portfolio Investment Survey tracks the cross-border holdings of portfolio investment securities in 82 countries. The information shows where Bermuda's financial services entities invest assets, and which countries are investing in Bermuda. As a group, the island's insurers and reinsurers, investment funds and banks heavily favour the US for their portfolio holdings, with $293.7 billion invested in the country, up 10 per cent, and representing 58 per cent of the overall total. The next most popular destinations for portfolio investments were Britain and Canada, accounting for 7 per cent and 4 per cent, respectively. Cayman Islands, Luxembourg and France account for 3 per cent each, with the remaining 22 per cent spread elsewhere around the world. Bermuda's derived liabilities, which are the value of securities held by non-residents, were $479 billion at the end of 2015, a decrease of 1 per cent. Derived equity securities accounted for 89 per cent of the total, while debt securities, both long and short, made up the remainder. The island's foreign portfolio holdings consist mainly of debt securities, which last year totaled $398 billion. At present, Bermuda collects foreign portfolio holdings data from the government and financial services industry only. The BMA report noted that the financial services industry "is the biggest sector in Bermuda and contributes over 60 per cent of Bermuda's economic output". The insurance sector heavily dominates the island's foreign portfolio holdings and has done since the first investment survey was conducted in Bermuda in 2001. The sector's foreign portfolio holdings had a $425 billion value at the end of last year. Investment funds were the next biggest in terms of foreign portfolio holdings with $68 billion, followed by banks with $9.4 billion and the government with $2.1 billion. Debt securities, the vast majority being long-term, account for 88 per cent of the insurance sector's foreign portfolio holdings, with the remainder in equities. Investment fund foreign portfolio holdings in Bermuda have fallen from a peak of $209.8 billion in 2007 to $68 billion last year, which was $12 billion lower than in 2014. The net asset value of the funds was $144 billion. Unlike the insurance sub sector, the foreign portfolio holdings of investment funds contain a bigger percentage of equities, at 80 per cent, with debt securities accounting for 20 per cent. The banking sub sector's foreign portfolio holdings were almost exclusively debt securities, with equities representing 1 per cent. Government's foreign portfolio holdings were divided between equities, at 84 per cent, and long-term debt securities, with a very small portion of short-term debt securities. Geographically, portfolio investment securities issued by the US account for $1.9 billion, or 89 per cent, of government's holdings. Bermuda's derived liabilities, that is securities held by non-residents, were down 1 per cent on the previous year, at $479 billion. These liabilities consist mainly of equity securities accounting for the remaining 11 per cent. Regarding the Bermuda survey, the BMA stated: "The primary purpose of this study is to provide countries with systematic estimates of their foreign portfolio assets, at market value, and to enhance the quality of statistics on global capital flow." It added: "Overall, the CPIS exercise provides countries with systematic estimates of their foreign portfolio assets by security type and geographical allocation, and enhances the quality of statistics on global capital flow. Bermuda's participation contributes to an improved understanding of the jurisdiction as an international financial centre and re-emphasizes Bermuda's commitment to a high standard of transparency."
Government bonds, National Debt and Debt Ceiling
2017. July 7. Imagine what the Bermuda Government could do with half a million dollars — every single day. It's a relevant question as we approach the General Election as this is the amount the island spends to service its huge debt. The estimated $186 million in interest payments and money set aside to pay down principal later on, exceeds spending on the Bermuda Government's largest ministry, Health and Seniors, by a full $23 million. And it amounts to about $75 a week for each registered voter. The impact the $2.4 billion net debt has in limiting what the Government can do should make it a major issue for voters. It restricts what the rival parties can promise in the ongoing campaign — or to be more accurate, it will put tight limits on what they would be able to do in reality, once in office. Voters would therefore be wise to eye with suspicion promised major capital projects or expensive new initiatives that come without price tags or specified means of funding. Bermuda's net debt was just $277 million in March 2008. In the nine years since, it has grown almost nine fold. During the campaign, there will inevitably be much discussion of who is to blame for the island's indebted plight, as voters consider who is best equipped to tame the debt beast. What is clear from the numbers is that debt growth has slowed in recent years. The March 2008 to March 2017 period included five Progressive Labour Party budgets, which resulted in net debt growth of an average $272 million per year, while the four OBA budgets have seen the debt grow by $230 million per year. In percentage terms, the PLP's five budgets grew the net debt by an average 41 per cent per year, while the OBA's four budgets grew the net debt by an average 13 per cent annually. There are multiple reasons why public debt might rise more steeply in a given period than another. Bermuda's economy was in recession between 2009 and 2014, a situation that put government revenues under pressure as the tax base contracted, while increasing the need to spend on social programmes and economic stimulus. Then there is the effect that a growing debt itself has on year-to-year finances of a growing debt burden. Each year the government posts a deficit, the debt grows and so do debt-servicing costs for the following year, making it progressively more difficult to balance the budget. As an example of how fast this burden can snowball, in the fiscal year 2005-06 the Bermuda Government spent just $10.5 million on interest payments — just eight years later when the OBA announced its first Budget, the figure was ten times more than that. Further exacerbating the problem is that the government is obliged to pay 2.5 per cent of net debt into the Sinking Fund each year to help pay down debt. And the greater the debt is, the higher that amount will be too. The late Larry Burchall, in his repeated warnings on the island's fiscal deterioration, called it Nanci the Spider — the voracious creature gobbling its way through public money as a direct consequence of government spending beyond its means for a prolonged period, leading to a spiraling debt problem getting out of control. And in order to fairly compare the different administrations' fiscal performance, the debt-service headwind — or Nanci's ever-growing appetite — should be factored in. In the 2008-09 Budget, the PLP had a fiscal headwind of $27.6 million — $18.2 million in interest, plus a $9.4 million payment into the Sinking Fund. From then until the last PLP Budget in 2012-13, the average impact of debt servicing on the deficit was $54.2 million per year, as the government forked out a total of $271 million over five years. This does not tell the full story however, as in 2009-10 and 2012-13, the PLP Government made interest payments out of the Sinking Fund, effectively deferring Nanci's impact on the deficit. The OBA inherited net debt of about $1.47 billion and in its first Budget, debt-servicing costs were close to $147 million. In their five years, if projections for the current fiscal year are included, the OBA's average yearly debt-service headwind has been $168 million, with the government paying out a staggering five-year total of $842 million in interest and Sinking Fund payments over five years. The statistics make clear that the OBA inherited an extremely challenging fiscal situation complete with ministry-sized debt-servicing costs. But the rate of increase of the debt has slowed significantly during their tenure. Whoever wins the election will have to wear the same debt-servicing straitjacket, as only when the Bermuda Government can stop posting budget deficits will Nanci's appetite stop growing. And further discipline will be necessary for years to come to actually start paying off the huge debt. Both parties say they want to balance the budget within short order, with a mixture of spending cuts, revenue increases and economic growth. History has shown that taming Nanci will be easier said than done.

2017. February 25. Minister of Finance Bob Richards issued a stark warning on the importance of tackling the island's debt and added that a casual attitude towards extra borrowing would be "irresponsible and dangerous." He made the comments in his annual Budget statement, as he projected that Government would spend around $135 million more than it will take in over the coming 12 months. Debt servicing costs of $186 million are now "the largest line item in the Government's budget" and amount to more than $500,000 per day, he said. Allowing the debt to grow would limit Government's ability to provide public services, trigger credit ratings downgrades that would in turn impact local banks' ratings, potentially leading to a real-estate slump and mortgages being called. He said while no one wanted to see such a scenario, "Government must protect against such risks by taking action now so that it never happens. The net public debt will reach nearly $2.4 billion by the end of next month, rising to $2.47 billion by March 31, 2018. Debt servicing costs now outstrip expenditure on the largest ministry, Health and Seniors, by more than $23 million." Increases in payroll tax rates for high earners and employers, a hike in customs tariffs and a new financial services tax that will hit banks and local insurers, will enable the Government to raise revenues and remain on target to eliminate the deficit by 2019. Government plans to increase revenues by 4.6 per cent to $1.04 billion, while reducing spending by 1.6 per cent. For the year ending March 31, 2017, the Government took in less than expected and spent more, resulting in a revised deficit expected to be $212.2 million — nearly $13 million more than had been planned. In the House of Assembly, Mr Richards went to great lengths to explain why more painful measures were necessary, describing the national debt as "the single biggest threat to the future prosperity, standard of living and social stability of the people of Bermuda. For every dollar of revenue that the Government takes in during this upcoming year, 17.7 cents will come off the top to service the debt," Mr Richards said. "In 1998, it was 2.8 cents. The greater the debt, the larger the debt service costs; the larger the debt service costs the less money Government has available for crucial social and safety services. The danger point here is simple: increasing the national debt will increase debt service and crowd out Government's ability to perform its core services to the community." He said there were still "some who remain sceptical about the seriousness of this threat" and who wanted Government to borrow more "to build something, like a new airport terminal". "The real consequences of such action is debt service costs crowding out Government's ability to fulfil its obligations to the people of Bermuda for education, healthcare, social services and security. Such casual attitudes to the national debt are both irresponsible and dangerous." The Ministry of Finance projections show the deficit being eliminated by 2019-20. But to achieve that, it plans to generate a further 6.5 per cent increase in revenue in 2018-19, as well as a 2 per cent cut in spending. Mr Richards said Government had managed to reduce annual debt servicing costs by $4 million through a $665 million bond issue last October with a yield of 3.717 per cent — a record low coupon for Bermuda Government bonds. While $188.9 million was new borrowing, the rest made of higher-yielding debt that was retired. Mr Richards said that with interest rates on a rising path, financing future deficits would become more expensive. "The opportunity the Government recently took to refinance bonds at ultra-low rates may not likely present itself again in the near future," he said. A $180 million debt repayment is due in 2019-20.

2013. August 7. Fitch Ratings has assigned a long-term foreign currency rating of 'AA-' to the Government of Bermuda's USD750 million Global bond (4.854% coupon) maturing in 2024. The proceeds will go toward repaying public debt and fund current and future budget deficits, the rating agency has announced. Fitch stated that the rating is in line with Bermuda's long-term foreign currency Issuer Default Rating (IDR) of 'AA-' with a negative outlook. On June 7, 2013 Fitch downgraded Bermuda's ratings and revised the outlook to negative from stable. Explaining its decision to rate the bonds AA-, Fitch said: "Bermuda's 'AA-' ratings are supported by Bermuda's wealth — the fourth-highest GDP per capita among Fitch-rated sovereigns — and its high savings rate relative to its 'AA' peers. Bermuda maintains its competitive advantage as a domicile for reinsurance and financial services companies due to its sophisticated legal system, strong regulatory framework, simple tax regime, proximity to the US and highly-skilled human capital. "Bermuda's ratings are constrained by years of economic contraction, sustained high fiscal deficits, and increased government debt burden. The sovereign's ability to sustain higher levels of debt is constrained by its narrow revenue base and its underdeveloped domestic public debt markets. Bermuda's lack of economic diversification and excessive reliance on mature industries is limiting its growth prospects. The Negative Outlook reflects continued uncertainty as to Bermuda's fiscal and economic trajectory and the lack of a credible fiscal consolidation strategy. The rating on the aforementioned bonds would be sensitive to any changes in Bermuda's long-term foreign currency IDR. Lack of a credible plan to consolidate public finances, continued deterioration in the sovereign's fiscal metrics and weaker-than-expected economic growth could put downward pressure on the ratings. Regulatory changes that hurt international companies operating in Bermuda could also undermine creditworthiness. Resumed economic growth and concrete signs of fiscal consolidation and debt stabilisation could reverse the current Negative Outlook on Bermuda's ratings."

2013. August 6. The Bermuda Government's bond issue expected to raise 50 million Bermuda dollars will take place in September. Finance Minister Bob Richards said: (It means) the average Bermudian can invest in a Bermuda dollar bond. Mr Richards said he would prefer the issue to be offered through the local banks rather than the Government. It means retail customers can invest in Bermuda dollar bonds; companies, investors, estates who are not happy with the returns (at present). The Minister said he could not prejudge what the interest rates would be, and could not say how they would be priced. He did indicate that the interest rates would probably be in a similar range to the US dollar Bermuda Government bond sale, where demand for the $750 million issue has meant a yield of 4.85 percent. There is an appetite among Bermudian men and women for a Bermuda Government piece of paper, he said.

2013. June 25. Government is set to borrow up to $800 million to cover budget deficits for the next three years. Finance Minister Bob Richards yesterday explained that borrowing for the medium term in the current low interest rate environment will save the taxpayer millions of dollars in financing costs. "We judge that we are in the last phase of the ultra low US dollar interest rate cycle," Mr Richards said. "As the US economy gains strength, US dollar interest rates, and therefore bond yields and borrowing costs, are highly likely to rise. Borrowing three years' worth of deficits now will save the Government tens of millions of dollars of financing costs. This will give us certainty of financing as well. Instead of borrowing on a year to year basis in a rising market, we will be locking in three years at low rates." The money will be raised this summer through a bond issue divided into two tranches, a local Bermuda dollar denominated one and a US dollar one. Local retail Bermuda dollar investors, Bermuda based US$ institutional investors and global institutional investors are the likely targets for the bond issue, the Minister said. The unprecedented strategy will not fall foul of borrowing rules, the Minister said, because two years' worth of borrowing will be placed in the Sinking Fund and "prudently invested." "Public debt is defined by a simple formula: gross debt outstanding minus money in the Sinking Fund," he said. Government committed in March 2013 to keep public debt at such a level that the net debt/GDP ratio is capped at 38 percent, that the net debt/revenue ratio is below 80 percent and that the debt service cost/revenue ratio is below 10 percent. Mr Richards estimated the new strategy will save between $20 million and $40 million depending on future interest rates. He stressed that Government is committed to eliminating deficits but said operational deficits will likely continue through the next three to four years. He touted the new strategy as an improvement over the former administration. He said: "Although the previous administration gave lip service to the inauguration of a medium term financial plan, their actual method of debt financing remained unchanged: i.e. the method was to borrow money either through bank lines or bond issues for the current fiscal year. There has never been multiyear financing, until now." He said the strategy will show rating agencies that Government is following their recommendation to tap into local money markets. "The Ministry is currently reviewing offers from a variety of investment banks to manage this upcoming bond issue and will announce the successful manager/managers in due course. We are confident that there is significant appetite in the local retail market for government bonds. We have already apprised the rating agencies of our change in strategy." The Government Loans Act will be amended shortly "to allow money to be deposited and extracted from the Sinking Fund, as it was not designed for multiple year budgeting." Government raised the debt ceiling to $2.5 billion earlier this year — a $1 billion increase. The current operating deficit is $331 million and the net debt is projected at $1.75 billion by the end of this fiscal year. Government projects public debt is likely to rise to just over $2 billion by 2017, but could be as high as $4 billion under a worst-case scenario based on an extrapolation of current deficit and debt trends.

2013. February. Government's Debt ceiling to rise again. A new statutory debt ceiling of $2.5 billion should not be taken as an indication that borrowing under the new Government will increase by another $1 billion, Finance Minister Bob Richards insists. Mr Richards told the House of Assembly that the new ceiling is at a "realistic" level — in contrast to the debt ceilings of previous administrations. "It is the view of this Government that what has become the annual ritual of ratcheting up the debt ceiling gives the impression that there is indeed no debt management plan at all. This is a negative insofar as capital markets are concerned, the same entities we rely on to finance this debt. Therefore, we will be laying legislation, for the approval by Parliament, to raise the authorized debt ceiling to $2.5 billion. It is important to note that this only authorizes the limit of Government borrowing, it does not prescribe the actual amount of borrowing. We do not expect the borrowing requirement to take us to that level, but we want a level that is pragmatic, realistic and static. The only adjustment to this ceiling I would like to see is an eventual downward adjustment. But new rules will be implemented to keep the debt affordable. In conjunction with the new ceiling, the Government commits to keep public debt at such a level that the net debt/GDP ratio does not exceed 38 percent. Additionally, Government recognizes the desirability of achieving a net debt/revenue ratio that is below 80 percent and a debt service cost/revenue ratio that is below 10 percent. We will work toward reducing these ratios to such a level over the medium term." Mr Richards was reminded at the post Budget press conference that he had harshly criticized former Finance Minister Paula Cox for using debt/GPD ratio as a measure of affordability of the national debt. But he said other performance measures were being used and Government was not comparing the country to bigger jurisdictions as had the previous administration. Mr Richards' forecasting envisages a likely "base case" scenario where debt could rise to just over $2 billion by 2017. But he warned the debt could end up being as high as $4 billion if corrective action is not taken. "The most noteworthy of the scenarios is the worst case because it merely extrapolates the current real life deficit and debt trends. In other words if we do nothing and economic conditions remain as they are now, Bermuda is forecast to have a public debt of about $4 billion in five years. Debt service is forecast to be in the area of $300 million per year, making it by far the largest Government 'department'. After paying debt service and salaries there would be little left for anything else. The base case scenario shows debt continuing to rise to just over $2 billion and declining thereafter. The best case sees debt rolling over faster and being somewhat lower after five years. Again, we are working toward and hoping for the best case but the highest probability scenario, ie the expected case, is the base case."

2013. January 3, 2013. It was reported by the Bermuda Chamber of Commerce as a key financial concern, that the Island's debt then stood at $1.4 billion, roughly $28,000 per Bermudian, with a debt-to-GDP ratio of 25 percent. Since 2005, the debt has shot up more than 700 percent, with today's total coming with fiscal year interest payments of $85 million or approximately $233,000 a day.

2012. The island was in a vulnerable position, having to fork out nearly $100 million a year just to service the debt it has taken on.

Bermuda's debt soared from $176 million in 1998 to almost $1.5 billion in December 2012 - an over 600% percent rise. The legal debt ceiling was $1.25 billion. The Ministry of Finance claims this is OK because Bermuda's debt-to-GDP ratio is lower than other countries. But the smallness, openness and fragility of the economy makes this a contentious argument. GDP doesn't pay back debt, the tax payers have to pay back this debt, plus the interest which is budgeted to be $70 million in 2011. Combine that with mandatory contributions to the sinking fund, the Bermuda government debt service is about $95 million per year. This is money that has to be set aside before civil servants' salaries, financial assistance or any other contractual obligation is paid by Government. This burden of debt severely limits the amount of assistance the Government can provide Bermudians during difficult economic times such as the present.

2012. June 26. Government raised nearly half a billion dollars in a four-times oversubscribed bond sale. Institutional investors receive an interest rate of 4.13 percent on the $475 million of ten-year bonds sold. Some of the proceeds will be used to restructure more expensive and shorter-term debt. More than 106 investors placed orders from places including from Austria, Belgium, Bermuda, Brazil, Chile, France, Germany, Hong Kong, Israel, Italy, Luxembourg, the Netherlands, Singapore, Switzerland, the UK and US, the Finance Ministry said. It also stated the use of proceeds included the refinancing of more expensive and shorter term debt with $180 million representing new debt; the refinancing of a $200 million 4.95 percent loan facility due 2014 will result in savings for the country over the next two years; and the low pricing and very large order book confirmed that the markets continue to have a very favorable view of the Bermuda credit story despite ongoing economic challenges and the general volatile backdrop stemming from the European debt crisis. The debt sale came on the same day that Fitch downgraded Bermuda's sovereign bond credit rating to AA from AA+.

2012. March. Bermuda's lawmakers raised the Island's debt ceiling from $1.25 billion to $1.45 billion, over the objections of Opposition MPs. Then-Premier and Minister of Finance Paula Cox had signaled her intention to raise the statutory debt limit in her Budget Statement. She defended Government borrowing in her introduction to the Government Loans Amendment Act 2012, repeating her argument that it is affordable. Ms Cox said her administration had invested in hard assets and provided an economic backstop through concessions and relief for businesses and people to assist them through the economic downturn. "Since April 1999 to March 2011 this Government has invested over $1.2 billion in hard assets," the Premier said. "These assets include: modern and upgraded school facilities; modern public transportation, other social infrastructure such as public housing, senior care facilities and national sports facilities and economic infrastructure such as airport works, docks and bridges. Indeed part of the borrowing requirement in 2012/13 relates to further investment in economic infrastructure at the LF Wade International Airport, namely, building our capacity to take control of Bermuda's commercial airspace." Shadow Finance Minister Bob Richards led the criticism against Government's management of the purse strings, arguing it had put the entire community at risk. "When a business fails a lot of people fail but the whole community doesn't fail. There are no shareholders in the Government, but everybody's a stakeholder." Mr Richards said that the debt would have to be paid off by younger Bermudians and not the current generation of decision-makers. And he denounced the trend of rising debt. "The escalation of debt has been caused by bad decisions. We have a Country of 62 or 63,000 people and the Government of the Country is planning to owe almost a billion-and-a-half dollars. That's a heck of a lot of money. What we have here is built on virtually nothing. And when you put almost a billion-and-a-half dollars of debt in that context, it's a scary thing. It's a very scary thing." He rejected the argument that much of the debt was spent on hard assets saying much of the overspending was on current accounts. "All of this stuff about hard assets is a bit of a smokescreen. This debt is the result of cumulative deficits. It just didn't drop from the sky. The debt was too high and was on an upward trend and Government had not indicated how it would be reduced." Mr Richards said that his calculations showed that the debt per young person under 35 worked out to be about $53,000 and per worker it is $55,000 a near tenfold increase since the Progressive Labour Party came to power. "We haven't seen ten times the amount of hard assets that the Government owns in 13 years. Government has the temerity to tell Bermudians that they shouldn't be worried about this." Bermuda has fought no wars, maintains no "huge employment insurance" system, does not provide huge amounts of aid to developing nations, "yet we have debt levels that are of the same order of magnitude of countries that have all these things." He compared Bermuda's deficit of $3,365 per person to California's debt of $233 per person, Hawaii's debt of $363 per person and Florida's debt of $105 per person. Mr Richards also expressed doubts about Government plans to float a bond locally, saying that he did not believe that would work because "Bermuda dollars are US dollars in Bermuda shorts". He expected that Government would offer them to local pension funds, including the Government pension fund. Mr Richards warned that interest rates would inevitably rise and the cost of servicing the debt could become astronomical. Families Minister Glenn Blakeney said Government was managing finances responsibly. "We've used the money for the people of this Country, especially the people of this Country who were having hard times." He noted that Government had given the $200 million guarantee to Butterfield Bank, which had saved jobs. "That's what we're here to do to help our people and sometimes it takes a little more than you project because nothing is absolute in life. And credit and debt is what makes this world go around in the beginning," he said. Kim Swan of the United Bermuda Party said that Government had inherited a clean set of books in 1998 and young Bermudians would have to deal with the debt problem without any particular indication by the Progressive Labour Party Government that they're going to wrap their minds around moving in the other direction. He stated: "If for the last six years, your expenditure is more than your income, Mr Speaker, and you haven't made any particular effort to reverse that particular trend then the Country has to be concerned. We've been in recessions before but the Country was in better financial shape to withstand it, to help its people." Premier Cox insisted that Government was doing its duty to protect people in tough times. "When times are down, when people are struggling, when they are feeling the pinch in their pocket, they don't want the Government to kick them when they're down," she said. "They want the Government to provide a shield for them. They want the Government to insulate them and their businesses and give them some time to get out of their difficult position. The Government has to, as its job, has to create and use the fiscal space in order to help those who are hurting. Governments either must continue to borrow to bridge the financial gap or they have to cut spending to accommodate the actual revenues. If you do the latter, it will result in public sector downsizing and that will also lead to increased weaknesses in the private sector and in terms of having negative economic growth."

2010. July 14. Government raises $500 million in bond sale. The Bermuda Government yesterday raised $500 million in a public bond offering that was six times oversubscribed. Government will pay a fixed interest rate of 5.6 percent on the 10-year bonds, or a total of $28 million a year. Originally, the intention was to raise $400 million, but then Financial Secretary Donald Scott revealed last night that the strong global demand, which generated an order book of $2.4 billion, had enabled Government to upsize the transaction to $500 million. Mr. Scott added that the debt sale had attracted 146 investors, 10 percent from Bermuda. The other geographical areas of greatest demand were North America (60 percent), Europe (20 percent) and Asia and the Middle East (10 percent). The Government is saddled with a debt burden that has soared in recent years and total debt outstanding was $826 million at March 31 this year. The proceeds of the bond sale will be used to repay a bridge loan covering a revolving credit facility, short-term indebtedness with local banks of around $140 million and to fund ongoing capital expenditure programmes. Finance Minister Paula Cox was said to be overseas and unavailable for comment. Yesterday's sale was managed by HSBC and followed a roadshow designed to drum up global investor interest in the bonds. This involved a delegation led by Mr. Scott, with Assistant Financial Secretary (Economics and Finance) Anthony Manders, Director of Budget Tina Tucker and Economic Adviser Hasan Durham meeting some 35 high quality investors in Singapore, Hong Kong, London, Los Angeles, Boston, New York and Hamilton earlier this year. Mr. Scott said the bonds had been priced at the lowest yield ever offered by a Caribbean region issuer in the US dollar public bond market and it locked an historically low interest rate for the 10-year duration. Mr Scott noted The Ministry of Finance borrowing strategy is set well in advance of a given financial year taking account of long term capacity to repay debt, the view of debt capital markets, the borrowing requirement signaled by planned capital investment in infrastructure for Bermuda's sustained future and other important policy factors. However, the pricing of the bonds attracted criticism from Acting Shadow Finance Minister Grant Gibbons, who said it was bad news for the taxpayer. The Government will undoubtedly spin this issue as a great success as they were able to get subscriptions for the full $500 million offering, Dr. Gibbons said last night. However, in the cold light of day, the community should understand that it is just more debt and that it will cost $280 million in interest payments over the 10-year life of the bonds. In fact, a number of financial observers have noted that the 5.6 percent pricing (at 2.5 percent spread over US 10-year bonds) was at a premium and certainly no bargain to the long suffering Bermudian taxpayer. The Finance Ministry last night stated that included in the deal were major investors from Bahrain, Bermuda, Denmark, Germany, Great Britain, Hong Kong, Israel, Italy, Portugal, Saudi Arabia, Singapore, Spain, Switzerland, and the US, among others. Most of the demand came from institutional accounts, driven by asset/fund managers (66 percent), private banks/retail (12 percent), insurance companies (nine percent), financial institutions (nine percent) and other (four percent). But one potential local investor had been frustrated in his attempt to buy the bonds, having read The Royal Gazette's exclusive story on the offering yesterday morning. The Bermudian caller said he had contacted HSBC, the agent managing the sale, to find out more. He said the bank had not been able to tell him the price of the bonds and added that a bank employee had told him that he was awaiting confirmation that the issue is being offered on a retail level. The caller said: "This is a bond issue for the people of Bermuda. But nobody at the bank can tell me anything about the bond, never mind the coupon."ť Mr. Scott revealed more about the Government's pricing strategy for the historic offering. He said that on Monday this week, the Government took advantage of a positive market window by whispering a price range of US Treasury 10-year bill rate plus around 275 basis points (2.75 percentage points), generating a more than $1.5 billion order book by market close in the US. Based on this strong early market response, the transaction was left open overnight for Asia, Europe and Bermuda at a revised, tighter price range of 262.5 basis points over US, which generated more than $1 billion in additional demand. With an order book approaching $2.5 billion, the Government proceeded to launch and price the deal on Tuesday, July 13, at a revised price of T+250 basis points, the tightest end of guidance. Fitch, which yesterday rated the bonds AA+, said in its commentary: "Bermuda's creditworthiness is underpinned by a high per capita income of over $94,000, low public debt burden and effective management of the business and economic environment. Moreover, Bermuda's well-established reputation as a domicile of choice for (re) insurance and financial services companies provides a basis for sustainable economic growth." But Fitch warned: "Such credit strengths, however, are counterbalanced by the island's lack of economic diversification and small size, which curbs the capacity to absorb extreme shocks relative to other high-grade sovereigns. Policy flexibility is limited by the lack of reserve currency status and a lender of last resort to the financial sector, as well as a limited scope to incur and fund large fiscal deficits."ť

2010. March. Legislation enacted by MPs allowed Government to raise its statutory debt ceiling from $1 billion to $1.25 billion. The move came despite vociferous protests from the Opposition, who said Government's financial stable door is wide open "and the horse is bolting". Then-Minister of Finance Paula Cox announced the plan in the 2010-2011 Budget. She said the decision to raise the ceiling was taken to account for Government debt guarantees that are charged against the statutory debt ceiling. In January 2010 Bermuda's net public debt, excluding the $200 million guarantee to Butterfield Bank, was about $679 million. Public debt is a Government obligation that results from borrowing when tax revenue is insufficient to finance Government expenditure.
Gross Domestic Product (GDP)
See http://data.worldbank.org/country/bermuda.
2017. October 27. Bermuda's gross domestic product — a measure of economic activity — climbed above $6 billion last year for the first time since 2008. While nominal GDP rose by 3.4 per cent, figures released by the Department of Statistics today showed that after economy-wide inflation was stripped out, real GDP fell 0.1 per cent. The construction industry recorded the largest gain in value added of $13.2 million. Sectors that saw the largest declines in real terms were financial intermediation — mainly banking — and international business industries which decreased by $35.1 million and $28.6 million, respectively. International business activity, which represented 26.3 per cent of the economy, remained by far the largest contributor to GDP, despite its value added falling by 2.3 per cent to $1.68 billion. The statement said the decrease was mainly due to a decline in output in insurance underwriting and reinsurance services. But firms offering insurance management, actuarial services and pension consultancy recorded higher output. The construction and quarrying sector delivered an 8.3 per cent increase in output to $211 million, its largest contribution to the economy in dollar terms since 2011. The report attributed the increase in construction activity to work associated with the America's Cup and renovations at the Hamilton Princess. The real estate and renting industry made up 17.5 per cent of the economy and was the second largest contributor to GDP, with activity valued at just over $1 billion. Financial intermediation generated $733.5 million of GDP, as the third biggest sector, while business activities, with $563.4 million and education, health and social work, with $505 million, followed. Public administration's contribution fell to $319 million, its lowest level in dollar terms since 2008, thanks to a decline in government spending. Hotels saw an $11.1 million, or 10.5 per cent, improvement over 2015, as room and food sales rose, but restaurants saw their GDP contribution fall by nearly 4 per cent. The island's total GDP was $6.13 billion, up from $5.92 billion in 2015.
2016. November 9. Bermuda's economy grew in the second quarter of the year, driven by an increase in services exports and higher capital spending. Gross domestic product — a measure of all the goods and services produced by the island — totaled $1,442.7 million, up 2.7 per cent on the same period last year, according to a report published by the Department of Statistics. Real GDP growth — that is, after inflation was taken into account — was 1.3 per cent. It was the sixth quarter of real GDP growth in the past seven and represented a bounce back to expansion after the 0.3 per cent decline in the first three months of this year. The main driver of growth was a $39.7 million increase in the exports of services, mostly generated by increased earnings for travel and insurance services. The exports increase helped to boost the island's net trade surplus by 8 per cent to $24.2 million. Imports of goods and services, which has a downward effect on GDP growth, increased $14.2 million reflecting higher payments for telecommunications, professional and management consultancy services. It was the third successive quarter of imports growth, reflecting a higher demand in the economy for goods and services purchased from overseas. Gross capital formation — or net spending on capital assets, expected to last for more than one year — grew $19 million, or 10.8 per cent in real terms, driven by higher spending on transportation equipment such as boats and vehicles. The figures suggested that the Bermuda Government tightened the purse strings during the third quarter, as government consumption fell 2.3 per cent during the quarter, or 3.1 per cent after inflation. Island residents also reduced their spending, as household consumption fell 1.4 per cent after inflation to $773.4 million.
2016. September 28. Bermuda's economy grew in real terms last year for the first time in seven years, according to government statistics released today. Gross domestic product — the value of all the goods and services the island produces — was $5.9 billion last year, up 4 per cent compared to 2014. After being adjusted for inflation, the increase was 0.6 per cent, the first time real GDP has risen since the 1.1 per cent increase in 2008. The rise in economic growth translated into a 4.1 per cent gain in GDP per capita which was measured at $96,018 per person in 2015. The growth was broad based, with 13 of the total 15 industries recording growth in value added, led by international business and retail, which produced the largest increases by dollar value. The figures also provided evidence that the massive makeover of the Hamilton Princess Hotel and America's Cup-related projects boosted the economy, as the construction sector's contribution to GDP grew by 6.7 per cent. International business activity represented 28 per cent of the island's GDP and the sector's value added rose 5.3 per cent from 2014 to $1.66 billion, driven by increases in wages, salaries and benefits, and investment compensation. Ross Webber, chief executive officer of the Bermuda Business Development Agency, said: "This is a very encouraging milestone. The fact that this is real GDP growth, led by international business, is reassuring and underscores the BDA's mission — to raise GDP and create jobs. Through the BDA Concierge Service, we are certainly seeing more companies establishing in the jurisdiction across industry sectors, and we will continue our efforts to keep the trend on track." After international business, the next biggest sector was real estate and renting activity, which climbed 2.1 per cent to $983.55 million. The wholesale, retail trade and repair services segment saw strong growth, with value added increasing 10.9 per cent. Within this industry, growth in value added was led primarily by sales and repairs of motor cycles, up 43 per cent, sales of motor vehicles, up 32.3 per cent, and sales by food stores, up 12.9 per cent. Grocery stores' sales increases were probably helped by the reduction of the 10 per cent Wednesday discount to 5 per cent, as of March last year. Value added by businesses selling household appliances and equipment rose 27.2 per cent, while businesses trading in hardware, paints, glass and other construction materials increased 11.9 per cent. Value added for hotels and restaurants was 3 per cent higher in 2015. Restaurants saw a $7.3 million, or 7.1 per cent, improvement over the previous year, despite a 2 per cent decline in visitor arrivals last year. Public administration's contribution to GDP fell 1.2 per cent, as the Bermuda Government's reductions in wages, salaries and employee overheads continued. The statistics also highlight the sectors that pay out the most in employee compensation. International business leads the way, having paid out $1.44 billion to its staff, while financial intermediation, including the banking industry, is in a distant second with $356.4 million and business activities in third with $347.4 million. Public administration forked out $327.4 million in compensation. The figures also show the value of the wholesale and retail ($272 million), hospitality ($232.9 million) and construction ($124.5 million) sectors as major employers. The summary from the Department of Statistics also provided information on "gross national disposable income", defined as "the income that can be used by households for consumption or savings as well as the income not distributed to owners of equity for non-financial and financial corporations", which increased 3.4 per cent year over year to $6 billion. Gross national savings were measured at $1.9 billion, representing a 6 per cent increase year over year. Of the total savings, $704.2 million was spent on investment in capital goods.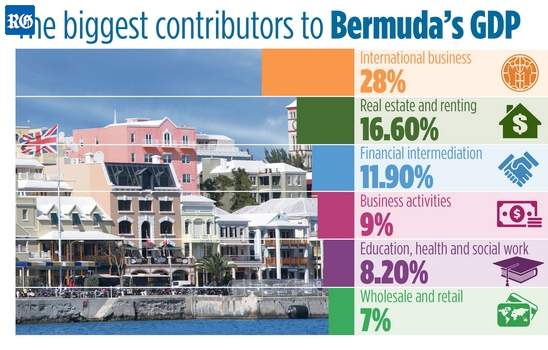 Top sectors: the biggest sources of economic activity in 2015 (Graphic by Byron Muhammad)
2016. May 13. Bermuda recorded a fifth successive quarter of economic growth in the last three months of 2015. Quarterly gross domestic product figures released by the Department of Statistics today showed that GDP was $1.4 billion in the fourth quarter of last year, up 0.5 per cent year over year, or an increase of 0.1 per cent in real terms — after inflation is taken into account. This marked a much slower pace than the 4.3 per cent real GDP growth seen in the third quarter. But it meant the island's full-year GDP totaled $5.77 billion last year, up by just over 2 per cent from the $5.65 million recorded the year before. A report by Government statisticians said about the economy's fourth-quarter performance: "The main drivers were a $24.3 million increase in household final consumption as well as $9.4 million less in payments for imports of goods. "In contrast, a $17 million rise in the imports of services and an $11.8 million fall in gross capital formation (construction and machinery) contributed negatively to GDP growth." The report added: "After adjusting for inflation, real GDP rose by 0.1 per cent. Overall inflation for the fourth quarter, as measured by the implicit price index, increased 0.4 per cent." Households spent 3.1 per cent more in the fourth quarter, reflecting a bigger spend on motor vehicles, food purchased in stores and restaurant services. After adjustment for inflation, household consumption went up by 1.7 per cent. Government consumption fell by 1.4 per cent, attributed to a lower expenditure on wages, salaries and employee overheads, with the figure being 1.8 per cent with inflation factored in. A 7.1 per cent fall in investment in machinery and equipment like telecommunications equipment and furniture was also recorded or 7.8 per cent in real terms. The net surplus on trade in goods and services declined by $1.6 million in the fourth quarter of 2015, equal to 0.8 per cent and due mostly to higher payments for imported services. The price tag for imported services went up by $17 million, attributed to higher payments for telecommunications services and advertising. But a 4.4 per cent fall in the imports of goods and a 1 per cent rise in the exports of services contributed positively to the net surplus on trade in goods and services. In real terms, the net surplus on trade in goods and services increased by 3.6 per cent.
2015. November 6. Bermuda's gross domestic product (GDP) went up 1.5 per cent to more than $1.39 billion in the second quarter of the year after adjustment for inflation. An increase in the balance on trade in goods and services — which offset a decline in investment in fixed assets — was cited as the main driver for the increase. Before inflation, the increase stood at 2.4 per cent, which followed a revised increase of 2.7 per cent for the first quarter of the year. It was the third consecutive quarter of real GDP growth. Residents spent more on durable goods like motor vehicles and on non-durable goods like food purchases in stores, up 1.5 per cent and 0.6 per cent after adjustment for inflation. Government spending also went up by three per cent — attributed to increased outlays on administration — an increase of 2.3 per cent allowing for inflation. Investment in fixed assets fell by more than 5 per cent due to lower construction activity and less spending on plant and machinery. The net surplus on trade in goods and services went up 12.1 per cent, while exports of services fell 2.1 per cent, reflecting lower receipts from insurance services. Imports of goods fell by 9.5 per cent due to lower fuel imports, while imports of services fell by six per cent due to lower payments for transport by air and sea and management consultancy. In real terms, the net surplus on trade in goods and services rose 13.8 per cent.
GDP is the market value of all the goods and services produced and in Bermuda has mainly due to the expansion of the international business sector. Bermuda, 21 square miles and with 65,180 residents, has a GDP of $5.54 billion in calendar year 2014. The highest-ever figure recorded to-date was in 2008 with $6.1 billion. According to Government's Department of Statistics, the GDP was adversely affected by continued job losses and business closures. International business is Bermuda's primary pillar of the economy. 80% of GDP is provided by the international business sector. But the latter has declined noticeably in recent years. As a result, GDP has been suffering setbacks.
Gross National Income per Capita (GNI)
Bermuda is Britain's oldest British Overseas Territory, self-governing, with its own laws including those on citizenship, commerce, customs duties, employment, finance, health, insurance, investments, hospitalization, immigration, taxation, trade, welfare, etc. It is not part of the European Community, unlike Britain. Despite its small size it is an important offshore business jurisdiction, the registered corporate home of many multinational business entities, particularly for insurance and reinsurance companies. The World Bank rates Bermuda as one of the top three jurisdictions in Gross National Income per capita.
How they compare, according to the World Bank:
According to the World Bank:
The cost of living is also very high.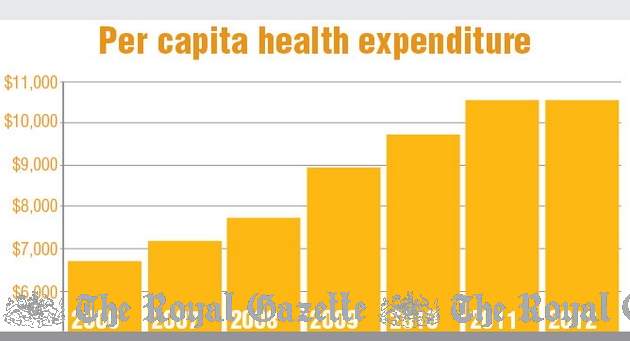 Hugely expensive in Bermuda, $10,562 per capita, 12.2% of GDP in 2012. These statistics place Bermuda significantly ahead of virtually all other countries in the Organization for Cooperation and Development (OECD) on health care spending, more so than in the USA.
Home ownership
In Bermuda, prices have risen by nearly 180% since 2000 and in 2013 to date are at least $990,000 for a house with an apartment ($540,000 in 2000) and $1 million - $995,000 ($545,000 in 2000) for an average 2/3 bedroom median single dwelling house. These figures are obtained from current Coldwell Banker JW Bermuda Realty statistics. Housing costs are on average 400% more than similar properties and plots in the USA and Canada - about US $160,000 and 280% more than in UK. Small periodic increases in social security pensions and salaries have lagged far behind the overall rate of inflation of housing. In the USA, according to CNN on May 8, 2005, a 30-year mortgage can be obtained at an interest rate of 5.6% but in Bermuda it is 9%.

Only 42% of Bermudians own their own homes, the lowest rate in the developed world. Only 21 percent of locals own their own homes with a mortgage and 23% of locals without a mortgage do so, compared to an average of 64 percent overseas. Only a small percentage under the age of 50 do so, compared to over 60% elsewhere. Here is the shocking breakdown:
| | | | | | | |
| --- | --- | --- | --- | --- | --- | --- |
| | Under 30 | 30-39 | 40-49 | 50-64 | 65+ | Total |
| Own with mortgage | 7.1% | 19.5% | 29.42% | 27.41% | 11.4% | 21.1% |
| Own without mortgage | 2.1% | 5.6% | 12.1% | 31.1% | 60% | 22.8% |
| Rent | 85.9% | 71.0% | 55.1% | 37.9% | 23.0% | 51.9% |
| Rent free | 4.8% | 3.9% | 3.4% | 3.7% | 5.5% | 4.1% |
| Not stated | 0.0% | 0.1% | 0.2% | 0.2% | 0.2% | 0.1% |
Source: 2010 Bermuda Census (last available figures) released in mid 2011
30-year mortgages are now available to qualified persons from the local banks at interest rates totaling about 9 percent per annum (7 percent plus finder's fee). The required monthly payment of a 30 year mortgage of an average $975,000 Bermuda property is $6,090 but the average monthly Bermudian take home pay is $3,569. Bermuda banks require a household to make in excess of $12,000 a month to meet average 30 year mortgage payments. Plus, they need a $250,000 down payment, as a bank will not lend more than 85% of the appraised value of the property. Thus a far greater number of Bermudians than non-Bermudians in other countries are denied the opportunity of home ownership. The number of households that can afford to buy the average Bermuda property is 5,064 of the 19,505 households in Bermuda making over $108,000 a year.
The Bermuda Housing Corporation has built several thousand properties which it has sold to Bermudian families. The original idea was to provide subsidized housing to Bermuda's lower income families. But by international standards of subsidized housing costs, these are extremely expensive.
Household Income
2016. June 23. Bermuda recorded its seventh consecutive year of job losses as the total number of posts held fell by 156, according to government statistics released today. The total number of jobs in the island's economy was 33,319, down from 33,475 in 2014, a fall of 0.5 per cent. The rate of job losses slowed markedly from the 802 jobs lost in 2014. The figures show that the island lost more than 4,000 jobs between 2011 and 2015. There were 257 fewer jobs held by Bermudians in 2015 than the year before, while non-Bermudians held 105 more. The bulk of the job losses could be attributed to the public sector, as the Bermuda Government's cost-cutting measures took effect. An ongoing hiring freeze and voluntary early retirement scheme may have contributed to the net loss of 227 jobs in the public administration sector, as well as a near ten per cent cut in the number of public-school teachers employed from 753 to 679. The financial intermediation sector was the biggest gainer, adding 116 jobs. The hotel industry recorded a net loss of 113 jobs. The wholesale trade industry saw a loss of 70 jobs, while retail had 46 fewer jobs and international business had 37 fewer positions. Jobs held by black people fell to 17,823 from 18,105, while employment among whites rose to 10,780 from 10,736 and mixed/other races advanced to 4,716 jobs from 4,634. The median gross annual income for employees working in organisations with ten or more staff fell by $240 to $63,657. Women earned more than men and the pay gap widened to nearly $4,600 last year. Median gross income for women was $65,927, compared to $61,330. Women's pay climbed 1 per cent last year, while men's fell 2 per cent. The breakdown according to race showed that blacks' median gross income was $57,673, more than $30,000 less than the $88,405 earned by whites. Mixed and other races earned $54,949. The highest-paying sector was international business, whose employees made median gross income of $128,871, up 3 per cent from 2014 and more than double the island's median gross income. Neck and neck in a distant second place were financial intermediation ($80,473) and the electricity, gas and water sector ($80,400). The hospitality industry was the lowest payer, with restaurant, café and bar workers seeing median gross income of $34,988, down 1 per cent from 2014, while hotel workers earned $36,883, up 3 per cent year over year. The figures were revealed in The Bermuda Job Market Employment Briefs, which highlights the findings of the 2015 Annual Employment Survey.
In 2013:
2010 Census figures arrived at by an official visit in 2011 to each household unit revealed average (median) household income was US or BDA $108,052. It rose by 51% in a decade, compared to $72,000 in 2000. The figure represents the income level matched or exceeded by 50 percent of households. median pension income increased by 38 percent, to $15,606 from $11,286 in 2000. In 2010, the median annual pension received by males stood at $19,385. Females received an annual pension of $12,132.
Average median salary per person island-wide was $69,183. The average in the banking and international business sector was estimated as US$ 89,896.
20 racial composition of employees: black 56%, white 30%, others 4%, Asian 3%, black and other 3%, black and white 2%, white and other 2%.
Executive management positions. Blacks hold 64% in public administration (government, its quangos, Police, etc), 29% in hotels, 24% in banks, 18% in restaurants and bars, 9% in international or exempted companies and 0% in the wholesale trade.
Bonuses and incentives. 69% of all employees received mostly annual bonuses.
The majority, 61%, earned between $45,000 and $80,000.
43% reported receiving a stock option.
15% earned between $55,000 and $75,000
11% earned more than $75,000.
8% reported receipt of a housing allowance.
6% reported receipt of mortgage subsidies.
8% reported receiving travel allowances.
8% reported receiving car allowances.
Imports and overseas spending by residents
Practically everything in Bermuda is imported, except for what is generated by the secondary industries shown below. In 1999, Bermuda imported $620 million worth of goods, more than at any time earlier. By far and away the greatest portion came from the USA, despite the odd fact that shipping costs from Britain and Europe are not more expensive than from the USA.
Residents alone - not companies - spent $460 million in 2011 on overseas travel and purchases. In Bermuda, the average duty rate for dutiable goods exceeds 30 percent. 85% of all visitors are from the USA and assume, incorrectly, that in Customs exemption of duties for visitors - from wherever they may be - and returning residents, Bermuda has the same very generous laws as the USA. Unfortunately, this is not the case. By comparison with the USA, Britain and Europe, in this regard Bermuda treats its visitors very severely and its returning residents with laws and regulations the democratic countries would not dare impose.
See http://www.bermuda-online.org/Bermudadutyfree.htm.
Produce receipts from a retail store satisfactory to the Customs Department of actual purchase price of the items or be prepared for the Customs Department to assess items for your payment of duty at much higher Bermuda prices. This is applied vigorously. To avoid being arrested and having goods confiscated, do not try to import goods into Bermuda without paying the duty.
Only Bermudian legislators consider themselves exempt from laws affecting other people, like Customs inspection and payment of duty. It was reported in The Royal Gazette on page 9 of Thursday, September 13, 2001 that Bermuda Customs and Immigration have a long-standing practice of giving preferential treatment to local legislators returning from abroad. Other Members of Parliament have confirmed to this author that they too - not just the Premier and Ministers - do not pay any Customs duties unless they wish to do so voluntarily. Most don't wish to, so will not. Nor are they searched. It is not a policy, technically payment of Customs duty applies to everyone, but individual Customs Officers have the authority to use their discretion and not levy duty in the case of legislators.
Insurance-linked securities
2013. November 25. Bermuda is leading the world in the issuance of insurance-linked securities (ILS).

A report published by the Bermuda Monetary Authority shows that $3.5 billion of ILS, predominantly catastrophe bonds, were issued by Bermuda-based Special Purpose Insurers (SPIs) during the first three quarters of this year.

That means the Island is on track to overtake offshore rival and erstwhile market leader the Cayman Islands which over the same period issued $1.8 billion of ILS to become the dominant domicile in the sector for the first time.

The BMA released its first quarterly Bermuda Insurance-Linked Securities Market Report yesterday.

The report offers a detailed picture of the ILS market, highlighting and listing deals done; analysis of the types of risks they cover, the investor base and cat bond returns; and the regulators overview of the market. In addition, there is a background section on the evolution of ILS, their benefits and drawbacks, and the structure of securitised risk.

Impressive statistics pepper the report, depicting vigorous growth in the ILS market, both globally and in Bermuda.

For example, the Bermuda Stock Exchange accounted for more than 40 percent of the global issuance of ILS by the end of the third quarter of 2013, with a total of 34 ILS, comprising 43 tranches, listed with a nominal value of $7.9 billion.

Bermuda accounted for more than 62 percent of third-quarter global issuance of $1.7 billion, which was more than double the $804 million issued in the third quarter of 2012.

The outstanding amount of ILS issued in Bermuda thus far represents more than 40 percent of the worldwide stock of ILS, the BMA report states.

Given the rising demand for cost-efficient (re)insurance capacity, the global amount of outstanding ILS reached a record $19.5 billion at the end of the quarter, with $8 billion of this total having been sponsored by Bermuda-based SPIs.

Since 2010, the BMA has licensed 87 SPIs, covering predominantly North American and European perils.

The BMA adds that the Island is also host to foreign ILS listings, which augment the depth of the secondary market.

The report notes the market for Alternative Risk Transfer (ART) instruments had grown and that some reinsurers had created capital market divisions to increase capacity.

Capital market investors in search of higher yields and greater diversification for their portfolios had supported ILS growth, the BMA notes. However, it remains to be seen if the current demand will be sustainable when yields from traditional assets eventually normalise, the report adds.

The ILS market remains relatively small, with a 15 percent share of the global reinsurance market last year.

The majority of ILS account for North American perils, which make up 60 percent of total volume.

The full report was available to read on the Bermuda Monetary Authority website, www.bma.bm.
Island Infrastructure Summit 2013
Hosted by KPMG in Bermuda, this will take place September 22 to 24 in Miami, Florida, focusing on issues affecting island jurisdictions. This year's summit will explore how island economies can use alternative financing models, such as public private partnerships (PPPs) to work with the private sector to deliver innovation and efficiencies in asset management, and achieve accelerated infrastructure development that drives economic growth. The summit is the highly anticipated second instalment of their successful Island Infrastructure Summit Series. From managing risk and meeting timelines, to selecting the right investment, construction, and technology partners, the Summit will feature lessons learned across island jurisdictions and from some of the industry's most experienced infrastructure professionals. As an added highlight, the 2013 programme features a preview of island infrastructure project pipelines, showcasing high priority projects and providing an opportunity to explore project delivery options with international infrastructure developers and other leading infrastructure advisers. It will once again include an impressive combination of panels and speakers, featuring key decision makers, executives and financiers from across the Public and Private Sectors. Confirmed speakers and panellists for 2013 include:
Dr the Hon. Orlando Smith, OBE, the Premier and Finance Minister of the British Virgin Islands

The Hon. Craig Cannonier, JP, MP, Premier of Bermuda

Dennis Richardson, Kingdom Advisory State Councillor for St Maarten

The Hon. Burney El Hage, MP, Minister of Economic Development & Management and Support, Bonaire

The Hon. Ryan Pinder, MP, Minister of Financial Services, Trade and Industry of The Bahamas

The Hon. Trevor Moniz, JP, MP, Minister of Public Works, Bermuda

The Hon. Khaalis Rolle, Minister of State for Investments of the Bahamas

Senator the Hon. Darcy W. Boyce, Minister of State in the Prime Minister's Office, Government of Barbados

Neil Smith, Financial Secretary, Ministry of Finance of the Virgin Islands

Denise Arana, General Manager of PPP and Privatisation Division, Development Bank of Jamaica Limited

Lizanne Dindial, President & CEO of Curacao Hospitality and Tourism Association

Russell Harrigan, Chairman of the BVI Tourist Board

Phaedra Mackey-Knowles, Deputy Director — Investments, National Insurance Board of The Bahamas

David Altshuler, Senior Vice President — Infrastructure Practice Leader, Meketa Investment Group

Ian Bendell, Foreign Legal Consultant, Project Finance, Davis and Co., LLP

Nick Bliss, Partner, Freshfields Bruckhaus Deringer

Chris Brock, CEO, Island Analysis Limited, Guernsey

Duncan Caird, Managing Director, Head of Project and Export Finance — The Americas, HSBC Securities (USA) Inc.

Walter M. Higgins, Chief Executive Officer and President of Ascendant Group Ltd

Nigel Lelew, Vice President Technical Director, Balfour Beatty Investments

Ruth McMorrow, Executive Vice President, Parsons Corporation, New York

Jason Radford, Partner, Head of Americas Energy, Transportation and Infrastructure, Ashurst LLP

Darryl White, Regional Vice President, Corporate Banking, RBC Merchant Bank (Caribbean) Limited

Peter Williams, Managing Director, Light & Power Holdings Ltd, Barbados
To view the 2013 Island Infrastructure Summit agenda, including a regularly updated list of confirmed speakers and panellist, or to register for the event, please visit: http://www.kpmgislandinfrastructure.com/.
Jobless
See under Unemployed
Median Household Income
See Household Income.
Minimum Wage
None, unlike in the UK, USA and elsewhere.
Multinational Convention on Mutual Assistance in Tax Matters
2013. November 22. Minister of Finance Bob Richards announced that the Government of Bermuda's participation in the Multilateral Convention on Mutual Assistance in Tax Matters (the Convention) has been officially notified to the Council of Europe and the OECD. A Ministry of Finance press release that day stated the announcement took place at the 6th Annual Global Forum for Transparency and Exchange of Information for Tax Purposes being held in Jakarta, Indonesia this week. It stated: "Based on the Conventions internal procedure Bermuda's participation will enter into force on the first day of the third month after the date the Council of Europe and the OECD were officially notified. The Convention is an avenue for one jurisdiction to exchange information with many jurisdictions simultaneously without the need for bilateral or one-on-one negotiation." Practically speaking, the adoption of the Convention by Bermuda means that for developing countries it is the most effective instrument they can use to combat tax fraud which, said the Ministry of Finance: ... is vital to their Government revenues. Although Bermuda now has a total of 65 exchange of information partners because of the adoption of the Convention, signatories to the Convention will work in tandem with Bermudas current treaty network of 40 bilateral TIEAs. Some 36 of the 40 TIEA partners are signatories to the Convention.
National Economic Report of Bermuda 2012
See https://www.dropbox.com/s/1exro82vvj74qpa/4383_er_2012_portal.pdf.
National Economic Report Outlook for 2013/2012
2013. February 23. A fifth year of recession is officially forecast by Government in the National Economic Report of Bermuda for 2012, released yesterday. The Ministry of Finance estimated that Bermuda's GDP will decline in the region of 1.5 to 0 percent this year and there will be "modest growth in 2014." It also expects that our GDP may have contracted by 1.75 to 2.25 percent in 2012 after a decline of 2.8 percent in 2011. This would be deeper than expected as the last Economic Report estimated GDP would decline one to two percent in 2012. The report goes on to further state that employment fell by 5.1 percent and the official unemployment rate was calculated at eight percent in 2012. Momentum that gained in tourism in 2011, when air arrivals increased for the first time since 2007, did not carry into 2012. "The reality is that 2012 experienced the worst visitor numbers since 2008 when the Island was first hit by the global recession," the report said. "That was the last time that both air and cruise figures declined in the same year." Hotel occupancy rates averaged 55.7 percent in 2012 a drop of 1.1 percent year-over-year. In the international business sector, jobs declined by 5.2 percent and the number of active international companies registered fell by two percent. Hotel employment fell by 5.3 percent while air visitors also decreased by 1.7 percent. One positive result in the economy, the report noted, was the gross turnover generated by retail stores increased by 0.5 percent. February saw the first increase in retail sales activity since March 2009, and the first growth in the volume of retail sales since April 2008. All sectors in the RSI recorded declines in sales in 2012 apart from food and liquor stores. Another piece of good news was the balance of payments continued to record relatively large current account surpluses, an important strength in the Bermuda economy. Bermuda's current account surplus was recorded at $496 million at the end of the third quarter of 2012 6.7 percent greater than the $465 million recorded over the first three quarters of 2011. However employment income was estimated to have declined by 4.8 percent for the first three quarters of 2012, compared with the same period in 2011. The Department of Statistics estimated that in the first three quarters of 2012 tourism and international business combined to provide at least $1,602 million (excluding financial services) in foreign currency receipts. The figure represented a 4.2 percent decline, year-over-year. Individually, the amount of foreign exchange earnings produced by the international business sector declined by 2.7 percent year-over-year, with third quarter figures of $1.28 billion. The amount of foreign exchange earnings generated by tourism activity decreased by 9.4 percent, recording earnings of $326.3 million at the end of September. International business provided 3,867 jobs in the economy in 2012, reflecting a decrease of 5.2 percent year-over-year, or a loss of 210 posts. There were 14,590 active international companies registered in Bermuda at the end of 2012, a decline of 292 companies or two percent less than the total at the end of 2011. In the banking sector, total assets of the banks declined by almost $2 billion (or 7.7 percent) during the first three quarters of 2012 (and 2.1 percent year-on-year). In its 2013 outlook, the report stated: "Since any meaningful economic recovery centres on renewed growth in international business income, the long-term convergence to the historical growth rate of about three percent appears doubtful." The report added: "While the outlook for growth over the next year remains negative, the proposed reform measures in the areas of employment, international business, tourism and construction are all expected to have a positive impact on the economy beginning in the second half of 2013 and beyond."
Despite a 10 to 30 percent drop in property prices since 2008 (Coldwell Banker Bermuda Realty earlier in February 2012 said house and condo prices in Bermuda had plunged as much as 10 to 30 percent in the last four years) Government announced on 24 February 2012 it was unlikely the Bermuda housing market had hit bottom and this could challenge Bermuda's banks in the coming months. This was one of several concerns raised in the National Economic Report (NER) outlook for 2012, which expects the economy to shrink a further 1 to 2 percent this year. The NER believes:
Real estate prices have declined sharply but have not bottomed.

Households are highly indebted and thus vulnerable to further declines in housing prices.

Given the banking sector's large exposure to real estate, deterioration in asset quality would render existing loan loss provisions insufficient.

Weaker demand for loans, high levels of non-performing loans, plus the intensifying competition for deposits are likely to dent banks' earnings/capital formation.

Increasingly adverse economic conditions and the intensification of the decline in real estate prices on both the residential and commercial sector will further challenge the credit fundamentals of the domestic banking sector.
In the reinsurance sector,
This, the key driver of the current account surplus, has remained well-capitalized in spite of a near record-level of catastrophe losses in 2011, and fundamentals appears to be still strong, but there are short-term challenges.

Insurers' profitability is likely to come under pressure by the slow economic recovery, record low interest rates and a reduction in reserve releases.

The impact of the trend of an increasing frequency of catastrophes, attributed to climate change, has been largely offset by excess capacity and the lack of industry consolidation, leading to only very moderate premium hardening in certain classes of business.
Overall:
While the outlook for 2012 was negative, proposed reform measures in the areas of labour market, fiscal stability and the continued resilience of the international business sector can have an important and positive impact on Bermuda's growth outlook beyond 2012.

Plans to liberalize immigration policy in association with foreign direct investment will also have a positive impact on growth prospects.

These measures combined with sustained growth from Bermuda's largest trading partner, the United States, should contribute to a mild recovery in Bermuda's economy leading to positive but still historically weak growth in years 2012 and 2014.
Government said the National Economic Report for 2012 was compiled with the assistance of organizations including the Bermuda Monetary Authority, the Bermuda Hotel Association, Registrar of Companies, Statistics Department, Tourism.
National Pension Scheme Act and corporate Pension plans
See the Bermuda Government's The Pension Commission, at http://www.pensioncommission.bm/. Not Social Security (see separately), but private pension plans. The National Pension Scheme Act 1999 became effective on 1st January 2000. All employers, whether local or international or exempted must comply, for every employee whether Bermudian or a non-Bermudian spouse of a Bermudian of from 23 years of age who works a minimum of 720 hours per calendar year. Employers may, however, offer more generous eligibility provisions to employees by allowing them to become members of their pension plan at an earlier age and with fewer numbers of hours worked. While 65 for men and women is when those eligible in Bermuda will get Social Security, private pension plans can be more generous and in lesser age as well. Note that the Act specifies private pensions only for Bermudian and international or exempted company employers employing Bermudians or non-Bermudian spouses of Bermudians. There is no requirement to establish pension plans for guest workers, which may come as a shock to the latter. Non-Bermudian employees should ask local and international companies and or the Bermuda Government employing them what, if anything, they offer as private pension plans or equivalent, so they know where they stand and what they can expect to take with them when they leave Bermuda.
For those who qualify under the Act for pension eligibility, the pension scheme (plan) can be offered only by approved local insurance companies, not the "exempted" or "international" variety registered in Bermuda but not "corporate citizens" as they are often referred to, inaccurately.
The Act removed many of the anomalies and restrictions that since the 1970s for "approved private pension plans" had existed in some with 15 or more years service but had severely restricted or totally excluded others, for example all those with say 12 years service with the same employer by retirement age. The current Act creates some portability for plans of all employers and employees. But for some people close to retirement age when it came into effect, it was far too late to ensure that once they become senior citizens and retire from working, they will have an adequate income without hardship.
Minimum contribution rates are based on pensionable earnings per year. At January 14, 2012 Approved Pension Plan Administrators under the Act were:
BF&M Life Insurance Company Ltd.

Bermuda Life Insurance Company Ltd (Argus).

Bermuda Investment Advisory Services Ltd.

Colonial Pension Services Ltd.

Freisenbruch-Meyer Insurance Services Ltd.

Cooper Young & Associates Ltd.
Organization for Economic Cooperation and Development (OECD)
2013, November 22. Minister of Finance Bob Richards announced Bermuda had achieved a rating of 'Largely Compliant' from the Organization for Economic Co-operation and Development (OECD). Bermuda's rating is the same as the United Kingdom and the United States. The Cayman Islands, one of Bermuda's direct competitors for international business, also received a 'Largely Compliant' rating. Another Bermuda competitor, Isle of Man, was judged 'Compliant,' along with Japan, India, South Africa and South Korea, among others. However, jurisdictions including the British Virgin Islands and Cyprus were given a 'non-compliant' ratings. A Finance Ministry press release stated: "The OECD Global Forum has completed their assessment of 50 jurisdictions and announced the results of its assessment at a meeting in Jakarta, Indonesia today." The press release quoted Minister Richards saying: "These OECD ratings follow a similar tiered rating system as the IMF ratings; Compliant, Largely Compliant, Partially Compliant, Non-Compliant. I am very pleased Bermuda has received the rating of Largely Compliant, the same as the UK, USA and many other G8 nations. These ratings are comprehensive and carried out in an assessment methodology of total transparency as every country was assessed on its legislative and procedural regime for administering Tax Information Exchange Agreements (TIEAs)." Useful website: http://www.oecd.org
2013, July 22. There are new concerns in Bermuda's international business and insurance community about what the latest OECD proposal for cracking down on corporate tax-avoidance could potentially mean for the Island. The 40-page report, backed by the G20 this week, takes aim at tax-avoidance strategies used by companies such as Google, Apple and Yahoo! There are some 12,000 multinational companies registered in Bermuda compared to 100,000 in the Cayman Islands. But another growing concern for Bermuda's re/insurers is the potential impact on captives, though most are not tax driven and the inclusion of "insurance" in the report. Whether the report will impact Bermuda depends on the backbone of the individual legislators on a country-by-country basis. The OECD action plan follows hearings in the US and UK revealing how companies avoided billions in taxes by attributing profits to mailbox subsidiaries in places like here in Bermuda and the Cayman Islands. California-based Google, for example, avoided as much as $2 billion in worldwide income taxes annually by attributing profits to a subsidiary in Bermuda that holds the rights to its intellectual property for sales outside the US, as reported by Bloomberg News in December. Though there is no real economic activity going on in Bermuda "all the returns are in Bermuda," Pascal Saint-Amans, director of the Center for Tax Policy and Administration for the Paris-based OECD, said, not referring specifically to Google. "This is wrong, we need to fix it." The proposal aims to develop rules over the next two years preventing companies from escaping taxes by putting patent rights into shell companies, taking interest deductions in one country without reporting taxable profit in another, and forcing them to disclose to regulators where they report their income around the world. "People and companies have to pay the taxes that are due. It's the only way to operate in a fair and competitive society," said British finance minister George Osborne. German Finance Minister Wolfgang Schaeuble said without "fair burden sharing, in the end we will destroy even a global, open economy." The 40-page report will complement efforts by deficit-laden governments to increase revenue they collect from profitable enterprises. The UK Parliament has held three hearings since November on corporate tax dodging — examining strategies used by Google, Amazon and Starbucks Corp. In May 2013, the US Senate held a hearing on Apple's offshore tax strategies. The companies all say they've complied with international tax laws. "It is clear multinational companies have developed an unprecedented know-how for minimising their worldwide tax pressure," French Finance Minister Pierre Moscovici said in Moscow. "These situations are literally impossible to explain to our fellow citizens." A pair of the OECD proposals calls for rules to make it harder to shift profits by assigning intellectual property, such as patent rights, to offshore units. Under current law, such offshore subsidiaries can take credit for profits arising from patents developed in countries like the US and UK, generally with cash the parent companies provided to them in the first place. The OECD is a government-funded think tank that was charged by the G20 to tackle the issue. UK Prime Minister David Cameron said the OECD report "shows how taxpayers, governments and businesses all suffer when some companies manipulate the tax system to avoid paying their fair share of taxes. And it highlights how much we still have to do to bring the international tax system, conceived back in the 1920s, into the 21st century." Bloomberg reported that although the UK has been accelerating its own efforts to help multinationals avoid taxes, Cameron said in a statement that he would highlight the OECD plan at the G20 Summit in St Petersburg in September 2013.
Bermuda has an uneasy relationship with OECD, especially since May 16, 2013 when it was reported that international country leaders are moving closer to taking action on corporate tax avoidance, despite challenges. "You need to neutralize the use of tax havens," Pascal Saint-Amans, head of the OECD's tax centre, told Reuters. The OECD, whose members include the UK and most developed economies, has led the way in an international drive against tax evasion and the use of so-called tax havens. National austerity measures taken by OECD member governments as a result of the financial crisis have sparked voter anger at the way big international companies shift profits around the world to cut their tax bills, Reuters reported. As a result they have asked the OECD to draft proposals to tackle problems like double-tax agreements, transfer pricing and the exchange of information between tax jurisdictions. "You cannot have a situation of crisis, unemployment, people unhappy, facing increases in taxes and no recovery and at the same time big profitable, juicy players not paying a penny," Saint-Amans told Reuters. "It's just politically impossible," he said in an interview, adding that the support of "right-wing" governments increased the chances of action. In the last year, Reuters reported, Britain has become more prominent in the controversy over how much tax multinationals pay and Prime Minister David Cameron called on the European Union to use the impetus of the G8 summit he is hosting in June to organize "radical" international action to crack down on tax evasion and avoidance. The OECD was due to deliver its recommendations at the July Group of 20 (G20) meeting. These have not yet been agreed but Saint-Amans said one of the proposals would be that double taxation agreements (DTAs) between countries be amended to avoid the problem whereby neither country taxes the income. The European Commission recommended such a measure in December 2012. In a recent example it was revealed in a report by Reuters that Google takes advantage of DTAs between Ireland, where the internet search firm has its European base, and other countries, to shelter billions of dollars each year from tax. Most of Google's European income flows to Ireland untaxed, thanks to DTAs, and most of this income is then sent to an untaxed Google entity in Bermuda. Google says its follows the tax rules that apply in every country where it operates. The OECD has no estimates of how much is lost by tax evasion and avoidance, but wants to set up a mechanism that could measure the money at stake, he added. Saint-Amans said other areas that the OECD was looking at included revisions to international transfer pricing rules in relation to intellectual property. Companies can avoid tax by parking intellectual property, such as brands or work processes, with a subsidiary in a tax haven, which then charges affiliates in major markets hefty fees for its use. Other ideas include a harmonization of the tax treatment of transactions or financial instruments, such as convertible bonds, which in some countries are taxed as bonds and in others treated as shares, allowing a form of tax arbitrage. The OECD will also urge companies and governments to be more transparent and adopt "spontaneous exchange of information". Saint-Amans expects the G20 group to adopt the measure in July or September as the new standard to curb cross-border tax evasion. Currently only a small group of countries have signed tax treaties guaranteeing the automatic exchange of tax information, as opposed to delivery upon specific requests. As well as new measures, Saint-Amans said governments needed to implement the laws they already have. UK lawmakers have said a recent Reuters report which showed Google employs sales staff in the UK while telling the tax office that sales are made from Ireland, raised questions about whether the power of existing tax law had really been tested. Google says UK staff do not sell to UK customers but has not said whether they negotiated with customers, had sales targets or 'closed' deals. Job advertisements on its website had said recruits would be expected to conduct such roles.
Poverty Line
There is some poverty. Some Bermudians are less affluent than others, mostly those who cannot make ends meet, including many single parent families and those who have a permanent disability of one kind which overseas would give them some disability allowance and other concessions but which in Bermuda do not. Some Government financial assistance, via the Ministry of Health and Social Services, is given to Bermudians only who are pensioners, or not pensioned by former long term employers, who don't own and have to pay to rent a home and don't have a job or any private income and have virtually no savings; or are qualifying single parent families; or certain others (on a discretionary basis) who are permanently mentally or physically handicapped; and certain able-bodied but unemployed or under-employed individuals not earning sufficient income to live on; and those who are born locally or overseas and are twins or triplets or higher. There is also a housing allowance program for Bermudians only with temporary rent payment difficulties because 99 percent of all Bermuda properties are hugely over-priced to rent or buy.

In the last reported (some years ago) Bermuda Government low income study, 'Low Income Thresholds for Bermuda Households in Need' which pitches the poverty line at incomes of less than $27,000 per annum for a single person and $76,000 for a two-parent family with two children under 16.

(It also shows the huge difference in the cost of living between Bermuda and the USA, see figures below) The study found 11 percent of households fell below the new threshold, which equates to 3,050 homes. The study found that the highest incidence of low income households occurred for single and two parent households with young children and in elderly adult households. The Department of Statistics spent just under two years researching poverty and low income models from different countries, getting feedback from local groups and consulting with international academia and organizations.

Compare the Bermuda latest available) poverty line figures with the United States' Government's 2013 figures:
The 2013 Poverty Guidelines for the
48 Contiguous States and the District of Columbia
Persons in family
Poverty guideline
1
$10,830
2
14,570
3
18,310
4
22,050
5
25,790
6
29,530
7
33,270
8
37,010
For families with more than 8 persons, add $3,740 for each additional person.
Poverty is a very complex concept to define and measure, particularly in affluent and wealthy countries such as Bermuda. So 'Low Income Thresholds' or LIT measures were developed as indicators to identify and assist Bermuda households that are economically disadvantaged or simply less well off. The latest LIT study revealed that in 2012 there were 3,600 households in Bermuda currently living below established low income thresholds which range from $27,000 per year for a single adult household to $76,000 a year for a family of two parents and two children younger than 16 years old. LIT measures were derived from a nutritious low-cost food basket as approved by the Government Nutritionist combined with essential services that families need such as education, health and transportation. They show that in 2012, the minimum expenditure a single parent household with one child needed to ensure a nutritional diet of food was $4,471 per year or over $12 per day; housing cost averaged roughly $65 per day or $1,993 per month, the cost of fuel and power totalled close to $9 per day while health care costs averaged $7.80 per day. The LIT measures will be used by the Department of Financial Assistance to make annual adjustments to help paid to families and the new figures have already helped work out a threshold for free child care assistance. Other programs such as free public transportation, an affordable health care system and subsidies for the elderly will certainly help to alleviate the financial burden that some households face. Government will track the long-term impact of Government spending on the economic and financial positions of families in need. Families struggling to make ends meet are urged to contact the Department of Financial Assistance.
Quarterly Bulletin of Statistics
Issued by the Department of Statistics of the Bermuda Government at http://www.statistics.gov.bm/portal/server.pt.
Rent Control
All homes and apartments (flats) with an annual rental value (ARV) of less than a certain amount are subject to rent control. This has applied anew since August, 2000 with the Rent Increases (Domestic Premises) Control Amendment Act 2000. It updated the Rent Increases Domestic Premises) Control Act 1978. Before then, only homes built before 1983 and with an ARV of less than $9,900 were subject to the controls. The legislation increased the number of rental units affected by rent control from 3,600 to 13,300 or 48 percent of Bermuda's residential units. This is a good benefit for people who do not live in up-market houses or apartments and do not own their own homes. But it means that the minimum rent for a 2-bedroom apartment is now at least $1,400 a month and often much higher.
Retail Sales Volume
2016. November 23. Retailers took 5.7 per cent more at the till in September than they did in the same month a year earlier, according to government statistics. The gains were led by motor vehicle sellers and building supplies stores, whose sales rose by double-digit percentages. Retail sales volume — which is the adjusted-for-inflation figure — was up 4.7 per cent year over year, according to the Retail Sales Index produced by the Department of Statistics, and has risen every month this year except May. Motor vehicle sales surged 27.3 per cent as the number of vehicle sold grew by 27.8 per cent, reflecting increased inventory. Receipts from the sale of building materials increased 12.7 per cent year-over-year. The rise in sales was linked to greater demand for increased inventory that supported ongoing projects. Service stations got a boost from the nearby passage of Hurricane Karl, which prompted many locals to stock up on fuel and inspired a 3.6 per cent gain in fuel sales. Sales receipts for the all other store types sector rose 1.8 per cent year-over-year. Gross receipts for marine and boat suppliers increased 135.9 per cent due to higher sales of big-ticket items. Pharmacies reported a 5.9 per cent gain in gross receipts. Receipts for the sale of furniture, appliances and electronics decreased 8.1 per cent. Other miscellaneous sales fell 21 per cent. Apparel stores bucked the trend with a 2.2 per cent fall in sales. Residents declared $4.6 million in overseas purchases during September, unchanged from a year before.
Secondary industries
Agriculture does not play a significant role in Bermuda's economy. Only a small area of land is under cultivation. Food supplies are mostly imported, with fresh meat from the USA, produce mostly from the USA and Canada, and diary products and goods from a variety of other countries including the USA, Canada, United Kingdom, Republic of Ireland and New Zealand. However, Bermudian farmers do provide some Bermuda laid eggs, at a premium price; grow a variety of bananas, grapefruit, oranges, other fruits and vegetables; and produce milk from herds of cows. Until the beginning of the 20th century, when much more local land was under cultivation, there was a steady and thriving export market for citrus fruits and onions. When certain locally grown fruits and vegetables are in season (and premium priced) temporary embargoes are placed on the importation of competing produce from abroad, to allow the farmers to make a decent livelihood. Bermuda has ideal growing conditions for a large variety of vegetables and they are considered superior in every way to imported varieties. But the high cost of local labor puts them into the premium price range. There are also some commercial growers of flowers who supply a variety of long stemmed cut flowers for the local market.

Other secondary industries include artistic works; beer brewing; carbonated beverages bottling; cedar wood souvenirs; condiments; concrete block and related products for building purposes; diary products such as cream and ice cream; glass-blowing; ornamental iron working; paint manufacture; and perfumes and toiletries preparation. But these are mostly only specialty items with very small export markets.
Senior citizens
To see how their status and benefits compare to other countries overseas, see Senior Citizens in Bermuda.
Social security
In Bermuda, this means solely a senior citizens' pension from the Bermuda Government in direct proportion to the premiums paid in by an employee and employer, not the multitude of other provisions included in the Social Security provisions of the USA. In Bermuda, there is a compulsory contributory pensions plan administered by the Government for all employees of private sector employers, with employers and individual employees employed for more than four (4) hours a week each paying 50% of the premium. It pays benefits to qualifying retirees. The Contributory Pensions plan, its proper name, is exactly what it implies - a pension plan for people who contribute to it. As such, it is their entitlement, not a charity. Nor is it confined to only Bermudian employees. Non Bermudian employees are eligible and required to be covered as well and are fully entitled to whatever benefits they accrue under the plan's provisions. The Contributory Pensions plan maximum payout per month to fully eligible beneficiaries is at a far lower rate than in the USA or Canada even though the cost of living overall in Bermuda is over 300% higher.

In contrast, in the United Kingdom the Old Age Pensions Act was enacted on August 1, 1908.

Current deductions from wages or salaries apply under section 4 of the Contributory Pensions Act 1970, prior to August 2016.
| | | | |
| --- | --- | --- | --- |
| Category of insured person | Payable weekly by Employee in BD$ | Payable weekly by Employer in BD$ | Total |
| Employed person over school leaving age and under 65 | $30.40 | $30.40 | $60.80 |
| Employed persons over 65 | - | $30.40 | $30.40 |
| Self-employed persons over school leaving age and under 65 | $60.80 | - | $60.80 |
| Self-employed persons over 65 | $30.40 | - | $30.40 |
| Voluntary contributions under 65 | | | $60.80 |
2016. After August 1, Bermuda's seniors will be getting a 5 per cent raise in their pensions as of August this year — the first increase for five years. However, the hike will come at a cost for employees and employers. Minister of Finance Bob Richards told the House of Assembly that contributions would go up by 7.5 per cent — meaning the worker will have to pay an extra $2.40 each week, the same as the employer. "After carefully reviewing the Contributory Pension Fund 2014 Actuary Report, I propose to increase CPF benefits and contributions by 5 per cent and 7.5 per respectively, effective August 2016, when benefits under the plan are traditionally amended," said the minister. The maximum benefit is currently about $1,399.14 per month, said Mr Richards. Altogether, some 12,365 seniors currently receive benefits. Mr Richards noted that the cost of living had increased by 7.9 per cent since August 2011, when the last increase was granted. He said: "Although the benefit increase does not fully cover the prevailing rate of inflation, the Government is of the view that this increase should meet the important policy objective to assist our seniors and strikes the right balance between fiscal and social responsibility. The 7.5 per cent increase in the contribution rate is based on actuarial advice and is intended to maintain the long-term viability of the CPF. The current policy is to increase contributions by 2.5 per cent more than any benefit increase awarded. The 7.5 per cent increase represents a rise in contributions of $2.40 per week payable by the employee and an increase of $2.40 payable by the employer. The employer would be responsible for submitting the total weekly increase in contributions of $4.80 and would have the authority to deduct up to $2.40 from each employee. As at March 31, 2016, the fund had total assets of over $1.623 billion, representing approximately 11.7 times the annual value of benefits paid in the 2014-15 fiscal year." He noted the next actuary review of the CPF was scheduled for the period ending July 31, next year. "I wish to assure members, and more importantly, current and future pensioners that the Government is sensitive to the challenges facing pension plans of this nature and will endeavour to take the appropriate steps to enhance the benefits paid from the scheme as well as ensure the fund has the ongoing ability to pay for such benefits." Mr Richards also told MPs that the financial performance of the CPF had exceeded expectations of the last three years. That, he said, was because of "higher investment returns, lower administrative and investment expenses, lower levels of inflation and lower net benefit/contribution cash outflow". He explained the main purpose of the 2014 Actuarial Review had been to "consider the implications for future contribution rates of maintaining benefits at their present levels in real terms and to consider the long-term sustainability of the fund. The review includes projections of contribution income and expenditure (on benefits and administration), projections of the fund balance (allowing for an assumed rate of investment return), and projections of the number of years' outgo secured by the fund." The Contributory Pension scheme played an important role in Bermuda's pension arrangements, he said, "providing a first tier or basic pension to more than 10,693 seniors and other beneficiaries the majority of whom live in Bermuda. There are also disability pensions, and non-contributory benefits. Even though the actuarial review is an excellent tool in overall pension management, it is important to recognise that the financial projections for future years are based on reasonable assumptions and they should not be taken as forecasts of the outcome. The projections should be updated at successive actuarial reviews in light of the latest information available." The main findings of the actuarial review was that the fund's contributor base fell by 3 per cent due to the downturn in the economy. And both the benefit and contribution rates remained unchanged during the three-year review period 2012 to 2014 except contribution rates were increased in August 2012. "Based on the population projection figures, the pensioner support ratio has declined marginally since the last review. The ratio was 4.4 in 2011 versus 3.9 in 2014. The ratio is projected to decline to 1.5 over the next 50 years. The comparative ratio using the actual contributors and beneficiaries of the fund declined by 11.8 per cent from 3.4 in 2011 to 3.0 in 2014. This was due to the decline in the number of contributors as a result of high unemployment in the 2010/2011 period. Contribution income ($107.4 million) decreased by 8 per cent and benefit expenditure ($133.7 million) increased by 16 per cent over the three years since the last review. Total expenses for the three years averaged 0.52 per cent of the average fund, down from 0.66 per cent over the previous three years. Pure administrative expenses averaged 0.24 per cent of the average fund over the three years and were 0.19 per cent of the average fund at the review date. As a percentage of contribution income, total expenses have been relatively stable over the last ten years at 7.7 per cent. The net assets of the fund grew 18 per cent over the three years from $1,532.8 million to $1,802.3 million. This was 2.9 per cent above the projected value from the previous review. The fund earned a nominal rate of return of 7.2 per cent per annum and a real rate of return of 5.0 per cent per annum over the three years since the last review (6.6 per cent and 4.4 per cent respectively if investment and administrative expenses are excluded). This compares with the real rate of return assumption of 3.5 per cent per annum. The Asset/Expenditure ratio is a static measure of the size of the fund to annual expenditure or the number of years cover provided by the fund based on the current annual expenditure. This ratio increased over the three years from 12.3 years to 12.6 years. Compared with 14 other regional social security schemes in a 2013 study, Bermuda's ratio is better than 9 of these countries (average 7.5 years). By comparison, the ratio for the Canada Pension Plan in 2013 was 4.98 years. The viability of the fund in the short to medium term is good with the fund being able to cover at least 12 years of the current expenditure and being positive for the next 25 years. However, recognizing the long-term challenges of the fund the ministry will continue to closely monitor the performance of the fund."
There is a Contributory Pensions Appeal Tribunal. See Bermuda Government Boards
When private corporate pensions are offered, they are in addition to the Government administered Contributory Pensions plan shown above.
Solvency II third-country equivalency
Effective March 24, 2016. This means the European Union considers the standard of the island's insurance regulation to be equivalent to its own. In November last year, the European Commission recommended that Bermuda should be considered as in line with the tough new insurance rules being adopted across the 28-country bloc. A 90-day consultation period that gave member countries and the European Parliament the chance to have their say has now passed. On March 4, the EC's delegated decision on Bermuda's equivalence with Solvency II was laid out in detail in the Official Journal of the European Union. Now that 20 days have passed since the date of publication in the Journal, confirmation of Bermuda's new status is complete. Solvency II equivalence means that commercial insurers and reinsurers based in Bermuda will not be competitively disadvantaged when they do business in the European Union. The news represents a significant achievement for Bermuda's financial-services regulator, the Bermuda Monetary Authority, which has worked and lobbied for more than six years to achieve the goal. In an interview today, Jeremy Cox, chief executive officer of the BMA, paid tribute to his "tenacious team", as well as the industry leaders and politicians who had helped to make it happen. A full story on the interview will appear in Monday's Business section of The Royal Gazette. The BMA also released its 2016 Business Plan today. In his introduction, Mr Cox stressed that equivalence confirmation did not mean the BMA would suddenly have a lot of spare time on its hands. "Securing equivalence was clearly a major achievement, a powerful example of what can be accomplished with a strong, tenacious team that embarked on the road to equivalence in 2010," Mr Cox said. But equivalence is an interim objective, rather than an end in itself, and should be viewed in the wider context of our vision and strategic goals."
Tax Information Exchange Agreements (TIEAs)
2017. June 16. The Bermuda Government has created a new portal that meets the island's obligations under automatic exchange of tax information agreements. Bob Richards, the Minister of Finance, said the Tax Information Reporting Portal was essential for the island to adhere to international compliance standards and to protect its status as a financial centre. The new portal will enable overseas tax authorities to access tax information on individuals and multinational companies and was borne out of international agreements designed to clamp down on tax dodging. "Today's launch of Bermuda's automatic exchange of information (AEOI) portal is a milestone in protecting Bermuda as a leading international financial centre," Mr Richards said. "It is impossible to remain a viable centre in today's compliance climate without conforming to the Organisation for Economic Cooperation and Development AEOI regime, especially as it is required by both the European Union and the G20 to meet their standard for international co-operation on tax matters." The new rules mandate how countries collect information on the financial account information of individuals and also operations of multinational companies, to the benefit of interested tax authorities. The new portal confirms the island is meeting its obligations under the OECD CRS (Common Reporting Standard) and OECD CbC (Country-by-Country) AEOI regimes. "Bermuda is an AEOI Early Adopter jurisdiction, meaning that Bermuda's portal will receive year 2016 CRS and year 2016 CBC information from Bermuda persons and share the information with all countries that are also AEOI Early Adopters for year 2016 CRS and CBC information," Mr Richards said. "Many of the large countries are latecomers by only collecting and sharing under the OECD AEOI regime starting with either year 2017 information or year 2018 information. This includes some of the EU, G20 and OECD countries — some of the very countries promoting these very standards." The Ministry of Finance statement added: "Bermuda is the first UK Overseas Territory to join the OECD Base Erosion Profit Shifting committee known as the Inclusive Framework. Bermuda has also initiated renegotiation of all four of its double-taxation agreements to revise them to the standard articulated by the Multilateral Convention to Implement Tax Treaty Related Measures to Prevent BEPS." Reporting persons can now access Bermuda's Tax Information Reporting Portal at www.gov.bm
2013. December 2. Parliamentarians have passed two Acts updating laws to "enhance Bermuda's tax information exchange framework" in compliance with international financial regulations. But the Opposition warned that the amendments were further signs of a global "David and Goliath" battle in which "larger welfare states sat in judgment over smaller, weaker offshore centres". The USA-Bermuda Tax Convention Amendment Act 2013, and the International Cooperation (Tax Information Exchange Agreements) Amendment Act 2013 were presented to the House on Friday by Attorney General Mark Pettingill. Mr Pettingill explained that the acts would ensure "consistency, transparency and compliance with international tax information exchange standards recommended by the Organization for Economic Cooperation and Development". Mr Pettingill said that an OECD peer review last week had given Bermuda a "largely compliant" rating in its handling of requests for exchange of information under TIEA", but that further OECD recommendations needed to be "addressed" to safeguard and advance that rating. "These bills will address some of the recommendations by replacing the current practice of the Minister [of Finance] issuing a notice for information to the person in possession of the information with a new practice whereby the Minister would ask the court to issue a production order to the person in possession of the requested information. If Bermuda forwarded requests for information before court proceedings had begun, background details as to why the request was made could be revealed and confidentiality agreements would be breached. The amendments mean that arguments justifying the request for information will be heard in behind-closed-doors court hearings, and the courts will then have the authority to order the relevant information to be handed over." The Progressive Labour Party signed a slew of TIEAs while in office, but on Friday Opposition MPs expressed concern at what they saw as a creeping encroachment by G8 powers on the financial affairs of Bermuda and other offshore tax jurisdictions. They suggested that the US, UK and other nations were "continually moving the goalposts" in order to impose "tax harmonization" and limit the advantages of jurisdictions that did not collect income tax. Opposition leader Marc Bean said that the US and European Union states were carrying out "financial imperialism" in order to "restrict entrepreneurship and global capital flows." "They are the prosecutors and we are the ones on trial. Just because they are our neighbours that doesn't mean that they are our friends. We have gone too long appeasing these Goliaths." Shadow Education Minister Walton Brown said that the issue of compliance "relates to powerful countries trying to attack the viability of our taxation system", while Shadow Home Affairs Minister Walter Roban suggested that "they are playing a game with our livelihood. The developed nations are starved of tax revenue and are looking around for low-hanging fruit. We have been doing this for quite some time. Going back to 1986 we have been abiding by these guidelines and it could be argued that we have become a victim of our own success, which is why the IMF want to poke into our affairs." But the Attorney General countered by suggesting that the Opposition was overreacting. "One has to know when to get into a good hard fight and when to dance around it a little bit and even retreat if necessary. Perhaps members don't appreciate the in-depth nature of these TIEAs and the type of situation we find ourselves in and it is not the situation where we can stand up, stick our chests out and say 'well you can get stuffed we're going to do our own thing."
2013. November 25. Minister of Finance Bob Richards today visited the Polish Embassy in London to sign a bilateral Tax Information Exchange Agreement (TIEA) with the Republic of Poland. A Ministry of Finance press release announcing the bilateral agreement quoted Mr Richards, who said: "Signing a TIEA with Poland has been a long time in the making and represents the beginning of an official exchange of information relationship with Poland upon which the Government of Bermuda hopes to build a long and fruitful partnership." The press release stated that with these bilateral treaties Bermuda establishes a direct treaty relationship, which in this case, is with the Minister of Finance for Poland. "As Poland is a member of the European Union (EU) it is crucial that Bermuda signs this TIEA; the EU has always been one of the main regions with which Bermuda has a strategic and economic relationship and Poland is one of the many countries Bermuda reinsurers do business with in Europe. The benefit of signing the Poland TIEA is that it allows for tax transparency and information exchange on a by-request basis, where previously there was no formal avenue available." Bermuda now has bilateral TIEAs with 50 percent of the members of the EU.
2013. June 4. Finance Minister Bob Richards updated the House of Assembly on talks between both Bermuda and the United Kingdom, and Bermuda and the United States about tax information exchange agreements (TIEAs). He told MPs Bermuda's dependant territory status means Bermuda is required to sign a tax information exchange agreement with the United Kingdom (UK). The UK Treasury also "encouraged" Bermuda and all other Crown Dependencies and Overseas Territories to sign tax information exchange agreements with the US. The US has proposed two FATCA reporting options. Under IGA Model 1 financial institutions would be required to provide US client data to their government authorities, who would vet the information for correctness and accuracy before making an annual filing to the IRS, or Under IGA Model 2 a jurisdiction agrees to create a piece of legislation that would require its financial institutions to register with the IRS directly and submit annual filings of its US clients' accounts and investments to the IRS, also directly. Government would not be involved in the annual reporting process but would ensure compliance, and assist the IRS in their investigations of non-compliant US clients, in Bermuda's case in the form of group requests for information under the US-Bermuda tax information exchange agreement (TIEA). Bermuda will sign Foreign Account and Transaction Compliance Act (FATCA) intergovernmental agreements with both the US and the UK "as soon as possible", and intends to "conclude and initial both the US and UK Intergovernmental Agreement (IGA) Model 2 documents by the end of this summer." Bermuda has opted for IGA Model 2 because without an income tax system or central filing system to register account data on personal income, it means undertaking the "mammoth task" of creating a secure IT structure and legal platform. There would also be the need to hire additional government personnel to vet the information being deposited from the various financial institutions. It would be expensive and would open the Government to legal action should incorrect information be released to US authorities. Government began consultations with industry stakeholders a year ago about the IGA model options. On April 10, 2013 the Finance Minister announced to industry representatives the intention to recommend to the Cabinet that Bermuda should negotiate a US IGA Model 2. HM Treasury officials visited Bermuda in May to negotiate with the Bermuda FATCA team. Ministry of Finance officials and key industry representatives have begun formal official negotiations on the US FATCA IGA Model 2 and were to meet in June 2013 with US Treasury officials in Washington, DC.
Bermuda has signed TIEAs with a number of countries, as shown below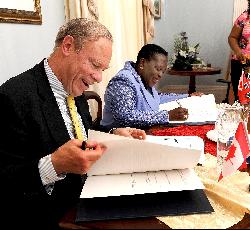 Since 2010 Bermuda has signed a series of other similar Tax Information Exchange Agreements (TIEAs) with Aruba, Australia, Bahrain, Belgium, Brazil, Canada, Czech Republic, Denmark, Faroe Islands, Finland, France, Germany,

Iceland, India, Ireland, Greenland, Indonesia, Italy, Japan, Malta, Malaysia, Mexico, Netherlands (Holland), Netherlands Antilles, New Zealand, Norway, People's Republic of China, Poland, Portugal, Singapore, Spain, South Africa, South Korea, Sweden and Turkey. These supplement the TIEAs already signed with USA, UK, etc. The tax information exchange agreements are part of a joint campaign by the parties to stop tax evasion and will enable the authorities to access information about anyone seeking to evade payment of tax on income and capital investment and help disclose assets that have not been reported in their home country. Information to be exchanged includes information on beneficial ownership of companies in the whole ownership chain; settlers, trustees and beneficiaries of trusts, and information held by banks and financial institutions. The process will enable tax authorities in Bermuda and all the countries mentioned above to access information about tax evaders and disclose any assets not reported in their home country. Bermuda has received recognition from the USA's Internal Revenue Service (IRS) and the British Prime Minister for its efforts to get onto the Organization of Economic Cooperation and Development (OECD) "white list." The OECD attaches great importance to the number of TIEAs signed by each country. Bermuda has now met both the G20 and original OECD standards.

Photo above: signing ceremony June 2010: Dan Sullivan, Canadian Consul General of Canada, and Paula Cox MP, then Finance Minister, sign at Camden, Paget, a Tax Information Exchange Agreement between the two countries. (Royal Gazette photo).

The agreement is a reciprocal arrangement between the country concerned and Bermuda not to tax the repatriated income that a firm or a national of the parties domiciled in one country earned (and paid taxes on) in the other country. In 1988 Bermuda and USA signed the US-Bermuda tax treaty in Washington DC, shortly after Premier Sir John Swan met with President Ronald Reagan. It began the international business boom for Bermuda that continues to this day. It is so favorable to Bermuda that all conferences and conventions involving American businesses meeting in Bermuda end up being borne entirely by American taxpayers. Since then, Bermuda also has a Tax Information Exchange (TIEA) in force with the US and a Mutual Legal Assistance Treaty (MLAT) with the US.
Tax loophole legislation fears from USA in Bermuda
2013. June 4. The Association of Bermuda Insurers and Reinsurers (ABIR) expressed concern in a leading re/insurance publication that legislation in the USA to close a so-called tax loophole that favors Bermuda-based insurers could pass without warning. "The threat is some middle-of-the-night, last-minute deal," said Bradley L Kading, president of the Association of Bermuda Insurers and Reinsurers, which opposes the measure. "That's what we've always been waiting for." He was commenting on the reinsurance tax loophole legislation in the US being revived. Business Insurance reported at the weekend: "The Legislation that would change the tax treatment of reinsurance ceded to non-US affiliates of domestic insurers is unlikely to be enacted as a stand-alone measure, but might pass as part of a larger budget or tax reform bill, insurance industry sources say. Companion bills introduced by Rep Richard Neal, Democrat-Massachusetts, and Sen Bob Menendez, Democrat-New Jersey, would disallow tax deductions for reinsurance premiums ceded to affiliates in jurisdictions not subject to US tax law. The measure has been introduced and failed in previous sessions." The publication noted President Barack Obama included a similar provision in his 2013 budget, estimating that it would raise $6.2 billion in revenue over 10 years. "Several US insurers supporting the legislation argue that it closes an unfair tax loophole, while a wider group of opponents — including many multinational insurance groups and the Risk & Insurance Management Society Inc claim that it will reduce market capacity and raise costs for policyholders," Business Insurance said. "While several sources say the measure likely has too much opposition to pass on its own, opponents say it may be rolled into a tax reform bill now being drafted by the House Ways and Means Committee, or into a larger budget bill."
2013. May 27. It was reported that legislation to tax Bermuda reinsurers has been resurrected in the US Congress. The offshore reinsurance tax debate has been revived with the introduction there of two new bills. Two American lawmakers have reintroduced legislation that would end a tax break they say favors foreign insurers — including those based in Bermuda — over US insurers. Congressman Richard Neal, the ranking Democrat on the House Ways and Means Select Revenue Subcommittee and Senator Robert Menendez, a Democrat on the Senate Finance Committee, introduced bills in both the House and the Senate last week aimed at preventing non-US based insurers operating in the US from reducing their US tax bill by reinsuring with their non-US affiliates. "Many foreign-based insurance companies are using affiliate reinsurance to shift their US reserves into tax havens overseas, thereby avoiding US tax on their investment income," Congressman Neal said. "This provides these companies with a significant unfair competitive advantage over US based companies, which must pay tax on their investment income. That is why I am filing legislation to end the Bermuda reinsurance loophole. Ending this unintended tax subsidy for foreign insurance companies will stop the capital flight at the expense of American taxpayers and restore competitive balance for domestic companies. It simply reinforces my efforts to combat offshore tax avoidance," the congressman added. The legislation closely resembles legislation Congressman Neal first introduced in the House in 2008 and again in 2009. It was later reintroduced in 2010 with the added sponsorship of Sen Menendez. But the legislation failed, as have Congressman Neal's other efforts to close what he, and a number of US insurers, see as a loophole that allows reinsurers, mainly based in Bermuda, to dodge US taxes. A similar proposal is included in President Barack Obama's 2014 budget. Under current law, property and casualty insurers are allowed a deduction for premiums paid for reinsurance — that is, insurance for insurance companies — if the reinsurer is an affiliate not based in the US.In essence, the Neal-Menendez legislation defers the tax deduction for premiums paid to an offshore affiliate until the insured event occurs. That effectively restricts any benefit a company would gain by shifting reserves and associated investment income overseas and is modelled after the Obama administration's budget proposal. The Coalition for a Domestic Insurance Industry, led by US insurers, WR Berkley and Chubb said in a statement that the bills' sponsors worked with tax experts at the Treasury Department and the Joint Tax committee in drafting the bill. "We urge Congress to swiftly adopt the proposed legislation. Congress never intended to give a preference to foreign-controlled insurers over their domestic competitors," said WR Berkley, chairman and CEO of WR Berkley Corporation. "Closing unintended loopholes to recover lost revenue is one of the best ways to offset the cost of needed tax reform. The increasing trend of foreign insurance companies moving profits made in America offshore and sticking Americans with the bill is incredibly troubling," said Sen Menendez. "This legislation will staunch the flow of capital overseas, protect American jobs, and reduce deficits by shutting down a tax loophole that provides a huge unintended subsidy to foreign companies at the expense of both their US competitors and American taxpayers. "But opponents contend the bill would do serious damage to the US property and casualty insurance markets, while also violating international commitments made to trading partners. A group representing the reinsurance industry, the Coalition for Competitive Insurance Rates (CCIR), is objecting to the proposed legislation, arguing that it would increase costs and limit coverage availability for American consumers. "The legislation introduced closely mirrors thinking we have seen time and again from the Obama Administration and Congress," said Bill Newton, executive director of the Florida Consumer Action Network. "Our concerns remain the same: instituting a tax on foreign affiliate reinsurance would only result in a more limited US domestic insurance capacity and more expensive insurance coverage, a major threat to homeowners and small businesses whether they are in Florida, Massachusetts, New Jersey or elsewhere, but particularly those in states that are historically susceptible to natural disaster." Approximately two-thirds of all reinsurance coverage currently required to protect American homes and businesses is provided by non-US reinsurance companies. In Florida, less than ten percent of that reinsurance comes from US companies — with the rest coming from foreign affiliates — 62 percent of them right here in Bermuda. Estimated losses from Hurricane Sandy currently stand at more than $19 billion and may reach $25 billion. International insurance companies are expected to cover nearly 50 percent of the losses caused by the storm, the CCIR says. "This legislation would shift the financial burden of rebuilding following a disaster onto already strained domestic insurers and their policyholders," said James Donelon, the Louisiana commissioner of insurance. "As we enter the 2013 tornado and hurricane seasons, we need Congress and the President working on legislation to aid rebuild efforts, not hinder them with avoidable economic challenges." Carolyn Shaw, Risk and Insurance Management Society (RIMS) board liaison to the society's external affairs committee international reinsurers are essential to the US insurance markets — able to fill gaps in coverage while domestic insurers are coping with an influx of claims following a disaster. "This short-sighted legislation fails to realise that if organisations are forced to abandon their offshore counterparts, the financial burden would fall on government and policyholders — an alternative that could shatter this country's economic vitality," Ms Shaw said. RIMS president John Phelps says the use of foreign reinsurance by domestic carriers is an "efficient mechanism to pool risks, diversify exposures, reduce the volatility of losses, and as a result, enhance availability of coverage and reduce prices for consumers." He says the proposed legislation would make critical types of coverage, scarce for American companies and consumers. "Throughout the recent series of natural catastrophic events, and the terrorist attacks on 9/11, foreign reinsurers have filled gaps in coverage where domestic insurers either discontinued or severely curtailed coverage or significantly increased rates," Mr Phelps said. In an economic impact study of the Neal-Menendez bill, the Brattle Group, an economic consulting firm, found that the proposed tax would reduce the net supply of reinsurance in the US by 20 percent — which would raise rates.
The Association of Bermuda Insurers and Reinsurers (ABIR), which represents 22 of the world's largest international re/insurers is a member of the CCIR. Brad Kading, ABIR's president and executive director, has been lobbying on Capitol Hill against the Neal Bill for more than six years now. He says the proposed legislation would take away reinsurers' ability to diversify and spread risk. "Affiliate reinsurance is a fundamental component of insurance group operations," Mr Kading said. "US and non-US insurers use affiliate reinsurance to spread risk and match capital with risk — this helps generate capacity to meet client needs. You can't do business without it." RJ Lehmann, a fellow with the R Street Institute, a non-profit policy research organisation, says in the end, the legislation would only benefit a small group of US insurance companies at the expense of American consumers. "This is a protectionist measure that serves the interests of certain large domestic insurance companies by discouraging foreign-based competitors from devoting their capital to US risks. It also is simply bad policy, in that it would tend to concentrate US risks within the United States, rather than allowing the global reinsurance system to spread them throughout the globe." Mr Lehmann also added that the legislation appears to violate the United States' commitment under the General Agreement on Trade in Services not to subject companies to more punitive or burdensome taxation based solely on where the company is based.
Throne Speech, November 8, 2013 Highlights
MarketPlace, Supermart and Lindo's will introduce ten percent discount shopping days on Wednesdays for one year from December 1 as part of a food cost relief initiative
Energy cost relief will be sought for residents and businesses by making changes to the Energy Act and Regulatory Authority Act, and allowing the independent Regulatory Authority to regulate energy
A referendum on gaming will take place in the first quarter of 2014
Government will produce a public consultation paper on the decriminalization of marijuana and an examination of its wider uses
Retail outlets will be allowed to sell wine and spirits on Sundays
Amendments will be made to the Defence Act to eliminate conscription
A temporary jobs programme will be created to bring St Georges golf course back to a maintained level
Debt collection and enforcement measures will be stepped up through tougher legislation to claw back $70 million owed in unpaid taxes
The Finance Ministry will issue a $50 million bond issue this month to complete its strategic borrowing requirements
An Office of the Contractor General will be formed to oversee Government projects and ensure all rules, guidelines and policies are adhered to
Up to 20 percent of Government spending on goods and services will go to small businesses via an initiative involving Bermuda Economic Development Corporation
Issues with holding, acquiring and conveying land in the property market will be clarified and streamlined
A Good Samaritan Act will be set up to provide legal protection to those who donate food to people in need
Absentee balloting will be introduced for travelers and students off the Island at election time
The Hotel Concessions Act will be amended to attract developers for new tourism resorts and products
Additional funds will be allocated to anti-gang mediation programme Team Street Safe
Mandatory ID checks will be enforced in bars and nightclubs
Judges will be given power to set the minimum amount of time served before parole for murderers and other serious offenders
A Vulnerable Persons Act will be introduced to help protect people with cognitive or other disabilities
A strategy for care of the elderly and disabled who cant stay in their own homes will be developed
Legislation will be amended to help provide Bermuda status to people born in Bermuda or adopted by Bermudian parents
The Community Driven Development will be expanded to engage more men and women on financial assistance
Government will seek more creative solutions than prison for those who fail to pay child maintenance
A National Gender Policy will be established to bring equitable considerations to decision-making
A White Paper will be tabled on Inclusive and Special Education, setting out Governments plans and a clear framework to meet the needs of all students
S3 students will be required to sit the Employability Certification Programme offered through City and Guilds
An audit of the physical plant of maintained schools will be carried out
A national strategy to revitalize the agricultural industry will be developed
A system will be introduced to better control invasive species, and specifically target lionfish
Alexandra Battery, Gates Fort and the Ferry Reach Martello Tower will be renovated in St George's this year
Government will begin work providing hurricane shelters at Clearwater Middle School and Sandys Secondary Middle School
LED lighting will be introduced as an energy-saving pilot project at the Trimingham Hill roundabouts.
Unemployed and job losses
2017. February 3. More than 2,500 people were signed up on Financial Assistance as of December last year, according to social development minister Sylvan Richards. In total, 2,521 people were signed up, of whom 2,171 were black and 324 were white, Mr Richards told the House of Assembly yesterday. He was speaking in response to parliamentary questions from Progressive Labour Party MP Michael Weeks. Last year's numbers held fairly steady month by month: 2,606 people were on Financial Assistance as of January 2016, and their numbers peaked in March, at 2,679.
2016. January 19. Although Bermuda's economy is beginning to recover, that does not mean that unemployment is a thing of the past, or that people don't need help navigating the jobs market. Although young people have been hardest hit by the recession, those who are 54 or older have also suffered. Fortunately, the jobless rate for people aged 54 to 65 has dropped — from nine per cent to four per cent between 2014 and 2015, The number of people working in this age group also rose — from 6,430 to 6793. Still, it remains the second largest group of unemployed after 16-24 year olds, and faces unique challenges. In terms of demographics, this group constitutes the bulk of the baby boomers — the people born when the birth rate surged between 1945 and 1964. Older members of this group are already of retirement age, but many more are now racing towards that milestone. In the meantime, they still need to work and to prepare for retirement. The recession has also come as a shock to this group, who spent their adult lives in Bermuda in a period of rapid economic expansion for Bermuda as first growth in the tourism industry and then in international business produced a healthy jobs market and many opportunities to build businesses. Several local and global trends have converged to knock confidence. Globally, increased automation and efforts to flatten business hierarchies has resulted in the redundancy of man of the middle management jobs that people in this age group would have expected to hold. Changing technology has also been difficult for some to grasp, where their young colleagues have a more intuitive grasp of the changes and adapt more easily to new software and job processes. Locally, employers may also have been eager to shed older workers, given their higher wage expectations (or demands) and the likelihood that an ageing workforce would add to health costs. Older people face challenges in getting new jobs. These include:
A reluctance by employers to hire older people because they do not believe they will remain in the job market for very long
A preference by employers for people who are more comfortable with technology.
The cost of health insurance for older workers.
A perception that older workers will be less flexible than their younger, hungrier peers.
Against that, older workers have several advantages that they need to emphasize:
A good work ethic and strong soft skills (timekeeping, strong communication, experience within organisations)
Versatility — this is the generation which has moved from typewriters and telexes to fax machines to the most modern technology.
Experience — they have seen it all before. They have been through periods of growth and crises.
Still, people in this age group need to be prepared for some scepticism. They should emphasize their experience, but not to the point that they appear too old — or overqualified for the job they are seeking. They must make sure that they have kept their skills up to date. This is true for software like Microsoft Office, but also industry specific tools. They should emphasize their ability to multitask and to work with little. If they are back in the job market after a long absence, they should also make sure their resumes are up to date, that they are prepared to interview and have a plan for their job search. It is also vital that they show that they have energy and enthusiasm. Remember that Donald Trump destroyed Jeb Bush's campaign basically by describing him as "low energy." Older people should not let the same thing happen to them. What they need to know is that they are very strong candidates in this jobs market. They have tremendous strengths that they need to emphasise. They should not feel that age is a hindrance — it is an asset.
2012. October. It was revealed that 10,000 residents — or more than a quarter of the Bermuda workforce — are either unemployed or underemployed. That is the stark finding of a survey published by the Department of Statistics, which reveals more about the impact of business closures and downsizing in a shrinking economy. The Labour Force Survey Executive Report shows a snapshot of the employment situation, as of May 13 to 19 this year. Since the 2010 Census, the number of unemployed has risen by 1,323. Even among the 35,874 who still have work, nearly one in five were described as "underemployed", which refers to people who had a job during the survey's reference week but were willing and available to work "more adequately". This means that 10,065 people — more than a quarter of the workforce — is either unemployed or underemployed. That was reflected in the sharp fall in average weekly working hours, which fell to 38 hours, compared to 42 hours in 2010. What was also clear from the survey was the difficulty for young people in finding a job. Youth unemployment was 36 percent with 1,176 people between 16 and 24 looking for work out of 3,295 of the working population in that age group. The number of workers under 25 decreased by 567, representing a decline of 21.1 percent, the largest decrease among all age groups. The construction industry's post-boom demise is apparent, with 2,721 workers employed in the industry, representing a fall of 750, or 21.6 percent from 2010. However, the survey indicated some surprising increases in sectors such as international business — up from 3,802 to 4,094 — and financial intermediation — up from 2,741 to 3,131. The business services sector also added more than 500 workers and the struggling retail and repair services sector added nearly 200 jobs, according to the survey. The data was taken from a sample of nearly 1,500 households, some five percent of all households on the Island, producing aggregate results at the 95 percent confidence level with a margin of error of plus or minus 2.5 percent, the Department of Statistics stated. The survey said the number of Bermudians in the working population decreased by 336 or 1.2 percent. There were 244 more spouses of Bermudians in the workforce than in 2010, while Permanent Resident Certificate holders fell from 1,370 in 2010 to 1,222 in 2012. The most severe contraction in jobs was among "other non-Bermudians", who numbered 1,083 fewer this year than in 2010, representing a fall of 16.7 percent, as expatriates left the Island in their hundreds. Wages have changed little, with the median gross income at $58,698, compared to $58,355 two years ago. Women appear to be suffering disproportionately from the job losses, with the number of females in the workforce declining by 780 to 17,723, compared to a drop of 543 in the number of men, to 18,151. The statistics also indicated differing labour market fortunes for blacks and whites. The number of blacks in the working population fell from 20,171 in 2010 to 17,229 in 2012. In contrast, the number of whites increased from 11,312 in 2010 to 13,237 in 2012. Blacks accounted for 48 percent of the working population; whites comprised 37 percent. People of mixed and other races accounted for 14 percent, while 216 workers did not state their race. Men earned a median income of $60,156, maintaining their earnings advantage over women, who took home $57,322. Whites' median income, at $71,751, was around $20,000 more than that of both blacks ($50,799) and mixed/other races ($53,191). Bermudians earned $54,550, less than non-Bermudian spouses of Bermudians ($69,378), other non-Bermudians ($87,089) and permanent residents ($74,499). Workers in the international business sector were the highest paid, with a median income of $114,951, followed by financial intermediation ($74,231) and electricity, gas and water ($69,068). The lowest paid sectors were restaurants and bars ($33,471), "other community, social and personal services" ($35,017) and retail and repair services ($40,751).
2012. April 24. The Bermuda Government yesterday confirmed what The Royal Gazette has been reporting for months now, hundreds of people in Bermuda have lost their jobs. Nearly 700 people in all lost their jobs in Bermuda last year, according to the Government, marking the third straight year of job losses for the Island. The vast majority of those made redundant were expatriates. According to the annual Bermuda Job Market report, released by the Department of Statistics yesterday, there were 698 fewer jobs in 2011 than there were in 2010, a decline of two percent. The report said the number of filled positions reported in 2011 was 37,399 compared to 38,097 in 2010. Of those 698 people who lost jobs, 691 were non-Bermudians and 60 were Bermudian, offset by spouses of Bermudians who gained 30 jobs and permanent resident certificate holders who gained 23 jobs. "My initial reaction is that this survey further exemplifies the need to change gears," said Buddy Rego, President of the Bermuda Chamber of Commerce. "Relax employment restrictions, give incentive to the business community to create new business and job opportunities." After reading the report, Doug Soares, a partner at Expertise, Bermuda's largest management consulting and outsourcing company, said employees in the private sector seem hardest hit. "The level of austerity felt by private-sector employees has not yet been felt by Government employees. For the 12 months ending August 2011, Public Administration shed only 12 jobs and increased compensation by 1.5 percent over the annual inflation rate," he said. "The Government seems committed to preserving the size of the public service. This is only sustainable for as long as we continue adding to the public debt. Government has instituted a hiring freeze so downsizing will occur but too slowly to avoid the eventual need for reductions in the public sector payroll. At some point, job losses or reduction in hours of work, pay or benefits, or a combination thereof, will be required to match payroll costs with shrinking tax receipts." The Government's report is based on a census of all businesses on the Island. The survey was conducted during the week of August 28 to September 3, 2011. Mr Soares said unemployment figures are likely to get worse before they get better. "It is important to note that the statistics published in the 2012 employment brief are already dated. They represent a snapshot of the job count in August 2011," Mr Soares said. "So the question is, has the unemployment situation gotten better or worse over the past seven months? Unfortunately, the answer is worse." The hardest hit sector was construction, which shed 493 jobs, a fall of 16 percent. Also hard hit were real estate, which lost 14 percent of its workforce due to a slumping housing market. The number of jobs in international business dropped five percent from 4,287 in 2010 to 4,077 in 2011, down 210 jobs. Mr Soares points out that in some sectors, the losses might not get too much worse but for others, there could be greater issue at hand. "For example, job losses in construction have slowed in recent months," he said. "What is not well understood by the average Bermudian is the cause of the job losses. It is widely presumed that all job losses are caused by the recession. Not so. For example, while a construction job is lost due to a lack of demand for building in the economy, most international business job losses are actually job relocations. This means that the job is just moving from Bermuda to another jurisdiction. So the question should be: what must we as a jurisdiction to retain international business job in Bermuda?" One of a handful of sectors not cutting positions was the hotel industry, which added 131 jobs last year. Restaurants, cafes and bars added 53 jobs. And 270 positions were added in education, healthcare and social work. Those who managed to stay employed are likely earning more money. The median annual salary for jobholders in companies with ten or more employees increased three percent from $57,915 to $59,364. For the third year in a row, women, on average, earned more than men. The median annual income for women was $59,677 and for men, it was $59,081. The report points out that the increase in women's earnings exceeding those of men is attributable to the decline in construction jobs, primarily held by men. Of all the jobs lost in 2011, male workers held 90 percent of them. There was no change in the number of jobs filled by black workers however, there were significant job losses among workers who classified themselves as white, mixed and other races. The highest average salary was in the international business sector at $111,938 while the lowest averages were in the retail ($42,000), hotel ($35,898) and restaurant ($35,664) sectors and the overall average $60,559. Non-Bermudians with no spousal ties to Bermudians were heavily employed in the professionals occupation group. Positions in that category include actuaries (123 jobs), lawyers (103) and certified accountants (490). They were also some of the better jobs with median salaries of $189,263 for actuaries, $184,902 for lawyers and $98,229 for certified accountants. Other positions with large numbers of work permit holders, which also paid above the national median salary included junior accountants (174 jobs, $96,346), secondary school teachers, (153 jobs, $85,500) and registered nurses (490 jobs $67,598).
Some residents can't work because of Bermuda's Work Permit rules that stipulate Bermudians only in certain non-professional categories of employment. Unemployment benefits in Bermuda are far tighter to obtain in Bermuda compared to the USA, Canada, UK, etc. Also, non-Bermudians don't generally qualify.
Work Permits
See details in Non-Bermudians Working in Bermuda.


Last Updated: November 20, 2017.
Multi-national © 2017 by Bermuda Online. All Rights Reserved.