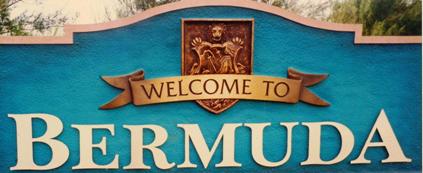 11165+ web files about Bermuda, regularly updated as a Gazetteer, focusing on this internally self-governing British Overseas Territory 900 miles north of the Caribbean, 600 miles east of North Carolina, USA. Accommodation options, aircraft & shipping registers, airlines, airport, America's Cup 2017, actors/actresses/musicians/singers/ performing artists, banks, beaches, Bermuda Dollar, Bermuda Government, Bermuda-incorporated international and local businesses and companies including insurers and reinsurers, Bermudians, books and publications, bridges and causeway, charities, churches, citizenship by Status, City of Hamilton, commerce, communities, credit cards, cruise ships, cuisine, currency, disability accessibility, Devonshire Parish, districts, Dockyard, economy, education, employers, employment, environment, executorships, fauna, ferries, flora, former military bases, forts, gardens, geography, getting around, golf, government, guest houses, history, historic homes, Hamilton, House of Assembly, housing, hotels, immigration, import duties, internet access, islands, laws, legal system and legislators, location, main roads, marriages, media, members of parliament, money, motor vehicles, municipalities, music, nearest mainland, newcomers, newspaper, organizations, parks, Paget Parish, Pembroke Parish, residents, pensions, political parties, postage stamps, public holidays, public transportation, railway trail, real estate, religions, Royal Naval Dockyard, Sandys Parish, Smith's Parish, Somerset Village, Southampton Parish, St. David's Island, St George's Parish, senior citizens, Somerset, Spanish Point, Spittal Pond, sports, taxes, telecommunications, time zone, traditions, tourism, Town of St. George, Tucker's Town, utilities, water sports, Warwick Parish, weather, wildlife, work permits.

Bermuda's Island Traditions
Local cultures and customs, some derived from other countries with local adaptation
By Keith Archibald Forbes (see About Us) exclusively for Bermuda Online
Agricultural Exhibition annually (until 2002 the Agricultural Show)
April 20-22. 2017 Bermuda Agricultural Show. Bermuda Botanical Gardens. Paget. In 2016, on December 21. The AG Show Ltd signed a Memorandum of Understanding with the Bermuda Government to run the Annual Exhibition for the next three years. And the group has further agreed to help finance the revitalization of buildings at the Botanical Gardens over the coming years using proceeds from the event. According to ASL chair David Lopes, the first target for work will be the Education Building, with ASL donating $75,000 to restore the building. "The building is not in very good condition," Mr Lopes told a press conference today. "It is one of, if not the oldest buildings at Botanical Gardens. During the exhibition, the building is used to display the primary school aged students entries. The building is in need of repair and ASL has agreed to donate the proceeds from the 2016 gate admissions for the repairs to ensure that the building can continue to be used for future shows." Antwan Albuoy, ASL president, added that the building's roof would be the main focus of work, with Cole Simons, Minister of the Environment, saying: "This is a community event and these buildings are for the community. For the event to be successful, we need proper facilities and ASL have come up to the wicket, fundraising for us." Mr Simons said that ASL had requested a five-year MOI, but staff at the ministry felt confident that within three years it would in an economic position to host the annual event to the same standard as has been achieved by ASL. Detailing the 2017 show, Mr Albouy said that plans for a bigger and better show by reintroducing crowd favourite events like the tug-of-war competition are under way. The 2016 show had proven to be a major success for the vendor charities with about $45,000 raised during the event.
The cultural "institution" has traditionally been hosted by the Government of Bermuda, but was cancelled in 2015 due to financial issues. The Ag Show has been an institution in Bermuda for generations and almost all Bermudians have fond memories of it. It offers an opportunity for people of all ages and backgrounds to get together, share stories and experiences, and participate in friendly competition. Bermuda would not be the same without the Ag Show, and the Green family of Bermuda, owners of the Hamilton Princess and other properties sponsor this 2016 event. The AG Show Ltd is now a registered charity, established in February 2015 for the purposes of holding the annual agricultural exhibition. The annual Ag Show, sponsored by all British counties in the UK where farming is still a major part of the local economies but is no longer the case in Bermuda, nevertheless welcomes as many as 25,000 attendees in Bermuda over three days and features up to 4,000 exhibitors. Participation in the event includes a large portion of the Island's population, from seniors who have been attending it since the show's early days, to schoolchildren and toddlers who get an introduction to things they might not see in their everyday lives. For information on donations and sponsorships for the show, e-mail secretary@theagshowbda.com. Organizer David Lopes is hoping it will be "as good or better than it's been before." The show will celebrate agriculture, horticulture and animal husbandry under this year's "Homegrown" theme. This will be the first Ag Show in two years, after the Bermuda Government cancelled the 2015 edition for financial reasons. "We tried to keep it going last year but it just wasn't possible," Mr Lopes, a former ZBM radio host, said. After the complications, the Government entered into a public-private partnership with registered charity Ag Show Limited, allowing it to host the show. Mr Lopes, a farmer who serves as the ASL chairman, said that preparations for the 2016 event were "in the home stretch. This is all new to us and it's quite a challenge," he added. "Every day, when you think you've got everything straight, another challenge pops up. But we expected that and we're prepared for it, plus we've had an awful lot of support from the community." The show has a rich history. Its roots extend back as far as 1843, when then-Governor Major General Sir William Reid encouraged the adoption of agriculture on the island, where principal occupations included shipbuilding and seafaring. The Governor organized an agricultural exhibition with ploughing matches at Mount Langton and the whole colony became interested in farming. Mr Lopes has a long affiliation with the show, where he first exhibited rabbits in 1955, before progressing to goats, poultry and cattle. He is keen that this year's event, which already has 2,500 participants and exhibitors confirmed, maintains the traditional charm of years gone by. Entrants will compete in a broad range of categories including horses, pigs, rabbits, fruit, vegetables, roses, orchids and woodcraft. About 2,000 pictures have been entered for the junior art competition and there will be an emphasis on local entertainment. "The Ag Show is probably the biggest cultural event in Bermuda and welcomes people of all ages and from all walks of life," Mr Lopes said. "It is not an option — we must keep this show going." Entry will cost $10 for adults, $5 for children under 16 and senior citizens, and nothing for children under 6. For the 2016 event a team of acrobatic students will provide an energy boost to this year's Agriculture Show. The youth jumpers from the Bermuda Heart Foundation's Jump 2B Fit programme range in age from 7 to 18 and come from both public and private middle and primary schools. The team will be performing on Friday and Saturday at 2.15pm on the main entertainment stage in the Botanical Gardens. They will be performing a combination of single rope skills, double dutch skills, and gymnastics tumbling whilst in the ropes. The team train in the sport of jump rope, and have performed all over the island. They have also traveled internationally to represent the island in competition at the World Jump Rope and Pan American competitions.
See http://www.bdaexhibition.bm. Exhibition Secretary, P. O. Box HM 834, Hamilton HM CX. More than 20,000 locals and visitors make the trek to the Botanical Gardens over the course of the show's traditional three-day run. The 77th, very successful, was in April 2016. The mid-April 2015 event was cancelled. Until and including the 2014 show, it was 100% Bermuda Government subsidized. From 2016 it became a private/public combination, run by a private limited company generating its own revenue with government helping to publicize it but no longer subsidizing it. Always a hugely popular, annual three day event in the Bermuda Botanical Gardens in Paget Parish. The Exhibition - originally the Agricultural Show, so-named in the British style after shows therein English, Scottish, Welsh and Northern Irish counties - accentuates that agriculture remains part of Bermuda's history and heritage. These are the only days there is a fee to enter the Bermuda Botanical Gardens. For almost a century it has been as much a herald of the Bermudian spring as returning Longtails kiting across clearing skies or the freesias which shyly begin poking their multicolored heads through the long, rain-saturated winter grass. A combination of county fair, cultural celebration and community jamboree, the exhibit has long-since evolved and transcended its original purpose — to serve as an annual showcase for a once-agrarian Bermuda's livestock and farm produce. Blue rosettes are awarded for first place in categories encompassing everything from farm animals to floral arrangements to fish sandwiches. Tug-of-war contests, gravity-defying acrobatic performances and more add a carnival-type flavor to the proceedings.
Johnny Barnes
From the roundabout (rotary in the USA) near Crow Lane Park in Paget Parish, Johnny Barnes, now retired, a remarkable Bermudian senior citizen, made a unique tradition for decades of waving a cheery "Good morning" - in all weather - to commuters exiting the parish to enter Pembroke Parish - where there is a statue to him just off the busy East Broadway main road - to work in or near the City of Hamilton.

Photograph by Government Information Services
Beating Retreat
| | |
| --- | --- |
| Derived from an evening British Army tradition. It is not a sound to retreat but a musical call, under spotlights in the winter months, to troops to reduce operations for the night, a military tattoo. It became a local custom when the British Army was first here in the 1700s. It left Bermuda in 1953. It is performed frequently - usually, monthly - by the Band of the Bermuda Regiment, under the direction of Major Barrett Dill, EM, AVCM. The Band has dress blue and red uniforms and white pith helmets. The Band is usually accompanied by the Bermuda Islands Pipe Band, under the direction of it's Pipe Major and Drum Major. | |
Bermuda Bridge Blessing
Last performed in December 2014 by Margaret Fergusson, wife of then-Governor George Fergusson, when she carried out a traditional blessing of the new Bailey's Bay Bridge by smashing a coconut on it.
Bermuda College Weeks
No longer celebrated en masse in Bermuda, after years of decline, despite a recent resurrection attempt. Because of the one-time annual Bermuda Floral Pageant, Bermuda's College Weeks were also annual events, occurring at the same time, attracting as tourists thousands of students from colleges and universities throughout the USA and Canada. A 1956 description in the USA's Sports Illustrated describes it thus, see http://sportsillustrated.cnn.com/vault/article/magazine/MAG1069587/index.htm. They were the most numerous by far of Easter-period guests at Bermuda's larger and smaller hotels, cottage colonies and guest houses, most of which offered special prices. Especially noteworthy and quote-worthy were the beach parties at the Elbow Beach Surf Club and the parties at the Bermudiana, Inverurie, and other hotels. Free-spirited and mischievous, the college students often became notorious for their boisterous or unruly behavior, with policeman's helmets, speeding on Bermuda's roads without helmets, swimming en masse across Hamilton Harbour, impromptu beach barbeques, party boats and much more. Many college students were able by special arrangement with the then-USA military bases in Bermuda, to shop there at PX stores and go to the movies.
In those heady days of the 1950s, 1960s and 1970s the Bermuda government's Bermuda News Bureau, or Trade Development Board, later the Department of Tourism, organized and paid for all of the activities scheduled during the College Weeks 28-day period, with courtesy cards that entitled college students free admission to everything from "Get Acquainted" dances at major hotels to beach parties, boat cruises, and steel band concerts. Scores of moped-riding college students took advantage of the island's hospitality. Those mopeds, Mobylettes and Zundapps, mostly, were often photographed in their hundreds, seen at indoor or outdoor events.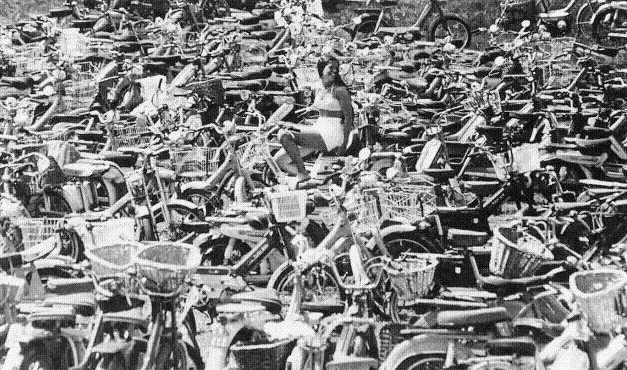 Mobylettes galore, parked at a 1970s Bermuda College Weeks event
As a result, Bermuda became one of the most popular Spring Break destinations, long before places in Florida took over. Major universities such as Harvard and Cornell sent musical and dramatic shows. The Hasty Pudding Theatricals and Harvard Krokodilloes were prominent among them. Female college students were more than welcome, especially for Bermuda's hungry males. Including some famous names, the young college ladies became Bermuda Beauty Queens and were crowned as part of the College Week ceremonies and events. Their Bermuda escorts for those events, always attired in tuxedos in the evening, were, by tradition, drawn from the most handsome or otherwise most eligible Bermuda membership of the Junior Chamber of Commerce. Bermuda wives and girlfriends were left at home when the college girls arrived.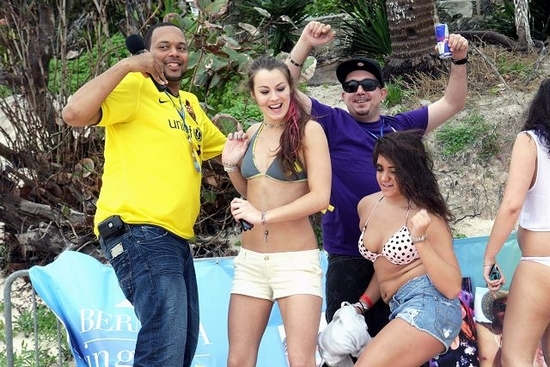 Bermuda College weeks 2012
College Weeks 2012 exceeded expectations, according to the Tourism Department. About 250 visitors were drawn by the event's re-launch. Tourism Minister Wayne Furbert had earlier expressed hope that as many as 200 students from universities and colleges in North America would attend. In the 1950s and 1960s, Bermuda attracted more than 10,000. College Weeks 2012 ran from February 18 to March 16.
Bermuda Easter lilies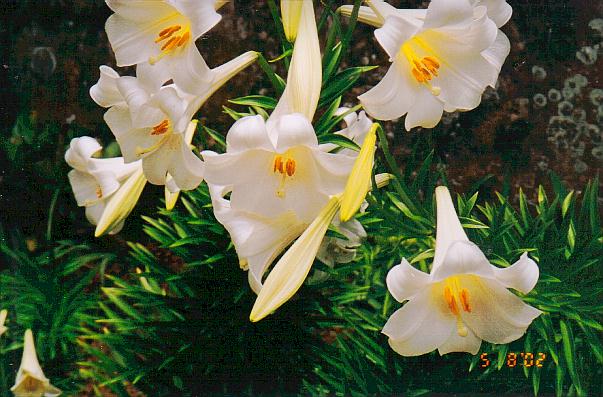 May 2002 photo by this author
They were introduced to Bermuda from Japan in 1863. They flourished so much that Bermuda once exported blooms to North America and beyond. This was when Bermuda was largely agricultural, before tourism became more important. The export trade is no longer what it was but growing is still a tradition. Bermudians still send Her Majesty the Queen every year at least one choice bouquet of these magnificent flowers. Bermuda is said to have been responsible for America adopting its trumpet-like white lily as the official Easter lily in the 1880s, when an enthusiastic gardener from Philadelphia brought bulbs home with her. Shortly thereafter, they were introduced to spring shows throughout America. Ten years later, sizeable shipments of bulbs were being made from Bermuda to the US and England, and a lively trade soon developed. While the Easter Lily is no longer a major crop in Bermuda, the island still sends some of the flowers to the Queen every year. There is also a perfume made from the essence
2016. March 24. Governor George Fergusson and his wife sent Bermuda Easter Lilies to the Queen, continuing a long tradition. This year's lilies were grown in the Government House gardens. Government House said that Her Majesty's Easter Lilies traveled on Tuesday evening's British Airways flight to London and should reach Windsor Castle today. Her Majesty always writes to the Governor to thank Bermuda.
| | |
| --- | --- |
| Original Source of Bermuda-grown flowers | Japan |
Bermuda Festival
See Beautiful Bermuda in Music
Bermuda Fitted Dinghies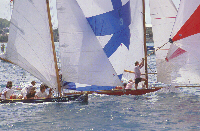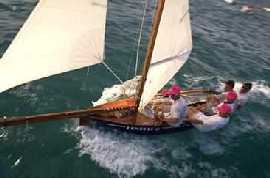 These are a development of the British rowing dinghy or skiff, common in British coastal waters. For many years, skiffs were used as a means of transportation from one part or island of Bermuda to another. British Army and Royal Navy Officers stationed in Bermuda in the late 1800s first designed the boat as seen now. Under their patronage, the first fitted dinghy race was held in the St. George's Regatta in July 1853. The next was at the 1854 Victoria Day Regatta. The third was a St. George's Regatta in 1855 with a 10 shilling entrance fee. Four pounds sterling were added to make up purses for the first two boats to cross the finish line in the handicap event. After several years of informal racing, the sport was organized and measurement rules adopted. It was decided that 14 feet 1 inch long would be the maximum permitted length. No decking is allowed and the keel is limited to 12 feet. All fitted dinghies have a 14-foot bowsprit, 40 foot masts and over 1000 feet of sail - more sail than any other vessel of similar length. Race rules allow the skipper to order as many people as he wishes off the boat, to gain speed. They usually depart from the stern, to give the boat a bonus in speed. There are only eight fitted dinghies. Five race on alternate Sundays from May 24 until September, in various parts of Bermuda. They are Elizabeth, Challenger, Contest, Port Royal and Victory. World-renowned sailor and sail designer Uffa Fox did not believe the vessel would float. But it did. The six people in a crew must improvise for survival and seamanship. They jibe from port to starboard for prevailing winds, try to keep upright, and can take on much water. To keep afloat, they jump or get pushed off. They have high speeds but are often sunk or are dismasted. Luck and talent win. They are always entertaining and often hilarious.
Bermuda Floral Pageant/Easter Parade
Sadly, no longer offered, last one was in the 1960s, a victim of the hugely-changed social and racial scene. Until then it was by far and away Bermuda's most popular annual event, drawing thousands of visitors mostly from the USA. Because of it, Bermuda's "College Weeks" were a further event by themselves, occurring at the same time, attracting as tourists thousands of students from colleges and universities throughout the USA and Canada.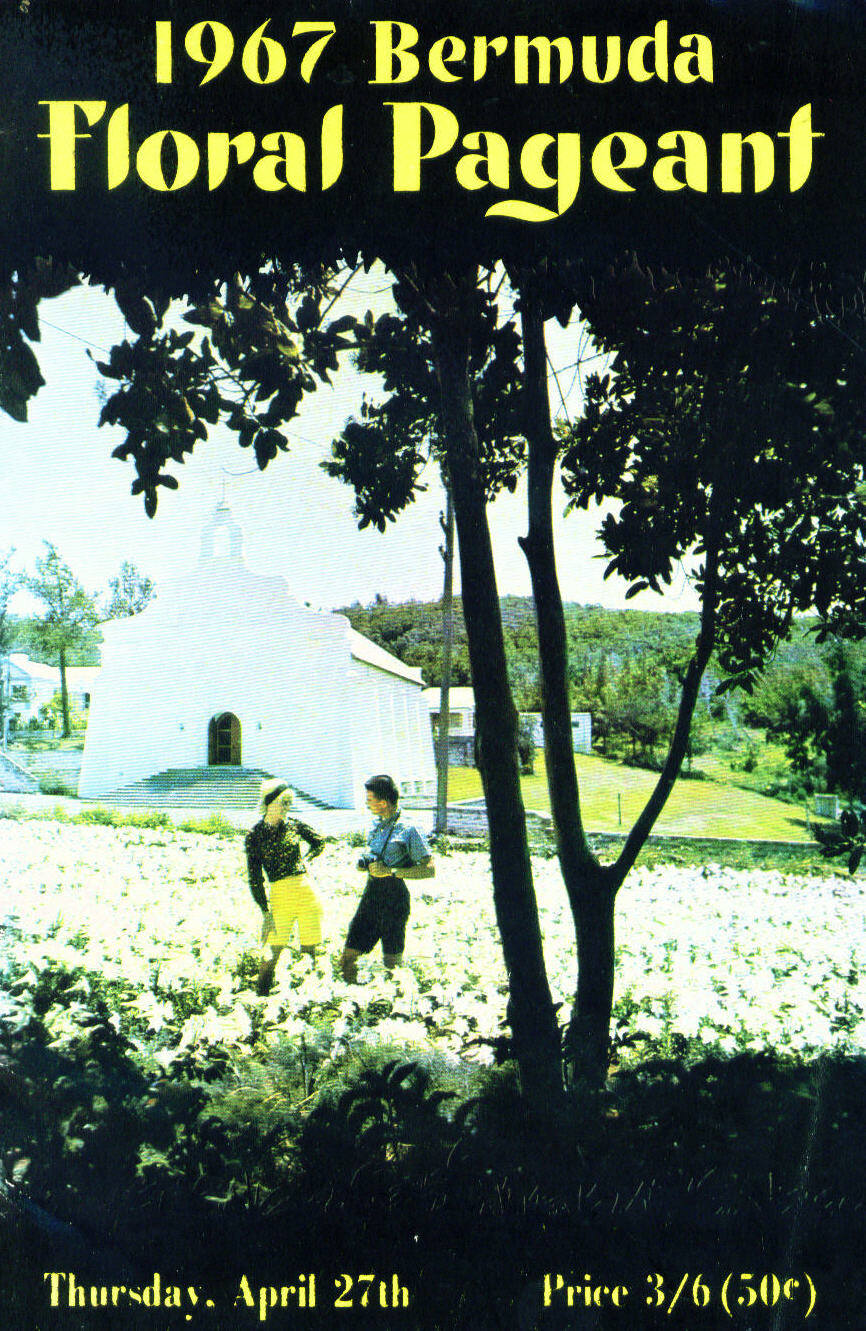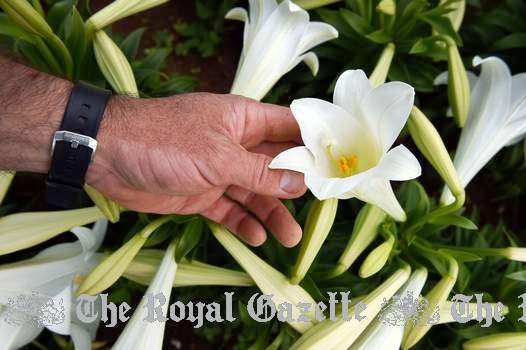 Bermuda Easter Lilies
Bermuda Gombey dancers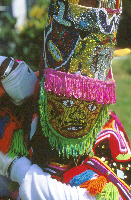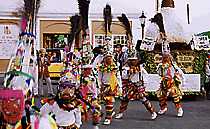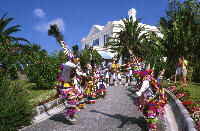 A tradition that began when black slaves were first brought from Africa and the Caribbean. "Gombey" is derived from an African word meaning rhythm. It was originally intended to be performed only on Boxing Day (December 26) and New Year's Day - the two days of the year when slaves were given a rest from their labors. Today, Gombey dance and prance on Boxing Day, New Year's Day, other important events such as football (soccer )matches, at festivals or parades and holidays, also at hotels and guest houses. There is a method of collecting contributions from spectators. The musical accompaniment is usually a kettle drum with two snare drums, covered with goat skin, and a beer bottle fife which produces the sound of a flute crossed with a whistle. Their acrobatic Bermudian members whose routines are based on African, American Indian, Biblical, British "mummers" and West Indian lore and traditions. Each group is a "crowd." The Captain wears the most elaborate costume and is the crowd leader. The Wild Indian and Trapper have a perpetual chase. The Chiefs also carry large tomahawks and shields. Warriors or Choppers include children of families. Under the Captain, the dancers have duets and solos simulating combat. Once, they also re-enacted biblical stories like David's fight with Goliath. Gombey troupes include Warner's Gombeys, Norford's, the Shakey Smith Troupe, Richardson's, and Wilson's Troupe. Books include Gombey Boy and Bermuda Gombey by American born Bermuda author Mrs. Louise Jackson.
1970. The Bermuda Gombeys were recognized as a uniquely local art form at a Unesco Cultural and Conservation Conference. Gombeys have a rich heritage across the Caribbean, where similar traditions emerged on several islands,
| | |
| --- | --- |
| Source | African, West Indian & American Indian, Bermudian |
Bermuda Heritage Day Parade
A fun day, held on Bermuda Day, May 24. With floats, dance groups and majorettes.
Bermuda Islands Pipe Band

Partly in honor of The Bermuda Islands Pipe Band and also because of the many Scots and Irish who are resident in Bermuda and Bermudians with Scots and Irish forebears, there are many recordings available in Bermuda of Scots and Irish bagpipe bands and bagpipers, both civilian and military. In the 18th and 19th centuries, an Irish unit of the British Army was here. Scottish regiments were several times in the British Army garrison here until 1953. A Canadian Scottish regiment was based in Bermuda for a while during World War 2. Their bagpipes and drums accompanied the soldiers on Church Parades from Prospect Garrison in Devonshire to the city of Hamilton, waterfront on Pitts Bay Road and back. The idea became a Bermuda civilian tradition.
Once there were two bagpipe bands here. One was the Bermuda Police Pipe Band which began in 1959. It proudly wore the Prince Charles Edward Stuart ("Bonnie Prince Charlie") tartan. Composed at first largely of members of the Bermuda Police and Prison Services, and other local enthusiasts, including some formerly in the Bermuda Cadets Pipe Band, they were soon performing at the Police Passing Out and ceremonial parades, a tradition maintained by the BIPB to this day.
There was also the older Bermuda Cadets Pipe Band, so-called because it originated in 1955 as "A" Company of the Bermuda Cadet Corps when Captain Henry Hallett was the Company Commander. (Paddy Coyle of the Gordon Highlanders, whose idea it was to start the Bermuda Cadets Pipe Band, was in the detachment of the Highland Brigade stationed in Bermuda at the time. In his honor, the band wore the Gordon tartan). Bagpipe celebrities or those who contributed mightily since then include Denis Stuart; Captain Arthur G. Card, Commandant of the Bermuda Cadet Corps; Lillian Hallett; Mary Card Gibbons and Joan Tite. On the disbanding of the Corps in the early 1960's, the Band continued as a body of civilian volunteers under the name of the Bermuda Cadets Pipe Band. Wearing the Regimental Gordon tartan, the Band's first public performance was in the Remembrance Day Parade in 1956 when they began a tradition of leading the war veterans on and off parade.
Both were disbanded in 1992 when the Bermuda Islands Pipe Band was established. The Bermuda Islands Pipe Band is a spectacular sight on ceremonial occasions, often included in Beating Retreat, musical displays and other events. Individual bagpipers go to hotels and weddings. The 17-member contingent still wear the Gordon Highlanders tartan kilt with a white jacket. Experiences include playing at local and international tattoos
Another still active tradition of the BIPB began in 1963 with the weekly performance by the Cadets Pipe Band of the "Skirling Ceremony" at Fort Hamilton. Yet another long-established relationship began in 1965 with both predecessor Bands and now the BIPB appearing with the Band and Corp of Drums of the Bermuda Regiment in the Beating Retreat in Hamilton, St. George's and the Royal Naval Dockyard.

The BIPB has an equally strong tradition of representing and promoting Bermuda internationally having performed overseas on 18 occasions in the United States, Canada, Scotland and Germany. In 2003, the Band proudly promoted Bermuda at the Nova Scotia International Tattoo. The Band, bearing the Bermuda standard before it, has twice appeared in New York City leading other pipe bands. The Band's more recent international performance came in January, 2005, at the Musikschau der Nationen in Bremen, Germany, Norfolk VA, Birmingham UK and Hamburg, Germany.
Bermuda kite flying on Good Friday
See Bermuda's Public Holidays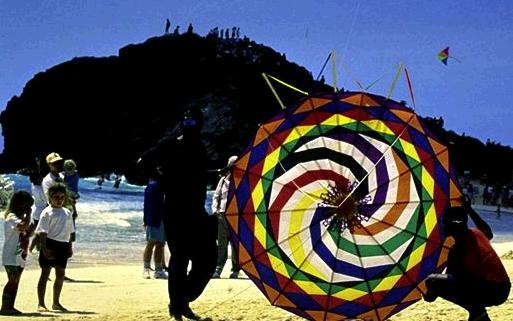 Kite flying at Horseshoe Bay
| | |
| --- | --- |
| Source of Kites | Indonesian, local tradition, Bermudian |
Passion Flower
Another legend associated with the Easter holiday - although Easter Sunday itself is not a public holiday - is that of the passion flower, of which there is a Bermuda species.

This climbing vine requires a sheltered southern location and a great deal of care, so you will not see it in exposed local gardens. It has five sepals or five identical petals. Spanish missionaries who first discovered the flower in South America made it known how the petals represented the disciples without Peter and Judas. The legend was imported to Bermuda as well. The double row of colored filaments, known as the corona or crown, appear to show to some the halo around the head of Christ and to others the crown of thorns.

Bermuda Passion flower, photo by author
The violet stamens and other parts of the flower appear to show the wounds and nails Christ endured.
Bermuda Marathon Derby
Bermuda Public Holidays
Bermuda Moongate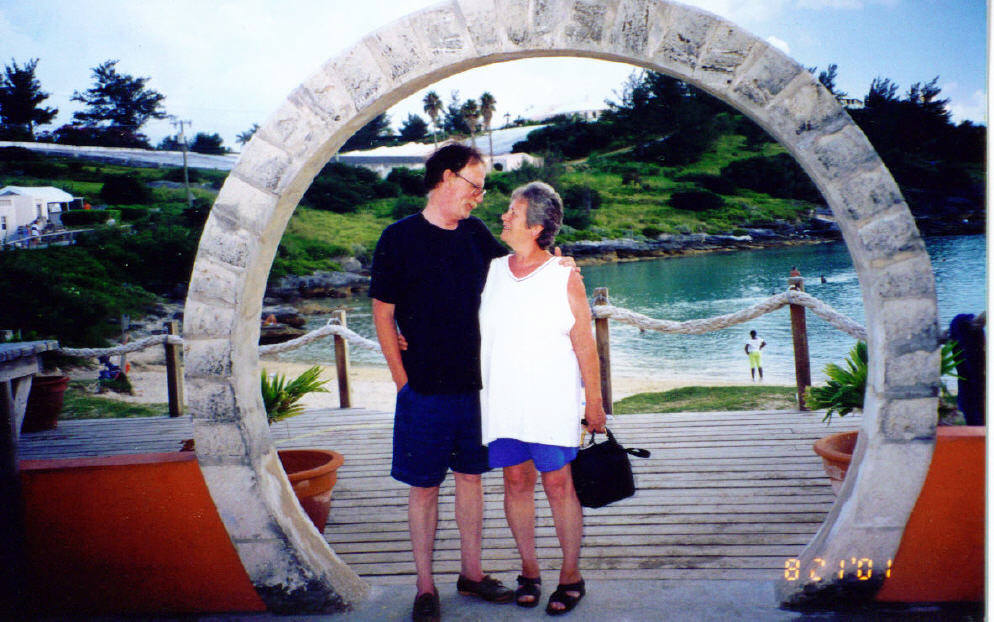 Photo by this author of a Maine couple under the Moongate at Tobacco Bay, St. George's, Bermuda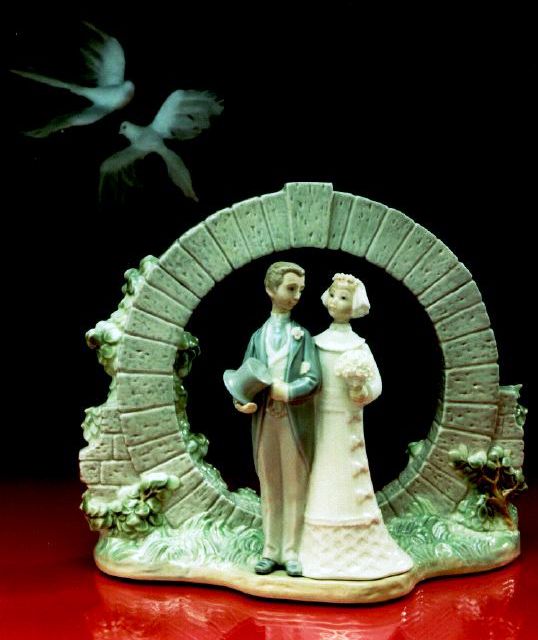 Lladro made this lovely Bermuda Moongate ornament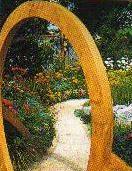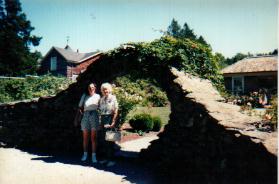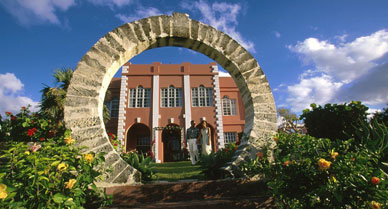 Bermuda Moongate images. On the left, bottom, is an original Chinese one. A New England version is bottom center) and a local one. made from Bermuda limestone, is right
Legend has it that people who walk through a Bermuda Moongate, especially but not solely young lovers and honeymooners, are blessed with good luck. The first plan for one in Bermuda was brought from a Chinese garden in 1860 by a local sea captain. He drew the design of a circular, ornamental wooden gateway to a garden or place of inner repose and, once back in Bermuda, built one of his own. It has since been adopted by Bermuda as a national symbol. The real Chinese origin, many centuries old, of the Moongate was unknown locally until the former gardener of the Duke of Westminster in the United Kingdom was employed to lay out the grounds of the (former) Bermudiana Hotel in the 1920s being built at that time by the Furness Withy shipping group. This was the first of the Bermuda Moongates in hotel properties. (In July 2004, a Japanese garden with a structure almost identical to what in Bermuda is called a moongate, won a Silver Gilt prize at the Royal Horticultural Society show at Tatton Garden in the UK). Some years later, one was seen at the world-famous Chelsea Flower Show, but as an authentic and much-admired Chinese Moongate. About 40 now exist in Bermuda, mostly on private property including in the gardens of several hotels but with public ones at places including the Bermuda Botanical Gardens; Par la Ville Gardens, Hamilton; and Tobacco Bay. Bermuda versions are always built of Bermuda stone and often but not always used as an entrance to a garden. Unfortunately, Bermuda Moongates do not export well as Bermuda stone, local limestone, is very heavy. There is also a New England version, in granite, of the Chinese design, as one of the photographs above shows.
Bermuda Moongate song. Composer Ralph Blane, from the USA, co-wrote the song "Step Though a Moongate." Once there was a 45 rpm record of the song, with Ralph singing. On the flip side of the record is "Bermuda Blue." One of his best known compositions was "Have Yourself a Merry Little Christmas" and other songs of the movie "Meet Me In St. Louis." A local version of Step Through a Moongate, sung years ago by Gene and Pinky Steede, confirms the Oriental origin of the Bermuda Moongate in the words of the song.
| | |
| --- | --- |
| Source | China, Bermuda and American songs |
Bermuda National Fishcake Competition
Annual, since 1992.
2018. March 24. The woman crowned Bermuda's queen of fishcakes said she was shocked by her win. Valerie Pethen explained: "I consider myself a hit-and-miss cook at everything. Fishcakes are one of the few things that I do, and I enjoy doing." The 72-year-old Paget resident claimed the title for best fishcakes from a female competitor at the annual Bermuda National Fishcake Competition held at the Leopards Club on Thursday night. Mujib Swan took the title for best entry by a male participant. Ms Pethen said she only cooked the island favorite once a year and that she never followed a recipe. She added: "I'm not one of these people who just get a charge out of cooking. I cook minimally." Ms Pethen revealed her secret ingredient was sweet potatoes. She said: "It's just ironic that in today's paper there were two articles extolling the virtues of sweet potatoes." She added the idea for the starch substitute was inspired by a friend more than two decades ago as they both began diets based on their blood types. Ms Pethen said: "One Good Friday she called and said 'Val — we can make our fishcakes with sweet potatoes'." She added: "I just hope I have started a trend for people to at least try it. The taste is different, but it is so lovely." Ms Pethen added that almost everything in her fishcakes was Bermudian. She said the sweet potatoes were bought at the farmers market at Botanical Gardens. The parsley, thyme and onion came from her garden and lemon juice came from the tree in her yard. Ms Pethen added: "It's not Bermuda fish, but it's in a package called Bermuda's best." Nasturtiums from behind her garden and a friend's loquat chutney were used as part of her plate presentation. Ms Pethen said she was inspired to enter this year's competition after a chance meeting with Rodney Smith, one of the competition's organizers, last week. Mr Smith was handing out fishcakes in the Court Street area to promote the competition. She said she admired both Mr Smith and Dale Butler for "trying to keep the tradition alive". Ms Pethen said she decided to enter "to support the effort, but I never expected to win". Mr Butler, the founder of the competition, described this year's event as a smash. He added: "It was very well attended. I would say it was a successful evening." Mr Butler said there were about a dozen entries in this year's running. All entries were assessed on criteria including colour, taste and presentation by a panel of five judges. Mr Butler said that crowning two new champions this year was "very important" for the competition. He explained: "We want the legacy to continue." Mr Butler and Mr Smith had won the National Fishcake Competition since it began in 1992, but both decided to step back from this year's battle. Mr Butler explained: "If you don't pass on an opportunity to others, they'll lose interest." He said that the island favorite food was something that had "removed barriers" and united the community. Mr Butler added: "If you want to get a group of people together, say you're having a fishcake party and everyone comes."
Bermuda Open Houses and Gardens (until 2008)
This lovely tradition has finished, with the last one held in 2008 and then in only one place, not several in every parish as was earlier the case. It was hugely interesting, culturally and environmentally stimulating and uniquely enjoyable in New York, Virginia, etc. It increased visitors by 30-50% for the months involved. Plus, they led to new friendships, referrals galore, much repeat business, encouragement to home owners to show off their homes and gardens and a recurring source of income to hosting organizations from the charges made to visit all the Open Homes and Gardens on specific days, in sequence. Local homeowners were reluctant to continue opening up their homes and gardens, quoting the need for security, the high crime rate which rendered their properties exposed to attack after publicity and more.
Bermuda Pilot Gigs
2018. April 13. The Bermuda Pilot Gig Club held its first West End regatta at its new premises on Boaz Island today. The event to commemorate pilot James "Jemmy" Darrell saw six teams compete in a series of races designed to test their piloting skills, speed and agility. Roger Gillett, BPGC chairman, said: "Today we have a series of four races all designed to not only test the crews rowing ability but also the Cox's ability." Mr Gillet said each race would challenge the teams in different ways while also emulating "the sorts of things the pilots in past generations had to do". The traditional gigs guided ships and rescued people in distress. Sarah Burrows, location captain and member of the Sandy Crabs team, explained that the first race involved the teams rescuing "survivors" stranded on Middle Kings Point. The second race saw each gig carry a pilot flag that had to be placed in a buoy — emulating the race to take pilots to incoming vessels. The salvage race involved teams towing an old tyre, and the final race — capture the flag — represented a pilot being brought back to shore. Three teams from Spanish Point took part in the event, along with two teams from St George's and one home team. The latter took the prize for the best-dressed gig. Ms Burrows said she was excited for the club's first event at the newly renovated premises. She said they hoped to showcase the history of Bermuda's gigs as well as the "exercise element". Ms Burrows added: "The idea is to make this a community club that everyone can celebrate." Liz Christopher, a descendant of Mr Darrell and pilot Stephen Richardson, the namesake of the gig she raced in, described the new premises as a wonderful event space and a great opportunity for children to get involved. Ms Christopher added: "I think it's perfect. I suspect any future events will be really well prescribed." Mr Gillett explained that volunteers had worked hard to renovate the pump house of the disused sewage plant on Boaz Island into its new headquarters. He added: "It's quite special because it's ours — it's dedicated to our activities." Simon Groves, chairman of the Boaz Island Village Condominium Association, added: "It's an example of a private initiative, hard work and a co-operative effort to make something happen that will benefit not just this community but everybody involved in rowing. It sets an example for others to follow."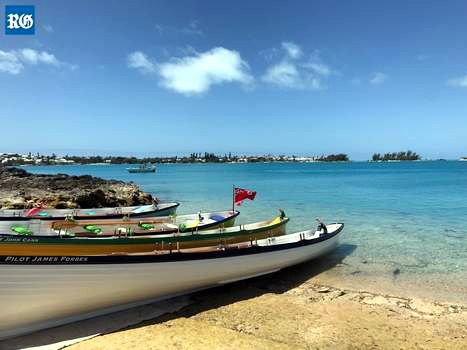 Cup Match Pilot Gig Race
Annually, for the Raines Family Trophy,
On July 29, 2016 Pilot gig James T Griffiths, bearing the Somerset flag, emerged victorious over the pilot gig Jemmy Darrell, bearing the St George's flag, in the race along Ferry Reach to the Swing Bridge finish line. Both gigs are named after Bermudian pilots. Gigs are a centuries-old Bermudian tradition: the wooden boats once greeted incoming ships and guided them in to port. The Cup Match race, in only its second year, is already a main feature of the gig racing calendar after the sport made a return in popularity in recent times. Long and narrow, gigs were built for speed, and the element of competition is nothing new: the boats once ranged far offshore with the hope of beating others to be the first on board an arriving ship. They were also renowned for rescuing passengers and goods from vessels in distress. Yesterday, James T Griffiths, was coxed by Anson Nash and Jemmy Darrell by Roger Gillett, with crews representing the respective ends of the island. The Somerset gig had a lead of just over a boat length for most of the race and despite their best efforts the St George's crew could not claw their way back. Somerset takes the trophy of a large cedar thole pin where it will be displayed in the West End of the island until next summer. This makes it one victory apiece since the inaugural race in July 2015. Ronnie Chameau of the St George's team said: "This can only bode well for the continued friendly rivalry between the teams. I heard one St George's rower vowing to get their well-trained team together for 2017. I am sure Somerset will be ready to meet them fair and square." Frank Raines, a regular visitor to Bermuda from Washington for 30 years, and his family donated the trophy and a cash prize to be given to a charity chosen by the victorious team. Somerset: Anson Nash (cox), Mario Thompson, Christiane Bosson, Pamela Mahoney, Lawrence Bird, Christopher Smith and Andrew Morille. St George's: Roger Gillett (cox), Debbie Jones, Michael Jones, Cammie Simmons, Leeanne Cox, Sende Semos and Ronnie Chameau.
Bermuda Triangle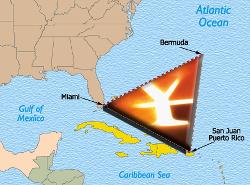 There is a great deal of misunderstanding about this in the USA, Canada, Britain, Europe and elsewhere. It is assumed, wrongly, that this area is solely in Bermuda.
To be entirely accurate, Bermuda is only one point of the three in - and by far the smallest part of - the Bermuda Triangle. 88 percent of all the sinister or unexplained events of the Triangle happened much closer to Florida - especially Miami - or Puerto Rico, the other two points of the Triangle. Technically, Bermuda is near to it but not actually in the Sargasso Sea where the majority of events may have occured. Draw a triangle between Bermuda, Miami and Puerto Rico to get an idea of the Bermuda Triangle and then consider the effect of enormous Florida, large Puerto Rico and tiny (only 21 square miles) of Bermuda. This is the descending order of importance of the three places in the Triangle.
It may disappoint some to know this but there has never been any effect at all of the Bermuda Triangle on any of the customs and culture of Bermuda. This author was told personally by an elderly writer in the USA who studied the Triangle that when the original " Bermuda Triangle" was coined in the USA, it was supposed to have been the "Miami Triangle" but Miami objected as it did not want to lose visitors. The "Puerto Rico Triangle" was the second choice, but it too objected, for the same reason. It is alleged that no one from Bermuda bothered to reply so the name stuck by default. This has never been proven so may be mere speculation. What is known to be true is that there have been quite a few ship and aircraft losses on the Triangle over the years, a few near Bermuda. The most interesting and comprehensive Bermuda Triangle website is done from the USA by an American, given the prominence of Florida and the US Commonwealth of Puerto Rico in the combination of facts and myth. Several books have been written about it. The Chinese, in particular, are said to be sensitive about it, believing it is unlucky to be in any way associated with it, which may help explain why Bermuda, Miami and Puerto Rico are not yet on the list of Chinese government-approved tourism sites.
Bermuda Wedding Cakes
3 layers high, Traditionally made to a wonderful old recipe. In past years, there were two cakes, one for the Bermudian bride, the other for her Bermudian husband, but that custom has weakened now, often to one cake as below serving both and their guests.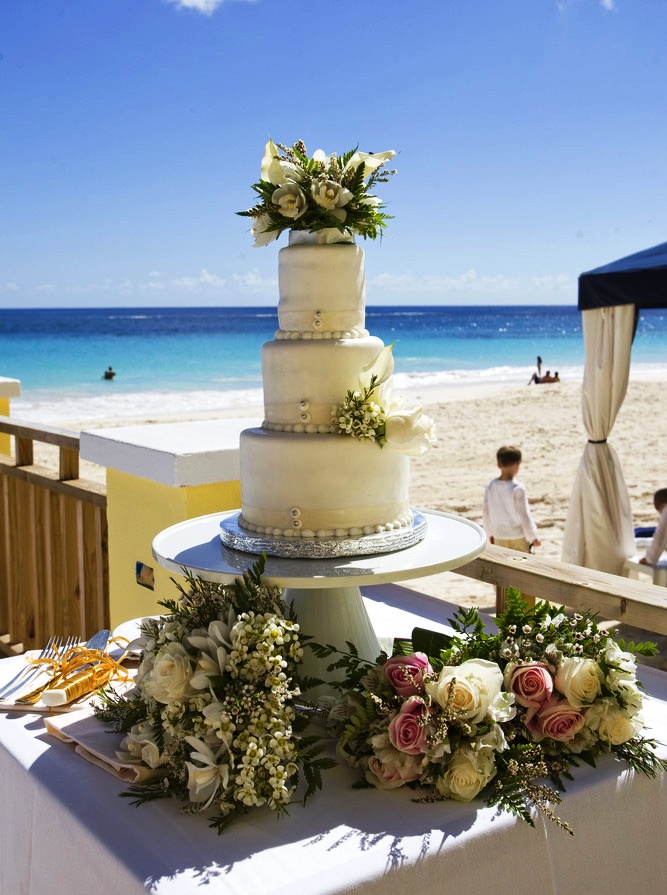 Bermuda wedding cake
Blessing of the Boats
A tradition dating back to 1849, takes place at the Chapel of Ease dock in St George's Harbour. In June 2016 The Right Rev Nicholas Dill, Bishop of Bermuda, and the Rev David Raths conducted the blessing after being rowed respectively by the Bermuda Pilot Gig Club in Harry Fox, and by members of the St George's-based TS Admiral Somers Sea Cadets in Lady Stockton. Parliamentarian Suzann Roberts-Holshouser helped to conduct the service, along with Demi Wight, Dylan Holshouser and Henry Hayward, while music was provided by members of the St George's Corps of the Salvation Army. The event dates back to the consecration of the Chapel of Ease. With no bridge connecting St George to St David's, four sons of clergymen volunteered to row the bishop across the harbour. As he passed through, the bishop blessed the boats that had gathered to watch. The tradition is now carried out every year, usually accompanied by a codfish breakfast. Visiting boats are invited to take part in the event, but are asked to first collect a flag from the Visitors Information Centre in St George's. Each boat in attendance is blessed and receives a Certificate of Blessing saying, "Bless o lord this vessel and all who sail in her; may she be a trustworthy and safe servant."
British spelling, mostly
Local advertisements, brochures, guide books, newspapers etc. spell certain words in the British - not American - way, despite the fact that Bermuda is so much closer geographically to the USA than to any other country. This may be confusing to our visitors, more than 85 percent of whom are American. Some words used locally, like "scheme," have a less pleasant connotation in the USA. Some British words end in "our" but the American equivalent ends in "or" for example, "harbor." Do you write your birthday 7 4 60 or 4 7 60? It depends on whether you are American or British or Canadian. The Bermuda Government spells its local Official Notices in the British and Canadian way. The Royal Gazette daily newspaper publishes its date of issue the American, not British, way. Traffic signs are confusing to Americans because distances are shown in meters (metres in Britain), not miles. And gasoline (petrol) prices are confusing to Americans because they are in liters (liters), not gallons. Most Americans think, wrongly, that gasoline is cheap in Bermuda because of the posted prices, but in fact they pay more in Bermuda for a liter (0.22 gallon) than for a gallon back home. And Bermuda drives on the left, not right, despite the fact that we have 8 times more visitors than locals every year. But if one writes for a mostly American audience as this website does it is good manners to do it the American way. But note, in the American, not British, way there are a number of Americanisms in Bermuda. Words like "liquor" not "alcohol" relate to certain licensing laws. There are more, such as sidewalks, not pavements.
Christmas Boat Parade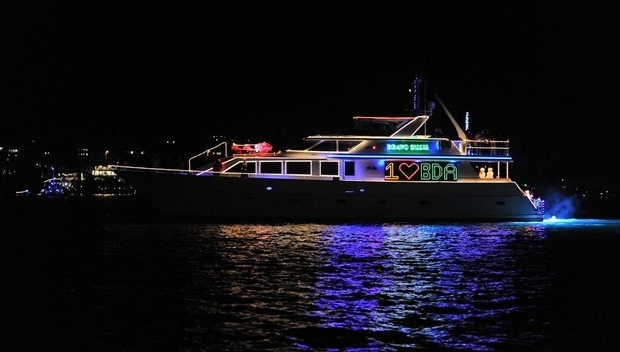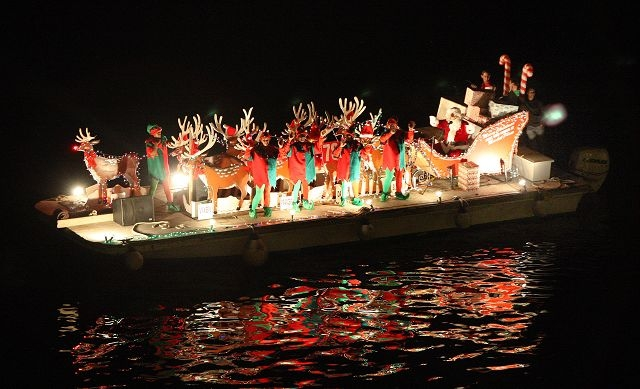 Next is December 2018. 2013. December 9. The Island's top spectator event of the year, the Christmas Boat Parade in Hamilton Harbour. A stunning display of Bermuda-based illuminated boats of all sizes, treating 20,000 viewers and ending with a magnificent fireworks display. An after-dark marine spectacle, free to all, on a Saturday evening in December before Christmas, watched mostly from vantage places ashore such as Albouy's Point and Barr's Bay Park. Front Street and Harbour Road also teem with spectators. It is now an established once-every-two-years Christmas-tide tradition (except for December 2008 when it did not occur). It draws a bigger audience than any other festive activity in Bermuda, over 20,000 spectators. Boats participating cover a measured course twice. Imagination and ingenuity of boat owners are incredible. Prizes are given in a number of categories. There are also sightseeing boats. The fireworks are launched from White's Island. It is superb, not to be missed by any local or visitor.
In December 2013 19 categories of boats ensured that everybody won something for taking part. In top place for Best Commercial boat was Playmate, entered by Playmate Fishing Charters. Spirit of Bermuda won Best Sailboat, and Bermuda Pest Control's Blue Heron was the top corporate entry. The Caledonian Society of Bermuda won Best Non-profit with Naughtiness, while Bill Pitman's Sylvester took Best Powerboat under 25ft and James Boyce's Dutch Courage won the over-25 category. Best Bermuda Themed boat was Full Hott Scott, entered by Corey Masters-Brown; Jamie Chaters Megabucks won Best Community Message. Topping Most Original was Edwin Whitfield's Andrea Christine, while Friends of Black Seal got Most Humorous with Cedar; the Chewstick Foundation's Halcyon won Best Traditional Christmas theme. Twisted Tini entered by Martin Harvey took Best Contemporary. Best Crew Costumes went to Carlos Falcao's Lucky Charms, and William Knight White's Gabriella won Most Confusing. Fairmont Southampton Turtle Hill Golf Club won Best Use of Lights with Friendship, and Best Music went to Anamaria Worswick's Unholey. In the Pink Category, Peter Stableford's Just Sayin came in first, while Justin Williams's Justified was deemed Most Fun to be Aboard. The MarketPlace barge took the Children's Choice category.
Christmas & Boxing Day Pantomime & Holidays
See Bermuda Public Holidays
Crown and Anchor
Whichever team hosts the annual Cup Match (see below) game accepts tenders for the gambling game of Crown and Anchor, one of the many "concessionary" events, open gambling, operators of which pay Government a hefty license fee.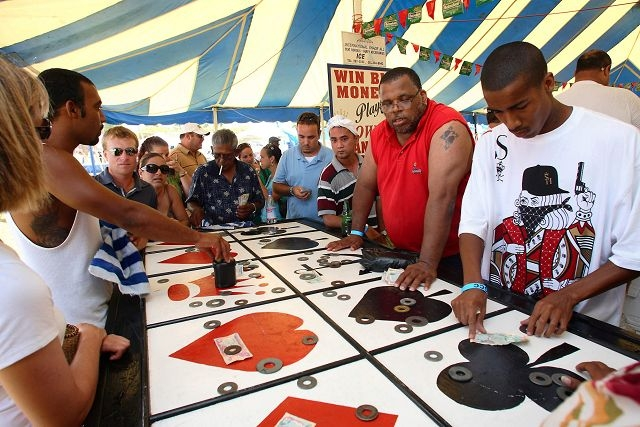 Royal Gazette photo
Cup Match Bermuda 2-day Public Holiday
This first day of the two-day Thursday and Friday Cup Match holiday in late July or early August is named to commemorate the most important modern events in Bermuda's 400+ year-old history. They are held by tradition on the two consecutive days of (a) Emancipation Day (see below) and Somers Day. These two days are, by Bermuda statute, always on the Thursday preceding the first Monday in August and the Friday preceding the first Monday in August. For many Bermudians, locals and visitors who do not have to work on a Saturday or Sunday this amounts to a 4-day public holiday long weekend. This Public Holiday commemorates the uniquely emotional, cultural, historic and racial day of August 1, 1834 when under British laws that then extended to all British colonies, dominions and islands, with Britons themselves in the UK having been freed since 1772, the Slavery Abolition Act was enacted locally under British legislative pressure, to free the Island's slaves. In Bermuda, 4.000 persons, until then slaves, became free. They and other former slaves who had already been freed from that moment on, gained equal legal status to whites. That momentous day is mostly celebrated with the annual cricket Cup Match classic between St. George's and Somerset, two prominent local cricket teams. It follows a tradition that first started on August 8, 1872. The Bermuda Cricket Club had earlier been founded in St. George's ( in 1845) and played its first cricket game against the-then British Army garrison in Bermuda. Long before cricket became the hugely popular sport it is today, a match played between the fleet team of the resident Royal Navy base and the British Army garrison regimental team was a major event in the social calendar of the Town of St. George. This sport was first brought to Bermuda in the 1840s by British Army soldiers stationed here. Cricket is a British game that originated in England centuries ago. It is not unique to Bermuda. It is popular throughout the British Commonwealth of Nations. Its local season is from late April to late September. In 1872, British cricket thus arrived for local civilians. For many years until 1902, the unofficial festive game was between two fraternal lodges on opposite sides of Bermuda - in Somerset in the west end and St. George's on the east end. The festive game began officially in July 1902 between the Somerset Cricket Club in the west end and the St. George's Cricket Club in the east end. Venues of the game change yearly between both clubs. Most recent (2015) winner is the Somerset Cricket Club. Today, among the cricket-loving nations and territories of the world, only in Bermuda does the whole of Bermuda grind to a complete halt for two days every summer to turn its attention to a cricket game. On Cup Match days, many Bermudians either go physically to the game or listen to it on the radio. Because the popularity of the festive annual game caused continued absences from employment the 2-day public holiday was first introduced in 1947 and has been in effect ever since. Since 1999, a celebration of emancipation is now part of the ritual of the first day of Cup Match, formally renamed Emancipation Day. It is a very busy time for camping and picnicking by Bermudians and locals at public (Government) parks or beaches. The designated campgrounds are Ferry Point, Coney Island and Chaplin Bay but all public parks and beaches can be invaded by persons pitching tents from two days beforehand and until the Sunday evening after Cup Match. It can be disconcerting for tourists who hope in vain for deserted public beaches and are not used to seeing campers pitching tents so close to public beaches. They would not be allowed in their own countries. Nor would the trash so many locals leave near their tents.
Dramatic arts
In serious, comedic and other works, the Bermuda Musical & Dramatic Society, Black Box Productions, Jabulani Repertory Company and others provide cultural entertainment.
Drystone walling or dyking
Drystone walls, still found in some parts of Bermuda, are limestone walls made without mortar.
Festival of Lights
Discontinued in 2008 as a lovely Christmas-time tradition due to economic conditions and the high price of fuel. Until then it was sponsored for many years by The Bermuda Electric Light Company, the only electricity service, which awarded prizes. Some Bermuda homes were dazzling.
Gombeys and annual Gombey Festival
Dancers similar to those in Africa and certain parts of the Caribbean, from black families. They dance at certain times of the year and on special days. They appeared in the 2003 Edinburgh Tattoo. The word Gombey comes from the African Bantu language and means both rhythm and drum. Noteworthy and quoteworthy are the books "The Bermuda Gombey; Bermuda's Unique Dance Heritage" by Louise A. Jackson and "Bermuda: Traditions and Tastes" by Judith Watson.
Annual Gombey Festival. WER Joell Tennis Stadium. Doors will open at 5pm, with the festival on Marsh Folly Road starting at 6pm and the finale at around 8.30pm — where in 2016 the peewee Gombeys from each troupe performed for three minutes apiece. The event is held to celebrate Bermuda's premier folk dancers, the Gombeys, whose dances celebrate a centuries-old Bermudian folk tradition that blends elements of African and Caribbean performance with North American native music and British military drumming. A tradition of dance passed down through the ages since Bermuda was first populated in part by those of African origin. Each year the festival honors an individual who has cultivated and strengthened the traditions of Gombey music and dance. In 2015 the award was given to Allan Warner of the Warner Gombeys, one of Bermuda's veteran Gombey Captains. He was joined by his family along with members of the Place's, H & H, Warwick, Gombey Evolution and Gombey Warriors groups. The event was once known as the Gombey Competition, but has evolved into a celebration of a folk tradition that stretches back for centuries. Each troupe has its own distinct history, and the names of drummers and performers who had been influenced by Mr Warner were listed off to drumming, whistles and ecstatic cheers.
2017. October 6. This year's Gombey Festival pays special tribute to a trailblazer and keeper of Gombey traditions: the late Terry "Termite" Simmons. Mr Simmons, who died in January, aged 62, personified Bermuda's unique art form — not only dancing, but creating the elaborate Gombey regalia. His handiwork still proudly adorns the St Monica's Road residence of daughters Dawnae and Terrieka, and their mother, Dawnette Simmons. Mr Simmons grew up near by at the family homestead in Government Gate, where he first heard the distinctive drumming of the Gombeys and joined at an early age. He joined his godfather Charles Norford's troupe as a child and performed with other groups, devoting himself to the Gombeys for the rest of his life. "Termite" was also a footballer and played for Centaurs, North Village and Young Men's Social Club in his early days — and worked for more than 30 years at the Bermuda Telephone Company. Mr Simmons was also a sous chef at the Fairmont Southampton, additionally working for MarketPlace's produce section, and Redeem Construction as a mason. Former MP Dale Butler, a Gombey scholar and cousin of Mr Simmons, recalled him as "a personable, well-known, extremely friendly young man. He had passion for Gombey dancing, its history, and for remembering the older performers. It ran in his veins. He was talented, gifted, and had the greatest respect for the tradition." Deeply committed to the culture, Mr Simmons passed on Gombey traditions to his family — most recently to his grandson, Ricaija. Bermuda's fraternity of Gombeys unites tomorrow at the main show ring of the Botanical Gardens, from 5pm to 9pm, for the International Gombey Festival Showcase, which is open to everyone.
2016. September 12. The familiar sound of Gombeys echoed throughout the W.E.R. Joell Tennis Stadium this weekend at the annual Gombey Festival. The event, hosted by the Department of Community and Cultural Affairs, drew hundreds of spectators to watch performances by four of the island's Gombey troupes — Gombey Warriors, Gombey Evolution, H&H Gombeys and Places New Generation Gombeys. Attendees were also given some information about the history of the Gombey tradition and their attire, and heard live music by Mitchell "Live Wire" Trott. At the heart of the event was the honoring of H&H Gombeys troupe founder Tyrone "Funk" Nesbitt, who was recognized for his lifelong contribution to the art form. Sylvan Richards, Minister of Community and Culture, even joined in the spirit of the event by dancing before the crowd. "I enjoyed the performances of the various gombey troupes that were on display at the annual gombey festival," Mr Richards said. "I was also honored to be able to celebrate the contributions made to our gombey culture by Tyrone 'Funk' Nesbitt. The public turnout at the festival was also much appreciated and the audience participation was both enthusiastic and appreciative. The Gombeys are an important component of Bermudian culture and the annual Gombey Festival continues to celebrate the Gombeys' contribution to our culture."
2016. Saturday, September 10. Annual Gombey Festival. WER Joell Tennis Stadium. Doors will open at 5pm, with the festival on Marsh Folly Road starting at 6pm and the finale at around 8.30pm — where the peewee Gombeys from each troupe will perform for three minutes apiece. The event is held to celebrate Bermuda's premier folk dancers, the Gombeys, whose dances celebrate a centuries-old Bermudian folk tradition that blends elements of African and Caribbean performance with North American native music and British military drumming. A tradition of dance passed down through the ages since Bermuda was first populated in part by those of African origin. Each year the festival honors an individual who has cultivated and strengthened the traditions of Gombey music and dance. In 2015 the award was given to Allan Warner of the Warner Gombeys, one of Bermuda's veteran Gombey Captains. He was joined by his family along with members of the Place's, H & H, Warwick, Gombey Evolution and Gombey Warriors groups. The event was once known as the Gombey Competition, but has evolved into a celebration of a folk tradition that stretches back for centuries. Each troupe has its own distinct history, and the names of drummers and performers who had been influenced by Mr Warner were listed off to drumming, whistles and ecstatic cheers. Also during the celebration, H&H Gombeys troupe founder Tyrone "Funk" Nesbitt will be honored for his life's contribution to the art form. Sylvan Richards, Minister of Social Development and Sports, called the festival "an opportunity not to be missed". "With all the intricate costumes that have been created for each troupe, it will be a visual kaleidoscope of colours," he added.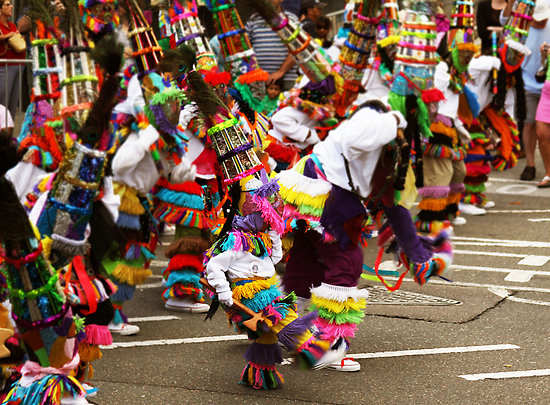 Bermuda Gombey troupe
Hasty Pudding Theatricals
Always in March - from Harvard University. Annual visit to Bermuda for over 50 years. Sponsored by the Bermuda Government's Department of Tourism which later became the Bermuda Tourism Authority.
Hot Cross Buns
For full details of their history and significance see https://en.wikipedia.org/wiki/Hot_cross_bun. The custom was imported to Bermuda from the United Kingdom and is much favored locally. They are available from commercial Bermudian bakeries or as home-made, sold or given away in batches by family matriarchs who love to make them from scratch. They are square-shaped sticky buns about 1.85 inches wide and 1.5 inches deep, with icing sugar applied to them in the shape of a cross. This signifies Christ's agony and death on the cross.
Marathon Derby
Accurately, a half marathon of 13 miles. Dates back to January 1910. It began as a friendly cross-country race began in June 1909 between Bermudian soldiers and those in the British Army then based in Bermuda. It was then hosted by the Somerset Athletic Club, a newly formed black community organization. Earlier, running had become a Bermudianized sport, especially in Somerset. but had not been competed for before then by non-locals. British soldiers witnessed the racing and wanted to join in but they were too late (see 1910). .
1910. January. The friendly cross-country race began in June 1909 between Bermudian soldiers and those in the British Army then based in Bermuda, by then renamed the Marathon Derby. It became an official annual event. It was hosted by the Somerset Athletic Club, a newly formed black community organization. British soldiers issued another challenge, which was accepted, with the locals stating they wanted it run from Somerset to Hamilton. Private Jordan, of the Duke of Cornwall's Light Infantry then stationed in Bermuda, was the first to cross the line, followed by Bermudian local and Somerset favorite John C. Bean. After Stanley Burgess first took part in 1921, when he was 20, and first won it in 1926, then 1927 and 1928 and eventually 10 times, it became famous locally.
See the book Marathon - All the Facts, Winners and Drama. Dale Butler.
Music choirs, classical, calypso and soca music
See Beautiful Bermuda in Music
| | |
| --- | --- |
| Source | British and Caribbean |
Non-Mariners Race
Cancelled in June 2018 after being in existence since 1962, The event was then the brainchild of older brothers of Jill Raine, Eric and Anthony Amos and a group of their friends. The idea behind the event was to poke fun at the disciplined world of yachting. They just wanted to do a spoof on it and that was to show a non-mariners race where everything was wrong. It was silly fun. There was no start and there was no finish. Non-vessels in the early days of the event included an antique bed, a refrigerator and a cello case. A chamber pot was presented as a race prize. Annual Non-Mariners races were first held in Hamilton Harbour. They later moved to St George's and Ferry Reach before they settled on Mangrove Bay in 1972. Sandys Boat Club, which most recently sponsored the race and charged an admission fee, confirmed the cancellation of the event. A spokesman for the club said fewer entries, a change in the economics of the event, and a shortage of volunteers were behind the decision. The raft-up parties in Mangrove Bay will go ahead as planned earlier, on the Sunday following the annual Cup Match 2-day public. holiday.
Onions (people)
Onions were introduced to Bermuda in about 1616 from Britain as English onions - before they reached the USA. Not until the 1830s did they become a major export. By the mid 19th century, Bermudians became known as Onions and Bermuda as the Onion Patch. The popularity of the by-then Bermudianized British Onion, or Bermuda Onion, led to the development of Bermuda Onion seed in Texas in 1898. In Texas, a farming community called itself the Bermuda Colony (later, Bermuda, Texas), on the north side of the Nueces River in Dimmit County. Competition began between Bermuda and Texas to export onions. A combination of what the Texans could do with their onions with the new railway system nationwide in the USA that Bermuda could not and high tariffs imposed by the USA, led to decline of the industry in Bermuda. After the Great War, exports were finished. Today, more people in the USA get their onions from Georgia than Texas. One reason may be that onions take six months to harvest.
Palm Sunday Walk
An annual favorite, a different location each year over several miles of flat and hilly areas in places usually barred to the general public, run by the Bermuda National Trust. Walking shoes with non-slip tread are recommended. No dogs or wheeled vehicles (such as mountain bikes and strollers).
Peppercorn Ceremony
About every April 20. Hundreds gather in King's Square to watch the annual morning Peppercorn Ceremony, the 202nd in 2018. The annual tradition in St George's is based around Freemasons paying their symbolic rent for the Old State House. Numerous civic leaders, including in 2016 the Mayor of Lyme Regis, the southern English town twinned with Bermuda, are present to watch the treasurer for the Freemasons officially pay the peppercorn rent which is unchanged in two centuries. Festivities include a parade by the Royal Bermuda Regiment. Freemasons represent lodges from several countries, in 2016, Michael Dunkley, the Premier, MPs from both sides of the House of Assembly, and the Mayor of St George's, Quinell Francis, who arrived in a horse-drawn carriage, were officials attending. Governor George Fergusson and Mrs Fergusson, who arrived escorted by police, celebrated the final Peppercorn Ceremony of their time in Bermuda. In a speech to the crowd, Mrs Francis said that the Corporations of St George's and Hamilton have been working together on improving governance through legislation, thanking Michael Fahy, Minister of Home Affairs, for amendments to the Municipality Act to allow them to again collect wharfage. Mr Fergusson highlighted the rich history of the island, but added that Bermuda remains a leader in the modern world. After his speech, the Governor's council left to conduct its annual meeting in the Old State House.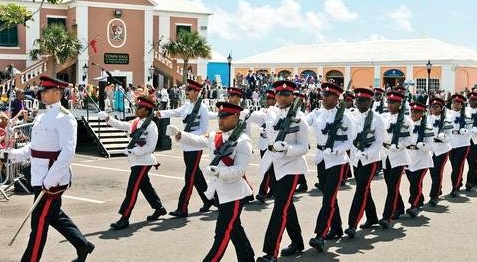 Portuguese Cultural Association
There are many people of Portuguese extraction (mostly from the Azores) extraction. Some are still Portuguese nationals, despite long residence that in any other country would have qualified them as citizens. The Association has a splendid troupe of dancers, men in red waistcoats and women in red skirts and tight bodices. They dance to traditional Azorean tunes, on special days including the Bermuda Day May 24 Parade celebrations.
Roof Wetting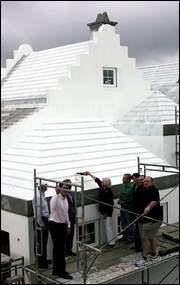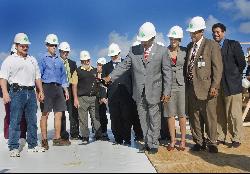 When new houses, apartment blocks and office buildings gave their roofs completed, to seal out the rain, wind and moisture, locals celebrate with a roof wetting on the roof. All who participate on the roof have to be able to go up and get down unaided and must wear hard hats. Usually, an owner and contractor or builder are the key persons and climb the outside of a roof via a ladder. As this picture of a January 2009 roof wetting shows, in winter suits are often worn by the owners while the construction foreman and crew are in working clothes. When the Bermuda Government is the owner, usually the Minister concerned is present. A bottle of black rum is either poured on the roof or is shared, or both.
Royal Bermuda Regiment
See more information than shown below in Bermuda's Links with the United Kingdom and British Commonwealth of Nations - under "Bermuda Regiment. "
2018. March 13. The end of conscription will be "a death knell" for the island's defence force, a group of former commanding officers warned yesterday. The Nine Colonels, who battled against plans to end conscription into the Royal Bermuda Regiment, said it had predicted not enough volunteers would be found to maintain numbers at Warwick Camp. Lieutenant-Colonel Allan Rance, speaking on behalf of the group, said: "We argued that it was unlikely that sufficient volunteers could be attracted from our small and shrinking population to maintain the numbers needed for the Regiment to fulfil its responsibilities. We warned that the regiment had a critical mass and that if manning fell significantly below the accepted optimum strength of 420 at all ranks, a process of collapse would begin which, in a few years, would result in the collapse and disappearance of the Royal Bermuda Regiment altogether." But John Rankin, the Governor, said that the RBR planned to enhance its capabilities and recruitment would continue to maintain an effective force. Wayne Caines, the national security minister, dismissed the group as "relics from another era". Mr Caines, a former regiment officer, added: "We must look at the battalion with a clinical eye. It is myopic and bereft of creativity to simply rely on conscription. This is proof positive that the Nine Colonels have a very limited understanding of what will make Bermuda better, and the Regiment stronger." Mr Caines said that some might suggest from the last Recruit Camp that the RBR might have problems in the future, but that was not the case. He added: "This is where the opportunity lies. We must look at the constituent parts of the Regiment, at what is working and what is not. The regiment has been given an opportunity to revamp and re-organize and come back as a stronger, more focused battalion." Colonel Rance said the group had backed the idea that Bermuda should try to keep up its numbers by recruiting volunteers. He explained: "We felt it was an experiment that needed to be tried to establish once and for all whether it could work." But Colonel Rance said the group thought it would be a mistake to legally abolish conscription. He added: "We thought that we should try volunteerism by simply changing to a recruitment policy while leaving a possible resort to conscription in our laws. If not, conscription would be there as a back-up option." Colonel Rance said the group was "delighted" when former premier Michael Dunkley suspended conscription for 2015 recruitment but left it on the law books. He added: "We have now been through three recruitment cycles since that debate. The numbers have unfortunately got worse every year." Colonel Rance said the regiment needed 120 new soldiers every year to maintain its strength, although that would vary depending on the numbers who leave each year. He added that the RBR attracted 65 recruits in 2015, 60 in 2016 and 40 this year. Colonel Rance said: "The regiment intends to have another drive for recruits for a summer intake but it is unlikely that many more volunteers will come forth." He added that the regiment numbers stood at 344 across its ranks, but that it needed 420 soldiers and the organisation was already unable to fulfil all its roles. Colonel Rance said the Progressive Labour Party government had promised to remove conscription from the island's legislation — against the advice of a National Security and Defence Review panel in 2014. He said the review panel, appointed by George Fergusson, the former governor, "recommended in the strongest terms" that conscription should be retained "to preserve the now Royal Bermuda Regiment and thereby the safety and security of all Bermudians". Mr Rankin said: "As Governor and Commander-In-Chief, I remain fully committed to maintaining the capacity of the Royal Bermuda Regiment to perform its duties in supporting the defence and security of Bermuda in line with modern requirements. In 2017, the Regiment played a key role in supporting the security arrangements for Bermuda's successful hosting of the 35th America's Cup and in deploying to the Turks and Caicos islands to assist in hurricane relief operations. Planning is now under way for the Regiment to undertake Inshore Coast Guard functions and to further enhance its humanitarian and disaster relief capability. Active recruitment to the Regiment will continue in support of these goals, providing a well-trained and professional force to meet this island's security needs." Mr Caines added: "Trying to keep up with a regiment of 400 people is now a nonsense. We have a very clear mandate to allow our young men and women to see the Regiment as a legitimate opportunity for employment, like the Bermuda Fire Service, to create clear opportunities for leadership roles and to provide for their families. The Regiment's Lieutenant-Colonel David Curley has realised this."
2017. December 20. The Royal Bermuda Regiment today stepped up its recruitment efforts as it prepares for life after conscription. National security minister Wayne Caines joined Commanding Officer Lieutenant-Colonel David Curley for a rallying call at the Regiment's new pop-up recruiting office in Hamilton. They highlighted that recruit camp will take place from January 14 to 28, and the deadline for applicants is January 4. Mr Caines said: "We want to highlight the importance of ensuring that we have a full slate of volunteers for the upcoming Regiment Recruit Camp. "Government has worked extensively with the Royal Bermuda Regiment to move to an all-volunteer force. In recent years we have had solid participation from the men and women in our community, who have chosen the path of becoming recruit volunteers. This year, we recognize the critical importance of maintaining a suitable complement of volunteers." They listed the following benefits of volunteering:
Soldiers are paid $1,000 per week and will make up to $5,000 during their first year of part-time service. There are extra bonuses for soldiers who re-engage every year and pass their Individual Military Training tests;
Soldiers train regularly in the United States, Canada, Britain and Jamaica and have been deployed on operations across the region;
Soldiers have the opportunity to train to be leaders, either as Junior Non-Commissioned Officers or as Officers;
Fitness is an important component of military training. The RBR continuously challenges an individual both physically and mentally in order to ensure their preparation for the demands of the military environment.
Mr Caines said: "As Minister of National Security, I'm encouraging those able-bodied men and women in our community to seriously consider volunteering for the Bermuda Regiment. It is a rewarding experience, both from a community standpoint and financially. I have served in the Bermuda Regiment and I am grateful for the time I spent there. I've had the opportunity to see first-hand both the work and training involved and there is nothing that gives a person greater pride than being able to serve their country. So we want to encourage the next batch of leaders to join these ranks." Colonel Curley said: "I would like to take this opportunity to encourage all residents of Bermuda between the ages of 18 and 35 who can spare the odd weekend or evening, who can attend an annual two-week camp either locally or overseas in order to volunteer to serve our country. I volunteered for Military duty approximately 28 years ago and decided to be an officer because I wanted to learn and be able to help promote an environment that fosters good sound judgment, positivity, leadership, team building and personnel interactions among our future soldiers." Interested individuals can either visit Warwick Camp, the Hamilton recruitment centre or www.RBR.bm to sign up. For more information, call 335-0252.
2017. November 8. Conscription to the island's defence force is to be abolished in the next few months, the Minister of National Security announced yesterday. Wayne Caines added that the end of compulsory service in the Royal Bermuda Regiment was "a critical step in the modernization of the organisation and transforming it into a broader career choice for Bermudians". The RBR already has a Boat Troop responsible for inshore maritime patrols, but it was planned that the Regiment will assume a "core function" in the island's security services. Mr Caines, a former RBR officer, said the goal was to develop a full-time defence force designed to operate in all areas of security and supplement existing resources "as necessary". The minister, who retired from the Regiment as a captain, said the force would become a challenging career opportunity for Bermuda's men and women. He added the RBR would boost volunteer recruitment by holding a second recruit camp during the summer, as well as the traditional January intake. Ending conscription has been an increasing priority since 2010, and the island marked its first all-volunteer camp in January 2016. Mr Caines noted that a raft of amendments to the 1965 Defence Act, passed in 2015 under the previous administration, had required time for training and had since come into force on November 1. The minister said a potential salary figure could be $65,000 a year after the requisite specialist training. The landmark announcement follows years of discussion under two successive administrations to take conscription off the books. The previous One Bermuda Alliance administration ended conscription — but left it on the law books in case it were ever needed. Mr Caines added that he expected to bring legislation to abolish conscription to Parliament at the start of next year.
2017. January 26. The senior military representative at the British Embassy in Washington has paid a flying visit to the Royal Bermuda Regiment's latest recruits. According to a press release, Brigadier James Carr-Smith, Military Attaché in the United States capital, said he was impressed by the commitment and standards of the RBR. "Fantastic is my first impression of the troops," he said. He said that, although this was his first visit to the island since taking over the military attaché's post last August, he had heard favorable reports about the RBR's standards. Brig Carr-Smith added that he had British Army friends, some from the RBR's affiliated regiment the Royal Anglians, who had worked with island troops on overseas deployments, including Kenya. He said: "The RBR's reputation is world-renowned and, importantly, well-founded. There is a lot to like." Brig Carr-Smith was speaking after he toured Warwick Camp, speaking to new recruits on the firing range and the drill square, as well as instructors and full-time staff at Warwick Camp. He said that the RBR's equipment and training, as well as its customs and traditions, were founded on those of the British Army. Brig Carr-Smith added: "We also have the same weapon system as the RBR and we're wearing the same combats, while drill instructors have been on courses back in the UK, so I 100 per cent recognise the little training I have seen so far. If I was lucky enough to stay longer, I would recognise even more. Everything I have just seen and the interaction I have had with the young men and women, and some of them not so young I might add, is very positive." And he singled out new soldiers, conscripted years ago before it was decided to make the RBR all-volunteer but had been pending due to living or studying overseas, who had chosen to volunteer as an good indicator of the spirit of the recruits. Brig Carr-Smith added the RBR compared favorably with the 15 Army Reserve infantry battalions in the UK. He said: "Their recruit basic training is very similar to what I have just seen with RBR basic training." Brig Carr-Smith, due to return to his post at the British Embassy in Washington on Friday, added he had also been impressed by Bermuda. He said: "The people I have met are hugely friendly. The thing that really has struck me is how well-integrated the Royal Bermuda Regiment is, not just with the society it serves, but, importantly, with the other agencies — police, immigration, customs, the fire service — and that inter-agency approach is very important in all our armed forces. That's important in whatever country you're in because no conflict will ever be solved by military intervention alone. Co-operation is vital and I see that in abundance here in the Royal Bermuda Regiment." RBR Commanding Officer Lieutenant-Colonel David Curley escorted Brig Carr-Smith on visits to Governor John Rankin, police headquarters at Prospect and on his tour of Warwick Camp. Lt Col Curley said: "It's reassuring that a senior British officer has said such great things about us. And it's also very gratifying that the RBR is recognized around the world as good ambassadors for Bermuda." The 60 new soldiers are now approaching the end of a tough two weeks of introduction to life in the island's armed service and will finish their training with a formal passing out parade this weekend.
2016. February 28. Lieutenant-Colonel David Curley has taken over as commanding officer of the Royal Bermuda Regiment. He is replacing British Army career soldier Lieutenant-Colonel Michael Foster-Brown, who will return to a post with the Army in the UK. The sword of command was handed over during a ceremony at Warwick Camp on Saturday. Troops and guests in attendance included the Governor, George Fergusson, also the commander-in-chief of the regiment, and the Premier, Michael Dunkley. Colonel Curley told those assembled: "My vision for the Royal Bermuda Regiment is to continue to build and maintain an operationally effective military organization with the present missions and tasks and with the potential of an expanded marine role which will work closely in supporting the Bermuda Police Service." He said it had been a pleasure to take part in the first all-volunteer recruit camp in January and to see the trainee soldiers become the first to train exclusively with the new British Army-issue SA-80 rifles. Colonel Curley, the 16th commanding officer of the regiment, paid tribute to his predecessor for "his hard work and dedication to the Royal Bermuda Regiment for almost three years. He arrived, got stuck in and accomplished many feats during his tenure. I also take this opportunity to publicly thank him for steering me past the company command kingdom and having the utmost confidence and positive influence on me to take over command from him. The regiment is facing some interesting, challenging and busy times going forward, but it is well placed to seize the opportunities that lie ahead. All of us ultimately have a role to play in helping shape that future, whether it be as a currently serving soldier, policy maker, advisor, supportive employer, member of the public or an understanding spouse. I am very proud of all the men and women of all ranks within the Royal Bermuda Regiment." Colonel Foster-Brown, who will take up a post at the Joint Services Command headquarters at Northwood, near London, said the regiment's role in the back-to-back hurricanes of 2014 had underlined its importance to the island. He said training soldiers as Special Constables and an expanded joint services explosive ordnance disposal unit, as well as plans to take the lead in maritime security, would make the regiment even more valuable. Retention rates, he added, were at an all-time high, with 77 per cent of the regiment strength now volunteer. Colonel Foster-Brown added: "We have also reminded Bermudians — if indeed the silent majority needed reminding — of our enduring relevance, value and significance." Mr Fergusson said the "royal" designation awarded to the regiment for its 50th anniversary last year was not an automatic honour or granted lightly, and that he had "absolute confidence" that Colonel Curley would "manage the Regiment well during his time of command". In addition to the traditional planting of a cedar tree on the lawn of the officers' mess by the outgoing commanding officer, another tree was planted by the family of Major Chris Wheddon, who died on duty in Britain in 2012 and who had been due to take over command. British Army Colonel Nick Lock, the assistant military attaché at the British Embassy in Washington, said after the change of command ceremony: "It was fantastic — this regiment has such a warm feeling with everybody working hard together to achieve a good result. I am sure it was a very proud day for Colonel Mike and for Colonel David taking over. From the embassy in Washington, we will continue to support the Regiment where we can."
2016. February 12. Royal Bermuda Regiment - 50 years Strong. Book. 2016. Tony McWilliam. Celebrating its half centenary. The 160-page book features interviews with former and serving soldiers and charts the history of the RBR since it was formed in 1965 through the amalgamation of the Bermuda Militia Artillery and the Bermuda Rifles, formerly the Bermuda Volunteer Rifle Corps. Published by the National Museum of Bermuda Press under the auspices of the Bermuda Regiment Charitable Trust, $50.
2016. January 9. The Royal Bermuda Regiment's commanding officer is gearing up to welcome a record-breaking number of volunteers for his last recruit camp. Lieutenant Colonel Michael Foster-Brown, who will be handing over command to Major David Curley in February, said he was "thrilled to be leaving on a high with among other things the first ever all-volunteer recruit camp". A total of 64 recruits — 48 men and 16 women — are expected to start their training at Warwick Camp tomorrow morning. They are the first recruits to join the newly designated Royal Bermuda Regiment, which was awarded the title as part of its 50th anniversary celebrations in September last year. Col Foster-Brown said this year's number of volunteers exceeded last year's record of 61 volunteers out of 115 recruits. He added that the RBR had been able to reduce its intake to a minimum of 50 recruits because more soldiers were choosing to stay on after their minimum three years of service. And the smaller number of recruits means that there will only be two platoons instead of three. "Our aim, as with the wider Regiment, is to build soldiers up, not break them down, so they will have a busy but rewarding two weeks of training while they make the transition from civilian to trained soldier," Col Foster-Brown told The Royal Gazette. "Throughout there will be an emphasis on teamwork, which is encouraged through section and platoon competition and sport. The recruits will be trained on the new SA80-A2 weapons which we received in the summer from the United Kingdom." The programme includes shooting, field craft and drill, as well as fitness and military skills. Recruits will also spend an extra night deployed in the field this year. Col Foster-Brown added: "As with the last two years, we will be posting periodic video updates on our website so that families and supporters of the recruits can follow their progress."
2015. September 2015. Now the Royal Bermuda Regiment, earlier the Bermuda Regiment since 1965. Once, Bermuda had its own two local military units, the all-black but white officered Bermuda Militia Artillery and the all-white Bermuda Rifles, each with their own unique military traditions. They served on the side of Great Britain in World Wars 1 and 2 with bravery, distinction and loss of life. They were amalgamated in 1965 into one new unit, the Bermuda Regiment. Today, only Bermuda, Cuba, North Korea and Switzerland still have compulsory selective conscription of able-bodied young men annually. However, it is expected that by 2016 it will become mostly a volunteers-attracting unit, with conscription mostly or wholly ended. Its presence at major Bermuda events including Beating Retreat and Remembrance Day events has become a cherished local tradition.
2015. April 12. The public have been invited to join the Bermuda Regiment band and other community bands and musicians for a reunion concert to mark the regiment's 50 years of service to the Island. (The Regiment is technically a reserve unit, 28th in order of terms of precedence, of the British Army, similar in stature to the Royal Gibraltar Regiment). The North Village Community Band, the Somerset Brigade Band, the Bermuda Islands Pipe Band, the Bermuda Chamber Choir, the Bermuda Youth Orchestra and members of the Warwick Academy Orchestra will perform. Governor George Fergusson is the commander-in-chief of the Bermuda Regiment. Attendees must obtain free tickets in advance at bdatix.bm and are encouraged to carpool. Access to the grounds of Government House is by the North Shore Gate only. Gates open at 1.30pm, with limited parking provided within the grounds. Concertgoers are welcome to bring their own baskets, blankets and chairs. Refreshments will also be on sale. Limited seating will be provided for seniors. In the event of inclement weather, please listen to media messages or look for posted signs that will indicate whether the concert has been moved indoors to the Ruth Seaton James Auditorium.
2013. December 11. A band of former Bermuda Regiment commanding officers is launching a campaign to block conscription from being abolished, claiming the move is not in the best interests of the Island and will result in the army unit eventually being dissolved. The group of local retired military top brass has taken aim at protest group Bermudians Against the Draft, accusing it of making "outlandish statements", and also dismissed Government proposals that the Regiment should be staffed entirely by volunteers, saying that would drive up costs. Prior to last December's general election, both political parties pledged to abolish conscription. And last month, Government confirmed in its Throne Speech that legislation to end the controversial policy was in the pipeline, although Public Safety Minister Michael Dunkley has insisted the change will not result in the Regiment being disbanded. But a statement released yesterday — signed by eight of the Regiment's 14 former Commanding Officers — claimed that conscription was the only method by which the Regiment could keep operational — adding that the controversial practice did not violate human rights and did not enslave anyone. "The recruitment process by which the Bermuda Regiment sustains its strength has been maligned in recent years to such an extent that our political establishment wishes to make a change," the statement, headlined 'In Defence of the Bermuda Regiment', said. "The Regiment's most important role was to assist the police in times of civil unrest or disobedience. To carry out this role the Regiment requires more than 400 personnel of all ranks. The number of people volunteering to join the Regiment annually has been fewer than 30. If conscription is abolished then where are the necessary personnel going to come from? Not volunteers. The majority of Regiment leaders had been drawn from conscripts, and that volunteers alone would not provide a large enough pool from which future leaders could be recruited. Abolish conscription and the Regiment will downsize by attrition to become ineffective for its role. This is Bermuda's post-World War II experience. We are a small, isolated island community with a very limited gene-pool, unlike the United Kingdom or United States; two often quoted examples of all-volunteer military forces. There are simply not enough Bermudians born to fill the requirements of all the uniformed organisations in Bermuda — mainly Police, Customs, Regiment and Fire Services. To abolish conscription is not in the best interests of Bermuda, and will over time have a dramatic result — Bermuda will lose the Regiment." Turning its sights on Bermuda Against the Draft, the statement asked: "Are the moves towards recruitment solely by volunteers the response to an action group advocating to abolish conscription? This group has made many outlandish statements over several years and has legally challenged the concept of conscription on numerous grounds to the highest court possible. All legal challenges have consistently been lost. Conscription does not violate human rights and it does not enslave anyone. The anti-conscription group should be given no credence whatever. To give them any credence is a serious error in judgment." And the group also questioned the cost of a full-time volunteer unit, claiming it would "require substantial uplifts in pay scales to attract the number needed. It will cost substantially more to fund the Regiment as a result. Taxpayer costs will rise. This, too, is contrary to our best interests." The statement ended with a battle cry, urging former soldiers to join in the fight "to preserve the Regiment as it is. We will try to act as spokesmen for the Regiment over the next few months, to rebut some of the untruths and specious arguments that are being advanced, and to help the community understand how grievous the loss will be if the Regiment is thrown on the scrap heap to appease an anti-conscription lobby that has no legal credibility. We mean no disrespect to those we will be opposing. Indeed, it will be difficult for soldiers who have been brought up in an atmosphere of respect and neutral service to engage in any kind of campaign at all. However, we feel circumstances warrant our current course of action — indeed, we would be remiss in our duty to the unit if we failed to speak up." The letter was signed by former Regiment COs Lt Col Michael Darling, Lt Col CE Raynor, Lt Col Gavin Shorto, Lt Col Allan Rance, Lt Col Patrick Outerbridge, Lt Col David Gibbons, Lt Col William White, Lt Col Brian Gonsalves. Two former Regiment commanders absent from the list of signatories are Lt Col Edward Lamb, and Lt Col David Burch. Lt Col Lamb, who is now Commissioner of Prisons, last night declined to reveal his reasons for not adding his name. "I have no comment to make — I was invited to sign but I chose not to for a number of reasons which I won't disclose," he said. Lt Col Burch, who had a high-profile political career following his stint in uniform, could not be reached for comment last night.
In 2013 a Bermuda Regiment private soldier was paid at an hourly rate of $17.87.
A private soldier's initial enlistment period of service (by conscription or voluntary) is 3 years and 2 months (40 training periods and a 2 week training exercise per year).
Upon completion of solely their basic duties during their initial enlistment period they are expected to earn not less than $13,000 pa.
The Regiment's budget for 2013-2014 was $6,959,000.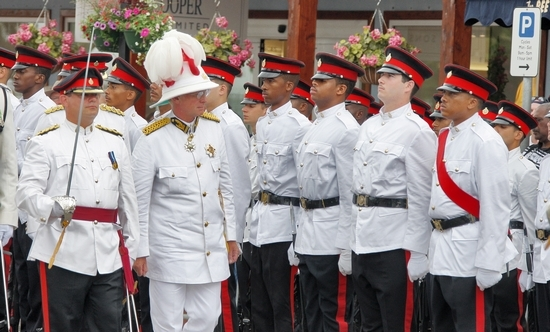 Then-Governor Richard Gozney inspecting the Regiment.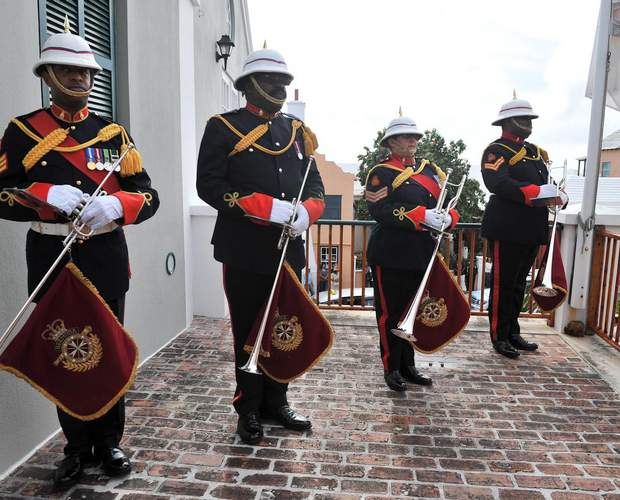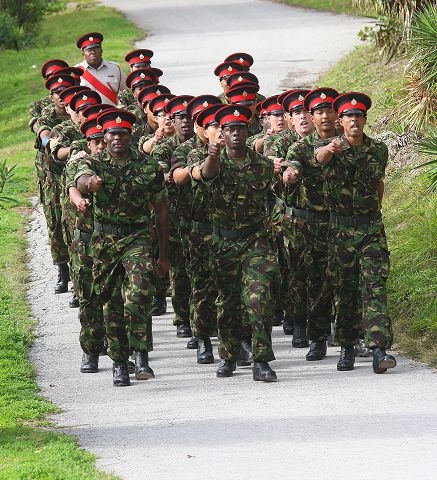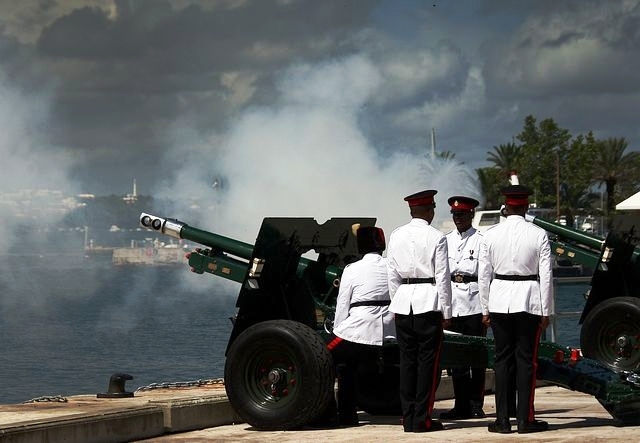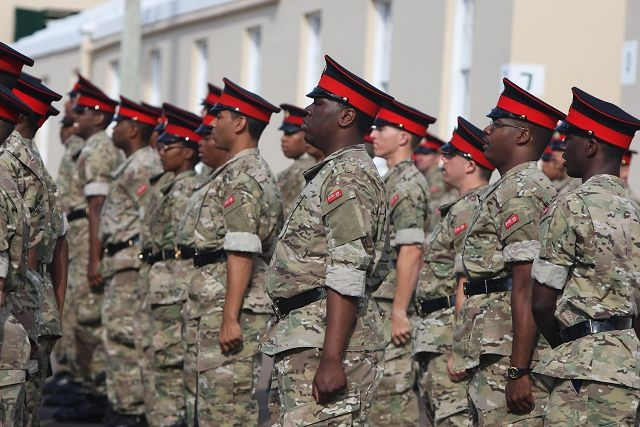 Bermuda Regiment photos by Bermuda's only daily newspaper, The Royal Gazette
Shark oil barometers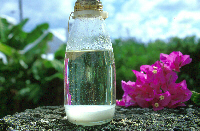 Bermudians, especially before the days of electronic weather forecasting, once used to rely heavily on unique, home-made, soda bottle, shark-oil based "barometers" to predict storms and other severe weather.

Local St. David's Islanders in particular used to catch and eat shark and, if it met the conditions and was the species of shark required, cooked it in its own liver oil. The shark has to be caught in certain months when the liver is white in color. The process must be done in natural sunlight in a non-metallic container. After being melted down in the hot sun, it was poured into any soda (carbonated beverage) bottle and hung outside. The appearance of the oil altered consistently with changes in the weather. From that time on, bottles of shark oil began appearing on walls or terraces.

Local practitioners of the art today say a reliable way of knowing what the weather is going to be like is to secure the bottle with string, hang it up with the bottle straight, not tilting, then observe over time how the shark oil settles or remains cloudy. Some old timers still check shark oil before going out with their boats into deep waters. There are dozens of theories on why shark oil changes with the climate and whether it really is effective. The only one that seems to fit is that electrical changes in the atmosphere - at least in Bermuda, possibly elsewhere too - affect the shark's liver and alert the shark to move out to deeper water before a bad storm. The oil retains this function when removed, and the change is visible, the oil switching from a clear golden color like cooking oil to milky white.

Shark oil is common in many countries with sea access and so are soda bottles and shark oil barometers, so there is no need to export them from Bermuda.
Queen's Birthday and New Year Honours Lists
Do you know someone in Bermuda whose courage, selflessness and hard work have changed Bermuda for the better? If so, you can submit them for consideration in the Queen's Birthday and/or New Year's Honours List — with honoree activities including voluntary work, arts, health, sport, education, science, business and politics. The Queen's Certificate and Badge of Honour is awarded to individuals who have made outstanding contributions to public life or served the community over a sustained period. Where possible, nominees should be still active in their chosen area, newly retired or have had a recent significant achievement. In 2016, Governor George Fergusson called the honours "a good way to say thank you", adding: "There are many unsung heroes in Bermuda who quietly contribute in all kinds of important ways to improve the lives of Bermudians." Michael Dunkley, then Premier, added, "This is an opportunity to pay homage to those who work tirelessly for and on behalf of others, and a chance to say thank you for years of hard work and dedication." Nomination forms can be downloaded from www.gov.bm/governor-bermuda, and applicants is advised not to discuss the matter with their chosen nominees. Completed forms must be received by the Cabinet Office no later than 5pm on Friday April 29, and applicants will also be considered for the 2017 Queen's New Year's Honours List.
See under November in Bermuda Public Holidays


Last Updated: June 19, 2018
Multi-national © 2018 by Bermuda Online. All Rights Reserved