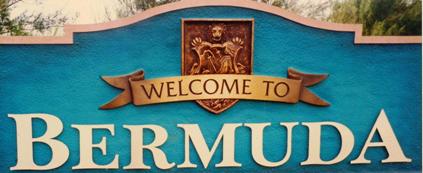 1125+ web files in a constantly updated Gazetteer on Bermuda's accommodation, activities, airlines, apartments, areas, art, artists, attractions, airport, aviation pioneers, banks, banking, beaches, Bermuda Status and citizenship, books and publications, British Army, businesses, calypso, Canadian military, causeway, churches, city of Hamilton, commerce, community, cruise ships, culture, cuisine, customs, Devonshire Parish, disability accessibility, districts, Dockyard, economy, education and universities abroad, employers, employment, entertainment, environment, executorships and estates, fauna, ferries, flora, food, forts, gardens, geography, getting around, golf, government, guest houses, history, Hamilton Parish, homes and housing, hotels, internet access, islands, laws and legal system, local groups and organizations, location, media, motor vehicle options, music, municipalities, Paget Parish, parishes, parks, Pembroke Parish, politics, postage stamps, public holidays, public transport, railway trail, religions, Royal Navy, Sandy's Parish, St. David's, St. George's Parish, shopping, Smith's Parish, Somerset, Southampton Parish, Spanish Point, Spittal Pond, sports, stores, telecommunications, traditions, time zone, town of St. George, United States armed forces, tourism, vacation planning, villages, vital statistics, water sports, weather, Warwick Parish, wildlife, work permits, etc. For tourists, business visitors, employers, employees, newcomers, researchers, retirees, scholars.

Bermuda's Island Traditions
Local cultures and customs, some derived from other countries with local adaptation
By Keith Archibald Forbes (see About Us) at e-mail exclusively for Bermuda Online
To refer to this web file, please use "bermuda-online.org/traditions.htm" as your Subject.
Agricultural Exhibition annually (until 2002 the Agricultural Show)
See Agricultural Exhibition. The 75th in April 2013. It is always a hugely popular, annual three day event in the Bermuda Botanical Gardens in Paget Parish usually every April, except for April 2004 when it was cancelled due to extensive damage in the Gardens from Hurricane Fabian in September 2003. All participants should contact the Exhibition Secretary, P. O. Box HM 834, Hamilton HM CX. The Exhibition - originally the Agricultural Show, named in the British style after shows there in many English, Scottish, Welsh and Northern Irish counties - accentuates that agriculture remains part of Bermuda's history and heritage. These are the only days there is a fee to enter the Bermuda Botanical Gardens. Acrobatic and unusual acts are always flown in for the event. Highlights usually include horses and cattle, pigs, goats and other animals. There are also competitions, shows, displays and judging of cakes, fruits, vegetables, bonsai, animals, furniture making, culinary arts, riding skills, flower and vegetable growing and all crafts. Refreshment stalls are operated by registered charities.
Beating Retreat
| | |
| --- | --- |
| Derived from an evening British Army tradition. It is not a sound to retreat but a musical call, under spotlights in the winter months, to troops to reduce operations for the night, a military tattoo. It became a local custom when the British Army was first here in the 1700s. It left Bermuda in 1953. It is performed frequently - usually, monthly - by the Band of the Bermuda Regiment, under the direction of Major Barrett Dill, EM, AVCM. The Band has dress blue and red uniforms and white pith helmets. The Band is usually accompanied by the Bermuda Islands Pipe Band, under the direction of it's Pipe Major and Drum Major. | |
Bermuda College Weeks
Because of the one-time Bermuda Floral Pageant, Bermuda's College Weeks were a further event by themselves, occurring at the same time, attracting as tourists thousands of students from colleges and universities throughout the USA and Canada. A 1956 description in the USA's Sports Illustrated describes it thus, see http://sportsillustrated.cnn.com/vault/article/magazine/MAG1069587/index.htm. They were the most numerous by far of Easter-period guests at Bermuda's larger and smaller hotels, cottage colonies and guest houses, most of which offered special prices. Especially noteworthy and quote-worthy were the beach parties at the Elbow Beach Surf Club and the parties at the Bermudiana, Inverurie, and other hotels. Free-spirited and mischievous, the college students often became notorious for their boisterous or unruly behavior, with policeman's helmets, speeding on Bermuda's roads without helmets, swimming en masse across Hamilton Harbour, impromptu beach barbeques, party boats and much more. Many college students were able by special arrangement with the then-USA military bases in Bermuda, to shop there at PX stores and go to the movies.
In those heady days of the 1950s, 1960s and 1970s the Bermuda government's Bermuda News Bureau, or Trade Development Board, later the Department of Tourism, organized and paid for all of the activities scheduled during the College Weeks 28-day period, with courtesy cards that entitled college students free admission to everything from "Get Acquainted" dances at major hotels to beach parties, boat cruises, and steel band concerts. Scores of moped-riding college students took advantage of the island's hospitality. Those mopeds, Mobylettes and Zundapps, mostly, were often photographed in their hundreds, seen at indoor or outdoor events.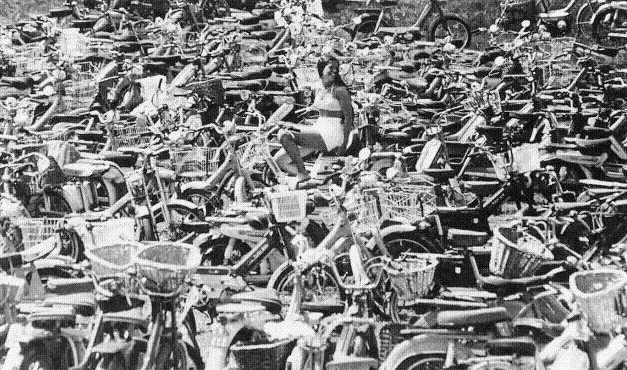 Mobylettes galore, parked at a 1970s Bermuda College Weeks event
As a result, Bermuda became one of the most popular Spring Break destinations, long before places in Florida took over. Major universities such as Harvard and Cornell sent musical and dramatic shows. The Hasty Pudding Theatricals and Harvard Krokodilloes were prominent among them. Female college students were more than welcome, especially for Bermuda's hungry males. Including some famous names, the young college ladies became Bermuda Beauty Queens and were crowned as part of the College Week ceremonies and events. Their Bermuda escorts for those events, always attired in tuxedos in the evening, were, by tradition, drawn from the most handsome or otherwise most eligible Bermuda membership of the Junior Chamber of Commerce. Bermuda wives and girlfriends were often left at home when the college girls arrived...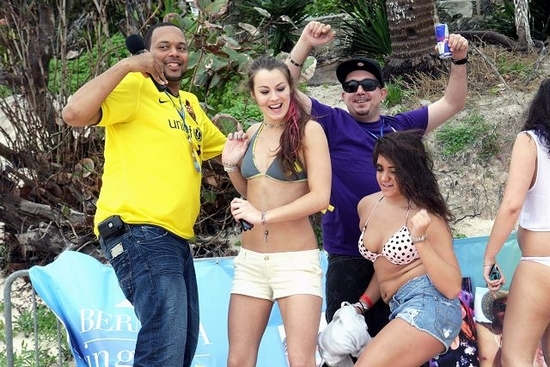 Bermuda College weeks 2012
College Weeks 2012 exceeded expectations, according to the Tourism Department. About 250 visitors were drawn by the eventís re-launch. Tourism Minister Wayne Furbert had earlier expressed hope that as many as 200 students from universities and colleges in North America would attend. In the 1950s and 1960s, Bermuda attracted more than 10,000. College Weeks 2012 ran from February 18 to March 16.
Bermuda Easter lilies
| | |
| --- | --- |
| | They were introduced to Bermuda from Japan in 1863. They flourished so much that Bermuda once exported blooms to North America and beyond. This was when Bermuda was largely agricultural, before tourism became more important. The export trade is no longer what it was but growing is still a tradition. Bermudians still send Her Majesty the Queen every year at least one choice bouquet of these magnificent flowers. Her Majesty writes to the Governor to thank Bermuda. May 2002 photo by the author. |
There is also a perfume made from the essence.
| | |
| --- | --- |
| Original Source of Bermuda-grown flowers | Japan |
Bermuda Festival
See Beautiful Bermuda in Music
Bermuda Fitted Dinghies
| | |
| --- | --- |
| Dinghies are a development of the British rowing dinghy or skiff, common in British coastal waters. For many years, skiffs were used as a means of transportation from one part or island of Bermuda to another. British Army and Royal Navy Officers stationed in Bermuda in the late 1800s first designed the boat as seen now. Under their patronage, the first fitted dinghy race was held in the St. George's Regatta in July 1853. The next was at the 1854 Victoria Day Regatta. The third was a St. George's Regatta in 1855 with a 10 shilling entrance fee. Four pounds sterling were added to make up purses for the first two boats to cross the finish line in the handicap event. After several years of informal racing, the sport was organized and measurement rules adopted. It was decided that 14 feet 1 inch long would be the maximum permitted length. No decking is allowed and the keel is limited to 12 feet. | |
| All fitted dinghies have a 14-foot bowsprit, 40 foot masts and over 1000 feet of sail - more sail than any other vessel of similar length. Race rules allow the skipper to order as many people as he wishes off the boat, to gain speed. They usually depart from the stern, to give the boat a bonus in speed. There are only eight fitted dinghies. Five race on alternate Sundays from May 24 until September, in various parts of Bermuda. They are Elizabeth, Challenger, Contest, Port Royal and Victory. World-renowned sailor and sail designer Uffa Fox did not believe the vessel would float. But it did. The six people in a crew must improvise for survival and seamanship. They jibe from port to starboard for prevailing winds, try to keep upright, and can take on much water. To keep afloat, they jump or get pushed off. They have high speeds but are often sunk or are dismasted. Luck and talent win. They are always entertaining and often hilarious. | |
Bermuda Floral Pageant
Sadly, no longer offered, last one was in the 1960s, a victim of the hugely-changed social and racial scene. Until then it was by far and away Bermuda's most popular annual event, drawing thousands of visitors mostly from the USA. Because of it, Bermuda's "College Weeks" were a further event by themselves, occurring at the same time, attracting as tourists thousands of students from colleges and universities throughout the USA and Canada.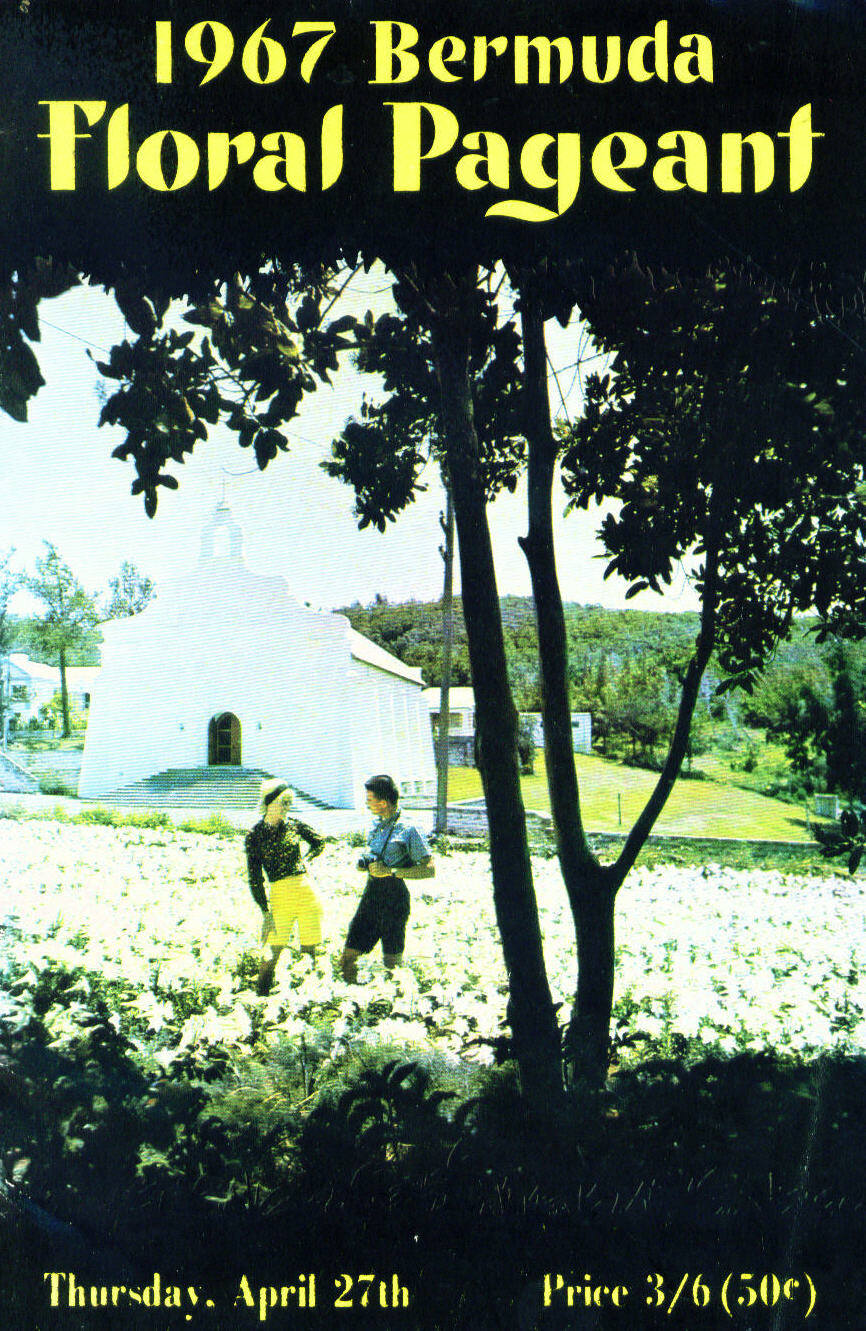 Bermuda Gombey dancers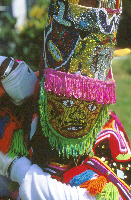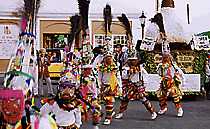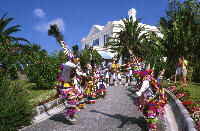 A tradition that began when black slaves were first brought from Africa and the Caribbean. "Gombey" is derived from an African word meaning rhythm. It was originally intended to be performed only on Boxing Day (December 26) and New Year's Day - the two days of the year when slaves were given a rest from their labors. Today, Gombey dance and prance on Boxing Day, New Year's Day, other important events such as football (soccer )matches, at festivals or parades and holidays, also at hotels and guest houses. There is a method of collecting contributions from spectators. The musical accompaniment is usually a kettle drum with two snare drums, covered with goat skin, and a beer bottle fife which produces the sound of a flute crossed with a whistle. Their acrobatic Bermudian members whose routines are based on African, American Indian, Biblical, British "mummers" and West Indian lore and traditions. Each group is a "crowd." The Captain wears the most elaborate costume and is the crowd leader. The Wild Indian and Trapper have a perpetual chase. The Chiefs also carry large tomahawks and shields. Warriors or Choppers include children of families. Under the Captain, the dancers have duets and solos simulating combat. Once, they also re-enacted biblical stories like David's fight with Goliath. Gombey troupes include Warner's Gombeys, Norford's, the Shakey Smith Troupe, Richardson's, and Wilson's Troupe. Books include Gombey Boy and Bermuda Gombey by American born Bermuda author Mrs. Louise Jackson.
| | |
| --- | --- |
| Source | African, West Indian & American Indian, Bermudian |
Bermuda Heritage Day Parade
A fun day, held on Bermuda Day, May 24. With floats, dance groups and majorettes.
Bermuda Islands Pipe Band

Partly in honor of The Bermuda Islands Pipe Band and also because of the many Scots and Irish who are resident in Bermuda and Bermudians with Scots and Irish forebears, there are many recordings available in Bermuda of Scots and Irish bagpipe bands and bagpipers, both civilian and military. In the 18th and 19th centuries, an Irish unit of the British Army was here. Scottish regiments were several times in the British Army garrison here until 1953. A Canadian Scottish regiment was based in Bermuda for a while during World War 2. Their bagpipes and drums accompanied the soldiers on Church Parades from Prospect Garrison in Devonshire to the city of Hamilton, waterfront on Pitts Bay Road and back. The idea became a Bermuda civilian tradition.
Once there were two bagpipe bands here. One was the Bermuda Police Pipe Band which began in 1959. It proudly wore the Prince Charles Edward Stuart ("Bonnie Prince Charlie") tartan. Composed at first largely of members of the Bermuda Police and Prison Services, and other local enthusiasts, including some formerly in the Bermuda Cadets Pipe Band, they were soon performing at the Police Passing Out and ceremonial parades, a tradition maintained by the BIPB to this day.
There was also the older Bermuda Cadets Pipe Band, so-called because it originated in 1955 as "A" Company of the Bermuda Cadet Corps when Captain Henry Hallett was the Company Commander. (Paddy Coyle of the Gordon Highlanders, whose idea it was to start the Bermuda Cadets Pipe Band, was in the detachment of the Highland Brigade stationed in Bermuda at the time. In his honor, the band wore the Gordon tartan). Bagpipe celebrities or those who contributed mightily since then include Denis Stuart; Captain Arthur G. Card, Commandant of the Bermuda Cadet Corps; Lillian Hallett; Mary Card Gibbons and Joan Tite. On the disbanding of the Corps in the early 1960's, the Band continued as a body of civilian volunteers under the name of the Bermuda Cadets Pipe Band. Wearing the Regimental Gordon tartan, the Band's first public performance was in the Remembrance Day Parade in 1956 when they began a tradition of leading the war veterans on and off parade.
Both were disbanded in 1992 when the Bermuda Islands Pipe Band was established. The Bermuda Islands Pipe Band is a spectacular sight on ceremonial occasions, often included in Beating Retreat, musical displays and other events. Individual bagpipers go to hotels and weddings. The 17-member contingent still wear the Gordon Highlanders tartan kilt with a white jacket. Experiences include playing at local and international tattoos
Another still active tradition of the BIPB began in 1963 with the weekly performance by the Cadets Pipe Band of the "Skirling Ceremony" at Fort Hamilton. Yet another long-established relationship began in 1965 with both predecessor Bands and now the BIPB appearing with the Band and Corp of Drums of the Bermuda Regiment in the Beating Retreat in Hamilton, St. George's and the Royal Naval Dockyard.

The BIPB has an equally strong tradition of representing and promoting Bermuda internationally having performed overseas on 18 occasions in the United States, Canada, Scotland and Germany. In 2003, the Band proudly promoted Bermuda at the Nova Scotia International Tattoo. The Band, bearing the Bermuda standard before it, has twice appeared in New York City leading other pipe bands. The Band's more recent international performance came in January, 2005, at the Musikschau der Nationen in Bremen, Germany, Norfolk VA, Birmingham UK and Hamburg, Germany.
Bermuda kite flying on Good Friday
See Bermuda's Public Holidays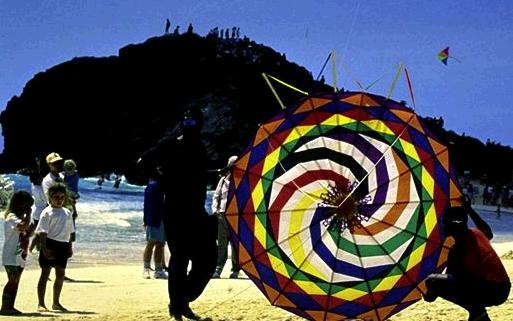 Kite flying at Horseshoe Bay
| | |
| --- | --- |
| Source of Kites | Indonesian, local tradition, Bermudian |
Passion Flower
Another legend associated with the Easter holiday - although Easter Sunday itself is not a public holiday - is that of the passion flower, of which there is a Bermuda species.

This climbing vine requires a sheltered southern location and a great deal of care, so you will not see it in exposed local gardens. It has five sepals or five identical petals. Spanish missionaries who first discovered the flower in South America made it known how the petals represented the disciples without Peter and Judas. The legend was imported to Bermuda as well. The double row of colored filaments, known as the corona or crown, appear to show to some the halo around the head of Christ and to others the crown of thorns.

Bermuda Passion flower
The violet stamens and other parts of the flower appear to show the wounds and nails Christ endured.
Bermuda Marathon Derby
Bermuda Public Holidays
Bermuda Moongate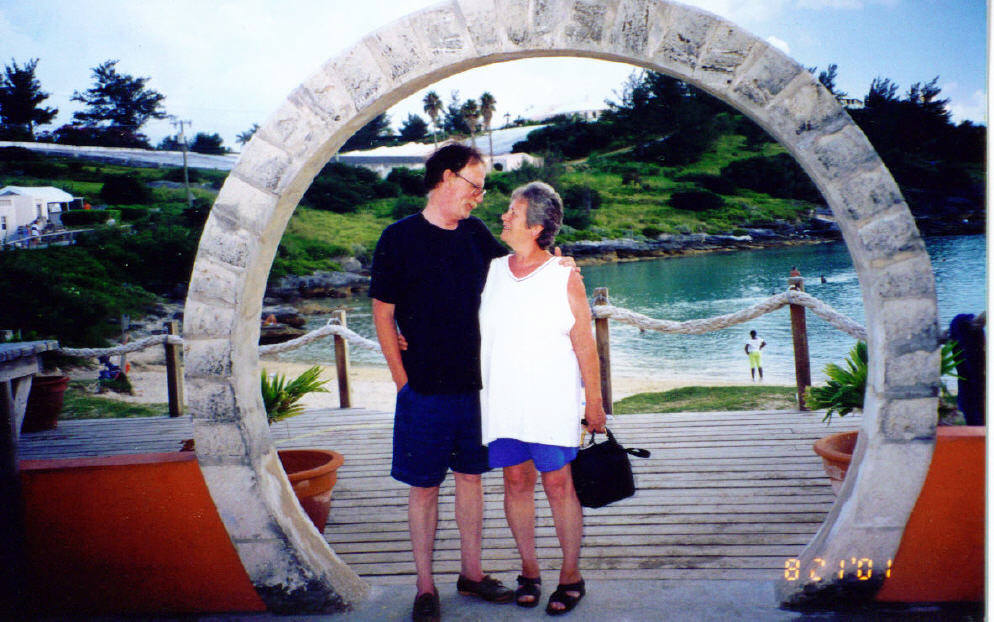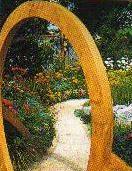 Bermuda Moongate (left) and original Chinese one, from which the Bermuda one was copied (right)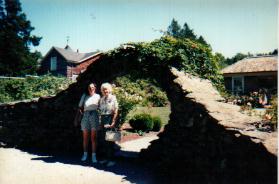 This is not Bermudian originally but Chinese, many centuries old. (In July 2004, a Japanese garden with a structure almost identical to what in Bermuda is called a moongate, won a Silver Gilt prize at the Royal Horticultural Society show at Tatton Garden in the UK). The first plan for one in Bermuda was brought from a Chinese garden in 1860 by a local sea captain. He drew the design of a circular, ornamental wooden gateway to a garden or place of inner repose and, once back in Bermuda, built one of his own. It was copied. It has since been adopted by Bermuda as a national symbol. There are many now in Bermuda.
The Bermuda version is built of Bermuda stone and often but not always used as an entrance to a garden. There is also a New England version, in granite, of the Chinese design, as the attached photograph shows.
Legend has it that people who walk through a Moongate, especially young lovers and honeymooners, are blessed with good luck.
The real Oriental origin of the Moongate was almost completely lost locally when the former gardener of the Duke of Westminster in the United Kingdom was employed to lay out the grounds of the (former) Bermudiana Hotel in the 1920s being built at that time by the Furness Withy shipping group. This was the first of the Bermuda Moongates in hotel properties.
Unfortunately, Bermuda Moongates do not export well as Bermuda stone is very heavy. But you might be able to obtain a design from a local architect and have one constructed if you wish, overseas, or refer to Chinese designs for the original kind.
Bermuda Moongate song
Composer Ralph Blane, co-wrote the song "Step Though a Moongate." Once there was a 45 rpm record of the song, with Ralph singing. On the flip side of the record is "Bermuda Blue." One of his best known compositions was "Have Yourself a Merry Little Christmas" and other songs of the movie "Meet Me In St. Louis."
A local version of Step Through a Moongate, sung many years ago by Gene and Pinky Steede, confirms the Oriental origin of the Bermuda Moongate in the words of the song.
Bermuda Open Houses and Gardens (until 2008)
This lovely tradition has finished, with the last one held in 2008 and then in only one place, not several in every parish as was earlier the case. It was hugely interesting, culturally and environmentally stimulating and uniquely enjoyable in New York, Virginia, etc. It increased visitors by 30-50% for the months involved. Plus, they led to new friendships, referrals galore, much repeat business, encouragement to home owners to show off their homes and gardens and a recurring source of income to hosting organizations from the charges made to visit all the Open Homes and Gardens on specific days, in sequence. Local homeowners were reluctant to continue opening up their homes and gardens, quoting the need for security, the high crime rate which rendered their properties exposed to attack after publicity and more.
Bermuda Regiment
See more information than shown below in Bermuda's Links with the United Kingdom and British Commonwealth of Nations - under "Bermuda Regiment. "
Once, Bermuda had its own two local military units, the all-black but white officered Bermuda Militia Artillery and the all-white Bermuda Rifles, each with their own unique military traditions. They served on the side of Great Britain in World Wars 1 and 2 with bravery, distinction and loss of life. They were amalgamated in 1965 into one new unit, the Bermuda Regiment. Today, only Bermuda, Cuba, North Korea and Switzerland still have compulsory selective conscription of able-bodied young men annually. But their presence at major Bermuda events including Beating Retreat and Remembrance Day events has become a cherished local tradition.
In 2013 a Bermuda Regiment private soldier was paid at an hourly rate of $17.87.
A private soldierís initial enlistment period of service (by conscription or voluntary) is 3 years and 2 months (40 training periods and a 2 week training exercise per year).
Upon completion of solely their basic duties during their initial enlistment period they are expected to earn not less than $13,000 pa.
The Regimentís budget for 2013-2014 is $6,959,000.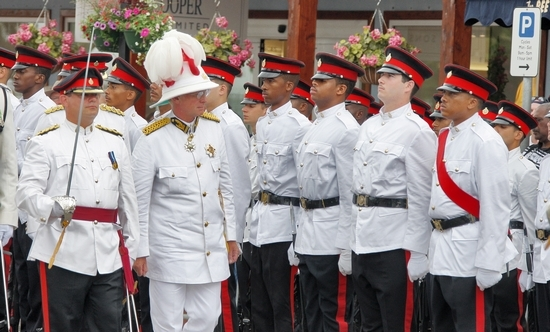 Then-Governor Richard Gozney inspecting the Regiment.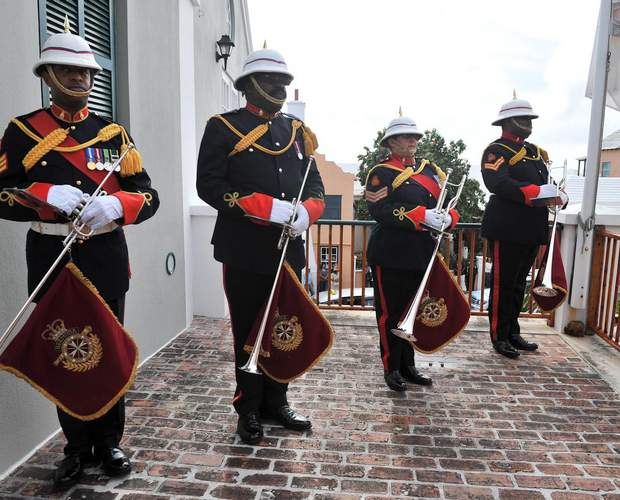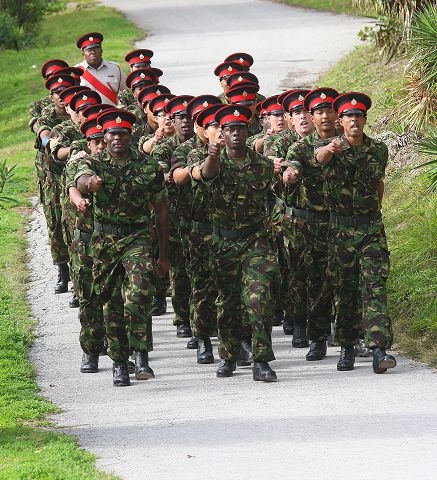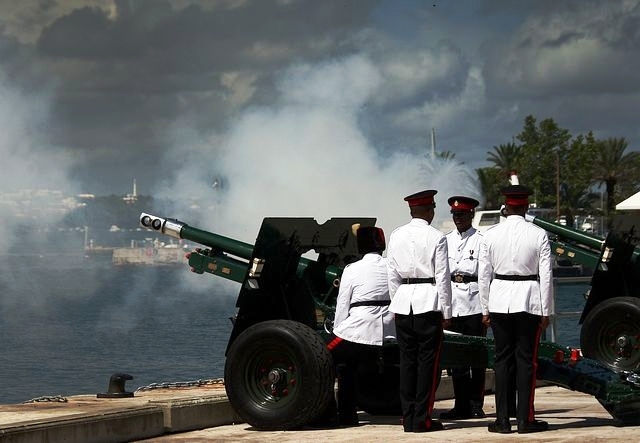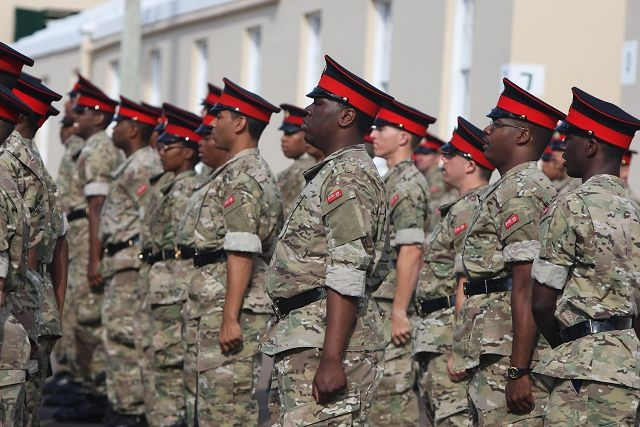 Bermuda Regiment photos by Bermuda's only daily newspaper, The Royal Gazette
Bermuda Triangle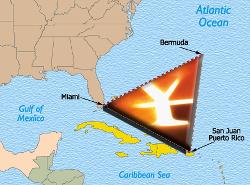 There is a great deal of misunderstanding about this in the USA, Canada, Britain, Europe and elsewhere. It is assumed, wrongly, that this area is solely in Bermuda. To be entirely accurate, Bermuda is only one point of the three in - and by far the smallest part of - the Bermuda Triangle. 88 percent of all the sinister or unexplained events of the Triangle happened much closer to Florida - especially Miami - or Puerto Rico, the other two points of the Triangle. Technically, Bermuda is near to it but not actually in the Sargasso Sea where the majority of events may have occured. Draw a triangle between Bermuda, Miami and Puerto Rico to get an idea of the Bermuda Triangle and then consider the effect of enormous Florida, large Puerto Rico and tiny (only 21 square miles) of Bermuda. This is the descending order of importance of the three places in the Triangle.
It may disappoint some to know this but there has never been any effect at all of the Bermuda Triangle on any of the customs and culture of Bermuda. This author was told personally by an elderly writer in the USA who studied the Triangle that when the original " Bermuda Triangle" was coined in the USA, it was supposed to have been the "Miami Triangle" but Miami objected as it did not want to lose visitors. The "Puerto Rico Triangle" was the second choice, but it too objected, for the same reason. It is alleged that no one from Bermuda bothered to reply so the name stuck by default. This has never been proven so may be mere speculation. What is known to be true is that there have been quite a few ship and aircraft losses on the Triangle over the years, a few near Bermuda. The most interesting and comprehensive Bermuda Triangle website is done from the USA by an American, given the prominence of Florida and the US Commonwealth of Puerto Rico in the combination of facts and myth. Several books have been written about it. The Chinese, in particular, are said to be sensitive about it, believing it is unlucky to be in any way associated with it, which may help explain why Bermuda, Miami and Puerto Rico are not yet on the list of Chinese government-approved tourism sites.
Bermuda Wedding Cakes
3 layers high, Traditionally made to a wonderful old recipe. In past years, there were two cakes, one for the Bermudian bride, the other for her Bermudian husband, but that custom has weakened now, often to one cake as below serving both and their guests.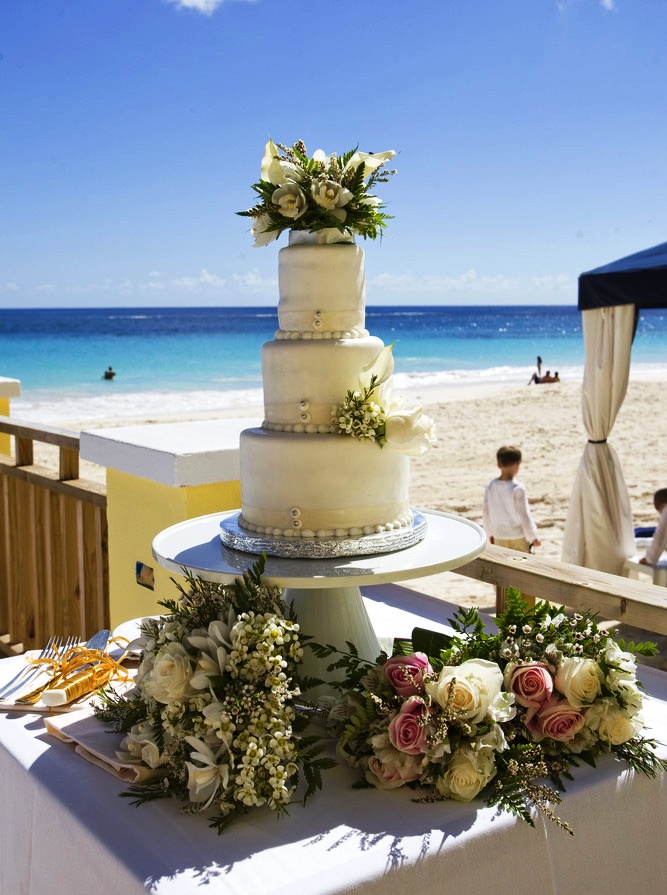 Bermuda wedding cake
British spelling
Local advertisements, brochures, guide books, newspapers etc. spell certain words in the British - not American - way, despite the fact that Bermuda is so much closer geographically to the USA than to any other country. This may be confusing to our visitors, more than 85 percent of whom are American. Some words used locally, like "scheme," have a less pleasant connotation in the USA. Some British words end in "our" but the American equivalent ends in "or" for example, "harbor." Do you write your birthday 7 4 60 or 4 7 60? It depends on whether you are American or British or Canadian. The Bermuda Government spells its local Official Notices in the British and Canadian way. But if one writes for a mostly American audience, it is good manners to do it the American way. The Royal Gazette daily newspaper publishes its date of issue the American, not British, way. Words like "liquor" not "alcohol" relate to certain licensing laws, in the American way, not the British way. But traffic signs are confusing to Americans because distances are shown in meters (metres in Britain), not miles. And gasoline (petrol) prices are confusing to Americans because they are in liters (liters), not gallons. Most Americans think, wrongly, that gasoline is cheap in Bermuda because of the posted prices, but in fact they pay more in Bermuda for a liter (0.22 gallon) than for a gallon back home. And Bermuda drives on the left, not right, despite the fact that we have 8 times more visitors than locals every year.
Christmas Boat Parade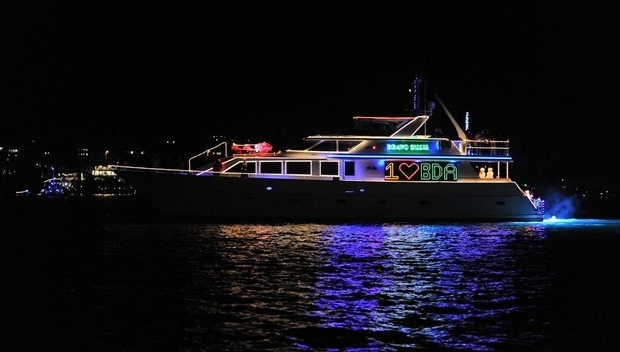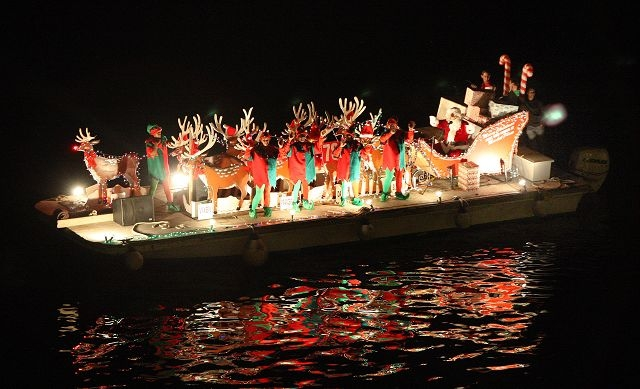 Once every two years. Last was in December 2013, next is December 2015. 2013. December 9. The Island's top spectator event of the year, the Christmas Boat Parade in Hamilton Harbour. A stunning display of Bermuda-based illuminated boats of all sizes, treating 20,000 viewers and ending with a magnificent fireworks display. An after-dark marine spectacle, free to all, on a Saturday evening in December before Christmas, watched mostly from vantage places ashore such as Albouy's Point and Barr's Bay Park. Front Street and Harbour Road also teem with spectators. It is now an established once-every-two-years Christmas-tide tradition (except for December 2008 when it did not occur). It draws a bigger audience than any other festive activity in Bermuda, over 20,000 spectators. Boats participating cover a measured course twice. Imagination and ingenuity of boat owners are incredible. Prizes are given in a number of categories. There are also sightseeing boats. The fireworks are launched from White's Island. It is superb, not to be missed by any local or visitor.
In December 2013 19 categories of boats ensured that everybody won something for taking part. In top place for Best Commercial boat was Playmate, entered by Playmate Fishing Charters. Spirit of Bermuda won Best Sailboat, and Bermuda Pest Control's Blue Heron was the top corporate entry. The Caledonian Society of Bermuda won Best Non-profit with Naughtiness, while Bill Pitman's Sylvester took Best Powerboat under 25ft and James Boyce's Dutch Courage won the over-25 category. Best Bermuda Themed boat was Full Hott Scott, entered by Corey Masters-Brown; Jamie Chaters Megabucks won Best Community Message. Topping Most Original was Edwin Whitfield's Andrea Christine, while Friends of Black Seal got Most Humorous with Cedar; the Chewstick Foundation's Halcyon won Best Traditional Christmas theme. Twisted Tini entered by Martin Harvey took Best Contemporary. Best Crew Costumes went to Carlos Falcao's Lucky Charms, and William Knight White's Gabriella won Most Confusing. Fairmont Southampton Turtle Hill Golf Club won Best Use of Lights with Friendship, and Best Music went to Anamaria Worswick's Unholey. In the Pink Category, Peter Stableford's Just Sayin came in first, while Justin Williams's Justified was deemed Most Fun to be Aboard. The MarketPlace barge took the Children's Choice category.
Christmas & Boxing Day Pantomime & Holidays
See Bermuda Public Holidays
Crown and Anchor
Whichever team hosts the annual Cup Match (see below) game accepts tenders for the gambling game of Crown and Anchor, one of the many "concessionary" events, open gambling, operators of which pay Government a hefty license fee.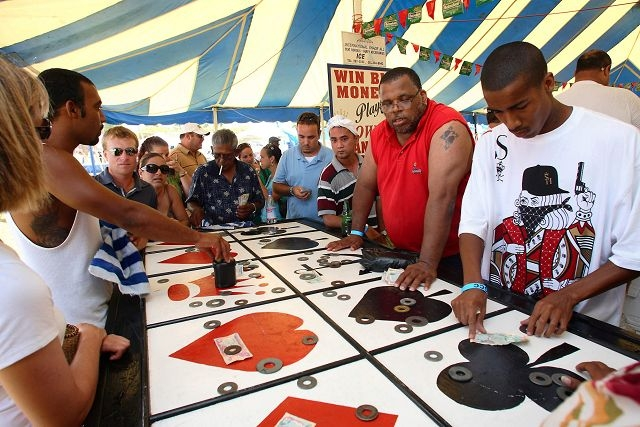 Royal Gazette photo
Cup Match
Dramatic arts
In serious, comedic and other works, the Bermuda Musical & Dramatic Society, Black Box Productions, Jabulani Repertory Company and others provide cultural entertainment.
Drystone walling or dyking
Drystone walls, still found in some parts of Bermuda, are limestone walls made without mortar.
Festival of Lights
This is always in December (except for 2008, because of economic conditions and price of fuel). The Bermuda Electric Light Company, the only electricity service, awards prizes.
Gombeys
Dancers similar to those in Africa and certain parts of the Caribbean, from black families. They dance at certain times of the year and on special days. They appear in the 2003 Edinburgh Tattoo. The word Gombey comes from the African Bantu language and means both rhythm and drum. Noteworthy and quoteworthy are the books "The Bermuda Gombey; Bermuda's Unique Dance Heritage" by Louise A. Jackson and "Bermuda: Traditions and Tastes" by Judith Watson.
Hasty Pudding Theatricals
Always in March - from Harvard University. Annual visit to Bermuda. Sponsored by the Bermuda Government's Department of Tourism. Ticket prices and times and information at phone 295-1727.
Johnny Barnes
From the roundabout (rotary in the USA) near Crow Lane Park in Paget Parish, Johnny Barnes, a remarkable Bermudian senior citizen, has made a unique tradition for decades of waving a cheery "Good morning" - in all weather - to commuters exiting the parish to enter Pembroke Parish - where there is a statue to him just off the busy East Broadway main road - to work in or near the City of Hamilton.

Photograph by Government Information Services
Music choirs, classical, calypso and soca music
See Beautiful Bermuda in Music
| | |
| --- | --- |
| Source | British and Caribbean |
Onions (people)
Onions were introduced to Bermuda in about 1616 from Britain as English onions - before they reached the USA. Not until the 1830s did they become a major export. By the mid 19th century, Bermudians became known as Onions and Bermuda as the Onion Patch. The popularity of the by-then Bermudianized British Onion, or Bermuda Onion, led to the development of Bermuda Onion seed in Texas in 1898. In Texas, a farming community called itself the Bermuda Colony (later, Bermuda, Texas), on the north side of the Nueces River in Dimmit County. Competition began between Bermuda and Texas to export onions. A combination of what the Texans could do with their onions with the new railway system nationwide in the USA that Bermuda could not and high tariffs imposed by the USA, led to decline of the industry in Bermuda. After the Great War, exports were finished. Today, more people in the USA get their onions from Georgia than Texas. One reason may be that onions take six months to harvest.
Palm Sunday Walk
An annual favorite, a different location each year over several miles of flat and hilly areas in places usually barred to the general public, run by the Bermuda National Trust. Walking shoes with non-slip tread are recommended. No dogs or wheeled vehicles (such as mountain bikes and strollers).
Peppercorn Ceremony
Bermuda Regiment
Portuguese Cultural Association
There are many people of Portuguese extraction (mostly from the Azores) extraction. Some are still Portuguese nationals, despite long residence that in any other country would have qualified them as citizens. The Association has a splendid troupe of dancers, men in red waistcoats and women in red skirts and tight bodices. They dance to traditional Azorean tunes, on special days including the Bermuda Day May 24 Parade celebrations.
Roof Wetting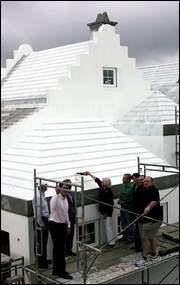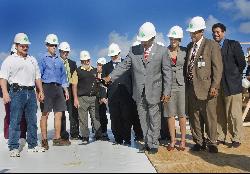 When new houses, apartment blocks and office buildings gave their roofs completed, to seal out the rain, wind and moisture, locals celebrate with a roof wetting on the roof.
All who participate on the roof have to be able to go up and get down unaided and must wear hard hats.
Usually, an owner and contractor or builder are the key persons and climb the outside of a roof via a ladder.
As this picture of a January 2009 roof wetting shows, in winter suits are often worn by the owners while the construction foreman and crew are in working clothes.
When the Bermuda Government is the owner, usually the Minister concerned is present.
A bottle of black rum is either poured on the roof or is shared, or both.
Shark oil barometers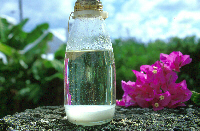 Bermudians, especially before the days of electronic weather forecasting, once used to rely heavily on unique, home-made, soda bottle, shark-oil based "barometers" to predict storms and other severe weather. Local St. David's Islanders in particular used to catch and eat shark and cook it in its own liver oil. After being melted down in the hot sun, it was poured into any soda (carbonated beverage) bottle and hung outside. The appearance of the oil altered consistently with changes in the weather. From that time on, bottles of shark oil began appearing on walls or terraces.

Local practitioners of the art today say a reliable way of knowing what the weather is going to be like is to secure the bottle with string, hang it up with the bottle straight, not tilting, then observe over time how the shark oil settles or remains cloudy. Some old timers still check shark oil before going out with their boats into deep waters. There are dozens of theories on why shark oil changes with the climate and whether it really is effective. The only one that seems to fit is that electrical changes in the atmosphere - at least in Bermuda, possibly elsewhere too - affect the shark's liver and alert the shark to move out to deeper water before a bad storm. The oil retains this function when removed, and the change is visible, the oil switching from a clear golden color like cooking oil to milky white.

Shark oil is common in many countries with sea access and so are soda bottles and shark oil barometers, so there is no need to export them from Bermuda.

See under November in Bermuda Public Holidays


Last Updated: July 30, 2014.
Multi-national © 2014 by Bermuda Online. All Rights Reserved. Contact Editor/writer and webmaster.