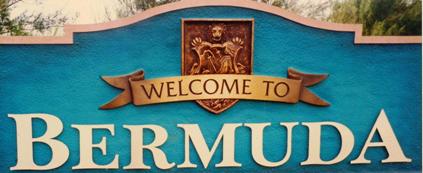 145 web files about the internally self-governing British Overseas Territory of Bermuda in a comprehensive, constantly updated Gazetteer. Accommodation, aircraft registry, airlines, airport, America's Cup 2017, apartments, art, banks, beaches, Bermuda citizenship by Status, Bermuda Dollar, Bermuda Government, Bermuda-incorporated international and local companies, Bermudians, books and publications, causeway, charities, churches, City of Hamilton, commerce, communities, credit cards, cruise ships, culture, cuisine, currency, disability accessibility, Devonshire, districts, Dockyard, economy, education, employers, employment, entertainment, environment, executorships and estates, fauna, ferries, flora, former military bases, forts, gardens, geography, getting around, golf, government, guest houses, history, homes, Hamilton, House of Assembly, housing, hotels, immigration, import duties, insurers and reinsurers, international business, internet access, islands, laws, legal system, legislation, legislators, location, main roads, magazines, marriages, media, members of parliament, motor vehicles, municipalities, music, nearest mainland, newcomers, newspapers, organizations, parishes, parks, Paget, Pembroke, permanent residents, pensions, political parties, postage stamps, public holidays, public transportation, railway trail, religions, retailers, Royal Naval Dockyard, Sandys, Smith's, Somerset, Southampton, St. David's Island, St George's, senior citizens, shipping registry, Somerset, Spanish Point, Spittal Pond, sports, taxes, telecommunications, time zone, traditions, tourism, Town of St. George, Tucker's Town, utilities, water sports, Warwick, weather, wildlife, work permits.

Bermuda's Climate and Weather
Year-round temperatures and hurricanes, cooler in winter than Caribbean 1,000 miles south
By Keith Archibald Forbes (see About Us) exclusively for Bermuda Online


The climate is sub-tropical, mild in the winter, spring and autumn (fall), but from late May to October, can be uncomfortably hot and with especially high humidity. The hottest part of the year is from May through mid-October, when temperatures hover between 75°F / 23°C and 85°F / 29°C. Humidity, often well over 85%, is at its highest from July through mid-October.
Despite its latitude and longitude - and its location so far north of the Caribbean, nearly a thousand miles north of it in fact - Bermuda is entirely frost-free, snow-free and ice-free. Why? Because the warm waters of the Gulf Stream pass near Bermuda.
However, it can be favorable to hay fever sufferers. Rag weed does not exist in Bermuda and pollens of other weeds are quickly blown out to sea. But note that for those with allergies., the always humid climate breeds mold, mildew and mites. Some pharmaceuticals available without prescription elsewhere require prescriptions in Bermuda from registered local medical doctors. Not all drugstores in Bermuda are licensed dispensing pharmacies. You will have to visit one of the latter in the City of Hamilton or the Town of St. George to obtain anything locally prescribed but perhaps not carried by a hotel drugstore.
Bermuda's ocean winds are tempered by the Gulf Stream, but when south winds prevail, the humidity rises and sometimes thunderstorms occur. The highest humidity months are July and August. Temperatures rarely drop below 55 degrees F or exceed 90 degrees F. The lowest air temperature ever recorded was 43.6F. The highest was 94F. Water temperatures during winter months are much the same as the air temperature, ranging from about 66F (in January) through 75F until the late spring.
Enough annual rainfall is one reason why Bermuda is usually lush in foliage and greenery despite its very shallow alkali soil. There is no monsoon or rainy season because Bermuda is not in the Caribbean, but some months tend to be wetter than others. But others can be devoid of much rain. Also, several - like late June, July and August in particular and early September - can be extremely (and unpleasantly) humid. If this affects you badly, and you don't mind cooler water for swimming, then try May or June or late September to October.
For weather forecasts, check the Bermuda Weather Service page. It is a Bermuda Government service, provided by the Ministry of Transport's Department of Air Operations.
Bermuda average temperatures and rainfall by month
Showing mean (average of high and low for month) figures, much cooler in winter than the Caribbean or Florida.
| | | | | | | | | | | | | |
| --- | --- | --- | --- | --- | --- | --- | --- | --- | --- | --- | --- | --- |
| Heading | Jan | Feb | Mar | Apr | May | Jun | Jul | Aug | Sep | Oct | Nov | Dec |
| Air (F) | 63 | 62.8 | 64.3 | 66.5 | 72.3 | 77.3 | 80.6 | 79.9 | 79 | 80.9 | 71.6 | 66.7 |
| Sea (F), inshore | 65.3 | 63.7 | 65.9 | 67.8 | 74.3 | 79.2 | 82.7 | 82.6 | 82.3 | 77.1 | 73.8 | 67.5 |
| Rain (inches) | 5.3 | 5.1 | 3.2 | 2.48 | 3.6 | 2.37 | 5.46 | 6.12 | 2.05 | 7.22 | 2.82 | 2.66 |
| Number of rain days | 16 | 16 | 13 | 9 | 6 | 8 | 14 | 19 | 9 | 13 | 14 | 13 |
| Relative Humidity | 73% | 73% | 71% | 74% | 79% | 80% | 81% | 80% | 72% | 73% | 72% | 70% |
Average daily figures. They can vary substantially month-by-month. But on a year-by-year basis, the accumulated figures do not vary by much. Rain and rainstorms generate the island's only supply of fresh water. There is no central piped-in water supply except to a few few places. When there is insufficient rain, water is ordered and paid for from Government reservoirs or seawater distillation plants and delivered by water truckers. Outdoors in December-February can be chilly at times, especially in frequent winter gales. Indoors, most Bermudians don't have central heating in their homes as you do in USA, Canada, Europe and UK, but open fires in one room or electric heaters. Bring some some wool clothing in the winter months.
Bermuda Temperature Variations. The year-round mean relative humidity is 77%. But in the months of May through October, it is much higher. It is energy-sapping, debilitating, chronic, with a need to change clothes three times a day. Most northern USA, UK, European and Canadian nationals are not told about it and some can get a very severe heat and humidity rash from it. For those potentially affected badly by a combination of heat and high humidity, it is recommended that when you holiday in Bermuda, you come in other - winter - months when humidity is lower.
Hurricanes
Beware the Hurricane! Book by the late Bermudian author Terry Tucker.
2017. August 19. A new Tropical Storm, Harvey, has developed in the Caribbean, dumping heavy rain on the Windward Islands yesterday as it makes a slow trek west towards Central America. The storm, which has the potential to build into the season's third hurricane, is followed by two other pockets of weather: a disturbance several hundred miles to Harvey's east, and a tropical wave budding off the West African coast. Meanwhile, the remnants of Hurricane Gert, breaking apart into a storm, continues its drift towards Ireland and Britain. The 2017 Atlantic season has already shown above-average activity, and late August through early October is its typically height. According to meteorologists, the tropical Atlantic at present is at its warmest since 1950. A powerful atmospheric phenomenon known as the Madden-Julian Oscillation could be feeding storm development at the moment, but should decline early next month, resulting in less favorable hurricane conditions.
2017. August 16. Hurricane Gert is no threat to Bermuda as the closest point of approach has passed. The category one storm was forecast to pass 281 nautical miles to the north-northwest of the island at 8am and had been deemed a potential threat. In its noon update, the Bermuda Weather Service said this had been downgraded to no threat. A spokesman said: "Hurricane Gert has now passed its closest point to Bermuda and will continue to speed NE and away from the area causing swells to become westerly. A frontal boundary, invigorated by the influx of moisture from Gert, will dip south towards us bringing showers, a risk of thunder and occasionally strong winds tonight through Friday. Winds drop light to moderate for the weekend as the boundary lingers nearby." At 12pm, Gert was about 309 nautical miles north of Bermuda, boasting maximum sustained winds of 80 knots and gusts of 100 knots. While the US National Hurricane Centre said some strengthening is still possible today, Gert is expected to weaken and become an extra-tropical low by Thursday night.
2017. August 13. Tropical Depression 8 in the Atlantic has been upgraded to a Tropical Storm and has been described as a potential threat to Bermuda. Tropical Storm Gert has winds of 30 knots and gusts of 40 knots and is forecast to pass 245 nautical miles to the north-north-west of the island on Tuesday at 7pm, although the Bermuda Weather Service says it may move closer after that point. At 6pm today, it was 437 nautical miles to the south-west of Bermuda, travelling in a north-north-west direction at a speed of 9 knots.
2017. August 10. An "above average" Atlantic hurricane season is likely, with two to five storms potentially evolving into major systems. The National Oceanic and Atmospheric Administration this week forecast 14 to 19 named storms, with five to nine developing into hurricanes and between two and five reaching Category 3 strength of 111mph or more. Category 3 storms, which include Hurricane Nicole last year and Fabian in 2003, can result in significant structural damage and flooding of coastal areas. In May the agency predicted 11 to 17 storms. The systems are named once their winds attain speeds of 39mph. NOAA revised its forecast as a result of the likely absence of the Pacific El Niño, which is capable of exerting a major influence on storms in the Atlantic. Hurricane season runs from June 1 to November 30, with its most active phase spanning six weeks from August 20, and peaking on September 10. On average, the Atlantic season will spawn 12 storms. Six tropical storms have formed thus far in 2017: Arlene, Bret, Cindy, Don, Emily and Franklin. Last year's season was notably active, with 15 named storms, seven hurricanes and four major hurricanes.
2017. April 7. An early forecast for the 2017 hurricane season has predicted a slightly below-average number of named storms this year. The forecast, released yesterday by Colorado State University, estimates that the Atlantic will experience around 11 named storms in 2017, based on present conditions and trends from over the past three decades. Of those storms, four are expected to reach hurricane strength and two are expected to become major hurricanes, reaching Category 3 strength or stronger. The estimates are slightly below the 30-year average of 12 named storms, six hurricanes and two major hurricanes. However, the report noted that it was impossible to "precisely predict" the season this early in the year, adding: "We issue these forecasts to satisfy the curiosity of the general public and to bring attention to the hurricane problem. There is a general interest in knowing what the odds are for an active or inactive season. One must remember that our forecasts are based on the premise that those global oceanic and atmospheric conditions which preceded comparatively active or inactive hurricane seasons in the past provide meaningful information about similar trends in future seasons." One factor cited for the estimates is the potential return of El Niño, a weather phenomenon that causes high wind shear in the Atlantic that can inhibit the development of tropical storms. Meanwhile, the waters in the North Atlantic are reportedly colder than average, which is unfavorable for the growth of hurricanes. "The tropical Atlantic has anomalously cooled over the past month and the far North Atlantic is relatively cold, potentially indicative of a negative phase of the Atlantic Multi-Decadal Oscillation. We anticipate a below-average probability for major hurricanes making landfall along the United States coastline and in the Caribbean." Despite the estimate of a quieter-than-average hurricane season, the report cautioned that even a single storm can be devastating. "As is the case with all hurricane seasons, coastal residents are reminded that it only takes one hurricane making landfall to make it an active season for them," the report warned. "They should prepare the same for every season, regardless of how much activity is predicted." The 2017 Hurricane Season officially begins on June 1.
2017. March 28. The US-based National Hurricane Centre has unveiled new policies, which could help give Bermudians more advanced warning of impending storms. Under the new policies, unveiled earlier this month, the NHC will issue advisories for systems with the potential to become tropical cyclones and publish estimated timings for when winds in an area could reach tropical storm strength. Kim Zuill, director of the Bermuda Weather Service, said that the moves would assist those living on the island. "The ability for the NHC to now issue advisories on those potential tropical cyclones, which may form so close to land as to pose a threat, results in an improvement to BWS being able to issue watches and warnings for our community," she said. "This is particularly important in our area where there are several triggers which contribute to formation near Bermuda, including — but not limited to — the warmer water of Gulf Stream and the position of the Bermuda-Azores High." Asked about examples where the new policy might have helped the island, she noted Hurricane Karen in 2001, which built from a low-pressure disturbance to a tropical storm on our doorstep. While it did not reach hurricane status until it was moving away from the island, it destroyed vegetation and downed power lines, leaving more than two-thirds of the island without power. "We couldn't issue tropical watches and warnings until the NHC named it. However, BWS did have gale and storm warnings out," Ms Zuill said. "A more recent example from this past season, this system would have assisted Jamaica issuing watches and warnings in association with Hurricane Matthew." She added that the BWS would discuss the changes in more detail during Hurricane Preparedness Week, which will take place before the start of the 2017 hurricane season on June 1. The NHC said that pending final approval, it would have the option of issuing advisories, watches and warnings for disturbances that are not yet a tropical cyclone, but which pose the threat of bringing tropical storm or hurricane conditions to land areas within 48 hours. "Under previous longstanding NWS policy, it has not been permitted to issue a hurricane or tropical storm watch or warning until after a tropical cyclone had formed," the statement said. "Advances in forecasting over the past decade or so, however, now allow the confident prediction of tropical cyclone impacts while these systems are still in the developmental stage. "For these land-threatening 'potential tropical cyclones', NHC will now issue the full suite of text, graphical, and watch/warning products that previously has only been issued for ongoing tropical cyclones." The NHC also stated that it would begin to introduce "experimental" time of arrival graphics, highlighting when winds are expected to reach tropical storm strength.
2016. August 12. Residents may have to brace themselves for another mighty storm after US forecasters predicted that this year could be the busiest Atlantic hurricane season since 2012. According to the Associated Press, the National Oceanic and Atmospheric Administration's updated outlook indicated 12 to 17 named storms, including five to eight hurricanes — two to four of which could be "major". On average, the US gets 12 named Atlantic storms a season, including six hurricanes, three of them major. The El Niño effect in the Pacific that tends to reduce Atlantic hurricane activity is now dissipating. Gerry Bell, of NOAA's Climate Prediction Centre, said the opposite phenomenon, La Niña, may form as the six-month season peaks, but should not have a significant impact.
2016. May 28. American-based National Oceanic and Atmospheric Administration has forecast a near-average Atlantic hurricane season, but note "uncertainty" in the usual climate signals. In a statement yesterday NOAA predicted a 70 per cent likelihood that the Atlantic experiences ten to 16 named storms. Of those named storms, four to eight could become hurricanes while one to four could become major hurricanes, reaching Category 3 strength or above. "While a near-normal season is most likely with a 45 per cent chance, there is also a 30 per cent chance of an above-normal season and a 25 per cent chance of a below-normal season," the statement continued. The statement also noted that Hurricane Alex, which blew through the North Atlantic in January, was included in the estimations. Gerry Bell, lead seasonal forecaster with NOAA's Climate Prediction Centre, said: "This is a more challenging hurricane season outlook than most because it's difficult to determine whether there will be reinforcing or competing climate influences on tropical storm development. "However, a near-normal prediction for this season suggests we could see more hurricane activity than we've seen in the last three years, which were below normal." The statement noted, however, there is a degree of uncertainty about the status of the Atlantic Multi-Decadal Oscillation, an ocean temperature pattern that is believed to cause increased hurricane activity during its "warm" phase, and La Niña, a weather system associated with increased hurricane activity. The statement came as the body was watching a subtropical system southwest of Bermuda which was expected to become the second named storm of 2016. James Dodgson, acting director of the Bermuda Weather Service, said that while some contributing factors made it difficult to accurately forecast how busy the season would be, even a single storm could have a great impact. "The best advice BWS can provide, in association with any of these seasonal forecasts, whether they suggest an active or inactive year, is to always be prepared, no matter what the numbers are saying. It only takes one tropical cyclone (tropical storm or hurricane) to make it a busy season for Bermuda, with potential significant impacts."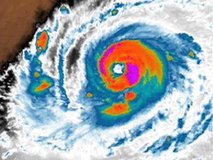 Hurricane off Bermuda

In the event of hurricane forecasts, see special Hurricane links to the National Hurricane Center in the USA or The Weather Channel. Some Bermuda hotels and guest properties have a Hurricane Guarantee, which guarantees subject to certain conditions that if they cancel because of a hurricane that prevents them from arriving, no penalty is attached.

Studies conducted by the Bermuda Weather Service found that from 1609 to the present day, devastating storms affect the Island every six to seven years.

Our tropical cyclone, or hurricane, season is from May through November, with an average of one storm passing within 180 nautical miles of the Island every year.

Hurricanes are severe subtropical or tropical storm with heavy rains and intense winds which blow in a large circular motion around a center "eye." Hurricane season in the Atlantic officially runs for six months, from June 1 to November 30. Most hurricanes occur in August, September and October. Bermuda is usually quite well protected by its reefs but high waves on top of a storm surge can cause problems in low lying areas close to the sea.

Hurricanes are not as prevalent here as in the Caribbean, but they do occasionally visit our island once every seven years or so.

When hurricanes strike, their damage to hotels and private dwelling houses is often superficial compared to other places. One major reason is because by law all buildings must be solidly built out of Bermuda limestone or concrete blocks. Compare this to coastal areas of the USA where wood, not stone, predominates. While all of Bermuda is coastal - no part of Bermuda is more than 1.5 miles from the sea - Bermuda lacks a gradual undersea slope, which is a primary cause of severe storm surge. But Bermuda's flora - trees, flowers, vegetation and the like - and fauna are not protected from hurricanes in the way many buildings are. Bermuda often gets electrical outages from gale force winds. This means no power for sometimes hours or days or weeks - and because of the electrical outages no water can be drawn, except manually in buckets if these are available, from underground tanks in local homes. Their only way to get water for basins, baths, sinks, showers and toilets is by electrical pumps from water tanks from each property. There is no central underground water supply. Also, telephones can be out for weeks - and cable TV for well over a month, as in September 2003. The most recent hurricanes were in 2014.

Hurricanes affecting Bermuda, the Caribbean islands, North America, etc. used to be named after saints, according to the book 'Hurricanes', by Ivan R. Tannehill. Hurricane Santa Ana struck Puerto Rico in 1825, and two San Felipe hurricanes reached the island in 1876 and 1928.

The Hurricane Center began giving Atlantic tropical storms people's names in 1953, when the US abandoned a plan to name them after its phonetic military alphabet, such as Able, Baker and Charlie. The Geneva-based World Meteorological Organization now maintains the Atlantic lists and ones for three areas of the Pacific Ocean; two sections of the Indian Ocean; and the Philippines, Papua New Guinea, Fiji and Australian regions. Those lists are reused at different intervals and contain indigenous names, such as the Thai name Prapiroon. All the names were women's until 1978, when men's were included for some Pacific storms. In 1979, male names were added to the list for the Atlantic and Gulf of Mexico region, known as the Atlantic Basin. The names alternate between males and females and also between English, French and Spanish origin.
2017 Hurricane Names
The following are the named storms that may form in the North Atlantic in 2016:
| | | |
| --- | --- | --- |
| Arlene | Bret | Cindy |
| Don | Emily | Franklin |
| Gert | Harvey | Irma |
| Jose | Katia | Lee |
| Maria | Nate | Orphelia |
| Philippe | Rina | Sean |
| Tammy | Vince | Whitney |
Followed by the Greek alphabet, if needed.
Names are given to tropical storms, which are those with sustained winds of at least 39 miles an hour. When winds blow consistently at 74 miles an hour or more, the storm becomes a hurricane.
Hurricane history (a) 1609-1962 that affected Bermuda

1609. Bermuda was colonized in July as the direct result of a hurricane. On July 24, a hurricane sank one ship and threw the flagship Sea Venture so far off course that it was wrecked on a reef in Bermuda on July 28. All 150, including John Rolfe and his pregnant wife were saved. But Mrs. Rolfe and her daughter Bermuda died in Bermuda. The colonists rebuilt two boats from the wreckage. See Admiral Sir George Somers colonized Bermuda.

1619. November 1619. A decade after the Sea Venture storm, another hurricane struck the island, sending the Earl of Warwick's ship, Warwick, to the shallow bottom of Castle Harbour.

1620. After being toppled by a hurricane, Moore's Mount was rebuilt just after Easter by Governor Butler as a triangular work.

1629.
At St. George's, Butler's watchtower was thrown down the hill by a passing hurricane.

1689. Governor Richard Coney complained to the Lords of Council in London how great storms constantly made him and his family take shelter at a neighbor's house.

1712. September 8. The first of two severe hurricanes hit the Island. Many of Bermuda's historical buildings, including St. Peter's Church in St. George's, were damaged. Since Bermuda's first settlers had built almost everything out of cedar wood, including commercial buildings and churches, many were destroyed. It was as a direct result of these hurricanes that the decision was taken to construct buildings from limestone, as opposed to wood and thus withstand hurricanes better. New construction methods were developed to cut stone from hillsides to create solid limestone buildings of which many still exist.

1780. October 10. one of the most severe hurricanes ever recorded struck Bermuda. Fifty ships were driven ashore, with much damage. Houses were destroyed. Cedar trees were torn up bodily by the roots. The tide rose to a great height. It was known as "The Great Hurricane" having earlier hit Barbados with winds upwards of 200 miles per hour and caused widespread death and damage, before marching up the West Indies chain and onwards to Bermuda. It's death toll has not been exceeded.

1831. August 11, 12, 13. Bermudians were amazed to see the sun with a decidedly blue appearance, giving off an eerie blue light when it shone into rooms and other enclosed places. Ships at sea as far west as Cape Hatteras reported that "their white sails appeared a light blue colour." A month later it was learned that the astounding blue sunlight had coincided with a terrible hurricane that caused 1,477 people to lose their lives. It was assumed that the hurricane was intensive enough to cause unusual disturbance in the higher atmospheric strata, and refraction, diffraction or absorption of light rays, to cause the blue reflection.

1832. June. Powerful gales swept Bermuda.

1839. September. A hurricane caused great damage. It occurred while Sir William Reid was here as Governor, which gave him further insights into hurricanes, on which he had published the first scientific tome on such a stormy topic the previous year.

1880. "Reid's" Hurricane struck.

1889. September 12/13, a hurricane devastated the Causeway linking St. George's Island to the Main Island. It had to be rebuilt. Also destroyed was the Breakwater at the Dockyard, which had to be repaired.

1900. September 17. Winds of hurricane force. Near miss.

1915. September 3/4, a hurricane caused the steamer Pollokshields to be wrecked on the reefs of the South Shore. The master lost his life. Heavy rain and 82 mph winds.

1916. Hurricane on September 23.

1917. September 4, storm with unprecedented tides.

1918. September 4/5. Direct-hit hurricane.

1921. September 15. Almost direct-hit hurricane, with 120 mph gusts.

1922. Hurricane direct-hit on September 21. Winds to 120 mph and 8-foot storm surge.

1923. September 30. Storm passed to NW with winds up to 62 mph.

1926. October 22. Havana-Bermuda Hurricane Category 4 direct-hit, winds of 114 mph. It killed 88 in Bermuda, caused the most destruction ever in Bermuda to date and caused $100 million in damages. Category Four. When it passed directly over the Island, there were wind gusts of up to 143 knots. Two British warships, the Calcutta and the Valerian sank and the 88 who died during this storm were all sailors and officers onboard the Valerian. It was ultimately responsible for a total of 738 deaths, including 650 people in Cuba. See under this date in http://www.bermuda-online.org/history1900-1951.htm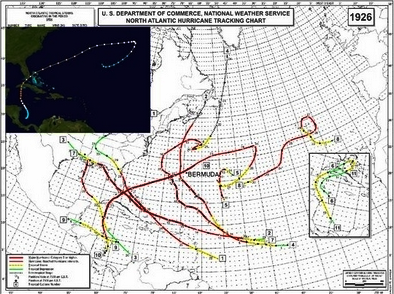 1932. November 12. Storm passed 100 miles to east, with wind gusts to 91 mph.

1939. October 16. Hurricane passed 50 miles east, winds up to 100 mph with gusts 131 mph. Heavy rain.

1947. October 20. Hurricane 40 miles to NW with winds up to 100 mph.

1948(i). September 13. Hurricane 50 miles to west, 800-100 mph winds, telephones and power cut.

1948(ii). October 7. Hurricane direct-hit. Winds 110 mph.

1953(i). September 5. Hurricane Carol passed 200 miles west, giving Bermuda 50-60 mph winds.

1953(ii). September 12. Tropical Storm Dolly passed over, but only with rain and gales.

1953(iii). September 17. Hurricane Edna passed within 50 miles with winds of 120 mph, torrential rain and much damage to roofs. Three persons were injured.

1958. September 28. Hurricane was 230 miles off, with 30 mph winds but pounding surf.

1961. October 6/7. Hurricane Frances veered away, little wind but pounding surf.

1962. October 6. Hurricane Daisy misses by 120 miles, winds to 66 mph with heavy surf.
Hurricane history (b) 1963-present that affected Bermuda

1963. August 9. Hurricane Arlene a direct-hit, winds to 90 mph, much damage to vegetation. She had been threatening the Island for almost a week before she came ashore. In her wake she left hundreds of boats, homes and vast areas of vegetation destroyed or damaged. It was the first time in a decade that a hurricane had not veered its course away from the Island.

1964. The outer bands of Hurricane Gladys lashed Bermuda with winds but little damage if any was officially reported. However, it caused some problems. At the USA's Naval Operating Base, Bermuda, the emergency duty station for military personnel based there was the motor pool, which at that time was located in the old seaplane hanger. They were safe enough, but were basically trapped without food. Several attempted to reach the galley for supplies but were driven back by the storm. At one point the eye passed directly over the base. They jumped into several vehicles and raced to the mess hall to stock up of food and ran back to the hanger as the eye passed by and the storm resumed. Other than the above-mentioned US Navy base in Southampton Parish, which had it's own power house and underground utilities the only light visible from the base was Gibbs Hill Lighthouse.

1965. Hurricane Anna was not a direct threat to Bermuda.

1966. August 31. Fringe of Hurricane Faith, heavy rain and winds to 62 mph.

1971. September 23. Hurricane Ginger passed south of Bermuda, with heavy waves and gale force winds for 17 hours. But there was no loss of life or damage. The hurricane's passage failed to alleviate persistent drought conditions. However, the threat caused the Royal Navy presence in Bermuda to evacuate a ship, the US military evacuated some aircraft and two visiting cruise ships left early to avoid the threat.

1973. July 3/4. Hurricane Alice, minimal 26 miles away, but heavy rain.

1975. September 26. Hurricane Faye 40 miles away, strong winds, heavy rain.

1977. September 27. Hurricane Dorothy 60 miles to SE, heavy rain.

1981. September 7. Hurricane Emily passed over, only with 35 mph winds.

1987. September 25. Hurricane Emily, only a Category One, moved unexpectedly swiftly, causing tornados, chaos and much damage. With wind gusts recorded up to 125 mph, many were caught off guard as the storm was expected to miss the Island. Small, but vicious and spawning several tornadoes, Emily caused widespread chaos and damage - mostly to cars and boats, though houses experienced severe damage during the storm's passage as well. St. George's was hit hard, as was the Hamilton Princess hotel when all 80 windows shattered. More than 100 people were treated at King Edward VII Memorial Hospital for broken bones from flying debris and part of the hospital's roof was blown off. Ultimately Emily caused $35 million in damage to the Island. No one was killed but Emily was the strongest hurricane to hit Bermuda since 1948.

1989. August 4. Tropical Storm Dean 23 miles away with 90 mph winds.

1991. October 27/29. Hurricane Grace forms in Bermuda area, hovers, gave massive seas.

1995. August 14. Hurricane Felix 50 miles away, winds up to 75 mph, pounding surf for 3 days on South Shore. Felix was expected to pass within 14 miles of Bermuda but suddenly veered away, saving the Island from a direct impact. Despite that, Bermuda felt hurricane-strength winds for more than eight hours, and a long-awaited Independence referendum had to be postponed. The storm cut the power to around 18,000 homes and caused an estimated $2.5 million in damages.

1996. October 20. Hurricane Lily 140 miles to SE, rain and 42-knot winds.

1997. October 8/9. Hurricane Erika 300 miles away, no damage.

1998(i). September 2/3. Hurricane Danielle 200 miles NW. Rain, thunderstorms, winds to 46 mph.

1998(ii). September 21/22. Hurricane Karl formed near Bermuda. Winds were up to 44 mph with heavy showers and thundershowers.

1998 (iii). November 6. Hurricane Mitch. Extensive damage beyond Bermuda but heavy rain and wind gusts in Bermuda to 69 mph.

1999. September 21. Hurricane Gert passed 120 miles east of Bermuda. Wind gusts of up to 75 mph, many beaches damaged.

2000. September 16. Hurricane Florence 60 miles away. Winds up to 50 knots.

2001(i). September 9. Hurricane Erin was 90 miles to E. But with only tropical storm force winds that caused battering waves and some coastal erosion.

2001.(ii) October 7. Tropical Storm Michelle threatened but fizzled on approach. Little damage.

2001. (iii). October. Although Karen didn't become a hurricane until she was already moving away from the Island, the system caught Bermuda by surprise, rapidly building from a low-pressure disturbance to a tropical storm on our doorstep. Winds reached 74mph, near-hurricane status, destroying vegetation and downing power lines, leaving more than two-thirds of the Island without power.

2002. September 30. Hurricane Kyle came within 100 nautical miles to the south, but with little effect.

2003. September 5. Hurricane Fabian ravaged Bermuda. It was the strongest storm to hit Bermuda's coast in four decades. It began mildly when Bermuda woke to winds gusting between 25 mph and 37 mph as Hurricane Fabian had it sights set on Bermuda. The hurricane approached the Island from the south, south-west and moved north. The eye of the storm, which was 50 miles from north to south and 30 miles from east to west, then travelled across the Island bringing the highest winds. The wall of the eye skirted to the West sitting on the Island for about three hours in the north-east quadrant, traditionally the strongest part of the storm. By 5.55 p.m. when the strongest winds of 150 mph were recorded, the Island had already lost four lives on the Causeway. They all died when they were swept from the Causeway during the hurricane. P.C. Stephen Antoine Symons, 37, P.C. Nicole O'Connor, 29, Station Duty Officer, Gladys Saunders, 48, were trapped on the bridge in one car. Stephen Antoine Symons 'Chicken', 37, was one of two officers escorting Station Duty Officer Gladys Saunders, back to her home in Duck's Puddle, Hamilton Parish. A civilian, Manuel Pacheco, 23, an employee of the Corporation of Hamilton, was stuck in a second care behind them at about 2.30 p.m. He was returning home after securing his boat in St. David's. Although attempts were made to save them, fire fighters, police officers and a constructions worker had to abort the mission when the storm became too bad. The body of P.C. Symons was found two days later and the other victims were never seen again. During the day of Fabian there were reported gusts closer to 160 mph, however, around 4.55 p.m. the Bermuda Weather Service's monitoring equipment had shorted as water surged eight feet above sea level and recording stopped for two hours. The Weather Service crew were lucky to still have equipment to monitor after their meteorologist Brian Kolts told the Royal Gazette that five more knots would have blown the roof off their bombproof US military-made shelter. At about 6.55 p.m., the eye was north of Bermuda and the winds switched direction to come from a westerly direction on the comparatively weaker side of the storm. And by 11.55 p.m the next day, the hurricane winds had officially passed over the Island, with sustained speeds of 40 knots (46 mph) gusting to 52 knots (60 mph) hitting the Island. From then on, there was a steady decline in wind speed as Fabian blew out into the Atlantic northwards, and by 4.55 a.m. on Saturday the Weather Centre was barely registering tropical storm conditions, with sustained winds at 36 knots (41 mph). But what it left in it's wake was anything but calm. Estimated costs for damage from the storm ran in the area of $300 million. Around 25,000 out of 32,000 homes and businesses were left without power, though by mid-afternoon on Sunday, BELCO reported that 11,000 homes had their power restored. A 20-strong team from the Caribbean Electric Association, in Cayman, arrived on the Tuesday to offer help where they could. The East End of the Island, however, was cut-off for days after the Causeway was impassable. Days later it was open to one-way traffic, but still closed at night and finally in October the main artery of the Island was running as normal. Bermuda's hotels suffered, with the majority of the Sonesta Beach Hotel's roof flying off and the Fairmont Southampton also struggled to replace its roof. Fabian conveniently hit at the beginning of the school year and meant the opening of Government schools was delayed a week and they did not open until September 15. St. George's prep spent months recovering after the storm which wreaked havoc on the building and two years after Hurricane Fabian ravaged the Island The Department of Parks and the Ministry of Works and Engineering started repairing the entrance to Church Bay, which was badly damaged. Later, the September 5th Foundation, a registered charity, erected a memorial bench in Kindley Field Park, near to the scene of the tragedy. The foundation since created a scholarship fund for the Fabian victims' children.

2006. September. Hurricane Florence caused only superficial damage overall. 23,000 out of 68,500 residents had electricity outages. Only one hotel was damaged, with the beach of another having disappeared. American and Canadian newspapers, Internet services and other news sources gave the hurricane extensive coverage but there was no mention of it in the United Kingdom's BBC or newspapers or European equivalents.

2010. September 19. Hurricane Igor, predicted to be a monster storm — a 500-nautical-mile-wide Category Three — the system collapsed before landing, but side-swiped the island during the night with high winds, waves, rain and some flooding in places. However, caused no deaths or serious injuries. Damage was mostly superficial as homes and hotels are stone-built, not wood. But trees fell onto roads and electricity, cable TV, radio, television and Internet outages occurred. No mention in the UK. The hurricane was reduced to a Category One storm by the time it neared the Island, and did not come as close as anticipated. However the storm still caused flooding in Somerset and St George's and tore several boats from their moorings, including Government tender Bermudian. Around 80 percent of Belco customers, 28,700 homes and businesses, lost power. Electricity was restored to all but 5,600 homes the next day.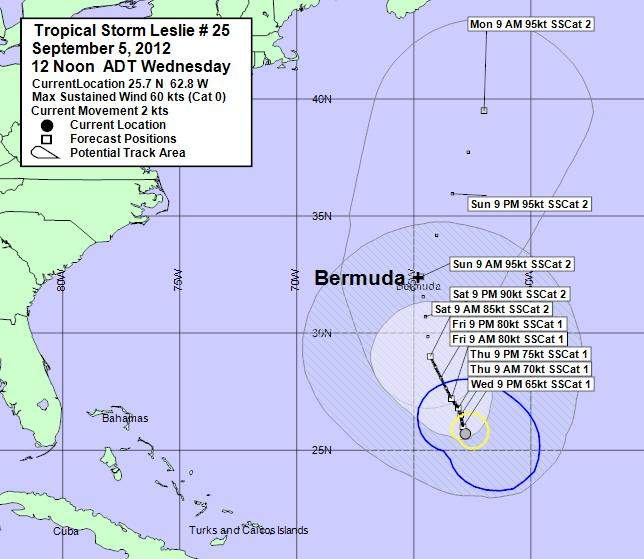 2012. September 5. Tropical Storm Leslie posed a threat but did not last.

2014. October 12. Bermuda was hit hard by Tropical Storm Fay which had been forecast by US sources to pass to the east as a mere tropical storm or category one Hurricane. Instead, it strengthened suddenly and passed directly over Bermuda without any prior warning. Residents experienced 80-120 mph gusting winds later reported to have peaked at 155 mph. Coconut trees and other trees collapsed, blocking access to houses. Many roofs were damaged. All schools were closed and one lost its roof. Two thirds of homes lost electricity when overhead power lines were blown down. Electricity outages meant no power, no running water, no flushing toilets, no fridges or air conditioning, no radio or TV or Internet. Many boats were wrecked and shipping containers were blown from the Port Of Hamilton into the harbour. This was a fast, furious but short-lived hurricane.

2014. October 17. Bermuda received a direct hit from Hurricane Gonzalo only a week after its last event, but because of earlier warnings, this time was well-prepared. Airlines stopped flying beforehand for the duration and cruise ships, intended for Bermuda, visited other ports instead. Once again coconut trees and other trees collapsed, blocking access to houses. Some roofs were damaged or lost. All business and schools closed early. Two thirds of homes lost electricity. Electricity outages meant no power, no running water, no flushing toilets, no fridges or air conditioning, no radio or TV or Internet. Some boats were wrecked. Britain's Royal Navy sent a warship to help recovery efforts and Caribbean (from 900 miles away) electricity suppliers were on standby.

2015. October 4. Hurricane Joaquin passed within 75 miles of Bermuda, lashing the island with torrential rain. But there was no major damage.

2016. September 24. Tropical Storm Karl brushed past the island with minimal impact, but more than 800 Belco customers were without power — and the Department of Parks is advising swimmers to avoid waters on all South Shore beaches, as the surge remained high.

2016. October 13. Hurricane Nicole, then at Category 4, hit Bermuda. It created some serious damage to the island's infrastructure. It caused walls and roads to collapse, tore roofs off buildings, ripped up trees, smashed boats against rocks and flooded numerous homes and roads. Walls were damaged along the Causeway, the only route to and from the airport. The Royal Bermuda Regiment was a principal player during and after. Many power lines were downed. Flooding victims included Victor Scott Primary School, while Bailey's Bay Cricket Club's structure suffered extensive damage. Residents near Elbow Beach report a significant outflow from a broken pipe. Other damages are significant. No major marine incidents took place during the storm. Many houses around the island were damaged. Nicole was the biggest hurricane of recent years to make landfall.

2017. March 9. The US National Oceanic and Atmospheric Administration has released its report on Hurricane Nicole, which passed over the island last October. While the hurricane weakened before reaching Bermuda, saving the island from the worst the storm had to offer, it still reportedly caused around $15 million in insured losses. The report stated: "Nicole caused widespread damage on Bermuda. However, media accounts suggest that the damage was not severe, likely because of the short duration of strong winds and the well-constructed infrastructure on the island. The cyclone snapped trees, toppled power lines, peeled off roofs and flooded homes and businesses. In addition, large waves damaged and broke boats from their moorings and also contributed to road damage around the island. The Bermuda Business Development Agency estimates total insured losses of $15 million, which matches preliminary qualitative accounts from the Bermuda Meteorological Service suggesting that the damage was less severe than that from Hurricanes Fay and Gonzalo of 2014." Hurricane Nicole had reached Category 4 strength at around midnight on October 12, hours before reaching the island, but the report stated then began to weaken rapidly due to a sharp increase in wind shear and abundant dry air. Nicole's northwestern eye-wall passed over Bermuda on the morning of October 13, generally producing Category 1 hurricane conditions across the island; isolated areas observed sustained winds of Category 2 strength," the NOAA report stated. The timing of the storm's landfall also reduced its impact, with the system's storm surge coinciding with low tide.
American system of hurricane assessment - used in Bermuda
The Saffir-Simpson Hurricane Scale classifies hurricanes thus:
1. Pressure 28.94 inches or more. Wind speed of 74 to 95 mph, 4-5 foot storm surge but not much damage.
2. Pressure 28.50-28.93 inches. Wind speed of 96 to 110 mph, storm surge 6-8 feet., moderate damage.
3. Pressure 27.91-28.49 inches. Wind speed of 111 to 130 mph, storm surge 9-12 feet, damage extensive.
4. Pressure 27.17-27.9 inches. Wind speed of 131 to 155 mph, storm surge 13-18 feet, damage very extensive.
5. Pressure less than 27.17 inches, winds greater than 155 mph, storm surge higher than 18 feet, catastrophic damage


Last Updated: August 22, 2017.
Multi-national © 2017 by Bermuda Online. All Rights Reserved.