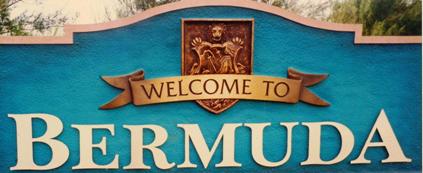 145 web files about the internally self-governing British Overseas Territory of Bermuda in a comprehensive, constantly updated Gazetteer. Accommodation, aircraft registry, airlines, airport, America's Cup 2017, apartments, art, banks, beaches, Bermuda citizenship by Status, Bermuda Dollar, Bermuda Government, Bermuda-incorporated international and local companies, Bermudians, books and publications, causeway, charities, churches, City of Hamilton, commerce, communities, credit cards, cruise ships, culture, cuisine, currency, disability accessibility, Devonshire, districts, Dockyard, economy, education, employers, employment, entertainment, environment, executorships and estates, fauna, ferries, flora, former military bases, forts, gardens, geography, getting around, golf, government, guest houses, history, homes, Hamilton, House of Assembly, housing, hotels, immigration, import duties, insurers and reinsurers, international business, internet access, islands, laws, legal system, legislation, legislators, location, main roads, magazines, marriages, media, members of parliament, motor vehicles, municipalities, music, nearest mainland, newcomers, newspapers, organizations, parishes, parks, Paget, Pembroke, permanent residents, pensions, political parties, postage stamps, public holidays, public transportation, railway trail, religions, retailers, Royal Naval Dockyard, Sandys, Smith's, Somerset, Southampton, St. David's Island, St George's, senior citizens, shipping registry, Somerset, Spanish Point, Spittal Pond, sports, taxes, telecommunications, time zone, traditions, tourism, Town of St. George, Tucker's Town, utilities, water sports, Warwick, weather, wildlife, work permits.

Bermuda's getting around options for visitors
Renting automobiles is not allowed but other ways are often good, especially by ferry

By Keith Archibald Forbes (see About Us) exclusively for Bermuda Online
New residents and locals should refer to Bermuda Road Transport for Locals.
Automobile rental
Not yet, but some services may be offered later in 2017 or 2018

Until the laws are relaxed, see below, visitors have not been allowed by the Bermuda Government to rent automobiles or operate any other kind of four or more wheeled vehicle on Bermuda's roads, or bring their own motorized 2-wheel vehicles - not even for the handicapped or disabled. Why not? Bermuda's very small physical size - less than 21 miles in total land area and sixth largest population per square mile in the world, higher than in Bangladesh and Bahrain and exceeded only by Gibraltar, Hong Kong, Macao, Monaco, Singapore and Vatican City (all of which do have rented cars available for visitors). Nor are visitors, even when they have driving licenses issued by their home state or province or country, allowed to drive any relative's cars in Bermuda. Foreign drivers licenses are not legal in Bermuda. Also, Bermuda has by far more vehicles per square mile than anywhere else in the world - all of which must be insured for at least 3rd Party by a Bermudian insurance company licensed and registered to offer insurance business.

2017. April 21. The French America's Cup team are putting ten minicars on the road after new regulations allowing the vehicles — which faced a tough reception last year in Parliament — came into effect. Initially, taxi drivers protested against the new vehicles and the Progressive Labour Party mistrusted the move to allow what Minister of Tourism, Transport and Municipalities Senator Michael Fahy called a "viable and safe" rental alternative for visitors. Last week The Royal Gazette reported the arrival of Renault Twizys imported by Eurocar, now up for use by Groupama Team France. It is understood that the miniature vehicles will ultimately go to hotels for use by visitors after the sailing is over. The legislation, announced last July, initially proved a difficult sell, with taxi drivers protesting that the move posed unwelcome competition for their industry. But their modest engine size and limited capacity for luggage made them unlikely rivals for cabbies, Mr Fahy said. A "long period of consideration and consultation" led to the regulations, covering licensing and running of minicar liveries, to become law. The 2016 Bill prompted a weekend work stoppage, as well as a demonstration outside Parliament by about 30 taxi drivers, followed by a series of meetings before the regulations were agreed upon in November of last year, with the Motor Car Act 1951 subsequently amended. It was ultimately approved by the Senate on December 12, 2016. The vehicles allowed are covered two-seaters, no more than 60 inches wide and no more than 115 inches in length. While many visitors rent vehicles, Mr Fahy said not all were comfortable taking to the roads on an auxiliary cycle or moped. The regulations set the terms to apply for livery licences, and set standards, including the requirement for public liability insurance. The vehicles will be subject to Transport Control Department inspection, with a yearly check between January 1 and March 31. Similar to rental cycles, minicar licence plates will bear red lettering on a white background, at both the front and back of the car — with stickers warning drivers to keep left. "At present a minicar can only be on the road for five years but, as minister, I have the discretion to extend that period provided the vehicle continues to be in good shape," Mr Fahy said. "Every livery operator must have a qualified driving instructor on staff to demonstrate the use of the minicar and that person will sit in the minicar when the renter takes it for a 'test drive. TCD will qualify the instructors to ensure they provide the driving instruction that you need for the minicar." Safety instructions will include the basic rules of Bermuda's roads, the speed limit of 35kph, and the strong penalties for impaired driving.

2017. April 12. A consignment of hi-tech electric microcars has arrived in Bermuda. The Renault Twizy cars were delivered to Hamilton Docks yesterday for importers Eurocars for onward transfer to a rental company. Eurocar yesterday declined to comment on the final destination of the vehicles. The Twizy, first unveiled in 2012, was designed as a city car, with a tandem two seat configuration. It became the top-selling plug-in electric vehicle of 2012 and by the end of last year more than 19,300 had sold, with Europe its biggest market. The Spanish-built cars are 7ft 7in long, with a width of 3ft 1in and stand 4ft 6in tall. The frame and body are designed with a deformable structure to protect occupants, while the outboard position of the four wheels and lateral beams either side of the chassis provide protection against side impacts. Twizy drivers have an airbag and seatbelts are fitted on both seats. The range includes two models, the Urban 45, powered by a five horsepower engine and a top speed of 45km or 28mph. The more powerful Urban 80 has a 17 horsepower engine and can reach 80kph or 50mph. The batteries have a range of 100 kilometers, or 62 miles, although Renault drivers in real world conditions could expect a maximum range of around 50 miles. The car was certified by Transport Canada last March for use on the country's roads.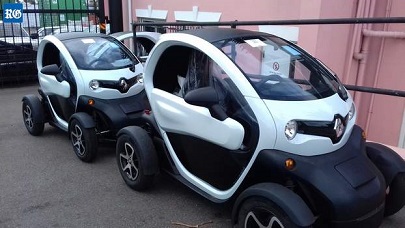 See above article
2016. November 26. Bermuda's Parliamentarians have approved legislation that could see rental minicars introduced in Bermuda for the first time. The Motor Car Amendment (No 2) passed without any objections in the House of Assembly yesterday, despite Opposition MPs decrying its lack of regulations as well as the potential impact on the taxi industry. Meanwhile, Government MPs maintained that the small covered vehicles, capable of carrying a maximum of two passengers, would offer business opportunities for entrepreneurs and safer options for visitors. After the debate, which lasted more than four hours, Michael Fahy, the Minister of Tourism and Transport, said he was "very pleased" the Bill had passed. "This brings us a step closer towards the introduction of minicars in Bermuda which will enhance our tourism offerings and move our tourism product forward and make us far more competitive with other tourism destinations," Senator Fahy said. "We have taken into account the concerns of our transportation stakeholders and are pleased to have found broad agreement in the size and specifications of minicars. Having spoken at a number of international tourism events there is real excitement in the tourism industry about the likelihood of this offering being successful. "I look forward to the Senate debate when I will be able to expand further on the benefits of this new amenity and the consultation that was undertaken which should add clarity to some of the misleading statements made by the Opposition during the debate in the House." Grant Gibbons, the Minister of Economic Development, opened the debate announcing that ten makes of vehicles, none of which would exceed the capacity of 150cc, were considered appropriate for local roads, including three-wheeled vehicles and quadricycles. Dr Gibbons told the House that augmenting the existing rental choices for visitors was key to maintaining the island's competitive edge. However, Lawrence Scott, the Shadow Minister of Transport, replied that the Bill was seen by the Opposition as "the thin side of the wedge for allowing full-size rental cars" — saying that the island's debate in the 1940s over the original introduction of cars had included dividing up the automotive market. "Behind the scenes they were trying to figure out who got what dealership," Mr Scott said, adding that some taxi owners still opposed minicars, and had not been consulted. Progressive Labour Party MP Derrick Burgess maintained that Bermuda was too small and already "saturated" with vehicles, while PLP MP Jamahl Simmons berated Mr Fahy for his consultation efforts with taxi drivers. PLP MP Rolfe Commissiong also raised questions why electric-powered vehicles were not being championed in the legislation, describing the proposal of using vehicles that emit greenhouse gases as "an opportunity missed". David Burt, the Leader of the Opposition, added: "The Government cannot seem to get it right when it comes to consulting or communicating or understanding the fact that you need the support of the people before you move things forward. The first time they got taxi drivers to drop tools." Independent MP Shawn Crockwell threw his backing behind the Bill, saying: "Tourism is about what our guests want, it is not about our comfort. Let's look at this as adding to the experience for our guests." Meanwhile, Sylvan Richards, Minister of Social Development and Sports, described it as "a matter of life and death — it's a safety issue for our visitors" that would deliver new business opportunities for Bermudians. OBA MP Leah Scott acknowledged that the Government could have done a better job in conveying information about the initiative to the public, but maintained "we should all support it". OBA MP Glen Smith also supported the Bill while assuring the House that his own auto business had no deals in the pipeline. Public Works Minister Craig Cannonier insisted that the entrepreneurial opportunities "do not have an agenda", and OBA MP Mark Pettingill called on the House to embrace offering a greater range of visitor amenities. Summarizing an at times heated debate, Premier Michael Dunkley chastised the Opposition for their "tired and typical" approach of knocking down government legislation. "Everything we do is with a view to making all Bermudians' lives better." the Premier said. "We can work through the challenges; this Bill is a very positive step for the people of Bermuda.
2016. November 3. Rental minicars — no more than 60 inches wide and no more than 115 inches in length — could be on Bermuda's roads in the near future. An agreement between the Bermuda Government and taxi operators about minicar legislation has been reached after a series of meetings. According to a government statement, several changes will be introduced to the legislation tabled by the Ministry of Tourism, Transport and Municipalities after "extensive dialogue to allay industry concerns". The original Bill, which proposed the introduction of rental minicars, was put on hold this summer after a storm of complaints from taxi and minibus drivers about their potential impact on the industry. The Government said the amended legislation would allow for licensed liveries to operate the minicars provided they are within the agreed size. The primary legislation makes it clear that the number of seats permitted is limited to two, the same as a livery cycle. Limits will also be imposed as regards the power of the vehicles with the cc not exceeding 150 and a horsepower of 20 or 15kw. Senator Michael Fahy, the Minister of Tourism, Transport and Municipalities, said: "There were some concerns as to the previously proposed size, and not withstanding that the types of vehicles we are talking about were always limited in their power and size, we have added extra clarity to give comfort to the transportation industry. We will continue this dialogue as we draft the regulations in support of the primary legislation. During our fruitful discussion, a myriad of other issues were raised by both the Government and the industry stakeholders, among them concerns about the high cost of purchasing new taxis and the hardship it places on the taxi operators. To assist the industry, we have agreed to permit the importation of second-hand vehicles for use as a motor taxi, as long as they comply with the necessary restrictions long established by the Public Service Vehicles Licensing Board and the Transport Control Department. Consequential regulations may be adopted to assist with this new market. New guidelines to reflect this policy change will be released by the end of the year. I've been told that it is something that has been sought by the industry for a number of years." Leo Simmons, president of the Bermuda Taxi Owners/Operators Association, said that there were longstanding issues facing the industry that needed to be addressed. "We have formed a good working relationship with Mr Fahy throughout this process," he said. "We are very pleased with the solutions given to assist the taxi industry thus far and look forward to continued dialogue. The meetings were useful to get a number of issues on the table faced by taxi owners and for us to understand where the Government is coming from. The BTOA supports the actions thus far by the ministry in this regard and looks forward to the new guidelines for the policy change regarding the importation of second-hand vehicles for use as a motor taxi before the end of 2016."
A free print guide helps Bermuda's visitors find their way around. It includes maps of the City of Hamilton, Royal Naval Dockyard, Town of St. George and more. It has stops for the services shown below, including bus and ferry stops, gas stations and where to park. Copies are available from Visitors Service Bureaus.
Accidents
In every year there are thousands of road traffic accidents and numerous road fatalities in Bermuda's 21 square miles and 69,400 people. Statistics have become alarming. They have affected many local residents and visitors. Riding mopeds and scooters are the most common form of injury. When involved in any kind of accident involving injury to a person or damage to a vehicle, call the Bermuda Police Service (BPS) at 911. This is important because insurance companies will not entertain claims without a police report. To do so, have a cell phone available. Insurance companies will not honor claims unless there is a Police report. Involved parties exchange names, addresses, home and business phone numbers and insurance companies. If you decide to pay for any damage you have caused without calling the Police, have an independent witness to verify the transaction to prevent fraud. Keep your most important ID papers with you. Expect the Police to tell you, if the other driver does not, that the latter is licensed and insured. If not, object and decline to pay any damage yourself or via your insurance company. The Bermuda Government collects money from services provided by the BPS, which processes more than 1,000 requests for traffic accident reports every year. Note there is a fee for a traffic report..
Airport limo
Not super-long, USA-style services but via 8-12 passenger vans examined, passed and re-licensed annually by the Bermuda transport authority (Transport Control Board), and insured by a Bermudian insurance company. They carry passengers (except the disabled in wheelchairs) to where the buses don't go, by prior arrangement before arriving and on departure, to specific places. Public pick-up services are not allowed.
Auxiliary cycles (mopeds or scooters)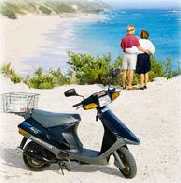 Readily available but be warned these machines - rented (not personally locally owned) mopeds or scooters - on the hugely busy roads are not recommended for anyone who has not driven them before habitually on the left hand side of the road. Auxiliary cycles for tourists - so called because they are limited to 50 cc (cubic capacity) in size but are powerful enough to go up Bermuda's many hills. They are examined, passed and re-licensed annually by the Bermuda transport authority (Transport Control Board), and insured by a Bermudian insurance company. Mopeds and scooters can be so dangerous to those not accustomed to them that some cruise ships disclaim all responsibility and warn their passengers accordingly. Mopeds have larger wheels than scooters and are safer. The minimum age to ride one is 18 if you are a visitor, 16 if a local, and proof of identification and age may be required. Electric starting vehicles are advised, even though they may be more expensive than kick start models. They carry one or two persons. No licenses are required by visitors but all rentals are entirely at your own risk. Visitors who use rented mopeds or scooters and are not used to them incur the most common form if injuries to visitors while in Bermuda. All who come from the USA, Canada, Europe and other places will find it very confusing to drive in Bermuda on the left side - not the right - of the highway. With all the turn signs on the "wrong" side also.
But for those who decide to rent them anyway, note the following:
Make sure you first have adequate travel and accident/medical insurance covering yourself. If you don't buy it before you leave home your vacation or visit could be spoilt. Tourists and visitors won't have any Bermuda-issued health or travel or accident/medical insurance. It is not sold where you rent a bike. Bermuda hospitals won't pay for your hospital or doctors' visit in the same way that American hospitals don't. Don't invalidate your insurance by not wearing a helmet or not fastening it properly.
At where you rent a bike, the vehicle insurance supplied - on a compulsory, not voluntary basis - is to cover any third party person or property involved in an accident or injury, not you.
Safety helmets - specifically those approved for use in Bermuda - are required for each driver and passenger. Ask for the safest type.
Rental fees usually include your use of a lock and helmet for each passenger. Be sure to use the lock if provided, as moped and scooter thefts are rampant.
Wear sensible clothing, in other words pants, not shorts, a long-sleeved shirt, not a short-sleeved one. Why? Because if you have an accident and fall off your bike, your knees, limbs and hands will hit the road and you could be badly bruised or cut or worse.
You must rent one, you cannot bring your own on a visit.
Never allow an infant or child under 16 to ride in front or back.
If you damage someone's property, refuse to pay but let the rental company know immediately.
Know how and when to refuel. Make sure you are told about the very high gasoline price of well over US$ 8.00 per per gallon. Some visitors think gasoline is cheap in Bermuda because they don't realize how small gas tanks are on scooters and mopeds and when prices are mentioned, tourists think it is gallons. It is not, it is in liters - about 0.25% of a gallon.
It is against the law:
to wear an improperly fastened or not locally approved helmet, yet many do and are injured. Always return the helmets when returning the vehicle.
to operate a scooter or moped if you are over the legal limit and drunk. The Selective Driving Enforcement Program is a methodology to stop, book and indict drunk or drug impaired local and visiting drivers, people who overtake dangerously by weaving in and out of rush hour traffic, speeders, not yielding to traffic on the other side of the road, backing up without looking, those without or with improperly fastened helmets and those with faulty vehicle lights.
If you are not used to the British way of driving on the left side of the road mentioned earlier, remember to
Keep arms and legs covered because if you fall you will likely incur a possibly nasty road rash or worse that may require medical attention or a visit to the hospital.
Drive on the left and continue on the left when you turn.
Obey the speed limit of 35 KM per hour (22 mph). Or at least don't go any slower than other traffic going your way. Most visitors go too slowly for locals and are passed routinely, often dangerously. It makes things worse when you are with a spouse or friend or partner and try to go both too slow and two abreast. Those who do not obey the speed limit should know there are speed cameras in operation. If you go more than 50 KM an hour, you run the risk of being stopped by Police and given a ticket, payable by you or the owner of the vehicle.
Overtake on the right - never the left - and return to the left-hand lane after overtaking.
Unlike locals who do so illegally, never try, on a scooter or moped, to overtake slowed-down or backed-up rush-hour traffic
Turn left at roundabouts and always give way to traffic on the right. This means stopping or slowing down because such traffic always has preference in the right of way.
If you are involved in an accident, call the police.
If you see an accident of any vehicle, immediately contact police and if necessary ambulance by phone at 911. Do not move accident victims. Get names and addresses of those involved and witnesses. This is the law.
Do not use cell phones while driving.
Give way to Police cars, fire engines and ambulances sounding alarms.
Always use headlights in poor weather and at night.
Traffic lights are red (stop); amber (stop); green go, if safe to proceed. Red signals do not allow you to proceed left or right if the road is clear, wait for lights to turn green.
Never overtake where the road has two lines, only when the line nearest you is dotted and there is no traffic coming towards you, providing you return to your own lane before the line becomes solid again
Be very careful of crosswalks (pedestrian crossings to those from the UK), where pedestrians have the right of way. They are painted in a zebra pattern. Once pedestrians have stepped out on them, all vehicles must stop to let them pass. If you fail to stop and are seen by Police, you will be prosecuted.
Do not park, not even for a moment, at any bus stops on or off the road; or anywhere there is a yellow line in the middle of the road. So many tourists do. It infuriates bus drivers who cannot park in bus stops and persons lined up behind them on Bermuda's very narrow roads.
Unless you are disabled yourself and carry a sign proving you are so and personally have the proper permit, do NOT park at any Handicapped or Disabled Parking space, not even for a moment. Visitors from the USA especially will know how tough their own laws are back home about parking illegally in a disabled-only parking area and abusing the system locally will get you some extreme unpleasantness.
For your own protection, don't leave for a moment anything valuable like credit cards, hand bags, jewelry, money, passports, watches, wallets, etc. unattended while you are on or off the machine. Also ensure you do not ride with your hand bag or shopping not locked in your machine's basket while you are in transit. Know that even locked compartments on mopeds are not safe from local thieves so make sure you always take your wallet, credit cards and other valuables with you instead of leaving them unattended, even in a locked compartment.

Local roads often have very heavy traffic - most travel agents overseas will not tell you that Bermuda has more cars and motor vehicles per square mile than anywhere else in the world - and too many people who drive too fast and dangerously, plus they punctuate their journeys by car or scooter or moped with drivers hooting and waving at all their friends passing in opposite directions. Avoid Bermuda weekday rush hours and the "crazy hours" after midnight and other times when young Bermudians drinking or on drugs drive recklessly at high speeds in cars or on pack-racing mopeds, at considerable danger to themselves and other road users. Main roads have been closed completely for up to 7 hours after road accidents. Many Bermudians totally ignore Government noise controls on their vehicles and illegally soup up engines on mopeds especially to make them sound as high as a jet aircraft overhead. When these vehicles pass you at illegally high speeds as well, the combination of speeds and noise can easily result in traffic accidents, sometimes severe, or stress, or temporary or permanent loss of hearing or complete deafness.
Bicycles (pedal cycles)
Note that in the summer months when the heat and humidity can be very high, cycling in Bermuda can be strenuous. It is not recommended for those not used to regular exercise in heat and great humidity. Nor is it serene on Bermuda's narrow roads, with so many buses, cars, mopeds and scooters and trucks per square mile all anxious to pass you,. Bermuda is not flat but hilly, with some hills very steep. Several places rent these by the day or week, with safety headgear. See under our Bermuda Employers. With bicycles you can explore much more of the fabled Bermuda Railway Trail than by walking. They are the only vehicles allowed on the Trail. They are allowed to have saddle bags but are not allowed to tow trailers. There are no country lanes for rural cycling. All roads are urban and the main roads of North Shore Road, South Road, Middle Road and Harrington Sound Road are one lane each way but are Bermuda's equivalent of interstate highways or trunk roads. To avoid holding up licensed motorized traffic, try not to use unlicensed cycles on the main roads during rush hours.
Boat cruises
A variety of licensed boats, excursion and party type, take visitors into the Great Sound, Little Sound, Castle Harbor and other routes to see the sights. Most of the operators are based in or near the city of Hamilton. But if you wish to go by yourself, or in a party of up to four, in one boat, your choice may be limited to a 13 foot Boston whaler with a 15 horse power outboard engine, to see and explore as you wish.
Buses (public transport)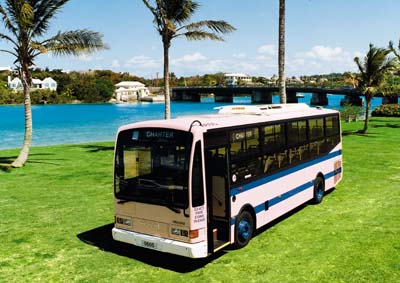 A Bermuda bus
All are Bermuda Government owned and operated.. Bermuda's buses are all custom-built in Europe, costing well over $400,000 each. They carry 32-34 seated passengers, up to 65 who stand. They are made by German/Netherlands/Belgian manufacturer Berkhof Jonkheere to suit Bermuda's small size main roads. These buses, when not full - as they often are when cruise ships are in local ports - provide a good way to see many of the local sights. They are operated by the Bermuda Government's Department of Public Transportation, email info@dpt.bm - established in 1946 (see Bermuda Government Boards) - to which all enquiries Address is 26 Palmetto Road, Devonshire DV 05, Bermuda. Mailing Address: P.O. Box HM 443, Hamilton HM BX, Bermuda. Telephone: (441) 292-3851. Fax: (441) 292-9996. Email: info@dpt.bm for specific information about buses and fares. Email charters@dpt.bm for charters (corporate or ships, etc. hire of a bus or buses). All Bermuda buses run on diesel fuel only.
Accessibility. Not for disabled in wheelchairs or those who cannot get on or off the bus unaided. Unlike in most other countries where many buses are accessible, Bermuda's buses not low floor type, do not offer access to wheelchairs, do not have specifically designated for persons with mobility impairments, the elderly and frail. Nor do they have electronic information highlighting the next bus stop. However, most buses are air conditioned
All Bermuda bus stops are marked by poles painted - like the buses - in pink and blue. They are all "request" stops which means that if no passengers are waiting to get on or off at a particular stop, the bus driver will not stop. If the pole by the bus stop is PINK, the bus will be traveling towards the city of Hamilton. If the pole is BLUE, the bus will be traveling away from Hamilton. If a bus passes you without stopping, it may be full. This happens frequently when cruise ships are in port. Their passengers often crowd the buses. Sometimes, they or local commuters have to stand in a narrow bus aisle on sharply winding roads.
Fares for regular local buses (and ferries)
Payable by local passengers and visitors by air or cruise ship.
See https://www.gov.bm/bus-fares
Bus Routes
Route 1 - Hamilton / Grotto Bay / St. George's
Route 2 - Hamilton / Ord Road
Route 3 - Hamilton / Grotto Bay / St. George's
Route 4 - Hamilton / Spanish Point
Route 5 - Hamilton / Pond Hill
Route 6 - St. George's / St. David's
Route 7 - Hamilton / Barnes Corner via South Shore Road, sometimes Dockyard
Route 8 & 8C - Hamilton / Barnes Corner; Hamilton / Dockyard; Hamilton / Somerset via Middle Road
Route 9 - Hamilton / Prospect (National Stadium)
Route 10 - Hamilton / St. George's via North Shore past Aquarium
Route 11 - Hamilton / St. George's via North Shore Road.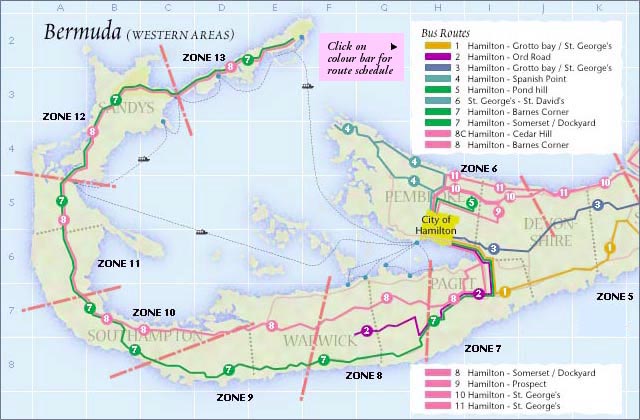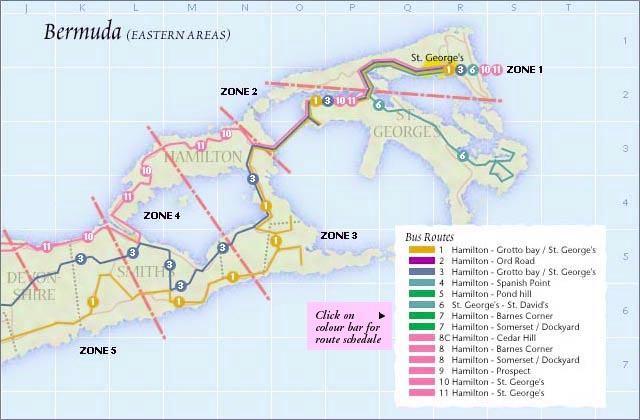 State your exact destination when paying cash or purchasing tokens or tickets. Visitors using cash, tickets or tokens (not passes) and having to change buses to get to a particular destination should ask the driver of the first bus, as soon as they board, for a transfer, to avoid paying another fare on the second bus. A transfer is valid for 30 minutes for the next scheduled trip of the connecting route and should be presented to the driver of the second bus when boarding. Timetables are available free of charge from the bus terminal in the city of Hamilton and sometimes from drivers as well.
See website for routes, times and fares (tickets, not tokens, are good on the ferries as well). Bus schedules are timed for operators who drive at 35 kph (21 mph).
Buses in Bermuda can be frequent compared to most other urban, town and city places in North America and rural, urban and town places in the United Kingdom. Only in UK cities (not towns) is there a more frequent service. But local buses are not equipped to carry wheel-chair bound or luggage-carrying passengers. Nor do they have the same signs for the disabled or curb-side access.
Buses first appeared in Bermuda in April 1945 as the Bermuda Omni Bus Service, a division of the Bermuda Railway Company. Before then the only public transportation were trains and ferries. Unlike heavy trucks imported to carry containers, which are too wide for Bermuda's roads, Bermuda's imported buses are designed specifically to fit the roads. But it means they have some restrictions. Note the following:
While one service goes to the airport, it does not take passengers with luggage from or to the airport. It is not well understood by tourists that Bermuda buses do not take passengers with any luggage or suit cases or baby strollers or prams or golf clubs. Bags larger than flight attendant bags will not be accepted. Yet tourists often try to bring them, spoiling things for other passengers. Among other things, they make it difficult or dangerous for feeble or elderly people to negotiate when getting on or off, especially when the bus may be full. Umbrella strollers only are allowed. All bags must go under the seat or on your lap.

They don't have overhead racks or underbelly luggage compartments.

No wet clothing, no bathing suits, proper attire only.

No reclining seats or seat belts for adults or children or infants, no places to secure car seats for children. Only practical way is on a lap, when space permits seating for an adult.

All buses have buzzers for passengers. Press the buzzer at least 150 yards before the bus stop you want. If you don't know when to press the buzzer, tell the driver when you get on the bus where you want to get off and ask for help. If possible, given traffic conditions, you may be told by announcement, as a courtesy. But bear in mind that if he or she forgets or is too busy with traffic, you should not complain. It is not a service customarily provided by the drivers of buses, if any, where you live. Local maps, given away free to visitors, often show the location of specific visitor attractions.

For safety and related reasons on very busy local roads and at terminals or bus stops, their drivers cannot get out of the bus to assist passengers, as nationwide or regional or city-to-city bus services do in the USA and beyond.

For Senior Citizens/Disabled who can use a bus (not for those in a wheelchair, see Disabled), free passes are available to Local Residents only with a Special Persons Card. Seniors from abroad without such a card must pay full price. Unlike in the UK, there are no similar concessionary fares for a companion, who may be younger, of someone elderly or disabled/physically handicapped.
There are no signs for reserved seating for the walking (ambulatory) disabled as there are in London and other city and urban buses.
Like most buses worldwide, they do not allow any eating or drinking. They don't allow more than a single aisle of standing passengers. Wisely, given Bermuda's many winding narrow roads and sharp bends.
Cabs
See under Taxis
Carriages
All horse-drawn, they are remnants of an old Bermuda tradition and are mostly found at near the cruise ship terminals in the city of Hamilton and town of St. George.

Carriage drivers, most of whom wear pith helmets in the summer, are required by law to have a rate card posted in the vehicle. They are expensive. Ask for fares and an informative spoken guided tour.

Horses in the City of Hamilton must wear diapers.

These are very slow moving vehicles so try not get one during rush hour traffic times as they will hold up traffic.
Cycles
See Bicycles.
Ferries
Bermuda ferries conform to rigid standards of ferry construction by Lloyds Register of Shipping. They meet USA environmental standards, have low-emission diesel engines, low noise, low wake, sewage holding tanks, wheelchair access, comfortable cushioned seats and a concession stand for coffee, tea, soft drinks and food.
Fares (for both buses and ferries). See https://www.gov.bm/bus-fares
2017 Ferry Schedule. See http://rccbermuda.bm/Documents/BMOC/Summer%20Ferry%20Schedule%202017.pdf
The Ferry Service is operated by the Bermuda Government's Department of Marine and Ports. Phone 295-4506. These relaxed sea routes are unequalled, a superb sea or harbor crossing in unrivalled scenery, much better than going by bus on overcrowded and perpetually noisy roads. They are far more ecological than a bus, with daily or weekly or monthly passes included in the same price as the buses, and far less expensive than a taxi. The only extra charge is for cycles or mopeds. All places to stay, cruise ships and the ferry terminal have copies of the ferry timetable at no charge. Most, but not all, ferries have covered lower-deck seating accessibility for the disabled. The high season 2017 Summer schedule (see above) now applies. From Hamilton, they serve Paget, Warwick, Somerset and Dockyard on a varied daily basis (see timetable) and St. George's on Wednesdays and Thursdays from April 18 through November 2 only). They do not operate when the weather is too windy. The ferry service's Green Route serves Waterford Bridge and Cavello Bay and Rockaway stops. The Pink Route is mostly used by the locals and office goers. The Orange Route ferry service that caters to St. George is seasonal - usually does not operate during the winter (i.e. mid November to mid April). There are numerous occasions during the Cruise Ship season when large cruise ships together carrying more than 3,500 passengers are in the same Bermuda port (for example, Dockyard) at the same time, for up to three days. Cruise ship passengers should note the times of the ferries especially if they wish to be back on board for meals.
Accessibility. Unlike the buses, ferries to and from Dockyard and St. George's (see below) can take wheelchairs for the disabled. The Paget to Warwick ferry will take the walking disabled. They also take cycles or mopeds.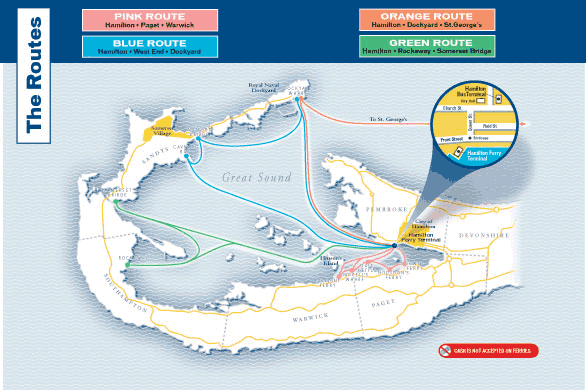 The Department of Transport operates six high-speed ferries and three harbour ferries, with additional service between Dockyard and Hamilton.
Not shown is the route to St. David's via St. George's
Water distances and direction in miles from Hamilton
Lower Ferry, Paget. Across the harbor and south east........................0.25
Salt Kettle, Paget. Across the harbor and south west.........................0.75
Belmont, Warwick. Across the harbor and south west.......................1.25
Rockaway, Southampton. Via the harbor and west.............................2.75
Mangrove Bay, Sandys. Via the harbor and west................................4.50
Cavello Bay, Sandys. Via the harbor and west...................................6.00
Dockyard, Sandys. Via the harbor and west..................................... 6.14
St. George's. Via the harbor and west, then east............................ 12.00
St. David's. via St. George's to/from Hamilton..................................14.00
Names of Ferryboats
Coralita
Corona
Deliverance
Georgia
J. L. Cecil Smith
Patience
Resolute
Serenity
Tempest
Venturilla
Warbaby Fox
Names of Ferry Stops
Belmont Ferry
Cavello Bay
Darrell's Wharf
Dockyard Wharf
Hamilton Ferry Terminal
Hodsdon's Ferry
Lower Ferry
Rockaway
Salt Kettle
St. David's
St. George's
Watford Bridge
Million-dollar ferries bought for the Bermuda Government and paid for by Bermuda taxpayers
Two 25m passenger catamaran ferries ex Gladding and Hearn, Massachusetts, USA (Serenity, delivered March 2002 and Resolute, delivered June 2002) and Pilot Rescue Boat St. David's in October 2011.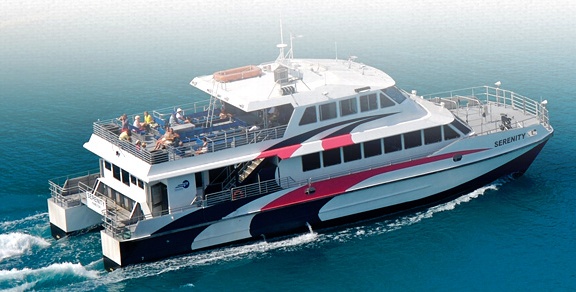 Serenity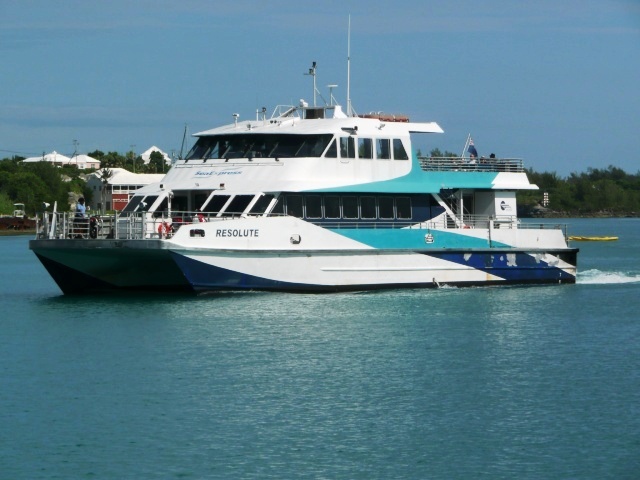 Resolute
Two 23m passenger catamaran ferries ex North West Bay Ships, Hobart, Australia (Tempest and Venturilla)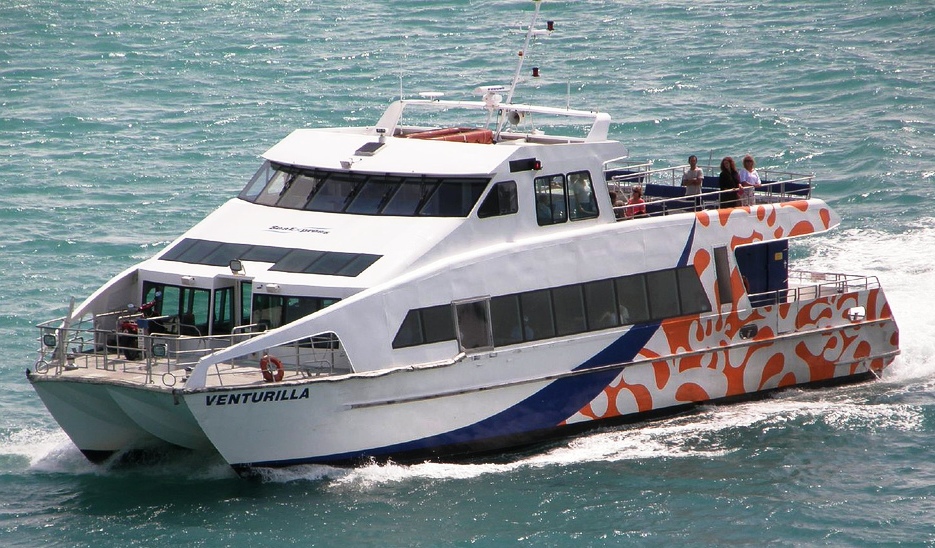 Venturilla
Two 38m passenger catamaran ferries ex Derecktor Shipyards, Bridgeport, Connecticut, USA (Warbaby Fox in 2006 and J. L. Cecil Smith in 2007.

Warbaby Fox, 2006

Of the above vessels, Venturilla was named after the first black person in Bermuda, a slave believed to have spent several months in Bermuda, after a shipwreck in 1603). Tempest is named for the storm that led to the colonization of formerly uninhabited Bermuda in 1609. Warbaby Fox, so-named after Charles Hilgrove W. Fox, owner of the Black Horse tavern in St. David's and a prominent figure in the Eastern County and Cup Match cricket games. The latter ferry has a top speed of 33 knots per hour and can carry 350 passengers. It is powered by four diesel and four water jet engines. Unfortunately, for a combination of reasons but most likely to be the exceptionally high salinity of Bermuda's waters, all the above-mentioned vessels, still quite new - purchased after 1998 - have had major problems.

Consequently, since May 2013 and presently until the end of the 2017 season, the Bermuda Government has spent millions of dollars to charter the 400 Passenger Fast Ferry Catamaran "Millennium" from Rhode Island Ferries. She was chartered to help with passengers on mega-cruise ships now serving Bermuda each carrying thousands of passengers and to provide larger ferry service from Dockyard to St. George's. She is the largest ferry to date in Bermuda.

This web site explains why Bermuda one of the most expensive places in the world for locals and visitors in gasoline costs. It is more than double the price of gasoline anywhere in Canada and the Caribbean, higher since April 1, 2016 than in the UK and more than three times the price of the USA, due to a recent hike in local taxation.
Helicopters
None now. There was one in the 1990s.
Horse Riding
Horse riding stables are not in a municipal area. There are approved routes in a number of areas. But horse riding is NOT allowed on the beaches. Qualified instructors are available, offering lessons for the inexperienced. When on a horse, be sure to avoid the constantly busy and noisy main North Shore, Middle Road and South Roads.
Hotel Shuttle service to and from airport
None. No Bermuda hotels are allowed by government to have airport shuttles, despite requests from hotels to be allowed to operate such vehicles. Bermuda is one of the very few places in the world that will not allow this. The only hotel shuttles allowed are those connecting some hotels to their private beaches. However, some hotels and guest houses work around this by privately arranging with individual taxi operators or taxi businesses to pickup and deliver their guests from/to the airport.
Limousines
The Bermuda Government created in June 2006 a new category of public service vehicle. It is known as a limousine, borrowed in name but not in style or size from limousines common overseas. It does not refer to a stretch-limo vehicle - not allowed in Bermuda - but can be a larger automobile car or former taxi. A number of limousine licenses have been issued, with some taxi drivers having exchanged their taxi permit to become a limousine operator.
Mini buses
Privately owned. They offer pickups, transportation and special tours. A potentially good option for individual or group tours going to specific places. Mini-buses can go where public transportation buses don't go, and/or at more convenient times and/or offer a more tailored and personalized service for smaller groups, at less cost than for taxis. Ricky's Island Tours and Minibus Service Ltd, phone (441) 703-3659 beyond Bermuda or 703-3659 in Bermuda, email rb@rickysminibus.com or Skype rickysislandtours offers a Monday-Saturday 9 am to 5pm service, of particular appeal to cruise ship and other visitors.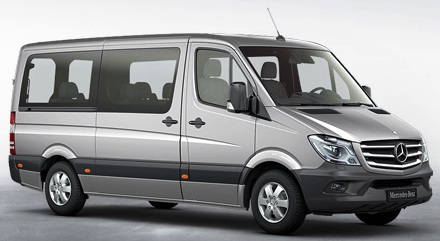 Ricky's Minibus Service
Minibuses are examined, passed and re-licensed annually by the Bermuda transport authority (Transport Control Board), and insured by a Bermudian insurance company. These are not big buses. Instead, they are passenger vans or smaller buses in various sizes. Some can carry up to 27 people. Some can also carry up to two disabled passengers in wheelchairs.
Ministry of Transport
The responsibility of the Ministry is to manage and regulate transportation in Bermuda, including the airport, weather services, buses and ferries.
Mopeds
See under "Auxiliary cycles."
Motor Cycles
See under "Motor Cycles" in Bermuda Road Transport for Locals." Not mentioned here because, like cars, they cannot be driven by tourists.
Scooters
See under "Auxiliary cycles."
Summary of main transport services and how they are used
In order of preference
| | | | |
| --- | --- | --- | --- |
| Mode | Used by air passengers | Used by cruise passengers | Total |
| Taxi | 89% | 59% | 78% |
| Bus (public) | 52% | 65% | 57% |
| Ferry | 42% | 42% | 42% |
| Scooter or moped | 44% | 16% | 35% |
| Minibus | 22% | 19% | 21% |
| Airport limo | 30% | | 30% |
Taxis (Cabs)
Should rental cars be allowed? (Not allowed to date). An overwhelming yes by air and cruise visitors but not surprisingly, because they would lose much business, in May 2014 the Bermuda Taxi Owners and Operators Association president Derek Young claimed it would result in panic and turmoil on Bermuda's roads.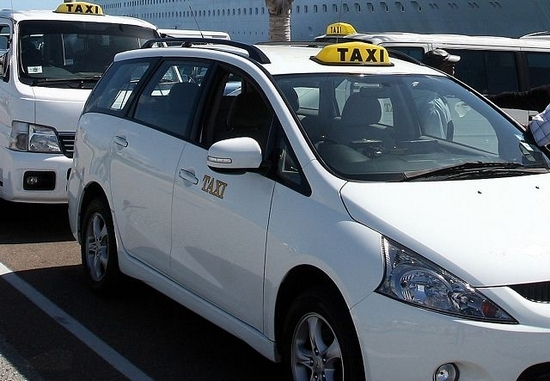 Costs of taxis. They are generally referred to as taxis, not cabs, in Bermuda. A number of local taxi companies operate, private entities but government-regulated. In the past, their voices of dissent have been the single biggest major reason why rental of automobiles/cars was never allowed in Bermuda. Only in 2017 are some very small 2-seater only electric vehicles finally going to be allowed, primarily because of the massive global publicity Bermuda will get as the host of the 2017 America's Cup.
Taxi fares are currently split in to two groups: For 1-4 passengers and for 5-6 passengers. Presently, for 1-4 passengers, taxi fares cost $8.00 for the first mile and $2.80 for each additional mile, based on a taxi charge formula set by Bermuda's Transport Control Department (TCD). A tourist traveling to, or from, the airport to the Fairmont Southampton on a weekday will now pay about $47 plus luggage charges for an approximately 15-mile journey. This does not include a tip, of between 15 percent and 20 percent and the cost of luggage, which is charged at $1-$4 per piece depending on size. The cost increases by 25 percent on Sundays, public holidays, and after midnight. For 5-6 passengers in a single taxi the costs are higher, $10 for the first mile and $3.50 for each additional mile, plus luggage charges. All taxis are required to be registered with a taxi dispatching service. Taxi fares are very expensive in Bermuda for two main reasons, the first being the cost of gas (diesel or petroleum), at about $8.50 a gallon in July 2014, compared to about $2.20 a gallon in July 2014 in most of the USA. The second reason is that unlike in the USA, from where 85% of all Bermuda's tourists come, the average 2014 salary of a Bermuda taxi driver is over $60,000 a year and only Bermudians, not any non-nationals, are allowed to own and/or drive taxis.
There are two major routes from and to the airport from Front Street, Hamilton and further west. One via the North Shore Road, the other via the Middle, South and other roads via Harrington Sound. Taxi drivers, who have GPS and know traffic conditions at that particular time, know which route to take to get passengers there quickest. There may be some small difference in taxi fares depending on traffic conditions. Only full-time residents who know the roads well can usually tell whether one way for them is preferred to another. If you know Bermuda well and live or are visiting a central or western parish, it is suggested you tell the driver, before you start your journey, which of the two routes you prefer.
Sizes and types of vehicle. Most taxis are now minivans which require a foot-high step-up, fine for the sighted non-disabled but not for the disabled or mobility-impaired. A small number can take a wheelchair. Under The Motor Car Amendment Act 2005, drivers of the Island's 600 cabs - equivalent to 28.57 taxis per square mile - must be "appropriately equipped" - meaning having a two-way radio set; a mobile data terminal; a global positioning device; and an alarm device, approved by the Bermuda Government's Minister of Transport. They must be examined, passed and re-licensed annually by the Bermuda transport authority (Transport Control Board), and insured by a Bermudian insurance company. Taxis are imported at a low Bermuda Government import duty rate of 10% compared to more than 100% for some other automobiles. There are often not enough taxis to meet seasonal demand from arriving or departing passengers. For taxi drivers, the busiest time of year is when cruise ships are in port - from April to October.
Some taxis are larger than others, the smaller ones for 1-4 passengers and the largest for 5-6 passengers and their luggage. Most arriving passengers do not need to make a reservation at the airport or cruise ship terminal but if you take a taxi for sightseeing and/or to leave Bermuda from your hotel, make a reservation each time with a taxi service (there are several (see below). A blue flag fluttering from the taxi's bonnet signifies the driver has qualified as a tour guide. Residents and visitors should not plan on being able to get a taxi to go anywhere on Christmas Day or New Year's Eve. All taxi drivers are self-employed. The condition of any person taking the taxi is a factor. If drunk or disorderly or unruly, a driver may refuse to take or continue to take passengers. Each taxi has a GPS satellite-navigation system. In late 2003, they were increased in maximum length and width to 210 inches long and 77 inches wide. Limits to engine capacity have been eliminated, to make way for luxury vehicles such as a Mercedes Benz taxi. Any taxi owner wishing to replace the taxi with a wheelchair accessible one may do so without needing approval from the Public Service Vehicles Licensing Board, but they are not allowed to charge wheelchair-disabled passengers any more than able passengers. However, if disabled and in a wheelchair be sure to ask if the taxi can take both an electric wheelchair and a manual wheelchair or just one or the other. Some taxis are not equipped to take both. Rates are required by law to be the same for both able passengers and disabled passengers in a wheelchair. Most taxis use a GPS system.
All taxis are inspected twice a year and owners pay an annual license fee, with no Sunday Permit extra. All are insured, with visible taxi signs and meters. Most taxi drivers are not owners of their taxis. Owners must register with a taxi dispatch company, but have a choice in which one. Taxi fares are always in USA or Bermuda dollars. A prime purpose of the GPS system is to reduce the wait time for a taxi called by telephone to no more than 15 minutes. All taxi drivers have a 2-way taxi radio. Taxis are all right hand drive, with sliding doors on the LEFT side, in conformity with Bermuda's LEFT SIDE, so passengers can enter and exit safely instead of having to face oncoming traffic.
Seat belts. Since 1 January 2004, under The Motor Car Act 1951 and Motor Car (Seat Belts) Regulations 2002, seat belts are required. Adults sitting in the front seat must wear a seat belt. Adults in the rear seat are not required to do so. Children from birth to one year and up to 20 lbs in weight must be in a rear facing seat. Children from 30 lbs to 40 lbs must be in a forward-facing child seat. Children from 40 to 80 lbs must use a seat belt positioning device or booster seat. All children are safest in the back seat. The driver of the vehicle is legally responsible for ensuring compliance and may be fined for non-compliance, but the law does not seem to be clear on who must provide booster seats or special child seats for young children. To be on the safe side, parents using taxis for their young families should bring their own. If they do not, so as not to risk being liable by default, taxi drivers may not wish to take them. Occupants 18 and older are legally responsible for themselves. Non-compliance otherwise attracts a fine of $2,100 per offence. The relevant regulatory price-approving agency is the Bermuda Government's Public Service Vehicle Licensing Board (PSVLB).


Last Updated: April 27, 2017.
Multi-national © 2017 by Bermuda Online. All Rights Reserved.