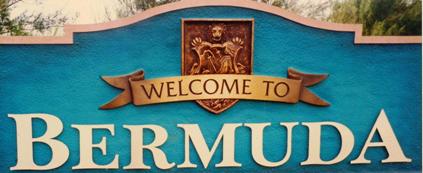 165+ web files about Bermuda, an internally self-governing British Overseas Territory 900 miles north of the Caribbean, 600 miles due east of North Carolina, USA. A comprehensive and constantly updated Gazetteer. Accommodation options, aircraft registry, airlines, airport, America's Cup 2017, art, banks, beaches, Bermuda Dollar, Bermuda Government, Bermuda-incorporated international and local businesses and companies including insurers and reinsurers, Bermudians, books and publications, bridges and causeway, charities, churches, citizenship by Status, City of Hamilton, commerce, communities, credit cards, cruise ships, culture, cuisine, currency, disability accessibility, Devonshire Parish, districts, Dockyard, economy, education, employers, employment, environment, executorships, fauna, ferries, flora, former military bases, forts, gardens, geography, getting around, golf, government, guest houses, history files since 1609, homes, Hamilton, House of Assembly, housing, hotels, immigration, import duties, internet access, islands, laws, legal system and legislators, location, main roads, marriages, media, members of parliament, money, motor vehicles, municipalities, music, nearest mainland, newcomers, newspaper, organizations, parks, Paget Parish, Pembroke Parish, permanent residents, pensions, political parties, postage stamps, public holidays, public transportation, railway trail, religions, Royal Naval Dockyard, Sandys Parish, Smith's Parish, Somerset Village, Southampton Parish, St. David's Island, St George's Parish, senior citizens, shipping registry, Somerset, Spanish Point, Spittal Pond, sports, taxes, telecommunications, time zone, traditions, tourism, Town of St. George, Tucker's Town, utilities, water sports, Warwick Parish, weather, wildlife, work permits.

Bermuda's Main Hospital, King Edward VII Memorial, and a smaller facility
Taxpayer-financed with both employers and employees paying for significant monthly healthcare insurance
By Keith Archibald Forbes exclusively for Bermuda Online
See also Bermuda's Health Support Groups and Bermuda's Healthcare Requirements and Costs, by the same author.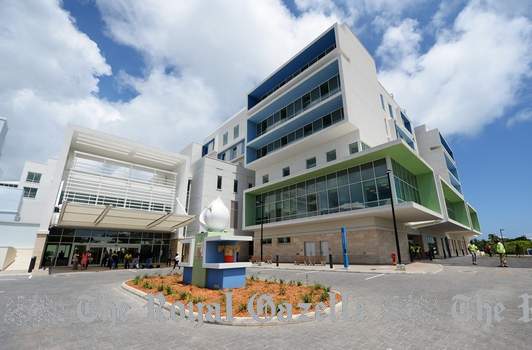 KEMH new wing, completed 2014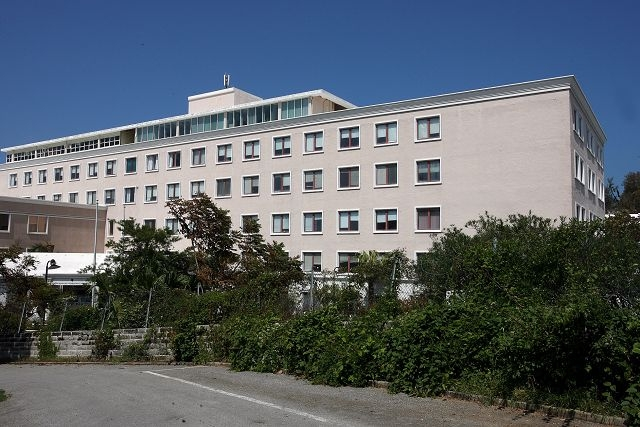 King Edward VII Memorial Hospital (KEMH), Bermuda. The main hospital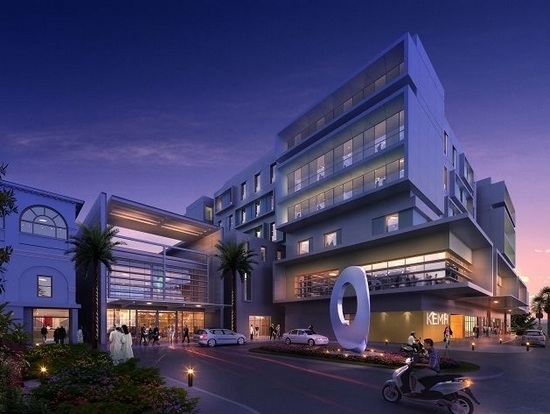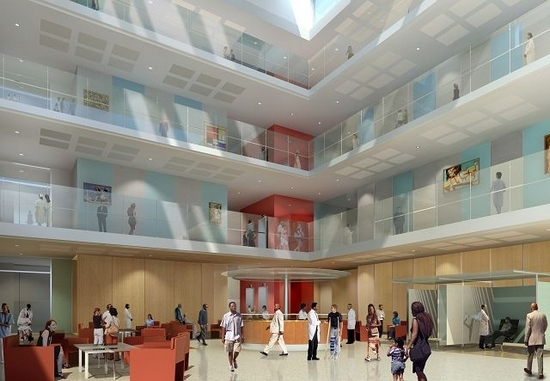 New wing of KEMH nearing completion in 2014
Bermuda has one main Accident and Emergency (A&E) hospital - King Edward VII Memorial Hospital (KEMH) - located at Point Finger Road, Paget Parish DV 04, Bermuda. Postal address P. O. Box HM 444, Hamilton HM BX. Phone (441) 236-2345. Fax (441) 236-2213. KEMH is Bermuda Government owned and operated. When first established and purpose-built in 1920 by the Bermuda Government it replaced the old Cottage Hospital (once visited by Mark Twain) in Happy Valley Road, Devonshire Parish. It was so-named to honour Queen Victoria's eldest son Albert (nick-named Bertie), who married Princess Alexandra of Denmark in 1863 and took the name of King Edward VII when he finally ascended the British Throne in 1901 at the age of 60. He reigned for only nine years, dying in 1910. Since first constructed as a single unit it has gobbled up once-nearby buildings in constant expansions and renovations along both Point Finger and Berry Hill Road. One such then-prominent residence was Abbotsford, once owned by prominent physician, amateur architect and botanist Dr. Henry Hinson. In the 1940s, during World War 2, the British (not Bermuda) Government made some war-time improvements.
KEMH is today operated by the Bermuda Ministry of Health and Family Services, via the Bermuda Government-appointed Bermuda Hospitals Board (BHB), a publicly-funded quango (quasi autonomous non-governmental organization) established under the Bermuda Hospitals Board Act, 1970. The BHB is not a private business. It is a quango, owned by the Government on behalf of the people of Bermuda and administered by a board appointed by the Government on behalf of the people of Bermuda. It also has wholly-owned subsidiaries, Healthcare Partners Ltd (HPL) and Ultimate Imaging Limited. BHB is funded entirely by the people of Bermuda by way of direct payments, insurance, donations and Government subsidies. Its employees are paid by the people of Bermuda. However, salaries and bonuses of senior managers of the hospital are not made known to taxpayers. It has a Bermuda Government-approved Board and a Chief Executive Officer, responsible for King Edward VII Memorial Hospital and Mid-Atlantic Wellness Institute. At the heart of both organizations is high quality care to all patients. With approximately 1,800 employees, the Bermuda Government-owned Bermuda Hospitals Board is Bermuda's second largest employer, after the Bermuda Government itself (about 5,900 employees of all ranks). There is also Paget Health Services, a combined public/private sector entity that has built the new (2014) Acute Care wing at Bermuda's King Edward VII Memorial Hospital and a Bermuda Hospitals Charitable Trust (BHCT). The latter, at P. O. Box HM 2273, Hamilton HM JX. T. 441-298-0151. F. 441-296-1072, is an independent organization founded as the formal charitable arm for accepting donations and fundraising on behalf of the Bermuda Hospitals Board (BHB). A separate entity from the BHB and Ministry of Health, it is governed by its own Board of Trustees who determine policy and are responsible for its own sound fiscal management.
King Edward VII Memorial Hospital and the Mid-Atlantic Wellness Institute (MWI) - Bermuda's second hospital, not an A&E unit but a psychiatric one, not for visitors but residents only - are the only healthcare organizations in Bermuda accredited by Accreditation Canada, an independent organization whose role is to help hospitals examine and improve the quality of care and service they provide to their clients. In 2005, on May 13. A new name was approved instead of St. Brendan's Hospital. The MWI was selected by the five-person panel charged with selecting it from over 6,000 suggestions. Patrice Dill, director of the MWI, said the new name accurately reflected the rage of services offered but meant no disrespect to the Celtic St. Brendan. Other members of the committee included Patrice Minors, then Minister of Health and Family Services; Jonathan Brewin, chairman of the Bermuda Hospitals Board (BHB); Louie Grant, a former director of nursing there; and Mr Dion Correia, chairman of the MWI Amenities committee.
In addition to providing an extensive list of services for the community, the Bermuda Hospitals Board is part of a referral network that includes some of the world's leading specialist hospitals. For more information, please log on to www.bermudahospitals.com
It is an Associate of the American Hospital Association. It has been accredited since 1972 by Accreditation Canada, formerly the Canadian Council on Health Services Accreditation, but does not appear on the latter's website.
Newcomers, including those from the United Kingdom, should note there is no equivalent in Bermuda to a treasured national UK institution, the National Health Service (NHS) that started in 1948. There, State-funded NHS provides free hospitals and health treatment to all Britons including free prescriptions and free dentistry and eyesight matters for low-paid Britons, and is embraced by all political parties. While grumbling about its perceived slow service is widespread - and planned government reforms are controversial - its egalitarian ethos is a matter of national pride.
Bermuda's two hospitals above are not in any way part of the UK's NHS and its hospitals system. Bermuda is the only country in the world where the residents and visitors pay not once but three times for hospital and medical services. In the USA, where hospitals are privately financed built and operated, patients pay for all services they use. In Canada, Australia, New Zealand, the UK, Europe, etc. the great majority of hospitals are financed by taxpayers with hospital and medical services included in the taxes paid. But in Bermuda, taxpayers pay first for the building and operating costs as part of their taxes; again in hospital fees and services they use on an as-needed basis; and also in the health or major medical insurances they all must pay by law to either the government or to private and local insurance companies.
Staff at the two hospitals number over 1500. Bermuda has audiologists, chiropodists, chiropractors, dentists, dental technicians, dieticians, medical doctors. There are also emergency medial technicians, medical laboratory technologists, midwives, nurses with SRN status or equivalent or enrolled, occupational therapists, optometrists and opticians, dispensing opticians, pharmacies, pharmacists, physiotherapists, radiographers and speech-language therapists. Under the Nurses Act 1969, all nurses, whether registered (SRN or equivalent) or enrolled, are required to renew their licenses on an annual basis. The Medical Program at KEMH has an Annual Review and Awards Ceremony, sponsored by the Bermuda-based prominent international corporation Merck Sharpe and Dohme. It provides thousands of dollars a year in awards as part of a commitment to Continuing Medical Education at KEMH.
Bermuda Hospitals Charitable Trust (BHCT): P. O. Box HM 2273, Hamilton HM JX. T. 441-298-0151. F. 441-296-1072. An independent organization founded as the formal charitable arm for accepting donations and fundraising on behalf of the Bermuda Hospitals Board (BHB). A separate entity from the BHB and Ministry of Health, governed by its own Board of Trustees who determine policy and are responsible for its own sound fiscal management.
The fees are set by Government and are reviewed annually. Overall, they are at least as expensive, often much more so, than those applied at most US hospitals. There are four schedules regulating these fees. They are:
Bermuda Hospitals Board (Hospital Fees) Regulations
Bermuda Hospitals Board (Medical and Dental Charges) Order
Diagnostic Imaging Fee Schedule
Home Medical Services Fee Schedule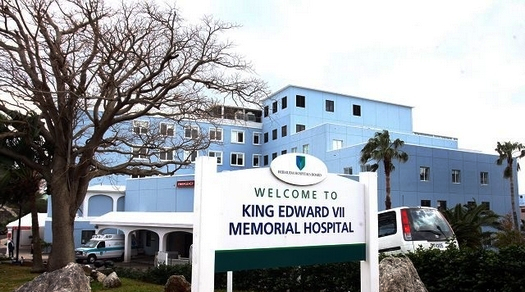 New KEMH hospital wing under construction, August 2013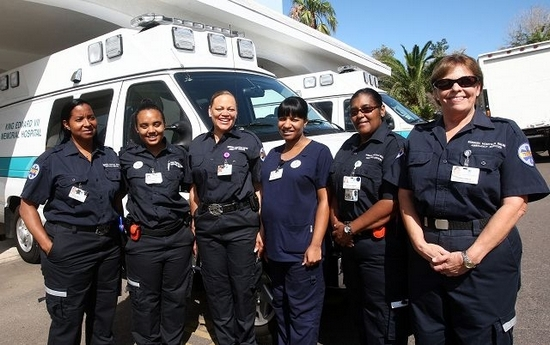 EMT staff at KEMH
2017. July 26. A total of 75 seniors took advantage of the second health clinic hosted by Age Concern this year. The event took place at the Lamb Foggo Urgent Care Centre in the East End and included vitals, eye and dental screenings. According to Age Concern's executive director Claudette Fleming, the event aimed to reach out to seniors in their own communities and make access more availably, particularly to those who cannot afford the services because of costly co-pays or because they have no insurance. Education co-ordinator Anita Furbert, a registered nurse, added: "Age Concern and its health partners are working very hard to meet the needs of seniors in the provision of our quarterly Health Check events in various areas of the island. We were pleased to see more men show up in the East End clinic and to have so many participants coming specifically to have access to the eye screening conducted by Dr Leonard Teye-Botchway and the Bermuda International Eye Institute team. The clinics are becoming the largest-attended Age Concern event outside of our annual MJM legal clinics." Cathy Stovell thanked the charity and its partners for the event that helped her mother access dental and eye screenings. "My mom has never had an eye pressure test and she was very relieved that she had an opportunity to do so at the east-end Health Check event," she said. "She was impressed with the care and attention each provider afforded her and quickly heeded the dental advice given." The initiative to improve healthcare access for seniors was launched in March this year in partnership with the Department of Health, the Bermuda International Eye Institute and the Chubb Charitable Foundation. Allied World Bermuda also supported the health check event in the East End earlier this month. Mike McCrimmon, head of Allied World Bermuda, said: "It is our pleasure to join the Health Check initiative in partnership with other notable sponsors such as the Bank of Bermuda Foundation, the Chubb Foundation, and the Department of Health. Clearly, the issue of ageing is an issue for us all. Allied World's Charitable Committee is committed to support initiatives that address the social fabric of Bermuda. We are pleased to support Age Concern in its effort to promote successful ageing throughout the island." Dr Fleming also credited the Bermuda Hospitals Board and the staff of the UCC for the ability to host the event in the "state-of-the art" facility. BHB's chief operating officer Scott Pearman said: "It was not a difficult decision for us to host the event. The clinical amenities of the venue lend themselves well for a clinic of this nature. We were pleased that the location of St David's saw a good response from seniors taking advantage of the free services. We look forward to working with Age Concern and others to maximize the use of the facility in the best interest of meeting the needs of our community." The next health check event is being planned for the West End in November. For more information on the initiative or Age Concern call 238-7525 or e-mail info@ageconcern.bm.
2017. July 25. Bermuda Hospitals Board has appointed Michael Richmond as Chief of Staff after an "extensive local and international recruitment process". Dr Richmond, an anaesthetist with 25 years' experience, joins BHB on a three-year contract and will lead the team of medical and support personnel. "I know that developing a Strategic Plan for Clinic Services is currently under way and I am eager to get involved and share my expertise in this area," Dr Richmond stated. "I am looking forward to moving to Bermuda and working with the team at BHB." According to a BHB statement, Dr Richmond is originally from the UK and has performed 25,000 anaesthetic procedures. The statement added that he "has a strong background in healthcare and hospital management and has worked extensively on major change programmes both in the UK and internationally". BHB CEO Venetta Symonds said: "I'm very pleased to welcome Dr Richmond to BHB as Chief of Staff. He has extensive experience in healthcare management, most recently in the dual role of Chief Medical Officer and Chief Executive Officer of Hamad Medical Corporation's Women's Hospital in Qatar. We look forward to learning from, and working with, Dr Richmond." Board chairman Peter Everson added: "We look forward to Dr Richmond joining the BHB Executive Team. He brings a wealth of experience that will help the team continue to develop the healthcare needs of our community." The statement added that Dr Richmond, who will take up the post in mid-August, will "be key in ensuring patient safety, sound clinical governance and building positive relations with the physician community". Dr Richmond replaces Keith Chiappa, who was in the interim position after Michael Wietekamp left in 2016. The position is the most senior medical role at BHB and is responsible for the supervision of medical and dental care given to patients and residents. The Chief of Staff reports to the CEO and is accountable to the Board and Ministry of Health.
2017. July 11. The One Bermuda Alliance pledged to prioritize seniors as part of an election campaign that will work to drive down health costs while incentivising the creation of care facilities and home care provision. Health and seniors minister Jeanne Atherden was joined by OBA senator Andrew Simons and OBA candidate Simone Barton yesterday morning as they rolled out details of the plan. The issue of the pension fund caused some controversy with Ms Atherden taking a direct swipe at the Opposition Progressive Labour Party saying it was not the OBA's intention to "invest in high risk ventures" using the government's pension fund. Home affairs Minister Pat Gordon-Pamplin recently referred to PLP plans outlined in the PLP's Reply to the Budget and its Vision 2025 — released prior to its 2017 platform — to create a Bermuda Fund. Ms Gordon-Pamplin said the plan would see the Opposition "invest more than $70 million of seniors' pension money in high-risk start-up companies". Opposition leader David Burt said in his most recent Budget Reply in reference to Vision 2025: "There is a high level of investment expertise in Bermuda and the next PLP government will take advantage of this expertise by creating a 'Bermuda Fund'. This fund, which will be seeded with a small portion of the pension funds that are under the control of the government, will allow Bermuda to tap into the investment expertise on the island, while providing an additional outlet for our large pension funds to invest more of their monies in Bermuda-based equity investments." However, the PLP issued a statement after today's press conference saying the OBA's claim was "based on lies". Neville Tyrrell, PLP candidate for constituency 26, said: "The PLP will again say that there is no plan to invest pension money in start-ups. The pension funds are invested by the Public Funds Investment Committee which has strict regulations and does not invest in start-ups." Mr Simons said that according to the advice of actuaries, the only way to protect the fund is to ensure that it has adequate money to grow and be able to make those payments when people reach retirement age. Ms Atherden added: "With respect to pension protection — we will not be investing in high-risk ventures as proposed by the PLP. We understand that the funds are there to be accumulated so that they can produce the benefit and be available to pay pension benefits out to seniors." One major issue raised at the press conference on seniors was the creation of an advocacy office that would have the capacity to investigate and intervene on behalf of seniors. Ms Barton, who is chair of the Bermuda Health Council, said the office would "ensure that our seniors are taken care of and that their interests are protected, and help them to address the specific challenges that result in ageing, diminished capacity and from abuse. We also want to look at developing the capacity to investigate and intervene on their behalves. For us it is very vital for us to protect and help our seniors to move forward." The OBA spoke on these measures back in 2015 when the National Office for Seniors and the Physically Challenged was formally renamed Ageing and Disability Services. Care and home care facilities was presented as a major issue for the ruling party as the hospital buckles under the pressure due to long term patients who should be cared for in the home or at an alternative facility. Incentives were proposed for construction companies looking to build new care facilities, those looking to create homes in existing facilities, and for caregivers who are willing to care for seniors in their home. Ms Barton added: "We also are going to look and ensure that if hospice care is needed then it can be provided at home. One of the biggest challenges that we have is that the hospital is inundated with people needing hospice care. If that hospice care can be provided in a home setting it would be much better for not only the patient but the family. Most people do not want to go into a hospital and with the OBA we are making sure that [our seniors] are safe and protected and when the time calls for it that they can be loved and cared for at home." Ms Atherden said a long term care group has been formed to assess the demand for care facilities in Bermuda outside of the general hospital. Ms Barton spoke on the creation of caregivers' resource centre that would provide an allowance as well as practical help and advice for caregivers. Mr Simons highlighted members of the community who make "great personal sacrifice" to care for loved ones. Ms Atherden spoke of a crackdown on employers not paying social insurance which is required and pays towards the government pension fund. "We will put more resources into making sure that employers out there do what they are required to do by law." She has also proposed to increase the age at which a senior is required to renew their drivers' licence from 65 to 70 while tying social insurance pension benefits to the cost of living to ensure that they "don't lose ground". In terms of health are costs, Mr Simons outlined the implementation of the Relative Value Unit methodology. "As I discussed in the senate, the fees for Standard Health Benefit services particularly for diagnostic imaging services . . . are set by the Relative Value Unit methodology. The prices all move together and that is the crucial aspect of it. For the past four years I have been a member of the board of the Bermuda Health Council, chaired the Regulation Sub-Committee, chaired the Finance and Economics committee — the technical staff will always say the fees for some diagnostic imagine services are just out of whack. The RVU methodology allows those fees to move together in a way that is appropriate and it is a methodology that is less susceptible to lobbying for individual price tweaks to services. If someone came in and said I know the fees for X-rays are $100 but I think the fees for sonograms should be $600 when normally the ratio would suggest that they would only be $150m, it is not possible to give those tweaks because we have committed to setting prices in a more rigorous way. Reduction in imaging rates as a result of using the RVU methodology gave us $23 breathing room. We were able to expand coverage for at home care for seniors which has been life changing for so many people."
2017. July 10. Healthcare costs will be the next government's number-one challenge, according to economist Peter Everson. He warned that because of the island's ageing population, costs will continue to rise if there is no policy intervention. "Demographic challenge makes healthcare costs the number one challenge for the Government on July 19, 2017," Mr Everson, who is also chairman of the Bermuda Hospitals Board, told The Royal Gazette. "Without policy intervention, healthcare costs will rise quickly because of the imbalance between younger healthy Bermudians and the elderly, who have increasing healthcare challenges." According to Mr Everson, care solutions for the elderly have been neglected for more than a generation. Although "great work has been done in the last 12 months mapping out the current needs", the former president of the Bermuda Chamber of Commerce added that "the political will to implement lasting and funded solutions is required within the coming 12 months. In the meantime, stopgaps and workarounds must be funded," said Mr Everson, who was speaking ahead of the General Election, which has seen the One Bermuda Alliance pledge to push ahead with programmes that have resulted in the "first declines in Standard Health Premium charges in more than two decades". The Progressive Labour Party, meanwhile, said it would manage "unsustainable" healthcare costs by implementing a national health plan, allowing small businesses to join others to obtain group insurance, increasing competition in the local insurance market and using technology to make healthcare delivery more efficient. But according to Mr Everson, the Standard Premium Rate — the actual cost of the minimum health benefits package that must be included in every health insurance policy sold in Bermuda — will only come down when appropriate controls are placed on the private sector providers. Bermuda should be able to achieve a 10 per cent reduction in premium rates within 18 months. The goal would then be to achieve a further 10 per cent reduction in the following three years," he added. "This is a tough target to achieve but it is what Bermuda and all Bermudians need." But Mr Everson said the Bermuda Health Council also needs "to be empowered to regulate the private sector". The Bermuda Health Council Amendment Act 2016 "was a casualty of the early election", he said, "and thus remains the first order of business for the new House and Senate". The legislation, which was drawn up to monitor health providers and the importation of "high-risk" medical technology, was withdrawn last year after doctors claimed it targeted private physicians. Long-term care is another key issue, Mr Everson said, adding that "collectively, the total number of beds is less than Bermuda requires today and less than it will need in the future." Noting the increased demand at King Edward VII Memorial Hospital, he added that solutions that "provide all of the facilities that the community needs in the appropriate settings and at a cost which is affordable" are needed. The lack of adequate infrastructure to support various types of care in the community was also highlighted by John Wight, speaking in his capacity as CEO of BF&M. "We have been aware of our troubling population trajectory for many years and the continuation of social admissions at the KEMH yet have not planned and provided sufficiently for the required infrastructure within the community to support various types of medical and psychological care outside of the hospital," he said. Mr Wight listed several of the "many achievements in the past five years in the medical and health sector", including the licensure and registration of physicians, passing privacy legislation, the Premier's Youth Fitness Programme, and the addition of oral chemotherapy within the Standard Health Benefits. But he added that he would have liked to have seen the Standard Health Benefit package modified and more transparency around Mutual Reinsurance Fund taxation and its uses and goals. Mr Wight said they would like to see the SHB modernized to create "a more holistic package of benefits" that also addresses inappropriate use of the emergency department. "We are also supportive of private provider fee regulation, the creation of a national drug formulary, and the implementation of a universal electronic health record," he added, while also recommending an assessment of government health clinics to optimize access, accountability and quality. For Age Concern's executive director Claudette Fleming, more emphasis is needed on disease prevention early in life and more resources for public health initiatives for young children. "I would also like to see more public health initiatives that help seniors and their families manage wellness; more creative and portable ways of making use of community nursing, supporting those with chronic illness in particular to make informed decisions about maintaining their health as best they can and/or to improve wherever possible." And more taxpayer dollars should be considered to support those needing financial support for healthcare costs, especially prescription drugs and long-term care, she said. But Dr Fleming added that the Bermuda Health Strategy Action Plan, the Long-Term Care Plan, the further development of the Well Bermuda Plan "and some work around an eventual national ageing plan" stood out as achievements, along with the introduction of the home care benefit to FutureCare, which was "as ground-breaking as the introduction of FutureCare itself. This initiative represents an important paradigm shift towards community-based care and provides the critical financing piece to make it happen." Reducing the cost of healthcare costs is also a priority for the Bermuda Healthcare Advocacy Group, who called for Government to continue reducing the SHB further "which will help reduce the skyrocketing costs". Reducing high insurance premiums is another critical issue, a spokeswoman said. The Royal Gazette also approached the Bermuda Medical Doctors Association for comment on Friday, but was told that it would not be possible to receive a response that did the request justice in less than 36 hours. The Bermuda Health Council declined to comment. As part of its platform, the OBA has also pledged to continue the Enhanced Care Pilot Programme and evaluate its success. And the PLP has said it would conduct a comprehensive review of mental health services and "make progressive reforms to adequately address mental health challenges", as well as creating a continuum of services "that will increase access to services and improve long-term outcomes for people suffering with addiction". It would also increase community health education, require restaurants to publish nutritional information, implement a sugar tax and install fitness equipment in public parks to promote healthy living.
2017. July 10. Rising healthcare costs have been highlighted repeatedly during the past five years, with the health and seniors minister warning last year that they had risen to "unsustainable levels". During the Health Action Plan launch in January 2016, Jeanne Atherden reiterated that curbing healthcare costs was a priority along with reducing rates of chronic, non-communicable diseases. Earlier this year, she revealed that the latest National Health Accounts report, showed that health spending began to level off in 2011 and went down by 1.1 per cent in 2015 "for the first time on record". She made the announcement as the Health (Miscellaneous) Amendment Bill 2017 was debated in the House of Assembly. The bill, which was later passed by the Senate, lowered the Standard Premium Rate by $4.07 per month, while also increasing coverage for kidney transplants and decreasing the cost of dialysis. It also introduced a change requiring the Health Council to recommend fees to the minister for all standard health benefits. And the Bermuda Health Council's new fee schedule, which saw cuts to diagnostic imaging service reimbursements, came into effect on June 1. These cuts were decried by private physicians, with Ewart Brown, the former premier, saying the move was politically motivated and aimed at crippling his clinics. And J.J. Soares, of Hamilton Medical Centre, revealed in an advertisement in this paper that open MRI and CT scanning at his planned walk-in centre would likely have to be scrapped because of the "unreasonable" cuts. Meanwhile, 2016 featured the Bermuda Health Council Amendment Act, which was met with concern by the Opposition as well as some local doctors, deferred for clarification. Doctors later branded the reworked legislative proposals aimed at regulating private healthcare providers as "heavy handed", saying the reform measures unfairly targeted their profession. The year before, the Health Insurance Amendment Bill 2015, which provided for the naming of employers who had allowed their workers' health insurance to lapse, was passed with support from both parties. And on July 31, 2015, new laws governing the sale and advertisement of tobacco products came into force despite pushback from retailers, who deemed them "draconian". After repeated calls, ambulance services were also instated at both ends of the island in 2015. Government, however, was forced to do a U-turn on a proposal for more stringent coverage of mammography following a public outcry, which saw protesters hang bras outside Cabinet in June 2015. That same day saw Opposition MPs Kim Wilson, then the shadow health minister, and former PLP leader Marc Bean criticize the 12 per cent increase to the Standard Health Benefit, at a time when the cost of living was continually rising and healthcare costs were already "exorbitant". In 2014, legislation allowing the use of cannabis-derived medicines won approval in the House although the Opposition criticizing the new law as not going far enough. Meanwhile, the proposed closure of the Lamb Foggo Urgent Care Centre in 2013 was also met with protest, leading to the Government overruling the decision by hospital bosses. That year also featured the launch of the Steps to a Well Bermuda survey, which assessed more than 2,600 households to gauge health issues and help develop a chronic disease management strategy.
2017. July 2. Patients at the Mid-Atlantic Wellness Institute are now providing fresh herbs for King Edward VII Memorial Hospital through a herb garden at the facility. According to a Bermuda Hospitals Board spokeswoman, the garden was launched in March with between six and eight individuals from geriatric services and learning disability sections tending to the herbs. The participants planted seedlings in a previously grassy area on the campus. Then they weeded and watered the plants, growing chives, plain Italian parsley, sage, lemon balm, curly parsley, Thai basil, mint and sweet marjoram. Donovan Williams, new dimensions recreational assistant, said: "Service users involved in this project have enjoyed watching the plants grow and taken pride in the results their efforts have made." The herbs were ready for harvest this month, and are already in use in the kitchen at KEMH. Thomas Frost, executive chef for the BHB, said: "Fresh herbs offer a bolder flavour than their dried alternative, and will enhance the flavour profile of many dishes. They also offer the benefit of being unprocessed. The chefs at KEMH are enjoying the new fresh herbs programme and are eagerly utilizing these fresh new ingredients in both patient and staff meals. This new MWI home-grown plants will further enhance our commitment to culinary excellence." In addition to providing better food for patients and staff at KEMH, the spokeswoman added that the programme had resulted in $120 a week in savings for the food services department.
2017. May 17. Clinical oncologist Christopher Fosker gave a tour of the upgraded CT scan simulation room at King Edward VII Memorial Hospital, which will customize treatment at the new radiation therapy unit for cancer patients. Dr Fosker, who is also the medical director and radiation oncologist at Bermuda Cancer and Health Centre, said that six patients had already used the CT scanner. There are 30 patients waiting to use the new radiation facility which has been supported by the Bermuda Hospitals Board and BCHC. The radiation facility, located at BCHC, is due to open today and is expected to benefit about 200 Bermuda patients per year who would otherwise have had to travel overseas for treatment. During the tour of the CT scanner unit at the hospital where a model posed as a patient, Dr Fosker explained: "We have the radiation team, myself and this is the CT scan simulation process — we are utilizing the equipment that is already here in the hospital. To have radiation you need to have a CT scan beforehand so that we can design the radiation. The team is preparing the [model] patient in the same position that they will have their radiation treatment so that we can get images. Those images get sent down the road to BCHC where the treatment machine is. The images also get sent over to Brigham and Women's Hospital in Boston and then, as a big team, we all design the radiation — we are working together in collaboration. We make sure the patient gets the best care possible." Dr Fosker said that the appointment slot for a CT scan is one hour to give time to position the patient on the equipment in the exact position they will be on the radiation unit. A quick scan is taken to locate the cancer on the patient. Depending on the case, it could take anything from two hours to two weeks to then progress to the radiation treatment. Having a local radiation facility will reduce the excessive costs of getting treatment overseas. He added: "We know that overseas care has different costs — it has costs for the insurer and it has costs to the patient. We estimate that individuals will make a savings benefit anywhere in the region of 20 to 40 per cent. Then when you add in the extras, the hotels and flights, it is going to make a huge difference." The radiation unit is able to treat most forms of cancer, but there are some exceptions. Dr Fosker explained: "We have made the choice that we don't feel it is appropriate to treat pediatric patients because it is such an area of speciality. The only other type of radiation that is available and used reasonably frequently is internal radiation and we have made the choice to just do external radiation from the outside."
2017. May 16. A Bill that will reduce the cost of standard healthcare, HIP and FutureCare premiums has been passed in the House of Assembly with amendments from the Opposition. The Health (Miscellaneous) Amendment Bill 2017 will also adjust benefits and move dialysis and kidney transplants to the mutual reinsurance fund and remove the ten-month maternity cover exclusion. Health and seniors minister Jeanne Atherden told the House that it was the first time she was aware of a reduction in rates — the reduction amounts to $4.07 per month, down to $334 per month. Ms Atherden said: "We have been making every effort to reduce healthcare costs and, at last, are starting to see green shoots. The most important indicator telling us we're on the right track is the National Health Accounts report. This report monitors annual total health spending and the latest report shows that in 2011 health spending began to level off, and in 2015 total health spending actually went down by 1.1 per cent for the first time on record. We finally bent the cost-curve — and we're the first country to do so, compared to the OECD." Two benefits will be added to the standard health benefit helping to reduce healthcare costs and premiums: palliative care in the home setting and coverage for select oral chemotherapies which are more cost effective. There will also be an increase to the artificial limbs and appliances benefits from $30,000 to $100,000 adding $0.67 to the premium. The benefit limit for kidney transplants will increase from $30,000 to $100,000 — claims for kidney transplants up to $100,000 will be covered by the MRF. It is hoped that the $100,000 coverage will enable more people to afford transplants, thereby reducing the need for dialysis (which currently costs $200,000 per year). The transfer to MRF and benefit limit increase will result in a MRF increase of $2.74. HIP will receive an additional $6.53 per month from the MRF, and FutureCare will receive an additional $2.50 transfer from the MRF. Ms Atherden also highlighted the need to remove the exclusion for maternity care owing to the risk this exclusion presents to unborn children and expectant mothers. The kidney transplant benefit for HIP and FutureCare will be set at $50,000 so that, together with the MRF coverage, clients have a maximum of $150,000 coverage for transplants that will enable coming off dialysis. Shadow health minister Kim Wilson expressed concerns with the adjustments in dialysis. Describing Bermuda as a "sophisticated jurisdiction", Ms Wilson said that the island should have a "redundancy plan" for the one dialysis facility on the island, at the hospital, in the event that it fails. "It is particularly alarming. We need to be able to offer a choice," she said. The amendment included the provision for other facilities, should they arise, to fall under the legislation. The Bill was approved with the amendment.
2017. May 15. Accidents resulted in $2.65 million spent on health insurance claims last year, according to a new report. But the Bermuda Health Council said the costs outlined in the Road Traffic Crashes: An Analysis of Health Insurance Claims 2014-16 report do not include the full impact on the health system. "These costs exclude considerable psychological and economic losses from lost productivity and income, long-term disability and costs associated with caring for those disabled by their injuries," it stated. According to the Council, there were 1,400 crashes recorded by the Bermuda Police Service in 2016. Despite an increase of 90 crashes compared to the previous year, the Council noted that the long-term trend is downwards. "Generally we are spending less year-over-year for care received locally, and more for care received overseas. Claims paid for overseas care are for services, like head trauma, that we are unable to treat on island because of the severity and specialized nature of the care required." Ricky Brathwaite, director of Health Economics, said avoiding "these incidents and resulting injury involves a community effort and adjustments in each of our routines, habits, expectations, and outcomes. The more information we have regarding the current set of crashes, the better we can make decisions about how we treat and prevent them going forward." And Dr Braithwaite added: "One mortality or disability caused by RTCs is one too many. It is important that we arrive to our destinations safely. The fabric of our communities and our reputation around the world demands it." According to the report, "understanding the epidemiology of road traffic injuries in Bermuda is critical to informing sustainable research and policy initiatives aimed at reducing this health crisis". The document, which provides the total healthcare claims recorded by local and overseas providers based on a defined set of road traffic crash descriptions, is intended to shed light on the impact of crashes, to prioritize road safety and sustain this priority for the future, ultimately leading to the reduction of risk factors and crashes.
2017. May 13. Growing pressures on an unsustainable healthcare system have caused serious financial difficulties for the Bermuda Hospitals Board, the Public Accounts Committee has heard. BHB bosses appeared before the PAC to explain the increasing financial challenges they face on the back of government funding cuts, including a $25 million reduction in its 2017-18 budget subsidy. CEO Venetta Symonds told the committee "we did not expect the revenue constraints we are having now. For the year 2017-18 we do not expect any impact to our clinical service at all," Mrs Symonds said at the meeting on Thursday. "But the situation is unsustainable and we know that and it is important for us to come forward with a plan and provide that care. We are constrained with how we can operate. What we have to work out is how we are going to affect care; we can not fix this problem." Despite amassing a surplus of $113 million at the end of the 2016-17 financial year, BHB faces a minimum $40 million deficit for 2017-18 owing to the Government's $25 million cut — announced in February's Budget — as well as $16 million shortfall on the 2016-17 government subsidy. The quango has also been hit by a reduction in the fees for diagnostic imaging, dialysis and long-term care. Chief financial officer Bill Shields told the PAC: "The fees are set so we can generate a surplus; internationally you would expect that to be between 5 and 7 per cent. We generate a surplus because there is no other way we can fund infrastructure projects; we don't borrow from Government." Mr Fields, however, warned that if the deficit was not paid back to BHB then they could run out of money by 2019-20. "We will continue to generate bills and send them to insurance companies and Government. We will not run out of the ability to deliver, but if we did not see an increase in the subsidy level, what with all the other pressures, we would estimate that we would physically run out of cash in 2019-20. This year we know we will write off $40 million. We know that we will not make a surplus this year. The surplus will go to a deficit and there will be $25 million to be made good. We need to have further conversations about the level of reasonable surplus to invest in critical infrastructure programmes. The BHB Act makes it very clear that we have to break even; if we have a deficit in the current year which we will do, we have to generate a surplus that is equal to that deficit. Once we get to $50 million we start to get in real trouble. When we get below that we are getting to a position where we are not as liquid as we need to be." The PAC heard that the current workforce at BHB was 1,800, of which 70 per cent were Bermudian. However, 70 per cent of the professional qualified staff are non-Bermudian. This prompted PAC member Jeff Sousa of the One Bermuda Alliance to urge Bermudians to consider looking to healthcare as a profession, adding: "There is a dire need in this country." Mrs Symonds ended the presentation by saying that "improving the health of our community is what is important to us".
2017. May 9. Kidney transplant funding for HIP and FutureCare patients is to increase by 50 per cent to up to $150,000 under new legislation. "A health Bill has been tabled to expand coverage from June 1 so that more patients can come off dialysis," a government spokeswoman said. According to Irena Ashton, owner of Bermuda Home Dialysis Services, this is a move in the right direction but travel expenses, which can be significant, remain to be addressed. She also stressed that more focus should be placed on living donors because this can lead to better patient outcomes, shorter wait times and therefore less time spent on dialysis. "Money is everything when it comes to transplants," the dialysis nurse told The Royal Gazette. "I would like things to be moving a little faster but this is a good start. HIP is really trying, they are moving it forward in a much faster way. Now we just have to wait and see — hopefully it is going to get passed." While Ms Ashton pointed out that "HIP actually covers a lot of things", she added that "travel is sort of an outstanding thing. Patients often had to spend up to six weeks abroad and also had to travel back to the transplant centre for follow-up appointments. Extra help is available for those receiving financial assistance and others can apply to the Lady Cubitt Compassionate Association for loans, but travel costs can still make transplants prohibitive. Most dialysis patients in Bermuda, I'd say 60 per cent, have HIP — they cannot afford it," Ms Ashton said, adding that they "are forced to remain on the much more expensive dialysis treatment. Performing the procedure locally, if this were a possibility, could be a positive development." [see separate story]. Ms Ashton also stressed that more focus on living donors, which she said are not currently financially reimbursed for HIP and FutureCare patients, would be a "big step. If there is another progression, it would really be to explore living donors. This would speed things up more". There are about 170 people in Bermuda who are on dialysis and Ms Ashton also emphasized the need for patients to start the transplant process sooner, ideally before starting dialysis. "A lot of them are walking around with chronic kidney disease and don't even know it. Ideally we would like to get these folks to get the proper education and part of that education is transplants." She added that "they don't get transplanted overnight," noting that patients on dialysis have to wait between three and seven years — depending on their blood type — for a suitable match. According to the health ministry spokeswoman, the Mutual Reinsurance Fund covers $30,000 towards a kidney transplant, with HIP and FutureCare providing an additional $70,000. "The ministry has tabled legislation seeking to increase the MRF coverage to $100,000 from June 1, 2017. HIP and FutureCare benefits are also being updated accordingly to cover up to $150,000 altogether, including the MRF portion, in order to ensure their policyholders can have access to transplants. The intent of the change is precisely to pay for transplants so that more persons can come off dialysis, which will be more cost-effective in the long run." The spokeswoman added that coverage of pre-transplant costs was dependent on the case rates at the different facilities, which vary in what they include. "Pre-surgical evaluations can extend from several years to immediately before the surgery. HIP is currently in negotiations to improve the coverage." She also said that some overseas facilities had offered case rates that cover some of the costs of the live donor. "When costs are not covered in the case rates for the transplant recipient, the facilities charge the live donors' insurance separately." The legislation was tabled on March 20 as part of the Health (Miscellaneous) Amendment Act 2017.
Bermuda has reverted to receiving mainly deceased donor organs for kidney transplant patients despite a rise in living donors between 2003 and 2009. According to transplant co-ordinator Marianne Herbert, this could potentially be attributed to the high rate of contraindicated diseases in the local population. "Living donors are selected very carefully and have to meet strict psychological and physiological criteria before being accepted as donors," Ms Herbert, of Bermuda Home Dialysis Services, said. "For a healthy individual, donating a kidney is safe and recovery is rapid. Having one kidney should not affect the donor's health in any adverse way and the physical examination and testing involved in the preoperative work up will probably be the most comprehensive health evaluation that the person has ever undergone. But she said it was not always possible for transplant recipients to have a living donor "because of the very high incidence of contraindicated diseases such as diabetes and hypertension in the community. Obesity, as we know, is a huge contributing cause of many diseases and this automatically rules out many potential donors." According to Ms Herbert, 106 people have received kidney transplants through programmes in Bermuda since 1972 and 32 of these were from living donors. "Although recently we have had mainly cadaver donors for our clients, there was a period between 2003 and 2009 when we had as many living donors as cadaver donors. This mirrored a worldwide trend at the time, which could partly be attributed to the advent of laproscopic or keyhole surgery to remove the donated kidney. It is a far less invasive surgery than the old traditional surgery where a rib was removed and the donor was exposed to major, painful, open surgery, which required a lengthy hospital stay and recovery period." She added that living donations were also opened up to friends and spouses, having at one time been reserved for blood relatives alone. Other strategies to increase living transplants include "paired exchange programmes, 'relay' kidney transplantation programmes and other beneficial strategies such as moving a potential recipient to the top of the list if a donor who is unable to donate to that person is able to donate to someone else", she added. "Good Samaritan" donor programmes have even been set up for anonymous donations, she said, with one Bermudian the recipient of such a donated kidney and one altruistic donation by a Bermudian.
2017. May 9. The possibility of conducting kidney transplants in Bermuda is being reviewed by the Ministry of Health and other stakeholders. It comes after a team of Norwegian surgeons visited the island in March and submitted a proposal that is now being assessed for clinical and financial viability. "The ministry and other stakeholders have had discussions with a Norwegian group's Global Transplant Initiative, seeking to do kidney transplants locally," a spokeswoman told The Royal Gazette. "The GTI team presented a proposal that they believe to be viable. It is being considered to determine if it would be viable and safe to do this complex procedure locally, and if it is financially viable. The process is ongoing. An important point of feedback is that there may be scope to enhance education to seek more live donors locally, which would increase the number of transplants annually." According to the spokeswoman, the assessment includes a review by the ministry, the Bermuda Health Council, local nephrologists and insurance companies. The team of surgeons asked to tour King Edward VII Memorial Hospital and met with the Chief of Staff, according to a spokeswoman for Bermuda Hospitals Board. "It is important to note that Bermuda Hospitals Board did not initiate this meeting. The decision of whether or not or where to do kidney transplants does not lie with BHB. This is a matter for the Ministry of Health and Seniors, the Bermuda Health Council, local nephrologists and the insurance companies that pay for the procedures." But the spokeswoman added that if it was decided to perform transplants in Bermuda utilizing the Norwegian team, BHB would merely provide the facilities and support services. "These requirements were reviewed with the Norwegian team in detail and it was determined that BHB would be able to support their transplant team."
2017. May 1. Fentanyl is suspected in two overdoses treated at King Edward VII Memorial Hospital last week, a Bermuda Hospitals Board representative has confirmed. The drug — a synthetic opioid 50 to 100 times more powerful than morphine — is often used to cut heroin and can be fatal even in very small doses. Its arrival on the island has prompted warnings from health, law enforcement and government representatives alike. "BHB can confirm that it has treated two highly suspect overdoses of fentanyl in the last week," a spokesperson said in a statement provided on Friday. While believed to be fentanyl related, the hospital was not able to confirm the drug was responsible. "Work is under way to have on-island testing for this drug, but at this time we only have off-island testing options available," the spokesperson said. No timeline was provided on when test results were expected. Confirmation from the hospital comes following a media report last week that multiple inmates at Westgate Correctional Facility had suffered overdoses thought to be caused by the drug. On Friday, a well-placed source said that multiple inmates had overdosed at the prison sometime last week. The source, who spoke with The Royal Gazette on the condition of anonymity, also provided the name of one of the inmates. Due to confidentiality rules, the hospital was not able to provide any details on the two patients. Lieutenant-Colonel Edward Lamb, Commissioner of Corrections, confirmed to The Royal Gazette that a "number of inmates" were taken to hospital for treatment "for a variety of reasons. All of the inmates are safely back in Westgate," he said on Sunday. Senator Jeff Baron, Minister of National Security, had been "fully briefed" regarding the treatment of several Westgate inmates, a statement provided by the Ministry yesterday said. "The Minister continues to be kept abreast of any developments regarding this matter."
2017. April 28. Haemodialysis prices will drop by $353 per session on June 1, reducing yearly spending by an average of $55,000.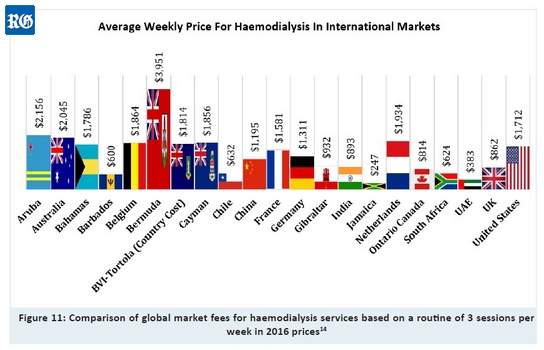 It comes as the Ministry of Health seeks to ensure transparency and consistency in healthcare costs by basing more pricing on the relative value unit methodology. "The new dialysis fee is progressing towards RVU's with a Bermuda conversion factor and ensures pricing that more accurately reflects the cost of providing a service," a spokeswoman said. "This has resulted in a proposed change in haemodialysis fee from $1,317 per session to $964 per session, reducing the spend by an average $55,068 per year." The spokeswoman said the Bermuda Health Council started using the RVU method in 2013 to price diagnostic imaging services in the community, and that it is now being applied to more services. She added: "The ministry is seeking to have more healthcare pricing based on the RVU methodology to ensure transparency and consistent pricing." According to the Health Council's Overseas Care: A Synopsis of Trends for the Islands of Bermuda report, 2016 haemodialysis fees for three sessions in Bermuda were more than double that of the United States and more than four-and-a-half times that of the United Kingdom. A spokeswoman for the Health Council told The Royal Gazette: "In the US, providers receive an average of $230 per session for haemodialysis, peritoneal dialysis, and in-centre in Bermuda the per-session cost of haemodialysis is $1,317. The average person requires about three sessions of haemodialysis weekly." While she calculated that supply costs should total $126.50 per session, this does not include costs based on the supplier used, cost of the drugs, cost of shipping, duty, relevant surcharges, and costs associated with care delivery including staffing and overheads for location. She also noted that dialysis pricing on the island was historical, with no major review conducted until recently. A Bermuda Hospitals Board spokeswoman told this newspaper that the hospital's dialysis fees also cover the purchase, upgrading and maintenance of equipment, as well as staffing and on-call coverage costs. "The fee also covers the cost of hospital space and maintenance, utilities, housekeeping, etc. Additionally, these fees help cover other services and costs associated with keeping the community's hospital running around the clock, including the cost of providing services to those people who are uninsured and cannot pay their bills, and whom Government cannot afford to pay for through subsidy." She stressed that any surplus was "entirely reinvested in care" and said this is increasingly being used to "cover the growing shortfall from bills charged to Government for vulnerable populations covered by subsidy (seniors, indigent populations and youth), as well as subsidizing other services for which fees are set well below the true cost, but are needed by the community. The additional cuts to the Government subsidy and fee schedule BHB faces this fiscal year will only intensify the pressure." She added that BHB does not set or add new fees and that it cannot charge co-pays to supplement the fees covered by insurance and subsidy. In providing an update on the Bermuda Health Strategy and Action Plan to the Association of Bermuda International Companies, health minister Jeanne Atherden said strides had been made to reorganize payment systems to focus on value and outcomes, improve benefit design to reduce unnecessary trips to hospital, and to develop a healthcare workforce plan to address the needs of 21st -century Bermuda. For the "first time on record", health spending went down by 1.1 per cent in 2015, she said. "We finally bent the cost-curve — and we're the first country to do so, compared to the OECD." However, she added that spending $11,102 per capita on health is still too much and there is "some way to go to achieve sustainability. Currently, there are approximately 170 patients on dialysis at the cost of $200,000 a year, each — this $34 million expenditure has been targeted in our reforms. For example, coverage is to be increased for kidney transplants, which can cost $130,000, thus helping more patients to come off dialysis. Such measures, combined with a drop in diagnostic imaging fees and the cost of long-stay hospital beds, are expected to deliver more than $20 million in savings in one year. This would represent the single, largest reduction in health costs our system has ever seen", Ms Atherden said. Other ongoing programmes include a review of the Mental Health Act, with more details on caregivers given on the government website — while the personal home care benefit has been taken up by one private insurer, with others hoped to follow suit. With a "crisis" in bed capacity affecting the hospital, the private sector is now being courted for long-term care investment, from facilities to workforce. And while the minister said there had been "headway" in the regulation of healthcare professionals, legislation overseeing healthcare businesses had yet to be approved. "However, I remain committed to introducing the necessary regulatory controls, and hopeful that the Bermuda Health Council Amendment Act will ultimately be passed," Ms Atherden said.
2017. April 28. Universal, unique numbers for anyone who enters the health system will be trialed this year. A Unique Patient Identifier database is being created to reduce concerns of patient confidentiality, mistaken identity and unnecessary duplication, a Bermuda Health Council spokeswoman said. "The UPI is an alphanumeric identifier that will be assigned to each individual resident and will identify a person when they utilise healthcare services in Bermuda," she told The Royal Gazette. "This number will only be accessed by healthcare professionals, insurers and the Bermuda Health Council and will not contain any health-related information." The spokeswoman added that the Health Council, through partnerships with health-system stakeholders, is always looking at ways to make the health system more efficient and enhance the quality of care. "The Unique Patient Identifier database is being created to alleviate concerns of patient confidentiality, mistaken identity and unnecessary duplication." She added that the project was a collaborative effort between the Health Council and numerous stakeholders. "The Health Council is in the process of completing the database; thereafter, there will be a period of piloting and testing. We anticipate engaging the public in early summer." According to health minister Jeanne Atherden, this will enable providers to better co-ordinate care as part of the push to improve the island's "poorly integrated" health-information system. Addressing the Association of Bermuda International Companies last week, she said: "For example, a Unique Patient Identifier can assist in prescribing and managing medications, monitoring and using diagnostic tests, which can help prevent hospitalization. Importantly, this Unique Patient Identifier is a necessary foundation for an integrated electronic health system, so it is a fundamental step towards this larger health-reform goal."
2017. April 24. A quick conversation about organ donation can save lives while reducing healthcare costs for everyone. Speaking at the launch of Organ Donor Week, the health minister Jeanne Atherden urged all residents to take the time to make their wishes known to their loved ones. "Organ donation is something that many people feel uncomfortable talking about but it's a conversation that everyone should have," Ms Atherden said. "When a tragedy happens, it's the wrong time to decide what a loved one might want. Have the conversation before the event occurs. Take five minutes and ask the person you love if they want to be an organ donor and also tell someone what your wishes are." According to the Ms Atherden, in the "past several years", six Bermudians have received organs through the New England Organ Bank, but there have been no donors from Bermuda. Some people have questions about the cost to their family, Ms Atherden said, adding that there is none. Others are concerned it will cause their relatives stress. Bermuda Organ Donor Association president Jean Van der Merwe added: "Some people are scared that they are going to be left to die, that if they are an organ donor the medical teams are not going to work to save them and this is entirely untrue." And Kerry Brislane, the group's treasurer, said often family members have not considered the possibility of their loved one dying, especially if they are a young person. "They're already trying to come to terms that they are losing their dear child. These circumstances are always out of the blue — donation in Bermuda is only in the context of brain death and that's a sudden and catastrophic brain event, whether it be a large stroke or an accident. Given some time, you will find that people think that was just the shock and they regret not doing it at the time." Dr Brislane added: "But when we have approached people that have had the conversation, they are immediately very enthusiastic that something good can come out of this." Ms Atherden also stressed that organ donation is important locally because Bermuda has a very high rate of non-communicable diseases that can lead to organ failure, such as diabetes and kidney disease. "There are over 150 people on dialysis. A donated kidney can get a person off hundreds of hours of dialysis and get them back to a normal life." But she also pointed out that "organ transplants can not only save a life but also reduce the cost of insurance premiums for all of us. We have high insurance premium costs. Dialysis costs $200,000 per year per person. A kidney transplant costs $130,000 and the person is off dialysis forever." Ms Atherden furthermore noted that people in good health can be living donors. "Organ donation is really the gift that keeps on giving — one organ donation can help multiple people. I urge everyone to consider becoming an organ donor. You can have it written on your driver's licence, you can tell people your wishes. Just have the conversation." Ms Van der Merwe added that because there is no official donor registry in Bermuda, "all you can do is have it on your licence. But the most important thing is to have the conversation with your family because if you're gone and they say no, it is no. Then your wishes would not be carried out. So we really urge people to have the conversation. That really is the most important thing going forward." As part of Organ Donor Week, the BODA organised two talks for healthcare professionals and more events are being planned for later in the year.
2017. April 24. Fewer than 30 deceased organ donations have been orchestrated in Bermuda in the past 16 years, according to a hospital anesthesiologist. Kerry Brislane said demand for replacement organs in Bermuda was rising at a "frightening" rate and appealed for more people to sign up as organ donors. As the island prepares to mark Organ Donor Week, the Bermuda Organ Donor Association is urging people to have that conversation with their families so that, if it comes to the worst, next of kin can find solace in knowing what their loved ones wanted. "Less than half of families approached about donation agree to donate a relative's organs if they are unaware of their relative's decision to be a donor," Dr Brislane, the group's treasurer, told The Royal Gazette. "Many people believe that all you need is to have it marked on their driver's licence. However, if a person dies in circumstances where they could become an organ donor the family would be approached by specialist nurses and asked to support the decision to donate." Dr Brislane said there had been 25 deceased organ donations in Bermuda in the past 16 years with their organs given to 82 recipients, "whose lives were changed for ever. I've seen the difference that it's made in the recipient's life — it really is the gift of life," she said. But she added that only about six patients in Bermuda receive transplants every year. I think people underestimate the need," Dr Brislane said. "We've got over 150 patients on dialysis now. That number will be double in five years, I can guarantee it. It's frightening." Many people on the waiting list for an organ in Bermuda could die before they get them, Dr Brislane warned. She explained that organ donations are carried out with the assistance of the New England Organ Bank and Bermudian patients are placed on the United States waiting list. A number of factors determine who is at the top of the waiting list, although she said children were more likely to be first in line. Dr Brislane was speaking as Bermuda prepares to mark Organ Donor Week, which will be launched at King Edward VII Memorial Hospital today. This will be followed by two talks aimed largely at health professionals but Dr Brislane said the BODA would also be launching an education programme later this year. The group is trying to get the younger generations in particular to talk about organ donation so that they can then hopefully take that home to their families. They have also reached out to the churches. "It's getting that conversation out there. Organ transplantation is a real and necessary part of even this small community. What we are trying to do is get the population talking about the general concept of organ donation so that it's not something that's new." There are two main types of organ donation: live donations, where the donor is still living, and deceased donations. The latter, in Bermuda, is only conducted when the patient is brain-dead. "It's always upsetting and usually in these instances quite traumatic," Dr Brislane said. "That is always going to be unexpected and a shock and a very stressful situation and you are not going to have any say because you are going to be dead. It's going to be your family that have that voice." She said it can be a big burden for families to make such an important decision at such a difficult time. If the family are going to gain some solace in the whole thing by being confident about the concept of organ donation, that would be great. In a time of great stress, that can be at least some positive outcome from that." But Dr Brislane said an official register was not a high priority in Bermuda and the only way to sign up is through the Transport Control Department. However, she said that if applicants forget to tick the box on the form or are not sure, staff tick "no" by default. "What we really want is that if the person is unsure, it is left blank. If it's a yes, it's a yes. We want them to really think about it rather than just say 'nah, I don't feel like it'." The group have also approached insurance companies about including the question, but "again, it's on their priority list which is a shame because they are the ones paying out for high insurance costs. Without an official organ donor register where people can actively express a definite 'yes' or a definite 'no', and because we have this thing with TCD where we are not really sure if they said 'no' or whether they just didn't tick the box, it just comes down to the next of kin." Organ donation — How it works. While some organs can be donated by live donors, others are taken from patients who are brain-dead. Their age and the extent of injuries determines which organs are viable. "When a patient comes they would generally be in the intensive care and we know that they've got a catastrophic brain injury, whether it is a severe stroke or an accident, a trauma," Kerry Brislane, treasurer of the Bermuda Organ Donor Association, explained. While the aim is always to save them, if there is no improvement or a deterioration, a test to check for any response from the brain can be done 24 to 48 hours after the injury. Dr Brislane, who works as an anesthesiologist at the hospital, added: "At that point we usually inform the family whether we are doing the testing to determine whether they are brain-dead because obviously continuing on then would be futile. "It's usually at that time that I open up the conversation about donation so they have some time to think about it because they still have to wait for the test." The New England Organ Bank is informed when the testing is going to be done. They send specialist nurses to talk to the family "because they know it is a difficult decision and they might have a lot of questions". If the patient is brain-dead, the family are asked for consent and if the family agree, then the surgeons will fly out from America to collect the organs. The organs are then flown back to the US and are given to those who are at the top of the organ donor registry. "Usually children will get to the top of the list sooner but it also depends on your other illnesses," Dr Brislane said. The New England Organ Bank can then provide general information about who the organs went to, if the family wishes. "Obviously nothing specific," Dr Brislane added. "And then it's up to the donor family and the recipient as to whether there is any formal contact made."
2017. April 24. Universal, unique numbers for anyone who touches the health system will be introduced by the Ministry of Health. This Unique Patient Identifier will enable providers to better coordinate care as part of the ministry's push to improve the island's "poorly integrated" health information system, Jeanne Atherden said. The health minister, who was providing an update on the Bermuda Health Strategy and Action Plan, also revealed that the cost of dialysis will be reduced on June 1 and that, combined with a reduction in the cost of diagnostic imaging fees and long-stay beds at the hospital, this is estimated to result in savings of more than $20 million in one year. "If successful, it will represent the single, largest reduction in health costs our system has ever seen," Ms Atherden told the Association of Bermuda International Companies. "In addition, we have been working to improve our health information system, which is currently poorly integrated. This prevents the communication necessary to reduce health costs and improve outcomes. We are on the cusp of introducing a Unique Patient Identifier to be used across all healthcare settings," she said. "This will be a universal, unique number assigned to anyone who touches the health system and will enable providers to better coordinate care. For example, a Unique Patient Identifier can assist in prescribing and managing medications, monitoring and using diagnostic tests, which can help prevent hospitalization. Importantly, this Unique Patient Identifier is a necessary foundation for an integrated electronic health system, so it is a fundamental step towards this larger health reform goal." The Bermuda Health Strategy was launched in January last year to present a vision for health system reform over a five-year period. This is supported by the Bermuda Health Action Plan, which details specific actions to achieve this vision. A further Action Plan has also been put in place to also address key long-term care issues. According to Ms Atherden, strides have been made to reorganize payment systems to focus on value and outcomes, improve benefit design to reduce unnecessary hospitalization, and to develop a healthcare workforce plan to address the needs of 21st century Bermuda. "What is clear to Bermuda is that we could not afford the trajectory it had been on for 20 years." But she added that for the "first time on record" health spending went down by 1.1 per cent in 2015, adding: "We finally bent the cost-curve — and we're the first country to do so, compared to the OECD." However, she said that spending $11,102 per capita on health is still too much and there is "some way to go to achieve sustainability. Currently there are approximately 170 patients on dialysis at the cost of $200,000 a year, each. This $34 million expenditure has been targeted in our reforms". Coverage for kidney transplants, which can cost $130,000 a year, will increase, she said, making transplant more accessible so that patients can come off dialysis. In addition to reducing the cost of dialysis treatment, Ms Atherden said the price of diagnostic imaging fees at the hospital will be brought down to the level charged in the community, and the price of long-stay beds at the hospital will be reduced for eligible patients. Ms Atherden also revealed that more than 100 people are enrolled in the Patient-centred Medical Home and the Enhanced Care pilot programme for under and uninsured patients with chronic conditions. Legislation is also being drafted to improve care quality in residential and nursing homes as part of the Long Term Care Strategy introduced last year, she said. Furthermore, the mental health act is under review and more information for care givers and developers is available on the Government website. "And we introduced a 'Personal Home Care' benefit that has enabled persons to be cared for at home safely and more cost-effectively. This new benefit has been especially successful and one private insurer has already incorporated it to its own policies. We are working with other insurers to follow suit as it is great for patients and much less costly." The Ministry has also started a project to simulate private sector investment in long term care, saying the need for additional capacity is great. She added that this was evidenced by the "current bed crisis affection the hospital", with about 120 long-stay patients who do not need hospitalization, but have no other place to be cared for. "The Government cannot build this capacity, so we are looking to the private sector and are in active discussions with developers and potential financiers to mobilize this sector." But long term care is not just about bricks and mortar. It's also about support for caregivers and workforce capacity. As such, health workforce planning has been a key initiative and is under active consultation at present. Better regulation of the health sector has also been a priority to improve quality and reduce costs." Ms Atherden noted that headway has been made in the regulation of healthcare professionals. However, she added that legislation for the regulation of healthcare businesses has not yet been passed. "This is naturally frustrating as this regulation is paramount to control the unrestrained utilization of healthcare resources which has contributed so much to the increase in health spending. However, I remain committed to introducing the necessary regulatory controls, and hopeful that the Bermuda Health Council Amendment Act will ultimately be passed." Ms Atherden also reiterated that the standard premium rate and HIP and FutureCare premiums will go down "for the first time ever" by $4.07 per month as of June 1.
2017. April 18. Twelve surgeries had to be postponed in March owing to the bed shortage at King Edward VII Memorial Hospital. The Bermuda Healthcare Advocacy Group expressed its dismay over the impact on patients, with one of its members claiming his own health problems deteriorated as a result of delayed surgery. A Bermuda Hospitals Board spokesman said knee replacements, cosmetic breast surgery, skin grafting, hernia repairs, and a gall bladder removal were subject to waits last month. "Out of 849 completed surgeries in March 2017, 12 surgeries did not take place on the day they were originally scheduled at King Edward VII Hospital — 1.4 per cent of the total number of surgeries in March — due to bed availability," she said. "Of those 12, six were hip replacements that were rescheduled and completed within the same week. Eighteen hip replacements surgeries took place in total in March." BHAG member Allan DeSilva told The Royal Gazette that his prostate surgery, postponed on December 8, took two months to proceed. "Had this surgery gone off without a hitch, I would not be in the trouble that I am now," Mr DeSilva said. "I have to go overseas for my kidney stones. Hopefully that's going to happen soon. If my prostate had been treated before Christmas, my kidney stones could have been resolved early. I'm not blaming my doctor for it. The blame has to go to the hospital." BHB announced in March that availability of beds stood at "crisis" level, with every space filled. The spokeswoman said a bed capacity meeting was held each morning, with discharges and emergency admissions changing capacity each day. "Surgery" is a broad term, covering procedures requiring anesthetic, particularly operations in surgical suites. Procedures using local anesthetic or stitching take place in outpatient offices and the Emergency Department — in hospital and in the community offices. The procedures may be inpatient, requiring a stay in hospital afterwards, or outpatient, with patients leaves after going through post-anesthetic care. Elective or planned surgeries are not by their nature emergencies, but they can be critical to a patient, the spokeswoman explained. "For that reason, we take the decision to reschedule any surgery very seriously and open special overflow beds to allow as many surgeries to take place on time as possible. For example, a hip replacement is not life-threatening, but we know there is a patient who is pain whose life is impacted by the delay. Rescheduled procedures are discussed with surgeons, whose advice enables BHB to jointly prioritize surgeries based on clinical need first. We work with patients a few days prior to surgery and discussion is held during their pre-admission testing and the day before surgery regarding the possibility of the need to reschedule their surgery. We understand their frustration, and we are always honest with our patients when it is a bed issue." Data provided for the fiscal year 2016/17 showed "patient no show" as the biggest cause of surgery delay, at 178 cases. No shows cover scenarios such as "the patient cancelled, forgot to call, didn't turn up, or went overseas", the spokeswoman said. The second-highest factor, at 110 cases, was patients deemed unfit for surgery, based on assessments by the surgeon, anesthetist or patient themselves. Reasons ranged from laboratory or X-ray results, to pregnancy or incomplete screening. Third, at 89 cases, was cancellation due to the procedure being "too late to continue". Scenarios ranged from patients not being able to wait longer, or a lack of time to complete the surgery. For 2016/17, 32 surgeries could not proceed on their scheduled day due to a lack of beds. Asked for the figures for the first three months of 2017, a spokeswoman said that 20 had been cancelled because beds were not available, accounting for 0.8 per cent of the 2,273 total surgeries. "In the period April 2016 to December 2016, only 18 surgeries (0.2 per cent of all surgeries) did not take place at their scheduled time due to bed availability. It's worth noting that during this period, 7,211 surgeries were booked and 391 were cancelled." All hospital wards are being used to accommodate patients, with some adults placed in maternity or the children's ward. The Royal Gazette also requested specific locations where patients would be placed, in the event that they had to be moved to make room for acute patients. While details were not forthcoming, the spokeswoman told us: "BHB will never turn away a patient or deny them treatment. The time in which patients are attended to in the Emergency Department depends on the acuity of their conditions. Those with the highest acuity are treated first. This has not changed." Pressed on the issue, she responded: "BHB's mission is to provide the public with safe, high-quality care. This mandate remains in place despite the current shortage of beds. Each case is managed with careful consideration. On the wards, if patient transfers are necessary, they will take place. In the Emergency Department patients will always be seen in the order of the acuity of their condition. The more severe or acute their condition, the faster they will be seen by a physician. No matter what the injury is, the public can be assured every decision made will provide our patients the ability to undergo treatment, heal and recuperate, safely."
2017. April 3. Bill Shields has been appointed chief financial officer of the Bermuda Hospitals Board after "an extensive local and international recruitment process", BHB announced today. Mr Shields' designation comes at a time of "major challenges" for BHB to rein in healthcare costs and improve its financial condition, according to Venetta Symonds, its CEO. A high priority for the new fiscal year will be the creation of a clinical services plan to help in "critical decisions" about hospital services, Ms Symonds said. "BHB needs a financial executive who understands hospital finances and how they connect to the health system, and has experience in optimizing financial and operational performance to support clinical quality on the front line of patient care. Mr Shields comes with an impressive record within the UK's National Health Service and we look forward to him bringing this expertise and experience to the team." Coming from the UK, Mr Shields joins BHB after over a year working as executive director of EY, a health advisory practice that focuses on performance improvement and optimization. In this role he worked with numerous NHS hospitals to transform and improve financial and operational performance. Prior to this position, he worked in the NHS for almost 29 years, most recently with the Imperial College NHS Trust, where he led a recovery of the trust's financial and operational performance, and subsequently served as CFO and CEO. Mr Shields said that BHB had worked "very hard over the last few years to improve their financial stability", adding that "together we will be able address the current challenges to support BHB's stated triple aim goals of improving the patient experience, improving population health and reducing the per capita cost of care". Having gained his professional qualification from the Chartered Institute of Public Finance and Accountancy, Mr Shields also has an MA in Social Sciences from the University of Glasgow. He has won numerous awards, including the HFMA Finance Director of the Year, 2013, HFMA Governance Award, 2013, and Health Service Journal Finance Team of the Year 2013.
2017. March 25. Shadow health minister Kim Wilson has reiterated the need for laws requiring family members to care for their elderly relatives at home. Ms Wilson was speaking in light of the Bermuda Hospitals Board's announcement on Thursday that the emergency department and new acute care wing at King Edward VII Memorial Hospital are completely full. On March 13, Ms Wilson spoke in the House of Assembly on the need for filial laws due to an ageing population and lack of adequate nursing homes putting a strain on hospital beds. Speaking to The Royal Gazette, she said such laws "would require family members who are capable of caring for their elderly relatives to take responsibility in doing so." Ms Wilson added: "We must examine all options to provide a long-term solution to this ongoing issue." The Progressive Labour Party's "People's Budget" Ms Wilson said, would make it more of an attractive option to operate care facilities on the island. She said: "The PLP believes that Government has the responsibility to ensure that its senior population are cared for. The PLP's People's Budget would develop incentives for persons willing to operate safe and secure facilities for our ageing population and to spur the private sector to construct residential communities, providing seniors with greater options and alleviating stress on families and the hospital." Educating the public is also a priority according to Ms Wilson, who added: "The community needs to be better educated about the purpose of the hospital and its intended scope. KEMH offers patient services that can only be provided locally by them. That is where their focus must be. One of the major reasons for the bed shortage we now see is because the hospital is being used to provide services which the community is better suited for; the provision of community resident homes for the elderly. Many of the current beds occupied at the hospital are being held by persons who are able to live mostly independently or with some minor assistance which does not require around the clock skilled nursing care as is available at KEMH. The vast majority of these such patients should be cared for at home by their families or in a facility designed for that purpose, depending on the level of supervision required."
2017. March 25. Former St George's Cup Match captain Wendell Smith has told how he turned up to hospital prepared to have a serious knee operation on two occasions only to be sent home due to a lack of available beds. And he said there was even a possibility that his procedure would be postponed a third time, it later emerged. The Bermuda Hospitals Board announced on Thursday that every bed in the emergency department and new acute care wing at King Edward VII Memorial Hospital was full. In January, Mr Smith, 57, who was finding it difficult to walk because of complications with his knee, made all the pre-op preparations necessary — booking time off work at West Pembroke Primary School, where he is deputy principal and a PE teacher, packing his bags, ensuring his wife took medical leave to provide after-care, giving blood and urine samples, fasting the night before and, above all, mentally preparing for the procedure. When the former Western Stars cricket coach arrived to the hospital on January 20, he was told that his operation might have to be put on hold and was asked to wait an hour or so to see if any room became available. Eventually, he was told that owing to a shortage of beds, he would have to go home. Disappointed but not disheartened, he rescheduled his appointment for February 10 and made his way home while his wife cancelled her medical leave and returned to work. On February 10, he turned up again having made all the same preparations, only to be told a second time that there was no bed for him. Again, his wife returned to work. When he attempted to book his operation for the third time, he was told that the next available date would be April 19 — Mr Smith was unable to make it earlier for practical reasons relating to after-care and his surgeon had limited availability. He begged the administrative staff to squeeze him in earlier and with a little luck he was booked in for February 24. This time he turned up and it emerged that he might have had to postpone a third time as a result of bed shortages but because of his previous experiences, he was prioritized and the procedure went ahead. "Had they told me a third time, it would have been too much — I was going to consider going overseas," Mr Smith said. "It's the mental preparation. I didn't sleep very well the night before — when it's a serious surgery, you are concerned about going under anesthesia and if it is going to go well. I had arranged for my wife to be home — she works with the Bermuda Monetary Authority. She had medical leave to look after me because with a knee replacement you can't get around very well. I was to the point where getting in and out of a car was a really grueling exercise because I had to lean over towards the driver's side and struggle to get in — I could barely bend my leg. It was becoming a nuisance day-to-day living. Just getting around school was a chore because I was dragging my leg around." Mr Smith said he managed to stay positive throughout the ordeal, in part thanks to a book he had read — Stephen Covey's 7 Habits of Highly Effective People, which says you can choose your response when "life happens". He also remembered the words of a mentor from Paget Primary School, where he was formerly the principal, who told him "the greater the crisis, the calmer you have got to be". However, Mr Smith, who is now back at home recovering, remains concerned at the overcrowding at Bermuda's only hospital. The Bermuda Hospitals Board put out a statement this week to say that the hospital would "take care of acutely ill patients first" but described the situation as a "crisis". Mr Smith said: "My concern is that you have people who have serious illnesses who have to have a bed and the hospital is struggling and there are people who have been in traffic accidents and the like coming in. They may need to put some patients in the hallways. I was willing to do that after the second time — I said to my wife I would be happy to do that rather than have this continue to be a problem."
2017. March 25. Patients have been placed in the maternity and the children's ward to help deal with the bed crisis at King Edward VII Memorial Hospital. On Thursday afternoon, Bermuda Hospitals Board CEO Venetta Symonds stated that every single bed in the hospital's emergency department and the new acute care wing was full. Meanwhile, as of 9am yesterday 11 patients deemed medically fit for discharge were still in acute care beds, a BHB spokesperson revealed. "The best solution, both clinically and financially, is for Bermuda to have more community nursing home placements and a more extensive home care service," the spokesperson added. Caring for people in hospital is expensive and the longer they stay the higher the risk of hospital-acquired infections, so it means individuals are left in an institutional setting when they could have a better quality of life in a home setting. "Moving patients out of BHB when they are ready is better for them and for Bermuda. This would leave BHB with adequate capacity for surges." In response to questions from The Royal Gazette yesterday, BHB stated it would never turn away a patient or deny them treatment. The spokesperson added: "The time in which patients are attended to in the emergency department depends on the acuity of their conditions. Those with the highest acuity are treated first. This has not changed." BHB also confirmed it was working on a contingency plan of how to deal with the expected increase in patient numbers during the America's Cup. The spokesperson added: "The issue is that a significant number of inpatients at BHB are non-acute at any one time and this was identified in extensive research on hospital inpatients as the new hospital was planned. There are not enough community nursing homes to accept some people when they no longer need acute care, or families are unable or unwilling to accept them home. These individuals do not need acute care but may have some medical requirements. The hospital cares for them when there are no other options as we cannot in good conscience release people who could be hurt or get sick again if they are discharged to an inappropriate setting. There are clinical advantages to separating these patient groups. Clinical teams are now able to provide more efficient, focused care."
2017. March 24. Every single bed in the hospital's emergency department and the new acute care wing is full, Bermuda Hospitals Board CEO Venetta Symonds announced yesterday afternoon. Ms Symonds said that the BHB was managing the situation "as best as we can", but acknowledged that from an internal operational standpoint the hospital was dealing with a "crisis". "There are no patient beds right now at the hospital," she said. "That means, if you need acute care in the community of course you are going to come to BHB, but right now every single bed in our emergency department and our new acute care wing is completely full. First of all, if you are an outpatient and looking to have a surgical procedure in the next week or so, you might get a call saying that your surgical procedure has been postponed." Meanwhile, Jeanne Atherden, the Minister of Health, said that her ministry was "working on solutions to long-term care. If you have a non-emergency illness, please see a general practitioner or visit the urgent care centre rather than going to the emergency room," she said. "If you are collecting a loved one who has been discharged, please be on time. If you are an administrator of a rest home, I ask that you work with the hospital to discharge patients back to the residence, even after hours, so the hospital beds can be available for patients who need acute care. The hospital is not a rest home." Ms Atherden added: "My ministry is working on solutions to long-term care because in this crisis there are clearly not enough beds in the community for long-term-care patients. I ask that we show our true Bermudian spirit in this crisis, and come together with fortitude, patience and generosity, and make adjustments under the circumstances. Our team is looking at possibilities right now, and we ask for your continued understanding as we work through this situation. BHB's team is doing all it can to take care of everyone safely. Please do your part to help." Stating that "every single bed matters right now", Ms Symonds added: "We all need to work together to make sure our hospital can accommodate you. We have been experiencing increases in capacity in the last couple of months. There are a lot of respiratory illnesses right now, but there are a multitude of factors making it difficult for BHB to empty beds. Be assured that we are working with Ministry of Health and other stakeholders to manage the medium and long-term needs for Bermuda, but right now in this immediate situation I would go so far as to say operationally, internally to BHB, it is a crisis. In order for us to deliver the very best of care to you and your loved ones when you are acutely ill, we definitely need your support. Go to your doctor first or use our urgent care centre and remember, when we are discharging, come and pick up your loved ones and if you do have delayed care, call your doctor and insurer to find out what your options are."
2017. February 25. A $25 million cut in the Bermuda Hospitals Board budget is not expected to affect services for the year ahead, but it will impact investments to improve the Mid-Atlantic Wellness Institute, general wing facilities and IT systems. Bob Richards, the Minister of Finance, announced the one-off cut in his Budget Statement yesterday. "Three years of concerted efforts to become more efficient has placed the BHB in a more stable financial position," Mr Richards said. "Considering the relatively strong liquidity position of the BHB, it is anticipated that the BHB can withstand the one-year reduction in funding." Speaking of the areas that would be affected by the reduction, a BHB spokeswoman said: "Funds saved for these purposes are used to cover a significant shortfall in payments. BHB will plan to implement any delayed facility and IT improvements in the next fiscal year commencing April 2018. Should budgets not return to parity after this year, however, we will need to look closely at what services the community needs us to continue to provide, and what we can afford to deliver safely." The BHB said its 1,800 staff had made "huge cost savings" despite low fee increases since 2012. The spokeswoman added: "Subsidy budgets routinely set below the true cost of care. Our staff come to work each day to relieve the suffering of the body and mind, and do what is needed to keep safe services running. But we also experience the financial and social suffering around us. We feel it in the shortfalls in funding in mental health and medical services and the non-payment of bills, and we see the people who come through our doors struggling to pay for the services they need. Despite these difficulties, our public town hall earlier this month has given us great hope that as a community we can work together to achieve quality, effective, compassionate services. We will hold to our strategic plan to make these improvements in the hope that Bermuda's economic situation continues to improve and that Government is once more able to support the cost of caring for our most vulnerable patient groups — our youth, indigent and seniors." The building of a new acute wing at King Edward VII Memorial Hospital had left the BHB in a precarious financial position in 2015, but a reduction in operating expenses was successfully implemented.
2017. February 24. Age Concern yesterday called on the Bermuda Government to address "woefully inadequate" community care facilities for the frail elderly after it emerged the King Edward VII Memorial Hospital was buckling under the strain of a flu outbreak. Hospital bosses admitted this week that the $247 million acute care wing had been unable to cope with a surge in demand from flu sufferers over the weekend, with some emergency patients having to wait more than 15 hours for a bed. The shortage of beds, according to Bermuda Hospitals Board, is partly down to an "ageing and increasingly chronically ill community", while a lack of community nursing home facilities makes it difficult to discharge people as they recover. Reacting yesterday, Age Concern deputy chairman Charles Jeffers urged the Government to direct more funds towards caring for the elderly. "Age Concern is well aware of the challenges being faced with the shortage of beds at the hospital and the need for those seniors who are well enough to be released," Mr Jeffers told The Royal Gazette. "This is not a new problem and is one that has the potential of becoming acute with the growth of the ageing population. We cannot overly emphasise the fact that a safety net infrastructure for seniors must be firmly in place along with all of the required support systems such as long-term care housing for the frail elderly which, at this time, is woefully inadequate. Government, families and the community need to work in concert to ensure that we get a handle on the issue of the protection, care and safety of vulnerable seniors and implement the right solutions in a timely manner." Mr Jeffers repeated Age Concern's call for a Public Guardian, to cover the needs of seniors and the disabled. "The government of the day should ensure that there are required funds available for adequate staffing and operations for Ageing and Disability Services, in particular," he added. A BHB statement said the maximum number of beds in the new wing was 90 and, with those full, other wings in the older part of the hospital were being used for acute care patients. Before the acute care wing opened in 2014, patients of varying degrees of sickness had been mixed together on three medical surgical wards, which had a combined 110 beds. There were 279 emergency department visits at KEMH between Saturday and Monday, and 38 admissions to beds, as Bermuda grapples with high levels of flu and respiratory illness. Of those admitted, 65 per cent were aged 65 or older. The wait to be admitted to an inpatient bed was 4.83 hours on Saturday, but on Sunday and Monday was more than 15 hours. Yesterday, a BHB spokeswoman said: "If there were fewer non-acute patients in hospital beds, we could better cope with unexpected high surges of the kind we are currently experiencing. The issue is that a significant number of inpatients at BHB are non-acute at any one time, and this was identified in extensive research on hospital inpatients as the new hospital was planned. There are not enough community nursing homes to accept some people when they no longer need acute care, or families are unable or unwilling to accept them home. These individuals do not need acute care but may have some medical requirements. The hospital cares for them when there are no other options as we cannot in good conscience release people who could be hurt or get sick again if they are discharged to an inappropriate setting. The best solution, both clinically and financially, is for Bermuda to have more community nursing home placements and a more extensive home care service. Caring for people in hospital is very expensive; the longer they stay the higher the risk of hospital-acquired infections, and it means individuals are left in an institutional setting when they could have better quality of life in a home setting. Moving patients out of BHB when they are ready is better for them and for Bermuda. This would leave BHB with adequate capacity for surges such as this flu outbreak." One senior, who asked not to be named, told The Royal Gazette they had just spent three nights on the acute care wing. The senior said: "[I was] lucky to gain admittance, obviously, though perhaps discharged earlier than otherwise might have been." The senior described the nurses and cleaning staff as "excellent" but questioned why the acute care wing was built to cater for only 90 patients. "Who made that decision?" they asked. This newspaper asked health minister Jeanne Atherden yesterday to comment on the bed capacity of the acute care wing, as well as the often-reported and ongoing lack of community nursing home beds for elderly people. "I commiserate with those who have experienced longer than usual wait times," Ms Atherden said. "Waiting is difficult for many at the best of times, but becomes more stressful when one is also feeling ill. A small number of non-emergency elective surgeries were postponed and some patients had to wait for a bed in the acute or general wing. Difficult decisions had to be made in order to optimize available bed space. I must commend the hardworking medical professionals and support team at KEMH for, as always, putting patient safety first as they cope with the extra demand. The new acute care wing added 90 beds to those in the existing general wards. All are fully deployed. The ministry is conscious that demand for long-term care has outstripped capacity in the community. With an ageing population and changing demographics, Bermuda, like many countries, is being challenged by this. The ministry has put in place a long-term care action plan, which includes initiatives to address capacity. In addition, HIP and FutureCare offer the personal home care benefit to enable persons who qualify to be cared for at home. We recognise that families are struggling and we must call on the community to be part of the solution in caring for our seniors, as institutionalized care is not always necessary. Seniors who don't have acute medical needs are better cared for outside the hospital, and we urge families to step in and work together to get their loved ones into the appropriate care setting."
2017. February 22. A spike in demand, including "far higher" levels of flu and respiratory illness, is stretching the bed capacity at King Edward VII Memorial Hospital. Problems discharging senior patients have made the situation worse and the facility is using its General Wing for acute admission. A Bermuda Hospitals Board spokeswoman said that non-essential surgeries might be delayed while the hospital tries to free up additional beds to cope with extra demand. The surge in admissions is highest in the senior population, and the public has been asked to use GPS whenever possible. There were 279 Emergency Department visits in the three-day period from Saturday to Monday, with more than three hours for each patient. The maximum number of beds in the Acute Care Wing is 90. Edward Schultz, the Emergency Department chief, said staff were working "around the clock". He asked for the community's understanding and patience. Judy Richardson, the chief of nursing, said that the lack of community home beds for elderly patients had made it "increasingly difficult to discharge people when they no longer need acute care services to free-up capacity". The public has been asked to help by bringing home relatives who are ready to be discharged.
2017. January 26. The General Consent form will be applicable in all departments at King Edward VII Memorial Hospital from next Monday. The form, which was introduced in some departments last August, ensures all patients expressly consent to their care before receiving medical treatment or services. Bermuda Hospitals Board said in a press release: "Traditionally it has been assumed that anyone attending the hospital wanted treatment. Introduction of the General Consent form now formalizes this relationship. The General Consent form covers routine medical care and non-invasive procedures. Simply put it is your consent to care. It is worth noting that BHB has always required consent forms for invasive procedures such as surgery and blood transfusions, and that use of these will continue. Members of the public do not have to sign the form but failure to sign it means no treatment or services will be given. Processes are in place for those who are vulnerable and unable to sign on their own behalf. These processes will be extended and used with this additional consent form." For more information, visit www.bermudahospitals.bm or call 239-1553.
2017. January 20. The community is being invited to join a conversation about improving services at King Edward VII Memorial Hospital and the Mid-Atlantic Wellness Institute. Bermuda Hospitals Board will be hosting an "Open Space" event next month where members of the public can give feedback, ask questions and set up conversations important to them. BHB CEO Venetta Symonds stated: "A lot is said about BHB and its services. Our staff work so hard to try and get it right every day and provide excellent care. But we know we can improve and achieve our new vision of 'Exceptional Care. Strong Partnerships. Healthy Community. This community gathering recognizes the importance of the voices in our community and gives them a place to talk directly with us about how they think we can get it right more often. It is an event in which they will be heard and make a difference." According to Mrs Symonds, "BHB will not be presenting or setting the agenda, instead attendees will be able to start conversations around what is important to them. Staff will participate in the discussions, so questions can be answered if they are relevant to the conversation. But this event allows us to meet with people collectively, listen to what is important to them, act on the feedback and make improvements that will benefit the whole island. This is the first time we have ever tried something of this nature — we are handing over control of the conversation to our community. It comes from a desire to open up BHB and start a two-way dialogue to build better, trusted relationships with the people who use our services. We know it will take time for this to happen. This gathering is a first step, and if those who come find it valuable or we find ourselves oversubscribed, we will have more events like this in the future." People are encouraged to come prepared to raise what they think BHB can do to "get it right", then put it on the agenda for discussion. Discussions will be recorded and feedback publicly shared. BHB will use this information to shape its priorities for the 2017-18 fiscal year. The event will be held at Pier Six on Front Street from 5.30pm to 8.30pm on February 2. Refreshments will be provided. Space is limited to 80, so people are encouraged to book their place early by emailing bettertogether@bhb.bm.
2016. November 1. A series of free health screenings are being offered by the Bermuda Hospitals Board in recognition of Diabetes and Chronic Lung Disease Awareness Month. The Diabetes Respiratory Endocrine and Metabolism (DREAM) Centre, which provides diabetes, asthma and lung disease education and awareness, will be offering free screenings for lung function, blood sugar and blood pressure next week. The first free screening will take place on Monday at the KEMH General Wing lobby between 2pm and 5pm. The next day, a screening will be held at the Mid Atlantic Wellness Institute's first floor conference room between 2pm and 4pm. The Dream team will return to KEMH next Wednesday, holding another free screening in the Acute Care Wing main lobby from 2pm to 4pm. Debbie Barbosa, BHB Asthma educator, said: "Anyone over 40 who smokes or has a history of smoking and who finds it difficult to breathe sometimes or all the time, should come in and take the free lung function test during the screenings. If that is not possible they should contact me on 239-1652 or e-mail asthma.centre@bhb.bm. "Chronic obstructive pulmonary disease (COPD) is a serious lung disease which over time makes it harder to breathe." Meanwhile, Annabel Fountain, endocrinologist, said the Bermuda Hospitals Board Dream Centre is committed to educating the public about diabetes and seeks to lead the way in prevention locally. "We have one of the highest rates of diabetes in the world," Dr Fountain said. "It is the leading cause of blindness and heart disease on the island, but these side effects are preventable with prevention, early detection and proper management. At the Dream Centre we want to help people to control their sugar levels. Good education has been shown to be as effective at lowering blood sugar levels as many diabetes medications and regular monitoring and appropriate interventions help individuals to avoid the complications of diabetes." Venetta Symonds, BHB CEO, encouraged members of the public to take advantage of the free screenings, saying: "As healthcare professionals we recognise the importance of early detection and prevention in chronic conditions such as diabetes, asthma and COPD. I encourage you to come in and meet our Dream Centre professionals. They can help you on your wellness path."
2016. October 29. Dementia is becoming a heavy burden on Bermuda's growing elderly population, and does not spare veterans and their families who face limited options for care. A case in point is veteran Herbert Tatem, 94, whose wife, Dorothy, finds herself too old to look after him. "All I know is that he needs help now," Mrs Tatem told The Royal Gazette. "For all these years, I took care of him, and now I can't do it any more. I'm 92. I need to help myself." November, leading up to Remembrance Day on the 11th, is the time to celebrate local veterans and their families — and the poppy appeal, a key fundraiser for their help, is more urgent than ever. "Our goal is to fund a nursing home specifically for people with dementia," said Carol Everson, a welfare case worker with the Bermuda Legion. "There's a very uncertain future ahead." Mr Tatem, a Bermuda Volunteer Rifle Corps veteran, was having "a good day" when The Royal Gazette visited, according to his wife. But the housebound Mr Tatem was frank when it came to the severity of his condition, saying: "Sometimes I can't call her name." With arthritis and a heart condition, Mrs Tatem treasures the assistance of a caretaker, but is increasingly troubled when she thinks of the future. "My muscles are worn out," she said. "And Herbert can't help me with anything." The island has almost 200 war veterans and widows, according to Ms Everson, with dementia and Alzheimer's becoming an unfortunate reality for growing numbers. "There are only three facilities on the island that can adequately care for people with high levels of dementia. Two have been full for months. The third, Westmeath, has a high cost, which is a deterrent to many. The Tatems are better off than a lot of others, but their lives are nonetheless on a downward slope." The legion provides a broad range of assistance to veterans, with the ultimate dream of raising sufficient funds to offer a badly needed nursing home and assisted-living facility — something Ms Everson concedes is "a very, very big endeavour — it's very much blue-sky thinking". However, from November 1 to 11, the poppy appeal is the most visible public face of that effort. "Any chance for people to help during the poppy appeal, by distributing poppies for donations, is very gratefully received," Ms Everson said. Poppy wreaths are provided to the legion by the Royal Bermuda Regiment for distribution in schools, churches, or for any other organisation that wishes. To get involved, to donate, or to pitch in for the legion's tag day in Hamilton on November 7, call 703-1020, 293-3975 or email nosoldierleftbehind@hotmail.com.
2016. October 19. St George's South MP Suzann Roberts-Holshouser is encouraging medical professionals to take advantage of "a golden opportunity" in the East End. It comes after the Bermuda Hospitals Board announced that it was seeking ideas about how to optimize the "underutilised" Lamb Foggo Urgent Care Centre and improve community health. According to Ms Roberts-Holshouser, the facility would be an ideal business location that could help fill healthcare gaps in St David's and St George's. However, Lovitta Foggo, the Progressive Labour Party MP for St David's, said that while she was keeping an open mind about the development, any attempt to reduce "what little services" the facility still offers would be met with opposition. Ms Roberts-Holshouser said: "I would certainly encourage anyone within the medical industry to take a serious look at the opportunity that is now being offered to them of having maybe a secondary location or perhaps their one and only location. I think it's a golden opportunity. St David's will continue to always grow. It's not stagnant whatsoever and its an ideal location for a business to establish itself." She added: "Clearly we need to keep the clinic open, that is not even a question." She said this is directly based on the needs and wishes of the St David's and St George's communities. But she also stressed the need to "utilise to our best ability what we have". Ms Roberts-Holshouser suggested that a dialysis unit in the East End would be "extremely beneficial". She added: "While one would use it on a regular basis, it's also there in case of an emergency. I do know that there are individuals in St David's that would love to have an opportunity to have their dialysis at the clinic. If we are shut off for any unknown reason, it just means that there is one more safeguard, one more thing we don't have to think about." A presence by asthma charity Open Airways could also be beneficial, she said, as well as a private pharmacy. "Although there is a pharmacy in St George's, the pharmacy that we had at White and Sons was, as far as I am aware, well utilised." The BHB announced on Monday that it had started a request for information process to improve the UCC's use. The facility had been earmarked for closure in 2013, with BHB stating at the time that it was servicing only a small handful of patients and losing money every year. About 100 protesters marched on the House of Assembly in a bid to save the centre, and the Government ordered the BHB to keep the facility open for the next six months while an arrangement for an alternative facility were worked out. However, in November 2014, Michael Dunkley, the Premier, indicated in Parliament that it would remain running for at least another year. Scott Pearman, the chief operating officer at King Edward VII Memorial Hospital, this week described the facility as "a prime yet under-utilized healthcare facility". "There is a clear opportunity for primary care, specialist physicians or allied health providers to make recommendations that would add value and improve the health and well-being of the East End and the community in general." Mr Pearman said that making the facility's spare capacity available to entrepreneurs would increase "the productivity of existing healthcare resources". And he added that the RFI process would help BHB develop an effective and focused request for proposal because it will have a much clearer idea of potential market solutions. The BHB also stated that it was committed to maintaining the present remit of the UCC, including the out-of-hours urgent care service, the opening of the facility when the Causeway is closed, and the use of the facility in the event of a disaster in the East End or at the airport. And while it is open to all responses and ideas, provided they are consistent with its corporate strategic plan and healthcare mandate, the BHB will not consider proposals that compromise the existing standard of out-of-hours services available to residents. Ms Foggo told this newspaper that she would be "watching carefully" how the situation unfolds, with some members in her community having already raised concerns that they would lose "what little services" the facility still offers. "At this point in time, we are standing back and observing with a watchful eye, with hopes that whatever develops is going to be a win-win situation both for the community of St David's and for the BHB. We're hoping that at the very least, the urgent care centre can return to operating from 8am to midnight as it used to do. But anything that will look towards reduction in services provided to the public by the urgent care facility will be met with opposition." The RFI document can be obtained from Anthony Hunter, director of commercial procurement, by e-mailing Anthony.Hunter@bhb.bm by October 21. The closing date for respondents is November 1.
2016. September 19. The Bermuda Hospitals Charitable Trust has named Lisa Sheppard as its new development director. Ms Sheppard, a former reporter at The Royal Gazette, will be tasked with fundraising for both the BHCT and the Bermuda Hospitals Board after being promoted to her role from within the Trust. "I am very excited by this opportunity to give back to my community," said the Bermudian in a statement. "There are so many great initiatives being under taken by the BHB. Healthcare is so important for all of us, and it's an honour to be able to help in such a tangible way." BHCT chairman Jonathan Brewin said: "I am delighted that Lisa has strengthened our team, as we strive to maximize support to the BHB. She has already demonstrated great energy and commitment to the development of the BHCT, and I look forward to working closely with her." BHCT executive director Ralph Richardson added: "Lisa's maturity, experience and temperament have been the key influencers in our decision to promote her to this new role. "We are looking forward to great things from her."
2016. August 10. The public is invited to share comments, concerns and questions about the island's health system at a town hall meeting. The event is being organized by the Bermuda Health Council, which will also answer questions and clarify misconceptions. The meeting will be held at the Wesley Methodist Church Hall, Pembroke, from 5.30pm to 7.30pm on August 22.
2016. August 10. A general consent form has been introduced for Bermuda Hospitals Board patients receiving routine medical care and non-invasive procedures. The form is an addition to the list of required consents presently in place for patients and will become mandatory for all patients "over time", according to a BHB statement. "In our mission to provide exceptional care and a healthy community, we want to ensure that you are informed about your needs and that we have your permission to provide the best options available for healthcare diagnostics and intervention at the earliest possible opportunity," BHB CEO Venetta Symonds said. "In fulfilling this mission we also need to know that every person that has been afforded our medical services or treatment, has given their permission to receive it and been apprised of their right to refuse it. We understand that no one wants to feel forced into healthcare decisions especially as these are often needed at times when we are most fragile and vulnerable." The statement added that while it had traditionally been "assumed that anyone attending the hospital wanted treatment", the form now formalizes this relationship. The general consent form covers routine medical care and non-invasive procedures. Simply put it is your consent to care." BHB has always required consent forms for invasive procedures such as surgery and blood transfusions, and use of these will continue. At present, patients of the Diabetes Respiratory Endocrine and Metabolism Centre, Fracture Clinic and Allied Health Services are asked to complete it if they want treatment or services. Members of the public do not have to sign the form but failure to sign it means no treatment or services will be given. Processes are in place for those who are vulnerable and unable to sign on their own behalf. These will be extended and used with this additional consent form.
2016. July 24. The Bermuda Hospitals Board has imposed a smoking ban on the grounds of the King Edward VII Memorial Hospital and the Lamb Foggo Urgent Care Centre. Starting on Monday, August 1, it will be an offence to smoke anywhere on these properties. "The BHB is collaborating with the Ministry of Health and Seniors to institute the ban in compliance with the Tobacco Control Act 2015," said a spokesperson. "The Act mandates that no smoking will be allowed inside or outside health facilities. It also stipulates that cigarette, cigarette products and smokeless tobacco cannot be sold in health facilities. Patients, visitors and staff will all be bound by the Act. BHB will erect no smoking signage and hospital security staff will take appropriate action with violators." KEMH Chief Operating Officer Scott Pearman added: "As healthcare professionals we are well aware of the risks associated with smoking. We also recognise that the change will prove a major adjustment for many smokers, but believe all will understand that it is entirely the right action to take. At BHB part of our vision is to build healthy communities. This is another step in that direction" Meanwhile, the Board have advised that Lamb Foggo Urgent Care Centre (UCC) in St David's will be open throughout the Cup Match holiday. On Thursday and Friday the facility will be open between 4.00pm to midnight, on Saturday and Sunday from noon to midnight. "Please note that if your condition is serious, you should go straight to the Emergency Department of King Edward VII Memorial Hospital (KEMH)," said a BHB statement. "There are very limited diagnostic imaging (x-ray) and laboratory testing capabilities at the UCC. The UCC offers services to assess and treat minor illnesses or injuries that need immediate attention, but are in no way life threatening and are not likely to need surgery or sophisticated diagnostic equipment. This includes sprains, strains, scrapes, cuts, coughs, colds, earaches, bumps and bruises. The UCC is open every weekday from 4pm to midnight. Regular Saturday and Sunday hours are from noon to midnight. BHB also reminds the public that KEMH Emergency Department physicians see and treat patients based on the seriousness of their conditions, not in order of arrival. Emergency Department staff will tell you your level and expected wait time when you arrive." Below are the approximate wait times for each level of severity:
Level 1: Immediate
Level 2: 10 to 15 minutes
Level 3: 30 to 45 minutes
Level 4: 1 to 2 hours
Level 5: 2 hours or more
Persons wanting to contact the UCC, can call 298-7700. To contact the KEMH Emergency Department, call 239-2009.
Renovations to Agape House have been completed and patients are now back in their rooms. In February, the hospice's operations temporarily moved inside the hospital so that repairs, including electrical, plumbing and flooring upgrades, could be undertaken. All patients were relocated to the renovated building last Thursday.
2016. July 23. Two Cabinet ministers appear at odds over whether the six-figure salaries earned by hospital executives should be made public. Home affairs minister Patricia Gordon-Pamplin told The Royal Gazette she stood by a statement she made as health minister in 2013 that the wages and other perks should be disclosed. But health minister Jeanne Atherden said she was satisfied the Bermuda Hospitals Board had been transparent and "provided the appropriate information" with the release of broad salary bands. As well as the salary bands, the board has revealed how much its chief executive officer earns but has not released the salaries for the rest of its executive team, despite a public access to information request from The Royal Gazette. And BHB chairman Peter Everson this week maintained that releasing the individual information is not mandated and violates their employees' privacy. Weighing in as former Minister of Health, Opposition MP Zane DeSilva revealed how he was persuaded to "keep a lid" on the salary details in 2011 but personally believed such information "should be posted" when taxpayers' cash was involved. He noted the BHB received more than $145 million annually from the public purse — the largest payout to any public authority by the Government — and said: "The subsidy they get is large. I don't have any problem with publishing any wage." The salaries paid to the executives who run King Edward VII Memorial Hospital have long been the subject of speculation and, while in Opposition, the One Bermuda Alliance pledged to reveal them. Ms Gordon-Pamplin said in January 2013, as Minister of Health, that the "BHB legislation requires full disclosure". She conceded that "there are some things that may need to be relatively confidential" but added: "When we are spending public money, we have an obligation to let the public know where that money is going." She stood by her statement this week, telling this newspaper: "I've not changed my opinion. On the financial statements, they have listed specifically the salary of the CEO but they also indicated that there were ten positions above that, that had not been specifically listed. It is still my contention that auditing practices and best accounting practices should require disclosure and it should require detailed disclosure. I think this is a matter for the new Minister and also a matter for the Auditor-General. But that's the position I took then and, in the absence of any new information to the contrary, it's the position I still hold." Ms Atherden said according to the Bermuda Hospitals Act 1970 the "scales of salaries and wages paid to officers and servants of the board" should be released as part of BHB's annual financial statements. I believe that this is a matter of public accountability and transparency," she added. "I am also acutely aware that one must balance personal privacy with transparency. I am satisfied that BHB has provided appropriate information in the salary bands released on May 16 of this year, well in advance of the recently released annual report 2011/2012. BHB's reporting is consistent with or exceeds similar information from other quangos and includes the CEO salary as part of the information released." In 2011, Mr DeSilva refused to divulge the salaries in the House of Assembly. He told MPs that publicly-funded quangos were under no obligation to share individual salary information and said claims by Louise Jackson, his counterpart on the Opposition benches, that executives earned up to $800,000 were "pie in the sky". Mr DeSilva said this week: "My personal view is that when you have taxpayers' money [involved] ... everybody's wage should be posted." He claimed he was persuaded by the hospitals board and his Ministry of Health advisers that the salaries should be kept secret. "The reason I supported the advice I was given was because it was the hospital. The advice I was given was that, in terms of health, they convinced me that this is not something that you want to put out there." Asked who convinced him, Mr DeSilva replied: "The board, the technical people, my permanent secretary. I said 'look, let's just put it out there'. They said 'listen, Zane, you have spent a lot of time in the private sector. This is very delicate and confidential information. Our advice to you is that it shouldn't be put out there'. I took that advice. They said it could very well harm any negotiations in the future with regards to replacements of executive staff. I said 'OK'. Sometimes you look at information that's given to you and you have to make a decision based on the information received." The Progressive Labour Party backbencher said the hospitals board was "adamant" the salaries shouldn't be disclosed, naming former CEO David Hill, former chief of staff Donald Thomas and current CEO Venetta Symonds as among those who persuaded him of their view. "They said 'it's best to keep a lid on it'. I said, 'OK'." He suggested Ms Atherden should ask questions of the hospital and her Ministry team about why full details of the executive team's compensation packages have still not been revealed and whether they now ought to be. "I think the public wants to know," he added. Mr DeSilva, who was Minister of Health from 2010 to 2012, said he was a businessman who was always able to make his own decisions when in Cabinet but was also a person "who takes advice". Given the same advice again, he added, he might still decide not to disclose the information. BHB's disclosure in May revealed that Ms Symonds, a Bermudian, received annual total compensation of $469,979, compared to the $650,536 package given five years ago to Mr Hill, a guest worker. As well as the CEO, there are six other members of the executive team at BHB. This newspaper's Pati request asked for details of all their salaries. We have appealed the BHB's failure to release the information to the independent information commissioner. Mr Everson maintained this week that releasing the individual information is not in the public's interest and violates their employees' privacy. "The public disclosure of individual salaries for BHB's staff members is not mandated by the Act, does not serve the public interest and violates our employees' privacy." He said the release of salary data, which included information for each of the salary bands and also included details of the CEO's annual salary, in May, was "in accordance with the Bermuda Hospitals Board Act 1970". This states the scales of salaries and wages paid to officers and servants of the Board' should be released as part of our annual financial statements. BHB's release of banded salary information puts the organisation in line with, or ahead of, other local quangos. The Minister of Health and Seniors has approved this format."
2016. July 22. The Bermuda Hospitals Board has released information about the basic pay and incentives for its chief executive officer. The data pertains to the fiscal years ending in 2010 and 2011, and comes after the quango released some "compensation data" in May. "On 16 May 2016, Bermuda Hospitals Board publicly disclosed the chief executive officer's annual salary for the previous five fiscal years through FY2015/16. "Today we provide the basic pay plus incentives for the chief executive officer position for the two years prior to the period already disclosed: FY2009/10: $441,000; FY2010/11: $474,000." For more information, visit www.bermudahospitals.bm.
2016. July 15. Bermuda Hospitals Board's annual report for 2012 shows how managers battled to improve quality in tough economic conditions, according to chairman Peter Everson. The report, delayed after the Auditor-General called for a review into its financial statements of 2011-12, was released today and reveals an unqualified audit was achieved for that year. "The challenge became about continuing to improve quality while cutting costs," Mr Everson said in a statement. "I am pleased we have been able to complete our financial obligations for the 2011-12 fiscal year and publish the annual report. We have, as promised, included salary data in the annual report, although salary data from 2011-12 up to 2015-16 was publicly released earlier this year. 2011-12 was a financially difficult year for BHB although much was achieved, including a successful accreditation, quality improvements and new specialities being offered. BHB was under the stewardship of a different CEO, chairman and board, and it was the first year that BHB felt the serious effects of Bermuda's economic downturn. Efficiency measures prior to this year were being implemented as part of BHB's preparation to meet the financial obligations of the new Acute Care Wing once it was completed in 2014." Mr Everson said the original plan was to pay for the new wing through a 1 per cent fee rise above inflation plus a 1 per cent efficiency saving within BHB per year, for a period of five years. However, he said the inflation plus 1 per cent fee rises could not be met due to the economic climate, and the focus became on making savings so that BHB could meet its obligations without hurting the Bermuda economy. He added that, on top of a low fee rise in 2011-12, BHB had to manage a write-off of Government debt of about $17 million and revenue restrictions imposed by memoranda of understanding with local insurers that lost about $20 million in revenue. "These were required restrictions due to the financial struggles of Bermuda, as they helped control escalating healthcare costs that no one on the island could afford," Mr Everson stated. "The story of how the previous and current boards began to turn the tide so that we could afford the ACW payments — as has been achieved in the fiscal year 2015-16 — will be covered in subsequent annual reports, although regular updates from BHB have described the budgetary constraints and Modernisation Project, which saw a number of major efficiency projects completed." Explaining the delay in the report, Mr Everson said: "While we are obviously disappointed to be behind on our reporting, the delay was initially caused by a review of the 2011-12 financial statement. The Board made a summary of the Auditor-General's review of 2011-12 available in October 2013, and diligently implemented recommendations to strengthen due process and governance while finalising the auditing process. We are very pleased that our financial statements for this year are unqualified, and recognise that we must continue to maintain and improve our standards to ensure the next few years can be worked through as efficiently as possible so the audited financials can be presented to the public." Venetta Symonds, BHB CEO, stated: "I am very pleased to see this annual report released. It represents the first step towards getting all our financial reporting obligations up to date. Despite BHB feeling the harsh realities of the economic downturn, it was an important year where we achieved hospital-wide accreditation, made improvements to medication management, introduced cutting-edge screening for cervical cancer, and completed the ward renovation project in the General Wing. A new CT scanner went live, thanks to a generous donation from the Hospitals Auxiliary of Bermuda. Construction of the new Acute Care Wing continued, and work started in earnest to prepare for the safe transition of services once it was completed. The story of the year perhaps was the impact of the economy, but within BHB the story became about the heart and passion of our staff, who sought every way to cut costs while ensuring the services they provided kept pace with continually changing international quality and safety practices. Like an actual storm, BHB does not have the luxury of ceasing or restricting services no matter what the challenges, and our accreditation process requires us to continually improve. When people are hurt or unwell and need care, our doors must be open, and this remains our commitment to care for our community." The full 2012 Annual Report can be accessed on the BHB website at www.bermudahospitals.bm/bhb/pdf-downloads/annual-reports/AnnualReport-2012.pdf.
2016. May 16. The maximum pay for executives and physicians at King Edward VI Memorial Hospital has decreased, according to figures released by Bermuda Hospitals Board today. Compensation for executives — including base pay, performance pay and any housing allowances/relocation expenses — has dipped from $650,000 in 2011-12 to $470,000 in 2015-16 while the maximum for physicians has plummeted from $1.69 million to $694,700 during the same period. The maximum total — including tax and payroll deductions — fell from $703,500 to $504,200 for executives and from $1,788,700 to $742,500 for physicians. The CEO's wage dropped by more than 28 per cent — slashed from $703,356 to $504,179. Meanwhile, the total compensation for BIU employees, such as nursing aides and non-managing staff, has risen slightly from a range of between $41,900 and $94,500 to a range between $42,600 and $102,000. And BPSU employees, including managers, clinical directors, registered nurses and psychiatrists, saw their minimum total compensation fall while their maximum total increased. The total compensation range for such employees in 2011-12 was between $48,800 and $206,300; the range in 2015-16 was listed as being between $44,200 and $244,600. A BHB statement also noted there has been a freeze on executive salaries and there has been no performance-based pay since 2011-12.
2016. May 10. The Bermuda Hospitals Board has pledged to release full details on the salaries and benefits enjoyed by its executive officers this month. The publicly funded quango rejected a public access to information request for the records from The Royal Gazette this year because it said it had to release them anyway within three months, under separate legislation. The three-month period cited by the board in its refusal letter ended on April 26, but the information still was not made public. This newspaper has appealed the refusal to disclose to the independent Information Commissioner, as is the right of requesters under the Pati Act 2010. Asked to comment this week, a BHB spokeswoman said: "To ask BHB to respond through the media at this time circumvents the process set out in the Pati Act. This is the subject of an active inquiry by the information commissioner and this inquiry is not complete. BHB wishes to respect the process that is legislated and will therefore not comment at this time, other than to state it will be making salary data public later this month as planned." The amount paid to the executive team that runs the island's only hospital has long been the subject of speculation, including in the House of Assembly, but the board has resisted revealing the information, arguing in the past that it was confidential. The One Bermuda Alliance pledged while in Opposition that it would be made public and Patricia Gordon-Pamplin, when health minister in December 2013, told MPs the information would be included in future BHB annual reports — but no reports have been issued since. The late Louise Jackson claimed in Parliament in 2011, when she was shadow health minister, that David Hill, then the BHB's chief executive officer, earned $800,000 a year and then chief of staff Donald Thomas earned $700,000. Mrs Jackson insisted the salaries, bonuses and other perks should be made public, but Zane DeSilva, health minister at the time, said quangos were under no obligation to make such information available. The Bermuda Hospitals Board Act 1970, in section 20(2)(b), requires the BHB to deliver an annual report to the health minister, which includes the "scales of salaries and wages paid to officers and servants of the board". It was this section of the Act that the BHB's information officer cited in her refusal to release the information to The Royal Gazette under Pati. She wrote: "Please be advised that pursuant to section 16(1)(d) of the Public Access to Information Act ... the Bermuda Hospitals Board is refusing to grant your request on administrative grounds, namely that the salary information that is required by law, pursuant to section 20(2)(b) of the Bermuda Hospitals Board Act 1970, will be made public within the next three months." The BHB has not released an annual report since September 2012. Its website features reports for the years 2004 to 2011, but none give details of the individual salaries and bonuses funded by taxpayers. The board spokeswoman said: "We are working on the 2011-12 annual report right now and this should be published shortly. As soon as we have audited financial statements for 2013, 2014 and 2015, they will go into production. They will all include salary data for the relevant years." She added: "We have checked BHB annual reports back to 1976 and salary data has never been included. This indicates that the historical interpretation of the Act had been not to print the ranges publicly. The same practice was followed by other Bermuda quangos, until recently." This newspaper asked the BHB to share salary information on its chief of staff's salary in July 2012, but a spokeswoman told us: "BHB salaries are not public information."
2016. February 18. The demand for mental health services in Bermuda has spiraled in recent months, while the Mid-Atlantic Wellness Institute continues to face inflationary rises and government funding cuts. In 2015 711 patients were seen by the MWI Acute Care Clinic; a rise of more than 100 from 2014 and more than 400 from 2000. In the last five years the facility's government grant has been cut twice and reduced by more than $2 million. Kelly Madeiros, a manager for Court Services who helps coordinate Mental Health Court, told The Royal Gazette that investment in mental healthcare "was needed to save lives. The combination of the rise in unemployment and the cost of living, the inability to meet basic needs such as food, shelter and healthcare as well as challenges in obtaining financial assistance have a great impact on people's mental health. On top of these challenges are what people face individually when they are faced with unemployment which contributes to different mental health conditions like anxiety, depression and substance abuse which is rejection, low self-esteem, defeated pride and strain on family relationships." Ms Madeiros said the rise in MWI referrals highlighted the need for a robust social safety net as well as early intervention programmes to reach young people showing signs of mental illness. She added: "This doesn't represent the people seeking assistance through their GP's which I would guess would at least double the numbers of people seeking help for mental health issues. If the numbers seeking assistance is rapidly increasing and the funding decreases, the services are only going to be able to put out fires and not provide the care that is required in assisting people to long term wellness." Ms Madeiros called for large investment in modern practices that offer mental healthcare in the homes and the communities of the people who need help. "This would include intensive rehabilitation for recovering from acute and chronic episodes of mental illness. There is a great mental healthcare plan that was written a few years ago, it should be implemented. We need to ensure that every General Practitioner has current mental health training to screen for mental illness." Since 2010/11, when the grant to MWI was $39,578,000, the funding has dropped twice in 2011/12 and 2013/14 and is presently $37,344,000. A Bermuda Hospitals Board spokeswoman told The Royal Gazette that BHB was working closely with Government to look at resourcing in mental healthcare and had started a "strategic planning process" to find ways to strengthen mental health services and build on the 2010 Mental Health Plan. "MWI has reshaped its services to become more community focused following the launch of the plan, but this is certainly an area that can be strengthened. Many service users have a dual diagnosis of mental illness and substance abuse/misuse. In such cases, the concurrent use of drugs or alcohol can be associated with an exacerbation of psychiatric symptoms or with decreased medication compliance. Another factor leading to increased referrals is the increased exposure to violence in our community which may lead to an acute stress reaction. People may also be more likely to use MWI services rather than access a private psychiatrist or psychologist if they are experiencing financial hardships. It is hard to extrapolate MWI figures to the country as we don't see everyone and there are other private practices and organisations who provide counseling and consultations."
2016. January 11. The Minister of Health gave permission for hospital chiefs to hire a non-Bermudian as chief financial officer without advertising the job, The Royal Gazette can reveal. The Bermuda Hospitals Board told this newspaper that David Thompson was given the "very senior position" for a two-year period after his predecessor Delia Basden resigned in 2014. A spokeswoman said: "The current BHB CFO, Mr Thompson, was initially seconded from PricewaterhouseCoopers as an interim CFO in 2013 while the Auditor-General carried out an investigation and the existing CFO, Ms Delia Basden, was on administrative leave. BHB was not able to hire a new CFO during this time as Ms Basden was still a BHB employee. Ms Basden subsequently tendered her resignation in 2014. Given the very difficult financial challenges that BHB was dealing with, and the amount of time a full recruitment process and orientation for this very senior position would take, approval was sought by the board from the Minister of Health to appoint Mr Thompson as CFO for two further years. The post was therefore not advertised in 2014." The spokeswoman confirmed that Mr Thompson, who specializes in public sector financial management, was a work permit holder. She said the CFO position was legislated in the Bermuda Hospitals Board Act 1970 and appointment of the position was the responsibility of the board and required the approval of the health minister. Mr Thompson's biography on the board's website states that he was seconded to cover the CFO position in March 2013, having more than 20 years experience in public practice and having acted as director of finance for two UK government departments. In April 2014, then BHB chairman Jonathan Brewin said Mr Thompson would continue as interim CFO while the "board considers the best long-term solution for the post to meet [the] needs of BHB and ensure it continues on the path towards financial sustainability." Jeanne Atherden became Minister of Health in May 2014 and Mr Thompson was appointed as CFO two months later, according to the BHB website. His two-year contract will end in June this year. The BHB spokeswoman said: "The board is currently deliberating on the expertise needed to fill this critical position in what remains a very challenging financial situation. "Due process has been followed consistently throughout. The board will decide whether it will continue to appoint this position through a secondment or hire substantially into the role." The BHB revealed in June 2013 that it was facing a cash crisis and Ms Atherden told the House of Assembly in March last year that it was expected to run out of cash "in the near future." A six-month unaudited financial update released last week showed revenue of $156.5 million and expenses of $151.6 million. The results of the Auditor's 2013 review of BHB's finances have yet to be made public. The Royal Gazette asked Ms Atherden for comment but a ministry spokesman said that "no further comments can be made" on the statement. The BHB spokeswoman did not respond by press time to a question about the amount of the CFO's salary.
2016. January 6. The MRI scanner at King Edward VII Memorial Hospital will be out of service for about three weeks. According to a Bermuda Hospitals Board spokeswoman, a "major component" of the scanner needs replacing. "Unfortunately this will result in the MRI scanner at KEMH Acute Care Wing remaining out of service for approximately three weeks," she said. "BHB clinicians will work collaboratively with Bermuda Healthcare to secure access to another machine for urgent cases. BHB will issue a release when the scanner service resumes. We apologize for the inconvenience this may cause."
2016. January 4. Hospital authorities have revealed information about 13 adverse events in the past five years which, in some cases, led to the death or permanent injury of patients. The Bermuda Hospitals Board disclosed the information in response to a public access to information (PATI) request from The Royal Gazette for details of all "serious or untoward incidents" at King Edward VII Memorial Hospital since 2011. There were two such events in 2011, one in 2012, five in 2013, two in 2014 and three in 2015, according to the board. The list provided shows that of the 13 patients involved in the incidents, five died as a result of the hospital's actions and one, who was given surgery on the wrong part of their body, died as a result of their original ailment. One patient suffered permanent harm and another long-term harm which was potentially permanent. In one case there was no adverse outcome to the patient, while four patients suffered temporary harm and made a full recovery. Although this newspaper asked for details of each event, the BHB shared limited information on the circumstances. In three of the cases where patients died as a result of the hospital's actions, there was a delayed or missed diagnosis. In another fatal case, a patient fell and the hospital concluded that the event was "likely unpreventable". A fifth fatal case was described as a "monitoring event" which prompted the development of "improved monitoring procedures" at KEMH. In the case involving permanent harm, a patient fell. The incident led to a review of the process for patient's getting permission to leave a clinical unit and "strengthened communication" among staff. The case which resulted in long-term harm involved a surgical site infection and led to an "intensive review to identify a definitive cause" though no cause was identified. The hospital also made "small changes to possibly prevent future recurrences" after a general review of all infection control practices. One incident involved a patient who developed ABO incompatibility, a red blood cell disease usually caused by a transfusion of the wrong blood type. The individual came to no harm but the case prompted "re-education" throughout the hospital on "blood product compatibility". A BHB spokeswoman told this newspaper: "BHB welcomes the opportunity to share accurate data, whether through Pati or its own regular reporting. We want patients to know they also are part of the solution for higher quality care. "No hospital has yet achieved the much desired zero patient harm figure, so wherever your health challenges take you, at BHB or overseas, ask questions, raise concerns, point out anything that doesn't seem right." She said patient safety was the BHB's number one priority and it saw any incident of patient harm as "unacceptable". "Like BHB, hospitals around the world work hard to avoid incidents of patient harm, but no hospital has yet resolved how to do so completely," said the spokeswoman. "It has been, however, much more common for adverse event information to be published in many countries and this has helped drive patient safety initiatives. Our hope is that it will be no different here in Bermuda." Our PATI request asked for information on all events at KEMH since 2011 recorded under any of the following widely-used hospital terms: sentinel, never, potentially compensatable, patient safety or adverse. Debra Goins Francis, information officer for the BHB, told this newspaper: "Sentinel events in hospitals are rare yet when they occur it is devastating for families. We have looked at sentinel events over the past five years at BHB and have provided 13 events that fall into this category. "This information should not be looked at in isolation as BHB is not [a] unique hospital environment." According to the World Health Organisation, European data, mainly from European Union member states, consistently shows that medical errors and healthcare related adverse events occur in 8 to 12 per cent of hospitalizations. The UK's Department of Health reported in 2000 that an estimated 850,000 adverse events took place annually, amounting to 10 per cent of hospital admissions. KEMH's rate of adverse events appears to be far lower but the BHB spokeswoman noted that it was "not easy" to accurately compare the Island's only hospital to hospitals in larger jurisdictions. "Our service profile is different to many hospitals because we are isolated, even when the number of beds or admissions and discharges are similar. For example, in emergency situations, BHB has to be able to stabilize and care for all people who are seriously ill or injured, even those who need specialist care overseas." The board does not provide statistics on admissions but rather discharges for KEMH. There were 5,737 discharges between April 2014 and March 2015. The 13 adverse events at the hospital over five years suggests an average of 2.6 a year — or 0.04 per cent of discharges. Ms Goins Francis said the BHB used Accreditation Canada's definition of a sentinel event as: "An adverse event that leads to death or major and enduring loss of function for a recipient of healthcare services. Major and enduring loss of function refers to sensory, motor, physiological, or psychological impairment not present at the time services were sought or began." Accreditation Canada's website says it has adopted the World Health Organization's classification of a patient safety event as any event or circumstance that could have resulted, or did result, in unnecessary harm to a patient, including harmful incidents, no harm incidents and near misses. The Joint Commission in the United States, which accredits some 21,000 healthcare organisations, reported 764 sentinel events for 2014 — with the most reported events included unintended retention of a foreign object (112) and falls (91). Wrong-site, wrong-patient and wrong-procedure surgery accounted for 67 events.
Medics at the Bermuda Hospitals Board use a system of internal self-reporting of serious events and near misses to try to prevent reoccurrences and highlight potential issues before a patient is harmed. A clinical governance committee meets every month and the entire board reviews clinical indicators, including adverse events, every month. The hospital is accredited by Accreditation Canada, which reviews adherence to thousands of patient safety standards with an on-site survey every four years and reviews processes for dealing with adverse events. The BHB also has specialized accreditation which includes on-site surveys with the American College of Radiology (Diagnostic Imaging), Joint Commission International (Pathology) and Commission on Accreditation of Rehabilitation Facilities (Turning Point). The board says it also relies on patients and families to raise concerns. A spokeswoman said: "If patients or families are concerned about any issue while an inpatient or during an outpatient visit, ideally, the first avenue should be to speak with the unit or department manager or their designate. In the event this is not possible or they are not satisfied with the response, they should contact the BHB Performance and Patient Advocate on patient.advocate@bhb.bm or call 239-1425 while they are in hospital. Complaints can be made in writing at any time during or after discharge to the quality and risk management department. Full investigations and analysis are carried out and findings are shared with patients and families, even when BHB finds the evidence supports that the organization is at fault." She advised patients: "Appoint a healthcare advocate/proxy and be sure to document your advanced directives so that your wishes are known in the event that you are unable to speak for yourself. At the same time, be assured that the people caring for you are trying their best. Most errors relate to the system not the individual, and work is undertaken every day in hospitals around the world, including BHB, that seek to ensure the safest level of care for you and your loved ones."
2015. December 8. Under a new financial deal, Bermuda Hospitals Board (BHB) stands to save nearly $16 million over its 30-year payment for the new Acute Care Wing. The savings achieved by the refinancing deal negotiated by Paget Health Services (PHS) was clarified yesterday by James Campbell, the director of hospital redevelopment for BHB. Mr Campbell likened the PHS deal to the re-mortgaging of a house, although he stressed that the savings reflected only its nominal value. "$15 million over a 30-year period is not the same as $15 million today," he told The Royal Gazette. With market conditions improved since PHS negotiated its financing for the project in 2010, Mr Campbell said the consortium had been able to go back to the banks for a better deal. Thus, BHB's annual service payments have dropped by $527,250 each year for the rest of the 29-year contract. The new hospital wing was financed under a public-private partnership, or PPP — an arrangement that has improved since years gone by. In earlier years, such arrangements had been less favorable to the public entity, Mr Campbell said: in the mid-1990s in Britain, as interest rates dropped, the private partners had taken windfall gains that had not been passed on. Under BHB's deal with PHS, however, both sides are entitled to 50-50 shares on savings through refinancing — and savings will be split on any such deal going forward, he said. The cost of the facility was set quoted as $247 million in 2011, with BHB paying $26.7 million to PHS in the first year.
2015. November 16. A new pilot scheme allowing fathers to stay overnight at King Edward VII Memorial Hospital after their babies are born will benefit only those who can afford or are allotted a private room. Guidelines were quietly rolled out last month which allow new dads, who previously had to go home when visiting hours ended at 8pm, to stay with their partners and help to look after their newborns all night. But the Bermuda Hospitals Board admitted yesterday that many families would be unable to benefit from the change in rules due to a shortage of private rooms. A spokeswoman told The Royal Gazette: "This is a pilot project and may or may not be implemented permanently. BHB recognizes that partners should be on hand to help care for their child and support the mother once their child is born. It is available to everyone, provided there is space. If there is more than one mother in a room, the service is not extended. There were only two private rooms on the maternity ward and they could not be booked or reserved ahead of time. They are allotted on a first come, first served basis. It is true that this service is only available where there is only one mother in the room. It can be that more than two mothers with insurance for private rooms are in maternity at the same time, but it is also often the case that mothers with insurance for public rooms, room alone. Mothers with public or semi-private room insurance can pay the difference for a private room if there is availability. BHB is of the view that it is better to allow this service despite the drawback, rather than not allow it. The cost of a private room is between $1,350 and $2,460 for a five-night stay, depending on a patient's health insurance plan. Patients must pay the whole amount upfront but they receive a refund if they stay for fewer than five nights. Doula Fiona Dill, who regularly acts as a birth companion for women during and after labour at KEMH, told The Royal Gazette: "The hospital have introduced a policy but my understanding is that it is entirely discretionary. It's not a blanket policy and, although in principle it is open to everybody, in practice it is impossible because of the facilities. I think this is really important for the public to know as I have had many excited mums contact me and be excited about the new policy but I have to go back to them and let them know that it is not guaranteed. So it's not something that couples will be able to go in and demand." Mrs Dill said it was clear the hospital had recognized a need and come up with a solution. The staff at the hospital are very aware of the shortcomings of the system and have listened to the complaints and needs of birthing women and their partners, which is great. They are on the ball and they are trying to make changes. But, despite their best efforts, the reality is that the facilities are not ideal and it will need much more than a change of policy to make this really work for everybody." The guidelines for the pilot scheme, which are available on BHB's website, state that fathers or other partners can stay in the mother's room to provide support but must not sleep on a bed, take a shower or wander in the hallways. They must sign a form which reads: "I understand that my stay is at the discretion of BHB staff and room availability." The BHB spokeswoman said: "Ideally, BHB would love to have private rooms for all mothers as well as comfortable bedding and washroom facilities for the partners to spend the night. However, due to financial constraints, this is not possible."
2015. November 16. Hospital authorities are being urged to let fathers stay overnight with their partners on KEMH's maternity ward before and after their babies are born. A new pilot programme lets dads and other partners stay to give support to mothers after their newborns arrive, but it does not include letting them stay past the 8pm cut-off time for visitors if their partners are not yet in full-blown labour. Fathers usually must leave the maternity ward at that time if their partners have been admitted but are not deemed to be in active labour, meaning many women go through the early stages of labour at KEMH without their husband or partner by their side. Jennie Foster Skelton, a mother of two, inadvertently had her second child at home as a direct result, she believes, of the 8pm rule. She and her husband Gary went to the maternity ward in August 2012 after her waters partially broke. Though she was having painful contractions, she was told she was not in active labour and that she should be admitted but her husband would have to go home. "It was minutes after 8pm. Please, I don't want to labour on my own," said the 37-year-old, of Pembroke. "They said you do have the option to discharge yourself. So I did." Mrs Foster Skelton went home but her contractions quickly escalated and she gave birth to daughter Emily on the floor at about 10.45pm. "Gary had called 911 but the ambulance didn't reach us quickly enough," she said. "This was my second child; I knew what labour felt like. I would not have chosen a home birth. I'm a doctor's daughter." She said the hospital should "absolutely" change its policy to let fathers stay after 8pm during early labour. "My husband was as white as a sheet for days afterwards. He was so worried that he could have done something wrong. That was as a direct consequence of the rule. The doctor and nurses were all wonderful and helpful but the rule itself was an issue." Her husband added: "In retrospect, I'm very grateful for the experience, but I wouldn't have chosen it because of the potential dangers." Another mother, who is pregnant with her second child, told The Royal Gazette about her experience at KEMH in July last year, when she gave birth to her daughter. "Despite experiencing very painful contractions, I was told that I was not yet in active labour by the midwives, and that my husband needed to leave," said the 36-year-old, who did not wish to be named. "I ended up laboring alone in the hospital room until it was time to push and my husband was hurriedly called back to the hospital. Sending my husband home only served to heighten my anxiety in a situation that was already the most stressful and painful of my life. I am relieved that the hospital now allows fathers to stay with their wives and babies after the birth. However, allowing them to stay with their wives throughout the laboring process is equally important. Until that happens, my excitement over the birth of my second child this spring is tempered by my concern that she arrive during visiting hours." Mothers are regularly admitted to the maternity ward when they are not considered to be in active labour, for example, if birth is being induced or if their waters have broken. A BHB spokeswoman said: "King Edward VII Memorial Hospital has a labour room and a maternity ward. A partner has always been allowed to stay with a laboring mother throughout the process to birth of the baby. After the baby is born, the mother and baby are transferred to the maternity ward. On the maternity ward it used to be that partners could not stay beyond 8pm. This is where the [new scheme] is being piloted. Partners can only take advantage of this service if the baby has been born." She did not respond to a question about visiting rules for fathers whose partners are admitted to the ward but are not in active labour. In 2014, 568 babies were born at KEMH. The public can e-mail suggestions for improving the pilot scheme to public.relations@bhb.bm.
2015. November 3. Ethical issues that arise over long-term care are being discussed by medical staff as part of Ethics Awareness Week. Expert Christy Simpson, the head of the bioethics department at Dalhousie University, is working with staff from King Edward VII Memorial Hospital and the Mid-Atlantic Wellness Institute until Saturday. Medical workers and community partners will attend seminars, continuing education sessions and grand rounds until Thursday. On Friday and Saturday, Dr Simpson will lead a symposium for members of the ethics committee at the Bermuda Hospitals Board. The public can visit the lobbies of MWI and the KEMH acute care wing and general wing throughout this week to learn more about ethics and long-term care. Sharon Alikhana, the ethics committee chairwoman and director of palliative care, said: "With an ageing population worldwide, long-term care is an increasingly relevant topic. But it's not only the elderly who need this kind of care. Our younger adults with physical or learning disabilities, early onset dementia or other enduring illnesses may also need long-term support. There are community resources that can help some individuals maintain their independence rather than requiring residential care. These clients, their families and their service providers may also run into ethical issues surrounding their medical care and life decisions." Dr Chantelle Simmons, the chairwoman of the ethics education subcommittee and chief of psychiatry, added: "Ethics is about making decisions based on a shared understanding of right and wrong. It's about doing the right things for the right reasons. Some of the ethical dilemmas those involved in long-term care might face include questions around whether an individual has the capacity to make decisions about their care, living situation, lifestyle or finances. For those who are seriously ill, ethical questions may arise about end-of-life decisions like advance directives, feeding and life support." The BHB ethics committee, which has about twenty members, assists clients, their families and healthcare professionals who are dealing with ethical issues around medical care. The group formed a relationship with Dalhousie University's bioethics department more than a decade ago to provide training assistance. The committee promotes awareness of ethical concerns at both hospitals, endorses medical ethics education, provides an ethics consultation service and produces guidelines on prominent issues that can help healthcare professionals to consider all aspects of controversial decisions. The committee also reviews medical research proposals on request, and reviews hospital policies to ensure they are ethically sound. The public can contact the committee on 291-HOPE (4673).
2015. October 22. Bermuda Hospitals Board has gone public on its use of a contrast dye which is being investigated in the United States for potential harmful effects (see below). The board, which recently apologized and paid compensation to widower Allan DeSilva for administering the gadolinium-based substance to his wife Sylvia for an MRI scan in March 2008, said yesterday it introduced a formal policy on how the dye should be used a month after it was given to Mrs DeSilva. A spokeswoman said King Edward VII Memorial Hospital followed recognized best practice and now only ever used gadolinium when clinically necessary, screening every patient beforehand for potential kidney issues which could react badly with the dye. Mrs DeSilva, a diabetic, developed the rare and debilitating illness nephrogenic systemic fibrosis (NSF) after having four doses of gadolinium — two at KEMH and two at Brigham and Women's Hospital in Boston. She died aged 72 in August 2012, leaving her husband and daughter Donna bereft. The US Food and Drug Administration (FDA) warned doctors in 2006 and 2007 to carefully assess the need for performing MRI scans with gadolinium-based contrast agents (GBCAs) in patients with advanced renal failure. Mrs DeSilva, who had a history of kidney problems, was given the drug at KEMH the following year, which the BHB spokeswoman admitted yesterday should not have happened. She would not comment on why the patient was given gadolinium after the warnings were issued, as she said it would breach patient confidentiality. The spokeswoman said: "BHB has already agreed with Mr DeSilva that his wife should not have had the test in March 2008. BHB has apologized to Mr DeSilva and his family for this and entered into an agreement as reported in detail in The Royal Gazette last week. "In March 2008, BHB was aware of gadolinium concerns for a small group of patients and, while it was in the process of finalizing its formal policy, which was signed in April 2008, patients with kidney disease who had increased risks for MRI tests using gadolinium should not have had the test. Given that another US hospital also gave Mrs DeSilva the same test twice the year before, however, it is not possible to know at what point Mrs DeSilva developed NSF." The BHB spokeswoman said she could not comment on who was responsible for sharing FDA warnings with KEMH staff at the time the drug was administered to Mrs DeSilva. "This is a constant and ongoing process," she said. "There is no one person responsible for all advisories, but managers and clinical educators in different areas have to constantly inform staff of updates. "Certain advisories come from vendors, others through professional associations. Healthcare advisories and best practices constantly change." In 2010, the FDA advised medics not to use three branded GBCA drugs in patients with chronic, severe kidney disease and in July this year it announced it was investigating the risk of brain deposits following repeated use of GBCAs for MRIs. The BHB spokeswoman said the board was assisted by Johns Hopkins Hospital in Baltimore in developing a formal gadolinium policy, which was in place by April 2008. "This was not a simple response," she said. "Gadolinium is still a standard for many MRI tests and so the guidance had to help physicians and diagnostic imaging staff assess patients and balance the clinical urgency of the test against the risks. The warning can only advise of potential adverse reactions. A clinical assessment has to balance whether a patient could be more adversely impacted by not being tested and so not receiving appropriate treatment based on the results, or the risk of the test itself. This is true of all diagnostic tests." BHB's formal policy now ensures patients take a kidney function test and sign a consent form before gadolinium is administered. MRI scans using contrast agents are only conducted with a physician's referral. The spokeswoman said BHB followed the FDA's July 2015 advice to limit the number of tests using gadolinium to only those that are clinically required. "We are the only diagnostic imaging provider in Bermuda who, over the last two years, has implemented clinical guidance around tests specifically to address over use and repetitive exposure to either radiation or contrasts," she added. BHB conducted 3,019 MRI scans in 2014 and 15, compared to 5,137 in 2010 and 11. The board attributes the reduction in part to stricter guidelines on carrying out scans only when clinically necessary and on competition on the Island. Last week, gadolinium was used in 33 of the 108 scans conducted at KEMH. Kidney disease is rising in Bermuda — in March this year KEMH had 166 dialysis patients, compared to 54 in 2002 and 2003. Mr DeSilva, 80, who founded Bermuda Healthcare Advocacy Group to press for more accountability for the Island's only hospital, urged patients to find out the facts about gadolinium before consenting to an injection. Recalling his wife's last days, he said he couldn't forget how she held his arm and told him: "I don't want to die alone". He added: "It's just the sadness of losing someone before they should die. The last words she said to me, the day before her death, were 'don't let me die'."
Asking a patient to sign a consent form before being given gadolinium for an MRI scan is not necessarily the one and only right thing to do, according to a US radiology expert. Christoph Wald, professor of radiology at Tufts University Med School and interim chairman of radiology at Lahey Hospital & Medical Center in Boston, told The Royal Gazette: "We put the patient in a difficult position if we let the patient make the decision without the proper context." He explained to this newspaper the policy in place at Lahey for administering gadolinium-based contrast agents to patients, much of which tallies with Bermuda Hospitals Board's policy for King Edward VII Memorial Hospital. Both require a physician's referral for an MRI scan to be conducted and for patients past a certain age (50 for Lahey and 45 for KEMH) to have a blood test for kidney function. Where the two hospitals differ is in the responsibility they place on patients undergoing MRI scans using gadolinium. BHB has, since April 2008, asked patients to sign a consent form which warns that patients with poorly functioning kidneys are at risk of developing nephrogenic systemic fibrosis (NSF). Dr Wald said: "We do not currently have them sign consent forms. That puts the patient on the spot. I do not see how that alone would help the patient with making the best choice. I think it is critical that the physician [who ordered the scan] and the radiologist who approves it consider for each individual patient whether the benefits of the test outweigh the risks." He said it was a "very tricky business to generate the right level of medical understanding" in patients when they require medically necessary tests as they could not be expected to truly balance the benefit of the exam with the risk of harm from gadolinium themselves. NSF is super-rare. We don't want, out of fear, that people deny themselves the benefit of an important exam. Relegating any and all responsibility to the patient — a lay person — was less safe than an elaborate system of cross-checking between the physician ordering the test, lab results and the radiologist prescribing the contrast and conducting it, but he acknowledged that hospitals' policies on consent vary widely. Gadolinium-based contrast dyes are used in the majority of MRI scans but the US Food and Drug Administration (FDA) has warned of the risks of giving the drug to patients with impaired kidney function. In March 2008, Sylvia DeSilva, a patient with kidney problems, was given the dye at King Edward VII Memorial Hospital. She developed NSF and died, aged 72, in August 2012. BHB apologized and paid compensation to her widower Allan DeSilva earlier this year. Dr Wald said he could only comment on how tests are conducted at Lahey. The physician said Lahey's gadolinium policy had been in place since 2008. It requires a written order by a doctor for every MRI scan to establish clearly and for the record the reason for the examination and for a radiologist to "protocol" every request, which includes prescribing the contrast and calculating the right amount of gadolinium based on the patient's weight in order to only give the necessary minimum. "The radiologist looks at the order and decides whether that type of study is appropriate to answer the clinical question that's being asked," said Dr Wald. "The radiologist verifies that the examination is medically necessary and then decides how it's going to be done." Patients aged 50 and over — and anyone else who could have impaired renal function — are given a test known as an eGFR (estimated glomerular filtration rate) to determine kidney ability. "Nobody with a reading over 30 has ever developed NSF based on my current understanding of the medical literature," said Dr Wald. If the reading is less than 30 it indicates a serious kidney problem and the MRI needs to be approved by a radiologist immediately before the exam by special written order. Many times the radiologist will decide not to use gadolinium or recommend an alternative test. If you have a life-threatening condition that requires decision-making — if you have a aneurysm, say — you don't want to deny patients life-saving tests," said Dr Wald.
2015. October 15. Bermuda Hospitals Board has apologized and paid compensation to a widower whose late wife was given a substance which was the subject of public health warnings and may have contributed to her death. Allan DeSilva has battled BHB for three years to get it to accept responsibility for injecting his wife Sylvia, a diabetic who had kidney disease, with a contrast dye containing gadolinium in 2008 at King Edward VII Memorial Hospital — despite warnings issued by the United States Food and Drug Administration (FDA) in 2006 and 2007. Mrs DeSilva died on August 7, 2012, after developing nephrogenic systemic fibrosis (NSF), which the FDA says can occur in patients with kidney disease who have an MRI scan with a gadolinium-based contrast agent and can cause death. "I want my story to be told so that this will never ever happen again to another person," Mr DeSilva, 80, told The Royal Gazette. "My main aim is not to sue the hospital, not to take aim. It's to make this hospital more accountable and responsible for their patients. Even three years after her death, I feel the effect. I still think she's there. When I go home at night I dream about her. I think she's calling me." Mrs DeSilva was given gadolinium-based dye four times for a series of MRI scans — once at KEMH in 2005 before the FDA's warnings, twice at Brigham and Women's Hospital in Boston, and finally at KEMH on March 26, 2008. The substance is administered to give a clear view inside veins and arteries. She was diagnosed with NSF after becoming largely bedridden and finding it painful to move her joints. The tissue beneath her arms and legs tightened and the disease attacked her eyes. The couple went public about her debilitating illness in 2010, accusing both hospitals of ignoring the FDA warnings and urging them to pay for the best treatments possible. There is no cure or consistently successful treatment for NSF. Mrs DeSilva's condition worsened and she died three years ago, aged 72, leaving her husband and daughter Donna bereft. Mr DeSilva continued to press BHB to admit it had failed his wife, asking for compensation for his loss. "To go through what we did with my family, the pain was unbearable," he said. "To watch my wife die in the way she did, it's unimaginable that anyone should go through that." The board insisted Mr DeSilva prove gadolinium played a part in his wife's death, prompting him to find a pathologist in the US to review the autopsy carried out on her by KEMH. That doctor analyzed tissue samples and found gadolinium deposits in her heart, skin, diaphragm, stomach, liver, lung and kidney. Jerrold Abraham, professor of pathology at Upstate Medical University in Syracuse, NY, concluded: "Gadolinium is known to be a toxic material and it has been shown experimentally to enhance fibrosis and calcification. Thus I am confident that Mrs DeSilva's gadolinium exposure and NSF contributed to some extent to the worsening of her [kidney] disease and to her death." BHB — which insisted in 2010 that its "treatments and scans at the hospital follow best practice, evidence-based medicine" — has admitted that Mrs DeSilva appears to have developed NSF through the administration of a gadolinium-based dye, which she could not excrete because she suffered from kidney failure, and that a symptom of the NSF was calcification of her heart. Her death certificate gives NSF as one of the causes of death, as well as calcification. BHB's lawyer Allan Doughty said in a letter to Mr DeSilva's lawyer Alan Dunch in July last year: "The BHB does confirm that the advanced state of calcification in and around Mrs DeSilva's heart significantly contributed to her death." He said the alleged breach of BHB's duty of care towards Mrs DeSilva was confined to March 26, 2008, accounting for 25 per cent of her overall exposure to the dye. In March this year, Mr Doughty wrote that though BHB did not formally admit liability, it apologized and was willing to make an offer of full and final settlement. An amount was agreed upon in May, though Mr DeSilva can't disclose the figure due to a confidentiality agreement. It is understood to be a low six-figure sum. "The amount of money they offered me was, to me, an insult as to what we should have gotten if we were overseas. They offered me a minuscule amount — it's crazy. The way that the hospital treated me for three years, they sort of held me to ransom to say 'you have to have the burden of proof'. That's what hurt me the most, after what I had to endure with my wife." The widower, who was married for 52 years, set up Bermuda Healthcare Advocacy Group in 2012 in an attempt to hold the Island's only hospital to account. The pressure group aims to raise awareness about the use of unnecessary medications and highlight cases of medical negligence. "Because of the way the hospital treated me, it made me think does this happen all of the time," said Mr DeSilva. "How many other people in Bermuda go through the suffering that I went through in order to get them to admit their wrongdoing?" A BHB spokeswoman said last night: "BHB can confirm it has a policy in place regarding the use of gadolinium and it was implemented in 2008, after the FDA warning. We have worked with Mr DeSilva regarding his wife's experience and on the use of gadolinium, and we continue to review our policy and processes to reflect the latest evidence. Details around Mrs DeSilva's experience cannot be disclosed to the media by BHB as they relate to the individual, but this information has been discussed with Mr DeSilva. We certainly feel great compassion for Mrs Sylvia DeSilva and her family, and we are sorry for the DeSilva family's loss." Brigham and Women's Hospital agreed a settlement with Mr DeSilva two years ago.
2015. September 15. Each patient's hospital stay has decreased by an average of one day in the 12 months since the Acute Care Wing opened, Chief of Staff Michael Weitekamp revealed yesterday. The shortened stays mean patients are less likely to suffer effects such as depression, infections or the weakening of the immune system, Dr Weitekamp told the media. Speaking at a press conference to mark the first anniversary of the facility, he also said that the wing's 90 private rooms allow for more individualized care and attention, while the Bermuda Hospitals Board (BHB) has now instituted a more focused discharge plan. Dr Weitekamp said: "We had made it clear before moving into this building that, in order to best serve the public, patients would no longer be allowed to remain hospitalized beyond the time clinically necessary for their unique condition. Our statistician Cyrlene Wilson has run the reports which show a decrease in average length of stay for patients since the move last September. This is good news as we are moving in the right direction." From the time of admission, BHB uses daily multidisciplinary rounds for patients, assessing daily progress and potential barriers to discharge either to home, home with additional services or to a different venue for skilled nursing, rehabilitative or palliative care. "Prolonged hospital stays are not in the best interest of patients," Dr Weitekamp said. "They can become deconditioned from prolonged bed rest, depressed and profoundly sleep deprived from medication side-effects, frequent interruptions and unfamiliar surroundings. The longer patients remain hospitalized the greater their risk of acquiring infections, bed sores and of falling. Recent evidence also suggests that prolonged hospitalization can result in weakening of immune systems, the body's natural defences, and may actually increase the chances of another illness following discharge and result in repeat hospitalization." He said that shorter stays also reduce overall healthcare costs, adding: "Our move to this new facility was needed and staff agree it has facilitated improvements in service delivery." Statistics released by the BHB yesterday also show that chemotherapy treatments have increased from 6,057 in the General Wing, from September 2013 to 2014, to 7,408 in the Acute Care Wing, September 2014 to 2015.
2015. June 26. Much-anticipated financial details have been released by the Bermuda Hospitals Board (BHB), showing some success in cutting costs. In a guardedly optimistic assessment, BHB chairman Jonathan Brewin said that two years ago BHB had expected to run out of cash by the end of 2013, but has now extended the deadline "well into this fiscal year." Mr Brewin will step down as chairman at the end of this month, to be replaced by Peter Everson. While the accounts summaries up to March 31 of this year are not audited, they offer a snapshot of BHB's "evolving" financial position, including:
• Total assets as of March 2015: $587 million, up from $500 million for March 2014;
• Total revenue: $299 million, down from $312 million in 2014;
• Total expenses: $284 million, up from $282 million in 2014;
• Excess revenue over expenses: $13 million for 2015; $15.5 million for 2014
Mr Brewin said the revenue figures represented a small surplus that did not represent a profit, but rather money used to reinvest. BHB has cut $24 million from its wages and benefits costs through attrition, a wage freeze and senior management restructuring. Mr Brewin added that BHB now has a second oncologist, Dr Christopher Fosker, to boost its cancer services. Meanwhile, parts of the old Continuing Care Unit are coming up for demolition, and Mr Brewin thanked staff for the safe transfer of residents to other parts of the hospital. Quality indicators for BHB are to be released in the first week of July, as the organization marks its first ever Hospital Week.
2015. July 3. Throughout this week, Bermuda Hospitals Board has been handing out data and information about the services it provides, how it operates and how well it performs. "Know Your BHB!", running in the lobbies of the new Acute Care Wing and General Wing of King Edward VII Memorial Hospital, has given facts and figures to give an insight into the volume and variety of work needed to keep Bermuda's only hospitals running. It is the first "Hospitals Week" initiative since 1983. Board CEO Venetta Symonds said: "Not many people will think about how much work this department has to do in order to keep front line care services stocked with all the linen needed. Trust has to be built through transparency and accountability, and also a better understanding of what it takes to run the hospitals and how we are performing. People may not realize that BHB revenue has declined over the last two years. There is a lot of concern that BHB pushes up the cost of premiums and healthcare on the island, but BHB has successfully reduced its impact on costs for the last two years. We hope that will raise informed questions about how our community health and utilization impact costs. The data we are sharing about disease prevalence on our inpatient cards very clearly demonstrates the impact of high diabetes rates on hospitalization. And while we absolutely appreciate that the hospitals do cost a lot to run, we hope the data will provide evidence of the volume of our operations. We provide tens of thousands of different types of treatments, undertake over three million lab tests, and thousands of diagnostic tests both at home and as outpatients. We will continue to regularly report on the information we are sharing this week. The more people know about how we operate our volumes and our performance data the better they can judge the quality of our services."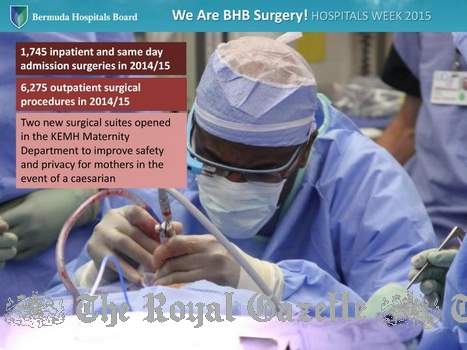 See above story
2015. July 2. A contractor involved in the construction of the new hospital wing has raised concerns about the standard of fire stopping carried out on the project. Rammy Smith claims under qualified workers were used on certain parts of the new building to meet the deadline for its opening. Mr Smith's firm, Bermuda Coatings Company (BCC), was hired by BCM McAlpine to supply and install the fire stopping for the new Acute Care Unit at King Edward VII Memorial Hospital. He has written to the Bermuda Hospitals Board (BHB) and BCM McAlpine outlining his concerns about the standard of work done, but both have refuted his claims. The hospital says it has been reassured by Paget Health Services that all the work undertaken on the building has been to appropriate standards, while BCM McAlpine said it was confident that all work on the new wing had been completed properly. Mr Smith told The Royal Gazette: "We will not and cannot sign off or certify this project unless and until those areas in question are all identified and rectified and brought up to code as detailed in Underwriter's Laboratory (UL) designs. "I would like the record to show that neither BCC or our suppliers, Specified Technologies Incorporated, will be or can be held responsible in the event of a fire. UL designs are independently tested and strictly monitored and this is for a reason. The general contractor must be held accountable, especially in light of being a public-private partnership and a public building, designed and built to save lives. I do not make these accusations without base or lightly. This is a matter of public safety and the public should be concerned." Mr Smith is urging the Bermuda Fire and Rescue Service to conduct a further inspection of the property. "I am in no way calling into question the professionalism and intent of the Bermuda Fire Service, who have done and always have done a good job. We have a great relationship, which is still intact. I find it odd that no one from my team was asked to be present during final inspection." Mr Smith provided photos to this newspaper which he claims show substandard work that was not completed by his firm. He says that his firm's BCC tag is present on materials because his company was responsible for sourcing the materials, but not the work that has been completed. But Michael Ewles, chief executive officer and vice president of BCM McAlpine told The Royal Gazette that all fire stopping work had been completed to the required standards. "There have been several claims made by Mr Smith which we believe to be unfounded and these are the subject of ongoing legal proceedings. BCM McAlpine is confident that the works carried out at the KEMH redevelopment were completed to the required standards and all work has been inspected and passed for occupancy by the relevant Bermuda statutory bodies. While there is little we can add due to the ongoing legal process, we do note that the fire stopping at the KEMH redevelopment is one of the first projects in Bermuda to individually tag every penetration within the facility. This new process was instituted by BCM McAlpine to assist with the quality and compliance of the fire stopping. Every penetration on both fire-rated walls and non-fire-rated walls were tagged in the same manner, as we utilized the same materials and details for acoustic penetrations in the non-fire-rated walls. It is important to remember that not all walls within the new Acute Care Wing are fire-rated walls and are not subject to UL design requirements. Of the photos referenced by Mr Smith, two clearly show tags that demonstrate that the work was carried out by Bermuda Coatings — Mr Smith's company. Any penetrations completed by our own forces were tagged as 'BCM'. Further, neither of the two photos whose tags can be identified are in walls which require a fire rating under the National Fire Protection Association of Bermuda Building Codes. There is no tag visible on the third photo, so we are unable to determine its location." A Bermuda Hospitals Board spokesperson said: "Paget Health Services (PHS) is responsible for ensuring there is appropriate fire-stopping in the new Acute Care Wing that meets Bermuda codes. BHB received the letter from Bermuda Coatings Company Limited recently and forwarded it to the General Manager of PHS. We have been reassured that all work undertaken has been to appropriate standards, and has been checked and certified as required by Bermuda law."
2015. June 1. The cost of the hospital's new acute care wing is about to be passed on to consumers through higher premiums, as the price of the Standard Hospital Benefit goes up by more than ten per cent this month. The Standard Health Premium (SPR) is set to rise from $301.85 a month to $338.07 — roughly two thirds of which will go to the Bermuda Hospitals Board (BHB). The cost for this mandatory minimum benefits package, which is being renamed the Standard Health Benefit, is borne equally by employers and their staff, meaning the hike of $36.22 will be split each month. Announcing new health insurance amendments at the last sitting of Parliament, Jeanne Atherden, the Minister of Health, said that $23.64 of that increase would go towards addressing the "crisis of funding" confronting the BHB. The transfer, which will generate an estimated $13.7 million, will spare the hospital from increasing its fees — although a 1 per cent increase in BHB fees also lies ahead. The premium is set by Parliament rather than the BHB, and is based on annual actuarial recommendations. The SPR has risen steadily over the years, although it dropped substantially last year from $325.84 — a first, according to Ms Atherden. The premium was set for $271.61 in the 2013 fiscal year, and $252.27 in the 2012 fiscal year. The latest increase, which is a 12 per cent rise, is the sharpest in recent years: the SPR went up by a little less than 8 per cent in the 2012-13 increase — although actuaries at the time had recommended a 19 per cent increase — and rose by 6.8 per cent in 2011. Although hospital costs constitute the bulk of the SPR increase, other factors contribute: $6.17 is expected to be added by a pilot programme offering primary care to uninsured indigent patients and persons on Financial Assistance who receive the Bermuda Government's Health Insurance Plan (HIP), in cases of chronic disease such as diabetes and high blood pressure. An extra transfer to HIP, which the minister described as "severely compromised" as the insurance plan of last resort, will add $4.40 to the SPR, while a transfer to cover regulation costs for the Bermuda Health Council will add 33 cents. Other changes to standard benefits have taken a little more than a dollar off the SPR — including a switch in mammogram screening to United States guidelines, a move that has come under fire from the Progressive Labour Party.
2015. March 28. An impending $40 million to be paid for the new wing of King Edward VII Memorial Hospital in the coming fiscal year has many in the community wondering who will be called upon to pay. However, even though the Bermuda Hospitals Board (BHB) is out of cash, and the Bermuda Government is on an austerity budget, hospital charges are not set to rise. Jennifer Attride-Stirling, CEO of the Bermuda Health Council, said there had been encouraging signs that the imperative to cut costs had a positive impact in 2014-15. "For example, the Home Medical Services Benefit, which was implemented with great cooperation from BHB to redirect patients from acute care to the community, resulted in health system savings. Revisions to the standard benefit package for 2015-16 are being targeted to reduce unnecessary hospital stays, which should bring down claims and health spending." In the wake of ominous revelations this month by Jeanne Atherden, the Minister of Health, Ms Attride-Stirling said her council was collaborating with the minister, BHB and others to roll out the new benefits later this year. Giving a grim appraisal of the hospital's financial straits, Ms Atherden said it would be "unfair" for the public to benefit from new health facilities without expecting any additional charges. A BHB spokeswoman pointed out that the hospital's predicament was nothing new. "The financial shortfall that was commented on in the minister's budget brief and has been discussed publicly by BHB for two years. BHB's plans to address this shortfall do not include significant fee rises, but focus on improved efficiency and effectiveness internally and supporting improved public health to reduce the need for all healthcare services. BHB is committed to do all it can to make the necessary changes to meet its obligations." BHB does not set its own fees or add new ones without Parliament's approval, and the spokeswoman affirmed that there had been a consensus that the Island "cannot afford significant fee increases." The BHB chairman, Jonathan Brewin, announced in February that the organization had launched a formal Modernization Project — not merely to cover its monthly payments for the new acute care wing. BHB will continue to invest in its services, along with maintaining the ageing facilities at the Mid-Atlantic Wellness Institute and the general wing of KEMH, even as the costs of drugs and equipment continue to rise. "Achieving financial sustainability requires change in how we operate and work, and could reshape our service profile, but our focus will be on protecting the safety and quality of front line services and maximizing our effectiveness and efficiency," the spokeswoman added. "It is important to note that hospital fee increases alone do not drive premium increases. Cutting BHB costs alone does not resolve the hospital or the country's challenges around healthcare premiums. Premiums pay for all healthcare costs — and 56 per cent of costs are not hospital related. "The biggest driver is utilization across all local and overseas services. For the country to address premium costs, we need to look at public health, better prevention and management of chronic diseases, as well as better coordination and collaboration throughout the healthcare system. Even when there has been no increase in hospital fees, such as in 20013/14, healthcare premiums have still gone up."
2015. March 19. The number of patients receiving dialysis treatment at King Edward VII Memorial Hospital has risen by 207 per cent in a little more than decade — and is expected to increase further. The facility is treating 166 patients, compared with 54 patients in 2002 and 2003. The annual cost of dialysis treatment is about $200,000, which does not include the medication, consultations and cost of other complications an unwell patient might have. A hospital spokeswoman, who gave the figures, confirmed that the number of patients had risen during the building of the new Acute Care Wing, where the stations are housed. "In 2009 [when the specifications for the new building were developed] the year-end census was 103, although it was anticipated this number would rise," said the spokeswoman. According to the National Kidney Foundation in the US, dialysis is needed when a person has lost about 85 to 90 per cent of their kidney function. It removes waste, salt and extra water, keeps a safe level of certain necessary chemicals in the blood, and helps to control blood pressure. "We had 19 stations in the old unit, which were much closer than in the new unit," the spokeswoman said. "We now have 22 stations and can do 16 more treatments per day than in the old unit." She said they operated for longer hours, from 4am to 9pm, Monday to Saturday. According to medical professionals, about half of Bermuda's dialysis patients suffer from uncontrolled hypertension and a significant proportion of the remainder have diabetes. The high cost of healthcare arose in the House of Assembly during debate on the Budget focusing on the Ministry of Health, Seniors and Environment, which finished in the early hours of last Tuesday morning. Health Minister Jeanne Atherden told MPs: "The issues surrounding chronic disease management, in particular diabetes, continue to put enormous strain on the Bermuda Hospitals Board. "Dialysis services are projected to grow and, on the hospital's current best estimates, at a rate of 9 per cent by the end of the current fiscal year and by up to a further 10 per cent in the year 2015. The Bermuda Hospitals Board is entitled to be paid fairly for all the services which it properly provides, but it has continued to provide care even when payment has not been possible and this impacts its revenues. On many occasions during the last year, the Bermuda Hospitals Board has also provided skills and experience, facilities and equipment, to assist with national issues at no charge, and it will continue to fulfill this public commitment. But to do so, the Bermuda Hospitals Board has to carefully manage its resources to ensure that its core mandate of providing acute care services is not endangered. In short, choices have to be made and if the funds are not there, these additional "free of charge" services will no longer be able to be provided." Dietitian and diabetes educator Sara McKittrick, of the Bermuda Diabetes Association, said: "We estimate there are a minimum of 8,000 to 9,000 people living with type two diabetes, which is linked to genetics, lifestyle and obesity. There are also fewer than 150 patients with type one diabetes, which is not linked to obesity or lifestyle. As many as 18 to 20 per cent of the population are affected by diabetes if we include those with pre-diabetes. Type two diabetes rates in Bermuda are huge and that dealing with the issue is an uphill battle. It's to do with poor dietary habits, sedentary lifestyles and the genetic predisposition. To reduce the burden of diabetes, intervention is critical for those at risk to delay or prevent the development of the disease. Any programme you put into place to prevent diabetes will help that." In a speech to the Hamilton Rotary Club last September, Dr Michael Weitekamp, the chief of staff of the Bermuda Hospitals Board, said that the Island had one of the highest healthcare costs per capita at $10,562, according to the National Accounts in 2012. But he said there was little to be proud of in the health outcomes, noting that Bermuda has one of the highest global rates in obesity, diabetes, dialysis and limb amputation, as well as a high incidence of road traffic accident deaths and life-altering injuries. He said that socioeconomic, environmental and behavioral determinants of health took a back seat to acute interventions, and added that under investment in socioeconomic, environmental and behavioral spheres comes back to haunt Bermuda in the form of higher spending on acute care interventions.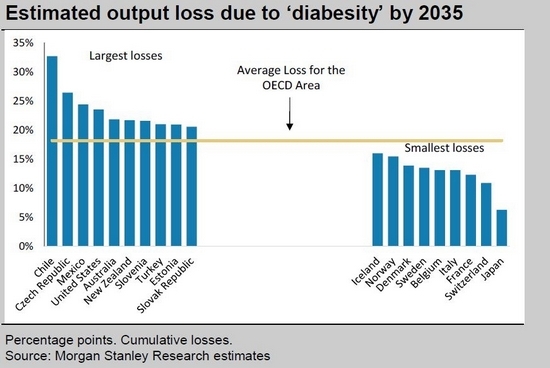 See above story
2015. March 11. The Bermuda Hospitals Board is expected to run out of cash "in the near future" — and must find $40 million to pay for additional costs owing to the new acute care wing during the coming fiscal year. Minister of Health, Seniors and Environment Jeanne Atherden told the House of Assembly on Monday evening that the BHB has major financial challenges. Speaking during the budget debate, she said: "Last year the minister reported on the dire financial situation being faced by Bermuda Hospitals Board. It was, at that time, predicted that Bermuda Hospitals Board would run out of money in the current fiscal year. This clearly was not an acceptable position so it worked hard to manage its cash and prolong, as far as possible, the time when it would become cash delinquent. The minister said that measures were put in place rapidly. A ten per cent reduction in operating expenses was successfully implemented in the last fiscal year, and a 15 per cent cut was put in place for this fiscal year. The Bermuda Hospitals Board is well on its way to achieving this. However, financial pressures are increasing. On top of monthly payments of over $2 million per month for the new acute care wing, Bermuda Hospitals Board has responded to the national financial crisis the Government is dealing with, even though this has significantly reduced its revenues. Last year, the Bermuda Hospitals Board forecast it was going to run out of money at the end of 2014. It has taken all the steps it can, and while it has been able to postpone this day, at some point in the near future cash will be exhausted. The BHB faces further problems. In the coming year there are some uncertainties which will have to be managed. The coming on stream of the new acute care wing is a very welcome event for the country as a whole, but as we all know the facility will have to be paid for. The additional costs per annum of the new acute care Wing to the Bermuda Hospitals Board will be in the order of $40 million. This amount is too great to be absorbed by the Bermuda Hospitals Board and it's unfair for the public to expect to benefit from the new facilities without any additional charges. The Bermuda Hospitals Board, the Bermuda Health Council and my ministry are carefully examining the options with a view to bringing forward proposals shortly." Ms Atherden said that hospitals around the world face the same difficulties that the BHB is facing. "What is different is that the Bermuda Hospitals Board delivers Bermuda's only medical and mental health hospital services. It has to provide a wider range of services to the community than most other hospitals as there are no other options, and it is the place of last resort for people who cannot get access to healthcare anywhere else."
2015. February 6. For the first time in the history of King Edward VII Memorial Hospital, the maternity ward is now equipped with two modern operating rooms, Bermuda Hospitals Board has announced. Dale Wilmot, BHB's chief of obstetrics, hailed the completion of the two ORs as a great step forward in improving the safety and comfort of mothers, along with their newborn children. One room will function solely as a state-of-the-art OR for both planned and emergency Caesarean sections, with the second room retained for routine deliveries but fully equipped as a backup OR. Both rooms are next to the birthing rooms, making it easier for mothers in need of emergency interventions. Previously, when mothers required emergency C-sections, they had to be transported to a level above the delivery rooms.
2014. October 17. Both the old and the new wing of the King Edward VII Memorial Hospital have been breached by Hurricane Gonzalo, the Emergency Measures Organization announced at 9.30pm, resulting in leaks and water damage in the facility. Police spokesman Dwayne Caines reported that the hospital had sustained roof damage during the storm — but said that contingency plans for such an event had been enacted by KEMH staff.
2014. August 25. A surgical first for Bermuda could help a hospital patient paralyzed from the neck down breathe on his own. And that means the young man — who has been in the King Edward VII Memorial Hospital for several years after an accident and can only breathe with the aid of a ventilator — could be discharged home. KEMH doctors flew US medic Dr Raymond Onders, a Professor of Surgery in Cleveland, Ohio, and an world-renowned expert in the procedure, to supervise local surgeons Dr Boris Vestweber and Dr Herman Thouet. Dr Onders said: "The team at the hospital was tremendous. The operation could not have been done better anywhere else in the world." A report in the Bermuda Hospitals Board's in-house magazine explained that it was more cost-effective to bring Dr Onders to the Island, rather than transport the patient to Ohio. Hospital chief of geriatrics Dr David Harries said: "It is hoped the patient will be able to make do without his ventilator completely. The plan for him to be eventually discharged and cared for at home." The technique — called diaphragmatic pacing — involves surgeons attaching electrodes to the patient's diaphragm, with wires leading out of the body to a pacemaker, which uses electrical impulses to contract the diaphragm, allowing the patient to breathe. And chief nursing officer Judy Richardson said the family of the man — who has not been named — were "extremely happy" that the surgery could be performed in a familiar environment by staff they know and trust.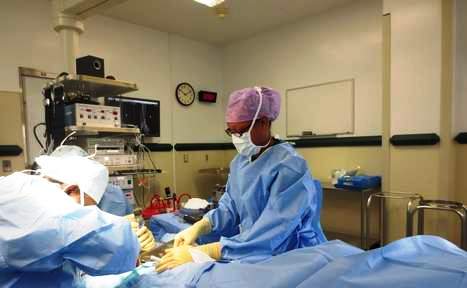 2014. June 13. The Bermuda Hospitals Board (BHB) officially received the key to the new Acute Care Wing yesterday in a ceremony at King Edward VII Memorial Hospital. Final building work at the site is still ongoing but BHB CEO Venetta Symonds said the event marked a key point in preparing the facility for its grand opening in September. "Having the key allows our engineers to now come in and do connecting work and it allows contractors to fine tune everything in the building," she said. "Staff also need to get oriented and training so that we have a smooth move over in September when we open to the public. The 90 beds in the new building will replace beds in the old building and will be used for everyone in need of medical or surgical care." In addition to the new acute care beds, the new wing will house emergency, diagnostic imaging — specifically the x-ray, ultrasound, MRI and CT scanning equipment — day surgery, dialysis and oncology. Around $300 million have been spent on the project to date, between the construction and design costs paid by Paget Health Services and the sum BHB has paid for equipment. BHB Chairman Jonathan Brewin said the project has remained on budget, as the payments and costs were set out when the contract was signed. The Bermuda Hospitals Charitable Trust, who set out in April 2011 to raise $40 million through the Why It Matters campaign, has so far raised around $31 million of its goal. Alan Burland of BCM McAlpine said he was very proud of the project, calling it both a key pillar for Bermuda and a demonstration of the potential of public-private partnerships on the Island. "This has been a huge achievement," he said. "This is the largest project ever done in Bermuda. This has truly been a massive and effective team effort, and I have to stress team. It's a rich blend of locals and expatriates that brought this to fruition. We couldn't have done it without the combined team, and you should all be justly proud. It demonstrates world class infrastructure, and is really unrivalled on any other Island." Premier Michael Dunkley described the handover as a milestone for Bermuda, saying: "It's a day which marks a pivotal moment in the history of healthcare on the Island." He thanked all of those who have worked to make the new facility a reality, saying that the project took a lot of planning, preparation and skilled labour to bring to fruition. And newly named Minister of Health, Seniors and the Environment Jeanne Atherden said: "It was just a few weeks ago that I was a member of the board and so I'm well informed of the need for this facility and it's importance for the healthcare of Bermuda. This is an important milestone but I must remind you that this is not the end of the journey. There is still serious work to be done and in the next three months we have to ensure that there's a safe and seamless transition of patients and services and we have to prepare the staff for the new standards of care that the BHB will be able to give to patients at this new facility."
2014. June 12. An American oncologist hired two years ago to lead Bermuda Hospitals Board's cancer services is to exit the Island in September and is currently on sick leave, leaving only part-time doctors to cover his absence. The departure of Paul Coty from King Edward VII Memorial Hospital raises concerns for Bermuda's cancer sufferers, according to a source, who yesterday questioned how quickly a replacement would be found and how appointments would be covered in the meantime. Dr Coty, originally from New York, came to Bermuda in February 2012 as KEMH's only full-time oncologist, after spending eight years in Hawaii. A BHB spokeswoman confirmed to The Royal Gazette yesterday that he was due to leave the hospital in September and said his position was advertised many months ago. "We will hopefully have good news about his replacement in the near future, but until details are finalized we cannot provide further details. We can assure the Bermuda community, however, that we remain committed to ensuring our oncology patients are cared for and will do all that is necessary to ensure that consultations and treatments are not interrupted during this time of transition." The spokeswoman said Dr Coty was currently on unplanned sick leave, which was expected to be over by the end of June, and she apologized to KEMH's cancer patients for ?this unexpected disruption and for the rearrangement of their consultations. The source, who asked not to be named, told this newspaper there were concerns about how quickly Dr Coty's patients would be seen in his absence and how long it would take to replace him. "This is the same situation they were in about three years ago and it took them a year-and-half to find someone," said the source. "The problem today is that a lot of oncologists are specialists and it's very hard to find a general one, which is really what Bermuda needs." Those comments echo remarks made in 2012 by BHB's chief of medicine, Keith Chiappa, when Dr Coty was appointed. Dr Chiappa said the hospital required a full-time oncologist. "As cancer patients and their families in Bermuda are aware, over the last few years we have been working hard to appoint a full-time, high quality oncologist. The global shortage of specialists in this area has made it especially challenging." The source added yesterday that Dr Coty's current absence and his imminent departure raised two main concerns. "Patients who are already diagnosed, you have a trusting relationship with your oncologist and that's now been pulled away. For anybody newly diagnosed, the next person you see is the oncologist. They are the one who will look at your case and meet with the tumor registry if necessary. They are the one who recommends what happens next, be it surgery, chemotherapy or radiation. That's your lifeline as a cancer patient." The BHB spokeswoman said oncologists Tutu Aung-Hillman and Jean Walters, who have both worked at BHB before, were assisting with part-time temporary coverage. She said Dr Walters would arrive by the end of the month, as she had other commitments until then. "Dr Walters is working one week a month and has agreed to cover Dr Coty's vacation before he leaves. Dr Tutu Aung-Hillman will be working three extended days [a month] while Dr Coty is away. We are also working closely with our clinical associate to ensure appropriate coverage. We are very grateful for the assistance of Partners Healthcare System in ensuring oncology services in Bermuda. Although not directly employed by BHB, there is also a visiting genito-urinary oncologist, Dr Mary Ellen Taplin, from the Dana Farber Cancer Center (part of Partners), who regularly visits Bermuda to see patients with prostate and other related cancers. Dr Taplin will continue to visit, as will the four Lahey physicians who see patients requiring radiation therapy for breast, prostate, gynecological, head and neck cancers. At the moment, new oncology patients are individually assessed and, between our locums and the ability to refer overseas in urgent cases, oncology needs are being met, meaning that patients continue to receive effective consults and treatments." There were more than 200 registered cases of cancer in Bermuda in 2012, according to the most recent National Tumor Registry annual report. Bermuda Health Council says cancer is the second leading cause of death in Bermuda, accounting for more than 30 percent of all deaths in 2009.
2014. June 11. AXIS Capital has donated $1 million to the Bermuda Hospitals Charitable Trust (BHCT), bringing the group's funds to $31 million. The new acute care wing at King Edward VII Memorial Hospital will require a $40 million payout to contractors Paget Health Services upon its completion. The "Why it Matters" campaign by the BHCT has been raising money since April 2011, and is now in what executive director Ralph Richardson called "the home stretch". AXIS chief executive officer Albert Benchimol said the company was committed to helping deliver "deliver enhanced and affordable healthcare" to the community. Thanking the company, BHCT chairman Philip Butterfield said the donation put the campaign "one step closer to achieving our goal of providing a world class standard of excellent healthcare through modernized facilities".
2014. May 6. The contract on Bermuda's new hospital wing has resulted in substantial losses for a major UK construction firm, according to The (Daily & Sunday) Telegraph, one of the UK's most prestigious newspapers. However, the Bermuda Hospitals Board (BHB) last night responded to that the project remained squarely on budget. The British newspaper yesterday reported that Sir Robert McAlpine Holdings has reported a pre-tax loss of 37.7m for the financial year ending October 31, 2013 versus a 19.2m profit reported for the previous year. The company, which was behind the London 2012 Olympic Stadium, has been left deep in the red on the £ sterling 176 million contract for the acute care wing at King Edward VII Memorial Hospital (KEMH). McAlpine Holdings is described as the umbrella company for the family's construction portfolio. Operating profits declined from 17.4m in 2012 to a loss of 40.2m. Company directors ascribed the fall in takings to the company's support for the Bermuda-registered BCM McAlpine Limited, which is the main contractor for the project. Severe problems with design and performance caused losses that were covered by a 50m stipend fronted by Sir Robert McAlpine Holdings. The Telegraph quotes company director Ian McAlpine as saying business was severely impacted by the difficulties encountered on the King Edward VII redevelopment. The construction of the new acute care wing is the Islands first public-private partnership, between BHB and Paget Health Services. Paget Health is a consortium of local and international companies, charged with building, financing and maintaining the new hospital wing over the next 30 years. Under the arrangement, cost overruns are to be carried by the contractor, and not by BHB. According to the UK newspaper, BCM McAlpine has significant claims outstanding from the project and owed the holding company 18.8m as of October 31 last year. The new acute care wing, originally slated for completion in March, is currently projected to be completed by mid-September of this year. A BHB spokeswoman said the organization had no comment on The Telegraph's story, adding: "The new wing is on track to be completed on budget and to the contracted quality standards and specifications. We look forward to opening our doors to the public this September."
2014. April 17. The healing power of natural light played a major role in the architectural design of King Edward VII Hospitals new Acute Care Wing. Offering an update on the construction of the Wing yesterday, a hospital spokesperson said large windows were featured throughout the building. And while that allows light into areas facing outdoors it doesn't address areas in the middle of the new facility. Yet natural light pours as readily into these areas as those on the perimeter of the building. "This is because a central atrium with skylights has been created in the middle of the facility," said the spokesperson. Bermuda Hospitals Board president and CEO Venetta Symonds added: "The design in this section of the building uplifts your spirit. I'm sure members of the public will especially appreciate having this feeling in a hospital setting." The functionality of making it a waiting area speaks to the expertise of the architectural and design team of Paget Health Services. The atrium is 2,738 square feet on the second floor. It houses a waiting area, check-in desk and discharge lounge for surgical patients. The waiting area seats 18 people while the discharge lounge seats eight. According to the spokesperson, scientific studies have proven the importance of lighting levels on mood and emotion and more recently on the body's circadian rhythms and in turn, its physiology. The Bermuda Hospitals Board is proud that the new Acute Care Wing provides both its staff and the public with healthy amounts of natural light. The Acute Care Wing will open to the public in September. Those willing to support new Wing with a donation to the Why It Matters campaign can visit www.bhct.bm for more information.
2014. February 10. Government has kept quiet on plans to curtail high-cost diagnostic imaging but the hospital has defended itself against claims by local physicians that it has been the main culprit for spiraling healthcare costs. Pre-certification, which requires doctors to get a second opinion, is aimed at cutting down on the frivolous use of procedures such as MRIs and CT scans. The imaging tests cost thousands of dollars and come with their own health risks: CT scans deliver significant doses of radiation. A Health Ministry spokeswoman said Government was working in tandem with the Bermuda Health Council to realize a public information paper on the rationale and workings of pre-certification. The focus will be on diagnostic testing, which includes medical imaging and clinical labs, and the intent is that before such procedures can be carried out, they would have to be pre-approved by an authorized entity, based on standardized medical guidelines, she said, adding that more information would be released in due course. Details on how the scheme would be implemented in Bermuda, such as whether pre-certification would take place by phone or online, have yet to be revealed. Pre-certification is common in the US managed healthcare system and similar procedures are employed under the UK's National Health Service as the soaring cost of healthcare leads to rising insurance premiums. Bermudas healthcare system is second only to the US for year-on-year increases that were branded unsustainable by Government three years ago. Physicians have attacked Governments rationale for introducing the system to the Island. Pre-certification has been denounced as an onerous extra expense that will put patients at risk and doctors who spoke anonymously with The Royal Gazette maintained that unnecessary testing was more the fault of the hospital than the local medical community. However, according to the Bermuda Hospitals Board (BHB), close to 60 percent of the MRIs and CT scans carried out on the Island come from the community itself. Bermuda residents receive more of the tests than fellow Organization for Economic Cooperation and Development (OECD) states, MRI exams in particular and conservative estimates show overuse costing our healthcare system well over $4 million annually. A BHB spokeswoman said the hospital was mandated under law to offer essential equipment, which hospital-based doctors used in the community's best interests. BHB does not receive additional revenue for tests performed on in-patients or emergency patients who are ultimately admitted to hospital, as all hospital services are covered under a fixed diagnostic related group charge for their inpatient care, she added. BHB also provides services to outpatients who are referred to the hospital for tests by community physicians. These referrals often include diagnostic imaging or laboratory tests. BHB performs these tests and bills the patients insurers accordingly. She acknowledged that the hospital has come under fire in the debate over the Islands increasingly precarious healthcare system. Blame is frequently assigned to BHB for running up health costs when the reality is that a substantial portion of BHB's annual revenues arise from community physicians referring patients for outpatient diagnostic imaging and laboratory work, she said. According to a December 2012 survey of MRI and CT tests performed at BHB, 56 percent of the tests were on behalf of community physicians. A further 28 percent were ordered by BHB emergency physicians, and 16 percent by other BHB physicians. If we assume all tests ordered by community physicians are medically necessary and appropriate, they would be a cost to the health system regardless of whether they are performed at the hospital or another diagnostic centre, the spokeswoman added. And Bermudas high usage of both tests was established by the same survey. Collectively, local doctors order 138 CT exams per 1,000 residents to be performed at BHB compared to the OECD average of 131. Seventy-nine MRI exams per 1,000 residents are performed at BHB compared to the OECD average of 46. Using this data and the price per test, the cost of Bermudas excess utilization can be extrapolated as $4.2 million per annum, she said. It is key to note that these figures exclude MRI and CT tests performed at other local diagnostic facilities and tests performed overseas, so the potential overspend is likely understated. Any initiative to manage healthcare would have to consider both BHB and community physicians in order to rein in medically unnecessary testing and costs, she said.
2013. December 2. The salaries of hospital officials, which the One Bermuda Alliance pledged to make public, will not be released until hospital financial statements have been audited. Responding to Parliamentary questions by Opposition MP Lovitta Foggo, Health Minister Patricia Gordon-Pamplin said the information would be released in the Bermuda Hospitals Board annual reports. However, BHB financials remain unaudited for 2011/12 and 2012/13. The Minister also reported nearly $400,000 in savings had been realized by the Lamb Foggo Urgent Care Centre in St David's since BHB reduced the facility's working hours in April. The centre saved $196,523 on salaries, with an additional $200,000 saved on security services, Ms Gordon-Pamplin told the House of Assembly.
2013. November 29. A medical services subsidiary of the Bermuda Hospitals Board was dogged by serious concerns since it was created, Health Minister Patricia Gordon-Pamplin told MPs. Healthcare Partners Limited (HPL) had problems with governance and its overall operations from its September, 2008 inception, according to a review by the Department of Internal Audit. BHB announced in July that the subsidiary would be dissolved by the end of the current financial year. "The review found that as a result of an unclear operational purpose for HPL, the auditors were not able to determine how HPL fit into BHB's operational model and strategy," said the Minister. The auditors therefore could not determine the true organizational impact of HPL's existence on BHB's operations, or whether HPL was achieving its intended purpose. HPL was set up to generate revenue through public private partnerships, as well as providing BHB with the flexibility to provide enhanced medical services but it failed to live up to its financial expectations. HPL's physician billing business will transfer to the hospital's financing directorate, while the money-losing Medical Concierge is under review to see if the service can be retained by BHB. The subsidiary's third business unit, Ultimate Imaging Limited, is still in discussion with the board to allow HPL to be dissolved, the Minister said.
2013. November 22. A further $10 million in fundraising is needed to cover a $40 million payment for Bermuda's new hospital wing before next year's impending deadline. However, Health Minister Patricia Gordon-Pamplin said she was completely optimistic and confident that the campaign by the Bermuda Hospitals Charitable Trust (BHCT) would reach its goal. BHCT launched its Why it Matters campaign in April 2011 to raise the capital due from Bermuda Hospitals Board (BHB) to project investors Paget Health Services. The money must be paid upon the completion of the new medical facility originally slated for April 1, 2014. BHB is liable for covering any shortfall in that one-off payment. Asked about backups in place for cash-strapped BHB which Chairman Jonathan Brewin has said might slip into debt by the end of the current fiscal year the Minister said: "While there is a contingency plan in effect, we are focusing on the positive, and will roll out that alternative plan should the need arise." Ms Gordon-Pamplin recently announced a slight delay in the April 1 deadline, which she said would allow the BHCT extra time to solicit donations for the cause. A spokeswoman for the Trust said the group had so far raised almost $30 million, and was confident of meeting its objectives. "At this time, we are solely focused on fundraising and will continue to rally support from companies, organisations and individuals. This is our Island and our hospital, and we all have a stake in the game." And a spokeswoman for BHB pointed out that the construction project for the $247 million hospital wing is backed by a Government guarantee. BHB Chairman, Mr Brewin said: "BHB has been very conservative in its planning to ensure both best case and worst case scenarios are prepared for. In terms of the one-off payment, we still have every confidence there will be a successful fundraising campaign where the generosity of individuals, families and companies of Bermuda are able to donate $40m. But we have potential plans should this not materialize and through careful planning and discussion with the BHCT and Government, we have a number of options to help us meet our obligations. We will continue to work closely with our partners and remain extremely grateful for all donations received. Every dollar raised helps healthcare and Bermuda." The $40 million one-off payment signals the start of an expensive year for BHB, as outlined for Wednesdays Senate by Junior Health Minister Lynne Woolridge. She said that Paget Health Services (PHS) was committed to maintaining the new hospital wing over the next three decades but added BHB will face significant payments. In the first year, the monthly payments to PHS are about $2.5 million, Senator Woolridge said. On top of this, BHB must cover general running costs such as staffing and cleaning costs which Sen Woolridge described as substantial. After the first year, 70 percent of the payments to PHS will remain fixed with the other 30 percent subject to variables such as inflation and insurance. This means there is significant pressure on BHB to manage the contract well, to ensure it is adhered to, and BHB is putting the necessary management arrangements in place, Sen Woolridge said.
2013. November 20. The Bermuda Hospitals Board will consider bringing Mid-Atlantic Wellness Institute (MAWI) services to King Edward VII Memorial Hospital. The suggestion was one of several made recently by the SAGE Commission, who said the MAWI site could be sold off rather than spending $40 million to renovate the Devonshire facility. A spokeswoman for the BHB said: "The board is looking at every way it can to run more efficiently while maintaining safe, quality services. MAWI is an ageing facility and a recent review of the MAWI estate estimates that a $40 million investment would be needed over time to maintain and upgrade its infrastructure and ensure it can continue operating as a psychiatric facility. We are currently reviewing the delivery of BHB services, and our Senior Management Team and Board will certainly consider the opportunities in consolidating the two sites in more detail as part of this process." The SAGE Commission Report, released on Friday said: Duplicated services are provided at the King Edward VII Memorial Hospital and at MAWI because the two facilities are operated on two separate sites. Substantial savings would be generated from operating both facilities on one site. It also suggested the BHB examine the possibility of erecting a new building adjacent to the acute care centre already under construction to house both psychiatric services and continuing care facilities for the elderly.
2013. July 16. A "fee-for-service" billing system at King Edward VII Memorial Hospital is being reviewed by health chiefs who claim that it "incentivised" physicians to carry out tests and invasive examinations on patients in order to increase the hospital's revenue. And even terminally ill hospital patients may have undergone unnecessary medical tests and procedures because of the arrangement, health advocates claim. The billing system — also known as case-based reimbursement — was introduced by the former Bermuda Hospitals Board (BHB) in 2009. According to the Board's website, it is "a fairer, more transparent way to charge people for services used. It means someone who is admitted to hospital will be charged based on the type of treatment and services associated with their diagnosis. Previously, the hospital charged one daily rate, no matter how many services were needed," the website added. But Government MPs have criticized the method, saying that it needs to be re-examined to ensure that vulnerable patients are not being taken advantage of. And according to one health watchdog, the process has been "abused to the extent that medical tests were recommended and used purely as a means to increase revenue." Backbencher Jeanne Atherden, who is also chairman of the Bermuda Health Council and a member of the new BHB, said: "We're looking at the whole system of charges to see that they are not being abused. Nobody wants to see duplication or over testing because that can have a negative affect on the patient. One never wants to have a system that encourages revenue generation — the emphasis needs to be on patient care and patient outcomes. If you have incentives for people to generate income, what we really should have is a system that encourages quality. I have real concerns when I see salaries that were related to things not related to quality of care." She added that the hospital appeared "to place great emphasis on revenue growth which was very much encouraged. The health council is now looking at utilization management, standards of care and regulation." Those concerns were echoed by Economic Development Minister Grant Gibbons, who said: "You don't want somebody paid or incentivised on the basis of the more tests or more time. What you want them to be compensated on is the quality of the outcome — how successful has the treatment been and how efficient have you been in administering that. Pay was connected to utilization which is not good at all. There was a complete lack of attention to cost control at the hospital." Last month the BHB said it was aware "that there is a perception that BHB charges too much, makes too big a surplus and yet squanders its resources." We believe there was not enough focus on cost control at BHB, as its strategy over the last seven years had been to grow its revenue and increase the number of services available on Island," Chairman Jonathan Brewin said in an open letter to the community. "This contributed to the increasing use of services — utilization — further driving healthcare costs up." Last night hospital watchdog the Bermuda Health Advocacy Group welcomed news of the review, claiming that the billing system had put dollars ahead of care in the hospital's list of priorities. "The premise for change was purely economical and in an endeavor to increase profit margins," a BHAG spokesman said. "To date the BHAG has had numerous complaints from a wide spectrum of the community complaining about costs and unnecessary procedures."
2013. July 16. Hospital watchdog Bermuda Health Advocacy Group (BHAG) has applauded moves by Government to shut down an ageing hospital wing which provides long-term care to elderly patients. Health Minister Patricia Gordon Pamplin announced the move last week, claiming that the Continuing Care Unit at King Edward VII Memorial Hospital was "no longer fit for purpose". Government is now looking at alternative facilities to care for some 150 mainly elderly patients, many of who are suffering from deteriorating mental capabilities. In a statement, BHAG said news of the closure should come "as no surprise" and that "it was only just a matter of time before a hard decision had to be made concerning how to move forward with CCU's mode of operations." Healthcare in Bermuda is transitioning at an alarming rate and unfortunately the focus objectives are far removed from concerns in relations to the elderly," the statement said. "The continuous accusations surrounding the questionable and sometimes inappropriate level of care for our elderly on that unit was much to be desired furthermore, the staffing issues was always a point of contention and controversy. The Bermuda Hospitals Board, for whatever reason, always seemed to avoid real dialogue when it comes to the concerns and issues plaguing the infrastructure and level of care associated with their seniors. It is no secret that families for many years have complained about the substandard care given to their love ones to the point some of the seniors' children become part-time caregivers to their parents as a result of visiting the unit everyday. The truth be told there is plenty of blame to go around as a result of the disrepair and neglect of the CCU. BHB along with the previous government should have taken measures and planned initiatives to task with a strategy that was proactive and comprehensive over a reasonable duration considering the direction it was heading. The remised foresight and lack of attention given to the seniors at CCU is overwhelming evidence to suggest ill-equipped and inexperienced administration who lacked knowledge and ability capable of such an undertaking. Bermuda should be embarrassed and ashamed of what has been allowed to transpire with our seniors. The dignity and legacies of those who helped to pave a better and bright Bermuda, who no longer have the mental capacity or strength to fend for themselves, have become a wasted commodity to its people. The Bermuda Healthcare Advocacy Group could only hope that any endeavor to move forward with our greatest prize and possession would be done with as much dignity and compassion available."
2013. May 18. Bermuda's healthcare system is "well above average" for the size of the community it serves, according to an independent team of inspectors. But the consultants also listed a number of areas that needed to be improved at King Edward VII Memorial, including poor facilities, staffing, and a failure by officials to deal with staff and patient complaints. And the Corporate and Clinical Governance Review by Canadian company Howard Associates came under fire from Ombudsman Arlene Brock, who said the company's report "breezes over the key concerns that led to the report in the first place". (See separate story.) The company spent five months carrying out an assessment of healthcare services on the Island before submitting its findings to the Bermuda Hospitals Board last month. "We do not know of any other jurisdiction that provides this high level of quality, quantity and spectrum of healthcare services for a comparable small population," the report concluded. "For those who were expecting a very 'damning' report against the BHB, they will be disappointed. Hospitals, as we stated earlier in the report, are difficult to manage. There is much to be grateful for BHB including the new hospital wing currently being built. Having said that, the huge if not enormous challenges voiced by some leading figures in Bermuda of how to pay for this going forward, are also valid." The report added that the range of services provided at KEMH was "strong and impressive" and added: "In our benchmark comparative, the BHB stands up well under most metrics to other small hospitals that we know well." But the inspectors went on to list a slew of concerns over standards of care — and also took a swipe at the former board, which was replaced earlier this year by the new Government, for its management of the hospital. Criticizing the facilities at KEMH, the report said the hospital "is out of date." It went on: "There are too many ward rooms. Modern hospitals have mainly private rooms. The rooms are far too small to handle modern equipment. Every room should have a ceiling hoist. We saw very few. Corridors are too small. There is a total lack of storage space for practically everything. Bathrooms are too small. Door openings were made for a different era. There is a lack of space for infection control." Staff moral at KEMH was "lower than it ought to be", and the hospital was not "providing adequate staff recognition and staff rewards. The stress on staff ... is very high", according to the review. The report noted the "lack of clinical, medical and healthcare expertise of the previous Board members", adding: "Most stakeholders told us the Board has had problems in the past with transparency." And it highlighted concerns over front line healthcare, with problems in medical and surgical units. It said there was an over-reliance on junior house officers for patient care and "a striking lack of peer review for physicians. Over the past five years, BHB did not devote enough time, resources or effort to measuring quality or to patient safety. Over the past year there has been a significant improvement in this important function. Despite the above successes, we believe that more work needs to be done and some revised modalities should be implemented. We believe all hospitals must continually strive to improve quality and patient safety and the BHB is no exception." The report said that "patient and staff complaints are not properly addressed by the current BHB system" adding: "To say that patient complaints fall on deaf ears would be an understatement." And it concluded by putting forward ten recommendations for improving services, including the need to become more transparent, the introduction of a coordinated clinical service plan, more efficient and effective methods of funding and the better use of middle managers and front line staff.
2013. May 4. Hospital chiefs insist they are working to improve the care and conditions of patients suffering from Alzheimer's and dementia after visiting experts criticized standards at King Edward VII Memorial. Yesterday The Royal Gazette revealed that a team from the UK's Dementia Training Company inspected the hospital's facilities last December. Faults found at the Alzheimer's and Related Disorders Unit (ARDU) included the use of restraints to strap patients to chairs, an "unwelcome" and "clinical" environment, and a lack of "meaningful engagement" between patients and staff. But, according to the unit's director, staff are now implementing recommendations put forward by the inspectors in an effort to raise standards. And Granville Russell also claims the hospital is working with the charity Action On Alzheimer's to ensure that progress on the ward continues. The charity was responsible for bringing the inspectors to Bermuda. "We are working on all the recommendations and many improvements have already been made," Mr Russell said. "Many improvements have been made since the review, and we have just this year started a satisfaction survey. Residents who are able are surveyed, and family members of patients with dementia and Alzheimer's are surveyed. We will be measuring the impact of the changes as they are implemented and listening to the feedback to ensure we deal with any issues families, and residents, experience that were not raised by the review. Restraints were only used as a last resort. Our focus has been on ensuring all staff know the policy and follow it. It should be noted that ARDU does not have or use ankle restraints. When needed for resident safety, and only as a last resort, we use posey vests and soft belt restraints. Staff treating Alzheimer's and dementia sufferers attended training sessions last autumn and a full-time activities aide was now employed at the unit. Activities includes bus rides, spiritual sessions, baking sessions and Friday movies. We also have plans to better utilize the garden, as recommended in the report. In the coming months, garden beds on the perimeters of the walkways will be filled in, new furniture will be provided and a herb garden formed. Trees overlooking the harbour will be cut back to allow a beautiful view of the harbour. Additionally, a staff team room has been adapted to become a 'quiet room' for residents who might have become agitated and need time to relax and feel comfortable within their environment." Mr Russell also pointed out that patients did not spend all day in their pajamas, as one of the inspectors claimed, and that there was now enough chairs in the unit's dining room to accommodate all patients. Inspectors had witnessed some patients sitting in wheelchairs. "We believe this report was incredibly helpful and we are grateful to the reviewers and Action on Alzheimer's and Dementia charity who brought the reviewers to Bermuda. There were some minor inaccuracies — ankle restraints were not used — but we certainly believe it was a fair reflection of what the reviewers saw during their visit. While the issues raised concerned us, we have been pleased about the growing relationship with Action on Alzheimer's and Dementia. It is one thing to provide a review, but the charity has stayed the course with us and become partners in improving the service and environment for our residents. I would also recognize our staff, who have worked on and implemented many of the actions. As the providers of the service, their input, support and commitment to improve has been vitally important."
2013. January 9. The final cost of Bermuda's new hospital will prove higher than many expect, the new Health Minister has warned. But she promised to be keep the public informed as to where the money is being spent. This week, Health Minister Patricia Gordon-Pamplin vowed to press ahead with releasing BHB officers' wages as part of the Board's accounts reporting. Responded BHB Chief Operating Officer Venetta Symonds: "BHB remains committed to meeting the obligations mandated by the Hospitals Act. We are currently also in the final weeks of our Corporate and Clinical Governance Review, which will include recommendations regarding transparency and accountability." Ms Symonds said she would work closely with the Board and the Minister to ensure that "an appropriate level of disclosure is provided. Our financial statements for the fiscal year 2011/12 are currently in the final stages of being audited. As soon as this process is complete, the Annual Report will be compiled and produced. It will go through its usual process through Cabinet and then the Houses of Parliament, at which point it will be made widely available to the public. At a time when cost containment is a top health concern, Ms Gordon-Pamplin also vowed to make good on One Bermuda Alliance calls for the salaries of Bermuda Hospitals Board officers to be made public. While in Opposition, the OBA chastised Government for its tardiness in releasing BHB financial statements. Ms Gordon-Pamplin this week affirmed the OBA's bullish stance as Opposition on the release of wage figures. "Absolutely," said the Health and Seniors Minister, when asked if she would follow through. "The BHB legislation requires disclosure." Previous administrations have published wages as a lump sum, which the OBA maintained wasn't sufficient. Ms Gordon-Pamplin conceded: "Obviously, there are some things that may need to be relatively confidential. However, with that said, I think that when we are spending public money, we have an obligation to let the public know where that money is going. If you're spending my money, I want to know where it's going. That's just the way it is. We have made that commitment to transparency." Although the new hospital facility's original design and construction costs are given as $247 million, the project's complex financing as a Public-Private Partnership (PPP) carry significant long-term costs. "From an accounting perspective, historically, PPPs end up costing more," Ms Gordon-Pamplin said. "That's just the nature of it. The people who have put their money up front want a return on their investment, which is perhaps not an unreasonable expectation. The fact is that given the budgetary constraints that we have operated under, given the economy as it is, there is no way that we could have afforded to build the hospital. What's interesting is that within the debt number that we have heard, the hospital in not included — because it's deemed to be, within the accounting jargon, an off-balance-sheet transaction with the PPP. So it's going to perhaps end up costing us more, in the long run." The hospital remains on-budget, and scheduled to finish next year, she said. "But the budget number that exists for the construction of the building, you can be assured that is not the final amount that will have to be paid at the back end for the cost of the construction. I still have to get a handle on the exact amounts that we're dealing with — but I expect it to be high." In the wake of an acrimonious election campaign which saw a war of words over the FutureCare seniors' insurance programme, the Minister reiterated that the new administration has no intention of scrapping the programme. "Election campaigns bring out the worst in people as they jockey for position," she said. "There was a big advertising campaign by the PLP that we were going to take away FutureCare. That has never been the intention of the OBA, and it's certainly not the intention of the OBA Government." Government's aim now is to "make it fair, so that people who are getting specific benefits are paying the same amount. While one cannot fault people for making the most of an opportunity that's presented, I think there are people who are harder done by who have a greater need than others. We want to look at the entire concept. Sustainability is important." Another legacy of the previous administration is the legislation banning upfront payments for medical treatment, which Ms Gordon-Pamplin said made eminent sense. "The one thing that you will not get us doing is throwing out the baby with the bathwater. If there is a policy that exists that makes sense, we obviously will allow it to continue." However, she said, the system would need tweaking: "I do believe that we have to try to broker something where there is a little bit more latitude on behalf of service providers, such that people do not feel as if they have to do without healthcare simply because they do not have to $20 or $30 or $40 for the co-pay. It's something we have to work with. If we have to tie it in with Financial Assistance, then we just have to make it robust. I don't want people being ill just because they don't have a dollar." Ms Gordon-Pamplin could offer no advance details on healthcare expenditure in next month's Budget. "We have to recognize the fact that I can't spend any more money than is made available to me," she said. "And we can't have any more available to me than exists from a budgetary perspective." Promising a healthcare system based on "sustainability and equity", she added: "What we want to make sure is that the people of Bermuda get the best bang for their buck, if I can be so crude as to put it that way. It's important to look at everything, from the cost of pencils to the cost of imaging."
2013. March 13. It was announced that construction of the new hospital had so far injected $35 million into Bermuda's economy, with $125 million spent so far on construction orders. More than 60 percent of the hospital construction workforce consists of Bermudians, or spouses of Bermudians. The workforce averages 90 daily; at the height of construction, that will rise to 250. With construction of the new hospital on the doorstep of the existing hospital having been a challenge, the impact of noise and dust was being kept to a minimum, with measures such as air filtration inside the hospital, and washing of the wheels of vehicles before they leave the site. Faults in the limestone at the site had required 4,300 cubic yards of backfill. Mock-ups of facilities such as a trauma area, ambulance bays and patient bedrooms, have permitted modifications of designs. Equipment purchases are expected to run up $40 million, with stringent reviews of requests already in place. Construction at King Edward VII Memorial remains on target for completion in 2014. At that point, the Bermuda Hospitals Board (BHB) must pay project managers Paget Health Services $66.7 million. The BHB has been increasing hospital fees by one percent annually, over five years under an agreement formalized in Cabinet back in 2009, in preparation. The Bermuda Government's 2012-2013 Budget has a spending cap of $104 million for KEMH but it does not mean people will be denied services. It's a paradigm shift. There will no longer be a free-for-all. Hospital use for 2011/12 had exceeded estimates. As well as the new cap on the KEMH subsidy, the BHB had piloted a Memorandum of Understanding with a local insurer. With some of the risk transferred onto the healthcare provider, it gave more inventive to the BHB to ensure careful use of funds. BHB results of a three-year survey showed patient satisfaction continually rising. Nurses have historically been in short supply. Bermuda has 530 registered nurses, and BHB is aggressively courting Bermudian medical professionals from overseas, as well as promoting further training at home. Meanwhile, "fast tracking" incoming emergency room patients resulted in 88 percent of patients getting a hospital bed with in six hours. A new food delivery system had addressed a key problems with patient satisfaction, with a new kitchen system in 2012. Once the hospital redevelopment has progressed further there are plans to move the maternity ward next to the Operating Room. This means that mothers in labour will no longer have to be wheeled through the public corridors and taken in an elevator to the Operating Room. There is a prospect of a new birthing centre, possibly with a birthing pool, after requests by mothers in the community. For the Agape House hospice, BHB is adopting the Liverpool Care Pathway, the latest model of best practice to comfort dying patients and their families. The Island's low rate of blood donation has caused concern. Bermuda's total blood donor population of 1,107 is less than half that of comparable western countries. A total assessment of BHB's information technology has been completed, and electronic health records are to be implemented at both hospitals. BHB will hire an expert to oversee the procedure. The Queen Elizabeth Nursing Residence is increasingly unsafe and demolition is the preferred option, but due to the recession, BHB believes this can be put on hold. At the Mid Atlantic Wellness Institute (MAWI) the Mental Health Plan is based on the recovery model. Assertive outreach teams are now able to visit patients in their homes. Part of this can be seen in the Budget with the allocation of $120,000 for vehicles to outreach teams. The team also attends both Government senior schools to assess students, and a residential team is in place to serve group homes. All 74 of MWI's resident learning disabled clients, who formerly lived on site at MWI, have transferred to a group home in the past year.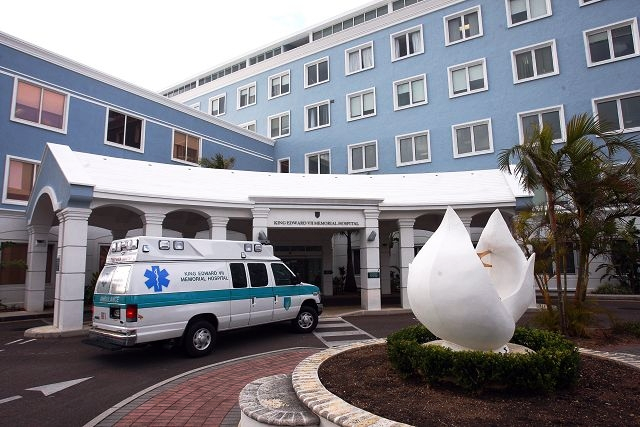 2011. February. The BHB cut short its multi-million dollar five-year contract with Kurron Shares by 18 months to save money. It cost Bermuda $13.5 million over five years.
2011. February 26. The new hospital will cost $13 million less than anticipated. According to the Bermuda Hospitals Board [BHB], the final bill for the design and construction costs will be $247 million. Any cost overruns will be the responsibility of Paget Health Services, which is building the new facility. The original estimate of $260 million was based on a Johns Hopkins Medicine International Report. In a statement, a hospital board spokeswoman said: "BHB has chosen to deliver the new facility through a public private partnership [PPP] that transfers many of the project's risks, such as cost overruns and on time completion, to the private partner. The PPP model also allows for cost certainty, and frees funds to be used by BHB now to improve patient care and facilities, because the first payment on the new building will not be made until 2014. A fair and competitive bidding process between the three bid teams short listed by BHB helped keep the project costs down." BHB chairman Herman Tucker, said: "It gives me great satisfaction to see us come in under estimate. We have entered into a project we know we can afford, and our private partner has financial incentives to build, on time, a high quality hospital building. Paget Health Services will also maintain the building for the length of the contract, giving Bermuda an assurance that we will have a high quality, modern healthcare facility for the next 30 years. As this is Bermuda's biggest construction project, any delays and cost over-runs could be very damaging to us, especially as we face one of the most challenging economic times in living memory. A key benefit of the way we are delivering this new facility is that Paget Health Services take on the risks of delays and cost over-runs. This is very good news for us and Bermuda as we seek to control healthcare costs for the community." Deputy Chief Executive Officer, Venetta Symonds, said: "We would like to thank the many people involved in this project, from staff to government employees, community groups, neighbours and advisors. It should give all of us great pride that we have managed to come in under budget and that work has already started. We are really looking forward to treating our first patients in the new building in 2014." BHB is responsible for paying Paget Healthcare Services $40 million once the hospital has been built in accordance with the agreement. The rest of the costs will then be paid over the course of 30 years, through annual payments. According to the BHB statement: "The first year's total annual payment obligation is $26.7 million. Like the capital costs of the construction phase, this annual payment amount is less than BHB had budgeted for in its capital financial planning process. All annual service payments will be disclosed via BHB's regular financial reports."
2010. Late. the Bermuda Hospitals Board (BHB) signed a project agreement for the new hospital site, now being built (see photo at top of page). The agreement with Paget Health Services (PHS), a consortium of experienced local and international firms, allows them to design, build, finance and maintain the new King Edward VII Memorial Hospital building at the existing site. The new hospital is expected to begin caring for patients in 2014. It is expected to cost over $260 million. It was announced in December 2011 that the first year cost alone to taxpayers will be $66.7 million. There will be a 30-year payment schedule.
The partnership between BHB and PHS includes a three-year construction phase and 30-year maintenance phase. The new building will include 90 single-occupancy en suite patient rooms, Bermuda's first dedicated day surgery unit and ambulatory care services like oncology, dialysis, asthma and diabetes management. It will also include diagnostic imaging services and a new emergency room and utility plant.
BHB will make its first payment for the hospital redevelopment in 2014. Health Minister Zane DeSilva told the House of Assembly under the agreement between Paget Health Services (PHS), the company that will be building and maintaining the property, and the Bermuda Hospitals Board (BHB), no money will exchange hands until the construction is completed. PHS pays for construction of the new hospital building, and the BHB pays nothing until it is complete in three years' time to BHB's specifications. BHB will retain ownership of the land and building.
In 2007, medical consultants Kurron Shares of America Inc won a five-year $13.5 million contract to help BHB develop a long-term health care strategy for the Island, beating a bid by world-renowned Johns Hopkins Medicine International. The decision prompted criticism from doctors, who claimed Kurron Shares was "minor league." Also terminated was physician support contract with Greeley, which was not renewed in 2011. A number of other smaller contracts have either been terminated, not renewed or reduced. In total, net savings per annum are expected to be in the order of $4 million.

The goal is to improve efficiency and find appropriate operational cost savings, while continuing to improve health care services.

The continuous review is part of BHB's commitment to consistently provide value to the community in the face of rising health care costs and the current economic challenges in Bermuda. It also reflects BHB's responsibility to be prepared to meet the financial obligations of the KEMH Redevelopment Project, which includes making repayments for the new hospital facility from 2014 and funding the revitalization of the existing KEMH facility. BHB's succession planning programme has identified Bermudians for senior leadership positions that were once held by consultants. With plans for the new hospital facility approved and a contract signed, the timing was right for a full review so that we only maintain those contracts whose role remains vital for us to meet the long-term health care needs of Bermuda. The Ministry of Health spent approximately $19.4 million on consultants between April 1, 2008 and January 31, 2010.
Bermuda-based Air Ambulance services have been discontinued and will not be able to fly again unless Government provides some money to help. The Bermuda Air Medivac plane has not flown since November 2011. The service was dealt a double blow by a declining number of patients and competition from cheaper US services. The air ambulance, which was set up in 2004, made 500 trips to take sick people for specialist medical help overseas before it folded. Patients ranged from head injury and stroke victims to cardiac cases. Meanwhile, the plane which ran the service, which was purchased with a charitable donation, remains in New York and may eventually be sold. Earlier, in the event of an emergency air evacuation from Bermuda to the USA or Canada, for medical services that cannot be performed in Bermuda, Bermuda Air Medivac Ltd was the operator of Bermuda's only emergency aircraft. A well-known philanthropist, David Barber, donated $2 million in 2005, in memory of his wife Mary, to buy an 11-seater jet for the company. Before the initiative, those critically injured or seriously ill had to wait for air ambulances based in the United States and Canada to fly to Bermuda and transport them off the Island.
Services include:
Acute Care Wing. Major reconstruction occurred, ending in late 2015. With an MRI scanner.
Ambulances. All have automated external defibrillators (AEDs). They are portable devices that under medical supervision deliver a small electrical shock to restore normal heart rhythm during sudden cardiac arrest, a condition that kills countless patients a year. The average survival rate world-wide for sudden cardiac arrest is just 5 percent, but with fast treatment and an AED, there is a greatly improved chance of survival. The operator of an AED turns on the device and places two pads on the victim's chest. The machine assesses whether the heart is "fibrillating" or quivering instead of beating normally. If an abnormality is detected, the AED prompts the user to push a shock button to deliver a shock to the heart. If it does not restore normal rhythm, the unit repeats the process. An AED won't deliver an electrical charge to a person who has simply fainted and does not have fibrillation. Many AEDs have now been imported to Bermuda, thanks to a resident Australian philanthropist. In most countries that have AEDs - but not yet in Bermuda - "Good Samaritan" laws protect people who operate AEDs to treat a cardiac arrest victim.
Angiography.
Asthma Centre. Contact asthma.centre@bhb.bm or 239-1652 for more information. Since April 2000. Located at Fairview Court on the grounds of the Mid-Atlantic Wellness Institute. Set up to improve the lives of people in Bermuda living with long-term lung conditions. Approximately 9,000 people (12 per cent) living in Bermuda have asthma. It is the number one reason children take medication whilst at school, and the number one reason they miss school. It's also the leading reason adults miss days from work. Respiratory disease is repeatedly one of the top causes of admission to the Hospital. People suffering from asthma were the most frequent visitors to the Emergency Department and Urgent Care Centre in 2015. Asthma and COPD affect the dynamics of a family as a whole. In 2015 alone, there were 1,888 asthma visits to the Emergency Department. Healthcare professionals can empower their clients and help give them the tools they need to control their asthma by providing their patients with an asthma action plan. The service is covered by insurance. Works in close partnership with the Government Health Department, the Ministry of Education's school asthma nurse and Bermuda's asthma charity Open Airways. Everybody who has asthma should have an action plan from their doctor. The physician gives advice specific to the patient providing the patient with a written agreement that helps them stay in control of their asthma. It includes specific daily asthma medications and what to do when the asthma gets worse, or if they have asthma attack. An action plan can help reduce the number of visits to the Emergency Department and the doctor's office, which in turn can improve quality of life and reduce the number of days that people have off work and school due to asthma. An action plan should be updated yearly by your doctor or asthma nurse for most adults, and more frequently if more severe.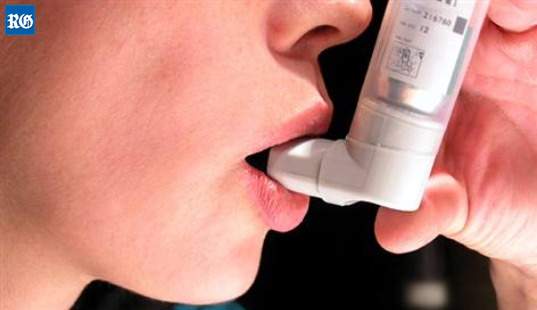 Asthma relief
Bermudian medical students. Those returning to the Island enjoy better opportunities for work at KEMH than many of their overseas peers.
Blood Clinic. Created in April 2012 by KEMH's cancer specialist/oncologist/haematologist Dr. Paul Coty and colleagues, to help with blood diseases. Until then, patients had to travel overseas for specialist attention. Local GPs sought out Dr Coty because it is well known in the medical community that oncologists are usually also blood specialists. Dr Coty said he thought it warranted a separate clinic, because people with these blood diseases were not ill in the same way that many cancer patients are. He said it would be better not only for the patients with the blood disorders but also for the cancer patients, to separate them. The clinic runs once a month on the second Thursday of the month.
Cardiac Diagnostic Unit. With a Cardiac Rehabilitation Specialist and Personal Cardiac Patient Folders of cardiac condition, family information, prescriptions, etc. It opened officially in August 2002. Patients undertake a stress test on a unit under the supervision of their doctor. The unit is good but there is no cardio-pulmonary rehab unit.


Cervical Cancer Screening. Cervical cancer is believed to have a very good recovery rate when diagnosed in time. In 2010, there were 11 cases of severe pre-cancerous lesions (carcinomas that cannot spread) in Bermuda and one case of invasive carcinoma (a carcinoma that can or has already spread). KEMH is hoping to see these figures improve greatly with the introduction of the ThinPrep Imaging System with Dual Review, an advanced cervical screening system. Each Papanicolaou [Pap] test is now analyzed by the new system and then screened by a skilled cytotechnologist. Cells of interest are highlighted for the technologist to review, helping them to better focus their skills on pre-cancerous cells. This new method improves disease detection and enables early treatment interventions to prevent cancer. The system is already in common use in the United States and is thought to be the most accurate type of testing currently available for cervical cancers. The Bermuda Hospitals Board (BHB) is the only laboratory in Bermuda offering this process. They handle around 7,500 screenings a year, about half of all screenings done in Bermuda. Not everyone's Pap test comes to the hospital. They are either farmed overseas or sent to KEMH. The new ThinPrep system combines advanced computer imaging technology with human expertise to improve cervical cancer screening efficiency and performance. It is the first fully integrated, interactive computer system available to assist the experts in screening Pap test slides. All cervical cancer tests at BHB are now screened using this system. In general, doctors in Bermuda recommend beginning Pap testing when women become sexually active. Women with certain risk factors may require frequent testing and are encouraged to discuss cervical cancer screening with their healthcare provider. These risk factors include a previous diagnosis of cervical cancer or a Pap test that showed pre-cancerous cells, exposure to diethylstilbestrol (DES) before birth, HIV infection and a weakened immune system due to organ transplant, chemotherapy or chronic corticosteroid use. Women can request their doctor or gynecologists send their Pap tests to the hospital for testing in order to benefit from this new system. More than 30 published studies involving more than 500,000 patients have demonstrated improved performance using the ThinPrep system. Improved accuracy of testing means a better chance of early diagnosis and a better outcome for women with cervical cancer. The old method was simply that KEMH would receive the cell sample and a cytotechnologist would screen the pap test and diagnose it. With the imager, advanced computerized technology will select cells of interest that may be abnormal or atypical cells. It just highlights where they are, but it still needs a human being to look at the test. The combination of this computer technology with qualified cytotechnologists has yielded a more sensitive Pap test to more effectively find abnormalities. It looks for lesions, ideally to catch them at the pre-cancerous stage. The aim is to get the pre-cancerous lesions and identify the patients who need intervention before cancer develops. For pre-cancerous lesions there is no need for radiation, they are just removed by surgery. Depending on how severe, the patient is either closely followed up if they harbor a mild pre-cancerous lesion, or removal by surgery will be performed for severe but pre-cancerous lesions. It is only cancerous cases that need radiation therapy. The pre-cancerous lesions are associated with the human papillomavirus virus (HPV) infection. In Bermuda, like many parts of the world, the HPV infection rate is very high. There is now an HPV vaccine offered that protects against many of the major strains of the HPV virus. The fact that KEMH seeing very low cervical cancer cases with high HPV infection rates reflects the effectiveness of the local cervical screening programme.
Child's wagons. To transport children to the surgery room, to make the experience less traumatic. Donated by the Continental Society of Bermuda, a registered charity.
Diabetes Respiratory Endocrine and Metabolism Centre. Also see and same location as Asthma Centre
Diagnostic Scanner. Brand new in February 2012, the $1.48 million GE Discovery 128-slice CT machine provides faster scan times and a reduction in radiation doses of up to 50 percent. The scanner is twice as powerful as the 64-slice machine at Brown Darrell clinic, making it the most powerful on the Island. The machine was donated to Bermuda Hospitals Board by Hospitals Auxiliary of Bermuda. CT scanning is a form of diagnostic imaging using X-rays at many different angles to get a picture of body tissue. BHB's new state-of-the-art technology gives physicians the ability to see more anatomical detail in only a fraction of the time it took previously. The new machine also offers virtual colonoscopy, a procedure that displays images of the large intestine on a screen, permitting physicians to assess and diagnosis digestive conditions using a less invasive procedure than surgery. The lower radiation dosage reduces the possibility of healthy tissue being damaged. The most important aspect of the new machine is that it gives a clearer picture of what is happening in the body. It enables doctors to diagnose problems faster and more accurately. Blockages in blood vessels, for example, are clearly visible, allowing doctors and patients to know the precise location of the problem.
Dialysis unit, new. Renamed and upgraded as the Dr. Beresford Swan Dialysis Centre, named after the local cardiologist who initiated it. But it is already in dire need of more space and, better facilities for the patients who benefit from their services. Bermuda has one of the highest rates in the world for dialysis users. There were 19 stations in the old unit, now have 22 stations in the new unit and can do 16 more treatments per day than in the old unit. The new unit operates for longer hours, from 4am to 9pm, Monday to Saturday.
Digital UHF Telemetry Machine, at three stations in Cooper, Curtis and ICU wards. It enables patients to be monitored appropriately.
Expressing room. A room specifically for mothers to express milk, or breast-feed. Opened in February 2011. Nestled in the back of the children's unit on the second floor of King Edward VII Memorial Hospital (KEMH), the small space features pictures of mothers and babies, a desk, some shelves, a small fridge, a chair and some literature from the breastfeeding support group, La Leche League. Being in the children's unit, sometimes the coos and cries of babies can be heard.
Heart Defibrillators. Nine were recently donated to the hospital by Australian millionaire resident Bruce Gordon, who also supplied many others island-wide.
High Intensity Focused Ultrasound (HIFU). In Bermuda since 2010. A non-invasive alternative to chemotherapy. One of the ways in which Bermuda can actively explore the expansion of medical tourism as a way to fill Bermuda's empty hotel beds. Cashing in on 'medical tourists' as well as their families and doctors looks set to be one of the recommendations of the National Tourism Plan. Medical tourism could be a major revenue generator. The medical tourism industry is big business across the world and was introduced at King Edward VII Memorial Hospital in 2010 with a new prostate cancer treatment unavailable in the States. Government is now working behind-the-scenes to "take things further" by actively promoting Bermuda as a medical destination. It is hoped that Bermuda's struggling tourism industry will reap the benefits of large numbers of people coming for lengthy stays. Bermuda's proximity to the US and the offer of recovering in a beachside setting are understood to make Bermuda an attractive destination for patients. Bermuda Hospitals Board (BHB) has previously announced that High Intensity Focused Ultrasound (HIFU) generated 1,000 bed nights for local hotels in its first nine months. And since 2011 45 HIFU patients have been welcomed to KEMH. Medical tourism could offer a boost to the Island's economy (but note that the USA's Medicare does not cover overseas medical care.) Patients from North America would fly to Bermuda, for treatment or recovery, in the same way they currently travel to Europe, and UK visitors go to Europe or India, to avoid long waiting lists or high costs. From a quality perspective, BHB will only consider offering treatments and procedures to medical tourists that are evidence-based and meet the standard of appropriate bodies. This means BHB will review potential medical tourism opportunities extremely carefully. However, the potential is there to benefit the hospital and Bermuda. It can also help with recruitment as local healthcare professionals will have the opportunity to work on some quality, leading treatments and procedures with international specialists.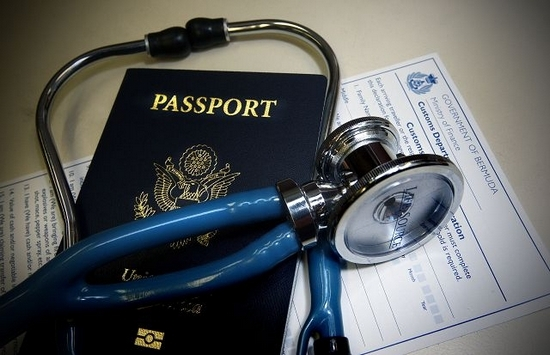 Medical tourism with HIFU, above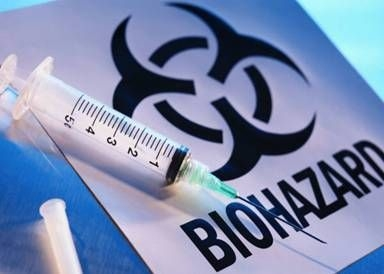 Hyperbaric chamber. Not all hospitals have one. Bermuda's is good. For decompression sickness. It can strike both local and tourist divers. Our bodies are designed to breathe freely on land. Once we go underwater there is a change in atmospheric pressure. The pressure increases the further down we go. Scuba divers take tanks of compressed air with them to breathe while underwater. The air contains oxygen and nitrogen (it may also contain helium). Oxygen breathed in is necessary for the body's cells to function and gets used up, nitrogen however gets stored. The deeper we dive the more nitrogen from the compressed air moves through the lungs and into the blood and body tissues. The longer we stay in the deep, nitrogen dissolves and accumulates first in those tissues with the most blood flow, eg the brain, and more progressively the fatty tissues of our bodies. On longer dives some or all of these tissues become saturated with nitrogen and will not accept any more. As we swim back to the surface, there is a delay before saturated tissues start to release nitrogen back to the blood. This is what causes decompression problems. As indicated by its name, the problem is in decompressing, moving from high pressure to low. When a critical amount of nitrogen is dissolved in the tissues, a reduction of pressure, caused by moving to the surface, induces the dissolved gases to be released and form small clustered bubbles in tissue cells, tissue spaces and blood. Ascending too quickly causes the dissolved nitrogen to return to gas form more quickly increasing the number and size of the bubbles. This return-to-the-gas state happens while the nitrogen is still in the blood or tissues. This causes the characteristic decompression sickness pain and can also damage cells.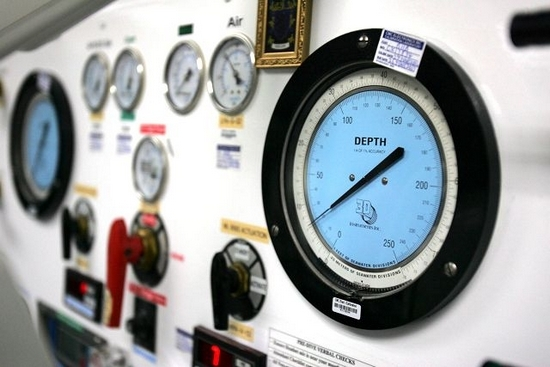 KEMH's Hyperbaric unit
Image Analysis Machine, as a diagnostic addition/extension of the Stress and ECG tests.
Lung cancer screening. If you've been a heavy smoker or have been subjected to second-hand smoke in concentrations where you feel you might has well have been smoking yourself, you might be concerned that you'll develop lung cancer or worse, that you've already got it. Now being offered not at KEMH but at the Brown Darrell Clinic, with the CT scanner. The service is offered in partnership with the Lahey Clinic of Massachusetts. Patients have to be referred by their doctor for the scan. The local physician fills out a form which goes to a radiologist specialist at the Lahey Clinic. Based on the information from the local physician, the Lahey specialist gives specific instructions on how to carry out the scan including where the patient should be positioned. If follow-up is necessary, patients are not limited to having it done at the Lahey Clinic. The files are kept electronically and can be shared with any facility using the same system. Many Bermuda patients go to Johns Hopkins. They will have a patient number which enables their results to be shared with other facilities on the PAC (picture, archiving and communication) system.
Mammography. Recently upgraded to new digital equipment, offers digital mammograms. The machine is equipped to provide stereotactic biopsies — the next diagnostic step following a suspicious mammogram. In Bermuda in 2009, breast cancer was the most commonly registered type of cancer in women and it was the third highest cause of death from cancer. A woman's risk of breast cancer increases with age. Having an annual mammogram after reaching 40 is one of the best chances of catching breast cancer early. It should be part of an annual wellness check, just like a pap test for cervical cancer.
Magnetic Resonance Imaging (MRI) Department. New in 2003. It complements CAT examinations.
Maternity Unit. The maternity ward is now equipped with two modern operating rooms, a great step forward in improving the safety and comfort of mothers, along with their newborn children. One room will function solely as a state-of-the-art OR for both planned and emergency Caesarean sections, with the second room retained for routine deliveries but fully equipped as a backup OR. Both rooms are next to the birthing rooms, making it easier for mothers in need of emergency interventions. Previously, when mothers required emergency C-sections, they had to be transported to a level above the delivery rooms.
Medical Clinic, now closed. It once provided a safety net for seniors unable to pay HIP or FutureCare, was closed several years ago by former Premier Dr Ewart Brown. This clinic provided physicians, nursing care, medications and screening all under one roof at this hospital, even transportation was provided.
Patients Bill of Rights. See http://www.bermudahospitals.bm/bhb/patient-visitor-info/patients-rights.asp. And Rights of Involuntary Patients. See http://www.bermudahospitals.bm/bhb/patient-visitor-info/involuntary-rights.asp. And Patients Responsibilities. See http://www.bermudahospitals.bm/bhb/patient-visitor-info/patients-responsibilities.asp.
Patients who incur very serious life-threatening problems who have insurance or the means will continue to be sent to Johns Hopkins in Baltimore, Maryland or Lahey or Spaulding in Boston, Massachusetts, by air-ambulance, if needed.
Prostate Cancer Treatment via High Intensity Focused Ultrasound (HIFU), unavailable in the USA, yet to be endorsed by the US Food and Drug Administration. Has brought medical tourists and their families and doctors to the Island since being made available in 2010, said to have generated a total of 1,000 bed nights for local hotels. Through a device called Sonablate (R) 500, HIFU works by destroying prostatic tissue through extreme heat, produced from focused ultrasound waves. It is described as a "minimally-invasive" prostate cancer treatment. US HIFU is a private health care company based in Charlotte, North Carolina. It says that compared to other therapies such as surgery or radiation, HIFU has less significant side effects. Already, more than 30 countries have medical facilities which use the technology.
Radiology. With a radiology information system from Arizona-based Misys Healthcare Systems to make film unnecessary. All X-rays and cat scans now go directly to a computer.

Restaurant. Pink Cafe. Phone 236-2488 or 236-9742. Operated by Bermuda Hospital Auxiliary. Temporarily closed February through March 2016 for major refurbishment and extension. Re-opened March 23 2016 after 3 weeks of renovations. Open 7am to 11am, 12-2pm and 5pm to 7pm Monday to Friday. Plenty of parking for visitors and residents. Proceeds raised by the Pink Café, as well as HAB's thrift shop The Barn and the HAB Gift Shop, go towards supporting the hospital. The café, which is run by volunteers except for four paid kitchen staff, now offers an open, clean and whole new modern look.

Scanner. In 2009 The Hospitals Auxiliary of Bermuda allocated $500,000 toward Bermuda Hospitals Board's purchase of a new 64-slice CT scanner.

The scanner, which has four times as many detectors as a typical single slice CT scanner, combines unequalled image quality with remarkable speed. It can produce detailed pictures of any organ in a few seconds and provides sharp, clear, three-dimensional images, including views of blood vessels, in an instant. Introduction of the 64-slice CT scanner at the hospital will extend over the 2009/10 fiscal year, as it will require renovations in the CT area, along with the addition of a digital image archiving system, needed to manage the vast number of images produced by the new equipment.

Sickle-cell patients. The Spectra Optia therapeutic apheresis machine, which extracts and filters blood, was bought in September 2015 with financial help from the Bermuda Sickle Cell Association. The machine, which acts as a sort of cell exchange, can extract red blood cells, white blood cells, platelets or plasma and simultaneously replace the removed components with the required product when necessary. It drastically reduces the amount of time a patient has to undergo transfusion. Usually it took four to six hours for a manual partial red cell exchange treatment, but with the new machine a full red cell exchange is finished in 90 minutes.

Special Care Baby Unit. For premature and other needy new babies. Located in the maternity ward, unlike in large hospitals abroad where it can be some distance away from a maternity ward.

Staying Steady Group. Falls prevention. Day Hospital Rehabilitation Service, KEMH Phone 239-7129. Fax 236-2173. Not a normal volunteer support group, instead a service referred by an appropriate healthcare professional and paid for via health insurance.

Ultrasound. A new portable unit was imported, especially for difficult pregnancies.
Waste Treatment Plant. Went online in 2014. It supplements and partly replaces the previous hospital waste system piped across the South Road to join into the City of Hamilton underground piped sewage system into Seabright Avenue, Paget and then, at the southern end of Seabright Avenue, dumped untreated into the sea.

X-ray equipment, new in January 2013 was purchased thanks to the donations of the Hospitals Auxiliary of Bermuda (HAB). The new equipment is intended to replace a 16-year-old system at KEMH, which was becoming increasingly difficult and expensive to maintain. It includes a replacement fluoroscope which enables an imaging technique that uses X-rays to obtain real-time moving images of the internal structures of a patient, called fluoroscopy. Fluoroscopies are frequently used to investigate the gastrointestinal tract or urinary tract, or provide an arthogram of joints. While the Hospital Board paid $57,855 to install the system, the cost of the donated equipment itself cost $419,864, all raised by the HAB through membership dues, The Pink Cafe, The Gift Shop and The Barn. HAB donates around half a million dollars to the Hospital Board annually to purchase new equipment, along with supplying the hospital with numerous volunteers. This donation helped us replace equipment that was increasingly challenging and costly to maintain. The impact to patient care resulted in delays due to high levels of maintenance, and extended downtimes. The HAB's donation enabled KEMH to improve quality with new technology and relieved the escalating financial burden of keeping aged equipment running. The equipment will improve the quality of care provided by the hospital, and will be moved to the new hospital building when opened in 2014. The new equipment updates the technology and enables KEMH to improve the quality of the images and reduce the amount of contrast and radiation patients are exposed to in each test.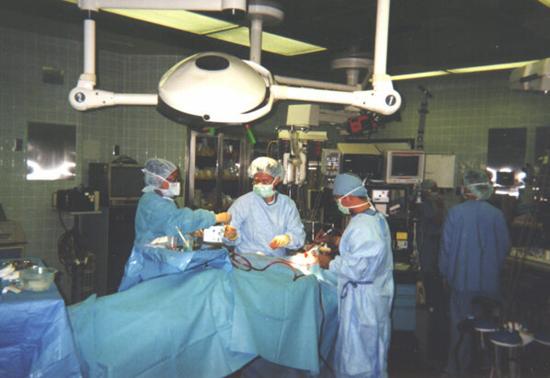 Mid Atlantic Wellness Institute (Formerly St. Brendan's Hospital)
44 Devon Spring Road, Devonshire FL01. P. O. Box DV 501, Devonshire DV BX. Phone (441) 236-3770, fax (441) 235-9383. Also Bermuda Government owned and operated. It includes a detoxification unit, 8-bed. At the Turning Point Center.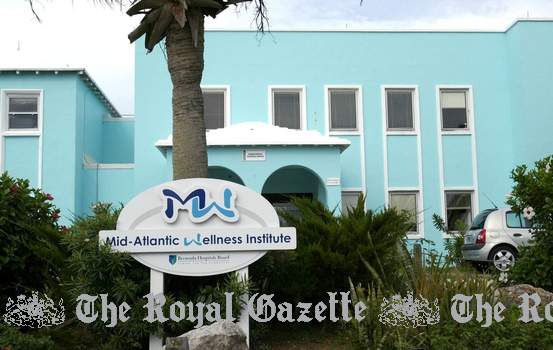 Registration required for all newcomers and locals
This applies to Medicine and Professions supplementary to Medicine. Also, in addition to whatever registration employees are required to have to obtain or retain their accreditation overseas, registration in Bermuda in the appropriate discipline must be obtained before practice is permitted locally, whether at the Bermuda Government-owned hospitals hospitals or in private practice. This applies to a wide range of specialists including Addictions Counseling; Audiology; Chiropody; Diagnostic Imaging technology; Dental Hygienists; Dental Practitioners; Dental Technicians; Dietetics; Emergency Medical Technicians; Medical Laboratory technologists; Midwives; Occupational Therapy; Optometrists and Opticians; Pharmacies; Pharmacists; Physiotherapy; Radiography; Specialist Diagnostic Imaging technology; Speech-Language Pathology.

To better regulate health professionals, there are now powers to suspend or bar people for misconduct. The Professions Supplementary to Medicine Amendment Act 2006 , enacted by the Bermuda legislature, ensures practitioners are competent and stay up to date with the latest techniques and that there are more teeth for dealing with complaints. The primary purpose is to ensure they meet established standards of education, training and professional conduct and are educated about new procedures that come along. Covering such professional categories such as physiotherapist, occupational therapist and diagnostic imaging the Act establishes a Council for Allied Health Professionals to promote patient interests and exercise discipline over practitioners. A Preliminary Proceedings Committee has been set up to investigate complaints – serious complaints will then be referred to a Professional Conduct Committee which can hand out fines of up to $2,000, suspend a person's registration for a year or even bar them from practicing.
Registers and/or interested organizations include
Only persons on their respective registers are recognized to practice in Bermuda. All involved who need or want further details about registration should contact the Administrative Assistant to the Council, Ministry of Health and Family Services, P. O. Box HM 1195, Hamilton or telephone (441) 236-0224 extension 3441.
Age Concern Bermuda
Bermuda-registered charity # 137. 25 Point Finger Road, Paget DV 04, Bermuda. P. O. Box HM 2397, Hamilton HM JX, Bermuda. Telephone (441) 238-7525. Fax (441) 238-7177. Open to the public 9 am-4 pm Monday-Friday. Not part of Age Concern in UK and not offering the services they do. Most of the income from this entity is from the corporate private sector, Bermuda Government and some individuals. Income goes to operating expenses. It will not campaign for free hospitalization and free prescriptions for seniors. There is an annual membership fee to individuals.
Bermuda Cancer and Health Centre
46 Point Finger Road, Paget. P. O. Box HM 1652, Hamilton HM FX. Phone 236-0949. RC 070. Formerly Bermuda Tuberculosis, Cancer & Health Association. Since 1945, established by Act of Parliament. founded to assist patients fighting TB. It educates the community about prevention and early detection of cancer. It conducts 75% of all mammograms. It educates and supports diabetic and ostomy patients. 25 percent of all deaths in Bermuda are attributed to cancer. Most common types in Bermuda include (in descending order) prostate, breast, colon and rectum, lung and bronchus, and skin. The Centre highlights the importance of early detection as the best form of prevention. Other services include ultrasound and bone densitometry.
Bermuda Council on Ageing
Since late 2006. Charged with coercing Government to implement strategies necessary to protect one the island's fastest growing demographics. The Department of Statistics estimates the over-65 population will reach 22 percent by 2030 – double the amount of the 2000 Census. So one of the most crucial roles for the Council is preparing the country for an onslaught of elderly care giving – at home and in assisted living facilities.
Bermuda Dental Association
Bermuda Dental Board
See Bermuda Government Boards. P. O. Box HM 2748, Hamilton HM LX. Phone 295-8233.
Bermuda Health Alliance
Suite 200, 40 Par La Ville Road, Hamilton HM 11. Telephone (441) 296-2875. A cooperative venture of the Bermuda Diabetes Association, Bermuda Hospitals Board, Bermuda Heart Foundation, Friends of Hospice, Resident's Family Council and Hospitals Auxiliary. Registered charity.
Bermuda Health Care Consortium
Founded September 20, 2002. Chairman Mark Selley. Founded to help bring much-needed long-term insurance and other pressing needs to Bermudians and residents presently without the type of coverage or financial and other support services common in other developed countries. Call Chairman at "Ship's Bow," 4 Keith Hall Road, Warwick WK 06, phone 236-0037
Bermuda Health Council
A Bermuda Government appointed entity. Established as an official health watchdog. Responsible for regulating, coordinating and enhancing the delivery of health services in Bermuda. Made up of doctors, insurers, hospital officials and patients. Also responsible for regulating the price of drugs sold to the public and conducting research on the subject of public health.
Bermuda Health Foundation
Owned and operated by Murray Brown, Philip Butterfield, Dr. Vincent Bridgewater and Dr. Ewart Brown
Bermuda Heart Foundation
For coronary incidence, treatment and prevention. P. O. Box HM 1993, Hamilton, HM HX. Telephone (441) 295 3346. Fax: (441) 295-5371. A registered charity, 1996. Unlike most support groups, it is a major player in arranging the funding for critically important life saving heart related equipment for the hospital and is supported by health professionals of the highest reputation in every relevant field. It has no paid employees. Board meetings are on the 3rd Thursday each month. Board of Directors include Dr. Shane Marshall, MD, FRCPC. Goals are equipment, building, direct services, education.
Bermuda Hospitals Board
See Bermuda Government Boards.
Bermuda Hospitals Charitable Trust (BHCT)
P. O. Box HM 2273, Hamilton HM JX. T. 441-298-0151. F. 441-296-1072. An independent organization founded as the formal charitable arm for accepting donations and fundraising on behalf of the Bermuda Hospitals Board (BHB). A separate entity from the BHB and Ministry of Health, governed by its own Board of Trustees who determine policy and are responsible for its own sound fiscal management.
Bermuda Integrated Health Service Cooperative (BIHC)

Lotus, Victoria Street, Hamilton. Since 2012. BIHC, proponents of out-of-hospital childbirth have won Immigration approval to bring their own midwives to the Island. BIHC received permission after the Bermuda Medical Council confirmed it didn't need a full medical licence to do so. The victory follows eight years of struggle, said director Sophie Cannonier. "Midwives here in Bermuda function as obstetric nurses. They are not available to the public for birthing outside the hospital. So when I started to investigate through Immigration how I could bring in midwives, that's where the impasse came in. They said we were not able to do it. I was told we couldn't bring people in because I wasn't the holder of a medical licence. So we went back and forth trying to get the door open." Residents now have access to Bermuda-registered US midwives Susan Cassel, Makeda Kamara and Lisa Dalporto. The trio will work under the auspices of the BIHC, allowing residents to give birth "anywhere they want." The move could prove a breakthrough in changing Bermuda's medical culture, with costs far lower than typical hospital births. BIHC is trying to negotiate reasonable fees for insurance to cover BIHC services. Ms Cannonier serves as Cooperative director alongside her husband Michael Watson and Eugene Dean. With out-of-hospital midwifing "disappearing" across the US its emergence in Bermuda is a special victory. BIHC hopes to expand its services as more residents choose to explore their options.

Bermuda Medical Association (BMA)
75 Victoria Street, Hamilton. An association of all medical doctors in practice in Bermuda.
Bermuda Medical Council
See Bermuda Government Boards.
Bermuda Medical Society
King Edward VII Memorial Hospital, Point Finger Road, Paget. An association of all medical doctors in practice in Bermuda. All doctors in the heath care profession in Bermuda must be members.
Bermuda Nurses Association
Patrice Dill at (441) 236-3770 extension 3254. A registered charity and active organization that celebrates the annual Nurses Week theme with community wide activities, free blood pressure, blood sugar and blood cholesterol screening. Under the Nurses Act 1997, all nurses whether registered or enrolled must renew their licenses on an annual basis and pay dues each year.
Bermuda Nursing Council
See Bermuda Government Boards.
Bermuda Occupational Therapists Association
See web site.
Bermuda Organ and Tissue Donor Association
For more information, call KEMH at 236-2345. Welcomes those willing to become donors. In association with the New England Organ Bank.
Bermuda Pharmaceutical Association (BPA)
All Bermuda pharmacies must be licensed members.
Bermuda Psychologists Registration Council
See Bermuda Government Boards.
Bermuda Stroke & Family Support Association
The Association meets on the third Wednesday night each month at 7 pm at King Edward VII Memorial Hospital. Telephone D. Mark Selley, Chairman, at 293-3121. Or write to him at "Seven Seas" #6 Rock Garden Lane, Harrington Hundreds Road, Smiths FL04, Bermuda. Phone 293-3121 or cell 334-8487. Or Ann Selley 295-3764; Hazel Lowe 236-0407; Moira Lindo 294-7613. RC 361.

Support, help, advice, encouragement, to assist Bermudian and Bermuda-based stroke survivors of all ages and backgrounds and families affected by stroke. Has no membership dues, takes no minutes, has no structured agenda or board of management. Strokes, more than any other medical problems, cause permanent chronic disabilities. Stroke identification - how to identify signs of a stroke - may be crucial. Getting a stroke recognized, diagnosed, and then having the patient medically cared for within 3 hours, which is tough, can make the difference between life and death. The stroke victim may suffer severe brain damage when people nearby fail to recognize the symptoms of a stroke. Now doctors say a bystander can recognize a stroke by asking simple questions, or looking carefully. Can the person smile? Is the face crooked or normal? Can he/she talk and speak a simple sentence coherently? ( For example, it is sunny out, today). Speech is important. Can he/she raise both arms? Can he/she stick out their tongue? If the tongue is crooked or goes to one side or another, it's another cause for concern. If he/she has trouble with any one of these four questions, call the doctor or hospital or emergency service immediately and describe the symptoms.

Older adults often do not realize or may even forget they have had a stroke and may not be a reliable source of medical information, US researchers said in May 2009. Brain scans showed that while just 12 percent of seniors asked about strokes remembered having had one, nearly a third had brain damage showing they had. (Permanent brain damage results from a stroke). The stroke itself could damage memory, and many people may also have so-called silent strokes that are never diagnosed at the time. Stroke is associated with motor impairment but can also be accompanied by impairments in memory, sensation and speech or language, diminishing the ability of an individual to accurately report a history of stroke. Researchers who want to study strokes in adults young and old need to rely on MRI scans, and not patients, to get accurate information about stroke history.

50% of all strokes occur in people who have no prior symptoms. Strokes are a leading cause of severe permanent disability and death. People never recover fully from strokes, their limbs or brain or heart are often permanently affected. Some hospitals (unfortunately not in Bermuda) or private health systems (such as LifeLineScreening.co.uk) offer ultrasound screenings that can identify risk of strokes. Screenings are fast, painless, accurate and often affordable, involving four tests. Test 1 is stroke carotid artery screening. Test 2 is atrial fibrillation screening. Test 3 is abdominal aortic aneurysm (AAA) screening. Test 4 is peripheral arterial disease (PAD) screening.

Board of Chiropodists
See Bermuda Government Boards.
Board of Dietitians
See Bermuda Government Boards.
Board of Medical Laboratory Technologists
See Bermuda Government Boards.
Board of Occupational Therapists
See Bermuda Government Boards.
Board of Physiotherapists
See Bermuda Government Boards.
Board of Radiographers
See Bermuda Government Boards.
Board of Speech Therapists
See Bermuda Government Boards.
Council for Allied Health Professionals
Established in 2006, it promote patient interests and exercise discipline over practitioners. It has a Preliminary Proceedings Committee, set up to investigate complaints – with serious complaints referred to a Professional Conduct Committee which can hand out fines of up to $2,000, suspend a person's registration for a year or even bar them from practising.
Diabetes Resource Centre
Beacon House, Beacon Street, Hamilton. People can get their blood sugar tested and pick up supplies of insulin and syringes here, while patients without adequate insurance coverage can get financial assistance from Bermuda Diabetes Association. Visitors can also read publications related to diabetes, while bi-monthly foot screenings are available by a podiatrist. Support for the project has come from Allied World Assurance, Butterworth Associates, XL, the Bermuda Society for the Blind and the Corporation of Hamilton. The Long Riders Motorcycle Club's 48-hour ride for diabetes last year raised $18,000 towards costs. The dispensary is open from 8.30 a.m. to 12.30 p.m. Monday to Friday. Private consultations may be arranged in weekday afternoons. Telephone 297-8427 or 29-SUGAR for more information.
Government Employees (Health Insurance) Appeals Tribunal
See Bermuda Government Boards.
Government Employees (Health Insurance) Management Committee
See Bermuda Government Boards.
Health & Safety Advisory Council
See Bermuda Government Boards.
Hospital Insurance Commission
See Bermuda Government Boards.
Medical Practitioners
A register of names of doctors under Section 6 (2) of the Medical Practitioners Act 1950 is maintained by the Bermuda Medical Society and Bermuda Hospitals Board. It is in the order in which they were registered in Bermuda.
Medical Reference Committee
A Bermuda Government committee under the Motor Car Act 1951 to determine the fitness or otherwise of licensed Bermuda drivers, especially those over 75 years old. See Bermuda Government Boards.
Mental Health Review Tribunal
Bermuda Government appointed under the Mental Health Act 1968. See Bermuda Government Boards.
National Drug Commission
See Bermuda Government Boards.
Optometrists and Opticians Council
See Bermuda Government Boards.
Professions Supplementary to Medicine Council
See Bermuda Government Boards.
Register of Audiologists
Bermuda Government maintained under the Professions Supplementary to Medicine Act 1973. A full list is published annually.
Register of Chiropodists
Bermuda Government maintained under the Professions Supplementary to Medicine Act 1973, not in alphabetical order but in order of day of registration so that those earliest currently registered are first and the most recent are last. A full list every year.
Register of Dental Hygienists
Bermuda Government maintained under the Dental Hygienists Regulations 1950. A full list every year.
Register of Dental Technicians
Bermuda Government maintained under Regulations 2(b) of the Dental Technicians Regulations 1950. A full list every year.
Register of Dental Practitioners
Bermuda Government maintained under the Dental Practitioners Act 2008, not in alphabetical order but in order of day of registration so that those earliest currently registered are first and the most recent are last. A full list every year. The new act amends the Dental Practitioners1950 act which had no provision for registering dental hygienists and assistants. The act also requires dentists, hygienists and assistants to have continuing education to remain registered, have a professional conduct committee with mandatory reporting of impaired practitioners, a report annually and more. The Board increased from five to seven members with the senior Government dental officer becoming an ex officio member. The Bermuda Dental Association and Bermuda Dental Hygiene Association will be allowed to nominate members for the Minister to appoint, similar to other medical boards.
Register of Dieticians
Bermuda Government maintained under the Professions Supplementary to Medicine Act 1973, not in alphabetical order but in order of day of registration so that those earliest currently registered are first and the most recent are last. A full list every year.
Register of Emergency Medical Technicians
Bermuda Government maintained, registered with the office of the Chief Medical Officer. Some are Bermuda Hospitals Board, others are Bermuda Fire Service. A full list every year.
Register of Medical Laboratory Technologists
Bermuda Government maintained under the Professions Supplementary to Medicine Act 1973, not in alphabetical order but in order of day of registration so that those earliest currently registered are first and the most recent are last. A full list every year.
Register of Medical Practitioners
Bermuda Government maintained under Section 6 (2) of the Medical Practitioners Act 1950, not in alphabetical order but in order of day of registration so that those earliest currently registered are first and the most recent are last. A full list every year.
Register of Midwives
Bermuda Government maintained under Section 6 (2) of the Midwives Act 1949, not in alphabetical order but in order of day of registration so that those earliest currently registered are first and the most recent are last. A full list every year.
Register of Occupational Therapists
Bermuda Government maintained under the Professions Supplementary to Medicine Act 1973, not in alphabetical order but in order of day of registration so that those earliest currently registered are first and the most recent are last. A full list every year.
Register of Optometrists & Opticians
Bermuda Government maintained under Section 4 Part III of the Optometrists and Opticians Act 1973, not in alphabetical order but in order of day of registration so that those earliest currently registered are first and the most recent are last. A full list every year.
Register of Pharmacies
Bermuda Government maintained under Part IV Section 17(4) of the Pharmacy & Poisons Act 1979, in alphabetical order. A full list every year.
Register of Pharmacists
In accordance with Section 7 (4) of the Pharmacy & Poisons Act 1979. It shows every currently licensed pharmacist - Bermudian and non-Bermudian - by full first, middle and last name and the year, day and month when entered in the register.
Register of Physiotherapists
Bermuda Government maintained under the Professions Supplementary to Medicine Act 1973, not in alphabetical order but in order of day of registration so that those earliest currently registered are first and the most recent are last. A full list every year.
Register of Psychologists
Registrar General, Section 8, Psychological Practitioners Act 1998. A full list every year.
Register of Radiographers
Bermuda Government maintained under the Professions Supplementary to Medicine Act 1973, not in alphabetical order but in order of day of registration so that those earliest currently registered are first and the most recent are last. A full list every year.
Register of Speech-Language Therapists
Bermuda Government maintained under the Professions Supplementary to Medicine Act 1973, not in alphabetical order but in order of day of registration so that those earliest currently registered are first and the most recent are last. A full list every year.
Standing Medical Board
Pension and Gratuities (War Service) Act 1947. All surviving beneficiaries of such pensions are senior citizens.
The Psychological Practitioners Act 1998

For psychologists practicing in Bermuda
Accommodation for doctors and nurses from abroad
Some accommodation is available for incoming non-Bermudian doctors and nurses. Incomers to Bermuda should know Bermuda is the wealthiest place in the world according to the World Bank. Aspiring medical newcomers should check for themselves and make appropriate comparisons to determine that terms and conditions of service generally are comparable and equivalent in accommodation, length of service, upward mobility, salaries, benefits and airfares to those offered in American, Australian, Canadian, Cayman Islands, European and New Zealand hospitals. At all such places abroad, for academically and professionally qualified staff standard attractions and contracts include all local Board of Nursing or MD-certified or equivalent fees paid, accommodation (one-bedroom or more) for a stipulated period of time, round-trip air fares once every year or two, good local transportation options and financial assistance if merited, good living conditions and possibly a sign-on bonus.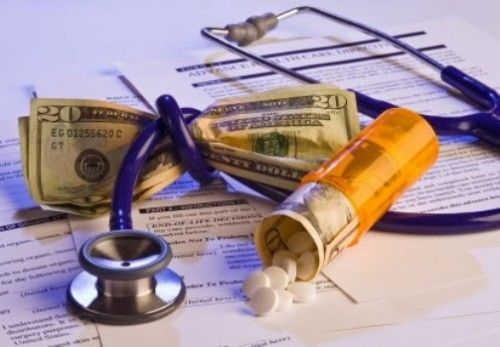 Once, the hospital system was private sector. At that time, it was supported by charity with the efforts of visitors like Mark Twain and British Army then in Bermuda. Today, the costs to all who need the hospitals of Bermuda are not included in national direct and indirect taxes as they are in Canada and the United Kingdom. There is no national health plan in Bermuda.
Prudent visitors will bring spare money in US Dollars, travel insurance and health insurance to cope with possible unexpected problems including accommodation in an emergency medical situation or a death. Visitors from the United Kingdom should note that the National Health Service of the UK does not apply at all in Bermuda. Nor does it have an equivalent. Medical costs here are as high as, often higher than, those in the USA. Affordable accommodation in Bermuda for such emergencies, especially from April to November, is extremely difficult to find. Every week, visitors suffer emergencies. Many say they do not make any contingency or emergency plans. They claim they have no money and no health and travel insurance for unexpected problems. (When locals go the USA and elsewhere, on cruises or by air, they must either have such a plan or be prepared to pay full medical costs themselves).
In Bermuda, There is no insurance coverage for birth control, only for abortions in certain approved circumstances.
History of hospitals in Bermuda

1812. 1st Hospital. Royal Navy. Admiralty House, Long gone.

1818. Construction of the once-grand Royal Navy Hospital near the Dockyard, with the unusual cast and wrought iron building designed by Edward Holl, Chief Architect for the Royal Navy and Scottish engineer, John Rennie (1761—1821). It was built in the same pre-fabricated manner as the later Commissioner's House, initially as a Quarantine unit. British convicts transported to Bermuda to build HM Dockyard, were treated here. When added to substantially later, in addition to more cast iron structural features, such as veranda columns, floor joists, and possibly cast and wrought iron roof trusses, some of the stonework for the building was the hard local limestone. A surgeon, doctors and medical staff were appointed and sent by the Royal Navy. During World War 2, the Royal Naval Hospital, Bermuda, treated and often saved the lives of many brought in from torpedoed ships. The Royal Navy left in the 1950s. That hospital building ended its life as an egg farm, then finally was deliberately burnt to the ground by the Fire Department in November 1972 after it became a battery for producing chicken eggs. Later, it was the site for Lefroy House, for senior citizens. Only rubble is left.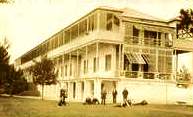 1841. Planning of first Bermuda civilian hospital. . On 28 April, the Bermuda Legislature passed an "Act for the Safe Custody of Insane Persons charged with Offences. " It was the first local legislation to deal specifically with persons with mental problems. Persons charged, if found to be insane, were kept in custody until they could be sent to an asylum. In 1846, a further Act was passed to establish a hospital for the reception of "insane paupers." It enabled the Governor, Lieutenant Colonel William Reid, to buy land in a central parish for an asylum. Moved to and see under "St. Brendan's Hospital" in Devonshire Parish.

1848. Opening of first Bermuda civilian hospital - the Lunatic Hospital (as it was then called, insensitively). Dr. Henry Josephus Hinson, a graduate of Edinburgh Medical School in Scotland, was the first medical superintendent. It remained in its original location for 22 years.

1864. A Board of Health hospital was established at Cedar Hill, St. George's, for victims of the Yellow Fever epidemic then raging in Bermuda.

1868. Re-location and expansion of former Lunatic Hospital, now St. Brendan's. It moved to its present location, the site of the former Devonshire College. Later, under Governor General Sir John Lefroy, the Devonshire College buildings were expanded after he convinced Parliament to spend £3,650 sterling to pay for additional work. A much larger facility was required from the beginning of the 20th century, especially during and after the two world wars. St. Brendan's became its official name, after the Irish saint born about 484 AD.

1850s. 3rd Hospital. British Army, Prospect. Building still there, British Army left in 1950s, continued as Bermuda Government-owned Old Prospect Hospital until 1971/72. No longer a hospital.

1894. March 11, Hospital Sunday. 4th Hospital. Second civilian hospital. Patients of all classes who required hospital treatment were admitted to the little rectangular structure known as the Cottage Hospital which had only a handful of beds. It was the first civilian (but not military, as there were two) hospital in Bermuda. It was on elevated ground near the east end of Pembroke Parish on the Military Road from Fort Hamilton to Prospect. It subsequently became King Edward VII Memorial Hospital. See below.

1901. Port's Island Hospital for Boer War prisoners-of-war. Also used to house 3 German nationals interned and 58 German merchant seamen in the 1914-18 Great War.

1920. The first official Royal Visit to Bermuda was when Albert Edward, Prince of Wales (later, briefly, King Edward VIII) concluded his tour of the British Empire. It was the first of three visits to Bermuda by him. On this first occasion, one of his official duties was the opening of the King Edward VII Memorial Hospital on its present Paget location, formerly the much smaller Cottage Hospital in Paget Parish.

1941. First American hospital facility in Bermuda. American troops at the Castle Harbour Hotel brought with them a medical contingent of eight officers and men and established on a temporary basis on the first floor of the hotel an infirmary, not a hospital.

1941. August. First American Hospital in Bermuda. It was at what was was - is now, again - the Bermuda Biological Station for Research at Ferry Reach. The American Government obtained a lease of the buildings and grounds (with the biologists re-housed at the Government Aquarium, Flatts). A temporary American military hospital was established there. It was staffed by four physicians, a dentist and nurses, all US Army personnel. It was responsible for all members of the US Army Engineers and the thousands of workers involved in the building of the Fort Bell/Kindley Field Base.

1941. September. US Navy began construction of an Annex Clinic at the first US Armed Forces Base in Bermuda, in Southampton Parish. In 1993, it was closed and amalgamated with the Base Clinic at USNAS, St. David's.

1941. October. Work was begun by US Army Engineers on the building of an elaborate 150-bed permanent hospital at Fort Bell. It is no longer there but on the same site on which the present, much-newer, former US military hospital - but now abandoned, vandalized and vacant - now stands.

1942. When the Riddell's Bay Golf Club was a US Navy recreation centre during the war, a mobile hospital for the war-wounded was established nearby. It too saved the lives of many brought in from torpedoed ships. Others were brought in to the Royal Navy Hospital just outside Dockyard (now Lefroy House).

1943. May. The first US Military base hospital at Fort Bell was finally completed, but only with the bare essentials, notwithstanding its price-tag to US taxpayers of more than $1 million. But there were sufficient facilities at the new site to justify giving plenty of notice in advance of the closure of the infirmary at the Castle Harbour Hotel and the temporary hospital located at the Bermuda Biological Station.

1943. December 30. With completion of the first purpose-built hospital at Kindley Air Force Base (KAFB), Bermuda, the infirmary that had been established at the Castle Harbour Hotel was finally closed out and the hospital facility that had been in operation at the Bermuda Biological Station was also shut down.

1954. It was resolved by the US Military in Bermuda that the base hospital had to be demolished and re-built from scratch at US taxpayers expense again as it had become too much of a liability. Over time, it had been established its beams, concrete and other structures were riddled with rust and related problems, apparently with sea water instead of fresh water used for building, using shoddy construction techniques.

1956. June 21, 1956. Kindley Air Force Base (KAFB), Bermuda celebrated a major event, with Bermudian help. The occasion was the official dedication of the brand-new base hospital up to latest US hospital standards, on the site of the old building which had been demolished because it had incurred some major building errors and its foundations and walls were doomed. Its use was confined to civilian and military employees and personnel of the US Military Forces in Bermuda and their military colleagues at the British and Canadian bases in Bermuda. It was designated as the 1604th Hospital (and stayed that way until 1967 when it was downgraded to a dispensary). Vanguard Construction of the USA built the new building, at a cost to US taxpayers of more than US$1,500,000. It had taken almost two years to build, mostly with Bermudian labor, with the complete interior decoration work undertaken by the Front Street, Hamilton firm of A. S. Cooper & Sons Ltd. The grand opening, held under sunny skies outside the hospital's main entrance, was attended by His Excellency, Governor Sir John Woodall; a delegation from the USA including Dr. Frank B. Berry, then Assistant Secretary of Defense (Health and Medical); Major General W. H. Powell, Jr., Deputy Surgeon General, United States Air Force; and the Honorable J. B. Pine, the United States Attorney General. Also in attendance were the Hon. Sir John Cox, then the Speaker of the Bermuda House of Assembly, the Venerable Archdeacon Stowe, who performed the Invocation and the Right Reverend Robert S. Dehler, Roman Catholic Bishop of Bermuda, who performed the Benediction.

1965. June. King Edward VII Memorial Hospital (KEMH) present building was completed (added to greatly since).

1957. Closure of the children's convalescent hospital at Ireland Island where Lefroy House is today, after only five years of operation. It had begun in.1952 as the brainchild of the Committee of 25 established by a group of non-Bermudian women. They were led by Canadian-born Edna Watson who in 1948 had become, with Hilda Aitkin, had become the first women in Bermuda's Parliament.

1970. Bermuda Hospitals Board (BHB) established. It brought King Edward VII Memorial Hospital and slightly re-named St. Brendan's Psychiatric Hospital under one governing body. Today, both are owned and staffed by this specialist agency of the Bermuda Government. See Bermuda Government Boards. There is also a Bermuda Hospitals Charitable Trust (BHCT), shown in Associations in Bermuda, B Listing. More than 1,500 staff are employed by the two hospitals.

1971. Patients were transferred from old Prospect Hospital to newly opened Geriatric and Rehabilitation Unit at KEMH.

1995. When US Forces quit Bermuda, the former base hospital, by then demoted to a dispensary and Base Clinic, was abandoned.

1998. Additions to KEMH. They included new Surgical Wing, new Emergency Ward, Hospice, Intensive Care Unit, Pharmacy, etc. plus increased space for many Departments.

2005. 12th May. Mid Atlantic Wellness Institute (MAWI) became the new name of St. Brendan's Hospital in Devonshire.

2015. The new King Edward VII Memorial hospital wing, constructed at the same Paget location, opened.


Last Updated: September 14, 2017.
Multi-national © 2017 by Bermuda Online. All Rights Reserved.