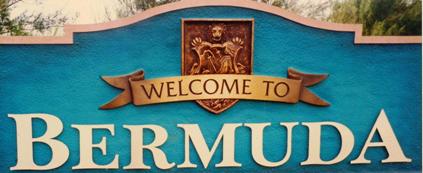 11125+ web files in a constantly updated Gazetteer on Bermuda's accommodation, activities, airlines, apartments, areas, art, artists, attractions, airport, aviation pioneers, banks, banking, beaches, Bermuda Status and citizenship, books and publications, British Army, businesses, calypso, Canadian military, causeway, churches, city of Hamilton, commerce, community, cruise ships, culture, cuisine, customs, Devonshire Parish, disability accessibility, districts, Dockyard, economy, education and universities abroad, employers, employment, entertainment, environment, executorships and estates, fauna, ferries, flora, food, forts, gardens, geography, getting around, golf, government, guest houses, history, Hamilton Parish, homes and housing, hotels, internet access, islands, laws and legal system, local groups and organizations, location, media, motor vehicle options, music, municipalities, Paget Parish, parishes, parks, Pembroke Parish, politics, postage stamps, public holidays, public transport, railway trail, religions, Royal Navy, Sandy's Parish, St. David's, St. George's Parish, shopping, Smith's Parish, Somerset, Southampton Parish, Spanish Point, Spittal Pond, sports, stores, telecommunications, traditions, time zone, town of St. George, United States armed forces, tourism, vacation planning, villages, vital statistics, water sports, weather, Warwick Parish, wildlife, work permits, etc. For tourists, business visitors, employers, employees, newcomers, researchers, retirees, scholars.

Bermuda Marriages for residents and usually registry office or cruise ship weddings for visitors
Men and women, not same-sex couples. Only proper marriages, not civil partnerships, are recognized legally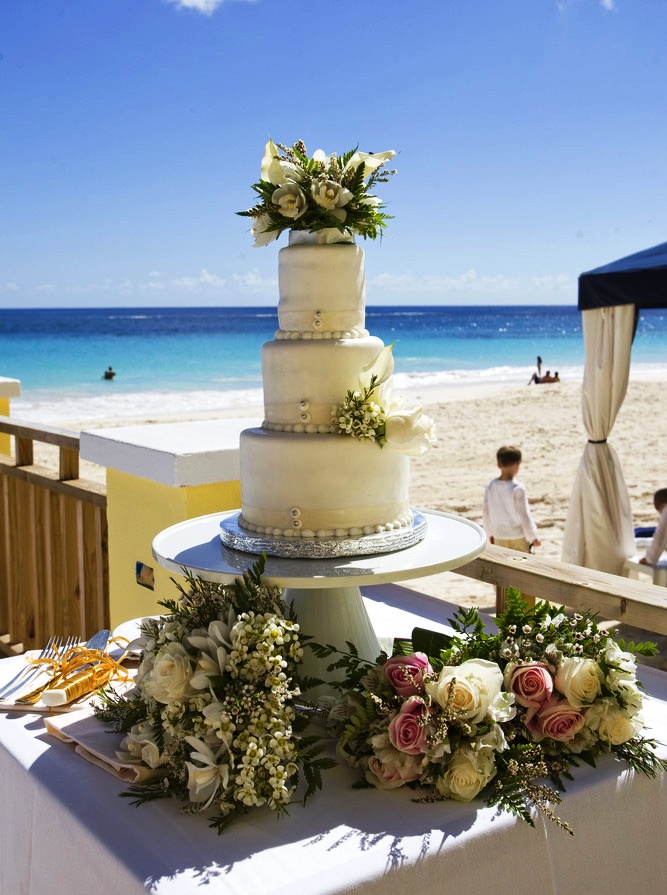 Traditional Bermuda wedding cake


By Keith Archibald Forbes (see About Us) at e-mail exclusively for Bermuda Online
To refer to this webfile, please use "bermuda-online.org/marriages" as your Subject.
| | |
| --- | --- |
| | Couples - men and women - are warmly welcomed when they come to Bermuda to get married or honeymoon. Bermuda - despite being "British" - has local, not UK laws on marriage and divorce. Visiting male-female couples who intend to get married in Bermuda but not work here can come through Immigration as visitors but must have sufficient funds and a bona fide host or place to stay. Applications for marriage have been rejected from visitors without all these. Only a marriage between a man and a woman is recognized. Same-sex marriages are not valid, not recognized and will not be performed. Couples living in or visiting Bermuda who are not legally married don't acquire any legal rights through cohabitation with an opposite-sex or same-sex partner, as they may have abroad. There is no such thing as a common law spouse in Bermuda. |
| | Bermuda marriages, for residents or non-residents, are under the Bermuda Marriage Act 1944 or, if on a Bermuda-registered cruise ship, under the (Bermuda) Maritime Marriage Act 1999 and Marriage Amendment Act 2002. All certificates of a Bermuda marriage are issued by the Registrar - see below - for all island marriages, whether civil, religious, church or ship. American, British, Canadian and other nationalities' consular officers do not perform marriages individually or at their consulates. But if required, American and other consular officers may authenticate Bermuda marriage documents, for a fee. Bermuda does not have UK-style (England & Wales) civil annulment laws. Bermuda marriages are legally valid in the United States and elsewhere. |
| | Most weddings for visitors are civil weddings, in a civil registry office ceremony. Generally, only residents, or persons marrying residents, qualify for a church wedding. But there are exceptions, such as in certain circumstances for non-resident Catholics - see http://catholicbermuda.org/international_marriages.htm. Most engaged couples over 18 years old in the USA, Canada, United Kingdom etc. not married before want a church wedding where the bride lives, with family and friends present. Thus, most visitors who want to get married in Bermuda, probably do so because they have been married before. For details of where to stay for people who wish to wed or honeymoon in Bermuda, see our Accommodation files. |
Advance information on travel documents required from non-locals for visits or marriages
All adults and children need individual official passports from your country of birth or domicile to enter Bermuda. Do NOT attempt to enter Bermuda without a valid passport. It is the only way of confirming your identity. Birth certificates, state or provincial documents do not do so. They can easily be faked and there are no official state representatives in Bermuda. If you do not carry a valid passport issued by your country of birth or domicile, you have no proof from your government that you exist. The majority of visitors arrive by air, but some are by cruise ship. All travel documents must be shown to Bermuda Immigration on arrival.
Bermuda is a foreign country, not part of USA, not part of United Kingdom, not part of Canada.
Green Card or equivalent, if a legal registered alien in Britain, Canada or USA.
A US re-entry permit if entering Bermuda from the USA and not a US citizen. (Check with the US Department of State).
New US visa rules for passengers not American, British, Canadian or designated other nationalities when entering Bermuda from USA or leaving via USA. See Bermuda's Links with USA. Student visas to the USA for genuine students will take a minimum of 2 months to process. Citizens of Australia, Britain, Canada, European Union, New Zealand and USA may not require one as visitors. But Jamaican and other nationals do. Citizens of other countries may and should consult a British Embassy or Consul. Plus, if - like all nationals of Caribbean islands far to the south of Bermuda - they travel to and from Bermuda via Britain or Canada or the USA, they must obtain and bring the appropriate in transit documentation or visas required by the Immigration authorities of these countries for both portions of the journey.
An original marriage certificate or certified copy as further proof of identity for a married woman with travel documents still in her maiden name.
A valid airline or cruise ship onward ticket for travel beyond Bermuda or return ticket back to place of residence, within 30 days. If your documentation is insufficient or unsatisfactory, you may be denied travel or Bermuda entry. If minor children travel with someone who is not a parent, there must be a letter from a custodial parent authorizing the trip. Only if you are going to and from Bermuda by yacht do the travel documents exclude a return ticket by air or cruise ship. Check Bermuda Harbor Radio for details.
On the Bermuda Immigration Questionnaire, always show the full physical name, address, postal code and telephone number of where you will be staying, whether a hotel or a private home. You could be refused admittance if you do not. If your visit is for vacation purposes only, say so. If you're a non-Bermudian traveling salesman intending to solicit any kind of business as a representative of a company or organization not based in Bermuda, you must be issued, prior to your arrival, with a permit by the Bermuda Immigration authorities. Bermuda Employment and Work Permit Procedure describes the formalities and procedure required. Do not try to seek employment if you are a non-Bermudian on vacation. Be aware that the Bermuda Government has a stop list of undesirables and fugitives wanted by other countries and does not hesitate to invoke it if given cause.
If you or your spouse-to-be have been married before, you must send well before you arrive official copies of final divorce decrees for each marriage of each person. Or either or both of you are a widow or widower, please send a copy of a death certificate. In both cases they must be from the relevant office of a particular state, province or county and country that issued the divorce or death certificate.
Applications and general eligibility for marriages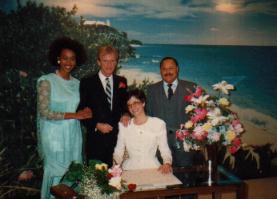 For visitors or residents, Bermuda is a lovely place in which to get married, whether you opt for a civil wedding in the Registrar's Office or, if a local, a wedding before a minister in church complete with all the frills. Please note the Bermuda Government will not conduct or allow phony matrimonial unions in Bermuda. Registry staff pore through news clippings from countries including but not limited to the United States, United Kingdom, Canada, the Caribbean and Europe. It is an offence for persons to enter into a sham marriage or to arrange such a marriage for personal gain. Non-Bermudians will not derive any benefit from the Bermuda Immigration and Protection Act if it is determined that they are in a sham marriage. Appropriate checks are made from Bermuda with federal and state or provincial authorities in the USA and elsewhere to determine if proposed marriages are bigamous and/or are being undertaken out of the USA, etc. to try to conceal marriage disclosures from Social Security or tax authorities.
The Registry General of the Bermuda Government handles all genuine requests for birth, marriage and death certificates and any replacements needed of them. The address is Government Administration Building, 30 Parliament Street, Hamilton HM 12, Bermuda. Telephone (441) 297-7707 (or 7709). Contact it directly - not via this website - for any questions and the fees payable in Bermuda or United States dollars. From the website shown you can download a pdf Notice of Intended Marriage form. Note that it must be printed on white legal size paper - 8.5 by 14 inches - to be sent and accepted. Airmail it back to the Registry General to the address shown above with a cashier's check (cheque) or bank draft made payable to the Accountant General, Hamilton, Bermuda, in the amount of $330. (More after April 1, 2012). Names and residential addresses of both applicants must always be shown in full. More than 60 percent of all notices of marriage in Bermuda show couples living together in North America or Europe at specific addresses before the ceremony. If (either of) you have been married before, you must include official copies of final divorce decrees for each marriage of each person. They must be from the relevant office of a particular state, province or county and country.
A period of 14 days must elapse from the date of receipt of the notice by the Registry before the Registry General may issue the license to marry. Parties to the intended marriage are not required to be resident during this time. The license to marry may be issued on or after the 15th day provided no formal objection has been raised to the intended marriage. The license to marry must be issued within three months of the receipt of the notice by the Registrar General and remains valid for three months from the date of issue. Once the couple has the marriage license, the ceremony can be performed.
This submitted notice will result in a wedding license valid for three months. You or a designated person may pick up this license at the Registrar office.
Airmail to Bermuda often takes from 8-12 days from Canada, United Kingdom and USA. Minors (in Bermuda, 16 to not yet 21 years old, not just 18 as in the USA) must have notarized written consent of both parents or the surviving parent or legal guardian. A space is provided on the form for this purpose. A marriage will not be performed if either or both parties are under 16 years at the time of the ceremony.
Marriage/Wedding Location and who can perform the marriage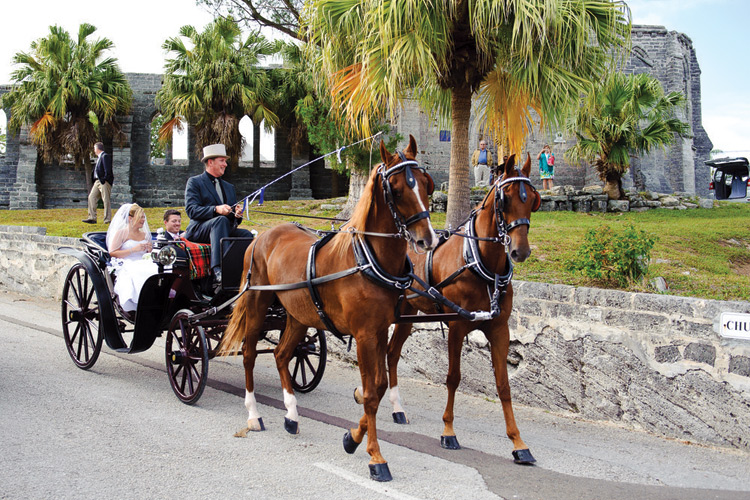 Wedding couple in St. George's, Bermuda, outside old ruined church

Civil ceremonies may be performed in the Registry General's Marriage Room. Call 441 297 7709 or 441 297 7707 or Email kminors@gov.bm to find out more

Ceremonies may be held in a church or other location with the consent of a member of the clergy. Only British subjects resident in England or Scotland or Northern Ireland who marry a British subject resident in Bermuda, and for whom banns are called in their normal place of worship in the United Kingdom, can also have their banns called in the church in Bermuda where the marriage takes place. Ask directly at the church for details. Some local churches will require considerable notice from both parties for weddings.

Catholics not normally resident in Bermuda and who have not been married before cannot be married in Catholic churches in Bermuda except under exceptional circumstances, for example, people who have special family ties in Bermuda or who have lived in Bermuda previously. Questions on this subject must be addressed by airmail directly to the Bishop of Hamilton in Bermuda, P. O Box HM 1191, Hamilton HM EX, Bermuda. Locally, Catholics are required to give 12 months notice. If you have been married before and do not have a decree of annulment for that marriage, you cannot use a Catholic Church at all.

No aircraft in Bermuda or any accommodation properties are allowed under Bermuda laws to marry you in Bermuda. However, a captain of a Bermuda-registered cruise ship or similar may do so after the appropriate necessary procedure and approval.

Under the provisions of the Marriage Act 1944 the Minister of Labor, Home Affairs & Public Safety of the Bermuda Government can license a particular visiting minister or someone else certified in their jurisdiction as a qualified and competent religious minister or pastor or rabbi - for one Bermuda marriage ceremony. This means that if you can afford it and give plenty of notice yourself and also ensure that the clergy person or pastor of rabbi do the same via the same Bermuda Government office, you can bring in someone qualified from where either one or both of you live, to perform the wedding ceremony. In such circumstances, weddings can be in places other than local religious centers, if you can find a minister to do so (not easy if you are not local, you may need to consult a wedding planner). In all individual cases where a visiting priest or rabbi performs a marriage, a public notice of an "Appointment of a Marriage Officer" appears in a numbered Bermuda Government announcement in the Bermuda Official Gazette. It shows that the Minister of Labour, Home Affairs & Public Safety licenses the priest or rabbi of the publicly specified church or temple or synagogue or congregation to perform a marriage ceremony in Bermuda on the specified day. But understand that you may be asked to pay the transportation, accommodation, food and other costs and expenses of the religious person you arrange to bring in for the ceremony, or the relevant expenses of any local minister or equivalent.

In Bermuda, unlike in the USA, Justices of the Peace do not have authority to perform weddings, so they are not licensed to do so unless they are also a local minister or priest of a recognized church and are licensed in Bermuda to perform weddings. Persons licensed by the Bermuda Government to conduct marriages are ministers of a particular religion with the sole exception of the Registrar of Marriages.
Ensure you have two Witnesses
The witnesses must be over 18 years of age and must be present at the ceremony. The Registrar will happily supply witnesses but Monday to Friday only.
Blood tests and publicity
No blood tests or health certificates are required in Bermuda. But note your Notice of Marriage notice is published by the Registry staff in two of the local newspapers of record in Bermuda, including the Official Gazette.
Official local Public Notices
There are two types of such official public notices. They are one or other of the following:
The Marriage Act 1944. Notice of Intended Marriage
The Maritime Marriage Act 1999. Notice of Intended Marriage. Section 6-3, if getting married at sea in a Bermuda-registered cruise ship with a license to perform a marriage. In this connection, the list includes the Captain, licensed in Bermuda as a Marriage Officer.
This is what they both say, in this fictitious example:
"The persons named and described hereunder have given notice to me of their intended marriage, namely Do Re Me of River Drive, New York, New York 10025, USA (single) and Maiow B.Topcat (divorced) of Tennessee Drive, New York, New York 10025. Dated this 18th day of August, 2006. Marlene Christopher, Registrar General."
Historically, Bermuda was once known as the honeymoon capital.
Differences between North American and Bermuda application procedures
For weddings in the USA, where most of those getting married in Bermuda come from, there is a requirement for various legal reasons to show social security numbers of both consenting parties. This is not a requirement in Bermuda. But the "Notice of Intended Marriage" is made completely public, anyone is at liberty to refer to it or pass it on.
Marriage fees
Maritime Marriage Act 1999
(Getting married, as a Bermudian or non-national, on a Bermuda-registered cruise ship). Specific fees apply.
Marriage Act 1944
For all other marriages in Bermuda of Bermudians and non-nationals. See under Registry General Fees at http://www.gov.bm/portal/server..pt/gateway/gateway/routes/plumtree/common/private/js?open=512&objID=216&&PageID=562&mode=2&in_hi_userid=2&cached=true
How marriages are celebrated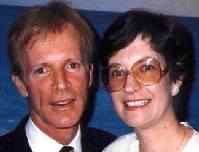 Bermudians, locals or visitors, celebrate marriages in various ways. One way is to see lines of private cars all with horns blaring, en route to the wedding. When they come into sight, most cars are of a single make. The cars carrying members of the wedding party have ribbons adorning their bonnets. The ribbons were British customs adopted in Bermuda. But many Bermudians and locals prefer horses and carriages - traditional Bermuda Surreys with the "fringes on top." A smartly-dressed carriage driver in a gleaming pith helmet, steers through the streets to the church a radiant, smiling, beautiful bride, with her immaculately attired father seated next to her.
When she smiles and waves to appreciative onlookers, the whole world wishes her well. Females watching the cavalcade get misty-eyed. After the wedding ceremony, the bride and her husband leave the church in the same way, clip-clopping to their changed lives ahead. Some nuptials - for locals only, who can persuade their church ministers to be there - are conducted on the pink sand of Bermuda's beaches.
Following behind them in more carriages to the wedding reception are the bride's parents, then the groom's parents in another, the bridesmaids and matron of honor in a third, and so on. Most local resort and small hotels have one in their gardens, as do the Bermuda Perfumery and Par-la-Ville Gardens in Hamilton Parish and the City of Hamilton respectively.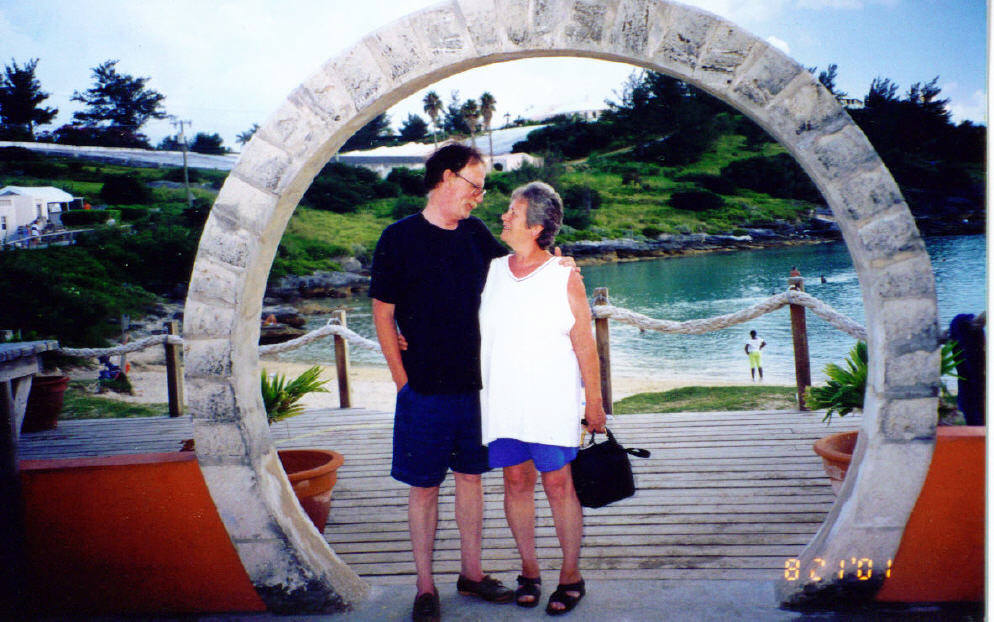 A traditional Bermuda wedding cake is usually a culinary work of art. There are often two, one for the bride and one for the groom. The bride's cake is usually a tiered rich dark fruit cake, laced with plenty of alcohol, iced with marzipan and silver leaf and topped with a small cedar tree to be planted by bride and groom as a sign of fertility. The groom's cake is a single layer pound cake again iced with marzipan, but with gold leaf. Especially when British expatriates are getting married, the wedding party and guests sing "For they are jolly good fellows."
Popular beauty spots and attractions make perfect backdrops for wedding photographs, for example, the Bermuda Botanical Gardens or Palm Grove Gardens in Devonshire Parish. Bermuda "Moongates" of particular appeal to newly-weds - are national symbols and features of parks, hotels and many private properties. Although Moongates did not originate in Bermuda - the custom was imported from the Orient by Bermudian captains of sailing ships in the latter part of the 1800s - they have become a Bermudian tradition for newly weds to step through together. The Lladro Bridal Couple figurine, imported, shown above is gorgeous. It illustrates the local tradition of honeymooners walking through a moongate to be granted their wish for peace and happiness.
For weather forecasts on your wedding day, you have a choice of two services. Try Bermuda Weather. It is a Bermuda Government service, provided by the Ministry of Transport, Department of Air Operations.
Honeymoon heaven
In a recent issue of "Modern Bride" magazine, it was noted that travel agents in the USA rate Bermuda as the seventh-best place in the world to tie the knot and for a honeymoon. Bermuda also emerged as number 5 in the top ten best places for romance. Bermuda was not rated in places with the coolest beach sites, best beaches, best bargains or hottest wedding party spots.
Marriage anniversaries
Birthstones, month & flowers of loved ones
| | | |
| --- | --- | --- |
| Garnet | January | Carnation |
| Amethyst | February | Violet |
| Aquamarine | March | Daffodil |
| Diamond | April | Sweet Pea |
| Emerald | May | Lily of the Valley |
| Pearl | June | Rose |
| Ruby | July | Larkspur |
| Peridot | August | Gladiolus |
| Sapphire | September | Aster |
| Opal | October | Calendula |
| Topaz | November | Chrysanthemum |
| Turquoise | December | Narcissus |
Traditional Anniversary gifts
| | | |
| --- | --- | --- |
| Year | Traditional | Modern |
| First | paper | Clocks |
| Second | Cotton | China |
| Third | Leather | Crystal, Glass |
| Fourth | Flowers | Electric Appliances |
| Fifth | Wood | Silverware |
| Sixth | Candy, Iron | Wood |
| Seventh | Copper, Wool | Desk Sets |
| Eighth | Bronze, Pottery | Linens |
| Ninth | Pottery, Willow | Leather |
| Tenth | Tin, Aluminum | Diamond Jewelry |
| Eleventh | Steel | Fashion Jewelry |
| Twelfth | Silk, Linen | Pearl |
| Thirteenth | Lace | Textiles, Furs |
| Fourteenth | Ivory | Gold Jewelry |
| Fifteenth | Crystal | Watches |
| Twentieth | China | Platinum |
| Twenty-fifth | Silver | Silver |
| Thirtieth | Pearl | Pearl |
| Thirty-fifth | Coral | Jade |
| Fortieth | Ruby | Ruby |
| Forty-fifth | Sapphire | Sapphire |
| Fiftieth | Gold | Gold |
| Fifty-fifth | Emerald | Emerald |
| Sixtieth | Diamond | Diamond |
| Seventy-fifth | Diamond | Diamond |
Marriage and/or engagement music
If not a local, but needing music, be aware you will not be allowed to import a musician, you must use someone local. They can be be expensive. Or, as a less expensive alternative, bring an Ipod or similar, with special pre-recorded violin or other instrumental or choir or duet or trio or orchestral music of the type you and your spouse jointly really like, to make the occasion as romantic as possible. You do not need any technical knowledge to buy an inexpensive Ipod or equivalent and load it with your favorite wedding or other music. For anyone on a budget, it may not be practical to employ a DJ in Bermuda to do what you can now do in advance of your visit so easily and inexpensively at home.
Some recommended music, by outstanding artistes:
| | | |
| --- | --- | --- |
| Music or song | Performer | composer |
| An Eriskay Love-Lilt | Celtic Tenors | traditional, Scottish |
| A Place In My Heart | Nana Mouskouri | J. P. Ferland/H. Shaper |
| Canon | Various | Pachelbel |
| Casta Diva. See http://www.youtube.com/watch?v=2p5T8U2qGF4 | Nana Mouskouri | Bellini |
| Der lindenbaum | Nana Mouskouri | Schubert |
| Drink To Me Only With Thine Eyes | Roger Whittaker | English traditional, words by Ben Jonson, music at least by 1770 |
| Fare Thee Well, Love | Celtic Tenors | Jimmy Rankin |
| Home Sweet Home | Home Sweet Home 19th Century Music Party | Bishop |
| If Dreams Came True, Dear. See http://www.youtube.com/watch?v=30jJlIZRJ1c | Pat Boone | |
| I Have A Dream | Nana Mouskouri | B. Anderson/B. Ulvaeus |
| In The Gloaming | Celtic Tenors | words Meta Orred, music Annie Fortescue Harrison |
| Last Rose of Summer | Celtic Tenors | words Thomas Moore, music traditional Irish |
| Like My Heart | Norman Luboff Choir | William Attaway |
| Liebestraum No. 3 (Dream of Love) | Various | Liszt |
| Listen To The Ocean | Nina & Frederick | Van Pallandt |
| My Love Is Like a Red Red Rose | Roger Whittaker | Robert Burns |
| Love Changes Everything | Nana Mouskouri | Lloyd Webber, Black, Hart |
| Only Time Will Tell | Nana Mouskouri | Schubert |
| Plaisir D'amour | Nana Mouskouri | Schwarzendorf |
| Qual Cor Tradisti | Nana Mouskouri | Bellini |
| Remember Me | Celtic Tenors | Phil Coulter |
| Romanza d'Amour | A violin duet | Anon |
| Romance | Nana Mouskouri | Basin |
| Summer of My Dreams | Celtic Tenors | David Mallett |
| The First Time Ever I Saw Your Face | Nana Mouskouri | E. Mac Coll |
| The Prince of Denmark's March, for trumpet and organ | Various | Clarke |
| The Power of Love | Nana Mouskouri | De Rouge/G. Mendell |
| The Proposal | Norman Luboff Choir | Alan Bergman, Marylyn Keith, Norman Luboff |
| Voi che sapete | Nana Mouskouri | Mozart |
| Wedding Day at Troldhaugen | Various | Grieg |
| Wedding March from a Midsummer Night's Dream | Various | Mendelssohn |
| Will You Come | Home Sweet Home 19th Century Music Party | Barnett |
Marriages/Weddings at sea
Celebrity Cruises, see http://www.celebritycruises.com/onboard/tabLanding.do?pagename=onboard_special_occasions&tab=onboard_weddings_tab.
Cunard Weddings, see http://www.cunard.co.uk/Already-Booked/Cunard_Weddings/
NCL Cruises, see http://www2.ncl.com/freestyle-cruise/wedding-and-romance
P&O Weddings, see http://www.pocruises.com/wedding/termsandconditions.asp.
Princess Cruises, see http://www.princess.com/learn/onboard/gifts_services/celebrations/wedding/index.jsp
Royal Caribbean Cruises, see http://bookings.royalcaribbean.co.uk/findacruise/experience/html.do?exCode=622&wuc=GBR
Marriages on board a cruise ship are conducted by either the captain or staff captain. Bermuda-registered ships such as Cunard, P&O and Princess Cruises mean that wedding certificates will be issued by the appropriate Bermuda Government agency.
Marriage vows renewals
It is a matter of debate whether marriage vows renewals, when requested, should be as solemn as the original vows and at the same venue, before one's family and friends and with the same minister or at least in the same church or place of worship; or not in that onshore location at all for mainland couples but in a romantic offshore location like Bermuda, more privately. There is no legislation or regulation in Bermuda affecting marriage vows renewals. But it should be noted that unlike in the USA and other foreign countries where Justices of the Peace can perform both marriages and marriage renewals, in Bermuda they cannot. In general, the best policy, if you are a visitor by air is to ask where you are staying for advice and assistance. Or your ship's purser if you are a cruise ship visitor.
Overall, it may be possible, if you give adequate notice to the priest or pastor or rabbi concerned, to have this done in Bermuda, as it deals with those who are legally already married. If you are Episcopalian or Anglican, refer to the Book Of Occasional Services, copyrighted by the Church Pension Fund. There are three forms of this service. If you are of any other religion, there may be similar services. They put a nice religious tone to a solemn contract for life. If you come to Bermuda on a cruise ship, ask the line if it is licensed to provide anniversaries of marriage or renewal of marriage vows.
Marrying a Bermudian
See Bermuda Laws. Citizenship is not given to any non-national unless he or she marries a Bermudian of the opposite sex and stays married to and lives with that Bermudian for at least 10 years and then applies for citizenship and receives it.
Tip - if visitors, note Bermuda Customs restrictions
Bermuda is gorgeous as a place in which to get married but be aware that because of its remoteness, very small size, with almost everything imported, only 62,400 permanent population and other lack of economies of scale through no fault of its own and significant Bermuda Government import duties averaging 35 percent of wholesale value, it is very expensive by USA standards. See Cost of Living Guide. This is why so many Bermudians infinitely prefer to do their furniture, hardware, appliances, computer and wedding shopping in the USA, despite the 35% Customs Duties now levied not per person but per household on returning residents for goods valued at more than $100.
How this compares with residents from USA, Canada and UK returning to their home jurisdictions from their Bermuda visit.
However, note that visitors arriving in Bermuda to get married in Bermuda, in addition to their normal personal effects such as golf clubs, clothes, camera, and relevant accessories are permitted to import goods for Bermuda weddings (e.g. party favors, wedding dress, wedding rings, wedding gifts) free of duty provided that they are exported from Bermuda within their maximum 21 day visit. Only goods which are intended to remain in Bermuda will be dutiable. Most goods are subject to duty at 35% of the value. Guests not sure of Bermuda's very tight restrictions re drugs, narcotics, other illegal imports and limitations in what they can legally import duty-free should read Illegal Imports.


Last Updated: May 15, 2013.
Multi-national © 2013 by Bermuda Online. All Rights Reserved. Contact Editor/writer and webmaster.