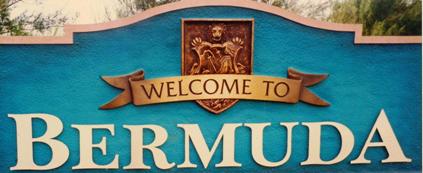 11125+ web files in a constantly updated Gazetteer on Bermuda's accommodation, activities, airlines, apartments, areas, art, artists, attractions, airport, aviation pioneers, banks, banking, beaches, Bermuda Status and citizenship, books and publications, British Army, businesses, calypso, Canadian military, causeway, churches, city of Hamilton, commerce, community, cruise ships, culture, cuisine, customs, Devonshire Parish, disability accessibility, districts, Dockyard, economy, education and universities abroad, employers, employment, entertainment, environment, executorships and estates, fauna, ferries, flora, food, forts, gardens, geography, getting around, golf, government, guest houses, history, Hamilton Parish, homes and housing, hotels, internet access, islands, laws and legal system, local groups and organizations, location, media, motor vehicle options, music, municipalities, Paget Parish, parishes, parks, Pembroke Parish, politics, postage stamps, public holidays, public transport, railway trail, religions, Royal Navy, Sandy's Parish, St. David's, St. George's Parish, shopping, Smith's Parish, Somerset, Southampton Parish, Spanish Point, Spittal Pond, sports, stores, telecommunications, traditions, time zone, town of St. George, United States armed forces, tourism, vacation planning, villages, vital statistics, water sports, weather, Warwick Parish, wildlife, work permits, etc. For tourists, business visitors, employers, employees, newcomers, researchers, retirees, scholars.

Bermuda's domestic and non-exportable dollar is at par with USA
Visitors from all countries should always bring only US currency notes and coins, usable island-wide

By Keith Archibald Forbes (see About Us) at e-mail exclusively for Bermuda Online
To refer to this web file, please use "bermuda-online.org/money" as your Subject.
The local-only Bermuda Dollar pictured below, is not exportable. It is not used by traders world-wide. It is not cashable or exchangeable by any foreign banks. It is used only by local citizens and residents - not by international companies based in Bermuda (all of which use US dollars). Visitors to Bermuda, irrespective of from where they fly to get here, cannot buy or sell Bermuda dollars abroad. They should bring US dollars - freely accepted and officially at par everywhere. The Bermuda dollar is pegged to and is based on the international value of the US dollar. Why? Because Bermuda's total land area is only 21.75 square miles or 35 square kilometers. The nearest country is the USA (North Carolina), 600 miles to the west. 85% of Bermuda's imports, visitors commerce and international business operations derive come from the USA.
When visitors wish to use an ATM card in Bermuda to get money from their non-local bank before they go home, they receive Bermuda dollars only. they cannot use these in any other country except Bermuda. If you, as a visitor, purchase any goods in cash in US dollars and get change from shops or restaurants in Bermuda money, make a point of asking for US dollars instead. Explain that you have no choice as you will be leaving soon and can't use that Bermuda money beyond Bermuda. Most local retailers will have US dollars and US change and will gladly do this for you.
If you work in Bermuda, are paid in Bermuda dollars and wish to send money back to your home country, go to the Bermuda bank where you are a customer to buy foreign exchange at the prevailing rate and arrange for a wire transfer, safer and far quicker than by postal mail. You can do this online.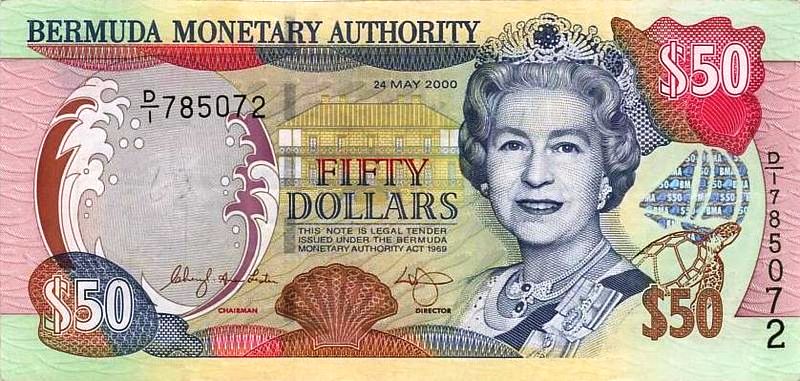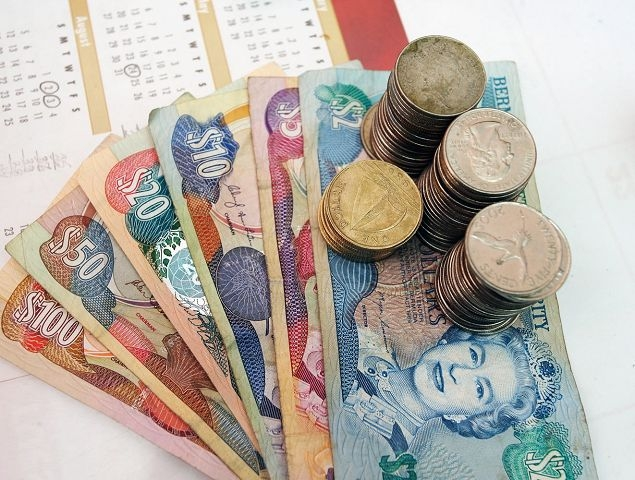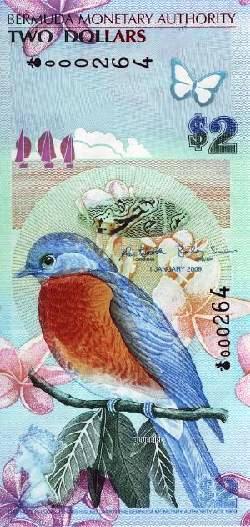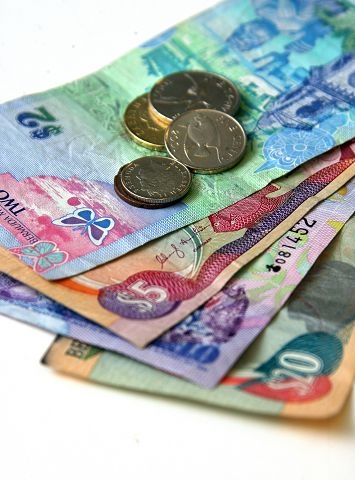 Bermuda dollar notes (bills) and coins, showing bills of $100, $50, $20, $10, $5, $2 and coins of $1 (it replaced the $1 bill), 25 cents, 10 cents, 5 cents and 1 cent (missing from photo).
Bermuda dollar notes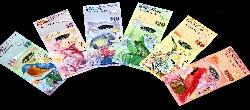 They began in February 1970 (see "History of Bermuda banknotes" below). Before then, the Currency Act of 1841 tied coins and notes to the United Kingdom. Until then, currency notes were distinctly Bermudian yet tied to sterling. They were issued in British pounds and shillings. Today's notes are tied to the American dollar and are worth the same as the latter. They are in different colors and as $2, $5, $10, $20, $50 and $100 notes, printed by Thomas De La Rue of London.

In early 2009 Bermuda's bank notes had a completely new look and feel.

The $1 million worth of new notes ere launched to coincide with the 400th anniversary of the settlement of the Island and the Bermuda Monetary Authority's (BMA) 40th anniversary. They feature the first total redesign of the country's note currency since the Bermuda dollar was issued in 1970. They incorporate a distinct Bermudian look with the use of bold colours, as well as local scenes, flora and fauna, in addition to including some of the most up-to-date anti-counterfeiting technology. The Queen's head has been moved from the main image to the front left corner of the notes after the BMA was given approval by Buckingham Palace and the UK Post Office.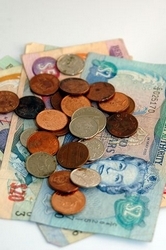 The Authority updated the design of the bank notes to include the latest features, including a new watermark in the form of a hibiscus flower and an electrolyte in the shape of a sail boat which can be seen when it is held up to the light, a see-through feature comprising completed images of creatures individual to each denomination, serial numbers increasing in size, an iridescent band on the $20, $50 and $100 bills, and a latent image.

The notes also include a see-through Optiks feature, the first of its kind to be used in the western hemisphere, which appears as an oval on the front and a strip on the back and forms a map of Bermuda repeated inside when held up to the light.

The BMA, which is responsible for issuing Bermuda's notes and coins, started planning for the bank note redesign project in 2005 and received permission and support from Finance Minister Paula Cox and the Cabinet for the design via the passage of the Bermuda Monetary Authority Regulations 2007. The BMA's currency unit worked with UK-based De La Rue Currency to develop the features on the new bank notes. The BMA consulted financial institutions and will carry out training sessions with industry groups, schools and other associations, including the New Banknote Working Group, which discusses institutional needs and addresses concerns about the new notes.

One of the Longtails featured on Bermuda's new $50 banknote as been described as the wrong bird, a species that does not nest on the Island. It is the Red-billed Tropicbird, which hails from the West Indies and eastern Pacific, for the main image on the note. The Bermuda Monetary Authority apologized for "any specific technical error" but said the Red-billed bird was occasionally present on the Island and was chosen as the main image because its colour better fits the design of the note. The bird in question is larger than the Bermuda type, which is formally known as the White-tailed Tropicbird. It has a slight black bar on the upper wing, black wing tips and little black lines through the eye. It also has fine black barring on its back and a red bill, when the Bermuda bird, which is of a type found in all three of the world's oceans, has an orange one.

A banknote design has to combine aesthetics, accuracy of depiction and technical concerns.

The new Bermuda notes feature graphical representations of the colours, flora and fauna present in the Island. The choice of the non-local bird is not the only thing that has riled environmentalists. Other creatures that are not endemic to Bermuda feature on some of the other banknotes. The whistling frog ($20) was an accidental introduction. Similarly, the cardinal bird ($100) was introduced by man. The blue marlin is not unique to Bermuda but the Bermuda Bluebird is. However, the Cahow, Bermuda's national bird, isn't featured.
US dollar in Bermuda

It is used by business visitors, tourists, international companies based in Bermuda and their non-Bermudian employees. They can open US dollar bank accounts with the local banks, and elsewhere. It is traded at par with the Bermuda dollar and accepted everywhere as THE currency of Bermuda's main industries, in every sector of tourism and international business when dealing with or shopping for hotels, guest houses, house keeping units, restaurants, taxis, buses, moped cycles, souvenirs and more. US dollars may also be acquired by Bermudians and their families from the local banks for legitimate travel and related purposes such as overseas purchases, educational costs, support for family members abroad, subscriptions for newspapers and other needs. An exchange rate is paid to the local banks. There is no limit on how much Bermudians may buy. For more information, contact the Bermuda Monetary Authority (BMA).
Foreign Currency Purchase Tax
See http://www.gov.bm/portal/server.pt?open=512&objID=275&&PageID=231425&mode=2&in_hi_userid=2&cached=true. All who work in or have business dealings in Bermuda or who visit should note that Bermuda, uniquely in the economies of the international business centers, has a Foreign Currency Purchase Tax (FCPT). It applies to the purchase of all non-local currencies including the US Dollar. On February 26, 2010 the Bermuda Government doubled this tax, from one half of 1% to a full 1% per transaction. This includes all purchases of foreign currencies for travel and business purposes and all telegraphic (wire) transfers of monies from Bermuda to individuals and businesses abroad. In addition to bank charges built into the cost of wire transfers, the Bermuda Government charge consumers $1,000 for every $100,000 taken or wired abroad. There is no Government Receipt given for this FCPT charge.
Foreign Exchange brokers in Bermuda
Currently, none independent of the Bermuda banks above.
Bermuda Coins include
1616. Hog or Hogge Money - Bermuda's first minted currency and first coinage for any overseas British colony, earliest of all British colonial currencies - was created in London by the Bermuda Company and circulated until 1624. They were coins, not notes. They were named after the wild feral Spanish hog found by the first colonists, dropped off ships. They were left to swim ashore by the Spanish and Portuguese in the 16th century.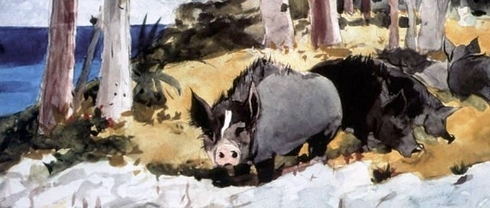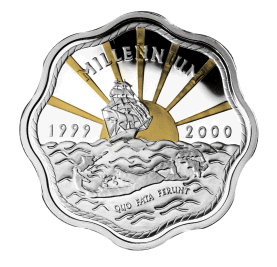 Left: Bermuda feral hogs. From them came Hog or Hogge Money.
In 1995, the collection of 15 pieces of Hogge Money was handed over to the Bermuda Monetary Authority on permanent loan, by the Bermuda National Parks Commission. Hogge Money was followed by the Bermuda Ship's Penny in 1793. Today, coins in circulation are about the same size and shape as American coins. They are in values of $1 (it replaced the $1 bill), 25 cents, 10 cents, 5 cents and 1 cent. On their reverse sides, the $1 coin features the Bermuda Fitted Dinghy, the 25 cents the national bird, the Bermuda Longtail, the 10 cents the Bermuda Easter Lily, the 5 cents an Angel fish and and the 1 cent the pig on the original early 17th century Hogge Money. On their obverse, Her Majesty the Queen is profiled.
Commemoratives
There have been numerous commemorative coins, for collectors. On their reverse, they show aspects of Bermuda. On their obverse, Her Majesty the Queen is profiled. The 2008 Silver Proof one is one of Bermuda's most rare sea creatures, the Hawksbill Turtle coin, in keeping with the BMA's showcasing of Bermudian flora and fauna. It depicts the critically endangered Hawksbill turtle which is found swimming among the coral reefs surrounding the Island. Each coin is available at the BMA's Notes and Coins Exhibit at BMA House.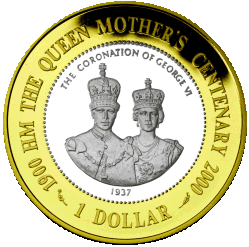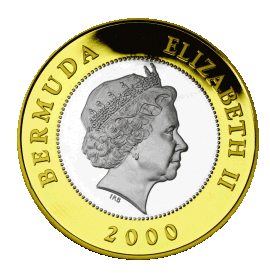 Earlier bank notes in Bermuda
In descending order of issue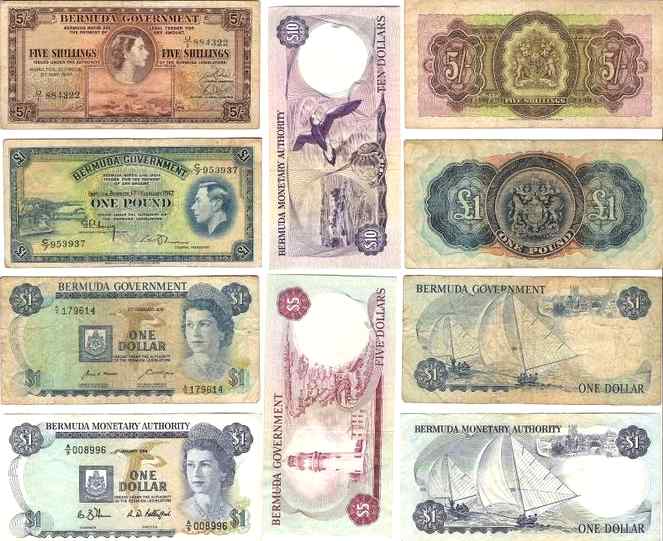 The old (pre-1970 Bermuda Pound) notes and since 1970 the Bermuda Dollar notes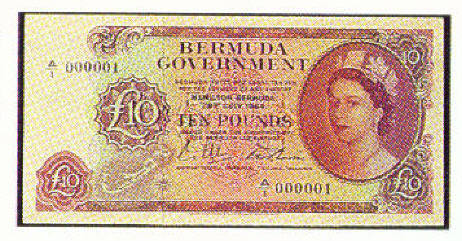 Above. May 1964.

Above. 1941. These notes were issued after the US Bases were established, all showing Bermuda Government and King George VI. Only the orange note was circulated.
Above. 1927. September 30. A £1 note.
1920. Five shillings notes (re-issued 1935).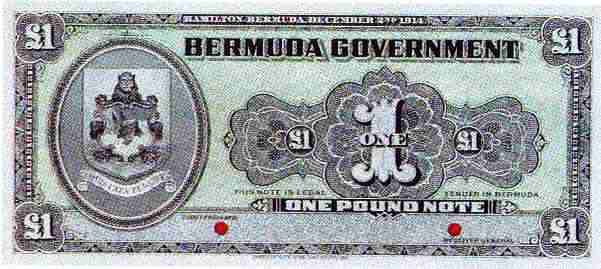 Above. 1914. Proof of first Bermuda Government £1 note
1914, December 2. First Bermuda £1 note. Printed by the American Bank Note Company in Ottawa, showing King George V.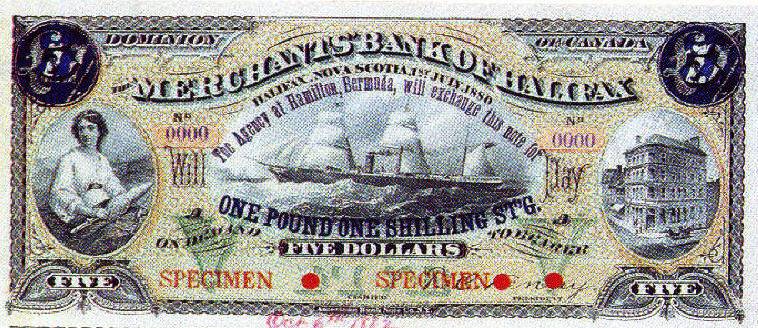 Above. 1883. First Bermuda Banknote. A Canadian $5 note printed for the Merchant Bank of Halifax and converted to a £1 and 1 shilling (one guinea) note for use in Bermuda.
Euro currency
Bermuda's three banks offer the Euro to all visitors and business executives or representatives heading for Ireland and countries of the continent of Europe where the Euro replaced their national currencies on January 1, 2002. However, it should be noted by incoming visitors from Europe where the Euro is now the single currency, that the Euro is not accepted in Bermuda. The only acceptable foreign currency is the US dollar as described above.


Last Updated: May 15, 2013.
Multi-national © 2013 by Bermuda Online. All Rights Reserved. Contact Editor/writer and webmaster.