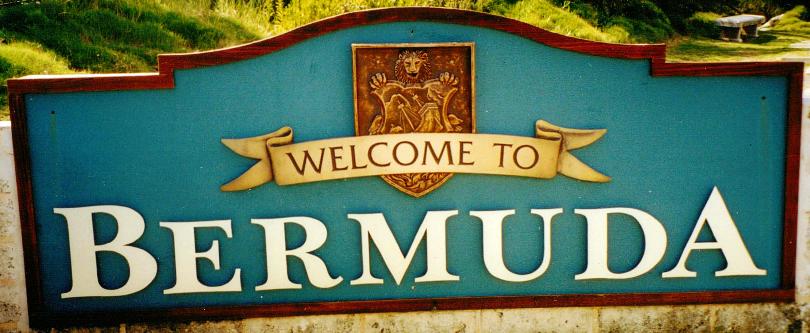 Click on graphic above to navigate the 165+ web files on this website, a regularly updated Gazetteer, an in-depth description of our island's internally self-governing British Overseas Territory 900 miles north of the Caribbean, 600 miles east of North Carolina, USA. With accommodation options, airlines, airport, actors, actresses, aviation, banks, beaches, Bermuda Dollar, Bermuda Government, Bermuda-incorporated businesses and companies including insurers and reinsurers, Bermudians, books and publications, bridges and causeway, charities, churches, citizenship by Status, City of Hamilton, commerce, communities, credit cards, cruise ships, cuisine, currency, disability accessibility, Devonshire Parish, districts, Dockyard, economy, education, employers, employment, environment, executorships, fauna, ferries, flora, former military bases, forts, gardens, geography, getting around, golf, guest houses, highways, history, historic properties, Hamilton, House of Assembly, housing, hotels, immigration, import duties, internet access, islands, laws, legal system and legislators, main roads, marriages, media, members of parliament, money, motor vehicles, municipalities, music and musicians, newcomers, newspaper, media, organizations, parks, parishes, Paget, Pembroke, performing artists, residents, pensions, political parties, postage stamps, public holidays, public transportation, railway trail, real estate, registries of aircraft and ships, religions, Royal Naval Dockyard, Sandys, senior citizens, Smith's, Somerset Village, Southampton, St. David's Island, St George's, Spanish Point, Spittal Pond, sports, taxes, telecommunications, time zone, traditions, tourism, Town of St. George, Tucker's Town, utilities, water sports, Warwick, weather, wildlife, work permits.

Bermuda's Island-wide Apartments, cottages and more for Visitors
Alphabetically shown by location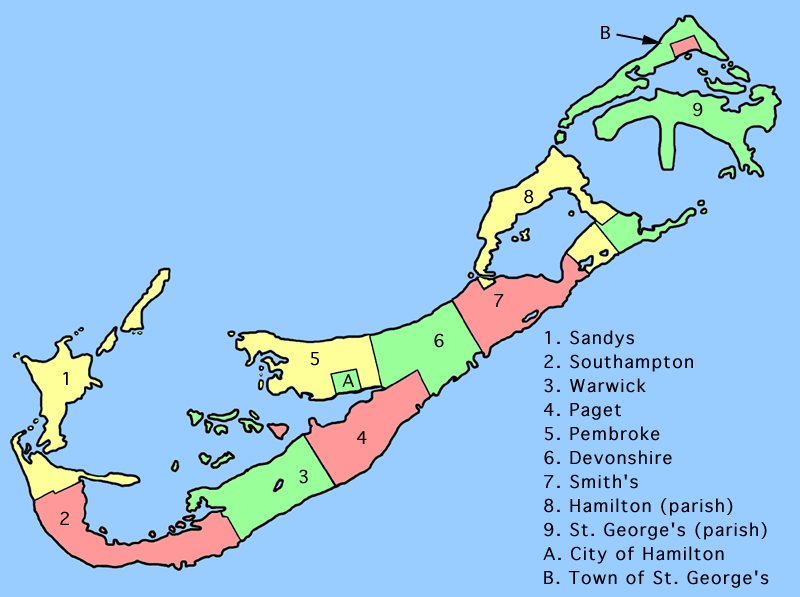 By Keith Archibald Forbes (see About Us) exclusively for Bermuda Online
Introduction
Hotels - in alphabetical order - are shown separately. Some have their own private beach (unlike in the Caribbean 900 miles south where all beaches are public) or private part of a beach, gardens and pools, other luxury facilities, sports, shops, beauty salon, etc.. Most have off-season lower rates from November to March. Some are on or close to Bermuda's public sector bus or ferry routes. They have been licensed but not graded by the Bermuda Government's Ministry of Tourism and Bermuda Tourism Authority. Some also offer residential condominiums on their properties. Many resort hotels operate the American Plan (AP), in which the cost of breakfast and dinner are included in the cost of a room but not drinks. Others have the European Plan for only the room, with guests making their own arrangements for meals. Presently, only one resort, Grotto Bay, offers All-Inclusive. It includes, costing from $114 a day per person as an optional extra, three meals, alcoholic drinks, on-site water sports sports, entertainment, public transportation. No hotels are adults-only. None include Butler Service.
Other up-market places - shown here - are where anyone can stay. Apartments or cottages and guest houses are on landscaped grounds, some with ocean views. Most have kitchenettes or kitchens. Some are on or close to Bermuda's public sector bus or ferry routes. Places to stay have been licensed, but not graded, by the Bermuda Tourism Authority, the new Bermuda licensing and regulatory tourism agency, for accommodation, facilities and services. Most have lower rates during November to March. Guests should check to see what meals are available on the premises.
Also see Air B&B Bermuda
Bermuda's official currency, the Bermuda Dollar is fixed to the US Dollar. The latter is accepted everywhere at par. British Pounds sterling, Canadian dollars, Euros and other currencies should not be brought as they cannot be used. Most major international credit cards will be accepted from visitors, but overseas debit cards, even in the USA, cannot be used in Bermuda. Most if not all Bermuda places to stay, stores and restaurants will no longer accept traveler's checks, so they should not be bought for your Bermuda visit.
Internet, WIFI and Links to and from this website. Most hotels and other guest properties in Bermuda have Internet/WIFI, free to registered guests during their stay. Why don't we link to most of them? We will gladly create la non-exclusive ink to them as a Bermuda resource when they create a similar link to us.
Guest hotel or similar occupancy and departure taxes and gratuities (tips) payable by tourists. A summary, paid to the Bermuda Government unless otherwise noted.
World's most visited countries in 2018. Source, Daily Telegraph. UK. Measured in 2019 by the UK's national Daily Telegraph newspaper.
France - 82.6m annual visitors
United States - 77.5m
Spain - 75.6m
China - 59.3m
Italy - 52.4m
Turkey - 39.5m
United Kingdom - 35.8m
Germany - 35.6m
Mexico - 35m
Thailand - 32.6m
How Bermuda compares with other countries or islands where tourists outnumber locals. Measured in 2019 by the UK's national Daily Telegraph newspaper in annual number of tourists compared to numbers of residents.
Andorra - 33.53057199 annual tourists per resident
Macao - 24.78871897
British Virgin Islands - 12.81668161
Turks and Caicos Islands - 10.42546376
Aruba - 10.31870554
Monaco - 8.719620471
Northern Mariana Islands - 8.353005266
Guam - 7.905347735
Bahrain - 7.589107757
Saint Maarten - 7.142857143
Palau - 6.622516556
Cayman Islands - 6.386846099
US Virgin Islands - 5.812269488
Malta - 3.91808649
Hong Kong - 3.801141574
The Bahamas - 3.67765496
Bermuda - 3.433739557
Iceland - 3.01671891
Maldives - 2.945036575
Austria - 2.937027237
Curacao - 2.860035434
Croatia - 2.751394043
Antigua and Barbuda - 2.711886558
Seychelles - 2.508073197
San Marino - 2.35990057
Estonia - 2.224088756
Montenegro - 2.169064956
Singapore - 2.143449993
Cyprus - 2.094739552
Greece - 2.035619507
St. Kitts and Nevis - 2.033398114
Ireland - 1.899065723
Barbados - 1.833119293
St. Lucia - 1.827036903
Luxembourg - 1.822088345
Denmark - 1.808843619
Georgia - 1.499320468
Liechtenstein - 1.438810583
Spain - 1.400203011
Qatar - 1.264228724
Grenada - 1.254388018
France - 1.253839619
Hungary - 1.233152586
Slovenia - 1.16825147
Albania - 1.156388675
Slovak Republic - 1.149510052
Dominica - 1.114474408
Switzerland - 1.105107581
United Arab Emirates - 1.090973066
Bulgaria - 1.018530115
Czech Republic - 1.006234446.
Bermuda Government Hotel (etc.) Occupancy Tax. 7.25% of room rate. See https://www.gov.bm/hotel-occupancy-tax. Since April 2016. Some properties may charge 9.75% which may include the Tourism Guest Fee shown below.
Some high-end hotels, etc will also charge a Resort Fee which can be $15 per night or higher.
An Energy surcharge may imposed by some hotels or guest houses. Not paid to the Bermuda Government
Service/Tipping charge/gratuities. Before guests give voluntary gratuities after staying at hotels etc or eating at hotel or other restaurants they should know that in Bermuda most hotels restaurants, bars, etc charge an automatic (involuntary) 17% service charge on top of billings. Guests should be aware of this to avoid also paying it voluntarily. Mandatory gratuities in most Bermuda hotels, etc. are governed by the Collective Agreement between the Hotel Employers of Bermuda and the Hotel Division of the Bermuda Industrial Union. Some hotels charge a fixed daily dollar amount and others charge a percentage of the guest bill, often about 17%. The gratuities are shared between hotel etc. members of staff including housekeeping, dining room, kitchen and conventions. Not knowing this, many guests pay gratuities not once but more often.
Aircraft/Airport Passenger Departure Tax: Included in most airline tickets. $75 per person, was $30 before March 31, 2015, raised again in August 2015. No longer under the authority of the Bermuda Tax Commissioner but payable to Bermuda Skyport Corporation Ltd, a government quango.
Cruise ships Passenger Departure Tax. Included in most cruise ship tickets. For ships that dock in Hamilton or St. George's, from $20 per passenger to a maximum of $60 for each 24 hour period the ship is in Bermuda in high season April 1-October 31. For ships that dock in Dockyard April 1-October 31 $25 per passenger for each 24 hour period subject to a maximum of $75. No charge for ships visiting at other times. Applicable to passengers only, not payable by or on behalf of officers and crew of the ship. Administered by the Bermuda Tourism Authority under the Bermuda Tourism Authority Act 2013.
Cruise ship Passenger Cabin Tax. Included in most cruise ship tickets. From $14 per passenger May 1-August 31.
Cruise ship operators gratuity. Varies from ship to ship. Once, this was voluntary, passengers could give what they thought was fair, based on service. Now an increasing number of passengers are being automatically billed 15-18% on top of their ticket prices before they leave the ship. Not paid to the Bermuda Government.
Gas station attendants. Bermuda has no self-serve gas stations, all have attendants who will expect a minimum $2 gratuity or tip to full up a scooter or moped. Not paid to the Bermuda Government.
Large Ship Infrastructure Tax. Charged to the owner, operator or agent of visiting ship over a certain size. $22 per passenger, April 1-October 31, not at other times.
Taxi operators. They will expect a gratuity or tip of 15% in addition to their basic cost, especially when they lift heavy luggage. They will also expect lunch if on an all-day tour. Not paid to the Bermuda Government.
Timesharing tax. Two types. Timesharing Services Tax and Occupancy Tax. Timesharing Services Tax, Charged on the managing agent of a timesharing property as a percentage of the membership and maintenance fees charged to clients for operational and maintenance costs of the timesharing unit. 5%, payable on a monthly basis. Timesharing Occupancy Tax. Charged to the developing owner of a timesharing property as a percentage of the purchase price of each timesharing interval. The tax is chargeable on the initial purchase and the resale of each interval. 10%, payable within a specified period of the sale/resale of each timesharing interval.
Tourism Guest Fee. Hotels, guest houses, etc. 2.5% of guests' billing.
Yacht Arrival Tax. $35 per arriving person.
Total tourism taxes. Bermuda charges the highest tourism taxes in the world.
Tourist numbers and spending 2014-19
2014. Air visitors: 224,380. Air — vacation: 141,509. Cruise passengers: 355,880. Total visitors: 584,457. Total visitor spending: $316.1m.
2015. Air visitors: 219,814. Air — vacation: 140,087. Cruise passengers: 377,398. Total visitors: 600,261. Total visitor spending: $304.3m.
2016. Air visitors: 244,491. Air — vacation: 164,321. Cruise passengers: 397,904. Total visitors: 646,465. Total visitor spending: $358.4m.
2017. Air visitors: 269,576. Air — vacation: 182,439. Cruise passengers: 418,049. Total visitors: 692,947. Total visitor spending: $431m.
2018. Air visitors: 281,887. Air — vacation: 203,697. Cruise passengers: 484,339. Total visitors: 770,683. Total visitor spending: $505.3m.
2019. Air visitors: 269,478. Air — vacation: 191,417. Cruise passengers: 535,561. Total visitors: 808,242. Total visitor spending: $518.5m.
Disabled visitors access. Note that USA ADA disability standards do not apply in Bermuda. Here, because there are no such legally required disability protections or minimum standards required by Bermuda's Ministry of Tourism or the public/private sector Bermuda Tourism Authority what constitutes a disabled-friendly room can be interpreted differently. Disabled visitors using wheelchairs and the mobility-impaired should ask before they book for details of disabled-friendly rooms such as overall room size (many disabled or mobility-impaired guests need somewhat bigger rooms); room door and bathroom door width, does the bathroom have a wet-room shower or only a shower in a bathtub over which guests have to step, is the room on the ground (first) floor or higher in which case is there an elevator nearby and what is the elevator emergency policy for disabled guests.
---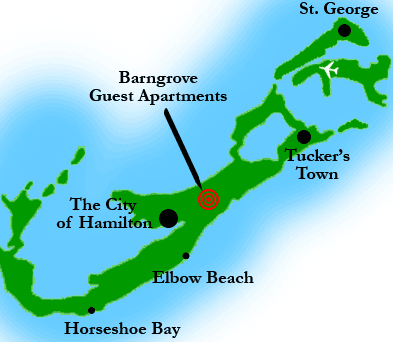 Tee Street, Devonshire Parish. (441) 236-7410. Two Guest Apartments in a wing of the Barngrove property. House has a beautiful and serene rose garden on the property not far from the City of Hamilton and South Shore beaches. Bus public transportation is available on both Middle Road and South Shore Road nearby. Tee Street joins both.
---
Blue Horizons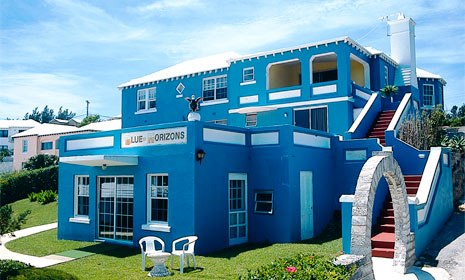 93 South Road, Warwick Parish WK 10. Phone (441) 236-6350. Fax (441) 236-9151. 15 units. On bus route 7.
---
Brightside Guest Apartments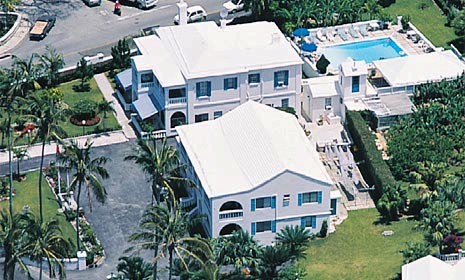 Flatt's Village, Smith's Parish. Phone (441) 292-8410. 12 units. Owned by Michael Willard Lightbourne and family. On bus routes 3, 10 and 11.
---
Clairfont Apartments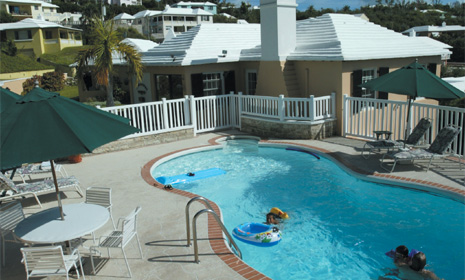 6 Warwickshire Road. P. O. Box WK 85, Warwick Parish WK 02. Phone (441) 238-0149. Fax (441) 238-3503. 8 units. Near bus route 7. Apartments include studios and 1 bedroom, with kitchenettes.
---
Dawkins Manor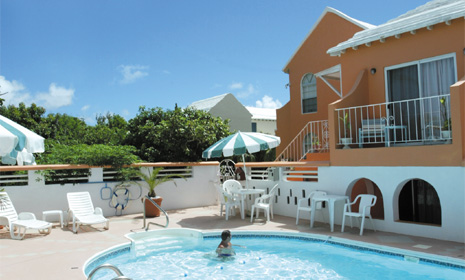 29 St. Michael's Road, Paget Parish PG 04. Phone in USA (800) 637-4116 or at (441) 236-7419 or cellular 234-8331 or fax 236-7088. For 24 guests. Celia Dawkins, owner. Off bus routes # 2 and 7. Near food store, Elbow Beach public beach not far away.
---
Garden House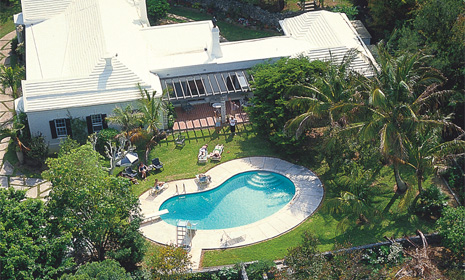 4 Middle Road, Somerset Bridge, Sandys Parish SB 01. Telephone (441) 234-1435. Fax (441) 234-3006. 5 units (three apartments and two cottages). On bus route # 8 and ferry service. On 3 acres. With a washer and local television, on-room safe, kitchen, refrigerator, DVD. No credit cards. Available almost year-round except for December through February. Not on a beach but not far from a bus stop on a major route.
---
4 star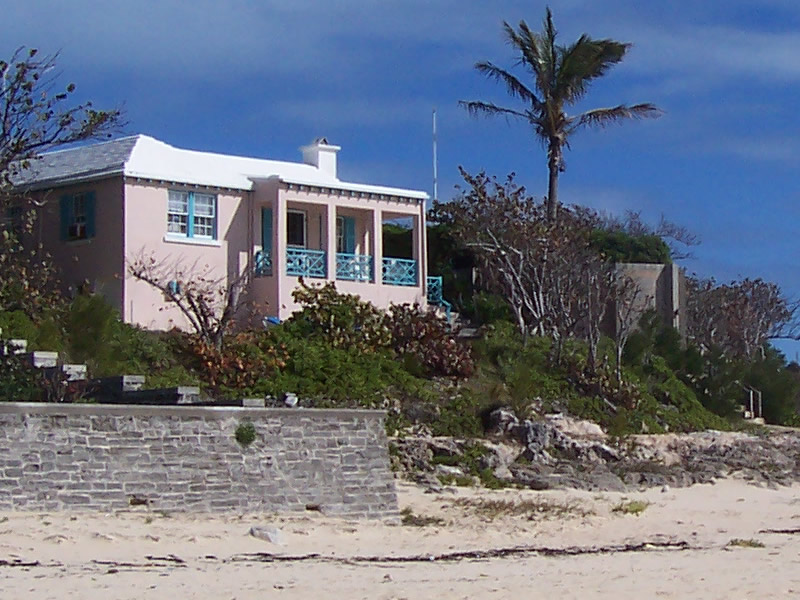 Grape Bay Cottages by the beach
Grape Bay Drive, Paget Parish. Telephone (441) 236-2515. Email host Maria Frith at Maria@gbcbermuda.com. Fabulous beach-side location. central (City of Hamilton is just over one mile away (to get there by public transportation bus walk to bus stop at junction of Grape Bay Drive and main South Shore Road) Two separate beach cottages, each with two bedrooms, living/dining room, fully-equipped kitchen, bathroom. At peak times April through October there may be a minimum rental period of 5-7 days. Rented scooters or mopeds can be parked outside. Ideally situated on superb Grape Bay, a 5-star private beach, best in all Bermuda. Minimum stay of 5 days, see sections of website above for precise terms.
---
Greenbank & Cottages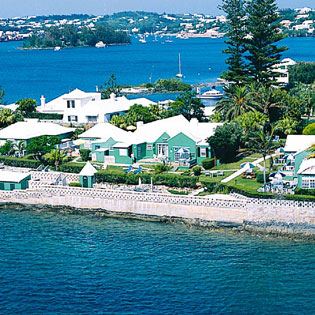 17 Salt Kettle Road, Paget Parish PG 01. Tel: 441 236 3615. Fax: 441 236 2427. Postal address P.O. Box PG 201, Paget Parish, PG BX. 2014 costs are from $145 to $410 per night. Herend China is a favored serving item at this place.
---
Kingston House B&B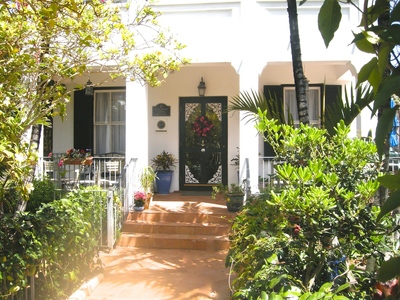 5 Turnstile Lane, Pembroke. Phone 441-295-6597. Inland, near City of Hamilton. Built in the 1920's, Kingston House. an architectural charmer with high ceilings, large sash windows, wide plank wood floors, and furnished verandas..There is also a well-equipped guest galley for storing and preparing food. Guest rooms are comfortable with all the modern conveniences for holiday and business travelers. Swimming pool heated in winter months.
---
Marula Guest Apartments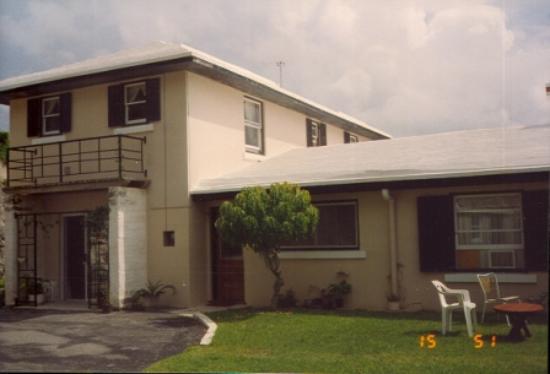 17 Mariners Lane, Pembroke Parish HM 02. Telephone (441) 295-2893. Fax: (441) 292-3985. Cellular: (441) 234-8261. 6 units. Water's edge at Mill's Creek. European Plan.
---
Paraquet Guest Apartments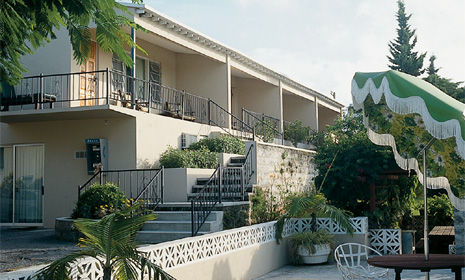 South Road, Paget Parish. Telephone 1 441 236 5842. Fax 1 441 236 9742. 11 units. Main house and apartments have large bedrooms and verandah. Casual, informal, in residential area. Near public South Shore beaches, food store and optional restaurant. Bus route 7 stops nearby. European Plan.
---
Robin's Nest Guest Apartments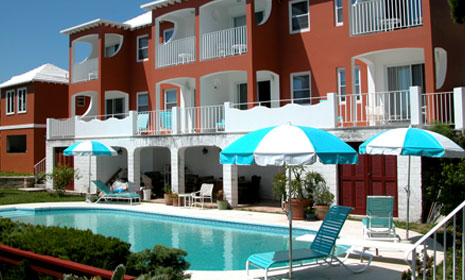 10 Vale Close, Pembroke Parish HM 04. Telephone and fax (441) 292-4347. 3 units.
---
Rosemont Guest Apartments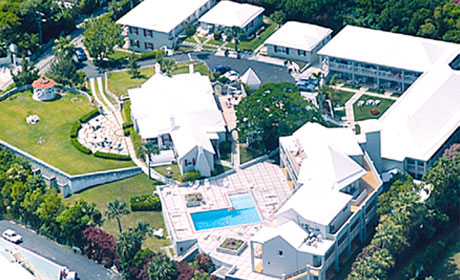 Rosemont Avenue, Pembroke Parish. Telephone (441) 292-1055. 47 units. Residential garden setting 15 minutes walk from city, not served by buses. Apartments have their own kitchenettes.
---
Sandpiper Apartments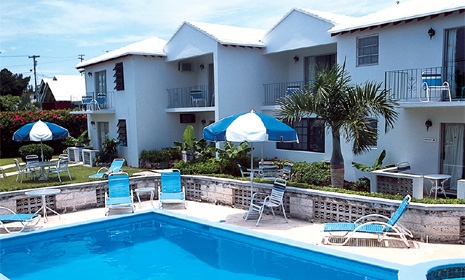 South Road, Warwick Parish. On bus route # 7. Phone (441) 236-7093 or (800) 441-7087. Fax (441) 236-3898. 14 units.
---
Sound View Cottage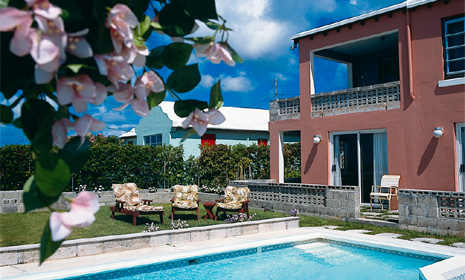 9 Bow Lane, Southampton Parish SN 04. Telephone (441) 238-0064. Overlooking Great Sound, with pool, patio and barbecue. .3 apartments.
---
Valley Cottages & Apartments

Valley Road, Paget Parish. Phone (441) 236-0628. Fax (441) 236- 3895. Studio apartments and cottages, centrally located.9 units.
---
Windsong Guest Apartments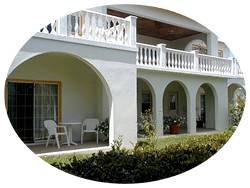 30-32 Princess Estate, North Shore, Pembroke Parish HM 04. Tel: (441) 295-7221. Fax (441) 295-4408. With one small and several larger self-contained apartments of 1 and 2 bedrooms.
---
Categories of all accommodation properties for visitors


Last Updated: May 24, 2020
Multi-national © 2020 by Bermuda Online. All Rights Reserved