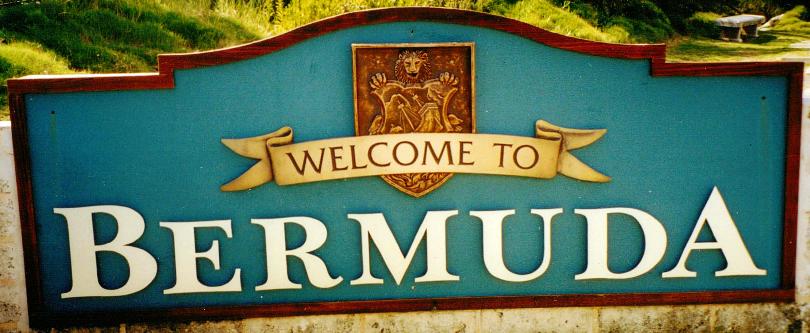 Click on graphic above to navigate the 165+ web files on this website, a regularly updated Gazetteer, an in-depth description of our island's internally self-governing British Overseas Territory 900 miles north of the Caribbean, 600 miles east of North Carolina, USA. With accommodation options, airlines, airport, actors, actresses, aviation, banks, beaches, Bermuda Dollar, Bermuda Government, Bermuda-incorporated businesses and companies including insurers and reinsurers, Bermudians, books and publications, bridges and causeway, charities, churches, citizenship by Status, City of Hamilton, commerce, communities, credit cards, cruise ships, cuisine, currency, disability accessibility, Devonshire Parish, districts, Dockyard, economy, education, employers, employment, environment, executorships, fauna, ferries, flora, former military bases, forts, gardens, geography, getting around, golf, guest houses, highways, history, historic properties, Hamilton, House of Assembly, housing, hotels, immigration, import duties, internet access, islands, laws, legal system and legislators, main roads, marriages, media, members of parliament, money, motor vehicles, municipalities, music and musicians, newcomers, newspaper, media, organizations, parks, parishes, Paget, Pembroke, performing artists, residents, pensions, political parties, postage stamps, public holidays, public transportation, railway trail, real estate, registries of aircraft and ships, religions, Royal Naval Dockyard, Sandys, senior citizens, Smith's, Somerset Village, Southampton, St. David's Island, St George's, Spanish Point, Spittal Pond, sports, taxes, telecommunications, time zone, traditions, tourism, Town of St. George, Tucker's Town, utilities, water sports, Warwick, weather, wildlife, work permits.

Bermuda's City of Hamilton
Island's capital, chief port and major locale for international businesses

By Keith Archibald Forbes (see About Us).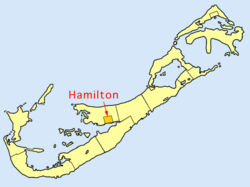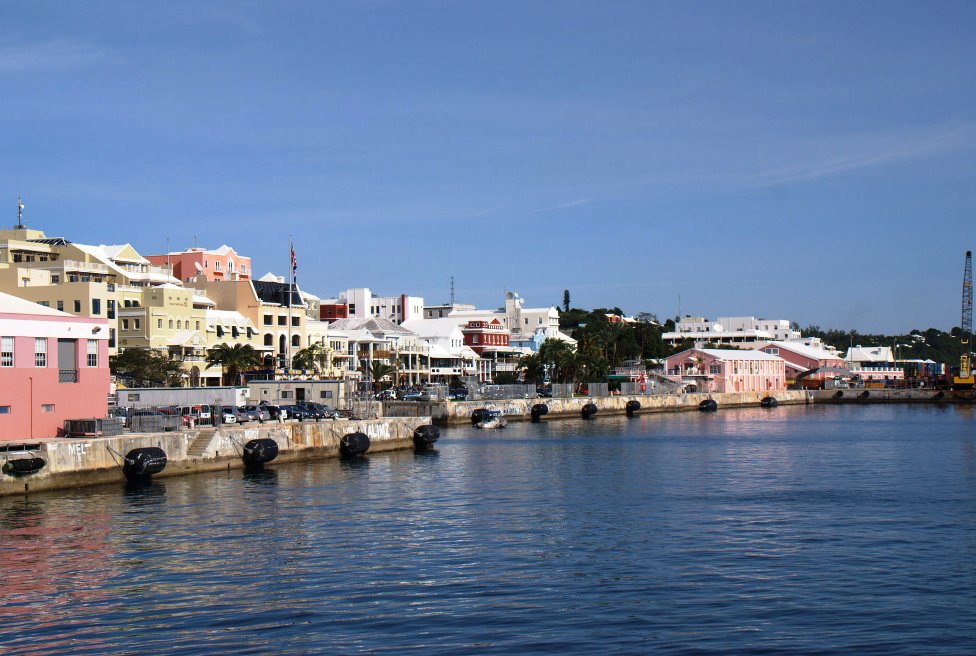 The City of Hamilton, a port city, is located on the south side of Pembroke Parish, on Hamilton Harbour.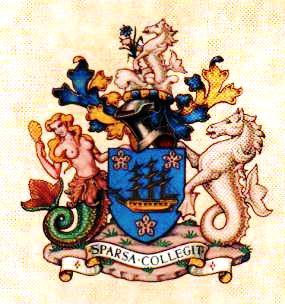 Capital, administrative, commercial, entertainment and shopping center of Bermuda since 1815 and the principal seaport and container port, with a constant clientele of freighters, Bermuda-bound smaller to medium-size cruise ships, yachts, government-owned ferries and other craft.
Administered by the elected body the Corporation of Hamilton, see below.
Hosts the Bermuda Government, with its many buildings, army of civil servants, large number of elected and appointed politicians. It is one of the two local container ports and the hub of Bermuda's international business administration.
Resident Population: About 1,800 today. A small population. Why? Because most who work in the city don't live there, they commute by car, bus or ferry from the outlying parishes. But they come to it for employment, as it has more than 90 percent of all the employers in Bermuda. About 13,500 persons - 40% of Bermuda's working population work in the city. The city is presently 185 acres in size, substantially more than when first established but still one of the smallest cities in the world.

Named after and to honor Henry Hamilton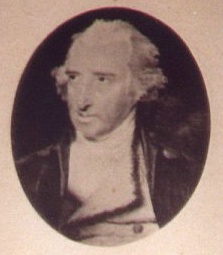 British Lieutenant Governor and then full Governor here from 1788 to 1794. He got this municipality started. He was then 53 years old. His commission also authorized him to act as full Governor in case of death or absence of Governor in Chief and Captain General William Browne (a British Loyalist born in Massachusetts, USA), who left Bermuda on October 27, 1788, never to return, although he was technically still Governor of Bermuda more than a year later. It was not until January 1, 1790 that Hamilton officially became full Governor of Bermuda.
He was appointed by King George III of Britain as Lieutenant Governor of Bermuda (or Somers Isles) in America, and Commander in Chief of Forts King's Castle, Fort Hamilton, Fort Popple and Fort Paget on February 26, 1787. He was born in Dublin, Ireland, in 1734, as the fourth of seven children.
His great grandfather was Sir Frederick Hamilton, Baron Paisley and Governor of Ulster, a position which necessitated a change of residence from Scotland to Ireland for the family and resulted in Henry's birth a century later. Henry's grandfather, Gustavus Hamilton, had a distinguished military career, was raised to the King's Privy Council and became Viscount Boyne in the Irish peerage. Henry's father was the third son of Viscount Boyle, a member of the Irish Parliament and Collector of the port of Queenstown (now Cork).
Henry spent his youth in Cork. He was commissioned into the 15th Regiment of Foot in the British Army. He earned distinction in British victories at the battles of Louisburg and Quebec in the Seven Years War (French and Indian War in the USA). Following the passage of the Quebec Act in 1774, he was appointed Lieutenant Governor of Detroit, where he led the King's 8th Regiment. From Detroit, he directed the Indians during the American Revolutionary War.
He soon acquired a notorious reputation from American historians of the time as the "Hair Buyer of Detroit") for helping British financed Indians scalp rebel Americans on the frontiers. In February 1779, he was one of the many of the King's 8th Regiment captured by the Americans at Vincennes in the famous expedition led by George Rogers Clark and was sent in chains to Williamsburg, Virginia. His eventual parole, release to the British for a huge ransom, exchange in 1781 and repatriation to London were difficult and complex because of the American complaints. From there, he was Lieutenant Governor of Quebec, then Governor, from 1782 to 1785. He was dismissed from office for reasons not his own and returned to England.
But his reputation and the intercession of his influential family and friends returned him to favor. In every way, he was a very good, capable, honest, efficient and trustworthy bachelor Governor. It is not well known, even by locals, that the city motto "Hamilton Sparsa Collegit" - as shown on the commemorative coin above -is not directly about the city but about how Governor "Hamilton had brought together the scattered."
Graphics above:Governor Henry Hamilton; Commemorative City Coin, 1993.
Later, he was Governor of the much bigger (more than ten times the size) but less populated Caribbean island of Dominica in the Leeward Islands (not to be confused with the Spanish-speaking Dominican Republic). There, he got married, at the age of 61, to a young English girl, Elizabeth Lee, on March 19, 1795, only four months after his arrival. She was 25 years old and the daughter of a Colonel Lee, of Banbury, Oxfordshire, England. (It is not clear whether she had any children but the Colonial Society of Massachusetts newsletter number 336 of March 1902 says Governor and Mrs. Hamilton had one child, Mary Anne Pierpoint, who died unmarried on December 12, 1871). While still Governor of Dominica, he died in Antigua where he had gone for treatment because of his declining health. He was unique in British colonial history - the only Governor of three separate places, especially popular in the last two. In Bermuda and Dominica, the largest of the British Caribbean territories, he was very much a diplomat. In Dominica, most of the inhabitants there regarded him as the savior from the French who several times tried uprisings. With his former military prowess, he led the British forces and local militia and aborted the attempts. (For further details about Governor Henry Hamilton, see the Bermuda Historical Quarterly, Autumn Quarter 1964).

Chronological creation of the city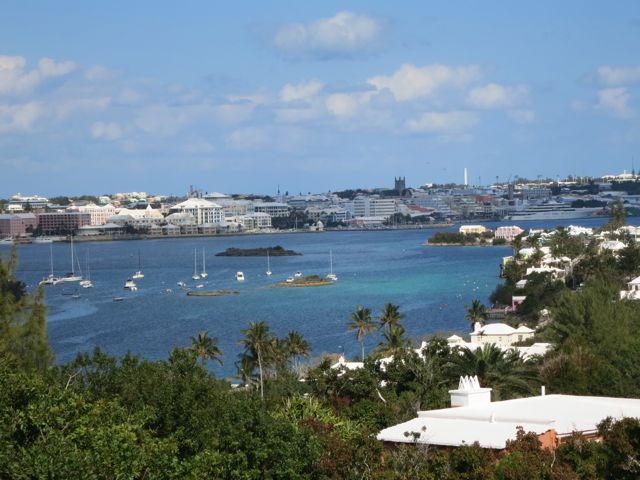 City of Hamilton, viewed from part of Warwick Parish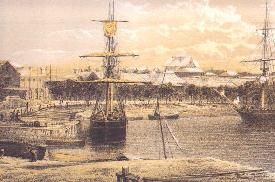 1790. Following a petition from a number of merchants in the Central and Western Parishes, the Bermuda Government appointed a Commission to acquire 145 acres for what became later the town, then city, of Hamilton. Regulations governing the incorporation required the streets to be 50 feet wide, with the land on the harbour side reserved for wharf development (now Hamilton Docks). Average price of town property was then £20 per acre (about $1.60). Similar property today would fetch in excess of $4 million.

1793. June 29. In Bermuda, the then-infant town (now City) of Hamilton, named after Sir Henry Hamilton, Governor 1778-1794, was incorporated by Act of Parliament, with the motto "Hamilton Sparsa Collegit" meaning "Hamilton had brought together the scattered." The Freeholders were granted authority to elect from among them 1 Mayor, 3 Aldermen and 5 Common Councilors.

1794. First Customs Warehouse, later, Town Hall, now offices, was built in Hamilton.

1795. January. First elections of officials in Hamilton. Daniel Tucker, Mayor; Richard Peniston, Joseph Stowe, William Hall, Aldermen; Benjamin Cox, George Harvey, Richard Darrell, William Morris and one other as Councilors.
1815. On January 23, the town of Hamilton became the capital of Bermuda. It replaced the historic Town of St. George in the east end of Bermuda, over the huge objection of its townsfolk and those of the Eastern Parishes. Richard Darrell was then Mayor. He remained as such from 1807 to 1848 (41 years).
1851. In Hamilton, during the term of Mayor Henry James Tucker, the cornerstone of the original Hamilton Hotel was built. On completion a year later it had 36 rooms. It was the first hotel in Bermuda and pioneered Bermuda's fledgling tourist industry. It was extended and modernized at the beginning of the 20th century. It stood where the City Hall Car Park is now located. It was destroyed by fire in the 1950s.
1897. With the building - actually, re-building - of the Cathedral of the Most Holy Trinity, the status of city was conferred on the Town of Hamilton by her Majesty Queen Victoria. Actually, it has three cathedrals (the other two are AME and Roman Catholic). This was done by local Act of Parliament to commemorate its 200th anniversary of establishment as a municipality - town with a Mayor.
1923. Long after Hamilton was incorporated as a town, it became a municipality in Bermuda under the Municipalities Act 1923 of the Bermuda House of Parliament.

Other places called Hamilton - for different reasons - include:
Hamilton, Victoria, Australia
City of Hamilton, Ontario, Canada
City of Hamilton, Montana, USA
City of Hamilton, New Jersey, USA
Hamilton, Iain. Scottish composer. He wrote the work "The Bermudas." It premiered on 7th November 1993 at the Anglican Cathedral.
Inlet in Canada (Labrador), where the former Hamilton River (now Churchill River) flows
Hamilton, Texas - not far from the ranch of President Bush.
Hamilton, United Kingdom (Burgh, Scotland)
Parish in Bermuda (Hamilton Parish)

Accommodation
No hotels are within the city boundary now, although several are within walking distance. There were once several city hotels. They included the American Hotel and Canadian Hotel - when the city had a thriving trade of agricultural produce shipped weekly from its port. Later, there was the large Hamilton Hotel, where the City Hall and its Car Park are now. It was easily the largest in Bermuda but was burnt down over four decades ago and never rebuilt. The Hamilton Princess Hotel in Pembroke Parish and a number of smaller properties are within walking distance for those who are able to do so. The only place that can accommodate a limited number of yachting visitors in the city is the Royal Bermuda Yacht Club.

Albuoy's Point
A small but scenic waterside park on Point Pleasant Road off Front Street, adjacent to the Ferry Terminal, accessible to the disabled as well. See panoramic views of Hamilton Harbor, cruise ships from April to November, cargo vessels and Government ferries. Yachts are berthed in the marina of the Royal Bermuda Yacht Club to the right. Also, it is superb as a place to watch the annual illuminated boat parade, every December just before Christmas. A small train and its carriages - on wheels not a track - takes fare paying passengers via a stop here to the City Hall and various other vantage points for visitors nearby.

See the memorial to Second World War armed merchant cruiser HMS Jarvis Bay, based in Bermuda. The lightly armed ship left Bermuda in 1940 to escort a convoy to Britain and sacrificed itself in a battle against the powerful German cruiser Admiral Scheer to give the convoy time to scatter. Only 65 of its 254-strong crew survived the engagement and its commanding officer, Captain Edward Fegen, who went down with his ship, was awarded a posthumous Victoria Cross, Britain's highest military honor for valor.

Anglican Cathedral of the Most Holy Trinity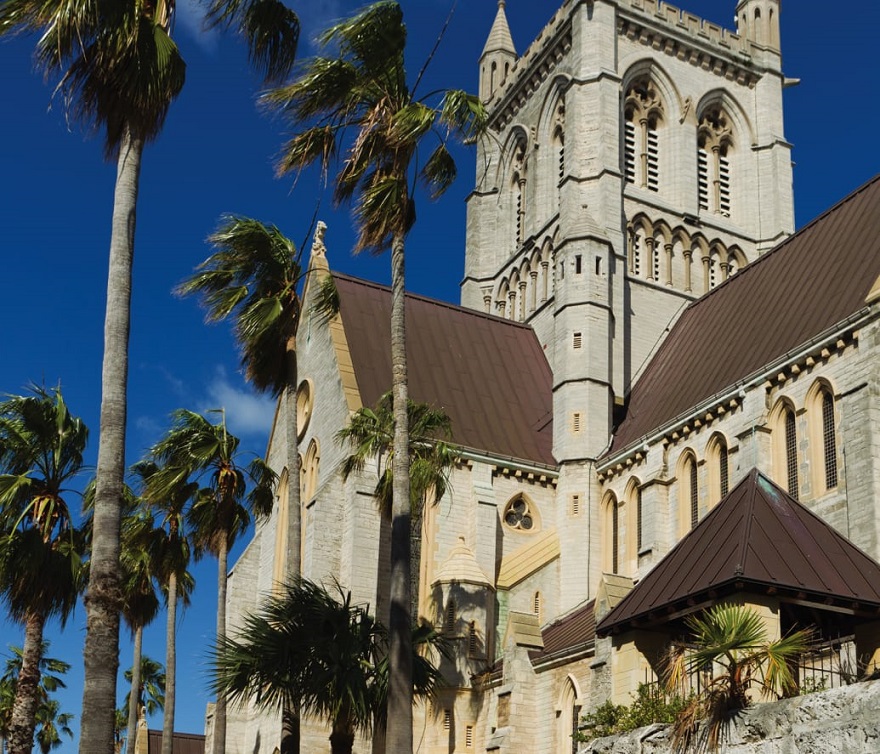 Bermuda's tallest building. In this city, no building may be taller than this landmark.
Episcopalian. Church Street, between Cedar Avenue and Parliament Street. Known simply by most locals as the Bermuda Cathedral. It gave the name of the street to the town. The most imposing edifice in Bermuda, with no commercial or private building allowed to block a view of it. It is the nearest Anglican or Episcopalian church for business or vacation visitors in parishes nearby and the setting for official ceremonies, state funerals and tasteful musical events. There is at least one Anglican church in every parish. Admission is free but for Monday-Saturday admission to its Cathedral Tower for city views from 10 am to 2 pm, there is a per-person charge. Tickets for the latter are from the Cathedral Shop.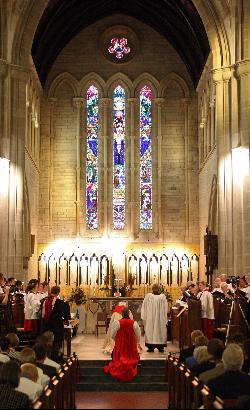 History: Under the direction of Bishop Feild, a plot of land where the Cathedral now stands, was bought for £25 from the Corporation of Hamilton with the intention of building a much-needed church for the town which was rapidly expanding as the capital of Bermuda. But the church, which took 39 years to build, was burnt down a year after its completion by an arsonist. Plans to rebuild the church were immediately submitted after it was considered too costly to try to restore the original church. The church vestry accepted designs by ecclesiastical architect William Hay of the Scottish firm, Hay & Henderson, for a larger church capable of seating 1,200. Mr Hay, of Edinburgh, was also the architect for Government House in Pembroke Parish. There was already a strong association between the Mayor of Hamilton, Thomas Reid and Mr. Hay. Mr. Reid, originally from Scotland, was the nephew of William Hay's wife and had been educated by Mr. Hay in Canada.
In July 1885, Mr. Reid, who was also Secretary of the Building Committee and responsible for spearheading the campaign to build the new church, went to Scotland at his own expense to confer with his uncle, Mr. Hay, and to discuss the recruitment of skilled workmen. Upon his return, it was agreed by the Building Committee that the new church would consist of a nave, north and south porches, a central tower and a choir. It was also decided that the size of the church would be increased to cope with the growing population of the Island as by 1885, Bermuda had become increasingly important as a leading naval station of the British Empire and popular as a winter retreat for visitors. A year after the fire, the remains of the old Trinity Church were cleared and work began on what is today known as the Cathedral Church of the Most Holy Trinity. Members of the Building Committee researched at length the type of stone best suited to the proposed size of the church.
It was eventually decided that stone cut from the Par-la-Ville quarry, not far from the building site, was the best on the Island and the quarry was freely tendered by James Perot. Other stonework was Caen stone from France, Nova Scotia freestone and Scottish granite.
In May 1886, the foundation stone was laid by Chairman of the Building Committee, the Right Reverend Llewellyn Jones, Bishop of Newfoundland and Bermuda. Eight years later, the church, still unfinished, was given the status of the Cathedral Church of the Diocese by an act of the Bermuda Legislature. In 1911, the completed church was consecrated as the Cathedral of the Most Holy Trinity by Bishop Jones on St. Thomas Day. According to a local historian, a special committee visited the Archbishop of Canterbury in 1924 to discuss at length, Bermuda's future within the Anglican Church. While the Archbishop considered Bermuda too small to be made a separate diocese, representatives from Bermuda, Canon Henry Marriott, Rev. A.V. Sullivan and Hon. Harry Watlington, argued otherwise saying: "Bermuda possessed an importance altogether out of proportion to its size; that politically and commercially, it had stood alone all that time, and that therefore, the great majority of the Synod strongly wishes Bermuda to remain separate and distinct ecclesiastically.'' The Archbishop finally agreed, and the following year, Bermuda's first Bishop, the Rev. Dr. Arthur Heber Brown, was enthroned in the Anglican Cathedral.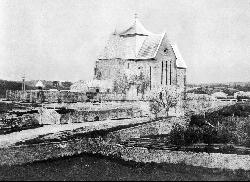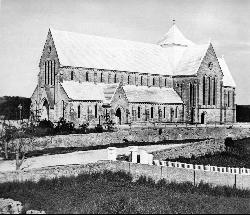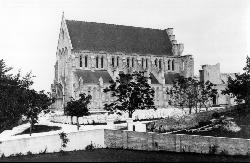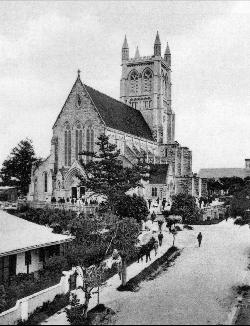 The church's four different shapes, from left to right.
Until 1839, the Island belonged to the diocese of Nova Scotia. But this was not ideal as the bishops of Nova Scotia rarely visited the Island. In that year, Bermuda and Newfoundland were made one bishopric, first under Bishop Spencer and later under Bishop Edward Feild who came to the Island every three years.

1887: The church is destroyed in a fire set by an arsonist. The ruins of the old church were demolished and work began on the Cathedral Church of The Most Holy Trinity.

1905: The tower was completed.

1911: The Cathedral was consecrated by the Rt. Rev. Llewellyn Jones, Bishop of Newfoundland and Bermuda.

1925: Bermuda became a separate diocese, no longer part of Nova Scotia. The Rt. Rev. Arthur Browne, Bermuda's first Bishop, was consecrated by the Archbishop of Canterbury in Westminster Abbey on June 11.

1949: The Rt. Rev. John Arthur Jagoe is enthroned as Bermuda's second Bishop.

1956: The Rt. Rev. Anthony Williams was consecrated in Westminster Abbey, London. The Cathedral bell was restored by Mr. Sidney Spurling after its housing was destroyed by a hurricane.

1959: As part of Bermuda's 350th anniversary celebrations, an appeal for 20,000 was launched by Bishop Jagoe and the Cathedral Chapter to insert a "reredos'' -- an ornamental screen -- behind the High Altar and to build a chapter room, choir vestries and chapter office.

1961: Miss Byllee Lang of Canada began work on the reredos. The cost of the central figure with six supporting figures was £150,000.

1963: The Rt. Rev. John Armstrong was enthroned as Bermuda's fourth Bishop.

1964: Plans for new vestries and a chapter house were prepared by architects Mr. James Gardner and Mr. Hinson Cooper.

1965: A memorial service for Sir Winston Churchill is held at the Cathedral on January 30.

1966: Restoration of the fabric of the Cathedral begins when master masons arrived from England.

1967: Mr. Thomas Bowie was commissioned to complete the figures of the reredos at his studio in Washington Lane after the death of Miss Lang. The west door is dedicated to the Rt. Rev. John Jagoe.

1968: The Archbishop of Canterbury delivered the sermon at a Thanksgiving Service for the restoration of the Cathedral. Restoration work was almost finished at a cost of £58,688.

1970: The Rt. Rev. Eric Trapp, Bermuda's fifth Bishop, was enthroned in the Cathedral. Work began on the maintenance of the organ.

1972: The Cathedral Hall was opened by the Mayor of Hamilton, the Rt. Wor.
Graham Gibbons.

1974: A new baptistry was donated by the Butterfield family in memory of Doris Butterfield.

1976: Bermuda's sixth Bishop, The Rt. Rev. and Rt. Hon. Robert Wright Stopford was enthroned on February 8. He died in August the same year.

1977: The Warriors Chapel in memory of those Bermudians who served in the two World Wars, was dedicated by the Rev. Canon Peter Hartley for the use of military personnel of all nations and as a memorial to Bishop Stopford. Rev. Anselm Genders was enthroned in the Cathedral.

1978: Plans were drawn up to restore the west end of the Cathedral and the tower. An appeal committee was formed. The first Cathedral Walkathon in aid of the restoration fund raised $6,511.92. An exorcist, the Rev. Dr. Donald Omand, visited Bermuda and attempted to exorcise the Bermuda Triangle. The Corporation of Hamilton was granted permission to set traps in the tower to catch pigeons. Repairs to the interior of the Cathedral were estimated to cost $75,000.

1979: Work on the organ was begun by restorer, Mr. Thaddeus Outerbridge. The Archbishop of Canterbury visited Bermuda in October.

1982: Bishop Genders resigned.

1983: The Rt. Rev. Gerald Ellison became Vicar General of the Diocese of Bermuda.

1984: Rev. Ellison returned to England after a one year tenure in Bermuda. The Rt. Rev. Christopher Luxmoore was the first Bishop of Bermuda to be consecrated in Chichester Cathedral.

1985: Bishop Luxmoore is enthroned as the eighth Bishop of Bermuda. Canon James Francis became the first Bermudian Canon Residentiary at the Cathedral.

1986: The diocesan flag and flagpole were dedicated in memory of the Marques, the tall ship which disappeared off Bermuda in June, 1984 with 17 crew members on board. The new diocesan office was completed.

1988: The Most Rev. Brian Hennessy, Catholic Bishop of Hamilton took part in the ordination of Rev. William Hayward at the Cathedral.

1989: Bishop Luxmoore resigned as Bishop of Bermuda.

1990: The Rt. Rev. William Down, Bermuda's ninth Bishop was enthroned on March 25. Princess Margaret visited the Cathedral on November 4.

1991: The Living Landmark Appeal was launched to fund the restoration of the Cathedral on October 1.

1993: Nine Canadian Bishops visited the Cathedral. The City of Hamilton celebrated its 200th anniversary with a service in the Cathedral on June 11.

1994: Prince Philip visited the Cathedral. The Cathedral celebrates its Centenary.

1995: Bishop Down resigned as Bishop of Bermuda.

1996: Father Ewen Ratteray, was enthroned as the Island's tenth Bishop on May 19, making history as the first Bermudian to hold that post. (There has since been another Bermudian Bishop).

Back O' Town or the Pond
A local colloquialism referring to the northern end of the city which abuts Pembroke March. Pond Hill is the highest point of swampy, low-lying ground near Back O' Town. Streets and roads involved are, alphabetically:
Angle Street
Court Street
Curving Avenue
Glebe Road
Friswells Hill
Government Gate
Marsh Folly
Middletown
Parsons Road
Princess Street
Roberts Avenue
St Augustine's Hill (Smith's Hill)
St Monica's Road (42nd Street)

Bank of N. T. Butterfield & Son Limited, 65 Front & Reid Streets, Hamilton HM 12. Phone 295-1111. About 40% of the local banking market. Main investors are the Canadian Carlyle Group (18.64%) and the Canadian Imperial Bank of Commerce (CIBC), 18.64% (together they own nearly 40%), then Bermuda Government Pension Funds, Wellcome Trust, Julian Robertson and Goshen Investments LLC.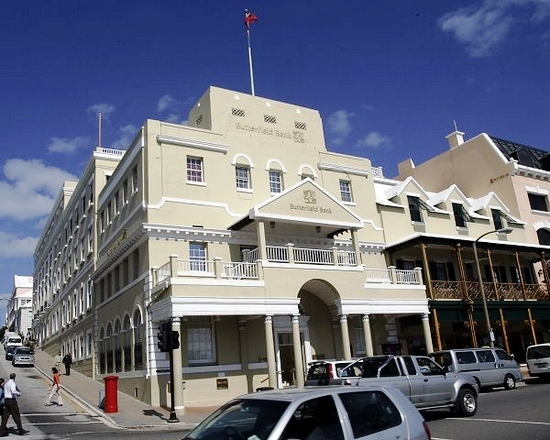 Bermuda Commercial Bank Ltd (BCB). L P. Gutteridge Building, Hamilton, PO Box HM1748, Hamilton HM GX, Telephone: 441.295.5678 Fax: 441.295.4759

. Owned by

Somers Ltd, which recently sought to buy out London-based broker Westhouse Holdings PLC. Somers already owned a 46.1 percent stake in Westhouse. Somers was formerly known as Bermuda National Ltd. As well as owning BCB, Somers owns a 62.5 percent holding in J O Hambro Investment Management Ltd, a UK wealth manager with $6 billion in assets under management and a 66 percent interest in Private & Commercial Finance Group PLC, a UK asset financing company, and a 58 percent interest in Bermuda real estate company West Hamilton Holdings.

Clarien Bank Limited. 19 Reid Street, Hamilton HM 11. P. O. Box HM 1194, Hamilton HM EX. Phone (441) 296-6969. Fax (441) 296-7701. On January 7, 2014 it amalgamated with and on April 22, 2014 changed its name. Formerly Capital G Bank Ltd. 2015, April 8. The Gibbons family bought back control of Clarien Bank Ltd, just 15 months after it sold a controlling interest in the institution.

HSBC Bank of Bermuda. Harbourview Centre, Front and Reid Streets, Hamilton. Bermuda's biggest bank. A prominent local landmark, for Bermudians and professional newcomers go to do their banking. Phone 295-4000. Fax 295-7093. Since 1889. Formerly the Bank of Bermuda Limited. The largest by a considerable margin and most profitable Bermuda bank, especially since February 2004 under HSBC ownership when acquired for US$1.3 billion. At HSBC acquisition the bank employed 1,050 people but reduced this to about 730 in 2012. About 47% of the local banking market. Also beyond the city, in St. George's and Somerset.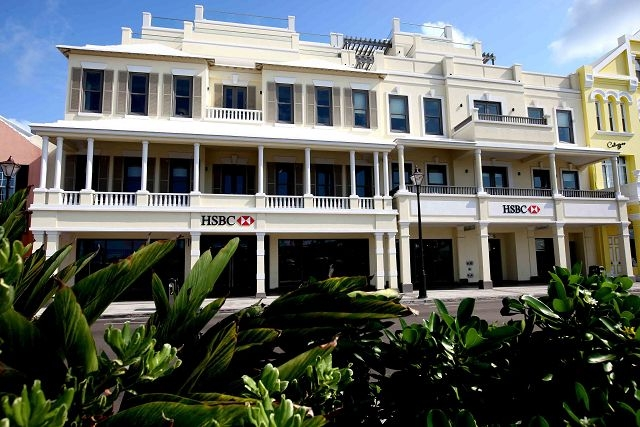 Barr's Bay and Barr's Park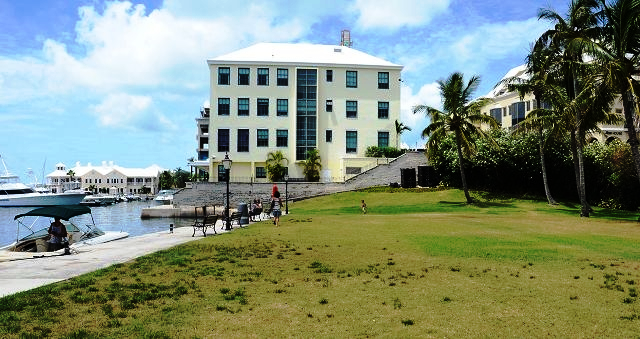 Royal Gazette photo
A scenic waterfront bay and park in Hamilton Harbour, on the west side of the Royal Bermuda Yacht Club. Both are named after an old Bermudian family that dates back to 1727. In 1821 John Barr, a merchant in the town of St. George, married Frances Goodrich, a member of the family of rich American Loyalists who had lived in the town since the American Revolution. In addition to these two places, Barr's Hill in St. George's Parish is also named after them. In 1861 the couple's only son, William Shedden Barr, married Charlotte Eleanor Burnaby Lough, only daughter of the Rev. John Lough and Mary Hinson Lough. On February 18, 2010 the Corporation of Hamilton unveiled here the 'We Arrive' memorial sculpture. The semi-abstract piece by Chesley Trott is to commemorate the arrival here in 1835 of 78 slaves, men, women and children, on board the American ship The Enterprise seeking a safe harbour to allow repairs and re-provisioning after a storm at sea. The United Kingdom and all British empire territories including Bermuda had formally ended slavery in 1833 and 1834.
With slavery from then on illegal in Bermuda, the slaves aboard the American ship were taken ashore over protests from the American captain of the ship and once ashore were offered their freedom. All but one family accepted and descendants still live in Bermuda today. This almost led to war between the US & UK and was a basis for the defence of the slaves from the Amistad. Today, the striking statue memorial shown below commemorates the event. The park is small but nice for a picnic, with seating in a waterside garden setting. It has shady trees. There is access for the able and disabled in wheelchairs, via an incline. See White's Island on your left in the harbor, also cruise ships or other vessels passing by. Until the 1995, the US Navy had an active shore patrol based here, in a purpose-built building. It served the-then US Naval Air Station to the east in St. David's and the-then US Navy Operating Base in Southampton Parish. Sailors used to be able to take a US Navy ferry service to both facilities to and from the City of Hamilton.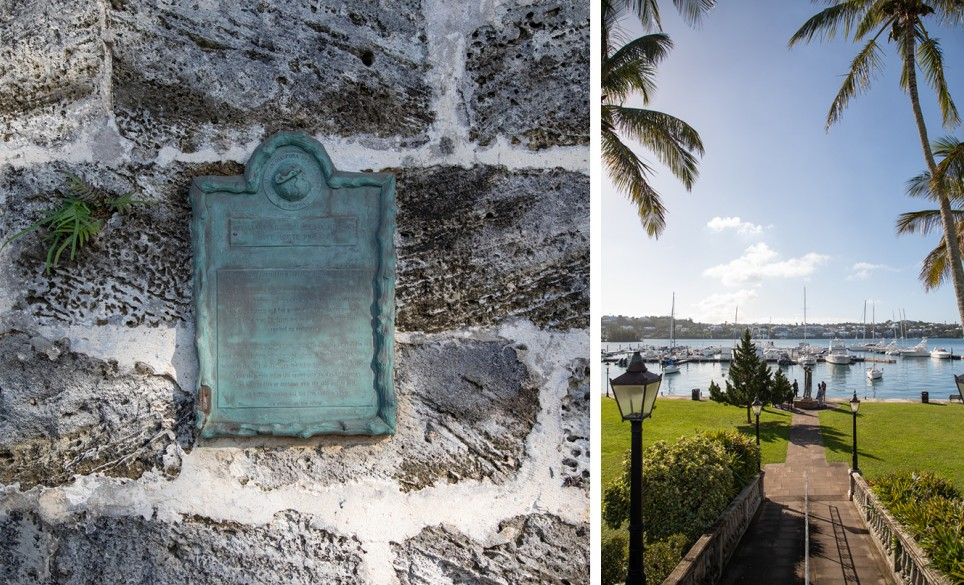 Bermuda Archives
Government Administration Building, 30 Parliament Street, Hamilton HM 12. Email archives@gov.bm. It has no web site address. Open to the public on week days. Telephone 295-5151. The Bermuda Government's depository of Bermuda's heritage, history and historic art. In the remit administration of the Premier of Bermuda. In a climate controlled system for 40% relative humidity and a constant temperature of 65 degrees Fahrenheit. See many original documents, parchment deeds of the early 1600's to 20th century files, documentary art and Bermuda's largest holding of vintage photographs. There is an Archives Advisory Council, under the Bermuda Archives Act 1974.

Bermuda Festival
Mostly at the Earl Cameron City Hall Theatre, City Hall. This seasonal event - about two hours a night in January to March every year - is accessible via a curving outdoor ramp. There are special places for the wheelchair-bound and a seat nearby for a caregiver.

Bermuda Fire Service
Headquarters, King Street. From April, 2007 Bermuda's three fire departments were unified into a single national fire service. After 76 years of existence the volunteer St. George Fire Brigade became history, along with the Bermuda International Airport fire service. Both were absorbed into the Bermuda Fire Service to form a comprehensive emergency service that spans the Island.

Bermuda Harbour Nights
Sponsored by the Bermuda Chamber of Commerce, mostly for visitors. Free entertainment and samples of island culture. Some stores have late closing hours (7 pm to 10 pm) for visitors. Annually, Wednesday evenings from late April to mid-October. On these nights, road closures include
Front Street between Bermudiana Road and Court Street
Burnaby Hill between Reid Street and Front Street
Queen Street between Front Street and Reid Street
Par la-Ville Road between Rosebank Road and Front Street West.
Some car and bike parks are closed then.

Bermuda Historical Society Museum (BHS)
Par La Ville, Queen Street, Hamilton. Telephone (441) 295-2487. No email or fax address or website). Established in 1895 to promote an interest in Bermuda's history. With an annual membership fee. Any Bermudian, resident or visitor can become a member, on request. In August 1927 it was formally incorporated by local Act of Parliament. Since 1955 it has occupied the entire ground or first floor of the historic building shown to the left (owned by the Corporation of Hamilton). Bermuda registered charity # 191, with considerable funds. The house was once the home of William Perot, Bermuda's famous postmaster, who devised Bermuda's first postage stamps.
With three large rooms of interesting and in some cases unique museum pieces. It also has some Bermuda history books for sale. It receives an annual Government grant to provide information to the public who visit in person or write or call. It holds regular executive and periodic open general meetings and offers annual and life and special membership for which there is a cost. Only relatively few of its paintings are visible as most, to preserve them in the appropriate environment for rare and unusual works - are in the care of the Bermuda Archives - a Bermuda Government-owned agency in another part of the city.
See original 17th century portraits, and other artifacts of his such as his sea chest, of Admiral Sir George Somers who founded Bermuda and his wife Lady Somers. (Note this website's Admiral Somers file for how his exploits and how he came to discover and colonize Bermuda for the United Kingdom, are described fully). He and his wife were from and lived in the ancient English town of Lyme Regis in Dorset, now twinned with the Historic Town of St. George in Bermuda.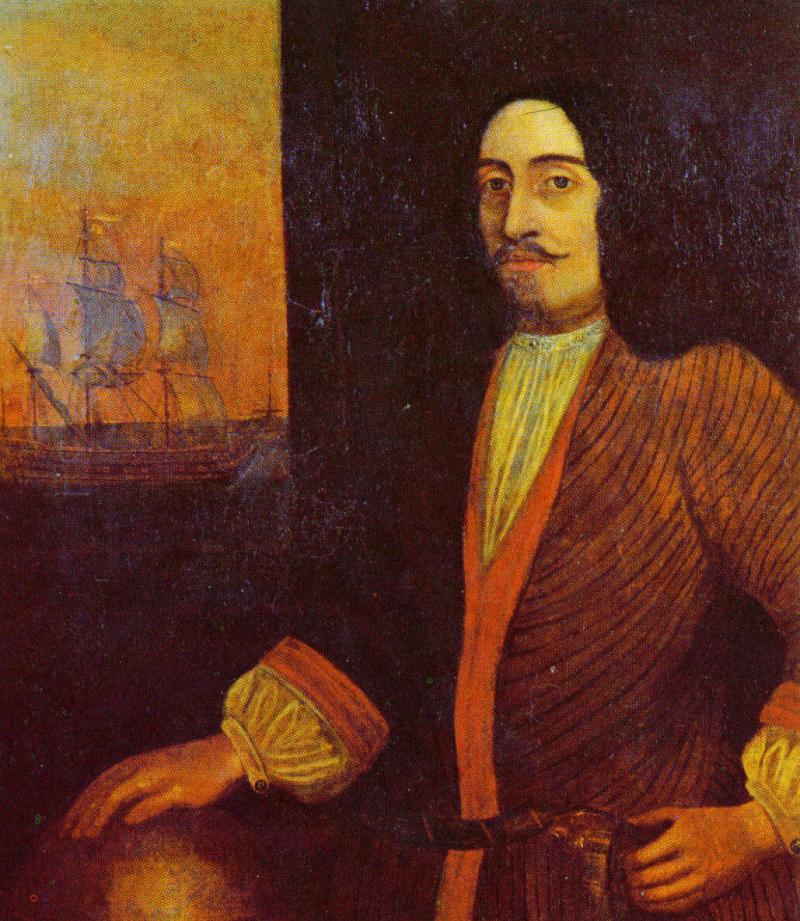 Admiral Sir George Somers, British naval hero, founder of Bermuda in 1609.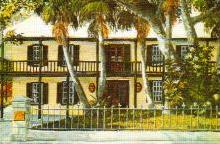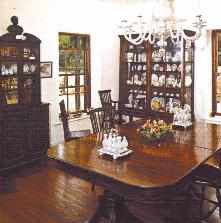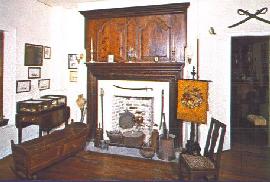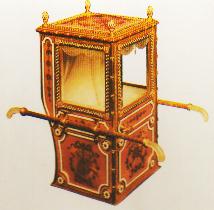 See the English sedan chair of 1770, very similar to those used by the Mozart family and others in Austria, France and Britain. It was restored some years ago in England.
It is believed to be the only one left of its type in the entire Western Hemisphere.
At least one other sedan chair of about the same period carried prominent local residents like Mrs. George Forbes, the wife of a prominent local Scottish-born doctor in the early 18th century.
He was Bermuda's first doctor, liked by everyone.
When he and his wife, both from distinguished Scottish patrician families, first arrived from Scotland they settled on Smith's Island in St. George's Harbour. Later, they moved to St. George's. He became a member of Bermuda's Legislative Council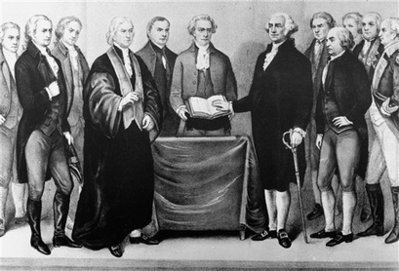 Note a typewritten copy of the original 1775 letter from George Washington to Bermudians of the day. It requested help in stealing gunpowder from the British garrison for his country's Revolution.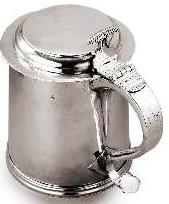 Other items worth noting include the 1830 Waterford crystal chandelier, the Wedgwood vase that commemorated a significant anniversary in Bermuda and a remarkable Silver Collection dating back to when local artisans were silversmiths (they created silver out of coins as there were no local sources of silver).
One was Thomas Savage Senior, who worked in both Boston MA and Bermuda.
His silver tankard made on the Island in around 1710 was auctioned off in early 2009 by Sotheby's in New York, for well over $60,000. It is hoped it will find its way back to Bermuda.
Bermuda silver is extremely rare and does not frequently show up at auction. There has never been any silver found in Bermuda, much of it derived from coins once common in Bermuda or imported.
Savage Silver Tankard
Only 38 silversmiths are known to have worked in Bermuda between 1650 and 1900, and the majority made small objects such as spoons, buckles and buttons. Only seven silversmiths were known to have made larger objects, and only 30 of these objects are known today. Since 1998, Sotheby's has only sold one other tankard believed to be made in Bermuda.
The 1790 fiddler's clock made in Bermuda by a silversmith and jeweler, is a one-of-a-kind antique, believed to be very valuable. It's the finest artifact in the museum, made by Thomas Blatchley, an English-born clockmaker who lived and owned a business in St. George's. Standing more than a foot high and described as very ornate with a pagoda-style roof, the clock features a silvered brass face that was inscribed with the clockmaker's name and the word "Bermudo." Perhaps "Bermudo" was inscribed to avoid using the actual name of Bermuda, which could have been Crown-copyrighted at the time. The clock also plays four different melodies. The chime is delightful, playing a trio of chamber musicians and playing instruments when the clock is wound up. Its silvered brass face has an even more interesting story.
While Thomas Blatchley's business was clock making, we know from advertisements in the Bermuda Gazette that he also offered watch making, engraving and silversmith services. Blatchley's employee, Peter Pallais, a French-born silversmith, moved to Bermuda around the time the clock was made and one could deduce that the face of the clock could have been made by him. Pallais took over Blatchley's business upon his death. He was one of the island's earliest converts to the Methodist faith and for his convictions, he was also one the early 19th-century victims of religious persecution in Bermuda. He, along with Bermuda's first Methodist minister, the Rev. John Stephenson, were imprisoned for nine days at the jail in St. George's, which is now the site of the St. George's Historical Society located on Duke of Kent Street. The English piano by a famous manufacturer was exhibited in London in the 1850s. No one quite knows how it arrived in Bermuda. Other antiques include a portrait of William Perot, the original owner of the house this museum occupies, as well as its adjacent grounds, nor Par La Ville Park; a handsome tall-case clock by Thomas Millington of London and a noteworthy collection of Chinese export and Wedgwood china.
Records of the Society include, in records of the long-defunct Bermuda Historical Quarterly (once produced by the Bermuda Historical Society), details of the 40 year period in Bermuda's history from the 1820s to 1860s as a convict prison for British convicts who lived on prison hulks and built the Royal Naval Dockyard. Of more recent interest are exhibits from the Boer War when thousands of South African prisoners of war (men and boys) were transported to exile on various islands in Bermuda from 1901 to 1902. Bermuda was one of the places selected as a prisoner-of-war-camp for the Boers because of its distance from South Africa. Local historians have quite a collection of souvenirs of the Boer War made by the South Africans.

Bermuda Magistrates' Court and Hamilton Police Station
Dame Lois Browne Evans Building

, junction of Church Street, Court Street and Victoria Street. 127,473 sq feet on seven levels. It features four courtrooms on the second floor, plus a Family Court on the third.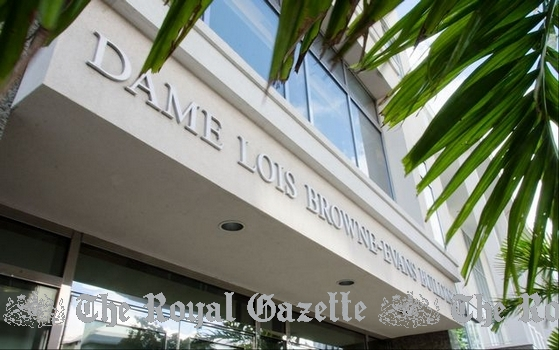 .

Bermuda National Gallery
2nd floor, City Hall. Phone (441) 295-9428 or fax (441) 295-2055. Bermuda's art museum with four main exhibition spaces, the Main Gallery, Mezzanine, Watlington Room (after founding trustee Hereward T. Watlington) and Ondaatje Wing (after benefactor Sir Christopher Ondaatje). Since 1992. Registered charity # 228. With artworks and periodic special exhibitions. The permanent collection has four elements:
European paintings (of non-local scenes and people) over four centuries including works by Reynolds, Gainsborough, Romney, Murillo and Wilson
23 African sculptures from the New York Perls collection, purchased from many sectors of the Bermuda community, plus others donated.
Bermudian mostly cedar furniture on long-term loan from local collections.
Historic and contemporary paintings, sculpture and photographs.

Bermuda National Library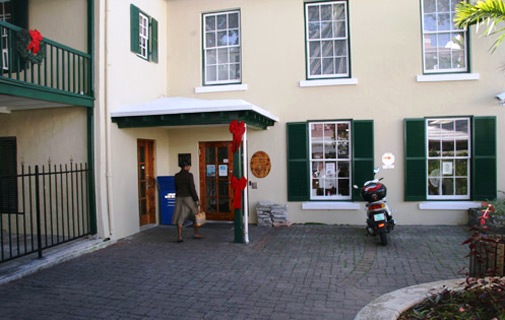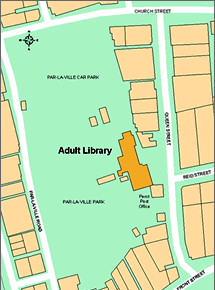 Par La Ville, 13 Queen Street. Telephone (441) 295-2905 (Circulation) or (441) 295-3104 (Reference). E-mail library@gov.bm. Open weekdays. In the 1980s the present modern building took over most of the Library from the much older part of Par-La-Ville - so much so that the Bermuda National Library now has its own entrance which is not at all part of the original Par-la-Ville building. What used to be the Colonial Archives and were formerly in the Library were moved years ago to the Bermuda Government Archives on the Government Administration Building on Parliament Street. The ground-floor Reference Library used to be accessible from the Bermuda Historical Society but is no longer accessible from the old building, only from the new wing. With the initiative of Governor William Reid who arrived in 1839, the original Library was initially established in the east room on the ground floor of what was then the Customs House on Front Street. Later, it was the Colonial Secretariat, now the Cabinet Building. Governor Reid started the depository from a collection of books that was dying out by 1839. It began in 1765 from families living in the Somerset Bridge area of Sandys Parish who had formed the Somerset Bridge Club as a social club. There was also a small club in Pembroke Parish that circulated reading matter among its members.
This was the first library for general use in Bermuda. Governor Reid got the Legislature to approve the facility as a general Colonial Library, consisting then of reference works and practical books. An early published library annual report showed a book collection of 276 initial volumes. He presided personally over the first meeting of the trustees held in August, 1839 - from which came the early regulations governing the library. As directed by the trustees, every inhabitant over Bermuda not a minor had access to the books in the library and for a membership fee could borrow books for home use. A subscription for one year cost six shillings and life membership two pounds. The library was open from midday until 2 pm except on Sundays and holidays. Today, this now free lending Library is an agency of the Bermuda Government. It is accessible to wheelchair bound local and visiting patrons (via an elevator). In the Reference Library, visitors can peruse the links between England, Virginia, New England and Bermuda. Rare volumes include the 1624 first edition of Captain John Smith's General History of Virginia, New England and the Somers Isles (Bermuda's alternate name). Other Bermuda books, by local and overseas authors and Bermuda newspapers dating back to 1787 are available for public inspection during library hours.
Bermuda National Library Committee. See Bermuda Government Boards.

Bermuda-registered cruise ships and other vessels
This city is the home port of a number of Bermuda-registered ships including cruise ships, such as the P&O/Carnival large cruise ship Arcadia.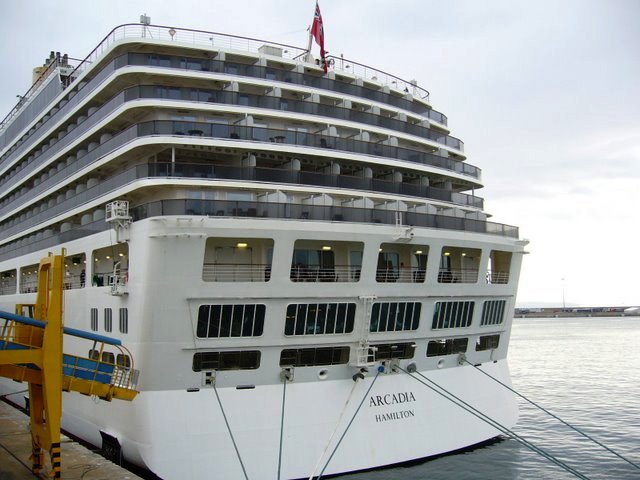 P&O cruise ship Arcadia (see below), registered in Hamilton, Bermuda.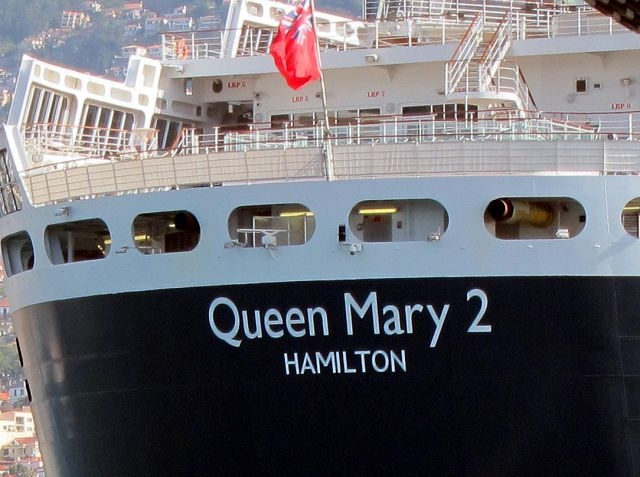 Queen Mary 2 in her new Bermuda-registered livery
All Bermuda-registered ships of all types are administered by the Bermuda Government's Department of Maritime Administration. Bermuda-registered ships which are not cruise ships are too many to be listed here. But of the cruise ships, the following are known to be Bermuda-registered.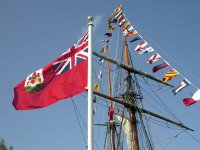 All Bermuda-registered ships fly this maritime flag of Bermuda. They include the following cruise ships listed by cruise ship line then alphabetically with dates shown being dates when launched.
Cunard. All were Bermuda-registered in October, November and December 2011.(Queen Elizabeth October 24, Queen Victoria October 27 and Queen Mary 2 on December 1). Cunard has been UK-registered for the last 171 years, but has said it will continue to use Southampton as its home port.

P&O Cruises. Arcadia (2005); Artemis (1984); Aurora (2000); Azura (2010); Oceana (2002); Oriana (1995); Ventura (2008)

Princess Cruises. Caribbean Princess (2004); Coral Princess (2002); Crown Princess (2006); Dawn Princess (1997); Diamond Princess (2004); Emerald Princess (2007); Golden Princess (2001); Grand Princess (1998); Island Princess (2003); Ocean Princess (1999); Pacific Princess (1999); Royal Princess (2001); Ruby Princess (2008); Sapphire Princess (2004); Sea Princess (1998); Star Princess (2002); Sun Princess (1995).

Bermuda Sailors Home
Serpentine Road, Hamilton. It also has a centre in Dockyard to cater for the crews of cruise ships.

Bermudiana Arcade
Queen Street. Occupies several floors, with a variety of small but interesting shops and restaurants.

Bermudiana Road
Runs north from Front Street to an intersection with Richmond Road. It is named after the Bermudiana Hotel that was here from the 1920s until the early 1990s when it was demolished to make way for the ACE and XL insurance companies. The hotel was built as part of the bid by the Furness-Bermuda Line to turn Bermuda into a prestigious tourism resort (also built were the Belmont Manor in Warwick, Castle Harbour and Mid Ocean Club). It had magnificent harbour views and its gardens incorporated those of two former historic mansions, one of which was Long House (razed in the 1930s for the hotel). After a fire gutted it in the 1950s, when it was owned by an English millionaire, it was rebuilt, but competition from the Southampton Princess and Sonesta Beach hotels built in the 1960s and 1970s limited its potential.

Birdcage
Front Street. Prominent spot in the city of Hamilton at the junction of Front Street, its extension of Front Street West that becomes Pitts Bay Road and Queen Street. So-called because for generations there was a blue and white painted bird-cage-like structure in the middle of the junction from which Bermuda policemen directed traffic. Deemed a place of historical and cultural importance for that reason. The Bird Cage was designed by Dickie Bird, who died in 2011.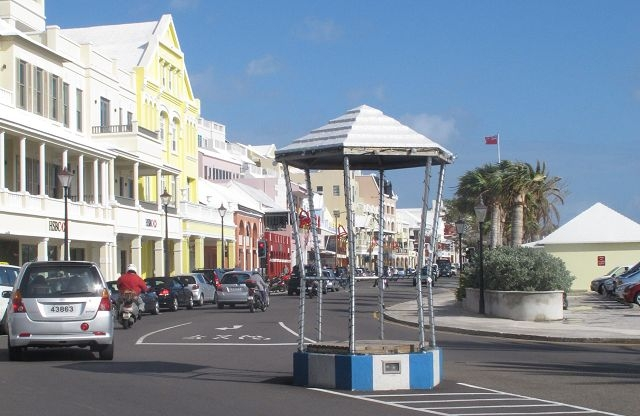 Burnaby Hill and Burnaby Street
North from Front Street, at the Flagpole (see below). Burnaby Hill is a steep hill. After Reid Street it changes to Burnaby Street and continues to Church Street where it changes its name to Cedar Avenue. Both the hill and street were named to commemorate Captain Sir William Burnaby, Royal Navy, of Broughton Hall, Oxford, England. He was posted to Bermuda in 1812 as Commanding Officer of the Prison hulk HMS Romulus, during the War of 1812-14 between Britain and the USA. His harsh regime earned him the enmity of American prisoners-of-war on the hulk, so much so that when, many years after the war ended and he was visiting New York by ship from Bermuda, an angry mob threatened to lynch him. In 1816 he married a Bermudian widow, Mrs. Eleanor Wood who inherited a great fortune from her late husband Joseph Wood (thus Woodlands Road, in Pembroke Parish) including a lovely old house called Long House. After a long and happy retirement in Bermuda, Sir William Burnaby died at Long House in 1853 at the age of 63. Lady Burnaby also died there on 1st January 1862, aged 78.

Bus Public Transportation Terminal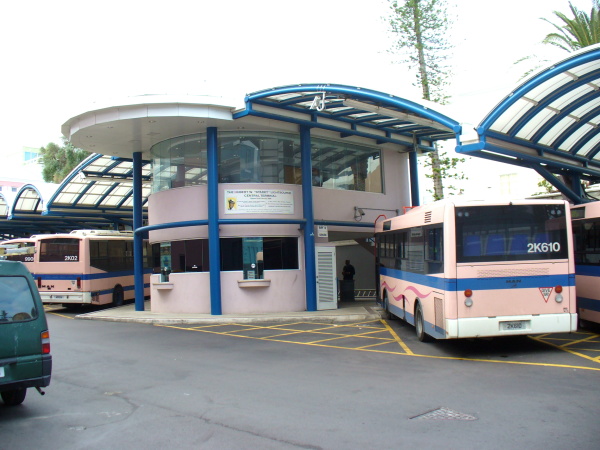 Photo by author solely for Bermuda Online
Washington Street, east of and adjacent to City Hall. Opened in February 2006 at a cost of $2.8 million and many months of construction. The new permanent central terminal for Bermuda's pink and blue buses run by the Public Transportation Board (PTB) of the Bermuda Government. Incoming buses from east and west make their last here of only three city stops. From here, the eastern buses (10 and 11 routes, mostly) travel to the town of St. George via the Middle, North Shore or South Roads. Going west (via routes 7 and 8 mostly), via one stop in the city on Church Street West, they go as far as the Bermuda Royal Naval Dockyard via the Middle or South Roads. There are also less well-used routes. Visitors and new residents should obtain a free copy of the current bus schedule and become familiar with the fare and zone structure, transfer policy, frequency by day and by night, and different types of tickets and passes, as shown in Bermuda Transportation for Visitors. Very busy 8:00 to 8:45 am, 3:30 to 4:30 pm on regular school days when many school children use it, and from 4:30 to 5:30 pm when Bermudian commuters go home tired. The periodic (rush hour only) Express buses to St. George's are specifically for commuters, unlike regular buses used by visitors.

Cabinet Building, Cenotaph and War Memorial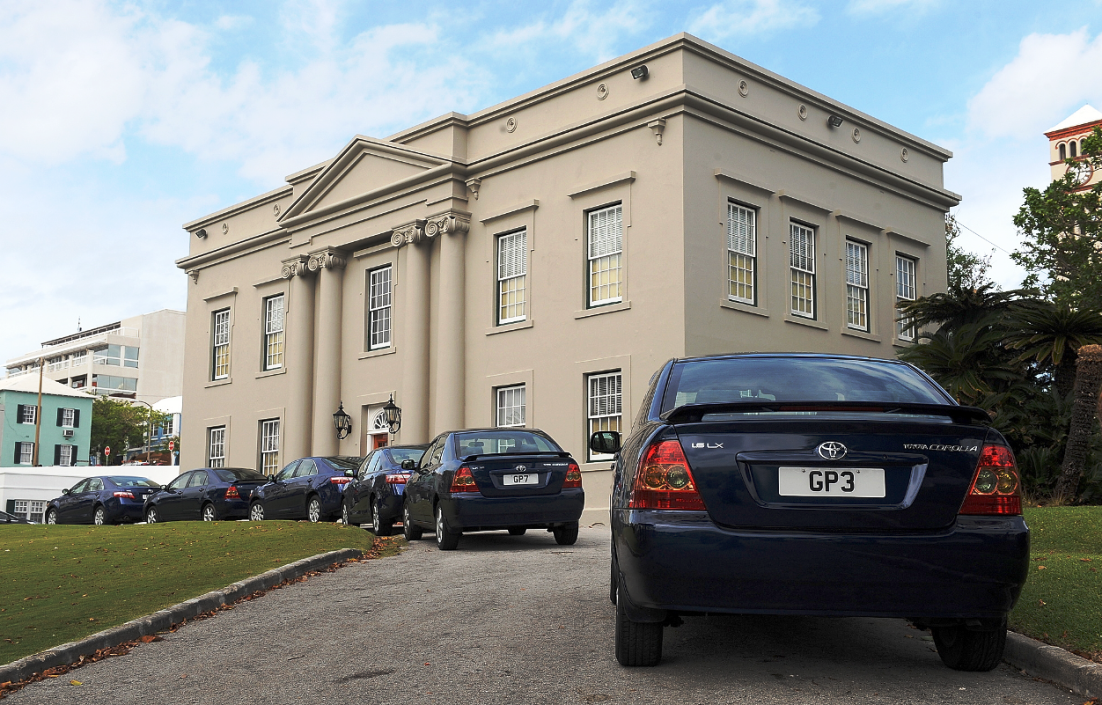 Cabinet Office, showing a long line of official Bermuda Government Ministerial cars parked outside. Royal Gazette photo.
105 Front Street. Telephone 292-5501. Designed in 1837 by an officer of the Royal Engineers then serving in Bermuda. When it was first opened in 1884, it was known as "The Public Building", part of Bermuda's civil colonial government during the reign of Queen Victoria. It then housed the Customs and Treasury Departments and the Bermuda Library on the ground floor with the Council Room and the Secretariat on the upper. It has remained the home of the Council and the Secretariat ever since, with the exception of a period of nine years (1969 1977) when the Executive Council was based in offices on the second floor of the General Post Office at Church and Parliament Streets. Entering the Entrance Hall, the doors are of Bermuda cedar. Some of the cedar was given to the Cabinet Building by the Consul General of the United States and some of the cedar was from the O1d (ended in the late 1950s) Bus Garage, earlier a Bermuda Railway train depot, on East Broadway. These doors were installed in 1989, completing the renovations to the ground floor of the Cabinet Building.
There is a large portrait above the stairs, facing down into the Entrance Hall, which is that of Queen Victoria, a copy an original portrait which hangs in St James' Palace, London and is on loan from the St. George's Foundation of New York. It shows the young Queen at the beginning of her reign, shortly after her marriage to Prince Albert of Saxe Coburg-Gotha. In the Upper Hall, over the stairs, there is a portrait of Sir Thomas Gates who was with Admiral Sir George Somers in the Sea Venture in 1609. In the Upper-Hall, facing the stairs is a portrait of William Herbert, 3rd Earl of Pembroke; the original, painted in 1627 for King Charles I, hangs in the National Portrait Gallery in London.
To the right is a portrait of Sir Edwin Sandys, a member of the Bermuda Company during the early years of colonization. Lord Sandys, a descendant of Sir Edwin, had two copies made of the original portrait and in 1959 kindly presented one to Bermuda and the other to the House of Burgesses in Richmond, Virginia, to mark the 350th anniversary of the settling of both Bermuda and the Virginia Colony. From the large casement window in the Upper Hall a pleasant view of Hamilton Harbour can be seen which, from April to November each year, includes cruise ships alongside Front Street.
Either side of the casement window are portraits of King George III (1760 1820) and Queen Charlotte these are believed to be the works of Allan Ramsay, Court Painter (1713 1784). These portraits were retrieved by the British Army when it burnt the White House in Washington DC in the 1812-14 War. At the latter, the portraits had been removed from display and put in storage. It was the taxation policy of the British Government that had so exasperated the North American colonists that on 4th July, 1776, they proclaimed their independence from Great Britain. To the left of the door leading into the Senate Chamber is a portrait of Sir Francis Forbes who enjoyed a successful career in the legal profession and, moving to the Southern Hemisphere, served as a Chief Justice in New South Wales.
Senate Chamber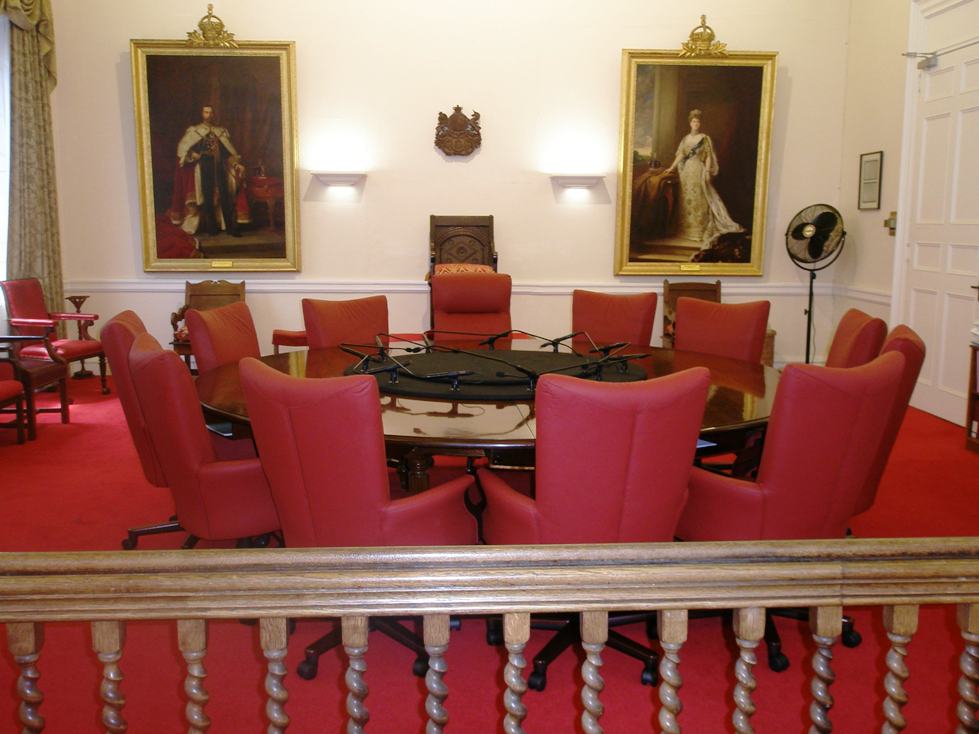 Senate Chamber with portraits of King George IV and Queen Charlotte. This father of this King, George III, had Ministers who caused the War of Independence.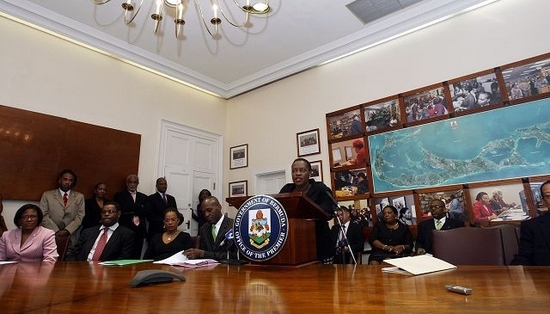 When Parliament is in session, the Senate meets at 10.00 a.m. each Wednesday to discuss matters sent forward by the House of Assembly. The gallery to the left of the main entrance is for the use of the public. To the right, there is a small glass topped table. The book inside bears the signature of Her Royal Highness The Princess Margaret, Countess of Snowdon, who was present for the convening of Parliament on November 2, 1990. Beyond, on top of the bookshelves, is a long glass case, which contains The Black Rod. This is the emblem of office carried by a senior Police Officer who, when the Governor is about to open Parliament following a General Election or a seasonal Recess, summons the elected representatives from the House of Assembly and leads them in procession to the Senate Chamber. The Black Rod in the case was fashioned by the Crown Jewelers and is topped with a silver Coat of Arms and tipped with an inset Bermuda crown piece. It was presented to the Government in 1964 by Mr. B.C.C. Outerbridge who gave many years of service to Bermuda, in the House of Assembly both as a member and as Deputy Speaker, and subsequently in the Senate then known as the Legislative Council. The portraits above the Black Rod are of former Senate Presidents. They were Senator the Hon. Albert Jackson, CBE, JP 1987-1998; The Hon. Sir George Ratteray, CBE 1969-1980; and Senator the Hon. H.E. Richardson, CBE, JP 1980-1987; The portraits on the northern wall of the Chamber are of King George V and Queen Mary, the grandparents of Her Majesty Queen Elizabeth II, and are from originals at Windsor Castle.
Bermuda Government Cabinet session, being addressed by then-Premier Paula Cox. 2011 Royal Gazette photo
The two velvet covered beneath the portraits were used by Sir J. Tronnsell Gilbert, President of the Legislative Council, and Lady Gilbert when they attended the Coronation of Queen Elizabeth II at Westminster Abbey in 1953.
Between the two portraits is the Royal Coat of Arms and beneath this is the dais from which the Governor, when opening Parliament, delivers the Throne Speech setting out the Government's programme for the next Session of the Legislature. The chair on the dais, now used as the Throne, has an interesting history: it was made of Bermuda cedar for one of Bermuda's early Governors and bears on its back a carved inscription which reads – "Cap. Iosias Forstor Esv. Governor of the Sumer Islands Ano do 1642". In 1897, Josias Foster's chair was discovered in the Island of St Croix in the West Indies, having been taken there by his descendants in 1800. The chair was duly purchased from the family and on return to Bermuda was installed in its current place of distinction.
The original circular table around which Bermuda's Senators deliberate, has also served many and varied international gatherings. The "Three Power Conference" took place in Bermuda in December 1953, when President Eisenhower of the United States met with Sir Winston Churchill of Great Britain and Monsieur Joseph Laniel of France. Again in 1957, President Eisenhower was in Bermuda, this time to meet Primer Minister Harold Macmillan of Great Britain; and in 1961 Mr. Macmillan met with President Kennedy of the United States. On each of these occasions the table has been dismantled and removed to another, larger location. The twelve armchairs in use with the table were obtained by the Hon. Robert Kennedy, the Colonial Secretary of the day (not to be confused with the much later American by that name) who, in 1841, wrote from abroad to his deputy Charles Fozard: "I have selected and ordered a dozen very handsome chairs for the Council Room. They are elbow chairs of a very suitable pattern .... I will pay the cost out of the balance of the Powder Fund money in my hands, which is, I believe, about one hundred pounds." The chair at the northern side of the table with the slightly higher back, was bought in 1982 for the use of the President of the Senate. Two signed lithographs on the southern wall 0f the Chamber show Queen Victoria and Prince Albert, and were presented by their son Prince Alfred, when he visited Bermuda in 1861. The lithographs were restored at the British Museum in 1982.
Also see (not in photo above) a large oil painting of William Herbert, 3rd Earl of Pembroke (after whom the parish of Pembroke is named), painted in about 1625 by Daniel Mytens, a Court painter in England, appointed by King Charles I. In the chamber, center, is the 17th century Bermuda cedar chair made for Governor Josias Forster in 1642, when Parliament was in the Town of St. George. In the glass case (not seen in photo) is the Black Rod, an instrument of office fashioned by the Crown Jewelers in London, carried by the senior police officer summoning the 36 elected politicians and the 11 appointed senators to the Opening or Convening of Parliament every autumn (fall). The Black Rod is a symbol of authority of the Head of State – the monarch's representative when not in Bermuda, and is carried by a senior Police Officer. On this occasion the Governor reads a lengthy, locally written annual Throne Speech, covering intended future local events from the perspective of the political party in power.
Cabinet Building Grounds
The Cenotaph war memorial is outside the Cabinet Building. It is a replica of the famous Cenotaph at Whitehall, London. Its flags are those of the Royal Navy, Royal Air Force and British Army, memorializing Bermudians in those British military services who died in World Wars 1 and 2 and whose names are on the Cenotaph.
There is also a more recent war memorial. It was built in 2010 on the grounds of the Cabinet Office, near the corner of Front and Court Streets, just east of the Cenotaph. It honours almost 2,000 Bermudians who served here and abroad, in either the First or Second World Wars. It includes recognition of Bermudian individuals who did not travel overseas, but who protected Bermuda's shores locally, remained unrecognized and seemingly unappreciated. Plaques are displayed on five individual walls that form a semi-circle around a rolling ball water fountain resting on a granite base. Seating is provided at the memorial as a serene place where war veterans, visitors and other members of an appreciative public may gather to reflect upon and to pay respect to those who served this Island so heroically. Every November 11, or public holiday commemorating it, during the Remembrance Day parade wreaths are laid at the two War Memorials.
Names are inscribed on seven highly polished black granite slabs and a diamond emblem in gold leaf beside a name indicates that the serviceman or servicewoman is on the roll of honour and lost their lives in wartime service. A fountain in front of the memorial is made of a granite base and a highly-polished pink granite ball which is the same stone used in the Anglican Cathedral in Hamilton. Seating is provided at the memorial and it is a serene place where surviving War Veterans, their children or grandchildren, other relatives, members of an appreciative public and visitors may gather to reflect upon and pay respect to those who served our Island so heroically during the Great Wars.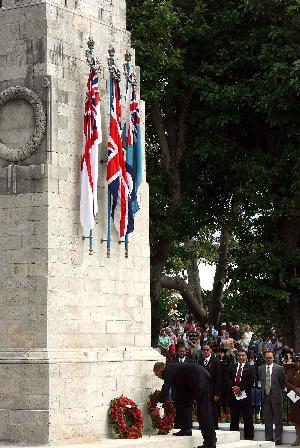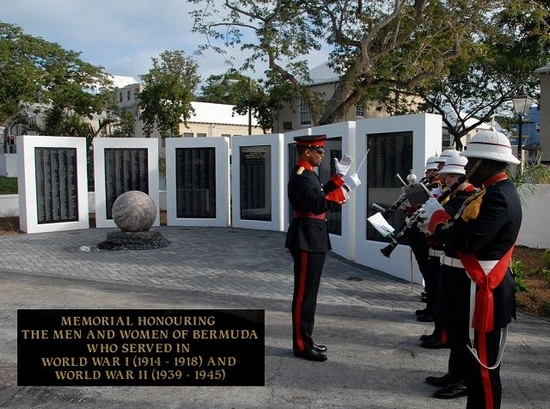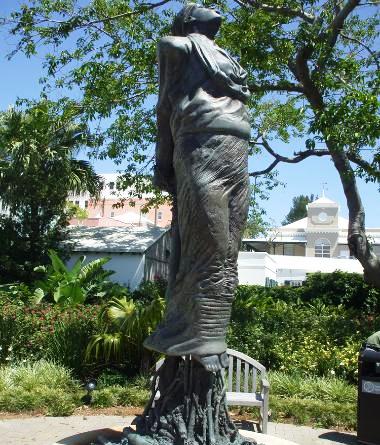 To the west of the Cabinet Building is a bronze sculpture of Sally Bassett,
She was a black Bermudian slave who was burned at the stake in Bermuda in 1730. In recent days she has been declared an authentic Bermudian heroine.
Her "crime" for which she was burned was alleged witchcraft.
It was then practiced as much in Bermuda as it was in Salem and elsewhere) against an allegedly cruel white owner.
Some people believe the burning happened at Crow Lane, others say it happened near Albuoy's Point.
In 2009, in commemoration of Bermuda's four hundred year anniversary, the sculpture of Bassett was erected to memorialize the struggle of Bermuda's blacks, the majority of Bermudians, against slavery.
It was commissioned by the Bermuda Government
It was created by Bermudian sculptor Carlos W. Dowling,
The work depicts a pregnant Bassett being burned at the stake for allegedly poisoning the masters of her enslaved granddaughter.
The sculptor portrayed her as "pregnant with the spirit of freedom."
Photo above: Sally Bassett statue.
To the east of the Cabinet Building is a granite obelisk which was erected by the people of Bermuda to the memory of Major General Sir William Reid, KCB, Governor of Bermuda from 1838 to 1846.

Car Parks
All are now Pay and Display. City Car Parks are at City Hall; Par-La-Ville; No 1; No. 5; No. 7; No. 8; Cavendish; King Street; Bull's Head MS; Bull's Head North; Elliott Street and Laffan Street. For more information, call City Hall at 292-1234. Other city car parks include Bermudiana Road; Burnaby Street; Cedar Avenue; Church Street; Court Street; Front Street; Par-La-Ville Road; Parliament Street; Point Pleasant Road; Queen Street; Reid Street; Rosebank Road; Victoria Street; Wesley Street; Washington Street.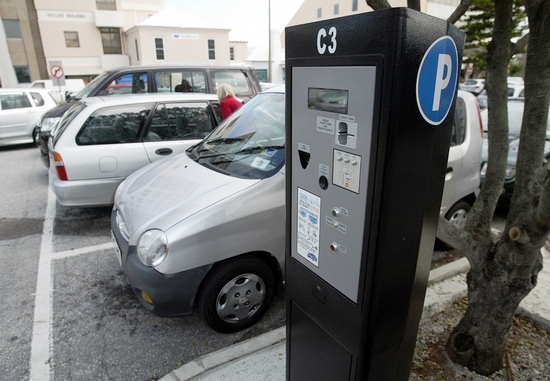 A city Pay and Display car park
Car parking for the disabled with permits. The city issues yearly Disabled Person's Badges for local residents who qualify. They are for use in Bermuda only and do not qualify for use in the UK, USA or Canada, where different criteria apply. The city presently has no reciprocal arrangements with any other jurisdiction abroad. If/when this is done, perhaps the arrangement will be reciprocal. Until then, Bermuda residents are warned not to use their badges abroad as they will not be deemed legal. Nor are overseas-issued badges deemed to be legal in Bermuda. Recipients do not have to be residents of the city so long as they are residents of Bermuda and hold a Special Persons Card. Persons with a valid local Disabled Person's Badge or their qualified caregivers can park in marked handicapped parking bays in Corporation of Hamilton paying car parks in city centers. They pay half the cost of the regular pay and display parking fee, so get two hours of on-street time instead of one.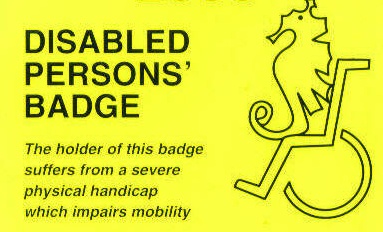 Real ones always also show a date

Cedar Avenue
One of the main streets going into and out of the city and into Pembroke Parish (in which the city stands). At one time, as the historic photo below shows, it was lushly planted with Bermuda Cedar trees, from which it got its name. Juniperus bermudiana is a species of juniper endemic to Bermuda. This species is most commonly known as Bermuda cedar, but is also referred to as Bermuda juniper. Historically, this tree formed woodland that covered much of Bermuda. Settlers cleared part of the forest and the tree was used for many purposes including building construction and was especially prized for shipbuilding. However scale insects introduced during World War II devastated the forests, killing over 99% of the Bermuda cedar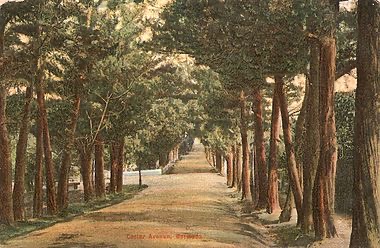 Cedar Park
Beacon Street, off Cedar Avenue. From 1 August 2003, a hidden park with a new lease of life and newly planted endemic trees.

Chancery Lane
Between Front and Reid Streets and connecting the two as a walkway, it has specialty stores and services. Note the interesting brick walkway.

Chubb Gallery
Chubb Building, 17 Woodbourne Avenue, Hamilton is open to the public weekdays from 10am-4pm.

Church Street and Churches
Aptly named, with more churches (including the Anglican Cathedral referred to earlier) located on it than perhaps anywhere else. Stroll from the junction from Burnaby Street to King Street to count all the churches. Also with many commercial and some Government buildings. As it is Bermuda's tallest building and a unique landmark, the Anglican Cathedral described earlier, on Church Street, has its own separate heading. So do St. Paul's AME Church and St. Theresa's RC Cathedral. Other churches in this city include:
Emmanuel. Baptist.

Hamilton Citadel. Salvation Army.

New Testament.

St. Andrew's. Presbyterian. Church Street.

Seventh Day Adventist.
Wesley Methodist.

City Hall, Mayor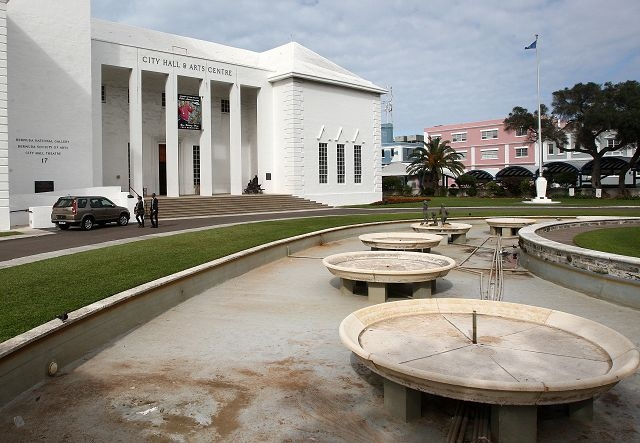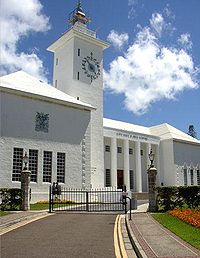 17 Church Street, telephone 292-1234, the administrative center and offices of the Corporation of Hamilton (see below). Opened by then-Governor Sir Julian Alvery Gascoigne, KCMG, on 11 February 1960. It operates the city with a Mayor and in descending order of rank, Aldermen and Common Councilors. Its construction was made possible by the late Miss Catherine Browne Tucker, who bequeathed a substantial sum to the Corporation for the building of a City Hall in memory of her father, George Somers Tucker. He was a former Alderman of the town and Speaker of the House of Assembly. It is in the heart of Hamilton, on the site of the former Hamilton Hotel, Bermuda's first major hostelry (it burnt down many decades ago and was never rebuilt), and modeled after the City Hall of Stockholm, Sweden.
It was designed by Bermudian architect Will Onions. As well as housing the Corporation of Hamilton, it is the home of the City Hall Theatre (phone 292-2313), Bermuda Society of Arts Gallery and Bermuda National Gallery.
Magnificent tall Bermuda cedar doors lead into the main lobby. Inside, a large portrait of Her Majesty the Queen, painted at Buckingham Palace by English artist by Curtis Hooper (born in 1945) is on the wall on the way upstairs. A superb cedar staircase leads to the West Exhibition Room where art collections of the Bermuda National Gallery and Bermuda Society of Arts, chandeliers and more are displayed. Note the two large oil paintings of Queen Victoria and Prince Albert. They are believed to be the only two copies of original portraits in the Royal Palace of Windsor, in Berkshire, England.
Note the weather vane and wind direction indicator on the tower with a bronze replica of the 17th century vessel Sea Venture as the crown. The vessel brought the first colonists in 1609. There have been periodic exhibitions of postage stamps on Bermuda and a display of ships crests - hundreds of them - from every Royal Navy warship that served on the Bermuda and West Indies Station and visited Bermuda. The reception area also has on public view an excellent philatelic collection - Bermuda postage stamps of the 20th century - donated to the Corporation by author and columnist Colin Benbow and an exhibition of Bermuda currency - notes and coins - from the Bermuda Monetary Authority.
Outside are fountains in a reflective lily pool stocked with goldfish. Disabled persons will find a disabled-friendly access way outside and also inside to the small but nice theater on the western side, always busy with one amateur or professional production or another. Those who cannot walk up the stairs will find an elevator a little to the right of the main entrance.
Distinguished visitors to the City Hall have included Her Majesty Queen Elizabeth II and His Royal Highness Prince Philip, Duke of Edinburgh (both in1975, plus he has visited it in April 1969 during construction); His Royal Highness the Prince of Wales; Her Royal Highness the late Princess Margaret, Countess of Snowdon; The Right Hon. The Earl of Snowdon; Her Royal Highness Princess Alice; Her Royal Highness Princess Alexandria; His Royal Highness The Duke of Gloucester; former President of the USA Harry S. Truman (in 1961, when he signed the Visitors Book as a "Retired Farmer"); former British Prime Minister The Right Hon. Margaret Thatcher; and the Archbishop of Canterbury, Dr. Michael Ramsey.
In the City Hall ground-floor administrative offices of the Corporation of Hamilton are the Mayor's Parlor, where the Mayor has his office.
Outside City Hall is a statue, eight feet tall, cast in New York City, put there in 2008 to honor Bermudians who took a stand against the social segregation that existed in the island with the Theatre Boycott, the watershed event that forever changed Bermuda and ended the institutionalized segregation which existed here at that time. The boycott, organized by the Progressive Group and its leader Dr. Stanley Ratteray, began on June 15, 1959 and lasted two weeks until July 2 when theatre, hotel and restaurant owners capitulated. They announced that black people could sit wherever they wanted in cinemas and that people would no longer be turned away from restaurants or hotels because of the colour of their skin. The Progressive Group had been meeting in secret in a Flatts home owned by Rosalind and Edouard Williams in the weeks leading up to the boycott. They planned the action taken and publicized it by dispersing flyers around the island, advising people to stay away from the theatres. They wanted a total transformation of Bermuda society and to end the social injustices of the time. The statue was commissioned from Bermudian sculptor Chesley Trott.
Mayor since May 8, 2015. Charles Gosling, re-elected, a previous mayor from from July 17, 2009 to May 2012.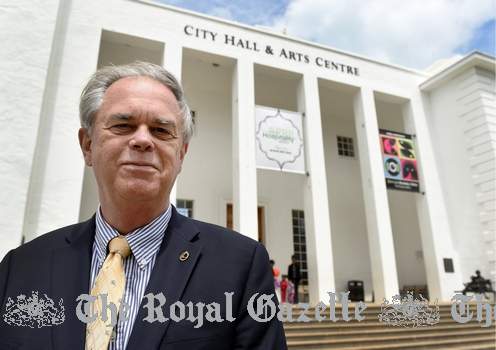 Charles Gosling, re-elected May 2015 as Mayor

City of Hamilton Heritage Walking Tour of historical city buildings and events
See http://www.cityofhamilton.bm/Heritage_Tour1.pdf. A special event, no longer offered, but shown here for its rare insight into city properties and events that once occured there.

Corporation of Hamilton and Meetings
Aldermen
Common Councillors
Corporation of Hamilton Secretary
Corporation Committees are each chaired by an Alderman.
Business Advisory Committee (since June 2012).
City Hall Committee.
Finance Committee.
Governance Committee.
Legislative Committee.
Parks Committee.
Planning and Development Committee.
Property and Safety Committee (since June 2012).
Residential Advisory Committee (since June 2012)
Sanitation Committee.
Staff, Legislation and Governance Committee (since June 2012).
Street Committee.
Wharf Committee.
The Corporation employs about 120 staff and is responsible for the administration and maintenance of the City of Hamilton. Taxes on businesses and homes account for about 40 percent of its revenue, with the majority of the rest coming from wharfage fees on all goods passing through Hamilton port and parking charges and fines. The city has long-term plans - possibly as long as 20 years, for some or all of the following to be built or improved. They include a new jetty for cruise ships with a waterfront theatre, open-air amphitheatre and park, retail space, a conference centre, an underground car park and restaurants; a land reclamation project and new ferry terminal.
The Corporation has an annual budget of $20+ million.
Since October 2009 The Corporation of Hamilton has opened its Board meetings to the public. The Meetings are held monthly at the Mayor's Parlour.
Revenue & expenditure
Consult Corporation Secretary for details of most recent taxes. Major items are
Revenue
Property taxes
Goods wharfage
Car parking fees
Sewage disposal contracts
Dock charges
Rents from properties
Ships wharfage
Expenditure
Sanitary services
Street maintenance and lighting
Fire service contributions
Wharf maintenance and operation
Administrative and office salaries
Parks and Fort Hamilton gardening
Administrative and general expenses
Employees pensions, benefits and insurance
City Hall maintenance and operation
Assets, liabilities and surplus
For further details, contact City Hall.

City Hall Square
Just west of and facing City Hall, this is bounded by Victoria Street, Church Street, Washington Lane and Wesley Street, with the City Hall and its municipal car park adjacent. Office buildings front the square. Many international businesses registered in Bermuda have insurance captives, management, reinsurance, investment, shipping and service companies here.

City Living in apartments and condominiums
Condominiums located within the City of Hamilton are the easiest and quickest to buy and sell. Rental agents do not keep them on their books very long. They are in high demand and often come inclusive of high-quality, tasteful furnishings. They have all modern conveniences including full-size appliances, washers and dryers and basement storage units; some even come with such amenities as a roof terrace, pool or gym. Always in demand by renters, they are also popular with buyers and most are available to permanent resident certificate holders (PRCs) and overseas buyers. In April 2018, one-bedroom units in the city are listed for sale at between $525,000 and $675,000 and two bedrooms are asking $575,000 to $695,000. Rents for a one-bedroom start at about $2,900 per month; the price goes up to $4,500 for a two-bedroom. City units have held their value in the sales market much better than condominiums located outside of the city, and are likely to be a good investment for many years to come; because they tend to attract high-caliber young professionals or companies, rent is almost guaranteed. Most people find it easier to use a rental agent as they often have a list of people wanting to rent these type of units on their books already. They also know the real estate laws and have legally approved leases already made up at no additional cost to the landlord and are able to do credit checks on potential tenants. With city units, there is not necessarily the need for a car, although some do offer parking facilities. The units are on one level, with elevator access. They are safe, as security is often monitored with CCTV throughout the complex. None allow pets, the condominium owners' association does not allow Airbnb rentals, and rentals should be for six months or longer. City complexes are convenient to almost everything within the city. Most have a full-time management company to take care of painting and other maintenance items, but with upkeep of the interior of the unit the responsibility of the leaseholder or tenant.

City Shopping
The city is Bermuda's biggest shopping center by a very wide margin. Visitors will notice an almost complete absence of all major American, British UK or Canadian or other-country department and smaller regular stores and supermarkets. There are no Aldi, B&Q, Costco, Curry's, Dollarama, Dollar Giant, JC Penney, John Lewis, KMart, Kohl's, Lidl, Marshall's, Macy's, Meijer, Neiman Marcus, Nordstom, Sak's, Sam's Club, Sainsbury, Selfridge's, Target, Tesco, T. J. Maxx, Zeller's, Walmart, W. H. Smith, or any of the expensive, exclusive international stores now seen in many world financial and/or fashion centers. However, there is a locally-franchised Marks and Spencer's. You'll also notice an almost complete absence of typical American, British, Canadian and other chainstore diners or restaurants.
There's a reason for this. Bermuda stores must by local law be independent of any foreign-owned (including British-UK) majority holding and be at least 60% overall beneficially owned by Bermudians (not a local requirement in most other cruise ship and offshore or onshore business jurisdictions). Once, but no longer, especially before the 1990s when two superb Bermuda stores, now both extinct, H. A. & E. Smith and Trimingham Bros, side-by-side, albeit both locally-owned, were the principal ingredients of a once-local but of world-standard international shopping mecca. Today, the Bermuda Government administering the world's wealthiest nation according to the World Bank will not change its principal way of creating revenue - a customs duty rate on all imports (98% of all goods) far higher than import duties in USA, UK or Canada.
This is also why goods brought in Bermuda are not duty-free to residents or visitors and especially now with significant new import duty rates announced from October 2011 and with more since then- see http://www.bermuda-online.org/Bermudadutyfree.htm - are only very rarely always priced competitively when compared to the USA. Bermuda is lovely and unique in many respects but - like in the UK including Scotland, Wales and Northern Ireland, Norway and most of Europe - no longer in shopping bargains for business visitors, cruise ship or airline tourists and professional working newcomers. A good indication of the average size of local stores and their purchasing power in favor of consumers is in the number of retail stores in Bermuda - 375 in total. They employ about 4,800 people, an average of about 13 persons per outlet. Another increasingly important factor is the up-to-date standing, prices quoted on, shipping capability shown and overall quality of their websites. But some nice products from Bermuda and around the world can certainly be obtained locally. Prices in the City of Hamilton, Town of St. George and Dockyard are the same for outlets with branches in all three local ports.
Duty Free Liquor
No off-the-shelf duty-free liquor is available, such as in the Caribbean.

Court Street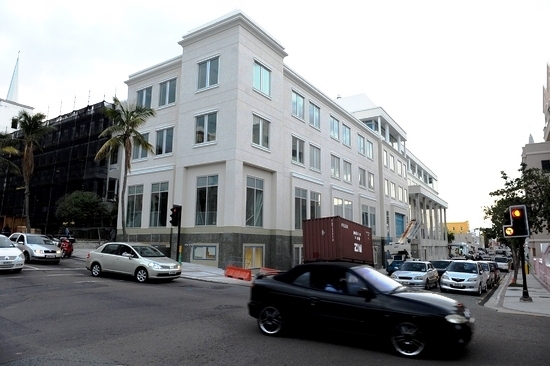 A major city artery. It goes north from Front Street to Pembroke Marsh. In its first two blocks, it borders the grounds of both the Cabinet Building and Sessions House. It has been called Court Street since 1849, from the courthouse at Sessions House which was the scene in 1835 when seventy eight slaves from the American brig Enterprise were set free under Bermuda's Emancipation law of 1834. Most remained in Bermuda. Today, the street is where the Bermuda Police and Courts are located (see photo above) and also a potpourri of smaller stores, restaurants and services. Look for some interesting buildings architecturally. It is a cultural experience and shopping excursion for the visitor who is not timid. Also see Uptown Market Association below.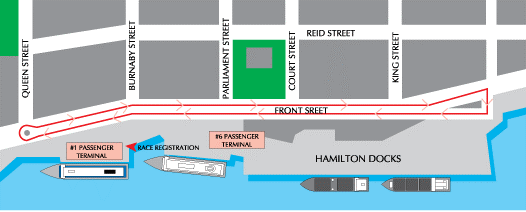 Hamilton cruise ship berths and terminal (left)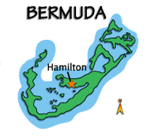 There are no areas in the city where large ships anchor and take passengers ashore by tender. Cruise ships small enough - no longer than 700 feet in length - to be berthed in this city do so on Front Street, where passengers who are not disabled can go from their ships to the center of the city in an easy walk. The berths are at # 1 Passenger Terminal (with an elevator for the disabled) and 5 and 6 Passenger Terminals (not with elevators for the disabled).
Since 2010, Holland America Line mid-size cruise ships have sailed on regularly scheduled cruises between New York City and this city. Holland America, founded in 1873, with appreciably more than a century of experience, is the only premium cruise line with smaller and mid-size ships that calls in both Hamilton and St. George's, Bermuda's cultural and shopping hubs. Holland America Line worked closely with the Bermudian government to form the partnership that takes Holland America Line back to the island that it first visited more than 70 years ago. In 1926, Veendam II, with a guest capacity of approximately 500, left New York on the company's first Caribbean cruise. During the summers of 1930 and 1931, Veendam II sailed on five-day roundtrip cruises between New York and Bermuda. Holland America is owned by Carnival.

In June 2012, following a suggestion made since 2010 by this author, Hamilton began a WIFI system to provide internet access to residents and visitors alike, in a long-much-needed new joint venture with TeleBermuda International Limited (TBI) and the City of Hamilton. The system was successfully tested a few days earlier on Bermuda Day May 24, 2012. This is a good service for non-cruise-ship and cruise ship visitors to escape high-cost yet slow on-board WIFI or wired Internet services, together with anyone who may work in the city and want to ensure they have fast, reliable onshore internet access without being confined to an office and desk. The system is similar to the one TBI currently operates throughout Dockyard. It is not free to visitors but provided by the City of Hamilton and offered to local merchants and restaurants in the city at daily, weekly and monthly prices in the hope that in return for the services purchased from them by tourists and visitors including cruise ship visitors they will offer WIFI for free or at a moderate charge.

Container docks
In November 1973 Hamilton's container dock # 8, and an extension of container dock # 7, were officially opened. Since then, there have been constant improvements.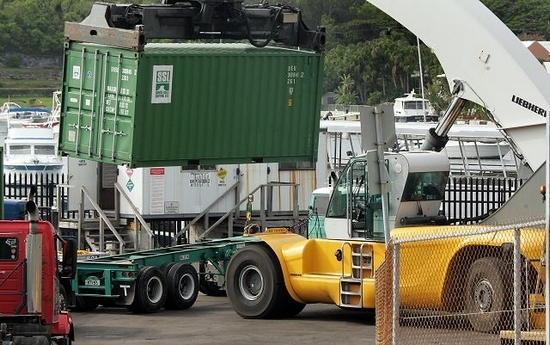 Earl Cameron Theatre
(Phone 292-2313). Formerly the City Hall Theatre. Renamed in October 2012 by the City of Hamilton in honour of the celebrated Bermudian screen and stage actor Earl Cameron. The decision was made in recognition of Mr Cameron's long career, which began on the London stage in 1942. Widely considered the Island's most accomplished actor, Mr Cameron is also renowned as one of the first black actors to star in a film — 1951's 'Pool of London.' Mr Cameron, in his late 90s, resides currently in the UK. In 2009, he was appointed a Commander of the Order of the British Empire (CBE).

Ferry Terminal
See under Hamilton Ferry Terminal.

Flagpole
On Front Street at the junction with Burnaby Hill. A Hamilton landmark for over a century. The focal point for local parades and ceremonies such as the Queen's Birthday parade by the Bermuda Regiment (of 75% conscripted soldiers), with a permanent reviewing stand at its base. It is the tallest of all Bermuda's flagstaffs.

Front Street
Principal or main street of this affluent city. Mid-size cruise ships tie up opposite here. This famous street is Bermuda's main shopping area. A little-advertised fact is that probably closer to cruise ships than in any other cruise port anywhere in the world. The ferry terminal, parade area, banks, liquor stores and more stores are on this street. Once - but no more unfortunately, two of the most famous British colonial stores in the world, H. A. & E Smith Ltd and Trimingham Brothers Ltd, both of which once made Bermuda internationally famous for their goods and services - were located here. They closed down for good, the last one in 2005, and their premises have now been absorbed by other entities. However, banks, restaurants and taverns and more are nearby. Shoppers should note that unlike in other jurisdictions and their cities and towns, branches of prominent American, British, Canadian or other chain or premium stores are not allowed.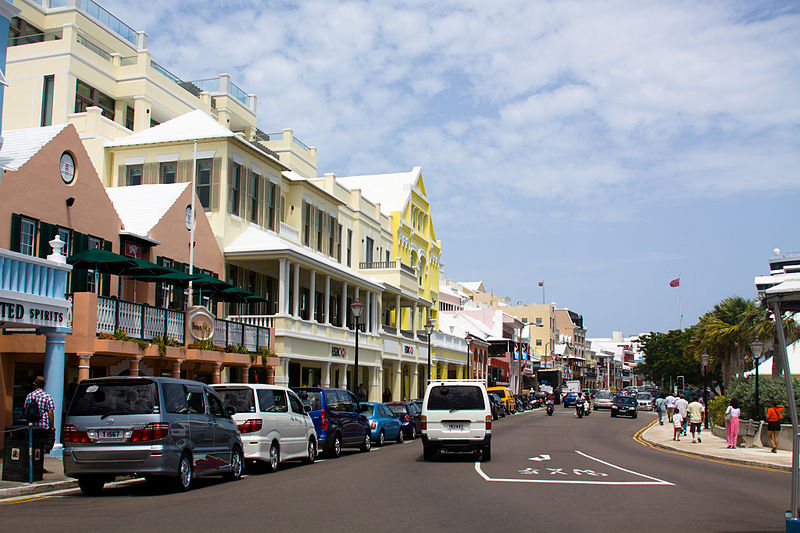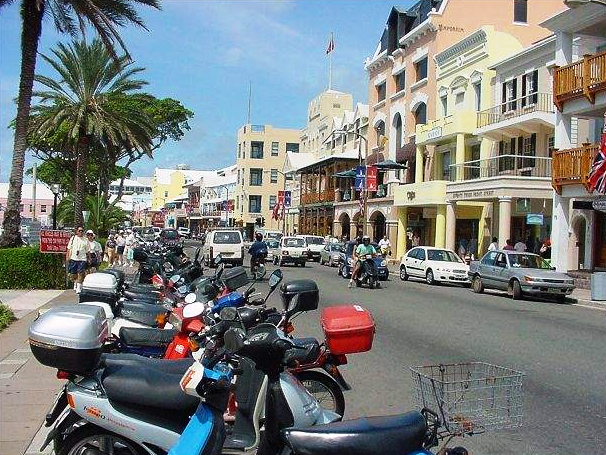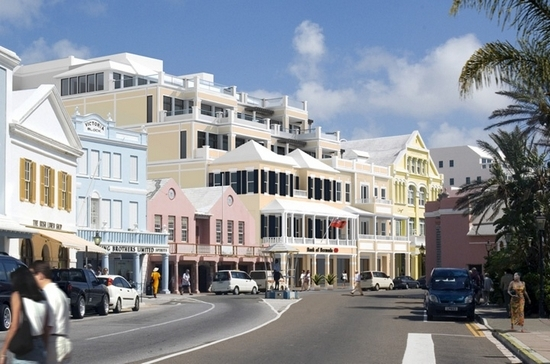 General Post Office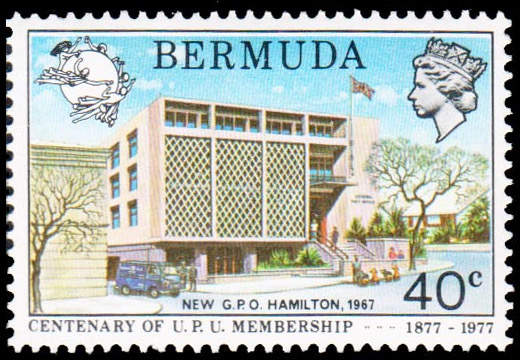 Church Street at Parliament Street, opposite the Sessions House. Bermuda's main post office. Built in 1967. Owned and operated by the Bermuda Government. It operates Monday-Friday, except Public Holidays.
Postage stamps - like the one shown and others - for use or for collectors, both current and past - can be bought from this office and mail can be sent from here. Philatelists can order, or get on a mailing list for, details of Bermuda stamps or First Day Covers.
Visitors from North America and United Kingdom should note post offices in Bermuda currently lack many of the services offered by the UK Post Office - such as home phone services at reduced cost, travel arrangements, payment of licenses, parcels' preparation boxes and stationary, etc.
It is from this General Post Office that two Bermuda Government-owned and operated courier services operate. One is the Government Courier Service which handles general mail between Government departments.
The other is the Diplomatic Courier Service, which concerns itself only with highly sensitive Government documents. Here, and at all other Bermuda Post Offices island-wide, post office boxes can be rented.
The advantages of renting a post box include 24 hour-a-day availability compared to less reliable five days a week postal home delivery, low annual rental fees, faster delivery of mail, and protection from theft. The annual post box rental fees are from $85, $120 and $300 for small, medium and large-sized boxes respectively. Payments can be made in cash, by cheque or by debit and credit card at any post office around the Island. For more postbox information, call 297-7955.

Hamilton Ferry Terminal
8 Front Street, Pembroke, City of Hamilton. Bermuda's main ferry service centre for all public transportation information. For more information, including other ferries going to Paget and Warwick, see Bermuda Transportation for Visitors. Near the bus stop. Ferries are owned, operated and staffed by the Department of Marine and Ports Services of the Bermuda Government. Ferries are for passengers, bicycles, scooters & mopeds. The new fast catamaran ferries "Serenity" and "Resolute" are accessible to the disabled - note the slight step for a wheelchair and note below - and have bathrooms. They take local commuters and visitors to and from specified ferry docks in the western Parishes, and to and from the town of St. George. Here at the terminal, visitors and residents can buy bus and ferry transportation passes valid for one single or return trip or for one, three or seven days.

Harbour Nights
Every Wednesday, 24 weeks a year from April or May through August or September. Hosted on Front Street, the island's longest-running street festival combines artisans, crafters, chefs, musicians and other entertainers, along with the Gombeys. Locals and visitors can shop at many stores with special late closing hours (7:00 pm to 10 pm), eat and listen to island culture. An initiative of the Bermuda Chamber of Commerce. With different free entertainment.

House of Assembly
See Sessions House.

Law courts
See Bermuda Laws.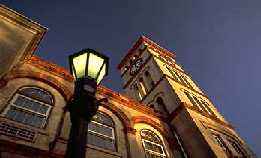 Parliament Street. They are in the Judicial Department of the Bermuda Government and include the Attorney General, Solicitor General, Director of Prosecutions, Chief Justice, Assistant Justice, Puisne Judge, magistrates and support staff. They include Magistrates Courts, Supreme Court and Court of Appeal. They and the Law Library are at telephone (441) 292-1350. The Judiciary is paid for 100% by the Bermuda Government, is on its payroll and is therefore not independent of the government. The Registry of the Supreme Court is at 113 Front Street, Hamilton HM 11. Magistrates Courts are on Parliament Street, in the Old Post Office, at telephone (441) 295-5151 extension 1230. The Supreme Court and Court of Appeal are at Sessions House on Parliament Street. The Supreme Court, was originally with three, now has four and will accept to five Justices. Most are not Bermudian, has ceremonial occasions. The Chief Justice and other officers of the Court wear wigs and gowns. The Court of Appeal has boosted its numbers from 5 to 6. Courts are open to the public on weekdays when in session. Session days and jury selection days are posted. Under the Jurors Act 1971, a list of those eligible for jury duty is published periodically. Some are excluded from jury duty, for example if they are or were police or reserve police members.

Movie theaters (cinemas)
Two of the island's movie theaters are the Little Theater on Queen Street and the Liberty Theater at 49 Union Street. Both show current movies mostly from the USA.

Night clubs
With Night Club liquor licenses. In Bermuda, the minimum legal age for alcoholic consumption is 18. Official ID such as a driver's license may be required.
Escape, operated from April 2000. Atlantic House, 11 Par-laVille Road, Hamilton.
Hilly's. Jazz club and coffee bar. At the Old Docksider premises, East Front Street. From 12 pm to 3 am with live entertainment
Oasis Club & Rock Room Bar, Emporium, 69 Front Street.
Ozone. Front Street, Hamilton. 10 pm to 1 am. Phone 295-2263.
Spinning Wheel, operated by Gladwin Ming, 33 Court Street, Hamilton HM 10.
The Palace, Stables Building, 91 Reid Street, Hamilton.

Old Colony Club
A club for both locals and expatriates, with an accent on folk singing. 5 Trott Road, Hamilton HM 11. Telephone 293 9241.

Perot Post Office
Queen Street, at the junction with Reid Street. Adjacent to Par-la-Ville Park. Historic building, since 1842. Open Mondays to Fridays from 9:00 am to 5:00 pm. Named after William Bennett Perot who once owned it. Perot, nineteenth century first Postmaster of the city and Assemblyman, was Bermuda-born but of French Huguenot heritage. Many Huguenots in France exiled themselves after being persecuted by zealous Catholics. Perot built his home adjacent, in the Par La Ville building now housing the Bermuda Historical Society, next to the Bermuda National Library. He ran this little post office on the edge of his estate until 1862 when he retired. His particular additional claim to fame is that because of him Bermuda became the second (not the first as is often but wrongly claimed) British colony to have its own postage stamps. (Mauritius was the first with its 1847 Penny Red and Two Pence blue stamps).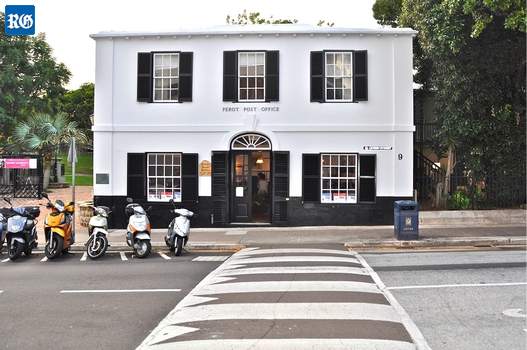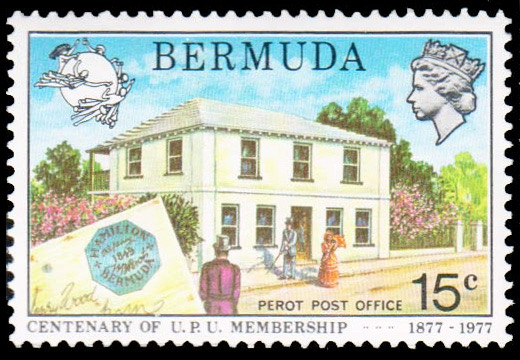 Photo right: Author Keith A. Forbes
Perot also inaugurated the first house-to-house delivery of mail in this city. He was married to the former Susanna Butterfield Granbery Stowe and with her had 11 children, 9 of whom survived. His portrait and that of his wife hang in the Bermuda Historical Society nearby, on both sides of the main doorway of the Bermuda National Library and the society's main building as you exit the building. Perot hand printed Bermuda's first postage stamp from here in 1848 and produced the second British Empire "colonial" stamp. One was sold in November, 1985, for $92,000. A photograph of the famous stamp is on display inside. The earliest Bermuda stamps, Perot stamps, were named after Perot, who served as Bermuda's first postmaster-general from 1818 to 1862. Only 11 Perot stamps are known to still exist, and today they can fetch more than $100,000 at auction.
Bermuda was one of the first jurisdictions in the world to introduce a uniform postal rate in 1842, only two years behind Britain and three years ahead of the USA. The premises were restored by the Bermuda Government, which does not own it (the Corporation of Hamilton does) but has operated it since 1959 as a branch post office of the General Post Office. It was done in 1959 as the year of the 350th anniversary of the settlement of Bermuda by the British.

Par-La-Ville Park
Old name for what is now under Queen Elizabeth Park and Gardens.

Phoenix Clock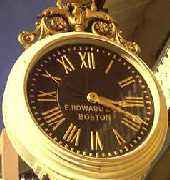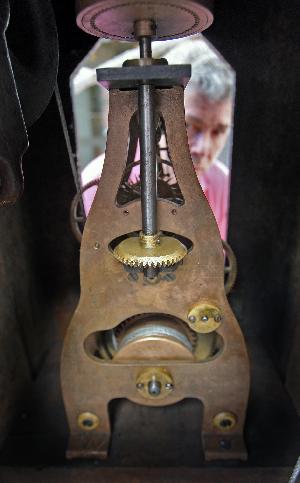 This famous city landmark is on Reid Street. A Howard Post Clock, it was first imported from Boston, Massachusetts, in 1893 by merchant Duncan Doe, a watchmaker and jeweler at 59 Front Street (at Chancery Lane). He advertised his craft via the ornate timepiece. It has been owned by the local Phoenix group of pharmacies for decades. For years, it was located on Queen Street before it was relocated to Reid Street. It runs via a pendulum and after not working for sometime it was repaired in May 2009 by a craftsman from Massachusetts. (See Royal Gazette photo, right).
Visitors from Massachusetts in particular may be fascinated by the clock's history. The E. Howard & Co. clock and Watch company was formed by Edward Howard and Charles Rice in 1858 after the demise of the Boston Watch Company. They bought the existing stock but were unable to buy the existing factory so they moved to Roxbury. They decided to concentrate on high quality watches using unique designs. The business was famous for high grade watches, regulators, and marine clocks. The E. Howard Watch & Clock Company was formed as a joint stock corporation on December 1, 1881 to succeed an earlier firm of similar name founded by Edward Howard (1813-1904). Howard, a clockmaking apprentice of Aaron Willard, Jr. had commenced business with David P. Davis, manufacturing high-grade wall clocks under the name of Howard & Davis in 1842. They also became known for their manufacture of sewing machines, fire engines and precision balances. About 1843, with a third partner, Luther Stephenson, they began to also manufacture tower clocks.
In 1857, David P. Davis left the firm and Howard & Davis was dissolved and was succeeded by E. Howard & Company. Both Howard and Davis had also been involved in watch manufacturing, somewhat unsuccessfully, since 1850, In 1857-8, Edward Howard finished and sold left over "Model 1857" material from the Boston Watch Co. under the name "Howard & Rice." In December of 1858, Howard finally bought out Rice's interest and began manufacturing watches of a new design, signed "E. Howard & Co." While the company name changed several times during the firm's watch-making history, all watches it made continued to be signed "E. Howard & Co." throughout, with only minor exceptions. The Howard firm established itself as perhaps the premier American manufacturer of luxury watches from 1858 into the 1890s.
On March 24, 1861 the clock and watch businesses were combined into one joint stock corporation, the Howard Clock & Watch Company, which failed in 1863. Thereafter, Howard formed a new company called the Howard Watch & Clock Company (transposing clock & watch) on October 1, 1863, which was successful for some years but was reorganized in 1881 after financial setbacks of a few years previous.
In 1881, Edward Howard sold out his personal interests and retired, leaving the firm to new management. This firm continued the manufacture of many clock styles, primarily weight driven wall timepieces and regulators of fine quality. Watch manufacturing ceased in 1903, when the Howard name in association with watches was sold to the Keystone Watch Case Co. Keystone purchased the defunct US Watch Co. factory building in Waltham Mass. (The US Watch Co. of Waltham is not to be confused with an earlier company of the same name in Marion, NJ.) There Keystone manufactured watches signed "E. Howard Watch Co." These watches were of new designs and unlike those of the original Howard company. Clocks were manufactured at Roxbury, a part of Boston, but in the early 1930s the operation was moved to Waltham, MA.

Queen and Reid Streets
Queen street runs from Front Street to Church Street. It has shops, Perot Post Office, Par-La-Ville Park, Windsor Place plaza and Bermudiana Arcade. Reid Street is named after Governor William Reid who arrived in 1839. On it include Washington Mall and Walker Arcade, perfumery, bank, Cabinet Building and restaurants.

Queen Elizabeth Park and Gardens
Originally Par-la-Ville Park and Gardens. Now renamed. Off Queen Street, this is a nice small, central, relaxing garden park within walking distance of cruise ship berths and public transportation (ferries and the city bus terminal). The official renaming ceremony was held on April 21, 2012 in celebration of The Queen's Diamond Jubilee. Some locals and visitors wanted to keep the original name but were outvoted by the Corporation of Hamilton city fathers who stated it was a once-in-a-lifetime opportunity the city had to celebrate the diamond jubilee of a reigning monarch. (Historical note: Her first visit to Bermuda was on November 23-24, 1953, only five months after her glittering Coronation in London, with the world-wide publicity it generated, Bermuda had a 24-hour stay from Her Majesty Queen Elizabeth II, daughter of Britain's and Bermuda's last ever King-Emperor, George VI. Her father had died on February 6, 1952, while she and her husband were on a tour of Kenya, when she first became Queen. Bermuda was her first stop on her 173-day Commonwealth Coronation Tour. The new royal yacht Britannia was not quite ready, so the couple had flown to Bermuda on a especially-furnished British Overseas Airways Corporation (BOAC) Stratocruiser "Canopus." It was the first occasion that a reigning British monarch had ever visited Britain's oldest colony. With her was her Greek-born Consort, His Royal Highness Prince Philip, Duke of Edinburgh. The royal couple were greeted by his Excellency the Governor, Lieutenant General Sir Alexander Hood. With him were local VIPs including Lady Hood, Miss Rosemary Hood, Wing-Commander John Fountain and Wing-Commander E. M. Ware.).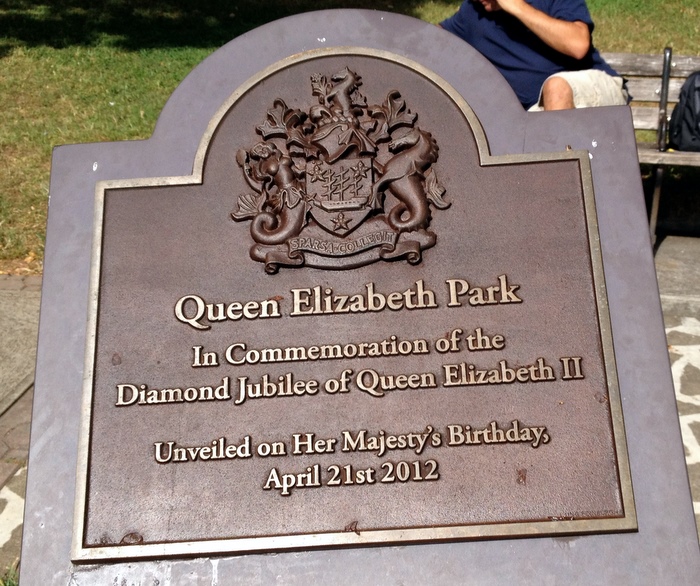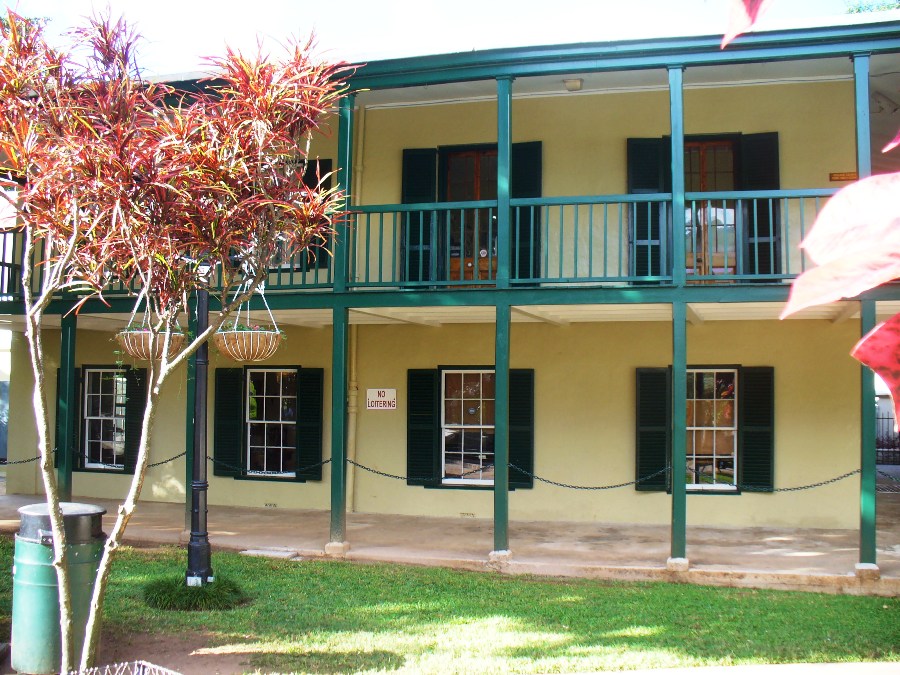 Par la Ville, housing the Bermuda Historical Society, July 2009 photo by author exclusively for Bermuda Online taken from the park.

Buildings there include Par la Ville (see photo above), the Corporation of Hamilton-owned property that houses the Bermuda Historical Society (see above) and next to it in a separate but connected building the Bermuda National Library (also see above, to the right). Disabled persons in wheelchairs should take the disabled-friendly left hand route after the Bermuda Historical Society building to avoid the steps. Sit or stroll in gardens of trees, shrubs and flowers. It has one of Bermuda's famous Moongates, a limestone built arch bringing good luck to lovers and newly weds who step through it. In the 19th century, it was an orange orchard, with some 40,000 boxes shipped to Boston alone in one year. Later, Bermuda stone was quarried from here to build the Cathedral of the Most Holy Trinity. The huge rubber tree at the entrance was imported as a suckling from British Guiana (now Guyana) and planted in 1847. When Samuel Clemens (Mark Twain) got to like Bermuda so much he made it his second home, he joked that he was disappointed in this tree because it didn't bear a crop of rubber hot water bottles and overshoes.

Royal Bermuda Yacht Club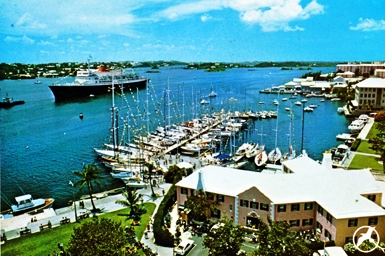 Albuoy's Point. Telephone 295 2214 or fax 295 6361. One of the oldest Royal Clubs in the world with a rich maritime history. It began on November 1, 1844 after thirty gentlemen, consisting of Royal Navy and British Army officers then posted to Bermuda and before that were active yachtsmen and local Bermudian gentlemen sailors expressed the wish for such a club. During a picnic, it is said under a calabash tree in Tom Moore's Jungle in Hamilton Parish, these gentlemen made plans for a club and via one of them, a noble lord, volunteered to use his influence get it royally approved.
The plan worked, in 1845 Prince Albert was approached on behalf of the group and agreed to become a patron of the club and in 1846, the Royal Charter was acquired making the Royal Bermuda Yacht Club the 20th royal yacht club in the world and the third-oldest outside the UK. Lord Mark Kerr, then stationed in Bermuda as a captain in the 20th Regiment and one of the group, was instrumental in acquiring the royal charter and subsequently became the first Commodore of the Royal Bermuda Yacht Club (RBYC).
Another British Army officer, subsequently famous, was Lieutenant (later Colonel) Henry Maurice Drummond-Hay (1814-1896), of the Black Watch, also posted to Bermuda. He was son of Sir Adam Drummond, K. C. H., Admiral, R. N., and Lady Charlotte Murray. He was born at Bath, England. His family seat was at Megginch Castle, Perthshire, Scotland. When he married Charlotte Elizabeth, only daughter of James Hay of Segginch, in October 1859, he changed his name to Drummond- Hay. He later became famous in Bermuda and elsewhere for his portraits of Bermuda fish. He also became the Commodore of the Royal Bermuda Yacht Club.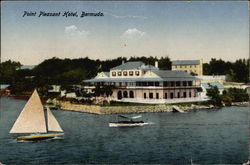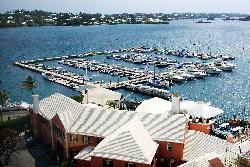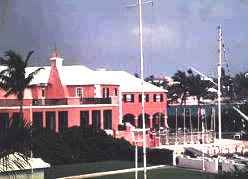 The club first met in the Town of St. George and moved later to this town - before it became a city. During the 19th century, sailing in Bermuda was primarily match racing – two boats, one winner, one loser and a large wager on the table. With the creation of RBYC and a keen yachting community to support it, match racing evolved into modern-day, professional sailing. In 1906, following the introduction of fleet racing, rules and regulations the first Bermuda Race debuted. This regatta, known today as the Newport to Bermuda Race, bridged an ever-lasting maritime affiliation between the American east coast and Bermuda. Many ideas and contributions to the world of sailing came from Bermuda and the Royal Bermuda Yacht Club.
Bermudian sailors and RBYC Members have contributed to modern hull designs including ships and dinghies. Over the past century, Bermuda has sent over 20 sailors to the modern day Olympics, hosted hundreds of regattas including the King Edward Argo Match Racing Gold Cup and many other world and continental championships. In earlier days a hotel had been situated here (see old photo on right), which the yacht club replaced.
It has been housed at this Hamilton property since 1933. In about 1998 the club spent almost $2.5 million to add around 100 new moorings at the club to the previous 25. This private, internationally known sailing club applied in July 2008 for permission for a seven-storey building where the present clubhouse resides. In 2017 Bermuda welcomed the 35th America's Cup, adding yet another chapter to Bermuda's rich sailing history. Currently, if you are an international member, or friend of a local member and a yachtsman or women and can qualify in other respects too, you can both stay and eat here at club rates. See many yachts moored, especially after one of the famous annual ocean races involving over 160 ocean-going yachts. It is the host for many other sailing events.

St. Paul's AME Church and Cathedral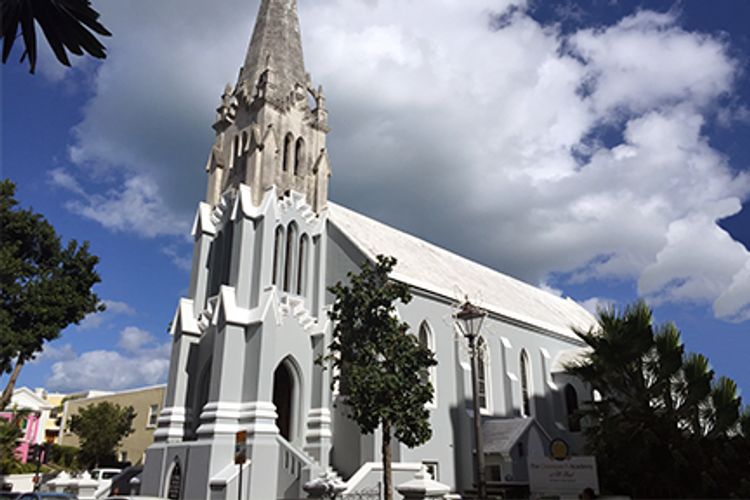 The African Methodist Evangelical Cathedral in Bermuda. Church Street. It dates back to 1870, and was formally affiliated with the A.M.E. Church in the USA in 1885. Today, the AME church has the largest membership of all the Bermuda churches. St. Paul's founded The Bermuda Collegiate Institute in 1892 and was instrumental in the formation of The Berkeley Institute in 1897. It was also involved in the formation of the Bermuda Worker's Association which was a precursor to the Bermuda Industrial Union. The role of St. Paul in the political evolution of Bermuda is evident in that many of the founding and early leaders of the Progressive Labour Party were members of St. Paul. Each pastor who has served St. Paul has helped to advance the ministry and witness of the church. Among those who distinguished themselves in service in the later part of the 20th century are; Rev. Vernon R. Byrd (later consecrated 105th Bishop of the A.M.E. Church), Rev. Dr. Wilbur Lowe Jr. (the First Bermudian appointed pastor of St. Paul), Rev. Sylvester Beaman under whose leadership the congregation grew and under whom Stone Hall was purchased. Additional land adjacent to the parsonage was purchased under Rev. Conway Simmons and the church's debt was eliminated. Rev. Dr. Lanel D. Guyton lead the congregation in the renovation of the sanctuary and completed the building of a brand new parsonage. In addition, a brand new Rogers-Casavant organ was custom built to ensure that St. Paul maintains the great tradition of church organ music for which it is known. The Church has a strong history of championing social justice and among its members have been many of those men and women who led the struggle for black rights in Bermuda. to equal or better those of whites. For over fifty years St. Paul has broadcast its Sunday morning worship service to listeners all over the island via live radio broadcast, and for the past two years, via the internet where it enjoys a worldwide audience. The Rev. Nicholas Genevieve Tweed is St. Paul's 33rd pastor. The congregation has grown and the radio broadcast reaches an estimated 12,000 persons. In addition, St. Paul in partnership with the BIU, and the PLP established a feeding programme which services over 15,000 people. Rev. Tweed is also one of the principal founders of the People's Campaign for Equality, Jobs and Justice, which is an advocacy group that has led the island on Social Justice and Human Rights Issues.

St. Theresa's Church and Cathedral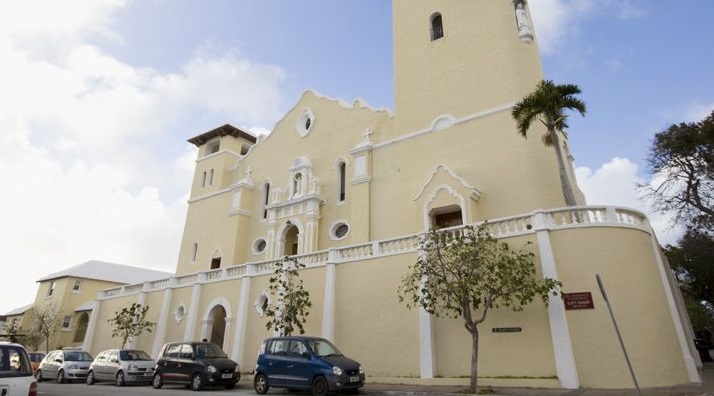 Cedar Avenue at Elliott Street. Roman Catholic Bermuda Cathedral. The seat of the Bishopric of the Roman Catholic Church of Bermuda, another City landmark. It was built from 1927-1931 out of Bermuda stone, in Spanish Mission style. It replaced an earlier church gutted by arson. The Roman Catholic Diocese of Hamilton in Bermuda was established in 12th June 1967. Bermuda, because of Irish and other Catholic soldiers and sailors who were stationed in Bermuda with the British Army and Royal Navy was served by the Diocesan clergy of Halifax until 1953, after which pastoral responsibility transferred to the Congregation of the Resurrection. The Resurrectionist Fathers continue to serve our Catholic Community today. All Bishops have been members of that same Congregation including its current Bishop, Most Reverend Wiesław (Wesley) Śpiewak, C.R, email bishopwes.bm@gmail.com, who was ordained Bishop on 1st October 2015. There are six Roman Catholic churches and parishes island-wide, of which this one is the headquarters. Others are St. Joseph's in Somerset, St. Anthony's in Warwick, St. Michael's in Paget, St. Patrick's in Smith's and Stella Maris in St. George's. There is one Roman Catholic comprehensive school, Mount St. Agnes Academy (MSA), from which many of Bermuda's community leaders have graduated. A Kindergarten through Grade 12 private school, MSA near this church provides quality education to approximately 350 students that is enhanced by their experiencing the lived values of the Catholic Faith and Culture.

Sessions House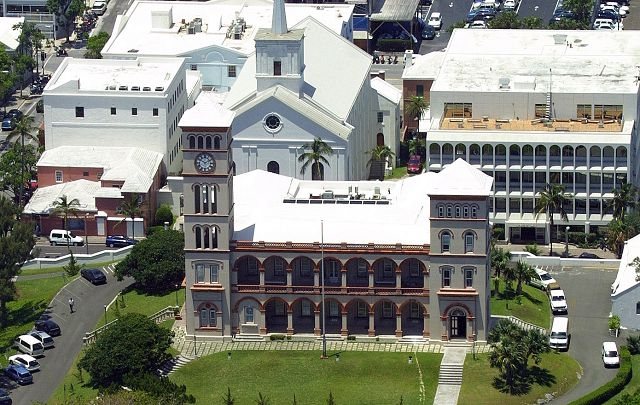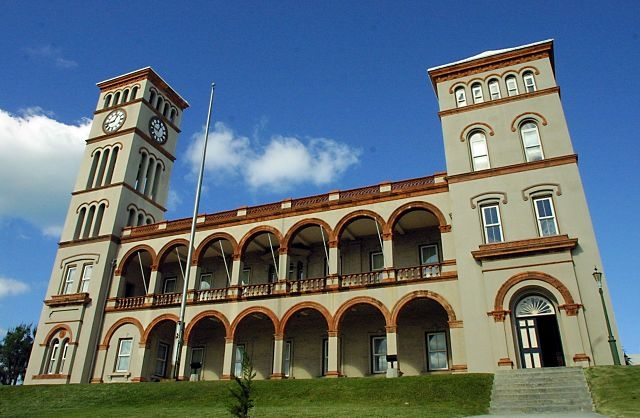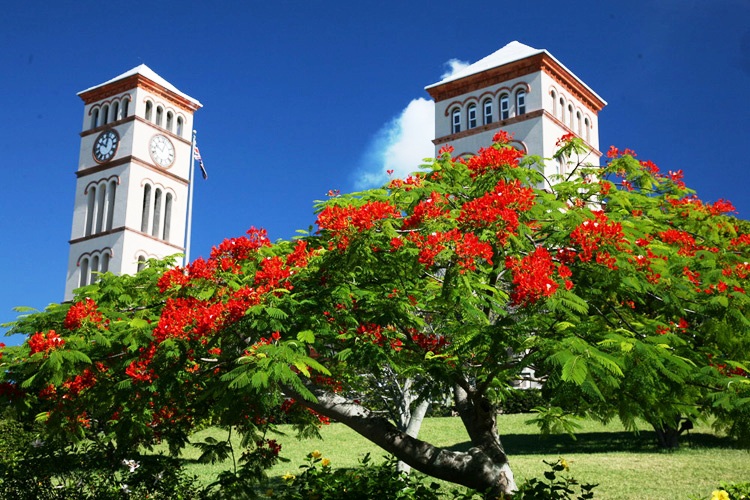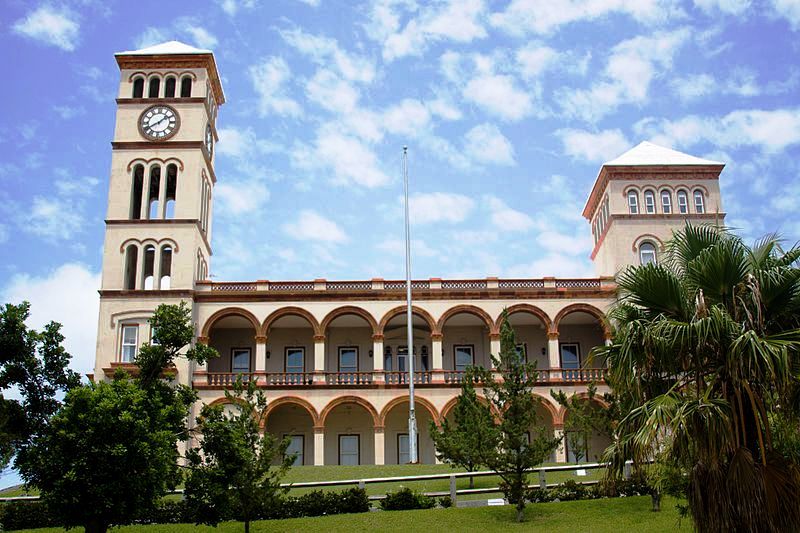 Sessions House, or House of Assembly. Royal Gazette photos.

Church, Court and Parliament Streets. The building was erected in 1817, initially as a four-square Georgian structure, not long after Hamilton, instead of St. George's, became the capital. It was deliberately placed then atop the highest ground in the city, not far from the Anglican Cathedral. In 1817, once the building was completed, the British authorities in Bermuda brought out from storage and placed in a prominent place in the building some rather valuable paintings with a unique history. They were paintings captured by British forces who had sailed from Bermuda in 1814 to attack and burn the US Presidential Mansion in Washington DC in relation for the burning by the Americans of the City of York (later, Toronto, in Canada). The latter, having had no further use for them, had put the paintings in a nearby warehouse. The US Presidential Mansion was so badly charred by the fire of the British flames that it became necessary, since then, to both whitewash it and rename it as The White House. When British naval forces, which had commenced the operation from Bermuda in 1814, returned to Bermuda from Washington, they brought with them these portraits of King George III, and his wife, Queen Charlotte. These portraits have hung here, ever since.

To coincide with the Golden Jubilee of Queen Victoria in 1887, it was embellished substantially on its southern ceremonial front, complete with towering arches, very possibly by the Scottish architect William Hay who designed the Anglican Cathedral not far away on Church Street. Bermuda's Westminster style Parliament, referred to locally as the House of Assembly, meets here, upstairs, while the Supreme Court meets on the ground floor. It has 35 elected and paid members for 38,000 registered voters in 21 square miles. (A further 11 are appointed, also paid politicians, in the Senate but for a far lower salary). The total number of Bermuda's legislators is 46, one for every 800 or so registered voters, 14 times the average ratio of legislators to voters in North America and Europe. There are long periods when the House is not in session. The Speaker of the House wears a formal wig and gown, in the British tradition. Visitors may attend in the public gallery.

It is from this building that all Bermuda's laws are enacted. While Bermuda is a (nominal) British Overseas Territory (similar in certain respects to the United States Virgin Islands), all Bermuda's laws are enacted here, by Bermudian legislators, not in London
MarketPlace, Church Street.
Miles Market, Pitt's Bay Road, telephone 296 7615.
Shopping Center, Victoria Street.
Supermart, on Front Street East, telephone 292-2064
2018. June 28. Sessions House is in line for a major revamp. Design companies have been asked to submit tenders to manage the work, which is expected to take a year to complete. The Government has invited proposals from experienced firms for "architectural interior design and project management services for the interior renovation and alteration of Sessions House" at the Hamilton landmark. A procurement notice said: "The objective is to contract for professional architectural interior design and construction project management services in order to provide the best interior design solution for the internal renovation of the Sessions House building. The design and associated consideration of works will be sensitive to the existing historic building features and provide contemporary and efficiently designed work environments." Potential bidders were told in an online request for proposal that work under consideration on the ground floor, where the Supreme Court sits, included new rooms for prosecution and defence teams, as well as a new jury suite, kitchen and washrooms. Surveillance and security features could also be upgraded, with the possibility of a new "internal security monitoring station". The House of Assembly, which sits on the second floor, could get a new library, refurbishment of historic ceilings and general improvement work. Floors in the building's towers will be checked for "structural integrity" and improvements are also expected to be carried out in the southeast tower. The contract is for design and management only as the construction work will be carried out by a specialist contractor. A document attached to the bid after queries from interested companies outlined the concerns of one firm which said there was "a plethora of design issues" that could be tackled. It added that "without any understanding of budget it is near impossible to provide you with a package that will be conducive to your needs". The potential bidder was told: "Use reasonable square footage allowance used in your experience from previous restoration work for similar public interest buildings." A site visit was scheduled for May 30 and the submission deadline date passed earlier this month. The Government bid document said the work was "tentatively scheduled" to start at the end of July, with an anticipated finish date at the end of August next year. Sessions House, a Grade 1-listed building, dates back to around 1819 and has 17,188 sq ft of floor space on two levels. It has been used by the legislature since 1826 but the building has been plagued by maintenance problems in recent years, including faulty plumbing and leaks. Puisne Judge Charles-Etta Simmons warned earlier this year that security at the Supreme Court needed to be improved and that court staff were working in "old, crumbling" buildings. She said, although renovations had been carried out to the lower floor of Sessions House and conditions for jurors had improved, employees still endured substandard conditions and she had been forced to work in a "pop-up" courtroom in the modern Magistrates' Court building on Court Street. A Ministry of Public Works spokeswoman declined to comment.

Toilets
They are at Albuoy's Point, Par-la-Ville Park, the cruise ship passenger terminals and on Victoria Street behind City Hall.

Town Crier
2018. July 24. Hamilton's town crier has won a top award in Britain. Ed Christopher beat 19 other competitors in the National Town Crier Competition, held at Helmsley Castle in North Yorkshire — and also picked up the award for best-dressed crier.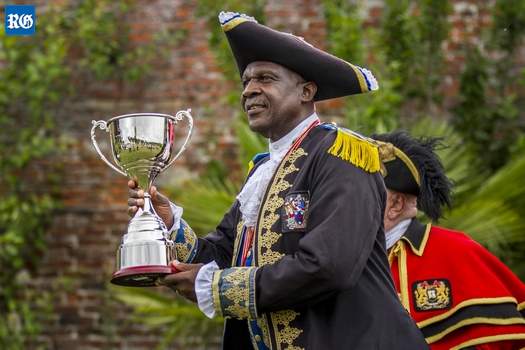 Mr Christopher said: "I feel great, I love it. Everybody comes to win it. It is good camaraderie. There are a different group of characters and we all support each other. Everybody enjoys it." He had to perform a "home cry" about Bermuda and then a cry about Helmsley's strong links with the Magna Carta, the 1215 declaration of rights that King John was forced to sign by rebel barons. Mr Christopher said: "For the home cry, I talked about fun in the sun in Bermuda, a little bit of rum, swizzle in and you will swagger out, pink sand and the beaches and our blue waters. I had a bit about everything and a little bit about the City of Hamilton and the people with warm and friendly smiles. We also had to write and cry about Sir Robert De Ros — the first lord of Helmsley who was one of the 25 barons and guarantors of the Magna Carta with King John." Mr Christopher added: "The Yorkshire Post headline was 'A wink and a swagger helps town crier sail to the top', which they must have picked up from my home cry." The criers competed before a panel of specially selected judges under the rules of The Ancient and Honourable Guild of Town Criers. Mr Christopher said: "You have to speak loudly and to be heard with clarity. You need to be understood — every word — so I wasn't my usual Bermudian self. You also need to know what is true and what is fiction. Personality might help a little bit." Mr Christopher — a regular competitor at overseas competitions and familiar sight on the streets of Hamilton — designed his prize-winning costume himself. He said: "The one that I wore is about five years old; it is not the one I wear on my tours. I keep this one for the official duties and competition. It was made by a young lady in Exeter called Tania Boddy. I designed it a while back, I got the gold braids from London. I didn't want it to look like anyone else's."

Victoria Park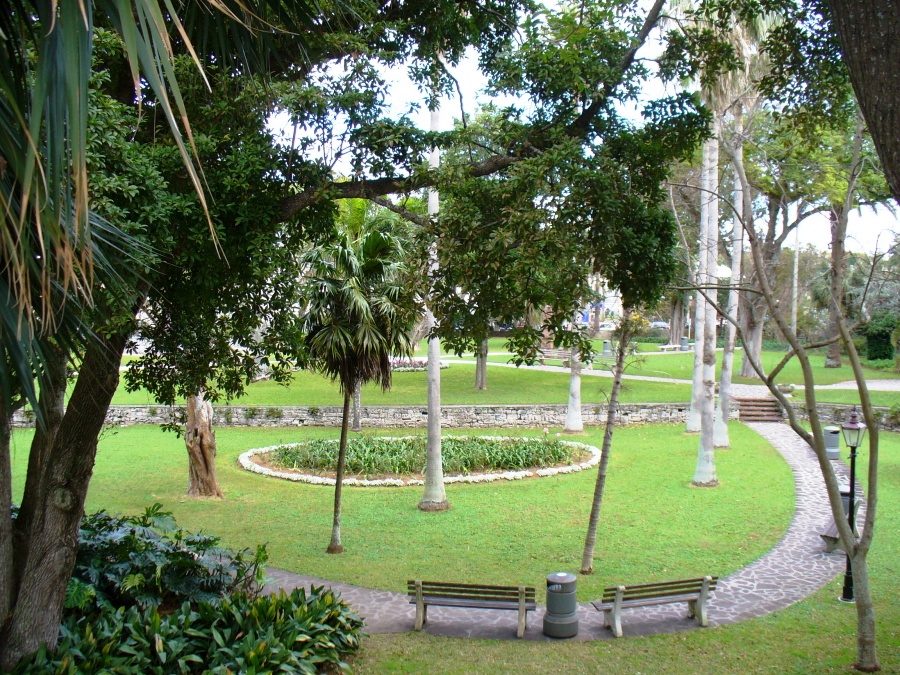 Victoria Park. Photo by author exclusively for Bermuda Online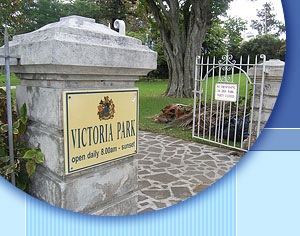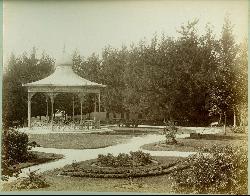 North of the City Hall, across Victoria Street and Cedar Avenue. An attractive little city park, well worth seeing for visitors, only a short walk from the centre of the city. open daily from 8 am to sunset. It has manicured lawns, sunken garden and ornamental shrubbery, with mature specimens of trees and shrubs. Before the park was created, then refurbished in the 1880's for Queen Victoria's Golden Jubilee, the area was known as Deane's Bottom, after a rotund Mr. Dean. Bandstand shown at right is of special historic and cultural interest. As the historic photograph shows it was originally imported from Scotland in 1899 to celebrate Queen Victoria's Jubilee in pomp and style and placed in the park named in her honour. In Victorian days, bands from British Army regiments at Fort Prospect (decommissioned in 1953) in Devonshire Parish gave public concerts here regularly. Today, the bandstand is still used for concerts. In mid 2008, the bandstand disappeared, only temporarily. The Corporation of Hamilton wanted to assess the condition of the 109-year-old structure and set out to find experts to examine the landmark. It was packed off to Scotland for repairs, due to deterioration. It may be that the bandstand is the only one left of its original model. Charles Laing and Sons, a Scottish restoration company specializing in ironworks, made the repairs and renovations. They found the structure in good condition, but with plenty of room for improvement, with two banister segments and a gate missing, along with a damaged column. Research led them to the discovery that prior to the bandstand being erected, it was left laying on its side for several months as a wave of bad weather struck the Island.. Along with the replacement of the barristers and gate and repair work done to the column, the restorations have improved the ceiling of the structure which is designed to work as a loudspeaker. The restoration was completed and the bandstand returned to the park by April 2009 for the Island's 400th anniversary and June 2009, for use for an awards ceremony for the Tall Ships visiting the Island as part of its 400th anniversary celebrations.

A very significant structure of this peaceful park is the War Memorial. It records the names of Bermudian soldiers and airmen who fought and died for Great Britain in the Great War (World War 1).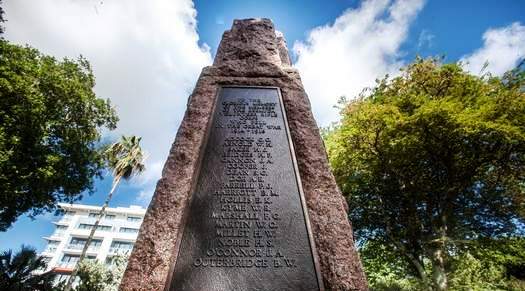 Visitors Information Centre (VIC)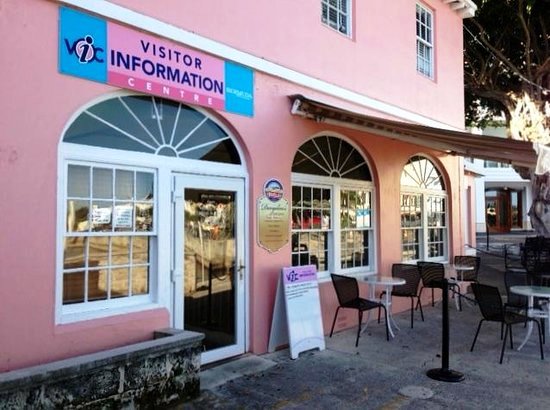 8 Front Street. Phone (441) 295-1480. Email hamiltonvic@bermudatourism.com. Formerly the Visitors Service Bureau. Adjacent to the Ferry Terminal. It offers a friendly, free quite comprehensive tourist brochures, information services, maps and more to walk-in visitors. Hours: 9 am to 4 pm Monday-Saturday. Closed Christmas Day, Boxing Day, New Year's Day, Good Friday. The Bermuda Tourism Authority facility, on Front Street, will give tourists information on activities and entertainment across the island. Tourism minister Zane DeSilva, Hamilton mayor Charles Gosling and centre operations manager Jakai Franks took part in the ribbon-cutting ceremony.

Walker Arcade
Between Front and Reid Streets, with entrances from both, a shopping center, with a variety of small shops in a courtyard and 2-floor setting.

Washington Lane
The narrow public pedestrian-only lane that runs from Church Street on and opposite the City Hall down to Reid Street, bisecting the Washington Mall. On both sides are Washington Mall stores and restaurants.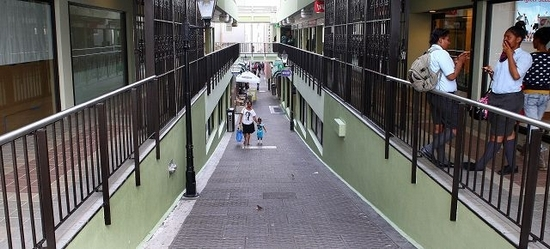 Washington Mall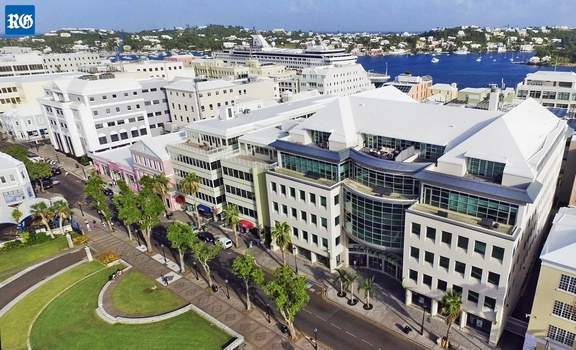 A large multi-floor shopping mall, with entrances from Reid, Church Streets and Washington Alley.
It is owned by Washington Properties Ltd.

Other Bermuda geographic areas


Authored, researched, compiled and website-managed by Keith A. Forbes.
Multi-national © 2020. All Rights Reserved