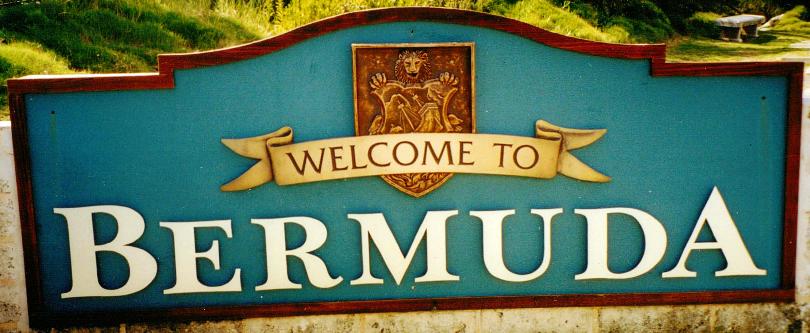 Click on graphic above to navigate the 165+ web files on this website, a regularly updated Gazetteer, an in-depth description of our island's internally self-governing British Overseas Territory 900 miles north of the Caribbean, 600 miles east of North Carolina, USA. With accommodation options, airlines, airport, actors, actresses, aviation, banks, beaches, Bermuda Dollar, Bermuda Government, Bermuda-incorporated businesses and companies including insurers and reinsurers, Bermudians, books and publications, bridges and causeway, charities, churches, citizenship by Status, City of Hamilton, commerce, communities, credit cards, cruise ships, cuisine, currency, disability accessibility, Devonshire Parish, districts, Dockyard, economy, education, employers, employment, environment, executorships, fauna, ferries, flora, former military bases, forts, gardens, geography, getting around, golf, guest houses, highways, history, historic properties, Hamilton, House of Assembly, housing, hotels, immigration, import duties, internet access, islands, laws, legal system and legislators, main roads, marriages, media, members of parliament, money, motor vehicles, municipalities, music and musicians, newcomers, newspaper, media, organizations, parks, parishes, Paget, Pembroke, performing artists, residents, pensions, political parties, postage stamps, public holidays, public transportation, railway trail, real estate, registries of aircraft and ships, religions, Royal Naval Dockyard, Sandys, senior citizens, Smith's, Somerset Village, Southampton, St. David's Island, St George's, Spanish Point, Spittal Pond, sports, taxes, telecommunications, time zone, traditions, tourism, Town of St. George, Tucker's Town, utilities, water sports, Warwick, weather, wildlife, work permits.

Bermuda's Pembroke Parish
Exploring this central area including Bermuda's capital city

By Editor/Author Keith Archibald Forbes (see About Us) exclusively for Bermuda Online
Introduction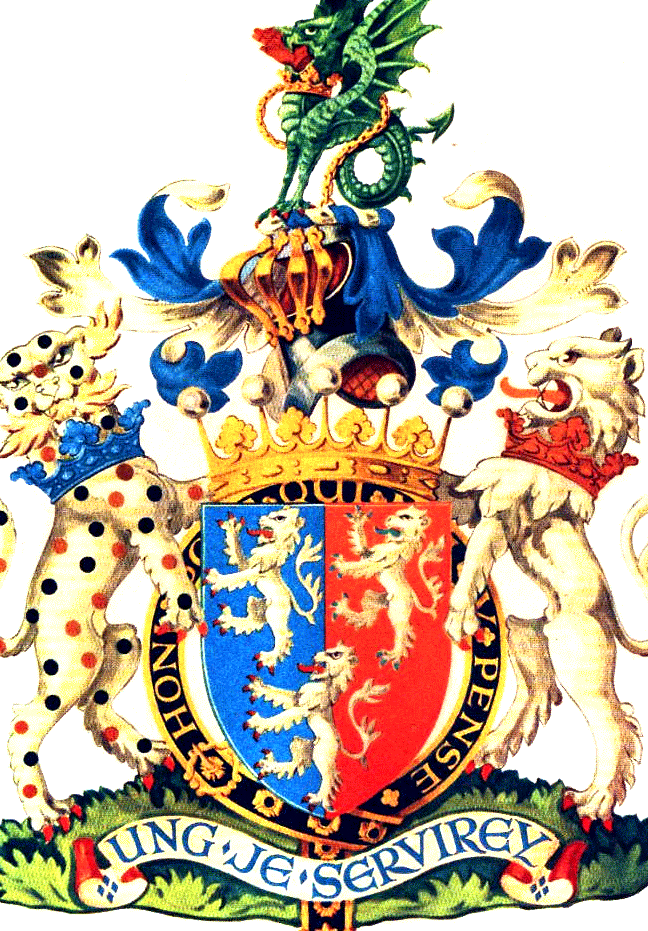 Part of Pembroke Parish's crest, from 3rd Earl of Pembroke. His coat of arms, copyrighted by his family, members of which still exist today, is exactly what is shown on Bermuda's Pembroke Parish crest. Used with exclusive permission from the copyright owners. Do not copy.
About the Parish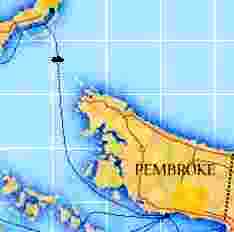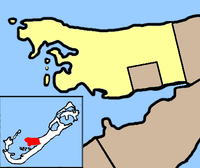 Pembroke Parish is centrally located on Main Island. It is one of Bermuda's nine Parishes each of the same size of 2.0355 square miles. It has North Shore and Hamilton Harbor sea frontage.
It was named after Bermuda's Elizabethan patron, English aristocrat William Herbert, the (third) Earl of Pembroke (1580-1630).
Pembroke was the nephew of Sir Philip Sydney and richest peer in England. He took his title from the market town of Pembroke in Pembrokeshire, Wales.
He was the patron of artists like John Dunne, Inigo Jones and Ben Jonson. Dramatist William Shakespeare knew him well and dedicated his first folio printing of his collected works to Pembroke and his brother.
The Earl was banished from the Court of Queen Elizabeth when she heard he had romantic interests elsewhere. Brought back into favor by King James, he was made a Knight of the Garter within a year. He joined the Council of the Virginia Company in 1609 and the Bermuda Company in 1615.
As one of its illustrious band of gentlemen "Adventurers" he was the largest shareholder in the original Pembroke Tribe, later Pembroke Parish.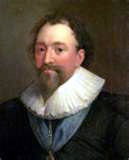 Weak in health and melancholy, he died in 1630 of an apoplexy brought on by a full and cheerful supper. He was succeeded in the title by Philip, 4th Earl of Pembroke.
Because he never visited his Bermuda domain, early settlers in this area had their own pet name for the Tribe - Spanish Point. It was in memory of the Spanish sailor Ramirez.
The Bermuda Historical Society has a painting, a print of his likeness, published by Harding, Triphook & Lepard, Finsbury Square, London, on August 1, 1825. It is from an engraving by J. Jenkins, from the original by Vandyke, in the collection of the Rt. Hon. The Earl of Pembroke. It once hung at Bramshill, Hampshire, until sold to Lord Brocket on 9th April 1937. It was subsequently sold by him at Sotheby's in London on 16th July 1952.
It was acquired in London in 1953 by the Bermuda Historical Monuments Trust. It appears that this painting which once hung at Bramshill was once much wider than the 93 inches high and 56 inches wide painting sold by Lord Brocket.
A Bermuda-placed handwritten inscription notes Pembroke was perhaps the "W. H." of the Sonnets of Shakespeare; that The First Folio of Shakespeare was dedicated to him and his brothers; and that he had extensive interests in Virginia, Bermuda, New England, Newfoundland and Barbados.
Today, Spanish Point is a separate area of the Parish. It is the part of the Parish most distant from the city (about 2.5 miles) yet well worth visiting for its beach areas, parks and marine views north and west.
The city of Hamilton, Bermuda's capital, is in Pembroke Parish, but its sightseeing attractions are covered separately.
The map to the right shows the ferry service from the city going to the most western parish as well as the closer parishes.
Constituencies
Pembroke East
Pembroke East Central
Pembroke Central
Pembroke West Central
Pembroke West
Pembroke South West
Pembroke South East
Admiralty House Park
Spanish Point off the North Shore, less than two miles from Hamilton, free admission, open until sunset. Bus route # 4 (Hamilton to Spanish Point) has a stop just outside the main gate to Admiralty House Park, a 3 zone ride. Pretty, well worth seeing. Access it via the green painted gate. There is a path to the sea. The scenic beach is Clarence Cove, all that remains of the extensive property once known as Clarence House, named after the Duke of Clarence (William Henry, born August 21, 1765, died June 20, 1837) later, King William IV of Great Britain. He was the 3rd son of King George III and younger brother of and successor to King George IV. During his youth, he served in the Royal Navy and was known as the Sailor King. He had two legitimate children, Princess Charlotte and Princess Elizabeth, both of whom died as infants. He also had 10 illegitimate children by his former mistress, the actress Dora Jordan. They included George FitzClarence, 1st Earl of Munster. A portrait of Mrs. Jordan by Sir Thomas Lawrence is at Buckingham Palace. He was succeeded by his niece Queen Victoria. Flora is lush, ocean views are magnificent and swimming from Clarence Cove beaches is glorious. (Facilities include a historic area, nature trail, park, and hiking trails (but no toilet).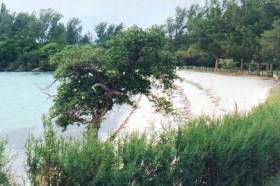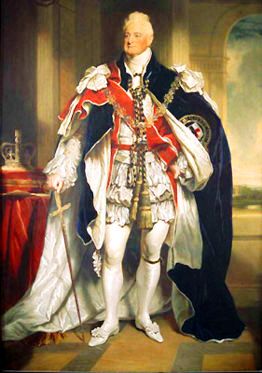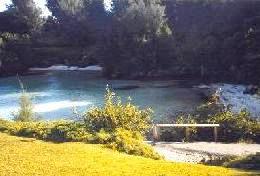 Photographs by author Keith A. Forbes
The Admiralty House property (now long gone) was once the Headquarters for the Americas and Atlantic of the Royal Navy, with an Admiral in residence. It was a gift from the Bermuda Government to the Royal Navy in 1814 (some say 1816). In 1822, following its purchase in 1814-16, the St. John's Hill property, bought by the government for £3,000 and made over as a gift to the Crown, was renamed Admiralty House.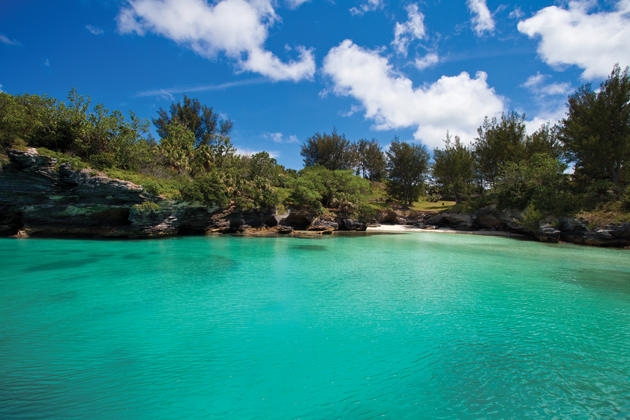 Clarence Cove
Its location was changed from St. John's Hill to Clarence Hill, in honor of the Duke of Clarence. (It is now St. John's Hill again). A side street was named Clarence Avenue. Clarence Cove (originally Abbott's Bay, after Sir Maurice Abbott, Governor of the East India Company) is the property's beach (now public). There is a pier on the ocean by Clarence Cove. The views from the cave entrances facing the sea are extraordinary. Not far away is the man-made "Admiral's Cave."
The Royal Navy and British Army were then the mainstays of the economy. For a brief period from 1813 - until the Navy built another elsewhere, the property was a Royal Naval hospital. Just off the bigger beach there's a historic 1813 grave of 16-year Royal Navy midshipman, Charles Francillon, of the Royal Navy ship HMS Spartan. He died from phthisis, a form of tuberculosis, then a highly contagious disease, on April 18, 1813 - during the 1812 to 1814 War. Francillon was born in Harwich (then in Essex, England), the fourth son of Francis Francillon of Harwich, a Purser in the Royal Navy. He was 15 years old when he joined the ship as a First Class Volunteer, a rank created in 1794. It was a first step for boys, who later became Midshipmen, then Lieutenants. He was a patient of the Royal Naval Hospital here - much later, Admiralty House - when he died. He received the posthumous rank of Midshipman while still technically a First Class Volunteer. His ship enjoyed a longer life.
1810. On May 1,HMS Spartan and HMS Success chased a French squadron into Naples Harbour, Italy.
1812. HMS Spartan cruised Bermuda and American waters to engage enemy privateers of the USA. She acquitted herself nobly, but ten crew were killed, with 22 wounded including her captain. She was a Fifth Rate, with 100 guns, with 30-50 guns. She had a speed of 15 knots and a crew of about 300. In July 1812, after Francillon was put ashore to die, she captured five American privateers. She took part in the attack on Washington, DC when British naval forces under Rear Admiral Sir George Cockburn - later, a Governor of Bermuda - sailed from Britain to Bermuda and on August 24, 1812 destroyed the Capitol including the Senate and House of Representatives, the White House and other prominent buildings. She went back to Britain in 1813 but was back in active service in the Mediterranean in 1814. She was known to be in Madeira, then Dominica (the island in the Leewards), Vera Cruz, Jamaica, Barbados and Halifax. She returned to England in July 1820. She made one more visit to the USA and brought spice back from New York before being paid off in 1821. She was broken up at Plymouth in 1822.
1814. The Royal Navy assembled a vast fleet here which had earlier sailed from England. The fleet sailed from here to attack and burn Washington, DC in retribution for the burning by the USA of Yorktown (now Toronto) in Canada.
1816. November 16. The first tenant of Admiralty House in Pembroke Parish, Sir David Milne, refused to stay at Admiralty House, preferring to reside at Mount Wyndham. But the Royal Gazette newspaper of that day said, in a very positive way: "The improvements and repairs of the elegant Mansion at the salubrious and delightful situation of St. John's Hill, which was purchased by the Colony for the residence of the Naval Commander, are nearly completed for the Admiral's reception."
1821. Admiral Fahie, Royal Navy, based in Bermuda at what became Admiralty House, ordered a wine cellar to be constructed there "for the preservation of his health and of his suite." (A kitchen was added in 1824, a new dining room in 1828 and new stables in 1834).
1822. Following its purchase in 1816, the St. John's Hill in Pembroke Parish property, bought by the government for £3,000 and made over as a gift to the Crown, was formally renamed Admiralty House and its location was changed from St. John's Hill to Clarence Hill, in honor of His Royal Highness the Duke of Clarence who was posted to Bermuda aboard HMS Pegasus in that year. (It is now St. John's Hill again). A side street was named Clarence Avenue.
1822. A system of flag signals created by the Royal Navy for use in Bermuda began to work across the islands. Four hill-top posts were created, one at Fort George, with the Dockyard-based Central Signal Station for shipping and for meteorological reporting. Others were Mount Langton, Gibbs' Hill with the colony's lighthouse, and Admiralty House at Spanish Point. The flags indicated the arrival and passing-by of shipping and other events, including a midday time signal; the numerical flag code was easily read by the civil residents, who were also allowed to send private messages.
From 1822 to the early 1950s a Royal Navy Admiral lived here, complete with staff as Bermuda was the headquarters of a Royal Navy fleet that stretched from the Caribbean 1,000 miles to the south and southwest, South Atlantic and north to Canada. After World War 1, during the time of Admiral Morgan Singer, RN, the house had about eight staff from the Royal Navy's lower ranks, plus a housekeeper. The property very busy during World War 2 as a Royal Navy signal center. Its Naval Intelligence staff encoded and decoded messages from convoys sailing between the United Kingdom and the USA, and ships torpedoed at sea by German submarines and needing rescue services provided by the Royal Navy from Bermuda. They also sent signals directing attacking aircraft to proceed to where U boats were sighted. The property was handed back more than 150 years later. After the Royal Navy left the Island in 1951 the property was given back to the Bermuda Government, the primary Admiralty House building was abandoned and later demolished, leaving only the ballroom behind. In the 1960s, the property served as the office, Signals facility and firing range of the Bermuda Regiment. Today, all that's left of the building that once housed the Admiral and considerable office staff is the old Ballroom, now a community center. In 2014 a combined effort from the Department of Parks and volunteers from Digicel began restoration of the abandoned Admiralty House ballroom that had fallen into acute disrepair and cleared overgrown vegetation from the property, one of Bermuda's treasures, once a popular locale for meetings and weddings. But graceful old lawns, trees, shrubs in the garden in front of the Ballroom, live on from yesteryear.

Admiralty House - no longer extant - was once the residence and office of Admirals of the Royal Navy who were headquartered in Bermuda for the Americas and West Indies fleets.
1830. On the death of George IV, King William IV ascended the throne. A ball was held at Admiralty House in Bermuda for the new king's birthday. Dancing started from 9:30 p.m. and continued until 1:00 a.m., followed by a "magnificent supper" for 200 people.
1841. May 28. Vice Admiral Sir Thomas Harvey, KCB, Royal Navy, stationed in Bermuda and Commander in Chief of the North American and West Indies Naval Forces, died at Clarence House (later, Admiralty House) and was later buried in the Royal Naval Cemetery, Bermuda. He was 66 years old.
1848. Admiral the Right Honourable Earl of Dundonald—dubbed "Dauntless Cochrane" after his exploits at sea both in the Royal Navy and in the navies of Chile, Brazil and Greece—took over as commander-in-chief of the Bermuda-headquartered Royal Navy fleet then servicing Bermuda, the Caribbean and North America and promptly quashed plans to rebuild Admiralty House in Pembroke where he was then residing, saying, "It has been proposed to spend £11,000 on building a new Admiralty House. Don't sanction it! Look at the Commissioner's House [newly built at Dockyard]. It is scarcely credible that there is an 11-stalled stable and two coaches attached to this mansion." Though he stayed in Bermuda for just three years, Cochrane made his mark on the property, earning the nickname "Earth Mover." He made caves and tunnels. That is why a tunnel exists to this day from nearby the tennis court on the eastern end of the property to the now Government nursery on the other side of Spanish Point Road. And also why a large cave exists by the cove. Dundonald may have been chary of colonial expenditure, but that did not prevent him from offering magnificent entertainment. (In May 1850, he gave a full-dress grand ball at Admiralty House for 350 guests. After the dancing concluded and the supper was enjoyed, according to the Gazette, guests were allowed a novel experience. "We descended a flight of stone steps into the tunnel, thence into a room hewn out of the solid rock, about 14 ft in height and 40 ft circumference, lighted by day through an aperture in one side...." In the centre of the cave was a table "furnished with small brown jugs from which each visitor might quaff a beverage..."
1859. The Admiralty House area used by the Royal Navy was extended to 16.36 acres with the purchase by the Admiralty of an area east of Clarence Cove, often referred to as Burnt House Hill (see third graphic below). It included a small cottage, later known as the Clerk's Cottage from being occupied as the dwelling of the male Admiralty House clerk of the Admirals. A local scribe, H. J. Carr, wrote at the time that the addition of the tract was necessary because the Clerk's Cottage property had earlier been used as a house of ill repute, a haunt of bad characters, possibly even a brothel according to Spanish Point folklore. It later became the headquarters of the Pembroke Community Club.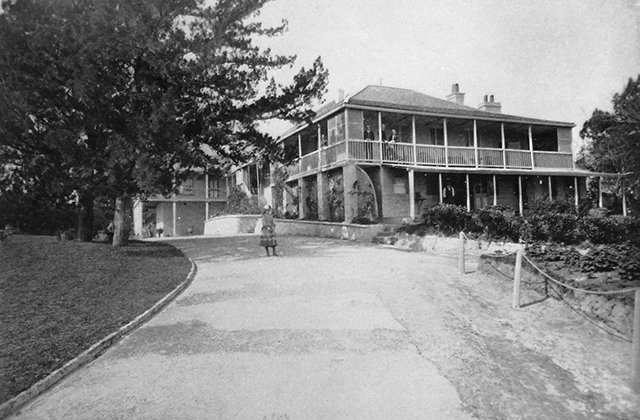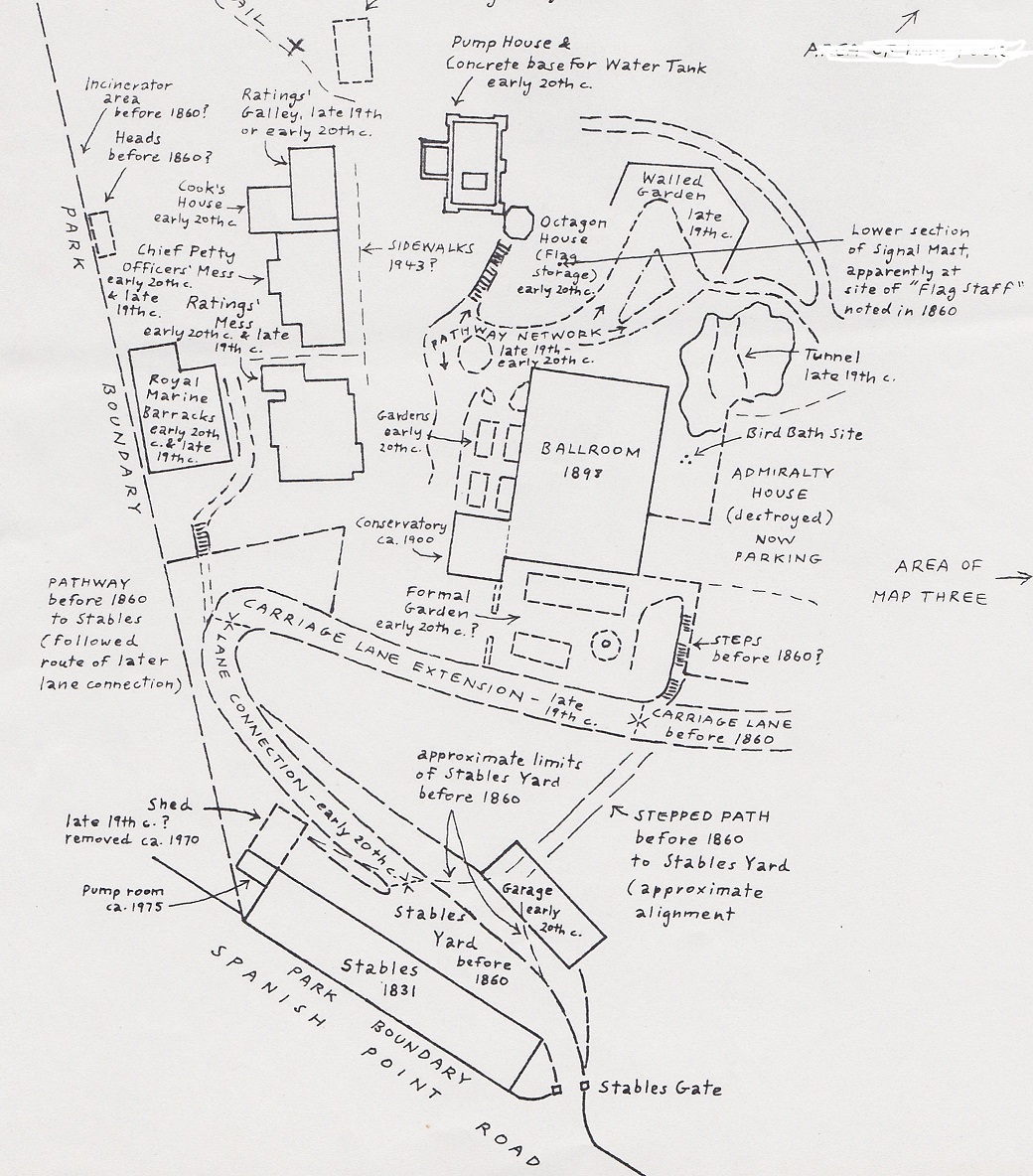 Burnt House Hill addition below: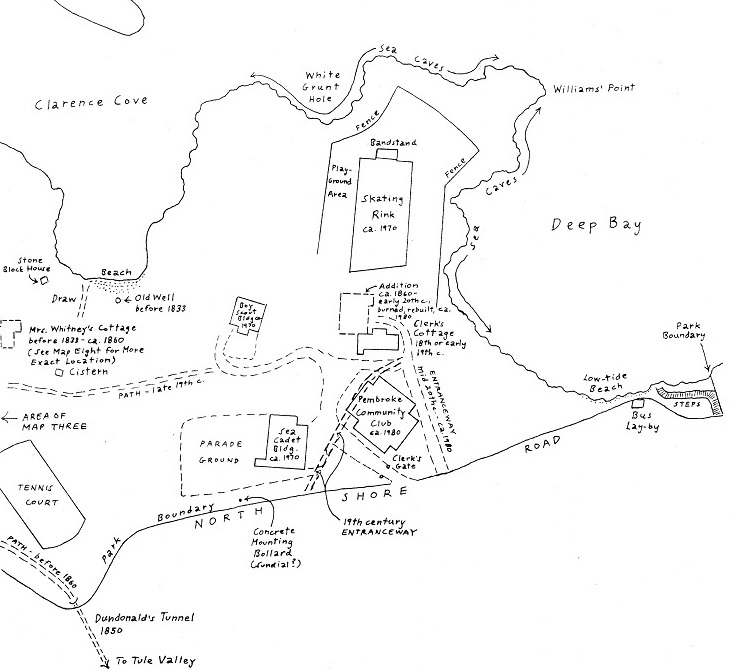 1860s. The so-called "Admiral's Cave" at Clarence Cove was built by an English convicts chain gang, diverted from building the Royal Naval Dockyard in Sandys Parish. It was on the order of the Admiral of the day who had a secret rendezvous with a lady and figured a tunnel (at the entrance of the property, just over the wall from the bus stop) would provide her with discreet access. It was also a place to land naval stores and also as a subterranean shelter for his barge.
1862. November. In Petersburg, Virginia, Georgiana Gholson Walker, wife of Confederate Agent in Bermuda Norman Walker, began keeping a diary which included comments about Admiralty House. She was no longer at peace with the world as a well-connected, happily married Southern hostess. Instead, she and her husband, who had recently left the Confederate Army after his brother John had been killed at the Battle of Malvern Hill in July 1862, had been transferred to Bermuda. She missed her husband dreadfully. At Bermuda, he had just joined a Confederate blockade runner at St. George's bound initially for Nassau, Bahamas and then to England to perform a secret mission, to deliver $2 million in bonds to a Confederate purchasing agent. She wanted to join him. She continued writing her journal intermittently until 1876.Later, it became an important work. Her writings included these words: "Today I drove up to Hamilton in order to bring my Husband down and after to make a visit at Clarence Cove and one at Mount Langton [the home of the Governor]. I found Lady Milne [wife of Sir Alexander Milne] at home, evidently ready to receive morning calls. Admiralty House is a very pretty little structure about three miles from Hamilton; with neat grounds around and the House furnished handsomely but with no remarkable elegance. The Admiral is now absent on official duties. Lady Milne is a polite, agreeable person, but is wanting in that grace and ease of manner, which I must say are more characteristic of the women of my own Country than that of any other I know. One of the best evidences of an elegant and graceful woman is her ability to meet a perfect stranger with as much affability, as those whom she has known before. Lady Milne is Scotch and while that nation can boast of a people generally of sterling worth, they are certainly deficient in grace and elegance of manner, in that 'suavita in modo' which you find in France and the Confederate States."
1873. April 4. When Sir C. Wyville Thomson, chief scientist on the Challenger Expedition of that year, went to pay his respects to Admiral Fanshawe at Admiralty House, Pembroke, he rowed over from Dockyard instead of arriving by the more sedate horse and carriage. In his account he said:, "We rowed across a glassy sea, clearly mapped out into patches of bright purple and stripes of the most vivid green by the reefs and the sandy spaces between them. Over the reefs in some places the water was only a fathom deep or less and we could see the great round masses of brain coral beneath us.... Clarence Cove, the landing-place for Clarence Hill, the admiral's official residence, is an enclosed little bay, with the dark cedar woods coming close down on all sides to the water's edge...and in the garden a little mound marks the grave of a middy, who died poor boy!" He was referring to the grave of a Royal Navy midshipman killed during the 1812-14 War.
1884. Julia Dorr, author of Bermuda, An Idyll of the Summer Islands, made disparaging remarks about Admiralty House in Pembroke in particular: "Her Majesty (Queen Victoria) does not provide for her representatives in Bermuda very luxurious or elegant mansions. Neither Mount Langton, the Government House, as it is called, nor Clarence Hill, the Admiralty House, are fine buildings. Indeed, they are quite the opposite." However, in her ebullient determination to see Bermuda in the best possible light, she added, "But both places are beautifully situated, with fine grounds and extensive gardens; and what does it matter if the house be fine or otherwise, when one lives out of doors?"
1974. September. The Admiralty House Park Association was formed, headed by the late Joyce Hall. Had it not been for the determination of the Association to keep it in pristine condition the Pembroke park could have had a very different name and appearance. It nearly became the site of the Bermuda College, complete with a hotel training school. It was what some members of the then United Bermuda Party Government wanted to see happen. But associations based there, such as The Group (later the Admiralty House Community Centre), the Pembroke Bermuda Scouts Association, the Sea Cadets and the Bermuda Sub Aqua Club, together with Pembroke Parish residents, led by this association, objected very strongly and effectively to the idea and the Bermuda College ended up in Paget. Clarence Cove on the sea side of the park, once an important Royal Navy landing point for the Royal Navy admiral based at the Admiralty House mansion which gave the park its name, had attracted some Government MPs who saw it as an ideal location for a hotel training school. Initial plans showed there would be five buildings around Clarence Cove, taking up 12 of the 17 acres of land. The project was estimated at $8 million dollars over a 10-year period. Had the Government not changed its mind, Pembroke Parish would have lost its only substantial parkland and its only public beaches.
2009. The book "Bermuda Growth of a Naval Base 1795-1932", by William Eric Brockman, was published. A chapter focuses on Admiralty House, explaining that in 1816 the colony bought a house and part of the present grounds from John Dunscombe for £3,000, transferring them to the Crown as the official residence for the naval commander-in-chief. Previously the admiral's residence had been at Mount Wyndham in Hamilton Parish, but this new venue was preferable because of the growing importance of Dockyard and because it was nearer to the City of Hamilton, which one year earlier had become Bermuda's new capital. It also, of course, had clear views of Dockyard and St. George's, making it an excellent location for the admiral's flag station. The house itself, Brockman surmised, had two storeys with possibly three or four rooms on each level and verandas. Surrounding it were outhouses comprising servants' quarters, washhouses and stables. But, he says, "There was none of that dignity, that imposing solidity and orderly array of clipped lawn and box hedge, so dear to the heart of the 19th-century Englishman."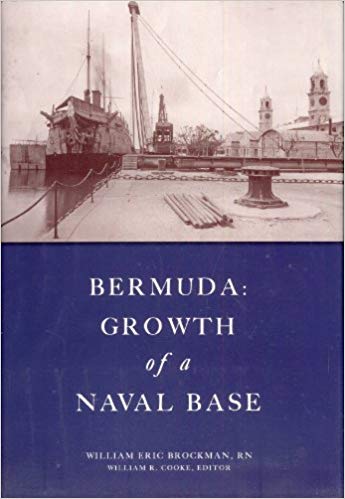 Agar's Hill
This hill, which dominates the north side of the exclusive residential area of Point Shares, is so-named in honor of British shareholder in the 17th century Bermuda or Somers Isles Company, Sir Anthony Agar (1586-1637), also referred to in British history as Sir Anthony Aucher (Agar, Archer), Member of Parliament of Bishopsbourne, Kent, England. He owned 50 acres of Pembroke land, including both the hill and the island that bears his name.
Agar's Island
See under "Islands."
Bacardi International Building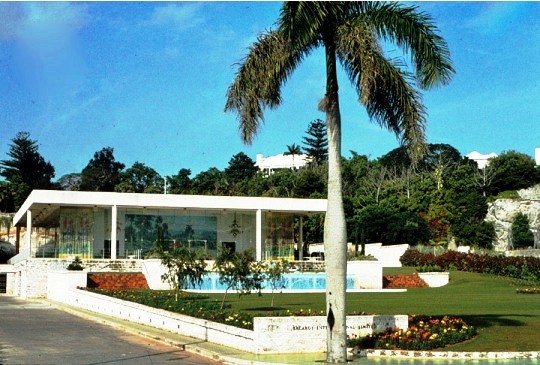 Photograph by the author Keith A. Forbes
World headquarters. Pitt's Bay Road, Pembroke. P. O. Box HM 720, Hamilton HM CX. Phone 298-1060. Fax 296-2468. World's largest rum maker. Founded in Cuba in 1862 by Don Facundo Bacardi y Maso. It prospered for years with its secret rum recipe. After the Spanish-American War of 1898, Bacardi gave the world the Cuba Libre and the Daiquiri. But Fidel Castro took control in 1959 and nationalized the plant and assets without compensation. The founder's descendents exiled themselves and began afresh. The Bermuda building was designed by Mies van der Rohe. Major businesses are Bacardi International Limited and Bacardi Capital Limited. Between them, they oversee the worldwide (outside USA) marketing of much of the group's international financial affairs and bulk transportation. They also market Martini and Rossi vermouth; Asti sparkling wine - which they bought in 1993; Bombay Sapphire Gin from England, Dewars Whisky from Scotland and New Zealand vodka and gin producer 42 Below. The private Bacardi companies do not disclose financial results. There is also a large office in Miami, Florida.
Barr's Bay and Barr's Park
See under City of Hamilton.
Bermuda National Parks
Mentioned separately by name.
Bermuda Plant Nursery
Pitts Bay Road. Telephone 295-5157. A facility for residents and visitors, with plants for sale year-round and imported Christmas trees in December.
Bermuda Underwater Exploration Institute (BUEI)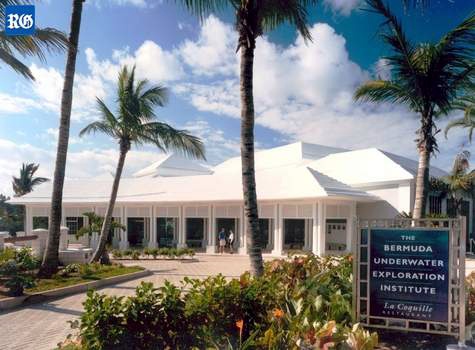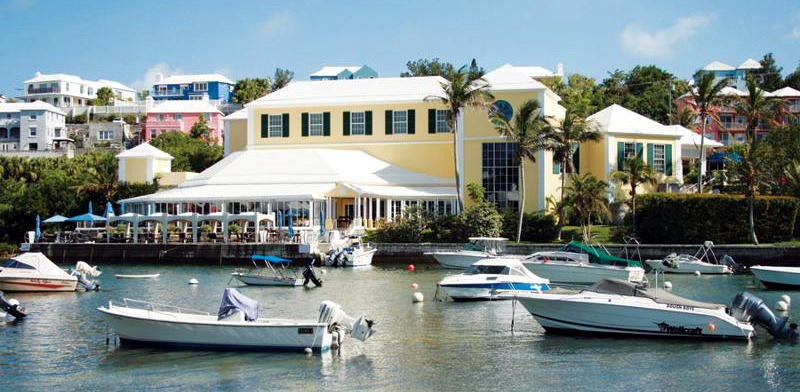 BUEI from Hamilton Harbour

Phone 292-7219. Completed at an overall cost of over $16 million, it opened in 1997 on the northern side of Hamilton Harbour (off East Broadway, the main access road just east of and leading into the city of Hamilton). Telephone 292-7219. It is a major - a "must see" - cultural, sightseeing and scientific attraction for locals and visitors. exhibits including those of the history of underwater exploration, marine life at different depths and Bermuda's shipwrecks. Underwater crafts, including Charles William Beebe's bathysphere, are on display. One room houses a superb seashell collection. Open 9 am to 5 pm, visitors should arrive no later than 3:30 pm to see everything. Admission charge per adult and child, free for those under 6.

Near there is a statue by Bermudian sculptor Desmond Fountain to Johnny Barnes, a remarkable Bermudian senior citizen, who has made it a tradition for decades of waving a cheery "Good morning" - in all weather - to commuters exiting the parish to work in or near the City of Hamilton. It was funded by Andrew Banks, a philanthropist actively involved with the Jewish community, an American producer, who has been recognized publicly for donations to the Bermuda Underwater Exploration Institute.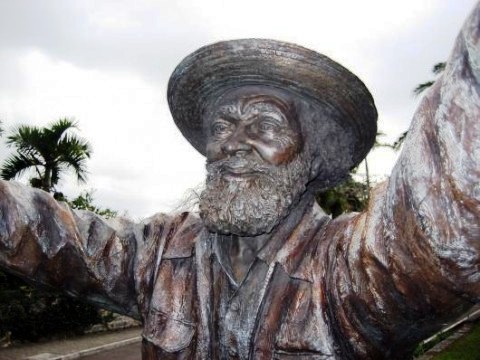 Bermudiana Road
Bernard Park
On the # 10 and # 11 main bus routes traveling east from Hamilton or west into Hamilton from the eastern Parishes. Here, the Government Tennis Stadium welcomes visitors who wish to play. Also, there are various softball, soccer and other facilities; and on the eastern side of the park, across Dutton Avenue, the entrance area to the Pembroke Marsh Nature Reserve. Some of Bermuda's principal parades, generally held on public holidays, start or finish here. Built by the Bermuda Labour Corps in the 1940s, this large recreational area is bordered by Cedar Avenue and Marsh Folly Road, and is bisected by Dutton Avenue. It's less than a mile from downtown city of Hamilton. It is not named in honour of the early Bermuda Governor John Bernard (from 1622) but after Governor Lt. Gen. Sir Denis John Charles Kirwan Bernard, KCB, CMG, DSO, Governor of Bermuda from 1939 to 1941. He was recalled to England when, it is said, his open dislike of Americans began to hamper construction of the World War 2 American military bases in Bermuda.
Black Watch Pass and Well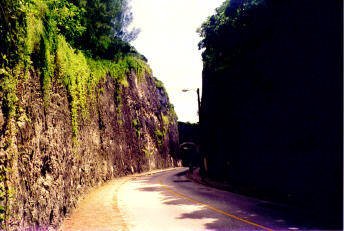 The Pass is a roadway cut through solid limestone during Bermuda's depression of the 1930's. It was excavated as part of a major scheme of the 1920s and early 1930s, approved by the House of Assembly as "The Marsh Reclamation Act, 1925", later apparently dubbed "The Marsh Folly" for a number of reasons. The Bermuda Government, to provide some employment, decided to finally overcome a transportation problem that had existed for decades. It involved horses - then the principal beast of burden in Bermuda - that pulled wagons carrying supplies. The horses had to be led over the steep North Shore cliffs. When laden with the wagons, they could not make the gradient. The Bermuda Government's Public Works Department, supplemented by hundreds from the ranks of the unemployed, cut through the cliff to create a level route to the North Shore Road. When completed in 1934, workers had excavated 2.5 million cubic feet of solid limestone rock. Much of this went into what was then the much larger marsh nearby, to create a more level surface for the sports facilities that exist today at nearby Bernard's Park. The Pass links Palmetto Road with the North Shore Road, a short distance from the city of Hamilton. Motor and pedestrian traffic use it regularly. To find it, drive out of the City of Hamilton along Cedar Avenue and bear right on Marsh Folly Road at the traffic light. Black Watch Pass is the second turning on the left.

It is named after the Black Watch Well, located at the end of Black Watch Pass, at the junction with the North Shore Road. The Well was dug by members of the famous Scottish regiment, the Black Watch of the Royal Highlanders, a battalion of which was assigned to Bermuda for military duties in 1849. When the Governor of the period ordered British soldiers based in Bermuda at the time to seek a fresh water supply "for the poor of Pembroke Parish and their cattle" during a prolonged drought that year, the Black Watch was the first of the regiments to volunteer to dig the well. Its members did it so thoroughly that the facility still exists today. Bus route 11, on the city of Hamilton to Town of St. George and back run, serves the pass and well, with a stop near the well, almost at the end of the pass. Once, the Black Watch Well was a major stopping point on the tourist itinerary. Some years ago it was capped with a huge slab of faceless concrete, no more to be seen by visitor or resident alike. Since then, the pergola over the Well and the sign explaining its meaning have slowly been yielding to the rigors of sun, wind and rain. Bermuda now has very few reminders left of its once-proud British military past.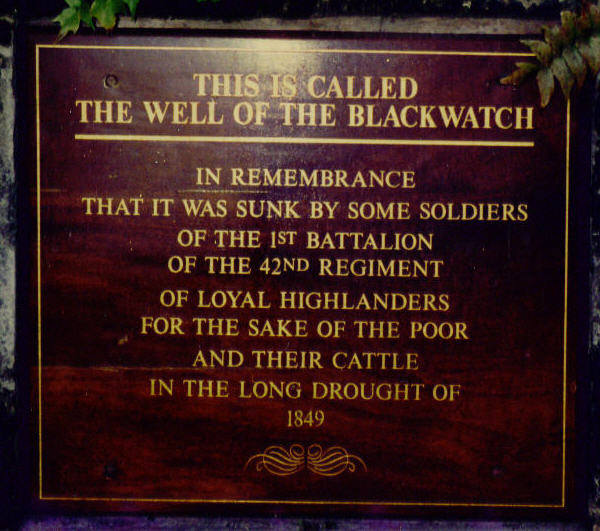 2018. August 7. Blackwatch Pass was closed to traffic yesterday as work to shore up its walls started. A government spokeswoman said work will continue for "several weeks". Specialist workers from Canada on the project will remove areas of soft rock and vegetation and secure weaker sections of the pass. The link from North Shore Road to Hamilton, with an overpass leading to Government House, opened in 1934, and has been subject to falling rocks in the past. Plant roots can bring down rubble as can weathering of exposed rock. Similar work on the rock face was carried out last April.
2018. July 30. Blackwatch Pass will close for construction works for "an extended period of time". The Ministry of Public Works said the closure begins next Monday. A spokeswoman advised people to seek alternative routes to avoid delays.
2017. June 23. Blackwatch Pass was reopened to both motorists and pedestrians yesterday morning after weeks of work on dangerous slopes. The Ministry of Public Works commissioned the work, which included rock scaling as well as additional rock-face stabilization. The ministry noted that while the road is now open, there will still be ongoing fencing work and "shotcreting", a process by which concrete is hosed on to a surface. The road linking North Shore Road to Hamilton opened in 1934 and has been subject to falling rocks. Plants growing in the stone work and gradual weathering of the exposed stone can bring down rubble. The road was closed during daytime hours for remedial work by a Canadian team Cimota Inc. They rappelled the slopes of the pass on high-strength ropes with pry-bars and pick to remove trees and rocks. Work began on April 3 and was reopened yesterday morning.
2017. April 18. The sheer walls of Blackwatch Pass are getting a makeover, with visiting contractors scaling the cliffs to remove loose rock and vegetation. The link from North Shore Road to Hamilton, with the dramatic overpass leading to Government House, opened in 1934, and has been occasionally subject to falling rocks, such as in 2015. Plants can bring down rubble, along with gradual weathering of the exposed stone. The road has closed during the daytime for remedial work conducted by a team from Cimota Inc in Canada, who rappel the slopes of the pass on high-strength ropes with pry-bars and picks to dispatch trees and rocks. According to a Public Works spokeswoman, the method is known as rock scaling, and is closely supervised by ministry staff, plus a rock slope expert. After the work, masonry walls, anchors or "shotcrete", where concrete is hosed onto a surface, will be deployed as needed. Work began on April 3, and is expected to be completed by April 28.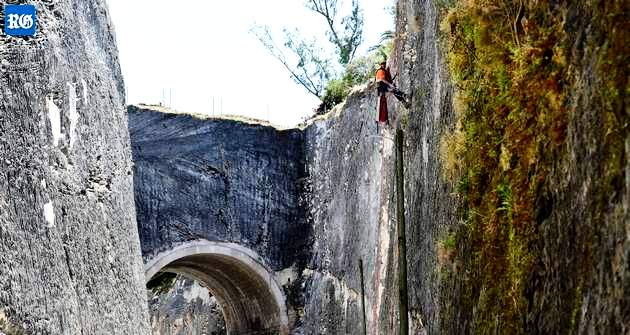 Black Watch Pass April 2017 renovations
Black Wood Pond
It separates the Point Shares peninsula from the rest of Fairylands and bounded on the north by one of the oldest bridges in Bermuda. The names is understood to derive from Black Mangrove trees, Avicennia nitada, common along the borders of saltwater lagoons and swamps. The wood is hard, heavy and dark brown, black when wet.
Bluck's Point
A long, narrow peninsula curving into the Great Sound south of Spanish Point. It was originally Oxford Point, after a gracious old Bermuda home, Oxford, still there, once owned by 17th century Bermudian merchant, Thomas Oxford. When the house was acquired by John Bluck, the point was re-named. In 1856, men of the 3rd Company of the 56th bivouacked at the Oxford home of Mr. Bluck, in hope of escaping the disease, at the order of Bermudian physician Dr. Harvey. They were lucky enough to escape the disease-carrying mosquito.
Bus routes
The Parish and City of Hamilton in it are served by the following routes that go to and from the city. Some routes are much better served than others in frequency and lateness. See the schedule available free from the bus terminal in Hamilton and note its times on Monday to Friday, Saturday, and Sunday & Holiday, as well as where the routes go and do not go in the Parish.
# 1 route (Hamilton to St. George's, via South Shore, Mariott Castle Harbor, The Caves and Grotto Bay).
# 3 route (Hamilton to St. George's via Middle Road, The Caves and Grotto Bay).
# 4 route (Hamilton to Spanish Point. via St. John's Road or North Shore Road).
# 5 route (Hamilton to Pond Hill via Glebe Road).
# 9 route (Hamilton to Prospect via National Stadium, Cedar Park and Palmetto Road).
#10 route (Hamilton to St. George's via Palmetto Road, Aquarium and Bermuda Perfumery).
#11 route (Hamilton to St. George's via Black Watch Pass, Aquarium and Bermuda Perfumery).
Butterfield Nature Reserve
In Point Shares, a small but beautiful reserve open to the public. It and its smaller neighbor the Butterfield South Nature Reserve were both donated to the Bermuda National Trust by local philanthropist Dudley Butterfield.
Clarence Cove
See under Admiralty House Park.
Deep Bay
Off and below the North Shore Road, about a third of the way between the junction with St. John's Hill and Black Watch Pass and a little east of Clarence Cove, this publicly-owned beach (not listed by any Bermuda Beach guide except ours at http://www.bermuda-online.org/beaches.htm) is often missed by visitors because the entrance is not marked. It's a mere gap in the wall, with steep downward steps to climb down to the beach, so to access it one needs to be nimble. At low tide, when there's more beach, it's very pleasant and used to be extremely popular with local residents in the summer months. It's also an excellent vantage place to watch cruise ships as they pass a few cable lengths offshore, en route to or from the city of Hamilton or the Royal Naval Dockyard. Bus route # 4 (Hamilton to Spanish Point and return) has a stop nearby.
Ducking Stool Park
A small spit of coastal, grassy land, and a swimming area, off the rocks, just off the North Shore Road, almost directly opposite the Black Watch Well. It's worth exploring, and extends east along the shoreline for several hundred yards. It takes its name from the fact that a Ducking Stool - a 17th century instrument of punishment - was once located here (as well as in the Town of St. George, further east) and put to extensive use to forcefully "dip" miscreants deep into the water. The little park is a nice place to catch panoramic views of the North Shore ocean, or to watch cruise ships en route to or exiting from the city of Hamilton, or for a picnic. In the days when the Royal Navy had a permanent presence in Bermuda, it was also the place at which a crewed barge landed to collect the Governor and his entourage from nearby Government House, to get them to the Royal Naval Dockyard diagonally west across the sea.
Fairylands
An up-market and exclusive residential area with some very fine homes or smaller but immaculate cottages and many marine or sea views, not usually explored by visitors, west of Pitt's Bay Road, covering the two peninsulas of Mill Shares and Point Shares. The area takes its name from Celtic mythology and dates back to when better-off merchants, establishing their business in the City of Hamilton, wanted to have their homes nearby, in a lovely but quiet area and relatively unpopulated near the ocean. On some maps it is referred to as Fairylands, others as Fairyland. It has many winding and narrow byways, some with lovely views of the ocean and islands in the parish. Roads include Fairyland Court, Fairyland Lane and Fairyland Road. Wetland areas include Fairyland Creek and Mill Creek, both inlets, near local islands. In November, 2012 two of the six Fairylands area islands were advertised for sale, for $550,000. They 0.504 acre Goose Island and 1.062 acre Bird Island. Both islands are within close proximity to the Point Shares and Fairylands neighborhoods. Ideal weekend retreats, they are zoned to preserve the environment and natural habitat. Thus development of any significant nature isn't permissible. But as an amenity this pair of islands will provide hours of enjoyment for the boater or environmentalist or someone who just wishes a convenient escape from the mainland.
Ferry stops
Public transportation by ferry from and to the City of Hamilton (part of this Parish). Part of Bermuda's government operated public transportation system, to Belmont, Darrell's Wharf, Dockyard, Hinson's Island, Hodson's, Lower Ferry, Rockaway, St. George's, Salt Kettle, Somerset Bridge, Watford Bridge.
Fort Hamilton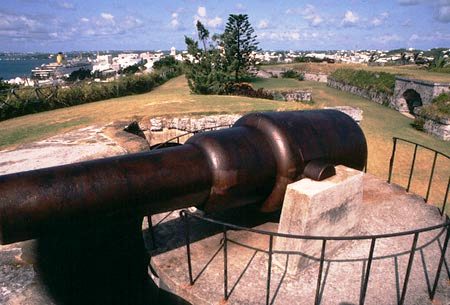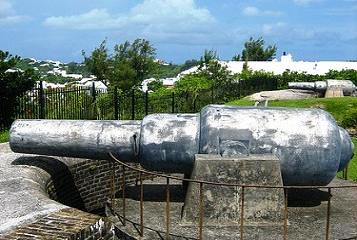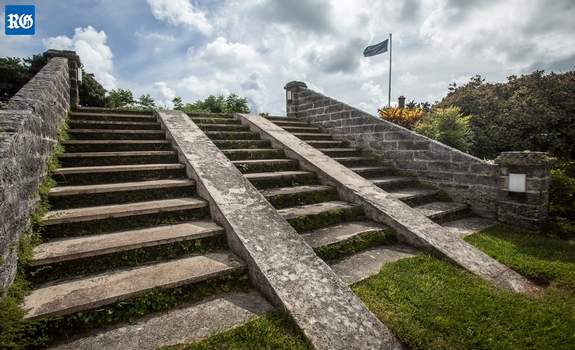 6 Happy Valley Road. A central fort, built in 1870. Just northeast of the city of Hamilton. Constructed by the British Army in order to protect Hamilton Harbour, by forming a line of defence for the western Royal Naval Dockyard. At that time, following the conclusion of the US Civil War, it was deemed possible the USA might have wanted to try to invade Bermuda in view of its earlier help to the Confederacy. It is now a scenic 10 acre park, offering vista views of Hamilton, lush gardens growing within its' deserted moats and tunnels that go deep into the limestone bedrock of the fort. Open from 9:30 am to 5.00 pm. Admission is free. Open from 9:30 am to 5.00 pm. Admission is free. The entrance to the fort is on the right. Bear right, immediately after the entrance. From the ramparts, see all Hamilton Harbor, city of Hamilton, the Great Sound - and even the South Shore ocean. The imposing structure includes the moat, 18 ton guns and underground passageways. It was ordered by the Duke of Wellington. It was completed out of solid rock by the British Army's Royal Engineers. At that time and for the next two decades, it was fully manned, bristling with long range guns operated by detachments of the British Army's Royal Artillery. Those were the days when Bermuda had a full garrison of British Army regulars. But the fort, outdated before completion, never fired a shot in anger. Its former subterranean military walkways are now lovely moat gardens lined with tall bamboo's, other fine shrubs and flora - a botanist's paradise.

The staircase leading from the moat gardens to the upper level, to access the ramparts, is steep, with many steps. But your reward will be grassy areas superb as places for picnics. Periodically, the Corporation of Hamilton sponsors an exhibition of drumming and dancing by the kilted Bermuda Isles Pipe Band. It performs a distinctive skirling ceremony on the fort's green every Monday at noon.

George Ogden, who retired in mid 2001 from the Corporation of Hamilton, was the man most responsible for creating first a park from an old set of fortress ramparts, magazine tunnels and gun emplacements. He arrived in Bermuda in 1962 with a diploma in horticulture from the Royal Horticultural Society in Wisley, Surrey. He found that the 40-foot moat had become a dumping ground. But today, allspice, palmetto, lots of ground cover plants that tolerate shade, ferns, bamboos and imported orchids now populate the moat. The area is a place of serenity and cool escape. The only drawback is that the fort is for able people only, not the disabled.

Not well known by the public is that Fort Hamilton before and after World War 2, was used to accommodate Portuguese men imported from San Miguel and other islands of the Azores as laborers to do the agricultural or otherwise manual work Bermudians black or white and other non-Bermudians would not do. Thirteen Portuguese men at a time lived here. When they came to Bermuda they were required to agree to a contract that among other things stipulated a minimum of three years of service and an acknowledgement that they would not bring their wives or family for seven years. But this policy was by no means confined to the imported Portuguese from the Azores who were indentured laborers living at the fort. It had applied for years past to other Portuguese from the Azores housed elsewhere in Bermuda as well. It is believed some continued to be housed at Fort Hamilton until the 1960s when the fort was purchased by the Corporation of Hamilton. Some will say that what these Portuguese had in Bermuda was far better than the conditions they left in the Azores. Many had very little education. But in Bermuda, they were very hard workers, dependable and took very little time off. Many were grateful, despite the family deprivations, for regular work with a regular pay packet much of which they sent home or saved. The City of Hamilton was one of the many organizations in Bermuda that benefited immeasurably from their services - and still does so.

For other forts, see Bermuda Forts.

41 Parsons Road. Where senior citizens have fun and interaction, mental and physical stimulation, have a message and hair salon and more, every day,

This web site shows all those elsewhere in Bermuda. There are none in this Parish.
Government House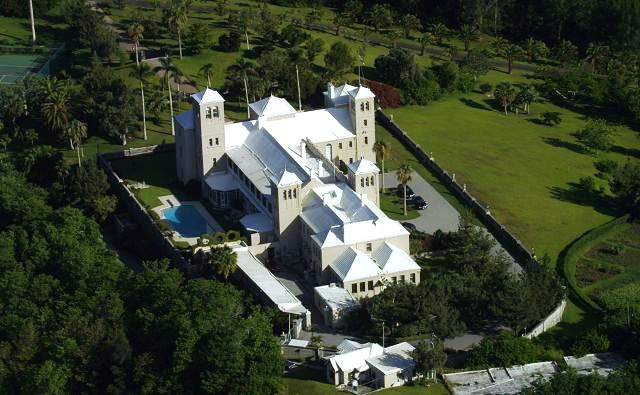 11 Langton Hill, Pembroke HM 13. Telephone 441 292-1271. Governor's Office Fax 441 292 2256. Deputy Governor's Office phone 441 292 3600, fax 441 295-3843. This imposing mansion, the largest single building in Bermuda by far, and occupying more acreage in Bermuda than any other single building by far, is actually the 5th, not the first, Government House. Previous Government House premises were
The first, built in 1612, stood on Water Street, St. George's, near the Town Square (John Smith 1624).

The second was erected in 1699, again in St. George's, and is now called the Globe Hotel.

The third was started in 1721 on the site largely occupied now by the Unfinished Church (Bermuda National Trust Collections).

The fourth was built here at what was originally known as Mount Langton in Pembroke about 1820 (Fay and Geoffrey Elliott Collection, Bermuda Archives).

The fifth, this one which replaced the previous one, was started in 1882 at the same location and finally completed in 1892.
Sits by itself on a hill on the northern outskirts of the City of Hamilton. Not a Government administration building but the official residence - the home - of the British Governor of Bermuda, Sir Richard Gozney, who represents Queen Elizabeth II and is appointed to a 4-year term of office, sometimes extended, by the Foreign & Commonwealth Office, London, England.
More information about the role of Great Britain in Bermuda. Her Majesty the Queen is Bermuda's official Head of State.
The Governor and Commander-in-Chief of Bermuda is appointed by The Queen (on the advice of the British Government in London) after consultation with the Premier of Bermuda.
2018. August 31. The opening of the Government House Gardens to the public each Sunday afternoon from 12 noon to 5 pm came to an end last Sunday, 26 August. The grounds have been open since 27 May and have been enjoyed by numerous residents and visitors alike. The Governor, Mr John Rankin, said: "I hope that all residents and visitors who were able to visit the Government House Gardens during the Sunday afternoon openings this year enjoyed the opportunity to see the historic trees located on the grounds and the wonderful views." All who visited were extremely respectful not only of the grounds themselves but also of the gardens being run by students from the three Pembroke Parish primary schools: Victor Scott, Dellwood and Northlands. I look forward to continuing the Sunday openings next summer."
2018. July 25. A British career diplomat was today sworn in as the island's second woman Deputy Governor. Alison Crocket takes over from Ginny Ferson, who is moving on to a Foreign Office post in Indonesia. Ms Crocket said she was delighted to be given the chance to work in Bermuda and that nothing had prepared her for the island's beauty. She added: "I am committed to serving this island to the best of my ability." Ms Crocket was the head of the Foreign Office's Anti-Corruption Unit based in London. She also has experience in counter-narcotics work, justice reform, international organized crime and HIV prevention. Ms Crocket thanked her predecessor for her support. She said: ""I have big shoes to fill and I will do my best to match her professionalism and dedication. As the second female Deputy Governor, I will continue to contribute where I can and to continue to celebrate equality and diversity." Ms Crocket was sworn by John Rankin, the Governor, at a ceremony at Government House. Mr Rankin thanked Ms Ferson for her work, which included helping to safeguard children and promotion of women's concerns.
2018. July 11. Deputy Governor Ginny Ferson yesterday backed same-sex marriage in Bermuda "before too long". Ms Ferson added that the island's showdown on the issue helped her see perspectives she disagreed with. She admitted that the subject of same-sex marriage could put her at risk of being seen as "controversial". Ms Ferson said: "I do not agree with that viewpoint, I believe in equal rights for everyone and I very much hope that it will be achieved in Bermuda before too long. But I do appreciate why it is a difficult issue for many people." Ms Ferson was speaking at Hamilton Rotary Club as she looked back on the "ups and downs, the legacy and the lessons learnt" of her 4½-year tenure on the island. Same-sex marriage in Bermuda was highlighted in April 2015 by entertainer and activist Tony Brannon, who organized a petition in support. But a non-binding referendum in 2016 found a majority against the introduction of both same sex marriage and civil unions. The referendum had a turnout of less than 47 per cent with 14,192 against same-sex marriage and 6.504 in favour. A Supreme Court ruling in May 2017, however, paved the way for same-sex couples to wed. Same-sex marriage was again outlawed by legislators in December that year, when the Domestic Partnerships Act, which offered civil unions to both gay and straight couples, was passed by Parliament. The Act came into effect on June 1 this year but was successfully challenged in the Supreme Court on constitutional grounds less than a week later. Chief Justice Ian Kawaley's ruling, however, is to be appealed by the Bermuda Government. Ms Ferson told Rotarians that "in the spirit of opening minds and embracing alternative viewpoints", she wanted to recommend the 2016 BBC documentary Just Call Me Martina. She said the "heart-warming story" was about gay former tennis champion Martina Navratilova, who married her girlfriend in 2014. Ms Ferson said that "regardless of what our parents or church elders have told us about same-sex marriage, I suggest we ask — is it the truth, is it fair to all concerned, will it build good will and better friendship, will it be beneficial to all concerned?" She said that living and working in a small community like Bermuda came with "its delights and its restrictions", but that she and her husband had been enriched by the island's diversity. Ms Ferson said that hurricanes also stood out, with four major storms hitting Bermuda during her time on the island — the "double whammy" of Fay and Gonzalo in 2014, Joaquim in 2015 and Nicole in 2016. She added that last year's America's Cup was proof of the island's "talent and professionalism to stage a truly world-class event". Ms Ferson also mentioned Bermuda Day parades and the camaraderie of Cup Match. She added: "I know I am not the first one to say it, but if only we could bottle that community spirit and apply it to everything we do, Bermuda would be an even more beautiful place to live." The Deputy Governor, who arrived in Bermuda in December 2013, will leave the island on July 27 for a new diplomatic post in Indonesia — where same-sex marriage is not recognized. She will be replaced at Government House by Alison Crocket, an anti-corruption expert from the UK Foreign Office.
2018. May 24. Government House Gardens will be open on Sunday afternoons from Sunday 27 May until Sunday 2 September 2018. This will be the fifth summer that the gardens have been opened to the public. Entry and exit will be via the North Gate on North Shore Road. Visitors are encouraged to come on foot, by pedal bike or use the No 11 bus, which stops near the gate. Parking will not be available in the grounds. The gardens will be open from 12 noon to 5pm each Sunday, but will not be open over the Cup Match weekend. Families are encouraged to come, relax and enjoy the grounds and to picnic. Visitors are asked to respect the grounds, especially the vegetable gardens being run by students from the three Pembroke Parish primary schools: Victor Scott, Dellwood and Northlands. They are also asked not to bring dogs. The Governor, Mr John Rankin, said: "I am once again looking forward to seeing families — particularly those living near Government House — make use of this wonderful area. I encourage residents and visitors alike to enjoy the grounds, the historic trees and the wonderful views. "
2018. March 15. A new deputy governor will take over from Ginny Ferson, the Governor announced today. Alison Crocket, an expert in anti-corruption work, will replace Ms Ferson in August. Ms Crocket said: "I am very excited at the opportunity to serve Bermuda and its people in the role of Deputy Governor. "I have already begun learning about the issues that are important to Bermuda and familiarizing myself with my constitutional responsibilities. "My family and I look forward to meeting new friends from all backgrounds and across all walks of life in Bermuda." Ms Crocket joined the Diplomatic Service in 2001 after a career in local government social services and the children's charity Barnado's. Her present post is head of the anti-corruption unit in the Foreign Office. She played a leading role in drafting international aspects of the British Government's anti-corruption strategy. She earlier served in Vienna, Austria, where she worked on counter-narcotics programmes, justice reform and international organized crime, as well as HIV prevention and public health programmes. Ms Crocket, who has two adult daughters, will be accompanied by her long-term partner, Pete.
2016. December 23. New Governor John Rankin yesterday backed same-sex civil unions in Bermuda. "Civil unions have been recognized in the UK and in many other jurisdictions around the world," he said. "I hope that any differing views on this issue in Bermuda can be resolved so any discrimination in this area can be ended." Mr Rankin — in his first major interview since taking up the job two weeks ago — was speaking at his home for the next three or four years, Government House. Mr Rankin. who was British Ambassador to the Himalayan nation of Nepal before taking up the Governor's post in Bermuda, added: "My first impressions are certainly that I've arrived in interesting times, but my impressions are, firstly, how incredibly friendly people are. They have been very welcoming. Secondly, I have been impressed by the energy of people here. I have met people from all backgrounds here who strike me as very skilled in what they do." Mr Rankin, who arrived on the island only a few days after a protest against the proposed public/private redevelopment of the airport turned ugly, with police using pepper spray against a crowd that blocked the entrance to the House of Assembly, said that he hoped that the issue would be resolved. "I hope that calm will prevail and a constructive way is found to deal with issues on which there are currently disagreements," he added. "People have the right to peaceful protest, but it's also important that Parliament can go about its business. I also support the police in upholding the law." Scottish-born Mr Rankin, 59, who graduated with a first-class honours degree in Scots law from Glasgow University, one of the oldest seats of learning in the UK, later completed a master's degree in international law at McGill University in Montreal. He returned to Scotland and practised as a solicitor before becoming a lecturer in international law and public law at the University of Aberdeen. He joined the Foreign and Commonwealth Office in 1998, originally as a specialist in international law before moving into a diplomatic role. Mr Rankin has worked at the UN in Geneva, Switzerland, the British Embassy in Dublin, where he worked on aspects of the Northern Ireland peace process, and was Consul-General in Boston, a position once held by his predecessor George Fergusson. Among other posts, he was also British High Commissioner to the Maldives and director of the Americas in the FCO, which includes the Caribbean region. "I was posted to Geneva at the UK mission to the UN," he said. "I was engaged in legal work, but got increasingly engaged in policy work and wanted more opportunities to do that general diplomacy." He added: "In terms of Bermuda, the work in Boston was particularly helpful. There are close ties between Boston and Bermuda." Mr Rankin said: "This is a job I very much wanted to do. I wanted to come here because I thought it was a new challenge and I thought Bermuda was an exciting place to come to. I look forward to working with the Government, legislature, the business community and civil society during my tenure of office here. I take my responsibility very seriously — the responsibility to be the representative of the Queen here and responsibilities under the constitution to be responsible for the safety and security of Bermuda. I hope, in addition to that, I will be a listening Governor. I want to meet people from across the community. In my first two weeks here, I've been pleased to meet young people, members of the Government and Opposition and church leaders. I would like to continue that, be a Governor who is engaged and is involved in the local community." The father of three grown-up children added that his personal areas of interest included child protection — and praised the courage of Bermuda football coach Andrew Bascome and his brother David in revealing they had been abused as youngsters. Mr Rankin said: "Young people represent the future of Bermuda. One area I attach particular importance to is a safe environment. I welcome the work being done by the parliamentary committee in this area and I look forward to seeing their report. I also recognise the bravery of those who have come forward recently to speak about the abuse they have experienced as children. I hope effective action can be taken to prevent such actions in the future. It's important the relevant agencies work together in cutting risks. Hospitals, schools, social workers, the police, working together in a collegiate fashion to ensure children at risk are identified and protected. Tough checks on volunteers in youth work should be introduced as well as adequate protection against those who are sex offenders and may be at risk of offending again in the future". Mr Rankin said he was also interested in supporting the business community, describing it as very important for Bermuda's future prosperity. He added that the UK's decision to leave the European Union — dubbed Brexit — presented opportunities as well as problems. "Britain will be more active, more outward- focused and more energetic than ever before on the world stage. The same is true for Bermuda — challenges, but also opportunities. I am confident that Bermuda, with its skills, its excellent regulatory framework and its determination to continue to meet the highest possible international business standards, will continue to succeed. Bermuda will continue to adapt, continue to diversify the economy and continue to look for new opportunities as they arise. It's also my job as Governor to ensure that colleagues in London and others internationally are fully aware of Bermuda's position in these areas."
2016. December 5. Bermuda's new Governor, John Rankin, was officially sworn in at a parade in King's Square in St George's this morning. After a march by Royal Bermuda Regiment soldiers, a commission speech by Cabinet Secretary Derrick Binns, a prayer by the Right Reverend Nicholas Dill and an introduction by Michael Dunkley, the Premier, Mr Rankin said it was "a great honour to be appointed as Her Majesty the Queen's representative as your Governor". He said he looked forward to working with Bermuda in "upholding the highest international business standards". The father of three also said he wanted to engage with Bermuda's young people "who represent the future". Commenting on recent political discontent, he said he hoped to work with "all Bermudians" to ensure a "constructive way of going forward to deal with the issues where there is currently disagreement in Bermuda ... allowing them to resolve peacefully in line with this country's democratic traditions". He added: "Those same traditions of tolerance, stability and security [I hope will] also continue to ensure that those who arrive in Bermuda are quickly made to feel welcome." The Premier said the new Governor had a wide range of expertise and was armed with "a quite impressive résumé". He also spoke of the Friday's events, saying: "As we saw recently, even the strongest and healthiest democracies face their share of challenges. As leaders in government, in opposition and in Government House, we should all feel very hurt and saddened about what happened last Friday at the House of Assembly with Members of Parliament not being allowed to access to conduct the people's business ... injured citizens, police using pepper spray. These are very disturbing images for anyone to see. Our first priority should be the safety and well-being of the people we serve. As these are very challenging times, we must be mindful that we still are one people." He said going forward, his government would seek to come together to create a "prosperous, unified and proud Bermuda".
2016. December 4. Ginny Ferson, the Acting Governor, Michael Dunkley, the Premier, and David Burt, the Leader of the Opposition, were among the dignitaries on hand to greet John Rankin, the new Governor, when he arrived in Bermuda this evening. Mr Rankin told the assembled group that he was delighted to be in Bermuda and looked forward to working with them in the best interests of all Bermudians. The new Governor will be sworn in at a ceremony in the Town of St George at 11am tomorrow.
2016. September 19. John Rankin, the former British Ambassador to Nepal, has been named the next Governor of Bermuda, filling the post left by George Fergusson in August. According to a Government House spokeswoman, Acting Governor Ginny Ferson will continue to hold the post until December, when Mr Rankin is expected to arrive on the island. In a statement, Mr Rankin said: "I very much look forward to taking up the role of Governor and working in partnership with the elected Government in the interests of the people of Bermuda. Bermuda has a well-deserved reputation as a vibrant place to do business and an attractive place to live or to visit. That vibrancy will be all the more evident as we approach the America's Cup next year and Bermuda has the opportunity to showcase itself to the full on the world stage" Mr Rankin joined the Foreign Commonwealth Office in 1988 as a legal adviser, working in both Britain and Geneva and assisting with the Northern Ireland peace process. He later served as the British High Commissioner to Sri Lanka and the Maldives, Consul-General in Boston and Head of the America's Directorate. In his most recent post, Mr Rankin served as the Head of Mission of the British Embassy in Katmandu, which was rocked with a 7.8 earthquake just six days after he arrived in April last year — something he later described as a "baptism by fire". Speaking to The Telegraph about the disaster, Mr Rankin said: "I think first of all you saw some buildings intact and some places where the walls had fallen down and you saw the damage, but the initial thing was seeing people. Seeing people in a confused condition, people standing there not really knowing what had happened, people trying to get themselves to open ground. When you do see what has happened to some people — the fact that I was in a retrofitted building, the fact that I have got a security team to assist puts us in a position where hopefully it means we can help people. But I can appreciate how terrifying it must have been for people who were in a more exposed situation." In the wake of the disaster, more than 150 British and Commonwealth citizens flocked to the embassy grounds, with many being given shelter in tents. The lawn later became temporary home for British medics and firefighters who traveled to Nepal to assist with recovery efforts. Prior to joining the FCO, Mr Rankin practised as a solicitor in Scotland and was a lecturer in public law at the University of Aberdeen. Michael Dunkley, the Premier, welcomed Mr Rankin's appointment, stating: "We are pleased to see that the FCO process of appointing a Governor for Bermuda has been completed. We note Mr Rankin's wide range of expertise, which we consider could be an asset to Bermuda's growth in the next few years."
2016. August 3. George Fergusson, Governor from 2012 to early August 2016 bade farewell to the island after a ceremony in Dockyard. Deputy Governor Ginny Ferson will serve as acting governor until a permanent replacement is announced. Mr Fergusson was assaulted in Hammersmith, London, during the evening of April 20, 2012 before his arrival in Bermuda and was hospitalized. He lost the sight of his left eye resulting from the attack. His wife is Margaret. The married father-of-three was walking in Margravine Cemetery, close to The Queen's Club – the tennis club whose members include the Duchess of Cambridge, when he was attacked. It is understood he was late for a dinner party where his wife Margaret was waiting, when he took a short cut through the cemetery. He was allegedly punched to the ground after getting out his BlackBerry mobile phone to check the address of his hosts. Scotland Yard said a "small quantity" of cash was taken and, at this early stage, officers were satisfied that robbery was the only motive. They have yet to make any arrests and say inquires are continuing. The robber was black, aged between 25 and 35, and around 5ft 10 ins. He was wearing a dark hooded top and dark glasses. Mr Fergusson, who was educated at Eton and Magdalen College, Oxford, managed to keep hold of his mobile phone and after the incident, called his wife to tell him he was going to be late before walking to Charing Cross hospital for help. Previously a former British High Commissioner to New Zealand and Samoa, Mr Fergusson, of Lambeth, London until his move to Bermuda, has also worked in the Soviet Department, which became the Eastern Department of the Foreign Office after the collapse of Communist Russia, and in London. Mr Fergusson, whose wife works for the British Council, also spent four years as Consul-General in Boston before being seconded in 2003 to the UK Cabinet Office as head of the foreign policy team. His career as a diplomat has also included time in Northern Ireland, Ireland, South Korea and the Pitcairn Islands. His father, Baron Ballantrae, was the last British-born Governor-General of New Zealand and served in that role between 1962 and 1967. Mr Fergusson was born abroad while his father served abroad as a senior soldier. His grandfather had also been governor-general of New Zealand and two of his great grandfathers were its governors when it was a colony. According to the Daily Mail newspaper in the UK, his family history has been plagued by tragedy: his mother was killed when winds blew a tree onto her car, his father died from a stroke and his 20-year-old son Alexander died after being hit by a taxi while pushing his bicycle across a bus lane. One of his middle names is Raukawa, a Maori word in recognition of the family's long association with the country.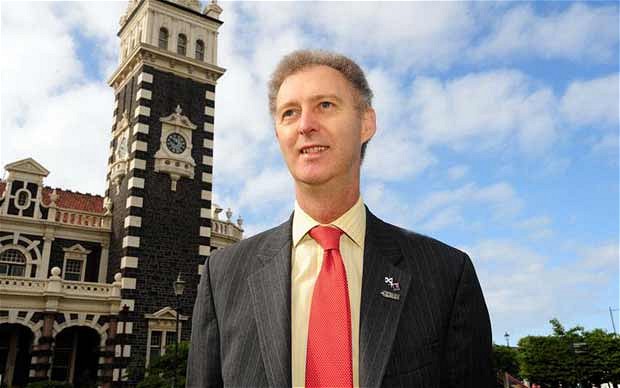 Governor from May 2012, George Fergusson, photographed in London before his departure to Bermuda
The Governor of Bermuda from December 2007 to May 2012 was career diplomat Sir Richard Gozney, former British High Commissioner in Nigeria.
His Excellency the Governor has his own Flag of Office. It is a Union Jack but in its center it has the Bermuda arms on a white disc encircled by a green garland. Uniforms for the Governor are made in London by Davies & Sons. They include a full dress blue and tropical cotton drill. It is based on old British military Field Marshals, with a white pith helmet with dyed scarlet swan's feathers plumage and Mameluke sword by Wilkinson Sword. The price of about $10,000 is met by the British Government. The official car used by the Governor features a crown instead of a license plate, with extra large width, length and horsepower by Bermuda standards and the Governor's Flag.
The main challenge for a Bermuda Governor is to balance two sometimes contradictory functions. First, he is the primary source of information from Bermuda to the Foreign and Commonwealth Office on the state of affairs in Bermuda. Second, he is the voice of the United Kingdom and the Foreign and Commonwealth Office for advising Bermudians what they can and cannot do under British/United Kingdom laws. The salaries of the Governor, Deputy Governor and their staff are paid by Bermuda's taxpayers, NOT the British Government. Bermuda, despite its tiny size, is wealthy enough not to need the support from the United Kingdom some other overseas territories get.
2015. December 23. Deputy Governor Ginny Ferson will be away from Bermuda between February and May of next year as she undertakes a special assignment for the St Helena Government. While Mrs Ferson is in St Helena former Deputy Governor David Arkley will serve as acting Deputy Governor. A statement released by Government House today said: "Government House has announced that Deputy Governor Ginny Ferson has been asked to undertake a special assignment to assist the St Helena Government with implementation of the recommendations of the Wass Inquiry. "She is expected to be in St Helena from February to May 2016. In her absence, former Deputy Governor David Arkley will be Acting Deputy Governor."
2013. December 13. Bermuda's first female Deputy Governor was sworn in at a ceremony at Government House. A career diplomat, Mrs. Ginny Ferson has previously worked in Mauritius, Luxembourg, South Korea and Pakistan during her more-than 25 years with the Diplomatic Service. She replaces David Arkley. A mother of two, Mrs. Ferson served as Deputy Governor of Pitcairn while she was simultaneously First Secretary at the British High Commission in Wellington, New Zealand and then British Consul-General in Auckland, New Zealand. The duties of the Deputy Governor include being an ex-officio notary public who can perform or notarize anything on behalf of the Bermuda Government but may not receive a fee for this service. Contact details are Deputy Governor's Office, Government House, 11 Langton Hill, Pembroke, Hamilton. Phone 441 292-3600. Fax 441 295-3823
The Governor and Deputy Governor have direct access to security advice in Washington DC and London from senior British representatives.
One of the functions of the British Governor is to read the Throne Speech. In Britain, the Queen reads the speech and in British Commonwealth countries, Governors or Governors General do.
The Aide-de-Camp (ADC) to the Governor is a Bermuda Regiment officer. He used to be a British Army officer on a secondment of about 2 years but this was stopped after both the Governor and his ADC - Captain Hugh Sayers, Welsh Guards - were assassinated in March 1973 while walking in the grounds of Government House. The ADC is the equivalent of an Equerry in the UK.
By appointment, Bermudians awarded New Year or Queen's Birthday Honors may elect to receive their awards from His Excellency the Governor at Government House in Bermuda instead of going to Buckingham Palace in London.
Bermuda is externally an overseas territory of the United Kingdom and is administered by the British Government in the UK, via the Foreign & Commonwealth Office. But it has been self-governing for centuries. (It makes all its own local laws). When a private residence, it was known as Mount Langton. The huge property, the size of a large English mansion, in early Victorian architectural style and with by far the largest amount of acreage - more than 210 acres - of any dwelling house or commercial property in Bermuda, was originally much smaller. Completed in 1892 as Government House, it was designed by the Scottish architect William Hay. He was staying at the time in Bermuda with his sister and Bermudian brother in law. His prominent Edinburgh based architectural firm also designed the Bermuda (Anglican) Cathedral of the Most Holy Trinity in the City of Hamilton.
In 1999, the Ministry of Works and Engineering of the Bermuda Government undertook such complete internal and external renovations that the Governor had to move, for many months. The Government got rid of some tenants who were not paying rent - bees. Hundreds of pounds of honey were discovered on the second level of the house. Wiring, plumbing and windows galore were replaced in the huge structure.
An Olympic-size swimming pool is at the back of the mansion. The surrounding gardens, 33 acres, are normally closed completely to the public and open only on special occasions. It is because of a 1973 double assassination in Bermuda, on March 10, of Bermuda Governor Sir Richard Sharples and his aide Captain Hugh Sayers, at Government House while walking a dog. (It was only a year after Bermuda's British Commissioner of Police was also assassinated, again by Black Cadre thugs). They were buried in the graveyard at St. Peter's Church in St. George's. A State of Emergency was called and Scotland Yard detectives were summoned. Later, the killer was tried and executed. The execution caused mass riots, strikes, malicious damage and injuries to policemen. (Much later, the Sharples family came to live in Bermuda, for UK tax avoidance purposes).
In 1940, the Duke and Duchess of Windsor stayed here for a week before a Canadian Ladyboat left Hamilton to take the Duke as Governor of the Bahamas. On special occasions, visitors see stately rooms with collections of furniture and paintings, some on loan, and a rare opportunity to see the Queen's Apartments occupied on several occasions by Her Majesty Queen Elizabeth II, The Duke of Edinburgh, His Royal Highness Prince Charles, Her Royal Highness the Princess Royal (she stayed for three nights in October 1999) and other visiting VIPs. Her Royal Highness the late Princess Margaret also stayed here several times, the first when she presented the newly-formed Bermuda Regiment with its Colours in 1965. Her Royal Highness the Duchess of Gloucester, born in Odense, Denmark on June 20 1946, visited Bermuda and stayed here in mid-March 2003. Her husband is HRH Prince William of Gloucester, a first cousin of the Queen.
The attractive garden is the site of the Garden Party hosted by the Governor every Queen's Birthday public holiday in June. The more than 300 trees at Government House are a living tapestry of historical events, offering an unlikely insight into periods of political upheaval and change. Two palms, planted by President John F. Kennedy and Prime Minister Harold Macmillan during their visit in 1961, recall the dangers of the Cold War and the impending Cuban Missile Crisis while a sturdy Bermuda cedar planted by Sir Winston Churchill commemorates his wartime visit in 1942 to thank Bermudians for supporting the establishment of American bases on the island. Committed to a reforestation programme, Lady Vereker has overseen the planting of hundreds of cedar, palmetto, Bermuda olivewood, palms, snowberry and southern hackberry over the last five years. The gardens and their adjacent endemic and native forests are home to a large number of birds and monarch butterflies. A year after she and Sir John arrived in Bermuda, more than 900 trees and shrubs were lost in Hurricane Fabian. They included many shrubs, just about every citrus tree, the entire banana plantation and hundreds of Chinese palms, fiddlewood, spice trees, all the frangipani, most rose bushes, young cedars and all that was anywhere near a casuarina. Some 60 trees were propped up in an effort to save them. But Fabian also helped remove the invasive casuarinas lining the North Shore boundary, that up to that point had been encroaching on the endemic trees. A mango tree planted by the future George V in 1880 remained unscathed, as did over 200 trees planted by distinguished guests including a cedar planted by Churchill's daughter Lady Soames in 2003 to commemorate the 50th anniversary of the Churchill, Eisenhower and Laniel Summit: There was no shortage of guests after Fabian to contribute to the replanting effort with Prince Edward planting a Bermuda olivewood, as well as former British Cabinet Minister Lord Heseltine, who planted a calabash tree. Other trees include two Bermuda palmettos planted by Prime Minister Tony Blair and his wife in the palm grove. While clearing invasive species, staff uncovered several treasures, including a hooded and smiling bronze monk's face set into a stone wall in a charming stone quarry garden. Featuring Bermuda limestone, several of these walled gardens have since been discovered, including a "secret" citrus grove. Lady Vereker points to a palm planted by Emperor Haile Selassie of Ethiopia and says she opens the garden by appointment to Rastafarians who wish to worship at this tree. A stone bench has been placed in the spot for precisely this. Various organizations also have connections to Government House and its gardens, including the Bermuda Girl Guides who hold camps on the grounds every year and recently buried a time capsule near the slat house. The Audubon Society, who helped replant more than 80 trees to mark the 50th anniversary of the society, also help maintain the bluebird trail in the grounds. The society also hosts bluebird workshops on the grounds every year: "It has become a yearly tradition. Whole families come and make bluebird boxes. Every year we produce about 60 to 80 new boxes and the children have the opportunity to see lots of bluebirds." In addition to bluebirds, cardinals, chicks-of-the-village, European goldfinches and warblers all visit the gardens. A night heron makes itself at home near the swimming pool. Plans are afoot to renovate the stables and use them as a venue for horticultural workshops for the Department of Parks and their staff.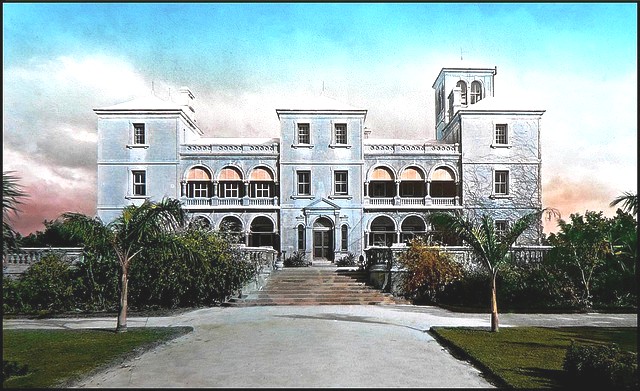 Government House, 1930s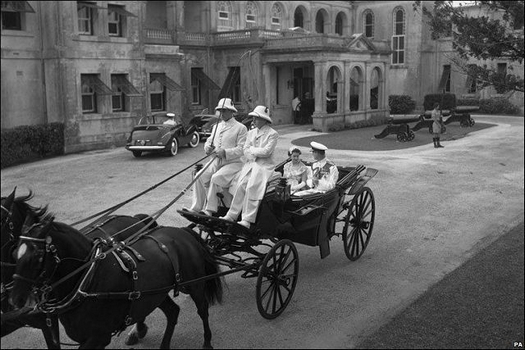 Government House 1953, with the Queen and Duke of Edinburgh staying there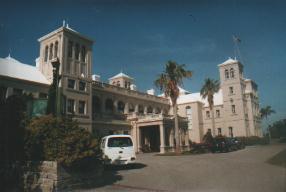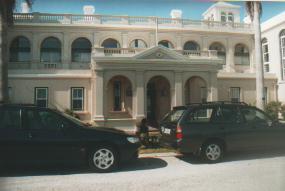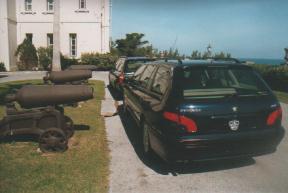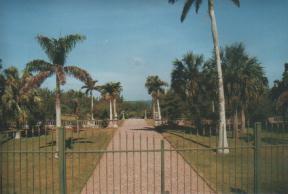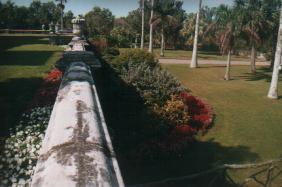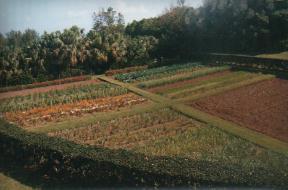 Photographs taken exclusively for Bermuda Online by author Keith Archibald Forbes
Hamilton Princess Hotel
Also see under Accommodation.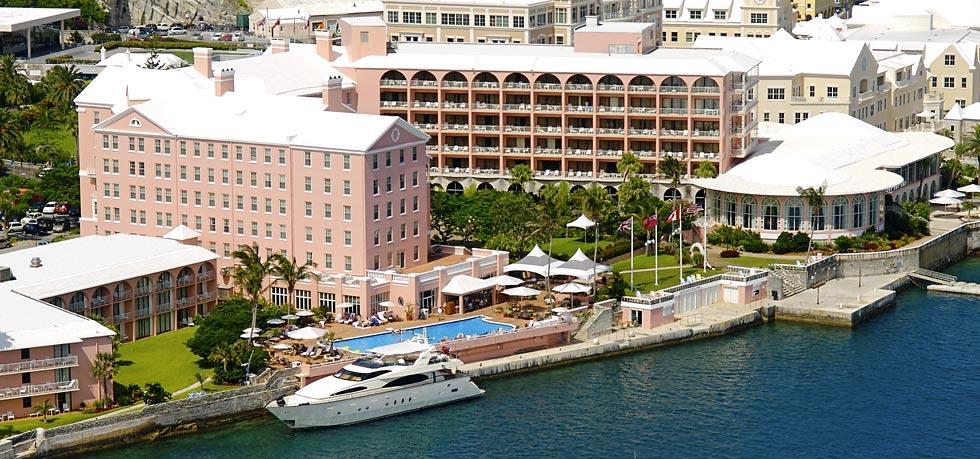 Fairmont Hamilton Princess Hotel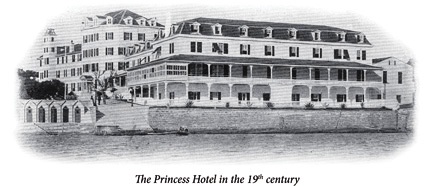 Bermuda's oldest hotel, more glamorous now than in its late19th century days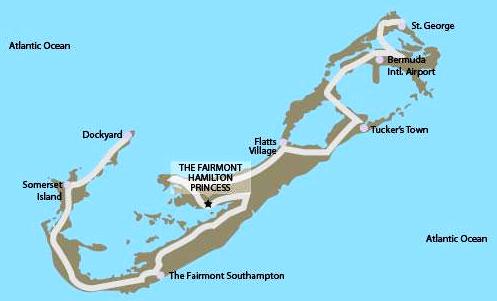 76 Pitt's Bay Road, Pembroke, Hamilton, Bermuda HM 08. Phone (441) 295-3000. Fax (441) 295-1914. Toll Free in USA (866) 540-4447. Mailing address P. O Box HM 837, Hamilton HM CX, Bermuda. Sometimes referred to as the Pembroke Princess. Owned by the Green family of Bermuda (see below). On the waterfront of Pembroke Parish. On the outskirts of the City of Hamilton. 410 rooms, licensed for 1000 guests. It is also the most important convention center near Bermuda's capital city. Sixty percent of hotel guests are in conventions, most of which are organized by US-based corporations, with all convention expenses paid for by US taxpayers. This historic hotel is the oldest in Bermuda, a landmark.
It first opened on January 1,1885, shortly after the successful opening of the Hamilton Hotel (destroyed by fire in the 1950s), Bermuda's first big hotel. It began life as the Pembroke Hotel. Harley Trott, a leading businessman of the time, saw opportunity and had the new hotel built to provide a winter haven. The hotel opened two years after Her Royal Highness Princess Louise Caroline Alberta, Duchess of Argyle, fourth daughter of Queen Victoria, visited Bermuda and called it "a place of eternal spring." Married in 1871, her husband was the Marquis of Lorne from Scotland (later the 9th Duke of Argyle) and Governor General of Canada. The hotel was-re named "The Princess" in her honour. She became a frequent visitor in the 1880s, to escape the cold of Canada. She was Bermuda's first official tourist of Royal blood and an accomplished artist in water colors and oils. Because of her appreciation of the military, the Guard of Honor it provided for her wedding and the artwork she did for it, one of Scotland's most famous British Army units to serve in Bermuda, The Argyllshire Regiment, was renamed to honor her. It carried her insignia for many years in its own - and served in Bermuda for two years under the name in the late 1920s - before it became The Argyllshire Highlanders.
The hotel quickly became a beacon to travelers and saw Bermuda go from a winter destination for wealthy New Yorkers who arrived by steamship to a spring break capital for east coast college students to a destination for discerning travelers. Later, the hotel had many connections with Mark Twain, a frequent visitor there and who made a point of getting all his friends from the USA to stay there if he could not put them up himself in his Bermuda home. From the day it opened, hotel became part of the fabric of the Bermuda community. It was when Bermuda's nascent tourism season was winter, when guests arrived by steamship from New York and stayed on the island for months, when horses and buggies transported passengers along dusty roads. Over the years it had its fair share of celebrities, including Mark Twain who was known to recite poetry while smoking a cigar on the veranda. The hotel has played a leading role in both Bermuda tourism and the Bermuda economy.
It became affectionately known as "The Pink Palace" because of its architecture. The original hotel was an all wooden structure. One of the original focal points was a beautiful sweeping veranda that came right up to the harbour. Patrons loved to sun themselves on lounge chairs on this veranda, wrapped in their fur coats, as it was a winter destination. Afternoon tea was also served on the veranda and the ladies would appear in their best dresses. Over the ensuing years it had some very distinguished patrons including author Mark Twain whose bronze statue now sits in the lobby, and Frances Hodgson Burnett author of 'The Secret Garden', and much later, Robert Kennedy and singer Michael Jackson. Many guests houses also sprang up in Hamilton and elsewhere. Bermuda's winter tourism trade began to create its own special niche, the envy of many other small Atlantic and Caribbean islands. A Canadian organization owns her art in Canada and lent them to Bermuda for a 1998 exhibition.
Most visitors do not know that this hotel was the international headquarters during World War II for a considerable number of male and female British censors who invariably paid very considerable attention to and often impounded mail going between Germany and the United States. They acted in complete accord with the FBI and other organizations on the mainland. Sadly, their quarters at this hotel have been shuttered up. (They could be made into a unique attraction for visitors and residents). The hotel played an integral role in World War Two as a covert agent for the Allied Forces fighting against tyranny and oppression on the war's many fronts. It denied the Germans both knowledge and information. Charged with "defensive" censorship, 880 "examiners" - mostly British but with American personnel too - read commercial and personal mail, packages and pouches that were sent across the Atlantic to and from Europe and Nazi Germany in order to delete any potentially harmful information.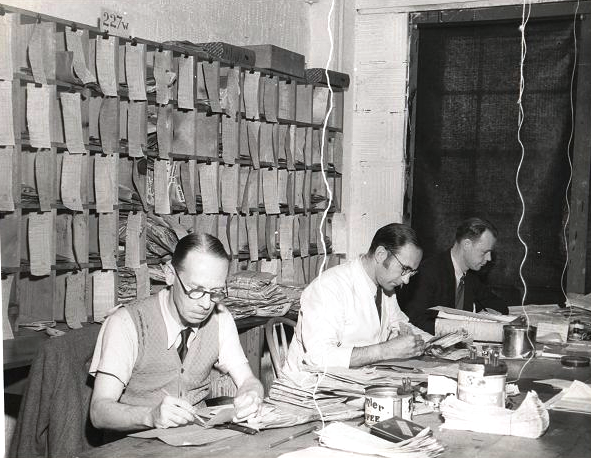 British censors at work at the hotel until 1944
The operation was essentially the filter through which all correspondence in the Western hemisphere was inspected. To the average person during World War Two, censorship during times of war was a routine activity. It didn't generate much interest. And that's exactly how British Intelligence authorities wanted it to look because behind the walls of 13 rooms within the hotel, top secret sleuthing, a la James Bond, was taking place. Even the majority of the "examiners" didn't know what went on behind closed doors. Under the leadership of British Intelligence officer William Stephenson, a Canadian some say was one of the real-life inspirations for the literary and movie super-spy James Bond, the co-ordination of the secret "offensive" censorship took place in the 1940s. According to an article entitled The Princess Spies (it's possible, perhaps even likely, the Hamilton Princess Hotel has a copy, given its involvement. If so, it might be available there for inspection), written by CIA officer Thomas F. Troy, who died in 2008, espionage experts used technologically-advanced techniques to break into letters and packages in order to produce and plant "forgeries useful in propaganda and blackmail operations." The group of experts could obtain the contents of any package leaving no trace of their tampering. Using innovative techniques for the time they could even extract a letter from an envelope without cutting, steaming or replacing it with a forged replica. Their work proved to be so useful to the combined efforts of the war that Sir William called the censorship initiative "a political weapon of very special importance . . . credit to all concerned." The hotel has many other fascinating connections to the legacy of James Bond and to victory of the Allied Forces in World War two
Since 2016 this resort hotel has its own private beach, the Princess Beach Club. It was completed in 2016 on the site of the old Sonesta Beach Hotel and is served by a shuttle bus.
2019. May 6. Bermuda's Green family - owners of this hotel since 2012 - acquired Sugar Beach, a luxury resort on the Caribbean island of St Lucia. Alexander Green announced the purchase on Instagram. A spokesperson for the Green family said: "We can confirm that the Green family has recently finalized the purchase of five-star resort in St Lucia, Sugar Beach, a Viceroy Resort. They are pleased to be in the process of expanding their portfolio, investing at home in Bermuda, with the recent purchase and development of Point House, and expanding abroad with luxury acquisitions such as this one." Sugar Beach sits on more than 100 acres of rainforest on the site of an 18th-century sugar plantation in the town of Soufriere, on St Lucia's west coast. Views are of the Caribbean Sea, and the Unesco World Heritage-listed Val des Pitons, twin volcanic mountains on either side of Jalousie Bay. Resort amenities include plunge pools in every room, butler service and 24-hour in-room dining. The Green family's property portfolio includes Hamilton Princess and Beach Club, the Point House office building on Hamilton's waterfront as well as the Overbay and Waterloo House developments. The Greens purchased the Princess from Global Hospitality Investments in 2012, and embarked on a three-year, $100 million renovation that included a new marina, two additional restaurants, new spa and pool facilities, a revamped retail corridor, renovated rooms, and an original art collection that includes works by Andy Warhol, Banksy and Damien Hurst. Last month, the Greens announced the purchase of the HSBC building on the Hamilton waterfront. Re-named Point House, the 80,000 square foot property is to be re-designed and renovated with a target completion date of December 2020.
2017. September 29. The Bermuda Casino Gaming Commission has announced the awarding of a provisional casino gaming licence to Hamilton Princess Casino Limited. The integrated resort casino was proposed for the Hamilton Princess & Beach Club on Pitts Bay Road in Hamilton. A statement follows: "On September 22, 2017, the Hamilton Princess Casino Limited presented its plans at a public presentation held at the Bermuda Underwater Exploration Institute for a 9,500 square foot casino, including 14 gaming tables, nearly 200 slot machines and one automated roulette table to be housed in the space now occupied by the Harbourview ballroom. Bermuda's legislation provides that within 30 days of the hearing, or such extended period, the Commission must notify the Hamilton Princess Casino Limited, in writing, of its decision. The Order granting the provisional licence was made on Thursday, September 28, 2017. The next stage of the licensing process is the Suitability Phase, where all relevant entities and individuals are subjected to rigorous background investigations to address
2017. August 11. The proposed casino at the Hamilton Princess & Beach Club will feature 17 gaming tables and 200 slot machines, according to international casino entertainment company Century Casinos. An automated roulette machine will be on the main floor of the development, with a total of about 12,000 square feet of gaming space also including a "high limit area" and private room. The details were outlined in a press release announcing that Century Casinos had submitted a licence application for the casino jointly with hotel owner Hamilton Properties Limited. "The casino with approximately 12,000 square feet of gaming space will feature 17 gaming tables, 200 slot machines and an automated roulette machine on its main casino floor, high limit area and salon privé," it said. The Bermuda Casino Gaming Commission announced last month that the Hamilton Princess made an application to become the island's first integrated casino resort and that the hotel will make its presentation to the commission in a public meeting in September. The release from Century Casinos added that it had entered a long-term management agreement with Hamilton Properties Limited through its Austrian subsidiary Century Casinos Europe GmBH. "Pursuant to the management agreement, CCE assisted with the licence application and would manage the operations of the casino, should a licence be awarded. In addition, CCE would also provide loan funding in the amount of $5 million for casino equipment." The Hamilton Princess was named a "designated site" last year, making it eligible to apply for a casino licence. And earlier this year, legislators approved the casino licensing application process, with the first window for applications opening in April. "The next step will be a hearing of the application on September 22. This second stage may end with the award of a provisional casino licence by the commission," the press release added. "The third stage of the application process will be the suitability stage. Only at the conclusion of this final stage will a casino licence be granted, permitting the offering of gaming to the public, subject to the final approval of the commission to open and operate the casino."
2017. July 24. The Hamilton Princess Hotel & Beach Club has made a play to become Bermuda's first integrated casino resort. And the Bermuda Casino Gaming Commission has announced that the hotel will make it's presentation to the commission in a public meeting in September. Alan Dunch, chairman of the Bermuda Casino Gaming Commission, confirmed yesterday that the hotel had submitted a "substantially completed" application for a casino facility. "The application provides the detailed plans to develop a casino within the Hamilton Princess and Beach Club," a release issued from the BCGC said. Mr Dunch called the application a "landmark event. We feel that this is an important step towards realizing the public policy goals of the Casino Act, by increasing employment and investment in Bermuda, as well as enhancing the tourism product. I also want to thank the staff of the BCGC and the Princess for working the many long hours necessary to get us to this point." The statement described the application as "fully funded", noting that the project will be presented to the BCGC for approval at 2pm on September 22 at the Bermuda Underwater Exploration Institute, with the public able to attend. Further details about the casino presentation are expected to be released at a later date. The casino licencing application process was approved by legislators earlier this year, despite concerns that the price tag for a licence was too high, with the first "window" for applications opening in April. Under the Bermuda Casino Gaming Act 2014, the commission can approve up to three provisional casino licences, in addition to the provisional licence granted to the developer of the St Regis hotel project in St George's. According to the application process, a $600,000 application fee must accompany all applications, while a $1.4 million provisional licence issue fee is payable by applicants awarded a provisional licence. Those making it through to the final stage will then be subjected to a further $1 million casino licence issue fee. The Hamilton Princess last year became one of the first resort properties to be named a "designated site", making it eligible to apply for a casino licence. It was revealed earlier that this year both the Fairmont Southampton and the Morgan's Point hotel had applied for site designation.
2017. June 6. Comparatively safe, quiet and easy to drive — they're the "unique" new way for visitors to get about Bermuda. Renault Twizy, the all-electric minicars, were officially on the road as of yesterday, and available for rent at Current Vehicles, a new company stationed at the Hamilton Princess. The business hopes to expand and offer Twizys at the Fairmont Southampton and an East End hotel, CEO of Current Vehicles, Piers Carr, said at a press conference. Mr Carr described the micro cars as "fully electric" and able to hold two passengers at a time. The Twizy is easy to drive and nearly soundless, he said, providing tourists with a "unique driving experience" on the island. He said that he was inspired to start the project while working during summer renting scooters to tourists and spotted a need for an alternative. "Tourism is increasing and there's a great outlook; we need a transportation option to match," he said. Designed by the Renault Sport Formula One Team, a division of Renault that designs and builds optimized engines, the micro cars are billed as a safe, independent driving option for visiting tourists. They bring "the stability of four wheels and operate like a car", Mr Carr continued. Prices for renting are varied, however Mr Carr stated that it is $85 to rent one for a day, adding: "Weekdays are less than weekends; winter is less than summer." For bookings and more information, go to currentvehicles.com
2017. May 2. Bermuda's first electric micro-cars were yesterday unveiled at the Hamilton Princess. The hotel will be the first on the island to offer its guests the French two-seater Renault Twizy as an alternative to the traditional scooter. A total of 25 cars will be available at the Princess, supplied by new company Current Vehicles, which has also supplied Twizys to the Groupama Team France America's Cup team. Allan Federer, general manager of the Hamilton Princess and Beach Club, said: "We are thrilled to be able to offer this new amenity. "Our aim is to provide our guests with the best amenities possible during their stay on the island. However, transportation has been a challenge for those who are not comfortable riding a scooter. Twizy allows all of our guests to explore the island on their own. We think it is a superb addition to the hotel and to Bermuda." John-Paul Doughty, director of operations at Current Vehicles, added: "We are excited to offer visitors the safest, greenest, and most enjoyable way to travel around Bermuda. These vehicles are safe and accessible and a good choice for those who are not comfortable on a scooter, but still want the freedom to explore the island on their own itinerary. And they are a lot of fun to drive." The cars, which boast seatbelts, an airbag and side impact protection, can be booked online and Current Vehicles have installed charging stations at the Princess and Beach Club.
2016. June 30. The Hamilton Princess completed its $100 million renovation project, including a new spa set to open on July 5. Allan Federer, general manager at the hotel, said: "It looks like a completely new hotel compared to three years ago. The vision always has been to take full advantage of where we are located, next to the beautiful harbour, and to create a luxury destination that will compete with many leading resorts around the globe. To that end, the renovations have been a great success. We are proud of our new modern look and outstanding facilities. As the official hotel sponsor of the America's Cup, we know that the coming year will be an important time for Bermuda tourism and we look forward to welcoming business and leisure travelers as well as the community to enjoy their time here." The final stage of the renovations includes the new Exhale spa, which will feature nine treatment rooms and offer massages, facials, manicures and pedicures when it opens next month. The project also shows a new, brighter retail corridor with upscale shopping options including FH Boutique and RESORT Boutique, Astwood Dickinson, the official America's Cup store and the Sunglass Shop. Meanwhile, a new balcony has been installed for the Trudeau Ballroom, offering those who rent the space a 2,000 square foot outdoor terrace, and 11 suites in the Fairmont Gold wing have been renovated to include balconies overlooking the harbour. Previous stages of the three-year project have included renovated rooms, a new marina, two additional restaurants, new pool facilities and a collection of art, including works by Andy Warhol, Banksy and Damien Hurst. Mr Federer said that the guests had been excited by the new facilities, saying that the new guest rooms were long overdue. "We are getting happy feedback," he said, adding that the hotel is hoping to attract a new generation of return visitors. Michael Fahy, the Minister of Tourism, Transport and Municipalities, praised the Green family, who own the hotel, for their commitment to the project and the island, noting that the work was announced before Bermuda secured the America's Cup. "All you need to do is look around the fantastic facilities to see that their vision has become a success," he said. Asked about the recent announcement that the hotel had been named a "designated site" for potential casino development, Mr Federer said he looked forward to working with the Bermuda Casino Gaming Commission on the next steps. Sen Fahy, meanwhile, added that new legislation would be introduced to create a "prospective licence" system to assist hoteliers with integrated casino projects. "That is coming and no doubt that will assist the Hamilton Princess and others as they proceed," he said.
2012. The hotel was bought by the Green family from Bermuda - father Peter and sons Andrew and Alexander..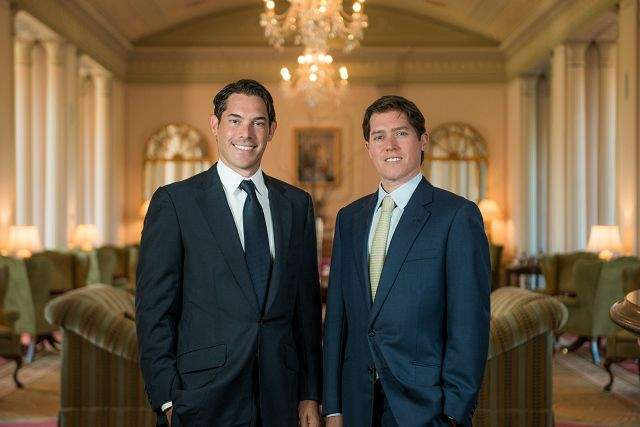 Green sons, hotel owners. Royal Gazette photo
The Green's have pledged to invest $50 million to enhance the property in order to further strengthen its position as one of the island's greatest tourism assets. The renovation plans include building a marina, upgrading rooms, redeveloping the hotel's public spaces including the pools, gardens and restaurant to increase the property's leisure credentials, while maintaining its existing appeal to business travelers. The marina will accommodate super yachts, a waterfront restaurant, revamped swimming pools - and maybe even a casino one day. The Bermuda Government has since granted the Greens millions of Bermuda dollars in tax breaks.

The Green family, via the company Hamilton Properties Ltd, also own Overbay and the Waterloo House development of luxury commercial and residential accommodations on Pitt's Bay Road. The Green family has a history of owning hotels and for a seven-year period beginning in 2004 they had a 25 percent stake in the Maybourne Group, which owns The Berkeley, Claridge's and The Connaught. Mr Green, the owner of Berco Limited, an investment company is a wealthy investor, born in Manchester, England. He is a Bermuda resident and long-time contributor to the UK's Labour party. His wife, the late Mary-Jean Mitchell who died in 1990 of cancer was the only child of Sir Harold Mitchell, then one of the world's wealthiest men, who arrived in Bermuda in 1947 with is wife Mary Pringle. He has a multimillion dollar home on Marshall's Island and married again, as a widower. His father was an entrepreneur in textiles and grocery stores that later became Tesco. He purchased the Fairmont Hamilton Princess from GHI with his sons, Alexander and Andrew Green, who are Bermudian.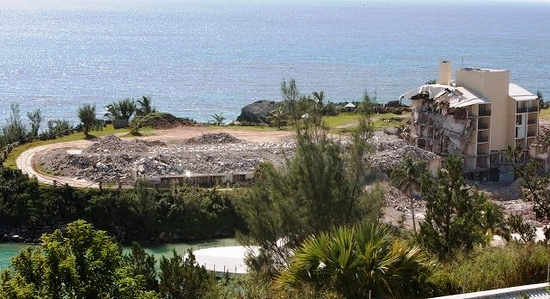 Above and below, the old former Sonesta Beach hotel site the Green family bought to create the beach for the Hamilton Princess hotel.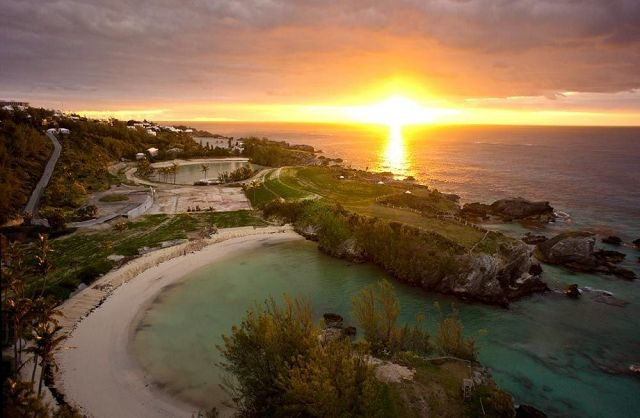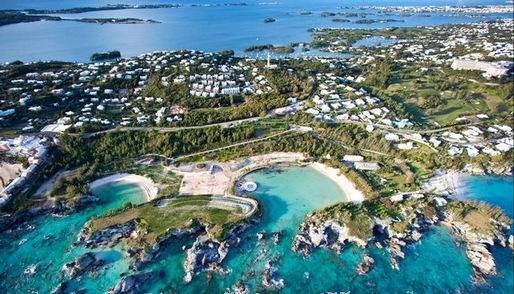 Former hotel site, Royal Gazette photos
Hamilton Princess Hotel Marina
Since 2013, following Bermuda Government approval for the Fairmont Hamilton Princess Hotel to lease a portion of Hamilton Harbour to build a 250 foot marina there, including space for any mega-yachts. The deal allows the foreshore to be leased for 120 years in 40-year increments. Government got an upfront payment of $500,000, followed by a rent of five percent of the marina's annual income for the first five years — and 7.5 percent for the remainder of the lease. It covers 7.8 acres of the foreshore.
House of the Azores, Casa Dos Acores
Portuguese charity near Admiralty House in Pembroke.
2019. November 4. The new House of the Azores was opened this afternoon. Premier David Burt and Vasco Cordeiro, the president of the Azores regional government and his delegation, unveiled a plaque at the Casa Dos Acores - House of the Azores - . Mr Burt said, "Since its founding in 2015, The House of the Azores Bermuda has worked to promote and preserve the heritage of the Azores in Bermuda. Bermudians of Azorean descent are connected to these two islands by the strongest of bonds - family. "This site and its conversion into a headquarters for this charity is an excellent example of how Government and community groups can work together for a common goal." Mr Burt added: "The House of the Azores may be dedicated to the preservation of Azorean culture but, like Bermuda's Portuguese community, they aim to support local charities that benefit all Bermudians regardless of their family background." He said his Government had pledge to "bring about greater understanding of racial relationships and diversity". Mr Burt added the Government had also used the 2018 operating plan for the civil service to help promote a Bermuda where "culture and historical legacy is valued, preserved and sustained." He said: "I am honoured to join President Cordeiro in opening this new building. This occasion reinforces the strong link we have determined to develop between our two islands and is an important step in the preservation of our shared cultural and historical legacy. Thank you."
Islands in the Parish
See The Islands of Bermuda for more information about all the islands. All are privately owned and with no public access unless shown otherwise.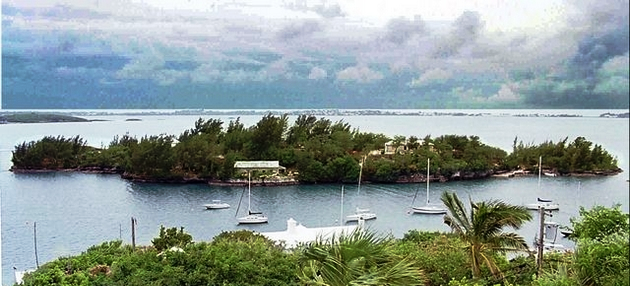 Agar's Island
Agar's. Originally 4 acres, is 200 yards by sea from the exclusive area of Point Shares, in Pembroke Parish. It has no public access. It can be seen from the Fairylands shoreline by cruise ship and ferry boat passengers. Once, it was owned and run by the British military. The British Army built Bermuda's largest gunpowder magazine on it in 1870, entirely underground. Bermuda's first aquarium was here in the 1920's, as the forerunner to the Bermuda Aquarium, Natural History Museum and Zoo in Hamilton Parish. The island has guest houses, a beach area, a swimming pool, tennis and squash courts and docks. Became privately owned by British author and multi-millionaire James Martin who wrote The Wired Society

.

He built a multi-million dollar development here, including an eye-catching atrium. It is

a dramatic new home amid the ruins of the 19th-century fort. The island's stone quarries became ponds. A 19th-century latrine became an orchid house. A formal garden was installed on the roof of the old gunpowder magazine. The pumping engines of an aquarium, destroyed in a hurricane in 1922, were recovered and turned into ornamental features.

Bird is off Fairylands.
Cat. Off Mill Shares.
Cave. North of Spanish Point.
Cobbler's. Also known as Cobler's. West of Spanish Point.
Goat. Fairylands Creek.
Goose. Off Fairylands and Mills Shares.
Lapstone. Off Spanish Point.
Mount. Off Spanish Point.
Mouse. Boss's Cove, Spanish Point.
Mowbray. Adjacent to Two Rock Passage.
Partridge. Off Agar's, off Spanish Point south.
Rushy. Off Spanish Point, Pembroke Parish.
Saltus is about 2 acres in Soncy Bay in Hamilton Harbor. It originally belonged to Richard Norwood, the great surveyor of Bermuda from 1616 and then his family. They lived on the Norwood property on the nearby Main Island. It got its present name from the Bermuda family of Saltus, in particular Samuel Saltus (1800 to 1880) who - with his brother William - was a merchant, ship owner, member of the colonial parliament and founder of the private school that still bears his name, even though the family of that time died out with Samuel. The island has no buildings on it. In 1819, Dr. Theodore Gilbert tried vainly to get local merchants and ship owners to build a small hospital for strangers and seamen on it. He was one of the first to realize that the terrible infections Bermuda used to have in the 19th century of cowpox, smallpox, bubonic plague, dengue fever, typhoid fever, yellow fever, all had different causes, namely fleas or rats or louse or mosquito or soiled clothing - and came from seamen on foreign ships.
Stipple. Near Goat, Mill Shares and Point Shares.
Tilley. North shore.
Jubilee Park
Parsons Road. Well off the typical tourism route but worth seeing. After the Transport Control Department on North Street, go east. From here, see stretches of view of the Pembroke Canal. Also with one space of parking for the disabled, children's playground and picnic area with benches. Originally opened to the public in 2002 to honour the Golden Jubilee of Queen Elizabeth II. In late 2007 it got a facelift from the Corporation of Hamilton which acquired it and created an area of recreation and relaxation just in time for the Christmas opening. The Corporation acquired the one-acre piece of property in 2002 and expanded the original park to just under two acres. The land had morphed into a dumping ground for bikes, old mechanical parts and shipping containers and the facelift means the rubbish has been removed and the pond and natural peat basin have been restored. Three-thousand cubic yards of mulch were taken from Marsh Folly to spread over the park, which is surrounded by fence to prevent illegal dumping. The whole park except for the pond was covered with three inches of soil for grassing. This is not a nature reserve, purely a park for the local neighbourhood where people can go and sit in a green setting. The Corporation has deepened the water in the pond and introduced guppies to control mosquito breeding, also adding water lilies to enhance the beauty and to give a sense of relaxation. The pond has a fence installed around it so that the area is safe for young children.
Mill's Creek
A Bermuda National Park. Number 25 on your Bermuda National Parks and Reserves map. After passing through an industrial area, be rewarded with some interesting marine views. Or access by a rented boat, to get the full beauty.
North Shore Road
Going east, this main road begins at Spanish Point, at the junction with St. John's Road almost adjacent to Admiralty House Park. Sea views of the North Shore are almost continuous. The # 4 bus route goes in the direction of the city of Hamilton (but not in reverse). If you're on the bus, and prefer to continue going east along the North Shore Road as far as you can go in Pembroke Parish, ask the driver to let you off at the junction of the North Shore Road and Langton Hill. If you don't, the bus will make a sharp right hand turn up Langton Hill and you'll be heading inland towards the city of Hamilton. If you get off at Langton Hill, walk the short way to the Black Watch Well, then turn right into Black Watch Pass. On the right hand side, you'll see the bus stop from where to catch the # 11 bus going east along the North Shore Road. See more coastal views and eventually cross the Pembroke Parish boundary line into Devonshire Parish just before the junction with Glebe Road on the right.
North Village
A high density neighborhood. It's uniqueness includes a soccer club, St. Monica's Church and famous North Village Band founded by local resident William F. Wilson. There is a North Village Trust.
Pembroke Canal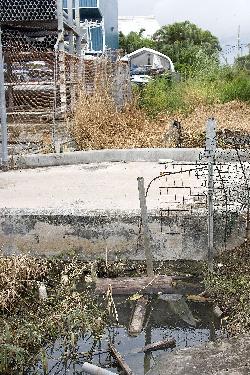 2016. September 3. Flood-prone Pembroke businesses are counting the cost after a persistent backlog of dirty water once again drowned a section of Cemetery Lane. "It's never been this bad," said Jennifer McCarron, of Animal and Garden House, surveying the days-old water in front of her shop. "This last couple of weeks, it floods as soon as it rains, and it just sits there for days. It's had a big impact on our business." Worse hit was the neighboring door and window outlet, Treecon, where trucks were grounded yesterday and customers couldn't get in. "We lost one of our older trucks the other day," said businessman Keith Rowntree: the vehicle had to be scrapped after water flooded its engine. "It's brackish water from the canal, too; it's got salt, so you wouldn't want to drive through it." The low-lying stretches along Pembroke Canal, which empties into the sea via Mill Creek, constantly fall victim to flooding — but both businesses said drainage recently had been particularly bad. A downpour on August 24 left standing water in the road for nearly a week, Ms McCarron said. Former MP for the area Wayne Perinchief said it would fall on affected businesses to "bite the bullet" and deal with it themselves. "The Government will not foot the bill because it runs through commercial and private areas," said Mr Perinchief, who is familiar with the problem going back decades. It's never been resolved. They've got to get their heads together and put in a pump over a one-way dam." Rainy weather kept the road under water yesterday, and the next month's autumnal high tides will also put drainage to the test.
2015. November 4. The 20 businesses and one residence on Mill Creek Road have formed a group to protest against a "lack of action" on the Pembroke Canal infrastructure. In a press release, the campaigners say the area continues to go into disrepair and causes serious, sometimes life-threatening, flooding. They claim the canal has not been able to properly drain the watershed. When the canal was built, they say, the marsh area reduced the intensity of the water flow and stored excess water when it rained. However, they say that since that time there has been a huge amount of development in Hamilton, in combination with infilling, which has increased the rate and volume of storm water runoff and significantly decreased the naturally occurring storage within the watershed. As a result, this causes heavy flooding throughout Hamilton, particularly on Bakery Lane, Dundonald Street, Bernard's Park, Woodlands Road and the BAA field area. In 2002, the Bermuda Government commissioned Canadian firm Associated Engineering to prepare the Mill Creek Flood Mitigation study, which resulted in a ten-point action plan. Residents say that only one of the recommendations has been undertaken: Government has built a floodbox and upgraded some of the dyke system at the mouth of Mill Creek. However, they allege this dyke system is deficient as a result of varying crest heights of the water, leaks and a lack of tie-in to the high ground. A great deal of work is still to be undertaken to upgrade the drainage system and pump station, they say. The Mill Creek Road businesses have been meeting with Government since 2002 including, most recently, with the Minister of Works and Engineering in July. They say he had promised a response within two weeks of the meeting with options and pricing. Another letter was sent to the Minister in mid-September restating the group's desire for communication on the matter, but they say no response has so far been received. As a result of the severe flooding, the businesses and residence say they have been impacted as follows:
• about 500 employees of the Mill Creek businesses cannot arrive or leave work due to flooding that can sometimes be three feet deep;
• cars require significantly more maintenance due to the engine damage from the flooding;
• each business is losing between $13,000 and $40,000 per day on flooding days;
• a disabled resident is confined to his home and cannot leave the area.
Ed Faries, on behalf of the Mill Creek Road businesses and residents, stated: "We have had enough. According to the Act, it is the minister's responsibility to upkeep the canal. The canal is suffering from a systemic lack of infrastructure upgrades. Many developments have been allowed over the past ten years such as the expansion of TCD and partial filling in of the canal on Woodlands Road. All of these add to the volume of water entering the canal that cannot escape at high tide. Our livelihoods and the family that lives here are suffering and we need the Government to take urgent action. One business has lost two engines on its truck and just last week, another truck lost its wheel bearings. We are concerned about the safety of our customers and employees when they try to use the road on flooding days. There are days they cannot get to work and there are days when they have to wait hours for the water to recede to go home. Someone is going to get hurt and it's a liability for our businesses. Our staff are scared to come to work or to leave work. They can't drive through deep water. Mill Creek Road needs an immediate solution. The road could be partially raised where needed about two to three feet as a first step. Government could dig a large water storage area to hold the water back until low tide or install a large pump system, as recommended in the ten-point plan. The drainage system needs to be rebuilt as part of a long-term solution to suit the development that has been allowed over the past ten or fifteen years. It is not just a Mill Creek Road issue. It is a serious engineering challenge that is now beyond urgent. The solutions have already been determined; they just need to be actioned."
Earlier Canal timeline
In 1837, Governor John Henry Lefroy persuaded the Bermuda Legislature to vote a sum of money for the drainage and improvement of the constantly flooding Pembroke March. From this eventually became the Pembroke Canal, built in the early 1930s to help maintain drainage and water flow from the Pembroke Marsh East basin to the ocean at Mill's Creek. A century ago, it was really picturesque, so much so that post cards of it were on sale to the public. It was a gorgeous, serene and wildlife as well as recreational area of the Parish, where people could fish in water that ran through the canal into Mills Creek and from there to the sea. When some local residents, now elderly, were growing up the bottom of the canal had white sand and they used to go fishing and swimming in there. But all the while, The Pembroke Canal water sat stagnant and was not flowing as it should via Mill Creek into the ocean.
In July, 1943, The Yankee Store, in the City of Hamilton, romanticized the Pembroke Marsh Canal by shooting a lovely colored photograph of it and published it as a postcard under the title "The Brook, Bermuda, No. 114." In this postcard, one of which is today in the Bermuda Archives Postcard Collection, the canal's shimmering blue waters reflect the spire of the Cathedral and are bordered by flowering shrubs. Considering the the infamous Pembroke Dump next to it today, this 1943 photo of the canal is a gorgeous representation of a serene, pastoral Bermuda during a time of war.
But industrial development from the 1950s, of the type most visitors do not see, polluted it badly. The canal changed as development grew and the Pembroke Dump was put in the area. Run-off from the roads which were now newly being heavily inundated with cars and trucks and contaminants leeching into the water from the dump turned the pristine canal into something reminiscent of a sewer line. The clear water turned to a slimy green and the white sands and abundant fish and wildlife in the area became a memory of youth grown old. Stagnant water became a breeding ground for mosquitoes and other diseases and, according to the World Health Organisation, pools of standing or slow-flowing water provide a breeding ground for many insects, including mosquitoes that can transmit diseases. These mosquitoes are known as vectors. Different species of mosquitoes transmit different diseases, and they will also breed in different types of water collections." Legionnaire's disease, a bacterial disease known to cause pneumonia, is a bug that has been found in ponds and is particularly attracted to bodies of warm, stagnant water such as in the Pembroke Canal. Many bacteria that live in stagnant water are anaerobic and produce different types of proteins on their surface (endo-toxins) which are a lot more dangerous for humans than aerobic bacterial proteins.
An initiative was begun in March 1999 under then Minister of the Environment Arthur Hodgson, but came to a standstill. But visitors can still see glimpses of the canal which stretches from Marsh Folly to Mills Creek. The canal was no longer pristine. In hot weather especially, odors from the canal were rife. Toxic leaching from the now-closed dump was taking an environmental toll, despite efforts by the Bermuda Electric Light Company Ltd on land it owns next to the canal, particularly since major expansion of the electricity plant.
In September 2008, frustrated residents and business owners expressed anger and concern concern after parts of the Pembroke Canal became completely clogged, creating a dramatic increase in mosquitoes as well as flooding the area every time it rains.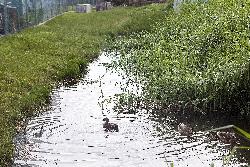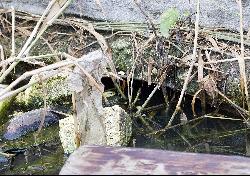 There is huge cause for concern regarding the Pembroke Canal and the potential for a mosquito-breeding explosion because the incidence of diseases appears to be increasing.

There are many reasons: people are developing resistance to anti-malarial drugs; mosquitoes are developing resistance to DDT, the major insecticide used; environmental changes are creating new breeding sites; and migration, climate change, and the creation of new habitats mean that fewer people build up natural immunity to these diseases.

The water backs up every time it rains because the canal is not flowing at all and every time it backs up it floods the yards of local homeowners. The Works & Engineering Ministry is responsible for canal maintenance. They've cleaned it up around the Transport Control Department and Bernard Park and down by BAA Field but they have not been out to areas most affecting residents. Many people used to go on nature walks and hike through here on the trail to follow the canal, but there's been no-one in many months.

In 2009 the Ministry of Works and Engineering commenced a canal and road improvement scheme at Woodlands Road. The works were successfully carried out over the summer months at a final contracted value of $1.1 million.

Further necessary work could see that figure increase by nearly $600,000. Both faces of the canal over a combined length of 500 feet were stabilized, providing adequate support for the adjacent Woodlands Road and BAA field. Most importantly, the area has been made safe for both pedestrians and motorists. The Ministry of Works and Engineering is also preparing detailed design drawings for the upgrade of the sluice gate at the Mill Creek outfall of the Pembroke Canal. This upgrade, when it eventually occurs, will more than double the volume of water that can be discharged during low tide and will improve the overall performance of the canal. The upgraded sluice gate work is estimated at $500,000. In the immediate future, however, the existing malfunctioning sluice gate will be replaced, thereby improving drainage from the canal at low tide.

Overall, this canal was neglected and choked with trash and vegetation for many years, resulting in almost no water flow or drainage function, but is now undergoing extensive clearing and removal of pollutants (including fuel oil from the Bermuda Electric Light Company B.E.L.C.O.). This will hopefully help to restore some of its drainage function and be beneficial to the water quality in the marsh.
There has also been some restoration of canals, open water ponds and marsh vegetation on the south and east sides of the former dump area. In July 2004, following recommendations for years from the Govt. Conservation Division and solid waste managers, an amphibious ditch digging machine was purchased by the Dept. of W&E to enable proper management of open water ditches in wetlands around Bermuda, in particular at Pembroke Marsh East. At this location it was intended to increase the amount of open water habitat and dig more ditches that will direct water flow through the areas of Cattail and Saw grass to enable them to help filter out remaining pollutants.
Pembroke Marsh and future Park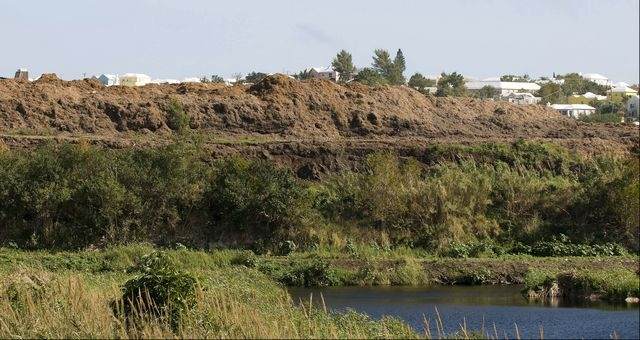 Pembroke Marsh

The 19-acre marsh is Bermuda's largest peat bog and an internationally-important wetland. Also a nature reserve. A naturalist or botanist will find this place interesting. See some unusual birds and other local fauna and fine specimens of endemic palms, shrubs and trees. On January 24, 1996, a Marsh Wren was seen, for the first time in Bermuda. It is north of the city, at the eastern end of Bernard Park and accessed via the eastern side of Dutton Avenue, off Palmetto Road. This is very close to the southern side of Black Watch Pass. Until three years ago, the infamous former Pembroke Dump nearby polluted it. The Pembroke Canal - see above - runs through the park/reserve. Pembroke march is important, not only as the largest remaining open water freshwater marsh, supporting resident and wintering water birds, but also as a sump and holding area for storm water runoff from the nearby City of Hamilton to prevent flash flooding and as a natural filter and settling pond for polluted leachate from the former dump. The marsh is to be restored as the first part of an area to be known as Pembroke Park. Spearheaded by the Department of Conservation Services and the Solid Waste Section, the Ministry of Public Works has embarked on a three-year phased programme to restore the marsh as not only a critical sanctuary for water birds and as beautiful green lung for local residents, but to improve its function as a natural water purifier for the adjacent composting facility and as a storm water sump to help reduce flooding of the Pembroke Canal downstream. The periphery of the marsh will be redesigned with new dykes and a sluice to better contain storm water and address occasional flooding caused by storm water runoff. These will be topped with a series of walking trails and foot bridges to allow public access around the marsh, but that will not disturb the wildlife. The interior of the marsh will be dredged of invasive plants to create islands which will be restored to their natural state with marsh-loving native and endemic plants. The Ministry would like to stress that all of these works will be constantly monitored for any possible harm to the environment. Phase one of the restoration began in early summer 2012, with work ongoing to clear the invasive plants clogging the shallow water areas of the marsh along the south, west and northern boundaries. The prison day release programme may eventually be used to boost the number of workers helping to clear the site before phase two, the infrastructure design, begins. This ambitious restoration project illustrates the Government's continued commitment to its pledge to preserve Bermuda's natural heritage for future generations; setting aside and improving threatened habitat for not only Bermuda's unique wildlife but also for the social well-being of residents.

Pembroke Marsh East used to be one of the richest wetland areas in Bermuda up until the early 1900s, being a good example of a deep peat-filled basin covered with a mature peat hammock forest dominated by Bermuda Cedar, Bermuda Palmetto Palm Sabal bermudana, Wax-myrtle Myrica cerifera and Cinnamon Fern Osmunda cinnamomoea. There were also some wetter parts of this marsh dominated by Cattail Typha sp. Much of this marsh began to be used as a site for dumping garbage and rubble from construction and excavation projects, initially from the City of Hamilton and Pembroke Parish but eventually from the whole island as other marsh dumpsites were either protected from dumping or filled in completely. The eastern two-thirds of this marsh basin was completely destroyed and buried under the main solid waste dumpsite for the entire island, a situation that continued until the early 1990s when this dumpsite was closed down and turned into a horticultural waste processing centre. The western third of this marsh basin, comprising 19.33 acres and making up the present Nature Reserve area, was never used for large-scale garbage dumping but was the site of a reclamation project in the 1920's and 1930's to make into horse-racing tracks. Thousands of tons of rubble fill were dumped into this area but as the depth of peat was so great at up to 90' (almost 30m) the weight of rubble caused the peat to compress and the whole area sunk below water level again. As this area is underlain by a large fresh water lens or layer, this eventually created Bermuda's largest fresh pond, surrounded by large areas of Cattail and Saw grass Cladium jamaicense. This area has suffered greatly from toxic leachate and run off from the dump which, although it has probably decreased since the closing of the solid waste dump, still continues to some extent from the thousands of tons of waste already present on site and entombed beneath rubble. The extent of pollution still occurring in the pond and marsh is unknown, although testing is planned for the near future. The last sampling carried out in the late 1990's confirmed that there was very little life in the pond at that time. In addition, there has been continued sporadic small, incremental dumping and infilling of the remaining marsh, particularly on the eastern side bordering the dump, but in 2003 on the west side bordering Dutton Avenue. Most of this illegal infilling was carried out by the Government Department of Works & Engineering, often because of poor communication between equipment operators and supervisors, and other communication problems between the relevant bodies. There has also been a small amount of illegal dumping by private trucking operators.

The area around Pembroke Marsh East is now the most heavily populated and developed on Bermuda, resulting in a large amount of rain water run off directly into the marsh from surrounding roads, car parks and industrial areas. This in all likelihood carries pollutants such as oils and fuels from normal sump drippings, fuel spills, incorrectly disposed of oil changes etc.
Pembroke Parish Council
Appointed under the Parish Councils Act 1971. See under "Parish Councils" in Bermuda Government Boards. Appointees are political and meetings are not open to the public, unlike in the United Kingdom, Canada and USA where parish or community councils always are.
Pig's Field Park
Bandroom Lane. In March 2009 the Bermuda Government completed the renovation of the park with an official opening in August 2009.

The park has been given a new walking track, new playground equipment and a new asphalt parking area. Renovation under the Ministry of the Environment's Community Areas Programme was the culmination of two years of discussion and fundraising with the North Village Trust Executive.
Pitt's Bay Road
This scenic waterfront road begins where the western boundary of the City of Hamilton ends, at the junction of the city's Front Street and Par-la-Ville Road. Front Street becomes Pitt's Bay Road here. It is named after the Pitt family whose descendents still live in Bermuda. Pitt's Bay is also so-named. Going west, first pass the site of the 120,000 square feet, 4 story, new world headquarters of the Bermuda based international in scope ACE Limited and another insurance organization, where the old Bermudiana Hotel used to be. Then see the small hotel Waterloo House on the left, the Bacardi building on your right, Princess Hotel on the left, other small accommodation properties like the Rosedon, Rosemont, Royal Palms and Oxford House nearby. From the western wall of the small hotel at Waterloo House to the eastern perimeter with the Princess Hotel, note the huge, more than $60 million development with 120,000 square feet of office space and 20,000 square feet of retail space. The famous global insurance and reinsurance company Zurich Re, the second largest in the world, is the single largest tenant. The west and north building complex is known as the Zurich Center. Continue further west and see the entrance to Fairylands on your left. At the roundabout, the road becomes St. John's Road, which leads to Spanish Point going west.
Point Shares
The westernmost and southern peninsula part of Fairylands. One of the two (Tucker's Town in St. George's Parish is the other) most exclusive and private coastal and overall most affluent areas in Bermuda. So-called from when it was purchased in 1643 by Solomon Middleton from William Berkeley. At that time and earlier, tracts of land were called shares by the 17th century Bermuda Company that controlled the affairs of the earliest colonists. Most people assume wrongly it is so-called because the point was much later bought by US Union General Russell Hastings, who saw service in the US Civil War and later sold building lots on the point, mostly to his friends. Nowadays, mostly multi-millionaires own the properties there, with outstanding views of the sea and islands.
Queen's Cove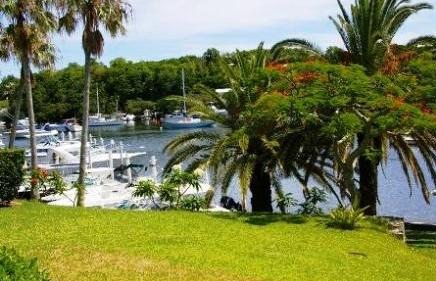 A sheltered shore basin, attractive inlet and very small private beach on the south side of Mill Creek, named after a visit by Queen Elizabeth in the 1970s. There was once an attractive hotel here, Sherwood Manor, later demolished to make way for a group of condominiums that became known by this name.
Restaurants in the Parish
See under Bermuda Cuisine and Restaurants
Rosedon Hotel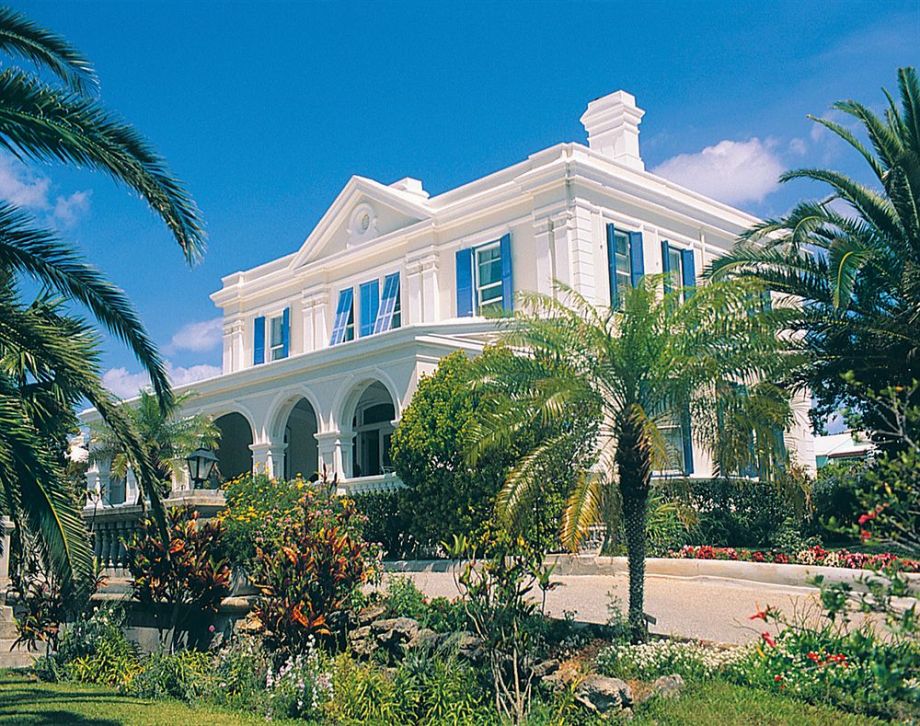 61 Pitts Bay Road, Pembroke Parish. P. O. Box HM 290, Hamilton HM AX, Bermuda. Phone Bermuda 441-295-1640 or toll-free in USA (800) 742-5008. Email reservations@rosedon.com. 44 rooms, standard, superior, de luxe and luxury, some in a historic manor house-style property begin in 1904 and finished in 1906 for a wealthy Mr. E. J Thompson and named after his son Robert Rosedon Thompson, others nearby behind. European fabrics, four poster beds. Nice gardens with Bermuda flora, restaurant, heated outdoor swimming pool, free beach shuttle service, fitness center. Long owned by the local Kitson family, now by artist Lee K. Perry. Equipped to charge Renault Twizzy 2 seater electric cars. A leisurely 15 minute walk to the City of Hamilton and its public transportation ferry terminal and/or buses.
Soncy Bay
A lovely quiet, protected cove easily seen from a boat or ferryboat passing by. Overlooking the cove is a beautiful historic Bermuda home, Soncy, at 7 Point Shares Road, Listed for sale for $6.9 million in 2012 to Bermudian and non-Bermudian buyers. The six-bedroom former manor house has a pool, floating dock and boat house. Once the residence of Royalty and the holiday destination of a U.S. president. The house was built in the early 1880s on some fifty acres of land (bought for $8,000 and known as Point Shares) by General Russell Hastings, a Union veteran of the American Civil War, and his wife Emily, the niece of U.S. President and Mrs. Rutherford B. Hayes. The Hastings' family papers recount that they renamed the property Soncy, a Scottish word "signifying thrift, prosperity, and all things good." The deep yellow Isabella Sprunt was one of the two roses introduced to Bermuda in about 1880 by General and Mrs. Russell Hastings. Another was the Safrano or Saffron rose, a slow growing lemon yellow tea rose up to five feet high. It was well-known in rose catalogues in the American South in 1843. The family prospered at Soncy as a result of the General's venture into growing and exporting the bulbs of Bermuda's distinctive, pure white Lilium longiflorum eximum. With the arrival of spring in the 1880s and 90s, more than 100,000 lily blossoms could often be seen in the fields at one time. In the 1920s, Lady Patricia Ramsay, a granddaughter of Queen Victoria, lived at Soncy with her young son. In this 21st century, the old house offers many of the same pleasures to its residents as in the past. It has large rooms with high ceilings, wide verandahs, a tree-shaded lawn running down to the water, and swimming and boating in Soncy Bay.
Spanish Point Park
A Bermuda National Park. Interesting, a nice photogenic spot for a rest or a picnic, but without facilities. From the beach, looking west, see all the way over the Great Sound and the Royal Naval Dockyard in the distance. Also a good bird-watching area. A separate scenic, parkland and distinctly residential district, named after the Spanish sailor Ramirez, whose ship was beached there for a few weeks in 1603. It is a bit off the tourist beaten track, but well worth visiting by bus (the # 4 route) or moped. It begins at the roundabout marking the junction where St. John's Road becomes Spanish Point Road and meets the western end of the North Shore Road. All the area west of this junction, from Admiralty House Park (see earlier reference) all the way to the sea, with Spanish Point Park and the Spanish Point Boat Club as the final landmarks, is known as Spanish Point.
Spanish Point Boat Club
Facing the ocean at Spanish Point, telephone 1 (441) 295-1030, it includes a nice private dock, car and cycle parking and mooring area for small boats and many craft moored in the sheltered waters behind it. Club membership is offered, at a cost. The club has a bar and hosts quite a few social events.
St. John's Church
St. John's Road, the historic parish Anglican church of the parish. It celebrated its 375th anniversary in 1996. When the parish was merely Spanish Point, this was Spanish Point Church. It stands on the site of the first church in Pembroke, started in 1621 and completed in 1625. This is commemorated by an old board carved with the date, found behind the pulpit. This treasured relic is kept in the vestry. Marriage records at the church include the coupling of one Edward Morgan and the unfortunately named lady Affliction Watkins in 1647. Records tell of re-thatching the roof in 1677 via Justices of the Peace and church wardens who ordered every parishioner to bring eight dozen good (palmetto) leaves on penalty of 1 shilling and 4 pence for non-compliance. A 1717 record tells of a double row of cedars planted around the churchyard. The church was rebuilt in 1721 and again in 1821. It was consecrated in 1826. Among the graves are those of Bishop Edward Feild (1801-1876), second Bishop of Newfoundland and Bermuda, who died in 1878; and Governor Laffan, who died in 1882. The unique artifacts include one of the finest organs in Bermuda. It is used today by some distinguished visiting organists for various concerts.
Stovell's Bay, also known as Pontoons
Spanish Point. A picturesque North Shore bay. Named after a member of a British family that claims it can trace its history back to Norman times when it was known as Stovel, later, much better known as Stovell. A Stovell settled in this area of Spanish Point, Bermuda in the mid 1700s, bought property there. Stovell family members are still in Bermuda. Most others went centuries ago to the USA, where the family name seems most widely spread.
Stovell's Bay is chiefly famous for an unusual, rusted wreck that became stuck at the entrance to the bay in 1906 (not 1904). It was the floating dock "Bermuda" - built in 1866 in North Woolwich, England - which first arrived on Bermuda's shores in 1869. It was in the process of being towed away from its post at Dockyard after having been replaced and partially dismantled. It was caught in a gale and drifted over to Spanish Point, where it got lodged on the rocks and became unmovable It has been there ever since as a rusted relic. It was first built in 1863 as a patented invention of Messrs Campbell Johnstone and Co. It weighed 8,200 tonnes and could lift any vessel afloat at the time except for the Great Eastern, which was a large iron sailing steam ship. It was the largest floating dock ever constructed and only lost that distinction to its successor in 1901, Admiralty Floating Dock #1, also made for the Bermuda Dockyard. In her prime, the 'Bermuda' was used to accommodate large warships. The Bermuda was more than 47,000 sq ft and 381ft long and 123ft at its maximum width, and a depth of 74ft. It could easily accommodate ships up to 370ft long and 25ft wide. Britain's Royal Navy made several unsuccessful attempts to free it. In 1906, after it wrecked, it was replaced by a more modern version and was purchased for either scrap or civilian use by a German company for use in the canal entering and existing the North Sea, but never made it over the Atlantic. (In 1950, the Bermuda Government tried to clear the bay of the remnants of the dock using dynamite, to no avail).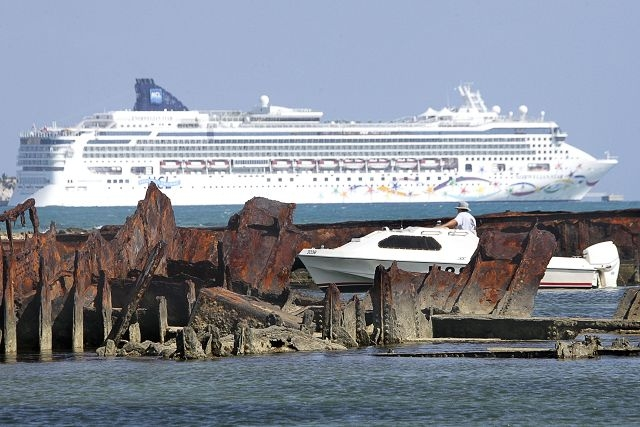 St. John's Road
A mostly industrial road, served by daytime bus.
Supermarkets and grocery stores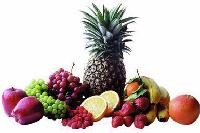 Call ahead to see which are on a bus route. Not all are. Most are open daily (Sundays 1 pm to 6 pm) excluding public holidays. Liquor cannot be bought on Sunday. Only locally owned stores are allowed.
Arnold's Family Market, St. John's Road, telephone 292- 3310.
C-Mart. 96 North Shore Road, telephone 292- 5332.
Dismont Robinson, 135 Front street East, telephone 292- 4301.
Garden Market, Serpentine Road, telephone 292- 7000.
Happy Valley Mini Mart, Happy Valley Road, telephone 292- 1197.
Manuel Soares & Son, Old House Lane, Spanish Point, telephone 292 1426.
MarketPlace, large, Church Street, Hamilton, telephone 295 6006.
Miles Market, Pitt's Bay Road, telephone 296 7615.
Point Mart on Cox's Hill Road, telephone 292 0342.
Supermart, large, 125 Front Street East, telephone 292 2064.
Teucer House
On the east end of Cedar Avenue, just before it becomes the City of Hamilton. The building was built in 1903 as a private house and bought by the Government in 1955. At one time thereafter it became the administrative offices of the Department of Education, then a health clinic and offices for Teen Services but the building was abandoned after a 2013 fire that destroyed the roof and upper floor. A plan to restore the building was submitted in 2015, but work never started. On November 1, 2019 the Government asked for proposals to bring this empty fire-damaged building on the edge of Hamilton back to life. The Ministry of Public Works put out a request for proposal last Friday for a new use .The public works ministry said it wanted applications for the redevelopment or full renovation of the property. The RFP said: "The proposal must be based on necessary preliminary survey of the property and proposed works after making necessary Planning/Development Control enquiries. No detailed architectural designs shall be required for the submission, but the proposal will be considered as the basis for detailed redevelopment or renovations proposal in the subsequent stage, if such initial proposal is considered by the Government to be feasible and viable." Application documents are available online and at the third floor of Hamilton's General Post Office. Completed applications must be submitted by 3pm on November 25, 2019.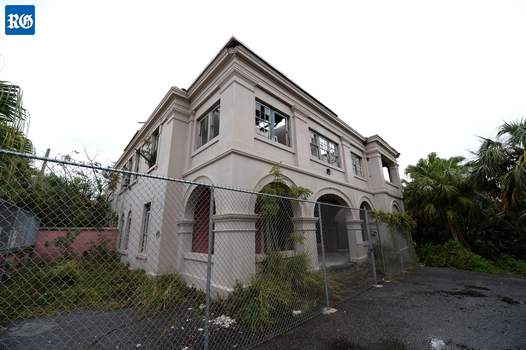 Teucer House
Tulo Valley Nursery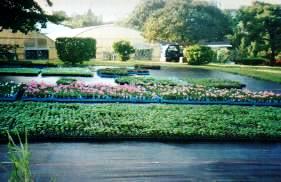 Photographs by author Keith A. Forbes, solely for Bermuda Online.
15 Tulo Lane, and 21 Controversy Lane, Pembroke HM 12. Telephone 292-2503 for times. A Government-operated plant nursery open to the public at designated times, serving government-owned parks, gardens and scenic scenic areas. Here is where the Bermuda Government has its main experimental flowering and other garden. It was once the large kitchen and fruit garden of Admiralty House adjacent to it when an Admiral of the Royal Navy was in residence there from 1815 to the 1950s. It supplied all the fruit, vegetables and flowers for the Royal Navy Admiral and his staff and their dependants and had a team of gardeners for that purpose. It was taken over by the Bermuda Government in 1957 and converted first to a reforestation center for Bermuda Cedars affected by a massive blight, then to a plant nursery.
Staff do some fine work in saving certain indigenous species and in working with different public and private sector organizations. Tulo Valley is the only producer of Bermuda's native and endemic plants. It also provides the majority of the plant stock used for Bermuda's parks and nature reserves and all special plants for the Botanical Gardens and Arboretum. Most of the plants found at roundabouts and other public areas are grown from here. The # 4 bus stops nearby, check its times. Parking. Conducted tours by volunteer groups are available from time to time if you book in advance. Their is a tunnel from here to Admiralty House Park - adjacent and to the north - often closed but when not - for example, for a conducted tour - you can walk through.
After suffering considerable damage from Hurricane Fabian, Tulo Valley Plant Nursery was re-opened by the then-Minister of the Environment in June 2006. The 30-plus year-old facility was rebuilt during the 2005/2006 year costing the Government approximately $535,000. Two greenhouses were replaced, a new shade unit was built with a retractable roof and a new car park was installed. A new water catchment was created with a 48,000-gallon storage tank, a 15,000-gallon capacity brackish water reverse osmosis plant and a truck filling station. The water is to supply areas maintained by the Ministry.
W. E. R Joell Tennis Stadium
Cedar Avenue and Marsh Folly Road. Phone 292-0105. Government-owned, known as the Government Tennis Stadium until July 2003. Originally built for whites only, except for two weeks a year for blacks. Renamed in honour of the grandson of the late Bermudian who pioneered the integration of blacks on this tennis stadium's courts. Historical note: In 1883 the first black member of Parliament in Bermuda was William Henry Thomas Joell (born 1838, died 1885), of the city of Hamilton. He was responsible for building Glebe Road. He Served on the committee that founded Berkeley Institute and was also a cabinet maker and carpenter. Joell's Alley in Hamilton is named after him. Much later, the Tennis Stadium in Pembroke was named to honour W. E. R Joell, the grandson of W. H. T. Joell. The later Mr. Joell's daughters, Eileen Simmons, Rosemary Cann and Joyce Hayden were present at the ceremony conducted by then-Premier Jennifer Smith. In 1953, his tennis lessons attracted many children and produced two champions, Shirley Davis and Arnold Todd. In 1957, when the Social Welfare Board turned down his request for funds to pay for overseas coaches to come to Bermuda to teach tennis, Mr. Joell organized the Bermuda Tennis Development Fund. As a result, several overseas coaches came and Mr. Joell opened up his own home on Brunswick Street in the City of Hamilton to accommodate them. He was an Associate Member of The Professional Lawn Tennis Association of the USA and the Field Secretary of the American Tennis Association. He helped organize several local clubs including the Castle Harbour Hotel Tennis Club, King Edward VII Memorial Hospital Club, Unity Tennis Club and Salvation Army Tennis Club. He accompanied Bermudian teenagers to the USA to compete in tennis tournaments at Central State College. In 1973, he received the Queen's Certificate and Badge of Honour for his valued services to tennis in Bermuda.
Anyone can play here by appointment and for a fee. (Visitors will find tennis courts at many places to stay). There is a pro, 3 clay and 5 plexi cushion courts. Tennis attire is mandatory.
William F. Wilson Park
New in May 2005. St. Monica's Road, North Village. Opened with pomp and ceremony. Its famous North Village Band, still going strong, was founded by local resident William F. Wilson, after whom the park is named. Also, for over 44 years, he devoted his time, talents and energies to St. Monica's Church nearby.
Other Bermuda geographic areas


Last Updated: May 23, 2020
Multi-national © 2020 by Bermuda Online. All Rights Reserved