Cross
Dockyard, Sandys Parish. Initially just a rocky outcrop used as a marker by the Royal Navy, built on and added to hugely in years 2015, 2016 and 2017 for the America's Cup.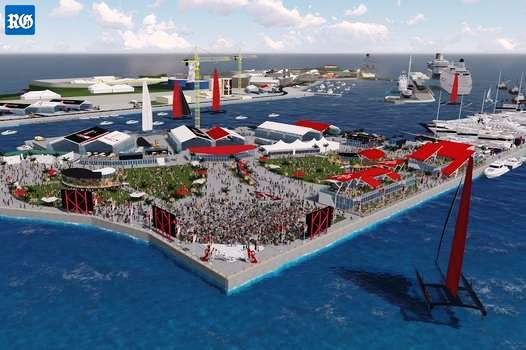 The America's Cup village, see above, on Cross Island was created as the hub of the event.
2019. July 20. The Government has launched a lawsuit to recover almost $800,000 of public money it loaned to an entertainment company to create a recording studio at Dockyard, The Royal Gazette can reveal. Papers were filed in the Supreme Court against Anthony Blakey and Danilee Trott, of Savvy Entertainment Ltd, on June 7 for defaulting on $778,204 of an $800,000 loan. The court documents warned the pair to pay the full amount plus interest in 30 days or face civil proceedings. The Government failed to answer questions yesterday about whether the money was repaid in full. Mr Blakey did not respond to phone calls and e-mails. Ms Trott declined to comment. Lieutenant-Colonel David Burch, the Minister of Public Works, announced in February 2018 that Savvy Entertainment had taken over the management of Cross Island, the venue for the 2017 America's Cup, and would use it to host events that did not need permanent structures. He said events held there would have a pre-negotiated fee and any revenue would go to the Government to help defer the $39 million cost of construction. Colonel Burch said Savvy had a charitable arm which would be led in Bermuda by Dame Jennifer Smith, a former premier, who would also join the board of Savvy's international foundation. Ms Trott told reporters that Savvy would also convert Dockyard's historic Moresby House into an "A-class" recording studio. An agreement between the former Ministry of Economic Development and Tourism, and Ms Trott and Mr Blakey, filed at the Registrar of Companies, shows the loan was provided on April 2, 2018, for 36 months "for the purposes of setting up a music studio at Savvy House, 26 Pender Road, Ireland Island, Sandys". The document said: "The loan is made on the strict condition that the loan is to be used for the purpose of setting up the studio, for shipment to Bermuda of recording equipment for your authorized business purpose and for the installation of equipment in West End Development (Wedco) facilities at 26 Pender Road. For the avoidance of doubt, the loan may not be used by you to fund other business, to pay or discharge any other loan, or to make expenditures not directly connected with the studio, and the loan shall be a first charge on the equipment in the studio." The loan, with an interest rate of 4.75 per cent a year, was to be repaid on a monthly basis over a maximum of 36 months. The agreement said Ms Trott and Mr Blakey would have to pay for any costs run up by the Government related to enforcement of its rights under the loan terms. Both signed the agreement, along with Randy Rochester, who was then the Permanent Secretary at the Ministry of Economic Development and Tourism and is now permanent secretary at the public works ministry. An appendix was attached that listed studio equipment and installation costs which totaled more than $730,000. Savvy Entertainment's website said it is an Atlanta-based "global entertainment solutions company" which is "also established in Bermuda and Germany". The website features a section on venue rentals, which lists Cross Island as available for a seven-day or five-day rental for a corporate rate of $25,000/$20,000 or a promoter rate of $20,000/$15,000. The Shed, the former home of the British Land Rover BAR America's Cup team, is listed for hire for between $6,000 and $12,000. Savvy organised a New Year's Eve celebration at The Shed at the end of 2018, with free admission or VIP tickets at $250. Its website shows a flyer for another event, a "Trunk-D tailgate party", in April this year. Ms Trott was event project manager at the Corporation of Hamilton until December last year. As well as chief operating officer of Savvy, she is the executive producer of Bermuda Fashion Festival. Savvy organised the fashion festival this year after submitting a request for proposal bid to City Hall. Savvy CEO Mr Blakey is an American songwriter who incorporated Savvy Entertainment Bermuda in September 2016. It is not known if Savvy is still managing Cross Island or whether Moresby House has been converted into a studio. Questions were sent to the Ministry of Tourism and Transport about the loan and the management of Cross Island. A spokesman said it could take some time to answer, as the deal was struck under the now-axed ministry of economic development and tourism. Cross Island totals nine acres of reclaimed land at Dockyard and was financed by a $39 million loan to the West End Development Corporation from Butterfield Bank. The Government provided an unconditional guarantee for the loan so the America's Cup event could be based there. Charlton Dill, the chairman of Wedco, could not be reached yesterday.
2017. May 19. An eco-friendly business hub could become the new tenant at Cross Island after the America's Cup sets sail. In a report released yesterday, the Cross Island Legacy Committee — established to find a use for the nine-acre parcel of land currently housing the America's Cup Village — recommended that it should be used for an "integrated blue/green business hub". Indoor agriculture, aquaculture and renewable energy would be incorporated, said the committee. Some 300 ideas were submitted by the public, including proposals for water and dog parks, an open-air concert venue — and even a brothel. Wayne Caines, chairman of the committee, said that the recommendation followed "systematic processes. If we take all the elements of this proposal together, we think the overall value is far greater than if you take them individually. The concept could create new jobs and industry alike. It is really important to understand that we are not talking about some grow-out in the backyard here." The West End Development Corporation originally forwarded plans that could have seen the site transformed to a new home for Marine and Ports operations, a boat service yard with superyacht capacity, and a maritime school. A Supreme Court decision, following an appeal launched by the Bermuda Environmental Sustainability Taskforce, found deficiencies in the Environmental Impact Assessments completed for the possible redevelopment proposals, however. The ten-member committee was formed by Wedco last year following the court decision. All ideas, the report said, were evaluated based on five criteria: economic, environmental, financial, social/cultural, and structural. Greatest emphasis among the criteria was given to the economic benefit for Bermuda. Multiple benefits from the hub, Mr Caines said, could include international education opportunities. "It will help provide more security, reducing our reliance on imports," he said. "It will add to the amount of healthy, locally-sourced food products and there may even be some potential for exports." Jonathan Starling, executive director at Greenrock, said he was "pleasantly surprised" by the proposal. "I think what is proposed, in the form of renewable energy helping to reduce Bermuda's carbon footprint, boosts to local agricultural production and locally produced mariculture, is welcome," Mr Starling said. Ray Charlton, chairman of Wedco, called the proposal an "interesting idea. We do not yet know if the America's Cup will be coming back to Bermuda but if, unfortunately, it does not, we want to be in a position to progress with a project for Cross Island that is both in keeping with the area and which adds to the economic well-being of Bermuda." BEST said that while the report had taken a long time to materialize, its spirit was "admirable".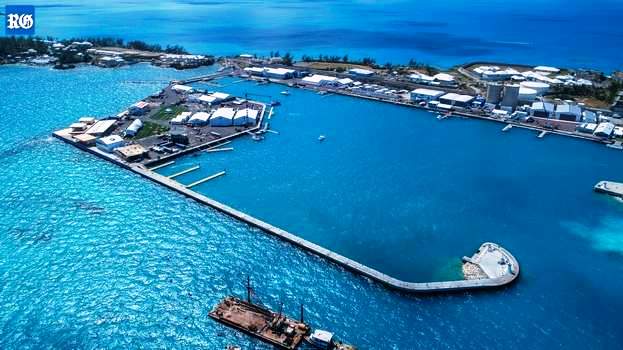 Cross Island, Bermuda - home of the 35th America's Cup
2017. April 26. Safety officials have warned about potentially "catastrophic" consequences with Great Sound boaters getting too close to the America's Cup teams. With more inexperienced boaters expected to hit the waters as the weather gets warmer, the Bermuda Water Safety Council urged them to stay near shorelines and give room to the foiling boats. The Bermuda boating public is "getting too close for safety both to themselves and the AC teams", the council said. The ACBDA added that America's Cup yachts — now in high-gear training in the Sound, with the showpiece event less than a month away — travel at up to 50 knots and can change direction very quickly. Paul Doughty, a member of the safety council, told The Royal Gazette: "When there's a good weekend, some occasional boaters come out who might have less experience, and we want them to be looking out. "When a sailboat is sailing, they are not simply going in a straight line. They go about up wind and down with the wind. And with the speed of these boats, even more experienced people say they look around and see the boat a mile away and then they are on top of them. It's hard to gauge because they are so fast. We are not saying that people can't or shouldn't use the Sound, only that they should remain vigilant." In a post on the council's Facebook page, the group stated: "The ACBDA have just informed that the AC boats are now in high-gear training in the Sound. It has been noted that the Bermuda boating public are getting too close for safety both to themselves and the AC teams. Please give the AC boats as much room as you are able and try to stay near shorelines when you are out on the water. The consequences of a collision with one of these foiling boats could be catastrophic. You or anyone involved could also ruin a team's chances of being in the Cup." The post urged the public to spread the message, adding: "The ACBDA understand that the Great Sound is for everyone to enjoy, and not just for the America's Cup teams, but do advise that extra care and caution should be taken at this time. Safety first." Mr Doughty said that he had received comments questioning why America's Cup spotter boats couldn't ask boats to keep a distance. But he argued the spotter boats need to be focused on reacting to emergencies rather than asking spectators to move. "They can't just stop and tell people to move," he said. "It's up to us to be vigilant on the water." An ACBDA spokeswoman said: "America's Cup Class boats can travel up to 50 knots, are much more maneuverable than the AC45Fs and they can and will change course very quickly. The teams may lay temporary marks for their own practice sessions, or they may not — there is no set pattern to this — but the key point is for the general public to give the boats as wide a berth as possible. While it may be tempting to try and take a closer look, please do not do so as proximity dramatically increases the risk of an incident." The spokeswoman also warned that there are no set times for teams to practice in the Sound, saying: "They may choose to go out on the water whenever they can and want to practice, and the advice to stay close to shore to avoid incidents applies whenever one or more America's Cup teams are on the Great Sound."
2017. April 13. America's Cup organizers are urging people to buy tickets for the Grandstand as soon as possible to avoid missing out. The facility is described as one of the prime positions in the America's Cup Village, offering views straight over the racecourse finish line and a dedicated large screen showing the races live. It will have a roof to provide shade, and its own exclusive bar at the base of its structure, with drinks and snacks service for guests in their seats. A press release from the ACBDA says demand has already been very high for Grandstand seats and tickets are already sold out on June 17, 18, 24 and 25. Book your place in the Grandstand via www.americascup.com/tickets.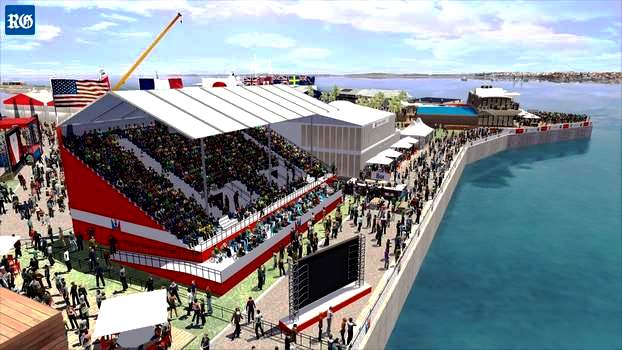 Bermuda's America's Cup Grandstand on Cross Island, see above story.
2017. February 9. A decision over the end use of Bermuda's newest island is unlikely to be made until after the America's Cup has been completed, according to Andrew Dias. The general manager of the West End Development Corporation acknowledged that if the island secured the sailing spectacle in 2019 the final determination over the future of Cross Island would be pushed back further. Wedco originally submitted plans that would have seen the site of the America's Cup village transformed into a new Marine and Ports headquarters, a boat service yard that could accommodate superyachts as well as short-term berthing and a maritime school. But after an appeal by environmental group BEST the Supreme Court held that there were deficiencies in the Environmental Impact Assessments completed for the development plans of Cross Island. "Whatever the final plan is we shall have to resubmit it through the planning process again," Mr Dias said. "There is the chance, depending on who wins the event, that Bermuda could host it again in 2019, in which case under the AC Host Venue Agreement Cross Island has to be available to host the event again. In this case everything would be kept as it is until 2019 when the final end uses decision would be made." Mr Dias revealed that the Wedco board had a formed a sub-committee, chaired by Wayne Caines, to explore the possible end uses for Cross Island and had consulted with the public and stakeholders over recent months. "We are not resting on our laurels," he said. "The committee engaged in extensive public consultation with the assistance of Deloitte. They went out to the public at the end of last year in one of the most consultative processes I have ever seen. They asked everyone what their opinion was on what should be there. The short listed uses have been submitted to the Wedco board and are currently being assessed. It is possible that the board may determine that further due diligence and analysis may be required. The board should be able to say something in March. In June after the event we will have to figure out what the process is; although a decision on the future of the America's Cup may not be made until October or November.".
2017. January 18. Rising from the South Basin, Bermuda's newest landmass and soon-to-be-home for the America's Cup Village is a hive of activity. Construction crews, asphalt teams and heavy machinery operators are working around the clock, seven days a week, to ensure that Cross Island will meet its mid-May deadline in preparation for the sailing spectacle. Scores of workers from a dozen Bermudian firms are presently involved in the multimillion dollar development, which project managers say will be brought in on schedule. "Last week, 38 containers with the structure of the Club America's Cup building arrived in Dockyard," Shane Rowe, head of operations and infrastructure for ACBDA, said. "The containers, which originated in Brazil, are in quarantine on-site at present, but as soon as they are cleared in about two weeks' time, then work can begin on the Club building. Meanwhile, next week, we have a further 40 containers of grandstands and stages arriving; they will be stored on Moresby Field until we start erecting them." Parts of Cross Island have already been tarmacked in preparation for the construction of the Red Bull Youth America's Cup headquarters and the Emirates Team New Zealand team base that will begin at the beginning of next month. While the asphalting continues, contractors will also start on the Club building; the main hospitality arena for the event, that will look directly out to The Great Sound over the racecourse. Project manager Richard Noel from BCM McAlpine's told The Royal Gazette: "The island's infrastructure is about 80 per cent complete; underground services like water, power and waste water have been installed, but there is still some work to do. October's hurricane did have an effect on the schedule, but a lot of the damage was cosmetic and required a clear-up operation rather than anything else. All in all, the island stood up well. It was a good test of the work that has been done. It's going well. We have had our challenges along the way, just like any construction project, but we have worked with the ACEA, the ACBDA and Government to get through them." The land reclamation phase of the project involved about 140,000 cubic yards of dredged material from the North Channel and 160,000 cubic yards of imported crushed granite being deposited in the South Basin. The aggregate was spread across a nine-acre area and held in position by vast sheet piles that were driven into the seabed to form the boundary of the new island. Power lines and sewage pipes as well as other infrastructure have been installed in recent months, and work to raise the South Arm, which will provide the backbone to the superyacht berths, is ongoing. The bridge linking the island with the mainland has been completed, as has the protective splash wall, while Land Rover BAR is expected to officially open its base in the coming weeks Next month, construction of the Groupama Team France base will begin, while Artemis Racing will move up to their new, smaller base on Cross Island from Morgan's Point in April. Mr Noel added: "We are 90 per cent there now. But, the last 10 per cent always seems to take the longest time. "We expect it to come together quickly from here and finish on schedule."
2016. October 7. The first phase of Cross Island — the land reclamation project in Dockyard — has been completed. Economic development minister Grant Gibbons joined key players at the site for a celebration today, with organizers saying they are "ahead of schedule and on budget". Now that the infill phase is finished, the next part of the project involves installing the infrastructure, including electricity, water, sewage and telecommunications before the new nine-acres of land is handed over to the America's Cup Event Authority, which will create the Event Village for the 35th America's Cup. The overall village site will also hold the team bases for Land Rover BAR and Groupama Team France, alongside the bases for Oracle Team USA and SoftBank Team Japan, which have been operational for some time. Emirates Team New Zealand and Artemis Racing will have bases on Cross Island and the Red Bull Youth America's Cup, the media centre and the various hospitality facilities will also be located on the infill site. Peter Durhager, chairman of ACBDA, said the project was a collaborative effort between the stakeholders of America's Cup Bermuda, Wedco, Ministry of Public Works, planning department, construction managers BCM McAlpine and a range of vendors and contractors. Mr Durhager said in a statement: "It wouldn't have been possible to complete a project of this scale ahead of schedule and on budget without the concerted effort of these agencies. "On behalf of the ACBDA, I would like to thank everyone who was involved in helping us to achieve this significant milestone." The project began last November when a portion of the South Basin was filled with seven shiploads of granite. The aggregate came to the island on the MV Balder, a specialized ship that allowed the fill material to be offloaded by conveyor belt into the South Basin. The total amount was 310,000 cubic yards of aggregate — 165,000 cubic yards of granite from a quarry in New Brunswick and 145,000 cubic yards from last year's dredging project by Royal Caribbean Cruise Lines. That project was part of multiyear contract between Bermuda Tourism Authority and RCCL to accommodate large RCCL cruise ship visits to Dockyard. The Balder was one of the largest vessels to have ever sailed into the South Basin and the process involved two highly specialized tractor tugs to assist the vessel entering and departing. The tugs were assisted by staff from the Department of Marine and Ports. Dr Gibbons stated: "This milestone shows what Bermuda can accomplish when we set our minds to a task and work together. I congratulate and thank everyone involved in ensuring that Bermuda honours our commitments. We are proud of our relationship and partnership with the America's Cup and look forward to welcoming the remaining America's Cup teams, sponsors, fans and visitors for the 35th America's Cup." The infrastructure portion of the project is expected to be completed by the end of the year, with the Event Village taking shape soon after. While the first use of the space will be for the America's Cup, a process is under way to ensure the long-term deployment of this land by Wedco for lasting legacy and value. Andrew Dias, general manager of Wedco, stated: "This project had been in the pipeline for quite some time and its completion is a dream come true for Wedco. Our focus going forward is to create a lasting legacy for Cross Island. We have received hundreds of submissions as part of our long-term strategic planning for the further development and use of this wonderful waterfront resource following the America's Cup and I look forward to helping to make some of those ideas reality." For more information, visit www.acbda.bm.
2016. July 20. More than 100 suggestions have been submitted on how to use the nine acres of reclaimed land in Dockyard after the America's Cup next year. But the Cross Island Legacy committee — tasked with generating ideas for the future of the land — want at least another 50 before the deadline closes in less than two weeks. Committee chairman Wayne Caines spoke earlier this week at the Chewstick Open Mic session and will do again this Sunday, appealing to young Bermudians to get involved. "We have addressed many stakeholders, such as BEST and the Chamber of Commerce, and we have been extremely active in reaching out to people on social media," said Mr Caines. "However, we want to be inclusive in this process and I thought it was important to engage as many young people as possible which is why I went to Chewstick. We want to create a legacy that will help Bermudians for years to come." After the deadline for submissions, the committee members will score each idea against agreed weightings on a series of objectives. They are:
Economic — provides economic benefits to Bermuda
Environmental — that it is sensitive to the environment, surrounding historical significance, and marine habitats
Financial — that it delivers a good Return on Investment (ROI) for Bermuda
Whether it is financially viable
Social/Cultural — whether it is connected to Bermuda's heritage and culture and whether it provides social benefits to Bermuda
Structural — is it a good fit for the location, physical site, and exposure to weather and elements?
Financial is weighted 16; economic is weighted at 25; environmental 20; social and cultural is 19.5, and structural is also 19.5. The committee will then recommend the best ideas, or the best combination of ideas, to Wedco, whose board will review and shortlist the ideas further to form part of a public RFP process. Mr Caines said he was convinced that Wedco was committed to carrying out an inclusive and transparent RFP process. "We're not asking for your proprietary business secrets," he said. "The ideas we are looking for are at a high level, not necessarily hugely detailed. The detail will come with the RFP submissions. We are being as open and transparent about this process as we can be because we want to engage the community in generating ideas but we also want to see and hear discussions about those ideas. We want to hear what you would support — and you can see them all so far, even an idea for a brothel, on our Facebook page, 'Cross Island'."
2016. July 12. By Wayne Caines, chairman of the Cross Island Legacy Committee. "It is very rare in Bermuda that nine acres of land suddenly appears on the market waiting for an entrepreneur, or entrepreneurs, to come along. But that's what is happening at Cross Island, at the Royal Naval Dockyard, and this presents an unheard of opportunity to create a legacy for Bermuda that will benefit the community for decades to come. I accepted an invitation to become the chairman of the Cross Island Legacy Committee because I feel passionately about this country and its future, and saw in this a chance to help to create a game changer that could benefit Bermuda economically and culturally. Cross Island will be the home of the America's Cup Event Village next year and there is always the possibility that the "Auld Mug" will return to Bermuda in the future, using the same land. However, at some stage, there will be a need for a long-term use and it would be foolish not to plan for that now — and that is what the committee is doing, by asking for the input of the entire community. So far we have had some brilliant ideas: a sports centre, conference centre, a shipping container city for small businesses, a fish farm, and a sailing centre to build on the America's Cup legacy. All these, if they went ahead, would provide jobs and help to bring investment to the island. That is why this opportunity — I call it "nine acres of opportunity" — is so exciting because it has the potential to further boost Bermuda's economy, thereby creating jobs and wealth for all of us. Helped tremendously by Deloitte, the committee has been, and will be, asking stakeholders, community groups, professional groups and everyone in between for ideas. If you have not contributed already, you can via www.surveymonkey.com/r/CrossIsland. Importantly, we do not want just your ideas, we also want your input on other people's ideas — ideally, we would like to get a really good conversation going. You can see and comment on many of the ideas on our Cross Island Facebook page. Please tell us which ideas you support and why, and help us to improve and to develop the ideas that others have already submitted. I also want to emphasise that this process is not necessarily about finding one big idea, one big development. The best solution may be lots of small ideas, so it is inclusive, allowing the average Bermudian a chance to participate and to benefit. The deadline for your submission is July 31. The work of the committee will then start in earnest as we begin to digest and to analyze all the ideas. My fellow committee members are Andy Burrows, from the Bermuda Tourism Authority, Joanna Cranfield, the business development manager at West End Development Corporation, Kirk Outerbridge, from the Department of Works and Engineering, Aideen Ratteray-Pryse, from the Department of Planning, Philip Seaman, of Pj Designs and a member of the Wedco, Elena Strong, from the National Museum of Bermuda, and Jonathan Starling, the executive director of Greenrock. We will all work towards delivering workable ideas to Wedco. The committee will evaluate the benefits and costs of each idea against the following key objectives:
Economic. Provides economic benefits to Bermuda
Environmental. Is sensitive to the environment, surrounding historical significance and marine habitats
Financial. Delivers a good return on investment for Bermuda; is financially viable
Social/cultural. Is connected to Bermuda's heritage and culture; provides social benefits to Bermuda
Structural. Is a good fit for the location, physical site, and exposure to weather and elements
Once that is accomplished, we will pass our short listed recommendations to the Wedco board, which will then review and shortlist the ideas to form part of a public request for proposal process. We are confident that Wedco is committed to carrying out a transparent and inclusive RFP process in the next phase of this exciting endeavour. This is a conversation worth having. It is a once-in-a-generation opportunity and I hope we will receive 60,000 ideas."
Manmade beginning in late 2015, to be finished by late 2016 to house the 2017 America's Cup and thereafter a mix of public and private events. To accommodate mega-yachts.
Announced in November 2009 for construction in 2010. To be built (added to substantially from the remains of the previous island) under a public private partnership between Wedco and South Basin Development Ltd., a company formed specifically for this project It will include a mix of approximately 200 slips in a variety of sizes, 100 to 250 feet and possibly in excess of 300 feet long, to accommodate both mega-yachts and those smaller in size. The development will be a major step in the continuation of the redevelopment of the area where the former Royal Navy Dockyard was located.
1901. At Dockyard, the Royal Navy incorporated tiny Sober (Cross) Island into the land-based South Western Breakwater. By doing so, it created a natural defence against the sea, to plug what had earlier been an obvious breach of defences there. In the process, the Royal Navy approved the change of name from Cross to Sober Island to stem the outbreaks of drunkenness among the crews working on the project.
1850. At Dockyard, the Royal Navy constructed a Magazine on Sober (Cross) Island. It was then a very small and partly submerged outcrop of land, not really an island at the extreme south western end of the Dockyard area. It was so-called because a religious cross had once been found there, leading finders to believe there might have been buried treasure nearby. But it was never found.