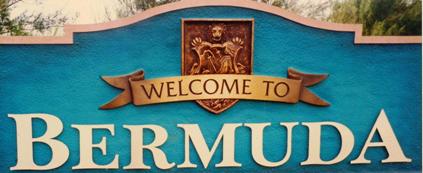 145 web files in a constantly updated Gazetteer on Bermuda's accommodation, activities, airlines, apartments, areas, art, artists, attractions, airport, aviation pioneers, banks, banking, beaches, Bermuda as an international business centre, Bermuda books and publications, Bermuda citizenship by Status, Bermuda Government Customs Duties and taxes, Bermuda Government, Bermuda-incorporated international and local companies, British Army, British Overseas Territory, calypso, Canadian military, causeway, charities, churches, City of Hamilton, commerce, community, corporate entities, credit cards, cruise ships, culture, cuisine, currency, customs, Devonshire Parish, disability accessibility, districts, Dockyard, economy, education and universities abroad, employers, employment, entertainment, environment, executorships and estates, fauna, ferries, flora, food, forts, gardens, geography, getting around, golf, government, guest houses, Hamilton Parish, history, homes, housing, hotels, insurers and reinsurers, internet access, islands, laws, legal system, legislators, local businesses and organizations, location, main roads, media, money, motor vehicles, music, municipalities, open spaces, organizations, Paget Parish, parks, Pembroke Parish, politics and political administration, postage stamps, public holidays, public transportation, quangos, railway trail, religions, Royal Navy, Sandy's Parish, St. David's Island, St. George's Parish, Smith's Parish, Somerset, Southampton Parish, Spanish Point, Spittal Pond, sports, stores, telecommunications, time zone, transportation, Town of St. George, traditions, tribe roads, tourism, Tucker's Town, utilities, villages, vital statistics, water sports, weather, Warwick, wildlife, work permits, etc. For tourists, business visitors, employers, employees, newcomers, researchers, retirees, scholars.
Bermuda's L. F. Wade International Airport
All passengers from here to USA get pre-clearance from US Customs and Immigration, unlike in Europe

Approaching Bermuda by air

By Keith Archibald Forbes (see About Us) exclusively for Bermuda Online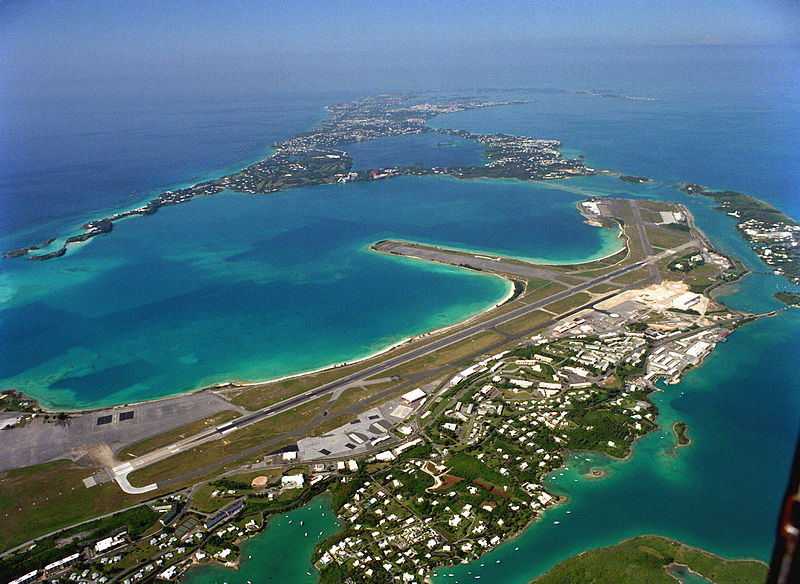 Bermuda International Airport and runway taken by USNAS Bermuda 1993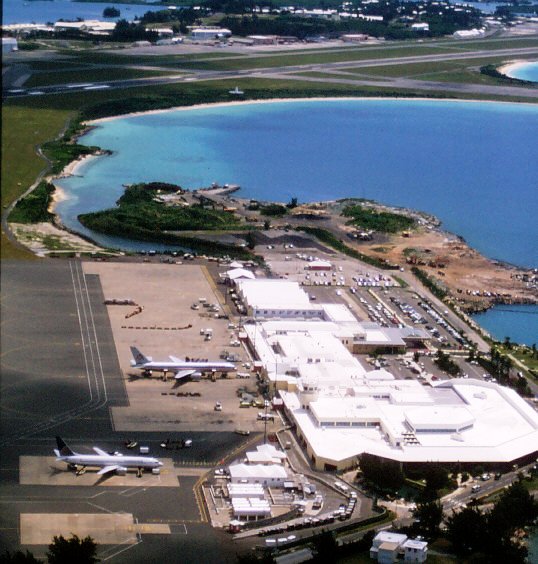 L. F. Wade International Airport, Bermuda
Aviation files by the same author include Airlines - Bermuda's Aviation History - Cruise Ship Arrivals - Illegal Imports - Former US Military facilities in Bermuda. In 1936, decades before Keith and his siblings were born, his father pioneered the radio direction finding system that was instrumental in commercial airlines flying into Bermuda and Keith's interest in Bermudiana began accordingly. This particular website seen here is one of the 124+ in-depth and unique web-files about Bermuda produced solely by the private-sector Bermuda Online and includes very extensive historic information about this entirely US taxpayer-paid airport and its US Military origins not on the Government's Airport website.
Airport Data timeline
2016. February 5. A redeveloped airport could sustain Bermuda for the next 100 years, a spokesman for the site's proposed construction firm claimed last night. Residents attended the Anglican Cathedral Hall in Hamilton for the third of three meetings on the $249 million LF Wade International Airport project. As with the previous events, the public were asked for their feedback on issues to consider in the Environmental and Social Impact Assessment being compiled by LAS Consulting and Bermuda Environmental Consulting (BEC). Again, though, attendees were more eager to vent their distaste at the contract agreed between the Bermuda Government and Canadian construction firm Aecon. In response to a PowerPoint presentation explaining the benefits of a new airport, one 88-year-old resident said: "I've been selling for 60-odd years, so I'm familiar with sales talk. You are looking for some validation of your project and for what you have to offer, but I cannot give it to you tonight. From what I've been hearing, we've put the cart way ahead of the horses. This Government has made the mistake of taking Bermudians for fools." As with previous nights, common complaints at the meeting included the high cost of the project, whether it was actually needed, the lack of a transparent tendering process and whether it would generate Bermudian jobs as promised. Ken Hassard, commercial lead of airport developments at Aecon, pointed to his company's previous successes with projects such as the CN Tower in Toronto and the $700 million Quito International Airport, which opened in Ecuador in 2013. He said: "Parts of your existing airport are 70 years old. They've outlived their life span. But you have to believe that with 21st century technology and materials, and the experience of the developer, that the next airport could last a century. It's important to understand that if you're going to build an airport maybe once in a century, you should have a supplier with a proven track record of building airports." Jack Ward from BEC added that any further questions could be posted on the official "Bermuda Airport Redevelopment Project" Facebook page, where the appropriate technical experts could provide answers.
2016. February 4. An open meeting on the island's airport redevelopment plan featured a skeptical and often heated crowd for a second night. Craig Looby, a developer with the Urban Maximum Industries, Inc (UMI), rose at last night's forum at Penno's Wharf, St George's, to declare his company's ability to build a better airport for Bermuda. Maintaining that UMI had the capacity, experience and access to capital to deliver the job, Mr Looby said his firm could also cover the penalties for the Bermuda Government to withdraw from the deal. The proposal on the table at present has Canadian contractors Aecon to build the new terminal, which Mr Looby said the majority of Bermudians were against. "The longer this community takes to stop this development, the higher the cost will be to compensate," Mr Looby told the gathering, adding that his overtures to the Government had thus far gone unanswered. Reflecting much of the mood at the forum, Mr Looby said he felt that Bermudians were being excluded from access to the project, which is slated to finish construction by 2020 under a public-private partnership with the Canadian Commercial Corporation. Anxieties over foreigners being hired over locals topped the concerns, with Bermuda Environmental Consulting (BEC), the local company involved in the environmental and social impact assessment, questioned not only on its Bermudian membership but its racial make-up. BEC representatives, asked repeatedly who had paid them to carry out the assessment, assured the audience that Aecon had commissioned it, and that the Government had not paid for it. The forum briefly became a shouting match, shortly after Ken Hassard of Aecon opened the night. Mr Hassard said he had heard that the island's lack of covered walkways to aircraft out on the runways deterred elderly and disabled visitors, prompting several people to denounce the remarks as untrue. "If anybody has a stack of Bibles, I will swear on them," Mr Hassard replied. A third meeting is set for 5.30pm today at the Anglican Cathedral in Hamilton.
2016. February 3. The Progressive Labour Party has continued to challenge the proposed airport redevelopment project, questioning the long-term job security of staff and the status of contracts. However Bob Richards, the Minister of Finance, this afternoon described the comments as "total nonsense". Lawrence Scott, the Shadow Minister of Transport, said that while the One Bermuda Alliance had talked about job security for those who are working at the Department of Airport Operations, there were still questions about their benefits and long-term job security given the contracts. "Section J introduces a grey area that permits the new employer to provide them jobs, but their job security lay at the hands of project co-management, who I have been made to understand are looking at starting a corporate restructuring phase months after the project co-management officially takes over," he told a press conference at Alaska Hall. In the larger scheme of things, those on the ground at the airport have the sense that without the Government's assurance to the contrary, the day-to-day administration of the LF Wade International Airport stands in danger of being compromised." He also said that he understood that several contracts related to the $249 million plan had stalled at the negotiation phase. "Reportedly, the Canadian Commercial Corporation did not intend to be the primary source of financing," Mr Scott said. "From what can be determined, they planned on coming on board as a co-signer in the unlikely event that Aecon was unable to raise the funds themselves. Meanwhile, we believe that the rationale of Aecon selling off its controlling stake in Ecuador was to raise the funds for the Bermuda project. However, it is our understanding that the reason the OBA are remaining silent at this time is the crucial financial package is not yet in place. Consequently, neither the Minister of Finance, nor the Premier have been prepared to update this country about the real progress that has been made." Shadow finance minister David Burt, meanwhile, said the Bermuda Government had ignored the Good Governance Act in its handling of the project, which he claimed 75 per cent of Bermudians were against. "This deal contains every single element the Minister of Finance and the OBA have railed against for years," he said. "There is no open tender, no proof or surety of value for money. This deal sacrifices the single most important physical asset, transferring it to the control of a Canadian company while stripping the government of potential revenue. What will be the largest capital project in this country's history has no involvement from the Ministry of Public Works and no oversight from the Office of Project Management and Procurement as required by the Good Governance Act." Responding to the comments this afternoon, Mr Richards reiterated that jobs will be protected, reiterating that those who are employed at the airport will have jobs in either the new airport or the airport quango. "I have stated repeatedly that the jobs of people who work at the airport are protected. I said it to them eyeball to eyeball," he said. "We are trying to organise that their benefits, particularly those with government pensions, will be brought over as well. We are going the extra mile." He widely dismissed the suggestion that any contracts have stalled, and that CCC was never intended to finance the project. "CCC provide guarantees for performance, on time delivery and cost delivery. These are not financial guarantees," he said. Mr Richards said that the financing plan was to get the project its own credit rating, independent to that of the Government, based on the projected revenues and costs. The project will then be put out on international financial markets by Aecon and others. "We are still working on the financial cost and projected revenue," he said. "Once we do that, it will be put out to the international markets. If we get a good rating, it will affect the cost of financing." The minister also rejected the suggestion that increasing fees for airlines would negatively affect air service to the Island, saying the important thing for the airlines was the number of travelers coming to Bermuda, and a small increase on the cost of travel would not deter tourists. He said: "If you raise the cost of travel by $5, is that going to make a difference to someone that it paying $500 a night for a hotel? The business people are going to come no matter what the price costs and the tourists already know that Bermuda is expensive." Questioned about the repeated complaint that the project would give the airport to a foreign company, Mr Richards said the airport had been controlled by the United States for 50 years. "Nobody seemed to be bother by that," he said. "They built it and they ran it up until the 1990s, but nobody was bothered by that."
2016. February 3. Bermudians angry at the $249 million airport redevelopment agreement descended on St David's last night to voice their numerous concerns. The meeting at Clearwater Middle School was intended to seek feedback on issues to consider in the Environmental and Social Impact Assessment, being compiled by LAS Consulting and Bermuda Environmental Consulting (BEC). However, it quickly turned into a heated forum in which residents expressed their fury and dismay at the Government and its chosen construction firm Aecon. As revealed in The Royal Gazette last month, the contract for the LF Wade International Airport redevelopment offers assorted perks for Aecon. These include an exemption from the employer's share of payroll tax and customs duties on capital items such as construction materials, plus a minimum revenue guarantee which means that if annual income does not reach projections over the 30-year contract, the Government will make up the difference. Former Opposition leader Kim Swan criticised the One Bermuda Alliance for failing to send any of its members to the meeting, which was hosted by members of Aecon, LAS and BEC. "You have business objectives; we are residents of this country who have very serious concerns," he told Ken Hassard, commercial lead of airport developments at Aecon. "It's unacceptable for politicians to use businesspeople as a human shield in a very serious political issue. You have been put in an untenable position tonight," he added. Dorita Rogers said that she did not trust the contract's promise of employing Bermudians at the redeveloped airport. "I keep hearing you say 'jobs for Bermudians'," she said. "I do not believe it and will not believe it until the Government can show it." She also dismissed Mr Hassard's claim that the airport provided an unsatisfactory first and last impression for tourists coming to Bermuda. "I've done a lot of travelling around the world. I have yet to go to anywhere and say, 'I'm going back to that country because I love their airport'," Ms Rogers said. Further concerns were raised about the high costs involved, the project's impact on St David's residents, the perceived lack of advertising for the meeting and the excessive foreign input on a very localized issue. In response to the concerns, Mr Hassard said: "There are three things Bermuda needs: a new airport, direct foreign investment and jobs. This project delivers all three. It's literally something Bermuda needs for its survival at this point. This is about Bermuda turning around and not being a ghost town in 20 years." Two more consultation events will take place tonight from 6.30pm at the Penno's Wharf cruise ship terminal in St George's, and tomorrow from 5.30pm at the Anglican Cathedral Hall in Hamilton.
2016. January 27. Members of the public are invited to share their views on the L.F. Wade International Airport redevelopment. The three meetings will seek feedback on the issues that need to be considered in the Environmental and Social Impact Assessment. Taking place from February 2 to 4, the consultation events will be held at Clearwater Middle School in St David's on the Tuesday (from 6.30pm), Penno's Wharf cruise ship terminal in St George's on the Wednesday (from 6.30pm) and the Anglican Cathedral Hall in Hamilton on the Thursday (from 5.30pm). The response will help contribute to the scoping study, which will be undertaken by LAS International Consulting (LAS) and Bermuda Environmental Consulting as part of the $249 million project. Graeme Smith, technical manager of LAS, said: "We encourage anyone who wishes to provide feedback from a building, environmental, social or economic perspective. "We will use this information to assess the impacts and benefits of the proposed redevelopment to enable a balanced decision-making process."
2016. January 21. The newly published airport development agreement means the Bermuda Government has "put the Island out to any bidder, not even the highest bidder", according to the Shadow Minister of Transport. Lawrence Scott warned the 33-page document's lack of specifics could threaten Bermudian workers' jobs down the line. "There's a lot of smoke and mirrors and a lot of unanswered questions," Mr Scott said. "Then the more answers we get, the more questions there are." The deal, struck between the Government and the Canadian Commercial Corporation, will involve LF Wade International Airport being replaced by a new $249 million facility. Among the perks granted to CCC and its subcontractor, construction firm Aecon — collectively referred to as Project Co — will be an exemption from the employer's share of payroll tax and customs duties on capital items such as construction materials. A minimum revenue guarantee also means that if annual income does not reach projections over the 30-year contract, the Government will make up the difference. Mr Scott called the guarantee "very troubling". He added: "Let's say, for whatever reason, the Government came to its better senses and said right now is not the time to build an airport, let's focus on education instead. Then if a Progressive Labour Party government comes in five or ten years down the line and decides to build an airport, Project Co has to be the one to build it. This has committed not just the present government, but any and every government down the line to going along with this, even if they found a better deal." Mr Scott also expressed concerns over the contract's Airport Personnel Transition Plan, which will see airport employees transferred to either Project Co, a new quango or Bermuda "on terms and conditions which, taken as a whole, are no less favorable than such employees' existing employment terms and conditions." The agreement said: "Subject to applicable laws (including labour relations and collective bargaining laws) and the terms and conditions of the project agreement, Project Co shall have the right to structure the company, Project Co senior management, its employees, its organization, reporting structures and business operations in a way which it considers appropriate." Mr Scott said: "I have a feeling that the workers will initially be given jobs, which won't necessarily be a transition, and if they don't like the job they've been given, they'll basically be let go. Then it won't be the Government that causes these Bermudians to lose their jobs, it's a private entity. Also, will they get the same retirement benefits? Will they get the same pay? That's troubling to me, and it will be to others as well. The deal as a whole has issues. The PLP's proposal is to create an airport authority first, then bring Aecon on board as a subcontractor, not the owner and operator. That way, the Bermudians who work there now would essentially be undisturbed." Bob Richards, the Minister of Finance, on Tuesday championed the "substantial advantages to the Government's course in this redevelopment project". He added: "Not the least of benefits is the ability to work with the triple A-rated Canadian Government and obtaining guarantees against cost overruns, shoddy workmanship and time delays. These have been the biggest issues plaguing Bermuda's history of infrastructure development, and it has cost the taxpayer hundreds of millions of dollars in unnecessary expenditure. It is time for that to stop. We are today, and for the foreseeable future, paying for the sins of the past. But we are on a course towards getting Bermuda back to the days of a balanced budget. Even then, our work will not be finished. We will still have to find additional revenues after that to pay off a multibillion-dollar debt. This means it is crucial that we exercise prudence in our fiscal policy. This project is just one aspect of that strategy and notably, it does not impact the treasury and add millions of dollars more to the Government's debt."
2016. January 20. The Canadian developer of the new $249 million airport has been granted a string of perks, the official contract has revealed. Canadian Commercial Corporation and its subcontractor construction firm Aecon — collectively referred to as Project Co — will be exempt from the employer's share of payroll tax and customs duties on capital items like construction materials. And Government will also pay an equivalent sum "on an annual basis and for the term of the project agreement an amount equal to the energy consumption for the airport operations..." less airport tenants' bills. The operating company will also get a minimum revenue guarantee — which means if annual income is not up to projections over the 30-year contract, Government will make up the difference. The terms of the agreement, a prelude to the financial close of the deal was tabled in Parliament last month. The financial close, including figures, is expected to be concluded by the end of November this year. The agreement also specifies that a transition plan should be in place for the transfer of airport employees, to Aecon, a new airport quango or Bermuda. It added that, subject to conditions, staff should be transferred "on terms and conditions which, taken as a whole, are no less favorable than such employees' existing employment terms and conditions." The agreement said: "Subject to applicable laws (including labour relations and collective bargaining laws) and the terms and conditions of the project agreement, Project Co shall have the right to structure the company, Project Co senior management, its employees, its organization, reporting structures and business operations in a way which it considers appropriate." The agreement added that there could be existing terms and conditions, like continued participation in the regulated government pension scheme, which will not be continued by Project Co, but replaced by a private, defined-contribution pension plan, and "other benefits that are not enjoyed by comparable public sector employees in other common law jurisdictions that may be subject to modification or transfer to private sector pension and/or benefit schemes." The agreement also includes a clause setting up a development of Bermudian labour plan, which obliges the contractor to "identify, train, develop and preferentially employ qualified Bermudian labour". The agreement said: "Project Co shall establish mentoring and work shadowing programmes for a select number of unskilled Bermudians to allow these individuals to observe and learn certain construction trade skills in Bermuda and to establish job fairs and undertake employment recruiting events and requests for proposals to identify persons for the purpose of recruiting and retaining Bermudian labour and Bermudian employees, independent contractors and service providers." The agreement also stipulated: "Aecon Construction and its affiliates, together with Project Co, shall be exempt from all land, land transfer, lease and other real estate taxes, levies and stamp duty in Bermuda that may be associated with the airport, airport operations, construction, lease and other real estate taxes, levies and stamp duty in Bermuda that may be associated with the airport, airport operations, construction, leased lands or otherwise with the project at any time during the term of this airport development agreement and the terms of the core project document." Bob Richards, the Finance Minister, said last night: "Not the least of benefits is the ability to work with the triple-A rated Canadian government and obtaining guarantees against cost overruns, shoddy workmanship and time delays. "These have been the biggest issues plaguing Bermuda's history of infrastructure development — and it has cost the Bermudian taxpayer hundreds of millions of dollars in unnecessary expenditure." And Mr Richards added the public private partnership deal for the airport "does not impact the treasury and add millions of dollars more to the Government's debt". The statement added: "The project calls for the employment of hundreds of Bermudians initially and an increase in the number of long-term jobs connected to the facility going forward. It also calls for an injection of hundreds of millions of dollars of foreign capital into the Bermuda economy."
2016. January 19. The agreement between the Bermuda Government and the Canadian Commercial Corporation has been published on the Bermuda Parliamentary website. The Airport Development Agreement was signed last summer and tabled in the House of Assembly by finance minister Bob Richards in December. In a statement today, the Government said the project will "replace an ageing and crumbling infrastructure with a purpose-built 21st century terminal for civilian air traffic", calling for hundreds of jobs for Bermudians. The deal has repeatedly been criticised by the Progressive Labour Party, but Mr Richards stated: "There are substantial advantages to the Government's course in this redevelopment project. Not the least of benefits is the ability to work with the Triple-A-rated Canadian Government and obtaining guarantees against cost overruns, shoddy workmanship and time delays. These have been the biggest issues plaguing Bermuda's history of infrastructure development. And it has cost the taxpayer hundreds of millions of dollars in unnecessary expenditure. It is time for that to stop. We are today, and for the foreseeable future, paying for the sins of the past. But we are on a course toward getting Bermuda back to the days of a balanced budget. Even then, our work will not be finished. We will still have to find additional revenues after that to pay off a multi-billion-dollar debt. This means it is crucial that we exercise prudence in our fiscal policy. This project is just one aspect of that strategy and notably, it does not impact the treasury and add millions of dollars more to the Government's debt." To see the agreement, visit www.parliament.bm.
2015. December 18. Key information about the Bermuda Government's airport plans were shared with Curtis Stovell, the Accountant-General, only after his appearance at the Public Accounts Committee prompted the Ministry of Finance to do so. PAC chairman David Burt, the Shadow Minister of Finance, said the testimony of Mr Stovell appeared to have "shamed" the ministry into following through on a request for information made six months earlier. "This speaks to weaknesses in our system," Mr Burt told The Royal Gazette. "None of this would have been exposed had we not held that meeting on November 19." Mr Stovell has repeatedly said that while he initially waived protocol in the Government's early dealings with the Canadian Commercial Corporation (CCC), he was not asked in writing for later waivers, and that financial instructions had not been adhered to. However, Anthony Manders, the financial secretary, last week insisted that Mr Stovell's approval at the start had covered the entire deal with CCC — including CCC's selection of Aecon, a Canadian contracting company, to build a new terminal at LF Wade International Airport. Yesterday, Mr Stovell conceded that "communication should have been much better than it was", but said he had now been furnished with the necessary information and was "not saying that we are not currently in compliance." On his apparent difference of opinion with the Financial Secretary, Mr Stovell said: "I can see given the intimacy of the Ministry of Finance with the transaction, that the assumption would have been made." However, he said he saw no reason why he could not revoke his permission if he grew concerned about how the project had been handled. Mr Burt said that there was "no dispute" that procedure had been broken, as the Accountant-General's permission had been required. Mr Stovell also said that he would have asked the Ministry for more information about Aecon, had he known that CCC already had the firm selected. The PAC heard that the project's value for money assessments would be "in the public agenda", and that responsibility for it had been handed over from the Ministry of Finance to the Ministry of Tourism and Transport. Mr Burt later told this newspaper that the delegation to another ministry was "concerning", pointing out that such transfers of oversight for major capital projects had been repeatedly criticised by the Auditor-General. The PAC is now on break for the winter, but Mr Burt said the group was getting to the point at which it could provide the House of Assembly with a unanimous report of its recommendations going forward.
2015. December 11. Two senior Ministry of Finance officials are at odds over whether adequate permission was sought for the Bermuda Government's deal to build a new airport terminal. "Clearly we are at an impasse," David Burt, the Shadow Minister of Finance, said at the close of yesterday's lengthy meeting of the Public Accounts Committee (PAC). "It seems, sadly — which is not surprising — that it has broken down along party lines," added Mr Burt, who is chairman of the committee. Members of Parliament from both parties spent two hours questioning Anthony Manders, the Financial Secretary, over whether or not the government's own rules were flouted in the deal with Canadian Commercial Corporation (CCC) to build a new terminal for LF Wade International Airport. With Mr Mander's view widely diverging from those given at an earlier meeting by Curtis Stovell, the Accountant-General, the PAC unanimously agreed to call Mr Stovell back for further questioning next week. Simultaneously, Heather Jacobs Matthews, the Auditor-General, will be asked if her office can give an independent opinion as to whether or not financial instructions were breached. Ms Jacobs Matthews is to be contacted after a motion from Progressive Labour Party MP Wayne Furbert, who said he preferred to go to her directly rather than "wait five years" for a report on the airport deal. Mr Manders repeatedly maintained that an initial waiver from the Accountant-General to proceed with CCC amounted to approval for the entire project as it was structured in the agreement. Mr Burt responded: "What I consider unfortunate is the fact that the Government and the minister are expecting the people of this country to believe that the guardian of the public purse took less than 24 hours to waive permission for a $255 million project." At its opening of business, the committee heard from a May 2015 memo from Mr Stovell to Mr Manders saying that CCC's selection of a "hand-picked" contractor, Aecon, to be a sole-sourcing that required his approval. However, the Financial Secretary insisted that all subsequent phases of the project has been given in the letter of agreement approved by the Accountant-General, and that it was CCC's purview to select Aecon. However, PAC member Cole Simons pointed out that Mr Stovell had earlier told the committee that he had not given permission for the sole sourcing of the contractor. "Since then, have you reconciled that difference?" Mr Simons asked. "We have met and will reconcile it," Mr Manders said, describing the agreement with CCC as unique, highly complex and difficult to explain — and like "trying to fit a square peg into a round hole" when it came to financial instructions. "This is not a typical transaction," he said. "It's difficult to fit in with financial instructions. That's why at the beginning we asked for sole sourcing and to waive financial instructions." Questioned repeatedly by Mr Burt how he could reconcile his position with Mr Stovell's assertion that financial instructions had not been followed, Mr Manders told the PAC: "If he had that position, I think he should have withdrawn the original approval. If he was that serious, he should have said 'I withdraw' ... He had that ability. He could have done that." The plan with CCC was a government-to-government deal that had only been possible to make with Canada, the Financial Secretary said. "It's unfortunate that this happened," Mr Manders added. "Going forward, I think it would be prudent that the ministry keeps the Accountant-General in the loop." He recommended regular updates on the project be delivered to the PAC. However, he said: "It would be very odd after agreeing to this government-to-government approach to have to go back and seek further approval, when we had approval from the beginning." PAC member Lovitta Foggo said it had been her understanding from Mr Stovell's remarks earlier that he had not granted permission. "When I marry that information together, it still puts flags up for me," she said. Asked by PAC member Jeff Sousa if the agreement had been given in an "open and transparent manner", Mr Manders replied: "In my opinion, yes." Although agents from Aecon and CCC were on the Island examining the airport before the permission was given, Mr Manders said they were "scoping the project" at their own expense, independently of the Government. He also denied that there had been any pressure put on him by the Bermuda Government, and said that he had put no pressure on the Accountant-General to give the waiver.
2015. December 3. A former United Bermuda Party minister has weighed in on the Bermuda Government's $250 million plan to build a new airport, claiming the project is unnecessary. Quinton Edness, who retired from politics in 1998, said he had heard nothing yet from the country's leaders which persuaded him that the new facility was needed. "I don't see why we need another airport terminal building," said Mr Edness. "I just don't see the necessity for that. We have an airport that's serving the country quite well. It hasn't been too long ago that we spent millions of dollars extending the departure lounge and dealing with the arrivals lounge. The airport works very well. No one has said to me what's wrong with our airport. I don't see the necessity of having to build the new airport, particularly when the country is in such debt. I just don't think with the condition that we are in, our economy, with the debt that we have piled up, that we have to have another building [costing] in excess of $200 million." Bob Richards, the Minister of Finance, has cited rising maintenance costs at LF Wade International Airport and its vulnerability to storms as major arguments in favour of building a new terminal in a location less susceptible to hurricanes. He said in August the project would be financed by a private-sector developer — meaning there would be no need for Government to add to its debt — who would then take over management of airport operations for a 30-year period. The project, which Mr Richards has also said will provide economic stimulus and allow Bermuda to keep up with its competitors, is not expected to break ground before the second half of 2016 Mr Edness is not the first person to criticize the development. The Progressive Labour Party has staunchly opposed the scheme, claiming it could mean job losses for Bermudians and lost revenue for the Island.
2015. November 26. PLP leader Marc Bean has accused finance minister Bob Richards of misleading the public with his claim that financial instructions were waived for the airport redevelopment deal. Mr Richards released a memo last week showing that Accountant-General Curtis Stovell approved the Bermuda Government to waive financial instructions on its early deals for the controversial project. However, in a statement, the Leader of the Opposition argued that memo only shows approval was granted for the first phase of the scheme. Mr Bean stated: "The admission in the Public Accounts Committee meeting on Thursday, November 19, from the Accountant-General, that permission has neither been requested nor received by the Minister of Finance, to act outside of financial instructions, is proof positive that the One Bermuda Alliance Government is a government without financial conscience, and a government that is willing to lie and deceive the Bermudian people to achieve its goals at any cost. The memo that was subsequently released by the finance minister was a desperate attempt to pull the wool over the public's eyes. Yes, that memo shows an approval by the Accountant General, however, that approval was for the first phase only. For the government to proceed further, into signing the airport development agreement, approval to act outside of financial instructions would have to be sought and the Accountant-General would have to sign off on this. At the PAC meeting, the Accountant-General was clear that this had not happened, and that the Government did not have the appropriate permissions in place. It is disappointing that the Premier and other members of the OBA Cabinet have been silent over this behavior. However, one would think that this admission would at the very least cause the Governor and the Auditor-General to become interested in what is going on. Instead, thus far it seems to be business as usual. The Progressive Labour Party has articulated our plan to handle corruption in government and to enhance the standards of good governance. We have condemned corruption in any and every form and have expressed our displeasure, regardless of which administration it appears to be under. It is time for the Premier and the OBA government to deal with speculation about possible corruption within their ranks rather than only referring inquiries to the PLP administration. The people of Bermuda deserve better."
2015. November 21. A memo released by the Ministry of Finance shows that Accountant-General Curtis Stovell approved the Bermuda Government to waive financial instructions on its early deals for an airport redevelopment. However, Shadow Finance Minister David Burt, who heads the Public Accounts Committee (PAC) now examining the airport project, insisted that the present airport development agreement never had Mr Stovell's permission to go ahead as a sole sourced arrangement. "It does not matter what the minister says — financial instructions are there to be followed and the person there to ensure that is the Accountant-General," Mr Burt said. He was referring to the release on Thursday night by Bob Richards, the Minister of Finance, of the September 2014 memo from Mr Stovell to Anthony Manders, the Financial Secretary, covering the memorandum of understanding and letter of agreement for the project. "He made it clear that this only covers the first stage, and that any additional agreements have to be ratified by him," Mr Burt said. "Neither the Minister of Finance nor his Cabinet has the power to deviate from financial instructions. If he wants to deviate from them, he has to change them. He does not have the power to ignore them." The communication was released after Mr Stovell's appearance before the PAC on Thursday, in which he said he had not been asked or had granted permission for the bypassing of instructions on the airport development agreement.
2015. November 20. The Bermuda Government and its own Accountant-General clashed last night over permission to depart from financial instructions in a bid to redevelop the Island's airport. Curtis Stovell, the Accountant-General, told a meeting of the Public Accounts Committee yesterday that he had not been asked for approval for the contract to be granted to the Canadian Commercial Corporation (CCC). But finance minister Bob Richards later released the memorandum from 2014 in which Mr Stovell gave permission to waive financial instruction conditions. Mr Richards said: "The Accountant-General determined the applicability of procurement rules in financial instructions with regard to the proposed relationship between the CCC and Government and, after reviewing all relevant documentation and considering all circumstances, gave his permission to proceed with the project using the government to government approach." Mr Stovell last night refused to discuss the disparity between his evidence yesterday and his 2014 memo. He referred requests for comment to the Department of Communications and Information. The memo from Mr Stovell, dated from September last year, said: "Under ideal circumstances a competitive tender process is always preferable." But it added that he "gave permission to waive the requirement for three quotations for the services to be provided under the letter agreement." His memo to Anthony Manders, the financial secretary, added: "My permission is provided on the condition that when available, further information can be provided on CCC's fees, even at a high level, to enable an evaluation of value for money for the services." The airport proposal came under the renewed scrutiny of the Public Accounts Committee (PAC) yesterday, which is composed primarily of Members of Parliament. Asked by David Burt, the PAC chairman, whether he had received a request for bypassing financial instructions on the agreement, or had given approval, Mr Stovell said: "No for both." Mr Stovell described the initial agreement with Canadian Commercial Corporation (CCC) as "an agreement to enter an agreement." While nothing has been spent so far on CCC, a cost centre has since been established with some expenditure on the law firm Bennett Jones and CIBC World Markets. "There is another agreement now where the Government is on the hook," Mr Burt continued. "Is this not something you would have been required to get permission for?" "In my opinion, yes," Mr Stovell said, adding that he had not been consulted. Asked by Progressive Labour Party MP Lovitta Foggo if he could tell the PAC that the "contract at present will have the people's interests at heart", Mr Stovell replied: "I don't know that I am prepared to answer that." The Accountant-General said he had been presented with no case for bypassing the rules, and thus could not give a satisfactory reply. However, questioned by One Bermuda Alliance MP Cole Simons, Mr Stovell conceded that such contracts did proceed on occasion in the Government. Neither he nor Graham Simmons, the interim director of the Office of Project Management and Procurement, would give an assessment of the worthiness of the project — although Mr Stovell told the PAC that he would not see "glaring issues" and not raise them. Questioned next, Mr Simmons said he had not been consulted on the present airport agreement, but was still reviewing the document. Mr Simmons agreed with PLP MP Wayne Furbert that the Government had not followed financial instructions. Repeating the rule that to depart from financial instructions, permission must be sought from the Accountant-General, Mr Stovell closed by telling the PAC: "Departure without permission is not permitted. We have nothing further to say." The PAC membership agreed with Mr Furbert's suggestion that the financial secretary be called before the committee for questioning. Echoing a refrain from PAC meetings over years, members on both sides criticised the Government's financial instructions as lacking any real power. The second part of the meeting heard updates on the Auditor-General's report on government funds for the years ended March 31, 2010, March 31, 2011 and March 31, 2012. In that report, released on November 13, Auditor-General Heather Jacobs Matthews identified "serious deficiencies" for government oversight of capital development projects. Expressing frustration with the lack of compliance with instructions, Mr Furbert said: "We can't be expected to sit here knowing that five years from now, the Auditor-General is going to write a report about the airport." Mr Simons suggested adding financial instructions to the agenda for discussion at the PAC's next meeting. "This has been going on for years and years and years," he said. "There is no recourse, no sanctions for the malfeasance." Replying that he "could not agree more", Mr Burt said that violations of the instructions could only be made by the accounting officers themselves. "Hopefully, government ministers can lean on the Minister of Finance to table financial instruction so that the Good Governance Act [brought to Parliament by former PLP Premier Paula Cox] can be put into force," Mr Burt said, referring to "the exasperation of the public, of this committee, and of the Auditor-General." Speaking afterwards to The Royal Gazette, Mr Burt said he was "shocked that the Accountant-General came here today and said that the OBA Government is violating financial instructions in their approach to the airport." Ms Jacobs-Matthews said yesterday that although the instructions were "quite robust", she knew of only one case in which a civil servant had been disciplined.
2015. November 19. There was no other option for the Bermuda Government's planned airport redevelopment because "we can't afford it any other way", finance minister Bob Richards said last night. Non-tendered agreements and resorting to public-private partnerships, or P3s, were a necessary resort for replacing the Island's ageing airport terminal, the minister told a town hall meeting attended by about 100 people last night. Tendering the project would have been too time-consuming and expensive, Mr Richards told the gathering in a room at the Anglican Cathedral, citing a $10 million consultancy fee for the hospital redevelopment. "To have something off the balance sheets, this is the only show in town," he replied to a question from the audience, saying the only viable deal was one that would be financed over time by usage of the airport rather than government funding. "We didn't have the money to do it," he said. So far, a guaranteed revenue level for the new terminal proposed for LF Wade International Airport remains a work in progress. "The actual numbers are subject to current negotiations," Mr Richards said, calling a forecast of future air traffic the most critical aspect. "Everybody likes to make fun of me for 'fuzzy numbers' — this is a forecast," he said. "But the guarantee will be a hard number." Steve Nackan, the president of Aecon — the subcontractor to Canadian Commercial Corporation (CCC) — estimated that a guaranteed revenue would be available by the early summer of next year. "The hope is that the revenue will always exceed what we think will be the guaranteed revenue," Mr Nackan added. Asked if the Government would have to bail out the new airport if the project "failed", Mr Richards said: "The Government of Bermuda will not have to bail this out — period." The project has been subjected to "a great deal of noise and disinformation", he told the meeting. The proposal using CCC and Aecon is predicted to cost $249 million and take 40 months to construct, with Aecon as the major shareholder of a special purpose company to build the terminal and have a concession agreement to operate it for the next 30 years. Present airport staff and management will be retained, with some of them going to a special purpose company to run the facility, and regulated by the Government — replacing the Department of Airport Operations with an "airport quango."
2015. November 18. The Parliamentary Standing Committee on the Public Accounts will conduct a public hearing tomorrow. Members will discuss the proposed redevelopment of LF Wade International Airport, and receive an update from the Accountant General regarding the move not to put the airport terminal project out to tender. The committee is also expected to receive an update from the Office of Auditor General on its latest reports on the Consolidated Fund of the Government of Bermuda for the years ended March 31, 2010, 2011 and 2012. The Public Accounts Committee, chaired by shadow finance minister David Burt, is comprised of MPs, and is authorized by the House of Assembly to closely examine and report on matters relating to the accounts of the Government of Bermuda and, in particular, to investigate findings reported by the Auditor General in the Auditor's Annual and other Special Reports. The meeting takes place at 2.30pm in the Senate Chamber and is open to members of the public.
2015. October 22. Airport managers have vowed to address concerns over noise levels at the new private jet facility in St David's. The terminal was relocated in June from just off Kindley Field Road further east towards Clearwater Beach, just off the main runway near Chapel of Ease Road. The move has sparked concerns from some nearby residents who claim the sound of the engine generators on the planes around the new facility is causing a noise nuisance. But Aaron Adderley, LF Wade International's general manager, has said the concerns are being taken seriously and that authorities were looking at noise mitigation options. On Tuesday night at a public information session about the airport redevelopment plans Cheryl Hayward-Chew raised concerns about the level of noise when dozens of planes were parked at the facility. She asked the panel of Government ministers and their partners what would be done about the problem under the proposals for redevelopment of LF Wade. "The private jet facility moved down to our area quite recently," she said. "It's not the planes coming and going, it's the sound of the generators on the planes while they are on the ground that causes extensive noise for the nearby residents. There is supposed to be an Environmental Impact Assessment done on the noise level at the airport during take-off and landing but we are asking for a sound study on the impact of the terminal." Up until this summer private jet operations were based out of Apron II along Kindley Field Road adjacent to Ferry Reach. However, the airport decided to discontinue the use of the substandard facility to use the modern, superior facilities at Apron IV. Mr Adderley, who was also attending the public meeting organized by Government responded to Ms Hayward-Chew's question. He said: "The old facility was not the kind of facility that we wanted to portray to our high- net-worth travelers. We wanted to have a modern, purpose-built facility that Bermuda could be proud of instead. We recognise there have been complaints raised for the first time about noise at the airport. This is not, however, uncommon for airports around the world. We are committed to addressing the issue and are very sensitive to the concerns raised by area residents. We are committed to carrying out a noise study and identifying any noise mitigation options that are open to us. We hope to make things more comfortable for those residents who have raised concerns. We are going into our slower season now and will look to put in place new measures to try and address those concerns." A spokesperson from Cedar Aviation Services, which operates the new terminal, added: "As soon as we were directly notified about the complaints, we asked for a meeting. The meeting was subsequently hosted on site the next day because Cedar wanted to be proactive and ensure it understood the specific nature of the complaints. Since the meeting, pilots have asked to be as mindful as possible in running engines and ancillary systems to mitigate any noise and exhaust pollution. In addition both Cedar and the Department of Civil Aviation are working closely to identify any other solutions to minimize any inconvenience to its neighbors."
2015. October 21. The firm tasked with building the new airport under the Bermuda Government's redevelopment plans has pledged to retain all staff from the Department of Airport Operations. Steve Nackan, president of Aecon Concessions, said his firm had been extremely impressed by the airport's workforce and insisted the $250 million project would provide hundreds of jobs. However Mr Nackan, together with those behind the public private partnership (PPP) that will be guaranteed by the Canadian Commercial Corporation, came under fire from opponents of the project during a public information session at Penno's Wharf last night. Lawrence Scott, the shadow minister for transport, questioned why the proposed new airport was smaller and maintained that all revenue from the airport should go back into the facility rather than end up as profits for Aecon. Mr Nackan responded that the new terminal would be bigger with more gates — although a final design was yet to be finalized — and there was provision under international regulations whereby Aecon could make a reasonable return on investment in the project. Jason Hayward, president of the Bermuda Public Services Union, said the union was fundamentally opposed to PPPs and asked about Aecon's investment return. Mr Nackan replied: "Unions around the world express the same concerns, but there is a tremendous body of evidence to support the fact that PPPs work. We are in the early stages of design, but the notion that money is leaving the country is not true, all of the money generated by the airport will be ring fenced in this project." During an increasingly heated question and answer session at the end of the presentation Bob Richards, the Minister of Finance, confirmed that the Government had passed the point where they could pull out of the deal without incurring penalties. He said that Aecon had initially spent $2.5 million on the project and had incurred more expenses that the Government would be liable for it was to withdraw from the arrangement. "The idea that we can just cut and run is no longer on the table. When we are doing a project like this we have to make a commitment if there is to be progress." Last night's Government information session attracted more than 200 people including politicians from both sides of the divide as well as leaders of the People's Campaign including Chris Furbert, the Bermuda Industrial Union president, and Reverend Nicholas Tweed, who asked what percentage on top of the $2.5 million Bermuda would have to pay Aecon. Reverend Tweed claimed the whole process behind the redevelopment plans undermined freedom of speech and dialogue. Earlier in the night Shawn Crockwell, the Minister of Tourism Development and Transport, and Mr Richards outlined the benefits of the PPP agreement for Bermuda. Mr Richards said the project was the best deal for the country insisting it would be paid for by the users of the airport and not the Government and would not add to Bermuda's debt. While Mr Crockwell maintained a new airport would be a "game changer" for the Island that would have an economic impact everyone would benefit from. Grant Gibbons, the Minister for Economic Development, revealed that Government would be issuing a Request for Proposals for a solar farm on The Finger peninsula in the near future "to compliment the airport project". "We are hopeful that this solar voltaic farm will be of use in terms of providing the peak energy needs of the airport during the day, at a good cost and supply some of Bermuda's electricity as well." Meanwhile Jacques Greffe, vice-president of contract management at CCC, said it was CCC's job to guarantee the performance of the contract as well as ensure it was done on time and on budget. He said CCC was fully behind the project and also confirmed Aecon had initially brought the project to CCC's attention "to see if we were interested." Mr Richards later suggested that opponents of the project had drawn "incorrect inferences" from this fact, and maintained that Government had not approached and did not even know who Aecon were when the construction firm approached CCC about the potential of the project. He said: "Aecon brought the idea to CCC but it was not done with the knowledge of the Bermuda Government." Mr Nackan told the meeting that extremely stringent procedures were in place to ensure Bermuda would receive value for money and maintained the deal was not privatization. He added: "We have met with over 200 organisations, agencies and people so far. We believe a new airport will serve as a beacon to other investors and boost their confidence to bring investment into the country."
2015. October 2. A US-based company has won the contract to provide support services at Bermuda's airport. CI² Aviation, based in Atlanta, Georgia, beat BAS Serco to provide support services at the LF Wade International Airport. Its general manager Aaron Adderley said: "We believe that this change in service provider will help bring about even greater career opportunities and will help better position us to pursue some of the strategic air traffic management goals we have in mind for our operation." The existing contract, which BAS Serco has held for 20 years, is due to expire at the end of March next year. The company employs 40 people at the airport under the Department of Airport Operations — but a spokeswoman for the Bermuda Government said that it was expected they would all be retained by the new operator. BAS Serco currently provides air traffic control, ground electronic and the Bermuda Weather Service. A government spokeswoman said: "In preparation for that, Airport Operations initiated a comprehensive procurement process seeking proposals for the provision of specific aviation services These bids were received and evaluated by Airport Operations management. The bid submitted by CI² Aviation proved to be the preferred bid. As such, Airport Operations has opted not to renew BAS Serco's contract." Mr Adderley said: "BAS Serco has been a staple at this airport. They have held this important contract for over 20 years. It has helped to foster the careers of many Bermudians in both aviation and weather forecasting and we're grateful for the work they have done." Government added that CI² is an award-winning company and is the only minority-owned firm in the US that provides air traffic control services to the federal government. The company also holds air traffic control contracts in Puerto Rico and the US Virgin Islands, with Bermuda now its third offshore contract. The Government spokeswoman said: "The company has confirmed its desire to establish roots in Bermuda and to retain, hire and develop Bermudians." Mr Adderley backed the Government view. He said: "Specifically, their longstanding relationship with the Federal Aviation Administration (FAA) and their air traffic management of airpace bordering US national airspace was viewed as a strong advantage given that our own airspace also neighbors that of the US and, for now, is presently managed by the FAA. Financially, CI² Aviation's bid was extremely competitive. We were excited that it offered prospects of enhanced training and career development opportunities for local employees that the company could offer through its other contracts."
2015. September 21. The Bermuda Government has moved to quell concerns that jobs may be lost at the airport under its multimillion-dollar redevelopment plans. Last week at a public meeting in the East End Lawrence Scott, the Shadow Minister of Transport, raised concerns that staff at LF Wade had been told that they could not be guaranteed jobs if the project went ahead. But a Government spokesman told The Royal Gazette that some existing employees would merge in the new airport operators business model, while others will staff a new airport quango. "Given the industry specific skill sets that officers of the Department of Airport Operations (DAO) possess and given their overall experience levels, it is expected that some of the existing employees of DAO will merge into the new Airport Operator's business model," the spokesman added. "Other DAO employees will staff the new airport quango which is to be established in order to provide oversight of the airport operator." At Friday's meeting Mr Scott also announced that Aecon — the developer — had "pulled out" of the Quito airport arrangement in Ecuador, which it had built with the Canadian Commercial Corporation (CCC). The spokesman said the claim was inaccurate. He added: "The facts are that Aecon sold its 45.5 per cent interest in Quito Airport. This was just a normal business transaction. President of Aecon Concessions Steve Nackan has stated: 'Aecon has been involved with the Quito Airport for over 14 years — taking the project from its infancy, through development, financing, construction, operating the existing Quito airport from 2006 to 2013, and into two and a half years of full operation of the new award-winning airport. From an operational perspective, the new airport has reached a 'steady state' and from an investment perspective, is now well suited to long-term institutional ownership. It is typical that at this stage in an infrastructure project's life cycle, to see investments transition from the originating project sponsor, developer and builder to long-term institutional investors, and this transition is generally perceived as a further marker of a successful development project.'" The spokesman told The Royal Gazette that after the Island's new terminal was open, Bermuda's consent was still required for any change of control. He added: "Subject to certain very narrow exceptions, the current development agreement requires Aecon Construction Group to be the joint owner and lead shareholder of the Company that will be operating the airport throughout the construction of the Airport, and thereafter Aecon Construction Group must control the Airport Operating Company. The Government must provide its prior written consent for any changes to this situation. The Government retains absolute discretion for this decision. After the terminal opening date, Bermuda's consent is still required for any change of control but will be given if the proposed transferee has the financial resources, experience and expertise required to step into that role." Last week's Progressive Labour Party town-hall meeting attracted more than 100 people in the East End and was the third such event organized by the Opposition. During the presentation Mr Scott claimed that there would be less gates at the new facility. The Government spokesman responded: "The new airport will have seven new boarding bridges to enhance passenger level of service. There are no boarding bridges at the current terminal. The new terminal will have 14 stands to accommodate passenger aircraft compared to the current layout, which only has eight gates/stands and one of those is used for cargo."
2015. September 18. The Progressive Labour Party reiterated its staunch opposition to the Bermuda Government's plans to redevelop the airport last night. More than 100 people attended the party's third town-hall meeting at St George's Cricket Club to hear David Burt, the Shadow Minister of Finance, and Lawrence Scott, the Shadow Minister of Transport condemn the One Bermuda Alliance's "privatisation" proposals. The $250 million project will be financed by a private-sector developer that will take over management of airport operations for 30 years. Government has signed a memorandum of understanding with the Canadian Commercial Corporation, a branch of the Canadian Government, which selected Canada-based Aecon Group Ltd as the developer and concessionaire. Mr Scott told last night's meeting that "new information has come across my desk" that highlighted possible consequences of the deal for future generations. He said: "Most of the major building jobs would not go to Bermudians, they would fly people in. I am made to understand that Aecon has pulled out of the Quito, Ecuador airport (which it had previously built with CCC) and sold it. Why? Because a better deal came along and that is why we are all here today." Mr Scott said that under the PLP's plans to create a financially separate Airport Authority no Bermudians would lose their jobs. He added: "I am made to understand that the persons working in Airport Operations have already been told they can not be guaranteed their jobs when this goes through. My understanding is the new airport is smaller than the airport we have now with less gates. We have eight at the moment, the new airport will have seven or six." Several PLP MPs including leader Marc Bean, Derrick Burgess, Michael Weeks, Lovitta Foggo as well as St George's Mayor Quinell Francis and John Barritt attended last night's meeting that began at 7pm. Mr Burt told the meeting the country would lose $1.6 billion in revenue by giving away the airport to a Canadian company to run for 30 years. He described the project as "a personal, political project of the Minister of Finance." Mr Burt added: "After we gave our last town-hall meeting, the Government has signed a further agreement with Aecon that now ties the Government of Bermuda. Now, all of us are on the hook. This is hugely irresponsible of the Minister of Finance to commit the Government to spending money without looking at other options." The Royal Gazette reached out to the Ministry of Finance last night for comment on the assertions made in the PLP meeting but we did not receive a comment by the time we went to press. Previously Bob Richards, the Minister of Finance, has said that the jobs and compensation of the staff at the airport will be protected, and that more jobs will be created there. He has insisted taxpayers would get value for money under the public-private partnership and that Bermuda would acquire a strategic asset without incurring any more debt.
2015. August 25. An independent analysis of the Bermuda Government's proposal to redevelop the terminal at the LF Wade International Airport lays bare how bad the deal is, according to Diallo Rabain of the Progressive Labour Party. However, One Bermuda Alliance senators told the Upper House that the report had been commissioned by the Government to identify gaps in the tentative agreement, which yesterday reached phase two of a four-point process. Senator Rabain said the report showed a government "being led by the Canadian Commercial Corporation telling them what they want to hear, and a minister content to believe it". He pointed to an unflattering assessment of the project's value for money, along with various commercial and financial cases, that countered Finance Minister Bob Richards's depiction of it as the "deal of a lifetime." Sen Rabain also pointed out Mr Richards's warning of the hidden costs associated with public-private partnerships in a 2009 United Bermuda Party Budget reply, when he was Shadow Minister of Finance. Michael Fahy, the Minister of Home Affairs, argued in reply that the terms of the report — which follow those of the British Government's "Green Book" regulations — were far tougher than local financial instructions. "At no time has Bermuda signed up to the Green Book way of doing business," Sen Fahy said. The penalties for Bermuda backing out of the deal would be mild, he added, covering only the costs undertaken thus far. The agreement is only starting at "the value-for-money stage", the minister said. The Senate heard that the airport now has 1,359 people working on its premises, with Junior Minister of National Security Jeff Baron hazarding a guess that 1,000 of them were Bermudian. OBA senator Lynne Woolridge said the aim of the report was to "further the development project — to find out what's missing". The Deloitte report, which was not debated in the House of Assembly, came to the Senate through a take-note motion brought by Sen Rabain.
2015. August 24. Bob Richards, the Minister of Finance, yesterday signed interim agreements with the Canadian Commercial Corporation for the redevelopment of LF Wade International Airport. While the minister said the contracts did not guarantee the controversial project will move forward, he described them as another step in the incremental contract development process. "The Letters of Agreement contemplates that a further agreement, called the Airport Development Agreement (ADA), must be entered into in order to set out and describe the ambit, principles and subject matter of the project's final and definitive agreements," Mr Richards said at a press conference at the airport. "Phase one of this incremental contract process, which consists of exploration, scoping and data completion, has now been completed. This ADA marks the beginning of phase two, which will complete negotiation of definitive, detailed terms to oversee the project's implementation and move it to financial close. "This will include the framework definition, design and detail costing, finance and detail finalization of the contracts, commitments and liabilities, the independent fairness assessment, local tendering and the addressing of legal issues. This means moving the project forward with Aecon and CCC to finalise the design and financing of the airport's redevelopment, including construction, operation and maintenance." He added that phase two is expected to take about a year, after which there will be a final contract which must be signed before construction can commence. The minister also defended the Bermuda Government's handling of the project, which has come under fire repeatedly due to a lack of tendering and concerns that the deal would amount to privatization of the facility. "The alternative to what we have done so far is no airport," he said. "The only alternative is no airport at all. We are committed to developing Bermuda, to providing jobs, to constructing a new strategic asset which is needed, and the only way we could go forward with this is this way. "The traditional tender process which everyone keeps talking about would result in the Government increasing the debt by over a quarter of a billion dollars, which is not something this Government will allow. The alternative being what it is, this is the way to go." Minister of Tourism Development and Transport Shawn Crockwell, meanwhile, said the existing terminal was not meeting the first-class standard that visitors and residents expect. "This Government, your Government, has put together a plan that provides so many benefits for Bermudians. Importantly, it will take a hodgepodge of buildings which we have been using since the 1940s, together with additions and Band-Aids here and there, and replace it with Bermuda's first purpose-built terminal for civilian air traffic. We have been fortunate in finding such high-end partners to help us achieve this objective." Martin Zablocki, president and CEO of CCC, said the corporation was excited to be working with Bermuda on a project which will create jobs for Bermudians, both through subcontractors and add-on business, while Aecon Group executive chairman John Beck said it would take great care to deliver infrastructure which supports Bermuda's economy and society. "We are confident that we can do this for Bermuda through a collaborative and affordable process using Aecon's award-winning airport development expertise," he said. "Using a whole-of-country approach, we will work alongside other companies to maximize employment opportunities for Bermudians and bring best-in-class safety, construction and environmental standards to the project." The Progressive Labour Party has repeatedly criticised the One Bermuda Alliance's approach over the airport redevelopment, and last week suggested the creation of an airport authority that would allow Bermudians to take advantage of projected revenues. Mr Richards, however, dismissed the claim that the deal would cost Bermuda $620 million in revenue over the course of the next 30 years, dismissing the figures as speculation. "These are coming from people I like to call number bombers," he said. "They can speculate, they can pontificate, they can prevaricate. They can do that because they don't have to deliver anything. As ministers of this government we have to deliver, so we can't throw numbers around willy-nilly. The people who know these numbers are the people who are in this room. The people have to ask themselves do the people in this room, Aecon, CCC and the Minister of Finance, know more about this than people who have never built anything? Aecon built the CN Tower. And the new terminal at the Toronto Airport. We are dealing with experts here. I really think the number bombers need to let us do the deep dive into the data to prove the economics of this project, and that's what phase two is. A commitment to do a deep dive into the details of this project, to come up with the economics of this projects. The number bombers are going to continue to speculate, pontificate and prevaricate, but we are getting on with the people's business here."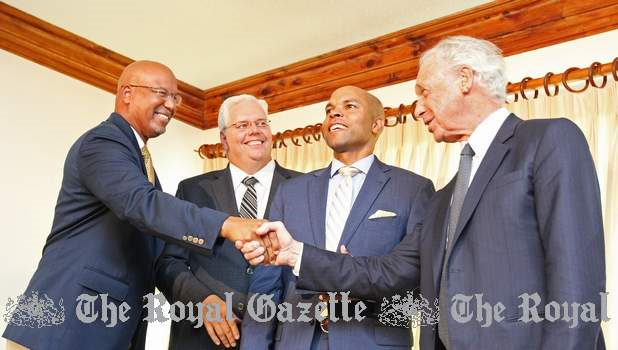 Airport deal signed, see above story
2015. August 13. Maintenance costs at LF Wade International Airport are rising "exponentially" and each time a major hurricane hits the Island taxpayers will incur millions of dollars in repair costs, Finance Minister Bob Richards has warned. The vulnerability of the airport to storms is one of the major arguments for the Bermuda Government's plans to build a new airport terminal in a less hurricane-prone location, Mr Richards said. The $250 million project will be financed by a private-sector developer — meaning there will be no need for Government to add to its debt — who will then take over management of airport operations for a 30-year period. Government has signed a memorandum of understanding with the Canadian Commercial Corporation, a branch of the Canadian government, which has in turn selected Canada-based Aecon Group Ltd as the developer and concessionaire. However, in an update on the project in response to questions from The Royal Gazette, Mr Richards said Government is still more than a year away from signing any contract and that ground will not be broken before the second half of next year. The opposition Progressive Labour Party (PLP) has raised concerns about the airport revenue that will be lost over 30 years, but Mr Richards said expenses would be offloaded too. "The current terminal is in the worst possible location insofar as hurricanes are concerned — too close to Castle Harbour and vulnerable to storm waves riding storm surges," Mr Richards said. "That's what happened with Fabian, with seawater up to the ceiling. Spending good money, $12.5 million after Fabian and over $2 million after Faye and Gonzalo, will be repeat events if the terminal is not moved to a safer location and higher elevation. As our principal gateway to the world we cannot have an airport so vulnerable to hurricanes. The new terminal at its proposed locale will lower that risk materially." Taxpayers made a small loss on airport operations in the fiscal year through March 2015, according to government figures. The Department of Airport Operations took in $10.7 million, from sources such as landing fees, commercial passenger charges and aviation security fees. When $13.4 million of airport departure taxes are included, total revenue was $24.1 million. Airport expenditure, including compensation for 43 staff, maintenance, energy and professional services, totaled $24.4 million. In the 2015-16 fiscal year, an increase in the departure tax from $35 to $50 per passenger will increase total airport revenue to $30.8 million, while expenses are projected to fall to $19.3 million. As no deal has been struck with a concessionaire, it is not yet clear whether Government would maintain any share of those future revenues or expenses. Deloitte was brought in to analyze the project and to compare it with UK government "Green Book" standards for procurement. Deloitte found gaps between what the Government has done so far and the UK standards, required to make a "full business case". Since the UK is responsible for Bermuda's external affairs and the airport project has involved working with a Canada government entity in the shape of CCC, Government House was consulted on the project. Last month the UK Foreign and Commonwealth Office sent a letter of entrustment to Governor George Fergusson, stating that "the United Kingdom Government and the Government of Bermuda must agree on what measures are required to address the deficiencies that are identified by Deloitte." Mr Richards said: "Government is in the process of promulgating responses and information that will satisfy the gaps relative to HM Treasury's Green Book as outlined by the Deloitte report. When this is complete we will fulfill the requirements of the entrustment letter. Nowhere in the Deloitte report does it refer to 'deficiencies'. This word can only be found in the entrustment letter. In so far as Bermuda law and regulations are concerned there are no deficiencies. Considering where we are in the process, the findings in the report are not surprising and we still have opportunities to close the gaps identified in the Deloitte report before entering into any contracts." Mr Richards said Government had agreed voluntarily to the Deloitte review, in the belief that its findings would improve the project's value for money and reduce risk. "Merely because Deloitte did not find lengthy memoranda or explanatory documents regarding, for instance a 'full business case', does in no way indicate that such matters were not considered, discussed and deliberated on in the Ministry of Finance or the Cabinet, because they definitely were," the Finance Minister stressed. "Bermuda Financial Instructions (FI), the set of rules that govern financial procedures under which the Bermuda Government operates, do not require or even suggest that such memoranda or documents be prepared." Such documents were "not boxes that we have to tick in the process mandated by FI", he added. Under UK guidelines, a "full business case" would be required before making a "Gate 3" decision, or a final investment decision. "It is important to note that the Government is not yet ready to make a Gate 3 investment decision," Mr Richards said. "We are over a year from making this decision. So we have the opportunity to close the gaps that have been identified before entering into contracts for the concession with the selected private sector supplier. The project will not break ground before the second half of 2016." Some observers have questioned whether Bermuda needs a new airport terminal right now. Mr Richards said storm vulnerability, the benefits of economic stimulus from the project and keeping up with competitors were all valid reasons. "During the 1930s the US borrowed billions and built iconic structures like the Golden Gate Bridge, the Hoover Dam, the George Washington Bridge and the Empire State Building to reduce unemployment," Mr Richards said. "We need to similarly stimulate our economy, but we don't have that proportionate borrowing capacity. With the project financed in this way, this Government can stimulate the Bermuda economy during difficult economic times, create construction jobs and longer-term retail jobs in the process. This terminal is an integral part of our recovery strategy." Rival international business centres and tourism destinations were building new airport terminals, he added. "Bahamas has just finished one. Cayman is building one in phases. Barbados built a new airport some time ago. If we are to compete and live up to our brand, 'First Tier, First Class, First World', we cannot have a third-world airport. While you may say nobody will come to Bermuda because of the airport, people's overall impressions of the jurisdiction will definitely by colored by their travel and airport experience. Being First Tier demands investment to make it so." When private-sector operators take over public-sector facilities, there are numerous instances of jobs, wages and benefits being slashed. Mr Richards said this would not be the scenario with Bermuda's new terminal. "If you look at the Quito, Ecuador airport, which CCC/Aecon built, the scenario you described did not happen," he said. "The jobs and compensation of the staff at our airport will be protected. In fact, more jobs will be created there. In the Quito airport, 99 per cent of the jobs there were filled by locals." The Finance Minister argued that taxpayers would get value for money. "Bermuda will acquire a strategic asset that its residents as well its customers will enjoy for many years to come," Mr Richards said. "It will be more efficient, both in terms of energy use as well as operationally. It will enhance the retail opportunities offered to travelers. It will be handicap friendly and protect travelers from the vagaries of the weather. It will reduce maintenance costs which are currently on an exponential growth curve. It will offer easy expansion options should that need arise."
2015. February 13. Bermuda's modernization of its air traffic management will allow the Island to become a certified air navigation service provider, Transport Minister Shawn Crockwell told Members of Parliament this morning upon resumption at the House of Assembly. "Significant costs" involved in the process will be recouped in user charges, Mr Crockwell added. The Island's certification as a provider would allow Bermuda to expand its area of airspace for air traffic management from the existing five-mile radius, out to as much as 50 miles — and potentially farther "at a much later stage", Mr Crockwell said. Expanded operations should be in place to support "the anticipated increase in flight operations surrounding the upcoming America's Cup". The updates came as the Transport Minister rose to inform the House of his London visit in December, accompanied by local aviation officials, to present the findings of the Bermuda Approach Control and Airspace Modernization Feasibility Survey.
2015. January 31. Transport Minister Shawn Crockwell's travel expenses for a three-day trip to the UK to meet aviation experts cost nearly $6,000. Mr Crockwell and a team of experts flew to London late last year to make a presentation to five officials from the UKs Department of Transport on Bermuda's Approach Control and Airspace Modernization Feasibility Study. The study was conducted as part of LF Wade International's plans to adjust and update its runway to abide by new international civil aviation landing regulations. The project has since been completed. The trip took place between December 14 and 16, and Mr Crockwell's total expenses were $5,956. His air travel cost a little more than $4,400, while his accommodation in London was $1,142. The Ministry of Tourism Development and Transport made a presentation to five officials from the Department for Transport on the summary findings of Bermuda's Approach Control and Airspace Modernization Feasibility Study. Minister Crockwell was accompanied by Thomas Dunstan, director of the Department of Civil Aviation; Bob Withers, manager of air operations; Mike Paone, project manager from Boeing-Jeppessen; and Aaron Adderley, general manager of LF Wade International Airport, who were in the UK attending other prearranged meetings. The UK officials included Dr Adam Simmons, deputy director of International Aviation, Safety and Environment Division; Duncan Nicholls, International Aviation, Safety and Environment Division; Karen Neal, desk office for Bermuda at the Foreign and Commonwealth Office; Mike Alcock, International Aviation Safety and Environment Division; and Maria Boyce, CEO of Airspace Safety Support International." Following the presentation, the UK Department for Transport offered its full support of the Bermuda Airspace initiative, acknowledging that the UK anticipated Bermuda would look to assume management of its own Terminal Airspace from the FAA, when Bermuda was willing and able to do so. Minister Crockwell's expenses also included $161 on ground transportation, $217 on meals and $25 on miscellaneous expenses.
2015. January 23. LookBermuda has officially launched the first phase of a photography installation at the airport in collaboration with National Geographic photographer David Liittschwager. Images of Bermuda's unique fauna and flora will now be the first thing visitors see when they step foot in LF Wade International Airport. The first set of photographs being displayed is the result of expeditions on Nonsuch Island by LookBermuda's Jean Pierre Rouja and Mr Liittschwager. They worked with terrestrial conservation officer Jeremy Madeiros of the Department of Conservation as well as collector of marine specimens Chris Flook on three separate expeditions in 2014. During the trips the team produced more than 180 images of the unique flora and fauna. The imagery is the basis of The Nonsuch Island Expeditions airport installation, with sponsored images from the ongoing expeditions printed a minimum of 4ft by 4ft, and installed in busy areas throughout the airport. Mr Rouja said: "We had assisted David on another project and wanted to apply his process to our ongoing efforts to showcase Nonsuch Island. The shooting started with newly hatched cahow chicks and has been expanded to showcase the biodiversity of the Nonsuch Island Nature Reserve and its surrounding waters. We are using Nonsuch as a lens through which to document Bermuda's biodiversity photographing — not only the endemic and endangered species, which can be found there but also more common species found around Bermuda. This package is proving to be quite popular as not only does it give a much-needed visual boost to the airport but it also gives the general public and the schools a closer look at Nonsuch Island, to which access is normally restricted." LookBermuda's exclusive contract with the airport extends for the next several years and will be displayed throughout the upcoming America's Cup. As part of the ongoing airport project, LookBermuda is developing various other themes with large scale scenic panoramic images by Mr Rouja and underwater photography by Chris Burville. Their images are being earmarked for some of the larger open walls and include panoramic murals exceeding eight by 40 feet in the arrivals corridor. Sponsorship is still being sought for the project. General manager at LF Wade International Aaron Adderley said: "The airport is pleased to partner with LookBermuda on this much-anticipated project. The photography highlighting the Island's natural beauty is spectacular and when completed will allow us to add a splash of colour and vibrancy that our visitors and residents can both enjoy." Members of the public not using the airport will still be able to see the prints in two MobileArt exhibits — the first as a mobile pop-up show and the second as an educational exhibit that will rotate throughout the Island's schools along with accompanying curriculum and activities. For more information or to become a sponsor for the ongoing project visit www.nonsuchisland.com.
2014. November 29. Debate over the proposed airport redevelopment erupted in the House of Assembly again after Finance Minister Bob Richards tabled a draft letter of entrustment from the UK. Mr Richards told the House that while the Government is of the legal position that the entrustment would not be necessary, the Ministry remains in talks with Government House to ensure that all parties are on board, describing it as "a matter of belts and braces. We have a long-term relationship with the UK Government and we want to keep that relationship so we want everyone on board. Just because we ask someone doesn't mean we're required to ask someone." Government announced earlier this month that it had signed a Memorandum of Understanding (MOU) with the Canadian Commercial Corporation (CCC) to redevelop the LF Wade International Airport. Under the proposed deal, Bermuda would receive a state of the art $200 million air terminal, which would be gradually paid for using future revenues. However, the Progressive Labour Party has repeatedly attacked the proposal, describing it as "privatization through the back door without a tendering process." Speaking in the House of Assembly yesterday, Mr Richards said the Ministry came to the decision that they did not require a letter of entrustment after receiving legal advice from international law firm Bennett Jones, with the office of the Attorney General involved. Asked by Opposition members if the law firm had a relationship with CCC, Mr Richards said he was not aware of any and that if there was a conflict of interest the firm would be required to say so. He was then asked if he was aware that Bennett Jones had represented CCC in respect to a review of engineering firm SNC-Lavalin. Mr Richards said he did not know about it but that it had "nothing to do with Bermuda." Questioned by Opposition Leader Marc Bean about how CCC was selected, Mr Richards said he and the Ministry was aware of CCC through their experience in the financial services industry and the Canadian body had ticked all the boxes. Mr Richards also responded to a series of questions regarding the project's time line, reiterating that he received approval from the Accountant General to move forward with the project before the Memorandum of Understanding had been signed, however he declined to provide the House with a copy of the Accountant General's approval. "If this matter ever goes to the Public Accounts Committee, they can do what they want to do, but I don't believe it's appropriate to question my veracity on the floor of the House," he said. He later added that under PATI legislation the public will be able to request such information. The Finance Minister also stated that the first draft entrustment letter was received prior to the signing of the Memorandum of Understanding with CCC, but that the Cabinet had already approved the MOU in July. "We had a legal opinion that we didn't need a letter of entrustment and on that basis we scheduled the signing and the announcement of the signing of the MOU. It's the view of the Government that the letter of entrustment was not required. It's not relevant."
2014. November 20. Bermuda's new airport terminal would include maximum shopping and restaurant options, as well as jetways at eight gates to protect passengers from the elements. Aaron Adderley, head of the Department of Airport Operations, told The Royal Gazette that part of its revenue could come from re-purposing vacant runway space for alternative energy. Mr Adderley also cautioned that the figure of $200 million cited as a price tag by Finance Minister Bob Richards was by no means final, even if it had become ingrained in the public's mind. Government sealed an agreement with the Canadian Commercial Corporation on November 10 to build a re-purposed terminal, which would be gradually paid off under a tailored public-private partnership. Asked about airport revenues, Mr Adderley pointed out that while the layout of the Government figures made the airport look like a money-losing venture, LF Wade International Airport actually takes in $3million to $3.5m annually when departure tax is factored in. "The numbers are not strong enough to pay for $200 million," Mr Adderley said. "Future revenue streams had to be capable of ensuring financial viability." Converting the vacant finger of runway into a solar energy facility has been discussed for several years now. According to a 2011 Belco report, the runway, which juts south of the airport into Castle Harbour, could accommodate an 80-acre solar farm. Mr Adderley said the airport would benefit substantially from any such re-purposing. "It's high on our agenda and is part of our three-year strategic plan. The alternative energy site is critical. Even if we didn't have this project, from an operational standpoint our need is two fold: increase our revenues and decrease our costs. Alternative energy is an option which would certainly allow us to minimise our power consumption costs. We have to wait for other legislative regulatory changes to be advanced by another Ministry before we can finally move forward. A new terminal would necessarily have modest retail options, given Bermuda's limited traffic. We're never going to have the volume necessary to justify having a retail mall. However, we want to ensure that there is a choice in food and beverage offerings and retail goods in general. We have a fine line to walk to ensure that there is enough of a choice for passengers, but at the same time, ensuring that there is enough passenger volume to sustain multiple vendors. Aspects of the design, plus the new location at the west end of the airport, date back to a 2008 master plan that had been too good to leave sitting on someone's desk unused. That plan called for the proposed site that we will be using for the new development. It was chosen to avoid the storm surge that threatens the existing site located so close to Castle Harbour. It will also enable us to minimise the amount of work we have to do with our taxi ways and apron network. There will be a need for some changes to the network, but it will be minimized. Our objective is to take those initial design concepts and modify it to ensure that it fits within the new financial parameters we have for the project. Parts of the terminal facility date back to the 1940s and we have met or exceeded its life expectancy. Though we've done a fair job in hiding the warts so to speak, the roofing in parts of the facility, plumbing, sewage and other mechanical systems, are in need of replacement in many instances. The cost of maintaining an ageing infrastructure is highly cost prohibitive."
2014. November 10. Bermuda's "new airport" has been signed into being with a redevelopment agreement between Government and the Canadian Commercial Corporation, Finance Minister Bob Richards announced this morning. The Island will get a roughly new $200 million terminal building, with the expectation of "hundreds" of construction jobs generated. At a press conference in the Cabinet Office, the Finance Minister hailed the redevelopment plan as "one of the most important capital projects ever undertaken on our island shores", after signing the agreement with CCC's Luc Alari. Groundbreaking could commence as early as next year, with the project potentially taking three years to complete. The project will play "a crucial role in the renaissance of the Bermuda economy", Mr Richards said, under a public-private partnership with CCC. Pledging "value for money", Mr Alari said CCC "also brings a lot of transparency and governance — we are a Canadian Government organization; this is something we adhere to. We will make sure the project is built on time, on budget and on schedule." Tourism Minister Shawn Crockwell and new Junior Minister Vic Ball also attended the signing, which Mr Crockwell called a historic occasion for Bermuda, delivering a "new, attractive and sophisticated modern facility" that would enhance the Island's tourism product. "It will impress everyone that passes through it, visitors and locals alike, and it will make that first impression for those coming to Bermuda, a lasting positive impression that is aligned with the Bermuda brand — quality, first class and world class. The construction of a new purpose built airport terminal is long overdue and this Government was determined to make it happen — we were very cognizant of the many obstacles presented to us and especially the financial implications that could have prevented this from happening. I am most pleased with the financial creativity that has brought us here today. This public private partnership between the Bermuda Government and the Canadian Commercial Corporation does indeed represent a renaissance for Bermuda — to our economy and to our product. I know that we can all agree that the success of this project will be legendary." Construction is expected to take three years, in a new location that Mr Richards said would be "between the roundabout and Stonecrusher Corner." The project's financing model demanded "total transparency, adhering to international best practices", he said. Mr Richards added that the redevelopment would require no initial expenditure by Bermuda — and that the project would be financially self-sustaining. CCC will select a Canadian developer, as its remit is to concentrate solely on Canadian entities. Title to the airport and adjacent lands will remain with the Bermuda Government. The project did not go out to international tender.
2014. June 9. Bermudians were told they will have to look for outside funding to pay for a new airport. Tourism and Transport Minister Shawn Crockwell said that a modernized airport would cost hundreds of millions of dollars — money Government did not have. "What the Government wants to do and what Government is committed to doing is create a better airport, a new airport, so it can be modern and complement the product we want for our guests when they come here," he said. But Mr Crockwell added: "This is an issue of affordability. that is what is primarily driving the decisions of the Government and the options we are looking at." He was speaking after Opposition MP Lawrence Scott, the shadow Minister for Tourism and Transport, introduced a motion to debate the advantages of establishing an Airport Authority to run the Island's air terminal. The Shadow Transport Minister said the 43 jobs in the Department of Airport Operations would be put at risk if a public-private partnership assumed stewardship of Bermuda's airport, telling the House such an investor would "get rid of them because they wouldn't know them". He added that privatization meant a profit-driven administration — and there was nothing to stop management giving themselves enormous salaries, while shedding workers. On the subject of an Airport Authority, Mr Scott said that "almost all" of the jurisdictions competing with Bermuda handled their visitors through an Airport Authority. Mr Crockwell said a number of methods could be used to get funding for the airport — including a public-private partnership, which would involve a private operator being given a 30-40 year lease to modernize and run the airport. And he said negotiations with any private investor could include negotiating protection for the existing Government-employed staff. Finance Minister Bob Richards added the airport was being "held together by Band-Aids. We need to have an airport that is consistent with the global brand which is Bermuda — a brand we hope denotes high quality and high services. If the Government can't afford to build it ourselves, we going to have to get outside investors and that will require some kind of creativity — probably a public-private partnership of some sort." But he ruled out and outright sell-off of the airport to a private body. Shadow Finance Minister said Government should not lose control of "a prized Government asset." And Opposition leader Marc Bean added that any airport redevelopment should be done in tandem with improving access and replacing the ageing Causeway — although he said that the cost of that should be borne by the entire country, rather than the people of the east end of the Island.
2012/2013 alterations costing Bermuda taxpayers $4.6 million were approved for Bermuda's airport. The eight-month project was required as much of the Ferry Reach skyline presented obstacles to aircraft under tighter global regulations. Objects now defined as obstacles include the hilltops, trees and houses in the approach zone. The rules are set by the International Civil Aviation Organization (ICAO). As a result, planes descending to the 9,753ft strip technically known as Runway 1-2 now make a slightly steeper approach to allow sufficient clearance and the markings and lights on it will be moved 587ft forward. Florida-based HR Pruitt was hired for the job. Old markings were scrubbed off and new paint and asphalt were laid down. The entire runway was last resurfaced in 2003, although part of the runway's 1-2 portion got repainted in 2007 along with the "apron", where aircraft park. The project is known technically as visual slope segment penetration, or VSSP, one of those alphabet soup acronyms within aviation. In addition to moving the runway marking, there was a need to relocate the edge lights, add central lane lighting not there presently, to also enable aircraft to land in Bermuda when the visibility is low, for example if there's a thunderstorm cell overhead. With this additional lighting, aircraft in more inclement weather conditions can be helped. Precision approach procedure indicators, which give pilots guidance on their vertical approach, were moved.
2010. May 31. New designs for a replacement airport terminal which could cost between $300 million and $400 million were unveiled. The current facility, which in some areas dates back to the 1940s, had reached its functional end. Also, it very susceptible to storm surge. A new facility is needed to meet the new aviation regulations coming forward. Government has decided it would be best to build the new facility on a brown-field site and not on the current facility, to move from the old facility to the new one without disruptions. Present estimates range between $300 and $400 million. The new terminal would be built north of the existing building at the western-most end of the fence-line. It would also include a ferry terminal for both the public ferry and any hotels that decided to transport their guests from the airport. Construction could take between three and four years between development, breaking ground to moving. While the financing is debated and decision to move forward is on hold, the airport is working towards improving its product, which includes taking control of Bermuda's airspace, presently almost entirely run by the Federal Aviation Association (FAA) in New York. Other upgrades that need to be put in place include lights down the middle of the runway to help land planes in fog and continued investment in satellite technology for landing planes rather than radar technology. The old facility could be turned into a number of various projects. In 2008 the airport underwent a multimillion-dollar resurfacing of its taxiways and aprons.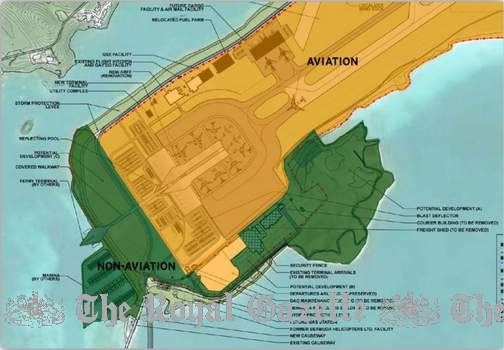 November 2014 airport plan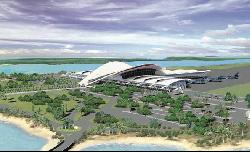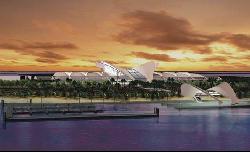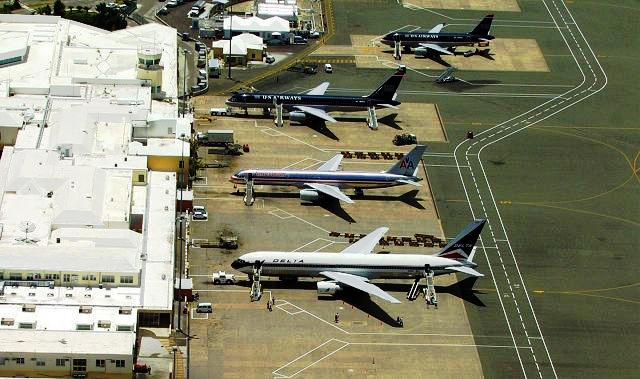 Present airport scenario
Facts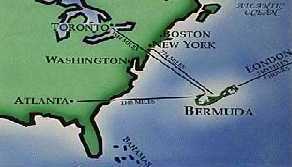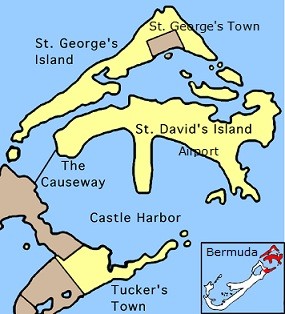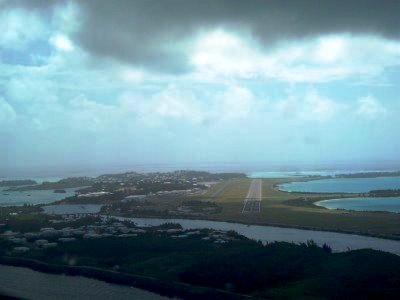 Originally the Civil Air Terminal until 1995, it has the International Air Transport Association (IATA) designation of BDA with the International Civil Aviation (ICAO) designation of TXKF.
Airport position, title and address. 32°22´00"N, 064°41´00"W. L. F. Wade International Airport, formerly Bermuda International Airport, 3 Cahow Way, St. George's Parish, Bermuda. On April 16, 2007 Bermuda International Airport became the L.F. Wade International Airport in honour of the late Bermuda politician L. F. Wade, then Progressive Labour Party Leader of the Opposition.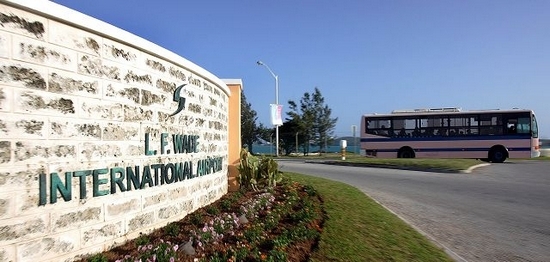 It is between the waterways of Ferry Reach and Castle Harbor. It is 3 miles south west of the Town of St. George and St. George's Parish, 10 miles east of the city of Hamilton, and 20 miles east of the Royal Naval Dockyard. From all other Parishes, it is via Long Bird Bridge and the Causeway. From here, with US pre-clearance from US Immigration and Customs, all departing passengers bound for the USA, once they arrive at any US airport, are exempted from the often huge Immigration lines so typical of those arriving directly in the USA from Europe. The low-lying Causeway, less than 20 feet above sea level, is a vital link connecting the mainland with the airport and from the latter east to St. George's and St. David's and west to the City of Hamilton and beyond, all the way to Sandys Parish. But when a hurricane strikes - of the intensity and ferocity Hurricane Fabian did on September 5, 2003 and numerous hurricanes have done since the 1850s - it shuts down the Causeway completely to all traffic for many days or weeks and the airport has to shut down completely. There is no alternative route to anywhere in Bermuda when the Causeway does not function. Instead of being a high-rise bridge impervious to the sea, as you see in the Bahamas, from Inverness to Ross-shire over the Beauly Firth and over the Cromarty Firth in Scotland - and similar well-known bridge roads in other places - it is a sea level road completely at the mercy of the sea. Much of it was destroyed on September 5, 2003 and had to be rebuilt and re-paved from end to end.
Bermuda is 568 miles east of North Carolina, 693 miles south east of New York (with a direct daily connection by air), 729 miles south of Halifax, Nova Scotia (with a seasonal once-weekly direct connection by air), 770 miles south east of Boston (with a direct daily connection by air), 788 miles north east of Nassau (no direct connection by air but via the USA), 1115 miles south east of Toronto (with a direct daily connection by air), 1290 miles north of Puerto Rico (no direct connection by air but via the USA), 2055 miles from Winnipeg (no direct connection by air but via Toronto) and 2996 miles from London, England (with a direct four times a week in summer and three times a week in winter connection by air).
It is NOT in the Caribbean. Bermuda has always been in British North America according to all official British records. The International Air Transport Association (IATA) refers to it rightly as in North America.
Bermuda Government-owned. See http://www.bermudaairport.aero/sitedocs/AIP%20BERMUDA%20incl%20AMDT%2001-2011.pdf
Rental automobiles allowed in Bermuda? No. Rental cars are not allowed from the airport or from anywhere else. Bermuda is one of the few places in the world that bans them. Visitors get to their destinations by taxi or pre-arranged mini-bus. (Ordinary buses are not equipped to carry passengers who have luggage). For further details, see Visitor Transportation in Bermuda.
Rental of light Bermuda-based aircraft? No. No rental of light aircraft is allowed.
Air routes. Bermuda, as a British Overseas Territory, needs the approval of the United Kingdom for all new air routes but the latter rarely interferes as Bermuda can handle its own charter business. The Bermuda Government, not the British Government, both sets all local aviation laws and approves the charges to and from Bermuda of all the airlines and their changes in schedules. Bermuda has scheduled commercial flights to/from Atlanta; Baltimore; Boston MA Logan (BOS); Charlotte/Douglas, NC, high season; Chicago-O'Hare (ORD), high season; Fort Lauderdale, seasonal; Halifax; London Gatwick ( 6.75 to 7.75 hours); Miami International (MIA); Munich (high season: New York (JFK); NYC Newark (EWR); New York - La Guardia (LGA); Philadelphia, PA (PHL); Toronto; Washington DC (DCA) and Washington-Dulles. There are no commercial scheduled direct flights between Bermuda and any of the Caribbean islands. Going via the USA or Canada are the only ways.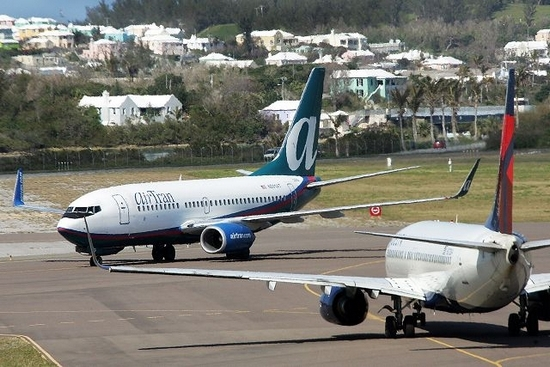 Airport change of name, size, history and future funding. 536 acres. Its runway 12/30 is 9,713 feet in length and 150 feet wide. There are eleven taxiways, all 75 feet wide. The terminal apron has eight aircraft parking bays. It is the only airport in Bermuda. It falls under the Bermuda Civil Airports Act 1949, Bermuda Airport Regulations 1959 and Bermuda Airport Amendment Regulations 2002. It began in 1941 as a US$42 million project of and was financed 100% by US taxpayers from 1941. This is not known by 99% of our American, British, Canadian and other visitors. The runways and taxiways were constructed from scratch from former small islands in Castle Harbour by engineers contracted by the US Army Air Corps in 1941. They built Fort Bell, later known as Kindley Air Force Base of the United States Air Force, later yet the US Naval Air Station of the US Navy, as one of the military bases purpose-built for the US Military in Bermuda from 1941 to 1995. It included all of what is now the airport.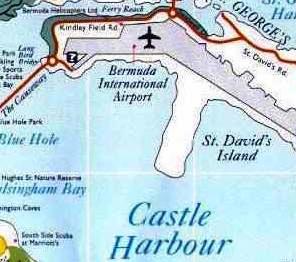 In January 1946 Kindley Field Airport, Bermuda, as it was first known then, was opened. It was established on that part of the US military base once reserved for and used by Britain's Royal Air Force (RAF).
The senior RAF officer in Bermuda during the War, Wing Commander Ware, was loaned to the civil government to oversee the conversion of the RAF's end of the military airfield into a Civil Air Terminal. Pre-fabricated buildings were relocated from Darrell's Island to assemble the first terminal. Ware remained with the local government after leaving the RAF, becoming the Director of Civil Aviation for many years.
Although no longer maintaining any detachment in Bermuda, the RAF continued to use Island as a trans-Atlantic staging after WW2 While most foreign military aircraft passing through the Island had used the US military end of the airfield, the RAF continued to disperse its aircraft at the former RAF end of the field. Large detachments of tactical aircraft, accompanied by larger refueling, transport, and maritime patrol aircraft, regularly staged at the island on transits between the UK and the garrison at Belize, etc.
From 1948, the Civil Air Terminal was the civilian part of the US military base.
From 1948 to 1995, US taxpayers continued to pay all the costs of the airport, runways and adjacent military base - and the separate one in Southampton Parish. For this airport alone, the sum spent by American taxpayers has been estimated at about US2 billion. For half a century, the US Government bore all the cost of runway maintenance, air traffic control, airport fire appliances and much more.
When the US Navy ran the airport until 1995 as part of the former US Naval Air Station at the old Civil Air Terminal, it absorbed the cost, with only notional accounts passed to airlines. With the Bermuda Government now the owner and operator, charges and landing fees increased hugely to Bermuda taxpayers and visitors and have continued that way. However, millions of dollars have been spent in improving and upgrading the airport to a far higher standard than when under US Navy control. More than 400 persons work at the airport.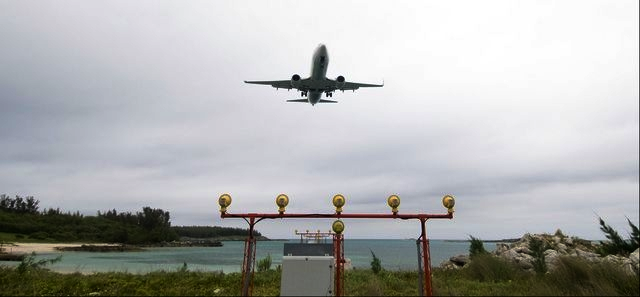 Runway facts and 2013 improvements. LF Wade International Airport has a single active runway, known as 1-2-3-0. Runway 1-2, the portion where aircraft come in over Ferry Reach, has the same amount of asphalt surfacing as 100km of Bermuda's twin-lane roads. There are also 100km of markings on the 150ft by 9,753ft runway, which is about to undergo changes under new international regulations. LF Wade's runway was last resurfaced in 2003. The runway itself dates back to the 1940s, when it was laid down by US forces. Bermuda's runways are still laid out in the 'A' shape characteristic of military facilities, but only the main strip is in use. That leaves the "finger" for fire department exercises, the parking of military aircraft — and future developments such as a proposed solar energy plant. A third strip is known as Taxi Way Bravo, which connects the runway to the "apron" in front of the airport buildings. In order to give adequate clearance for aircraft landing over Ferry Reach, their angle of approach is to be adjusted by two-tenths of a degree — enough for the "threshold" and other landing markings to be moved forward more than 500ft. The alterations, which are required of Bermuda under international standards, will have no effect on take-offs. April 2013 has been set as the final deadline for the project to start.
1 Passenger Terminal, 1 Cargo Terminal, 8 Aircraft Stands. Passengers disembark or embark down or up the aircraft ramp, then walk from or to the aircraft and terminal in all weather. When flights arrive or take off in the rain, passengers get wet. A passenger boarding bridge will be rain cover for embarking or disembarking passengers. Jetways may not be a practical proposition, either in cost or maintenance, especially in the salt-laden Bermuda air and closeness of airport to ocean. A mobile tunnel from terminal to plane steps was not successful in 1995-1996.

Passenger Facilities: Annual Capacity 842,245, 40 check-in desks, 8 gates, 3 baggage claim belts, short term parking spaces, 2 long term parking spaces, Bank, Bars, VIP Lounge, Duty Free Shop, Gift Shop, Tourist Help Desk, Taxi Service/Rank, First Aid.

Elevation 2m (6ft).

Fire Category 8.

Emergency Services are crash fire rescue service, airport security police, Bermuda Police.

Navigational Aids are VOR/DME, SSR.

Airfield Restrictions: None.

Noise Restrictions: None.

Runway 1: Heading 12/30, 2,960m (9,711ft), 80/F/A/W/U, ICAO Cat. 8, Aircraft size max: B777, ILS, Lighting: PAPI, Variable, High Intensity.

Lighting is variable or high intensity. The approach is abbreviated, variable, or high intensity with a precision approach path indicator (PAPI) system on both runways. All runway markings are in accordance with ICAO Annex 14.

Taxiway lighting is medium intensity edge lighting with internally lighted taxiway guidance signs. There is also an aircraft radio controlled lighting system or ARCAL which is available for use between 11 pm and 7 am daily.

Cargo Facilities: Capacity 7,000 tonnes (15,432,000lbs), Warehouse 8,500m² (91,493sq ft), Bonded Warehouse, Aircraft Maintenance, Heated Storage, Mortuary, Animal Quarantine, Fresh Meat Inspection, Livestock Handling, Health Officials, X-Ray Equipment, Security for Valuables, Dangerous Goods, Express/Courier Centre. The cargo terminal has 25,850 square feet.

No airport passenger boarding bridges or jetways (known in the United Kingdom as covered walkways). Possibly by 2013. Bermuda is one of the few international airports without any. A boarding bridge or jet way is the corridor that rolls out from the terminal at most airports to the front door of the aircraft. Nor are there any "at level" crossing points.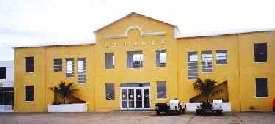 Airport administration. Operated directly by the Bermuda Government's Department of Airport Operations (DAO) which runs the airport from its upstairs offices at the airport. The DAO has a full-time staff of 56 employees. Overseen by the Director of Civil Aviation (DCA). The staff at the DCA include flight operations inspectors, an airworthiness surveyor and airworthiness inspectors. The DCA and his staff have several main functions. They are to regulate the airport; make sure the Department of Airport Operations operates to the right standards; run the Bermuda Aircraft Register (which includes about 150 aircraft, of which about a third are commercial, the others privately owned, including helicopters based aboard Bermuda-registered yachts); and ensure compliance with the Bermuda Government's air services policy which includes approving air fares, routes and services operated by the airlines serving Bermuda and charters. The airport is open for aircraft operations continuously. However, terminal services are only available from 5 am to midnight. Airport tower services and airport firefighting services are not available from 11 pm to 7 am. During this time the airport operates under non-tower operations and pilots of general aviation aircraft use the ARCAL to activate the airport runway and taxiway lights. The airport operations building has two floors. It is made of a mix of Bermuda stone (limestone), concrete blocks, concrete and wood. The upper floor has 65,300 square feet and the ground floor 172,500 square feet. The 2011-2012 fiscal year operating budget of the DAO is $20.5 million. This is down $332,000 when compared to the 2010/11 budget.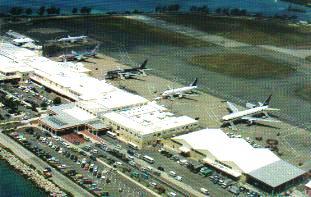 Via the Federal Aviation Administration (FAA) agreement between Bermuda and the USA, the FAA provides air traffic control services for Atlantic air traffic passing through Bermuda air space. Bermuda provides tower air traffic control services for all flights landing and departing the Island, to a distance of eight miles. The FAA provides air traffic approach control services from its New York Center for all flights on behalf of Bermuda.
Bermuda and the FAA also agreed a number of cost sharing responsibilities in equipment, maintenance and operations. Now installed is an array of navigational aids and communications equipment to help the FAA fulfill its en route and approach control responsibilities. The agreement enables the USA and United Kingdom to fulfill their commitments to the International Civil Aviation Organization (ICAO), while the FAA benefits from enhanced management of air space around Bermuda. Data sent from Bermuda helps reduce time and distance separation restrictions and permits access to the most efficient cruising levels for aircraft.
Air Traffic Control Service is provided from an ATC Tower located on high ground approximately midpoint of the runway on its north side. Departure and Arrival control is provided from New York Air Route Traffic Control Center (ARTCC) at Ronkonkoma, Long Island New York, using radio transmitters and receivers installed in Bermuda and real time feeds of VOR and Radar signals from Bermuda.
Electronic navigation aids include a Category I Instrument Landing System serving runway 30, a VOR/DME serving both runways and a secondary surveillance radar, with a range of approximately 200 miles. Aeronautical information is available in the Bermuda Aeronautical Information Publication (AIP). It may be purchased from the Bermuda Department of Civil Aviation.
In 2011 the airport secured a new low cost carrier AirTran Airways, which would be providing services from Baltimore and Atlanta. The airport installed an advanced surveillance radar, in a cost-sharing agreement with the Federal Aviation Administration (FAA), for $4.3 million. The airport was in the process of developing and redesigning a new plan for the Ferry Reach end of the runway. It requires the displacement of the runway threshold, thereby shortening the usable length of the runway by 590 feet. Navigational aid equipment known as Precision Approach Path Indicators (PAPIS), used by pilots to help guide aircraft to the touchdown point, will have to be repositioned. Runway lighting will have to be moved and line markings re-applied in order to meet the new regulatory requirement. To reduce costs and boost quality the Department of Airport Operations had contracted a group of IT specialists to take over the passenger processing system. This includes enhanced check-in functionality, flight information screens, WIFI, public announcements and the installation of an airport music system. This upgrade has been achieved at a 25 percent cost saving over the previous contract.
Airport Dump adjacent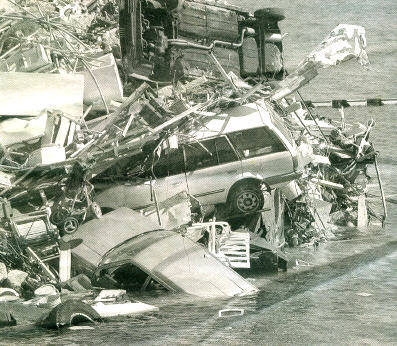 Not under airport jurisdiction and that no blame can be attached to the airport. But, like the airport, it is owned and managed by the Bermuda Government. This significant metallic waste dump spills out into Castle Harbour which borders the airport. It can be seen by flights arriving at the airport. It is not known publicly whether it affects aircraft navigation systems. But it is known that there are no similar airport dumps so close to other international airports elsewhere. Cars, motorcycles, tires and refrigerators are routinely dumped here, leeching the water, in amounts averaging 700 truckloads a week. But in Bermuda's tiny total land area of only 21 square miles or 56 square kilometers, there is nowhere else in Bermuda to site the dump.
Airport Instrument Landing System
A 2004 upgrade replaced the system installed by the US Navy prior to 1995.
Airport Parking
There is a separate Government Parking Area, with three free reserved spaces for Government vehicles with license plates GP1 (the Premier) to GP20, only. For everyone else, 2 hours are shown as the maximum allowed in the short-term car park. The Department of Air Operations provides a few Handicapped Parking by Permit only spaces in the short-term maximum 2 hours Arrivals area, opposite the Airport Police Service station. There is a much larger Long-Term car park to the east of the Arrivals area, but currently, with no Disabled or Handicapped Parking. Motorists pay by credit card.
Airport Radar
In June 2013 Bermuda's new long-range radar at LF Wade International Airport went online. The improved radar extended coverage from 360 miles to 440 miles. The project, undertaken in tandem with the US Federal Aviation Administration (FAA), marks the first significant upgrade of the navigation system since Bermuda's formal agreement with the US 20 years ago. Under the deal the FAA installs equipment in Bermuda and the Island shares radar surveillance with flight controllers in New York for the FAA to manage aircraft coming in and out of the Island or passing through Bermuda airspace.
Airport Passenger Security & Security Fee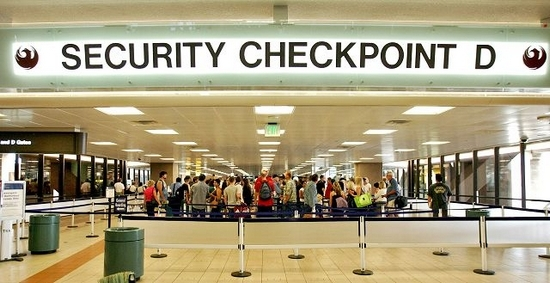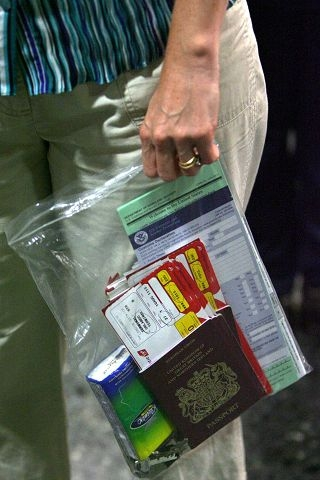 Airport security is contracted out by the Bermuda Government to a private sector security organization, which also provides the Bermuda Airport Security Police. Passenger security is handled by a different security company. It handles the screening of passengers' bags and luggage. Every bag going into an aircraft's hold will pass through an X-ray machine with Threat Image Projection to find images of dangerous objects. Electronic baggage monitoring helps to ensure extra bags are not put on the aircraft. It also helps locate bags of passengers who are detained by authorities from departing aircraft at the last minute. In addition to the Departure Tax per adult, all passengers pay a Bermuda Government Airport Security Fee, added on to the cost of an airline ticket. The fee is structured to recover a portion of the costs incurred to meet the security requirements stipulated by the Bermuda Civil Aviation Authority.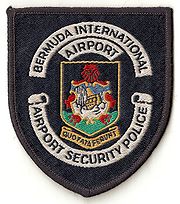 Airport and Bermuda Weather Service
2015. October 6. The US company due to take over support operations at Bermuda's airport yesterday pledged to retain all 40 staff from outgoing contractor BAS Serco. Atlanta-based CI² beat BAS Serco, which has held the contract for 20 years and will take over at the end of March next year. The firm will run air traffic control, weather services, ground electronics and airport maintenance. CI² founder and president Andrella Kenner, who made a flying visit to Bermuda last week, said: "In our industry, risks are inherent in everything we do. It involves understanding, managing and critical thinking to ensure we meet objectives and maintain quality. To accomplish this, it takes a dedicated professional workforce which is what defines the CI² Aviation culture. I am confident that we already have that team in place in Bermuda." The Royal Gazette revealed last week that BAS Serco had lost the contract it had held since 1995. Airport general manager Aaron Adderley paid tribute to BAS Serco's work — but said the bid from CI² was "extremely competitive." He added that CI² also held offshore air traffic control contacts in Puerto Rico and the US Virgin Islands and had longstanding relationships with the US Federal Aviation Authority (FAA). And Mr Adderley said that CI²'s management of airspace bordering US national airspace was a "strong advantage" because Bermuda's airspace also runs into US air territory and is at present managed by the FAA. He added that CI²'s US and international operations also offered extra training and career development opportunities for Bermudian employees. Ms Kenner said that her company would provide safe and efficient aviation and air navigation to passengers passing through the LF Wade International and to travelers travelling through Bermuda airspace. She added: "CI² Aviation's commitment will be to the continued evolution of LF Wade International Airport as it moves into the next generation of airport operations and maintenance services. The company feels that professionals who have dedicated their careers as air traffic controllers, meteorologists, weather forecasters, ground electronic maintenance providers and airport maintenance services providers play an essential role in the airport's past as well as its future." The award-winning firm, which also has an office in Washington DC, is the only African-American owned company that provides air traffic control services to the Federal government. CI² also supplies air traffic control and weather observation to a total of 20 air traffic control towers in the US. And the company said its "most outstanding accomplishment" was more than 20 million aircraft operations and more than 18 years with no fatalities attributed to controller error.

Until March 31, 2015. The Bermuda Airport and Bermuda Weather Service (BWS) is provided by BAS-Serco on contract with the Department of Air Operations. BWS operates as the island's National Meteorological Service and provides public and marine weather forecasts and warnings, in addition to the necessary data for the safe operation of aviation in Bermuda. BWS supplies weather information to local newspapers, television stations, cable TV and marine users such as visiting yachts and Harbour Radio staff who relay the forecasts on Marine VHF Radio, weather channel 2. There is also a weather dial-up phone-in service available 24 hours a day, providing public and marine forecasts, current observations, warnings and tropical weather system information. The BWS also operates a website, www.weather.bm, which is extremely popular with both local residents and visitors. Weather forecasters at BWS gather information from a variety of sources including numerical weather prediction models, imagery from the GOES Weather Satellite, weather balloons released twice a day and the local weather radar. A new S Band Doppler radar system was installed in 2003 which will facilitate improved tracking and prediction of hurricanes and storms up to 300 miles away from the island. The Island's weather radar system is located on Cooper's Island, St. David's. See website: www.weather.bm.
Airport signs and markings
Bermuda follows those of the USA's FAA. See http://www.faa.gov/airports/runway_safety/news/publications/media/QuickReferenceGuideProof8.pdf
Air Traffic Control Tower
This has not always been in Bermudian hands. When the US Base was stationed in Bermuda, the Americans ran the tower. In 1995, the responsibility for the tower transferred to the Bermuda Government and Canadian controllers were brought in to train Bermudians. By 1996, Bermudians were sufficiently qualified to run the tower. Bermudians are sent to Civil Aviation Authority approved schools in the UK for about three months and then return to Bermuda for practical training. Residents and tourists may not know is that part of the airport transfer agreement left radar reading as New York's responsibility and any flight that wishes to leave Bermuda requires New York approval. Coverage for 200 miles means New York can easily handle flights once they leave Bermuda's airspace on their way to either the US or Europe. Bermuda's airspace is Class D because it only extends up 2,500 feet and within a five square mile radius from the geographical centre of the Airport. Class D is an FAA Classification depending on the aircraft that use the airspace and, all the aircraft that do use the airspace, have to conform to particular radio signals.
During the peak period there are two controllers on duty. One is the local controller, who is responsible for all arriving and departing aircraft into Bermuda and issues landing clearances, departure clearances and provides weather information. He or she will also provide weather information to flights flying over Bermuda. The other controller is the ground controller who is in charge of any vehicles on the runway, giving taxi instructions and route clearances to aircraft departing Bermuda. Emergency situations – such as a diverted airline, a hurricane or the situation involving a terrorist hijacking such as that which happened in September 2001 involving New York, Washington DC and Pennsylvania – begin with a pager call out from New York to RCC Bermuda Radio which relays it to Air Traffic Control, the Fire Department, Department of Airport Operations and the Weather Service. The managers of all the departments will liaise and decide who responds to a call. The work day for an air traffic controller ends at 11 p.m. when they will move through yet another checklist before turning over responsibility to New York, which is able to activate the lights and emergency services. But, as days can never be relied upon to be typical, there is emergency housing near the Airport for air traffic controllers, who may be called upon to remain in the tower for up to two days in emergency situations such as hurricanes.
Air Transport Licensing Board
Arrivals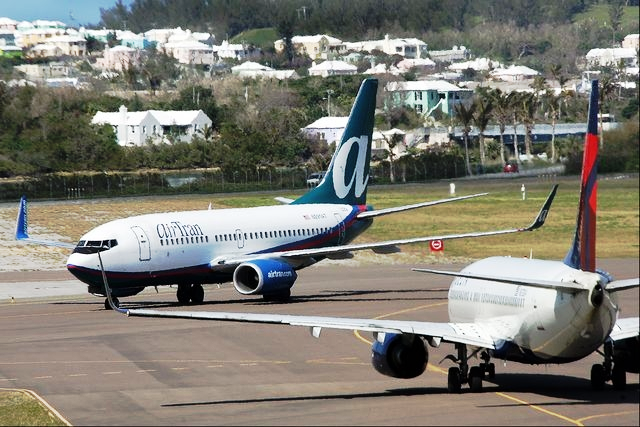 En route to Bermuda, your airline will give you an exceptionally detailed form compared to other countries. See http://www.tcd.gov.bm/portal/server.pt?open=512&objID=256&&PageID=1442&mode=2&in_hi_userid=2&cached=true. It is similar to the one shown below.
You are required by the Bermuda Government to complete all the information shown: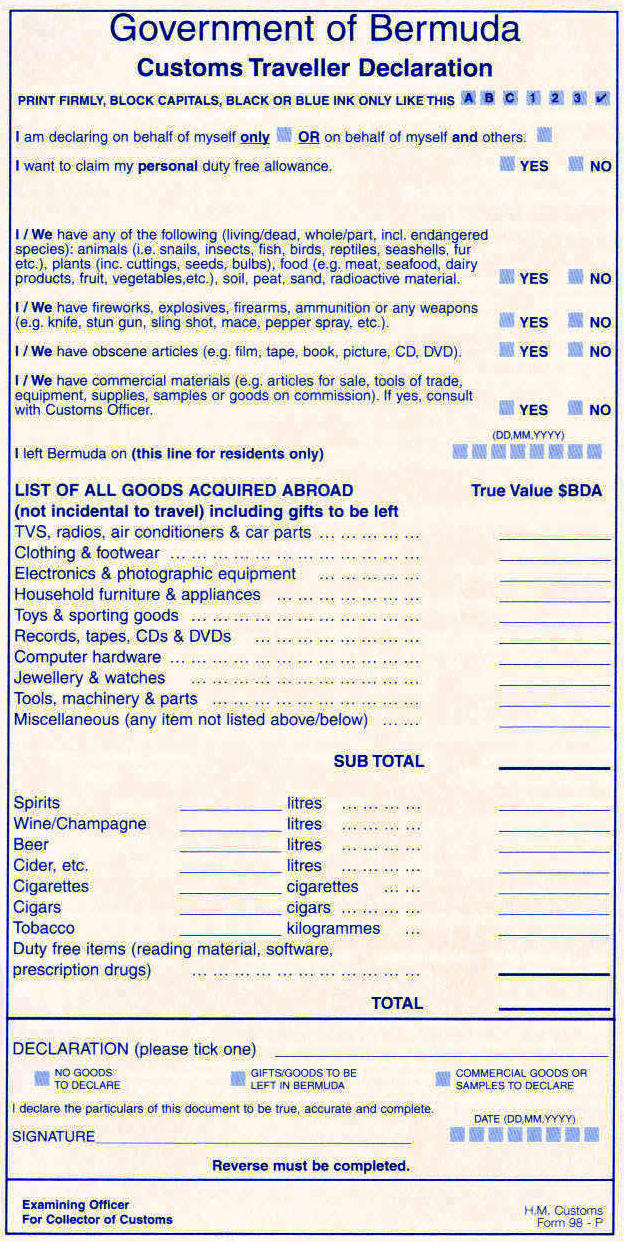 Bermuda Government's Traveller Declaration - Front
Bermuda Government's Traveler Declaration - Reverse
In March 2007, legislation to help speed up arriving passenger lines, cut red tape, facilitate Customs checks and improve the detection of contraband was passed by Bermuda's House of Assembly. The Revenue Amendment Act 2007 obliged ships and aircraft to provide the Collector of Customs with electronic lists of passengers and crew prior to arrival in Bermuda. This assists local security officers to track high-risk individuals and cargo items. The information required includes sex, date of birth, passport number and country of issue. The bill also obliges ships and aircraft to provide electronic data in advance on cargo including the marks, numbers and contents of every item of goods on board. The Bermuda Immigration and Protection Act 1956 was also amended to require electronic manifests from the airlines for arriving and departing passengers. With the new border control system in place there is no requirement for Bermudians who have the stamp: "Holder is registered as Bermudian" in their passport and/or possess a "Fast Pass" card to have to complete an arrival card. The only document that a Bermudian will need to complete, when returning home, is a customs card. The credit card sized identification will only be issued to Bermudians and it will allow them to get through the arrivals hall faster through a special line where they will not be required to present their passport.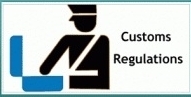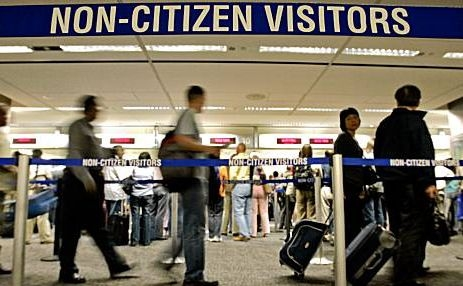 There are separate lines for incoming returning Bermudians, foreign residents who are work permit holders and all other visitors to go through Immigration and Customs. Business visitors attending meetings here also have a separate line. The first line requires all Bermudian passports to contain the Bermudian status stamp. There have been cases of people arriving and purporting to be Bermudian but who do not have Bermudian status – only a British or Bermuda passport stating they were born in Bermuda, which, unlike in all other countries, does not entitle them to citizenship.
Those without acceptable or adequate current documentation such as valid passports or on an FBI or Interpol stop list will be stopped and detained instead of being allowed to enter.
All arriving passengers must tell Immigration if they are visitors or salespeople or corporate representatives. If they are not Bermudian and not strictly on vacation, they must produce Bermuda Government Work Permits. Do not attempt to try to use your visit to see any client or conduct any business in Bermuda without having the required Work Permit if you are not Bermudian.
At Bermuda Immigration, in what appears to be a system unique to Bermuda (it is not in effect at any UK or USA or Canadian airports) arriving passengers receive a card from an Immigration officer to indicate what type of inspection of baggage will occur. It appears as if each Immigration officer makes a pre-determination on what kind of profile or category of passenger applies.
Customs. Illegal Imports. It applies to those who arrive by air or cruise ship or yacht. The full list of the hundreds of banned narcotics are in the Bermuda Government's Misuse of Drugs Act 1972 and Misuse of Drugs (Controlled Drugs) Order 2001 enacted on August 1, 2001. It is not an excuse if you fail to make yourself familiar with the contents of the full list. Penalties are very severe for those who ignore this warning. Locals, tourists and visitors are not given any breaks. The claims they invariably offer that they do not have the money to pay the fines are routinely ignored. They are remanded in custody or are put on bail with their transportation tickets impounded until they do. Also, there are many other repercussions.
From April 1, 2012 passengers arriving at LF Wade International Airport including Bermudians, other residents and visitors can use a "nothing to declare" aisle, if they legitimately have nothing to declare. This was arranged in conjunction with the Ministry of Transport's Department of Airport Operations, in the Arrivals Area. It features a 'red/green' channel system, similar to what UK passengers have used for many years. It hastens their passage through the airport and emphasizes the obligation to properly declare goods. For all who have something to declare, a $100 collective Customs Duty exemption applies for returning residents, tourists $30, with 33% tax payable on all individual overseas purchases valued over the collective $100 exemption. (It was reported in The Royal Gazette of Thursday, September 13, 2001, on page 9, that Bermuda Customs and Immigration have a long-standing practice of giving preferential treatment to local legislators returning from abroad. Most don't pay any duties and are exempted from lining-up, unlike other passengers).
People who refuse to be searched at Customs on arrival at the airport or on a cruise ship or at any time near the airport or ports can be arrested.
Duty-free exemptions from Bermuda Customs Duty with effect from November 4, 2011 are tiny by USA, Canadian and British -UK standards.
Produce receipts from a retail store satisfactory to the Customs Department of actual purchase price of the items or be prepared for the Customs Department to assess items for your payment of duty at much higher Bermuda prices. This is applied vigorously. To avoid being arrested and having goods confiscated, do not try to import goods into Bermuda without paying the duty.
You'll also see a revenue-raising procedure you will never see at any other airport, a Customs Duty Payable counter at which to pay your exceedingly high rate of Customs Duty upfront if, as a Bermuda resident or visitor, you exceed your low $100 per person duty-free allowance.
Visitors may bring in, duty free for personal use only while they are in Bermuda, their clothes and articles like cameras, golf bags, 50 cigars or 200 cigarettes or 0.454 kilos (1 pound weight) tobacco; 1 liter of liquor or wine and a $30 gift allowance (compared to $100 in the USA) . If they bring in any more in gifts or their value, they can be charged a heavy rate of duty - over 25% of value - unlike in USA, Britain and Europe, where it does not matter whether your gifts are for yourself or a member of your family or associate or a complete stranger.
Declare a medically prescribed drug and show the doctor's or pharmacist's code on the prescription.
Behind the scenes, drug-sniffing dogs will check your baggage before it appears on carousels.
After passing through Bermuda Customs, passengers catch taxis or take pre-arranged minibus transportation to get to their hotels or other guest properties. (There are no rent-a-car services in Bermuda and no public transportation services for tourists with luggage). Hotels are not allowed to provide their own shuttle services between the airport and their hotels.

Airport Pickup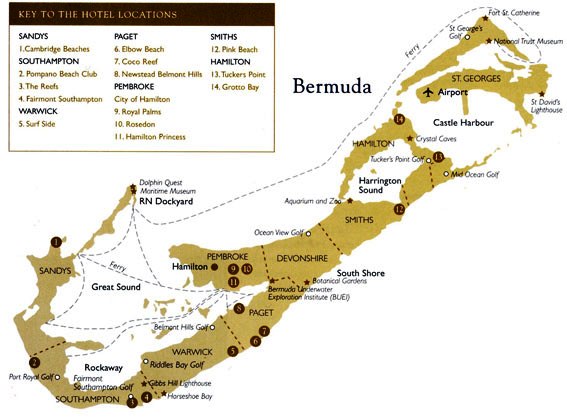 Automated external
defibrillators (AEDs)
The airport has several. These are portable devices that under medical supervision deliver a small electrical shock to restore normal heart rhythm during sudden cardiac arrest, a condition that kills countless patients a year.
Baggage carts & skycaps
Baggage carts. 120. Free, when available, provided by the DAO. They can be found in both Departures - near the front door - and Arrivals - near Customs.
Skycaps. (Porters). DAO employees. Tip per piece of baggage or luggage or parcel.
Baggage claims area
Arrivals hall. See "Moving Through the Years." An ornately designed mural by local artist Bruce Stuart at the history of transportation in Bermuda. Includes icons such as the Bermuda Clipper, Sea Venture, fast new ferry, policeman in birdcage and more.
BAS-Serco
Until March 31, 2015. A Bermudian joint venture company formed between Bermuda Aviation Services (BAS) Ltd and Serco Management Services Inc. It has provided air operations and facilities maintenances services at the airport, under contract to the Bermuda Government, since the US Naval Air Station closed in 1995. BAS-Serco employs approximately 50 staff providing air traffic control, ground electronics services, airport rescue and fire fighting, meteorological and aeronautical information services and airfield infrastructure maintenance.
Bermuda Aircraft Register
More than 170 aircraft are on this register, owned by foreign nationals but not allowed to operate in Bermuda in transportation of residents or visitors. Most are new, sophisticated and technically advanced corporate jets, owned by very high net worth individuals (such as Bloomberg, Mayor of New York, who has a lavish private home in Bermuda and flies to it frequently).
Catering facilities & franchises
Airport bars and restaurants are licensed to serve liquor under Bermuda's Liquor License Act 1974, Eastern District.
Courier Customs Center
This serves DHL Worldwide Express, Federal Express (Fedex), International Bonded Couriers (IBC) and United Parcel Service (UPS).
Departures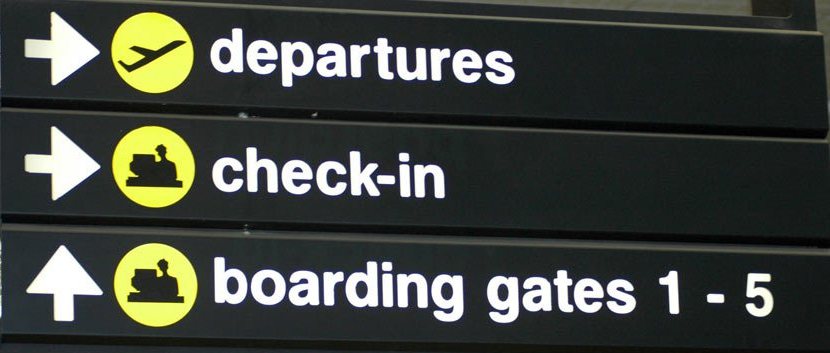 Departure Taxes
Since 2009 the main airport departure tax is $35 per person. The tax is payable by departing residents and visitors. How it is paid can vary. Some passengers may pay it directly to the airline who will then pay the Bermuda Government. Or it can be included in the overall cost of the ticket. Built into airline passenger tickets are other - hidden - taxes such as the Airport Security fee per passenger and a Passenger Facility Charge (PFC).

Electronic manifests now eliminate the requirement to collect landing cards on departure from Bermuda. Elimination of departure cards brought Bermuda in line with countries such as the United States, United Kingdom, Canada and Australia, who receive electronic manifests and do not require travelers to complete a departure card.

Passengers arrive at Departures by taxi or mini-bus or, if staying with friends, by private car. Areas designate each commercial airline serving Bermuda. On the ground floor are check-in facilities. A fiber optic ring links the terminals with Bermuda Customs and Immigration computers. Television monitors and flight display units give airline logo and departing flights information.

Most departing passengers are tourists, bound for the USA. Others go on business or pleasure or to shop in the USA. Passengers check in at their airline counters. After checking in, those bound for Canada or United Kingdom are directed to their departure lounge on the ground floor. Unlike in the case of passengers bound for the USA, passengers bound for Toronto or Halifax or London cannot pre-clear their Customs and Immigration. Instead, Canadian and British authorities require their passengers to wait until they arrive in those countries before they go through their Immigration and Customs procedures. It can be a very lengthy and tiresome procedure, especially at London's Gatwick.

In contrast, USA-bound passengers, the great majority, have a major advantage. In Bermuda, before they leave, irrespective of nationality, they get US Customs and Immigration clearance - in Bermuda, not when they arrive in the USA. On arrival in the USA, they can pick up their baggage and go, having already gone through the Customs and Immigration procedures. This has been the case since 1974. They pay for it in Bermuda but it is a huge convenience.
Going through US Customs in Bermuda
Passengers who have nothing to hide have nothing to fear but those who attempt to enter the USA illegally will be stopped and arrested.
This is especially so since, a few years ago, Chinese and other nationals were allowed entry into Bermuda from the United Kingdom by local Immigration officials and afterwards tried to enter the USA from Bermuda using false Japanese passports. They had been told, erroneously, that the USA was an easy place to get to via Bermuda for illegal entrants. Alert Bermuda-based US Customs and Immigration officials detected and stopped them from entering the USA from Bermuda and the Bermuda Government imprisoned them prior to deportation.
Since 2009, while waiting to speak to a US customs and immigration officer, visitors and residents en route to the USA can learn more about the longstanding relationship between the two countries from the newly-installed US-Bermuda Friendship Wall. The three-panel wall features key historical events and information about the longstanding US-Bermuda relationship that many visitors may not know. The permanent exhibit was unveiled in 2009 in celebration of Bermuda 400th anniversary by Airport general manager Aaron Adderley, US Consul General Gregory Slayton and Stephen Greenberg, Port Director for US Customs and Border Protection (CBP).
Departure area photos by author Keith Archibald Forbes.
Disabled passengers
The British Government's Department for Transport's Access to air travel for disabled people: code of practice is not followed in Bermuda by the Bermuda Government. But a disabled passenger transporter that cost local taxpayers $94,000 was installed in August 2003. It was funded by the Passenger Facility Charge fee enacted that year of $4 per ticket. The diesel-powered unit elevates 20 feet off the ground to transport the disabled from terminal gates to the cabin of the aircraft or in reverse. It is fully enclosed, air-conditioned and can board as many as six wheel-chair bound passengers at one time. This was welcomed by the Bermuda Physically Handicapped Association as a service for locals and visitors. To use the system, all disabled arriving or departing passengers must give prior notice to their airlines and should note that the system will not work at night without such prior requests.
Distances by parish
Note from the basic map below and the address of where you will be staying, whether it is close to or far from the airport. Depending on where it is, you may have to pay $60 or more (one way, not round-trip) per car for a 35 to 50 minute ride if you take a taxi from or to the airport.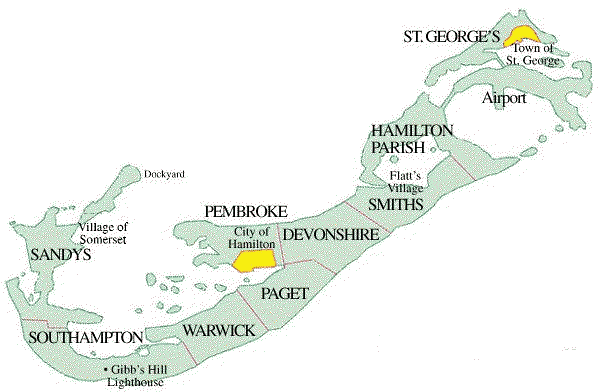 Doppler Weather Radar System
It bounces radio waves off objects with a high powered antenna. It indicates the comparative velocity of rain drops and other precipitation in the atmosphere. It enables a meteorologist to detect potentially hazardous features such as squall lines and outbursts.
Executive and private Aircraft Handling Facility

On the northern side of the airport near Ferry Reach, this is specifically for owners or operators of executive smaller aircraft or corporate jets visiting Bermuda and any guests they bring. It has its own lounge, Bermuda Immigration and Customs and other services. A former US Air Force/US Naval Air Station building on Southside was converted into a private jet passenger terminal. The building has a 275,000 square-foot apron where private jets can be parked in addition to parking for 13 cars.
Fuels
Two fuel corporations are allowed to operate, one of which is Shell. Fuels they offer are Esso Turbo A-1 or Shell Jet A-1. Oils available are Aeroshell Turbine Oil 390 and 500, and Esso Turbo Oil 2380. Aviation gasoline - for propeller-driven aircraft - is not available anywhere at the airport or anywhere else in Bermuda. Any aircraft can use Bermuda. If it requires avgas, because it has a reciprocating engine, it will have to have enough range to travel to Bermuda and back from the USA on one tank of gas. Many propeller-driven aircraft have turbine engines that use the same A-1 fuels as turbojet engines.
Ministry of Transport
The responsibility of the Ministry is to manage and regulate transportation in Bermuda, including the airport, weather services, buses and ferries.
Retail shopping
For outgoing passengers. The Bermuda Government rents out duty-free shops in the Departures areas. Once USA passengers pass through the US Customs Pre Clearance Service and enter the USA Departures lounge, they cannot purchase goods which will attract US Import duties because of strict US Customs regulations. If an airport store for departing passengers advertises duty-free liquor prices while there is a big saving on duty-free liquor compared to most retail stores in Bermuda, Canada and United Kingdom prices, passengers bound for New England, Pennsylvania and other US states residents should note that retail prices in their states for liquor may be about the same as Bermuda Duty Free prices. And passengers bound for the UK should note that if they go beyond Gatwick by air they are hugely restricted in what they can take in their hand luggage.
Transportation
For further details on the following for tourists and business visitors, see Getting Around in Bermuda.
Bermuda is now the only tourism resort left in the entire world where it is still and has been for decades deliberate Bermuda Government unfriendly-to-tourists policy to prohibit hotels from picking up and dropping off their

guests at Bermuda's International Airport.

No shuttle buses or courtesy hotel limos are allowed

.

Nor, to the often huge surprise and major disappointment of many guests who have routinely rented automobiles elsewhere abroad are any rental cars allowed.

Nor are there any public transportation buses for arriving or departing passengers with luggage racks available to take incoming or outgoing tourists or other types of visitors.
The best way to get to/from hotels and other places to stay for guests with luggage is via taxi or a shuttle van/mini bus service. Some hotels, guest houses and efficiency units will pre-arrange this for their guests and the latter should always ask about this at the time of booking to ensure this will be done by prior arrangement.
Once you've cleared Bermuda Immigration, collected your luggage and passed through Bermuda customs, you'll exit the airport terminal and enter the ground transportation area for taxi or minibus to your destination. All taxis are metered with rates set by the Bermuda government (see under "Taxis" in Bermuda Transportation for Visitors) but taxi fares are not always purely for the journey, can also be based on number of passengers if more than 2, and are payable in US or Bermuda dollars. Fares are the same for non-disabled and disabled (handicapped in USA). There are now 650 taxis. (Disabled persons in a wheelchair should always ask in advance of their arrival for a wheelchair-equipped taxi, of which there are quite a few. But they should note that when taxis are equipped to take a wheelchair, it may be for a manual wheelchair only, not an electric wheelchair).
At the airport, regular public transportation buses service the Departure area, not Arrivals area. They are excellent in terms of weekday frequency compared to many other places. But they were built for the casual sightseer from overseas with no luggage and local commuters. They are not for airport incoming or outgoing passengers, not equipped to take luggage, without special marked seating for disabled passengers who do not need wheelchairs but use a cane or crutch as they are too unsteady on their feet to stand - and are not equipped to hoist wheelchairs.


Last Updated: February 8, 2016.
Multi-national © 2016 by Bermuda Online. All Rights Reserved.