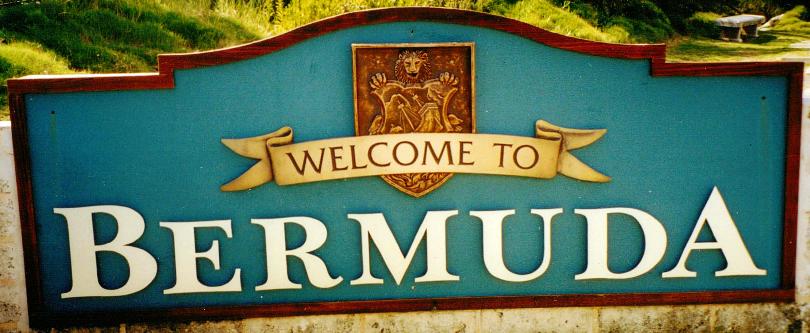 Click on graphic above to navigate the 165+ web files on this website, a regularly updated Gazetteer, an in-depth description of our island's internally self-governing British Overseas Territory 900 miles north of the Caribbean, 600 miles east of North Carolina, USA. With accommodation options, airlines, airport, actors, actresses, aviation, banks, beaches, Bermuda Dollar, Bermuda Government, Bermuda-incorporated businesses and companies including insurers and reinsurers, Bermudians, books and publications, bridges and causeway, charities, churches, citizenship by Status, City of Hamilton, commerce, communities, credit cards, cruise ships, cuisine, currency, disability accessibility, Devonshire Parish, districts, Dockyard, economy, education, employers, employment, environment, executorships, fauna, ferries, flora, former military bases, forts, gardens, geography, getting around, golf, guest houses, highways, history, historic properties, Hamilton, House of Assembly, housing, hotels, immigration, import duties, internet access, islands, laws, legal system and legislators, main roads, marriages, media, members of parliament, money, motor vehicles, municipalities, music and musicians, newcomers, newspaper, media, organizations, parks, parishes, Paget, Pembroke, performing artists, residents, pensions, political parties, postage stamps, public holidays, public transportation, railway trail, real estate, registries of aircraft and ships, religions, Royal Naval Dockyard, Sandys, senior citizens, Smith's, Somerset Village, Southampton, St. David's Island, St George's, Spanish Point, Spittal Pond, sports, taxes, telecommunications, time zone, traditions, tourism, Town of St. George, Tucker's Town, utilities, water sports, Warwick, weather, wildlife, work permits.
Bermuda's L. F. Wade International Airport is redeveloping for $250 million but operating
Passengers from here to USA get pre-clearance from US Customs and Immigration
By Keith Archibald Forbes (see About Us) exclusively for Bermuda Online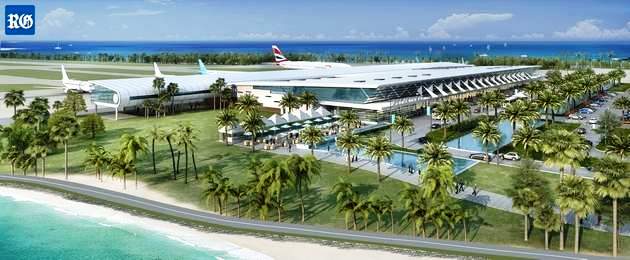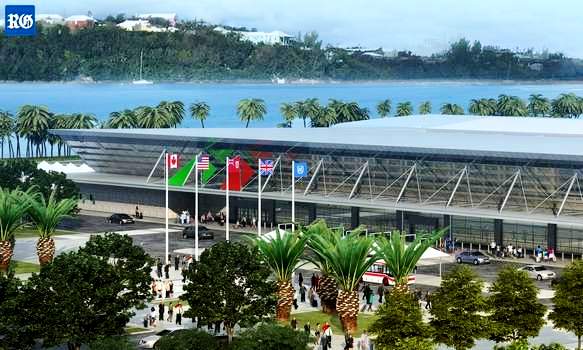 Planned new airport, being Canadian built, construction of which began in April 2017 and is expected to be completed in the summer of 2020

Approaching Bermuda by air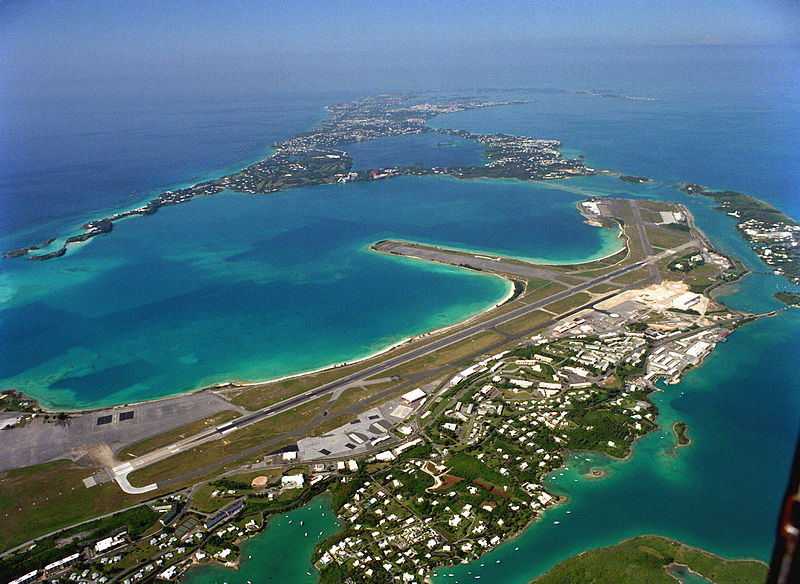 Bermuda International Airport and runway taken by USNAS Bermuda in 1993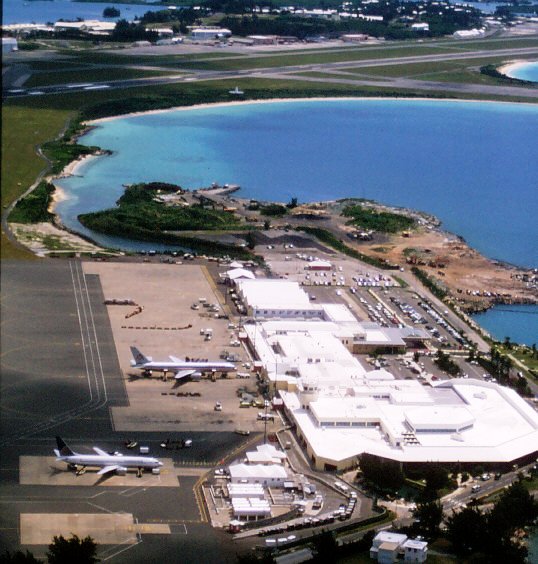 L. F. Wade International Airport, Bermuda

Airport developments on new terminal building, key reports
2020. March 20. LF Wade International Airport will close for incoming passengers flights tonight, for a two-week period. All returning residents must fill out a self-declaration form — and all travellers arriving on the island will be subject to a mandatory 14-day self-quarantine. Returning residents can complete their forms online at forms.gov.bm/covid19, for a swifter arrivals process.
2020. March 11. No plans to cut flights to Bermuda have been announced amid concerns over a potential killer strain of coronavirus, a spokeswoman for airport operators Skyport said yesterday. The spokeswoman added: "We have not been advised by airlines of any reductions that will affect Bermuda at this time. Skyport is closely monitoring the impact the coronavirus is having on the travel industry, specifically on our day-to-day air passenger traffic." She was speaking after it was announced that two airlines that fly to Bermuda planned to cut routes in response to the Covid-19 outbreak. Delta Air Lines, which operates daily Atlanta, Boston and New York flights to and from the island, said that it was cutting international flights by up to 25 per cent and domestic routes by 10 to 15 per cent. The airline added that it would continue to make adjustments to planned capacity as "demand trends change". A Delta spokeswoman said: "Details of our expanded schedule changes will be shared later this week." American Airlines, which operates daily services between Bermuda and New York and Miami, announced that it would reduce its international capacity for the summer peak season by 10 per cent. The airline added that domestic capacity would fall by 7.5 per cent next month. A spokesman said: "We have not reduced any service to Bermuda at this time." JetBlue, which flies to Bermuda from New York and Boston, was reported last week to be reducing capacity by about 5 per cent. The airline did not respond to a request for comment on if Bermuda would be affected by the cuts. Zane DeSilva, the Minister of Tourism, was asked if talks had been held with airlines and if there had been any indication that there would be cuts in flights to the island. He was also asked if there were contingency plans to deal with a flight reduction. He did not respond by press time yesterday. News of airline capacity reduction came after the United States and Canadian Governments warned their citizens this week to avoid cruise ship travel. A total of 22 ships are scheduled to visit Bermuda next month, with 24 in May and 23 in June. David Burt, the Premier, said last week that the virus "could be an existential threat" to Bermuda's tourism and financial services industries. There have been no confirmed or suspected cases of Covid-19 in Bermuda.
2020. March 10. Work on the new airport terminal is in its final push towards a scheduled midsummer construction completion. About 300 people are working on the site as the $250 million project nears completion. Dave Westwood, construction manager for Aecon, the general contractor, said: "We don't have a fixed date for the opening, but we're on schedule. We have some finishing work to do and all the systems and equipment have to be tested and commissioned." After the completion of construction work, the opening date will depend on how long the testing and commissioning takes — probably about a couple of months, according to Aecon. A total of 31 Bermudian subcontractors are among the companies to have worked with Aecon on the project. Mr Westwood explained that testing was scheduled this week for the six telescopic bridges, the walkways that will connect to the doorways of aircraft and give passengers protection from the elements on their way into the terminal. Tenants for the restaurants, bars and retail outlets will also be asked this week to start work on their spaces. Aecon granted The Royal Gazette's request for a tour of the building and it was clear that airline passengers will get a very modern experience. Road access to the new-look airport will be from the same roundabout as is used today. Trees have been moved from the old terminal site and replanted as part of the landscaping work in front of the new building. A large pond will not only be decorative, but will also take the overflow from the water tank that will collect rainfall from the terminal roof for use inside the building. Passengers scheduled to leave from the airport will see 23 "smart" check-in desks, designed for use by different airlines depending on demand and clusters of self check-in kiosks, some of which have already been installed, will take the weight off the lines. The terrazzo-tiled floor has been laid, but was still under protective covers as work continued. Departing passengers' route through the airport will be marked by decorative longtails suspended from the ceiling — incoming travellers will follow kites. Mr Westwood said: "It's all part of the effort to create a sense of place." Dropped-off bags will be taken to the right place in an automated process, involving conveyor belts and scanners. The system, made by Glide path, a New Zealand company, reads baggage tags to direct luggage along belts to the right aircraft. Luggage is simultaneously scanned for security purposes. If the system detects anything suspicious, the bags are diverted to an area where staff will be able to make further checks before clearing the bags to continue their journey. Travellers in the security area will find four belt scanners and two body scanners, all of which have yet to be installed. Mr Westwood added that shoe removal and laptop examinations will no longer be necessary, thanks to state-of-the-art technology. The US Immigration pre-clearance area will be past security to the left and the stairway and elevator to the international departure lounge, for those travelling to all non-US destinations, will be on the right. The departure lounges stretch the length of the building from north to south, with fixed seating, retail outlets and a restaurant with outdoor seating area at each end. Mr Westwood said the sizes of the US and international lounges were adjustable. He explained that if a cluster of flights were US-bound, for example, the US lounge could be extended to up to 70 per cent of the total area by using sliding panels to wall off appropriate areas. High-tech systems should also give incoming travellers a smoother experience passing through the new airport. A total of six "e-gates", with passport scanners and glass doors, are about to be installed in the arrivals hall, which will automate the passport control with a system similar to the one used at London's Gatwick Airport. The façade of the new terminal is designed to stand up against sustained winds of more than 170mph.
2020. January 30. Air arrivals are to be screened at the airport as a killer virus from China continued to spread, it was announced yesterday. The screening will include questions on areas travelled through in the previous 21 days and if the arrival had suffered any suspicious symptoms. The move, announced yesterday, came as the Ministry of Health confirmed the island had no known or suspected cases of coronavirus, which has killed more than 170 people and infected about 7,000 people around the world. The news came after a traveler arrived home on Sunday from a flight with a connection in Hong Kong and said airport staff needed to "elevate caution, without overreacting", because she was not questioned about her itinerary. Hannah Collins said she spent two weeks in the Philippines with her partner and family, before returning to the island through Hong Kong. She said shops at Manila airport were running out of face masks, which cabin crew wore on the family's Cathay Pacific connection to the Chinese territory. Ms Collins said there were "definitely a lot more people wearing masks" than she had seen in the two-hour stop in Hong Kong. She added she wore a mask because she picked up a cold in the Philippines, but that her symptoms did not match the fever and dry cough associated with coronavirus. She added: "With all the scare, I went to my doctor when I got home. She checked me out and said I didn't have it, but advised me to stay home from work. Ms Collins said passenger's screens were updated with news of the virus during the 16-hour flight from Hong Kong to New York. She added that passengers near her "kind of turned their heads" when they noticed her cold symptoms. Ms Collins said she did not "take any chances" and used hand sanitizer throughout her trip. Her American Airlines flight to Bermuda, which was delayed two hours, arrived after midnight last Sunday night. Ms Collins said customs staff, who appeared "tired" after a long day, did not ask about her earlier travel. She added: "I came through New York, so they didn't have a real reason to ask if I had travelled through China or Asia in general. I declared everything. They didn't have many questions to ask of me. But I noticed everyone on higher alert from Manila through Hong Kong." She posted on Twitter the next day: "I could tell that the customs workers at the airport were tired. No one asked where I had been besides New York. This seems like a potential risk area." Air travel restrictions from China were imposed yesterday to limit the virus, coded 2019-nCoV and known as the Wuhan coronavirus after the city where it was first spotted. Bermuda's state of alert was elevated on Monday, and Ms Collins said had felt no need to identify herself at the airport because she had not been in any affected area in the Philippines. A spokeswoman for the health ministry said "various disciplines and sectors of society", along with airport customs, immigration, and airport operators Skyport, had been warned about the possible arrival of the virus in Bermuda. She added travellers arriving in Bermuda would be monitored and assessed if they were thought to be at risk. The spokeswoman said: "Those who have spent time in jurisdictions considered at very high risk, will be given health instructions for follow up and advice on self-monitoring for illness for 14 days. The public should know that there is a health officer at the airport, to assist with managing the situation at the port of entry and airport officials are in continuous communication with the epidemiology and surveillance unit." A spokeswoman for Skyport added that TV screens at the airport arrivals area will be used to advise air arrivals. She added: "An isolation area has also been set up in the hall for health officials to assess passengers traveling from high-risk countries or who are exhibiting symptoms of illness. Additionally, public health and safety audio messaging will be broadcast on the PA system throughout the arrivals, baggage claim and departures areas." Cheryl Peek-Ball, the Chief Medical Officer, said yesterday: "It should be noted, that the coronavirus has not been fully characterized. Its origin, mode of transmission and how it makes individuals ill is still being determined in clinical research settings worldwide. What we do know, is that it appears to be transmitted from infected animals or humans to other humans and it takes between two to ten days to incubate, before making an infected individual ill with fever, cough and difficulty breathing." A spokeswoman for British Airways in Bermuda said the carrier had "temporarily suspended all flights to and from mainland China, with immediate effect, following advice from the Foreign Office against all but essential travel". A flights to Hong Kong are not affected.
For more information on airport redevelopment see Timeline of reconstruction below.

Airline arrivals

From relevant cities in USA, Canada and United Kingdom. On arrival, passengers go through Bermuda Immigration and Customs, not through lines for Bermudians and residents but those for visitors. Then they take taxis or minibuses to get to their hotels or guesthouses or wherever else they are staying, or are met by friends or family. There are no rent-a-car or public transportation services for passengers with luggage. Note that some flights are seasonal.

Airline departures

To cities served by the airlines. USA-bound passengers go through US Customs & Immigration pre-clearance in Bermuda. Fights shown are in order of time of departure, to help persons taking them to the airport, or taxi owners and operators, or local mini-bus services for departing passengers. Departing passengers should check in to the airline ticket counter two hours before their departure times, to avoid being refused if they arrive too late to be questioned, screened and processed. Passengers going to Britain or Canada will encounter Immigration and Customs clearance when they arrive in London or Toronto. In the United Kingdom, if a spouse has a UK national passport, an accompanying husband or wife who is not a UK national may also go through the UK and European Community lanes instead of the far more lengthy other Immigration lanes.

Airport closes at night
Bermuda International Airport closes at night after the last flight. Under no circumstances are any passengers allowed to sleep there overnight. When it closes, all facilities - restrooms, etc. - close as well. Security guards enforce the closure. All are expected to go home or to an hotel.
Disabled facilities are limited. There are presently no airport jet ways in Bermuda so passengers in wheelchairs or who have mobility problems and cannot mount and dismount aircraft steps unaided should ask ahead of time for airline assistance when arriving and departing. However, when the redevelopment is completed there will be six airport jet ways.
Departure tax and Airport Security Fee. All passengers pay both these, built into the cost of their tickets. See the latest Bermuda Government's Miscellaneous Taxes (Rates) Amendment Act. Bermuda has the highest Departure Tax in the world per square mile.
Airport Original Facts
See the official website at www.bermudaairport.com. What is shown below gives facts not shown on the website mentioned.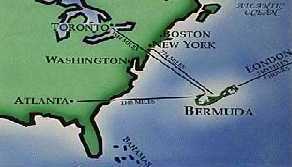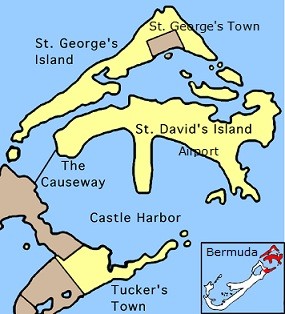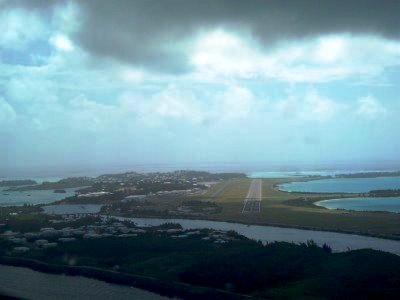 Built entirely at US taxpayers' expense as a US$42 million project in 1941-42 during World War 2, by amalgamating, creating dredging and eliminating many small islands in Bermuda's Castle Harbour. It and much other associated acreage was created to provide for the first time in Bermuda a land-based airfield for US military aircraft. The runways and taxiways were constructed from scratch from former small islands in Castle Harbour by engineers contracted by the US Army Air Corps. They built Fort Bell, later known as an USAAF base then Kindley Air Force Base of the United States Air Force, later yet the US Naval Air Station of the US Navy, as one of the military bases purpose-built for the US Military in Bermuda from 1941 to 1995. It included all of what is now the airport. Until then, Bermuda only had a water-based civilian aircraft flying boat facility at Darrell's Island, 12 miles away. It was originally a US Army Air Corps base, known as Fort Bell, then a US Army Air Force base. After WW2 ended, part of the base became a Bermuda Government owned and operated Civil Air Terminal until 1995, after which, when the base agreement ended and all US Military facilities in Bermuda ceased and were returned to the USA, it became first the Bermuda International Airport and on April 16, 2007 became the L. F. Wade International Airport, Bermuda, named after the late Bermuda politician L. F. Wade, then Progressive Labour Party Leader of the Opposition.
With International Air Transport Association (IATA) designation of BDA with the International Civil Aviation (ICAO) designation of TXKF.
Airport position, title and address. 32°22´00"N, 064°41´00"W. 3 Cahow Way, St. George's Parish, Bermuda.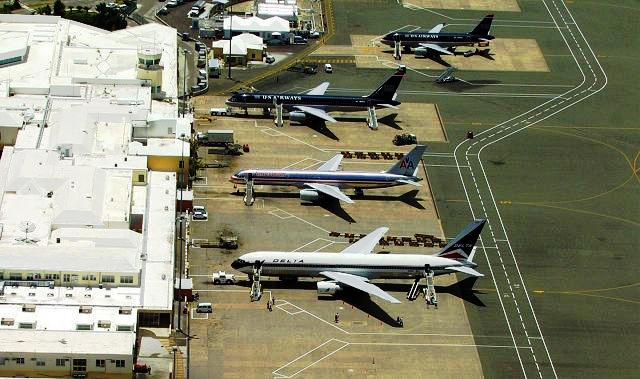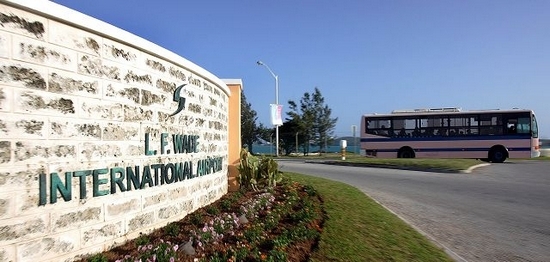 It is between the waterways of Ferry Reach and Castle Harbor. It is 3 miles south west of the Town of St. George and St. George's Parish, 10 miles east of the city of Hamilton, and 20 miles east of the Royal Naval Dockyard. From all other Parishes, it is via Long Bird Bridge and the Causeway. From here, with US pre-clearance from US Immigration and Customs, all departing passengers bound for the USA, once they arrive at any US airport, are exempted from the often huge Immigration lines so typical of those arriving directly in the USA from Europe. The low-lying Causeway, less than 20 feet above sea level, is a vital link connecting the mainland with the airport and from the latter east to St. George's and St. David's and west to the City of Hamilton and beyond, all the way to Sandys Parish.
Bermuda is 568 miles east of North Carolina, 693 miles south east of New York (with a direct daily connection by air), 729 miles south of Halifax, Nova Scotia (with a seasonal once-weekly direct connection by air), 770 miles south east of Boston (with a direct daily connection by air), 788 miles north east of Nassau (no direct connection by air but via the USA), 1115 miles south east of Toronto (with a direct daily connection by air), 1290 miles north of Puerto Rico (no direct connection by air but via the USA), 2055 miles from Winnipeg (no direct connection by air but via Toronto) and 2996 miles from London, England (with a direct four times a week in summer and three times a week in winter connection by air).
Bermuda is NOT in the Caribbean. Bermuda has always been in British North America according to all official British records. The International Air Transport Association (IATA) refers to it rightly as in North America.
Rental automobiles allowed in Bermuda? Yes, but only if they are tiny, two-seater only and electric. They cannot be rented at the airport. Visitors get to their destinations by taxi or pre-arranged mini-bus. (Ordinary buses are not equipped to carry passengers who have luggage). For further details, see Visitor Transportation in Bermuda.
Rental of light Bermuda-based aircraft? No. No rental of light aircraft is allowed.
Air routes. Bermuda, as a British Overseas Territory, needs the approval of the United Kingdom for all new air routes but the latter rarely interferes as Bermuda can handle its own charter business. The Bermuda Government, not the British Government, both sets all local aviation laws and approves the charges to and from Bermuda of all the airlines and their changes in schedules. Bermuda has scheduled commercial flights to/from Atlanta; Baltimore; Boston MA Logan (BOS); Charlotte/Douglas, NC, high season; Chicago-O'Hare (ORD), high season; Fort Lauderdale, seasonal; Halifax; London Gatwick ( 6.75 to 7.75 hours); Miami International (MIA); Munich (high season: New York (JFK); NYC Newark (EWR); New York - La Guardia (LGA); Philadelphia, PA (PHL); Toronto; Washington DC (DCA) and Washington-Dulles. There are no commercial scheduled direct flights between Bermuda and any of the Caribbean islands. Going via the USA or Canada are the only ways.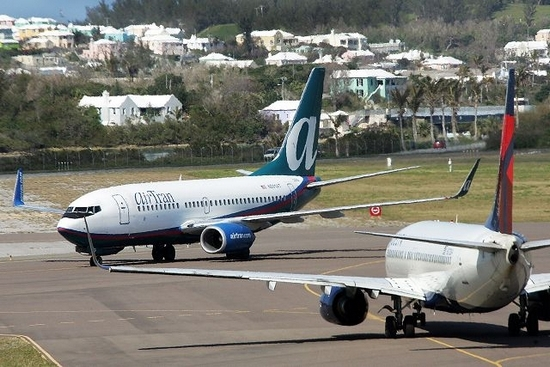 Airport change of name, size, history and future funding. 536 acres. Its runway 12/30 is 9,713 feet in length and 150 feet wide. There are eleven taxiways, all 75 feet wide. The terminal apron has eight aircraft parking bays. It is the only airport in Bermuda. It falls under the Bermuda Civil Airports Act 1949, Bermuda Airport Regulations 1959 and Bermuda Airport Amendment Regulations 2002. This is not known by 99% of our American, British, Canadian and other visitors.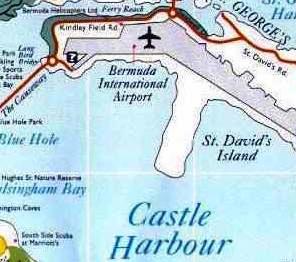 In January 1946 Kindley Field Airport, Bermuda, as it was first known then, was opened. It was established on that part of the US military base once reserved for and used by Britain's Royal Air Force (RAF).
The senior RAF officer in Bermuda during the War, Wing Commander Ware, was loaned to the civil government to oversee the conversion of the RAF's end of the military airfield into a Civil Air Terminal. Pre-fabricated buildings were relocated from Darrell's Island to assemble the first terminal. Ware remained with the local government after leaving the RAF, becoming the Director of Civil Aviation for many years.
Although no longer maintaining any detachment in Bermuda, the RAF continued to use Island as a trans-Atlantic staging after WW2 While most foreign military aircraft passing through the Island had used the US military end of the airfield, the RAF continued to disperse its aircraft at the former RAF end of the field. Large detachments of tactical aircraft, accompanied by larger refueling, transport, and maritime patrol aircraft, regularly staged at the island on transits between the UK and the garrison at Belize, etc.
From 1948, the Civil Air Terminal was the civilian part of the US military base.
From 1948 to 1995, US taxpayers continued to pay all the costs of the airport, runways and adjacent military base - and the separate one in Southampton Parish. For this airport alone, the sum spent by American taxpayers has been estimated at about US2 billion. For half a century, the US Government bore all the cost of runway maintenance, air traffic control, airport fire appliances and much more.
When the US Navy ran the airport until 1995 as part of the former US Naval Air Station at the old Civil Air Terminal, it absorbed the cost, with only notional accounts passed to airlines. With the Bermuda Government now the owner and operator, charges and landing fees increased hugely to Bermuda taxpayers and visitors and have continued that way. However, millions of dollars have been spent in improving and upgrading the airport to a far higher standard than when under US Navy control. More than 400 persons work at the airport.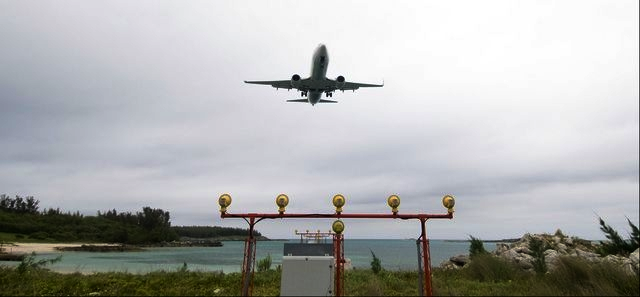 Runway facts. LF Wade International Airport has a single active runway, known as 1-2-3-0. Runway 1-2, the portion where aircraft come in over Ferry Reach, has the same amount of asphalt surfacing as 100km of Bermuda's twin-lane roads. There are also 100km of markings on the 150ft by 9,753ft runway, which has undergone changes since new international regulations. The runway itself dates back to the 1940s, when it was laid down by US forces. Bermuda's runways are still laid out in the 'A' shape characteristic of military facilities, but only the main strip is in use. That leaves the "finger" for fire department exercises, the parking of military aircraft — and future developments such as a proposed solar energy plant. A third strip is known as Taxi Way Bravo, which connects the runway to the "apron" in front of the airport buildings. In order to give adequate clearance for aircraft landing over Ferry Reach, their angle of approach is to be adjusted by two-tenths of a degree — enough for the "threshold" and other landing markings to be moved forward more than 500ft. The alterations, which are required of Bermuda under international standards, will have no effect on take-offs. April 2013 has been set as the final deadline for the project to start.
1 Passenger Terminal, 1 Cargo Terminal, 8 Aircraft Stands. Passengers disembark or embark down or up the aircraft ramp, then walk from or to the aircraft and terminal in all weather. When flights arrive or take off in the rain, passengers get wet. A passenger boarding bridge will be rain cover for embarking or disembarking passengers. Jetways may not be a practical proposition, either in cost or maintenance, especially in the salt-laden Bermuda air and closeness of airport to ocean. A mobile tunnel from terminal to plane steps was not successful in 1995-1996.

Passenger Facilities: Annual Capacity 842,245, 40 check-in desks, 8 gates, 3 baggage claim belts, short term parking spaces, 2 long term parking spaces, Bank, Bars, VIP Lounge, Duty Free Shop, Gift Shop, Tourist Help Desk, Taxi Service/Rank, First Aid.

Elevation 2m (6ft).

Fire Category 8.

Emergency Services are crash fire rescue service, airport security police, Bermuda Police.

Navigational Aids are VOR/DME, SSR.

Airfield Restrictions: None.

Noise Restrictions: None.

Runway 1: Heading 12/30, 2,960m (9,711ft), 80/F/A/W/U, ICAO Cat. 8, Aircraft size max: B777, ILS, Lighting: PAPI, Variable, High Intensity.

Lighting is variable or high intensity. The approach is abbreviated, variable, or high intensity with a precision approach path indicator (PAPI) system on both runways. All runway markings are in accordance with ICAO Annex 14.

Taxiway lighting is medium intensity edge lighting with internally lighted taxiway guidance signs. There is also an aircraft radio controlled lighting system or ARCAL which is available for use between 11 pm and 7 am daily.

Cargo Facilities: Capacity 7,000 tonnes (15,432,000lbs), Warehouse 8,500m² (91,493sq ft), Bonded Warehouse, Aircraft Maintenance, Heated Storage, Mortuary, Animal Quarantine, Fresh Meat Inspection, Livestock Handling, Health Officials, X-Ray Equipment, Security for Valuables, Dangerous Goods, Express/Courier Centre. The cargo terminal has 25,850 square feet.

No airport passenger boarding bridges or jetways (known in the United Kingdom as covered walkways). Bermuda is one of the few international airports without any. A boarding bridge or jet way is the corridor that rolls out from the terminal at most airports to the front door of the aircraft. Nor are there any "at level" crossing points.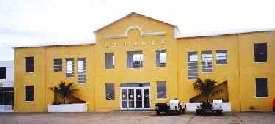 Airport administration. Overseen by the Bermuda Civil Aviation Authority, which replaced the Department of Civil Aviation. The staff at the BCCA include flight operations inspectors, an airworthiness surveyor and airworthiness inspectors. They regulate the airport; make sure it operates to the right standards; run the Bermuda Aircraft Register, one of the largest in the world, covering all types of civilian aircraft based in many countries but which are incorporated and registered in Bermuda); and ensure compliance with the Bermuda Government's air services policy which includes approving air fares, routes and services operated by the airlines serving Bermuda and charters.
The airport is open for aircraft operations continuously. However, terminal services are only available from 5 am to midnight. Airport tower services and airport firefighting services are not available from 11 pm to 7 am. During this time the airport operates under non-tower operations and pilots of general aviation aircraft use the ARCAL to activate the airport runway and taxiway lights. The airport operations building has two floors. It is made of a mix of Bermuda stone (limestone), concrete blocks, concrete and wood. The upper floor has 65,300 square feet and the ground floor 172,500 square feet.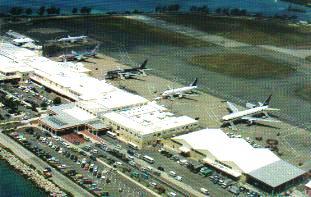 Via the Federal Aviation Administration (FAA) agreement between Bermuda and the USA, the FAA provides air traffic control services for Atlantic air traffic passing through Bermuda air space. Bermuda provides tower air traffic control services for all flights landing and departing the Island, to a distance of eight miles. The FAA provides air traffic approach control services from its New York Center for all flights on behalf of Bermuda.
Bermuda and the FAA also agreed a number of cost sharing responsibilities in equipment, maintenance and operations. Now installed is an array of navigational aids and communications equipment to help the FAA fulfill its en route and approach control responsibilities. The agreement enables the USA and United Kingdom to fulfill their commitments to the International Civil Aviation Organization (ICAO), while the FAA benefits from enhanced management of air space around Bermuda. Data sent from Bermuda helps reduce time and distance separation restrictions and permits access to the most efficient cruising levels for aircraft.
Air Traffic Control Service is provided from an ATC Tower located on high ground approximately midpoint of the runway on its north side. Departure and Arrival control is provided from New York Air Route Traffic Control Center (ARTCC) at Ronkonkoma, Long Island New York, using radio transmitters and receivers installed in Bermuda and real time feeds of VOR and Radar signals from Bermuda.
Electronic navigation aids include a Category I Instrument Landing System serving runway 30, a VOR/DME serving both runways and a secondary surveillance radar, with a range of approximately 200 miles. Aeronautical information is available in the Bermuda Aeronautical Information Publication (AIP). It may be purchased from the Bermuda Department of Civil Aviation.
In 2011 the airport secured a new low cost carrier AirTran Airways, which would be providing services from Baltimore and Atlanta. The airport installed an advanced surveillance radar, in a cost-sharing agreement with the Federal Aviation Administration (FAA), for $4.3 million. The airport was in the process of developing and redesigning a new plan for the Ferry Reach end of the runway. It requires the displacement of the runway threshold, thereby shortening the usable length of the runway by 590 feet. Navigational aid equipment known as Precision Approach Path Indicators (PAPIS), used by pilots to help guide aircraft to the touchdown point, will have to be repositioned. Runway lighting will have to be moved and line markings re-applied in order to meet the new regulatory requirement. To reduce costs and boost quality the Department of Airport Operations had contracted a group of IT specialists to take over the passenger processing system. This includes enhanced check-in functionality, flight information screens, WIFI, public announcements and the installation of an airport music system. This upgrade has been achieved at a 25 percent cost saving over the previous contract.

Air Transport Licensing Board

Automated external
defibrillators (AEDs)
The airport has several. These are portable devices that under medical supervision deliver a small electrical shock to restore normal heart rhythm during sudden cardiac arrest, a condition that kills countless patients a year.

Arriving in Bermuda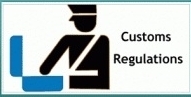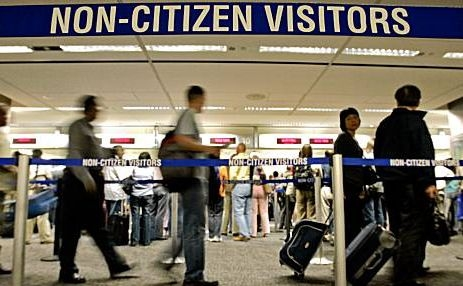 There are separate lines for incoming returning Bermudians, foreign residents who are work permit holders and all other visitors to go through Immigration and Customs. Business visitors attending meetings here also have a separate line. The first line requires all Bermudian passports to contain the Bermudian status stamp. There have been cases of people arriving and purporting to be Bermudian but who do not have Bermudian status – only a British or Bermuda passport stating they were born in Bermuda, which, unlike in all other countries, does not entitle them to citizenship.
Those without acceptable or adequate current documentation such as valid passports or on an FBI or Interpol stop list will be stopped and detained instead of being allowed to enter.
All arriving passengers must tell Immigration if they are visitors or salespeople or corporate representatives. If they are not Bermudian and not strictly on vacation, they must produce Bermuda Government Work Permits. Do not attempt to try to use your visit to see any client or conduct any business in Bermuda without having the required Work Permit if you are not Bermudian.
At Bermuda Immigration, in what appears to be a system unique to Bermuda (it is not in effect at any UK or USA or Canadian airports) arriving passengers receive a card from an Immigration officer to indicate what type of inspection of baggage will occur. It appears as if each Immigration officer makes a pre-determination on what kind of profile or category of passenger applies.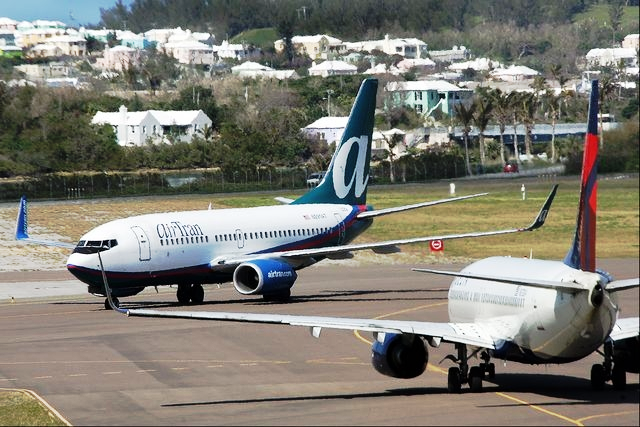 En route to Bermuda, your airline will give you an exceptionally detailed form compared to other countries. See http://www.tcd.gov.bm/portal/server.pt?open=512&objID=256&&PageID=1442&mode=2&in_hi_userid=2&cached=true. It is similar to the one shown below.
You are required by the Bermuda Government to complete all the information shown: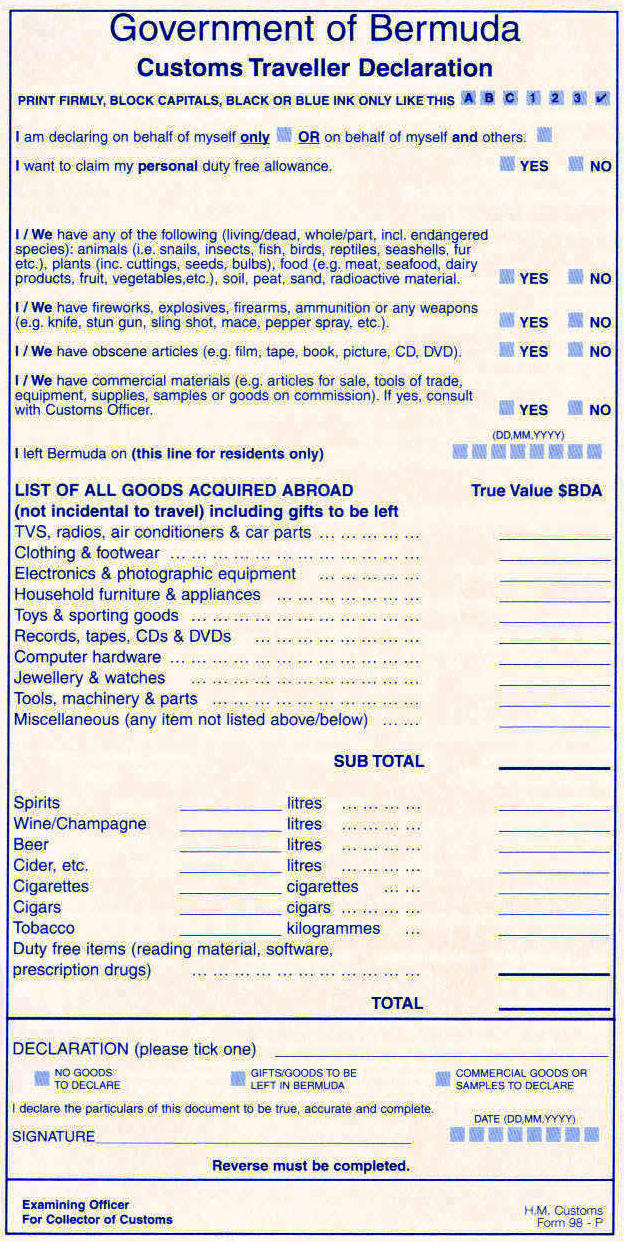 Form to be completed by all tourists, visitors and returning residents
Once you've cleared Bermuda Immigration, collected your luggage and passed through Bermuda customs, you'll exit the airport terminal and enter the ground transportation area for taxi or minibus to your destination. All taxis are metered with rates set by the Bermuda government (see under "Taxis" in Bermuda Transportation for Visitors) but taxi fares are not always purely for the journey, can also be based on number of passengers if more than 2, and are payable in US or Bermuda dollars. Fares are the same for non-disabled and disabled (handicapped in USA). There are now 650 taxis. (Disabled persons in a wheelchair should always ask in advance of their arrival for a wheelchair-equipped taxi, of which there are quite a few. But they should note that when taxis are equipped to take a wheelchair, it may be for a manual wheelchair only, not an electric wheelchair).
At the airport, regular public transportation buses service the Departure area, not Arrivals area. They are good in terms of weekday frequency compared to many other places. But they were built for the casual sightseer from overseas with no luggage and local commuters. They are not for airport incoming or outgoing passengers, not equipped to take luggage, without special marked seating for disabled passengers who do not need wheelchairs but use a cane or crutch as they are too unsteady on their feet to stand - and are not equipped to hoist wheelchairs.

Baggage carts & skycaps
Baggage carts. 120. Free, when available, provided by the DAO. They can be found in both Departures - near the front door - and Arrivals - near Customs.
Skycaps. (Porters). DAO employees. Tip per piece of baggage or luggage or parcel.

Baggage claims area
Arrivals hall. See "Moving Through the Years." An ornately designed mural by local artist Bruce Stuart at the history of transportation in Bermuda. Includes icons such as the Bermuda Clipper, Sea Venture, fast new ferry, policeman in birdcage and more.

Bermuda Aircraft Register
More than 170 aircraft are on this register, owned by foreign nationals but not allowed to operate in Bermuda in transportation of residents or visitors. Most are new, sophisticated and technically advanced corporate jets, owned by very high net worth individuals (such as Bloomberg, Mayor of New York, who has a lavish private home in Bermuda and flies to it frequently).

Bermuda Civil Aviation Authority (BCCA)
Responsible for the regulation and safety oversight of aviation in Bermuda and all aircraft on the Bermuda Aircraft Registry. Previously known as the Bermuda Department of Civil Aviation, which was established in 1931, the new BCAA became a newly formed Authority on October 1st, 2016. Bermuda is a United Kingdom Overseas Territory and though it is regulated by the UK Department for Transport, the safety oversight system is separate from that of the UK. The regulatory requirements are established as the Overseas Territories Aviation Requirements (OTARs), which are in full compliance with the standards and recommended practices of the International Civil Aviation Organization (ICAO). Bermuda's Aircraft Registry is extensive and ranks 10th in size when compared to the 191 signatory States to the Convention on International Civil Aviation. The current Registry includes a mix of both private aircraft and commercial aircraft operated under Article 83 bis Agreements.

Catering facilities & franchises
Airport bars and restaurants are licensed to serve liquor under Bermuda's Liquor License Act 1974, Eastern District.

Courier Customs Center
This serves DHL Worldwide Express, Federal Express (Fedex), International Bonded Couriers (IBC) and United Parcel Service (UPS).

Customs
Duty-free exemptions from Bermuda Customs Duty with effect from November 4, 2011 are tiny by USA, Canadian and British -UK standards.
Behind the scenes, drug-sniffing dogs will check your baggage before it appears on carousels.
Visitors may bring in, duty free for personal use only while they are in Bermuda, their clothes and articles like cameras, golf bags, 50 cigars or 200 cigarettes or 0.454 kilos (1 pound weight) tobacco; 1 liter of liquor or wine and a $30 gift allowance (compared to $100 in the USA) . If they bring in any more in gifts or their value, they can be charged a heavy rate of duty - over 25% of value - unlike in USA, Britain and Europe, where it does not matter whether your gifts are for yourself or a member of your family or associate or a complete stranger.
Declare a medically prescribed drug and show the doctor's or pharmacist's code on the prescription.
There is a Customs Duty Payable counter at which to pay your exceedingly high rate of Customs Duty upfront if, as a Bermuda resident or visitor, you exceed your low $100 per person duty-free allowance. Produce receipts from a retail store satisfactory to the Customs Department of actual purchase price of the items or be prepared for the Customs Department to assess items for your payment of duty at much higher Bermuda prices. This is applied vigorously. To avoid being arrested and having goods confiscated, do not try to import goods into Bermuda without paying the duty.
People who refuse to be searched at Customs on arrival at the airport or on a cruise ship or at any time near the airport or ports can be arrested.
Illegal Imports. It applies to those who arrive by air or cruise ship or yacht. The full list of the hundreds of banned narcotics are in the Bermuda Government's Misuse of Drugs Act 1972 and Misuse of Drugs (Controlled Drugs) Order 2001 enacted on August 1, 2001. It is not an excuse if you fail to make yourself familiar with the contents of the full list. Penalties are very severe for those who ignore this warning. Locals, tourists and visitors are not given any breaks. The claims they invariably offer that they do not have the money to pay the fines are routinely ignored. They are remanded in custody or are put on bail with their transportation tickets impounded until they do. Also, there are many other repercussions.
After passing through Bermuda Customs, passengers catch taxis or take pre-arranged minibus transportation to get to their hotels or other guest properties. (There is no public transportation services for tourists with luggage). Hotels are not allowed to provide their own shuttle services between the airport and their hotels.

Airport Pickup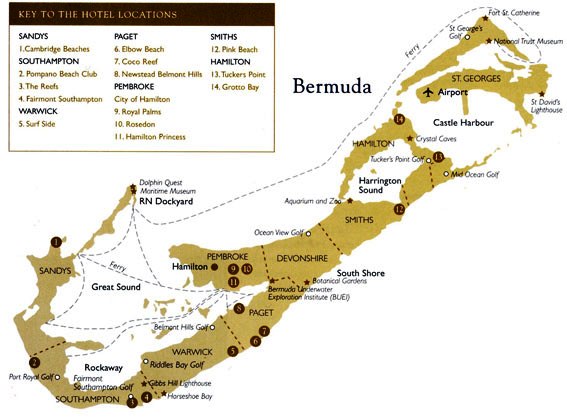 Departures
Passengers arrive at Departures by taxi or mini-bus or, if staying with friends, by private car. Areas designate each commercial airline serving Bermuda. On the ground floor are check-in facilities. A fiber optic ring links the terminals with Bermuda Customs and Immigration computers. Television monitors and flight display units give airline logo and departing flights information.
Most departing passengers are tourists, bound for the USA. Others go on business or pleasure or to shop in the USA. Passengers check in at their airline counters. After checking in, those bound for Canada or United Kingdom are directed to their departure lounge on the ground floor. Unlike in the case of passengers bound for the USA, passengers bound for Toronto or Halifax or London cannot pre-clear their Customs and Immigration. Instead, Canadian and British authorities require their passengers to wait until they arrive in those countries before they go through their Immigration and Customs procedures. It can be a very lengthy and tiresome procedure, especially at London's Gatwick.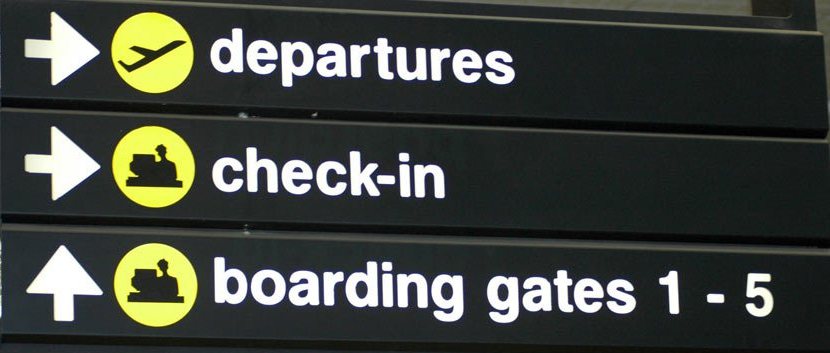 In contrast, USA-bound passengers, the great majority, have a major advantage. In Bermuda, before they leave, irrespective of nationality, they get US Customs and Immigration clearance - in Bermuda, not when they arrive in the USA. On arrival in the USA, they can pick up their baggage and go, having already gone through the Customs and Immigration procedures. This has been the case since 1974. They pay for it in Bermuda but it is a huge convenience.
Passengers who have nothing to hide have nothing to fear but those who attempt to enter the USA illegally will be stopped and arrested.
This is especially so since, a few years ago, Chinese and other nationals were allowed entry into Bermuda from the United Kingdom by local Immigration officials and afterwards tried to enter the USA from Bermuda using false Japanese passports. They had been told, erroneously, that the USA was an easy place to get to via Bermuda for illegal entrants. Alert Bermuda-based US Customs and Immigration officials detected and stopped them from entering the USA from Bermuda and the Bermuda Government imprisoned them prior to deportation.

Departure Taxes
$70-plus per person. The tax is payable by departing residents and visitors. How it is paid can vary. Some passengers may pay it directly to the airline who will then pay the Bermuda Government. Or it can be included in the overall cost of the ticket. Built into airline passenger tickets are other - hidden - taxes such as the Airport Security fee per passenger and a Passenger Facility Charge (PFC).
Going through US Customs in Bermuda
Departure area photos by author Keith Archibald Forbes.

Disabled passengers
The British Government's Department for Transport's Access to air travel for disabled people: code of practice is not followed in Bermuda by the Bermuda Government. But a disabled passenger transporter that cost local taxpayers $94,000 was installed in August 2003. It was funded by the Passenger Facility Charge fee enacted that year of $4 per ticket. The diesel-powered unit elevates 20 feet off the ground to transport the disabled from terminal gates to the cabin of the aircraft or in reverse. It is fully enclosed, air-conditioned and can board as many as six wheel-chair bound passengers at one time. This was welcomed by the Bermuda Physically Handicapped Association as a service for locals and visitors. To use the system, all disabled arriving or departing passengers must give prior notice to their airlines and should note that the system will not work at night without such prior requests.

Distances by parish
Note from the basic map below and the address of where you will be staying, whether it is close to or far from the airport. Depending on where it is, you may have to pay $60 or more (one way, not round-trip) per car for a 35 to 50 minute ride if you take a taxi from or to the airport.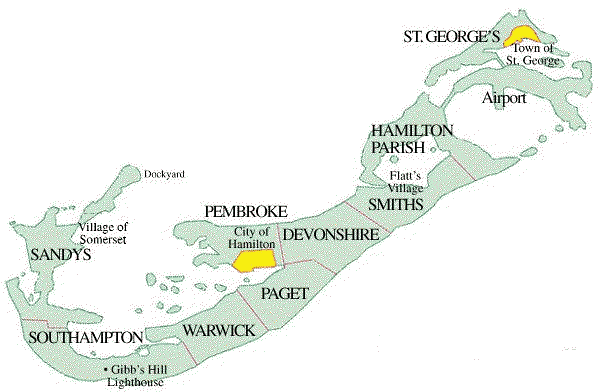 Doppler Weather Radar System
It bounces radio waves off objects with a high powered antenna. It indicates the comparative velocity of rain drops and other precipitation in the atmosphere. It enables a meteorologist to detect potentially hazardous features such as squall lines and outbursts.

Drone Flights banned near airport
A two-mile radius circle around the airport, centred at 32°21'52.3"N 64°41'04.0"W.

Dump adjacent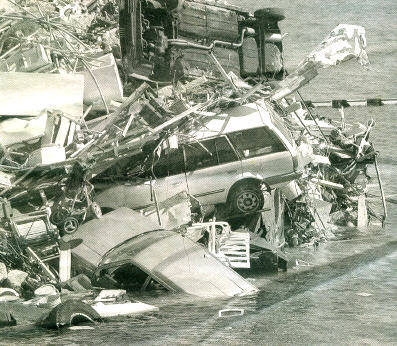 Not under airport jurisdiction and that no blame can be attached to the airport. But, like the airport, it is owned and managed by the Bermuda Government. This significant metallic waste dump spills out into Castle Harbour which borders the airport. It can be seen by flights arriving at the airport. It is not known publicly whether it affects aircraft navigation systems. But it is known that there are no similar airport dumps so close to other international airports elsewhere. Cars, motorcycles, tires and refrigerators are routinely dumped here, leeching the water, in amounts averaging 700 truckloads a week. But in Bermuda's tiny total land area of only 21 square miles or 56 square kilometers, there is nowhere else in Bermuda to site the dump.

Executive and private Aircraft Handling Facility

On the northern side of the airport near Ferry Reach, this is specifically for owners or operators of executive smaller aircraft or corporate jets visiting Bermuda and any guests they bring. It has its own lounge, Bermuda Immigration and Customs and other services. A former US Air Force/US Naval Air Station building on Southside was converted into a private jet passenger terminal. The building has a 275,000 square-foot apron where private jets can be parked in addition to parking for 13 cars.

Fuels
Two fuel corporations are allowed to operate, one of which is Shell. Fuels they offer are Esso Turbo A-1 or Shell Jet A-1. Oils available are Aeroshell Turbine Oil 390 and 500, and Esso Turbo Oil 2380. Aviation gasoline - for propeller-driven aircraft - is not available anywhere at the airport or anywhere else in Bermuda. Any aircraft can use Bermuda. If it requires avgas, because it has a reciprocating engine, it will have to have enough range to travel to Bermuda and back from the USA on one tank of gas. Many propeller-driven aircraft have turbine engines that use the same A-1 fuels as turbojet engines.

Instrument Landing System
A 2004 upgrade replaced the system installed by the US Navy prior to 1995.

Ministry of Transport
The responsibility of the Ministry is to manage and regulate transportation in Bermuda, including the airport, weather services, buses and ferries.

Parking
There is a separate Government Parking Area, with three free reserved spaces for Government vehicles with license plates GP1 (the Premier) to GP20, only. For everyone else, 2 hours are shown as the maximum allowed in the short-term car park. The Department of Air Operations provides a few Handicapped Parking by Permit only spaces in the short-term maximum 2 hours Arrivals area, opposite the Airport Police Service station. There is a much larger Long-Term car park to the east of the Arrivals area, but currently, with no Disabled or Handicapped Parking. Motorists pay by credit card.

Passenger Security & Security Fee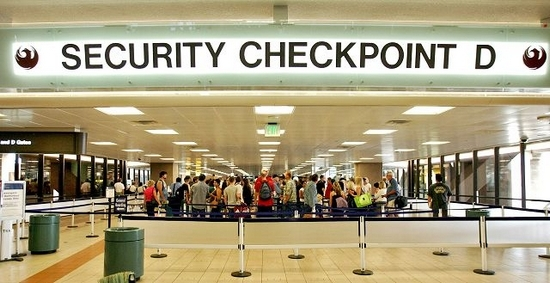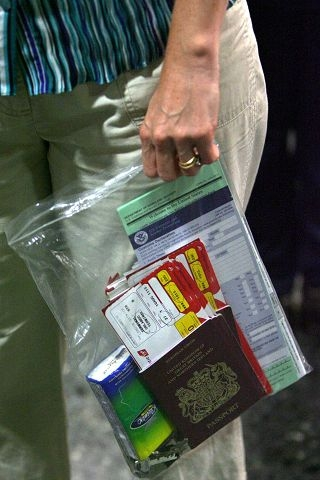 Airport security is contracted out by the Bermuda Government to a private sector security organization, which also provides the Bermuda Airport Security Police. Passenger security is handled by a different security company. It handles the screening of passengers' bags and luggage. Every bag going into an aircraft's hold will pass through an X-ray machine with Threat Image Projection to find images of dangerous objects. Electronic baggage monitoring helps to ensure extra bags are not put on the aircraft. It also helps locate bags of passengers who are detained by authorities from departing aircraft at the last minute. In addition to the Departure Tax per adult, all passengers pay a Bermuda Government Airport Security Fee, added on to the cost of an airline ticket. The fee is structured to recover a portion of the costs incurred to meet the security requirements stipulated by the Bermuda Civil Aviation Authority.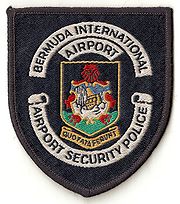 Radar
In June 2013 Bermuda's new long-range radar at LF Wade International Airport went online. The improved radar extended coverage from 360 miles to 440 miles. The project, undertaken in tandem with the US Federal Aviation Administration (FAA), marks the first significant upgrade of the navigation system since Bermuda's formal agreement with the US 20 years ago. Under the deal the FAA installs equipment in Bermuda and the Island shares radar surveillance with flight controllers in New York for the FAA to manage aircraft coming in and out of the Island or passing through Bermuda airspace.

Retail shopping
For outgoing passengers. The Bermuda Government rents out duty-free shops in the Departures areas. Once USA passengers pass through the US Customs Pre Clearance Service and enter the USA Departures lounge, they cannot purchase goods which will attract US Import duties because of strict US Customs regulations. If an airport store for departing passengers advertises duty-free liquor prices while there is a big saving on duty-free liquor compared to most retail stores in Bermuda, Canada and United Kingdom prices, passengers bound for New England, Pennsylvania and other US states residents should note that retail prices in their states for liquor may be about the same as Bermuda Duty Free prices. And passengers bound for the UK should note that if they go beyond Gatwick by air they are hugely restricted in what they can take in their hand luggage.

Restaurants
When completed in 2020, restaurants will be The Whistling Rum Bar & Grill, Rock & Barrel Gastro Bar and The Heron & the Sea Public House. Each location will have full dining and takeaway options. The Whistling Rum Bar & Grill, located before the check-in area, will feature a full-service outdoor patio offering al fresco dining. A landside bar and grill will serve options including jerk roasted chicken, fish tacos, fish chowder and warm rum cake, as well as beer, international wines and sparkling wines, and signature cocktails. Rock & Barrel Gastro Bar, with views over the runway and Ferry Reach, will be located in the US departures lounge. It will feature design elements that draw inspiration from the natural woods, stones and turquoise waters of the island while blending in what it described as "an eclectic industrial vibe". The full-service gastro bar will feature signature Bermudian cocktails, local and international brews and freshly prepared island dishes, and an open-air full-service patio. The Heron & the Sea will be the main dining option in the international departures area, and will offer a range of beverages in a pub-influenced setting. Bermudian-inspired dishes with a focus on seafood will include fish chowder, scallops, blackened wahoo and shrimp kebabs with guava BBQ sauce. Skyport said the market-style convenience store will be located in the arrivals public meet-and-greet area for those coming in from late flights, offering quick bites and coffee to go.

Signs and markings
Bermuda follows those of the USA's FAA.

Traffic Control Tower
This has not always been in Bermudian hands. When the US Base was stationed in Bermuda, the Americans ran the tower. In 1995, the responsibility for the tower transferred to the Bermuda Government and Canadian controllers were brought in to train Bermudians. By 1996, Bermudians were sufficiently qualified to run the tower. Bermudians are sent to Civil Aviation Authority approved schools in the UK for about three months and then return to Bermuda for practical training. Residents and tourists may not know is that part of the airport transfer agreement left radar reading as New York's responsibility and any flight that wishes to leave Bermuda requires New York approval. Coverage for 200 miles means New York can easily handle flights once they leave Bermuda's airspace on their way to either the US or Europe. Bermuda's airspace is Class D because it only extends up 2,500 feet and within a five square mile radius from the geographical centre of the Airport. Class D is an FAA Classification depending on the aircraft that use the airspace and, all the aircraft that do use the airspace, have to conform to particular radio signals.
During the peak period there are two controllers on duty. One is the local controller, who is responsible for all arriving and departing aircraft into Bermuda and issues landing clearances, departure clearances and provides weather information. He or she will also provide weather information to flights flying over Bermuda. The other controller is the ground controller who is in charge of any vehicles on the runway, giving taxi instructions and route clearances to aircraft departing Bermuda. Emergency situations – such as a diverted airline, a hurricane or the situation involving a terrorist hijacking such as that which happened in September 2001 involving New York, Washington DC and Pennsylvania – begin with a pager call out from New York to RCC Bermuda Radio which relays it to Air Traffic Control, the Fire Department, Department of Airport Operations and the Weather Service. The managers of all the departments will liaise and decide who responds to a call. The work day for an air traffic controller ends at 11 p.m. when they will move through yet another checklist before turning over responsibility to New York, which is able to activate the lights and emergency services. But, as days can never be relied upon to be typical, there is emergency housing near the Airport for air traffic controllers, who may be called upon to remain in the tower for up to two days in emergency situations such as hurricanes.

Transportation
For further details on the following for tourists and business visitors, see Getting Around in Bermuda.
Bermuda is now the only tourism resort left in the entire world where it is still and has been for decades deliberate Bermuda Government unfriendly-to-tourists policy to prohibit hotels from picking up and dropping off their

guests at Bermuda's International Airport.

No shuttle buses or courtesy hotel limos are allowed

.

Nor, to the often huge surprise and major disappointment of many guests who have routinely rented automobiles elsewhere abroad are any rental cars allowed.

Nor are there any public transportation buses for arriving or departing passengers with luggage racks available to take incoming or outgoing tourists or other types of visitors.
The best way to get to/from hotels and other places to stay for guests with luggage is via taxi or a shuttle van/mini bus service. Some hotels, guest houses and efficiency units will pre-arrange this for their guests and the latter should always ask about this at the time of booking to ensure this will be done by prior arrangement.

Timeline on reconstruction of Bermuda's airport
2019. October 2. Skyport and Aecon Airport Constructors today advised the public that 20 artists have been short-listed after the Public Art RFP process. After careful consideration, Skyport and Aecon have recommended potentially 20 artists' pieces for placement within the new passenger terminal building at the LF Wade International Airport. Those artists on the short list will be contacted for further input and clarification of their submissions. Short listed artists will be asked to resubmit their proposals by October 25 at 3:00pm.The final selection of artwork to be displayed within the new passenger terminal building will be decided by November 7 at 5pm. For more information, please contact Carrie Thatcher at 293-2470.
2019. September 30. Four Bermudian companies have been awarded subcontracts for work on the airport redevelopment site, Bermuda Skyport Corporation Ltd announced today. Bermuda Skyport is overseeing construction of the new terminal. Contracts have been awarded for work related to flooring, painting, excavation and masonry works. Stafford Flooring will perform carpet and vinyl flooring installation. Mathias Pro Contractors has been awarded a contract for painting work. D&J Construction was awarded a stucco wall treatment contract for ancillary buildings including the gatehouse, concessions building, and water feature. Concrete tank construction for the waste water treatment plant was awarded to Correia Construction Ltd. That contract also includes installation of sidewalks and curbs. Frank Ross, executive director, infrastructure, at Aecon, said: "We are pleased again to award more Bermudian companies with subcontracts for the airport redevelopment project. "The important work these companies will perform marks an exciting phase in the construction of the new airport terminal." The redevelopment at LF Wade International Airport is expected to be completed in 2020.
2019. July 12. A $2 million plus weather radar system will be operation next week, the transport minister told MPs this morning. Zane DeSilva said the Doppler radar system, on Cooper's Island, had been completed on time and under budget. Mr DeSilva said a new system was needed because the ageing radar equipment had suffered a series of breakdowns. The German-built system was installed with the help of island technicians and weather service staff were trained in the use and maintenance of the radar gear. Mr DeSilva said: "Together with a the planned life cycle maintenance programme, this training will help ensure an expected 95 per cent system reliability over the life of the system." He added the Airport Authority, set up in 2017, to monitor airport operators Skyport and manage air navigation services, had identified the need for new weather radar as "mission critical".
2019. June 27. Bermuda Skyport and Aecon Airport Constructors are calling for Bermudian artists to submit works of art to be displayed in the new passenger terminal building scheduled to open in the summer of 2020.
2019. August 9. Skyport has reached out to the public for used luggage to test baggage equipment at the new passenger terminal building. A Skyport spokeswoman said those who donate luggage will be given "tags" for a monthly draw, with prizes to include gas vouchers, grocery vouchers and gift cards. Mikaela Pearman, marketing and communications officer at Skyport, said: "A fully functioning baggage handling system is an integral part of an efficient airport terminal. Skyport, along with its partners in the programme will be conducting tests and trials of the system and we encourage members of the community to donate old luggage they are no longer using, so that we can test the system efficiently. The testing of equipment brings us one step closer to opening a world-class airport for Bermuda." Skyport said the new baggage system was installed by Glidepath, a New Zealand-based company with nearly 50-years of experience in delivering airport baggage handling and integrated security screening systems. The Skyport spokeswoman said: "The baggage handling system is used to carry bags checked in by passengers, from the flight check-in desks to a holding area where they are then driven to their plane on baggage carts. The complex system is rigged in the ceilings of the first floor of the new building. It consists of 242 Conveyors totaling almost 3.5 kilometers in length traveling up to 1.8 meters per second. In addition to transporting bags to the flight loading location, the system software will maintain the passenger information for each bag and monitor its position along the conveyor belts." Those interested in donating baggage are asked to e-mail orat@skyport.bm or call 299-4832 by December.
2019. May 4. A flock of Bermuda kites have been selected to decorate the new LF Wade International Airport terminal as part of a competition. Aecon and Skyport, who hosted the competition, said the 155 entries and more than 200 designs were submitted as part of the competition to select ten winning designs. Lily Mulder-Powell, Mikale Willis and Kiera Wales were named winners in the 12-and-under category, while two entries by Priel Minors were selected as the winners in the 13 to 18-year-old category. Brian Lightbourne, Matthew Tumbridge, Abigail Kempe, Steven Harvey and Jordon Every were selected as winners in the adult category. In addition to seeing their designs hanging in the new airport terminal when it opens next year, each of the winners was presented with a $250 cheque at a special reception. Frank Ross, executive adviser for infrastructure at Aecon Construction, said: "We were so pleased with the creativity, use of colors and uniqueness in each kite. The installation is going to be visually stunning and we are excited to share it with the public once the terminal opens next year." Mikaela Pearman, marketing and communications officer at Skyport, added: "Our winners include children from both public and private schools and a diverse group of adults. We were overwhelmed by the large amount of entries we received in the contest and would like to thank the public for its engagement."
2019. May 2. The switch from the existing terminal to the new one at LF Wade International Airport will happen overnight. It is a daunting logistical challenge, and even though the change over is more than a year away, major planning is under way. Construction of the new terminal is on schedule to be completed in July 2020. A date for the opening of the 277,300 sq ft facility has not yet been set. Aaron Adderley, president of airport operator Skyport, said: "We are right on target. We are engaging in what we call an operational readiness programme, working with all the stakeholders in planning the transition from the existing terminal over to the new terminal. That transition is going to happen overnight, so there is a lot of planning that goes with facilitating that transfer." He said Skyport is working with other agencies, including airlines, the Government, and customs and immigration, to ready for the switchover. "We are working with everyone who has a presence at the airport to define exactly what the needs and requirements are, to ensure that we have a smooth transition in 2020." Mr Adderley said everything was going "full steam ahead", and he was happy with the progress being made. He said everyone was looking forward to moving in to the new terminal, and added: "From our standpoint, Skyport and Aecon, we are committed to delivering the terminal building on time, and we are well on our way to doing that." The opening of the new terminal might coincide with announcements of a new flight, or flights, to the island. Skyport, the Bermuda Tourism Authority and the Bermuda Airport Authority, are working to attract new flights, according to Mr Adderley. He said: "Collectively we are constantly in dialogue with a number of carriers, not only incumbent carriers but also new carriers. The idea is to look towards getting additional services, whether it be from secondary markets in the United States, perhaps other Canadian gateways, and also the UK/Europe. We have a number of balls in the air, and we are planning and hoping that next summer one of those will materialise and we will have a new flight, or a couple of new flights, [either then] or shortly thereafter."
2019. March 22. The national security minister told MPs today that drones had been spotted in restricted airspace at the airport. The sightings came despite a no-fly zone of 2.3 miles being imposed earlier this month. Wayne Caines said similar regulations are in place for Westgate prison, where three drone sightings in recent weeks were suspected to be attempts to drop contraband inside. The police headquarters at Devonshire's Prospect are also off limits and Mr Caines warned owners of the unmanned craft to respect the privacy of property owners. But he said the Government's had no plans to ban the mini-aircraft.
2019. March 19. The Bermuda Airport Authority will upgrade the island's weather radar system in time for the next hurricane season — but the work will result in a three month outage. The authority will begin to dismantle the existing system on March 31, but the Bermuda Weather Service will provide other types of weather graphics including satellite images. Lester Nelson, chief executive of the BAA, said: "The weather radar is a popular resource for weather tracking therefore the installation has been planned to take place between the end of winter and prior to the height of hurricane season." A spokeswoman for the BAA added the weather radar system is part of a series of ways used by Bermuda the weather service to provide the public with information. She added: "Its outage will not impact aviation safety. It is planned for the new weather radar system to be available to users by July 15."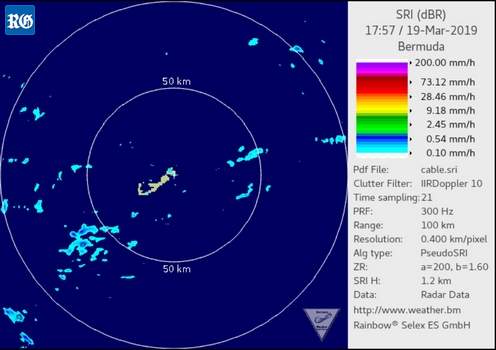 2019. March 18. L. F. Wade Bermuda International Airport has been declared off limits, a no-fly zone, for drone flights, by the Civil Aviation Authority. Breaching the rules could come with a fine of up to $4,000, the authority warned. According to Thomas Dunstan, director general of BCAA, drones are growing in popularity, which heightens safety and security challenges. The restrictions also apply to micro lights, gliders, airships and balloons, with no-fly zones set as a two-mile radius circle around the airport, centred at 32°21'52.3"N 64°41'04.0"W.
2019. February 8. A bus stop near the airport will be removed to make way for the development of the new passenger terminal. The transport ministry said the stop next to the roundabout connecting the Causeway, Kindley Field Road and Cahow Way will be out of action from Monday. A spokesman said: "The removal of this stop is expected to have minimal impact on service delivery and all buses will continue to service the existing airport facility via Cahow Way. "The new airport will also feature an on-site bus stop providing convenient access for the public."
2019. January 31. The Bermuda Civil Aviation Authority (BCAA) this week hosted members of the UK Air Accident Investigation Branch who facilitated a workshop offering guidelines to the local aviation community on what to do in the event of an aviation accident or serious incident occurring in Bermuda. Representatives from BCAA were joined by Skyport, the Bermuda Airport Authority, Airlines, CI2, Bermuda Police Service, HM Customs, Bermuda Hospitals Board, the Bermuda Red Cross and several other organizations and spent two days learning the latest techniques in uncovering the causes of accidents - including those of illegal drone flying. The AAIB is the organization appointed by the Governor of Bermuda, who is responsible for carrying out air accident investigations, to perform these services. Under the International Civil Aviation Organization (ICAO) Convention on Civil Aviation, States must establish and appoint an organization responsible for air accident investigations, which is separate and independent from the Civil Aviation regulator, which in Bermuda is the BCAA. The aim of any air accident investigation organization is not to apportion blame but to uncover the root cause of any accident so lessons may be learned and improvements can be made to prevent similar issues from recurring. The presentations invoked much discussion and were followed by practical exercises of various scenarios in the local area.
2019. January 25. Completion of roofing on the airport's new terminal building was marked yesterday with a traditional roof-wetting ceremony. Aaron Adderley, the president of airport operator Skyport, said the event was a "magnificent milestone". Construction on the new passenger terminal building at LF Wade International Airport began in March 2017. Mr Adderley said: "It wasn't that long ago when we broke ground, and here we are, steadily moving along towards a completed, state-of-the-art facility. Thanks to the excellent workmanship on the site, the project is on schedule and due for completion next year." Steve Nackan, the president of developer Aecon Concessions and chairman of Skyport, added: "Bermuda is now one step closer to having a world-class, modern airport terminal for Bermudians and visitors alike to enjoy. I would like to thank our partners on this project, including the Government of Bermuda, Bermuda Airport Authority, the Government of Canada, all the subcontractors, workers and the Bermuda community at large." Zane DeSilva, the Minister of Tourism and Transport, Martin Zablocki, the president and chief executive of the Canadian Commercial Corporation, and Frank Ross, the executive adviser with Aecon Infrastructure, also attended the event. A special bottle of Gosling's Black Seal Rum was used for the ceremony. Structural work was completed last November and was marked with a steel-topping ceremony, a Canadian tradition. The building is expected to be finished in the summer of 2020.
2018. November 23. Tourism minister Zane DeSilva accused Skyport today of passing some of its financial burdens on to the taxpayer. Mr DeSilva told the House of Assembly that the company running the airport now receives 100 per cent of revenues from passengers' ticket fees and airline fees for landing, cargo and fuel. He said that Skyport is not making payments for the airline incentives it receives in the form of a minimum revenue guarantee. Mr DeSilva told MPs: "As a part of the airport deal, and since March 2017, Aecon and Skyport are now responsible for the marketing, business development and planning to increase the volume of air traffic and passengers to maximize Airport revenues. It is important to note that Skyport receives 100 per cent of the airport revenues from what each passenger pays in ticket fees and what each airline pays in landing, cargo and fuel throughput fees. This is a deliberate term of the airport deal which means that revenue that used to come to the Government of Bermuda now goes wholly and solely to Skyport. When MRGs were the responsibility of the Government of Bermuda, the responsibility to pay for them was, as you would expect, the Government's. Honourable Members and the public may be surprised to learn that in spite of now having this responsibility, Skyport has determined that it should not be responsible for making payments under the MRGs. It appears that Skyport is content to have the authority but not the responsibility. The airport deal seems to have empowered Skyport to pass this burden on to the Bermudian taxpayer. This Government was elected with a mandate to relieve the burdens of the hardworking, taxpaying families in this country. In a deal that has deprived them of a vital, national asset — as well as the significant revenues that it generates — it is unthinkable that we would sit idly by while taxpayers are forced to bear a financial responsibility that rightly rests with Skyport."
2018. September 20. The LF Wade International Airport has been named the most improved flight terminal serving under two million passengers. The accolade came from the Airport Service Quality programme, which is run by Airports Council International, a global organisation with a membership of almost 2,000 airports. The ranking for Bermuda came for the second quarter of 2018. Bermuda went up from 55th in the first quarter to sixth in quarter two, and ranked as a top-ten airport for service quality, in a survey of 65 airports. Bermuda Skyport took over management of the airport in March last year under a 30-year concession agreement. The company has carried out "major upgrades" to the old terminal building as it oversees the construction of a new airport. Aaron Adderley, the president of Skyport, said the upgrades to the present terminal had been made "despite knowing that it would eventually have to be demolished". Mr Adderley added: "Until we move to the new facility in 2020, nearly two million passengers are expected to use the existing one, and thus we felt the investment was warranted to help ensure an improved travel experience for such a significant number of passengers. I think the ASQ survey results suggest that it was money well spent and, more importantly, highlights the hard work being put in by so many different agencies at the airport, including customs, immigration, retail, airline and ground services personnel. Collectively, though, we will aim to improve even further." Lucinda Pearman, the Collector of Customs, said that the arrivals hall and immigration primary teams had produced "excellent results". She added: "This accomplishment is particularly impressive and noteworthy coming from one of the smallest customs departments in the world. Our team has often worked extra-long hours during the peak period to facilitate arriving passengers, yet has kept a high level of professionalism, diligence and dedication throughout and in doing so, has significantly contributed to the airport's success." LF Wade International Airport improved in several categories including overall satisfaction, courtesy and helpfulness from check-in staff, security and other airport staff, flight information screens, wi-fi, cleanliness of the terminal and washrooms and customs inspection. Skyport said services provided by agencies including the Bermuda Government, security firms, US Customs Border and Protection and the ground handlers also helped to drive the overall improvement.
2018. March 17. Bermuda's controversial contract to build a new airport has won an international "deal of the year" award. The public-private partnership contract was awarded 2017 North American Deal of the Year at a ceremony in New York organized by London-based IJGlobal Magazine, a top specialist publication in project finance and construction. Bob Richards, the finance minister in the last One Bermuda Alliance government, who spearheaded the project amid public protests, said last night the news had "put a smile on my face". Mr Richards, who lost his Devonshire East seat in last July's General Election, said: "I hope Bermudians now understand the difference between facts and political spin. It was so controversial here and I'm glad it's got the recognition it deserves." The award was presented at the IJGlobal Awards gala at New York's Mandarin Oriental Hotel on Thursday. The airport deal will also now appear in the spring edition of the magazine alongside other winners. Mr Richards said he knew the deal with the Canadian Commercial Corporation and developers Aecon was even in the running only when a friend in New York phoned him yesterday to tell him the airport deal had won. Mr Richards said: "I'm extremely pleased. I'm very proud and it's an indication of the good work we did. It's not just vindication — it's really good, it's an international award, away from Bermuda and Bermuda politics." He added: "It's a confirmation of the good work we did and proof of what we've been saying all along." The deal was opposed by the Progressive Labour Party and sparked public protests. A report by overseas consultant LeighFisher released last month said cancellation of the deal only months into the start would have cost more than $100 million. It added that the island's struggling economy would have suffered even more damage if the Government had pulled out of the contract, with job losses, "economic damage and instability, international reputational risk, threat of credit rating downgrades and negative impact on tourism". The report found that the terms and conditions of the contract were "broadly consistent" with similar public-private deals and the interest rate for long-term debt and the return on equity for Aecon were "within market range". But the LeighFisher report said the project was not competitively tendered, which could increase negotiating leverage, maintain competition and lead to best value for money. But Mr Richards said at the time that a competitive tender would not have worked for such a small project because Bermuda could not have compensated unsuccessful competitors for the work they put into a detailed bid. David Burt, the Premier, announced the contract would not be cancelled because it would be "fiscally irresponsible" and cost at least $196 million. The report identified about $15 million in "enhancements" that could be negotiated and Mr Burt said he would work to get "the best possible outcomes from this situation". An independent Blue Ribbon Panel set up by the OBA last year to examine the deal found it was "commercially sound and reasonable and likely to meet the Government's stated objectives of long-term sustainability and increased traffic volume and revenue". The panel was made up of five on-island financial experts chaired by Malcolm Butterfield, a retired managing director at professional services firm KPMG. Mr Butterfield said: "Overall, the panel's view is that this is a good deal. It's not perfect." A protest against the redevelopment in December 2016 turned violent when police officers clashed with demonstrators who blocked entry to the House of Assembly. Officers used pepper spray on the crowd outside Sessions House. Mr Burt, who was then Opposition leader, Derrick Burgess, Lovitta Foggo and Lawrence Scott were among the PLP MPs who showed up to picket Parliament. At least 26 complaints were made to the Police Complaints Authority by members of the public in the wake of the demonstration. The Bermuda Police Service said 14 of their officers were assaulted. The Premier did not respond to a request for comment.
2018. February 23. The contract on the controversial airport deal will not be scrapped, the Premier announced yesterday. But David Burt pledged that the Government would work through the "bad deal and do all that we can do to realize some good for the people of whom we serve". Mr Burt said the price tag for cancellation of the deal to rebuild LF Wade International Airport was "a minimum" of $196 million and that it would be "fiscally irresponsible" to axe the contract. Mr Burt added: "In fact, it would be just as fiscally irresponsible as it was for the former OBA government to enter into this contract in the first place." He was speaking as he unveiled a review of the contract ordered by the Government. The 25-page review was prepared by LeighFisher for the Bermuda Airport Authority and is now available on the Government's website. Mr Burt said the deal struck "stands as a stain on the relationship between a government and the people it is meant to serve". He added that the review was ordered to see whether or not Bermuda could get a better deal on the contract signed with the Canadian Commercial Corporation and developers Aecon. Mr Burt added: "That was the intent of the report, that is what was stated inside of our election platform, and that was what the reviewers were meant to execute." The review outlined two scenarios for consideration — "optimising" of the current contract through "incremental enhancements of key elements", and termination of the contract. LeighFisher said the termination provisions within the contract were "typical for P3 projects". The report warned that the "unintended consequences of termination" would include loss of jobs, economic damage and instability, international reputational risk, the threat of credit ranking downgrades, and a negative impact to tourism. LeighFisher said that the contract's lack of variation provisions was "extremely unusual. The only way to make substantive changes to its terms and conditions is to terminate the agreement." Mr Burt said the lack of clauses in the deal to allow for changes was the "most shocking" element unveiled by the review. He added: "This is one shameful and degrading failure by the OBA, and maybe the most heinous aspect of the entire agreement." The review identified six "optimisation elements" that could be pursued to obtain "incremental enhancements for a better deal", which would represent about $15 million worth of enhancements for Bermuda. Mr Burt said that the review was the "initial examination" of the deal. He added: "We will not rest until we achieve the best possible outcomes from this situation." Mr Burt said: "The Government remains convinced that this is a bad deal for the country. We are going to make sure that we hold true to our platform promise to make sure that the people of this country get a good deal. We do not believe that this is the best deal that we can get."
2018. February 13. The Chinese takeover of Aecon — the company overseeing the construction of Bermuda's new airport terminal — is being delayed after the Canadian Government ordered a full national security review of the deal. State-owned CCCC International Holding Ltd wants to buy Toronto-based Aecon for $1.5 billion in a deal approved by the Canadian construction company's shareholders in December last year. Aecon said last October on the announcement of the deal that the takeover would make no difference to the airport project, nor the guarantee in place from the Canadian Commercial Corporation, and that the new terminal will be completed in 2020, as planned. Yesterday Aecon's shares fell 1.8 per cent on the Toronto Stock Exchange after the extended national security review was revealed. Aecon said the planned date for completing the takeover plan with CCCCI had been pushed back to March 30 from the original date of February 23. "Both companies remain committed to working with the Investment Review Division to obtain approval of the transaction," Aecon said. Aecon said it had received notice from the Canadian Government that the federal cabinet had ordered a continuation of the national security review under section 25.3 of the Investment Canada Act. That section allows the Government to order a review if the minister "considers that the investment could be injurious to national security". CCCI has attracted controversy before. The World Bank banned the firm from bidding on construction projects for eight years until January 2017 due to a bid-rigging scandal in the Philippines. Chris Murray, of AltaCorp Capital, believes Ottawa's primary concern may be Aecon's telecom infrastructure group, which builds significant core communications networks for several major Canadian carriers. "While we remain positive about the closure of the transaction, we are cognizant that at this juncture, this is now a political process, which adds layers of complexity and uncertainty," Mr Murray wrote in a report. And he added that he believes the transaction may be a "bargaining chip in Canada-China" trade discussions. Federal Innovation Minister Navdeep Bains ordered the review on the recommendation of Canadian security agencies. Mr Bains' press secretary, Karl Sasseville, told the Globe and Mail newspaper: "We follow the advice of those who actually have the information and intelligence necessary to make these determinations: our national-security agencies. We will continue to do our diligence to review the potential national-security ?implications, as we have been doing since day one. We never have and we never will compromise on national security.
2018. January 19. The Bermuda Airport Authority has opened new offices at Southside in St David's.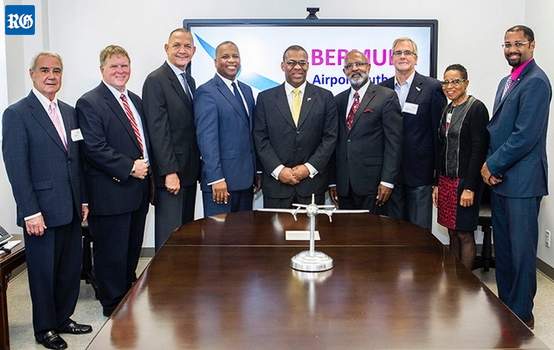 From left above, Ian MacIntyre, Robert Steynor, Marshall Minors, CEO Lester Nelson, Walter Roban, Deputy Premier and Minister of Transport and Regulatory Affairs, chairman Mark Fields, deputy chairman Andrew Parsons, Judith Hall-Bean, Lawrence Scott (Photograph supplied).
Mark Fields, chairman of the organisation tasked to oversee the management, operations and redevelopment of the airport, said: "Our organisation is less than a year old. "We essentially started from nothing, but we are pleased with the leadership of the Authority's chief executive officer, Lester Nelson, in moving quickly to establish a strong, experienced team of aviation, engineering and financial professionals, as well as internationally recognized technical advisers to oversee Bermuda's interests in this large and important infrastructure project." The Authority, which owns the airport on behalf of the Government and people of Bermuda, was established on March 2 last year. It was set up to ensure contractual value is delivered throughout the 30-year public-private partnership with Bermuda Skyport Corporation. The authority's responsibilities also include air traffic control, meteorological services, aeronautical information services, and airport rescue and firefighting. The Authority is also responsible for regulating fees and charges. Walter Roban, the Deputy Premier and Minister of Transport and Regulatory Affairs, said: "I'm delighted to join the Bermuda Airport Authority board and staff in welcoming stakeholders this afternoon. I'm happy to say that the authority has moved quickly to position themselves in this important role. The LF Wade International Airport is Bermuda's only air link to the rest of the world and therefore it is vital to our economic lifeblood, essential to international business and tourism. We are happy to have these highly qualified Bermudians involved in the protection of our collective interests."
2017. October 26. The company building the island's new airport terminal has agreed to be taken over by a Chinese firm. But Aecon emphasized that it will be "business as usual" with the airport redevelopment project. CCCC International Holding, a subsidiary of China Communications Construction Co, will buy Aecon for $1.5 billion, or $20.37 per share, in an all-cash deal. Aecon is the prime contractor on the airport project, under a public-private partnership involving the Bermuda Government and the Canadian Commercial Corporation. The Canadian construction firm said in August this year that it had hired advisers to help it find a buyer. Steve Nackan, president of Aecon Concessions and chairman of Skyport, the company overseeing operations at LF Wade International Airport, said nothing would change in Bermuda after the takeover. "We wish to confirm our steadfast commitment to Bermuda and the airport redevelopment project," Mr Nackan said. "It is business as usual at Aecon and on the Bermuda airport terminal construction project. This agreement will create value for our shareholders and enhance Aecon's capabilities and growth potential, something that we're very excited about. By joining the third-largest construction company in the world, Aecon and Skyport will ultimately benefit from enhanced capabilities and financial resources. However, Aecon will remain a Canadian company. This sale will have no impact on the day-to-day construction of the new airport terminal or Skyport. The Aecon management team and friendly Bermudian Skyport employees will remain in place and the new airport will be completed on time and on budget with the guarantee of the Canadian Commercial Corporation. We look forward to delivering a state-of-the-art terminal in 2020." Lu Jianzhong, the president of CCCCI, said: "This is an excellent fit for both of our companies. Aecon has a strong management team and a very impressive track record that have made it a leading construction company in Canada and a pioneer in public-private partnerships and concession operations. It will now gain access to significant capital, complementary infrastructure expertise and an international network to support its growth ambitions."
2017. August 31. Premier David Burt has renewed the Progressive Labour Party's election pledge to review the airport redevelopment contract. The Premier told The Royal Gazette that news of the possible sale of Aecon would also be considered as part of the review, although he did not specify if the review had begun or when it was likely to finish. However, Steve Nackan, president of Aecon Concessions, maintained it was business as usual for the airport project and said the construction of the new terminal at LF Wade International Airport would not be affected by any potential transaction. He said: "I would first reiterate that any transaction would be intended to create shareholder value and enhance Aecon's capabilities and growth potential. Second, for all our operations, including our wholly owned subsidiary Bermuda Skyport Corporation Ltd, and any business units involved in construction, it is business as usual and we remain focused on doing great work for our customers. The construction of the airport is contracted to the Canadian Commercial Corporation, a Crown corporation of the Government of Canada; this is not affected by any potential transaction." News broke last week that the Canadian construction company building Bermuda's new airport terminal was looking at putting itself up for sale. Aecon Group confirmed that it had hired advisers from Toronto-Dominion Bank and Bank of Montreal to explore a potential sale of the company. The firm is the prime contractor on the airport project under a public-private partnership involving the Bermuda Government and the Canadian Commercial Corporation. But in a statement Mr Burt described the project agreement as "a decision to privatize" the airport. Mr Burt said: "The former Government made the decision to privatize the LF Wade International Airport to Canadian company Aecon. The new Government will keep the pledge we made in our election platform to review this privatization contract, and news of the possible sale of Aecon will be considered." Walter Roban, the Minister of Transport and Regulatory Affairs, toured the LF Wade International Airport redevelopment project last week. The Deputy Premier met the Bermuda Airport Authority board and staff as he checked on the progress of the project. Work on the new terminal's foundation infrastructure is ongoing with 70 per cent of the 725 steel piles having been driven hundreds of feet into the ground. Installation of the above ground terminal infrastructure will start later this year, while a new aircraft taxiway is also being constructed as part of the redevelopment.
2017. August 28. A temporary floating dock installed near the airport will be removed over the next few days. The dock, located on Kindley Field Road, was installed by the ACBDA in May with the condition that it come out of the water following the end of the sailing event. Mike Winfield, CEO of ACBDA, said that the dock helped facilitate the large number of visitors attending the event, including private jet passengers staying aboard private yachts. "While the ACBDA has had discussions with various entities that may take future ownership of the dock and its maintenance on an ongoing basis, there has been no definitive agreement and as a result, we have no option but to remove the dock at this time," he said. Mr Winfield said that the organisation remained hopeful that the dock may be replaced at a later date "for the benefit of Bermuda's local boaters and visitors". The concrete piles supporting the dock will remain in place after it is removed, and will be marked with reflective material for safety. The dock itself will be stored. The removal is expected to take place before the end of the month.
2017. August 25. Walter Roban, the Minister of Transport and Regulatory Affairs, toured the L.F. Wade International Airport redevelopment project yesterday. The Deputy Premier met the Bermuda Airport Authority board and staff as he checked on the progress of the project. At present, the new terminal's foundation infrastructure is being constructed and 725 steel piles are being driven hundreds of feet into the ground. The pile drive is just over 70 per cent complete and installation of the above ground terminal infrastructure will start later this year. A new aircraft taxiway is also being constructed as part of the project.
2017. July 27. Concrete has been poured for the first new taxiway at LF Wade International Airport in 15 years. It comes after months of excavation to prepare the base of Bermuda's new passenger terminal. "The concrete pour signifies the start of the next phase of the airport development," Frank Ross, Aecon's executive director for infrastructure, stated. "Our team has worked diligently over the past few months to prepare the surface for the concrete and are working through the night to create this new taxiway. We are excited to be on schedule and look forward to delivering a world-class airport for Bermuda." The concrete for Taxiway W, which will replace the existing Taxiway S, was poured on Tuesday evening and construction crews will pour about 80 cubic metres per night until the project is completed. A statement added that the work will be done at night to minimise impact to aircraft arrivals and departures. Work began on the new taxiway on June 7 and is expected to be completed mid-September. The new taxiway must be ready for operation before Taxiway S can permanently close. The redevelopment of LF Wade International Airport is being implemented under a government-to-government framework agreement between the governments of Canada and Bermuda. The construction phase of the Airport Redevelopment Project is expected to take 40 months and to be completed in the summer of 2020. More updates can be found on the Bermuda Government portal at www.gov.bm and on Facebook at www.facebook.com/BermudaSkyport.
2017. June 29. Another phase of the new airport began this week with construction workers taking on the task of pile driving. Because the noise levels are lower than expected, the work will now also take place on Sundays, according to a press release. "The process involves hammering steel piles into the ground at a depth of 115 feet within the footprint of the new terminal and passenger bridges and is essential for supporting the structure of the terminal," said a statement from Skyport, who are responsible for construction. "The work has been taking place between the hours of 7am and 10pm every Monday through Saturday. But due to lower than anticipated noise levels and in an effort to shorten the overall steel piling time, piling will now occur on Sundays between 7am and 6pm. This schedule is designed to ensure that the piling work is completed in as short of a time as possible whilst still minimizing the impact on area residents and businesses. To date, 23 per cent of the steel piles have been driven. The steel piles will be installed with two rigs, both using the hammer method. There will be a significant noise and vibration impact on the surrounding area, with this expected to be the loudest phase of construction. We apologise in advance for any inconvenience caused and thank the public for their patience as we build this important project." For further information, call Skyport on 293-2470 or e-mail info@Skyport.bm. To learn more about the new terminal, visit www.skyport.bm.
2017. June 28. Bermuda's largest supplier of concrete was yesterday celebrating after winning one of its biggest ever contracts for work on the new airport. And Bill Morrison, CEO of SAL Trading, said the news would lead to extra jobs at the firm — while Canadian developer Aecon said a total of 64 jobs would be created as a result of 12 new contracts just awarded. .Mr Morrison added: "We are looking to get some extra staff — we're doing the sums now." Once we finish negotiations, we will be in a better position to answer questions about numbers." SAL, a major supplier of construction supplies, was responsible for the island's biggest one-day concrete pour in 2011 at the redevelopment of the King Edward VII Memorial Hospital. The company used 110 loads to pour 14,850 cubic feet of concrete for the foundations of the new hospital building. Mr Morrison said: "This is not as big as the hospital in terms of concrete, but it's a very large contract." It's one of the largest contracts we have ever had — and after seven years of recession, it's very welcome." The Devonshire-based firm took part in an open tendering process for the contract, which will involve concrete work across the redevelopment site. Other major contracts awarded by Aecon went to D&J Construction, which will work on formwork, reinforcing steel placement, concrete placing and taxi work, while Horsfield Landscaping and Design will install security fencing..Correia Construction will work with Benson Steel, a Canadian specialist in structural steel, as a subcontractor working on unloading, trucking and steel erection. Kevin Horsfield, of Horsfield Landscaping and Design, said some of the fencing his firm would install would be temporary, while other sections would be permanent. He added that, while the company's existing staff of ten could handle the work, other contracts meant more employees would need to be hired. Mr Horsfield said: "It's a very welcome contract and I can see an increase in business over the past year." I would certainly say the economy has improved — economically, the island is on a bit of a rebound." He added: "We will be able to handle the airport work in-house at the moment, but there is other work out there, not just the airport and we are interested in hiring." Finding suitable applicants is what I'm looking at and we're going through the process at the moment." A further eight smaller contracts were also announced by Aecon. Air-Pro will work on air conditioning, Eminence Contractors will provide flooring, Bermuda Security Services will act as locksmith and electrical service work will go to P&M Electric. In addition, Kaissa has won a roofing contract, Bermuda Elevators will install elevators, while scaffolding will be provided by Leggo Ltd and Greymane will install drywalls. Frank Ross, executive director of infrastructure for Aecon, said: "We are delighted to announce that we will be working with these local companies in the construction of Bermuda's new airport terminal." These contracts will create 64 new jobs." He added the island companies' "local knowledge and connections are a tremendous asset to the project and we look forward to working with them".
2017. June 3. Four local firms have been taken on by the Aecon Group for the airport redevelopment project. OBM International will be responsible for the architecture and landscape architecture of the project, while Brunel has been awarded contracts for structural and civil engineering. On-site Engineering will be tasked with the mechanical engineering of the project and IAL will be responsible for electrical engineering. The construction phase of the project is expected to last until the first quarter of 2020. The Bermudian firms will be working with Aecon to review and provide input into the design development of the new passenger terminal. They will also oversee various inspections and testing activities during construction. "Local expertise is invaluable in every project and we're delighted to be working with these Bermudian firms," Frank Ross, Aecon's executive director of infrastructure, said. "Having worked with them during the design phase, we know the local talent that they can bring to the table. We're happy to have them as partners as we begin the construction phase of the project." Under the contracts announced yesterday, Brunel, a consulting engineering firm, will provide input into all aspects of the design relating to wind loading and other environmental impacts. Brunel will prepare inspection reports and manage photographic records of inspections. IAL, an electrical engineering consultancy, will be co-ordinating and reviewing with the Bermuda Fire & Rescue Service, the design of the fire alarm system for the new airport terminal, and will be responsible for finalizing the design of grounding and lighting systems. Architectural and landscape design firm OBMI will be the principal liaison in Bermuda between the design and construction teams and ensure all conditions of the planning permissions are adhered to. Finally, Onsite Engineering, a specialist mechanical engineering firm, together with HH Angus will be responsible for providing the design of the groundwater heat-rejection system.
2017. April 20. Materials destined for the new airport project are set to be unloaded at Penno's Wharf this weekend and next week in advance of groundbreaking. According to an Aecon spokeswoman, unloading work is set to begin on Saturday and continue until Wednesday, with 15 trucks moving materials from 7am to 10pm. "We expect this to affect traffic flow and we encourage people travelling to and from St George's to allow extra time for travel," the spokeswoman said. "This may also impact noise levels. We apologise in advance for any inconvenience caused."
2017. April 20. Construction starts next week at the site of the new terminal for LF Wade International Airport, while the long awaited St George's resort will also break ground next month. Michael Dunkley, the Premier, told The Royal Gazette that a starting date for the airport work would be announced "very shortly". The updates came as he prepared to head back from addressing the World Economic Forum in Miami. Mr Dunkley said the event was "an opportunity to promote Bermuda, sell Bermuda and build relationships". Meetings included a chat with Arnold Donald, president and CEO of Carnival Corporation, which has "a small footprint in Bermuda that we are keen to enlarge" — and with Mark Lunt, principal of real estate and hospitality at Ernst and Young. Mr Dunkley's address to a panel on "cultivating an ecosystem of entrepreneurship" focused on the island's financial services sector and the benefits of the imminent America's Cup. Last year, the six teams associated with the event spent more than $22 million in the island, and Mr Dunkley said the Cup had brought a "local business boom". Some 300 participants have relocated to the island. Wedco estimated that about 500 jobs had been created in the extensive restorations at Dockyard, he said. While 50 per cent of America's Cup contracts went to "small or medium-sized businesses", assisted by short-term loans from the Bermuda Economic Development Corporation.
2017. April 13. By Steve Nackan, president of Aecon Concessions, builder of the new airport approved by the Bermuda Government. "After 2½ years of hard work, by Aecon, Canadian Commercial Corporation, the Bermuda Government and by the team that now forms the new airport company, Skyport, we are looking forward to building Bermuda's new airport terminal. This project is an opportunity not only to replace an outdated yet crucial piece of infrastructure, but also for many Bermudians and Bermudian businesses. Contracts are now beginning to be awarded, jobs have already been created and many additional jobs are being advertised as the project moves forward. Last month, we were pleased to launch the new special-purpose company responsible for LF Wade International Airport's operations, maintenance and commercial functions: Bermuda Skyport Corporation Ltd. Skyport is a Bermudian company, comprising primarily of former Department of Airport Operations staff, who will be bringing the Bermuda air travel experience into a new era. As part of this mission, Skyport is looking to significantly expand its employee numbers. At Aecon, we have a commitment to not only build well but to build conscientiously. We are committed to putting safety and environmental and social sustainability at the heart of all we do — to make a positive impact on Bermuda. We are invested not just in the island's infrastructure, but also in Bermuda's people and its future. There will be a range of opportunities for Bermudians who want to help to better Bermuda's air travel experience, with jobs available in fields such as construction — from materials and equipment supply — to architecture and engineering, administration, technical services support, logistics, stevedoring and shipping. As part of our commitment, to ensure that qualified and available Bermudians are able to work on the airport project, we have worked closely with the Government of Bermuda's Department of Workforce Development and the Construction Association of Bermuda. The DWD has been identifying the labour capacity available in Bermuda and is launching a talent pool drive to assist subcontractors for the project in finding and hiring qualified Bermudians in their fields. Those who are interested in working for an airport subcontractor should collect an application form, available from the DWD at the old Magistrates' Building, 23 Parliament Street, Hamilton, download one from www.dwd.bm or call 297-7714 for information. Competed applications need to be submitted to the DWD with résumés and certified, colour copies of qualifications or certifications. The DWD will help any Bermudians who do not have a résumé in creating one. The DWD is also putting together training programmes that will benefit Bermudian employees and employers alike. To ensure that the new airport meets industry standards, Aecon and the DWD will be using National Centre for Construction Education and Research for construction standards. As the general contractor for the Airport Redevelopment Project, Aecon Construction is looking for businesses wanting to work on the project as subcontractors. Interested businesses must pre-qualify to be considered for contracts. This can be done by registering at www.subconprequal.aecon.com. The CAOB has offered to assist its members in completing their pre-qualification documents, if they have any difficulty. They can be contacted by calling 292-0633. Aecon will also be hiring directly for particular positions, and these can be found by checking The Royal Gazette, the DWD or the Bermuda Job Board (www.bermudajobboard.bm). To find out more, contact aeconbermudacareers@aecon.com. While the construction of the new airport gets under way, Skyport is also looking to hire new team members. Those interested in working for Skyport should submit a résumé and cover letter to careers@skyport.bm for airport-related jobs. We are just weeks away from breaking ground at Stone Crusher Corner and can't wait to get started. We look forward to building a lasting relationship between Aecon and Bermuda."
2017. March 22. The stewardship of Bermuda's airport has officially switched hands from the Department of Airport Operations to Bermuda Skyport Corporation Limited. Aaron Adderley, the former general manager of the DAO, who now presides over the new entity, hailed its launch as the start of "a new era". Like many other former DAO staff, Mr Adderley has kept a similar role but switched over to the company that will oversee both the running of LF Wade International Airport, and the 40-month project to replace its present terminal. Construction is expected to start next month. With the new facility to be completed in 2020, the existing building must now be "spruced up" for its remaining 3½ years in service. "In the days and weeks ahead, we'll be finalizing a plan, parts of which have already been enacted, to address some of the facility deficiencies," Mr Adderley said. Speaking at an announcement yesterday in the departures area of the present terminal, he said Skyport would "manage and co-ordinate the overall delivery of the airport redevelopment project for a 30-year concession term". At the close of that term, in 2047, "Skyport's lease with the Government will end, and the day-to-day operation of the airport and its facilities will revert to the Government of Bermuda". Mr Adderley praised the work of DAO staff, 80 per cent of whom have gone over to Skyport, through the rocky progress of the agreement between the Bermuda Government, anxious to avoid further public debt, and the Canadian Commercial Corporation. Former DAO staff comprise 28 out of the 32 positions in Skyport presently held by Bermudians. But Mr Adderley said he expected "30 new jobs at Skyport, for which we have already begun to recruit on-island". Although it is a Bermuda company, Skyport is owned by CCC's chosen contractor, Aecon Concessions, a specialist in public-private partnerships that is to develop and finance the project. Its president, Steve Nackan, called the company "a fusion — a partnership, if you will — of local talent and the international infrastructure expertise of Aecon", and presented Aecon's corporate social responsibility programme. "Through Skyport, we will support community outreach, education, health and sports, and important environmental sustainability initiatives," Mr Nackan said, citing the "significant footprint that the airport has in the community". That programme began with a donation of $5,000 to Family Centre. Skyport will also recruit for positions at the Bermuda Airport Authority, the quango with oversight over Wade International's administration and the redevelopment project. Job inquiries may be sent to careers@skyport.bm, a spokeswoman said.
2017. March 21. Aecon today announced the launch of Bermuda Skyport Corporation Limited, a special-purpose company which will "manage and coordinate the overall delivery of the Bermuda airport's redevelopment project for a 30-year concession term. Skyport, a Bermuda-based company wholly-owned by Aecon Concessions, will take on the responsibility of operations, maintenance, and commercial functions for the L.F. Wade International Airport," the announcement said. "Additionally, Skyport will manage and coordinate the overall delivery of the redevelopment project for a 30-year concession term. On completion of the new airport terminal, Skyport will operate and maintain it until 2047, when the airport will revert back to the Government of Bermuda."
2017. March 17. Ground will break next month on the LF Wade International Airport redevelopment project, as the Aecon Group has announced a "commercial and financial close". Finance minister Bob Richards and tourism minister Senator Michael Fahy appeared yesterday afternoon with officials from Aecon and Canadian Commercial Corporation to commemorate close on the 2½ year negotiations. With the deal now officially agreed, the announcement marked a significant milestone, Mr Richards said. "I'm happy to say that construction of our much needed, state of the art airport can commence." Yesterday's announcement will also not result in any further details being released to the public, the minister added, in reference to the calls from the project's opponents for all materials to be made public. "What we have revealed so far is virtually everything, except for the financial model, which is not going to be revealed in any circumstance." The financial model was demanded by the Progressive Labour Party, but the minister said repeatedly that such details were not the government's to divulge. That rationale was backed last month by the independent Blue Ribbon Panel tasked with reviewing the deal. Mr Richards hailed it as "one of the most important capital projects ever undertaken in our island" — calling yesterday's announcement "an exciting and historic occasion". With the financial close, the Bermuda Airport Authority quango is now in place, under Mr Fahy's administration. As well as the terminal bringing benefits to passengers, Mr Fahy said: "There are hundreds of workers at our current facility, and we can finally promise them a terminal building that will provide them the space and accommodation that they deserve." Construction of the new terminal at Stone Crusher Corner is to take 40 months, as previously stated. Aecon's statement continues: "The new works are being constructed on the airport property well removed from the existing terminal, allowing for uninterrupted operations of the existing terminal." It promises a "larger, state-of-the-art, accessible terminal that can resist hurricane-force winds". The release said: "It will improve passenger flow, introduce new and renovated facilities, and provide additional retail offerings to better meet the needs of airport users, today and in the future. Key features of the project in addition to the new terminal include providing six new covered boarding bridges, new apron space for parking and refueling or loading/unloading aircraft; modifications to taxiways to improve aircraft traffic flow; as well as energy and water efficiency features." The release stated that, on financial close, Bermuda Skyport Corporation Limited, a special purpose company formed and initially wholly-owned by Aecon Concessions, will take over the airport's operations, maintenance and commercial functions, and manage and coordinate the overall delivery of the redevelopment project over a 30-year concession term. Financing for the project has been arranged by Aecon, and includes a $285 million fixed coupon US private placement, amortized over a 25-year term, and approximately $70 million of shareholder equity to be contributed in the latter part of construction. The construction activities of the Bermuda Airport Project will be recorded in Aecon's Infrastructure segment, while the financing, operations, maintenance and concession activities will be recorded in Aecon's Concessions segment. Mr Richards is quoted on the Aecon statement as saying: "Bermuda is benefiting from a series of strategic initiatives to spur growth and prosperity. "This transaction is one of them, but a very significant one that brings jobs for Bermudians and the knowledge that they are participating in one of the largest, and most important, infrastructure projects of our generation. This development helps our community to continue along a path of economic growth and prosperity. The benefits of this significant infrastructure project will be appreciated by Bermudians and visitors for many years to come. We look forward to a long, and mutually beneficial, relationship with our first-class partners." John Beck, president and CEO of Aecon Group Inc, stated: "Through Aecon's select participation in international projects such as the Bermuda Airport redevelopment project, we continue our long history of developing and building airports globally and add to our successful roster of experience as concessionaire. The combination of the Government-to-Government and P3 procurement models is a unique offering brought to the table by CCC and Aecon to facilitate the delivery of a tailor made solution for Bermuda." Steve Nackan, president of Aecon Concessions, stated: "We are very pleased to see the project move forward and are confident it will bring substantial value to both Bermuda and Aecon. Working with the Canadian Commercial Corporation and the Government of Bermuda, Aecon will meet the set objectives — delivering a world-class airport, as well as providing significant economic benefits to Bermuda. As Bermuda's largest infrastructure project, swift financial close on this innovative arrangement demonstrates the quality of the project, as well as Aecon's depth of experience and track record in delivering projects around the globe. Aecon's role as developer, investor, design-builder and operator highlights Aecon's turnkey service offering and integrated business model — developed to meet the needs of our valued clients." Martin Zablocki, president and CEO of the Canadian Commercial Corporation, stated: "This government-to-government project embodies the value, trust and collaboration of the longstanding bilateral relationship between Canada and Bermuda. Knowing the positive economic impact a modernized airport can have on Bermuda, CCC is excited to play a key role in the delivery of a world-class, customized solution to meet the needs of Bermudians, for both today, and generations to come."
2017. March 17. A seven strong team of local professionals have been appointed to serve as members of the newly created Bermuda Airport Authority. The new Bermuda Government airport quango will be chaired by Mark Fields, retired General Manager of Sol Bermuda, while Lester Nelson will take on the position of chief executive officer. Mr Nelson has more than 25 years of experience in aviation and business management and was the first Bermudian manager of Air Operations. The BAA's memberships will also include Judith Hall-Bean, former assistant secretary to the Cabinet, Andrew Parsons, retired president of Belco, Robert Steynor, retired senior vice president of fuels, logistics, environment and safety at Belco, Ian MacIntyre, the director of the Bermuda Department of Civil Aviation until his retirement in 2008, and Marshall Minors, vice president for Facilities Management, Engineering Services, Property Management and Hotel Services for the Bermuda Hospitals Board. Senator Michael Fahy, the Minister of Tourism and Transport, said "This is indeed a fantastic board, made up of industry experts and seasoned professionals, who are all Bermudian. I am confident that they will serve Bermuda well." The BAA will be tasked with ensuring the interests of the Bermuda Government and Bermuda are protected and that the airport operator and vendors are held accountable to the standards set out in their contractual obligations. The quango will take on the responsibility of selected, retained Government services such as air traffic control operations, meteorological services, airport fire and rescue services and ground electronics, which are currently the responsibility of the Department of Airport Operations. It will also regulate passenger fees and has discretion in approving increases in such fees and be responsible for identifying additional revenue generating opportunities.
2017. March 16. Heavy materials and equipment for the airport redevelopment are due to start arriving next month at the East End. The move is expected to bring fresh activity to Marginal Wharf in St David's, where finance minister Bob Richards said "the docks will have to be cleared. The main loading port will be St George's, so that we don't have the challenge of bringing these materials across the Causeway." A Public Works spokeswoman described the move as logistically sound, considering the proximity of LF Wade International Airport, where the new terminal is to be built. A smaller matter is the presence of the Niobe Corinthian, the defunct casino ship earmarked for sinking as an artificial reef, which must be shifted to a mooring to make way. But another issue spells disaster for Jepheth Newton, whose trawler Esperanza went under near the dock after last October's hit from Hurricane Nicole. Informed this month that the boat must be moved before April, Mr Newton's chances of salvaging it have grown slimmer still. "It's sad," said the Esperanza's owner, who will be formally issued tomorrow with a wreck removal notice. Mr Newton had been pursuing his own avenues for raising the boat, when he was told on March 10 that the Harbourmaster had been instructed "to have the Esperanza moved and to bill you", according to e-mails seen by this newspaper. "The new airport is supposed to work for all Bermudians, but this is going to take a hard-working Bermudian and knock him back to square zero with no boat and a $30,000 bill." Buying and refurbishing the 92ft vessel in June 2013 marked the culmination of a dream for Mr Newton, who describes himself as an IT programmer from a humble background who hoped to live and run a business of his own off the boat. In 2015 he brought the vessel home, but subsequently lost his job and could not cover insurance for the $60,000 craft. It weathered other storms — but Nicole, which blew from a more easterly angle than expected, drove the Esperanza against Marginal Wharf where its stern was driven against the Niobe Corinthian. The boat took on water, and sank, intact. Mr Newton pointed to correspondence with the Harbourmaster in which he proposed raising the boat himself after securing part-time jobs. He subsequently ordered air bags to the tune of $8,000 to lift it off the bottom, only to be told that local authorities had been ordered to remove his boat and charge him. A meeting has been scheduled for next week, and Mr Newton said he feared that his vessel, which he believes can be towed off site for a quick restoration, could end up at the dump. "I just hope we can come to some kind of compromise," he said. "I can't let this happen. I'll sit on the boat and protest if I have to."
2016. October 7. Technical officers told the Development Applications Board that work on the airport redevelopment project is still expected to begin this year. According to the minutes of the board's September 28 meeting, in which it discussed the planning application for the project, the board questioned the technical officer about the timeframe for construction. The officer reportedly confirmed that works were due to commence in December. While the board did approve the application, it first sought clarification on several elements, including the size of the immigration arrivals hall. A section of the minutes states: "In respect of the size of the immigration arrivals hall, it was questioned how arriving passengers would be accommodated if several full flights arrived simultaneously and the IT processing system was not functioning to efficiently process the arrivals. The technical officer confirmed that airport officers had indicated that passengers would not be permitted to disembark the aircraft until capacity of the hall was reduced." The board also questioned the system for handling storm water run-off, asking if a proposed pond feature included in the plans was necessary to manage it. The technical officer confirmed that one of its primary purposes was to assist other infrastructure in managing storm water. He also explained that the pond would be aerated to avoid stagnation and killifish would be added to mitigate against mosquitoes. The minutes stated that the board advised that the applicant would liaise with the Corporation of St George about the use of Penno's Wharf to accommodate the delivery of construction materials to avoid scheduling conflicts, and that a bird monitoring programme shall be established for the collection of data after the start of operation of the passenger terminal building. The airport redevelopment has been the subject of fierce criticism since its announcement, chiefly because of the Government's handling of the project. Opponents have accused the Government of a lack of transparency because of its refusal to publicly release schedules of the agreement with the developer, Aecon. However, the Government has responded that negotiations were continuing and that the documents cannot be released until they are finalized. Questions have also been raised about the long-term cost of the project. While David Burt, the deputy Leader of the Opposition, claimed the project would cost the public $33 million per year for 30 years, Bob Richards, the Minister of Finance, said Mr Burt's estimations were inflated, calling the project a job-creating investment in the island's future.
Artist's impression of new airport
2016. October 4. Plans for a redeveloped L.F. Wade International Airport have garnered provisional approval from the Development Applications Board. The plans for the controversial project were submitted to the Department of Planning earlier this year, proposing a new steel and glass terminal building at the western end of the present runway. The new facility would be built on higher ground to reduce the risk of flooding, and will continue to house pre-clearance for US customs and immigration as well as enclosed passenger bridges to aircraft. The planning application formally went before the Development Applications Board during their meeting last Wednesday, and received provisional approval. Government has expressed hope that ground would be broken on the $250 million project by the end of the year, and timelines for the project included in the application state that the final phase of development is hoped to be completed by March 2020. However, the project has been the subject of repeated criticism, with opponents claiming a lack of transparency by Government about its dealings with the Canadian Commercial Corporation — a Canadian government agency — and Canadian contractor Aecon. Areas of concern include the lack of tendering for the project and its long-term economic impact with David Burt, the Deputy Opposition Leader, alleging the "30-year privatization" of the airport would increase the annual budget deficit by at least $33 million. However, Bob Richards, the Minister of Finance, has rejected Mr Burt's figures, calling the project "an investment in Bermuda today and over the long term", adding that the project would create construction, retail and administrative jobs for Bermudians.
2016. September 27. By David Burt, Deputy Leader of the Opposition, Shadow Minister of Finance and MP for Pembroke West Central (Constituency 18) "Mr Speaker, there is no doubt that the biggest threat to the future prospects of the way of life we enjoy in Bermuda today is the problem of the Government deficit and public debt." — Bob Richards (2016 Budget Statement). Bob Richards is on record as stating that the biggest issue we have to confront as a country is the country's deficit. We in the Progressive Labour Party agree that we must get our budget deficit under control. With that stated, it boggles the mind that the Minister of Finance, who claims to be committed to deficit reduction, and the One Bermuda Alliance, which was elected with promises of balancing the budget, continue to press ahead with the untendered privatization of our airport. The OBA's 30-year privatization of our airport to Canadian company Aecon, which will earn a taxpayer-guaranteed return of 16 per cent, will add at least $33 million to our annual budget deficit. Over 30 years, this means an additional $990 million of debt will be added to our already $2.4 billion national debt. If inflation were considered, this number would easily exceed $1 billion of additional debt. I will break down the numbers, as it is important that the taxpayers of Bermuda understand exactly what Mr Richards will ask Parliament to approve in November. The L.F. Wade International Airport, according to the 2016-17 budget, earns $37.2 million a year in revenue at present, while expenses are only $20 million a year. This results in a $17.2 million surplus annually. That's right — our airport, as old as it is, turns a healthy profit every year. However, under the existing agreement that the OBA has signed, Aecon will get all of the $37.2 million in revenue, but will assume only $11 million of expenses. Taxpayers will still be responsible for $9 million of present airport expenses annually. This means that instead of making $17.2 million of profit a year on the airport, we will be spending/losing $9.8 million a year, meaning that the negative net impact on the Government's consolidated fund will be $26.3 million a year. This $26.3 million annual hole in our budget does not take into account the estimated $107 million of taxpayer-funded electricity over 30 years. It also does not take into account the exemption that Aecon has been granted from payroll taxes and work-permit fees. Further, taxpayers will incur $3.6 million in additional annual expenses for the proposed new airport quango. This means that the Minister of Finance, who has done his best to convince voters that he is a sound steward of the public purse, will ask MPs to approve a contract that will increase our budget deficit by at least $32.6 million a year.
These facts paint a different picture than what the minister said last year about the airport: "The net effect on the consolidated fund is minimal." – March 31, 2015. I am sure that the taxpayers of Bermuda will agree that $33 million a year is not minimal. Thirty-three million dollars is more than the Government spends annually on tourism. It is larger than the budget of five of the 12 cabinet departments listed in this year's Budget Statement. The Minister of Finance has repeatedly said that Aecon will also assume the expenses of the airport; however, as the figures in the chart show, they will assume only half of the expenses. The rest of the expenses will be the responsibility of Mr and Mrs Taxpayer. That $33 million will have to be found somewhere, and the only way it will be found is from increased taxes, cuts to government services or additional borrowing — all of which can have a negative economic impact on Bermuda. As taxpayers read this — and scratch their heads in disbelief — we must ask ourselves why Mr Richards is so committed to this project. Why would he press ahead with a project that will increase our deficit, requiring us to borrow more money and thus increase our national debt? What possible motivation could the Minister of Finance have to push through a deal that makes our financial position as a country worse? One answer could be that the OBA is looking for a short-term boost in employment in advance of an election; however, we must ask at what cost? Is $33 million of extra money borrowed each year for the next 30 years, which will increase our debt by at least $990 million, worth three years of jobs? Is it right to pass on this $990 million of debt to future generations? Should we be handing over our airport to a Canadian company that will earn a guaranteed return of 16 per cent, while we struggle to maintain our schools and bridges? We need to do something about our airport. The PLP has put forward a less expensive and fiscally responsible plan that extends the useful life of our existing structure, creating immediate jobs that can be filled by Bermudians, while keeping airport profits here in Bermuda, which will assist us in getting our fiscal house in order. Mr Richards's airport privatization is a bad deal for Bermuda and will compound our financial problems. We implore all taxpayers to contact their OBA MP and tell them to vote no on this deal that will grant a taxpayer guaranteed return of 16% to a Canadian company while saddling our children with at least $990 million of extra debt."
2015. October 6. The US company due to take over support operations at Bermuda's airport yesterday pledged to retain all 40 staff from outgoing contractor BAS Serco. Atlanta-based CI² beat BAS Serco, which has held the contract for 20 years and will take over at the end of March next year. The firm will run air traffic control, weather services, ground electronics and airport maintenance. CI² founder and president Andrella Kenner, who made a flying visit to Bermuda last week, said: "In our industry, risks are inherent in everything we do. It involves understanding, managing and critical thinking to ensure we meet objectives and maintain quality. To accomplish this, it takes a dedicated professional workforce which is what defines the CI² Aviation culture. I am confident that we already have that team in place in Bermuda." The Royal Gazette revealed last week that BAS Serco had lost the contract it had held since 1995. Airport general manager Aaron Adderley paid tribute to BAS Serco's work — but said the bid from CI² was "extremely competitive." He added that CI² also held offshore air traffic control contacts in Puerto Rico and the US Virgin Islands and had longstanding relationships with the US Federal Aviation Authority (FAA). And Mr Adderley said that CI²'s management of airspace bordering US national airspace was a "strong advantage" because Bermuda's airspace also runs into US air territory and is at present managed by the FAA. He added that CI²'s US and international operations also offered extra training and career development opportunities for Bermudian employees. Ms Kenner said that her company would provide safe and efficient aviation and air navigation to passengers passing through the LF Wade International and to travelers travelling through Bermuda airspace. She added: "CI² Aviation's commitment will be to the continued evolution of LF Wade International Airport as it moves into the next generation of airport operations and maintenance services. The company feels that professionals who have dedicated their careers as air traffic controllers, meteorologists, weather forecasters, ground electronic maintenance providers and airport maintenance services providers play an essential role in the airport's past as well as its future." The award-winning firm, which also has an office in Washington DC, is the only African-American owned company that provides air traffic control services to the Federal government. CI² also supplies air traffic control and weather observation to a total of 20 air traffic control towers in the US. And the company said its "most outstanding accomplishment" was more than 20 million aircraft operations and more than 18 years with no fatalities attributed to controller error.
2016. September 7. Bermuda's major international insurance companies believe the island needs a new airport to replace the current "decrepit" structure. The Association of Bermuda International Insurers and Reinsurers this morning issued a statement saying it did not take a position on the Bermuda Government's airport redevelopment plan but added that it was clear the existing facility needed to be replaced. "Abir members recognise that Bermuda's lifeline to the rest of the world — the 70-year-old Bermuda L.F. Wade Airport Terminal — is decrepit, subject to extraordinary maintenance costs, and at enormous risk from sea level rise and hurricanes," Abir said in today's statement. "The sewage system is antiquated and subject to malfunction due to tide and wind conditions thus creating a potential public health hazard to workers and visitors. A consensus is emerging that the airport terminal is beyond repair and that a new facility is needed. We are not experts on Bermuda's infrastructure priorities, but we believe that the current airport facility needs to be replaced and that such replacement will benefit Bermuda." Abir's members include some of the island's largest employers, who had a combined payroll of around 1,500 people in Bermuda as of the end of 2015. Their clients and employees are major users of the airport. Although Abir said a new airport was needed, the organisation stopped short of backing the Government's proposed scheme to build a new terminal in collaboration with Canadian government agency, the Canadian Commercial Corporation. But it warned against the dangers of taking on extra public debt. "We don't take a position, pro or con, on the Government's proposed rebuilding plan," Abir stated. "It is not for us to opine on what the financial structure or management should be of the airport project, but we do recognise the Government has come forward with a financing plan that avoids additional debt, has protections against troubling cost overruns and follows a model that has been used elsewhere on infrastructure projects. After six years of a devastating recession, Bermuda's debt is a serious concern; it seems clear the government cannot take on much additional debt without imperiling essential services and receiving another sovereign debt rating downgrade. Before a decision is made, we understand that the Government will make the required public disclosures as called for under the entrustment agreement with the UK so that Bermuda's voters are afforded a full airing of the financial details. With that information in the public domain it should be possible for an informed decision to be made about the airport project and its impact on the Government's finances."
2016. July 14. Developers unveiled the first design images for the proposed redevelopment of Bermuda's airport. The new steel and glass terminal building will be set back at the far west or Stone Crusher Corner end of the present runway and will be built on higher ground to reduce the risk of flooding. The facility will continue to house pre-clearance for US customs and immigration as well as enclosed passenger bridges to aircraft. Bob Richards, the Minister of Finance, and Senator Michael Fahy, the Minister of Transport and Tourism, joined Martin Zablocki, president of Canadian Commercial Corporation, and Steve Nackan, president of Aecon Concessions, for the official unveiling of the renderings at the Bermuda Underwater Exploration Institute. Mr Nackan described the design as "smart and beautiful" and maintained it was "consistent with Bermuda's global brand and identity". He also revealed plans for a putting green and nature trail outside the airport, adding: "Bermudian culture is on display throughout, including kites and indigenous birds suspended from the ceiling. The airport will be surrounded by lush landscaping using indigenous flora compatible with and complementing Bermuda's ecosystem, as well as sustainable water features to create an invigorating outdoor experience that travelers can enjoy on an expansive patio. Plants will be sourced and grown on the island and landfill will be repurposed from the existing property. The design we are unveiling today marks an important milestone in the project's progress as it represents a shared vision resulting from many months of collaboration and consultation with community stakeholders." Mr Nackan said the project would be a "vital generator of local employment opportunities" both in construction and operations "where the majority of employees will be Bermudian". Mr Zablocki insisted the project would be delivered "on time and on budget". Mr Richards described the latest development in the airport redevelopment project as a "very good day" for the island. He maintained that ground would be broken on the $250 million project by the end of the year and said that the new facility should be operational 40 months later. "I encourage everyone to come out and meet some of the people involved and ask questions so that you can truly understand the unique value of the proposals and the design," Mr Richards said. Mr Fahy added: "We're not just designing an airport, we're building Bermuda's future." The new airport designs will be on display at the Bermuda Underwater Exploration Institute today and Saturday between 9am and 5pm. They will be then be moved to the Port Royal Golf Course on July 18 from 5.30pm to 8.30pm and on to Penno's Wharf in St George on July 19 at the same time.
2016. June 28. Legislation paving the way for the creation of a Civil Aviation Authority and a Bermuda Shipping and Maritime Authority was passed by MPs on Friday afternoon. The Bermuda Civil Aviation Authority Act 2016 provides the new CAA with quango status in a bid to boost revenue from the Bermuda Registry of Aircraft. Grant Gibbons, the Minister of Economic Development, told the House of Assembly that the new Act would make Bermuda more competitive in the global aviation market. However, Lawrence Scott, shadow Minister of Transport, expressed a string of concerns about the creation of the CAA, claiming the Bermuda Government was making the CAA answer to the minister. He also questioned why the Minister of Finance should be involved in appointing members of the board. "Government should not have any say over civil aviation," Mr Scott said. "They are trying to go outside their jurisdiction. This Bill falls short of doing what it is intended to do because the Government is too involved compared to other jurisdictions." However, One Bermuda Alliance MP Shawn Crockwell explained that Bermuda's CAA would be based on the UK's CAA model, in which the authority answered to the Ministry of Transport. Mr Crockwell described Mr Scott's assertions as "erroneous" adding: "We must put in the proper infrastructure so the authority and the register can grow. The register must operate like a business and Government must be prudent to make sure we do not lose this revenue." Finance minister Bob Richards told the House that the new legislation was designed to boost revenue to the consolidated fund. Meanwhile, the Bermuda Shipping and Maritime Authority Act 2016 will see the Department of Maritime Administration also given quango status. Dr Gibbons said the Bermuda Shipping and Maritime Authority will help the island compete more effectively in the growing shipping sector. "This Bill is intended to create an efficient, competitive and economically viable shipping registry that can meet the modern-day customer demands as well as the relevant national and international standards," he added. According to Dr Gibbons, Bermuda presently commands a fleet of 170 ships with more than 13 million gross tonnes. "The revenue earned by the DMA as fees from the registration of ships and other services provides is approximately $5 million annually with a net surplus of nearly $3 million annually." But compared with other international registries, Dr Gibbons said Bermuda's tonnage "is rather small, which provides the DMA great opportunity for expansion. With the proposed amendments in this bill, the DMA believes they should be able to compete more effectively and enhance Bermuda's shipping opportunities. After a number of difficult years, the global economy is now slowly growing and the shipping sector is expected to grow at a rate of 5 per cent per annum. Bermuda needs to be ready to compete and get a fair share of this tonnage."
2016. May 31. Canadian developer Aecon's 35 per cent stake in Bermuda's proposed new airport terminal will come primarily from borrowing rather than from equity capital, according to Bob Richards, the Minister of Finance. The minister added that the island would likely have taken a hit from ratings agencies if the Bermuda Government had sought to borrow the full sum on its own. Mr Richards told The Royal Gazette that the new terminal, which will be built by a special purpose company called Project Co, will be backed by others as well as Aecon, which will have a 35 per cent minimum equity. "They will also be looking for other equity partners to finish off the equity ownership of Project Co," the minister said. "But most of the capital for the terminal will be debt capital, not equity capital. It will be borrowed by Project Co, as a bond issue in international markets." Institutional investors will be able to invest as partners with Aecon, he said, or invest in the debt. "The equity amount is a small piece of the total finance. Aecon will have to invest their own cash to the extent that they will at least have to own 35 per cent of the equity. But the equity will be a small part of the capital." Mr Richards spoke to The Royal Gazette in the wake of details given on the project's financing, in response to parliamentary questions. He stressed that "the only thing Aecon will own — or have an equity ownership in — is Project Co, the company that has the management contract. They will not have any equity ownership in the airport or the terminal itself. That will continue to be 100 per cent owned by the Government of Bermuda." MPs heard on Friday that the profit target for a new airport terminal was estimated at about 15 to 16 per cent. "When you invest in a project, you want to have a target — a way to return on your investment," he said. "That is not the same as the interest rate that the Bermuda Government would pay." Mr Richards said that the Opposition had implied that the Government "could borrow money for a lot less than 15 per cent", adding: "But we're comparing apples and oranges. The 15 to 16 per cent is the return on equity, that Aecon can get on the equity portion. What if the Bermuda Government were to borrow the money, $250 million, and just build it the old-fashioned way? We would get downgraded by S&P and Moody's, we estimate by two notches. In being downgraded, we would have to pay more interest on the amount of money that the Government itself owes. And if we get downgraded, the local banks get downgraded too."
2016. May 26. Bermudian engineering company Brunel won a contract for structural and civil engineering at the airport redevelopment. The firm was appointed by Canadian company Aecon, the lead firm in the airport project. Steve Nackan, the president of Aecon Concessions, said: "We engaged Brunel because they have a valuable perspective to offer this project. The team has extensive knowledge of local construction practices, permit processes, planning and building codes, and, of course, Bermuda's culture and environment which will impact the airport's design." Brunel will help with design documentation, drawings and details, advise on local conditions as well as assist with design related to transport like buses, taxis and scooters. The Bermuda firm will also work with other global engineering teams to ensure that the new airport's construction will be in line with Bermudian culture. Jamie Pehkonen of Brunel said: "We look forward to collaborating with a truly global team of experts to make this important project a reality for the island. Our technical as well as local expertise makes us an ideal partner to help build a modern airport befitting Bermuda." The main structural engineering firm for the project is Quinn Dressel from Toronto and the lead civil engineering company is the Toronto arm of global consulting company WSP. The redevelopment of the airport is a joint venture between the governments of Bermuda and Canada, with the Canadian Commercial Corporation, a Crown corporation of the Canadian government with expertise in international contracting for major building projects.
2016. March 28. A more in-depth glimpse of how Bermuda's new $250 million airport could look should be available within the next few weeks, according to the firm spearheading the redevelopment. Canadian construction giant Aecon said architects had started work on the exterior and interior design aspects of the building in February, a phase that will last up to two months before new artist's renderings are available. Those drawings will ultimately allow a 3-D model of the airport to be developed, which will be shared with the public. Steve Nackan, president of Aecon Concessions, told The Royal Gazette the airport design was progressing well and key decisions regarding scope and functional parameters had been made in consultation with a very broad spectrum of stakeholders. As people step off the plane, they should see that Bermuda is at the forefront of modern, luxury travel," he said. "And as they leave, they will leave with a positive, lasting impression of this beautiful island. The entire terminal will integrate the latest world-class technologies in all aspects of the process, including in check-in, screening, baggage and materials handling and processing, communications, fire systems, back-up power, telecoms and more." Mr Nackan said that since the local office of international architecture firm OBMI joined the design team last month, a series of design studios had been initiated to refine the exterior appearance of the airport and define the interior sense of place in a Bermuda style. "The combined design team is exploring ways to integrate those features which make Bermuda unique and memorable to visitors and residents alike," he said. "These include vibrant colours, simplicity and symmetry of indigenous buildings, marine ambience, sunlight, natural features, warm friendly people, flora, fauna, etc. It is the aim of the team to develop a design which will be memorable and one that the people of Bermuda can be proud of." According to Mr Nackan, other features of the new airport will include:
wheelchair accessibility
continued pre-clearance for US customs
enclosed passenger boarding bridges
duty-free stores, restaurants, outdoor terraces, casual food outlets, retail outlets and US and international sector airline lounges in the arrival and departure zones
"generous" amounts of tinted, glazed paneling to "enable dramatic vistas of the land and water features as well as maximizing the availability of natural light inside the building"
the ability for further expansion in the future, including up to two new gates/aircraft stands at the north end of the terminal and up to three at the south end.
Construction of the airport is due to start this year, with the terminal slated to open in 2020.
2016. March 23. OBMI was selected as the landscape architects for the proposed airport redevelopment project following a RFP process. According to a statement by Aecon Group Inc, government's partner in the project, OBMI's Bermuda office was selected for the post after interviews with several Bermudian firms. "Working with Scott Associates Architects, the project's lead architectural firm specializing in airport design, the Bermuda office of OBMI will be responsible for advising on the exterior treatment of the proposed new airport to ensure that it is compatible with the natural Bermudian environment and climate," the statement said. "OBMI will provide guidance on Bermuda's growing season as well as the most appropriate native plants and other indigenous flora and fauna to contribute towards maintaining Bermuda's ecosystem. Additionally, OBMI will advise on decorative features such as benches, patios, and possible pavilions and water features to enhance the outdoor experience for travelers, while reflecting the Bermudian culture." Steve Nackan, president of Aecon Concessions and the project's development lead, said: "We engaged local architects to ensure that the new airport will exhibit a true sense of Bermuda. Aesthetically, the airport will showcase the island's natural beauty and leverage natural resources as much as possible. We chose OBMI because they have demonstrated expertise in creating solutions that celebrate the unique aspects of the island." Meanwhile, Jennifer Davidson, senior landscape architect at OBMI, said: "We take our stewardship of Bermuda's environmental resources seriously and look forward to continuing productive collaboration with the Aecon and Scott Associates teams." Today's announcement follows a statement that revealed that OBMI was selected as the building architect for phase one of the airport redevelopment project. It also follows the successful engagement by Aecon of Bermuda-based Atlantic Well Drillers, Onsite Engineering, and Bermuda-Caribbean Engineering Consultants for the airport geotechnical survey work completed in the final quarter of 2015. Bermuda Government struck a deal with the Canadian Commercial Corporation and its subcontractor Aecon in 2014 for them to finance the rebuilding of LF Wade International Airport in return for a contract to run the facility for 30 years and collect any revenue raised. The agreement has come under fire from critics who say the project should have been tendered but Bob Richards, Finance Minister, has repeatedly insisted the sole source deal is the best for Bermuda.
2016. January 20. The Canadian developer of the new $249 million airport has been granted a string of perks, the official contract has revealed. Canadian Commercial Corporation and its subcontractor construction firm Aecon — collectively referred to as Project Co — will be exempt from the employer's share of payroll tax and customs duties on capital items like construction materials. And Government will also pay an equivalent sum "on an annual basis and for the term of the project agreement an amount equal to the energy consumption for the airport operations..." less airport tenants' bills. The operating company will also get a minimum revenue guarantee — which means if annual income is not up to projections over the 30-year contract, Government will make up the difference. The terms of the agreement, a prelude to the financial close of the deal was tabled in Parliament last month. The financial close, including figures, is expected to be concluded by the end of November this year. The agreement also specifies that a transition plan should be in place for the transfer of airport employees, to Aecon, a new airport quango or Bermuda. It added that, subject to conditions, staff should be transferred "on terms and conditions which, taken as a whole, are no less favorable than such employees' existing employment terms and conditions." The agreement said: "Subject to applicable laws (including labour relations and collective bargaining laws) and the terms and conditions of the project agreement, Project Co shall have the right to structure the company, Project Co senior management, its employees, its organization, reporting structures and business operations in a way which it considers appropriate." The agreement added that there could be existing terms and conditions, like continued participation in the regulated government pension scheme, which will not be continued by Project Co, but replaced by a private, defined-contribution pension plan, and "other benefits that are not enjoyed by comparable public sector employees in other common law jurisdictions that may be subject to modification or transfer to private sector pension and/or benefit schemes." The agreement also includes a clause setting up a development of Bermudian labour plan, which obliges the contractor to "identify, train, develop and preferentially employ qualified Bermudian labour". The agreement said: "Project Co shall establish mentoring and work shadowing programmes for a select number of unskilled Bermudians to allow these individuals to observe and learn certain construction trade skills in Bermuda and to establish job fairs and undertake employment recruiting events and requests for proposals to identify persons for the purpose of recruiting and retaining Bermudian labour and Bermudian employees, independent contractors and service providers." The agreement also stipulated: "Aecon Construction and its affiliates, together with Project Co, shall be exempt from all land, land transfer, lease and other real estate taxes, levies and stamp duty in Bermuda that may be associated with the airport, airport operations, construction, lease and other real estate taxes, levies and stamp duty in Bermuda that may be associated with the airport, airport operations, construction, leased lands or otherwise with the project at any time during the term of this airport development agreement and the terms of the core project document." Bob Richards, the Finance Minister, said last night: "Not the least of benefits is the ability to work with the triple-A rated Canadian government and obtaining guarantees against cost overruns, shoddy workmanship and time delays. "These have been the biggest issues plaguing Bermuda's history of infrastructure development — and it has cost the Bermudian taxpayer hundreds of millions of dollars in unnecessary expenditure." And Mr Richards added the public private partnership deal for the airport "does not impact the treasury and add millions of dollars more to the Government's debt". The statement added: "The project calls for the employment of hundreds of Bermudians initially and an increase in the number of long-term jobs connected to the facility going forward. It also calls for an injection of hundreds of millions of dollars of foreign capital into the Bermuda economy."
2016. January 19. The agreement between the Bermuda Government and the Canadian Commercial Corporation was published on the Bermuda Parliamentary website. The Airport Development Agreement was signed last summer and tabled in the House of Assembly by finance minister Bob Richards in December. In a statement today, the Government said the project will "replace an ageing and crumbling infrastructure with a purpose-built 21st century terminal for civilian air traffic", calling for hundreds of jobs for Bermudians. The deal has repeatedly been criticised by the Progressive Labour Party, but Mr Richards stated: "There are substantial advantages to the Government's course in this redevelopment project. Not the least of benefits is the ability to work with the Triple-A-rated Canadian Government and obtaining guarantees against cost overruns, shoddy workmanship and time delays. These have been the biggest issues plaguing Bermuda's history of infrastructure development. And it has cost the taxpayer hundreds of millions of dollars in unnecessary expenditure. It is time for that to stop. We are today, and for the foreseeable future, paying for the sins of the past. But we are on a course toward getting Bermuda back to the days of a balanced budget. Even then, our work will not be finished. We will still have to find additional revenues after that to pay off a multi-billion-dollar debt. This means it is crucial that we exercise prudence in our fiscal policy. This project is just one aspect of that strategy and notably, it does not impact the treasury and add millions of dollars more to the Government's debt." To see the agreement, visit www.parliament.bm.
2015. October 2. A US-based company has won the contract to provide support services at Bermuda's airport. CI² Aviation, based in Atlanta, Georgia, beat BAS Serco to provide support services at the LF Wade International Airport. Its general manager Aaron Adderley said: "We believe that this change in service provider will help bring about even greater career opportunities and will help better position us to pursue some of the strategic air traffic management goals we have in mind for our operation." The existing contract, which BAS Serco has held for 20 years, is due to expire at the end of March next year. The company employs 40 people at the airport under the Department of Airport Operations — but a spokeswoman for the Bermuda Government said that it was expected they would all be retained by the new operator. BAS Serco currently provides air traffic control, ground electronic and the Bermuda Weather Service. A government spokeswoman said: "In preparation for that, Airport Operations initiated a comprehensive procurement process seeking proposals for the provision of specific aviation services These bids were received and evaluated by Airport Operations management. The bid submitted by CI² Aviation proved to be the preferred bid. As such, Airport Operations has opted not to renew BAS Serco's contract." Mr Adderley said: "BAS Serco has been a staple at this airport. They have held this important contract for over 20 years. It has helped to foster the careers of many Bermudians in both aviation and weather forecasting and we're grateful for the work they have done." Government added that CI² is an award-winning company and is the only minority-owned firm in the US that provides air traffic control services to the federal government. The company also holds air traffic control contracts in Puerto Rico and the US Virgin Islands, with Bermuda now its third offshore contract. The Government spokeswoman said: "The company has confirmed its desire to establish roots in Bermuda and to retain, hire and develop Bermudians." Mr Adderley backed the Government view. He said: "Specifically, their longstanding relationship with the Federal Aviation Administration (FAA) and their air traffic management of airpace bordering US national airspace was viewed as a strong advantage given that our own airspace also neighbors that of the US and, for now, is presently managed by the FAA. Financially, CI² Aviation's bid was extremely competitive. We were excited that it offered prospects of enhanced training and career development opportunities for local employees that the company could offer through its other contracts."
2015. August 24. Bob Richards, then Minister of Finance, yesterday signed interim agreements with the Canadian Commercial Corporation for the redevelopment of LF Wade International Airport. While the minister said the contracts did not guarantee the controversial project will move forward, he described them as another step in the incremental contract development process. "The Letters of Agreement contemplates that a further agreement, called the Airport Development Agreement (ADA), must be entered into in order to set out and describe the ambit, principles and subject matter of the project's final and definitive agreements," Mr Richards said at a press conference at the airport. "Phase one of this incremental contract process, which consists of exploration, scoping and data completion, has now been completed. This ADA marks the beginning of phase two, which will complete negotiation of definitive, detailed terms to oversee the project's implementation and move it to financial close. "This will include the framework definition, design and detail costing, finance and detail finalization of the contracts, commitments and liabilities, the independent fairness assessment, local tendering and the addressing of legal issues. This means moving the project forward with Aecon and CCC to finalise the design and financing of the airport's redevelopment, including construction, operation and maintenance." He added that phase two is expected to take about a year, after which there will be a final contract which must be signed before construction can commence. The minister also defended the Bermuda Government's handling of the project, which has come under fire repeatedly due to a lack of tendering and concerns that the deal would amount to privatization of the facility. "The alternative to what we have done so far is no airport," he said. "The only alternative is no airport at all. We are committed to developing Bermuda, to providing jobs, to constructing a new strategic asset which is needed, and the only way we could go forward with this is this way. "The traditional tender process which everyone keeps talking about would result in the Government increasing the debt by over a quarter of a billion dollars, which is not something this Government will allow. The alternative being what it is, this is the way to go." Minister of Tourism Development and Transport Shawn Crockwell, meanwhile, said the existing terminal was not meeting the first-class standard that visitors and residents expect. "This Government, your Government, has put together a plan that provides so many benefits for Bermudians. Importantly, it will take a hodgepodge of buildings which we have been using since the 1940s, together with additions and Band-Aids here and there, and replace it with Bermuda's first purpose-built terminal for civilian air traffic. We have been fortunate in finding such high-end partners to help us achieve this objective." Martin Zablocki, president and CEO of CCC, said the corporation was excited to be working with Bermuda on a project which will create jobs for Bermudians, both through subcontractors and add-on business, while Aecon Group executive chairman John Beck said it would take great care to deliver infrastructure which supports Bermuda's economy and society. "We are confident that we can do this for Bermuda through a collaborative and affordable process using Aecon's award-winning airport development expertise," he said. "Using a whole-of-country approach, we will work alongside other companies to maximize employment opportunities for Bermudians and bring best-in-class safety, construction and environmental standards to the project." The Progressive Labour Party has repeatedly criticised the One Bermuda Alliance's approach over the airport redevelopment, and last week suggested the creation of an airport authority that would allow Bermudians to take advantage of projected revenues. Mr Richards, however, dismissed the claim that the deal would cost Bermuda $620 million in revenue over the course of the next 30 years, dismissing the figures as speculation. "These are coming from people I like to call number bombers," he said. "They can speculate, they can pontificate, they can prevaricate. They can do that because they don't have to deliver anything. As ministers of this government we have to deliver, so we can't throw numbers around willy-nilly. The people who know these numbers are the people who are in this room. The people have to ask themselves do the people in this room, Aecon, CCC and the Minister of Finance, know more about this than people who have never built anything? Aecon built the CN Tower. And the new terminal at the Toronto Airport. We are dealing with experts here. I really think the number bombers need to let us do the deep dive into the data to prove the economics of this project, and that's what phase two is. A commitment to do a deep dive into the details of this project, to come up with the economics of this projects. The number bombers are going to continue to speculate, pontificate and prevaricate, but we are getting on with the people's business here."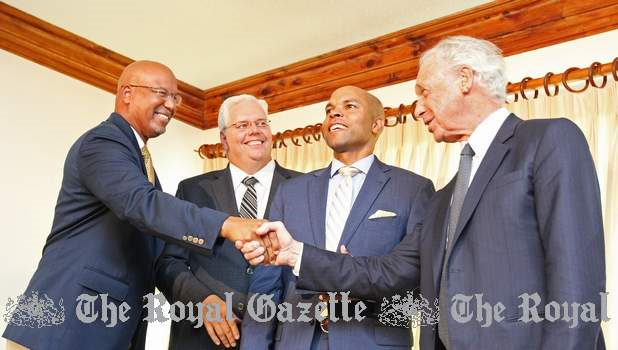 Airport deal signed, see above story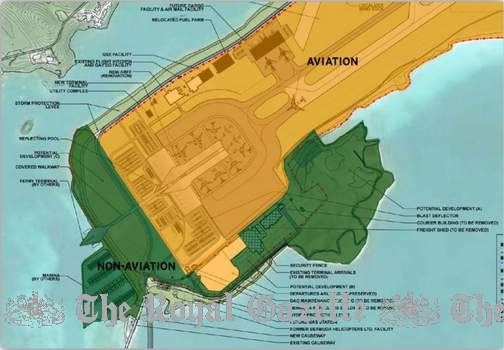 2014 Airport improvement plan
2014. November 10. Bermuda's "new airport" has been signed into being with a redevelopment agreement between Government and the Canadian Commercial Corporation, Finance Minister Bob Richards announced this morning. The Island will get a roughly new $200 million terminal building, with the expectation of "hundreds" of construction jobs generated. At a press conference in the Cabinet Office, the Finance Minister hailed the redevelopment plan as "one of the most important capital projects ever undertaken on our island shores", after signing the agreement with CCC's Luc Alari. Groundbreaking could commence as early as next year, with the project potentially taking three years to complete. The project will play "a crucial role in the renaissance of the Bermuda economy", Mr Richards said, under a public-private partnership with CCC. Pledging "value for money", Mr Alari said CCC "also brings a lot of transparency and governance — we are a Canadian Government organization; this is something we adhere to. We will make sure the project is built on time, on budget and on schedule." Tourism Minister Shawn Crockwell and new Junior Minister Vic Ball also attended the signing, which Mr Crockwell called a historic occasion for Bermuda, delivering a "new, attractive and sophisticated modern facility" that would enhance the Island's tourism product. "It will impress everyone that passes through it, visitors and locals alike, and it will make that first impression for those coming to Bermuda, a lasting positive impression that is aligned with the Bermuda brand — quality, first class and world class. The construction of a new purpose built airport terminal is long overdue and this Government was determined to make it happen.



Last Updated: May 24, 2020
Multi-national © 2020 by Bermuda Online. All Rights Reserved