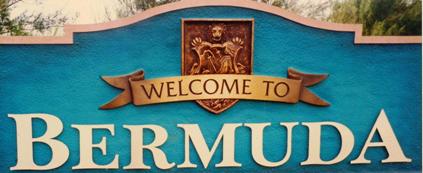 11145 web files in a constantly updated Gazetteer about Bermuda's accommodation, activities, airlines, airport, apartments, art, artists, aviation, banks, beaches, Bermuda-incorporated international and local companies, Bermudians, British Overseas Territory, books and publications, citizenship by Status, currency, dollar, government, causeway, charities, churches, City of Hamilton, commerce, communities, corporate entities, credit cards, cruise ships, culture, cuisine, currency, customs, disability accessibility, districts, Dockyard, economy, education, employers, employment, entertainment, environment, executorships and estates, fauna, ferries, flora, food, former military bases, forts, gardens, geography, getting around, guest houses, golf, government, guest houses, history, homes, House of Assembly, housing, hotels, immigration, import duties, insurers and reinsurers, international business, internet, islands, laws, legal system, legislation, legislators, location, main roads, magazines, media, members of parliament, money, motor vehicles, municipalities, music, newspapers, open spaces, organizations, parishes (Devonshire, Hamilton, Paget, Pembroke, Sandys, Smith's, Southampton, St George's, Southampton, Warwick), parks, politics, political parties, postage stamps, public holidays, public records, public transportation, railway trail, religions, Royal Naval Dockyard, St. David's Island, Somerset, Spanish Point, Spittal Pond, sports, stores, taxes, telecommunications, time zone, transportation, traditions, tourism, Town of St. George, Tucker's Town, utilities, villages, water sports, weather, WIFI, wildlife, work permits. For tourists, business visitors, employers, employees, newcomers, researchers, retirees, scholars.

Bermuda's Southampton Parish
Explore this mid west county between Warwick and Sandys Parishes

By Keith Archibald Forbes (see About Us) exclusively for Bermuda Online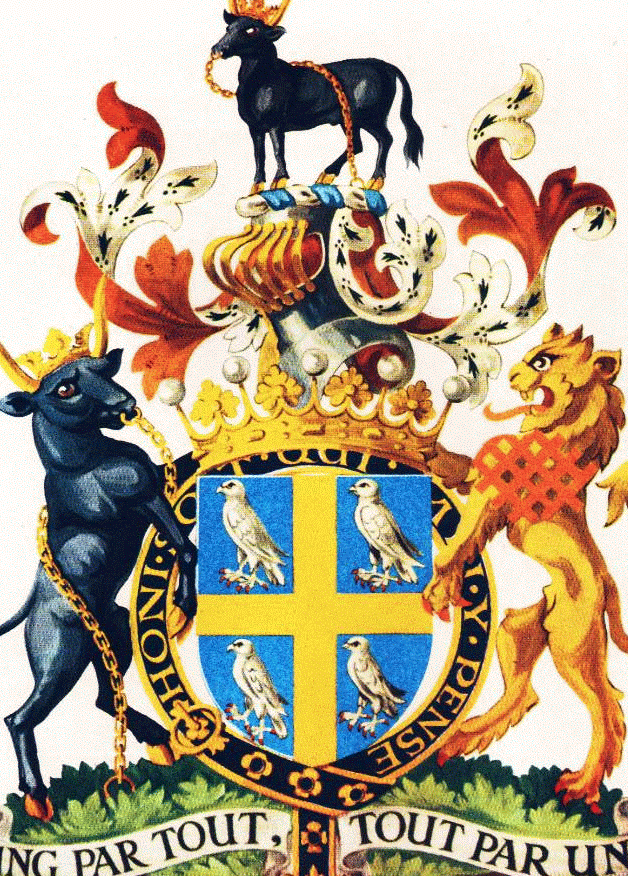 Part of Southampton Parish's crest, from the 3rd Earl of Southampton. His coat of arms, copyrighted by his family, members of which still exist today, is exactly what is shown on Bermuda's Southampton Parish crest. Used with exclusive permission from the copyright owners. Do not copy.
About the Parish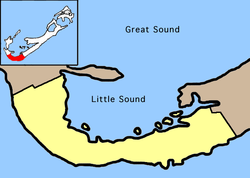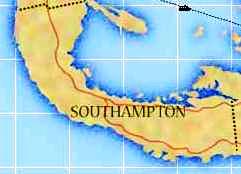 Southampton Parish, on Main Island, is one of the nine parishes each of 2.3055 (two point three zero five five) square miles.
It was named after Henry Wriothesley, Third Earl of Southampton (1573-1624), an English aristocrat, one of the most colorful Elizabethans, the patron and friend of William Shakespeare.
He served against the Spaniards in the Calais Expedition of 1596 but in 1599 was implicated in the Essex Plot and imprisoned by Queen Elizabeth 1.
Set free by King James, he was made a Knight of the Garter.
He died in the Low Countries where he had gone as a volunteer once more to fight the tyranny of Spain. Always interested in overseas exploration, he was a member of the Council of the Virginia Company in 1605, the North West Company of 1612. He was one of the gentlemen Adventurers who invested in the newly formed Bermuda Company of 1615.
He was the largest shareholder in the original Southampton Tribe but never visited. The major British port of Southampton, in Hampshire, is also named after him and his family.
Early Bermuda settlers called it Port Royal, instead of Southampton.
This Port Royal pre-dates Port Royal of Jamaica and is why there are several references to it.
The bay on the north side became a shipping center before the City of Hamilton was established.
This Parish is the second most western in direction and a good distance from the Bermuda International Airport, an expensive taxi ride. From 2001, it has a stop for Bermuda Government ferry boats. It is served by buses.
Constituencies in the Bermuda Parliament
Southampton East Central
Southampton West Central
Southampton West
Barnes Corner Park
A Bermuda National Park. Added in the latter part of the year 2000. It is 1.74 hectares (4.39 acres). Also the sign on some buses, meaning this is as far as they go.
Bermuda Golf Academy and Driving Range
Off Middle Road, on Industrial Park Road. Telephone 238-8800. Not a golf course but a driving range.
Boat Bay
This is where the large Sonesta Beach Hotel, now gone, was situated. But the waters here have a much older claim to fame. The original name for this bay was Hunt's Bay, a grant of land that went north from what was then a cove all the way to the Little Sound. It was then owned by the Hunt family. In 1661, the ill fated sailing vessel Virginia Merchant became grounded. She was a total wreck and sank there with great loss of life. In 1741, the Spanish privateer Francisco Lopez landed a raiding party here. The Spaniards seized local fishing boats and towed them behind their ship. The local militia and two armed Bermudian sloops arrived too late to retrieve them. They were never heard of again.
Bus routes
Visitors and new residents who use the Bermuda Government pink and blue buses should obtain a free copy of the schedule, to know when the service operates, when it stops and what fares apply.
Dockyard. The # 8 bus service from and to the city of Hamilton on the outward and inward routes services the Middle Road all the way to the end of Parish. It is the most frequent service. This main road has many interesting attributes, showing off much of typical urban, suburban and rural Bermuda. It's the only Parish stretch of any main road in Bermuda completely inland until this Parish going west. Avoid the crowded rush hour buses.
Maritime Museum. The # 7 bus service from and to the city of Hamilton on the outward and inward routes services all the main South Road in the Parish on the way or back. The second most frequent service in the Parish, it has many nice views and sightseeing attractions. Avoid the crowded rush hour buses and other times when cruise ship passengers also jam up the buses to get to and from the South Shore beaches along the route.
Caroline Bay
Name devised in April 2016 for the upcoming new luxury 5 star Ritz Carlton hotel and resort being built at Morgan's Point and expected to open in by or in 2018.
Chaplin Bay

(The greater part). Another spectacular South Shore Park Beach situated mostly in this Parish but also partly on Warwick's western boundary adjacent to and east of Horseshoe Bay. Another favorite of Bermudians. Walking trail to Horseshoe Bay (less than one mile but may seem longer in Bermuda's June-September combination of heat and humidity) and other South Shore beaches. Bounded by cliffs on both sides. Bathrooms (toilets) but no other facilities (at Horseshoe Bay). Place for seasonal beach activities. Bus route 7. This beach almost disappears during storms and high tides, so should be sought only at low tide. The sea is not usually calm but fine for swimmers close to the shore. An unusual coral wall stretches above the water and across the beach, essentially splitting the beach in two. It gets the name not from the Charlie Chaplin family (which at one time did own some Bermuda real estate) but a much earlier person by that name. He was Edward Chaplin, Sr. He was a 20 year old colonist in 1635 aboard the ship Dorset. He later became prominent in island affairs, was a Lieutenant in the local militia and was one of those largely responsible in the 1650s for re-arming the island's British Army-built forts. As a reward he was given Share 24 of Warwick which included this bay which thereafter became (and is still known as) Chaplin Bay even though the family in Bermuda died out in the mid 1800s.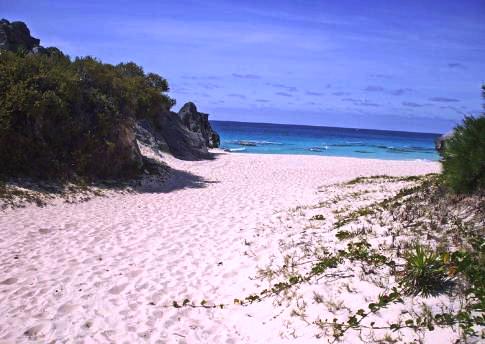 Church Bay
South Shore, off South Road. Small but beautiful public beach. Gets deep quite suddenly. A Bermuda National Park, ocean- side with rest area. Good for sunbathing, snorkeling and other water sports, with boiler and other reefs, no corals. Bathrooms (toilets) nearby. Also with picnic tables and parking areas. Ruined British Army-built fort nearby. Bus route 7. A summertime favorite of locals because of its beauty, with an old fort on the premises including a '1612' date marker.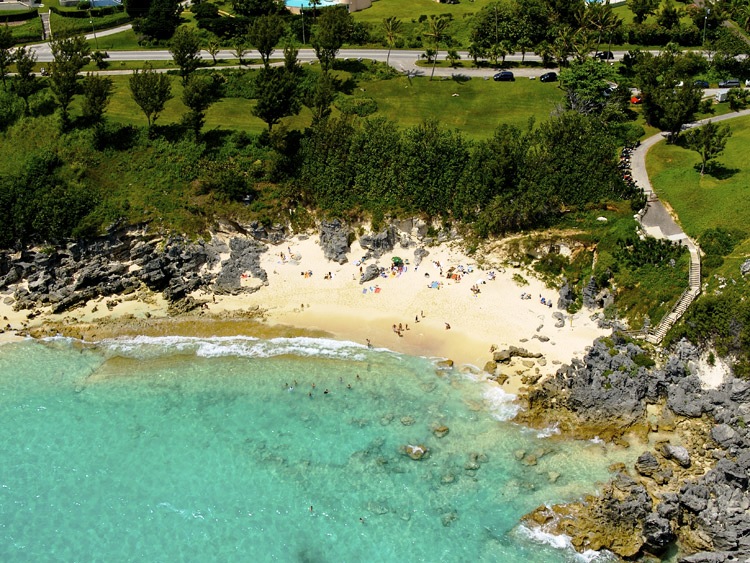 Church Bay beach
Death Valley Field & Playground
A recreational area. The name dates back to the late 1940s and 1950s when many motorists lost their lives on the stretch of the Middle Road in the area.
Evan's Bay Pond
A nice, 7.5 acre nature reserve at Scroggins Hill, formerly in private ownership. A charity, Buy Back Bermuda (BBB), dedicated to preserving Bermuda's open spaces for future generations, has drawn up proposals to add footpaths, benches, illustrative signs and small bridges here and elsewhere
Fairmont Southampton Princess Resort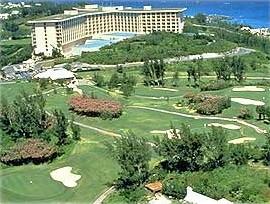 593 rooms. South and Middle Roads, Southampton Parish. Or airmail at P. O. Box HM 1379, Hamilton HM FX, Bermuda. Reservations 1 ( 800) 223 1818 in the USA or ( 800) 268 7176 in Canada or (441) 238-8000 directly. Fax (441) 238-8968. E-mail southampton@fairmont.com. 593 rooms, 1500 guests, 853 staff. Newport Room 239-6964; Rib Room 239-6966; Tennis Club 239-6950; Waterlot Inn 239-6967; Whaler Inn 239-6868; Wickets Brasserie 239-6969; Windows On The Sound 239-6963. Taxi fare from/to airport from $35 per taxi for 1-4 passengers or $45 for 5-6 passengers. Near the 7 and 8 bus routes.
Owned until mid-December 2015 by Fairmont Hotels and Resorts, since then by French-owned Accor Hotels, largest hotel group in Europe. Bermuda's largest hotel, on the second highest point of Bermuda. In 1972-74, when it was built, almost 100% of the construction materials came from Canada. It is a 100-acre estate facing the South Shore ocean and Great Sound on the north side. It is a luxury resort hotel. Major improvements have included a new spa, pool and beach area. There are lovely gardens and its own challenging, executive golf course. It has sophisticated and flexible meeting facilities, a variety of restaurants and services. It was built in 1972 from scratch by its first owner, the American multi-millionaire Daniel Ludwig. Sixty percent of hotel guests are in conventions. It has received numerous Bermuda Government Tourism awards. The Princess-to-Princess (linking both the Fairmont Hamilton Princess and Fairmont Southampton Princess) ferry is very popular with guests. Nearest beach is the one belonging to this hotel, reachable by the hotel's beach shuttle. For other beaches, see beaches.
The last three-and-a-half decades have seen the hotel — originally called the Southampton Princess — play host to some of the world's best-known and wealthiest celebrities and dignitaries. It introduced Bermudian breakfasts to hotel guests more than a decade ago The traditional island fare quickly became hugely popular and hundreds of plates of codfish and potatoes are now served there to locals and hotel guests every Sunday. Guests have included the Saudi royal family's stay in the late 1970s, which saw fresh lamb's milk flown onto the Island every day for more than week; Bill Cosby and his wife; US presidents, including George Bush senior; Tony and Cherie Blair; The Queen and Prince Philip (though they always stayed at Government House); James Belushi. The four-star hotel opened with 600 rooms but now has 593 — the missing seven having been transformed into a lounge on the exclusive Fairmont Gold sixth floor, a "hotel within a hotel" for the richest clients. Millions of dollars have been spent on renovations over the years and the hotel now features a state-of-the-art spa, though the footprint of the site remains the same as in 1972, when then-Governor Lord Martonmere performed the official opening. The Southampton Princess was the brainchild of American businessman and shipping magnate Daniel K. Ludwig, who also owned its sister property, the Princess Hotel in Hamilton. Canadian Pacific Hotels bought both properties in 1998 and took over Fairmont Hotels and Resorts the following year. The hotels were then renamed the Fairmont Southampton and the Fairmont Hamilton Princess. In September 2003, the Fairmont Southampton was damaged by Hurricane Fabian and closed for renovations until April 2004.
In August 2008 Fairmont Hotels and Resorts applied for planning permission to build 130 villas on the grounds of this hotel. Some units overlook the golf course but the fairway itself remains intact. The golf course remains as a par three 18-hole golf course. The mixed-use development of fractional units, townhouses and villas only resulted in the relocation of the 14th green and tee, plus a new 18th tee and green. Since acquiring the hotel in 1998, the Fairmont group has invested $122 million in remediation work and facilities upgrades, following Hurricane Fabian. The consultants say fractional units for sale and rent are necessary to create additional product offerings for tourists.
There were eight proposed areas of development:
Golf Course: A new 18th tee, fairway and green planned, plus relocation of the 14th green and tee. But with no loss of yardage

Turtle Hill Fractional Units: 57 units housed in eight two/three storey buildings, to create a "luxury private fractional ownership club". Appealing to "upper income buyers", the units are around a private complex with arrival plaza, two tennis courts and an infinity pool.

Turtle Hill Villas: Built to the east of Turtle Hill, this accommodation consists of seven two-storey villas.

Golf Fractional Units: Located on the hillside overlooking the golf course, to the south-west of the hotel, 14 fractional units built in four two-storey buildings, with accompanying spaces for golf carts. Marketed to golfers, the units are available for home ownership.

Golf Villas: Twenty villas to the north of the golf course clubhouse, housed in seven two-storey blocks. Amenities include a swimming pool and garden, plus a new driveway providing access from Harbour View Drive.

Hilltop Villas: Ten units built in three two-storey buildings to the north-west of the hotel, with access from Lighthouse Road.

South Road Town homes: 22 townhouses in three two-storey buildings, accessed off South Road, specifically intended for sale to the local Bermudian market.

Fairmont Beach Club: The existing tennis courts near East Whale Bay replaced by additional food and drink facilities. The Beach Club has a fire pit, bar, cabanas, pool and waterslide, plus possible grotto and Jacuzzi pools.
However, in January 2009, arising from the economic downturn that has so hugely affected Americans in particular, the hotel's best clients by far, the hotel announced 35 job losses, in the first signs of recession hitting Bermuda's tourism product. Plus, it closed half of its guest rooms until April 2009. In addition, restaurants were closed on a rotating basis based on hotel-occupancy rates, until the 2009 summer season.
In 2009 it realigned its operations to meet the shift in demand from high end to mid-range visitors as the economic crisis takes further effect. Previously, it focused mainly on the luxury tourist market, but the introduction of the new cost-conscious traveler in 2009 has seen the resort transform the way it does business.
In 2011 The hotel has tried to adapt to match the change in clientele, lowered costs for guests and offered unprecedented room discounts to attract those looking for value for money in the current financial climate.
Ferry Stop
Se under "Rockaway Ferry Stop" below, George's Bay Road. Built in 2002, now operating daily.
Gibb's Hill Lighthouse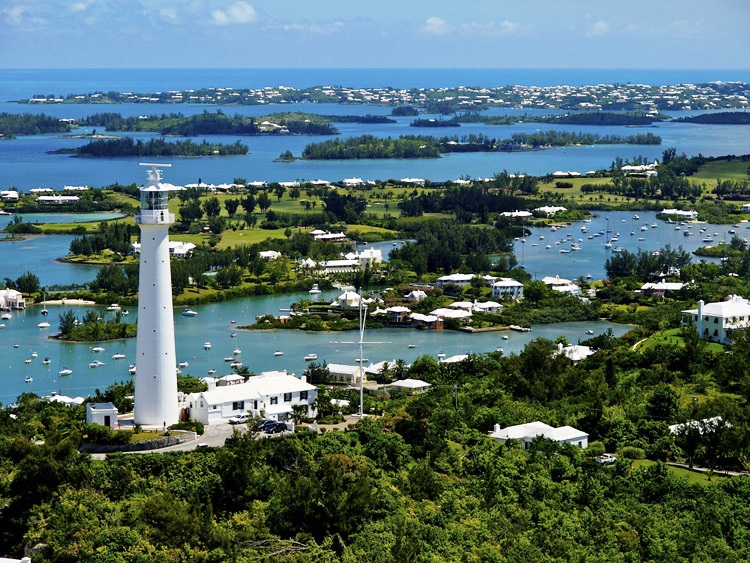 Gibb's Hill Lighthouse, Bermuda Tourism photo
Accessible via Gibb's Hill and Tribe Road # 2, South Road or Bermuda Railroad Trail. It and the park (with a total extended acreage of parkland now of 3.93 hectares or 9.75 acres since the year 2000) are open to the public daily from 9:00 am to 4:30 pm.
On August 14, 2013 the Bermuda Government announced repair work on Gibbs Hill Lighthouse. Rust had spread over the tourist attraction, with large cracks clearly visible on the lighthouses exterior. Work was to be done not immediately. Prior to the December 17, 2012 general election, the lighthouse was on the list for major upgrades by the Department of Public Lands and Buildings after members of the public expressed concern about the rusting exterior of the building. An exhaustive assessment was carried out and it was determined that around $500,000 of renovation work was required. The external painting of a structure as tall as the lighthouse requires the construction of scaffolding and the services of a highly specialized team. The government sought quotations from painters and construction companies with expertise and experience in painting and repairing tall steel structures. The work included sand blasting all of the metal surfaces and the instillation of a new guardrail on the observation deck. When re-opened, there was again be an admittance charge per adult, but no charge for children under 6. It re-opened in August 2006 after being closed for repairs, including damage incurred by Hurricane Fabian in 2003. The repairs then included replacement of the system that drives the rotating light, the exterior railing and repainting of both the interior and exterior of the lighthouse.
It towers 117 feet high from Gibb's Hill, 245 feet (35 meters) above the water, with the beacon 362 feet above sea level and the lighthouse itself 35 meters from the base to the lantern. At first it was illuminated with kerosene and wound up to rotate. Today, electricity powers the mechanism. Its maritime light can be seen by ships 40 miles out to sea and by pilots of aircraft up to 120 miles away at 10,000 feet. There is no elevator, instead 185 very steep steps, in 8 flights. Photographs and drawings are displayed on the way up. From there, see how Bermuda is not just one island but many - and appreciate why the lighthouse was built on a high hill inland so its light could be seen by ships at sea to the south and north. In both light and radar surveillance, it plays a key role in safety of ships at sea. Its Swedish built radar system covers the entire western area of Bermuda. It is connected by a microwave link to Harbor Radio (located at Fort George in St. George's Parish), the central facility for ensuring that vessels of all sizes are guided to safety in local waters instead of running aground on any underwater reefs or other hazards.
History of the lighthouse. The most prominent local landmark in Bermuda, it was the second British cast iron lighthouse. After years of debate on whether this site or one on Wreck Hill in Sandys Parish was more suitable, this site won. Testing included flaming barrels of tar. A proposal to have it built went to London in the 1840's. The location of 39 wrecks was cited as what a structure like this might have prevented. Approval was granted. Plates for the building were constructed in London at a cost of 5,500 pounds sterling, designed by engineer Mr. George Groves, working for the firm of Alexander S. Gordon which was awarded the contract. The plates were shipped to Bermuda, unloaded at Jew's Bay and hauled by British convicts transported to Bermuda and working in chain gangs overland and up the hill with considerable difficulty. The first was laid on December 12, 1844, with Mr. Groves superintending a team of British engineers. They were led by Lieutenant Colonel Philip Barry who was sent out from England in 1844 as Commanding Officer of the Royal Engineers based in Bermuda. The building was completed in 1845. The structure was officially opened on May 1, 1846 with Groves in attendance. (In later life, he achieved a knighthood and immortality as the editor of the "bible" of classical musicians, the Grove Dictionary, still published today).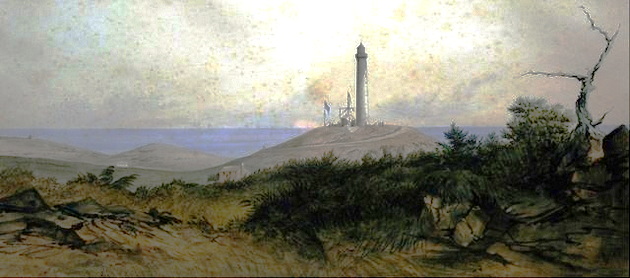 1848 image of the lighthouse, painted by then-Bermuda-based military artist Hallewell.
Legend has it that when the lighthouse first went into operation, residents of the area tossed aside their whale oil lanterns and candles in the belief the big lighthouse would light up their nights forever! Some folks still refer to it the way their mid 19th century forebears did, as the "Parish Lantern."
It was visited in May 1861 by Prince Alfred, Duke of Edinburgh, second son of Queen Victoria, during his six-day Bermuda visit; and in 1880 by (another) Prince Albert, 16, and Prince George, 15, sons of the-then Prince of Wales, later, Edward VII), who arrived as midshipmen on HMS Bacchante.
In 1882, on December 6, a Transit of Venus occurred, clearly visible from Bermuda for several hours. A team of British scientists and astronomers from the Royal Greenwich Observatory were sent to Bermuda to witness it. They set up camp a few weeks before the event. They were led by well-known astronomer and meteorologist John Isaac Plummer and their viewing was conducted from this lighthouse. In the USA, from its sightings there, US composer John Phillip Sousa composed the march "The Transit of Venus" in its honor.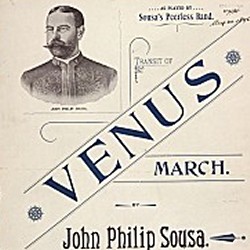 Sousa's Transit of Venus March

A good book is Bermuda Light - The Story of Gibb's Hill Lighthouse by Michael Dolding. He and his family once lived in the property below the lighthouse, now a restaurant.

The above file gives details of all Bermuda golf courses. This Parish has several good ones.
Great Sound
The beautiful, large, body of water which includes the northern part of this Parish, goes east, all the way to Pembroke Parish. If you take the ferry from the city of Hamilton you'll cross it and enjoy the fabulous seascapes. Or you can rent a sailboat and get closer to many small, fascinating islands. Alternatively, take one of the big cruise boat tours operated by several local companies, with optional extras such as cocktails, dinner cruises, shore parties on an island and more.
Horseshoe Bay

Horseshoe Bay (public, large (about 4 miles). superb. Horseshoe Road, off South Road and on bus route #7. Walk down the hill to the beach from the bus. With lifeguards on duty from May to September. Also a restaurant, changing facilities, bathrooms (toilets), parking. The best-known and one of the best Bermuda beaches. Every year it has a sand castle and sand creation competition. Best in early morning to avoid crowds. Wading pool, shallow waters for small children, good swimming and snorkeling for adults, swimmers should note swells. Many fish in waters. Beach chairs and snorkel equipment for rent. Also has nice walking trails with secluded coves nearby. Every August, with a Sand Sculpture Competition. Every Good Friday, an annual Bermuda Kite Festival is held here, with thousands of families and children participating in kite competition. Mostly locals plus some visitors bring Bermuda and other kites of all shapes, designs, sizes. Prizes are awarded by category.
On August 7, 2012, Horseshoe Bay got WIFI. Bermuda beachgoers can now surf the web on their phone or tablet thanks to a new WIFI hotspot set up by Digicel and Transact. Customers wishing to enjoy high-speed internet as they soak up the sun are now able to do easily. The service is the first of its kind on a Bermuda beach, but unlike many WIFI hot spots on beaches in the US and around the world, it's not free. Customers at the beach can log on by connecting to the internet and following the Digicel prompts and pay by credit card. Or they can buy a prepaid card at the concession stand at Horseshoe Bay. It'll cost $2.95 for an hour, $8.95 for the whole day, or $11.95 for a full week.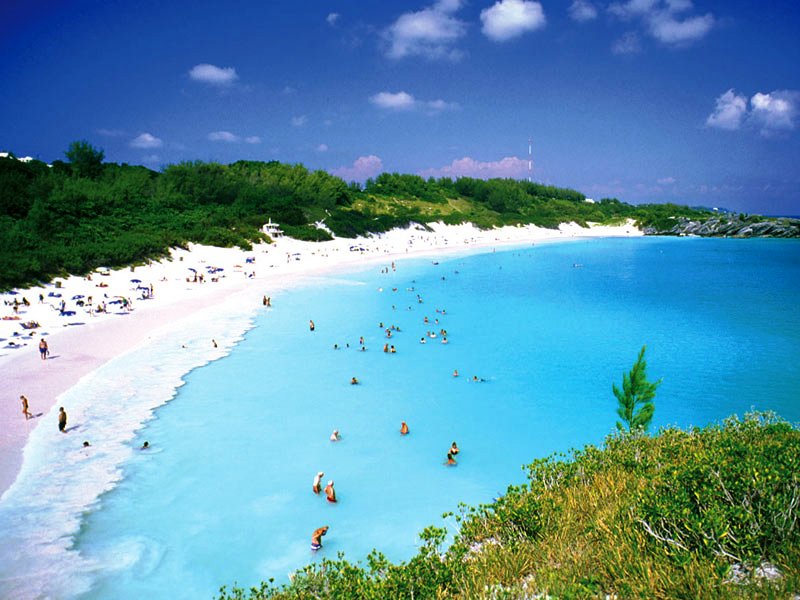 Photo: Bermuda Tourism
Islands of the Parish
| | |
| --- | --- |
| Bartlett's | Two, just north of Middle Road, Great Sound. |
| Buck | South of Little Sound, close to north coast of the parish. |
| Fish Hook | South of East Whale Bay. |
| Five Star | Also known as Wilson's, 2 acres, one-property residential, Great Sound. Owned and lived on by Curt Engelhorn, the German billionaire. |
| Haggis | South of Riddell's. |
| Little Crumb | Between Spectacle and Perot's. |
| Perot's | Previously known as Crumb, and Brush or Crumb-Brush. So-called for its similarity to a small, curved table brush used to sweep crumbs from a Victorian-era table. 8.17 acres, one-property residential, Riddle's Bay area, Great Sound, Southampton Parish. Historically significant. Previous owners include the one-time Huguenot Perot family who emigrated to Bermuda in the late 18th century shortly after the French Revolution (William Perot later became Bermuda's first Postmaster General and his stamps earned Bermuda a unique place in philatelic history); Miss Claudia Darrell, owner and operator of Bermuda's Waterlot Inn, later bought by Daniel Ludwig and then the Southampton Princess Hotel; Mrs. David Van Buren of New York who occupied the property in the late 1940s; Mr. and Mrs. Wallace Orr. In 1937 Mr. Orr built Perot's Manor House on this island (The house has 27 rooms, seven of which are bedrooms with en-suite bathrooms; outbuildings, huge swimming pool - at one time the largest in Bermuda - tennis court, boat house and small private beach) and from 1949, Stanhope Joell. The island was later owned for 14 years by billionaire Marion Cargill MacMillan. The property is valued at many US$ millions. |
| Spectacle | Next to Perot's, Great Sound. |
Jew's Bay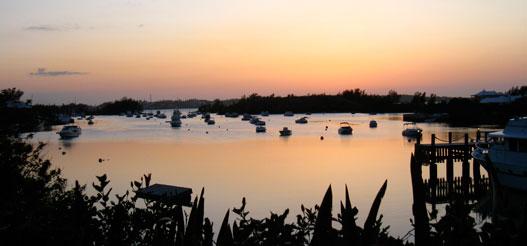 With a public wharf. A sea bay (inlet) on the Parish's northern shore. Scenic and serene, it is protected from the waters of the Great Sound by a number of islands. Worth a stop, especially if you're sightseeing by moped (it isn't easily accessible via public transport), for the fine views of the Great Sound. Access it via the main Middle Road. It's clearly sign posted, with its own little lane. The name may have been arranged as a religious counterpoint to Christian Bay, on the parish's southern coast, or a group of once-itinerant Jews who once dwelt nearby may have inspired it. The latter is more likely. Unfortunately, at that 1693 time in Bermuda's history, Jews had a harder time of it than so-called Christians, with a Jews-only trading tax plus a monthly tax for continued residency in the colony and an additional customs duty on goods they - but not others - imported. Only much later were these Bermuda censures against Jews relaxed. In 1844 the prefabricated iron parts of Gibb's Hill Lighthouse were imported into Jews Bay by the ship "John Renwick" which brought them from England. They were dragged up a hill and assembled by British convicts then undergoing hard manual labor in Bermuda, under the supervision of Royal Engineers of the British Army. The Southampton Princess Hotel's Waterlot restaurant, one of Bermuda's finest, overlooks the bay.
Little Sound
Part of the Great Sound.
Middle Road
The Parish section of this main road is worth exploring by bus (the #8 route) or moped in Monday to Friday non rush hours. Going east from Overplus Lane (the boundary of Sandys and Southampton Parishes), you'll parallel the Bermuda Railroad Trail (see separate mention) for quite a way, enjoy the same views, pass the entrance to the famous Port Royal Golf Course, more rural scenery, interesting side roads, the Southampton Princess Hotel on the hill to the right, and the Waterlot Inn to the left. After more great sea and land views, you'll reach the boundary with Warwick Parish at the Heron Bay Plaza and the road to Riddle's Bay.
Morgan's Point

Once a collection of separate islands in the Great Sound all joined together at a cost entirely borne by US wartime taxpayers of over US$75 million at that time.
Named after Morgan's Island located here until bulldozed to build the sprawling US Naval Annex during World War II, it covers 260 acres.
Former US Navy facility from 1941 to 1995, variously named from US Naval Operating Base to US Naval Air Station.
Over more than 50 years of US Military occupation, thousands of US Navy personnel were stationed there, many with their wives and families.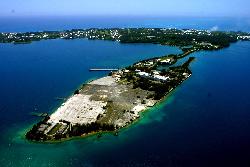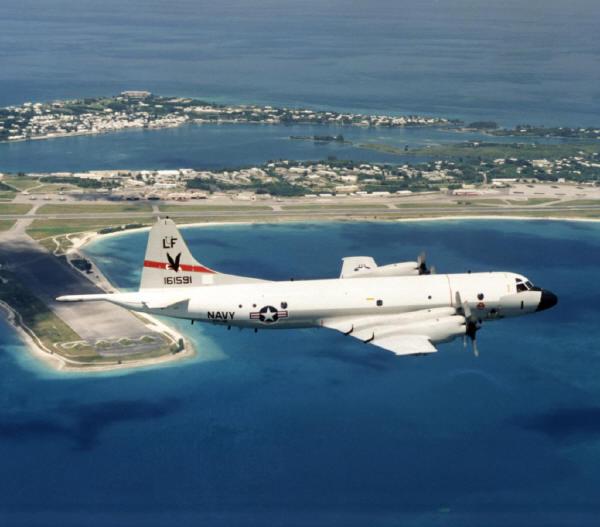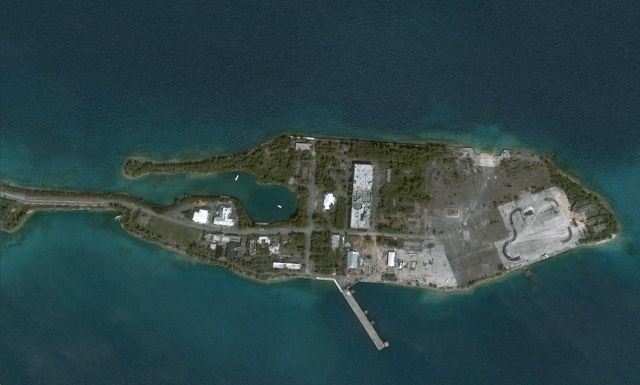 Morgan's Point with top right US Navy aircraft from this base patrolling over Bermuda
Its roads were
Boxer Road, named after a late WW2 aircraft carrier which bore the names of earlier USN vessels.

Constitution Road, named after the 44-gun frigate USS Constitution built at Boston in 1797.

Enterprise Road, after the USS Enterprise.

Essex Road, after the USS Essex.

Hancock Road, after the USS Hancock.

Intrepid Road, after the USS Intrepid.

Lexington Road. After Lexington, MA and ships by that name.

Monterey Road, after Monterey, CA and ships by that name.

Pier Road. At the main pier.

Point Cruz Road, after the USS Point Cruz.

Randolph Road, after the USS Randolph ships.

Ranger Road, after the USS Ranger.

Saratoga Road, after USS Saratoga.

Shangri-La Road, after the USS Shangri-La.

Wasp Road, after the USS Wasp.

Yorktown Road, after the ship by that name and where Lord Cornwallis surrendered British forces in 1781.
Morgan's Point today is the largest piece of unutilized land in Bermuda. The former US Naval Annex remains a desolate out-of-bounds peninsula. Unfortunately, it has been off limits to all visitors and locals since May 30, 1995. Part of the legacy is the pollution caused during its previous use. The cost of cleaning up the site so that it can once more be safely used by the public is a matter of debate. It is the last remaining large development opportunity for an integrated resort and commercial complex in Bermuda. It has spectacular views across the Great Sound with 5,300 meters of waterfront. The mainland area is 190 acres, with 60 acres on the peninsular joined by a causeway. The peninsular projects into the Great Sound and is all flat land.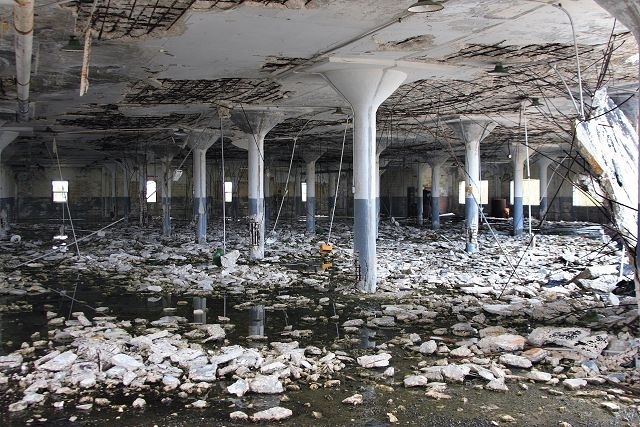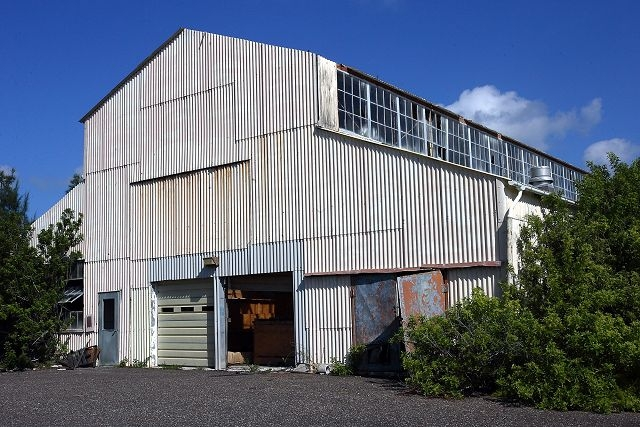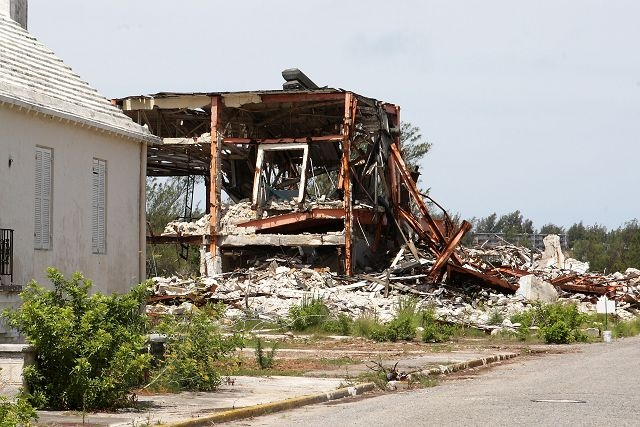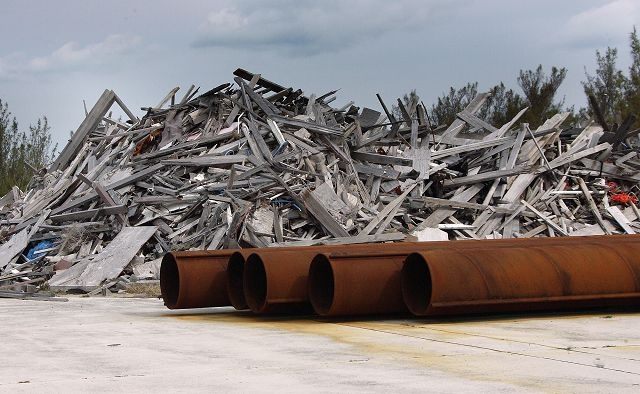 Remnants of old buildings and equipment at former US Navy Base
2016. April 22. The majority of work to transform Morgan's Point into the Ritz-Carlton Caroline Bay hotel resort will be done by Bermudians, construction chiefs have confirmed. David Tobasco, vice-president of construction for DCK Bermuda, said he had been greatly encouraged by the level of expertise on the island. "I'm confident there is enough ability on the island to do the majority of the work required for this project," Mr Tobasco told a press conference yesterday. He joined Michael Fahy, the Minister for Home Affairs, Craig Christensen, president and chief executive of Morgan's Point Ltd, and Charles Dunstan, president of the Construction Association of Bermuda, as forthcoming employment opportunities for Bermudians were outlined. Mr Tobasco told the media that 25 workers from Correia Construction and Smith Hauling and Excavation were on site at present, while a string of other Bermudian subcontractors had already been employed. "Soon you will see foundations raising up from the ground as infrastructure work begins in the next few months," he added. Mr Dunstan also praised the developers for their "tenacity" in pursuing the project, saying: "The fact that the project will involve 200 to 300 jobs over the next two years is more impactful than many perhaps understand. Each job will not only support the employee but will go a long way to supporting 200 to 300 families which translates to food, schoolbooks, rents and transportation." Mr Christensen maintained that the Caroline Bay Bermuda resort would continue to offer employment opportunities for Bermudians once it was completed. "It was important to us that we created a proper channel for those seeking employment during the construction stage of the project, so we initiated conversations with the Department of Workforce Development in collaboration with the Construction Association of Bermuda and our contractor DCK Bermuda, a world-renowned firm with a track record in successful development. We worked together to define a programme that ensures that Bermudians are provided with prospects for employment." Mr Fahy said he continued to be increasingly impressed with the progress of the project. "I would like to commend Craig Christensen, Brian Duperreault and Nelson Hunt for their efforts in helping us to enhance Bermuda's tourism product and assisting in the hosting of the America's Cup next summer. I would also like to thank them and the Department of Workforce Development for all of their hard work in ensuring that Bermudians get a fair bite of the cherry, so to speak, when it comes to job opportunities on site." The 35 branded condominium residences are expected to be completed within the final quarter of 2017. The marina, that will include 77 berths with capacity for an additional 21 mega-yachts, is scheduled to be finished by the end of 2016 or early 2017, while the five-star boutique 79-room Ritz-Carlton Reserve Hotel will be completed by final quarter 2018. Mr Fahy said: "There is certainly promise for gainful employment opportunities in the near future and I am delighted, as the minister responsible, to see such a proactive approach on behalf of the DWD in seeking local labour for these projects."
2016. April 7. The construction of a luxury five-star hotel resort at Morgan's Point will provide job opportunities and career paths for Bermudians, according to developers. The message from Craig Christensen, the president and chief executive officer of Morgan's Point Ltd, came as the firm unveiled that the new resort would be called Caroline Bay, Bermuda. The project, which will include a branded hotel, luxury residences and a mega-yacht marina, is expected to open in 2018. Construction work has already begun and several local subcontractors, including Building Blocks Construction, have been hired to complete the preliminary land preparation work. "With the funding in place and a five-star global hotel brand secured, the Morgan's Point development is poised to bring a myriad of opportunities for our fellow Bermudians" Mr Christensen said. "We are so pleased that our project is providing many employment opportunities. Bermudians have been through a long and painful recession, and we are confident that this project will be a catalyst in pulling us out of these depths. In addition to an abundance of construction work, the hotel will open in late 2018 creating career paths for Bermudians aspiring to be a part of this unique luxury offering in Bermuda." David Durham, owner of Building Blocks Construction, said the development had already provided employment opportunities to Bermudians. "Building Blocks Construction has been provided some great opportunities to work on the Morgan's Point development. First, through the remediation cleanup of the facility though the Bermuda Government and further with Morgan's Point Ltd where we have been fortunate enough to have worked on the site preparation as well as with the building of the Artemis Racing Base. Working with Morgan's Point Ltd we have been able to pass on opportunities by employing Bermudians directly and hiring a number of subcontractors and various vendors. This has been a very positive experience for us and I am confident that I will not be the only company to benefit from this large development." Morgan's Point Ltd obtained the land in 2008 as part of a land-swap agreement under the condition that the Bermuda Government remediate the site to residential standards. Phase one of the two-phase project will include the 79-room luxury hotel, 173 branded residences; restaurants; a spa; high-end retail, and a mega-yacht marina providing slips for 77 boats and 21 superyachts "After years of planning, it's gratifying to announce this milestone project," Mr Christensen said. "Our intention is to recapture for modern travelers the storied, relaxed glamour of Bermuda during the 1950s and 1960s in ways that feel new, inspiring and are available nowhere else on earth. At the same time, we will celebrate our love of the sea and sailing — both with the upcoming America's Cup race next year and the future mega-yacht marina for residents and transient sailors alike. Perhaps most important, as a native Bermudian, is that we will share unique insights into our distinctive culture, its art, music and food, while also making a difference in the lives of people who are and will be our future employees."
2018. March 18. The first 35 luxury villas and a marina capable of berthing superyachts will be ready for the America's Cup next year, Morgan's Point chief Craig Christensen said last night. Mr Christensen, the chairman and chief executive officer of Morgan's Point Ltd, was speaking after the upmarket Ritz-Carlton chain yesterday confirmed it will operate a $400 million-plus luxury hotel and residences on the Morgan's Point site in the west end. Mr Christensen said: "We are looking at opening in 2018 — but we will have some residences and the marina completed by 2017." He added: "This is a huge vote of confidence in Bermuda — Ritz-Carlton did a full due diligence survey." Ritz-Carlton will operate under a long-term management agreement with George's Bay Hotel and George's Bay Residences, arms of Morgan's Point Ltd. Herve Humler, president and chief operating officer of Ritz-Carlton, said: "We have watched Bermuda as a destination closely for many years and believe the timing has never been better to introduce what will be a one of a kind, luxury experience to the Island. We are delighted to work with such an esteemed partner as George's Bay Hotel Ltd and we are confident that the resort will offer the most sophisticated traveller an exciting new destination to experience through the eyes of Ritz-Carlton Reserve." Mr Christensen said: "This collaboration resonates with the vision that we have for our development and we are thrilled that this stunning setting lends itself to the Reserve promise of sophistication, seclusion and engaging experiences. This announcement, combined with the confidence of Ritz-Carlton in our beautiful island is meaningful to all Bermudians as it helps to elevate the allure of the destination and enhance the future of tourism." When completed, the development will have a 79-suite hotel, with two presidential suites, and a total of 161 residences. Mr Christensen said: "They will be very high-end branded luxury condos." The Ritz-Carlton Reserve brand is at the top end of the Ritz-Carlton Hotel Company's extensive list of 91 luxury hotels, with the number expected to have increased to 100 by the end of this year. The Morgan's Point site, once the site of the US Naval Annex, is a 250-acre peninsula extending into the Great Sound and has more than two-and-a-half miles of coastline. The Ritz-Carlton Hotel Company said its Reserve brand is "for travelers seeking to discover a singular location and peerless resort that, through its design and services, has a distinctive personality that blends together the culture, history and heritage of its setting. The Reserve brand extension will be distinguished from other award-winning resorts by offering guests exotic, hand-selected 'hideaway' destinations globally, a relaxed, casually elegant atmosphere and an even greater level of individualized service through a higher staff to guest ratio." The Ritz-Carlton Reserve chain includes Phulay Bay in Thailand, Dorado Beach in Puerto Rico and the Mandapa in Bali. A further Reserve hotel, Puerto Los Cabos in Mexico, is expected to open in two years' time. The Royal Gazette reported in 2015 that Ritz-Carlton appeared to have been selected to operate the new hotel after Bob Richards, the Minister of Finance, told the House of Assembly that Morgan's Point Ltd had confirmed Ritz-Carlton's involvement.
2016. March 17. The Morgan's Point hotel development will carry the Ritz-Carlton Reserve brand in 2018. The Ritz-Carlton Hotel Company, LLC, announced plans to unveil its first Ritz-Carlton Reserve resort in Bermuda yesterday. Media reports state that the Southampton resort will operate under a long-term management agreement with George's Bay Hotel Ltd and George's Bay Residences Ltd. "We have watched Bermuda as a destination closely for many years and believe the timing has never been better to introduce what will be a one-of-a-kind, luxury experience to the island," said Herve Humler, president and chief operating officer of The Ritz-Carlton. "We are delighted to work with such an esteemed partner as George's Bay Hotel Ltd and we are confident that this resort will offer the most sophisticated travelers an exciting new destination to experience through the eyes of Ritz-Carlton Reserve." The project will represent the third Reserve location to open in the region, following the opening of Dorado Beach, a Ritz-Carlton Reserve in 2012, and the expected opening of Puerto Los Cabos, Ritz-Carlton Reserve in 2018. "This collaboration resonates with the vision that we have for our development and we are thrilled that this stunning setting lends itself to the Reserve promise of sophistication, seclusion and engaging experiences," said Craig Christensen, president and chief operating officer of Morgan's Point Ltd, the holding company of George's Bay Hotel Ltd and George's Bay Residences Ltd. "This announcement, combined with the confidence of The Ritz-Carlton in our beautiful island is meaningful to all Bermudians, as it helps to elevate the allure of the destination and enhance the future of tourism." Earlier this week, Morgan's Point Ltd revealed that three local firms have stepped forward to provide crucial funding for the hotel development. The multimillion-dollar financing commitment from Arch Reinsurance Ltd, Axis Specialty Ltd and Validus Holdings Ltd will pave the way for construction of the five-star hotel resort development. The first round of funding was announced on Tuesday night as it emerged that work on the project had already started. The development on the former US Naval Operating Base will include a 79-room, high-end branded hotel complete with restaurants, retail shops and spa. It will also comprise 173 branded private residences and a mega-yacht marina that can accommodate 77 boats and 21 mega-yachts.
2016. March 16. Three local firms have stepped forward to provide vital funding for the Morgan's Point hotel development to be built. The multimillion-dollar financing commitment from Arch Reinsurance Ltd, Axis Specialty Limited and Validus Holdings Ltd will pave the way for construction of the five-star hotel resort development. The first round of funding was announced last night by Morgan's Point Ltd as it emerged that work on the project had already started. "The support from these local companies demonstrates the confidence that they have both in our island and in our project," said, Craig Christensen, Morgan's Point Ltd president and chief executive officer. Their investment in Bermuda's future has been a huge shot in the arm for our project, and will allow us to assist in the revitalization of Bermuda tourism and of this historic site. We are overjoyed that these icons of industry in Bermuda are so supportive of our vision for the next level of international tourism development for our island." The development on the former US Naval Operating Base will include a 79-room, high-end branded hotel complete with restaurants, retail shops and spa. It will also comprise 173 branded private residences and a mega-yacht marina that can accommodate 77 boats and 21 mega-yachts. A statement released by Morgan's Point Ltd said the Bermuda Government had been "wholly supportive" of the project "through the granting of a Government guarantee to provide assurances to the investors that this is a viable project that the Government is willing to stand behind". Bob Richards, the Minister of Finance, added: "The movement in development plans for the Southampton peninsula is wonderful news for the island and is another indication of the growing business confidence in Bermuda's future. The Government believes that as this project scales, it will be a key part of a significant stimulus to the Bermuda economy. Congratulations are due to the development team." A major three-year remediation programme of the former United States military base was completed at the beginning of this year. The project involved the removal of container-loads of asbestos and old oil tanks as well as the demolition of abandoned, dilapidated and vandalized buildings on the property. Morgan's Point Ltd obtained the land in 2008 as part of a land-swap agreement under the condition that the Bermuda Government remediate the site to residential standards. Phase one of the two-phase project will include the 79-room luxury hotel which is expected to open in 2018 including 173 branded residences; restaurants; a spa; high-end retail, and a mega-yacht marina providing slips for 77 boats and 21 super-yachts. Plans for the second phase include a commercial development along a boardwalk that runs alongside the harbour; a large upscale hotel with potential for a world-class casino out on the peninsula; and the ability to create an inner-harbour mega-yacht marina and additional waterfront communities throughout the development.
2016. February 12. Premier Michael Dunkley paid a visit this week to the Morgan's Point site, which is also the home of the Artemis Racing base, to view the progress of both development projects. Mr Dunkley, who was joined by Sen. Vic Ball, Junior Minister for Tourism and Transport, was provided a full update regarding the Morgan's Point construction progress as well an update on the building of the Artemis Racing base by Craig Christensen, president and CEO of Morgan's Point. The Premier said he was "very pleased and encouraged" with the current progress, which includes engineering, electrical, painting, marine, dock, plumbing, landscaping, crane and heavy equipment operating work on both the Artemis and Morgan's Point development. Last year Morgan's Point completed its remediation process in which numerous local contractors were used for the project. Meanwhile, at the Artemis base, which the Premier called an "impressive facility", Bermudians are playing a major role in supporting the team's efforts, with six full time Bermudians being employed directly with the team. Ultimately the West End site will see the building of 157 waterfront residences, a 79 room ultra-luxury branded hotel and amenities that include world-class restaurants and spa, and a marina that can host 77 boats along with 21 mega-yachts.
2016. January 9. The completion of the Morgan's Point clean-up operation is something that all of Bermuda should take pride in, according to Craig Christensen. Mr Christensen, president and CEO of Morgan's Point Ltd, said it was noteworthy that local workers had been responsible for the major three-year remediation programme of the former United States military base. The project has involved the removal of container loads of asbestos and old oil tanks as well as the demolition of abandoned, dilapidated and vandalized buildings on the property. "Bermuda should be proud of what we have done in taking a brown field site and bringing it back to life to the appropriate high standards of cleanliness," Mr Christensen told The Royal Gazette. "This is a final tick in the box for us to move forward with this development. We anticipate making further positive announcements very shortly." The completion of the remediation work, which was conducted by the Ministry of Public Works and several contractors, paves the way for construction of a new luxury hotel to start this month. The project will be a phased development and will start with the building of 157 waterfront residences, a 79 room ultra-luxury branded hotel and amenities that include restaurants, a spa and a marina that can host 77 boats along with 21 mega-yachts. "We are extremely pleased that this stage has now been completed," Mr Christensen said. "We never imagined that it could create a potential impediment for financing when it was being remediated, even though Government had agreed to complete it. But it was an issue. It has been a long process and now it is done that impediment is cleared and that is a big relief." Morgan's Point Ltd obtained the land in 2008 as part of a land-swap agreement under the condition that the Bermuda Government remediate the former base lands to residential standards. Work on the clean-up project began in 2013 with a number of companies hired to carry out the work. The land has been remediated to New Jersey standards with international consulting firm Langan Engineering and Environmental Services overseeing the project. Craig Cannonier, Minister of Public Works, said: "This is a monumental step in bringing the proposed development into fruition — a development that will equate to more jobs for Bermudians and a first-class tourism product for Bermuda." Vince Yarina, vice-president of Langan Engineering and Environmental Services, said the New Jersey remediation standards were very stringent. He added: "Using New Jersey standards in Bermuda was unique, but Langan's knowledge and extensive experience working with these standards was successfully applied to ensure the safe clean-up of the site for the future benefit of the residents and tourists."
2015. October 31. Fresh off their victory at Louis Vuitton America's Cup World Series Bermuda, the Artemis Racing sailing team have returned to San Francisco, but work is under way in earnest at their new home at Morgan's Point. Bermudians are playing a significant role in supporting the team's efforts to be fully operational by the beginning of next year. "The Louis Vuitton America's Cup World Series Bermuda regatta was incredible and I'd like to thank everyone who supported us and congratulate everyone who helped to make the event such a success," Iain Percy, the team manager, said. "I'm now back in San Francisco helping with our final preparations ahead of the move, but I was lucky to visit Morgan's Point last week and see all the progress that has been made." Artemis Racing's early move to the Island will create a host of opportunities for Bermudians. "To get the opportunity to help the team during their training camp in Bermuda this summer, and then get a job working at the base in San Francisco, has been a dream come true," said Tristan Desilva, from Sandys, who began working for the team this year. My background is in Tall Ships and classic yachts, so working on the modern AC45s has been quite a challenge. I'm so fortunate to be working alongside Olympic sailors and champion boat builders; they're great role models and I'm learning so much. The work is really hard, but every time I see the boat come in, I just think, 'Wow, that's why I'm here. It's so cool to see these guys in action." Grant Gibbons, the Minister of Economic Development, said: "I am delighted that the establishment of Artemis Racing's new base in Bermuda is well under way and I would like to commend them for their significant efforts to include Bermudians and Bermuda businesses in both the construction phase and ongoing operations." Craig Christensen, the president and chief executive officer of Morgan's Point, added: "We are thrilled to have the Artemis Racing base located here at Morgan's Point. This move from San Francisco is a huge undertaking and demonstrates Artemis Racing's commitment to Bermuda and providing opportunities for my fellow Bermudians." There will be more than 50 locals from 18 Bermudian businesses working on the erection and fit-out of the new base.
2015. October 2. The developers of Morgan's Point have suffered a double blow after proposals to create a new access road and a right of way on to the property were rejected by planners. The firm submitted two separate applications concerning a vacant agricultural plot east of the junction of Middle Road and Pompano Beach Road in Southampton to the Development Applications Board (DAB). The first one proposed a new access road on to the development, but the DAB ruled against it even though the owners of the land had signed off on the application. Minutes of the DAB's latest meeting suggest a traffic impact study was conducted but "its initial findings indicated that an additional roadway was not required at this stage of the Morgan's Point development". The board ruled: "The proposed easement to form a secondary access is not necessary as an existing suitable alternative serves the site. Specifically, this alternative access, George's Bay Road, is a 30ft-wide roadway, and is capable of accommodating the additional traffic to be generated from the approved phase one development scheme for Morgan's Point." The second application, which sought to create a right of way across Glebe Lands providing access to Morgan's Point, was also rejected by the DAB for the same reasons. The Royal Gazette reached out to the developers of Morgan's Point for a response to the two planning decisions, but the firm said it would not comment.
2015. August 28. Artemis Racing have been granted planning permission to begin construction on their fully operational base at Morgan's Point. The Department of Planning has approved the Swedish challenger's application to build several temporary structures near the end of the Southampton peninsula, with a floating dock structure to the south. "It's exciting that we are able to move forward with the build phase of our new base," the team said. "Our aim is to be fully operational in Bermuda by early next year and, with this good news, we are certainly on target to achieve that." Artemis's new headquarters will include three aluminium-framed buildings to be erected on an area already paved with concrete. Two of the buildings will be used for storage, housing the team's sailing equipment, while the third will include the main team office. A mobile crane will be placed on the site to aid with the boat-launch process. All of the structures are intended to be removed after the America's Cup has ended. Artemis reached an agreement with Morgan's Point Ltd to relocate their home base to Bermuda, and specifically to Morgan's Point in the spring. The developers welcomed the America's Cup team and granted them 8½ acres of land on the point overlooking the Great Sound. This strategic location, which is very close to the racecourse, allows for ease of access for the team's AC45 boats to be brought on shore and stored. The point is being enhanced to include a parkland and hospitality areas for VIPs and the team's growing fan base. "We were happy to provide this much-needed space for Artemis Racing to be able to set up their operations in Bermuda," said Craig Christensen, the president and chief executive officer of Morgan's Point. In addition to the sailing team, Artemis intend to bring their research and development team to the Island from California to help with preparations for the 35th America's Cup. This activity is critical to the development of America's Cup technology to be used by the team, and fundamental to their operation in Bermuda, as prototypes will be investigated, tested and adjusted in real time with feedback from the team. "The relocation of the team from San Francisco is a great boost to Bermuda's economy with the increased amount of personnel moving to Bermuda to design and assemble the AC yacht," Mr Christensen said. "This is an historic event, having an America's Cup boat assembled right here in Bermuda. Bermuda should be very proud and honored to be a part of this." Artemis, who are hosting this week's Louis Vuitton America's Cup World Series in Gothenburg, formally announced their intended move to Morgan's Point in June.
2015. August 21. The first phase of a hotel development at Morgan's Point has been given the go-ahead by the Development Applications Board. According to planning applications, the first step of the project will include an 84-key hotel, a 77-slip marina and 149 residential units on the Southampton property, along with a host of amenities including three restaurants and a spa. President and CEO of Morgan's Point Ltd Craig Christensen said the decision, made on Wednesday, was "great news" for the development of the project. "This gives us the green light to move forward on this project." While he said he was unable to pin down a date for ground to break on the project, he believes work could begin soon, although the entire project may not be completed before the America's Cup in 2017. "I don't know if we can make all parts of it ready by America's Cup," Mr Christensen said. "We have to do things efficiently. We are still working on the exact time frames. We have been looking at how we would develop and carry out the plans because it's a big project. We have been working on that throughout the summer. We should have parts of it up by then, but we have got to decide what type of construction we want to have going on during the America's Cup." The project had been granted in-principle approval by the Morgan's Point Resort Act 2014, however stipulations included in the act required that several elements of the project be approved by the DAB prior to final approval being granted. An environmental impact study (EIS) was also necessary for planning approval, along with details of any measures intended to mitigate any negative environmental impact. The application focused on the first phase of the project, which included the construction of multiple buildings on the "mainland" western side of the property, overlooking George's Bay and the Great Sound, rather than the peninsula. The hotel element of the project is situated to the south of the peninsula. The 45,924 sq ft main hotel building will host the reception area, along with an event pavilion, children's club and restaurants, while the hotel units will be spread across a series of separate two- to three-storey buildings along the coast of the sound. The spa building will meanwhile be erected near the southern edge of the property. Three restaurants are described in the application, including a 60-seat main restaurant, a 40-seat bar and grill, and a 100-seat signature restaurant which will boast three "seating pods" erected over the waters of George's Bay and accessible by wooden deck. Further work around the George's Bay area will include the removal of a man-made resentment to the north of the bay, intended to improve water circulation, and the instillation of a new boardwalk. The application also stated four planned beaches on the property, although the developers were still working to source local sand. Meanwhile, the southern side of the existing causeway on the property has been earmarked for the marina, which will feature 77 slips on three floating arms. The project also includes a large number of residential condominiums, which will be built around George's Bay and on the northern side of the peninsula. Of the 149 units, 50 will be two-bedroom, 83 will be three-bedroom and the final 17 will be four-bedroom. A waste treatment facility meanwhile will be erected to the immediate south of the main entrance to the property. The board report, included in the planning documents, recommended that the application be approved stating: "The EIS shows the impact would be manageable and any negative impacts are compensated in ways that have the potential to improve environmental conditions." The developers behind the project had previously expressed hope that groundbreaking for the project would take place this summer so that the hotel will be ready in time for the 2017 America's Cup.
2015. July 21. A real estate sales office has been formed at Morgan's Point ahead of a major development that it is hoped will help rejuvenate the Island's economy. Today, Bermuda Realty Company Ltd and Morgan's Point Development Ltd announced they had agreed to form a joint venture real estate company in preparation of the impending development of phase one of the luxury residential and hotel proposal. The project will include 149 branded luxury condos and a 79-room five-star boutique hotel with world class spa and restaurants. The distinguishing factor is said to be its mega-yacht marina, slated for completion next year. Brian Madeiros, president and CEO of Bermuda Realty Company, said in a statement: "The joint venture allows us to work directly with the property developer to create and market a brand new product for Bermuda. "There are several phases of development and an intricate knowledge of the past, present and future of the development site is absolutely necessary to effectively showcase this phenomenal real estate opportunity." According to a press release, Morgan's Point development team shareholders including Brian Duperreault, Craig Christensen and Nelson Hunt embraced the collaborative partnership, stating: "This innovative and unconventional approach to a sales agency business model will more closely align the objectives of both business partners." The press release said the new company, once incorporated, will benefit from the global exposure and branding of the Coldwell Banker organization. Coldwell Banker boasts 3,047 offices around the globe, in 43 countries, and more than 86,000 sales representatives.
2015. June 5. Morgan's Point has a new tenant. The Southampton layout will become Artemis Racing's full operational base in the lead up to the 35th America's Cup by early next year. The Swedish challenger confirmed yesterday that it will move its present team base from the Royal Naval Dockyard across the Great Sound to the former US Naval Annex in Southampton. Artemis Racing's new headquarters will be erected on eight and a half acres of land, situated on a 75-acre peninsula that stretches out into the Great Sound, which will provide the team with the perfect home to challenge for the prestigious Auld Mug. "Our sailing operations will be conducted in the Royal Naval Dockyard during the 35th America's Cup in 2017, and we are very excited to be a part of what will be a fantastic event," Iain Percy, the Artemis team manager, commented. "However, the size of this unique historical location at Morgan's Point will enable us to relocate our full operational base to Bermuda much earlier. We would like to thank ACBDA and Minister Gibbons for their support, which has been central to the team's relocation to Bermuda." Nathan Outteridge, the Artemis helmsman, hopes that being based in Bermuda will bolster the team's bid to snatch the oldest trophy in international sport away from Oracle Team USA, the defender. "The Great Sound is a challenging place to sail, and the conditions can vary significantly from day to day," the Olympic gold medallist and world champion said. "We hope that being based in Bermuda early will provide us with the best possible preparation ahead of the Louis Vuitton America's Cup Qualifiers in 2017." Percy, who is also an Olympic gold medallist and world champion, added: "It is a tricky venue, it's really shifty and gusty, and further to that, it's tight. There will be lots of tacks and gybes, the crew will be working incredibly hard getting the boat through the transitions. It's certainly going to be a sailor's race, which will be great for everyone watching." Artemis Racing's plans to start developing its space on Morgan's Point are well under way, with the team hoping to be fully operational there by early 2016. Welcoming the team with open arms was Craig Christensen, president and CEO of Morgan's Point, He said: "We are delighted to welcome Artemis Racing to Morgan's Point. This is a very significant development for Bermuda with the team bringing their full operations to the Island. Morgan's Point is here to assist the America's Cup in any way we can, to help make this the best event our shores have ever seen." Artemis Racing is a professional sailing team founded in 2006 by businessman and sailor Torbjörn Törnqvist, who announced his challenge for the 35th America's Cup with the Royal Swedish Yacht Club — the fifth-oldest yacht club in the world. The team is the first America's Cup challenger to launch its turbo charged wing-sail foiling AC45 catamaran in Bermuda.
2015. March 28. Morgan's Point Ltd chief executive officer Craig Christensen is convinced that the hotel planned for the property will go ahead. The company yesterday announced details of the first phase of development, which includes the building of an "ultra high-end" 84-room hotel, a marina with 77 slips and 149 residences. The project is pending planning permission in June. When asked whether he had any doubts it would go ahead, the businessman replied: "No. Groundbreaking is due to begin in June. That is our schedule so that is what it will be unless something unforeseen happens, but we want this to go ahead quickly." There is pressure to get at least part of the project completed for the America's Cup, which takes place in Bermuda in June 2017. Asked whether Morgan's Point Ltd was prioritizing any parts of the project to be completed by that date, he said: "I don't see one element being prioritized, per se, over the other — everything really needs to go up together. So maybe the hotel would go up with some residencies, perhaps 35 out of the 149. We are looking at currently determining what we can do efficiently to try to have some impact and get some benefit out of America's Cup." Morgan's Point Ltd has submitted an environmental impact study to Government and to environmental charity the Bermuda Environmental Sustainability Taskforce (BEST). The study — which is being reviewed — looks into the traffic impact of the development, and includes marine studies on the bays surrounding the site and a discussion of the economic impact or benefit for Bermuda. Mr Christensen said: "We brought in foreshore and coastal experts from Smith Warner to help with the study. Morgan's Point doesn't have a tremendous amount of natural shoreline, so we have to look at how best to protect the shoreline and enhance it because it is a brown field site. We have to do studies of plant material, the impact of the marina etc and provide all the supporting documentation. We have had initial feedback from BEST prior to us submitting the scoping documents and we took those comments on board. There are always questions about how are you going to manage this or that, but they have been very helpful and supportive." Although BEST said it was too soon to make a substantive comment on the study, chairman Stuart Hayward told The Royal Gazette: "We can say that MPR's engagement in the process of impact assessment is a good sign. We trust they will cast their consultation net wide to include other NGOs, particularly the Bermuda National Trust and the Bermuda Audubon Society. We do have a concern that Morgan's Point have chosen a fragmented approach to environmental impact assessment. We are very aware that some aspects of the development may aggravate the environmental impact in other areas of the property. Initially, we will have to depend on planning and the Development Applications Board to ensure that a piecemeal assessment approach does not result in avoidable injury to the environment." The study is with the Department of Planning for review and approval. Others involved in the preparation of the study included architectural firm Cooper Garden and US-based SB Architects. Mr Christensen said that going forward, "developers have been diligent in their desire to keep the impact of the project to a minimum and to be as environmentally sensitive as possible." Water conservation, insulation, and solar and geothermal energy are some of the practices under consideration. "The hotel is being newly built so we can put through a lot more energy efficiencies than if it was a retro fit. We are looking at geothermal for cooling and solar is particularly; y helpful in heating of water — that is probably the best efficiency. We have a lot of plunge pools so we are looking at all of that." As for jobs for Bermudians, Mr Christensen said: "We are currently reviewing that whole make-up so I don't have anything further to add at this point other than there will be jobs availability at Morgan's Point."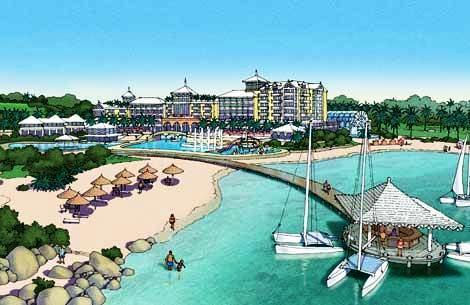 Morgan's Point causeway to Tucker's Island, artist's impression
2015. February 26. Morgan's Point is a shadow of its old self, but the uprooted tree stumps, leveled buildings and empty pipeline channels point to a new vision for this man-made military base. The future of the old Naval Operating Base (NOB) has already begun to take shape after an extensive remediation project to remove asbestos and other hazardous materials from the site and to prepare the 182-acre property for a luxury hotel resort and residences. Traces of the hustle and bustle of this vital military hub still remain almost exactly 20 years since American forces upped sticks and left Bermuda. The overgrown baseball pitch and broken scoreboard, the old open-air cinema screen and projector room, and the infamous drinking and dancing haunt Bermudoo stand as poignant reminders of the lives of those who once called Morgan's Point home. Today the scarred landscape is awaiting its next transformation, one that its owners hope will lead the resurgence of the Bermuda tourism industry. A lot of the remedial work has already taken place, said Craig Christensen, the president and chief executive officer of Morgan's Point Ltd. There is probably another ten good weeks worth of work to go. So far six 1.5 million-gallon fuel tanks, 28 25,000-gallon tanks and two 500,000-gallon tanks have all been removed. The fuel pipelines that ran from the pier to the tanks have been taken out. Most of the old buildings, which were beyond repair, have also been leveled and materials containing asbestos removed. Developers hope to save some of the old structures: the old bachelor dormitory could make ideal staff quarters for the new resort and one of the existing buildings could provide storage space. The remedial work required was not as bad as had been previously made out, but a great deal needed to be done to prepare the site for redevelopment. The Morgan's Point peninsula a man-made union of two islands, Tucker's and Morgan's Island was set up to serve as a strategic US outpost. It played an essential role during both the Second World War and the Cold War, and famously in 1944 the German submarine U-505 was brought into the Morgan's Point main pier and hidden after its capture. Developers are now looking at the possibility of using the same pier once it is upgraded and brought up to standard to bring construction materials directly on to site by ship. They also hope to take a step back in time by separating the peninsula back into two islands connected by a short causeway. Morgan's Point Ltd is expected to submit the first phase of its proposals, which include an 84-room boutique hotel, spa, restaurant, marina and 35 residences, to the Department of Planning next month. Developers hope to start work in June and complete the first stage of the project by the beginning of 2017 in time for the America's Cup finals. Mr Christensen said: "There is a lot of work already going on behind the scenes. We have geotechnical staff on site at present completing surveys, as well as shoreline experts to make sure that everything we do is up to the highest standard. We are also keen to ensure that we keep the property as green as possible so that it fits in with its surroundings. This is a very exciting new chapter for Morgan's Point."
2015. February 25. Morgan's Point developer Craig Christensen last night said he could not promise construction jobs for Bermudians once building work on a hotel, multiple residential units and a mega yacht marina project got under way. He was answering questions about the Southampton site during a packed public forum at Dalton E Tucker school. The more than 200 attendees who turned out for the presentation saw aerial view renderings of the proposed development and images of similar projects in the Caribbean. The site plan shows there will be a channel of water between the end of the peninsula and its tip, producing an island. Morgan's Point originally included two islands, Tuckers Island and Morgan's Island, which were merged and joined on to the main Island of Bermuda. Beaches will be enhanced and new ones created along the shore line. Mr Christensen was there to unveil the first phase of the project, along with Roland Bates, executive vice president of Southworth Development, who are project advisers, and architect and planner Lane Pettigrew of LP Architects, who specialize in Caribbean residential and resort architecture. Julia van Beelen of Cooper Gardner architects was also a member of the panel. A second Morgan's Point partner, Nelson Hunt, was in the audience, while the third member was reinsurance executive Brian Duperreault. The audience learned that remedial work required to restore the land after the US military, the former occupant of the site, had left behind oil, sewage and jet fuel, had been a less onerous task than had been expected, and that work was now largely complete. Plans for the first phase of the project, which will include the 84-room boutique hotel and 35 residential units out of a planned total of 147, will begin going to the Planning Department next month, while the construction phase is expected to be mostly completed by the beginning of 2017, in time for the America's Cup. "Our biggest obstacle is time," said Mr Christensen. "We're trying to get this thing moving as rapidly as possible. Developers had initially set aside the western end of the property for a role for in the sailing race, but Government had opted instead for a Dockyard site for the race headquarters. They now hope to have at least a portion of phase two of the project completed in time for the event. The development team also want gaming at the resort. Yes, we are seriously looking at it. Yes, we believe we qualify, and yes, we are going to try to do it." Mr Christensen would not officially reveal the name of the brand that will be operating the hotel, calling it the worst kept secret in Bermuda, explaining that he was bound by a non-disclosure agreement. Finance Minister Bob Richards announced in December in the House of Assembly that Morgan's Point Ltd had secured the Ritz-Carlton Reserve brand to operate the resort, which he called the highest end of the Ritz-Carlton hospitality brand. Answering a question about the troubled Tuckers Point resort and why the Morgan's Point development was different, Mr Christensen said it was in the way the project had been financed. He pointed to support for the project from the international business sector. "We really thank them for that. " There were many questions about the employment of Bermudians on the site. "Morgan's Point will have who can do the job for the best price," he said. "Putting percentages on to things is ultimately dangerous. We're focused on getting this done so we can create opportunities for people. We want to see Bermudians benefit."
2014. May 24. The building of a resort at Morgan's Point, starting with a boutique 84-room hotel, has won bipartisan support with the approval of a fresh land agreement for the West End property. Developer Craig Christensen called the passage of the Morgan's Point Resort Act 2014 extremely significant in getting the project moving. "We couldn't get financing until the Act was finished, because the land was going to be moved around. We needed this to be passed for us to have certainty that was the critical piece." Mr Christensen said the new land agreement helps Government on the remediation side and makes a better plan for us, adding: "This makes it more nimble for us to finance." Originally broken into seven packages of land, the brownfield site overlapping Southampton and Sandys parishes is now subdivided into 37 pieces. Mr Christensen, along with developers Nelson Hunt and Brian Duperreault, now has just over 183 acres of land on the former US Naval Annex. The group will be able to proceed with a small hotel in the Georges Bay area, which Mr Christensen likened to Tuckers Point in terms of size. The resort will no longer proceed with a golf course, and gives up 31.5 acres from its leasehold, but Mr Christensen said there was little issue given the proximity of Port Royal Golf Course, to which Morgan's Point clients will have access under the new agreement. "It's right across the street from us and it would have been pointless to go into competition with Port Royal. Otherwise, the development plans have not really changed." The new plan leaves out a modest-sized third hotel catering to yacht owners. After completing the boutique hotel, however, developers are committed to putting a 416-room luxury hotel out on the peninsula. Public Works Minister Patricia Gordon-Pamplin told MPs on Friday that the Act mean withholding 31.5 acres from leasehold and relinquishing 6.2 acres in the freehold section, such that the developers will now have a total of 183.1 acres, as against a total of 208.4 acres in the original Act. "This adjustment allows the Government to remediate the property that is not part of the revised boundaries," Ms Gordon-Pamplin said. The site's former occupant left underground pollution in the form of jet fuel plumes, and significant environmental damage to Basset's Cave, with the top culprit being steel fuel tanks that were buried in the ground where salt water corroded them and caused leaks. Government has agreed to cover the cleanup, but is no longer required to execute it to residential standard, which would have been prohibitively expensive. Environment and Education Minister Grant Gibbons, familiar with the site from his role under the United Bermuda Part administration in the 1995 handover, said Government would now be committed to the New Jersey residential standards of cleanup. "That's a very credible standard that works for the Morgan's Point developers," Dr Gibbons said. It also allows Government to address other areas, like Bassett's Cave, where the expenses are frankly still unknown. The new agreement carves out these polluted pockets of the site, and exempts Government from cleaning them to a residential standard making it recreational standard instead. "That represents a very large saving for the taxpayer," Dr Gibbons said. The new agreement got a warm reception from the Progressive Labour Party, with Shadow Works Minister Derrick Burgess telling the House: "That area up there will have to be a showpiece for our hotel industry in Bermuda, just like Atlantis is in the Bahamas." Mr Burgess praised Mr Hunt in particular for keeping the project alive, saying developers planned to have shovels in the ground by later this year. The only point of contention were estimates for the original cleanup costs: Mr Burgess said one consultant had told Government it could have potentially cost $700 million to clean up the property. "You have to watch these people, they rob us," the Hamilton East MP said. Dr Gibbons told MPs that the 2011 agreement signed by the PLP had caused delays to the project, because the former administrations commitment to clean the entire site to a residential standard would have cost not tens of millions, but hundreds of millions of dollars, it would have broken the back of Government. This drew a furious rebuttal from the PLP's Zane DeSilva, who said his own company had bid on the cleanup. "I can assure you it wasn't in the hundreds of millions," said Mr DeSilva, who challenged Dr Gibbons to table his information. "We're going to have to agree to disagree," Dr Gibbons responded. "The former agreement was unworkable and unaffordable based on what was signed at the time." Mr Burgess called on Dr Gibbons to retract the statement, saying he had no figures to back up the assertion. "Why is this honourable Minister going down this street?" Mr Burgess added. Dr Gibbons maintained that signing to a residential standard cleanup for the worst-polluted areas would have proven impossible to meet. "Government still intends to clean up Bassett's Cave, but not within five years," he said. "These very difficult areas have been taken out of the freehold and leasehold that Morgan's Point are going to do." Asked by The Royal Gazette if he could produce evidence to back up the high figure cited, Dr Gibbons pointed out that Mr Burgess himself had referenced a multimillion figure. "This new agreement allows Government the time and thoroughness and ability to do a careful analysis. We have to do this sensibly. We have to find a reasonable standard for it. I simply don't know any more than that."
2013. November 20. Morgan's Point developer Craig Christensen is calling on Government to introduce an economic citizenship programme to provide the tourism industry with the real game changer it needs. Mr Christensen told The Royal Gazette that finding overseas investors willing to plough their money into his proposed $2 billion tourism development on the former base land was no question, a challenge. After attending the Caribbean Hotel Investment Conference in the Dominican Republic earlier this month, he is now convinced the Island needs to do something dramatic to raise its profile and entice investors here, such as selling passports to those willing to put money into new tourism properties. "Bermuda is a hard sell," said Mr Christensen, who co-owns Morgan's Point with fellow Bermudians Nelson Hunt and Brian Duperreault. "You would think, knowing Bermuda as we do, that Bermuda would be a prime opportunity, but many of the investors are looking at Latin American countries. They have heavy incentives in those locations that Bermuda does not enjoy. For any single project in Bermuda, you are really climbing up a significant mountain in order to turn around and attract investment. That being said, certainly investors that are familiar with the Island actually love Bermuda and what they say is we need a game changer in order to put Bermuda back on the map. I think that's why the economic citizenship issue would bode well for all projects being looked at in Bermuda right now. A number of Caribbean countries offer citizenship for a fee, as a way to boost their economies, and one tourism project currently under way in St Kitts allows investors to buy property and passports at the same time for $400,000." Home Affairs Minister Michael Fahy told the House of Assembly in July, after attending the Eighth ILO Meeting of Caribbean Labour Ministers, that his counterpart in St Kitts had agreed to share information with Bermuda about its economic citizenship programme. It is understood the idea has yet to be discussed within Cabinet and Tourism Minister Shawn Crockwell declined to comment yesterday. Mr Christensen said: "I know Government is considering this but I would encourage them to look at how this can really impact and benefit all of Bermuda and not just a select few. I think that this has got to be something well thought out for the benefit of all of Bermuda. I honestly think its a potential game changer for Bermuda, it really is. St Kitts has two hotels going up as a result of the economic initiatives. They funded one hotel purely on selling real estate attached with citizenship. To me, there is absolutely no question that the rest of the Caribbean are now reviewing economic citizenship as an incentive to get hospitality developments going. I think Bermuda should have an economic citizenship incentive within hospitality-designated areas to encourage investment into the real estate component, which is absolutely critical to support the economics of a tourism-related product. I think it's really a must. We have got an opportunity to do something right for a change." He said the conference he attended was really useful, very informative but really sort of pointed out that Bermuda is really not well-positioned on the road of tourism investment and ... hospitality. The focus was largely on Spanish-speaking countries, with Bermuda barely getting a mention. The financial woes of Tuckers Point and Newstead the Islands newest hotels had not gone unnoticed, he added, and had caused more concerns about Bermudas long-term viability. Mr Christensen said he had given the idea of economic citizenship much thought and realized many people would worry about an influx of new citizens affecting their job security and ability to buy property. But he said the number could be capped at about 1,500 and those buying citizenship would not be competing with the general population for jobs. "There may even be a positive benefit in that they may be able to create jobs for Bermudians and certainly speak highly of Bermuda elsewhere," he added. "When you recognize that these people will be spending $2.5 million or more its unlikely that they will have anything other than a positive impact. The current laws surrounding the acquisition of property on the Island should be left alone and that economic citizenship should only be available to those investing in a tourism product. Government would need to flesh out the idea and decide whether citizenship would come with voting rights or not, and applicants would need to be vetted to ensure they were fit and proper persons." Government has recently formed the Economic Development Committee to try to reduce red tape for large development projects and Mr Christensen said he welcomed that. Giving an update on work at Morgan's Point, he said the remediation of pollution left by the US military continued and he still hoped the first hotel on the site would be opened in 2016, despite the challenge of finding finance. "We want to get things going as rapidly as possible because we recognize that Bermuda needs a project quickly and so we work 24/7 trying to expedite the process. There's no question that its a challenge. We are having challenges. I think other developers have even bigger challenges and therefore its necessary to make some bold steps such as economic citizenship. Introducing gambling for hotels here was a must but would not be a game changer. We are only trying to level the playing field. It doesn't give us a huge advantage at this point but it may attract some financing."
2013. August 19. A financial guarantee to the developers of the proposed $2 billion resort at Morgan's Point will be limited to $125 million, Government said yesterday. Finance Minister Bob Richards announced last week that he was considering providing a sovereign guarantee for the project because the developers had indicated that the environmental remediation was making it difficult to raise financing. He said a non-binding "letter of comfort" had been issued to Morgan's Point Limited to enable the company to begin financing negotiations for the first phase of the project. The news raised some eyebrows as private sector guarantees are rarely given, and some observers have noted that one of the key principals of MPL is SAGE Commission Chairman Brian Duperreault, an appointee of Mr Richards. Mr Richards was unable to give the value of the guarantee being considered but a Government spokesman said yesterday that it would not be more than $125 million.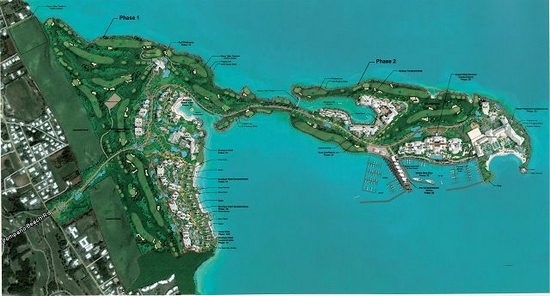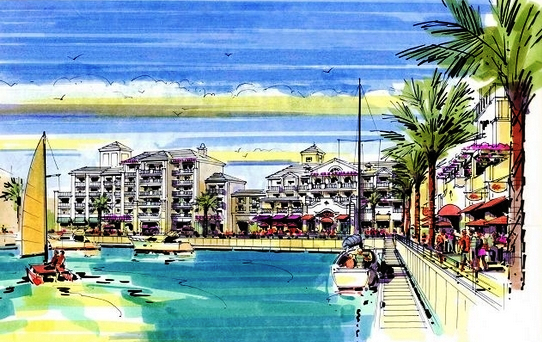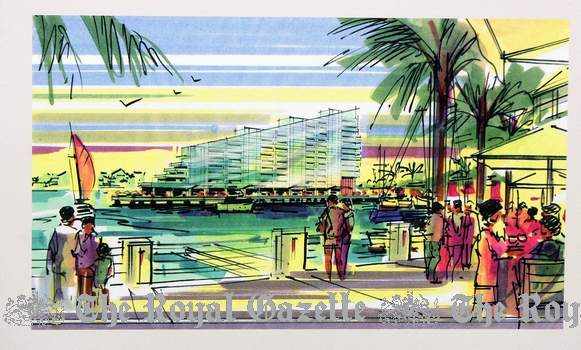 Morgan's Point hotel development planned
2013. August 20. Allowing gaming in Bermuda would make it easier for hotel developers to compete for investment funds, says one developer. But Craig Christensen who with Brian Dupperault, and Nelson Hunt, propose to build a $2 billion luxury resort at Morgan's Point, indicated that gaming is not necessarily a panacea. "For the major development at Morgan's Point, gaming would be extremely useful in expanding our potential market of investors," Mr Christensen told The Royal Gazette. "In the absence of gaming, the playing field is tilted in favour of our Caribbean neighbours to our South to receive funding from investors and tourism dollars. Gaming would allow us to try and level the playing field. Without gaming, major developments in Bermuda are going to face an uphill battle. Gaming is not new, we would simply be catching up to other jurisdictions. Even with gaming, future developments will require far more vision and creativity to be successful and competitive." Government is under pressure from the business community and developers to legislate gaming without a referendum. But, while there appears to be some division over the issue within the One Bermuda Alliance, Premier Craig Cannonier has said that his administration will stick to its election promise to have the people decide in a referendum. While Tourism Minister Shawn Crockwell has said the referendum will take place by year's end, Government is yet to pass the legislation which would set the stage for the poll. Nor has it launched any kind of awareness campaign to educate the public on what gaming would mean for Bermuda. But parliament reopens next month and a "full explanation" and update will be given then, said Mr Crockwell last night. A law would have to be passed to hold the gaming referendum and the Referendum Act 2012 requires that the Premier give notice of the poll within 90 days. The law also provides that the voter turnout must be at least 50 percent for a yes vote to prevail. Financing appears to be a major sticking point for at least three proposed developments. And Government has indicated a willingness to facilitate guarantees to help out. In the latest development, Finance Minister Bob Richards has announced that he is considering a guarantee so that the Morgan's Point developers can engage in loan talks. Mr Richards said Government's guarantee was necessary because the developers had told him that environmental remediation issues were making it harder to negotiate a loan for the first phase of the project. Yesterday, Mr Christensen clarified the position. "It is not the remediation process, but rather that many institutions will simply not finance any polluted site as part of their policy. Even though we have had a commitment from The Bermuda Government, this has not satisfied those lending institutions," he said. Mr Christensen said whether gaming is legalized or not would not impact financing for the first phase of the project The former Progressive Labour Party Government agreed to take responsibility for the clean-up after it gave the developer 80 acres of the 240-acre brownfield site in exchange for reserve land at Southlands in 2008. Government then spent three years in talks with the US Government in an attempt to persuade Washington to pay for the remediation work, but in March 2011 the then-Works & Engineering Minister Derrick Burgess confirmed that those talks had failed, and that the taxpayer would be hit with a cleaning bill in the region of $35-$38 million. The land swap agreement was legally finalized in June 2012 and clean-up work began shortly after.
2013. August 17. Government looks set to provide a financial guarantee to the Morgan's Point developers. Finance Minister Bob Richards announced yesterday that Government is looking at ways to help Morgan's Point Limited obtain financing for the $2 billion project, and has issued a letter of comfort so the developers can begin discussions with lenders. While the Ministry of Finance press release stressed that no commitment has as yet been made, it noted that environmental remediation issues at the site had been hindering the developers efforts to secure financing. Government is committed by way of various agreements to the remediation of lands conveyed to MPL for the construction and operation of a boutique style hotel, condominium residences, sewage treatment plant, and other facilities, it stated. MPL has advised Government that the environmental remediation issues at Morgan's Point are impeding its ability to secure satisfactory construction financing for Phase 1 of the project. In that regard, MPL has requested that the Government provide credit enhancement for the financing of Phase 1 of the project in the form of a limited financial guarantee. Mr Richards said that his Ministry does not, in general, issue guarantees to private sector projects save in matters of national importance. However, the Island has not seen a new hotel development for some time and the Government strongly supports this project and the economic benefits that it will bring to Bermuda. "We must do more to attract foreign capital to our shores to develop our tourism product. At a recent Tourism Summit held in Bermuda it was noted that our competitors are doing a great deal to attract financing for hotel projects, some governments are going so far as to guarantee the debt in order to finalize the acquisition of the required financing for the project. I am confident that if satisfactory financing is obtained this development will turn a brown field site into a stunning new resort leading Bermuda back into the forefront of the hospitality industry. The project will create numerous jobs and generate significant revenue for Governments coffers. Although the nature and extent of the credit enhancement cannot be quantified at this time and will depend upon the particulars of the project and the construction loan, I can advise that I have recently provided a letter of comfort to the developers to confirm the Governments willingness to consider credit enhancement for the project. This letter is required so that MPL can begin discussions with potential lenders for the project finance. It is important to note that at this time the Government has made no firm commitment, therefore, this comfort letter is non-binding. Also this action should not be considered precedent setting and is only being considered because of the environmental remediation issues at the Morgan's Point site. The Government is eager for the project to proceed and succeed, and is looking forward to working with the developer to achieve that objective." In June, Craig Christensen, one of the three principals behind the scheme, was confident about the projects progress, saying he expected ground to be broken by the end of the year. Mr Christensen owns the 250-acre site with business partners Brian Duperreault and Nelson Hunt. The developers are hoping for the first phase of the resort to be open for business by the beginning of 2016. A boutique hotel of up to 140 rooms along with some residential units could be built within two years of construction work starting. But the developers are also planning a marina with its own hotel to accommodate mega yachts and their crews, and a third (500-room) hotel.
2013. June 24. The first phase of a $2 billion hotel, golf course and marina resort at Morgan's Point could be open for business by the beginning of 2016, according to developers. And Craig Christensen is confident that the new hotel — and Bermuda as a whole — has the pulling power to bring about an upswing in the fortunes of the tourism industry. Speaking exclusively to The Royal Gazette, Mr Christensen explained that a Government clean-up of the 250-acre site — a former US naval annex — had been "going well", and should enable his company to break ground by the end of this year. A boutique hotel of up to 140 rooms along with some residential units could be built within two years of construction work starting, with Mr Christensen hopeful that it will be open before the summer of 2016. And the developer believes work on more ambitious phases of the development — including a marina to surpass the famed Atlantis facility in the Bahamas, and a second hotel of around 500 rooms — could also get underway within two years. "The clean-up started last fall and has really continued in earnest. The remediation was taken over by Government's procurement office who jumped on it to get it going because they were way behind time to get it moving. I think the new Government has kept that commitment because they recognize that Morgan's Point is absolutely critical as a development to go forward to really spur the economic engine." Mr Christensen, who owns the site with business partners Brian Duperreault and Nelson Hunt, said his company was now in discussions with numerous hotel operators to run the boutique hotel. "The first phase represents about ten percent of the development and we want to accelerate future phases so that we can proceed with other phases of the development as we complete phase one." The development will feature a third hotel to accommodate crews from visiting yachts — including mega-yachts — berthed at a new marina. "The marina component is going to be critical for a new type of tourist," Mr Christensen said. "We have done extensive studies of marine traffic flow of the mega-yachts that emanate out of the Caribbean during the spring and summer and move by Bermuda — but Bermuda is not recognised as a destination. We can make it become a recognised destination. The plans we have for the new marina are absolutely stunning — far better than Atlantis in Nassau. We will release these plans in due course but that's where we're heading. Atlantis is really good but this is going to be far better, both in terms of scale and as a safe harbour. We have had preliminary discussions and we would like to have that in place within five years." Mr Christensen said that he was confident Bermuda could have a thriving tourism industry in the future, because its problems were easily "fixable." He argued that Bermuda's natural resources, such as its coastline, rivaled jurisdictions in the Caribbean, while the Island was also much cleaner and safer than many competitors. He added that those resources were not always fully utilized, and tourism chiefs needed to do more to sell the Island's outstanding attributes and make both developers and visitors feel more welcome. But he praised the new Government for "turning red tape into red carpet. We were really pleased to see [Tourism Minister] Shawn Crockwell attend a conference in Miami last month where he got to see first-hand what we've been seeing for five years or so. He gets it now — he gets that we're not on the radar. There's been a difference in the air since December. What Bermuda has lacked is a vision. What are we? Bermuda hasn't said what it wants to be and that's where we need to start. I think it should be the playground for the northeast US, for a younger crowd, which means we need to be more vibrant and more family-orientated. What needs to happen is we need to start using Bermuda's assets appropriately. Furthermore, we just don't promote ourselves well, but all of these fixes are really quite small in comparison to other destinations where you have to change the whole social fabric. For example, we forget that Bermuda is actually very safe. It's an easy place to live, and you can walk down Front Street at night or go to Dockyard or St George's. It's not a compound or a gated community. But we need to get that message out there. With Morgan's Point, we now have the product mix and a Government that is a lot more committed to the development and tourism, so we're confident that this is not just another a false dawn or another platinum period. For the first time we have a product that is realistic. It can actually happen because it addresses everything that hasn't been addressed before."
2013. June 24. The bill for cleaning up pollutants left by the US Navy at Morgan's Point could be lower than originally estimated according to site developer Craig Christensen. The former Progressive Labour Party Government agreed to take responsibility for the clean-up after it gave the developer 80 acres of the 240-acre brownfield site in exchange for reserve land at Southlands in 2008. Government then spent three years in talks with the US Government in an attempt to persuade Washington to pay for the remediation work, but in March 2011 the then-Works & Engineering Minister Derrick Burgess confirmed that those talks had failed, and that the taxpayer would be hit with a cleaning bill in the region of $35-$38 million. The land swap agreement was legally finalised in June 2012 and clean-up work began shortly after. Mr Christensen said he had been in regular contact with Government to discuss the clean-up — and that initial investigations of the site had resulted in "good news." "We've been having a number of meetings with Government monitoring progress and that they've probably gone through 80 percent of the asbestos already," Mr Christensen said. "I think the extent of pollution at Morgan's Point may have been greatly exaggerated previously. It looks like a lot of the pipelines may have been cleaned prior to US departure, which is good news because trying to remediate soil is a time-consuming and expensive process so it's likely there's going to be some savings there. They're still in the investigation stage but so far the investigation looks like it's a lot better than anyone anticipated and we were pleasantly surprised. There's nothing out there that is really harmful. Where they thought there would be major issues have turned out to be either clean or almost clean so it's looking a lot better for both us and the Government." Mr Christensen pointed out that most of the pollutants have been found on Government-owned areas of the property rather than on the 80 acres owned by the developer. "There are very few issues relating to the Morgan's Point development, so the site is a lot cleaner than what was expected. There isn't any major remediation work left to be completed in the area that we wish to develop, so therefore it gives us a green light to move. And the areas where remediation work is necessary are not anywhere near any hotel or residential components, so we're sufficiently buffered to ensure that we can start work." Mr Christensen said that, had Government not agreed to the clean-up, the development would probably not have gone ahead. And he also said he believed it unlikely that the US Government would ever agree to pay for the clean-up — because that would expose it to further claims for compensation from other jurisdictions where it had had a military presence. "We traded a greenfield site for a brownfield site and we needed that to be an equal exchange, clean for clean. Knowing what we know now, having talked to overseas financiers and developers, if we hadn't had Government coming in to do the clean-up I think it would have been impossible to develop Morgan's Point. It would have been impossible because, if you go to a financier and there on the first page of your proposal is a reference to any pollution, well, you're shown the door. That's why it was necessary for the Government to take responsibility. I know there was a move to get the US Government to take on that responsibility which it obviously didn't. That was at the time in '08 when the US was just about to pop into that recessionary period and — Bermuda being one of 350 bases — that would open up a whole can of worms."
2013. January 29. Mariners are being asked to avoid the Morgan's Point area as remediation works at the former Baselands continues. Government has issued notices, published in yesterday's edition of The Royal Gazette, announcing the closure of Morgan's Point Bay and George's Bay. According the advertisement, both bays will be closed to the public because of demolition work to be done which could potentially be dangerous to vessels and crews. Along with signs on the shoreline and a flashing amber light in the middle of a series of red buoys, government vessels will be patrolling the mouths of both bays to prevent unlawful access to the areas. Cleanup work at the site began last April in advance of a proposed tourism development including multiple hotels along with condominiums, restaurants and a spa. Developers Craig Christensen, Brian Duperreault and Nelson Hunt formally acquired the land last year in a land swap arrangement organized to protect the Southlands estate in Warwick.
2012. June 26. Morgan's Point developer Craig Christensen wants to attract younger tourists to Bermuda by building a luxury resort beyond our wildest dreams. "I believe the former base land on the Southampton and Sandys border could be turned into an attraction to compete with the Atlantis in the Bahamas, which features hotels, a spa, a casino, water park and a marina. I've been there [Atlantis] twice in recent months. I think what you can visualise is that what Atlantis did for the Bahamas, we've got to look at what Morgan's Point can do for Bermuda. I'm not saying copy Atlantis but they have some concepts which are worthy to look at. The sizing and intensity of the development provides for the excitement of the resort. They do attract the age group that I think is significant, which is [the] 25 to 45-year-old market, who are spending money and use the facilities extensively." He cited other overseas hotels he'd recently visited and been impressed with, including Palm Beach's Breakers and Fontainebleau and Hard Rock in Miami. Of the latter, he said: "You go in there and it's vibrant. The restaurants have got TVs in them, the bars are lit with lights, it's reasonably loud, it's visually stimulating. You're creating a vision, you are creating things for the younger crowd who want that extra stimulation and that restaurant turns into a nightclub through the night. Same thing with the steak house etc. You can only create that vibrancy with the intensity of the development, with people there, rooftop bars, these types of things. They don't cost a lot, we just need to figure out how to do it. That, to me, is the focus that Bermuda should be looking at: the up-and-coming vibrant crowd." He and fellow Morgan's Point directors Nelson Hunt and Brian Duperreault have already said they have a $2 billion vision for the former base land, which they formally swapped with Government for the Southlands estate in Warwick at a signing ceremony at Cabinet yesterday. "There's interest in really trying to take Morgan's Point and squarely put Bermuda on the map, beyond our wildest dreams," said Mr Christensen. "Really to make Bermuda a focal point once again for tourism and put Bermuda back on the boil." He said the scale of the development had expanded since the public was given a glimpse of the plans in June last year and that Morgan's Point Ltd was "reviewing" its position with overseas development partners John Ryan and Egbert Perry. The ultimate development partners will be primarily dependent on the requirements of the lenders. I've got to look at things in the best interests of the project and in the best interests of Bermuda. In that regard, we've got some different visions for Morgan's Point, in certain areas, that may be different than the original plan that we shared with Government. The point is really taking the development of Morgan's Point from what we currently have, which is really good, to absolutely stunning." In February 2010, Government said the developers had indicated the resort was likely to be a Ritz-Carlton, due to Mr Ryan's relationship with the five-star brand. Mr Ryan said later that year that "deep negotiations" were ongoing with three major hotel chains. Mr Christensen said discussions continued with "hotel brands" though he wasn't prepared to say which ones. "It is generally unwise and not cost-effective to do that," he said. "Like giving somebody a blank cheque, in essence." He said he and his partners were "absolutely" confident they could secure funding for the resort, despite the tough economic times. "There's a major difference that Morgan's Point has over most of the other developments," he said. "First of all, we are not dealing with leased land and that's really, really tough to fund. At least with freehold land, like we've got, we've got true security [so] that people can feel comfortable in terms of lending. "And, two, Morgan's Point is really uniquely placed in Bermuda for a resort, which is distinctively different than your traditional resorts, which have been located primarily on beach lands in most places in the world." The water surrounding Morgan's Point was its best feature, he said, making it accessible by boat to Hamilton and providing the opportunity for a world-class marina and activities such as jet skiing, sailing, snorkelling and scuba diving. "We have the best scuba diving in the world [but] we've completely underutilised our water asset to our advantage from a tourism perspective. We've had interest in putting up capital. We have identified equity sources. We have equity in Morgan's Point and we are very fortunate in that respect over, I think, other developments." Mr Christensen said building was unlikely to start this year as detailed plans still needed to be completed and contracted bids invited. But he said other work could be done and he was keen to get the marina built "quickly" in order for boats to be able to dock there. One idea he's considering could vastly extend the resort's tourism season, he believes. He explained: "How do we deal with keeping people warmer at night [to] extend our seasons? Wind control is probably the most critical thing and that's a design issue. We need to] harness it for protection, for people to enjoy outside, because it's actually pretty comfortable outside in Bermuda if you find you can get out of the wind. How you design and get out of the wind is critical to the development of the future, in my opinion. I think you can go much longer [than May to November]. I had lunch in Montreal in zero degrees Celsius and was comfortable sitting outside. How do you do that without using a space heater and they didn't use a space heater. What I'm saying is, it's totally solvable for Bermuda. It's not necessarily expensive. You've got to figure out: how do you reduce your electricity costs?" When the Morgan's Point Act was passed in Parliament last year, the proposed development was described as including three hotels with more than 450 rooms, condominiums and residences, a par 71 golf course, a marina, retail shopping, a spa and restaurants. Mr Christensen said all of Bermuda would benefit from the five-star facility as guests would spend money outside the resort. "I think you have to create the intensity at the resort to begin with, without a doubt, so it can be self sufficient," he said. "But the uniqueness of Bermuda is that when you come to Bermuda, Bermuda's your playground, not just your resort. You have all-inclusive resorts but I just don't see all-inclusive as something that we want to promote because people can get up and easily leave their resort to experience other parts of Bermuda in a relatively safe environment, unlike most places in the world. I think we've got a huge advantage there. You want to a) get it going in your resort first but b) you would love to see it get vibrant in other locations so that people can enjoy different experiences."
2012. June 25. Government finally signed over the former base land at Morgan's Point to three developers who plan to build a $2 billion luxury resort there. The deal, which has been in the pipeline since 2007, was completed and means the pristine Southlands estate in Warwick is now public property. Bermudian businessmen Craig Christensen, Nelson Hunt and Brian Duperreault agreed to swap 37 pristine acres at Southlands for 80 acres of brownfield land at Morgan's Point on the Southampton/Sandys border.The trio plan to build three hotels, condominiums, restaurants and a spa, among other facilities, on their new plot, as well as lease another 140 acres from Government for a par 71 golf course. Then-Government Estates Minister Michael Scott told a press conference at Cabinet that the Morgan's Point development was "one of the most ambitious" projects in the hotel and hospitality industry in Bermuda's history. He said the "multifaceted" scheme would create "remarkable opportunities" for Bermudians. Mr Christensen said: "This land swap represents the beginning of a new chapter and a great deal of work lies ahead. We have a responsibility to deliver to Bermuda this significant development for the benefit of Bermuda and future generations of Bermudians. We look forward to meeting that challenge by working with the Government of Bermuda to deliver an outstanding development that all Bermudians can be proud of for many years to come." He and Mr Hunt signed the final paperwork and exchanged documents with Mr Scott in front of the assembled media. Until the June 2012 deal, like the former Fort Bell/USAAF/Kindley AFB/USNAS complex, this former base had been owned by - and was the responsibility of - the Bermuda Land Development Company, a Bermuda Government-owned entity.
2012. February 21. The Arthur Morris Group yesterday announced longtime partner Craig Christensen was retiring from the firm as a partner to focus on the proposed Morgan's Point development. In a statement from the firm, Mr Christensen said: "I am sad to be leaving Arthur Morris, Christensen & Co, which I have seen grow into Bermuda's largest independent audit firm employing a large number of Bermudians. I'm very proud of the reputation the firm has in the local and international community. My retirement from the firm will allow me to concentrate fully on the Morgan's Point project and the promotion of Bermuda to overseas investors which is hugely important to our country in today's economic environment. I wish my fellow partners the best in their future endeavors with the Arthur Morris Group of Companies." Mr Christensen's Southlands Ltd plans a $1.8 billion Morgan's Point resort. He and partner Nelson Hunt say the resort will include an 80-room boutique hotel, a harbour surrounded by shops and restaurants and a 365-room, five-star hotel.
2011. December. It was revealed by the Bermuda Government that around $35m of taxpayers money is expected to be used to clean up the former US military base, starting in April 2012. The early phases should be accomplished within 24 months of the date and completed within five years. The estimated cost of the works, including provisional items, is likely to be near US$35,595,195 with the worst case cost of US$36,140,026. MPs from both opposition parties offered effusive praise for the Morgan's Point Resort Act 2011 and the three Bermudian developers who plan to build the luxury resort: Craig Christensen, Nelson Hunt and Brian Duperreault. Mr Burgess told the House: "It was the Government's view that the United States Government should take responsibility for the clean-up, but all of the appeals in that regard failed, including visits to the US Navy at the Pentagon, representation to Congressional and Senate leaders on Capitol Hill and enlisting the support of the United Kingdom Government. In the absence of the hoped for assistance of the United States Government, the Government of Bermuda accepts unequivocally its responsibility to hand over to any developer land that is environmentally suitable for development and has been taking steps in that regard. Government has made clear to all concerned that it retains oversight responsibility for the clean-up." The Act passed finalizes a land swap deal between Government and the developers, which sees them hand over the 37-acre pristine Southlands estate to the public in exchange for 80 acres of brownfield land at Morgan's Point and a lease on another 128 acres. Mr Burgess presented the bill, telling MPs the exchange would be a "win-win" for both Government and the developers, whose company was Southlands Ltd, but has been renamed Morgan's Point Ltd. He said the proposed development would include three hotels with a total of 465 rooms, condominiums and residences for single families. There would also be a "magnificent" par 71 golf course at 6,785 yards to be designed by Canadian firm Carrick, as well as a marina, retail shopping, a spa, water sport activities and restaurants. Mr Burgess reaffirmed the Government's view that the proposed creation of a five-star hotel, a championship golf course and related facilities at Morgan's Point, Southampton, is a critically important opportunity for Bermuda, one that will not only provide a glittering jewel in tourism's crown, but one that will result in myriad benefits for our Island as a whole.
2011. Late March. Bermuda's House of Assembly was told a fresh era in tourism was being ushered in as a bill allowing a "critically important" $2 billion resort to be built at Morgan's Point was approved by the Bermuda Government. Deputy Premier Derrick Burgess declared the development on the former US Naval Annex would become "a glittering jewel in tourism's crown", providing vast numbers of jobs for Bermudians and first-class facilities for visitors and locals. But he admitted Government didn't have the $30 to $40 million needed to clean up the pollution left on the peninsula by the US military and said the developers were "considering a methodology" whereby they would carry out the work "in lieu of the Government." The Bermuda Government claimed the US Navy had pumped raw sewage into the system of caves underneath the entire base, including Bassett's Cave; allowed old oil to leak from storage tanks; and left tons of hazardous heavy metals like mercury, lead and cadmium. Cleaning up the mess and pollution left behind after the military base closed, plus the huge potential contingent liability afterwards, is one reason why the area has not been developed yet.
In February 2010, Government said the clean-up was delayed while alternative funding sources were sought. In February 2011 it was announced that the clean-up of pollution at Morgan's Point will not go ahead in the coming financial year. Public Works Minister Derrick Burgess told MPs there was no government money available in 2011-12. The Morgan's Point project is expected to cost $35 million and will need to take place in order for a proposed $2 billion luxury resort to be developed on the peninsula. He said about $540,000 of the total allocated funding by Government of $35 million had been spent. Bales of waste stored by Government at Morgan's Point since 2010, while work was done at Tynes Bay, would be returned to Tynes Bay to be incinerated in spring 2011.
The project involves the removal and burying of all asbestos-containing materials from the existing buildings; the demolition of all buildings on the site; the removal of a number of underground fuel storage tanks. It also involves the removal of several miles of underground fuel pipeline; the remediation of areas of split and leaked fuel; the cleaning up of Bassett's Cave, contaminated with various petrochemical and sewage deposits; and the capping of two landfill sites, including constructing new seawalls where they are adjacent to the sea.
Earlier, there had been at least three failed bids to redevelop the area on a leasehold basis. The first was from British based Renaissance Resorts International Ltd. It won the bid but failed to act. The second was from Morgan's Harbour Investment Ltd. It too won the bid but also failed to act in 1999. The third was from BEAM Ltd. The $250-$300 million project was expected to create 220 jobs in the first two years of development and 350 more thereafter. It was to have included a PGA championship 18 hole golf course - for which two plans were drawn up by famous golfers; a community village; cottage colony; housing, with a range of medium and high priced homes; and marina in two phases, to include coastal protection works; an environmental cleanup; installation of electricity, water, telecommunications and sewage treatment facilities and public parks. But nothing happened. Announced on October 24, 2003 was the news that the Bermuda Government, instead of all previous projects, intended to turn Morgan's Point into Bermuda's fourth residential hub, after Hamilton, St. George's and Southside in St. David's. But that too stalled. Environmental clean-up costs at the massive former Base are often cited as the reason for lack of interest in the property. In 2002 it was estimated that cleaning up the former US Naval Annex would cost $30 million.
Munro Beach Cottages
Closed in July 2007 after having been one of the very best small hostelries in Bermuda. A lovely 4-acre estate with beach frontage. The premises were bought by an American property investor who hopes one day, when conditions are once again right in Bermuda, to redevelop the property. Potential investors should ask if they can see the property. Before July 2007 it was the much-liked, private, exclusive, romantic but also family-friendly Munro Beach Cottages, nestled between the world-famous Port Royal Golf Course and it's own lovely private beach, Munro Beach, at Whitney Bay. They were sold by the Munro family to American real estate investor Sam Byrne who hopes to develop them. The investment firm Mr Byrne founded, CrossHarbor Capital Partners, specializes in real estate investment and distressed loans. It manages $5.5 billion in assets for its own account and on behalf of pension funds, and institutions. The 5-acre premises looked out westerly on the Atlantic Ocean guaranteeing spectacular sunset views. There were various types of accommodation, all with ocean views, air conditioning fan, TV, radio and safe. The units consisted of a bedroom/living/dining room with separate kitchen and bathroom with shower and tub. The kitchens were fully equipped with refrigerator, microwave, stove, oven, coffee percolator and toaster. Barbecues and a daily maid service were also provided. Munro Beach Cottages were quite secluded, but that was one of their main selling points. It was a 1km walk to the bus stops on Middle Road, but guests received a complimentary lift to Oleander Cycles where they could hire a scooter or moped. If they did not fancy their own cooking every night inside or using the barbeque facilities provided then one of Bermuda's finest restaurants, the Cedar Room at Pompano Beach Club was very close by as was Greg's Steakhouse (now closed) at the Port Royal Golf Course. Munro Beach Cottages welcomed children. Families could rent out one or two or more units, as required. A unique feature of the beach was that at low tide it was possible to wade out 300 feet to the reef line. Tennis courts and water sports were not far away, at both at the Port Royal Golf Course and the Pompano Beach Club Watersports Centre.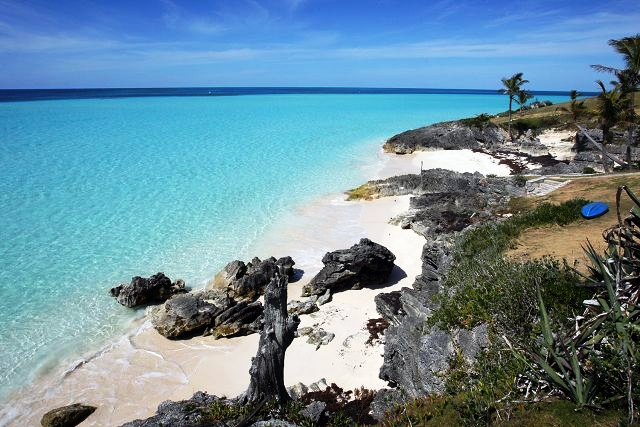 Munro Beach, Whitney Bay
Pompano Beach Club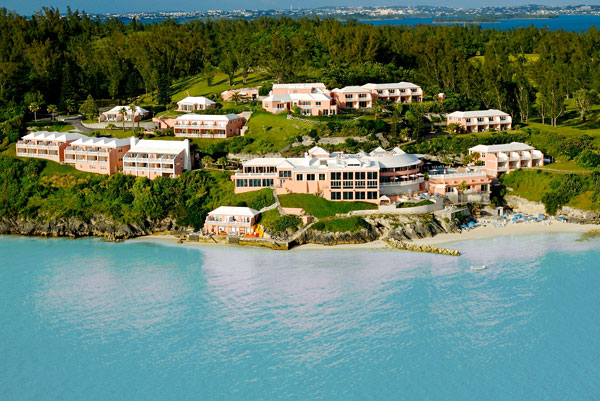 Pompano Beach Road, Southampton Parish. Reached from Middle Road. Located west of and not far from the Port Royal Golf Course, in an area once named the Overplus. Phone (800) 343-4155 in the USA or Canada or (441) 234 0222 directly. E-mail info@pompano.bm. Offers all-inclusive rates on application. 74-room hotel, family-owned since 1956, originally as Bermuda's first fishing club, named after the pompano game fish prolific in these parts. It has expanded appreciably since. It celebrated its 55th anniversary in 2011. Has many repeat guests and long-serving staff. Taxi fare from/to airport from $38 per taxi for 1-4 passengers or from $48 for 5-6 passengers. Managing Director Tom Lamb III and his brother Larry are owners Offers dramatic ocean views from the main clubhouse and all guest rooms. With two fine restaurants, pool, its own private South Shore beach, fitness center, bar and much more. A spectacular location, in gorgeous turquoise waters, for the non-disabled. The two tennis courts are clay. It is on its own private road well away from all the noise of traffic, so it offers peace and tranquility. The 8 bus route is on the main Middle Road a mile away and if you stay here a courtesy shuttle bus from the hotel will take you there or collect you to and from the bus stop at the junction of Middle Road and Pompano Beach Road.

Pompano Beach. Private. Spectacular reef swimming in beautiful waters for guests. All references to "Pompano" point to a tasty game fish, the Pompano (Trachinotus glaucos) common in or near Bermuda coastal waters in the summer months, especially in this area. These game fish put up a mighty fight before being caught. They are shiny white when hooked and are often almost invisible when viewed in strong sunlight against the sandy seabed of inshore waters.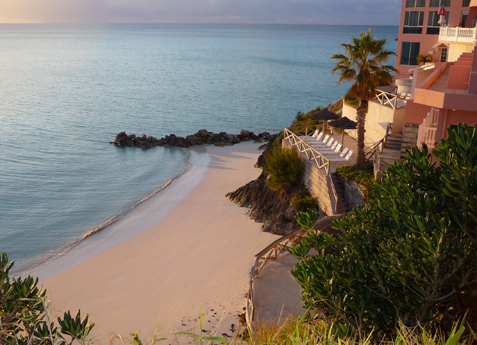 Pompano Beach
Port Royal Golf Course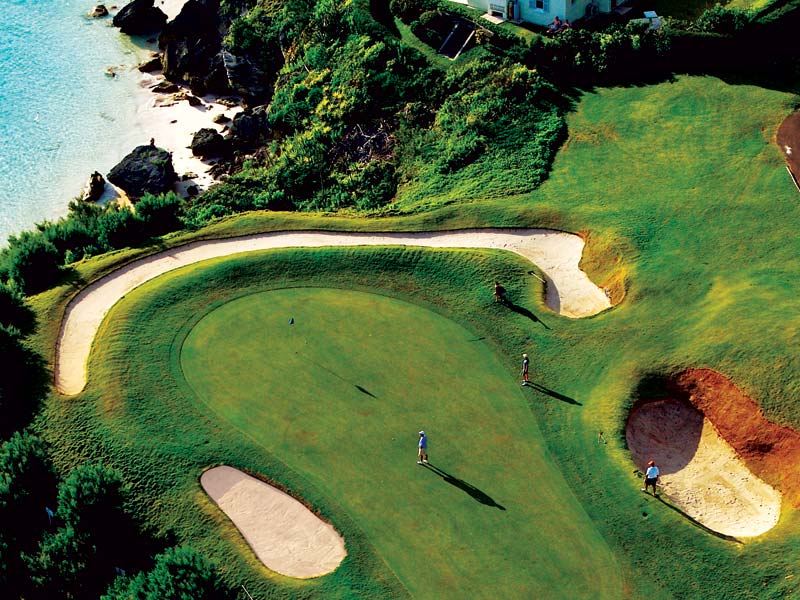 Photo: Bermuda Tourism
Government-owned. 18 holes. 5 Middle Road, Southampton Parish, SB 02. Mailing address is P. O. Box SN 189, Southampton, Bermuda SN BX. E-mail prgc@bermudagolf.bm. It opened in 1970 as a Robert Trent Jones-designed 18 hole, 6,561 yards par 71 public course. Re-opened in January 2009 after a $14 million renovation of the 37 years old course including increase of the course yardage by 281 yards to 6,842 yards. Phones: Office 234 -0974 (fax) 234-3562. Pro Shop 234-0972; Tee Times 234-4653; Golf Pro (fax) 234-3630; Maintenance 234-1182; Restaurant/Bar 234-5037; Tennis Courts 238-9430 or 238-9070. In June 2006, the Bermuda Government's House of Assembly passed an Act that switched responsibility for the Government golf courses from the Ministry of Works & Engineering to Tourism. It hosts many tournaments and has been the home of the Bermuda Open. Sunset golf is from 4:00 pm with a reservation.
For visitors who arrive on one of the cruise ships, the closest cruise ship berth is Dockyard, about 8 miles away.
Buses go to nearest stop about 600 yards away. If you bring your own clubs, you won't be able to go by public transportation (bus). Instead, take a taxi. Check rates with course depending on time of day and time of year.
This is the highest-rated by far of Bermuda's two government-owned and run courses, considered one of the best - and most expensive - of world public courses. More rounds are played here than on any other Bermuda course. The signature hole has been the 176-yard, par 3 16th, the small green of which, perched on the edge of the coastal cliffs, has become notorious. Drive too far left and the ball ends up in the ocean.
Site of the October 2009, 2010 and 2011 PGA Grand Slam venues. With these in mind, all the greens were rebuilt, A huge amount of earth was moved by bulldozers, new sand put into trickier bunkers, cart paths repaved and a landscaping project completed. The reverse osmosis plant produces 250,000 gallons of water per day on 1,200 new sprinkler heads. There is now a fully computerized irrigation system from tee to green. There are significant increases on membership and greens.
Port Royal Tennis Club
Phone 238-9070. At Port Royal Golf Course. there are 4 plexi-pave courts, 2 night lit. Fee-paying.
Princess Beach Club
Completed in 2016 for the Hamilton Princess Hotel and its guests on site of the old Sonesta Beach Hotel. The private beach belonging to the club recently saw coconut palm trees planted there.
Princess Park
A small but scenic park nestled in the grounds of the Southampton Princess Hotel, with superb views of the Great Sound.
Queen's View
A panoramic view of the Great Sound from this spot close to Riddell's Bay, at the northern end of Tribe Road # 2. Her Majesty the Queen and His Royal Highness the Duke of Edinburgh were here in 1995 and she unveiled the plaque shown.
Part of it passes through this Parish.
The Reefs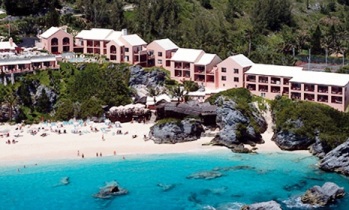 South Road, Southampton Parish. Phone (800) 742-2008 in the USA or Canada or directly at (441) 238-0222. Fax (441) 238 8372. E-mail reefsbda@ibl.bm. Taxi fare from/to airport from $35 per taxi for 1-4 passengers or from $45 for 5-6 passengers.
A beach resort nestled into coral cliffs above a private pink beach with good diving and snorkel facilities. Each guest room has Bermuda-inspired colors. Each private lanai is situated to give maximum privacy.
With three gourmet restaurants, bar and fitness center. The 2 tennis courts are plexi-pave. On the 7 bus route. Owned by David Dodwell, a former Minister of Tourism for the United Bermuda Party. (He also owns a hotel on the island of Nevis, Caribbean).
It applied for and got major renovations under the Hotels Concessions Act and has invested US$5 million on renovations and additions. It has new suites, entrance area, landscaping and first "infinity" hotel swimming pool in Bermuda. The USA's Travel & Leisure magazine voted this hotel as best in in the Caribbean region for the standard of its rooms, facilities, service, food, restaurant and value - and 23rd best in the world. in June 2007 work started on a $40 million dollar new development, The Reefs Club. It is a Private Residence Club (PRC) with 19 two-and-three bedroom residences all with unobstructed ocean views and will feature a spa on the patio of every unit.
Residents also have access to an infinity pool, whirlpool, club lounge and state-of-the-art fitness centre.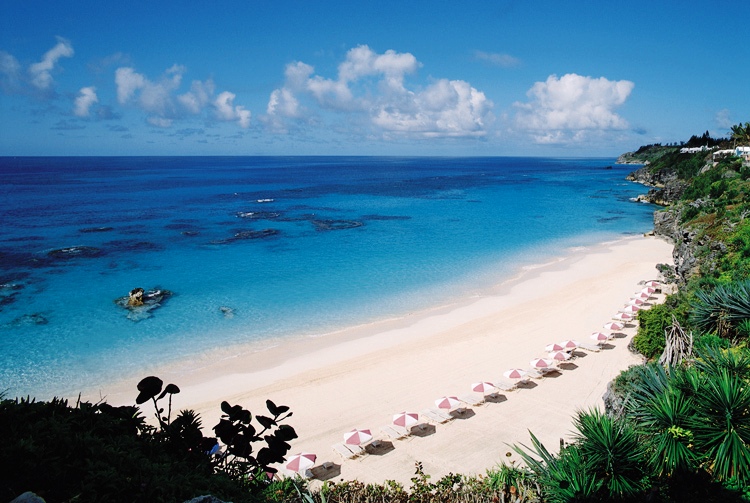 The Reefs beach
The PRC is located immediately west of The Reefs property. The PRC units are fractionally owned, meaning there will be ten owners per unit. When a unit is purchased the owners get to select the dates they will be residing there, but also have the right to use the unit whenever it is free. Owning at a luxury fractional development such as this is essentially the only feasible way for foreigners to own real estate in Bermuda, due to a government policy that restricts the amount of real estate that can be sold to non-Bermudians. Because of their affiliations with hotel properties, private residence clubs are not affected by these regulations.
Restaurants in the Parish
See under Bermuda Cuisine and Restaurants.
Rockaway Ferry Dock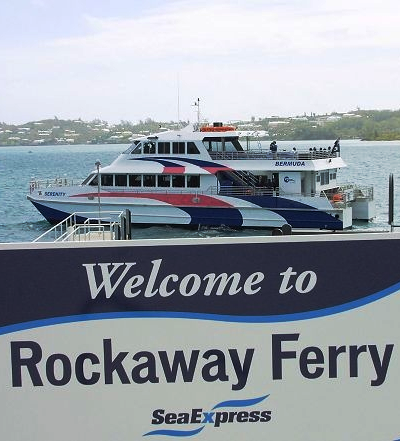 Tribe Road No. 5, Southampton. The site of Bermuda's new fast ferry stop, completed in March 2002. It cost US$3 million and is just before the entrance to the former (and closed to the public) United States Naval Annex. The ferry stop was built to take the front-loading ferries from April 2002. They cut the journey time from Rockaway and Dockyard to between 17 and 20 minutes in the rush hours, 35 minutes on Saturdays. Contractors built a road to the site through Tribe Road Number 5. The site has 87 parking places for cars, a security officer and a toilet with disabled access.
Seymour Farm Nature Reserve
Operated by the Bermuda Audubon Society. Has an interesting pond.
St. Anne's Church
On South Road and Church Road, a sightseeing attraction and historic Parish Anglican (Episcopalian) church. It claims the oldest baptismal and marriage records in Bermuda, with its first baptism in 1619. It owns a silver chalice marked 1603/4 and inscribed Port Royal Church (as then known). The church has its own graveyard.
Sharon Wilson Gallery
At 2 Turtle Place off the South Road and clearly sign posted. Telephone 238-2583 for opening and closing hours.
South Beaches
Prime beaches and hotel site, awaiting development. On its own 33-acre peninsula of picturesque landscaped grounds in Southampton Parish, with 13 acres along the South Shore bordered by three private pink sand beaches on three natural bays, via a very steep hill from the main South Road. Acquired in 2013 by the Green family of Bermuda, who own the Hamilton Princess Hotel and Waterloo House. Ocean-front 32-acre site. It includes three South Shore beaches and is zoned for mixed tourism and residential use. Current entitlements allow for the construction of a hotel plus 88 residential units of which 47 could be sold to non-Bermudians. No asking price has been attached to the site. With wonderful topography, and beautiful water views from all levels, overlooking the three beaches.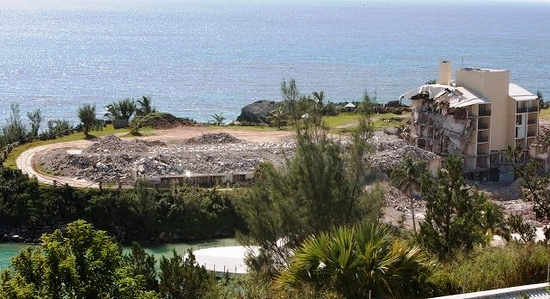 Former hotel site, Royal Gazette photo
The site is exceptional in that it comes freehold, without a requirement. as is the case for all other hotels in Bermuda owned by non-Bermudians for a buyer to take on a long-term lease with the Government. Scout Real Estate, the US developer which bought the 32-acre spread in 2007 had planned to build a five-star resort there. But after demolishing the former hotel which was known as the Sonesta and later the Wyndham Bermuda Resort and Spa, plans were scuppered. Lehman Brothers, the US investment bank which filed for bankruptcy protection during the financial crisis of 2008, had been the main financier of the approximately $200 million project. It had been expected to open in 2011 as a US$300 million investment, with 150-rooms, with individual beach villas around three beach coves, a luxury spa and fitness center, several pools and restaurants and shopping venues.
South Road
A bus (the # 7 route) or moped tour along this scenic road offers seascapes much of the way. From east to west the Parish part of this main road starts just past Warwick Camp, where it overlooks Chaplin Bay. Continuing west, the road gives you magnificent views - and lookout points to get off the road and park, briefly - over Horseshoe Bay on the seaward side and all the other beach areas of the Parish comprising the South Shore Park and Parklands. Further on, you'll see the Southampton Princess Hotel and Golf Course on the right, the Sonesta Beach Hotel and Spa on its private peninsula on the left, the Reefs also on the left, and much more. Just past Church Bay, the road turns inland, gives you clear views over the Great Sound, then terminates at the junction with the Middle Road.
Southampton Parish Council
Appointed under the Parish Councils Act 1971. See under "Parish Councils" in Bermuda Government Boards. Appointees are political and meetings are not open to the public, unlike in the United Kingdom, Canada and USA where parish or community councils always are.
Southampton Princess Resort
See under "Fairmont Southampton Princess Resort in " http://www.bermuda-online.org/accomm2.htm
South Shore Park beaches
See Beaches.
In order of appearance, they are Port Royal, Horseshoe Bay, Peel Bay, Butt's, Middle, Wafer Rocks, Angle, Hidden, Chaplin Bay and Jobson's Cove. South of the Lighthouse, off the South Shore, Horseshoe Bay has a quarter mile of curved pink sand fringed by limestone cliffs and a park setting north of it. There is a life guard. Get there by bus (number 7 stops on the main road) and then via a walk or a moped or taxi or car, up and down a steep hill. Peel Bay is just east of and may be accessed via Horseshoe Bay. It is its equal in many respects of its bigger adjacent brother but without the same facilities. Chaplain Bay got the name from the fact that some chaplains, conducting beach side weddings in this perfect spot for such solemn ceremonies, have been known to cast their eyes upward to their Maker and intone with great reverence that this is the part of Heaven they trust will be reserved for them.
Supermarket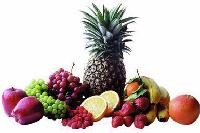 Market Place, Heron Bay, Middle Road. Bus route 8 will drop you nearby - but not nearly as frequently on a Sunday as a weekday. It sells liquor except on Sunday. But budget in advance for expensive Bermuda prices.
Turtle Hill
Where the Southampton Princess Hotel was built. Before that, it was once owned by Sir Nathaniel Rich, one of the original directors and shareholders of the Bermuda Company, from 1615 until his death in 1636. On 7th April 1941, the American Army took it over. The American leader, Captain (later Admiral) Jules James USN received commendations for his careful and diplomatic handling of the Bermuda Government and the people of the island, unlike the-then Governor of Bermuda. In another connection with Bermuda, Capt. James was a cousin of Nancy Astor, the first woman elected to the Parliament in London; she was married to a relative of one of the richest men in the world, Vincent Astor, who built a great home on Ferry Reach. (Astor erected the house with his first wife, Helen Huntington, but both likely lost interest in it when the pristine Castle Harbour, their main vista, was destroyed to make Kindley Field). One of the Americans who came to Bermuda at that time was a Captain Charles Beaudry USA, who spent most of the war in Bermuda. He made friends with many Bermudians, and made many pictures of the island, the new military works and Bermuda scenes of the time. Captain F. W. Clipper was another US Army officer in Bermuda and often at this location at that time. He too stayed in Bermuda, married into a local family and subsequently contributed hugely to the social benefit of Bermuda. Colonel Beaudry later donated his photographic collection to the Bermuda Maritime Museum which has an archive of American activity on the island during the war. By 1939, the several hundred British guns at Bermuda had been reduced to two 6-inch Breech Loaders manned by the Bermuda Militia Artillery at St. David's Battery. Two more such guns were installed that year at Warwick Camp, but with only four weapons island-wide, the Americans willingly assume the coastal defence of Bermuda and brought in some big guns. Captain Beaudry was in charge of installing some, two of which were at Turtle Hill, where a camp was soon installed amidst the rolling cedar strewn landscape. On the highest part of the hill, two circular Panama Mounts were built in concrete to take 155mm GPF guns. Similar guns were placed at Cooper's Island, while massive railway guns, mounted on a set of tracks, were installed at Scaur Hill and between Forts Victoria and Albert on St. George's Island. A year later, fixed installations replaced the latter and two others were built at Tudor Hill near the Naval Operating Base, where Captain Jules James set up camp at the first American station in Bermuda. At the American Army encampment at Turtle Hill, the facilities included an open-air mess hall. See the surviving Panama Mount gun emplacement which once had a 155mm GPF gun.
Turtle Hill Golf Club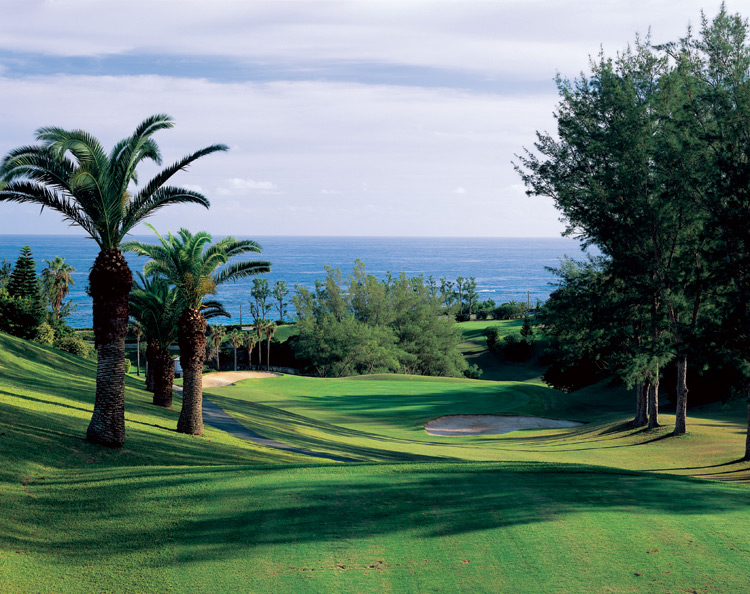 Photo: Bermuda Tourism
Part of, owned and operated by and adjacent to the Southampton Princess Resort complex, South Road, Southampton Parish SN 02. For reservations call (441) 238-0446. An 18 hole par 54 course over 2,684 yards. Carts are mandatory and included in the green fees. There's a pro shop, tennis courts, bar and restaurant. For visitors who arrive on one of the cruise ships, the closest cruise ship berth used to be (until 2007) the City of Hamilton, about 5 miles away to the east, but is now Dockyard, about 8 miles away. If you bring your own clubs, you won't be able to go by public transportation (bus). Instead, take a taxi. Buses (# 7 or 8) go only to nearest stop about half a mile away below the hill. Check rates directly with course depending on time of day and time of year.
Private but will accept off-the-street golfers by prior appointment.
Vesey Nature Reserve
Off Middle Road, between Evan's Bay Road and Rockaway. It includes part of the valley containing Evan's Pond and a ridgeline extending all the way to the Little Sound. The eight-acre Nature Reserve has been saved from future development thanks to the generosity of Sharon Vesey, who donated the site to the Buy Back Bermuda group. The organization — a joint initiative of the Bermuda National Trust and the Bermuda Audubon Society — has renovated the area, which includes two quarries, a natural limestone sink hole and a variety of habitats, including mangroves, a lush woodland valley, an exposed hilltop and rocky shoreline. A great deal of work has gone into its restoration, making it a wonderful place for a family day out. Amenities include walking trails, interpretive signs, a quarry exhibit, plenty of places to picnic and for children to play, benches to relax on and an observation platform with a fabulous view of the Sound. Much of the reserve restoration was carried out by teams of volunteers from HSBC, Butterfield Bank, Lancashire Re and Bermuda Audubon Society, under the direction of David Outerbridge of the National Trust and David Wingate of the Audubon Society. The volunteers culled thousands of invasive plants, planted many native and endemics and helped to clear pathways. The reserve features a number of interpretive signs and a quarry exhibit with an authentic five foot quarry saw. This is the second nature reserve opened to the public through the Buy Back Bermuda campaign. Six years ago, it opened the Somerset Long Bay East Nature Reserve. And a third project is in the pipeline after the group bought up another piece of open space, Eva's Pond, in Hamilton Parish.
West Whale Bay Battery, Beach, Fort, Park
Forts of Bermuda.
Other Bermuda geographic areas


Last Updated: May 18, 2016.
Multi-national © 2016 by Bermuda Online. All Rights Reserved.