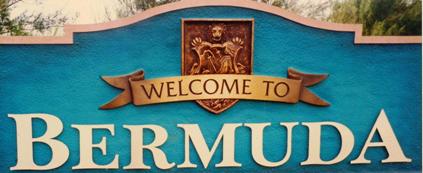 1125+ web files in a constantly updated Gazetteer on Bermuda's accommodation, activities, airlines, apartments, areas, art, artists, attractions, airport, aviation pioneers, banks, banking, beaches, Bermuda Status and citizenship, books and publications, British Army, businesses, calypso, Canadian military, causeway, churches, city of Hamilton, commerce, community, cruise ships, culture, cuisine, customs, Devonshire Parish, disability accessibility, districts, Dockyard, economy, education and universities abroad, employers, employment, entertainment, environment, executorships and estates, fauna, ferries, flora, food, forts, gardens, geography, getting around, golf, government, guest houses, history, Hamilton Parish, homes and housing, hotels, internet access, islands, laws and legal system, local groups and organizations, location, media, motor vehicle options, music, municipalities, Paget Parish, parishes, parks, Pembroke Parish, politics, postage stamps, public holidays, public transport, railway trail, religions, Royal Navy, Sandy's Parish, St. David's, St. George's Parish, shopping, Smith's Parish, Somerset, Southampton Parish, Spanish Point, Spittal Pond, sports, stores, telecommunications, traditions, time zone, town of St. George, United States armed forces, tourism, vacation planning, villages, vital statistics, water sports, weather, Warwick Parish, wildlife, work permits, etc. For tourists, business visitors, employers, employees, newcomers, researchers, retirees, scholars.

Bermuda's Sandys Parish
This western county includes Somerset Bridge, Somerset Village and Dockyard

By Keith Archibald Forbes (see About Us) at e-mail exclusively for Bermuda Online
To refer to this web file, please use "bermuda-online.org/seesandy.htm" as your Subject.
Accommodation
Recommended places are shown in bold. Some have the facilities shown by the following symbols. Hotels shown with 5-2 Stars reflect the symbols shown on Expedia.com.
Symbols
| | | | |
| --- | --- | --- | --- |
| - 5 Star hotel | - 4 Star hotel | - 3 Star hotel | - 2 Star hotel |
Other symbols
| | | | |
| --- | --- | --- | --- |
| - business center | - business facilities | - Ship view | - dining |
| - disabled access | - fitness | - golf course | - meeting room |
| - pool | - public buses | - public ferries | - shopping |
| - walking area | | | |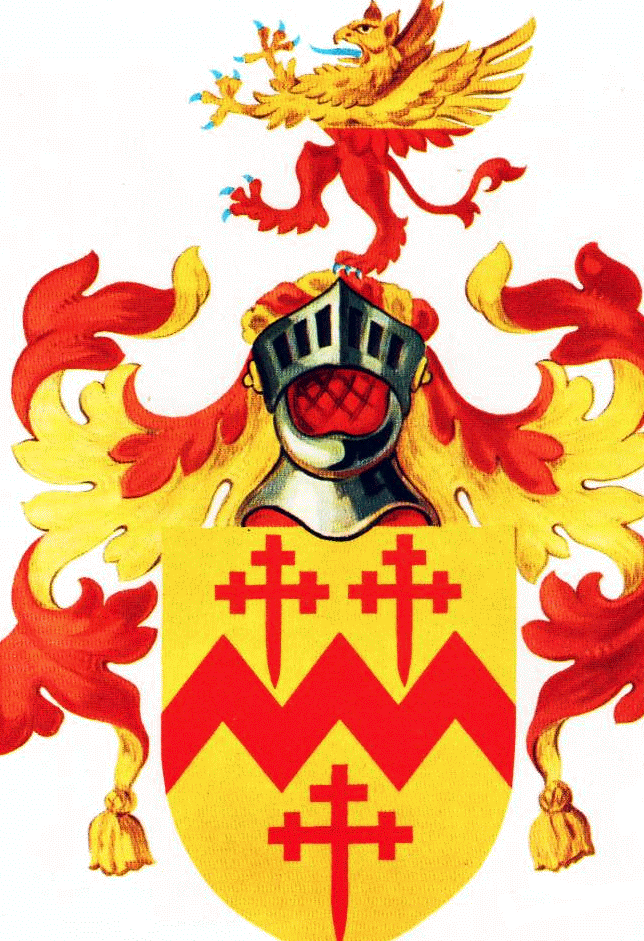 Part of Sandys Parish crest, from Sir Edwin Sandys
Used with exclusive permission from the copyright owners. Do not copy.
The Bermuda Government appoints a Parish Council for each Parish. It will have more information about the crest and Parish beyond that shown below.
About Sandys Parish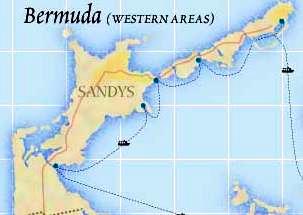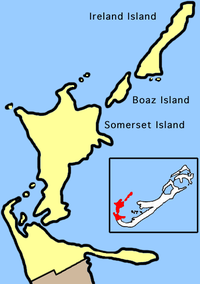 Bermuda's Architectural Heritage: Sandys. 1999. Bermuda National Trust.

Sandys Parish is the westernmost of all nine Parishes each of the same size, 2.3055 square miles.

It includes Somerset Island (named after the English county of Somerset, like Somerset in New Jersey 08873, USA and other places with Somerset in their name, like Somerset in Massachusetts). It also includes Boaz Island, Ireland Island and Watford Island. They are all connected by bridges and serviced by buses and ferries.

It was named in honor of one of Bermuda's Elizabethan patrons, English aristocrat Sir Edwin Sandys (1561-1629).

He was the second son of the Archbishop of the city of York in England.

He was a Member of Parliament for Andover in 1586 and accompanied King James on his triumphal progress through England when he ascended the throne on the death of Queen Elizabeth.

Sandys was knighted the same year but his royal favor was withdrawn when it was noted he had nonconformist sympathies. He was a member of the Council for Virginia in 1607 and was personally responsible for the emigration of many families. He was also suspected of encouraging republicanism in those places. He joined the Bermuda Company in 1615 as one of the Gentlemen Adventurers who invested to colonize Bermuda. He was the largest shareholder in Sandys Tribe, later this Parish.

In 1621 he was imprisoned, nominally for hiding the truth on the appalling conditions in Virginia for colonists at that time, but probably for his Parliamentary speeches that did not please the King. He was released after a few weeks but died in 1629.

Early settlers called the Tribe Mangrove Bay, from the profusion of mangroves. Mangrove Bay is a sightseeing area.

This Parish is both more western in direction than all others and the furthest away from the Bermuda International Airport. It is an expensive taxi ride for visitors.

But it is served by Bermuda Government ferry boats in four places to and from the City of Hamilton. It is a nice ride for visitors.

It is also served by buses.
Constituencies
Sandys South
Sandys South Central
Sandys North Central
Sandys North
Beaches
For a complete listing island-wide of beaches by Parish, see Beaches of Bermuda.
Black Bay

. A scenic area with several small public beaches more apparent when the tide is low, on the northern side of Malabar Road, Ireland Island South. Bus routes # 7 (Dockyard) and # 8 stop in the immediate area.
Callaghan Bay

. A pretty little public beach, just off Somerset Road, where Ratteray Lane and West Side Road begin. The # 7 (Dockyard) or # 8 bus stop here. Or you can ride a moped north along West Side Road. If so, this is the first beach to encounter.
Cambridge Beaches. King's Point. Five small beaches, all private, for guests at the distinctive property of the same name. Very nice.
Church Bay

. The second (after Callaghan Bay) pretty little public beach you come across, if you're sightseeing on foot or via a moped north along West Side Road, off the Somerset Road.
Daniel's Head

. In World War 2, the land was a Royal Navy wireless station. A 17 acre coastline area today, Canadian Forces had a military base here from July 1963 to December 1993. They had no facilities for aircraft, but with close ties with the American scientists monitoring Soviet submarines from Tudor Hill in Southampton, they could use of helicopters. No trace of them remains now. The land reverted to civilian tourism use. Destination Villages of the USA opened the $13.5 million Daniel's Head Village cottage tent resort, with 135 units. It was owned by Americans Stanley Selengut and Lew Geyser. But it later closed and reopened under a new name, Nine Beaches, also with new owners. The new name is because of the number of small beaches there, of which this one public and the nine smaller ones are private, hotel-owned.
Mangrove Bay


.
Number 1 on a Bermuda National Parks and Reserves map from a Visitors Service Center. Bus routes # 7 (Dockyard) and # 8 stop here by request. It is a serene and photogenic bay, public beach and former smugglers' harbor, in a sea park.

It has a picturesque country village, Somerset Village, in the immediate area.

It is safe and nice for fishing, sailing, swimming and having a scenic picnic. Until May 2006, when the Bermuda Government demolished it, there was a public dock building here, which serviced the crew and actors working on the film "The Deep." It was once a ferry point for those going to Cambridge Beaches.
Parsons Bay. Craddock Road, Ireland Island. Public. Small, interesting, off the beaten track.
Snorkel Park. Dockyard. One of the very few in Bermuda with bathroom facilities and restaurant. Popular with tourists from cruise ships.
Somerset Long Bay Beaches and Park
Enter via Long Bay Lane off the Somerset Road. Note that bus routes 7 and 8 will take you only part of the way. Go the rest of the way by one of the ways shown in Transportation for Visitors.

A far nicer spot for cruise visitors whose ship is moored at King's Wharf than at any beach at Dockyard. Toilet facilities are primitive but the location is free and splendid for a picnic.

The shallow waters of Somerset Long Bay Beach are safe for swimming, snorkeling and bone fishing.

There is a Bermuda Audubon Society bird sanctuary. The mangrove pond attracts local and overseas species.
Willowbank. Ely's Harbor. Two nice private beaches enjoyed by guests at Willowbank.
Wreck Hill. Ely's Harbor. Some gorgeous but only private beaches for residents of this exclusive area.
Bermuda Arts Centre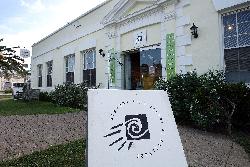 Dockyard, in the Old Cooperage building - building # 28 - (originally built by the Royal Navy in 1831 for navy storage). It is the creative workshop of local (Bermudian and resident foreign) artisans and artists, open 7 days a week. It was established in 1983 by the West End Development Corporation, a Bermuda Government quango, when Christopher Astwood, then WEDCO chairman, was keen to include the arts in the redevelopment of the Dockyard area.
In 1984, it was formally opened by Her Royal Highness (the late) Princess Margaret, during her visit to Bermuda. Workshops are also offered both artists and visitors, to upgrade skills and introduce new techniques. Crafts and handicrafts are also included. It began in April 1987 when what was then known as the Bermuda Craft Market opened in the Cooperage building in Dockyard as a retail venue specifically designed to showcase locally-made crafts such as cedar work and jewellery. The ambience was that of a rustic marketplace, with wooden barrels and other bric-a-brac dotted among the merchandise displays. Artists and artisans were on hand to sell their goods, and some also demonstrated their craft. Ideally located to catch the tourist trade, the Centre was also popular with resident shoppers in search of locally made goods. It was run entirely as a co-operative, with each crafter renting their their stall, and thrived.
Bermuda Fun Golf
A new mini-golf course attraction that opened in Dockyard in 2013, featuring 18 holes over an acre, plus a waterfall, lush vegetation and saltwater fish ponds. Located in the former Sallyport landfill site, next to the Snorkel Park. It is accessed from the Snorkel Park tunnel. While considered mini golf, it is a larger course, caters to all ages, and is much more challenging and will test everyone's ability to get a hole-in-one, its developers say. Its 18 holes represent challenging holes from golf courses in Bermuda, Scotland and the US. The putting greens are all made of synthetic turf. Jill Kowalchuk, John Burcher and Hakan Lindgren are partners. They operate a small concession at the course and have a liquor licence. The family and visitor attraction has done its best to be environmentally friendly, installing solar lights and power, and pumping up salt water for the ponds from the sea below. Bermuda Fun Golf will host private parties, children's parties, corporate and special events. It is hoped the course will prove a great way for people to try golf, get their confidence up, and go on to play at Port Royal and the Island's other golf courses. An application for the golf course was originally submitted to Planning back in 2011.
Bermuda Maritime Museum
See National Museum of Bermuda
Bethell's Island
See Islands below
Boaz Island
See Islands below
Bus routes in Sandys Parish
Visitors and new residents who use the Bermuda Government pink and blue buses should always first obtain a free copy of the schedule, to know when the service operates, when it stops and what fares apply.
Dockyard. The # 8 bus service from and to the city of Hamilton on the outward and inward routes services the Middle Road all the way to the end of Parish, but misses out some areas of the Parish. It is the most frequent service. This main road has many interesting attributes, showing off much of typical urban, suburban and rural Bermuda. It's the only Parish stretch of any main road in Bermuda completely inland until Southampton Parish going west (the Parish before this one). Avoid the crowded rush hour buses.
Maritime Museum. The # 7 bus service from and to the city of Hamilton on the outward and inward routes services all the main South Road in the Parish on the way or back. The second most frequent service in the Parish, it has many nice views and sightseeing attractions. Avoid the crowded rush hour buses and other times when cruise ship passengers also jam up the buses to get to and from the South Shore beaches along the route.
Cambridge Beaches Resort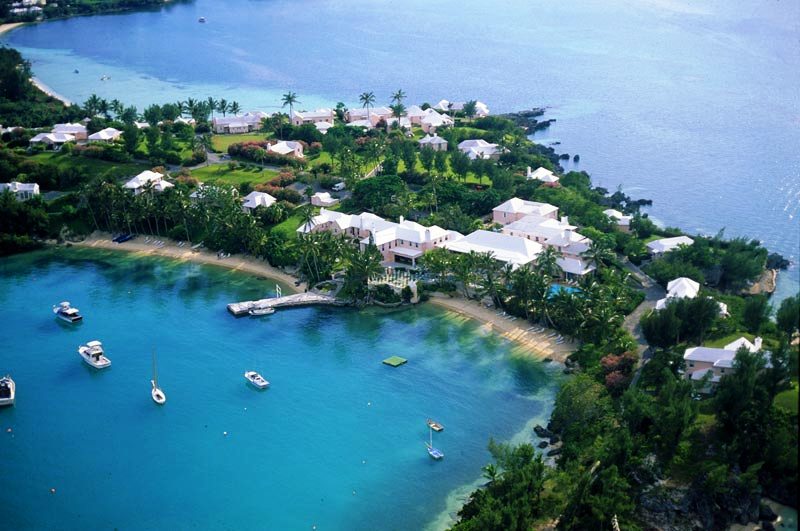 30 King's Point Road, Somerset, Sandys Parish, MA 02. Phone 1- 800-468-7300 in USA or 1-800-463-5990 in Canada or directly at (441) 234-0331. Fax (441) 234-2252. Stunning location on it's own 25-acre peninsula on the westernmost end of Bermuda, furthest away from the airport. Overlooks Mangrove Bay and Long Bay, in a magnificent, exclusive, private site. From $595 a night including breakfast but periodically with a free night with a qualifying stay. For the affluent, up-market visitor on business or vacation, who are demanding and have high expectations.
Accepts American Express cards. President and Chief Operating Officer is Michael Winfield. Bermuda's first cottage colony with one cottage about 300 years old. For tennis, there are 3 all-weather courts, 1 lit (for a fee). It has five small private beaches at King's Point, Mangrove Bay Terrace and Long Beach Cafe for informal meals, Tamarisk Room for formal dining restaurant. Buses do not serve this property. Nor does the regular Bermuda Government Department of Marine and Ports ferry service catamaran vessels. But there is a frequent complimentary ferry service for guests only directly, non-stop, to and from the City of Hamilton.
Casemates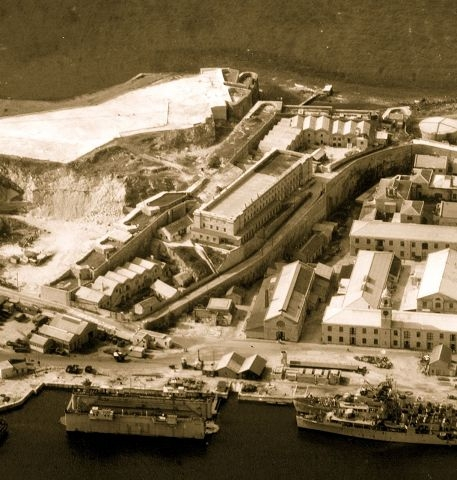 Casemates barracks (centre) in 1941, with Royal Navy ships berthed nearby during World War 2.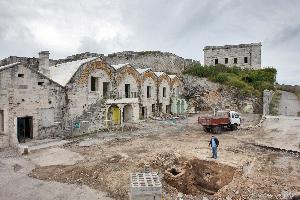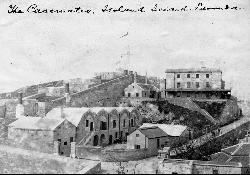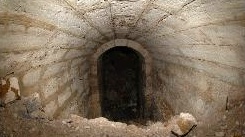 One of the most important historic buildings of the Dockyard. Built in the late 1830s or early 1840s and now the oldest standing building at Dockyard. Hundreds of British convicts worked on this building alone, as one of the Dockyard buildings built by the thousands of convicts sent to Bermuda for penal servitude, living in pitiful conditions on hulks of former British naval warships crudely reworked to house the imported British felons. At one time, they and the forces needed to keep them working, as well as the Royal Navy presence in Bermuda, provided 15 percent of all income in Bermuda and it was a symbol of British power. Now, 200 years since British sailors moved into the Royal Naval Dockyard and it became a strategic port to withstand the Americans, this building at the west end of Bermuda will become the Island's national museum. In 2009, to get the project going, Cabinet approved the handover of Casemates Barracks and its surrounding buildings to the Bermuda Maritime Museum (BMM) on a 99-year lease from the West End Development Corporation (WEDCo) to form the Bermuda National Museum.
To begin the expansion of Maritime to National Museum, it is hoped that in the foreseeable future the northwest rampart (the wall that runs behind the ship building yard) and the bridge connecting the wall with the keep would open. This walkway, which was a lookout for soldiers before becoming a water catch in the 1930s, will allow visitors to walk to the walls of Casemates, but not enter. Not only will the passage return to its historic roots, but will provide a modern amenity, a route for the new fire trucks too large to enter the museum's main gate. It will take another five to seven years, however, to restore the main prison building and the surrounding buildings because the BMM rely on volunteers and donations for funding. When completed, it may be the outside buildings will be for mixed use while the main Casemates building will develop through partnership with groups like the National Trust, which need more space for exhibits. Some of the areas that could be covered in the new buildings include decorative arts, architecture, archaeology, transportation, music and dance, agriculture, civil rights and the Dockyard defences. Furthermore the area could provide additional housing for researchers from abroad and get a tremendous amount of work done on archive and museum work. The handover of the building from WEDCo will bring the total acreage of the Maritime Museum from about ten to slightly more than 15 acres under the National Museum title. Until 2009 the Maritime Museum included: The Keep, the Queen's Exhibition Hall, Dainty Exhibit/Westminster Palace Stone, Shifting House 10 Artefact Conservation Laboratory Shifting Office, Commissioner's House, Shell House, High Cave and Magazine, Forster Cooper Building, A to G Bastions A to G and Magazines, Boatloft and Dolphin Quest. The National Museum will include all these buildings as well as the northwest rampart and the nine bastions, and the Casemates Barracks which is three buildings.
Casemate Barracks was so named for it was a barracks and upper and lower ordnance buildings for the men of the Royal Marine Light Infantry, who were responsible for manning the guns and the defence of the Dockyard. Also, it's roof, being vaulted in brick and concrete some eight feet thick, was built to make it bomb-proof against the incoming cannon balls and mortar shot of the day. Casemate Barracks had two floors with accommodation for 120 officers and men, along with canteens, messes and offices. The well that forms the roof has unparalleled views of the Dockyard to the northeast and the building, given its construction, could have been converted into a fort. The walls are several feet thick and being made of the local limestone needed no plastering to make them waterproof. A veranda was to be had on three sides of the building at the level of the ground floor.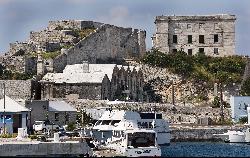 In 2008 a team of volunteers from XL Insurance discovered a major piece of local heritage, buried in the lower yard of the Casemate Barracks complex. The feature proved to be a tunnel large enough for two soldiers to walk abreast in and runs underneath an existing building and courtyard for some 60 feet. Open at the southern end (after the accidental removal of concrete slabs covering an entryway), the tunnel is blocked with brickwork at its northern extremity. Its roof is close to the surface at that end and it is surprising that it was not broken into during the demolition of the visitors' centre of Casemates prison times. The tunnel was extremely well built in both types of Bermuda stone, the soft of house construction and the hard rock, used at the Dockyard, some of the forts and in wharves in early times. It was clearly meant for people to transit and contained three vent holes in the roof. Such ventilators in that type of construction are usually associated with passages under the ditches of fortifications; the holes would vent the tunnel to the open air in the floor of the ditch. Two of the ventilators are cleared, but have the floor of the 1845 Casemated Ordnance Stores blocking them at the top, and the third, to the north, is corked with concrete from the construction of the visitors' centre. Through all of the ventilators, an attempt was made to fill up the tunnel with soil, sand and rubble, probably in the early 1840s, before the building of the Ordnances Stores. On either side of the Casemates Barracks was an ordnance yard and there are still found the gunpowder storage buildings, or magazines. The one to the southeast later became the bakery of the Dockyard and saw its last use as the visitors' entry block into Casemates, the prison from 1963 to September 24, 1994, now replaced by the Westgate Correctional Facility. See more historic details in the Royal Navy Dockyard.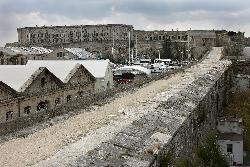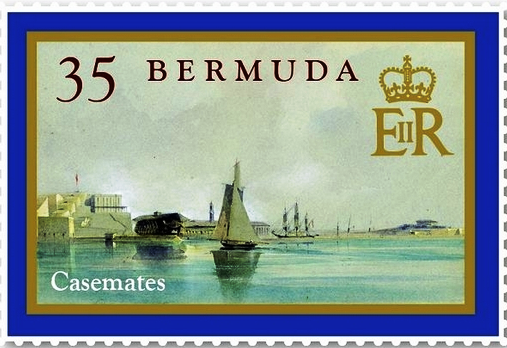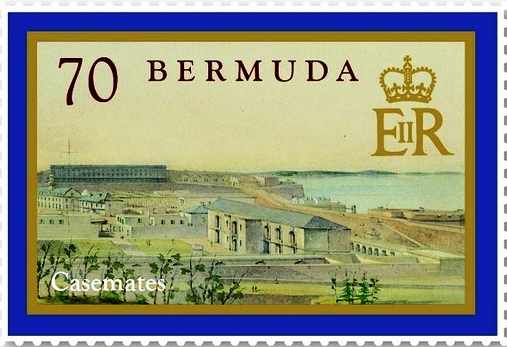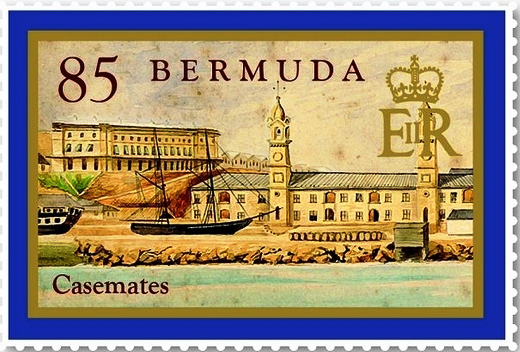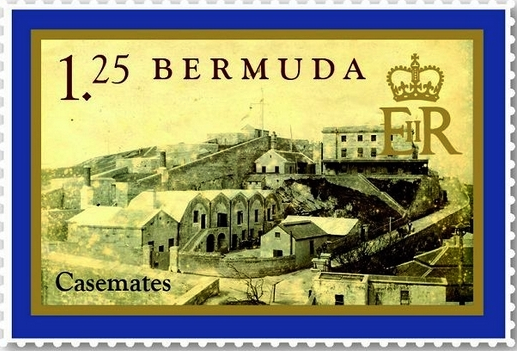 Bermuda postage stamps featuring Casemates, 2011.
Cathedral Island
See Islands below.
Cathedral Rocks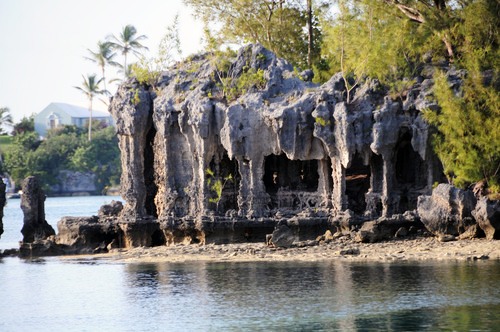 Gibb's Point, southwest corner of Somerset Island and a most unusual tourism feature of Bermuda somewhat in the manner of the Lorelei Rock on the Rhine in Germany and probably just as geologically old. The waters of Ely's Harbour are adjacent. So-called because the curious shape of this coral formation resembles a Gothic or earlier German DOM (Catholic Cathedral), such as the famous DOM in Cologne. Contrary to popular belief, nearby Cathedral Island was not named in honor of Cathedral Rocks. The scene has been much-photographed by intrigued visitors. A striking photo for the visitor who wants to rent a sailboat or Boston whaler in Ely's Harbour.
Cavello Bay
Named after the Bermudian way of describing a species of fish once found in abundance nearby. A pretty and secluded area, a picturesque inlet on the south east shore of Somerset Island, popular with artists. See Islands below.
Cavello Bay Ferry Dock
Long Point Lane and Scott's Hill Road. One of the Bermuda Government-operated public transportation Ferry stops.
Clocktower Mall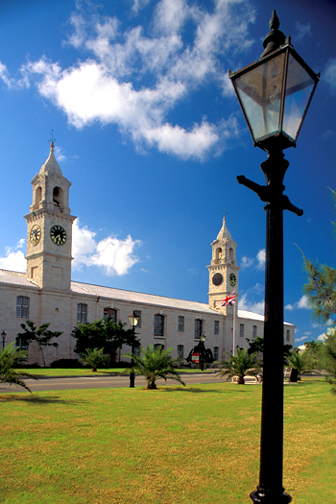 Part of, and the most noticeable landmark in, the former Royal Naval Dockyard. It was originally The Great Eastern Storehouse, huge - with 3 foot walls and 100 foot towers, built in 1856 by Britain's Royal Navy which once has a formidable naval base here. This was then one of the main buildings. The clock on the south tower was cast in England in 1857 by John Moore and Sons. What seems to be a single hand clock on the eastern side of the north tower is a rare "tide clock." In Royal Navy days, the hand was set daily to indicate the time of high tide. Grassy areas lead to deep water berths. Today, it is a shopping mall - the Clocktower Mall.
Cockburn's Cut and Cockburn Road
The first is a man-made, Royal Navy-prepared, channel. It divides the former Royal Naval base at Ireland Island from the rest of the island. Somewhat in the manner of a castle moat, it's original purpose when first dug in 1817 was to staunch any military attack from the USA on the more vulnerable landward side. It was filled again in 1823 by British convicts sentenced to hard labor in Bermuda, and re-dug by more convicts in 1843.It is now spanned by the small scenic bridge shown which connects Cockburn Road to Pender Road. Both the cut and road were named in honor of Sir James Coburn (pronounced Coburn), Governor of Bermuda from 18816 to 1820. He was the brother of Vice Admiral the Right Honorable Sir George Cockburn, GCB, Royal Navy. He was the overall commander of British land and sea forces (Royal Navy ships of war) which from Bermuda attacked Washington DC and burnt the White House. Admiral Cockburn also commanded the Royal Navy squadron which conveyed Napoleon Bonaparte to his final exile on St. Helena.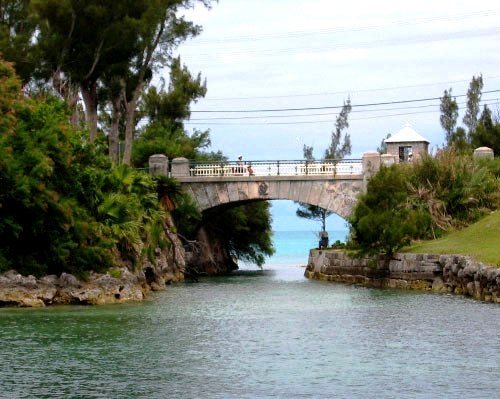 Commissioner's House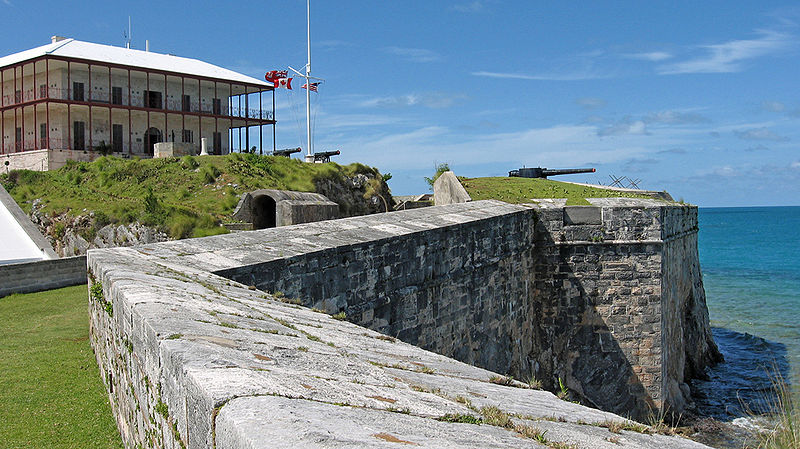 Has a commanding position at the center of the Dockyard Keep. So-called because, like all Royal Navy Dockyards at the time, some Royal Navy officers or retired officers with the rank of Dockyard Commissioner maintained their headquarters there. Designed by Edward Holl, it was erected within five years from 1823 as the world's first residence using prefabricated cast-iron for its structural framework. It was severely censured by legislators in London who termed it the most expensive Royal Navy white elephant they had ever seen, because of its cost to British taxpayers. It was a special project of the Dockyard Commissioner of the time, who happened to be a civilian appointee, not a former senior Royal Navy officer. Because of the latter, no attention was given to protecting it from potential invaders. Instead, it became a source of deep worry to the Royal Navy, as a potential landmark military target capable of being attacked by long-range ship-based gunfire that severely prejudiced the Dockyard's otherwise good military defenses. It decayed after the departure of the Royal Navy from Bermuda from the 1950s, but after the Bermuda Maritime Museum took control in 1974, it was finally restored in 2000. Today, it is used to display a number of exhibitions. The basement shows Bermuda's Defense Heritage, a display about Bermuda's defenses and fortifications and the role of local forces in world war I and II. The hall is site of a 2-story History of Bermuda mural by the Bermudian artist Graham Foster. The main floor has a number of themes related to Bermuda's history including slavery, immigration, and tourism. One room is dedicated to the history of the Bermuda nautical Race. The upper floor contains collections of maps, books, coins, maritime art, and exhibits concerning activities of the Royal Navy and the US Forces, specifically during WW II. Other buildings show shipwreck artifacts, local watercrafts and more.
Convict Cemetery
Cochrane Road, Ireland Island. At the west end of Cochrane Road, off Malabar Road, on the approach to the former RN Dockyard. Phone: (441) 236-6483. Bus Routes: 7, 8. Admission is free. This small cemetery, discretely hidden behind a row of houses, served as the burial ground for British convicts imported from all over the United Kingdom (which in the nineteenth century also included all of Ireland. These men, rather than being executed in the UK, were sent to colonies like Bermuda to serve as laborers on the many British Army and Royal Navy fortifications of the 19th century. Of the 9000 convicts sent here, 2000 died. But oddly, there are only 13 marked graves in total here; four are named and nine are unnamed. What happened to the rest is a mystery. It is possible the bones may have been dug up and used in concrete in the building and/or redevelopment of the Royal Navy Dockyard or other fortifications. For more information on the Dockyard and the major role the convicts played in building it see Royal Navy Dockyard.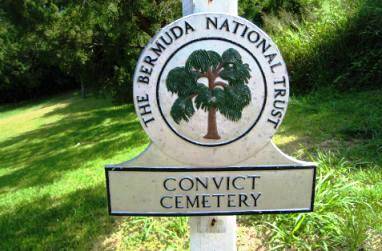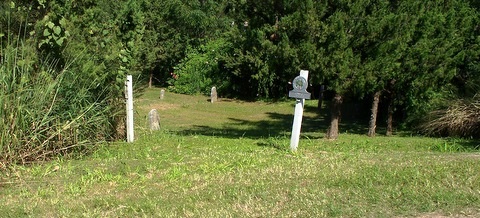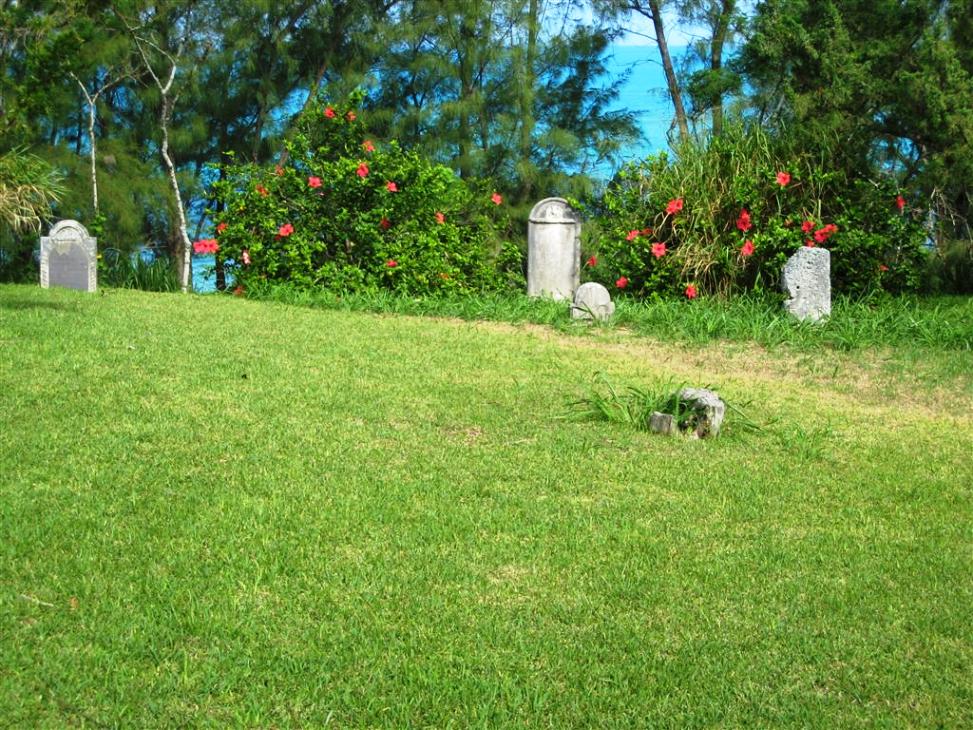 Some of the convict hulks based at Dockyard Bermuda, 1848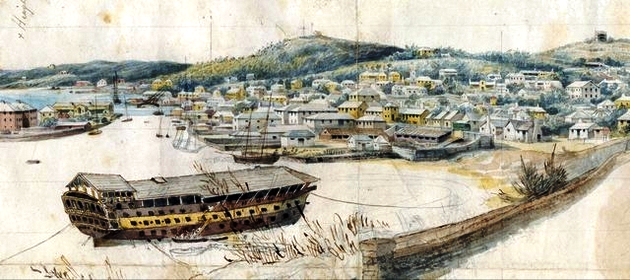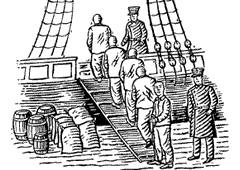 Cottage Inn
Cockburn Road, Ireland Island. A boutique hotel was originally planned in 2001 by this name but even as late at 2012 has not yet materialized and now may never be. A waterfront property with considerable re-development potential, it was built by and once belonged to the Royal Navy, when it owned the Royal Navy Dockyard. It once was the accommodation and business premises of the Senior Royal Navy Officer.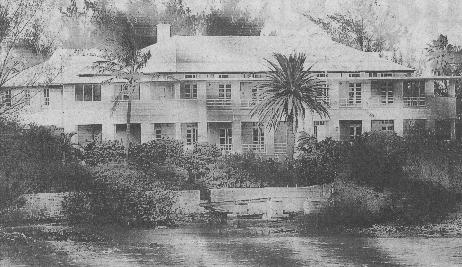 Craft Market at Dockyard
Phone 234-3208. Daily. Cooperage Building opposite Bermuda Maritime Museum.
Crawl Island
See Islands below.
Cross Island Marina
Dockyard. To accommodate mega-yachts. Announced in November 2009 for construction in 2010. To be built under a public private partnership between Wedco and South Basin Development Ltd., a company formed specifically for this project It will include a mix of approximately 200 slips in a variety of sizes, 100 to 250 feet and possibly in excess of 300 feet long, to accommodate both mega-yachts and those smaller in size. The development will be a major step in the continuation of the redevelopment of the area where the former Royal Navy Dockyard was located.
Current Island
See Islands below.
CUT Complex - planned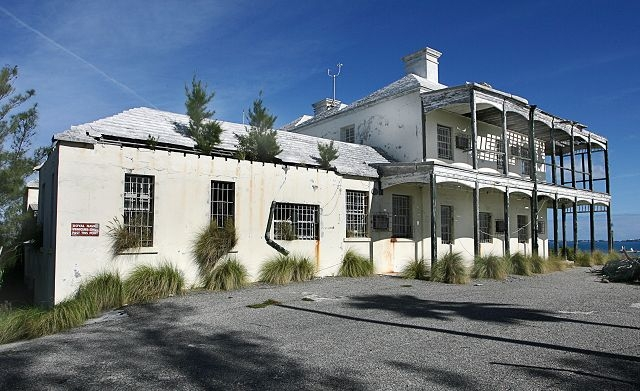 On Moresby's Plain at the former HMS Malabar base (pictured above). Announced in July 2012. An ambitious plan by a team of Bermuda businessmen and women to build a more-than-$275 million multi-sport training, arts and entertainment resort complex at Dockyard was named in the new National Tourism Plan as one of seven "core products" the Island should develop. The Tourism Plan's "product development strategy" says a "multisport training facility" along with "niche sport facility development" (diving, fishing, golf) could "create demand drivers and reduce seasonality" in tourism. The proposed CUT Complex would include a 325-room hotel, waterpark and supermarket. Overseas financing is being pursed with positive interest. The development team's main goals are to create a self-sustaining complex that would benefit Bermuda's youth and tourism. The group has signed an agreement with Wedco to have the undeveloped land, the former quarry, for the project. In addition, the complex has received Government's "in principle" support for the concept designs, which are being further developed to apply for planning approval.
The planned complex is first and foremost a sustainable business. Below that first aim is a business model that fosters youth, sport, vocational training and the arts, facilitating self development and employment for youth; the CUT Complex permits the hosting of signature events, sporting and a wide multitude of other signature events ... and stimulates tourism and the economy. It hoped to feature more than a dozen sports and arts facilities plus a hotel:
Sports Training Facilities and fields for all sports

Entertainment Areas with purpose built stages for small to large outdoor concerts

Performing Arts and Dance School; Film production, Radio & TV broadcasting; Recording Studio; Film /Media Auditorium

Marine Training School;

FIFA standard football field which is also sized for Rugby, field hockey etc.

Training running tracks

Sports Physiotherapy Centre including wellness, health and beauty facilities

All purpose gymnasium for basketball, badminton, netball and gymnastics etc.

Boxing facility

Squash Courts

Two indoor covered tennis courts

Indoor covered diving & 50m pool

325 room 3-star hotel, 96 room team accommodation, 48 room staff facility, two restaurants

Three cinemas

20 lane bowling alley

Supermarket

Electric Go-Karting Track

Boathouse for kayaking, water sports and sailing.

Public coastal boardwalk

Children's water and fun park
The CUT Complex when complete would provide more than 400 jobs, with more than 120 allocated to young Bermudians. All buildings will be designed to meet LEED Certification for Multiple Buildings and On-Campus Building Projects, including the incorporation of sustainable power and energy resources. Now needed are partners to invest in the project, estimated to cost $275 million. The first phase will be $100 million.
Daniel's Head
Now mostly an eco hotel, 9 Beaches. An area of Bermuda with a fascinating history. The first owner, recorded in Richard Norwood's 1617 survey of Bermuda, was John Delbridge, a shareholder of the Bermuda Company in England and an absentee landlord. Fifty years later, it appears to have passed to a Bermudian owner, a Mr. Bassett, but occupied by Robert Burch. Probably in the 1750s, a small fort was built on Daniel's Island, to guard Hogfish Cut Channel from the open sea, up past Wreck Hill and Ely's Harbour. It is thought the land in the area was purchased by the Royal Navy in 1809, when it acquired Ireland Island for the dockyard, but by the 1870s, it seems again to be in Bermudian hands. At the beginning of the First World War, the British War Department started to buy up the peninsula, first acquiring the land now Westover Farm. This was followed by the purchase of the properties to the northwest, owned by Walter Barker and C. A. V. Frith. The purpose of those acquisitions was to add "ears" to Daniel's Head, for the new and revolutionary age of "wireless" transmission of information, via radio and Morse Code, had matured into the activities of war. Great masts for the reception of Allied data and the interception of enemy transmissions were erected. Four Bermudians, all members of the Bermuda Militia Artillery and Royal Garrison Artillery, were killed on duty in an accident involving a mast at Daniel's Head on 17 September 1917, when a section of the structure gave way. During the Second World War, the listening station at Daniel's Head worked with those at Halifax, Canada and Derby in England, to cover the North Atlantic in the interception of radio messages from submarines of the German Navy. An additional piece of land just south of the site was purchased at that time, or earlier, for recreation use as the Daniel's Head Tennis Club and is now a cow pasture. Plus, the American Army erected a Base-End Station at the site, one of thirteen around Bermuda for the control of coastal gunnery. After the conflict, Daniel's Head was let out for farming. In the mid-1960s, the site was leased to the Canadian Forces and reverted to its original military use as a radio station for the next 30 years as CFS Bermuda. Over the period, the station grew to a complement of over 220 personnel, with considerable economic implications for Sandys Parish and the west end of Bermuda. Without the input from the Canadian Government, for example, it is unlikely that Boaz Island Village would have been built, as CFS Bermuda took half the units to house their staff. In February 1992 it was announced that CFS Bermuda would be closed by 31 December the following year, thus ending the occupation of Daniel's Head as a military site.
Daniel's Island
See Islands below.
Dockyard
For British Royal Navy history, see See under "Royal Naval Dockyard."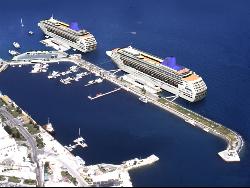 Bermuda's West End cruise ship berth at King's Wharf here.
Bermuda may be very small - only 21 square miles (56 square kilometers) in total land area - but it has not one but three cruise ship ports.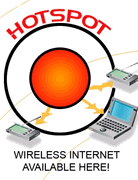 Since March 2012 at Ireland Island/King's Wharf/Dockyard with a published WIFI Hotspot - not free - for visitors and shoppers when they go ashore. A $3 an hour WIFI hotspot became available to cruise passengers and other visitors. TeleBermuda International (TBI) manages the WIFI platform on behalf of the West End Development Corporation (WEDCO). Visitors can purchase WIFI coupons from a few of the establishments in Dockyard, but WEDCO will also make free coupons available to their tenants. Also processes credit card transactions.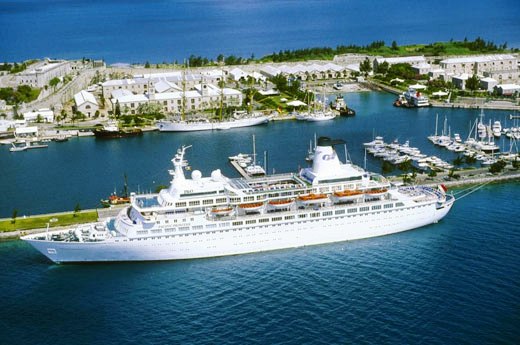 Ireland Island. Referred to as the West End berth (as it is on the western end of Bermuda), otherwise known as King's Wharf, or King's Port. Once, Royal Navy and other warships were based here. Of all Bermuda's cruise ship berths, this is the least restricted and only one capable of taking larger ships. It is operated by the West End Development Corporation (Wedco), a Bermuda Government quango. There is also a cruise ship terminal. Located on the North Arm of the Dockyard, it was opened in 1990 by the late Princess Margaret. It is big and deep. Cruise ships berth every day and weekends during the cruise ship season on April through October. The North Arm Park is nearby. It is within walking distance of all the Dockyard facilities and services. A second terminal for cruise ships in this area was planned by Wedco. It started as a $35 million project but cost taxpayers $60 million. The new pier at Dockyard opened in April 2009 to accommodate the latest generation of cruise ships. It was hailed as critical to the future of tourism in Bermuda and was completed on time but 70 percent over budget. The Royal Gazette daily newspaper of Bermuda published an in-depth investigation into how costs rocketed during the two-year project. The investigation was prompted by figures released from Government to explain why measures to protect animals at Dolphin Quest cost taxpayers $3.7 million. The findings included the design of the thruster wall, a large steel curtain, used as a barrier and shield against sediment surge from ships' propellers and designed to prevent coastal erosion and sediment from infiltrating the nearby Dolphin Quest facility, changed four times, adding millions to the final bill. A part of the original design for the new pier, the thruster wall is still not complete. The terminal building doubled in price to $3.9 million on design changes. Other issues that contributed to the overrun included new security measures for the terminal, specially made lampposts and changes to the design of the ground transportation area for buses and taxis. Government paid Correia Construction almost $9 million up front 23 percent of the entire original contract price as an interest-free mobilization loan, a move described as "unusual" by one Bermuda contractor. Correia ended up paying more than four times the rental fee on the subcontractor's price list for a crane used in the project, which was charged to the taxpayer. The relationship between Correia and subcontractor Norwalk Marine International soured so badly that NMI was terminated early and three of its staff defected to join Correia following a $600,000 out-of-court settlement. Rental costs for two vibratory hammers to drive the pile foundations of the pier were billed as an extra under "dolphin mitigation." The Ministry of Tourism and Transport stated that Timelines, design changes, pregnant dolphins and development approaches all combined to result in increased costs.

The new dock was originally built for the Voyager class and not the Genesis class of latest and biggest cruise ships, so got redesigned four times.

The original thruster wall was designed to handle the forces exerted by the Panamax class cruise ship, which would berth bow north only.
Dolphin Quest Bermuda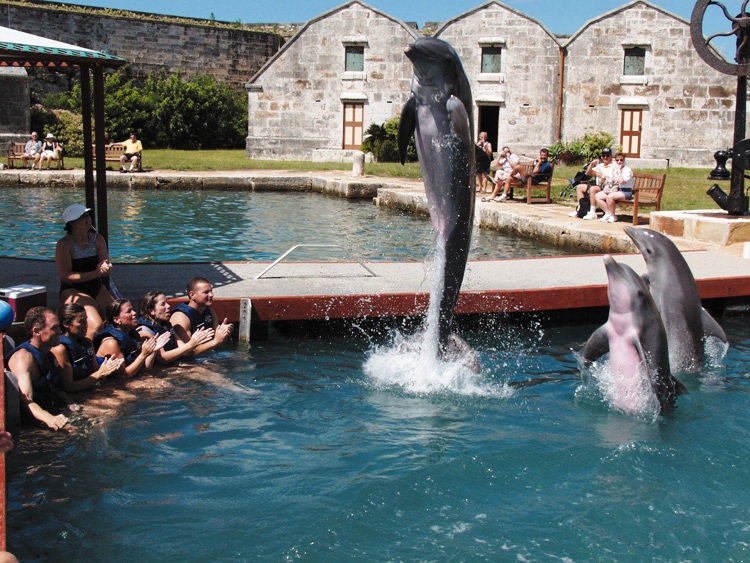 Bermuda Maritime Museum, 15 Maritime Lane, Sandys, Bermuda MA 01. Tel: 441-234-4464. Fax: 441-234-4992. 9:30 am to 4:30 pm AST, summer, 10 am to 3 pm AST November to March. Has Atlantic Bottle nose dolphins imported for visitors and locals. Despite their name and Bermuda's location in the Atlantic, these mammals are not native to local waters because they would not cross the Gulf Stream. Dolphins here have all-Bermudian names and were bred from their locally-established parents. Where the facility exists now in the Bermuda Maritime Museum was once the Royal Navy's. Ask the current price - expensive but a unique educational and environmental experience.
Ely's Harbour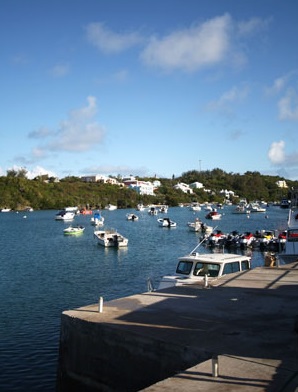 Includes some islands shown in Islands below.
So-named after the one-local family Ely (historical name in Britain, for example Ely Cathedral in England, likely an English colonist who settled in Bermuda). The harbour, a definite tourist attraction, is the most picturesque, placid and protected water to the left as you cross Somerset Bridge onto Somerset Island from Main Island. It stretches in a jagged semi-circle from Wreck Road to Wreck Point to Heydon Bay. The two entrances are at Great Harbour's Mouth between Wreck Point and Bethell's Island and Little Harbour's Mouth between Johnson's Point and Wilson Place. Be very wary, unless you know local waters well, about trying to go between Bethell's Island and Palm Island. Other islands include Bethell, Cathedral and Morgan's. Explore the beaches at low water for best visibility. The marine scenery here is lovely, this area is one of Bermuda's loveliest, especially from in the harbour. Some areas have mangrove swamps. Or just spend the day sailing or using a boat such as a Boston Whaler. All areas are approachable by boat but some are privately owned, meaning you cannot land except with permission. But you can beach a rented boat up to the high water mark. Getting there by road from the airport takes about an hour using Bermuda's legal speed limit of 20 mph.
Ferry stops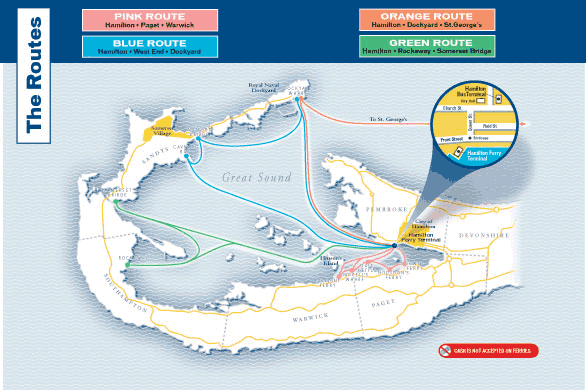 The following are in this Parish. Obtain a free copy of the schedule to know when the service operates, when it stops and what fares apply. There is no non-stop service, it is always via one of two ways and a stop at one of these.
Dockyard to and from Hamilton.
Watford Bridge to and from Hamilton..
Cavello Bay to and from Hamilton. This is a charming area of Somerset Island. Take Somerset Road to Sound View Road to Scott's Hill Road and go to the end. Buses don't go this far.
Somerset Bridge Wharf. To and from Hamilton. This is not part of Somerset Bridge but a separate facility at the end of Wharf Drive, the first turn to the right after Somerset Bridge, going west.
Gunpoint
This name and that of the small isle lying off it (see Islands in the Parish below) relate to a shore battery near what is now Wreck Hill, first built in the 17th century. The old fort had a strategic position protecting the West End Channel. It was one of the few passages through the dangerous ring of reefs for sailing ships. In 1777, during the American Revolution, British militia soldiers manning the isolated battery had the presence of mind to exchange gunfire with two armed brigs that advanced in a threatening manner although they then flew British colors. The brigs answered with broadsides from their cannon, lowered their Union Jack flags, hoisted the red, white and blue striped ensign of the United States of America and proceeded to invade Bermuda with landing parties.
| | |
| --- | --- |
| To avoid meeting this much bigger force, the Bermuda based militia men retreated from the battery. The Americans spiked their guns and destroyed the walls of the fort but were forced to retreat when more local soldiers and a Royal Navy detachment responded to the alarm. The Americans escaped on their ships. It was the second time Bermuda was invaded. | |
Scaur Hill Fort and National Park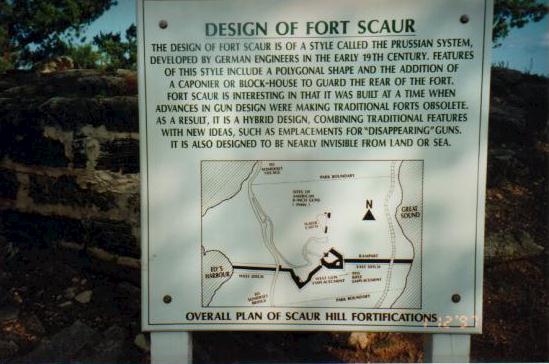 Off the Somerset Road, on Scaur Hill, the highest hill of Somerset Island. Bus routes # 7 ("Dockyard") and # 8 stop outside the main entrance. With 22 acres of fortified magnificent views, park land, picnic areas and walking trails. It was built in the 1860's and finished in the 1870's by the British Army's Royal Engineers, when the United Kingdom believed hawkish elements in the USA were conspiring to seize the Royal Naval Dockyard in retaliation for the role British ships played in helping the Confederate forces and using Bermuda as one of their ports. The fort protected the "land front" of the Dockyard from any enemy attack from South Shore beaches. An enormous dry moat was cut right across Somerset Island. Troops invading it from the mainland would have crossed under withering fire from cannons and rifles. As an inland fort, Fort Scaur had small 64 pound guns on disappearing carriages. In 1869, Colonel William Drummond, Royal Engineers, British Army, based in Bermuda, wrote his Report on the Defences of Bermuda which included these words about Fort Scaur: "With a view to prevent the capture or destruction of the Naval Establishment by an enemy who might have succeeded in effecting a landing, two positions have been selected, viz.: 1st, a line between the head of Hamilton Harbour and the Navy Wells, on the North Shore, called the Prospect Hill position; 2nd, a line between Ely's Harbour and the Great Sound, called the Somerset position. The latter being only 500 yards in extent, may be most advantageously defended by a continuous ditch and parapet from shore to shore, with a small keep in the centre, to prevent the position being turned. Plans are now being prepared." Guns were mounted on Moncrieff Disappearing Carriages, designed to retract below the parapet when fired. Upon reloading, a great counterweight moved the gun back into its elevated firing position and thus the battle progressed, with the enemy unable to get a "fix" on the gun.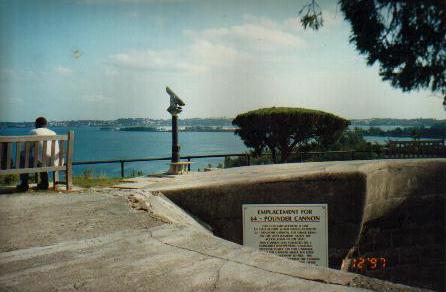 The remains of the latter at the fort are the only known examples. The counterweights for these "disappeared" for years. When they were re-discovered, on the docks in the city of Hamilton, they were promptly returned. Wander around, peer through its now-empty moat through cannon embrasure in the massive stone walls and into some dark gunpowder storage rooms. Stand on its ramparts for views of the Atlantic on one side and the Great Sound on the other.
The fort ditch cuts Somerset in two, though few going over Scaur Hill know that they pass over it, now filled in where once a wooden bridge existed. West of the Somerset Road, the ditch runs downhill to the waters of Ely's Harbour.
In 1906, the British Army's 7th Regiment, Royal Engineers were here. A plaque on the Eastern slope of Fort Scaur in Bermuda recognizes this and on its other side says London is 3076 miles away.
Also a military fort during World War 2, 1939-45. The US Army occupied the site for several years, from 1941 to 1943. Two large guns mounted on railway carriages on tracks to nowhere sat there next to the large water catchment, waiting for the Germans to come over the horizon. The reefs off this coast extend some ten miles to the west and north.
Follow the fort's eastern moat all the way down to the Great Sound to fish, swim or see the sights such as the Bermuda Weather Stone with its zany message (it never snows in Bermuda) and a milestone with the inscription "London 3,076 miles" on one side. The area is now open to visitors for picnics.
Gladys Morrell Nature Reserve
East Shore Road, Somerset.

Phone:

(441) 236-6483.

Bus routes

7, 8.

Hours of operation:

dawn to dusk. Free admission. This charming small (2 acre) nature reserve is owned by the Bermuda National Trust. It was given to the Trust in memory of Gladys Carlyon deCourcy Morrell, a leader in Bermuda's suffrage movement which succeeded in obtaining the vote for women in 1944. Its entrance is just off the main Somerset Road. With nice views, endemic trees, plants, nesting areas for endangered Bermuda bluebirds, a tranquil place for a picnic. Please leave footprints only, no trash. An April 2006 grant of £44,680 ($89,300) received by the Trust from the Overseas Territories Environmental Programme (OTEP), a joint UK Foreign and Commonwealth and Department for International Development Programme enabled the Trust in late 2006 and early 2007 to carry out extensive nature conservation work including removal of many invasive trees that threatened the survival of native and endemic species and establishment of a habitat restoration project.

None in the Parish but not far away.
Great Sound
The beautiful, large, body of water going east, all the way to Pembroke Parish. If you take the ferry from any of the Sandys Parish ferry stops to the city of Hamilton, or vice versa, cross it and enjoy the fabulous seascapes. Or rent a sailboat from Cambridge Beaches or at Somerset Bridge and get closer to many small islands. Or take one of the big cruise boat tours operated by several local companies.
Gunpoint Island
See under Forts above and Islands below.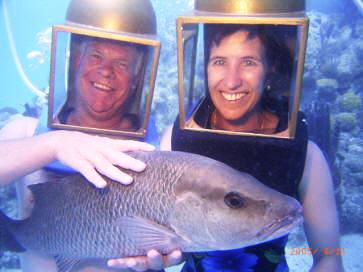 Based at Dockyard. A unique and wonderful Bermuda underwater experience by an organization with decades of expertise in the business.
Heydon Bay and area
The # 7 (Dockyard) and # 8 buses stop nearby. A small chapel )pictured) places a spiritual emphasis on this historically significant place. The bay is in the north east portion of Ely's Harbor and was shown on the survey of 1616 by Richard Norwood. The name first came from Jeremy Heydon, an investor in the Bermuda Company of the early 17th century. Sir John Heydon, a relative, became Deputy Governor then Governor of Bermuda from May 15, 1669. He arrived at Castle Harbor aboard the Bermuda Company ship "Summers Isles Merchant." He was an uncompromising Puritan and tried to inflict his puritanical beliefs on other colonists, much to their annoyance.
Although unpopular, he remained in Bermuda after retirement. When 80 years old, he was charged with treason. It was claimed he had allowed Dutch sailors to chart the reefs of Bermuda for a possible invasion by the Dutch and Spanish. Heydon was acquitted and before he died a few years later was charitable enough to apply Christian forgiveness to his neighbors by establishing the Heydon Trust Estate which survives to this day. It derived from Heydon to Dr. John Dalzell who built his fortune and reputation in Bermuda after being shipwrecked on his way to Nevis in the Caribbean more than 900 miles to the south. All the lands of the trust are still intact, probably the largest surviving single estate in Bermuda today, known as The Heydon Trust Estate. It administers and owns the houses, property and land occupying 43 acres, some of which are still being farmed. Most is rural open space with walking trails, views and swimming. The Heydon Trust Chapel, part of the estate, was dedicated to God in 1943, established as such in 1964 but not actually created until 1970 when the Heydon Trust chapel in Sandys Parish was converted to its present prayerful status, from a modest but picturesque 19th century farm laborer's cottage that appears to have been built much earlier.
In the Chapel three nuns sing Gregorian chant, in Latin, every morning at about 0730 hours (except Saturdays at 8:30 am) and afternoons at 3 pm. They are not Roman Catholic as the chant implies but members of the ecumenical Community of Jesus based in Cape Cod, Massachusetts. Their local Community comprises persons from many locally represented Christian churches from Roman Catholic to Pentecostal. They support each other in their common beliefs while maintaining their individual religions. It is the only place in Bermuda to carry on this ancient oral tradition of plainchant dating back to Pope Gregory the Great. It is considered an art form that brings great peace to the soul. Before the Gregorian chant, called Lauds, a priest leads an intercessory prayer for all the churches of the world. Visitors are welcome by day, for the services or at any other time during the day.
Also on the estate is the once-popular but now closed "Willowbank" hostelry. The Heydon Cottage, House and Lodge are smaller.
Hog Bay Park and Beach
The # 7 (Dockyard) and # 8 buses stop nearby. Off Middle Road, at Hog Bay Level, past the store and the White Hill playing field opposite, great for a picnic, with a parking area for mopeds. It's the third largest Bermuda public park, Bermuda Government owned. Its 38 acres are bound to the west by the ocean, to the east by Middle Road and to the south by the Woodlawn Road residential area.
It gets its original name from Hog Bay (or Pilchard Bay) at the southern end of Ely's Harbour. It was named for the herds of wild hogs (or boars) found by the survivors of the Sea Venture ship in 1609 who came here by longboat. The hogs were believed to have been descendants of hogs or boars left on Bermuda by Spanish explorers as food for shipwrecked sailors. They were why the first Bermuda coinage was the Hog Penny. Historically, it was part of the overplus of Richard Norwood's 1616 Survey of Bermuda, but by 1623 it was annexed to Sandys Parish and settled. At that time, as Bermuda was heavily focused on the cultivation of tobacco as an export crop, this land was used for this. Then farming played an important role throughout the 18th, 19th and 20th centuries.
It was acquired by the Government for $7.9 million from three different family estates. One was the Fordham Estate in 1986 and two from the James and Mayor Estates in 1990. All three estates had resisted the temptation to build anything more than a few family homes on them, which is why the purchase was possible. The property is protected, to maintain its natural state, buildings and monuments of aesthetic, archaeological and historic value, and to provide open space to the general public.
Prominent Bermudian individuals and families owned sections of the park from the 17th century onwards. They included Sir John Heydon, Captain Henry Tucker, and the Browns, Fordhams, James, Mayors, Outerbridges, and Trotts. The undeveloped nature of the park today offers educational experiences, ideal for the public to learn more about the early rural countryside, geography, nature and cultural history of Bermuda.
Hospital Island
See Islands below.
Inner King's Point Island
See Islands below.
Ireland Island
See Islands below.

Those in the Parish are:

Bethell's. Ely's Harbor.

Boaz. Also Gate's and Yates. One of the six principal islands. 30 acres. Historically important, once separate, now connected to mainland (Somerset Island) by being joined to Watford Island by a bridge and to Ireland Island by Grey's Bridge. The sea views from here on either side are marvelous. Until early 2005, a ferry stop was here, on the Royal Naval Dockyard to city of Hamilton route. Bus routes # 7 (Dockyard) and # 8 stop in the immediate area.

Cathedral. Abutting Whale Island, Ely's Harbor. Its name comes from Ely Cathedral in Cambridgeshire, England (still standing since 1200+ AD). It so happened that there was once a local family called Ely, but this was probably incidental. Ely, after the UK cathedral, became quite a common surname for people once from that region, including colonists to North America and beyond.

Crawl. Southeast of Hospital.

Current. North west of Watford Bridge.

Daniel's. Off Daniel's Head. Archaeologists from the Bermuda Maritime Museum and the College of William and Mary investigated the old fort here in the 1990s. The structure was abandoned in the early 1800s and the island was never subsequently rearmed.

Gunpoint. West of Wreck Bay.

Hospital. At the entrance to Crawl Island, Sandy's Parish. So-called originally by the Royal Navy which once ran a hospital here.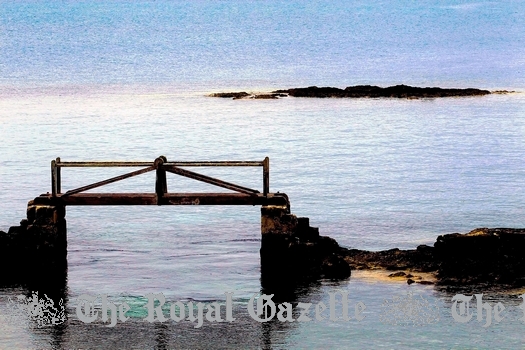 Hospital Island bridge
Inner King's Point. West of King's Point.
Ireland. Named after Englishman John Ireland. In the Great Sound, Sandys Parish. One of the six principal Bermuda islands. It is the narrow serrated island that pushes out into the Atlantic at the extreme north west of Bermuda. It has a completely separate history from the rest of Bermuda. It is historically important. It dates from when a Flemish or Dutch ship went aground in Wreck Bay on the Main Island and sank there in 1618. It was why the original name was Flemish Hill. The captain of the ship had the very English name of Powell and was a notorious Caribbean pirate. The buccaneer ship then had legal status as a privateer. It had sailed against the Spanish under a Letter of Marque by the Dutch prince Maurice of Orange, so was technically not a Flemish ship but a Dutch one. The British Government did not like the presence of Powell in Bermuda so Governor Miles Kendall banished him to the western Bermuda island now called Ireland Island. It was from there that Powell and his men tried to build a new ship. In 1795, Wreck Hill was bought by the Royal Navy - see Royal Naval Dockyard in Bermuda - which considered the Wreck Hill site an ideal one for a lighthouse. But the one that eventually got built at Gibb's Hill instead from 1840 caused the plans for this one to be scrapped. Until it became a major Royal Navy base in the 18th century, there were no roads and few inhabitants. Because there was a fear of leprosy, all those leaving there had to leave this jungle island of cedar and swine and wooden houses thatched with palmetto before the Royal Navy started moving in properly from 1809, from which point the island was destined to become joined to the mainland instead of staying an island. Maria Hill Fort on this island was later the site of the Royal Navy's Single Mechanics Quarters. The Royal Navy stayed until 1952 when the Royal Navy Dockyard there ended, but HMS Malabar continued with a token presence until 1995.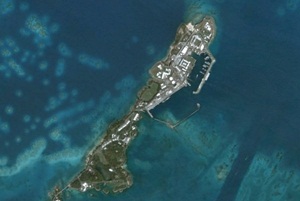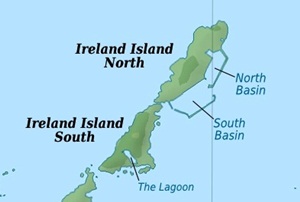 Malabar. North of Boaz. Historically important.
Middle King's Point. West of Inner King's Point.
Morgan's. Ely's Harbor.
One Tree. West of Mangrove Bay Wharf.
Outer King's Point. West of Middle King's Point.
Palm. Between Bethell's and Morgan's, Ely's Harbor.
Quintons, The. Four, off King's Point.
Regatta. Two, south of The Crawl, Ireland Island.
Somerset. 703 acres, it is one of Bermuda's six principal islands and the most western. It is joined to Main by Somerset Bridge and is connected to Boaz Island, Ireland Island and Watford Island by bridges and serviced by buses and ferries.
Watford. 4 acres, between Somerset and Ireland, connected to both via Watford Bridge and Little Watford Bridge.
Whale. Ely's Harbor and Pilchard Bay.
See "Cruise ship berth" above.
Lantana redevelopment planned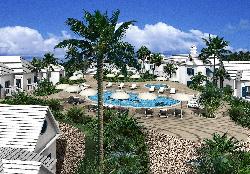 October 2010-submitted Plans to redevelop the Lantana resort have been approved by the Development Application Board (DAB) after changes were made to protect agricultural reserve.
While the plans were praised for protecting the nearby Railway Trail, it also included a croquet lawn and a hotel residence built on what was labelled agricultural reserve in the 2008 Bermuda Plan.
At the October 27, 2010 meeting of the Board, the DAB expressed concern about the intrusion onto the agricultural reserve and deferred making a final decision at that time.
However modified plans were resubmitted on November 2, and approved on November 3. According to the minutes of the November 3 meeting, the developers removed the offending hotel residence.
The minutes read: "They are also prepared to include the reserve land within the proposed Conservation Management Plan to ensure long term protection of the soils within that area, and that this would be included within a recommended condition."
Lantana closed its doors in 1998, but in March developer Kevin Petty said he was confident a new $100 million resort would be built on the 9.4 acre site in the next three years.
Plans for the refurbished resort, featuring 13 hotel residences and 28 fractional units, were submitted in October but drew criticism from the Department of Conservation Services over use of both coastal and agricultural reserve property.
Earlier:
June 27, 2007. Plans were submitted to transform a derelict hotel site into a new resort and marina. The Eden Group aims to create a mixed development resort at the former Lantana site in Southampton. Covering 9.70 acres, it will feature both hotel accommodation and residential leasehold properties. The land is already zoned as tourism but will also cover 0.48 acres of agricultural land and 0.40 acres of 'green space' along its north-east edge. The Eden Group is an international company based in London. Situated between the Railway Trail and the coastline north-west of Somerset Bridge, the resort will include 18 hotel suites in a main 'Manor House' complex, plus 20 residential units with driveways and 33 shared-ownership villas. Amenities include a spa, restaurants and bars, plus beachside and poolside facilities. In a letter to the Department of Planning, agents Conyers and Associates state: "Until 1998, Lantana was a successful tourism resort which has since been disused and over the subsequent years, fallen into a state of disrepair. "The proposal includes the provision of various shoreline amenities arranged around and adjacent to the existing beach which would be enhanced and protected through the addition of one new breakwater and the refurbishment of the existing breakwater. The primary purpose of this breakwater is to protect this vital beach amenity." The resort — covering a total 95,703 sq ft — will also operate a water taxi service. The supporting letter to the application says: "The new dock is seen by the developer as a fundamental part of the resort's strategy for transportation, with links to Hamilton and other areas of the island, and is intended to become a major gateway into the resort. "The provision of such marine facilities will take pressure off the roads and is viewed as a highly desirable transport solution for the resort as well as being consistent with the Government's stated goal of providing inter-modal transport services. "Our client's reputation as an international developer will ensure that the scenic quality and visual amenity of this part of Bermuda will be greatly enhanced."
The Lantana land was put up for sale for $18.5 million last August after plans to develop it into a luxury spa resort failed to materialize. A 'breaking ground' ceremony took place in February 2005 with the resort planned for 2007. It was described as a 40-suite hotel complex with 17 beachfront villas and marina, spa and conference centre. However, when backers Tanner and Haley pulled out and then applied for bankruptcy in the US, the remaining investors decided not to pursue the project. The original Lantana Resort was developed by the late John Young and was one of the first 'cottage colony' resorts in Bermuda. Opened in the 1950s, it built up a reputation for friendliness and excellent service, but closed in 1998. Premier Dr. Ewart Brown, Minister of Tourism, last night said: "Tourism has reached such an incredible surge that anyone looking for a hotel room this summer is going to find it very difficult. Hotels are full. "While that's a nice problem to have, we must act. So whenever I hear of plans for new hotel development I am thrilled because it means our tourism product will have the space it needs to grow." Shadow Tourism Minister David Dodwell also welcomed the application by The Eden Group. "I think it's a positive move and will be good for Bermuda," said Mr. Dodwell. "It's been closed since 1998, nearly ten years, so it's good to see plans for an existing hotel to be upgraded and reopened. I also think it fits the type of hotel that will be successful. It's medium-sized and a mixed-use development, and that's the way the hotel business is going these days. I think this resort has real chances of getting up and running, and a marina is perfect for that location as it's a protected bay."
Lefroy House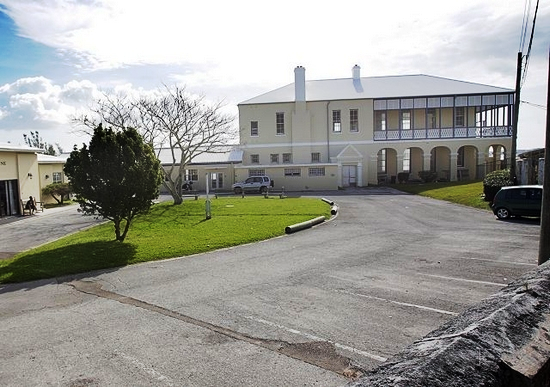 Named after a famous British Government-appointed Governor of Bermuda. Now a Bermuda government-supported senior citizen's residence but the building, now substantially renovated and added to and with an ocean view, has a fascinating history. From about 1825 it was the first-ever purpose-built hospital in Bermuda, built specifically as a Royal Navy hospital serving the Dockyard. It had its own Royal Navy doctors, nurses and staff. It remained in operation as such until 1953 when the Dockyard officially closed as a Royal Navy base.
Lodge Point Park and Nature Reserve
Craddock Road. Created as such in 2012. A 4.2 acre plot of land in Dockyard. Was once a Royal Navy residential are until the 1950s, then a civilian one, then deteriorated as an illegal dumping ground once those properties were demolished. Now restored as an open space. An initiative of the West End Development Corporation Bermuda Government owned quango which is also working to preserve an additional 6.5 acres south of Craddock Road through to Lagoon Bridge.
Mangrove Bay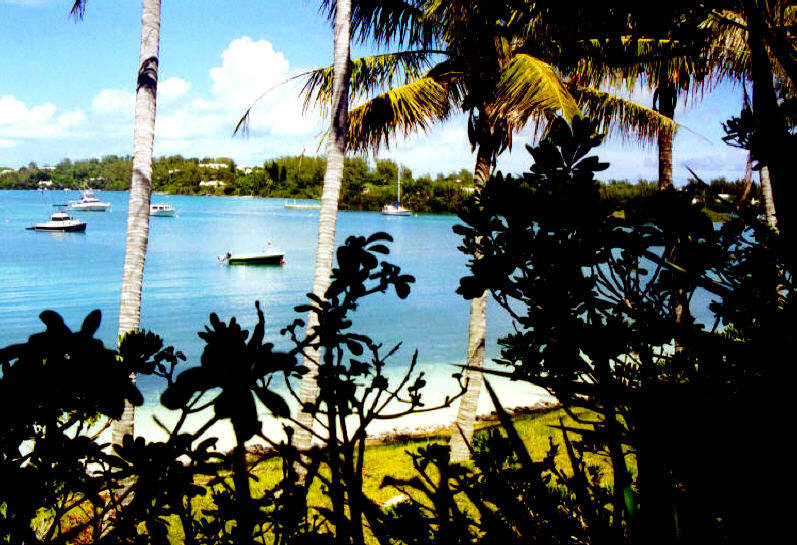 Mangrove Bay, by Keith A. Forbes
Picturesque and sheltered beach and bay near Somerset Village. Well worth seeing on its own, or on the way to or from the Dockyard area. It's worth noting that on the Sunday after Cup Match long public holiday weekend the long-established Non-Mariners Race, organized by the Society of Non-Mariners, is held here. It first began in August 1964 in Hamilton, by amateur non-sailors deliberately launching non-seaworthy and distinctly non-nautical home-made floating in often hilarious unsea-worthy crafts of any type and design as a joke against the well-established and prim sailing clubs of Bermuda and their 1960s sailing correctness. It has been claimed, incorrectly, that a drunken bunch of men were involved. In fact, they were not solely men, single women were instigators too, driven by the maleness-only of the more established sailors. Nor were the majority drunk, they were sober, just mischievous, boat-less themselves. Their unorthodox "vessels" were cranked by hand or by pedals or by the wind and were often accompanied by raucous noises, providing much amusement to many residents and visitors at the annual event which became hugely popular. After one such event had a zany entry almost collide with a cruise ship entering Hamilton Harbor, the Society of Non-Mariners, as the organizers subsequently became, the event was switched to the less-busy but picturesque Mangrove May, hosted by the Sandys Boat Club. The event now includes family frolics, youngsters jumping off "boats" and rocks, mock boat battles, some ingenious unorganized surprises. A fun day for residents and visitors.
Malabar Island
See Islands.
Messina House
Not for tourists, except with official permission from the Bermuda Government's Department of Youth, Sport and Recreation and with lots of advance notice directly from it. Only campsite on the mainland, between Somerset and Dockyard. Only one group of 30 campers is accommodated at any one time. It has a number of rooms at ground level and several bedrooms with bunk beds, in a dormitory. There is a dock for campers, as well as a small gym behind the main house with washroom and showers; open area on waterfront; with restaurant, shops and ferry service within easy walking distance.
Middle King's Point Island
See Islands.
Moresby Playing Fields
Now an area for sports including cricket, but once a quarry from where much of the limestone that created the Royal Navy Dockyard and its fortifications originated. They included, after 1847, the stone for the Clocktower Building, (once the "Great Eastern Storehouse" and the other buildings. All that rock had to be blasted out of the ground, broken into smaller pieces, then chiselled into the stone blocks that account for the grandeur of the Dockyard buildings today. Slaves and British convicts did all the work.
National Museum of Bermuda
Formerly Bermuda Maritime Museum. Old Royal Naval Dockyard. Regular mail: P.O. Box MA 133, Mangrove Bay MA BX, Bermuda. Courier: 1, The Keep, Sandys MA 01, Bermuda. Admission information: 1-441-234-1418. Museum offices: 1-441-234-1333. Fax: 1-441-234-1735. Email: marmuse@logic.bm. Web: www.bmm.bm.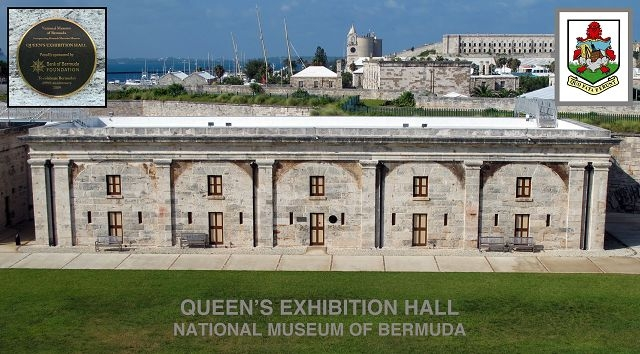 9 Beaches Hotel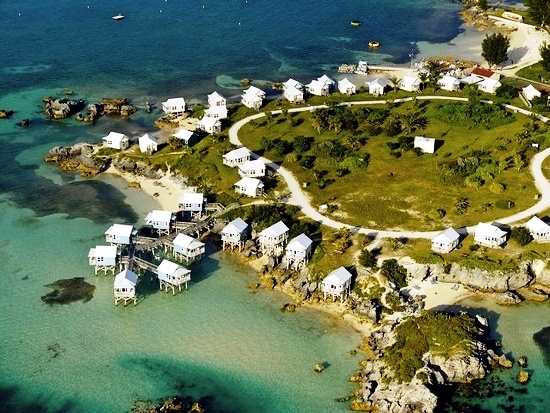 At Daniel's Head. The hotel complex on the site of the former Canadian military base until the 1990s. In World War 2, the land was a Royal Navy wireless station. A 17 acre coastline area today, Canadian Forces had a military base here from July 1963 to December 1993. They had no facilities for aircraft, but with close ties with the American scientists monitoring Soviet submarines from Tudor Hill in Southampton, they could use of helicopters. No trace of them remains now. The land has reverted to civilian tourism use. Destination Villages of the USA opened the $13.5 million Daniel's Head Village cottage tent resort, with 135 units. It was owned by Americans Stanley Selengut and Lew Geyser. But it has since closed and reopened under a new name, Nine Beaches, also with new owners. There are many beaches, one public, 9 hotel owned, hence the name.
Old Watch House
Historically important Somerset building, restored. In the early 1800s, it was used as a 'lock -up' for slaves found wandering in Sandys Parish. The Bermuda National Trust, Bermuda Maritime Museum and Ministry of the Environment secured a grant under the Ministry's Environmental Grants Fall 2004 Scheme for restoration.
Pitman's Pond
A nice nature reserve, known affectionately by this name, next to the Government Park at Somerset Long Bay, near Cambridge Beaches, and has been visited by hundreds of people, including lots of tourists.
Restaurants in the Parish
See under Bermuda Cuisine and Restaurants.
Royal Naval Cemetery
Ireland Island South in Sandys Parish. On Malabar Road, approaching the former RN Dockyard. Phone: (441) 236-6483. Bus Routes: 7, 8. Admission is free. The Royal Navy purchased the land where the cemetery sits in 1809 and consecrated the ground in 1812. The cemetery grew in size and was open for burial to all until 1849 when convicts were excluded. Also known as 'The Glade,' it has memorials to many Royal Navy personnel from warships stationed here who died of the yellow fever that ravaged the British military in Bermuda during the mid-19th century. An Admiral is buried here. He was Vice Admiral Sir Thomas Harvey, KCB, RN. He died in 1841 on May 28 at Bermuda at the age of 66. He had been stationed in Bermuda as Commander in Chief of the North American and West Indies Naval Forces. He was 66 years old. He was entombed under a fine monument later erected by his family, and subsequent descendants who added a text engraved on a brass plaque in 1957 (see photo below). His monument shows an 19th century warship wedged between two cannon and cannonballs.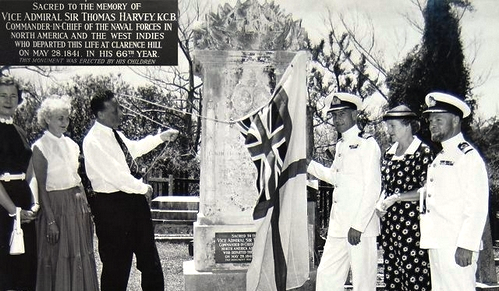 The cemetery also records the numerous accidents that befell the young servicemen in Bermuda, including deaths during World War 2 when Bermuda was a transit point in the Battle of the Atlantic.
The area is now a major historic, tourist and sightseeing attraction.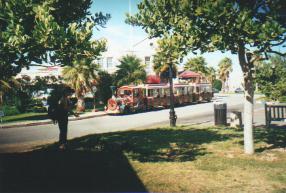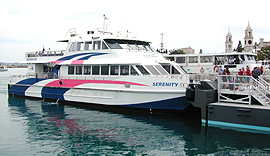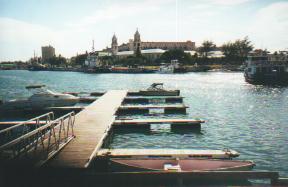 Top left Dockyard Train. Introduced in 1997, it is not really a train but a diesel-fuel road vehicle. (It is not the reincarnation of the train service Bermuda had from 1931 to 1946). It is a miniature frontier replica working train with two passenger coaches and capacity for 40 people. It runs on the road, not on tracks. But it has a train-like whistle. Its engine and two carriages were imported from Florida. There is a fare tariff. But you can walk the whole area easily. At top right, a new ferry boat provides an interesting contrast to a cruise ship (bottom left). Other ways for tourists to see Dockyard include cycle (pushbike), bus, local miniature train or Segway.
All photos by the author
Sandys Boat Club
In sheltered Mangrove Bay, at Mangrove Bay Road, Somerset. Accepts new members. Telephone 234 2248. Or Janneke Leslie at 234-2955. Or e-mail jleslie@northrock.bm With members club liquor license.
Sandys Community Centre
Springfield & Boaz Island, 29 Somerset Road, MA 03. Telephone 234-1275. Fax 234-5652. Bermuda Government's Youth, Sport and Recreation
Sandys Parish Council
Appointed under the Parish Councils Act 1971. See under "Parish Councils" in Bermuda Government Boards. Appointees are political and meetings are not open to the public, unlike in the United Kingdom, Canada and USA where parish or community councils always are.
Sandys 360 Sports, Aquatic and Enrichment Centre
Off Broome Street. The island's first indoor sports, aquatic, fitness and community centre opened its doors to the public in September 2009. On the Sandys Middle School campus boasts a 25-metre indoor 6-lane swimming pool with a viewing platform with elevated bleachers; lifeguards and a swimming instructor; an NCAA regulation-sized basketball court, gymnasium, locker and shower rooms; fitness centre; aerobics suite and a community Enrichment Centre. The $10-million centre can accommodate a whole host of activities from after-school care and activities for seniors to Olympic development programmes for athletes. It has cardio and elliptical machines, bikes, free weights and nautilus equipment. The facility was built as an extension of Sandys Middle School but the board of trustees decided it could benefit a larger segment of the community. Designers used the American YMCA and YWCA model for the project. These well-known facilities include after-school programmes for children, athletic facilities and community services. Sandys 360 will also add an educational component. By the beginning of 2010 it is hoped to have a confirmed relationship with Regent University in Virginia to offer online educational degrees (bachelor's, master's and a PhD programme). The courses will be held as part of the Sandys 360's Enrichment Centre, which aims to offer both recreational courses like cooking classes as well as further academic course work. Additionally, the centre also will have a Community Corner that will be set up as a cafe with a juice and coffee bar. The facility is run by a community-based management committee, operates on donations and membership fees and will create employment in the community.
St. James's Church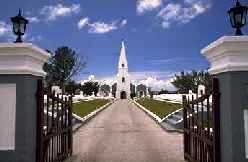 This is the parish Anglican (Episcopalian) church, on the Somerset Road. with an interesting church history.
Bus routes # 7 (Dockyard) and # 8 stop on Somerset Road, at the junction with Church Valley Lane (left) and Scotts Hill Road (right).
You'll see the church's spire on the left, if you're traveling west.
It was destroyed by a hurricane in 1780 and rebuilt. mostly in Bermuda limestone.
With its graceful spire, sweeping driveway and imposing entrance.
Regularly attended by some US Navy sailors and airmen from the Navy base not far away (until it closed in 1995).
Also the place of burial of US Navy aviators when their aircraft crashed in the 1940s and 1950s.
Somerset Bridge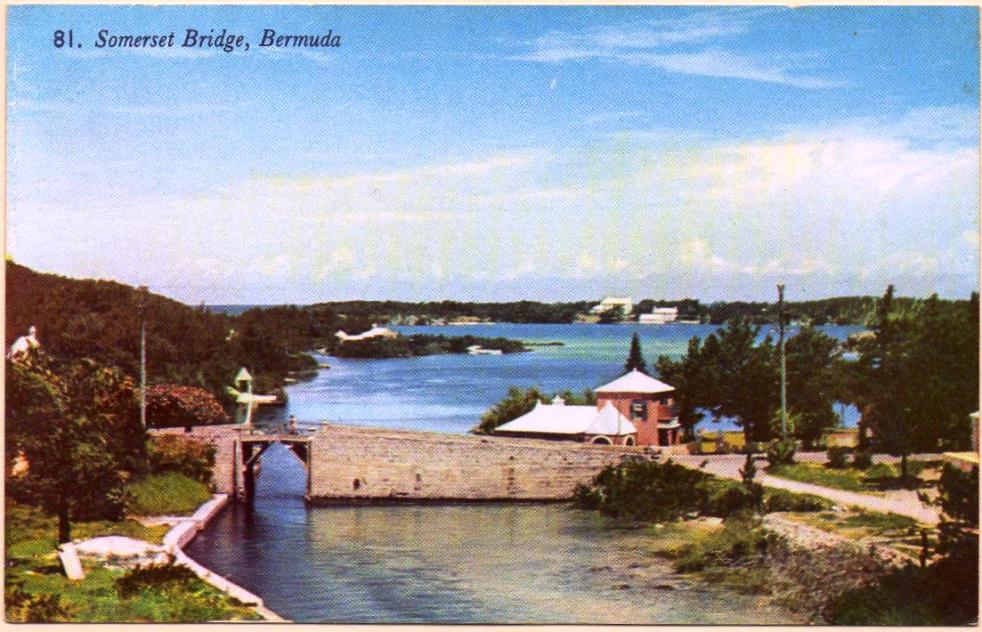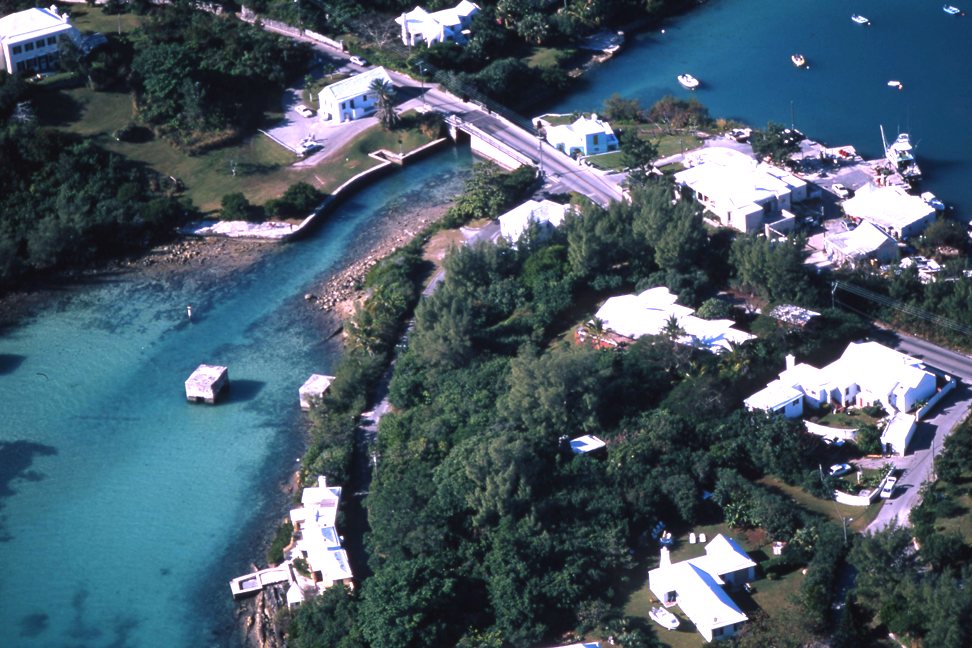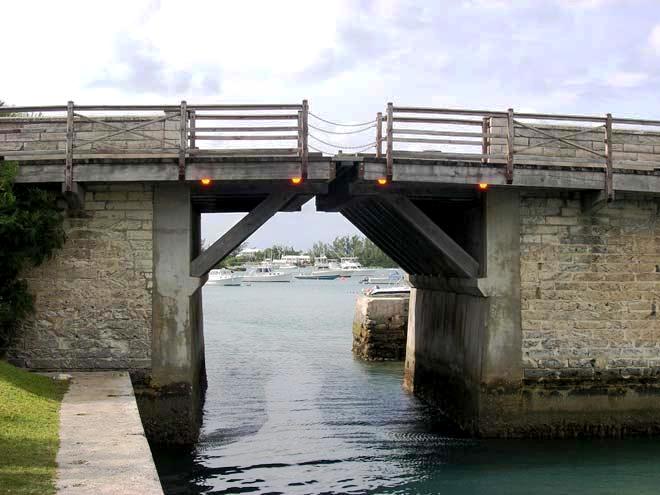 A nice scenic Bermuda beauty spot. Of the three photographs above, the top one - from a 1950s post card - gives the best idea of the magnificent scenery behind and in front. The large middle photo indicates what it is like today, more built up but still charming and well worth a stop to admire it. The bridge connects Somerset Island to the westernmost part of main island. The bridge serves two purposes three purposes. It is where Middle Road ends and Somerset Road begins. It is the picturesque crossing for commuters and tourists to go by road or ferry to Somerset, Dockyard or City of Hamilton and beyond. Bus routes # 7 and # 8 and the ferry stop here. It is also the divide between the two bodies of open water, the Great Sound going east and lovely Ely's Harbour going north. Sections 1 and 2 of the Bermuda Railway Trail meet near here. The bottom larger photo is on the bridge itself. This is an example of the simplest form of drawbridge, in which a timber panel is removed from the center of the bridge to allow the mast of a sailing vessel to pass through the 32-inch plank, with not much room to spare. The drawbridge was first built in 1620. When operators of small boats entered the channel, the drawbridge, the world's smallest, was cranked open by hand. The modern version, rebuilt only a few years ago, has two propped cantilever decks, which do not meet in the middle, with reinforced concrete internal props and timber external props. The cantilevered load is balanced by a reinforced concrete abutment slab which acts as a counterweight. The drawbridge is on the $20 Bermuda dollar bill. Look left for Cathedral Rocks, named for a medieval cathedral. In 1961, a silver charm of Somerset Bridge was issued by a local jeweler, as a tourist and visitor souvenir.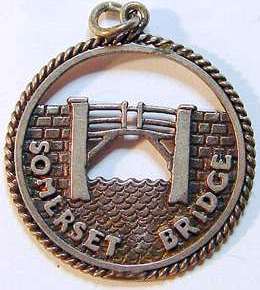 Somerset Cricket Club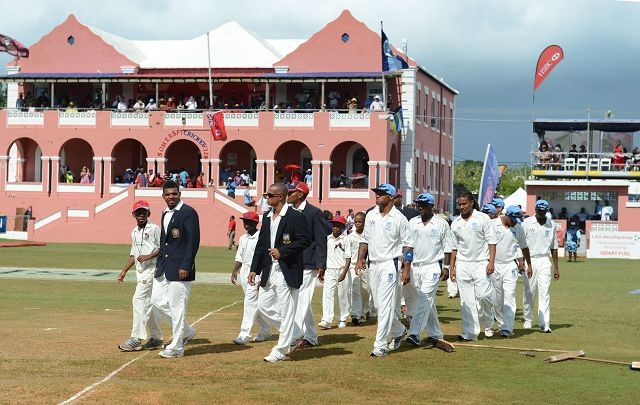 A prominent local and island-wide sporting club. One of the oldest Bermuda cricket clubs, one of the two (St. George's Cricket Club in the parish by that name is the other) that features in the annual Cup Match classic at the end of July or beginning of August. It is important to the local social scene that it marks and is the highlight of a 2-day Cup Match public holiday and involves huge crowds. It is played either here or in St. George's.
Somerset Long Bay
Superb beach.
Somerset Long Bay East Nature Reserve
Officially opened on April 22, 2007 by Deputy Premier and Minister of Finance , the Hon Paula Cox, JP, MP. It includes Pitman's Pond. It is adjacent to Somerset Long Bay Beach (see under "Beaches"). Parking is available at Somerset Long Bay parking lot on Cambridge Road between Cambridge Beaches and Nine Beaches.
Somerset Village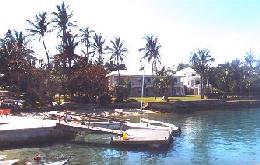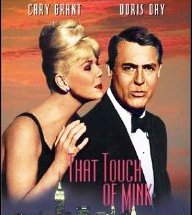 Photograph left by Keith A. Forbes
A key village in the Parish. Facilities include shopping from branch stores of several local merchants, some nice restaurants and coastal scenes. It takes its name from the county of Somerset in England (as does the area called Somerset near Johnstown in Pennsylvania, USA). In 1962, Cary Grant and Doris Day filmed a small part of "That Touch of Mink" here. But they were wrong when they said that only Bermuda has pink peaches (Scotland and the Bahamas have them also). Scenic parts of Mangrove Bay are a short walk.
Springfield and Gilbert Nature Reserve
Somerset Road, Somerset. These are adjacent attractions. Springfield is an old Bermuda mansion, in the process of being spruced up by its owner, the Bermuda National Trust. It is an early 18th century architectural treasure. A main house, courtyard, slave quarters and large buttery indicate it was once a large plantation. The Gilbert Nature Reserve is five (5) acres of unspoiled woodland, open space and planting land, originally part of the Springfield property. Reforestation is ongoing at this site and semi mature specimens of Bermuda cedar, olive wood and palmetto are easily observed. Bus routes # 7 ("Dockyard") and # 8 stop on Somerset Road at the entrance to the Gilbert Nature Reserve.
Supermarkets in the Parish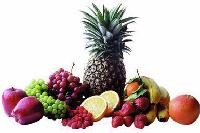 Market Place, Somerset Road. Bus route 7 which will drop you nearby, not as frequently on a Sunday. Most supermarkets are open every day, Sunday 1 pm to 6 pm. Unlike in the UK and USA, liquor cannot be bought on Sunday. Be prepared and budget in advance for Bermuda food and other prices. Store prices are very high compared to USA.
Virginia Park
Added to the Bermuda National Parks system in the latter part of the year 2000. It has 3.00 hectares or 7.43 acres.
Watford Bridge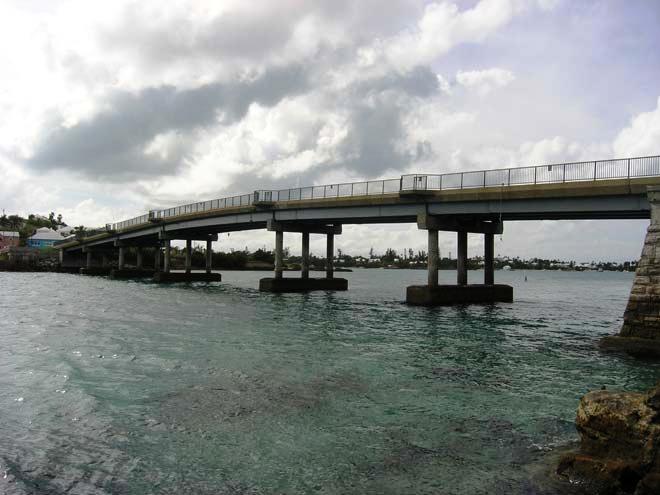 This bridge, the third, was named after Watford, Ireland, not the English town in Hertfordshire as has long been claimed. It connects Somerset Island with Watford Island, Boaz Island, Ireland Island and the Royal Naval Dockyard. Sea views are marvelous. Bus routes # 7 ("Dockyard") and # 8 stop in the immediate area. There's also the Watford Bridge ferry stop, on the Royal Naval Dockyard to city of Hamilton route. See a British historic military cemetery on nearby Watford Island and another one near this bridge. In 1958 the bridge was rebuilt to provide fishing and pleasure boats a shorter trip to and from the West End. The first bridge was conceived in 1887 after a great storm cut communication between Somerset and the Royal Naval islands of Watford, Boaz and Ireland Islands. It accentuated the need for a bridge. In 1902, a bridge to the mainland, begin in 1901 and formally opened in September 1903, finally spanned the Watford gap. Prior to 1900, a "horse ferry", being a small flat-bottomed boat that could accommodate a horse and carriage, traversed the channel. It eventually spanned the 450 feet of the channel. Great cast-iron cylinders were sunk into bedrock and filled with concrete. Some 3,000 tons of local stone, 200 tons of cement and 55 tons of granite were required for the works, along with 433 tons of steel for the bridgework and central swinging span. The original bridge lasted for 54 years; its replacement from 1957, a mere 23 years. The present Watford Bridge, minus the Island, was built in 1982, and claimed to be "one of the most successful tributes to the use of galvanising in civil engineering": It is supposed to have a "design life" of 120 years.
West End Development Corporation (Wedco)
West End Development Corporation (a government quango, formed to redevelop the former Royal Navy Dockyard). P. O. Box 415, Somerset, Mangrove Bay MA BX. Phone (441) 234-1709. Fax 234-3411. E-mail marketing@wedco.bm. Dockyard. Established in 1982 to manage and develop 214 acres of Government-owned land in the West End, including Watford Island, Boaz Island, Ireland Island South and North, the small islands forming the Crawl off Ireland South and the North and South basins and breakwaters. Revenue is generated from residential and commercial tenants plus berthing fees from the commercial and cruise ship docks. Mega cruise ships now dock near there. Recent work carried out by Wedco at Dockyard includes the installation of a reverse osmosis plant, the relocation of the marina and the development of ten residential units. Future planned developments include the Victualling Yard, Casemates, the South Basin and the Parsonage.
Westgate Correctional Facility
Dockyard. Not a tourist attraction, instead Bermuda's main prison, built on former Royal Navy land. It replaced Casemates. Here is where Bermuda's criminals are imprisoned, including US, Canadian, Bermudian, British/UK and other nationals convicted of drug-related and other offences.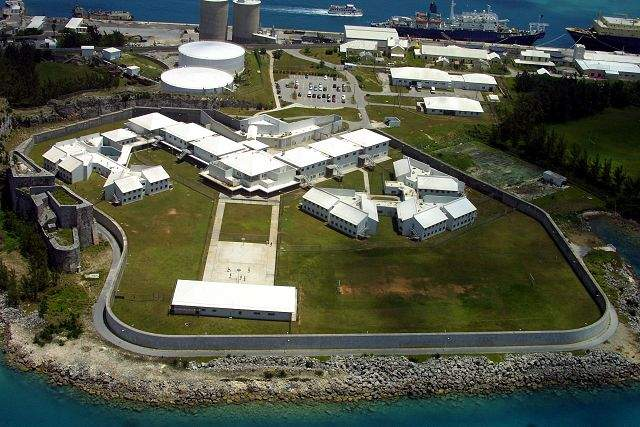 Willowbank Hotel & Conference Facility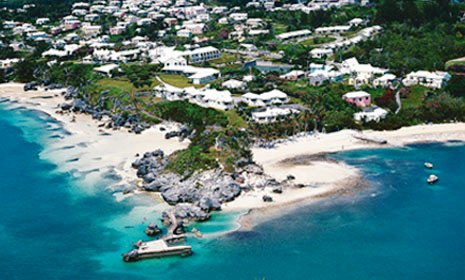 67 rooms, all with balconies and non-smoking. 126 Somerset Road, Sandys Parish MA 06, Bermuda. Established in 1960.
Was Toll-free in USA 800 752-8493, in Canada 800 463-8444.
Or in Bermuda (441) 234-1616. Fax (441) 234-3373.
Closed for good on November 30, 2011, with no indication as yet whether it will reopen and if so, when.
Owned and operated by the Willowbank Foundation.
Registered Bermuda Charity # 433.
A Christian spiritual retreat complete with devotions for those who wish them.
On bus routes 7 (Dockyard) and 8.
On six acres of manicured grounds.
Room rate included breakfast, afternoon tea, and dinner.
2 private beaches, water views, tennis courts, heated (in winter) outdoor pool.
There was no bar. A place for spiritual and physical rest, and fellowship. With WIFI.
Wreck Bay and Wreck Hill
The first is below Wreck Hill. Both first got their names from the fact that a Flemish or Dutch ship went aground and sank here in 1618. It was why the original name was Flemish Hill. The captain of the ship had the very English name of Powell and was a notorious Caribbean pirate. The buccaneer ship then had legal status as a privateer. It had sailed against the Spanish under a Letter of Marque by the Dutch prince Maurice of Orange, so was technically not a Flemish ship but a Dutch one. The British Government did not like the presence of Powell in Bermuda so Governor Miles Kendall banished him to a western Bermuda island now called Ireland Island. It was from there that Powell and his men tried to build a new ship.

In 1777, Bermuda was invaded briefly by the USA. During the American Revolution, British militia soldiers manned the isolated 17th century battery near Wreck Hill. The old fort had a strategic position protecting the West End Channel. It was one of the few passages through the dangerous ring of reefs for sailing ships. The soldiers at the fort had the presence of mind to exchange gunfire with two armed brigs that advanced in a threatening manner although they then flew British colors. The brigs, thought to include Bermudian expatriates familiar with local waters, answered with broadsides from their cannon, lowered their Union Jack flags, hoisted the red, white and blue striped ensign of the United States of America and proceeded to invade Bermuda with landing parties. To avoid meeting this much bigger force, the Bermuda based militia men retreated from the battery. The Americans spiked their guns and destroyed the walls of the fort but were forced to retreat themselves when more local soldiers and a Royal Navy detachment responded to the alarm. The Americans escaped on their ships in what became only the second time in the history of Bermuda that it was invaded.

In 1795, Wreck Hill was bought by the Royal Navy which considered the site an ideal one for a lighthouse. But the one that eventually got built at Gibb's Hill instead from 1840 caused the plans for this one to be scrapped. In the later 19th century, there was a grocery and general store at the bottom of the hill which could be accessed only by boat. American painter Andrew Wyeth - see our http://www.bermuda-online.org/forart.htm - is said to have painted a marine scene from the property as a young man in about 1938.

The entire headland of this hill on the northernmost tip of Main Island is now incorporated into Wreck House, an exclusive 26-acre estate with spectacular gardens, private beach, tennis court and more, once owned by multi millionaire Robert Stigwood whose was responsible for the successes of John Travolta, Andrew Lloyd Webber and others and whose guests included Michael Jackson. Australian Bruce Gordon bought the property from Stigwood. He moved to Bermuda in 1980, originally to Fairylands in Pembroke. He owns Win Television in Australia and has close contacts with newspaper magnate Rupert Murdoch and the late Kerry Packer. His English wife Judith owns Eton Films, a TV distribution business. Gordon recently donated many brand-new heart defibrillators to Bermuda.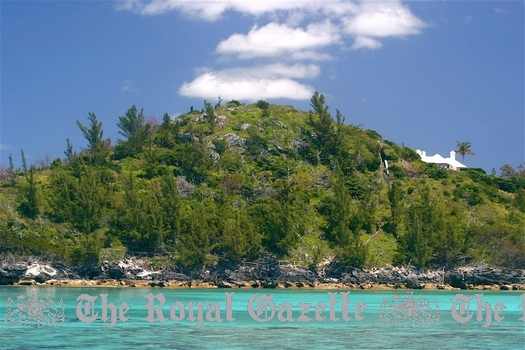 Wreck Hill, from the sea
Other Bermuda geographic areas


Last Updated: November 29, 2013.
Multi-national © 2013 by Bermuda Online. All Rights Reserved. Contact Editor/writer and webmaster.