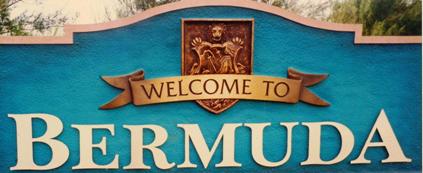 165+ web files, a regularly updated Gazetteer, overall an in-depth description of our island's internally self-governing British Overseas Territory 900 miles north of the Caribbean, 600 miles east of North Carolina, USA. With accommodation options, airlines, airport, actors, actresses, aviation, banks, beaches, Bermuda Dollar, Bermuda Government, Bermuda-incorporated businesses and companies including insurers and reinsurers, Bermudians, books and publications, bridges and causeway, charities, churches, citizenship by Status, City of Hamilton, commerce, communities, credit cards, cruise ships, cuisine, currency, disability accessibility, Devonshire Parish, districts, Dockyard, economy, education, employers, employment, environment, executorships, fauna, ferries, flora, former military bases, forts, gardens, geography, getting around, golf, guest houses, history, historic properties, Hamilton, House of Assembly, housing, hotels, immigration, import duties, internet access, islands, laws, legal system, legislators, main roads, marriages, media, members of parliament, money, motor vehicles, municipalities, music and musicians, newcomers, newspaper, media, organizations, parks, parishes, Paget, Pembroke, performing artists, residents, pensions, political parties, postage stamps, public holidays, public transportation, railway trail, real estate, registries of aircraft and ships, religions, Royal Naval Dockyard, Sandys, senior citizens, Smith's, Somerset Village, Southampton, St. David's Island, St George's, Spanish Point, Spittal Pond, sports, taxes, telecommunications, time zone, traditions, tourism, Town of St. George, Tucker's Town, utilities, water sports, Warwick, weather, wildlife, work permits.
Bermuda Introduction: welcome to our Islands!
Insider's Guide, with many essential facts before you arrive
By Keith Archibald Forbes (see About Us) exclusively for Bermuda Online
Left: Bermuda Flag with Coat of of Arms. Right: Coat of Arms.
Bermuda is an island country with its own distinct national identity, but not a sovereign state. It is the smallest in size but economically the most advanced, prosperous and populated per square mile as well as the oldest of all the British Overseas Territories. (The others are see http://en.wikipedia.org/wiki/British_overseas_territories). A sovereign state is one neither dependent on nor subjected in any way to any other power or state or country. However, as a British Overseas Territory 3,076 miles from London it has a great deal of autonomy. It passes all its own internal laws, many but not all modeled on British-UK laws since discovery and colonization in 1612. No UK laws apply in Bermuda. However, the UK's Foreign & Commonwealth Office (FCO) is the British Government department responsible for Bermuda's foreign affairs, through its headquarters in London and its Embassies, High Commissions and Consulates. It is represented by the Deputy Governor's Office at Government House, 11 Langton Hill, Pembroke HM 13, Bermuda. Telephone: (441) 292-2587, Fax: (441) 295-3823).
For UK Statutory Instruments Applicable to Bermuda as a BOT see http://www.bermudalaws.bm/site_docs/ukstat.aspx). The Government of Bermuda alone, not Britain, decides on all non-Bermudians who can enter, reside and if eligible and law-abiding, can get local citizenship, referred to as Bermuda Status, after 10 continuous years of marriage to and living with a Bermudian. People from Britain - Britons - are just as much foreigners as are Americans, Canadians, Europeans, Asians and other citizens. This means that even people born and bred in the United Kingdom of Great Britain and Northern Ireland, Bermuda's mother-country based on the nationality of its first colonists, are not free to come and go as they wish, if and when they come here do not have citizenship, generally cannot vote, need work permits like any other nationality if they are qualified to come to work and are never guaranteed continued employment even with work permits if Bermudians becomes qualified and are deemed able to take over their jobs. The Bermuda Government alone has the right to control the admission and expulsion of people from both Britain and anywhere else in the world. However, under British-UK law, so long as Bermuda remains a British Overseas Territory, Bermudians can, on application, obtain automatic British-UK citizenship and passports and can come and go as they please between Bermuda and the United Kingdom.
Flag description and protocol. Red, with the Red Ensign flag of the UK in the upper hoist-side quadrant but with the addition of the Bermuda coat of arms. The Coat of Arms of Bermuda show a red lion holding a shield that has a depiction of a sinking ship upon it. The red lion is a symbol for the United Kingdom and alludes to Bermuda's relationship with that nation. The sinking ship is a depiction of the sinking of the Sea Venture off the coast of Bermuda in 1609 when under the command of Admiral Sir George Somers. He was en route to Virginia with a Supply Fleet of colonists and provisions but was shipwrecked on a Bermuda reef. This unintended disaster, with only a few lives lost and with the colonists having thrived in the sub-tropical climate of Bermuda, led to the official launch of Bermuda as a British colony. That ship was the first British ship to visit Bermuda. The Coat of Arms was awarded by Royal Warrant at the Court of St. James, London, on October 4, 1910. Commissioned by the Bermuda Government from London's College of Arms for Bermuda's tercentenary in 1909. It is a white and blue shield with a red lion holding a scrolled shield showing the sinking of Admiral Somer's flagship Sea Venture off Bermuda in 1609. Armorial Ensigns are Argent on a Mount Vert a lion sejant affrontee Gules supporting between the forepaws an Antique Shield Azure, thereon a representation of the wreck of the Ship 'The Sea Venture' (AD1609) all proper, together with the motto Quo Fata Ferunt. This is from Virgil's Aeneid and its translation from the Latin is Whither the Fates do Lead Us.
Bermuda has no natural resources - no oil or gas, other exports or heavy industry. Practically everything is imported, mostly directly or indirectly though the USA.
Bermuda has never been geographically or economically part of the Caribbean islands. They are more than 900 miles to the south. There are no direct airline services between Bermuda and any Caribbean islands, only via the USA or Canada.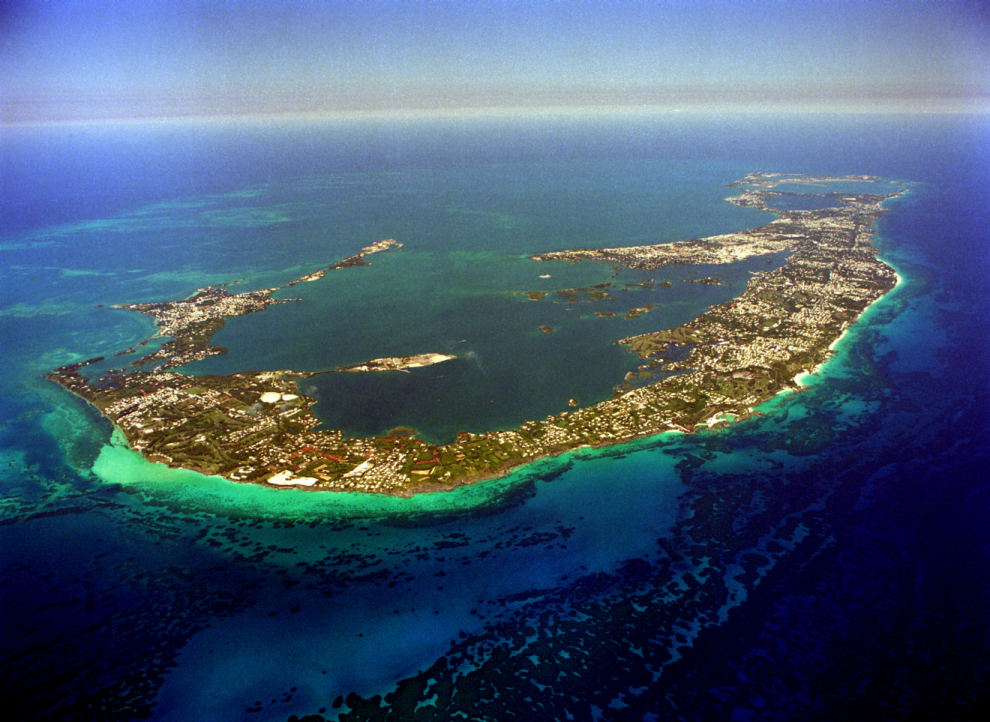 For Bermuda's latitude and longitude see http://www.findlatitudeandlongitude.com/?loc=bermuda+island.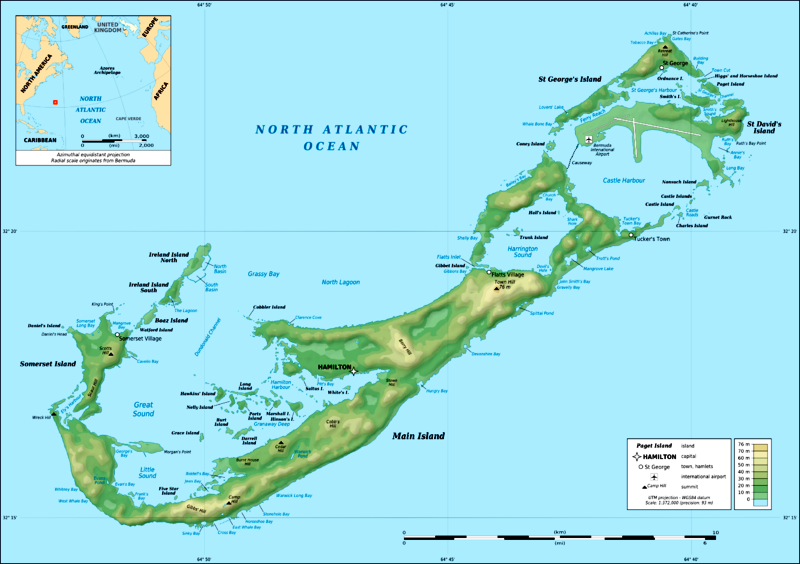 Bermuda, from the west (left) looking east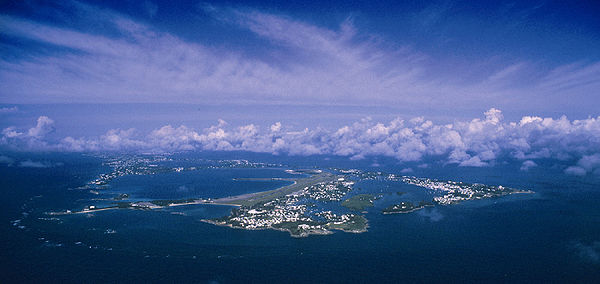 Aircraft approaching Bermuda from the east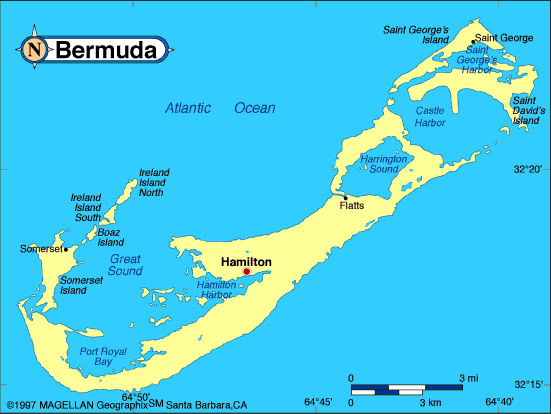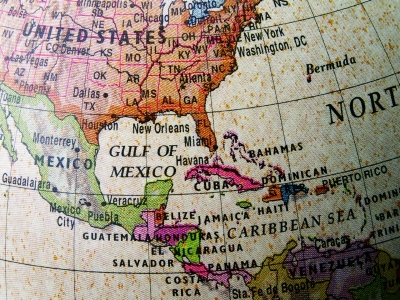 The isolated island chain of Bermuda - see a list of its islands - is located in the western North Atlantic, 600 miles 965 km) east of Cape Hatteras, North Carolina, USA. With a total land area of just 21 square miles ( 55 square km), one of the smallest places in the world in total land area compared to its nearest neighbor the USA's 9.629 million square kilometers (see http://en.wikipedia.org/wiki/List_of_countries_and_outlying_territories_by_total_area), residents and visitors can travel from one end to the other in just over 60 minutes and from north to south in 10 to 15 minutes. Bermuda comprises 123 limestone islands that sit on the largest of three volcanic seamounts formed about 110 million years ago. Influenced by the warm waters of the Gulf Stream, Bermuda's shallow-water platform covers an area of about 1000 km and supports the northernmost coral reef system in the world. Bermuda's low-rolling hills are largely suburban in character, supporting a resident human population of over 65,000 concentrated on the seven largest islands now all joined to Bermuda's main island by bridges. Economic growth, based on tourism and international business, attracts 500,000 visitors each year.
Bermuda's country code on the Internet is "bm." Bermuda is named after the man who first discovered it, Spanish navigator Juan de Bermudez. Before he first discovered Bermuda via shipwreck on local reefs in 1503, Bermuda was uninhabited. Later Spanish, Portuguese, French and British mariners also came ashore, mostly involuntarily because of sharp uncharted reefs that damaged or sunk their ships. As soon as they built small vessels from local cedar, or made repairs, they left. Portugal and Spain claimed Bermuda but did not take possession or settle. Bermuda had no permanent residents until 1609 when the flagship "Sea Venture" of the British Third Supply Fleet was caught in a tempest with 150 British officials, colonists and crew, including Admiral Sir George Somers, Sir Thomas Gates as Virginia's first Governor-Designate, and John Rolfe. See Bermuda's Links with the USA and Bermuda's Early History portrayed in its cultural postage stamps.
Bermuda's other name - the Somers Isles - commemorate Bermuda's British founder father, discoverer in 1609 and colonizer, Admiral Sir George Somers, when it was unpopulated. In 1612 the Bermuda islands or Bermudas, then the Somers Islands, were in the third charter of the Virginia Company. As such, Bermuda was once referred to as Virgineola, in its 16th century brief period as a dependency of Virginia. More English colonists arrived specifically for Bermuda. The charter was revoked in 1684 when Bermuda became a British crown colony.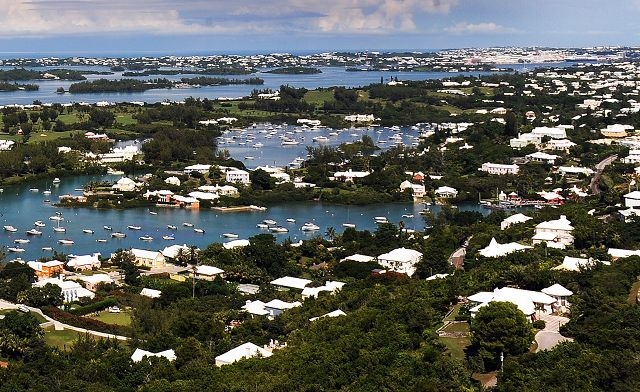 Bermuda landscape
The Bermuda Rise juts up from the deep Atlantic Ocean floor in the form of three steep-sided mountains, the largest of which supports the Bermuda Islands we know today, on the southern margin of a shallow water platform, with Challenger and Argus (or Plantagenet) Banks to the southwest. Others say the Bermuda Rise is five mountains including the more distant Bowditch and Muir Seamounts (the furthest of which is about 150 miles to the northeast). The Bermuda Mountain is longer - 32 miles - than the land area width and much wider - 16 miles wide - than the maximum land width of 1.5 miles. At sea, the Argus and Challenger Banks are round and about 6 miles across. Harrington Sound is an inland lake with access to the sea under Flatt's Bridge and many subterranean caves. It marks the lowest point on the Bermuda sea platform. It is about 23 meters in depth at its deepest point (off Devil's Hole). Its geological formation is not yet fully explained. It is not the crater of an extinct volcano as often assumed. To the right of Harrington Sound is Castle Harbour, with the airport nearby. Below the level of limestone and 450 feet below sea level is volcanic rock; and below that, only black lava and other igneous volcanic rock. Only in one place in Bermuda - 60 feet below sea level at the southern end of Bermuda's international airport - is volcanic rock found so near to sea level.
About 250 of over 8,000 plant and animal species known from Bermuda are unique. Many of these are found in the extensive network of submerged caves (see more below) and, like the fabled cahow and Bermuda skink, are critically endangered. Others, such as the Bermuda cedar, nearly wiped out in the 1940s by an introduced scale insect, are more common, due to island-wide planting schemes. Bermuda is well known for its Cahow (Bermuda Petrel), a species thought to be extinct for 300 years until its rediscovery in 1951, and its Longtail frigate-bird, Bermuda has a magnificent limestone cave system – the 150 known caves, the leading ones of which are open to the public for an admittance fee - makes it one of the highest concentrations of caves in the world. Remaining caves hold a high proportion of Bermuda's endemic species. The flattened top of an extinct volcano, the Bermuda Platform supports approximately 1,000 square kilometres of fringe reefs and shallow water habitat. A ring of protective reefs follows closely to the south shore of the Island and extends offshore approximately 15 km to the north, enclosing a shallow sandy lagoon. The Gulf Stream which passes to the West and North of the Island moderates Bermuda's weather and brings warm tropical waters to the area thereby allowing Bermuda to support the northernmost coral reef system in the world.
Bermuda is (an observer) member of CARICOM and member of the ICFTU and IOC.
Many options, beginning with large hotels then smaller facilities.
Advance information on travel documents required
Bermuda is a foreign country and requires valid passports from:
Americans (who number about 85% of all visitors, See Bermuda's Links with USA). Before they arrive, American visitors should note that the US Government has implemented new regulations that will require all those traveling to Bermuda and from here to the USA by air or sea to travel on a valid passport. All travelers, including American citizens, going to and from the Caribbean, Bermuda, Panama, Mexico and Canada must have a valid official passport to enter or re-enter the United States. Other regulations will require that visa applications to Bermuda via the USA or from Bermuda to the USA for those thinking of going from Bermuda to live and/or work in the USA be completed online. The USA's Intelligence Reform and Terrorism Prevention Act of 2004 requires this. Further details can be obtained from the US Consulate in Bermuda. Americans should also read and heed the US State Department's Travel Advisory section on Bermuda, on its website.

Non-citizens of the USA must also carry a US Green Card showing them to be legal registered aliens there, if entering Bermuda from USA

Britons (5% of all visitors, see Bermuda's Links with the UK):

Canadians (5% of all visitors). See Bermuda's Links with Canada file.

Non-citizens of Canada or the United Kingdom must have an appropriate travel visa from Canada or the United Kingdom if entering Bermuda and not a citizen of that country.

Nationals of other countries (5% of all visitors).

All adults and children - irrespective of nationality - should have individual official passports from their country of birth or domicile to enter Bermuda. It is the only way of confirming and proving both your nationality and your identity. Birth certificates and drivers' licenses, not issued by countries but merely by sub divisions of them, don't show such confirmation or proof. Travel documents for all must be shown to Bermuda Immigration on arrival.
Plus:
If it applies to you, a valid visa, including from Jamaican nationals. Citizens of other countries may and should consult a British Embassy or Consul. Plus, if - like all nationals of Caribbean islands far to the south of Bermuda - they travel to and from Bermuda via Britain or Canada or the USA, they must obtain and bring the appropriate in transit documentation or visas required by the Immigration authorities of these countries for both portions of the journey. From April 1, 2011 visa waivers for people from specified countries (over 96) if they want to work in or visit Bermuda increase in cost to $200 if they have a valid entry visa to the US, UK or Canada, in addition to other documentary requirements. This requirement makes Bermuda compliant with the UK Direct Airside visa. When it was implemented in May 2010 many foreigners complained that they had been given little warning and already had visas allowing them to enter other, larger countries. In 2010, 931 Bermuda entry visas were granted, up from 459 in 2009.
An original marriage certificate or certified copy as further proof of identity for a married woman with travel documents still in her maiden name.
A valid airline or cruise ship onward ticket for travel beyond Bermuda or return ticket back to place of residence, within 30 days. If your documentation is insufficient or unsatisfactory, you may be denied travel or Bermuda entry. If minor children travel with someone who is not a parent, there must be a letter from a custodial parent authorizing the trip. Only if you are going to and from Bermuda by yacht do the travel documents exclude a return ticket by air or cruise ship. Check Bermuda Harbor Radio for details.
On the Bermuda Immigration Questionnaire, always show the full physical name, address, postal code and telephone number of where you will be staying, whether a hotel or a private home. You could be refused admittance if you do not. If your visit is for vacation purposes only, say so. If you're a non-Bermudian traveling salesman intending to solicit any kind of business as a representative of a company or organization not based in Bermuda, you must be issued, prior to your arrival, with a permit by the Bermuda Immigration authorities. Bermuda Employment and Work Permit Procedure describes the formalities and procedure required. Do not try to seek employment if you are a non-Bermudian on vacation. Be aware that the Bermuda Government has a stop list of undesirables and fugitives wanted by other countries and does not hesitate to invoke it if given cause.
The normal maximum length of stay for visitors by air, cruise ship or yacht is 90 days - three months (unlike in countries such as the USA, Canada and United Kingdom which can be six months). Until early 2012 it was three weeks, now extended. Visitors who are not Bermudian by birth or status or do not have Permanent Resident Status or do not have a valid Work Permit to satisfy Bermuda Immigration will not be eligible for any extension, not even for staying with close relatives "to look after a sick patent or sibling." The only exception is if you can prove all the following from your documentation: you are yourself a local real estate owner; have the means to support yourself without local employment; have proof of employer/employee or, as a local homeowner have individual major medical insurance coverage in Bermuda - essential. In which case, longer stays - up to 6 months - are possible by application directly and solely to the Immigration authorities of the Bermuda Government. Do not risk over-staying and its repercussions.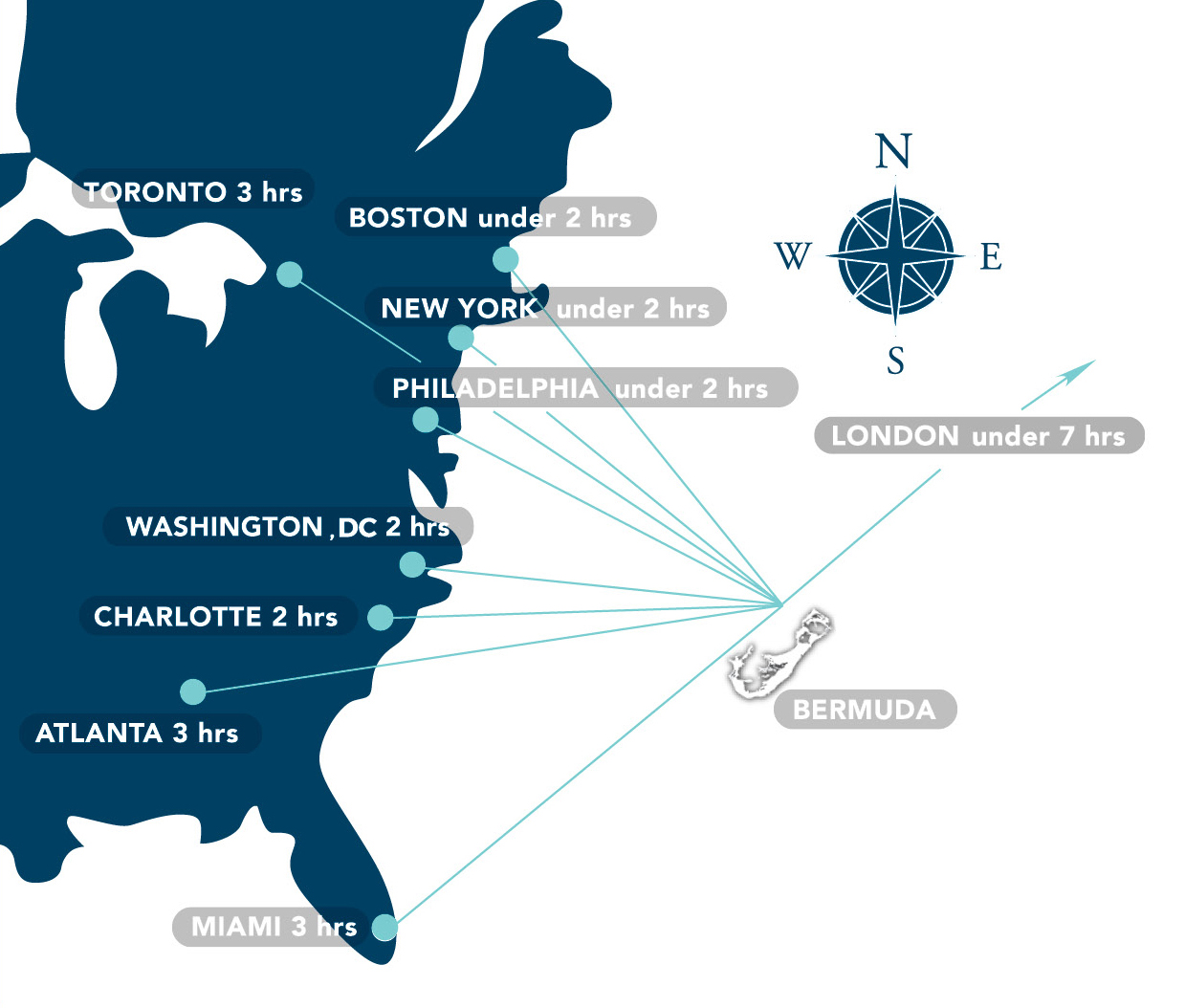 Airmail & surface mail & packages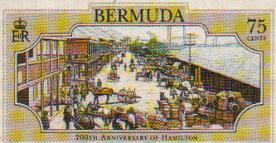 Air mail, in normal conditions, from North America or Europe can take more than a week to arrive and is sometimes delayed for longer. Most of the incoming mail comes from the USA. Residents without their own Post Office mailboxes should note that incoming mail will not always be delivered every weekday, never on Saturdays, Sundays or Public Holidays; and not if the postal carrier is sick or away.
All mail leaving Bermuda for the USA, Caribbean and South America is x-rayed in Bermuda. Always use first class air mail or courier service or secure electronic mail. There are several courier services operating to and from Bermuda.
Only car ships - no freight ships or scheduled aircraft - go between the Caribbean and Bermuda. Surface mail can take many months, especially when misdirected to places with no passenger shipping or airline connections to Bermuda. Mail problems usually occur more frequently from November to March when, in more normal circumstances, air services from the USA to Bermuda are fewer in number and with smaller aircraft. Because of this, regular air mail from the USA for Bermuda has been sent to London first, then redirected to Bermuda on British Airways on the three days a week winter service. To help avoid such problems, all Christmas parcels from Bermuda should be sent by an early or mid October deadline and for Bermuda residents and visitors, letters should be sent no later - and ideally much earlier than - December 8. If with questions, call the Post Office at 297-7893.
Packages sent to recipients from Bermuda by courier are treated in a different way to regular airmail. Recipients must always give their full physical postal addresses, postal codes and telephone numbers. Costs will include:
Courier charge
Bermuda Government imposed courier service fee per package
Customs duties on imports at prevailing rates per item
The overall effect is that a US$39 pair of trousers from a good US retail store like Land's End could end up costing the recipient over US$90.
Animals, birds, sea creatures and fish
See Fauna.
Architecture and water supply
See under Traditions and homes.
Area Code
Postal Code. No USA/Canadian (as Bermuda is not part of either) or British-style but one unique to Bermuda.
Telephones. From North America, dial 1 (441) then a 3-digit exchange and 4-digit number. From Great Britain and Europe, dial USA-style as 001 (441), then the above. Although extremely expensive compared to USA, Canada, United Kingdom and Europe, there are cable, cell phone (mobile phone), land telephone, facsimile and Internet services. Telephone charges may be reversed. Except for Airlines serving Bermuda and very few others - only a handful - 1 800 toll free calls cannot be made from Bermuda. The great majority advertised as toll-free on all North American television stations accessible via cable in Bermuda are in fact full toll calls from Bermuda, at regular per-minute overseas rates.
Arrival, hotel occupancy and departure taxes
A summary
Occupancy and Tourism tax. Since 2015 now between 9.25 and 9.50 percent, on top of which hotels and other guest properties charge further taxes of their own, making the overall tax total easily more than 20% of the billing rate for guests. Some guests can pay as much as $50 a day per room just in Bermuda Government and other hotel or guest property taxes. There is a relevant Bermuda Government Hotel Occupancy tax page showing how much government charges the hotels, see http://www.gov.bm/portal/server.pt?open=512&objID=275&&PageID=231424&mode=2&in_hi_userid=2&cached=true, but it may not include what the hotels charge guests.
Energy surcharge, imposed by some hotels or guest houses.
Service charge. In addition to the compulsory 17% service charge added to your food and beverage bills.
Yacht arrival tax $50 per person since April 1, 2015.
Total taxes excluding departure tax: can easily amount to over US$75 a day, depending on where tourists stay. Collectively, they all mean Bermuda charges the highest tourism taxes in the world by a very wide margin.
Departure Tax: $75 per person, was $30 before March 31, 2015, raised again in August 2015.
Automobile, moped and scooter restrictions
2016. November 26. Bermuda's Parliamentarians approved legislation that will see tiny electric rental minicars introduced in Bermuda for the first time. The Motor Car Amendment (No 2) passed without any objections in the House of Assembly yesterday, despite Opposition MPs decrying its lack of regulations as well as the potential impact on the taxi industry. Meanwhile, Government MPs maintained that the small covered vehicles, capable of carrying a maximum of two passengers, would offer business opportunities for entrepreneurs and safer options for visitors. This finally enables Bermuda to compete to some extent with other tourism destinations, except that in other jurisdictions larger and smaller cars are allowed and are powered by regular or diesel gasoline, while only tiny two-passenger electric vehicles are now allowed to be driven by visitors to Bermuda, if they qualify via a driving licence from their home state or country, stay at a place that has electric charging facilities for the vehicles, and can afford the expensive hiring rate and necessary insurance.
Until the laws were relaxed, see above, Bermuda Government did not permit visitors to rent any kind of automobiles or drive those owned by residents. Visitors were restricted to a low powered rented moped or scooter, or taxi or public transport. There are no chauffeured limousines. Bermuda properties are not allowed to have limousines to collect or deliver guests to the Bermuda International Airport. Public buses are not equipped to accept passengers with luggage. Only one automobile is allowed for each Bermuda family or household.
Average life expectancy (longevity)
Bermuda's is 77 compares to 77.1 in the US; 78.1 in the UK; 76.9 in Portugal; 79.6 in Canada; 79.2 in France; 79.5 in Spain; and 72.3 in Hungary.
Most American, Canadian & other visitors will find that if they need cash in Bermuda, local ATMs from either of the two largest local banks will service them. But note carefully the dollar notes they dispense will be in non-exportable Bermuda dollars only (which cannot be cashed overseas). It is an odd anomaly in a country where the US$ is otherwise fully accepted as a legally permitted currency for visitors and is officially at par with the Bermuda dollar. It is recommended that departing visitors go to the airport bank before they check in and exchange their Bermuda dollars for US dollars. If there is a small premium it will be worth it. (If this is not done at that time it may be much more expensive to do so in their home states).
Including, but not confined to, non-prescription drugs (narcotics) and weapons.
Bermuda Accents or dialect
The way Bermudians speak. The Island's dialect and unique vocabulary keep changing — but even as our speech evolves, it remains Bermudian. The history of Bermuda's dialect is not well documented (except for the book Bermudian English. Harry Morgan Ayres. 1933). But it is believed to have emerged from a crossroads of African, Caribbean, British, Portuguese, and New England influences Scholars of the dialect believe the nasal quality of many distinctly Bermudian sounds — such as the affirmative "aungh" noise — may have originated with Portuguese and Angolan imports. However, the United States influence had markedly shifted the accent away from its stronger British intonation in recent years, and globalization will likely bring further variance. It is claimed that even Bermudian dogs understand the special features of local speech, with one owner of a vicious-looking dog eying an apprehensive bystander hungrily, but with the owner calmly telling both the latter and the dog "Don' even worry wif it." There is often a shift between the V and W sounds. There is no consensus on whether the Island's colloquial form of address to a male resident or visitor is spelled "bie" or "bye" - which means much more than just "boy" or "guy" and no standard way to write the Bermudian dialect. Some Bermudians will drop their accent in a business setting, believing it to be more appropriate. It can be hilarious at times. For example, when units of the British Army of the United Kingdom's Sherwood Foresters were posted to Bermuda from 1935 to 1939, a certain Sergeant-Major of the one of the Bermudian local part-time military units was asked to tell them to "Stand Easy" after a parade at Prospect Garrison, Devonshire. But never having addressed such a large parade of professional soldiers before, he was nervously prefaced his barked command with the very Bermudian question: "Is you happy at your verk?" It made all the soldiers crack up, before order was restored.
Bermuda National Symbols
| | |
| --- | --- |
| Bird | Cahow. Because of its perseverance, strength and endurance. Long thought to be extinct, wiped out by early 17h century colonists, until re-discovered 300 years later. |
| Flag | See top graphic above. |
| Flower | Bermudiana. (Sisyrinchium iridioides). A member of the iris family first recognized by Carolus Linnaeus as different from the American blue-eyed iris. This was confirmed in 1884. |
| Tree | Bermuda Cedar, a unique species of juniper. An integral part of the landscape since 1606 and once used to create furniture, build ships and construct beams for houses. |
| Vegetable | Onion. First introduced from England in 1616 and for 300 years afterwards was exported from Bermuda to West Indies and North America. |
Bermuda Police Service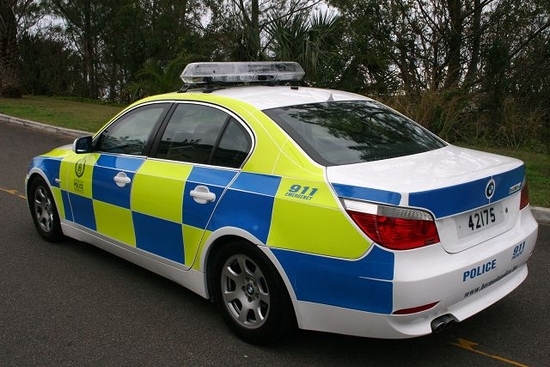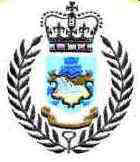 Police Headquarters, 10 Headquarters Hill, Devonshire DV 02, Bermuda. P. O. Box HM 530, Hamilton HM CX. (441) 295-0011. Fax (441) 299-4459. Police Commissioner Michael DeSilva. Government House has direct responsibility for the operational side of Policing with the Police Commissioner reporting directly to the Governor, while budgeting and manpower is Government's responsibility. The service is paid for by Bermuda taxpayers, not the United Kingdom.

2018. August 3. The new Commissioner of Police, Stephen Corbishley, was sworn in today by John Rankin, the Governor. The ceremony at Government House was attended by Wayne Caines, the Minister of National Security, along with Paul Wright, the Deputy Commissioner of Police, and Alison Crocket, the Deputy Governor. Mr Rankin welcomed the new Commissioner and his family to the island. The Governor also thanked Mr Wright for his period as Acting Commissioner of Police and for his continued service to Bermuda. Mr Corbishley said he looked forward to working with the Governor, the Minister of National Security and his new colleagues in the Bermuda Police Service. He added: "I am both delighted and proud to be joining the Bermuda Police Service. I am committed to protecting and serving the people of Bermuda as Commissioner of Police and to leading the Bermuda Police Service in maintaining the highest international standards." Mr Corbishley's appointment was announced by the Governor on May 31. He has previously served with Kent Police in Britain, and has held command positions in both operational and crime divisions in UK policing. The new Commissioner brings a background of strategic experience, which includes his secondment to the National Crime Agency in the UK.

2017. September 11. The Government plans to create a new police authority to help set priorities for the service. The Governor, John Rankin, who delivered proposals for the new session of Parliament, said the Commissioner of Police would keep operational control. But he added the proposed authority would bring together the Government, Government House, police and laymen to determine policing priorities and the funding required. The Throne Speech also promised that changes were planned for the Police Complaints Authority, and that a parliamentary committee to investigate the clash between protesters and police on December 2 last year would be set up. The Police Complaints Authority investigated the disorder in which police used pepper spray on demonstrators and concluded that officers involved did not commit misconduct. Mr Rankin said: "In the wake of the events of December 2, 2016, this government has determined that a greater balance must be struck in favour of those who rightly question the actions of the police. Therefore, during this session, legislation will be introduced to give ordinary citizens greater confidence in the independence of the Police Complaints Authority. These amendments will enable truly independent investigations in the case of complaints regarding police conduct. The Government will also establish a parliamentary committee to look into the events of December 2 to bring closure to this dark day in our country's history." The Government also announced plans to provide financial support for gang members who want to break away from involvement so they can further their education or learn a trade. The speech also reiterated promises to decriminalize small amounts of cannabis, develop a strategy to deal with cybercrime, appoint a gang-violence reduction co-ordinator and address drinking and driving by introducing tougher penalties and sobriety checkpoints.

2016. July 13. New legislation paving the way for a modern and transparent disciplinary system for the island's police service has been approved by MPs. The Police Amendment Act 2016 was debated in the House of Assembly on Wednesday, when it received bipartisan support. The Act will reform disciplinary and sick leave procedures within the Bermuda Police Service in line with a model established in England, Wales and the Isle of Wight. The changes would boost public and police confidence in the outcomes of cases "because they are quicker, more transparent and focused on modifying behavior for the future. Implementation of the modernized system will be enabled through the delivery of training for all supervisory ranks within the Bermuda Police Service. The new framework comes after Victor Marshall, a leading UK authority on improving professional standards within police services, visited Bermuda at the end of 2015.. Mr Marshall met with the Governor, George Fergusson, as well as the Ministry of National Security and assembled a working group to look at proposals to modernize the management of police performance and misconduct arrangements. The new arrangements are designed to focus more on learning and improvement rather than blame and punishment. This will be reflected in the police complaint system. The proposed changes to the present disciplinary procedures, the introduction of performance management procedures and changes to the complaint and appeals processes will result in improvement in personal and professional standards at an individual and an organizational level. The reforms advocated in this Bill and the concurrent Orders will modernize the arrangements for the management of misconduct and performance in the Bermuda Police Service and bring the processes in line with modern employment practice."

Bermuda Police have British-style uniforms and United Kingdom-style police cars. They wear Bermuda Police Bermuda Shorts for part of the year. In October 2015 117 AXON body cameras were bought for widespread police use. The presence of a camera has provided additional evidence towards solving a crime or has validated an officer's account of an incident. The cameras are worn on the front of body armor and are designed to capture a wide image of what the officer sees. The cost, including cameras, docking stations, licence fees, warranty and evidence management of the initiative, is $58,000 — however, the cameras are about $100 cheaper than the Taser cameras that had been used.

Bermuda is the heavily Policed country in the world with 418 police officers for 2015-2016 in Bermuda's 21 square miles for its 65,000 residents.

There are also several hundred part time, all Bermudian, Bermuda Police Reserves (telephone (441) 299-2442), with a capacity of up to 180 men and women. In the USA, there is an average of 2.5 (two point five) Police Officers for every 1,000 permanent inhabitants. Sutherland, Scotland, has 29 policemen in 2,300 square miles. In Bermuda, the police are supported by 136 civilian staff, making a total of 613 people. Crime is the biggest fear among Bermuda's residents. Much is drugs related, with more than half of Westgate's (Bermuda's main prison) inmates having used drugs prior to incarceration. The rate of recidivism remains stubbornly high at around 80 percent.

More police officers are trained to carry firearms. With guns, gangs, drugs and violence continuing as the force's four key priorities, greater CCTV surveillance and an enhanced partnership with gang-fighting agencies are among the force's plans. This is part of the Strategic Plan for 2012 to 2015. Producing the three-year plan was one the recommendations made in 2012 by Her Majesty's Inspectorate of Constabularies (HMIC). And, in its Annual Policing Plan, Bermuda Police further vowed to employ intelligence and tip-offs against gun, drug and gang crime, and to target perpetrators of serious crimes with DNA profiling. Short-term, police patrols will be used to "deny criminals use of the Island's roads", while over the next three years, surveillance upgrades could include number plate recognition and the ShotSpotter system to speed up gun crime deterrence. An information and intelligence-based Covert Policing Strategy is also among long-term goals. A Collision Policy is in effect to avoid police attending certain non-injury road accidents. There will be a single emergency centre for 911 calls by 2015, and a new Records Management System automated and compatible with Public Access to Information (PATI) legislation.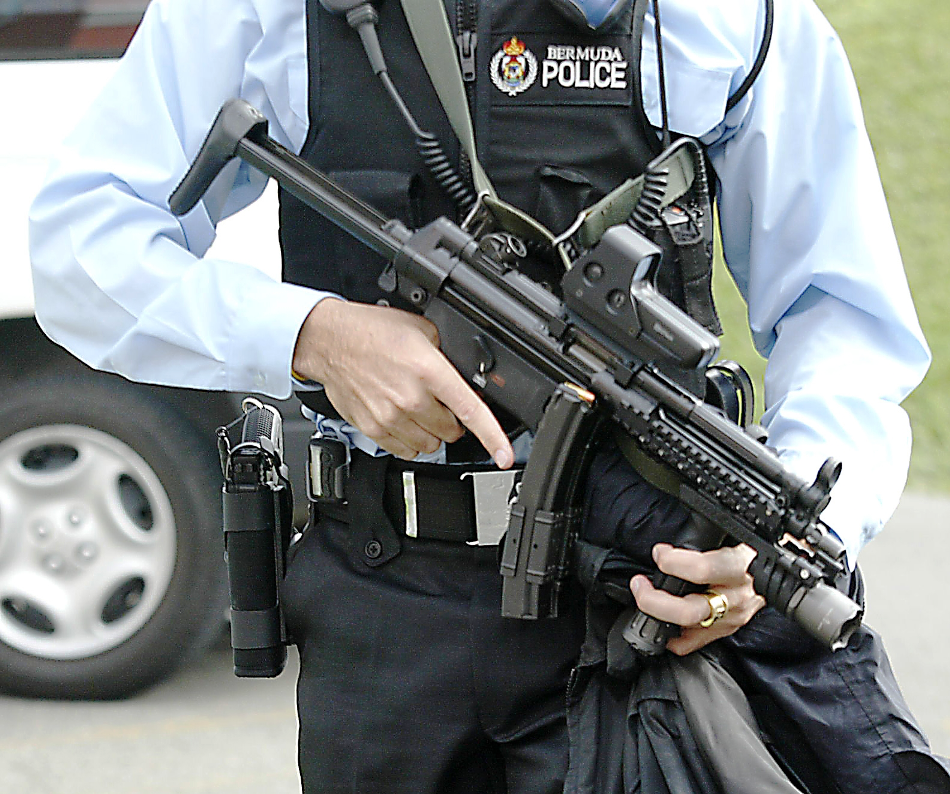 Facilities and services include a fleet of boats including 22 foot Boston Whalers, 27 foot Boston Whalers, 24 foot Arctic Rigid inflatables and a 46 foot Hatteras. Police officers provide the primary search and rescue facility in local waters (there are no police helicopters). There is also a Financial Investigation Unit (FIU) of the Bermuda Police Service, for Internet-related crimes and anti-money laundering procedures, following implementation of the Proceeds of Crime (money laundering) Regulations 1998. All members of the Association of Bermuda Compliance Officers in regulated institutions - such as banks - are required by law to appoint a reporting or compliance officer. He or she is responsible for passing reports of suspicious transactions to the FIU. The Police Support Unit has a wide variety of tasks. The attractions of the service include a starting salary from $45,900 excluding overtime, a retirement pension plan and vacation of 24 working days annually. Some officers undergo special training in Britain. Ranks follow the British tradition. In ascending order of seniority, they are constables, sergeants, inspectors, chief inspectors, superintendents, assistant commissioners, deputy commissioner and Commissioner. Periodic visits are made by Britain's senior advisor for Dependent Territory Police Forces. He makes periodic recommendations to increase efficiency and effectiveness. There is also a Bermuda Reserve Police, embodied in the event of emergencies, formerly the Bermuda Reserve Constabulary.
Bermuda Police Association. A trade association for members and retirees of the Bermuda Police Service. It has an Officer Safety Committee.
Bermuda Police Benevolent Fund. Registered charity 002
Bermuda Police Marine Search & Rescue Association. Registered charity 441
Police Complaints Authority. See Bermuda Government Boards.
Bermuda's resident population is about 65,000. This averages 3, 060 people per square mile. Broken down by parishes, St George's (18 percent), Paget (12 percent) and Hamilton (11 percent) were reported to have the highest population growth since 2000. Just two parishes, Smith's and Pembroke, which recorded declines of five and six percent respectively showed negative growth. Pembroke and Warwick maintained their positions as the most populous parishes with 10,602 and 8,606 persons respectively. The City of Hamilton increased its residential population by six percent from 969 persons during the preceding Census, to 1,030. The change reflects condominium developments in the City during the intervening period, according to the Statistics Department. The Town of St. George also saw a population increase of three percent from 1,752 persons to 1,802 in 2010.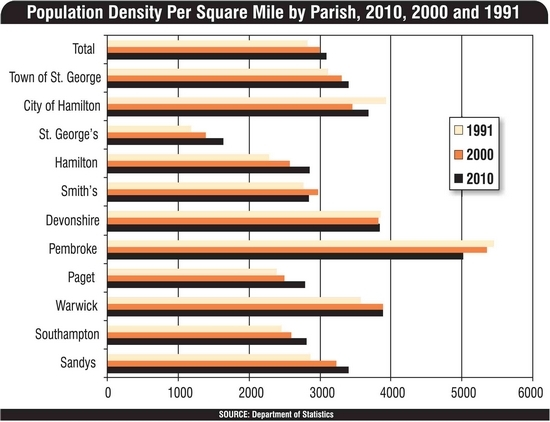 Bermuda Population Basics
| | |
| --- | --- |
| Bermuda size & population | 20.75 (Twenty point seven five) square miles in total. 64,268 residents |
| Resident population density per square mile | 3,097 (Three thousand, zero nine seven). Third highest in the world |
| Government Code of Conduct for legislators | None. There is a voluntary code, with no legislative teeth. It is ignored by some. No equivalent of the UK's Ethical Standards in Public Life Act. |
| Number in Cabinet | 13. Same number as USA, equivalent in Bermuda to 0.63 (Point six three) per square mile. They have "The Honorable" before their name. |
| Number of elected legislators in House of Assembly and their salaries | 36. Equivalent to 1.93 (One point nine three) per square mile. They have "MP" for Member of Parliament after their name. If they are also Cabinet Ministers, they earn well in excess of $100,000 a year, plus unlimited expenses. |
| Number of registered voters per Member of Parliament | On date of last General Election the average was one thousand two hundred and ninety seven). Contrast this with no fewer than 72,810 and no more than 80,433 per member of parliament in the UK in 2018 and approximately the same in the USA per congressperson and Canada. |
| Number of appointed politicians in Senate | 11. Equivalent to 0.53 (Point five three) per square mile. They have "Senator" before their name. If they are also Cabinet Ministers, they earn this plus what is shown above under "Number of elected legislators." |
| Number of Government Boards | About 108. All require the approval of the Premier who controls all Public Information. See Bermuda Government Boards separate website shown at the end of this file. |
| Number of Police | About 460, over 20 per square mile. Plus, there are Reserve officers. Bermuda has more police per square mile and per population than anywhere else in the world |
| Number in Bermuda Regiment | 600 members, mostly Bermudian men, mostly part time. Some non-Bermudian men and women from British Commonwealth countries and female Bermudians are serving but on a volunteer basis as conscription regulations do not require enrolment by Bermudian females and non-Bermudian males. Only male Bermudians under a certain age resident in Bermuda are liable to be conscripted, on a selective basis. |
| Registered voters who can participate in a General Election | Total number of registered voters in the last General Election - was 46,678 - about 60% of the entire resident population. |
| The Bermuda Society | |
Bermuda Postal Service and Post Offices
There is a Post Office in every Parish (county). They are owned by the Bermuda Government, sell postage stamps, commemorative First Day Covers, pre-stamped air letter forms without enclosures, have and rent Post Office boxes for those who prefer to receive their mail this way instead of being delivered. They are open 5 days a week, from 8 am to 11:45 am then from about 1:30 pm to about 4:45 pm. Most are closed on Saturdays, Sundays and Public Holidays. When this happens, unlike in Europe, North America and United Kingdom where there are machines selling postage stamps, there are no other ways in Bermuda to buy postage stamps. Post offices do not sell postcards. There is one mail delivery a day, 5 days a week (Mondays-Fridays except Public Holidays) to homes without Post Office boxes, less when a postal worker is sick or if there is a dangerous dog on the premises. Tourists and business visitors expecting any mail during their Bermuda visit should allow at least a week for receipt and should ask at where they stay for mail as there are no mail deliveries directly to their cottages or rooms or apartments or rented houses.
Bermuda References abroad
Bermuda I of 1946 and Bermuda II are the air transportation agreements between the United Kingdom and the USA, signed in Bermuda.
Bermuda 1 was also the name of a Spitfire Mark IIb P8507 aircraft bought for the Royal Air Force by Bermudians, by public appeal. It shot down five German aircraft before it failed to return in August 1941.
Bermuda, AL.
Bermuda Brau is the name of a bar and restaurant in Vienna, Austria, in the Viennese "Bermuda Triangle" area.
Bermuda Bluff Island, Beaufort, SC. It has 150 acres have red-roofed wooden houses, salt water lagoons and many names of areas similar to our Bermuda.
The Bermuda Bowl is a six super-grandmaster double round, all-play-all, bridge tournament. It is played not only in Bermuda but in Monte Carlo and elsewhere.
Mariners know of Bermuda Fitted Dinghies - found and raced only in Bermuda.
Bermuda rigged. Yachting term for . a particular sail configuration.
Bermuda, GA.
Bermuda Grass. Common Bermuda grass is drought resistant, grows on many soils, and makes a good turf if fertilized and mowed correctly. There are several hybrids.
Bermuda Island Apartments, in Naples, Florida
Bermuda, LA.
Bermuda Loma, Cuba.
Bermuda Dunes, CA; Bermuda Hundred, VA. A peninsula lying between the James and Appomattax rivers and known as such because of Bermuda's involvement as a sister-colony of Virginia. Famous for the US Civil War and the actions of Generals P. G. T. Beauregard and Butler.
Many golf courses are turfed with Bermuda grass.
Bermuda Mobile Home Park, FL.
Bermuda Onion. A large, bulb-shaped, white, yellow or red colored dry onion that has a sweet, mild flavor. The name Bermuda onion originates from when the onions were first grown in the Bermuda Islands in 1612, when imported by British colonists to Bermuda from Great Britain. The varieties best known in Texas and Georgia descend from original Bermuda onions. The thriving one way trade ceased when the USA passed laws banning imported agricultural products. At one time they were also exported to Canada. Now most Americans know nothing about the distinctive Bermuda onions, which are still grown in Bermuda. Their flavor is sweeter during the peak of the season when first harvested than after they have been stored a while. Excellent for salads, sandwiches, and cooking. Just as versatile as the basic yellow onion, but it has a shorter shelf life. Bermuda onions are available throughout the year.
Bermuda Palms Mobile Park, CA.
Bermuda Place, VA.
Bermuda Place. Sovereign Harbour South, Eastbourne, East Sussex, BN23 5TE, England, UK.
Bermuda Pond, England.
Bermuda Run, NC.
Bermuda Run Country Club which includes 36 holes of championship golf.
Bermuda shoes. One of the 2003 styles of the English shoe company Shipton & Heneage. In navy with brown leather.
Bermuda shorts. Millions know of these as dress walking shorts in the Bermudian style, Bermuda national dress.
Bermuda Stone Road, Charleston, South Carolina. Charleston's earliest settlers were from Bermuda.
Bermuda theme casino and hotel at the River Palms Resort in Laughlin, Nevada, near Las Vegas. Tycoon owner Allen Paulson decks out his 1,054 staff in Bermuda shorts and jackets and has filled the hotel with Bermuda palms and plants and Bermuda cuisine.
Bermuda Triangle. The triangle of ocean and Sargasso Sea between Bermuda, Florida to the south west and Puerto Rico well over 1200 miles due south. But it is not well known that it is also the name for a district of old Vienna in Austria that was there before the official discovery of Bermuda in 1609.
Bermuda Village - a retirement resort adjacent to Bermuda Run, NC, a 1,000 acre town with 1,500 residents;
Bermuda Way. A residential harbor-side street in Sovereign Harbour South, Eastbourne, East Sussex, UK.
Bermudiana Road, Hamilton, Bermuda. Until the 1990s, also the name of a prominent Bermuda Hotel nearby.
Bermudez. Bermuda was named after Spanish 16th century sailor Juan de Bermudez. This is a Spanish surname.
In Scotland, several houses are named Bermuda. They are owned by retired Bermuda Police Service officers.
Jiggs Bermuda. A type of Bermuda grass.
The Bermudas. A cantata, in 5 sections, as an original commission for the British Broadcasting Company (BBC), written in 1957 by the Scottish composer Iain Hamilton. The work, part of a major concert marking the Bicentennial of the island's capital, Hamilton, was sung and played by the Bermuda Philharmonic Society's Choir and Orchestra, conducted by their Music Director Graham Garton.
Bermuda Regiment
Bermuda's military unit, of which the vast majority are conscripts.
Bermuda shopping - what to bring
Primarily because of a very high Bermuda Government import duty, prices of all liquor (including wine and beer) bought in Bermuda are high - sometimes twice or more than in the USA. As visitors, you may import one liter per person. Soft carbonated drinks are also expensive by North American standards, US $3.24 for a 2 liter bottle of the Bermuda-made product, or $1.99 for a same size imported house brand soda.
There are no large discount stores like in the USA. To avoid paying much more in Bermuda, stock up on:
Allergies medication if you need them. You may not be able to acquire more locally. Some pharmaceuticals available without prescription elsewhere require prescriptions in Bermuda from registered local medical doctors who must be seen first. Not all drugstores in Bermuda are licensed dispensing pharmacies (See under Pharmacies in Senior Citizens of Bermuda). Most hotel drugstores are not.
Books, camera or video recorder with fresh battery and plenty of cassettes or packages of film (film processing is very expensive locally, about US$ 25 for a 24 exposure 35 millimeter film, compared to one quarter of this or less in Canada, the USA and United Kingdom. So it is suggested you get processing done at home. A camera battery locally will cost you at least US $ 18.
Clothing (all categories). Woolens are not recommended.
Daily newspaper from your home town or magazines or both.
Golf balls and clubs, if you play.
Hearing aid, if needed.
If you smoke cigarettes, you are allowed one carton without import duty.
Laptop computer and software if you use them.
Liquor or liqueur, one unopened one liter bottle per person without import duty - to avoid the US $25 a bottle or higher price in Bermuda for imported spirits.
Personal radio.
Portable electrical appliances if standard USA 110 to 115 volts, such as a hair dryer or razor.
Prescription pharmaceuticals.
Sun tan lotion and toiletries.
Bermuda Society & Secretariat
Five Trees, Wood Lane, Stanmore, HA7 4JZ, England. Phone 020 8954 0652. Formed in London in 1987 to look after Bermuda's interests on a number of fronts, particularly in the areas of finance and commerce. Its membership includes Bermudians living in London and rest of UK, plus former Governors of Bermuda. It promotes Bermuda's image; fosters closer links between Bermuda, the UK and Europe.
Bermuda Triangle
Bermuda is not the only area but one of three areas of the North Western Atlantic Ocean involved. The others are Florida and Puerto Rico. See the following books:
The Bermuda Triangle. Charles Berlitz. 1974/1975. 189 pages.
The Bermuda Triangle Mystery - Solved. Lawrence D. Kusche. 1975.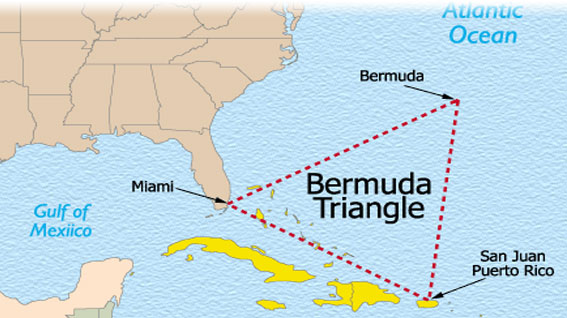 Bethaven
Does does not exist in Bermuda, despite the fact that the iPhone Weather App, Google and Yahoo show it. It is carried to such an extreme that some websites even claim there is a Bermuda town by that name (not true) in which you can rent automobiles (not in Bermuda).
Betting in Bermuda
See http://www.gov.bm/portal/server.pt?open=512&objID=275&&PageID=231427&mode=2&in_hi_userid=2&cached=true.
Also see under Gambling.
Because so many have been written, brief mentions only are included. Because Bermuda has changed so much over the years, all older guide books are no longer accurate.
Business hours
Most offices open from 9 am to 5 pm five days a week. Many shops and restaurants (except those in hotels) are also open on Saturday but not on Sunday. See the Bermuda Cuisine list of restaurants. At this time, all retailers including restaurants who wish to open on Sundays must apply to the Minister of Finance for a special permit and pay for it. Only a few are open on Sunday from 1 pm to 5 pm. Gas stations are usually open on Sundays until 5 pm. A handful of hotel branch store and other pharmacies and some non hotel restaurants are also open on Sundays for dinner. On a public holiday, all local restaurants and shops close and only hotel restaurants are open.
Camp sites
They are available ONLY to Bermudians and other residents - not tourists - for very short periods usually around late string and summer public holidays, in park lands or near public beaches. There is a limited season and campers must bring their own tents, sleeping bags, clothing and more. In the year 2000 there was a $50 deposit and $5 per night charge. They are administered by the Bermuda Government.
Casinos and Gambling (Gaming)
2018. October 16. A set of rules drawn up to ensure "high ethical standards" in Bermuda's gambling industry have been published. The Bermuda Casino Gaming Commission said the Casino Gaming Regulations 2018 were designed to guarantee games are fair, honest and played with "security and integrity" as well as "sound operational and financial controls" in casinos. The regulations also include provisions to make sure systems are in place to protect vulnerable players and that any fees or taxes are logged and paid. Jamahl Simmons, the economic development and tourism minister, said yesterday: "The Government is pleased to confirm that the first tranche of the regulatory framework for gaming was completed last month. The second tranche is expected to be unveiled shortly. I would like to extend my thanks and congratulations to the chairman, executive and acting CEO of the BCGC as well as the Attorney-General's Chambers." The Royal Gazette reported yesterday that the BCGC has advertised for a new executive director for what is thought to be the third time since the resignation of Richard Schuetz in July last year. But Leah Scott, the shadow tourism, transport and regulatory affairs minister, claimed the future for gaming in Bermuda was "bleak". She highlighted amendments made last year to the Casino Gaming Act 2014, that "effectively neutered the independence of the commission" and made it "subject to the whims and wishes of the minister". Ms Scott, also the One Bermuda Alliance deputy leader, added: "While the amendments to the Act do not allow the minister to determine who may be issued a casino licence, nor does it allow him, or future ministers, the ability to interfere with corruption investigations, the amended Act does require the commission to follow 'general directions' on gaming policy put forward by the minister, as well as granting the minister the authority to replace commission members as and when the minister considers appropriate. What is clear is that we now have a non-independent commission and no viable candidate coming forth to take up the post of executive director with the commission. The Government promised jobs and training opportunities would arise from the establishment of casino gaming. But Ms Scott added: "At the moment, the outlook for gaming, and its corresponding employment and training opportunities for Bermudians, appears to be very bleak." The BCGC's website said the regulations were available for inspection at its office on Hamilton's Church Street and can also be found online. Although notice of the regulations was gazetted, with a notice that they could be inspected, the Government did not appear to have made a public announcement until it was contacted by The Royal Gazette yesterday. Michael Dunkley, a former premier now an OBA backbencher, called on Mr Simmons in July to provide updates on gaming. He said then that Mr Simmons had announced more than three months earlier that regulations would be introduced "without further delay". Mr Dunkley added he intended to examine the regulations. He said: "In 2017, before the election, there was a great deal of work done on the regulations and I would be surprised if they threw all of that out and started again. We were working very hard through the Bermuda Casino Gaming Commission to get those done and I was aware that they had made tremendous progress. Only because of the election did we not table those and move them forward in the House of Assembly. I was led to believe that the work done was solid work and a good footprint for them to use, so I'm at a loss to understand why it has taken another 15 months to get the regulations made." No one at the BCGC was available for comment yesterday.
2018. October 15. The top job at the island's gambling regulator is still vacant more than a year after the last executive director quit. Richard Schuetz resigned from his post at the Bermuda Casino Gaming Commission in July last year and warned the island would "prove incapable" of keeping crooks out of the industry. It is understood the job has been advertised at least three times since then, most recently last week. Jamahl Simmons, the tourism minister, said in July Deborah Blakeney, the BCGC's general counsel, would fill the role on a temporary basis But applications are again being sought for someone to take the job on a permanent basis and be "responsible for the daily operations of the commission". The job advertisement said that duties included making sure gambling on the island was run "with the highest standards of honesty and integrity". The advertisement added the successful applicant would be expected to work in a "co-operative and collaborative manner with all applicable agencies both within and outside of Bermuda". Candidates must have seven years' experience in casino gambling or regulation and anyone short-listed would have to undergo "robust" background checks. The advertisement added that whoever got the three-year contract "may not hold any other office or employment". Mr Schuetz, a casino industry veteran, was appointed in 2015 and worked a notice period before he left the island last December to return to the United States. He suggested in his resignation letter that Bermuda should "seriously consider" ditching gaming altogether or risk its reputation as a clean financial jurisdiction. Mr Schuetz wrote: "My primary reason for resigning is that I have lost confidence that the Government of Bermuda and its legal system can provide the necessary protections to offer well-regulated casino gaming on the island. I sincerely believe that this island will prove incapable of keeping people with questionable backgrounds and behaviors away from the industry." Alan Dunch, commission chairman at the time, quit his post last November after the Government tabled legislation to allow the tourism minister to fire members of the BCGC and issue policy directions to the regulatory body. Roger Gros, the publisher of Global Gaming Business Magazine, said the recent job advertisement was "sensible". But he added: "The reputation of the Bermuda gaming industry now is not high. It's going to be tough for them to get somebody who can really do the job and have that integrity that they need. I don't know if they're going to be able to find that person." Mr Gros, who is based in Nevada, said "a lot of people" fitted the description advertised but most were already employed or working on a consultancy basis. He added: "To really draw them out and get them to sign a contract and come into a situation where it's unclear that you're going to have that transparency that a regulator needs is going to be very difficult." Mr Gros said that "regulatory uncertainty" had affected the confidence of potential financiers of casino developments on the island. Ms Blakeney said last Friday that inquiries about the executive director position should be directed to Cheryl-Ann Mapp, the BCGC chairwoman, who was not in the office. The Royal Gazette was told its request would be forwarded by e-mail, but received no response. Mr Simmons said in July that the Government was looking for a replacement. He later added a "full and formal update on gaming" would be "provided at the appropriate time". A series of questions, including when the public would get an update and what progress had been made to bring casinos to Bermuda, was submitted to the Government last Friday. No response to those was received by press time, although a spokeswoman said yesterday any inquiries about the job vacancy should be submitted to the "independent BCGC".
2018. April 13. The Government is still to decide if betting shops need tougher regulation to block money laundering and terrorism funding as a critical international assessment looms on the horizon. David Burt, the Premier and Minister of Finance, admitted in November that the laws governing the industry were "outdated" and that the island needed to assess the risks to see if new legislation was necessary. But with only five months to go before overseas experts from the Caribbean Financial Action Task Force visit the island to assess whether sufficient countermeasures are in place in the financial sector, nothing has been decided. A government spokeswoman, asked if the risks had been assessed to see if anti-money laundering and antiterrorism funding laws needed to be introduced, told The Royal Gazette in February: "This assessment has begun." She said at the start of this month there was no change to that response. Betting shops fell under Mr Burt's brief as finance minister when he made his comments in November but tourism minister Jamahl Simmons told Parliament in February that responsibility for managing and regulating the industry would soon be transferred to the Bermuda Casino Gaming Commission. In a Supreme Court writ filed in March by the commission, the regulatory body said its remit had been "widened to embrace the governance and regulation and supervision of the betting industry as a whole". The BCGC falls under Mr Simmons's brief. Warnings about the absence of controls to prevent dirty-money transactions within the betting industry have been made repeatedly to Bermuda's leaders, including by former BCGC executive director Richard Schuetz. In a July 2016 letter sent to Michael Dunkley, then the premier, Mr Schuetz warned that activities in the betting shop industry could "damage many sectors of the economy" by "negatively affecting" CFATF's assessment. The letter was shared with Mr Burt, then Opposition leader. In his resignation letter of July 2017, Mr Schuetz wrote: "The Bermuda I have come to know has indicated a lack of respect in making a reasonable effort to adhere to generally accepted international standards for anti-money laundering activities within its existing betting products, in particular the betting shops. I have spent a great deal of time and effort over the last 18 months in working to point out the glaring deficiencies in the anti-money laundering regime of this island's betting sector and am now convinced there is an absence of political will to address these deficiencies." Mr Burt said in November that the international Financial Action Task Force did not identify betting as a sector that must be subject to anti-money laundering and antiterrorist funding obligations and supervision. "Only casino gaming is named," said the Premier, adding that FATF standards were the minimum standards and FATF required countries to implement a risk-based AML/ATF framework. He added: "Bermuda must assess the money-laundering risks within the betting sector to determine if AML/ATF laws need to be put in place." Bermuda has six licensed betting shops. Those applying for a bookmaker's licence under the Betting Act 1975 have to first get a certificate from the Minister of Finance stating that he is satisfied with the business reputation and financial stability of the applicant. The Ministry of Finance must conduct due diligence before a certificate is issued and only then can an applicant seek a licence from the Betting Licensing Authority. Members of the public can view files on betting licences but the paperwork does not show whether the licensing authority conducts background checks on foreign individuals with a stake in betting shops here. If CFATF looks at the money-laundering countermeasures in place for the betting industry, it is likely to consider whether industry operators are subject to stringent enough suitability checks. The government spokeswoman said: "A preliminary review has begun of the relevant legislation [governing betting shops] to determine what amendments are required." She said progress on updating the framework for the licensing of bookmakers and betting agents would not be made until an assessment of the current framework was completed. The spokeswoman added that the overall assessment of oversight of the betting industry would include a review of whether the selling of overseas lottery tickets needed to be monitored by the Government. Deborah Blakeney, BCGC's general counsel, did not respond to e-mailed questions by press time.
2018. March 14. The Chief Justice has revealed why he barred the media and public from a court hearing involving an attempt by the island's gaming commission to silence its former executive director. The chambers session on March 7 in the matter of Bermuda Casino Gaming Commission versus Richard Schuetz was held behind closed doors, despite a request from The Royal Gazette to attend and report on the civil proceedings. Chief Justice Ian Kawaley said in a decision released on Monday that Richard Horseman, the lawyer representing the publicly funded commission, convinced him there was a "sufficient risk of damage to the plaintiff" if the regulatory body's application for an injunction against Mr Schuetz was held in open court and if Mr Schuetz himself was aware of it. A temporary injunction was later granted and Mr Schuetz is now barred from talking about his time at the commission on the grounds that he breaches his contract by doing so. The gagging order obtained by the commission, in the absence of any counsel representing Mr Schuetz, bars the former executive director from any disclosure "whether directly or indirectly, and/or to further use the confidential information that is either in his custody, or care or possession or control or he has access to, or at all". It states Mr Schuetz could be jailed, fined or have his assets seized if he breaches the order, as could "any other person who knows of the order" who helps or permits him to breach it. In his decision on the need for a secret hearing, Mr Justice Kawaley said: "Excluding the press from the ... hearing was, in my judgment, justifiable on the facts of this particular case. The private hearing was reasonably required both to support a claim designed to protect confidential information and to protect the authority of the court. "Whether the right balance has been struck will not always be a straightforward question and this is par excellence the difficult sort of issue upon which reasonable judges and reasonable journalists are likely to differ." The Chief Justice added: "The plaintiff adduced what was on its face credible and cogent evidence that the defendant had in recent months flagrantly breached [his] contractual obligations and had embarked upon a concerted campaign to undermine the plaintiff's operations. In part because of this evidence, it was not obvious to me what further contractual breaches might be triggered by giving the defendant notice of the injunction application. However, Mr Horseman eventually persuaded me that a sufficient risk of damage to the plaintiff flowing from further disclosures and/or disparaging remarks was made out to justify proceeding with the merits of the application in private." The writ filed by the commission against Mr Schuetz was available to the public last week, according to lawyer Jordan Knight, of MJM law firm, who obtained a copy from the Supreme Court. The Royal Gazette has applied for a copy but has yet to receive it. Mr Schuetz resigned from the commission in July and left Bermuda in December to return to the United States. He was an outspoken figure while here and has commented since his departure on the potentially bleak outlook for the island's fledgling casino industry. In his resignation letter, he said the island lacked the "political will" to address the "glaring deficiencies in the anti-money-laundering regime of this island's betting sector. From my experience on this island over the last 22 months, I believe that Bermuda should seriously consider not having casinos and other forms of gaming," he wrote. Neither the commission nor Mr Schuetz responded to requests for comment.
2018. March 8. The former executive director of the Bermuda Casino Gaming Commission was barred yesterday by a court from any discussion of his time in charge of the regulatory body. Lawyers acting for the BCGC won a temporary order from Chief Justice Ian Kawaley in Supreme Court against Richard Schuetz after a private hearing in chambers. The injunction forbids Mr Schuetz from any disclosure "whether directly or indirectly, and/or to further use the confidential information that is either in his custody, or care or possession or control or he has access to, or at all". The judgment quoted Mr Schuetz's 2015 employment agreement. The injunction added that Mr Schuetz could not "whether directly or indirectly, make publish or otherwise communicate any disparaging or derogatory statements, whether in writing or otherwise, concerning the commission or any person to whom powers and duties have been delegated by the commission or government bodies, departments or ministries with which the commission works". The injunction also ordered Mr Schuetz to "make full disclosure" of any confidential information "belonging to his former employers" obtained during his time at the BCGC, and to return it to the organisation. The injunction came after the BCGC launched a civil action against Mr Schuetz, who quit his post last July and left the island in December to return to the United States. An application by The Royal Gazette to attend the hearing yesterday was denied by Mr Justice Kawaley. The Chief Justice said the evidence presented to the court indicated there was sensitive material involved and to hold the hearing in public could prejudice the plaintiff's case. Mr Schuetz, who was not represented in court, can apply to Supreme Court to "vary or discharge this order". Yesterday's chambers hearing at the Supreme Court was for the judge to hear an "ex-parte application", which usually involves a request for a temporary order by the plaintiff, often in the absence of the respondent's counsel. The civil case and the names of the parties involved were listed on a court schedule issued on Tuesday afternoon. But an amended court schedule released yesterday morning had the names of the parties removed. Mr Schuetz has been an outspoken figure in Bermuda's emerging casino industry. He recommended that the former One Bermuda Alliance government ditch an agreement it entered into to give local company MM&I Holdings a lucrative contract for a cashless gaming system. Mr Schuetz criticized a forum held by the Progressive Labour Party on gaming last year when in Opposition, featuring MM&I's American business partner, Banyan Gaming. He also spoke out against an amendment to gaming legislation to bring the commission under ministerial control. Mr Schuetz suggested in his resignation letter that Bermuda should "seriously consider" ditching gaming altogether — or risk its reputation as a clean financial jurisdiction. He wrote: "My primary reason for resigning is that I have lost confidence that the Government of Bermuda and its legal system can provide the necessary protections to offer well-regulated casino gaming on the island. I sincerely believe that this island will prove incapable of keeping people with questionable backgrounds and behaviors away from the industry." Mr Schuetz added: "The Bermuda I have come to know has indicated a lack of respect in making a reasonable effort to adhere to generally accepted international standards for anti- money-laundering activities within its existing betting products, in particular the betting shops." Lawyer Timothy Marshall represented The Royal Gazette at the Supreme Court yesterday. He said: "We made the arguments that the public should have access to this matter, which is of considerable public interest. The Chief Justice said he had considered the material filed and was satisfied that there was a prima facie case to have an ex-parte hearing in the absence of the public. He disagreed with our argument that the process of whether a hearing is going to be public or private should be held in open court. He determined that that is not the correct manner in which he determines these types of applications." Jordan Knight, a lawyer at MJM law firm, also spoke during the proceedings. He said he was not there to represent anyone, but had obtained a copy of the writ filed by the commission from the court. Mr Knight said that any member of the public could do the same and that there could be no justification for holding the hearing in private. A court official said: "The hearing is a private hearing not open to the public. The plaintiff has requested a private hearing and the Chief Justice has acceded to this request. The grounds on which he has made this decision are themselves confidential and cannot be disclosed at this time." Mr Justice Kawaley has said in the past that "the basic legal premise is that the public have a right of access to any hearing unless there is a good reason to exclude them. The fact that it's in chambers doesn't limit that access". The publicly funded commission was represented yesterday by Richard Horseman of law firm Wakefield Quin. The gaming commission has advertised for a replacement for Mr Schuetz as executive director. Neither the BCGC nor Mr Schuetz replied to a request for comment on the lawsuit by press time.
2018. March 6. Regulations for casino gambling are to be introduced "without further delay", tourism minister Jamahl Simmons told the House of Assembly yesterday. Mr Simmons blamed past members of the Bermuda Casino Gaming Commission for delays leading to a "stumbling block" to finalizing regulations. Alan Dunch, the former commission chairman, told The Royal Gazette that the "real stumbling block in terms of moving matters forward was beyond the curtilage of the commission itself". Mr Dunch said the commission had completed its work a year ago and that he was surprised it had taken the Government so long to proceed. Mr Simmons told Parliament: "Under new leadership, the Bermuda Casino Gaming Commission is working with the Attorney-General's Chambers, via my ministry as the instructing government body, to ensure that these regulations are enacted without further delay." He added: "In fact, the Attorney-General's Chambers and the commission have agreed that for expediency and without sacrificing due diligence in the drafting process, the prudent way forward would be to complete the drafting and enactment of the regulatory package, under the negative resolution procedure, in three phases." Grant Gibbons, the shadow economic development minister, asked why it had taken so long to finalize the regulations. Mr Simmons replied: "Part of the delay was the unwillingness of members to work together to get a set of regulations that both the Gaming Commission and the Attorney-General's Chambers could agree on. Once we began having a communication between those two bodies, things moved apace." Mr Dunch resigned as gaming commission chairman last November after Mr Simmons tabled legislation to give himself the power to oust him. Mr Gibbons told MPs: "My understanding was that the regulations that the former government had done were pretty much finalized and were ready to go." Mr Simmons said: "The regulations that were sent over to the Attorney-General's Chambers, to the previous government, were not legally acceptable based on their ruling at that time. When we took office, the same position held under the new Attorney-General and their group. There had to be co-operation between the two bodies to move past that. At one point you had the Casino Gaming Commission saying, 'the regulations are fine, they are perfect'. You had the Attorney-General's Chambers saying, 'hold on, these need to be adjusted'. And so that has been adjusted." Mr Dunch said he found the suggestion that progress had stalled under his chairmanship "puzzling at best. With the exception of the phasing suggestion, there is nothing new in the detail provided by the minister and, indeed, one is left wondering why it has taken a further eight months to progress work that was in effect completed almost a year ago." Mr Dunch said the commission submitted a draft memorandum with 19 sets of regulations to Cabinet on May 31 last year, that the commission wanted to have "approved and tabled before Parliament pursuant to the negative resolution procedure, as provided for by the Act. The regulations, produced with the help of international gaming experts, were "entirely in keeping with industry standards. They were presented in a manner which should have enabled immediate tabling before Parliament so as to have a comprehensive regulatory process in place prior to the licence applications process being completed." He explained that the commission was later asked to prepare a policy document for the Attorney-General's Chambers that outlined policy considerations for each of the proposed sets of regulations. Mr Dunch said this was completed on June 29, by which time the General Election had been called and Parliament dissolved. He added: "Between the date of the election and the date of my relinquishment of the leadership of the commission, numerous efforts were made to move the regulatory process forward, all to no avail. The last that I heard was that the Attorney-General's Chambers were reviewing the policy document and that the draft Cabinet memorandum would not be processed pending the review. On any basis, it would therefore seem that the real stumbling block in terms of moving matter forward was beyond the curtilage of the commission itself." Mr Simmons said in a ministerial statement yesterday that the regulatory framework designed for Bermuda was "in line with industry standards and with industry expectations". He added the first phase would include regulations that must be completed immediately "for the commission to commence the suitability stage of the licensing process". The second phase will consist of regulations that must be in force before casino construction can start and the final phase would need to be enacted before construction was completed and the casino opened. Mr Simmons and the Bermuda Casino Gaming Commission did not respond to requests from The Royal Gazette for more detailed information about which industry standards were being used as a model for the regulations, what the regulations would contain or when they were expected to be completed. The Royal Gazette also asked when Bermuda's first casino was expected to open and whether a bank had agreed to back casinos on-island but got no response. Cheryl-Ann Mapp, the new chairwoman of the BCGC, said last month that the BCGC had asked counterparts abroad for advice on alternatives to the island's three banks, none of which have yet agreed to become involved in the industry.
2018. February 21. Overseas options are being explored to potentially handle Bermuda's casino transactions, the new head of the gaming commission has revealed. Cheryl-Ann Mapp told The Royal Gazette that the Bermuda Casino Gaming Commission is seeking advice from its counterparts abroad on alternatives to the island's three local banks, none of which has yet agreed to any involvement in the fledgling industry. Commission chairwoman Ms Mapp said there was "very positive and encouraging dialogue" ongoing with the local banks and she was "confident" they would be able to work with the casinos. But Richard Schuetz, former executive director of the regulatory body, claimed it was highly unlikely that local banks would get permission to be involved from their correspondent banks in the United States. Mr Schuetz, who quit the commission in July last year, claimed negative global publicity surrounding recent amendments to the Casino Gaming Act would deter the correspondent banks — and their approval was necessary for local banks processing US dollar transactions. "Any correspondent bank would do due diligence on Bermuda and I doubt that the newspaper and magazine articles over the last year would help the cause," he said. "One only needs to look at my resignation letter to understand that a US correspondent bank may have concerns about doing business in Bermuda." Ms Mapp's predecessor, Alan Dunch, who quit the commission in protest at legislative amendments, warned in November 2016 that there would not be a casino industry without buy-in from local banks. At that stage, Mr Dunch said the local banks had told the Government they "won't bank the casinos" and correspondent banks for Butterfield and Clarien had indicated they would need to be satisfied the island had tough anti-money-laundering controls in place. The commission's plan was to introduce a stringent regulatory framework for the casino industry to persuade the US banks to get on board. But the bulk of the necessary regulations have yet to be tabled in Parliament, despite being drafted by the commission and delivered to the Attorney-General's Chambers for approval in May last year. Tourism minister Jamahl Simmons said in November that delivering a "full set of casino gaming regulations necessary to set the highest level of standards for the industry" was a priority, but has said little on the topic since. Last week's Budget made no specific mention of casinos, other than a pledge to give Bermuda College additional funds to provide gaming industry training. David Burt, the Premier and Minister of Finance, said: "The Ministry of Finance will soon commence consultations on expanding the types of banks that can operate in Bermuda." The Royal Gazette asked the island's local banks if they had decided whether to conduct financial transactions for any casinos that open here. A HSBC Bermuda spokeswoman said: "Following a thorough review some years ago, the HSBC Group took the decision to limit its involvement with the gambling sector. This represents further progress in the HSBC Group strategy since May 2011." That decision was part of improvements HSBC made to its compliance systems after having to pay a $1.9 billion settlement in the United States in 2012 for helping Mexican drug cartels launder money and breaching international sanctions by doing business with Iran. A Clarien spokesman said: "Clarien continues to gain further understanding of the casino gaming legislation and regulation. Upon completion of this analysis, Clarien management will make a risk-based decision to progress further discussions with various stakeholders including our board and shareholders and, most importantly, our correspondent banks. While we wish to support Bermuda, we also have to ensure that such business is in alignment with our regulatory obligations, our banking licence and our risk appetite." Butterfield declined to comment. Ms Mapp said: "The commission continues to have very positive and encouraging dialogue with the local banks, regarding the banking of casino funds. [I am] confident that the local banks will be able to work with the casinos. However, the commission is seeking the advice of our overseas counterparts as to any other options which might be available to a casino operator." Mr Schuetz and Mr Dunch met with Wells Fargo, a correspondent bank for Clarien, and Bank of New York Mellon, Butterfield's correspondent bank, in 2015. "Both stated to me they would feel most comfortable with a US model of regulation," said Mr Schuetz, adding that was because "the US had been addressing anti-money laundering since the passage of the Bank Secrecy Act in 1971, the US casino regulatory system had a strong culture of compliance and there was a great deal of institutional knowledge in the US about addressing anti-money-laundering issues in casinos". He added that the amendments tabled in November, giving the tourism minister the power to sack gaming commissioners without cause and compelling them to follow his "general directions" on policy, were hardly in line with the US model. The amendments were described as a "recipe for disaster" by experts in the States. Mr Schuetz said: "While Minister Simmons seems to think he's involved in best practices, I think the rest of the casino world and the banking system may disagree." Neither the Ministry of Tourism and Economic Development nor the Attorney-General's Chambers responded to requests for comment on the gaming regulations by press time. The gaming commission has granted one provisional casino licence so far, to the Hamilton Princess Hotel and Beach Club.
2018. February 2. A reason given by tourism minister Jamahl Simmons for why he had to take control of the island's independent gaming commission has come in for renewed criticism in the wake of a public access to information disclosure. Mr Simmons told Parliament that the Bermuda Casino Gaming Commission had failed to participate in a national risk analysis carried out by the National Anti-Money-Laundering Committee in the run-up to an assessment this year by the Caribbean Financial Action Task Force. He made the claim on November 10 last year, but information released in response to a Pati request has shown the commission had no statutory duty to complete assignments for the NAMLC or participate in its meetings until November 3. Richard Schuetz, the former executive director of the commission, questioned how the BCGC could be said to have failed in the space of a week. He said the Pati disclosure showed "the minister needed to justify his actions and he grabbed at this". Mr Schuetz added: "The problem is, the facts just don't meet the narrative and to use NAMLC in this way — that is, to politicize it — is contrary to the whole point of NAMLC." Mr Simmons highlighted the commission's alleged failures in relation to the NAMLC as a key reason why he needed to table an amendment to the Casino Gaming Act to give himself the power to sack commission members without cause. He added that he had been unable to oust Alan Dunch as chairman, despite three requests for him to resign. He criticized Mr Dunch in the House of Assembly on November 10 and suggested to MPs that the commission chairman was unable to accept the Progressive Labour Party's landslide General Election win in July. The minister said: "That attitude may perhaps be further seen in the recent non-participation by the gaming commission in the National Anti-Money-Laundering Committee's national risk analysis, failure to provide the requested presentation for the related workshops, and failure to provide the analysis and conclusions of the working group that this commission was chairing." Mr Simmons discussed the NAMLC "situation" with Bernews.com on November 20. He said: "When you have a body of that magnitude that needs to be able to get responsiveness from parts of government and they were not getting that level of responsiveness, I was not in power to say 'could you please provide this information' and so that flagged something that could be a problem down the road and would need to be addressed." The Royal Gazette asked the Ministry of Finance for records of which agencies attended NAMLC meetings, and which completed assignments for the advisory body and indicated an interest in the gaming commission's participation. An information official said: "By law, BCGC did not become a member of NAMLC until November 3, 2017, when the Proceeds of Crime Act was amended to include them. Therefore, prior to that date, any attendance of the BCGC at NAMLC meetings was by invitation, not by requirement." The official added: "Given the fact that BCGC was not a statutory member of NAMLC until last month [November], producing those records prior to that would not by themselves paint a true picture because if the records show them to have been absent at a meeting prior to November 3, this would suggest that they weren't participating, rather than indicating that they might not have been invited to attend." Mr Simmons said last night: "We stand by the reasons articulated for seeking change and are moving forward to execute the people's business." He added: "The successful completion of the national risk assessment tracking document under the new leadership at the Bermuda Casino Gaming Commission demonstrates their commitment to working with the Government to meet our international obligations and protect our economy. Despite this, much work remains in this area. I am confident, however, that under the current leadership the excellent staff at the BCGC will deliver." Cheryl-Ann Mapp, appointed by Mr Simmons to replace Mr Dunch as commission chairman after he resigned, said: "Under the previous administration, the commission did not complete the national risk assessment tracking document to meet the NAMLC deadline. Under the new leadership, this work is now complete." Ms Mapp would not reveal the date on which the tracking document was submitted to the NAMLC or comment on whether the commission's relationship with the committee was voluntary before November 3. Commission lawyer Deborah Blakeney said: "The commission has no further comment." Mr Schuetz believes Mr Simmons owed commission staff an apology. He said: "I am upset by the suggestions that we were not actively engaged in the NAMLC process. Myself, Julie Grant, Deborah Blakeney, [commissioner] Derek Ramm and other members of the commission started attending meetings long before they were required and this involved a great many meetings. I had numerous conversations with NAMLC representatives and asked for them to clearly communicate with me if we were ever not holding up our end of things. None ever communicated that there was a problem with the commission." Mr Schuetz said it was true the commission was late completing the voluntary tracking document from the NAMLC in October 2017. But he added the reasons for the delay — the medical absence of a key executive and a heavy workload related to the Hamilton Princess and Beach Club's application for a provisional casino licence — were explained to the committee. "If there were issues with the commission's performance with NAMLC, they were my problems and not that of Alan Dunch," Mr Schuetz said. "Moreover, for the minister to make this claim is a serious slight to the many hours the commission staff put into this effort. He should apologize." Mr Schuetz added: "Since July 18, 2017, the Government or the minister never said one word about our anti-money-laundering efforts or our participation in NAMLC. Then, when the minister cannot get away with illegally firing Alan, he suggests that he needs to change the law — becoming a gambling tsar — and in his speech he discusses that the commission has not completed some tasks for NAMLC. This is a totally inappropriate use of NAMLC." The former executive director, who quit his post last July, said the commission's involvement in the national risk analysis was not critical as the CFATF assessment will cover a period when the money-laundering risk in Bermuda's casino industry was zero because it had yet to be launched. Mr Dunch said he never received any communication from the NAMLC or the tourism ministry about a BCGC failure in its duties in relation to the NAMLC or the national risk analysis. He said he did not want to comment on anything else about the commission. Ms Mapp said: "The gaming commission acknowledges the concerns expressed by the Government in relation to participation on these committees. The commission is working diligently to ensure that our legislative framework will also meet the timeline set by NAMLC. We are moving forward in collaboration with NAMLC and other participants. As the new commission chairman, I have met with all of our stakeholders, including the chairman of NAMLC, and have advised her of our commitment to the preparations for the upcoming CFATF assessment. We have agreed to work towards meeting all of the required deadlines."
1017. December 14. A controversial law change to give the Government more control over the gambling watchdog was backed by the Senate yesterday. The amendments were designed to empower the responsible minister to give policy direction to the Bermuda Casino Gaming Commission after consultation and to fire commissioners. Progressive Labour Party senator Crystal Caesar, who claimed there had been a "media disinformation campaign" about the amendments, added that the minister will also be able to "revoke the appointment of a member who is unable or unwilling to perform his duties as a member or in such other circumstances where the member's conduct may amount to misconduct or breach of best regulatory practice, or is likely to bring the commission or the Government into disrepute". One Bermuda Alliance senator Justin Mathias said his party could not support the amendment and that it was an attack on the commission's independence. Mr Mathias said: "I don't see how a gaming commission can have that independence when this is held over the commission's head." Independent senator James Jardine said the commission should listen to the Government, but that there must be a way to resolve disputes when the commission has reason to disagree with directions from the minister. He suggested that disputes could be handled by independent arbitration. Mr Jardine said the changes were "too invasive" and he could not support them. Jason Hayward of the PLP said that the amendments were in line with Singapore legislation used as the basis for the rest of the Act. He added the new gaming commission had no objection to the amendments. Mr Hayward also questioned "why is it when the PLP attempts to do something it's marred with this level of controversy". He added that the PLP was accountable to the public and that the direction of gambling must be in line with the will of the people. Michelle Simmons, an independent senator, said that the commission was "essentially a quango" with a minister responsible for its actions. She added: "The BCGC must have a degree of independence to get on with what it's responsible for, but there's also a need for the commission to be able to work with the minister that is responsible for the establishment of said commission." Ms Simmons said she backed the amendments and that it was a matter of best practice to have a legislated method to remove a commissioner. She added: "When you make an appointment, you also need to have the means for removing or adjusting those appointments." But the OBA's Andrew Simons also branded the legislation as an attack on the commission's independence. PLP senator Kathy Simmons, the Attorney-General, questioned claims that the amendments would damage the island's international reputation. She claimed public comments by the outgoing Gaming Commissioner Alan Dunch were more damaging. She said much of the debate had become a battle of personalities. Ms Simmons said: "Let's stick to the details of the Bill. Let's stick to best practice."
2017. December 9. New legislation to let the tourism minister fire members of the Casino Gaming Commission and issue policy direction to the regulatory body was passed by MPs on Friday night. The Casino Gaming Amendment Act 2017 came under strong criticism in recent weeks. Opponents of the change said it eroded the independence of the commission. Jamahl Simmons, who tabled the amendment Act, insisted that the approach in the new Bill was "not unusual, not unique and not unheard of". Mr Simmons said the Government had taken note of concerns about the Act and made the two changes to the original Amendment Act after consultation with the new gaming commissioner, Cheryl-Ann Mapp. The first amendment said that the minister can "from time to time after consultation with the Commission give to the Commission in writing such general directions as appear to the minister to be necessary in the public interest and the commission shall act in accordance with such directions". The second amendment added: "The minister may at any time revoke the appointment of a member who is unable or unwilling to perform his duties as a member or in such other circumstances where the member's conduct may amount to misconduct or breach of best regulatory practice, or is likely to bring the commission or the Government into disrepute." Mr Simmons told the House that the new provision for directions to be in writing ensured they would be clear, while the second amendment provided greater "specificity in terms of reasoning". But Opposition MPs said the new amendments only watered down the overall impact of the legislation and did little to address their main concern of government interference with an independent body. Mr Simmons began the debate with a condemnation of a "calculated, malicious and divisive media campaign" designed to portray the PLP as "inherently corrupt, incompetent and dictatorial". He said: "This government rejects those stereotypes. The Government has been given a mandate and it is right that mutual trust and respect exists for Government to execute that mandate." Leah Scott, the deputy leader of the One Bermuda Alliance, told MPs it was vital that the Commission was seen to be independent and asked Government to reconsider the legislation. She added: "I don't think that internationally it gives a good perception that the minister can interfere in this way." OBA MP Grant Gibbons also told Mr Simmons that he should "let this legislation die on the order paper". Mr Gibbons said the Act was "ill advised and wrong". He added: "This will do a great deal of harm to our gaming industry and damage to our reputation." But PLP MPs Kim Swan, Michael Scott and Zane DeSilva jumped to the defence of the Act. Mr Scott said the legislation was "reasonable, moderate and responsive". Former premier Michael Dunkley joined the OBA chorus of opposition. He said the law change was "draconian" and insisted that the Commission should be "as apolitical as possible". Mr Dunkley predicted: "It's a wrong move, it's a bad move, it will backfire." But David Burt, the Premier, hit back at Opposition MPs. He said the new legislation was "very simple". Mr Burt added: "We will continue to prove we are up for the job and we are going to make sure we do it right." Mr Simmons pointed out that the Casino Gaming Commission's initial membership had been "political appointees". He also confirmed that three commissioners had resigned. They are chairman Alan Dunch, his deputy Garry Madeiros and Derek Ramm, with Dennis Tucker and Judith Hall-Bean remaining in position. Mr Simmons said: "These changes in the legislation will not allow me, the future minister or the next government to interfere with corruption investigations. They will not allow me to decide who gets casino licences." The legislation passed with a vote on party lines after a two-hour debate, with the Government side winning 17 to 12. Six PLP members were absent from the chamber at the time of the vote: education minister Diallo Rabain, junior finance minister Wayne Furbert, whip Michael Weeks and backbenchers Derrick Burgess, Renée Ming and Michael Scott. Only Mr Weeks had declared himself absent at the start of the day.
2017. December 7. Civil liberties organisation the Centre for Justice has urged Jamahl Simmons, the Minister of Economic Development and Tourism, to delay putting an amendment before the House of Assembly tomorrow that would allow him to fire leading members of the Bermuda Casino Gaming Commission without cause. Despite the resignation of Alan Dunch as chairman of the commission, and the subsequent departure yesterday of Garry Madeiros, his deputy, Mr Simmons plans to proceed with a Bill that could lead to the independent body coming under ministerial control. It is a move that has been widely criticized by gaming industry experts in advance of Bermuda's first steps into casino gaming. "Following the tabling of the Casino Gaming Amendment Bill 2017 (the "Bill") on Friday 10 November 2017, we wrote to Minister Simmons urging him to postpone the debate of the Bill until such time as there has been full consultation with key stakeholders," the Centre for Justice said in a statement released late last night. Centre for Justice does not involve itself in areas that fall outside CfJ's remit. Gaming, in and of itself, is one such area that does not concern CfJ. However, in this instance, the Bill seeks to make changes to existing legislation that appear to deal with matters of good governance." The statement added: "The legitimacy of legislation, in a free and democratic society, is derived from the full participation of the public through consultation.CfJ's strong recommendation is that the debate of the Bill be postponed with a view to engaging key stakeholders and the general public in consultation."
2017. December 6. The deputy chairman of the Bermuda Casino Gaming Commission is expected to resign today. Sources told The Royal Gazette that Garry Madeiros was set to step down at the end of a meeting at the regulatory body's office this afternoon. The meeting is the last to be chaired by Alan Dunch, who quit last month after tourism minister Jamahl Simmons tabled an amendment to the law to give himself the power to sack commissioners without cause. All five commissioners opposed the Bill, which is due to be debated by MPs on Friday. The amendment, if approved, would force the commission to follow "general directions" on policy given by the minister and allow him to remove commissioners in circumstances he "considers appropriate". Mr Dunch issued a statement on behalf of the commission last month that warned that the amendment would give the minister the "power to interfere in all of the commission's dealings and ongoing work". The statement said: "It means the minister is asking Parliament to give him an absolute, unchallengeable right to tell the commission what to do and the commission, despite its own convictions and expertise, will be unable to refuse. It means Bermuda's gaming industry may essentially become an arm of the Government. Who we issue gaming licences to and who we approve as operators, may no longer be based on our internal, and internationally recognized suitability standards, but those of the minister's." Mr Simmons told reporters at a press conference that the Government would push ahead with the gaming amendment, despite the concerns of the commission and overseas industry experts. He said that the change would not allow him to influence licence decisions. Mr Dunch's successor as chairman will be magistrate Cheryl Ann Mapp. The remaining commissioners are Judith Hall-Bean and Dennis Tucker, both Bermudians, and Derek Ramm, the director of anti-money laundering for the Alcohol and Gaming Commission of Ontario. Richard Schuetz, the gaming commission's executive director, resigned on July 18 and is serving out his notice period until the end of the year. A replacement for him has yet to be found. Mr Madeiros and Mr Dunch declined to comment yesterday.
2017. November 24. The deputy Opposition leader yesterday said proposed changes to gaming legislation would "pierce the heart" of Bermuda's future as a gambling centre. Leah Scott added that the amendments, expected to be debated in the House of Assembly next month, could damage the independence of the Bermuda Casino Gaming Commission. The amendments would give Jamahl Simmons, the Minister of Tourism, the power to fire fixed-term commissioners without cause and force the independent commission to follow government policy directions. But the plan has come under fire by gaming experts and led to the resignation of the former chairman, Alan Dunch. Ms Scott said: "In an attempt to justify his reasoning to amend the Casino Gaming Amendment, the minister states that the legislation 'brings Bermuda in alignment with other jurisdictions in terms of allowing the Government to provide policy direction and allow the minister to remove members of the commission who do not follow legal directions of the Government'." Ms Scott asked: "Was the legal direction of the minister one that would encourage Bermuda to proceed in a relationship that has the potential to cause damage to Bermuda's reputation — particularly at a time when we are already under intense global scrutiny? Is that the legal direction that Mr Dunch, in his capacity as chairman of the Gaming Commission, did not follow, and subsequently led to his resignation and the appointment of Cheryl Mapp in his stead? Is it the minister's assumption that Mrs Mapp will simply follow his legal directions without question?" Ms Scott also questioned whether a law change would damage a casino's ability to get banking services in Bermuda. She said: "This is a critical consideration. If a casino can't get banking services, then casino gaming is a non-starter. First of all, the local banks here have to assess whether they even have an appetite to take on gaming proceeds with the risk that entails in relation to possible corruption and money laundering. If the answer to that question is yes, then the next question is how will those funds be cleared?" She added the independence of the gaming commission could be a "deal-breaker" for banks, and that co-respondent banks would not accept money from a Bermuda bank without the security of a strong legal framework. Ms Scott said that any comparison between the BCGC and financial watchdog the Bermuda Monetary Authority was invalid. She added: "The defined and restricted powers of the Minister of Finance in relation to firing directors of the BMA pursuant to its governing legislation, is completely different to the Minister's proposed broad, unrestricted powers in relation to firing the chairman and commissioners under the provisions of the Casino Gaming Act. Simply put, the commission is not independent of governmental interference when the minister can fire any commissioner without cause at any time. The bottom line is that the minister has taken a knife and directly pierced the heart and future of gaming in Bermuda."
2017. November 22. The Government will not withdraw its controversial plan to bring the Bermuda Casino Gaming Commission under ministerial control, tourism minister Jamahl Simmons said yesterday. Mr Simmons, moments after Cheryl-Ann Mapp was announced as the new commission chairwoman, insisted he would press ahead with an amendment to the law to give him the power to issue policy directions to the regulatory body and fire without cause commissioners appointed for a fixed term. He warned that a similar amendment could be made to the Bermuda Tourism Authority Act if the independent but publicly funded body ceased to have a "mutually respectful relationship" with the Government. Mr Simmons said: "It must be understood, the tail will not wag the dog in this government. We are providing funding for these entities and while we will respect their independence, which should be based on their expertise in their respective fields, there has to be a measure of policy direction when and if necessary." He was speaking after David Burt, the Premier, announced lawyer Ms Mapp as the replacement for Alan Dunch, the outgoing chairman of the commission. The Casino Gaming Amendment Act 2017, which could be approved this week by MPs, has been criticized by the island's gaming commissioners and overseas experts, one of whom claimed last week it was a "recipe for disaster" because it would remove the commission's independence. But Mr Burt, flanked by his Cabinet, said: "My Cabinet colleagues are here to be a part of this important press conference because they fully support and endorse the new chair and this government's approach to casino gaming in Bermuda. The Progressive Labour Party government wants to ensure that we have a partner in the Bermuda Casino Gaming Commission who is able to work with us, executing our vision for casino gaming — gaming that works for the benefit of the many. It is important that commissions and organisations which are created by Acts of Parliament and are by funded by the taxpayer work co-operatively with policymakers, which in this case are the persons behind me who were chosen by the people of Bermuda on July 18. Mr Burt added: "This government will not be in control of the day-to-day operations of the casino gaming commission. To say the Government is taking away the independence of the commission is not true. It is necessary for the Government to have a working relationship with the Bermuda Casino Gaming Commission." Mr Simmons said he would give only "legal policy directions" to the commission and there would be "protections" to ensure no political interference, as with the Bermuda Monetary Authority. He added: "When it comes to investigations, when it comes to the general actions of the commission, that's off limits, completely off limits." Mr Simmons added that he would also play no part in decisions on casino licence applications. He said Ms Mapp, a magistrate and chairman of the Permanent Arbitration Tribunal, was chosen for her "strength of character and her integrity". Mr Simmons added: "I can assure you she will stand firm against any form of interference." Ms Mapp said: "I believe in the independence of the commission and that gaming must be free of political interference, and that it is imperative for us to collectively and diligently work to ensure that we get gaming right." Bermuda's gaming commissioners are appointed for a fixed term and under existing law can be removed only if they are incapable of managing their affairs, or for bankruptcy reasons, or if they are convicted of a dishonesty offence. Mr Simmons made three unsuccessful attempts to get rid of Mr Dunch, before he tabled the amendment. Mr Dunch resigned last week and asked the Government to consider the withdrawal of its "ill-advised" Bill. The PLP attacked the last One Bermuda Alliance administration after it failed to hold a promised referendum on gaming. But Mr Simmons ruled out a referendum under the new administration. He said: "Unfortunately, we have seen that train leave the station."
2017. November 17. A plan to bring the Bermuda Casino Gaming Commission under ministerial control has been described as "flying in the face" of best practice and a "recipe for disaster" by overseas experts. Industry insiders in the United States, including one who helped to draft Bermuda's casino gaming legislation, said the fledgling industry needed a regulatory body that could make decisions without political interference and with a high degree of integrity. They insisted the Casino Gaming Amendment Act 2017, tabled by tourism minister Jamahl Simmons last Friday in the House of Assembly, would jeopardize that and could have a "chilling effect" on the island's progress towards entering the casino industry. The Bill would compel the commission to follow the directions of the minister and give him power to fire commissioners without cause. Fredric Gushin, managing director of Spectrum Gaming Group, which worked for the Bermuda Government to help draft the island's Casino Gaming Act 2014 and has also worked for the Singapore Government, said gaming commissions had to be accountable but the minister's amendment was not the way to ensure that. Mr Gushin added: "Gaming commissions around the world are created to be independent, as much as possible, from the political process because experience has generally been that politics and gaming don't mix very well. It usually results in an implosion or an explosion." He said one way to ensure independence was to have staggered fixed-term appointments for commissioners, so a change in government would not result in their removal. Another was to ban those working for the regulatory body from entering the gaming industry for several years after leaving their posts. Mr Gushin said: "It's all done to preserve the integrity of the decision-making process. In Bermuda, issuing a casino licence, like anywhere, is a big deal. You want it to be done fairly and with a high degree of integrity. You want the public to understand that this was not a political hack or corrupt result." Mr Gushin, whose company has worked in 33 American states and 45 countries, said Mr Simmons's amendment "kind of flies in the face of not compromising the integrity of the gaming commission". He added that Singapore was a very different jurisdiction to Bermuda. Mr Gushin said that when he worked on drafting the law for Bermuda, alongside tourism minister Shawn Crockwell and the Attorney-General Mark Pettingill, there was a consensus that the legislation ought not to copy Singapore entirely and that the commission should be as apolitical as possible. Mr Gushin, who worked as an assistant director of gaming enforcement in New Jersey for many years before setting up Spectrum, added: "I didn't hear any objection to that." And he warned that the proposed change could put off investors and "certainly have a chilling effect" on efforts to get the industry up and running. Gaming consultant Gene Johnson, of Victor Strategies, said: "It looks, quite frankly, like an attempt to exert political control over what should be an independent organisation. It is obviously an attempt by a minister to bring the gaming commission under his direct control. "That's problematic because one of the fundamental reasons for having a gaming commission is to ensure the integrity of the industry." Mr Johnson said the commission's job was to carefully vet vendors, with political influence playing no part in who was granted a licence. He added: "This is a recipe for disaster." He warned it could open the door to corruption and added: "Even the perception of corruption will have a negative impact on the industry." Jennifer Roberts, from the International Centre for Gaming Regulation at the University of Nevada, Las Vegas, told The Royal Gazette: "Bermuda is in a great position to offer regulated casino entertainment along with the other tourist amenities provided within a luxurious resort destination. The UNLV-ICGR does not take any position regarding disputes that may occur between legislators and regulators that could impact gaming. The ICGR certainly supports the implementation of a durable gaming regulatory system that promotes fair and honest gaming. As such, gaming regulatory systems should remain non-political and independent, and it is common for legal safeguards to be incorporated within those systems, such as prohibitions on current political party representatives serving as gaming regulators, cooling-off periods for transitioning from regulation to industry and due-process protections for removal from a gaming board or commission position." Mr Simmons did not respond to a question yesterday on whether he would withdraw the amendment as proposed by gaming commission chairman Alan Dunch in his resignation letter. The minister said he had received and accepted Mr Dunch's resignation, and would announce his successor early next week. The Bill could be debated in the House as soon as next Friday, before going to the Senate.
2017. November 16. Under-fire gaming chief Alan Dunch has quit his post, days after the Government tabled legislation to oust him and place the Bermuda Casino Gaming Commission under ministerial control. Mr Dunch told tourism minister Jamahl Simmons in a letter sent last night that the proposed change to the law "completely undermines the fundamental premise upon which I agreed to serve as chairman of the Casino Gaming Commission, namely that the commission would be a wholly autonomous, independent regulatory body which would operate free from political interference and government dictate". Mr Simmons confirmed he had received and accepted the resignation of Mr Dunch, adding: "I thank him for his service and will announce his successor early next week." The outgoing chairman, a director at MJM law firm, urged Mr Simmons to withdraw the legislative amendment, which, he claimed, could "impede Bermuda's ability to attract first-class people of the utmost integrity to both operate and regulate the gaming industry here". Mr Dunch, who will leave his post officially on December 6, told The Royal Gazette: "I acknowledge the reality that if these amendments are passed, then he will simply fire me. Given the impetus for these amendments is the desire to have me go, now that I'm going to go after the next commission meeting, I hope he rethinks whether there is any need to make the amendments. I truly believe the amendment that compels the commission to follow [the minister's] direction on any given subject is going to be very counterproductive in terms of putting Bermuda on the international gaming stage as a credible jurisdiction." The Bill tabled in the House of Assembly last Friday has prompted criticism from the island's gaming commissioners and overseas experts, including an opinion piece in an international gaming publication that claimed bringing the regulatory body under government control would be the "definition of corruption". If approved, the Casino Gaming Amendment Act 2017, would change the law to compel the commission to follow the tourism minister's "general directions" on policy and allow him to remove commissioners without cause, in any circumstances he "considers appropriate". Commissioners can be removed at present only if they are incapable of managing their affairs, or for bankruptcy reasons, or if they are convicted of a dishonesty offence. Mr Dunch, who was appointed as gaming commission chairman in May 2015 for a four-year term, has been in Mr Simmons's crosshairs since August, when the latter made the first of three attempts to fire him. On August 10, Mr Simmons e-mailed Mr Dunch to "formally" invite him to consider resigning — a move Mr Dunch said "surprised and disappointed" him because the new minister had just a few weeks before declared his "unequivocal confidence, support and enthusiasm" for the chairman and his team. Mr Simmons tried to sack Mr Dunch again on September 27 and then on October 20, the same day Mr Dunch publicly questioned a claim by local firm MM&I Holdings that it would give away 95 per cent of its profits to good causes if it landed a lucrative government gaming deal. As revealed in a special report by The Royal Gazette, MM&I and its Florida-based partner firm Banyan Gaming had been trying to secure the deal since 2013, even signing an memorandum of understanding with the One Bermuda Alliance government, which was later terminated. MM&I is represented by lawyer Mark Pettingill, who pushed for the MOU when he was Attorney-General in the OBA Cabinet, as did the late Shawn Crockwell, then the tourism minister. Banyan representatives appeared as "experts" at a Progressive Labour Party forum in May promoting their "cashless gaming" product. Mr Dunch has repeatedly resisted the minister's attempts to sack him, insisting there was no statutory basis to remove him. But in his resignation letter, he wrote: "It is my sincere hope that in making this decision to resign, you and the Government might now consider it unnecessary to move forward with the proposed amendments and, in the best interests of Bermuda, choose instead to withdraw the Amendment Act which ... is ill-advised and could do irreversible harm to the reputation of our country." Mr Simmons said on Tuesday the legislative change would bring Bermuda "in alignment with other jurisdictions in terms of allowing ... the minister to remove members of the commission who do not follow legal directions of the Government". He said it mirrored gaming legislation in Singapore but did not name any other gaming jurisdiction with similar provisions, even after questions from The Royal Gazette. Mr Dunch, who was appointed by Mr Crockwell, said yesterday: "It's true that similar provisions exist in Singapore but Singapore is governed by a very different governance system to the Western world. I know from my discussions with the late Shawn Crockwell that when the original Act was introduced, there was a deliberate decision not to include those types of provisions, as he wanted to establish a commission that was clearly free of political influence and interference." Most leading gaming jurisdictions in the United States — including California, Nevada, New Jersey and Pennsylvania — allow gaming commissioners to be removed only with cause, or after a vote in the relevant legislative chamber. Legislation in Britain allows the Secretary of State to dismiss a commissioner if the secretary thinks the commissioner is unable, unfit or unwilling to perform their functions. Mr Dunch said he never indicated to Mr Simmons that he would not resign; it was merely a question of timing. He wanted to remain chairman until:
The Hamilton Princess provisional casino licence hearing was held
Regulations were approved by MPs to ensure a proper regulatory framework was in place and banks were on board to "bank" the island's casinos
A replacement was found for the commission's outgoing executive director, Richard Schuetz, who leaves the island next month
Only the first of those goals was achieved, Mr Dunch admitted, adding: "It's obviously disappointing to me that I'm not going to have the opportunity to finish what I started, but that's life."
2017. November 15. Alan Dunch has branded new legislation giving politicians power over casinos as a "potentially sad and seriously backward" move against efforts to keep corruption out of gaming. The chairman of the Bermuda Casino Gaming Commission warned that it would allow Jamahl Simmons, the tourism minister, to hand out lucrative gaming contracts which should be the remit of the gaming commission. Mr Simmons, who has tried to oust Mr Dunch three times since the Progressive Labour Party was elected, tabled amendments on Friday giving himself the ability to fire Mr Dunch. That came after Mr Dunch repeatedly questioned the intentions of MM&I Holdings, the local firm bidding for a cashless gaming contract worth tens of millions of dollars per year. Mr Simmons has repeatedly refused to say whether the Government is in talks with MM&I, but he said on Friday it was not "currently considering any proposals" from MM&I and/or its American partner firm Banyan Gaming. Mr Dunch, whose contract expires in May 2019, said in a statement: "The tabling of the Casino Gaming Amendment Act last Friday was a potentially sad and seriously backward misstep in the ongoing efforts of Bermuda to introduce a moral and apolitical gaming regime, free from the potential of corruption. At face value, it would appear to be a knee-jerk reaction arising out of the minister's great frustration with the refusal of the chairman of the commission to resign, in the absence of reason. However, it is far more alarming that his proposed amendments would compel the commission to give up its independence and follow any general directions given to it by the minister. This in and of itself should be of great concern to the Bermuda public. It will mean the minister has the power to interfere in all of the commission's dealings and ongoing work. It means the minister is asking Parliament to give him an absolute, unchallengeable right to tell the commission what to do and the commission, despite its own convictions and expertise, will be unable to refuse." Mr Dunch said this would make Bermuda's gaming industry an arm of the Government. Who we issue gaming licences to and who we approve as operators, may no longer be based on our internal, and internationally recognized, suitability standards, but those of the minister's. This will not resonate well within the international gaming community and may seriously impede Bermuda's ability to attract first-class people of the utmost integrity to operate and regulate the casino industry going forward." He said the gaming commission strives to operate and function in an autonomous environment. Mr Dunch said: "The commissioners and the commission's staff have no other goal or agenda other than this. It is not political and it is not personal. We are motivated only to do what is in the best interests of Bermuda — and aim to do so without fear of intimidation, victimization or political interference." Mr Simmons accused the commission on Friday of pursuing a "systemic misinformation campaign" to damage Bermuda's reputation as well as the gaming industry, refusing to "engage in a collaborative and mutually respectful relationship" with the Government and refusing to acknowledge and accept change. Mr Dunch responded: "Nothing could be farther from the truth. There have been very few interactions, either by e-mail or in person, between the minister and the commission since July 2017. The commission has made every effort to engage with the minister and work with him to move the gaming initiative forward. However, it is the minister himself who has engaged in a course of non-communication and complete silence on multiple occasions. The minister has systematically refused to meet with the commission, engage with the commission in writing or by telephone, assist the commission with the enactment of a regulatory package that was presented for tabling in Parliament last May or generally in any way assist the commission in its ongoing efforts to get Bermuda's first casino up and running in circumstances where a provisional casino licence has in fact been issued. It is regrettable that the minister seeks to attack the chairman, if not directly then certainly by inference, in his personal capacity. His attempts to impugn the chairman's character and integrity by suggesting that unfounded and ulterior motives lie behind his conduct as chairman are misconceived and without substance. Indeed, given his refusal to engage in any way with the commission, it is difficult to understand upon what basis he would make such accusations." Mr Simmons also suggested Mr Dunch had e-mailed him to say he was ready for a "public fight" over the issue. Mr Dunch described this as an "out-of-context reference", saying that he had been responding to Mr Simmons's own defamatory accusations against him. He said: "It was made clear to the minister that the chairman does not take kindly to having his character, integrity and reputation called into question and that if he continued to do so in public, then such defensive steps as were necessary would be taken." He added: "In terms of the best interests of Bermuda, it would be ill-advised and most unfortunate if the proposed amendments were to be passed by Parliament, approved by the Senate and assented to by the Governor. The commission does not support them and can only hope that the Government will rethink its position."
2017. November 11. Tourism minister Jamahl Simmons tabled legislation yesterday to give himself the power to sack Bermuda Casino Gaming Commission chairman Alan Dunch. The move came after Mr Dunch questioned the intentions of MM&I Holdings, the firm involved in a controversial bid for a gaming contract worth tens of millions of dollars per year. Mr Simmons's amendment to the Casino Gaming Amendment Act read: "The minister may at any time revoke the appointment of a member who is unable or unwilling to perform his duties as a member, or in such other circumstances as the minister considers appropriate." The legislation also gives politicians greater power over the governing of casinos. Mr Simmons, who has repeatedly refused to say whether the Progressive Labour Party government is in talks with MM&I, has made three attempts to oust Mr Dunch since taking over as tourism minister. Mr Dunch, whose contract expires in May 2019, has insisted he will not resign and has said there is no statutory basis upon which he can be removed. In a statement released last night, the minister said the Act would bring Bermuda into line with jurisdictions such as Singapore on gambling governance. Mr Simmons added: "The amendment will allow the Government to give policy direction to the Casino Gaming Commission and will allow the minister to remove members of the commission who do not follow legal directions issued by the Government." Mr Simmons said the amendment would not interfere with the independence of the commission in its investigations, or the enforcement of Bermuda's casino gaming laws. The legislation, if approved by MPs, would give politicians greater power over the governing of casinos. The gaming commission, which was set up two years ago as an independent body to oversee gaming regulations, would be forced to operate under the orders of the tourism minister. The Bill said: "The minister may, after consultation with the commission, give general directions to the commission as to the policy to be followed in the achievement of the objects of the commission under this section. The commission shall give effect to any general directions given by the minister." Mr Simmons yesterday used the House of Assembly to launch an attack on Mr Dunch's performance as chairman and accused of him of having a political agenda. In a special report last month, The Royal Gazette reported how MM&I tried to net a lucrative contract to provide a cashless gaming network management system for any casinos that open on the island. The gaming commission warned the deal could damage Bermuda's financial reputation, and highlighted that individuals from its partner firm, Banyan Gaming, had surrendered their gaming licences in major gambling jurisdictions in the United States. MM&I reached an agreement with the One Bermuda Alliance government while Mark Pettingill, who represents MM&I, and Mr Pettingill's business partner, the late Shawn Crockwell, were both in the OBA Cabinet. The memorandum of understanding was terminated by the OBA in July 2016 under advice from the gaming commission. PLP MP Zane DeSilva this year helped organize a public gaming forum in which Banyan representatives were introduced as experts. Mr Simmons has refused to explain why he tried to fire Mr Dunch immediately after the chairman ridiculed MM&I's claim that it planned to give away the vast majority of its casino profits to good causes. Mr Dunch has previously expressed surprise that Mr Simmons requested his resignation "out of the blue" a few weeks after declaring his "unequivocal confidence, support and enthusiasm" for the chairman and his team. In a Ministerial statement, Mr Simmons told MPs: "The Progressive Labour Party government has not conceived, considered or given any assurances, public or private, either that system or that operator will have a presence in our casino gaming industry. To be clear, the Government is not currently considering making cashless gaming on the island mandatory for casino operators. The Government is not currently considering any proposals related to the gaming industry from MM&I and/or Banyan Gaming. The Government has not entered into any arrangements with Banyan Gaming or MM&I. That was the previous government." Mr Simmons said in an apparent reference to Mr Dunch: "It is apparent that there are individuals who have not accepted the results of the recent General Election, do not respect the mandate for change that the people of Bermuda delivered and would rather orchestrate systemic misinformation campaigns, jeopardize the reputation of Bermuda and undermine the Government than engage in a collaborative and mutually respectful relationship for the benefit of Bermuda. An example of this attitude may be seen in an e-mail sent to me by the current chairman of the Gaming Commission Mr Alan Dunch on October 20, in which he wrote and I quote, 'If you want a public fight, I am more than up for it'. Those words now seem oddly prophetic as shortly afterward a select series of e-mail exchanges between my ministry and the gaming commission were 'obtained' by The Royal Gazette and an attempt to damage this government and Bermuda commenced in earnest. That attitude may perhaps be further seen in the recent non-participation in the National Anti-Money Laundering Committee's National Risk Analysis, failure to provide the requested presentation for the related workshops and failure to provide the analysis and conclusions of the working group that the commission was chairing. The chairman of the Gaming Commission may want, crave, seek or desire a public fight. This government was not elected to engage in petty public fights. This government was not elected to get dragged into the drama and theatrics of those who by their words and deeds have demonstrated a complete and utter disregard for the well-being of our island and our people. This government was elected to create economic growth, help local and international business to thrive and create a wider range of jobs and opportunities for Bermudians with partners that share this vision and are willing to seek positive action over public fights and job creation over petty squabbling. While others want public fights, we seek a Bermuda that with greater economic growth and a diversified economy will bring new jobs and new industries to Bermuda. Although there are individuals within the Bermuda Gaming Commission seemingly prepared to drag Bermuda and its reputation through the mud to get their own way, this government was elected to make change, we have a mandate to make change and we will make the change that the people who elected us sent us here to deliver. The Casino Gaming Amendment Bill that I will table today will execute that mandate." The Royal Gazette approached Mr Simmons yesterday to ask whether the PLP government has been in talks with MM&I or Banyan or any other company about a casino gaming system for Bermuda, and why the PLP promoted representatives connected to MM&I/Banyan as experts in gaming at its public forum earlier this year. Mr Simmons responded that he does not talk to The Royal Gazette. When contacted, Mr Dunch said that he was still considering his comment.
2017. August 18. A Bermuda lottery would be a tax on the poor, the executive director of the Casino Gaming Commission warned yesterday. Richard Schuetz said a lottery would not benefit the community. He added: "Lotteries have historically been called a tax on the poor. They are known as a regressive tax. Jurisdictions use them to raise money, and they raise it on the backs of the poor. I don't get that as a public policy goal." Mr Schuetz was speaking after Zane DeSilva said the new Government planned to create a lottery to support sports funding and education. But Mr Schuetz said: "What I heard during the election is there is a problem with people being poor, so lets not exploit the poor to deal with this debt." Mr DeSilva told ZBM News earlier this week that he backed the introduction of a lottery and explained that, if implemented correctly, lotteries and casinos could generate government revenue to fund sport across the island. He told the station: "I think that if we use gaming correctly, if we set it up correctly, whether it's gaming, a lotto or what have you, I believe if we set it up correctly we can use the surplus of funds that are expected to put into our community, whether its education or sports." The Progressive Labour Party's election platform called for the introduction of a local lottery to benefit sports development and national sporting bodies within two years. Mr DeSilva said: "That is going to be very much on our agenda. I think that between gaming and lottery, if it's done correctly, I think we can generate quite a bit of extra revenue for the government." A 2010 Government-commissioned study by the Innovation Group estimated that a lottery could generate more than $17 million a year in revenue. It said that the introduction of lotteries are often "politically motivated", aimed at raising funds for programmes to improve the quality of life of citizens. But Mr Schuetz raised several concerns about legalized lotteries. He said: "In tax language a lottery is known as a regressive tax, meaning that it takes a larger percentage from lower income people. Furthermore, empirical studies have demonstrated that lottery sales increase during the times of the week or month when transfer payments are made. A classic example of a transfer payment is welfare." Mr Schuetz added that lotteries serve as competition for casinos while creating comparatively few jobs and that the introduction of a lottery could translate to fewer casino jobs. Asked why lotteries would be viewed as regressive tax and casinos not, he said the cost of entry was a key point. Mr Schuetz added: "You can get into the lottery for a fairly low price generally. Even when they raise the price of entry, you get these syndicates in the neighborhood to buy tickets, so raising the price doesn't work. People don't go into a casino and bet a dollar." He also said the casino model being adopted on the island was intended to increase investment and employment and boost tourism. "A lottery is not going to do that. This is a small island. It's not like you are going to get those jumbo jackpots." He explained that lotteries need liquidity to survive and that Bermuda's size would cause problems. "Bermuda has a very small population. This means that the jackpots would be very low and the administrative costs would be quite high as a percentage of revenues." Mr Schuetz also said he had discussed the topic with Roger Trott, the Commission's director for problem and responsible gaming, who said that lotteries could present a high level of risk for problem gamers and poorer participants. Government did not respond to requests for comment by press time last night.
2017. August 11. The proposed casino at the Hamilton Princess & Beach Club will feature 17 gaming tables and 200 slot machines, according to international casino entertainment company Century Casinos. An automated roulette machine will be on the main floor of the development, with a total of about 12,000 square feet of gaming space also including a "high limit area" and private room. The details were outlined in a press release announcing that Century Casinos had submitted a licence application for the casino jointly with hotel owner Hamilton Properties Limited. "The casino with approximately 12,000 square feet of gaming space will feature 17 gaming tables, 200 slot machines and an automated roulette machine on its main casino floor, high limit area and salon privé," it said. The Bermuda Casino Gaming Commission announced last month that the Hamilton Princess made an application to become the island's first integrated casino resort and that the hotel will make its presentation to the commission in a public meeting in September. The release from Century Casinos added that it had entered a long-term management agreement with Hamilton Properties Limited through its Austrian subsidiary Century Casinos Europe GmBH. "Pursuant to the management agreement, CCE assisted with the licence application and would manage the operations of the casino, should a licence be awarded. In addition, CCE would also provide loan funding in the amount of $5 million for casino equipment." The Hamilton Princess was named a "designated site" last year, making it eligible to apply for a casino licence. And earlier this year, legislators approved the casino licensing application process, with the first window for applications opening in April. "The next step will be a hearing of the application on September 22. This second stage may end with the award of a provisional casino licence by the commission," the press release added. "The third stage of the application process will be the suitability stage. Only at the conclusion of this final stage will a casino licence be granted, permitting the offering of gaming to the public, subject to the final approval of the commission to open and operate the casino."
2017. July 24. The Hamilton Princess Hotel & Beach Club has made a play to become Bermuda's first integrated casino resort. And the Bermuda Casino Gaming Commission has announced that the hotel will make it's presentation to the commission in a public meeting in September. Alan Dunch, chairman of the Bermuda Casino Gaming Commission, confirmed yesterday that the hotel had submitted a "substantially completed" application for a casino facility. "The application provides the detailed plans to develop a casino within the Hamilton Princess and Beach Club," a release issued from the BCGC said. Mr Dunch called the application a "landmark event. We feel that this is an important step towards realizing the public policy goals of the Casino Act, by increasing employment and investment in Bermuda, as well as enhancing the tourism product. I also want to thank the staff of the BCGC and the Princess for working the many long hours necessary to get us to this point." The statement described the application as "fully funded", noting that the project will be presented to the BCGC for approval at 2pm on September 22 at the Bermuda Underwater Exploration Institute, with the public able to attend. Further details about the casino presentation are expected to be released at a later date. The casino licencing application process was approved by legislators earlier this year, despite concerns that the price tag for a licence was too high, with the first "window" for applications opening in April. Under the Bermuda Casino Gaming Act 2014, the commission can approve up to three provisional casino licences, in addition to the provisional licence granted to the developer of the St Regis hotel project in St George's. According to the application process, a $600,000 application fee must accompany all applications, while a $1.4 million provisional licence issue fee is payable by applicants awarded a provisional licence. Those making it through to the final stage will then be subjected to a further $1 million casino licence issue fee. The Hamilton Princess last year became one of the first resort properties to be named a "designated site", making it eligible to apply for a casino licence. It was revealed earlier that this year both the Fairmont Southampton and the Morgan's Point hotel had applied for site designation.
2017. April 3. The application process has begun for those interested in opening Bermuda's first casinos. The Bermuda Casino Gaming Commission announced that the period for filing an application for a casino licence will begin on Monday, April 17, 2017. It will remain open until Friday, July 21. Applications can be obtained from the Commission's office, located at Crawford House on Church Street. Richard Schuetz, executive director of the Commission, described the move as an "exciting step" in the regulatory process. "A robust regulatory regime is being put in place to safeguard the integrity of the gaming experience, oversee those operating casinos on the island in the future, and to ensure the industry is sustainable," Mr Schuetz said in the release. Under the Bermuda Casino Gaming Act 2014, the Commission can approve up to three provisional casino licences, in addition to the provisional licence granted to the developer of the St George's hotel project. "In total, there is the potential for four licensed integrated resort casinos to operate on the island," the release said. The Commission, however, is not obligated to issue all three licences. A $600,000 application fee must accompany all applications. A $1.4 million Provisional Licence Issue Fee is payable by applicants awarded a provisional licence. Those making it through to the final stage will then be subjected to a further $1 million Casino Licence Issue Fee. "For each provisional licence awarded, $150,000 from the Provisional Licence Issue Fee will be provided to the Problem Gaming Council to offer training in the problem gambling to treatment professionals, provide marketing and community outreach programmes to educate relevant stakeholders on the treatment programmes, and other activities specified by the Commission," the release added. Additionally, $250,000 from each Provincial Licence Issue Fee will be earmarked for Bermuda schools to provide educational and vocational training related to gaming-related employment.
2017. February 4. New regulations were tabled by Government designed to set taxes and fees for casino gaming in Bermuda. The Casino Gaming (General Reserve and Casino Taxes) Regulations 2017 and Casino Gaming (Casino Fees) Regulations 2017 were passed. It is feared by some MPs the fee structure would deter operators coming to Bermuda. Grant Gibbons, the Minister for Economic Development, brought the new regulations before the House. He said that the fee structure and 10 per cent tax rate established in the regulations were "clearly in accord with the stated policy goals of the 2014 Casino Gaming Act". The fee schedule sets the casino licence application fee at $600,000 and the provisional licence issue fee at $1.4 million. Under the regulations a casino licence issue is set at $1 million, while an annual casino licence fee is $1 million, "less any applicable discount". The regulations state: "The schedule sets out the fees payable which are in addition to any requirement to reimburse the Commission for the costs of any investigation pursuant to the Act of any regulations".
2016. November 28. The Casino Gaming Amendment Act 2016 was passed without opposition in the Senate this morning paving the way for a new stream of economic activity on the island. Also passed without opposition were the St George's Resort Amendment Act 2016 and The Bribery Act 2016. In passing the Casino Gaming Amendment Act, One Bermuda Alliance senator Michael Fahy pointed out that the Hamilton Princess and St George's Resort had already been given designated site status while two further applications were being processed. Mr Fahy expressed his gratitude to the Gaming Commission and its chief executive officer, Richard Scheutz, for working "diligently to move gaming forward for Bermuda." Independent senator James Jardine spoke favorably on extra measures taken to protect minors and vulnerable people as part of the legislative amendment. Speaking on the St George's Resort Amendment Act, Mr Fahy assured senators that every effort had been made to help the old town to retain its Unesco world heritage designation status. Progressive Labour Party senator Renee Ming raised questions regarding an amendment that allows the developer of the hotel to have an organisation of its choice to make environment and traffic impact assessments as they relate to any "minor" adjustments to the development. Mr Fahy said that full assessments had already taken place and the amendment would merely offer flexibility on only minor changes from here on. Mr Jardine said he was "disappointed" that the process to build a hotel in the East End had taken so long, saying that he had expected ground to have been broken by now. Pressed on the need for public consultation, Mr Fahy said that the information regarding the new development was in the public domain describing it as "one of the most transparent processes" undertaken by the government. Taking time to explain the planning process relating to the St George's development, Mr Fahy said: "In the usual way, all plans have been made available to the public to allow for objections and suggestions. The public will also be aware that the developer has made some changes to accommodate concerns raised by the Historical Building Advisory Committee relating the site line to Fort St Catherine and will also be providing public parking to facilitate beach use by the public. All in all the development is and exciting economic opportunity for St George's and the Bermuda tourism product as a whole." The Bribery Act which is based on the United Kingdom's Bribery Act 2010, was enthusiastically embraced by senators of all affiliations.
2016. November 22. Revisions to Bermuda's gaming laws were passed by MPs in the House of Assembly last night, paving the way for casinos in Bermuda. The Casino Gaming Amendment Act 2016 was passed after a fiery debate lasting more than four hours, while Casino Gaming Designation Site Orders for the St Regis Hotel in St George's and the Hamilton Princess were also approved. The Act faced harsh criticism in Parliament from the One Bermuda Alliance's own ranks as well as Opposition MPs. A two-year exclusion for any public officer involved in gaming from business in the new industry was denounced as a superfluous restraint of trade, with MPs calling it unnecessary given the anti-bribery legislation already in place. Economic development minister Grant Gibbons launched the debate, in which the 2014 gaming act was "streamlined" with provisions to address issues such as problem gaming. But a clause granting a provisional casino licence to Desarrollos Group, developers of the upcoming St Regis hotel for St George's, proved unpopular. Such licences did not permit gaming, Dr Gibbons said — but merely confirmed an applicant as eligible for a full licence, enough to start construction. E-gaming, a category separate from internet gaming, would be open to guests in specific areas via their mobile devices — and the Casino Gaming Amendment Act 2016 would also allow betting. Opposition deputy leader Walter Roban opened the Progressive Labour Party's response, calling it "a cleanup Bill for the first Bill" and criticizing the Government for the expensive "ministerial misadventure" in Singapore to create the 2014 Act. Mr Roban also queried whether Cabinet had circumvented the gaming commission in the exception for the East End developer. PLP MP Wayne Furbert echoed both points, asking the House why the Morgan's Point developers were left off. Shawn Crockwell, the former tourism minister and now independent MP, chastised the lack of "real leadership" in the gaming delay. Noting that the America's Cup would miss out, Mr Crockwell asked repeatedly why it had taken so long. Both Mr Crockwell and OBA backbencher Mark Pettingill excoriated clause 187, which carried the two-year business ban. Mr Crockwell questioned its timing, telling the House he had never seen it among amendments that came across his desk during his time as minister. Describing himself as "the only lawyer in this country who is a member of the international association of gaming advisers", Mr Pettingill called the restriction "jaw-dropping. Tomorrow, former minister Crockwell has to call our clients and say 'we can't work for you any more'," Mr Pettingill told the House. Both disaffected MPs added that the Bill would require their reluctant support if gaming was to go ahead. Another consistent complaint from MPs was that Desarrollos had been given special treatment simply to keep the St George's resort deal alive. Opposition leader David Burt questioned "what research has Government done to make sure this person is fit to get a gaming licence? What work has been done to make sure that this decision will not come back to bite us? This is about keeping Desarrollos at the table. We have to think very, very carefully about what granting a provisional licence to Desarrollos means. This Bill is certainly needed and we want the gaming industry to get off the ground, but it is certainly clear this is a troubling development and it should concern all parties. If we set this precedent today, every developer is going to ask for the same thing — and they would be well within their rights to demand it."
2015. December 18. Legislation detailing how casino sites will be designated has been approved in the House of Assembly. The Casino Gaming (Designated Sites) Regulations 2015, presented by Shawn Crockwell, the Minister of Tourism, lays out the application process for developers and property owners interested in building a casino. The application process includes a non-refundable $50,000 fee and does not guarantee a licence to operate a casino, which must be sought through a separate process. Jamahl Simmons, the Shadow Minister of Tourism, said that while the Opposition believed casinos could benefit Bermudians, the sometimes controversial handling of the issue by the Bermuda Government had caused some concerns. He said the regulations before the House were fairly standard and similar to those in other jurisdictions, but stressed the need to be proactive in addressing the negative social effects of gaming and creating training opportunities for Bermudians. "We need to start preparing our people, not just for entry-level roles but leadership roles," he said. "We cannot wait until the eleventh hour." Opposition leader Marc Bean noted the regulation stating that existing tourist sites could apply to become a designated site, stating he was under the impression that only integrated resorts would be eligible. Mr Crockwell said legislation was changed through amendments to allow existing tourist sites to apply in the event that they wished to expand and become an eligible resort. While this would not likely be an option for resorts on small properties, it could be feasible on larger ones. He noted that becoming a designated site could potentially increase property value and encourage outside investment, although not every property would be suitable for designation and the plan was still to issue only three casino licences. "We don't expect and influx of applications," he said. "Serious candidates are prepared to do what's necessary and go through the process and pay the fee to get designated." Mr Crockwell also noted that talks have already taken place between the Bermuda College and the Bermuda Casino Gaming Council, and that the intention is that the training of Bermudians will begin a year before the first casino opens.
See See http://www.gov.bm/portal/server.pt?open=512&objID=275&&PageID=231427&mode=2&in_hi_userid=2&cached=true.
In late 2013 The Bermuda Government has made the decision to move the question of gambling (gaming) to Parliament for a vote, rather than proceed by referendum. This reversed a One Bermuda Alliance (OBA) pre-December 2012 General Election pledge to hold a referendum, but a spokesman stated the now OBA-Government, with the pressing need to create more employment, will go to Parliament not to the voters in a referendum. However, the Government will conduct a public information and consultation campaign before bringing the Gaming Bill, in 2014, to a vote in the House. Earlier, the now-cancelled referendum had been announced for 2013 to see if gambling should be allowed and if so to what extent. An attempt to allow it in 2009 was defeated by the Bermuda Parliament. But some gambling has already long been allowed. Government levies a tax on all betting. There are numerous other forms of gambling which do not use gaming machines. Locals and visitors can gamble openly on bingo, raffles, in licensed premises on horse races, British soccer pools, American and United Kingdom horse racing and greyhound racing, American football, Crown and Anchor (see below) at cricket games and elsewhere, floating poker games. During the NFL season, it is estimated that from Bermuda alone more than $350,000 is bet on teams. Types of licenses under Bermuda's Betting License Act 1975 include
Pool Betting Agent's License - for UK football pools.
Restricted Bookmaker's License
Bookmakers' License.
Consult: Betting Licensing Authority and Bermuda's Betting (Regulations & Tax) Act.
Crown and Anchor is a Bermudian gamble heavily stacked in favor of the operator, with no government-imposed restriction on the house take. Fees for Crown & Anchor tables increased after April 1, 2011. Only a Bermudian may apply for a Crown and Anchor Permit, now costing $1,500+.
Census
Under the Bermuda 2002 Statistics Act enacted by the Bermuda legislature, there is a census every 5 years, with the last one in 2010.
Churches and places of worship
Most of the 65 to 70 percent of the black population of Bermuda prefer the African Methodist Episcopal Church. Most of the white Europeans or North Americans (about 30 percent of the community) are Anglican or Episcopalian. Roman Catholics are the third in numbers attending. Weekend times of church services are in the Saturday print editions of the daily and twice a week newspapers.
Churches include:
African Methodist Episcopal. Many churches, one in every parish.
Anglican Church in Bermuda. With one in every parish, equivalent in USA and Canada are Episcopalian churches. There is a Bishop of Bermuda. The present (since February 2013) is the Most Rev Nicholas Dill, of St John's Church, Pembroke. His appointment was approved by the Archbishop of Canterbury in Britain.
The Baha'i Community of Bermuda. One place.
Christ Church, Warwick. Presbyterian Church of Scotland. Built 1719. One place.
Christian Resource Center in Bermuda. One place.
Church of God of Prophecy. One place.
Church of Jesus Christ of Latter Day Saints. One place.
Church of the Nazarine. Smith's Parish. One place. Built on the site of a previous Catholic Church.
Ethiopian Orthodox, Old Military Road, St. George's. Phone 297-2085. One place of worship.
The Evangelical Church of Bermuda. 1 Mission Road, Paget. One place of worship.
First Baptist Church of Bermuda, 134 Middle Road, Devonshire. Phone 236-7414. Fax 232-0179. One place of worship.
Jewish Community of Bermuda (JCB). Jewish Community Centre, St. John's Road, Pembroke. P. O. Box HM 1793, Hamilton HM HX. Voice mail 291-1785. One place of worship. Resulted from United States Military Bases situated on the island during World War II and up to 1995. Then, the JCB consisted mainly of US Air Force and US Navy officers and their families. Other Jews on the island were always welcomed to join in the Services provided by the Base. In the last 20 years, the percentage of civilians to officers and their families gradually changed. In 1995, due to US budget cuts, the Bases were closed. Bermuda's Jewish community is now made up solely of Bermudian residents and their families, and expatriates from the US, Canada, the UK, and a dozen other countries. It is primarily a Reform/Conservative Community with a visiting Conservative Rabbi. The resident community currently consists of about 120 people (including children).
Methodist Churches of Bermuda (of the United Church of Canada), Several.
New Testament Church of God. 59 Dundonald Street, Hamilton. Phone (441) 295-0693.
Online Christian Fellowship Network of Bermuda. One place of worship.
Peace Lutheran Church, South Road, Paget DV 04. One place of worship.
Roman Catholic Church. Catholicism began in Bermuda in the 19th century after Catholic soldiers of the British Army were stationed in Bermuda, Irish prisoners were sent to Bermuda to build the Dockyard and Portuguese newcomers from Madeira and the Azores re-domiciled here in large numbers. There is a Roman Catholic Bishop of Bermuda. From October 2015 he is the Very Reverend Wieslaw M Spiewak, after Bishop Robert Kurtz retired. Bishop Spiewak was previously the provincial superior of the Polish Province for six years, and also had responsibility for Congregation of the Resurrection Houses in Australia, Austria, Bulgaria, Germany, Italy, Slovakia and Ukraine. For over 63 years in 2015, priests have come from the Waterloo, Ontario, province of the Congregation of the Resurrection. See the book "Bermuda's Priests" by Father John McCarthy, 1954, with 152 pages, illustrated and the 2003 book by Father James Wahl on the history of the Roman Catholic Church in Bermuda titled "Planting the Banner of Christ on the Isle of the Devils." Bermuda's first Catholic Church was St. Edward's in Hamilton, no longer there. Nine present churches include St. Theresa's Cathedral, built 1931; Stella Maris in the Town of St. George, built in 1947; St. Joseph's in Somerset; St. Michael's, Paget, built in 1956 on the South Road nearly opposite a previous hillside chapel; St. Anthony's in Warwick, built in 1959; St. Patrick's Roman Catholic Church. 23 South Road, Smith's Parish. Phone 236-9866. Fax 232-2824, built 1968 on new land donated in part by the De Silva family and also financed by the sale to another faith of the earlier and much smaller Catholic church at the junction of Verdmont Road and South Road
Southampton Seventh Day Adventist Church. Several.
St. Andrew's. Presbyterian Church of Canada . Hamilton. One place of worship.
Salvation Army in Bermuda. Six locations. Divisional HQ at 92 Reid Street, P. O. Box HM 2259, Hamilton HM JX. Phone 292-0601. Fax 295-3765.

Adjutant Lute DesBrisay, Salvation Army. She arrived on January 2, 1896 and officially began the Salvation Army in Bermuda.

The Open Door Christian Assembly, Harrington Sound Road, Smith's. Phone 293-2689. One place of worship.
White Hill Gospel Chapel, 1 St. George's Bay Road, Sandys. One place of worship.
Unity Foundation of Truth in Bermuda. One place of worship.
Youth Working in Unity for the Kingdom. One place of worship.
City and town
There is one city, Hamilton (not to be confused with Hamilton Parish some 8 miles away). There is one Town, St. George's (the only town in St. George's Parish. Both the City and town have elected Mayors and Councilors. The town was Bermuda's original settlement in 1609 and capital from 1612 until superseded by the city in 1815.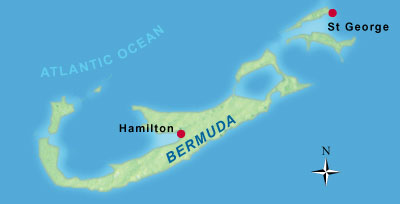 Coastal erosion
Bermuda is widely susceptible to this at times but has not yet suffered any permanent damage. Hurricanes and winter storm surges have debilitating effects on shorelines. A Jamaican firm, Smith Warner International, was commissioned in July 2003 by the Bermuda Government to do a survey at taxpayers' expense.
There are no embassies as Bermuda is a British Overseas Overseas Territory, not a politically independent country.
See Cost of Living Guide in Bermuda. Bermuda is the most expensive place in the world to live, work and retire in and to visit as a tourist. Bermuda's retail prices are high mostly because of the Bermuda Government duty rates on imports, the Government's single biggest source of revenue - and the Government law requiring all local companies except hotels to be at least 60 percent Bermudian owned. So non-Bermudian companies with substantial bulk purchasing power cannot enter the local market as investors and part owners to give much needed economies of scale in local costs of goods to businesses, residents and visitors in the same unrestricted way they can do so elsewhere. Despite these drawbacks, Bermuda's overall economy remains good, even if it is artificially so. Except that export earnings from international company businesses based in Bermuda now greatly exceed tourism earnings from people who visit Bermuda on vacation.
2017. December 11. Importers of food and other goods will face fines of up to $5,000 if they fail to provide information to a new commission examining their costs and margins. The Cost of Living Commission, renamed from the Price Commission, will be established by legislation which passed through the House of Assembly in the early hours of Saturday. David Burt described the Cost of Living Amendment Act as "the first step in tackling the cost of living in order to improve the quality of life that this Government promised voters at the last General Election". The Premier and Minister of Finance added: "The number one concern we have on the doorstep clearly that I know that we all hear is the cost of living in Bermuda and how expensive it is to live in Bermuda. We do know that this is the most expensive country in the world to live in, as is given by international surveys and any government has a responsibility to tackle this issue. Of course, we are looking at it from both sides, looking at it from this side and we are also looking at it from the living-wage side." Mr Burt said the Government had no intention of controlling prices and that the commission would focus on getting information from importers of food and other goods about their import cost and margins. He added: "The commission intends to then process this information, and submit various reports containing its recommendations to the minister on approaches to contain the cost of certain goods." The Bill paves the way for higher fines for those who do not comply with information requests from the commission. Mr Burt said the penalty would increase from $500 to $5,000, with an additional daily fine of $500 in the case of non-compliance. Mr Burt added that Senator Anthony Richardson, who served on the last Price Control Commission, would chair the new commission and that they would get to work as soon as the Bill had passed. One Bermuda Alliance leader Jeanne Atherden said the change was a "very good idea". She hoped the commission could look at the cost of pharmaceutical drugs, which "had played a very significant part of the expenditure of the Bermuda resident". Progressive Labour Party backbencher Rolfe Commissiong was happy the Premier and the PLP government had moved in this direction. But he said that the Bill was "just one piece" and pointed to the work on the living wage and the Tax Commission, which is looking at comprehensive tax reform. Mr Commissiong added: "I think we all want to see us move from a status quo which is no longer serving Bermudians, at least not enough Bermudians, to an era where we can have a greater degree of social equilibrium and bring those persons who need the most help in society, to a point where we can again foster a greater degree of social cohesion and social harmony." Grant Gibbons, the shadow economic development minister, said the change was "nothing new under the sun", with the Cost of Living Commission mirroring the original purpose of the Price Commission, set up under the former United Bermuda Party administration.
Credit cards
American Express or Master Card or Visa are usable in most gift shops, hotels and restaurants in Bermuda. But be sure to check ahead.
Crime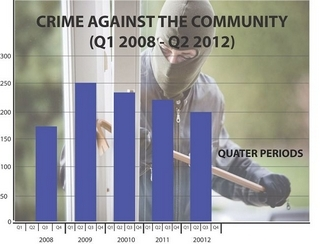 Internationally, Bermuda has a medium-high crime rate - as duly noted by both Britain and the United States of America in their travel advisories. But there are probably more crimes in Bermuda per capita - per square mile among its 68,000 residents in 21 square miles than anywhere else in the world. In the 1970s, a Governor, his aide and the Chief of Police were assassinated. in 1996, there was a notorious rape, torture, sodomy and murder of a 17 year old innocent Canadian tourist. (See under "Rebecca Middleton" in Bermuda Laws). Most crimes locally are by locals seeking illegal narcotics or the money to pay for them. They trespass by night or day at premises used by visitors and locals. Some may have illegal guns. These thieves go after valuables like cash and credit cards not locked in safes. The crime rate is such that all visitors should not, under any circumstances, leave your room or suite or cottage sliding glass doors or apartment windows or doors unlocked by day or night. If you merely lock a nylon screen from the inside by night or by day if you are out, you risk being robbed by thugs who will cut the screen and enter. Always use a secure safe in your room - and inform the local police promptly if you are robbed or assaulted. Also, be wary of venturing out at night and do not carry a handbag on you or when you are on a moped or scooter, in a place where it can be easily snatched by a thief.
A Tourist Crime Unit has been established, using 2 members of the 469-strong Bermuda Police.
Currency
See Money.
Customs Exemptions for incoming residents and visitors
For Bermuda Customs (Import Duty) purposes, residents - not visitors - can claim a $200 per person duty free allowance (it was $400 per person a few years ago) each time they travel for over 3 days, or can lump all such allowances together if returning to Bermuda as a family.
But residents should retain in their possession and produce if necessary the receipts for clothes, personal effects and goods they purchase abroad, in case their value declared by the resident is challenged by a Bermuda Customs officer. Duty is payable at 30% of the value of purchase cost abroad of imported goods less the $100 per person duty free travel allowance. Some goods are duty free, such as books and computer business software (not games). The mere $100 per person duty free allowance for residents allowed by the Bermuda Government does not compare well with the present £145 per person duty free allowance applicable in the United Kingdom for purchases outside the European Union (EU); the much more generous rate for travelers within the EU; $300 for Canadians returning to Canada from abroad; and $800 in the USA for US residents visiting Bermuda.
Also - unlike US citizens or registered aliens returning home to the USA after a vacation or business trip who qualify routinely for a further US Customs exemption of up to $100 per day of bone fide goods shipped from abroad, for their own personal use - Bermudians or residents do not get the same consideration from the Bermuda Government.
Visitors are not entitled to the US$100 duty-free allowance of returning residents. Instead, they may bring in gifts up to the total value of $25 (compared to $100 or so in most other countries) after which they pay duty at prevailing rates.
Daylight Savings Time
Bermuda follows the USA, on the same day, a week later than in the UK and Europe. When in 2005 the US Congress passed a bill to extend daylight savings time by a month the Bermuda House of Assembly passed the Time Zone Bill, which keeps Bermuda in line with the US change.
Departure tax for all visitors and residents
In 2008, The Miscellaneous Taxes (Rates) Amendment Act increased the rate of departure tax for all visitors and residents from $25 to $35 per person. Bermuda has by far and away the highest Departure Tax in the world per square mile, - of US$1.66 per square mile.
The airport in Bermuda has no jetways so the handicapped in wheelchairs or otherwise disabled must be lifted down manually, when arriving and departing. Please see the Bermuda Physically Handicapped Association for more details. For details of hospitals and medical support groups locally, see Health Care Support Groups in Bermuda.
Divorces
About the same number per capita as in USA.
Drug Stores
See under "Pharmacies" in Senior Citizens of Bermuda. "
Firearms
See "Guns"
Film companies
If not Bermudian, the company will need to:
register with the Bermuda Department of Immigration & Labor
have a local (Bermudian) agent
secure Work Permits for all non-Bermudian personnel coming to Bermuda
Gambling and Gaming
See under Casinos and Gambling (Gaming)
Golf is a superb but expensive pastime in Bermuda, with some magnificent ocean-view courses, with the second-highest ratio of number of golf courses per total acreage in the world (after Northern Scotland).
Gratuities (tips)
They are expected from visitors at the rate of 17 percent of a restaurant bill instead of tipping, 10 percent or more of where you stay in most cases, a discretionary amount when using a gas (petrol) station, usually US $2 for two bags if you use a packer in a grocery store, and whenever you use a taxi, at about 15 percent of your fare.
Grocery stores
See under Supermarkets in Employers. Please budget in advance for Bermuda prices. Most visitors have no prior idea food shopping is so expensive. What a couple can buy in the USA for a week will be less expensive than buying food in Bermuda for two days. Only locally owned stores are allowed. So they do not have bulk purchasing power or other economies of scale. Also, they have very high import duty rates imposed by the Bermuda Government which average 30 per cent at wholesale costs. Only a few stores can offer prices comparable to those in the USA. The good news is that the larger, full service premises with an extensive range of meats, seafood, vegetables and products are now open from 8 am to 10 pm daily except Sundays and from 1 pm to 5 pm on Sundays and are not as expensive as convenience stores.
Gross National Income
As calculated by the World Bank, Washington DC. Third highest in the world, see http://data.worldbank.org/country/bermuda.
Guns of all types are forbidden
Under no circumstances - except for specific, limited duration sporting occasions which include competitive shooting - are most residents and all visitors allowed to import or own unlicensed (under Bermuda laws) guns of any kind, not even BB or pellet guns or slingshots. Penalties for doing so are severe. Only when such sporting events occur can participating athletes and/or their sports organizations apply well in advance to be allowed to import their firearms under a temporary Bermuda Government-issued Firearms License. Only they or the Bermuda Police or Bermuda Regiment or some other Bermuda-recognized entity or their registered members authorized to do so may hold Bermuda Firearms Licenses to possess and use Bermuda-licensed firearms in Bermuda.
Only a very few approved and licensed locally-resident individuals are allowed, under The Firearms Amendment No 2 Act 2013 of December 2, 2013 enacted by Bermuda's House of Assembly, to apply to the Commissioner of Police for the issue of one year-long year-long instead of 60-day licenses for firearms to be used for pest control, specifically the targeting of chickens and pigeons. Recreational gardeners and commercial gardeners can all attest to the havoc caused by the growing number of free-roaming wild chickens and pigeons,
Offensive and defensive weapons of any kind, like real or fake or toy firearms (guns) of any type and any ammunition; any kind of weapon to deter thieves or intruders; catapults (slingshots); BB guns; cutlasses; crossbows; mace in canisters; pornographic material; throwing knives; flick knives; martial arts weaponry; nightsticks; nunchakus; spiked wristbands; swords; spear guns, all pistols, all rifles, all ammunition for them, signal guns, all other weapons and all live marine animals (including lobsters) by any private individuals. Residents, visitors, and businesspeople who ignore the above will have their weapons seized permanently by the Bermuda Police Service and those convicted will be prosecuted to the fullest extent of the law. They will get a minimum ten year jail sentence for illegally importing the weapons into Bermuda and will be publicized and reported to Federal or provincial or state authorities for illegally carrying firearms on ships or aircraft. It is not an acceptable excuse to say you were not asked by airport staff if you packed your bags yourself, because you were. Nor is it acceptable to say that you forgot an illegal item was in your luggage, or was put there by mistake.
Health Clubs
See under Clubs, fitness centres and health clubs in Employers.
Before they arrive, all visitors - including those from the UK - are advised to get medical and travel insurance for the duration of their Bermuda stay. British National Health Service (NHS) provisions don't apply. Bermuda is not one of the countries or islands that has a reciprocal NHS plan. See http://www.nhs.uk/NHSEngland/Healthcareabroad/countryguide/NonEEAcountries/Pages/Non-EEAcountries.aspx. There is no reciprocal health insurance arrangement with Britain or USA or Canada or Europe or any other country. The European Health Insurance Card is not recognized. For other locals, healthcare costs are also more expensive than in the USA, with medical services not as extensive.
Bermuda has one Accident and Emergency hospital - see www.bermuda-online.org/kemh.htm - which charges prices similar to those in the USA. There are also a number of locally-registered private medical doctors (general practitioners, or GPs) several clinics and pharmacies. If you as a visitor are vulnerable to any health problem, ask at where you say if they can contact an on-call doctor if needed and bring a plentiful supply of your own medically-prescribed non-narcotic prescriptions. Bermuda's medical facilities are good for a 21-square mile island but not equipped for very serious conditions. If you require extensive and/or intensive treatment you will likely be air-lifted elsewhere, at your expense. It is strongly recommended that before you arrive in Bermuda by air or cruise ship you take out appropriate travel and healthcare insurance.
Healthcare in Bermuda is very expensive, roughly the same cost as in the USA. There is no government funded UK-like or Canada-like National Health Service. All visitors from those and all other countries should note that if while in Bermuda they need any hospital or medical attention or services they must be paid for in cash or by credit card (no personal checks or cheques) in accordance with the scale of charges in effect from King Edward VII Memorial Hospital and local medical practitioners. If you have health insurance in your own country but it does not cover you for medical expenses abroad, consider supplemental insurance. Find out in advance if your insurance plan will make payments directly to providers or reimburse you later for overseas health expenditures.
King Edward VII Memorial Hospital (KEMH) Emergency Department physicians see and treat patients based on the seriousness of their conditions, not in order of arrival. Emergency Department staff will tell patients their level and expected wait time when they arrive. Below are the approximate wait times for each level of severity:
Level 1: Immediate
Level 2: 10 to 15 minutes
Level 3: 30 to 45 minutes
Level 4: 1 to 2 hours
Level 5: 2 hours or more
Persons wanting to contact the KEMH Emergency Department, call 239-2009.
Hotel occupancy and gratuity taxes
Hotels, cottage colonies, guest houses, etc. are required to add the Bermuda Government's Hotel Occupancy Tax, currently 7.25 percent, to your room rate. Most will also ask you for a further 10% or more of your total bill, as gratuities for their staff. There is also a Resort Levy tax for people staying at resort hotels.
Imports
Almost everything is imported including rum distillate which is not made in Bermuda (there is no sugar cane and no rum distillery). Some citrus and vegetables are gown locally. 98 per cent of all of Bermuda's goods are imported mostly from the USA, by container ships.
Bermuda does not follow the USA, Canadian, UK and European methodology of free Internet access at libraries, Tourist Board offices and Visitor Service Centers. However, some hotels and some other places to stay now routinely offer either WIFI or wired access to their paying guests. Bermuda's three cruise ship ports are not among those that offer free WIFI. A local Internet Cafe may be more reliable.
Bermuda has its own legal system, UK laws are not in force despite Bermuda being a British Overseas Territory. Britons and other foreigners are not Bermudians unless granted Bermuda Status by marriage to a Bermudian spouse 10 years after that marriage.
Language
English is the only official language but a few people, mostly expatriates, may speak others. Some locals speak Portuguese, going back to when Bermuda imported many Portuguese men from Madeira, later the Azores, for agricultural purposes from the 1840s. Later, they were allowed to bring their families.
Life Expectancy
81, according to latest World Bank figures.
Literacy
98% of all males and 99% of all females age 15 and over can read and write.
The Royal Gazette (on the Internet daily, Monday to Saturday except for public holidays in print editions) national and international newspaper - the only daily -is better than most newspapers up to 10 times the population and size of Bermuda. All places to stay have them. Overseas newspapers, sometimes a day old, are weekday and Sunday editions from Boston, London, New York, Washington DC and elsewhere. There are also leading British and North American business magazines. But the latter two categories are very expensive locally. The Sunday edition of the Boston Globe is over US $5.00. Some English Saturday or Sunday newspapers now cost $10 in Bermuda.
Mail Service
See Postal Service and Post Offices.
Maritime claims and fishing zone
Bermuda has internationally recognized maritime claims to an exclusive fishing zone of 200 nautical miles and a territorial sea of 12 nautical miles. In 1996, the claims were embodied an exclusive economic zone.

Bermuda is a popular place for marriages and many couples of the opposite sex get married on Bermuda-registered cruise ships.
Medical Facilities
Also see Healthcare. Bermuda has one Accident and Emergency hospital - see www.bermuda-online.org/kemh.htm - which charges prices similar to those in the USA. There are also several clinics and pharmacies. If you as a visitor are vulnerable to any health problem, ask at where you say if they can contact an on-call doctor if needed and bring a plentiful supply of your own medically-prescribed non-narcotic prescriptions. Bermuda's medical facilities are good for a 21-square mile island but not equipped for very serious conditions. If you require extensive and/or intensive treatment you will likely be air-lifted elsewhere, at your expense.
Money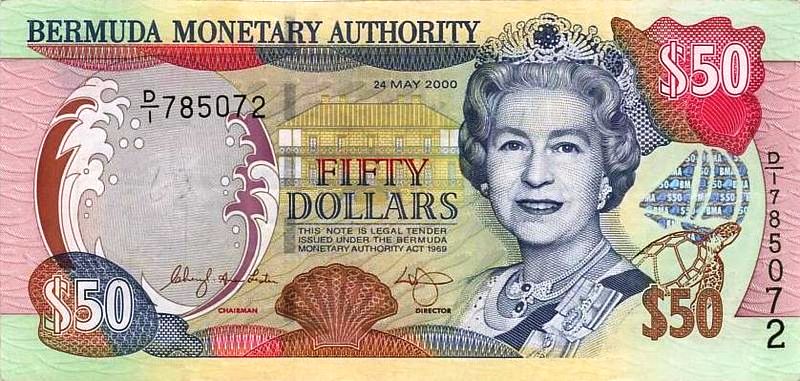 Because the Bermuda Dollar - see above - is based not on the UK Pound Sterling but on a par with the US Dollar and is strictly local, not an exportable currency or money, the US dollar is the recommended currency for all visitors. Unlike all other foreign currencies, the US$ accepted everywhere in Bermuda. But US Money Orders issued by the US Post Office cannot be cashed in non-American Bermuda. Unless for sentimental reasons or as souvenirs of their visit they particularly with to keep (but not sell ) any Bermudian notes and coins they may receive in change, American, Canadian and other visitors should always ask for American dollars and coins in change.
Bermuda's banks offer the Euro to all visitors and business executives or representatives heading for Europe. However, incoming visitors from Europe should note that the Euro is not accepted in Bermuda. They should use US dollars.
Newcomers - employed and non-working
Many, compared to the USA. Note both their celebrations and how services are restricted on the days concerned.
Religions
See "Churches."
Roads
In Bermuda's 21 square miles in total land area, the Bermuda roads - the biggest being one lane each way usually - total about 155 miles (250 km) in statute miles total length of all of them combined. Only the main roads - North Shore Road, South Road and Middle Road, for their positions on the North Shore, South Shore and Middle respectively - are wide enough for traffic to go on either side. Many residential roads are too narrow for fire trucks and ambulances to enter. All roads have names, British style. All are listed alphabetically, with local postal codes. Most road signs and direction markers are in both miles and European-style kilometers.
The surface of all Bermuda roads is asphalt with granite aggregate chips. They provide a durable, reasonably non-skid surface. The asphalt is flexible enough to absorb the weight of heavy vehicles without cracking. It is impervious and sheds water. But their narrow width is another matter. They are often congested, very narrow, hilly, noisy, sharp-cornered and twisting compared to most other places.
In many parts of Bermuda, there are either no sidewalks or pavements or on one side of the road only. They are not suitable for people in wheelchairs or who have difficulty walking or who are on roller blades or scooters. Health and safety-conscious visitors are advised not to run or jog on them because of the illegally high speed of many local motorists but instead to go to one of the national parks.
Bermuda has the busiest and noisiest roads in the world, with more road traffic and illegally noisy vehicles by far per square mile, than any other place in the world.
Smoking and smokers
Non-smoking visitors cannot assume that hotels and other places to stay are for non-smokers only. Some have non-smoking sections. Check directly with the property concerned. Effective April 1, 2006, smoking in public places was banned in Bermuda. Legislation enacted in late 2005 makes it an offence to light up in bars, restaurants hospitals, hotels, offices and schools across the Island. It also sees cigarette vending machines banned along with tobacco advertising at sporting events and it is illegal to sell cigarettes to under 18s. There is a $1,000 fine for those who break the law.
2016. July 29. Smokers were reminded that the Tobacco Control Act comes into effect tomorrow. Flavored tobacco products will no longer be sold, electronic cigarettes will only be available in pharmacies and there will be new restrictions on where people can smoke. Some things will no longer be for sale. Flavored tobacco products, excluding menthol flavors, will no longer be available and descriptions such as "mild", "light" and "ultralight" are banned. New controls will be placed on the promotion of tobacco brands and products and tighter rules on the display and sale of tobacco products mean they can no longer be displayed within three meters of candy and toys. Tobacco advertising at point of sale will also be banned and minors will not be able to buy rolling papers. Existing prohibitions on smoking indoors and in work vehicles will also be extended to vaping and e-cigarettes will only be available in pharmacies. Nicotine has always been and is being regarded as a drug, so when you get it in a liquid form it will be considered a medication. More restrictions have also been placed on where smokers can light up. Since 2005 you haven't been able to smoke indoors and that was very effective. Now, some types of premises ban anyone from smoking anywhere on the property. They include health facilities, educational facilities and the ferry and bus terminal. The new Act is not something pulled out of the air. "It's the Framework Convention on Tobacco Control, which is an international convention. Bermuda could have gone a lot further, noting jurisdictions such as the UK that have implemented even stricter laws. According to the Steps to a Well Bermuda Survey 2014, 20 per cent of men and 7.5 per cent of women smoke, with the average age that smokers take up the habit being 17.8 years. New US data showed that the greatest uptake of smoking was through hookah or electronic cigarettes.
2016. April 6. Smokers have to dig deeper into their pockets after the cost of brand-name cigarettes went up this week. It comes after finance minister Bob Richards announced in the2016-2017 Budget that "currently imposed excises will be increased to begin the process of increasing the revenue yield from indirect taxes" this year and in 2017. "These increases in specific excise duties on alcohol, tobacco, and petrol will increase revenue by approximately $14.7 million." Principal customs officer Richard Amos confirmed yesterday that the import duty rate for cigarettes containing tobacco went up by five cents to 27 cents per cigarette on April 1. A pack (20) of brand-name cigarettes, including Marlboro, Camel, Benson & Hedges and Winston has increased from $11.15 to $12.50. Cartons of 200 now cost $99.95, an $8.95 increase.
Taxes - direct and indirect
Bermuda has both direct taxes - in Employment Taxes paid by both employers and employees - and many indirect taxes including import duties averaging 32 percent at wholesale value that all locals and visitors pay a premium in costs of all imported goods and services. The biggest cost is to pay for the 51 paid legislators - 17 times the international average of the ratio of legislators to voters in a total of only 20 square miles - and army of civil servants amounting to 20 percent of the entire work force. Mostly because of this, the overall cost of living in Bermuda is about 2.64 (two point six four) times the cost of living in the USA and about 1.8 (one point eight) times the cost of living in Canada or the United Kingdom. This is one reason why the Internal Revenue Service of the USA allows Americans living and working in Bermuda a $ 76,000+ exemption before they pay USA federal taxes.
Effective April 1, 2014 all Bermuda cell phone users saw a few extra cents added to their bills because of an increase in the Government licence fee for a mobile line. The monthly fee (tax) rose from $7 to $7.35. Bermuda is one of the few countries to have such a tax.
Telephones (wired) and cell (mobile)
Bermuda's telephone system is part of the North American Numbering Plan -- calls between Bermuda, the USA, Canada and most of the Caribbean (900 miles to the south) requires the caller dialing "1", then the 3-digit area code, then the 7-digit number.
Country Calling code: 1 441
Telephones - main lines in use: 57,700 (2006)
Telephones - mobile cellular: 60,100 (2006)
Telephone system: fully automatic telephone system; fiber optic trunk lines.
Time Zone
Bermuda is in the Atlantic Time zone, like Nova Scotia to the north and Caribbean 1,000 miles south. Atlantic Time is one hour ahead of Eastern Standard Time (EST). Bermuda is normally four hours behind Greenwich Mean Time and British Summer Time in the United Kingdom. But as the latter occurs one week before Bermuda observes the beginning of US Daylight Savings Time on the same night as the USA, for one week only, Bermuda is five hours ahead of the UK.
Travel Insurance
It is often assumed - wrongly - that because Bermuda portrays a British image and is not yet politically independent of Britain, that British National Health laws apply and visitors don't need insurance. British National Health don't apply (in fact they don't even apply when traveling in UK if you are not a resident of UK), there is no reciprocal health insurance arrangement with Britain or any other country - and nationals of all countries including the USA, UK, Canada, are advised to cover themselves for adequate travel insurance, or be prepared to accept any liability financially. Bermuda is more expensive than even the USA for health related costs which are not insured.
Tiny Bermuda - with only 20.75 (twenty point seven five) square miles and with the third highest population in the world per square mile - has some of the highest costs of accommodation in the world and the huge cost of living expenses to go with them. Bermuda organizations trying to help visitors in distress cannot be expected to continue to bear any costs for cruise ship or other visitors who do not take sensible contingency precautions.
For your own peace of mind, ensure your plans to Bermuda include taking spare money, travel insurance and health insurance to cope with possible unexpected accommodation in an emergency medical situation for any reason or a death. It seems many visitors do not do this, yet have no hesitation in renting motor scooters or mopeds in Bermuda, which can be very dangerous to those not familiar with them; drive them on the wrong side of the road compared to Europe, USA and Canada; and end up having accidents, with their vacation ruined. Thus, they become clients of the Overseas Family Help Committee of the Hospital Auxiliary organization in Bermuda - which will not cover any of their hospital or medical or related expenses.
Every week, visitors suffer such emergencies when in Bermuda but do not make contingency plans. Some claim they have no money and no health and travel insurance for unexpected problems. They are not being exempted from any health or hospital costs incurred in Bermuda, in the same way that visitors to the USA or Canada are not being exempted if they fail to insure themselves adequately.
Visitors from the UK and European countries who take out travel insurance should note that Bermuda is not in the UK or Europe but in the (most expensive) "worldwide" category of countries. Visitors from the USA, Canada and elsewhere who do so should remember that Bermuda is not part of the UK but a "foreign country."
Pre-existing health conditions will apply to all insurances.
Weapons
See "Guns."
Required for all non-nationals including those born in Bermuda without a Bermudian parent.
Yacht arrival taxes
$35 per person in 2019 for each arriving person on any yacht.


Last Updated: January 23, 2020
Multi-national © 2020 by Bermuda Online. All Rights Reserved