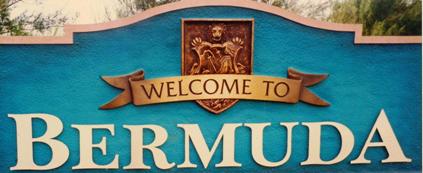 165+ web files, a regularly updated Gazetteer, overall an in-depth description of our island's internally self-governing British Overseas Territory 900 miles north of the Caribbean, 600 miles east of North Carolina, USA. With accommodation options, aircraft & shipping registers, airlines, airport, actors, actresses, banks, beaches, Bermuda Dollar, Bermuda Government, Bermuda-incorporated businesses and companies including insurers and reinsurers, Bermudians, books and publications, bridges and causeway, charities, churches, citizenship by Status, City of Hamilton, commerce, communities, credit cards, cruise ships, cuisine, currency, disability accessibility, Devonshire Parish, districts, Dockyard, economy, education, employers, employment, environment, executorships, fauna, ferries, flora, former military bases, forts, gardens, geography, getting around, golf, guest houses, history, historic homes, Hamilton, House of Assembly, housing, hotels, immigration, import duties, internet access, islands, laws, legal system, legislators, main roads, marriages, media, members of parliament, money, motor vehicles, municipalities, music and musicians, newcomers, newspaper, organizations, parks, parishes, Paget, Pembroke, performing artists, residents, pensions, political parties, postage stamps, public holidays, public transportation, railway trail, real estate, religions, Royal Naval Dockyard, Sandys, senior citizens, singers, Smith's, Somerset Village, Southampton, St. David's Island, St George's, Spanish Point, Spittal Pond, sports, taxes, telecommunications, time zone, traditions, tourism, Town of St. George, Tucker's Town, utilities, water sports, Warwick, weather, wildlife, work permits.

Bermuda's Education in Public and Private Schools
After secondary schooling at home or abroad, those qualified go overseas to universities
By Keith Archibald Forbes (see About Us) exclusively for Bermuda Online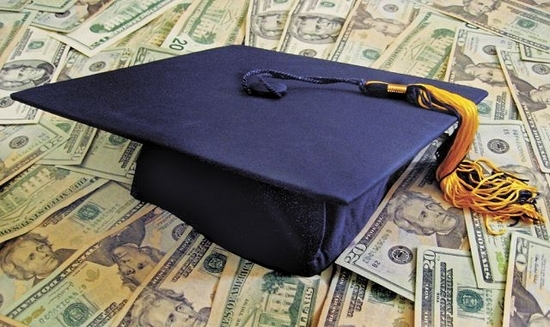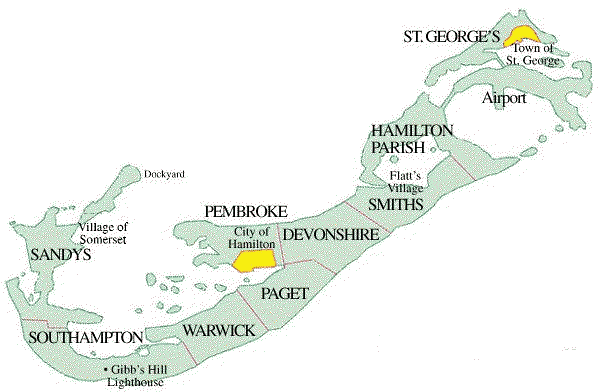 There are schools in every one of the nine Bermuda Parishes.
Introduction
Those from overseas unfamiliar with Bermuda, including some educators, teachers and parents of children attending schools or places of higher education, often believe wrongly that Bermuda is in the Caribbean or West Indies. It is not, Bermuda is 900 miles north of the Caribbean and is not part of any Caribbean educational system. Only very few Bermudian or Bermuda-based students later attend any schools or colleges or universities in the Caribbean.
Bermuda is a tiny, isolated (600 miles due east from the nearest mainland, North Carolina, USA, 900 miles from the nearest Caribbean island to the south and 3500 miles from the UK) island group of only 21 square miles or 56 kilometers in total land area. The educational system here is completely independent of the systems of any foreign country such as the United Kingdom, USA or Canada or beyond. Unlike in far larger countries with significant multi-cultural populations and cultural and educational facilities and laws and faculties to match, no laws or facilities of any kind exist (because there is no or insufficient demand for them) in Bermuda for non-English-speaking children to be taught while at school in any language other than English. Newcomers working in Bermuda from countries where English is not the official language with a young child or children should note that all schools in Bermuda are taught in English only.
All education, whether at a Bermuda Government funded or maintained and taxpayer-supported school (a public school) or private school (not taxpayer-supported but with fees paid by parents) is administered and controlled by the Bermuda Government's Ministry of Education, see http://www.moed.bm/default.aspx, 7 Point Finger Road, Paget DV 04, P. O. Box HM 1185, Hamilton HM EX phone (441) 236-6904. Fax 236-4006, Bermuda. Application forms for teaching posts at Bermuda Government-operated public schools (bit not for private schools) can be obtained from that website. All enquiries about education in Bermuda not shown in this file should be directed to the Ministry of Education, not to this author.
All teachers in Bermuda, whether Bermudian or married to one or an expatriate (foreign, non-Bermudian) teacher on a contract, are required to apply successfully for and hold a valid licence from the Bermuda Educators Council (BEC). There are about 700 public school teachers. All expatriate teachers who may be given initial one year contracts with a Bermuda public or private school should know they may not always be renewed (see Work Permits for non-Bermudians) as preference is always given to similarly qualified Bermudian teachers. They should also make a point of reading Newcomers to Bermuda also Bermuda Cost of Living - and Bermuda motor vehicle private transportation costs, all substantially higher than in USA, Canada and UK, etc.
Teachers at Government schools are expected to become members of the Bermuda Union of Teachers (BUT), at Seventy Two Teachers' Place, 72 Church Street, Hamilton HM 12. P. O. Box HM 726, Hamilton HM CX. Phone (441) 292 6515. Fax (441) 292 0697. Founded February 1, 1919. In 1964, it combined with the Teachers Association of Bermuda (see book The Teachers Association of Bermuda (1949 to 1964). Any accredited and qualified teacher at any private school in Bermuda can also become a member of BUT if they wish. It has a representative on the Labor Advisory Council and Public Service Superannuation Board, both Bermuda Government Boards.
Non-nationals accepting teaching posts in Bermuda from the United Kingdom should note that unlike in the UK there are
No Teachers' Superannuation Pension Scheme
No Repayment of Teachers Loans (RTL) scheme.
No special housing plans or preferred professional grants or finance packages for teachers as there are in the UK, etc.
The Bermuda Educators Council Act came into effect in July 2002. It improves standards in the profession and increases the esteem in which teachers are held. It sets the framework for registration, not for licensing, but as a result all Bermudian and imported teachers - not those in an administrative role - will now have to be licensed.
The Education Amendment Act 2003, among other things, sets the stage for the regulation of home schools.
Education in Bermuda is compulsory for all children from 5 to 16. It is free for parents of students at Government schools, namely primary schools, middle schools, senior schools and special schools - all day schools - comprising preschools, junior, special and secondary schools - administered by Bermuda's Ministry of Education. It is NOT free for parents of students at local private day schools (there are no local boarding schools in Bermuda).
Newcomers with children of school age can choose whether to enroll them in a Government or private school, in Bermuda or overseas.
Government schools (public schools)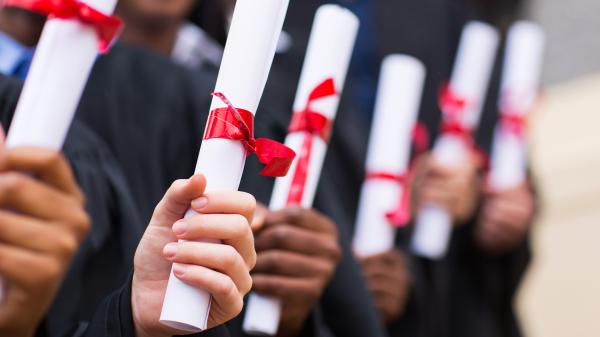 For basic details see http://www.moed.bm/Documents/BermudaPublicSchoolSystem.pdf.
Taxpayer-funded, unlike private schools which are not. The mission of Government-owned or maintained schools, also known in Bermuda as public schools, is the provision of an environment in which each student may develop academic, practical and physical skills; practice critical and creative thinking; exemplify aesthetic, social, moral and spiritual values which characterize a secure, self-confident individual who is capable of constructive participation in the community and effective functioning in an age of change, with life-long, self-directed learning.
All teachers in the government schools are eligible for membership in the Amalgamated Bermuda Union of Teachers, which negotiates salaries and conditions of service. All principals in government schools are eligible for membership in the Association of School Principals, which similarly represents their interests. Programmes of professional development, salaries and conditions of service for teachers and principals have been continually improved. Negotiations on these terms of employment take place every two years and their outcome is confirmed in published agreements with the Government.
Questions about any government schools should be directed to the Ministry of Education at telephone (441) 236-6904 extension 3659 or 3660.
Government grants for primary education began in 1816. The government educational system of today derives, however, from the Schools Act 1879 and is based on the traditional British pattern. The Education Act 1949 established the right of all children within what was then the compulsory school age (7 to 13) to receive free primary education. By 1969, the compulsory school age had been expanded to 5 to 16 and all children within that age are entitled to free primary and secondary education. In 1985 the Education Act was amended to entitle children to remain in secondary school up to the age of 19 years in order to complete the secondary programme.
The government system comprises a number of primary schools, access to which is determined mainly on the basis of proximity of residence to a school. The system at secondary level consists of a fewer number of schools, is selective and is divided between academic and general schools. Principals of the secondary schools select pupils on the basis of performance in an examination taken at the end of the primary school stage and of parental preference. Technical and prevocational education is provided in the general secondary schools. Provision is also made for the education of children with special needs in six special schools, which have been in operation for more than 20 years, and in special programme classes, which have operated for more than 10 years, in regular primary and secondary schools. Special education provides a continuum of services appropriate to the range of special needs of the students concerned. Free education is provided in a number of pre-schools for four-year-old children. Curriculum guides at all levels have been in place for several years. At the pre-schools, the curriculum objectives are related to social, cognitive and motor development, as well as to language, mathematics, social studies and science. The Government has restructured the educational system in order to remove selectivity from the secondary level and to provide equal access to the curriculum for all students. The system has three levels - primary, middle and senior secondary. Since May 2010 the Bermuda Public School System has adopted the UK's Cambridge International Curriculum as the basis for teaching English, Mathematics and Science in the government primary, middle and senior schools. The Cambridge Curriculum has four phases, each of which dove-tails into the next, beginning with Primary (age 5-11), Lower Secondary (11-14, equivalent to a Bermuda Middle School). Middle Secondary (14-16, equivalent to S1 and S2) and Upper Secondary (16-19).
Bermuda College, see by name below.
Adult Education School, see by name below.
Timeline of Government and other educational announcements
2018. November 5. Schoolchildren are suffering more mental health problems, educational experts have warned. Llewellyn Simmons, director of academics for the Ministry of Education, said: "Without a doubt it's a growing problem." He added: "There's a lot of stress and distress, and anxiety issues that we are beginning to witness more and more in young people — especially in adolescents." Dr Simmons, a member of the group Men in Action, was speaking as the three-strong organisation prepared for an event to highlight the need for closer attention to the mental health of youngsters at the Bermuda Institute in Southampton. The group, formed in 2011, aims to provide mentoring for young people — especially boys. It is made up of Dr Simmons, Anthony Peets, a counselor at Prospect Primary, and Phil Maybury, an education specialist. The group provides free services, including counselling, consulting and professional development. The organization's Facebook page is used as a platform for other groups working with youngsters. Dr Simmons said that access to mental health services was a problem for some people. He explained: "For a certain segment of our community, they don't have access to certain persons in those roles — because there's a certain cost factor. Not everyone can afford the expensive psychologist." Dr Simmons said that the problem Bermuda faced was how to work out how to provide mental health services "to those persons who have the least resources for the service that is in great demand". Mr Peets, the director of MIA, said: "All that we do impacts the mental health of our nation. If you have some intentional, targeted practices, you typically get intentional, targeted results." His presentation at the event will focus on what parents can do to help promote mental health in their children. Mr Peets added: "All of their actions impact their child's mental health." He said that parents should make the mental health of their children "a top priority". Mr Peets added that after targeting Bermuda's schools to help deliver its message, MIA planned to work with sports clubs. He said that two clubs had already contacted him to report mental health problems that had affected their behavior. "They're getting hostile over certain things. They have to deal with all these other issues before they can kick the ball." Tonight's event, organized by the school's Home and School Association, will run from 6.30pm to 7.30pm.
2018. October 20. Public school principals started a work-to-rule yesterday after a dispute over their workloads. The school heads walked out of their regular Thursday meeting with Kalmar Richards, the Commissioner of Education, sources said. One teacher told The Royal Gazette: "I know that the principals are not happy because their workloads are too demanding. "There are deputy principals but they have teaching roles." The Ministry of Education confirmed Bermuda Public Service Union general secretary Ed Ball had given informal notice of industrial action by the principals. A spokeswoman said: "The ministry is now waiting for formal correspondence with specific details as to the reason for the work-to-rule action." The BPSU declined to comment. Schoolteachers worked to rule last year over several problems, including the workload of primary school deputy principals after they were given extra responsibilities.
2018. September 27. Wi-fi in Bermuda's public primary schools does not cover classrooms, the Department of Education has said. A spokeswoman confirmed that the wi-fi covered "only portions of each school" — the libraries, gyms and computer labs. She added that wi-fi had been operational at all 18 of the island's public primary schools since the end of August — more than a week before the start of the term — and available for use by teachers for pupil instruction. But she said that a policy to govern its use had still not been provided to teachers and principals. The spokeswoman added: "It is in draft form and will be shared shortly." She said that the user guide would be used by the island's preschools as well as primary and middle schools. "The high schools currently have their own governance policies." Questions sent yesterday about why the wi-fi coverage did not include classrooms had not been responded to by press time. Cole Simons, the Shadow Minister of Education, said that the wi-fi user policy should have been in place before the service was made available. He added: "In most institutions, user manuals are made available in time for the first beta testing and way before the actual system roll-out date." Mr Simons said that Diallo Rabain, the Minister of Education and Workforce Development, "should know better". He explained: "He has worked in the IT space and should have been more hands-on to ensure that our schools had completed an efficient wi-fi roll-out. He should have ensured that our teachers and principals had what they needed to support this smooth transition." Mr Simons said he did not have a problem with the restriction of wi-fi to specific areas "because the students need to be focused when in the classroom". Mr Simons added: "From where I stand, handheld devices should not be used, or turned on in the classrooms unless authorized by our teachers as a part of the education process. Our teachers should have our students' undivided attention, and as a matter of course, they should not be competing with handheld devices when teaching our young people." One principal confirmed yesterday that the service was up and running in the specified areas at her school. She said some of her teachers had already started using the service, but that schools were still settling in for a new year. The principal added: "They are still settling the children into their routine. They can access it when they're ready." She said that pupils would only have wi-fi access through school-approved devices. The principal, who added that her school had some wi-fi service last year, said she felt it was too soon to say if wi-fi should be in all classrooms. She explained: "What works for me is what works for my teachers. Where we have it now is accessible to all of my children. So that's what's most important for us." Mr Rabain said last month that a user policy for the wi-fi was being created and would be provided to teachers at the start of the school year. He said the policy would govern "how the service is used and who has access to it". Mr Rabain added: "The purpose of having internet in schools is, in fact, to have it part of the curriculum."
2018. September 22. Bermuda's mathematics teachers are up to the job, according to a professional council. Rebeka Sousa, president of the Bermuda Council of Teachers of Mathematics, said that teachers in the public and private sectors had the necessary ability and skills. Ms Sousa said: "It is here. We have it here. We have the resources, and we have the expertise. It's just about bringing out that expertise and making sure that it is shared across all schools." The BCMT was founded in 1988 but lapsed several years ago. Ms Sousa said that she decided to resurrect the group last January after she worked for the Department of Education for five years and saw the need for teacher collaboration. The Warwick Academy teacher said the group was working to rebuild its ranks and that recent meetings had attracted about 20 people. Ms Sousa said the group had about 50 people who had expressed an interest, including teachers from both public and private schools, as well as teaching assistants, administrators and principals. She added: "It's open to anybody who really just has a passion about maths education." Ms Sousa said that BCMT's main purpose would be to provide support and resources to teachers. She added: "We want to obviously bring more awareness to mathematics education." Ms Sousa said that she had seen a lack of collaboration between public and private schools during her time working in both systems. She said the BCMT was "kind of that link to bridge between public school and private school educators — because ultimately we're doing the same thing. We all have the same purpose and reason for what we do — let's share some of those ideas." Ms Sousa said there was a view in Bermuda that dislike for maths was acceptable, and that "maths was only for certain individuals". She added: "We want mathematics to be accessible for all students. We want it to be accessible to everybody. Maths is not just for those people who are good at it. It is not just for those people who can do quick sums in their head, and it's not just about arithmetic. It's about everything around us." The group is interested in looking at new ways to approach maths instruction to tackle poor exam results "instead of just spinning the wheels". Ms Sousa explained: "I think it does start in getting a better understanding of what maths is. I think what's going to change people's perceptions about mathematics, and how we do mathematics, is seeing that mathematics is an important tool." Ms Sousa highlighted Dan Myer, a US maths teacher, and his approach that maths should be looked at as power and not a punishment. She added: "I think that's a movement that we need to make as a country."
2018. September 19. Boarding schools from abroad are visiting Bermuda for the 25th anniversary of an annual event. The International Schools Fair will take place at the Hamilton Princess today and tomorrow. Tory Dodge, the founder of the fair, said the event was created to provide Bermudian families with information about schooling options. She said: "It was clear that Bermuda families were interested in exploring boarding school options." Ms Dodge said that some families were attracted to the event because of family tradition, while others attended over concerns about their children's poor performance in schools. She added: "At that time it was also difficult for island families to find provisions for learning disabilities, attention deficit, delayed development or emotional problems related to a variety of causes. Many local children have benefited from the scholarship programmes offered by boarding schools and I know from experience that my clients with learning disabilities or special needs have experienced great success." Niall Browne, of British school placement service BvS, who has worked with Mr Dodge for six years, added: "The success of the fair has been its ability to give a choice to Bermuda families. A boarding school education can give children unparalleled opportunities — both inside and outside the classroom — and this is clearly something that Bermuda families recognize." This year's event will include 60 schools from the UK, US, Canada and Switzerland, including single sex and coeducational facilities for students aged eight to 18. Valerie Scullion, from Switzerland's Aegon College, said that school was delighted be in Bermuda for the first time. She added: "Aiglon is a completely international community and offers something quite unique — something we hope will appeal to Bermudians — not the least those who are avid skiers." Kate Ripping, from Kings College in Britain's Somerset said: "I have found that students from Bermuda are typically very well prepared for the rigors of the British education system and they quickly adapt to the boarding school environment." Bermuda students can sit the UK Independent Schools' Entry Test by appointment until Saturday. An agreement with British Airways will allow the fair to allow special rates and conditions for families flying to schools in the UK. The event at the Hamilton Princess takes place between 4pm and 8pm. More information can be found at eventbrite.co.uk.
2018. September 15. A plan to axe middle schools in favour of specialist "signature" schools has to be backed with hard facts, a top international academic warned yesterday. Peter Cookson, senior researcher at the Learning Policy Institute, based in Washington DC, said statistics had to support a change to the education system. He added: "I would vote for hard data to support decisions of this magnitude." Dr Cookson, who is also a sociology lecturer at the prestigious Georgetown University in Washington DC, has conducted extensive research on school choice, including the similar magnet schools in the United States. He added: "Data is essential for making strategic changes; otherwise it's very hard to know where a policy is coming from and its most likely consequence. Measurement is one way we have for knowing the wisdom of a reform." Dr Cookson was speaking after Diallo Rabain, the Minister of Education and Workforce Development, announced in July that work had begun on proposals to introduce signature schools. The schools, designed to have a specialized focus on particular subjects, would be introduced at the secondary level with middle schools phased out. Mr Rabain said the signature schools plan was in line with other countries, including magnet schools in the US. The minister added that the Progressive Labour Party held "extensive" town hall meetings with the public and consulted with teachers after its defeat in the 2012 election. Mr Rabain said the Government's plan came in response to the public view that middle schools were "seen as a problem" and that a "lack of trust" in the education system started at the middle-school level. But Andy Hargreaves, a research professor at Boston College and visiting professor at the University of Ottawa, said: "Simply saying the public is dissatisfied is not really adequate — unless you can point to what it is they're dissatisfied with. Everybody has a right to know what is the problem to which this solution is the answer." A two-page document called "FAQs on the Signature School Process" posted on the government website in July said the decision to phase out middle schools was in response to "community desires for change". Mr Rabain said in July that the three-pronged consultation process was expected to last at least 18 months. Kelly Bucherie, director of magnet school leadership with Magnet Schools of America, said the Government's plan to gather feedback was "thoughtful and in the right direction". Ms Bucherie, a former middle and high school principal, said parents wanted to be involved in the decision-making process, but also wanted guidance from education professionals. She added: "It's very important not to dumb it down. Nine times out of ten they'll see right through it, they'll walk away feeling disenchanted. The consultation process should be a collaboration. It shouldn't be a room where someone is at the front and the rest are in the audience." Dr Hargreaves questioned the amount of time allocated for consultation. He said: "This looks like a long consultation period for a pretty small system, to be absolutely honest. A system that is focused should be able to move it a bit faster than that, I would say." Dr Hargreaves has written more than 30 books, including two on middle schools. He has also worked as an adviser for the Specialist Schools and Academies Trust, which created specialist schools in the UK and advised the Ontario provincial government on education policy. Dr Hargreaves said that two factors had to be considered, the likelihood of the success of signature schools and the impact they would have on mainstream schools. He explained that specialist schools worked best when "they are authentically based on the idea that some kids have special talents, that do not fit into regular schools. There's a really good argument for that, especially when the schools can form partnerships with future employers and businesses and other organisations. It is important that Bermuda thought about the transition from middle schools to signature schools not as a school change, but as a system change. So, the result is the whole system should be better, not just these particular schools. Additional resources and the ability to attract top-class teachers would benefit signature schools, but might damage mainstream ones. The risk could be offset through the involvement of non-signature schools in discussions with other schools on how resources could be shared and professional development." Ms Bucherie said three components were "vitally important" to the success of magnet schools in the US. "Some of the biggest challenges involve transportation. The cost of setting up the schools also had to be considered. If you're going to do a science, technology, engineering and mathematics magnet, there's a hefty cost to that. Anytime you are going to do a theme, there is a cost assigned." Ms Bucherie added that teacher support for the change was also crucial. She warned that failure in any of the components would "absolutely" be a roadblock to success. The education ministry did not respond to questions on whether the decision to move towards signature schools was supported by research.
2018. September 13. Bermuda's new education chief must fix the island's public schools, which are failing young black men, a former acting commissioner said. Lou Matthews said Kalmar Richards faced a variety of problems. He added that the island had to make a "radical change" in education funding to give more power to schools. Dr Matthews said a "drastic rethink" was also needed because public schools "are ill-suited for the development of black men and healthy, trauma-free communities". He said: "My big hope is that we can move through to this and that Ms Richards can lead our system courageously into this space." Dr Matthews was speaking after Ms Richards, former principal of CedarBridge Academy, was confirmed as Commissioner of Education on Tuesday. Ms Richards was appointed as Acting Commissioner last December after Freddie Evans was removed from the post two months earlier. Dr Matthews said Ms Richards's appointment came as no surprise and that she was a "consummate professional and leader, with a great deal of experience, passion and expertise in public education". Dr Matthews added: "She will be great for the country." He said the greatest challenges Ms Richards faced was the same as her predecessors. Dr Matthews added that past commissioners had "always been confined by political meddling and shortsightedness, budget instability and bureaucracy". He said that Ms Richards would have to "wade through these waters". But Dr Matthews added: "She is more than capable of doing so." He warned that Ms Richards had a mountain of work ahead of her. Dr Matthews said: "We have to improve the learning conditions that teachers and students are required to work in and shift to more culturally responsive education. The biggest challenge is whether we can give her and her teams the full fiscal and strategic autonomy and support to lead education beyond political and bureaucratic interests. I wish her the very best and will support the nation's efforts where I can." One Bermuda Alliance senator Nandi Outerbridge said that she was "confident Ms Richards has what it takes to be an excellent Commissioner of Education. I congratulate her on this opportunity to lead all students in Bermuda and towards the successful implementation of Plan 2022. Although there may be challenges ahead, Ms Richards has a record of excellence and I wish her every success as good leadership and stability in education is what our children need." Ms Richards's 35-year career in education began as a high school teacher in 1983. She has also worked as a primary school principal before moving on to CedarBridge.
2018. September 12. Kalmar Richards was named as the Commissioner of Education yesterday. Ms Richards, the former CedarBridge Academy principal, had acted in the role since last December after Freddie Evans was removed from the post two months earlier. Diallo Rabain, the Minister of Education and Workforce Development, said that Ms Richards had shown "continuous and determined commitment" to Bermuda's public schools. Mr Rabain added: "With the operationalisation of the Public School Strategic Plan 2022 in train under her leadership, we anticipate greater transformation of public school education and sustained success for our students and their future." Lorren Wilson, acting chairman of the Board of Education, said: "We look forward to working with her and pledge our support as she leads the Bermuda public school system." Dr Evans was appointed as commissioner in March 2017, but was removed seven months later after a public dispute with the Department of Education. Previously, the position had been vacant since the short and controversial tenure of Edmond Heatley ended in 2014. A statement said Ms Richards "has acquired extensive experience teaching students, as well as leading, coaching and mentoring teams of instructional leaders and support staff at all school levels in the public school system. During her time as senior school principal, she demonstrated transformative leadership at the CedarBridge Academy, a school initially rejected by the broader community, successfully steering its international accreditation by the Middle States Association of Colleges and Schools in the United States in 2007 and again in 2017." Ms Richards's 35-year career in education began as a high schoolteacher in 1983. She has also worked as a primary school and senior school principal, most recently at CedarBridge. Kenneth Caesar, the former principal at Sandys Secondary Middle School, has served as acting principal at CedarBridge since January.
2018. September 4. A former high school principal has questioned whether the move to axe middle schools is in the best interests of Bermuda. Phyllis Curtis-Tweed, who was at the Berkeley Institute until last year, said she wondered how the Government's decision to phase out middle schools in favour of signature schools at the senior level had been made. Signature schools would focus on specialist subjects, for example, science or arts. Dr Curtis-Tweed asked: "What data have we used to look at our island, number one?" She also highlighted Bermuda's ageing population and decline in the birthrate, and asked how many students would be expected in a new school system. Dr Curtis-Tweed asked: "How many signature schools do we need, and how will that work over time? I haven't seen a clear plan presented." She said that she had questions about how the signature schools would be funded, the resources they would have, and who would be employed as teachers. Dr Curtis-Tweed added: "Are you going to retool your current teaching staff so that people have the skills required?" She also asked how pupils would be assessed for signature schools. Dr Curtis-Tweed said performing arts instruction at primary and middle school levels was "fading away". She added: "There aren't that many programmes that support that. Most people send their children to music, or dancing, or voice lessons external to the school system. How would anyone know that someone should be funneled into a performing arts high school if you are going from elementary school from high school? If we don't really have science in the elementary school labs and that sort of thing — how will you know if the student should go from elementary school into the science high school?" Dr Curtis-Tweed said a focus on workplace development was merited. She added: "We do want to make sure people are prepared and have jobs. But you have to be careful because a lot of the jobs are kind of temporary. You train someone to help to build the airport — but then once that job is over, are those skills going to be needed and transferable to another job? Or are we again going to have to retool and retrain?" Diallo Rabain, the Minister of Education and Workforce Development, announced in July that work had begun on proposals to introduce signature schools — defined as giving students a specialized focus. Mr Rabain said the three-pronged consultation process was expected to last at least 18 months. He added at the time: "We understand that there are many questions about what this will eventually look like, and firmly believe that the answers are in our individual and collective voices." Mr Rabain said the consultation period would "provide the time for everyone to voice the opinion for or against, so that in the end, the final product is one that is in the best interest of our students and the future of Bermuda".
2018. August 31. Acting school principals said this week that they were up to the job. Kenneth Caesar, who is in charge at CedarBridge Academy, said there was no difference between a temporary head teacher and a permanent one. Mr Caesar added: "I'm expected to do everything and report to the necessary parties." He was backed by Kalley Baxter-Williams, acting principal at Sandys Secondary Middle School, who said she was looking at school readiness the same way a permanent principal would. She added: "We want to ensure that all things are in place so that we can have a successful start to the school year." The two were speaking after Diallo Rabain, the Minister of Education, said this week that there was no difference in the responsibilities of an acting principal and a permanent principal. He added: "There is no expectation of any reduction in their effectiveness, whether they are acting or confirmed to the post." Mr Caesar, the former principal at Sandys Secondary, has served as CedarBridge's acting principal since January. He said he was not sure how long he would continue in the role and that there had been no discussions about him getting the job on a permanent basis. He added he was not worried at the possibility that Ms Richards might return to the school. Mr Caesar said: "I understood what I was getting into, so it doesn't really impact me. As an individual, I have a vision for what education should be like and I was able to understand the vision of CedarBridge." A spokeswoman for the Ministry of Education said this week that two new permanent principals and one new acting principal had been appointed for the start of the new school year. She added: "All schools will have either principals or acting principals in place by September 4." The spokeswoman added that four acting principals already in place would continue in their posts. She declined to name the appointees and the schools they would work at. The spokeswoman also said four primary school positions — one art teacher, one learning support teacher and two classroom teachers — were vacant. The spokeswoman said that candidates had been identified for the four jobs and the posts would be filled by the start of the school year. Two middle school music teacher positions remain vacant and a physical education position and a science teacher post have still to be filled at the senior level.
2018. August 29. The mystery closure of education ministry headquarters could be because it was "a toxic environment". Susan Jackson, the Shadow Minister of Health, was speaking after it was announced that the education offices in St David's would be closed immediately and staff relocated. Ms Jackson said she did not know why the headquarters was shuttered, but that she welcomed the decision. She explained: "I have visited that building and its lack of windows and outside air ventilation was probably a toxic environment waiting to happen." Ms Jackson said she understood the building was used for storage before education officials moved in. She added: "There wasn't any interior design to make it user friendly for human habitation." The Ministry of Education and Workforce Development announced the closure late on Monday. A spokeswoman said that a health and safety co-ordinator had ruled that staff should be relocated "as soon as possible". She added the headquarters had undergone a number of health and safety inspections and repairs in recent years. The ministry refused to answer questions yesterday about the reasons for the closure. A spokeswoman said yesterday that the ministry would provide "updates in due course". Lieutenant-Colonel David Burch, the Minister of Public Works, said the closure was necessary. Colonel Burch added: "We have a responsibility to provide the safest possible work environment for our employees and we take that very seriously." He said the ministry aimed to make a "seamless transition" to a new site to ensure back-to-school preparations continued. Colonel Burch added: "I am working with my team in the ministry to make ready an identified location, complete with the necessary IT interface required for the Ministry of Education's headquarters team." Ms Jackson said she was pleased to hear that alternative accommodation had been identified. She added: "I'm hoping that will be a better work environment, from a health and safety perspective." Dame Jennifer Smith, then education minister, announced the ministry would move from Hamilton to St David's in 2011 as a cost-cutting measure. She said money would be saved by moving staff from several buildings in Hamilton to a central location in the East End.
2018. July 27. A school safety report will be published by the end of the year after work to fix problems has been inspected, the Minister of Government Reform said yesterday. Lovitta Foggo confirmed the document, which was intended for official use, will be made available to the public. She was speaking after Diallo Rabain, the education minister, backtracked on a claim that the report had yet to be finished despite the completion of health and safety reviews nine months ago. Ms Foggo said: "I wish to stress that by October 13, 2017, all public schools had been inspected. The initial high level preliminary report was received by my ministry at the end of the same month and following the logging and updating of the data, the report was transmitted to the Ministry of Works. I can also confirm that a series of meetings among technical officers ensued in the weeks and months following its receipt by the Ministry of Works." Ms Foggo said "a great deal of time" has been spent by the safety and health co-ordinator to turn the findings into reports for individual schools that allow them to develop plans for maintenance and repairs. She added, any high risk problems were "addressed ... on an urgent basis. The public can rest assured that the safety and health of our students and teachers is paramount and this government is committed to maintaining a safe learning and working environment for our children and teachers. The Health and Safety Inspection Report for Public Schools, intended for internal use, will be released later this year following an audit of the corrective actions taken to address the findings." In an update following the Progressive Labour Party's first year in government, Ms Foggo said her ministry has aimed to "strengthen" administrative infrastructure to deliver "key services more effectively and efficiently". The work included a technology boost for the Bermuda Post Office to pave the way for a new online shopping system. Mr Rabain said on Monday that a preliminary inspection report on schools safety was "still being compiled", but confirmed the following day it had been provided to the Ministry of Public Works on January 23. Ms Foggo said she did not know why Mr Rabain appeared to be unaware that the preliminary report had been handed over to the education ministry. She added: "I can't speak for the minister, but I can tell you that it was supplied, as it was supplied also to the Ministry of Works." Ms Foggo said the "evolution of the Post Office" was a high priority and after a public consultation earlier this year, advancements in technology could allow island residents to have access to an international mailing address for e-commerce. She added: "Armed with the feedback from the general public, as well as the retail division of the Chamber of Commerce and coupled with the realities of declining mail volumes and an island-wide footprint in terms of physical infrastructure, this government has set out on an ambitious course to expand the product offering of the Bermuda Post Office. We aim to centralize the delivery of government services. In preparation for the change, the Government has procured an IT postal operations solution that will enhance technological capacity and reduce manual processes." Ms Foggo said an "applications analyst" was added to the team in February. She added: "Implementation of this new system establishes the framework for the roll-out of the new online shopping product." Ms Foggo said amendments to the Interpretation Act to lay the foundations for the Official Gazette to move from newsprint to online were also under way.
2018. July 14. A school safety report promised last year has still to be completed, the education minister said yesterday. Diallo Rabain explained that the report based on health and safety inspections last autumn was "still being compiled". Mr Rabain said: "And so I can't comment on exactly when and if they will be made public." Lovitta Foggo, Minister of Government Reform, said last October that the Government's health and safety co-ordinator had carried out inspections from August 21 to October 13. Ms Foggo said at the time that the Health and Safety Office "is currently in the process of preparing a summary report of all inspection findings". Mr Rabain confirmed at yesterday's press conference that all schools had been inspected. But he added: "Those examinations are ongoing." Mr Rabain declined to comment on why Ms Foggo had said last year that the inspections were completed. He said: "That's a question you should be asking Minister Foggo. But I do know the report is still pending. And once I have sight of the report, then I will be able to comment on the report." The pledge to conduct an urgent review of health and safety in all public schools was included in the Progressive Labour Party's election platform last year. Mr Rabain added that he was sure that "parts of it will be released, or the entire report will be released". He added that the Government wanted to make sure "that our schools are absolutely safe". Mr Rabain said: "So if the report takes longer than we expect it to take — just to ensure that the schools are safe — then the report will take longer than we thought it should have taken. But I can assure you that the report will be compiled and it will form part of the conditions survey." Lieutenant-Colonel David Burch gave an update on school condition surveys in the House of Assembly last Friday. Colonel Burch said that the surveys had been contracted out but had been hit with a "number of issues" over the bidding process. He said that a test survey would be completed on one school to "iron out the issues". Colonel Burch added: "In the interim, a project is under way to get as-built drawings for all schools as well as numbering of rooms for ease of reference on both help desk and reports." Mr Rabain promised that schools "will be ready to go" for the start of the new school year. But he declined to comment on whether Gina Tucker, acting assistant director for curriculum and assessment, and Kalmar Richards, the interim Commissioner of Education, were in the running for the commissioner's job. Mr Rabain said he could not discuss who had applied for the post. He added: "I can let you know that we intend to have a commissioner in place by September." Freddie Evans was fired from the post last October but won a substantial payout after he launched legal action against the Governor and the Government over his dismissal. It was announced in April that Dr Evans would take a job at the Department of Youth, Sport and Recreation.
2018. July 21. Repair work on schools this summer will cost an additional $3 million, the minister of public works said yesterday. Lieutenant-Colonel David Burch said the works kicked off immediately after the end of the school year and were in "full swing". He said: "All schools have been inspected by both Ministry of Public Works and Ministry of Education facilities management staff with a list of tasks agreed and assigned to various work crews. In addition to these, any issues identified by the Health and Safety Co-ordinator are being included with the tasks." He made the announcement as part of a near hour-long ministerial statement made in the House of Assembly. Colonel Burch said that the cash would be spent on works including private sector contracts for painting, floor refinishing and roof replacement. He added that it was intended that all personnel within the department would be involved in the works. Colonel Burch added: "This means that there will be seven work units with a total of 102 tradesmen working in schools." He said that seven summer students were assisting. Colonel Burch added: "They are tackling some 1,081 tasks and 26 capital projects. In addition, there are numerous small and large private contractors engaged in this project." Colonel Burch also provided an update on the status of school condition surveys. He said that the surveys had been contracted out but that there had been a "number of issues" with the bids and concerns from the bidders over pricing for unknowns. Colonel Burch said that a test survey would be completed on one school to "iron out the issues". He added: "In the interim a project is under way to get as-built drawings for all schools as well as numbering of rooms for ease of reference on both help desk and reports." Colonel Burch said that surveys on other government buildings would follow. He announced the condition surveys would be undertaken this year in a ministerial statement made last December.
2018. July 21. Parents will be appointed for two-year terms to committees working closely with the school system. Education minister Diallo Rabain said a Parental Involvement Committee had been meeting monthly with the Commissioner of Education to improve relationships within schools. Efforts in the coming year will include a parents survey, parents' newsletter, and engagement sessions. Mr Rabain said he wished that more fathers had become involved and said their greater engagement would be worked upon.
2018. July 13. Teachers accused of misconduct on the job have been paid to languish for months on leave and "go through stuff emotionally", only for investigations to reveal no wrongdoing. Education minister Diallo Rabain revealed improvements to administrative leave yesterday in Parliament after MPs were told that 13 educators had been put on paid leave in 2017-18, at a cost of $250,000, with only one teacher dismissed. Mike Charles, general secretary of the Bermuda Union of Teachers, welcomed the policy changes. He said incidents of student complaints, some of which were believed to be "frivolous", appeared to have risen. "That was one of the major issues of the last school year," Mr Charles said. "I don't know what took place to cause such a rash." Mr Rabain said in the House that any educators cited in a referral were required to take administrative leave while inquiries were conducted. But the protocols had been deemed "not adequate", with a need to cut down on "the amount of time that educators are out of the classroom". Meanwhile, the BUT head cited the example of four staff at Dellwood Middle School, including the principal, who were put on leave this year for investigation and ultimately cleared. Mr Charles told The Royal Gazette: "There are teachers who go through stuff emotionally because of this." He added: "It's what individuals go through while waiting. I know of one teacher who didn't even want to go to the grocery store in case he would see kids from the school. He just didn't want to exacerbate the situation." Mr Charles said cases appeared to have escalated where "students say to one another that I can get so-and-so fired. All a student has to say is a 'you touched me, or you hit me'. Once the allegation is made, there is a process that has to take place." Mr Rabain said a committee was updating the policy and new guidelines would be given to staff from all schools at the start of the next school year in September. Under the old policy, educators had to stay at home while on leave but revised procedures will allow teachers to report to their department and be assigned tasks to "support their students and their respective school". Mr Rabain revealed the details in response to questions from Cole Simons, the shadow minister. The minister told MPs that $247,563 of public money was paid to educators on administrative leave in 2017-18. One teacher was fired after allegations of inappropriate discipline — but the remaining 12 returned to school at the end of their imposed leave. Of those, seven had faced accusations of physical abuse, four of emotional abuse, and one of verbal abuse. Mr Simons asked how teachers guilty of "no malfeasance whatsoever" could wait as long as eight or nine months to be cleared. Mr Charles said that the Department of Child and Family Services was required to conduct immediate and time-consuming investigations into any allegations against teachers. "They are dealing with the entire island," Mr Charles said. "They have to find the students and talk to them, and get permission from parents — it must take some time, especially when they have other clients. We don't want there to be abuse. But by the same token, if every frivolous complaint means that a teacher is out for five or six weeks, it doesn't do any good to the students or the teachers who feel looked upon as being terminated. It could be a case of a tap on the shoulder and a student decides 'you hit me'. On the other hand, and teachers have complained, if the complaint is frivolous, nothing happens."
2018. June 20. Athene Life Re Ltd has donated nearly 100 laptops to 18 public schools through an initiative called "Computers for a Better Education". The laptops are scheduled to be sent to eight primary schools and 10 preschools. Last year, Chip Gillis, CEO of Bermudian-based Athene Life Re, a subsidiary of Athene Holding Ltd, attended a meeting in which David Burt, the Premier, spoke about the need for wi-fi and computer equipment in Bermuda public schools. Athene said this meeting was the impetus for Mr Gillis to seek donations of used computer equipment from Athene as well as from Bermuda International Long-Term Insurers and Reinsurers company members in an effort to support public education. "This equipment can enhance and empower teachers, improve the learning experience for the students and better prepare the students for a world full of opportunity," said Mr Gillis. Diallo Rabain, Minister of Education and Workforce Development, said: "This generous donation by Athene will enable public schools like Victor Scott to support their students in their computer education and provide general learning support. These laptops also provide an invaluable resource for students' STEM education. We are grateful to companies such as Athene for their investment in Bermuda's students and their future."
2018. June 8. Steam education will be implemented at primary schools across the island, education minister Diallo Rabain said. Mr Rabain said children would benefit academically and behaviorally through the Steam method, which focuses on a collaborative approach to Science, Technology, Engineering, Arts and Maths. He said the Department of Education had identified the "Engineering Is Elementary" curriculum, which is aligned with the Cambridge International Science Curriculum, as the best fit for primary school students. Mr Rabain told the House of Assembly: "The Engineering Is Elementary curriculum was selected because the curriculum is universally designed to meet the needs of all learners. Students move step-by-step through a goal-directed problem-solving process." The programme has already been piloted in West Pembroke, Paget, Northlands and Prospect Primary Schools. An additional two primary schools will be included this September. Other primary schools will be added with the aim that all will be included by 2020-21. The annual cost of implementing each phase is about $125,000. Mr Rabain added that a Stem 101 programme is already under way in middle and senior schools. In a separate ministerial statement, Mr Rabain also spoke about fintech opportunities for young people. He said: "Discussions have already begun with various companies who have signed MOUs, to establish their training needs and representatives from one of the organisations will be on island next week for further talks. Other companies will also be visiting the island to discuss their training needs over the next few weeks. The idea is to provide training opportunities that will cover a wide cross-section of our community from high school students to professionals looking for potential career changes."
2018. April 23. Blame for the botched sacking of Commissioner of Education Freddie Evans lies at the door of the Minister of Education, Cole Simons said yesterday. Mr Simons, the One Bermuda Alliance spokesman for education said Diallo Rabain, the minister, should "come clean" on the affair and outline what he will do to make sure a similar problem does not arise in future. Mr Simons said: "By now, the Minister of Education and his Cabinet colleagues should have come clean, given that the permanent secretary of the Ministry of Education would not have made this decision on her own. Knowing the Permanent Secretary, she would have shared her concerns and consulted with the Minister of Education before any action was taken — the action being the firing and later the suspension of the Commissioner of Education." Mr Simons was speaking after it was revealed last week that Mr Evans had been awarded an undisclosed settlement, thought to be a substantial six-figure sum, in settlement for his dismissal. Mr Simons said: "Let me be clear, stains are now on the Minister of Education's hands. He cannot run from the medley of flawed decisions, especially as Dr Evans has been offered an out-of-court settlement, another senior role in Government and a few hundred thousand dollars in out-of-court settlements to cover damages and all of his legal costs." Mr Simons added: "The challenges and errors recently experienced with the handling of the former Commissioner of Education speaks to the quality of leadership and the quality of governance at the senior management level in the Department of Education. Good people have been underutilized and other committed, well-qualified senior managers have left, which in turn is currently compromising the delivery of quality educational services in Bermuda." Mr Simons added that there needed to be a "reassessment" of professional development and performance appraisal in the Ministry of Education. He said: "It is obvious, given the Government's decision to agree to an out-of-court settlement, missteps have occurred in the ministry's performance-appraisal process and governance protocols. These errors cost dearly. It cost the ministry, it cost Dr Freddie Evans, it cost the staff of the Ministry of Education and it costs Bermuda's students. In light of these costs, the people of Bermuda need and deserve an explanation. The Minister of Education must come forward with a statement and admit that performance protocols were not followed and that he should summarize what remedial action that the ministry will take." Mr Simons added that he also wanted to know when Dr Evans's post would be filled. The job has been held by CedarBridge principal Kalmar Richards on an acting basis since late last year. Mr Simons said: "This is very important as we need real leadership in regards to the delivery of the 2022 educational strategic plan and the resolution of the grave education challenges presented in the recent Cambridge assessment report." Dr Evans launched legal action against John Rankin, the Governor, and the Government after he was fired from his post Mr Rankin in October last year. Lawyers for Dr Evans said the sacking came too late to be valid. They added he could be fired by the Governor only during his probation period, which ended more than a week before Mr Rankin confirmed Dr Evans's dismissal.
2018. March 17. Experts highlighted poor practice in Bermuda's schools and unchallenging assignments for pupils, the education minister told MPs yesterday. Cambridge curriculum assessors conducted a review of public schools after Cambridge Checkpoint results showed island pupils were lagging behind their international peers. Diallo Rabain told MPs: "A primary observation pointed out to the department was the missed opportunities for our students to engage in deeper learning in many of the classrooms. Some of the practices that we have been implementing have not been the best practices. We recognize this, and now we endeavor to improve the practices to do better. Thus the Cambridge representatives have put forward a number of recommendations regarding teaching and learning at the primary and middle school levels." The assessors recommended:
An increased pace of learning;
An increased quantity of work that pupils complete;
More challenging assigned work;
A greater focus on conceptual rather than procedural understanding;
That teachers should do less and engage pupils more in talking, thinking and reflecting;
Teachers should give pupils more challenging work;
Teachers should scaffold less so that students build independent skills and
Give pupils a bigger stake in their learning.
Mr Rabain said teachers had been advised to focus their lesson plans to improve fluency, reasoning and problem solving, particularly in maths. The maths checkpoint, completed last April, found the Bermuda P6 national average score was 2.4, compared with the international average of 3.8. The Bermuda M3 average was 2.1 compared with 4.2 internationally. Results in English and science were also a cause for concern. Cambridge International representatives Abigail Barnett and Alison Borthwick spent last week on the island observing teachers and providing intervention training for selected maths teachers at primary and middle schools. They visited ten schools, and observed 500 pupils from P1 to M3 in their classrooms. Mr Rabain said the Cambridge report was not all bad news. He added: "It was pleasing to know that the first impression given to our Cambridge representatives as they reported, was that Bermuda has world-class public school students who are eager, intelligent, willing, keen, and who want to learn. They shared that our teachers are hardworking and that there was clear evidence of the Cambridge curriculum being taught in classrooms. This professional development training for our teachers in mathematics was needed. We will endeavor to ensure that this type of training is ongoing as we move ahead. It is recognized that providing our teachers with constant professional development will help to enhance and build on the standard of teaching and learning in the classroom; and, ultimately improve the Cambridge score results for our students." Mr Rabain said the Department of Education expected to get a written report from the Cambridge representatives within three weeks. He said a comprehensive delivery plan based on the report would be developed that included action steps, timelines and accountability measures for the improvement of mathematics tuition. The department will report maths progress on a monthly basis.
2018. March 20. Specialists with a track record of tackling failures in mathematics, English and science were taken off the job, according to the Bermuda Union of Teachers. Secretary General Mike Charles said teachers were "flabbergasted" that the education ministry removed content specialists when they were beginning to make progress in areas in which pupils in the public sector have struggled. Mr Charles was speaking after Cambridge curriculum assessors highlighted poor practices in Bermuda's schools amid concern over examination results. Mr Charles told The Royal Gazette the specialists were put in place more than three years ago and that the concept was supported by former education commissioner Freddie Evans and former acting commissioner Lou Matthews. Mr Charles said they were removed at the start of this school year. He added: "These people were making significant progress in these areas. They had identified the challenges and they were making significant progress with teachers and students. However, those people no longer exist in the ministry. They disappeared at the end of the last school year. They were doing a fantastic job. There weren't enough of them, but they were beginning to see progress. These people were underground, going from school to school every day. We have no one working with teachers, working with students. Teachers were flabbergasted that these positions were being cut out." The Cambridge experts were brought to the island after poor results in checkpoint exams last April. In maths, the Bermuda P6 national average score was 2.4, compared with the international average of 3.8. The Bermuda M3 average was 2.1 compared with 4.2 internationally. English and science were also cause for concern. Mr Charles argued the results were not a fair comparison because they pitched Bermuda's public schoolchildren against elite private schoolchildren in Britain. He said: "We are really comparing apples and oranges. He added assessments over many years, including the Hopkins Report in 2008, had shown failures in the system. Mr Charles said: "Most of the stuff they identified, we already knew." Recommendations from the Cambridge assessors included an increased pace of learning, ensuring pupils complete more work, and encouraging teachers to do less and engage pupils more in talking, thinking and reflecting. The education ministry did not respond to a request for comment.
2018. March 9. An invitation to interview Cambridge curriculum assessors on a trip to the island was withdrawn at the eleventh hour yesterday by the Department of Education. Llewellyn Simmons, the Director of Academics at the education ministry, invited The Royal Gazette to interview the Cambridge representatives, who were invited to Bermuda after poor maths results were revealed last month. The invitation to interview the experts was withdrawn yesterday by an education department official. Dr Simmons said the visiting team were "conducting observations and training with our math teachers". He was sent a number of questions last month on the poor Cambridge Checkpoint results for Primary 6 and Middle 3 students for the 2016-17 school year. He said Cambridge representatives would be at CedarBridge Academy yesterday from 8.30am to 4pm and today from 8.30am to 3.30pm. Dr Simmons said in his e-mail: "If you are interested in having your questions answered, you may interview them during this time." A time was set to meet the Cambridge representatives in the school's training room yesterday afternoon, but Dr Simmons sent another e-mail yesterday morning to ask The Royal Gazette to contact a spokeswoman with the Department of Education to "make your request to interview". An e-mail was sent to the spokeswoman to request the interview, but the spokeswoman later sent an e-mail that the interview had been cancelled — no reason was given for the change of heart. Several questions were sent to the spokeswoman yesterday about the Cambridge Assessment representatives and their work on the island. The spokeswoman said: "The Department of Education and representatives from Cambridge International are this week conducting training with teachers of core subjects in Bermuda's public school system. Prior to the arrival of the overseas facilitators, a full schedule was mapped out for the week with the training sessions as a priority." The 2017 Bermuda public school system report released last month showed that P6 and M3 students failed to meet a Department of Education target set for maths of 3.0 — equivalent to a C grade. The results of the International General Certificate of Secondary Education examinations sat by senior-level students last year were also published. The results revealed that only 18 per cent of the 445 students that took the maths examination scored a C grade or better. Sergio Pitcher, founder of tutoring service Planet Math, said the results of last month's report were expected. Mr Pitcher said: "This is not a new problem and will take dedication and hard work from everyone to make a real change." He said that student struggles with maths were not specific to Bermuda. Mr Pitcher explained: "This has been a major issue for many countries, including the United States." He said that a number of factors had led to problems in the subject, including the way maths is taught, which he described as "counterproductive". Mr Pitcher explained: "We teach students several formulas they 'need' to memorize and introduce a litany of abstract symbols, then we strive to find application of what we have taught with meaningless word problems. What we should do is get real-world problems that interest the students. Give them an opportunity to try to develop their own strategies for solving the problem first." Mr Pitcher said maths instruction would also benefit from "dynamic maths specialists" who only taught the subject. He added: "If from primary school, maths is made fun and useful, then the attitude that students have will be more positive all the way through." Mr Pitcher said Bermuda's public school system had a "wealth of experienced, successful maths teachers. What can be done to help is utilize these exemplary teachers to assist teachers that aren't having as much success. By doing this, we build up the system and make it better. Responsibility for the current maths problem falls on everyone, including students, teachers and parents. Students must be serious and focused. They have to behave properly in class and try to learn as much as possible every day. Additionally, they need to get their homework done and practice. Teachers must provide top-notch lessons every day by being enthusiastic, clear and teaching the material in a way so that the students understand". Diallo Rabain, the education minister, said last month that the Cambridge personnel would "conduct walk-through observations to gain first-hand data about teaching and learning experiences in our primary, middle and senior schools". Mr Rabain said the information would be shared with principals and teachers "and advise on the mathematics teaching strategies to best address any observable deficits".
2018. February 26. Diallo Rabain has taken aim at the One Bermuda Alliance's educational policies and said the former government "condemned" students. In an impassioned speech, the Minister of Education and Workforce Development said: "The future of our country down the drain for four years. Yes, I'm upset. I'm mad. I am absolutely furious that I have to stand here today and tell every single one of you over there that that's what you did to our children." Speaking in the House of Assembly on Friday, Mr Rabain said the slashing of the Department of Education budget had hampered the island's public schools. Recently released figures showed that only a quarter of middle school students are attaining a target set for maths by the Department of Education. Mr Rabain said: "Last week I released the Cambridge Checkpoint exams that covered their time. The public have been outraged at what they have seen. Rightfully so. I demanded that those results be released to show everybody exactly what we are working with now. If you listen to the public, they are very disappointed. They are up in arms. Why are our children still performing at the levels they are performing?" Mr Rabain said the OBA had left the post of educational officers for maths and science vacant since 2012 because of the "financial brilliance of the OBA". He added: "How do you freeze two of the most important posts in education and expect our grades to improve? How do you do that? They were funded, but just not allowed to fill them. Well guess what? They will be funded and they will be filled this year." He said the education officers were tasked with driving education in the schools, ensuring that teachers were doing what they were supposed to be doing. He added: "When they froze these posts, they condemned our children. They condemned them, and they should be ashamed." The Budget Reply by Jeanne Atherden, the Leader of the Opposition, said the Government would be "slashing funding for improved educational standards" by 35 per cent. However, Mr Rabain said the cut came from a reduction of consultants that had been doing the work of unfilled civil servant positions. "Those education officers whose posts remained funded and unfilled, there was a brilliant idea by some that they would hire consultants to sort-of fill those rolls. And guess what? Those consultants were paid 20 per cent more than the civil servant posts. They were in place for two years. That 35 per cent was the money we were paying consultants because your policies didn't allow us to replace the people that should have been there in the first place."
2018. February 19. Proposals to merge or close schools should be looked at again before the Government splashes out to repair crumbling buildings, the teachers' union has said. Mike Charles, secretary-general of the Bermuda Union of Teachers, said it would be too expensive to renovate some schools and questioned if there would be enough pupils to fill them in any case. Mr Charles was speaking after David Burt, the Premier and Minister of Finance, announced the Ministry of Education and Workforce Development would receive $140.6 million in 2018-19, a 4 per cent increase on last year. He added the Score report, prepared in 2016, had looked at school closures and consolidations. Mr Charles said: "Any increase to education is good, but it all depends on how it is used and how the people who get the money will use it. We need to improve our buildings but we have to make a decision on buildings, in particular whether we are going to keep what we have or whether we are going to make changes. The restoration of some buildings would be too costly. They have not talked about possible closures, but it is something we would be willing to talk about. They should go back to the Score report, see what needs to be done and make a decision. We need to take a good look at our entire education system and how we want to move forward with it. You have to have the political will, the individual will and the right people driving it. It needs to be looked at." Mr Burt said the extra cash in the Budget would be used to support the Plan 2022 blueprint for education, which highlighted the need for modern information technology, better management of buildings and increased teacher training. About $3 million has been earmarked for school maintenance, including mould and infestation removal, electrics and plumbing. Mr Burt told MPs on Friday: "The first topic covered in the PLP's 2017 platform was education. We laid out a comprehensive plan to transform our public education system and ensure that Bermudians of all ages can learn and upgrade their skills. Our commitment to education and training is demonstrated in the first Budget of this new PLP Administration. This year's investment in education represents a renewed belief in our young people and the men and women responsible for teaching them. We are investing in the delivery of an education that will equip our citizens with character, critical thinking and a rounded sense of who they are and of their value to this society." Mr Charles backed increased funds for teacher training. He said: "I am happy to hear that the ministry is mentioning training because for quite a while the ministry has not been doing any professional development. The BUT has been responsible over the last couple of years for most of the professional development — it has come out of our budget. Our maths problems are starting in primary schools and until our teachers are trained to do maths and science, we are going to have problems. There is a new strategic plan that is going to be put in place but it takes money to do that. I am sure teachers will also look forward to getting some supplies because they have been without for some time. Hopefully, it will be used for the improvement of education for our students. It is not a lot of money but hopefully it can be the start of something." The mother of a middle school pupil who became ill as a result of mould exposure questioned whether $3 million would cover maintenance work. She said: "It's about time but is $3 million going to be enough for all the schools? Mould removal is very expensive and you are talking about a lot of schools. It's not just mould, what about other things like plumbing and other issues? My daughter was out of school. She is a lot better than she was, but she did suffer with it for a while. Mould might not have an immediate effect on you but the long-term effect is the problem — when she is older what is going to happen. That is in her lungs now." Danielle Riviere, parent teachers' association president at West Pembroke School, said: "I think teacher training is money well spent but there is the question of consistency in terms of what teachers are being asked to do and changing of programmes here and there. I am hoping there is consistency around what they are being taught and that it is a long-term investment. Our IT departments across the island in every school from elementary to high school need work. We are in the 21st century and we need to have children who are educated on computers and systems that mirror what is happening in the rest of the world." Mr Burt also announced increased funding of $1.9 million to support both senior schools and $300,000 will go towards Bermuda College to help students unable to afford tuition costs.
2018. February 14. Teachers are buying basic school necessities out of their own pockets, according to the Bermuda Union of Teachers. President Shannon James called for more help in the Progressive Labour Party's first Budget since it returned to power, which will be delivered by David Burt, the Premier and finance minister, this Friday. Mr James said: "There are many teachers using their own money to buy things like reading books, science supplies, and many other basics, from the preschool level right through to high school. This, by any standard, cannot be deemed acceptable and has gone on for too long. Many teachers will come out of pocket to add extras, and that is their choice, but they should not be cornered to feel that the basic supplies needed to deliver the curriculum should come out of pocket." Mr James said the BUT was also gravely concerned about the lack of investment in providing the manpower needed to deliver, maintain and support proper instruction as dictated by the needs of the system. "There are too many empty positions, key positions which are needed to support the various initiatives set out by the Ministry and the Department. We do not have the required compliment of education officers, content specialists, attendance officers, mentors and Para educators needed to support optimal learning at all levels. We are still concerned about the state of our buildings. Three schools had to close last year for urgent maintenance and that causes major disruption for the students. That cannot be allowed to happen again, and adequate resources must be directed to the timely maintenance of our schools." In addition, the BUT believes that Government must position students to compete globally and that access to modern technology and systems of thinking are imperative to the success of a 21st century learner. Mr James said: "The Premier and finance minister, David Burt, is a self-confessed 'techie' who has been pushing the use of technologies like blockchain and the establishment of a tech hub in Bermuda, but what use are these if our students don't have access to the necessary technology tools that will enable them to take advantages of future opportunities? Money must be made available to ensure: an adequate ratio of students to working technology devices; a termly assessment and repair of all interactive devices; a sufficient number of trained technology leaders in each school, and an adequate number of technicians to service the upkeep of equipment and software. We have been promised Wi-Fi access in every public school which is a start, but it is pointless if we do not have the proper hardware to access this Wi-Fi. More needs to be done to make sure that our students are not disadvantaged when they enter the workforce and find themselves behind their peers in terms of their exposure to technology. Technology has the potential to completely disrupt industries. This will have a massive impact on the types and numbers of jobs available and we must have the resources available to make sure our students are properly equipped with the necessary tools that allow them to succeed. The BUT is fully aware that everyone wants a larger share of the pie and people are competing for money for different projects they all believe will benefit Bermuda in some way, but there is no greater benefit to Bermuda than well-educated children. Education is the building block for any successful country."
2018. January 6. Jason Wade has replaced Leonard Santucci as chairman of the CedarBridge Academy board of governors. Dr Santucci confirmed he resigned from the board on Tuesday, despite an invitation to remain from education minister Diallo Rabain. Mr Wade, a former Whitney Institute teacher, will be backed up by new deputy chairman, the Reverend Emilygail Dill. Dr Santucci told The Royal Gazette: "I have respectfully resigned so as to ensure that the new chairman is not impeded in any way in his leadership. I have every confidence in his ability. I am grateful to the previous government and the current government for the opportunity to serve the CedarBridge family and community. I was prepared after the General Election to do a handover. The minister was gracious and permitted me to continue to serve, and I am grateful for that privilege. I am also thankful for his benevolent gesture to invite me to remain on the board, but I believe that an incoming chairman should have both the freedom and flexibility to operate as he sees fit." Dr Santucci added: "I salute all of the members of the board for their sacrifice and the leadership of Kalmar Richards as principal, now acting commissioner of education, and Stuart Crockwell as the chief operations officer. I take my hat off to all the faculty and staff of CedarBridge because I have witnessed how they have gone above and beyond the call of duty." Dr Santucci pledged his support to Mr Wade and said he had told the new chairman he was willing to provide any assistance he could. Dr Santucci, a former Bermuda College professor and United Bermuda Party senator, was appointed chairman at CedarBridge in 2015. He joined the school board the year before under Nalton Brangman, Minister for Education in the former One Bermuda Alliance government. Dr Santucci also held positions as a career guidance counselor, admissions director and associate registrar at Bermuda College. He will continue as a pastor at Vernon Temple AME Church and said he was looking forward to "embracing new opportunities to serve".
2018. January 3. Dedicated school buses will not be available to pupils over the "near future", Government announced this evening. A Ministry of Transport spokesman said buses for Berkeley Institute and CedarBridge Academy could not be provided due to a diminished fleet. The news came as public schools prepare to return tomorrow and a temporary arrangement to supplement the bus service with minibuses comes to an end. Pupils were asked instead to use regular scheduled buses. The spokesman said: "Parents and students are encouraged to bookmark the bus scheduling pages on the government portal, or subscribe to receive bus cancellation notifications by e-mail. In the event of cancellations, priority will be given to routes that service primary and middle schoolchildren." As of today 63 buses of the island's 105-strong fleet are in service. The spokesman maintained that the bus situation is expected to improve as buses in the fleet are overhauled and new buses arrive, starting with one this month. He added: "An RFP for fleet replacement is drafted and is being reviewed prior to issuance. This is a longer term project that will be undertaken as budget allows."
2017. December 22. The Bermuda Union of Teachers today welcomed the appointment of Kalmar Richards as the new acting Commissioner of Education. Union leaders said it was vital that there was some stability within the Education Department, which has seen a succession of ministers and commissioners. BUT president Shannon James said that Mrs Richards, who was principal at CedarBridge Academy for nearly two decades, was an excellent principal who was well qualified to take on the Commissioner's role. He added: "We have had much instability within the top levels of education and we are ready to move on and work closely with Mrs Richards to help further improve the quality of education." Edmond Heatley left in April 2014 after only seven months in the job and was replaced by an acting Commissioner, Lou Matthews, who was acting for three months. Freddie Evans, who was appointed as Commissioner of Education in March last year, was sacked from his post. The case is now going to court as Mr Evans's lawyer, Mark Diel argues that Mr Evans could only be sacked from the post within his probation period. Mr Diel says that did not happen and is claiming damages on behalf of his client.
2017. December 21. The legal dispute over the sacking of education commissioner Freddie Evans is to go before the courts early next year. Dr Evans is seeking a judicial review of the decision to fire him from that post in October. The parties were told at a hearing yesterday that the case may not be heard until March. Both sides in the dispute were instructed to prepare their skeleton arguments by mid-January in case an earlier court date become available. Dr Evans was removed from his position after a public dispute between the education commissioner and the Department of Education. The dispute started when Dr Evans was told by the Ministry of Education that he had been removed from the job. Dr Evans, however, said that only the Governor had the power to dismiss him from his post. The Public Service Commission later sent a letter to Dr Evan's lawyer Mark Diel and Ministry of Education permanent secretary Valerie Robinson-James to say "an administrative error" in correspondence to Dr Evans meant he had not been fired. However, the letter added "nor has he been confirmed in his post". The Governor removed Dr Evans from his position on October 13. Mr Diel claimed his sacking came too late to be valid. Mr Diel said that Dr Evans could be fired by the Governor only during his probation period, which ended more than a week before Mr Rankin confirmed Dr Evans's dismissal.
2017. December 8. The Minister of Education, Diallo Rabain announced CedarBridge Academy principal Kalmar Richards as Acting Commissioner of Education yesterday. Mr Rabain said Mrs Richards had provided "exemplary leadership" in education over the past 20 years. Mr Rabain said: "Mrs Richards is no stranger to us or to our community. For the past 20 years she has provided exemplary leadership and stewardship as principal at CedarBridge Academy. Mrs Richards is respected by her peers, parents and students and known as caring and firm. She is a leader that believes in change and making a positive impact in our community. We are very appreciative that she has agreed to this assignment." The move follows the removal of Freddie Evans from the post in October. No mention was made of Dr Evans, who is taking legal action over his removal. Mr Rabain said that Mrs Richards will serve in the position until a new Commissioner of Education is hired. Mr Rabain added: "The next step will be for the Board of Education to begin the search for a suitable candidate. The Board of Education is responsible for advertising, interviewing and selecting a candidate for referral to the Public Service Commission for final approval." Mr Rabain also highlighted Plan 2022, which detailed reform of the education system last week. He said: "Implementation will begin in January 2018. As I stated in Parliament last week, this plan will not sit on the shelf. It will be implemented because we are accountable to our students and to all those who supported the design and drafting of Plan 2022." Mr Rabain added: "We received such positive and honest input from community groups, churches, former educators, current teachers, union stakeholders, parents and students. He said: "The Department of Education is ready to begin the implementation and I am pleased to learn that steps are being taken and recruitment has begun to have all the necessary staff in place to carry out the objectives set forth in Plan 202
2017. December 2. A new plan for public schools was unveiled in the House of Assembly yesterday. Targets include 75 per cent of all public school pupils up to recognized standards in reading and mathematics inside five years. School principals will be given powers to hire staff, while national health and safety standards will be applied to all schools. In addition, pupils will be given better preparation for college or vocational training. The Government also pledged a 30 per cent increase in funding for public education and a 50 per cent boost in funds for professional development of teachers. The promises came in Plan 2022, tabled in the House of Assembly by Diallo Rabain, the Minister of Education. Mr Rabain said the plan was designed to improve public education but avoid the "waves of change" that had damaged the schools system in the past. He added: "Plan 2022 will be the driving force to ensure that the Board of Education, the Ministry and the Department of Education, inclusive of the Child Development Programme and all schools focus on the entire public education system, from birth to graduation so that all students are educated to lead personally and professionally, compete locally and contribute globally." The plan includes five priority areas — higher academic standards and pupil engagement, good preparation for further education or work, improving the standard of teaching and the leadership of school principals, better infrastructure and teaching resources, and ensuring the overall success of the school system. The plan made no direct mention of the potential for schools closures to make the system more efficient — a move explored in the schools reorganization Score Report drawn up by the former OBA government. The plan also failed to mention signature schools which were discussed by American-based education expert Jeremiah Newell, who helped develop the strategic plan. Dr Newell was hired under the One Bermuda Alliance on the introduction of the national strategic plan for public education earlier this year. The plan aims for between 70 and 75 per cent of pupils to get a score at college entrance levels in recognized school-leaving exams and to be proficient or advanced in Cambridge curriculum checkpoints. The plan also wants 90 per cent of pupils who need learning support to be identified and helped. The number of pupils with major truancy problems will be cut by 25 per cent, while referrals for discipline will be cut by same amount. The plan will also introduce "modern and high-quality technical/vocational programmes" starting at M1 level and at M2, with a work placement in M3. More subjects will be taught and the dual enrolment programme run with Bermuda College will be expanded. A total of 90 per cent of teachers will be certified in their field by 2022, with 60 per cent reaching "highly qualified" status. In addition, 90 per cent are expected to attain certification in leadership. The report said: "High-quality instruction and school leadership have the single greatest school-based impact on student success." Deputy principals will also work as instructional coaches. Parent power is also set to increased with Parent Councils having a say in school budgets. The plan promised that 75 per cent of schools will get adequate IT equipment. The Progressive Labour Party platform's midterm education objectives promised that "all schools have functioning computer labs so our students have access to the latest technology". Teachers will also get regular training in IT under a technology policy. The report also highlighted the need for "appropriate and equitable" wi-fi resources designed to help meet academic goals. It added the Government will "improve access, distribution and speed of internet in all schools".
2017. November 21. A long-term plan for the island's public schools is completed, education minister Diallo Rabain said. Mr Rabain added that the plan had been presented to the Board of Education and ratified by board members. The minister said that as the parent of a child in a public school it was rewarding to have helped in the plan's creation. He said: "I attended several community meetings and joined in with other parents and community advocates of public school education to provide the necessary input and feedback on what we desired to see for transforming our public school system. I look forward to sharing the final product with my colleagues shortly." Mr Rabain said he planned to make the plan available to interested groups and the public by next month. The minister added another report was being drawn up on health and safety inspections in all public schools. "I anticipate receiving the report so we can look to put together a comprehensive plan to address the findings. The plan to conduct building surveys on schools is still forthcoming and on track to commence in the near future". Mr Rabain declined to comment as to who would succeed Freddie Evans as commissioner of education. He said: "At this time, I cannot comment in detail about the post of commissioner of education. However, I do want to assure key stakeholders and the general public that despite the current transition in leadership, the Department of Education continues to deliver on the educational programmes and services needed to ensure our students are receiving a quality education." Dr Evans was declared out of the job last month in an e-mail to principals and teachers from Education permanent secretary Valerie Robinson-James — even though he could only be fired by the Governor. Education bureaucrats, however, were forced into an about-turn just days later and wrote that "an administrative error" in correspondence to Dr Evans meant he had not been fired at all. Mr Evans was later removed from his post by Governor John Rankin, but Mr Evans's lawyer Mark Diel said his client could only be sacked inside his probation period, which finished at the end of September. Mr Diel said at the time that the battle would now end up in the courts for a judge to decide. Mr Rabain thanked educational staff for their hard work in the wake of Dr Evans's departure. He added: "The continued support, underscored by strong principal leadership at each school during the past month is very encouraging. The work that goes on in our schools every day is critically important and our principals, teachers and support staff in schools are committed to ensure that their respective schools are actively engaged in sustaining an environment needed for effective teaching and continuous learning in the classroom."
2017. November 17. Education minister Diallo Rabain yesterday hit back at the idea that Bermuda's America's Cup group had "gifted" nearly $150,000 of wi-fi equipment to the island's public schools. A legacy report from ACBDA last week said that it and the America's Cup Event Authority were in the process of donating all their indoor and outdoor wi-fi equipment, worth about $145,000 — enough for every public school in Bermuda. At yesterday's press conference Mr Rabain said the installation of wi-fi in schools to cover computer labs, libraries and gyms was under way and would be finished by the start of the 2018 school year. Mr Rabain was asked why the donation of the wi-fi equipment by ACBDA to the Ministry of Education had not been mentioned in previous discussions about wi-fi installation in schools. He said: "I take exception to the term gifted. Because how can a government department, or Government that owns equipment, gift it to another department? The fact that the last administration chose to reduce our IT budget from $1 million in 2012 to $400,000, which would have included installation of wi-fi, really doesn't sit very well with me. So to take that money and not use it when it was supposed to have been used, give it to the America's Cup, and then come back and say here's some equipment for you to install in your schools is very disingenuous to me." But Mr Rabain confirmed that the equipment had been received. He said: "It's always been known that that equipment would be installed and utilized within our wi-fi system." This week ACBDA provided The Royal Gazette with more information about the donation of Cisco indoor and outdoor wireless equipment to the Ministry of Education. An ACBDA spokeswoman said: "The ministry has determined that all middle schools, Clearwater, Dellwood, TN Tatem, Whitney and Sandys Secondary will be equipped with outdoor internet connectivity at the schools' fields and that most primary schools' fields will have wi-fi installed. All primary schools will also be outfitted with wireless coverage in their assembly halls, labs and libraries. The equipment was first used in the America's Cup Village at Cross Island and in the high-tech operations centre from which the event was run in May and June this year. It was procured at very reasonable pricing negotiated at a significant discount, thanks to the relationship between ACBDA and the manufacturer, and the significance of the America's Cup brand reputation." ACBDA telecommunications committee chairwoman Fiona Beck, said: "The ACBDA is proud to be able to make this happen. In practical terms this means that school fields will now be online with this new outdoor wi-fi equipment that is designed to withstand the rigors of Bermuda's weather. This is leading-edge, state- of-the-art technology, the likes of which Bermuda has not seen before and it is now in our public schools." ACBDA CEO Mike Winfield said: "Rather than selling the equipment on the open market, the ACBDA saw value in offering the assets to the Government to use in schools. This legacy benefit is just one small example of how the America's Cup is giving back to the community even after the event." Mr Rabain said yesterday that an internet usage policy was being developed and he maintained that "there will be no unfettered use by students or teachers. Additionally, a proposal for computers to outfit all primary school computer labs with new desktops was issued in August and submissions are being evaluated. Extra cash would be needed to complete installation work. The plan has these desktops installations to begin in January 2018. We are currently commencing with the wiring that is required to install the various bits of equipment."
2017. October 3. Education commissioner Freddie Evans last night described himself as "dumbfounded" after being dismissed from the post. The shock move came less than seven months after Dr Evans was appointed to the top job. Dr Evans said he was stunned that "any talk of dismissal, termination or reassignment is happening when I have not heard anything from his Excellency the Governor, or Government House. I only want what is best for the students of Bermuda public schools," Dr Evans said. "My legal representatives will be responding on my behalf from this point forward." Principals and teachers were notified of the termination in an e-mail from the Department of Education. Diallo Rabain, the Minister of Education, issued a statement pointing out that he held no responsibility for "operations, human resources or hiring at the Ministry or Department of Education. This Government is serious about progressing public education in Bermuda and, as such, supports the Board of Education and the Public Service Commission in their efforts to employ the most suitable people to lead our public schools. All public servants should be commended for their dedication to supporting our students and we thank Dr Evans for his work." Mr Rabain congratulated staff and encouraged the community to support them. Dr Evans, who took over as Commissioner of Education in March, had previously served as Acting Commissioner for three years. He told The Royal Gazette when appointed that he was "absolutely dedicated", and looked forward to a decade or more in the job. According to the e-mail to public education staff, the post of commissioner is now "under consideration". A 33-year veteran of the public education system, Dr Evans was described by a source in the department as popular with many teachers and parents. But the source added that Dr Evans had only reluctantly been given the role, with leadership believed to be more in favor of a foreign candidate. The source said Dr Evans's work had been hampered from the start by conditions imposed from above. The previous commissioner, Edmond Heatley, was recruited from the United States in 2013 but resigned eight months later. His time in the role was plagued by complaints about the post going to an overseas expert and Dr Evans took over the role on an interim basis after Mr Heatley's departure. Teachers were told that "critical issues" should be forwarded to the administrative assistant at the commissioner's office, who would pass them on to the Permanent Secretary. Last night a spokeswoman said the ministry "would like to assure the public that an interim plan is being put in place until the Board of Education commences a recruitment process".
2017. September 29. Lou Matthews, the director of Educational Standards and Accountability, announced his resignation yesterday and said Bermuda's expectations for scholastic excellence are not being adequately supported. Dr Matthews, who had served in the role since 2010, posted his resignation on social media. After the announcement, Dr Matthews told The Royal Gazette: "We have such high expectations as a nation that are not matched by what we are willing to do to support children and families." The biggest wake-up call after his return to the island, he said, was "the magnitude of families and children who were struggling and at risk". Dr Matthews said teachers and leaders are today faced with more complex social issues than in previous years. He added: "Moving the country forward in education in this environment will take much more of a deliberate focus on being restorative and responsive to the community." Dr Matthews said children, whom he called Bermuda's infrastructure, required healthy school facilities, adequate resources for teachers and leaders, and an environment where leaders had more autonomy to be responsive. "We are small enough that we can be more responsive — yet we are not." Dr Matthews said that he informed the ministry in early July that he would be leaving the position. He added: "Most of my close friends will have been privy to my decision for months." In his Facebook post he described having "mixed feelings" over his departure. Asked to elaborate, Dr Matthews said: "There is so much to do. I have worked with some of the most caring people and you hate to leave them with work unfinished. And the work of change is complex and messy — on a good day." Change, he said, meant "growing from the strength we have. The reality is that there are many pockets in schools, offices, and classrooms where Bermudian educators sacrifice and work on behalf of children. There is no Superman to save us — only us. Let's honor and build on that." Dr Matthews said that he had recently signed a contract to serve as senior mathematics consultant for the United States Agency for International Development, covering countries including Cambodia, Ethiopia and Nepal. He will also be a visiting scholar and administrator at Ohio State University, and will be bringing a Caribbean mathematics leadership summit to Bermuda in October 2018.
2017. August 25. A new preschool is due to open in Warwick and parents are encouraged to go along to see what the venture has to offer. Former teacher Charnita Smith invited parents to visit Abraham's Little Seeds Preschool as she prepares to open her doors in September or October. The preschool can take 30 children aged between 3 and 5 and Ms Smith said she aimed to give the youngsters an early introduction to technology while "fostering the love of Jesus Christ". Ms Smith said she had struggled to attract people to the newly renovated preschool and wanted to make clear that the premises are under new management. Ms Smith said: "This is an innovative facility equipped for the future of today's children. The place has been renovated and designed especially as a preschool. "I have Samsung tablets and an access board similar to a smart board. That is one of the basic things that is missing from a lot of the other preschools and this is our children's future – technology. I truly believe that Abraham's Little Seeds Preschool is a good choice because we foster the love of Jesus Christ and focus on technology. The inside of the building has been designed especially for a preschool setting and for the children to come and explore and to learn in a hands-on environment." But Ms Smith added: "It has been a real struggle to get people to come and see it — I've had open houses, I have been on the radio to let people know it is under new management." Ms Smith completed an associate degree in early childhood education at Hasser College, Boston. She worked in the private sector for three years at Happy Talk Preschool after she returned from the US and taught three-year-olds. After six months at the school, she was made supervisor. Ms Smith moved to government four years later and worked as a Para educator at West Pembroke School where she worked with children with special needs for seven years. Ms Smith also set up the Back to Basics school camp and worked at the Genesis after school programme as a supervisor. Her sister Debra Smith, formerly of Homestead Nurseries, will also work at the preschool. Abraham's Little Seeds Preschool is now accepting new registrations at its premises at 93 Spice Hill Road. Ms Smith said: "After seeing our young children today, many of them are out there fighting and killing each other. What's missing is God's love — they have a lot of hatred and anger. We have to go back to the basics of just instilling in our young children God's love and goodness. I was instilled with great values about respecting everybody – I believe we need to get back to the basics with our young ones and reinforce positive behaviour without focusing on the negative. A lot of children are told they are a bad child, but we reinforce good behaviour and show them how they can do things in a different way and that can all be done through learning and play."
Anyone interested in visiting the preschool or registering their child should contact 232-1503, 238-7600 or 777-0665.
2017. August 21. Education minister Diallo Rabain has confirmed that the Ministry of Education authorised a public volunteer effort to ensure Bermuda's public schools are ready for the new term in September. The first of the "work rallies" took place at Warwick Preschool on Saturday when volunteers helped to clean bookshelves, cots, chairs and other equipment. Some landscaping work was also needed. The effort follows an e-mail from group leader Angela Young, which was sent out to parents and volunteers who had voiced their willingness to offer a helping hand. The group met with Mr Rabain and the Minister of Public Works Lieutenant-Colonel David Burch, who both welcomed their help. According to the e-mail, Warwick Preschool is the first of "30-plus that require assistance" and schedules are being prepared. Mr Rabain said: "Recently, the Minister of Works and I met with a group of parents and volunteers who expressed their commitment to assist with getting schools ready for new school year. The group leader, Angela Young, has enthusiastically begun to organise volunteers to assist with work rallies. Our ministry teams have welcomed their support and willingness to join us in preparing schools. The volunteers will work with our ministry facilities team and school principals to arrange the work rallies." Ms Young's e-mail claimed that help with landscaping work was needed as the Parks Department was "overwhelmed". The Parks Department was contacted for comment on the work rally but no response was received by press time.
2017. July 12. The future of middle schools — introduced two decades ago under the United Bermuda Party — is a topic that continues to divide opinion. The Progressive Labour Party has pledged to phase them out, saying it would introduce signature schools at the secondary level focusing on "individual learning styles and interests". Meanwhile, the One Bermuda Alliance's election platform avoids the issue of middle schools altogether. The Hopkins Report, produced in 2007 under the PLP, found that there was "no doubt" that the move to middle schools was "a mistake" for numerous reasons including lack of continuity. However, the review team concluded that a structural response could also "cause more confusion and instability" and therefore stopped short of making a formal recommendation. It said such a move would not address what it called "the real issue — the low quality of teaching and learning". Shadow education minister Diallo Rabain has argued the PLP met that goal in its last term in power. One Hopkins recommendation that has been met was the aligning of the curriculum, through the implementation of the Cambridge Curriculum in 2010. In 2016, St George's Prep and St David's Primary School recorded the island's best average Cambridge grade over the previous four years. St George's Preparatory School principal Mary Lodge said that a fundamental reason for her students' success was an emphasis on reading while she also cited the benefits, as an aided school, of having the autonomy to hire its own teaching staff. This was a potential benefit identified in the Hopkins Report, which said: "Schools have neither substantially delegated budgets nor much real autonomy. The governors of aided schools have greater freedoms than in other schools, for example — to identify the teachers they wish to appoint." While Bermuda has struggled to keep up with international standards with Cambridge, there is good reason, according to Ms Lodge who spoke to The Royal Gazette on the issue last year. The relatively low Cambridge Primary Checkpoint results in English, Maths and Science in the public schools did not take into consideration the socio-economic factors that can affect performance, she said. "Bermuda is the only country or school district where everybody sits the checkpoint exam," she told us at the time. "The reason this is important is that the other schools that are sitting this exam are international schools, charter schools, schools of diplomats' children — therefore all standardized tests show a bias towards socio-economic standards." When approached this week for comment, Ms Lodge was keen that the positive elements in the public education system be highlighted. She said: "Our primary school averages for English and Science meet international standards. The middle school reform is taking hold and students are taking O Levels early, in some cases. The dual enrolment with senior schools is the most exciting advance in a generation. Build on what is working. Stop the public dialogue that makes it sound like everything in public education is a failure. We have much to applaud."
2017. July 12. School infrastructures have crumbled, ministers have repeatedly been chopped and changed, and students' ever-evolving technological needs, according to many, have been neglected. The past decade has not been particularly kind to Bermuda's public education system, no matter whether the Progressive Labour Party or the One Bermuda Alliance has been in power. A growing feeling has emerged that education must become a top priority for whoever wins next week's General Election — or even taken out of the hands of politicians altogether. The OBA has pledged to explore the concept of an education authority to "remove the politics and provide consistent professional and accountable leadership to our public education system", while the PLP pledges to "minimise political interference, by empowering educational professionals". Such an idea finds favour with Danielle Riviere, a former member of the School Re-organization Committee, and the PTA president at West Pembroke School, who believes that fat needs to be cut on a ministry level. "With every report that comes out, it has been said that we have a top-heavy ministry that is relatively ineffective," Ms Riviere told The Royal Gazette. She suggested an education authority could produce results like many say the Bermuda Tourism Authority has done. Ms Riviere said: "I am all for an authority because if that comes into place what needs to happen at a ministry level will hopefully take place. If leadership can change, then hopefully the dissemination and the ability to listen to those who are delivering the services will change. But it is also important that the right people are doing the right job. Look at the BTA — when they transferred from the ministry they fired everyone and everyone had to reapply and be placed in a position that was adequate for what their capabilities are." Last year, the spotlight was turned on the crumbling infrastructure across Bermuda's 18 primary schools with the publication of the damning School Re-organization Report commissioned by Wayne Scott, the minister at the time. Both parties now say a priority is to deal with infrastructure. The lack of modern technology in public schools was also highlighted in the report, including the basics such as wi-fi. Both the OBA and PLP have pledged to ensure wi-fi is available across all public schools while Steam learning has been listed as priority areas. Ms Riviere said she agrees with the implementation of Steam-based learning but hopes that resources are properly considered. "There is a huge benefit of having Steam within our schools but that means having it properly resourced because you can't introduce another programme and hand it to the teachers who are already stretched," she said. The frequent changing of ministers has been a constant theme under both parties. The PLP saw three in its last term: Randy Horton (2006), Elvin James (2008), and Dame Jennifer Smith (2010), while the OBA racked up four during its term — Nalton Brangman (2012); Grant Gibbons (2013); Wayne Scott (2015) and Cole Simons (2017). The role of the education commissioner has also been fraught with difficulties. The PLP hired Wendy McDonnell in 2011 to "lead the transformation of the Bermuda public school system" and she retired in 2013. Education expert Paul Wagstaff turned down the position last February after a lengthy open vacancy. On the appointment of Mr Scott in January 2015, Michael Dunkley said an education commissioner would be hired "imminently". However, the commissioner's seat remained empty with Bermudian Freddie Evans sitting as acting commissioner up until last March when he was finally handed the reins. The previous commissioner, Edmond Heatley, had a short tenure lasting just seven months after his resignation in April 2014. Dissent from teachers has been clearly evident, with a row over contract negotiations culminating in a march on Cabinet from 600 Bermuda Union of Teachers members in May. Last month, the BUT released its "2017 Education Remit" in absence, it said, of a solid platform by either party. It reads: "We believe that the delivery and the management of education is of utmost importance and needs to be managed with meticulous attention to detail." Going forward, those in the community — education stakeholders — have been enlisted to help find a way forward under the guidance of education czar Jeremiah Newell who has turned around failing schools in the United States. The PLP has said it was on board with reviewing and implementing the recommendations of the initiative.
2017. June 30. Minister of Education Cole Simons defended the OBA Government's record on funding education, citing multiple investments included in the 2017-18 Budget. The Minister accused the Progressive Labour Party of "providing misinformation" by claiming that the OBA is not committed to the development and education of young Bermudians. Simons said: "The truth is that the Bermuda Government has made, and continues to make, great investments for the benefit of our teachers and students. Do we have it right 100 per cent of the time? No, but the investments we have made represent the optimal commitment given the fiscal pressures we face, particularly with the massive debt burden we carry, now costing more than $180 million a year in debt interest payments." Mr Simons referred to the 2017-18 Budget estimates, which included increases in salaries and wages for substitute teachers and paraprofessionals, school maintenance and investments in several school properties, and listed the following achievements:
$2.318 million in salaries and wages increased by 3 per cent and 6 per cent respectively due to substitute teachers and paraprofessionals;
$850,000 capital grant for campus-wide capital projects, including building upgrades; health, safety and security enhancements, technology improvements at Bermuda College;
50 per cent increase in Bermuda College financial aid budget;
$3.283 million for the Department of Public Works for school maintenance;
$1.078 million capital grant for works at CedarBridge Academy;
$500,000 capital grant for school bathroom renovations;
$1.128 million capital acquisition for computers, IT and furniture;
$1.737 million for teacher training, scholarships, mature student awards and grants to external bodies;
$35.6 million investment in preschools, primary schools and the Dame Marjorie Bean Hope Academy;
$16.95 million investment into middle schools, including Sandys, TN Tatem, Dellwood, Whitney and Clearwater;
$24.367 million in senior schools;
$2.639 million on curriculum and assessment;
$1.84 million in early childhood education;
$15.481 million Bermuda College Grant.
Mr Simons said: "As Minister of Education, I can confirm that the education of our children is fundamental to producing educated, productive and positive citizens. Education is fundamental to the future of the Island, setting the direction we want to go. The education system, therefore, must be one that ensures students are equipped with the knowledge and skills they need to succeed in a rapidly changing society. Their progress in learning is strengthened when parents, teachers, principals, support staff and the broader community have a clear understanding of what must be done and what is being done to achieve Bermuda's chosen future. Our investments this year support the Ministry of Education's mission to provide strategic leadership, supervision and policy direction that supports effective teaching in an inclusive and progressive learning environment that improves learning and achievement for every child."
2017. May 4. Better technology in public schools — equipping students for success in the 21st century — has emerged as a key demand at community conversations set up by the Department of Education. The need for more consistent leadership and greater equity across public schools were other issues raised in the meetings, designed to help formulate a strategic plan for public education. This is according to education commissioner Freddie Evans and teaching expert Jeremiah Newell, who was speaking with The Royal Gazette for the first time since he arrived on the island to facilitate the plan with the help of community engagement. High on the agenda for the parents, teachers and students who have participated throughout the past few weeks is the provision of classroom infrastructure and technological facilities. Dr Evans said: "Looking at our facilities is a consistent effort. We want to have the technology in the schools, the access to the science labs. That keeps on coming up — it is an echo of what the Score [School Reorganization] report did in looking at the primary schools. There is a lot of demand for some kind of technical product — whether it is a technical institute or more tech in schools. Once we decide what all this information tells us, we can begin to operationalise and address it." Dr Newell added: "We have heard a lot about modernization and infrastructure with the use of technology and materials and structural tools that can be used to meet the 21st-century preparation. We have to modernize that." Many have likened the education ministry to a revolving door, with Cole Simons becoming the twelfth minister in 19 years two months ago. Dr Newell, a graduate of the Harvard Graduate School of Education, told The Royal Gazette: "I have seen a desire that there is consistent leadership to move this forward and we need to know that we are going to see this through. The community is saying whatever is getting in the way, and we need to address it, regardless of who is in charge at that moment. What they are saying consistently across the island is that they are expecting the government of the day to enable those things to happen. It is important that communities are demanding improvement, and have ideas about how it happens." Dr Evans, who has been actively involved with the conversations along with Dr Newell, said the option of removing politics by introducing an independent public school system, an idea suggested by Mr Scott, was not off the table. He added: "Maybe education should be independent like the Bermuda Tourism Authority and be able to run autonomously outside of the scope of the politicians and government of the day." Equity across the public schools is also a cause for concern, with many stakeholders questioning why the standards are not consistent. Dr Newell said: "If there is one public education system, why are there variations between our schools? People are saying 'we want the same opportunities offered in private schools, we want the opportunity that once we leave school we are ready to be employed'." One more area of discussion has been the need to further ensure that Bermuda's public schools are able to cater for the diverse needs of its students. Schools are not one size fits all — they are places where the unique strengths of young people can be explored: technical, in the arts, vocational. We are embracing new kinds of learning — coding and technology reflecting the workforce as it is changing globally and helping our students to become global citizens. We must provide music and art programmes allowing artists to develop and demonstrate their gifts. I was speaking to one student who told me he wanted to be able to compete locally and internationally." Frank and open discussion is being encouraged by all stakeholders. Some 40 community conversations have taken place so far and more than 1,200 surveys regarding public education have been filled out. The next step will be the creation of multiple drafts and prototypes which will receive feedback before being revisited. Anyone wishing to host community conversations can call Lisa Smith at the ministry at 278-3300. She will provide a facilitator and scribe. The Board of Education invites the public to visit www.moed.bm to complete a strategic planning survey on public education in Bermuda.
2017. April 8. "You can't have a one-size-fits-all school system" is one of the lessons Jeremiah Newell learnt when turning around failing schools in the US. The American-based educator hired by the Department of Education to develop a strategic plan for public education in Bermuda was speaking at an information session on Thursday evening at CedarBridge Academy, attended by education stakeholders. A graduate of the Harvard Graduate School of Education and the CEO of Jeremiah Newell and Associates, Dr Newell specializes in transforming public education systems into high-performing, learning-focused organisations. He has opened charter schools in the US — independent schools that are funded by governments but are given greater flexibility on the condition they are accountable for academic results promised in their charters. Education commissioner Dr Freddie Evans introduced the evening as a means to establish "the vision for the strategic plan". He said that Dr Newell would be "laying the framework for us so we can follow the process with integrity". Dr Newell first provided some background on the work he has been involved with in the States, which included improving a failing school system in Mobile, Alabama, and then described what work will be done to move Bermuda forward. He opened his speech telling the audience how he received a "high-quality education purely by chance that is not accessible to many. It felt wrong to me that the opportunity I had was not open to everyone." Dr Newell went on to become a teacher, a principal and then chief of staff for Rhode Island Department of Education. He shared his experiences working to improve the public education system in Mobile, Alabama where students were not getting access to "high-flying, well-paid jobs" that were available in the district because they were not qualified. People were brought in from elsewhere to do the work. Speaking on the process he said: "You can't have a one-size-fits-all school system and we had to bring our entire community together to make it possible." He said he wanted to ensure that public schools were not the second option and went on to outline a robust, four-month process to develop and implement a solid plan. The three stages leading up to the plan, as reported in this newspaper previously, will involve authentic community engagement through small-group, community-held conversations; a survey to gather island-wide community input on public education; and the establishment of an Ambassador Design Team: a diverse group of strategic planning writers. The timeline is as follows: April — Develop a vision, mission and values; May — Draft priorities and key outcomes; June — Refine priorities, outcomes and begin strategies; July — Refine priorities, outcomes and strategies; August — Final adoption of the plan. Dr Newell asked the question "what is public engagement?" which he described as "a committed and interrelated citizenry rather than a persuaded populace". He said "kitchen-table" type conversations were needed, made up of small groups discussing what type of community we want to live in. He said all dialogue must be "transparent, engaging, empowering and respectful". With the development of the ambassador design team, the teams will meet every two weeks for about two hours between now and August. In total there will be about 40 hours' commitment. The next step will entail the creation of multiple drafts and prototypes which will receive feedback before being revisited. This will allow "real data and real results" which will lead to a "multiyear strategy that is developed by Bermudians, for Bermudians". There will also be research into best practices globally. After that the prototypes would be released and feedback would be gathered on each draft until they get better over time. There will be a community conversation next Tuesday at TN Tatem Middle School at 5.45pm and an advertisement will be published in the media the following Monday, calling for applications for those wanting to join the ambassador design teams. Community conversations will be advertised in the media, via various partners including the Bermuda Chamber of Commerce, and via social media. The Board of Education invites the public to visit www.moed.bm to complete a strategic planning survey on public education in Bermuda.
2017. March 17. Community volunteers are being sought to help plan the future of Bermuda's education system. People will be given training so they can act as hosts for "community conversations" designed to gather input from all walks of life, education minister Cole Simons said today. American-based education expert Jeremiah Newell has been hired to help develop a strategic plan for education, Mr Simons told the House of Assembly as he updated MPs on progress in his ministry. "I call upon the entire community in Bermuda to join with the Board of Education and be a part of this strategic planning process, Mr Simons said. "The goal of the Board is to have a transformative public education strategy that is developed by Bermudians for Bermudians, as the success of public school education affects everyone." The minister said the core elements of the strategic planning approach include:
training volunteers for community facilitators;
identifying community leaders to serve as hosts for community conversations;
authentic community engagement through small group, community held conversations;
administering a survey to gather island-wide community input on public education;
establishment of an Ambassador Design Team: a diverse group of strategic planning writers.
"I solicit the support and input of the entire community — parents, students, teachers, principals, guardians, aunts, uncles, cousins, grandparents, small and large business owners, business professionals, retirees, churches, sporting clubs, everyone who cares about the future of Bermuda — to participate in the upcoming community conversations that you will be hearing more about," he said. "Additionally, for those who may not be able to attend a community conversation, an online survey is currently available on the Ministry of Education website at www.moed.bm to provide your input. We have over 200 responses to this survey already. This will be a strategic plan based on the input from the community." Dr Newell, the CEO of Jeremiah Newell and Associates, has "significant experience in designing and leading strategic planning processes for public school systems", Mr Simons said. "He specializes in transforming public education agencies into high performing, learning-focused organisations. For more than a decade, Dr Newell has worked in diverse, large and complex education systems to drive strategic change and improvement. Dr Newell and the Commissioner of Education, Freddie Evans, will work closely together to lead out on this strategic planning project during the upcoming months." Two final stakeholder information sessions are scheduled for the first week in April that will include representatives from private schools and the business sector, and then the public community at large.
2017. March 9. Incoming education commissioner Freddie Evans has vowed to remain dedicated to the position, saying he looks forward to serving for at least the next ten years. Speaking to The Royal Gazette following his appointment on Monday, Dr Evans said that while he could not talk on specific plans at this stage, he pledged to support any students in the system who had experienced trauma and to champion sports and the arts. The position of education commissioner has remained vacant since the resignation of Edmond Heatley in 2014 just eight months into the job. Dr Evans, who is Bermudian, has been acting commissioner. With 33 years experience in the Bermuda education system under his belt, he says he is ready to take on the challenge. He said: "I am absolutely dedicated. I would answer this way — I have got 33 years here and I look forward to the next ten or 13 years. I am honored and humbled by the opportunity. My heart, soul and desire has always been to work for the betterment of the children of Bermuda's public schools. We have wonderful students and teachers, and we need to make sure that we maximize opportunities for success. We also have students who have experienced trauma in their lives and for them I pledge to work every day to support them, to encourage them and to get the kind of counseling support that they need. My other head is in the sports world and I think that our students benefit so much from sporting opportunities, musical opportunities and those kind of things — you will see we need to promote and grow this." The position of education commissioner had been offered to Dubai-based Paul Wagstaff but he turned the position down for personal reasons. Many, including former Minister of Education Wayne Scott, had wanted a Bermudian in the position and Dr Evans said his experience on the island will give him an advantage. "I have worked in every rank of the Bermuda public schools from teacher, team leader, deputy principal, principal, assistant director and now I have the awesome responsibility of sitting in the chair and having the opportunity to help direct and guide this. I do believe it is an opportunity to understand the dynamics of Bermuda public schools to have been in the school system, to know the hardship and successes and strengths of Bermuda public schools. I am humbled by that audacious responsibility but I do believe that I am ready for the challenge." Asked to comment on the Score [School Reorganization] Report that highlighted the crumbling infrastructure across the public school system, Dr Evans reiterated that he would not speak on specific plans at such an early stage into his appointment but did emphasise the need for improvement. He said: "We do have some environmental issues in schools that we are going to work through. I promise we will do this extensively. The former minister [Wayne] Scott gave me the opportunity to try to work through the issues with schools so I am dedicated to fixing that. I want our schools to have first-class environments for learning and I want our students to have what they deserve and for teachers to have environments where they will be more successful." A graduate of Jackson State University, Dr Evans received his doctorate in Education Administration and Development from Seton Hall University in New Jersey. Roles he has filled include assistant principal at Clark High School for the Plano Independent School District in Plano, Texas; principal of the Whitney Institute Middle School; assistant director of educational standards and accountability in the Department of Education; acting director of educational standards and accountability, as well as acting commissioner.
2016. October 31. External exam results for the Bermuda Public School System have highlighted "continuing challenges" in student achievement in mathematics. The Ministry of Education today released the results for the 2015/16 school year in the Cambridge International Examinations at the primary 6, middle 3, and senior school years in mathematics, science, and language arts. The Cambridge Examining Board considers that achieving a level of 2.0 reflects a "basic acceptable understanding" of the Cambridge curriculum. At the P6 level, the Bermuda national average score was 2.2 in maths compared with the Cambridge International Examinations average score of 3.9. At the M3 level, the Bermuda national average score was 2.2 in maths while the CIE average score was 4.4. The Department of Education set a national threshold standard of 3.0 for its students. Education minister Wayne Scott said: "This year all students were challenged to write the Cambridge extended math level exams. The mathematics results clearly revealed deficits in key conceptual areas. Nonetheless the results of the extended math level has helped to identify P6 and M3 students who should continue to sit the extended math exam, or sit the core math exam or follow a different success path altogether in mathematics. The Department of Education will always work towards doing better to prepare our students for these external international examinations. The knowledge gaps in mathematics are recognized and technical officers are now seeking alternative pathways of success in this core subject which continues be a struggle for our students as reflected historically in the Checkpoint exam results." Some 89 per cent of students were reported to have achieved a grade of A* to G. At the Primary 6 (P6) level, 83 per cent of students scored 2.0 and above in language arts; 54 per cent scored at level 2.0 and above in mathematics, and 86 per cent scored 2.0 and above in science. At the Middle School (M3) level — 66 per cent of students scored at level 2.0 and above in language arts; 49 per cent scored at level 2.0 and above in mathematics, and 83 per cent scored at the 2.0 and above in science. Overall, the exams covered, English, mathematics, science, social studies, foreign languages, business & technology, arts and physical education. One third of students — 33 per cent — scored grades of A* to C. Senior students performed well in selected academic (non-core) subjects. All 37 students who sat examinations in art and design, dance, drama and music successfully achieved their IGCSE; 97 per cent of the 65 students who took the IGCSE exams in accounts, business studies and information and communication technology passed; and all students passed their exams in geography, history and citizenship studies. Mr Scott said that the Checkpoint results were "both encouraging and enlightening. I commend our P6 and M3 teachers and students who worked hard during the year to achieve these results. However, it is important to keep in mind that Bermuda is the only public school system that participates in the undertaking of the global Cambridge International Examinations (CIE). Thus, when compared with the average CIE scores, our public school students at both the P6 and M3 levels continued to score competitively on average, in both language arts and science. However, there are still some challenges in student performance as it relates to mathematics". The ministry mentioned the possibility of introducing a new success pathway in that students can acquire an international mathematics certification through a multi-level City & Guilds offering which serves as an intervention tool for students while pursuing an IGCSE in mathematics.
2016. August 24. Wayne Scott, the Minister of Education, has hinted that Gilbert Institute would be spared closure as his ministry invests in a new playground at the school. Gilbert, the island's only primary level school for the deaf and hard of hearing, was one of four schools earmarked for possible closure under the Bermuda Government's school reorganization (Score) plan. However, the old playground has been torn down and work has begun on the installation of a new one, raising hopes of a long-term future for the school. Answering questions from this newspaper about whether the move indicated Gilbert was in the clear, Mr Scott said: "I am very aware that Gilbert has the only deaf and hard-of-hearing primary programme and that is something that needs to continue. "The fact that we are investing in a playground at Gilbert should give some indication — people can draw their own conclusions into that. However, I am a technical person and you can never say never. There are a lot more things that need to be considered if we were ever to go down the road of school consolidation." PTA secretary at the Gilbert Institute Suzanne DeCouto said she was heartened by the fact that the Government appeared to be reconsidering the viability of closing the school. "When I first saw that they were tearing down the playground I thought, oh no. I remember vaguely when they gave us a sheet to tell us what maintenance they were doing in the schools over the summer, one of the lines was a new playground but it was saying 'pending'. Now they have announced a new playground. It has been something that we have needed for so long because it has been falling apart. so it is very exciting that we are getting it. It is a lot of money for that playground so I wouldn't think they would want to put in a brand new one and then close the school down. It seems like a big investment. It is a positive outlook for us that is for sure. Gilbert is an important school in the community and as the only primary school for the deaf and hard of hearing. It is important to the neighborhood, and goes back for so many years — there are so many people who have been there and know what good it has done for them." Asked whether he could provide any update with regards to the closure of the other schools — Heron Bay Primary School, Prospect Primary School and St David's Primary School — or consolidation of numerous others, Mr Scott said: "Right now our focus is on getting the maintenance sorted out. We are looking at strategic planning and alignment so that we are in a position to provide a better service to our children. I believe we can do a better job for our children." Maintenance work is also being carried out at Harrington Sound Primary and Victor Scott Primary, two of the lowest-rated schools in terms of health and safety, according to the Score report, which was published last February. The document, commissioned by the Ministry of Education, highlighted a health and safety crisis across primary schools, with problems including rat and termite infestations, faulty bathroom facilities and unstable play structures.
2016. August 4. Major maintenance works are under way to deal with neglected preschool and primary school infrastructure in preparation for the start of the academic year next month. Wayne Scott, the Minister of Education, and Craig Cannonier, the Minister of Public Works, yesterday invited The Royal Gazette to observe work being carried out at Harrington Sound Primary and Victor Scott Primary, two of the lowest-rated schools in terms of health and safety according to the damning School Re-organization (Score) Report published last February. The document, commissioned by the Ministry of Education, highlighted a health and safety crisis across Bermuda's primary schools, with problems including rat and termite infestations, faulty bathroom facilities and unstable play structures. Work is being carried out at most primary schools, including large-scale internal and external paint jobs. Shovels were in the ground yesterday at Harrington Sound Primary, where a new playground was being created. At Victor Scott Primary, the boys' and girls' bathrooms were being gutted and given new fittings. Comments about Harrington Sound in the Score report included: "Play structures in terrible condition. Swings are broken. Triangle is an accident waiting to happen. Some windows are very low; lots of rodents get into the building." Mr Scott told The Royal Gazette: "It is important that the public know that we have identified the issues and are addressing them. These are not things that happen in a six-month period. This playground is falling to pieces, it is a very old structure and these things need to be done. Myself and Minister Cannonier have been working to ensure we have a collaborative effort between our teams so that we can actually see things done that support our children and our communities. The Score report was a very positive thing — there is always a lot of talk and innuendo about what is going on in the schools so it was important to have a good starting point and to put something out there that the public can see. We enhanced that with a full maintenance list which is online on the ministry website — it sets out what we are working on, what we are going to do, and if something new arises it can be added to the list." At Victor Scott Primary, The Royal Gazette was shown a clean, bright yellow, external paint job. Inside, work on the boy's toilets included the replacement of all urinals. Mr Cannonier said: "Our schools are old, there's no question about it, and they require quite a bit of maintenance, so this is all part of us ensuring the schools are ready, that our students can come into schools that are functional and the facilities are working. When it comes to painting we are following a rotation but as far as the bathrooms are concerned, that is being done on a most needed basis. We recognized those schools that were very much in need of their bathrooms being revamped, including Elliott, Victor Scott and Northlands. Work has been going on for some time now. You will see a whole lot of work going on." Schools listed by Score as being in need of "immediate attention" were Victor Scott Primary, Harrington Sound Primary, Northlands Primary, Paget Primary, Prospect Primary, West Pembroke Primary, Elliot Primary, and St David's Primary. Most of the completed jobs include work on CCTV cameras, repairs to windows and doors and the servicing of water fountains. Work that has been prioritized going forward includes an electrical upgrade and leaky roofs at East End Primary, the new playground and fire alarm system problems at Harrington Sound, rodents and mould issues and the need for a new playground at West Pembroke Primary, and termite and rodent issues at Paget Primary School. Elliot Primary was one of the schools with the most priority listings, including fumigation of the school, paint work, leaky windows, restroom upgrades, replacement of upper school rafters and repairs to the "questionable" gym floor. Victor Scott needed termite eradication, restroom renovations, paint work, assembly hall leaks and ceiling tile replacement. The full schedule of work that has been completed, work under way and priority jobs have been listed on the Ministry of Education's website, www.moed.bm.
2016. School Reorganization (Score) report in effect. The Ministry of Education announced on January 13 2016 that the School Reorganization Advisory Committee had delivered its final report to Wayne Scott, the Minister of Education, who will decide which schools to close or consolidate following further consultation.
2016. February 19. The size of classrooms and a lack of funding for public primary schools are among the Bermuda Government's most serious concerns, according to the school reorganization (Score) report. The report, commissioned by Wayne Scott, the Minister for Education, has set in motion a strategic financial review that will attempt to remedy some of the failings in the island's primary schools. Also on the top of the priority list was the condition of school buildings and range of programmes. The financial viability of a school for reorganization, considered a priority, was not evaluated due to "lack of data". All of the island's 18 primary schools were scored in 14 study-factor criteria — school utilization (optimum school populations); classroom capacity (adequate space per child per classroom); financial resources (that are provided by the Ministry of Education); financial viability (the option for reorganization is viable); building condition; safety and accessibility; recreational space; range of programmes; student/teacher ratio; IT infrastructure (access to high-quality technology); special services (for children with special needs); transportation (reasonable access to transport to and from school); school as a community partner; and flexibility (flexible in how space can be used to accommodate changing needs). Each criteria was scored on a scale of 1 to 5 with 5 being the best score. Any school scoring under 4 was described as "in need of review". Some of the criteria were more heavily weighted as a priority. The role of a school as a community partner, the one category where all schools scored highly, was placed in the lowest priority group along with transportation. All 18 primary schools scored less than 4 for classroom capacity, safety and accessibility, range of programmes and IT infrastructure while 17 of the schools scored less than 4 for adequate financial resources. These are some of the findings: School Use. Highlights: St David's Primary School, one of the schools earmarked for potential closure or consolidation, boasted optimum school utilization (5) along with Dalton E Tucker. Eight schools scored the minimum 1 point. Victor Scott Primary School was the most over-utilised at 130 per cent with Harrington Sound Primary School second at 124 per cent. On the other end of the scale Prospect Primary School — one of the schools slated for closure or consolidation — is at 46 per cent capacity and East End Primary School at 57 per cent. Considerations: "School with low utilization percentages were factored into the scenarios for school closure and school reorganization," the report said. Classroom Capacity. Highlights: All 18 scored 1 for classroom capacity meaning every school has less than 60 per cent of classrooms that can accommodate the MOED capacity of 40 square foot per child. Some classroom sizes are too small to accommodate the children (18 students at P1-3 and 25 students at P4-6). Considerations: Adopt the 40 foot square guidelines to determine the number of students that can be accommodated in classrooms. Review 2015 enrolment numbers to ensure numbers do not exceed capacity. Financial Resources. Highlights: All but one school scored less than 4 meaning a full review is necessary. Some 12 of the schools scored 1 and a further 3 scored 2. St George's Preparatory School scored the best at 4 while Heron Bay Primary School and Somerset Primary School scored 3. Qualitative data for all 18 schools indicate the need for resources to support instruction, programmes or building condition improvements. Gilbert Institute was singled out as a school most in need of financial resources. Considerations: Spread out resources evenly, establish protocols for addressing resource needs and ensure adequate resources are provided to eliminate the need for supplementation with personal finances. Financial Viability. Information unavailable due to "lack of data." Building Condition. Highlights: Some 15 of the 18 schools scored less than 4. "The qualitative data indicate that serious building conditions have to be addressed at many schools. Harmful building conditions include: leaking; mould; rodent infestations; termites; sewage infiltration; faulty plumbing systems; storm damage. Plumbing and electrical systems were not fully documented but were often referred to as "areas of challenge". Considerations: Develop a plan for assessing conditions and improving them along with a monitoring system and a review of the relationship between the Ministry of Education, Works and Engineering and other ministries. Range of Programmes. Highlights: All 18 schools scored less than 4 because schools do not have an IT coordinator. Two schools did not have a reading teacher — East End and Paget Primary School. The lowest scorers in this category were Paget, Northlands and East End with scores of 2.6 and under while the top scorers were Prospect and Victor Scott (3.5). Considerations: As a matter of priority reading teachers would be provided for all schools. Establish an IT co-ordinator position for all schools and a job description based on 21st century standards. Develop a plan for implementing, monitoring and sustaining IT programmes. Establish 21st centaury standards for all programmes (art, learning support, sports, guidance/counseling, music, educational therapy and reading).
February 16. Exposed live electrical wires, rodents climbing into classrooms, discarded condoms, and play structures that are "an accident waiting to happen". These are some of the damning health and safety failings across Bermuda's public primary schools exposed through the recently released school re-organization (Score) report. The Bermuda Government-commissioned report released to the public earlier this month, was designed to set out plans for "improving the quality and consistency of programming across primary schools" with the additional goal of "achieving cost savings and efficiency". Guided by 14 "study factor criteria" the report identified four primary schools for possible closure — Heron Bay Primary School, Prospect Primary School, Gilbert Institute and St David's Primary School. These criteria included safety and accessibility, building condition, school utilization, classroom capacity and financial resources. The criteria for each school was scored on a scale of 1 to 5 with five being the best score. Any school scoring under 4 was identified as being "in need of review". Each of the island's 18 primary schools scored less than 4 when with regards to safety and accessibility with 8 scoring below 2. The lowest scoring schools (a score of 1) in terms of safety, listed as being in need of "immediate attention", are: Northlands Primary School, Paget Primary School, Prospect, Victor Scott Primary School, West Pembroke, Elliot, Harrington Sound and St David's Primary Schools. Testimonials from staff paint a bleak picture at the schools which the Ministry of Education says it aims to address. Harrington Sound reported: "Play structures in terrible condition. Swings are broken. Triangle is an accident waiting to happen. Some windows are very low; lots of rodents get into the building." There were security concerns raised at Paget as "people without permission enter easily". This is coupled with the fact that school keys have been copied and are "out in the public". Victor Scott students must endure "termites and mould all over the school" while Elliot has problems with mould, termites and no water in the upper school bathrooms. Open electrical pipes and exposed live wires were found at Northlands whose building was described as "not conducive to primary age children". Somerset Primary School achieved a slightly higher score of 2 despite reports of condoms and pornographic material found on the school grounds as well as concerns about children suffering asthma due to poor air quality. Among the considerations drawn up in the report were the need to improve school safety, improve and upgrade facilities and review and address, where identified, school accessibility and delineate how buildings will be maintained to meet 21st-century standards. With regards to the state of the school buildings, 15 of the 18 schools scored below 4. The report said in its considerations of building conditions: "A plan is to be developed for assessing building conditions and bringing school buildings up to 21st-century standards. Monitoring processes are to be implemented." The report also promised to "review the relationship between the Department of Education, the Department of Works and Engineering and other Ministries to ensure accountability and effective protocols for timely building repairs and responsive management." Seven schools scored the minimum one point in the safety and accessibility study factor criteria. Here are some of the highlights taken from staff testimonials within the Score report. Dalton E Tucker: A "major concern and challenge" cited was that cars and children come in through the same entry making it unsafe. Water drainage is an issue at the school. Elliot Primary School: "I've been working by myself for three months because the other custodian is out sick. Mould — when opening the school in the morning there is a strong smell of mould in the room across from the custodian office, end room, deputy office and current tech room. Art room has termites in the door and cabinets. No water in the upper school bathrooms — repairs needed to water pump. Walkway in the lower block needs to be closed off due to drainage problems when it rains. There are some issues with mould … my eyes were stinging. " Harrington Sound: "Play structures in terrible condition. Swings are broken. Triangle is an accident waiting to happen. We don't have a hard surface area. Some windows are very low; lots of rodents get into the building." Northlands Primary: "There are some safety and health concerns with open electrical pipes and exposed live wires. The building is not 'developmentally appropriate' for primary aged students who moved to the school from Dellwood. This facility is not safe for little children. The hard surfaces are dangerous. The crossing lights need to be repaired, been out of service for over a year." Paget Primary: "A major area of concern is the security of the school. People without permission enter easily. Classrooms have some structural issues and are leaking and mouldy. There is an issue of having keys copied in the past and are out in the public." St David's Primary: "Bathrooms definitely need upgrading. Leaking rooms. Victor Scott: "Termites and mould all over the school. Custodian has a rodent/vermin problem."
2009. Bermuda began the full implementation of the Cambridge International Curriculum in all Bermuda's public schools. The Cambridge International Curriculum was chosen for a host of reasons, including the ease with which Bermudians can pursue higher education in the UK, where the curriculum's IGCSE qualifications are recognized. The Bermuda School Certificate from the old curriculum was not recognized at British universities. The new curriculum gives Bermudians better opportunities to be accepted for study in the UK, with the rights they have to live and work in Britain and to take advantage of the reduced fees for all Britons, including Bermudians, at UK universities.
Government and other preschools
See full list of names and locations at http://schools.moed.bm/Pages/Preschool.aspx.
The following are some of the government and private preschools: Adventureland Nursery and Preschool, Teeter Tots Nursery, Blossoming Tots Daycare, Aneesah's Nursery and Preschool, Onionpatch Academy, Heavenly Blessings Nursery, First Church of God Daycare and Preschool, Aeries Adventure Nursery and Preschool, Little Learners Preschool, First Friends Nursery and Preschool, and Heritage Nursery and Preschool.
Children must be 4 years old between January 1 and December 31. They must be resident in the same zone as the Government preschool to which application is made. Prospect Pre-School will accept applications from persons living in either Devonshire Parish or Pembroke Parish. Southampton Preschool will accept applications from persons living in Sandys Parish providing the home address falls within the MA 06 postal zone. These are the only Sandys residents who will be considered at Southampton Preschool. Priority in enrolment is given to younger four year olds, namely, those children born on the latter part of the year. Parents of children not initially accepted should contact the teacher-in-charge of the preschool and request that their child's name be placed on the waiting list. As vacancies occur, teachers-in-charge will admit pupils according to the criteria cited above.
Government Primary Schools
See full list of names and locations at http://schools.moed.bm/Pages/Primary.aspx.
Children must be 5 years old between January 1 and December 31. They must be resident in the same zone as the primary school to which application is made. Priority in enrolment is given to in-zone siblings of pupils in Primary 1 to 5 already attending the school to which application is made.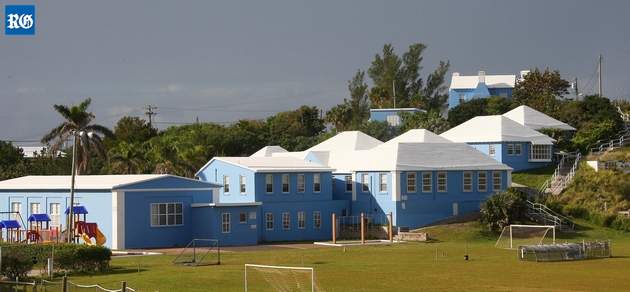 St David's Primary School
Government Middle Schools
See full list of names and locations at http://schools.moed.bm/Pages/Middle.aspx.
Government Senior (High) Schools
See full list of names and locations at http://schools.moed.bm/Pages/High.aspx.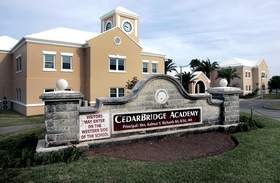 Adult Education School
A private institution which receives a government grant through the Bermuda College. It provides a means by which those who have not gained secondary school certification may do so through the General Education Development (GED) program developed in the United States. The Government operates an extensive financial aid scheme to assist students seeking higher education in institutions outside Bermuda. A satisfactory academic performance and demonstration of financial need are two of the principal criteria for the receipt of such aid. In addition, there are Bermuda Government Scholarships based on academic merit and commitment to the teaching profession.
Berkeley Institute
2017. September 7. Bermuda's first non-segregated school is celebrating 120 years of education . The Berkeley Institute, the idea of 11 "founding fathers", opened its doors on September 6, 1897 — and it has stuck to its original plan to provide a first-class education to any pupil prepared to try their best. New principal Keisha Douglas, the school's eighth head teacher and herself a former pupil, said: "The founding fathers would be excited to know that we truly remain a senior school for all and it is our vision to be first choice for everybody. We continue along that path with our programming and with our staffing — enticing persons over and realizing that we continue, after 120 years, to produce role-model citizens who go to the highest heights in Bermuda and worldwide." Top businessmen and a string of Bermuda premiers, including Paula Cox, Ewart Brown, Alex Scott, Dame Jennifer Smith and Dame Pamela Gordon-Banks, have all worn Berkeley's distinctive green and gold. Ms Douglas said: "Not everyone will be a premier, a doctor or a lawyer, but we are still ensuring success for all by finding their strengths. It is amazing how we evolved to give everyone access. From a principal's perspective, our goal is to keep that legacy and pride at the fore. Our history and legacy will never change. That is the only thing that can ever stay constant and current. We will be around for a long time — we are going nowhere. Our goal is that everyone will have a pathway to success and live out the dream of our founding fathers. We are providing a first-class education for all." The school first opened at Samaritan's Lodge on Court Street, Hamilton, then land on St John's Road, Pembroke, in 1899 was bought for a new and larger school, which opened in 1902. The latest incarnation, in nearby Berkeley Road, opened in 2006. The school was named after Bishop George Berkeley — an Anglican priest from Dysart, Ireland, who wanted to establish a school in the colonies. But his original project collapsed after funding failed to materialize. Around 100 years later, the Reverend William Dowding revived Berkeley's dream of establishing an interracial school but financial support for Rev Dowding's short-lived interracial St Paul's College also evaporated. The Berkeley Educational Society was formed and met on October 6, 1879 at the home of businessman and landowner Samuel David Robinson. Members campaigned to raise funds for the school and they became known as Berkeley Institute's founding fathers. And they achieved their dream of a new school for all, despite 18 years of struggle — not least with a reluctant white establishment in still-segregated Bermuda. The school's motto Respice Finem — Keep the end in view — still stands as a tribute to their determination. Chairman of the board of governors Craig Bridgewater, who is a managing director at professional services firm KPMG, said new pupils were made aware of the struggle to found the school. He said: "For the students coming in, we have the Berkeley Project where they have to write about what it is like to be Berkeleyite. The students have to research the history of Berkeley — the founding fathers, who they were and so on and whoever writes the best essay gets to present that at a prize giving. From day one — the whole Berkeley spirit, the green and the gold school colours and the history of Berkeley — is instilled. Even wearing your uniform properly is important. We incorporate that from day one — from orientation — and keep that going." And Ms Douglas added that former pupils also acted as an unofficial school police to ensure present pupils lived up to the school's high standards. She said: "It's true — Berkeleyites will call up the principal and tell us about someone's tie not being on properly — they take it very seriously. It is part of that pride. That is what we are about — building up a nation. We don't apologise for our greatness — we never have. When I attended Berkeley from 1985 to 1990, we were told every day that we were the best. We believed it and we carried ourselves accordingly. No one could tell us anything different." Ms Douglas, ex-principal of Clearwater Middle School, said former Berkeley Institute principal, maths teacher and anti-segregation campaigner Dr Clifford Maxwell set her on her career path. She added: "My dream was to be a nursery teacher. But Dr Maxwell said I had to teach mathematics because I was able to galvanize all my friends and help them to understand the subject. I attribute everything I have become to him." And quality of teaching remains a major part of the school's ethos. Ms Douglas said: "It makes a big difference — we have to have top teachers in order to continue with top programmes. We have to ensure pathway for success for all students of all abilities now that we are comprehensive. We have teachers who know all about the guidelines to get students top scholarships." Another key ingredient is a programming schedule that helps to connect Bermuda to the rest of the world. Mr Bridgewater said: "We have to meet guidelines around the curriculum but we reserve the right to go over and above that. There was always a focus on internationally recognizable qualifications — we did our RSAs and GCEs and now there are the IGCSEs — because we are trying to create global citizenship. Over the last few years under former principal Dr Phyllis Curtis-Tweed we focused on bedding down our international qualifications so there was a big focus on advanced placement for college and dual enrolment with the Bermuda College." Ms Douglas added: "I can go to any continent and mention Berkeley Institute and they know what it means. I believe that we are, and will continue to be, first choice. It takes strong leadership and programming married with our staff and our ability to have a board that governors and that can make changes."
Berkeleyite premiers
Sir Edward "E .T." Richards. Born in Guyana, but came to Bermuda to teach maths at Berkeley in 1930. Later joined the United Bermuda Party, and became the island's first black government leader in 1971. Two years into his tenure, the position was renamed premier. Retired as premier and from politics in 1975 and died in 1991.
Dame Pamela Gordon-Banks. Attended Berkeley from 1967 to 1971, before leaving aged 16 because she was pregnant with her daughter Veronica. Became a United Bermuda Party senator in 1990, an MP in 1993 and the island's first female premier in 1997, before serving as Opposition Leader for three years after the UBP lost the 1998 General Election. Retired from politics in 2003.
Dame Jennifer Smith. Part of the Berkeley Class of 1963, along with former finance minister Bob Richards, former health minister Jeanne Atherden and former Progressive Labour Party senator Vince Ingham. A PLP senator or MP from 1980 to 2012, leading the party to its historic 1998 General Election victory to become its first premier, a position she held for five years.
Alex Scott. A Berkeley student from 1951 to 1956. Described the school as his "security blanket" which provided him and other black pupils with exceptional education at a time when the school system and Bermudian society were both rigidly segregated. A Progressive Labour Party MP between 1993 and 2012, and premier from 2003 to 2006.
Ewart Brown. Attended Berkeley in the late 1950s before his parents sent him to live with an aunt in Jamaica. Became a Progressive Labour Party MP in 1993 and premier in 2006, before retiring from politics in 2010.
Paula Cox. A Berkeley student in the late 1970s. A Progressive Labour Party MP from 1996 to 2012, completing a rise through the ranks with a "coronation" as premier in 2010. Bowed out of the House of Assembly when the One Bermuda Alliance gained power in 2012.
Head Teacher Douglas mentioned earlier describes herself as a "lifelong Berkeleyite" having studied at the school, taught there for 20 years and who now takes the helm as its principal. She began her career at the school as a mathematics teacher and rose through the ranks taking positions as head of a year group, head of math, deputy principal and acting principal. She "left the building" for two years to become principal at Clearwater Middle School before applying for the top job at Berkeley. Ms Douglas holds a Bachelor of Arts (Honours) degree in Mathematical Sciences, and a Master of Arts degree in Instruction and Curriculum. Asked what her reaction was when she learned she had been chosen to become principal at Berkeley, Ms Douglas told us: "It was a journey of all journeys to bring me back to this ultimate goal and dream."
Bermuda College, a Government Community College
See basic details at http://schools.moed.bm/Pages/College.aspx.
Off South Road, Paget. There is also a Bermuda College Faculty Association. Despite the name, it is NOT a university as it does not award any academic degrees. A non-residential junior college by USA standards and non-residential community college by UK standards. Incorporated by the Bermuda College Act 1974, offers opportunities for higher education in liberal arts, business studies, hotel administration and technology. For over 18's, a technical institute, community college, hospitality training center and further education center mostly for adults who have not attended university. The College, the equivalent of a junior college in the USA, is a publicly funded day-time (non-residential) community college institution for the over -18s, providing a two-year university transfer programme which enables qualified students to enter the appropriate first year of a four-year institution in North America. It's two-year diploma has been accepted as the equivalent of "A" levels in the United Kingdom and enables students to enter the first year of selected universities there. The College operates a Faculty of Adult and Continuing Education which enables persons already in the workforce to upgrade their skills. It owns - but no longer operates (it leases) the Coco Reef Hotel (formerly Stonington Beach Hotel). It has a library, open to the public, on a membership fee basis. Bermuda Government owned and operated as a quango. Its Center for Adult and Continuing Education facility offers many courses for adult students, Bermudians and non Bermudians. They include Professional; Hospitality; Computer related, for Macintosh and PC users; Technology; Personal Development; Do It Yourself; Cooking; Recreational Art; and Horticulture. Accredited by the USA's New England Association of Schools and Colleges (NEASC). In 2013 the Bermuda College (BC) arranged via Georgia State University (GSU) to provide on-island baccalaureate degrees to Bermuda residents in the areas of Finance and/or Risk Management and Insurance. The program allows BC students who have earned at least 60 credit hours and who have been accepted into the Robinson College of Business at GSU to take online evening classes at GSU via simulcast to earn the Bachelor of Business Administration degree with specialization in either Finance or Risk Management and Insurance.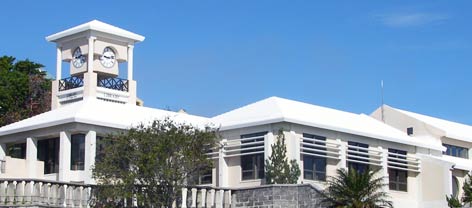 Board of Education
See Bermuda Government Boards.
Cambridge International Examinations
2016. April 20. Two primary schools in the East End have recorded the island's best average grades throughout the past four years, according to results from the Cambridge International Examinations.
Cambridge Primary Checkpoint results
Checkpoint is an innovative diagnostic test used as a valuable tool by schools as it provides feedback on student's strengths and weaknesses in key subject areas.. More importantly, parents have a transferable academic record of their child's progress as they transition through the system from primary to senior school level."Checkpoints do not include passes or fails. Instead, each subject is assigned a score range of zero to six and the higher the score, the greater the level of readiness as the student transitions to the senior level to sit their IGCSE exam.
2016. April 12. Bermuda's public primary schools fell below international averages in the results of the most recent Cambridge Primary Checkpoint results. The figures, which date back to May of 2015, show Bermuda lagging behind in English, math and science compared to other schools with the Cambridge curriculum. Bermudian schools scored an average of 3.3 out of 6 for both English and science, along with 2.4 in mathematics. Cambridge averages for the respective subjects were 3.7, 4.2 and 3.8 Scores between 2 and 3 are deemed "OK", while scores between 3 and 4 are classified as "good". The scores mark a year-on-year decrease in all three subjects, however the international average Cambridge score fell slightly this year in both English and science. Results for 18 individual primary schools were placed on the Ministry's website yesterday. Just one school — St David's Primary — managed to exceed the international Cambridge averages in all three subjects. While the school topped the others listed in both English and science, Dalton E Tucker claimed the highest score for mathematics. On the other side of the spectrum Victor Scott Primary scored the lowest in both science and math, while West End Primary received the lowest scores in English. Math scores were the most problematic, with a third of the listed schools scoring below 2 out of 6 in the subject — performance labeled as "poor". A statement from the Department of Education said: "The Cambridge Primary Checkpoint results are diagnostic in that they give schools an international benchmark of student performance which identifies specific learning needs in the core subjects." The Cambridge Primary Checkpoint results are designed for education systems to use in the final year of primary school education. Freddie Evans, the acting commissioner of education, said the checkpoint results were shared with primary school leaders to help facilitate discussions and evaluate performance. "Students and their parents receive a comprehensive feedback form per subject on how well students performed individually and in comparison to the rest of their class peers, and all students in the system at the primary school level," Dr Evans said. "It is important to understand that the results of Cambridge Primary Checkpoint tests are purely diagnostic in nature and not appropriate to use in silo as a ranking tool for assessing school success or school achievement. In this regard, all primary public schools should be looked at in their entirety by taking other associated factors into consideration as many P6 classes vary in both size and composition as it relates to student complexities at the different primary schools." He added that the results were intended to help highlight areas of success and where improvements need to be made so that schools can review their strategies for the next class of students.
Dame Marjorie Bean Hope Academy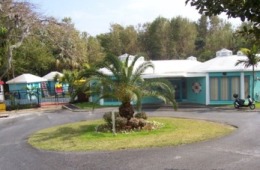 The Government's Special-Needs School. See details at http://schools.moed.bm/Pages/Special.aspx. 10 Old Military Road, Devonshire DV 03, Bermuda. Phone: 292-7978, Fax: 296-1106, email: bmcglynn@moed.bm. It caters to those with physical and cognitive challenges. There is a Friends of Hope Academy group and the school's parent-teacher association.
Educational organizations include
Alumni Association. Phone 239-4030. For graduates of the now-gone Bermuda Technical Institute, Hotel & Catering College, Academic 6th Form Centre and present-day Bermuda College.
Association of School Principals.
Berkeley Institute Parent-Teacher-Students Association. Registered charity 111
Bermuda Association for the Education of Young Children. Registered charity 460
Bermuda College Faculty Association.
Bermuda College Trust. Registered charity 341
Bermuda Council of Teachers of Mathematics. Resurrected in 2018.
Bermuda Education Initiative. Registered charity 569
Bermuda Education Network. Since 2012. A registered charity that provides support to students in the public school system. Any non-government organization that regularly provides educational programs to the public may apply for membership.
Bermuda Educators Council. For members, see Bermuda Government Boards.
Bermuda Education Network.
Bermuda Education Strategic Team (BEST)
Bermuda Educational Assistance Trust. Registered charity 310.
Bermuda Educators Council. Phone 292-0964. Fax 296-3215.
Bermuda Foundation for Insurance Studies. Mailing address: Suite 197, 12 Church Street, Hamilton HM 11, Bermuda. Location address: Cedarpark Centre, 48 Cedar Avenue, Hamilton HM 11, Bermuda. Tel: (441) 295-1266. Fax: (441) 295-5876. It works extensively in the field of getting Bermudians educated so they can make successful careers in the insurance sector.
Berkeley Educational Society. Registered charity 124
Bermuda High School for Girls Charitable Trust. Registered charity 358.
Bermuda High School for Girls PTA. Registered charity 056.
Bermuda Hospitality Studies Endowment Fund, Bermuda College. Education awards yearly.
Bermuda Independent Schools Association (BISA): Since September 2014. Private school heads have banded together to form BISA to enable better collaboration and representation. Heads of the six different private schools agreed to form it BISA as a forum for the heads to share issues of professional interest and to consider developments in education in Bermuda. The association seeks to become a recognizable entity through which the views of the independent schools in Bermuda can be represented to the community, the Government and to other agencies.
Bermuda International Language Institute. Telephone 296-5676, fax 296-5678
Bermuda Middle Schools Association. Contact Derek Tully
Bermuda National Parent Teachers Association. Registered charity 488
Bermuda Parent Teacher Student Association.
Bermuda School Sports Federation Limited. Registered charity 152
Bermuda Technology Education Collaborative. Registered charity 569
Bermuda Union of Teachers (BUT) Seventy Two Teachers' Place, 72 Church Street, Hamilton HM 12. P. O. Box HM 726, Hamilton HM CX. Telephone (441) 292 6515. Fax (441) 292 0697. Michael Charles, General Secretary.
Bridging the Gap Academy, 5 Northlands Lane, Pembroke. Home school run by Mrs. H. L. Peets Alban. Registered charity 624
CARE Computer Services Scholarship Fund. Registered charity 511
Cedarbridge Academy Board of Governors. See Bermuda Government Boards.
Cedarbridge Academy PTSA. Registered charity 583
Clara Mohammed School IPTSA. Registered charity 647.
Clearwater Middle School PTA. Registered charity 504
Degrees of Excellence Educational Organization.
Dellwood Middle School Parents & Teachers Association.
Denton Hurdle Memorial Scholarship Fund. Registered charity 237
Diversity Institute of Bermuda, at Bermuda College. Registered charity 526
East End Primary PTA. Registered charity 225
Elliott School Parent Teachers Association. Registered charity 063
Ewan Sampson Scholarship Trust. Registered charity 500
Family Learning Centre. Registered charity 378
Francis Patton School PTA. Registered charity 277
Gilbert Institute Parent Teachers Association. Registered charity 122
Harrington Sound Parent Teacher Association. Registered Charity.
Harrington Sound Primary School Association. Registered charity 011
Heron Bay School PTA. Registered charity 489
Hospitality Studies Endowment Fund, a Bermuda Government body
Howard Academy/Skinner Alumni Association. Registered charity 575
Institute for Talented Students, Riquette Bonne-Smith, President. Phone 296-6578. Registered charity 648.
Kenneth T. Perinchief Scholarship Foundation
Kindermusik with Suzanne. Superb in musical education. Her own Bermuda faculty, only one of its type in Bermuda. Suzanne Dunkerley - phone (441) 232 - 0292 - has been teaching Kindermusik to young children in Bermuda since 1995. Every year since 2002 Suzanne's program has been independently rated in the top 5% world wide.
McGill Alumni of Bermuda.
Menuhin Foundation, registered charity # 118. Founded by the late Lord Menuhin. String teachers from the Foundation go into many of the schools and provide string teaching to those who would otherwise not be able to learn.
Ministry of Education's School Reorganization (SCORE) Advisory Committee. Changes to the Education Amendment Act 2015 will have a major impact on public schools, educators and students in the very near future. The proposed consolidation of schools and educational reforms have been the subject of intense debate across the community.
Montessori Education Trust, The. Registered charity 291
Mount St. Agnes Academy Alumni Association. Registered charity 064
Mount St. Agnes Academy Home & School Association. Registered charity 200
Mount St. Agnes Foundation. Registered charity 220
National Evangelical Education Association, The. Registered charity 490
National Youth Council. Cabinet Office. St. Clair Sean Tucker, Chair; Koshea Scott, Deputy Chair; a representative from Berkeley Institute; Bermuda Institute; Bermuda High School for Girls; Bermuda College; Cedarbridge Academy; Clearwater Middle School; Mount St. Agnes Academy; Sandys Secondary Middle School; Saltus Senior School; Warwick Academy Senior School
Northlands Primary School Parent Teachers Association. Registered charity 366
Old Elliott School Trust, The. Registered charity 317
Orange Valley School PTA. Registered charity 138
Paget Primary School Parent Teachers Association. Registered charity 209
Parent Awareness Resources, Education, Nurturing & Training Skills (Parents), Bermuda. Registered charity 302
Parent Teachers Association of the Bermuda High School. Registered charity 056
Port Royal Parent Teachers Association. Registered charity 177
Portuguese Cultural Association. Registered charity 385
Prospect Primary School PTA. Registered charity 379.
Purvis Primary School.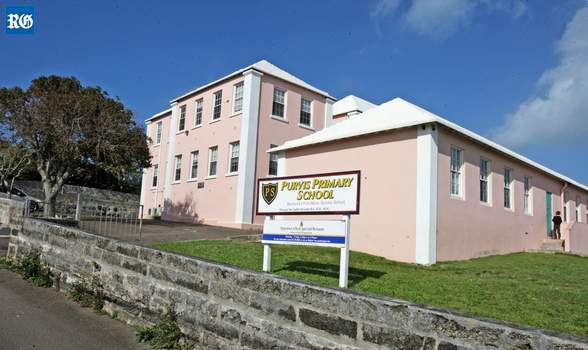 Purvis Primary
Purvis School Parent Teachers Association. Registered charity 049
Saltus Association, The. Registered charity 105
School Reorganization Advisory Committee (Score). Reports to Minister of Education. 2016. January 19. Parental anxieties fuelled by rumours over possible school closures influenced the latest public school application figures.
Somerset Primary School PTA. Registered charity 285
Southampton Glebe School Parent Teachers Association. Registered charity 133
Spice Valley Middle School Parent Teachers Association.
Spice Valley Middle School Trust.
St. David's Primary PTA. Registered charity 453
St. George's Preparatory School PTA. Registered charity 541
St. George's Secondary Community Association. Registered charity 384
St. Paul's Preschool Parent Teachers Association. Registered charity 527
United World Colleges Bermuda National Committee. Registered charity 346
University of New Brunswick - Bermuda Alumni Chapter. Registered charity 446
Victor Scott Alumni Association. (It was once Central School).
Victor Scott School Parent Teachers Association. Registered charity 096
Warwick Academy Association. Registered charity 157
Warwick Community Education Advisory Council. Phone 236-0829
Webster University. Bermuda Campus, 15 Gorham Road, Pembroke HM 08. Phone 293-6343. Fax 296-6942.
West End School Parent Teachers Association. Registered charity 061
West Pembroke School PTA. Registered charity 033
Whitney Institute School Association (WISA). Registered charity 344
Young Life Campaign in Bermuda. Registered charity 091
Young Voices of Bermuda. Registered charity 513
Youth Forum. Registered charity 435
Young Health Education Development Program (For The Haven). Registered charity 071
YouthNet. Registered charity 414
Dress Code in schools
All the primary and secondary schools, Government run and private, require students in proper school uniforms and students can be sent home if it is not obeyed.
Further Adult Education in Bermuda
A Community Education and Development Program, with three terms a year, is sponsored by the Bermuda Government's Ministry of Community and Cultural Affairs and the Ministry of Education. The sites are the Government run Computer Center, Northlands School, Warwick Secondary School, Sandys Secondary School and St. George's Secondary School. Classes meet for two hours and run for 10 weeks. Courses are grouped under the following main headings: Academic Support; Arts and Crafts; Basic Education; Boating; Certificate Courses; Commercial Courses; Computer Education; Consumer Education; Do It Yourself; Family and Personal Development; Food and Home; Health and Beauty; Languages; Music, Dance and Theater; Recreation and Fitness; and Technical Trades.
Private (independent) schools listed below
Bermuda Independent Schools Association (BISA): Since September 2014. Private school heads have banded together to form BISA to enable better collaboration and representation. Heads of the six different private schools agreed to form it BISA as a forum for the heads to share issues of professional interest and to consider developments in education in Bermuda. The association seeks to become a recognizable entity through which the views of the independent schools in Bermuda can be represented to the community, the Government and to other agencies.
Not state or government - for children of all ages and two private schools which offer early primary education. These institutions receive no government funding. The Government has the authority to determine the examinations to be taken in such schools, as a means of ensuring appropriate academic standards there.
Some are both preparatory (primary) and secondary. Business newcomers being located to Bermuda on work permits from the UK or Europe, or the USA and Canada, and who bring a child or children with them, should note that Bermuda is not an European Union country and does not follow any of the EU's laws or requirements, or those from the United Kingdom or USA or Canada. For example, there are no Dutch or French or English or American or Canadian schools. Local private or independent schools have a fundamentally different educational philosophy and a much higher standard overall than local public schools. They train their students to sit for and pass American, British, Canadian and European university qualifying programs which are internationally recognized. Several also offer an additional year, a Grade 13 equivalent, for academically gifted students to enter university with the equivalent of a sophomore year achieved. These schools charge tuition costing thousands of dollars a year per student. Nevertheless, all are running at full capacity and several have substantial waiting lists.
Applications for teaching positions in Bermuda Private Schools should be directed by airmail solely to the specific school concerned in Bermuda.
Academy at Woodlands
Primary, since 1990, ages 5-12. Phone (441) 292-8326 or fax 296-1522.
Bermuda High School for Girls (BHS)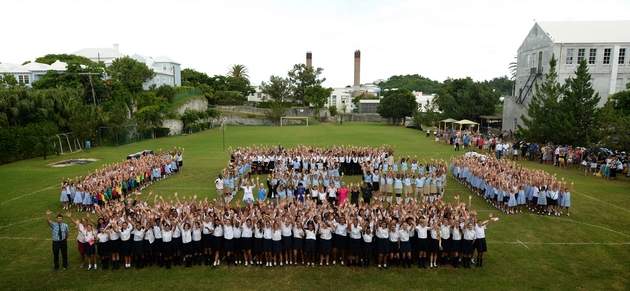 A private school, founded in the 1890s. 19 Richmond Road, Pembroke Parish HM 08, Bermuda. Telephone: (441) 295-6153. Fax: (441) 295-2754. Voice Mail: (441) 291-0049. Educates girls to high international standards. Modeled on the United Kingdom's Cheltenham Ladies College. Included in its syllabus is the International Baccalaureate (IB) as preparation for university. It is the IB Centre for Bermuda. Also, it is British oriented in curriculum and examinations taken by graduates, but with flexibility added to ensure their smooth transition to North American universities. Annual fees - on application. Number of students. 690+. Class size average. 20. Examinations taken by graduates. GCSE's and SATs. Alumni Association of the Bermuda High School for Girls. Bermuda High School for Girls Charitable Trust, registered charity 358. Bermuda High School for Girls Parent Teachers Association, registered charity 056.

2018. April 18. A new $11 million-plus high-tech technology centre is to open at Bermuda High School within the next two years, it was revealed last night. The school said its new Innovation Centre would prepare its pupils for careers in science, technology, art and design, and maths, known together as Steam. Jennifer Burland Adams, the school's director of advancement, said the school had exceeded its $10 million fundraising goal in less than three years. She added: "It's absolutely vital we look at Steam in two different ways. One is the world needs more people going into science, engineering and technology and they need girls in particular. We also look at a Steam education and the skills you get from that — project-based and inquiry-based education. These are vital and the skills that all companies are looking for in their employees. It's the skills of collaboration and critical and creative thinking." Linda Parker, head of school, said: "Women are underrepresented in boardrooms, in corporate leadership and certainly in the fields of technology, engineering and science. At BHS, we play an important role in ensuring that more of our girls consider careers in Steam by sparking a sense of wonder and curiosity as early as possible and then nurturing and challenging students' interests through our curriculum and inspirational teaching in a state-of-the-art facility." The 14,000 square foot centre, to be built on part of a car park behind the school on land donated by the Bank of Butterfield will be linked to the existing Butterfield Building, and include five new science labs, a MakerSpace — a high-tech science and engineering workshop — two computer science and robotics labs and learning commons and library, as well as a leadership centre for girls. Renovations will include a Blackbox Theatre and an arts wing, connected to the Innovation Centre, and which will house improved music and visual arts departments with an outdoor "idea hub" linking visual arts with the MakerSpace. Ms Burland Adams said: "Investing in science and technology and the arts, particularly at a girls' school, really resonated with all of the people with whom we spoke. We know that we are preparing our students for exciting careers that haven't yet been defined and that the combination of technical competencies, together with excellent problem-solving, collaboration and communication skills, will be key to their success. That is why a strong Seam education is so important and why BHS is leading the way in this endeavor in Bermuda." The fundraising effort is the largest in the school's near-125 year history and Ms Burland Adams said it "may be the most successful philanthropic effort in island history". Ms Burland Adams added she expected to see an increased amount of pupil interest in technology-based careers as a result of the purpose-built centre and "our students taking advantage of international opportunities like camps and competitions because they will be in an environment that will be sparking curiosity and wonder from a very young age." But she said that the new centre would benefit technology education across the island, not just the school's own pupils. Ms Burland Adams added: "In Bermuda, I would hope to see the Innovation Centre become the hub for innovation and creativity in Bermuda through camps, workshops, competitions and people renting the space and using it." The fundraising campaign was spearheaded by chairman Pamela Ferreira and school board chairman Mariette Savoie, along with Ms Parker and Ms Burland Adams. Donations ranged from $20 up to $1.5 million and came from families, graduates, staff, trustees, companies and friends of the school. Corporate supporters who gave leadership gifts included Renaissance Re, Arch, the XL Foundation, Aon, Deloitte, CatCo, Markel, Argus and BF&M.

2014. November 8. The Bermuda High School for Girls (BHS) is now the Island's only school to be accredited by the Council of International Schools. It comes after an evaluation of the school's ethos, faculty and governance by the Council, a global non-profit with more than 400 schools included around the world.
Bermuda Institute
A private school, founded 1943. Middle Road, Southampton Parish. Telephone: (441) 238-1566/7. Principal: Sheila Holder. Seventh Day Adventist Church religiously slanted. North American in curriculum and examinations taken by graduates.
Annual fees - on application.
Number of students. 560+.
Examinations taken by graduates. SATs or ACTs.
Bermuda Institute Academy Development Association. Registered charity 552.
Book "Bermuda Institute: Origin, Philosophy, Growth." By Leslie Holder, husband of the Principal. 2000. History of the Seventh Day Adventist School in Bermuda.
Mount Saint Agnes Academy
A private school, established in 1890. 19 Dundonald Street, Hamilton HM 09. Or P. O. Box HM 1004, Hamilton HM DX. Telephone: (441) 292-4134 or 292-1291. Fax: (441) 295-7265. The religious affiliation is Roman Catholic but non Catholics are also accepted. The first continuous private school in Bermuda, solely North American oriented in curriculum and examinations taken by graduates. It had its first sports field in 2005, thanks to funding from the Bank of Bermuda.
Annual fees - on application.
Number of students. 450+.
Mount St. Agnes Academy Alumni Association. Registered charity 064.
Mount St. Agnes Academy Home & School Association. Registered charity 200.
Mount St. Agnes Foundation. Registered charity 220.
Saltus Grammar School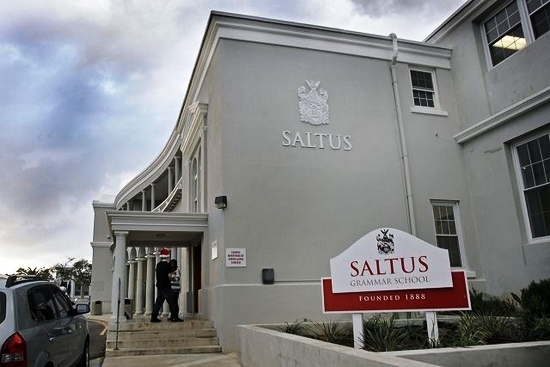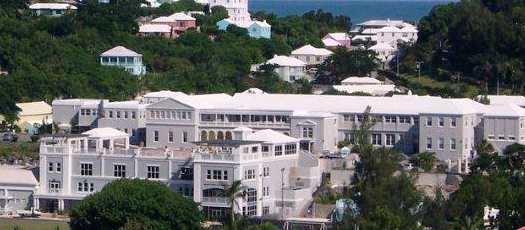 St. John's Road, Pembroke Parish. Telephone: (441) 292-6177. Fax: (441) 295-4977. P. O. Box HM 2224, Hamilton HM JX. A Private, independent day school (with it's own primary school, Cavendish Hall Preparatory in a separate building in Devonshire) secular and co-educational, both British and North American oriented in curriculum and examinations taken by graduates. A member of the National Association of Independent Schools (NAIS) in North America and CESI (Canadian Educational Standards Institute).

Founded in 1888 as a boys' grammar school, it became fully co-educational in 1991.

75% of the students are Bermudian; 25% are from the international community (with international finance, insurance, trust management and tourism forming the principal part of the Bermudian economy.
Annual fees - on application, exceed $21,000 a year.
948 students in 2016..
Saltus Association, The. Registered charity 105.
2017. September 11. Saltus Grammar School is planning for its years ahead under the guidance of Deryn Lavell, the new head of school. Ms Lavell, who comes with 38 years' education experience in Canada and the United Arab Emirates, has immersed herself in the community after her recent arrival on the island. Calling herself "a learner at heart", Ms Lavell said she was eager to explore and discover, adding: "So far, I can't get over how warm and welcoming everyone has been." Ms Lavell is said to have an ambitious agenda for her first term, including the implementation of a strategic planning process to guide the school's priorities for the coming years — as requested by the Saltus board of governors. In assessing the school's needs, she said she planned to do "more listening than talking. I want to know what's important to the Saltus community and get a sense of what they believe should be our priorities," she added. "That includes students as well as faculty, staff and parents. I want to hear from all perspectives." Ms Lavell cited the school's examination results and university acceptances as evidence of Saltus' "position of strength". Priorities will include increased demand in the area of science, technology, engineering and maths, as well as problem-solving capabilities.
Somersfield Academy
Formerly Montessori International Academy. 107 Middle Road, Devonshire DV 06. Telephone: (441) 236-9797 or 236-9789. Fax: (441) 236-9789. A private school, founded 1991, by the Montessori Education Trust. Currently with more than 330 students from 3 years old. Early childhood; lower elementary; upper elementary; middle school (the International Baccalaureate Organization). Secular. The philosophy is based on the teaching methods of Dr. Maria Montessori. With a 5-year Middle School Program, based on the International Baccalaureate Organization Middle Years Program. In June 2006 it become the first outside Canada to receive official accreditation by the Canadian Educational Standards Institute (CESI). The accreditation is the result of a three-year evaluation process that involved extensive site visits and assessments by CESI council members. The waiting list is strong.
Annual fees - on application.
Examinations taken by graduates. SATs or ACTs.
Montessori Education Trust, The. Registered charity 291.
Montessori Preparatory School:
38 Lightbourne Lane, Smith's Parish, FL 02. (441) 236-9797 or 236-0332. Fax: (441) 232-3119.
2018. June 21. This private school is to start a $6 million expansion programme this summer to widen its curriculum. Somersfield Academy aims to provide the full International Baccalaureate at the school, which was founded as a Montessori school in 1991. Carlos Symonds, principal of the Devonshire school, said that the IB diploma marked a "natural progression" after 14 years of provision at the middle school level. Mr Symonds added: "We are simply maturing as a school and coming of age. "Most importantly, however, we are looking to give our students the choice to complete their final two years here in Bermuda at the school they have come to love." Mr Symonds said the introduction of the two extra years of the IB programme had been asked for by students as well as parents. He added: "We are looking to provide them with the opportunity to complete their pre-university studies without having to endure a disruptive change of schools." The construction plan, however, has still to be given planning department approval. The school, which has about 500 pupils, said it expected a gradual increase in enrolment with the two-year IB diploma programme. Mr Symonds said Somersfield would "start with a very small cohort, around 15 students in the first year, which will enable the team to give them the very best attention". He added: "We'll work our way up from there. With the two additional years, there will be some growth. However, we are committed to preserving the special culture of our small school as these characteristics are what make our school special." Somersfield adopted the IB middle school programme in 2005, and Mr Symonds said students were familiar with the diploma. He added the IB was "arguably the most respected international programme". Mr Symonds said: "While we are always pleased to see our kids excel and demonstrate that they can compete and meet the highest academic standards at the schools to which they transfer locally and globally, given that we do not offer the final two years, we cannot lay full claim to their successes, even though they may have started with us in our Montessori Children's House at age 3." He added: "This will change ... and provide us with a true and loyal alumni base." The new building, to be called the Centre for International Education is expected to open by September next year. Mr Symonds said: "After about 28 years, we will come of age as a school, which is pretty significant along our journey."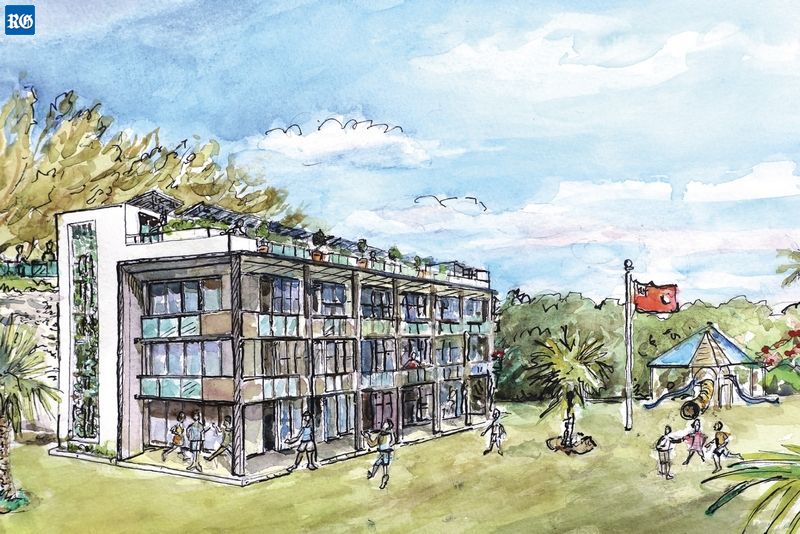 Somersfield addition planned
Warwick Academy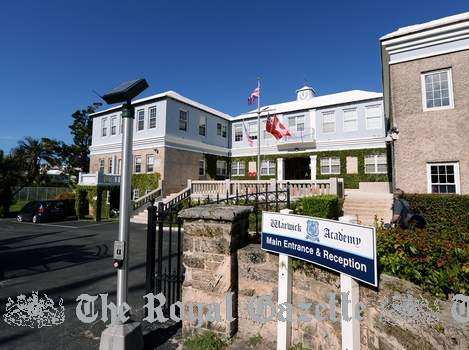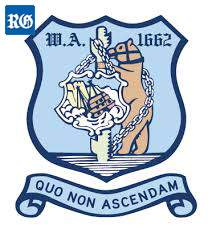 A Private School. 117 Middle Road, Warwick Parish, PG 01. Telephone: (441) 236-1251 or 236-1251 or 239-1917 (Office). Fax (441) 236-9995. Annual fees on application. There is a large waiting list at every level. It is a secular and co-educational day school. It was the first offshore school in the British Commonwealth, established in 1662 and operated continuously ever since. It was a private primary and secondary school until 1960 when it became a Bermuda Government aided secondary school. It reverted to private school status in 1990.
Warwick Academy. Our first 350 years. Book. 2013. Co-written by long time educator Andrew Dobson and school parent Catherine Kennedy. Commemorative history book. Intended to paint a picture of where the school has been and where it's headed in the future. Researching Warwick Academy's past was difficult. Pre-1930s school records had been lost at sea in 1929, after the data had been sent on a boat to be bound in New York, but sank upon its return to Bermuda. Appeals were made to former students and teachers to get their contributions and many responded.
| | |
| --- | --- |
| Warwick Academy Association | registered charity 157 |
Overseas schools (not universities) attended by locals
Education bargains worldwide for Bermudian, British and European Community parents and students anxious to be sent abroad to good boarding schools are State Boarding Schools in Britain (such as Cranbrook in Kent which has had Bermudian students), members of the State Boarding Schools Association (SBSA) - the national association for state boarding schools within the UK (England & Wales), formerly known as Stabis. SBSA schools provide high quality boarding at the lowest possible cost. You pay only the cost of boarding as the education at SBSA schools is free. This is only a fraction of the cost of boarding at an independent school. Admission to State Boarding Schools in the UK is limited to children who are nationals of the UK and are eligible to hold a full UK passport, or those who are nationals of other European Union countries or those who have the right of residence in the UK. Most schools are 11-18 schools, though there is one 13-18 school, two which offer Primary Boarding as well as Secondary Boarding and one 11-16 school with a nearby Sixth Form College. Most schools are mixed, but there are a small number of girls' schools or boys' schools. In the United Kingdom, the Good Schools Guide is an excellent electronic resource for prospective pupils and parents. Note that in the UK, a so-called "public school" is actually a private, independent school, often a boarding school. Bermudians 16-18 years old in the UK got the same Education Maintenance Allowance as UK children (until this stopped in 2011 in England)..
Boarding School Fairs are held in Bermuda annually.
An annual College Fair, for mostly USA but some British UK and Canadian colleges and universities too is held at the Fairmont Hamilton Princess Hotel. It is arranged by Island College Fairs, Boston, MA 02205. In Canada, Albert College in Belleville, Ontario, is highly regarded. Most Bermudians who can afford it send their children to secondary schools in the USA or Canada, far closer geographically than schools in the UK.
It is recommended that parents in Bermuda send their children only to schools fully accredited by the Ministry of Education.
Special Needs Education in Public Schools
2016. March 8. Special needs education has been prioritized for the coming fiscal year, according to Wayne Scott. The Minister of Education said the department had experienced an increase in requests and demands for Para educators to meet the diverse needs of children in Bermuda's education system, particularly those on the autism spectrum, students who are deaf or hard of hearing and those in need of specialized vision programmes. Mr Scott said the department aimed to create supportive classroom environments to meet student needs. The department has also highlighted the importance of evaluation and early intervention for children with autism, allocating more than $4 million for learning support. The department funds three education officers for special education and learning support in addition to 40 learning support teachers for preschool, primary and middle school. "The increase in funding is a direct result of assessment materials needed to ensure appropriate diagnosis of students with special needs and the purchase of unique learning system, a special education curriculum, used for autism functional skills and special school programme," said Mr Scott. An additional $3 million has been allocated for para educators. "Last year the department of education committed to increase the monitoring and supervision of para professionals with more scrutiny applied to the development and review of criteria and paraprofessional placements." In October, professionals participated in training that "focuses creating environments that support student success by acknowledging that students have unmet needs and latent skills, which can be addressed by staff response and action". Currently 29 students are supported in the ASD programme at five public primary and middle schools. Opposition member Lovita Foggo said she hoped that somewhere embedded in that figure was an allocation for a permanent commissioner within the department. In light of the hiring freeze it has been filled in the interim and she emphasized that the acting party should remain. She said it sent a message to the public when we fill posts with Bermudians — "We do have the intellect and the skilled Bermudians on-island who are capable of sitting in that position," she said. Ms Foggo partially commended the new initiative before, while noting the number of Bermudian students who suffer from some degree of autism. "Again we have a five per cent deduction in the budget allocation where there's actually a need to ensure more is put in place to help these students have success in education. Aspects of the budget were unrealistic to achieve the government's goals in education, saying areas such as school improvement and scholarships should have been boosted. We need to do everything we need to do to ensure that public education is seen and accepted in the public domain as being the first choice, always." PLP MP Diallo Rabain, meanwhile, referred to the recent Score report's findings on the condition of the island's public schools, saying that the issue was not a new one. He noted that in the 2013 Throne Speech, the OBA identified the issue and stated that a facilities plan would come. In 2013, we knew we had to put money in our schools and upgrade our facilities," he said. "In 2014, the minister spoke about an RFP. Now, in 2016, we have the Score report talking about the same thing." Mr Rabain said there was a public perception that private schools were better than public schools, and that more needed to be done to address the issue. He suggested that a certain percentage of the Bermuda scholarships be earmarked for public school students.
Universities overseas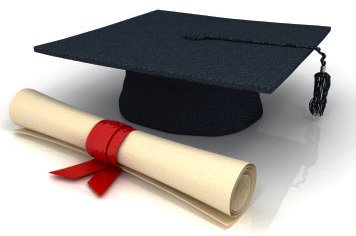 Bermuda has NO colleges equivalent to universities. (The Bermuda College, day-school only, no boarders, is the equivalent of a day-school US junior college). A significant number of local preparatory (primary) pupils, or graduates of secondary, high and private schools, and non Bermudian dependents of Bermuda based international industry personnel, attend schools or universities abroad. Most go to the USA and Canada. American universities require Bermudians to take the Scholastic Aptitude Test (SAT). Those who go to the United Kingdom do so primarily - but not exclusively - for law studies.
Attending university in the US, which can cost students $40,000 a year, remains the most expensive option for Bermudians. But they get the highest-rated universities (see below).
Since 2011, many Bermudian and Bermuda-based students or their parents have found Canadian universities to be overall best-value-for-money. Until 2011, the UK offered it this but no more. Since then, university fees have risen significantly in the UK, now exceed £9,000 sterling annually for tuition alone . Bermudian and Bermuda-based youngsters pay the same rate at UK universities as UK nationals but most UK universities have hiked their annual fees to at least the same cost as if not higher than Nova Scotia's Acadia University, or Dalhousie University.
Universities abroad attended by students from Bermuda are numerous.
Highest-rated universities in the world are:
1. Harvard University. USA.
2. California Institute of Technology. USA.
3. Massachusetts Institute of Technology. USA.
4. Stanford University. USA.
5. Princeton University. USA.
6. Cambridge University. UK.
7. Oxford University. UK.
8. Imperial College, London, UK
9. Yale University, USA.
10. University of California, LA, USA.
11. University of Chicago, USA
12. Johns Hopkins University, USA
13. Cornell University, USA
14. Swiss Federal Institute of Technology, Switzerland.
15. University of Michigan, USA.
16. University of Toronto, Canada.
17. Columbia University, USA.
18. University of Pennsylvania, USA.
19. Carnegie Mellon University, USA.
20. University of Hong Kong
21. University College, London, UK
22. University of Washington, USA
23. Duke University, USA
24. University of St. Andrew, Scotland, UK.
25. Northwestern University, USA
26. University of Tokyo, Japan
27 Georgia Institute of Technology, USA
28. Pohang University of Science and Technology, South Korea
29. University of California, Santa Barbara, USA.
30. University of British Columbia, Canada.
31. University of North Carolina, Chapel Hill. USA.
32. University of California, San Diego.
33. University of Illinois, Urbana. USA.
34. National University of Singapore.
35. McGill University. Canada.
36. University of Melbourne, Australia.
37. Peking University, China.
38. Washington University, Saint Louis. USA.
39. Ecole Polytechnique. France.
40. University of Edinburgh. UK.
41. Hong Kong University of Science and Technology.
42. Ecole Normale Superieure, Paris. France.
43. Australian National University, Australia.
44. University of Gottingen, Germany.
45. Karolinska Institute, Sweden.
46. University of Wisconsin. USA.
47. Rice University, USA.
48. Ecole Polytechnique Federale of Lausanne, Switzerland.
49. University of Acience and Technology, China.
50. University of California Irvine, USA.
51. Vanderbilt University, USA.
52. University of Minnesota, USA.
53. Tufts University, USA.
54. University of California Davis. USA.
55. Brown University. USA.
56. University of Massachusetts, USA.
57. Kyoto University, Japan.
58. Tsinghua University, Japan.
59. Boston University, USA.
60. New York University, USA.
The most popular Canadian university destinations include Ryerson University, University of Toronto, University of Waterloo, Queen's University, Western University and Dalhousie University.
Under the Bermuda Government's National Education Guarantee Scheme, since 1994, no Bermudian student with university potential is denied the opportunity for further education due to lack of funds. Only students who are Bermudian by birth (namely, born in Bermuda with at least one parent being Bermudian, or born overseas with at least one parent Bermudian at the time) or by grant of Bermuda Status can apply for funding under this scheme.
Bermudians and/or Bermuda-based students studying at colleges and universities in England (not Scotland) may be advantaged in university fees. Students from British Overseas Territories including Bermuda who study in England are now charged home rate fees for further education and undergraduate or graduate degree courses. Some Bermudians, who further qualify because of grandparents or other close relatives living in the UK and who claim them as a member of their family, and/or who went to state or other funded boarding grammar or other British schools may pay low fees. Compared to the cost of being university-educated in Canada and the USA, it may be much less expensive in the UK, even when university fees were hiked there in 2011 to about £9,000 a year tops for the average UK student in England. However, parents of Bermudian or Bermuda-based children contemplation going to an English university (they generally do not any longer qualify to go for free to a Scottish or Welsh or Northern Irish one) should also bear in mind - for those who have to pay them - the cost of airline fares to and from Bermuda, which are significantly higher than airline fares from the USA or Canada. Also bear in mind that if overall quality of higher education, not cost, is most important, the top five American universities are the world's best and most prestigious. Bermudian university aspirants who can claim UK citizenship have a further realistic option, the opportunity of going to a good European university, say in France of Germany or Holland, for virtually no cost for student tuition (except they still have to pay for room and board and airfares home).
Scholarships to universities
Leading Bermudian banks and law firms and many Bermuda based international companies offer very good scholarships.
The Bermuda Government, in accordance with the Bermuda Government Scholarships Act 1958, awards nine major scholarships yearly to young Bermudians accepted by leading universities in the USA, Canada or United Kingdom.
The British Rhodes Scholarship is offered every year to a Bermudian student. See the Bermuda Register of Rhodes Scholars. The Bermuda committee requires that candidates are citizens of Bermuda and have completed at least five years of schooling in Bermuda.
An outstanding scholarship program is offered by The International Companies Division of the Bermuda Chamber of Commerce. Known as The International Companies Education Awards (ICEA) program, it has helped many Bermudian students to obtain university degrees. They are for Bermudians, not non-Bermudians including many born here but not Bermudian because they do not have a Bermudian parent.
Teacher Training Awards
Each year, Bermuda's Ministry of Education makes available Teacher Training Awards for Bermudians preparing for careers in education. Successful candidates must demonstrate both commendable scholarship and suitability for a teaching career.


Last Updated: November 8, 2018
Multi-national © 2018 by Bermuda Online. All Rights Reserved