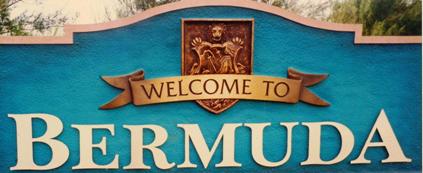 1165+ web files, a regularly updated Gazetteer, overall an in-depth description of our island's internally self-governing British Overseas Territory 900 miles north of the Caribbean, 600 miles east of North Carolina, USA. With accommodation options, airlines, airport, actors, actresses, aviation, banks, beaches, Bermuda Dollar, Bermuda Government, Bermuda-incorporated businesses and companies including insurers and reinsurers, Bermudians, books and publications, bridges and causeway, charities, churches, citizenship by Status, City of Hamilton, commerce, communities, credit cards, cruise ships, cuisine, currency, disability accessibility, Devonshire Parish, districts, Dockyard, economy, education, employers, employment, environment, executorships, fauna, ferries, flora, former military bases, forts, gardens, geography, getting around, golf, guest houses, highways, history, historic properties, Hamilton, House of Assembly, housing, hotels, immigration, import duties, internet access, islands, laws, legal system and legislators, main roads, marriages, media, members of parliament, money, motor vehicles, municipalities, music and musicians, newcomers, newspaper, media, organizations, parks, parishes, Paget, Pembroke, performing artists, residents, pensions, political parties, postage stamps, public holidays, public transportation, railway trail, real estate, registries of aircraft and ships, religions, Royal Naval Dockyard, Sandys, senior citizens, Smith's, Somerset Village, Southampton, St. David's Island, St George's, Spanish Point, Spittal Pond, sports, taxes, telecommunications, time zone, traditions, tourism, Town of St. George, Tucker's Town, utilities, water sports, Warwick, weather, wildlife, work permits.

Bermuda's sports
Soccer and cricket are most popular with sports shown separately

By Keith Archibald Forbes (see About Us) exclusively for Bermuda Online
This file shows land sports. Water Sports are shown separately. Note that Bermuda is only 21 square miles in total land area.
Athletes visited in October 2018 by US high-performers
2018. October 8. A group of high-performing athletes from the United States will provide training sessions in Bermuda this month. Up to 45 athletes from USA Track and Field's Athletes Advisory Committee will host the Elite Athlete Summit held annually to set the organization's strategic goals for the year ahead and will boost the development of local athletes. The event, inspired by the Bermuda Tourism Authority, is due to take place from October 18 to 21 at the Hamilton Princess and Beach Club. The tourism industry traditionally focuses on attracting sport teams and other groups at this time of year. Team USA Track and Field stars Darrell Hill, Kara Patterson, Will Claye and Queen Harrison are among those expected to visit the island. The group also aims to engage Bermuda's students and inspire them into the sport of athletics while encouraging active lifestyles in general. Jeff Porter, the president of USATF, said: "The organising committee has been nothing short of amazing to work with and have ensured that our athletes will have a once in a lifetime experience in Bermuda. We are also excited to bring the world's No 1 team to Bermuda and experience all the country has to offer." Hazel Clark, the BTA's newly installed director of sports business development, is a member of USATF and a three-times US Olympian. She worked with her colleagues in the sport to attract its annual retreat to Bermuda. Ms Clark said: "It's exciting that the first piece of business I landed in the new job is with my former fellow athletes. I'm grateful to be working with a variety of on-island partners to ensure my first clients, many of them long-time friends, have a great Bermuda experience during their annual retreat." Ms Clark is also a six-times national champion in the 800 metres. She joined the BTA in late July in the new position that was created as part of an organizational restructure to grow the volume of sports tourism business to Bermuda.
Athletes of the Year
2018. March 18. Tyler Butterfield and Flora Duffy were crowned Male and Female Athlete of the Year for the fourth straight year at the Fairmont Southampton as triathlon again took home the top prizes in the Bermuda Government Sports Awards on Saturday. It was the seventh award for Duffy, who was the overwhelming favorite after winning the ITU World Triathlon Series for a second successive year last year as well as the Xterra World Championship for a fourth time in a row. She was also won the award in 2006, 2007 and 2012. Sailor Paula Lewin is the next most successful female with five titles between 1996 — the first year there were separate male and female winners — and 2003. Butterfield has the most wins for a male with six, followed by jumper Brian Wellman on five. Like Wellman, Butterfield has also now won five years in a row. Butterfield beat out long jumper Tyrone Smith — a two-times winner in 2011 and 2012 — and middle-distance runner Shaquille Dill for the 2017 award. Both Butterfield and Duffy are overseas preparing for the Commonwealth Games on the Gold Coast, Australia, next month. Also unable to attend the ceremony was Delray Rawlins, who came away with the Junior Male Athlete of the Year award, as well as an Achievement Award and the Minister's Award. Rawlins is in Barbados for a three game North-South Series at Kensington Oval. Rawlins, who plays for Sussex, has also been chosen in the Marylebone Cricket Club's squad that will face Essex, the English County Championship First Division champions, in the Champion County Match under floodlights at Kensington Oval between March 27 and 30. His parents are in Barbados to watch him play so his sister Kimmisha received his awards on his behalf. "I was told Del was nominated for one award; I didn't know I had to come up [on stage] three times, but I'm thankful," she joked. "I had to WhatsApp Del and say, 'Yo, I think this is bigger than we thought'. He told me to thank everyone once again, the BCB, also the sponsors and everyone who has supported him. He told me he will continue to do everyone proud and will try his best to get into Sussex's first team this season." Sakari Famous, who will represent Bermuda at the Carifta Games in Bahamas next month, was named the Junior Female Athlete of the Year after her outstanding year, which included a bronze medal at Carifta Games in Curaçao 12 months ago. She was also third at the Youth Commonwealth Games in Bahamas last summer. "I'm very excited about this award; it's a fantastic award," said the Berkeley student, who will be a freshman at the University of Georgia in September on a scholarship. "I can't wait to go to Carifta and compete in Bahamas again and I'm definitely looking forward to getting another medal. I'll be going to the University of Georgia and it's going to be so exciting, a new experience for me. Hopefully the coaches will take me to another level. The future is going to be bright thanks to the support of Bermuda, my family and my coaches. I'm 18 now and will have one more [Carifta] next year, but I don't know if I'll be competing as I'll be in college." Famous is co-captain of Bermuda's Carifta team as she goes in search of a sixth medal. "I'll definitely carry the team and make sure they all have the right attitude," she said. The theme for this year's Sports Awards was women in sports, "Victorious: today's Girls, Tomorrow's Future", with female athletes from the past and present presenting awards along with junior male and female athletes. The presenters included Olympic diver Katura Horton-Perinchief, Sonya Smith, whose javelin record in Carifta Games still stands from 1979, triathlete Karen Smith, former track and field athletes Latroya Darrell, Allison Outerbridge, Debra Saltus, Takeisha Welch, Donna Raynor, Mia Black, Nadine Henry, and Dominique Richardson, the Bermuda netball captain. Also receiving Junior Achievement Awards were Matthew Oliviera (cycling), Cecilia Wollmann (sailing), Erica Hawley (triathlon), Azhai Smith (sailing) and triathlete Tyler Smith who, like Hawley, Butterfield and Duffy, will represent Bermuda in triathlon at the Commonwealth Games. Senior Achievement Award winners were Tyrone Smith, Rawlins, Wollmann, Dill and parathlete Jessica Lewis. Appreciation Awards were presented to KPMG for their sponsorship of the Front Street Mile, Bermuda Dressage Group and the Bank of Bermuda Foundation for their sponsorship of youth cricket. Special Achievement Awards went to Anthony Mouchette, a former football referee, Troy Harvey, also for football, and James Michaelson, a veteran equestrian announcer. Stephen West (cricket), the Somerset Trojans football team of the 1960s, Somerset cricketer Joe Bailey and Ashton Thomas, a softball manager for the Devonshire Diamondettes and the Big Blue Machine, received Citations. Special Recognition Awards went to the Bermuda under-17 women's football team and the Bermuda Red Bull sailing team, which competed in the Red Bull Youth America's Cup on the Great Sound last year. Other Minister's Awards went to Brianna Ray for cricket and Danni Watson and Ian Coke for football. Watson is the captain of the under-17 girls team, while Coke was last season's top scorer and MVP as a player for Boulevard.
Bermuda Sports Organizations, athletics and clubs
Links to the websites of the organizations concerned and their email addresses, will be shown gladly once they reciprocate the link.
Bermuda Sports centers and/or facilities
These include
BAA Field.
Bermuda National Sports Centre (formerly Bermuda National Stadium). 2015 September 1. The Bermuda Tourism Authority and the National Sports Centre have come together in an effort to bring international athletes to the Island to train. In a statement this afternoon, a BTA spokesman said that since April, ten visiting sports organizations have either committed to, or are in the final stages of committing to, a programme in Bermuda at the centre (NSC). Pat Phillip-Fairn, BTA chief product and experiences development officer, said: "We believe we have a solid foundation with the NSC to grow sports tourism, particularly in the winter months. "Less than five months into the agreement we have a diverse array of sports, from a variety of countries. We think this bodes well for the future as we work to increase the volume of business and hone in on teams looking to train during spring break." This summer, the Island hosted Red Bull Free Dive safety training, high school field hockey and college field hockey as part of the agreement, while post-collegiate lacrosse is scheduled to take place this weekend. The statement said that mature talks are under way with a Canadian university to host track and field training in December, while the Danish Olympic Swim Team has signed a deposit agreement with a local hotel in advance of training in February. Next year, the NSC will host post-collegiate rugby, high school football and high school field hockey through the partnership, while the Red Bull Free Dive safety training will return to the Island next summer. Overall the ten events are expected to bring an estimated 435 visitors to the island from the United States, Canada and Denmark. Interim CEO of the NSC Bernie Asbell said: "This partnership is a win-win-win for Bermuda, the BTA and the NSC. Our priority remains on the local audience, but this partnership allows us to supplement our facility use, increase revenue in the visitor market and offset the cost to operate the facility. We can showcase the Island as a training and competition destination." We see real growth potential. For example we're targeting Olympic swim teams in Canada, Denmark and Finland, educating them about our outdoor pool and its similarities to the Rio Olympic Games in terms of time zone and climate. We're able to make a strong case, especially when our partners in the hotel sector can offer preferential rates." A spokesman said the NSC is also nurturing working relationships with CoCo Reef, Grotto Bay and Rosemont hotels, and is looking to work more regularly with other hotels as demand grows.
Bermuda National Sports Centre pool
Bernard Park.
Clyde Best Centre of Excellence. Prospect. Since 2013. Named in honour of Bermuda's most successful footballer. Adjacent to the BFA Field where the two-storey 4,000 square foot building houses BFA offices on the upper level and changing rooms, a physio room, gym and bathrooms on the lower level.
Government Tennis Stadium.
Kindley Community Playing Field & Tennis Courts.
Lord's Oval, St. David's.
Michael Preece softball diamond at Pembroke's Bernard Park.
National Equestrian Centre
Pembroke Community Club. In 2012 on November 24, a brand new hockey rink on the ground of Pembroke Community Club opened for play. Freshly tiled, bright-lit and considerably larger than its concrete predecessor, the rink is a testament to the hundreds of thousands of dollars raised in memory of the late Tom MacNeil, the Bermuda In-line Hockey Association President who died in 2008. "My husband Tom was a bit of a dreamer and an ideas guy, and this is the culmination of his dream," widow Gail MacNeil said, surveying the 165ft by 80ft rink. "Just because someone has an idea doesn't mean it's going to come to fruition. I can't say 'thank you' enough to everyone who was involved." PCC President Valerie Dill said a public-private partnership between the Club, the Association and Government had brought the project to reality — but commended the BIHA as "single-handedly responsible." Added BIHA President Mike Daly: "This was a long time coming — a lot of hours work by a lot of people." Some $300,000 in donations, about three-quarters of it from private contributions, went into the project, which broke ground in July after years in stasis. "It's not just a hockey rink. In-line skating and lacrosse are among the other sports that can be deployed on the new Ice Court tiles. The PCC's majorettes can use the it — and even remote control race car drivers should be able to schedule times to take a spin. Ball hockey and in-line hockey international tournaments could prove a potential tourism booster. It's a great day when all sides can share in the dream of this multi-sports, multipurpose facility." The rink, which overlooks North Shore at the eastern edge of Admiralty House Park, get its official opening today at 2pm.
PHC Stadium.
Seabreeze Oval, Bailey's Bay.
Sandys 360 Sports Complex. Closed. Sports and aquatic centre, completed in 2009 as a world-class facility. in 2013, on November 7, a $2 million Government grant for the cash-strapped Sandys 360 centre remained under review, according to a Public Works spokesman. Unable to pay its electricity bills, the West End community and sports facility was that week forced to close its doors.
Somerset Cricket Club.
St. George's Cricket Club.
St. George's Dinghy Club.
St. John's Road Playing Field.
Spicelands Riding Center.
Southside Family Bowl.
Warwick Lanes. 20 lanes.
Windreach Recreational Village and Riding for the Disabled.
Archery
There is a Bermuda Archery group. It represented Bermuda at the 2003 Island Games in Guernsey.
Badminton
Bermuda Badminton Association. P O Box DV 730, Devonshire DV BX.
Ball hockey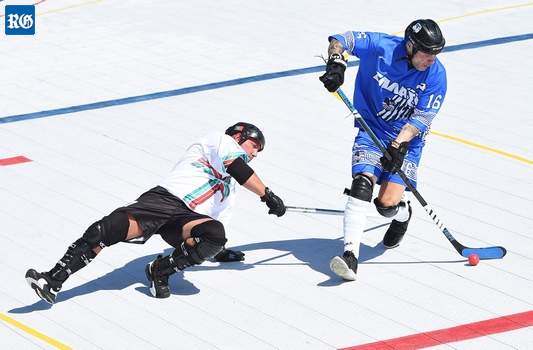 The game is similar to ice hockey in play and rules but on a hard surface instead of ice and with a hockey ball instead of a puck. The original teams in Bermuda were mostly Canadians. In 2005 they won the Caribbean Championships for two years in a row, against Barbados, Turks and Caicos and Grand Cayman.

2018. September 26. Bermuda will reap nearly $1 million in economic impact from hosting the Masters World Ball Hockey Championships, according to the Bermuda Tourism Authority. "There are 600 people here for this event this week," said Kevin Dallas, chief executive officer of the BTA, who said the Hamilton Princess Hotel had booked more than 1,200 room nights spanning the five-day championships. Mr Dallas added: "This is a very different kind of event than the triathlon, but it's similar in that these events bring players' families." The island hosted the International Triathlon Union World Series race in April, and is set to host the World Triathlon Grand Final in 2021. Mr Dallas said additional value came from the social media exposure for the island. "It sounds like we have 600 new promoters for Bermuda," he said. Pat Phillip-Fairn, the BTA's chief product and experiences development officer, said the championships marked "another way for Bermuda to demonstrate that we're able to host wonderful events in the fall through the winter". George Gortsos, the president of the International Street and Ball Hockey Association, said there were extra benefits from extra visitors who had spent additional time on the island. Mr Gortsos said: "There have been folks here for up to seven days before this event. Peoples' families came early, so there will be people here for ten, 11, 12 days." He thanked the Bermuda Ball Hockey Association for building the rink at the Pembroke Community Centre by Admiralty House Park, which drew the players to the island. Mr Gortsos, a five-time world champion, said the visiting athletes were keen to grow the sport in Bermuda as well. The island's team of 24 has three Bermudian members, according to Tom Miller, the director of the BBHA.
Baseball
Once, baseball was a game played locally only by members of the US Armed Forces stationed in Bermuda and their children. Bermudians and other residents are heavily into the game. Currently, there are 35 teams and more than 600 players. Officials credit the popularity now of baseball in Bermuda to the fact that American television is predominant in Bermuda, American sports have a wider global appeal, and also minor league baseball is family oriented, easy to learn and easy to play.
Basketball
Visiting teams are always welcome. There are several venues for games.
Bermuda End-to-End
Since 1989, an annual walking race from one end of Bermuda to the other, the island's largest charity event. It raises more than $250,000 each year for various local charities. More than 2,000 individual participants walk, cycle or otherwise enroll in the 24.1 miles from St. George's to Dockyard and raise money for various charities.
Bermuda Invitational Permit Meet
2016. April 22. National Sports Centre, from 6.30pm to 8.30pm. An international track event organized in February 2016 by the Bermuda Tourism Authority (BTA) and the Bermuda National Athletics Association (BNNA). BNNA president Donna Raynor said the event will "be like the America's Cup of athletics" potentially featuring Olympians and former Olympians competing. The BNAA made a submission to its international governing bodies to become eligible to host the event and approached the BTA for support through its Tourism Experiences investment process. Pat Phillip-Fairn, chief product and experiences development officer at the BTA, said: "In the same way the Danish national swim team is here in Bermuda using our national pool to train for the Olympics, we will have some of the brightest stars in athletics competing on our track in about three months. The BTA is proud to be a key sponsor of this event because it helps position Bermuda for the next level of sports tourism." Officials are reportedly in talks with agents and coaches to attract some of the top names in athletics, while the BNNA will showcase local elite athletes during the invitational including Tre Houston, Tyrone Smith and Aaron Evans. The schedule of events will consist of 100m, 400m, 400m hurdles, 800m, 1500m, men's long jump and females' high jump. The athletes will compete for prize money. The Bermuda Invitational is one of a series of permit meets held in the Caribbean region – starting in the Bahamas, then Bermuda, Cayman and Jamaica. While events are conducted separately, a BTA statement said they may become a circuit. "A series of meets in the same geographic region is particularly attractive during an Olympic year when athletes are looking for venues that are close by to compete in. Bermuda would be well-positioned to play an important role in that kind of circuit because geographically it is close to North America and the Caribbean." Mrs Phillip-Fairn said: "If we can make this meet an annual staple, and part of a circuit that includes stops in the Caribbean, we then have the potential to be a part of something truly ground breaking, elevating Bermuda to a level of sports tourism even higher than the one we are speaking of today." The Bermuda Invitational Permit Meet will take place at the . Tickets will be made available to the public starting February 29.
Bermuda Marathon Weekend
January every year
For a local and international sporting spectacular organized by the Bermuda National Athletics Association.
Events include:
Billiards
There are several clubs.
Bowling
Bermuda has many 10-pin bowling enthusiasts and several bowling leagues and lanes. Some of Bermuda's bowling enthusiasts participate in international events. Two won the Silver Medals in Commonwealth Games.

Bermuda Bowling Federation. Phone 441-298-5184. PO Box HM 2626, HM KX.
Boxing
The Bermuda Boxing Federation handles all aspects of the sport. The late Vic Richmond, who died in March 2015 at the age of 69, was its president. It was he who, originally in Bermuda with the Police, introduced annual boxing fight nights at the Police Club. He made many other contributions as a referee and judge, and played an integral role in raising the sports profile in Bermuda. He served as a judge during the World Boxing Council-World Boxing Association middleweight unification bout between Bermudas Teresa Perozzi and American Tori Nelson in October 2012, which ended in a draw at Fairmont Southampton Resort. In Women's Boxing, Bermuda's Teresa Perozzi is the North American Boxing Council welterweight world champion. In men's boxing, Troy Darrell was once the former #3 middleweight in the world. Clarence Hill was once an Olympic bronze medallist. There are several gyms. Events competed for include the Olympics, Commonwealth Games and Pan American Games.
2018. March 1. Bermuda's boxing chances of reaching the 2020 Olympic Games in Tokyo are on the ropes after the IOC suspended all funding for the crisis-hit International Boxing Association. It is now doubtful whether the Bermuda Boxing Federation will be able to send Andre Lambe and Tyler Christopher to Tijuana, Mexico, for the Central American and Caribbean Games qualifiers next week after the loss of subsequent funds from the Bermuda Olympic Association. Despite hosting a successful amateur event at CedarBridge Academy 12 days ago, where Lambe and Christopher both claimed wins, the BBF remains short of the required target to send both fighters and their support team to the qualifiers, which run from March 9 to 18. The BBF had banked on financial assistance from the BOA, which has had no choice but to pull its funding after the IOC's decision to shelve all Olympic Solidarity boxing-related activities until further notice. Boxing could be excluded from the Tokyo Games unless AIBA resolves long-term governance problems, the IOC has warned. Nathan Dill, the BBF president, has since reached out to Michael Weeks, the new Minister of Social Development and Sport, and long-term sponsors in an effort to cover the costs of sending its team to Tijuana. Lambe and Christopher have two opportunities remaining to qualify for Tokyo 2020, at the CAC Games in Barranquilla, Colombia, this summer, and the Pan American Games in Lima, Peru, next year. "It is most upsetting to have learnt through the Bermuda Olympic Association that, due to ongoing issues with international body AIBA, all funding will be pulled from boxing and specifically from our national team athletes at this crucial time," Dill said in a statement. "As Bermuda should be aware, the Bermuda Boxing Federation has set up a national programme with the goal to once again have boxing reach the Olympics. We are reaching out to the community in the hopes that we can rally behind these athletes, who are training hard and forging a path for the next generations of athletes behind them." The loss of BOA funding could now hasten Lambe and Christopher's pending decision to turn professional, according to Melissa Looby, the BBF programmes and event manager. "The BBF has received immense support from the Bermuda Olympic Association over the last year and want to be clear that this decision to cut our funds is not theirs, but that of the IOC," Looby said. "Regardless of the cause, this remains a major setback that stands to discourage athletes and our fear is that situations like this will hasten their pending decision to go pro." Dill added: "The BBF were counting on a request for funding from the BOA which was submitted in January. "Unfortunately, just as we were making progress on that matter, due to those governance issues of AIBA, all funding has been pulled. This is now a major source of anxiety just days before our athletes are set to travel." Lambe and Christopher are hoping to emulate Olympians Clarence Hill, Roy Johnson, Robert Burgess and Quinn Paynter by reaching the Tokyo Games. Boxing is the only sport to have put Bermuda on the Olympic map, with heavyweight Hill winning bronze at the Montreal Games in 1976, Anyone interested in assisting the BBF in sending its boxers to the CAC Games qualifiers in Tijuana can email bermudaboxingfed@gmail.com.
Caribbean Islands Swimming Championships
While not technically in the Caribbean but 800 miles north of it, Bermuda nevertheless enters this even-year event regularly.
Caribbean Junior Championships
2017. July 1. Bermuda's squash team will be keen to put an end to a four-year drought at this year's Caribbean Junior Championships in Guyana. The last time Bermuda savored success at the championships was in 2012 in Jamaica, when Dylan Pratt and Noah Browne won boys age group honours to help the island capture the boys team title. Bermuda team members, who departed for Guyana yesterday, have pinned their hopes for success this year on a team boasting four players representing the island for first time in Andrew Cox, Daniel Ringer, Hailey Moss and Graham Moss. Anaya Smith, Charlie Riker, Madeleine Rose and Taylor Carrick are the remaining team members who have more experience at this level. Taylor and Charlie are seeded top four in their respective age groups and are bidding to improve on their third place showings at last year's championships in the Cayman Islands. The team are being coached by three-times national champion and professional squash player Micah Franklin, who won the boys under-17 title at the 2009 Caribbean Junior Championships in Barbados. "They are a young team but they have been working hard, they have tons of talent and whatever happens the experience they will gain is going to be invaluable for the future," Franklin, who is ranked 162 on the Professional Squash Association World Tour, said. "I'm looking for 100 per cent effort, a great attitude on court and big smiles from my team as we get the chance to travel and represent our country." Patrick Foster, the Bermuda Squash Racquets Association director, added: "It's great to have such strong new players coming in at the young end of team. They will be learning all the time from the more experienced older players, taking in their first taste of international competition. And of course they have Micah Franklin in their corner for every match too, which is not too bad. We are very lucky to have continued support from Bank of Bermuda Foundation enabling the kids to go on this trip. I'm sure they are going to make up proud and produce some great results." The championships, involving boys and girls ages 11 through 19, features an individual and team competition. Bermuda have a proud track at this event having won overall honours in Bahamas in 1998, three boys team titles as well as a plethora of individual boys and girls age group titles.
CARIFTA Games
Bermuda always enters the CAC, Caribbean Free Trade Association (CARIFTA Games) - although 900+ miles north of the Caribbean, it has always sent a strong contingent and won medals. It hosted them in 2004.
An annual athletics competition founded by the Caribbean Free Trade Association (CARIFA) for only those associated with CARIFTA, with the first games held in 1972. They consist of track and field events for two categories of participants, under 17s and under 20s including sprint races, middle distance track events, throwing events and relays. The Games are organized under the auspices of the North and Central American and Caribbean Confederation of and under the International Association of Athletes ((IAAF) rules. The Games have produced world record holders including Usain Bolt. Since beginning in Barbados in 1972 the yearly games have been played in venues in most of the Caribbean islands and in Bermuda in 1975, 1980, 2004 and 2012. At last count since 1990, of the 26 countries now involved, Bermuda was 9th in total medals count.
2017. April 18. Bermuda has bid to host the 2020 Carifta Games after finishing with two bronze medals at this year's event, which finished yesterday at the Ergilio Hato Stadium in Willemstad, Curaçao. Sakari Famous won the Island's first medal on Saturday in the high jump before Tiara DeRosa won another bronze in the discus. On yesterday's final day of competition, Bermuda recorded three personal bests, with Elisha Darrell just failing to win a bronze in the under-20 boys high jump when he placed fourth with a personal best leap of 2.11 metres. Darrell had a PB of 2.05 metres going into the Games and pressed hard to win a medal after recording his best jump, a fantastic achievement. The winning jump was 2.22 metres, a new Carifta record by Jermaine Francis of St Kitts and Nevis. Bahamians Kyle Alcine and Jyles Etienne took the silver and bronze with jumps of 2.18 and 2.16 metres. Darrell failed in three attempts at 2.14 metres. In the boys under-18 4x400 metres relay, the team of Deneo Brangman, Suresh Black, Clevonte Lodge and Lejuan Matthews ran a fantastic time of 3:22.51 to qualify for the finals where they placed fifth overall. Aaron Evans, who had already run a PB to get into the 800 metres final, ran another personal best time of 1:58.60 to place sixth overall. "For me, we might have come out with two medals but we had nine personal bests," said Donna Raynor, president of the Bermuda National Athletic Association. "These athletes fought hard but as usual at these games Jamaica stole the show. We took a young team but as I stated they will give 100 per cent and they did. I am very proud of them and the effort they gave. All in all this was a good Carifta Games for us and I am very proud of our team. Bermuda has bid for the 2020 Games and is up against Curaçao who have also bid. We will find out later this year who will win the bid. Also next year the age groups will be moved back to U17 and U20. This for various reasons, but the most important is the numbers with the current system in the U20 where the numbers were beginning to dwindle, especially the females." Jamaica continued their dominance of the Carifta Games, winning 86 medals during the three-day event, 39 gold, 28 silver and 19 bronze as they claimed a 33rd straight title. They landed their 41st win overall at the Games which began back in 1972. Jamaica won 86 medals for the third-straight year, finishing with 39 gold, 28 silver and 19 bronze but failed to equal the 42 gold medals won last year. Last year Jamaica won 42 gold, 25 silver and 19 bronze medals in St Kitts. Trinidad and Tobago finished second this year with seven gold, five silver and ten bronze, followed by Bahamas who won six gold, 15 silver and ten bronze; Barbados (four gold, four silver and four bronze) and Guyana (four gold, a silver and three bronze). Bermuda last hosted the Carifta Games in 2012, winning six medals, including a first gold in eight years when Justin Donawa won the triple jump. The Bahamas will host the 2018 Games.
2017. April 18. Bermuda's swimmers collected another ten medals on the final night of competition at the Carifta Swimming Championships in the Bahamas last night to take the team's haul to 39, a Carifta record for the island, with three more gold medals. Prior to last night's finals Bermuda had already bettered their 2016 achievement of 21 medals with 29 medals already won before yesterday's competition at the Betty Kelly-Kenning Aquatic Centre in Nassau. Payton Zelkin got the ball rolling with a gold in the opening final, the 11-12 girls 400 metres freestyle, which she won in 4mins 43.68 secs. Elan Daley finished seventh in the same event in 4:58.20. However, she was soon on the podium again when she added to her medal haul with victory in the 50 metres freestyle in a time of 27.50. Zelkin was third in that same event, taking the bronze after touching the wall in 28.66. Bermuda picked up a total of six medals in the freestyle finals with Sam Williamson winning the silver in the boys 11-12 50 free with a time of 26.68. Jesse Washington and Madelyn Moore won bronze in their 15-17 50 metre events, Moore clocking 26.97 and Washington 23.91. Earlier, Jesse Washington and Ethan Daley were fifth and sixth respectively in the 15-17 400 metres freestyle race, Washington clocking 4:26.43 and Daley 4:27.81. Logan Watson-Brown was fifth in the girls 13-14 50 metres in 28.00 seconds. Williamson won Bermuda's third gold medal for the night when he placed first in the 100 metres breaststroke in 1:13.04. Elan Daley picked up another medal in the girls 11-12 100 metres breaststroke final, finishing second in 1:22.30 to win the silver. Taylor White took the team's medal haul to 37 with a strong second place finish in the 11-12 girls 200 metres backstroke, clocking 2:35.09. White and Daley were then part of a 4x50 metres freestyle relay team that placed second in one of the final events of the evening. Zelkin and Jessica Bruton were the other members of the team that clocked a time of 1:57.06 to finish second behind Jamaica who had a winning time of 1:55.77.
2017. April 18. The medals and records continued to pile up for Team Bermuda at the Carifta Swimming Championships in Nassau, Bahamas yesterday. Day three of the four-day competition at the Betty Kelly-Kenning Aquatic Centre saw the island's contingent capture ten medals, including six gold, to take their overall tally to 29. The team's remarkable haul has exceeded the 21 medals won at last year's championships in Martinique. The 13 gold medals they have won have also eclipsed last year's haul of nine. "I am very pleased with the performance of the team," Ben Smith, the national swimming coach, said on the eve of last night's finals. "The competition has been very strong but our swimmers continue to rise to the challenge. Watching Sam Williamson fight to catch his competitor and take the gold was a sight to see. Sam so far has set age-group records in the 200 breast and 50 breast. Jesse Washington set records in the 200 free, 50 fly and 100 fly. His time in the 200 free also qualifies him for the Arena Pro series in the US. The 4x100 free relay broke the Carifta record while Payton Zelkin broke the 200 free Carifta record." Going into yesterday's schedule the island's swimmers had achieved a staggering 73 personal bests. Leading the medal assault in the long course pool yesterday were Elan Daley and Williamson, who bagged five of the island's six gold medals. Daley won gold in the girls 11-12 50 metre breaststroke, 200 metre individual medley and 100 metre freestyle to take her individual medal tally to seven. Williamson won gold in the boys 11-12 200 metre individual medley and 50 metre breaststroke and silver 100 metre freestyle to extend his personal medal haul to five. His time of 32.42 in the 50 metre breaststroke is a Carifta and Bermuda age group record. Also adding to an already impressive medal haul was Payton Zelkin who won silver in the girls 11-12 200 metre individual medley and bronze in the 100 metre freestyle. Zelkin now has a team-high eight medals, including three gold, to go along with her new Carifta record. Jesse Washington won gold in the boys 15-17 100 metre freestyle in a Bermuda record time of 52.40 after eclipsing Nick Thompson's eight-year old mark. Washington has bagged three medals, four age-group records and a Carifta record at this year's championships. Logan Watson-Brown won bronze in the girls 13-14 100 metre freestyle to go with the silver she won in the 200 metre freestyle. "Amazing performances by this young group of swimmers," Smith said after last night's finals. "We are pleased with the way they have handled themselves and look forward to a good finish tomorrow. I hope that Bermuda is proud of this team and that this may lead to funding so we can build further on this success."
2017. March 27. The Bermuda National Athletics Association today announced a squad of 19 athletes to represent the island at the Carifta Games in Curaçao from April 15 to 17. Included in the squad is four-times Carifta medal-winner Sakari Famous, who won the bronze in the under-18 girls high jump, the island's only medal at last year's games in Grenada. Famous is also among eight survivors from last year's Carifta squad. "We, the BNAA, are pleased to announce the 2017 Carifta Team," Donna Raynor, the BNAA president, said. "We have a total of 19 athletes who will be traveling with us to Curaçao with four officials and myself as president. We are very pleased with this selection which was proposed by our coaching staff and we look forward to some great performances at the Games." The full squad is made up of U18 Girls, Teliah Wears - 200m; Lyndsey Palmer - 3000m; Sakari Famous - HJ; Inshanne Smith - HJ; Zekiah Lewis - LJ. U20 Girls, Tiara DeRosa - SP, Discus; Brianna Mendes - 3000m. U18 Boys, Deneo Brangman - 400m, 4X100m, 4X400m; Johndell Cumberbarch - 3000m 1500m; Aaron Jacobs - 800m; Quincy Kuzyk - 3000m; Ryan Outerbridge - 1500m; Suresh Black - 200m, 4X100, 4X400m; Lejuan Matthews - 400m, 4X100m; Clevonte Lodge - 200m, 4X100m 4X400m; Mycal Dill - 4X100m, LJ. U20 Boys, Kevin Miller - HJ; Elisha Darrell - HJ, LJ; Stephan Dill - 100m; Isaiah Bell-Phillips - 800m.
2015. March 16. A Bermuda squad of 12 athletes was named for the 2015 Carifta Games to be held April 4-6 at Sugar City in St Kitts and Nevis. As is the case in most of the Island's Carifta squads in recent years, the majority of the athletes will compete in the jumping and middle distance events. The Island's team includes Sakari Famous, high jump, Kyrah Scraders, 800m and 1,500m, and Jahnai Perinchief, high jump, who all won medals at last year's Games in Martinique. Bermuda won five medals at that event, with Dage Minors also winning a bronze in the boys' under-20 1,500. Scraders, who will be competing at the under-20 level for the first time, won gold in the girls' under-17 800 and silver in the 1,500 last year. Several athletes will be making their Carifta debuts, including Keisha Miller, long jump, Mikayla Wilson, high jump, Aaron Jacobs, 800, and David Darrell, 1,500. Accompanying the team will be coaches Jarita Vickers and Rohan Simons. Donna Watson, the Bermuda National Athletics Association president, said that she was confident the athletes would make the Island proud. "The Bermuda National Athletics Association are pleased to announce our Carifta team. We are very excited about this team of 12 athletes and have no doubt they will represent Bermuda at these games very well. We are pleased with these athletes as they have performed very well during the interschool sports and our last Carifta trial. Our goal this year was to make sure the athletes were competing and training consistently right up to the time the team was selected. The coaches are all in agreement that each athlete that has been selected has met this criteria and is well prepared for Carifta." The Carifta Games, which were first held in 1972, will run from April 4 to 6. They consist of track and field events including sprint races, hurdles, middle distance track events, jumping and throwing events, and relays. There are two age categories: under-17 and under-20. Only countries associated with Carifta may compete in the competition.2015 Squad are Under-18 women, Tiara Derosa (shot put and discus); Sakari Famous (high jump); Mikayla Wilson (high jump). Under-20 women, Kyrah Scraders (1,500m and 800m), Keisha Miller (long jump). Under-18 men, David Darrell (1,500m), Aaron Jacobs (800m), Michaiah Robinson (800m and 400m), Elisha Darrell (high jump). Under-20 men, Jah-Nhai Perinchief (high jump), Ethan Philip (long jump and triple jump), Kionje Somner (200m and 400m).
April 5, 2013. Bermuda's junior swimmers returned home to a heroes' welcome from the Carifta Swimming Championships in Jamaica. And not even a late arrival from Miami and the loss of half the team's luggage, which was misplaced en route to Bermuda, could dampen the spirits of the team members on their arrival at LF Wade Airport. Present to greet the team was Sports Minister Wayne Scott who traveled to Jamaica earlier in the week to personally lend his support. Team Bermuda scooped seven medals at this year's regional championships, including three gold. They also set 63 personal bests in the pool and established 18 national age group records for added measure. Warwick Academy duo Madelyn Moore and Jesse Washington accounted for all of Bermuda's medals. Moore, Bermuda's top performer in the Caribbean, won gold medals in the girls 11-12 50 meters freestyle and 50 meters backstroke, silver in the 100 meters backstroke and bronze in the 100 meters freestyle. She also set two national age group records in the 50 meters backstroke (32:84) and 100 meters backstroke (1:14.10) and finished as the high point swimmer in her respective age group. Washington won the gold medal in the boys 13-14 100 meters freestyle, bronze in the 100 meters butterfly and silver in the 50 meters freestyle. He also set national age group records in the 50 meters freestyle (25:21), 100 meters freestyle (54:71), 50 meters butterfly (27:02) and 200 meters freestyle (2:02.83) and swam a personal best (1:01.17) in the 100 meters butterfly.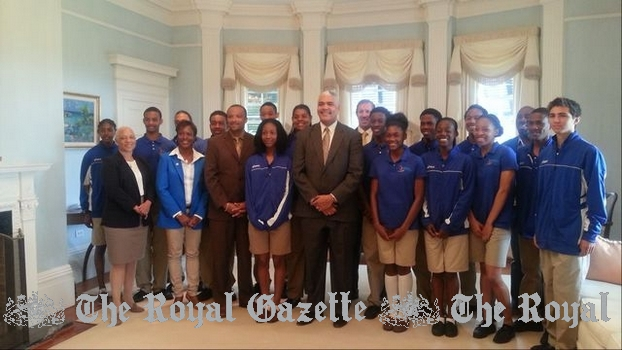 2013 Carifta Games team with Premier Craig Cannonier.
In 1977, Bermudian Debbie Jones was the outstanding athlete of the Games. In 1981, Under 17 Bermudian swimmer Candy Ford, who won three gold metals in the 100m, 200m and 400m, was awarded the outstanding athlete trophy.
Carifta Triathlon Championships
2019. August 16. Bermuda will be aiming to clinch further glory at the third annual Carifta Triathlon and Aquathlon Championships in Montego Bay, Jamaica, starting tomorrow. The 15-member team will be looking to build on the momentum of 12 months ago in Tobago, where Bermuda clinched a second-place finish overall in the medal table, with Jasmine Hasselkuss and Nick Pilgrim both adding gold to the overall haul. The majority of team members from last year's success return for this year's competition, which kicks off with the 16 to 19 age group aquathlon (swim followed by a run), followed by the 11 to 12 and the 13 to 15 age group triathlons. On Sunday, the younger age groups will compete in the aquathlon followed by a sprint distance triathlon for the 16 to 19 age group. This year the event organisers have also added have an open, sprint-distance triathlon to proceedings in which Neil De Ste Croix, the team's coach, and parents Clive Langley and Arthur Wightman will be competing. Rounding out the event will be a mixed team relay aquathlon, which will comprise teams of two males and two females, with each team member swimming 250 metres and running 2½ kilometres before tagging the next team member. Ahead of their departure, the athletes were handed a welcome boost, with De Ste Croix revealing that two-times world champion and national hero Flora Duffy, fresh from her gold medal-winning return to action at the Tokyo Olympic Test Event on Wednesday, took time to give her well wishes to the team. "The athletes are all extremely focused and have trained exceptionally hard to get to where they are fitness wise," said De Ste Croix "They were given a huge boost on Thursday morning with a video message from world-class triathlete and local treasure, Flora Duffy, from Japan where she had just won the Olympic test event. As a coach I am immensely proud of each and every athlete and am excited to see them perform over the weekend."
Central American and Caribbean Amateur Swimming Confederation Championships
2018. June 30. Bermuda made a flying start to the Central American and Caribbean Swimming Championships in Aruba last night, capturing four medals, including one gold, and set a national and meet record. The highlight of the first session for Bermuda saw the foursome of Sam Williamson, Payton Zelkin, Caleb Ingham and Logan Watson-Brown set a meet record en route the winning the gold in the 13-14 4x50 metres mixed relay. The island's team of Madelyn Moore, Skyler Powell, Brett Smith and Kai Legband also earned a place on the podium after clinching silver in the 15-17 mixed relay. Earlier, Brian Desmond opened the island's medal account after securing the silver in the boys' 15-17 1500 freestyle and establishing a national record. Bermuda had two podium finishers in the boys' 15-17 1,500 freestyle as Adam Young touched the wall right behind compatriot Desmond to claim the bronze. "This was a great start to the competition," Ben Smith, the Bermuda coach, said. Bermuda are being represented at the annual championships by a 20-strong squad spearheaded Jesse Washington and Moore. Bermuda clinched a fourth-place finish in the medals table at last year's event in Trinidad and Tobago, capturing a total of 38 medals — 12 gold, 17 silver and nine bronze — as well as winning the under 11 and 12 girls category. The championships run until July 3.
2018. June 26. Jesse Washington and Madelyn Moore will spearhead Bermuda's 20-strong squad for the Central American and Caribbean Swimming Championships in Aruba. Also competing at the event, which will run from June 29 to July 3 are Jaedyn Judd, Josephine Duerden, Giada Dudley-Punn, Logan Watson-Brown, Taylor White, Gaby Pitman, Payton Zelki, Skyler Powel, Vanessa Esposito, Shannon Hassel, Brian Desmond, Sam Williamson, Jack Harvey, Adam Young, Caleb Ingham, Brett Smith, Kai Legband and Evan Farrow. Accompanying the team will be coaches Ben Smith and Richard Goodwin, and team managers Diane Moore and Tori Powell. Doug Patterson, the Bermuda Swimming Association president, said: "I ask you to join me in wishing the team good luck in all their races. I know each of them will swim to the best of their ability and will represent Bermuda well." Bermuda clinched a fourth-place finish in the medals table at last year's event in Trinidad and Tobago, capturing a total of 38 medals — 12 gold, 17 silver and nine bronze — as well as winning the under 11 and 12 girls category.
2017. July 5. Ben Smith, the Bermuda swimming coach, has hailed the island's triumphant team after they achieved "the best possible" performance at the Central American and Caribbean Championships in Trinidad & Tobago. Bermuda clinched a fourth-place finish in the medals table, capturing a total of 38 medals — 12 gold, 17 silver and nine bronze — as well as winning the under 11 and 12 girls category. "It was an amazing performance," said Smith, whose squad returned to the island last night. "Obviously we hoped we would perform well and they did what we thought they could do. If you had written your best possible outcome before the event — well, that's what they did. You can only hope that happens as it doesn't normally work out that way did, but it did." Smith described the competition, held at the brand-new National Aquatic Centre in Balmain, Trinidad, as a higher level than the Carifta Championships and said he could not have been prouder of the team's display. "It was the first time we have been to Trinidad since the early Nineties," Smith added. "The team came together really well and obviously going into a new environment you never know what to expect. There are a lot more countries and depth to this competition [compared to Carifta] and you can only hope you will perform at the level you want. Once they started to swim fast and see what they could do, it just steamrollered." Elan Daley, Payton Zelkin and Sam Williamson emerged as the stars of the show, having amassed 26 individual medals between them. Daley, who broke the meet record in the 11-12 girls 100 metres freestyle final, with a time of 59.65 sec, had four golds as part of her ten-medal haul. Zelkin won nine medals, including two gold, and Williamson seven, with four gold. Additionally, Daley and Zelkin each came away with three relay medals, including gold in the 400 metres freestyle and medley relays, while Williamson was part of the team that captured silver in the mixed 200 metres freestyle relay. "Obviously you can highlight some of the individual performances but we were just happy with the amount of personal-best times," Smith said. "We won the 11 and 12 girls category for the competition, which is a big feat coming from a small country like Bermuda. To see the quality in multiple events just tells us what we're capable of." Puerto Rico topped the medal table with 21 golds out of their overall total of 52 medals. Trinidad & Tobago were second with 16 golds and 50 medals, with Guatemala third on 11 golds and 21 medals. In the points table, the host nation emerged a narrow seven points ahead of Puerto Rico on 695, with Costa Rica third on 477. Bermuda were sixth with 284 points.
Commonwealth Games
Glasgow, Scotland, UK, 2014, July 23 through August 3. Every four years. See http://en.wikipedia.org/wiki/2014_Commonwealth_Games. See http://www.glasgow2014.com/sports. Over 70 nations and territories from all over the British Commonwealth of Nations participate in over 17 sports, including several non-Olympic sports. Bermuda had an 18-member team, selected by the Bermuda Olympic Association. The athletes were in six sports. The team comprised four triathletes, with Tucker Murphy and Jonathan Herring joining Butterfield and Duffy, while there was also a six-member track and field team led by Arantxa King, Shianne Smith, Aaron Evans, Tre Houston, Tyrone Smith and Shaquille Dill. Nicole Mitchell and Dominique Mayho represent Bermuda in cycling, Gemma Lightbourne the lone gymnast, Micah Franklin, Robert Maycock and Nicholas Kyme were the squash contingent along with swimmers Julian Fletcher and Dominique Mayho. Bermuda first competed in the Commonwealth Games in 1930 in Hamilton, Canada, and has only missed four editions, one in Edinburgh when the Bermuda team which had already arrived pulled out in protest over apartheid. See http://www.royalgazette.com/article/20140722/SPORT/140729950. Bermuda's first medal came in Kingston, Jamaica, in 1966 with a silver medal for John Morbey in the men's long jump final. The 1990 Games in Auckland produced the first gold for Bermuda when Saunders jumped a Commonwealth record 2.36 meters, a record that still stands. The 2014 team was supported by ten officials and a medical team of three under Stan Douglas, the chef de mission. Officials include Robert Oliver, Troy Douglas, head coach, and physio Sandro Fubler for track and field, Peter Dunne and Philip Trussell for cycling, Amanda Baughman for gymnastics, Runa Reta for squash, Ben Smith for swimming and Steven Petty and one official for triathlon. The medical staff included physio Maureen Ryan and massage therapists Richard Johnson and Seth Pearman. Earl Basden was the press attaché.
2014 Bermuda squad, none of whom won medals:
Athletics: Arantxa King, Shianne Smith, Aaron Evans, Tre Houston, Tyrone Smith, Shaquille Dill
Cycling: Nicole Mitchell, Dominique Mayho
Gymnastics: Gemma Lightbourne
Squash: Micah Franklin, Robert Maycock, Nick Kyme
Swimming: Julian Fletcher, Roy-Allan Burch
Triathlon: Flora Duffy, Tucker Murphy, Tyler Butterfield, Jonathan Herring
Commonwealth Youth Games
David Darrell, Tahje Taylor, Tiara DeRosa and Susanna Armano represented Bermuda at the September 2015 Commonwealth Youth Games in Samoa. Darrell, Taylor and DeRosa are track and field athletes while Armano is a squash player. Bermuda first sent a team to the 2004 Commonwealth Youth Games in Bendigo, Australia, and competed in subsequent Games in India and the Isle of Man.
Cricket
A British game that originated in England centuries ago, not unique to Bermuda. It originated as a sport of the British Royal Family, possibly with King Edward II in the year 1300. By 1550, the business of the Dukes of Penhurst included making cricket balls. The earliest surviving bat and ball date back to 1729, with the word cricket appearing in an Italian-English dictionary in 1595. Nowadays, the game is popular throughout the British Commonwealth of Nations. Perplexing to American visitors - 85% of all tourists to Bermuda - who are used to a baseball or football game lasting no more than 3 hours. Most do not see why a match played for the whole of one day or two days or three days or five days (as is the case in Test matches) can result in a tame draw.
On August 8, 1872 Bermudians first celebrated their emancipation from slavery in a new way - by making a point of including the British game of cricket in their celebrations. The unique match was to commemorate the annual August "Emancipation" Carnival-like celebrations after Britain enacted in Bermuda and the rest of the-then British Empire its formal, official and final Abolition of Slavery Act on August 1, 1834. Was this inclusion of British cricket into their celebrations a belated acknowledgement to Britain which had ended slavery after the strenuous efforts of the British politician William Wilberforce had finally been successful after many years of trying? Or was it simply because Bermudians wanted to make cricket as much of a Bermudian sport as a British one? We may never know for sure. What is known is that this cricket match was the very first of its kind in Bermuda between a cricket "eleven" (the number of men in a cricket team) representing Alexandrina Lodge No. 1026 of Hamilton and a similar "eleven" from the Victoria and Albert Lodge No. 1027 of Somerset. It may also have been the first time in the cricketing world that non-white teams are recorded as having competed in what was, until then, a mostly-white if not wholly white British sport. If so, Bermuda is certainly due some long-belated cricketing and socio-economic credit. Both Masonic Lodges there and then had played a leading role in getting former slaves recognized as real men despite their darker complexions and in getting them jobs, self-worth and respect for them as individual contributors to the human race in their own distinctive ways, not as people to be looked down on racially. All black members of both teams were Masons, members of the Grand United Order of Oddfellows. The event took place at the Naval Cricket Ground in Somerset and was won by 43 runs by the Somerset side. Both sides played in fraternal friendly sporting rivalry, not in the win-at-any-cost way many cricket matches overseas are played today.
Local legend has it that when the local working class began en masse to take a day off to attend the game, Government declared the first day of the two-day cup match an official holiday. After the second day, Somers Day, was also designated as such, the second day became an additional public holiday. But among the cricket-loving nations and territories of the world, only in Bermuda does the whole of Bermuda grind to a complete halt for two days every summer to turn its attention to a cricket game. The festive game began officially in July 1902 between the Somerset Cricket Club in the west end and the St. George's Cricket Club in the east end. Venues of the game change yearly between both clubs. The popularity of the annual game was such that it caused continued absences from employment. As a direct result, the 2-day public holiday was first introduced in 1947 and has been in effect ever since. Since 1999, a celebration of emancipation is now part of the ritual of the first day of Cup Match, formally renamed Emancipation Day. For the 100th anniversary of Cup Match in August 2002, the local jewelry firm of Walker Christopher made cricket bat pendants or pins in 18 carat gold with sapphire and ruby gem stones. St. George's has a light sapphire and dark sapphire and Somerset has a ruby and dark sapphire. About 7, 000 attend the game on each day, broadcast by radio. Despite being referred to in history as the Father of Bermuda, Admiral Sir George Somers is nowadays almost completely ignored on the second of the 2-day public holiday period, known in his honor as Somers Day. Whichever team hosts the annual game accepts tenders for the gambling game of Crown and Anchor, one of the many "concessionary" events. It is also an occasion for off-beat mid-summer peculiarities that include awarding a winning batsman with tax-free cash; the wearing of outlandish fashions, much socializing, bands and musical groups participating, and a carnival atmosphere complete with calypso, reggae, soca, rap and other music.
2018. August 3. Somerset enjoy best-ever victory over St. George's. After piling on 378 runs on Thursday, Somerset bowled out St George's twice. The latter's batsmen scored only 121 in their first innings. In the follow-on, St George's were able to only add 223. Somerset won by an innings and 35 runs.
The official Bermuda team competes in the ICC Trophy against teams from Canada, Holland, Hong Kong, Ireland, Kenya and the United Arab Emirates. Bermuda also competes in the World Cricket League.
Cricket is a major local sport for local youth.
The Bermuda Cricket Annual is the complete local guide. In Sandys, the Western Counties Cricket Association is at telephone (441) 236-9000 ext. 4314. All its cricket games are at the spacious White Hill Field.
There are four streets in Bermuda named in honor of cricket. One is Fielders Lane, in Smith's Parish. It is halfway up Flatt's Hill on the left, veering south from Middle Road. The track takes its name from the nearby playing field of Flatts Victoria Cricket Club. The other three are Bat 'n' Ball Lane, Cricket Lane, and Grandstand Lane, all in Sandys Parish. They diverge from Scott's Hill Road, near the Somerset Cricket Club.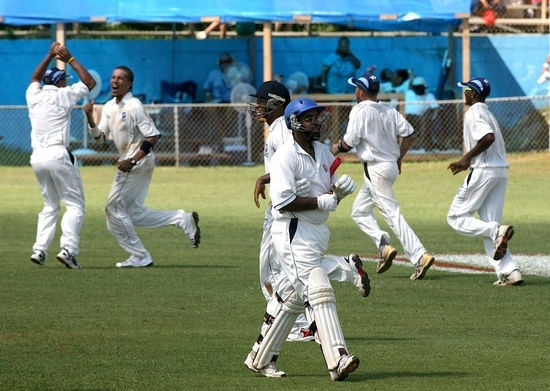 Cricket teams in either the regular or Commercial League include Centurions; Cleveland County; Devonshire Recreation Club; Devonshire Stars; Flatt's Victoria; Forties; Jamaican Association; Leg Trappers; North Village; PHC; Police Recreation Club; St. David's; St. George's Cricket Club; Somerset Bridge; Somerset Cricket Club; Warwick Workman's; Watford; West Indian Association; Willow Cuts; and Young Men's Social Club.
Eastern Counties Cricket Association: Members are St David's County Cricket Club, Cleveland County Cricket Club, Bailey's Bay Cricket Club and Flatts Victoria Recreation Club.
Its local season is from late April to late September. This sport was first brought to Bermuda in the 1840s by British Army soldiers stationed here. Long before cricket became the hugely popular sport it is today, a match played between the fleet team of the then- resident Royal Navy base and the British Army garrison regimental team was a major event in the social calendar of the Town of St. George. Black persons at the local dockyard, who had been taught the game, included it as part of their picnic activity. The Bermuda Cricket Club was founded in St. George's in 1845 and played its first game against the garrison.
2018. May 9. Lloyd Smith admits that there is much work to be done within cricket after Bermuda were relegated to the ICC World Cricket League Division Five in the first few months of his Bermuda Cricket Board presidency. Smith concedes that other teams have been improving while Bermuda have been in a decline since qualifying for the World Cup in 2007. "When I came on board all the focus was on this tournament, where it was going to take us and then re-evaluate where we were going as soon as the tournament was over," Smith said yesterday. "Now we know we're in Division Five, funding isn't going to be as good as it has been so far. The next Division Five tournament is about 18 months away. The T20 tournament that we qualified for in Argentina is before that as well, so we have to look and reassess how we are going to approach things going forward. We introduced Open cricket to try to improve our domestic game. We will have to look at what went wrong in Malaysia and decide how we can improve. There will be some strategic planning taking place after this tournament; better sooner than later. We did have some outstanding performances by our younger players, which was a plus. I can speak of Charles Trott, who acquitted himself pretty good." New captain Terryn Fray led the batting with 190 runs from five innings, the fifth highest in the tournament, while Kamau Leverock scored 150 after missing the first two matches for disciplinary reasons. Janeiro Tucker and Okera Bascome were the only other two batsmen to pass 50, with Tucker's 55 and Leverock's knock of 61 rescuing the team from 37 for six in their final match against Malaysia when chasing 258 for victory. The pair added 97 for the seventh wicket. "It's very concerning, but our cricket has been going that way for a while," Smith added. "We have to start doing things different; we can't keep doing things the same way and expect a different result. That's why my biggest thing was getting Open cricket back, to get the players playing longer cricket. Smaller things like that have to take place over the next couple of years if Bermuda's cricket is going to go in the right direction." Smith admits the future of the national team rests with the younger players like Fray, Trott, Bascome, Tre Manders and Cejay Outerbridge. Tucker's international future is uncertain, with the former Bermuda captain turning 43 recently. "Okera did well, he made some runs, Terryn batted well and was one of the most consistent batsmen in the tournament so there are some positive things going forward," the president said. "It's just a matter of getting everything right." Bermuda never recovered after losing to Denmark and then Uganda by eight wickets and 189 runs respectively. They beat Jersey by 58 runs in the match that Leverock was recalled, but then lost to Vanuatu and Malaysia. "We had a hard time bowling teams out," Smith said. "Janeiro is a very talented cricketer and you can't dismiss his talents. He shows up at tournaments and does his best. I just hope we can change, to make a better situation so younger players want to play. We need to bring the youngsters through in an environment where they enjoy playing for the national team. In the next year we need to decide which way we're going to go and how we're going to groom this team into getting better. We still have to play international cricket so we can't just scrap the team and just go with youngsters. We don't have a large pool of players, so we need to make sure we have programmes to develop players to play at international level. That's why we entered two teams in the Evening League, to take the under-17s and get them ready for the [ICC] Under-19 Tournament next year." Smith was himself a product of the highly touted Shell Youth League more than 30 years ago, a league that helped develop many of the top young players in the 1980s. "We don't have young players playing as much cricket as when we had Shell, they have a lot more [sports] options now," he said.
2011. April 20. Bermuda were relegated to Division Three of the World Cricket League after losing to UAE in Dubai. Relegation meant a loss of ICC High Performance status for Bermuda, and some $350,000-$400,000 worth of funding that goes with it. The result also put the future of head coach David Moore, and Bermuda Cricket Board chief executive Neil Speight in some doubt, especially with the significant reduction in the sport's grant from the Bermuda Government.
Alma (Champ) Hunt (above) was the outstanding Bermuda cricketer of the 20th century and such a capable cricket administrator that he led Bermuda's triumphs in the ICC tournament he helped found in the late 1970s and early 1980s. It was Champ Hunt who drove the idea home at the MCC (Marylebone Cricket Club) to have smaller countries such as Bermuda compete against each other for the right to qualify for the World Cup. He, plus Nigel (Chopper) Hazel, made the long journey across the Atlantic to Scotland north of the English border to contribute their talents to the game there.
Later Cup Match legend Clarence (Tuppence) Parfitt followed in their footsteps. In 1977 he became the professional at the Arbroath Cricket Club in Arbroath, Scotland. In 1984 Parfitt returned for a period of five years. Again both his playing and coaching abilities brought success to the Club as they were able to bring the younger players through into the senior teams as they won the Scottish First division championship in four of the five years, being runners-up in 1987, and also winning the Three Counties Cup in 1985 and 1986 while the second eleven also won the Two Counties Cup in 1986. On 17th April, 87 the cricket club celebrated the 100th anniversary of the opening of its Lochside playing ground with Parfitt amongst the honored guests. By then Arbroath United, the club moved up to the Scottish Counties League (SCL) in 1989, playing under the name of Arbroath County. Parfitt moved to Stenhousemuir in the East league of the SCL but returned in 1992 and also played in 1993 as an amateur to provide experience to the young senior side.
Other Bermuda cricket legends are Cal (Bunny) Symonds, Dennis Wainwright, Colin Blades, Albert Steede and brothers Sheridan and Lee Raynor and Dwayne Leverock. Sheridan Raynor was the first Bermudian batsman to score a century on the international stage
Cycling
Bicycles first arrived in the l9th century. Despite humid weather and steep hills, this is a popular sport. Bring your own or rent one locally, one of the best ways to explore the Bermuda Railway Trail. In competitive cycling, there are numerous local adherents and races. Visitors are always welcome. Several Bermudians are in demand overseas as professionals. One local cyclist, Kris Hedges, cycled for Bermuda at the 2002 Commonwealth Games.

Bermuda Bicycle Association. P O Box DV 192, Devonshire DV BX.
Darts
There are several clubs.
FEI World Jumping Challenge
2016. April 25. Philip Correia became the first Bermudian to medal in the final of the FEI World Jumping Challenge in Morocco yesterday. Making his first appearance at this event in more than a decade, the local rider finished second with 17-year-old Kilt Bessiere to claim silver after posting clear rounds on all four days of the competition. It was by far the biggest achievement of Correia's career and far exceeded his expectations going into the event featuring some of the world's elite. "It's really hard to put into words [being the first Bermuda rider to medal at the event] but it feels quite nice," Correia said. "To make it to the final was my first goal, and after making it to the final I knew that I stood a good chance of being in the top five, and obviously coming second is a plus. Most of the competitors that I was competing against are competing at much higher levels than this. They are all competing at Grand Prix level and so to actually ride among other riders that are generally doing a lot more on the horse scene, and do so well, was actually a very big thing for me. It was a good accomplishment and it's nice to see my ability is at a good level. This country [Morocco] is really nice and has a lot of really challenging riders and race horses, and their facilities are out of this world." The 31-year-old rider missed out on gold by a narrow margin in a final jump off with Marek Maitalo of Lebanon. "It was good to win the silver medal, but I wish I didn't come second by a fifth of a second," Correia said. "The guy who beat me was a really good rider, but I went down fighting for sure." Correia, the former Bermuda Horse and Driving and Pony Club president, found himself at a disadvantage after drawing the older horse of the two for the final jump off with Maitalo. "We had to draw for horses and he got the favourite horse," he said. "The horse I had was a good horse but he wasn't the favourite. He was the oldest horse so I had to really think ahead of time and take that into consideration. As an older horse I had to conserve his energy so that he can perform his best, so I really didn't get a lot of time to practise on him. I kind of sacrificed practice to keep the horse in good shape." Meanwhile, rounding off the podium finishers was Yassine Bennani, of Morocco, who took the bronze medal. Presenting the awards was Ingmar De Vos, the FEI president. The 2016 FEI World Jumping Finals involved riders from some 20 countries. Participants represent the top two placing "Category A" riders from each of the different FEI Country Zones. The formula for the event consisted of the warm up competition as well as a first and second qualifying competition with the best 50 per cent of the field qualifying for the final.
Field Hockey
Often referred to, wrongly, in the USA as a "ladies game." This is the third most popular seasonal sport in Bermuda, with a Field Hockey Carnival and a number of teams playing each other competitively in two leagues. Once - but no longer - there was a Bermuda Men's National Team. In the Men's League, they include BCS Panthers, Chameleons, Police Polecats, Rebels, Upstarts and Wasps. In the Women's League, they include Bluebirds, Canaries, Cardinals, Orioles, Ravens, Swallows and Swifts. They also compete in the Central American & Caribbean Games. There is a governing Field Hockey is played at three schools.
Football (American)
Bermudian linebacker for the New York Giants for their successful 2011 Super Bowl final was Antonio Pierce. He is the first Bermudian to play in the prestigious event and the second Bermudian behind Ralph (Rocky) Thompson to wear a Giants uniform.
Football British Bermudian
Bermuda Football Association. P O Box HM 745, Hamilton HM CX. Phone 295-2199 or by airmail at Cedarpark, 48 Cedar Avenue, Hamilton HM 11, or P. O. Box HM 745, Hamilton HM CX, Bermuda. Fax (441) 295-0773. Voicemail (441) 291-0690. Bermuda Registered Charity 331. Larry Mussenden, BFA president,
The senior men national coach has a UEFA B License or USSF B License or equivalent. There is a National Football coach.
Soccer - for both men and women - was invented in Scotland at least as far back as 1540. The women's version was recorded in Scotland in an all-woman league in 1795 but was not played in England until about 1820. The sport was introduced to Bermuda by the British Army in Victorian times and was originally played locally purely between competing British Regiments and the local facilities - now also gone - of the Riyal Navy. It spread outward and is now a Bermuda national sport.
Bermuda made the third biggest leap of any country in FIFA's/Coca-Cola World Rankings in October 2006. Following a successful Digicel Cup first round qualifying campaign in the US Virgin Islands in September, the Island's national soccer team climbed 41 places from 163rd into a two-way tie for 122nd with Surinam.
2017. May 30. Bermuda has a Premier League footballer for the first time in 14 years, after Nahki Wells helped Huddersfield Town to promotion glory. Wells, 26, played his part in a dramatic victory at Wembley Stadium yesterday, scoring Huddersfield's third spot-kick as they won a penalty shoot-out 4-3, after a tense goalless match, worth more than $200 million to the winner. It means he will take on Chelsea, Manchester United, Liverpool and the other English big guns next season in one of the most watched sporting competitions in the world. The last Bermudian to do that was Shaun Goater, who starred for Manchester City in the top flight between 2000 and 2003. Goater was in the same generation as Kyle Lightbourne, who played in the Premier League with Coventry City in 1998, while Clyde Best, with West Ham United starting in the late 1960s, and Arnold Woollard with Newcastle United in the 1950s, played in the old First Division. "There's another Bermudian in the Premier League and that means everything to me," Wells told The Royal Gazette's Stephen Wright, who was at Wembley. The former Dandy Town Hornets and Bermuda Hogges striker, scored ten goals throughout the 2016-17 season for Huddersfield. He played the full 120 minutes yesterday, his third appearance for a club side at England's national stadium, and celebrated with a Bermuda flag. Sports minister Nandi Outerbridge said: "Watching Nahki score filled me with immense pride; and to see the Bermuda flag wrapped around him as they celebrated their victory at the end of the match was absolutely fantastic. "I want Nahki to know that Bermuda is behind him 100 per cent. He is such a strong role model for Bermuda's many young athletes who look up to him as their hero. I am sure the whole island can share in Nahki's excitement today." Progressive Labour Party sports spokesman Neville Tyrrell said in a statement: "The PLP joins with all of Bermuda in congratulating Huddersfield striker Nahki Wells and his team-mates for their promotion to the Premier League. Nahki has conducted himself with dignity and class and has represented his team, his family and his country at the highest standard. He also joins a growing list of elite Bermudian footballers to play at the highest level in the game. We congratulate Nahki Wells and know that he will continue to be a role model for the youth of Bermuda who can see that success at the international level is achievable with hard work and sacrifice."
From April 20, 2007 for an appreciable period there was a Bermuda Hogges professional football outfit, playing in Bermuda and the USA. Stephen Astwood and Damon Ming were confirmed as the Hogges' two franchise players, while former English pros and team co-owners Shaun Goater and Kyle Lightbourne were was also included among a squad of 22 players. The non-playing co-owner is Paul Scope. The full squad is as follows: Timmy Figureido, Jason Williams, Darius Cox, Robert Wilson, Jelani Scott, Dennis Zuill, Jared Peniston, Damon Ming, Omar Shakir, Stephen Astwood, Shaki Crockwell, Lashun Dill, Ralph Bean Jr, Devaughn DeGraff, Raymond Beach, Kwame Steede (captain), Michael Parsons, Domico Coddington, Shaun Goater, Kyle Lightbourne, Seion Darrell, Clevon Hill. The team is in the USA's United Soccer League (USL) Division Two.
Bermudian Clyde Best once played as a striker for the Somerset Trojans, the English team of West Ham United in London, Ajax and Feyenoord Dutch team. He was Bermuda's technical director of soccer until December 1999. Randy Horton, now the Hon. Randy Horton, JP, MP, Minister without Portfolio, played for the New York Cosmos in the USA Indoor Soccer League. David Bascome plays professionally as a mid-fielder for a USA team. Shaun Goater played professionally as a striker for the English Premier League team of Manchester City (It was in the First Division until April 2002) until he officially left the club in June 2003. He returned to Bermuda to lead and coach the Shaun Goater Grassroots Soccer Festival in June 2003. In mid-2003, he joined Reading in the English First Division and in mid 2005 signed for Southend United. He played his last game for them in May 2006, on retirement from UK football. Kyle Lightbourne used to play professionally for Stoke City, then for English Third Division Macclesfield Town until April 2003. Bascome and Goater operate the Bascome/Goater Pro Soccer Clinic at various times when they are in Bermuda. At college level, John Barry Nusum dominated US soccer and now plays professionally in the USA and Ranieka Bean was one of the top five players in women's soccer at Howard University.
Other noted players of the past include Ewing Tucker; 'Scratchie' Lawrence; Raymond Russell; Glen Gilbert; Quinton (Bully) Williams; Bert Bascome; Earl (Townsey) Russell; 'King' Trott; John Beavers Burrows; and Leon Wainwright.
Local football teams include:
Boulevard Community Club
Devonshire Colts Football Club
Devonshire Recreation Club. Frog Lane, Devonshire DV 01; Phone: 441/292-5539
Hamilton Parish Workman's Club. 6 Workmen's Lane, Crawl Hill, Bermuda. Phone: 441/293-1455
Ireland Rangers Football Club. Founded 1989. #5 Club Field, Pender Road, Somerset, Phone: 441/734-2114
Shell Youth Soccer League
The three divisions are Under 11; Under 13; Under 18. All are active.
Soccer referees
| | |
| --- | --- |
| Bermuda Referees Association | P. O. Box DV 176, Devonshire DV BX. Telephone 236 1747 or voice mail 291 0940 |
Gaelic football
A game best described as a cross between soccer and rugby. It was introduced by Irish expatriates resident in Bermuda.

The balls, slightly smaller and heavier than a footballs, have been imported from Ireland. Posts are H-shaped but with a soccer goal at the bottom defended by a goalkeeper. Smash the round ball past him and you get three points, punt it over the bar like a rugby conversion and you will get one point. The ball can be kicked around or thrown but not carried like rugby, unless the player drops the ball and kicks it back to himself on the run, a technique known as soloing. A runner can also bounce it.
Gymnastics
Horseback riding
A popular Bermuda leisure sport. There are over 900 horses in Bermuda. Visitors and locals of all levels of experience can ride horses from stables along bridle and other paths. On a horse, avoid the constantly busy, noisy and made dangerous to visitors by constant speeders on main North Shore Road and Middle Road and South Road nearby. See Transportation for Visitors. Horse back riding on certain beaches is seasonal, in winter months only - not in the summer when the great majority of visitors come. Other places beyond the beaches have horse back riding all year. It's a leisurely way to enjoy Bermuda. For the curious, there are no race horse meetings in Bermuda but there is a well attended amateur harness racing track. A prominent Bermudian rider is M. J Tumbridge, who won Bermuda's first-ever gold medal at the Pan American Games in Winnipeg, Canada in 1999.
Harness racing
There is no longer any horse racing in Bermuda of the type common in other countries. In the 19th century and until the mid 20th century, this was another popular sport and entertainment pursued eagerly by the British military, members of which had a near monopoly on the island's fastest riding horses. The St. George's Stakes were held on January 28, 1846 and featured 10 horses and riders racing in sprints and hurdles. There was a ball after the races. Racing was mostly at the Shelly Bay Race Track, now no longer in use. The only racing today is harness racing, by locals only, but visitors are welcome to watch, at the National Equestrian Center on Vesey Street in Devonshire Parish.
International Show Jumping
Local events are held regularly in Bermuda. And at international level, young local jumpers compete in the Children's International Show Jumping Competition at the National Equestrian Centre on Vesey Street.
The International Island Games Association (IGA) is the event's organizing body and comprises 25 member countries. See its official website of the International Island Games Association at http://www.iiga.org/links.html.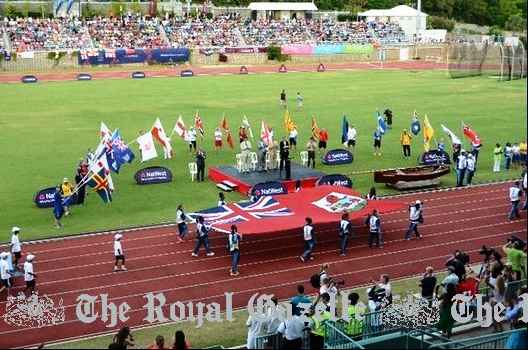 2019. July 15. Members of Bermuda's NatWest International Island Games squad returned home last night after an encouraging weeklong competition in Gibraltar. Bermuda's 48-strong team competed in nine sports and won 14 medals at the biennial event, including six silver and eight bronze, to finish seventeenth out of 22 islands in the standings. Shianne Smith came closest to capturing gold as she was leading the 400 metres hurdles before clipping her final jump and had to settle for silver. Bermuda's bowlers enjoyed a successful competition, with Lamar Richardson coming second in the singles, David Maycock and June Dill taking silver in the mixed doubles and Damien Matthews finishing runner-up in the masters. Also winning silver were the men's team of Richardson, Blake Raynor, Matthews and Maycock. Richardson also won bronze in the masters, as did Matthews and Maycock in the doubles, while Dill, Flo Simons, Patrice Tucker and Jennifer Stovell placed third in the women's competition. In tennis, Gavin Manders and David Thomas took silver in the men's doubles. Manders also won bronze in the singles, while Bermuda's men's team of Sam Butler, James Finnigan, Manders, Thomas and Scott Redmond placed third. Kalin Hillier, Scott Mello, Adriana Penruddocke and Jordon Etemadi won bronze in the sailing team event, shooter Adrienne Smatt won bronze in the women's 50 metres Smallbore Prone, while Rachel Barnes and Anthony Fellowes finished third in the mixed doubles. Sean Trott, was among the athletes who returned to the island last night, and said he was delighted with his displays in the half-marathon, 10,000 and 5,000 metres. "I had top-ten finishes in all three events," Trott said. "I'm just glad my body held up. I finished fourth in the 10,000 and that was my second-fastest time. Bermuda had some really strong performances and the level has definitely increased since I last competed in 2011 in the Isle of Wight." Badminton player Aaron Simmons, who reached the round of 32 in the singles event, said: "This was my first Island Games and hopefully I can win a medal next time The competition was much better than I expected." Hiral Parekh, a member of the women's doubles badminton team with Zoe Wang, added: "This was an experience of a lifetime and we had such a great time. It's was such a proud feeling to represent Bermuda and it was a wonderful experience. We were pleased with our performances."
2019. July 8. Bermuda claimed two more medals at the NatWest International Island Games in Gibraltar today, winning bronze in bowling and tennis. Damien Matthews and David Maycock added to the silver won by Lamar Richardson in the men's singles on the opening day on Sunday, finishing with a total of 2,144 pins in the men's doubles team event. Blake Raynor and Richardson placed sixth in the doubles event on 1,922 pins. In the women's doubles, Gloria Dill and Earlene Tucker finished fourth with 1,746 pins, while Jennifer Stovell and Florence Simons came sixth with 1,629 pins. Bermuda's other medal yesterday was a bronze in tennis after the men's team advanced to the semi-finals of the competition, losing 3-0 to Menorca. Gavin Manders lost 6-1, 6-0 to Oscar Mesquida-Berg, while Sam Butler was beaten 6-1, 6-4 by Alex Mesquida-Berg. Menorca won the doubles by walkover. In the men's singles, David Thomas defeated Jake Booker, of the Cayman Islands, in straight sets, while James Finnigan beat Alec Arho-Haven, of Gotland in straight sets. Manders received a bye. Anthony Fellows lost his men's singles third-round match in squash 3-0 to Michael Pinggera, of Gibraltar, before beating James MacNaughton, of Shetland Island, 3-0 in the fourth round. Greg Fitzgerald lost his third-round match 3-0 to compatriot Stephen Smith 3-0 and also suffered a 3-2 defeat in the fourth round to Wayne Clement, of Cayman. Smith overcame David Sutherland, of Shetlands, 3-0 in the fourth round. In the women's singles, Rachel Barnes lost 3-0 to Natalie Dodd, of Guernsey in the third round before losing 3-2 to Joan Smith, of Shetlands, in the fourth round. Judith Furtado lost 3-2 to Kerry Pottinger, of Shetlands, in the third round. Megan Jackson beat Hannah Dixon, of Isle of Man, 3-0 in second third and Michelle Smith, of the Isle of Man, 3-0 in the third. Shianne Smith finished fourth in the semi-final of the 100 metres heats in 13-11sec, missing out on the final. In the women's group stage of the beach volleyball, Megan Calhoun and Elisabeth Rae lost 2-1 to Isabella Gawlicka and Karolina Zablocka, of Jersey. Allison Lacoursiere and Allison Settle lost 2-0 to Vanessa Bravo and Magda Severa, of Menorca. After four races in the Laser Radials Rig Final, Adriana Penruddocke is in third place with 21 points, while Jordan Etemadi is sixteenth with 56 points. In the Laser Standard Rig, Kalin Hillier is sixth with 24 points and Scott Mello is ninth with 42 points. Bermuda's badminton team won their first group semi-final, a 4-1 win over Ynys Mon, and then defeated Falkland Islands 3-2 in the thirteenth/fourteenth play-off game.
2019. July 8. Bermuda capped the first day of the NatWest International Island Games, in Gibraltar, by winning their first medal of the competition. The success came in the men's singles bowling event where Lamar Richardson impressed, to finish second overall with a total of 1,127 points, to win silver. Meanwhile, there was also encouraging displays from Damien Matthews who finished sixth overall with 1,071 points with David Maycock a further place behind with 1,067 points, while Blake Raynor finished in nineteenth place overall with a total of 853 points. Gloria Dill finished as the highest-placed female for Bermuda in the women's singles event, finishing seventh overall in the standings with 873 points, followed by Florence Simons in tenth on 823 points, Earlene Tucker in twelfth with 793 points and Jenifer Stovell in seventeenth with a total of 741 points. Bermuda are also guaranteed at least a bronze medal as the men's tennis team booked their place in the semi-finals of the men's team event after comfortably overcoming Guernsey in the quarter-finals. Sam Butler put Bermuda ahead with a 6-2, 6-0 victory over Pieter Roninson, before Gavin Manders secured a hard-fought 6-4, 6-2 success against Thomas Turner. The pair were awarded a walkover in the doubles encounter to wrap up proceedings. Meanwhile, Sean Trott narrowly missed out on adding to the nation's medal tally. Competing in the 10,000 metres, Trott, who finished runner-up in the Bermuda Half Marathon Derby in May, finished fourth overall in the newly built 30,000-seat athletics stadium, in a time of 32min 50.02sec, slightly behind Fred Gronwall, of Gotland in 32:16.13, to just miss out on a place on the podium. Alan Corlett, of the Isle of Man, claimed the gold medal in a winning time of 32:06.26, with Gronwall's compatriot Daniel Antononsson finishing second in 32:15.41. Elsewhere, in athletics, Shianne Smith progressed into the semi-finals of the women's 100 after finishing third in her heat in a time of 13.31. Smith also finished seventh overall in the long jump, leaping 5.45 metres. Kärt Õunapuu, of Saaremaa, claimed gold with a winning distance of 6.19. In the squash, Bermuda's athletes suffered mixed fortunes. In the men's singles, Greg Fitzgerald suffered a 3-0 defeat to Henry Birsch, of Guernsey, before going down to a 3-2 loss to Alexander Cleminson, of the Falkland Islands. Stephen Smith went down 3-0 to George Shoulder, of the Isle of Wight, and Anthony Harkin of Jersey, while Anthony Fellowes fared slightly better, drawing 0-0 with Guernsey's Mark Le Conte, before beating Ian France, of the Falkland Islands 3-2. In the women's singles, Judith Furtado beat Hannah Dixon, of the Isle of Man 3-0, before suffering a 3-0 defeat by Joan Smith, of the Shetlands Islands. Meanwhile, Megan Jackson suffered a 3-0 defeat by Jersey's Beth Garton, while Rahel Barnes eased to 3-0 success against Gibraltar's Jessica Gomez. There was disappointment in the first day of competition in the badminton as Bermuda slipped to three straight defeats in the group stages of the team event, with successive 5-0 losses to Guernsey and Minorca being followed by a narrow 3-2 defeat by Aland. Fortunes were not much greater in beach volleyball. In pool one of the men's group, the pairing of Keiran Hamilton and Kyle Hamilton, suffered back-to-back defeats, going down in straight sets 2-0 to Jose Figueira and Andre Fortunato, of Jersey, and 2-0 to Richard Campbell and Nathan Dack of the Cayman Islands. In pool two, the second men's pair of Daniel Fiddick and Joshua Malpas also suffered defeat in their only game of the day, going down narrowly 2-1 against Gibraltar's Henry Earle and Jakub Prudzienica. There was mixed fortunes for Bermuda in the women's group stages. In pool four, Meghan Calhoun and Elisabeth Rae went down 2-0 against Marissa Harrison and Lleann Powery, of the Cayman Islands, in their opening encounter, but there was greater joy for Allison Lacoursiere and Allison Settle, who secured a straight sets 2-0 victory over Kristina Sokic and Dominika Thomas, of Jersey, in pool two. Elsewhere, in the triathlon, Tucker Murphy finished 37th in the men's individual race, in a time of 2:32:14.
2019. July 6. Four runners competing in the NatWest International Island Games in Gibraltar have spoken of what they hope to achieve in the weeklong championships that start today. The group have had their travel expenses to attend the games partially covered by a donation from the Mid Atlantic Athletic Club (MAAC). They are among Bermuda's 52-member team at the event. Sean Trott, Brianna Mendes, Tilly Norman and Quincy Kuzyk will compete in middle and long-distance races. Trott, who finished runner-up in the Bermuda Day Half Marathon in May, will compete in the 5,000, 10,000 and half-marathon. He said: "Being provided with this assistance was a very pleasant surprise as, unbeknown to me, Victoria Fiddick had put my name forward for consideration. The majority of the athletes traveling to the games, including myself, have been required to pay for our own airfare and various additional costs. To hear that I would be getting back a portion of that and that MAAC had chosen to support me provided me with greater motivation to put my best foot forward in the games." Trott's first event is the 10,000 tomorrow. Speaking of his ambitions in the three distances he will compete, he said: "Having looked at prior games results and assessing my current level of fitness, I believe that if I run to my full potential within each event, I am capable of being a medal contender in all three. "Following May 24, I have continued to train at a high level and I feel that my fitness has improved. I look forward to testing myself against some higher level competition." Middle-distance runner Mendes will compete in the 1,500 and 5,000. She said: "I am very grateful for MAAC's continued support of my athletic pursuits. I hope to race well and run fast and am excited to have the opportunity to represent Bermuda again." Meanwhile, Kuzyk will compete in the 1,500. He said: "My main goal is to qualify for finals and to run a personal best. During this season, I was sidelined with an Achilles injury from August until February. I haven't raced much this year, but I am confident that I will be able to perform well. "I am extremely grateful to have the backing of MAAC; I wouldn't be the athlete I am today without the MAAC Juniors and MAAC track training programmes." Norman, the fourth athlete helped by MAAC, represented Bermuda in the 1,500 and 3,000 at the Carifta Games last year.
2019. June 19. A total of 48 athletes will represent Bermuda at next month's 18th NatWest International Island Games in the British Dependent Territory of Gibraltar. The Games will take place from July 6 to 12 with Bermuda having competitors in badminton (10), bowling (8), tennis (5), track and field (4), shooting (1), beach volleyball (8), triathlon (1), squash (6) and sailing (4). Injury forced runner Tilly Norman to pull out, leaving Quincy Kuzyk, Brianna Mendes, Shianne Smith and Sean Trott to compete in track events. Smith has enjoyed success at the Island Games, winning four medals, including three gold, when Bermuda hosted the Games in 2013. Smith provides the experience in an Island Games team that includes Kuzyk as one of the youngest members of the Bermuda team at 18. There are also two 17-year-olds, Aaron Simmons in badminton and Jordan Etemadi in sailing. Tennis will be led by top singles player Gavin Manders, along with the experienced David Thomas and Samuel Butler while Scott Redmond is the youngest tennis player at eighteen. At the other end of the age spectrum, bowler June Dill is the oldest at 69. Gibraltar has a population of 30,000 in an area of just 2.6 square miles. It is adjacent to Spain's Costa del Sol coast, and has long been a strategic military position for the British. The views to the south of Gibraltar are of the Atlas Mountains of Morocco, from which Gibraltar is separated by just 11km of ocean. In addition to their indoor sports hall, the facilities include a rackets centre, a 50 metre pool, an athletic track, a football pitch, a cricket pitch and a rugby pitch. In addition they have recently opened the University of Gibraltar. The move to new housing for the British military stationed in Gibraltar has given the organising committee a Games Village for the visiting athletes. Bermuda has ten players and three officials representing them in badminton while there are eight ten-pin bowlers and eight volleyball players also traveling to represent the island.
Island Games team
Officials: Jon Beard, Juanita Blee, Georgina Francoeur, Geoffrey Blee.
Track and field: Quincy Kuzyk, Brianna Mendes, Shianne Smith, Sean Trott
Badminton: Sinclair Ball, Harold Minors, Rebecca Pantaney (officials), Rowena Cespedes, Mark Haugen, Danial Hughes, Andy Lau, Emma Lee, Hiral Parekh, Aaron Simmons, Denzel Simons, Jin Sun, Zichen Wang
Beach volleyball: Danielle Miller (official), Meghan Calhoun, Daniel Fiddick, Keiran Hamilton, Kyle Hamilton, Allison Lacoursiere, Joshua Malpas, Elisabeth Rae, Allison Settle
Sailing: Jordan Etemadi, Kalin Hillier, Scott Mello, Adriana Penruddocke
Shooting: Vivian Smatt (official), Adrienne Smatt
Squash: Rachel Barnes, Anthony Fellowes, Greg Fitzgerald, Judith Furtado, Meagan Jackson, Stephen Smith
Bowling: Steven Riley (official), June Dill, Damien Matthews, David Maycock, Blake Raynor, Lamar Richardson, Florence Simons, Jennifer Stovell, Earlene Tucker
Tennis: Rickai Burrows, Jovan Jordan-Whitter (officials) Samuel Butler, James Finnigan, Gavin Manders, Scott Redmond, David Thomas, Tucker Murphy
2019. July 11. Bermuda won yet another bronze medal at the NatWest International Island Games, in Gibraltar, increasing their tally to five. Following on from David Maycock and June Dill winning bronze in the bowling mixed doubles on Tuesday, another duo, Rachel Barnes and Anthony Fellowes matched that achievement in the squash mixed doubles, overcoming Stuart Copland and Joan Smith, of the Shetland Islands, 2-1 yesterday. Barnes and Fellowes missed out on challenging for the gold medal, after suffering a straight-sets 2-0 semi-final defeat by top seeds Cameron Stafford and Marlene West of the Cayman Islands, in the previous round. Meanwhile, Bermuda agonizingly missed out on two further bronze medals in both the men's and women's doubles. In the men's semi-finals, Greg Fitzgerald and Stephen Smith lost 2-0 to Anthony Brindle and Christian Navas, of Gibraltar, before going down to the same scoreline in the bronze-medal play-off against Scott Gautier and Anthony Harkin, of Jersey. It was the same story for Meagan Jackson and Judith Furtado in the women's draw, where they lost 2-0 against Guernsey's Karen Robinson and Natalie Dodd in the semi-finals before suffering the same fate in the bronze-medal play-off, losing to Fleur England and Amelie Haworth, of the Isle of Wight. Bermuda's medal hunt was further enhanced with a number of promising performances in tennis, sailing and bowling. On the tennis court, Gavin Manders secured his place in men's singles semi-final after beating Minorca's David Riera-Pons in straight-sets, 6-3, 6-3. Manders also reached a second semi-final, as he and partner David Thomas reached the final four of the men's doubles after beating Riera-Pons and partner Miguel Albert-Fuster 6-0, 6-4. The Bermudian No 2 seeds, who beat James Buxton and Robert Comber 6-1, 6-0 in the round of 16, will face No 3-seeded Otto Byman and Henrique Norbiato, of Aland, today. Meanwhile, Sam Butler missed out on a place in the men's semi-finals after suffering a straight-sets 6-0, 6-1 loss to second seed Oscar Mesquida-Berg, of Minorca, while in the Junior Plate competition, Scott Redmond went down to a hard-fought, three-set 6-3, 2-6, 1-0 defeat by Daniel Reid, of the Cayman Islands. Redmond also joined forces with James Finnigan in the men's doubles, where the pair enjoyed a 2-6, 6-4, 1-0 success against Regan Matthews and Harry Wilmott-Stanton, of the Isle of Wight, in the round of 16, before suffering a straight-sets 6-2, 6-1 defeat to top seeds Stuart Parker and Michael Watson, of Jersey. In the bowling, Bermuda remain on course to add to the team's own medal haul with the men's team of Maycock, Damien Matthews, Blake Raynor and Lamar Richardson sitting second in the men's team event with 2,468 pins, behind leaders Aland on 2,526 pins, with three games remaining. Meanwhile, the women's team of Dill, Florence Simons, Jennifer Stovell and Earlene Tucker sit in third place in the women's team event with a total of 2,029 pins, behind Aland in second with 2,148 pins and leaders Gotland on 2194 pins, with three games remaining. The nation's sailing team also sit in bronze-medal position in the team event, with Adriana Penruddocke, Jordan Etemadi, Kalin Hillier and Scott Mello amassing a total of 169 points after four rounds of competition, with six remaining. In the singles Laser Radial Rig competition, Penruddocke remains in fifth position with 31 points after seven rounds of competition, while compatriot Etamadi is fifteenth with 78 points with three rounds remaining. Also after seven rounds in the Laser Standard Rig competition, Hillier remains in medal contention, sitting fifth with 30 points, while Mello is twelfth with 72 points, with three rounds remaining. Bermuda also narrowly missed out on a further bronze medal in athletics, where Brianna Mendes finished fourth in the women's 5,000 metre race in a time of 18min 54.66sec, slightly under 25 seconds behind Rebekka Fuglo of the Faroe Islands. Meanwhile, Quincy Kuzyk finished tenth in the men's 1,500 metres heats in 4:29.70, while Sean Trott had to settle for an eighth-place finish in the men's 5,000 metres, crossing the line in 16:11.34. There was further disappointment in the badminton men's doubles where both Bermudian pairs suffered defeats in the round of 16. Mark Haugen and Danial Hughes lost 2-0 to Niklas Hojgaard-Eysturoy and Bartal Poulsen, of the Faroe Islands, while Andy Lau and Denzel Simons went down to the same scoreline against Albert and Eric Navarro Comes, of Minorca.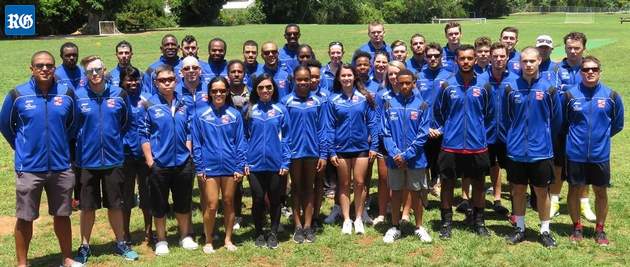 2017. July 1. Bermuda won their first two gold medals at the NatWest Island Games yesterday. Chantae Wilson added to her medal haul by winning gold in the women's FIG individual asymmetric bars while the women's cycling team of Gabriella Arnold, Nicole Mitchell, Alyssa Rowse and Zoenique Williams won the town centre criterium. Wilson won gold with a score of 11.300, with Anna Francoeur claiming the bronze for Bermuda with 10.200. Isle of Man's prolific medallist Tara Donnelly won silver. The same trio claimed the podium in the individual beam, with Donnelly winning gold, Wilson silver and Francouer another bronze. Wilson had won silver in the SET beam and as part of the team floor and vault. She also won bronze in the SET floor. It was a prolific day for the island's cyclists in Gotland. The women's quartet beat Isle of Man and Jersey for the town centre criterium title, while the men's team of Kaden Hopkins, Dominique Mayho, Matthew Oliveira and Che'quan O'Del Richardson won silver in the men's race. Saaremaa won gold with Isle of Man claiming bronze. Oliveira claimed a fine bronze in the men's individual town centre criterium. Karl Patrick Lauk won gold for Saaremaa in 1:00:12.78, edging Torkil Eyofinsson Veyhe, of Faroe Islands, who had the same time. Oliveira finished with 1:00:56.04. Mayho finished fifth in the race, with Hopkins seventh for Bermuda. In tennis, Gavin Manders and David Thomas won silver in the men's doubles, losing 6-3, 6-0 to Jersey's Stuart Parker and Michael Watkins in the final. In golf, the men's and women's teams came agonizingly short of medals. The men's team of James Campbell, Jarryd Dillas, Will Haddrell and Mark Phillips came fourth after shooting a combined 932 over the four rounds, missing bronze by six combined strokes. Isle of Man won gold, shooting 900; Jersey won silver with 916 and Gotland claimed third spot with 926. The women's team of Katrin Burnie, Linda Down, Elizabeth Parsons and Tariqah Walikraam also missed out by six strokes, shooting 1033. Gotland won gold in 1009, Isle of Wight silver with 1019 and Jersey bronze with 1027. Dillas finished fifth in the men's individual event — his 302 was only one shot off a medal and just three off gold medal-winner Alex McAuley, of Isle of Man. Parsons came fifth in the women's individual, with 336. Emma Lindman won gold for Aland, going round in 317 to win by nine strokes.
2017. June 21. Bermuda's 67-member team departs tomorrow for the NatWest Island Games in Gotland, Sweden, led by Jon Beard, the Chef de Mission, who is confident the team will continue the success enjoyed at the Games. Bermuda will be represented by 67 athletes in nine sports, with volleyball having the biggest group, 23, as well as two in beach volleyball. Beard, chairman of the Bermuda Island Games Association, praised the hard work done by his committee of Juanita Blee, Georgina Francoeur and Laura Bolton, as well as companies and organisations who have supported the Bermuda team." Without their support many of these athletes would not be able to participate," Beard stressed. "The team has been outfitted thanks to the continued support of Sun Life Financial International, who has provided the teams uniforms since 2015. Representing Bermuda is an honour that our athletes do not take lightly and the uniforms provided by Sun Life Financial ensure that they represent us in style." Niall O'Hare, CEO of Sun Life Financial, stated: "We are pleased to continue our support of the Bermudian delegation for the NatWest Island Games. We are proud to support our local community and look forward to celebrating the athletes and their successes upon their return to Bermuda." Bermuda will be represented by four track and field athletes, middle distance runners Deon Breary, the recent Bermuda Half Day Marathon women's winner, Ashley Berry and Gayle Lindsay and sprinter Taahira Butterfield. Cycling has named strong men's and women's teams, including Dominique Mayho who has been competing in Belgium, and youngsters Che'quan Richardson, Kaden Hopkins and Matthew Oliveira while Gabriella Arnold, Nicole Mitchell, Zoenique Williams and Alyssa Rowse make up the women's team. There are also two mountain bike competitors, Adam Kirk and Deshi Smith. The golf team comprises Katrin Burnie, Walker Campbell, Jarryd Dillas, Linda Down, Will Haddrell, Elizabeth Parsons, Mark Phillips and Tariqah Walikraam. Top singles player Gavin Manders will be part of a four-member tennis team which also includes Samuel Butler, Jovan Jordan-Whitter and David Thomas while Tucker Murphy is the lone triathlete. Badminton has a team of seven while there are five gymnasts. Ian Bucci and Kazimierz Orlowski will compete in beach volleyball. "These games are of a high standard," Beard said recently. "They are not the Olympics or Commonwealth Games, but they still provide a very strong test for our athletes and help to develop them for future competitions." With these games, our athletes can compete in a competition where they truly have the chance to finish on the podium and it is a chance to show off our talent on an international stage." Beard added: "Gymnastics are in the Games again this year, and our gymnasts have always done us proud and finished in the medals. Gavin Manders and David Thomas have been popular and regular tennis competitors in the Games and will hope that they can get into the medals." Badminton will be hoping to continue their obvious development through recent Games and aim to be in the medals; and Archery, which has developed incredibly in Bermuda in recent years is hoping for their first medal in these Games. "Tucker Murphy will once again show his athletic diversity and hopes to among the top finishers in triathlon." Archery — Robert O'Connor, Tiffany Slaton, Bernard Wade IIIAthletics — Ashley Berry, Deon Breary, Taahira Butterfield, Gayle Lindsay Badminton — Rowena Cespedes, Mark Haugen, Danial Hughes, Kwun Wa Lam, Darelyn Legaspi, Denzel Simons, David WellmanBeach volleyball — Ian Bucci, Kazimierz OrlowskiCycling — Gabriella Arnold, Kaden Hopkins, Adam Kirk, Dominique Mayho, Nicole Mitchell, Matthew Oliveira, Che'quan Richardson, Alyssa Rowse, Deshi Smith, Zoenique Williams Golf — Katrin Burnie, Walker Campbell, Jarryd Dillas, Linda Down, Will Haddrell, Elizabeth Parsons, Mark Phillips, Tariqah Walikraam. Gymnastics — Max Blakeney, Anna Francoeur, Taj Kiran Lowery, Gianna Webbe, Chantae Wilson. Tennis — Samuel Butler, Jovan Jordan-Whitter, Gavin Manders, David Thomas. Triathlon — Tucker Murphy. Volleyball — Brian Amaro, Shannon Botelho, Perry D'Ambrosio, Christina Duff, Kathryn Dyck, Daniel Fiddick, Keiran Hamilton, Kyle Hamilton, Melisa Judd, Allison Lacoursiere, Leticia Ferreira, Savannah Loder, Amber Lopes, Katrina McPhee, Bradley Meindersma, Tiago Ferreira, Sy Olson-McPeek, Khianda Pearman-Watson, Robert Saraiva, Allison Settle-Smith, Brandon Sousa, Eron Woods, Cyprian Zimecki.
2012. July 13-19, 2013. Bermuda welcomed Island Games participants and their media. Bermuda came second in the gold medal tally. The 2013 Games in Bermuda involved athletes from 22 of the 24 member islands, with more than 1,500 competitors, coaches and officials. They competed in 14 sports. Represented islands were as large as Greenland, 1.2 million square kilometers but with a population of just 56,000, and tiny Gibraltar, 7.2 square kilometers with almost 30,000 people. (In comparison, Bermuda has 35 square kilometers, with 64,000 people). Only two of the Island Games members, Rhodes and Sark, were missing. The Channel island of Alderney brought just five athletes. As expected, Bermuda as the hosts had the biggest contingent, 219, who between them took part in all of the events. But they can had some stiff competition from the group of 80 from Jersey which will host the next Games in 2015 and from nearby Guernsey.
The Island's hotels, guest houses, and even schools, were full for these Nat West Island Games - so-called because they were funded principally by Britain's National Westminster Bank (owned by Britain's Royal Bank of Scotland, mostly owned by the UK Government). In Bermuda in 2013 they are sponsored principally by the Bermuda Government's Ministry of Tourism, then NatWest Bank with others. The Bermuda Government donated $5 million in support. 450 athletes stayed at CedarBridge Academy, which was cleared of desks, and chairs, and turned into a dormitory. Other athletes stayed at Saltus Grammar School in Pembroke Parish and Warwick Academy in Warwick Parish, while a few lucky ones found space at both Fairmont Hamilton Princess and Fairmont Southampton locations. Those staying at the schools had catering firms on hand to supply their meals. Their athletes were bused to and from their various events. Collectively, the athletes stayed at 15 different places including the Bermuda Regiment's Warwick Camp. Considered a mini-Olympics by some, or an Island version of the Commonwealth Games, an economic impact study has revealed that the Games gave Bermuda's economy a $10 million boost. The competing Islands are:
Åland Islands (an autonomous, demilitarised, mono-lingually Swedish-speaking region of Finland).

Alderney, see http://en.wikipedia.org/wiki/Alderney. One of the Crown Dependency Channel Islands in the English Channel.

Bermuda. British Overseas Territory. North West Atlantic islands 600 miles east of North Carolina, USA, 900 miles north of any of the Caribbean islands.

Cayman Islands, see http://en.wikipedia.org/wiki/Cayman_Islands. Caribbean. British Overseas Territory.

Falkland Islands. See http://en.wikipedia.org/wiki/Falkland_Islands. South Atlantic, British Overseas Territory.

Faroe Islands. See http://en.wikipedia.org/wiki/Foroyar. Danish. North Atlantic.

Froya, a Norwegian island.

Gibraltar. A British Overseas Territory in the Mediterranean off the coast of Spain.

Gotland.

Greenland.

Guernsey. British, second-biggest of the Channel Islands, off the coast of France.

Hitra.

Isle of Man. British, Irish Sea, between Scotland and Ireland/Northern Ireland.

Isle of Wight.
Jersey. British, biggest of the Channel Islands, off the coast of France.

Menorca (first appearance in 2007).

Orkney. British, Several islands to the north of and part of Scotland.

Prince Edward Island. Part of Canada.

Rhodes. A Greek island.

Saaremaa. See http://en.wikipedia.org/wiki/Saaremaa_Island. An island off Estonia.

Sark. British, One of the smaller Channel Islands off the coast of France.

Shetland. Several British islands to the north and part of Scotland.

St. Helena. British Overseas Territory, South Atlantic.

Western Isles. Several British islands to the north west of and part of Scotland.

Ynys Mon (in English, Anglesey) in Wales.

All participants and spectators with Island Games Accreditation travel

ed on Bermuda's Public Bus and Ferry system during the Games for free. They carried their Accreditation ID.

Sports competed are

Most of the track and field and swimming events

took place at Bermuda's purpose-built National Sports Centre, photographed below, which includes a 50 metre pool completed in 2012.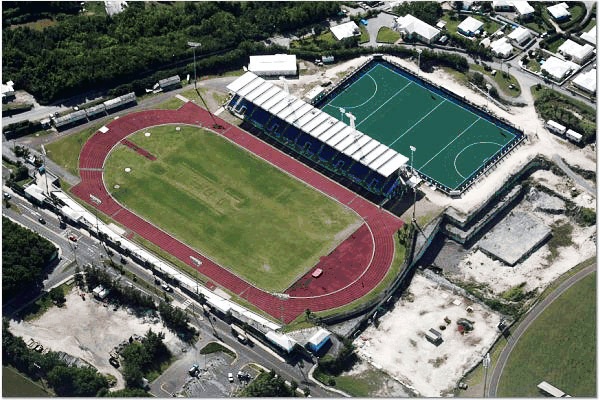 To represent an Island, a competitor may qualify by any of the following:
Having been born on that Member Island. (A competitor may be considered to have been born on a Member Island if the mother was normally resident on that island immediately prior to the birth and returned to the island soon after).

Having been resident on that Member Island for the period of twelve consecutive months prior to the date of the Opening Ceremony of the Games in which it is intended to participate.
Jump Rope
2019. June 29. Bermuda's national youth jump rope team is to represent the island at an international competition in Norway. The Bermy Bouncers, five boys and girls aged 10 to 17, will fly to Oslofjord to compete in the World Jump Rope Championships next month. They will be joined by the adult team Bermy Bounce Backs to face off against more than 40 countries on the world stage. Both teams will compete in power-based speed and freestyle events, which will be judged based on physical proficiency and performance creativity Kendia Dill, the assistant coach for the squads, said that the teams had trained four times a week since September in preparation for the event. She said: "We do push-ups, sit-ups, jump squats and running in one spot to get that agility and flexibility, especially in our legs." Ms Dill added: "The sport of jump rope is more than just jumping in spot and crossing your arms. You do have to be physically strong to be able to go through a lot of the elements that come with competitive jump rope." Sionna Barton, the head coach, said that the team had competed in the World Jump Rope Championships since 2013 and this year would join two Caribbean countries at the event. She added that this would be the competition's final year before the organisers became the International Jump Rope Union, a global governing body, and launches a bid to become a part of the Olympics. Ms Barton explained that the team hoped to make a good impression as the sport could become an Olympic event. She said: "We have children completing in a paired freestyle where two of them are doing a Chinese wheel where they hold the ends of each other's rope. It is a very big competition and it's a big deal that we are there."
2016. April 12. A team of acrobatic students will provide an energy boost to this year's Agriculture Show when they take to the main stage later this week. The youth jumpers from the Bermuda Heart Foundation's Jump 2B Fit programme range in age from 7 to 18 and come from both public and private middle and primary schools. The team will be performing on Friday and Saturday at 2.15pm on the main entertainment stage in the Botanical Gardens. They will be performing a combination of single rope skills, double dutch skills, and gymnastics tumbling whilst in the ropes. The team train in the sport of jump rope, and have performed all over the island. They have also traveled internationally to represent the island in competition at the World Jump Rope and Pan American competitions.
Karate
Karting
For young racers of miniature cars.
2017. May 1. Scott "Skitchy" Barnes had to draw upon all of his experience to fend off a charging Austin Riley to win the 125cc Shifter class final at the Dockyard Grand Prix yesterday. Barnes, the Bermuda Karting Club president, withstood some fearsome pressure for the entire 14 laps of the Clocktower Mall circuit as Canadian Riley ensured there were plenty of thrills during the main event. For Barnes it was his second victory of the day, having won the Tag Senior class, and his first chequered flag in the shifters at a local Grand Prix since the maiden Dockyard street race in 2013. Barnes said that teenager Riley — a growing star and poster boy for autism — gave him a "run for my money" and admits he was close to surrendering his lead on a few occasions. "Austin is really fast and I felt him the whole race," said Barnes, who led from start to finish after qualifying in pole position. "I just had to hold my line and it was definitely a tough race. About halfway through my motor spluttered coming out of turn four and he got alongside me and we went down the whole straight pretty much side by side. We both held our line and I managed to get to turn one in front — I thought I was a goner there!" Barnes, who won all eight of his outings during the two-day event, which included practice races and heats, believes that Riley has a bright future in the sport and offered an interesting dynamic to the event. "Austin is only 17 years old and has been racing all around the world, raising awareness about autism, and it was definitely a big win," Barnes added. Barnes, 31, suffered a setback in the morning's practice, splitting his engine mount, and had to borrow parts from rival racer David Barbosa. "I hit a bump and my engine mount totally cracked in half," Barnes said. "Dave was good enough to lend me his back-up and that's real good sportsmanship." Riley, who had autism diagnosed at 14, has raced in England and Australia, his tours including presentations to schools about his condition which affects social interaction and communication. He finished a close second behind Barnes with Shannon Caisey in third. "It was probably the most challenging race weekend I've ever experienced," said Riley, whose car suffered problems the previous day, his team having to borrow a piston and front mount from fellow competitors. "It was a very, very tough battle and I thought I was going to have him, but I just couldn't get past. [Barnes] has some skill behind the wheel and managed to close the door on me — if he didn't I would have had the win." Barnes was also made to work in the Tag Senior final, finishing ahead of Barbosa in second and Bilal Binns in third. In the Cadet class, Jamie Newton — the son of Oracle Team USA sailor Joey Newton — claimed victory, with Nile Bean runner-up and Jacob Hines completing the podium. Nick Narraway won the Tag Junior in a race that Ryan Burgess walked away unharmed from a nasty crash, his car suffering significant damage. Canadian Rob Howden, from eKartingNews.com — the biggest karting website in the world — took the honours in the LO206 class, finishing ahead of second-place Jonathan Howes and AJ Durham in third. Howden, who also announced the races, said he became friends with Barnes after they met at the Rock Island Grand Prix in Illinois. "Scott has always said, 'You've got to come and race at our club', but my schedule is always so busy," Howden said. "He called in February and said, 'We'd love you to come' and I looked at my schedule and I actually had an open weekend. "I said, 'You know what, this year I'm doing it, I'm coming' and I've had such a great time. I do a lot of street races up and down the US and the passion and dedication of the Bermuda Karting Club is amazing. The track was super-fun; it wasn't overly technical but you couldn't afford to make any mistakes otherwise you'd lose position."
2017. April 28. The Bermuda Karting Club will serve up a high-speed appetizer for the America's Cup when the Dockyard Grand Prix roars into action tomorrow. International drivers will compete in a Bermuda street race for the first time as the club sets up in the West End for the fourth time in four years. A total of 31 karts and eight bikes will race around the Clocktower, with around 2,000 spectators expected over the course of the two-day event. "We are only three weeks out from the America's Cup," club president Scott "Skitchy" Barnes said. "There's some mega yachts here and some tourists as well, so we're hoping we pull some of them in too. I think the biggest thing, though, is we have international people involved in the racing. It's the first time we've had a street race with international drivers. That's a huge deal. We also have international announcers and an international race co-director too. Marco Oldhafer, he runs the F Series, from New Jersey — he's coming down for the first time so it will be cool to show him what we'll all about. Canadian Rob Howden, from eKartingNews.com, will be announcing and racing in the LO206 class. And there's Austin Riley, also from Canada, who is bringing his motoring with him. He's got a nice chassis so has some good equipment. He's racing in the Shifter class, and will be one of the favorites for that." Riley, 17, who is autistic, is also scheduled to visit schools to raise awareness of the condition, something he has done before in Bermuda. A growing star and poster boy for autism, Barnes expects him to be quick. "He's had a whole year of practice time in the Shifter, so he's definitely going to be fast. I'm not sure if he's done any street races but he's definitely going to be a favourite and it's cool to have him back on island. We like to show him a good time and help get the word out there for autism." He added: "In that class I guess the favorites will be myself, Shannon Caisey is fast, while Austin, who has a modified ICC, will have one of the fastest engines out there. Him and Caisey have a little more horsepower than me but we'll see." Elsewhere, there will be full-throttle action in the Cadet class, TAG Senior and TAG Junior, as well the masters LO206 closed-engine class. In the Cadets, Jamie Newton, son of Oracle Team USA sailor Joey Newton, is the one to watch as he tackles a street race for the first time. "It will be interesting to see how he adapts to the street," Barnes said. "Jacob Hines has been coming on strong, while Nile Bean has been going away with Jamie to race. So those will be the three to look out for." He added: "In the TAG Senior, myself, David Barbosa and David Selley will be the front-runners, while the LO206s is up for grabs — that's anyone's race. You've got 12 in that class and any 12 can win. There's no weak links so it will interesting to watch, and with this track and how tight it is, that class is going to be fun to watch. It should be bumper to bumper." For the kart classes, points from three heat races will decide starting positions for the trophy final on the Sunday. The schedule also features Super Mini Bikes and rental kart races, with America's Cup sailors, politicians and big-name Bermudians getting behind the wheel. There will be five rental races on Sunday with five drivers competing in each. The winner of each race goes through to a final. All drivers and riders will have to embrace the thrill and difficulty of the tight Dockyard track. "It requires patience," Barnes said. "You have to decide when you're going to make a pass and how you're going to do it. You have got to plan it, set it up. But you have to be aggressive too, which is the opposite of being patient. They kind of go together when you're racing. When you make a pass you have to decide to do it. You can't hesitate. The margin for error in a street race, there is none. If you make one little mistake you're into the curb, bending stuff up. And when you have a couple of thousand people watching you and you see them, they're only 20 feet off the track, that adds to the adrenalin and the excitement. Plus, like with any street race, the roads are different from a normal track so with Dockyard, between turns three and four, there's a little hump in the road, which gets you some air, which is interesting and fun as you have to control the kart. Every time we do one of these races, we always get people coming up to us saying, 'I never knew go-karts were like this on the island'. When people think of go-karts, people think of the fun things you go on at Disney; they don't think of what we do. So it's pretty cool to showcase this to Bermuda and show everyone what we're all about." The family friendly event features food vendors, bake sales stalls and a fun castle. Ferries and buses are running. The action takes place from 9.10am tomorrow and 9.45am Sunday. Dockyard Grand Prix schedule. Tomorrow 8.45am: Mandatory drivers' meeting. 9.10: Practice session 1. 10.10: Practice session 2. 11.10: Practice session 3. Heat Race 1. 1.20: Cadet. 1.40: TAG Senior and Junior. 2.00: Super Mini Bikes. 2.20: LO206. 2.40: 125cc Shifter. Heat Race 2. 3.10: Cadet. 3.30: Tag Senior and Junior. 3.50: Super Mini Bikes 4.10: LO206. 4.30: 125cc Shifter. Sunday. 9.15: Mandatory drivers' meeting. 9.45: Practice session. 10.35 - 11.50: Rental races. Heat 3. 1.10: Cadet. 1.25: TAG Senior and Junior. 1.40: Super Mini Bikes. 1.55: LO206. 2.10: 125cc Shifters. Finals. 2.35: Opening ceremony. 2.55: Rental race. 3.15: Cadet. 3.40: TAG Senior and Junior. 4.05: Super Mini Bikes. 4.30: LO206. 4.55: 125cc Shifters.
Lacrosse
A relative newcomer to Bermuda's sports but the Bermuda Lacrosse Association, not an employer but a volunteer sporting body, has succeeded, with help from overseas and professional newcomers, in coaching and training Bermudians to get good enough to enter selected international competitions and perform respectably.
Marathon
The Bermuda Marathon Derby, run on May 24 annually, rain or shine, is a classic. The two organizers are Berwyn Cann, a former sprinter and athletics coach, and Richard Tucker. There are many local marathon and half marathon races. Also, many Bermudians and residents habitually enter marathon races in other parts of the world, such as the Boston Marathon.
National Sports Centre and National Stadium
Frog Lane, Devonshire Parish. The Bermuda Government funded entity for track and field and many prominent sports. See photos, plans, work done to-date and more under National Sports Centre at http://www.bermuda-online.org/seedevon.htm
Netball
An American game very popular in Bermuda. Winter, Summer, Senior and Junior Leagues. All games are played at in Bernard Park, in Pembroke Parish, near the City of Hamilton. Bermuda Netball Association.

2018. December 28. Venture down to Bernard Park on any given weekend and little would you know that you could be rubbing shoulders with a former World Cup silver medal-winner. Unbeknown to most, fans, officials and players alike, hiding in plain sight among the Bermuda Netball Association senior league, is former England captain Naomi Taylor, who is using her skills and experience to help improve the island's netball scene. "People don't know my background," Taylor said. "I haven't really told anyone, my boyfriend didn't know for the first six months, it just never came up in conversation. It always seemed a funny thing to broach, like, 'Hi, I'm Naomi and I used to be England's captain'!" Despite her modest demeanor, Taylor's achievements are certainly nothing to be ignored with success following her through every stage of her sporting career, helping to build the foundations of the wave that the England netball women's team are presently riding. Having grown up on the island of Guernsey, in the English Channel near the French coast, Taylor moved across to Bath and demonstrated her prowess from an early age as part of the full-time high-performance programme, captaining both her university and the British University team, as well as playing in the Netball Superleague for Celtic Dragons. Taylor was on the move again in the following years as she helped co-ordinate a sports programme in Zambia, Southern Africa, with government agency UK Sport, before returning to England and more notably the netball court, taking part in three Indoor Netball World Cups with her most memorable moment as captain coming in 2014. Having beaten one powerhouse in the form of South Africa in the semi-finals, Taylor and her England team-mates battled bravely but narrowly missed out winning gold, going down to a 45-30 defeat to the highly-fancied Australia. "That silver-medal moment was incredible and really helped to push the sport on," said Taylor, who, four years on, like many in England were gripped to their screens to watch their nation, including some of Taylor's close friends, overcome Australia to win Commonwealth Games gold on the Gold Coast in April. For me then, it was a little like what we are seeing in England now following the Commonwealth gold. You have to achieve results for people to take notice and listen. Back then it had an impact on the game, domestically, and that will have an even bigger impact, especially with a home World Cup coming up in Liverpool in 2019. Over the last few years they have beaten some of the best teams in the world but the Commonwealth gold is a huge defining moment, with armchair fans now loving the sport. Just for people to be discussing netball is a huge step forward." Following on from her own medal success, Taylor somewhat surprisingly took a step away from playing and turned her attention to coaching, taking up a role with Superleague side Surrey Storm. "After winning that silver medal at the World Cup, I stopped playing really," explained the 32-year-old. "I got an injury and after trying to play through it for a little while I just thought I was done with it. I got involved with Surrey Storm as assistant coach first of all and loved it. It was a different route for me to go down but still meant I could be involved in the game and that was the main thing for me." Fast forward to April 2016 and an opportunity arose for Taylor to move to Bermuda to work with children with special needs. On arrival, Taylor conceded she had reservations about getting involved with netball again before being introduced to the Robin Hood team by a housemate. "I wasn't going to play when I moved over here," Taylor added. "I lived with a girl who coached Robin Hood and so got roped into it a little. She's since left the island, so I coach Robin Hood. I'm fully back involved with the sport now." Despite many not knowing the true extent of Taylor's playing credentials, she has been able to pass on her expertise not only to her Hood team-mates but also to the senior national squad where she has featured for Bermuda. Having played and coached on the island for the past three years, Taylor has watched the game in Bermuda come on leaps and bounds, particularly within the youth leagues, largely down to the hard work of the BNA "I've noticed a massive difference over the past three years here in the standard," she said. "The people behind the scenes are putting in so much work with the youth side of things and it is really showing. They're really trying to create a new culture to how Bermuda plays netball and that's brilliant. England are probably ten years behind Australia in terms of development and infrastructure and Bermuda are perhaps a little bit further behind that, but the country is certainly heading in the right direction." However, despite the promising progression, Taylor conceded that for all the positives within the junior game, the culture surrounding the senior side of netball still has a lot of work to do to ensure a bright future for the sport in Bermuda. "We need a senior team for the younger players to aspire to be like, but unfortunately no one really seems to know who these players are," Taylor added. "There are some outstanding players here, but there's a bit of a disconnect between the seniors and the youth. Unfortunately, the senior side of the game is arguably behind the junior side of things, which isn't ideal. The juniors is where your future players will come from but you need to have a set-up in place for them to come into and want to be involved. We have great under-21 players and then a group of women over the age of 35, but that in-between age group is the key to having a strong national senior team. The impact here is greater as well because it's a smaller pool of players to choose from. The issue we have is that you lose a lot of girls at college age because they go off to study and then that under-21 group gets ripped apart. What we need is that age group of 22 to 23-year olds, when they return, to want to still be involved in the game. However, we have to be realistic and be aware that these women have jobs, families and other responsibilities, so to give up their time and dedicate themselves to netball for free is hard. That's why the youth set-up is so important because if you can get the younger players to buy into something at a young age then there's a good chance they will carry that through with them. There has been a culture here that other sports are seen as giving you the opportunity to go further, but in the three years I've been here the growth has been promising and there are things we are doing to help continue that growth." One such initiative which Taylor has used her connections and helped implement is to send youngsters over to England to train with Superleague side Wasps Netball, a move which she hopes can help replicate the impact of English players going away to play and learn in Australia. "Every year a player from here will get the opportunity to go over and train with Wasps in England," she said. "We are trying to open the eyes of those young players that netball can give you opportunities. We also have a player at Hertfordshire University at a high-performance centre and so it is about networking and creating opportunities. We want it to be similar to the English girls going out to Australia and coming back better players. There is no reason on a smaller scale why Bermuda can't do something similar to what has happened in England and here you can make names out of players who are so relatable within the community." Taylor's input has already started to show rewards as, alongside the tireless work of Kimale Evans, president of the BNA, and Gina Benjamin, the national team coach and BNA vice-president, the Bermuda senior team have regained their world ranking, with opportunities in the new year to improve their placing further. "They are 29th but we need to play a number of games next year to keep that," Taylor added. "In comparison, the United States are 33rd in the world and although they're relatively new to the game, when you compare the sizes of the two nations, Bermuda have a good starting point to improve. Being around the national squad has been really refreshing and being part of netball is great again for me personally. When I played in Guernsey, we didn't have the opportunity to play as a nation but here, Bermuda can go away to the Caribbean next year and play in tournaments for world ranking points. That is an incredible opportunity to continue growing the game. Making those strides forward is certainly achievable and with all the hard work being done I think we'll keep seeing improvements."

2018. September 19. Vandals have again defaced public netball courts with vile graffiti, it was revealed yesterday. Now the courts at Bernard Park in Pembroke have been closed for a clean-up just as young players prepared for the start of the season. Kimale Evans, president of the Bermuda Netball Association, said the offensive graffiti, first spotted last Friday, was the latest in a string of incidents. The scrawls on the two courts included "die black whore" and "kill black lesbians". A Bermuda Police Service spokesman said that an investigation had been launched, and that witnesses or anyone with information which may lead to the arrest and prosecution of the suspect(s) to contact police on 295-0011. Ms Evans said: "We're outraged. We don't want young people or anyone else to have to see this or feel that this is OK. We live in a society where people have become desensitized to hate crime. A memo went around to all the coaches to tell them we don't want anyone to use the facility." She said the Department of Youth, Sport and Recreation would tackle the graffiti and that moves were under way to boost security, including the installation of CCTV. Ms Evans added that the courts had been targeted about six times over the last two years. She said: "We've had paint spattered all over the central circle in both courts. We've had cooking oil, trash and broken glass." Ms Evans said the latest incident was the product of "a very disturbed individual, someone whose mental capacity is not that of a normal person". She added that players were now in their preseason training and some teams went ahead with play on the defaced courts at the weekend. However, a memo was sent out on Monday to tell clubs that further use of the courts had been suspended. "The BNA said it did "not want any of our members to be subjected to any form of defamatory and discriminatory dialect". The memo added: "We will not aid in desensitizing our members, both young and young at heart. "Ms Evans said the BNA had "absolutely no clue" why it would be subjected to repeated attacks. She added: "It's not like we've received any kind of hate mail. Youth, Sport and Recreation, we hope, will start the work this week and hopefully complete it in a week or so. We just have to pray that nothing happens after that. We had to delay the last season a week. It definitely affects the clubs unless they can find other places to train." Ms Evans said the department had approved the installation of cameras at the park. She said: "It's just a matter of a contract to get it done. We're hoping this issue is now pressing enough and they feel it should be done immediately. The department has been awesome through it all. They're handling it, but it's very costly when you're fixing things over and over. It's also our hope that at some point we can get some taller fencing." Ms Evans said anyone with information on the crime, or anyone who may have seen anything suspicious at the courts, should contact the police.
Olympics and Winter Olympics
Bermuda always sends a delegation, including to the 2016 event in Rio de Janeiro, 2014 Winter Olympics in Sochi, Russia, 2012 Olympics in London, 2010 Winter Olympics in Vancouver and the 2008 Olympics at Beijing.
2018. January 26. Tucker Murphy is set to become a three-times Olympian for Bermuda after qualifying for the Winter Games in Pyeongchang, South Korea, next month. The cross-country skier, who represented Bermuda in Vancouver in 2010 and in Sochi, Russia, four years ago, has reached the B standard in the 15-kilometre freestyle. Murphy, 36, has spent the past few months competing in Kandilli, Turkey, and Seefeld, Austria, in an attempt to reach his third successive Winter Olympics. He will travel to Pyeongchang with his father, Mike Murphy, the president of the Bermuda Winter Ski Association, who will serve as the island's chef de mission. "Tucker got the lowest number of [qualifying] points he's ever had since he started," Murphy Sr said. "The lower the points, the better the result. He's doing pretty well and he's getting towards the first cut-off for the top, top groups, so he's definitely improved." Tucker, who is based at present in South Tyrol, an autonomous province in northern Italy, will train and compete right up until the week before the Games, which run from February 9 to 25. Such is the gulf in resources between powerhouse winter sport nations, like Norway and Sweden, and the smaller nations, Tucker has joined a small subset of skiers from the likes of Chile, Bolivia and the not-so-snowy European countries such as Portugal and Ireland in a separate competition within international races. "There's a group of athletes he competes against at this level," Mike Murphy explained. "They don't win medals or anything, but they have their own competition going. It's among the smaller countries and it's like the big race. Sometimes they let them go first, or sometimes they let them go on the back. It depends on the snow." A multi-talented sportsman, having competed in triathlon at the Commonwealth Games in Glasgow in 2014, Tucker started cross-country skiing while studying at Dartmouth College, the Ivy League university, in New Hampshire. He is equally decorated as an academic, as the recipient of a Rhodes Scholarship for Bermuda in 2005 and has a Blue in triathlon from the University of Oxford. "He likes to compete and likes to train a lot," his father added. "The island is conducive to doing a lot of sports and he has had good experiences in the triathlon and running races." Accompanying Tucker and his father to South Korea will be coach Pepa Miloucheva and general secretary Sean Field-Lament. Bulgarian Miloucheva was selected because she is a "multitasker", according to Murphy Sr, and is particularly gifted for waxing the skis to ensure they are best suited to the conditions in South Korea. "Waxing is probably one of the most important things," said Murphy Sr, who, along with his son, spearheads the Friends of the Bermuda Railway Trail charity. "The waxer always gets blamed if somebody doesn't do as well as they should. They dump the blame on the waxer! It's a real special talent. You can't imagine how refined the whole thing is. The big countries have a meteorologist come a year in advance to try and predict what the snow conditions will be, so the waxers can get it right. This is what we're competing against." Bermuda has been represented at the Winter Olympics since the 1992 Games in Albertville, France, where Simon Payne competed in the luge. "It's good publicity for the island," his father said. "We wear our red Bermuda shorts and our blue blazers, and march with the flag. There's a lot of different good things that come out of it." Bermuda's traditional attire at the opening ceremony certainly ensured Murphy stood out at the Sochi Games, with Maria Sharapova, the tennis star, tweeting: "Bermuda wearing shorts . . . love it! 6 degrees in the stadium #Opening Ceremony". Matt Leseur, a Bermudian freestyle mogul skier, had hoped to join Tucker in Pyeongchang. The 19-year-old earned the island an eligibility spot, finishing in the top 30 at the World Cup in Ruka, Finland, last month, but ultimately fell short in his qualifying objective. "Matt did a terrific job and made a super effort to get there," his father said. "He was extremely hopeful and did make the quota list, which is quite remarkable." Tucker is only the third Bermudian after Payne and Patrick Singleton (luge and skeleton) to appear at a Winter Olympics. He finished 88th in Vancouver in 2010 before improving on that display with an 84th-place finish in Sochi.
2013. October 3. A planned Olympic Wall of Fame is set to be erected at the National Sports Centre rather than at City Hall. While the monument to athletes who have represented the island was intended to be located at City Hall only temporarily, the Bermuda Olympic Association announced that the monument would instead be erected at a site on Roberts Avenue in Devonshire. The Bermuda National Trust commended the decision, with a spokesman stating that the body had some concerns about the City Hall location, but chose not to object because the location was temporary. The Trust had also been concerned that the monument was to be located in the direct sightline of the grade one-listed City Hall and would obscure the view of the historic landmark. William White, the Trust president, said: "We agree with the BOA that the site at Roberts Avenue is the most appropriate location for a monument to sporting achievement and will serve as an inspiration to the many sportsmen and women, spectators and young people who use the NSC's facilities on a regular basis. We do not know all of the factors that went into the BOA's decision, but the effect of the decision is the right one from an aesthetic and cultural standpoint, and we commend the BOA and the National Sports Centre trustees for this decision." When completed, the Olympic Wall of Fame will list all of the athletes who have represented Bermuda at an Olympic Games, along with the year they competed and their sport.
2016. August 24. A monument to the island's Olympic athletes could be erected in Hamilton this autumn, according to a planning application. The "Wall of Fame", proposed by the Bermuda Olympic Association, would be placed west of the front entrance to City Hall. According to the application, the curved "wall" would consist of six stone tablets of increasing height, each adorned with the names of the athletes who represented Bermuda in the Summer and Winter Olympics, along with the year of their participation and their specific discipline. The smallest of the pillars would stand 3ft 6in while the tallest would reach 6ft 4in, with a base raising the total height of the tallest pillar to 6ft 10in above the ground. The application also notes that the Olympic Association hopes the monument will be ready for dedication by mid-October. Plans for the proposed monument are available for viewing at the Department of Planning offices in the Dame Lois Browne-Evans building.
2016. August 22. Bermuda's 40-year wait for an Olympic Games medal will continue for at least another four years after Flora Duffy was unable to force her way onto the podium in Rio on Saturday. Duffy emerged as a "dark horse" for a medal with a slew of superb performances this season catapulting her to the top of the world rankings. She admits it would have been "really cool" to win a medal and although the race did not unfold the way she envisaged, Duffy should be mightily proud of her eighth-place finish at the scenic Copacabana Beach. The 28-year-old finished in 1hr 58min 25sec, some two minutes behind Gwen Jorgensen, the pre-race favourite from the United States, who claimed gold in 1:56:16. Nicola Spirig-Hug, the defending champion from Switzerland, came second in 1:56:56, while Vicky Holland outsprinted Non Stanford, her Great Britain team-mate, to finish third in 1:57:01. "I know everyone was hoping I'd get a medal but there are only three of them and it doesn't work out like that sometimes," Duffy said. "A lot of people were throwing my name out there as a dark horse and I just tried to stay out of the limelight. I've had a great season so far and I'm not upset with eighth. That's just all I had today." Duffy knew she would have to execute a strong swim and bike to be in striking distance of challenging for the island's first medal since Clarence Hill won bronze in boxing at the Montreal Olympics in 1976. Sitting pretty in eleventh position after the 1.5 kilometers swim, Duffy would have felt confident the hilly 40km bike would play to her advantage as one of the sport's standout cyclists. Although she led for the first two of eight laps, Duffy was never able to put any significant daylight between herself and the leading runners such as Jorgensen, who usually wins her races by chasing down the stronger cyclists. On the fourth lap a desperate Duffy mounted another breakaway but could not find the assistance she needed and was once again hauled back into a bunched-up pack. "It was kind of a weird race and it turned out a little different to how I thought it would," said Duffy, who finished the swim in 19:08, the bike in 1:21:29 and the run in 36:15. "It was one of those days when some of the not-so-good swimmers had great swims and were in the lead group. We were all together in the bike and I tried to get away but it just didn't work out. I felt like I had the handbrake on all of the way." Duffy found herself in ninth at the start of the 10km run with her medal chances subsiding quicker than the midday sun. Still, she dug deep despite "not having her best day" and successfully chased down Claudia Rivas, of Mexico, towards the end of the final lap. "I've had races like this before when you're not feeling good and don't think you're where you should be," she said. "In the past I've broken down and I'm pretty happy that I stayed strong and fought for every position. I was running in ninth until the last 600 metres and I went for eighth, which is kind of trivial at that point. But it's good I had that urge to keep going. To stay mentally tough was great for me today." Jorgensen, who has been the dominant force in triathlon for the past two years, eventually broke Spirig-Hug's resolve on the bell lap. She embraced Duffy shortly after the Bermudian crossed the finish line and offered a few words of comfort for her ITU World Triathlon Series rival. "Gwen and I are pretty good friends," Duffy said. "I respect her a lot for what she's done. I think she knew I was a little off today. If I'm on the bike and not drilling it, or off the front causing some sort of chaos, everyone's like, 'OK, Flora's sitting in, there's something going on not quite right there'. "Gwen just gave me a big hug and said, 'I'm sorry Flora, I knew it wasn't your day'."
2016. August 19. Premier Michael Dunkley has praised the hard work of Bermuda's Olympic team in Rio and called on the island to show its support for Flora Duffy. Ms Duffy, considered a potential front-runner in the women's triathlon, is set to compete for a spot on the winners' podium at 11am local time today. Should she achieve that goal, it would the first time a Bermudian female has ever won an Olympic medal, and only the second medal won by Bermuda in the history of the Games, boxer Clarence Hill having grabbed the bronze at the Montreal Olympics in 1976. Today's event will be broadcast live on ZBM and on the Bermuda Broadcasting Company's Rio 2016 app. With the 2016 Olympics drawing to a close, the Premier said: "Prior to the start of the Rio Games, on behalf of the Government and the people of Bermuda, I extended well wishes and support to Tre Houston, Tyrone Smith, Rebecca Heyliger, Julian Fletcher, Ceci Wollmann, Cameron Pimentel, Shelley Pearson and Flora Duffy. I shared with them that they are all an inspiration and congratulated them on their achievement of making it to the Olympics. Over the last two weeks, I've managed to follow each of their performances and I've been so impressed and inspired by their poise and competitive spirit. I'm sure like me, the entire island has felt an immense sense of pride as they represented Bermuda on the world stage. I can't help but believe that each of our athletes will learn and grow from their time spent in Rio and I am very much looking forward to hearing about their experiences. For so many countries the 2016 Rio Olympics have been a unifying event, and it's my hope that Bermuda will also reflect on the symbolism of these Games, the unifying power of sports and how we ourselves can build upon these sentiments of support and camaraderie. This weekend will be a bittersweet one, as the excitement of the 2016 Rio Olympics comes to an end. However, we still have one Bermudian Olympian yet to compete as triathlete Flora Duffy takes the world stage on Saturday morning. It's my hope that all residents tune in and show their support for Flora and her Olympic bid, and in the days and weeks ahead I hope Bermuda joins me in expressing our national pride and celebrating the amazing achievement of all of our 2016 Olympians."
2016. August 6. Long jumper Tyrone Smith carried the Bermuda flag as he led the island's athletes during the opening ceremony for the 2016 Olympic Games in Rio de Janeiro last night. Our hopefuls wore red Bermuda shorts as they waved to the crowds, with commentators mentioning our only medallist, Clarence Hill. Shelley Pearson and Julian Fletcher will be the first members of Team Bermuda to compete against the world's best, competing in the rowing and 100m breaststroke respectively.
Bermuda team at 2016 Olympics in Rio de Janeiro
2012, August 10. Then-Premier Paula Cox congratulated Bermuda's Olympic athletes and said she is looking into ways to better support Bermuda's athletes. She said following the impressive showing of Bermuda's athletes, she is looking forward to the 2016 Olympics in Rio. "Seeing Bermuda's athletes perform on the world stage has been a phenomenal experience. This evening I shared with them that they may hail from a small Island, but they truly pack quite a punch. This is my first Olympics as the Premier, however I am already thinking of ways to identify what more I can do from the position as Premier to give our athletes more support in preparation for Rio. [Youth, Family and Sports] Minister Glenn Blakeney and I have had a lengthy discussion as to the possibilities and we will follow-through. We recognize that greatness does not just happen overnight. There are building blocks that must be put in place." Both the Premier and Mr Blakeney yesterday attended a reception at Aspers Sky Bar in the Olympic Park, honoring Bermuda's athletes. "My message to our athletes this evening was clear: we support them, we thank them and we are tremendously proud of their performances here in London," she said. A Government spokeswoman said that following the reception, both Ms Cox and Mr Blakeney returned to Olympic Stadium to watch the Olympic Men's 200 meter final.
For those July 2012 London Olympic Games, athletes from five sports represented Bermuda. They were long jumpers Tyrone Smith and Arantxa King, triathletes Tyler Butterfield and Flora Duffy, equestrian Jillian Terceira, swimmer Roy-Allan Burch and 49er sailors Jesse and Zander Kirkland. Officials who traveled with the Bermuda team included swim coach Ben Smith, Watson and national track coach Brian Wellman and Paul Peerech. Neil de Ste Croix accompanied the triathletes Butterfield and Duffy while Paul Hiles and Mark Asquith went with the sailors. Others attending included BOA General Secretary Philip Guishard and Stan Douglas, the Chef de Mission, who joined executive delegates from 204 other National Olympic Committees. Premier Paula Cox and Sports Minister Glenn Blakeney accompanied the team. While Bermuda scored no medals there were, however, moments of individual brilliance from long jumper Tyrone Smith and triathlete Tyler Butterfield to ensure the Island did make a small impression on the greatest show on earth. Facing elimination in the qualifying round, Smith reached back and unleashed his best jump of the season, 7.97 metres, to book his place in his first ever Olympic final. He finished 12th overall, but Smith's feat was bettered only by Clarence Hill at Montreal in 1976 who achieved a bronze medal in boxing. (Bermuda legend Troy Douglas never qualified for an Olympic final). Butterfield had a blitzing bike ride in the men's triathlon, coming 34th. Flora Duffy had her Olympic dream shattered after falling off her bike in the women's triathlon. Long jumper Arantxa King narrowly missed out of reaching the women's final by one spot. Male long jumper Smith was not able to place in the long jump final. In the 2012 Summer Olympics some athletes came painfully close to advancing further than they did and others were plain unlucky. Bermuda punches above its weight in the Olympics and other sports. It is the smallest country to have ever won a medal (Clarence Hill's bronze in 1976) and has come within a whisker of adding to the collection in the past. This has been done with minimal financial support. That was truer than ever in 2012, as the Bermuda Olympic Association struggled to raise the funds it needed, and support for elite athletes was cut in half by Government two years ago. Then-Premier Paula Cox, perhaps enthused with what she had seen in London, promised more support for athletes ahead of the 2016 Olympics. If Bermuda does want to excel in the Olympics, it requires heavy investment. When elite local athletes like Tyrone Smith and Peter Bromby have to work full-time as well as compete, they will always be at a disadvantage. In the UK, Canada, USA, counties not as high on the World Bank's most-affluent list, all elite athletes are government supported, are able to devote all their time to their sport instead of having to work, as is presently the case in Bermuda. In Bermuda, millions of dollars were pledged (although not all was spent, as budgetary realities came home to roost) on cricket and football, but all other sports have continued to receive crumbs, and fewer of those in recent years. Bermuda's athletes did extraordinarily well in London considering the Island's size, but to excel against the world's best, they need enough funding, and the psychological security that comes with it.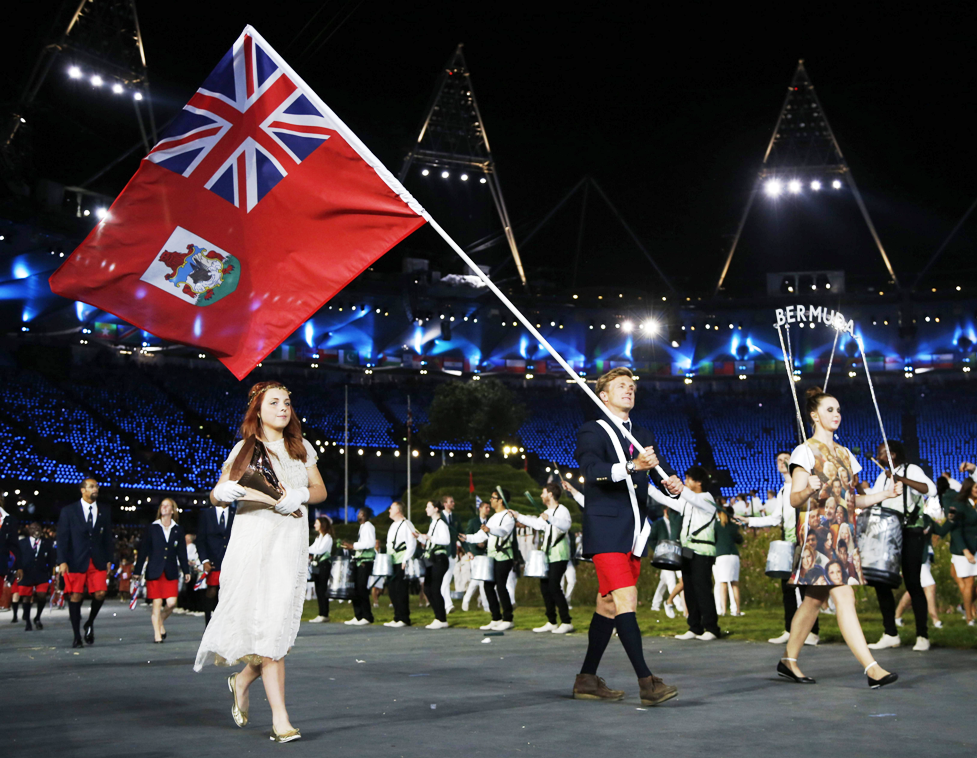 Bermuda contingent marching at London 2012 Olympics.
2012 Olympics closing ceremony
Bermuda in 2014 and 2010 Winter Olympics, Sochi and Vancouver respectively
Pan American Games
A multi-sport event between competitors from all nations in the Americas, held every four years in the year before the summer Olympic Games. Next Lima, Peru, 2019. Last were the 2015 games in Toronto, Canada. They were earlier held in Guadalajara, Mexico in 2011 and Rio de Janeiro, Brazil in 2007.
2019. July 23. Branwen Smith-King believes Bermuda's Pan American Games squad is a positive reflection of the sporting diversity on the island and has backed the athletes to "overachieve" in Lima. Smith-King, Bermuda's chef de mission, will be responsible for creating an environment for the 17-strong team to produce their best performances at the largest sporting event in Peru's history, which starts on Thursday. Held every four years, the Games will feature about 6,700 athletes from 41 nations, competing in 39 sports and 62 disciplines, with Bermuda being represented in athletics, bowling, cycling, sailing, squash, swimming and triathlon. "This is my first time as chef de mission, but I think what's really impressive is that for a small country we have a diverse pool of athletes in different sports," Smith-King said. "That says a lot about sport in Bermuda. My service is to provide an environment and opportunity for the athletes to perform at their best level. Their managers and coaches will have expectations of them performance-wise; I'll be looking to make sure everything is in line for them to compete well and be proud to represent their country." Although triathlete Flora Duffy, the island's top medal contender, and high jumper Jah-Nhai Perinchief will be missing because of injury, while rower Shelley Pearson opted out of the Games, Smith-King expects some memorable displays from Bermuda's contingent. "I admire the Bermuda athletes who have stuck to the wicket and are really pushing forward," said Smith-King, a pentathlete at the Pan Am Games in Cali, Colombia, in 1971. We should not and cannot undervalue the opportunity they have to go and perform at the world-class level. Hopefully they can perform to the best of their ability and a little bit more than that. That's my mantra. We're looking for the athletes to overachieve and feel like they belong." Having already visited Lima to inspect the competition's facilities along with other delegates in January, Smith-King is confident the event will be a rip-roaring success and leave a lasting legacy in the bustling city, which has a population of about nine million people. "These type of games always try and leave a legacy and the organisers talked a lot about that," said Smith-King, whose daughter, Arantxa King is a two-times Olympian in the long jump. "They're trying to upgrade certain areas of the city and inspire young people to take up sports. A lot of infrastructures have been put in place to not only make the Games work but also leave something for generations to come. "Some of the facilities are remarkable and that's the feeling for most of the facilities." Last month a successful operation was performed to check on the system of dedicated road lanes intended to guarantee that competitions and ceremonies take place according to planned schedules. "There's lots of traffic, but the two positives for them is that it's during the school holidays so the children are out of school and they will have a designated lane for transport. That will help tremendously. I think Lima will be a wonderful host; the people are very gracious and accommodating." Smith-King has the distinction of winning Bermuda's first medal at the Carifta Games, a gold in the shot put in Barbados in 1972 with a throw of 9.75 metres. "Clive Long was my coach and he left a legacy for a lot of track and field athletes in Bermuda. I was a long jumper but then Clive made me a pentathlete. I didn't want to throw the shot put, as it was my least favourite event, but I was told that I was throwing it [at Carifta]. I won the gold medal when I was 15; I didn't really know what that meant at the time. I later injured my knee and thought my career was over. However, I decided to pick up the shot put and worked on it and did quite well at the collegiate level [at Springfield College]." Smith-King, the Bermuda Sloop Foundation executive director since 2017, spent 36 years at Tufts University in Massachusetts, serving as the head women's track and field and cross-country coach and assistant director of athletics. She believes her vast experience of working with coaches and athletes in several sports will stand her in good stead in Lima. "Part of my job as an administrator was working with all types of different sports from ice hockey to sailing to squash," she added. "I worked with coaches to provide any opportunities they needed to be successful and to win. I got a job at Tufts when I was 25. I thought I'd stay a few years and then go to Florida State, Arizona State or some big-time Division 1 programme. We were a Division III college and didn't give out athletic scholarships. For me, it was a great fit because, although the goal for our teams was to win and do well, it was always about balance and the students had to reach a high level of academics. I'm proud of what we accomplished, not just on the track but also in terms of what some of the young women are now doing with their lives. They're lawyers, doctors and game-changers in the world."
Athletics: Dage Minors (800m and 1,500m). Tyrone Smith (Long Jump)
Bowling. (Women). June Dill. Earlene Tucker. (Men). Damien Matthews. David Maycock.
Cycling. Caitlin Conyers (road). Nicole Mitchell.
Sailing. Cecilia Wollmann (Nacra 17). Michael Wollmann (Nacra 17, crew). Malcolm Benn Smith (Laser).
Squash. Noah Browne. Micah Franklin. Nicholas Kyme.
Swimming. Madelyn Moore. Jesse Washington.
Triathlon. Erica Hawley.
Chef de mission. Branwen Smith-King.
Para Pan American Games
Bermuda Paralympic Association (BPARAS).
Bermuda participates in these, with a limited number of participants in pre-selected sports drawn from Bermuda's physically and/or learning impaired community. Participants are chosen by the Bermuda Paralympic Association (BPARAS).
Paralympic Games
Bermuda Paralympic Association (BPARAS)
2016. September 9. A podium finish proved out of reach for Jessica Lewis who came sixth in the T53 100 metres final at the Paralympic Games in Rio de Janeiro. Lewis said she threw everything she had into last night's race at the Olympic Stadium, making a blistering start and was in second place until the 60 metres mark. The slightly-built 23-year-old was unable to fend off her more experienced and physically stronger competitors during the business end of the race and admits that she simply ran out of steam. "I had a really good start and was up in second for much of the race and managed to hold them off until the very end," Lewis said. "It was pretty awesome to be up there with the big girls and now I just need to improve my power, strength and stamina." Lewis harbored hopes of adding to her impressive medal collection, having won bronze at last year's IPC Athletics World Championships in Doha and gold at the Parapan Am Games in Toronto, but can take comfort from knowing her best years are firmly ahead of her. "I'm still at the beginning and I've only been doing this for six years," she said. "I've got a long career ahead of me. I threw everything I had into it and know I'll refocus for the 400 and 800." Lewis could not better her personal best of 16.81sec, finishing in a time of 17.25, with China's Lisha Huang, who set a word record in the morning's heats in 16.19, winning her second successive Olympic gold in 16.28. Her compatriot Zhou Hongzhuan placed second in 16.51 and Australia's Angela Ballard came third in 16.59. Also finishing ahead of Lewis were Hamide Kurt, of Turkey, in 17.01 and Samantha Kinghorn, of Britain, in 17.13. Lewis said she was unhappy with her display in her heat when she finished fourth in 17.42 and was determined to iron out some technical faults in the final. "I was disappointed with my heat and I had a really slow start," she said. "I had to refocus for the final and felt I did a lot better." With seven of the athletes' personal bests within half a second of each other, Lorri Lewis, Jessica's mother and Bermuda's chef de mission, said she expected an extremely close race. "It was an awesome, awesome race," she said. "She performed incredibly well and was very pleased as was her coach [Ken Thom] who is already thinking about the next four-year plan. These were the best T53 women in the world and she's number six, and that's not too shabby! We're all extremely proud of her." Lorri said her daughter struggled to match the raw power and stamina of the top three as they approached the finish line. "She's so little, just 68lbs, and she was up there with the best in the world. It was just a matter of the size difference and stamina to get over that finish line. She's getting there, though; just give her a couple of more years." Slow ticket sales overshadowed the countdown to the Paralympics, which has been downsized with venues being closed and services cut. Lorri, however, described the first day of the Games as "wonderful" and was taken aback by the feel-good atmosphere at the stadium. "There were some empty seats at the stadium but there were a lot more people than we thought there would be. It's been amazing so far and the crowd was just incredible. They were cheering everybody and there was plenty of noise. The Athletes' Village is beautiful and everybody has been really helpful." Lewis's performance was a marked improvement on her showing at the London Paralympics in 2012 when she finished eighth in 19.38. She returns to action in the 400 heats tomorrow at 12.40pm Bermuda time. The finals will be held on Sunday at 5.30pm. Also representing Bermuda in Rio is Yushae DeSilva-Andrade in boccia. Her event starts tomorrow.
2016. September 2. Sports minister Sylvan Richards has issued a message of good luck to Bermuda's two paralympians as they prepare to head to Brazil. The island will be represented in Rio by Jessica Lewis, a T53 Wheelchair Track athlete, and Yushae DeSilva-Andrade, who will be competing in Boccia in the BC2 Category. Mr Richards, the Minister of Social Development and Sports, said in a statement: "On behalf of the Government and people of Bermuda, I want to congratulate and thank Jessica and Yushae for putting in the dedication required to represent Bermuda at the Rio 2016 Paralympics. "We are so proud of them and can't wait for the world to see what they can do. Jessica's talent has taken her to competitions all around the world; she has featured in international magazines and is an inspiration to everyone she meets." Ann Lindroth, president of the Bermuda Paralympic Association, stated: "I am so proud to see both Jessica and Yushae participate in the Paralympics this year. I have heard many reports from their coaches about the staggering amount of training they have put in to get to where they are today and on behalf of the Bermuda Paralympic Association I want to wish them the best. We will be cheering for you!" The Rio 2016 Paralympic Games take place from Wednesday next week until Sunday, September 18.
2016. August 24. Fears that the funding crisis engulfing next month's Paralympics in Rio would prevent Bermuda's athletes from attending have proved unfounded, but they could leave some officials significantly out of pocket. The Bermuda Paralympic Association is waiting for a reimbursement of nearly $9,000 from organizers, which Ann Lindroth, the association's president, hopes arrives before the team departs for South America. Some $7 million in grants that Rio Olympic organizers were due to make to the 165 participating countries in the Paralympics are more than a month overdue, and as of yesterday had still not arrived, according to Lindroth. "They are still saying they will be sending out the money," said Lindroth. "Hopefully it comes before we leave, but I was on the account yesterday [Monday] and it wasn't here yet." Overall, the Games are facing a shortfall of tens of millions of dollars, despite the International Paralympic Committee getting an additional $47m from Eduardo Paes, the Rio mayor, and another $31m in state funding. That gap has forced officials to reduce the workforce at the Games, while transport services are to be cut and media centres closed. The wheelchair fencing competition, meanwhile, has been moved to a different venue, allowing the Deodoro Olympic Park to be dismantled. Poor ticket sales have also been a problem, and some venues, such as the Carioca Arena where Yushae DeSilva-Andrade will compete in boccia, will be partially closed due to a lack of interest. As it stands, the Bermuda squad have all had to pay their own way to Rio for the Games, with seven members each owed $1,227.67 for economy flights. At least the members of the Bermuda team will not go hungry, all have been credentialed with the "knife and fork", meaning they will have meals provided for them throughout the duration of the Games. Most of the squad will also be able to stay in the athletes village. "We will be struggling without the money," Lindtroth said. "But it will be each one of us struggling as opposed to the alternative. All our tickets are already bought and charged to our individual credit cards, with the expectation that we would be getting that money back." Not that paying their own way is an alien concept to members of the BPA. Aside from the ParaPan American Games, and the Paralympics, where organizers contribute towards the cost of sending athletes to compete, the BPA are an almost entirely self-funded organisation. "We pay all the expenses for attending world championships and other events, and since we started this organisation in 1994 we've managed to honour our intention to have our athletes that reach an elite level make it to wherever that may be, and fully funded by us. We've had a very active fundraising campaign this year to help us get to Rio, and if we calculated it right, and don't get this money, we are at least $8,500 out of pocket. The sooner it comes the better." While the nearly $9,000 that is owed by the IPC may not seem like a lot, the total grant that the association received from the Bermuda Government this year was just $10,000. That was to fund two athletes, Jessica Lewis, a serious medal contender in the T53 wheelchair sprint after winning bronze at the world championships, and DeSilva-Andrade, who is ranked 33rd in the world, for the year. In contrast, the Bermuda Olympic Association was given $150,000 in the most recent Budget, while the BPA had asked Government for a grant of $62,000 in its application forms. Still Bermuda are better off than some other nations, whose participation is still in doubt. "Never before in the 56-year history of the Paralympic Games have we faced circumstances like this," Sir Philip Craven, the IPC president, said. "Since becoming aware of the full scale of the problem, we have focused all of our efforts on finding solutions to the problems. Currently, we have around ten countries who, even if the grants are paid, may struggle to cover the cost of their travel to the games. The IPC is working with them to find solutions and ensure their participation."
The London Paralympics 2012 were from August 29th to September 9th, following the Olympic Games. Bermuda participates in these, with a limited number of participants in pre-selected sports drawn from Bermuda's physically and/or learning impaired community. On July 26, 2012 it was announced by the Bermuda Paralympic Association (BPARAS) that Jessica Lewis would be the lone Bermuda representative at the 2012 Paralympic Games in London after Sandy Mitchell withdrew due to health issues. Mitchell was due to compete in the Para Dressage but was forced to withdraw at the 12th hour. Mitchell has been a veteran of three previous Paralympics. He is now focusing on Rio 2016. Lewis will fly the flag solo as she competes in the 100, 200, and 400 metres, reaching at least the 'B' standard in all three events while breaking her own personal best times. She previously made history at the 2011 ParaPan American Games in Mexico when she became the first ever track and field athlete to represent Bermuda at a major para-sport Championships.
Pilot Gigs
2018. April 9. An eyesore at the West End has been transformed into a centre for a classic Bermudian pursuit that has returned as a sport: pilot gigging. This Saturday, the Bermuda Pilot Gig Club will hold a regatta for spectators out of its new premises on Boaz Island. "We want this to become somewhere that the whole community can come and row and learn about our heritage — in particular, our landlords, the Boaz Island Village," club member Sarah Burrows said. Until recently, the disused sewage plant with the rusting hulks of its tanks was considered a blight on the shoreline. Residents blamed the decommissioned plant, shut down in 2014, for breeding mosquitoes. Ms Burrows, who lives in Somerset, would notice it driving past on Malabar Road. "I'd think, what a shame; it's falling apart," she said. "How do we lose these old buildings? Every time something gets old, we just walk away from it." The Boaz Island Condo Corporation struggled to meet the high cost of removing the decaying tanks, until the gig club came along. Ms Burrows said: "We saw this as a perfect location. We can row either side of Boaz Island — there are slips either side." West End Contractors trucked away the "massive" tank at a special cost, while club members and volunteers set to work on the pump house. The effort began early in 2017, with a hiatus during the America's Cup. A dilapidated building by the shoreline "leaked like a sieve" and was full of trash and debris. The traditional gigs guided ships and rescued people in distress. Teams took the long vessels out by oar and sail. Gigging was a forgotten way of life until locals began its revival, starting in St George's in 2014. Dubbed "westies", the West End team operated out of Dockyard. Now they have 18 members and a compound at Boaz Island to store their two 32ft vessels. One commemorates pilot John Simmons, while the second is named after pilot Stephen B. Richardson. Starting at noon on Saturday, the gigs will take to the waters from Black Bay to King's Point highlighting their skills in a friendly competition. "Normally when you have pilot racing offshore, you don't really see them," Ms Burrows said. "With this beautiful location, we want spectators to watch races that had real seamanship." The Survivor's Race will demonstrate how gigs plucked passengers off vessels in distress and ferried them to shore, while speed and salvage capabilities will be put on show. Applying finishing touches to the Pilot Stephen B. Richardson, boat lover and historian Anson Nash said gigging offered "a great sport, a great way to see what's going on along our shores". He added: "It's not just racing. The emphasis is on life — you're in company while you're rowing." Ms Burrows added: "I never go out in the boat and don't learn something, whether it's Bermuda maritime history or history in general. The exercise is amazing, and it's just nice people to row with." Sightings of wildlife include regular turtle spotting. There is an international regatta planned for October, and with 200 people coming to Bermuda to show traditional pilot gig racing, the island will host a sport that was once part of its lifeblood. "We still have a lot of work to do but an amazing amount of people and organisations came on board to help," Ms Burrows said. "And it looks so much nicer here when the tourists drive by." To volunteer or learn more, e-mail BPGCwest@gmail.com.
Rackets
Also see Squash.
2015. November 28. Bermuda belonger James Stout retained his world rackets title this afternoon by beating Will Hopton, the world No 2, 1-0 at the Queen's Club, West London, in the second leg of their challenge match. Having beaten Hopton 4-0 in the best-of-seven first leg in Philadelphia last weekend, Stout needed to win only one game in this encounter to claim the title. Stout started well serving two aces and winning the next rally for a 3-0 lead. Hopton won service on an unforced error by Stout, and recovered to 2-3, before Stout regained service. The champion began to control the rallies and move Hopton around the court, volleying at every opportunity. In this fashion he advanced to 7-2 up, until an error gave Hopton service. Hopton won another point after a double-hit by Stout, but in the next rally a superb backhand winner from the front of the court gave Stout service again. Stout resumed his attacking play. He served an ace at 8-3, and took the score to 11-3 on calm, unruffled play while controlling the rallies. A good-length shot by Hopton at 11-3 heralded four service changes at that score until Stout hit a great shot to take the score to 12-3. Good attacking play by Hopton enabled him to regain service, and an unexpected short shot then took Hopton to 4-12. At this stage Hopton was attacking more, hitting the ball more powerfully and posing a greater threat. Although he reached 6-13, it was a case of too little, too late, and at his second attempt at 14-6, Stout served an ace to close out the game in 20 minutes. Stout claimed the world title with an aggregate score of five games to nil over the two legs. This was Stout's second defence of the world title he won in 2008. The head professional at the Racquet and Tennis Club, in New York, is only the 26th world champion since the inaugural championship was contested in 1820.
Radio Control Car Racing
2020 January 8. Radio control car enthusiasts are aiming to expand their programme of racing as part of the Bermuda Nitro Racing Association. The BNRA hold on-road races at the Southside RC Raceway and its off-road events at a track behind the Southside Police Station. The off-road season resumes next Sunday while the BNRA will hold its first on-road session of the season the following weekend. Quincy Aberdeen, the president of the BNRA, illustrated the growing popularity of RC racing. "It's a worldwide industry, not so much in Bermuda, but we're getting there," Aberdeen said. "We do have timed races, which are conducted using a timing system. We're probably one of the first to use that software in Bermuda, we have been using that for over 15 years." Aberdeen said the BNRA is looking to expand to a season series. "Normally, for off-road, we have a race season, which has been going for more than 20 years," he added. "If the run is fruitful, we're trying to organise a season-long series of races. The vehicles used are very similar to regular cars, but just of a smaller scale." Jerome Harvey, a BNRA member, is also a long-term RC racer. "I've been racing for more than 30 years, competitively for at least 15 years," Harvey said. "I have a group of friends that come down to the Southside track every other Sunday and we give the on-road cars a test. We are trying to get something going in the next few weeks. The format will be similar to the off-road racing season." For more details of on-road racing, contact Quincy Aberdeen on 535-2428. More information can be found at website bnra.org or On-Road Racing on Facebook.
Roller Hockey
Rugby Union
This British game popular in Bermuda was originally played by members of British Army regiments present until the mid 1950's. They played against each other or with teams from the Royal Navy and, during the 1930s and 1940s, against the Royal Air Force units then based locally. It then spread to the civilian sector. There are two types of Rugby - league rugby - for professional players, with this type of rugby originally from the Midlands and north of England - and rugby union for the amateur teams. Only rugby union is played in Bermuda.
Unlike in American football, rugby teams don't wear helmets or padding Teams include Mariners, Bermuda Police Rugby Football Club, Renegades and Teachers. From October to April is the season.
International rugby, now The Bermuda World Rugby Classic began in Bermuda 1973 as The Easter Classic and continued as such until 1989, mostly as an Irish Select versus a Bermuda Select on St. Patrick's Day every year. Its finale was always on Easter Sunday at the former National Sports Club in Bermuda, which became such a popular event until Easter began to have a much more crowded overseas sports calendar. Famous rugby players induced to come included Gareth Edwards, Fergus Slattery, Tom Kieran, Rob Andrew and Clive Woodward. In 1989, to keep the friendships developed in Easter Classic Days, it was decided to begin the annual Bermuda-based World Rugby Classic. This is held every November when teams from Argentina, Bermuda, Canada, France, New Zealand, Portugal, Spain, South Africa, United Kingdom and USA compete. It is held at the National Sports Centre, Devonshire. From November 8-14 3015, former internationals represented their countries in Bermuda-based international competition. All the major Rugby team over 30s were here including the All Blacks from New Zealand, Australia, Republic of South Africa, UK, Ireland, France, Argentina, etc 10 international matches played during the week but scheduled to allow plenty of time to enjoy Bermuda's beaches, golf courses and other attractions.
Beyond Rugby Bermuda (BRB). Co-founded by Bermuda resident John "Bradshaw" Layfield, a Beyond Sport Ambassador for his work with Bermuda's youth. Mr Layfield is a former WWE World Champion and a wrestling commentator. BRB not only offers rugby training to young Bermudians but also provides a homework academy and family support services through Family Centre.
2019. November 9. Argentina's The Classic Pumas sealed an impressive hat-trick of World Rugby Classic titles by retaining their crown with a 16-6 victory over South Africa's Classic Springboks at North Field, National Sports Centre, last night. The tournament favourites overturned a 3-0 half-time deficit, with the boot of Gonzalo Gutierrez Taboada proving pivotal, kicking 11 of his side's overall points to guide them to the title. Martin Yanguela, a Puma's official hailed the efforts of his side and spoke of his delight adding another successful chapter in their World Rugby Classic story. "It's an incredible achievement for us," he said. "To win it three times in a row is incredible, at this level it is an amazing achievement. We've been coming here for many years, we have become a big part of the World Rugby Classic story. Hopefully, we can come back next year and try to make it four in a row." Yanguela pinpointed the Puma's kicking tactics as the key to completing the impressive turnaround against the greater physicality of the Springboks. "Because of the wind, we kept kicking the ball into South Africa's half and then made them make the effort to run from deep in the field. The pressure we put on them became a big problem for them." The Pumas spurned the first opportunity to break the deadlock from a penalty in the fourth minute as Taboada slipped while striking the ball and could only watch on as it sailed wide. To make matters worse, South Africa opened the scoring from a penalty of their own as Rheinhard Gerber sent his kick from 35 metres sailing through the posts. The Pumas spent the remaining 20 minutes camped inside the South African half, but could not find a way through the dogged Springboks defence. The Springboks were breached just four minutes into the second-half as Argentina scored what proved the only try of the encounter. Federico Aramburu received the ball at speed, with his momentum carrying him through the defensive line to race clear and score between the posts. Taboada was left with the simple task of slotting home the conversion. The match then became a tale of penalties with Taboada taking centre stage. His first opportunity in the 37th minute proved successful despite another untimely slip taking the score to 10-3, before he spurned a more difficult attempt four minutes later. South Africa's ill-discipline continued to cost them as Taboada duly accepted another penalty opportunity, just a minute after his last, extending the Pumas advantage to 13-3. South Africa responded with a penalty of their own in the 44th minute courtesy of the boot of Gerber to reduce the deficit, only for Taboada to restore Argentina's ten-point advantage just four minutes later with his third successful kick. The final ten minutes saw the Springboks throw everything at the Pumas who, despite being reduced to 14 men for the final three minutes after Antonio Ahualli was sin-binned, weathered the onslaught. The USA Eagles survived a first-half onslaught against France to retain their Plate title with a 14-7 win last night. Perhaps smelling blood given that it was Eagles' second match in as many days after the finals were brought forward because of bad weather forecast for tonight, it was France who made the brighter start. The Eagles cause was hardly helped when Eric Deuchle was sin-binned in the fifth minute allowing the French to make the most of their numerical advantage and open the scoring off the back of a driving maul through Thomas Soucaze. Benoit Marfaing made no mistake with the conversion. The momentum appeared to swing further in France's favour when Eagles' Stanislas Durand was injured early in the second half, although the US did manage to pull level albeit against the run play. An interception by Fred Wintermantel acted as a catalyst for the Eagles comeback, with the flanker sending Peter Dahl flying down the left to score his side's first try. Matt Turner kicked the extra points. France were searching for a way to unlock the Eagles defence when they were awarded a penalty. However, Marfaing handed the US a reprieve, his effort lacking the required mustard in the windy conditions. With 11 minutes remaining, the stage was set for Bermuda captain Aldo Campbell to ensure Eagles retained their title with a marauding run through the middle to score the match-winning try. Turner's boot made in 14-7. "Aldo came to the US to our Tiger Rugby Academy [in Columbus, Ohio] years ago," Paul Holmes, the Eagles coach said. "For him to score the winning try was an amazing. This is massive for us and it's really exciting to win back-to-back [Plate] titles."
2019. October 29. John Kane, the World Rugby Classic president, has tipped reigning champions Argentina to defend their crown once again and complete a hat-trick of titles. With the 32nd instalment of the ever-popular event starting on Saturday, the Pumas will be looked on as pre-tournament favourites after storming to a successful defence of their title in scintillating fashion after a 25-0 victory over the Ireland Rugby Legends in last year's showpiece final. With the likes of Eusebio Guinazu, a prop, who featured in the 2007 World Cup, among his 36 caps for his country, as well as other seasoned internationals Manuel Carizza and Gonzalo Tiesi, capped 44 and 38 times respectively among their ranks, Kane warned Ventura's side may be even stronger than before. "Argentina will certainly be the team to beat once again for me," Kane said. "They've won it for the last two years and will be looking to make it a hat-trick of titles. Argentina come here every year looking to be champions and this year will be no different. One massive factor is that their squad is full of international players who play to a high level. It's quite hard to know exactly what sort of squads will turn up but, for sure, I think they will be the ones to look out for." If anyone is going to dash Argentina's charge, Kane has backed one of the Classic Springboks, the Classic Lions or last years runners-up Ireland as their biggest threats. The Lions will be led by Delon Armitage, capped 26 times by England and will be supported by host of seasoned internationals including Welsh pair Daffyd James and Ceri Sweeney, capped 48 and 35 times respectively for their country. Butch James will be one of the standout players for the Classic Springboks, having helped his country to Rugby World Cup glory in 2007, while the Ireland squad boasts the likes of Shane Byrne, capped 41 times, as well as touring with the British and Irish Lions to New Zealand in 2005. "I think the Irish, English and South Africans will have very strong squads," Kane added. "The Irish, in particular, will be desperate to go one better then last year having lost in the final to Argentina in their first appearance in the tournament for 25 years. They'll come back this year with a very strong selection and where last year was a tester for them coming back they'll be back even stronger this time round."
2019. September 21. Bermuda men's rugby team have been crowned Caribbean champions after beating Guadeloupe 33-10 in the Rugby Americas North Championship final at North Field, National Sports Centre today. Bermuda ultimately proved too strong for their opponents, despite a spirited fight back at the beginning of the second half, building on a 14-0 half-time lead to prevail courtesy of two tries apiece from Alex Brown and Jamie Baum, as well as a penalty try and extras from Dan Cole, to regain a title not won since 2012. Alexandre Dagorn scored the visitors consolation try with Thomas Gouban adding the extras. Jamie Barnwell, Bermuda's head coach, could not hide his delight at fulfilling an important target he set when taking over the men's team at the beginning of the year. "We set ourselves this goal in January and to get across the line is fantastic, the boys have done a great job and so obviously we're all very happy with that. This is a really important milestone for the team. There wasn't any space for us not to win, we had to get a result to continue the trajectory we've been on and the boys did just that, it's been a great team effort. There are a lot of people behind the scenes who have put a lot of work into the rugby programme in this country and Bermuda is seeing the results of that now, it's good times at the moment. We've done what we wanted to do and now is time to reflect and see how we can push on further."
2018. January 30. New Zealand have been jettisoned from this year's 30th anniversary of the World Rugby Classic because of financial constraints. Ireland will instead join defending champions Argentina, Canada, France, Italy, South Africa, the United States, and the Classic Lions, who will now feature players from England, Scotland and Wales. John Kane, the Classic president, revealed that replacing the All Blacks with Ireland will save about $50,000 in airfare and open up new sponsorship and hospitality opportunities. "The Classic has to run a very tight budget in these economic times and, because of the distance, New Zealand is by far the most expensive team to bring to Bermuda," Kane said. "With the Classic being shown on Sky Sports, primarily in Europe, we have an opportunity to attract financial support from there. We also have a marketing opportunity to attract rugby supporters from the Irish community on the East Coast of the US. The primary reasons are to reduce costs and to attract new supporters." New Zealand were beaten 15-5 by Argentina in last year's final at North Field. It will be the first Classic the All Blacks have missed since 2013, when organizers plumped for Australia as they had better sponsorship and the support of the Australian Rugby Union. "New Zealand] are certainly an iconic brand, but this is just a rest," Irishman Kane said. "Two of the three southern hemisphere teams have sponsorship within their country, or here, which takes part of the airline and hotel costs away from the Classic. A New Zealand team, with airfares and accommodation, costs over $100,000, while Argentina have fares sponsored and South Africa have the hotel sponsored; New Zealand have neither." Kane added that it was fitting for Ireland to be included in the 30th anniversary of the Classic as they were one of the original five teams at the inaugural event in 1988. Shane Byrne, a familiar face to Bermuda, having played for the Classic Lions at previous competitions, will manage Ireland at the competition, which will run from November 4 to 11. The 46-year-old played 41 times as a hooker for Ireland and made four appearances for the Lions.
2017. November 12. The Classic Pumas delivered a typically physical performance full of pride and passion last night to overcome a strong New Zealand outfit 15-5 and record their first World Rugby Classic title since 2011. The Argentinian side took their chances in a game of few clear-cut opportunities and made the best use of the strong wind that swept across North Field. It was a final not for the faint hearted; and one that saw two totally committed sets of players leave nothing in the tank. A scoreless first half in some pretty filthy weather conditions was more a credit to each team's brutal defence than a lack of imagination. But this was a tight affair of small margins; an attritional encounter that played out in the middle third of the pitch. The deadlock was only broken 10 minutes into the second half with a moment of Argentine opportunism. Bernardo Stortorni seized on an interception in the midfield and cantered home to score and put his side 5-0 up. The conversion was missed but the score gave the Pumas the momentum to start to dictate play. Their half backs used the wind well and put the rampaging Argentinian pack of forwards on the front foot. After 14 minutes the New Zealand damn broke again with a storming run from Antonio Ahualli, who took two defenders with him as he crashed over under the posts from short range. Trailing 12-0 the New Zealanders were forced to take on a more fast and loose approach, but the Argentine defence held strong. While the last 20 minutes were mostly a huge defensive effort from the Pumas in the face of mounting pressure, they managed to sneak a penalty within kicking range for Frederico Seora who was able to stretch the lead to 15-0 in the final quarter. The game was done by the time the Kiwis finally breached the resilient blue and white line with Daniel Iosefo crossing in the corner. The final whistle soon followed; a queue for spontaneous Argentine singing that would echo long into the night after their famous 15-5 win over the All Blacks. While the final may not have been an exhibition of fast flowing, running rugby it was a testament to the quality of the sides that now grace North Field every November. The standard and physicality of the encounters has never been as high, but equally important, the camaraderie between the sides remains as strong as ever.
2017. November 10. The Classic All Blacks booked themselves a place in the World Rugby Classic final with a convincing 24-12 win over Italy at North Field last night. First-half tries from scrum half Billy Fulton and wing Filimoni Botitu put New Zealand in control of the semi-final clash. They stretched to a comfortable 19-0 lead within minutes of the second half when Sherwyn Stowers broke free to touch down. The Azzurri offered plenty of ambition in attack, but the wall of All Black defence quickly extinguished any chance of an upset. Despite the deficit, the Italians kept coming and reaped rewards for their endeavors with a Michael Denbee score that cut the lead to 19-7. But the respite was short lived and the Kiwis quickly re-established their dominance with a William Walker try. Italy came again with a final score but it was a case of too little too late as the Kiwis ran out victors and will now face the Classic Pumas in tomorrow night's final. Meanwhile, in a marathon Plate semi-final the Springboks broke USA Classic Eagles hearts with a penalty in sudden death extra time to clinch a 24-21 win. The Springboks, who finished with just 13 men after two red cards in a tetchy affair, snatched victory with a penalty 15 minutes into extra time. But it was the Eagles who captured the imagination of the crowd with their never-say-die attitude and attacking intent. The South Africans started the brightest with a converted Trichardt Van Tonder try after just ten minutes. But the Eagles came surging back into the game with a well-worked Max De Achaval try. Andrew Suniula then put the Eagles ahead with a sharp interception try, only for US stalwart Todd Cleaver to cross for the Springboks and level the scores at 14-14 at half-time. The sides traded blows with a try a piece in the second half sending the game into a dramatic period of extra time. The teams could not be separated after the regulation ten minutes, despite both sides having penalty chances to put the game to bed. And so it fell to Monty Dumond to settle the affair and put South Africa into the final of the Plate competition where they will play the Classic Lions.
2017. November 9. It was a case of beauty taming the beast as Argentina saw off a defiant France 25-6 in the semi-finals of the World Rugby Classic at North Field last night. It proved to be a battle between two different brands of rugby, with France going against tradition by adopting a spoiling style of play that had its desired effect, at least in the first half. Champagne rugby it was not; some of the crowd booed France's win-at-all costs mentality and decision to kick all of their penalty goals. Argentina led 8-6 after a drab first period, Alejandro Galli opening the scoring before France pegged them back via the boot of Anthony Lagardère. Both teams then traded penalties with Lagardère giving France the lead, although Argentina ensured they went into the interval with their noses in front when Federico Serra found his range. After the break Argentina started to take control, with Federico Castilla scoring his side's second try and Serra kicking the conversion to make it 15-6. The Classic Pumas added another penalty from the boot of Serra before a try from Santiago Gómez wrapped up the win. Argentina, in pursuit of their first title since 2011, will now meet the Classic All Blacks or Italy in the final on Saturday. Rodolfo Ventura, the Classic Pumas manager, said France's defensive approach had made it difficult for Argentina to play the free-flowing rugby they so desired. "The other day I said that we had prepared to play both wide and inside — well, today we had to play a little more inside than we intended. France defended very well and made it difficult for us to open up." Ventura, however, also suspects that those very defensive tactics meant Les Bleus sacrificed their traditional attacking panache. "When we play against France it's a Latin game and that plays on the nerves and mind a lot," said Ventura, who won 14 caps for his country. "It took us 30 minutes to get ourselves on track and in the second half things quietened down a bit. They knew we would look to play wide and planned their game to make it tight. Maybe they lost their natural play just in order to try and make us make a mistake." Classic Lions bounced back from their opening-day defeat by France by beating Canada 31-5 in the first game of the night, the Plate semi-final. Richard Carter scored two tries in the Lions' win, with Sean Lamont, Adam Jones and David Corkery also getting on the score sheet. Derek Townsend was Canada's try scorer, crashing over the line in the first half to make it 10-5. Allan Martin, the Lions coach, believed the scoreline slightly flattered his side, who will now play the winner of tonight's semi-final between USA Classic Eagles and Classic Springboks. "It was a tough game until the last five minutes when we sort of got away," the former Wales lock said. "We're not being allowed to play and the tackling is keen. The standard is getting higher all of the time and I take my hat off to these lads." Martin also called on the remaining teams in action to be more gung-ho in an effort to entertain the spectators. "It's very tight and nobody is running away with it, and that's the way we want it to be," Martin said. "But I would like to see a little more all-round open play. We have an obligation to entertain as well. A facet of the game now is tight play, stick it up your jumper and make the yard, but that's not entertaining for the crowd, especially a crowd that has come to see open rugby. That's the only way [the Classic] will continue to flourish. Nobody wants to see dour rugby."
2017. October 25. Hottie Louw and Gerhard Vosloo are among the top names looking to ensure the Classic Springboks retain their World Rugby Classic title next month. The Springboks defeated the Classic Pumas 14-0 at North Field, National Sports Centre, last year to claim their sixth title and first since 2013. With lock Louw, 41, who played three Tests for South Africa, and 38-year-old flanker Vosloo, a former Top 14 player for Clermont Auvergne and Brive, named in their traveling party, the Springboks are sure to be title contenders. Perennial favorites Classic Lions, who were beaten 14-7 by the Springboks in the semi-finals last year, have included Sean Lamont, Mike Ross and Marcus Horan in their 23-man squad. Lamont, only the second Scotland player to win 100 caps for his country, retired from professional rugby last season while playing for Glasgow Warriors. The center scored 70 points for Scotland from 2004 to 2017, and 320 points during his club career, which included two spells at the Warriors. Lamont is a Scottish Rugby Academy coach at present. Ross, who also retired last season, made 61 appearances for Ireland, playing in two World Cups, as well as winning a pair of Six Nations titles. He also won two Heineken Cups, a Challenge Cup and two Pro12 titles with Leinster. Meanwhile, Horan was capped 67 times by Ireland and was part of the side that won the Grand Slam in 2009. The prop, who retired in 2013, also represented Ireland at the 2007 World Cup and won a pair of Heineken Cup crowns and a Pro12 with Munster. Also named in the 24-man squad are Tomás O'Leary, a former Ireland scrum half, Gavin Kerr, who won 50 caps as a prop for Scotland, and returning players Chris Wyatt, Ceri Sweeney, David Corkery, Ritchie Rees and Neil Best. The Classic All Blacks complete the "Big Three" and will likely turn to Kane Thompson, Tom Donnelly and Corey Flynn for inspiration as they hunt for a first title since 2014. Thompson won 33 caps for Samoa and spent two seasons at Newcastle Falcons in the Aviva Premiership, fellow lock Donnelly was capped 15 times for the All Blacks and also played for Montpellier in the Top 14, while hooker Flynn won 15 caps for his country. The World Rugby Classic runs from November 5 to 11, with the opening game between Classic Pumas and Rugby Canada at North Field at 2.30pm.
2017. October 3. Sean Lamont, Mike Ross and Marcus Horan will be among the heavy hitters looking to help the Classic Lions reclaim the World Rugby Classic title next month. Lions, who previously claimed the title in 2015 with a win over the Classic All Blacks, open their campaign against France Classic Rugby in a group B match on Sunday, November 5. Lamont, only the second Scottish player to win 100 caps for his country, retired from professional rugby last season while playing for Glasgow Warriors. The 36-year-old center scored 70 points for Scotland from 2004 to 2017, and 320 points during his club career, which included two spells at the Warriors. He is presently a Scottish Rugby Academy coach. Ross, who also retired last season, made 61 appearances for Ireland, playing in two World Cups, as well as winning a pair of Six Nations titles. The 37 year-old also won two Heineken Cups, a Challenge Cup and two Pro12 titles with Leinster. Meanwhile, Horan was capped 67 times by Ireland and was part of the side that won the Grand Slam in 2009. The 40-year-old, who retired in 2013, also represented Ireland at the 2007 World Cup and won a pair of Heineken Cup and a Magners League with Munster. Also named in the 24-man squad are Tomás O'Leary, a former Ireland scrum half, Gavin Kerr, who won 50 caps as a prop for Scotland, and returning players Chris Wyatt, Ceri Sweeney, David Corkery, Ritchie Rees and Neil Best. The Lions, who were beaten 14-7 by the Classic Springboks in the semi-finals last year, will be coached by Derek McAleese, a former Ireland fly half, and managed by former Wales lock Allan Martin. The World Rugby Classic runs from November 5 to 11, with the opening game between Classic Pumas and Rugby Canada at North Field at 2.30pm.
2016. November 14. A pair of superbly worked second-half tries secured South Africa a sixth title at the World Rugby Classic at the North Field on Saturday night. Tonderai Chavhanga and JP Nel struck the decisive blows that separated the two sides to hand South Africa a deserved 14-0 victory over Argentina. It was the Springboks first title at the Classic since they beat the Pumas 14-7 in another similarly hard-fought win three years ago. Mark Wood, the South Africa coach, has been involved in five of those successes, either as a player or coach, and praised his side for exploiting a tired-looking Argentina down the final straight. "Argentina were defending a lot, getting tired, and one or two gaps opened up and our guys picked those out and capitalized on them," Wood said. "You have to seize the moment when you get it because Argentina are abrasive and it was a great final. We always thought we could win it as we're a professional team and I would never bring a team here that I didn't think could win." Wood believed it actually benefited his side playing into the wind in the second half after a cagey opening stanza. "It was a very tough first half and a lot of times when you're playing with the wind, people tend to think the wind will do the job for you. That's not the case; you actually battle more against the wind and it's actually easier because you're not going to knock-on and your whole mindset changes. The boys dug deep and the defence won the game, really." South Africa broke the deadlock in the 51st minute on the counter when Egon Seconds picked the ball up deep inside his own half and drove at the Argentina defence before releasing Chavhanga with an inviting chip and chase. The South Africa wing then booted the ball farther towards the try line before scooping it up to score, with fly half Monty Dumond kicking the extra points. Chavhanga's try seemed to open the game up, and, soon after, the Springboks doubled their lead after carving through the Argentina defence with lock JP Nell supplying the finishing touches to a free-flowing passing move. Dumond stepped up to kick his second conversion and tie up his team's title triumph. Having just a day's rest after dismantling New Zealand 40-14 in the semi-finals might have explained Argentina's second-half fatigue, but Rodolfo Ventura, the team's manager, refused to make excuses. "South Africa were a very strong team and they hit us physically," said Ventura, whose said were chasing their third title after winning in 1999 and 2011. "Perhaps they knew we didn't have enough time to recover [from the semi-finals]. There's no excuse from us, though, and South Africa did very well and deserved the championship. They took advantage of their only two opportunities and that's important when you're in a final."
2016. November 6-12. World Rugby Classic Schedule (annual). National Sports Centre, Devonshire. With former internationals representing their countries in Bermuda-based international competition. All the major Rugby team over 30s will be here including the All Blacks from New Zealand, Australia, Republic of South Africa, UK, Ireland, France, Argentina, etc 10 international matches played during the week but scheduled to allow plenty of time to enjoy Bermuda's beaches, golf courses and other many attractions. This year's World Rugby Classic looks set to be a star-studded affair with some of the sport's most decorated names lined up for the tournament. Keven Mealamu, a two-times World Cup winner, Shane Williams, Wales' record try scorer, and Gordon D'Arcy, the former Ireland centre, are some of the names to have been approached up by the event's organizers. Also expected to feature are South Africa locks Victor Matfield, who made his debut at the 2013 classic, and Bakkies Botha, as well as All Blacks players Brad Thorn and Ali Williams. Andy Haden, the New Zealand coach, is looking to strengthen his side having suffered a 22-5 mauling against the Lions in last year's final. A player of Mealamu's calibre should make a real impact on a side that struggled to beat Italy in their opening game at last November's tournament, before a hard-fought 20-14 win over the Classic Springboks in the semi-finals. Mealamu led the Haka in the final of last year's World Cup against Australia, which the All Blacks won 34-17 at Twickenham. The 36-year-old made 132 appearances for his country. Matfield also featured at last year's World Cup, helping South Africa reach the semi-finals, where they lost to New Zealand 20-18. He had the honour of captaining his country in the third-place play-off game against Argentina in his final appearance for the Springboks. The 38-year-old was part of the Classic Springboks team that won the World Rugby Classic during his brief retirement in 2013, beating the Classic Pumas 14-7. Williams, the International Rugby Board's player of the year in 2008, is another behemoth of the game sure to set pulses racing. Winning 87 caps for his country, Williams is third on the international list of leading try scorers and toured with the Lions on three occasions. Joining Williams in what should be a formidable backline for the Lions will be D'Arcy, who partnered Brian O'Driscoll in the centre for Ireland, winning 82 caps for his country.
2016. March 18 and 19. Fourteen US college and high school rugby teams arrived for the Ariel Re Bermuda Rugby 7s Tournament. National Sports Centre. Ivy League colleges, including Yale University, Columbia University and Dartmouth College, are among those sending athletes for the tournament while their schools are on spring break. Two squads from Dartmouth will extend their stay in Bermuda to have a spring training camp immediately after the tournament. Two teams from Yale will extend their stay for rest and relaxation. Two teams of Bermuda High School students and one team of college-aged players will participate in the tournament next month, competing against the visiting teams. "While we are very happy to start this new event with 13 teams, there is an opportunity for this tournament to grow quickly," Tom Healy, Bermuda's Sevens head coach, said. "One of the ways to ensure growth is to generate strong support from the public. We hope to see Bermuda come out to welcome our guests and to cheer for our young people who will be introduced to the world stage of rugby." In all some 200 players and coaches are expected to travel to Bermuda for the tournament, which take place at the National Sports Centre on March 18 and 19. As well as being given the opportunity to test themselves against some of the best college players in the United States, Bermuda's players will have a chance to showcase their talents in front of coaches who have university scholarships available. "Rugby 7s is a growing sport internationally and in Bermuda," Michael Doyle, from Ariel Re, said. "We are extremely proud to sponsor the Ariel Re High School Rugby League and excited at how this programme has grown successfully over the years. Furthermore, we look forward to showcasing the collegiate opportunities available to our young players if they continue to work hard in the classroom and on the field." The tournament is another example of the growing partnership between the island's sporting associations and the Bermuda Tourism Authority. One that has already seen the Denmark swim team visit the island. "We relish the opportunity to introduce Bermuda to these college and high school students who are the next generation of travelers," Pat Phillip-Fairn, a BTA official said. "There was a time when Bermuda was the premier spring break destination of colleges and universities. We're now evolving Bermuda's position in that space, targeting college and high school athletic teams on spring break to present an exciting new opportunity for our tourism industry, especially when we leverage the world-class training facilities at the National Sports Centre."
Soccer (see under Football, British Bermudian)
Snooker
There is an active league, with Old Colony Club, St. George's Dinghy Club, Spanish Point Boat Club, Queen's Club, Warwick Workmen's Club and Watford Sports Club among the participants.
Bermuda Snooker Association. Phone 441-295-2370. Fax 441 292-5535. 5 Trott Road, Hamilton HM 11.
Softball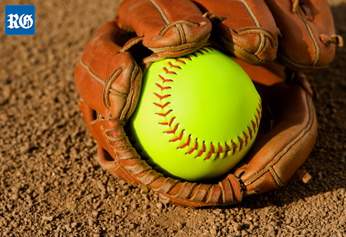 Bermuda Amateur Softball Association. A popular game, like baseball but with underarm pitching. Divisions include Central, East, North and South and West. There are about 38 teams in total. In 1978 the Bermuda Women's Softball team, known as the Big Blue Machine, came home from the 1978 Central American and Caribbean (CAC) Games with the gold medal.
2019. October 13. The Bermuda softball season came to a close on Thursday with Docksiders and FIU Scared Hitless crowned champions. Docksiders added the postseason championship to go with their play-off trophy as they beat Paraquet Flyers 18-8. Paraquet held an early lead after scoring three in the first inning with Steve O'Flynn (4-4), delivering the first of four extra-base hits with a double. Shortstop Steve Simons (4-4) drove home the first of his three RBIs. Paraquet added two more in the third to extend their lead to five with Simons scoring O'Flynn, who had tripled. Docksiders finally got on the board after captain Richard Medeiors (3-5) hit a three-run homer plating Shawn Furlong (4-6) and pitcher Danny Cook (3-5, 3 runs). They took the lead in the fourth as they batted around, scoring five runs with both Furlong and Jaylynn Hines (2-4) smashing home runs. The team would pile on eight more runs in their last two at bats with Mike Sakata (3-5, 7 RBI) hammering two homers that would score six team-mates. Second baseman Adam Birch went 5-5 while Paulo Arruda (3-5) picked up four RBI in the victory. O'Flynn figured heavily in Paraquet's final three runs scoring twice and hitting a two-run shot in the top of the seventh. The opener saw FIU Scared Hitless in control early but was gutted when Marcus Johnson (2-4) blasted a walk-off three-run homer in the bottom of the fifth. PHC won 16-14. FIU led early 6-3 after two innings thanks in part to leadoff man Marcellus Thomas (3-5) setting the table. He would score two of his four runs in those frames. Kyle Ball (2-4) drove home the first of three team-mates. PHC's bats finally woke up in the third inning as they plated 11 runs and sent 14 people to the plate. Johnson was in the thick of things here too as he started things off with a double. Ari Tucker (3-3) followed up with a single, and the parade of Zebras galloping around the bases was on. Chris Pitcher (2-3) powered a grand slam to clear the bases, but timing hitting by Zakiah Lee (2-3) and Tawana Fox (3-4, 3 runs) keep the score ticking along. PHC was leading 13-10 heading to the top of the fourth, but FIU had fight still in them as they came right back to take the lead by plating four runners. Dwight Jackson (2-4, 3 runs) hit a two-run shot while Troy Pitcher (2-4) also plated Kyle Ball. After a 1-2-3 fifth — the game was shortened because of time - the contest was set up for a dramatic finish. Down 14-13, Fox and Tarirah Hill both singled before Johnson took the ball over the fence for the come-from-behind triumph.
2018. June 30. A softball league will return to its pitch after players were banned for allegedly drinking during games. Dean Williams, president of Softball Bermuda, said a dispute with the Department of Youth, Sport and Recreation about wine bottles found at the Michael Preece softball diamond at Pembroke's Bernard Park has been resolved. He added that both sides had promised to work together to ensure the sports field stayed alcohol-free. Mr Williams said: "I'm very happy. We had a meeting which was very fruitful and amicable. "Both of us are on the same team. We don't want alcohol to be used at the ballpark, so we had some discussions around the table to come up with some things we can put in place to make sure this doesn't happen again." Mr Williams was speaking after players were told last week they were no longer welcome at the park after two wine bottles were discovered by staff in a trash bin near a dugout. He said: "Our players don't believe it was them and that it could have been from the J'Ouvert but the Department said they didn't think it was from that. In the end it doesn't matter. We just want to put something in place to make sure it doesn't happen again." Mr Williams said that warning signs would be put up at the entrance to the pitch and coaches would inspect the dugouts. Trash cans will also be removed from the dugouts and players will be responsible for keeping the area clean. Mr Williams said: "In our rules we have something to say you cannot use alcohol. Of course it's one thing to put it in your rules and regulations but it's another to police it." Six games were cancelled as a result of the dispute as games scheduled for Monday and Thursday were not played. But Mr Williams said: "I'm just relieved we can go back to doing what 500 plus people love to do, which is play ball. I doubt very strongly that this situation will happen again."
2018. June 23. A softball league has been banned from using a public pitch after wine bottles were found in a trash can. Softball Bermuda was ordered to keep off the WMC Preece Softball Diamond in Bernard Park until further notice after the bottles were found in a bin next to a dugout. But yesterday Dean Williams, president of Softball Bermuda, cried foul and said the move by the Department of Youth Sport and Recreation was an overreaction. Mr Williams added: "I hope that this can be sorted out very quickly — in fact I am waiting to have a meeting with Government now. The department knows that I am tremendously aggrieved about the way it went down — they had no conversation with us. I don't know who the culprits are but as an association we are doing everything in our power to stamp out these sorts of things." Mr Williams also pointed out that it was unfair to penalize the entire association. He said: "I don't understand how you can find alcohol in a dugout and say that it is our fault as an association. If somebody is trying to keep something away from you in terms of doing something nefarious, they are going to do it. All I can do is put in harsh penalties for people who want to circumvent the rules." Mr Williams was speaking after a letter from the department was sent to him on Thursday to announce the suspension. The letter said that teams were warned in April about the drinking of alcohol at softball games. It added the bottles were found in the away team dugout during a site visit after a game on Wednesday at the park's softball diamond. The letter said: "This is confirmation that drinking persists during games and this letter serves as an official notice that the Michael Preece softball diamond will be closed to Softball Bermuda until the situation is rectified." But Mr Williams insisted that anyone caught drinking alcohol at the park would be banned from playing for the remainder of the season. He added if anyone was drunk and or committed a serious infringement of the rules their membership would be revoked. Mr Williams said: "That is as strong as you can get. We sent out a very strong and terse e-mail to our members weeks ago, after we got the original e-mail, saying if this is happening and we find out who it is those penalties will be implemented. Since that time nothing has happened until that particular night. I spoke to the groundsman who was unaware of anything taking place and I was the umpire of record and I saw nothing." Mr Williams questioned how the department could be sure it was softball players who had left the bottles. He said: "How do they know it wasn't the J'Ouvert they had down there? The Government may say that the trash can was empty when softball started at 6pm on Wednesday but the groundsman doesn't know when the bottles went in there nor do I. It may have been a softball player but you need some evidence of who the perpetrator is. I'm not going to search everybody's bag when they come in." Mr Williams added: "I think we can collaboratively think of ways to arrest this problem if it happens again — which I doubt, based on the teams now knowing how serious this is." The Department of Youth, Sport and Recreation did not respond to a request for comment.
Squash
The British game, more correctly called squash rackets. Similar to US racquetball - played in Bermuda but on squash, not racquetball - on courts - and played with a different-size ball. Bermuda, with year round squash fanatics, hosts some international events. The Bermuda Open has attracted some of the best-known names in squash and international tournaments are now held periodically in Bermuda, including the Endurance World Open squash tournament held at the Fairmont Southampton Hotel in 2007. Former squash world champion James Stout, the New York Racquet and Tennis Club professional, is a Bermuda resident. Some leading private sector employers also have squash courts, for their employees only; for use only before or after working hours or during lunch hours, and by appointment in advance.
Bermuda Squash Racquets Association. P O Box HM 176, Hamilton HM AX. Phone 292-6881, fax 295-8718, has own Bermuda Squash Racquets Club at 11 Middle Road, Devonshire DV 06, just east of the Montessori Academy. It is open to the public, welcomes new members, charges an annual fee, plus an initiation fee, has coaches, more. Registered charity 549.
2016. June 15. Ramy Ashour, a three-times world champion, will be the star turn at next week's Axis Squash Challenge and Professional Exhibition. Ashour will take on Ryan Cuskelly, the world No 16, in the main game at the Bermuda Squash Racquets Association in Devonshire next Saturday. Micah Franklin, the Bermuda champion and world No 173, will face fellow islander Noah Browne, the world No 287, in the opening match of the night, a replay of last year's National Championships final. Patrick Foster, the BSRA director of squash, has no doubt that Ashour, 28, will deliver a masterclass of squash for the spectators. "Squash stars don't come much bigger than the mercurial Ramy Ashour, known on the PSA [Professional Squash Association] World Tour as "The Artist" for his amazing skills and ability to return impossible shots from impossible positions. "We're all really excited for the exhibition night to see young Bermudian professionals on the big stage, as well as a star like Ramy here on the Bermuda courts. The event looks like it's lining up to be a big success as always and will be topped off with a fantastic night of squash with the professionals." Cuskelly has had a stellar season climbing up the world rankings after eight PSA World Tour titles. "I'm so glad to get the chance to come back to beautiful Bermuda, meet the players and kids here and have the opportunity to get on court with Ramy again," Cuskelly said. The four-day challenge features 16 teams made up of four players, with individual handicaps to level out the standards and provide the best competition possible. This year's competition will also include an AXIS Junior Challenge, running the same format and being held after school. Both the adult and team events are sold out with a maximum of 96 players taking part. Tickets for the exhibition night, costing $50, were on sale at the BSRA. For more details visit bermudasquash.com.
Swimming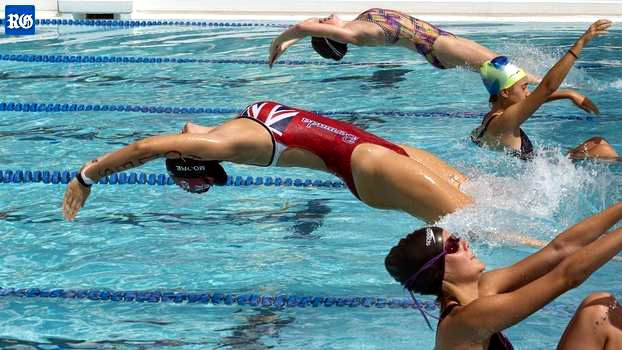 There are no professional swimming teams. All amateur swimming events. Swimming pool at Canal Road, Pembroke and a White's Island Aquatic Program.
Bermuda Amateur Swimming Association. Suite 1407, 48 Par la Ville Road, Hamilton HM 11.
Table tennis
An established sport locally. Bermuda Table Tennis Association. P O Box HM 1636, Hamilton HM GX.
Tennis
Bermuda Lawn Tennis Association (BLTA). PO Box HM 341, Hamilton HM BX. 2 Marsh Folly Road, Pembroke HM 13. Phone 296-0834. Governing body of tennis in Bermuda.
Tennis had its origins in Bermuda as a British pastime of British Admirals and Governors, their wives and their guests long before it became much more popular and was exported, from Bermuda to the USA. The island's earliest private tennis courts were at Admiralty House, Spanish Point, home and command center of the resident Royal Navy Admiral, and Government House, residence of Bermuda's Governors. A British Army officer stationed in Bermuda brought the first tennis apparatus to Bermuda as a way to help reduce the boredom of a colonial posting on a very small and isolated but then militarily strategically important British colony. A Bermudian merchant friend of his then visited England in 1871 and helped to pioneer tennis as a popular local sport. Briton Thomas Middleton living in Bermuda was impressed by what he saw in England of the game of lawn tennis as a development of a much older game. Thus was tennis was exported from Britain via Bermuda to the USA. He acquired in England a set of the equipment with every intention of having his wife play it, to keep her amused and physically active. Then he changed his mind and donated the equipment to his friend, Chief Justice Sir Brownlow Gray. The latter built Bermuda's first home- based private tennis court in the grounds of his lovely manor home in Paget Parish, Claremont, overlooking Hamilton Harbor. Mary Outerbridge, born in the USA in 1852 to wealthy Bermudian parents Alexander Ewing Outerbridge and his wife who emigrated there, discovered the game at what was still her family home in Bermuda, during a visit there, when she played at Claremont. When she relocated to the USA (and later became an American citizen) she took her tennis gear with her, including racquets and a net ,not without difficulty when she returned to America on board the SS Canima in 1874. But the move almost ended in failure because suspicious customs officials in New York impounded the equipment before they relented and released it. She eventually managed, with the help of her brother A. Grelius Outerbridge, to persuade the Staten Island Cricket Club to build a court on its grounds. She hosted the first national tournament in 1880, but died in 1886, aged 34, a year before America's first championship game for women was held. The Outerbridge family left another mark on New York, courtesy of Eugenius Harvey Outerbridge, another of Mary's brothers and the first chairman of the city's Port Authority. His name is commemorated in the Outerbridge Crossing, which links Staten Island with Perth Amboy in New Jersey.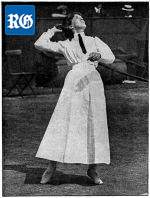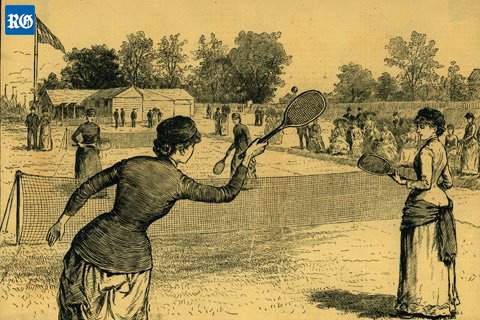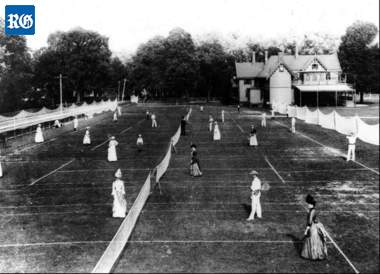 Tennis spread throughout the USA, eventually as a national sport. All those first tennis rackets were made of laminated wood, with large heads. Davis Cup tennis was established beyond Bermuda for nearly a century before there was any Davis Cup Competition in Bermuda. Top local players battle with the Caribbean or Central America. Tennis is year round on more than 100 public and private courts, some for nights. International invitational tennis events are often in Bermuda. Tennis became a popular Bermudian sport and was promoted by businessman William Ernest Rudolf Joell, who is remembered by the W. E. R Joell Stadium in Pembroke.
Australian Pat Rafter, a former champion, has a home in Bermuda.
2019. May 1. Millions of tennis fans around the world will get an introduction to Bermuda this summer when the island sponsors the US Open Tennis Championships, it was revealed yesterday. The Bermuda Tourism Authority has been unveiled as the exclusive tourism sponsor of the event, watched by more than 800,000 people at the stadium in New York and broadcast to more than 100 countries. Kevin Dallas, the chief executive of the BTA, made the announcement with the United States Tennis Association. He said: "This strategic alliance is part of Bermuda's sports tourism strategy born out of the new National Tourism Plan. The partnership kicks off with the 2019 US Open this summer in New York City, which is Bermuda's top source market for visitors. Benefits of this new partnership will include court signage, including the Bermuda logo, which will be visible for more than 100 hours of live television broadcast in the US, Canada and the UK, in addition to more than 100 other countries." The collaboration will also allow BTA representatives to meet tennis fans who attend the two-week tournament or the US Open Fan Week. Mr Dallas said the BTA was also working with both the USTA, USTA Player Development, the USTA Foundation and Bermuda's tennis world to bring an event to the island next year, to be broadcast on the Tennis Channel. He added: "This event will feature a pro-am, exhibitions with tennis legends and rising American players and kids clinics for Bermuda's own rising stars. This will bring additional visitor spending to the island and exposure for Bermuda as a premier luxury sports and travel destination." Mr Dallas highlighted Bermuda's role in the introduction of tennis to the US — Mary Ewing Outerbridge, considered the mother of American tennis, was first exposed to the sport when she visited her family's home in Bermuda in 1874 and took the game back to America. Mr Dallas said: "The brand story of Bermuda introducing the sport of tennis to the United States is just one example of how we punch above our weight as a small island out in the middle of the Atlantic. The collaboration also puts Bermuda in the cultural conversation at one of the must-see events in New York City. As summer comes to a close in the city, we will leverage this platform to invite New Yorkers to extend their summer season with active adventure out here in Bermuda." A BTA spokesman said the total cost of the marketing partnership has not been finalized. "There is still activation planning and event budgeting to complete. And even when full costs are known, there will be some portions undisclosed due to agreement restrictions that are commonplace in USTA marketing deals. That said, the BTA is confident this partnership will be fully covered by the organisation's existing budget allocation; no increases in funding will be required. Also, as a general rule, marketing partnerships of this kind must generate at least a 5:1 return on investment for Bermuda to be even considered, so for every dollar spent the BTA seeks at least $5 returned in estimated value or economic impact — and in most cases the ROI is higher than 5:1 when a post-event analysis is completed." Fortune magazine in 2017 reported that brands could pay between "the low seven figures up to eight figures" in sponsorship. The cost was based on the prominence of signs at the court, the amount of promotional space on the ground and the amount of hospitality offered. Gordon Smith, CEO and executive director of the USTA, said: "It's great that Bermuda and US tennis are back together again. Tennis really got started in the US thanks to Bermuda and here we have really come full circle." He added that Ms Outerbridge's brother played a key role in the foundation of the United States National Lawn Tennis Association, which created the US National Championship — the event that became the US Open. Mr Smith, a regular visitor to Bermuda since 1985, said: "But for Mary and her brother, who knows if we would even have a USTA or a US Open?" He added: "We are going to show so many hundreds of thousands, millions of people what a wonderful place it is. We are confident that the power and the reach of the US Open, both in the US and around the world, will give so many others the opportunity to know Bermuda the way I and many others know it." The 2019 US Open will be held from August 26 to September 8 at the USTA Billie Jean King National Tennis Centre in Flushing, New York. According to the USTA, a record 828,798 people attended the event last year. The event was also watched by 44 million viewers in the US on ESPN and ESPN2 and a further 44 million in Europe through Eurosport 1 and Eurosport 2 coverage.
W. E. R Joell Tennis Stadium: The only public facility in Bermuda. Cedar Avenue and Marsh Folly Road, Pembroke Parish. Phone 292-0105. Government-owned and known as the Government Tennis Stadium until July 2003. Then it was renamed for the late Bermudian who pioneered the integration of blacks on this tennis stadium's courts. His daughters, Eileen Simmons, Rosemary Cann and Joyce Hayden were present at the ceremony conducted by then-Premier Jennifer Smith. In 1953, his tennis lessons attracted many children and produced two champions, Shirley Davis and Arnold Todd. In 1957, when the Social Welfare Board turned down his request for funds to pay for overseas coaches to come to Bermuda to teach tennis, Mr. Joell organized the Bermuda Tennis Development Fund. As a result, several overseas coaches came and Mr. Joell opened up his own home on Brunswick Street in the City of Hamilton to accommodate them. He was an Associate Member of The Professional Lawn Tennis Association of the USA and the Field Secretary of the American Tennis Association. He helped organize several local clubs including the Castle Harbour Hotel Tennis Club, King Edward VII Memorial Hospital Club, Unity Tennis Club and Salvation Army Tennis Club. He accompanied Bermudian teenagers to the USA to compete in tennis tournaments at Central State College. In 1973, he received the Queen's Certificate and Badge of Honour for his valued services to tennis in Bermuda.
Anyone can play here by appointment and for a fee. (Visitors will find tennis courts at many places to stay). There is a pro. Lessons are $30-$50. There are 3 clay and 5 plexi cushion courts. Tennis attire is mandatory.
Tennis Clubs include:
Coral Beach and Tennis Club. Phone: (441) 239-7223, 236-2233. Coral Beach Hotel, Paget. 8 clay courts maintained to ATP Tournament Standards.
Pomander Gate Tennis Club. 1 Pomander Road, Paget, Bermuda; Phone: (441)236-5400
Port Royal Tennis Club. 5 Middle Road, Southampton. Phone: 441/238-9430. Located at Port Royal Golf Club.
Whaler Inn Tennis Club. Fairmont Southampton Princess Hotel. 101 South Road, Southampton. Phone: 441/239-6950
Bermuda Lawn Tennis Association (BLTA) and its leagues
Winter Tennis League. Open to all tennis clubs. The league starts in the fall and runs until the end of winter is a double and singles competition events depending on the Divison. There are 3 divisions: (1) Women's Division and (2) Men's Divisions 'A' & 'B', with Division 'A' being the top division. Play consists of weekly home and away team matches. Also contains a pairs competition at which doubles pairs from each team are able to play in a single day round robin event.
Commercial Tennis League.

A corporate tennis league design to promote and provide to tennis to Bermuda's many businesses and corporations. The league runs during the summer months and consists of home and away team fixtures with 5 matches for each fixture. There is Men's and Ladies Singles, along with Men's, Ladies and Mixed Doubles.

Mixed Doubles League. An open Round Robin League designed for players of all levels. The League will run for a 2 month period from the end of winter to the start of spring. The League will and have multiple divisions to accommodate players of all levels. It is intended to promote doubles play in a structured league format. The league is open to Tennis Clubs, corporations and groups.
Triathlon
2019. September 2. Flora Duffy finished fifth in her second race since returning from injury at the ITU World Triathlon Series Grand Final in Lausanne, Switzerland, on Saturday. She finished the Olympic-distance race — 1.5-kilometre swim, 40km bike and 10km run — in a time of 2hr 4min 26sec, with splits of 19:15, 1:06:35 and 37:29. Katie Zaferes, of the United States, took the honours to claim a maiden world title in 2:02:45, with Jessica Learmonth, of Britain, finishing second in 2:02:49 and team-mate Georgia Taylor-Brown third in 2:03:03. "Thank you Lausanne," Duffy wrote on Instagram. "That was a race to remember. The crowd + course was incredible! Thank you for all the cheers. I needed them ... especially on the run! After the race I was so exhausted, (like I laid down in the grass for a long time) it took me a while to appreciate 5th as pretty solid and more forward progress even if I felt very defeated today. Congrats to the champs!!" Duffy was confident the challenging and hilly course would play to her strengths, and made a break on the final lap of the bike but was soon pegged back by Zaferes to set up a showdown in the run. The Bermudian, however, understandably showed signs of ring rust during the final discipline and started to drop back with about 6km to go and was overtaken by Rachel Klamer, of Holland, for fourth on the third lap. Zaferes held off a spirited challenge from Learmonth, who led out of the swim but was hunted down by the chase group, which included Duffy, on the bike. Duffy, meanwhile, will have been encouraged to come through second straight race after missing 12 months of action because of a foot injury. She won the Tokyo Olympic Test Event in controversial fashion two weeks ago after leaders Learmonth and Taylor-Brown were disqualified for causing a deliberate tie.
2019. August 15. Flora Duffy made an astonishing winning comeback in a controversial Tokyo Olympic Test Event last night, with a performance she described as "best-case scenario". Although Duffy finished third behind Jessica Learmonth and Georgia Taylor-Brown, the Bermudian was later awarded the win after the British pair's were disqualified for trying to finish the race in a tie. Competing for the first time in 14 months because of a career-threatening foot injury, Duffy beamed as she crossed the line and pumped her fist in a celebratory gesture after passing her first test with flying colours. At times it was almost like Duffy had never been away, particularly during the 40-kilometre bike, where she showed glimpses of her hard-charging best, leading the front pack for long periods and dictating the pace. "This was my first race in over a year, so there was a lot of cobwebs to blow out," said Duffy, speaking before Learmonth and Taylor-Brown's disqualification I felt very rusty out there and it was hard from the start for me. I haven't done this intensity for a year, but I'm just happy to be back. There was a lot of time during the past year when I didn't think I would be back, didn't think I would run again, didn't think I'd ever be back at the point end of the race. This is best-case scenario. I loved the course and it was just great be racing with girls again and feel like myself." Duffy completed the Olympic-distance race, including a run reduced to 5km because of the searing morning heat, in a time of 1hr 40min 19sec — 11 seconds behind Learmonth and Taylor-Brown. Alice Betto, of Italy, was second in 1:40:54 and Vicky Holland third in 1:41:11. Duffy said it was important to familiarize herself with the course at Odaiba Marine Park, where the Olympics will be held next summer. "The whole point of coming here was to check out the venue, check out the course and see the conditions," Duffy added. "I love racing in hot and humid weather and that felt pretty good today. I'm just lacking a bit of race fitness. That was the hardest part for me. It was a great course and I look forward to next year." She will now switch her focus to the ITU World Triathlon Grand Final in Lausanne, Switzerland, where she will take the next step in her recovery in two weeks' time. Katie Zaferes, who has dominated the World Triathlon Series in Duffy's absence, did not finish after being involved in bike crash with her United States team-mate Kirsten Kasper.
2019. July 26. Flora Duffy will make her long-awaited competitive return to triathlon at the Tokyo Olympic Test Event next month. Duffy has not finished a race since battling through the pain barrier to win the WTS Yokohoma, Japan, in May 2018 because of a lingering foot injury. The two-times world champion's last race came at WTS Hamburg two months later, where she suffered a significant setback to her injury and finished in tenth place. Although she does not expect to be anywhere close to race fit, Duffy believes it is important to familiarize herself with the course at Odaiba Marine Park, where the Olympic Games will be held exactly a year later. If Duffy comes through the race unscathed on August 15, she intends to compete in the ITU World Triathlon Grand Final in Lausanne, Switzerland, two weeks later. As well as putting paid to her hopes of becoming the first woman to win three straight world titles, Duffy's injury also forced her out of the Pan American Games, which started in Lima, Peru, this week. The 31-year-old said she is "gutted" to miss the quadrennial multi-sport event in which she won the bronze medal in Toronto in 2015. "I'd like to wish each athlete representing Bermuda in Lima the very best," Duffy told The Royal Gazette. "I'm gutted not to be part of the team, and will be following all of the results closely. As with the national football team, who competed in the Gold Cup, Bermuda sport is on the up and up!" Duffy said she will be paying particularly close attention to the women's triathlon which features Bermudian Erica Hawley tomorrow (Saturday). "A special shoutout to Erica representing in the triathlon," Duffy added. "I have fond memories of the honour to win a medal at the Pan American Games. I wish I could repeat a medal win this year, but the lingering foot injury is forcing me to be patient. Lots of Bermuda pride for the entire team."
2019. April 16. The island was asked yesterday to turn out and create a fun-filled atmosphere at the MS Amlin World Triathlon Bermuda, even though Bermudian star Flora Duffy will not compete in the elite women's race. But fans will still get the chance to see Duffy perform in next week's event when she takes part in the bike leg of the age-group relay, despite an injury that has ruled her out of competitive running. The Commonwealth and two-times former world champion has struggled with a tear in the tendon on the bridge of her left foot in recent times. Duffy said: "I'm beyond disappointed to be missing out on WTS Bermuda, where my community have rallied around the event." The Bermuda organising committee added later that she planned to form a relay team to compete in the amateur age-group race, which will be held on April 27. Steven Petty, the Bermuda Triathlon Association president, said that, without Duffy, the elite women's event was "anyone's race". He added: "We're confident that Bermuda's uplifting cheers will carry our visiting athletes to the podium, just as we did for Flora last year." Pat Phillip-Fairn, the World Triathlon Bermuda committee chairwoman, said: "Fans will still be able to cheer for Flora Duffy as she flies through the streets of Hamilton and up Corkscrew Hill on her new bike. It's going to be a great show with an amazing atmosphere and we all love that feeling of the community once again coming together to do what we do best — that collective Bermudian spirit of celebration and support." She said Duffy would visit the Tri-Club Viewing Deck hospitality venue and be a guest commentator during the elite races. Ms Phillip-Fairn added: "No one knows her competitors like Flora does and she'll provide insights about their style and strengths." Kevin Dallas, the chief executive of the Bermuda Tourism Authority, said the organisation was "thrilled" that fans could still watch Duffy in action. He added: "This means we all get to express our love for Flora, like we've been waiting to do since last year's dominant performance. I'm confident Bermuda will show up in large numbers, air horns ready. Last year visiting competitors in the age-group categories glowed, almost uniformly, about how inspired they were by the number of spectators lining the course to cheer. They told us it's Bermuda's fans who made the experience a memorable one for them because they don't find the same level of support for amateurs when competing in other places. Our community is what makes Bermuda's World Triathlon one of the best travel-for triathlons on the planet." Charles Gosling, the Mayor of Hamilton, added: "Bermuda is still going to be able to see her out there and they're seeing some of the world's finest athletes performing in the streets of Hamilton — what better experience to have? You have three great sports to be able to watch, whether you're interested in the swimming, the speed of the bikes or the running part, each has its own technique and its own fascination. The more people we can get out, there the greater it's going to be and hopefully Bermudians as a whole will come on out. Bermudians are great at being audience participants and there's always somebody with a great sense of humour making the odd comment." Lovitta Foggo, the Minister of Labour, Community Affairs and Sport, said Duffy's decision to cycle in the relay event was "a demonstration of her true competitive spirit. I think, as a community, it's important that we recognise the significance of the World Triathlon Bermuda. Despite its small size, Bermuda will be seen as a country that can host top-tier sporting events with confidence. This event will showcase the beauty and appeal of our island to thousands around the world, feature the hospitality of our people and highlight all that we have to offer as a premier leisure and business destination. A significant amount of hard work and planning has gone into organising this event by some incredibly talented Bermudians and they deserve our support. This is an opportunity to not only cheer on the athletes, but it's an opportunity for us to celebrate our island and the great things that can be accomplished when we work together to achieve success. "I will be in attendance at the World Triathlon Bermuda supporting the competitors and I look forward to seeing members of our community lining the race route showcasing their pride." The festival weekend will start on April 25 with a pasta party and Harbour Nights celebration. A children's duathlon will start at 6.30pm the next day before a full schedule of races on April 27.
2018. November 17. Flora Duffy, Bermuda's world champion triathlete, is all smiles after collecting her Order of the British Empire medal at Buckingham Palace. A beaming Ms Duffy, a Commonwealth Games gold medal-winner in Australia this year, posted a photograph last night of herself presenting the medal alongside her husband, Dan Hugo. "Now it is official," Ms Duffy shared online from a "very special morning at Buckingham Palace". Ms Duffy was appointed the OBE in June of this year for her sporting achievements.
2018. September 12. Flora Duffy will end her ITU triathlon career on home soil in 2021 as the island hosts the World Triathlon Grand Final. Duffy revealed her plans yesterday as Bermuda was announced as the host of the race, one of the sport's biggest events. "Having the Grand Final in 2021 sets up the perfect way to end my ITU career," Duffy told The Royal Gazette. "For me, it's incredibly special. It's fabulous; the global triathlon community will get a taste of Bermuda and get to experience the island." Duffy did not say she was retiring from the sport after the Grand Final in 2021. The Bermuda Tourism Authority welcomed the news and the Grand Final is expected to attract about 3,000 athletes to Bermuda and put the island back in the international spotlight. The announcement came after Bermuda hosted a successful ITU World Triathlon Series event in April, which was won by home-grown star Duffy. BTA chief executive Kevin Dallas said: "While winning the ITU World Triathlon Series was an awesome achievement, winning the Grand Final has been our ambition from the beginning. This is an amazing milestone in Bermuda's journey to become a premier sports tourism destination. I have full confidence that Bermuda will seize this incredible multiyear opportunity to show the world how we skillfully execute high-profile events out here. These triathlon events shine a spotlight on Bermuda and, importantly, have positive and lasting impacts for our tourism economy, as well as for athletes, families and volunteers." The BTA said 450 local workers and volunteers had earned high praise for their work at the event. Bermuda will host World Series events in 2019 and 2020, but the Grand Final is expected to draw a much larger crowd and even more media attention. A study from PricewaterhouseCoopers said: "Based on prior WTS Grand Final events, approximately 3,000 athletes are expected to participate in the age-group race, with 55 men and 55 women in the elite race and 100 para-triathletes. The estimated incremental on-island spend for the WTS Grand Final is $13.4 million, which results in an anticipated overall impact on GDP of $16.6 million." The study estimated the total cost to host the event would be $3.5 million, with $1.6 million in government cash and the balance expected to come from corporate sponsors. The BTA said the estimate from PwC was a tenfold return on the $1.6 million investment of public money. Justin Mathias, the OBA spokesperson for tourism in the Senate, said the event would bring "significant revenue" to the island. "The World Triathlon Series earlier this year had a $4.4m impact on the island's GDP and generated a 152 per cent return on investment. The final will have an even bigger impact that will benefit the entire island. PwC, in its World Triathlon Series Bermuda 2018 Impact Study, said that spending on-island as a result of hosting the Grand Final could be in the region of $13 million. That will be a tremendous boost for the economy." Tim Morrison, general manager of Hamilton Princess & Beach Club, was delighted by the news. He said: "This is a fantastic opportunity to showcase Bermuda as both a travel and sporting destination."
2018. August 24. Flora Duffy has been forced to withdraw from the final two races of the ITU World Triathlon Series because of a recurring foot injury. The two-times WTS champion has pulled out of the Montreal event tomorrow and has withdrawn from the Grand Final Gold Coast, Australia, next month. Duffy has raced through the pain barrier several times this season, including her epic victory in Bermuda in April, which came just weeks after claiming the gold medal at the Commonwealth Games on the Gold Coast. She also battled through discomfort to win in Yokohama, Japan, in May to put her at the top of the WTS standings before missing Leeds in June because of the tendon problem. The 30-year-old raced back to compete in Hamburg in July to keep alive her chances of becoming the first woman to win three consecutive World Triathlon Series. However, she suffered a significant setback to her injury during her tenth-place finish, missing the next race in Edmonton, and has almost had to restart the entire healing process. In a bid to hasten her recovery, Duffy has received a blood transfusion treatment called Platelet-Rich Plasma Therapy — a substance that promotes healing when injected into damaged tissues. It has been widely used by top athletes such Tiger Woods, Roger Federer, Maria Sharapova and Stephen Curry. The injury has not interrupted Duffy's swimming and cycling training and plans to gradually ease into running next month in the hope of competing again in October. Katie Zaferes, of the United States, is in control of the title race, leading the rankings with 4,170 points. Vicky Holland, of Britain, is second with 3,579 points and Rachel Klamer, of Netherlands, is third with 3,098 points. Duffy is a further four places behind in seventh on 2,496 points.
2018. August 14. Bermuda is to bid to host a World Triathlon Series Grand Final, which could attract thousands of visitors to the island. Kevin Dallas, the chief executive of the Bermuda Tourism Authority, said the successful International Triathlon Union World Series race in April had positioned the island to hold a bigger event in three years' time. He added: "We would expect 3,000 people to attend and that would be in 2021. That bid will go in later this summer. It is already fully funded and we are cautiously optimistic that we have a fighting chance." Mr Dallas said the April ITU event was responsible for some of the increase in visitor air arrivals in the second quarter of the year. He added: "This event was one that the BTA and the Bermuda Triathlon Association went and bid for almost two years ago. We won that bid and have hosted the first of three events this April. The Government committed $2.9 million of funding to support that event, for which they got a 152 per cent return, according to the economic impact study done last month by PwC. We hope they are very pleased with that return on investment." Mr Dallas was speaking as he unveiled tourism statistics for the second quarter of the year last Friday. He added that more ITU events were already scheduled for 2019 and 2020 and that the island had a "runway" for even more races to be held in Bermuda. A PwC report on the economic impact of the April event found the MS Amlin World Triathlon Bermuda — won by Bermuda's Flora Duffy — pumped $4.4 million into the island's economy. The race, seen by an estimated 1.1 million viewers, also showcased the island as a potential tourism destination. A total of 809 people — 340 of them participants — travelled to the island for the event. The MS Amlin World Triathlon Bermuda will return to the island on April 28 and 29 next year.
2018. April 5. Australia. Bermuda's world champion Flora Duffy won the women's race to clinch the first gold of the 2018 Commonwealth Games. Duffy's gold was the first for her country at the Commonwealth Games since Clarence Saunders won the men's high jump in 1990 in Auckland, where triathlon made its debut as a demonstration sport.
2018. May 12. Flora Duffy showed just how much she has improved as a runner, by powering away from the competition at World Triathlon Yokohama last night and moving to the top of the ITU WTS overall standings. Once upon a time, the final of the three triathlon disciplines was considered Duffy's weakest link, but the Bermudian powered away from the competition on the run after finishing the bike among a group of nine. It was a stark contrast to almost total domination of that unforgettable afternoon in Hamilton at MS Amlin World Triathlon Bermuda two weeks ago, but the 30-year-old ended up crossing the line in her customary first place in a time of 1hr 53min 25sec; 33 seconds ahead of Katie Zaferes, of the United States. Non Stanford, of Britain, was third in 1:54:41. "Coming off a big high in April with Commonwealths and Bermuda, it was definitely a stretch and a push to get here, but I'm very happy with my race," Duffy said. "I think I often don't get enough credit for my running." Duffy came out of the water first in a time of 18:33, one second ahead of American Summer Cook. However, she finished ninth fastest on the bike and ended up in a pack of nine going into the second transition. It was then that Duffy made her most significant strides. Gone was the Flora who was well beaten on the run in the 2016 Olympic Games in Rio de Janeiro, where she finished eighth with American Gwen Jorgensen taking gold, instead leaving Zaferes and the rest in her dust. Indeed, her run was the fastest yet again — in 33:26 — after she became the first woman in WTS history to complete the fastest times in all three disciplines. To confirm her status as arguably triathlon's top runner, she ran faster than Ashleigh Gentle — highly renowned in the discipline and the only woman to beat Duffy in a race she has completed in the past 18 months — by a walloping 28 seconds. And Duffy was almost in disbelief at becoming the new leader, despite her crash in the opening race in Abu Dhabi in March. "That was not the goal; it was just to get a good score and set myself up for the series," the two-times world champion said. "But if I'm top then I can't complain!" She seems to be getting used to her dominance after her tenth WTS win in almost two years. Yeah it is a little freaky I suppose," she said." I was thinking about it today. I was like: 'I haven't [not] finished first or second in a long time'. I came into this race a bit tired and wasn't sure how it would go and I freaked myself out a little bit, but at the same time it's pretty cool."
2018. April 10. Flora Duffy has withdrawn from tomorrow's Commonwealth Games mountain bike race after deeming the course too risky before she races in the ITU World Triathlon Bermuda. The women's triathlon gold medal-winner made the difficult decision after taking two days to familiarize herself with the course at Nerang State Forest. She described the trail as "very raw, rocky, steep and difficult" and felt she could not justify putting herself in jeopardy at this crucial stage of her career. The 30-year-old will be the overwhelming favorite when she races at home on April 28, as she bids to become the first woman to win three successive ITU titles. "With growing expectation for the season ahead, especially the debut WTS Bermuda in two weeks, I am finding it increasingly difficult to justify the risk, and when hesitating on a mountain bike it typically leads to disaster," Duffy said. "During my previous cross country race in Stellenbosch, [South Africa], I did knock my left knee which resulted in routine changes, a reality that came back to haunt me more than I anticipated. This course, along with the timing, has become a bridge too far for me. In consultation with my team, this is the right way. I am really sorry and feel terrible for doing this. All my energy and focus will now go towards executing a good race in Bermuda on April 28." The mountain bike has been a "great stimulus" for Duffy and a positive distraction from the pressure of being the triathlon world No 1, according to her coach and husband Dan Hugo. Duffy has flirted with the event during the past 12 months, competing in the South African Mountain Bike Series at Grabouw and the Sea Otter Cross Country in Monterey, California. "I love riding my mountain bike, and do so twice weekly as part of my routine," Duffy added. "I've enjoyed racing it both in cross-country events and during Xterra's. There is a lot of mountain biking where I feel comfortable pushing hard on, where I can manage the risk. Unfortunately a small portion of this Commonwealth Games track is very raw, rocky, steep and difficult for me to execute, especially once fatigued during lap five and six. I am very thankful to Peter Dunne, the Bermuda Bicycle Association president, who has supported my desire to represent Bermuda in the mountain bike race at the Commonwealth Games. So too for many who shared the excitement of doing something new." Greg Welch, the Australian triathlon legend, who commentated on Duffy's gold medal-win, expressed concerns about the Bermudian competing in the mountain bike in an interview with The Royal Gazette before the Games. "The thing is her bread and butter is triathlon," Welch said. "If she goes out there trying to compete in two sports and breaks her wrist … That's the only factor she has to weigh up. If you're an Olympic gold medal-winner you can be on that speakers' circuit, that's 20 grand a talk. You can ride this gravy train for the rest of your life."
2018. April 4. Gold is almost certainly on Flora Duffy's mind as she heads into the first medal event of the Commonwealth Games tonight. After clearly establishing herself as the dominant force in women's triathlon, winning back-to-back ITU World Triathlon Series titles, Duffy no longer feels the need to temper expectations. Gone is the uncertainty, the ambiguity, the self doubt. These days Duffy has the aura and confidence of a world champion and make no mistake, her trip to the Gold Coast — Australia's premier tourist destination — is strictly business. "It's exciting to be heading to my third Commonwealth Games and this one's a lot different from the previous two as I am one of the medal hopes and have actual confidence that I can achieve that," Duffy told The Royal Gazette. "That's been a big goal for me this year that we set out to have a great race at Commonwealths and make it one of my 'A' races." With the Commonwealth Games being held so early in the season, Duffy has raced just once, crashing out on a corner that claimed several other riders during slippery conditions in Abu Dhabi last month. She was, typically, in the lead at the time and feels in medal-winning form. "So far the prep this year has gone pretty well," said Duffy, who finished eighth at the 2014 Glasgow Commonwealth Games. "I only started training towards the end of December and OK, I'm racing at the beginning of April, but in terms of training weeks it's not that many to get ready, so thankfully everything's gone pretty smooth. It's been a great summer in Stellenbosch and I have a great training group down there, so I can just slot right in and it all works pretty well." Duffy, who has opted to stay at a hotel in Southport near the triathlon venue rather than the Games Village, will join her team-mates Tyler Butterfield, Tyler Smith and Erica Hawley in the mixed relay on Saturday. The 30-year-old will perform the third leg of the super sprint distance race — a 250-metre swim, 7-kilometre bike and 1.5km run — before handing off to Butterfield. "I think people don't understand how small Bermuda is and to have four world-class triathletes competing at the mixed team relay at the Commonwealth Games is really, really incredible," Duffy said. "Much bigger countries struggle to field a team so for us to be there, it's very special. "It's great to have Tyler Butterfield on the team. He's someone I looked up to when I was growing up. It's pretty cool that he's done a lot in short-course racing, he's done a lot in Ironman racing and is still keen and excited to race for Bermuda. [He's] coming back down to short-course, which is not really his level of expertise any more." Duffy admits it is odd to think of herself as the "elder stateswoman" of Bermudian triathlon, but is happy to help in Smith and Hawley's transition to the elite level. Both are aged 19, a year older than Duffy when she outlined her potential by coming eighth at the 2006 Melbourne Commonwealth Games. "It's great to have them on the team and I think it's pretty special for them because, obviously it's weird me talking about this, but I am the reigning world champion," said Duffy, one of two athletes on the Gold Coast to have competed at Melbourne 2006 and Glasgow 2014, the other being New Zealand's Andrea Hewitt. "I suppose it's quite special that we're all in different stages of our careers and we get to compete on the same team and this might be the only time we can do this at the Commonwealth Games, so that in itself is really special. Hopefully, I can, I don't know, give them some tips or help them, it's a pretty high level to be racing on. My first Commonwealth Games was when I was 18, also in Australia, so those two are at similar points, so I know from first-hand experience how massive of a jump it is to be racing junior levels normally and then jump into one of the most competitive elite fields." As a four-times Xterra world champion — the earthier form of triathlon — Duffy has also qualified for the mountain biking, which takes place next Thursday in South East Queensland. Although she holds no hope of a podium finish, Duffy is certain of biking competitive. "There's no medal hopes there, it's truly just for me, a life experience that I want to do," she said. "I know I'm at the level to race there and hold my own and I just think it's pretty special for me to race at a Commonwealth Games in both triathlon and mountain bike. Not many people have that opportunity or have the skill-set to do so, so that's the main motivation there and I'm just really excited to be given that opportunity. I'm very confident in the triathlon and know how to execute a race there, but then I stand on the mountain bike start line and feel like a total beginner there and that's actually pretty cool for me at this stage of my career to have that totally out of your comfort-zone excitement."
2018. March 2. Flora Duffy said the opening ITU World Triathlon Series course in Abu Dhabi was "dangerous" after crashing out during the second lap of the bike stage yesterday. The two-times defending world champion said that she was "fine" after the incident on a corner that claimed several other riders during slippery conditions in the United Arab Emirates. The Bermudian was, typically, in the lead when she went out. Maria Czesnik, of Poland, Canadian Joanna Brown and Katie Zaferes, of the United States, also crashed at the same section of the course. "Tough way to end my race especially as I felt 'oh so good'," Duffy said on her Instagram account. "Super slick (and in my opinion dangerous) course. My wheels literally went from under me through a corner. And I was being cautious. Body was fine to carry on but bike wasn't. So disappointed. But at least I could tell the form was there." Rachel Klamer was first over the line in 1hr 0min 43sec for the Dutchwoman's first WTS race win. She finished 14 seconds ahead of Jess Learmonth, of Britain, with Australia's Natalie van Coeverden third, in 1:01:00, beating American Kirsten Kasper to the bronze in a photo-finish. However, there was controversy, with eight triathletes not finishing. The course for the age-group races was changed and Klamer herself said that the crashes affected her own strategy. "I was quite scared on the bike because the last few months I have been training on only straight roads and didn't do any corners," she said. "There was a lot of women crashing so I just decided to take it easy, ride hard, but just go easy through the corners. I ended up sitting behind a couple crashes, which wasn't smart so I had to chase one whole lap to get back to the front pack. But I am happy I stayed on my bike." Jarrod Shoemaker, the 2009 duathlon world champion from the US, was scathing in his criticism of the ITU on Duffy's Instagram page. "ITU does not do enough for athlete safety and this was another example of it," he wrote. "To race on a car racetrack in the wet in a place it barely rains is not putting athlete safety first." Duffy was second out of the water, officially out at the same time as Learmonth in 9:06, with American Summer Cook and Zaferes one and four seconds behind, respectively. The Bermudian and Learmonth went clear on the bike, before Duffy stretched out for a solo attack and was nine seconds ahead of the Briton after the first cycle lap in 16:39, before crashing. The section would later claim Brown, who was in sixth position, and Zaferes, also in the leading group at the time. Kasper led a group of four after the bike section in 43:48. Klamer, Learmonth and Van Coevorden were also in the leading pack at the start of the run, virtually ensuring a new name would be added to the WTS winners' list, which would end up being Klamer's. Van Coeverden was the first to drop out of the running, followed by Kasper and finally Learmonth as Klamer claimed her maiden WTS victory in impressive fashion. Duffy missed last year's season-opening race in Abu Dhabi with a hip injury. However, that did not stop her winning her second consecutive world title, so there is still all to play for. The 30-year-old's next destination is Gold Coast, Australia, for the Commonwealth Games before the WTS returns on April 28 and 29 in Bermuda.
2018. March 1. Flora Duffy will been keen to lay down a marker when she starts the defence of her world title at the ITU World Triathlon Series Abu Dhabi in the United Arab Emirates tomorrow morning. The two-times defending WTS women's champion is among a record field of participants from 51 countries including Olympic and world champions. A nagging hip injury ruled Duffy out of last year's event but she is healthy this time around and champing at the bit to compete the iconic Yas Island course for the first time. "I was disappointed to miss the Abu Dhabi race last year due to an injury," the Bermudian triathlete told triathlon.org. "I've heard a ton of great things about Yas Island course so I can't wait to tackle it — especially the bike course which looks like it's really suited to my aggressive style of racing." Duffy has her work cut out as nine of the world's top-ten ranked women triathletes are also among the field, including New Zealand's Andrea Hewitt, the event's defending champion, and Australian Ashleigh Gentle, who finished runner-up behind Duffy on the WTS overall championship leaderboard. The WTS season opener will see the world-class field tackle a 750-metre swim, 20-kilometre bike and 5km run. Despite missing the first two races of last year's WTS, Duffy won six of the seven remaining events to retain her ITU world title. She also won a fourth consecutive Xterra World Championship crown, as well as the Island House Invitational in the Bahamas. Duffy, who pocketed nearly $300,000 in prize earnings alone last year, opted not to defend her title at the Xterra South African Championships in Grabouw last weekend, choosing instead to focus solely on today's event. "It was tentatively on my schedule but with my first WTS race in five days I decided to skip the Xterra to focus on Abu Dhabi," Duffy told The Royal Gazette. Duffy romped to her fourth straight women's title at last year's Xterra South African Championships to get her 2017 season off to a flying start. But it came at a price as she was forced to withdraw from the season-opening WTS Abu Dhabi a week later because of the hip injury. The 30-year-old will compete in the individual triathlon, mixed team relay and mountain biking at the Commonwealth Games on the Gold Coast, Australia, next month. Duffy, who will be competing at her third Commonwealth Games, will join Tyler Butterfield and teenage triathletes Tyler Smith and Erica Hawley in the mixed relay team.
2018. February 24. Flora Duffy's phenomenal winning streak at the Xterra South African Championships came to a halt yesterday after she confirmed that she is not defending her title this year. The Bermudian triathlete and multiple world champion had been a firm favorite to retain her title prior to her announcement, which she made on Twitter. "I'm not racing this year, but wishing everyone the best of luck," Duffy tweeted. The Xterra South African Championships take place today in Grabouw. Duffy romped to her fourth straight women's title at last year's event to get her 2017 season off to a flying start. But it came at a price as she was forced to withdraw from the season-opening ITU World Triathlon Series in Abu Dhabi a week later because of a nagging hip injury. Despite missing the first two races of last year's WTS, Duffy won six of the seven remaining events to retain her ITU world title. She also won a fourth consecutive Xterra World Championship crown as well as the Island House Invitational in the Bahamas to reinforce her status as a world-class athlete. Duffy, who pocketed nearly $300,000 in prize earnings alone last year, will start the defence of her ITU world title in Abu Dhabi next Saturday. The Bermudian will be joined in Abu Dhabi by Ashleigh Gentle, of Australia, and American Katie Zaferes, comprising the full podium of last season's world series. However, last year's winner in Abu Dhabi, Andrea Hewitt, of New Zealand, is hopeful she can retain a season-opening crown she won in 2017 by pipping Britain's Jodie Stimpson to the finish line. "I'm delighted to be returning to Abu Dhabi this year, a place that holds some amazing memories for me following my first-place finish last year," Hewitt told the WTS website. "The 2017 race was a turning point for me both personally and professionally. I had trained so hard, went into the race in good form and knew that I had a chance of doing well. To pick up the gold medal, the way I did, it was an overwhelming sense of emotion. I think that showed at the finish line. I'm looking forward to seeing what this year's race holds and with a bit of luck, I'll be on the podium again". Duffy is also scheduled to compete at the Commonwealth Games in Gold Coast, Australia in the triathlon and mountain bike events in April and the MS Amlin World Triathlon Bermuda on April 28 and 29, where the former Warwick Academy student will race in front of her home fans for the first time as world champion.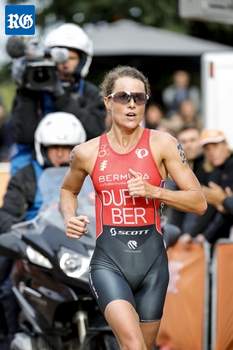 2018. February 1. MS Amlin was today announced as a title sponsor of the ITU World Triathlon Series in Bermuda. The reinsurance firm said the move was a natural step as its parent company, MS&AD, is based in Tokyo, where the Olympic Games will be held in 2020. During the Bermuda event in April, athletes will win points on their long road to qualification for the Tokyo Olympics. Rob Wyatt, CEO of MS Amlin AG Bermuda Branch, said: "We are honoured to have been chosen as the title sponsor for the first ITU World Triathlon being held here in Bermuda. "As an active office keen on sport, we are delighted to be lending our support to such a fantastic event — particularly one that resonates with Bermudians thanks to the success of triathletes such as Flora Duffy. We hope the event again showcases Bermuda as a wonderful venue for top level sporting activities, inspiring those of all ages to swim, bike and run." Phil Schmidt, local organising committee chairman of World Triathlon Bermuda, said: "We are delighted to be partnering with MS Amlin. MS Amlin stands for quality and fairness in the reinsurance industry, which are key values for any athlete." Pat Phillip-Fairn of the Bermuda Tourism Authority said: "We look forward to welcoming the world's top athletes and triathlon enthusiasts to experience all that Bermuda has to offer. The MS Amlin World Triathlon Bermuda will become a pinnacle event in the triathlon calendar. We are extremely grateful for the generous support of MS Amlin, and we thank them for their partnership, demonstrating their wider, ongoing support for Bermuda." The event will be hosted in Hamilton on April 28. The day will comprise of the Elite race and the Age Group amateur race, which will attract hundreds of runners, including locals trying their first triathlon. A team of employees from MS Amlin will participate in the amateur Age Group triathlon race, while others in the MS Amlin family will volunteer at the event. Front Street will be the focus of all racing and MS Amlin's Bermuda offices, which will also house the event office, is well positioned on the course. Sports enthusiasts of other disciplines are encouraged to register and train for the April event, which does not require a qualifying time.
2018. January 22. Flora Duffy is leading the call to encourage volunteers to get involved in the ITU World Triathlon Series being held in Hamilton. Ms Duffy said: "These events take enormous effort to organize. As athletes, we can't appreciate enough the support of those who give their time and become involved." Three public information sessions this week will provide details on the triathlon event. The one-hour presentations will provide details on the racecourse, festival events calendar, road closures and traffic management. The presentations are:
Tuesday, January 23, at the Bermuda Chamber of Commerce;
Wednesday, January 24, at the Royal Hamilton Amateur Dinghy Club;
Thursday, January 25, at the Bermuda Chamber of Commerce.
All run from 5.30pm to 7pm. Members of the public interested in participating can RSVP at gotobermuda.com/bta. Information on volunteering for the event can be found at bermuda.triathlon.org/volunteer. The triathlon series takes place in Hamilton from April 26 to April 29.
2017. December 23. Flora Duffy's groundbreaking year was hailed by Triathlete magazine, who named her Short-course Female Athlete of the Year in their Best of 2017 awards. In addition, the American publication said the past 12 months was "The Year of Flora Duffy" and placed her dominant campaign as No 1 in their "17 News Stories That Shaped Triathlon in 2017". The magazine reported that the 30-year-old Bermudian "pocketed almost $300,000 in prize earnings alone — more than any other professional athlete, male or female, in the sport". Indeed, after finishing eighth at the Rio de Janeiro Olympic Games in 2016, but winning the International Triathlon Union World Series, Duffy set about this year in utterly dominant fashion. After missing the first two races of this year's WTS, she won six of the seven remaining events, including the Grand Final in Rotterdam in September, to take the title with a perfect score. She finished second in the only race she lost, in Montreal in August, claiming victories in Yokohama, Leeds, Hamburg, Edmonton and Stockholm, as well as the end-of-season showpiece in the Netherlands. Not content with a second successive WTS title, she went on to win a fourth consecutive Xterra World Championship crown in October, before rounding off her sporting year in fine, but typical style, by winning the star-studded Island House Invitational in the Bahamas last month. And 2018 could be an even bigger year for Duffy, who married South African former Xterra pro Dan Hugo in Cape Town last week. A Commonwealth Games gold medal is a strong possibility in the Gold Coast, Australia, on April 4 — although she will face stiff competition from the only woman to beat her last year, home favorite Ashleigh Gentle. But the highlight is sure to be when the World Triathlon Series comes to Bermuda on April 28 and 29. "The course being along Front Street [in Hamilton] is very special for me," Duffy said when the event was announced. "This is where I started, in the Front Street Mile at nine years old, and I was inspired to compete internationally. To be competing as the world champion on home soil, is a feeling that's hard to express." Who would bet against her enjoying another medal-filled 12 months? As Triathlete says: "Is there anything Flora Duffy can't do?"
2017. December 21. It was all smiles for world champion Flora Duffy as she married fellow triathlete Dan Hugo at a lavish ceremony in South Africa. The couple tied the knot at Hugo's family's farm in Worcester, near Cape Town, last Saturday. The big day capped a memorable 2017 for Duffy, 30, who won the ITU World Triathlon Series for a second successive year and the Xterra World Championship for a fourth time in a row.
2017. November 18. Flora Duffy is $60,000 richer after winning the Island House Triathlon women's race in the Bahamas today. Duffy finished the three-event invitation-only meeting on Highbourne Cay in the Exuma island chain of the Bahamas more than a minute ahead of Katie Zafares, of the United States. The Bermudian posted an overall time of 2hr 17min 39sec, with Zaferes finishing runner-up in 2:18:53 and Holly Lawrence, of Britain, coming third in 2:20:55. Duffy went into the final stage — a traditional sprint over a 750-metres swim, 20-kilometres bike and 5km run — with a 14-second lead over Zafares after two strong performances in the first two events yesterday. She extended her lead in the two-lap swim and mounted her bike with a 30 second margin over Zaferes. Lawrence and Kirsten Kasper, of the US, were neck and neck in the swim and started the bike leg together. Competing against 15 of the top women's triathletes, Duffy continued to extend her lead over Zaferes in the run to close in on her first title, after placing third and second in 2015 and 2016 respectively. The victory capped off a superb season for the 30-year-old, who has won the ITU Triathlon World Series for a second successive year and the Xterra World Championship for a fourth time in a row. In the men's race, Ben Kanute, of the US, claimed a dramatic sprint-finish win over Terenzo Bozzome, of New Zealand, with both triathletes posting identical combined times of 2:05.53. Henri Schoeman, of South Africa, placed third in 2:06:20. Duffy returns to Bermuda this week to attend the official opening of the Flora Duffy Swimming Facility at her former school Warwick Academy on Tuesday.
2017. October 9. Flora Duffy will be the favorite at the Commonwealth Games on the Gold Coast, Australia, next year, according to the only woman to beat her this season. Ashleigh Gentle has cranked up the pressure on Duffy, insisting the Bermudian is the one to beat on the Gold Coast "whether she likes it or not". Duffy came about as close to perfection as possible in retaining her ITU World Triathlon Series title, winning six of seven races and finishing second in the other in Montreal, where she was beaten by Gentle. "[Duffy] pretty much had a perfect season ... the pressure is on her and that's definitely fine with me," Gentle told the Gold Coast Bulletin. "She has been racing really well and deserves that, too. Whether she likes that or not, she is the favorite and I just hope that there will be ten times more people cheering for me rather than her." With her home crowd cheering her on, it will be hard to discount Gentle, a Gold Coast native, who will be looking to upset Duffy after enjoying a breakthrough year. "Racing at home is definitely underestimated and makes a big difference," said the 26-year-old, who finished runner-up in the WTS. "When you're hurting in triathlon and you have people screaming your name, you find another gear." Gentle, who finished ninth at the 2014 Commonwealth Games in Glasgow, one place behind Duffy, believes she has become a more dynamic competitor since teaming up with Jamie Tucker, who trained Olympic champion Gwen Jorgensen. "There have been so many things I have learnt this year," Gentle said. "I'm a bit more of a dynamic racer and ready for whatever course there is." The men's and women's individual triathlons will be on April 4, with the course similar to the one used in the Gold Coast leg of the WTS. The northern end of Southport's Broadwater Parklands will host the start, finish and transitions, with the bike and run legs to head north along a flat, technical route. Gentle said it will give spectators the chance to watch triathletes produce some fast racing in what will be the first sprint-distance run at a major games. "You always want to keep progressing," she added. "If I keep focusing on the things that I worked on this year and if I can improve on them in training then, yeah, I hope to keep producing the results on the cour
2017. September 26. Flora Duffy has more than lived up to her potential since bursting on the scene as a prodigiously talented teenager more than a decade ago. Duffy, who turns 30 this week, cemented herself as the top women's triathlete in the world after securing a second successive ITU World Triathlon Series title at the Grand Final in Rotterdam ten days ago. Throw in a bronze medal at the 2015 Pan Am Games in Toronto, three Xterra World Championships and two ITU Cross Triathlon World Championships, and it is fair to say that Duffy has exceeded even her own expectations. "I always hoped this was possible," Duffy told The Royal Gazette. "When I first started racing at 18, I showed enough potential to suggest this could happen. Even so, you can be an incredible world-class athlete and still never win two world titles. You have to have some luck and for things to work out for you. I've been lucky, I guess." While it is true Duffy did not have to contend with Gwen Jorgensen, the Olympic champion — who sat out this season to have a baby — there has been nothing lucky about the Bermudian's near-perfect campaign. In fact, her tally of six WTS victories is a feat that has been matched only by American Jorgensen, whom Duffy fended off to claim a maiden WTS title at the Grand Final in Cozumel, Mexico, last year. "It's slowly sinking in," said Duffy, who returned to Bermuda to compete in the Tokio Millennium Re Sprint Triathlon on Sunday. "Last year it was almost too much for me to understand, winning the world title in that way, whereas this year it almost means more and I can take it in my stride a bit better. I feel I've really cemented myself as one of the top girls this year. I've proven last year wasn't a fluke." Ominously for her rivals, including 31-year-old Jorgensen, who is expected to return next season, Duffy does not believe she has reached her peak yet. She plans to hit that high-water mark at the 2020 Olympic Games in Tokyo and challenge for a medal — the only glaring omission from her collection of triumphs. "My peak is still in the future," Duffy said. "I hope it's in three years' time, that's my next big focus; building towards Tokyo. It will be interesting to see where I'm at then and whether I want to move up a distance or stay at Olympic." Duffy's potential threatened to remain unfulfilled after her Olympic debut in Beijing in 2008, when she failed to finish because of loss of form and illness. It was only after Duffy began studying at the University of Colorado in Boulder that she returned to the fold — albeit tentatively. According to her father, Charlie Duffy, those carefree days competing in Colorado "saved her career" by enabling his daughter to rediscover her love for the sport. Duffy, too, has not forgotten the dark times when she struggled to finish races. "I've spoken to a lot of wise coaches over the years and they always told me that form is temporary, that there will be ups and downs, but if you're a high-class athlete your ability will always be there," said Duffy, who splits her time between Colorado and Stellenbosch, South Africa. "You just have to figure it out and remember that when times are hard. I've always tried to think about that." As Duffy's star continues to rise as one of the greatest athletes the island has produced, so does the level of support she receives whenever she returns home. A self-proclaimed introvert, Duffy certainly looked at home signing autographs and posing for photographs with aspiring junior triathletes, and several adult competitors, at Albuoy's Point at the weekend. "Every time I come back [the support] elevates more and more," said Duffy, who will race on home soil at the ITU World Triathlon Bermuda in April next year. "At first it was just triathlon and sporty people, but now it's across the community, all sorts of people, which is really cool. I think the [Grand Final] being on local TV last weekend really helped. It opened up to a whole audience of Bermuda, which is really neat and I hope that can continue." In recognition of her achievements, the Warwick Academy swimming pool will be renamed the "Flora Duffy Swimming Facility" in honor of its most decorated sporting pupil. Duffy, who has two races left this season — the Xterra World Championship in Kapalua, Maui, next month and the Island House Triathlon in Bahamas in November — is to attend its official opening on November 3. "It's pretty cool," she said. "I never thought that would have happened when I was in high school. I swam in that pool when I was a kid and I still do." With Duffy's best years surely ahead of her, it seems likely that there will be plenty more island tributes coming her way.
2018 ITU World Series
Mar 2-3: Abu Dhabi, United Arab Emirates
Apr 28-29: Bermuda
May 12-13: Yokohama, Japan
June 9-10: Leeds, England
July 14-15: Hamburg
July 27-29: Edmonton
Aug 25-26: Montreal
Sept 12-16: Gold Coast, Australia.
2017. September 16. Sports minister Zane DeSilva has offered congratulations to triathlete Flora Duffy for her "astounding success" today. Duffy took first place in the WTS Grand Final in Rotterdam, Netherlands, to secure her second consecutive ITU World Triathlon Series title, and celebrated draped in a Bermuda flag. Mr DeSilva said in a statement: "I am extremely pleased to celebrate Flora's win today — her sixth victory of the season. "This champion has put an incredible amount of time and effort into being the best of the best. I am sure the whole island will join me in celebrating her astounding success. Seeing her draped in the Bermuda flag at the end of the competition filled me with immense pride. What an absolutely outstanding display of strength, dedication and endurance from someone representing the tiny island of Bermuda." Shadow sports minister Ben Smith, of the One Bermuda Alliance, stated: "I would like to send congratulations to Flora Duffy for winning her second consecutive world title and sixth title of the year on behalf of the OBA. She continues to make us proud carrying the Bermuda flag around the world."

2017. August 26. Flora Duffy is on the brink of winning her second straight ITU World Triathlon Series title after another dominant victory in Stockholm on Saturday. The Bermudian is guaranteed to repeat her title with a seventh place or higher finish at the WTS Grand Final in Rotterdam on September 16 after recording her fifth win of the season in the Swedish capital. There was speculation that Duffy might not compete in Stockholm to save herself for Rotterdam, with 1½ times the points on offer. However she decided to race to give herself as much of a cushion as possible in her attempt to win a second straight WTS title. "I had five pretty good scores before today, but you never know what is going to happen," Duffy told the WTS website after her victory. "With the Grand Final being points-and-a-half, you kind of want to go in there with the biggest buffer that you can to make sure you can absolutely give yourself the world title." Duffy won in Stockholm in a time of 2hr 0min 9sec. She was a mammoth 1min 21sec ahead of Jessica Learmonth, of Britain, who came second in 2:01:30 for her first WTS podium. Australia's Ashleigh Gentle was third in 2:01:42. I was very happy with today to execute a solid race in the swim, bike and run," Duffy said. "My swim has been a little shakier this year, so it was nice to come out third behind Jess [Learmonth] and Lucy [Hall, Learmonth's fellow Briton], it was a perfect position. And then on to the bike, we were hammering on that first lap to create a gap and that kind of set the race up perfectly." Duffy is now only the second woman to record five first-place finishes in a season, after American Olympic champion Gwen Jorgensen. The 29-year-old, who has not finished lower than second in races she has competed in this season, now stands on 4,000 points, with Gentle in second place overall on 3,507 points and Andrea Hewitt, of New Zealand, third on 3,224. Duffy was among the leading triathletes after the swim, with Learmonth and Hall, in a time of 19:13 and broke away on the bike with Learmonth and Katie Zaferes, the American who was third overall before the race. However, events took a dramatic turn, with Zaferes crashing inexplicably rounding a tight corner on the third lap on her bike, putting her out of the race. Duffy and Learmonth both finished the cycle in 1:04:52, but the Bermudian turned up the heat on the run, with a time of 34:45 with Learmonth managing only 36:05. Gentle managed to gain some ground on Duffy overall in the run, with a race-best time of 33:27, but events in the Netherlands in three weeks' time look a mere formality for the island's reigning champion.

2017. August 5. Flora Duffy lost an ITU World Triathlon Series race for the first time this season, when she finished second to Australia's Ashleigh Gentle in Montreal on Saturday. However, she extended her overall lead in the series by a huge margin. The Bermudian is now 654 points in front of the competition in the overall rankings, after being just eight ahead before Saturday's race. Duffy, who is chasing a second consecutive title after winning the title in 2016, is on 3,940 while Gentle moves up from fourth to second overall on 3,286. American Katie Zaferes, who was second overall, drops to third on 3,192 points after finishing ninth in Montreal. Duffy missed the first two races of the season, in Abu Dhabi and on Australia's Gold Coast, with a hip injury, but roared back to win the next four — in Yokohama, Leeds, Hamburg and Edmonton. However, Duffy was not able to make it five in a row after losing by just 23 seconds to the 26-year-old from Brisbane, who won for the first time in the series. Gentle won the 1.5-kilometre swim, 40km cycle and 10km run in a time of 1hr 59 min 4 sec, with Duffy finishing in 1:59:27. New Zealand's Andrea Hewitt, winner of the first two events, came third in 1:59:48. Gentle broke clear at the start of the run and 29-year-old Duffy was not able to reel her back in. Duffy told the WTS website that she was "very happy for my second place", but "really happy for Ashleigh. I knew this was going to come at some point". Zaferes led after the swim, but was soon chased down after the first transition. However, Duffy was not able to make her trademark breakaway on the bike and was further hampered by a poor second transition, which saw her having to re-rack her cycle and struggle to change her shoes. Gentle pushed forward to a nine-second lead after the first lap of the run, although Duffy was among the chasing pack along with Hewitt and Kirsten Kasper, of the United States. However, the Australian was able to stretch her lead after every lap, taking centre stage on the podium, and was in tears talking to the media afterwards. "I had so many things on my mind coming into this race," Gentle said. "I needed to focus on the little things rather than the results, and I did. I made it. It has taken me six years to get on top of the WTS podium, six years of up and downs, a few second places … and I finally made it." Hewitt moved up to fourth overall on 2,971 points while Kasper drops from third to fifth overall. She is now on 2,834 points after coming fourth in Montreal behind Canada's Joanna Brown. The penultimate race of the season takes place in Stockholm in three weeks before the season finale in Rotterdam, which offers 1½ times the points, on September 16.

2017. July 29. Flora Duffy won her fourth ITU World Triathlon Series race in a row in Edmonton today - a victory that moves her to the top of the overall Series. Duffy broke away on the bike with 19-year-old American Taylor Knibb, and pushed away from the teenager on the bell lap. The Bermudian kept her composure in the 5km run to win her fourth straight, after previous successes in Yokohama, Leeds and Hamburg. "It was pretty spot on, so thank you, Edmonton", Duffy told the WTS website after her victory. "Taylor is riding super strong at the moment, I have been in a breakaway with her before, in Montreal last year, We worked together really well, but she was so strong I thought she might be running really strong too, so I attacked her on the last hill to get a little buffer. I've tried to be consistent over the last year. I've tried to minimise getting injured and just stay consistent in my training. I have to give a lot to my coaches", Duffy said. Knibb finished second for her first WTS podium with fellow American Katie Zaferes third with the fastest run of the day. "I just tried to follow Flora and it worked all right," Knibb said. "On the run I just wanted to hold my own. To be on the podium on a race like this, on a WTS race, is simply amazing". After her third place, Zaferes said: "I knew this was going to be tough, but it was even harder than what I expected. I was pretty close to Flora and Tayler on the first kilometers, but on the first hill I got trapped. When Flora is riding you need to be with her any second or you will loose her. And the bike had a hill, but the run had my own hill too, with the battle with Summer Cook. I just kept telling myself be strong, be strong… and I made it." Duffy now leads the series with 3,200 points with Zaferes second with 3,192.

2017. July 17. A typically imperious breakaway on the bike led to Flora Duffy winning her third straight World Triathlon Series event in Hamburg by a record margin on Saturday. The Bermudian was victorious in the sprint event in the German city in a time of 59 minutes exactly. Australia's Ashleigh Gentle finished second in 59:31, with Duffy's winning margin of 31 seconds the widest in a sprint race. Laura Lindemann, of Germany, completed the podium in 59:41. The victory is Duffy's third in a row in the International Triathlon Union series, after winning in Leeds last month and Yokohama in May. The 29-year-old missed the first two WTS races of the season, in Abu Dhabi in March and Gold Coast in April, with a hip injury. Duffy's triumph was her first sprint-distance victory. "I really actually can't believe it," Duffy told the WTS website. "Coming into the third race I felt a lot of pressure, especially it being a sprint and in Hamburg, I have not raced here in years. So, I just really had to go for it, I tried to race fast from start to finish and I had to make the most on the bike because I knew that my run pace speed was not at the same level as some of the top runners are, so I just took a chance and luckily it worked out." Duffy finished the 750-metres swim 11 seconds behind leader Vittoria Lopes, of Brazil, but she had a good transition and quickly emerged among the leaders on the bike. She broke away with American Kirsten Kasper and Britain's Jessica Learmonth on the first lap, before making a lone charge with five kilometers remaining of the cycle. Duffy led Kasper and Learmonth by 25 seconds entering the second transition, with the chasing pack a further 20 seconds behind. "I came out of the swim a little further back than I wanted to so I just really hammered the first part of the bike and I knew the chute was quite technical so I knew if I just hammered that into transition I would be OK," Duffy added. "We were able to breakaway three of us, we were working OK, I was getting a little frustrated though so I thought I would attack and go solo and that ultimately made the race for me." The work on the bike made the run relatively easy, with Duffy running solo the whole way as she stretched her lead even farther. Gentle took silver after a getting "squished" and "dunked" in the swim. "It was quite horrific, to be honest," the Australian said of the swim. The most exciting race was for bronze, with the home crowd roaring Lindemann past overall leader Katie Zaferes, of the United States, by one second, with Jolanda Annen, of Switzerland, and New Zealander Andrea Hewitt, who won the first two WTS races of the series, close by. Duffy has moved up to fourth in the overall WTS rankings, despite the 29-year-old Bermudian missing those first two races of the season. She is on 2,400 points with Zaferes, on 2,507. Gentle is second overall on 2,486 points with Kasper third on 2,478 after a ninth-placed finish in Germany. Duffy will have the chance to take over the overall lead when the series resumes in Edmonton, Canada, in two weeks.

2017. June 12. Flora Duffy recorded her second successive ITU World Triathlon Series victory by romping home to win the Columbia Threadneedle World Triathlon Leeds in England yesterday. The Bermudian, who was always near the front of the pack before breaking clear early in the run, completed the course in 1hr 57min 2sec. Trailing her exactly a minute-and-a-half behind was Taylor Spivey, of the United States, with Italian Alice Betto third in 1:59:36. Her victory comes four weeks after another dominant victory in Yokohama, Japan, in which she beat American Katie Zaferes by 1min 51sec. Duffy managed to exit the waters just seconds behind Great Britain's Jessica Learmonth, which set herself up perfectly to have an ideal cycle. Coming out of the first transition, a small group of women instantly joined together on the bike, but as Learmonth slowed down in the first 12km countryside lap to wait for compatriot Non Stanford, the lead group lost its connection and narrowed down to only four riders. The front four of Duffy, Spivey, Betto and Maya Kingma, of Netherlands, pushed ahead as three of the rookie women tried to keep up with the masterclass of Duffy's riding. However the four managed to work well together as they continued to gain a healthy lead over the chase groups. As the main four steadily increased their advantage, they ultimately were untouched on the bike course, entering the bell lap with a lead of 2:30. Entering the second transition, Duffy was off in an instant and never looked back. Her ability in the bike catapulted her into a perfect position to blast off on the run and bypass her younger and less experienced fellow cyclists. While the chase pack contained many strong runners, with the huge deficit, Duffy secured the fastest run, 35:04, to claim gold. "I came out of the water in a good position and luckily the girls on the bike were keen to work with me," Duffy told the WTS website. "So perhaps they picked up on if you ride hard there is an opportunity to podium, so we made a huge gap and yeah it was fantastic. You know this was Taylor's [Spivey] first podium and Alice's [Betto] as well, so that is really cool and I am super happy for them. Four was perfect, especially when we came into the circuit because it is so technical here, so the smaller the group is the faster you get through the corners and just the more efficient you are. Those girls rode super well technically so it helped the speed, so we just gradually just put more and more time into the chase group, which was pretty cool," she said of the small lead bunch she cycled with. "Obviously you go into each race with a goal, so yeah it is nice that I have won the first two, which kind of came as a surprise but I guess I will just keep the momentum going." Leading British triathlete Vicky Netherlands said on the BBC's UK coverage that Duffy has taken the sport to a new level and wondered how anyone was going to beat her this year. A good Bermudian contingent, including Charlie and Maria Duffy, featured heavily in the British network's coverage. The series moves on to Hamburg, Germany, from July 15 to 16, with races to come in Edmonton, Montreal, and Stockholm before the season finale in Rotterdam, Netherlands, from September 14 to 17.

2016. December 22. Flora Duffy has thrown her support behind Bermuda hosting the ITU Continental Cup Triathlon next year. The multiple world champion said having such an event on the island will bode well for the development of young triathletes. "I think hosting a Continental Cup is great for triathlon development in Bermuda," Duffy said. "I wish there had been a Continental Cup in Bermuda when I was 18 years old. More Bermudian junior and under-23 athletes will be exposed to Continental Cup level racing, which is great. A home event removes any barriers for entry, like having to travel, the cost of travel and taking time off school. Hosting an event should allow more Bermudians to race and get a taste of high-level triathlon." Aaron Smith, the Bermuda Triathlon Association director, revealed at a press conference at the Bermuda Tourism Authority last week that Bermuda will host the ITU Continental Cup Triathlon in April, 2017. It will be the first time the island has hosted an ITU event since three World Cup competitions were held between 1995 and 1997. "It is a very exciting time for triathlon in Bermuda," added Duffy, who was voted athlete of the year by TriathlonWorld.com this week. "I hope holding the event in Bermuda inspires others to take part in triathlon at any level and any stage of life. It is not just limited to young up-and-coming athletes. The triathlon community is great in Bermuda and there are many local events on throughout the year, so I would encourage anyone who is on the edge of whether to do a triathlon, to go for it." Duffy has ruled herself out of the competing, though. "I'll leave the Continental Cups to the juniors and under-23 racers — they don't want me in the race," she said. Senator Michael Fahy, the Minister of Tourism, Transport and Municipalities, announced during last week's press conference that Bermuda lost its bid to host the 2020 ITU World Triathlon Series Grand Final and were instead awarded three ITU World Series events in 2018, 2019 and 2020. Duffy, the reining ITU women's world champion, is looking forward to competing in the ITU World Series on home turf. "The events in 2019 and 2020 will be during the Olympic qualification period so those two races, in particular, will be crucial to my build-up to the 2020 Tokyo Olympics."

2016. December 19. Flora Duffy has been recognized for her outstanding season after being voted athlete of the year by TriathlonWorld.com. Duffy was named ahead of Daniela Ryf, of Switzerland, who won a successive Ironman World Championship in Hawaii, setting a new course record, and Gwen Jorgensen, of the United States, who claimed gold at the Olympic Games in Rio de Janeiro. It has certainly been a year to remember for Duffy whose career-best season included three world championship titles — the ITU World Triathlon Series, the Xterra World Championship and the ITU Cross Triathlon World Championships. The only slight disappointment for Duffy was her eighth-place finish in Rio having been tipped as a potential medal contender. Duffy also produced an impressive performance at the Island House Triathlon in Bahamas in October, finishing second behind Jorgensen. "Duffy's performances in 2016 have been huge for Bermuda, too. With a population of 65,000, it's not too often the country enjoys a world championship, let alone three in the same year," read an article in TriathlonWorld.com, crowning Duffy's latest achievement. "All of which, no doubt, inspired our readers to name Flora Duffy our female athlete of the year. An amazing accomplishment considering the two women behind her either set a new course record in Kona or won an Olympic gold medal (amongst other accomplishments). Congratulations Flora Duffy!" Duffy acknowledged her award yesterday, tweeting: "Whoa, thanks! 2016 was one to remember!"

2016. December 17. World champion Flora Duffy said that it will be "an absolute blast" to compete in front of her home crowd after Bermuda was chosen to host three International Triathlon Union World Triathlon Series events. Senator Michael Fahy, the Minister of Tourism, Transport and Municipalities, announced that the island will host three ITU world series events in 2018, 2019 and 2020, although the 2020 ITU World Triathlon Series Grand Final went to Edmonton, Canada. Duffy, who was a part of Bermuda's bid team, was inspired to become a professional triathlete as a youngster when Bermuda hosted three ITU World Cup events between 1995 and 1997 and said her world has "come full circle". The reigning women's ITU world champion said: "It's going to be incredible. "I grew up watching the race that Bermuda hosted in the Nineties, the ITU World Cup. Seeing that first hand inspired me to be a professional triathlete. For it to come full circle and me to be racing on the roads of Bermuda in a couple of years time is just really incredible. I did the Front Street Mile every year as a kid and now I am going to be running on it as a professional and multiple world champion. I really hope Bermuda gets behind it and I'm excited to race in front of my friends and family. I think it's going to be an absolute blast. For me it will be a really special moment in my career, especially in 2020, it will be one of the key races in the build to the Tokyo Olympics. It's really, really special and I am so thankful and grateful that Phil [Bermuda bid team chairman Philipp Schmidt] had this idea and everyone in Bermuda has been so supportive. It's really special." As many as 1,200 triathletes will travel to Bermuda to compete in each of the three world series events that the island plays host to, with the anticipated economic impact of about $20 million a year in return. The events will take place in Hamilton. "The course really excites me and I think everyone is going to be so intrigued and excited to race here in Bermuda on our roads and our beautiful water," Duffy said. "It's just such a unique place and I think, given the amount of years I've raced on the world circuit, a lot of people know about Bermuda but don't know that much. They know it's a pretty place. But I think once they get to Bermuda and do the course and meet all the people they are just going to really, really enjoy it."

2016. December 16. Bermuda got more than they bargained for, according to tourism minister Senator Michael Fahy, after being awarded three International Triathlon Union world series events yesterday. "That is a lot more, frankly, than we would have anticipated for our investment," Fahy told The Royal Gazette. "The fact it's our first bid and we are given three events one after the other is actually a huge feat for us and for the triathlon association here and the Bermuda Tourism Authority." The island lost their original bid to host the 2020 ITU World Triathlon Series Grand Final to Edmonton, Canada, and instead were awarded three series events to be held in April of 2018, 2019 and 2020. The minister said the cost to host ITU events is in the region of $2 million and $2.5 million, and will be money well spent in terms of the revenue it will generate. "We are looking at about between $2 and $2.5 million per year as the costs, with the anticipated economic impact of about $20 million a year in return — and that's based on the tourism arrival numbers we have been looking at," Fahy said. "As well we have taken into account the media exposure that we get. What you normally pay for the type of media exposure is in the millions, so you are looking at a 10 to 1 ratio. It's that media piece that gives us quite a distinctive edge going forward when you look at NBC Sports. One of the reasons why we thought we would do very well was because of our location, in terms of television, so we can actually get that broadcast across the world. It's not sometimes just about making sure you're beautiful; it's also about the timing for television rights, and we are well placed for that. This is a first for Bermuda and a huge win for all of us. These world series events bring with them 1,200 competitors to each event, which includes 150 elite athletes, not to mention their friends, family members and supporters. These weeklong World Triathlon Series events will be broadcast around the globe, including the United States where NBC Sports is the broadcast partner. This will ensure coverage of Bermuda on televisions around the world. The proposed courses for the triathlon will highlight Bermuda's natural beauty on both land and sea. Also, from a tourism perspective, April is a month where we have room for growth, so these events will offer a huge boost for the island in that month and will result in significant visitor spending on-island." The tourism minister also confirmed that Bermuda will bid for the 2021 Grand Final. "We will definitely be bidding for 2021 and given the fact [the ITU] were so impressed with our bid that they turned around and said 'we really thought you did an impressive job'," Fahy said. "Bermuda's blessings of a temperate climate, seaside beauty and iconic geographic location have certainly made us a coveted playing field for some of the world's greatest contests. This will set us up very nicely to be, hopefully, the hot favourite for 2021." Bermuda's delegation that traveled to Madrid for the bid presentation was headed by Fahy and world champion Flora Duffy. It also comprised Pat Phillip-Fairn, the BTA chief product and experiences development officer, and Philipp Schmidt, the bid committee chairman. "We walked away feeling like we did a great job, and having Flora there, of course, was a huge deal that she was able to stand up in front of a committee of 16 or 17 people and show the passion for Bermuda and the passion for the sport, saying, 'I'm the world champion and I would love to compete in my home town', which was very persuasive as well," Fahy said. "Getting to this point has been a cross-ministry partnership between the ministries of Tourism, Transport and Municipalities, Economic Development, and Social Development and Sports, who all assisted in preparing Bermuda's bid for these events. I want to thank all those involved for making this possible. The intent here is to create a legacy of having that sport be something that the young people of this country say 'I want to participate in it' because when you look at it, the biggest expense for you is your bike. You can swim, you can run and so you don't have to make this huge investment if you want to get involved in the sport. It is across ages and race, and it's something that is very positive and actually helps bring Bermuda together as well. Sport brings people together and this type of event brings people together, and we will keep making the effort with the BTA in bringing this sports tourism product." Aaron Smith, speaking on behalf of the Bermuda Triathlon Association, revealed that the island will host the Continental Cup Triathlon in April. "We are going to be hosting the Continental Cup Triathlon, which is considered, maybe, more of a minor league of triathlon, but it's still elite athletes," Smith said. "Based on the events of the last 24 hours here, we are going to try and see if we can work a lot closer with the BTA [Bermuda Tourism Authority] and the ITU to see if we can make that event a bit of a precursor to what's to come."

2016. November 1. Bermuda's world triathlon champion Flora Duffy was greeted by politicians as she arrived home on Monday night. Sports minister Sylvan Richards was joined by MP Jeff Sousa at the airport to welcome the professional athlete who has taken the triathlon world by storm during the past year. She competed in a new three-day event over the weekend in the Bahamas, the Island House Triathlon, in which she finished second to Olympic champion Gwen Jorgenson, of the United States. In September, Duffy was crowned 2016 World Triathlon Series champion, winning the final event in Mexico, and last month she claimed the Xterra World Championships in Maui, Hawaii, where she was the two-times defending champion. Next up is the ITU Cross Triathlon World Championships this month in Snowy Mountains, Australia, where she is again the defending champion.

2016. August 20. Flora Duffy produced her best Olympic race yet to finish eighth in the women's triathlon in Rio today. Duffy finished in 1hr 58 min 25 sec, some two minutes behind Gwen Jorgensen, the American pre-race favourite who took gold in 1:56:16. It was a vast improvement on the Bermuda triathlete's previous Olympic results, where she failed to finish in Beijing in 2008, and came 45th after bike trouble in London four years ago. Nicola Spirig-Hug, the Swiss defending champion, won silver, finishing 40 seconds behind Jorgensen. Briton Vicky Holland took bronze in 1:57:01, beating Non Stanford, her British team-mate, in a desperate dash for the line. Any hopes Duffy had of winning Bermuda's first medal at the Games in 40 years slowly evaporated over the course of a brutal 40-kilometre ride during which she was never able to escape from the clutches of Spirig, Jorgensen and the British duo. Duffy was only able to briefly separate herself from the pack, but with no one willing to go with her, she was inevitably hauled back every time. In the top ten at the start of the 10km run, Duffy was unable to stay in touch with Jorgensen and Spirig, who set off at a blistering pace, and slowly dropped away from Stanford and Holland, who battled each other, and Barbara Riveros Diaz, of Chile, all the way to the finish.

2016. July 4. Flora Duffy laid down a marker for the Olympic Games in Rio with a stunning display of solo racing in Stockholm on Saturday. Duffy stormed to her first gold medal at the Vattenfall World Triathlon Stockholm, finishing in 2hr 3min 38sec, some 20 seconds ahead of Andrea Hewitt, of New Zealand. Helen Jenkins, of Britain, was third in 2:04:06. Jenkins, and her British Olympic team-mates Non Stanford and Vicky Holland, had no answer to Duffy's performance. Neither did Sarah True, the defending champion from the United States, who was bidding for a hat-trick of Stockholm titles, but wound up in sixth place in 2:05:06. Gwen Jorgensen, the American, who is an overwhelming favourite for the gold medal in Rio, was not part of the 36-strong elite field. Victory further cemented Duffy's lead at the top of the world rankings, moving her on to 3,491 points. Hewitt moved to second on 2,599, while Jodie Stimpson, of Britain, who began the day second in the rankings but was unable to finish Saturday's race drops to third on 2,513. The gold medal completed Duffy's collection of medals for the season, following on from the bronze she won in Abu Dhabi and the silver she took in Leeds. It also hinted at the continued progression of the Bermuda triathlete, who has learnt to race on her own while athletes from other countries can invariably work as teams. Not that going it alone bothered Duffy on Saturday, she negotiated the tricky cobblestones of the Swedish capital for 40 kilometers at the front of the pack and at one stage had built up a lead of more than a minute on the rest of the field. Duffy completed the 1,500 metres swim in 20:08, the 40km cycle in 1:07:37 and the 10km run in 34:28. She ran alone too, and had time to high-five members of the crowd as she approached the finish line. "I have been trying and trying to win one of these and today when I was out there on the front of the bike I had no idea how it was going to play out," Duffy said. "But I got off and felt strong on the run and just ran as best as I could. But obviously it is a bit scary with Helen [Jenkins] and Andrea [Hewitt] chasing me." At times Duffy questioned her own decision to push ahead on the nine laps of Stockholm. "I managed to ride a bit more controlled today, I have learnt from Leeds," Duffy said. "It is so much more technical here and that is my strength, so I just tried to gain as much time as I could in the technical sections and then ride smooth for any straight-aways. It was just how it worked out to ride solo. I came out of the swim with a few girls and I was hoping they would come up behind on my wheel but they didn't, and then I was in no-mans land, so there were times where I was questioning what I was doing out there, but I just stuck to my plan and it worked out today." Hewitt earned her second podium finish of the season by out sprinting Jenkins over the closing uphill section of the run. "The course is really tough, there are a lot of turns. That first lap on the bike was a bit sketchy just getting around some of the corners and the run with the cobbles, it was a difficult day. It was crazy, Duffy had over a minute at one stage, and on the run I don't think we put much time on her so she was the strongest today." The women's race was welcomed by choppy waters that rocked the starting pontoon, and Katie Zaferes, of the United States, excelled in the tough conditions, getting an early lead over the field. However, True, Juri Ide, of Japan, and Duffy were able to stay just a few seconds behind. After the leading four entered through the first of two transition areas, Duffy wasted no time in taking advantage of her dominance on the bike, and pushed ahead to set her own pace. With True, Zaferes and Ide fading behind, Duffy was left to ride alone. Although Duffy continued to increase her lead after each lap, reaching a gap of a minute at one point, the trio of True, Zaferes and Ide ended up being caught by a larger pack for a 15-strong chase. A group that included Hewitt, Holland, Jenkins, Nicky Samuels, Stimpson, Mari Rabie, and Taylor Knibb worked to cut into Duffy's lead. In the second half of the cycle, while the group lost a few riders, including Stimpson who suffered from stomach cramps and was forced to withdraw, a huge fifth lap saw them shave ten seconds off the gap. That gap was down to just 15 seconds as the women headed into the second transition area, putting Duffy within reach. However, the Bermuda Olympian showed no sign of weakness in her legs, and was able to surge on in the run to maintain her lead. While Hewitt and Jenkins nibbled away at the time distance on the final two laps, she never held them off long enough to get to the blue carpet first. Slowing only slightly for a few high fives, Duffy grabbed the winner's tape for the first time in her elite career. The win from Duffy meant that she became the seventeenth female in the history of the WTS to win a title, while Bermuda became the tenth country to also get the gold. "I am really happy to get on the podium today," Jenkins said. "I made life hard for myself, I had a terrible swim, but I felt good on the bike and on the run I just kind of hung in there, but I am really happy to come away with a podium. Flora is so strong at the moment. I am actually really happy for her to get the win, I mean obviously I would like to, but she deserves it the way she raced today."

2016. May 16. Flora Duffy retained her position atop the Columbia Threadneedle World Triathlon Series rankings despite skipping the latest race of the season in Yokohama on Saturday. Gwen Jorgensen, of the United States, won the event for the fourth consecutive time and advanced nine places into fourth as a result. With Duffy expected to be named in the Bermuda Olympic squad next month, the triathlete's focus is now fully on Rio in August. Jorgensen, the favourite to win the gold medal in Brazil, crossed the finish line in 1hr 56min 2sec, more than a minute ahead of Ashleigh Gentle, of Australia, who clocked 1:57:20. Japan's Ai Ueda was third in 1:57:25. Mario Mola, of Spain, captured the men's race in 1:46:27, securing a comfortable 15-second win over Crisanto Grajales, of Mexico. Grajales made a world series podium for the first time, along with Kristian Blummenfelt, of Norway, who was third in 1:46:45. There was better news for some of the island's other triathletes, with Marina Olcheski-Bell winning the Caribbean Triathlon Championship in Miami yesterday. Olcheski-Bell completed the course in 2hr 17min 15sec to win the inaugural event, which attracted only 16 competitors. In the Caribbean Sprint Triathlon Championships at the same venue, Nick Pilgrim and Lynsey Palmer were in outstanding form as they won their respective divisions. The 13-year-old Pilgrim finished the race in 56:34.09, some 36 seconds ahead of Cameron Roach, with Jean Marc Granderson in third in 57:41.19. Granderson was first out of the water yesterday covering the 750 metres distance in 5:47, with Pilgrim close behind in 6:13 and Roach in 6:22. Roach was quickest on the 20km bike ride finishing in 26:49, with Pilgrim losing further time on the front two as he clocked a 27:51 compared with Granderson's 27:15. It was on the road that Pilgrim finally broke clear, producing a blistering run to finish the 5km route in 20:50, nearly a minute quicker than Roach and almost two minutes quicker than Granderson who posted a time of 22:49. Palmer, meanwhile, eased to victory in the female division, leading from start to finish to come home in 58:56.68, more than two minutes ahead of Lori Sharpe, 1:01:00.22, with Sarah Kennedy third in 1:04:54.67. Steven Petty was the other Bermudian at the event, winning the men's 60-64 division in 2:36.11.16. He was thirteenth overall.

2016. April 25. Flora Duffy, the Bermuda triathlete, vaulted to the top of the World Triathlon Series rankings after recording her first podium finish of the year with a superb display in Cape Town yesterday. Duffy outsprinted Anne Haug, of Germany, over the final 200-metres to grab bronze finishing in 59min 59sec behind British pair Non Stanford, who won in 59:49, and Jodie Stimpson, who came home in 59:56. "I don't know if it was brave, silly, stupid or what, but I came out of the swim with a bit of a gap and I thought, well it is only a 20K so let me see," Duffy said. "There was 30 seconds [gap] at one point and then I got caught coming into transition. But I did have a little bit of time to soft pedal and catch my breath and mentally prepare myself for a tough 5K. I actually felt pretty good on the run, and I thought there was no way I was finishing fourth again! I have to get to third!" Finishing third took two-times Xterra world champion Duffy to the top of the World Triathlon Series rankings on 1951 points, with Stimpson second on 1879 and Helen Jenkins third on 1485. "Now this is cool. Proud to be leading the series! Will cherish it while it lasts. Thanks for a great day Cape Town!" Duffy tweeted afterwards. The Bermuda triathlete's performance was greeted with praise on twitter with British Triathlon, the sport's national governing body in the UK, acknowledging their "respect" for the performance and hailing her "gutsy run". Duffy let her intentions be known early, first breaking from the pack with Carolina Routier, of Spain, during the 1500-metre swim before breaking away again to exit the water in a blistering 8min 55secs. Routier was unable to ride out with Duffy, who rode off solo and established almost a 30 second lead. The rest of the ride followed the same vein, with the chase pack not closing up any of the gap until the final two kilometers of the 40km bike. Duffy started the 10km run clinging to a six second lead, but was quickly reeled in by the British trio of Stimpson, Stanford and Vicky Holland along with Haug. Holland dropped off into fifth with Duffy holding fourth place going into the closing stages of the run. Stanford began to put the hammer down with Haug and Stimpson shadowing her every move, whilst Kirsten Kasper, of the United States, overtook Holland to move into fifth place. Stimpson then consolidated second place, with Haug fading. Stanford continued to stretch her lead all the way across the finish line while Stimpson held on for second, and Duffy passed Haug to earn her first trip to the podium after finishing fourth in the previous two rounds of the series in Abu Dhabi and Australia. It was Stanford's first race of the WTS Series this year, and she expressed surprise at her victory. "I'm not in my ideal race shape so came here to see how I'd get on, so it's great to take the win," she said. "There's more to come yet which is really exciting!" Despite the disappointment of missing out on a place in the British Olympic squad, Stimpson showed immense mental strength to finish second. "I want to thank my coaches for putting up with me the last couple of weeks, as I haven't been the most pleasant person to be around," she said. "But I will train hard and concentrate on this year's series and try to finish as high up as I can."

Bermuda has become known in this sport primarily because of Bermudian Flora Duffy. In 2015 her stupendous triathlon performance, in the face of much adversity, enabled her to retain her Xterra World Championship title in Maui. Those who saw her dominating the Ironkids events at Clearwater Beach more than 15 years ago could not have imagined that she would one day go on to conquer the world. This sport has many participants locally. There is a major triathlon every year, one of the most important sports events.
Volleyball
Bermuda Volleyball Association. Suite 885, 48 Par La Ville Road, Hamilton HM 11. Bermuda is well-represented by separate teams of men and women.

2016. May 16. The Volleyball Volunteers Army were crowned champions of the 24th annual Corporate Volleyball Tournament at Bernard Park on Saturday. More than 170 players from 26 teams took part in the competition which aims to build team bonding as well as introduce newcomers to the sport. Featuring a DJ, food vendors, bouncy castle and mini-volleyball for children, the tournament, held at Bernard Park for the first time, included four pools of six or seven teams. The top four teams in each group advanced to a play-off round while the bottom two or three went into a consolation round. Finishing second were Bacardi International Limited, with CrossFit BDA placing third. KPMG were the consolation round winners. Elisabeth Rae, the event organizer, said: "It was a good day of fun. People who have never played volleyball before tried it along with those who play all the time. It was a good mix. "I think those who played got a lot out of it. We want this to be a team-building and socializing event so people who work together get to do something fun outside the office."

Described here.


Last Updated: January 21, 2020
Multi-national © 2020 by Bermuda Online. All Rights Reserved