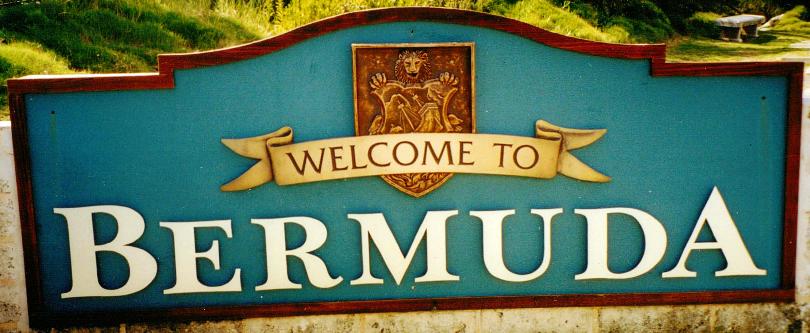 Click on graphic above to navigate the 165+ web files on this website, a regularly updated Gazetteer, an in-depth description of our island's internally self-governing British Overseas Territory 900 miles north of the Caribbean, 600 miles east of North Carolina, USA. With accommodation options, airlines, airport, actors, actresses, aviation, banks, beaches, Bermuda Dollar, Bermuda Government, Bermuda-incorporated businesses and companies including insurers and reinsurers, Bermudians, books and publications, bridges and causeway, charities, churches, citizenship by Status, City of Hamilton, commerce, communities, credit cards, cruise ships, cuisine, currency, disability accessibility, Devonshire Parish, districts, Dockyard, economy, education, employers, employment, environment, executorships, fauna, ferries, flora, former military bases, forts, gardens, geography, getting around, golf, guest houses, highways, history, historic properties, Hamilton, House of Assembly, housing, hotels, immigration, import duties, internet access, islands, laws, legal system and legislators, main roads, marriages, media, members of parliament, money, motor vehicles, municipalities, music and musicians, newcomers, newspaper, media, organizations, parks, parishes, Paget, Pembroke, performing artists, residents, pensions, political parties, postage stamps, public holidays, public transportation, railway trail, real estate, registries of aircraft and ships, religions, Royal Naval Dockyard, Sandys, senior citizens, Smith's, Somerset Village, Southampton, St. David's Island, St George's, Spanish Point, Spittal Pond, sports, taxes, telecommunications, time zone, traditions, tourism, Town of St. George, Tucker's Town, utilities, water sports, Warwick, weather, wildlife, work permits.

Bermuda's sports
Soccer and cricket are most popular with sports shown separately

By Keith Archibald Forbes (see About Us)
This file shows land sports. Water Sports are shown separately. Note that Bermuda is only 21 square miles in total land area.
Bermuda Sports Organizations, athletics and clubs
Links to the websites of the organizations concerned and their email addresses, will be shown gladly once they reciprocate the link.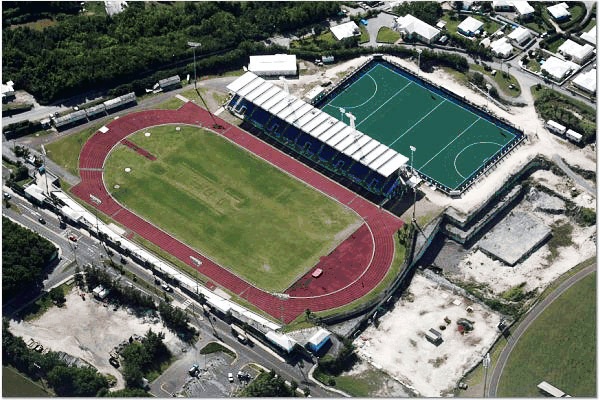 Bermuda National Sports Centre pool
Old Colony Club.
Pembroke Community Club. With a field hockey rink on the ground of Pembroke Community Club opened for play. The rink overlooks North Shore at the eastern edge of Admiralty House Park.
Queen's Club.
Spicelands Riding Center.
St. David's Cricket Club. Has its own field, Lords.
St. George's Cricket Club. Has its own field at Wellington Oval.
St. George's Dinghy Club.
St. John's Road Playing Field.
Somerset Cricket Club. Has its own field.
Southside Family Bowl.
Swan's Running Club.
Warwick Lanes. 20 lanes bowling.
Warwick Workmen's Club.
Windreach Recreational Village and Riding for the Disabled.
Archery
Bermuda Archery group. It represented Bermuda at the 2003 Island Games in Guernsey.
Badminton
Bermuda Badminton Association. P O Box DV 730, Devonshire DV BX.
Ball hockey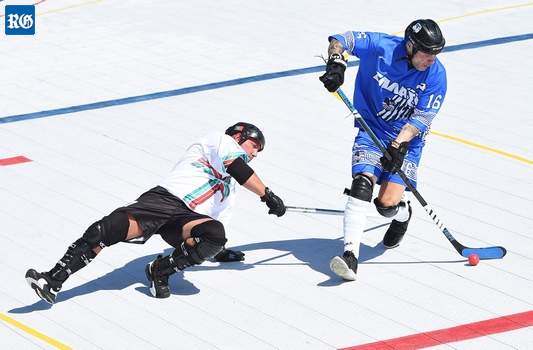 The game is similar to ice hockey in play and rules but on a hard surface instead of ice and with a hockey ball instead of a puck. The original teams in Bermuda were mostly Canadians. In 2005 they won the Caribbean Championships for two years in a row, against Barbados, Turks and Caicos and Grand Cayman.
Baseball
Once, baseball was a game played locally only by members of the US Armed Forces stationed in Bermuda and their children. Bermudians and other residents are heavily into the game. Currently, there are 35 teams and more than 600 players. Officials credit the popularity now of baseball in Bermuda to the fact that American television is predominant in Bermuda, American sports have a wider global appeal, and also minor league baseball is family oriented, easy to learn and easy to play.
Basketball
Visiting teams are always welcome. There are several venues for games.
Bermuda End-to-End
Since 1989, an annual walking race from one end of Bermuda to the other, the island's largest charity event. It raises more than $250,000 each year for various local charities. More than 2,000 individual participants walk, cycle or otherwise enroll in the 24.1 miles from St. George's to Dockyard and raise money for various charities.
Bermuda Invitational Permit Meet
National Sports Centre, from 6.30pm to 8.30pm. An international track event organized in February 2016 by the Bermuda Tourism Authority (BTA) and the Bermuda National Athletics Association (BNNA).
Bermuda Marathon Weekend
January every year. For a local and international sporting spectacular organized by the Bermuda National Athletics Association.
Events include:
Billiards
There are several clubs.
Bowling
Bermuda has many 10-pin bowling enthusiasts and several bowling leagues and lanes. Some of Bermuda's bowling enthusiasts participate in international events. Two won the Silver Medals in Commonwealth Games.

Bermuda Bowling Federation. Phone 441-298-5184. PO Box HM 2626, HM KX.
Boxing
The Bermuda Boxing Federation - email email bermudaboxingfed@gmail.com.handles all aspects of the sport. The late Vic Richmond, who died in March 2015 at the age of 69, was its president. It was he who, originally in Bermuda with the Police, introduced annual boxing fight nights at the Police Club. He made many other contributions as a referee and judge, and played an integral role in raising the sports profile in Bermuda. He served as a judge during the World Boxing Council-World Boxing Association middleweight unification bout between Bermudas Teresa Perozzi and American Tori Nelson in October 2012, which ended in a draw at Fairmont Southampton Resort. In Women's Boxing, Bermuda's Teresa Perozzi is the North American Boxing Council welterweight world champion. In men's boxing, Troy Darrell was once the former #3 middleweight in the world. Clarence Hill was once an Olympic bronze medallist. There are several gyms. Events competed for include the Olympics, Commonwealth Games and Pan American Games.
Caribbean Islands Swimming Championships
While not technically in the Caribbean but 800 miles north of it, Bermuda nevertheless enters this even-year event regularly.
Caribbean Junior Championships
CARIFTA Games
Bermuda always enters the CAC, Caribbean Free Trade Association (CARIFTA Games) - although 900+ miles north of the Caribbean, it has always sent a strong contingent and won medals. It hosted them in 2004 and was due to do so again in 2020 but the event was cancelled from coronavirus. An annual athletics competition founded by the Caribbean Free Trade Association (CARIFA) for only those associated with CARIFTA, with the first games held in 1972. They consist of track and field events for two categories of participants, under 17s and under 20s including sprint races, middle distance track events, throwing events and relays. The Games are organized under the auspices of the North and Central American and Caribbean Confederation of and under the International Association of Athletes ((IAAF) rules. The Games have produced world record holders including Usain Bolt. Since beginning in Barbados in 1972 the yearly games have been played in venues in most of the Caribbean islands and in Bermuda in 1975, 1980, 2004 and 2012. At last count since 1990, of the 26 countries now involved, Bermuda was 9th in total medals count.
2020. April 15. The local organising committee of the 49th Carifta Games finally bowed to the inevitable yesterday, pulling the plug on any possibility that the athletics festival would be held this year. The games, which had been scheduled for April 9 to 13 in Bermuda but were first postponed on March 13 until "later this year" because of the growing threat of the novel coronavirus, will be now staged from April 2 to 5, 2021. Donna Raynor, the president of the Bermuda National Athletics Association and chairwoman of Carifta Games 2020, made the announcement after consultation with the governing body World Athletics, the Bermuda Government and the Carifta family of nations. "We feel this is in the best interest of all, especially the athletes," she said. "These are unprecedented times and everything is so unpredictable. We are disappointed, as we were so prepared to host these Games." The spread of Covid-19 has reached catastrophic levels, with more than 125,000 deaths worldwide, including five in Bermuda, and prospects for international sporting events through the year greatly receding. Ms Raynor, who noted that 2020 branding would remain the same, added that decisive factors in postponing the event included the uncertainty around travel, the inability of athletes to train adequately, and delayed examination schedules for students planning to head off to college. An unintended consequence of delaying the games means older athletes may have lost out on the dream of competing on home soil in the under-20 event. "This will have to be discussed at the [North American, Central American and Caribbean Athletics Association] executive level and then the countries will chime in," Ms Raynor said. "It will probably come down to a vote [to determine if 2020 athletes retain their age-group eligibility]." Sports minister Lovitta Foggo, who recently reopened the newly refurbished track at the National Sports Centre, said: "The Ministry of Labour, Community Affairs and Sport supports the decision to postpone the Carifta Games until 2021. "We continue to adhere to the guidelines of the global and local health experts and professionals and will continue to put the health, safety and wellbeing of our young people as the highest priority. In 2021, we will be ready and prepared to host a spectacular Carifta Games." Guyana, the original 2021 host, will be the venue for the 2022 games.
2020. March 12. Antigua & Barbuda have confirmed their withdrawal from the Carifta Games, scheduled to take place in Bermuda next month, amid the worldwide spread of the Covid-19 virus. The 49th Carifta Games are scheduled from April 10 to 13. However, Antigua & Barbuda's Minister of Sport Daryll Matthew confirmed his government's decision to pull out of the event after discussions with Prime Minister Gaston Browne and other relevant health ministers and officials yesterday. "We are cognizant of the fact that our young people have been preparing for over a year for these events and having weighed this against the safety of our young people, we made a decision to withdraw from the competitions," said Matthew, speaking to The Daily Observer newspaper. "We have communicated this information to the relevant officials which made up the Antigua & Barbuda team to include president of the Athletics Association, Swimming Association and the director of sports and they are in support of the decision," To date, jumpers Taeco O'Garro, Sheldon Noble, Mia McIntosh and Alyssa Dyett were the only Antiguan athletes who had qualified for the event. Speaking last week, Donna Raynor, president of the Bermuda National Athletics Association, was confident that the Covid-19 threat, which has more than 129,500 confirmed cases and 4,500 deaths worldwide, would not disrupt the staging of the Games, which could involve more than 600 athletes and coaches from 27 Caribbean countries, along with supporters from various islands. The spread of the virus has already put the Olympic Games in Tokyo this summer in jeopardy, while the International Triathlon Union confirmed that MS Amlin World Triathlon Bermuda, scheduled for the weekend after Carifta, will go ahead as planned.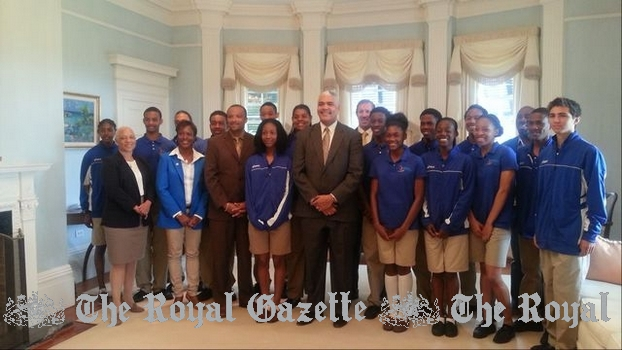 2013 Carifta Games team with Premier Craig Cannonier.
Carifta Triathlon Championships
Last held in Jamaica in 2020. Bermuda sends a team.
Central American and Caribbean Amateur Swimming Confederation Championships
Bermuda sends a team.
Commonwealth Games
Bermuda sends a team.
Commonwealth Youth Games
Bermuda sends a team.
Cricket
A British game that originated in England centuries ago, not unique to Bermuda. It originated as a sport of the British Royal Family, possibly with King Edward II in the year 1300. By 1550, the business of the Dukes of Penhurst included making cricket balls. The earliest surviving bat and ball date back to 1729, with the word cricket appearing in an Italian-English dictionary in 1595. Nowadays, the game is popular throughout the British Commonwealth of Nations. Perplexing to American visitors - 85% of all tourists to Bermuda - who are used to a baseball or football game lasting no more than 3 hours. Most do not see why a match played for the whole of one day or two days or three days or five days (as is the case in Test matches) can result in a tame draw.
On August 8, 1872 Bermudians first celebrated their emancipation from slavery in a new way - by making a point of including the British game of cricket in their celebrations. The unique match was to commemorate the annual August "Emancipation" Carnival-like celebrations after Britain enacted in Bermuda and the rest of the-then British Empire its formal, official and final Abolition of Slavery Act on August 1, 1834. Was this inclusion of British cricket into their celebrations a belated acknowledgement to Britain which had ended slavery after the strenuous efforts of the British politician William Wilberforce had finally been successful after many years of trying? Or was it simply because Bermudians wanted to make cricket as much of a Bermudian sport as a British one? We may never know for sure. What is known is that this cricket match was the very first of its kind in Bermuda between a cricket "eleven" (the number of men in a cricket team) representing Alexandrina Lodge No. 1026 of Hamilton and a similar "eleven" from the Victoria and Albert Lodge No. 1027 of Somerset. It may also have been the first time in the cricketing world that non-white teams are recorded as having competed in what was, until then, a mostly-white if not wholly white British sport. If so, Bermuda is certainly due some long-belated cricketing and socio-economic credit. Both Masonic Lodges there and then had played a leading role in getting former slaves recognized as real men despite their darker complexions and in getting them jobs, self-worth and respect for them as individual contributors to the human race in their own distinctive ways, not as people to be looked down on racially. All black members of both teams were Masons, members of the Grand United Order of Oddfellows. The event took place at the Naval Cricket Ground in Somerset and was won by 43 runs by the Somerset side. Both sides played in fraternal friendly sporting rivalry, not in the win-at-any-cost way many cricket matches overseas are played today.
Local legend has it that when the local working class began en masse to take a day off to attend the game, Government declared the first day of the two-day cup match an official holiday. After the second day, Somers Day, was also designated as such, the second day became an additional public holiday. But among the cricket-loving nations and territories of the world, only in Bermuda does the whole of Bermuda grind to a complete halt for two days every summer to turn its attention to a cricket game. The festive game began officially in July 1902 between the Somerset Cricket Club in the west end and the St. George's Cricket Club in the east end. Venues of the game change yearly between both clubs. The popularity of the annual game was such that it caused continued absences from employment. As a direct result, the 2-day public holiday was first introduced in 1947 and has been in effect ever since. Since 1999, a celebration of emancipation is now part of the ritual of the first day of Cup Match, formally renamed Emancipation Day. For the 100th anniversary of Cup Match in August 2002, the local jewelry firm of Walker Christopher made cricket bat pendants or pins in 18 carat gold with sapphire and ruby gem stones. St. George's has a light sapphire and dark sapphire and Somerset has a ruby and dark sapphire. About 7, 000 attend the game on each day, broadcast by radio. Despite being referred to in history as the Father of Bermuda, Admiral Sir George Somers is nowadays almost completely ignored on the second of the 2-day public holiday period, known in his honor as Somers Day. Whichever team hosts the annual game accepts tenders for the gambling game of Crown and Anchor, one of the many "concessionary" events. It is also an occasion for off-beat mid-summer peculiarities that include awarding a winning batsman with tax-free cash; the wearing of outlandish fashions, much socializing, bands and musical groups participating, and a carnival atmosphere complete with calypso, reggae, soca, rap and other music.
There are four streets in Bermuda named in honor of cricket. One is Fielders Lane, in Smith's Parish. It is halfway up Flatt's Hill on the left, veering south from Middle Road. The track takes its name from the nearby playing field of Flatts Victoria Cricket Club. The other three are Bat 'n' Ball Lane, Cricket Lane, and Grandstand Lane, all in Sandys Parish. They diverge from Scott's Hill Road, near the Somerset Cricket Club.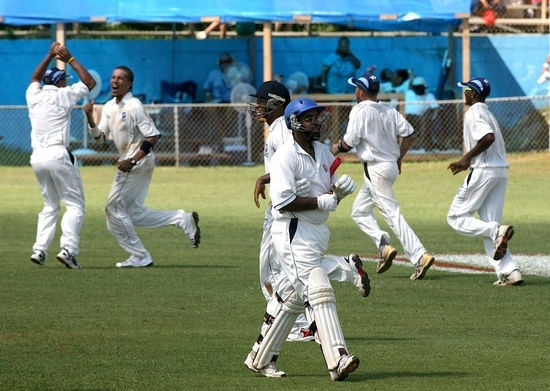 Cricket teams in either the regular or Commercial League include Centurions; Cleveland County; Devonshire Recreation Club; Devonshire Stars; Flatt's Victoria; Forties; Jamaican Association; Leg Trappers; North Village; PHC; Police Recreation Club; St. David's; St. George's Cricket Club; Somerset Bridge; Somerset Cricket Club; Warwick Workman's; Watford; West Indian Association; Willow Cuts; and Young Men's Social Club.
Eastern Counties Cricket Association: Members are St David's County Cricket Club, Cleveland County Cricket Club, Bailey's Bay Cricket Club and Flatts Victoria Recreation Club.
Its local season is from late April to late September. This sport was first brought to Bermuda in the 1840s by British Army soldiers stationed here. Long before cricket became the hugely popular sport it is today, a match played between the fleet team of the then- resident Royal Navy base and the British Army garrison regimental team was a major event in the social calendar of the Town of St. George. Black persons at the local dockyard, who had been taught the game, included it as part of their picnic activity. The Bermuda Cricket Club was founded in St. George's in 1845 and played its first game against the garrison.
Alma (Champ) Hunt (above) was the outstanding Bermuda cricketer of the 20th century and such a capable cricket administrator that he led Bermuda's triumphs in the ICC tournament he helped found in the late 1970s and early 1980s. It was Champ Hunt who drove the idea home at the MCC (Marylebone Cricket Club) to have smaller countries such as Bermuda compete against each other for the right to qualify for the World Cup. He, plus Nigel (Chopper) Hazel, made the long journey across the Atlantic to Scotland north of the English border to contribute their talents to the game there.
Later Cup Match legend Clarence (Tuppence) Parfitt followed in their footsteps. In 1977 he became the professional at the Arbroath Cricket Club in Arbroath, Scotland. In 1984 Parfitt returned for a period of five years. Again both his playing and coaching abilities brought success to the Club as they were able to bring the younger players through into the senior teams as they won the Scottish First division championship in four of the five years, being runners-up in 1987, and also winning the Three Counties Cup in 1985 and 1986 while the second eleven also won the Two Counties Cup in 1986. On 17th April, 87 the cricket club celebrated the 100th anniversary of the opening of its Lochside playing ground with Parfitt amongst the honored guests. By then Arbroath United, the club moved up to the Scottish Counties League (SCL) in 1989, playing under the name of Arbroath County. Parfitt moved to Stenhousemuir in the East league of the SCL but returned in 1992 and also played in 1993 as an amateur to provide experience to the young senior side.
Other Bermuda cricket legends are Cal (Bunny) Symonds, Dennis Wainwright, Colin Blades, Albert Steede and brothers Sheridan and Lee Raynor and Dwayne Leverock. Sheridan Raynor was the first Bermudian batsman to score a century on the international stage
Cycling
Bicycles first arrived in the l9th century. Despite humid weather and steep hills, this is a popular sport. Bring your own or rent one locally, one of the best ways to explore the Bermuda Railway Trail. In competitive cycling, there are numerous local adherents and races. Visitors are always welcome. Several Bermudians are in demand overseas as professionals. One local cyclist, Kris Hedges, cycled for Bermuda at the 2002 Commonwealth Games.

Bermuda Bicycle Association. P O Box DV 192, Devonshire DV BX.
Darts
There are several clubs.
Field Hockey
Often referred to, wrongly, in the USA as a "ladies game." This is the third most popular seasonal sport in Bermuda, with a Field Hockey Carnival and a number of teams playing each other competitively in two leagues. Once - but no longer - there was a Bermuda Men's National Team. In the Men's League, they include BCS Panthers, Chameleons, Police Polecats, Rebels, Upstarts and Wasps. In the Women's League, they include Bluebirds, Canaries, Cardinals, Orioles, Ravens, Swallows and Swifts. They also compete in the Central American & Caribbean Games. There is a governing Field Hockey is played at three schools.
Football (American)
Bermudian linebacker for the New York Giants for their successful 2011 Super Bowl final was Antonio Pierce. He was the first Bermudian to play in the prestigious event and the second Bermudian behind Ralph (Rocky) Thompson to wear a Giants uniform.
Football (British Bermudian)
Bermuda Football Association. P O Box HM 745, Hamilton HM CX. Phone 295-2199 or by airmail at Cedarpark, 48 Cedar Avenue, Hamilton HM 11, or P. O. Box HM 745, Hamilton HM CX, Bermuda. Fax (441) 295-0773. Voicemail (441) 291-0690. Bermuda Registered Charity 331. Larry Mussenden, BFA president,
The senior men national coach has a UEFA B License or USSF B License or equivalent. There is a National Football coach.
Soccer - for both men and women - was invented in Scotland at least as far back as 1540. The women's version was recorded in Scotland in an all-woman league in 1795 but was not played in England until about 1820. The sport was introduced to Bermuda by the British Army in Victorian times and was originally played locally purely between competing British Regiments and the local facilities - now also gone - of the Riyal Navy. It spread outward and is now a Bermuda national sport.
Bermudian Clyde Best once played as a striker for the Somerset Trojans, the English team of West Ham United in London, Ajax and Feyenoord Dutch team. He was Bermuda's technical director of soccer until December 1999. Randy Horton, now the Hon. Randy Horton, JP, MP, Minister without Portfolio, played for the New York Cosmos in the USA Indoor Soccer League. David Bascome plays professionally as a mid-fielder for a USA team. Shaun Goater played professionally as a striker for the English Premier League team of Manchester City (It was in the First Division until April 2002) until he officially left the club in June 2003. He returned to Bermuda to lead and coach the Shaun Goater Grassroots Soccer Festival in June 2003. In mid-2003, he joined Reading in the English First Division and in mid 2005 signed for Southend United. He played his last game for them in May 2006, on retirement from UK football. Kyle Lightbourne used to play professionally for Stoke City, then for English Third Division Macclesfield Town until April 2003. Bascome and Goater operate the Bascome/Goater Pro Soccer Clinic at various times when they are in Bermuda. At college level, John Barry Nusum dominated US soccer and now plays professionally in the USA and Ranieka Bean was one of the top five players in women's soccer at Howard University.
Other noted players of the past include Ewing Tucker; 'Scratchie' Lawrence; Raymond Russell; Glen Gilbert; Quinton (Bully) Williams; Bert Bascome; Earl (Townsey) Russell; 'King' Trott; John Beavers Burrows; and Leon Wainwright.
Local football teams include:
Boulevard Community Club
Devonshire Colts Football Club
Devonshire Recreation Club. Frog Lane, Devonshire DV 01; Phone: 441/292-5539
Hamilton Parish Workman's Club. 6 Workmen's Lane, Crawl Hill, Bermuda. Phone: 441/293-1455
Ireland Rangers Football Club. Founded 1989. #5 Club Field, Pender Road, Somerset, Phone: 441/734-2114
Shell Youth Soccer League
The three divisions are Under 11; Under 13; Under 18. All are active.
Soccer referees
| | |
| --- | --- |
| Bermuda Referees Association | P. O. Box DV 176, Devonshire DV BX. Telephone 236 1747 or voice mail 291 0940 |
Gaelic football
A game best described as a cross between soccer and rugby. It was introduced by Irish expatriates resident in Bermuda.

The balls, slightly smaller and heavier than a footballs, have been imported from Ireland. Posts are H-shaped but with a soccer goal at the bottom defended by a goalkeeper. Smash the round ball past him and you get three points, punt it over the bar like a rugby conversion and you will get one point. The ball can be kicked around or thrown but not carried like rugby, unless the player drops the ball and kicks it back to himself on the run, a technique known as soloing. A runner can also bounce it.
Gymnastics
Horseback riding
A popular Bermuda leisure sport. There are over 900 horses in Bermuda. Visitors and locals of all levels of experience can ride horses from stables along bridle and other paths. On a horse, avoid the constantly busy, noisy and made dangerous to visitors by constant speeders on main North Shore Road and Middle Road and South Road nearby. Horse back riding on certain beaches is seasonal, in winter months only - not in the summer when the great majority of visitors come. Other places beyond the beaches have horse back riding all year. It's a leisurely way to enjoy Bermuda. For the curious, there are no race horse meetings in Bermuda but there is a well attended amateur harness racing track. A prominent Bermudian rider is M. J Tumbridge, who won Bermuda's first-ever gold medal at the Pan American Games in Winnipeg, Canada in 1999.
Harness racing
There is no longer any horse racing in Bermuda of the type common in other countries. In the 19th century and until the mid 20th century, this was another popular sport and entertainment pursued eagerly by the British military, members of which had a near monopoly on the island's fastest riding horses. The St. George's Stakes were held on January 28, 1846 and featured 10 horses and riders racing in sprints and hurdles. There was a ball after the races. Racing was mostly at the Shelly Bay Race Track, now no longer in use. The only racing today is harness racing, by locals only, but visitors are welcome to watch, at the National Equestrian Center on Vesey Street in Devonshire Parish.
International Show Jumping
Local events are held regularly in Bermuda. And at international level, young local jumpers compete in the Children's International Show Jumping Competition at the National Equestrian Centre on Vesey Street.
The International Island Games Association (IGA) is the event's organizing body and comprises 25 member countries. See its official website of the International Island Games Association at http://www.iiga.org/links.html.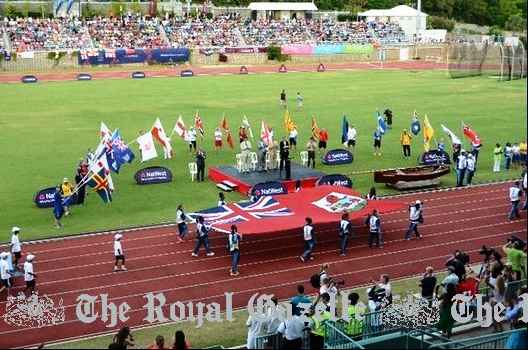 2019. July 15. Members of Bermuda's NatWest International Island Games squad returned home last night after an encouraging weeklong competition in Gibraltar. Bermuda's 48-strong team competed in nine sports and won 14 medals at the biennial event, including six silver and eight bronze, to finish seventeenth out of 22 islands in the standings. Shianne Smith came closest to capturing gold as she was leading the 400 metres hurdles before clipping her final jump and had to settle for silver. Bermuda's bowlers enjoyed a successful competition, with Lamar Richardson coming second in the singles, David Maycock and June Dill taking silver in the mixed doubles and Damien Matthews finishing runner-up in the masters. Also winning silver were the men's team of Richardson, Blake Raynor, Matthews and Maycock. Richardson also won bronze in the masters, as did Matthews and Maycock in the doubles, while Dill, Flo Simons, Patrice Tucker and Jennifer Stovell placed third in the women's competition. In tennis, Gavin Manders and David Thomas took silver in the men's doubles. Manders also won bronze in the singles, while Bermuda's men's team of Sam Butler, James Finnigan, Manders, Thomas and Scott Redmond placed third. Kalin Hillier, Scott Mello, Adriana Penruddocke and Jordon Etemadi won bronze in the sailing team event, shooter Adrienne Smatt won bronze in the women's 50 metres Smallbore Prone, while Rachel Barnes and Anthony Fellowes finished third in the mixed doubles. Sean Trott, was among the athletes who returned to the island last night, and said he was delighted with his displays in the half-marathon, 10,000 and 5,000 metres. "I had top-ten finishes in all three events," Trott said. "I'm just glad my body held up. I finished fourth in the 10,000 and that was my second-fastest time. Bermuda had some really strong performances and the level has definitely increased since I last competed in 2011 in the Isle of Wight." Badminton player Aaron Simmons, who reached the round of 32 in the singles event, said: "This was my first Island Games and hopefully I can win a medal next time The competition was much better than I expected." Hiral Parekh, a member of the women's doubles badminton team with Zoe Wang, added: "This was an experience of a lifetime and we had such a great time. It's was such a proud feeling to represent Bermuda and it was a wonderful experience. We were pleased with our performances."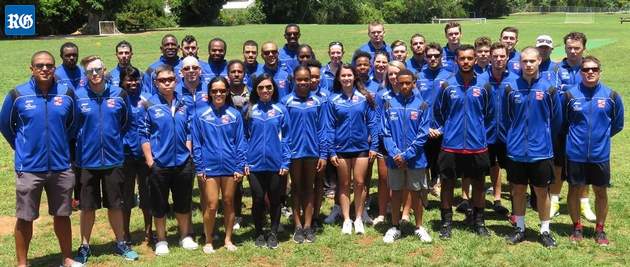 2017 team
The competing Islands are:
Åland Islands (an autonomous, demilitarised, mono-lingually Swedish-speaking region of Finland).

Alderney, see http://en.wikipedia.org/wiki/Alderney. One of the Crown Dependency Channel Islands in the English Channel.

Bermuda. British Overseas Territory. North West Atlantic islands 600 miles east of North Carolina, USA, 900 miles north of any of the Caribbean islands.

Cayman Islands, see http://en.wikipedia.org/wiki/Cayman_Islands. Caribbean. British Overseas Territory.

Falkland Islands. See http://en.wikipedia.org/wiki/Falkland_Islands. South Atlantic, British Overseas Territory.

Faroe Islands. See http://en.wikipedia.org/wiki/Foroyar. Danish. North Atlantic.

Froya, a Norwegian island.

Gibraltar. A British Overseas Territory in the Mediterranean off the coast of Spain.

Gotland.

Greenland.

Guernsey. British, second-biggest of the Channel Islands, off the coast of France.

Hitra.

Isle of Man. British, Irish Sea, between Scotland and Ireland/Northern Ireland.

Isle of Wight.
Jersey. British, biggest of the Channel Islands, off the coast of France.

Menorca (first appearance in 2007).

Orkney. British, Several islands to the north of and part of Scotland.

Prince Edward Island. Part of Canada.

Rhodes. A Greek island.

Saaremaa. See http://en.wikipedia.org/wiki/Saaremaa_Island. An island off Estonia.

Sark. British, One of the smaller Channel Islands off the coast of France.

Shetland. Several British islands to the north and part of Scotland.

St. Helena. British Overseas Territory, South Atlantic.

Western Isles. Several British islands to the north west of and part of Scotland.

Ynys Mon (in English, Anglesey) in Wales.

All participants and spectators with Island Games Accreditation travel

ed on Bermuda's Public Bus and Ferry system during the Games for free. They carried their Accreditation ID.

Sports competed are

Most of the track and field and swimming events

took place at Bermuda's purpose-built National Sports Centre, photographed below, which includes a 50 metre pool completed in 2012.
Jump Rope
Bermuda has a national youth jump rope team. The Bermy Bouncers are five boys and girls.
Karate
Bermuda has clubs and coaches.
Karting
There is a Bermuda Karting Club for young racers of miniature cars.
Lacrosse
A relative newcomer to Bermuda's sports but the Bermuda Lacrosse Association, not an employer but a volunteer sporting body, has succeeded, with help from overseas and professional newcomers, in coaching and training Bermudians to get good enough to enter selected international competitions and perform respectably.
Marathon
The Bermuda Marathon Derby, run on May 24 annually, rain or shine, is a classic. The two organizers are Berwyn Cann, a former sprinter and athletics coach, and Richard Tucker. There are many local marathon and half marathon races. Also, many Bermudians and residents habitually enter marathon races in other parts of the world, such as the Boston Marathon.
National Sports Centre and National Stadium
Frog Lane, Devonshire Parish. The Bermuda Government funded entity for track and field and many prominent sports. See photos, plans, work done to-date and more under National Sports Centre at http://www.bermuda-online.org/seedevon.htm
Netball
An American game very popular in Bermuda. Winter, Summer, Senior and Junior Leagues. All games are played at in Bernard Park, in Pembroke Parish, near the City of Hamilton.
Olympics and Winter Olympics
The Bermuda Olympic Association always sends a delegation.
2020. February 29. Bermuda's athletes have been urged to "continue training as planned" amid uncertainty over the fate of the 2020 Tokyo Olympic Games due to the coronavirus outbreak. The epidemic began in December in central China and since then has caused more than 80,000 people to become infected and killed some 2,700 worldwide, the vast majority of them in mainland China. In Japan, officials say more than 200 people have become infected with the coronavirus and at least five people have died from Covid-19, the disease caused by the virus. The outbreak has disrupted global travel and trade and also forced the cancellation or postponement of many high-profile events, including several sporting events. Global motor sports series Formula One and World Athletics have already called off some events. F1 cancelled its Chinese Grand Prix, which was scheduled for April 19, and World Athletics postponed its World Athletics Indoor Championships, scheduled for March 13-15. Earlier this week organisers of the 2020 Tokyo Olympics dismissed speculation that the coronavirus epidemic could lead to the cancellation of the Summer Games. Meanwhile, when contacted over the matter, Brenda Dale, the first vice-president of the Bermuda Olympic Association and chef de mission Tokyo 2020, said: "The IOC [International Olympic Committee] has recommended that all athletes continue training for the Olympics as planned. A decision will be made three months out from the Games. The BOA will be guided by the IOC. The IOC will make the decision in conjunction with the host city and international health officials. No athletes to date have raised concern over the virus." Dale also provided The Royal Gazette with a copy of a statement the IOC sent out to its member national Olympic committees concerning the coronavirus outbreak, which the BOA forwarded to all local National Sports Governing Bodies. The IOC statement read: "In light of the current situation with the Novel Coronavirus 2019, and the cancellation of the first Beijing 2022 Test Event that was due to take place in February as well as other sport events, we would like to update you on the IOC's position. Countermeasures against infectious diseases constitute an important part of plans to host a safe and secure Games and Test Events. "The IOC is collaborating with the WHO, the IOC Medical and Scientific Commission Games Group public health experts as well as the relevant sport and government authorities, and carefully monitoring the development of this outbreak and advised countermeasures. The declaration by the World Health Organisation of a public health emergency of international concern (PHEIC) was later than expected at least partly due to the open and robust response of the Chinese authorities. Although, at this stage, the actual risk to individual health of travel to Beijing and 2022 venues is low, there is a risk of significant travel disruption and consequently a number of sport events and meetings have been cancelled internationally. An increasing number of countries have instituted screening and quarantine measures for travellers arriving to their territories. Travelers with no symptoms or infection from countries with cases of 2019nCoV infection do not normally require any quarantine measures or restrictions under WHO guidelines. However, restrictions may be imposed by local government and health authorities.
Bermuda team at 2016 Olympics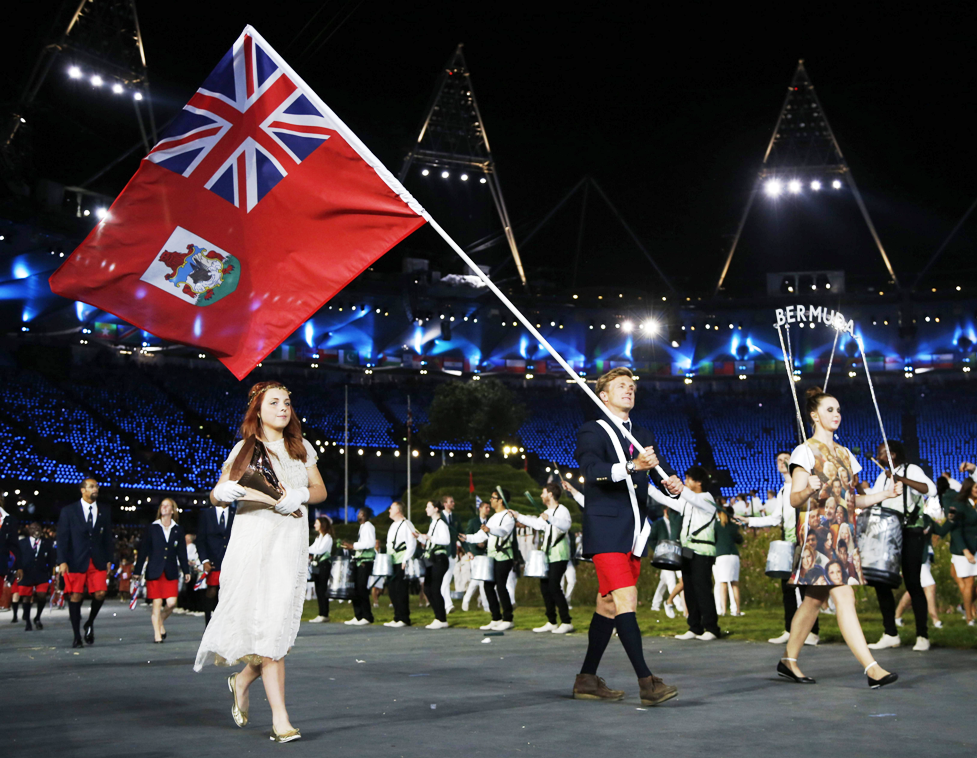 Bermuda contingent marching at London 2012 Olympics.
2012 Olympics closing ceremony
Bermuda in 2014 and 2010 Winter Olympics, Sochi and Vancouver respectively
Pan American Games
A multi-sport event between competitors from all nations in the Americas, held every four years in the year before the summer Olympic Games.
Para Pan American Games
Bermuda Paralympic Association (BPARAS).
Bermuda participates in these, with a limited number of participants in pre-selected sports drawn from Bermuda's physically and/or learning impaired community. Participants are chosen by the Bermuda Paralympic Association (BPARAS).
Paralympic Games
Bermuda Paralympic Association (BPARAS)
Pilot Gigs
The Bermuda Pilot Gig Club holds regatta for spectators out of its new premises on Boaz Island.
Rackets
Also see Squash.
Radio Control Car Racing
2020 January 8. Radio control car enthusiasts are aiming to expand their programme of racing as part of the Bermuda Nitro Racing Association. The BNRA hold on-road races at the Southside RC Raceway and its off-road events at a track behind the Southside Police Station. The off-road season resumes next Sunday while the BNRA will hold its first on-road session of the season the following weekend. Quincy Aberdeen, the president of the BNRA, illustrated the growing popularity of RC racing. "It's a worldwide industry, not so much in Bermuda, but we're getting there," Aberdeen said. "We do have timed races, which are conducted using a timing system. We're probably one of the first to use that software in Bermuda, we have been using that for over 15 years." Aberdeen said the BNRA is looking to expand to a season series. "Normally, for off-road, we have a race season, which has been going for more than 20 years," he added. "If the run is fruitful, we're trying to organise a season-long series of races. The vehicles used are very similar to regular cars, but just of a smaller scale." Jerome Harvey, a BNRA member, is also a long-term RC racer. "I've been racing for more than 30 years, competitively for at least 15 years," Harvey said. "I have a group of friends that come down to the Southside track every other Sunday and we give the on-road cars a test. We are trying to get something going in the next few weeks. The format will be similar to the off-road racing season." For more details of on-road racing, contact Quincy Aberdeen on 535-2428. More information can be found at website bnra.org or On-Road Racing on Facebook.
Roller Hockey
Rugby Union
This British game popular in Bermuda was originally played by members of British Army regiments present until the mid 1950's. They played against each other or with teams from the Royal Navy and, during the 1930s and 1940s, against the Royal Air Force units then based locally. It then spread to the civilian sector. There are two types of Rugby - league rugby - for professional players, with this type of rugby originally from the Midlands and north of England - and rugby union for the amateur teams. Only rugby union is played in Bermuda.
Unlike in American football, rugby teams don't wear helmets or padding Teams include Mariners, Bermuda Police Rugby Football Club, Renegades and Teachers. From October to April is the season.
International rugby, now The Bermuda World Rugby Classic began in Bermuda 1973 as The Easter Classic and continued as such until 1989, mostly as an Irish Select versus a Bermuda Select on St. Patrick's Day every year. Its finale was always on Easter Sunday at the former National Sports Club in Bermuda, which became such a popular event until Easter began to have a much more crowded overseas sports calendar. Famous rugby players induced to come included Gareth Edwards, Fergus Slattery, Tom Kieran, Rob Andrew and Clive Woodward. In 1989, to keep the friendships developed in Easter Classic Days, it was decided to begin the annual Bermuda-based World Rugby Classic. This is held every November when teams from Argentina, Bermuda, Canada, France, New Zealand, Portugal, Spain, South Africa, United Kingdom and USA compete. It is held at the National Sports Centre, Devonshire. From November 8-14 3015, former internationals represented their countries in Bermuda-based international competition. All the major Rugby team over 30s were here including the All Blacks from New Zealand, Australia, Republic of South Africa, UK, Ireland, France, Argentina, etc 10 international matches played during the week but scheduled to allow plenty of time to enjoy Bermuda's beaches, golf courses and other attractions.
Beyond Rugby Bermuda (BRB). Co-founded by Bermuda resident John "Bradshaw" Layfield, a Beyond Sport Ambassador for his work with Bermuda's youth. Mr Layfield is a former WWE World Champion and a wrestling commentator. BRB not only offers rugby training to young Bermudians but also provides a homework academy and family support services through Family Centre.
2019. November 9. Argentina's The Classic Pumas sealed an impressive hat-trick of World Rugby Classic titles by retaining their crown with a 16-6 victory over South Africa's Classic Springboks at North Field, National Sports Centre, last night. The tournament favourites overturned a 3-0 half-time deficit, with the boot of Gonzalo Gutierrez Taboada proving pivotal, kicking 11 of his side's overall points to guide them to the title. Martin Yanguela, a Puma's official hailed the efforts of his side and spoke of his delight adding another successful chapter in their World Rugby Classic story. "It's an incredible achievement for us," he said. "To win it three times in a row is incredible, at this level it is an amazing achievement. We've been coming here for many years, we have become a big part of the World Rugby Classic story. Hopefully, we can come back next year and try to make it four in a row." Yanguela pinpointed the Puma's kicking tactics as the key to completing the impressive turnaround against the greater physicality of the Springboks. "Because of the wind, we kept kicking the ball into South Africa's half and then made them make the effort to run from deep in the field. The pressure we put on them became a big problem for them." The Pumas spurned the first opportunity to break the deadlock from a penalty in the fourth minute as Taboada slipped while striking the ball and could only watch on as it sailed wide. To make matters worse, South Africa opened the scoring from a penalty of their own as Rheinhard Gerber sent his kick from 35 metres sailing through the posts. The Pumas spent the remaining 20 minutes camped inside the South African half, but could not find a way through the dogged Springboks defence. The Springboks were breached just four minutes into the second-half as Argentina scored what proved the only try of the encounter. Federico Aramburu received the ball at speed, with his momentum carrying him through the defensive line to race clear and score between the posts. Taboada was left with the simple task of slotting home the conversion. The match then became a tale of penalties with Taboada taking centre stage. His first opportunity in the 37th minute proved successful despite another untimely slip taking the score to 10-3, before he spurned a more difficult attempt four minutes later. South Africa's ill-discipline continued to cost them as Taboada duly accepted another penalty opportunity, just a minute after his last, extending the Pumas advantage to 13-3. South Africa responded with a penalty of their own in the 44th minute courtesy of the boot of Gerber to reduce the deficit, only for Taboada to restore Argentina's ten-point advantage just four minutes later with his third successful kick. The final ten minutes saw the Springboks throw everything at the Pumas who, despite being reduced to 14 men for the final three minutes after Antonio Ahualli was sin-binned, weathered the onslaught. The USA Eagles survived a first-half onslaught against France to retain their Plate title with a 14-7 win last night. Perhaps smelling blood given that it was Eagles' second match in as many days after the finals were brought forward because of bad weather forecast for tonight, it was France who made the brighter start. The Eagles cause was hardly helped when Eric Deuchle was sin-binned in the fifth minute allowing the French to make the most of their numerical advantage and open the scoring off the back of a driving maul through Thomas Soucaze. Benoit Marfaing made no mistake with the conversion. The momentum appeared to swing further in France's favour when Eagles' Stanislas Durand was injured early in the second half, although the US did manage to pull level albeit against the run play. An interception by Fred Wintermantel acted as a catalyst for the Eagles comeback, with the flanker sending Peter Dahl flying down the left to score his side's first try. Matt Turner kicked the extra points. France were searching for a way to unlock the Eagles defence when they were awarded a penalty. However, Marfaing handed the US a reprieve, his effort lacking the required mustard in the windy conditions. With 11 minutes remaining, the stage was set for Bermuda captain Aldo Campbell to ensure Eagles retained their title with a marauding run through the middle to score the match-winning try. Turner's boot made in 14-7. "Aldo came to the US to our Tiger Rugby Academy [in Columbus, Ohio] years ago," Paul Holmes, the Eagles coach said. "For him to score the winning try was an amazing. This is massive for us and it's really exciting to win back-to-back [Plate] titles.
Soccer (see under Football, British Bermudian)
Snooker
There is an active league, with Old Colony Club, St. George's Dinghy Club, Spanish Point Boat Club, Queen's Club, Warwick Workmen's Club and Watford Sports Club among the participants.
Bermuda Snooker Association. Phone 441-295-2370. Fax 441 292-5535. 5 Trott Road, Hamilton HM 11.
Softball
Bermuda Amateur Softball Association. A popular game, like baseball but with underarm pitching. Divisions include Central, East, North and South and West. There are about 38 teams in total. In 1978 the Bermuda Women's Softball team, known as the Big Blue Machine, came home from the 1978 Central American and Caribbean (CAC) Games with the gold medal.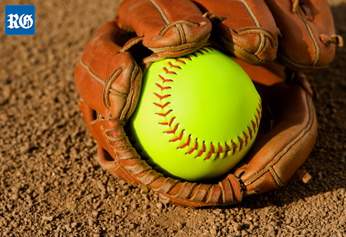 Squash
The British game, more correctly called squash rackets. Similar to US racquetball - played in Bermuda but on squash, not racquetball - on courts - and played with a different-size ball. Bermuda, with year round squash fanatics, hosts some international events. The Bermuda Open has attracted some of the best-known names in squash and international tournaments are now held periodically in Bermuda, including the Endurance World Open squash tournament held at the Fairmont Southampton Hotel in 2007. Former squash world champion James Stout, the New York Racquet and Tennis Club professional, is a Bermuda resident. Some leading private sector employers also have squash courts, for their employees only; for use only before or after working hours or during lunch hours, and by appointment in advance.
Bermuda Squash Racquets Association. P O Box HM 176, Hamilton HM AX. Phone 292-6881, fax 295-8718, has own Bermuda Squash Racquets Club at 11 Middle Road, Devonshire DV 06, just east of the Montessori Academy. It is open to the public, welcomes new members, charges an annual fee, plus an initiation fee, has coaches, more. Registered charity 549.
Swimming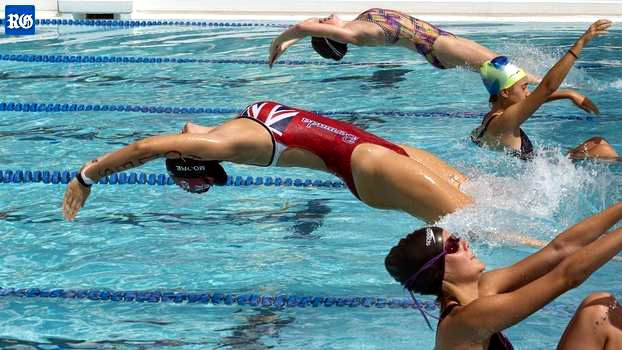 There are no professional swimming teams. All amateur swimming events. Swimming pool at Canal Road, Pembroke and a White's Island Aquatic Program.
Bermuda Amateur Swimming Association. Suite 1407, 48 Par la Ville Road, Hamilton HM 11.
Table tennis
An established sport locally. Bermuda Table Tennis Association. P O Box HM 1636, Hamilton HM GX.
Tennis
Bermuda Lawn Tennis Association (BLTA). PO Box HM 341, Hamilton HM BX. 2 Marsh Folly Road, Pembroke HM 13. Phone 296-0834. Governing body of tennis in Bermuda.
Tennis had its origins in Bermuda as a British pastime of British Admirals and Governors, their wives and their guests long before it became much more popular and was exported, from Bermuda to the USA. The island's earliest private tennis courts were at Admiralty House, Spanish Point, home and command center of the resident Royal Navy Admiral, and Government House, residence of Bermuda's Governors. A British Army officer stationed in Bermuda brought the first tennis apparatus to Bermuda as a way to help reduce the boredom of a colonial posting on a very small and isolated but then militarily strategically important British colony. A Bermudian merchant friend of his then visited England in 1871 and helped to pioneer tennis as a popular local sport. Briton Thomas Middleton living in Bermuda was impressed by what he saw in England of the game of lawn tennis as a development of a much older game. Thus was tennis was exported from Britain via Bermuda to the USA. He acquired in England a set of the equipment with every intention of having his wife play it, to keep her amused and physically active. Then he changed his mind and donated the equipment to his friend, Chief Justice Sir Brownlow Gray. The latter built Bermuda's first home- based private tennis court in the grounds of his lovely manor home in Paget Parish, Claremont, overlooking Hamilton Harbor. Mary Outerbridge, born in the USA in 1852 to wealthy Bermudian parents Alexander Ewing Outerbridge and his wife who emigrated there, discovered the game at what was still her family home in Bermuda, during a visit there, when she played at Claremont. When she relocated to the USA (and later became an American citizen) she took her tennis gear with her, including racquets and a net ,not without difficulty when she returned to America on board the SS Canima in 1874. But the move almost ended in failure because suspicious customs officials in New York impounded the equipment before they relented and released it. She eventually managed, with the help of her brother A. Grelius Outerbridge, to persuade the Staten Island Cricket Club to build a court on its grounds. She hosted the first national tournament in 1880, but died in 1886, aged 34, a year before America's first championship game for women was held. The Outerbridge family left another mark on New York, courtesy of Eugenius Harvey Outerbridge, another of Mary's brothers and the first chairman of the city's Port Authority. His name is commemorated in the Outerbridge Crossing, which links Staten Island with Perth Amboy in New Jersey.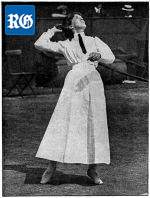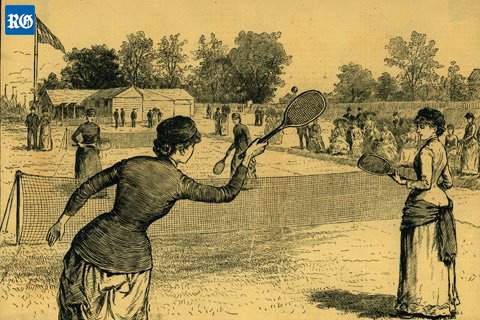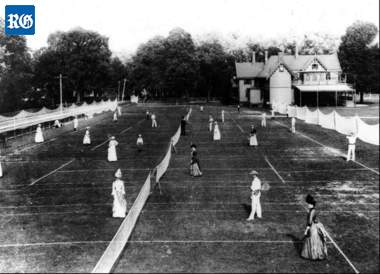 Tennis spread throughout the USA, eventually as a national sport. All those first tennis rackets were made of laminated wood, with large heads. Davis Cup tennis was established beyond Bermuda for nearly a century before there was any Davis Cup Competition in Bermuda. Top local players battle with the Caribbean or Central America. Tennis is year round on more than 100 public and private courts, some for nights. International invitational tennis events are often in Bermuda. Tennis became a popular Bermudian sport and was promoted by businessman William Ernest Rudolf Joell, who is remembered by the W. E. R Joell Stadium in Pembroke.
Australian Pat Rafter, a former champion, has a home in Bermuda.
2020. March 30- April 5. Bermuda Breeze tennis tournament has been postponed because of the rapid spread of the Covid-19 virus. The annual tournament was due to be held at Coral Beach and Tennis Club from March 30 to April 5. Organisers are following the guidelines of The United States Tennis Association and the International Tennis Federation, who have suspended all tournaments until further notice. A Coral Beach and Tennis Club statement read: "The health and safety of all the players, organisers, staff and spectators is our main priority. We will be closely monitoring the situation and collaborating with the USTA and ITF to find mutually beneficial dates in order to reschedule the tournament. We appreciate your understanding and we are hopeful that we will be able to host our tournament later on in 2020. Stay tuned. Thank you for planning on participating in our tournament and we hope to see you in Bermuda soon. Please stay safe."
W. E. R Joell Tennis Stadium: The only public facility in Bermuda. Cedar Avenue and Marsh Folly Road, Pembroke Parish. Phone 292-0105. Government-owned and known as the Government Tennis Stadium until July 2003. Then it was renamed for the late Bermudian who pioneered the integration of blacks on this tennis stadium's courts. His daughters, Eileen Simmons, Rosemary Cann and Joyce Hayden were present at the ceremony conducted by then-Premier Jennifer Smith. In 1953, his tennis lessons attracted many children and produced two champions, Shirley Davis and Arnold Todd. In 1957, when the Social Welfare Board turned down his request for funds to pay for overseas coaches to come to Bermuda to teach tennis, Mr. Joell organized the Bermuda Tennis Development Fund. As a result, several overseas coaches came and Mr. Joell opened up his own home on Brunswick Street in the City of Hamilton to accommodate them. He was an Associate Member of The Professional Lawn Tennis Association of the USA and the Field Secretary of the American Tennis Association. He helped organize several local clubs including the Castle Harbour Hotel Tennis Club, King Edward VII Memorial Hospital Club, Unity Tennis Club and Salvation Army Tennis Club. He accompanied Bermudian teenagers to the USA to compete in tennis tournaments at Central State College. In 1973, he received the Queen's Certificate and Badge of Honour for his valued services to tennis in Bermuda.
Anyone can play here by appointment and for a fee. (Visitors will find tennis courts at many places to stay). There is a pro. Lessons are $30-$50. There are 3 clay and 5 plexi cushion courts. Tennis attire is mandatory.
Tennis Clubs include:
Coral Beach and Tennis Club. Phone: (441) 239-7223, 236-2233. Coral Beach Hotel, Paget. 8 clay courts maintained to ATP Tournament Standards.
Pomander Gate Tennis Club. 1 Pomander Road, Paget, Bermuda; Phone: (441)236-5400
Port Royal Tennis Club. 5 Middle Road, Southampton. Phone: 441/238-9430. Located at Port Royal Golf Club.
Whaler Inn Tennis Club. Fairmont Southampton Princess Hotel. 101 South Road, Southampton. Phone: 441/239-6950
Bermuda Lawn Tennis Association (BLTA) and its leagues
Winter Tennis League. Open to all tennis clubs. The league starts in the fall and runs until the end of winter is a double and singles competition events depending on the Divison. There are 3 divisions: (1) Women's Division and (2) Men's Divisions 'A' & 'B', with Division 'A' being the top division. Play consists of weekly home and away team matches. Also contains a pairs competition at which doubles pairs from each team are able to play in a single day round robin event.
Commercial Tennis League.

A corporate tennis league design to promote and provide to tennis to Bermuda's many businesses and corporations. The league runs during the summer months and consists of home and away team fixtures with 5 matches for each fixture. There is Men's and Ladies Singles, along with Men's, Ladies and Mixed Doubles.

Mixed Doubles League. An open Round Robin League designed for players of all levels. The League will run for a 2 month period from the end of winter to the start of spring. The League will and have multiple divisions to accommodate players of all levels. It is intended to promote doubles play in a structured league format. The league is open to Tennis Clubs, corporations and groups.
Triathlon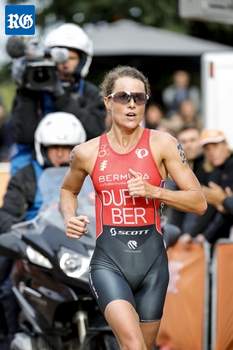 Bermuda has become known in this sport primarily because of Bermudian Flora Duffy. This sport has many participants locally. There is a major triathlon every year, one of the most important sports events. On December 21, 2017 she married fellow triathlete Dan Hugo at a lavish ceremony in South Africa. The couple tied the knot at Hugo's family's farm in Worcester, near Cape Town. The big day capped a memorable 2017 for Duffy, 30, who won the ITU World Triathlon Series for a second successive year and the Xterra World Championship for a fourth time in a row.2018 ITU World Series. Since then she has gone from strength to strength and is the defending female Olympic champion in this sport.
2020. March 17. Flora Duffy admits that triathlon seems "trivial" when compared to the wider crisis at large amid the rapid spread of the Covid-19 virus. Although Duffy was "devastated" by the decision to call off MS Amlin WTS Bermuda on Saturday, she said the bigger priority is to try and protect the island's community from the pandemic. With more than 180,000 confirmed cases of Covid-19 worldwide and about 7,000 deaths, the sport's governing body has suspended all activities until April 30, including WTS Bermuda, which was due to be held from April 17 to 19. "It's devastating because I love racing and love racing at home," Duffy told The Royal Gazette. "I'm also sad for the community that has put so much effort into the making the race happen. I know it's months and years of work. It's really sad, but the bigger priority right now is stopping the spread of Covid-19 and keeping everyone safe. My thoughts are with everyone there and I'm just really hoping that Bermuda can be spared in some way." Duffy was ruled out for eight months last season because of a career-threatening foot injury before making a superb return to competitive action, winning a fifth Xterra world title in Kapalua, Hawaii, in October. The two-times world champion was confident of carrying her strong form into the new season as she builds towards the Olympic Games in Tokyo this summer, where she is expected to be among the medal contenders. However, with Covid-19 wiping out most of the world's major sporting events, she remains "unsure of what the rest of the year will hold". She added: "Sport and triathlon and trying to stay fit seems quite trivial. I'm just doing what I can to help limit the spread of the virus and I hope that's everyone's top priority right now. Every athlete around the world is in the same boat. Everyone is training and suffering, but that doesn't seem important at all when people are fighting for their lives. It's a case of taking it day by day, week by week and see how things unfold. We'll see what happens. Maybe racing will resume in a few months." Duffy, 32, is due to have stitches removed from her hand today after snapping a fifth metacarpal during training this month. However, with public swimming pools being closed in Stellenbosch, South Africa, because of the Covid-19 outbreak, the Bermudian is exploring alternative training options. "Thus far, the virus has not particularly affected my training at the moment, although it will by the end of the week," she said. I have my stitches out tomorrow and I'm able to get back in the water; however, I've just received an e-mail to say the pools are all closed. Maybe I'll have to look for an open-water swimming option. There's plenty of dams here and I'll look to see if any of the private pools are staying open."
2020. January 26. Flora Duffy has qualified for the Ironman 70.3 World Championships after romping to an emphatic victory on her debut in the event in Buffalo City, South Africa, today. The two-times ITU World Triathlon Series champion came from behind to win the Ironman 70.3 South Africa in a time of 4hr 34min 5sec. Duffy seized early control after exiting the water in first place at Orient Beach with a more than three-minute advantage over the chasing pack, which she increased by four seconds by the halfway stage of the bike. However, all of her hard work almost came undone after slipping to third on the return leg of the 56-mile bike, leaving her trailing leader Emma Pallant, of Britain, by five minutes at the second transition before the 13.1-mile run. With her Ironman 70.3 World Championships qualifying hopes hanging in the balance, Duffy mounted a fightback and eventually regained the lead with 3.1 miles of the race remaining. The five-times Xterra world champion managed to widen the gap before crossing the finish line more than two minutes ahead of Pallant. South Africa's Jade Nicole finished third. South Africans swept the men's podium with Matt Trautman claiming the title in 4:02:59 followed by Bradley Weiss and Henri Schoeman. The Ironman 70.3 World Championships will be held in Taupo, New Zealand on November 28 and 29. It is the first time the championships will be held in New Zealand, with the race featuring a swim in one of the world's largest freshwater lakes, a bike course through the country's renowned rural landscape and a run course which takes in views of the lakefront that will be lined with spectators and local support. Duffy, who spent the majority of last year nursing a long-term injury, will hope to become the first Bermudian to win an Olympic medal, in Tokyo this summer, since boxer Clarence Hill claimed bronze at the Montreal Games in 1976.
2019. September 2. Flora Duffy finished fifth in her second race since returning from injury at the ITU World Triathlon Series Grand Final in Lausanne, Switzerland, on Saturday. She finished the Olympic-distance race — 1.5-kilometre swim, 40km bike and 10km run — in a time of 2hr 4min 26sec, with splits of 19:15, 1:06:35 and 37:29. Katie Zaferes, of the United States, took the honours to claim a maiden world title in 2:02:45, with Jessica Learmonth, of Britain, finishing second in 2:02:49 and team-mate Georgia Taylor-Brown third in 2:03:03. "Thank you Lausanne," Duffy wrote on Instagram. "That was a race to remember. The crowd + course was incredible! Thank you for all the cheers. I needed them ... especially on the run! After the race I was so exhausted, (like I laid down in the grass for a long time) it took me a while to appreciate 5th as pretty solid and more forward progress even if I felt very defeated today. Congrats to the champs!!" Duffy was confident the challenging and hilly course would play to her strengths, and made a break on the final lap of the bike but was soon pegged back by Zaferes to set up a showdown in the run. The Bermudian, however, understandably showed signs of ring rust during the final discipline and started to drop back with about 6km to go and was overtaken by Rachel Klamer, of Holland, for fourth on the third lap. Zaferes held off a spirited challenge from Learmonth, who led out of the swim but was hunted down by the chase group, which included Duffy, on the bike. Duffy, meanwhile, will have been encouraged to come through second straight race after missing 12 months of action because of a foot injury. She won the Tokyo Olympic Test Event in controversial fashion two weeks ago after leaders Learmonth and Taylor-Brown were disqualified for causing a deliberate tie.
2019. August 15. Flora Duffy made an astonishing winning comeback in a controversial Tokyo Olympic Test Event last night, with a performance she described as "best-case scenario". Although Duffy finished third behind Jessica Learmonth and Georgia Taylor-Brown, the Bermudian was later awarded the win after the British pair's were disqualified for trying to finish the race in a tie. Competing for the first time in 14 months because of a career-threatening foot injury, Duffy beamed as she crossed the line and pumped her fist in a celebratory gesture after passing her first test with flying colours. At times it was almost like Duffy had never been away, particularly during the 40-kilometre bike, where she showed glimpses of her hard-charging best, leading the front pack for long periods and dictating the pace. "This was my first race in over a year, so there was a lot of cobwebs to blow out," said Duffy, speaking before Learmonth and Taylor-Brown's disqualification I felt very rusty out there and it was hard from the start for me. I haven't done this intensity for a year, but I'm just happy to be back. There was a lot of time during the past year when I didn't think I would be back, didn't think I would run again, didn't think I'd ever be back at the point end of the race. This is best-case scenario. I loved the course and it was just great be racing with girls again and feel like myself." Duffy completed the Olympic-distance race, including a run reduced to 5km because of the searing morning heat, in a time of 1hr 40min 19sec — 11 seconds behind Learmonth and Taylor-Brown. Alice Betto, of Italy, was second in 1:40:54 and Vicky Holland third in 1:41:11. Duffy said it was important to familiarize herself with the course at Odaiba Marine Park, where the Olympics will be held next summer. "The whole point of coming here was to check out the venue, check out the course and see the conditions," Duffy added. "I love racing in hot and humid weather and that felt pretty good today. I'm just lacking a bit of race fitness. That was the hardest part for me. It was a great course and I look forward to next year." She will now switch her focus to the ITU World Triathlon Grand Final in Lausanne, Switzerland, where she will take the next step in her recovery in two weeks' time. Katie Zaferes, who has dominated the World Triathlon Series in Duffy's absence, did not finish after being involved in bike crash with her United States team-mate Kirsten Kasper.
2019. July 26. Flora Duffy will make her long-awaited competitive return to triathlon at the Tokyo Olympic Test Event next month. Duffy has not finished a race since battling through the pain barrier to win the WTS Yokohoma, Japan, in May 2018 because of a lingering foot injury. The two-times world champion's last race came at WTS Hamburg two months later, where she suffered a significant setback to her injury and finished in tenth place. Although she does not expect to be anywhere close to race fit, Duffy believes it is important to familiarize herself with the course at Odaiba Marine Park, where the Olympic Games will be held exactly a year later. If Duffy comes through the race unscathed on August 15, she intends to compete in the ITU World Triathlon Grand Final in Lausanne, Switzerland, two weeks later. As well as putting paid to her hopes of becoming the first woman to win three straight world titles, Duffy's injury also forced her out of the Pan American Games, which started in Lima, Peru, this week. The 31-year-old said she is "gutted" to miss the quadrennial multi-sport event in which she won the bronze medal in Toronto in 2015. "I'd like to wish each athlete representing Bermuda in Lima the very best," Duffy told The Royal Gazette. "I'm gutted not to be part of the team, and will be following all of the results closely. As with the national football team, who competed in the Gold Cup, Bermuda sport is on the up and up!" Duffy said she will be paying particularly close attention to the women's triathlon which features Bermudian Erica Hawley tomorrow (Saturday). "A special shoutout to Erica representing in the triathlon," Duffy added. "I have fond memories of the honour to win a medal at the Pan American Games. I wish I could repeat a medal win this year, but the lingering foot injury is forcing me to be patient. Lots of Bermuda pride for the entire team."
2018. November 17. Flora Duffy, Bermuda's world champion triathlete, was all smiles after collecting her Order of the British Empire medal at Buckingham Palace. A beaming Ms Duffy, a Commonwealth Games gold medal-winner in Australia this year, posted a photograph last night of herself presenting the medal alongside her husband, Dan Hugo. "Now it is official," Ms Duffy shared online from a "very special morning at Buckingham Palace". Ms Duffy was appointed the OBE in June of this year for her sporting achievements.
Volleyball
Bermuda Volleyball Association. Suite 885, 48 Par La Ville Road, Hamilton HM 11. Bermuda is well-represented by separate teams of men and women.

Described here.


Authored, researched, compiled and website-managed by Keith A. Forbes. Last Updated: July 30, 2020
Multi-national © 2020. All Rights Reserved