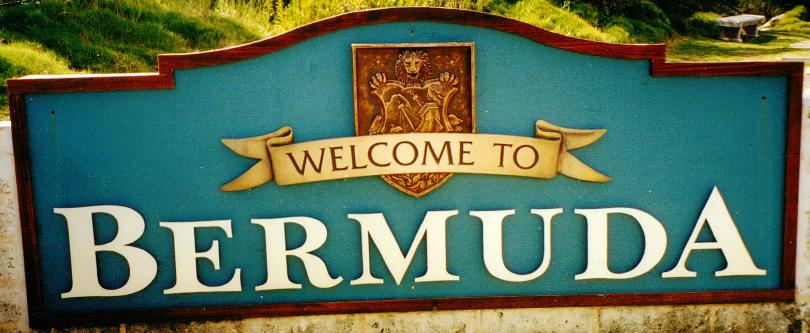 Click on graphic above to navigate the 165+ web files on this website, a regularly updated Gazetteer, an in-depth description of our island's internally self-governing British Overseas Territory 900 miles north of the Caribbean, 600 miles east of North Carolina, USA. With accommodation options, airlines, airport, actors, actresses, aviation, banks, beaches, Bermuda Dollar, Bermuda Government, Bermuda-incorporated businesses and companies including insurers and reinsurers, Bermudians, books and publications, bridges and causeway, charities, churches, citizenship by Status, City of Hamilton, commerce, communities, credit cards, cruise ships, cuisine, currency, disability accessibility, Devonshire Parish, districts, Dockyard, economy, education, employers, employment, environment, executorships, fauna, ferries, flora, former military bases, forts, gardens, geography, getting around, golf, guest houses, highways, history, historic properties, Hamilton, House of Assembly, housing, hotels, immigration, import duties, internet access, islands, laws, legal system and legislators, main roads, marriages, media, members of parliament, money, motor vehicles, municipalities, music and musicians, newcomers, newspaper, media, organizations, parks, parishes, Paget, Pembroke, performing artists, residents, pensions, political parties, postage stamps, public holidays, public transportation, railway trail, real estate, registries of aircraft and ships, religions, Royal Naval Dockyard, Sandys, senior citizens, Smith's, Somerset Village, Southampton, St. David's Island, St George's, Spanish Point, Spittal Pond, sports, taxes, telecommunications, time zone, traditions, tourism, Town of St. George, Tucker's Town, utilities, water sports, Warwick, weather, wildlife, work permits.

Bermuda's Gorgeous Pink Sand Beaches
Two types, public and private, shown below by parish

By Keith Archibald Forbes (see About Us).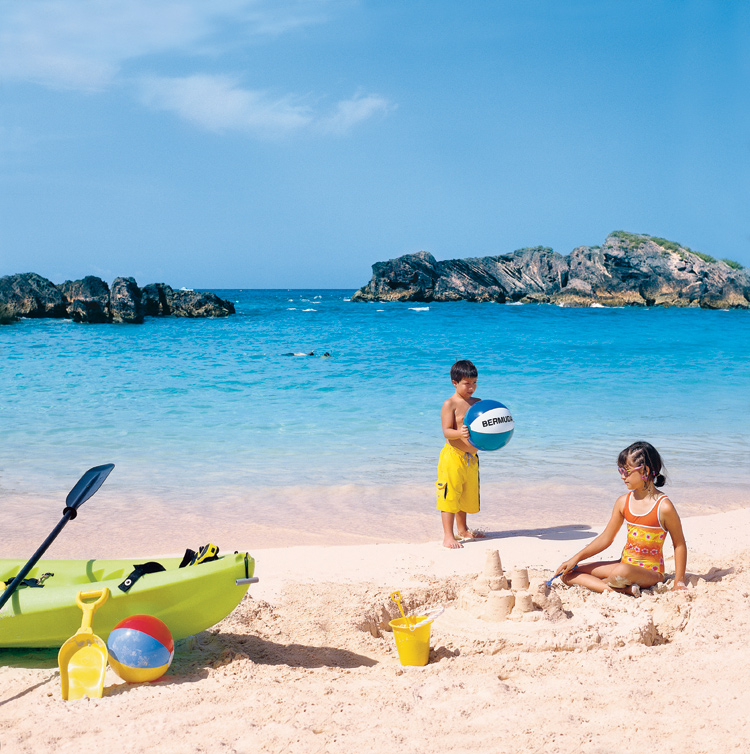 Bermuda Pink beach - photo Bermuda Tourism
Bermuda has some magnificent large and small beaches. Beach sand is not volcanic but from finely pulverized remains of calcium carbonate shells and skeletons of invertebrates such as corals, clams, forams and other shells. Beaches begin with tiny single-celled animals, Foraminifera, in particular, homotrema rubrum - or forams - dark red skeletal animals that grow profusely on the underside of Bermuda's coral reefs. When the red forms die, the skeletons plummet to the ocean floor. Wave action erodes the forams. They become mixed with other debris on the seabed such as the white shells of clams, snails and sea urchins.
It is then that Bermuda's white sand takes on its characteristic pink hue. Bermuda is one of the northernmost areas in the Western Hemisphere (but not the northernmost place in the world) for coral reefs. In Bermuda, see the contrast of pink sand, turquoise water between the shoreline, outlying reefs, and dark blue of the ocean beyond the reefs or land. The sand in Bermuda is exceptionally fine. Beaches in Bermuda are often favored for weddings. Often, religious ministers in Bermuda shorts and knee length socks will preside. Most beaches are on the South Shore, but a few are on the North Shore. Watch out for the rip tide and rip currents on the South Shore beaches! They are formed by water seeking its own level. More water is pushed up on the beach as the frequency of the waves breaking on the beach increases.
As this water accumulates, it returns to the sea to find its own level, thus causing a drag outwards. The larger the surf, the more intense the rip currents. They pull out to sea, not down beneath the surface. At low tide, when the reef formations are clearly visible and the sea is calm, South Shore potboiler formations can be explored. Some contain deep natural pools for visitors to swim or wade out to and enjoy. Visitors used to riding surf boards on high rolling waves should note that only when the wind is blowing heavily from the south do Bermuda's South Shore beaches get any decent surf. Many people assume, wrongly, that Bermuda must have good surfing beaches. Beaches are closed when the wind blows too heavily from the south. When gales and hurricanes occur, of the type that bring surfing conditions, surfing is dangerous. Rip tides are bad then, too.
Tourists are warned they will be prosecuted in Bermuda or USA if they steal Bermuda's trademark pink sand, shells or sea glass from beaches. A Bermuda Government Department of Environment and Natural Resources has revealed the theft by visitors of 222 pounds of sand, eight pounds of shells, four pounds of dead corals and a chunk of cave flowstone, hacked off the wall of a local cave, in 2019. They were recovered and confiscated by US customs officers at LF Wade International Airport before the visitors left Bermuda and on arrival back in the USA after cruise ship visits. It is important to note that the importation of unspecialized sand and soil into the USA, as well as many other countries, including Bermuda, is prohibited because of the risk of spreading pathogenic bacteria, viruses, fungi and micro-invertebrates. All Bermuda's public beaches are either parks or nature reserves, which means that visitors are not allowed to remove anything including sand and rocks. Bermuda's corals are also protected by law, and the Bermuda National Parks Act prohibits the taking of sea glass from any area zoned as a park or nature reserve. Despite this caution there are a number of unethical websites that promote the collection of sea glass from Bermuda, and some of the most popular locations are on private lands close to the Royal Naval Dockyard. However, collectors need to respect any restrictions placed upon the areas they wish to visit. For example, the landowner of these popular beaches has allowed public access, but prohibits the taking of sand or glass. The Department of Environment and Natural Resources asks that tour guides, the hospitality industry, and residents who have guests or customers visiting from overseas be acquainted with local laws governing the collection of keepsakes from the environment. The public is also warned against removing protected shells from the island's beaches. Ten types of shell are protected under the Fisheries (Protected Species) Order, in many cases because they are used by the island's threatened land hermit crabs. The West Indian topshell is the favourite shell choice of land hermit crabs in Bermuda, and also one of the most commonly confiscated shells at our airport. Just like souvenir collectors, crabs need unbroken shells free of cracks and holes. In some areas, it may seem like there are many of these shells but the taking of even one is a big deal. Those convicted of taking protected shells can face up to two years in prison and a $25,000 fine.
Some Bermuda beaches are noted for their sea glass, but see above.
Bermudians and locals don't use the beaches from Labor Day in September through May 24. Why not?
Water temperature can be as high as 85 degrees Fahrenheit in August. But it can dip to below 64 degrees in winter, too cold for most residents, only for the human penguins from Canada, Europe, UK and the USA's East Coast. After all, Bermuda is NOT part of the Caribbean.
One of the most beautiful beach walks in the world
At almost any time of year - except when there are hurricanes or gales driving the sea to shore in huge waves - a walk on the beach is glorious. It is the South Shore Park between Horseshoe Bay in Southampton Parish and Warwick Long Bay in Warwick Parish. The public beaches are open from sunrise to sunset. Do not attempt to use them illegally at night, for your own safety.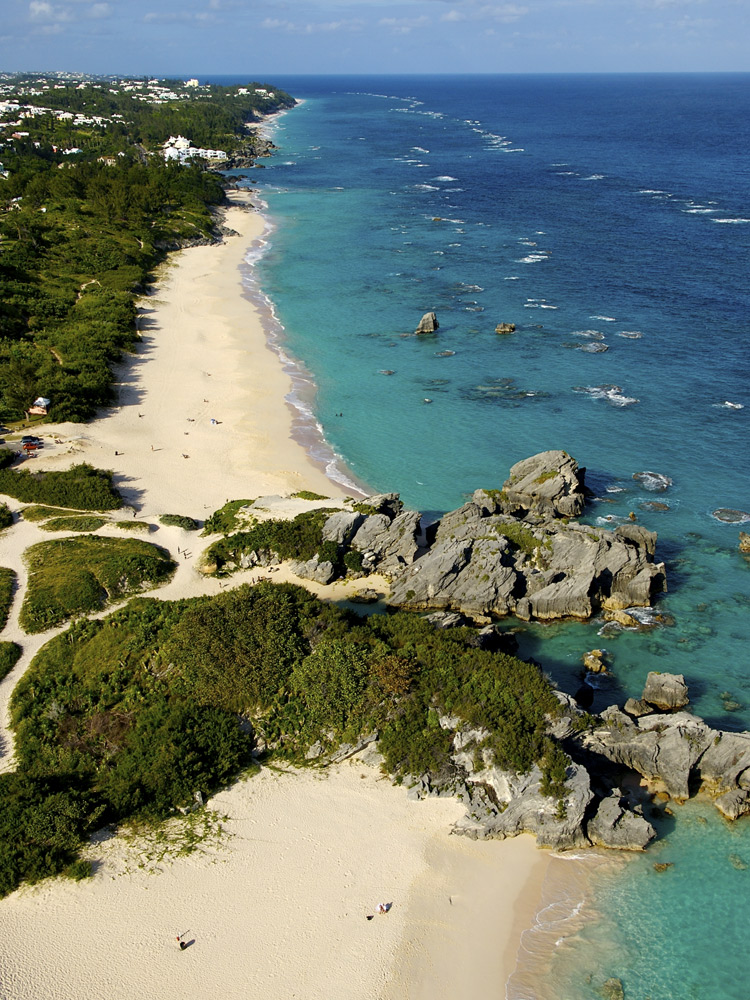 Warwick Long Bay and (lower down) Stonehole Bay. Photo Bermuda Tourism
Beaches in Bermuda - public and private - do not allow topless, nudes or semi-nudes. Camping and sleeping on the beaches are not permitted. The Bermuda Police Service encourages all beach-goers, especially visitors, to be extra vigilant of their belongings at the beach and only take items that are really necessary. They advise visitors not to take a lot of cash or credit cards or passports or watches other forms of identification or jewelry.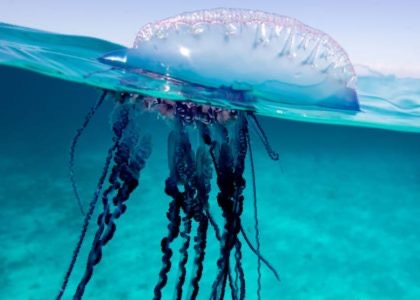 There are periodic sightings on the beaches and in waters nearby of Portuguese Men of War (Bluebottle, physalia spp - hydroid) commonly but mistakenly referred to as "jelly fish" with "blue or white sails" usually clearly visible and with fiercely stinging, food-catching tentacles. They get this name from Mediterranean sailors who believed they resembled 17th century Portuguese ships of war in full sail. Not only is it not a jellyfish, it's not even an "it," but a "they." The Portuguese man-of-war is a siphonophore, an animal made up of a colony of organisms working together. The man-of-war comprises four separate polyps. It gets its name from the uppermost polyp, a gas-filled bladder, or pneumatophore, which sits above the water and somewhat resembles an old warship at full sail. Man-of-wars are also known as bluebottles for the purple-blue color of their pneumatophores. The tentacles are the man-of-war's second organism. These long, thin tendrils can extend 165 feet (50 meters) in length below the surface, although 30 feet (10 meters) is more the average. They are covered in venom-filled nematocysts used to paralyze and kill fish and other small creatures. For humans, a man-of-war sting is excruciatingly painful, and sometimes deadly. Even dead man-of-wars washed up on shore can deliver a major problem if touched or prodded.

Avoid them from a great distance at all costs in the water and on shore as their sting could be very serious, or deadly to those at risk of heat attack or stroke or both. Ashore, they may look dead but are not. Use extreme care, approach them at your own risk, there will be repercussions and financial liability if you are stung by a Portuguese Man of War jellyfish, in which case rinse with salt water and remove any visible tentacles from the skin with a stick, glove or towel; treat the affected areas with vinegar; apply warm water or warm compress; remove any of the remaining tentacles by applying shaving cream with something like a tongue depressor stick or a credit card; and apply hydrocortisone cream to the affected area. To avoid further potential problems make sure you summon help in any way possible and see a doctor straight away or get to a hospital as soon as possible.

Sewage. Following early 2014 reports earlier widely circulated in the USA, prepared by the US Consul General's office in Bermuda, that Bermuda's beaches contained raw sewage deposits from the sea and were not safe for American visitors to use, an international organization has confirmed the accuracy of Government's testing of South Shore waters, stating that trends indicate the waters are safe for recreational use. Representatives for the Caribbean Public Health Agency (CARPHA) were contacted by the Government in June to conduct an independent study of the water quality around the Island's beaches and ensure the reliability of the Department of Health's weekly water quality results. Dr Lisa Indar, of CARPHA, said that after analyzing the Department's sampling and analytical methods and independently testing water samples, the organization found the sampling methods were in compliance with standards and the laboratory results from both bodies were similar. She also noted that a historical review of sample sites indicated that recreational areas were safe and fit for use, generally meeting the US EPA requirements. The Government worked hard to tackle the issue of water quality, and bringing Dr Indar to Bermuda to evaluate testing efforts was just one step furthering public confidence in the Island's water quality. Asked about other efforts being taken to remedy the issue, he said: "I think the people of Bermuda are well aware the challenges that we face since this report started to get into the media in spring of this year. Government was very quick to assess the situation and put in short term, medium term and long term plans to deal with the challenge. Government wanted to ensure it was following proper testing procedures with the water samples and that Government results were accurate. Tackling the issue has included ensuring proper disposal of grease and oil.

Sea glass. Glass weathered smooth by the ocean, can be found on beaches throughout the Island but is particularly common on a few smaller beaches. It is sometimes used to make jewellery and various decorations. Cruise ship and other visitors have been spotted seeing it and taking it away, to the huge annoyance of locals. Residents and visitors are not allowed to take sand, shells, coral, sea fans or sea glass out of the beach or ocean or out of Bermuda.

The Bermuda Lifeguard Service is a service of the Parks Department of the Ministry of the Environment of the Bermuda Government. In the swimming season, the most popular public beaches have lifeguards from this service. They must be at least 16 years old, fit, healthy and strong swimmers. The private beaches do not have this service.

Beaches private and public
2019. September 15. Balls of grease and human waste washed up on at least two beaches along South Shore. "Sewage balls", also known as "grease balls", were spotted along Elbow Beach and Grape Bay Beach, both in Paget, early this week. It is the first time since April that grease balls have been reported.
2019. August 13. Tourists and residents have called for public toilets at three South Shore beaches to be cleaned up. The bathrooms at Jobson's Cove, Chaplin Bay and Elbow Beach all came in for criticism from beachgoers when The Royal Gazette toured South Shore beaches last week. But visitors gave the thumbs up to Horseshoe Bay, which has been renovated to include extensive facilities and is cleaned by staff three times a day. Cruise ship visitor Alex Camboa said he was appalled by the "gross" state of the bathroom at Jobson's Cove. He found it to be littered with toilet tissue, discarded lighters and cigarette butts. He added the bathroom smelled and the taps and soap dispensers did not work. The 23-year-old, from New Jersey, said he would have to wash his hands in the sea. He said: "I love your island, but this is disgusting." Shai Richardson, a camper at Chaplin Bay, said the bathrooms there had no lights. She said: "You can't even use them at night because it's completely dark. It can be a little bit scary. We don't like bringing the little kids down there at night." Ms Richardson added that regular maintenance was needed to keep the bathrooms in good condition. She said only some of the sinks worked, but that they were "useless if there's no soap".
2019. May 3. A water-quality testing programme has started at the island's most popular beaches. Environmental health officers started the annual check programme last month. A Department of Health spokeswoman said: "Testing started on April 1 and monthly updates will soon be provided from sampling conducted from now until the autumn." The department tests seawater for pollution during peak summer months and started to publish the results on the Government's website in 2014. The move came after reports of so-called "grease balls", which contained human faeces, being washed up on south shore beaches a year before. A 2013 report by the Bermuda Institute of Ocean Sciences found that the waste came from the Hamilton Seabright sewage pipeline. The US Consulate later issued a warning to American citizens that the island's beaches could be a health hazard. Last year's seawater sampling results from 15 different sites showed levels of enterococcus — bacteria present in human and animal faeces — well below the US Environmental Protection Agency's maximum recommended levels. The Bermuda Government uses the EPA yardstick to measure the purity of seawater around the island.
2019. April 27. Researchers are checking if a rare variant of sargassum seaweed that has invaded Caribbean coastlines could make its way to Bermuda. Robbie Smith, the curator of the Natural History Museum at the Bermuda Aquarium, Museum and Zoo, is working on a study with Dr Kerry Whittaker, the chief scientist aboard the Sea Education Association's research ship Corwith Cramer. A spokeswoman for the Department of Environment and Natural Resources said that the variant had plagued beaches in the Caribbean for the past three years. Earlier work by Dr Smith found that the sargassum natans variant had been found in Bermuda occasionally but did not seem to thrive in the cooler waters around the island.
Public beaches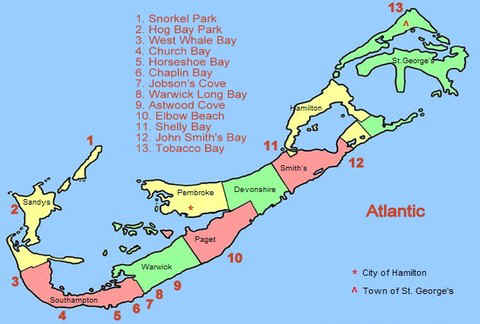 Locations of Bermuda's main (but by no means all) public beaches
Some are 4 star rated by this author, an international travel editor. All owned by the Bermuda taxpayer and operated/cleaned by the Bermuda Government from whom all particulars about any specific beach should be obtained. All Bermuda's public beaches and public parks come under the jurisdiction of the Bermuda Government's Department of Parks which is issues an annual advisory regarding bonfire permits and the guidelines for dogs and horses in Bermuda's National Parks, in accordance with the Bermuda National Parks Act 1986, 2009. 2017 and subsequent Amendments. Public beaches are without the off-beach and water-sports facilities of private beaches. Don't be surprised to see, on the Good Friday public holiday, hundreds of multi-colored, hand-made Bermuda kites are up in the air above some of the public beaches.
All members of the public using a public beach should be aware they do so entirely at their own risk. They are all approachable by land and are usually free (except for Snorkel Park at Dockyard) to the general public and open from dawn to sunset. They are not open to the public at night. It is to prevent misuse or spoilage of or unseen-by-night dangers from the beaches including by persons who are local but may be homeless, or others who will never get permission, or visitors with nowhere to stay while on vacation who will also never get permission. Those who attempt to do so are usually caught, detained overnight by police, then deported.
Bars. Only two public beaches have a privately-run bar. Most Bermuda beaches are family beaches. A very few have basic restaurants franchised from the Bermuda Government but usually with no bars. An exception is at Tobacco Bay in St. George's..
Bathrooms, showers and toilets/WCs. A few public beaches may have a bathroom/toilet/WC but most will not. Nor will they likely have a public shower. Most public beaches in the Caribbean and elsewhere do not have bathrooms, showers or toilets and Bermuda is generally no exception.
Best enjoyed when the tide is low. Some are completely or partially submerged at high tide) visitors should consult the tide table for that day.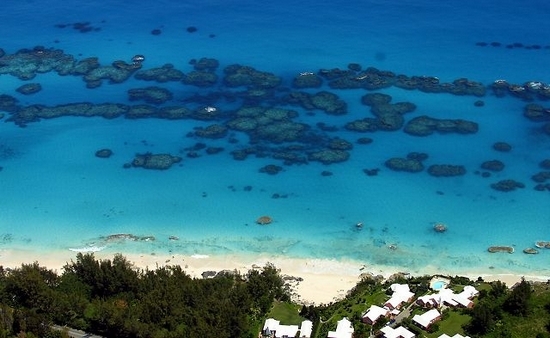 Bermuda reefs off a beach. Photo: Bermuda Tourism
Bonfires in the National Parks: All bonfires require a Special Permit which must be obtained from the Department of Parks' office. Upon obtaining a Special Permit, persons will receive all necessary information about the terms and conditions for proper bonfire conduct within National Parks
Camping on beaches by visitors is not allowed.
Dogs in the National Parks: Dogs are permitted to be on any public beach from 1st November to the 31st March but not from 1 April to 31 October. Dogs must be on a leash at all times with leash length no greater than three metres. For safety and health reasons dogs are not permitted on playgrounds in National Parks.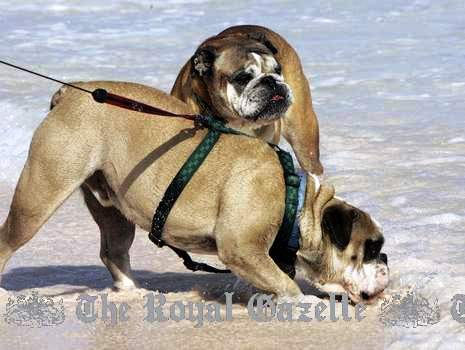 Horses on the beaches in the National Parks: From the 1st November — 30th April, no person shall take or ride a horse on Horseshoe Bay Beach, in South Shore Park, or on the beaches in John Smith's Bay Park and Elbow Beach Park. However individuals may take or ride a horse on all other public beaches below the high tide water mark at any time.
Nude or near-nude or female-topless bathing on public or private beaches is not allowed for any visitor or local and can also be downright dangerous, not only to help prevent undesirable attention but also because clothes help give some protection against sunburn, possible jellyfish stings and nearby submerged reefs or rocks.
Special Permits: Park patrons are reminded that Special Permits should be sought from the Department of Parks if they plan to have events and activities within the National Park System. Permits can be collected from the Parks Office located at Global House, 43 Church Street Hamilton HM 12.
Private beaches
Private beaches cannot be approached by land without trespassing. Owned privately by individual hotels or individual home owners. All hotel-owned private beaches have licensed beach bars, often with tourist restaurants. They have changing rooms and showers for their staying guests only. But all beaches and waters are public - not private - from the sea and up to (but not in excess of) their high water mark. This means they can be approached and accessed by boat providing neither the boat nor the passengers are above the high water mark. Many private beaches are as gorgeous as or better than the public ones and may have more facilities.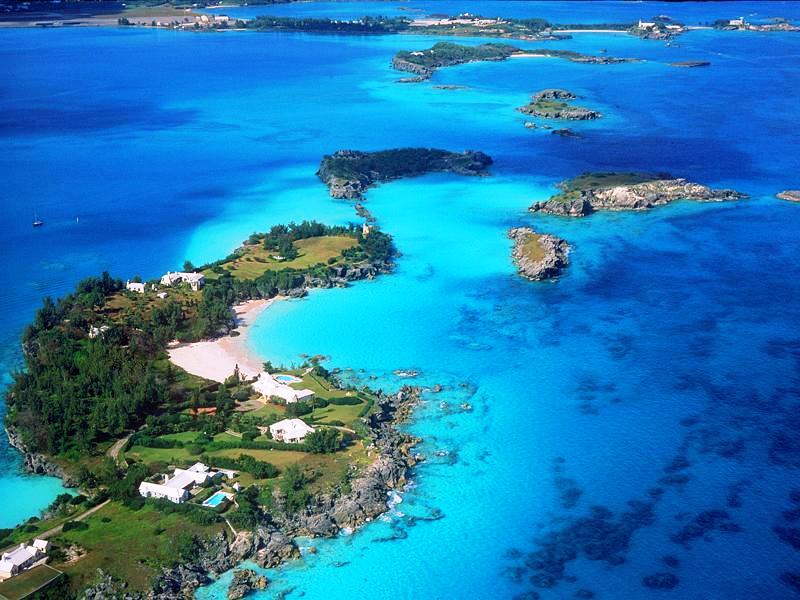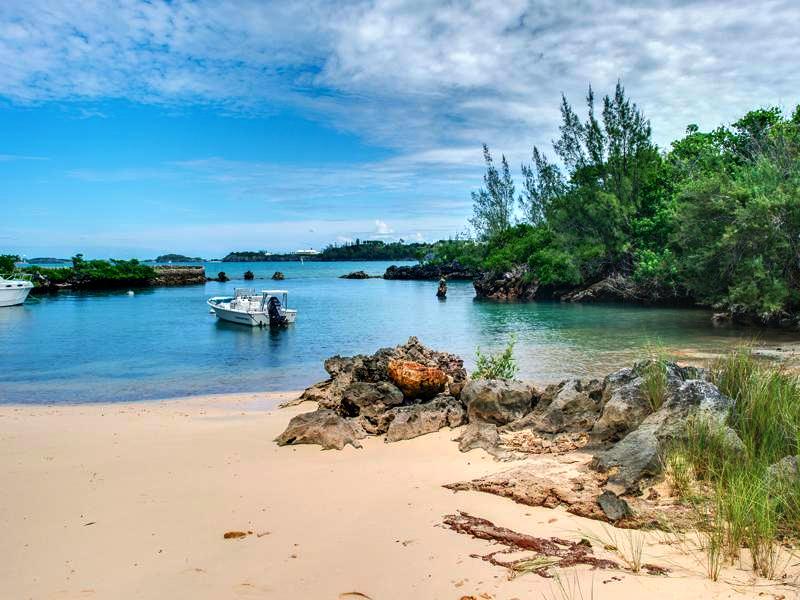 Several private beaches

Parish beaches
The following listing shows the parishes in alphabetical, not geographical, order, although the map below shows them in geographical order from west to east.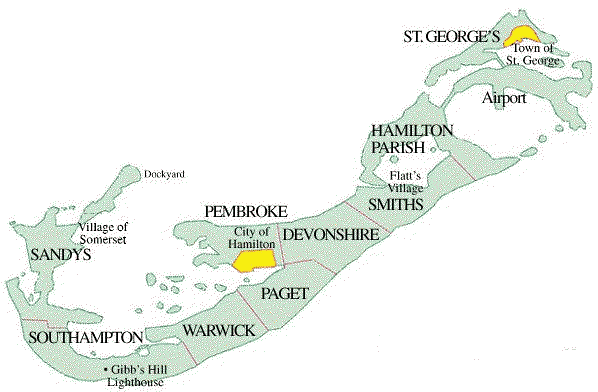 This map shows where where Parishes - including their beaches both private and public - are located. Bermuda buses go past or near many - not all - beaches. Others can be accessed by moped. Parishes below are mentioned in alphabetical, not map, order. Please note how these different parts of Bermuda - Parishes - run from St. George's in the east to Sandys in the west.

Beaches: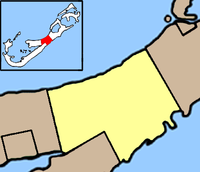 Devonshire Parish area

Ariel Sands Beach (Cox's Bay). South Shore, off South Road. Two beaches. Private. Choice beach. Ariel Sands Club, the premises that own the beach, is closed at this time.

Devonshire Bay. South Shore, off South Road. Public. Nice for families with small children. No facilities.

Beaches: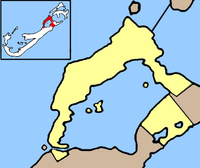 Hamilton Parish area

Bay Island Beach. Off North Shore, on Bay Island off Bailey's Bay. Two very small public beaches on this island are nice, but almost submerged at high tide. Best time is in the morning if the tide is low. Swim out.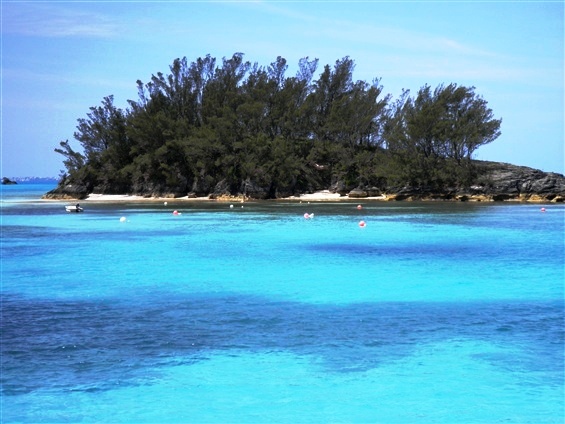 Bay Island Beach

Blue Hole Hill Park. Off Blue Hole Hill. Public but hard to find and very small. Castle Harbor. Sand and mud.

Grotto Bay. Off Blue Hole Hill, North Shore Road, in western Castle Harbor. Two small private beaches for guests of the Grotto Bay Beach Hotel and Tennis Club.

Mid Ocean Club. Probably the finest private beach in all Bermuda, for staying guests only. This property was one of those begun by the British shipping organization Furness Withy in the 1920s that really began Bermuda's climb in tourism. On a 640-acre estate in the most exclusive area of Bermuda, with numerous beautiful residences and 3 large private beach areas, unique features of which are natural arches, plus coves on the estate, accessible by a private road to the Tucker's Town peninsula usable only by Club members. With the world-famous Mid Ocean 18-hole private golf course.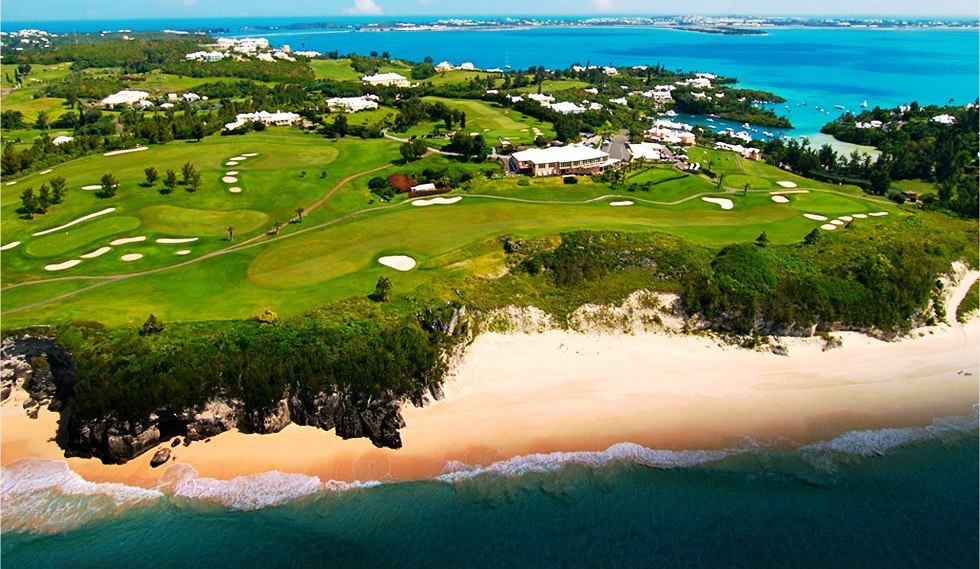 Mid Ocean. Photo: Bermuda Tourism

Shelly Bay. Off North Shore Road. Public. Very shallow water, even at high tide. Safe. Attractive. Named after Henry Shelly, one of the 1609 English colonists on the famous Sea Venture ship that foundered off Bermuda, commanded by the Founder of Bermuda, Admiral Sir George Somers. A safe and shallow beach at low tide for novice swimmers and children. A favorite of Bermudians in the clusters of homes nearby. With a beachside cafe, with changing and bathroom (toilet) facilities inside the cafe. Picnic facilities, parking and playground for children. With a nearby recreational park for organized sports such as soccer, once a racecourse. Bus routes 10 or 11. Not far from the Bermuda Aquarium, Museum and Zoo and Flatt's Village but not a walk recommended for those unused to walking on a very busy road, especially in the humid months of June through September.

Major's Bay. Harrington Sound. Private for local residents.

Sam Hall's Bay. South Shore, off South Road. Two small beaches, private for guests of the Pink Beach Club & Cottage Colony and residents of the area with beach rights.

Trott's Bay. South Shore, off South Road, south of Trott's Pond. Private for residents of the immediate area with beach access, and their house guests.

Trunk Island Beach. On Trunk Island, Harrington Sound. Private.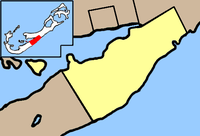 Paget Parish area

Coco Reef (formerly Stonington Beach). South Shore, off South Road. Private and absolutely superb for guests at the hotel of the same name. With potboiler reefs and their natural pools. The second-nearest South Shore beach to the City of Hamilton. Earlier (before and during the 1950s), before the hotel was built, this was Elba beach - named after the first exile of Napoleon - and public. Owned by Elbow Beach, nearest beach (further west). Access from the hotel higher up is via a set of stairs.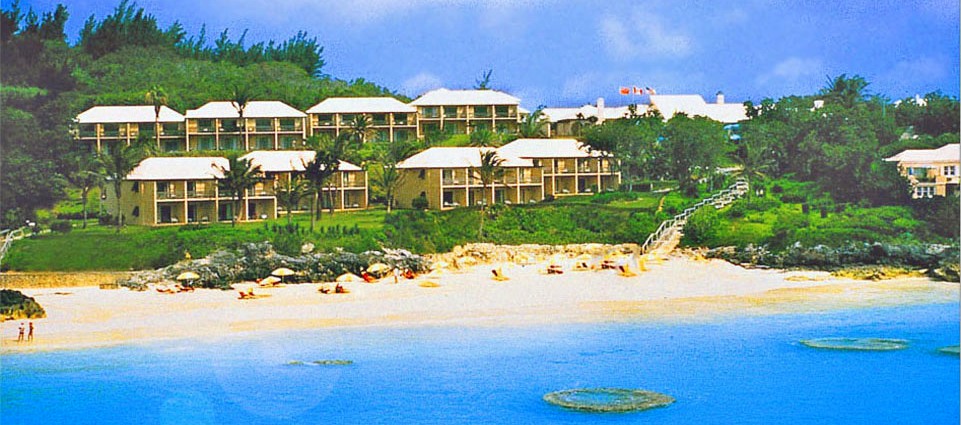 Coco Reef Beach and hotel

Coral Beach. South Shore, off South Road. Private and superb, for guests at the Coral Beach Club and its sister property, Horizons and Cottages. This beach is the most westerly part of the four-section area (the other three are Coco Reef Beach, Elbow Beach Private and Elbow Beach Public) of Elbow Bay. In fact, until the 1920s, before the creation of the original Coral Beach Club, this beach was part of the public part of Elbow Beach. The present Coral Beach and Tennis Club was created in 1948.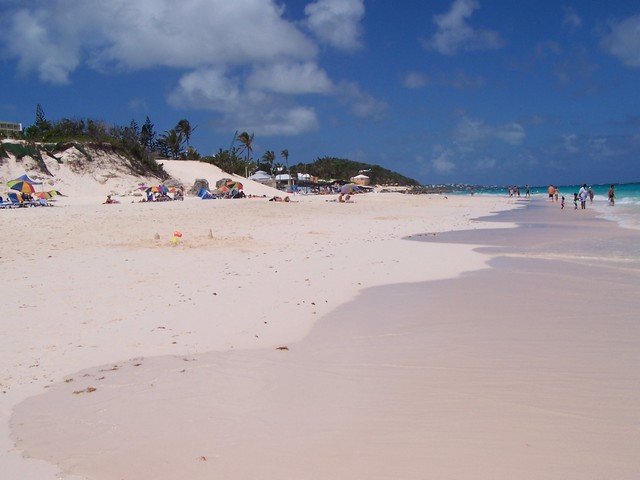 Coral Beach

Elbow Beach. Private. So-called as the beach has a gentle curve similar to a human elbow. Beach-front of up-market Elbow Beach Resort Hotel, one of the most expensive and luxurious places to stay in Bermuda. With luxurious facilities such as restaurants, bars and much more plus a concession with snorkel equipment, kayaks, sand chairs, beach umbrellas and more. There is a shipwreck about 100 yards offshore. Also with lovely gardens on the land side of the beach.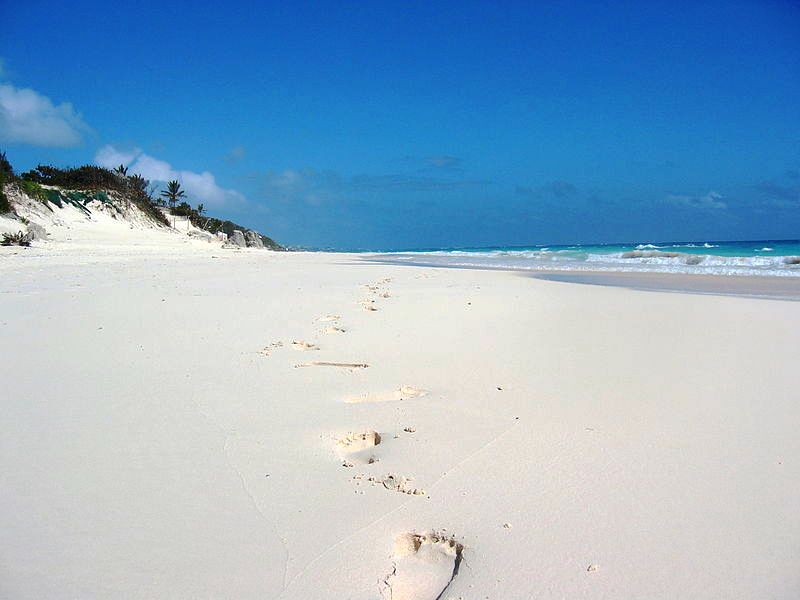 Elbow Beach, hotel part, Bermuda Tourism photo

Elbow Beach. Public. Off Tribe Road + 4, off South Road. Walk 500 yards or so or park. One of the closest public beaches to the City of Hamilton 2 miles away and its mid-size cruise ship visitors in port there from April through October. This section of the three-section beach is adjacent to and between the up-market Elbow Beach Resort Hotel and the exclusive Coral Beach Club. Basic bathrooms (toilets). In season, a lunch wagon provides fast food. Bus routes 2 or 7. (There is a bus stop nearby, on the South Road).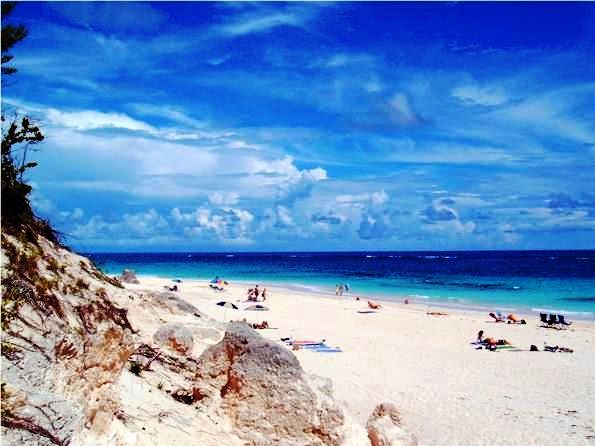 Elbow Beach public part, photo Bermuda Tourism

Grape Bay. South Shore, Paget, off South Road, a good mile before you get to Elbow Beach and closer to the City of Hamilton than the latter. Private and superb, arguably the best in Bermuda, for guests of the intimate Grape Bay Cottages, Grape Bay Beach Hotel (formerly White Sands Hotel) and local homeowners in this up-market area. The nearest (private) beach to the City of Hamilton. Unlike many other beaches, never crowded. It once had an earlier name, Crow Lane Bay. It is isolated by rocky stretches of coastline from Hungry Bay to the west and Coco Beach (formerly Elba, then Stonington) and Elbow Beach to the west. The newer name of this beach probably stems from the naturalized Bay Grape (Coccoloba ubifera) that once grew abundantly - and still does to some extent - on the land side of the beach. Bay Grape or Sea Grape is non-endemic, native. A spreading coastal tree growing to 30 feet. Common, growing wild or as a part of hedges. It has large round glossy green waxy leaves 4-8 inches wide with red veining. Female plants pollinated by male plants produce small, white flowers that become grape-like clusters of green fruit that matures to purple. The plant can be pruned to form a single-trunk specimen tree, or clipped into a hedge. When clipped into a screen, the plant makes an effective windbreak. Bay grape is also tolerant of salty conditions, and is often grown in a shrub form to stabilize land near the beach and prevent erosion. The grapes are edible, not pleasant raw and can be made into a superb and distinctively-tasting jelly and jam. In Bermuda, berries ripen from October to December. Considered to have been the main reason for the naming of this beach.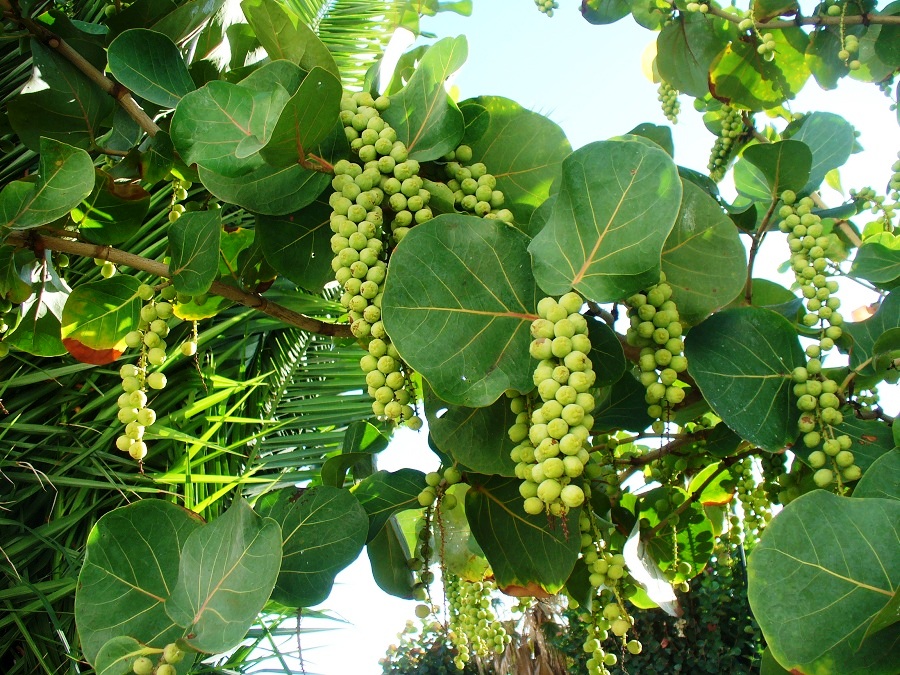 Bay Grape tree at Grape Bay Beach. 2009 Photo by this author exclusively for and copyrighted by Bermuda Online

Grape Bay beach

Hungry Bay. South Shore, off South Road. Private. The public wharf is still there but the small beach is private. Safe, sheltered, nice, small. At the sea end of the Tribe Road adjacent to the Peace Lutheran Church. At low tide there is also another small beach located across the bay, near the ruined Hungry Bay fort.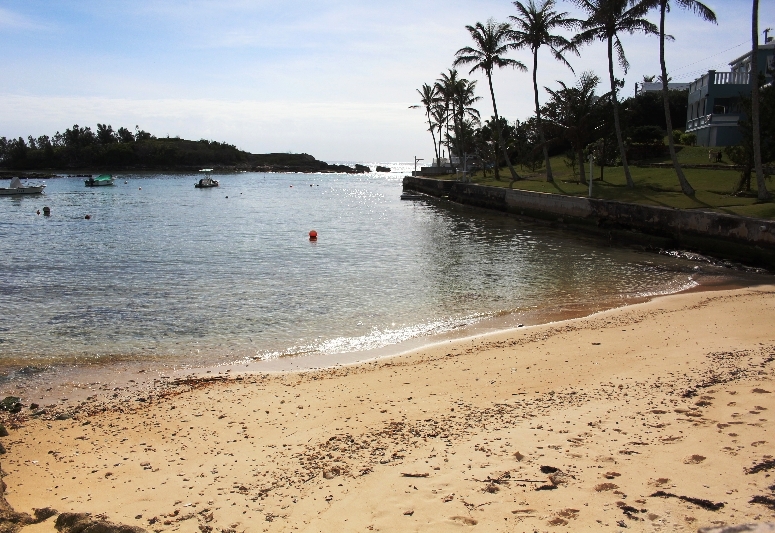 Hungry Bay beach

Vicker's Bay. South Shore, off South Road. Private. For local residents.

Beaches:
Pembroke Parish area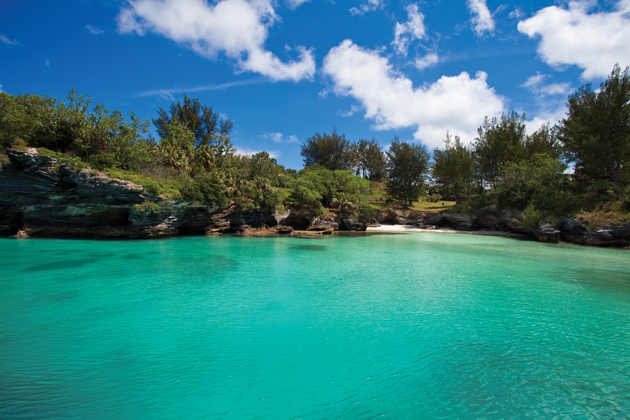 Clarence Cove

Clarence Cove (before that, Abbott's Bay). North Shore, Admiralty House Park, Spanish Point, Pembroke Parish. Public. Two small North Shore beaches, in an exquisite lagoon-like setting. In years gone by this author used to swim there regularly, often at night, with lady friends. Now, not for the disabled or faint-hearted as it involves a long hilly walk from ill-kempt Admiralty Cove Park (frequently misused by drug addicts), then a sharp right turn at the end. But hugely satisfying for those who persevere, an absolutely beautiful lagoon with a small sandy beach. The flora is lush, ocean views are stunning. On the beach is a fascinating memorial to Midshipman Charles Francillon from Britain's Royal Navy ship HMS Spartan who was murdered and buried there in the early 19th century while the UK was at war with the USA. Admiralty House - long-demolished - and its park was a Royal Navy Headquarters of the Atlantic fleet and it was from here that the British fleet sailed to attack and burn Washington DC in 1814.

Deep Bay. North Shore. Public. Off North Shore Road, east of Clarence Cove, just before the eastern part of Admiralty House Park, Spanish Point, below the Pembroke Community Club. Public. Hard to find, but worth it. Tranquil, attractive, safe swimming with caves nearby. Not for the disabled as it involves a steep walk and many steps. The steep steps and remote location are a deterrent to some. Completely unknown to most visitors but a popular beach for local residents. A nice beach, but known to have a few tricks. Many newcomers have placed their belongings on the beach before going swimming, only to look up later and see their belongings floating away. The beach disappears when the tide comes up. Often quiet and peaceful even when other beaches on the Island are busy..
Queen's Cove. Private. Small beach. A sheltered shore basin, attractive inlet on the south side of Mill Creek, named after a visit by Queen Elizabeth in the 1970s. There was once a nice hotel here, Sherwood Manor, later demolished to make way for a group of condominiums that became known by this name and for whose residents the beach is available.
Spanish Point Park. Stovell Bay. At the western end of Spanish Point. Public. Different. Again, off the tourists' beaten track. No facilities but nice views over to Dockyard.
White's Island Beach. Hamilton Harbour, north part of parish. Corporation of Hamilton and government, accessible with permission from these authorities.

Beaches: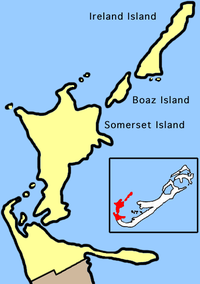 Sandys Parish
One of the best parishes for number of public beaches.
Black Bay. Beaches and Park. Off Malabar Road, Ireland Island. Three tiny beaches, only visible at low tide. Public. Pleasant, but not sheltered. An alternative to Snorkel Park, adjoins Sea Glass Beach just before the main entrance to the Dockyard. A scenic public area with several small public beaches more apparent when the tide is low, on the northern side of Malabar Road, Ireland Island South. Bus routes # 7 (Dockyard) and # 8 stop in the immediate area. The Black Bay Beach and Park concession provides another attraction for the thousands of Dockyard cruise passengers. Owned by entrepreneur Vic Ball, it offers seasonal snorkeling around the scenic chain of beaches, and rents hammocks, inflatables, chairs and umbrellas. Some food and drinks are also available.
Bottle Beach. Public. Also known as Sea Glass Beach. Ireland Island South, behind West End Development Corporation/government-owned Victoria and Albert Row and Princess Louise Terrace group of Royal Navy-built houses that once accommodated non-commissioned military Dockyard personnel. Public but rarely used. Noted for its sea glass which in 2012 and later was raided illegally by visiting cruise ship and other American tourists. It is illegal to take glass from this or any other Bermuda beach. The sign, posted by Bermuda's West End Development Company (Wedco), adds: "If you steal it you are depriving all those who come after you. Persons who choose to remove such items are liable for prosecution." The Historic Articles (Export Control) Act 1983 prohibits the exportation of historic artifacts — items more than 50 years old which carry national, historic, scientific or artistic importance — cannot be exported without a licence granted by the minister responsible.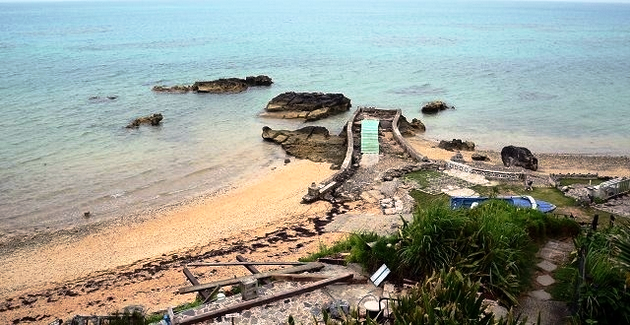 Callaghan Bay. Off Ratteray Lane off Somerset Road, Somerset Island. Public. Small. Nice.

Cambridge Beaches. King's Point. Four beaches, all private, for guests at the distinctive property of the same name. Lovely. Beaches include half-mile long private section of Somerset Long Bay Beach nearest to the hotel, with a long stretch of white sand; Morning Beach, with new pools, a waterfall and restaurant; Turtle Cove Beach and Pegem Beach.

Daniel's Head. Lovely, one public and 9 small private hotel-owned beaches, in this 17 acre area at 9 Beaches hotel with its huts in the ocean.

Hog Bay Beach. Public. Not for persons who are not agile. Takes a trek to find it, through rocky and wooded trails, past fields. Sneakers or walking shoes are recommended, near the beach especially. Near bus route #7. Part of government-owned 32-acre Hog Bay Park, no fee for admission. Park's open space starts from a roadside car park on Middle Road and goes towards the coast in the west. Low tide only, disappears at high tide. Virtually unknown by visitors compared to other beaches. Small but nice for swimming and snorkeling.

Mangrove Bay. Near Somerset Village. Two beaches, one public, the other one, closer to the former ferry dock, private.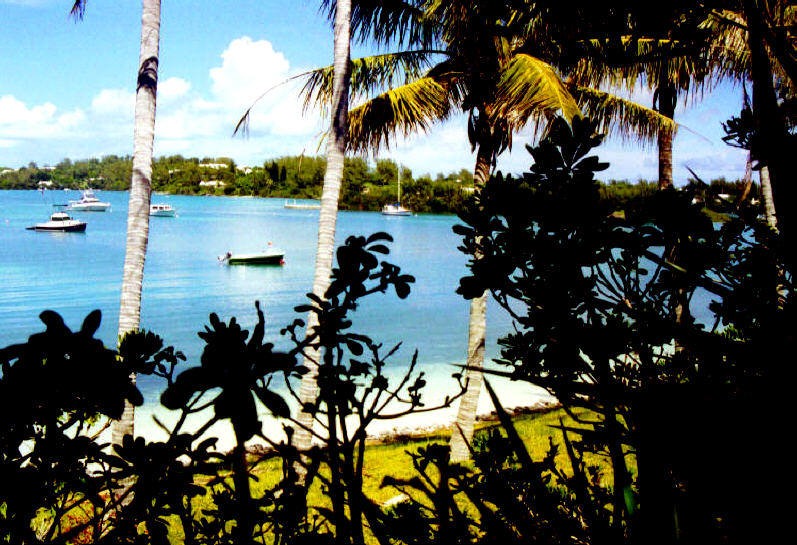 Mangrove Bay, by Keith A. Forbes

Parsons Bay. Craddock Road, Ireland Island. Public. Small, interesting, off the beaten track.

Seaglass Beach. Another name for Bottle Beach, Ireland Island, mentioned above. Public. Just before the main entrance to the Dockyard. Noted for its sea glass which in 2012 and later was raided illegally by visiting cruise ship and other American tourists. It is illegal to take glass from this or any other Bermuda beach. The sign, posted by Bermuda's West End Development Company (Wedco), adds: "If you steal it you are depriving all those who come after you. Persons who choose to remove such items are liable for prosecution." The Historic Articles (Export Control) Act 1983 prohibits the exportation of historic artifacts — items more than 50 years old which carry national, historic, scientific or artistic importance — cannot be exported without a licence granted by the minister responsible.

Snorkel Park. Dockyard. Public but with cover charge (admission fee) per person. Phone (441) 234-6989. One of the few in Bermuda with bathroom (toilet) facilities and restaurant. Near to Dockyard cruise ship berth, with a range of facilities such as rental of snorkel equipment, paddleboats, kayaks, sun umbrellas, lounge chairs, cabanas and activities. The most commercial and touristy of all Bermuda beaches and most expensive. The only publicly-owned beach with a cover charge. With underwater signs. Good place for cruise ship visitors on ships docking nearby for their 2-day Bermuda stay - they provide in 2011 the majority of all visitors to Bermuda by both air and sea, especially if they have teenagers with them - to snorkel or use an underwater scooter or jet ski, see many types of fish and corals, go marine exploring. With changing rooms, lockers. Hammerheads Bar and Grill restaurant is nearby. Near regular bus (about one hour) and ferry (20 minutes) less frequent daytime service to and from City of Hamilton. Fares from $4.50 per person each way.

Somerset Long Bay Beach. Long Bay Road. The public part of this private/public beach. Very photogenic. Shallow and tranquil waters.

Willowbank. Ely's Harbor. Two nice private beaches enjoyed by guests at Willowbank.
Wreck Hill. Ely's Harbor. Some gorgeous but only private beaches for residents of this exclusive area.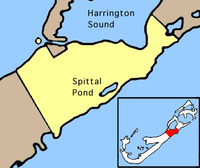 Smith's Parish

Canton Bay. South Shore, off South Road. Private for guests of the Pink Beach Club complex.

Captain William's Bay. South Shore, off South Road and A. P. Owen Road. Private for local residents.

Gibbet's Island Beaches. North Shore. Private but the public are allowed if they act responsibly. There are three small beaches here, shallow and very nice. The largest of these privately owned beaches has the alternative name of Police Beach, from the fact it has long been used for recreation and barbeques by the Bermuda Police Service and leased by it for that purpose. In June 2019 the Bermuda Government announced it may try to acquire the beach via a compulsory purchase order.

John Smith's Bay. South Shore, off South Road. Named after Captain John Smith, the famous 17th century British explorer who mapped Bermuda (which he referred to by the official first name of the Somer's Isles and much of Virginia, was instrumental in getting Princess Pocahontas to the UK and much more in both Bermuda's and Virginia's history. (How he sailed to and from Bermuda is still a mystery). Public. Only public beach in this parish. Very nice, especially at low tide. A personal favorite. Reefs are attractive, with care. Lifeguard on duty in summer. Soft drinks, snacks, fast food, etc. are often available from a licensed purveyor in a van on the premises. Basic bathrooms (toilets) available. Located between Pink Beach Club and Watch Hill Park, not far from Devil's Hole Aquarium. Popular with locals and tourists, families and youngsters, especially in summer. Can get noisy when groups gather with loud music. Parking for vehicles, grassy picnic area. Bus routes #1 which stops conveniently on the South Road nearby or #3 (which stops further away, at Devil's Hole). Don't be tempted to use bus routes #10 or #11 unless you are a good walker and used to heat and humidity and traffic noise for the 1+ mile walk. When the concrete ramp to the beach was built, it was assumed - wrongly - that people in wheelchairs could access. But it is far too steep. Out of sight of this view but to the left are more pink beaches, private, belonging to the appropriately-named up-market Pink Beach Club hotel.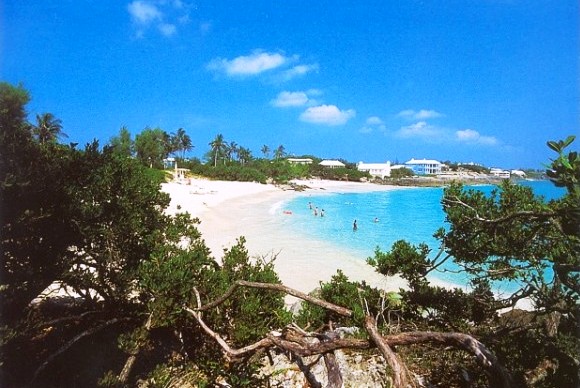 John Smith's Bay

The Loren (formerly Pink Beach Club) and Cottages beaches. Two, West Beach and East Beach as shown below. Lovely. Both private, part of the now-smaller boutique hotel owned by Canadian company Sardis Investments Ltd.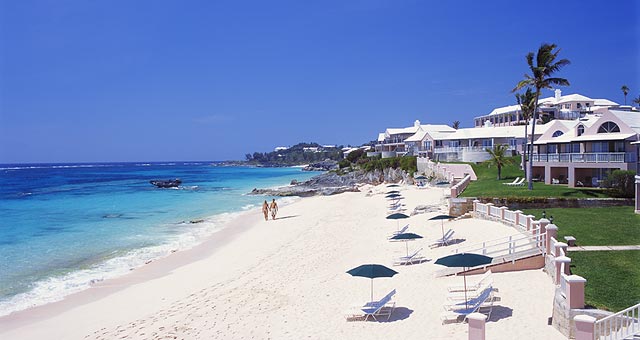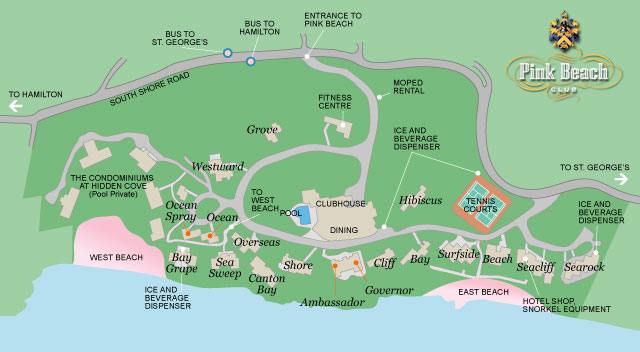 91 rooms. South Road, Smith's Parish. Closes November 2011 for update and major renovations for reopening spring 2012. Telephone 1 441 293 1666. Fax 1 441 293 8935. With its own two gorgeous small private pink sand beaches (see above graphic).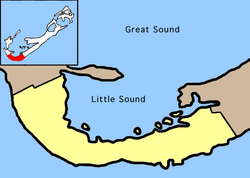 Southampton Parish

Boat Bay. South Shore, off South Road and Sinky Bay Road. Crescent shaped. Private.

Caroline Bay. Fronting the hotel by the same name, a Ritz Carlton Reserve Hotel. Private for hotel guests.

Chaplin Bay (the greater part). Another spectacular South Shore Park Beach situated mostly in this Parish but also partly on Warwick's western boundary adjacent to and east of Horseshoe Bay. Another favorite of Bermudians. Walking trail to Horseshoe Bay (less than one mile but may seem longer in Bermuda's June-September combination of heat and humidity) and other South Shore beaches. Bounded by cliffs on both sides. Bathrooms (toilets) but no other facilities (at Horseshoe Bay). Place for seasonal beach activities. Bus route 7. This beach almost disappears during storms and high tides, so should be sought only at low tide. The sea is not usually calm but fine for swimmers close to the shore. An unusual coral wall stretches above the water and across the beach, essentially splitting the beach in two. It gets the name not from the Charlie Chaplin family (which at one time did own some Bermuda real estate) but a much earlier person by that name. He was Edward Chaplin, Sr. He was a 20 year old colonist in 1635 aboard the ship Dorset. He later became prominent in island affairs, was a Lieutenant in the local militia and was one of those largely responsible in the 1650s for re-arming the island's British Army-built forts. As a reward he was given Share 24 of Warwick which included this bay which thereafter became (and is still known as) Chaplin Bay even though the family in Bermuda died out in the mid 1800s.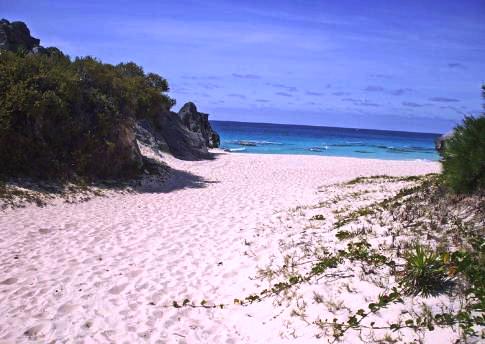 Chaplin Bay

Church Bay. South Shore, off South Road. Small but beautiful. Public. Gets deep quite suddenly. A Bermuda National Park, ocean- side with rest area. Good for sunbathing, snorkeling and other water sports, with boiler and other reefs, no corals. Bathrooms (toilets) nearby. Also with picnic tables and parking areas. Ruined British Army-built fort nearby. Bus route 7. A summertime favorite of locals because of its beauty, with an old fort on the premises including a '1612' date marker.
Church Bay beach. Photo: Bermuda Tourism

Cross Bay Beach. South Shore, off South Road. Private for guests at what used to be the Sonesta Beach then Wyndham resort hotel, now Part of the Hamilton Princess Hotel and Beach Resort. Very nice.

Horseshoe Bay (public, large (about 4 miles). superb. Horseshoe Road, off South Road and on bus route #7. Walk down the hill to the beach from the bus. With lifeguards on duty from May to September. Also a restaurant, changing facilities, bathrooms (toilets), parking. The best-known and one of the best Bermuda beaches. Every year it has a sand castle and sand creation competition. Best in early morning to avoid crowds. Wading pool, shallow waters for small children, good swimming and snorkeling for adults, swimmers should note swells. Many fish in waters. Beach chairs and snorkel equipment for rent. Also has nice walking trails with secluded coves nearby. Every August, with a Sand Sculpture Competition. Every Good Friday, an annual Bermuda Kite Festival is held here, with thousands of families and children participating in kite competition. Mostly locals plus some visitors bring Bermuda and other kites of all shapes, designs, sizes. Prizes are awarded by category.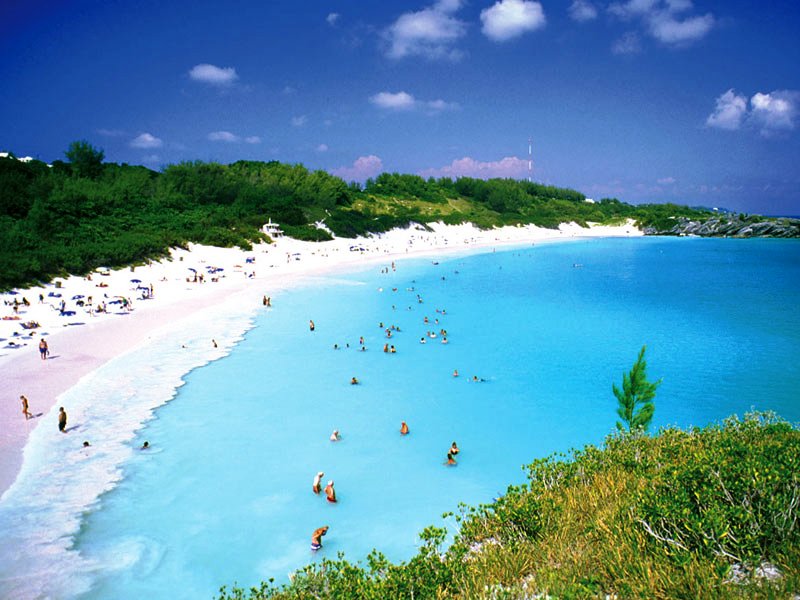 Photos above and below, Horseshoe Bay. Above : Bermuda Tourism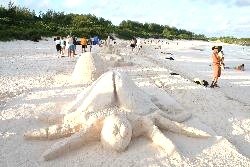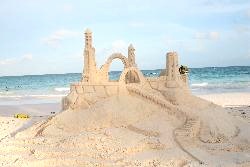 Munro Beach, part of Whitney Bay. Private, part of what used to be Munro Beach Cottages (closed since 2007) land. Exquisite small private and romantic beach.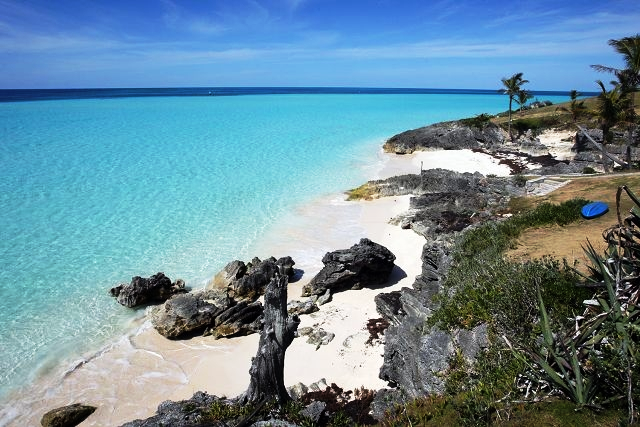 Munro Beach

Peel Bay. Next to Horseshoe Bay. South Shore, off South Road. Public. Small but superb.

Pompano Beach. At end of Pompano Beach Road, reached from Middle Road Pompano Lane is nearby. Located west of and not far from the Port Royal Golf Course, in an area once named the Overplus. Private. Spectacular reef swimming in beautiful waters for guests at exclusive Pompano Beach Club. All references to "Pompano" point to a tasty game fish, the Pompano (Trachinotus glaucos) common in or near Bermuda coastal waters in the summer months, especially in this area. These game fish put up a mighty fight before being caught. They are shiny white when hooked and are often almost invisible when viewed in strong sunlight against the sandy seabed of inshore waters.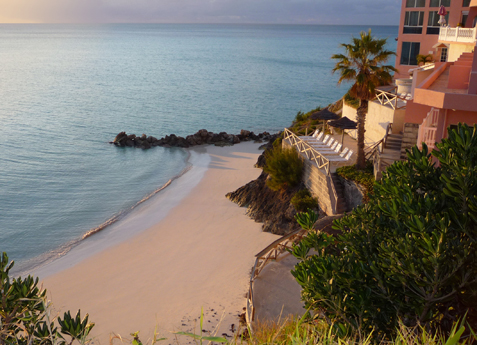 Pompano Beach.

Reefs, The (Christian Bay). South Shore, off South Road. Private for guests at this elegant small hotel.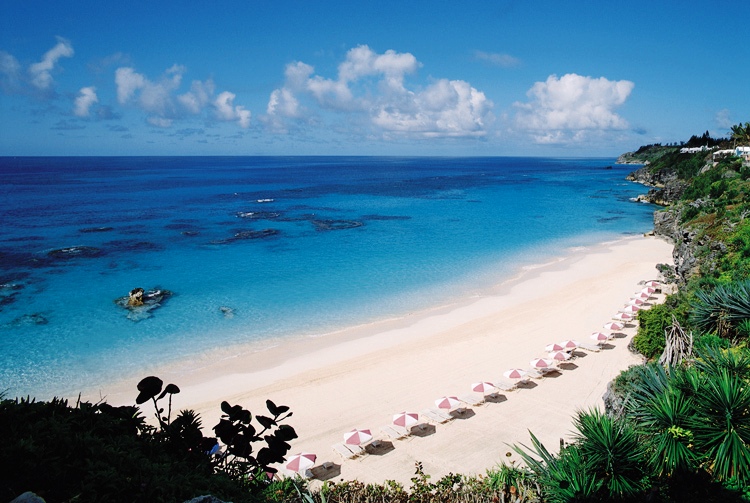 The Reefs beach. Photo: Bermuda Tourism

Sinky Bay. South Shore, Public. Nice.

Turtle Bay. South Shore, off South Road, west of Church Bay. Public. Very nice.

Whaler Inn Beach (East Whale Bay). South Shore, off South Road. The private beach and beach club for guests of the Fairmont Southampton Princess. Choice facilities. Very nice.

West Whale Bay. South Shore, end of Whale Bay Road, off Middle Road. Public. Very nice, small, good for snorkeling, picnics. Best at low tide, hardly visible at high tide. Nearby are British Army constructed Whale Bay Fort and Battery. Bathroom (toilet). Bus routes 7 and 8.

Beaches: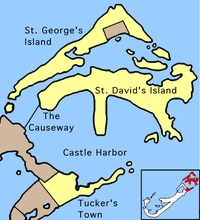 St. Georges Parish
One of the best parishes for number of public beaches.

Achilles Bay. Cut Road, St. George's, northeast of the town of St. George. Private, for guests of the St. George's Club. Nice, but not on a bus route. Close to St George's Town, Fort St. Catherine, restaurant and golf club. Picturesque, small, soft sand more white than pink, usually with calm, shallow blue waters rocky in places, not crowded. Good for snorkeling. A Bermuda National Park. Named as such by middle of the 18th century and shown on a map dated 1757. It is not known exactly why it is so named, but probably by a local legislator and definitely had nothing to do with the mythical Greek hero in Homer's Iliad. Beach towels, lounge chairs and umbrellas are available on this private beach. Scenes of land, sea and the ramparts of Fort St. Catherine are stupendous.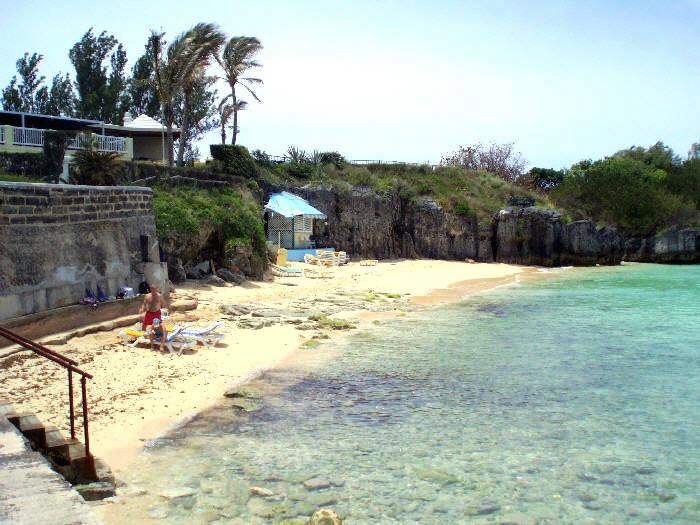 Achilles Bay beach. Photo: Bermuda Tourism

Alexandria Battery. Public. Small. Off the tourism beaten track, favored by nearby locals.

Buildings Bay. Barry Road, St. George's Parish. Public. Historic beach, known to be the place at where, when Admiral Sir George Somers and his colonists, en route to Virginia in 1609, were shipwrecked near here, this was where they came ashore, salvaged what they could from their "Sea Venture" ship and partly from that salvage and use of local Bermuda cedar, built smaller vessels to get them to Virginia, hence the name. Known to visitors as one of Bermuda's best "glass" beaches for the sea-glass often found in abundance there but not best for swimming with so many other beaches not far away.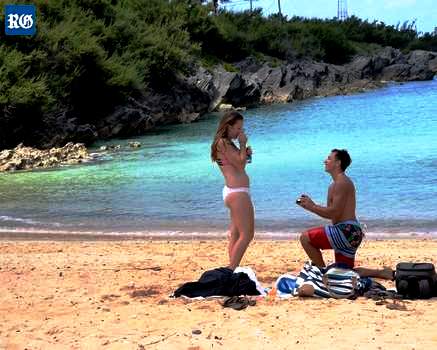 Building's Bay beach. See above article.

Clearwater Beach and Park, Cooper's Island, off St. David's Island, a 36 acre public park site and public beach. It was re-opened to the public on May 24, 1996 after 54 years as a US military reserve. It has pebbles in places, unlike most other Bermuda beaches. There are also nature trails, playground equipment and views of some outer islands reserved for wildlife. A scenic spot, with a basic beach restaurant. But there is no public bus service, accessible only to those who can get there by car or cycle or moped/scooter.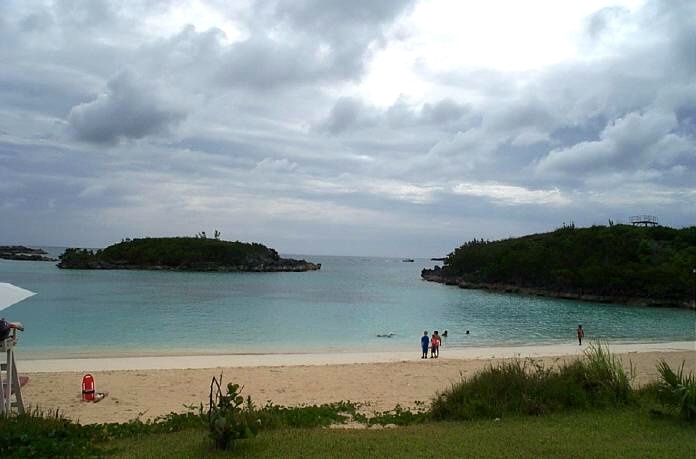 Clearwater Beach, photo by author

Long Bay

,

Soldier Bay

(Cooper's Island Nature Reserve, St. David's): Opened to the public only in 2008, this 44-acre peninsula, once the site of a NASA tracking station, offers a plethora of gorgeous, off-the-beaten-track beaches, facing both Castle Harbor and South Shore and bordered by bird sanctuaries. But there is no public bus service, accessible only to those who can get there by car or cycle or moped/scooter.

Fort St. Catherine Beach. Public, originally private when the nearby former hotel facility, now demolished and replaced in 2017/2018 by a new one, was in operation. Northeast of the town of St. George. Very nice, with Fort St. Catherine dominating the skyline behind the beach. Has a beach bar.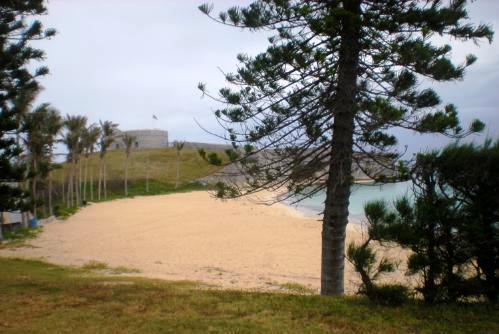 Howard Bay. South Shore, at the end of Tucker's Town Road, St. George's Parish, near Frick's Point Fort. Superb. Private, for area residents only of this "millionaires' row" part of Bermuda. Non-members of Mid Ocean Club cannot access this lovely beach, completely deserted. No public bus service, accessible only to area residents who can get there by car or cycle or moped/scooter.
Howard Bay
Mullet Bay. Off Mullet Bay Road, Mullet Bay. Man-made, public, a small beach not as good as some others less than three miles away, but adequate. Part of Mullet Bay Park.

Natural Arches. South Shore, south of Mid Ocean Club, Tucker's Town. In two sections. Both are private, for Mid Ocean Club members and guests only, spectacular and with unusual rock formations. Non-members of Mid Ocean Club cannot enter.
Nonsuch Bay. On Nonsuch Island, a private Government nature reserve. Landings on this island are prohibited without special permission, which makes this nice beach virtually inaccessible to most people.

Paget Island. Accessible to the public by water only, only up to the high water mark. Restricted access by special organized and pre-approved means only, no regular boat, no ferry. Gorgeous, out-of-the-way small beaches, available only to those who venture on to Paget Island to see Paget Island Fort or on some other organized expedition.

Rosewood Tucker's Point Beach Club Beach. Tucker's Town. Former Castle Harbor Hotel beach. Private for guests only of the Rosewood Tucker's Point Club. Stunning, one of the very best in Bermuda and the largest private beach in Bermuda.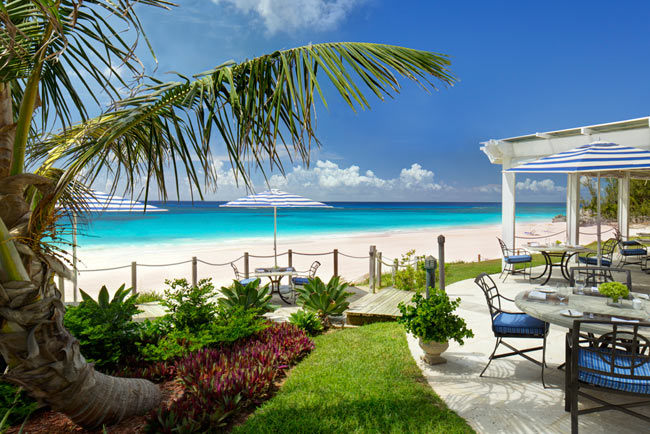 Rosewood Tucker's Point Beach Club

Surf Bay. South Shore, off Tucker's Town Road, Tucker's Town, before you reach Howard Bay Exquisite. Private, for area residents only. Non-members of Mid Ocean Club cannot access this gorgeous beach, almost completely deserted.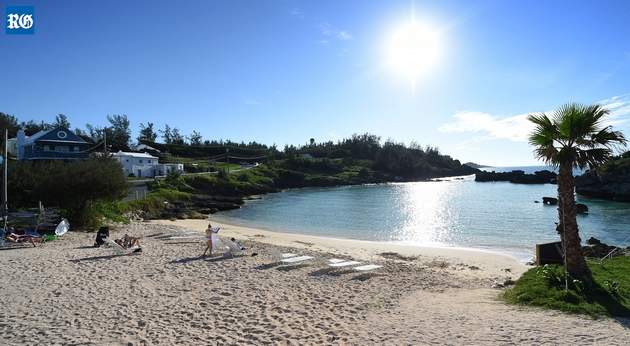 Tobacco Bay

Tobacco Bay. North of the town of St. George, at Coot Pond Road. Public. Very nice, with several beach areas. Has a beach bar. One of the most popular beaches among visitors - from cruise ships especially. Buses (1,3, 10 and 11) don't go all the way here, just part way, as as as the Town of St. George. Unless you are used to quite steep walking for 20 minutes in the combination of summer-time heat and humidity, take a optional minibus from the town center. Snorkel rentals. Public facilities bathrooms (toilets), changing rooms, showers, beach bar. So-called as tobacco was once grown near here. Also the place from where, in Bermuda's infamous Gunpowder Plot, British Army gunpowder was stolen by pro-American Bermudian zealots from the town garrison at the outbreak of the US War of Independence, rolled down the hill in barrels to the beach. Offshore, the newly-formed US Navy was waiting with a fast frigate and US Marines, in their first-ever enemy action, seized the barrels and got them onto the ship before the British militia could take any effective action. Deep water occurs suddenly near the shallows. There's a much-photographed Bermuda Moongate (see Bermuda Traditions) here.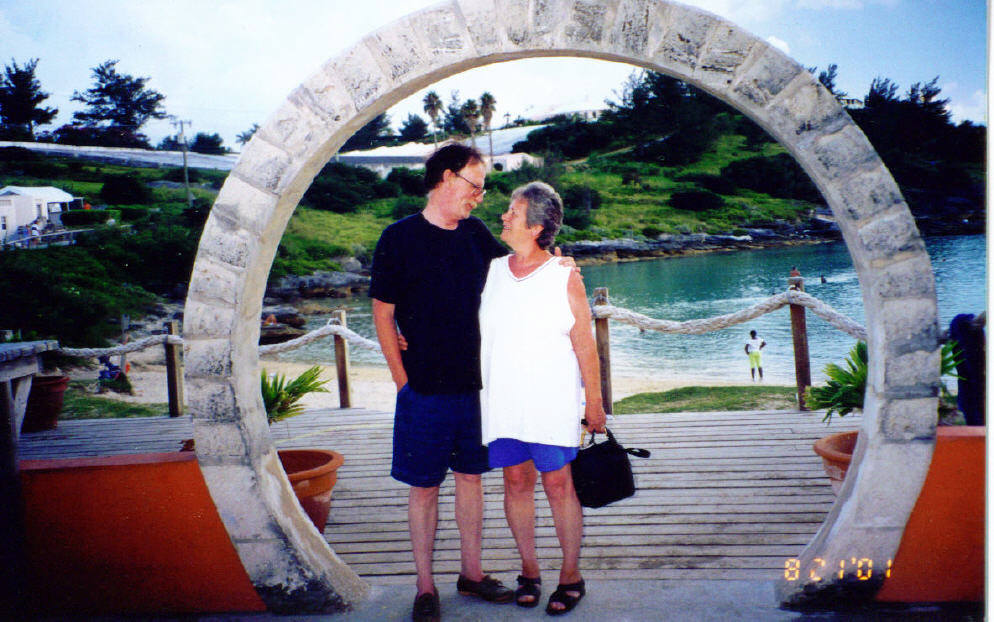 Jim & Edna Rhilinger of Maine enjoying Tobacco Bay with it's distinctive Bermuda Moongate. Photo by the author.

Turtle (Bay) Beach, Cooper's Island, St. David's. Public but remote. Adjacent to Clearwater Beach. No public bus service, accessible only to those who can get there by car or cycle or moped/scooter.

Whalebone Bay, tip of Ferry Reach. Public beach, little used by most locals or tourists. A sandy cove next to a park. So-named most likely after the presence here many years ago of all or part of a whale carcass.

Windsor Beach. Tucker's Town. Private, for Mid Ocean Club members only. Non-members of Mid Ocean Club cannot enter. Outstanding but no facilities.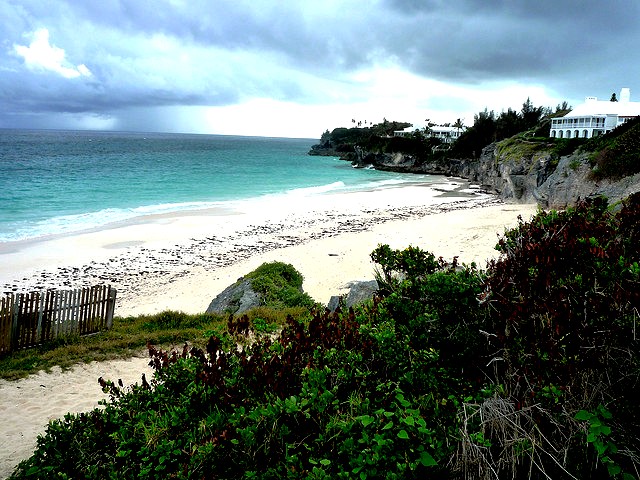 Windsor Beach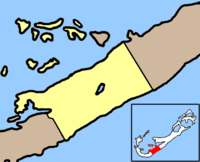 Warwick Parish

Astwood Cove. South Shore, off South Road. Public. A beautiful beach. Secluded. Requires a steep winding trail walk from the park above the cove. No life guards or beach concessions but with picnic tables, bathrooms (toilets), parking and nature trails. Not a beach usually favored by cruise-ship visitors on limited time-stays. Pity, as it is very nice. Cliffs near the beach are the home of Bermuda "Longtails" - once, in the heady days of mass tourism by air the name given by Bermudian men single and married to female American tourists - but more correctly white-tailed tropic birds. Users who are not strong swimmers should note big rocks in the ocean here. Bus route 7.

Azure Beach. South Shore, off South Road. Small. Private for guests of Azure Hotel (formerly Surfside) only.

Chaplin Bay (part). Also see Southampton Parish for a fuller description. South Shore, off South Road. Public. Excellent. An extension of Warwick Long Bay.

Bermudiana Hotel Beach (once Bermudiana Beach Club, between Surf Side and Marley Beach), private and public to residents in and near the Bermuda Government/Bermuda Housing Corporation-built condominiums and planned new hotel. Lovely.
Hawkins Island. On the eastern side of Hawkins Island, Great Sound. Private. Accessible via party boat.

Jobson's Cove and Point. South Shore, off South Road. Public. Beach and inlet. An extension of Warwick Long Bay. Named after 17th-century owner, the colonist and planter William Jobson who died in the parish in 1688. The beach and inlet were purchased by him in 1644 from a William Page. Very attractive and secluded. Another great favorite among Bermudians. Great for a picnic, swimming and snorkeling. Rock (cliffs) encircled, thus separated from the sea. Suggestion, take Bus 7 to Warwick Long Bay, adjacent, separated from this beach by a massive area of rock then walk on the trail. Sandy trails cross the dunes and are often used by horse riders. Calm and shallow clear waters for some distance at low tide. No bathrooms (toilets) but available at Warwick Long Bay.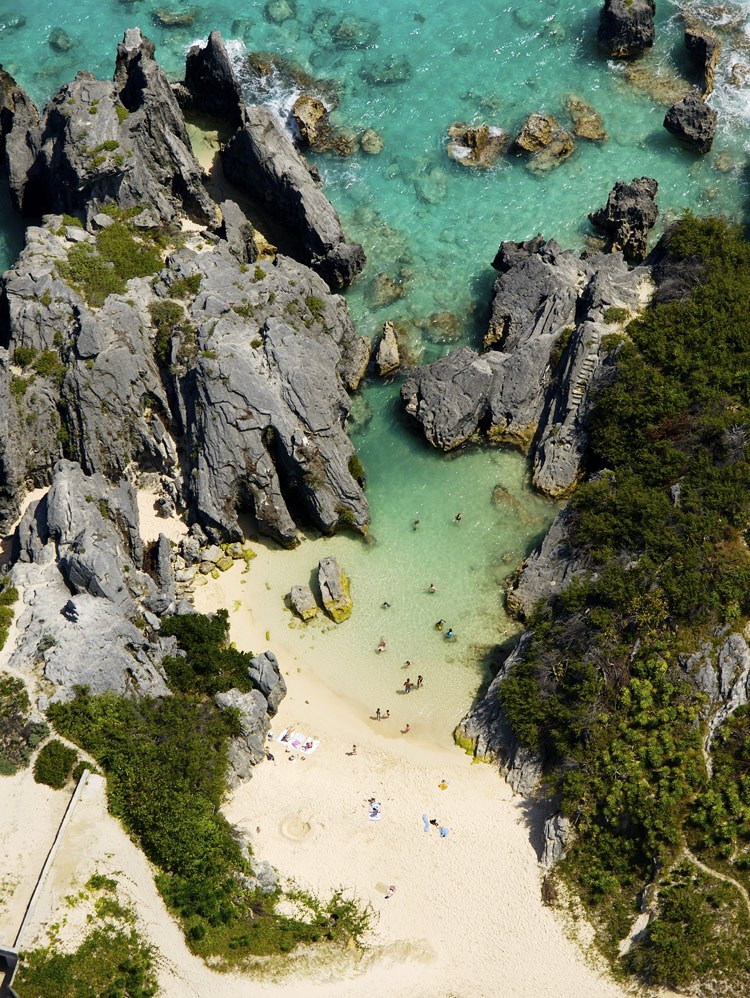 Jobson's Cove: Photo: Bermuda Tourism

Marley Beach. South Shore, off South Road. Private for guests. Nice.

Mermaid Beach. South Shore, off South Road. Private, for nearby residents. Very attractive. East of Warwick Long Bay and contiguous.

Southlands. Public, was private, now public. Lovely. Now the site of a new National Park. Part of an historic estate.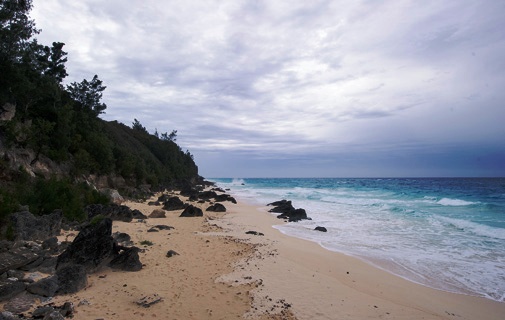 Stonehole Bay. South Shore, off South Road. Public. It is located between Chaplin Bay and Jobson's Cove, at the extreme western end of this parish. Small, but gorgeous at low tide, hardly visible at high tide so be prepared to visit only at low tide. You will then be rewarded by this lovely setting with fewer visitors. It is one of the prettiest of all Bermuda's South Shore coves. Be aware of rip tides and cloudy waters near the coral reefs that can make good snorkeling uncertain. A personal favorite. There's an unusual history of this serene site. The unusual name is so-called because of a gaping hole in a cliff-top coral formation that gives the stunning natural stone frame view of the beach. Not surprisingly, given that directly north of it on the land side of the South Road is the former British Army's Warwick Camp (later taken over by the Bermuda Regiment), for many years it was a favorite haunt of British Army regiments once quartered there in whole or in part. They originated what later became known as Stonehole Stew, to commemorate the beach. This unique original British Army in Bermuda stew was a culinary mix of locally grown pumpkins, white or red, local sweet potatoes, onions and salted imported beef cooked on camp fires in a three-legged iron pot.
Photo: Bermuda Tourism

Warwick Long Bay. South Shore, off South Road, approached from the west end of the beach. Bus route 7. Public. Superb. Personal No 1 favorite among many Bermudians (not Bermudans) both on it's own merits and because they usually escape here the mass influx of cruise ship visitors who instead flock to Horseshoe Bay beach further west. One of Bermuda's longest, a half mile of pink sand and gorgeous sea and land views. Beach has numerous little coves and rocks. Great snorkeling. Bathrooms (toilets). Fabulous picnic area.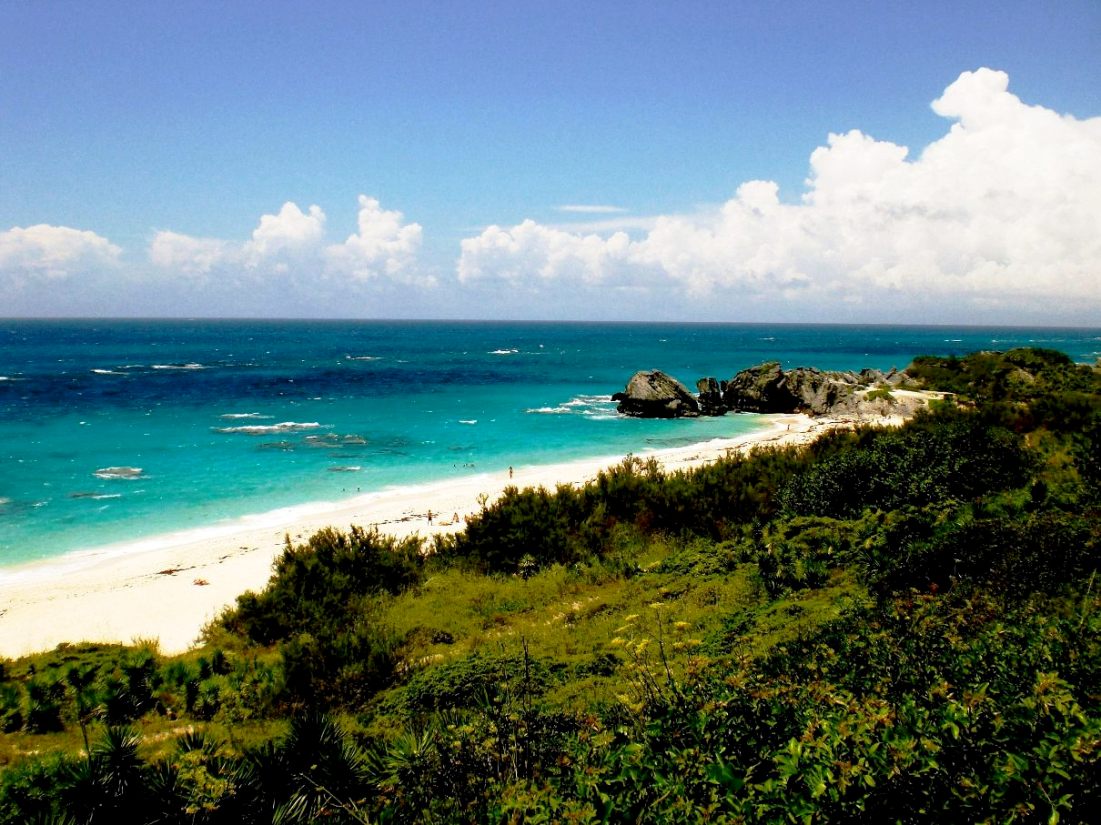 Warwick Long Bay. Photo: Bermuda Tourism



Authored, researched, compiled and website-managed by Keith A. Forbes.
Multi-national © 2020. All Rights Reserved