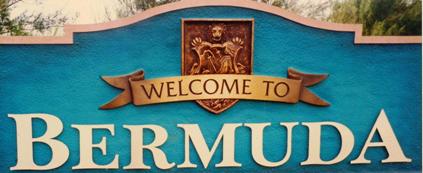 125+ web files in a constantly updated Gazetteer on Bermuda's accommodation, activities, airlines, apartments, areas, art, artists, attractions, airport, aviation pioneers, banks, banking, beaches, Bermuda as an international business centre, Bermuda citizenship by Status, Bermuda-incorporated international businesses, books and publications, Bermuda Customs Duties and taxes, British Army, calypso, Canadian military, causeway, charities, churches, City and Corporation of Hamilton, commerce, community, cruise ships, culture, cuisine, customs, Devonshire Parish, disability accessibility, districts, Dockyard, economy, education and universities abroad, employers, employment, entertainment, environment, executorships and estates, fauna, ferries, flora, food, forts, gardens, geography, getting around, golf, government, guest houses, Hamilton Parish, history, homes, housing, hotels, internet access, islands, laws, legal system, legislators, local businesses and organizations, location, media, motor vehicles, music, municipalities, open spaces, organizations, Paget Parish, parishes, parks, Pembroke Parish, politics and political administration, postage stamps, public holidays, public transport, railway trail, religions, Royal Navy, Sandy's Parish, St. David's, St. George's Parish, shopping, Smith's Parish, Somerset village, Southampton Parish, Spanish Point, Spittal Pond, sports, stores, telecommunications, time zone, transportation, Town and Corporation of St. George, traditions, tourism, United States armed forces, vacation planning, villages, vital statistics, water sports, weather, Warwick Parish, wildlife, work permits, etc. For tourists, business visitors, employers, employees, newcomers, researchers, retirees, scholars.

Bermuda's many Insurance advantages
Offshore policies can have major benefits to clients and beneficiaries

By Keith Archibald Forbes (see About Us) at e-mail exclusively for Bermuda Online
To refer by email to this particular file, please use "bermuda-online.org/insuranceadvantages" as your Subject.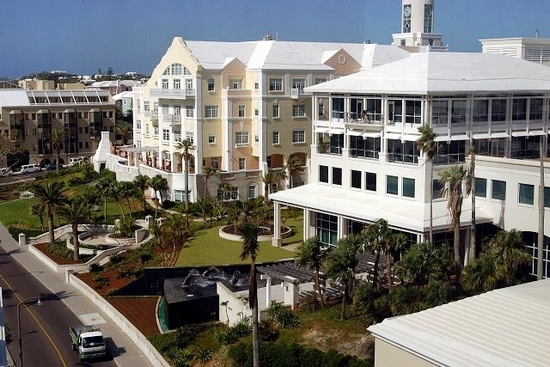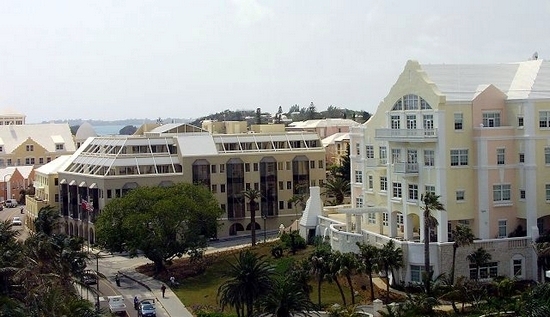 Bermuda-based international insurers, Bermuda Royal Gazette newspaper photos
How the local Bermuda Insurance industry began, timeline
1784. The Bermuda Marine Assurance Company issued its first policy to cover a shipment of cargo from Bermuda to Philadelphia. (But went out of business by 1811). As the trade between Bermuda and North America expanded, British insurance companies were encouraged to appoint and support general agents in Bermuda.
1903, a group of Bermudians formed Bermuda Fire and Marine Insurance Company for the sole purpose of insuring fire and marine risks within Bermuda.
1947. Not until after the Second World War was the next insurance company started, Kitson Insurance.
1950. Argus Insurance was established through a need for medical insurance and formed the Somers Isles Insurance Company.
1958. Colonial Insurance Company was founded, developed from The Gibbons Company car dealership. Directors deemed it logical and profitable to insure the cars they sold.
1962. The international insurance sector in Bermuda began when the idea of captive insurance companies was born. Up until that time the overseas insurance industry controlled the terms, conditions and rates of the global insurance marketplace. Large companies like Coca Cola realized that if they formed their very own insurance company, they not only knew what their risks were, but could also keep and invest their own premiums (cash) and keep it in their own companies if they did not have any claims within the year. The person who invented captive insurance was Fred Reiss, who happened to meet two Bermudian businessmen overseas and they suggested he bring his idea to Bermuda. Fred Reiss is credited with coining the term "captive" when he formed a management company in Bermuda, International Risk Management Limited ("IRM"). From that single idea captive insurance became the bedrock of the Bermuda international insurance industry. With the help and support of individuals in the local banking, accounting and legal professions, Reiss persuaded many of his corporate clients to form captives, to free themselves from an insurance market which was perceived to be unresponsive to their needs. Reiss showed his clients how to use the captive mechanism to capture some of the profits from their insurance expenditures. By domiciling the captive in Bermuda, those profits could accumulate free of income tax and, therefore, accelerate the growth of capital in the company. Over time, the captive would be able to retain a larger share of its parent's risk and, through prudent use of reinsurance, create flexibility and stability in the insurance-buying process in what was a cyclical business. Understandably, this concept was not popular with either traditional insurers or brokers, who viewed it as a movement which would cut them out of a significant portion of business. Consequently, Reiss found it difficult to get broad acceptance of his ideas. The slow rate of captive development continued throughout much of the decade until, disturbed by instability in the Bahamas, several oil companies decided to move their captives to Bermuda. These large multinational corporations were clients of America's multinational insurance organizations, the most prominent of which were AIG, INA and AFIA. The latter two were later merged into CIGNA, whose general business was, itself, recently merged into ACE. Through their networks of agencies around the world, they provided facilities to allow the captives to reinsure their parent-related business and even provided management services to some of the captives.
1978. As the insurance industry started to grow, Bermudians realized that it needed to be regulated properly and in 1978 the Insurance Act was passed by Parliament. Following this, the Insurance Advisory Committee (IAC) was established, made up of people representing insurance companies, legal firms and Government regulatory agencies such as the Bermuda Monetary Authority.
1985. ACE was formed by a group of 34 US companies to provide third-party liability coverage to protect them against the risk of lawsuits. They were unable to buy this type of coverage elsewhere because of the very large awards being handed out by the US legal system - people slipping on supermarket floors; suing fast-food restaurants for their coffee being too hot, etc.
1986. XL Capital was formed, based on the same principles as ACE. This was the beginning of the next stage of Bermuda's development as an insurance centre.
1990's. Bermuda-based international insurance and Bermudian insurance companies found that there were not enough insurance companies to insure everything they wanted risk coverage for, so once again Bermuda provided the infrastructure necessary to allow new property catastrophe reinsurance companies to form. Mid Ocean Reinsurance was the first property catastrophe reinsurance company formed in response to this severe lack of capacity. Bermuda authorities knew that with the increasing amount of insurance and reinsurance capital on the Island, there needed to be strong rules for conducting business, so the IAC continued to update the Bermuda laws.
From 2000. The Bermuda insurance marketplace began to build a reputation for being innovative. Therefore, whenever companies or clients were in search of solutions to their problems, they came to Bermuda. The increasing number of global insurance and reinsurance companies with a head office in Bermuda continued to cement the Island as a major insurance hub.
2007. March 27. It was reported Bermuda has lost out to the likes of Guernsey and Ireland when it comes to attracting captives linked to UK companies. A survey showed Bermuda's share of the UK-generated captive market declined from 19 percent to 15 percent, while Guernsey and Ireland increased their share of the market significantly. The reason for the changing fortunes appears to be down to the ability to secure the same benefits in offshore jurisdictions much closer to mainland UK. Also, Malta is expected to increase its number of captive formations as it benefits from its membership of the European Union. The report on the growing popularity of captives with UK companies surveyed 94 of 350 identifiable captives owned by UK companies. In the 11-year period used for comparison Guernsey's share of the market increased from 42 percent to 50 percent and the Republic of Ireland's from two percent to eight, by contrast Bermuda's decreased by four percent, the Isle of Man's share dropped from 31 to 21 percent and Jersey and Gibraltar remained on one percent. The two other significant jurisdictions of Vermont and Cayman both dropped from two percent to one percent in the survey.
2007. July 20. Bermuda's leading role in providing reinsurance cover to the USA was underlined by the latest-to-date report from the Washington DC-based Reinsurance Association of America (RAA). It reported the US ceded $54.7 billion in premiums to offshore reinsurers in 2006 and ceded recoverables of $114.2bn. The largest markets for unaffiliated premiums ceded and recoverables due were Bermuda, the United Kingdom and Ireland, Germany, Cayman Islands, Switzerland and Barbados. One concern raised by the RAA was the possibility that US companies may be at risk because of offshore reinsurance deals. "It is especially important in light of the current public policy debate regarding the reduction in collateral requirements for unlicensed, unauthorized reinsurers that are not subject to US regulatory and solvency requirements," states the RAA. "The outcome of this policy debate could have significant implications to the solvency of US companies, as reinsurance recoverable from offshore companies continue to increase." The RAA prepared a comprehensive report, entitled the Offshore Reinsurance in the US Market: 2006 Data, which tracks trends in the buying of reinsurance as it impacts the US and aims to provide policymakers and the public with data and analysis about the US reinsurance market. Figures show there has been a 11.9 percent decrease in the level of premiums ceded from the US to offshore reinsurers between 2005 and 2006, and a 7.8 percent decline in recoverables. "Offshore companies' share of US unaffiliated reinsurance premium increased to 53.1 percent from 51.8 percent, while the market share of offshore companies and US subsidiaries of offshore companies decreased to 84.5 percent of US unaffiliated reinsurance premium from 85.4 percent," said the RAA. The organisation notes that total US premiums ceded to affiliated offshore reinsurers decreased by 16.3 percent to $32.5m while net recoverables due from affiliated offshore reinsurers increased 2.8 percent to $70.8bn. The RAA warns: "Data suggests the current US regulatory environment and 100 percent collateral requirements for unauthorized reinsurers is not a significant barrier for offshore companies as they account for more than half of the US unaffiliated reinsurance market. "An offshore company can participate in the US market by becoming licensed in the states in which it does business, by establishing a US affiliate licensed in the states in which it does business or by posting collateral in the US. In 2006, offshore companies and US subsidiaries of offshore companies accounted for 84.5 percent of the US reinsurance market."
2007. October. The capitalization of Bermuda's reinsurance industry rose more than 20 percent to reach $129 billion by the end of the third quarter of 2007. That was greater than the 2006 gross domestic product of many countries, including Pakistan and New Zealand and oil-producing Nigeria, according to International Monetary Fund (IMF) figures. In 2007 lack of catastrophes enabled the Island's reinsurers to pay out less in claims and retain more of their earnings. Reinsurers managed to return $9.4 billion to shareholders in 2007, a 200 percent increase over 2006. In addition, more than $2 billion in share repurchases were executed. Reinsurance rates for January contract renewals had fallen by nine percent world-wide, driven by excess supply and fuelled by a combination of strong profits and low losses.
2008. Early. The face of insurance company regulation in Bermuda changed after Government passed the Insurance Amendment Bill in the House of Assembly. The new bill made a number of changes to the Insurance Act 1978, allowing the Bermuda Monetary Authority (BMA) to prescribe standards for an enhanced capital requirement and a capital and solvency return for insurers to comply with, and making new provisions for classes of insurance companies and Special Purpose Insurers (SPIs). It also allowed for the provision of additional financial statements prepared in accordance with Generally Accepted Accounting Principles (GAAP) by Class 4 insurers. The changes came about through a consultation and from International Monetary Fund Offshore Assessment recommendations carried out in 2003 and published in January 2005 to evaluate the regulation of the banking, insurance and securities sectors on the Island and review the financial services legislation and identify steps to be taken to improve the country's regulatory framework. The amendments will further enhance Bermuda's regulatory framework and ensure that it keeps up with the evolving international standards. The amendment to GAAP reporting for Class 4 insurers would be extended by the BMA to Class 3 commercial sector insurance companies after a recategorisation of the Class 3 section had been completed as per the timeline set out in the Authority's 2009 Business Plan. The recategorisation of Class 3 insurers, meanwhile, will separate the captive and commercial insurance firms, redefining the Class 3 sector and forming two new sub-classes, namely Class 3A and 3B to allow the BMA to supervise and regulate each range and type of insurer consistently.
2008. April. Bermuda's insurance industry was worth a staggering $6.8 million per person, if its total aggregated assets of $440 billion were distributed among the Island's population of 64,000. The report by the Bermuda Monetary Authority (BMA) reveals that the Island's insurance sector was in good shape despite a softening global market after boosting its aggregate total assets by 33 percent, while increasing its gross premiums written to the tune of more than $15 billion. The BMA's findings show that the Island's insurers reported aggregate total assets of $440.4 billion over the past year, compared to $329.9 billion the previous year. Gross premiums written totaled $115.8 billion for the year, surpassing the $100.7 billion written the prior year. Of these amounts, captives accounted for $72 billion in total assets and almost $22 billion in gross premiums written. A total of 71 new insurance and reinsurance companies were established in the Bermuda market during 2007, compared to 82 in 2006, the BMA reported. The fall in registrations reflected the generally softer market conditions globally, which saw a slowing of captive incorporations. In such conditions, companies typically are able to purchase reinsurance coverage at competitive rates in the traditional commercial markets. According to the BMA, the majority of the new Bermuda market entrants for 2007 were once again Class 3 insurers, a combination of captive and commercial companies. With respect to the commercial sector, 2007 saw the formation of two Class 4 companies. This reflected the general inactivity in the property and casualty market, and the relative lack of major catastrophic events during the year, resulting in the likely record profitability of existing insurers and a sufficiency of global capital in the property/casualty sector.
2011. There were 504 Class 3 companies with total capital and surplus of more than $66.7 billion at year-end, with the firms writing more than $42 billion in gross premiums and representing about 34 percent of the total number of active insurance companies in the jurisdiction. In terms of SPIs, Bermuda Premier and Minister of Finance Ms Paula Cox recommended that an SPI's minimum share capital be set at $1, the margin of solvency requirement will require that the asset of an SPI exceed its liabilities, an SPI will only be permitted to write 'special purpose business', and will be allowed to fund its insurance liabilities through a debt issuance or some other form of financing approved by the Authority. Furthermore, she added that a recent study published by Swiss Re indicated that the Insurance Linked Securities market was worth $38 billion in 2007 and is projected to grow to $200 billion in 2013 and $600 billion in 2017.
2012. The challenge for the Authority is to strike the right balance between maintaining an effective regulatory framework that meets relevant international standards and ensures high standards of behaviour, while fostering an environment that remains attractive to business and enables them to grow and develop successfully. Bermuda remains the leading single top offshore risk financing center. Many Lloyds of London insurers and reinsurers have re-domiciled from London to Bermuda. More than 13 of the world's top 40 reinsurers are based in Bermuda, and Bermuda is the fourth largest reinsurance market in the world after Germany, the US and Switzerland. Bermuda-based reinsurers' total net written reinsurance premiums exceeds those of London-based reinsurers.
Today Bermuda remains by far the largest centre for captive insurance in the world with over 1,200 captive insurance companies, managed by more than 40 captive management companies. The committee members meet every week and over the years have made sure that Bermuda's insurance regulation continues to be well-designed to make it easy to create companies, while at the same time having strict controls to ensure companies have more than enough money in reserve to cover all claims.
Please note the following:
All Bermuda-based insurance companies shown below are incorporated with limited liability. They all have "Ltd" in their official corporate name. Purely to save space, the author avoids showing "Ltd" in each and every case.

No UK laws apply in Bermuda to Bermuda-registered companies. There is no equivalent to the UK's Companies House. To research any particular company, or any not shown below, ask the Registrar of Companies or the Bermuda Monetary Authority (BMA), both of the Bermuda Government, under whose jurisdiction they fall. Please do NOT ask this author.
Bermuda companies can incorporate and set up shop quickly. Advantages do not include no income taxes (because there is an income tax, called a Payroll Tax, payable by employers and employees, based on employment income) but there are few restrictions as to how Bermuda companies can invest their assets and deploy capital, not to mention the island's close proximity to the largest insurance market in the world, the USA. They are presently free to accept contingent commissions, which are payments to brokers from insurers based on the volume of business steered to them. These factors, along with the current favorable market conditions, have contributed to the robust financial performance of the Bermuda insurance and reinsurance market. They are exempted from Bermuda's domestic company requirements of being at least 60% beneficially owned by Bermudians. They can trade anywhere in the world except as a local company in Bermuda (They cannot write any business for Bermuda residents, only with other international or exempted companies). The regulatory environment is exceptionally favorable to them in Bermuda - so much so that many international businesses, including insurers, now have their Bermuda-incorporated and Bermuda-based companies as their registered offices and their companies beyond Bermuda as their subsidiaries. Unlike in the USA from where the vast majority of companies come for corporate inversions in Bermuda, there is no legal requirement in Bermuda for their CEOs to personally certify their company's financial results if of the requisite size, but some of the better ones do so on a voluntary basis. Insurance Business Fees are as shown.
They come mostly - but not solely - from the USA. There has been much publicity from the USA about this, especially from unions and certain Democrats. But reasons to relocate to Bermuda as corporate inversions arise out of the USA's own tax code. Amending it would be the best way to remove such unintended incentives.
Bermuda-based but USA-owned or USA-operated companies can sue or be sued in the USA following a US Supreme Court ruling. Also, from 2003, if relocating to Bermuda from the USA or owned by US investors, they may soon have to tell shareholders they may face capital gains taxes in the USA.
Some prominent American-owned insurance companies do not mention on their websites that they have an office in Bermuda. One reason for it is that they are not allowed to do in Bermuda what they are allowed to do in the UK, Britain, Asia, etc, namely to operate and sell local insurance products to local customers either in their own corporate name or through local subsidiaries and branches. In some countries - again, not Bermuda - they also offer products to small-to-medium sized businesses as well as life and health products.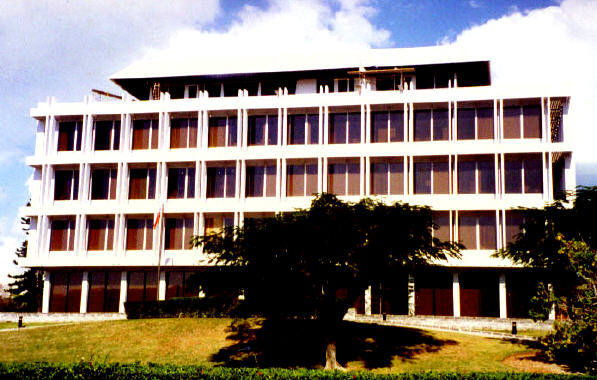 Bermuda-based leading international insurer. Photo by author Keith Archibald Forbes solely for Bermuda Online.
Bermuda's insurers are in four classes of capital and surplus. They are mentioned in more detail below. They all have specific reporting requirements, solvency margins and actuarial certification. Insurance (and other) companies can be incorporated either by registration using the provisions of the Companies Act or by private Act of Parliament. Incorporation by registration normally takes about two weeks but in exceptional circumstances can be accomplished in a matter of days. Private Acts of Parliament usually apply when the company requires special objects, powers or abilities substantially different from the menu in the Companies Act.
The latter is responsible for processing applications and recommending to the Ministry of Finance that companies be incorporated, partnerships be formed, collective insurance schemes be established and permits be issued to effect an accredited business presence in Bermuda. When the application has been reviewed by all parties, the BMA will present the application to the Ministry of Finance with the appropriate recommendations with regard to the Minister issuing a consent to register the company. The Minister may, at his discretion, impose any terms or conditions on a consent to register a company.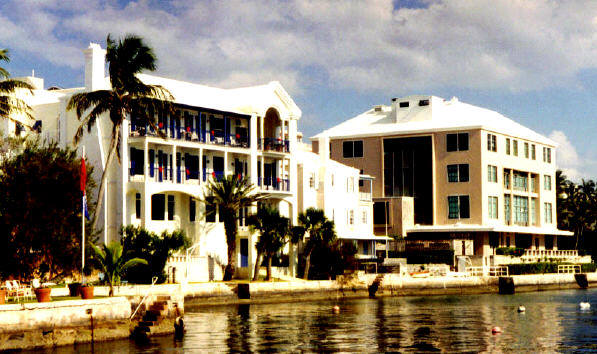 More Bermuda-based international insurance companies. Photo by author Keith Archibald Forbes solely for Bermuda Online.
See Insurance Business legislation in Bermuda. The following can apply to Bermuda approved and licensed insurance companies with a physical presence and office in Bermuda and offering staff who, if not Bermudian, have an approved, current Work Permit to work (solely) for that office.
Unlike in the USA from where the vast majority of companies come for corporate inversions in Bermuda, there is no legal requirement in Bermuda for their CEOs to personally certify their company's financial results if of the requisite size, but some of the better ones do so on a voluntary basis.
A Bermuda insurance company's ability to comply with insurance and tax regulation in the policyholder's country can provide significant advantages. For example, it is possible for a USA domiciled policyholder to be provided with a policy that is federal tax compliant yet not subject to individual state regulatory perfidy. Likewise, in Switzerland, Swiss companies do not offer unit linked, indexed, or variable type products. But they can be acquired through a good Bermuda based international company. To varying degrees, many countries offer benefits for the owners and beneficiaries of insurance policies. In certain countries, premiums themselves are deductible for tax purposes and, in others, policies wrap investment oriented products that expand the tax deductibility of premiums paid which can include dividends, capital gains, and total investment return. Another major advantage is the deductibility or exclusion from estate taxes when benefits are paid.
Best returns on fixed annuities
| | |
| --- | --- |
| | A major advantage of reduced policy costs is that for fixed or guaranteed rate policies, the policyholders may be provided with an increased investment return without any additional investment risk. If operating costs are reduced by one percentage point from various sources then that reduced cost can be provided to the fixed policyholder. Passing on this benefit is one of the purposes for the creation of a Bermuda based international insurer. |
Business Interruption (BI) insurance
Can be the hugely important. Basically, it is the amount paid to the insured, usually based on the gross profit that a business would earn if trading normally, in the event of a disaster, even if it has to wait for reconstruction. In the case of law firms it covers gross fees that would have been earned. Maximum indemnity periods can vary hugely, from 3 to 36 months. Can also include Increased Costs of Working (ICW) should a business wish to continue trading from alternative premises.
Captives
Bermuda is the principal domicile of captive insurance companies. More reside here than anywhere else. There are believed to be over 10,000 captives worldwide. Other jurisdictions with industry growth include the Cayman Islands, Vermont, Guernsey and British Virgin Islands. Captives in Bermuda are 65% owned by American interests, 18% by European, 10% by British, 2% by Far Eastern, 2% by Canadian and 3% by other countries' principals.
In Bermuda, there are five categories, all of which serve different clientele and purposes. There is also a single general class of companies dealing with captives. A summary is below.
Agency
Formed and owned by one or more independent insurance agents to write high quality risks that they control.
Association
Formed and owned by members of a common industry or trade association to share risks of that industry among its members.
Captive of insurer
Single parent captive by a professional insurer or reinsurer.
Captive writing 3rd Party business
Captive writing a portion of its net premium from risks unrelated to the business of its owners and/or affiliates.
Composites
Insurance company writing a composition of life and general business.
Finite Insurer and/or Reinsurer
Company writing unrelated risks where there are (a) clearly defined aggregate limits and (b) premiums that reflect the underwriter's anticipated investment income.
Health Care Captive
Owned by a hospital or health maintenance organization (HM0) and writing the risks of its owners and/or affiliates.
Long Term (or Life) Insurer and/or Reinsurer
Insurance company writing life risks as a direct writer and/or insurer.
Multi Owner Captive
Owned by two or more unrelated persons or organizations and writing the risks of its owners and/or affiliates.
Professional Insurer and/or Reinsurer
Insurance company writing unrelated risks as a direct writer and/or insurer.
Pure Captive
Single parent captive writing only the risks of its owner and/or affiliates.
Rent-a-Captive
Owned by unrelated persons or organizations and providing captive facilities to others for a fee. Contract documentation is usually detailed and voluminous and there is substantial work in maintaining individual program funds in segregated accounts, etc.
Confidentiality with privacy
| | |
| --- | --- |
| | First, the policyholder does not need to disclose the existence of the policy to any entity. Many onshore jurisdictions require their residents and citizens to report the existence of any bank, financial, securities or investment accounts held in foreign jurisdictions or any interest in a foreign trust. The invasiveness of these requirements is obvious as is their potential for use as evidence. Failure to report, even unintentionally, is a crime with significant penalties. Generally, most jurisdictions do not view insurance policies as financial assets, but as contracts under statutory law. |
Therefore, insurance policies are generally exempt from disclosure because they are recognized as a contractually based agreement between the individual and an insurance company and not as a financial account. An appropriate insurance policy can give the policyholder additional confidentiality and privacy through a "Private Act" Confidentiality clause. Unless directed by the Bermuda government, it is required by Bermuda law to withhold all information relating to any policyholder or policy regardless of the stature of the person doing the questioning, All disputes over disclosure will be physically adjudicated in Bermuda under Bermuda law.
Design flexibility
| | |
| --- | --- |
| | Many countries and their regulators require extensive filing of policies, policy forms, actuarial documentation, and regulatory compliance which can reduce the ability of an insurer to respond to the needs of policyholders. Many insurance regulators also limit the number of policy types. Standardization suggests all policyholders have the same needs, timing, risk and return requirements. This is a mass market approach where large groups of policyholders are assumed to have identical needs and requirements. But a good Bermuda company may provide customized and personalized policies to its policyholders. Ask if your insurer can offer policy design and elements imaginative policyholders may need. |
Bermuda insurance provisions and a Private Bill statute can provide significant protection to policyholders along with annual actuarial and audit requirements, yet without a regulatory bureaucracy that significantly constrains the quality and increases the costs of policies to its policyholders.
Estate planning
| | |
| --- | --- |
| | Insurance policies offer better advantages than a trust and are superior to drafting a will. The death benefits may avoid the process of probate and help ward off potential lawsuits from dissatisfied heirs. Drafting an insurance policy can also be cheaper than a trust or a complicated will. Insurance is an element of estate planning. But many advisors may not have explored the global advantages available to their clients and accepted the constraints associated with many onshore jurisdictions. |
The insurance policies of a good Bermuda company can allow a policyholder to avoid problems.
Exchange controls or present Foreign Exchange rates
| | |
| --- | --- |
| | Third world countries enforce various types. Residents of such jurisdictions are constrained from moving certain types of assets outside. Select a place where you have freedom. Recognize that insurance policies are based on contracts between the insurance company and the policyholder. Many domestic regulations do not recognize life insurance as a financial asset. Policyholders resident in jurisdictions that do not impose exchange controls may benefit appreciably. Cross border relocation with the use of global insurance products allow such individuals to optimize their insurance coverage internationally. Do present Foreign Exchange rates based on where you live have a good or bad impact on your Bermuda insurance premiums and insurance-covered assets? It could be a key question. Bermuda is tied to the US Dollar. |
Forced heirship avoidance
| | |
| --- | --- |
| | Some onshore and offshore jurisdictions or states or provinces or parts of countries may have forced heirship laws in whole or in part, such as Scotland, Quebec, etc. See http://en.wikipedia.org/wiki/Forced_heirship. They may not permit a person to disinherit certain family members regardless of the wishes of an insurer. A certain portion of the estate may have to be allocated to a spouse and/or heir. However, these laws do not always consider an insurance policy to be part of the estate (unless the estate is designated as beneficiary). Thus the policyholder may bequest the proceeds of an insurance policy based on the owner's wishes. |
In kind premiums & benefits
| | |
| --- | --- |
| | Insurers in most countries cannot accept premium payments other than in local currency. Under certain circumstances, a good Bermuda company can structure a policy which will allow the contribution of premiums to be made in kind. This means assets other than cash. This offers significant flexibility for clients who have the need for the advantages of various types of insurance policies yet choose not to liquidate significant assets to acquire insurance benefits. Payment in kind can take the form of securities, business interests, real estate - both earning and not earning. |
Investment alternatives can be superior
| | |
| --- | --- |
| | Many countries restrict access to investment alternatives that, when properly structured, can offer significant diversification, return, and risk reduction characteristics. Switzerland, for instance, does not by regulation allow variable or unit linked products to be offered by its domestic insurance companies. It restricts investment opportunities available to Swiss nationals. In the USA, variable products are available only to the extent they are invested in registered mutual funds with the Securities & Exchange Commission which invokes significant additional investment restrictions. Other countries require that investments of the insurance companies be restricted by regulation of quality, type, country, region and even government. But Bermuda insurance law and a good Bermuda based international insurer can provide a degree of flexibility not available in most other countries. |
Location of Benefit Payment
For some beneficiaries, location of benefit payment can also be of great interest. Because these issues vary significantly from country to country and region to region, the efficient global structuring of the affairs of the client to maximize such benefits can provide strategic advantages. Recent innovations by issuing companies, supportive domicile insurance regulation and country specific statutory legislation have also been provided to enhance the benefits of insurance.
Lower costs in certain cases
| | |
| --- | --- |
| | The costs of providing efficient insurance products is constrained by insurance regulation, administrative expense, capital reserve costs and company taxes controlled by the insurance company's domicile, tax and regulatory environment. These vary. While they may provide protections, they may also produce significant costs and efficiencies. Consider the economies of scale. Some Bermuda based international insurance companies are structured accordingly. Additionally, capital reserve costs in many established domiciles also lead to increased costs. The use of separate accounts by a particular Bermuda based international insurance company can isolate policyholders from creditors and litigants. |
This can provide lower capital requirements for the company and higher returns or better protection or both to the policyholder.
Premium excise taxes
| | |
| --- | --- |
| | Many countries, and/or their provinces and states or counties, require payment of premium taxes by insurers on and/or policyholders. A glaring example is the United Kingdom with 20% from 1 January 2011, was 17.5% until then) Insurance Premium Tax, similar to VAT, on all insurances, even travel insurance. Overall, such a tax or taxes do not benefit the policyholder. All incur higher costs for the insurer and policyholder, making some jurisdictions uncompetitive. In some countries, such as the USA, the purchase of a non American insurance policy outside the USA by an American requires the payment of a federal excise tax equal to 1% of the premium paid. It is not clear if this tax is deductible for Americans. Bermuda-based and Bermuda-incorporated companies have a marketing presence in the UK and make their UK-based policy holders pay the UK Insurance Premium tax. |
Private Bill enhancements
| | |
| --- | --- |
| | Get a unique combination of benefits when a Bermuda insurer is enacted by Private Act of Parliament. The provisions provide more guarantees and benefits to policyholders and are protected by Bermuda law. A good Bermuda insurer can amend its Private Act to provide additional benefits deemed desirable in the future. Bermuda's common law system, based on British law, combined with a record of legal precedence, supports and ensures the legality of an insurer's Private Act. Within Bermuda, litigants may initiate a first tier appeal. A second tier appeal is accorded by the Privy Council, the highest court in the United Kingdom. Thus, policyholders can rely on the sovereign law of Bermuda to protect their rights and benefits from claimants of other jurisdictions. |
Protection from false claimants
Pro plaintiff onshore jurisdictions have opened a floodgate of litigation by providing numerous and overreaching remedies to governments, tort litigants, creditors and other plaintiffs who seek the assets of a policyholder or beneficiary. In direct contradiction to existing legal precedence, this often includes the invasion of insurance policies to satisfy their claims. The mere threat of such litigation can be an expensive exercise. Under a Bermuda Private Act, insurance policies and their underlying assets cannot be seized by any creditor of the policyholder or the beneficiary except under certain circumstances under Bermuda law (see Private Act, Protection from False Claimants). Any disputes arising thereof must be physically adjudicated in Bermuda. Thus, policyholders and beneficiaries may be assured that the proceeds of the policies can be passed on intact in accordance with the wishes of policyholders. They can get protection from frivolous law suits.
Separate Account Protection
Separate Accounts are offered by insurers from many established domiciles with varying degrees of success and purpose. Some insurers provide them simply to separate the risks and returns of a policyholder or group of policyholders. Other insurers may try to use Separate Accounts to provide protection from creditors, litigants and heirs. Few insurers can combine and provide these benefits by regulation and statutory law. Check to see if the Private Bill that established an insurance company in Bermuda you know and like has remedied and enhanced these issues. It is certainly possible with the use of the separate account option provided by such a company in Bermuda to benefit from these consolidated areas in one company in one country.
Trust like powers
Insurance policies have long been a stable part of global financial planning as a party to or included in trusts and trust products. Insurance policies offered by a good Bermuda insurer can be written to provide trust like benefits without the drafting, custodian, trustee, on going legal, regulatory or reporting requirements associated with a trust. As established countries such as Germany, Luxembourg, Switzerland and the United States attempt to extend trust regulation extra territorially, the benefits of trusts will diminish and the value of contractually established insurance policies will be enhanced.
---
Application process, Companies and Insurance Acts apply
All in Bermuda's insurance industry are subject to the provisions of the Companies and Insurance Acts. The Companies Act regulates the activity of companies incorporated or licensed in Bermuda, including insurance-related companies. The Insurance Act is the basis for regulation of the insurance industry, both in the domestic Bermuda market and in the international arena when it affects Bermuda-based and/or Bermuda-incorporated insurance companies. It was introduced to protect Bermuda's image - and increase its world-wide credibility as an international center for insurance, captive insurance, reinsurance, and investments relating to insurance. In 2001, the new Bermuda Government position of Supervisor of Insurance was created, with full responsibility to oversee the licensing and regulation of Bermuda-based insurance companies.
Bermuda Foundation for Insurance Studies
Mailing address: Suite 197, 12 Church Street, Hamilton HM 11, Bermuda. Location address: Cedarpark Centre, 48 Cedar Avenue, Hamilton HM 11. Tel: (441) 295-1266. Fax: (441) 295-5876. E-mail: bfis@ibl.bm. Works extensively in the field of getting Bermudians educated so they can make successful careers in the insurance sector. Registered charity 440.
The insurance program is submitted for the review of the Registrar of Companies and the Insurers Admissions Committee. The Committee is made up of members of the insurance market, the Registrar of Companies and the Bermuda Monetary Authority (BMA).
Capitalization, liquidity, reporting and solvency requirements
Minimum paid-up capital in Bermuda is $120,000 for general (property, casualty, etc.) business; $250,000 for long-term (life) business; and $370,000 for both types (composite). General business insurers must maintain liquid assets (called relevant assets) equal to at least 75% of general business liabilities. Relevant assets exclude such assets as real estate investments, investments and advances to affiliates and unquoted equity securities. However, these assets are included in the computation of the Minimum Solvency Margin.
Insurance companies, or their agents, must file an annual Statutory Financial Return with the Registrar of Companies. This must include an Auditor's Report and in certain situations actuarial certification. For example, all companies writing life insurance business must have their reserves certified by an actuary. In addition, companies writing a significant of products or professional liability risks must have their reserves certified by a loss reserve specialist who in most cases will be a qualified actuary.
For general business, when net premium income is up to $600,000 or from $600,001-$6 million and in excess of $6 million respectively then the minimum solvency margin is, respectively, $120,000 or 20% of net income or $1,200,000 plus 10% of net premiums written greater than $6 million. There is also a loss reserve of 10%. For long-term business, it is $250,000. For composite business, it is a combination of the requirements for general business and long-term business.
Class One Insurers
Single parent captives, namely, insurance companies owned by one or more affiliates of a group provided that the captive insurer underwrites only the risks of their owners and affiliates of their owners. Minimum capital and surplus is $120,000. There is no requirement that reserves have to be certified by an actuary and a statutory financial statement does not have to be filed.
Class Two Insurers
Single parent and multi-owner captives. In this context, multi owner captives are insurance companies owned by two or more unrelated persons provided that the captive insurer underwrites only the risks of their owners and affiliates of the owners, OR the risks related to or arising out of the business or operations of their owners and affiliates. Single parent and multi-owner captives in this class may write no more than 20 percent of net premiums from risks which are not related to, or arising out of, the business or operations of their owners and affiliates. Minimum capital and surplus is $250,000. Reserves have to be certified by an actuary at least every three years. A statutory financial statement has to be filed.
Class Three Insurers
Insurers and reinsurers not in Class 1, 2 and 4. This grouping ha been reclassified. The minimum capital and surplus requirement is $100,000,000 and the actuarial certification requirement is yearly. It includes a large number of firms with a wide range of characteristics, from captives writing a limited amount of third-party business to large purely commercial re/insurers. There are now further sub-categories within the Class 3 group, based on their respective risk profiles. Risk-based supervision of these firms has been refined, to ensure they receive the level of oversight that is appropriate to the nature of their business.
Class Four Insurers
Those underwriting direct excess liability and/or property catastrophe reinsurance risk. The minimum capital and surplus requirement is $100,000,000 and the actuarial certification requirement is yearly. There are currently more than 20 insurance companies in Class Four. Bermuda Solvency Capital Requirement (BSCR), an enhanced solvency regime, now applies to these re/insurers.
Long Term Insurers
The minimum capital and surplus requirement is $125,000,000 and the actuarial certification requirement is yearly.
Special Purpose Insurer
New in 2009. It focuses on fully collateralized SPVs that are set up to carry out specific insurance transactions. The new classification will make it less costly for SPVs to be established in Bermuda.
Compliance of the regulatory system
The regulation of the insurance business is a joint effort of the Bermuda Government and the industry. The Insurance Advisory Committee is appointed by the Minister of Finance and chaired by a member of the industry. Other members represent underwriters, brokers, managers, accountants, actuaries, the domestic market, the Insurers Admissions Committee and consultants. Insurance regulation became a function of the Bermuda Monetary Authority from 1 January 2002. There are standing sub-committees dealing with strategic planning, legislative review and marketing.
Confidentiality
All financial information submitted to the Registrar of Companies is protected by the confidentiality provisions contained in Bermuda Law.
Fees insurance companies pay under Insurance Act 1978
See the Bermuda Government USA website for its Registrar of Companies.
Insurance Advisory Committee
Shown in alphabetical order in Bermuda Government Boards. Bermuda Government appointed under the Insurance Act 1978, A statutory body. It is a joint private and public sector initiative. Its purpose is to advise the Minister of Finance on matters concerned with the insurance industry in Bermuda.
For more information, consult
| | |
| --- | --- |
| Association of Bermuda Insurers and Reinsurers (ABIR) | XL House, One Bermudiana Road, Hamilton HM 11 Bermuda. Tel: 441-294-7221. Fax: 441-296-4207. Also with an office in Washington, DC. An insurance industry trade organization in Bermuda since 1986. |
| Association of Bermuda International Companies (ABIC) | Until April 26, 2001 the International Companies Division of the Bermuda Chamber of Commerce. P. O. Box HM 655, Hamilton HM CX. Phone (441) 295-8932. Fax (441) 292-5779. Members include all the "exempted" or "international" companies, exempted partnerships and trusts registered and with a physical presence in Bermuda - including those shown separately under Insurance Companies and Other International Companies. |


Last Updated: May 21, 2013.
Multi-national © 2013 by Bermuda Online. All Rights Reserved. Contact Editor/writer and webmaster.