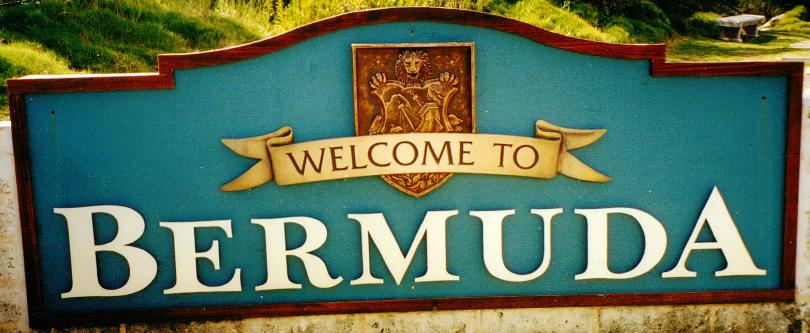 Click on graphic above to navigate the 165+ web files on this website, a regularly updated Gazetteer, an in-depth description of our island's internally self-governing British Overseas Territory 900 miles north of the Caribbean, 600 miles east of North Carolina, USA. With accommodation options, airlines, airport, actors, actresses, aviation, banks, beaches, Bermuda Dollar, Bermuda Government, Bermuda-incorporated businesses and companies including insurers and reinsurers, Bermudians, books and publications, bridges and causeway, charities, churches, citizenship by Status, City of Hamilton, commerce, communities, credit cards, cruise ships, cuisine, currency, disability accessibility, Devonshire Parish, districts, Dockyard, economy, education, employers, employment, environment, executorships, fauna, ferries, flora, former military bases, forts, gardens, geography, getting around, golf, guest houses, highways, history, historic properties, Hamilton, House of Assembly, housing, hotels, immigration, import duties, internet access, islands, laws, legal system and legislators, main roads, marriages, media, members of parliament, money, motor vehicles, municipalities, music and musicians, newcomers, newspaper, media, organizations, parks, parishes, Paget, Pembroke, performing artists, residents, pensions, political parties, postage stamps, public holidays, public transportation, railway trail, real estate, registries of aircraft and ships, religions, Royal Naval Dockyard, Sandys, senior citizens, Smith's, Somerset Village, Southampton, St. David's Island, St George's, Spanish Point, Spittal Pond, sports, taxes, telecommunications, time zone, traditions, tourism, Town of St. George, Tucker's Town, utilities, water sports, Warwick, weather, wildlife, work permits.

Bermuda's St. David's Island
In St. George's Parish but with a unique flavor and character
By Keith Archibald Forbes (see About Us)

Introduction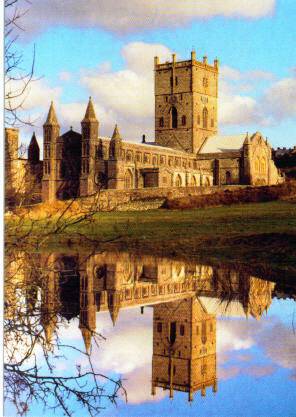 In St. George's Parish. Once a separate island but joined by a perimeter road skirting St. George's Harbour in the mid 1970s to the Main Island. It was originally one of the six principal, separate, Bermuda islands. The easternmost part of Bermuda, it was called St. David's by one of the early colonists from Wales who knew about St. David, the patron saint of Wales. St. David's Islanders do not recognize St. David as having any religious or spiritual connection with them. Nor do they eat the leek, the national symbol of Wales since Welshmen fought with Henry V at the Battle of Agincourt. (In his Henry V work, Shakespeare made St. David's emblem the leek instead of the usual dove).
Photo right taken at St. David's Cathedral, Wales by the author exclusively for Bermuda Online.
St. David's Island was originally 503 acres and isolated from the mainland. It was connected in the 1930's to the mainland by the Severn Bridge, since dismantled. It was enlarged in 1942 by 750 acres to build the (now decommissioned and subsequently civilianized) Fort Bell (US Army), then Kindley Air Force Base (USAF), then USNAS and a US Coastguard unit. See US Military Quits Bermuda. Today, that vastly-changed area, leased to the USA as a forward military base from 1941 to 1995, is mostly urban residential. The once-large US military base had famous American military names on all its streets and roads. The area has reverted to its original name of Southside.
St. David's was once revered as one of Bermuda's most closely-knit communities where everyone knew each other
St. David's Islanders have a unique character and flavor. Some always been different to most other Bermudians. A number of close or extended families. once imported as slaves in the early 17th century by colonists from Britain who arrived in 1609, today claim descent from American Indian tribes. Their bloodlines still show American Indian features. There are annual visit or festivals between American Indian tribes or organizations. Others came later, in the 19th and early 20th centuries, from the Caribbean islands 900 miles to the south to build the railway and other high or difficult structures. Nowadays, there are many incomers from other parts of Bermuda. More so in St. David's than in any other part of Bermuda, St. David's Islanders use nick-names for many of their folk.
See the books:
Life on Old St. David's. Ernest A. McCallan. 1948. Bermuda Historical Monuments Trust. 1st edition, 258 pages. Illustrated. Later reprinted. The definitive work about the Island.
Mohawks in the Onion Patch. Geoff Rothwell. 2002. He debunks the myth that many St. David's Islanders were Mohawks and claims they were really Pequot and Mohican Indians brought to Bermuda as slaves in the mid 17th century.
St. David's Island, Bermuda, its People, History and Culture. St. Clair (Brinky) Tucker. 2009.
The Legacy of St. David's Islanders. Their Voices Are Not Silent. Eugene (Jean) Foggo Simon. Also at that time the principal researcher for the St. David's Island Indian Committee (now renamed the St. David's Islanders & Native Community.
There are no towns in St. David's. Visitors are welcome but should expect limited facilities and services compared to the rest of Bermuda.
Well worth visits are
Great Head Battery and Park
Carter House, on the former US Naval Air Station, an excellent example of an historic Bermuda homestead saved from destruction when the US military arrived in 1941. It is a living museum of Bermudian history.
Clearwater Beach and Park. One of Bermuda's finest beaches and nearby:
Cooper's Island, accessible by road, a 36 acre site with two public beaches (one is Clerarwater Beach, the other is Turtle Beach. Both public beaches now (they were closed to the public from 1941 to 1995 during the 54 years St. David's Island and Cooper's Island were US Armed Forces reserved area). It has nature trails and fine views of Nonsuch Island and Castle Harbour.

Constituency in the Bermuda Parliament
Constituency 3.

Amis Crematorium
Waller's Point Road, St David's. Bermuda's first and only crematorium, objected and resisted for years but finally installed in 2017 in this less densely populated part of Bermuda. The structure and equipment were specially constructed in the United States and shipped to the island. The retort, the machine that carries out the cremation, came from Florida, while the structure itself was made in Colorado.

Annie's Bay and beach
Once Mis' Annie's Bay, believed to be after Ann Fox, widow (1835) of Copeland Fox. (Fox and Lamb are well-known surnames of St. David's Islanders.

Those in St. David's - this part of St. George's Parish - include the following: some of the oldest and most historic, as well as most picturesque in Bermuda.
Great Head Battery
Little Head

Bermuda Motorsports Park
Southside, St. David's, directly across from Clearwater Beach. It is where the Bermuda Motorcycle Racing Association (BMRA), the motorcycle club, arranges and sanctions the island's motorcycle racing series. Events are held here.

Bermuda Police Service
Stokes Road, Southside. Telephone 293-2222.

Bus route
St. George's to St. David's. This area of the Parish is served by the # 6 route, not very frequent compared to other Bermuda routes. See the schedule available free from the bus terminal in Hamilton and note its times on Monday to Friday, Saturday, and Sunday & Holidays.

Carter House and Settlers' Cottage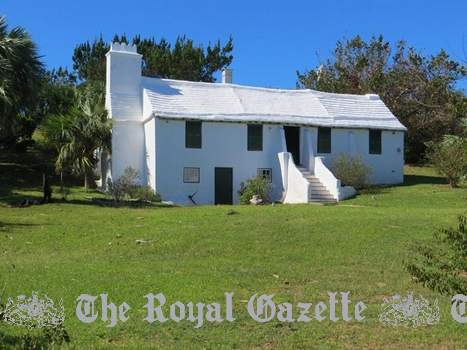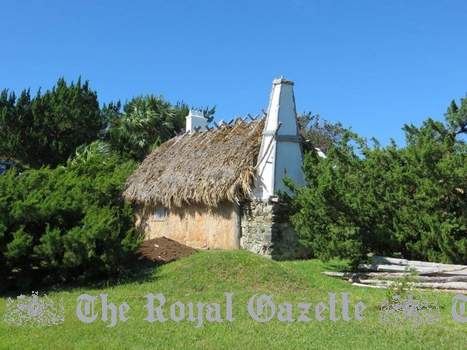 Southside Road. Named after Christopher Carter, a survivor off the shipwrecked flag ship "Sea Venture" in 1609 who remained in Bermuda in 1610 when the castaways sailed to Virginia. He became one of the three "Kings" of Bermuda for many months. He believed there was buried gold on this island. On the former US Naval Air Station on St. David's Island, it is historic, probably built in the 1720s, by John Hayward and his wife Martha, reputedly a descendant of Christopher Carter. It was originally a private house. It was saved from destruction when the US military arrived in 1941 and took over all the land nearby including this house. Then, until 1995, it was used as a beauty parlor. Now the St. David's Historical Society Museum. Photo by author Keith A. Forbes. Also see Settler's Cottage nearby, made from Bermuda cedar and clay mortar using early 17th century Bermudian building techniques.
The society is a museum of Bermudian history.
2019. November 27. A 17th-century-style cabin is back to its best after the public rallied round to help repair damage from Hurricane Humberto. The building, a replica of Bermuda settlers' homes from 1612 next to the historic Carter House in St David's, lost much of its palmetto-thatched roof when it was battered by the storm in September. But volunteers responded to a plea from the St David's Island Historical Society to donate hundreds of palmetto leaves to help re-thatch the roof in time for the traditional Carter House family Christmas party this weekend. Rick Spurling, the president of the society, said: "We have had a huge response to our request for palmetto leaves. We are very grateful for this response." Mr Spurling said the Gibbons family at Palm Grove, Devonshire, was the biggest source of leaves, and that M Landscaping had provided trucking. He said people had also donated about $1,500 in cash, which paid for half the cost of the rebuild. Mr Spurling added the "settlers" and their belongings will return home this week. He said: "The mannequins are smiling, all of them." The Carter House family Christmas party will take place on Sunday from 4pm to 7pm.
2019. October 29. The St. David's Historical Society (STHS) yesterday appealed for volunteers and palmetto leaves to help repair a replica of a 400 year old Bermuda settler's home damaged during last month's Hurricane Humberto. The cabin, built using the methods the first settlers used in 1612, lost much of its palmetto-thatched roof in the hurricane and it is estimated that several hundred leaves will be needed to repair it. Rick Spurling, president of the STHS, which owns the cabin and the nearby Carter House and Museum, said: "In about two weeks time, we are going to start re-thatching the roof. "We estimate we will need about 100 Bermuda palmetto, Sabal bermudana, leaves each day that we work on it and we need to put up about 800 leaves in total. We have a few areas including Carter House where we can collect about 100 leaves. After that, we will need the public's support to get leaves here, but we can't receive them all at once, they need to be staggered. Once they have been cut they need to rest for three days, so they become supple, but we can't leave them for more than ten days, as they start to stiffen up, so there is a window." Mr Spurling added: "We don't want old leaves and we definitely don't want Chinese fan palms which look very similar, they do not work." He was speaking as staff and volunteers yesterday started to pull down the thatching from the damaged roof. The society will also check the cabin for structural damage. Mr Spurling said anyone who wanted to donate palmetto leaves should contact him, so that a delivery schedule can be drawn up. The thatching crew will be hired by the organisation, but Mr Spurling said volunteers were also needed to assist the professionals, with their work. He added: "We will need volunteers from about November 5 to 20, we need leaves and labour. We will assess all the wood and determine whether we need to replace lathes or rafters that support the roof. We are using cedar wood which is protected, you can't cut them down, but when you have a hurricane like we just had, we have maybe ten branches and we will use them to shore up the roof." The cabin used Virginia cedar when it was built in 2012. It was hoped the work would be completed in time for the annual Carter House Family Christmas event, scheduled for December 1 from 4pm to 7pm.
Anyone interested in supporting the work with leaves, labour or donations should contact Mr Spurling on 297-1953 or e-mail rspurling162@icloud.com.
2019. September 26. A community mentor and devoted curator of the Carter House Museum, one of Bermuda's oldest homes and an historical treasure of St David's, has died at 86. Dolores Harrison loved showcasing the historic 17th-century house and museum of the St David's Island Historical Society. Ms Harrison's family also enjoyed close ties with Chicago and the classic American music show Soul Train, which aired from 1971 to 2006, and was created and hosted for its first 22 years by the producer Don Cornelius. Rick Spurling, head of the historical society, said Ms Harrison succeeded Eloise Millett, first curator when the renovated Carter House opened in 2001. He said: "She loved taking people around and talking about her experiences living in St David's. She was one of our greatest supporters." Ms Harrison turned her 80th birthday at Carter House into a museum fundraiser — as well as a fashion show, with models showcasing her own collection. Mr Spurling recalled: "She had an extraordinary wardrobe and was always impeccably dressed. She was also one of the nicest people I ever knew." Kim Durham, one of Ms Harrison's two daughters, explained: "Don Cornelius is my uncle on my father's side, and it started in my grandmother's house in the basement, when everyone would go downstairs and dance after Sunday dinner. We loved Soul Train and mom loved it too." Donna Boddington, her other daughter, said their mother's love of that musical era included keeping an eight-track player with tapes. Ms Harrison had met her husband, Richard, in Chicago when she moved there to study nursing. Part of her training required sitting in on an autopsy. According to her daughters, Ms Harrison fainted watching the procedure — and decided to become a nurse's aide instead. She worked at Chicago's Evanston Hospital until the family returned to Bermuda 50 years ago. Sociable and work-driven, Ms Harrison's jobs included the officer's club on the United States Naval Air Station at the East End, and the Black Horse Tavern in St David's, where lobster became her speciality dish. Ms Durham said: "She enjoyed working there, liked people and loved tourists. She was a busy person and worked two jobs for 30 years, at the Silent Waters nursing home and the Piggly Wiggly supermarket in Shelly Bay, which became the MarketPlace." Ms Boddington added: "She mentored hundreds of young men and women who worked at the supermarket. Later, they would come up to us to talk no matter where we used to go." Ms Harrison's service to others included accompanying patients for treatment overseas when they had no loved ones to travel with them. The sister to the Right Reverend Vernon Lambe, Bishop of the First Church of God in Pembroke, she worshipped at the Chapel of Ease in St David's. She attended St Luke's African Methodist Episcopal Church in her later years, and St John's AME. She belonged to an informal seniors' group, the Joy Luck Club, and loved dining at the Speciality Inn in Smith's to socialize. Keen to stay active, Ms Harrison started at Carter House upon her retirement. Ms Durham said her mother "loved St David's and knew all the history". Carter House takes its name from Christopher Carter, one of the island's first permanent settlers who arrived in 1609 aboard the Sea Venture. It was likely built around 1640 and, during and after the Second World War, ended up on the US Base. Lynn Mello, the present curator, said Ms Harrison had showed her how to look after the museum, adding: "She was wonderful; she did a great job of it." Ronnie Chameau, a member of the historical society who put extensive work into Carter House and its displays, called her "unique. She kept the place immaculate. Coming up as a young girl, I admired this lady who was always so well dressed. Once she started at Carter House, it was everything for her. She was a gem."
2019. September 25. An authentic replica of an early Bermuda settlers' cabin was damaged during Hurricane Humberto. The St David's Island Historical Society, which runs Carter House and Museum, is aiming to raise $4,000 to fix roof thatching, which fell victim to the storm last Wednesday. Rick Spurling, the president of the society, said that the cabin, built using the traditional methods and materials used in 1612, survived four storms since it was built in 2012, but the severity and direction of Humberto took its toll. He told The Royal Gazette: "All the south side of the thatch has gone, but the structure is still sound. It took a beating. We knew the thatch was old and we were going to replace it, but now it is absolutely necessary and we would like to do it by November in time for the Carter House Family Christmas Party." Mr Spurling said the wind came straight at the house because the hurricane came from the southwest. He added: "There are 800 palmetto leaves up there and about a third of them came down." Funds raised will go towards labour, materials and a truck. The storm also damaged endemic trees, plants and flowers at the St David's site. Mr Spurling said that the structure, built predominantly by master builder Larry Mills and known by its old English name "settlers' cabben", had originally been intended as a temporary structure. He said: "When we first built it, we didn't expect it to last — we thought it would crash down in short order in the first storm. We will rebuild it the same way, so hopefully it will stand for another eight years." Carter House is an original St David's farmhouse dating from about 1700. Mr Spurling added: "I have created a new exhibition in the Carter House museum of the refugees from the settlers' cabben who had to move into Carter House because they had nowhere else to go. I have set them up in there with a wheelbarrow doing various tasks."

Carter's Bay
Named after Christopher Carter, one of the trio who stayed behind in 1611 when the Deliverance sailed to England with the body of Admiral Sir George Somers aboard.

Cashew City
Not a city at all, nor even a town or a village. But interesting as an out of-the way rural coastal place chiefly for its two small public beaches mostly visible at low tide and the unique Dennis's Hideaway rustic seafood restaurant just before you get to the beaches. Not far is the St. David's Primary School.

Chapel of Ease
See St. David's Chapel of Ease.

Clearwater Beach and Park
Southside. At Annie's Bay on Cooper's Island. Not accessible by public transport. A public beach since 1995 after having been a strictly US military beach from 1941 to 1995. It is a 36 acre site actually with two nice public beaches (Clearwater and Turtle beaches). They were not around prior to 1941 and are not natural but man-made, created from landfill used to make the runway at the late US Army Air Corps base. When the USAF took over from the US Army Air Corps in 1948, it was decided in 1952 by the USAF to (a) have a central beach facility closer to Cooper's Island, in an area far enough away from the runway to meet airfield safety criteria and (b), in September of that year, to give this beach its name, after the famous area in Florida.
Later, a beach house, picnic area and canteen were built here, subsequently joined by an outdoor roller skating rink and dance pavilion. Through the years additional improvements were made by the US military authorities. It became a very popular summer time spot for USAF, later USN people and their families.
Now that is public land again, there are nature trails, playground equipment, and beautiful views.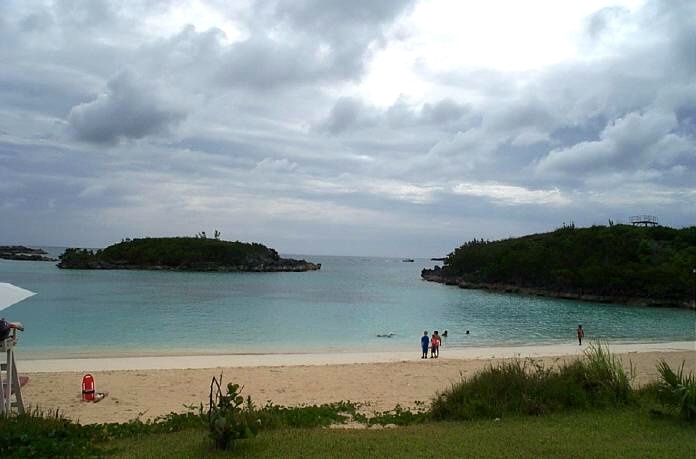 Cooper's Island Bermuda Weather Service for airport
2019. July 18. A new $2 million weather radar system was officially launched with a ribbon-cutting ceremony on Cooper's Island in St David's yesterday. Zane DeSilva, the Minister of Tourism and Transport, said the new Doppler radar system will improve the ability of the Bermuda Weather Service and came in $30,000 under budget. Mr DeSilva added: "To have a reliable radar system is critical for us, and of course coming in under budget is fantastic. We don't ever want to get caught on the short end of the stick with regard to hurricane predictions. We have seen them do some serious devastation all over the world, so to have a system that we can rely on is crucial. The Bermuda Airport Authority did a wonderful job installing the system with minimal outage time and under budget at a cost of $2.01 million, versus the capital budget cost of $2.04 million." Mr DeSilva added: "Given the importance of accurate weather to Bermuda, particularly during the hurricane season, I think we are all relieved and happy to have our weather radar back in place with increased reliability." The former radar system was installed in 2004, but had to be replaced because of "reliability issues". The old radar was retired in March and dismantled to provide space for the new and more advanced doppler system. Adam Shanks of German firm Leonardo, the manufacturer of the radar, said the new system will provide more accurate forecasts. He added the system was also designed to deal with problems caused by Bermuda's isolated location and climate change. James Dodgson, director of the Bermuda Weather Service, said: "The old radar essentially scanned in one plane horizontally while this one scans in two planes. It scans in the horizontal and the vertical. That gives the radar better definition of what we call 'hydro meteors', which is the rain and hail that falls from the sky. It gives a better idea of the size and intensity and that gives us a better idea of the rainfall amounts hitting the ground." He added the radar scans, viewable online at weather.bm, are used by people across the island. Mr Dodgson said: "It's certainly one of the most popular parts of our website. That's the feedback I get. A huge amount of people will access that radar imagery on a daily basis, whether they are going out for a run in the morning or going out on the boat, just to plan their daily outdoor lives in this wonderful place, Bermuda." A spokeswoman for the Bermuda Airport Authority said the installation work was fully completed on Monday. She added: "The BAA has been assured a 95 per cent reliability rate for the weather radar system for the next 15 to 20 years, with the exception for times when the radar will be taken down for preventive maintenance."

The Bermuda Airport and Bermuda Weather Service (BWS) is provided by BAS-Serco on contract with the Department of Air Operations. BWS operates as the island's National Meteorological Service and provides public and marine weather forecasts and warnings, in addition to the necessary data for the safe operation of aviation in Bermuda. BWS supplies weather information to local newspapers, television stations, cable TV and marine users such as visiting yachts and Harbour Radio staff who relay the forecasts on Marine VHF Radio, weather channel 2. There is also a weather dial-up phone-in service available 24 hours a day, providing public and marine forecasts, current observations, warnings and tropical weather system information. The BWS also operates a website, www.weather.bm, which is extremely popular with both local residents and visitors. Weather forecasters at BWS gather information from a variety of sources including numerical weather prediction models, imagery from the GOES Weather Satellite, weather balloons released twice a day and the local weather radar. A radar system tracks and predicts hurricanes and storms up to 300 miles away from the island. The Island's weather radar system is located here on Cooper's Island.

Cooper's Island Nature Reserve
Cooper's Island, located at the extreme south-east point of Bermuda. The Nature Reserve opened in 2010 as a restored area after much hard work. The entire Island, totaling 77 acres, will take 15 to 20 years before it has all been returned to its original state before settlement. Over the next ten years the plan is to transform it into Bermuda's largest eco-destination and an essential extension to the living museum of the internationally recognized Nonsuch Island Nature Reserve, just off the coast of this island. There has been extensive planting of native and endemic plants.
This is one of the best spots in Bermuda for viewing both longtails and cahows coming to roost on Nonsuch Island and other small islands to the south. It is also one of the best habitats for the Bermuda skink.
Close by are two once-US military only, now-public beaches, Clearwater Beach (see above) and Turtle Bay (see below). The area at the far end of Cooper's Island is now a traffic-free oasis of quiet wilderness where Bermudians and visitors alike can now go to enjoy peace and tranquility and simply relax or observe nature.
There is now a wildlife watch tower, on the approximate site of historic Fort Pembroke. It allows the public to experience up close the annual migration of the humpback whale, the Bermuda petrel or cahow and the longtail. The area is internationally recognised for its importance to bird species, notably the rare cahow, with the entire world population living within one kilometer of Nonsuch Island. Around half of all longtails that visit Bermuda each year also nest in the area. It is an ongoing project, like Nonsuch Island, although Cooper's Island is five times bigger. There are no vehicles in the area so people can get away from everyday noise and walk and picnic in an area that's totally natural.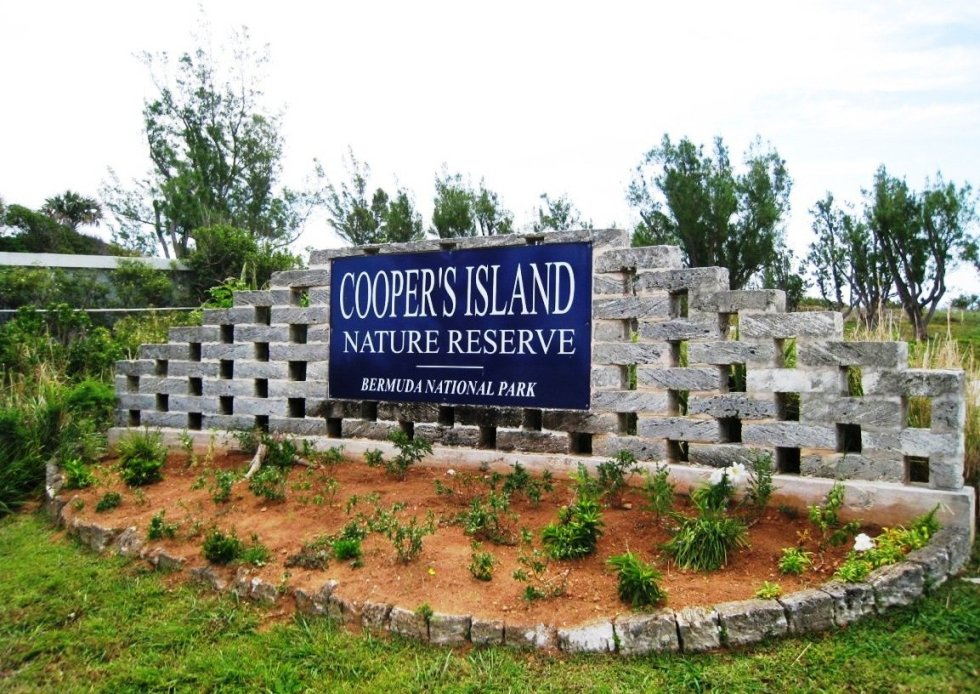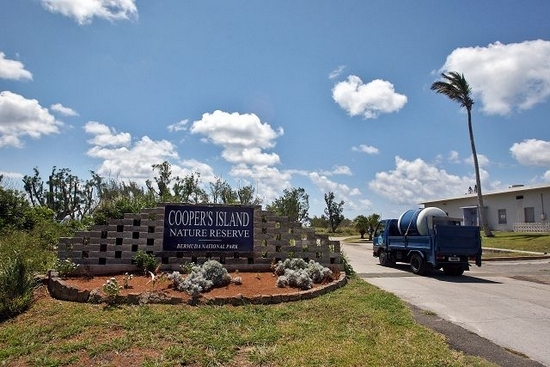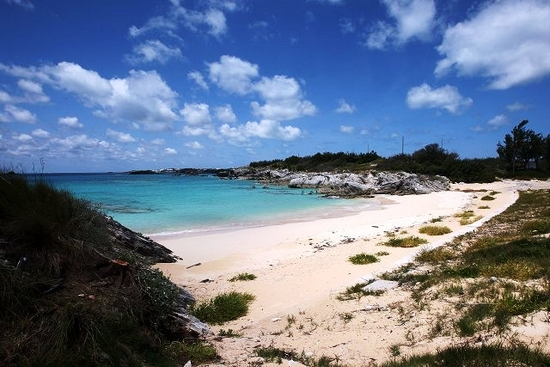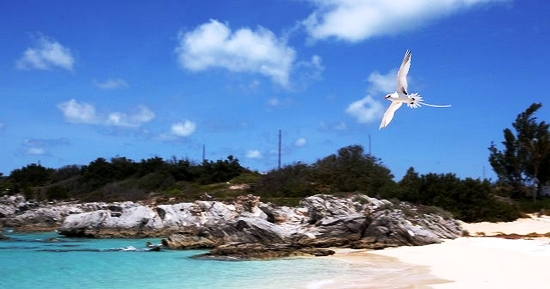 Dolly's Bay
There were once seven whale houses, one incorporated into Dolly's Bay House. At one time - from 1941 - Dolly's Bay was the officers' bathing beach of the US Army, US Army Air Corps, USAF and USN from the former US military bases built from 1941. An old notice for transient officers points out that the bay is in "front" of the officers' club, and notes that "swim suits are available from the club officer." Now various private homes host Air B&B vacations.

Fox's Hill
Named for the fact that many St. David's Islanders have Fox as their surname.

Grazbury Bay
Cooper's Island, once the home of John Grazbury.


Great Bay
A Bermuda National Park and Reserve.

Great Head Battery and National Park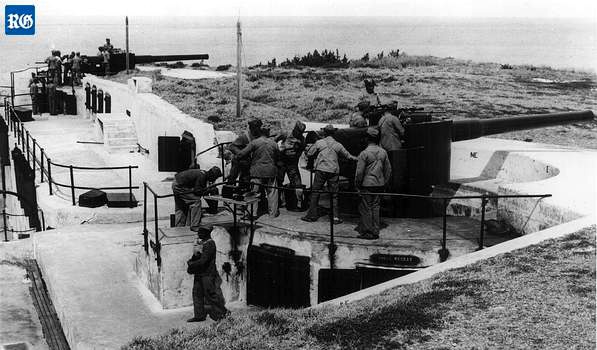 Great Head Battery is a purpose-built local military gun emplacement. Restoration work on two 100-year-old breech loaded guns was completed in October 2006. They were constructed in the United Kingdom in 1910 to defend the entrance to the Narrows Channel that leads into St. George's Harbour. The Battery here was in use until 1957. It was armed with two 9.2-inch and two six-inch breech loading guns. The 9.2-inch guns were the largest guns ever mounted in Bermuda and had a range of seven miles.
During the Second World War the two six-inch guns were one of Bermuda's only coastal defenses to protect against enemy invasion and as such are an important part of the Island's heritage. Both the Battery and Park are splendid walking areas for the healthy and stretch for miles but because they have narrow, uneven and sometimes hilly walking paths, are not recommended for anyone with any physical disability.
There is also a Figurehead Memorial - see Royal Gazette photo below - for Bermudians lost at sea. Resident artists were asked by the Ministry of Transport to produced sketches and plans. It is on a wind-swept point at Bermuda's eastern most edge, as a memorial to those lost at sea. Amongst them were three generations of descendants of Warwick resident Elma (Paynter) Joynes who died when the sea liner bringing her home from North America was torpedoed by a submarine at the height of the Second World War.
Ms Joynes was only 24 when she was amongst hundreds who died after the Canadian liner SS Lady Hawkins was hit in January 1942. Bermudian artist Bill (Mussey) Ming created the memorial in England after salvaging a 100-year-old boat from near a busy motorway road and using it as the basis for his sculpture, which contains nautical items including dividers, a life-belt, paddle, sand timer hourglass and an open book reproducing a section of Allan E. Doughty's poem "The End of Time."
The 12-ton structure was inspected by Prince Andrew, Duke of York, in 2005.
Those commemorated include Alan Edness whose death alongside Micah Battersbee at sea during a storm in January 2003 provided the impetus to create a lasting memorial to all those taken by the sea; and Leonard (Sam) Outerbridge who died in 2003 while out on a solo fishing expedition near Castle Island. His boat was found but the 57-year-old has never been seen since he set out on that final fishing trip. Then-Premier Dame Jennifer Smith set up in 2003 the Memorial for Those Lost at Sea Committee to steer the idea.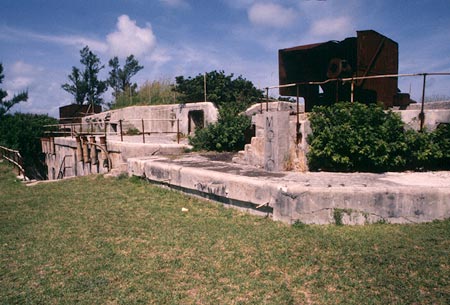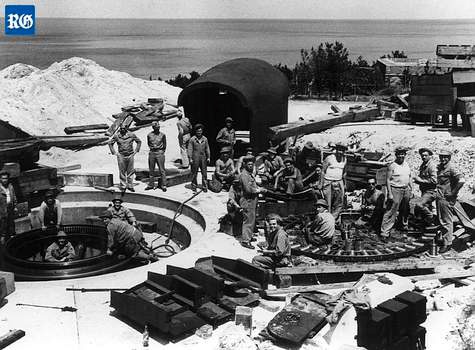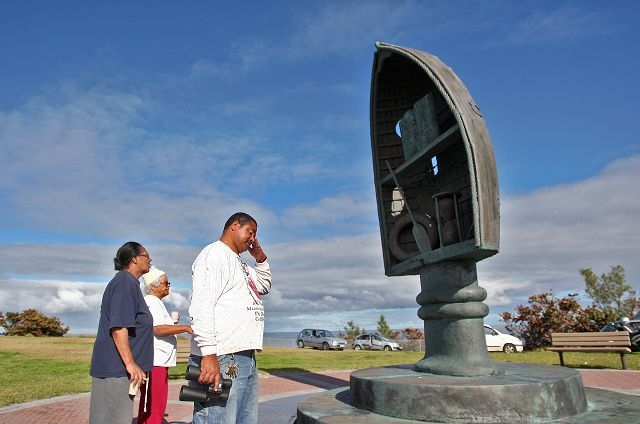 St. David's Battery Memorial, Royal Gazette photo

Grog Harbour
Originally Stock's Harbour, a place where the remains of an executed slave and convict were hung on poles at adjacent Stock's Point. It was renamed after British Army members came here by boat to drink. Several died from drinking, found in fishing nets the next day.

Harbour View Village
Since 2011. A $34 million low-cost/affordable housing development of 86 units comprising 2, 3 and 4-bedroom units on Southside. Formally opened in September 2011, most with nice water views. Constructed from four buildings on the former US military base. Each building is named after prominent St David's Islanders; businessman Arthur Pitcher, deputy pilot warden Harold Millett, School principal Hilton C. Richardson and Minister of Evangelism Constance Mello. It is a Bermuda Housing Development Corporation development which specifically wanted to make affordable housing available to Bermudians only - those in a specific income bracket via a lottery process. The unexpected discovery of a 540,000-gallon underground storage tank containing oil and sludge had delayed building work. In February 2012 it was announced that all have been sold out.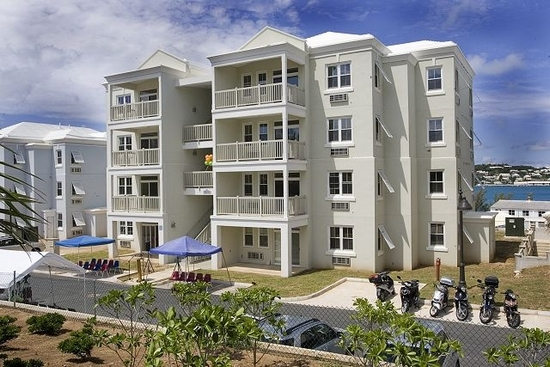 Royal Gazette photo
2019. November 1. This affordable housing complex is to get two new blocks which will include a total of 28 three-bedroom homes, the public works minister said yesterday. Lieutenant-Colonel David Burch said the extra space at the Harbourview Village in St David's represented a "hand up that honest, hard-working Bermudians deserve and we are happy to provide it". He added: "This is more than housing. This project represents continuing economic empowerment — Bermudian families owning a piece of the rock." Colonel Burch said the Bermuda Housing Corporation had a waiting list of 123 for affordable homes — but that that did not give a full picture of demand. He added: "In my opinion, it is not an accurate number. Our experience is that when Bermudians do not see an opportunity they lose hope in registering with the corporation. I suspect, as has been in the past when we have had these sorts of announcements, people will flock to the corporation and say they really want to participate. There are people who on a daily basis who are asking those who serve in Parliament for accommodation, and often times if you ask if they are registered at the corporation they say the don't have any houses." Colonel Burch said that he had given "serious thought" to a survey because people would be encouraged to take part and a more accurate figure could be recorded. He added: "Then we will really be able to plan for addressing the challenges Bermudians face in housing." He said people on the hunt for affordable housing should register at the BHC as the Government continued to work to tackle the shortage problem. Colonel Burch added: "This announcement today is just the beginning. There are several other plans relatively well advanced that will be announced in the not too distant future." He said the Harbourview scheme was started by the non-profit Bermuda Homes for People, which promised to provide affordable homes for $199,000 and organised a 2005 lottery for prospective buyers.
The BHP became insolvent later that same year. Colonel Burch said: "They fell into difficulties and the Government stepped in to complete that project and honour that commitment. Of course, the cost of the project far exceeded the $199,000 purchase price and was heavily subsidised by the Government through the BHC so the original commitment was met. Much of the criticism you hear today about government debt under the PLP administrations is for projects such as this, and for that we make no apology." The original approval for the site gave permission for six buildings with a total of 96 units. Four buildings, with a total of 58 units, were built and opened their doors in 2011. Colonel Burch said the Government planned to construct the final two buildings, but the designs will be modified to ease the need for three-bedroom homes after a survey this year identified a need for larger properties. He added that planning permission for six buildings and the associated infrastructure was approved in 2011, which would accelerate the process. Keino Furbert-Jacobs, project manager with the BHC, added the construction of the buildings was expected to take about 18 months after the ground is broken. Colonel Burch said that he and Tinée Furbert, the area MP, had already met existing owners at Harbourview Village to talk about the expansion. He added: "Of course, the big question is how much will these units cost — certainly not $199,000, but as soon as the tendering process is completed we will have a clear indication of price. The advantage anyone interested in participating in this project has though is that the BHC is not motivated by private developer-type profits but by developing projects that can support themselves. Additionally, the BHC is considering a rent-to-buy option to further assist families."

Hayward Family Burial Ground
Emily's Bay Lane. This unique small family graveyard the only one of its type in Bermuda, of a family with a fascinating Bermuda and maritime history who once lived solely in St. David's, lies at the back of Bay House on this street. The gift of the late Howard Smith, also prominent in the area, the graveyard is surrounded by an old wall and contains a few raised tombs and some attractive inscribed plaques in memory of members of the Hayward family. Two of the graves are thought to be those of Martha Hayward and her once British Army then local militia husband Lieutenant William Lang. Lang served with the 46th Regiment of Foot under Lord Cornwallis in the American Revolution. Bermuda legend has it that when he was stationed in Bermuda he had business with Anthony Hayward and when he went to visit him, he was struck by the beauty of Hayward's daughter Martha. It was love at first sight and without her father's knowledge they married in St. George's at St. Peter's Church, returning later to her home to seek forgiveness. Lang is credited with bringing the first peach seeds from Madeira and there is a large peach tree growing over the western side of the graveyard to this day.

Islands in the area
Bremen
Number 68 on the list of Bermuda National Parks and Reserves. 0.25 acre, east of Smith's Island, St. George's Harbor.
Brook's
0.85 acre, north of St. David's Island, St. George's Harbor.
Burt's
North of St. David's Island, St. George's Harbor.
Cooper's
77.5 acres, south east of St. David's. Historically significant. Now joined (since 1941) to and part of St. David's Island in St. George's Parish. So-called after a William Cooper from London, one of the original colonists in 1609. In 1612 it was claimed by Christopher Carter in payment for his share of ambergris forfeited to the Bermuda Company. He spent years there digging in vain for what he thought was buried treasure. In 1614, Governor Moore had built the Pembroke Fort at the south eastern end. It had two cannons mounted on it. The fort was destroyed by US forces building Fort Bell from scratch and in the process destroying many Bermuda islands for the war effort, during World War II. Then, both all of Cooper's Island and much of St. David's Island were taken over by the US Army at Fort Bell which created a road linking this island with St. David's Island. In 1945 Fort Bell was replaced initially by the United States Army Air Force, later the United States Air Force. As Kindley Air Force Base, the lovely Cooper's Island beaches were a hugely popular attraction exclusively for USAF personnel. In 1960 part of Cooper's Island was occupied by a purpose-built NASA space tracking station to gather tracking and scientific data from all its spacecraft, satellites and planetary probes. Personnel from NASA used the beaches. In 1970, the USAF was replaced by a USA Naval Air Station but the NASA tracking station continued. In 1995, the US bases left, NASA also left and the superb once-exclusive to US Forces beaches became public. Afterwards, Bermuda's weather radar system was located on Cooper's Island. Now the area is a lovely nature and wildlife reserve.
Goat (2)
Off Cooper's Island, near Nonsuch Island, southeast of St. David's Island, St. George's Parish.
Governor's
Number 68 on the list of Bermuda National Parks and Reserves. 1 acre, St. George's Harbor, near St. David's Island, between Peggy's Island and Paget Island. Its old ruined fort was once the dominant feature. It was named for Governor Moore who in 1612 to 1613 began the fort as a way to command the vulnerable but then strategically important channel nearby. By the time Moore's term ended, 11 guns were in the fort. One of the publicly inaccessible forts but historically important.
Grasbury's
0.75 acre, southeast of Annie's Bay off Cooper's Island, Castle Harbor.
Little Oswego
0.73 acre, east of Oswego (Great), off St. David's.
Little Scaur
Between Grazbury's and Long Rock, south of Annie's Bay, St. David's.
Nonsuch
The island, originally Nonesuch Island, of 14.5 acres, is in Castle Harbour, west of Cooper's Island, south of St. David's. An old English name, given by first settlers, after a former Royal palace in Surry, England. It has small, pristine, untouched beaches and a fresh-water marsh. Bermuda Government-owned and approachable only by sea, specific permission from the Bermuda Government agency involved is needed to visit, primarily for educational environmental purposes. Its trees are mostly Olivewood, Palm, Bermuda Cedar and casuarina. Its main occupants are the cahow bird (but no nests), butterflies, skinks, silk spiders and the longtail bird. It was privately owned from 1700 to 1860 and variously used as a grazing land once for deer then other animals. When it was acquired by the Bermuda Government in 1865 it served as a mostly or exclusively civilian-built yellow fever quarantine station, ships' quarantine station and hospital, for yellow fever, cholera and smallpox victims, with a dock and various buildings including a mortuary and cemetery on the eastern side of the islander. It continued as the quarantine station for quite some time, officially until 1905 but unofficially for longer as shown below in 1922.

In September, 1922 - as told by the late Bermuda-based author and nun Sister Jean de Chantal Kennedy - the Royal Mail steam packet ship Chignecte sailed towards Hamilton with six Sisters and Mother Fidelis aboard, all of whom were intending to take up teaching duties at Bermuda's Roman Catholic school of Mount St. A. Agnes Academy in Hamilton. Two days into the trip two of the seamen came down with a rash and therefore could not proceed into the port of Hamilton but had had to run up the yellow flag and await the medical officer. He diagnosed the sailors' ailment as small pox and although the ship's doctor disagreed the passengers were ordered into quarantine. Parents and their children were brought to Coney Island for quarantine where the conveniences were far better, but twenty-one other passengers, including the Sisters, were required to endure hardships of many kinds at Nonsuch Island. Because Nonsuch Island had been abandoned seven years earlier the weary passengers arrived to see empty, deteriorating buildings, small and inadequate, the dreary graves of former victims of the disease and the keeper's cottage on this desolate rock. There was not even a tree except by the morgue. Fortunately for them, Dorothy Tucker, a trained nurse, whose mother was on the ship, accompanied Doctor Percy Shelley to Nonsuch Island where she believed her mother to be. However, her mother actually was quarantined on Coney Island but Dorothy had to now stay at Nonsuch Island because of her exposure to the sick. Doctor Shelley visited the island daily and found no signs of smallpox among his patients but nevertheless, he assigned two of the Sisters to take the temperature of all the patients once a day. These infirmarians were Sister Lucia and Sister Theophane. Supplies came regularly from the mainland and Dorothy assisted by two of the Sisters prepared meals and washed the dishes. As if the crowded, cramped quarters, lack of sufficient fresh water and the monotonous daily existence were not enough, a hurricane struck but the shark oil's turmoil caused preparations to be made and by the time the hurricane struck all had been secured. They sought what shelter they could get in the corners and closets and awaited the dawn. With the lulling of the storm, a temporary canvas covering was put over the roof and held down by blocks of stone, and life resumed its even tenor – for a while. On the Sunday after the hurricane Mother Fidelis asked Sister Marie Louise and Sister Rita Vincent to play their mandolins for recreation. Before long the other passengers were making their way nearer to the sounds of music and Mother invited them to join the Sisters and soon all were together around the cottage balcony. Some asked for their favorite hymns and be- fore the recital was over most of the familiar hymns, both Catholic and Protestant, had been played. When the time of their exile was about to come to a close, a further three weeks were added to the quarantine because a young man coming to teach at a boys' school was discovered with the rash. Mother Fidelis, an accomplished artist who had her water colors and art paper with her, decorated one of the plain paper napkins with which they were provided, painting wild roses around the border and printing in gold ink the names of the passengers to celebrate Dorothy Tucker's birthday. Mother Fidelis also painted a greeting card with the following words: "A heartfelt wish for Dorothy, who, imitating her patron saint showered on the quarantine exiles the roses of kindness, thoughtfulness and self sacrifice. God bless you, Dorothy. God keep you. God love you and give you many happy returns of your birthday. The Nonsuch Exiles." Mother Fidelis evidently had her own ideas about the particular manner in which God was to bless Dorothy before the recurrence of her birthday. She thought she saw - and very much approved of-a budding romance between Dorothy and the Doctor. Dorothy had confided to Mother that she was engaged to marry a man in the army but Mother dismissed the military man without even a thought. She had picked Doctor Shelley and apparently Dorothy agreed for they were engaged by Christmas and married at Easter. Community annals tell us that Dorothy cherished the paper napkin and card given her on that memorable day. Finally the days of isolation drew to a close and the Quarantined sailed into Hamilton Harbor in early October 1922 and the Sisters prepared for the delayed opening of their school.

From 1928-1931 the island was on loan to the New York Zoological Society as a marine research station. It was was occupied by Dr. William Beebe and Dr. John Tee Van and it was from this base that the historic deep descents by the famous bathysphere were organized and accomplished by Dr. William Beebe and staff. They used the island and - once they were disinfected lest any traces of the diseases were still present - its buildings for their deep water diving experiments. An Admiralty water barge, a surplus-to-requirements former Royal Navy pinnace earlier sunk was re-floated, moved to the island and was again sunk, this time near the north shore to serve as a breakwater and for fish-holding tanks. It became known as the Sea Fern. When they left, the island then became a British-type Borstal - a junior training school for delinquent boys, after which it was abandoned for 12 years. During World War 2 the island, then completely uninhabited, was rendered even less accessible with the building on islands nearby from massive Castle Harbour dredging entirely at US taxpayers expense of what was first the US Army's Fort Bell, than the USAAF then USAF then US Naval Air Station base (that lasted until 1995). After that base was built but before the end of that War, the island is believed to have been silently - with no publicity - and infrequently used as a graveyard for a small number of non-British, including German, seamen killed from ships sunk by German submarines in the Battle of the Atlantic and brought to Bermuda for burial, but with limited space left on the mainland for enemy corpses.

In 1951, it was the site of the rediscovery of the endemic Bermuda petrel or cahow (Pterodroma cahow) once common on the island when it and other islands nearby were discovered in 1609 when British colonists first arrived, but disappeared from being eaten by colonists. It was thought to have been extinct for over 300 years. The entire island was acquired by the Bermuda Government in 1964, as part of its nature reserve, bird and wildlife system, through funds donated by the New York Zoological Society. The Cahow project was begun here by Dr. David Wingate (he retired in 2000 as Government Conservation Officer after an amazing career, having devoted his entire working life to conservation generally and the re discovery in particular of the cahow), thanks mostly to him, which created world headlines. His wife Anita, also a conservationist, died in the effort and is buried on the island. Now the Nonsuch Island Nature Reserve is a living museum, a re-creation of Bermuda's native flora and fauna, of huge ecological importance. Limited escorted field trips, for special-interest groups only, began in 2000, from the-then named Bermuda Biological Station for Research (BBSR) for $75 per person. There is also a week-long Nonsuch Island Natural History Camp every year (usually in June) for local high school students, at the nature reserve. Students camp out under the stars, sleep on lilos or camp beds, bathe with solar showers or cold water from a bucket. The camp, offers students aged 15 to 18 a unique opportunity for hands-on learning about natural history from local experts. Students are based on Nonsuch Island and learn about Bermuda's terrestrial and marine environments with field trips to a wide range of habitats. The camp is run by Bermuda Audubon Society and Bermuda Zoological Society with the support of the Department of the Environment and Natural Resources, which allows use of Nonsuch Island as the camp base. Visitors can access the island's surrounding waters by kayak and by snorkeling. The shipwreck on the north edge of the island is one of the only shipwrecks accessible to snorkelers rather than scuba divers, and interesting to explore. Snorkelers can free dive through openings the ship's hull and find an impressive range of reef fish.

Oswego
Also known as Great, 2.5 acres, St. George's Harbor.
Peggy's
Off Smith's, St. George's Harbor. Number 65 on the list of Bermuda National Parks and Reserves.
Pudding
Small and barren. South of Stocks Harbor and west of St. David's. Its position saved it from destruction when the USA military bases were built from 1941. This was when it once again got the unofficial name of " Grog Island" - from the fact that a lot of drinking went on here, as it used to 300 years earlier.
Smith's
61 acres, in St. George's Harbor, St. George's Parish. Named for Sir Thomas Smith or Smythe, the first Governor of what later became the Somers Isles Company, an office he still held at the time of his death in 1625. He was an empire builder of immense energy and ability. The island is historically very significant, Bermuda's first settlement. It was here that Carter, Chard and Waters, who got the reputation of being the three "Kings of Bermuda" from 1610 to 1612, settled when they were the first accidental permanent colonists in Bermuda. They built cabins of palmetto, planted beans, watermelons, tobacco, maize, fished of the coast, hunted wild hogs, salted bacon and fish they caught and even made a fresh water catch. When the Plough arrived from England on July 11, 1612 with the first party of planned colonists, it went first to St. David's to discharge them then went two days later to an anchorage on the south shore of Smith's Island. Carter, Chard and Waters proudly displayed to Governor Richard Moore the varieties of garden produce they had grown. Moore was delighted because the Somers Isles Company in London had supplied him with 81 varieties of seed to try in Bermuda. Many of the first crops Virginia and the later American colonies had ever seen were planted on Smith's Island. It was the original home in Bermuda of the first planned settlers and they even made rock ovens for their food from the local limestone until they moved to St. George's Island and the Town of St. George in the summer and autumn of 1612. Twenty three acres on the western one third of the island are now a recreational area for Bermuda youth, owned jointly by the Bermuda Government and the Bermuda National Trust. It comes under the National Parks Act 1986. The Bermuda National Trust bought the acreage for $850,000 and the Bermuda Government paid the Trust $200,000 for a 23.5 percent share in the acreage. Thanks to local residents Mr. and Mrs. Robert Basist, the Trust was able to reforest certain areas it owns of the island with cedar trees.
Whaler's
Near Smith's Island, St. George's Harbor.

Jinny Jennings Lane
Named after a freed slave by that name who lived nearby.

Kindley Field Road
A Bermuda National Park. Named after Captain Field E. Kindley, US Army Air Force, after whom this road, the former US Kindley Air Force Base in Bermuda - see Former US military bases in Bermuda - and more landmarks are named. Number 53 on your free listing of Bermuda National Parks and Reserves. This is to the east and north of the airport with marine views of Ferry Reach.

Kindley Community Tennis Courts
Southside. Phone 293-5791. Named after Captain Field E. Kindley, US Army Air Force, after whom this road, the former US Kindley Air Force Base in Bermuda - see Former US military bases in Bermuda - and more landmarks are named. At the former Officers' Club at the former Kindley AFB/USNAS military base, now civilianized. There are 4 asphalt courts, fees. Tennis attire is mandatory.

Lamb Foggo Urgent Care Centre
Southside. Opened April 2009. On site of former US Military Hospital. So-named after St. David's surnames of two prominent local families. With treatment rooms, a lab and radiography, pharmacy, nurses station, reception area, staff lounge, information technology room and ambulance station. Normally 9 am to 5 pm daily. On the former US baseland at Southside on land leased to the Bermuda Hospitals Board by the Bermuda Land Development Corporation. Offers offer close-to-home care for people who have minor accidents or sudden illnesses in the East of Bermuda. Patients with major medical and surgical emergencies will still need to attend the Emergency Department at King Edward VII Memorial Hospital because of the far greater array of support services that will continue to be offered there. Managed by the Bermuda Hospitals Board to ensure it dovetails into the Island's overall emergency service. Basic diagnostic equipment (such as ultrasound and x-ray), pharmacy and laboratory (blood test) services are provided. It will also serve as a 'disaster centre' in the event of a natural catastrophe or air crash at the Bermuda International Airport close by. In that scenario, three to four disaster recovery tents for emergency medical procedures will be set up in the car park in the event of a disaster situation such as hurricane or an airport crash at or near the airport. The facility is staffed by up to five full-time medical staff and three ancillary staff, providing outpatient emergency care plus triage for patients on their way to King Edward VII Memorial Hospital. Ambulances access the centre from Southside Road, with all other vehicles entering off Hall Street.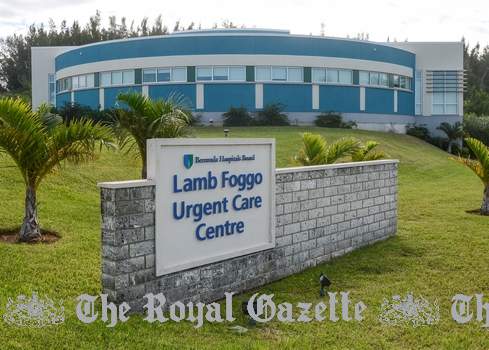 Built on the site of the old US military Hospital

Little Head National Park
A Bermuda National Park and Reserve

Marginal Wharf
See new name of Ship's Wharf.

NASA Tracking Station, Cooper's Island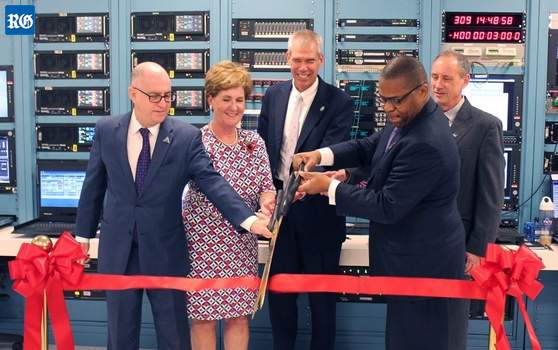 See details below
2018. November 6. American space agency Nasa opened its new tracking station yesterday. The station, on Cooper's Island in St David's, will be used to monitor Nasa space missions as a predecessor did from the same site in the 1960s, when rockets from Cape Canaveral in Florida were tracked by radar from the island. Now, as then, Bermuda is helping make possible new advances in space flight and in advancing science, engineering, technology and maths education objectives.
NASA Tracking Station and European Space Agency (ESA) developments
2012. March 7. NASA Signs Agreement With Bermuda For Tracking Station. NASA and the government of Bermuda signed an agreement today to establish a temporary mobile tracking station on Cooper's Island to support launches from the agency's Wallops Flight Facility in Virginia including future commercial missions. Deputy Premier and Transport Minister Derrick Burgess and NASA Deputy Administrator Lori Garver signed the agreement. The mobile tracking station will be provided and operated by Wallops under NASA's Research Range Services Program. The station can provide telemetry, meteorological, optical, and command and control services. It will support the launch of commercial rockets carrying supplies to the International Space Station or satellites to low-Earth orbit. "This tracking station will help facilitate NASA's partnership with commercial companies and support operations aboard the International Space Station," Garver said. "We're grateful to the government of Bermuda for its ongoing support to NASA." Bermuda has been a long-time partner of NASA in supporting space exploration. The British territory hosted a radar tracking station from the Mercury Project in the early 1960s through most of the Space Shuttle Program. For more information on NASA's Commercial Orbital Transportation Services, visit: http://www.nasa.gov/offices/c3po/home/cots_project.html.
Earlier in 2012, the Bermuda Government signed a four-year agreement allowing NASA to use the land. It was announced in March 2012 that missions to the international space station by the US will be monitored by a new NASA tracking station in Bermuda. The US and Bermuda governments signed a four-year agreement for the temporary mobile station to be sited at Cooper's Island Nature Reserve. NASA deputy administrator Lori Garver said the Island was geographically in the "perfect spot" for tracking launches from the Wallops Flight Facility and the agreement could be extended. She said the mobile tracking unit was expected to be used two to four times a year by NASA personnel, with the first mission expected in the summer. A "handful" of local jobs for maintaining the facility will be created. The station would have a small footprint and the site would be restored to its original condition after NASA's departure. There is an educational component to the agreement between the two governments, which would link NASA tracking experts with local schools interested in the agency's scientific activities here. The mobile system can be used not only to support supply missions to the International Space Station, but also launch satellites to low-Earth orbits. During launches, a team of ten personnel travel to Bermuda to configure the mobile tracking system, conduct the operation, and then pack the systems to be returned to Wallops. NASA's second-in-command Lori Garver said that the agency was working with private partners in US industry to send launch vehicles to the International Space Centre to help with supplies and logistics. Steven Kremer, NASA Wallops deputy range manager, explained: "Owning, deploying, and controlling our own assets means control over scheduling. "It gives us higher confidence in promising range availability to our customers when they come to Wallops for services. In addition, our services offered from Bermuda will benefit other customers who launch from other ranges such as the United States Air Force's Eastern Range in Florida."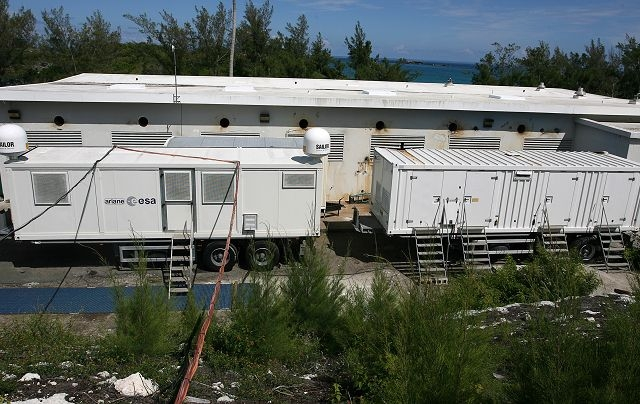 ESA Bermuda under construction, Royal Gazette photo
2011. October. An European Space Agency (ESA) station was set up there to monitor the launch of a Soyuz rocket, set off on December 16. 2011, from Kourou in French Guiana, near Cayenne. Bermuda's Ministry of Environment, Planning and Infrastructure confirmed the local ESA tracking station will receive and send on telemetry data from the rocket once it loses contact with Kourou, and before it makes contact with another tracking station in Canada. Four ESA staff posted to the Island were given immunity from suit and legal process - the the same legal immunities as diplomatic consuls, according to Government. Bermuda granted the immunities under the Consular Relations Act of 1971 after the ESA has requested that Bermuda allow them to set up their Transportable Station on the Island and the Foreign and Commonwealth Office (FCO), as required, consented to Bermuda making bilateral agreements with them on their requested mission project. France's four space centres around the world monitor the launch and tracking of the rocket. The Bermuda station at Cooper's Island consists of a 4.5 meter parabolic antenna, its transport container and a technical shelter to store operational electronic equipment, including a no-break power system, and a power shelter housing two generators and a fuel tank. It resulted from the spring 2011 agreement between the European Space Agency (ESA) and the Government of Bermuda which authorized ESA to establish and operate a transportable and temporary station on Cooper's Island to track and receive telemetry data for ESA launch vehicles. As a result, Bermuda played a key role in tracking a rocket launch to put six satellites in orbit around the Earth. The French space agency Centre National d'Etudes Spatiales (CNES) implemented this agreement on behalf of ESA. "Bermuda is an ideal location to track ESA launch vehicles heading north after lift-off," explained Michel Starozinski, New Stations Project Manager at CNES. "We always need a downrange tracking station after the loss of the signal by the Kourou station in Guiana, which occurs about 1,800km away from the launch pad. When we launch to the North what is the only island after the West Indies between South and North America? Bermuda!" The launch was successful because its goal to place six satellites in orbit at the correct locations, pointing the correct directions and at the correct times, was reached. Several stations are used to receive, process and transmit in real time the telemetry data sent by the launcher (or 'rocket') to the Control Centre in Guiana. Telemetry data provides information on the rocket's trajectory, including its position, velocity and acceleration, and its performance parameters in particular pressure, temperature, voltage, currents and flight control computer data, as well as main events such as separations of stages and satellites, ignitions and shutdowns of the engines. Bermuda was one of the 'main stations' during this launch as it was from there that technicians saw the first ignition of the upper stage of the launcher (Fregat) after its separation and the entire boost of the engine until its shutdown about four minutes later. The Cooper's Island station tracked the launcher during this first pass from the South West on the horizon, about nine minutes after the launch, to the North East at the level of the St David's Lighthouse. About 90 minutes later, the station tracked the launcher for a second pass from the South East to the North East. Other stations used for this launch were Kourou in French Guiana, Lucknow in India, Jeju in South Korea, Perth in Australia and Saskatoon in Canada.
Between 1961 and 1997, Coopers Island housed a NASA tracking station as part of its Manned Space Flight Network. During that period, the station tracked every manned NASA space flight including those used during Project Mercury, the first US manned space flight project, and the Apollo Mission to the moon in 1969. Use of the station ended due to technological improvements in space tracking systems. In 2008, NASA Wallops briefly returned to the station for tracking purposes, and last year the European Space Agency established a temporary station on Cooper's Island as part of an agreement to track missions from Europe's spaceport in French Guiana.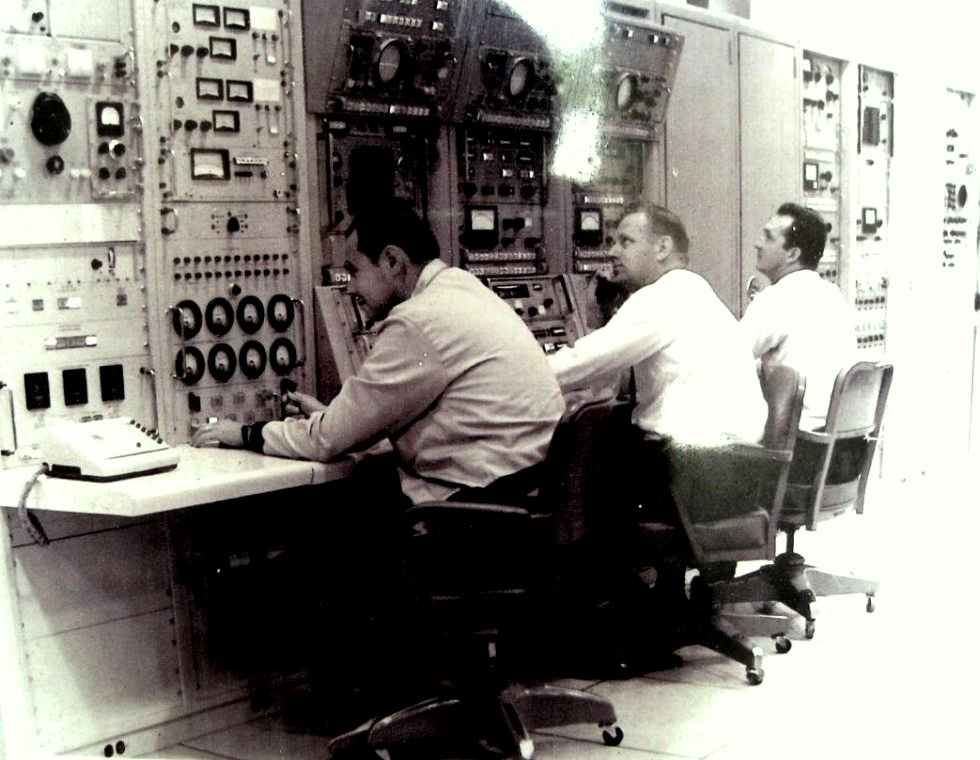 Old NASA Station in Bermuda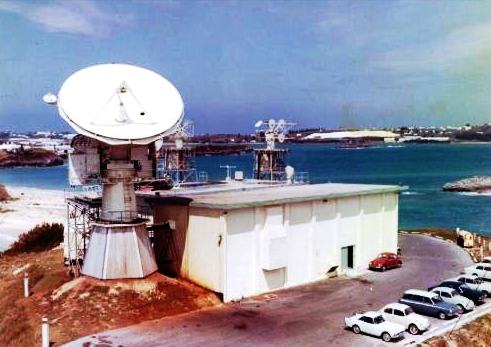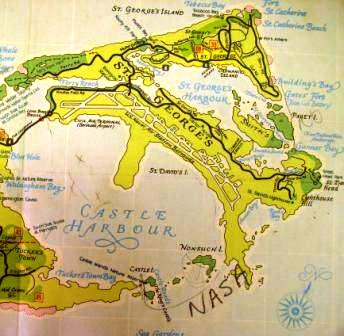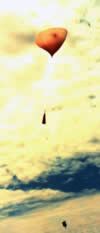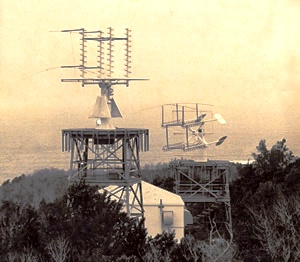 Right photo shows the antennas facility of the Town Hill, Flatts, Smith's Parish unit, 6 miles away, of the NASA station at Cooper's Island built in 1960
1941-1945. Use of what later became the NASA station was part of the US Army's then USAAF's then USAF's then the USA's USNAS military strategy in Bermuda. Robustly constructed buildings, totaling approximately 32,000 sq ft, plus several three-storey radar mounts and three ammunition bunkers were created. From 1941 until 1995 all of Cooper's Island was included in initially the US Army base here in St. David's, initially Fort Bell, which from 1944 became occupied by the USAAF, then USAF and finally USAF before closure in 1995. See US Forces in Bermuda 1941-1995 and related websites on who was stationed there.

Miss Vicky's Lane
Named for Victoria Hayward (1876-1958). As an adult, she lived abroad as a writer and wrote the text for Romantic Canada, a travel book illustrated by photographer Edna Watson. But she kept her Bermuda property in Emily's Bay Lane.

Motorsport Park
Southside, created in 2005. For motor cyclists, scooters and more.

Restaurants in the area
| | | |
| --- | --- | --- |
| Black Horse Tavern, Restaurant & Bar | | Phone 293-9742. 101 St. David's Road, DD 01. Lunch or dinner. $$$$ |
For others in Bermuda, see Restaurants

St. David's Battery
See "Great Head Battery."

St. David's Chapel of Ease
A local landmark on a local bus route. It was built specifically for St. David's Islanders who were then much more geographically remote from Bermuda than they are today. In 1848 the Chapel of Ease church was established at St. David's, governed by St. Peter's in St. George's. It was built to replace Mission House, a private house originally Mount Airy bought by Bishop Spencer and used as a place of worship, dwelling house and Sunday School. It was the last Anglican church built from scratch in Bermuda. In 1949 it was consecrated by Bishop Feild The bishop and other clergy were rowed from St. George's across the harbour to Church Wharf by the rector's four sons. The annual Blessing of Boats dates from this locale and consecration. Added to with the church tower in 1957. Has its own graveyard (as shown in part of the Royal Gazette photo below). In a tranquil setting on a hilltop above a small hidden cove. Lots of St. David's Islanders are buried here, the only place for them to do so irrespective of the religious affiliation of most.
A tradition dating back to 1849, it's Blessing of Boats takes place at the Chapel of Ease dock in St George's Harbour. In June 2016 The Right Rev Nicholas Dill, Bishop of Bermuda, and the Rev David Raths conducted the blessing after being rowed respectively by the Bermuda Pilot Gig Club in Harry Fox, and by members of the St George's-based TS Admiral Somers Sea Cadets in Lady Stockton. Parliamentarian Suzann Roberts-Holshouser helped to conduct the service, along with Demi Wight, Dylan Holshouser and Henry Hayward, while music was provided by members of the St George's Corps of the Salvation Army. The event dates back to the consecration of the Chapel of Ease. With no bridge connecting St George to St David's, four sons of clergymen volunteered to row the bishop across the harbour. As he passed through, the bishop blessed the boats that had gathered to watch. The tradition is now carried out every year, usually accompanied by a codfish breakfast. Visiting boats are invited to take part in the event, but are asked to first collect a flag from the Visitors Information Centre in St George's. Each boat in attendance is blessed and receives a Certificate of Blessing saying, "Bless o lord this vessel and all who sail in her; may she be a trustworthy and safe servant."
St. David's Chapel of Ease (Royal Gazette photo)

St. David's Island Historical Society
Carter House, Southside Avenue, Southside, St. David's. Phone (441) 293-5960. Fax (441) 297-0329. Open April to October on Tuesdays, Wednesdays, Thursdays and Saturdays 10 am-4 pm and 2nd Sunday each month 12 noon to 4 pm. Admission charge. Registered charity 506. Located in Bermuda's oldest house. Its main purpose is to preserve the once-unique culture and history of this separate island in the Bermuda archipelago, which included farming, piloting whaling and close association many St. David's Islanders still have with with American Native Indians.

St. David's Islanders & Native Community
An organization of St. David's Islanders claiming descendents from Pequot and other American Indian tribes. It aims to promote Bermuda's Native American connections. There is a bi-annual St. David's Island Indian Festival with the first one held in 2002 and the next Bermuda Powwow on June 6-7, 2020 from 2pm to 6pm on the St David's Cricket Club Lords grounds. Admission fee applies. It includes native Americans from the Naragansett, Wampanoag, Mashantucket Pequots, Cherokee and other tribes. Some St. David's Islanders claim descent from these tribes. They are descendants of Native American Indians who were brought to Bermuda as slaves in the mid and late 1600s and early 1700s and later settled in St. David's. They were often captives from various wars fought between Europeans and Native Americans. Many Bermudians today are descended from these people. In recent years some Bermudians with such heritage have been reconnecting with people from tribes in New England. They have attended pow wows in the United States, and held several pow-wows in Bermuda. In late 2007 a high-ranking delegation from the Mashentucket Pequot Tribal Nation made a lightning visit to Bermuda, with a short tour of St. George's and St. David's, including a visit to the slave graves.
The organization's mission is to teach interested people about Native American ancestry. It often speaks at schools about it, with a talk and show them one dance. They are always well received. In January 2012 they created a new blanket, traditionally used by Native Americans to keep warm in cold climates, to raise funds for the group. It was designed by Kevin Watson, a chef, graphic artist and a trustee of the group. It replaced an old blanket. The new one is made in Montana. The colors, blue and white, represent the colors of tribes of the northeast, and of St David's. It includes designs of Bermuda rockfish, turtles and suck-rocks (a marine mollusc, chiton tuberculatus) all items used once by St David's Islanders for food, plus the Bermuda Longtail. The clasped hands in the logo represent Bermuda's reconnection with relatives in New England after 300 plus years. Trees shown are the Bermuda cedar and the Bermuda palmetto. Each corner of the blanket has a cahow. The blanket sells from $85.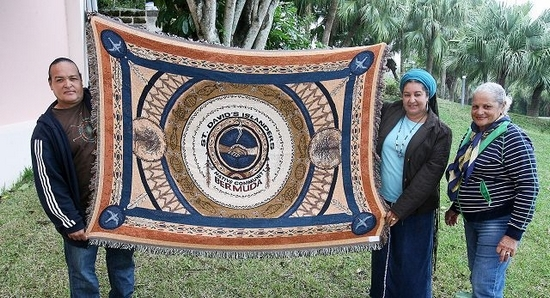 St. David's Islanders and Native Community Blanket, Royal Gazette photo

St. David's Lighthouse
Lighthouse Road at Mount Hill, St. David's Island, St. George's Parish. Phone (441) 297-4481. One of the only two lighthouses in Bermuda, the second and smaller. Its light enabled navigators to take cross bearings with the flashing beacon emitted by Gibb's Hill lighthouse in Southampton Parish. Overlooking the South Shore, this famous 131+ years old lighthouse, completed in November 1879, then on nearly seven acres of land in the national interest, is owned by the Bermuda Government. It was constructed to eliminate luring ships with other kinds of lights to come too close to the reefs and get their bottoms torn out. Local St. David's Islanders were notorious for plundering cargoes. When the lighthouse defeated their illegal activities, they became fishermen and excellent pilots.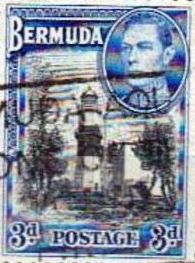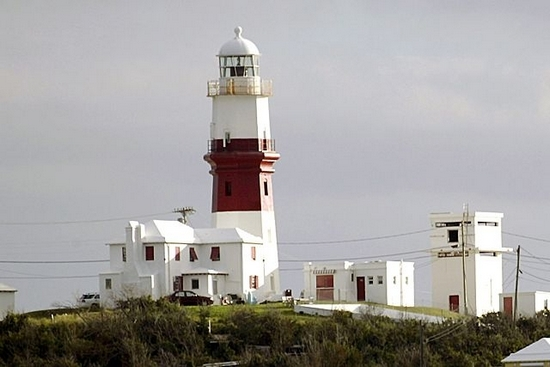 A landmark, it is not made of iron but sturdy Bermuda Stone (limestone of a type unique to Bermuda and then commonly used in building construction as a cheap local source of building materials. The structure is 55 high to the lantern. It shows a fixed white light of the second order, about 30,000 candlepower, 208 feet above sea level. Since then it has been warning ships. It was deliberately constructed inland, on a hill, not on the shore line, to be seen from afar. Since then it has undergone many changes and improvements. Instead of the original kerosene burner of the ordinary wick type it had a hood petroleum burner installed in June 1922. In 1943, during World War 2, Bermuda issued a postage stamp (shown right) depicting the lighthouse. Well worth a visit, especially if already in the St. George's/St. David's area (to avoid a miles-long detour). With an interesting historical backdrop and also, from the lighthouse, an appreciation of the very high population density of Bermuda of about 3,400 per square mile.
Views from the balcony are superb, looking east over land and water and also westward. In Tall Ship races since 1976 and numerous Newport to Bermuda and other bi-annual yacht races, it provides sailors with their first impressive glimpses of Bermuda.

St. David's Police station
Southside, built at a cost of $2.8 million and opened on time in January 2007.

St David's Shopping Centre
A vacant lot of land opposite from the former St David's post office building. Proposed in 2017, not yet built. The Bermuda Land Development Company, the Bermuda Government's quango that owns the land once occupied until 1995 by the US military, has invited suggestions. Among the options being considered for the land are a shopping centre. Additionally, with the uptick in tourism, increased cruise ship calls in St George's and the BTA's vision, more visitors are coming to the East End. Also, Clearwater Beach is primed for this uptick in visitor traffic, with the BLDC increasing its service offerings there.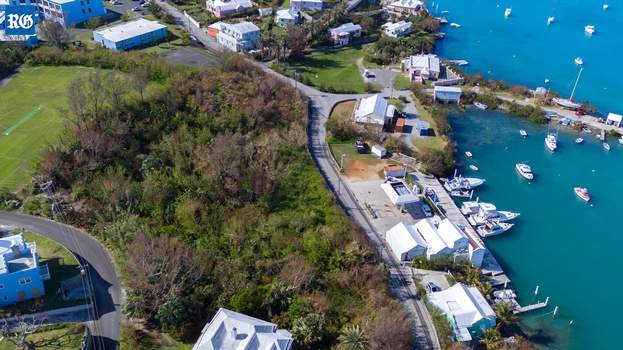 Ship's Wharf (formerly Marginal Wharf)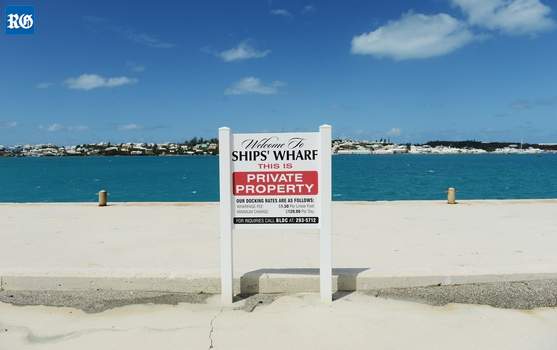 A Southside waterside dock area facing the Town of St. George that from 1941 to 1995 was constructed as the principal dockside for military equipment, goods and services shipped to what was initially the US Army's Fort Bell, St. David's Island, then the United States Army Air force, then Kindley Air Force Base, then the United States Naval Air Station. The Dockside also then had a regular boat service connecting this US military base with the US Navy's Operating Base in Southampton. After 1995, when the base became civilianized and both the base and dock were taken over by the Bermuda Government's Bermuda Land Development Company (BLDC) quango, it was used for various commercial marine and other activities and for storage. In late 2014 potential developers were given additional time to submit proposals on how Marginal Wharf can be redeveloped. The BLDC has already received a raft development proposals from local and overseas firms to rejuvenate Marginal Wharf. At present, the land around Marginal Wharf is occupied by a handful of boatyards and tradesmen, and large areas of the site have become overgrown and have fallen into disrepair. The berth itself is blighted by the rusting hull of the one-time gambling ship Niobe Corinthian. The name was later changed to Ship's Wharf.
2018. April 28. The deadlines for requests for qualifications for two major construction jobs at Ships' Wharf in the East End have been extended. Bermuda Land Development Company Limited announced yesterday that applicants will be able to submit their qualifications for the cargo port until June 29 and until October 23 for a power station. Francis Mussenden, BLDC chief executive officer, said: "To date, the interest in these projects has been significant. "Following recent meetings with registered proponents, we have determined that extending the deadlines is in the best interest of both the projects and Bermuda as a whole."
2019. April 25. From Saturday, April 27 through to Monday, April 29, between the hours of 7am and 10pm, crews will be unloading materials at Ship's (Marginal) Wharf and trucking them to the airport redevelopment site for the construction works at the new airport terminal. A spokesperson said: "In order to allow long loads to cross St David's Road, near Ricketts Street, into the airport site, traffic control will be implemented and intermittent stoppages will occur. This will affect traffic flow and we encourage people traveling to and from St David's to allow extra time for travel. This may also impact noise levels near Marginal Wharf. We apologise in advance for any inconvenience caused and we ask for the cooperation of the public and local businesses. For further information, please call Skyport on 293-2470."
2018. April 17. Contracts worth more than $300 million to redevelop a rundown wharf in St George's are to be financed by their developers. But the Bermuda Land Development Company declined to be specific on whether the deals would be funded through a public-private partnership like the controversial contract to redevelop the island's airport. A BLDC spokeswoman said the RFQ was seeking "developers and investors to finance the development whereby BLDC leases the land to investors/developers who will finance the project themselves". Government wants the area developed to provide a power plant and cargo port. Each project will cost more than $150 million to build. The power plant is expected to generate at least 20 megawatts of power — a fraction of the island's capacity last year of 160 megawatts. The news came as the watchdog Regulatory Authority puts together an integrated resource plan, expected to be completed later this year, to create a blueprint for future energy production in Bermuda. The spokeswoman said bidders for the energy plant contract were expected to provide "input to the RA for consideration for inclusion in the integrated resource plan in the near future". A spokeswoman for the RA said that the authority had liaised with the BLDC over its plans for Marginal Wharf, also called Ship's Wharf, which is now largely unused. He added: "We hope to be in a position to launch public consultation on the integrated resource plan shortly."
2018. March 28. A new $300 million-plus power plant and cargo port could generate a fresh role for Marginal Wharf in St David's. The two schemes, expected to cost more than $150 million each and take several years to complete were announced yesterday by Lieutenant-Colonel David Burch, the public works minister. Colonel Burch said: "Our island's current energy infrastructure is nearing the end of its life cycle and more energy resources are needed to improve stability and reliability, especially during times of peak demand and energy situations. He added the new power plant would provide at least 20 megawatts of power, compared with Bermuda's capacity of 160 megawatts in April last year. Colonel Burch said the Marginal Wharf area, also known as Ships' Wharf, was "the last commercial port available for redevelopment and was "a great opportunity for all of Bermuda". He added that the Bermuda Land Development Company had launched two requests for qualifications to help explore the redevelopment ideas. Colonel Burch said: "Through these RFQs, BLDC will invite local and international investors to submit their qualifications for the design, build and operation of these two major infrastructure projects." The announcement marks the end of a 3½-year "exploratory period" for the BLDC. The BLDC called in 2014 for expressions of interest to develop the dock at Southside largely unused for several years. Colonel Burch said redevelopment of the dock area, handed back to Bermuda by the United States Navy in 1995, would boost shipping capacity and "allow diversification into other services". He added: "The location could also accommodate bonded warehouses on site that would facilitate the breakdown of containerized goods at the port, enabling the transporting of goods in smaller vehicles on Bermuda's roads." Fish processing, suggested as another possibility for Marginal Wharf, has been branded an eyesore by area MPs. The minister was joined by Francis Mussenden, CEO of the BLDC, who said the request for qualifications would be open until May 23. Mr Mussenden did not give details on the type of fuel for the new power plant and said that financing would be sought "locally and internationally". Grant Gibbons, the Shadow Minister of Economic Development, said the BLDC's redevelopment plans went back several years. He added: "Any proposal would have to be included in the overall integrated resource plan." Dr Gibbons said: "The size of the facility and the cost of electricity would need to be included in that. Obviously there are issues with the kind of fuel to be used." Dr Gibbons said there was "nothing new here" and called it "a continuation of the process", other than the request for qualifications. Marginal Wharf's potential as an alternative to Hamilton docks was suggested earlier this month after the island's primary port was forced to close for repairs. Mr Mussenden said the East End wharf may need to be dredged to accommodate cargo vessels. A handful of businesses and boatyards operate at Marginal Wharf and the BLDC said it planned to meet its tenants tomorrow. The tenants' meeting will be followed by a community meeting at Clearwater Middle School at 6.30pm on April 5.

Southside street names when it was a US Military base 1941-1995
See Former US military bases in Bermuda. Street names then applying but no more included:
Andrews Drive
Bataan Street
Bundy Street
Castle Harbor Road
Cliff Street
Corregidor Avenue
Emery Road
Exchange Street
Federal Street
Hall Street
Hibiscus Drive
Holly Street
Hospital Street
Kelly Street
Luzon Street
McCloskey Road
Mercury Road
Murphy Street
Nininger Road
Oleander Drive
Pleasant Street
Ramey Street
Ricker Street
Ricketts Street
Stevens Circle
Swalwell Drive
Tommy Fox Road
Waldron Street
Walker Street

Swing Bridge
Connects St. David's Island with St. George's.
Enter and exit St. George's Island and the town of St. George, via this bridge located in St. David's, north of Kindley Field Road, not far from the airport. It is the bigger of the two swing bridges, so-called because they swing up to allow marine traffic to pass below, about a mile from Longbird Bridge to the west. It is periodically completely or partly closed, including for marine traffic, for construction, resurfacing and repairs. An nice place for taking photographs
2018. September 25. New designs for Longbird and Swing Bridges will be unveiled tomorrow. The Ministry of Public Works described the designs as "unique landmark structures which will reflect Bermuda's welcoming culture". They will on display at an information session at Penno's Wharf, St George's, from 6pm. British firm Ramboll is being paid $400,000 to design the replacements for the two bridges which are both expected to reach the end of their useful life in 2021. Swing Bridge, linking St David's to St George's, was built in the 1960s and has fallen into disrepair in recent years. The bridge no longer opens for passing boats. Longbird Bridge, a 60-metre twin-carriageway bridge at the eastern end of the Causeway, was built in the 1950s. It closed to traffic ten years ago when it was bypassed with twin Bailey bridges.
2017. December 8. British firm Ramboll will be paid $400,000 to design the replacements for Longbird Bridge and Swing Bridge, Lieutenant-Colonel David Burch said today. The public works minister revealed both bridges have a lifespan until 2021, and that he expects Ramboll's study to be completed by January so that rebuilding can begin. Colonel Burch also assured MPs that the Causeway is sound, adding: "There is no structural or economical argument to support the construction of a new Causeway." Swing Bridge, the gateway to St George's built in the 1960s, has fallen into disrepair in recent years and no longer opens to shipping. Longbird Bridge, a 60-metre twin carriageway bridge at the east end of the Causeway, was built in the 1950s. It closed to traffic ten years ago, when it was bypassed with twin Bailey Bridge structures. Colonel Burch told the House of Assembly: "Over the past decade, there has been an increased awareness of the significance of bridges to our nation's economy and the safety of the traveling public. At all levels of government, a concerted effort has been made to reduce the number of structurally deficient bridges that require significant maintenance, rehabilitation, or replacement. Corrosion is a serious threat to the long-term function and integrity of a steel bridge. This is true for all bridges, but it is more serious in Bermuda where salt water and warm weather are the perfect storm to accelerate corrosion on a steel structure." Colonel Burch said the typical lifespan is 50 years for bridges such as Swing and Longbird. He said: "Our latest studies on the Swing Bridge show that this bridge will have to be replaced within five years. The work completed earlier this year will allow us to extend its lifespan until 2021, but it is time to rebuild this essential piece of infrastructure." He said of Longbird Bridge: "It was condemned several years ago. Two single spans of Bailey bridge were erected to accommodate traffic as a temporary solution. This temporary solution was put in place in 2007. Accelerated corrosion on these bridges forced us to change deck plates earlier this year. In ordinary climate conditions, these plates should last 25 years, but in Bermuda they lasted only ten years. This bridge is safe, but its lifespan is similar to that of the Swing Bridge." He said of the Causeway: "Several inspections were performed on the Causeway and various scenarios were also looked at to see what would be the best improvement, for both safety and investment for the taxpayer. The Causeway is an old structure, but I am pleased to advise that the Causeway is sound." Colonel Burch said the design contract was tendered in February this year. He described Ramboll as an award-winning, experienced engineering company which has completed many successful bridge projects around the world. He said with modern technology the target lifespan of the new bridges will be 100 years. Colonel Burch added that Ricardo Graham-Ward, a young Bermudian engineering trainee, will undergo a six-month secondment with Ramboll as part of the contract. He said: "This secondment will allow this young Bermudian civil engineer the opportunity to work on this project at the very beginning and be trained by the best moveable bridge engineers in the world. I am certain this attachment will provide him with invaluable training and experience that would otherwise not be available to us."
2017. December 5. Replacements for Swing Bridge and Longbird Bridge (in Hamilton Parish) are in the pipeline after a contract for design work was handed to a British team. Both of the East End structures have suffered major deterioration in recent years, and Swing Bridge was subject to emergency repair work under the One Bermuda Alliance government. A press release from British firm Double Unit announced a contract for full design services has been awarded to lead consultant Ramboll, Knight Architects and Eadon Consulting after an international tender. The two bridges form a critical link in the infrastructure of Bermuda, connecting LF Wade International Airport with Hamilton to the west and the Town of St George to the east. Longbird Bridge was originally constructed in the 1950s as a 60 metres-long twin carriageway steel swing bridge at the east end of the Causeway connecting the island with the airport. However, the bridge closed to traffic ten years ago and was temporarily bypassed with twin Bailey Bridge structures. Swing Bridge spans 120 metres across Ferry Reach, linking St George's Harbour with the west of the island, and is a critical link for both vehicular and marine traffic. The 1960s swing bridge has received extensive refurbishment and remains open to vehicles but no longer opens to shipping. According to the press release, the design team will undertake studies to determine the most appropriate solutions for the new bridges, including fixed and moveable structures. It added that robustness and durability are key factors as both existing bridges have suffered accelerated deterioration in the tropical climate, which is particularly aggressive to steel structures. In addition, the structures and their mechanisms must be designed to withstand the hurricane-force winds that Bermuda periodically suffers. The design team have collaborated on many bridge projects and between them are responsible for award-winning moveable structures, including the Twin Sails Bridge, Poole (Britain), Gateshead Millennium Bridge (Britain), Lower Hatea Crossing (New Zealand) and Merchant Square Bridge (Britain). Commenting on the appointment, Peter Curran, bridges director at Ramboll, said: "We are all delighted to be working on such an exciting project with the Government of Bermuda. We look forward to collaborating to deliver a strong and lasting landmark for the island, one which inspires, connects and can endure the heavy weather conditions that Bermuda has previously suffered." Martin Knight, director at Knight Architects, said: "Bermuda is a beautiful and inspiring location for any designer, and it is clear how important these connections are in the everyday life in the island. These bridges are also the entry point for countless tourists every year and they offer an opportunity for gateway structures which reflect the culture and identity of a truly unique place." Work on the project will start immediately.

Texas Road
At the eastern end, not far from St. David's Lighthouse. It is more of a neighborhood than a road as it also includes Lighthouse Road. Include land bought and used for the relocation of local families made homeless by the construction of Fort Bell, later the US Army Air Force, later US Air Force, later the United States Naval Air Station, before it was decommissioned in 1995 and became civilian Southside. The replacement homes in the neighborhood were built by the same US military construction units. Wartime residents there bestowed the name Texas in honor of natives from Texas, USA, many of whom were construction workers and US servicemen. Their laid-back manners and ways were especially appreciated by displaced St. David's Islanders and were mostly responsible for bringing Bermuda's once most-isolated community into the 20th century.

Tommy Fox Road
The only street on the former US base nearby named for Henry Mortimer Fox (1860-1942), a local landowner of considerable property, whaler and grower of arrowroot.

Turtle Bay Beach
Next to Clearwater Beach. A nice swimming area., once reserved solely for the US Armed Forces, but public since 1997, two years after the US bases left.

Whaler's Hill
Until 1995 the site of the Officer's Mess at the former US Base, named from the fact that the hill was a look-out point for sighting whales or for seeing returning whaleboats.

Other Bermuda geographic areas


Authored, researched, compiled and website-managed by Keith A. Forbes.
Multi-national © 2020. All Rights Reserved